Lagonda Rapiers
By diyauto
You must be logged in to rate content!
Lagonda Rapiers
Compliments of oldcar @ http://forums.aaca.org
12-8-2011
From time to time I mention my Lagonda Rapier on my thread under Our Cars and Restoration Projects/Packard Coupe but I thought that I really should start a thread dealing with Lagonda Rapiers here where they belong.
For all those who are blinking and asking "What is a Lagonda Rapier" they are a small British car made for one year in 1934/5, until the Lagonda Company (absolutely nothing to do with Aston Martin until the late1940 when David Brown who had recently bought Aston Martin needed a decent 2 OHC engine and bought Lagonda)went into receivership. After the wash-up the Rapier continued in production, as Rapier Cars Ltd until 1938/9.
Lagonda's original design brief to Timothy Ashcroft the engineer in charge of the small team given the task of creating the car was..Produce the best Light Car in the World. The result was a brilliant little sporting car with an 1100cc 2 ohc 4 cylinder engine and an ENV pre-selector transmission. Total combined production of both the Lagonda Rapier and the Rapier was less than 400 cars.
To my knowledge there are about half a dozen of these cars in the US. One of the things that make these little cars so interesting (to look at) is that neither factory built a standard production body. EVERY car has an individual coach built body. No two are exactly the same. This is illustrated by the photograph taken yesterday of five of the cars situated in Melbourne Australia. Four are Lagondas and one a Rapier, they all have a body built by a different coachbuilder. Can you tell the difference?
Bernie J.
oldcar,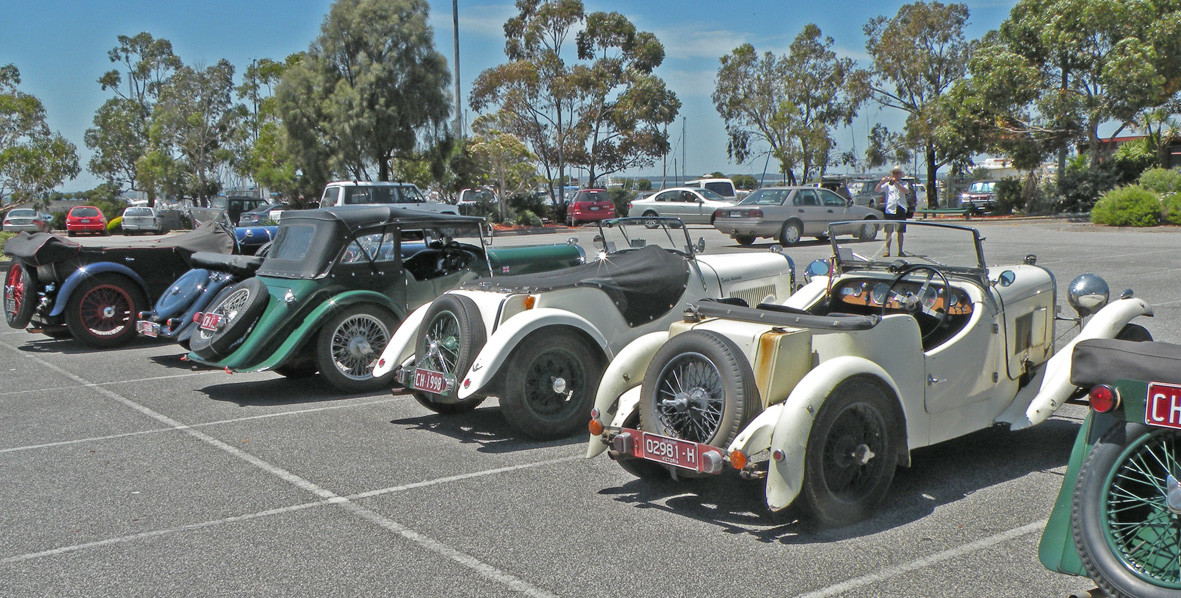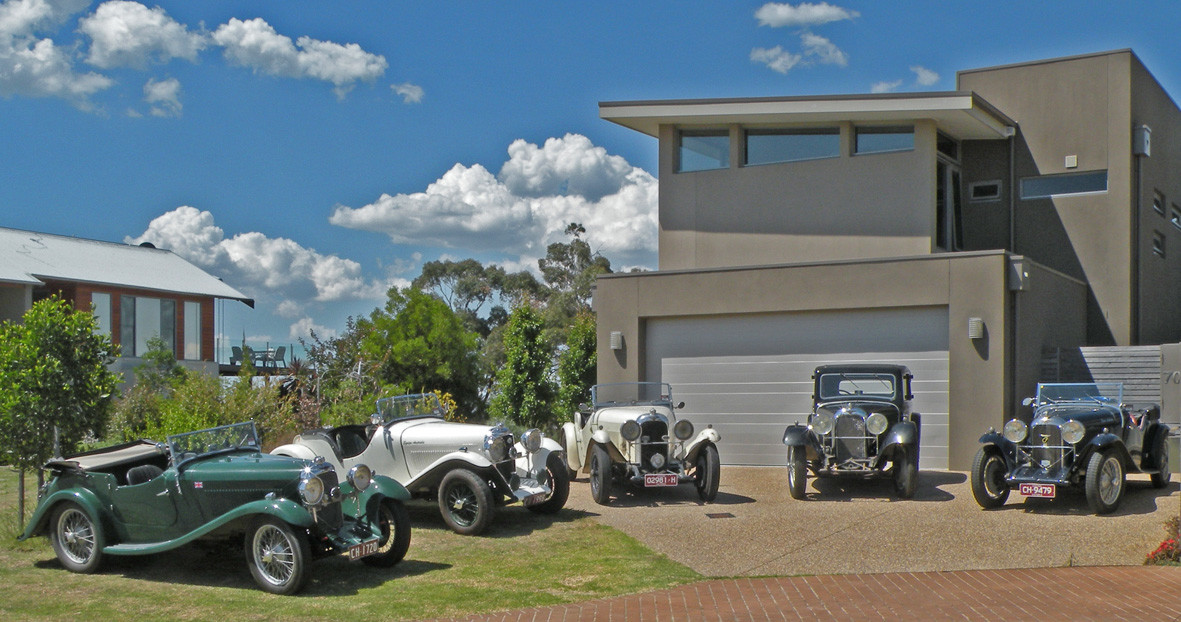 12-9-2011
It goes without saying, these cars have nothing to do what so ever with the 1950/60 Rootes Group produced "Sunbean Rapiers" which were in effect a tarted up Hillman Minx.
Hi Steve
You never know where I will pop up next. I thought that my all too frequent mentions of the Rapier on my "other" thread was becoming too distracting. Don't knock MG TA,s I was out with a friend in one last night. Going to a VSCC meeting. While I have owned several MGs I would never consider myself a MG enthusiast.
Bernie J.
Not all Lagonda Rapiers were open sports cars. This one is an ultra rare four seat "four light" Saloon. The very British term "four light" does not refer to the number of headlamps but the number of side windows i.e. two each side= 4.
It was one of the original shipment of seven cars (Five bare chassis frames) to Australia in 1934. It is one of two (both surviving) saloon (sedan) bodies built by the Supreme Coachbuilding Co in Nth Melbourne. It was repainted black in the 1930s and still wears the same paint. You can just see traces of the red pin-striping. Its interior trim is completely original. Its present owner has had the car since the 1950s. All seven of this original shipment still survive. In fact only one Rapier of the 21 imported into Australia has disappeared. It was stolen from outside a hotel in 1949 and despite being reported as "recovered" in 1950 in the Police records it has never been seen since.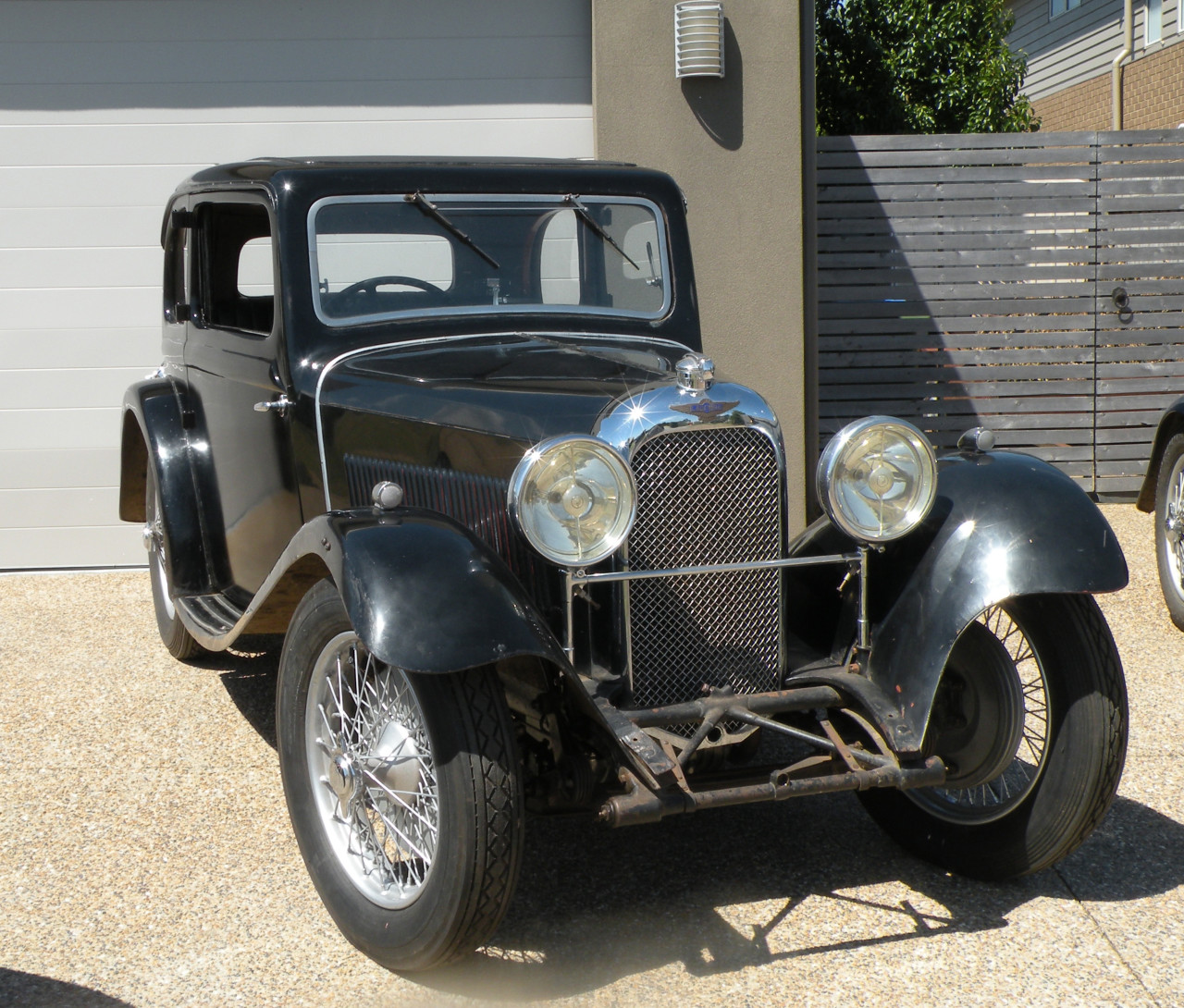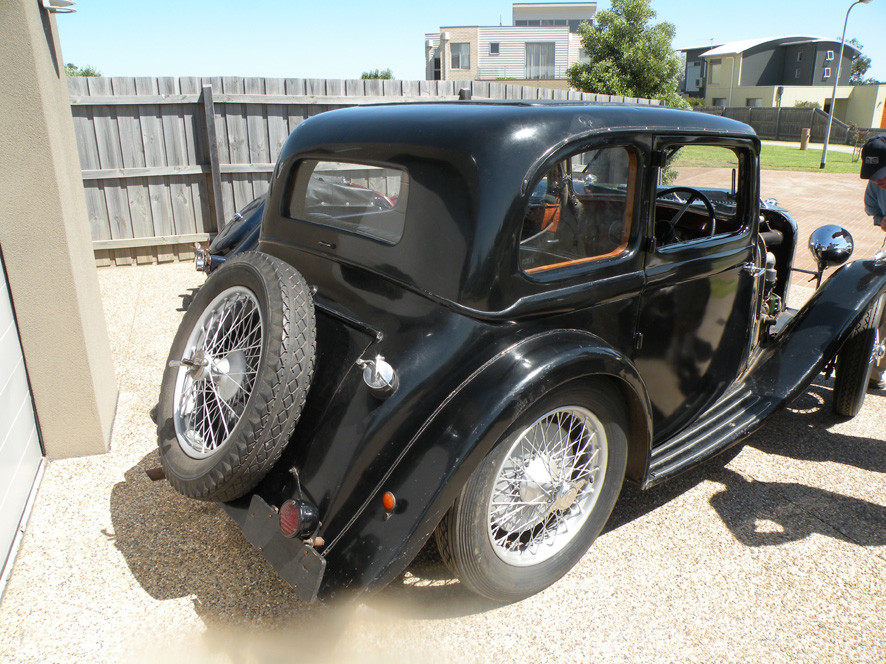 12-11-2011
Hi
This one is for Michael Rohrmoser (Austria) if he looks in. It is a 1936 Rapier with a Ranalah Drop Head Coupe body. I rebuilt it in the early 1990s. When last heard of in 2007 the then owner had recently passed away, it was then in France, prior to that it had been in Austria between 1997 and 2005. It has dropped out of the Rapier Register and it would be nice to know where it is now. Its English Registration was YS 8375.
Bernie J.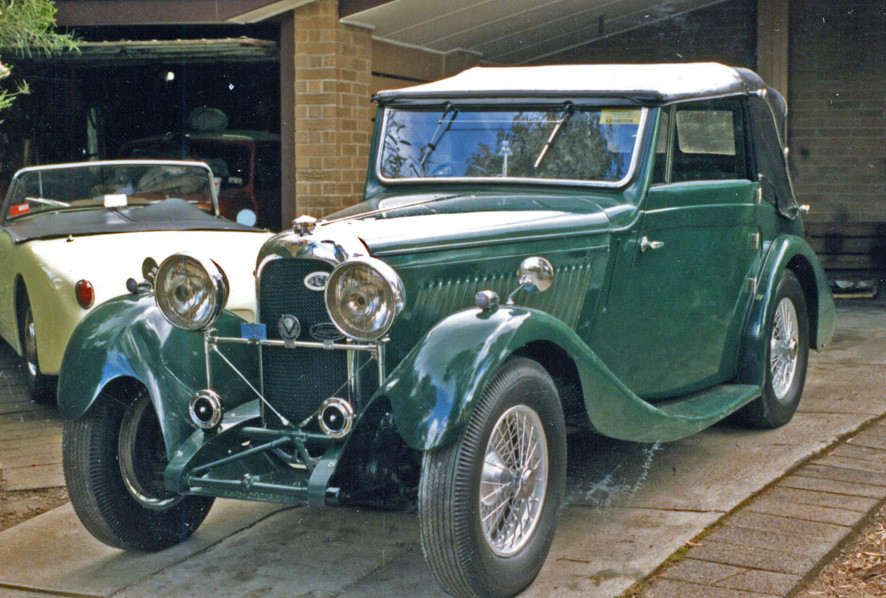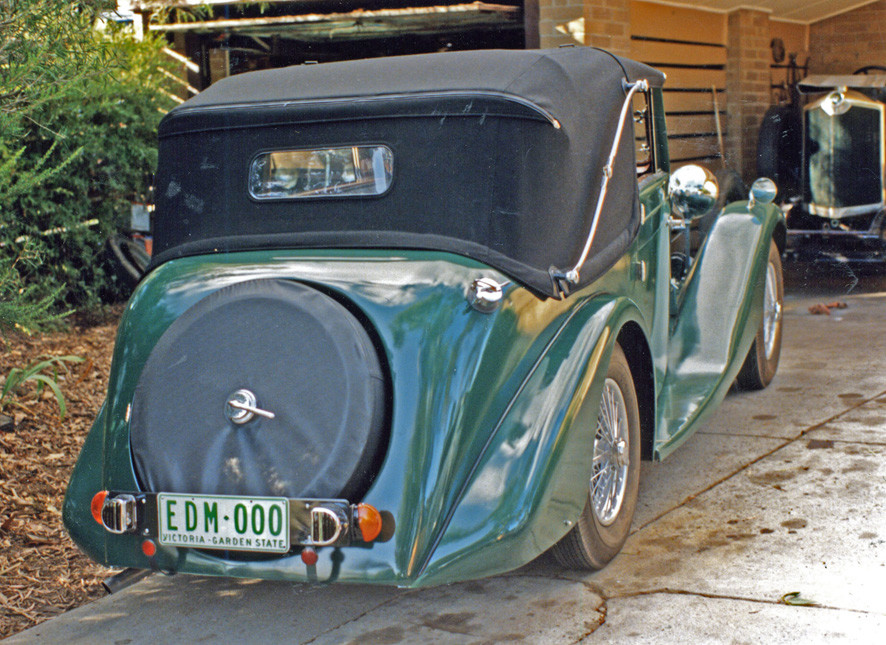 12-12-2011
Hi Michael
It looks like you are into our sort of motoring. Is the Brooklands original or has it been up graded with a 12/4 engine? When you tire of the Riley's mundane performance you should be just about ready to up-grade to a Rapier. It took me 13 or 14 Rileys before I realised that there is a much better car! One that has a proper 2 OHC engine with a proper crankshaft. (Fully counter balanced with 2 inch diam big end journals)
Bernie J.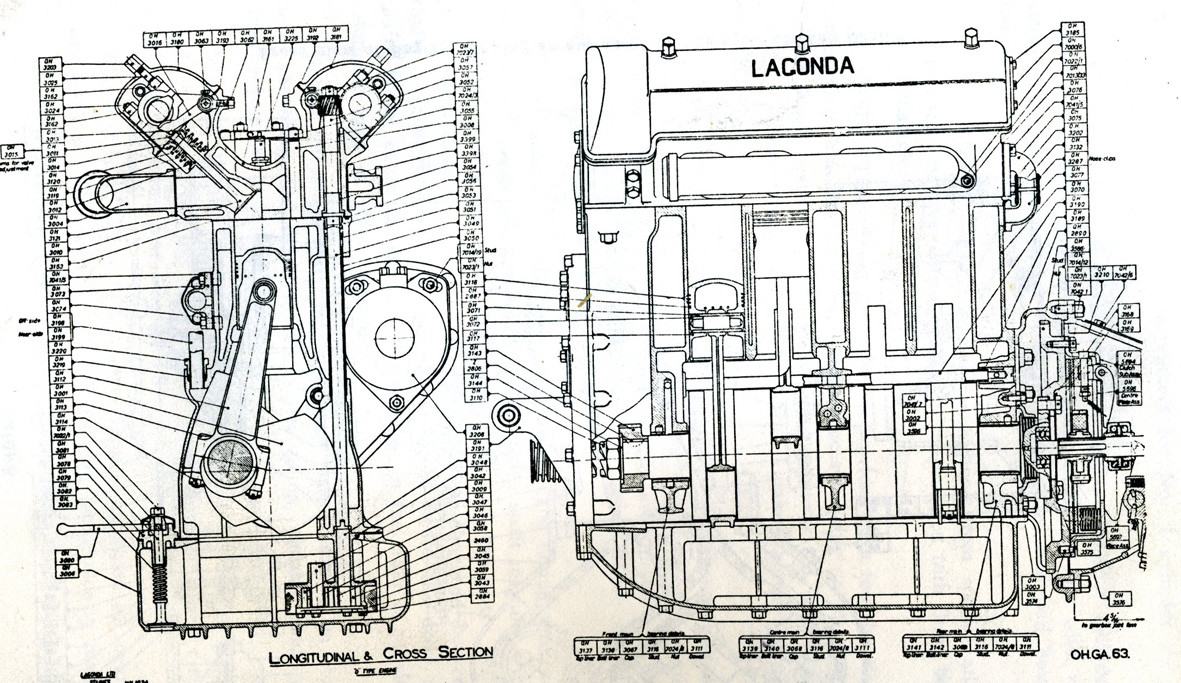 Hi Steve
You missed the other important one. Fenders are "WINGS" or in Austspeak mudguards.
Sorry! I have owned almost as many MGs as Rileys but PLEASE do not call me an MG enthusiast! It just took me longer to find out how bad they are. I thought that they were all Morris Minors.
I do not have either Octagonal eyes or MG written all over my underpants. And yes I do have two eyes. Some of my best friends own MGs, which just goes to prove that I am kind to dumb animals...
Bernie J.
MG Midget, MGB, MGBGT x2, MGZA Magnet x2, MG Ytype plus several Morris 8 & 10 Specials.
All long gone thank goodness
Steve is of course quite correct! With a total production figure of under 400 they are rare however with what is probably the best survival rate for any single model over 50 years old they don't seem all that rare. There were THREE Rapiers on the VSCC Inner Urban Rally in Melbourne (Aust) on Sunday, plus another Rapier owner who was in his Lagonda 3 Litre but only one MG TA. The one problem is that Rapier owners love driving them.
Having said all that I would hope that we can hear from some other Lagonda Rapier owners (past and present) from all around the world, especially some of the Americans. We know that you are out there....
Bernie J.
12-20-2011
What makes Lagonda Rapiers so great.
The heart of the matter is the engine. For those you could not understand the copy of the original factory drawings here is photograph of a standard 1100cc Rapier engine.
Bernie J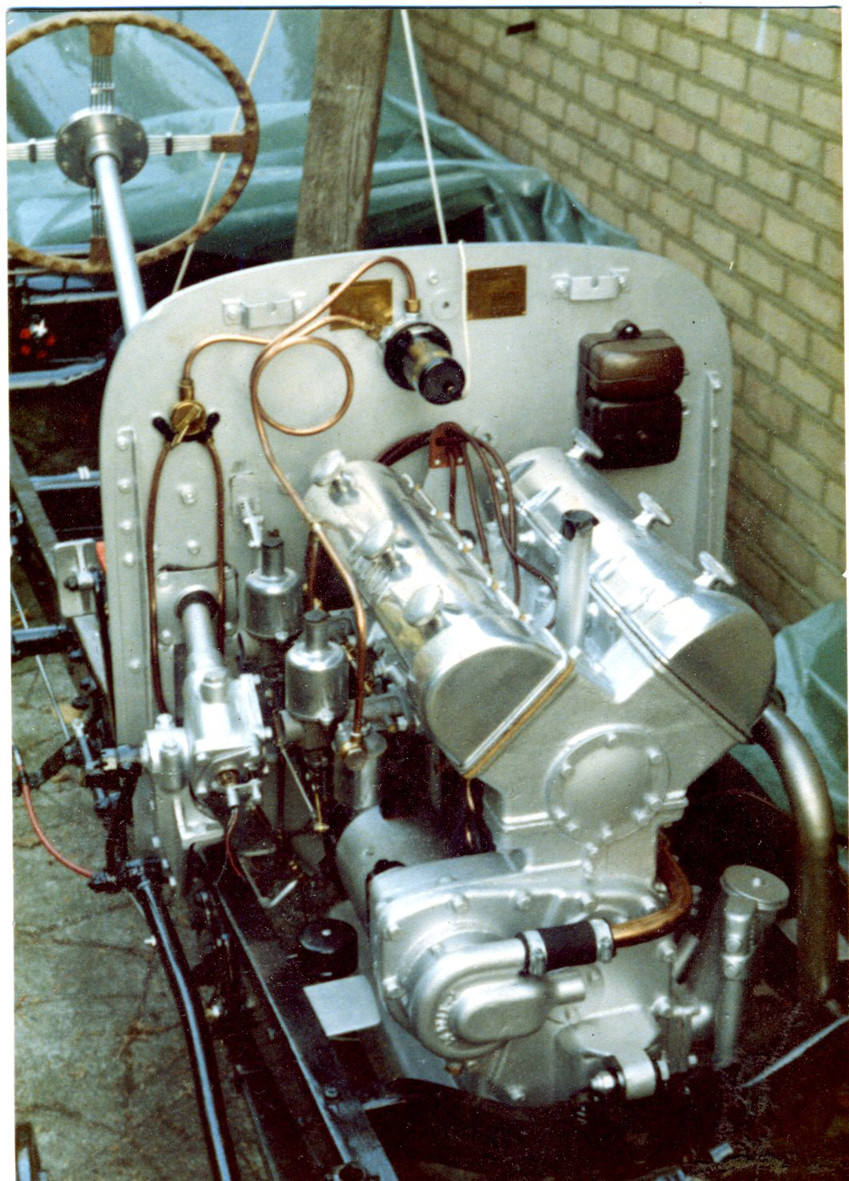 12-24-2011
Happy Christmas to all British car enthusiasts where ever you may be.
Bernie J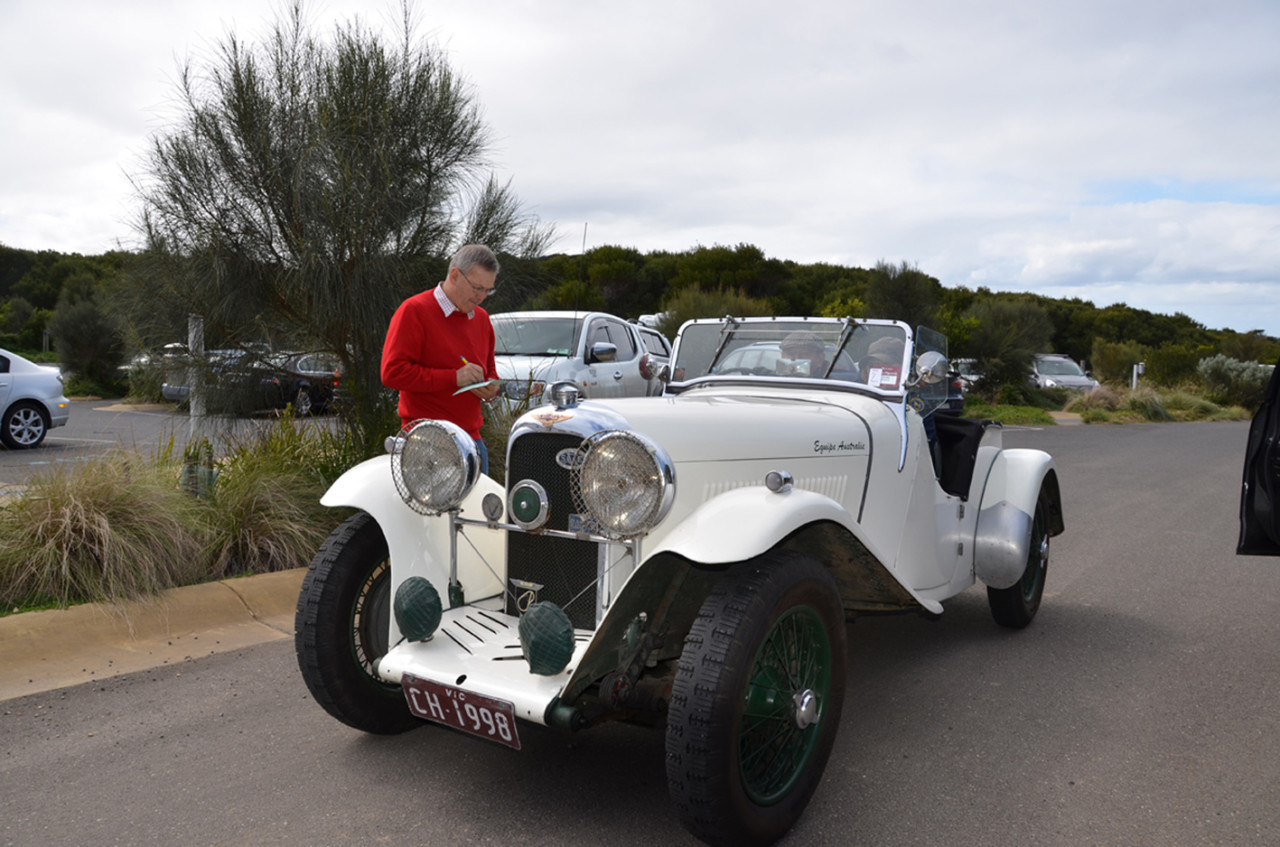 1-16-2012
For those interested in trivia, Ken's Rapier is a Abbott body tourer. Ken is just the second owner from new. He has recently finished restoring it following a long long hibernation in a lock up garage in the UK.
I can only repeat his plea, anyone with knowledge of one of these fascinating little cars anywhere in North America,or for that matter anywhere in the world. Please let us know.
After all the Lagonda Rapier has one of the best survival rates of any one model, anywhere!
Bernie J.
1-19-2012
For some unaccountable reason "KG" our Rapier had developed an air leak somewhere between the carburettors (Twin SU) and the cylinder head. This has resulted in an inability to slow the idle speed down to less that 1500 rpm. It usually idles at 800 rpm. Both carbs have been stripped down and checked, the faces of the manifolds checked to make sure that they were flat and the flange of the carbs checked in the same way. There is no excessive wear on the throttle spindles. These were replaced not all that long ago. New gaskets have been cut and the two short sections of rubber hose connecting the balance tube have been replaced. I am now about to go and assemble it all back together Fingers crossed. We have our first event for 2012 at the weekend.
After some final small adjustments it seem that my efforts have not been in vain.
It is now ticking over at a nice steady 800 rpm.
Bernie J.
2-6-2012
Hi Ken
That is obviously an old photograph of your engine, are you still using the RAG carbs? I must confess I had never heard of them before your contribution to "Ever Keen". I note that they are on an original inlet manifold. I gave up using one of those long before when rebuilt KG in 1978 and have used "Barkers" ever since the late 1960s or early 1970s,
I have actually traced the trouble back to the angles on the ball ends on the short link between the bulkhead lever and the throttle spindle. That and the angle and length of the primary pull off spring.
Why this has become an issue after so many years I fail to comprehend. I think it may even go right back to when Beatrice Shilling was racing the car in the 1950-60s.
It is probably since I de-tuned the engine about five years ago to make it more tractable for road use that idle speed has become an issue. After all who expects a 2 OHC engine with 10.5:1 comp, lumpy cams and big valves to idle at 800 rpm?
I must be getting old.
Bernie J.
Hello again Ken
I have managed to dig out an out photograph of KG in Beatrice Shilling form taken at Cadwell Park with a desperate David Seath at the wheel probably about 1974/5 before he migrated to Australia.
cheers
Bernie J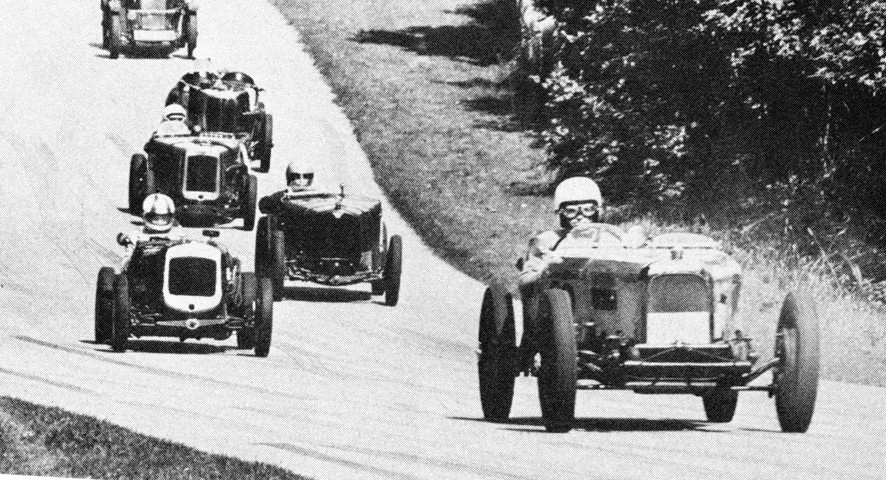 Hi Keiser31
You sure get about. That is a very nice 3 Litre, they are a great car but rather large and heavy. I have owned two a 1928 Tourer and a 1934 Maltby Drop Head Coupe.
Rapiers are very different and were only made in minuscule numbers. If you would like to learn more about what makes these little cars so fantastic you can get a copy of the limited (350 copies) edition book I edited for the Rapier Register from the Secretary (Dewi Williams) There just a few copies left.
Bernie J.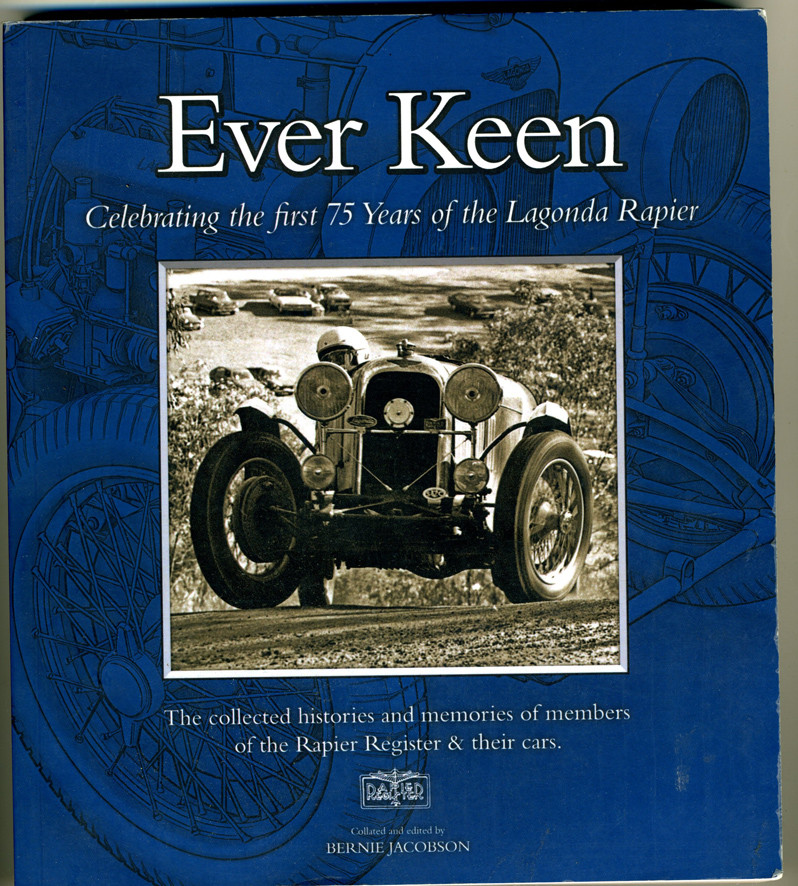 2-11-2012
The big thing about these little cars is just how user friendly they are. Last night we competed in the VSCC of Aust. Night Navigation Trial. Now written into the script was torrential rain and gale force winds. Having completed the first 30 or so miles wisdom prevailed and we erected the hood (Top). From door to door we completed 180 miles at an average 45 mph. Mainly over extremely dark and wet country roads driving mainly at between 55 and 65mph. We arrived home at around 1.30 am. The Rapier is seen here at the Finish Control alongside a fellow competitors Model A.
Difficult as it may be to believe this is the same car as seen racing in the UK in the photograph in the earlier(#20) post.
Bernie J.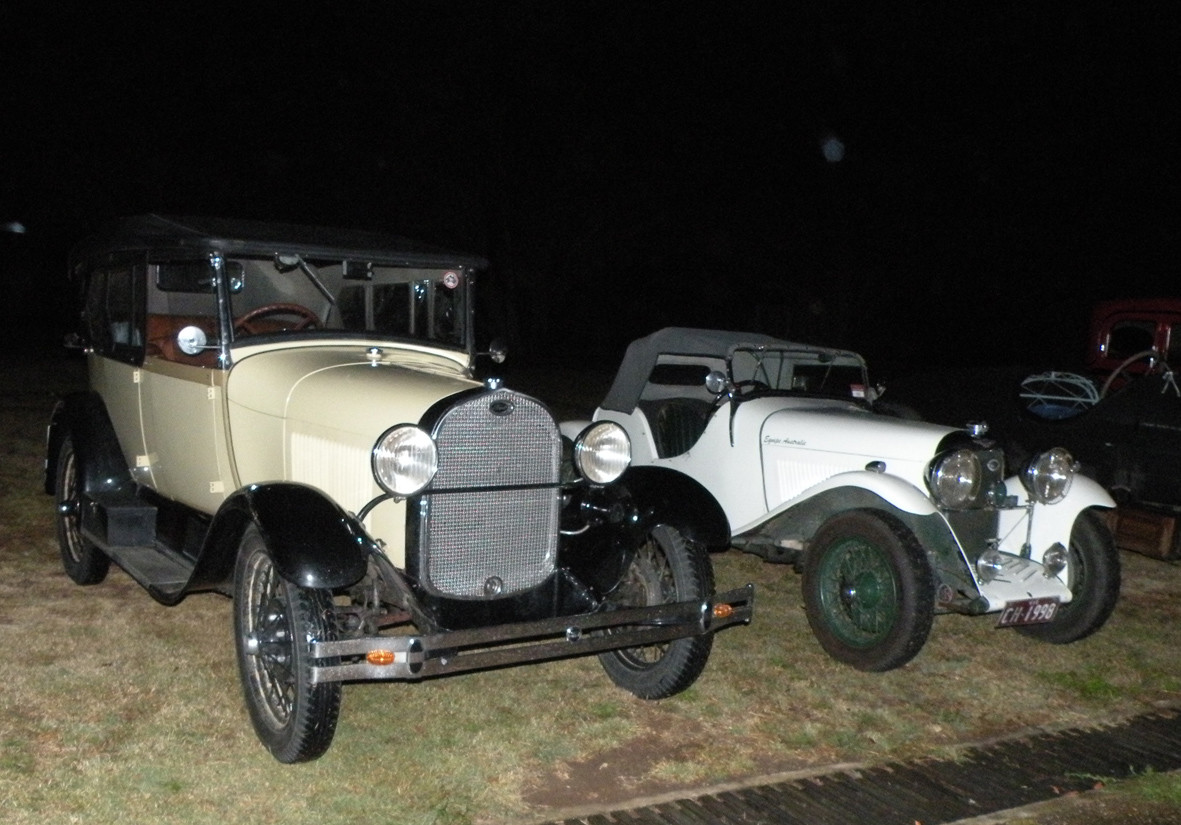 2-26-2012
NONE OF THESE CARS ARE FOR SALE!
Here in Melbourne Australia we have just had a rather unpleasant day in the high 30sC. combined with very nasty gale force winds. This morning we had a approx 75 mile run as a lead up to the Vintage Sports Car Clubs Annual Awards Presentation Luncheon. In the first Photograph you see Bruce Rodgers and his friend Peta in Bruce's Bertelli bodied Rapier crossing Cobbledick's Ford This can have up to 4ft of water flowing over it mid winter.
In the second photograph you see two Rapiers, Ted Geermans and his partner Fran Geermans (blue) with their trophies. The PVT (Post Vintage Throughbred) Cup for the Best Performance in Club Competition in a 1930s car and the Atlanta Trophy for the Best Lady Driver. With the white car Helen & Bernie J. Crossley Trophy for the Best Overall Performance in Club Competition and Helen, the Navigators Trophy for the Best Navigator in Club road Navigation events over the past 12 months.
NONE OF THESE AWARDS ARE FOR POLISHING!
Bernie J..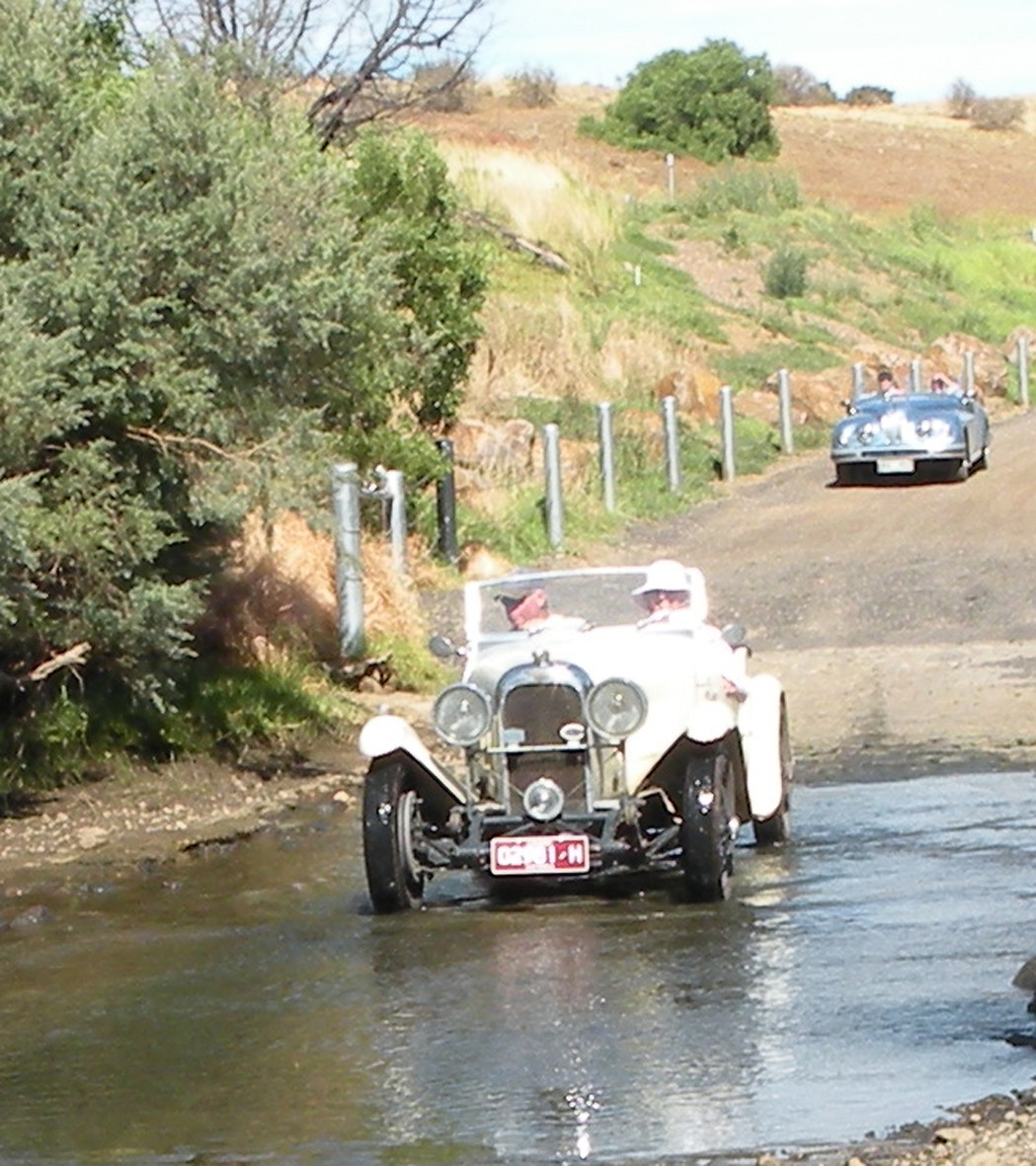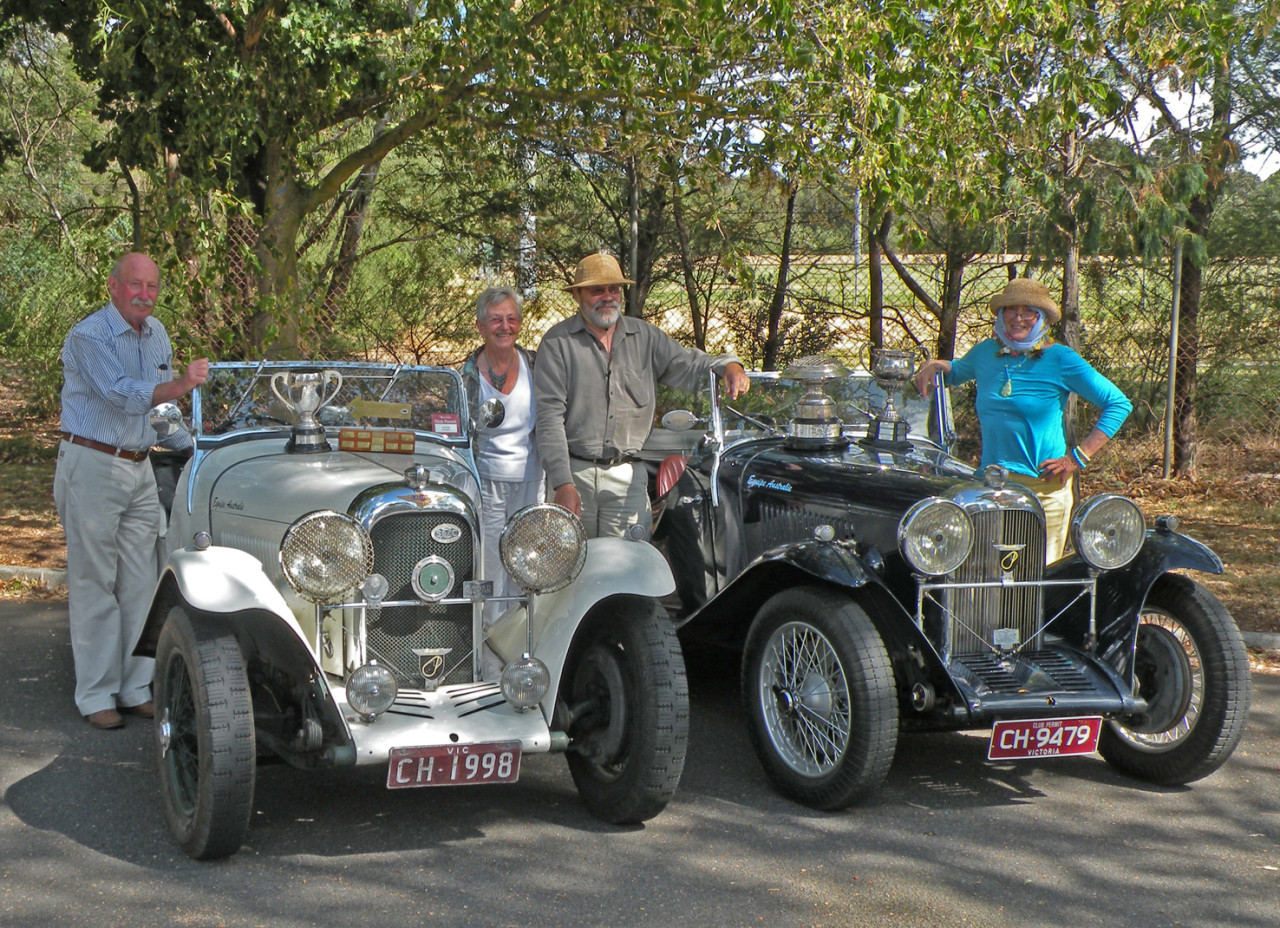 Owners of lesser cars (MG, Riley, Morgan, Austin Healy etc) please note the size of the ORIGINAL EQUIPMENT brakes. And that is just for starters........ The wheels on the blue car are 18 inch and the white 17 inch. Tires are Blockleys and Michelin.
3-19-2012
MG, Riley, Morgan, Singer etc owners look away now!
Another photo of Lagonda Rapier owners enjoying themselves actually driving their car. If you look carefully you can see some other cars coming down the gentle slope in the background. An easily achievable 6,000 rpm equates to 70+ mph in THIRD gear. Black and white photography gives a nice "Vintage" feel to the picture.
oldcar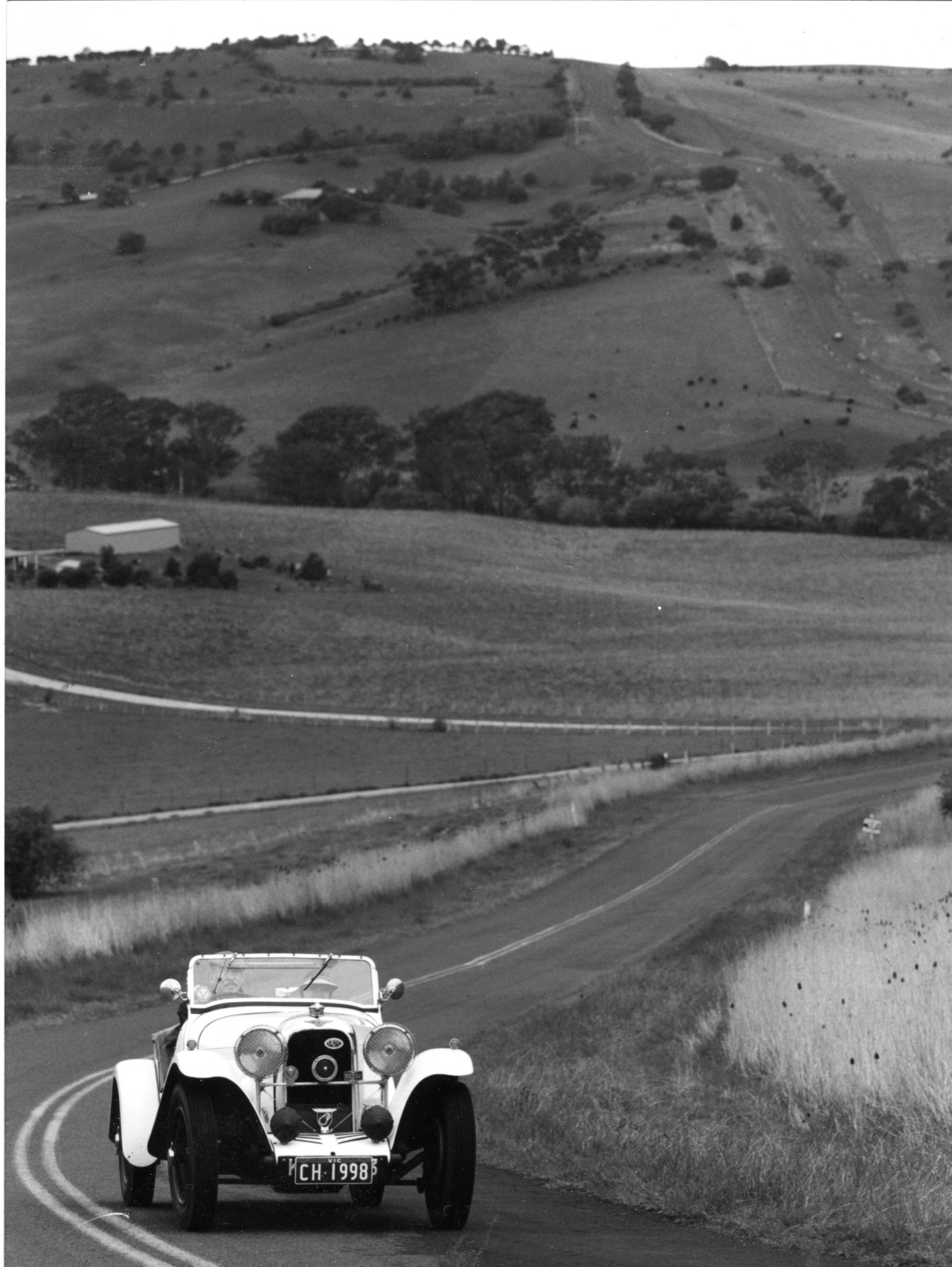 3-27-2012
I am often asked, "How I come to use such a rare car so much, so enthusiastically and drive such great distances? Am I not afraid that something will break or wear out?"
The answer is simple. These little cars were so well designed and built to such a high standard that provided you don't attempt to cut corners on the quality of restoration work and maintenance i.e. regular service using the best quality lubricants etc.you don't have problems. "But what about spares? What do you do for spares?"....
Now we come to the whole purpose of this post. I have just received in the mail the most recent Spares Price List from the Rapier Register. This remarkable club with less than 200 members catering for the surviving 300+ cars of the slightly less than 400 produced some 75 years ago, provides what must be the best single model spare parts service in the world. Run on a co-operative basis parts are usually priced under what you would expect to pay for the equivalent part for a post 2005 popular car! This year's price list runs to 24 A4 size pages, all single spaced typing. There is virtually not a single gasket or engine, brakes, steering, gearbox or rear axle part than I cannot have in my letter box within 72 hours of ordering. Try doing that with your 2010 Honda or what ever. I should add that I live 20 hours flying time across the world from the "Spares"....
I should add that a small number of the parts in stock are original Lagonda Company spares probably manufactured when the cars were new 1n 1934-6.
oldcar.
5-4-2012
Hi and welcome,
great to make contact with one of the US owners.
Have you done a compression check. Running on two cylinders sounds like a head gasket without actually hearing the engine running otherwise you may have two spark plug leads crossed but normally you would have some backfiring or spitting back through one or both carbs. The other thing you could check that it is actually running on both carbs. simply putting your hand over one inlet then the other with the engine running at tick-over should tell you. Do you know if it still has an original inlet manifold or a pair of "Barker" inlets. You are welcome to pick my brains if you are n need of assistance. I have about 40 years experience in re-building & running Rapiers.
A leaking head gasket between either 1 & 2 or 3 & 4 cylinders is not unusual the bores are quite close together. Head gaskets are thin single sheet copper. The register have them in stock.
Keep in touch
Bernie J.
5-7-2012
At this very moment I have the gearbox (ENV 75 Preselector) out of our Rapier and spread all over my bench. I will try to arrange some suitable photographs just make sure that there are no children looking.
Bernie J
As promised attached are some photographs that very few people ever get to see. The insides of a Preselector gearbox. First inside the case showing the camshaft and selection springs note the small selector lever and detent plate on the outer end of the cam. Next photo shows the brake band harness viewed from the rear with the large spring that actually powers the gear selection and the "busbar" that exerts the spring pressure on to the selected band.
The top gear is different in being engaged vis a friction lined cone clutch. finally two photos showing the first gear drum and planet gears and finally part of the problem. The white metal (babbit) spigot bearing between first and reverse gears very much needing attention. Please note all these photographs were taken as the box was dismantled and before any attempt to clean either the case of the internals. ENV boxes use needle roller bearings in all the planet gears.
Bernie J.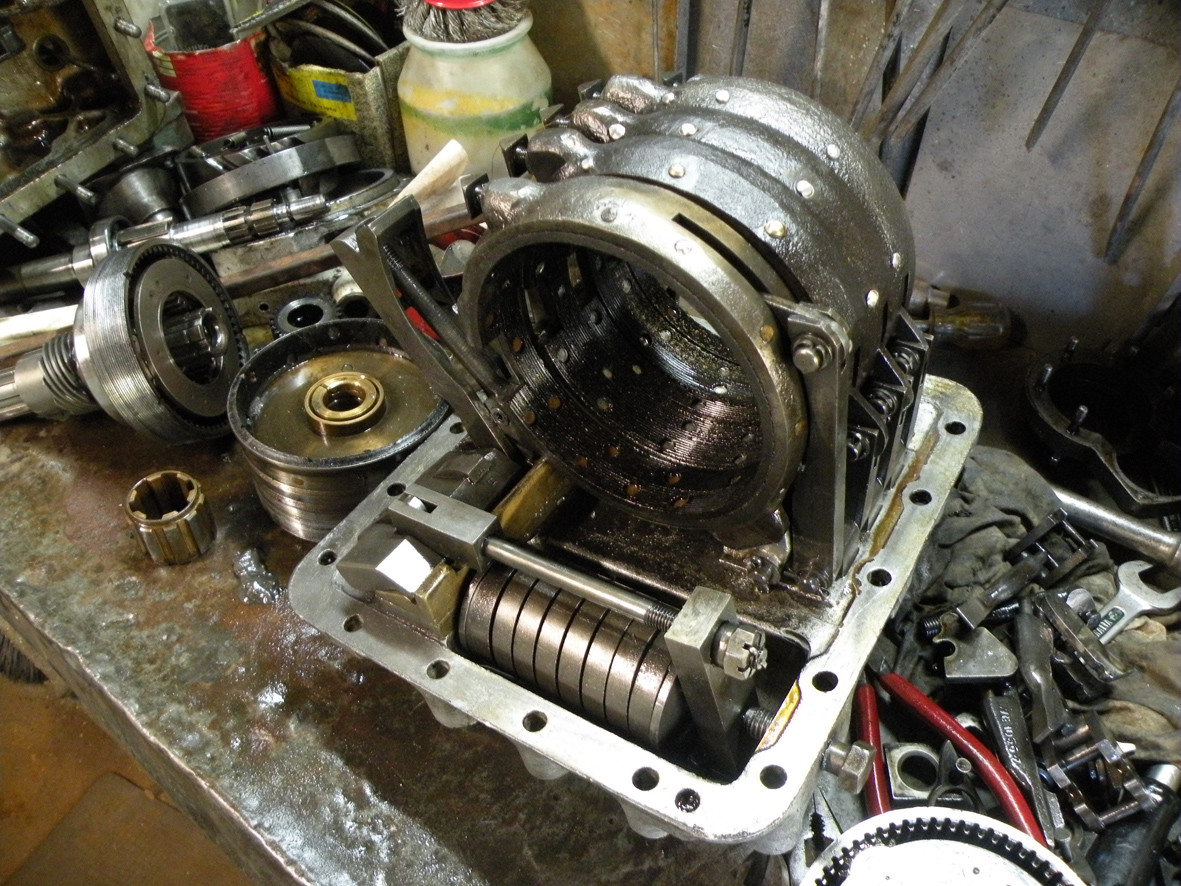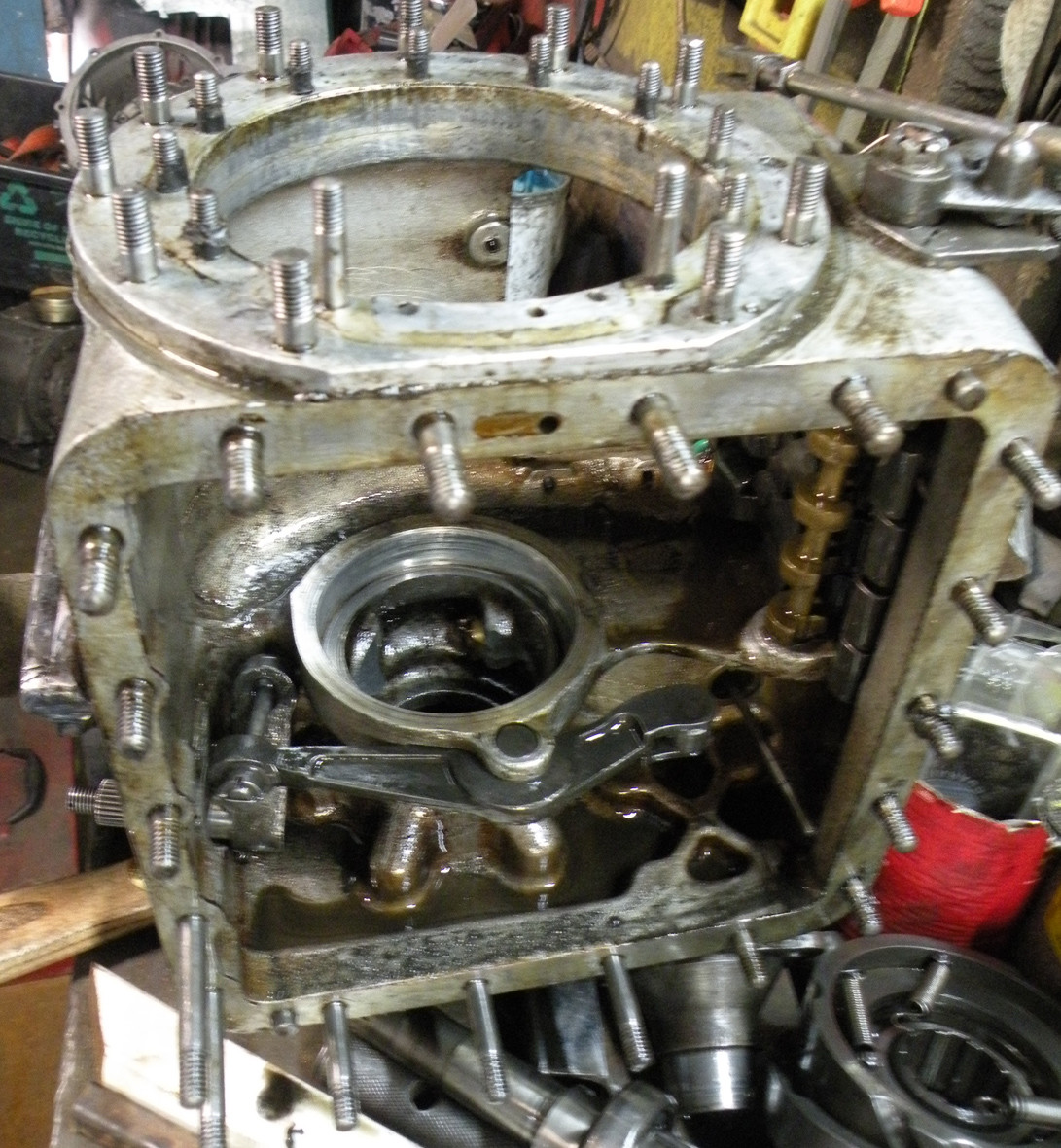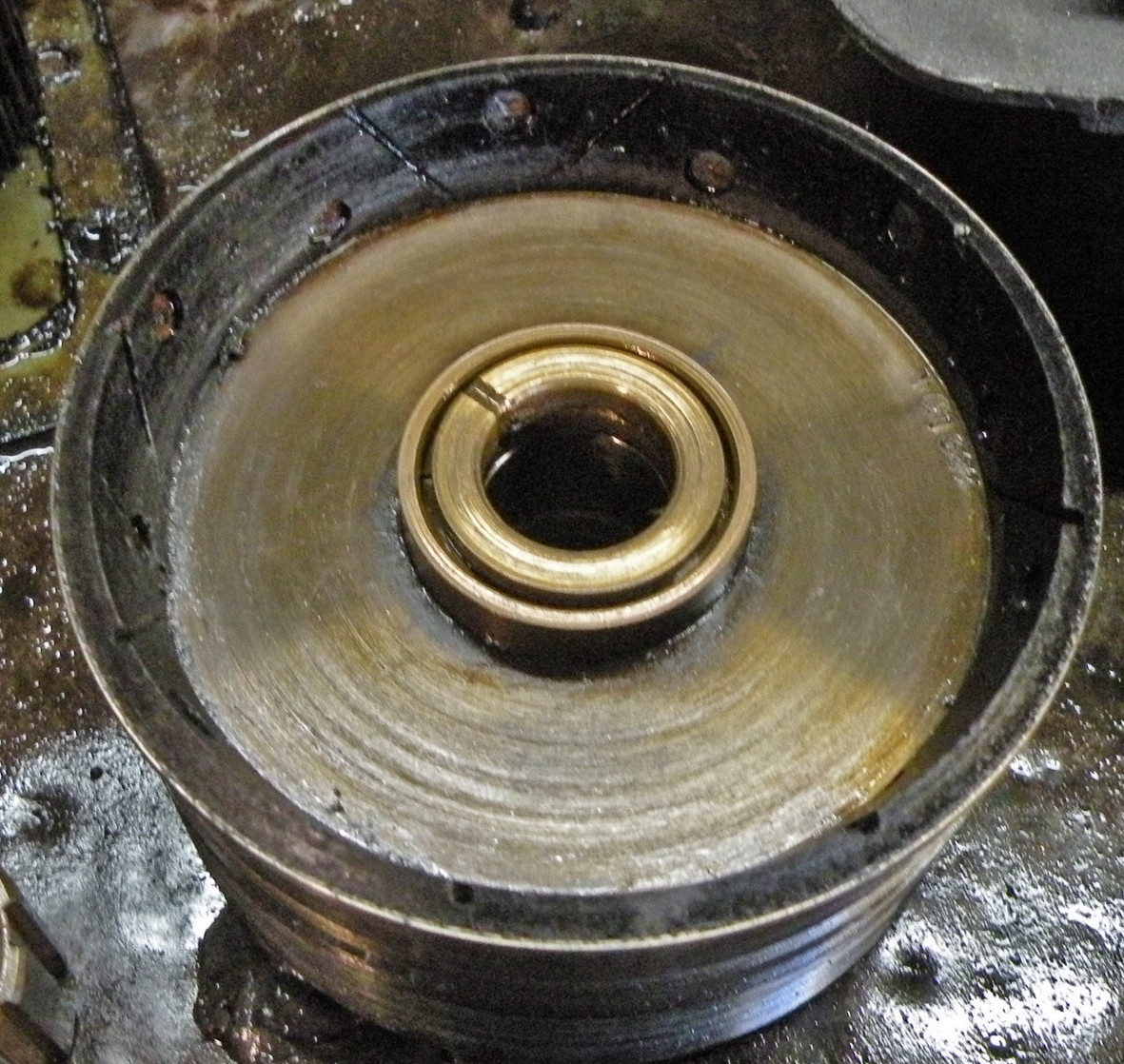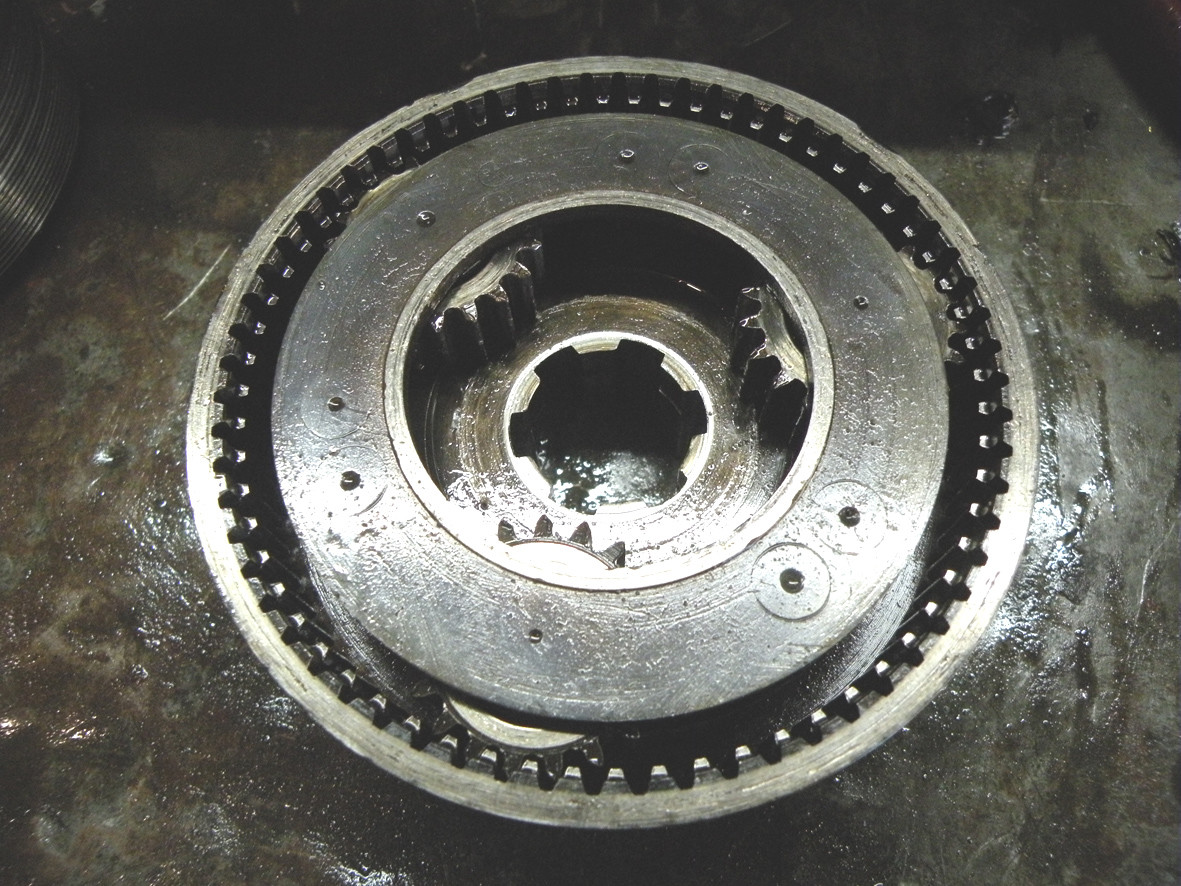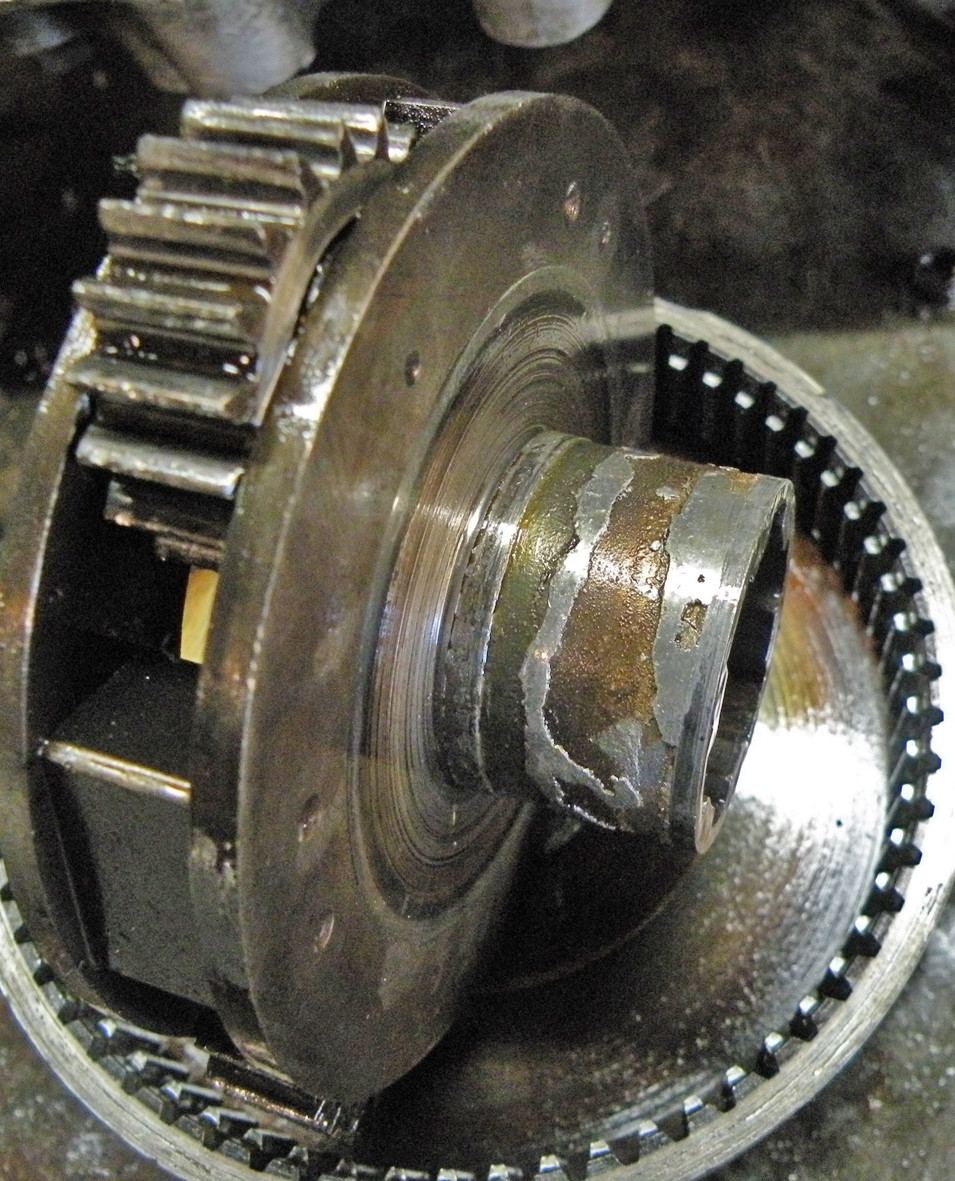 5-8-2012
I think that babbit was chosen because they were working to very tight clearances. with not a lot of material to spare. I don't know how long that material had been in there. I was sold what was supposed to be a "fully rebuilt" unit! This is the first time I have had this particular box apart. It is ten or 15 years since I fitted it. When you are buying from one of the worlds (then) leading exponents on Preselector gearboxes you expect it to be "right". My main complaint was that it has always (from day one) been very noisy in first and second gear. I now know why.
Bernie J.
5-13-2012
It is all very frustrating.
I now have completely stripped the gearbox and have failed to find anything broken or a possible source of the failure to proceed. While the box is apart I will take the opportunity to replace the very worn needle rollers in the planet gears. So that the car is off the road for as shortest time possible I will use a borrowed (wide ratio) gear set while I am rebuilding the original (close ratio) set. This means taking the box out a second time but at least I can use it and take my time with the rebuild. One good thing that has come out of this is that I have found someone locally who has new-old stock ENV parts. They may even have a complete close ratio gear set.
Bernie J.
Hello Roger
Thank you for looking in again.
The "posts" for the needle rollers simply press out. Possibly none of the Auto trans you have rebuilt are almost 80 years old and almost certainly have not led such an "active life". The last time this particular box was apart was almost 20 years ago since then It has not only led a hard life here in Australia but on two separate occasions has spent time not all that far from your home base climbing all the historic alpine passes including the Stevio and the Col du Galibier. Added to all that I somehow doubt that you use 6,000 rpm in your Cadillacs very often. It is a pity that there is no provision for sound track to go with the photographs.
Bernie J.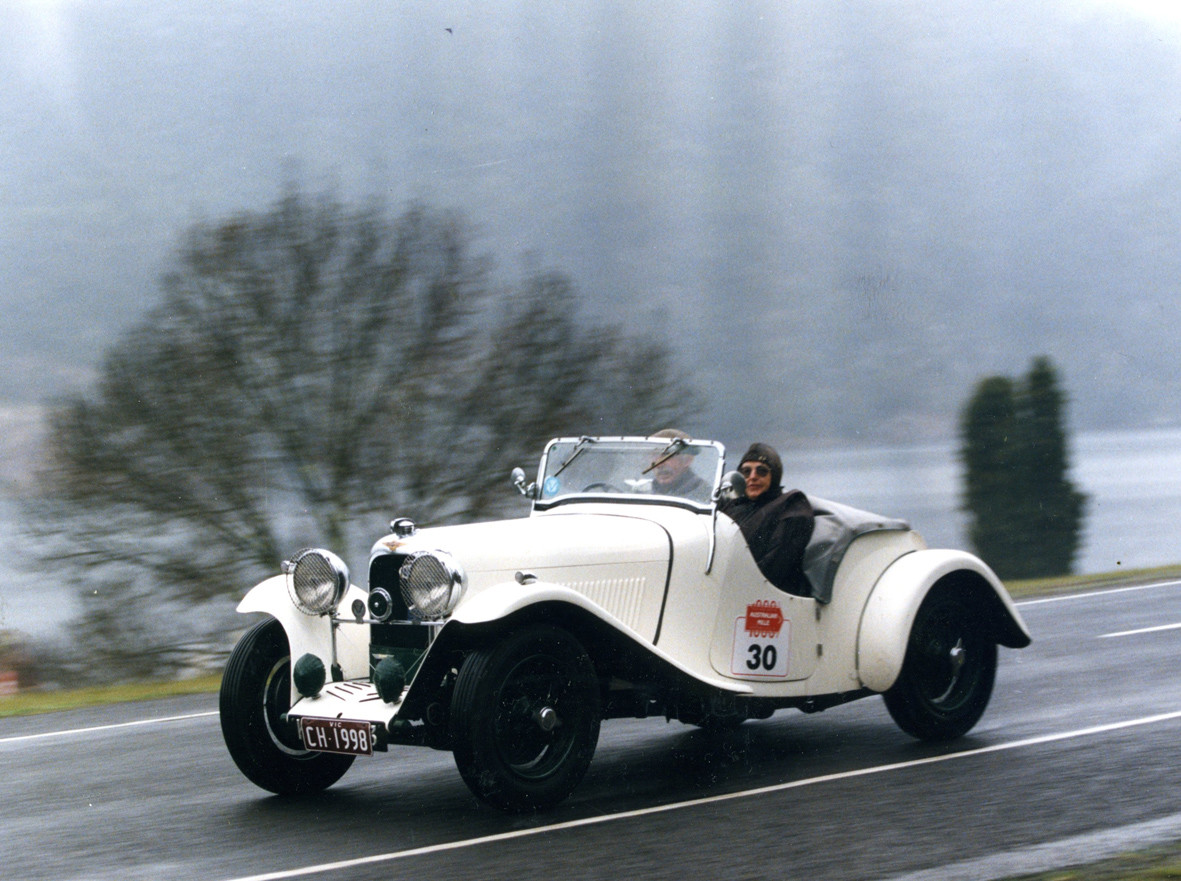 Hello Roger
While the ENV Preselector gearbox is similar to a modern automatic trans in that it has epicyclic gearing the method of engagement is quite different in that it relies on a large spring to operate the brake bands as illustrated in the attached drawings.
Bernie J.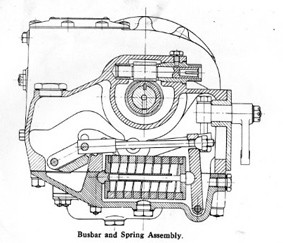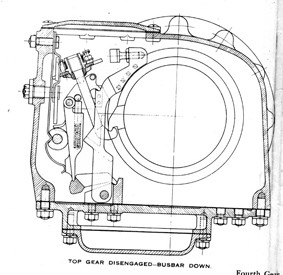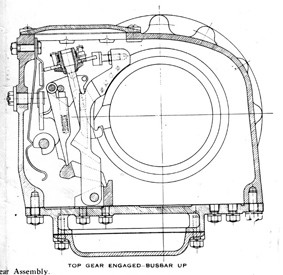 Hello again
Sorry that was not a good choice of drawing as Top gear is in fact a cone clutch. The drawings below show the engagement of one of the intermediate gears which rely on the brake bands for engagement. The problem I had seems to be that the busbar failed to pick up a strut and with no resistance went to an over centre situation so that depressing the change pedal (Clutch) failed to compress the spring and the busbar remained in the up position.
Bernie J.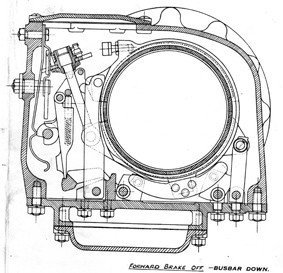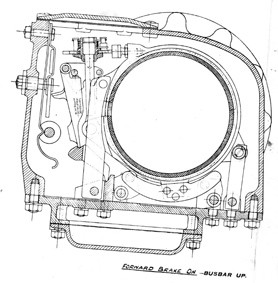 5-17-2012
The gearbox is slowly coming together. I have just located a cache of NOS ENV Spares far more than I could ever use but the vendor will not split them. If there is anyone out there who can use or is likely to need things like gear brake bands or top gear cones self adjuster springs or top gear star springs etc let me know now!
Bernie J.
5-20-2012
Hello Julian
There are several Rapiers in NZ but unfortunately with the exception of one, they only rarely see the light of day. The Kingswood Service Station car was originally the Factory Motor Show chassis which explains why it was not sold and fitted with a body until the end of the 1930s. It was first road registered in 1940. The last I heard of it it was owned by Heiner Roessler and housed in his Museum in Germany. Automuseum Melle
Its story is covered briefly with some more photographs in my book "EVER KEEN" page 29-30.
Abbott built a large number (by Rapiers Standards) of bodies, Tourer, Drop Head Coupe and Fixed Head Coupe, on Lagonda Rapiers. Ranalah provided the bulk of bodies on Rapier Car Co chassis. Tourer or Drophead coupe with just one known two seater roadster. Neither Lagonda or Rapier Cars built their own bodies on Rapier Chassis. All Rapier chassis were fitted with coachbuilt bodies. Of the 394 cars built, total production 1934-38, no two are precisely the same, every one is unique.
Bernie J.

Hi Ken
Great photograph! Now that you have BLP 79 out and about I hope that you are heeding my advice and keeping well away from Tuning "Experts" with rolling roads and exhaust gas analysers. I have just recently learnt of yet another Rapier to suffer from the dreaded "lean mixture=hole in piston" syndrome. Rapiers are the aristocrats among light cars and as such love and demand a rich diet. Nothing less than 98 octane fuel and plenty of it. Don't be put off by a slight haze of black smoke emitting from your exhaust pipe. Even at todays prices, petrol is still a whole lot cheaper than pistons, and ever so much easier to put in.
Bernie J.
5-29-2012
Wow! Almost a month later I have almost finished my PhD in Preselecterolgy. One thing I have learnt is there are no quick fixes and just when you think that you got all the adjustments right one will turn around and bite you. The other thing I have learnt is that those frightfully jolly British chaps do not supply spare parts to foreigners! Ho no, you simply pack up you gear box and airfreight it across the world, when they have "fixed" it they will tell you how many cartloads of cash to send BEFORE they return your box to you.
oldcar
5-30-2012
Going in at last. I really need my head read. These boxes weigh the virtual ton, the best way to re-install them is from underneath. no wonder the torn ligaments in my right shoulder never quite heal. Oh well! at 75 I only have at best another 25 years to keep punishing myself. You will note that my car is not quite show standard but then it never goes to shows or similar static displays. If you want to see it you have to catch it first.
oldcar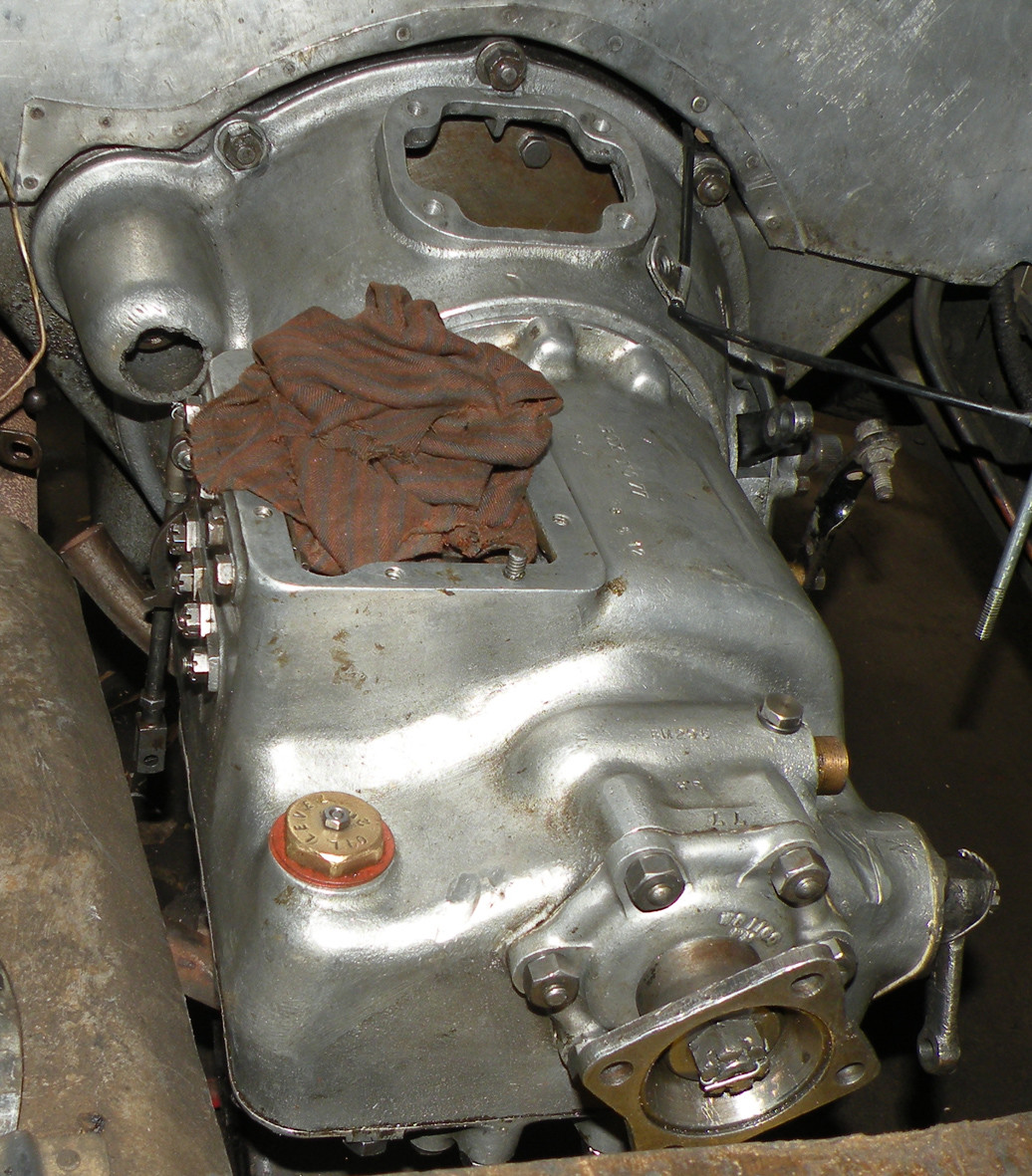 6-2-2012
At last after three mind blowing weeks the Lagonda is all back together. The rebuilt gearbox is so much quieter it makes it all worth while. I still have to do a full road test but every indication is that the operation was successful and the patient even better than it has been for quite some time. We have a full weekend event scheduled for the 23rd/24th of this month which should give it a good workout.
oldcar.
6-4-2012
Hi Roger and thank you.
Here in Melbourne (Australia) the Fourth of June is the fourth day of Winter! I had hoped to take the Lagonda Rapier for a test drive this afternoon but unfortunately the weather gods gave us a perfect English summer day....Cold winds and driving rain, so I stayed inside and wrote a couple of long e-mails. (Like 2000 words).
oldcar.
6-5-2012
Hi Roger
Enjoy the sunshine. I hope that you are going to drive to the top of Mount Ventour on the way home. Either that or detour to climb the Col du Galibier, Col d"Izoard etc
We climbed Ventour in the Lagonda Rapier some years ago, the Stelvio etc in 2004 then the Galibier etc in 2009. Only thing is that you may have to take along a can opener so you can take the top down.
Re the top; I am not referring to those well tanned ladies on the beaches at Monte Carlo etc.
Cheers
Bernie J.
6-6-2012
This one is for all my pre-war British car owning friends: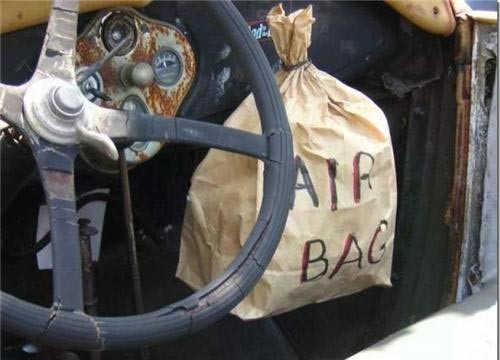 6-10-2012
Hello
Another two photographs from the Equipe Australie "Rapier Raid" on the French Alps in 2009.
Perhaps Roger went the same route driving his old small car. Don't be shy Roger you can tell us what you actually drive.
Bernie J.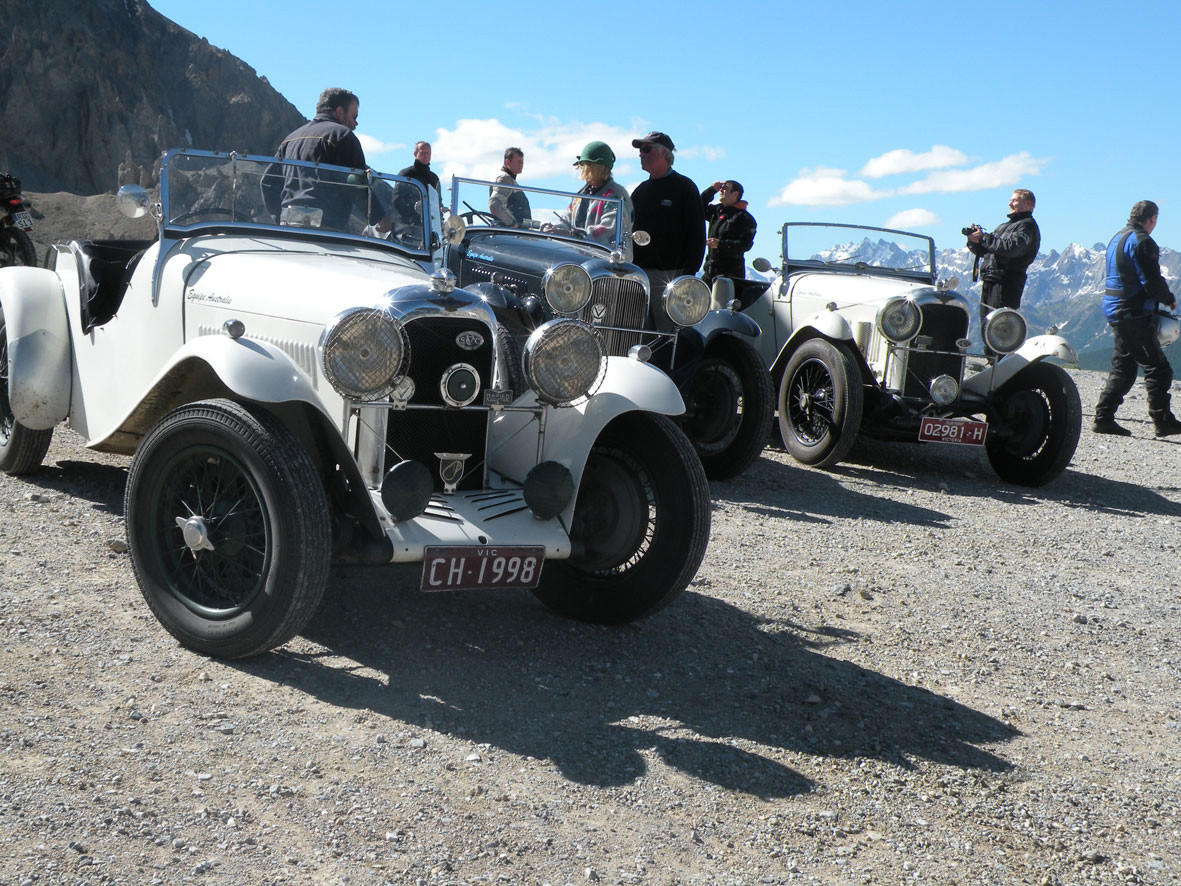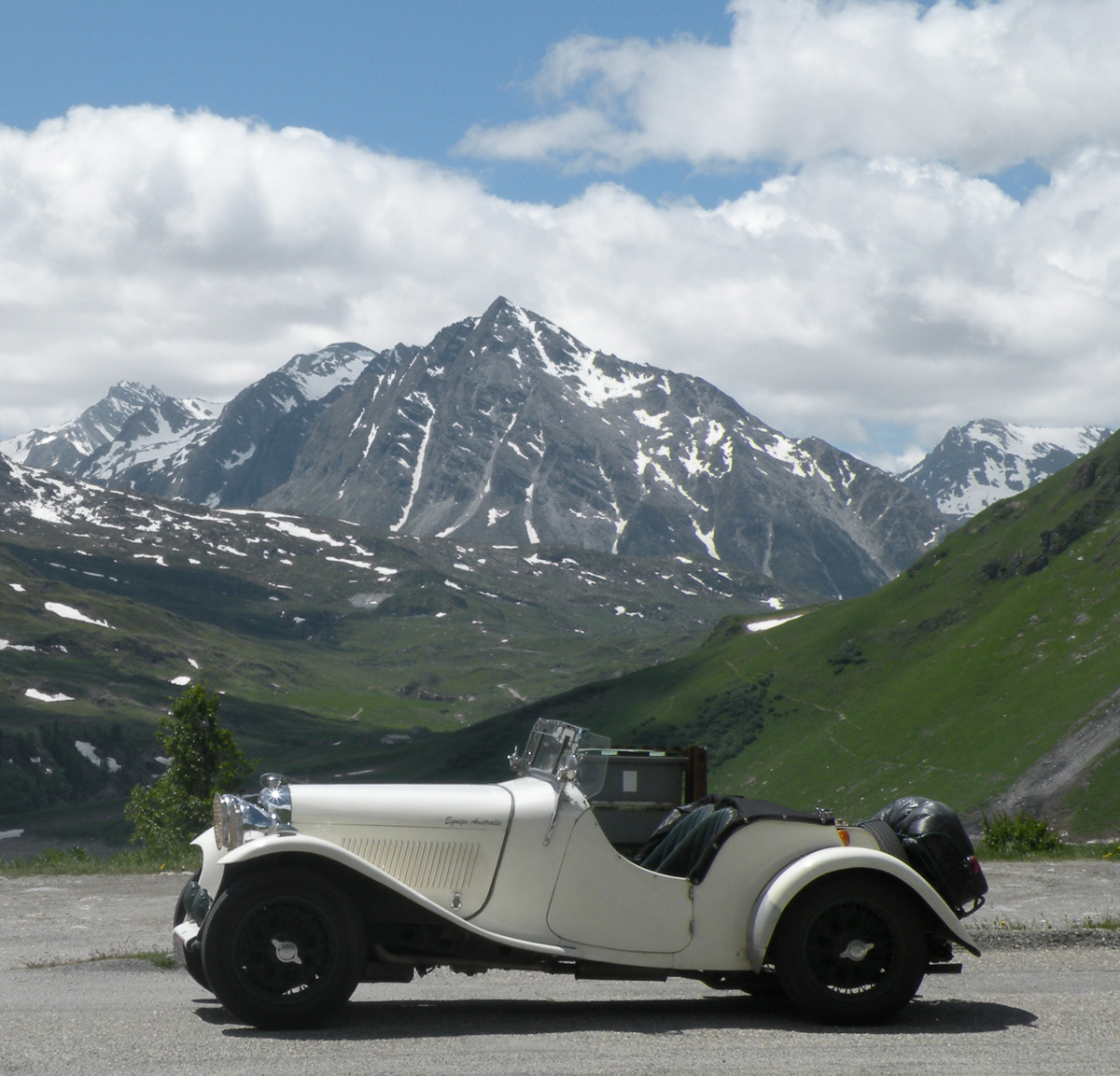 6-11-2012
Well at last today I got to road test the Rapier's rebuilt gearbox. At first it was slipping in top gear, Perhaps I should explain in case some of you missed earlier that top gear is actually a cone clutch. Fortunately this can be micro adjusted using the self adjusting mechanism built into Preselector gearboxes, do this with the engine switched off, you simply select the required gear in this case 4th or top and "pump" the change (clutch) pedal up to 20 times. This can then be tested by starting the engine and with the hand brake applied, select top gear bring the engine up to 2,500 rpm and slowly release the pedal. Provided the engagement adjustment is somewhere near correct the engine should stall. You may have to go through the "pumping" process two or three times before you achieve a positive result.
Once you have got to the stage where the engine stalls as soon as you start to apply load you can then proceed to the road test stage. Find a good steep "test hill". Driving at 30 mph in top gear there should be no sign of slipping. This can be further checked by applying some light pressure on the change pedal with the engine pulling hard in top gear. Naturally it will now slip but drive positively (without any slip) as soon as the pedal is released. You can test the engagement of any gear in this manner.
I am pleased to report that following some (brutal) testing the box is driving well and the difference in the noise level in the lower gears is amazing, they are actually extremely quiet whereas before conversation at a normal level in first & second was impossible. I cannot wait for our next VSCC event in two weeks time.
Bernie J.
To explain the above Preselector transmissions rely on friction lined brake bands contracting on to the selected gear drum to engage that gear. As the friction material wears over time the bands require adjusting (tightening) to do this the nut at the end of each pull rod needs to be screwed down. This is done each time that particular gear is selected. Hopefully at least some of you will understand the attached diagrams and photographs. You may need to go back to my earlier post #34 with photographs of the dismantled gearbox to full appreciate all this.
Bernie J.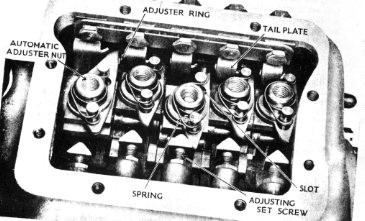 6-18-2012
As we actually use our Rapier on the road and occasionally at night, for quite some time now I have been concerned about the visability of just the two little strips of light that Lucas "D" tail lights afford. After being given a modern LED strip stop-tail light it did not take long to decide where it should go. The extra "STOP" light in addition to the general lighting improvement will not go astray when driving in traffic. If we are going to use our cars we must make some allowances for the other people on the road.
Bernie J.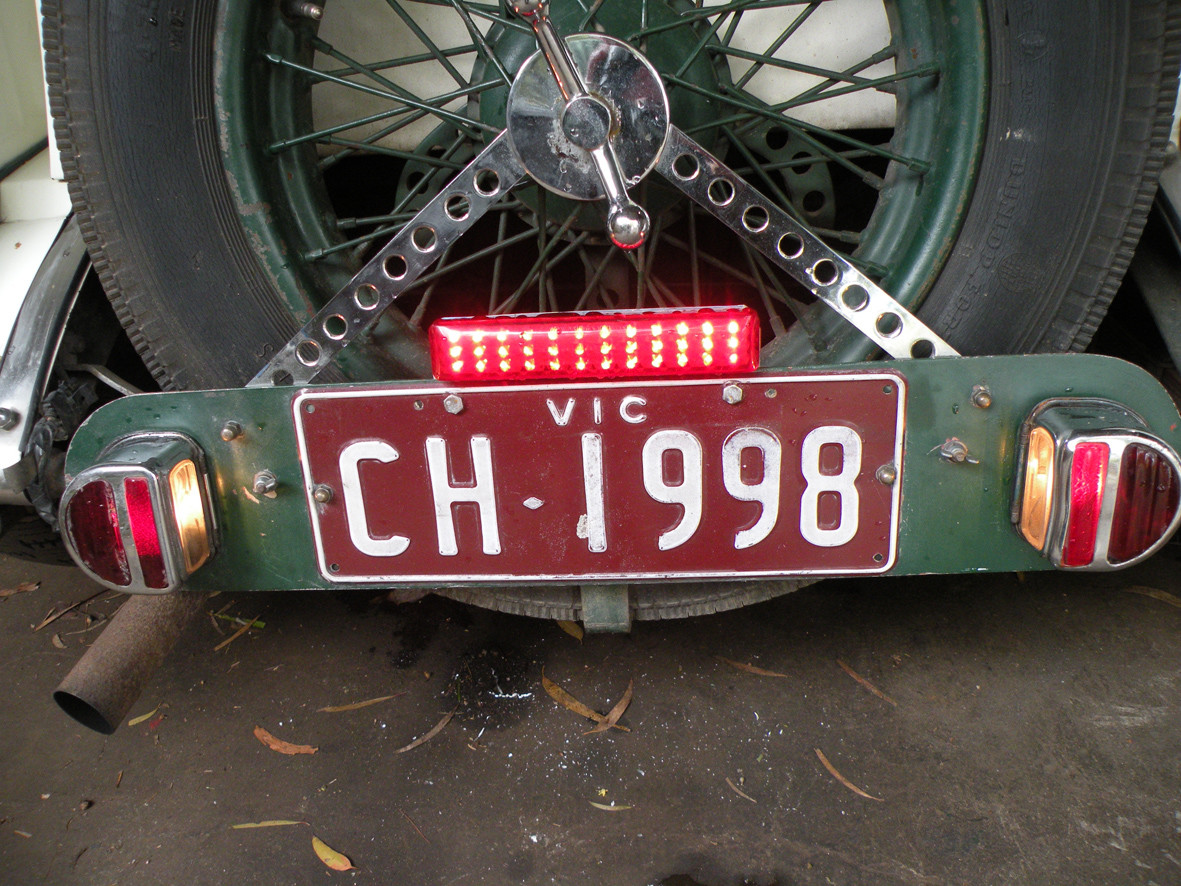 6-24-2012
Hi all
We (two adults and our luggage for a weekend) have just completed a 212 mile drive in the Rapier. This included several long steep climbs and was accompanied by a howling gale, freezing rain and mist. The temperature gauge never got over 70degrees C. Oil pressure a steady 55 to 60 psi. The speedo was seldom under 50 mph and for most of the journey hovered between 60 and 65mph. We used just over seven gallons of 98 octane unleaded fuel averaging a remarkable 27.5 to 30 miles per gallon. Oil consumption virtually nil. Despite being mid winter here in Australia the top remained stowed away for the entire journey (as usual). The rebuilt gearbox is now a pleasure to use with first and second no more than a pleasant whine.
Bernie J.
6-25-2012
English Classic Car Auction house "Coys" are again demonstrating their total ignorance of all things Vintage and Classic Car. In their website advertisement for an AC engined Rapier special they state "It produced 50 bhp (37 kW; 51 PS) at 5400 rpm, a very good output for the time, and production of the engine was sub-contracted to the Coventry Climax company who were to make it famous. Unluckily it was also quite fragile in use, and as in the case of today's Rapier, other units were used as replacements."
I have never read such obviously incorrect and misleading rubbish in my life. I urge all Lagonda enthusiasts to go online at their website and protest their ridiculous and patently incorrect and misleading statement.
Bernie J.
Hi again Last weekend we attended the VSCC of Aust Winter Driving Tests for the first time for quite a while David Cordy had his Rapier GTZ 155 out braving the somewhat chilly conditions. Why not register for the forum or if you already have perhaps we can see some photographs of your Rapier in action.
Bernie J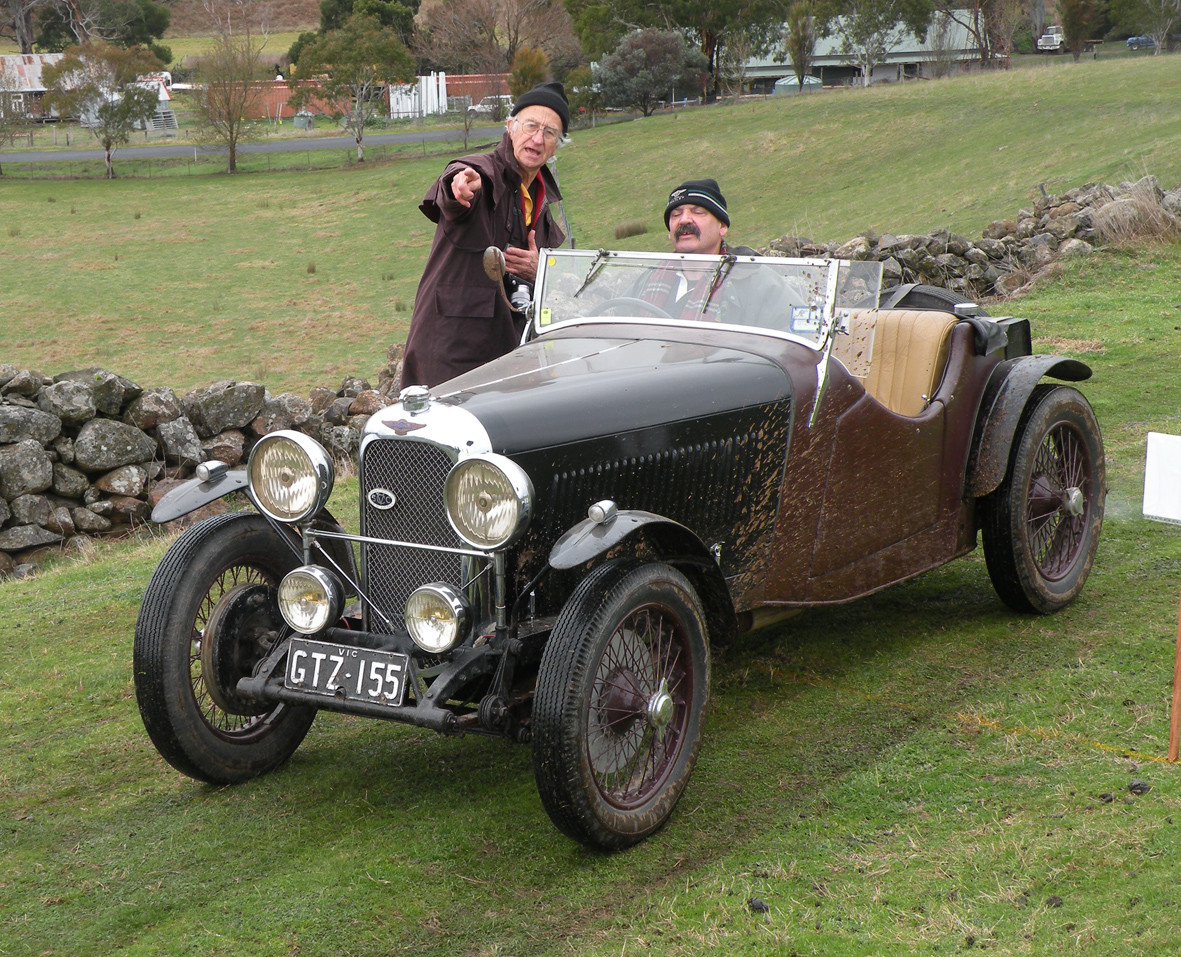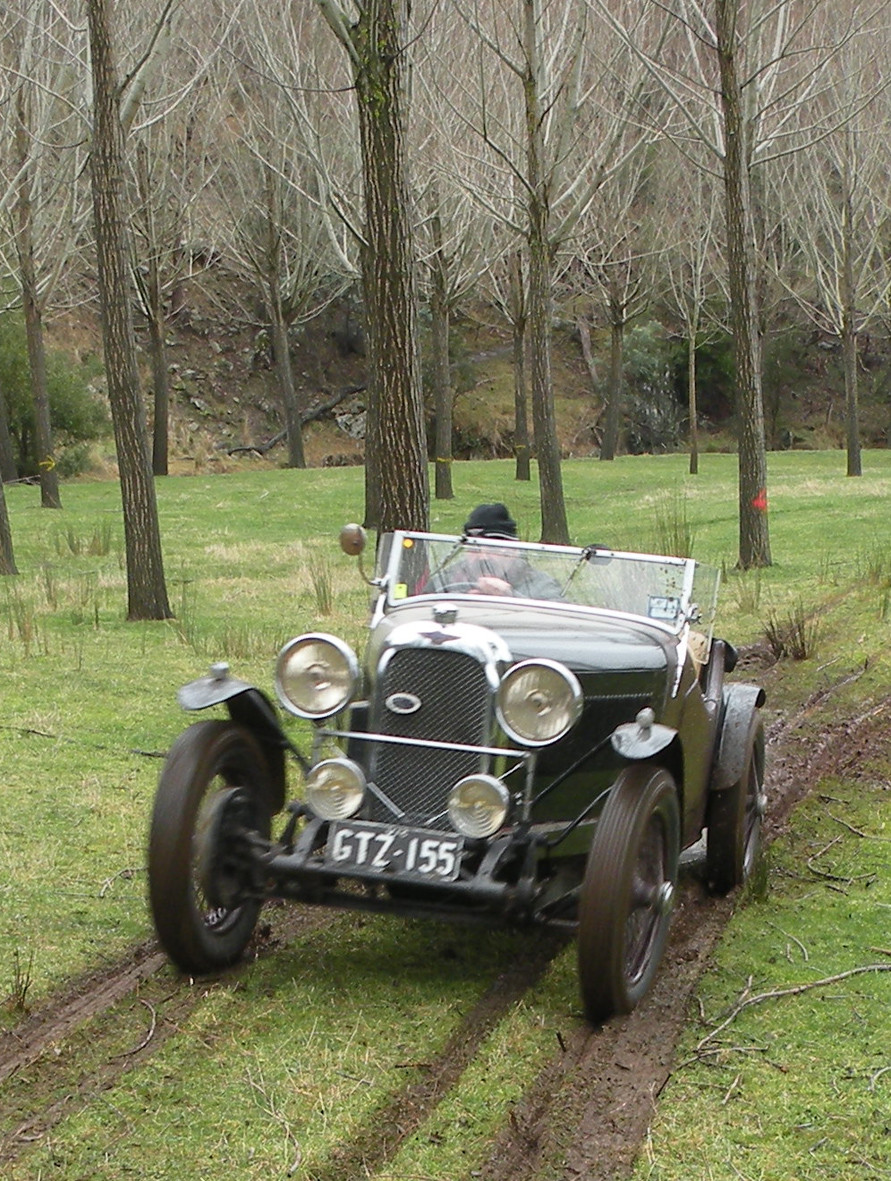 6-28-2012
Jim Williams from Van Wyk Southern Carolina sends photographs of the progress on his Eagle two seater Rapier engine and magneto. He asks if anyone has a 4 cylinder BTH Mag he could buy as a spare?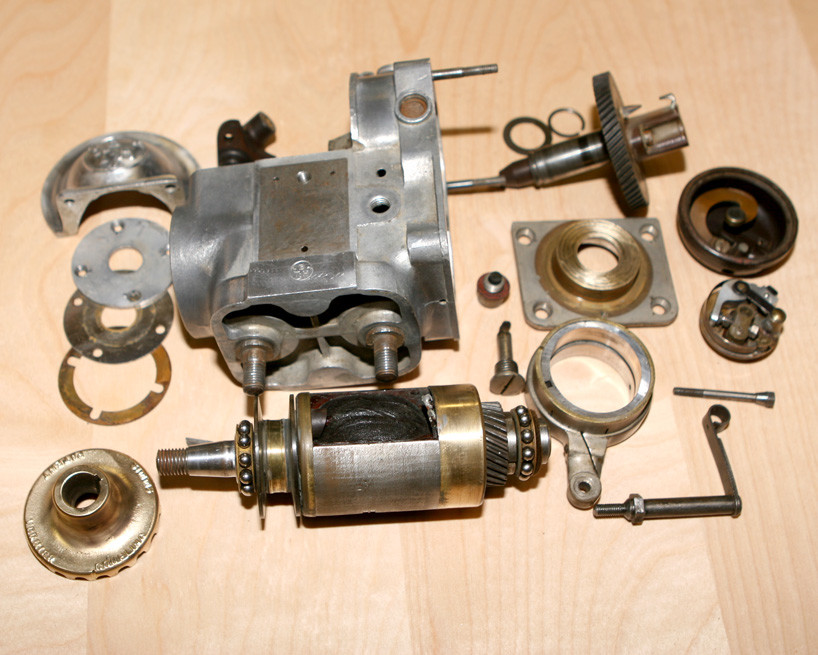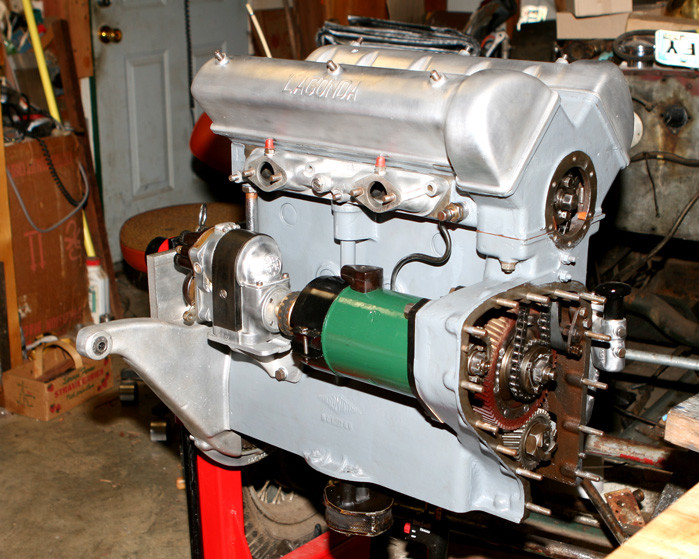 OK, Bernie, I am here with my first post to this thread. The pile of parts representing the magneto were assembled by me yesterday. I had disassembled the magneto because it was last serviced probably 50 or more years ago, and I feared that the bearing grease would be in poor condition. Good that I did so, as the grease was a hardened mass. I was careful to put a keeper across the magnet immediately after removing it. After assembly of all the cleaned parts, I got a good spark across a spark plug with a relatively easy flip of the wrist. Without a plug a swifter twist will produce sufficient spark to jump the safety gap inside the mag. The safety gap prevents excess voltage from damaging the windings if the magneto is operated without plugs to spark across. I expect that the magneto will be fine, but I would like to have a spare for touring. BGT-268 has been off the road, stored in a barn for most of the time, for more than 40 years. It has number three of the original Eagle bodies.
Jim
6-29-2012
Glad that you finally made it Jim, good to have you along. If you cannot find a BTH mag a Lucas GA4 is a handy substitute. The distributor cap varies so you would have to carry one complete with plug leads but otherwise one should bolt straight on. When inspecting your mag internals be sure to check that the windings are not "spongy" . The shelac insulation deteriorates with age and can melt, run, to the bottom of the case, then solidify when the engine cools down, locking up everything. Usually the rubber "Simms" coupling is the first thing to give when you attempt to start the engine next, hopefully saving the fibre timing gear.
Bernie J.
7-7-2012
Do not be shy this thread is open to all owners of Lagonda Rapiers and to anyone who either has previous experience or who admires these remarkable little (1100cc) extremely British sports cars. Why not log on and tell us about your Rapier adventures.
Right now mine has just cost me another Aust $150 for "86 in an 80 kph zone". My mental calculations of MPH into KPH were just a trifle slow! ( The Rapier speedo is calibrated in MPH.) That and rapid changes of speed zones along an almost deserted country road, varying from 100 to 60 kph with minor changes in-between with 10 kph increments up and down over a five kilometre stretch of road. Our taxes at work, making our roads a safer place not to be. N/B. None of the money raised in this way will be spent on improving the roads. But some if not all go to making our Police Force the best paid in Australia (after bonuses).
Bernie J.
7-23-2012
Having looked very closely at the "thread" for the MG TA for sale including all the extra photographs and the video I now know why I like my Rapier so much. There simply is no comparison. You will not buy a Rapier for anything like $29,000 but if you only have that much to spend? At least you won't be getting too many speeding fines!
Bernie J.
I know that I sometimes upset people but I have owned lots of MGs (and other sports cars) raced against them, driven in competitive road events against them, I have misguided friends who own them but to me with one or two possible exceptions MGs are over rated and a waste of space. It is virtually impossible to compare an MG with a Rapier as there is simply no comparison.
Bernie J.
8-14-2012
With the 75th Anniversary Meeting of the Rob Roy Hill-climb coming up on Sunday,(Australia's version of Shelsley Walsh) today has been spent giving the Rapier some TLC. Oil Change, the sump holds two (Imperial) gallons, gearbox three and a bit pints, Penrite HPR 30 in both. New (full flow screw-on canister type) oil filter. New spark plugs and distributor points. In lieu of the standard BTH Magneto my car runs a Bosch distributor. Tomorrow I have to replace the (foam plastic) air filters then get underneath to check the rear axle oil level and finally give it a wash and a quick polish and it should be ready to go.
Bernie J.
8-20-2012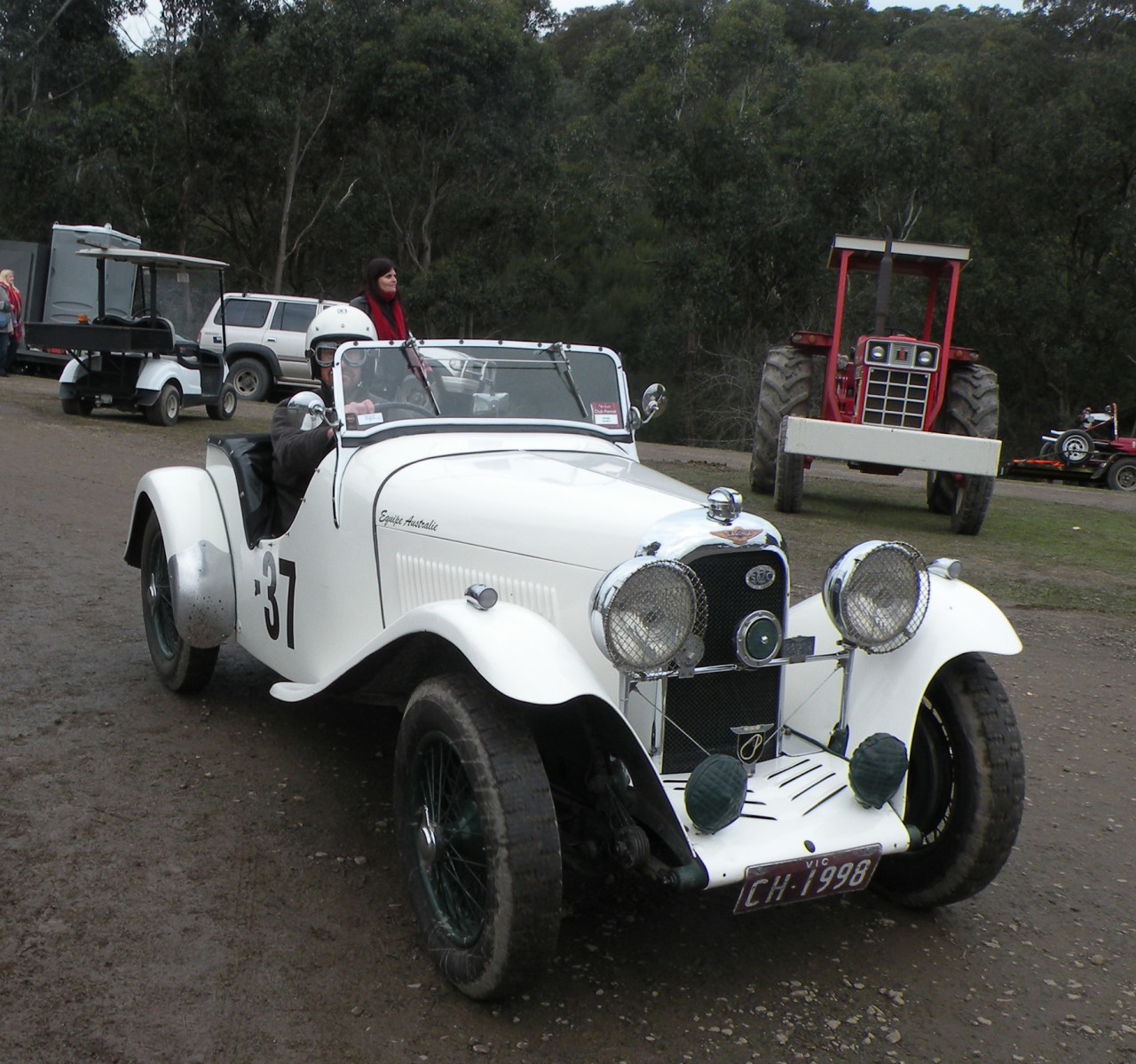 Rob Roy Hill Climb. After a very wet week the pit area and dummy grid/assembly area was extremely muddy The attached shot shows our son Steve in the Rapier making his way to the start. With all the mud wheel-spin made getting off the start line quite a problem, water still draining across a couple of the corners did not help much either. With luck I should have the official results tomorrow.
Bj.
8-21-2012
Merde! as the French are wont to say... The bureaucracy in Australian (Amateur) Historic Motorsport has gone totally mad!
Due to some minor discrepancy in my competition licence both Steve and I wasted a day rushing up and down the hill. I have now been told that due to the said discrepancy, neither of our times were recorded and that they will not appear in the results. MERDE!!!!
Bj.
8-25-2012
You can see a short video of Rob Roy at "drive.com.au/video" Some of you may find it interesting. Sorry not an MG "B" in sight.
Bj.
8-27-2012
I have just received an e-mail from Jim Williams in South Carolina. Jim who I have mentioned before is an octogenarian and has owned his Rapier since the 1970s. He is doing a major engine rebuild carrying out all the work himself. His most recent task has been replacing the water transfer plates from the rear of the cylinder head.
Bj.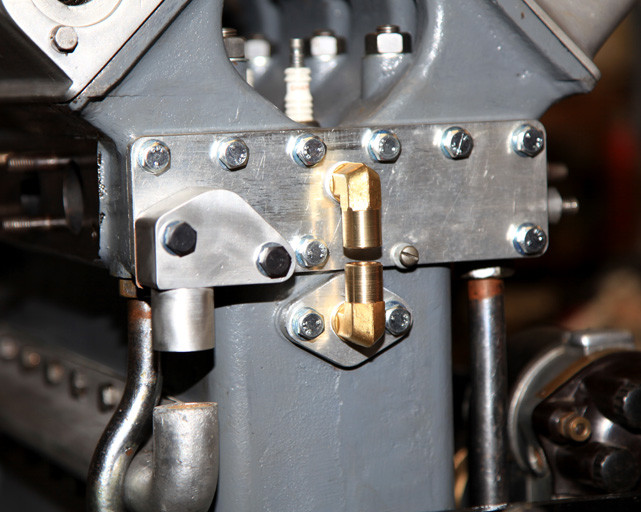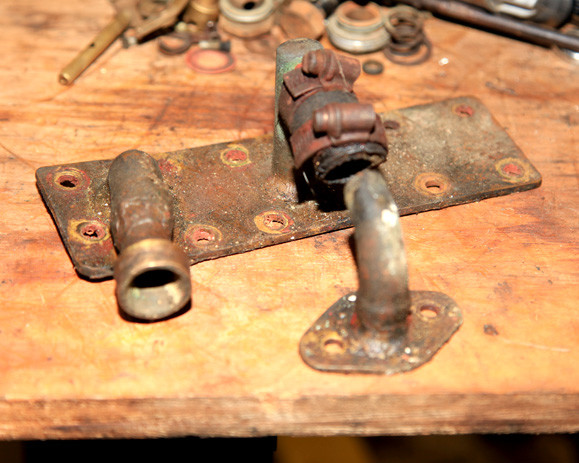 9-17-2012
Hello again
Last weekend there were two Rapier on the VSCC of Aust (Victoria) Two day Rally. This was a Road Navigation event over as the title implies Two Days. Our total distance covered was just over 370 miles for the two days. Being a sports car club many of the entries were British cars but unfortunately or fortunately depending on your point of view there were no Bentleys, no MGs and no Rileys Most popular Marque was Vauxhall with two 30/98s and two 14/40s. Attached are some photos taken at the re-start on sunday morning and at the lunch stop on sunday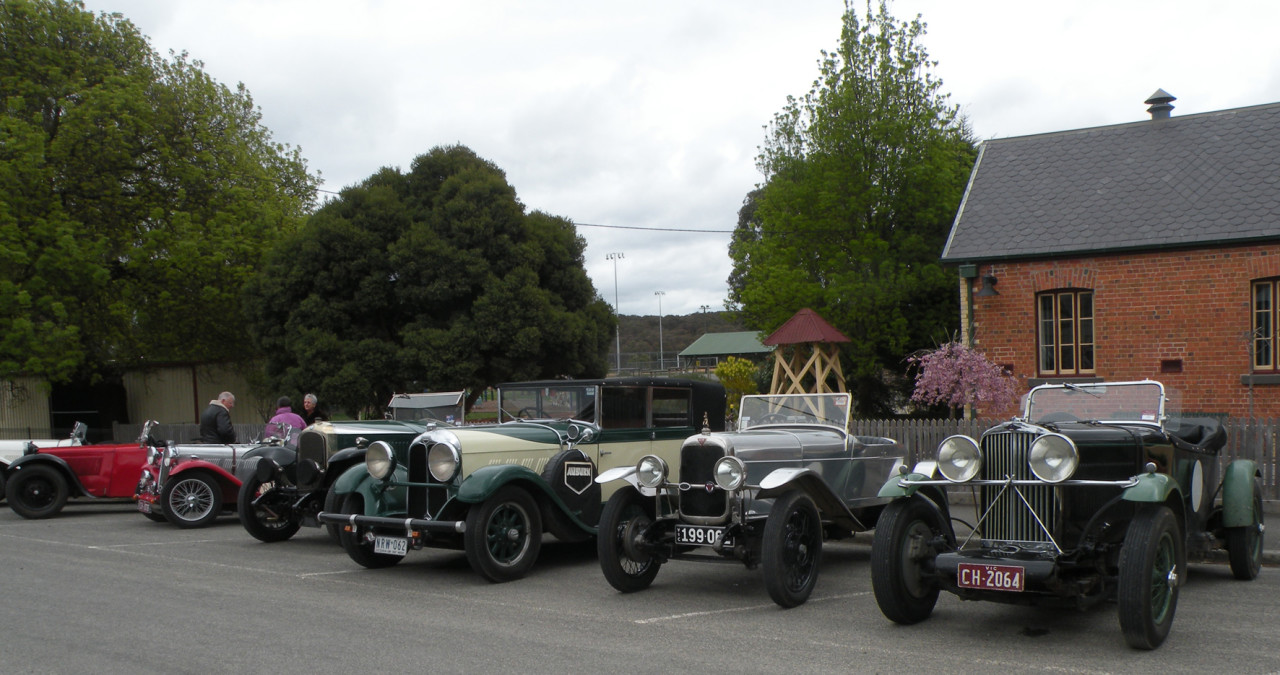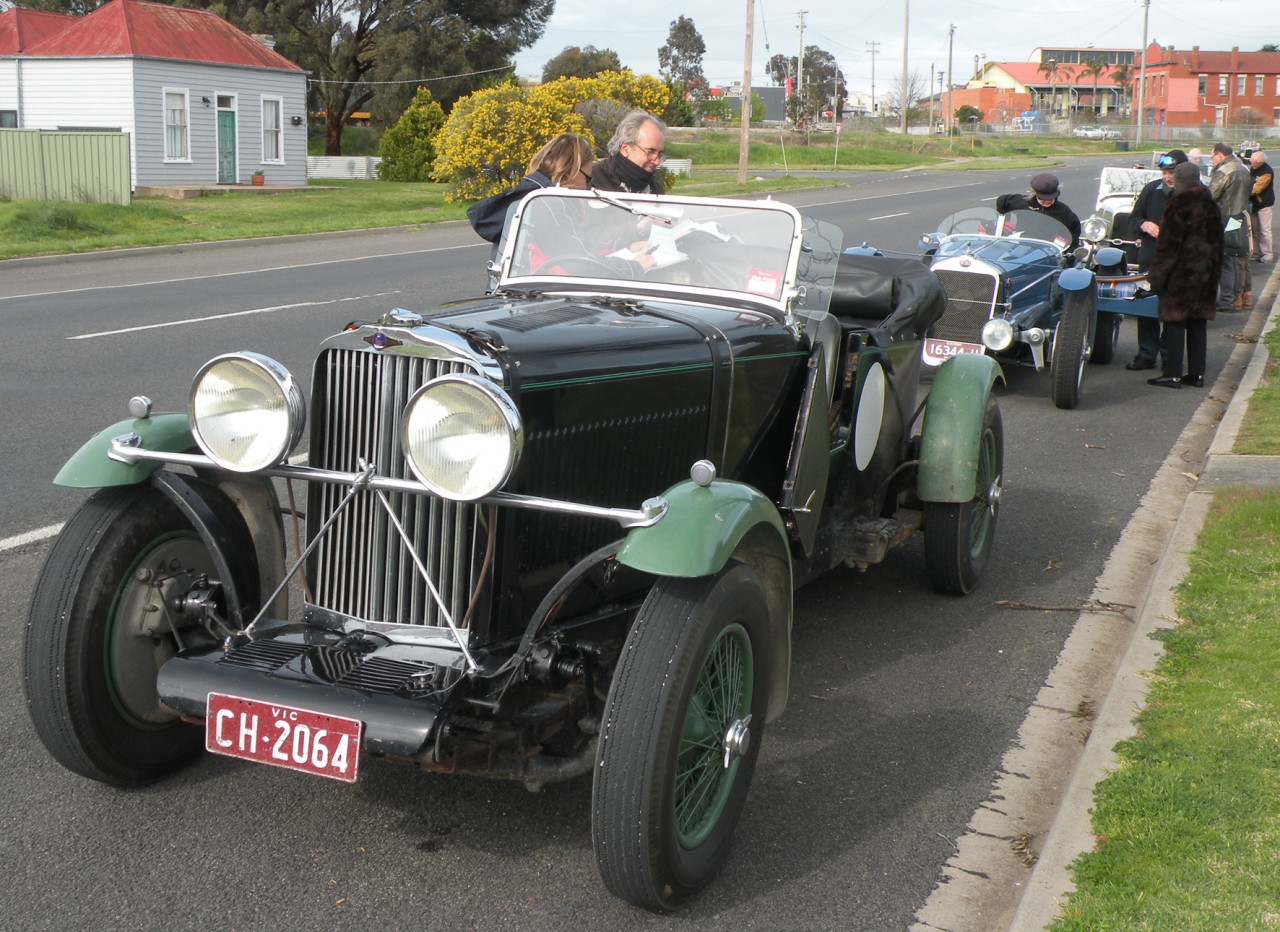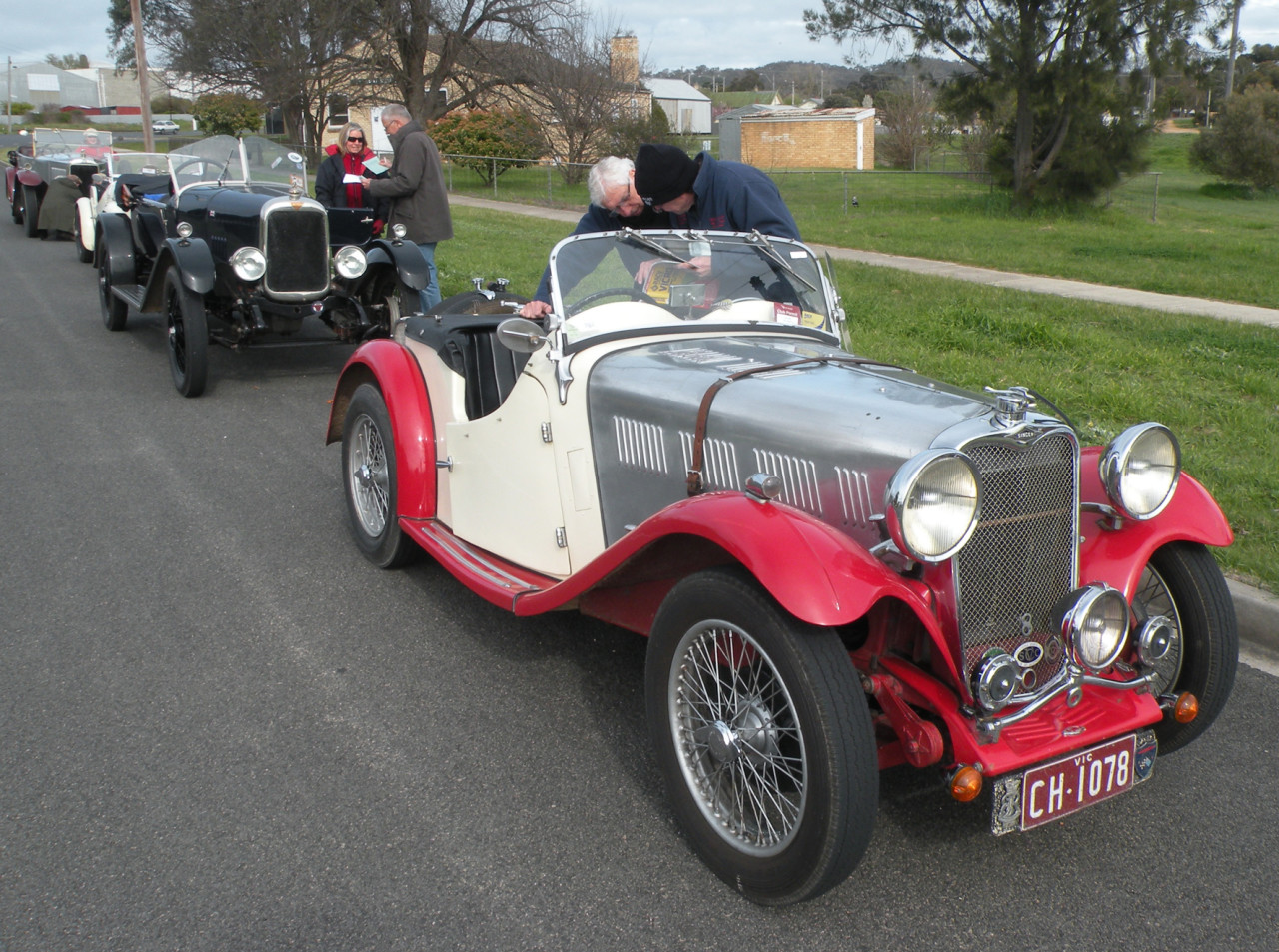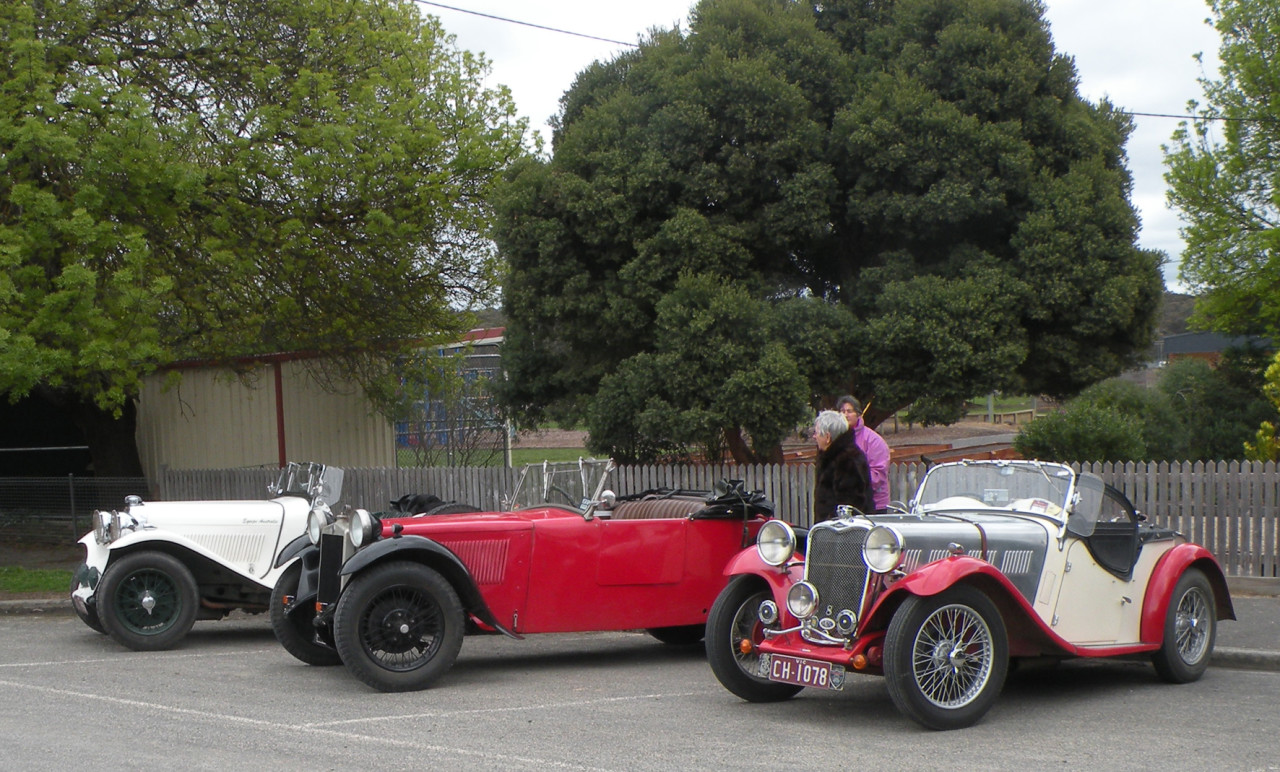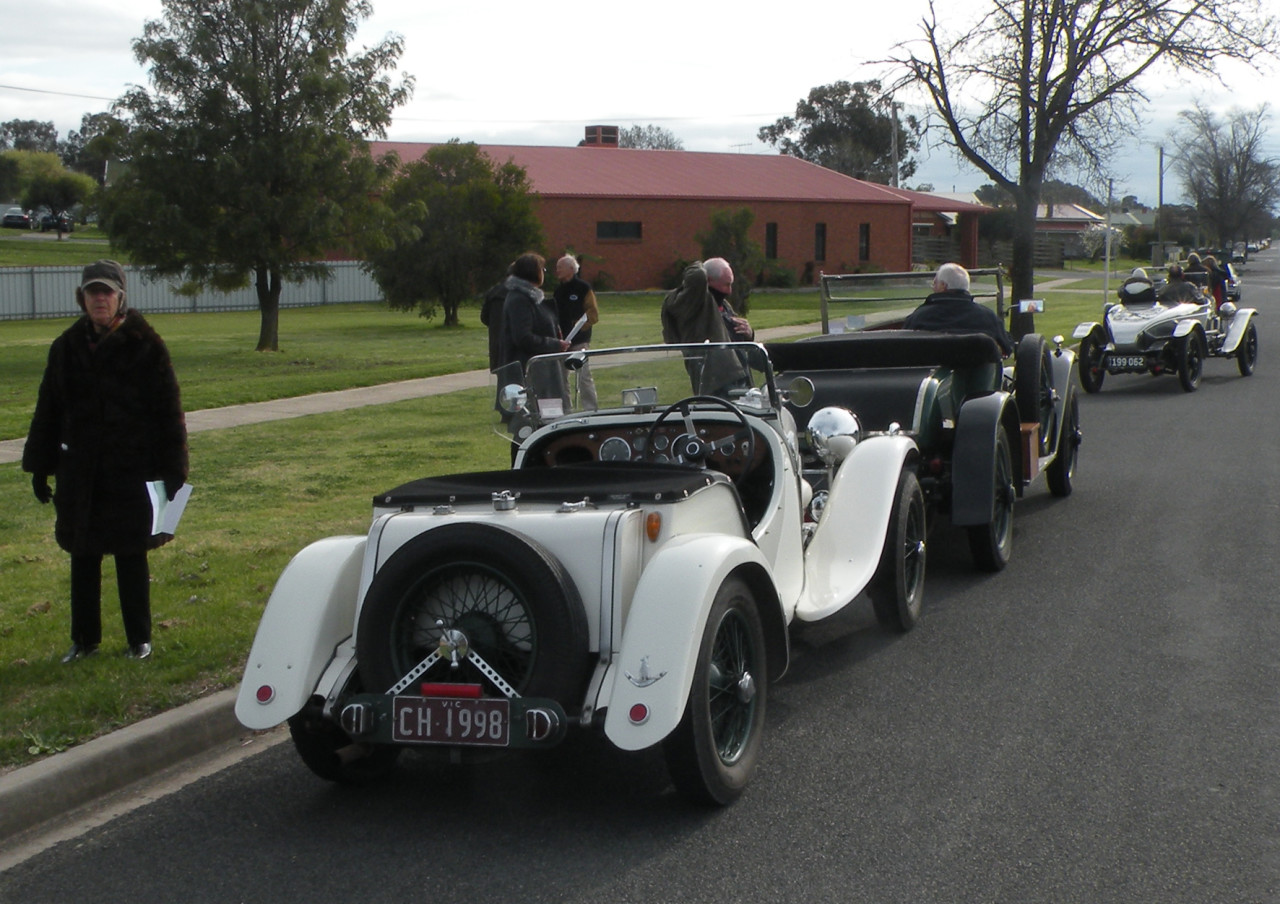 10-17-2012
Some weeks later on the way home from a recent outing some slip under load in top gear was noticed. This failed to respond to some fine adjustment so with our next competitive event in just four weeks it was decided that the only real solution was to replace the friction lining on top gear, in effect a cone clutch. so this morning the gearbox came out and is now up on the bench. Fortunately this operation does not involve a complete strip down but requires the front cover and input shaft to be removed. For those interested I will try to post some progress photographs tomorrow.
Bj
Thank you Ken
I checked the clearances between each gear annulus last time I had the box apart but I will have another look I also intend to replace the large ball race that carries top gear male cone. My car does have to work fairly hard for its living. Since the last time I had the gearbox out it has been running (mainly in club competition) with a drive plate in lieu of the clutch. I had been running a modern diaphragm clutch for some years but it had created an many problems as it had solved. I will be able to tell you more once I have the front off the box this morning, yesterday much of the day was consumed with Grandfather duties. I have found that the garage is not the ideal place to entertain a very active five year old and an equally enthusiastic three year old.
Bj.
With the box apart it was soon obvious that the problem lay in wear on both the male top gear cone and the friction lining in the cone. Fortunately I have in stock both a reconditioned (hard chromed) male cone and a secondhand female cone with an almost new friction lining so the box is well on the way to being re-assembled and back in the car. Providing there are no distractions it should be almost back together by this evening. You can see in the second photograph that the male cone is virtually bottoming in its female counterpart. Back to work.
Bj.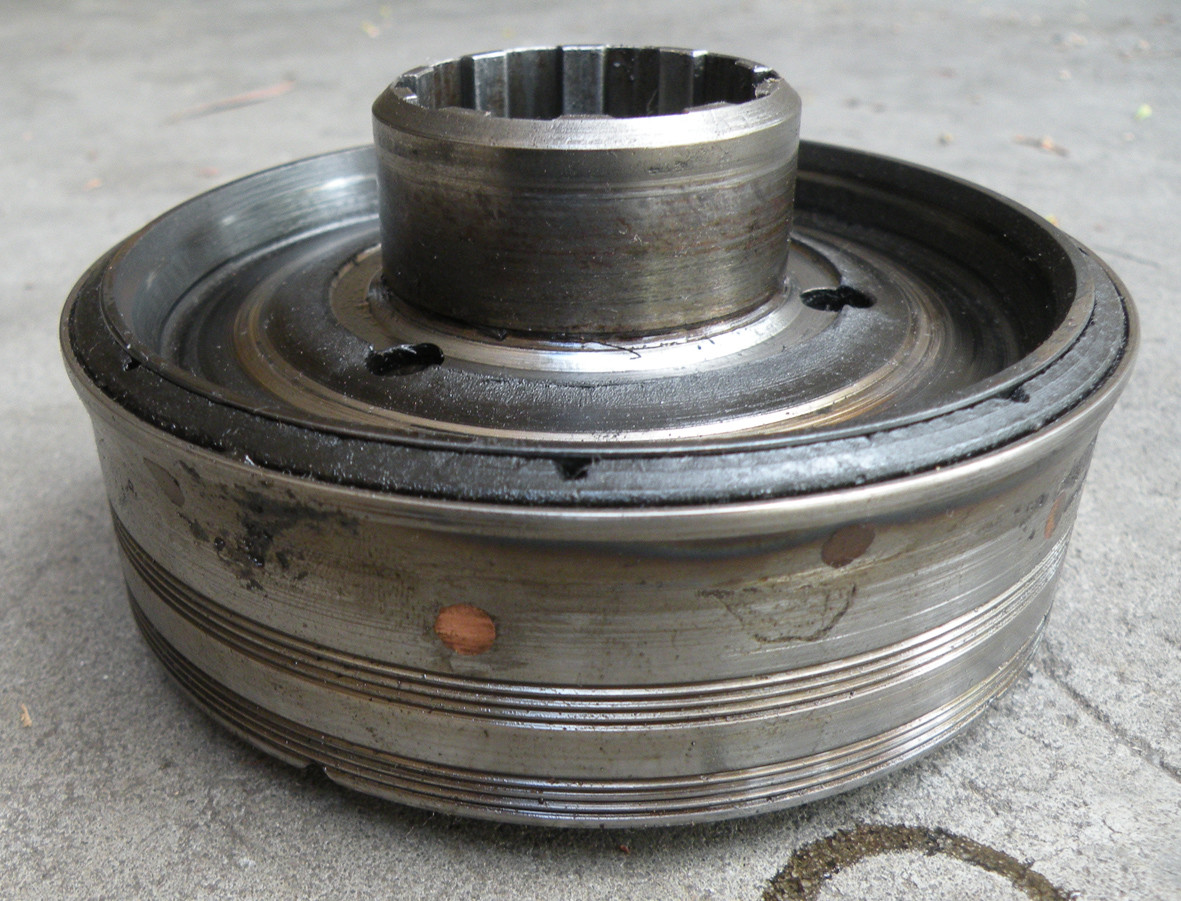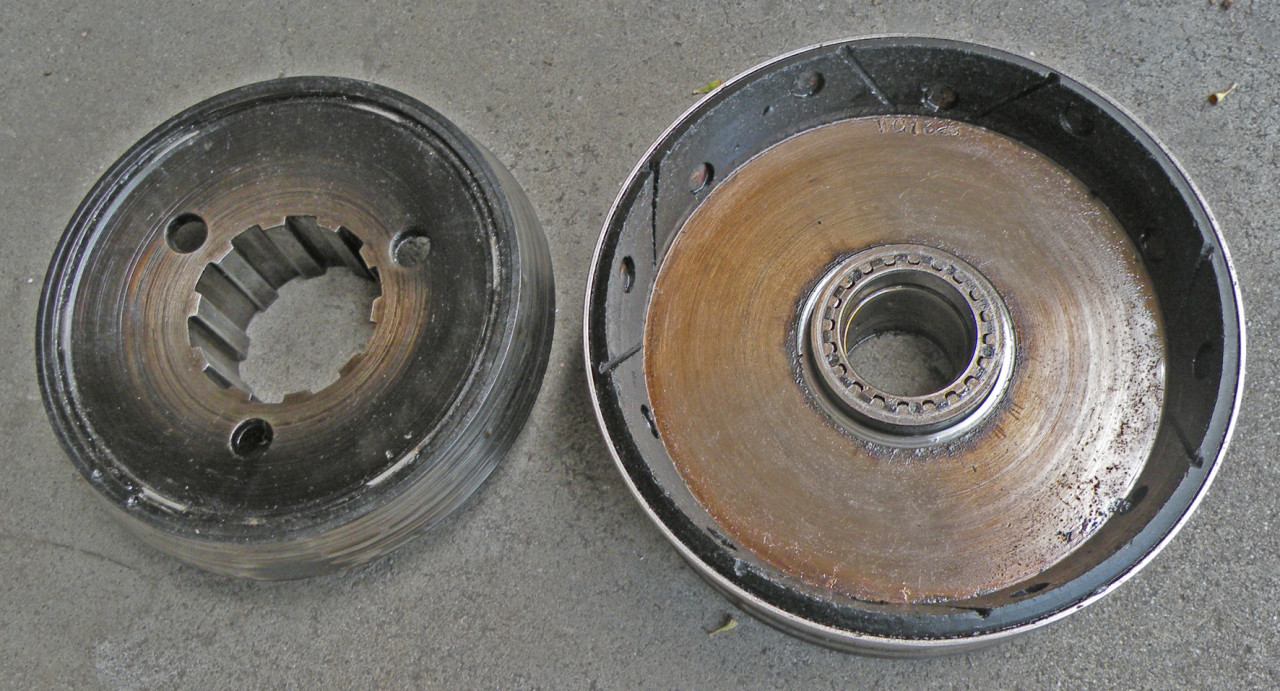 10-18-2012
My friend and fellow Rapier owner Bruce Rodgers has been going through some old files and has sent me some of his photographs from our 2009 European tour. Here are a couple that I thought some of you may like to see. You may even recognise the location of at least one. Bruce's car is the one at the rear. It is the only Rapier to have been fitted with a Bertelli (of Aston Martin fame) body.
Bj.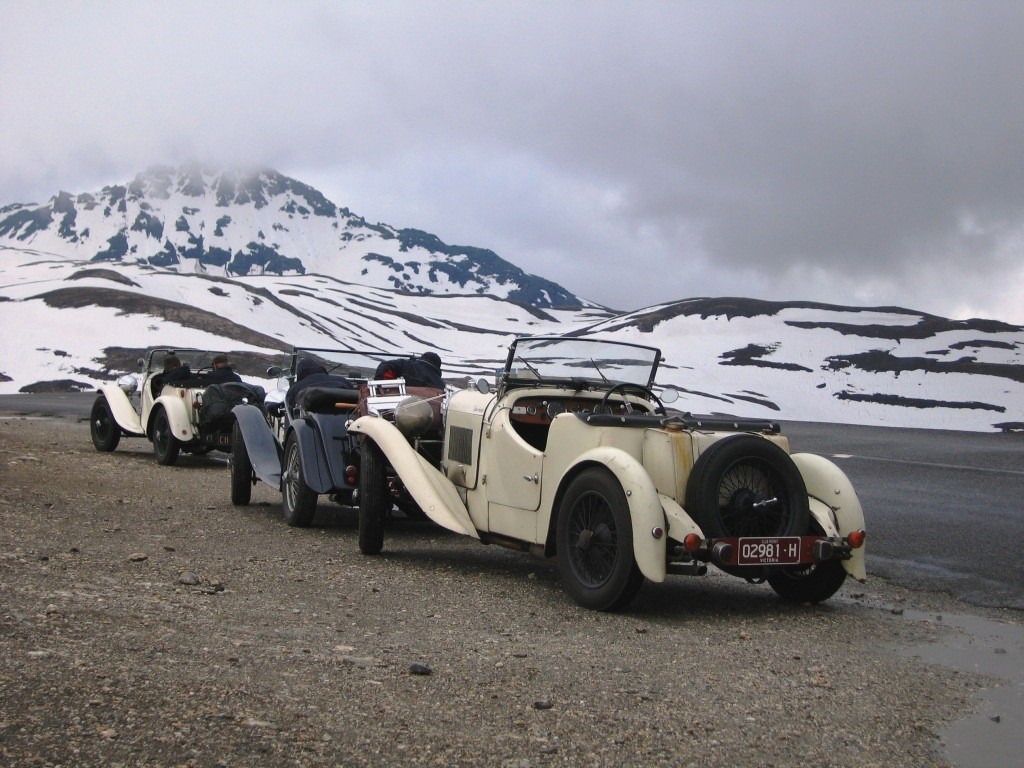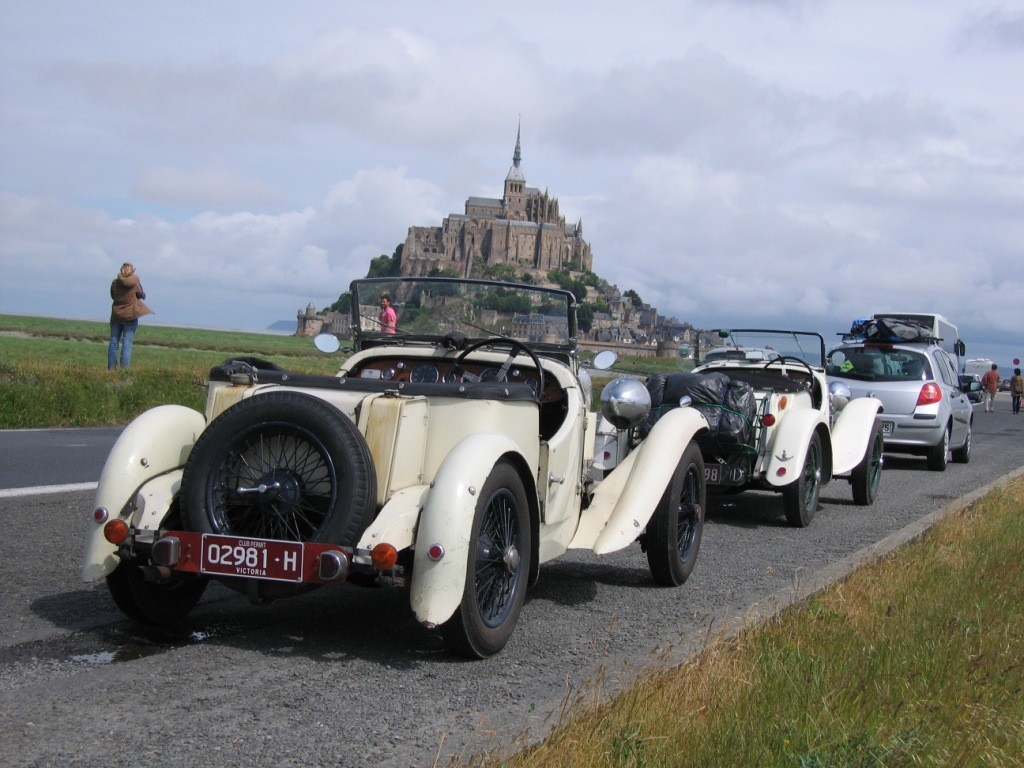 11-30-2012
Hello all Lagonda Rapier owners
Please don't be shy I do not want to carry the whole thread! Some of you must use your cars if only occasionally. I have been going through some old photographs that may inspire you into action. The first is of Helen with KG at the historic pit counter at Reims, France in 1999. the other shows our daughter Anna and son Paul playing in the mud on a VSCC Observed Section Trial. This section of "road" is usually reserved for 4WD only. All the smoke that you see is not from the exhaust but tyre smoke. Our next visit to Europe is planned for 2014.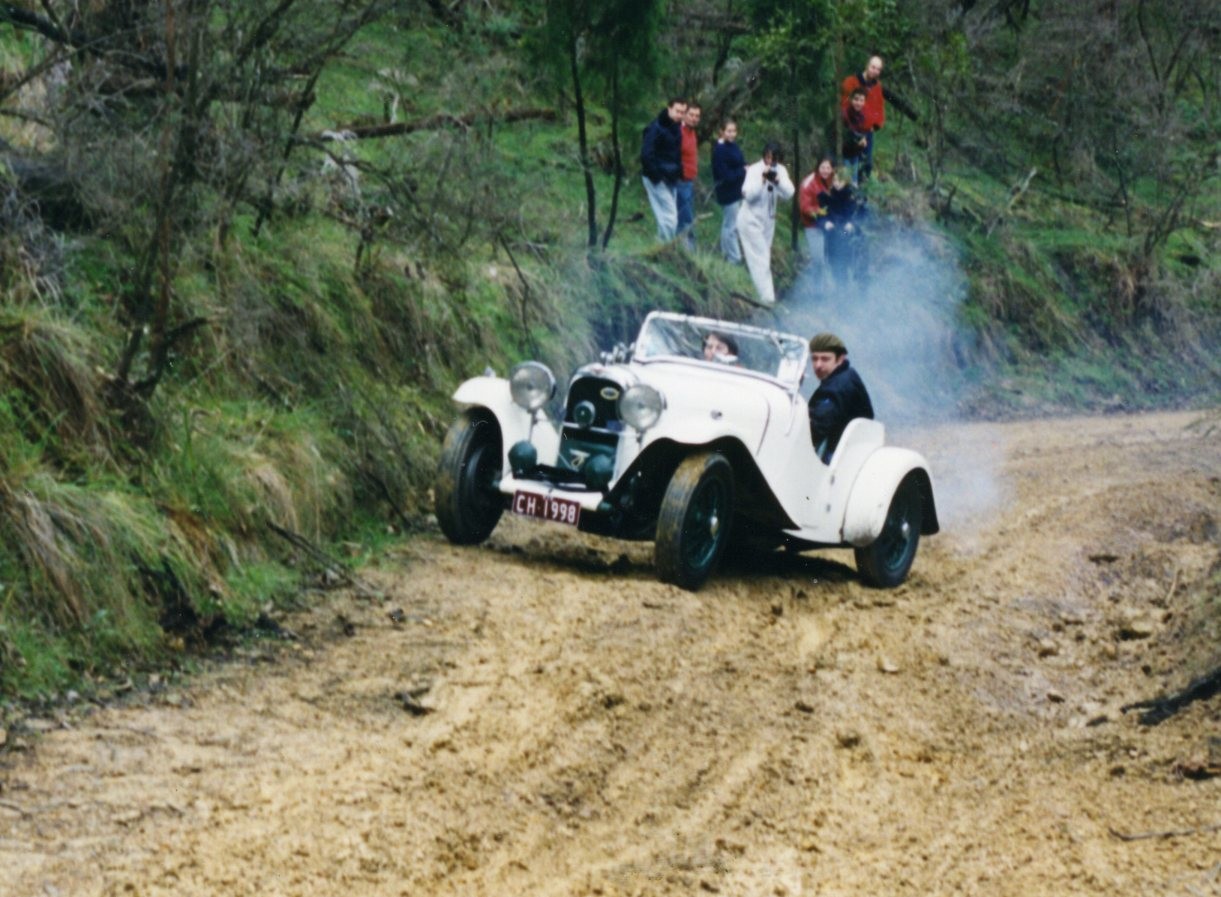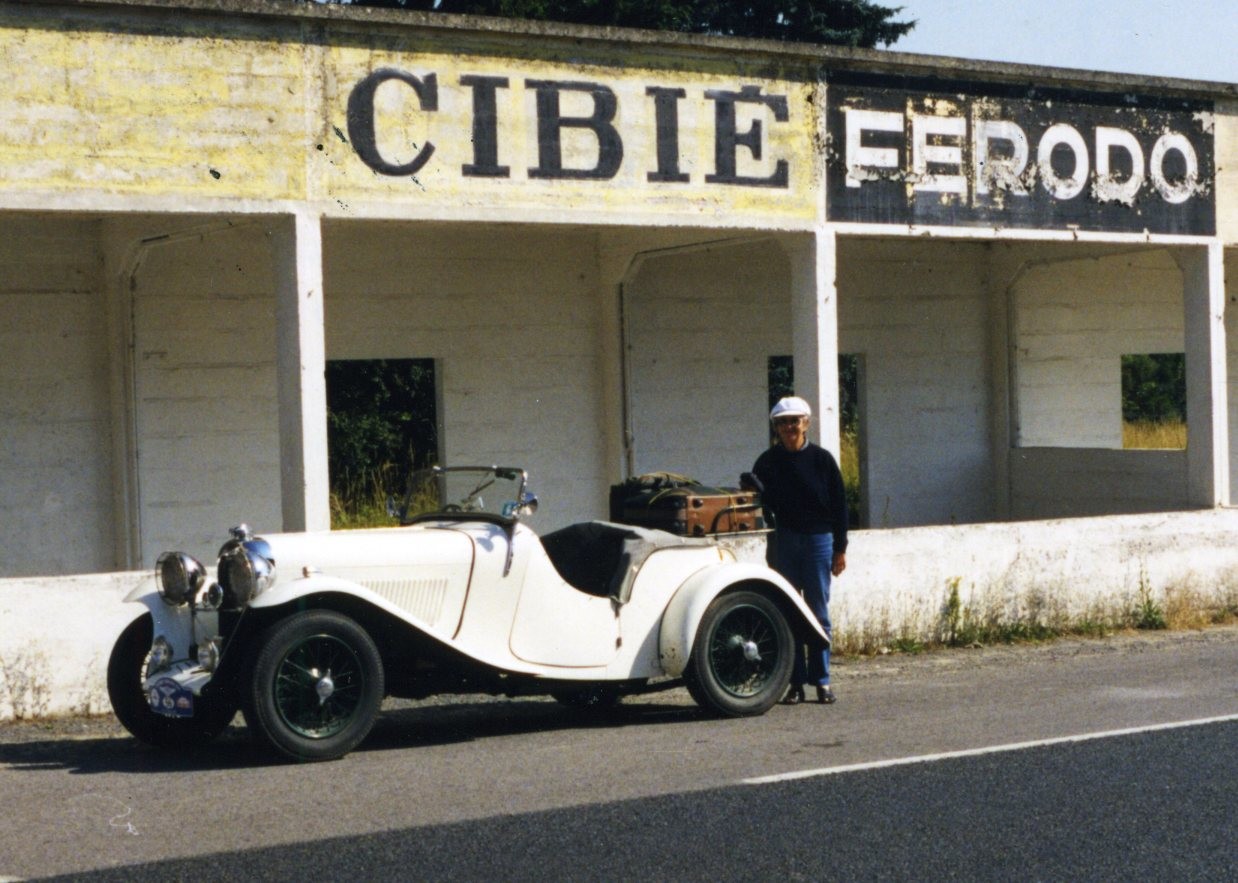 5-25-2013
It seems that we must be the only Lagonda Rapier owners that actually use their car on a regular basis. No one else has added anything to this thread since our last post in November 2012. This does not mean that we have not had KG (CH1998) out but we have been busy with other things. Last Sunday saw us out despite the cold and wet. (it is late Autumn here in Australia) for the VSCC of Victoria, Australia's Day Navigation Trial, we covered 233 miles door to door leaving home a 8.45 am and returning at 6.45 pm. The Rapier went extremely well and averaged 23 Miles per (imperial) Gallon. Not too bad considering for much of the day the speedo did not fall very far under 60mph and frequently went well above this and much of the route took us on winding, narrow secondary roads, mainly through hill country.
Bj.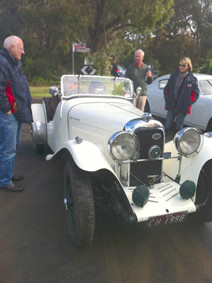 5-26-2013
Sometime I have to remind my self, the owners of lesser vehicles often have no conception of what constitutes a GOOD car. Given that the Lagonda Rapiers are all almost 80 years old and the entire production did not exceed 400. That is right FOUR HUNDRED in total, they can be excused if they have not even seen one, let alone have been lucky enough to own one. Most people having once owned a Rapier will never go very long without one. As a very limited production car they are virtually totally hand built with what for the time (1934) was an incredibly sophisticated specification for a four cylinder 1100cc car. Two overhead camshafts, a crankshaft that the owners of lesser vehicles would die for. 4 Speed close ratio preselector gearbox. Girling brakes that made the Rapier the first car to stop in less than 30 ft from 30 mph. A fully balanced engine capable of being consistently run to 5,500-6,000 rpm. Depending on the final drive ratio this translates to 70mph in third gear and over 90 mph in top. All this with handling to match. Every Rapier chassis to leave the Lagonda factory was fitted with an individual coachbuilt body making every Rapier unique. Thanks to the Spares service supplied by the enthusiastic members of the Rapier Register (Spares) in England, Lagonda Rapiers have a survival rate that is unsurpassed by any other car.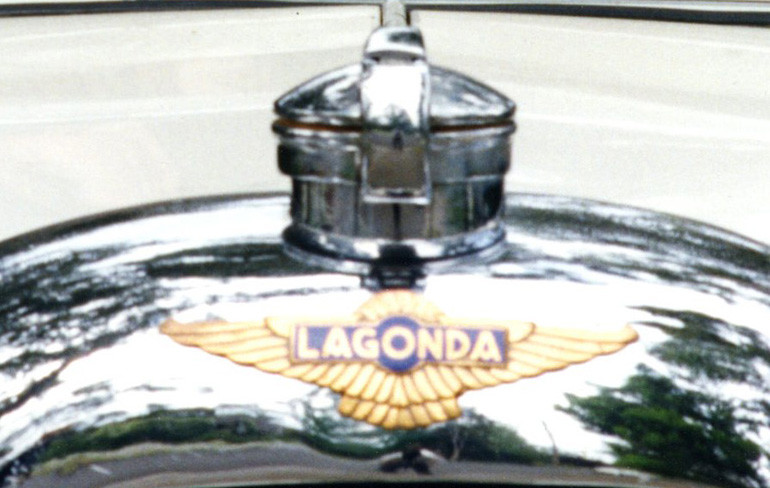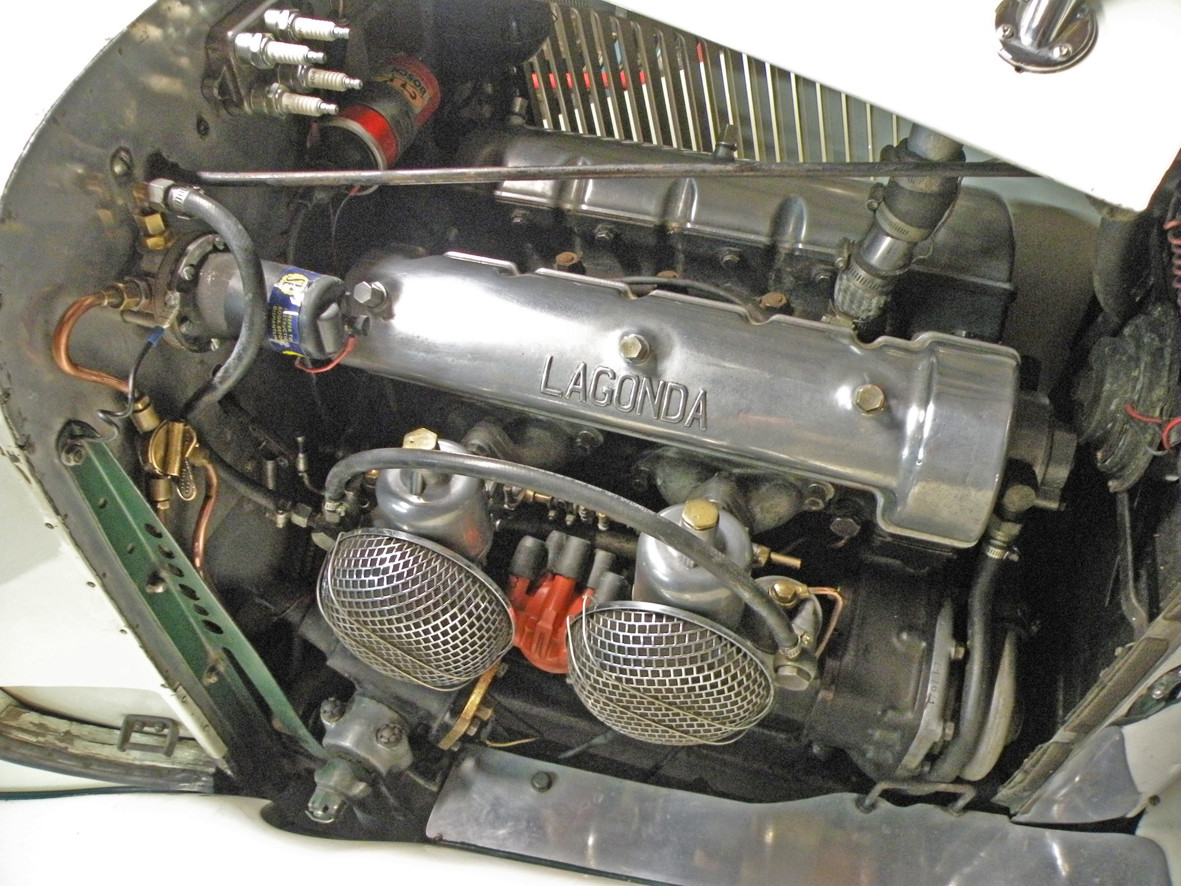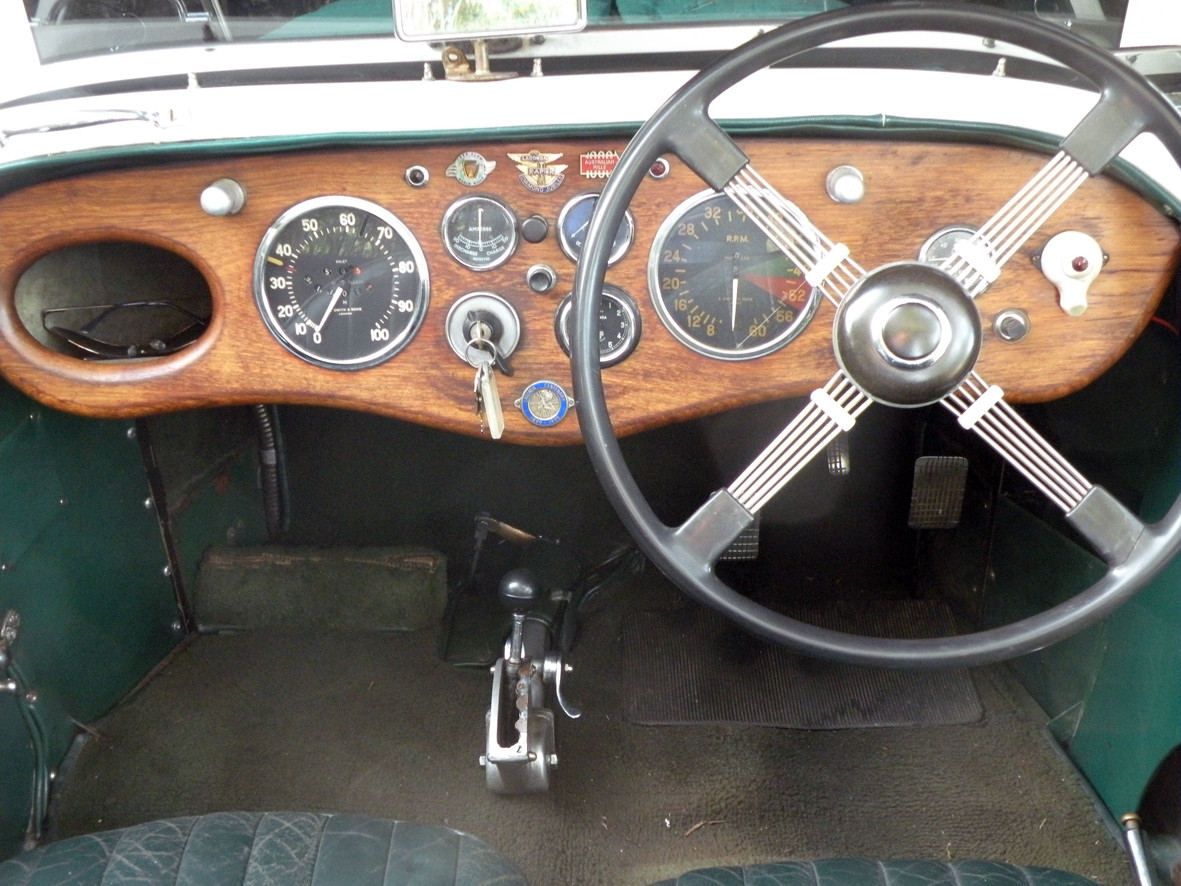 5-29-2013
We are just starting to think about our next visit to Europe with the Rapier (2014) and in the process of reviewing past trips I came across what must be one of my favourite photographs of the car. This one taken in 2004 during a lunch stop in the Swiss town of Wessen, the alps towering above the town. Marvellous motoring!
The decal on the centre bottom of the windshield is the pass from the "Drivers Parade" at the LeMans 24 Hour for that year. You only get one of those by being there and being invited to take part in the "Parade".
Bj.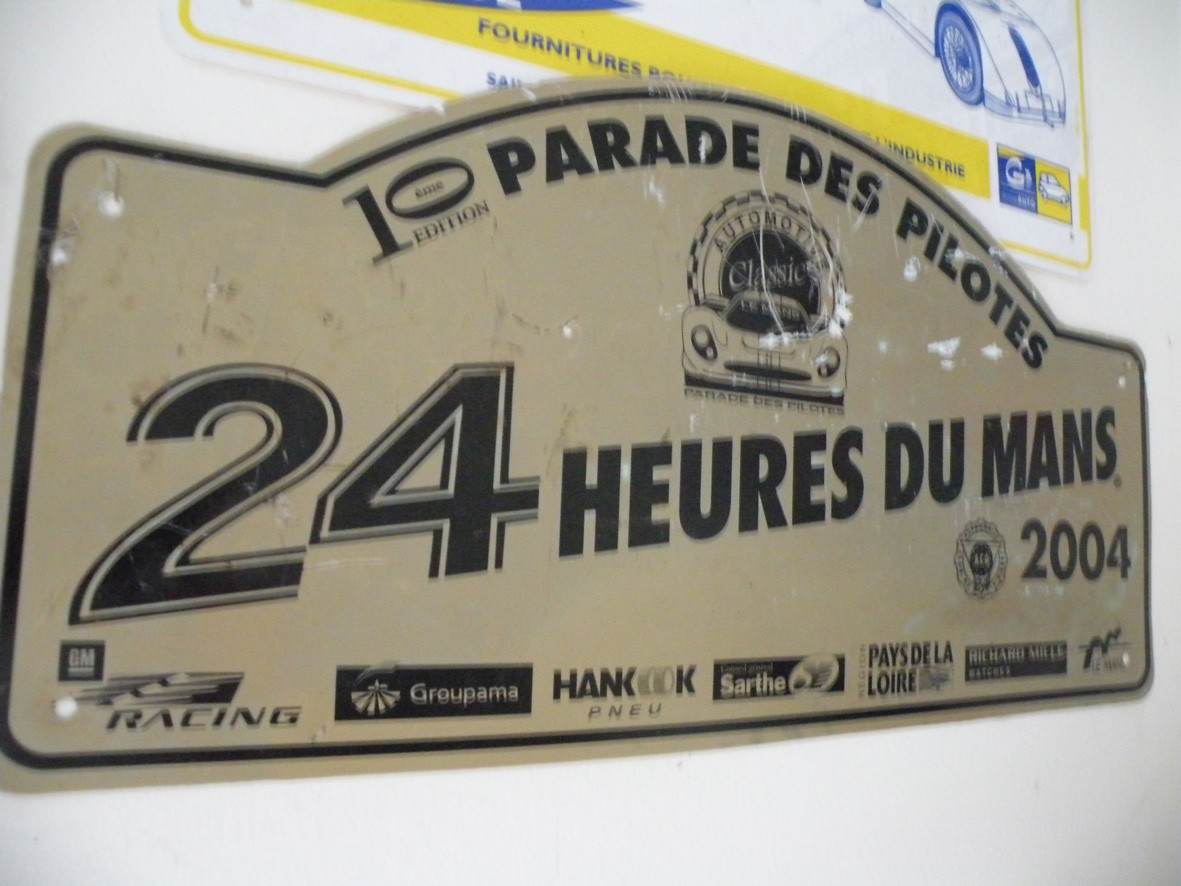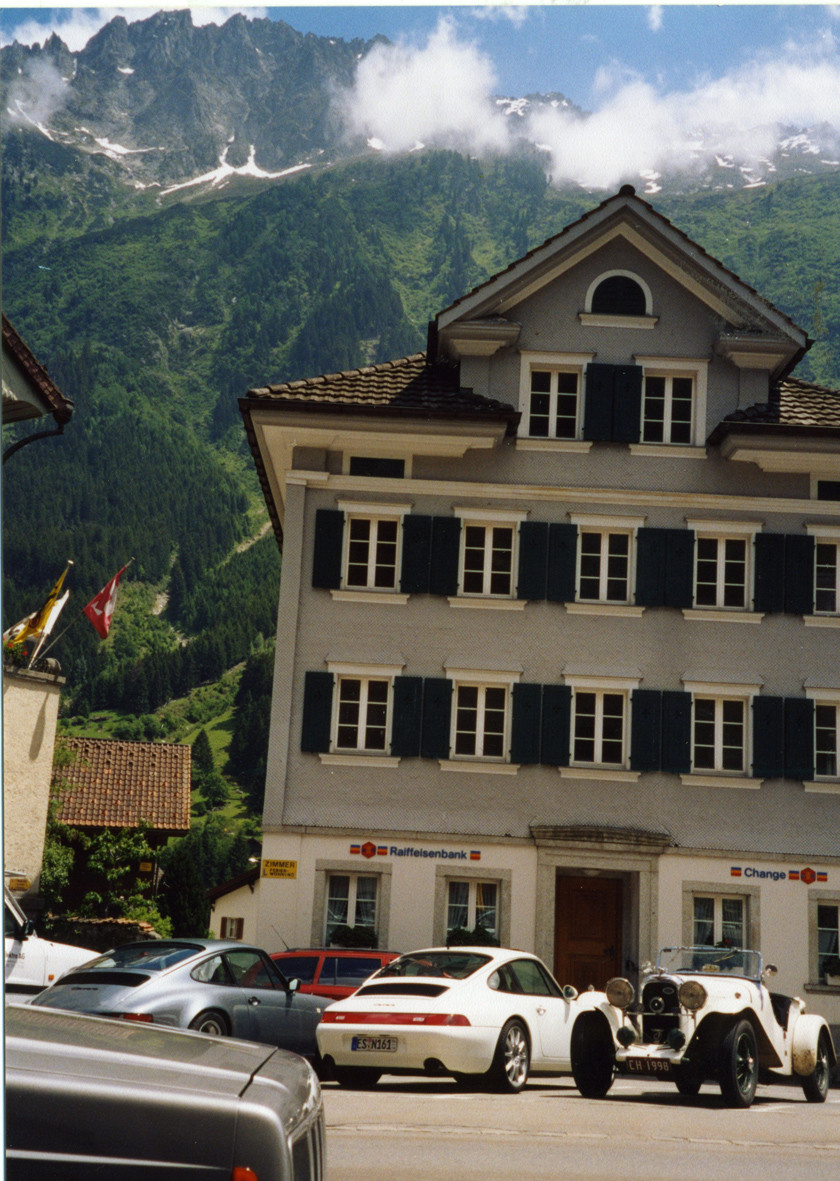 12-24-2013
A little while since I posted here, it seems that most if not all the USA based Lagonda Rapier owners are like their cars, safely tucked in and sound asleep. Hope that Santa can still find you.
Ho Ho Ho Merry Christmas to all.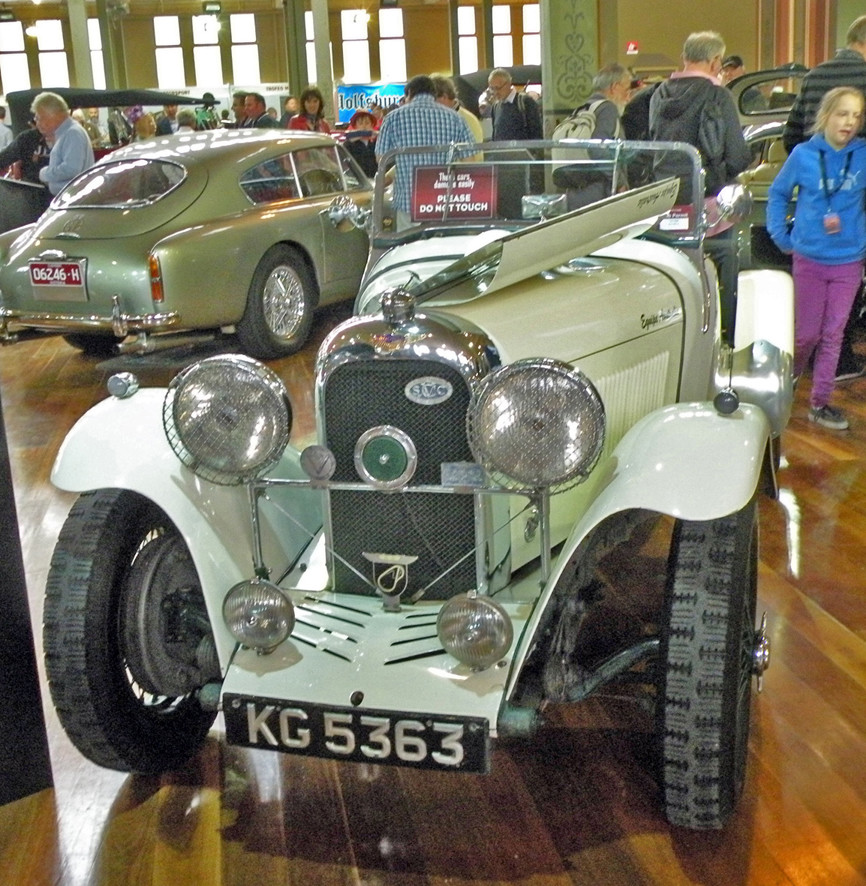 Not too shabby after 35 years constant road use?
Still the *Best Light Car in the World.
Bj
* Not my claim but the Chairman of the Lagonda Co in July 1934.
12-27-2013
Hi Mike
CLB is alive and well in the hands of a Rapier Register member in Somerset. If you send me an e-mail I can give you their contact details. I will take the liberty, if you have no objection, of forwarding your photograph and details to the Register Archivist. The "Register' confirms that it was indeed the 1936 Autocar Road-test car.
Bj.
In my other life I am the Australian Secretary of the Rapier Register (and a life member for my sins.)
Hi Mike
Ann P would be interested if you have any other Rapier photographs for the Register Albums.
BPK is alive and well and is now back in the UK after its long holiday in the USA.
As I have stated elsewhere, considering the very small numbers produced, (less than 400) the Lagonda Rapier probably has one of the best survival rates of any car produced in the last 100 years.
Bj.
12-28-2013
Hello Al
A good question. but first you have to look at the two cars you are comparing. The SS100 had either a 2.5 litre or 3.5 litre engine while the Rapier has a 1.1 litre. Having said that, on the road, obviously a 3.5 Litre SS will be faster in maximum speed but that is all. In acceleration over a quarter mile there would be very little difference while in road holding and braking the Rapier is well in front. A SS100 could not live with a Rapier on a twisting mountain road. While I have never owned a SS100 I did build and own a 3.5 litre SS-Jaguar special which was shorter and lighter than a SS100. It handled much better than a SS100 mainly because the engine was about six inches further back in the chassis giving better weight distribution. In terms of survival it is almost impossible to know how many "genuine" SS100 survive because there have been so many fake "replica" cars made. The Rapier Register keeps extremely accurate records of the Rapiers and can tell you where every car built is or what happened to it. The attached is a random selection of one page of the Register giving the cars in registration number order, the date they were first registered, where they were first registered, who they were sold by, the engine & chassis numbers which coach-builder built the body and the body style and the "Remarks" tell where the car is today or what happened to it.
Even today many Vintage and Classic Sports Car enthusiasts will tell you that the SS100 is something of a "Promenade Percy's" car, essentially a "Show Pony". Only in recent years has the SS100 has become eligible for membership of the VSCC in England.
Bj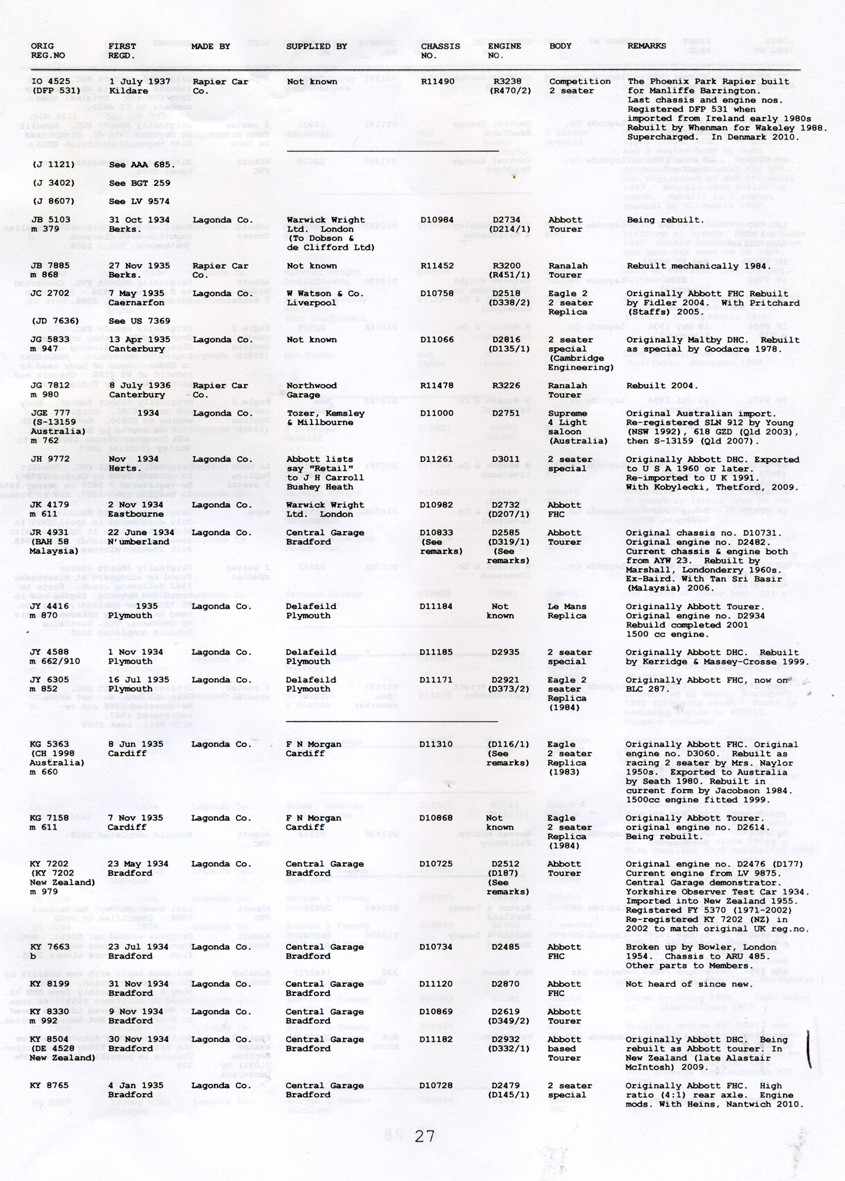 If you look at the entry for KG 5363 you can read a condensed history of my car.
You need to "click" on the chart twice to bring it up to readable size.
Hello Michael
To the best of my knowledge the Letters give an indication of where (the County) the car was first registered the Numbers simply give an indication of the date registered in numerical order. The number is issued to the first owner or perhaps more accurately the Dealer selling the car when new. Probably an English reader can give a better explanation.
Bj.
3-22-2014
The ship having been delayed by 7 days, we hope to load the five Rapiers (and one Riley) into the container for their sea voyage to the UK next Thursday or Friday.
3-23-2014
With the car virtually ready to go into the container there were just one or two little jobs left to do.
The main one was to check that the carbutettors were nicely "in tune". This can be litterally taken in the musical sense of the word as will soon be revealed.
The very first thing with a pair of twin or dual SU carbs is to make sure that they are synchronised. To do this it is necessary to release the throttle shaft coupling (See Below) so that each throttle can be moved independently. With the motor running and nicely warmed up and the air filters removed, Listen to each of the intakes in turn through a short length of rubber tube or hose. You will hear a hissing noise, by listening each in turn adjust the idle screw (Moving in very small adjustment each time) on each until the hiss sounds for both carbs is the same in loudness and tone. You can then re-tigthen the coupling making sure that you did not disturb the setting in the process. The carbs should now be synchronised. Next thing is the check the mixture. Most modern (1950s & 60s SUs have a little piston lifting needle under the right hand side of the dashpot (see photograph below). Again with the motor warmed up and running at an idle lift one piston, if the engine speeds up the mixture is too rich, if it slows or stops it is too lean, if the motor continues to run at an even idle the mixture is correct. If your carbs do not have these lifters you must lift the piston very slightly with a flat blade screw driver or similar, This should be approx 1/32 in) Proceed to check the other carb, if the mixture is either too rich ot lean this can be adjusted by screwing the jet adjusting nut (see diagram) ONE FLAT AT A TIME Screwing "Up" to weaken and "Down" to richen, rechecking the mixture with each adjustment.
Many people are un-aware that, with SU carbs in particular, the level of the float in the float bowl can effect the mixture strength. This is checked bu carefully removing the float bowl lid making sure that you do not drop the metering needle. The float level is measured by the clearance between the lever that rests of the top of the float and bears onto the bottom of the needle regulating the supply of fuel into the carb. To check this use a short piece of metal rod placed between the "prongs" and the lid of the float bowl. (The shank of a twist-drill is ideal.)
This varies depending on the year and size of the carburettor and the diameter of the float bowl. Sealing of the needle on its seat can be checked by gently blowing through the inlet on the side of the float bowl lid. (See attached chart below).

Most (post WW2) SU's Have dampers incorporated with their dashpot screw-in oil caps. (See below) These should be topped up once per month, (depending on the amount of driving done) Note NOT filled to the top of the dashpot but filled to the top of the chamber in the piston guide.
Finally once per year it is a good idea to remove the Bandjo fitting bringing the fuel into the float bowl, there should be a small conical filter that requires cleaning before replacing back into its place in the junction.
Bj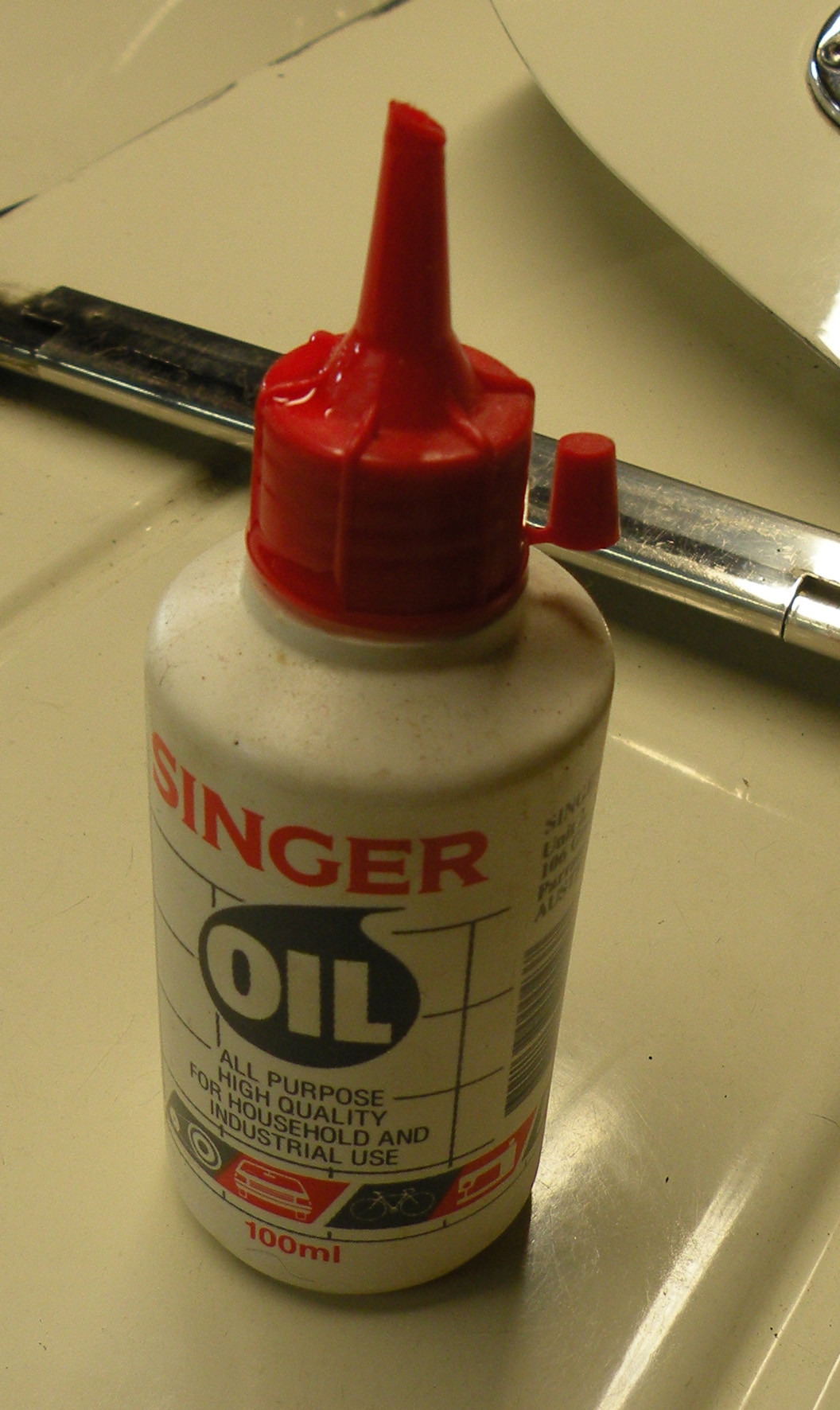 There is often discussion about the correct oil to put in dashpot dampers. Most instruction books simply say "light oil" An ideal oil is as far away as your supermarket home hardware shelves, usually marketed as "3 in 1" or Sewing machine oil. Engine oils are generally too thick and too viscous. Singer Sewing machine oil is usually readily available, a 100 ml container, as shown, should last some considerable time.
Bj.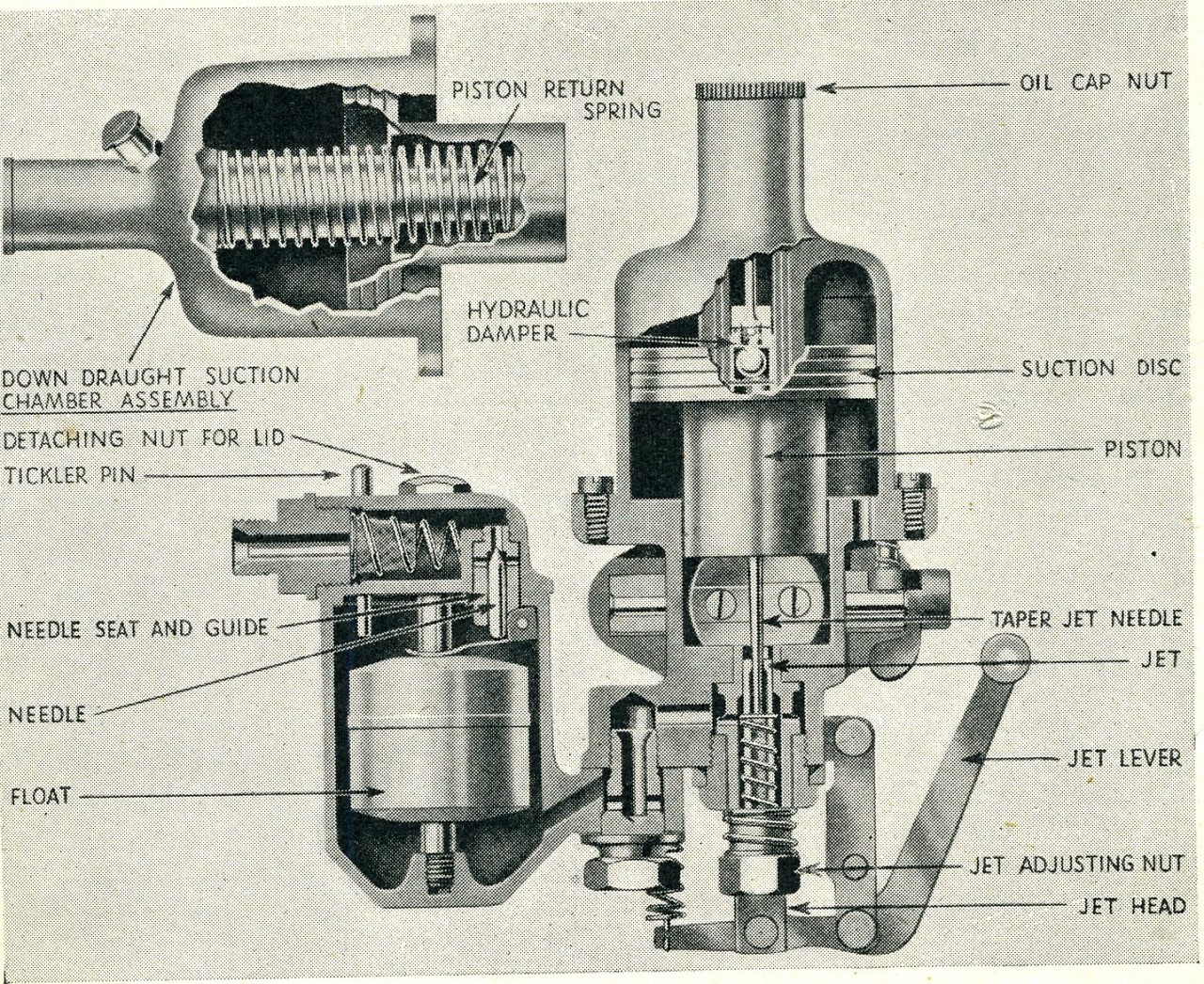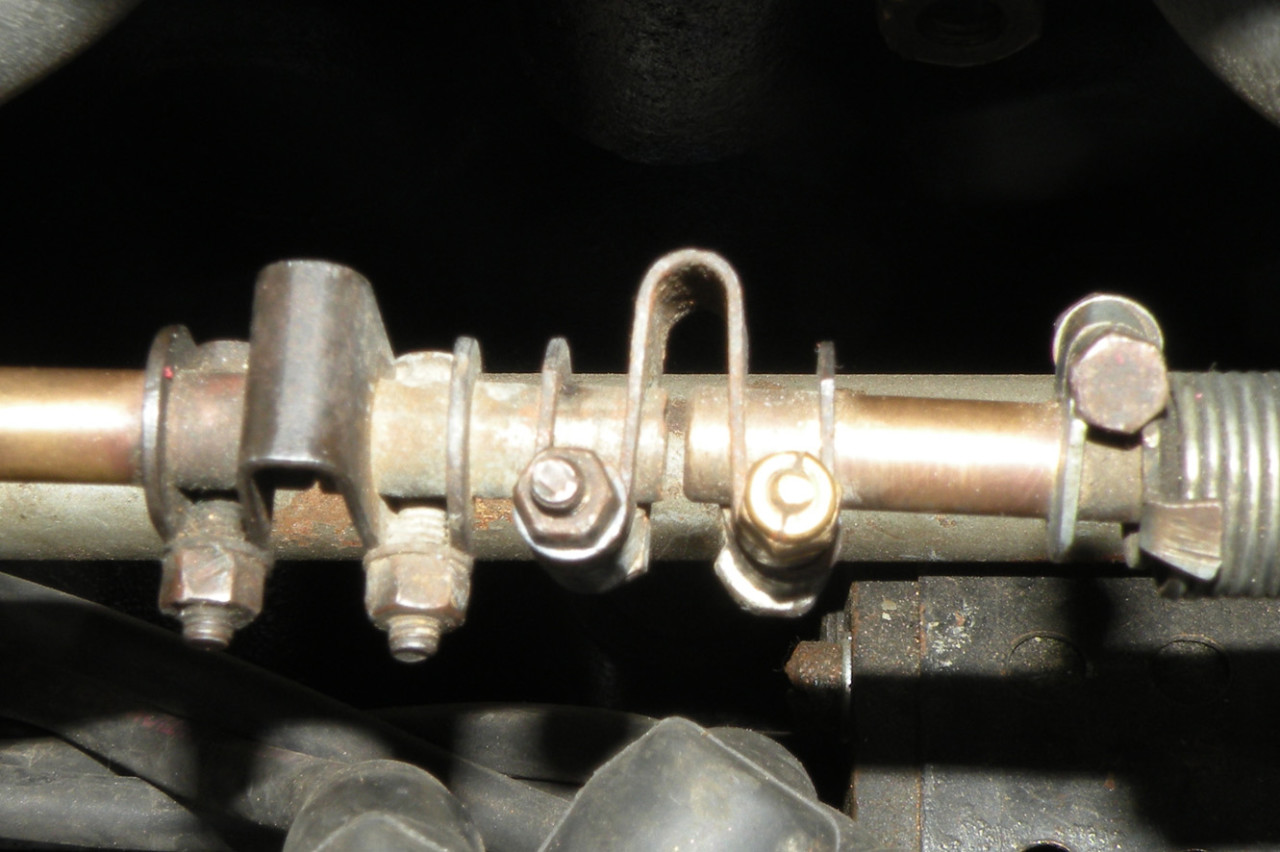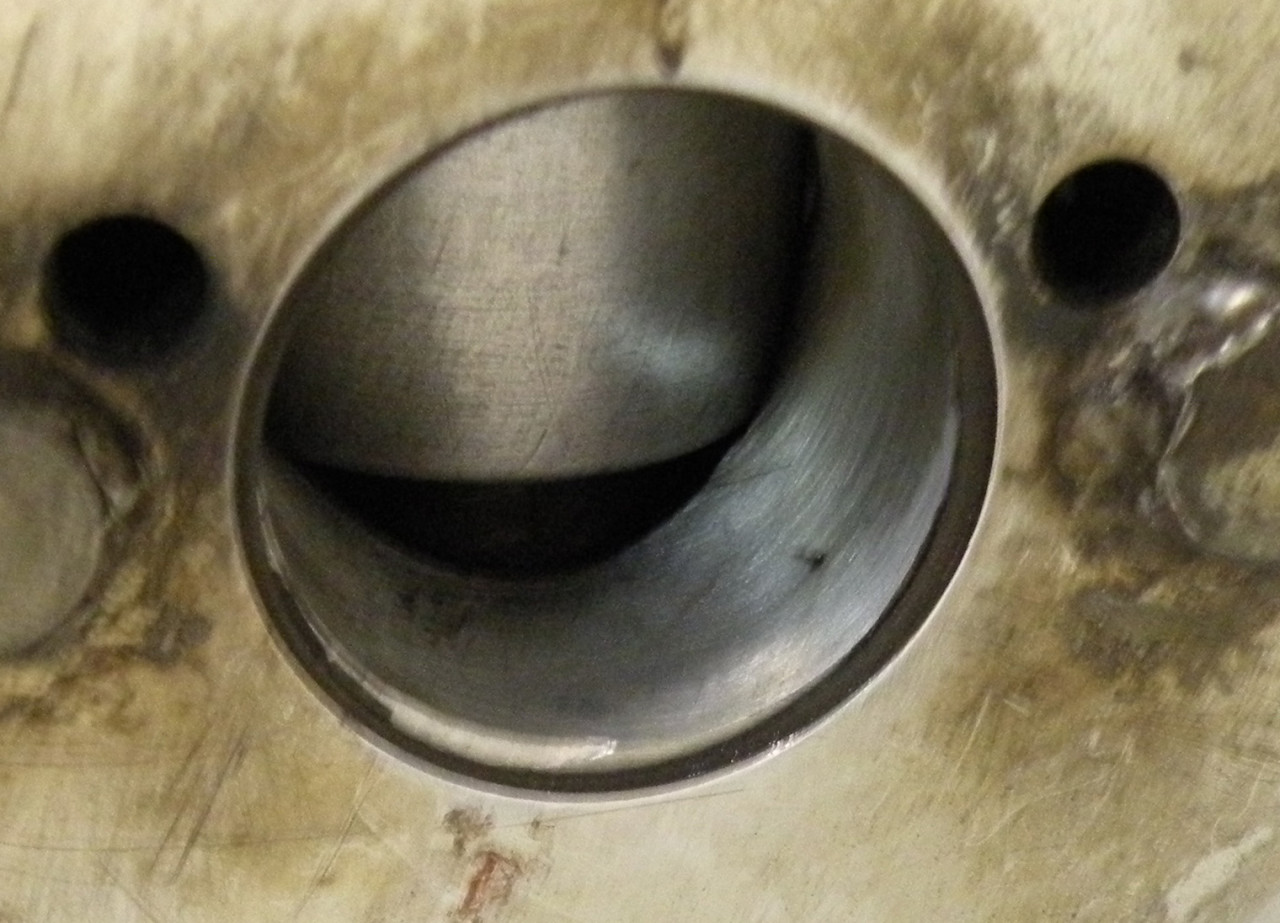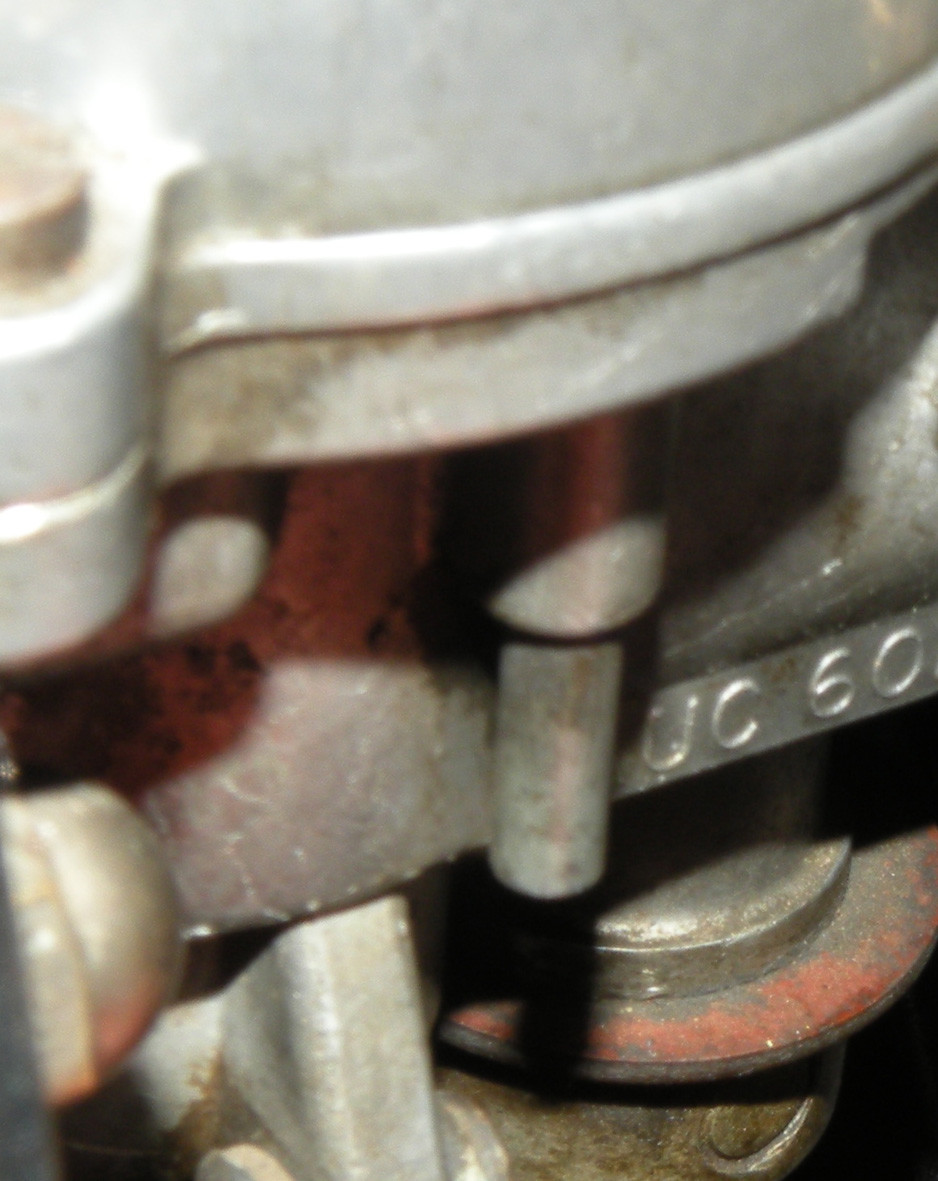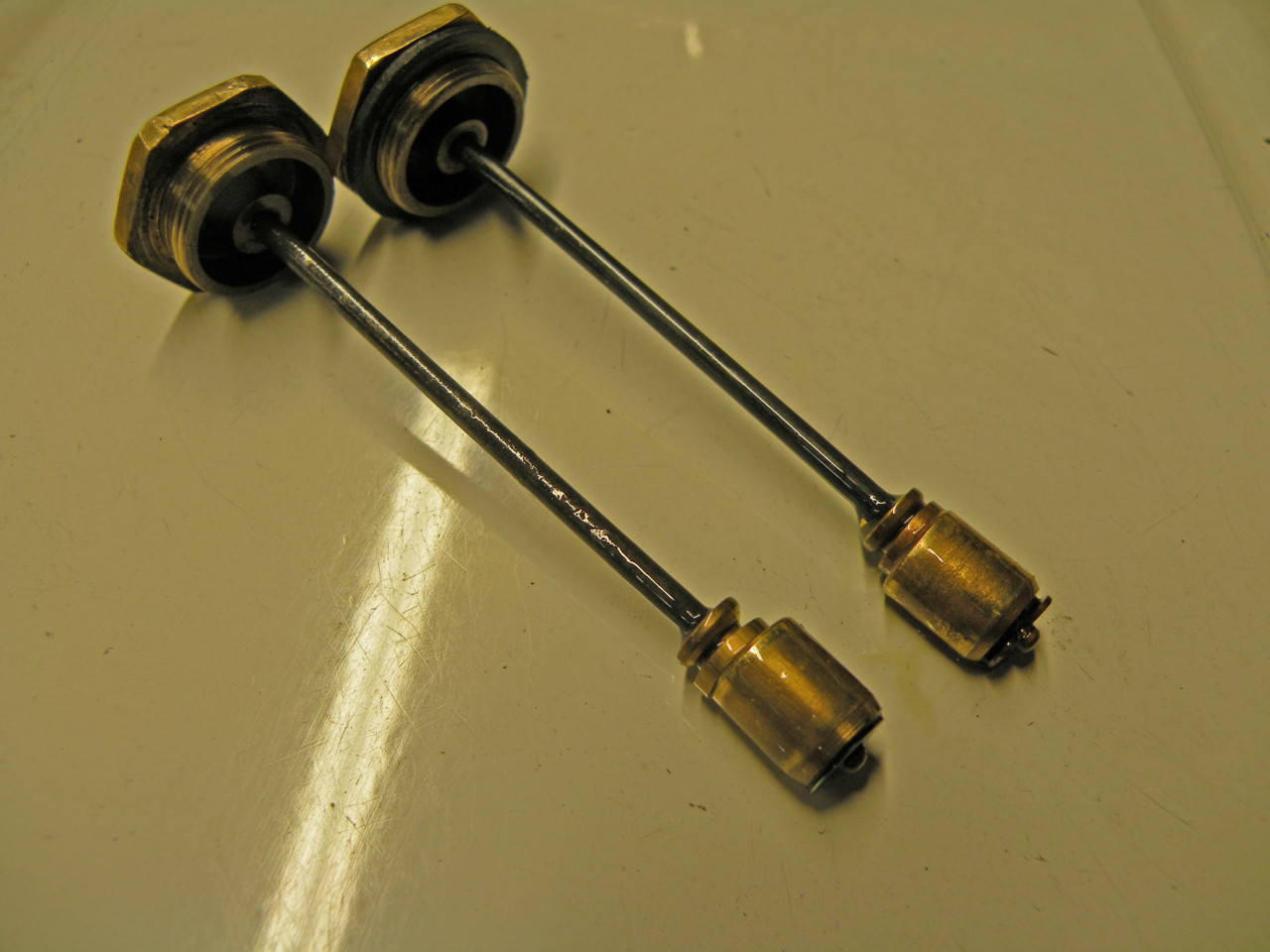 3-25-2014
Browsing through old Car books is often a rewarding past time. I discovered these gems in the introduction of a 1924 "Repair Manual"
"Many car owners are quite capable of undertaking their own repairs, or even a complete overhaul with a little instruction. The only difficulty confronting the majority is a want of confidence. It should be realized that the dismantling and re-assembling of a car presents as little difficulty, and certainly as much pleasure , as a "jig-saw" puzzle.
Motor car parts are made within such accurate limits that with careful handling, they are bound to go together again as before they were taken apart."
In an advertisement in the same book.
"This Splendid all-the-year-round Motor Coat keeps one warm when the wind is keen and cool, clean and comfortable on hot or dusty days.
Double buttoning fronts prevent wet getting through the button-holes whilst wind-cuffs protect the wrists and fore-arms.
Detachable linings of Fleece, Fur or Leather regulate the warmth."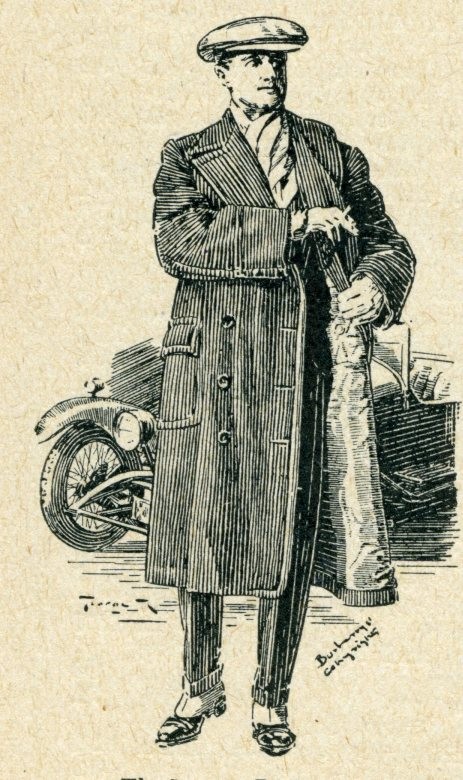 Oh! what jolly fun the modern automobile driver is missing out on!
Bj.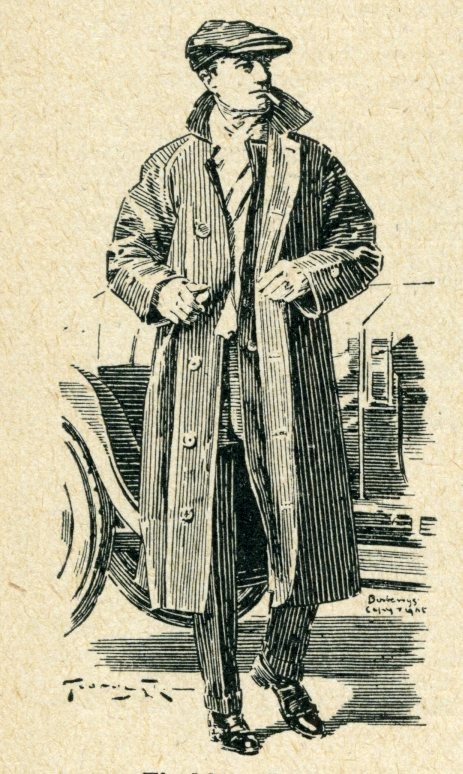 3-27-2014
Hello
Yesterday (27/3) was "Packing Day" with the six cars (5 Rapiers & 1 Riley) being crammed into a 40ft Shipping Container.
Previously we had prepared the steel channel section beams that was to form the "structure" to support three cars directly above those standing on the floor of the container. This exercise which also involved the services of a "tilt-tray" tow truck took some six hours. After months of drought like conditions it was predictable that the day was to start with steady rain as we drove the 30 kms to the Container Depot. Two of the cars arrived on trailers, one coming from interstate, almost 1,000 kms the other from out of town. The remain four arrived with their tops down regardless of the weather. To facilitate the loading the three cars to be loaded on the top also had their windscreens either lowered or completely removed. The tow-
truck being used to lift these up to the level of the top "deck".
Unfortunately the weather conditions were not ideal for photography but hopefully these few will give you some idea. Our shipping agent Greg very kindly organised the use of a large "shed" where we could dry off the cars before they were loaded. Bertelli Rapier owner Bruce Rodgers, a retired Engineer is to be congratulated on the terriffic job he has done in Planning the structure, ordering the steel etc and doing the bulk of the preparatory work. Without his input the alternative was to ship just three in a container virtually doubling the cost of shipping the cars from Australia to Europe.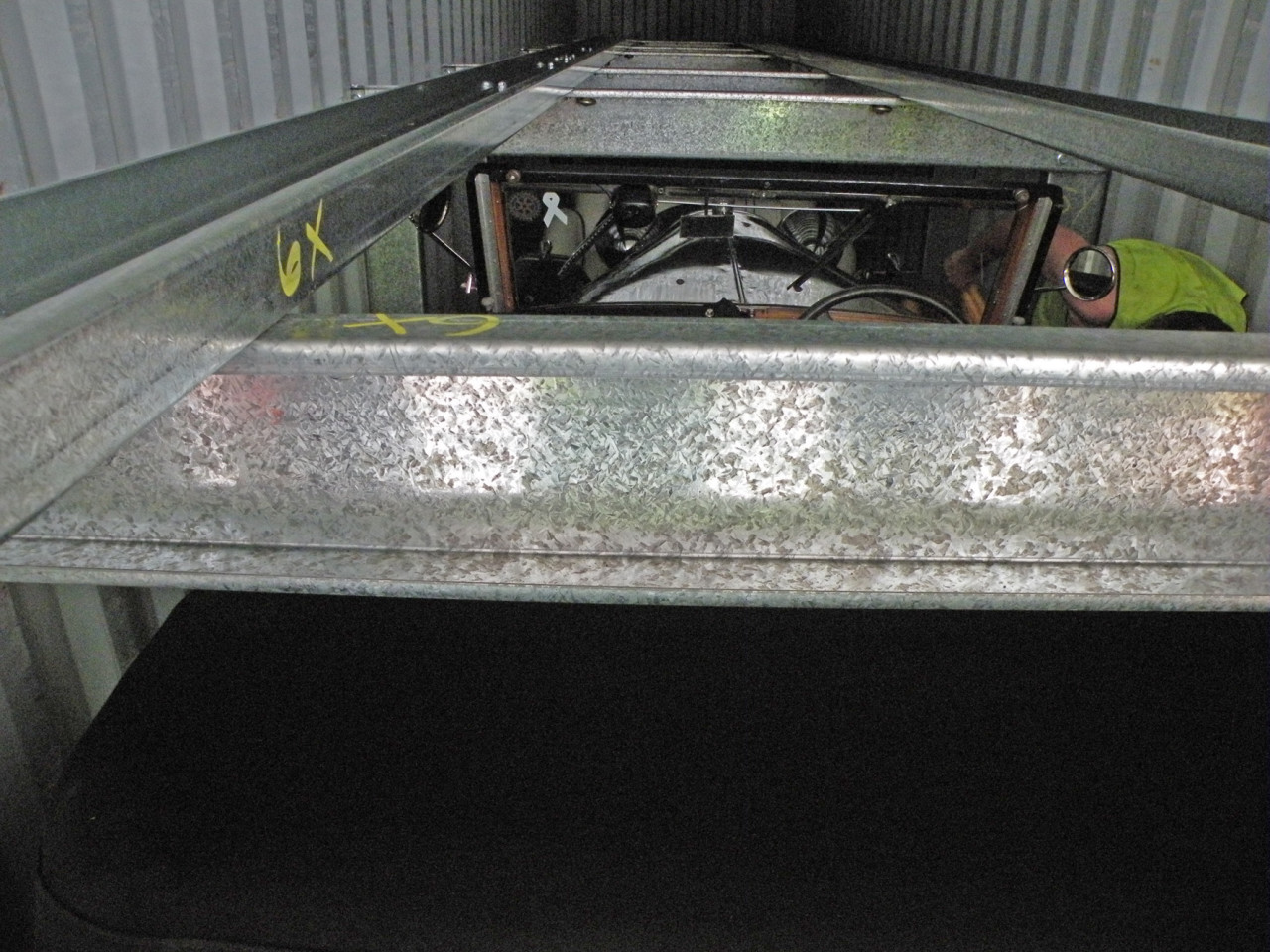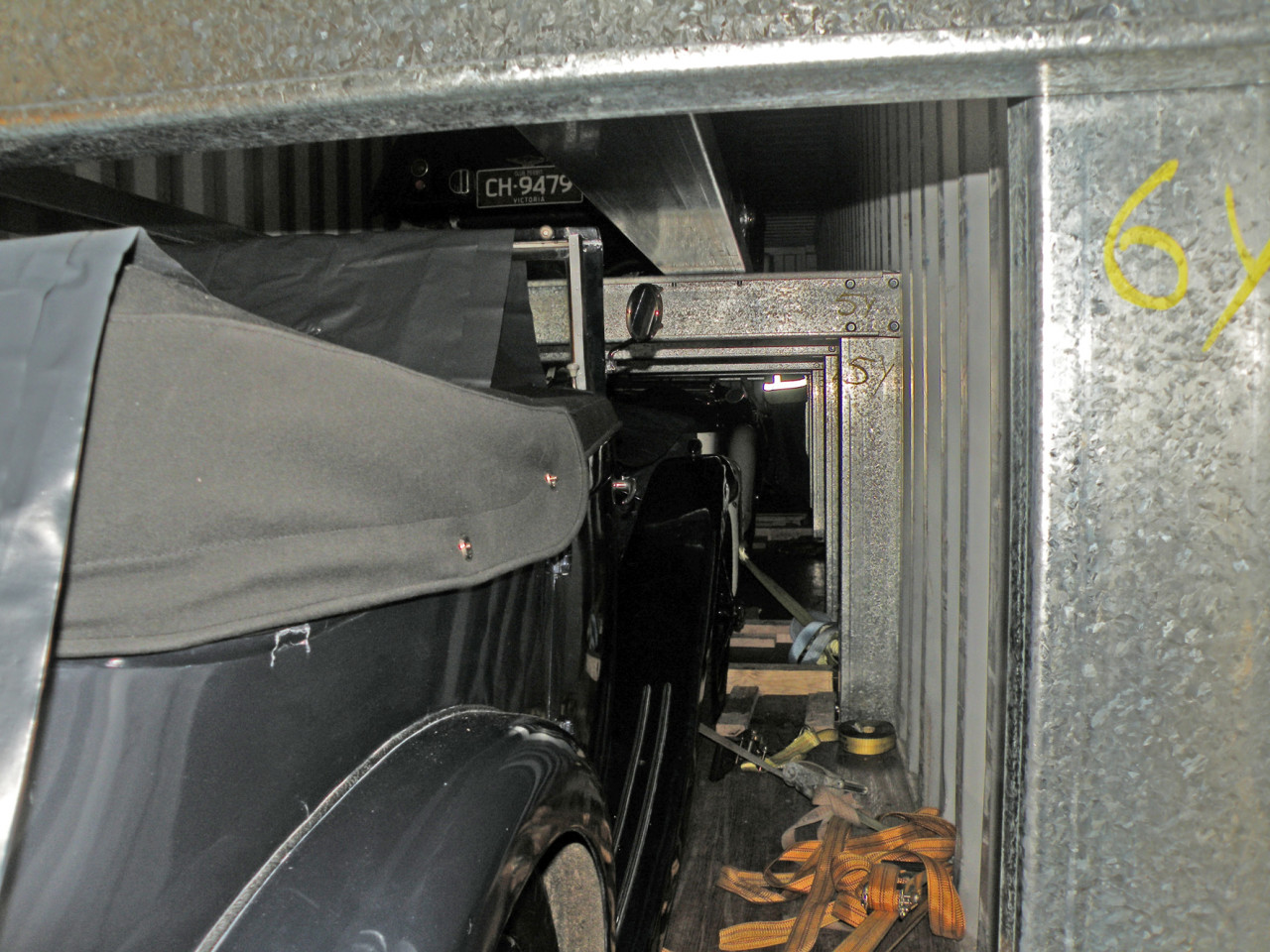 Unfortunately the route instructions for our journey around France is too large a file to post here but anyone wanting a copy can send me a PM with their e-mail address. two_oldlags@optusnet.com.au
Bj.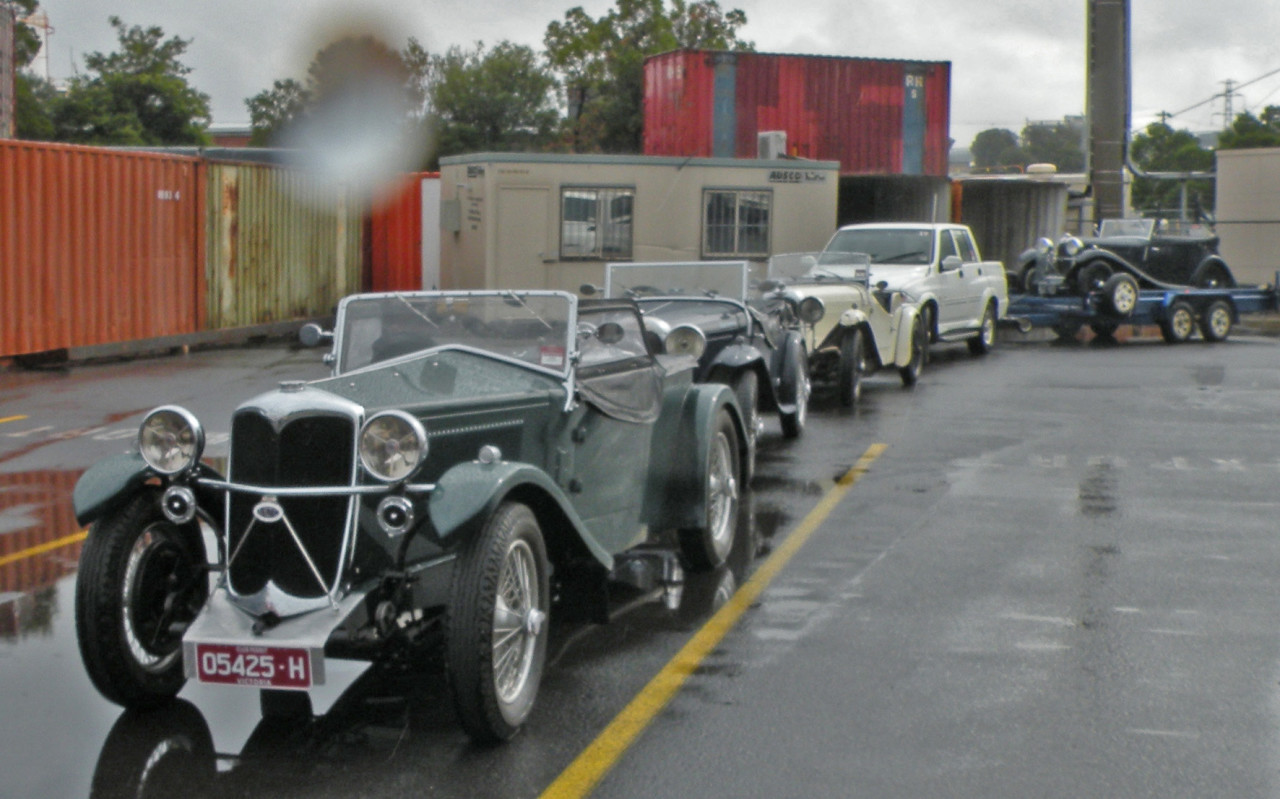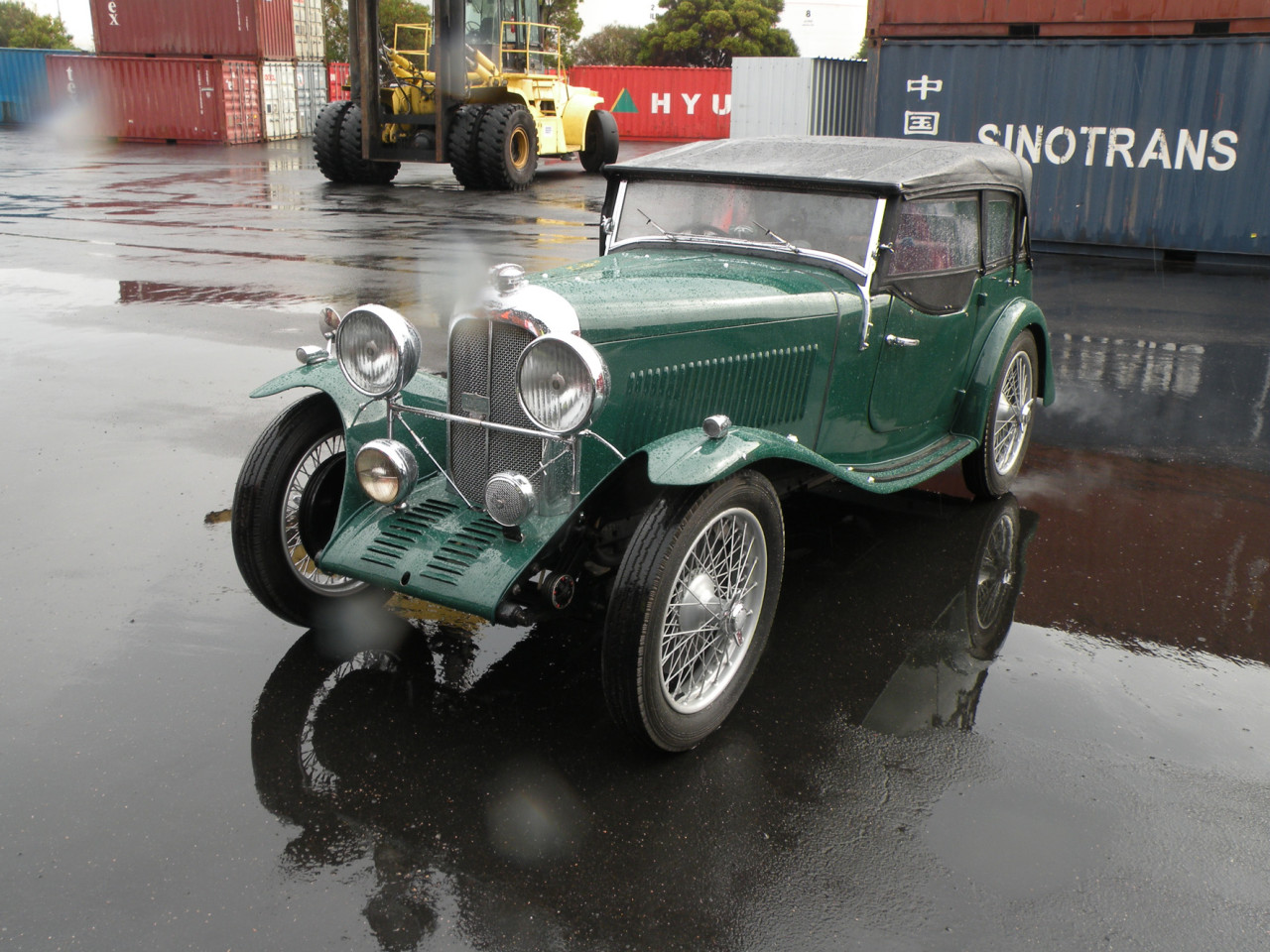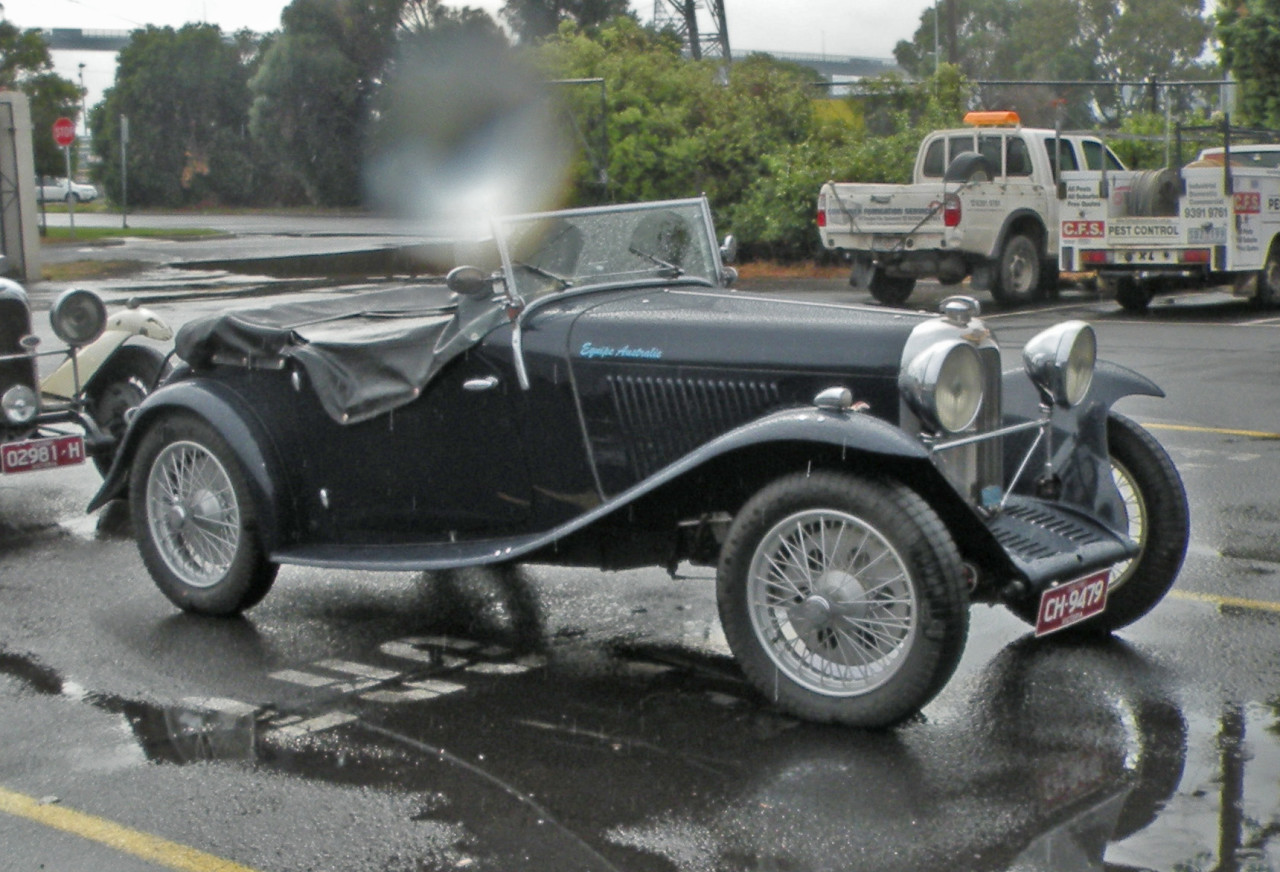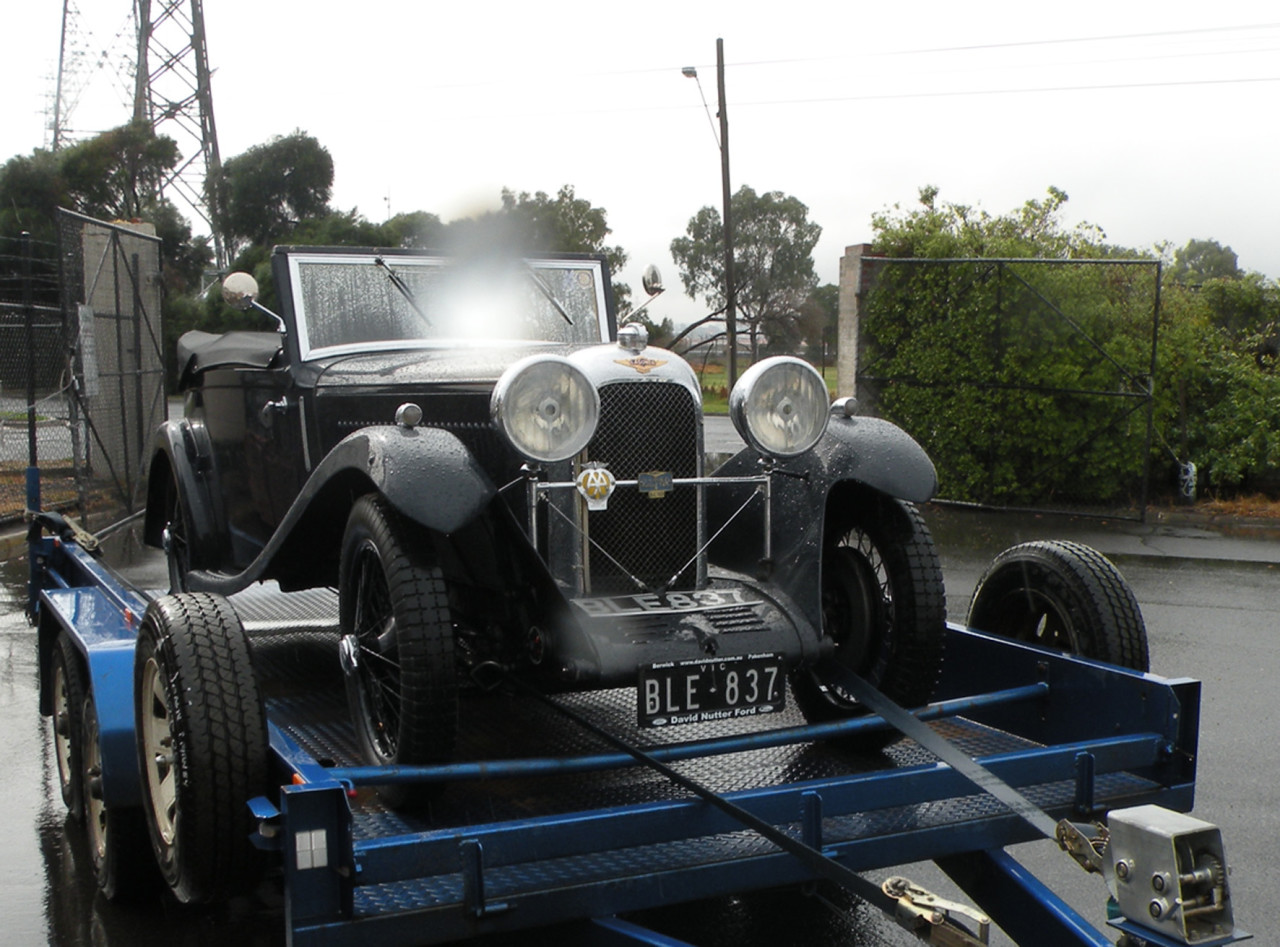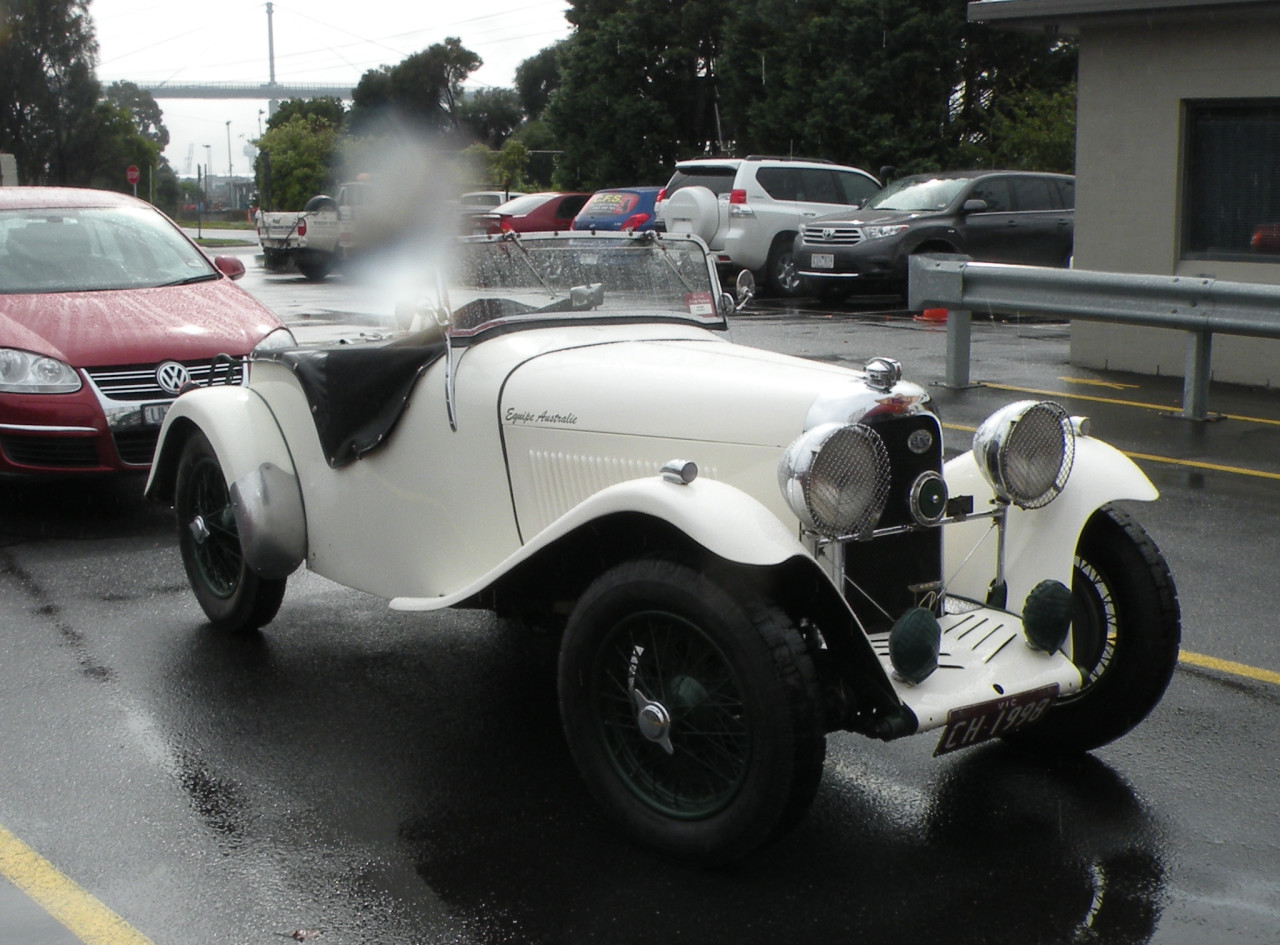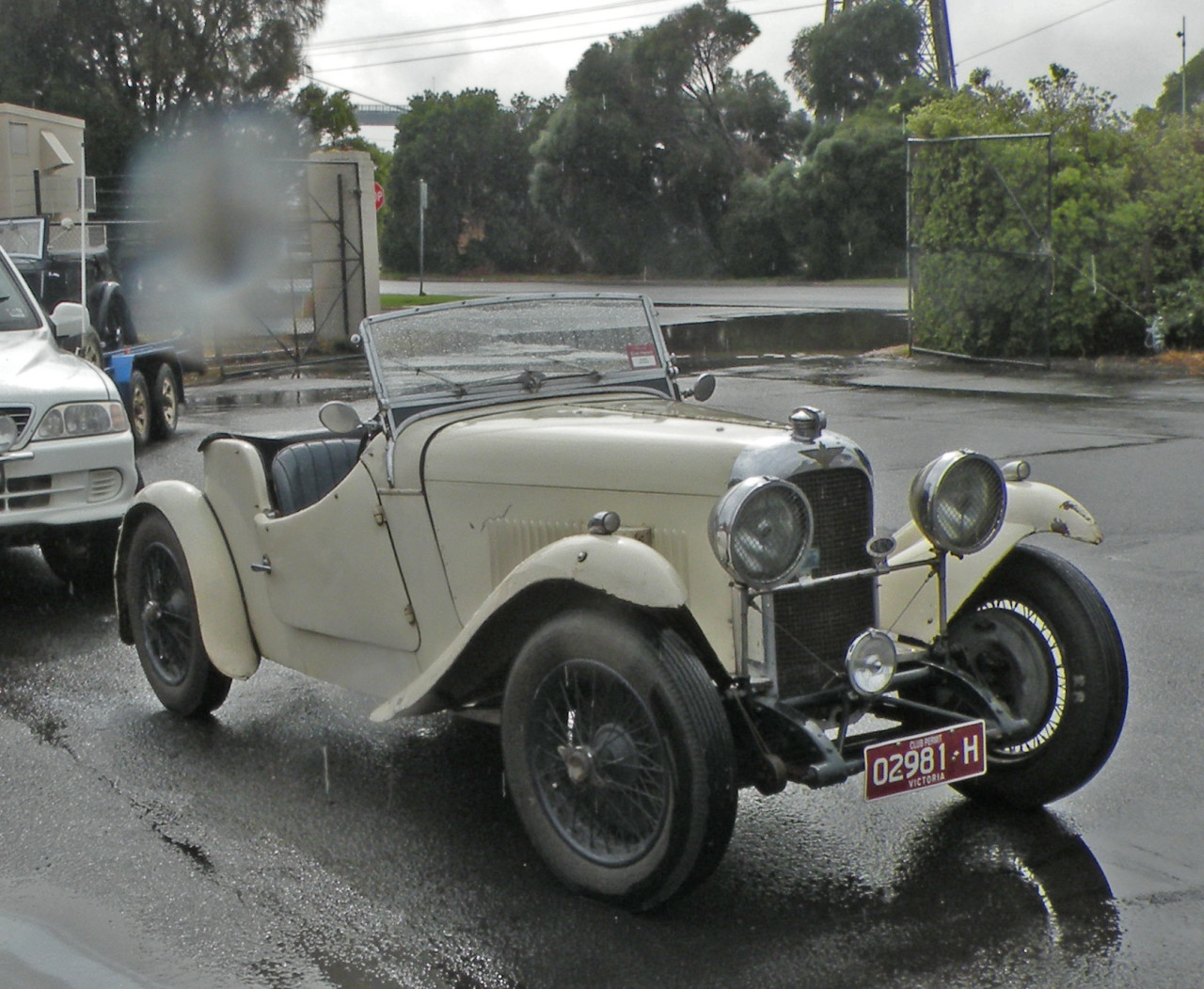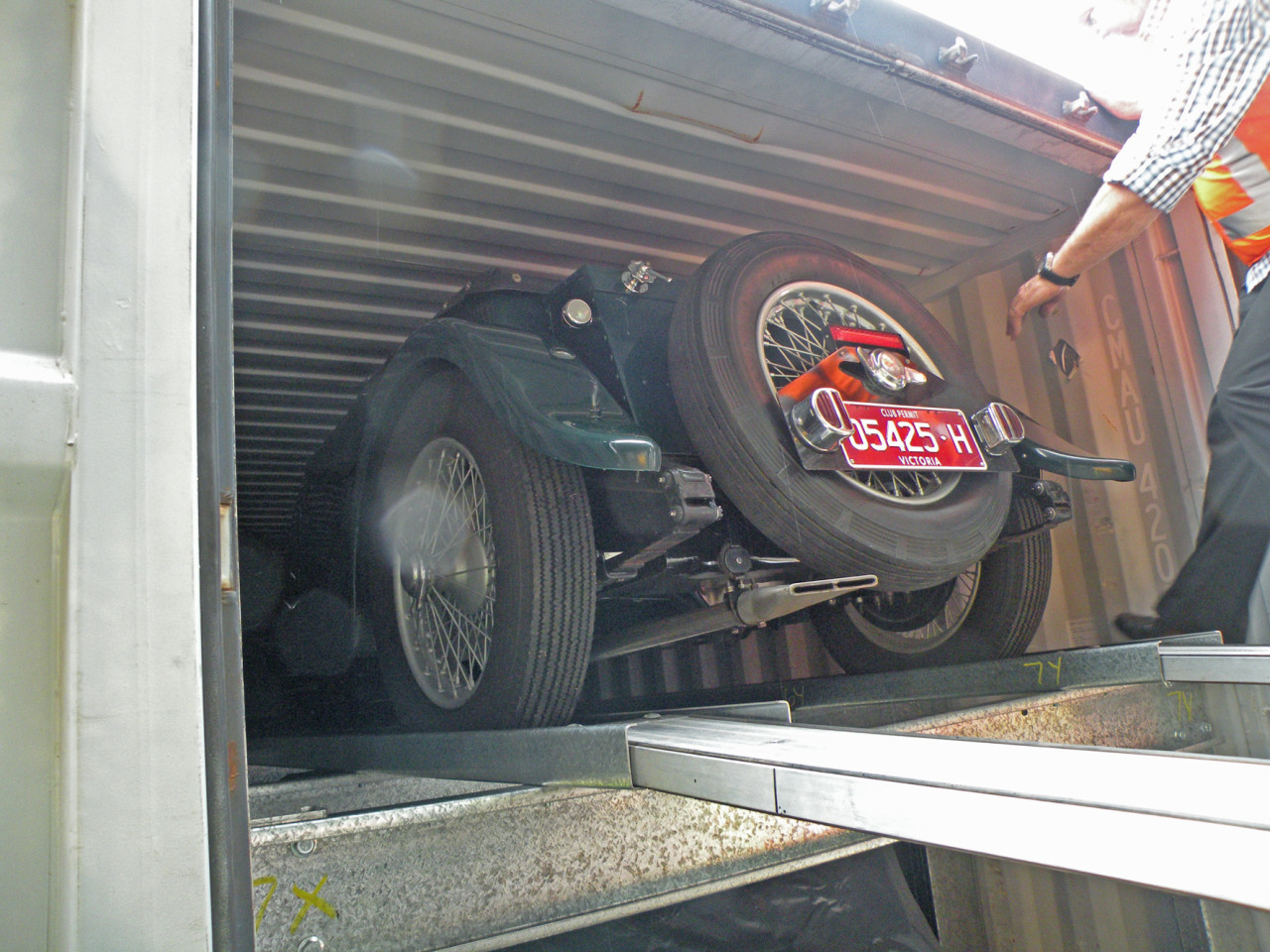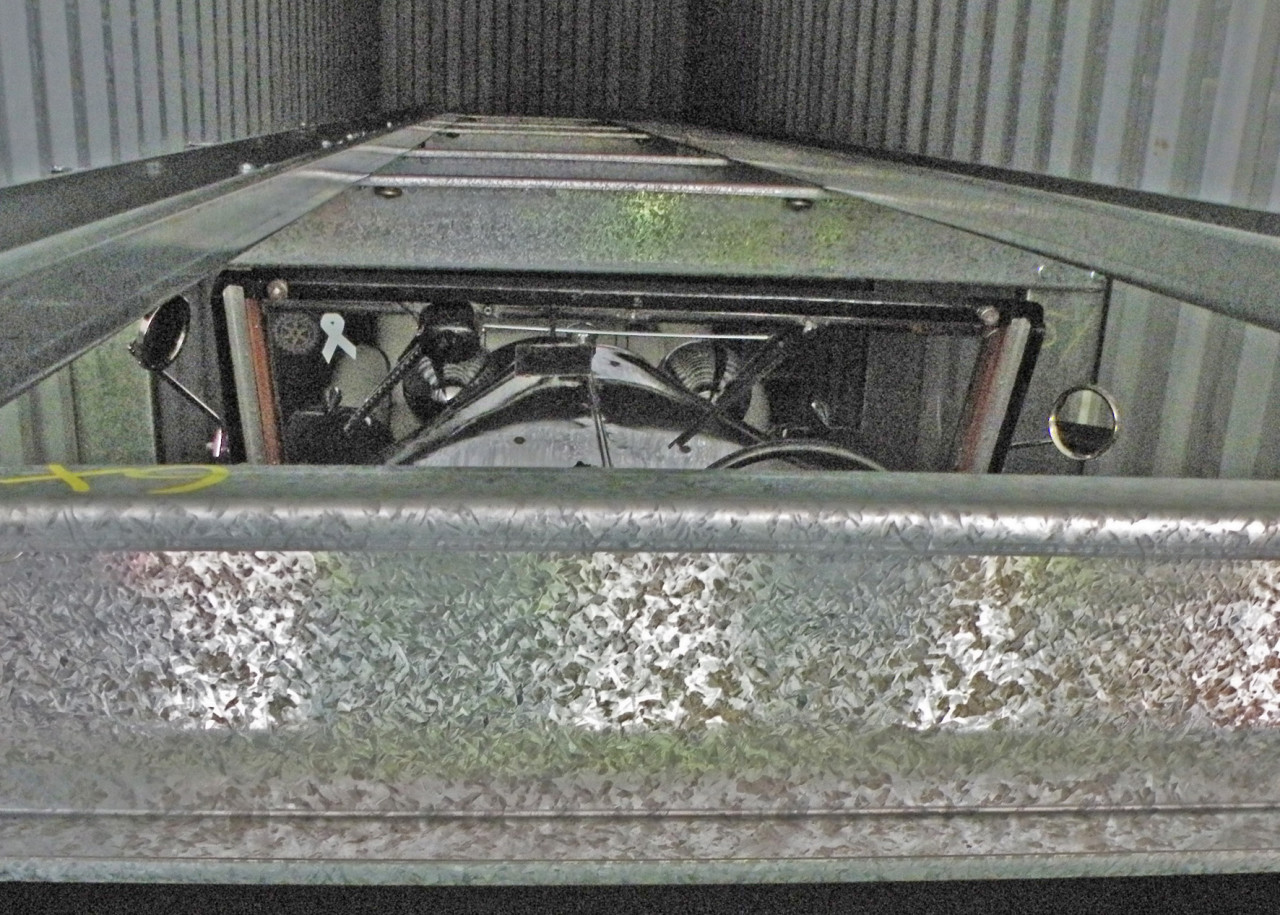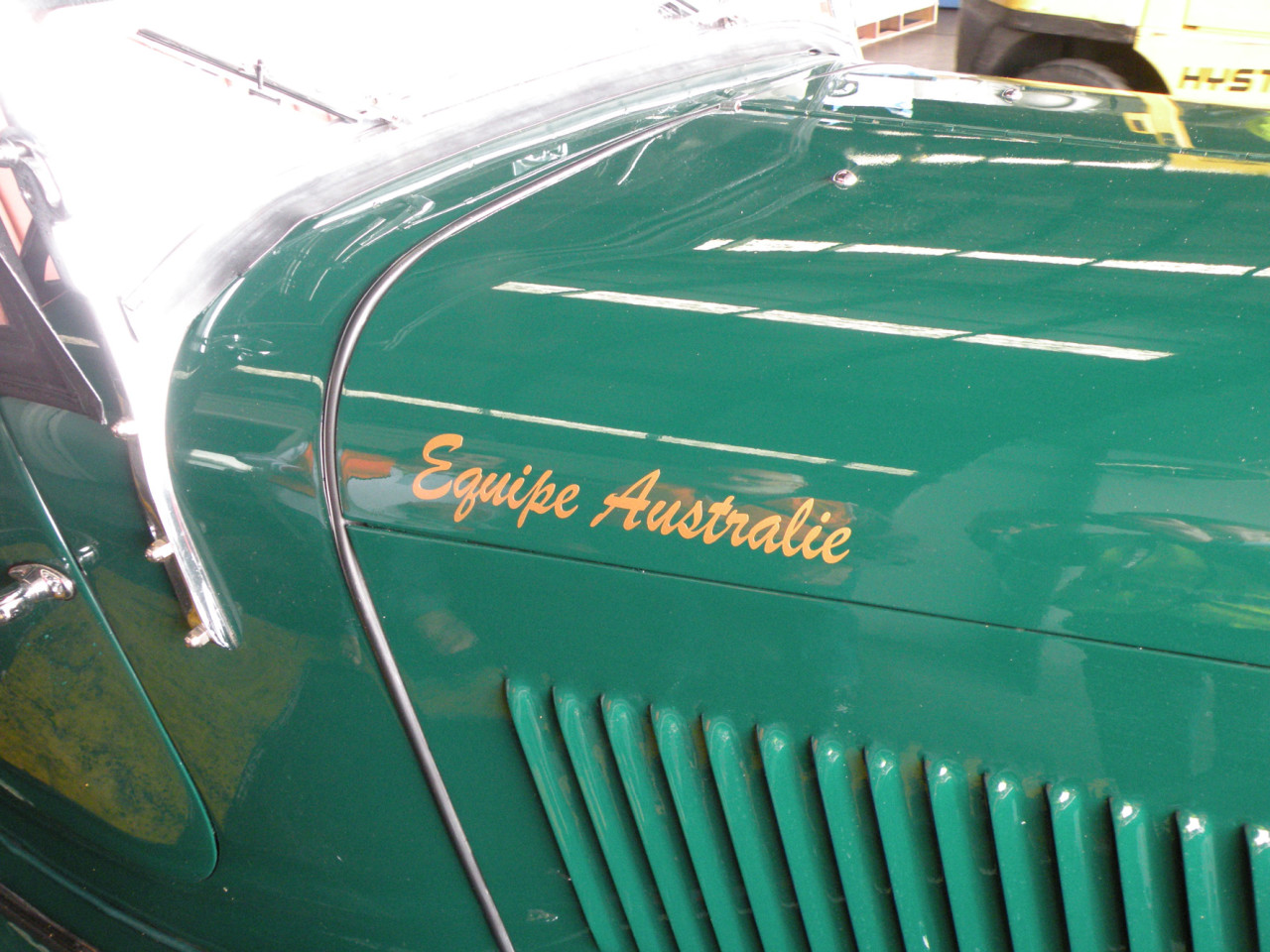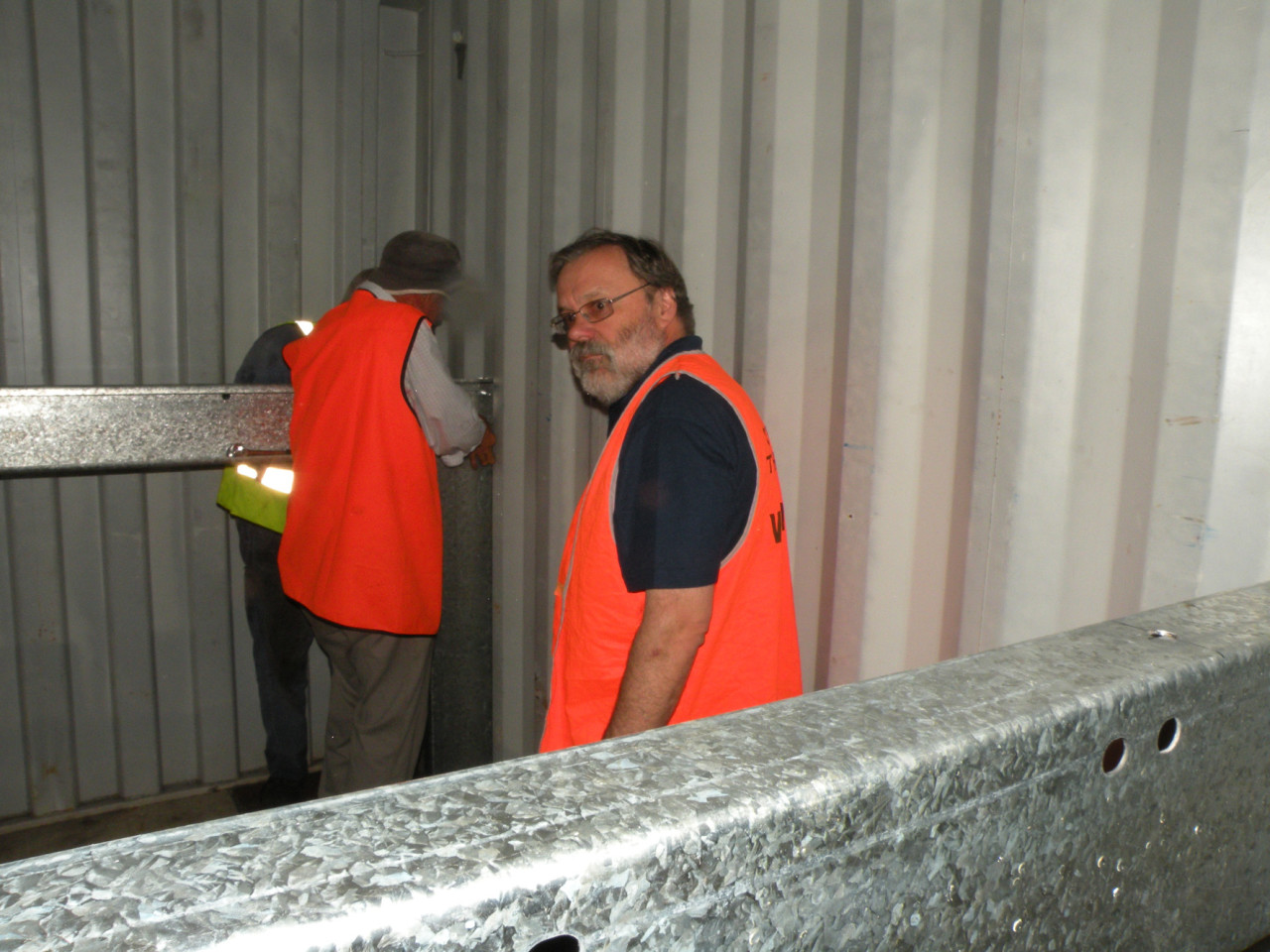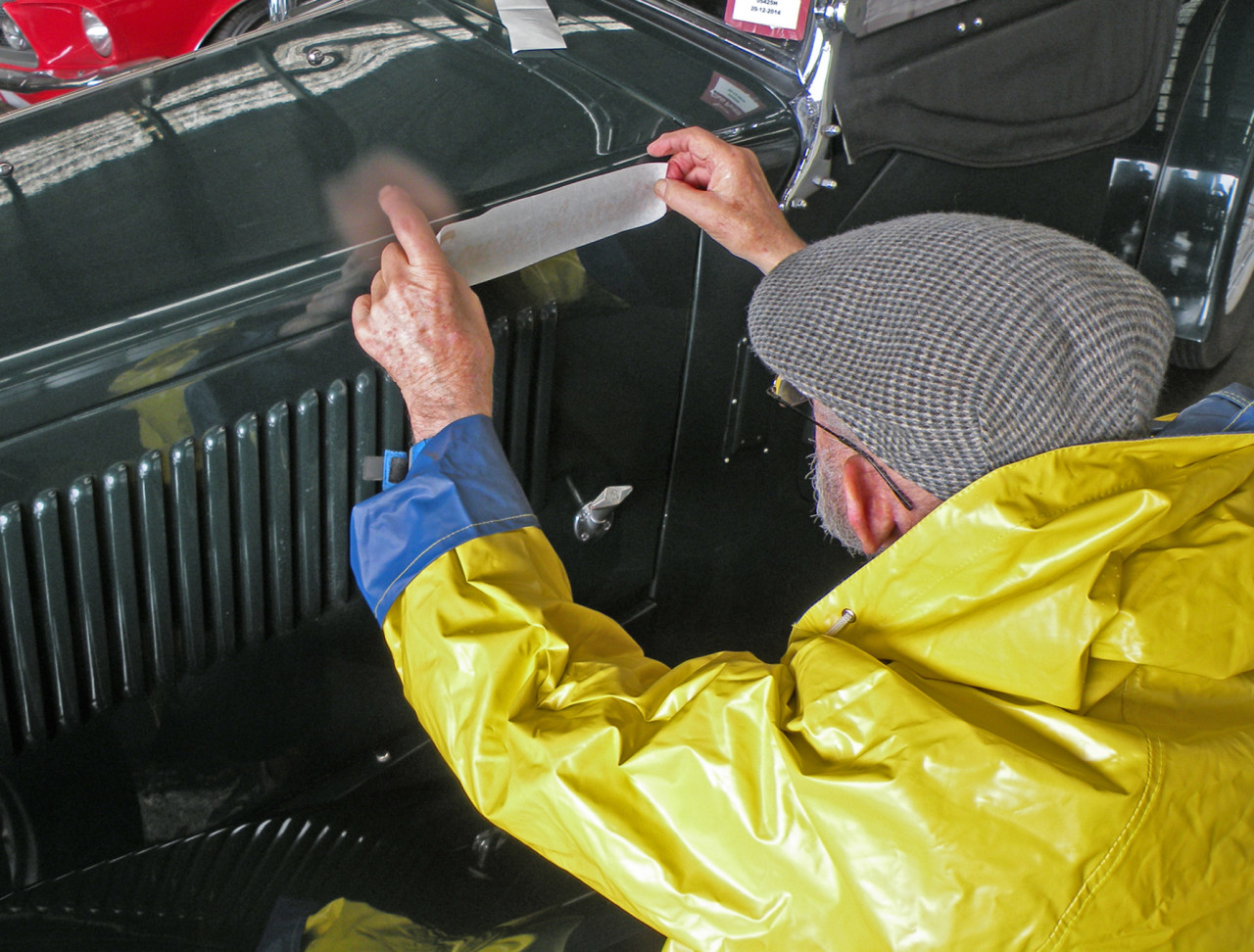 3-28-2014
Hello Barry
Owing to the situation in the Middle East these days all shipping from Australia to Europe now goes across the Pacific, through the Panama then across the Atlantic. That is why ships take six to seven weeks for the voyage.
Regarding Insurance in the UK and EU. Some years back the British Classic Car Insurance Industry decided that they would no longer offer Insurance to visitors wanting to drive their own cars. Fortunately Hagertys felt that this was rather unfair and decided to open an office in England. They now insure virtually all the "foreign" visitors to the UK and those like us who use the UK as a start point, in the process picking up millions of dollars worth of business. Just think of all those owners of Bugattis, Bentleys, Rolls Royces etc etc all wanting to take part in Rallyes or like us just want to organise their own tour. Our shipping man has just recently shipped 17 Rolls Royce Silver Ghosts. He is kept busy shipping Vintage and Classic cars just out of one port in Australia, AND he is just one shipping agent.
If you are wondering about our "Equipe Australie" signage, that is simply French for "Team Australia", so that there is no confusion in the minds of the French public, mistaking us for English.
Bj.
3-29-2014
More photographs from "Packing day" these from photographer John Doutch. His profesional eye was quick to pick up the subtle differences between Radiator treatments. Four cars all the same make and model but each one different.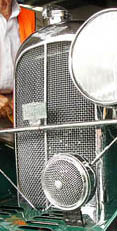 Now for some different photographs of loading the container.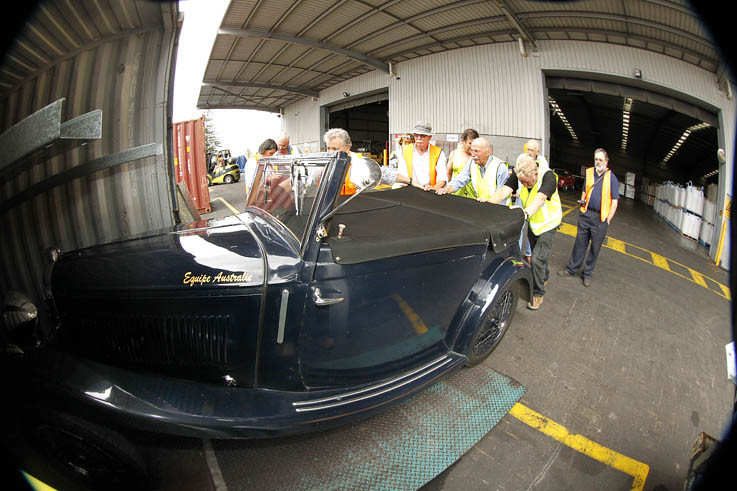 Two of the "top-deck cars waiting their turn. Geoff Burford in his 1934 Riley 12/4 2/4 seat "Special" & my 1934 Lagonda Rapier "Eagle" two seater.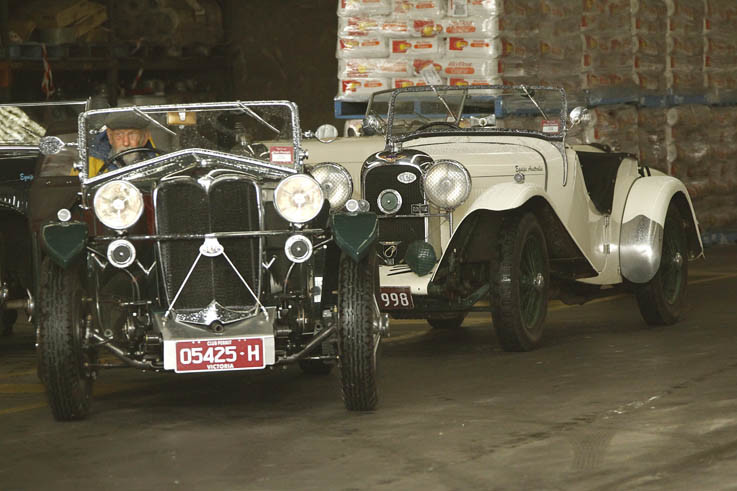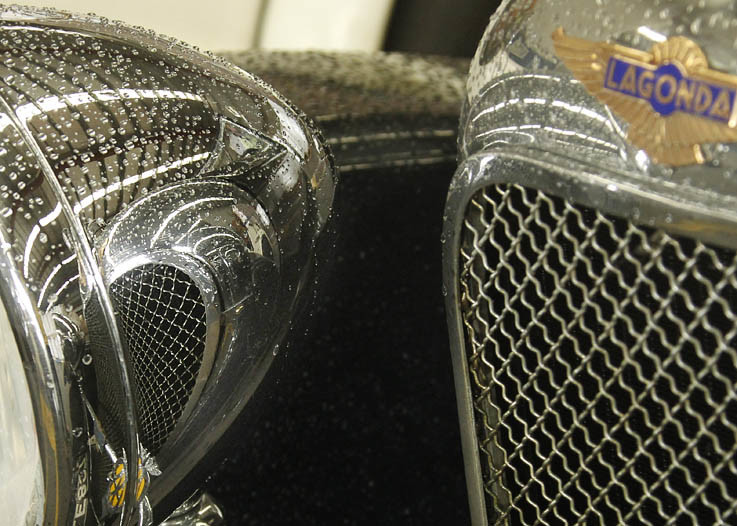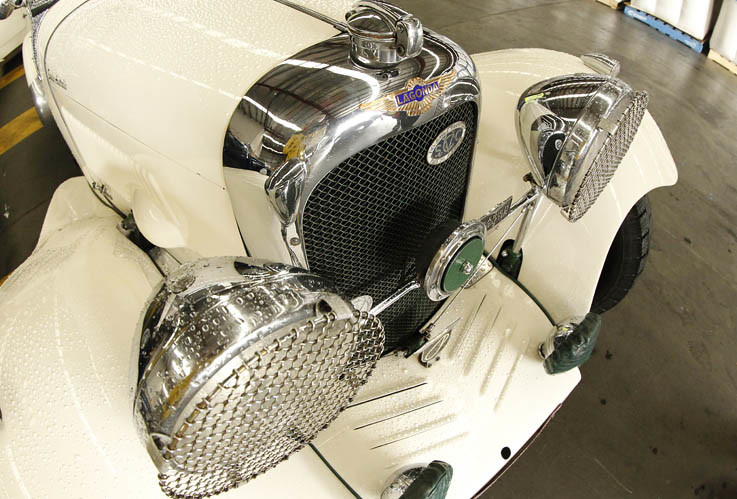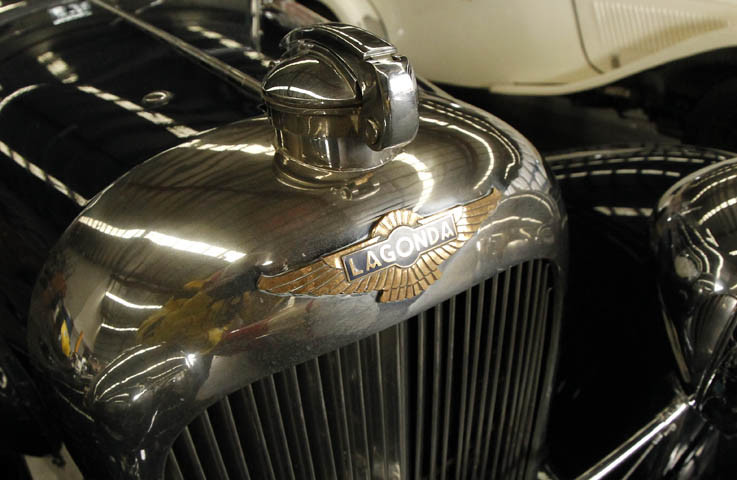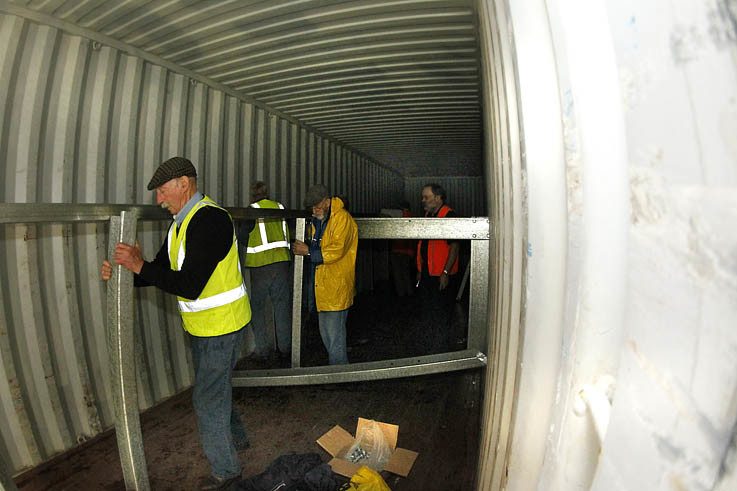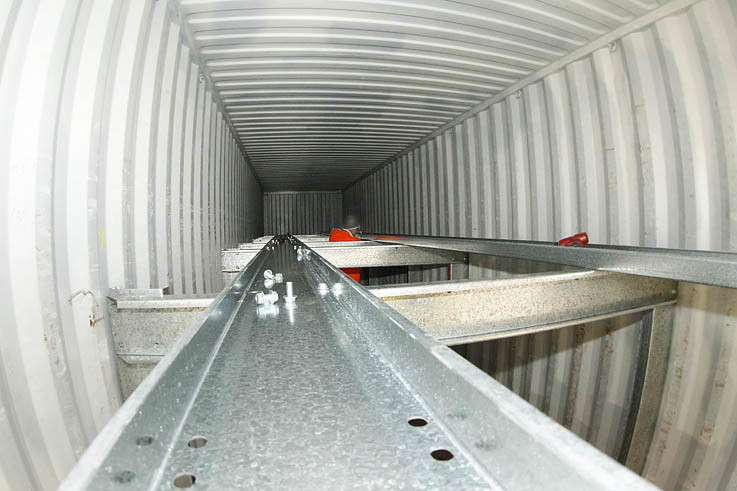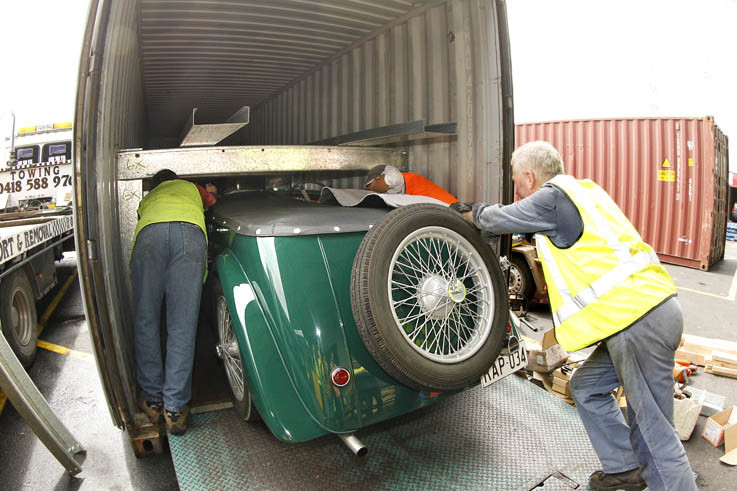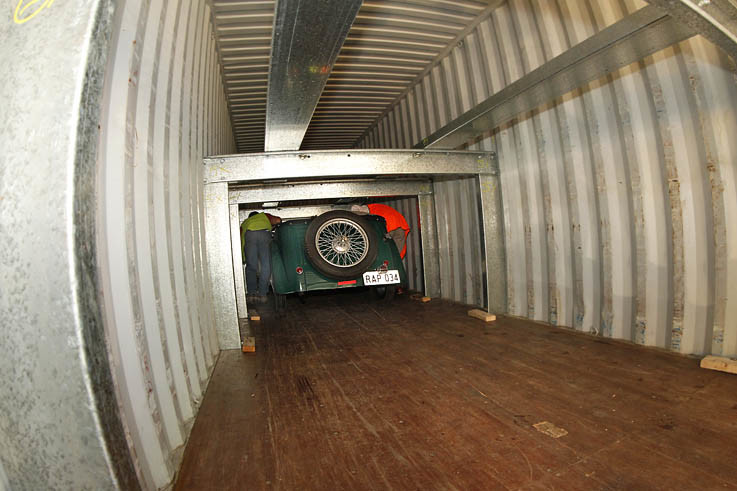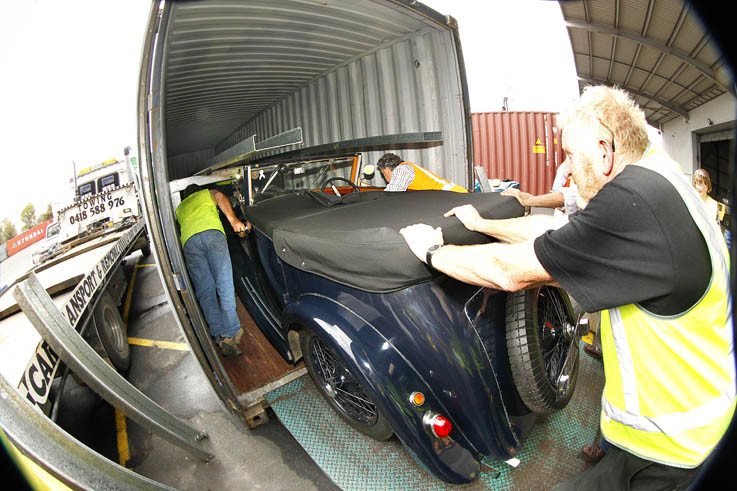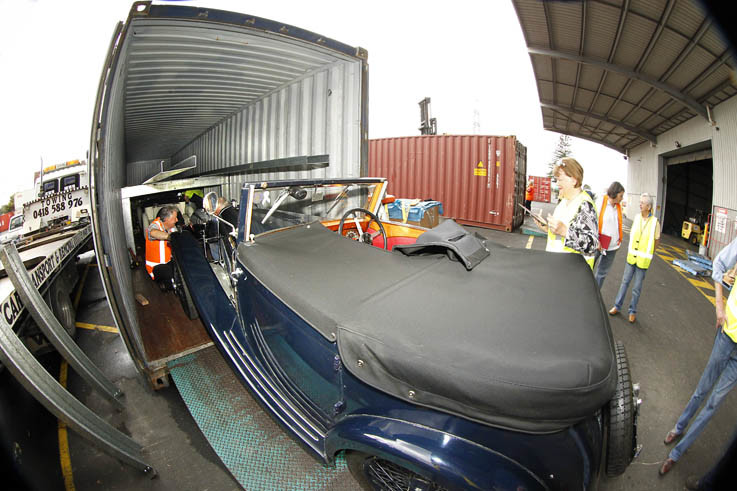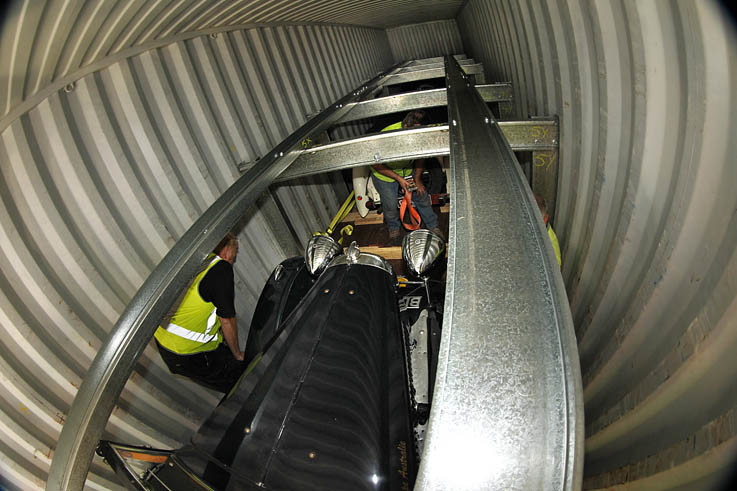 Thank you Whtbaron
Here are a couple more interesting pics for you.
First is Geoff's Riley engine and for comparison a Rapier engine. The Riley has two cams high in the cylinder block with short pushrods to operate the valves while the Rapier has two overhead cams working directly onto the valves. Both use Preslector gearboxes.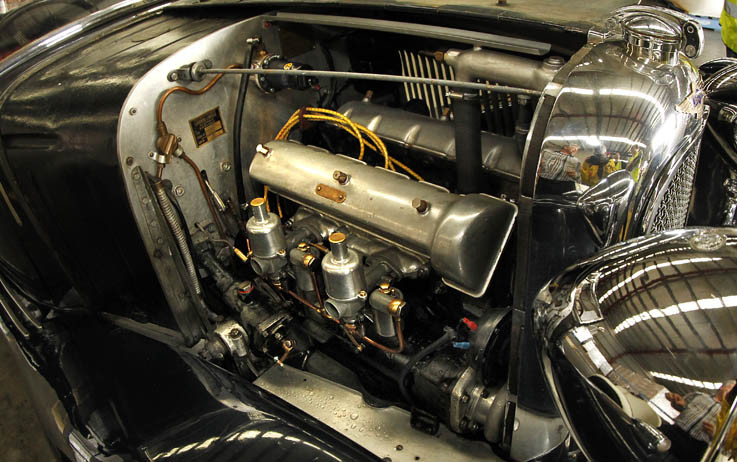 The Riley is 1.5 Litre with a bore of 69mm and stroke of 100mm.
The Rapier is 1.1 Litre with a bore of 61.5mm and a stroke of 90mm.
My own Rapier is one of just a handful of 1.5 Litre with a Bore of 72.5mm and a stroke of 90mm. This is possible due to a batch of very special cylinder blocks commissioned by members of the Rapier Register during the 1970s.
Bj.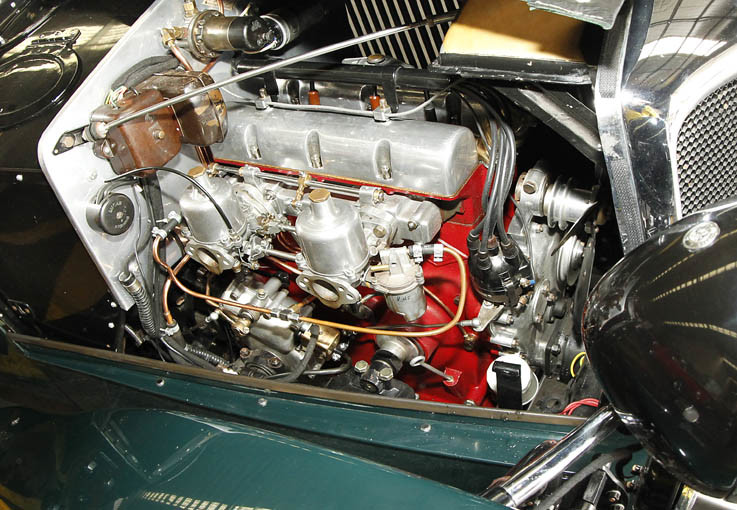 3-30-2014
Hello Barry
Not by 1934, by then "Diecast" aluminium was the usual material in use. The carbs on the Riley are later probably 1950s or even later, the float bowl lids are a big "give-away".
Those on the Rapier engine are the original as illustrated by the lack of a flange for a bolt on air filter, that and the horizontal carb to manifold flanges. My own car being something of a "wolf in sheeps clothing" has later 1 1/2 in carbs, with air filters, in lieu of the original 1 1/8 in.
Bj.
You need to look to find........ Compare this pic with the one of the standard Rapier engine above. How many differences are obvious? At least THREE should just about jump out and bite you.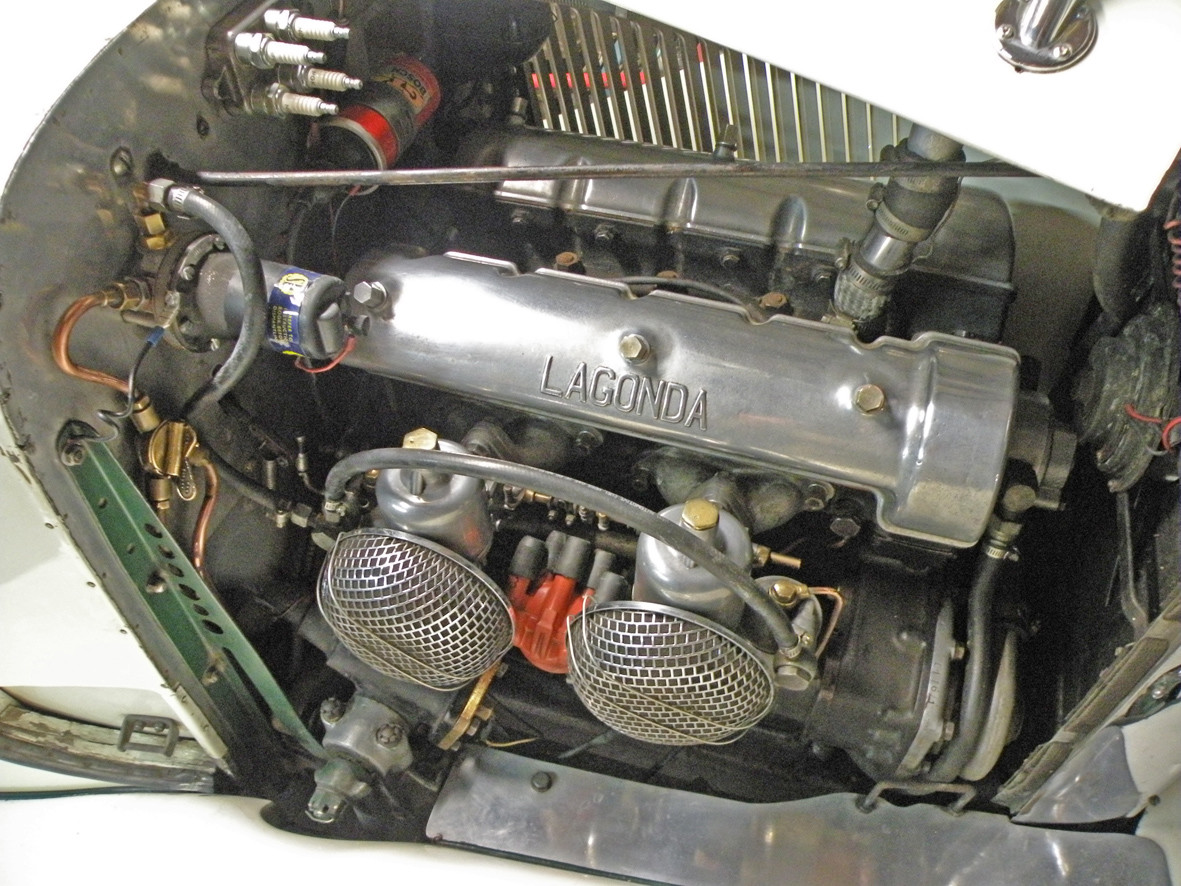 11-30-2015
Getting one's priorities right.......
Bernie j.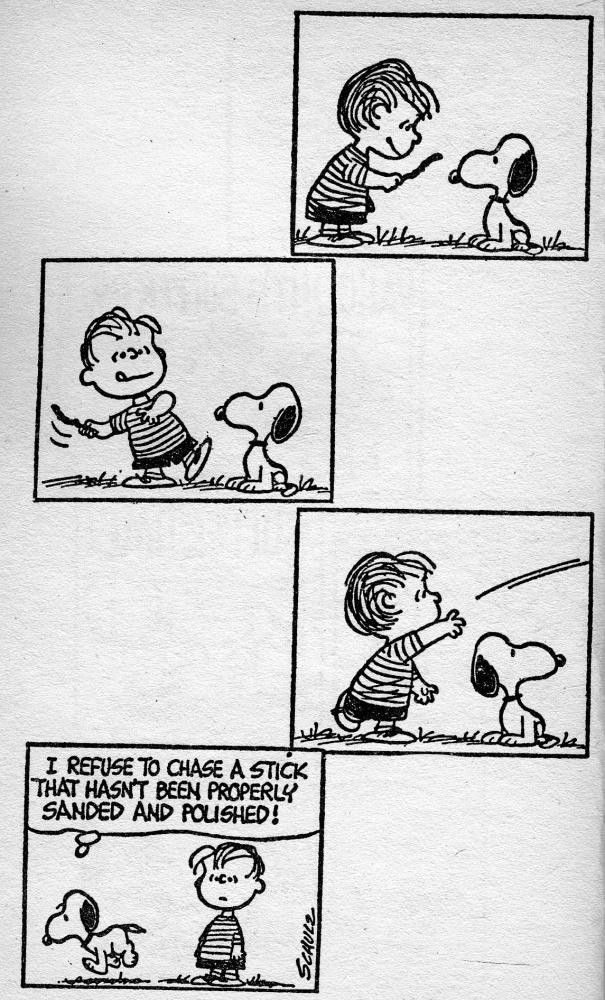 3-23-2016
Moving right along
I had become tired of attending to a recalcitrant starter motor which had tended to become worse in recent times the one sure cure was to replace it. The good people at Power-lite in the UK listed a one of their geared starters to suit the Lagonda Rapier. Having enquired and discovered that even after paying UK£ 90 freight it was still affordable, I ordered one. Remarkably it arrived just four days later. England to Australia!
Another day and it is fitted bolting straight on and not requiring any change to the electrical wiring.
Absolutely super! If I am worried about its possibly "modern" appearance, I can paint it black and it will all but disappear. I am told that as an added bonus it is 5 kg lighter. Brummmm.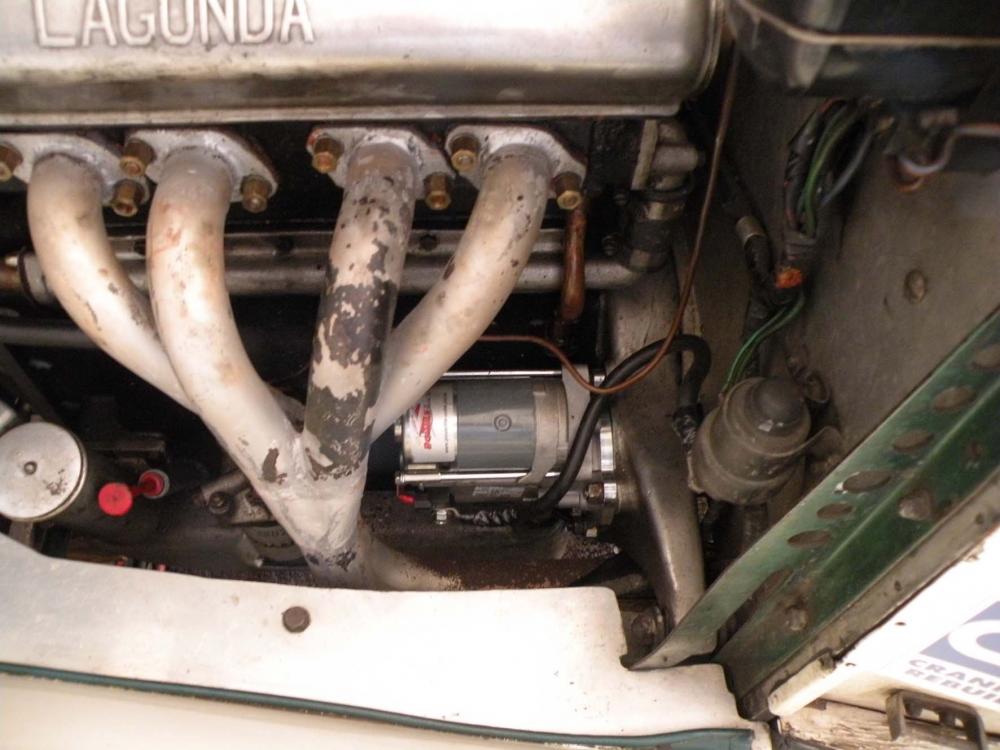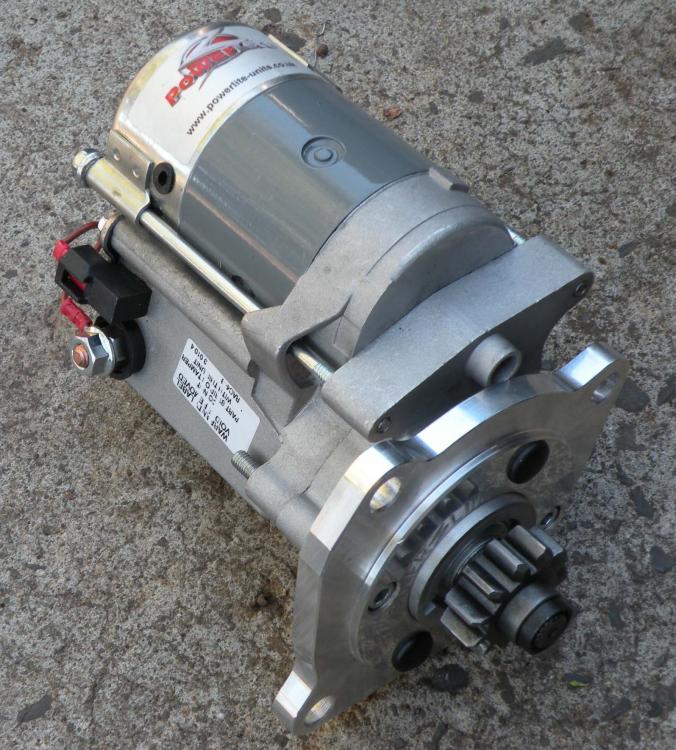 4-10-2016
Thank you Paul
First thing is to sell, give away or take it to the scrap man, what ever the Renault must go before I seriously look at anything else. I have a hard and fast rule. One project car at a time, apart from anything else. I simply do not have the space for another car. As it is my 1996 Peugeot 405 SRi lives out in the open. As my "daily" driver, it goes out once or twice per week. The birds and a possum make sure it is washed every time before it ventures out onto the street. The Lagonda lives under the car-port along with my wife's VW Jetta. The house is cleverly placed on our block so there is no car access on either side. The garden is mainly Australian native plants with several large Eucalyptus trees. We built the house almost 45 years ago and I planted most of the trees. Concrete driveways and large trees do not mix very well as is evident from the condition of the drive. The size of the house is deceptive from the front. We have raised four very healthy and active children. We now have nine grand children. Our first grand-daughter has just (last Friday) turned 21 years old. You do not grow lawns under Eucalyptus trees! While "ever greens" they constantly drop leaves and shed bark. Our tallest trees would be 60-70 ft tall.
That little red spot on the garage door? See Below, Vehicles exit, No Parking Thank you.
Bj.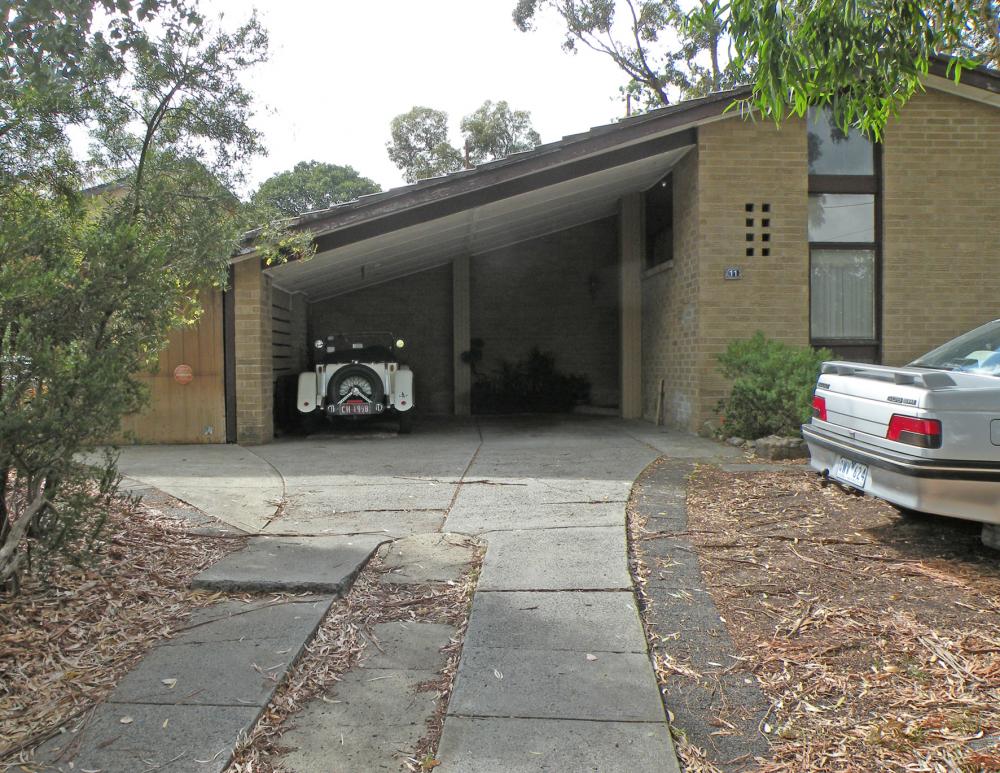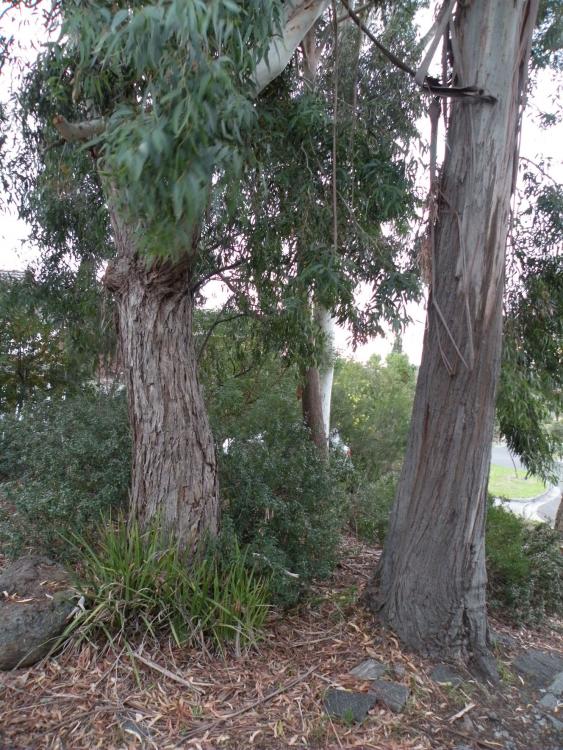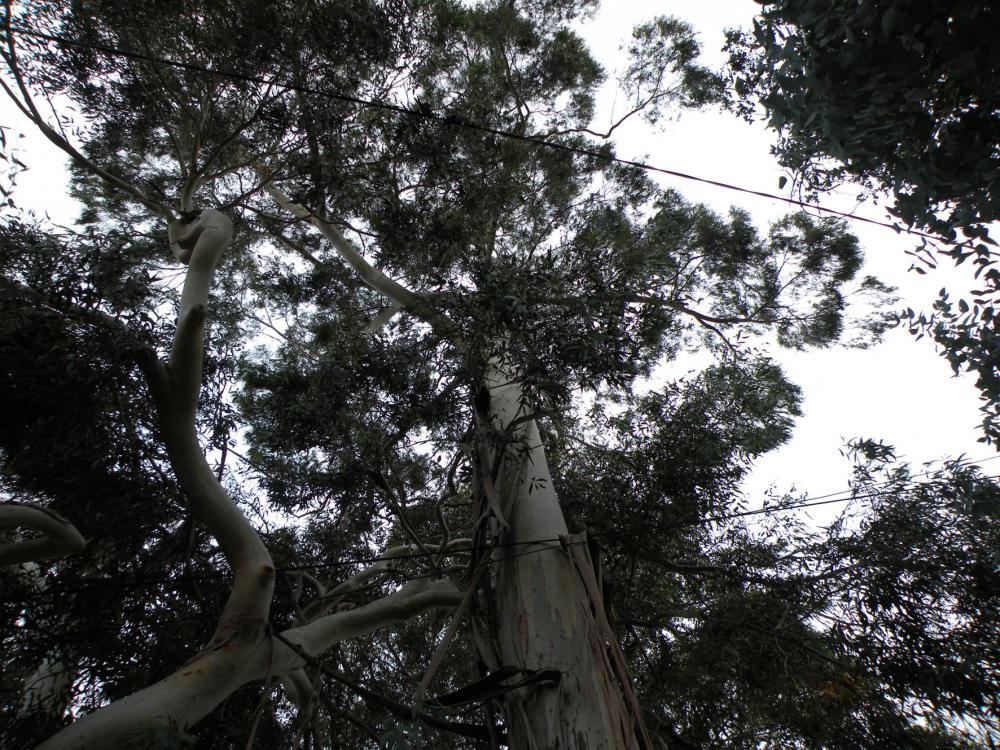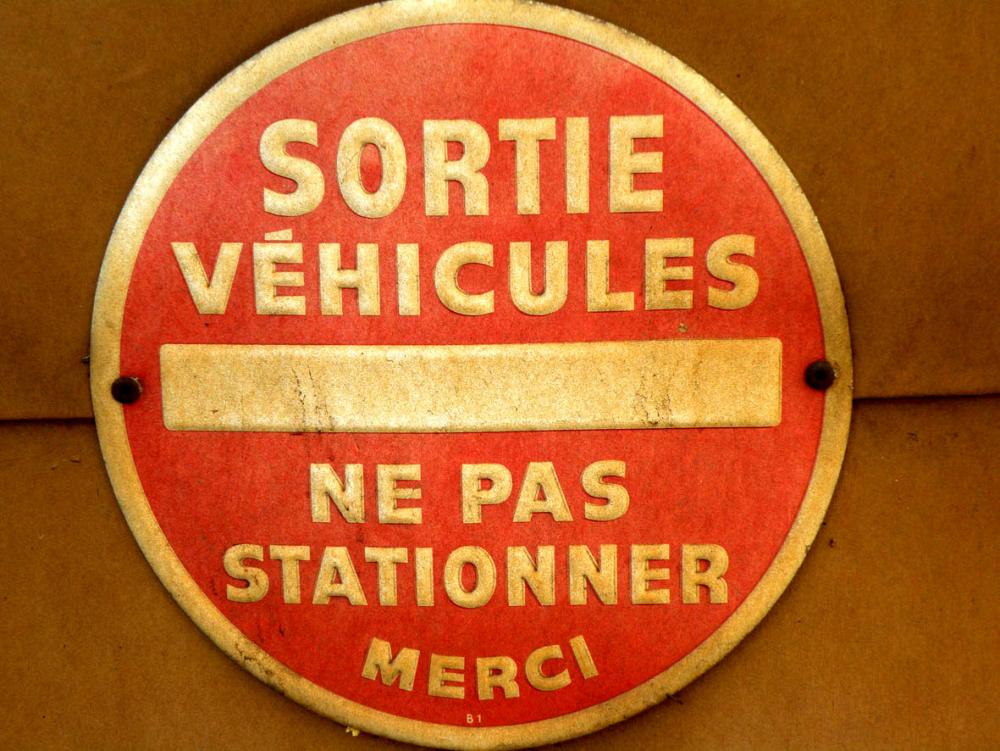 4-19-2016
Last Sunday we went on our local VSCC "Autumn Leaves" run. Firstly I should explain that living south of the equator our seasons are the reverse of those in the North. Much of the route was over un-sealed (gravel) roads. Lots of people worry about driving their "precious" cars on dirt. Below is todays photo of the Rapier showing just how dusty the tyres got.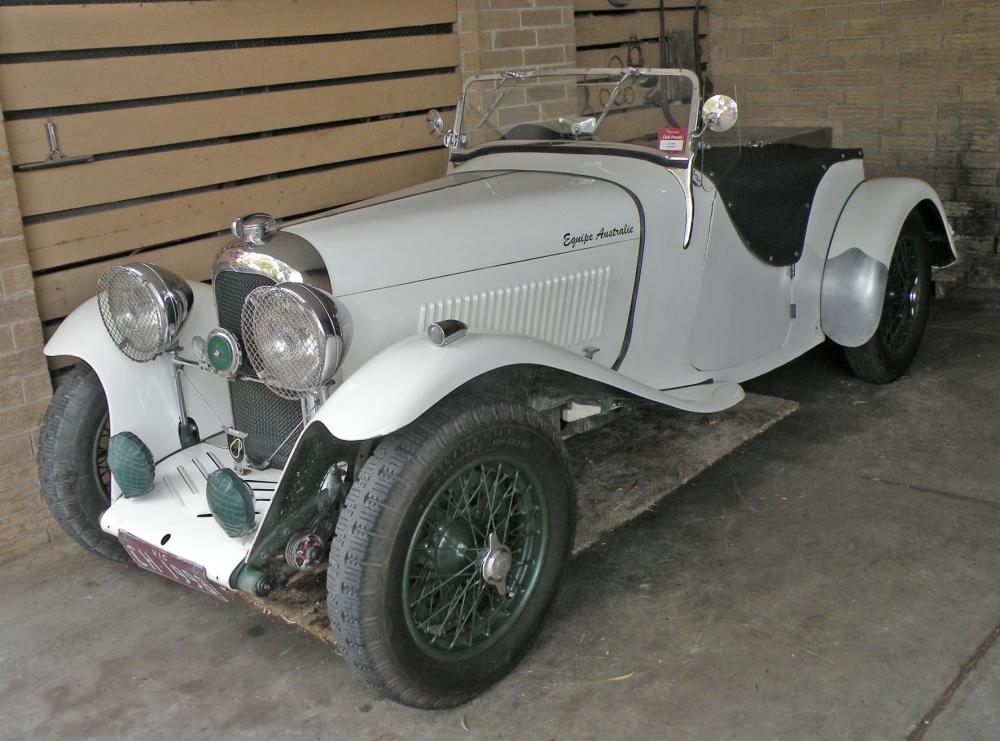 5-17-2016
It is only by looking underneath my car that you can appreciate the difference between it and a standard Lagonda Rapier.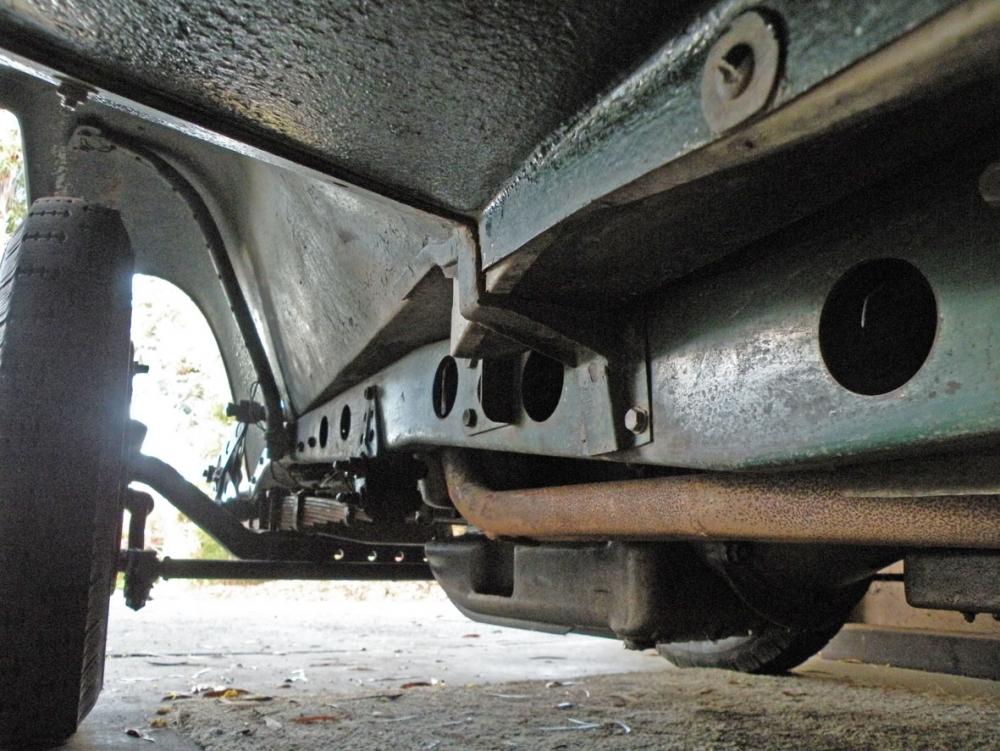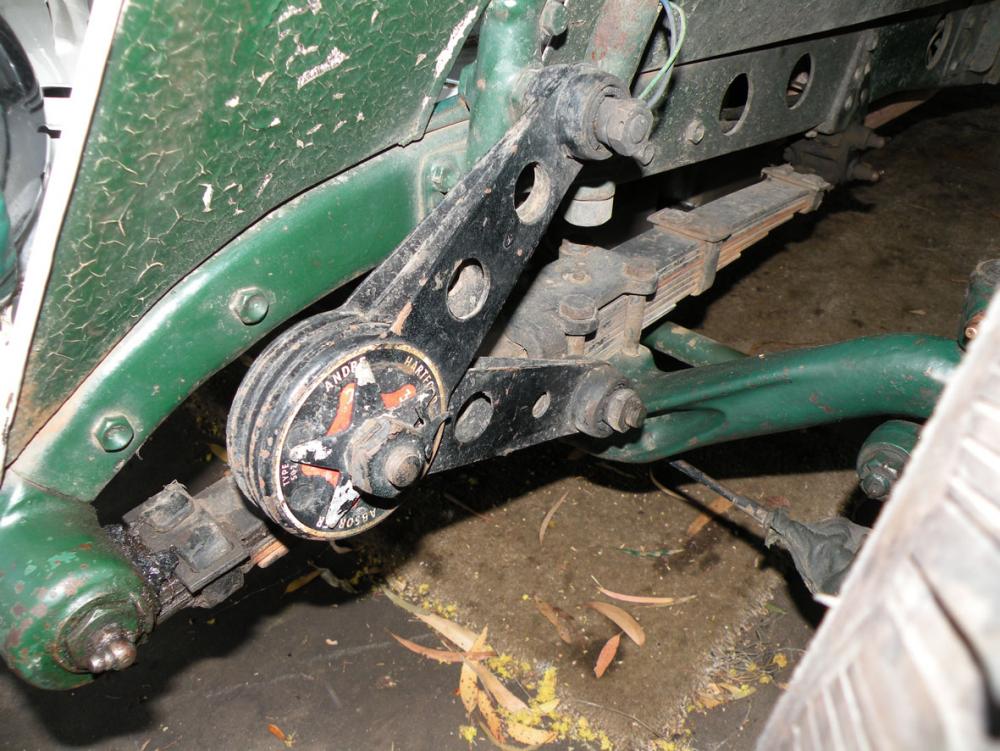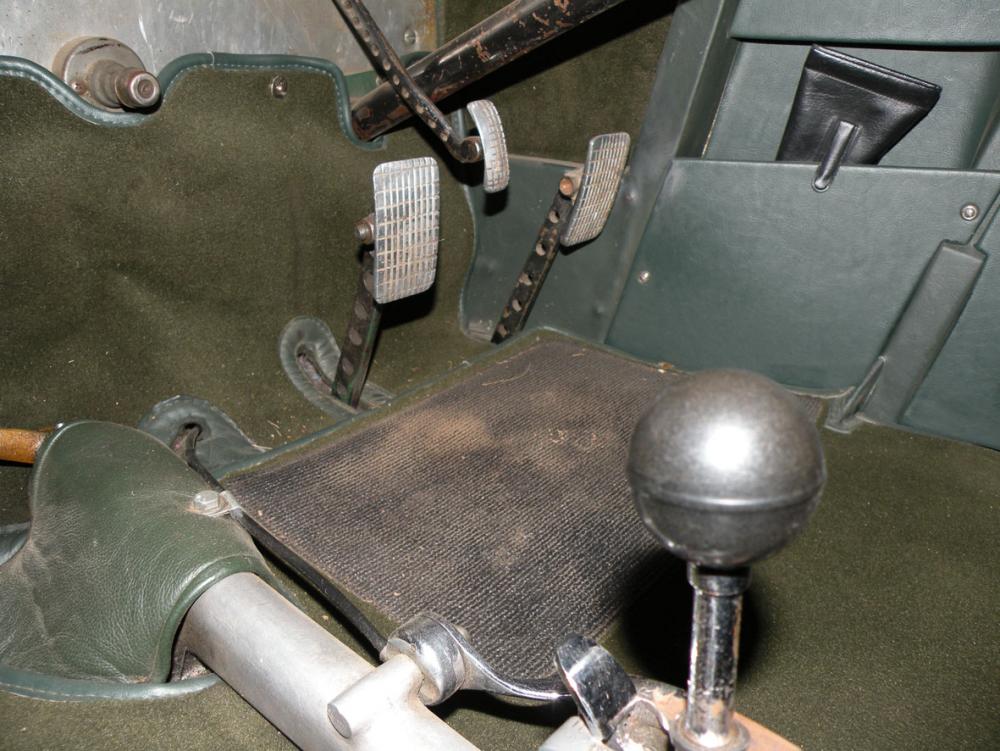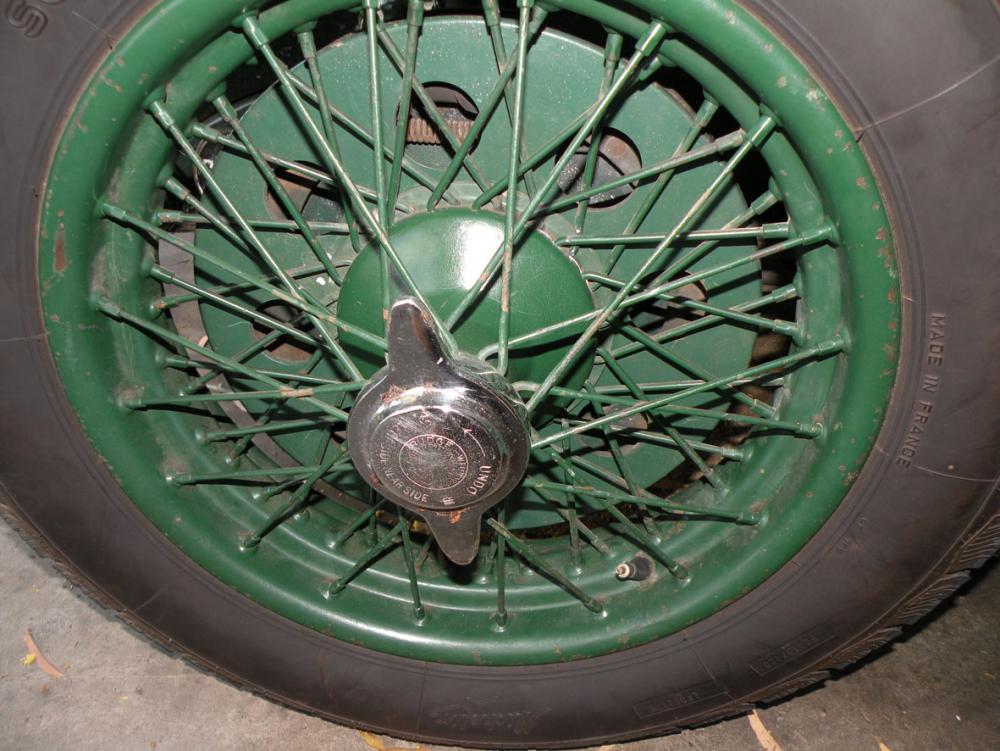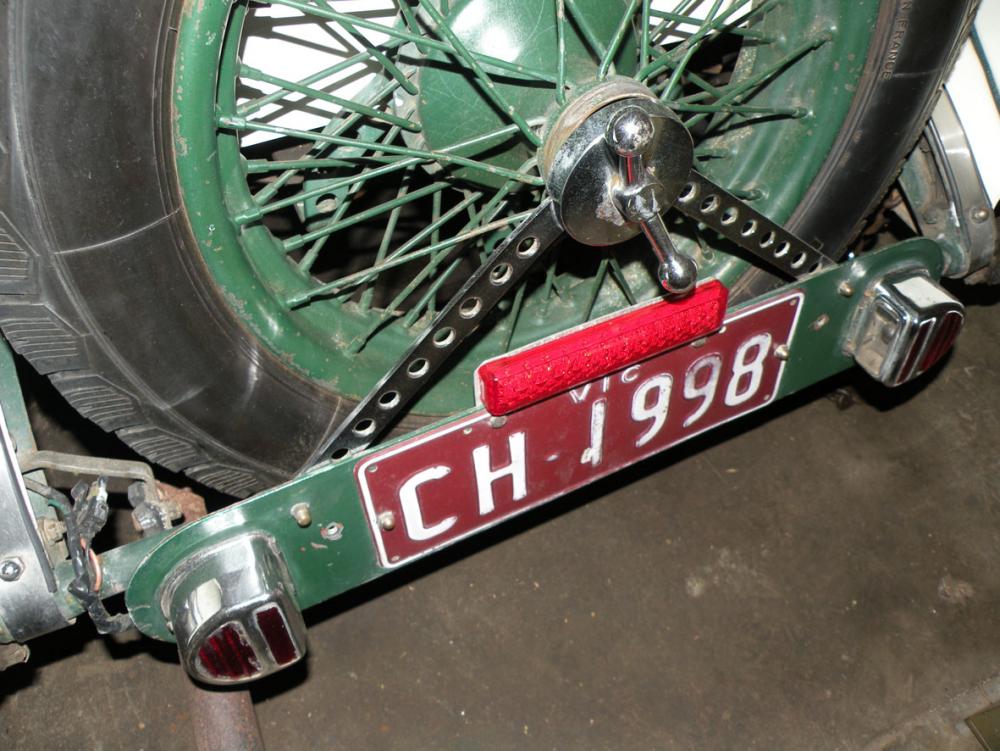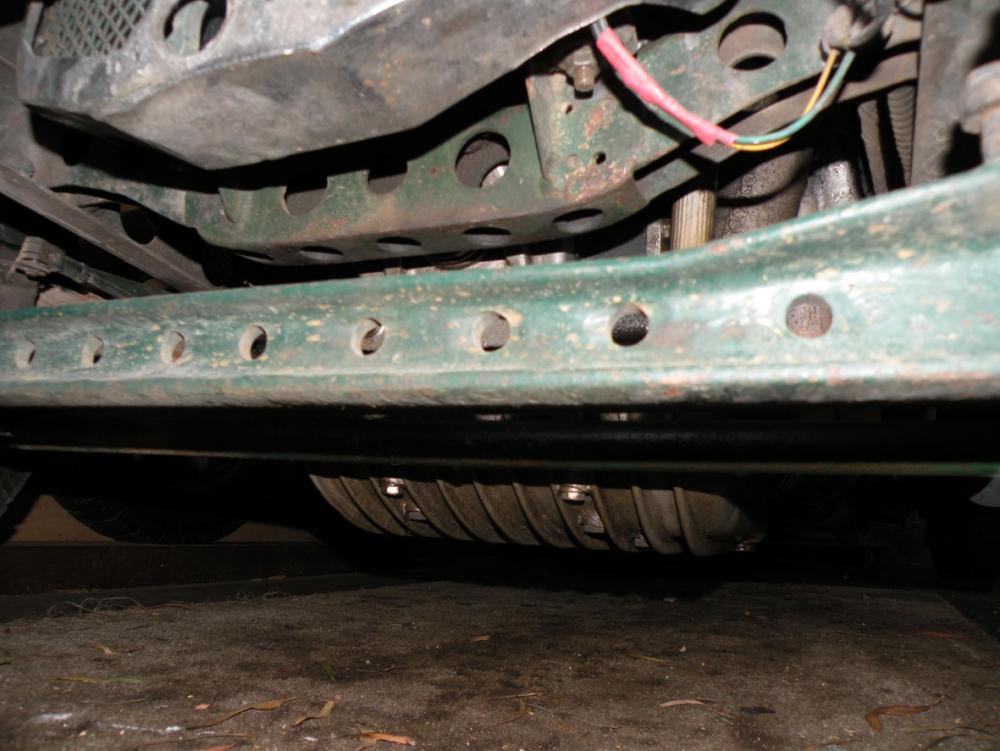 6-16-2016
While I am waiting for my next restoration project to arrive (1924 Amilcar) the Rapier is safely tucked up in my miniscule garage.
Bj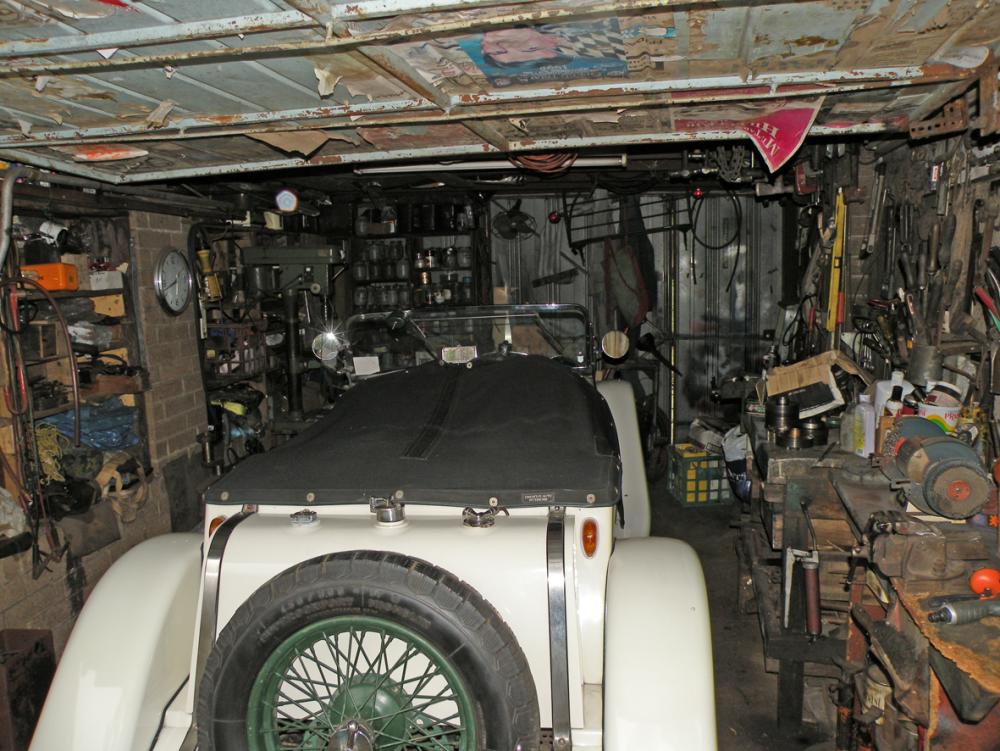 10-2-2016
The Amilcar was a non-event, I have now moved on to a 1912 Humber 11Hp. This one is very much a "proper car" You can see it on "Our cars & Restoration Projects" it came just how I like them. It has been totally dismantled for something between 50 & 60 years. It is moving along nicely. The photo is how it would have looked 104 years ago.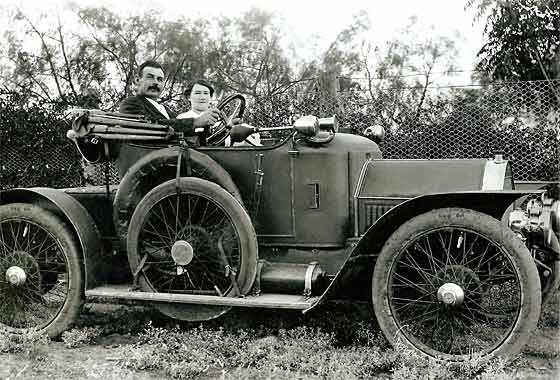 10-4-2016
While i have not spent any time here on this part of the Forum for a while I have not been idle. Today I have been giving the Lagonda Rapier a minor tune (spark plugs, points and condenser) in preparation for a little drive we are making, starting next Tuesday. I still have to check the oil levels in the gearbox and rear axle then give the chassis and suspension a grease.
For anyone still using Google Maps "Get Directions". We are leaving home (East Doncaster, Victoria, Australia) next Tuesday morning to drive north to the start of the VSCC of A, George Green Rally. This will start at Wentworth Falls in the "Blue Mountains"of New South Wales. It will take us two days to reach the Start. The Rally takes us first to Bathurst then Dubbo where we will spent three nights with "Out and Back' drives each day. we then return South to Finish at Bathurst (again). From there we have another two day drive home. In the process we will be covering between 2000 and 2,500 miles. (Actually driving the car, not towing it in a trailer.)
Bernie j.
11-8-2016
We have just returned from the Rally in Northern New South Wales (Australia) a total of about 2,000 miles. Most uncharacteristic the Rapier decided to have a "hissy fit" and came the last leg of our homeward journey on the back of a recovery vehicle. Following some unseasonable heavy rains and extensive flooding some of the roads were a mass of "pot-holes" as a result the exhaust headers had developed a couple of large cracks with most of the exhaust comming back into the passengers face. Added to this the distributor points had closed up and the car was running very badly. I could have re-adjusted the points on the road side but welding up the exhaust would have been a little more time consuming. With the car at home it was a straight forward repair once I had the headers on my work bench. Now a week later and following some "TLC", a good wash and a quick polish the Rapier is ready for it's next outing. It was not all bad news as in addition to the flood damaged roads we travelled over some great "drivers" roads to the west of the "Blue Mountains" At times we could drive for an hour or two or without seeing another car.
11-27-2016
Going back through some old photos I came across these two taken 12 months apart. This car was bought during the 1970s as a "Kit" of bits and imported to Australia from the UK. These were taken in 1980 and 81. The car is now believed to be in Belgium but has not been seen or heard of since about 2005 or perhaps earlier. Last seen it was painted Red. It was raced both as a Racing Car without mudguards, lights etc or as a Sports Car complete with mudguards etc.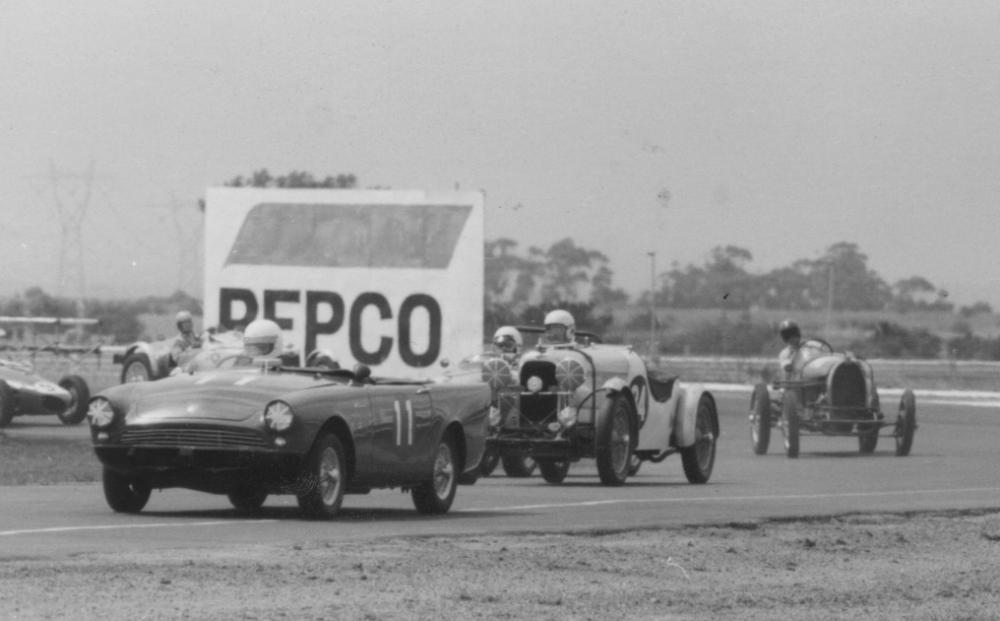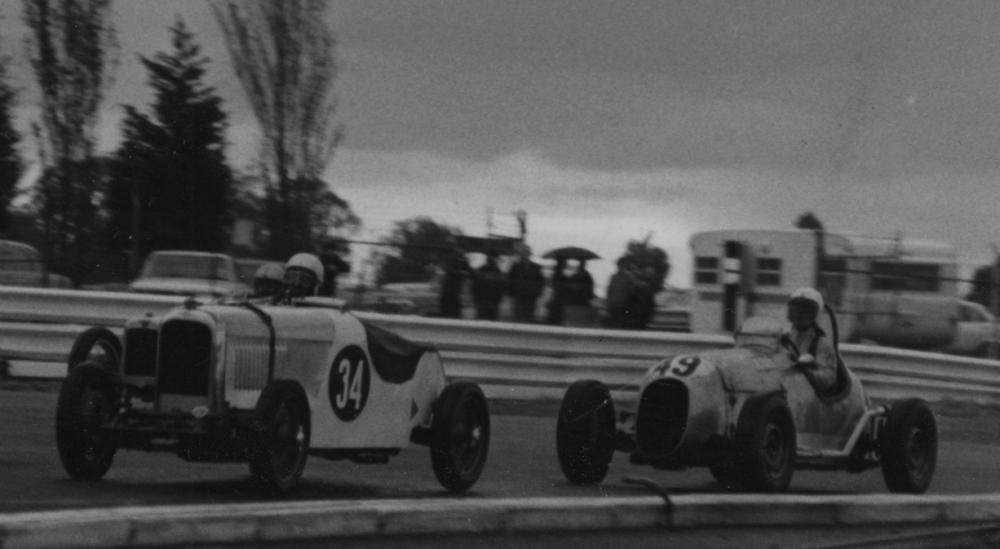 12-6-2016
KG has been relegated to the carport once again as the current project car the 1912 Humber has taken oven all the available space in the "garage". Being a nice lazy day I decided to flush the radiator as It seemed a bit inclined to push out some URKEY water after its (mis)adventure to central NSW. It did not take very long for the water to run out clean so Ihave buttoned it all up and will wait to see how it is after next weekends Pre-Christmas Run.
It need have no fear It (KG) is still by far my favourite car, it is such a joy to drive. It will however deserve a proper clean and polish before Sunday mornings run.
Bj.
12-8-2016
Despite it being officially summer today has been overcast and very chilly, we had some steady rain first thing this morning. Having done some study on spark plug gap recomendations, I have discovered that I have for years been doing the wrong thing!
Instead of opening up the gap I should have been closing it down. Now in search of easier cold starting I have closed the gap down to .20 thou of an inch. I can now report that the motor started readily with just using the choke and without flooding the carbs. There was no sign of missing or wetting the plugs that had plagued me for some time.
Looking up Rapier Guru, Paul Nickall's, Rapier Data Book, I note that he recommends a spark plug gap of .19 thou. Information I had tended to dismiss as KG differs from a standard Rapier in that the masking in the cylinder head that shields the spark plugs has been removed permitting the use of longer reach projected tip plugs and it has coil ignition rather than the standard magneto. Mistakenly I had opened up the gap to .30-35 thou. on the assumption that the wider gap would give a better spark.
Now I know!
Bj.
12-9-2016
Hello Paul
The more I read the less I know, there seem to be any number of opinions on this as with every other subject. My primary interest in this was to see if I could improve the cold starting of my Rapier. It has been difficult to start from cold and seemed to require much more fuel to initially start but once started it would misfire badly for about five minutes before it would settle down on an idle at about 800/1000 rpm. While it is not an exceptionally cold morning It started easily and completely without misfiring. Once started and warmed up it always starts easily "on the button".
I have not had it out on the road so I need to take it for a drive before I will know if there is any improvement or falling off in power. Even then there are so many other variables it is difficult to know.
Bj.
12-10-2016
Having gone out on a "little drive" the Rapier backfired under acceleration quite badly until it warmed up. I have now opened the plug gaps out to .025" and will now wait until tomorrow when I can do a cold start test again. Perhaps I am growing fussy in my old age.
I like to think that having these things to keep my mind active is far better than sitting in a rocking chair or worse.
Bj.
12-11-2016
With old motor cars you never know what they are going to throw at you next. Having been persuaded to go on the VSCC "Inner Urban" Rally, Basically a drive around the city of Melbourne visiting various themed historical sites the car continued to misbehave to the point it was coming to a point where I was reluctant to drive it any further and it came home on the back of a tilt tray recovery vehicle. Doing a compression check revealed virtually NO compression in number one cylinder. Time to take the cylinder head off and investigate a little further. Starting straight away (Sunday afternoon)I now have the head all but ready to lift off. There are just two nuts hidden away under the front of the head to be removed.
What is to be revealed, a headless valve or a hole in the piston, or worse? Oh Joy!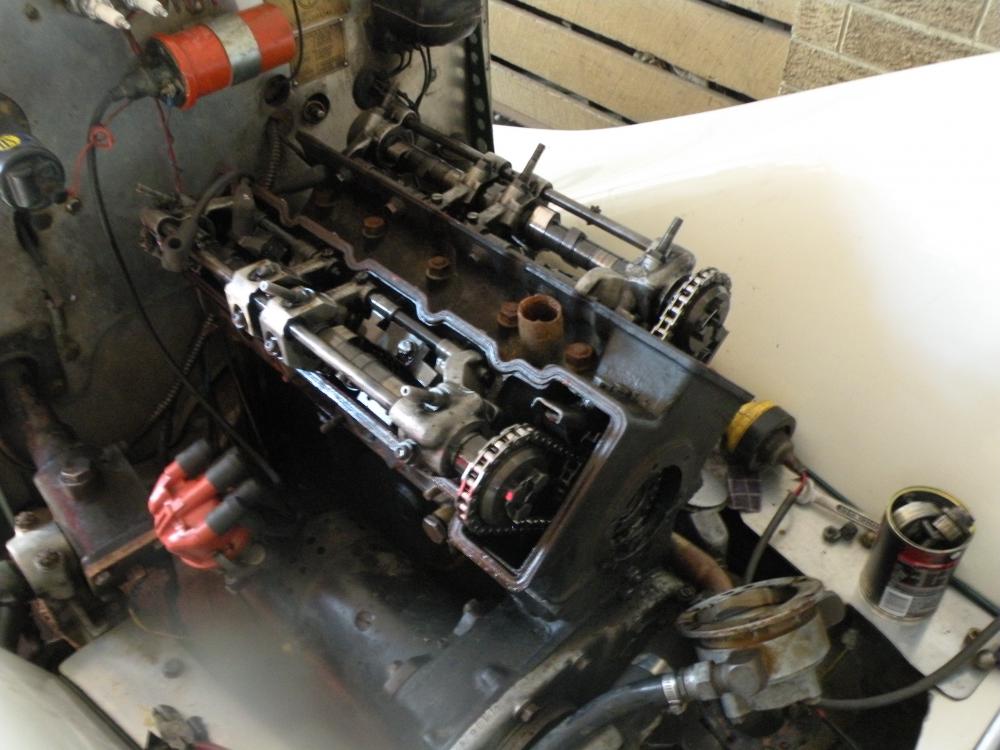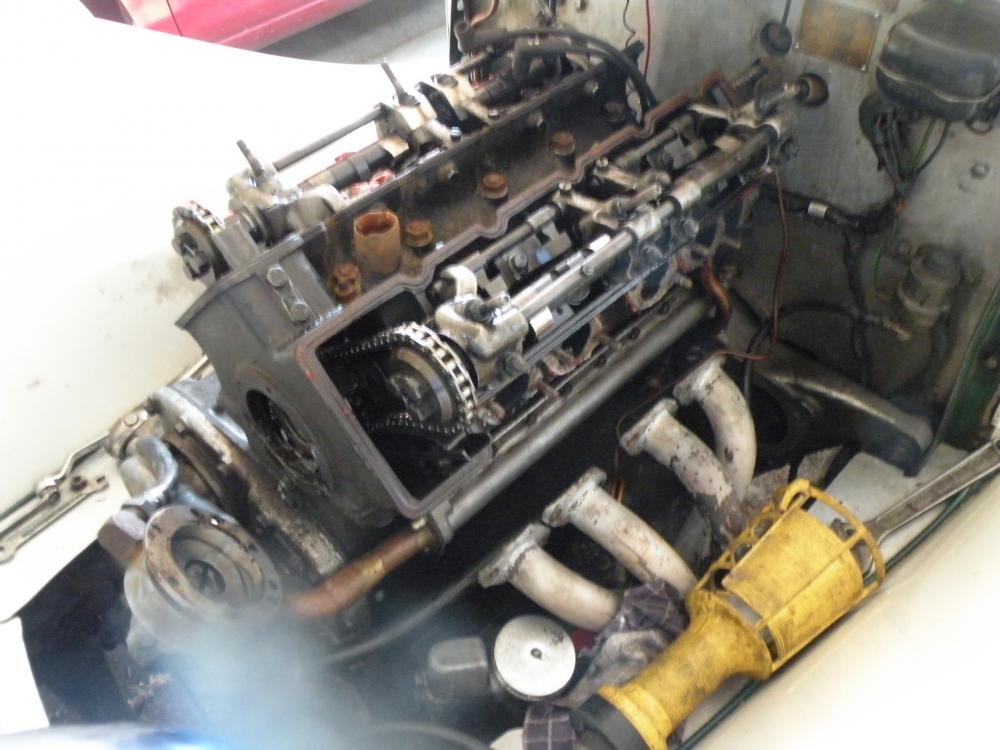 With the cylinder head removed it has revealed that the exhaust side of number one piston has been badly eroded (by detonation?). I suppose that I should be grateful that only the one piston seems to have been damaged. My "Engine Man" tells me that with a little luck I may be able to obtain (have made) just the one piston. I will not know exactly how good or otherwise the other three are until I get the engine out. I need to remove the crank to extract the con-rods and pistons out through the bottom of the cylinder bore. All a good test of my mobility and clear thinking given my senior senior's status.
12-12-2016
People tell me that I must slow down now that I am over 80. I suppose, that must have something to do with why it has taken almost a day and a half to take the motor & gearbox out of the car and have the head and sump removed.
Tomorrow I can take the gearbox off and turn the motor over (upside down) so I can remove the crankshaft and then the con-rods and pistons. Until someone can convince me otherwise I suspect the petrol I had to buy at some out of the way service stations during out ten day trip to central New South Wales was a long way from the normal 98/100 octane fuel that the Lagonda usually uses. I had a similar problen several years ago after doing a long trip using out of the way petrol stops. Many have just the one pump and what comes out of the hosepipe is what you get.
Bj.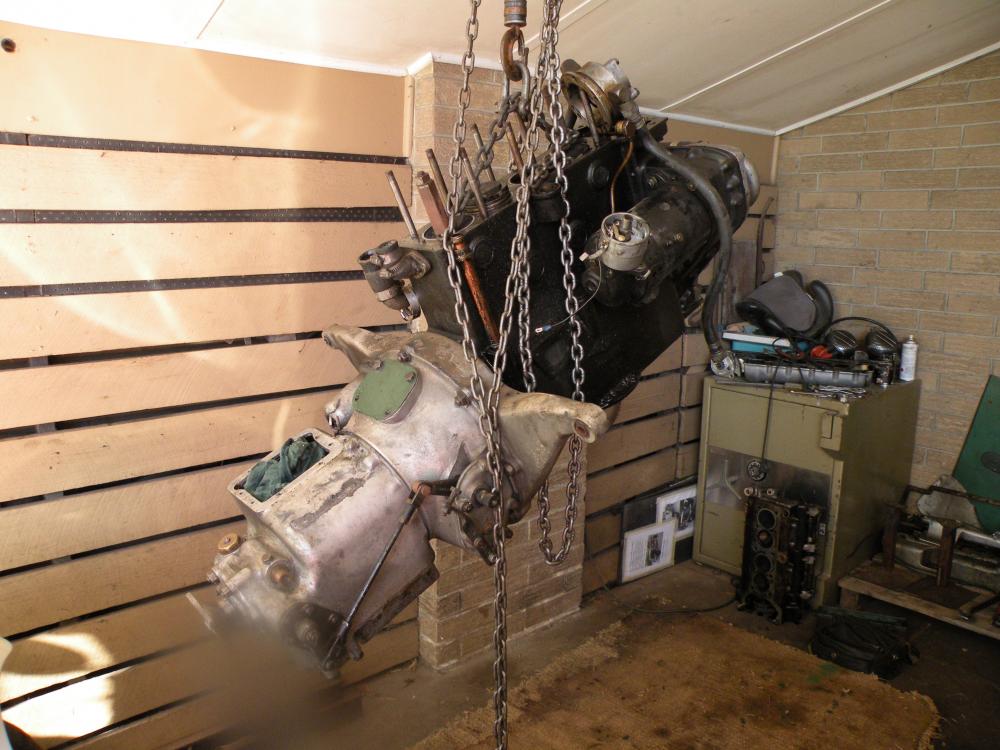 12-13-2016
I don't think many of you will have seen these. For what is as standard an 1100cc car and in the case of just a handful 1500cc "specials' considering that these were made in 1934 at a time when Singer Le Mans, MG P types and awhole rash of lesser cars had two main bearing crankshafts said to be made from bent wire, there is no comparison. In my cars engine the connecting rods look remarkably similar to 4.2 Litre XJ Six rods mainly because they are the same. In the past 80+ years there is no record of a crankshaft breaking in a Lagonda Rapier engine.
One look should explain this.
Bernie j.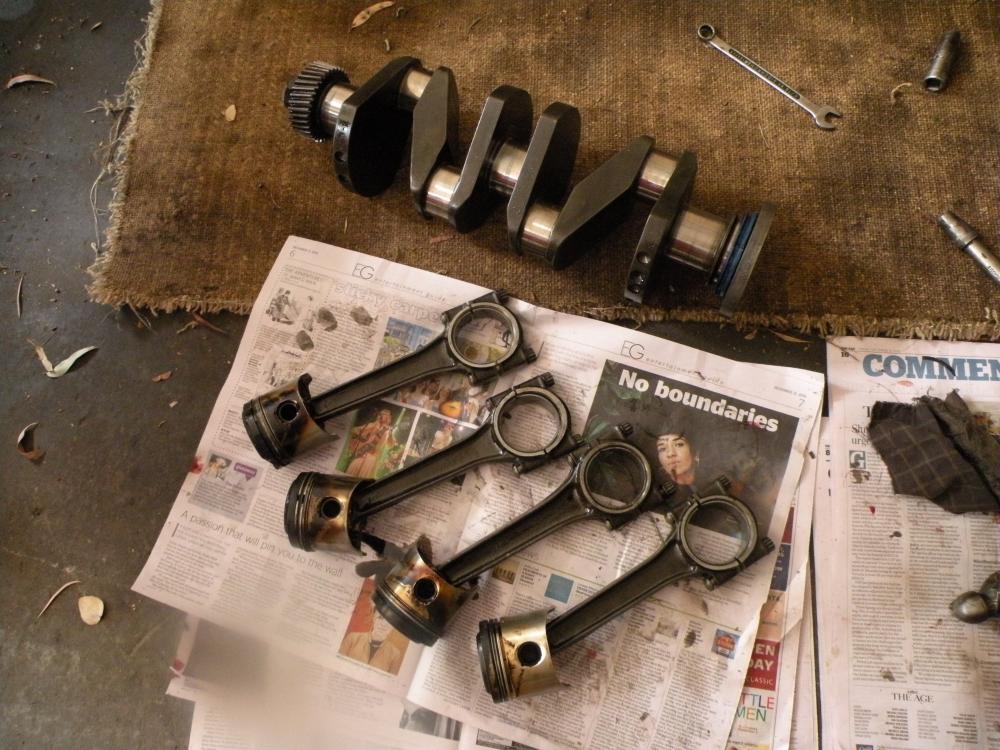 1 person likes this
Hello Paul
While I would sooner not to have to do it, I quite enjoy taking the engine apart, everything is so nicely made. I suppose in the 35+ years I have owned Lagonda Rapiers I must have rebuilt these engines a dozen or more times and I never complain. All the cars except one, a Drop Head Coupe, have been used in competitive Motor-sport, Circuit racing, Hill Climbs and Sprints, The present one has also done a lot of miles in (high-speed) Touring both in Australia and Europe. While I was driving the single seat racing car it had a engine freshen up about once per year.
Bernie j.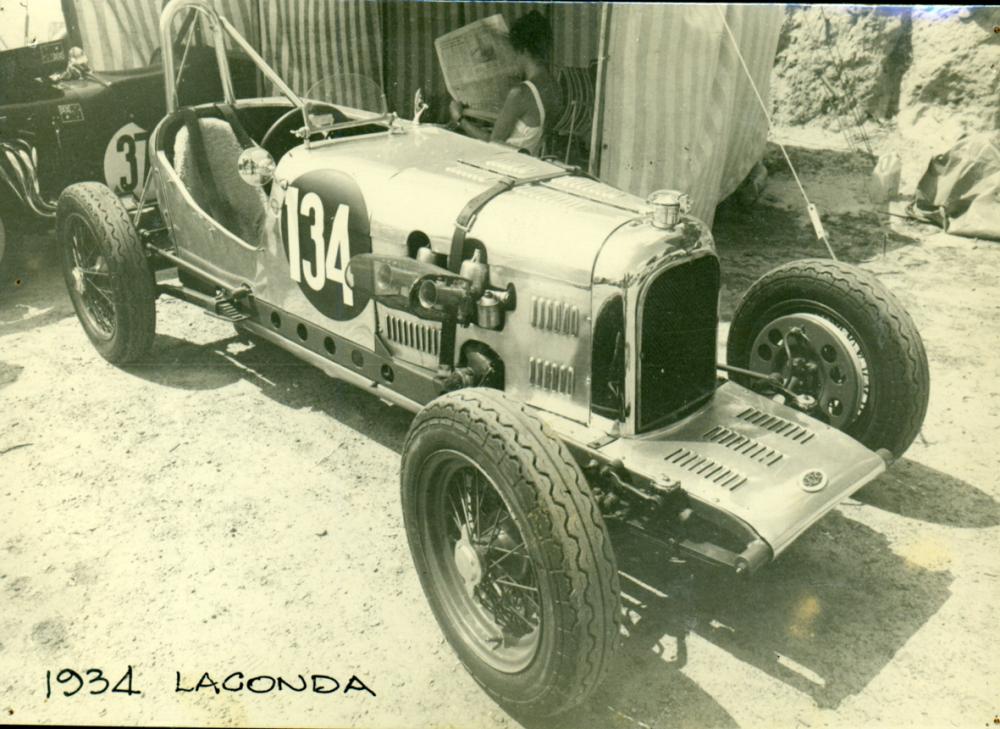 12-14-2016
Hello John
Everything will be given some close inspection before and during re-assembly
The tops of the existing pistons all had ceramic coating while the skirts had been treated with a teflon coating. My engine man tells me that the bearings are all OK to go back in, perhaps because of my policy of only using Penrite HPR 30 engine oil and changing it every 1,000 miles, at the same time changing the modern screw on type oil-filter. Re the carbon on the piston skirts, I am not sure but I think that it is a little more than usual. Looking back through my records The motor had a major rebuild in 1996 and a "freshen-up" (piston rings and big-end and main bearings in 2003. It has done quite a few (hard) miles since, including three visits to Europe.
I replaced the timing chains (3) and tensioner blades about six months ago. I have all the valves out of the head and will give them a light grind to tidy up the faces and seats. The head has all hardened inserts fitted some time ago. For a 1500cc motor, the head has quite large valves, the inlets are 1 9/16 inch diameter. Generously proportioned double valve springs mean that there is no likelyhod of valve bounce. Inlet valve seats run right to the edge of the combustion chamber. Inlet ports are free of any obstructions. For comparison the spanner is to fit a 5/16in across the flats nut. Please note the combustion chambers and ports have yet to receive their final clean & polish, remember this is a "production" (albeit very limited) 12HP "sports touring car" engine first made in 1934.
You also should also remember that Tim Ashcroft, the Rapier designer's, brief was " Produce the Best Light Car in the World". The other thing to remember is that this car was owned, driven and ultimately raced in the 1940s-50s by the then head carburation specialist at the English Royal Aircraft Establishment at Farnborough, Beatrice Shilling. Her life is the subject of a little book "Negative Gravity", it makes interesting reading if you can find a copy. IBSN 0-9546165-0-2. It is available secondhand but be warned it is not being sold at "giveaway prices".
Bj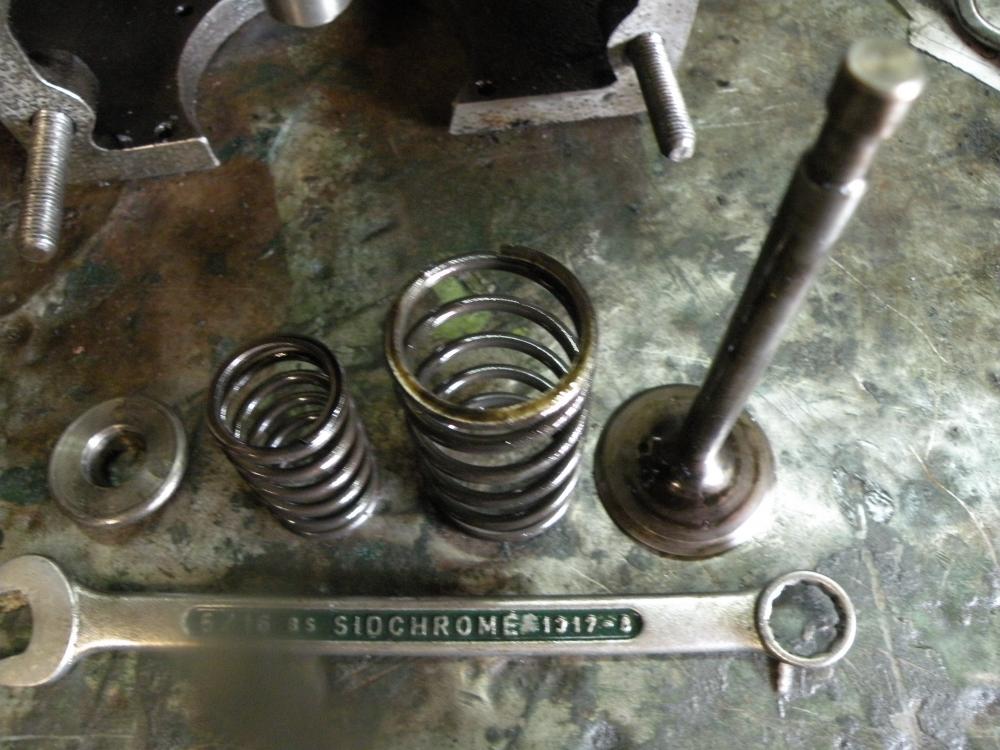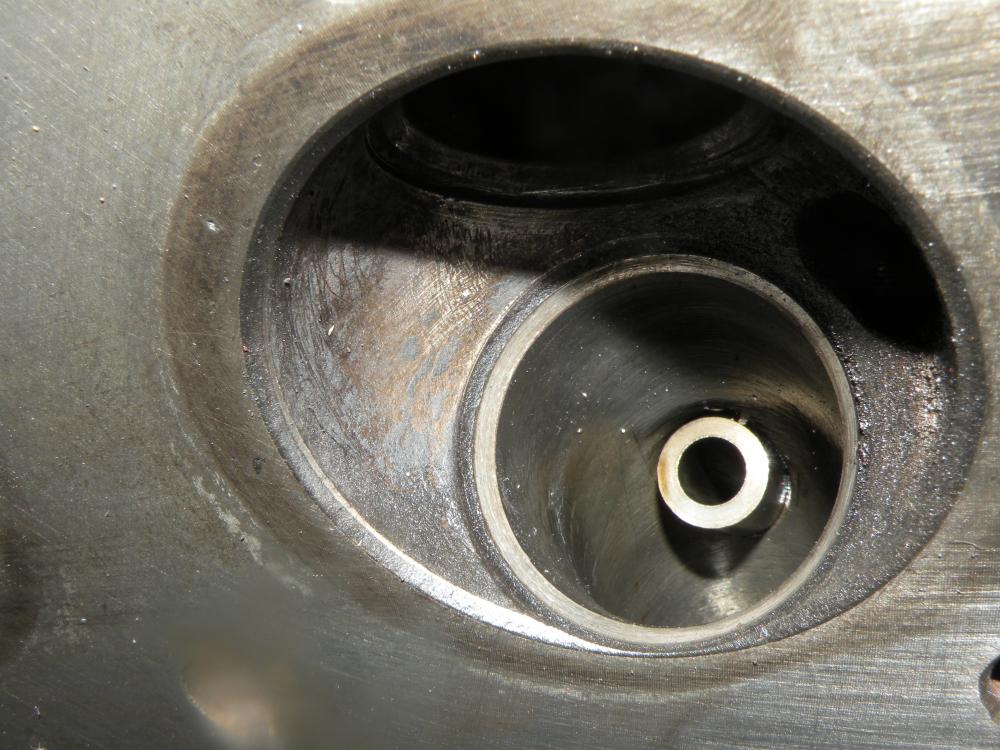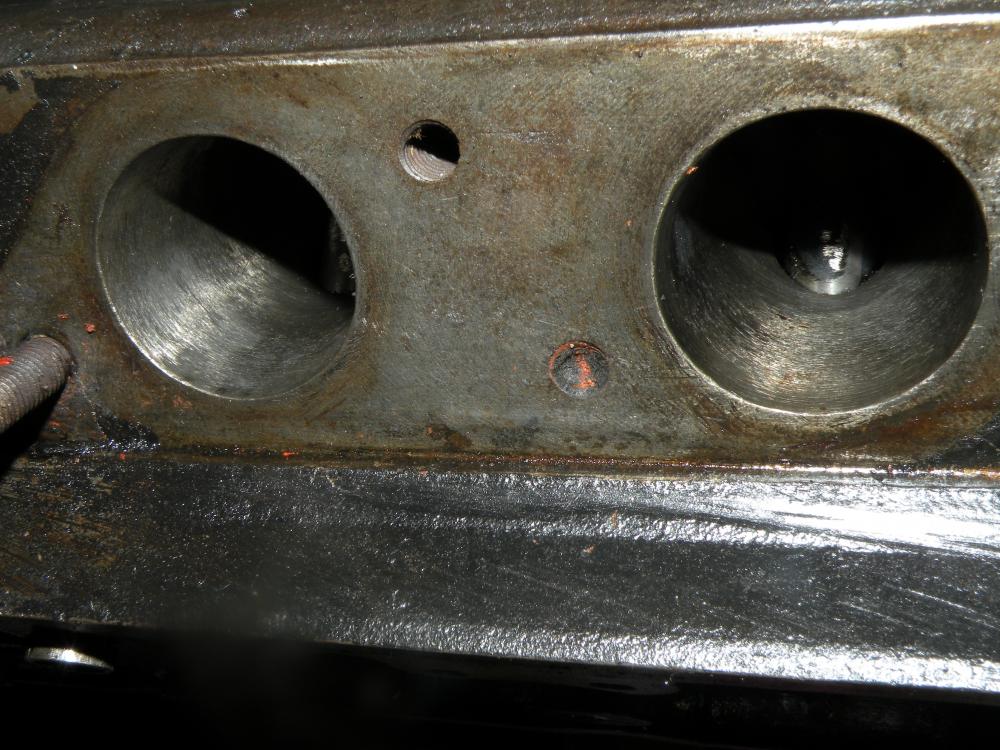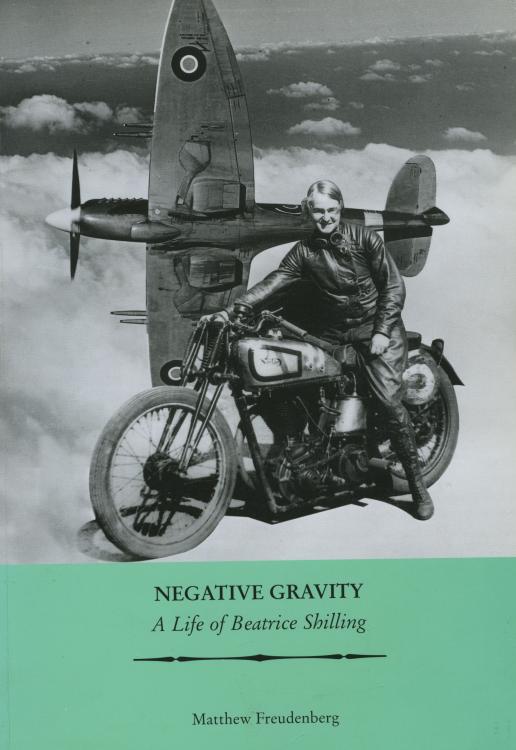 12-15-2016
This morning I made the long drive across town to the outer eastern industrial area of Dandenong, to take the four pistons to "Special Pistons" who made them originally in 1996, so they could make another set for me. After inspection they agreed that the original gudeon pins were showing such a neglible amount of wear and that they would be happy for them to be used again. It must say something about my Lubrication policy and that with the Rapier sump (oil pan) holding 8 pints (imperial) of oil, the internals of the motor despite being asked to run to 5,500-6,000 rpm in moments of anguish are generally well looked after. The gudgeon pins are exactly the same size as used by the 4.2 litre Jaguar XJ6 engine, so the saftey margin is more than sufficient.
Fate has decreed that I am not that lucky. I have now ordered a set of four pistons.
These cost Aust $220 the set of four in 1996. Todays price I imagine will be about the same, EACH.
Bj.
12-16-2016
Hello John
What Mr Fate did was to cause detonation damage to two of the pistons with some signs of it on the other two. This is one of the hazzards of going off the beaten track and buying fuel at remote places where they may only have the one pump, what ever comes out of the hose is what you get. Our Rapier engine is really set up to run on 100 octane. In Europe almost every Shell service station has at least one pump dispensing 100 octane petrol. Most of the local service stations have all three grades of petrol, 91, 95 and 98/100. Basically the "2003 Freshen-up" was to rectify similar but less severe fuel related damage. On that occasion we were much closer to home and we did not have a fast return trip down an Interstate, four lane, highway. Normally we maintain what ever the speed limit is or just over it on those trips. Between 100 and 115 Kph. (65-70+ mph) 90+ Mph is possible given the opportunity.
This engine has lasted since 1996 with European tours in 1996, 1999, 2004, 2009 and 2014, a bag full of Alpine Passes along with lots of competitive miles here at home.
The cylinder bores will be given a light go with the hone to break any glazing but not a full-on rebore. For the freshen up in 2003 we used all over the counter replacement parts, Jaguar 4.2 Litre XJ6 Big-end and Isuzu Light truck Main Bearings, Honda Piston Rings and a Chev V8 rear oil-seal. All the relevant part numbers are recorded and I have full confidence in my friends at Crankshaft Rebuilders. They have been doing my engine work for as long as I can remember, probably longer. I can walk out into the 'shop and talk to the various operatives working on my jobs. I do my own 'final" assembly.
With the Christmas shut-down (our summer holidays) nothing much will happen until after the second week of January. I can do a lot of cleaning and we go to my sister's place on the coast for a week or so for "New Year". Also I have to sort out some spare Humber parts for a friend in the UK.
Bernie j.
12-18-2016
Anybody unsure of the effects of detonation, very often the result of poor quality fuel, along with over advanced ignition in high compression engines should look at Detonation Damage to High Comp pistons? in your search engine. (Google etc) There are some very graphic photographs and explanation of just the sort of damage my Rapier engine suffered. Fortunately the Rapier has a cast iron cylinder head and block or the results could have been much more devastating!
Bj
12-26-2016
As Australia is situated in the Southern Hemisphere we are now enjoying our SUMMER with days well into the 30s Centigrade. Almost without exception the Auto Industry takes its Annual Holidays in January tacking them onto Christmas and New Year. This means that any work carried out by others comes to a stop. For example the piston manufacturers are closed until Mid-January, even after they return to work I will probably have a wait for up to a month and probably even more before I see the Rapier's new pistons. The same applies to the work I am having done on the Humber engine.
I trust that you all enjoyed a Merry Christmas and are looking forward to a Happy New Year.
Cheers!
Bernie j.
During some discussion about the Lagonda Rapiers performance with a friend I looked up some results of the VSCC's Geelong (1/4 mile) Sprints held during the late 1970s and 80s. These are from the book History of the Geelong Sprints.
1979:- 18.97, 1980:- 20.40, 1981 (Amilcar Rapier Spl.) 16.98 and 82:- 16.50. 1984 :-19.40, 1985:- 18.08. The Amilcar-Rapier was a single seat racing car built around shortened and much modified 1920s Amilcar Chassis and Rapier engine gear box, axles, brakes and wheels. I am sure that I have shown you photographs of it before but in case you have not seen it here is one for you. KG's times in 1984-5 were both with the car running as a fully equipped sports car. In 1979 and 80 I would have been competing in an earlier Rapier two seater. This ran at various events as either a "racing car" without lights or mudguards etc or as a sports car fully equiped. But that was all a very long time ago........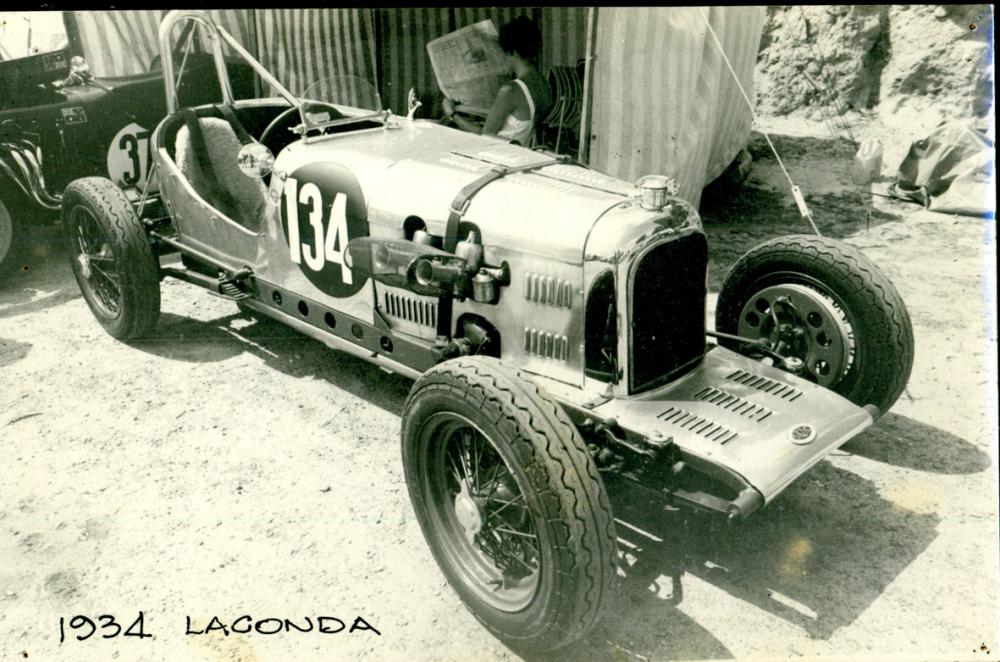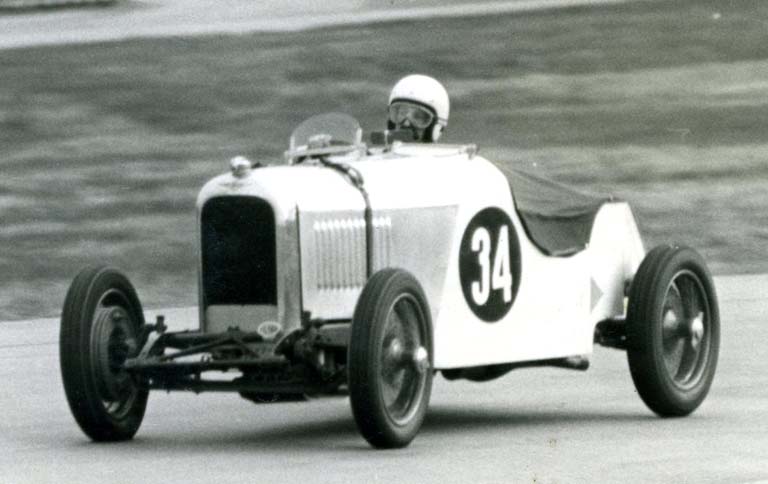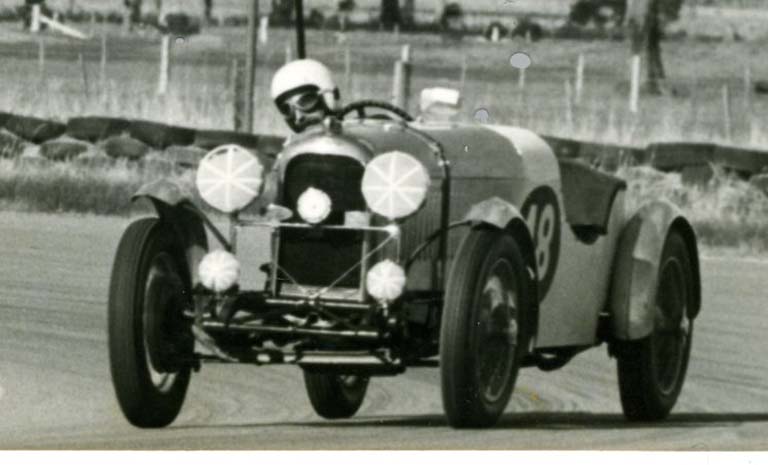 1-5-2017
Here we are now well into the New Year and we have just returned from our brief holiday on the coast with my sister and her family.
I left for the coast somewhat reluctantly directly after a summer rain storm which had overflowed the gutter directly above my work bench giving the dismantled Rapier cylinder head and all its component parts a good drenching. At that time I simply locked the door and said to myself, "If this rain had come even 12 hours later there would have been nothing I could do about it!
I have now unlocked the door again and checked out my work bench and its contents for damage. I can report that the damage was just a few spots of light surface rust on the face of the cylinder head.
I can now go back to finishing the valves and start to re-asemble the cylinder head and valve gear. But before that I will take the head over to my friends at Crankshaft Rebuilders to make sure that the face of the head is percectly flat.
Cheers
Bernie j.
1-7-2016
Summer has finally arrived in Melbourne Australia, there is very little work being done on either the Lagonda or the Humber, today or yesterday, the temperature was/is around 35 to 38 degrees centigrade.
Cheers
Bernie j.
1-8-2017
Hello Paul
Yes, Melbourne Australia has been voted the world's most liveable city. Snow is unheard of, frost is extremely rare as the daytime winter temperature is around 10/15 degrees and in summer it seldom goes as high as 40 degrees Celsius.
Traffic can be a problem if you drive into the CBD but we do have an efficient system of Freeways, We live approx 13 Kms from the city and if for some reason we need to go into the main business centre we prefer to go by bus, These are very efficient with no more than a 10 minute wait. Our "other"public transport is either tram or train. We have great parks, tree lined streets and lots of gardens. . Mostly streets are laid out on a grid pattern. We have several large shopping "malls" within a four or five kilometres. You could say that life is good!
You should visit some time.
Bj.
Enough of all that! It is a cooler afternoon and ideal to go back to working on the Rapier cylinder head.
Bj.
1-9-2017
Hello Mike
Surely not in California?
I think that the same things are happening all around the world. Fires in the Summer and floods in the Winter. Fortunately we live in a very domesticated suburb on a hill far enough away not to be worried by fire and about five kilometres away from the river and far enough up the hill, not to be worried about flooding.
Meanwhile I have spent the afternoon attempting to sort out the one exhaust valve which "caught" a fragment of piston ring. It is going to need a lot of grinding to have it so it will seal but in the process it will close up the tappet clearance so a similar amount will need to be ground off the end of the stem. Not a really satisfactory out come, I have two other exhaust valves left from an earlier rebuild but I would sooner not use either from preference.
Hey! It is an 80 year old car; why am I being so fussy?
Very simply because:-
1. It is my car and it is a LAGONDA RAPIER....
2. I want to be able to drive it without worrying anywhere in the world we chose to take it.
3. When I say drive it I mean DRIVE IT!
Bj.
1-10-2017
Hello Mike
There are a number of possibilities depending on how wealthy you are. In the UK you could try Aston Workshop. This used to be Beamish Morgan run by Rapier Register and Lagonda Club member John Mc Donald, he has now retired. You can find them at WWW.aston.co.uk. If you are very very wealthy you could look at LMB Racing in Belgium. They too have a web site. Or if you are poor like me you can try Auto Surplus in Blackburn Vic.Aust. WWW.autosurplus.com.au. If you are contacting them you can use my name as a reference. If you are looking for competition quality you could send an email to Ian Shugg at Crankshaft Rebuilders who do nearly all my engine machine work. www.Crankshaft Rebuilders. Vic. Au.
Again you could use my name as an intro. I am sorry but I do not know anyone on your side of the pond.
I have just finished lapping in and fitting the Rapiers valves. Next thing is to install the cams along with the cam followers etc. I can then measure the valve (Tappet) clearance and order some new valve stem "buckets" These are similar to those used by Alfa Romeo and are available in a variety of thicknesses going up in one "thou" rises. Before ordering any new buckets I will go through my stock. These can be "adjusted" by inserting shims but that is not totally satisfactory as very thin shims tend to hammer out. Before fimal assembly I have to wash out all the cam followers etc. In typical Lagonda thoroughness these are drilled to deliver oil at full engine pressure right to the "pad" where it runs against the cam-lobe. Naturally the cam bearings also run under full pressure. The only disadvantage is that it is not recommended that you run the engine with the cam covers removed. That is unless you want the entire interior of the garage "lubricated". Going back to my quandary re the damaged exhaust valve. I ended up using a used valve that previously been in the same exhaust port. When I did the huge engine rebuild in 1996 I had fitted eight new valves. At that stage the inlet valves had grown appreciably in head size. I have this bad habit of not throwing out anything that may still have some life. The used exhaust valve that I ended going back into the same port that it had come from initially. I have a habit of numbering parts as they are dismantled. To double check I made certain that it was an exhaust valve by holding a magnet against the head.
Bj.
Many of you will have seen this photograph before but I think that it worthy of a second look. It shows our friend and fellow traveller Bruce Rodgers climbing the Col du Galibier in the French Alps. It was taken by Helen during our 2009 visit. He is driving his 1936 Rapier.
Bj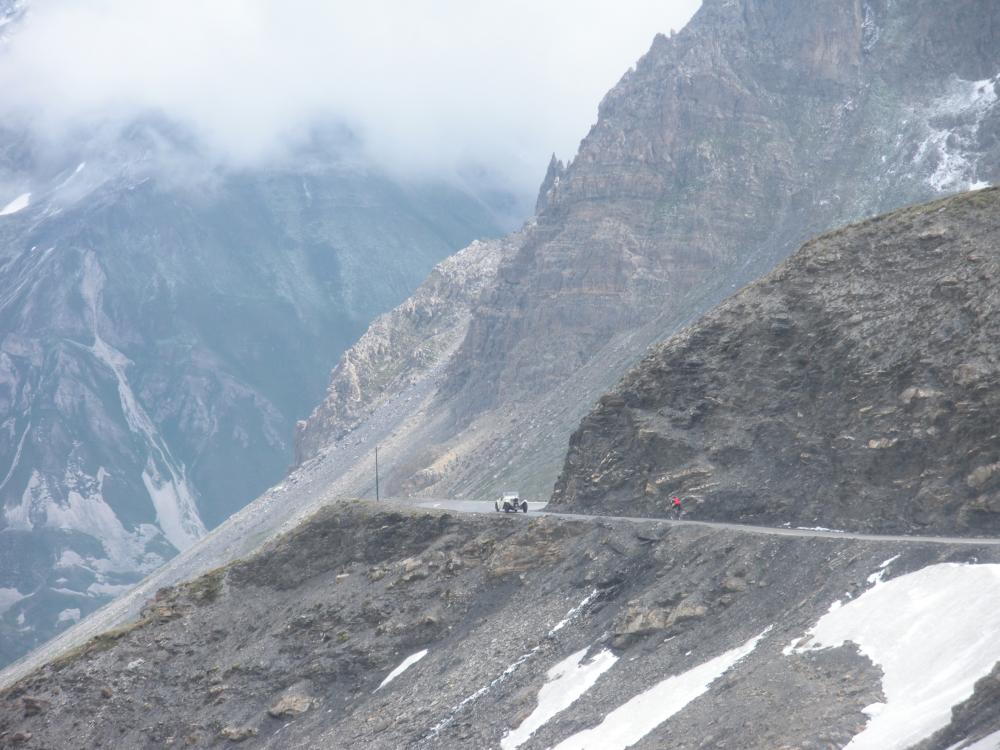 1-12-2017
While I am waiting for the piston manufacturers to come back from their annual end of year holidays, I have kept myself entertained assembling the valves back into the cylinder head. I find assembly work while challenging most satisfying.The following photographs show the head with the valves & cams in place on my work bench, The next photo is looking directly into the combustion chamber, next is looking into the inlet port with the valve partway open and then an inlet cam showing the cam follower. I still have to install the "bucket" shims that govern the amount of tappet clearance. the next showing the cam follower. These are a Rapier Register replacement part and are slightly more robust that the originals. Machined all over and made of a top quality steel, their elegant design and finish, as with everything about the engine, makes it all worth while. Finally an Antique Cigarette tin containing a collection of bucket shims.There also some of the small round shims that can be used to acheive the correct clearance. These sit between the cam lobe and the end of the valve stem, changing the thickness of the shim governs the tappet clearance.
I never get bored working on this beautifully made little engine. Looking at the first photograph again you will note the vernier adjustment on the drive end of the camshafts, this gives incredibly fine adjustment of the valve timing.
If you look very closely at the first photograph you will be able to see, nearest the camera, my "timing marks" two centre punch "dots" one on the front of the cam bearing housing the other almost directly below on the camshaft. Cams are driven by three chains, one from the "half time" gear to a triple sprocket on the front of the head then two seperate chains one to each cam. The generator, water pump and distributor are all gear driven from the side of the timing gears, the Oil pump is driven from the front of the triple sprocket. This way the chains are kept as short as possible. They kept at an even tension by three "Weller blade (spring) tensioners, one to each chain. The four hex (bolt) heads that you can see along the outside of the "valley" locate the pivot ends of the cam followers. These screw out to permit the cam follower to slide side ways away from the end of the valve stem. This permits the bucket (shim) to be removed and exchanged to give the requried tappet clearance. Once set this should not need any further adjustment until the next "top" overhaul. Even after almost 50 years of playing with these delightful engines I am still full of admiration for Tim Ashcroft, the man who designed them in 1933. He really did tick all the boxes!
That even after 80 years they can be and regularly are taken to 6,000 rpm is almost beyond belief.
The Directors of the Lagonda Company thought that 12 months and with the assistance of just one draughtsman was sufficient time to do the job. I know that I have said this before but it is worth repeating. His design brief was simple. We want the "Best Light Car in the World".
Bj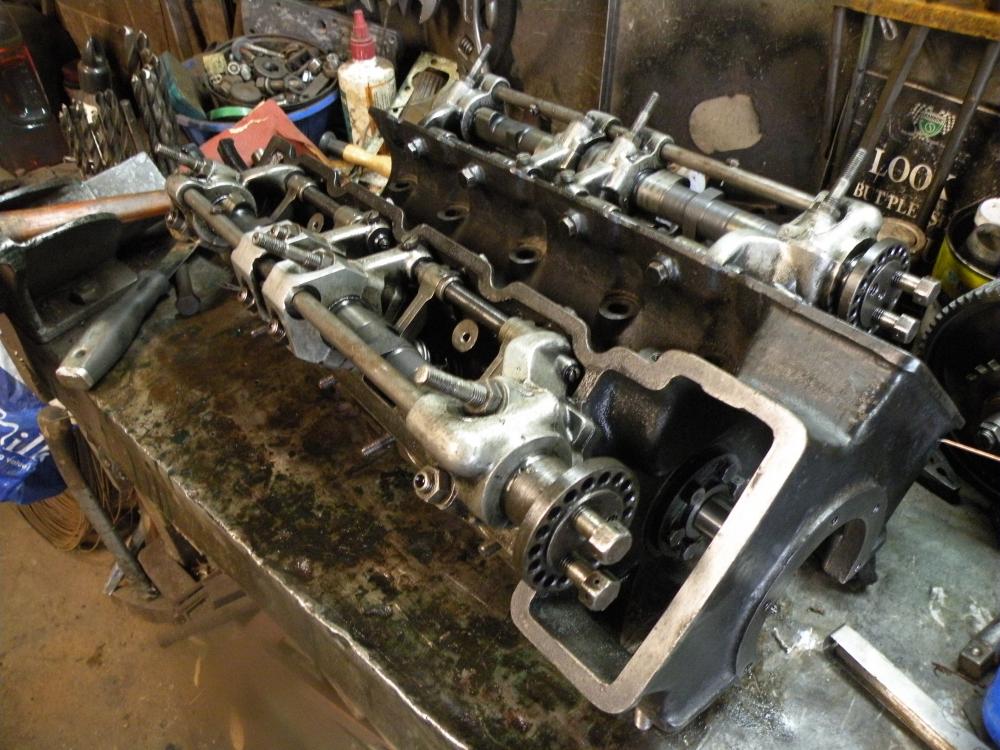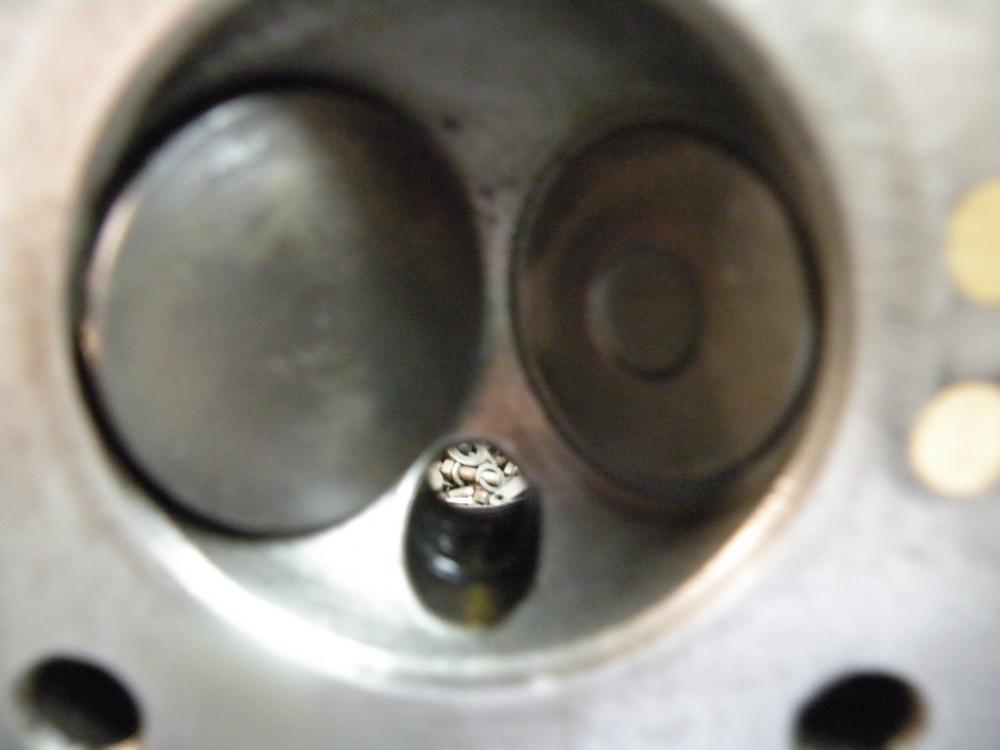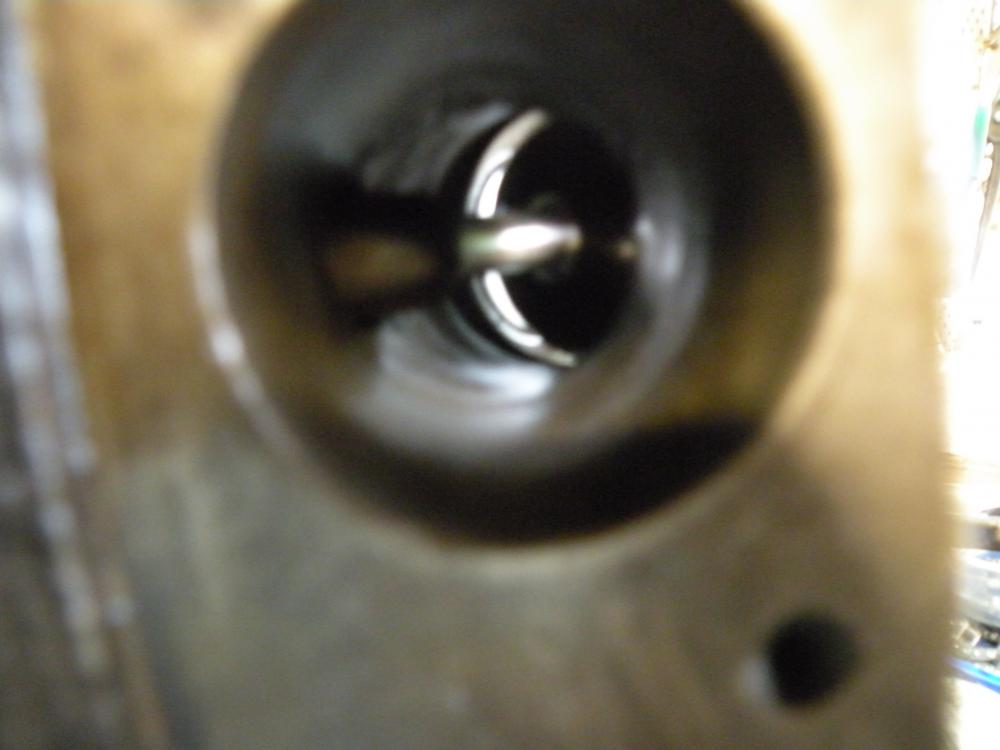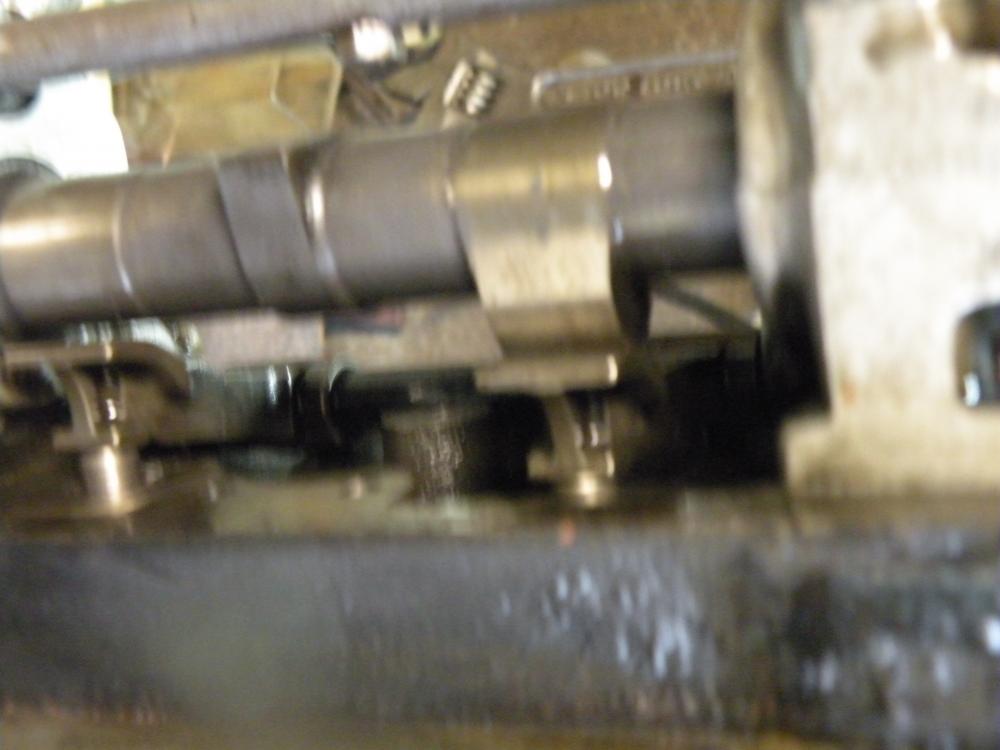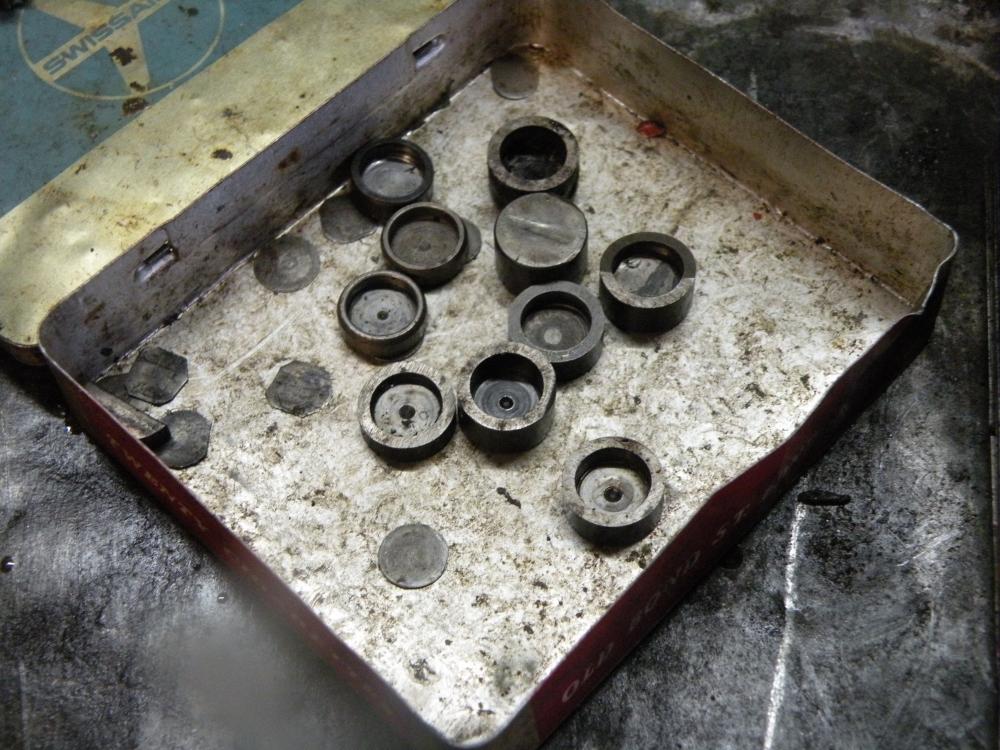 1-13-2017
Going back to my earlier post. In the first photograph the tubes between the camshaft bearing caps carry oil under full pressure to the camshaft bearings. The bearing housings are further drilled to then take oil to the pivots for the cam followers and finally through a drilling down the length of the cam follower the oil is metered to the "pad" that runs against the cam lobes. You are advised NOT to run the engine with the cam covers removed. That is unless you want to be drenched in a shower of oil. Oops! The washers etc you can see through the spark plug hole are the ones in the open container on my work bench that can be seen in one of the other photographs........ The smaller "pointy" cams were originally for spring "dampers" to iron out any vibration. These were found to be an un-necessary complication and removed when the cars went for their "first service".
Bernie j.
1-13-2017
Thank you Paul
I am just sorry my photography is not as clear as I would like. The other thing to remember is that the Rapier was a small, just over one litre, capacity (10HP) made in very limited numbers, less than 400 in total over 80 years ago. That so many have survived is testimony to the high quality of both design and manufacture.
Bernie j.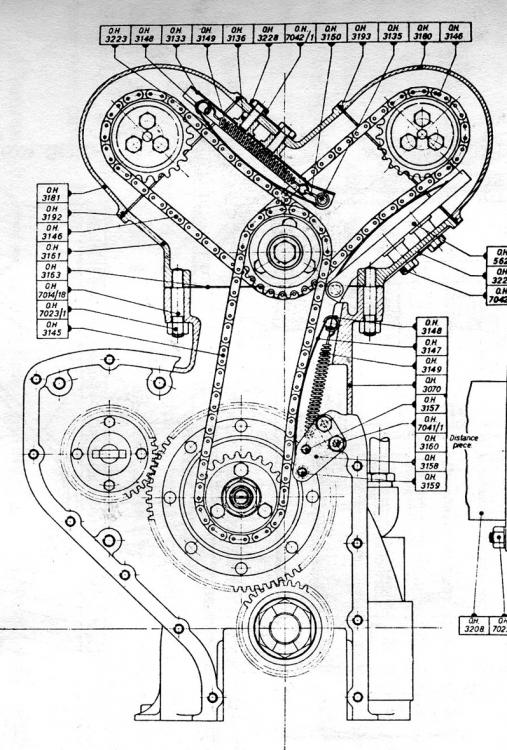 In case you missed it earlier the "bottom end" of the motor is also impressive for 1934. At a time when MG, Riley, Singer, Morris and Austin were all still using just two main bearings for their crankshafts Lagonda were using this crank in the Rapier engine.
Bj.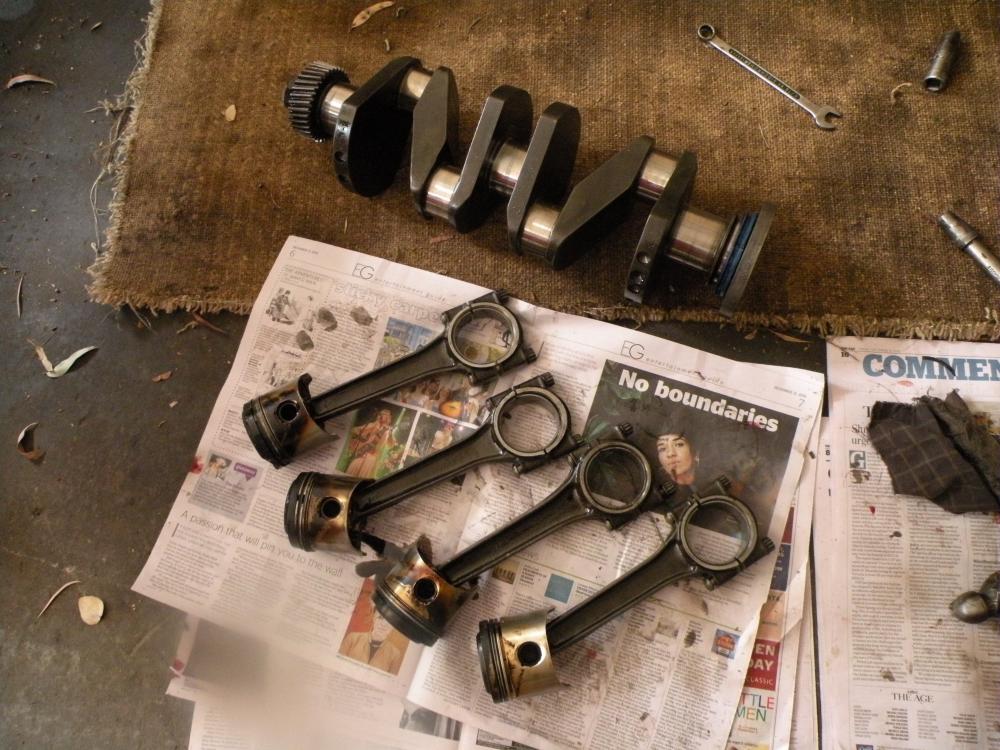 I know how many of you like photographs, here is something very different, taken by Helen in the French Alps during our 2009 visit. It is a road typical of the ones we love driving on. You can just see the Rapier in the left hand bottom corner. Absolutely magic.
Bernie j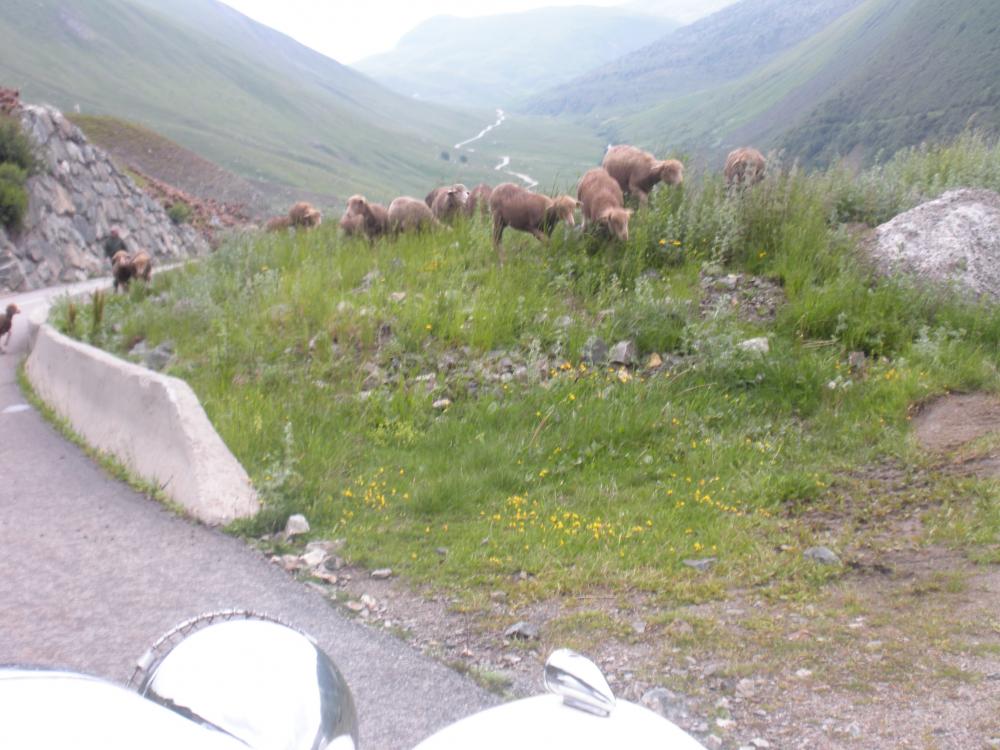 Anyone for a Cruise or a Luxury Tour? You will not see anything like this......
France, Belgium. Italy, Switzerland & Germany. And the local people want to talk to you!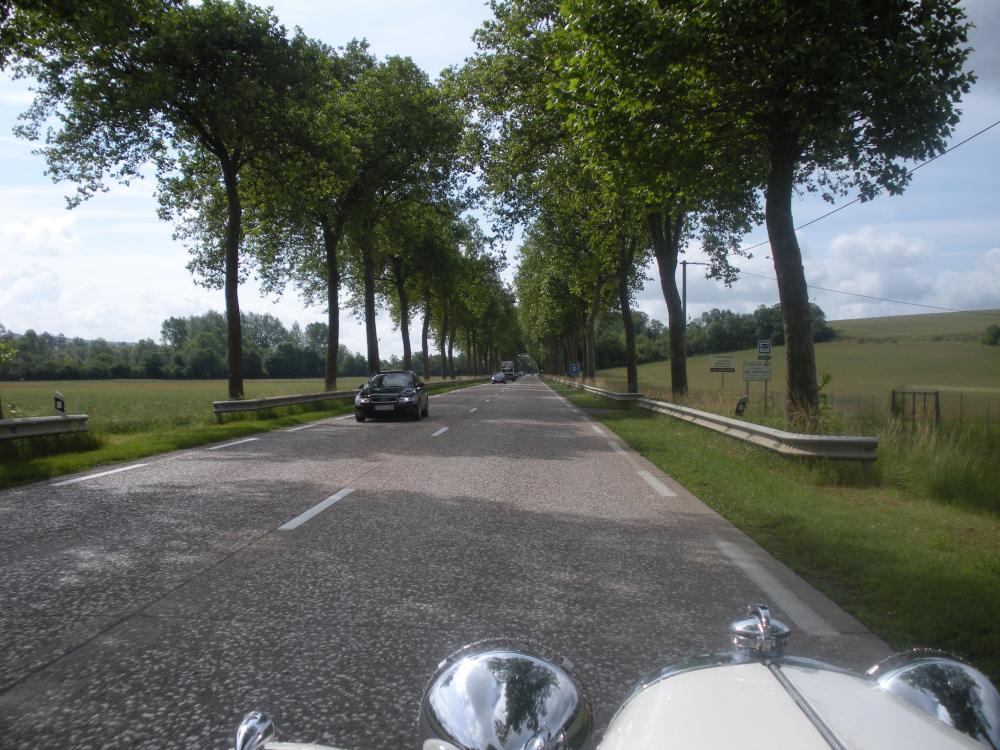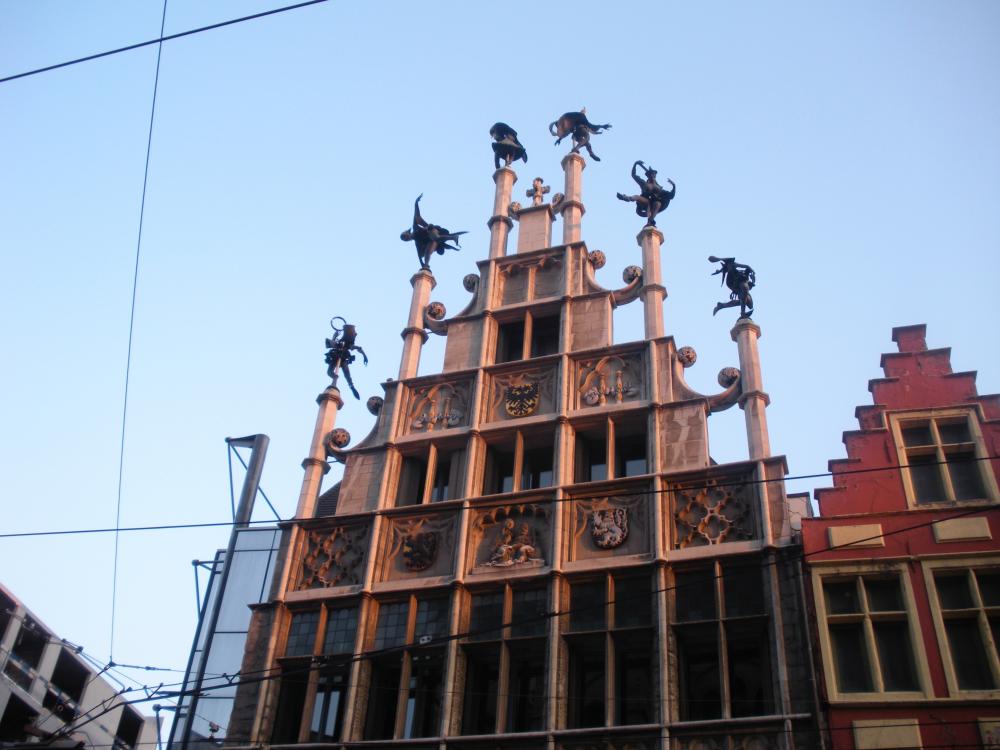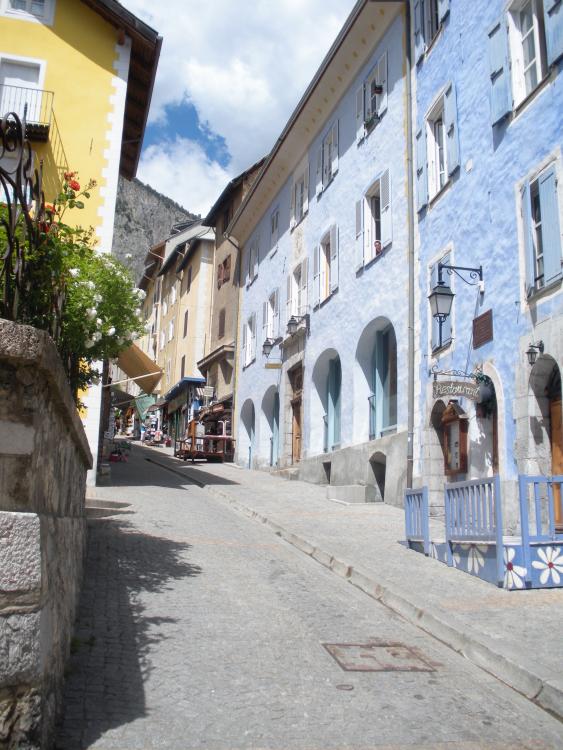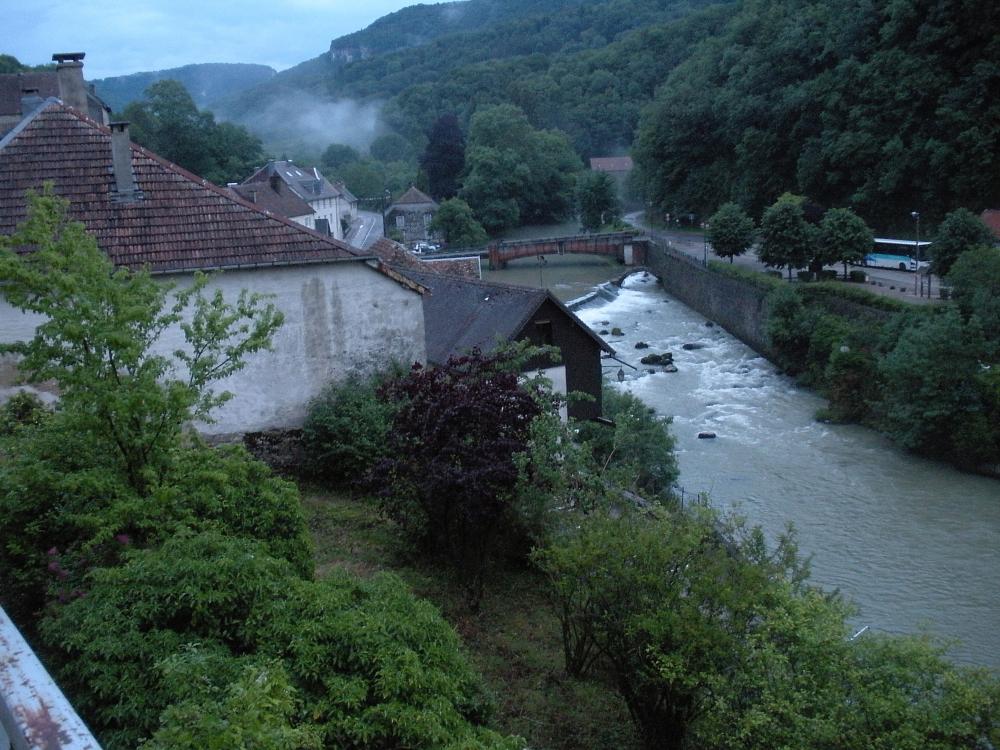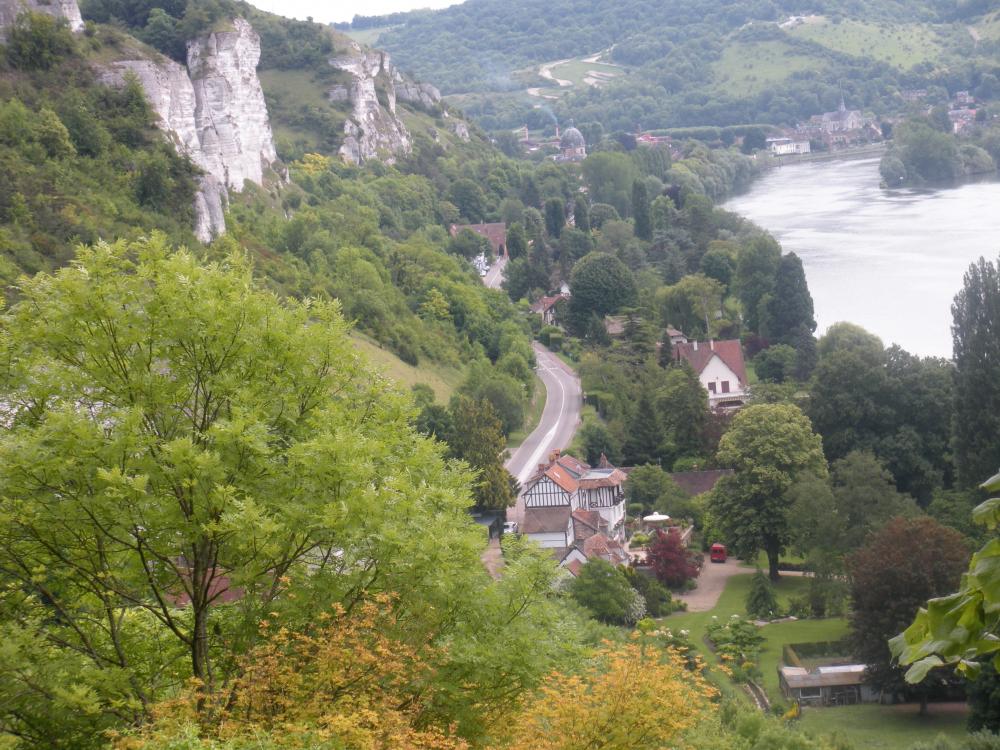 1-14-2017
Hello Mike
Right now I either have forgotten or have never known Tim Ashcroft's age when he was first enployed by Lagonda. It should not take more than a day or two to rectify this. I suspect that his job with Lagonda may have been his first professional engagement. Some people use the Alfa valve clearance shims but I prefer not to as they have a comparitively short skirt and have been known to jump out at high revolutions.
The big thing about those cam followers is that in addition to taking oil where it is most needed that they can be moved sideways giving access to the buckets/shims making tappet adjustment relatively quick and simple. No need to disturb the timing or lift the camshafts.
One of the two prototype Rapiers became Tim Ashcroft's personal transport.
Bj.
Hello Mike
My good friend and Rapier Register brains behind the Spares Scheme, Mike Pilgrim tells me that Ashcroft was employed by Lagonda specifically to design the Rapier. This is referred to at the bottom of page 263 of "Lagonda - a History of the Marque" by Arnold Davey and Anthony May. It says that Ashcroft was an engineering consultant to an iron foundry at the time.
Irvin Thomas Ashcroft was born at Northampton, England, on 13th July 1895. On 16th September 1914 he applied to join the Royal Engineers, but on 19th October 1914 their Motor Cycle Section discharged him as "unlikely to make an efficient soldier". His name appears on a Royal Flying Corps list, and he is also listed as having Service Number F1349 in the RNVR (Royal Naval Volunteer Reserve).
That makes him in his late 30's when he joined Lagonda when he was employed specifically to design the Rapier engine.
When the Lagonda Company went into receivership towards the end of 1935, Ashcroft along with ex Lagonda Co Director, Bill Oates and Nevil Brockelbank, who provided some of the necessary finance, setup the Rapier Car Ltd to acquire the remaining Rapier parts and continue assembly of the cars which were then "badged" as Rapier as distinct from Lagonda's. In total about 40 "Rapiers" were sold between 1936 and 1938. The Lagonda name was removed from the cam covers, the top of the chassis plate with the Lagonda name etc was guillotined off and new badge with the name "Rapier" designed for the Radiator. Naturally the Rapier Register caters for both Lagonda Rapiers and Rapiers.
Bj.
1-16-2016
The attatched scan of a lapel badge illustrates the two different Radiator badges. Over the years there has been a number of variations on the Lagonda Badge. The one shown here is the correct one for the 1930s. If you have a "Rapier" badge it is a very rare item with something less than 80 cars being built between 1936 and 38.
There is absolutely no connection between Lagonda, Rapier and the Hillman Minx based Sunbeam Rapier from the 1950s & 60s
Bj.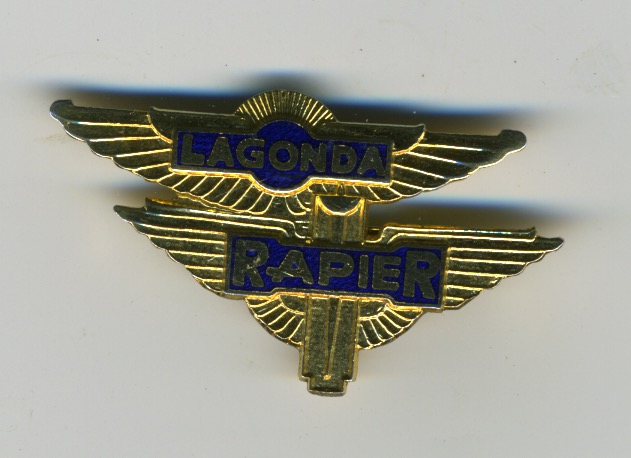 1-20-2016
I am still waiting for either the new pistons for the Lagonda, or some action on the Humber engine, despite everything else, many firms take their Annual Holidays (3 weeks) in conjunction with the Christmas/New Year Holidays (10 days). Now it seems that with the number of Asians making their home in Australia, we will soon have another holiday for "Chinese New Year". We are told this coming year is the year of the Rooster.
Australian businesses have to cope with more gazetted "Public Holidays" than anywhere else in the world. Added to this many "workers" have a long (3 day) weekend every month just because they can. It is called a RDO, the "Rostered Day Off!"
Australia is the only country in the world where we have an Annual Holiday for a Horse Race. The first Tuesday in November is "Melbourne Cup Day". Because this is always a Tuesday it seems un-necessary to go to work on the preceeding Monday, making it into a four day weekend. Oh! I forgot about all the Muslim "Holy Days". We are frequently told by Politicians, how wonderful it is that Australia is a "Multi-cultural Society".
Being retired, I work seven days most weeks, the others I try to work eight days......... Being over 80 years old I now have to work twice as hard as I may not have all that much time left!
Bj.
I should not complain I have a friend who has been waiting for over two years to get some tricky machining work done on a replacement oil pump for his Amilcar.
Thank you Paul
I wear denim jeans most of the time so I hope that some of that rubs off on me too. I don't do Bowls but a game of Petanque every Monday morning has to be good. Keeping score helps with my mental capacity too.
We were at a VSCC BBQ last night and it is surprising how many members are 80 and over, perhaps that is because we all keep well lubricated, lots of bottles of good Australian Reds. Shiraz, Cabinet Sauvigion or Merlot for preferance. If you are not already drinking them you should try some, but in sensible quantities. A bottle shared with a good friend over a meal, a couple of nice rare steaks is ideal. Australian beef of course.
I don't know about matching it with the Humber it is 105 already but the Lagonda is only two years older than me so I hope that I can stick with it for a while yet.
Bj
1-21-2017
Talking to a number of people at my local VSCC's BBQ on Friday night I seemed to have some difficulty in explaining why I needed to have special pistons made for my Rapier.Attached is a photograph of one of pistons fitted to the then new cylinder block in 1996. These are forged pistons supplied by Special Pistons in Dandenong.(Australia)The raised crown is not only offset but also "handed' with cylinders 1 & 3 having the raised section biased towards the front and cylinders 2 & 4 biased towards the rear. In addition the crown has recesses machined into each side to give clearance for the valves. Given the camshaft timing and the amount of lift these are necessary to avoid the valves striking the top of the pistons. Valve timing and tappet clearance is critical as one or two degrees error in the timing could cause the valves to hit each other and or the top of the piston, This also applies to the tappet clearance with just two or three thou reduction resulting in the same result. All this is compounded by the size of the inlet valves (42.5mm Diam). The main detonation damage to the pistons was broken top piston rings. A piece of broken ring being caught between an exhaust valve and the valve seat was sufficient to cause the head of the valve to be distorted when it was struck by the piston. There was further damage to the pistons when escaping gas burnt through the ring lands on two pistons.The second photograph is of the under side of the cylinder head, this shows very faintly the out-line of the top of the cylinder block and the degree of offset for each cylinder.My engine has a new (in 1996) cylinder block, this is in effect "over-bored" 10mm taking the bore from 62.5mm to 73mm increasing the capacity from 1104cc to 1498cc The stroke remains "standard" at 90mm. LMB Racing in Belgium have taken these blocks to an even larger bore and by making a new longer stroke crankshaft made them 1650 cc.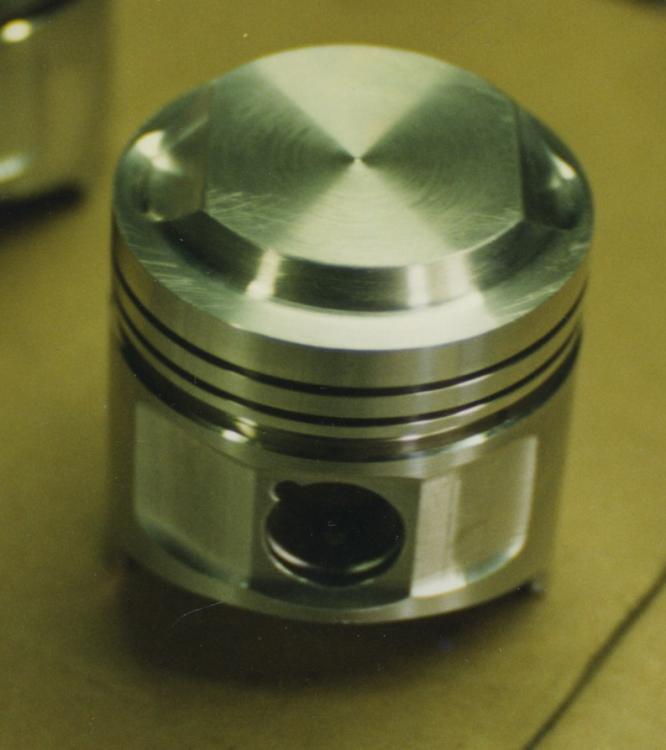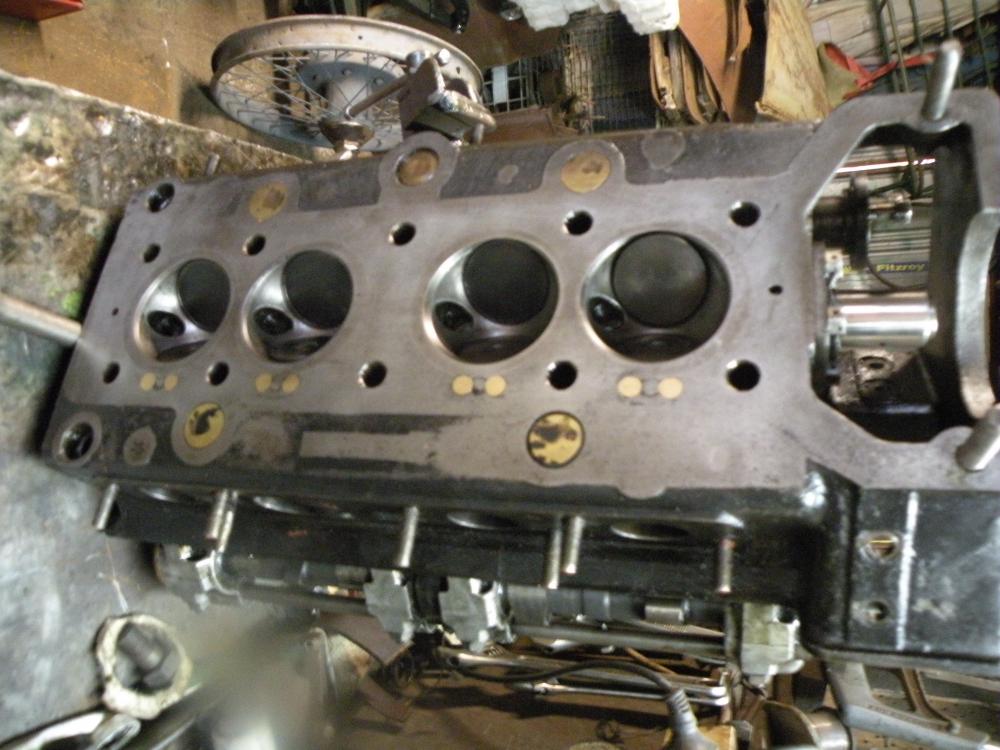 1-23-2017
Hello Mike, thank you for your interest.I will have to check the new pistons when they arrive but I would think that they will be the same depending if they use the original spec or copy the sample pistonIf the original spec approx 10 : 1 if a copy of the sample 8.5 : !, There are no other changes planed. The tops of the original pistons had ceramic coating, I will probably ask for this to be done again.I had some material machined off the top of the original pistons when I de-tuned the engine some years ago. This is something I will have to check when they arrive.It is a much more pleasant car to drive on the roads since it was de-tuned. Instead of having to run it between 3,500 and 6,000 rpm it now pulls from about 1,750/2,000 rpm and seldom goes over 4,500/5,000 rpm. Valve timing was 35/75 it is now 20/60. Lift at the cam is .310. It like to run on 98/100 octane. It can use 95 but never 91 that is when I ran into trouble when all I could obtain in "out-back" New South Wales was 91 or worse. Some "Service Stations" had just the one pump and whatever came out of the hose was certainly not High-octane petrol. It was probably OK when I had about half a tank of 98/95 and was running on a mixture but after a couple of re-fills of junk-fuel XXXX, or as the French would say Merde!By comparison with the above details the original 1934 factory valve timing was:- The inlet valves opened at TDC and closed 52 degrees after BDC. The exhaust valves opened 55 degrees before BDC and closed 8 degrees after TDC. In 1934 the compression ratio was 7.5:1. At the time this would have been considered quite high. Bj
1-24-2017
Hello Mike, thank you for your interest.I will have to check the new pistons when they arrive but I would think that they will be the same depending if they use the original spec or copy the sample pistonIf the original spec approx 10 : 1 if a copy of the sample 8.5 : !, There are no other changes planed. The tops of the original pistons had ceramic coating, I will probably ask for this to be done again.I had some material machined off the top of the original pistons when I de-tuned the engine some years ago. This is something I will have to check when they arrive.It is a much more pleasant car to drive on the roads since it was de-tuned. Instead of having to run it between 3,500 and 6,000 rpm it now pulls from about 1,750/2,000 rpm and seldom goes over 4,500/5,000 rpm. Valve timing was 35/75 it is now 20/60. Lift at the cam is .310. It like to run on 98/100 octane. It can use 95 but never 91 that is when I ran into trouble when all I could obtain in "out-back" New South Wales was 91 or worse. Some "Service Stations" had just the one pump and whatever came out of the hose was certainly not High-octane petrol. It was probably OK when I had about half a tank of 98/95 and was running on a mixture but after a couple of re-fills of junk-fuel XXXX, or as the French would say Merde!By comparison with the above details the original 1934 factory valve timing was:- The inlet valves opened at TDC and closed 52 degrees after BDC. The exhaust valves opened 55 degrees before BDC and closed 8 degrees after TDC. In 1934 the compression ratio was 7.5:1. At the time this would have been considered quite high. Bj
1-27-2017
Happy Luna New Year.
1-31-2017
Hello All
I am still waiting impatiently for the pistons but to fill in a day or two I have decided to do something about the balance pipe on the inlet manifold. This has been bugging me for years and years so there is not time like the present but not tonight it is past my bedtime already.
Bj
Hello Ben
Your wish is my command.
To speed the process up a bit I will copy the relevant part of an email to Mike Pilgrim one of the technical gurus of the Rapier Register.
While I am (still) waiting for the new pistons to be made I have been filling in time correcting a problem that had been worrying me for the past 30 odd years. The previous balance pipe on the inlet manifolds was almost completely ineffective because it was made using 1/4" pipe. Too small to be of any real beneficial use.
In the interim I have proceeded with my modification of my existing Barker manifolds. This has involved drilling out the original David Seath 1/4 inch balance pipe off-takes enlarging then to accept the 9/16" OD / 7/16" ID steel pipe from my (useful) scrap box. I then took a length of 1" OD steel tube also from the USB and drilled matching 5/8" holes 1 1/4" from each end. Not having any welch plugs of a suitable size in stock I found two large (mudguard) washers with 1/4 " holes in my "only slightly used washer bin".These I welded over each end of the 1" pipe filling in the 1/4" hole at the same time. Placing the 9/16 pipe in the holes drilled in the Barker manifolds I could trace the shape of the inside of the manifolds onto the 9/16" pipe at each end. I then cut this into two equal lengths and ground one end of each to match the inside of the manifolds. I could then weld these into the 1" pipe which I then cut in half. Finally I could then fix these into the Barkers, Fixing steel into aluminium I used a high temperature-high strength two pack epoxy cement. I have yet to obtain a length of 1"ID petrol resistant rubber hose. I also have to clean up the inside of the manifolds with a ball shaped grinder and some fine emery paper. Initially I will place a 1" OD 1/2" ID washer in the rubber connector. As I am still waiting for the new pistons for KG's motor I am unable to report on the final result. Due to the close proximity of the cylinder head (cam box) this balance pipe must go on the underside of the manifolds when in situ. While it goes against the recommendations of Phillip H Smith it is something I will have to live with. Life as I have found during the past 80 years is full of compromises. It will give the next owner of KG something to think/worry about, whoever and whenever that may be. It has been running with the David Seath arrangement hanging underneath the carbs for a very great number of years.For those not familiar with his work, Phillip H Smith,FIMechE MSAE is the author of several books on the design and fabrication of both inlet and exhaust systems and is considered by many people to be "THE" authority on this often vexed subject. In his book, Scientific Design of Exhaust & Intake Systems, he suggests that the balance pipe should be placed on the upper side of an inlet manifold. N.B. Phillip, H Smith devotes just two pages out of 275 to the subject of "balance pipes". I should add that the "Barker" inlet manifolds were originally designed and made by then Rapier Register member David BarkerThey have been for years the "go to" inlet manifold, they are designed to take 1 1/2" SU carburettors in lieu of the original 1 1/4" carbs and enhance the all round performance of even otherwise standard Lagonda Rapiers. Being made as two matching inlet stubs the do not have any balance pipe. Many people still run them without this however in view of my recent experience I have considered the fitting of a balance pipe worthwhile.Bj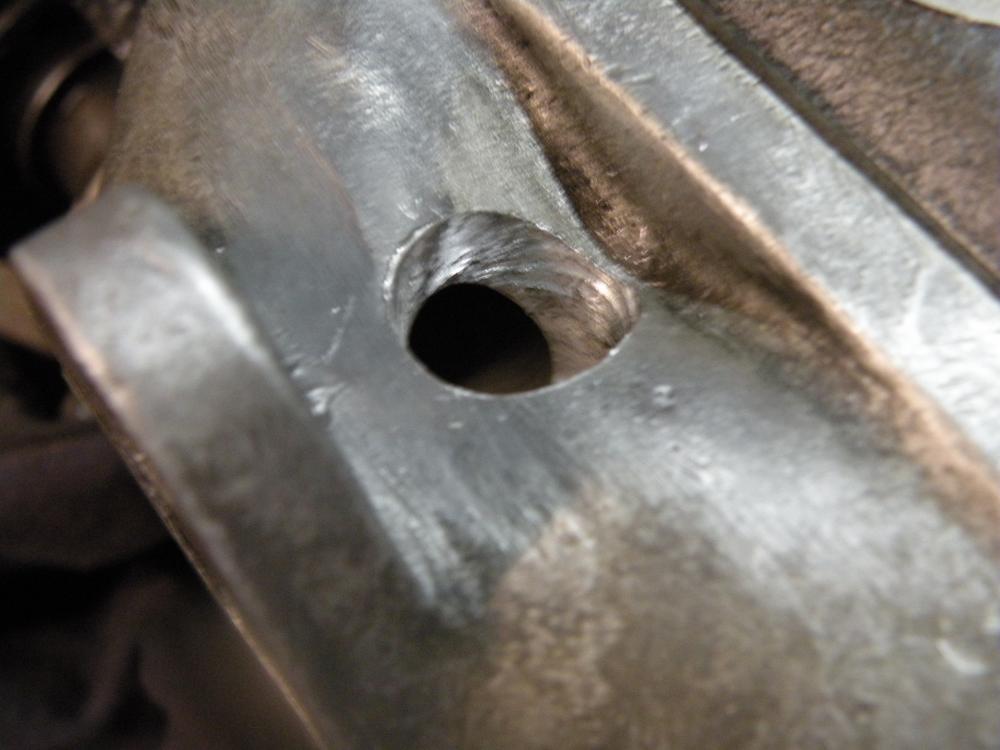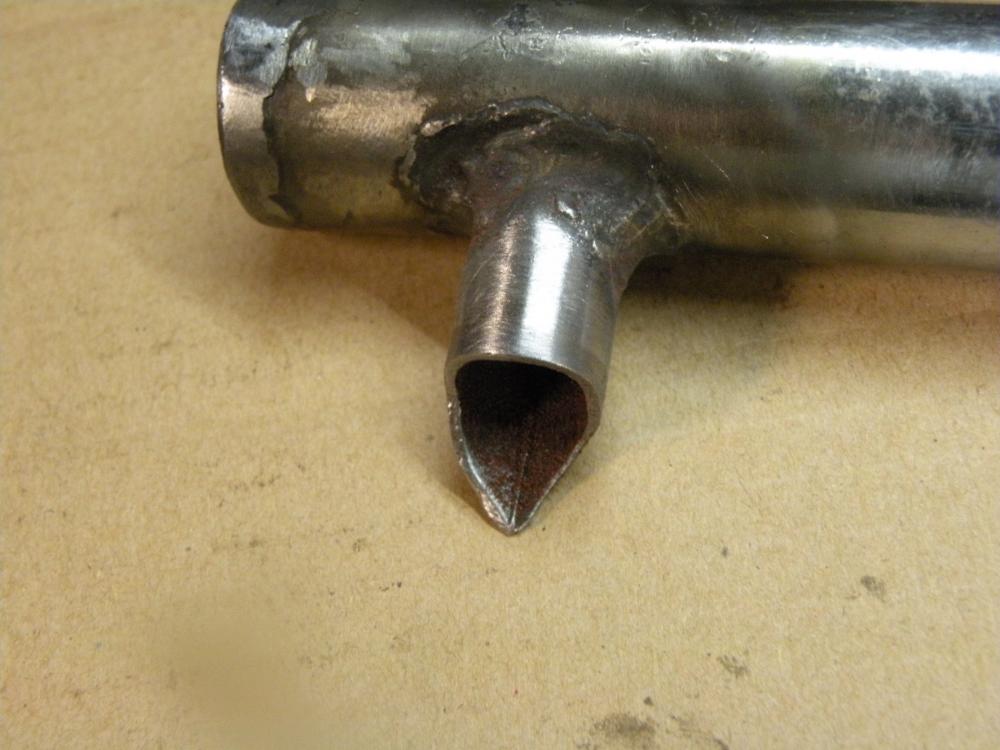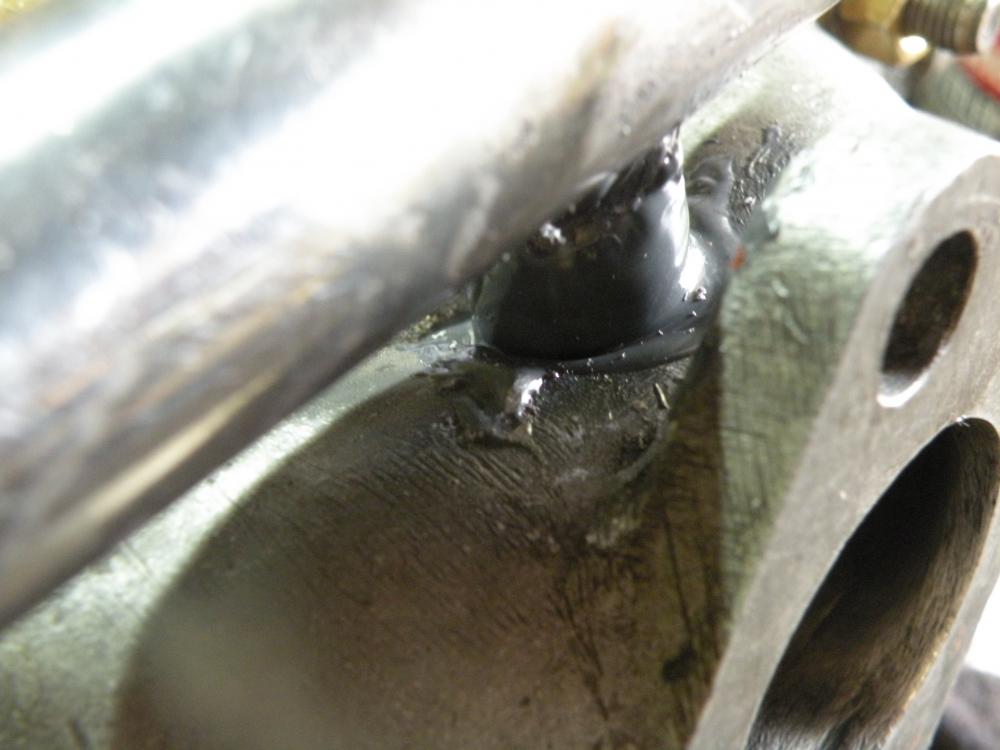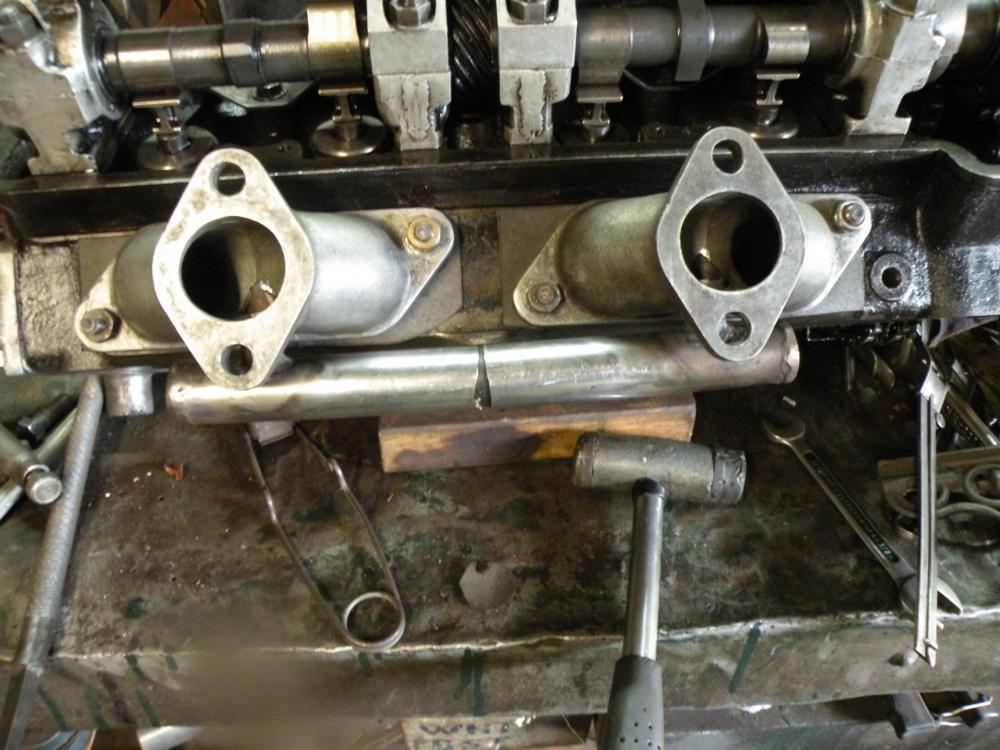 2-1-2017
The photograph below shows the earlier attempt at fitting a balance pipe. I think that this having an internal diameter
for the connecting pipes of just 1/4" OD was too restricted to be effective. The second photograph may help to explain the difference between the old and the new (bottom).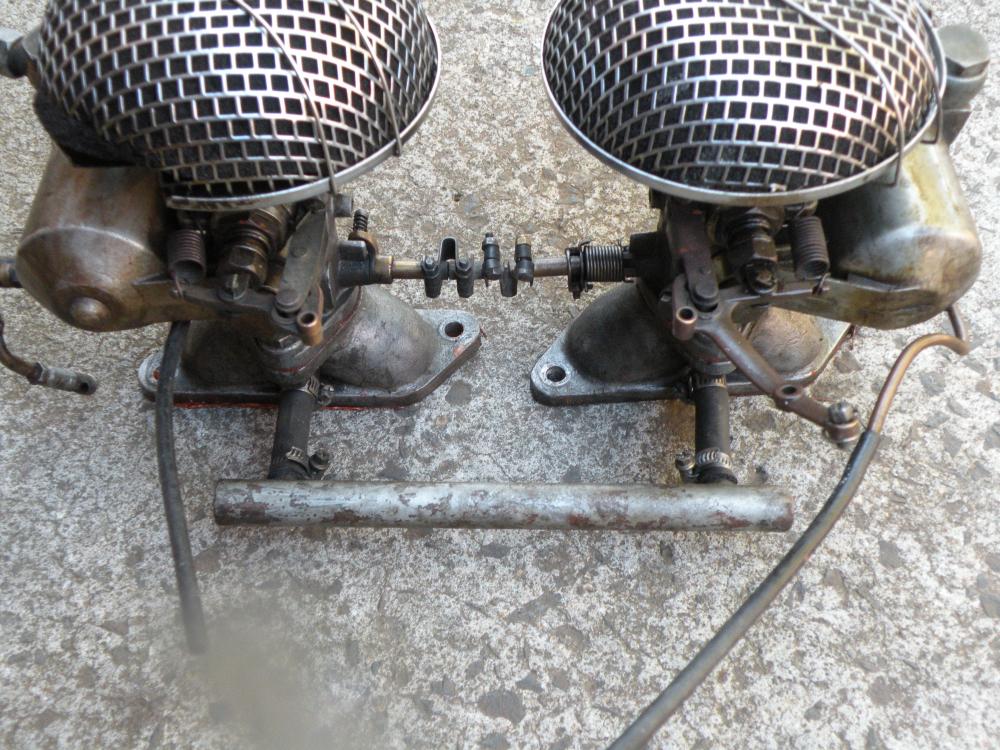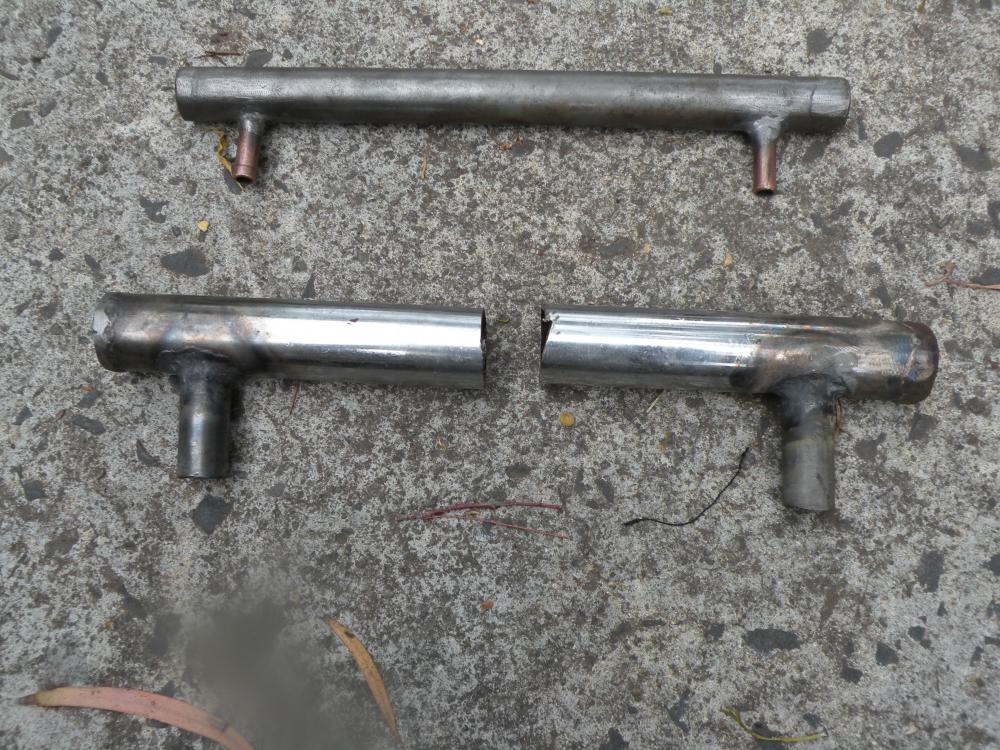 Bj
Hello Moe
You were right the first time. When the manifold is attached to the side of the cylinder head the carbs are horizontal. They are normal 1 1/2" SUs because the location of the distributor the rear carb has a left hand float bowl and the front one has a right hand float bowl.
It gets rather crowded but it all fits together and it all works extremely well. Perhaps it is a little different the motors you are used to looking at.
1934, Four cylinder, 1500cc, 2 OHC,
Bj.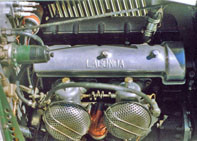 2-2-2017
In some ways the whole car is an up-grade:- The chassis front and back axles gear box etc are original as is the engine with the exception of the cylinder block. I have shown this before but when I bought the car it was a very rough racing car with the engine in bits, I had owned and restored four other Lagonda Rapiers previously. I seem to make a habit of buying "basket cases" and restoring them the only difference is I have only sold this car once to a University Professor who had it for almost two years without ever driving it. I had to deliver it to his home when he bought it. After two years when I bought it back it was standing where I had parked it in his very large garage. the only difference was that it was standing on four very flat tires. I should add that these had been new when I sold it, when I got it home one opf the first things I did was to take them off and throw then away. I learnt my lesson and now vow that I will never sell it again. But going back to when I first bought it i gave it a last nut and bolt, including taking the chassis entirely apart, restoration. It was fitted with one of a very small batch of exact replica Eagle Two seater bodies that some members of the Rapier Register in England had built. These are such a good copy of the 1934 originals that the aluminium skin cracks in all the same places as the ones sold in 1934. Over the years the engine has been subject to an ongoing programe of improvement. Again Members of the Rapier Register have played a vital part in that they arranged for a batch of a dozen or so new cylinder blocks to be made. These differed from the orininals only in that the cylinder bores had been "adjusted" to permit the bore to be increased from 62.5mm to 73mm
Increasing the engine capacity from 1104cc to 1498cc. Over the years there have been two or three different grinds on the camshaft The one i have settled on now is nominally a 20/60. This combined with a compression ratio of 9.5 : 1 seem to suit the sort of driving that we do in the car.
The gearbox is a standard (close ratio) ENV75 Preselector. There is NO clutch fitted and the drive is taken up on the first gear band when starting off from a stationary. Wheels are Rudge KO (42 Long) these are 17 inch and wear Michelin 17 x 450/500 Super Comfort. These are a tyre still made by Michelin having been first introduced in 1934. The interesting thing about the "Super Comfort"is that they were the first low pressure tyre ever made. Written into the side wall is the advice."Maximum Pressure 20psi. Having experimented with different pressures I can say that you vary from the recommended 20psi at your own risk. Mr Michelin knew what he was talking about!
To get back to your question. The standard Rapier SU Carburettor size was either 1 1/8" or 1 1/4". The Rapier Register spares scheme has had made a number of sets of the "Barker" inlet stubs to take 1 1/2" Carburettors. To take full advantage of these my car has larger inlet valves and enlarged and polished inlet ports. The whole package has been developed over the years including changing from Magnetoto the much more reliable Coil and distributor. The brakes are still the standard Girling cam and roller mechanism fitted first on the Rapier in 1934, the first production car to be fitted with these outstanding brakes. To make the most of these super efficient brakes the Rapier uses 13 inch drums. The Lagonda Rapier is credited as being the first car "ever" to stop in less than 30ft from 30 mph. When I first bought the car in the late 1970s it have been used solely as a racing car in the UK since just after the end of WW2. i.e. In the early 1950s. It had belonged to and was first built as a racing car by Beatrice Shilling who had worked during the war in England as the Carburation Specialist at the Royal Aircraft Establishment (Farnborough). As the car is now used as a sports/touring car I have replaced the outside exhaust with a four branch (extractor) system which fits neatly under the bonnet (Hood). It is a very confortable long distance touring car for two people and their luggage, it very easily keeps up with most modern traffic. On past visits to the UK and France I have driven through Central London and around the Périphérique in Paris.
The three photographs show KG 5363 with 1. Beatrice Shilling driving it in the 1950s, 2. More or less as it was when I bought it in 1978 and 3. Racing at the Victorian Australia Winton Circuit in the 1980s. 4. My extremely patient and very good navigator wife Helen with the car as it is today, (There has been a small change to the luggage rack to improve handling on tight Alpine roads) This one was taken about ten years ago with the car stopped at the Historic Pit Counters at the Reims Grand Prix circuit in Northern France.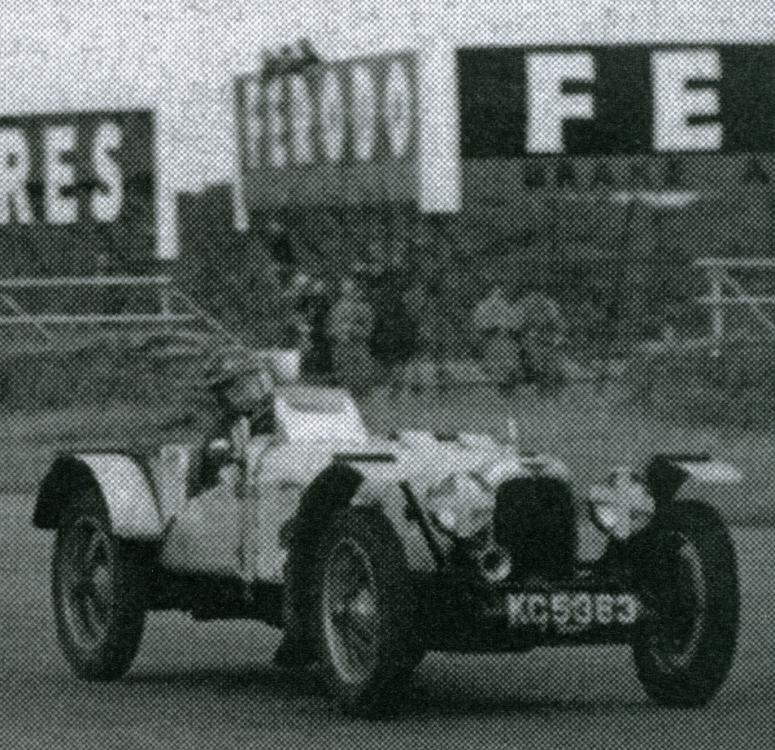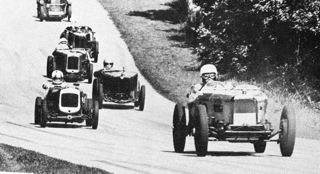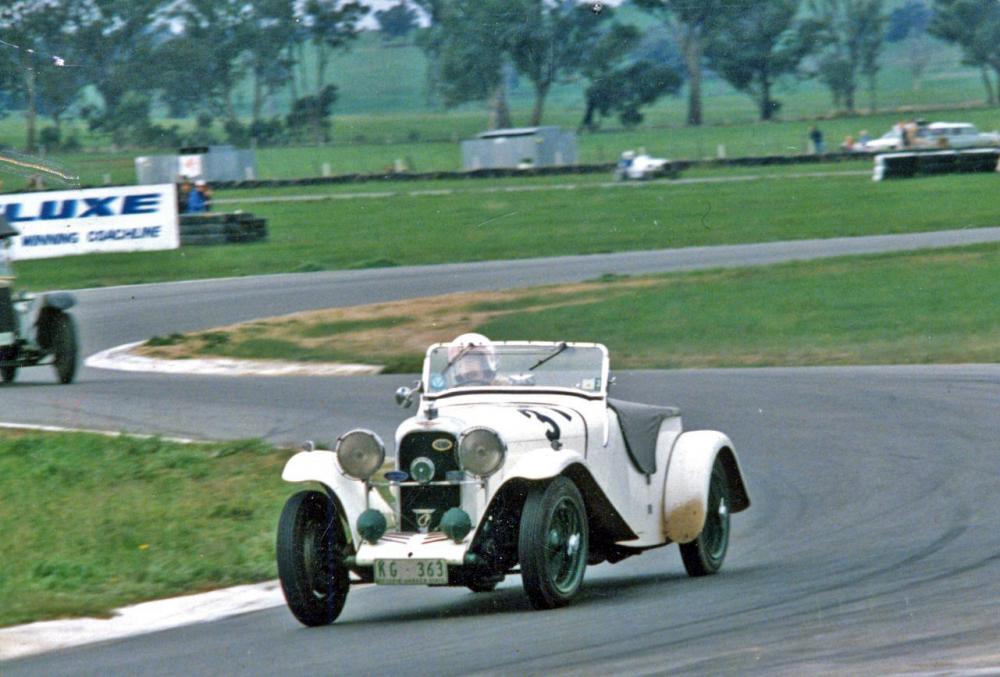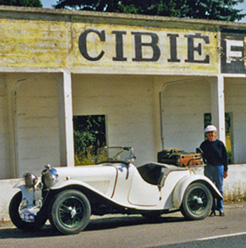 Now what was it you wanted to know?
Bj.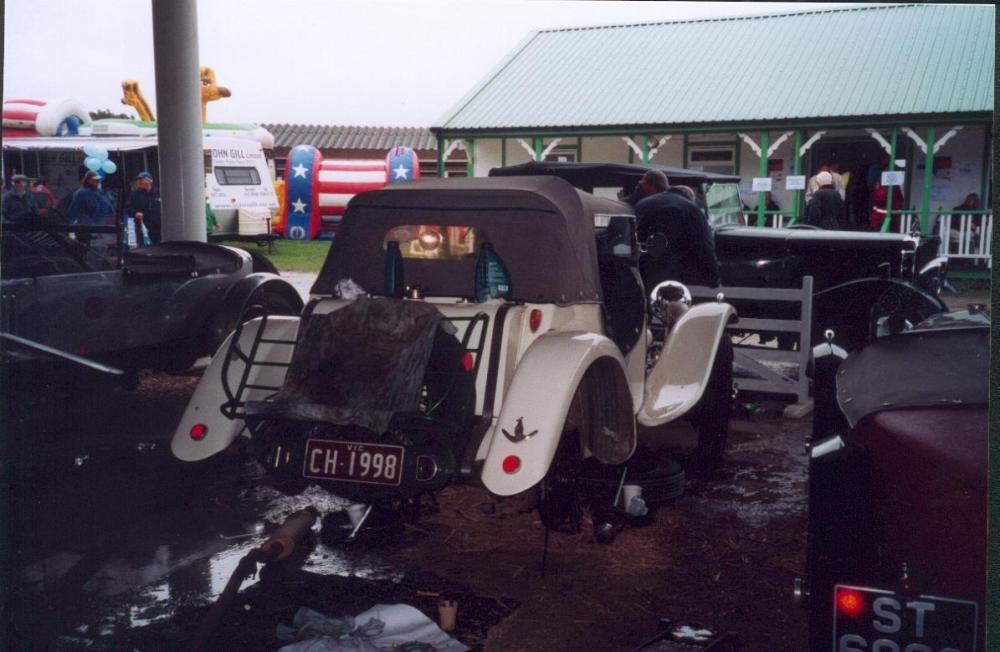 Hello Moe
Wash your mouth out you naughty boy!
I am sorry to disappoint you but it is important to keep in mind my ability to service everything. Accordingly there is nothing that could not have been done in the 1930s in or on the car.
Above is a photograph taken during the 2004 VSCC Jubilee Rally at Harrogate in the north of England.
This was taken in the cattle Pavillion at the Harrogate Show Grounds.
A pinion bearing in the differential had chosen that moment to fail. OK we are on the other side of the world 1,000s of miles from home in Australia. What would you do? Call for a recovery vehicle to take the car back to the shipping agent so it could be shipped home and finish the Rally in a modern hire car?
What I did was to borrow some jack stands, jack the car up and remove the diff centre, remove the pinion to obtain the number of the two pinion bearings. After a phone call to the Bearing Specialist in the next town I organised one of my English friends to drive me there and back first thing next morning, By "afternoon tea time" the diff was back in the car and we were back on the road that night and finished the rest of the week long Rally.
Two weeks later we were enjoying motoring in the French Alps.
Looking at the attached photograph you may notice typical of England it was a little wet underfoot AND under the car. With the exception of the two jack stands all the tools used were in the took kit carried in the car.
Bj
Hello Paul
Yes in broad terms although there are a number of significant differences. One of the main differences is that in a Wilson 'box the planetary gears run on bronze bushes while the ENV uses needle roller bearings. Generally the ENV box is smaller and lighter. Despite not holding any "Wizard qualifications" I do all the work on my gearbox myself.
From my observations most of the" Professionals" who work on preselecctor gearboxes also claim to travel by flying broom and have a black cat sitting on their work benches.
Bj
2-3-2017
Hello Paul
You will find a lot of information on the ENV 75 box on the English Crossley website http://crossley-regis.org/env_type_75_preselector_gearbox
The smaller 10Hp Crossley from the mid 1930s also offered the Preselector as a option. Their description and service info is probably the best available for now. There is a new book hopefully to be available later this year that will cover all aspects of owning driving and servicing the ENV 75 transmission. It is co-written by the Rapier Register Technical man Paul Nickalls.
See also; www.vorwahlgetriebe.de/en/trenner-rechts/wilson-preselector-box-env-75.html
Once you have driven a car with a Preselector gearbox you will wonder why they were not more widely available.
Bj.
For those who failed to understand/appreciate my little joke about flying on brooms and black cats. #248
This was meant to imply that many of the "experts" who work on Preselector gearboxes along with those who "rebuild" magnetos often claim to be Wizards who work Magic cures. i.e Practice Witch-craft.
Bj
Hello Again Moe
The Rapier's distributor is a Bosch I am not sure of the model but it is the smallest 4 cylinder distributor I could find at the time,1979. It is a very snug fit as are most things with the Rapier engine, It is gear driven from the end of the gear driven generator. You can see why I have one left hand and one right hand carburettor float bowl. It is actually all very accessible, all you have to do is to open the right hand side of the bonnet (hood). Put out your hand and it would be the first thing that you would touch. Almost as accessible as an Ford A model, or a Dodge Four.
Bj.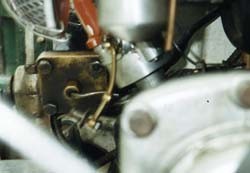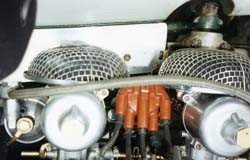 2-8-2017
Hello Mike
I think you mis-read my comments regarding the future (post rebuild) compression ratio. At one stage my Rapier's engine was on 14:1which was completely impractical for a road car, it was subsequently lowered to 12 :1 and then 10:1.Each change involved stripping the engine and maching material off the crown of the pistons.
I will not know what the "new" Compression Ratio will be until I collect the new pistons this afternoon. Increasing the bore by 10mm made a huge difference to the compression ratio.
You may be interested to learn that I took the Rapier's Distributor to my "man" on Tuesday and had a talk with them about the pros and cons of Electronic Ignition. The Jury is still out.
The problem originall arose while we were away in Northern New South Wales when the new fibre "nose" on the points wore at an alarming rate. As the points gap is reduced the ignition is advanced. Wear on the fibre "nose" as it runs against the centre cam in the distributor causes the points "gap" to slowly close up and in the process advances the ignition. Fitting "electronic ignition"does away with the reliance on the distributor points and is said to give a more reliable and stronger spark.
Bj
It is always difficult when contributing to a "Forum' as diverse at this one. It is impossible to know the level of knowledge and "activity" of your fellow contributors. It would be interesting to take a census asking those who read all this, how much they understand. How many actually do any work on their cars and at what level.?
2-13-2017
At last I was able to drive down to Special Pistons, on the other side of town, and collect the four new pistons. I have deposited these with my friends at Crankshaft Rebuilders. As currently all my spare space is overflowing with Humber "stuff" I have asked then to assemble the pistons into the block and to refit the crankshaft. It is not that I have not done this myself before (dozens of times) but I did not want to be chasing parts around on the carport floor, which fills up with leaves everytime the wind blows, along with "buckets of dust and dirt". This is going to add considerably to the cost of the rebuild but I cannot see any other alternative. It will add a couple of weeks to the already too long down time but right now I cannot see a sensible alternative.
Bj.
So why am I doing this engine rebuild?
I am attaching photographs of two of the pistons out of the Rapier's engine. the first two show a piston with detonation damage at an early stage. The second piston shows significant damage due to detonation. What causes detonation, generally a combination of poor fuel and over advanced ignition. In the second photograph you can see light etching around the side of the piston between crown and the top ring.
In the third and fourth photographs you see the result of this etching continued, along with broken top and second rings. A tank full of suspect fuel combined with slightly over advanced ignition and it could happen to you.
That is of course if like me you enjoy driving your car.
Bj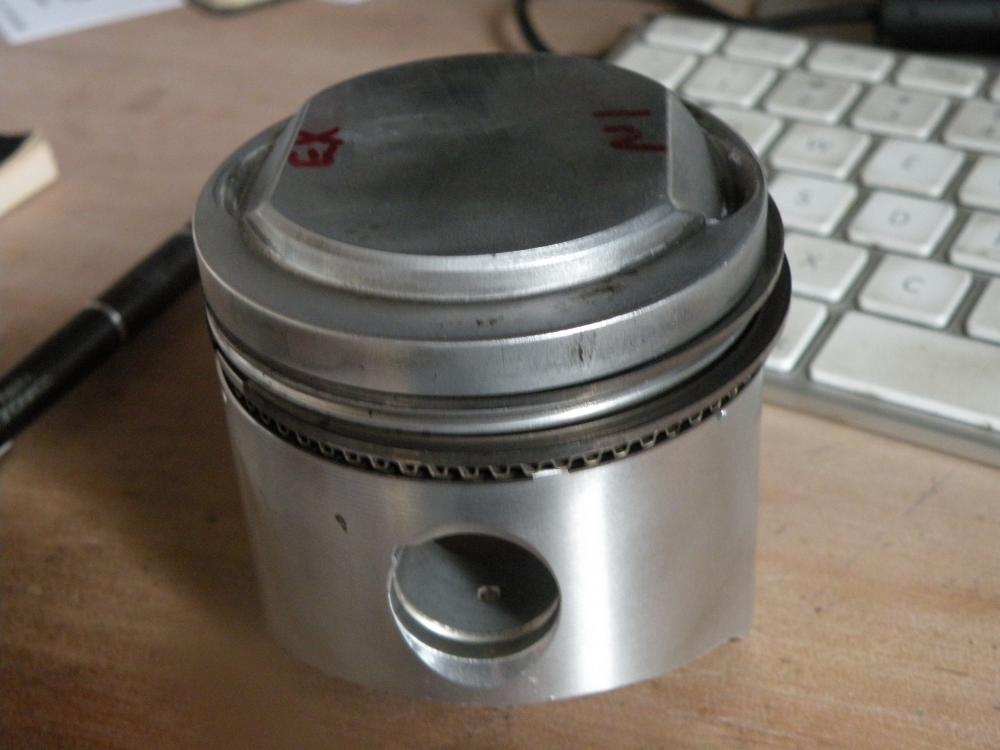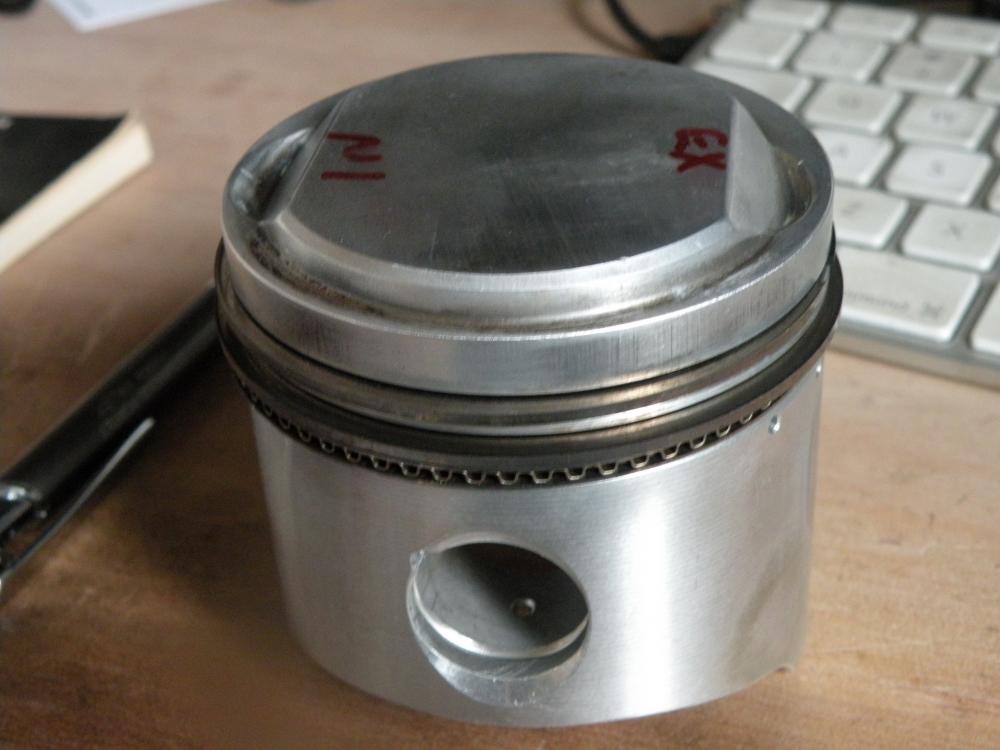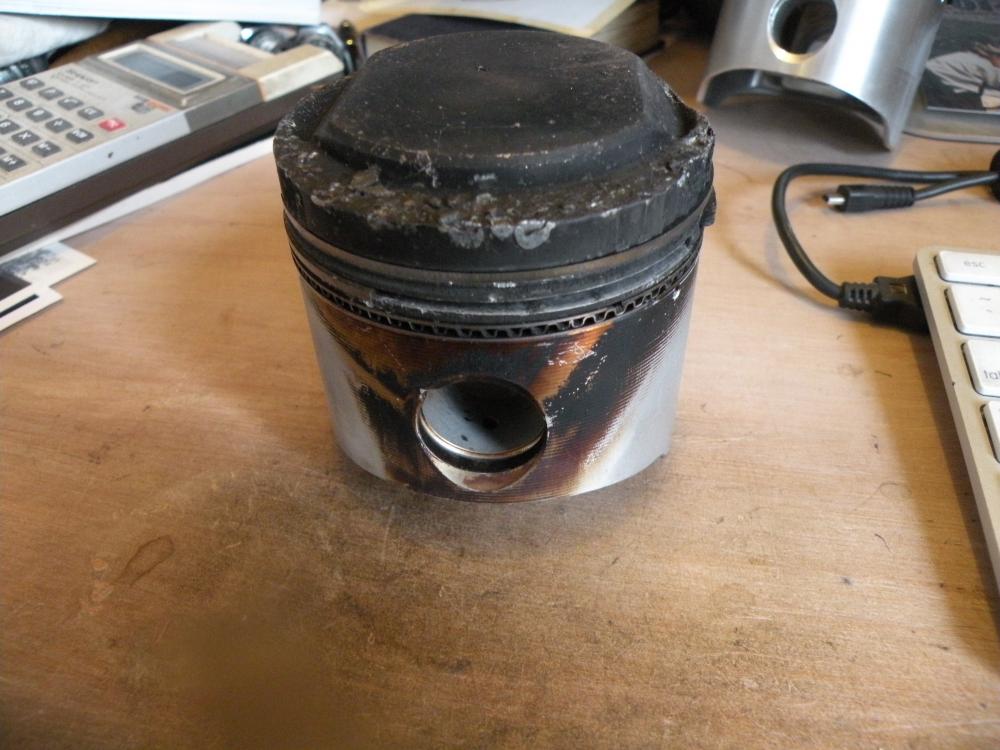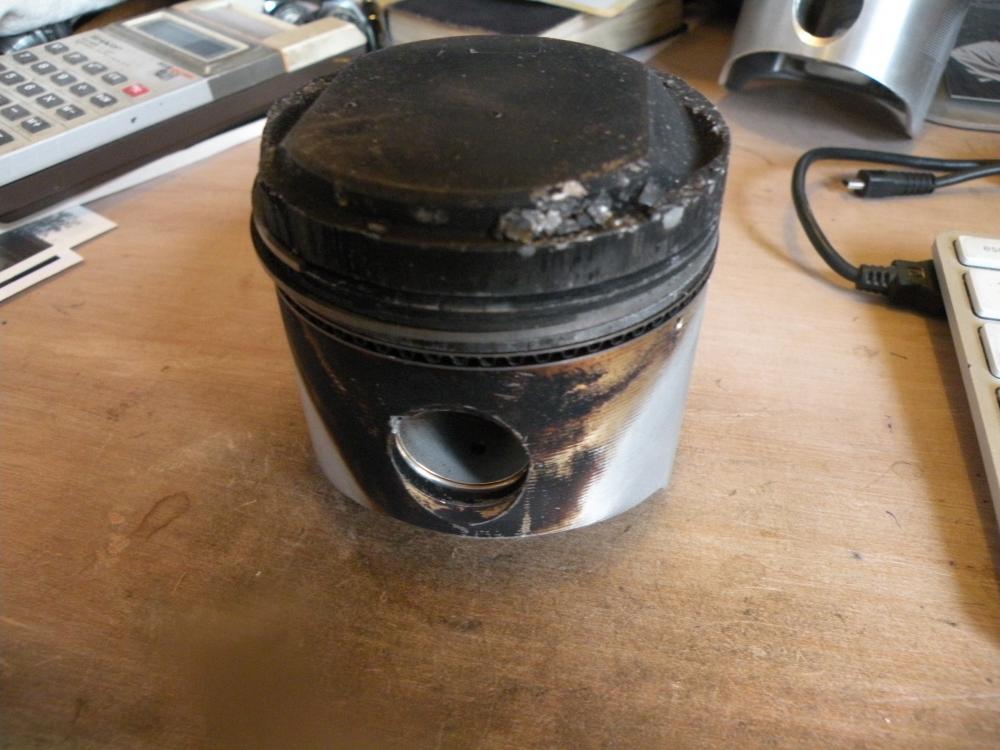 2-14-2017
Now for something of interest for everyone.
Every so often I make a detour through our local Charity Shop looking for a new tool bag. This time I struck gold, a neat little bag with good sized compartments made in wonderfully soft Italian Leather. easy to stow away in an odd corner in the rear compartment of the car.
This one was a bargain at just $5.oo And It will not rattle, scratch the paint work or mark the upholstery and trim. As a bonus the money go towards a good cause.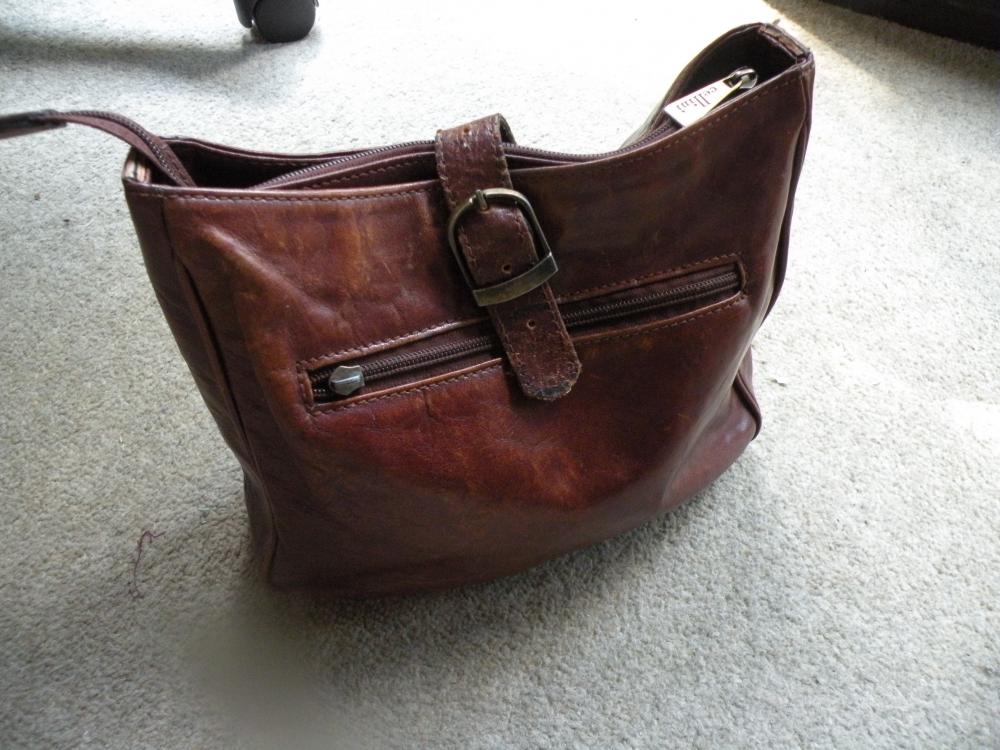 2-15-2017
Oh dear! is my face red? After all that work of puting the larger diam balance tube together I have discovered that there is no way that I can use it. One way up, as I had expected it fouls on the underside of the cam box. Turn it over and it looks ok until you try the mount the carburettors, No matter how you approach this task it is impossible to bolt the carbs onto the manifold. There simply is not room to get a spanner onto the nuts or bolt heads.
The quickest part of this job has been to remove the balance pipe. I have now decided that for the time being the only thing to do is to go all the way back to square one! To use the inlet stubs without any balance pipe. This is how they were originally intended when they were first designed in the 1960/70s. By doing this I can proceed with assembling the engine and get the car back on the road. By now I should have learnt not to allow these distractions to interfere with the work in hand. I have decided to assemble the bottom half of the engine at my friends Crankshaft Rebuilders workshop. With the Humber taking up far more than is it's fair share; there is just not the room in my "garage" and assembling it out in the open is not to my way of thinking an option, What is the point of spending several thousand dollars on having all the special work done then assemble it with dust and leaves etc blowing over everything every time the wind blows.
Ok it adds a week to the time the engine is out but that is better than having to pull it all down again in six to eight months time.
Bj.
In much less time than it takes to drive to the shops I have started the task of re assembling the carbs onto the inlet stubs. First task was to cut the gaskets to go between the two flanges. All that was needed was some gasket card that I had "in stock" under the bench, a pair of scissors
A small ball-peen hamer and a suitable punch. Less than 15minutes later I had the two new gaskets ready to be used. The little "rat tail file is used to clean up any over lapping material. I am sorry that my bench is in less than pristine condition but it is where I have been working for the past 40 years. It has seen a lot of use.
Bernie j.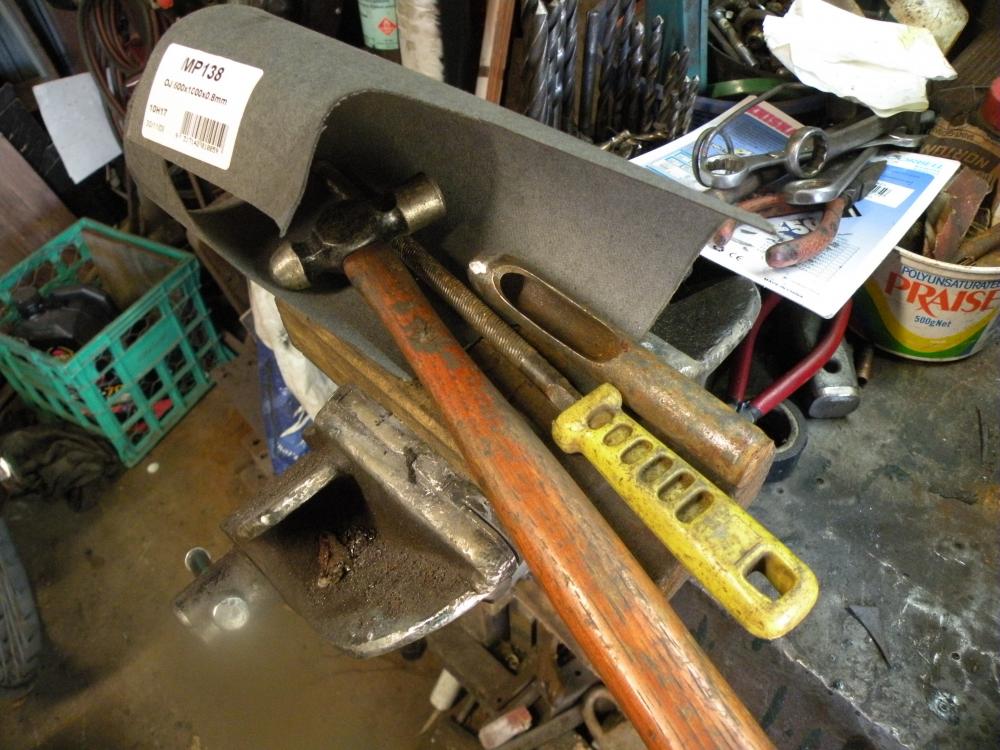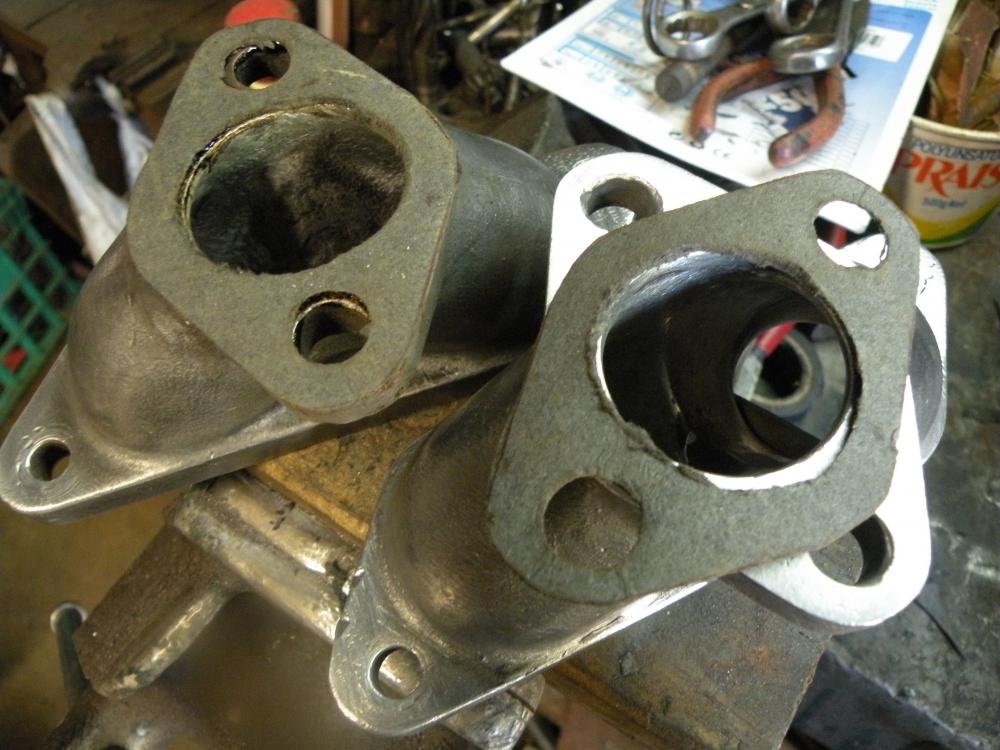 2-21-2017
Anyone who is becoming impatient you are not half as impatient as me. Why is nothing simple, 99.9% of the required work is done and yet I am waiting and waiting to collect the Rapier engine so I can asemble it and put it back in the car. Even then having left the distributor for a two day check It is now I am told they are waiting for a part to come from America, FOR A BOSCH DISTRIBUTOR, It is coming I believe via a Indian in a canoe or perhaps even by a specially trained seal.
Woof Woof
Bj
2-25-2017
Many of you by now will have come to realise our Lagonda Rapier is far from "standard" this of course extends to the oiling system in the motor. The heart of this is a British Concentric oil pump original fitted to the quicker Mini Cooper S.
This mounted externally on the front of the cylinder head where it is driven off the front of the triple sprocket for the timing chains.
The Oil is picked up from as near to the centre of the sump as possible and taken to the pump by a high pressure hose. From the pump another high pressure hose delivers the oil to a modern "spin-on" full flow oil filter mounted on the original oil filter fitting. Like everything on the Rapier engine even mundane things like the oil sump have been given a great deal of attention. It is for a start a very generous size for what was originally a 1100cc engine. It holds almost 2 Imperial Gallons. In side the sump a series of cast in "fences" keep the oil from sloshing about. In my engine this is capped by a sheet aluminium "Windage tray". Inside all this the oil "pick-up" is of generous proportions and this routes to oil to the outside at a convenient sport at the right hane front corner. Looking at todays photographs you may be able to understand all this a little better. With this set up even with the engine at operating temperature The oil pressure seldom falls below 40psi at a 800-1,000 rpm idle and runs all day at the relief valve blow off pressure of 60psi.
Some of the more observant will have noticed the strange fitting with a domed cover and a handle or lever projecting out of one side situated in the top, left hand, corner of the sump.
This of course is the drain valve, yes a real valve, that when the handle is turned toward the front the valve is lifted allowing the used oil to drain out. Being built to suit the requirements of a "Better class of owner" , this could be done without the need to clamber under the car. When the last of the oil has drained you simply move the handle towards the rear and the valve is closed. You can then add the new oil. The underside of the sump has a generous number of "fins"to assist with cooling and to add strength to what otherwise would be a rather large flat slab of aluminium.
Bernie j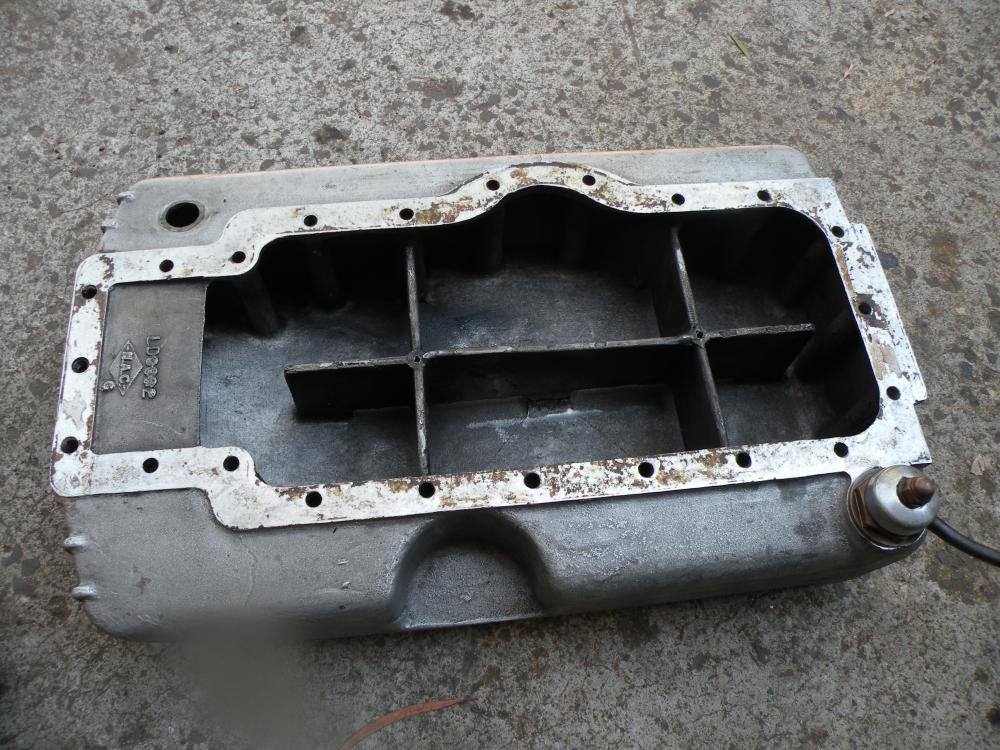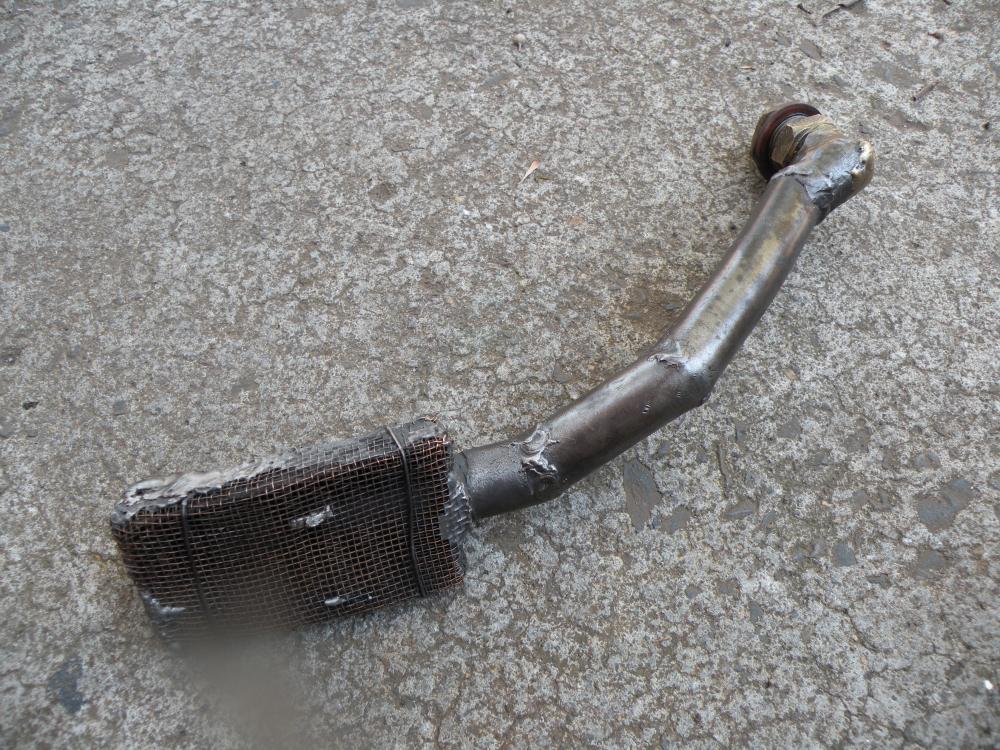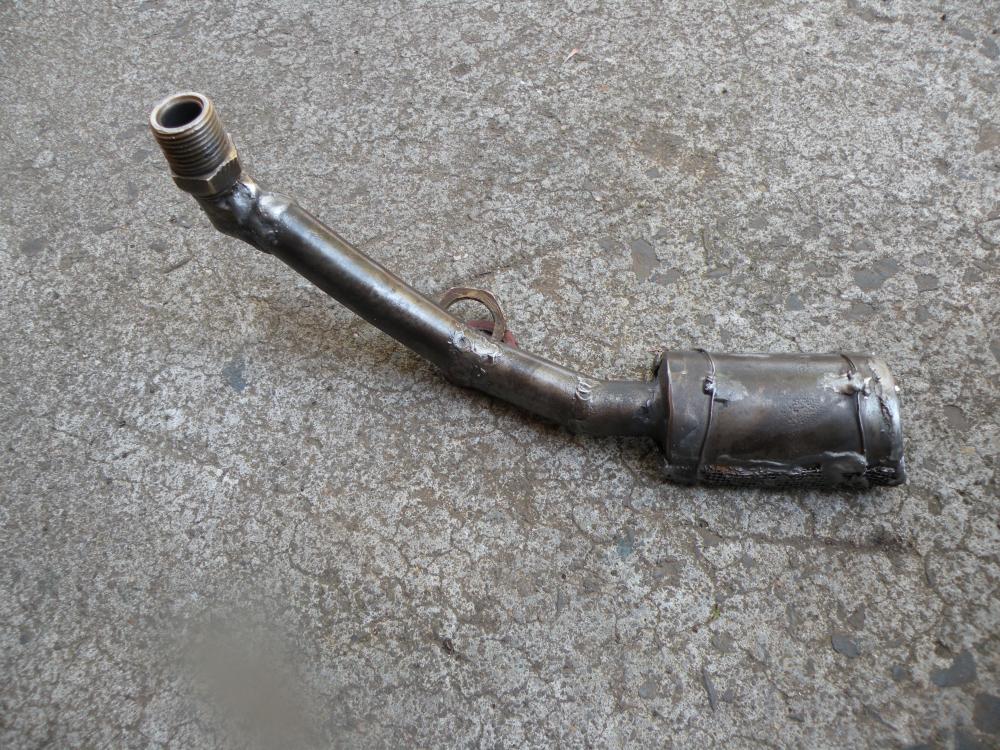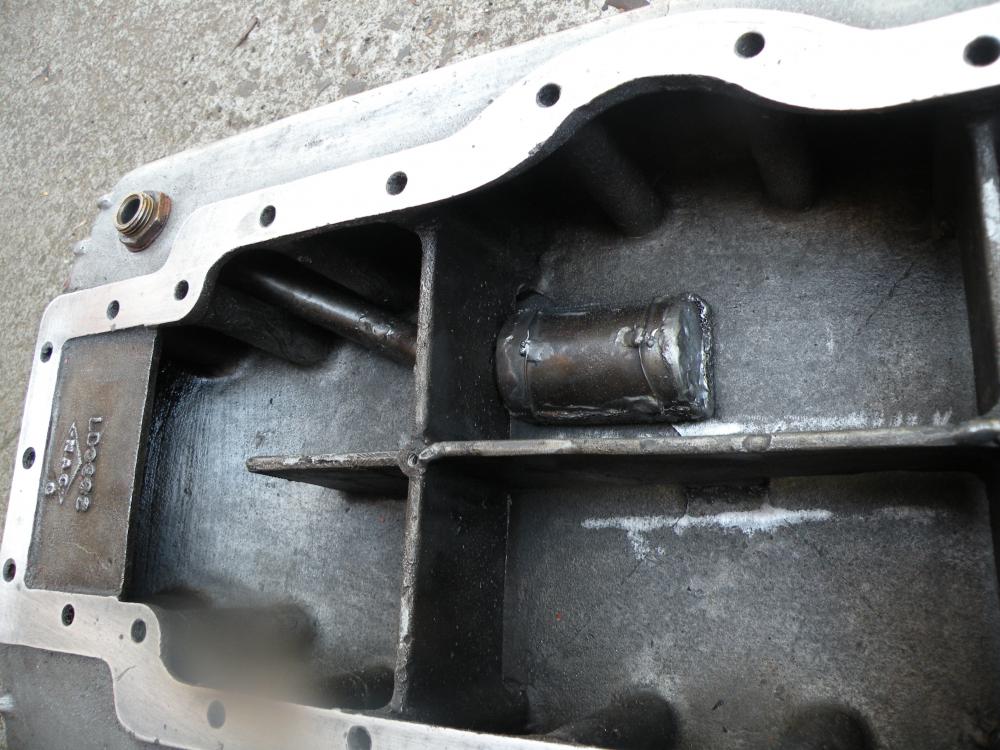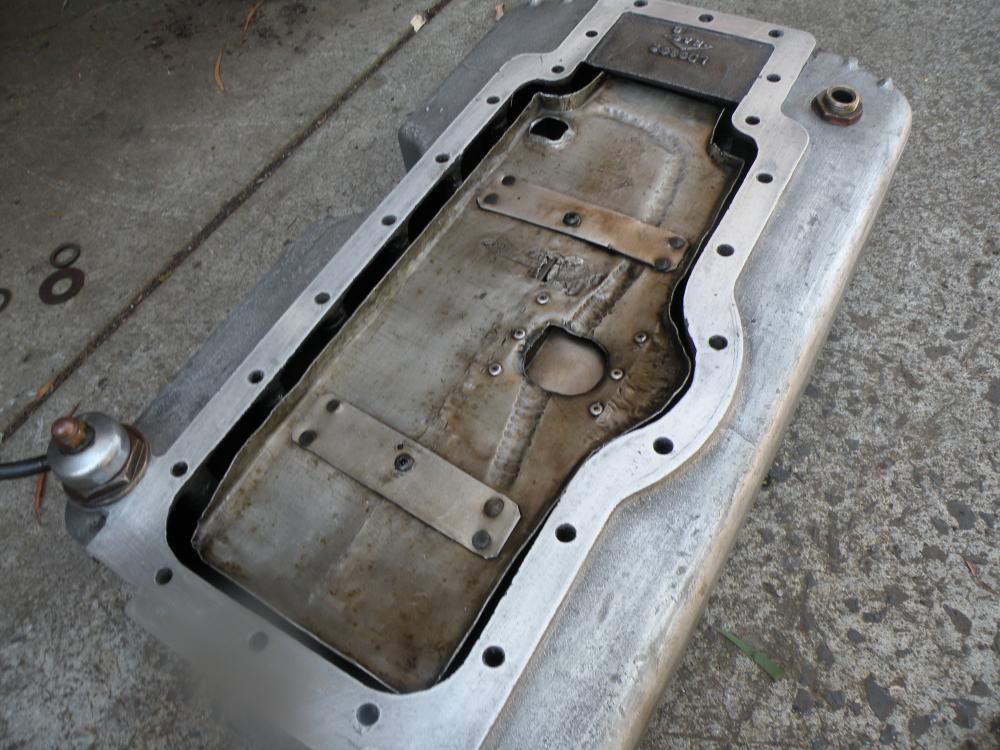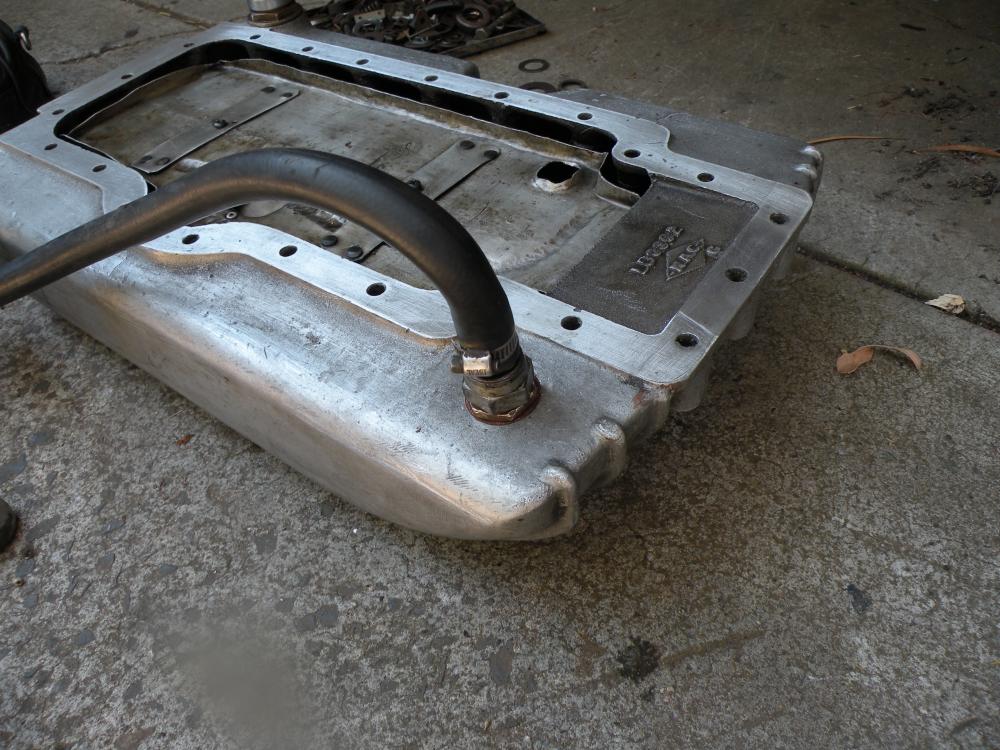 2-26-2017
You may wonder why the pick up tube is so mis-shapened. First it has to pass under one of the baffle plates then, each of the fixing studs that hold the sump to the bottom of the crankcase passes through a cast in oil tight tube. You can just see them in the third photograph. These form quite a barrier that the pick up tube must pass through. When you look at the sump closely it is a very complicated example of the foundry-mans work (art).
Bj
2-28-2017
Ready, Set,---------------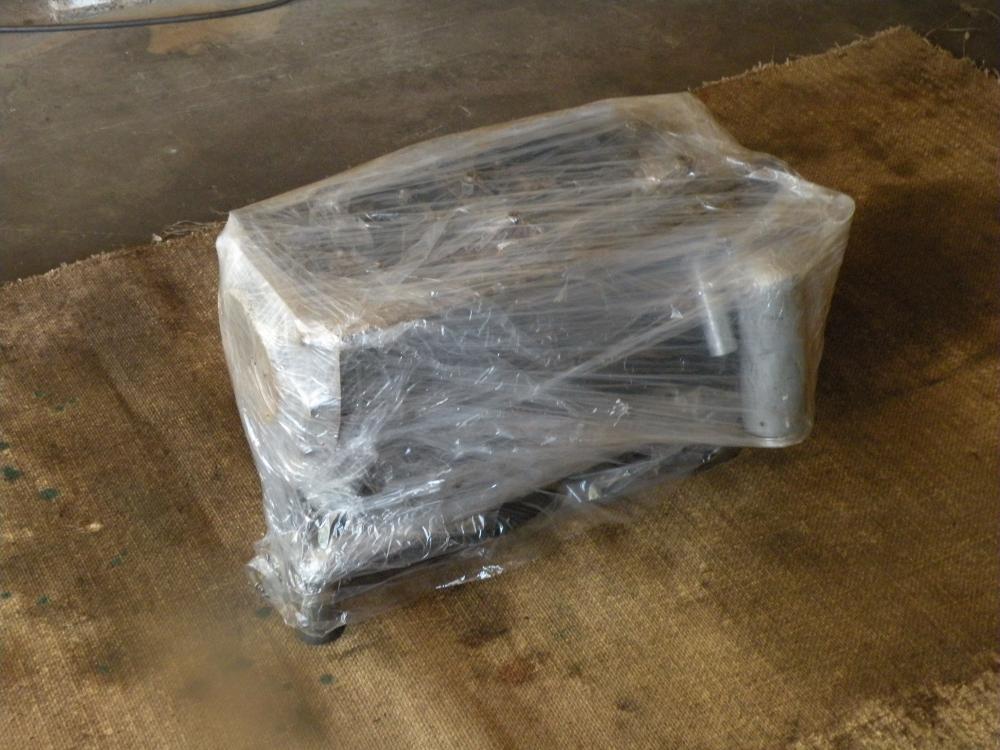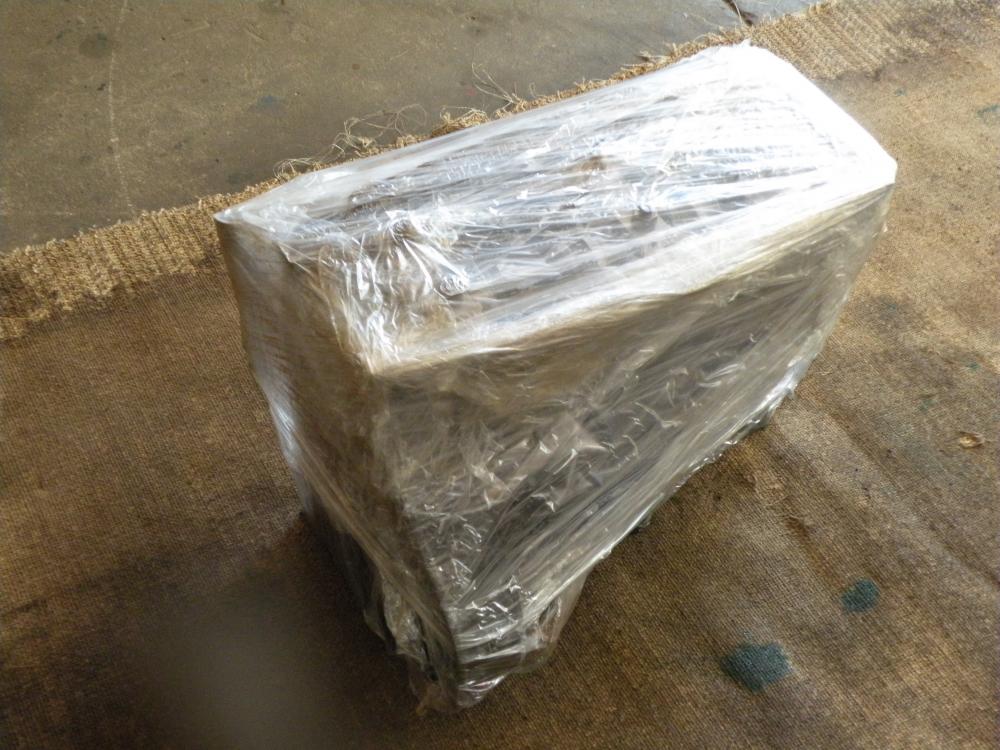 Bernie j.
3-2-2017
The crank alone weighs 58lbs. But I am no longer strong enough to lift the short motor alone, I have a little friend I call my chain block.
It has several places in both the carport and the garage where it likes to hang-out. The rest of the time it lives in the little wooden box it came in when I bought it about 45 years ago. I prefer to work alone and it is all the help I need.
The trunk lid goes back just far enough past vertical to permit a lift straight up. I can drive the Peugeot away leaving what ever I have lifted swinging in the breeze.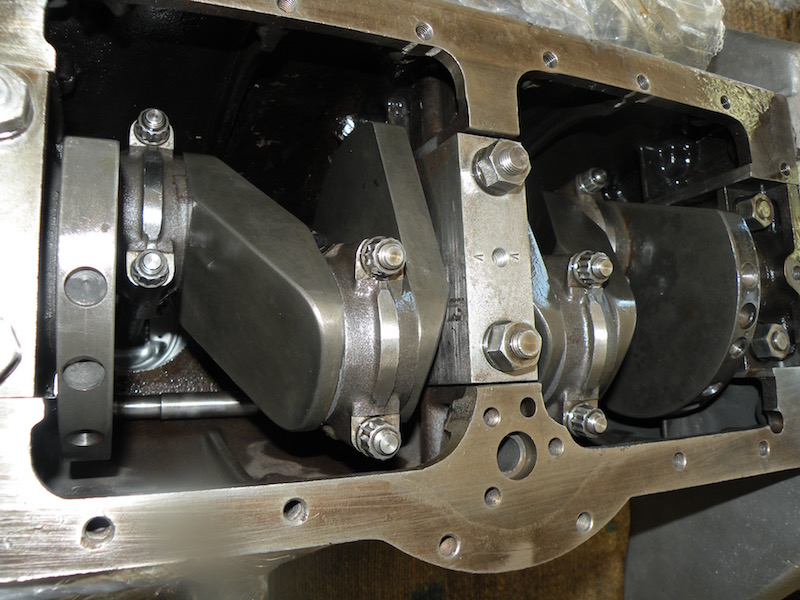 All 1934 1500cc engines should look like this, how many do?
Bj
3-3-2017
This one is out of sequence because I felt that it was too dark to use but at least it does give some idea of how and where I work. After all who would want to work along side an 80 year old duffer?
I certainly would not want to work with them!
Some misguided people may think that a 1996 Peugeot 405 SRi is a collectable car. Mine is virtually a one owner in almost mint condition. I think that it makes a very comfortable and reliable work horse. Most French Farmers would agree with me, although they would probably prefer a diesel.
Bj.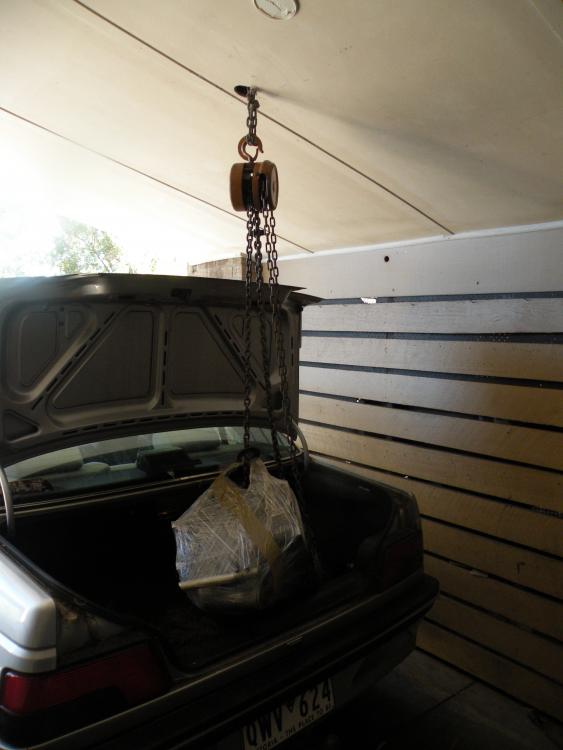 Hello Paul
These things do not just happen, some years ago I cut the hole in the ceiling then removed a row of tiles from the roof so I could place a length of steel angle across the rafters. A length of chain was wrapped around this with the ends joined by a "D" shackle and a loop of the chain fed through the hole. I could then replace the roof tiles.
Re re-assembling the engine I have everything apart from nine of the ten head studs that have been misplaced.
Bj
3-4-2017
Hello Mike
Those big-end bolts and nuts are a standard 4.2 Litre Jaguar XJ6 so they go with the con-rods. I am sure that Mr Jaguar could explain how they are self locking. Did not assemble the bottom end this time. I would think that the blue may be some remnants of Bearing Blue used by old fashioned mechanics when checking that there are no high or low spots when assembling. I must be becoming neurotic in my old age I was terrified of breaking piston rings if I had assembled it myself. Silly isn't it?
I use a minimum of Loctite and I refuse to use any silicone based "Make-A-gasket". I use only old fashioned "Aviation" shellac based non hardening gasket cement with heavy brown paper or sheet cork
I do like wiring the heads on small bolts etc. You can see this in one or two of todays pics.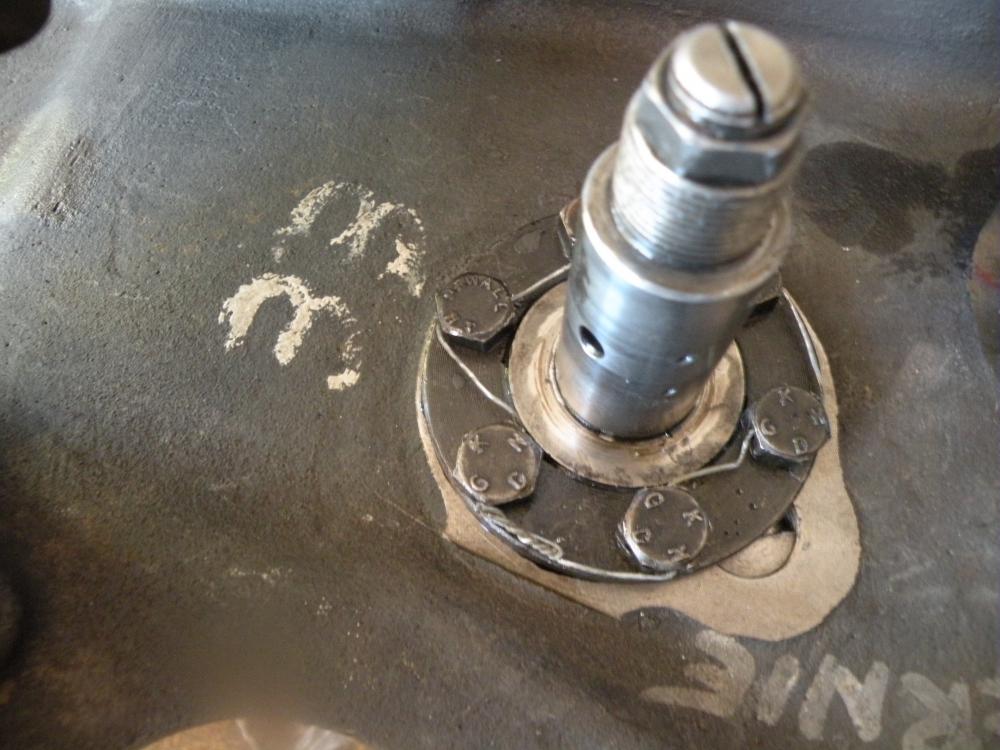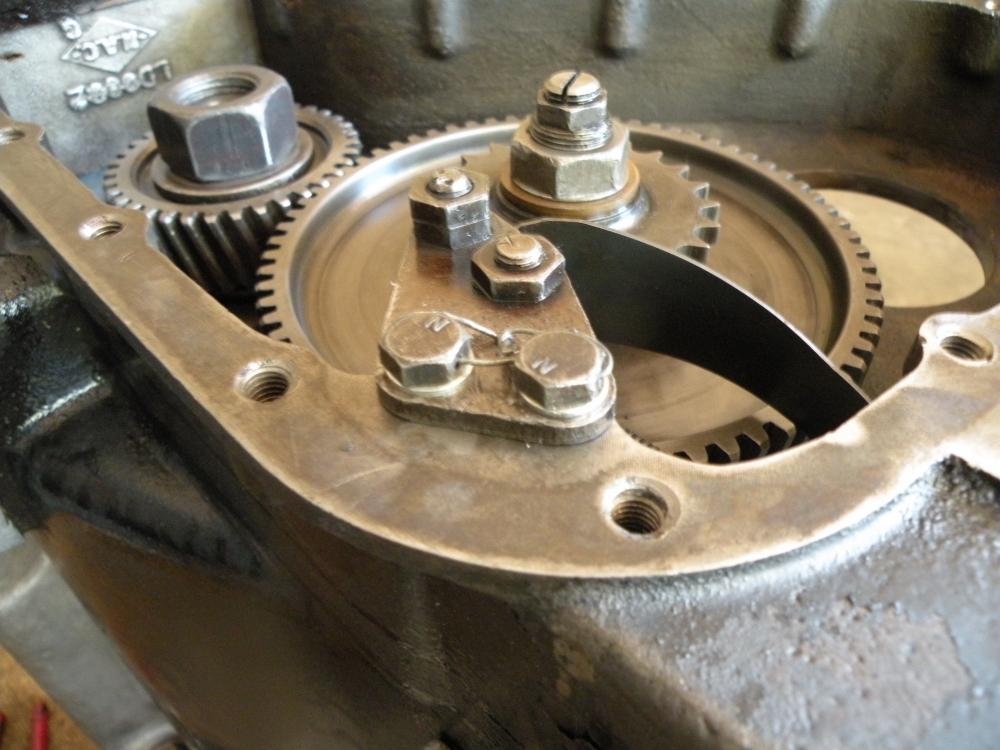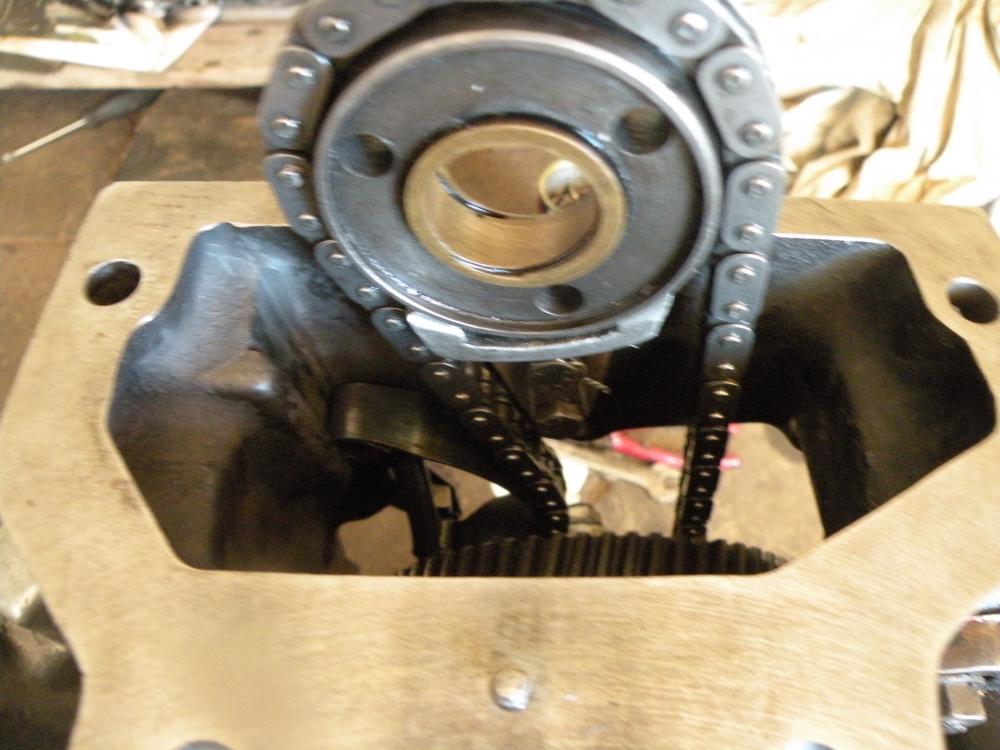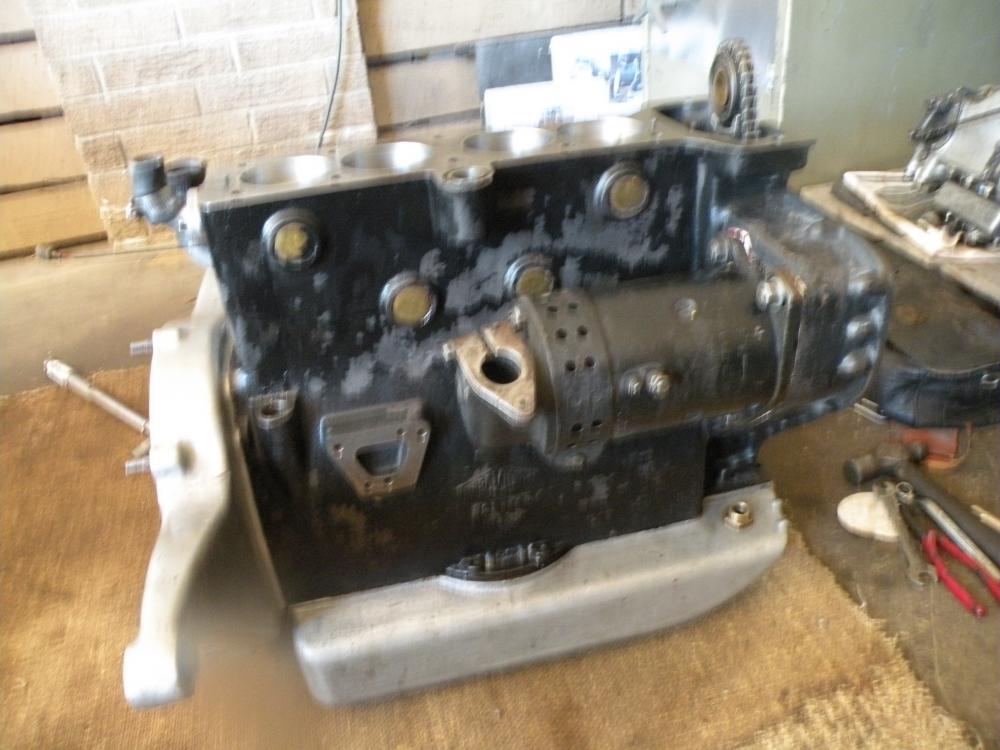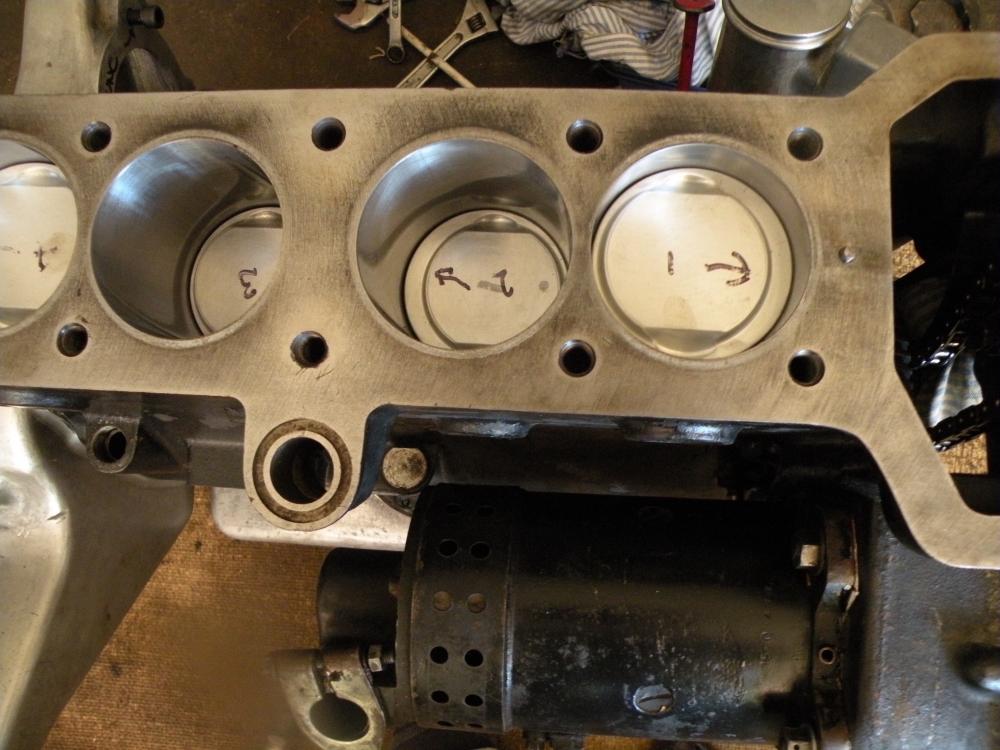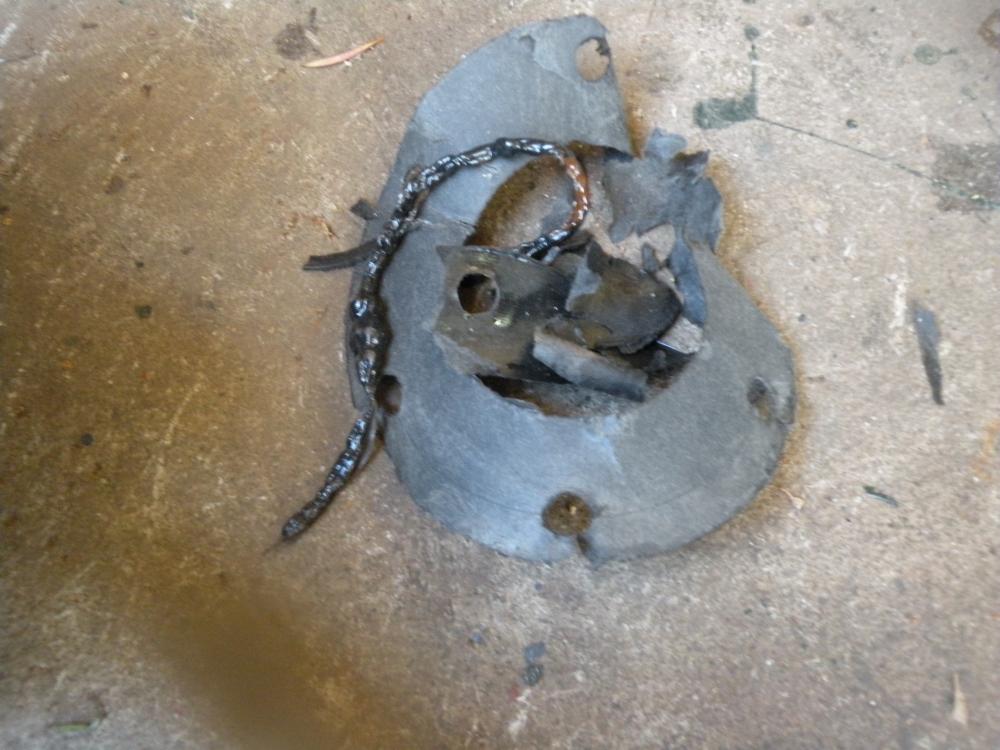 One the subject of silicone based "Gaskets in a Tube" there are one or two photographs taken as I took the Humber engine apart. They show lovely long silicone "snakes" just waiting to be free so they can crawl into the works.
Bj.
3-5-2017
If you have not already worked it out my Rapier engine is rather special. I have shown the attached photograph to a number of people and to date not one can even guess what is going on. No prizes but what is your explanation?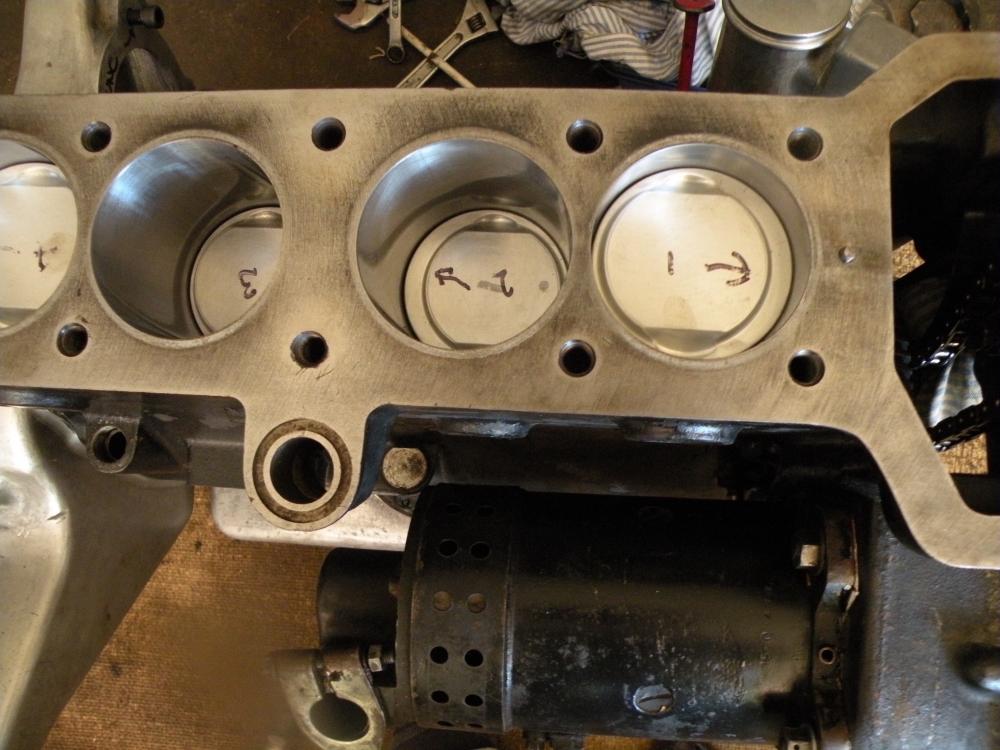 3-7-2017
Don't look now but something is happening!
Hello Again John
You are being busy.
There are two water transfer elbows on the rear of the head, so you cannot see them just yet. One leads directly from the water pump via a gallery mounted along the side of the block the other is an external transfer from the rear of the block into the rear of the head.
The cylinder head it original apart from larger inlet valves and enlarged and polished inlet ports.
The car has basically had sixty years of development. It has been fitted with three different bodies, the first a two door fixed head coupe. Then a very basic two seater sports racing car then the sporting two seater body I fitted when I first bought the car in 1978 that it still has. I changed to the new 1500cc block after a major blow up all but destroyed the original 1100cc block.
The bore started out as 62.5mm (1104cc) then grew to 66mm.(1232cc) The new block is 73mm,(1498cc) Stroke remains the same 90mm. Carburettors are 2 X SU 1.5 inch.
3-8-2017
Hello All
It really is very simple, Members of the Rapier Register arranged for new pattens to be made and had new blocks cast. Previously the maximum you could safely bore out an original Rapier block was to 66mm which suited idealy a Matchless motorcycle piston. This gave noninally 1232cc and 9.00:1compression. In the past I have done two or three Rapier engines to this capacity. The last one I did must have been a "lightweight" block because we "fell in the water" and had to have the bores sleeved and the sleeves sealed in using a total submersion in a vacuum chamber process. Some of you are correct when you say that the bores in the "1500" block are off-set the centre of the two end ones moving out towards the front and the back respectively while two centre bores are moved towards the centre. Because the original "hemi" cylinder head is retained the combustion chamber is slightly off set this requires the domes on the pistons to also be off set.
More later......
The raised section of the piston, not really a dome , actually enters the bottom 5mm approx of the combustion chamber. which is why it must be off set. It all works very well and makes the car so much better to drive. You should remember that this is not a new development but we have been driving the Rapier as a 1500 for 10 to 15 years. I will have to go back through a whole lot of records to see exactly when the 1500 block was put into use. Initially I was still using cams with a huge amount of over lap and much higher comp. The car went very well but just was not nice to drive on the road. Once it was decided that I could not drive in competition in the future, it all became too hard and that is when I decided to "de-tune" the engine. It really is a great touring car and is so much more pleasant to drive. It has much more torque down low and pulls very strongly from about 2,000 rpm on.......... It will keep up comfortably with modern traffic on our (Australian) interstate highways. It will cruise at 60 to 65 MPH, hour after hour and it loves mountain roads.
3-10-2017
Just as a matter of Interest I did a search through the Rapier Register's detailed list of cars and came up with 19 other 1500cc Rapiers all presumed to be using the same replacement cylinder block, about half of those are racing cars. It is just that no one else talks about their cars. I am led to believe that there are even more but I am told that their owners like to keep the size of their engines a very closely guarded secret.
3-11-2017
Hello Matthew
I know the of car(s) you refer to there are actually two. One is more or less totally dismantled the other has been "Under Restoration" for as long as I can remember and probably longer. There are three more Lagonda Rapiers in Queensland, one in Maleny and the other two in Northern Queensland. One of the cars at Nudgee has an earlier attempt at boring the original block out to 1500 cc. That the car has not been driven since 1964 or earlier must say something. The owner is, I am led to believe, an "expert" in everything, why else would he be converting the gearbox to roller bearings; when it already had them from new? The same person published in the Register "News" detailed instructions on how to turn a CD Disk into at timing diagram.
There are twenty Rapiers said to be fitted with 1500cc blocks from the same batch as the one in my car. The only thing is that the owners of many of these would sooner keep this a carefully guarded secret.
They are afraid that should this information "get out", that it may in some way effect the value of their "investment".........
Bj.
The photo below is of the car Matthew mentions.. It is taken from my Book "EVER KEEN" from the section on this car,
You may note the caption beneath the photo states that it was stored in this manner from 1963 to 1993. It has since changed location and is/was undergoing a restoration which commenced some years ago. In his contribution to the book the owner states "At one point in 1963 ( the same year as the photograph) I pulled an indicated 5,500 rpm...........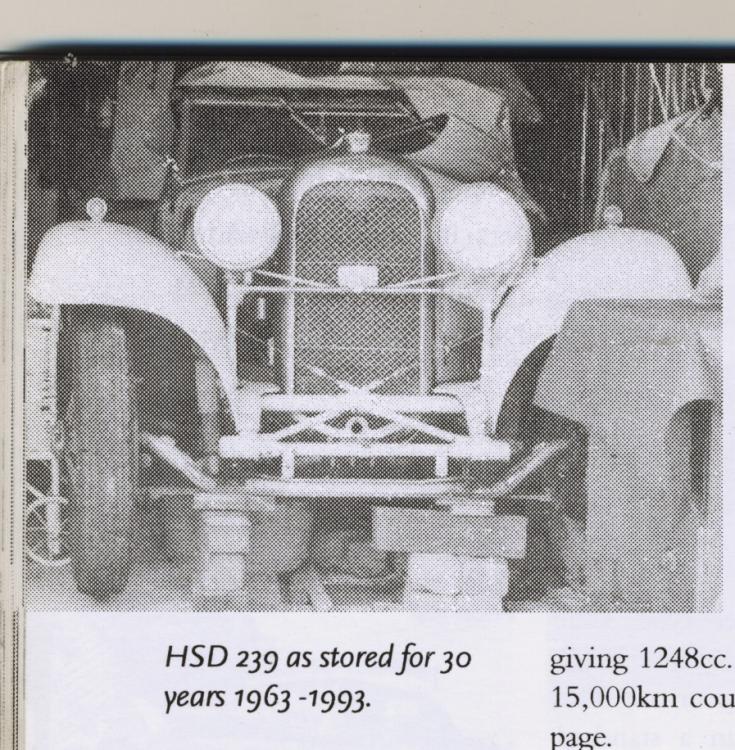 3-12-2017
Back to more pleasant subjects, as pointed out to me recently, by using Jaguar XJ6 con-rods in the Rapier's engine, the third set of big-end bearings are free. No prizes for working that one out.
3-13-2017
And some more photographs. The first one is a handy little tool I am in the process of making this afternoon.
Then for people with even more inquiring minds,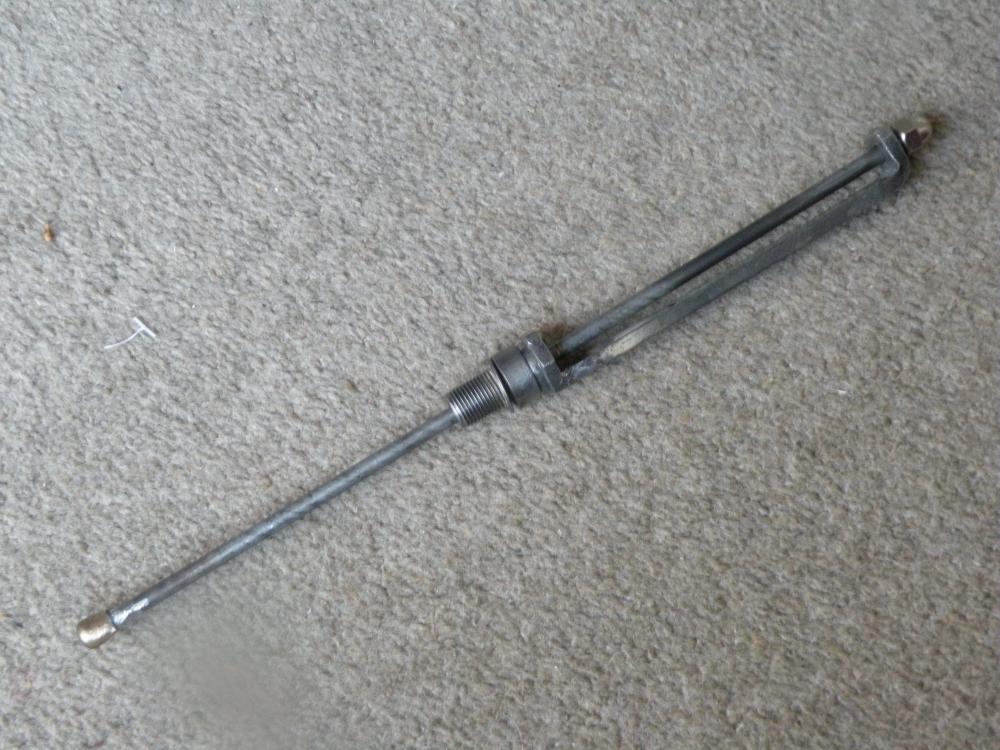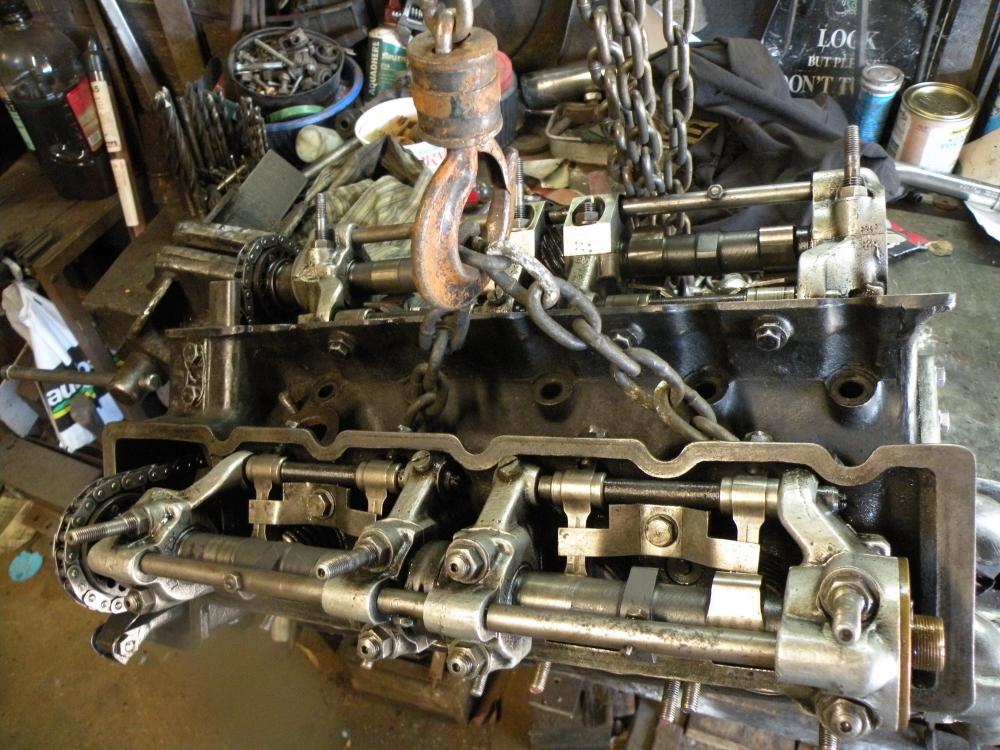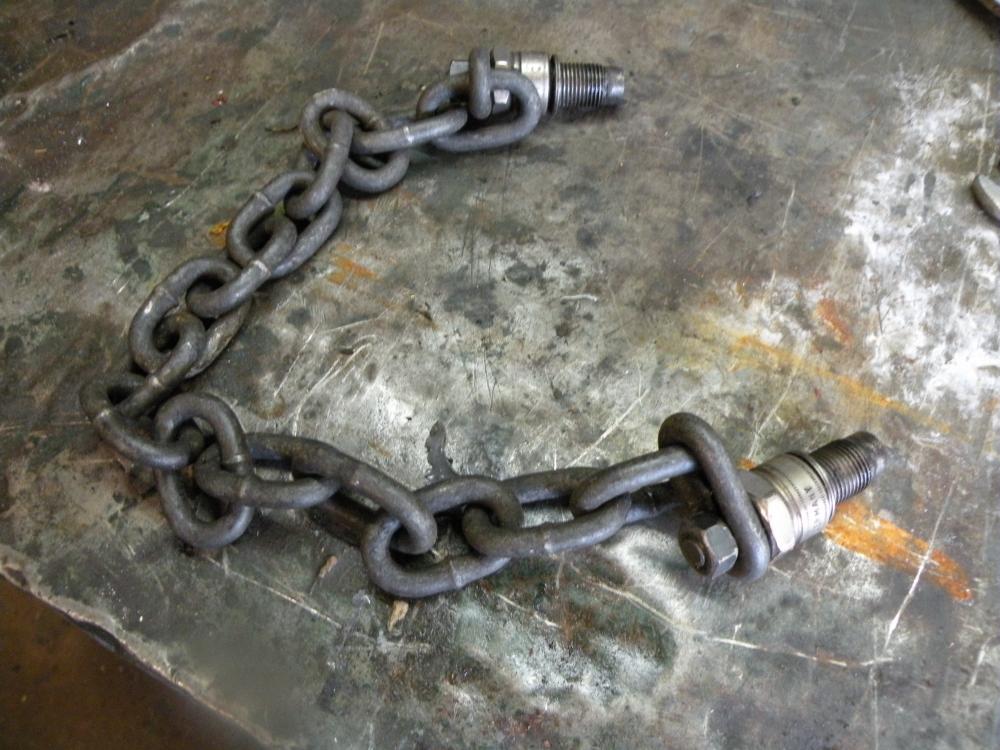 A photo of the cylinder head being lifted off the bench ready to go on the engine after my new head studs arrive from the Rapier Register "Spares" in England. I think that it is worth spending a moment of two looking carefully at the "head". But then I may be biased. The "other" lifting device is strong enough for me to lift the engine and gearbox as a unit. I USED to be strong enough to lift and carry the head by myself. I am told it is something to do with "anno domini"
For the benefit of anyone wondering about the two modern replacement cam bearing caps, the original oil pump drive was a gear mounted on the camshaft between these two bearings. When I first bought the car all those years ago, the original caps had been broken and welded, quite possibly at the bottom of a chicken house, using the available materials.
3-15-2017
These small double ended lobes were for spring loaded dampers. They proved to be more trouble than they were worth so the spring bits were removed and thrown away when the cars went in for their first service. There are still a very small of cars that still have them.
The Rapier still idles smoothly at 800 to 1,000 rpm without any vibration and will rev smoothly up to 5,500 to 6,000 RPM without any fuss. Not something I would recomend with original 82 year old con rods.
Standard Rapier connecting rods are quite inpressive on their own and would have been sensational when new in 1934 but like all things they do become fatigued with age.
Todays two photographs show a standard Rapier con-rod and one that hangs on the wall above my desk as a constant reminder!
It had been in one of my earlier cars and what you see is the result of just a moments over enthusiasm. Starting on the front row of the grid, next to a very fast supercharged Austin that was in Pole Position. I managed to beat him to the first corner, just ....................
3-20-2017
I am really disappointed! All the armchair experts seem to have gone to sleep. It seem a total waste of my time to post all these interesting photographs only to have their relevance go straight over your heads.
Not one to give up easily while I am waiting for the slow boat from the UK to bring the new head studs I have been able to do one or two small jobs in preparation. Please do not get too many splinters scratching your heads over this one.
The question is "what and why?".
Before answering that one a much easier question.
How many of the people looking at this have actually held a spanner in the last ten years?
A supplementary question, EVER?
We all know how much easier it is to hold a pen and sign a cheque (check). Even easier these days, to "tap" a credit card.
Bj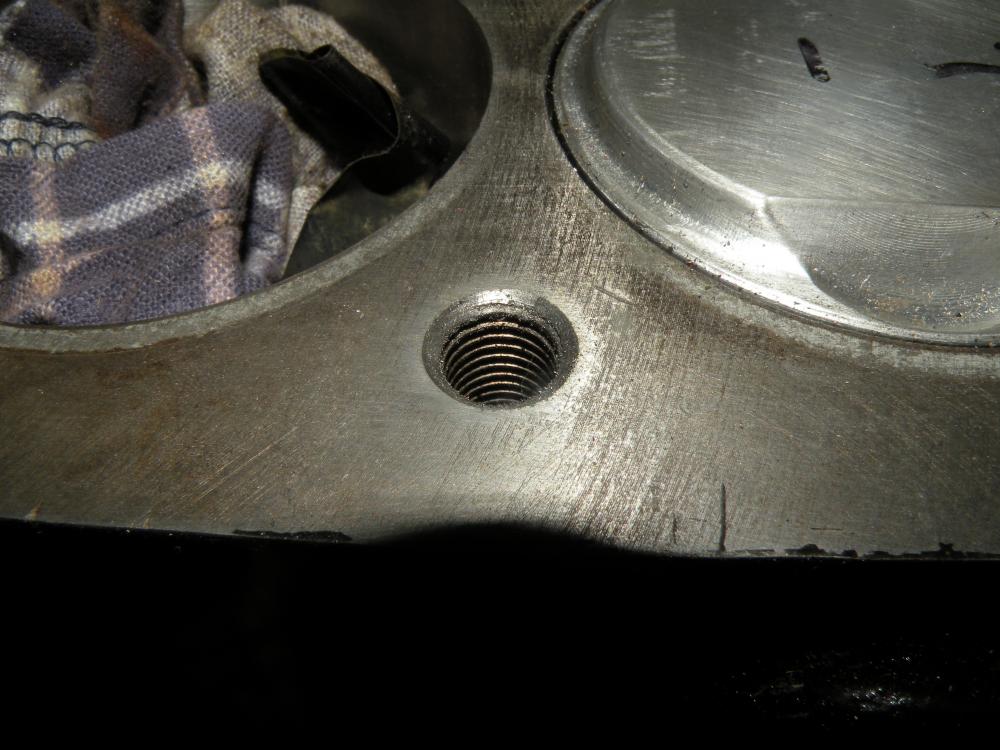 Page 13. I hope that is not an bad omen!
Hello Carl and Ben
Not angry or even bad-tempered, possibly a little grumpy, but with good reason.
At least I now know that there are two other people on the forum who are wide awake and who actually do work on their own cars. And are (hopefully) interested in and understand what I am writing!
While I tend to use my forum threads/posts as a form of diary, it should also be a conversation and it seems (to me) that very often it is a one sided conversation!
For instance and most recently, I still do not know how many other people go to the trouble of counter boring the tops of the holes the head studs screw into. There is a reason for doing this. If you all do it and know why it is done, then I would be boring you to go into a lengthy explanation. I can imagine any number of you saying (to yourselves) "Gee Bernie; that is "old news"if you cannot tell us something new, why bother?".
At the risk of boring the rest of you, the reason why I go to the trouble of counter boring the head stud holes is quite simple, My good friend and proprietor of 'Crankshaft Rebuilders* Ian Shugg,'who for the past 30 of 40 years have been doing my engine work, some years ago suggested that I do it.
Cast iron, as I am sure that you all know, is softer and structurally weaker that steel, more especially, the high grade of steel used in the manufacture of head studs and the nuts that go onto them*. As you tighten the nuts holding the head down, you are pulling the stud up. This in turn pulls on the weaker cast iron that the stud is screwed into. The counter bore gives the cast iron space to move before distorting the face of the top surface of the block, thus reducing the risk of causing 'high spots' that can eventually cause the head gasket to leak. This counter boring is a very minor thing that can reduce the risk of a major inconvenience at some time in the future. If nothing else it should be done after the top of the block has been refaced.
Thank you for listening, I hope that you have learnt something new and that I am not boring you. Without some feed-back, I have no way of knowing if you are interested or not!
And that you are not complaining (to yourselves) "There goes that "old-car", woofflling on again!
Bj.

*
"Crankshaft Rebuilders" started out many years ago, specialising in recovering the large diameter bearing surfaces found in crankshafts fitted to large marine engines. They are now the engine reconditioners of choice of a great many of the enthusiasts engaged in all forms of "Motor Sport" in Australia. They also manufacture high quality crankshafts to individual specifications. When I was building the new 1500cc motor for the Lagonda Rapier, they made the new crankshaft that is used in it.
3-21-2017
Hello Paul
I could not agree with you more on all three points. The big thing is to remember that this is a hobby and as such supposed to be FUN. For all those people saying "Oh Yeah!" I admit I have a problem, I have to be aware that my time is rapidly becoming shorter, As a result I become more impatient, there are so many more projects that I have in the pipe line. I really have a "thing" with people I perceive as sitting picking the lint out of their navel. Figuratively speaking of course!
N.B, This does not include any of the regular contributors to this thread.
Hi Ben
Thank you, I need some one to do that every so often to wake me up.
I am just sending an email to Margaid, our Rapier Register Spares Person, She posted the head studs at her village post office in the UK to me 11 days ago. The parcel took a day and a half to reach Australia. It has taken (so far) another nine and a half days in the Australian Postal "Service". The Tracking Service tells me that it could-should be delivered this week.
The CEO of Australia Post is due to retire soon, He is now in his mid 30s. He can just about afford to retire. He has just paid himself another Multi Million Dollar Bonus on top of his already Multi Million Dollar salary. After all he is the CEO.
Now I know I should have started my working life as a Telegram Delivery Boy.
3-23-2017
Hello Jp and Eric
I am glad to see you are both hard at work.
Right now work on the Lagonda has stalled.
Good ole Australia Post seems to have crashed the aeroplane that was bringing my new head studs from England.
The Tracking Service tells me that it took off from the UK at 4.14 PM on Saturday 11-3-2017 and it has not been seen since.
Oh! MERDE! as my French friends are known to say in times of extreme stress.
My local Post Master tells me that it is far too early to start worrying! My parcel may turn up anytime within the next month to six weeks. Now ain't that just something?
3-24-2017
The latest report on the missing parcel.
My friend in the UK has been doing some checking using the "Tracking Number." It seems as though I have nothing to worry about!
It is not just my parcel that has fallen through the cracks. It appears that it is a whole big Post Bag containing lots of other people's parcels too, Some forgetful baggage handler has put it down somewhere.
The problem is that he cannot remember where he dropped it. Someone is sure to find it some day, maybe not this week, month, year, decade. But at sometime in the future, someone will find it! Oh well!
The Tracking Service? Their message is, "The case is closed". End of story.
I have also decided to buy a new inlet manifold from the UK too. How is it coming? Speedy Air Mail, Parcel Postage!
Surely lightening cannot strike in the same place twice. Can it? I am holding my breath.
It WILL be OK, I have a "tracking number" so I can check on its progress. So far, I know for sure that it has been posted.
3-26-2017
With the new (borrowed) head studs in place I can re-start putting the engine back together BUT look at todays photograph, not really the day to be doing engine work in an open carport!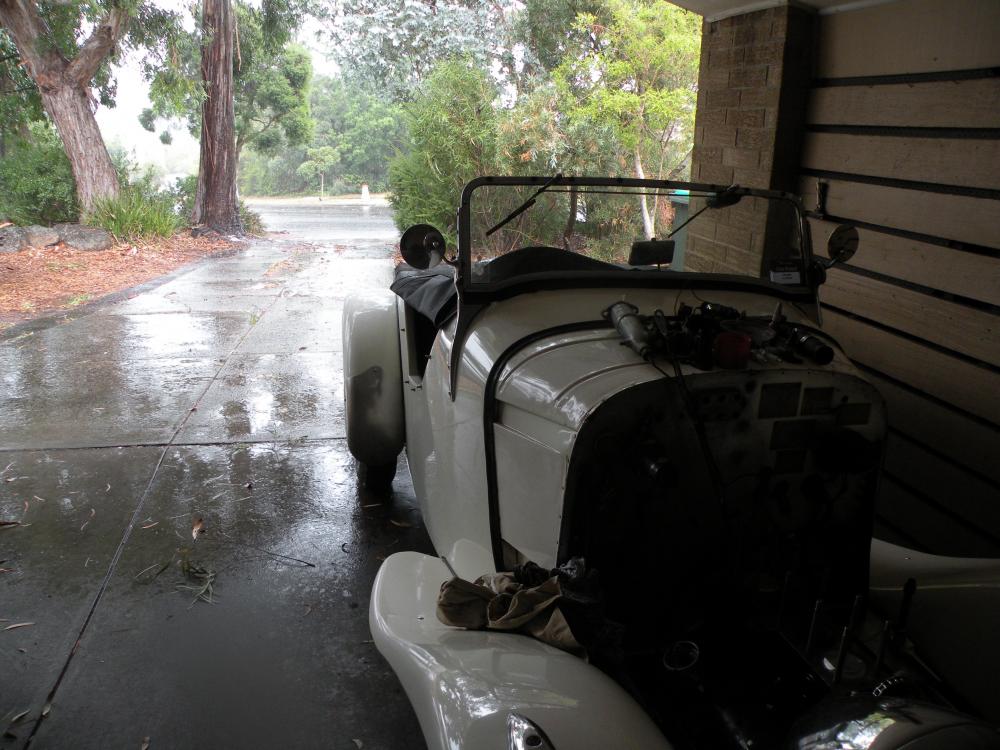 3-27-2017
Hello Kevin
I see you are new to the AACA Forum so I do not know where you are or what car you have. Generally speaking, Timing a magneto is simply a matter of common sense. Give me some more info and I will attempt to assist.
Basically the first thing is to find TDC at the end of the compression stroke (both valves closed)
Hello Kevin
For this sort of information you must first rejoin the Rapier Register.
The timing marks are on the rim of the flywheel and almost impossible to see unless you extend the marks onto the rear face of the flywheel or in your case onto the clutch pressure plate. It is helpful to remember that one tooth on the ring gear = 4 degrees. the only problem is that you cannot see the ring gear through the inspection hole in the belhousing. Once you establish TDC you can see the flywheel and ring gear through the opening at the bottom of the bell housing. You can then start a new set of timing marks at the bottom of the flywheel.
The only problem is that you need to get underneath the car to see them. You need to remove both cam covers to establish when the valves are open and closed. You could always ask David N to assist you. With your engine with the spark plugs "masked" it is hard/impossible to see when the piston is at TDC but you should be able to just thread a thin wire in through the spark plug hole. Either that or feel for the compression stroke with your thumb over the spark plug hole. This depends on how much compression your engine has. If you want to be really tricky you can bend a loop in a piece of glass tube attached to a rubber "cork" fill the loop with light oil place the rubber cork In the spark plug hole and observe the glass loop as you turn the motor over with the crank handle. When the oil squirts out into your eye you have reached TDC. There is lots and lots of this information and more through the Register, membership gives you access to all sorts of information and assistance. There are well over 500 items of important tips and suggestions in Rosemary's Reprints taken from 33 years of Rapier Register newsletters. 362 typewritten pages. It is worth paying the joining fee and annual subscription just to have access to this stuff:-
ROSEMARY'S REPRINTS
of
TECHNICAL TOPICS
from
the Rapier News
1977-2010
3-28-2017
Finally the cylinder head is going back on (slowly).
While I was crawling about under the front of the car I thought that I should give you a little test of your powers of observation, there is one common factor with the other three photographs. What is it and why.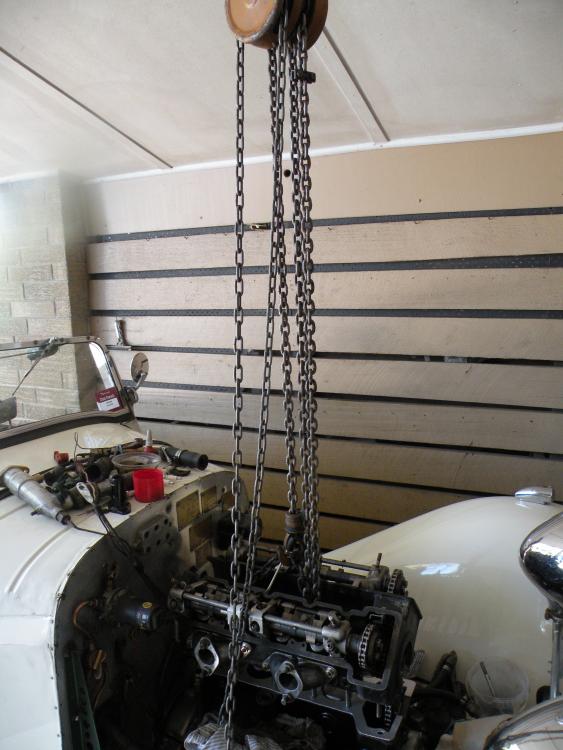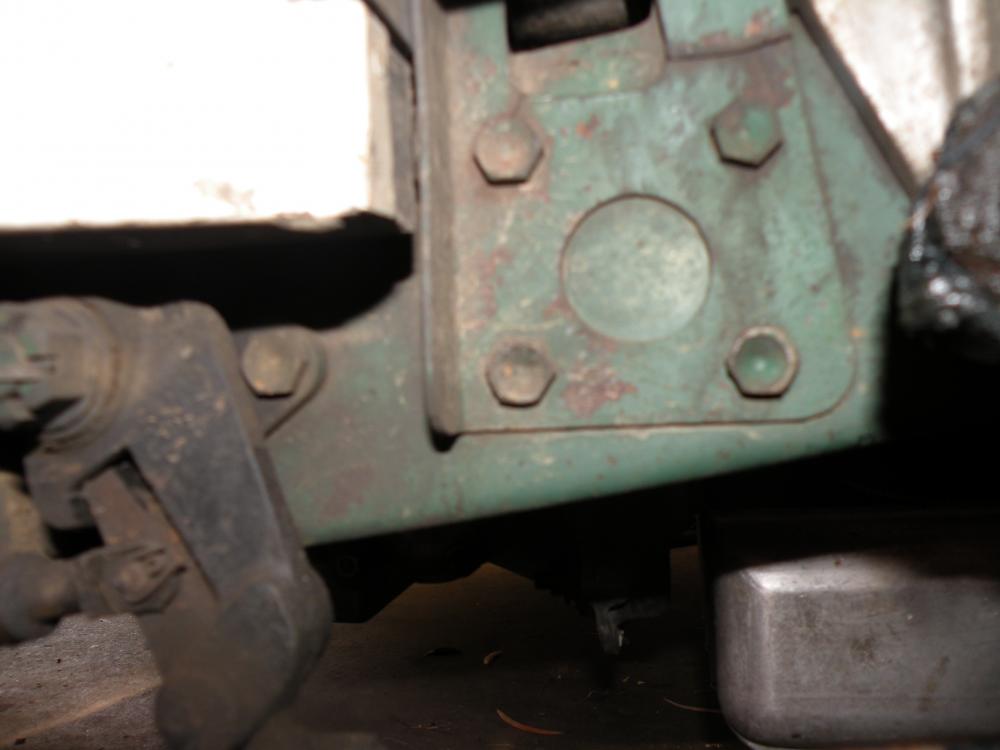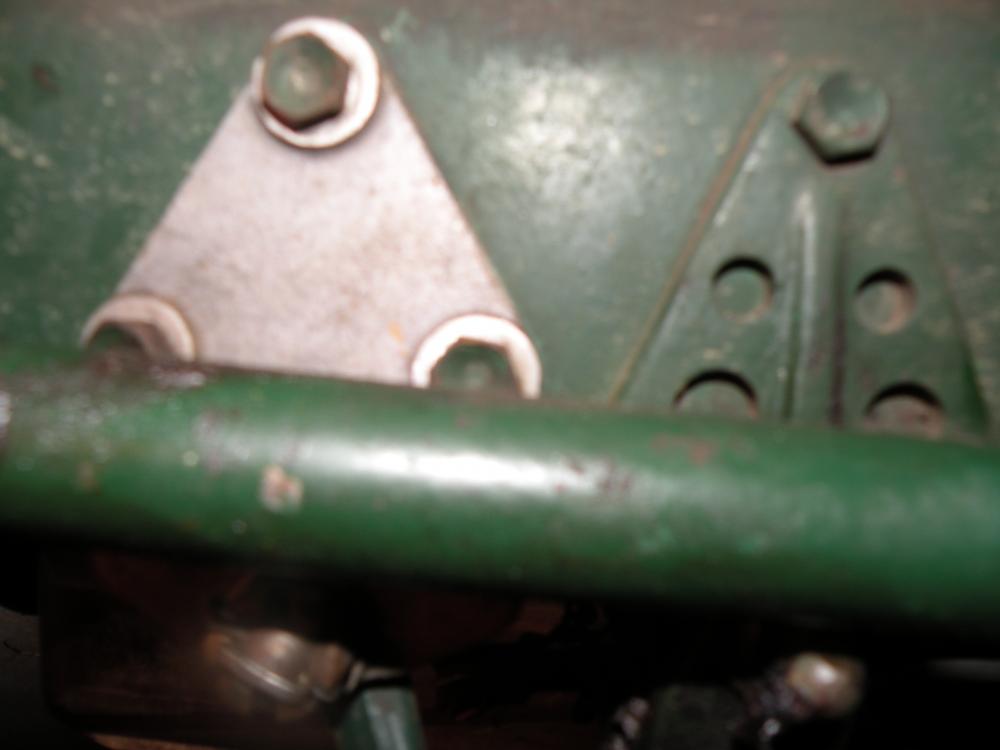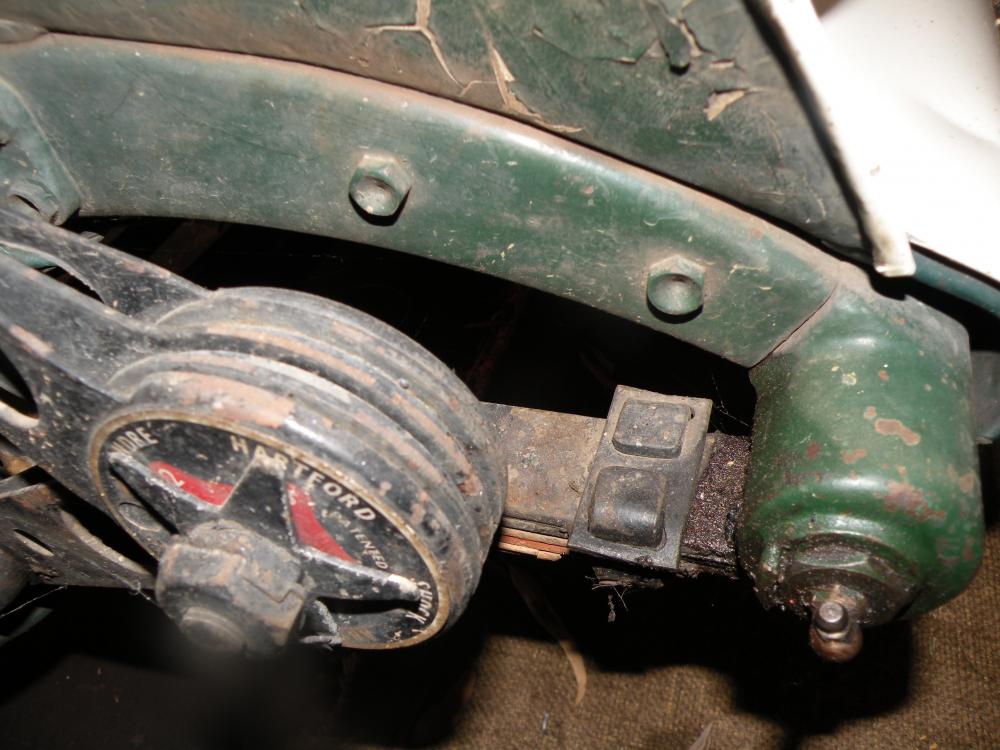 Thank you Kevin
For someone to remove every nut and bolt to do this, they must have had a reason, Further clues can be found in the spring hanger and the bottom of the bulkhead (fire wall) support bracket if you compare them with the ones on your Rapier.
Below are photographs of your Rapier when I first bought it & prior to restoring it. The next photo is just before I sold it to Austin Tope.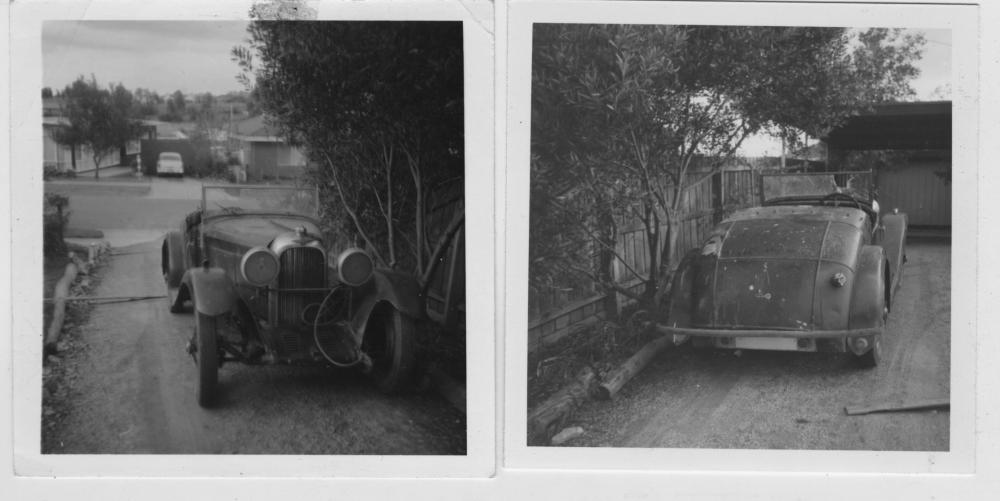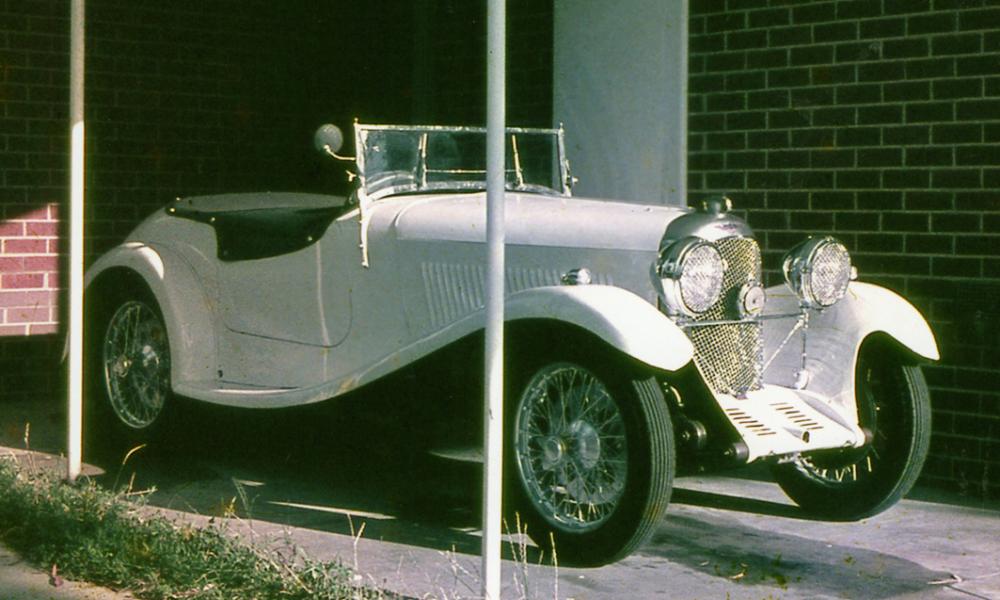 This photograph of the front engine bearer may help with the WHY (#314) That is apart from suggesting the whole car needs to be torn apart so I can clean down and repaint the chassis. Some may say that after 100,000 miles it is due. Perhaps over due.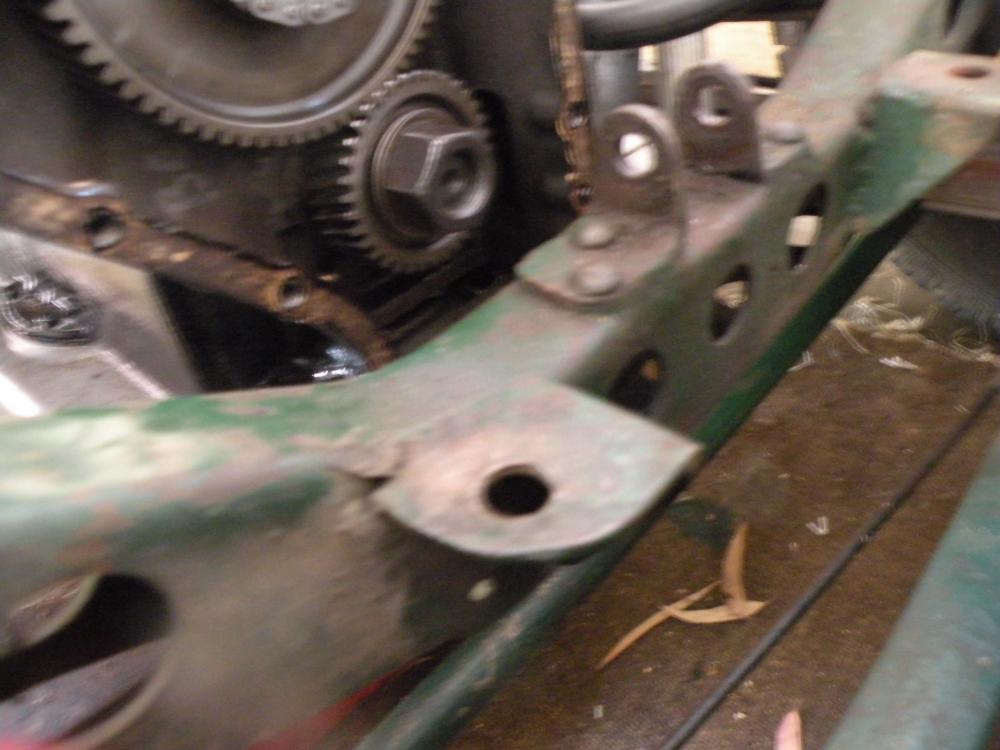 3-29-2017
Thank you Matthew
There was no problem about excess driver weight when KG 5363 was rebuilt by Beatrice Shilling (https://en.wikipedia.org/wiki/Beatrice_Shilling) as a racing car in the 1950s, she was just 5 ft tall and very slight. Pre war she had raced solo motorcycles at Brooklands, had a Brooklands Gold Star (awarded to riders completing a 100mph lap). She also held the Lady Rider's Speed Record for Motorcycles at Brooklands.
When I rebuilt the car in 1978-80 it was again totally dismantled including the chassis frame, indeed a "last nut and bolt" rebuild.
I have borrowed some head studs. I am told that I should not worry, it is not just my little parcel that was lost but an entire "Mail Bag". It seems that no one (except me) is overly concerned about the loss.
3-31-2017
Hello Paul
Thank you for the nice comments.
The Lagonda engine rebuild has progressed to include a new inlet manifold which is a much better design and includes a balance pipe with buffer ends, which I hope will go some way to prevent cylinder "robbing" and I have started to build a new exhaust manifold which will replace the previous, 25+ year old, set of pipes that had been badly cracked and had become very thin in places. I still have to collect the four "bends to finish the job. Then I have to decide whether I should Chrome plate it or paint it black or silver (spray aluminium) The previous exhaust I had aluminium sprayed which lasted very well and did not discolour with heat as chrome tends to do.
I am told that 80 year olds should not be worrying about these things. Why not, it keeps me active and using my brain.
I use oxy-acetelene gas for welding, I still don't have a mig or other electric welding and anyway I prefer gas as it permits slight modifications to be made as the job progresses. I will build another 4-2-1 system as I believe that they are better for road use than a 4-1 system, and they are easier to make to fit into the available space under the bonnet (hood)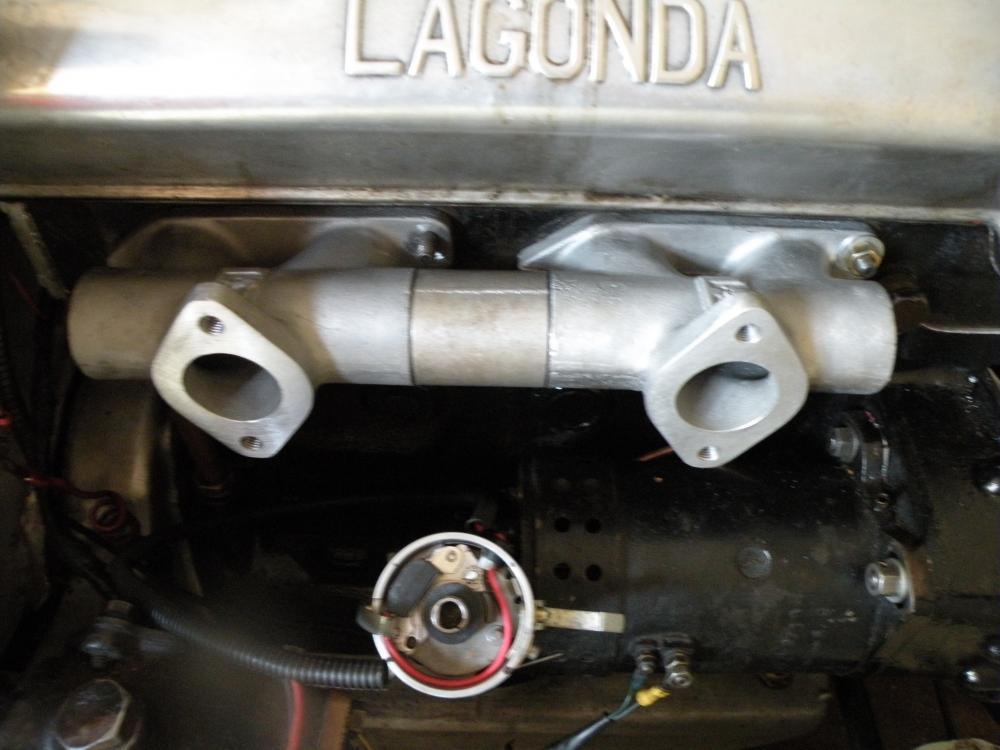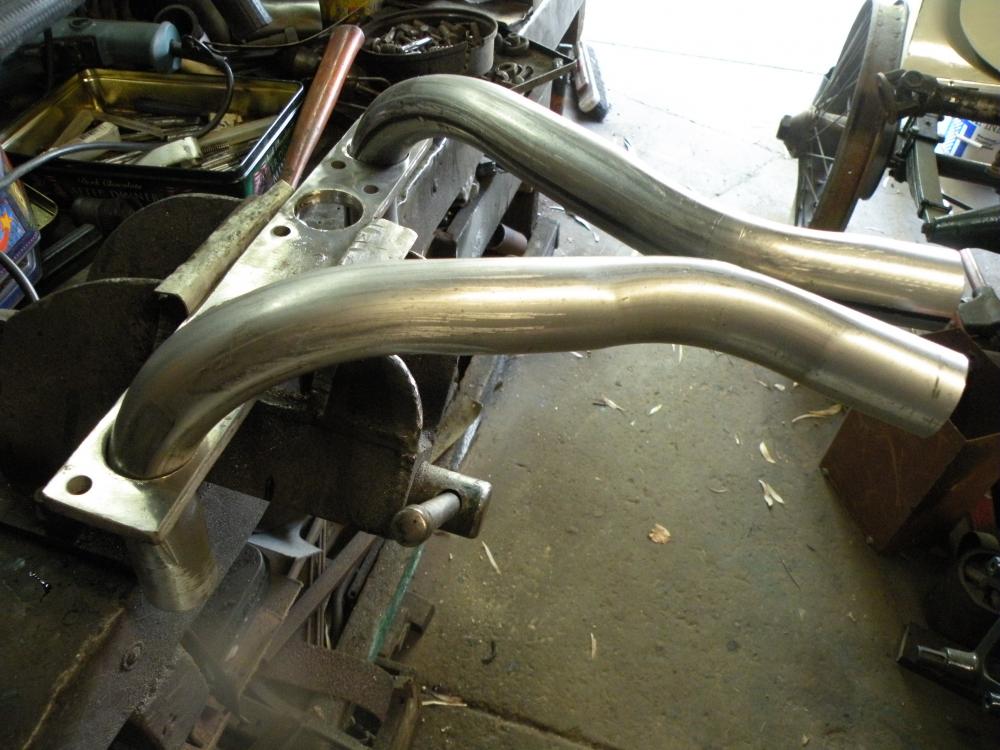 4-1-2017
Hello Paul
Thank you for your ongoing interest.The centre section of the "log" reduces to half an inch in the middle, My main aim with changing to this new inlet manifold is to over-come cylinder "Robbing" which happens in some four cylinder engines where you have one and three cylinders running rich and the other two, two and four, lean. There hopefully will be some other side benefits. Apparently the "Buffer" ends of the balance pipe also have some benefit too.
I have a busy week coming so unfortunately there will not be all that much work done. I did get the radiator fitted yesterday but even that took up some extra time as I welded a new end section, about an inch, onto the outlet pipe where it had rusted.
4-4-2017
Hello Matthew and Maoc
Right now I am running around in very tight circles, If I run any harder or the circles get any tighter I may well disappear.
I will be out of sight for the rest of this week but should be back before you have noticed that I have gone.
Perhaps next week I will be able to get back to the Lagonda. I have taken the inlet manifold and a template of the inlet ports out to our son Steve. Hopefully he will find some time in his busy programme to machine the inlet manifolds to match KG 5363's ports. These are just a tiny bit larger than standard. One day it will be all sorted out but all good things take time and effort.
4-7-2017
While our son Steve is working on the inlet manifold rather than sit and twiddle my thumbs I have just started on the exhaust side of the engine.
The first three photographs are Steve's the last two are mine. You may have gathered that as mentioned in my earlier post, KG 5363's inlet ports are just a whisker bigger than standard.
Bj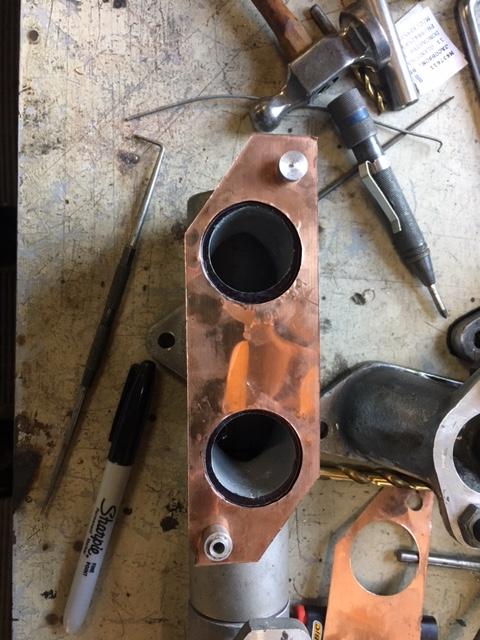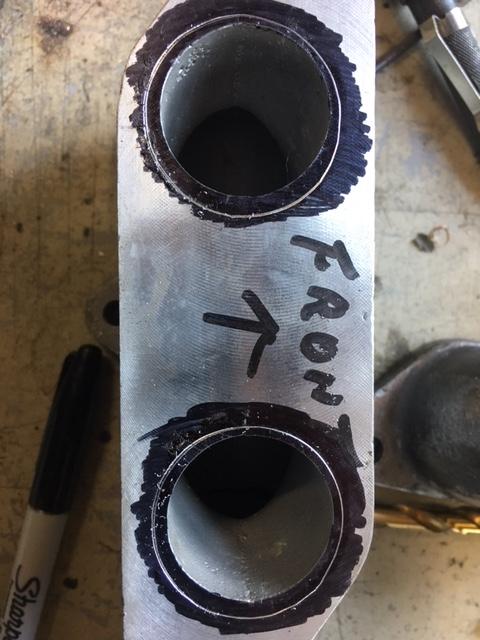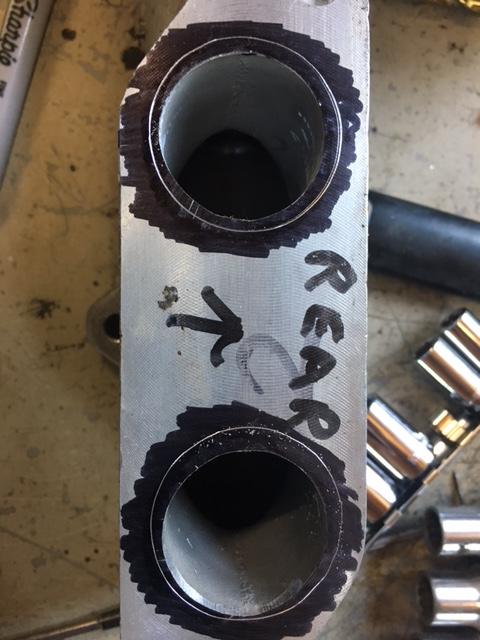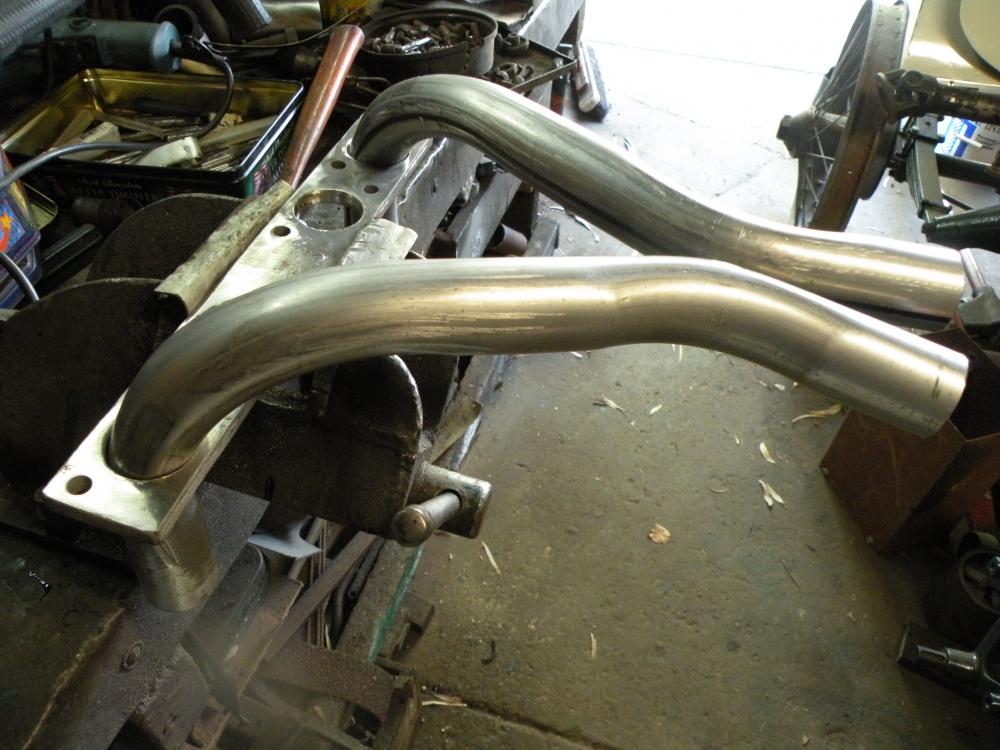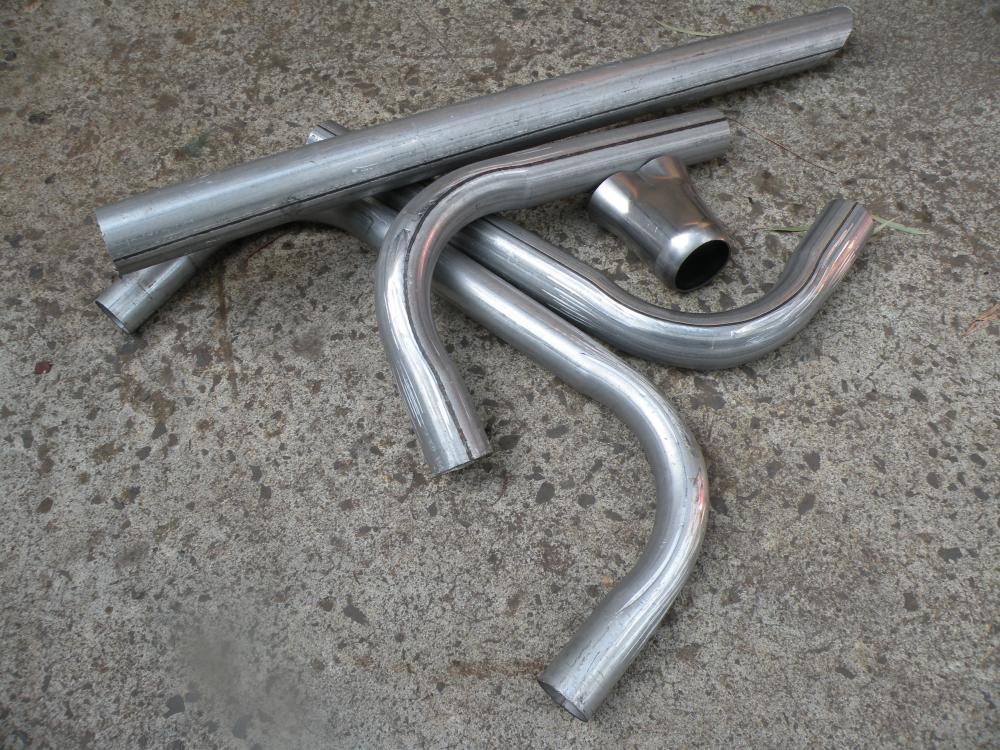 4-14-2017
IHello everyone I am actually back in body if not in spirit. Having received my new inlet manifold I find that withpout some drastic surgery to the right hand side of the Rapier's bonnet (hood) I cannot fit in my 1 1/2 inch SU carburettors so it is back to square one. Meanwhile I am doing a juggling act with all my pieces of exhaust pipe. Again it is a space problem but one that I must solve. The existing (1984) extractor manifold is now wafer thin and cannot possibly last very much longer. The problem is that the secondary pipes (1 3/4 inch pipe) have no more that a 1/4 clearance where they pass down beside the oil filter housing and the starter motor. Neither can easily be moved. Finally at about 4.30 pm this afternoon I have run out of both Oxygen and Acetylene. It looks like a quiet Easter. I still have to weld up the "collector" that takes the exhaust from the two secondary pipes into a single 2 Inch piple leading to the muffler.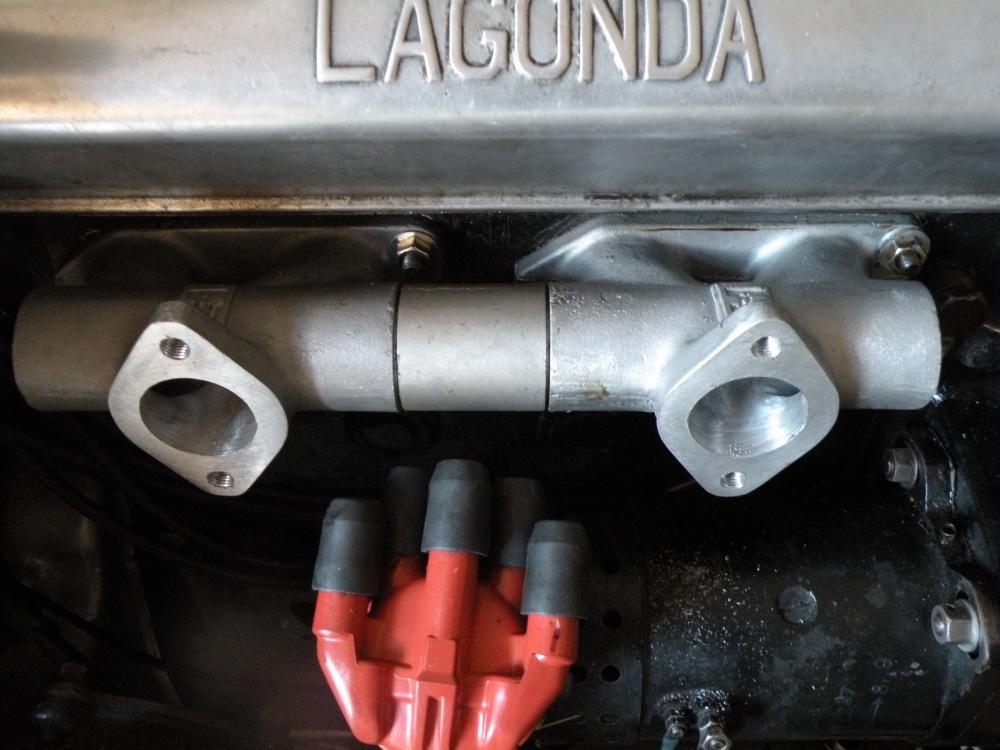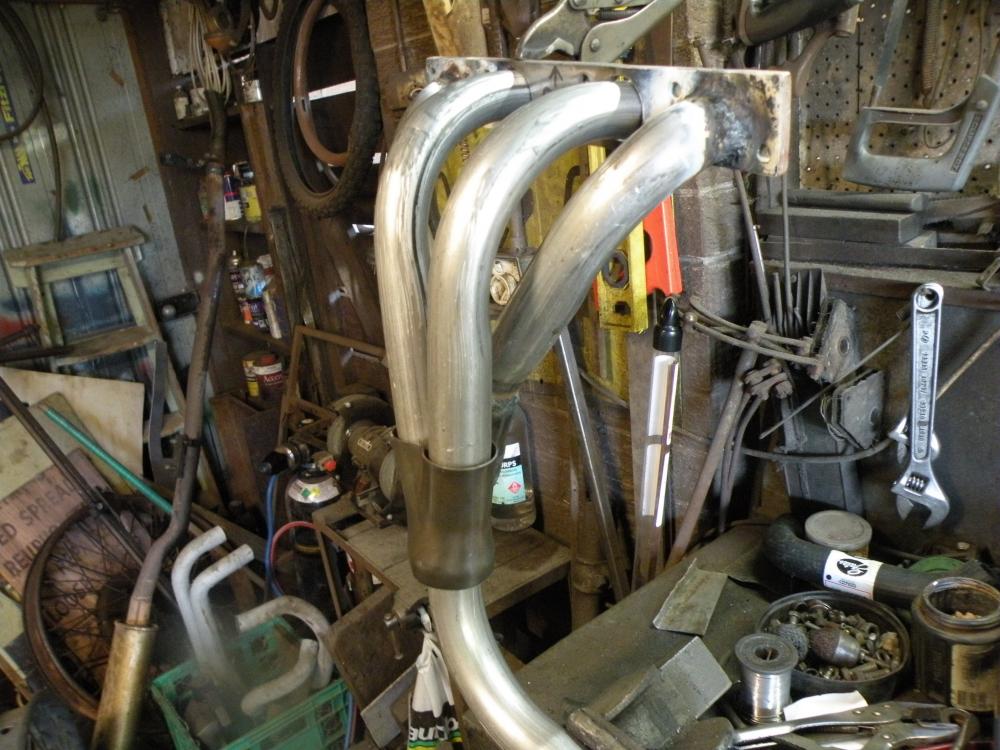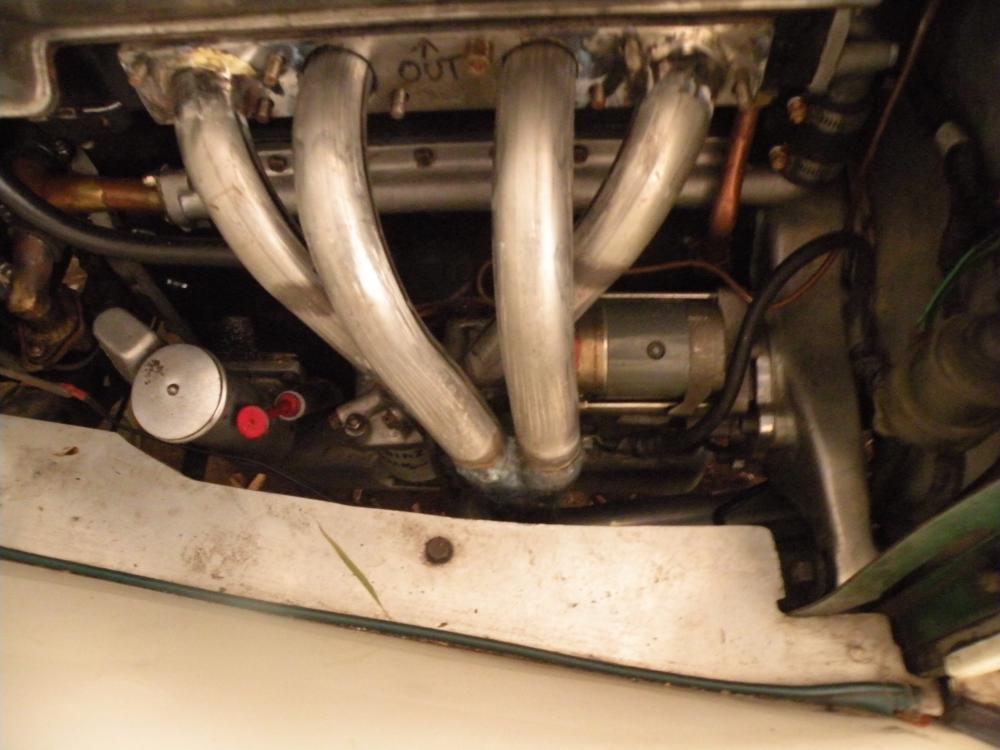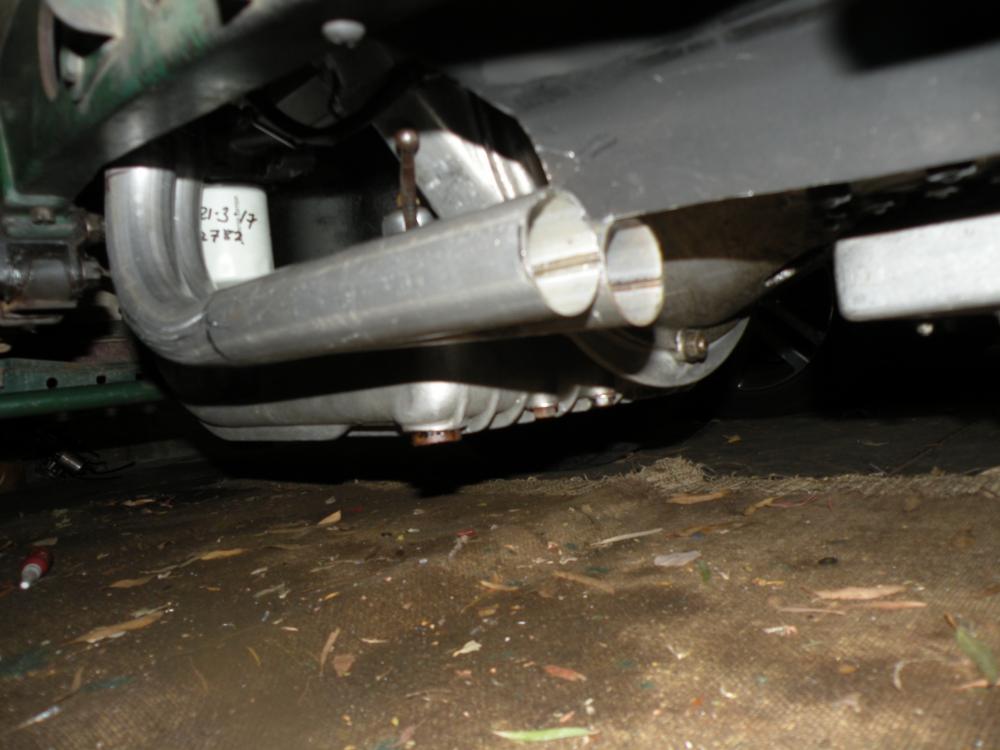 Firstly MR2Red
You are way behind the times! BOC have what they call their "D" Plan,there is no rent on the D size bottles and the cost to refill is extremely competitive compared to the Retail Price charged by Bunnings. I was probably one of BOC's first customers to adopt the D Plan.
Bj
Hello Paul
Life will continue, Once I have finished fabricating the new extractor exhaust system, I will transfer my attention back to the inlet manifold. I don't intend to chop up the original panel or otherwise mess about with the car. Enhancing the cars performance is one thing, choping up panels is something else.
4-16-2017
Happy Easter.
I have decided to go back to where I was in January, using the opriginal "Barker" manifolds but with the balance pipe I made then but did not use. All the experts suggested that it would not work with the balance pipe on the underside of the inlet tract, it would fill up with unburnt fuel. I will wait and see before commenting further.
I am now waiting for the super strong epoxy that is to hold the balance pipe in place to sets. On the exhaust side; of course the middle of the Easter holidays is the ideal time to run out of gas, no not petrol, but oxygen and acetylene. I have just replaced the old (leaking hoses). I probably have about a days work to finish the hard part of the exhaust. I will then have to make some decisions whether to replace the muffler and tail pipe or just the tail pipe. There is really nothing wrong with the muffler except age and I am very much against getting rid of things (or people) just because they are becomming old.
It (the muffler) is a very eficient design and works very well, it is quiet, but does not create any excessive back pressure being a "straight through" type.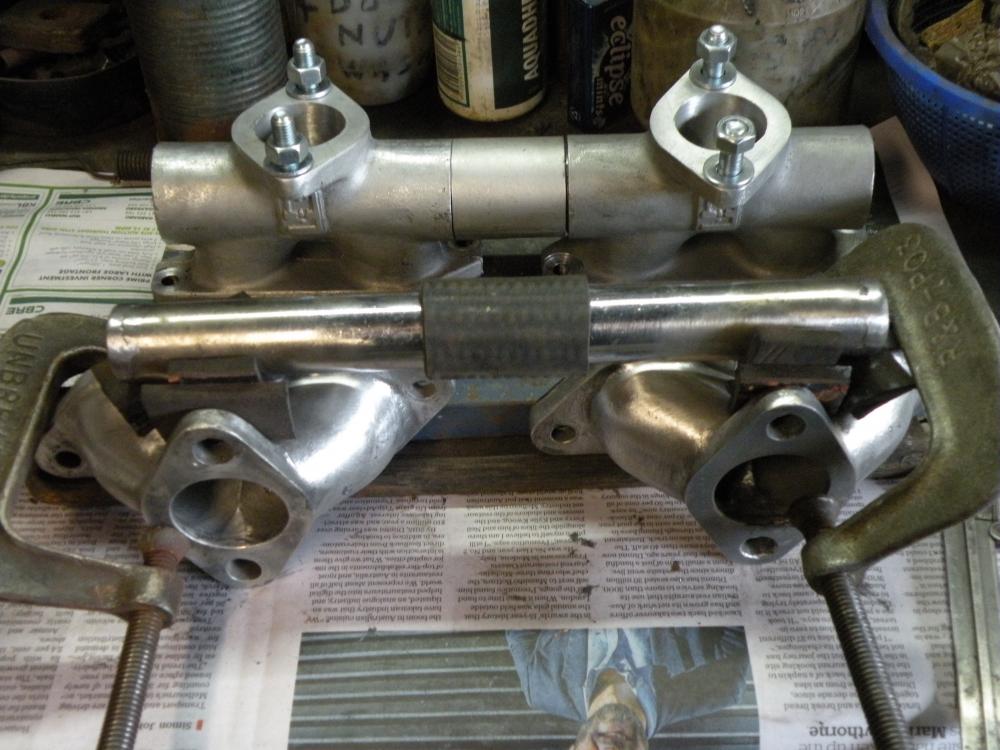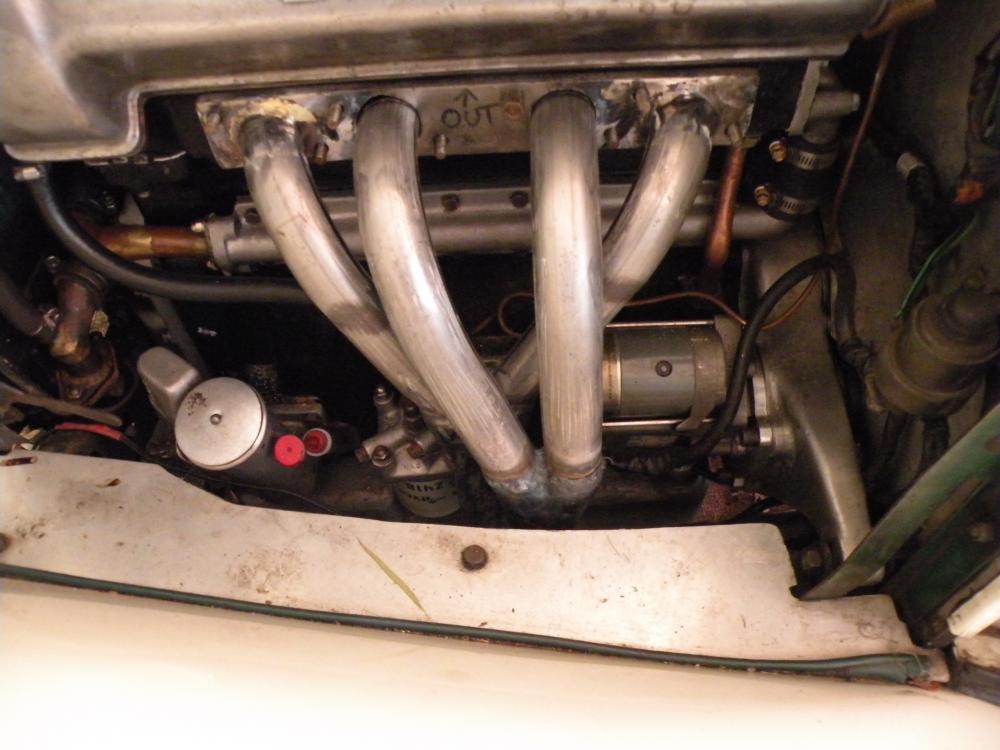 For all the experts on "tuned length" exhaust systems and followers of "Phillip H Snith", I know that none the four primary pipes are exactly the same length to the last millimetre. I have increased the size of the secondary pipes to 1 3/4 inch diameter and fitting them all in while leaving at least half an inch clearance all around was quite a task! I can still take them off and put them back on again without having to remove any body parts, mudguards (fenders) etc which in my book is a major achievement. I still have quite a bit of welding to do and to tailor the "collector" for the end of the secondary pipes where the exhaust will go into the one, two inch diameter, pipe leading to the muffler.
This is a basic 4-2-1 system which I consider (among other people) to be the best arrangement for all round use. It gives a good spread of power over the entire rev range.
4-1 systems may give slightly more power at peak revs but how often do you drive a "road" car flat out?
I have just cut up a 4-1 system which has hung un-used on the wall for years. I wanted to use the steel base plate.
Bj.
The space below is for all the people who would like to tell us all about their favourite exhaust system/s........ Yes even MG owners, Here is your chance.....
4-17-2017
Back to square one, the original "Barker" inlet manifolds now fitted with a larger "Balance pipe" finally installed on the cylinder head, one more positive step towards having the Lagonda back together again and running.
Bj.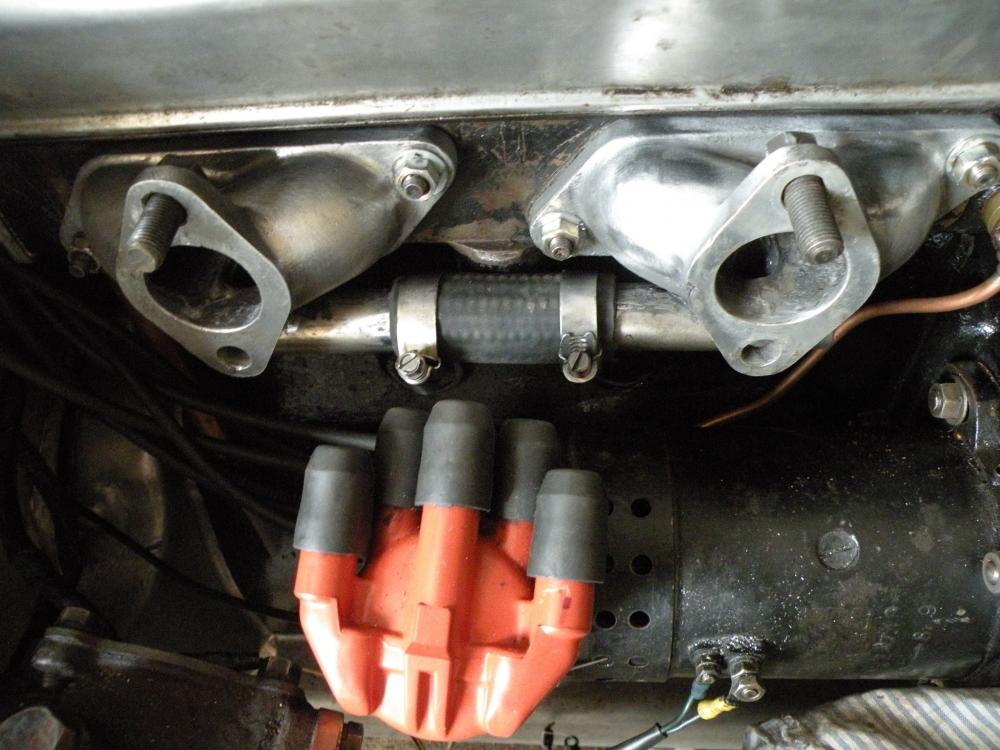 4-18-2017
Oh Dear! I must be getting old! I have spend the afternoon welding the exhaust headers together, sounds easy doesn't it? Just for six lengths of pipe, a steel plate with four big holes and eight little ones and two or three joining pieces. Having made a couple of false starts I decided that the time had come, I have replenished my two gas bottles and bought a couple of tubes of welding rod.
Some four hours later it is about 90% done. Possibly the tricky bit was making the headers so they went on and came off almost as easily, as I had explained earlier.
I can tell you now:- It ain't all that easy, another hour or three and it will be done.
It is now time to turn off the gas for today and get cleaned up ready to pour the cook that all important"Pre-dinner Drink"...... Cheers!
4-19-2017
With the exhaust headers all but finished I have turned my attention to fitting the carburettors. I am now waiting on some gaskets. With the headers in place I can then refit the muffler and tail pipe.
Once again I have run into strife with the inlet side, it is virtually impossible to mount the carbs onto the manifold with the dreaded balance tube in place. I have now removed this yet again and will investigate fitting screw-in plugs into the holes. This will involve cleaning up the holes and tapping a thread into them before making the screw-in plugs. I may be being over cautious but I cannot bring myself to trust the epoxy "stuff" to be a permanent fix. All it would need is for this to crack or partially fall out to weaken the mixture and cause havoc. I really cannot afford another major engine rebuild. Neither the cost in Dollars or the mental and physical strain.
Bj.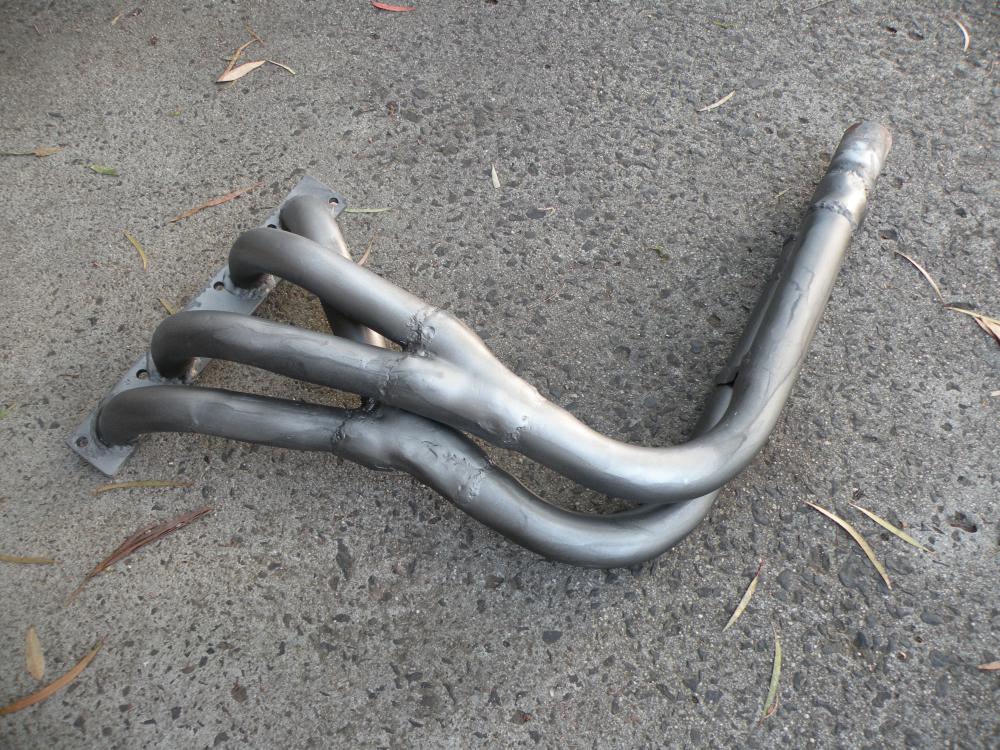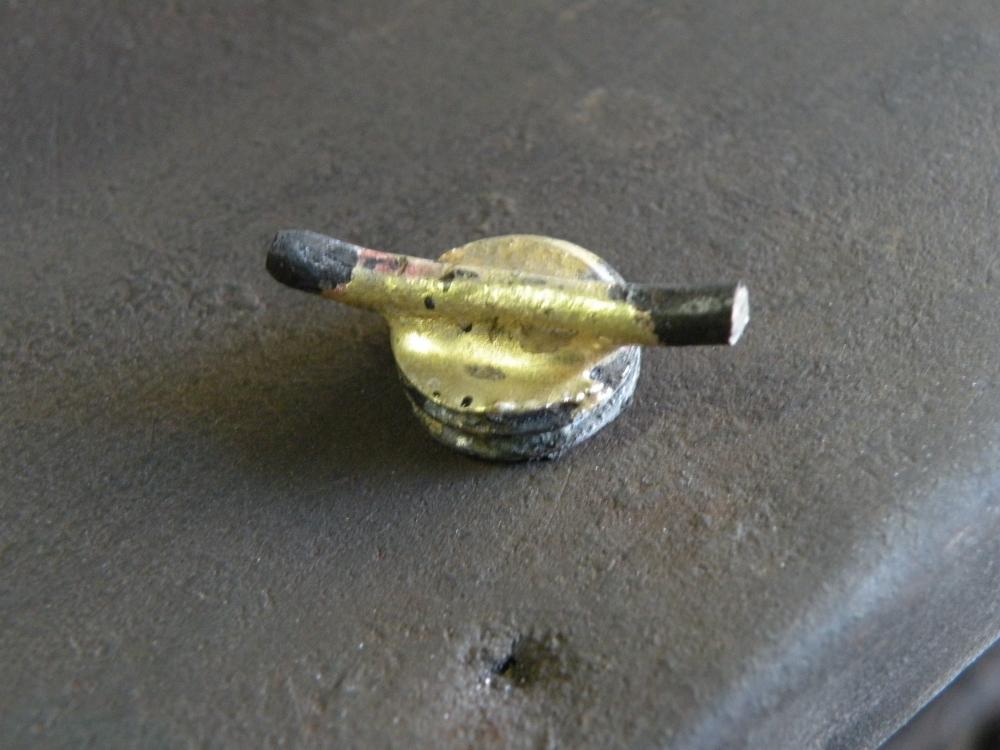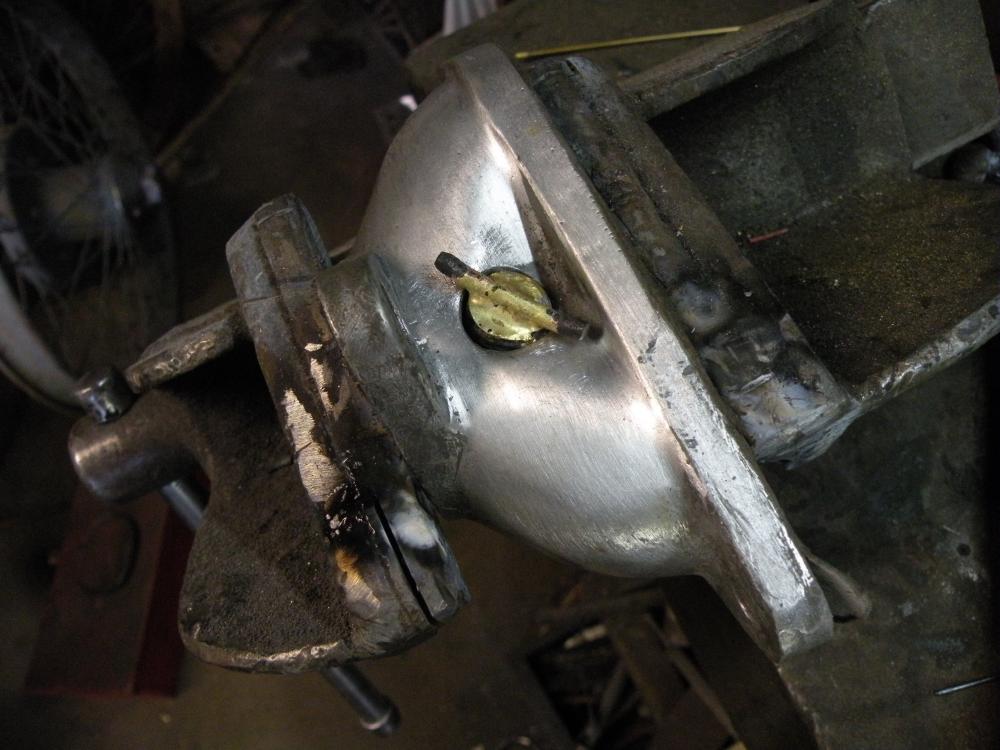 4-22-2017
Finally I have the Rapier all back together but I am having a small problem sorting out the static ignition timing with the electronic ignition. It may be something I am doing but to my simple mind it would appear that the timing of the point of spark is not properly synchronised with the rotor and the distributor cap. Using a timing light it would appear that it is timed to "spark" when the rotor arm is halfway between two pick-up contacts. If any of that makes sense. One thing is sure it does not want to start! I am tempted to pull it all out and put the points set back in. I am becoming very expert in throwing money into the bin....... I will wait until Monday when I can talk with the experts who supplied and fitted the Electronic set-up.
Apart from that and one or two small oil leaks it is looking good. I actually gave it a wash last thing this afternoon. It looks a whole lot better all in one piece and with all the grubby hand prints etc washed off.
Thank you Paul
It is one that I would sooner not have but I will keep you informed. The good news is that finally The missing parcel that was coming EXPRESS AIRMAIL from the UK has finally arrived. It was posted on 10/03/17 so I guess that the Express Aeroplane that was bring it ran out of steam or the Pilot got tired of pedalling.
5-2-2017
I know that most of you have already seen photographs of the Rapier engine before but for anyone who is interested here are todays photographs of the engine now that it all together and starting on the button and running nicely, idling smoothly at 800 rpm and 40 psi oil pressure.
So what is so special about the one "odd" cam cover nut? It is the last surviving example of Beatrice Shilling's dedication to weight saving. Purpose made at the Royal Aircraft Establishment at Farnborough (England) in the early 1950s it is Duralumin.
Bj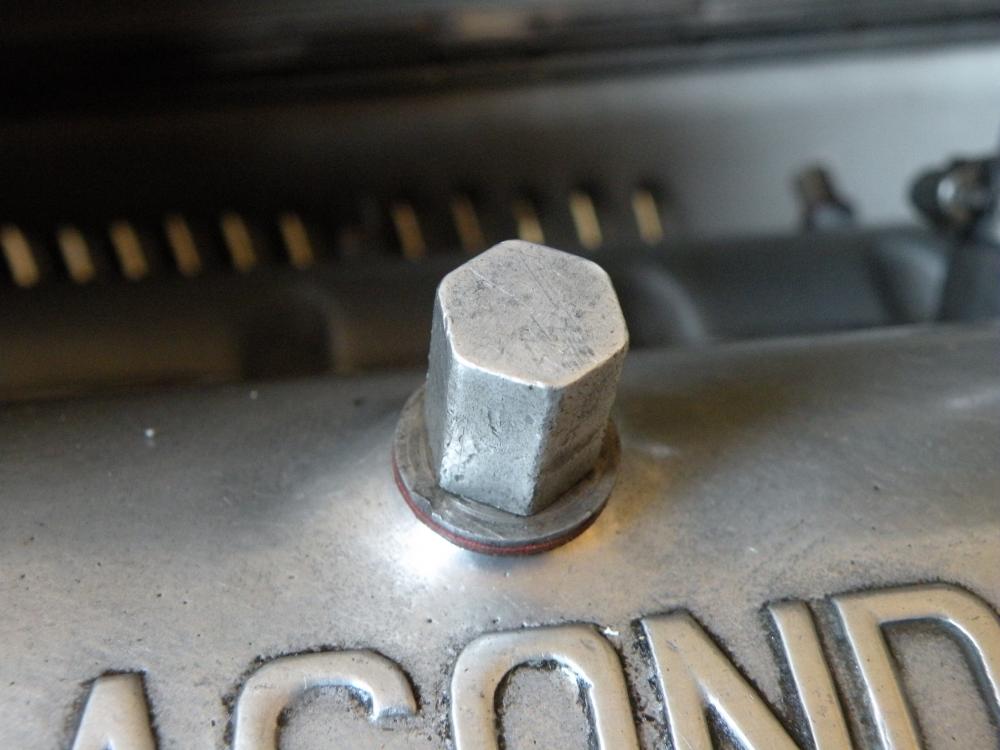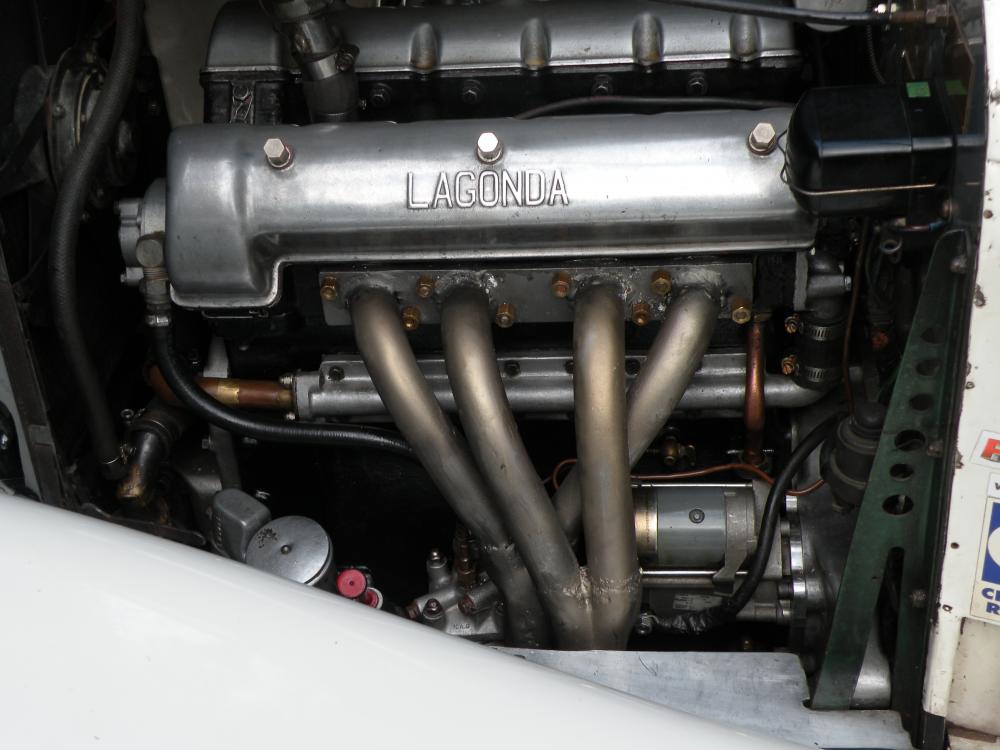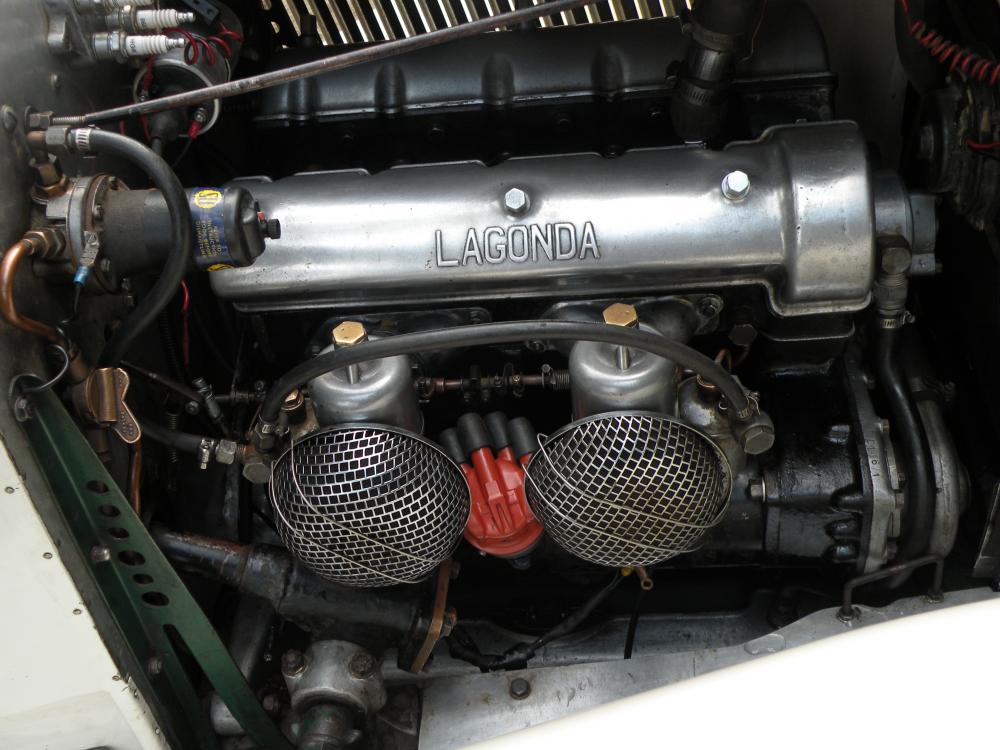 Hello Paul
Thank you, yes in the end I decided that was the best option, as Helen (my wife) commented; we have done over 100,000 miles using the same inlets. To use the "new" manifold would have entailed either making some significant alterations to the bonnet (hood) side or leaving it off. All this means that I now have a brand new inlet manifold sitting on a shelf that (cost over $200) I will not be using. To make a new bonnet side, or to make the necessary changes to the original to accommodate the carbs using the new manifold would cost nearer to $1,000.
5-6-2017
Almost unbelievably I am still having trouble when starting the Rapier from cold. I have tried three different heat range spark plugs and as many different gap settings. I am now back to the same NGK BP7ES that I have been using for years, with a 30 thou gap. I started of using 25 thou gap and have now opened then up slightly. (5 thou)
I have also decided to close the tappet clearance down from 14 thou exhaust and 10 thou inlet to 8 thou on both the exhaust and inlet (cold) but that involves ordering some new valve stem "thimbles". Tappet adjustment is done by using different thickness thimbles (what you may call "lash-caps"). Using some very clever engineering the cam followers can be moved side ways to permit the thimbles to be changed quickly and easily without all the bother of lifting the camshaft. some people are happy to use shims placed inside the thimble but I don't really like doing this as the shims tend to hammer out over time and it is possible for small fragments to drop down, eventually ending up in the sump. The engine does have a "Full-flow" filter but I still do not like the idea of little pieces of hardened steel floating around in the oil.
All this is my own fault, this engine has during my ownership, over the last thirty or forty years, has been run on various stages of tune from "Touring" to "Full-race" and now could be best described as "Fast touring" or perhaps "Super-Sports". Perhaps not what an eighty year old should be driving but then "Eighty is the new Fifty". That is years old not MPH!
5-13-2017
Just a little more progress on the Rapier, I have spent the last two days closing down the tappet clearance to .007 in on the inlet side and .009 in for the exhaust. While this may sound like a long time to adjust the tappets "it ain't that simple". As I was wanting to close the gap down and I really would sooner not use shims, I had to go through my small stock of valve thimbles and sort out eight thicker ones, measuring each one with my one inch micrometer. Then came the fun part, to grind each of these to the required thickness using an oil stone, removing a minute amount of metal at a time rechecking its thickness after a few minute's grinding, then finally trial fitting the thimble back on it's valve stem to check the clearance between the thimble and the cam follower with a feeler gauge of the required thickness having brought the cam to the point of maximum clearance. (ie the back of the cam). This process had to be repeated, turning the engine over for each valve. Pushing the car back and forward with top gear engaged.
It is now running much more quietly and idling nicely. Just as well as when I took the car for a quick run down the street, the first time in almost five months, I very nearly ran out of petrol. I had to switch over to the "reserve" to start it and drive into the car-port. At least I know that I will have finally got rid of the last of the dud petrol that was the cause of all the problems. Having drained out as much as possible I had put 10 Litres of 98 octane into the tank. I can now fill the tank with 98 and be fairly sure that it is not being contaminated.
For all the people unused to basic measuring tools I have added the photographs below. The oil-stone (carborundum) is held in my bench vice, This is more usually used for sharpening knive-blades and chisels. With care you can remove very small amounts of metal. The short piece of knurled rod is used to hold the thimble against the oil-stone while grinding the face.
Bernie J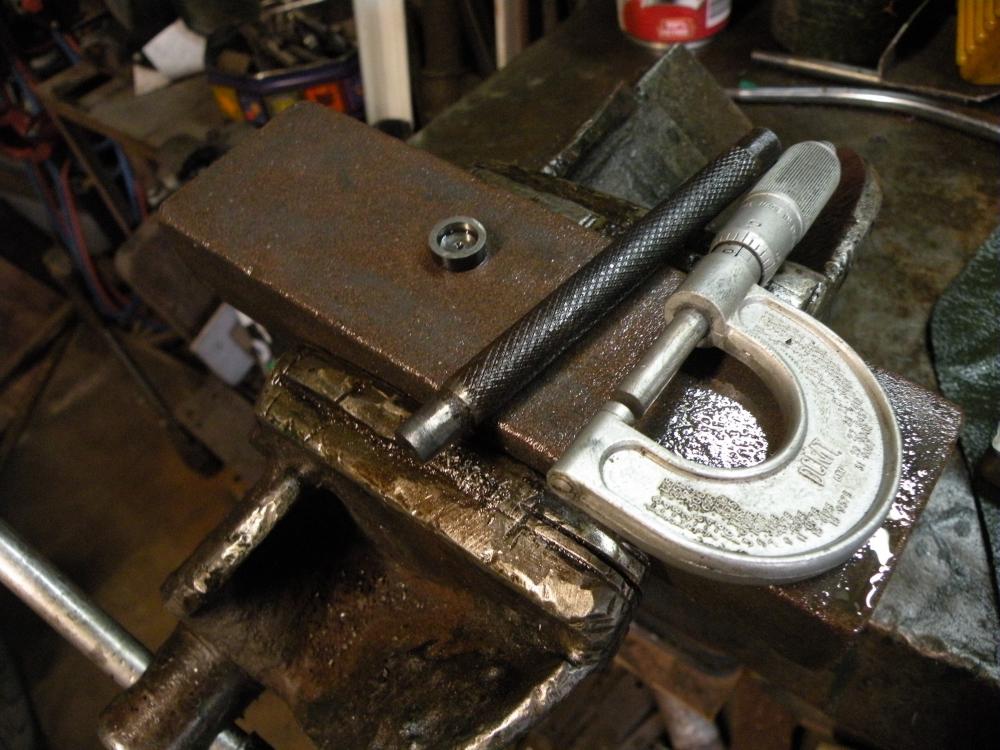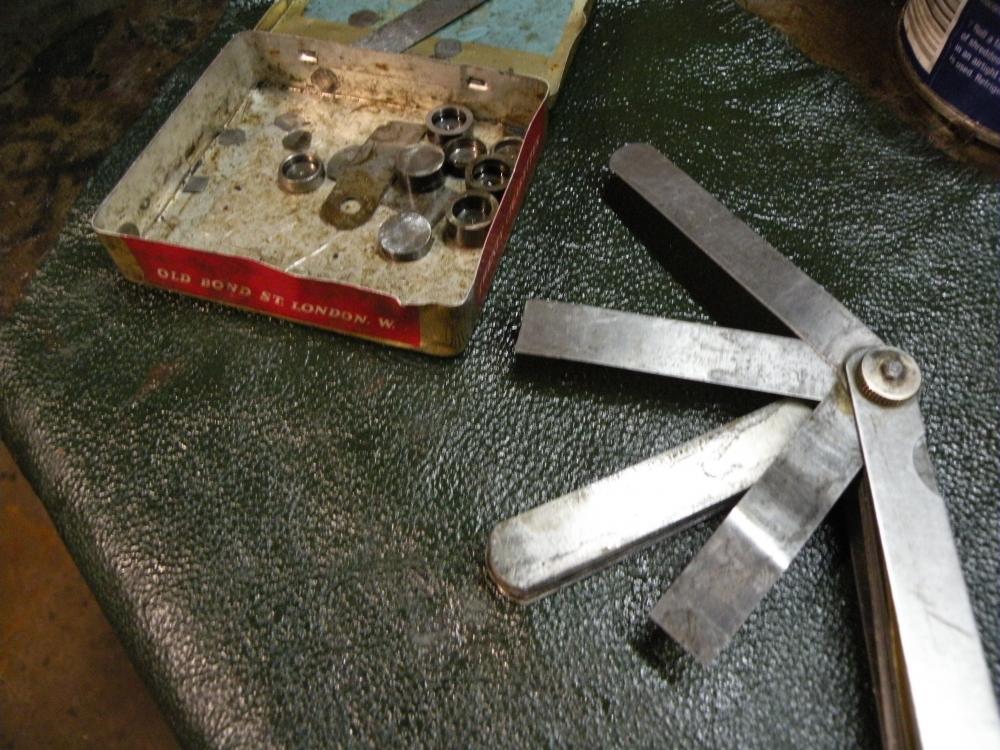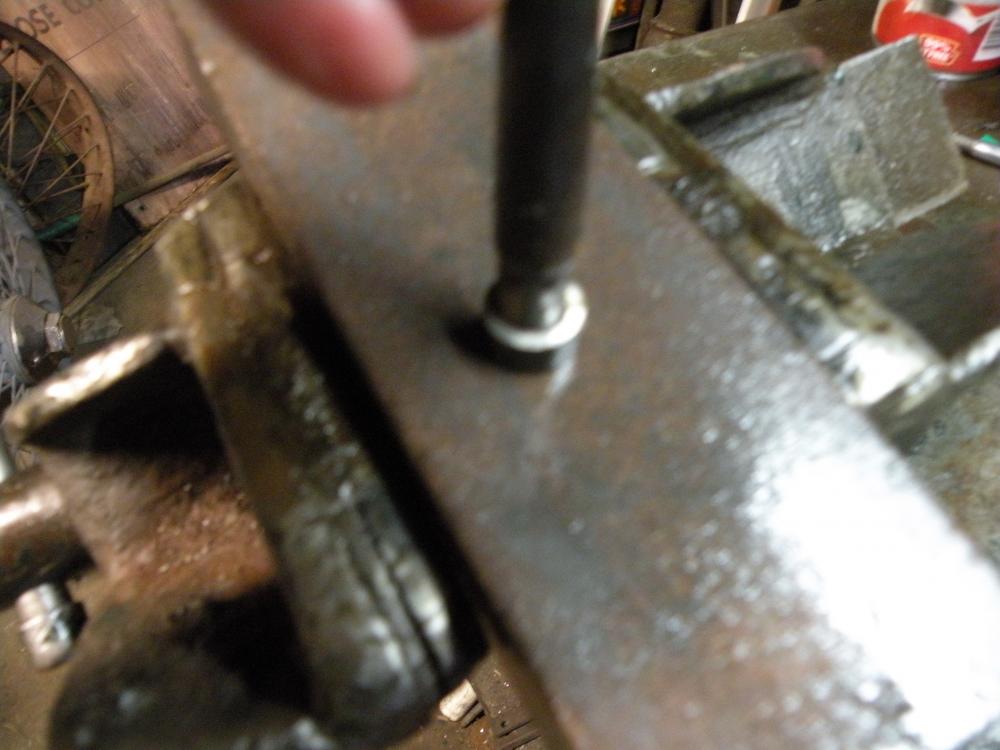 5-30-2017
With the Rapier engine all back together and running I was concerned about a little noise that I have tracked down to the water pump ( I think) like all the things on a Rapier engine rather than having crude rubber belts and pulleys to drive them, the water pump is driven directly off the front of the gear that in turn drives the dynamo (generator ) and then the distributor which is driven by another pair of gears at the rear of the dynamo. The water pump drive is a straight forward dog engagement. I now have the water pump dismantled and having inspected it can see no possible source of this noise but I will repack the two (one ball and the other roller) bearings with high temperature grease replace the "O" ring and cut a new gasket for the joint where it bolts onto the timing case. While I am doing this I will put a light smear of grease onto the dog coupling. Hopefully when I restart the engine the noise will have gone away, and the pump will not start to leak. To date it has been completely free from leaks ever since I last put it together almost 40 years ago. The ceramic/rubber seal looks as good as it did when new. I only hope that it does not mind being disturbed. Taking the water pump off requires the radiator and bonnet (hood) to be removed. The two photographs show the front of the engine showing the oil pump which is driven from the front of the "triple sprocket" which carries the timing chains to the camshafts. It has the inlet pipe bringing oil from the sump disconnected to make access to the four nuts that retain the water pump. The second photograph is looking in through the timing case to reveal the water pump drive "dog". The round cover plate gives access to the oil pressure releif valve while the diamond shaped plate gives access to the tensioner for the botton timing chain. The drawing shows the entire timing gear/chain arrangement. Rather that one long chain "flapping around" the three gears and three chains keep everything nice and compact. The sprockets on the front of each camshaft have a vernirer adjustment to allow very precise valve timing, With every thing well thought out and precise makes working one the engine a real pleasure. My admiration for the Rapier's designer the late Tim Ashcroft never ceases.
The close up photograph of the front of the engine shows it as it was just after the water-pump has been removed. This still has to be cleaned up prior to re-assembly. Anyone with even limited engineering experience/knowledge cannot fail to be impressed. I have owned and worked on these cars for over 50 years and still enjoy every minute whether it be working on them or driving them.
Bernie j,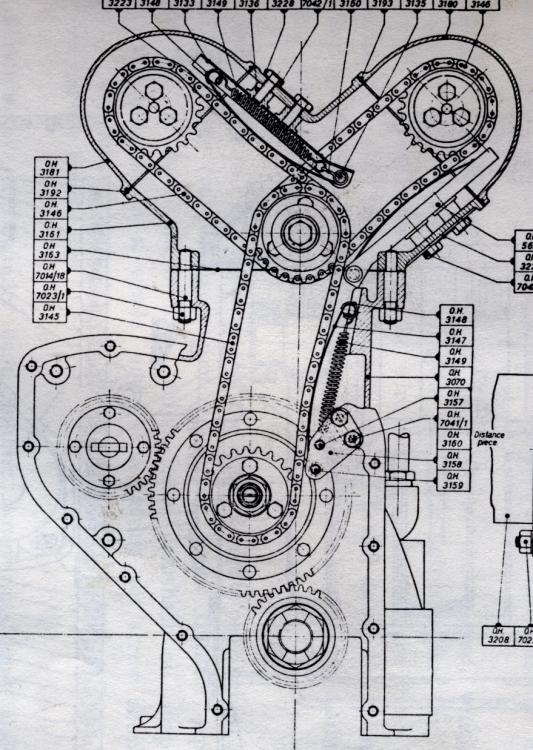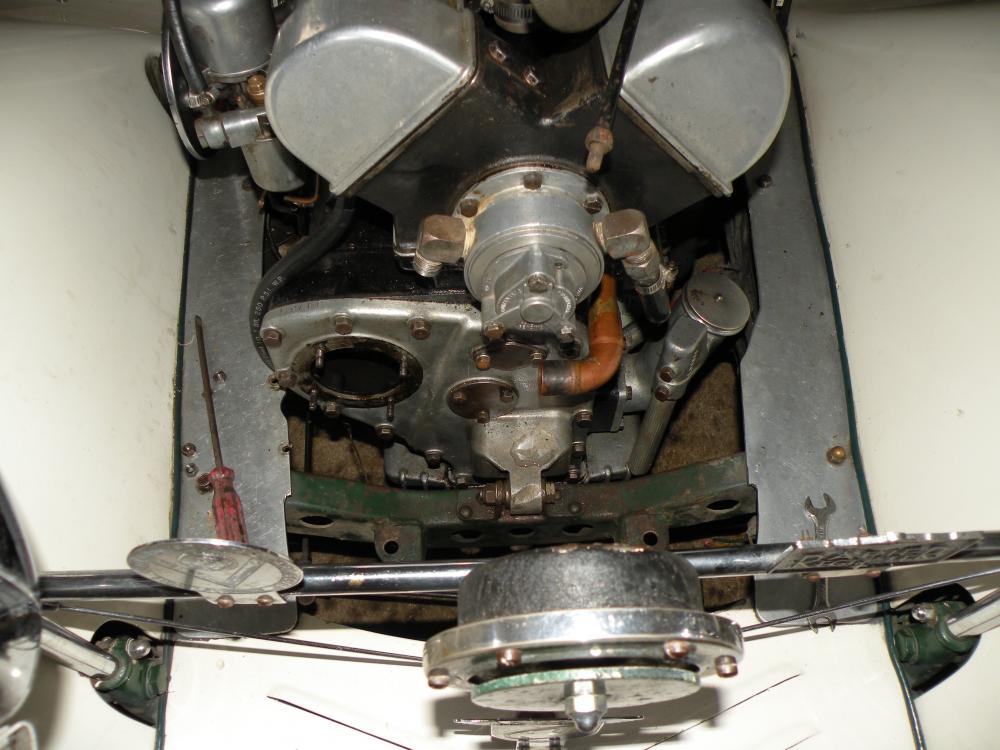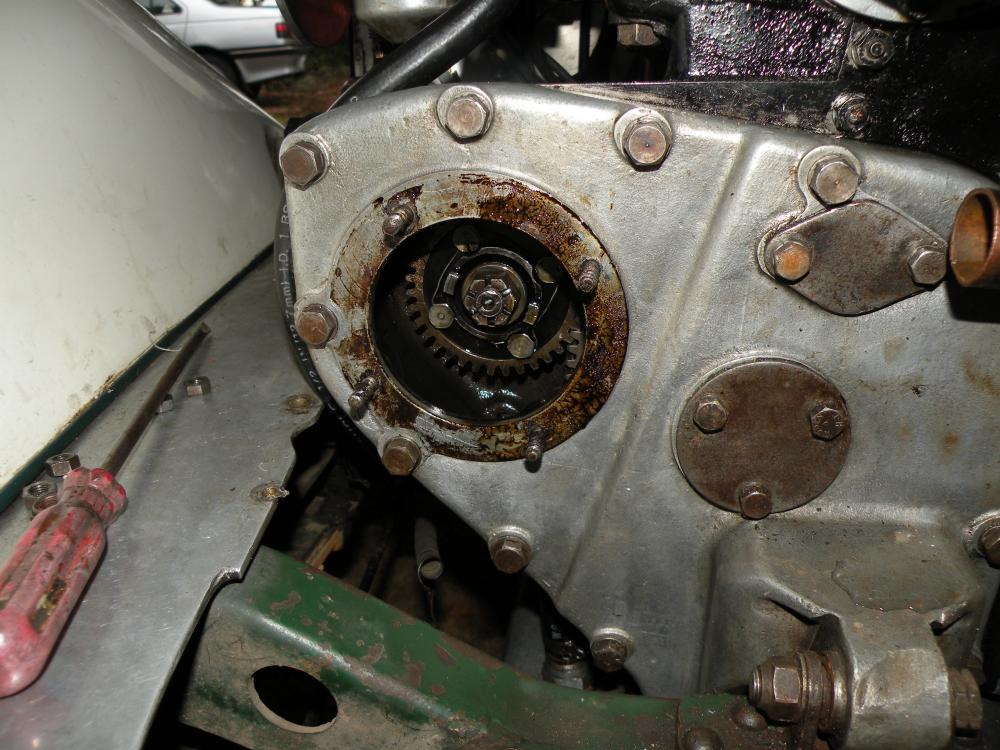 5-31-2017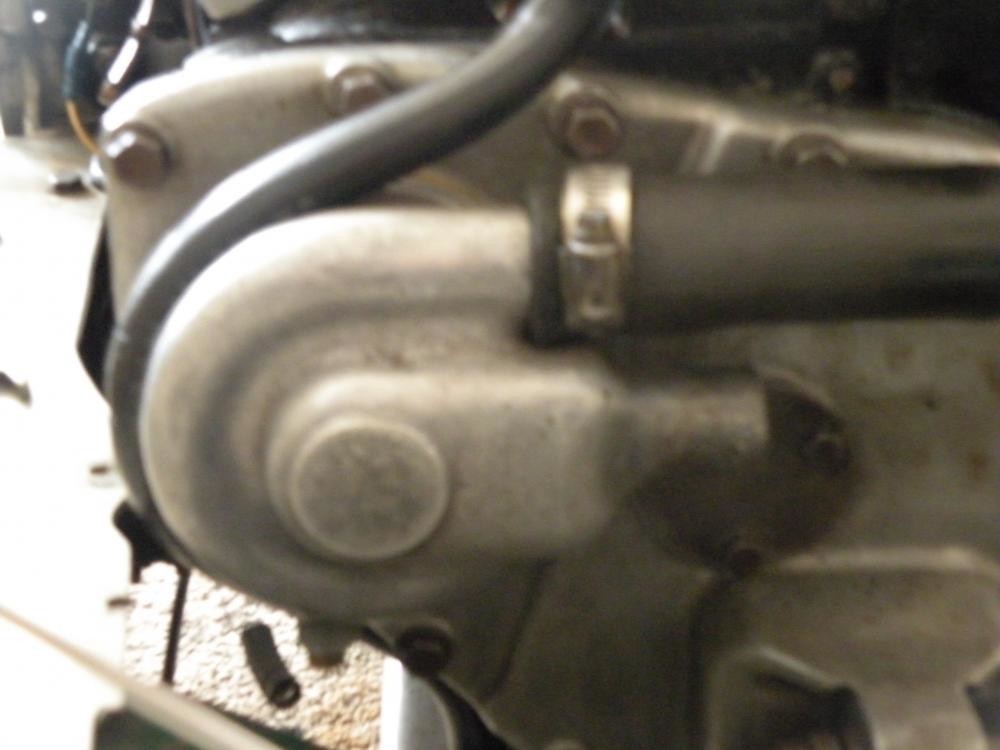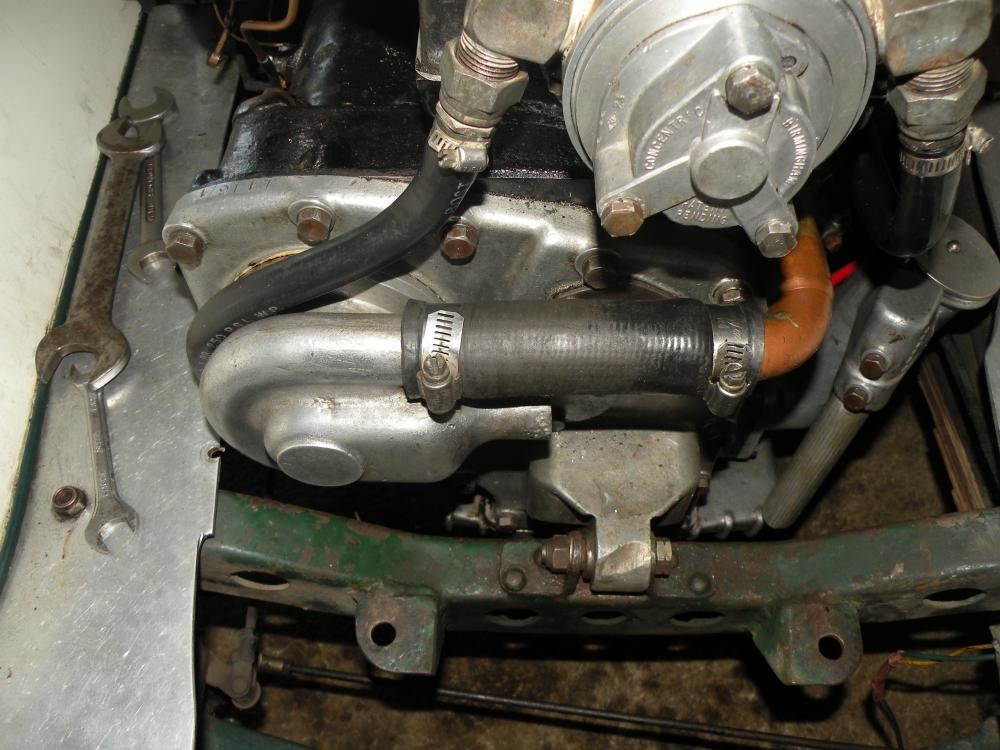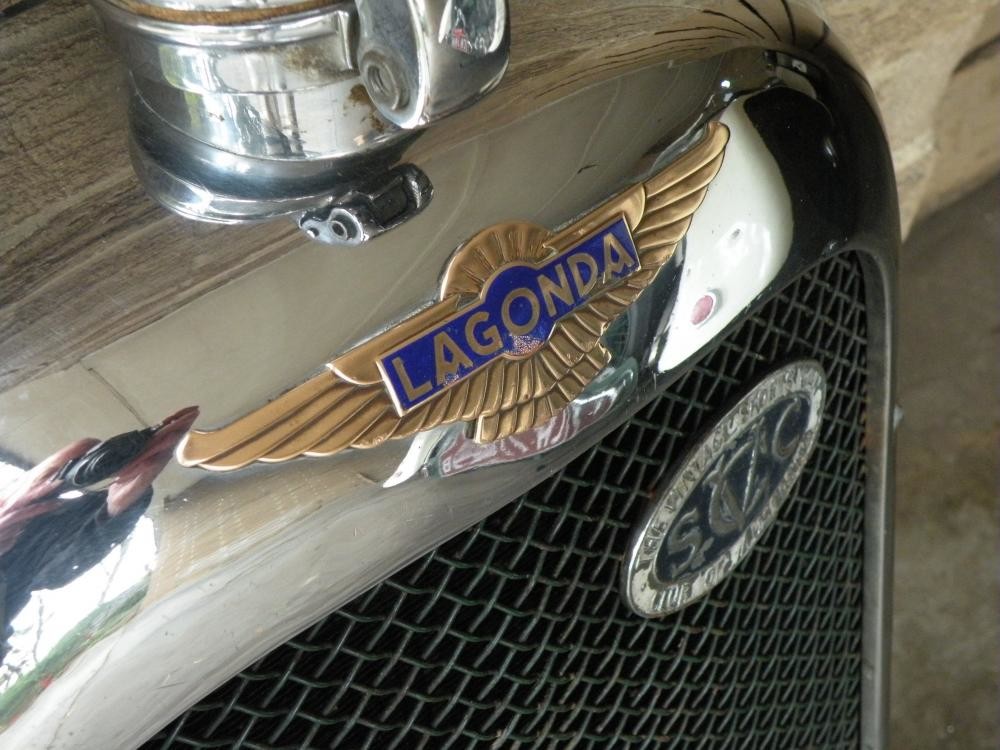 As winter is just around the corner here in Australia officially starting tomorrow it means an extra layer of clothes when I am working on the Rapier in our rather windswept carport. Yesterday all I managed was to finish re-assembling the water pump and fitting it back onto the motor. Much of the morning was spent loading the 1912 Humber for its first part of it's long journey back to England. The later part of the afternoon was spent removing the shell from the radiator. Somehow this had ben knocked over somehow while shunting the Humber into place for loading it onto the tilt-tray truck. To my horror when I lifted it up I saw that it had come down heavily pushing the badge back and making a nasty looking dent. With the shell removed I have been able to carefully, aided by a small rubber hamer, restore it back into shape but doing this took up an hour and a half out of the afternoon, Fortunately there is only very minor damage to the enamel in the badge. With a polish it will be almost impossible to tell.
6-3-2017
Nothing like you enjoy in the US. We live in Melbourne which is in the South East corner of Australia. Being in the Southern Hemisphere this puts us nearer to the South Pole if you disregard Tasmania which is an Island south of us.
Our location (Melbourne) in the world is Latitude:S 37° 48.8551'. Longitude:E 144° 57.7901'.
By comparison New York is Latitude: 40°42′51″ N Longitude: 74°00′21″ Latitude and longitude of Florida is 24° 30' N to 31° N and 79° 48' W to 87° 38' W.
Which in simple terms places us closer to the Equator than New York but not as close as Florida.
This morning the temperature outside was 7degrees Centigrade and to me that feels cold but having said that we virtually never have a heavy frost in the mornings and only very rarely have snow in the nearby hills. I cannot remember when I last wore an over-coat. My study has no heating and I am sitting here in just a shirt and pullover and a pair of cord (velvet) trousers. It is a little chilly but not so that I need to wear anything extra. Looking out the window there is a clear blue sky. I hope that this helps.
6-5-2017
Thinking about it, my intoduction to Studebakers was much earlier; I must have been four or five, I Started Primary School at age four and a half in 1940, during the earliest years of WW2. Our neighbourhood Grocery-shop proprietor drove a 1928 Stude tourer that he was extremely proud of. It was washed and polished every Sunday morning in the rear right of way (back-lane) behind his shop. No Super markets then. Shop-keepers lived in residences behind or above their small shops. Those were the days when Biscuits came in large square tins and were weighed out and placed in brown paper bags at the time of purchase. Broken biscuits were removed and very good little boys were given one or two when their mother was purchasing groceries. Nothing was pre-packed but weighed out at the time of purchase.
That must make me very ancient!
6-18-2017
Looking back through all this stuff, I have not driven he Lagonda since the start of December last year. If it stays in the garage much longer I will not have to worry about replacing anything, it will have taken root. Changing the subject ever so slightly I actually pulled out the lawn mower and cut the grass of our minuscule back lawn. This is now much less time consuming since I found this magic product. My normally recalctrient mower fired up first pull of the starting cord. Unbelievable! Just a short, three of four second squirt into the air intake and it was "All systems go, up, up and away! "

6-19-2017
After some anxious waiting the Royal Mail man has done his stuff and has earned his UK £3.30. Despite the advertised 5 to 7 days delivery time, he has excelled himself taking just 17 days to frantically pedal his bicycle all the way from the Welsh Borders, UK to East Doncaster, Australia.
Perhaps I can now finally finish putting KG 5363 back together again.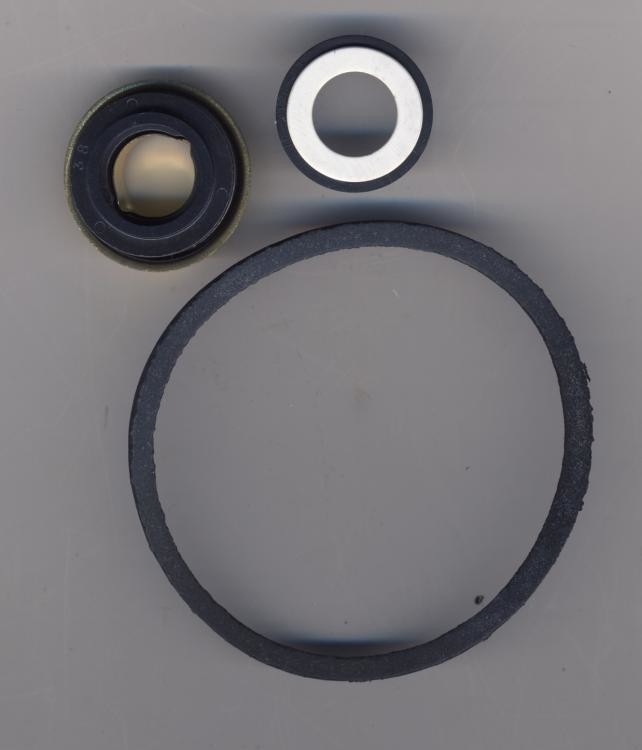 6-20-2017
Some progress on the Rapier today, our son Steve called in and was able to assist me in pressing the new seal into its housing. The water-pump is now back together and fitted. Tomorrow I have the delightful job of re-fitting the radiator and the bonnet (hood). More lying on the cold garage floor. One thing for sure is that I will not be going to sleep.
6-21-2017
I too threw my "creeper" away years ago. I use pieces of carpet and rotate them, simply throwing them in the bin if they get too grotty. The good news is that with the new seal in the water-pump and almost everything back how it should be, the Rapier is running and I have only to pin down one or two small oil leaks before I take it out for a road test but it is sounding great (at last). I will have to re-torque the cylinder head nuts once it has done a few miles. It is incredible how much difference the new exhaust headers seem to make. The old ones were almost 40 years old and had quite a number of repairs and patches over that time. Also I changed the design very slightly to make them easier to fit and take off. I am still using the same muffler and tail pipe. The muffler is in good rust free condition, so I really have no need to change it. I do not like excessively noisy exhausts.
7-15-2017
For the Tour de France watchers here are some photographs from our 2014 visit to the Pyrenees.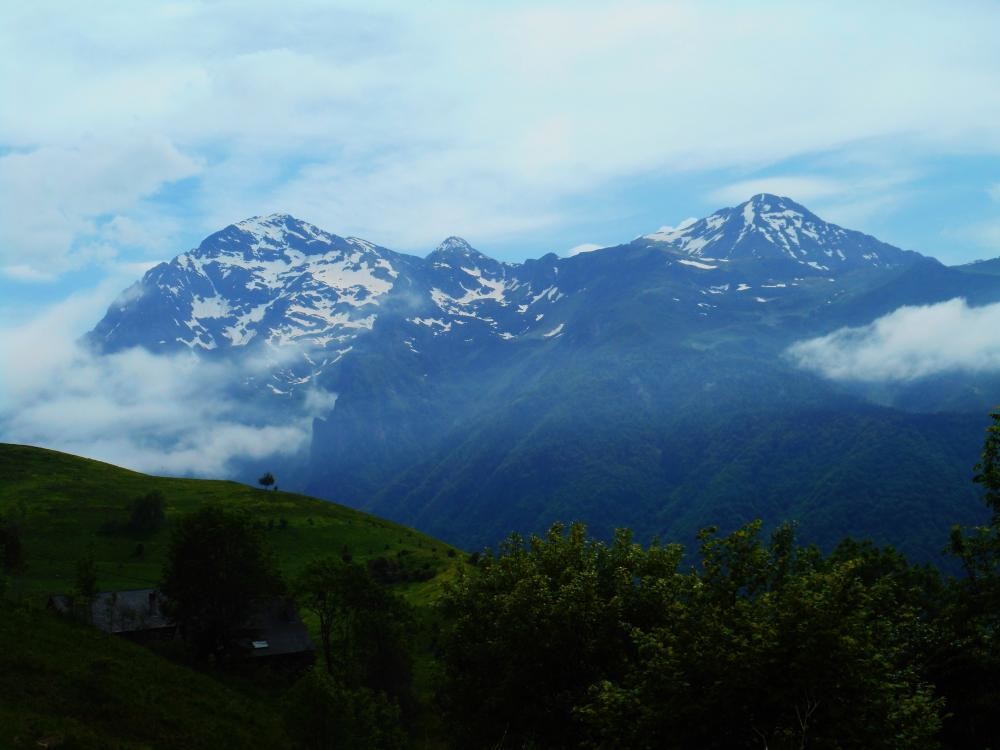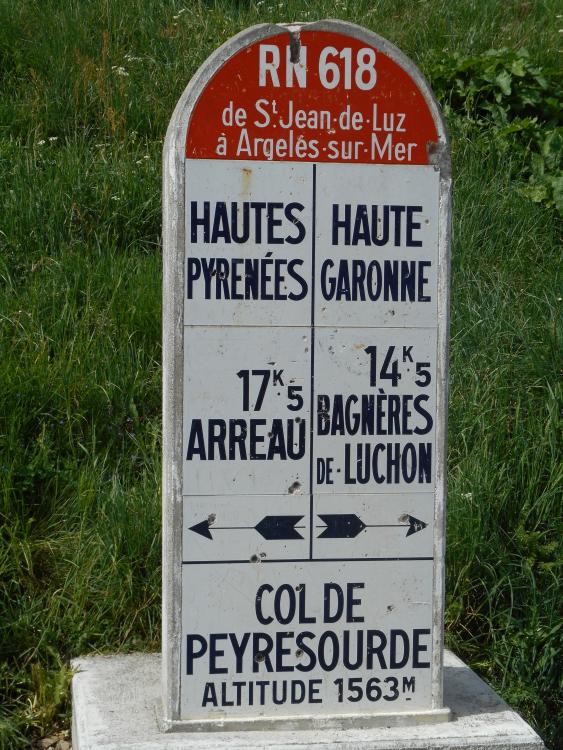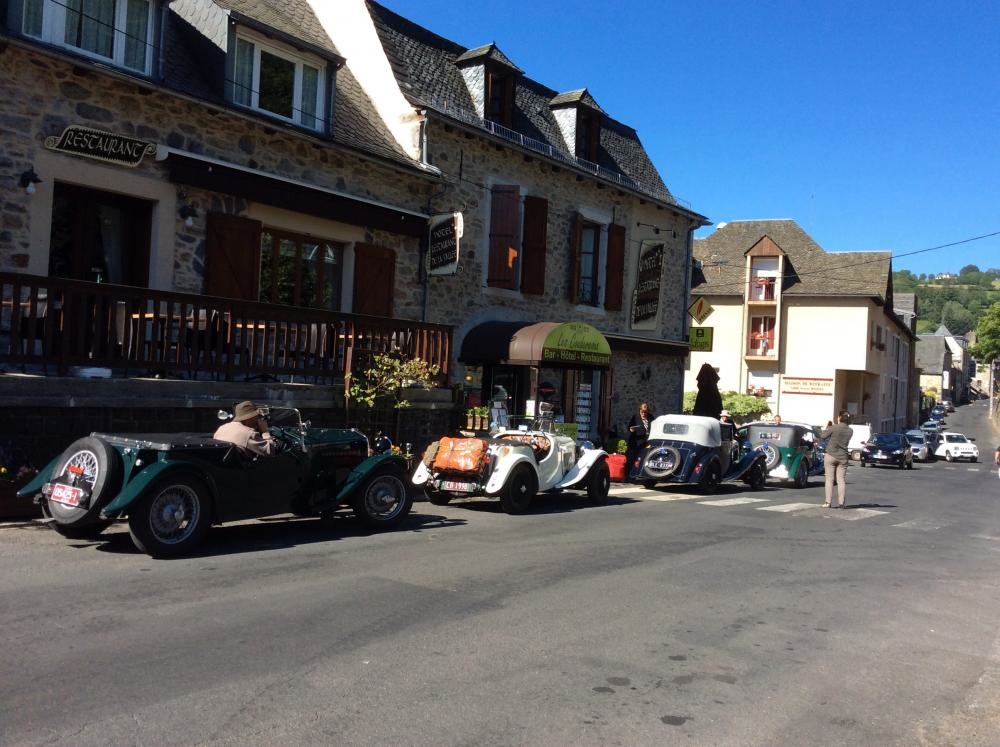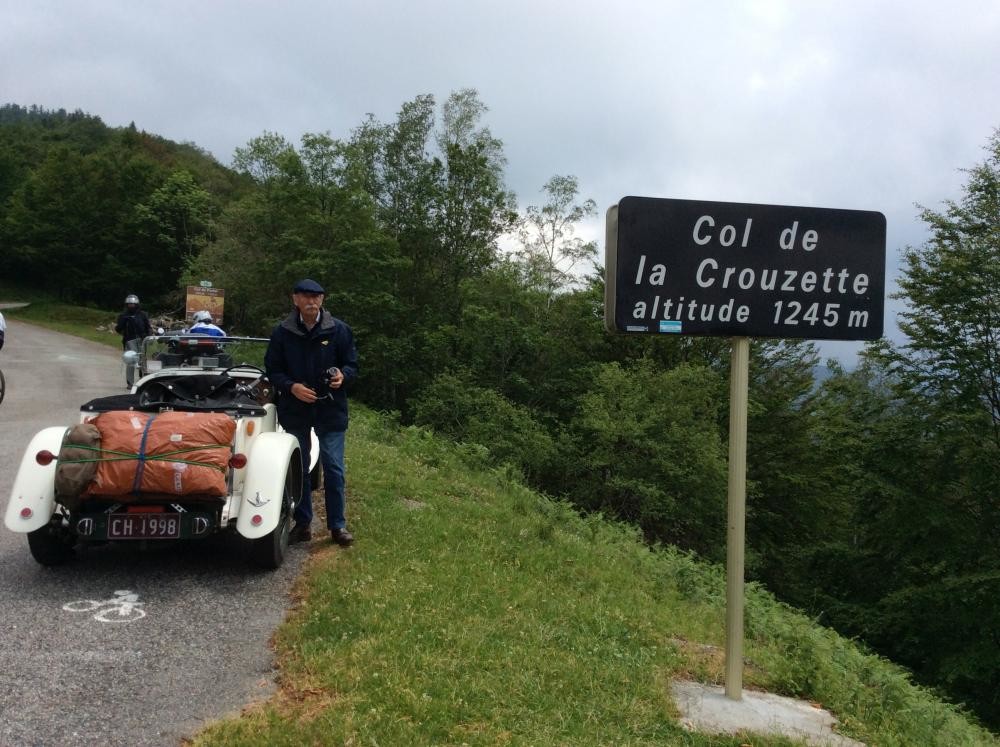 7-30-2017
What a good little car!
After priming the carbs it started almost instantaneously and once warmed up idled at its usual 800rpm at 40-60 psi oil pressure. I am just being lazy, I need to take it for a good run to get up to it normal operating temperature so I can re-torque the cylinder head nuts. I really do not know why I allow myself to get side tracked by silly little cars, rubbish like the Triumph.
Rubbish that is, in comparison with the Rapier!
8-19-2017
While I have been somewhat diverted by my latest "adventure", an early 1920s Studebaker Light Six, I did drive the Rapier out through the nearby hill country to spectate at the VSCC Rob-Roy Hillclimb. It is going as well as ever but I did discover that it was loosing water from a leak in the radiator "top-tank". I have to attend to this before we go on the VSCC's Western District - Wimmera Wander in mid-September.
8-29-2017
Back in April I was concerned about the inlet manifold and my attempts to add on a balance tube, now some months later I am still not happy and have decided to abandon the balance tube completely. This has left me with a 15mm hole in the underside of each of the two inlet manifolds. I have found it impossible to buy a short length of 15mm Aluminium rod but I could obtain a short offset of aluminium bar. After two or three hours with a cut-off blade in my angle grinder and another hour or so on the entry wheel I have managed to create two plugs that are a sung fit into the offending holes. I have bought a pack of aluminium "brazing" rods although a friend has told me that he had not enjoyed a great deal of success with them. It is terrible but I seem to have lost confidence in my own ability to do jobs that I would not have given a second thought to five years ago. The other option is to take them to my son Steve and ask him to weld then with his mig welder. I worry that if I have a failure and have to face another major engine rebuild, I simply could not do it, either physically or cost wise. First I will experiment with the brazing rods on some scrap aluminium. The other option would be to just park the Rapier and not drive it again, something I could not do. I hate to admit it but growing old is no fun! One other option is to get some steel plate lazer cut to form the flanges and construct a new inlet manifold using steel tube. First thing is to experiment with the "brazing rod". Meanwhile the Rapier is standing there with no carburettors fitted looking like four little baby birds in a nest all with their hungry mouths open wide.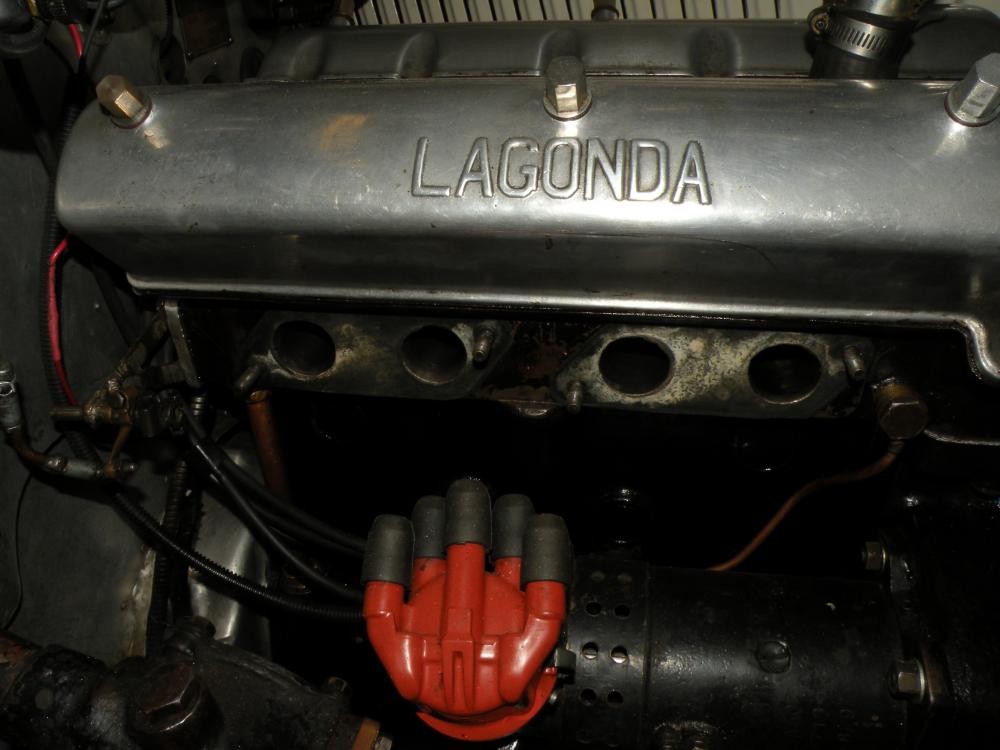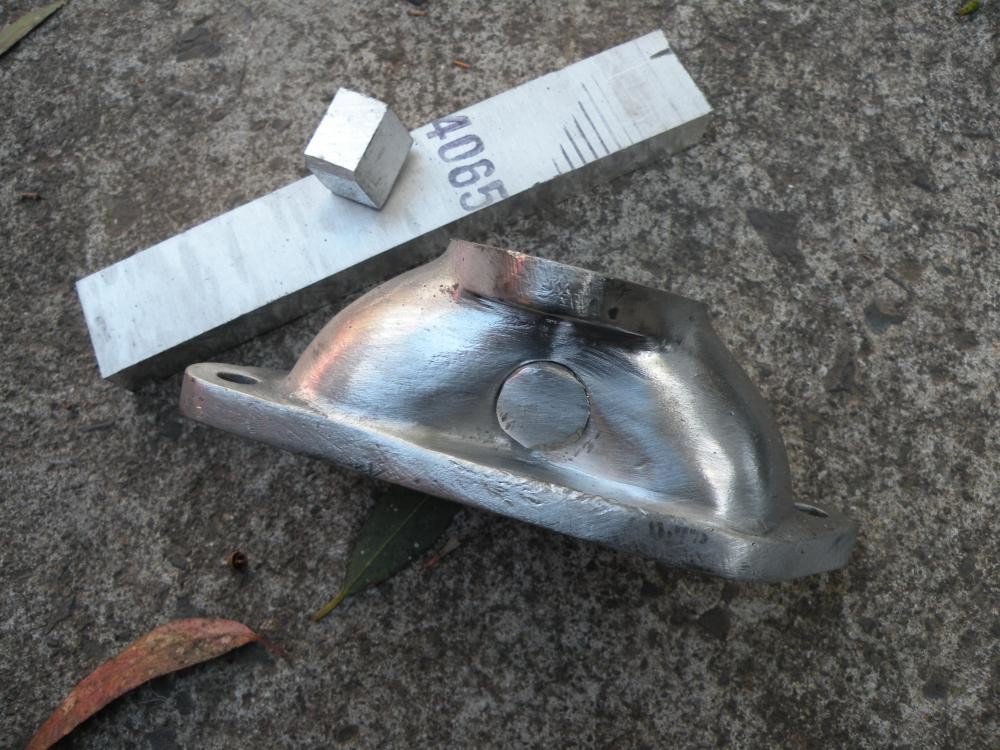 9-22-2017
We have just returned last night from an extremely pleasant, if you disregard the howling gales and torrential rain, four day tour in the Rapier.
Naturally we had the hood (top) securely stowed away in its envelope at the rear of the luggage space behind the seats. For most of the trip we were driving on narrow (single lane) country roads. Over the four days we covered just over 1,600 miles. We did experience a couple of minor problems, probably mainly due to the condition of much of the road surface.
We had a clevis pin fall out of one of the linkages in the remote control gear change mechanism leaving the car stuck in third gear. The generator stopped charging due to a problem in the Voltage regulator and the silencer and tail pipe came adrift from the engine pipe.. All these were attended to on the roadside using the tools and sundry spare nuts & bolts etc, carried in my "hand-bag. The gearchange simply required as a tempory fix a 1/4inch bolt about an inch long and nut secured with a drop of Locktite. The Generator charging problem was again a tempory fix, this simply involved shifting one wire from one terminal to another in effect by-passing the voltage regulator while retaining the "cut-out" working normally.
With the exhaust this again required the use of two spanners and the "Knock-on" wheel nut hammer and probably ten to fifteen minutes of my time to replace the "slip joint" between the muffler and the engine pipe and tighten up the clamp.
The first photograph shows the terminal block under the Voltage Regulator/Cut-out. As a tempory measure to restore the charging to the battery the (green) wire is moved from F terminal to join with the (blue) wire at the D terminal.
The second and third photographs show the Rapiers own "Handbag" bought a great many years ago from a local charity shop, this is a high class ladies leather hand bag, It has a number of divisions and pockets with "zip" closures. Being soft leather it does not rattle and fits snugly into a space behind the drivers seat.
These "bags" can usually be found in your local "Charity shop" for a donation of around five dollars.
The next three photographs are of the space in the rear of the car. This has a hinged lid. The long grey cloth envelope contains the folded hood (top) useful things such as a screw jack and its handle, hand (tyre) pump, red reflector folding saftey triangle (required by law in most European countries and some Australian states), two yellow "saftey vests"(ditto) a pair of navy blue overalls and of course the copper K-O wheel nut hammer. The hood (top) bows fit snugly into a clip holding them against the outside of the tool compartment lid.
Very observant people will have also noted the Red handled Straw broom (whisk brush), Red fire extringuisher, and the blue and white "Golf umbrella" bought in the England in 1984. The pleated padded occasional seat is actually the lid of the battery box. Also just in the picture of the "light-weight" lid of the tool compartment is a 12 volt lead light.
All these have travelled with us in the car on all our journeys. I work on the assumption if you have these things the chances of needing to use them is greatly reduced. Most have been in the car ever since it was first "put back onto the road" in 1978/9. While many ignorant people "rubbish" Lucas products, even if they do fail on the very rare occasion. They very seldom fail to "get you home" if you have bothered to learn just a few of the simple facts surrounding the Lucas systems. All the British cars, trucks and tractors equipped with Lucas electrical equipment share a common colour identification system for their "wiring". Unfortunately many home mechanic & "restorers" fail to recognise or do not go the trouble to learn even some of this, very much to their own inconvenience. After working on English cars for most of my life I have come to the realisation that most Lucas products are so b***dy good that people simply do not bother to give them the maintenance that every item, in or on your car, requires from time to time.
Just remember, that it should be only AFTER
the fire, that the coating on all your cars electrical wires are "black"!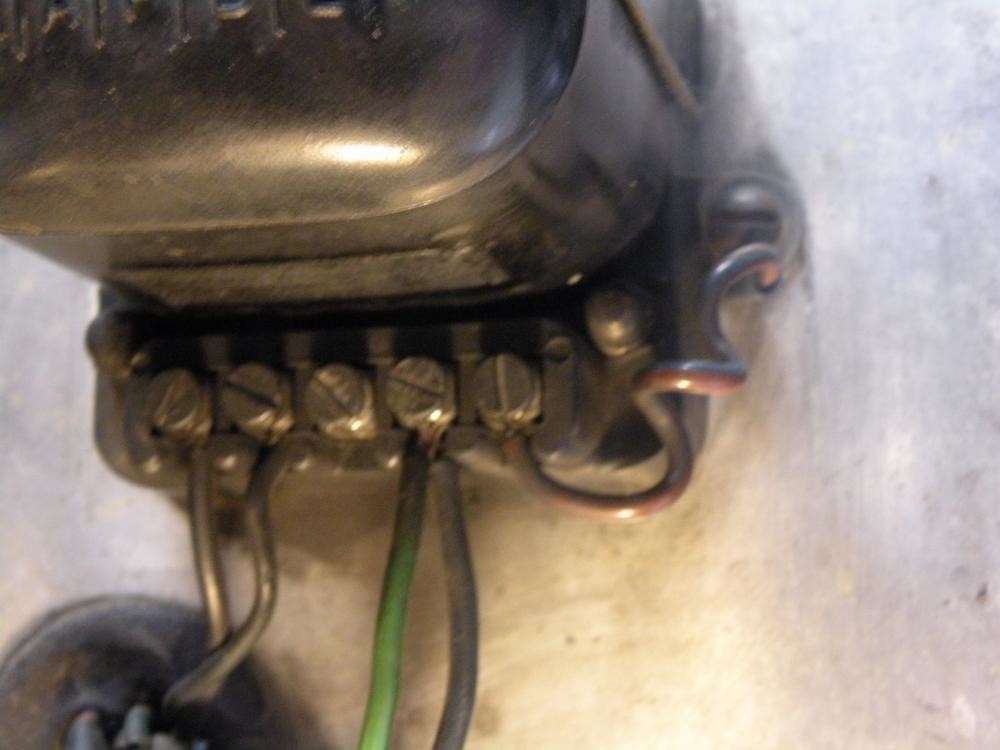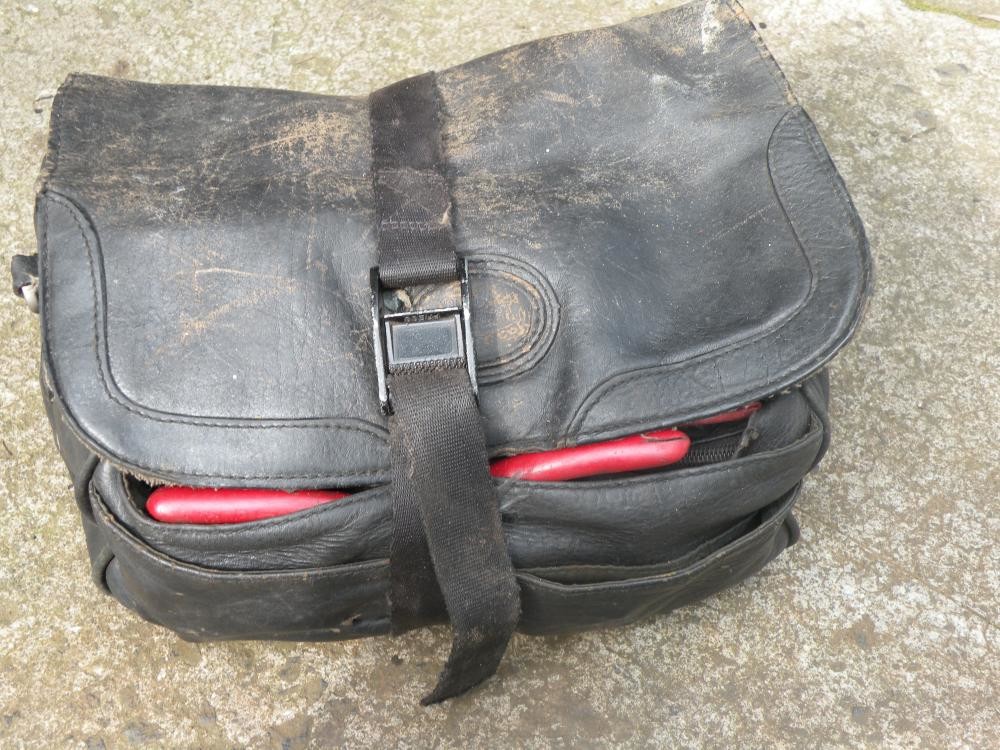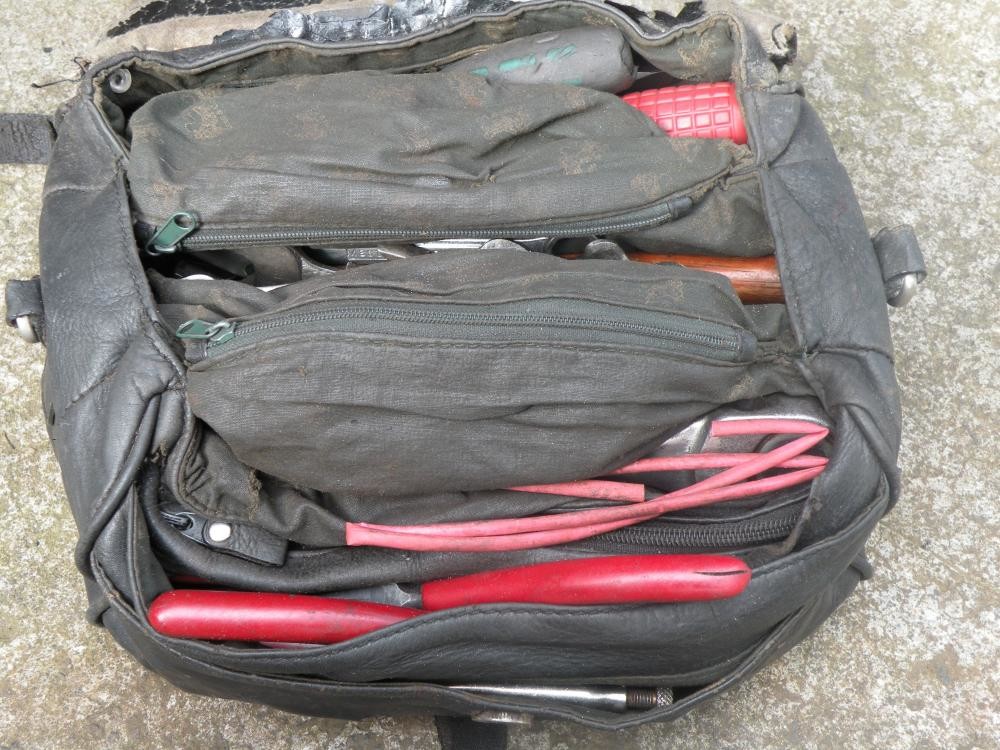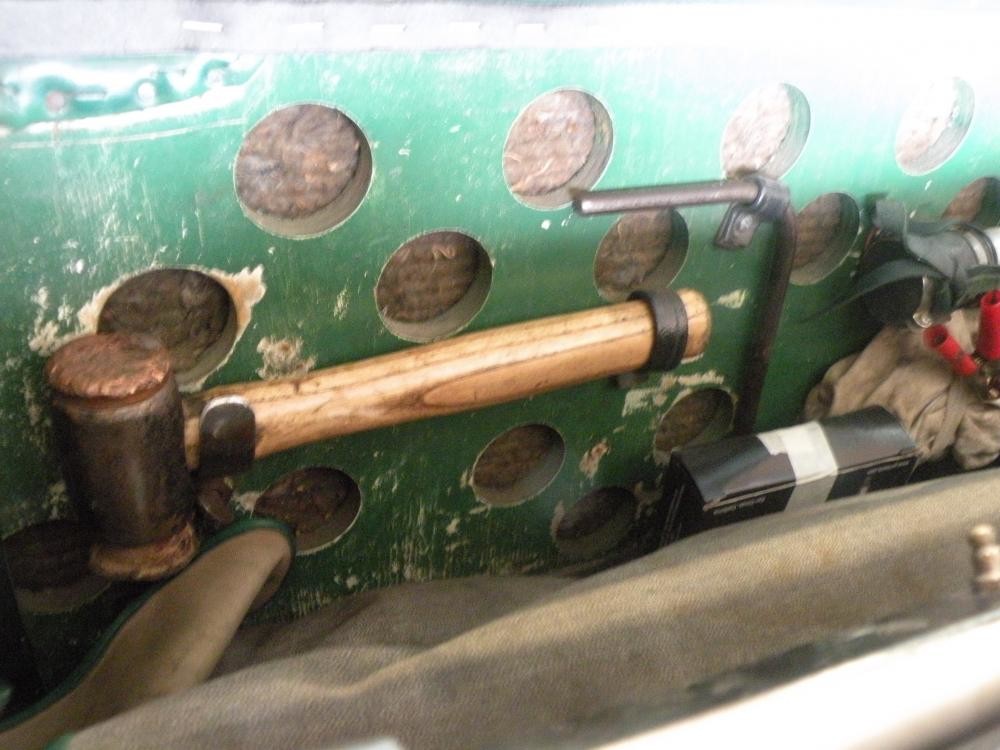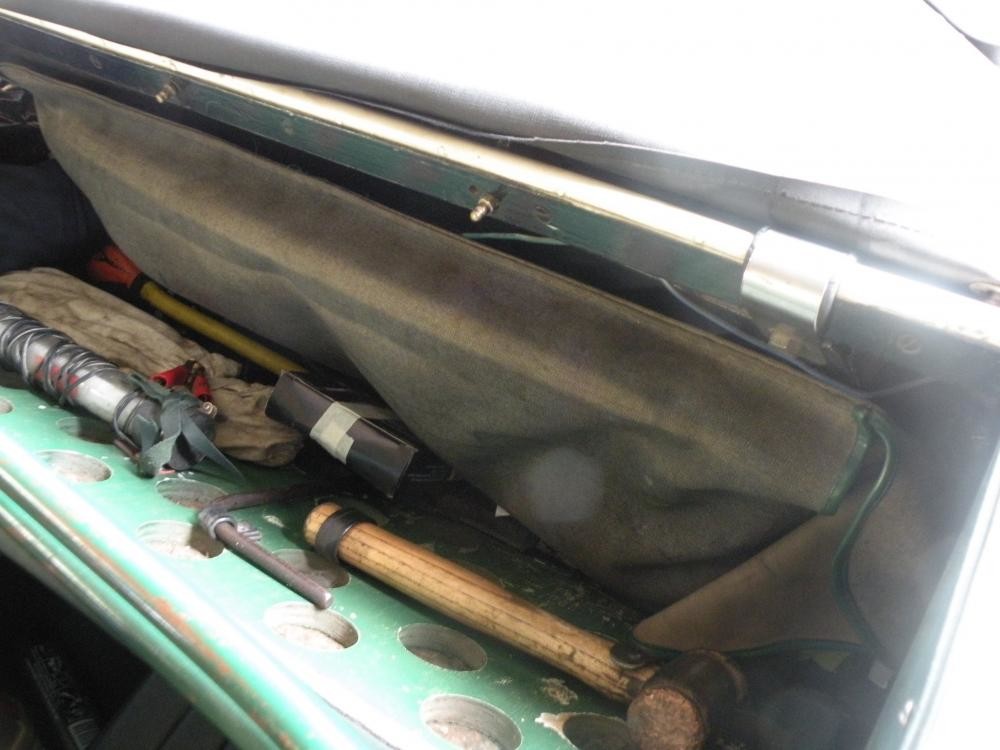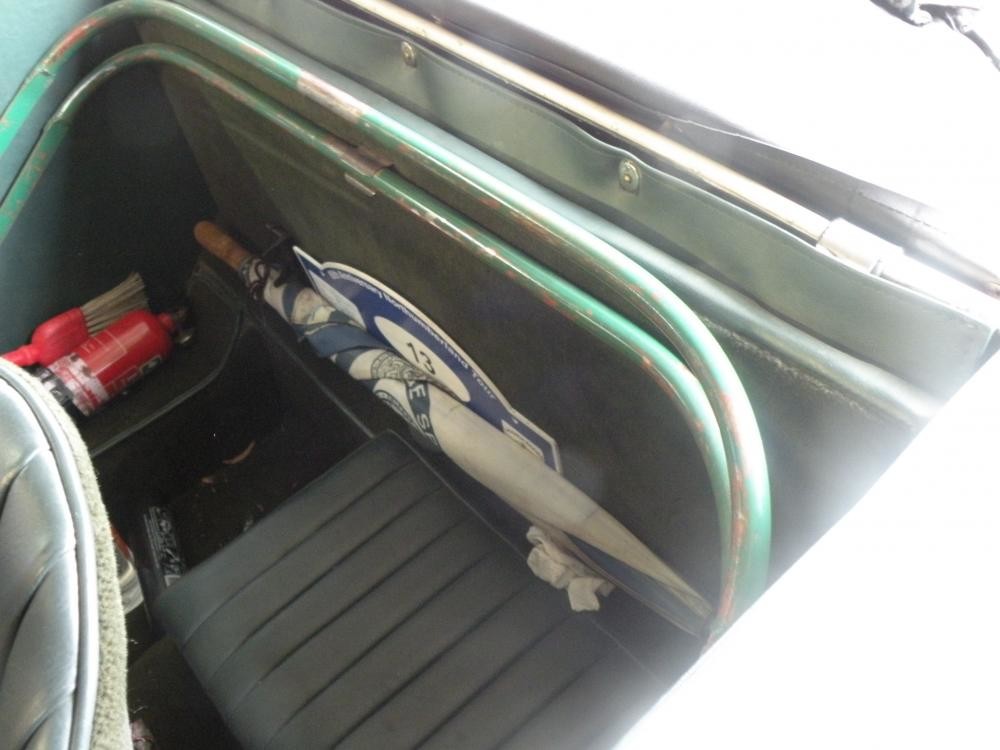 9-23-2017
VSCC Mid-week Wimmera Wander
All those with even limited knowledge of the Geography of the World will agree that Australia is quite a large country. Those with an even more detailed understanding of the place will agree that whilst the smallest mainland state, Victoria is still large enough to comfortably swallow up the whole of England with some room to spare. Having established that; we can continue with our description of of our four days motoring in just a comparatively small corner of our home state. This is loosely described as "The Wimmera". Located in the lower part of Western half of Victoria the Wimmera is that fertile part of the State largely given over to sheep and beef cattle grazing along with broad acre cropping. As we were to discover it also enjoys more rainfall than the dryer northern corner of the state known as the Mallee. Indeed for much of the first two days we drove through driving rain accompanied by gale force winds. After all in out part of the world it is Spring and this is what we have come to expect. Not that we were put-off or even considered it worth-while stopping to erect the Rapiers hood. Perhaps it is here that I should further explain that we were driving, has become our custom in our 1934 Lagonda Rapier the smallest car in a field dominated by Vauxhall 30.98s, Talbots and Alvii. Perhaps by engine size alone we were on a par with a couple of "Modern"Lancia Fulvia fixed head coupes.
The driving part of the event consisted of the first two days "Out & Back" tours starting and finishing at the prosperous regional centre of Hamilton. To reach Hamilton were drove in a north-western direction to Ballarat where we stopped for a light lunch before following the Glenelg Highway in a generally westerly direction to our overnight stopping place. Google maps tells me that the distance is about 325kms, just over 200 miles and allowing for a lunch stop would have taken about four and a half hours at an average speed of a bit over 50mph. Not too bad considering the combined average age of car and crew is near enough to 80 years.
The first day of the actual event took us out over a pleasant "wander"travelling on good sealed secondary roads first through Merino, then Casterton, famous as the "Birthplace of the Kelpie' and on to our lunch stop at the historic little town of Harrow, said to have been one of the earliest established towns in Victoria. Lunch was a stand up buffet in the Community Hall, very welcome cups of hot soup, sandwiches and cakes washed down with copious cups of tea. The mornings drive amounted to just a fraction under 100 miles.
Refreshed we set out on the return journey through lush green grazing land to first Balmoral and then Coleraine. We took a short detour to look at the water pouring over the Wannon Falls in a most spectacular fashion then crossing to the other side of the highway to the even more impressive Nigreta Falls then on back to Hamilton to take our total for the day to almost 200 miles travelled.
For our third day on the road, Officially Day Two of the Rally we loaded all our belongings into the rear of the Rapier and set off for the mornings drive to Natimuk following the A200 to Cavendish where we turned off along the C188 towards Balmoral. From there we took the C214 through Kanagulk, Toolondo, Jallumba to Noradjuha then on the C219 to Natimuk. It may seem confusing but these roads are mainly single lane sealed (bitumen) roads and the place names are just that, a spot on the map where you may see in the distance a lonely farm house. We stopped for a Lunch at Natinuk, again in the Community Hall, cups of soup together with plates of sandwiches and a variety of home made cakes, some 75 miles from Hamilton where we had started that morning is more of a Village than a Town although it does boast having a Police Station.
Lunch over we were off again returning to Noradjuha from there we followed the C214 for just one mile then turned onto the only section of gravel road for the whole journey and after only 3 and a bit miles joined the Henty Highway. Our instructions informed us that we could recognise this as It had a "white line" painted along its centre but not for long! The next turn took us onto the Wonwondah-Laharum Road followed by another turn on to the C222, the Northern Grampians Road. At Laharum the C222 was signposted to Halls Gap via Wartook and Zumsteins. Here we were cautioned that the route was unsuitable for cars towing caravans as it twisted and turned along a winding road, not a problem for the Rapier although it was along here that after one or two too many pot-holes the exhaust silencer decided to part company with engine pipe. Having straightened out one or two of the flexible supports and suitably put it back in its place with a few sharp blows with the wheel hammer we could continue on to the finish at Hall's Gap. We had to also make an adjustment to the charging circuit after some miles with the amp meter failing to register either a charge or a discharge. Following this we continued with the side and tail lamps turned on to avoid over charging the battery. The afternoon's motoring added another 60+ miles to the total.
After drinks our motel room with a few friends and a pleasant evening meal we both slept like babies.
Next morning after a leisurely breakfast we started out for the long drive home, taking the scenic route through Pomonal and Moyston to Ararat before joining the main interstate Western Highway which took us first to Ballarat where we had a relaxed lunch in a restaurant in the "gardens" over looking Lake Wendoree. Restored we set out on the final leg for home enjoying the multi-lane highway. We made one final stop to replenish the petrol ensuring that we would make the rest of the journey home uninterrupted. That is until we changed onto the Ring Road along with all the late afternoon - evening peak traffic. For the first time in the entire trip the water temperature gauge climbed up to 90 degrees. Fortunately the electric radiator fan turns itself on making sure that the temperature always stays well short of "boiling". By the time we reached home this had returned to normal.
The odometer (miles) showed that we had added another 1,600+ to the total in the four days we were away. Next morning I could add no more than half a pint of water to the Radiator and slightly less than 1 litre of oil to the sump. While not exactly concours, all that should be necessary is a quick sponge over with some warm water, a wipe dry with the chamois and a quick brush over the carpet, to restore the car back to its usual tidy self. The wind and the rain that plagued the first couple of days is soon forgotten and we will no doubt be lining up for the next VSCC event.
People unused to looking at maps of Australia. Where there are no roads or places shown, this is because there is nothing there!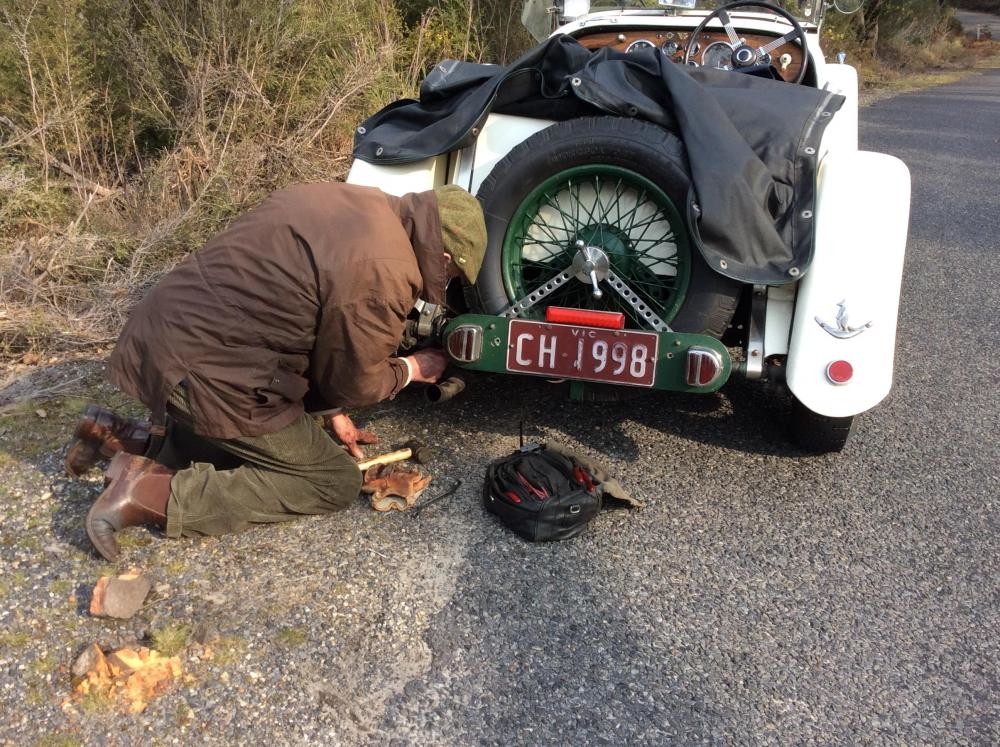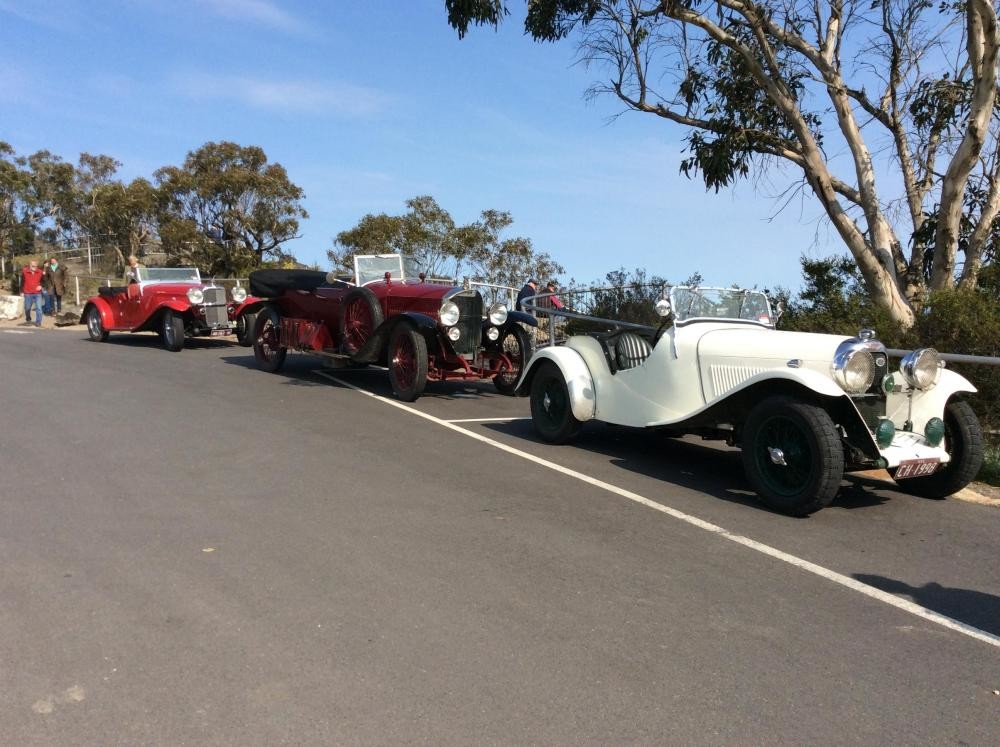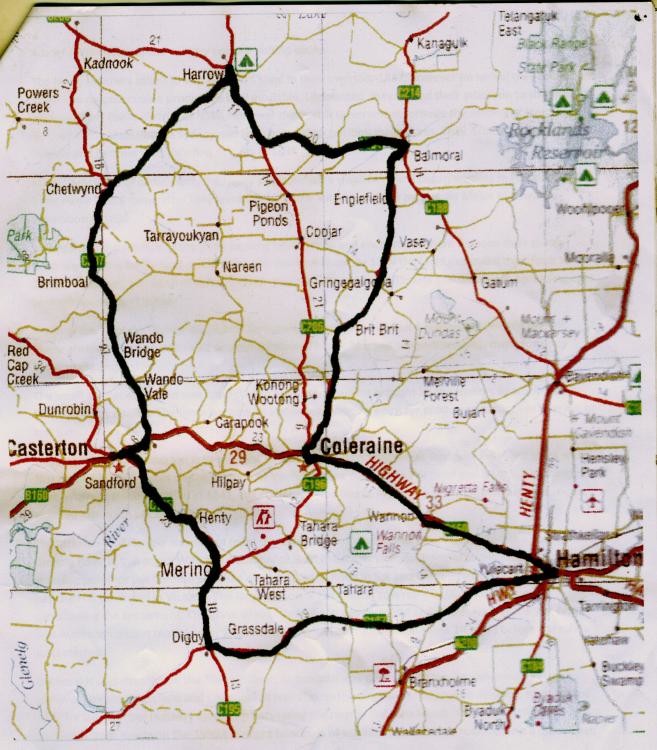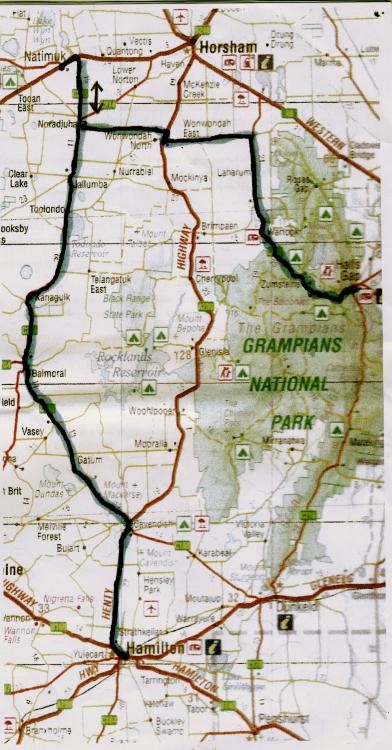 The completely unpronounceable place names are generally taken from the Australia's first inhabitants, Aboriginal language. Most other Place names are taken from the English early settlers.
The Grampians is a remarkable massive outcrop of ancient stone.
Where I refer to the Rapiers Hood this is the Top or folding canvas roof, not the Bonnet which is the cover over the motor.
I tend to forget that not everyone knows about Australia's most famous Canine product. The Kelpie Sheep Dog that has a natural instinct to herd almost anything that moves. Every year Casterton holds a Kelpie Festival with dogs comming from every corner of the country plus a few from overseas to compete in "Sheep Dog Trials" Herding a small flock of sheep (about a dozen) through a series of hazzards, the owner controls the dogs actions by voice or whistles. The dog that herds the sheep through the hazzards and into a pen in the shortest time wins. The dog must do all this without barking but controls the sheep by "eye".
At one end of the main street is a very steep grassy hill where the same dogs undergo a Hill-climbing trial. The dog is held by a netural "handler" The owner stands at the top of the hill and can whistle the dog once. On this signal the handler releases the dog. The dog that reaches its owner in the shortest time is the winner. One of my sons has a pet Kelpie dog that is now quite old. It has never had any training but it will herd "Free-range Chickens" up, down and around his garden. She never touches a chicken and never barks at them but can control them and keep them in a tight bunch without any human assistance, purely by instinct.
I am sure that Google could tell you even more about their capabilities & prowess. Try looking at http://www.castertonkelpieassociation.com.au
Woof woof!
Further to your question about staying dry. At 50-60 mph the rain goes over the windscreen and over your head, however as I tell people "You dress appropriately" When you finish looking up Kelpies try looking at "Dry-as-a-bone" and "R M Williams boots".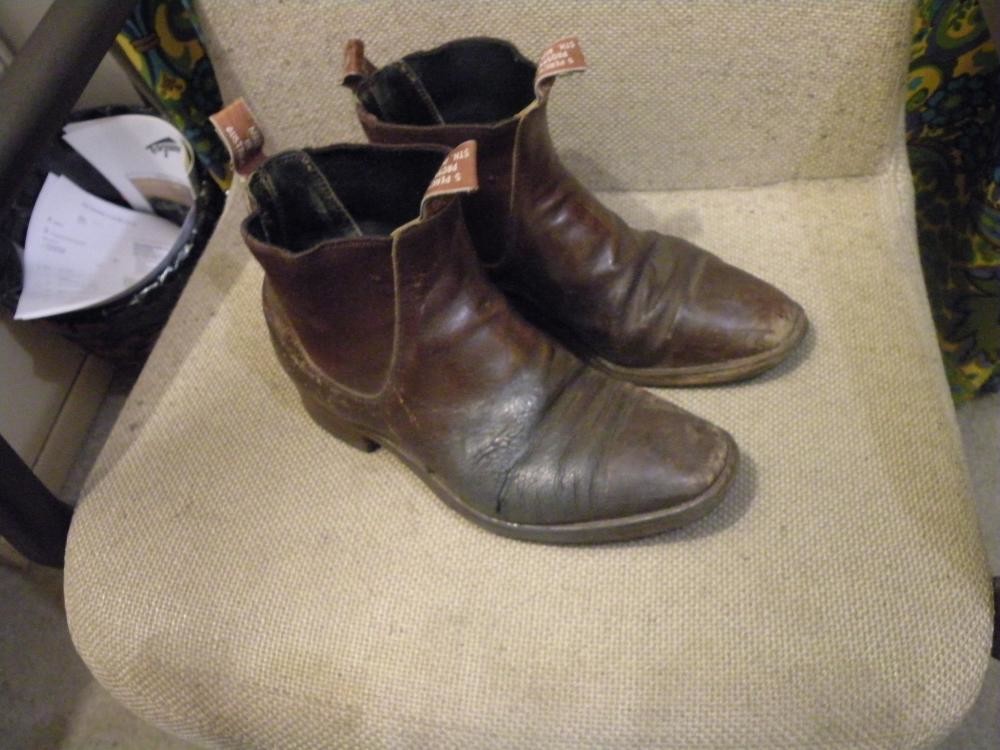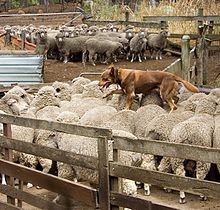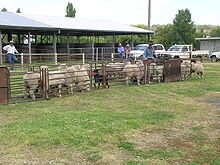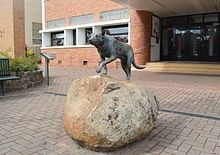 I have been reminded that I have not really told you very much about the country and some of its history. Following the discovery of Gold in Australia in 1851
Australia was to enjoy its Gold Rush and subsequent period of prosperity. Much of Victoria's wealth came from both allluvial gold recovered from the banks of rivers and creeks and from deep mining. At the time much of the country we were touring through had been the site for both slucing or "panning" for alluvial gold and deep mining. Both Ballarat and Ararat were centres based on the wealth amassed from gold. Both towns have Large and Imposing Civil Buildings as well as some magnificent palatial domestic housing.
Much of the Victorian country side was natural Eucalypt forest but with both the need for housing for the suddenly increased population ( Mainly timber structures) and the demand for timber posts used to shore up the underground mines, much of these natural forest was cleared. This is now the open grazing land we were driving through. There are still remnants of forest and many of the roads are bordered with imposing stands of mature Eucalypt trees. In more recent years as a result of proposed taxation benefits to be had from "Carbon Abatement Schemes" These encouraged the planting of vast plantations of fast growing Eucalyptus Trees These are of course very different to the natural forest. As the trees nature they are "Clear felled" meaning whole plantations are cut down and the resulting logs are carted away to be milled or to be unfortunately more often chipped. The vast majority of the resulting wood chips are exported to Japan in bulk carriers (ships) While the roads are more or less deserted there is just one hazard to be considered, large "B-Double" articulated trucks.
Many of our country roads were first surveyed in expectation of a very different form of traffic, these are described as "Three Chain Roads". The distance between the two boundaries being the old surveyers measurement, each chain is equivelinent to just over 20 metres so the road "reserve" is over 60 metres widewhile the actual road may be just eight or 10 metres wide. The requirement for these wide roads was to facilitate the movement of sheep and cattle on foot. These roadswere also referred to as "Stock Routes" These days, during draught in particular, farmers often turn their stock out intothe "Long Paddock" so that their stock can gaze on the grass growing on the roadsides. Naturally the sheep and cattle need to be kept from straying although today you more often see the farmer mounted on a "quad-bike" than a horse. It is not unusual to see signs by the road side warning "Caution Stock Ahead; Please drive carefully!".....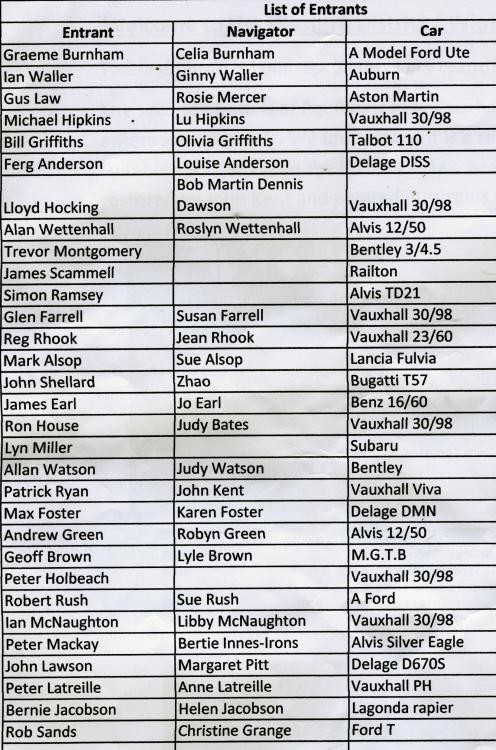 The three photographs below show 1. a general view across theWimmera from a lookout in the Grampians
2. The Wannon Falls and 3. The Nigreta Falls. Both water falls are on the Wannon River just a few miles out of Hamilton,
See:- Map 2 #376 (above).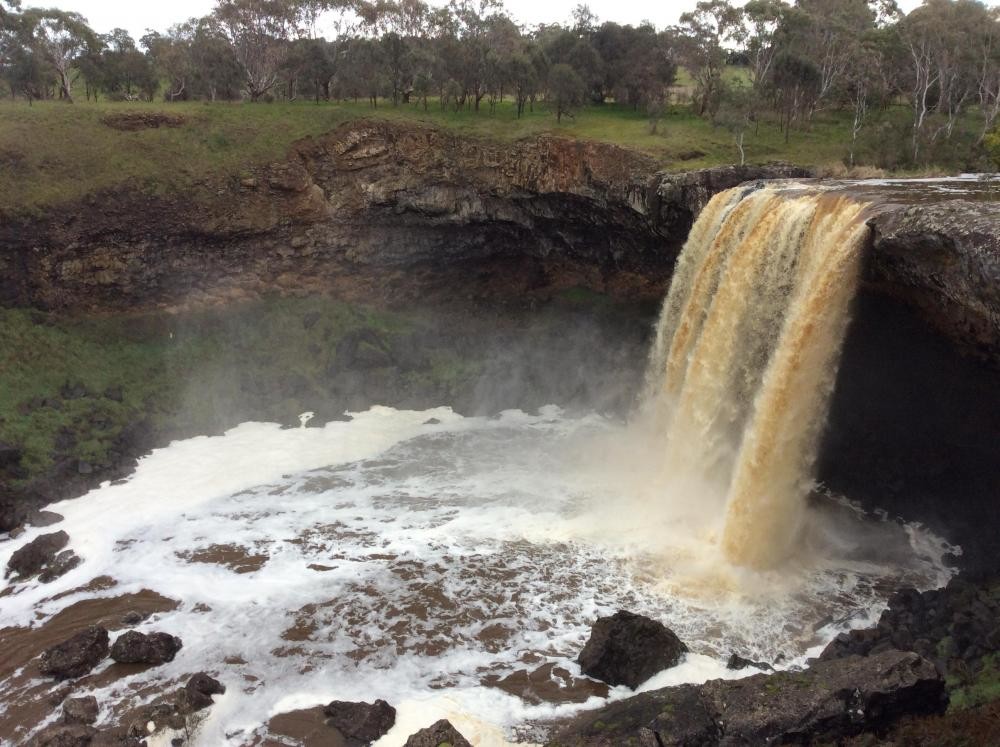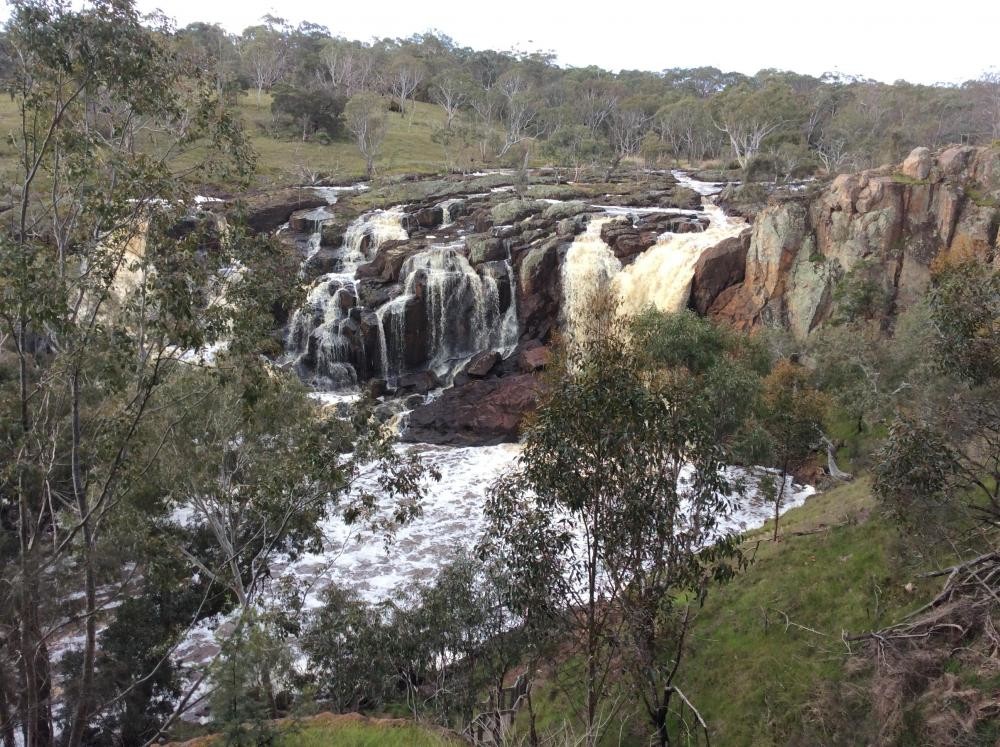 10-10-2017
Towards the end of our drive around south western Victoria the Rapier decided that it did not want to idle nicely (at 800 rpm). After diagnosing the fault as an air leak on the induction side, I have this morning removed the inlet manifolds and carburettors and discovered a small air leak due to minor damage to a gasket. I am now in the process of cutting new gaskets and hope to put it all back together again tomorrow. Leaning off the mixture is not a good idea. It serves me right for re-using a gasket last time I had the engine apart. Usually I will not use "silicone" gasket "goo". so I deserve a smack for trying to take a short cut.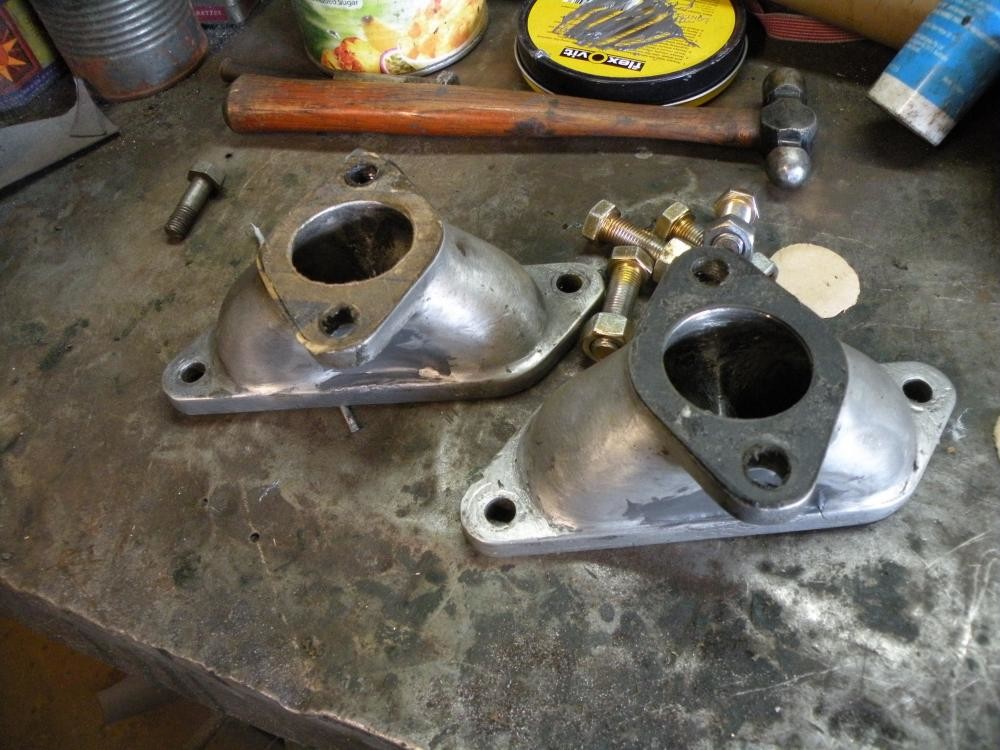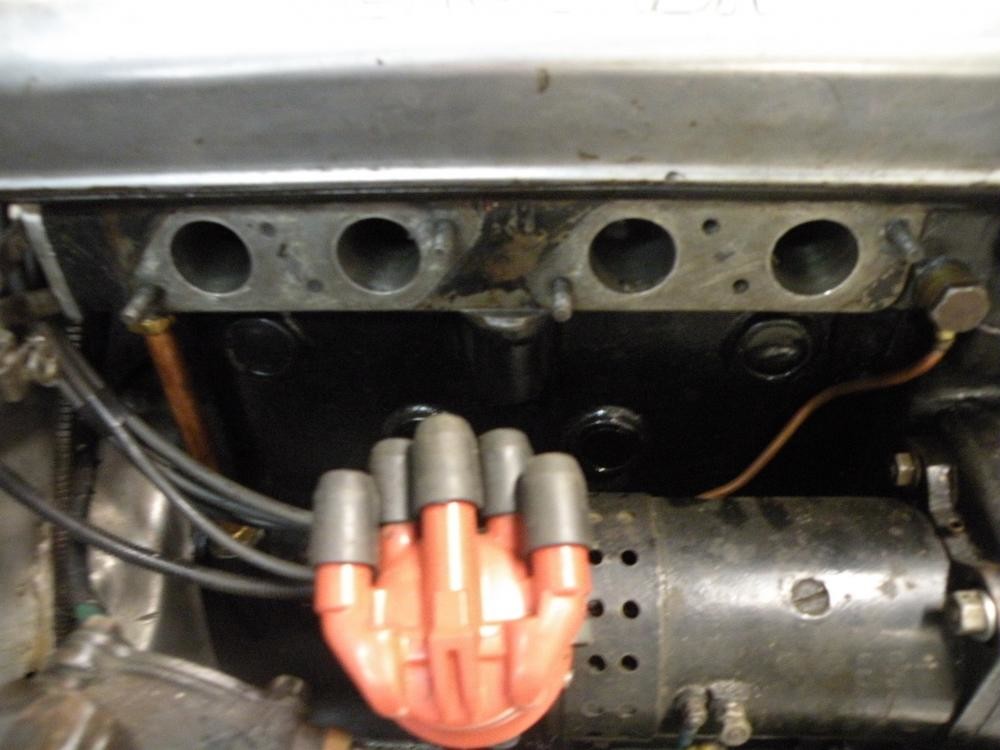 For the observant people looking at the photo (above) of the inlet side of the cylinder head/motor. The Generator is gear driven from the side of the timing gears, the distributor is driven by a pair of skew gears behind the generator. Oil is taken to the valve gear and the cam bearings at full pressure thorough the 5/16 copper pipe to the front of the head and drains back into the sump through the larger copper pipe, one on each side of the head. The four inlet ports have been gas-flowed and polished. Carburettors are a pair of 1 1/2 inch SUs.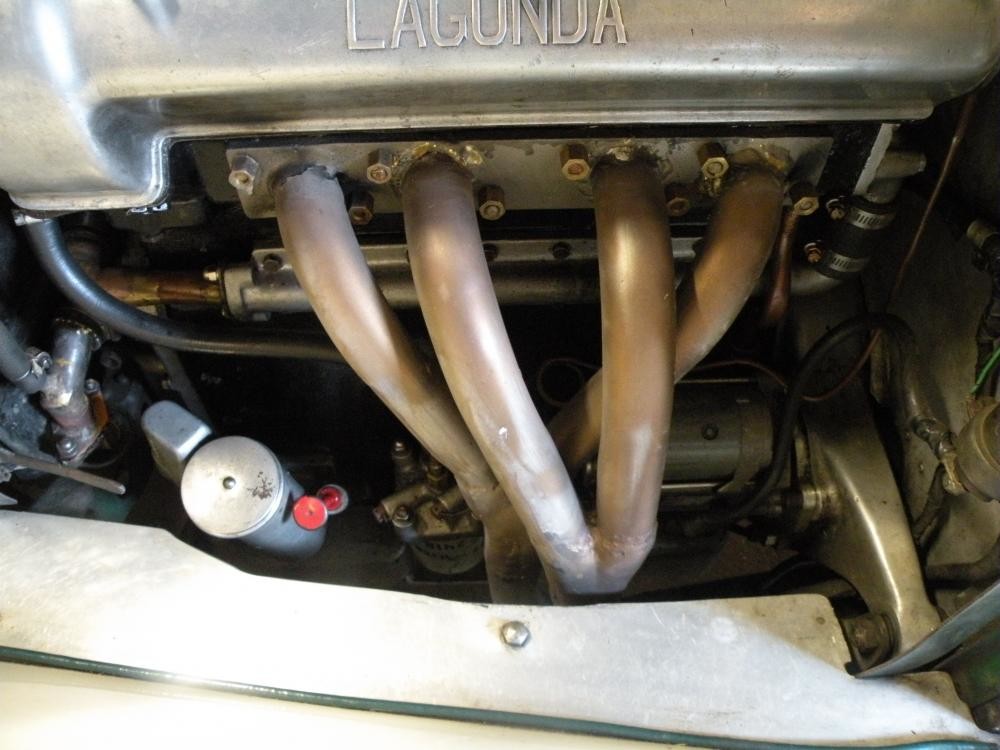 The exhaust side of the engine is well looked after by a matched length 4 into 2 into 1 extractor set-up. A "Geared" starter motor and full flow (canister) oil filter are tucked in under the exhaust system The "red knob" is the oil level dip-stick with the oil-filler next to it. The finned sump holds two gallons of oil under a "windage" tray. The high pressure hydraulic (black) hose" delivers oil to the full flow oil filter from a "Mini-Cooper" Concentric oil pump driven from the front of the timing gears. Water pump is also gear driven. If you have not already worked it out, there are no belt driven accessories, the cooling fan is a thermostatic controlled electric unit set to switch on at 90 degrees centigrade. Cooling water is fed along the aluminium gallery on the side of the block and into the rear of the head on the exhaust side to return to the radiator from the front of the head. Water is also bled off into the cylinder block to flow around the top of the cylinder barrels where it is most needed.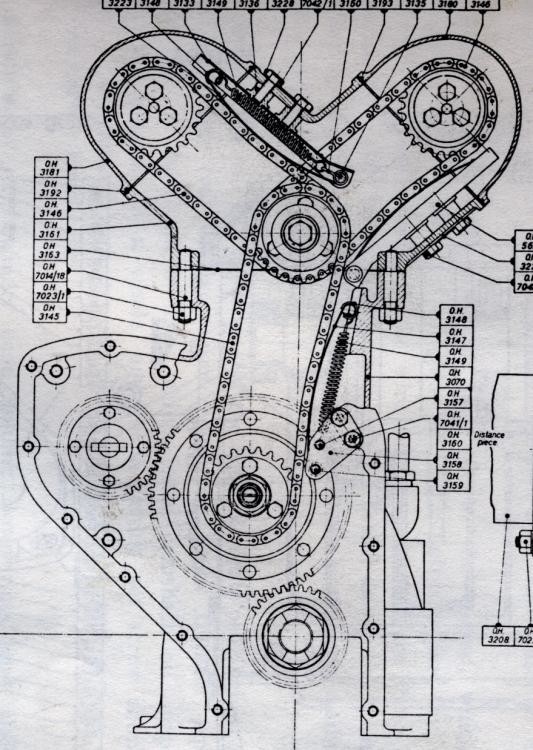 Further to the above, the generator & distributor are driven from the rear and waterpump is driven at engine speed from front of the gear to the side of the main (half time) gear while the oil pump is driven at half engine speed from the front of the "triple sprocket" at the front of the cylinder head.
I hope that this is of some help. Being a four cylinder engine the timing gears are 2:1.. There are three chains one from the front of the "half-time" gear goes to a triple sprocket at the front of the cylinder head with two seperate chains going one to each camshaft. The three chains are all kept in tension by "Weller (spring) blade tensioners. The engine will "rev" happily to 6,000 rpm.
10-12-2017
Now I deserve another smack, I have now discovered a new crack (air leak) in one of the inlet manifolds so I have now given up on them and have ordered a new pair from the Rapier Register "Spares". They have had a hard life & a ham-fisted owner.
I did (for about five minutes) think about fabricating a pair in steel tube but decided to just order them from the UK. This one of the really good things about owning a Rapier. The "Register Spares" can supply almost anything that you are likely to require "off the shelf".
10-13-2017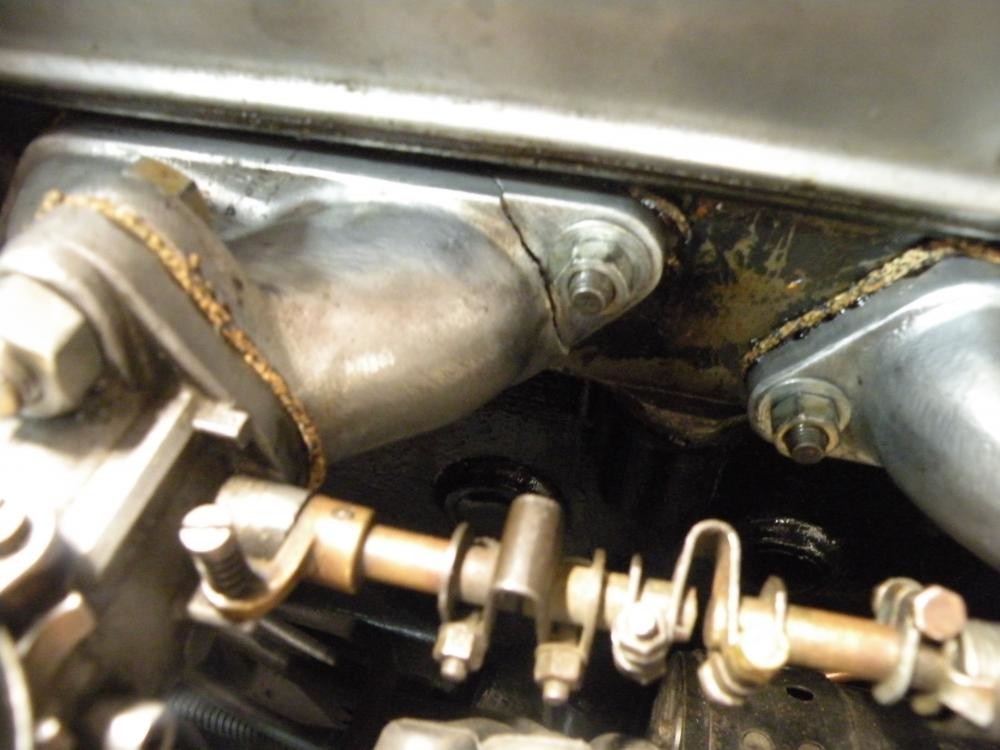 You are really on the ball this morning.
The manifolds that I am getting from the Register "Spares" are exactly the same as the ones that I fitted when I first restored my Rapier in 1978. The problem was that seeking to improve on something that was perfectly good in the first place, I had decided to incorporate a "Balance tube" as recommended by Phillip H Smith the author of several learned books on the design of Exhaust and Inlet manifolds. The problem arose in that the inlet side of my Rapiers engine is rather crowded with the ignition distributor tucked into the space between the carburettors. Then several people commented that it was no good having the Balance tube underneath the main body of the manifold as It would fill with unburnt fuel. Unfortunately in turning them over the Balance Tube fouled on the underside of the cam box. In the end I decided to abandon the Balance tube but this left me with two rather large holes. My first thought was to make two plugs and screw them into the holes securing them with Lock-tite. The next problem was that these were not a really satisfactory because of the wall thickness and the curved nature of the manifold "walls'. The next plan was to fill the holes with "plastic metal" but there was a lingering doubt that this would eventually crack and fall out. Finally I bought some "Magic" aluminium "brazing rods" to use these required heating the manifolds to a point where the rod would melt on contact. Then allow the finished work to cool graduallyThis seemed to work OK but after returning from the weeks drive around the Western District the motor would not idle properly and I diagnosed this as an air leak in the inlet side of things. After removing the carburettors and manifold I checked the repairs by pouring Methylated spirits (alcohol) over the repairs. This showed that there were microscopic holes around the repaired area. I treated this with a skim of the plastic metal. Re asembling the manifolds In an attempt to cover all possibilities I used some one millimeter thick sheet cork for the new gasket. After I tighened up the manifold securing nuts I started the engine only to find that there was a mystery high pitched "whistle" It did not take very long to discover that in the process, I had over tighened one of these nuts and as a result the cork gasket compressed and the flange on one end of the manifold had cracked. I did consider fabricating some new manifolds in steel by having the necessary plates laser cut and using some steel tube. Having got as far as doing the drawings for the steel plates I decided that doing this was simply creating another source of frustration and that the sensible thing to do would be to simply send an email to the Rapier Register "Spares" and order a new pair of inlet manifolds. These should arive in the mail sometime in the next week or so. I will not use the sheet cork for the gaskets next time but use the same side out of a Breakfast Cereal cardboard box that I have used in the past. The only other thing that I will have to do is to match the new manifolds to my (slightly) larger than standard inlet ports. The new inlet manifold I had bought "ticked" all the boxes having a balance tube incorporated into the design. The problem with this was that in doing so increased the distance between the side of the cylinder head and the carburettor by about half an inch, As a result the carburettors fouled on the side of the bonnet (hood). There were three alternatives, 1. To remove the bonnet side and secure the bonnet top with a leather strap. 2. To have a new larger"Bulge" made into the bonnet side, This would also involve having it repainted and 3. Continue to use the manifolds tha were already on the engine having modified them to in corporate a balance tube. Having failed with all of these for various reasons, I am now back to where I had started from, only several dollars poorer! One other alternative was to attempt to repair the broken flange using the same Aluminium Brazing rod.
I have already sold the "New design" manifold to another member of the Register who is building a "Special" and not so concerned about the cosmetic appearance of his car......
So now you know......
10-14-2017
I must be more careful with what I say in future! When I used the term Cereal-box I was using it as a generic term to indicate the type of material. In actual fact, more recently I have been using discarded filing cabinet folders. The type with provision to hang them in a file draw.
These are made of much stronger card and have a minimum of printing on them. What printing there is, tends to be matt finish with little or no build up on the surface. The card is -1500 of an inch thick.
Rather than use a silicone base sealant, I prefer to use Permatex "Aviation" form-a-gasket. This comes in a little bottle with a brush to apply it attached to the inside of the lid. Used sparingly a bottle lasts for an extremely long time, It is essential that the lid is replaced firmly after use. Instructions say to apply a thin even coat and to allow to air dry for a few minutes. The bottle contains 2 ounces or 59 ml.
N.B. There is a warning on the back of the bottle expressly for residents of the State of California stating that it contains a chemical that may cause birth defects or other reproductive harm. At my age this is not thought to be significant. In addition perhaps as I live in Australia this may not apply.
I can not imagine how or for what other purpose, the residents of California are prone to use it ?
There is a further warning on the front of the bottle in red that it may be harmful if swallowed and that it may irritate if in direct contact with eyes.
Bernie j.
The bottle is made of re-cycleable plastic HDPE.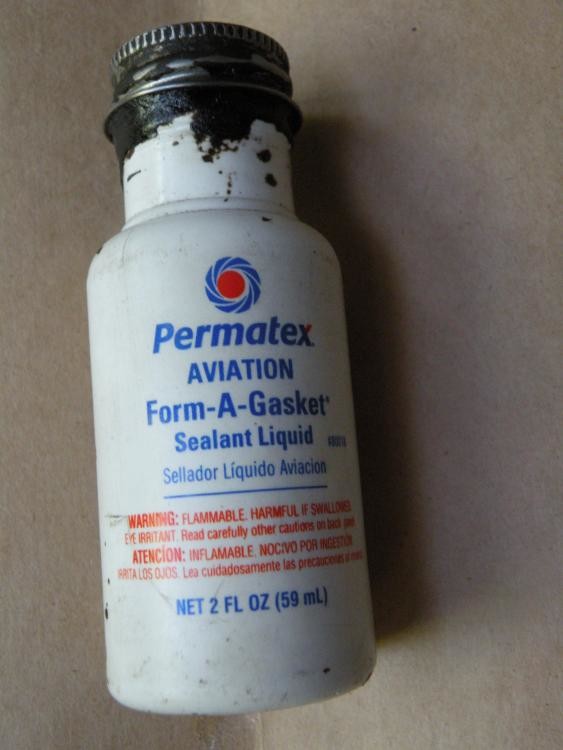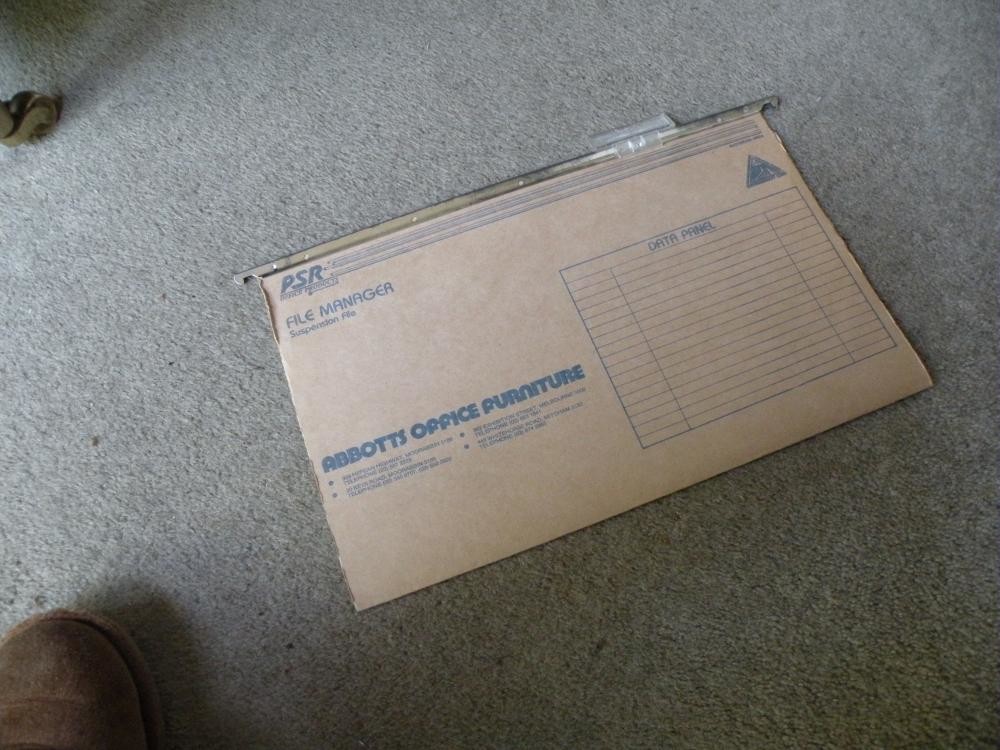 10-21-2017
I have just received an email from David Nutter the owner of an original Eagle Two-seater that had spend much of its life down at the bottom end of the South Island of New Zealand. He has now completed giving to a "big makeover" re-upholstering the seats and making a new hood and tonneau cover. He has also had the wheels rebuilt and repainted along with some new tyres.
But how many people noticed one major difference about Davids "Eagle". It has, along with just one other, also in Australia, full length
front mudguards (fenders).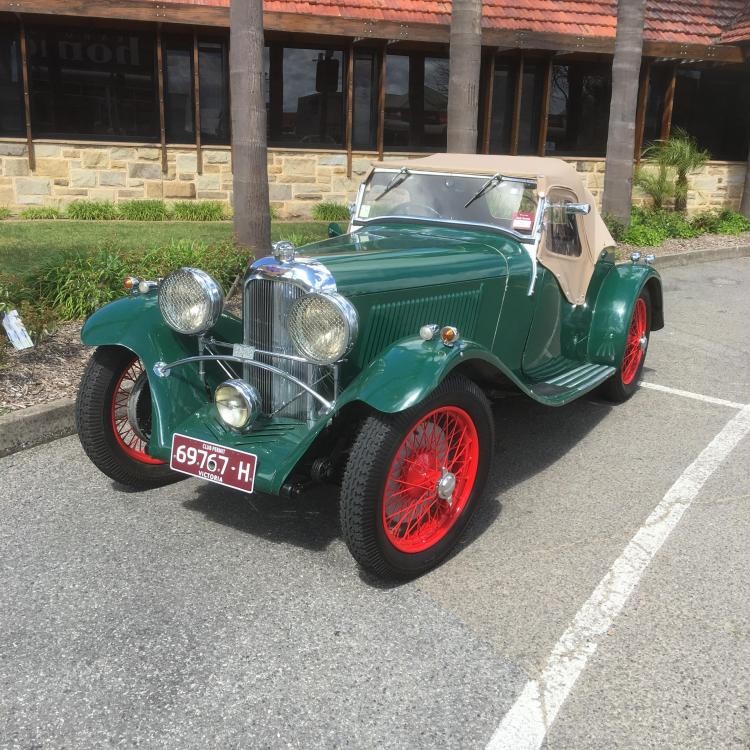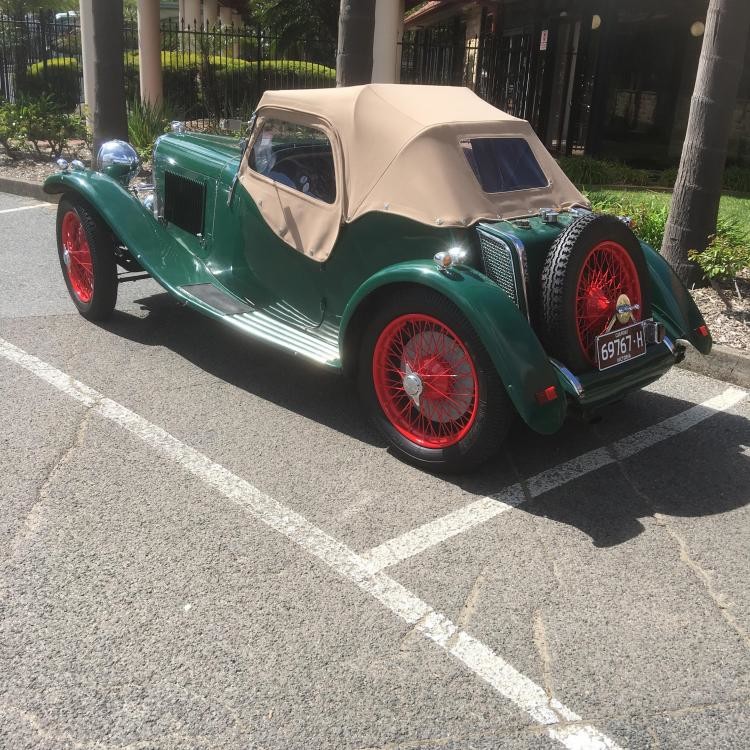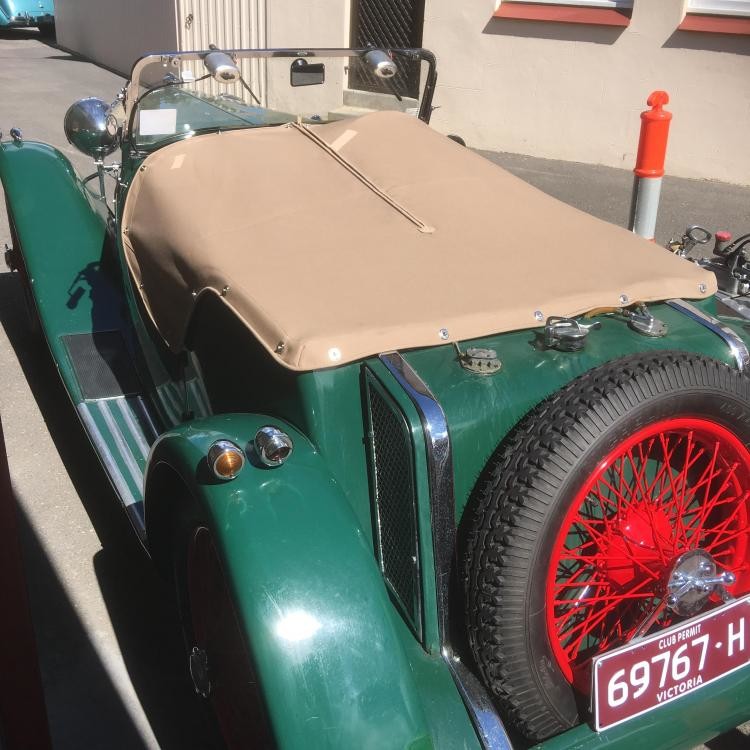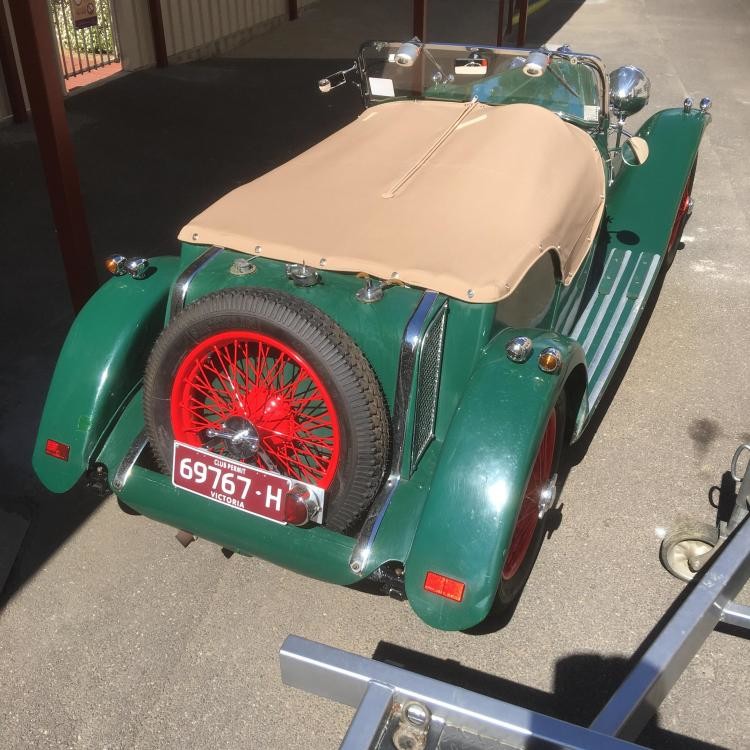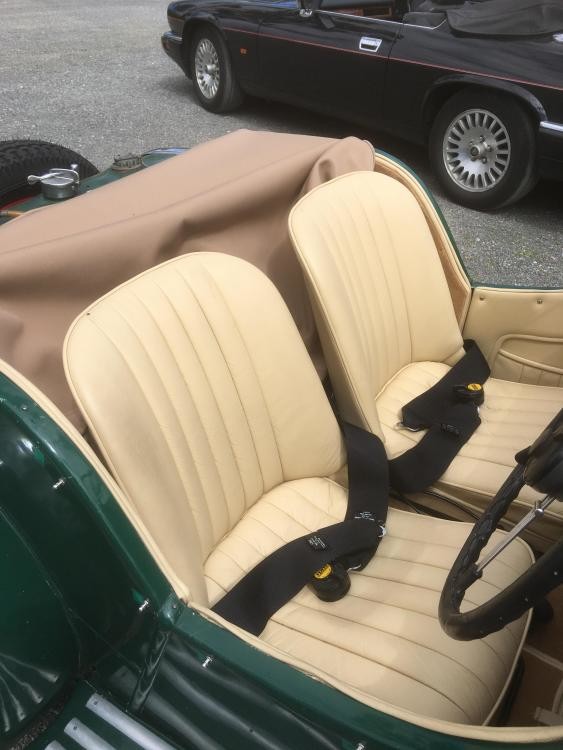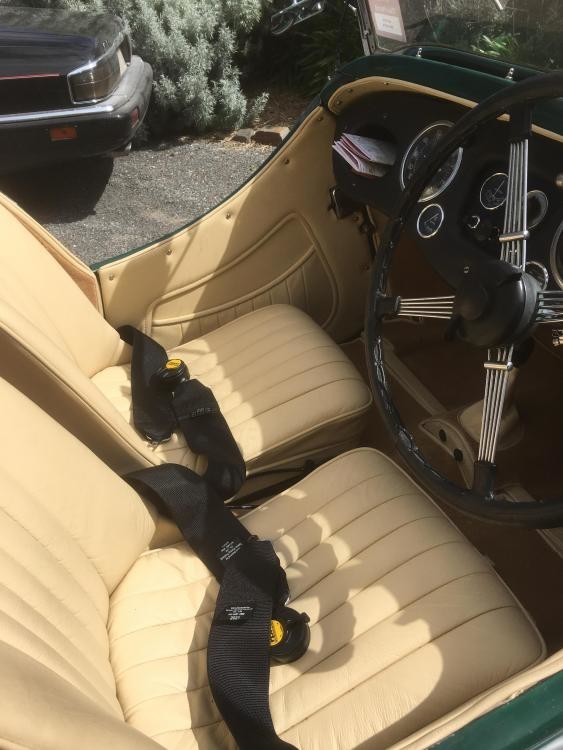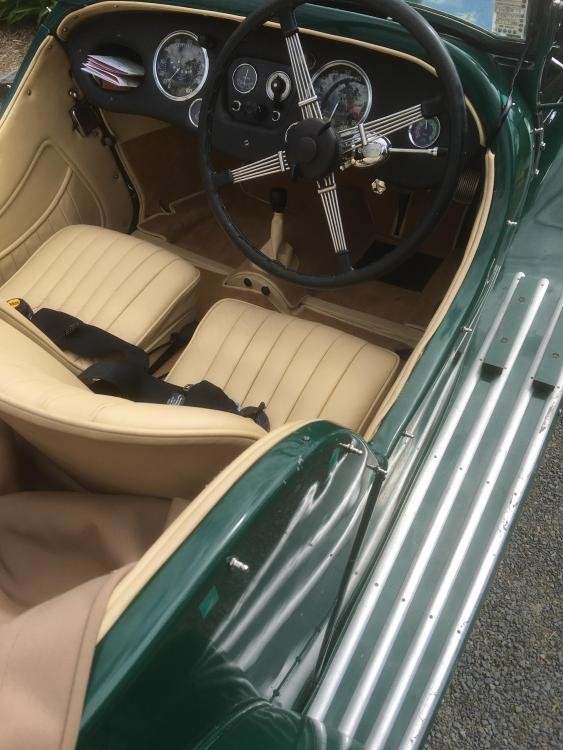 For comparison here is a photo of our Rapier with the hood (Top) up. You will note that the main "bow" is further back and more upright to give much better head room and more useable space behind the seats. Unfortunately we do not have many other photographs of our Rapier with the hood (top) erected. I had to search back through the archives to find this one. We do have a pair of side-screens but it is so long since we used them I would have to search through the attic to find them.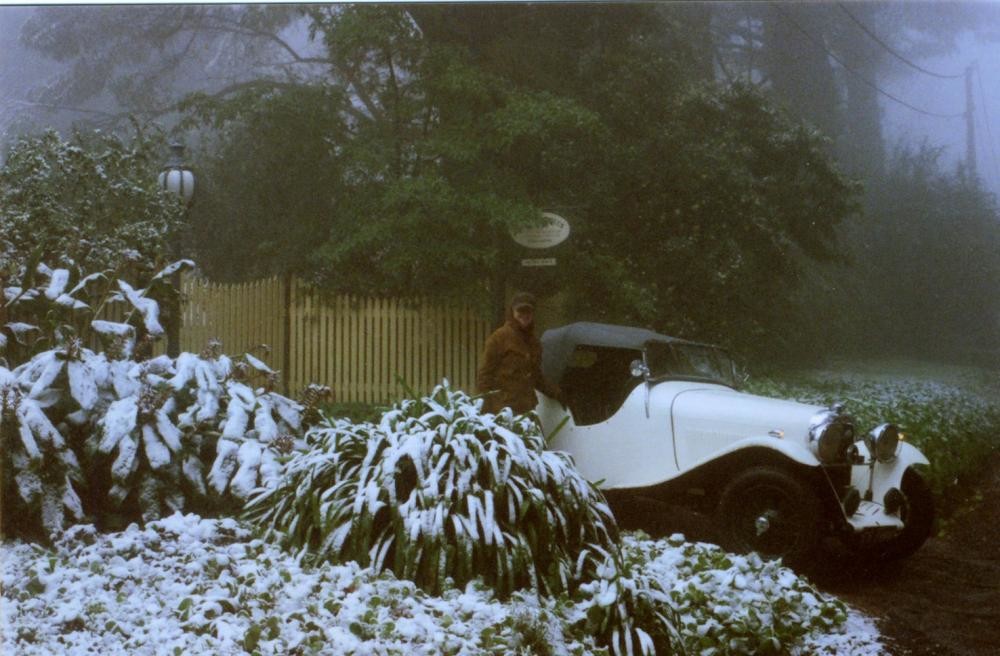 10-24-2017
This one is for Paul
The new inlet manifolds (2) arrived from the UK yesterday. I still have to take then out to our son, Steve's to have him do a couple of little maching jobs before I fit them. The holes for the studs to secure the carburettors need to be drilled and tapped and the ports need some work to match them up with the ports in the cylinder head. these are slightly larger than standard. Fortunately I have kept the copper templates that were made when enlarging the ports in the original manifolds. I try never to throw anything like these away. Perhaps this is why I have "stuff" everywhere.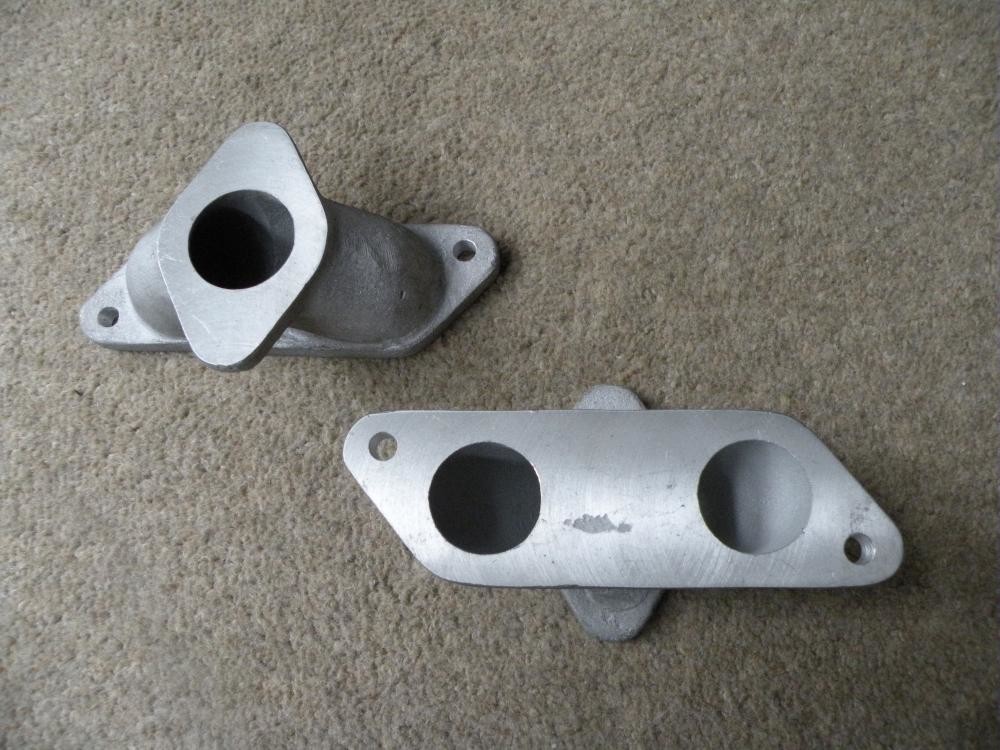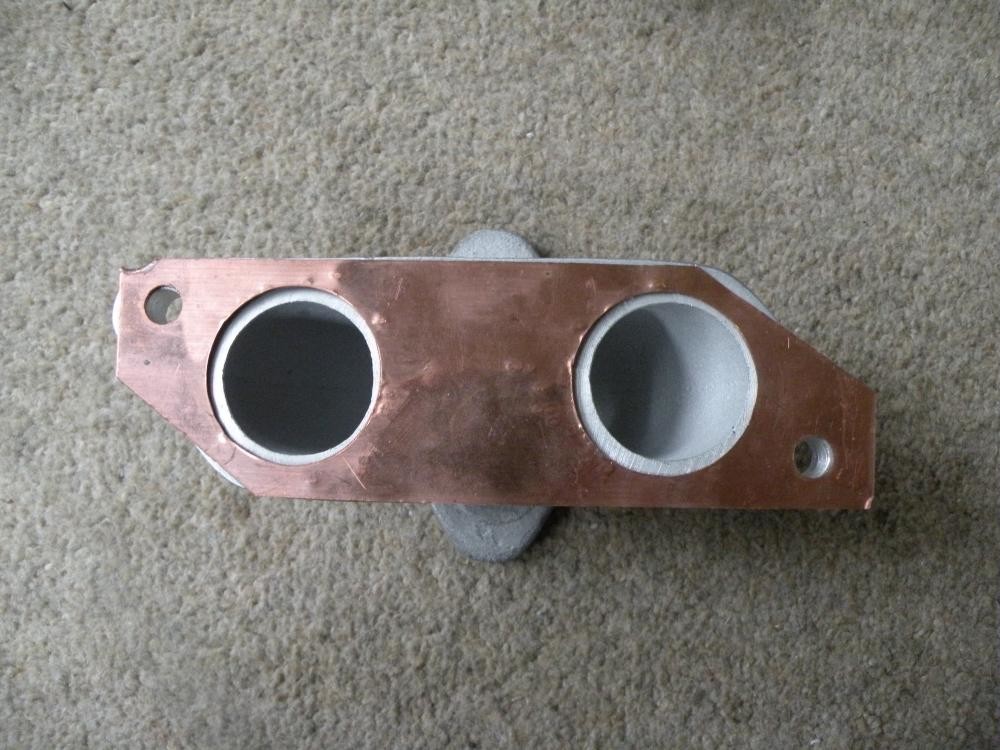 10-26-2017
Here are todays photographs of one of the inlet manifolds. One for each carburettor, these serve two cylinders each.
It may be difficult to see from the photographs but the opening for the carbs has been increased from 1 1/4 inch to 1 1/2 inch.
Like wise the openings on the cylinder head (ports) side have all been opened up by about 3/16 - 1/4 inch and carefully matched to the inlet ports.
Being two overhead cam there are four inlet ports on one side of he head and four exhaust ports on the opposite side.
Any irregularities inside the manifolds etc have been smoothed out and the internal surface given a light polish with a small abrasive "flap wheel"
You have to remember that this is a "limited production" (less than 400 in total) 1100 cc or for a small number of cars now 1500cc. They were all built between 1934 and 1938, most between 30 June 1934 and 30 June 1935. All over 80 years old.
Many are still driven in highly competitive "Vintage Motor Sport", Sprints, Circuit Races and Hill Climbs as well as Competitive Road Navigation Rallies.
Our car may look innocent enough but it has a long and continuous Sporting history dating back to the 1940s. The Chassis has been lightened and the 1500cc motor extensively tuned and modified. It will "rev" effortlessly to 6,000 rpm and is still capable of over 90 mph fully equipped and with two people (on board).
It has been timed over a standing start 1/4 mile in the mid 14 -15 second range.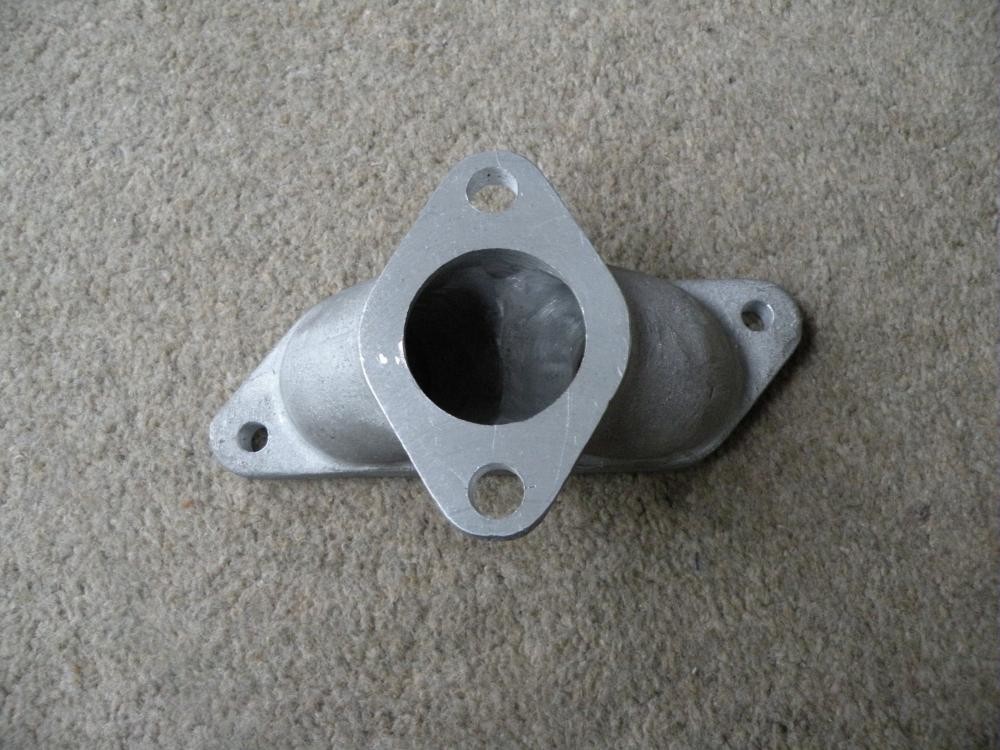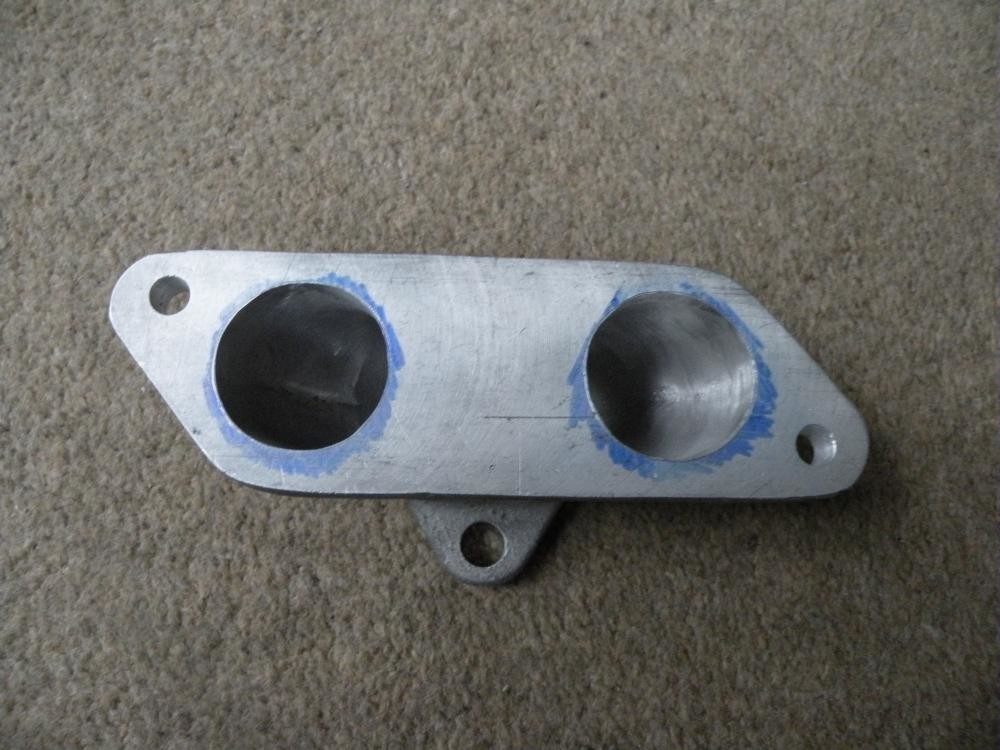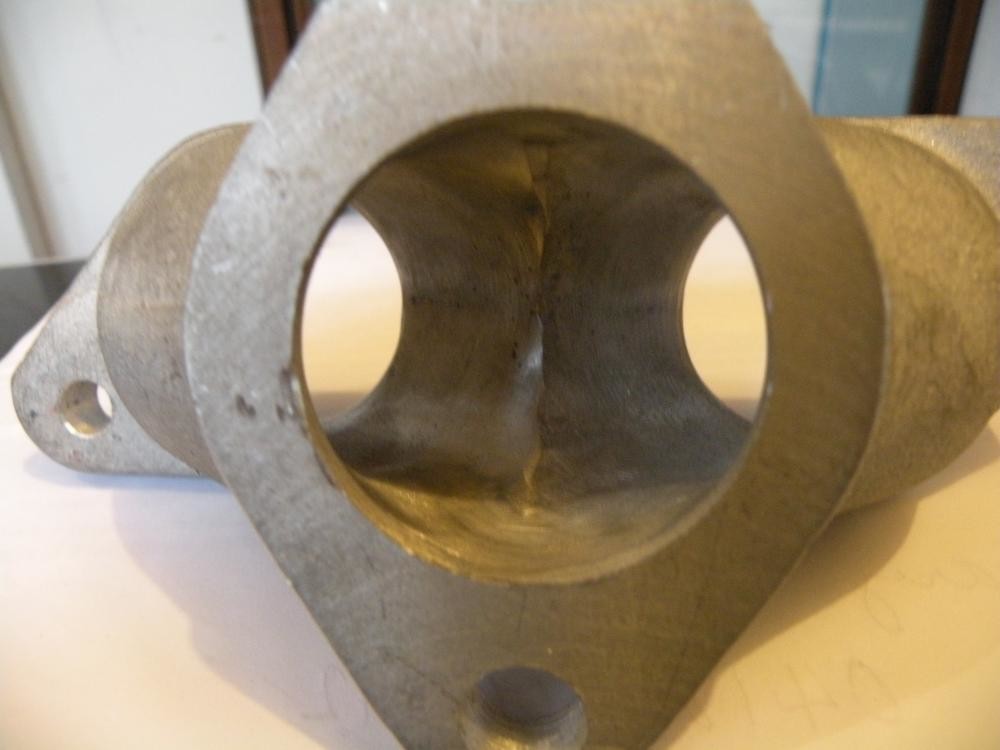 10-28-2017
At last after a couple of hiccups KG is starting "on the button" and idling at under 1,000 rpm. Not too bad considering we are talking about an 83 year old car with an 81 year old owner/mechanic. I still have a couple of minor oil leaks to track down, wash off some of the oily hand prints and take it for a drive.
For the benefit of some of my American friends who still look at this, I am repeating a post I left on my Studebaker thread.
Many people are confused by the French sounding name for Lagonda. This in fact goes back to Wilbur Gunn's first cars and motorcycles in 1899. Wilbur Gunn was an American living in England. The Lagonda name comes from the Lagonda Creek that ran past his father's farm in Springfield, Ohio in the 1800s. To see just how far the Lagonda name goes back in the USA, look at http://lagondachapterdar.org
Now that the car is going again, the attached email : http://www.via-flaminia.com/enkele-rally/flaminia-classic-2018-may-3/ that was in my in-box this morning could be tempting, If only I could win the Lottery or at least back the winner of next months Melbourne Cup. Problem with either of those two thoughts, You have to be able to buy a ticket in the lottery and or place a bet with a Bookmaker to back a winner in the "Race that Stops the Nation."
Re:- Via Flaminia, In the past were have driven KG through parts of Northern Italy on two or three of our "holidays" but not through any of these parts. It looks extremely interesting but I am afraid it may have come to our attention just a little too late.....
The other thing that may tend to put us off is that there does not seem to be even one "Pre-war Car" entered. Just a lot of boring 1980s Alfa Romeos and Porsches. I am amazed that so many Alfas have survived the Italian sardine tin rust bugs. Perhaps they are all "plastic replicas".
A lot of the originals were made from steel that the Russians sent to Italy in exchange for those little 4WD Lada wagons.
I really don't know who got the worst part of that deal, perhaps they both simply got what they deserved!
10-31-2017
I barely looked out the door today It was too blxxdy cold and not a day to be standing around on a cold wet concrete floor. I have finally got rid of the Chilblains from under my heels and under the instep of my feet. If you have never had them, you certainly do not want them.
11-4-2017
Having well and truly recovered from the dreaded chilblains I decided that I should give the Rapier some well deserved TLC, this started with a wash & polish although I must confess I still have to properly clean the wheels. Part of this process was to give the car a general once over. To my dismay I found that the fog/driving lights at the front of the car were not working. Having checked and found all the fuses intact I just had to look a little further.
It did not take too long to discover that the wire attached to one side of the dashboard switch had become disconnected. Of course when I went to reconnect it I discovered that after a great many years of faithful service that this particular wire had finally given up hanging on under the grub screw intended to hold it in place. If fact the wire must have always been a particularly tight fit. After two or three unsuccessful attempts to re-connect it I decided that the only way I could make it reach the required terminal was to add another two or three inches to its length. After poking around in my box of (new) electrical fittings I found a matching pair of Crimp-on Spade connectors. Looking a little further I found a short piece of the required wire which was even the correct colour. "Easy- peasy" I can hear you saying but then you have probably never worked at the back (business side) of a Rapier Dashboard. That and with luck on your side you are not about to turn 81. Enough of all that, with my head wedged between the gear change and the foot pedals and my feet over the passenger's seat back I could manage to work the lead-light into a position where it would not be constantly falling down and I could get a stubby screw-driver in close enought to undo and re-tighten the grub screw.
Remarkably in under an hour I have everythinghooked-up and the lights working again. This may sound a little obsessive as the last time we were driving in fog was almost three years ago in the French Pyrenees. None the less I have this "thing" that when I say "every thing works except the driver" I really mean that every piece of equipment on or in the car is in good working condition. The one other exception is the Smiths 2 inch Dashboard 8 day clock. It would work but I do not wind it up because the "tick" is so loud you can hear it inside our house with the Rapier outside in the car-port. I must say that when wound-up it does keep quite good time. When I first rebuilt the car I had put an electric clock out of a Modern car in it. There was just one problem, I have a battery master switch which I turn off when parking the car either over night of for an extended period which meant every time I went to drive the car I had to re-set the time. It was only after three or four years of searching that I found the correct clock complete with Lagonda across the clock's face.
The Fog/Driving light switch is the one one the dash above the starter button & inbetween the amp-meter and the petrol gauge. If you have sufficiently good imagination you can visualise how accessible the back of this switch is. Observant people will have also noticed the extra piece I had to insert to make up the difference of the diameter of the electric clock and the mechanical 8 day. Oh - yes, the fog/driving lights do have amber globes for driving in France.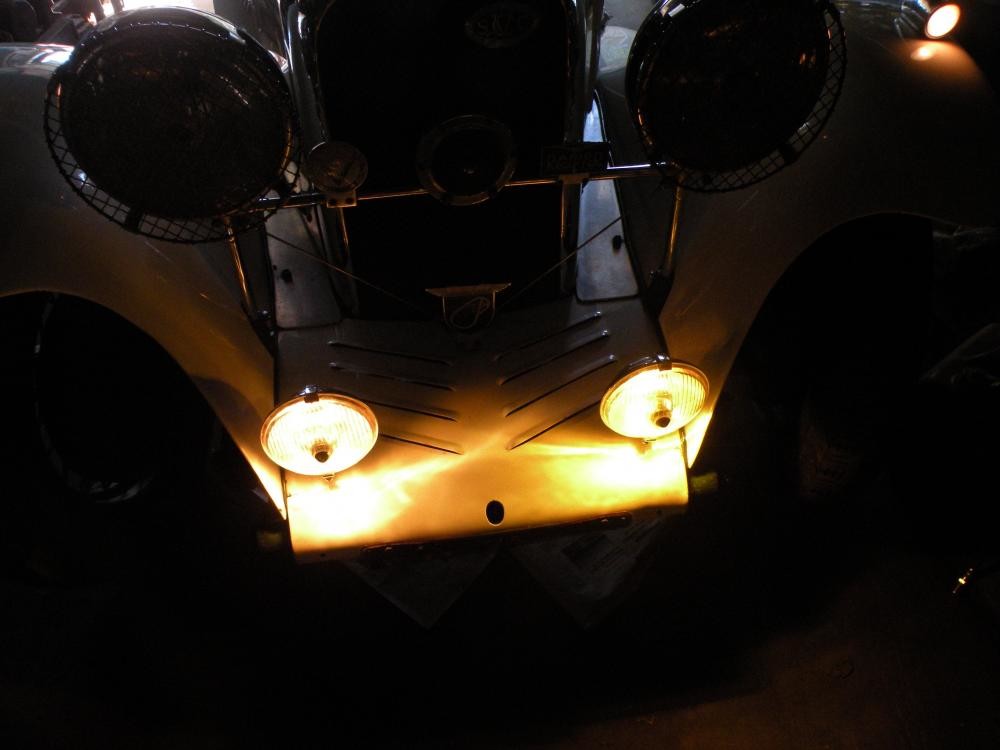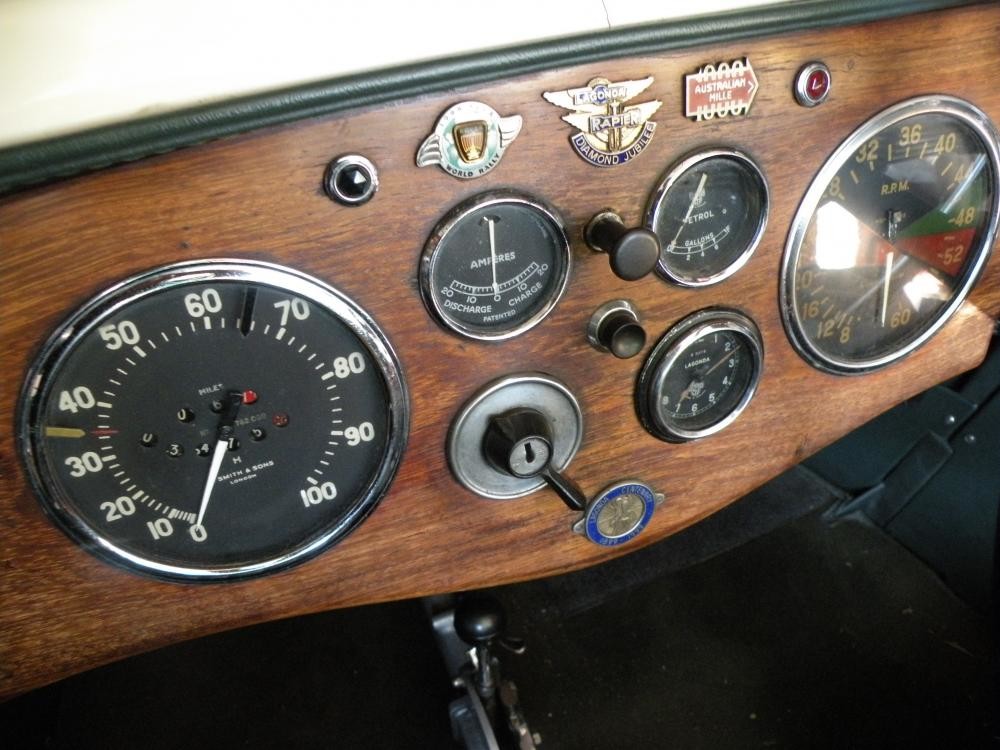 11-4-2017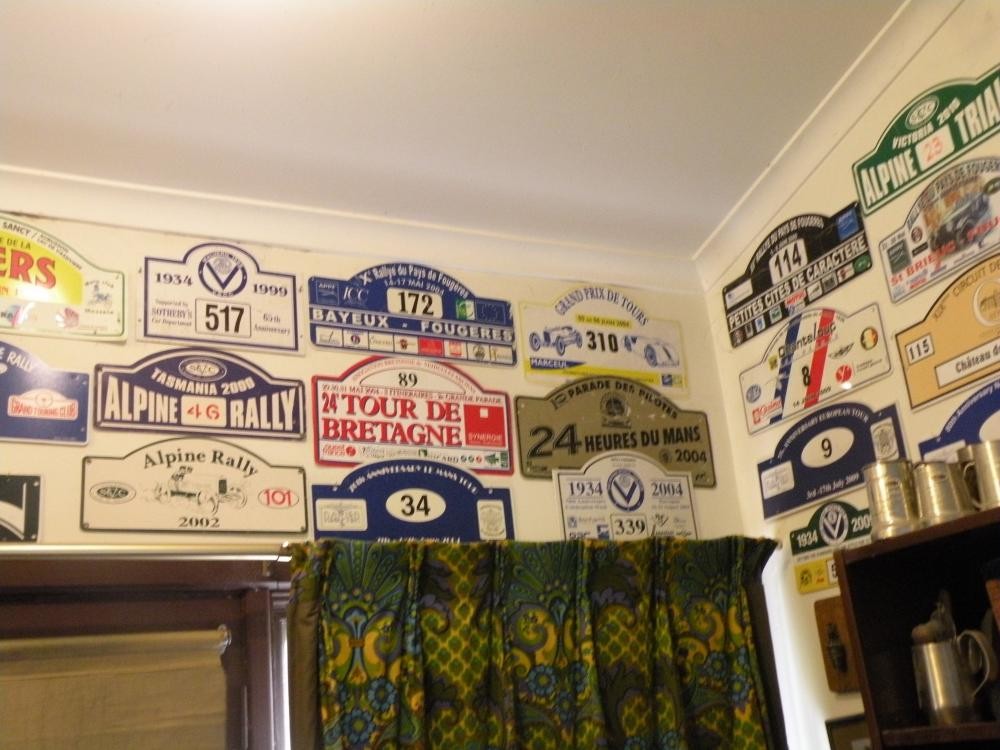 You will have to polish up your bi-focals, quite simply they are lapel badges as issued to the participants at many major events, Instead of sticking them all over a cap or hat as many people do I have chosen just four from significant events that we have participated in around the world, to place on the dash board. From Left to Right they are The 1996 FIVA World Rally held in England to celebrate the 100th year of the British Motor Industry sponsored for that year by Rover. The centre badge was for another Rally in England in 1984 by the Rapier Register to celebrate the first 50 years of the Rapier. The One on the Right is from the Australian Mille which was only run for three or four years. It was a Road Navigation event run over four days covering 1,000 miles around Victoria, our home state, in 1997. It would be virtually impossible to run this event today as the required average speeds were frequently in excess of todays outright speed limit. We were one of the few Pre-war cars taking part, mixing with Austin Healy, Jaguars, MG and Triumph TRs etc. We were awarded the Organiser's Special Award as the car driven most in the spirit of the Mille Miglia . The fourth badge is in the center near the bottom between the ignition /light switch and the Clock. It is in the form of a St Christopher medallion. Around the edge it has the words Lagonda Centenary 1899-1999. This covered a series of events around England and a Four Day Rally in France. They are all events that cannot be held again each marking a special event in the History of Motoring. We did attend the AACA's 75th Anniversary in Louisville Kentucky but with the Dixie Flyer, not in the Rapier. I decided some time ago during my ownership of the Rapier, there will be no more of these badges added to the collection. The indicator lights are for Headlight High beam on the right and Fog/driving lights on the left. The two small markers on the Speedo are Gold for the built-up area limit of 60kph and the Black for the over-all speed limit of 100kph. In fact in some parts of Australia on divided highways the limit is 110 kph and in built up areas 50kph. The Speedo is calibrated in MPH reading up to 100mph and the Rev counter up to 6,000 rpm The Green and Red wedges on the rev counter are more about gear-change points rather than maximum revs, The Rapier can and has frequently reached the end of the calibrations on both dials. There is a 2inch combined Oil Pressure and Radiator temperature gauge further to the right directly in front of the driver. Oil pressure runs at a steady 50/60 psi while the temperature tends to sit at between 70 and 80 centigrade, if anything a shade too cool. I have a "blind" to cover the bottom 6-8 inches of the Radiator in cold weather.
Loosely translated from the French, FIVA stands for Federation International Vehicles Ancient.
On the wall above the window next to my desk there is a collection of "Rally Plates" issued for events both here in Australia and in Europe. This is a small part of them. Of particular interest is the Gold, 24 Hours LeMans 2004 plate issued to the cars selected to take part in the "Driver's Parade" held through the city of LeMans the day prior to the start of the famous 24 Hour Race.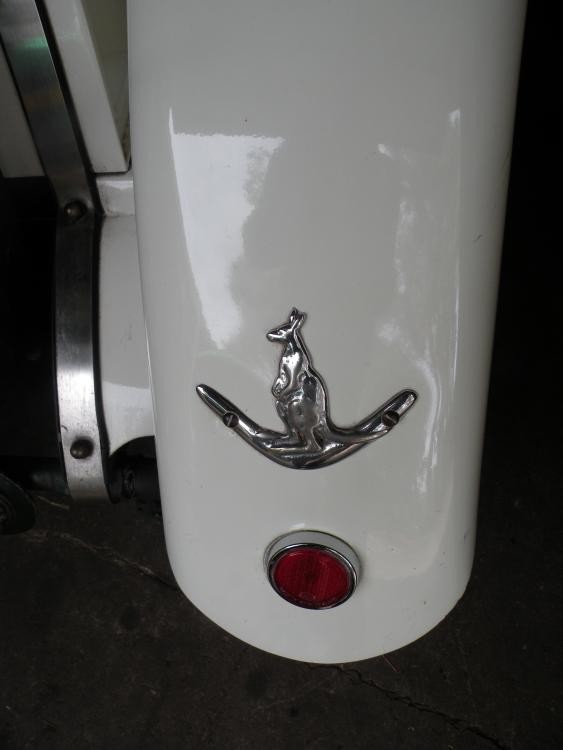 One other thing unique to our Rapier is this Kangaroo sitting on a Boomerang, mounted on the rear mudguard (fender)
It is actually the insignature of the Sixth Division of the Australian Infantry Forces (AIF) from WW2 . It was given to us some years ago, its significance is two-fold. The Kangaroo is essentially Australian and the Boomerang is well known because of its ability to, when thrown, return back to the thrower. this indicates that while Australian travellers, no matter where we may go, we will always return home.
I have never seen another and people have commented/asked about it all around Australia, the UK and Europe.
11-5-2017
Hi! Just wait a minute, I do not know how many of the people reading this know anything of our Rapier KG 5363's history before 1998 when I bought it from the late David Seath who had at that time recently arrived in Australia from England. He actually brought three Rapiers or bits of them with him to Australia when he moved here with his family in the Mid-1990s
The first photograph shows David in KG 5363 probably at Silverstone, three or four years earlier. By the time it arrived in Australia the motor was in pieces and that is how I bought it. But let us not race ahead, The next photograph shows the car in the early post WW2 years when it was owned and raced by Beatrice Shilling. Through the war and into subsequent years Beatrice owned the car firstly as her daily transport to her place of employment at the Royal Aircraft Establishment at Farnborough England where she was employed as the Carburation Specialist vitally envolved it keeping Britian's aeroplanes in the air and at the top of their performance, Anyone interested in discovering more about this fascinating lady should read Matthew Freudenberg's story of her life in his book 'Negative Gravity.'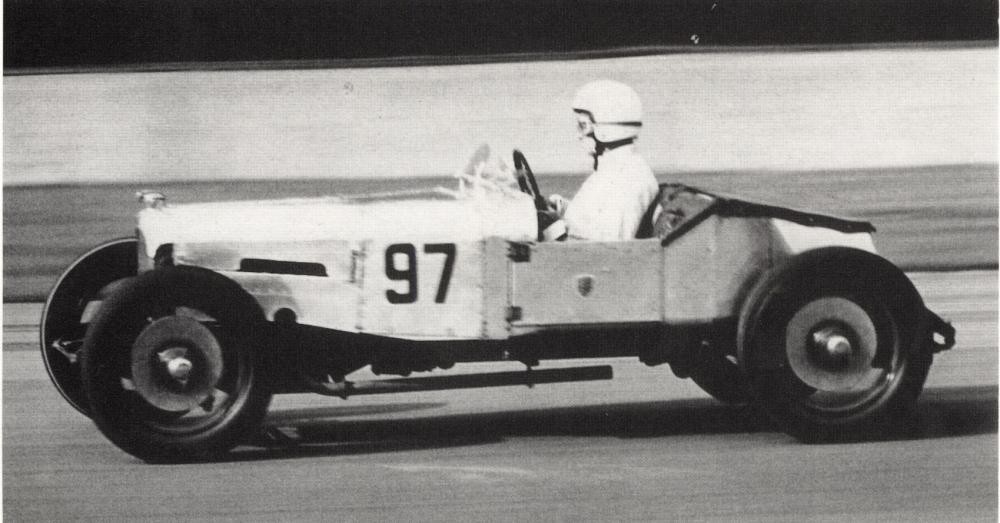 During the war years the Rapier KG 5363 was still fitted with its original Abbott Fixed Head Coupe. It was not until the early post war years that she decided to remove this body and construct one of her design largely using scrap aircraft aluminium, This was built to meet the RAC's regualtions for "Sports Cars'". You can see the result in the photograph.To meet the regulations as a Sports Car it was required to have at least one door and to seat two people. and have lights and mudguards (Fenders) fitted If you look very closely you may just make out that the (light weight) door "hinges" are in fact short pieces of rubber belt.
After I had bought it from David Seath I stripped the car down to its basic components before rebuilding it as the car we know today. At the time I was severely castigated for destroying a Historic Car. See below.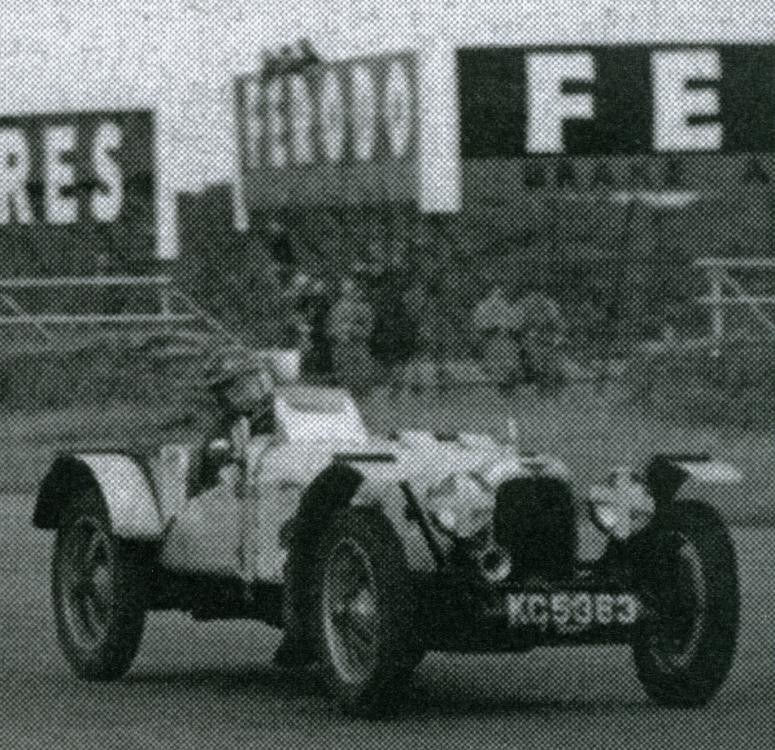 This is in fact the same car, KG 5363, I have owned since rebuilding it in 1978-80. I initially built it without lights or mudguards as a "stripped" two seater racing car. but after just one or two events decided that it was such a "nice" car to drive it would be a waste not to be able to, register it and drive not on the roads.
Most of you know the Rest.
11-8-2017
Watch out Paul you will be wanting to come here and see it for your self.
When you have done that go and drive in some of the rural areas of France. It really does not matter Fall, Winter Spring or Summer. You may want to stop for Dinner This is the menu for the day after tomorrow. November 11 so you will have to hurry to book. Funny thing Granny Smith Apples are an Australian Variety of cooking apple.
Le mois de novembre approche, pensez dès à présent à réserver pour ses prochaines dates afin de d'écouvrir nos produits d'Automne, ses belles couleurs d'Automne
Réserver dès maintenant
Menu proposé le dimanche 1er et le mercredi 11 Novembre
Le menu 65€
Savoureux apéritifs et cuillères légères
***
Noix de saint-jacques de la baie d'Erquy, les légumes de Monsieur Nesme, bouillon d'étrille au curcuma
***
Foie gras de canard poê, pommes granny smith au verjuis, raisins marinés et navet longs
***
Filet de chevreuil aux graines de moutarde, choux de bruxelles, carottes fanes et champignons, jus réduit à l'ail noir
***
Chariot de fromages affinés ou Faisselle fermière
***
Poire pochée verveine, pavlova, crumble praliné et sorbet poire
***
Figures et mandarines rôti au miel de Monsieur Auby, sarasin et glace vanille de l'Ile de la Réunion
***
Les douceurs d'Estelle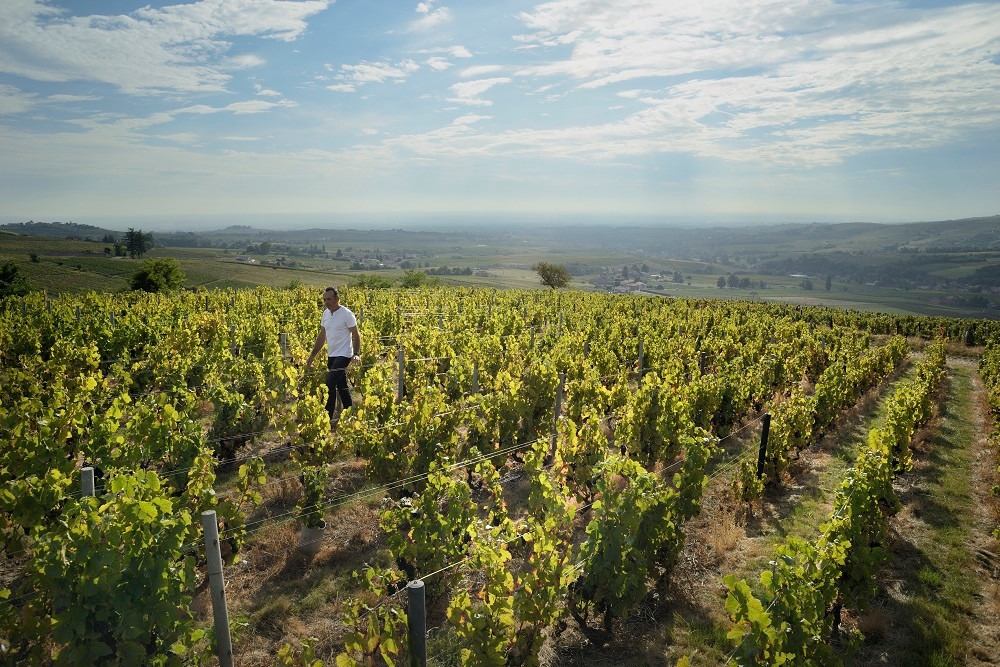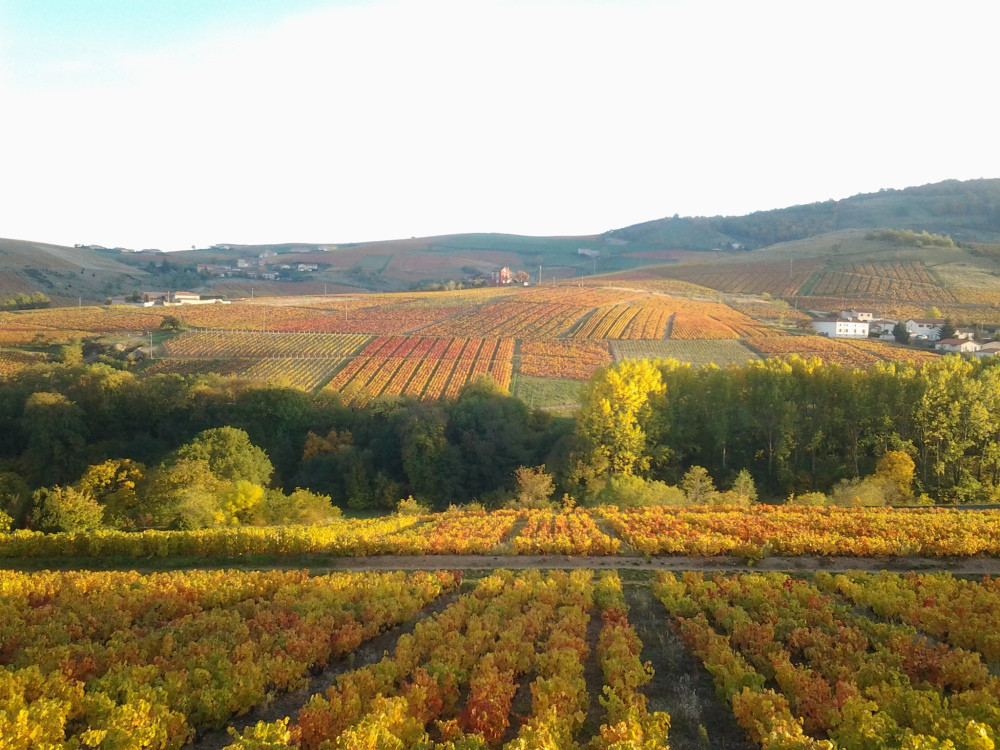 11-11-2017
From time to time I make mention of my favourite breed of Dog, Airedale Terriers. It is almost 65 years since I owned one but I still talk to the occasional one I meet on the street. I was pleasantly surprised when my grand-daughter "Lottie" gave me this surprisingly accurate drawing of one yesterday. Woof!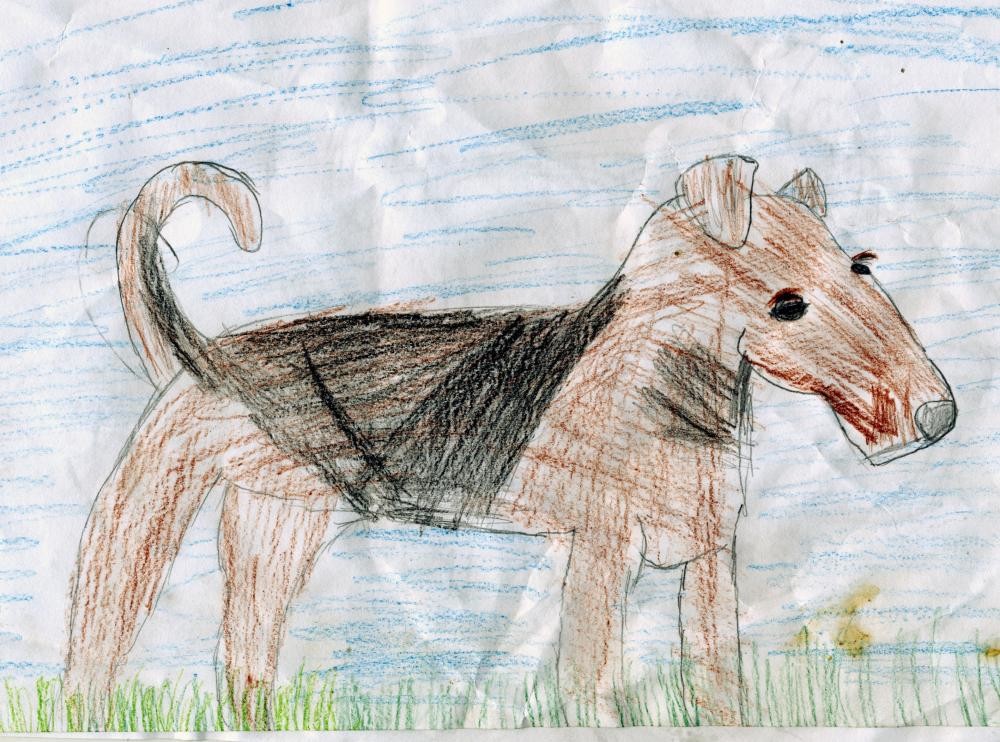 11-14-2017
The mesh "box" was fitted to the carbs because the circuit we were racing on had been recently "resurfaced" and there was still a lot of loose stones in places around the track.
The other (action) photograph was taken at the now defunct Templestowe Hill Climb. This was quite a long climb with a 1 in 4 "peak" which had a 90 degree turn as you reached the crest of the hill.
The "trumpets" fitted to the carbs were not just cosmetic, it had a huge amount of overlap on the cams and the "ram tubes" were designed to help cope with the "stand-off."experienced at between 5,500 and 6,500 rpm. As there was no clutch and no starter motor fitted (it had a ENV preselector gear box and was "push started") the flywheel was extremely small and light.
"KG" our long suffering "road two seater" uses the same ENV pre-select gearbox and has no clutch fitted. It does have a modern "geared starter" working on a lightened flywheel. Just removing the clutch & pressure plate reduces the weight of the flywheel considerably. There is a single steel drive plate with a splined hub in the centre, this is bolted directly to the flywheel. You need to look up ENV Pre-selector Gearboxes to see how it all works. Historic British racing cars such as the ERA also used preselect transmissions. These were/are standard fitting to Lagonda Rapiers The last photo is of a standard Lagonda Rapier gear selector. it is shown in neutral. It goes one notch forward for reverse (protected by a flip-over lock out latch) and pulls back through five inline detents for neutral and the four forward gears . The selected gear is "engaged" by pushing in and releasing the "clutch" pedal. Very fast, positive gear changes are possible.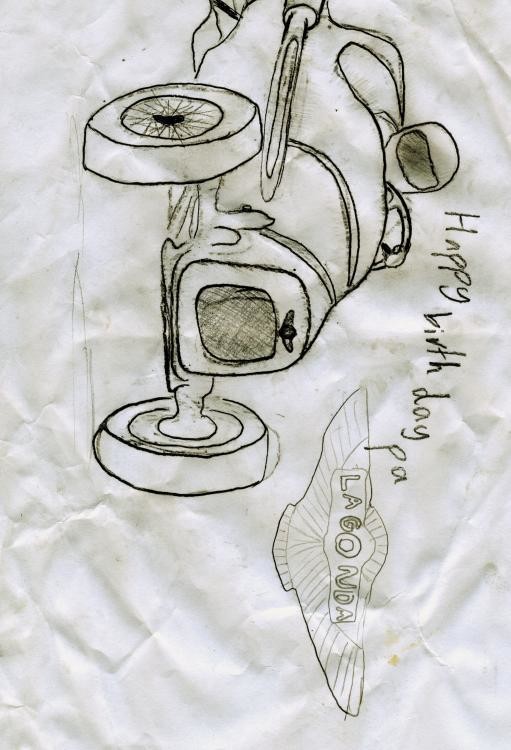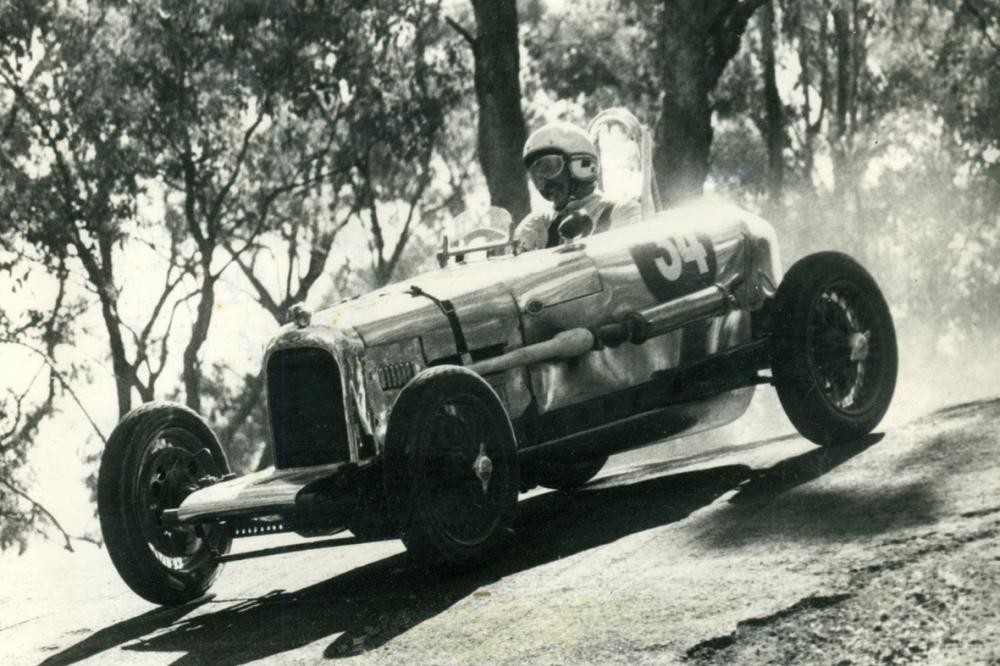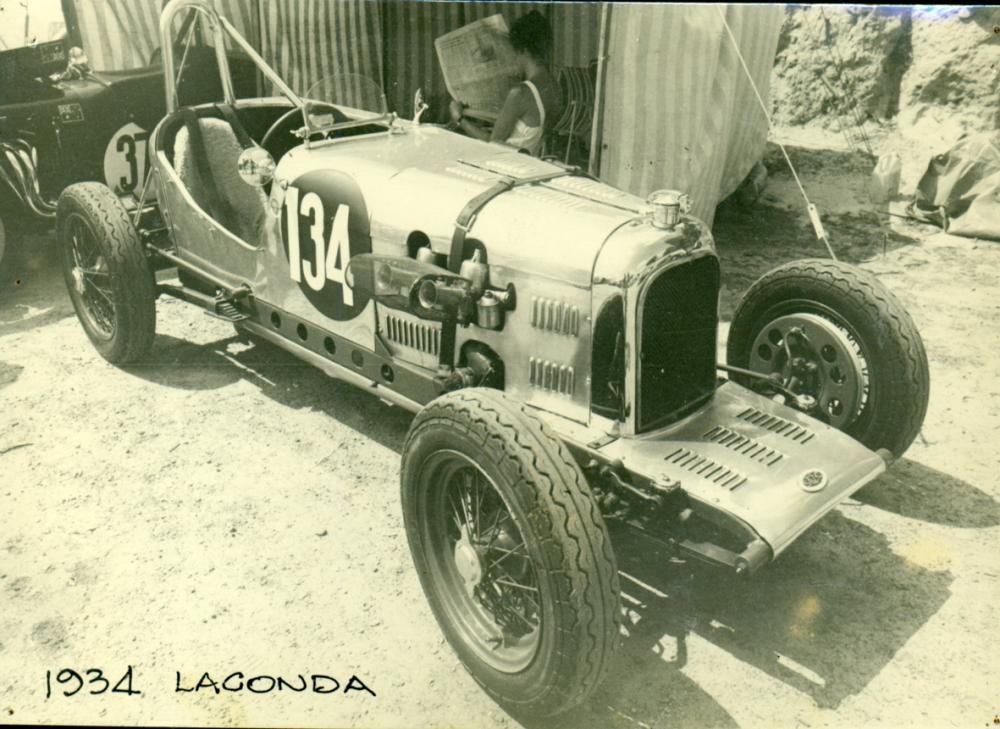 11-19-2017
OK! How many people actually looked up how a "Pre-selector " works?
Major Wilson first invented this type of transmission during the 1914/18 war so that men that had never driven anything other than a horse and cart could get into and drive a tank. It is quite an interesting history lesson.
Adding a "Clutch" is just adding complication and weight to the flywheel. Yes, some big lazy old engines do need a heavy flywheel to keep them going. A bit like some early agricultural "hit and miss" stationary engines.
But not a sports car engine that needs instant acceleration and frequent changes of speed. The same applies to the type of transmission. With a Preselector out on the road (or track) coming into a tight (slow) corner you can go straight from top to second then back to third in the time it took to read this.
11-21-2017
One outstanding difference between the Crossley Regis and my Rapier is simple, one is a 1250cc or 1500cc touring car often with a heavy, 4 door, saloon body and with an engine that may have produced something around 25 -30 bhp and KG which has a highly developed1500cc engine producing around 80 bhp in a light weight two seater with just one door. The difference in up-hill starts alone is like chalk and cheese. As I commented just a week or two back to another Rapier Driver, the Rapier's designer Tim Ashcroft knew a thing or two when he incorporated a "fly-off" handbrake in the Rapiers design. Any owner of a sporting car who preferrs to slip the clutch to start off up hill rather than hold the car on the hand-brake until the clutch bites needs to go back to Driving School. In my book at least it is far better to start off up-hill with a little wheel spin than to start off with a smoking clutch. It is probably no accident that when just a little bit younger, my favourite form of competitive motor sport was "Hill-climbs".
Not KG5363 this time but a much earlier lightweight "1232cc" Rapier two-seater "BYY 626". It was re-built from a "basket case" bought in England and shipped "home' to Australia. Unfortunately it has not been seen for some years after a subsequent owner sold it to a "Collector" in Europe. The back of one of these photographs tells me that the year was 1978.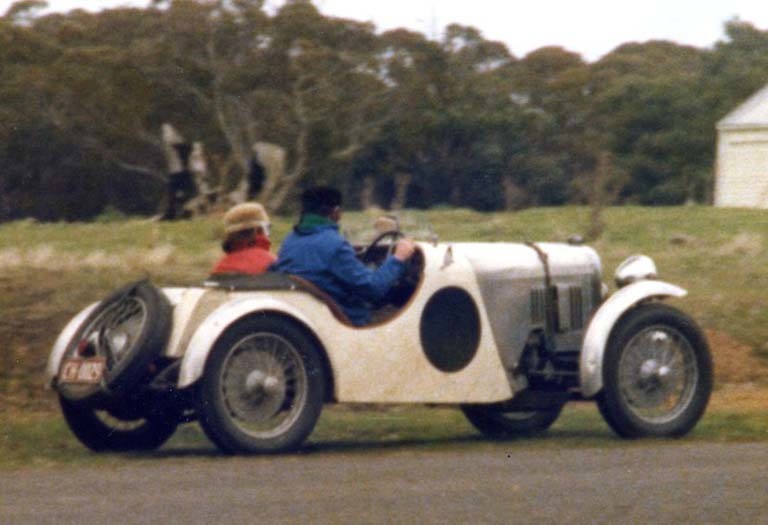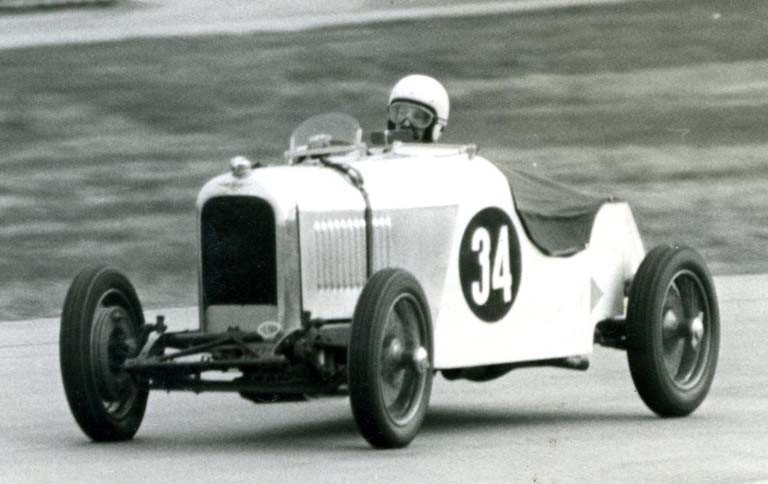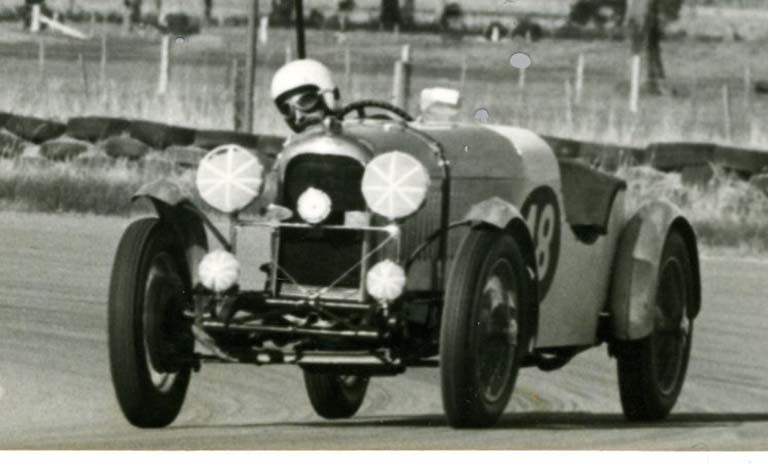 11-28-2017
Now for something different, from time to time I mention P.G.Wodehouse and the many books he had written during his lifetime. While essentially "English" he actually spent quite an amount of time living in America and many of his books referred to life in the USA.
I have one bookcase devoted to his books. I decided a little while ago to start re-reading them. Not following any particular order but jut picking one off the shelf for my bedside reading. I have just finished "The Adventures of Sally" written in 1922 it covers a section of her life when she is mainly living in New York and gives us quite a good insite to life there in the early 1920s.
The next book again chosen at random is "the Inimitable Jeeves this one was first printed in 1923. My copy is a "Fifth Printing" which probably makes it around 1924/5. Most of my copies are hard cover printed by "Herbert Jenkins" making them mainly Pre WW2 and mostly from the 1920s.
As I am sure I have said many times already, "You do not have to be mad but it helps" Apart from anything else they do tell us something of the lives of the people who drove our cars when new.
The observant among us will have noted that I do have several paperbacks on the bottom shelf.
I am always interested in hearing from anyone with Herbert Jenkins copies of PGW's books in good condition. There are still almost as many of his stories that I do not have. I can always buy taller bookshelves.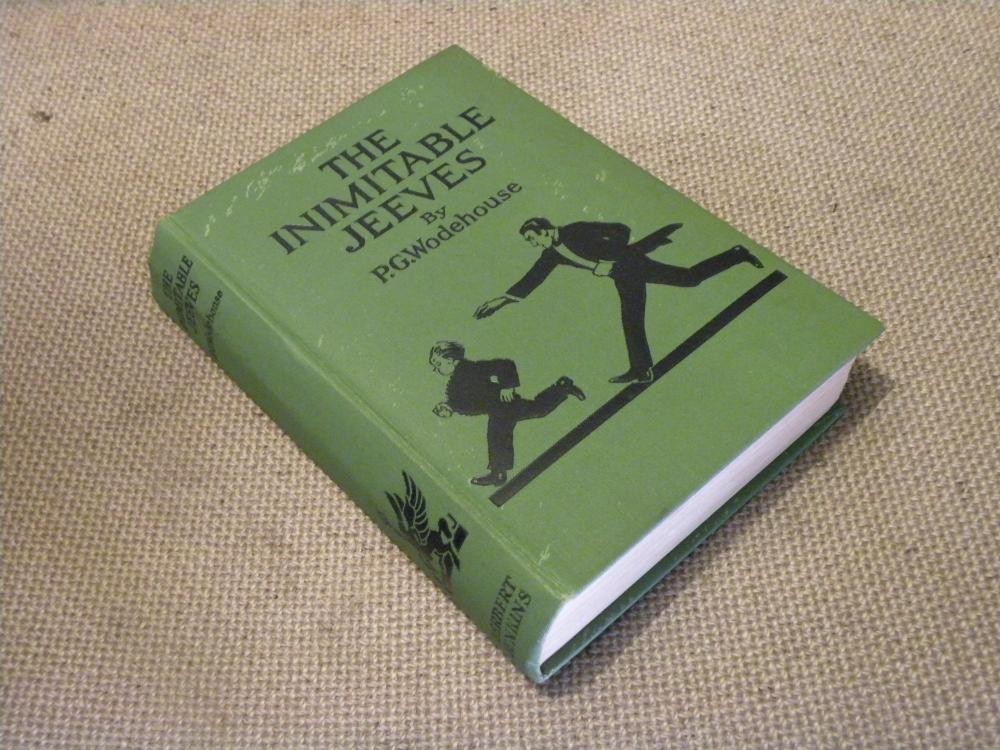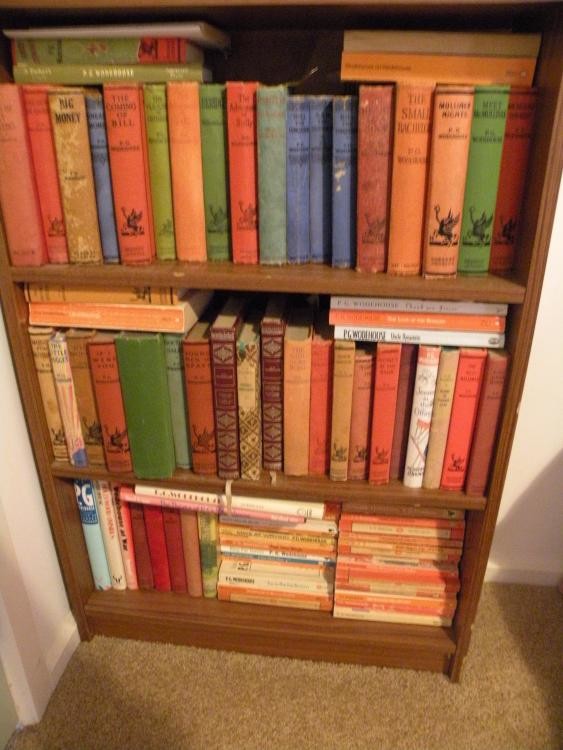 11-30-2017
Welcome to our Rapier Forum.
Your's as you probably know is a very famous Racing Car
For the benefit of some others, The Phoenix name for your car comes from the fact that it raced in 1937 Phoenix Park(Ireland)100 Mile Race.
It is understood that this car was the very last car assembled by the Rapier Car Company. I will take the liberty of scaning the relevant pages of EVER KEEN that tell something of the car's history.
Regarding your "Chain Tensioners" Your engine does indeed have "chain tensioners. These are known as "Sprocket Tensioners" and were mainly fitted by the Rapier Car Company to the factory supercharged cars. They were an attempt to improve on the more usual "Weller Spring Blade Tensioners" which were fitted as standard to all the "Lagonda" Rapiers.
This probably sounds a little confusing but for the First year of Production July 1934 to July 1935 Rapiers were built in the Lagonda factory. The Lagonda Company went into receivership in late July 1935. There was a deal struck with two or three of the Lagonda Companies now redundant employees togthers with a financial backer to take over the remaining unassembled parts in order to continuing producing cars. These cars were to have all reference to Lagonda removed, a new Radiator badge was designed and the Lagonda name was ground off the cam covers and the top of the chassis i.d. plate had the Lagonda Name and address cut off. Production continued until the end of 1937. Most Rapier Car Co cars were fitted with Ranalah bodies although as previously the purchaser of a new chassis could then take it to the coachbuilder of their Choice. In total there were just short of Four Hundred cars both Lagonda Rapiers and Rapiers produced between 1934 and 1937. "Ever Keen" is a book that I put together as part of the Rapier Registers 2009 celebration of the Rapiers 75th Anniversary.
This book is a Numbered Limited Edition with over 200 pages of information about Rapiers and their owners around the world.
There is a very limited number of new copies available from The Rapier Register Secretary/Treasurer, Martin Montfort email .
Ever Keen was the Rapier Car Co's Sales Slogan. It referrs to the sharpness of a Rapier in the hands of an expert (swordsman).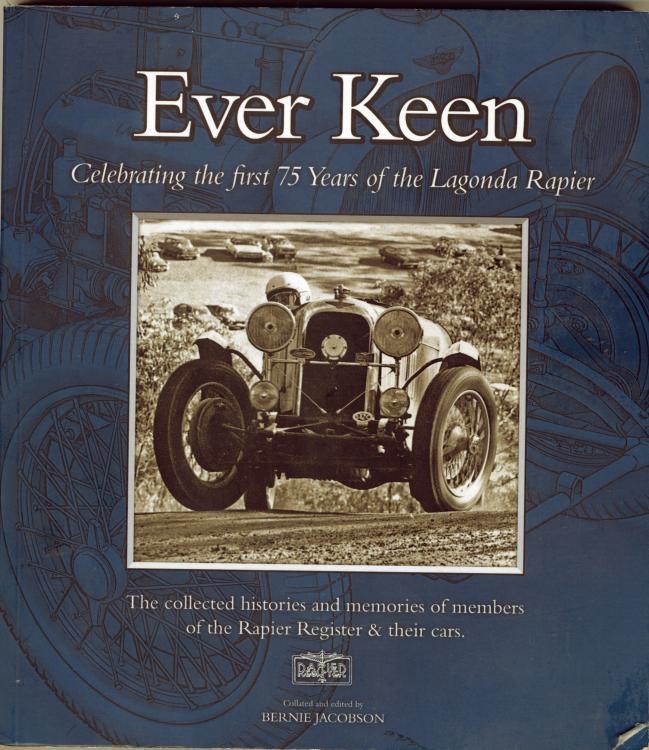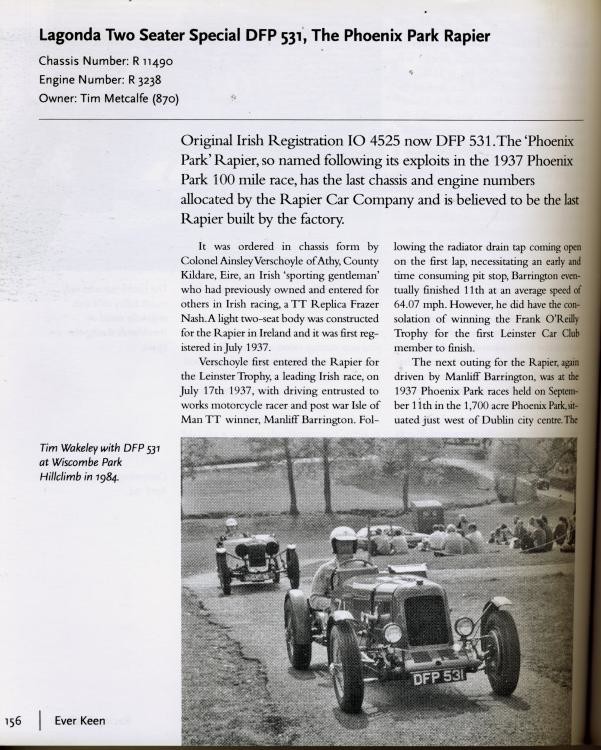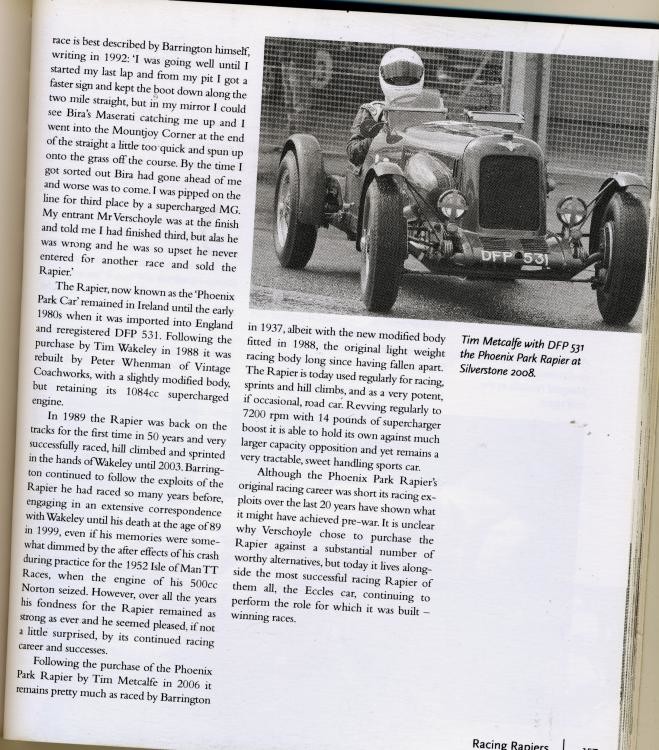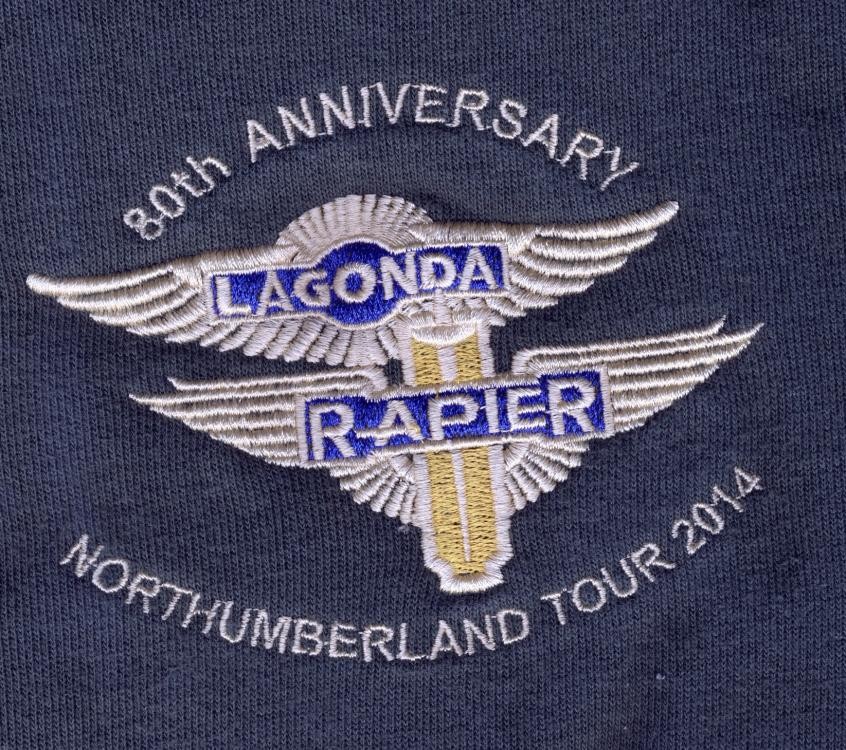 information.
The Rapier Register has on average between 150 and 160 members world wide. Between them they own around 200 cars. In total around the world the Register can identify 381cars produced, of these approximately 320 are known to still exist. These figures are little short of amazing considering that we are talking about a small 1100cc four cylinder car with a high performance twin overhead cam engine. The entire car was/is hand built to exacting standards. In 1934 (83 years ago) they staggered Motoring Journalists not only with their overall performance but with their ability to STOP. They were among the first cars to be fitted with the then new powerful (roller expander) Girling mechanical brakes. The Lagonda Rapier was recognised as the first production car to stop in less than 30 feet from 30 miles per hour. Even today a well maintained Rapier can be and frequently are driven safely among modern traffic. I personally have driven our 1934 Rapier through Central London and around the Paris Ring Road through modern Friday Afternoon traffic. For much of the clubs "regalia" a combination of the two badges is used. (See Above)
For the benefit of those who may have never seen inside a Lagonda Rapier engine. There are three tensioners one for each chain. Wolfgang's is an extremely rare Factory Supercharged car,
It used three "sprocket tensioners" where a spring loaded sprocket was fitted in lieu of the "blade tensioners" shown in the drawing. Factory Supercharged engines have been known to rev to over 7,000 rpm.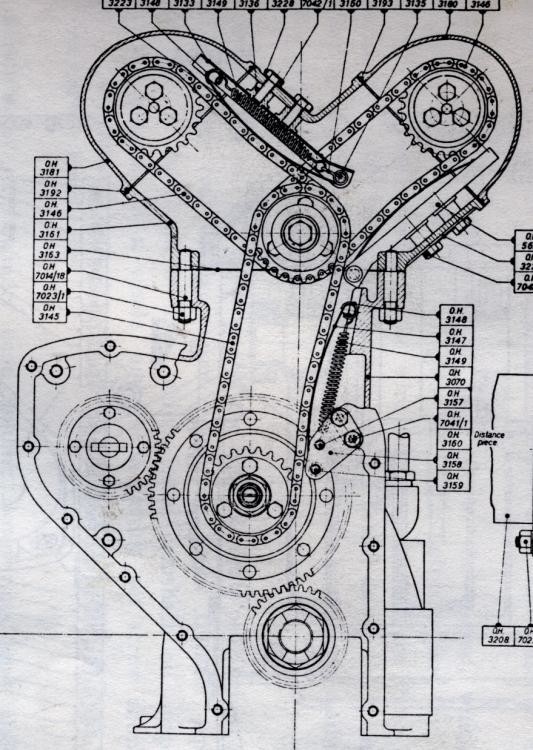 You do not have to take my word here is a contemporary road test for a 1937 Supercharged Rapier.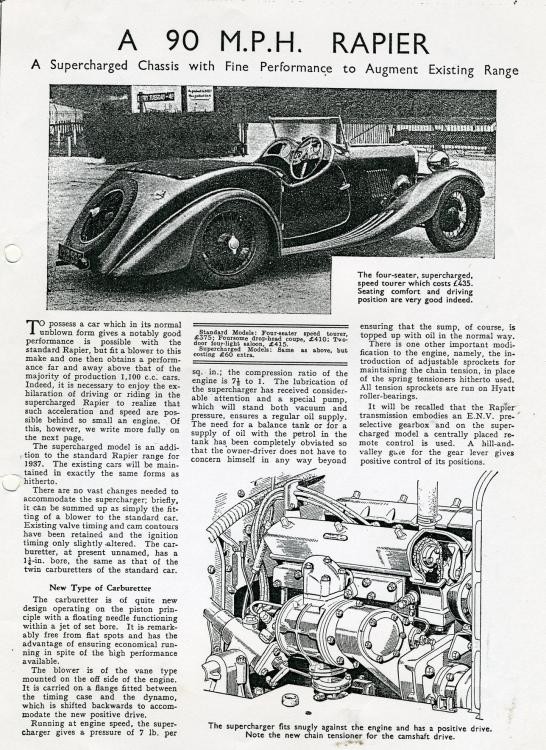 For anyone in doubt about the 2017 Lagonda here is a photograph but don't expect to see too many parked outside your local Super-market. It is difficult to obtain an accurate Price quotation but I understand that to buy one you will need to raid your piggy bank to the tune of about one million dollars.
Having said that, I have actually seen one on the Road, of all places in Australia's island state of Tasmania. No! Unfortunately I did not get a chance to talk to the owner. I believe that if you are lucky you make catch a glimpse of it around the Museum of Modern Art on the outskirts of Hobart that states Capital city.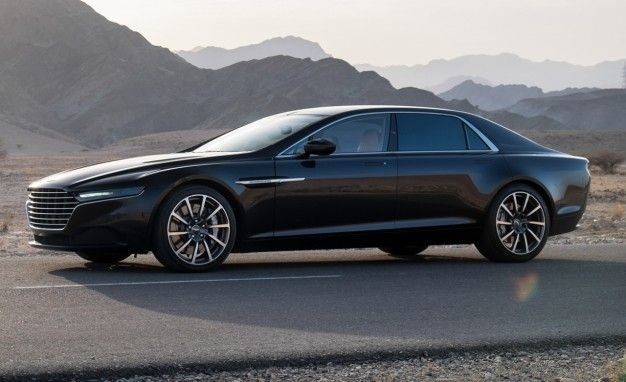 12-1-2017
Hi Paul
You are certainly not alone. I was absolutely amazed to actually see one in Hobart, Tasmania of all places. Hobart is the capital city of Tasmania, an Island below the south east corner of mainland Australia. It has a population of 225,000 people. That one of the that population is driving one of the worlds most expensive motor cars is quite remarkable to say the very least. If you miss Hobart the next stop is the South Pole.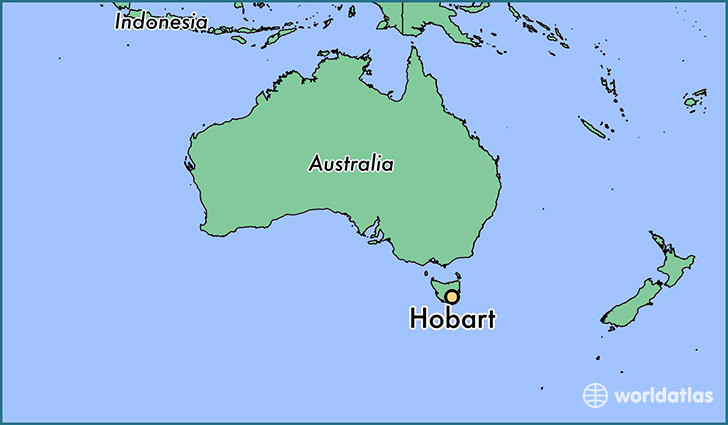 12-14-2017
A Christmas Card for you.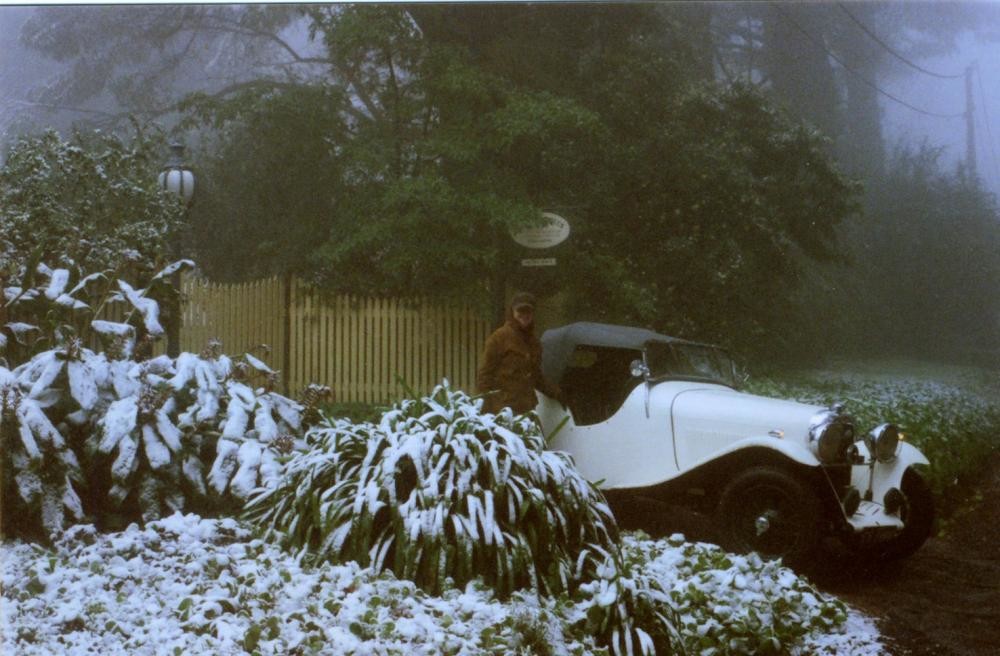 Good Morning and Compliments of the Season to All.
What a mixed year this has been. On the domestic front all has been rather quiet with our family busily pursuing their own activities. Now I know that many of you are waiting impatiently for our Motoring News.
2017 started off badly with our beloved Lagonda Rapier tucked up in the garage with the engine out and all in pieces following the horror return journey home from the NSW, VSCC Dubbo Rally. The outcome of this was a total engine rebuild that seemed to go on and on. In the process I had decided that I needed to do something about the carburettion and more specifically, the inlet manifold. This developed into one of those situations where the more I did the worse the problem got. It was not until September that I got the Rapier running well enough for us to attend the VSCC's "Wimmera Wander" a mid week touring event that took us along some completely new country roads. This started in Hamilton, one of the principle Western District towns and one that we have visited a number of times in the past. It is a day's drive from our home in suburban Melbourne . The "Wander" started with "out and back" drives for the first two days then into the Grampians where we spent the final night at Halls Gap. Un-characteristically, the Rapier decided to hold us up not once but twice on the same day. Firstly a clevis pin fell out of the gear-change linkage, making it impossible to change gears. This I could rectify on the side of the road, using a nut and bolt out of the selection always carried in one of the pockets in the tool bag. Then later that afternoon the silencer and exhaust pipe decided to fall off! Perhaps due to some late night workmanship when re-assembling the car after its engine rebuild.This could be put back temporarily but required further work after we had returned home.
On the return leg after the weeks motoring, I noticed that the engine was running too fast at an idle. As this did not improve with winding the adjustment fully back, I diagnosed this as an air leak somewhere in the induction side of things. First thing to be suspect was the ill fated modifications to the inlet manifolds. Taking these off the engine and placing them upside down of my work bench I could test them for air leaks using some methylated spirits. It showed that the site of my previous repair was porous permitting air to leak in. I was to eventually admit defeat and order a new pair of inlet manifolds from the Rapier Register "Spares" in England. While I was waiting for these to arrive by post. I could remove the exhaust system and weld the slip joint that had failed while away. When the new inlet manifolds finally arrived I could enlist our son Steve's assistance in enlarging the ports both on the carburettor and the cylinder head sides. Finally It is all back together and running nicely but as this was not accomplished until mid November this has been our quietest year as far as our "Vintage" motoring is concerned.

On the restoration front it has been an equally unproductive year although it has seen some changes with regard to the cars. Firstly uncharacteristically I decided that I was never going to finish the 1912 Humber, as a result it was advertised on the PrewarCar website. Thankfully it sold relatively quickly and I spent a couple of weeks packing up all the bits for it's sea voyage to the land of its birth, England. It is an interesting aside, that since arriving in England It has changed owners twice.
I decided rightly or wrongly that what I really wanted was a Vintage Light Car project, It did not take many weeks before I had a 1929 Triumph "Super Seven". Sadly It only took a matter of two or three weeks for me to decide that perhaps the little Triumph was not all that super! It too very quickly found a new owner about as far away as possible without leaving the eastern side of Australia. Again I was gainfully employed packing it all up for the long road journey north to Cairns in Northen Queensland
I barely had time to sweep out the garage when our enthusiastic son Steve telephoned to tell me that there was a car advertised on "Gum-tree", he thought I should at least enquire about. After a short discussion I arranged go and look at a 1920 Studebaker," Light Six". Following short discussion we decided to buy it.
Since having it safely at home I have been able to start a "thread" on the Studebaker section of the Antique Automobile Club of America's internet Forum. In the past I have made a habit of using the AACA's Forum to uncover all sorts of information regarding my various project cars! I now know that our "Stude" is probably the earliest surviving "Light Six" and also a rather special car. One of just a handful of surviving examples of its model but in addition to being right hand drive, it is fitted with the optional Wire Spoke wheels and Magneto Ignition. It shows all the signs of less than careful storage, It appears to have spent most of it's life since December 1941, while undercover, stored in various farm sheds and "Chook" houses. Firstly in Springvale from 1941 to 1969 or perhaps 1970. Then it \was sold to a man who ran a mixed farm/orchard at Merrigum, not far from Shepparton. Once there it was placed into another shed and left almost untouched until when it was sold at a Farm Clearance Auction in 2012. From Merrigum it was transported to Collingwood but while on the way, the Hood was removed and left in another farm shed at Gooram, not far from Echuca. The new owner parked the Studebaker in the vast garage. he did not even bother to jack the car up and put in "on blocks". It stayed there, standing on flat tyres, until we bought it another five years later.
Now, I have had all the wheels sand blasted, painted and fitted with four new tyres. I can now move the car single handed. While the motor was "stuck" and impossible to move using the crank handle. Now after gently "rocking" the car with top gear engaged, the motor turns over nicely. Perhaps for the first time in a great many years. The most surprising thing is the speedo reading, just 36,016 miles. Being a 1920 Light Six, one of the first two years production,it has an experimental engine fitted with an aluminium cylinder head. This motor was only used for a little over two years. One of the problems with this motor is that enthusiastic mechanics tended to over tighten the spark-plugs, in the process stripping the thread in the cylinder head. The upholstery will need to be replaced. The seats have provided a safe and comfortable home for generations of rats & mice! Also some of the paint work will require some judicious "patching in", to go any further would risk spoiling the wonderful "oily rag" patina of the car.
We had one more delightful sojourn, this time in Helen's trusty VW Jetta, we set out to drive to Canberra to meet up with son Nicholas and his family, who live in Adelaide, for an enjoyable few days. But as is our custom we avoided the Hume Highway driving instead up the Melba Highway towards Yea and Mansfield. From there we followed the road past Powers Lookout, through Beechworth to Wodonga where we stopped for the night. Next day we set off again taking the Olympic Highway through Junee and Cootamundra before turning off on to some "interesting side roads to make our next stop at Binalong where VSCC member Stuart Saunders has the Motor Museum. From there it was an easy drive through Yass to Canberra. In Canberra we stayed at the Rex Hotel/Motel for four nights. Nic had hired a seven seater People mover and given Canberra's convoluted road system, we were happy for him to drive us each day. It was great for us to have so much time with Nic, Susannah, and their two, Julius and Helena.
Leaving Canberra we chose to ignore the Highways again, instead we took the road through Wee Jasper, Tumut and Batlow where some of the best Apples in Australia are grown, our destination for that day's driving wasTumbarumba. Rapier owner Neil Hamilton has recently bought a property about ten Kms south of the town, until they finish building their new house they are living in a rented house a little closer to the town. We had a very pleasant evening with Neil and Grazysna. Next morning we set off again travelling South-West. Again we chose to find our way through the lesser travelled roads including Twist Creek Road that runs through some interesting country between Yackandandah and Beechworth. A fabulous drive but not if you are in a hurry and not if you are worried about getting your car dirty. Oh yes! There are a couple of first and second gear bits too. One thing for sure, the traffic will not be of concern! We enjoyed every km. but we would not attempt to drive it in Mid Winter or High Summer. From there we drove along the King Valley Road to Mansfield and finally back down the Maroondah Highway to home.
My first year of being an Octogenarian was relatively uneventful and Helen still has another year before she joins me in the OBE Club. We both feel remarkably well and still look forward to the future rather than back at the past.
Hopefully 2018 will bring some/a lot more enjoyable adventures for us. Some in the Lagonda Rapier and perhaps in the Studebaker too.
For now it will be another New Year of French and Strength Training for Helen and my Monday morning games of Petanque.
All that remains is to wish you and your families an Extremely Happy Christmas and an Even Better and Healthy New Year.
Happy motoring in 2018.
12-17-2017
You may like to look at the attached as some holiday viewing. There has been some discussion among Lagonda Rapier owners about identifying part numbers for individual chassis components. I have explained that when I first got my present car I completely stripped the chassis and marked each item with my own system of identification. Below some photographs of the chassis but not in any particular order. I am sorry that it is not in "Show" condition, quite grubby in fact but then the car is driven, quite often on indifferent roads.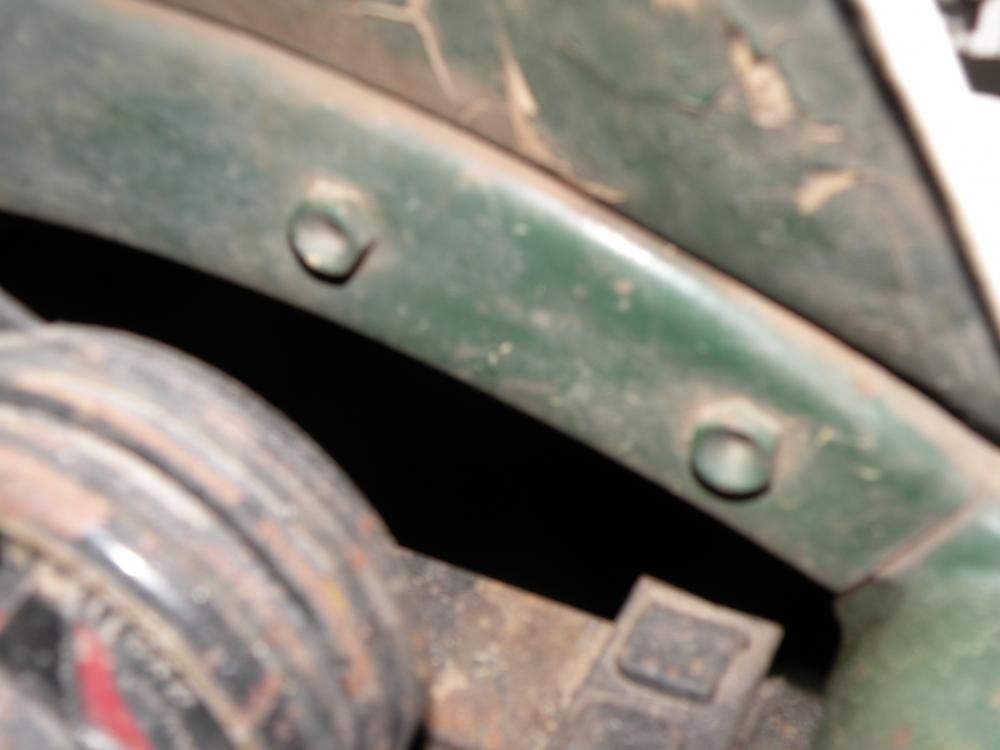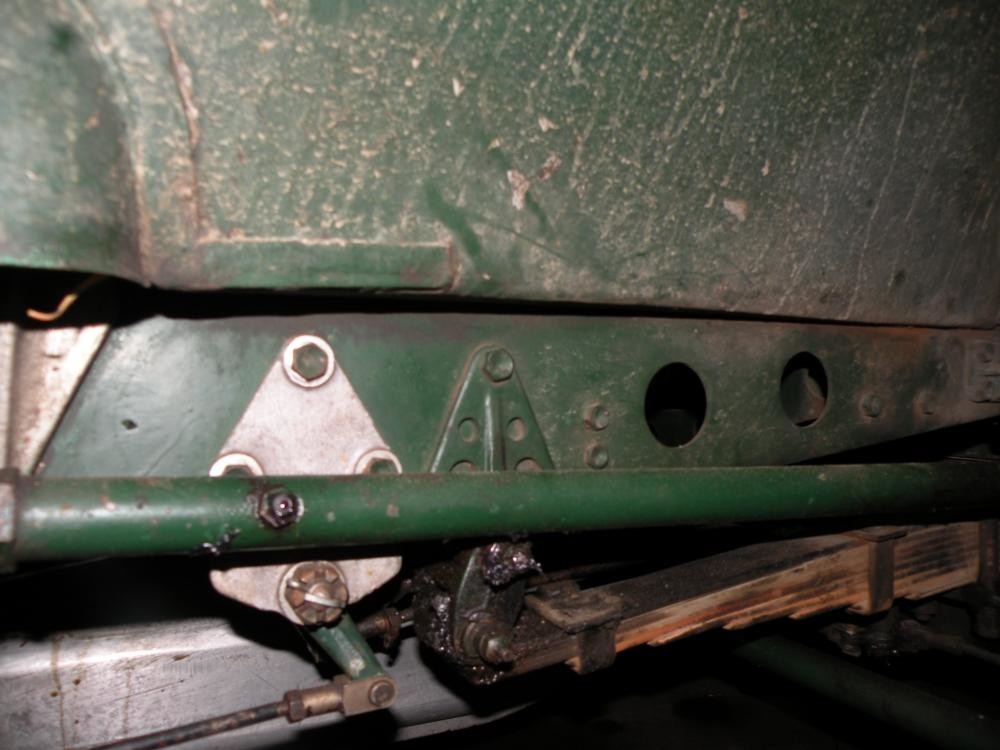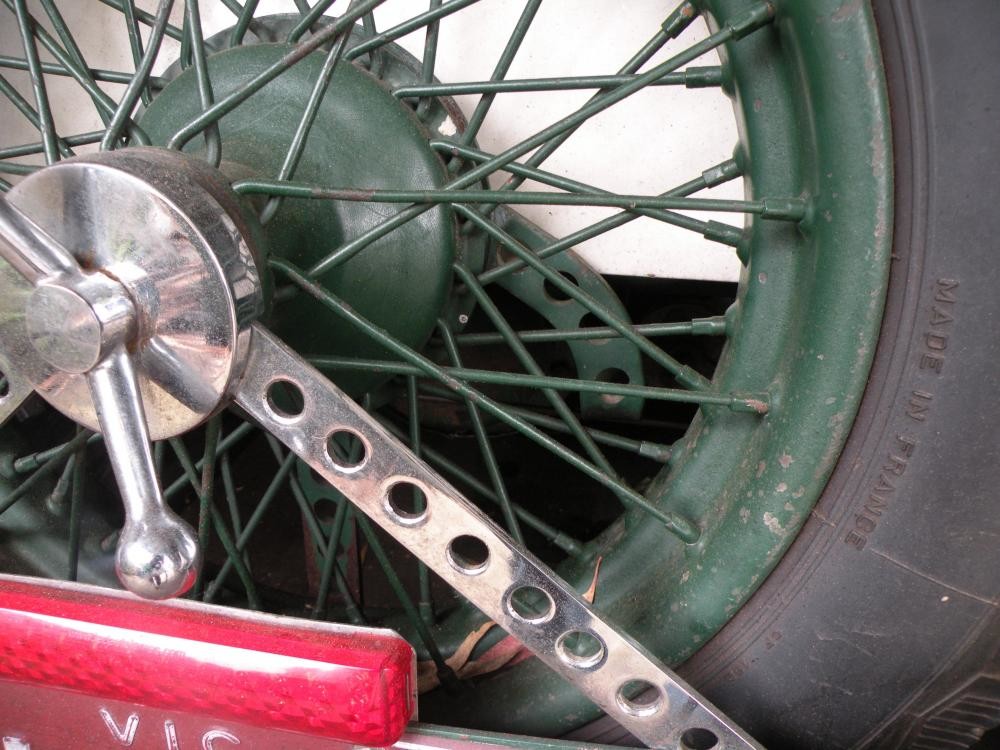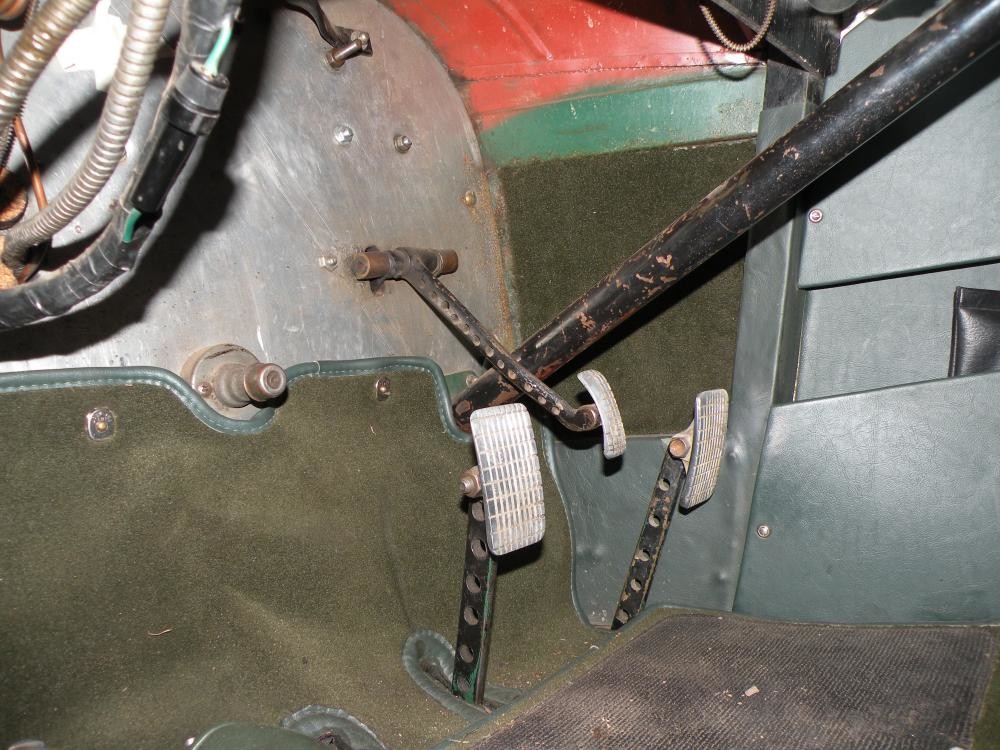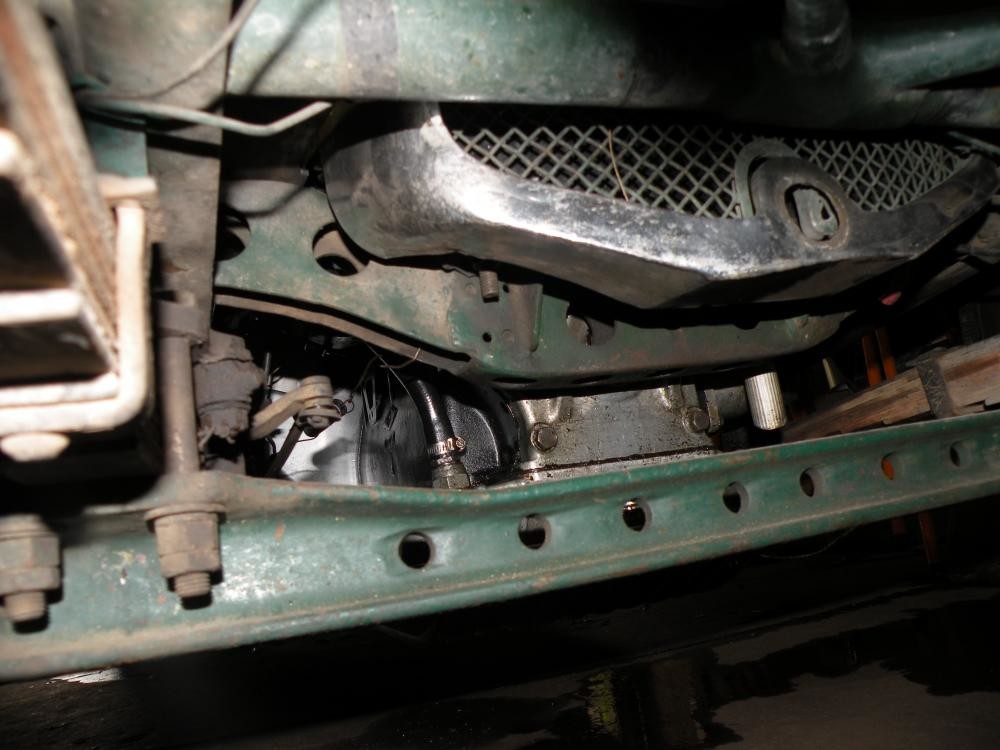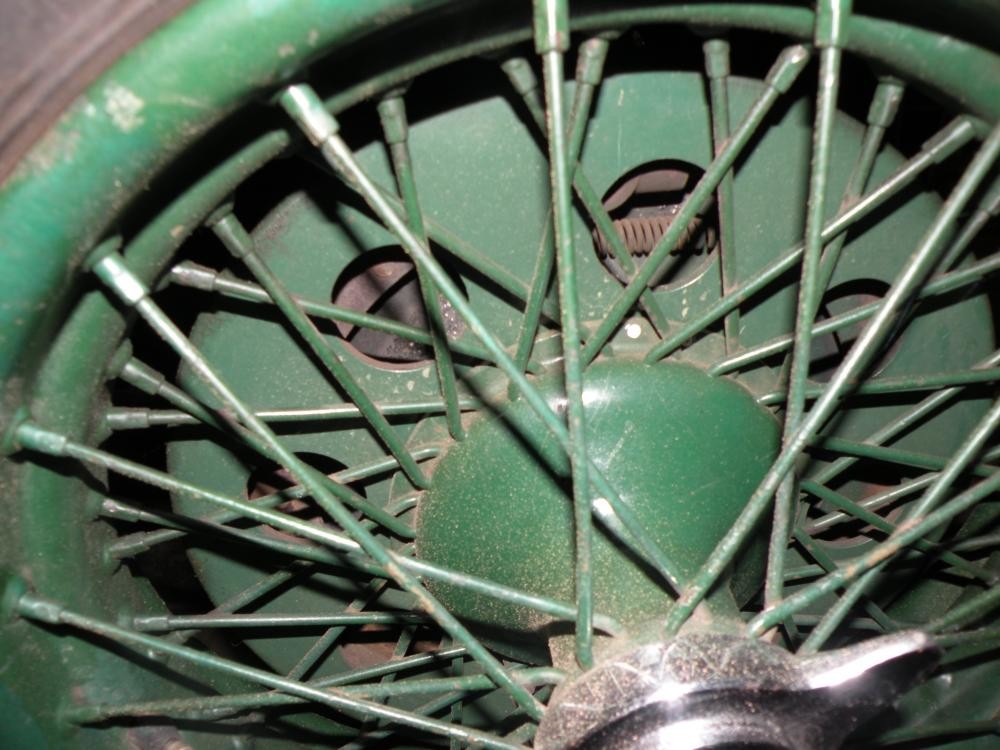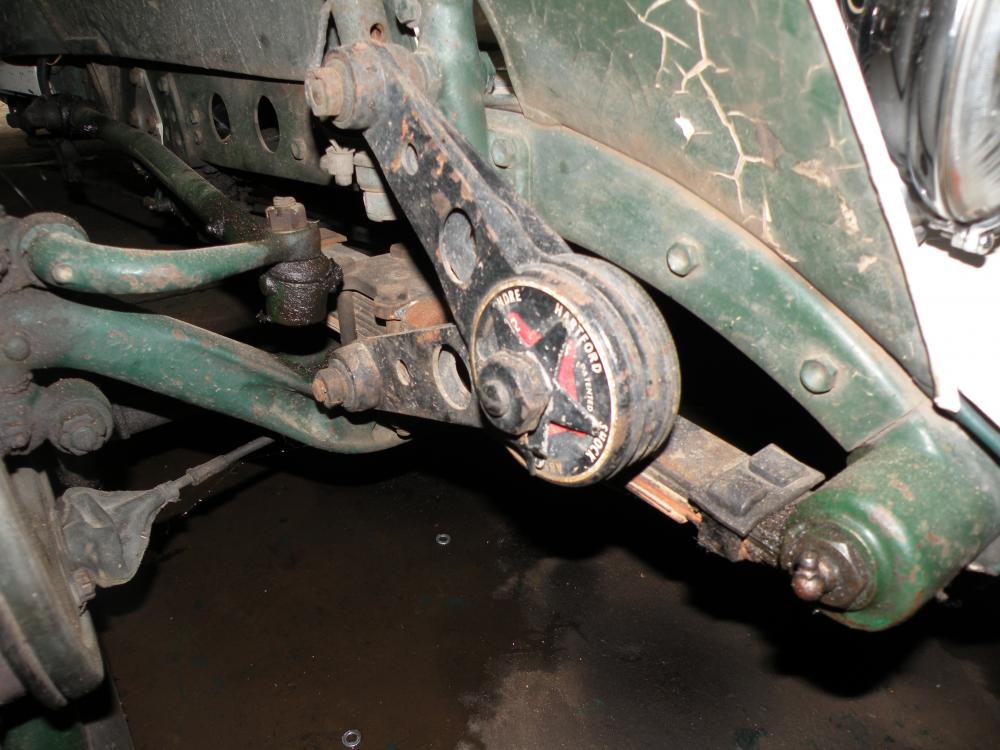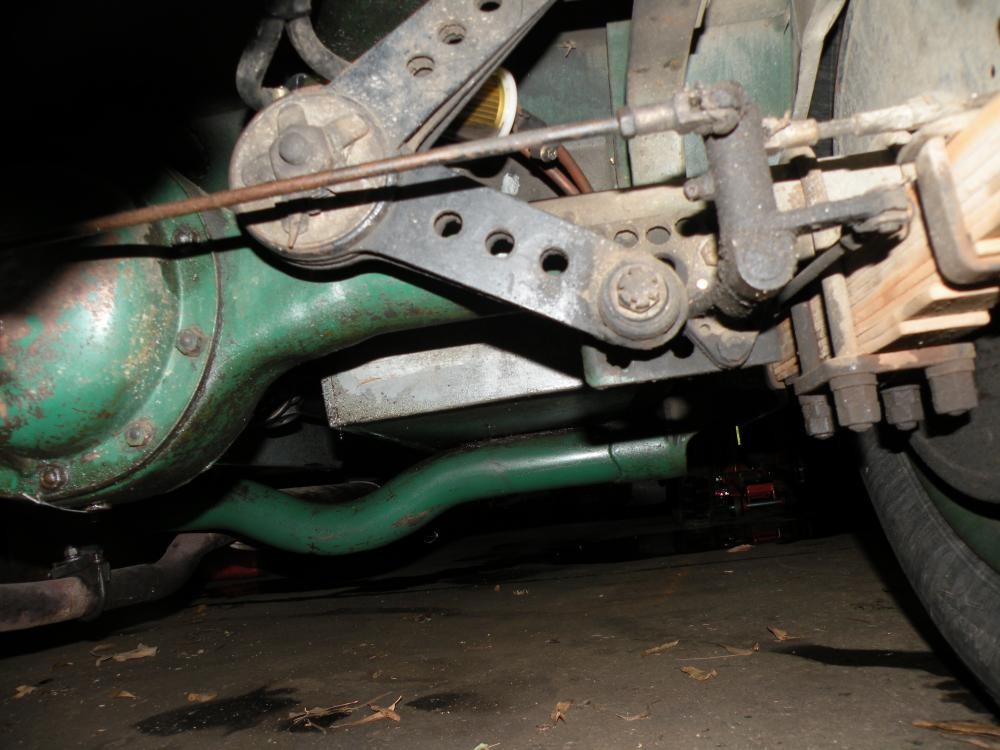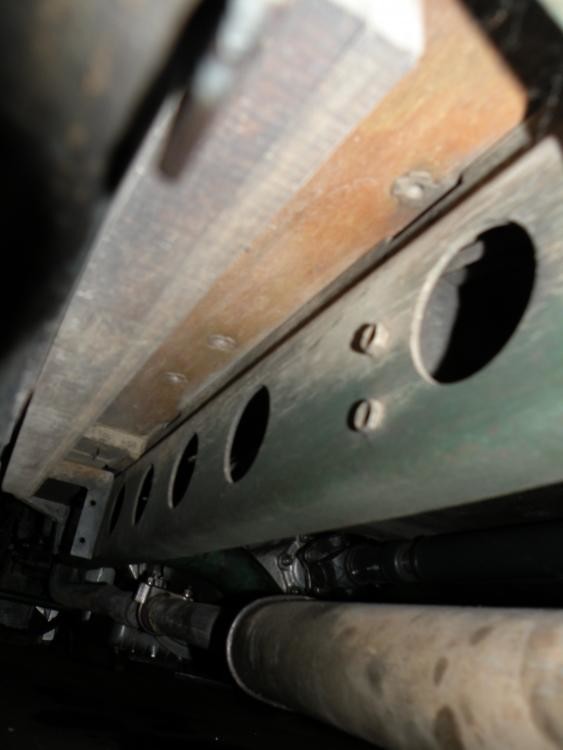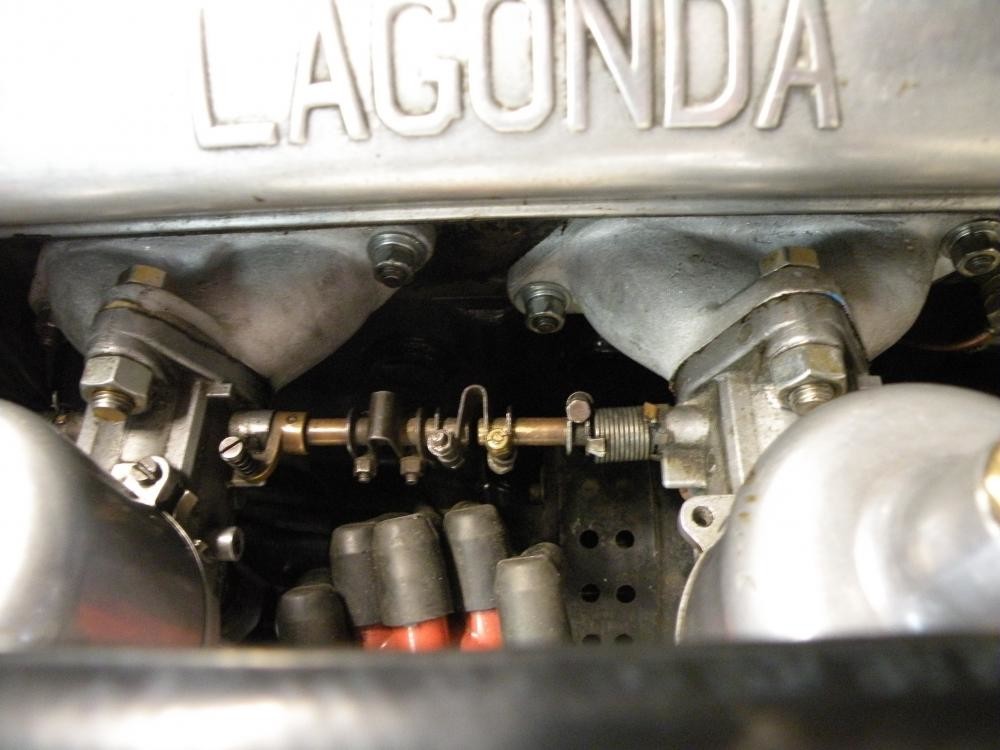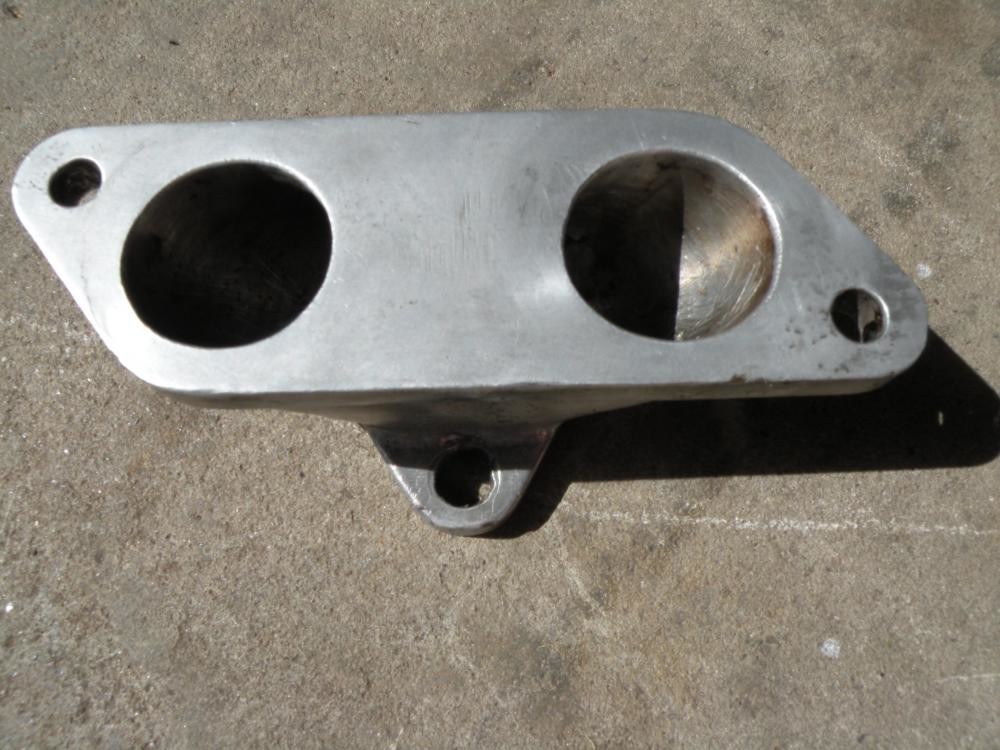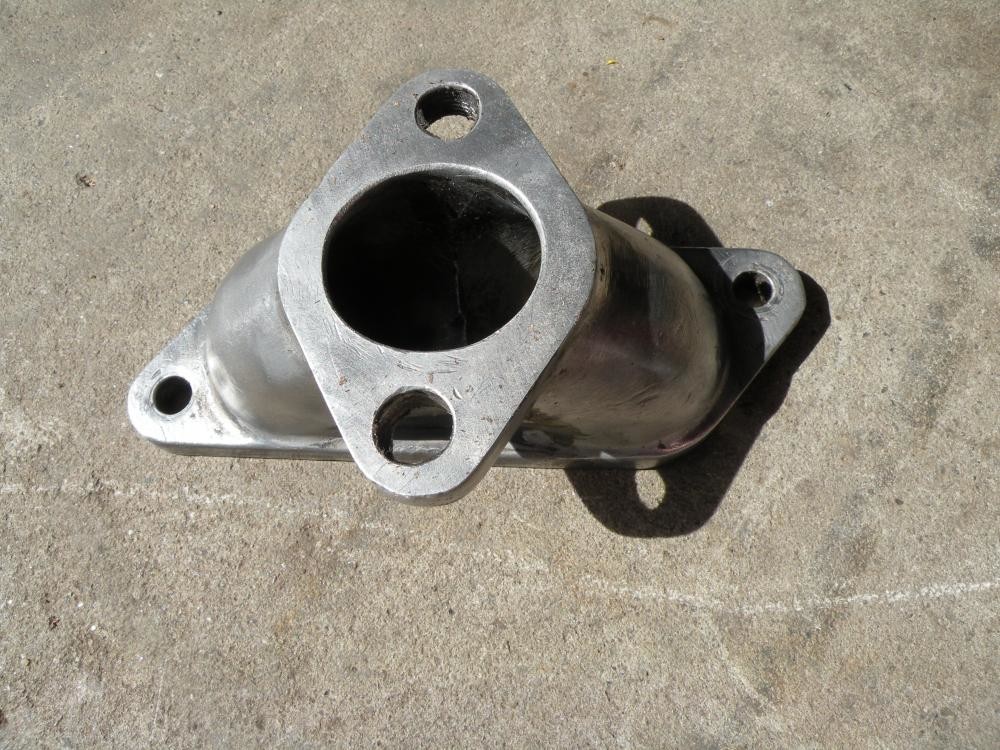 Recently I have mentioned "Barker" Inlet manifolds without any explanation.
These are an alternative inlet manifold designed some years ago by Ian Barker and made by and available through the Rapier Register Spares Scheme.They are fitted in pairs with no balance tube between them. This is where I came unstuck last year attenpting to improve on them by fitting a Balance tube.
The ones seen here are those fitted to my Rapier's engine. The carburettor side has had the "hole" enlarged to suit 1 1/2 inch SUs Carburettors. The engine side has been opened up and carefully matched to the inlet ports in the cylinder head.
Hope that this is of some help.
12-19-2017
There is a short document that is intended to go with the chassis photographs, but I don't think that I should reproduce it here. Most of you would simply not understand very much, if any of it...... I am sorry if I have shocked you all into silence or alternatively that you have all gone away in disgust.
On top of all that, what would the show judges say? The nuts on the W clips on the throttle linkage do not even match!
That AND I have not polished the leather boots on the brake rods. Oh Dear! Oh Dear! Please note:- They are genuine leather not vinyl and at least they are colour matched.
Sorry here I am raving on when no-one has a clue what I am talking about. Boots? Brake rods?
The sooner I stop driving the car and wrap it up in cotton wool the better.
My garage is so drafty and full of leaks that I cannot see how I am going to hermetically seal it but I guess I had better darn well try.
I must watch out and not eat too much candy or drink too much soda pop over the Christmas Holidays too!
Absolute disgrace!
12-20-2017
We had a fantastic hail storm Tuesday evening. The Peugeot which was outside copped a real hammering with damage to the hood, roof and trunk lid while Helen's VW Jetta which was under cover in the carport caught some damage to the trunk lid which was facing out towards the weather. They are both insured but it remains to be seen what the Insurance Company decide to do. The garden was badly knocked about with leaves off the trees everywhere but there was no damage to the house although I have not been up on the roof to check it properly.
12-24-2017
December 24 is a little late to be posting Christmas Greetings, the poor old Postman has cried "enough" so rather than miss out here is your greeting card now.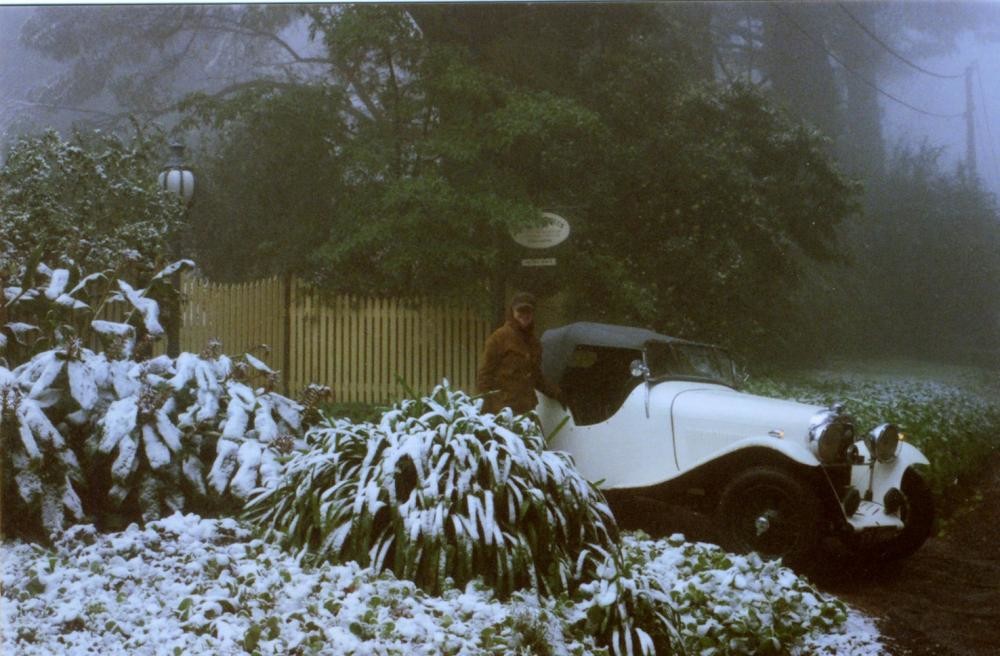 MERRY CHRISTMAS AND LOTS OF HAPPY MOTORING IN 2018.
1-23-2018
Wow it is almost a month since I last contributed anything here! Not having a current project car means I am actually catching up on a lot of little jobs that I needed to do on the Rapier. I have attended to one or two little water leaks and replaced the choke cable. This later means that the car now starts instantly without having to lift the bonnet and flood the carbs, change spark plugs etc.
It is also now over a month since we had the disarsterous HAIL Storm. Fortunately the Rapier was safely tucked up inside the garage. We have now had both Helen's VW Jetta and my Peugeot "assessed" by the Insurance Co. The Peugeot is a total write off but I get to keep the car. I can still drive it provided that I do not mind that it looks as though it had been attacket by a gang of naughty children armed with hammers. Helens VW has gone onto a waiting list to be repaired in about three months time. Her car was under the carport and the damage was restricted to the rear of the car. According to the Insurance Damage Assessor who looked at it, that it too was very nearly a write off.
2-3-2018
Contary to popular rumor I ain't dead yet. I have been led astray and gone off on a couple of dead end trails. But to prove a point I have (hopefully) cured an anoying oil leak. This one came from one of the drain tubes on either side of the Rapier's cylinder head taking excess oil from the cam boxes back to the crank-case. The brass (olive) fitting in the inlet side of the head had decided to leak, not just drop or two but copious quantities ending up on the floor and blown back along the chassis. Most annoying and embarrassing If the car was parked somewhere other than in its own garage. I have an of cut of some shag pile carpet that acts as a "nappy" spread out on the floor where the Rapier stands.
This morning I decided that today was the "day" and after completing some domestic chores the rest of the day was clear. Starting around 10.30/11.00 o'clock I had the carburettors and inlet manifold off along with the Distributor cap and sparkplug leads so I could get a clear path to the problem. Next The fittings had to be screwed up or down depending where you looking. Unfortunately it is impossible to remove the drain tube without first removing the cylinder head which in a car with two overhead cams becomes a major job. With the fittings screwed don (or up) it was a simple matter to clean out the thread, apply sone teflon tape and finally a light smear of silastic. Something I attempt to avoid but it does have its uses. The fittings could then be tightened again starting with the top (leaking one) first so it could be screwed right home. With any stray oil cleaned away I could then start to re-fit the carburettors. BUT Lunch time took precedence. This meant that I did not restart on the job until about 2,00 PM. It is now just after 5.00 PM and the Rapieris all back together and the engine running again. I have left it idling for about 15 minutes and no sign of run-away oil but I really need to take it for a drive to be certain that I have been successful in curing the leak. Fingers crossed. All in all the job would have taken between four and five hours. Probably 10 hours if I had been paying an "expert"to do it.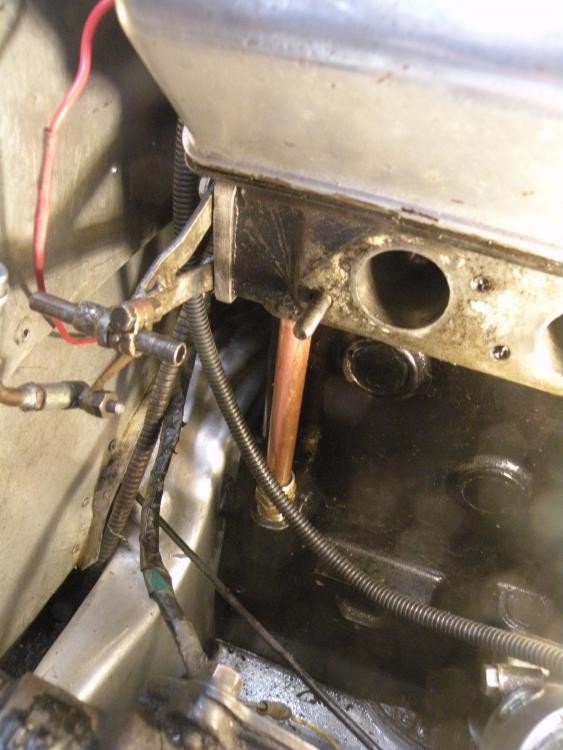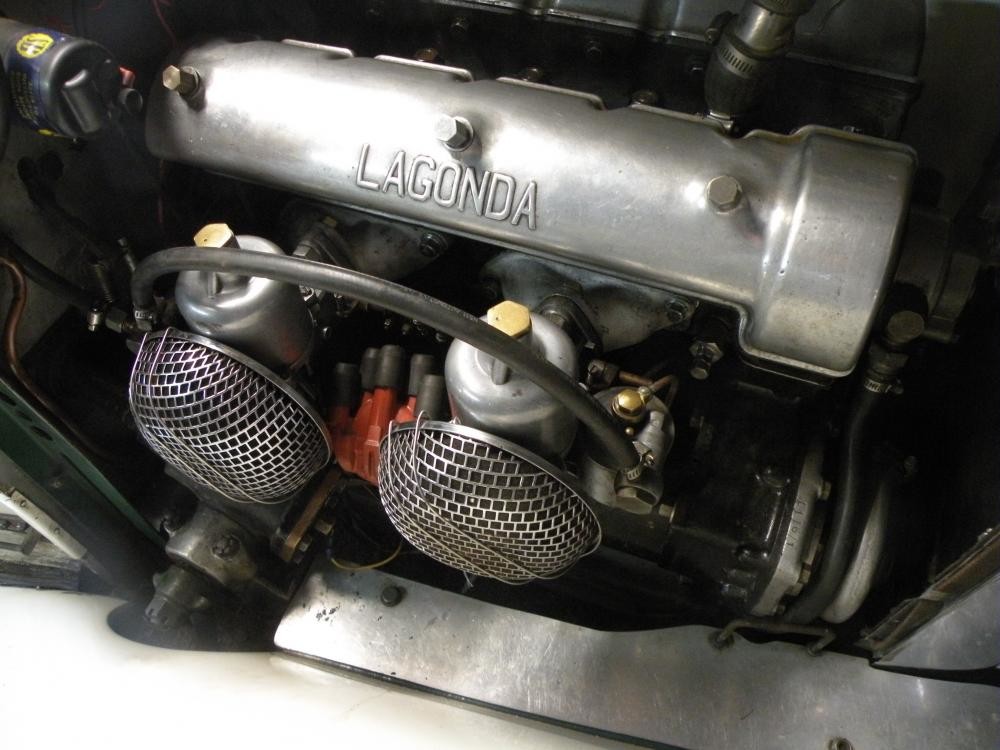 2-26-2018
While I am just a little embarrassed to say it, it is some time since I last had KG 5363 out on the road, my excuse is that here in Australia it has been too darned hot to be going out in an open car. To help fill in the time today I have done a little clean up on the Rapier. While I know most of you have seen any number of similar photographs, here are today's crop. On the next to second last photograph it shows the current "Classic & Historic (CH) number plate. This entitles the owner to take his or her car out on 90 occasions during the year. The one proviso is that a log-book (supplied) is filled in giving the proposed destination of that particular journey. These are issued at about 1/3 the cost of a normal 12 monthe "registration".
The purpose of this photograph is to show that at long last I have taken some time to make the two hooks that stop the Numberplate and tail lamps etc from rattling. The two "wing-nuts" keep these in place. The "hooks" were misplaced some time ago so this is one job that had been on the "to-do" list for almost 2 years.
Finally the last two photographs show the Michelin tyres (tires) as fitted to all five of the Rapiers wheels. These are also just a little different. Michelin first introduced the Superconfort LOW pressure tire as a forunner to "Radial" tires in 1932, two years before year the Rapier was first made, so they could have been fitted as original equipment. You will have to ask your local Michelin representative about the "apparent" spelling mistake. These are designed to be run at just 20 PSI. I too questioned the wisdom of this but after some extensive testing over all types of road surfaces and conditions I have found that this is the ideal pressure to run them on.
See also :-http://classic.michelin.com/en/Classic-Tyre-range/SuperConfort-Stop-S
Unfortunately I have been unable to find the link to the 1932 Promotional Film so you may have to take my word for it.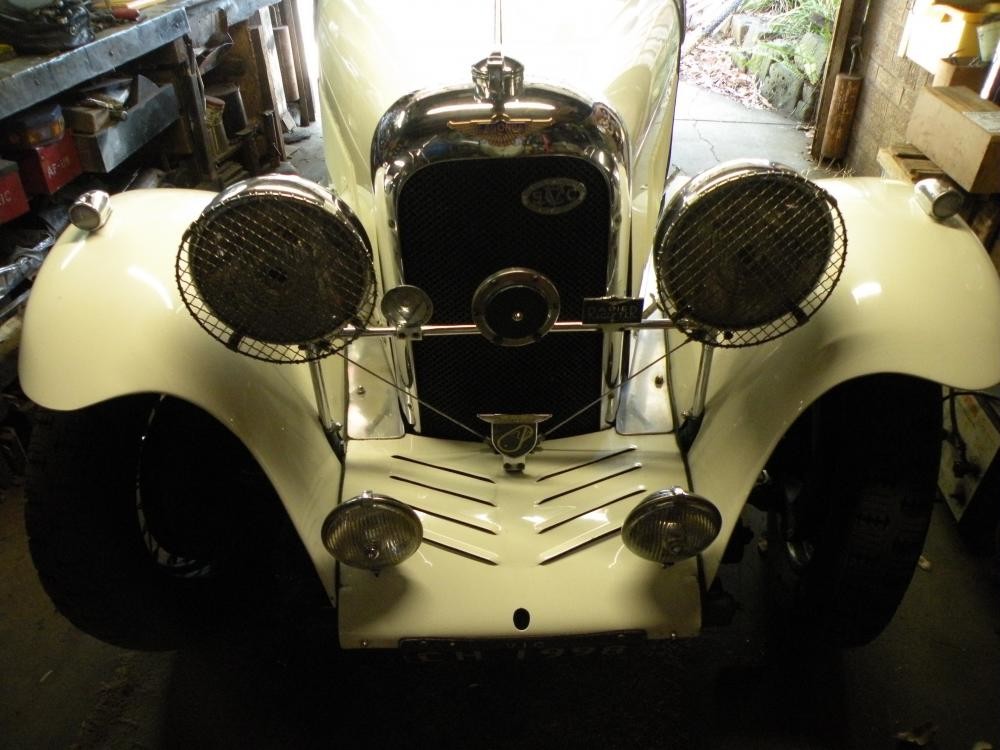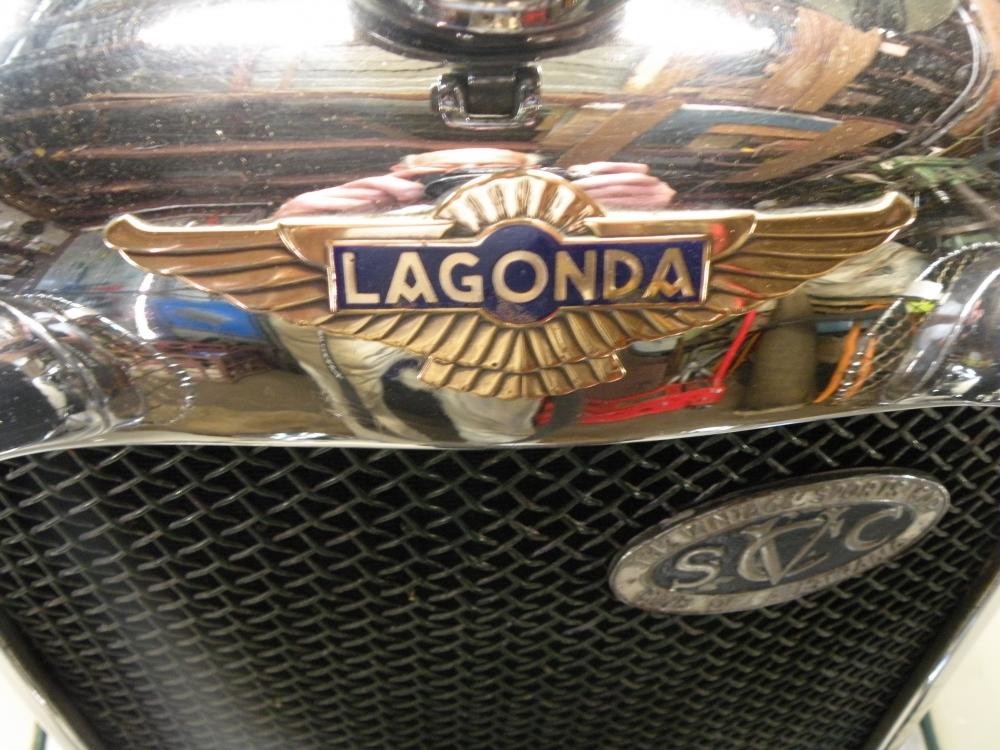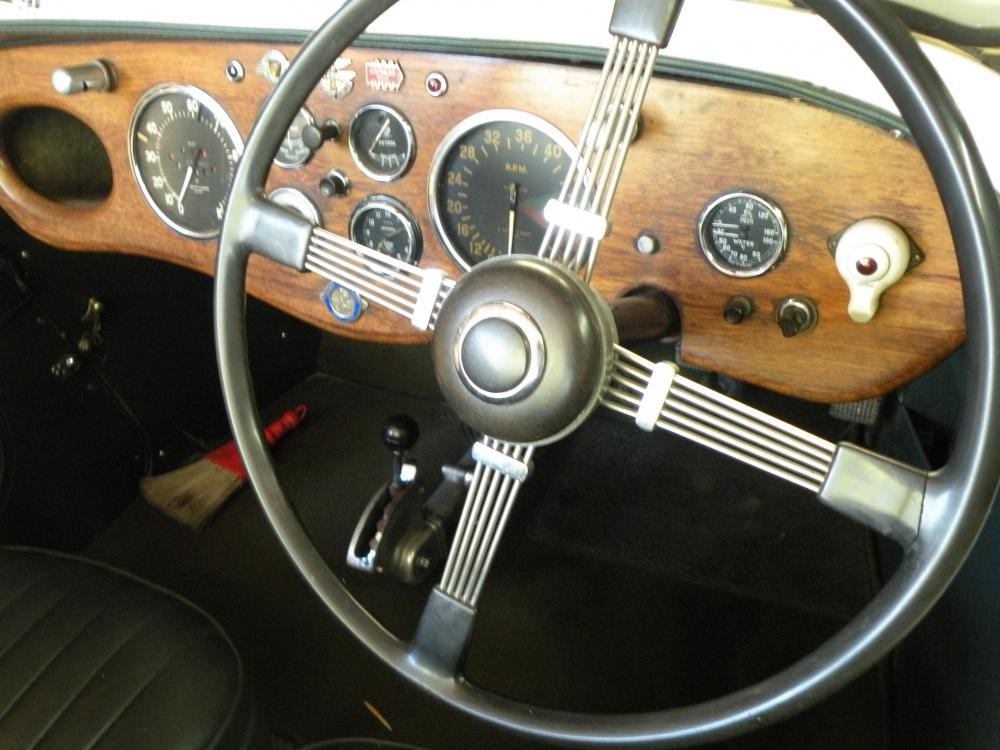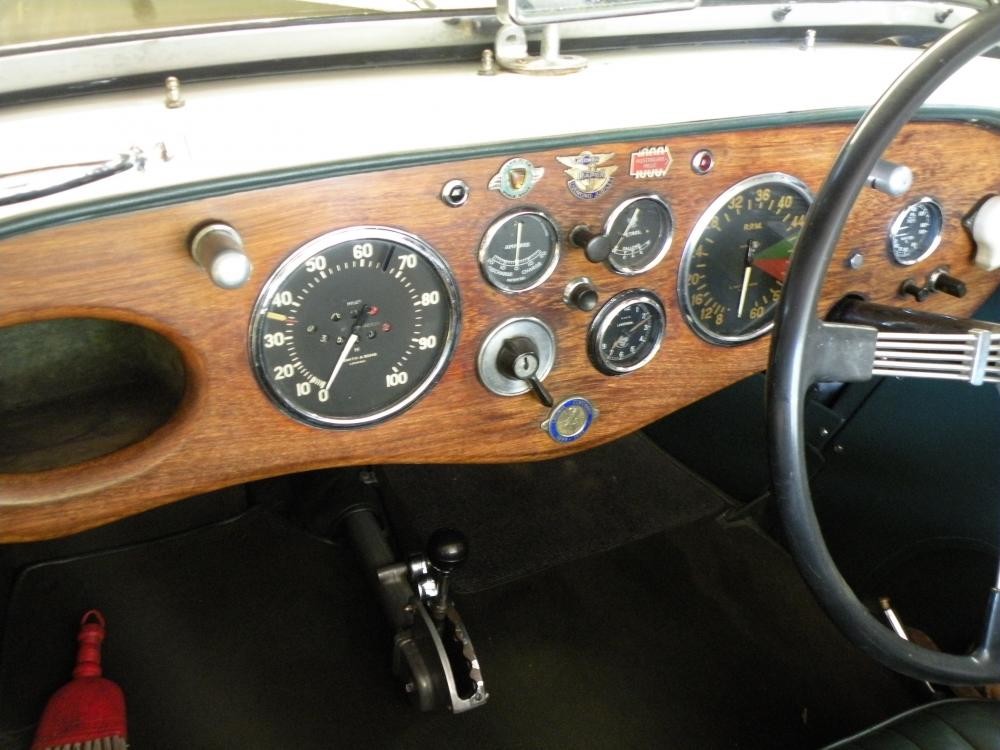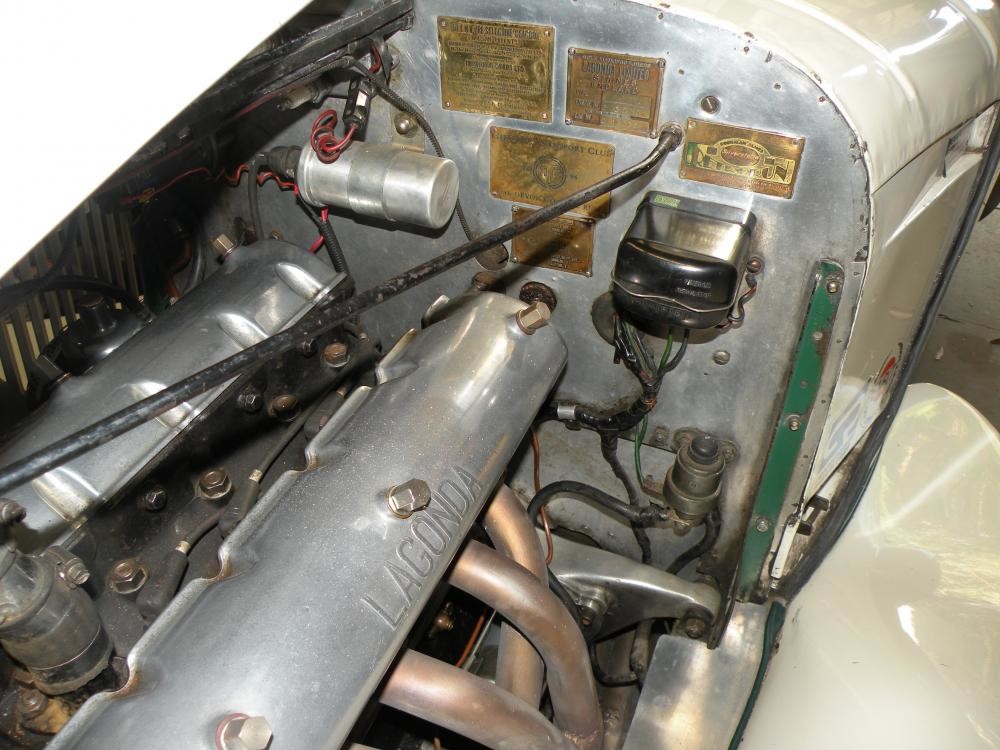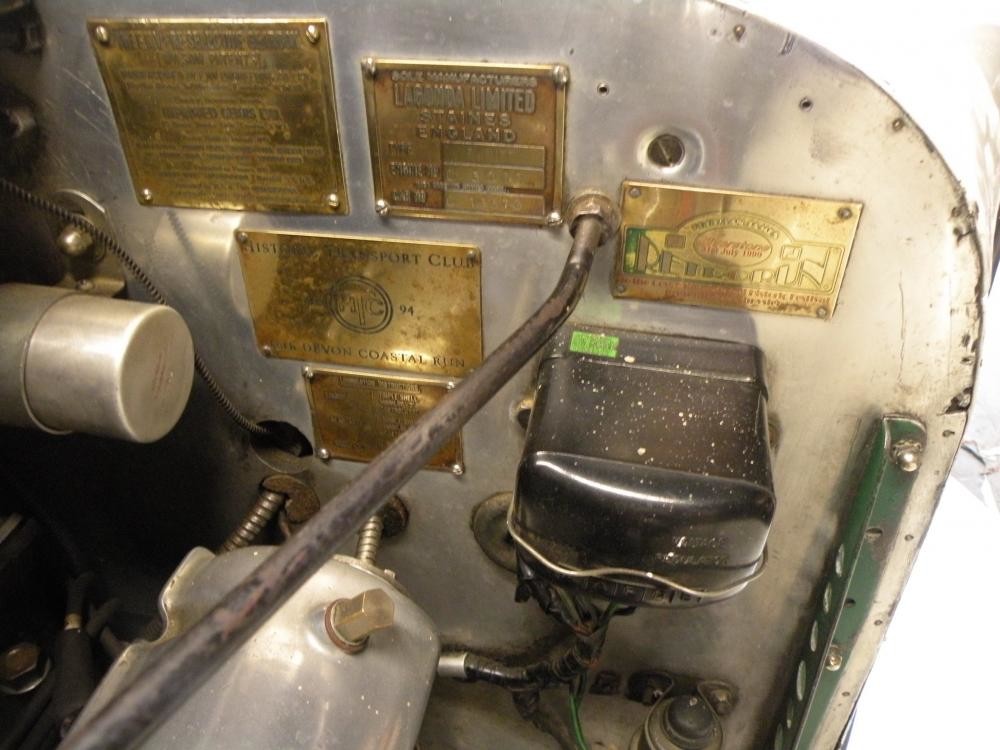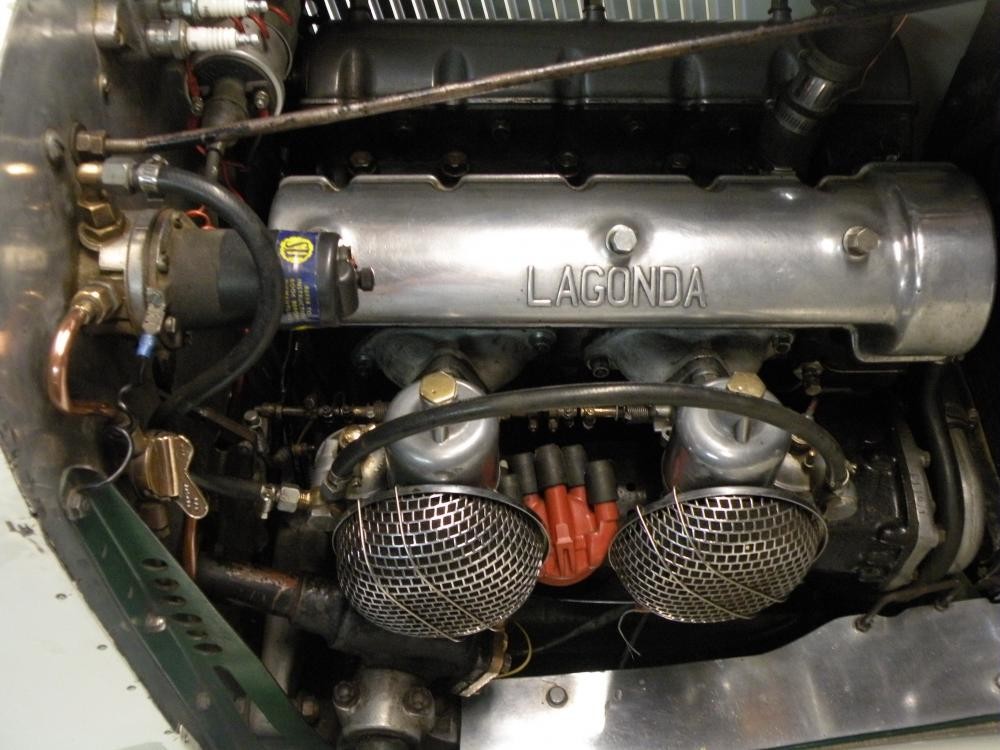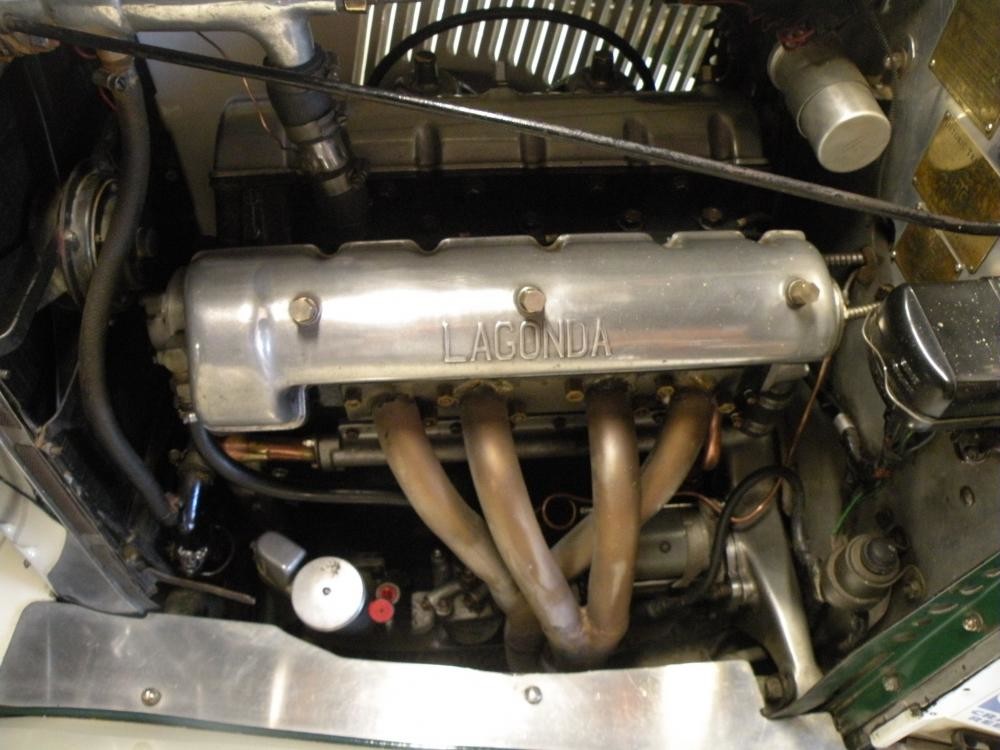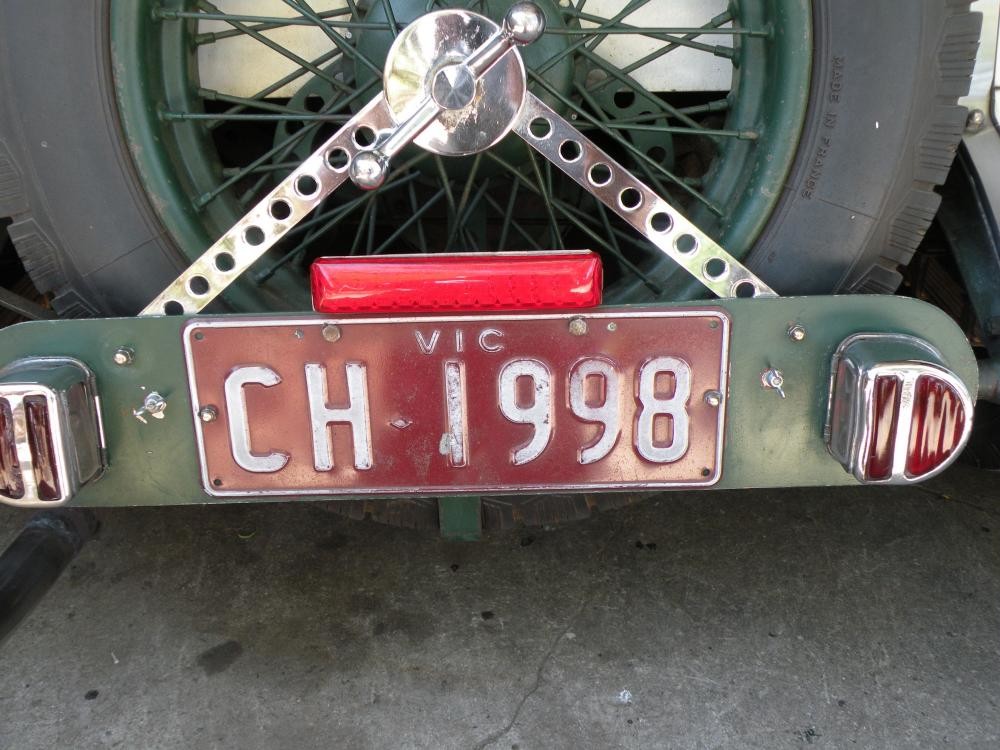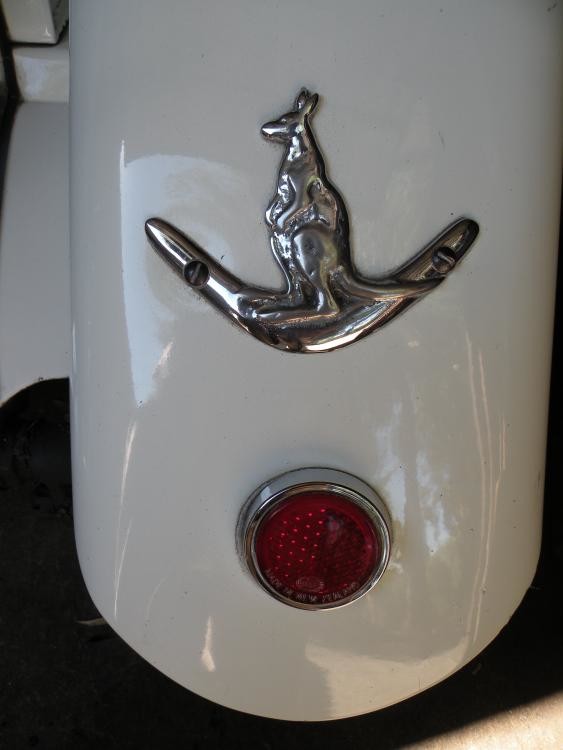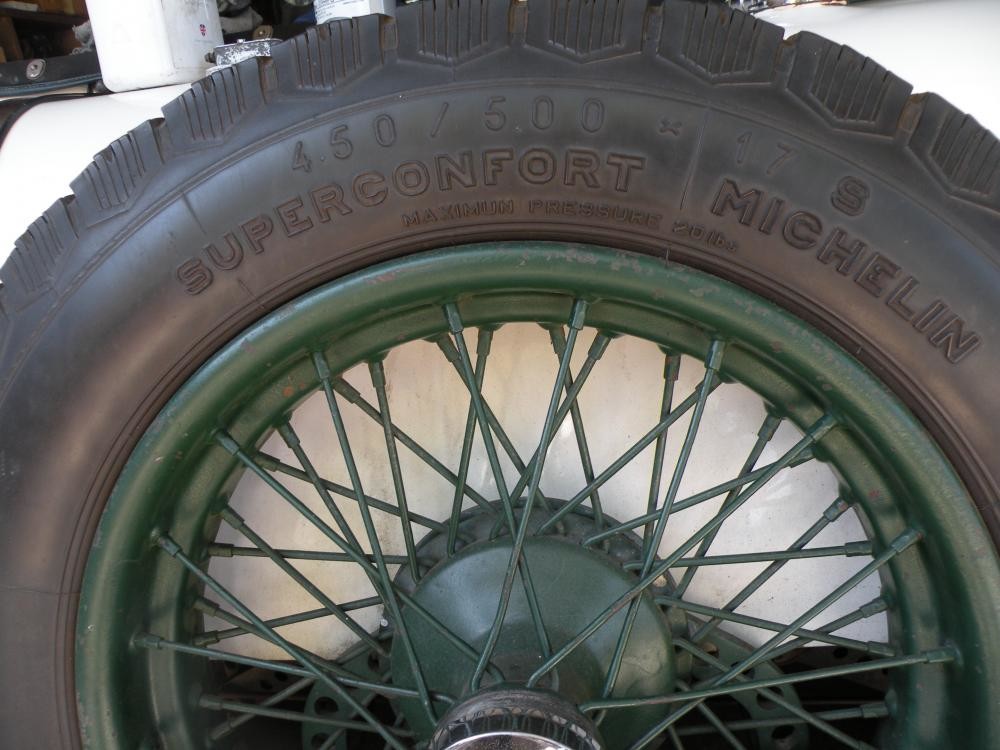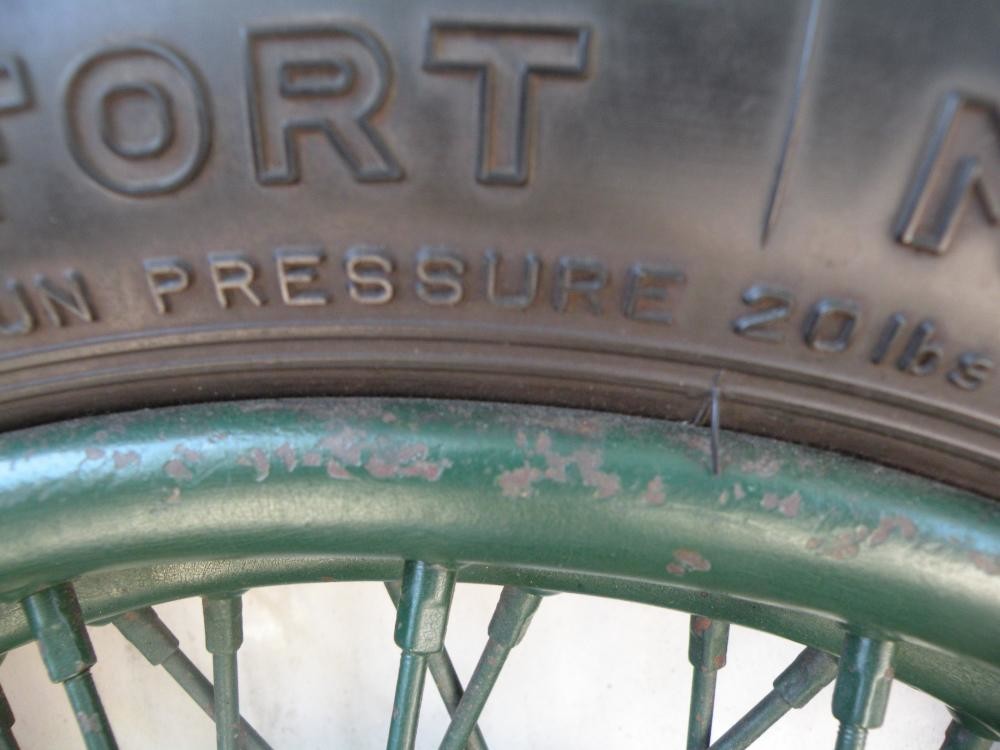 2-28-2018
Thank you
That is the one I mentioned. I doubt that you could make the same film in Paris today. Below is not actually a Paris street but the final day of a French Regional Rallye. The Tour de Bretagne with over 300 cars entered. Definitely no room for doing Zig-Zags. We entered it in the Rapier in 2004 It is a three day event with three different start locations with all the cars converging on the final day so that you get scenes like the one shown.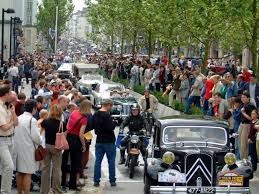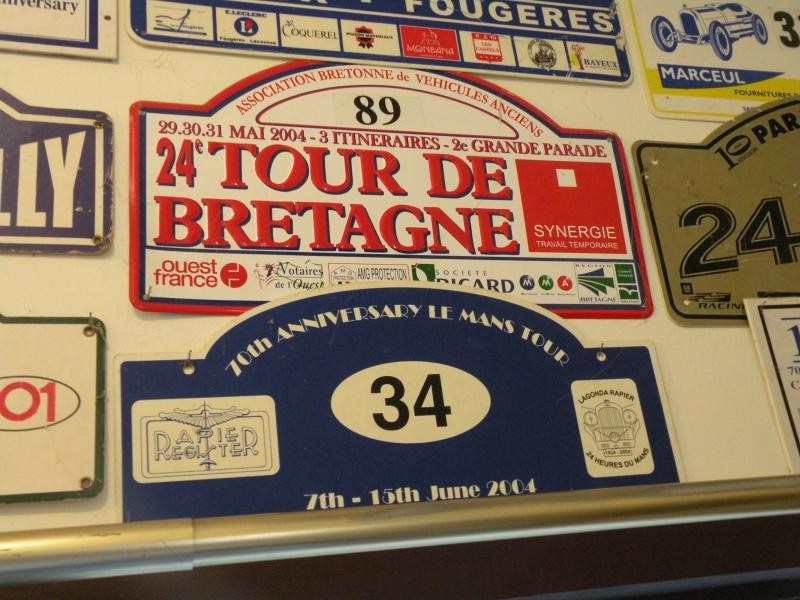 4-10-2018
On our various trips to France in the Rapier we have stayed in Vaux en Beaujolais twice and have dined at the Auberge both times, staying for two nights during our 2014 visit. This is the French village where the original story of "Clochemerle" is set.
Right now I am feeling a little guilty We have not had the Rapier out very much so far this year.
I am very busy beavering away at the Fiat 501. Before we can go away next year, it (the Fiat) has to be finished and sold! Also I am very concerned about the "horror stories" that have been very much at the forefront of many peoples mind concerning the action taken by Australian Customs Officers in their search for Asbestos which is completely banned anywhere in cars coming into and returning to Australia.
4-17-2018
While it could be said to be quite some time, albeit counted in months not years, until our next scheduled visit to the UK & Europe the possibility of the Australian Customs either prohibiting the cars return home has to be settled before its departure. I know that I have discussed this possibility in the previous entry but it is of some concern and MUST be settled before we can even think about taking the car overseas again.
4-24-2018
While pulling some photographs out to go with a magazine article that I was writing i discovered these one from our 2009 trip to France.
I hope that you find them "interesting."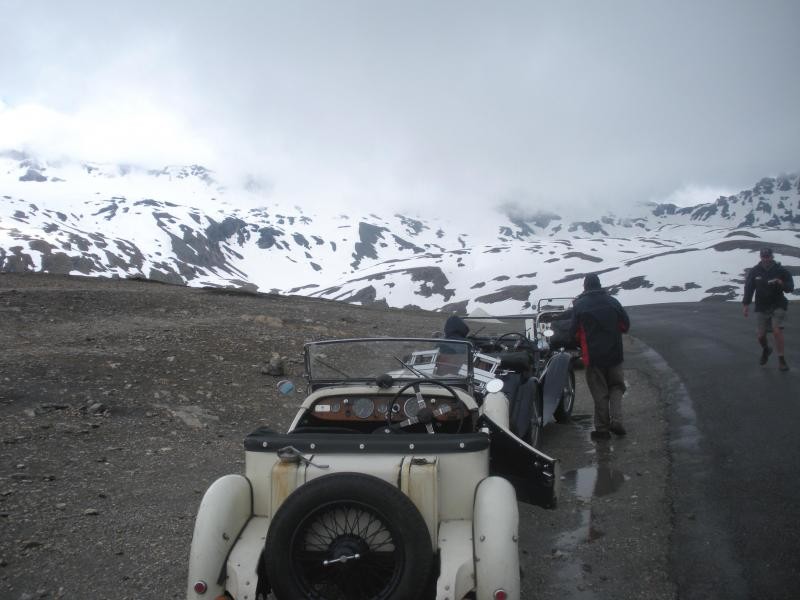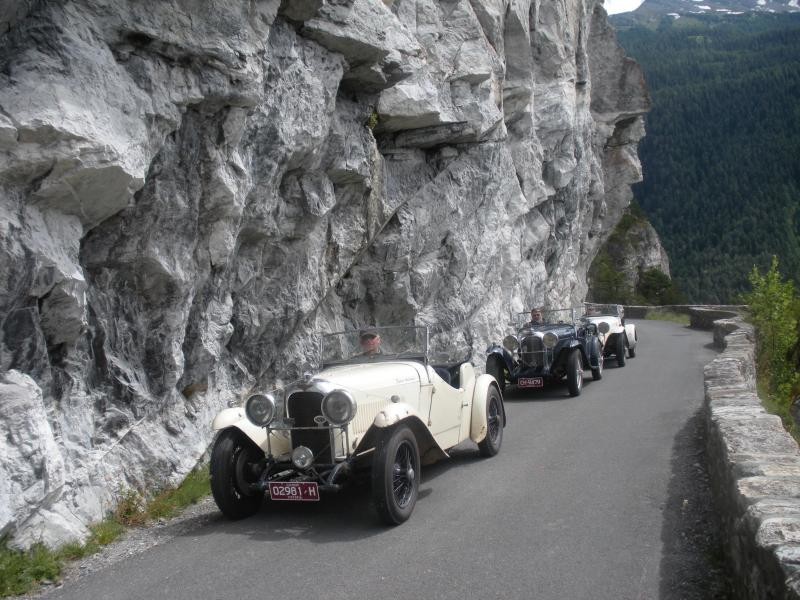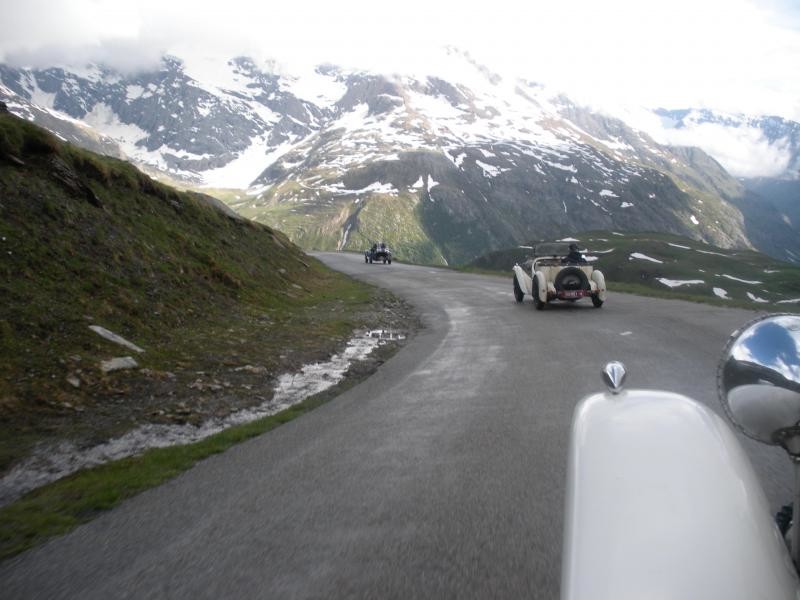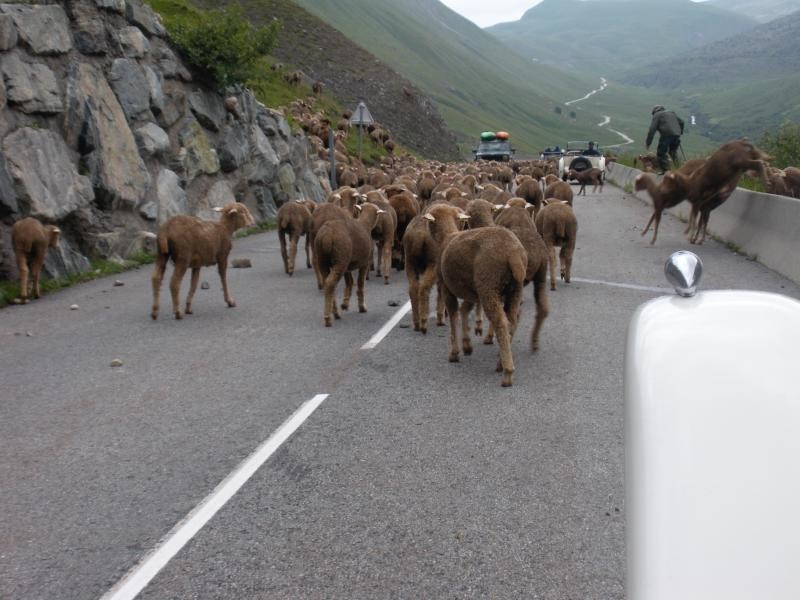 I know that I have mentioned Minis somewhere in the Forum and that at one time our family owned quite a few. I have just discovered this old photograph dating from that period. JYH is a 1275 Cooper S. CYQ is a" wolf in sheeps clothing" It was "bored and stroked" to 1498cc. The slightly larger bore exhaust tail-pipe is the only indication of this. AEK is a later"Leyland Mini" as shown by the "square" tail-lights. The Green car in the background is a rare Lagonda Rapier two door/four window "Supreme" sedan. One of just two made, both still exist.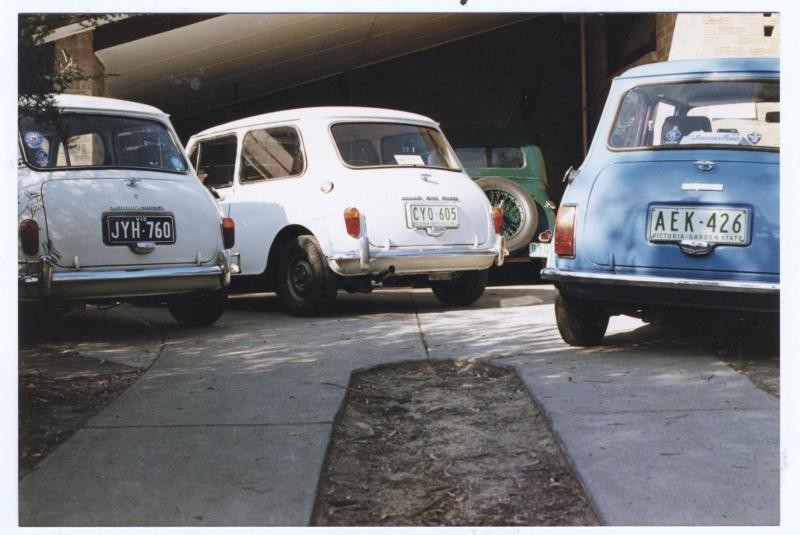 4-30-2018
Phil Irving lived in Warrandyte and was a regular at VSCC events, he even visited here to look at the Rapier engine while it was apart once or twice.
He was a very quite unassuming person I remember having long chats with him. Ron Brownrigg lives in East Doncaster and Ian Ruffley is still very involved with the VSCC. Re the Mini stuff you would need to talk with my son Nic who now lives in Adelaide and seems to spend about half his working time visiting various remote Pacific Islands. He is a specialist in "alternative energy". All this was happening when our three sons were still single and living at home about 30 years ago. At that time I had a different Rapier.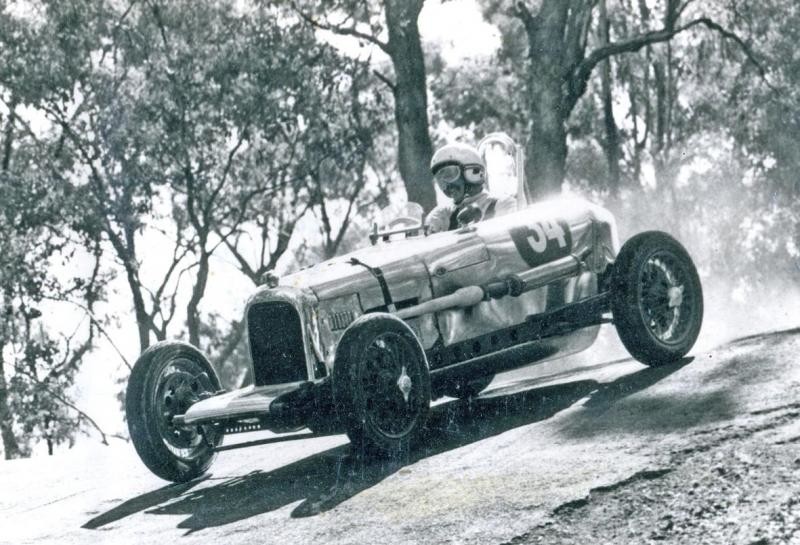 This photograph is at the top of the "Wall" at Templestowe. This car is now in England.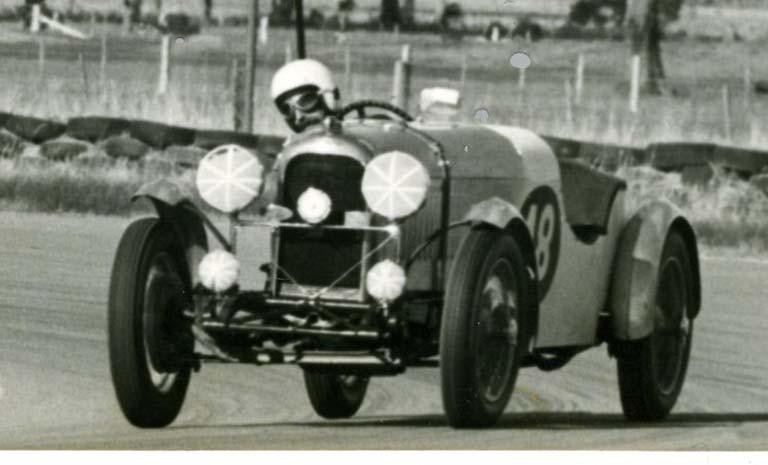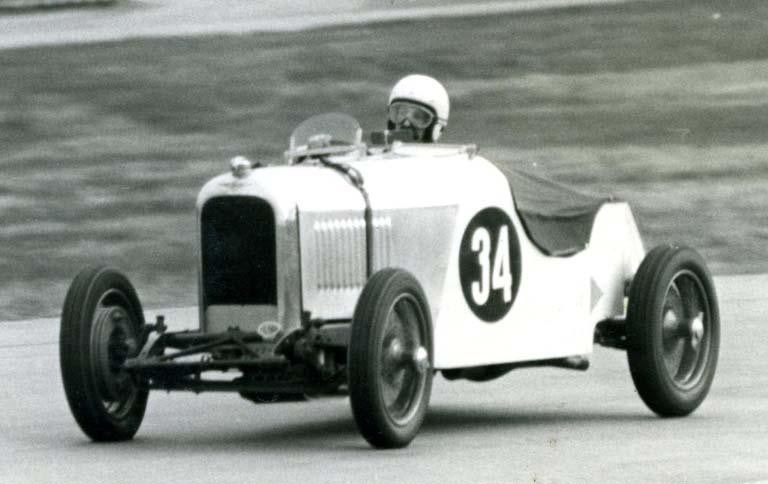 This, yet again, is another Rapier seen here at Winton, north east Victoria (Aust). The second photograph is the same car at Sandown Circuit near Melbourne, it was bought as a "basket case in England. Depending on the event it was run as a "sports car" with lights and mudguards or as "racing car" without.I believe that it is now "somewhere" in Europe. Last time I saw it, it was painted Red.
Here are another couple of photographs, While not a Lagonda Rapier this time, but of a 3.5 litre SS Jaguar "special" known as "Cross-cat" that I built some years ago.
Basically a shortened and much modified 1.5 Litre chasis with a 3.5 litre engine& gearbox. It too is now in Europe.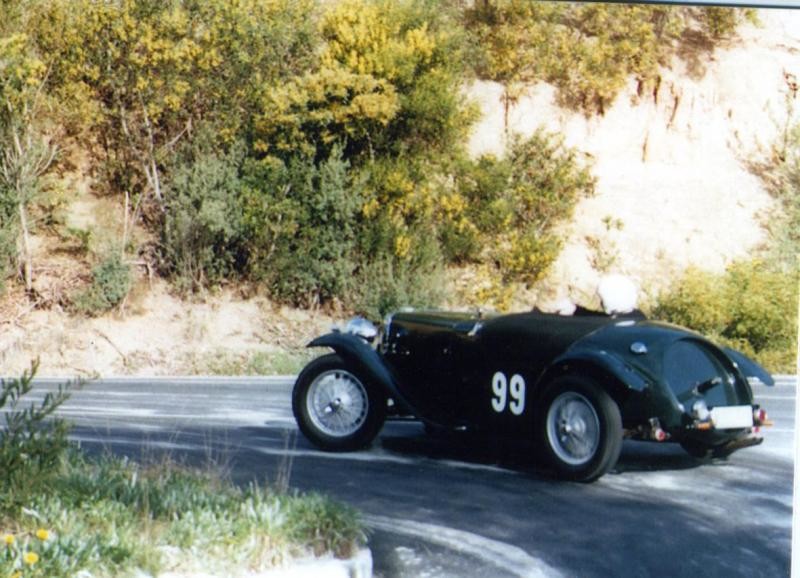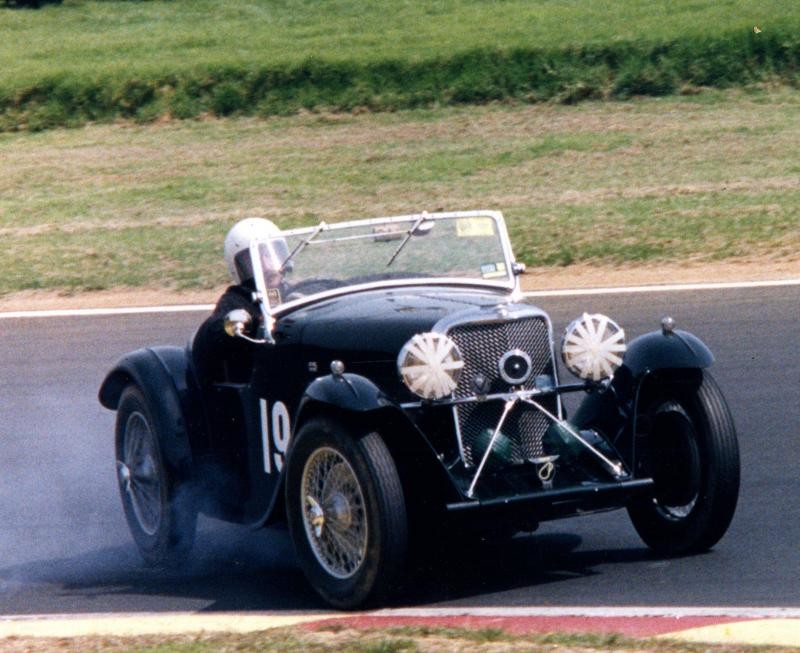 The top photograph is at the now defunct Arthur's Seat Hillclimb, the bottom one is at the Phillip Island circuit.
Even "KG" has done its share of competition motoring apart from its history as a racing car in the UK, one of its first competitive events in my ownership was at Silverstone in 1984. Back in Australia it was a regular competitor not only at "home" in Victoria but also in South Australia and New South Wales where it made an annual pilgrimage to the Historic Race weekend each January. During the period up to the end of the Century (1999) it competed in virtually every Victorian VSCC event, Racing, Hillclimbs and Road Navigation always being driven to and from these events, I cannot remember ever taking KG anywhere on a trailer. It was usual however to take it interstate using Motor-rail.
It is seen below in a typical "at the limit" pose as it comes through the "Esses" at Winton Circuit in North Eastern Victoria.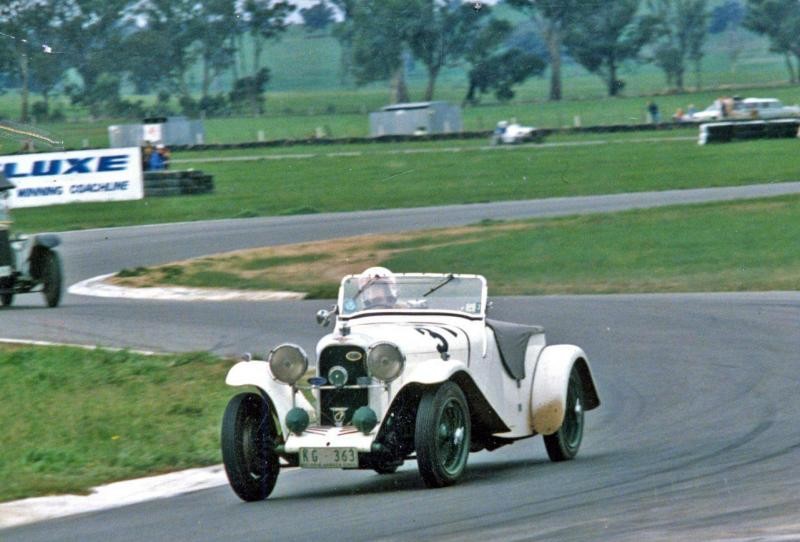 Many of you may have already seen this second photograph taken during the Australian Mille, a high speed road navigation event covering 1000 Miles in Four Days, in as is evident all sorts of weather!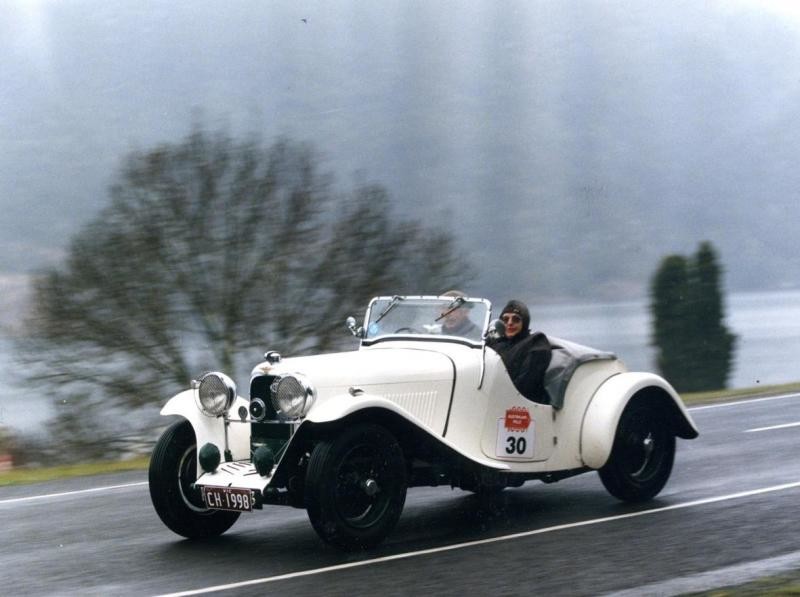 Also this delightful photograph of Helen taken during a VSCC "Frost Bite" event. It is one of the rare occasions in which you will see "KG" with the top up.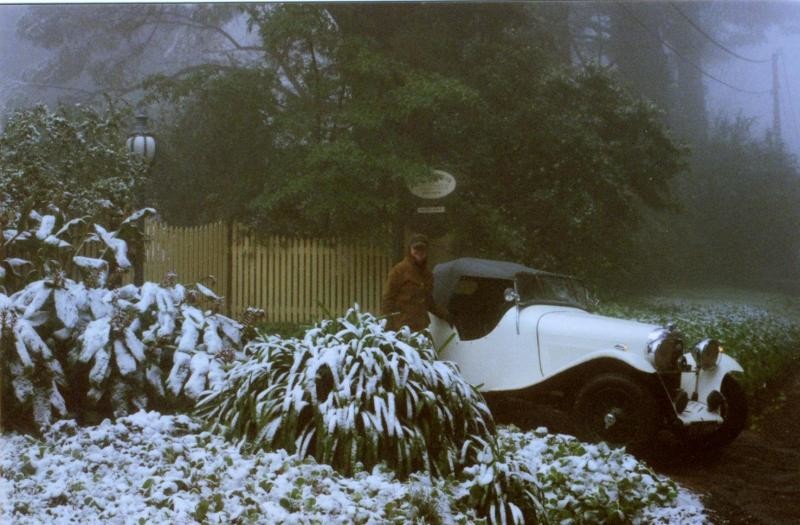 Thank you
5-1-2018
May 1st. Meanwhile the 1922/4 Fiat 501 has taken "Pole Position" while "KG" is having a well earned rest. It did actually go out one morning last week, our Grand-daughter, Helena, who was visiting from South Australia, insisted on being taken for a short drive which was enjoyed by all.
5-15-2018
Hi-ya-all
Not too much movement on the "KG" front for the moment. My life partner and navigator 'Helen' has just this afternoon had surgery to replace her right hip joint with some state of the art modern engineering. I have no doubt that she will be out and about "telling me where to go" very soon. She is seen here re-arranging our luggage at the "Pit-counters" at the Historic Reims circuit in Northern France.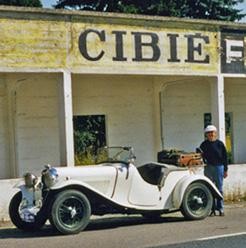 Having enlarged the photograph I can see that there is a "rally plate" on the front of the Rapier, This is from the Lagonda Club's "Champagne Rally" held in 1999 to celebrate the Centenary of the Lagonda Company. Since then the "touring": luggage rack on the rear of "KG" has been modified to lower its centre of gravity and to cut down wind resistance.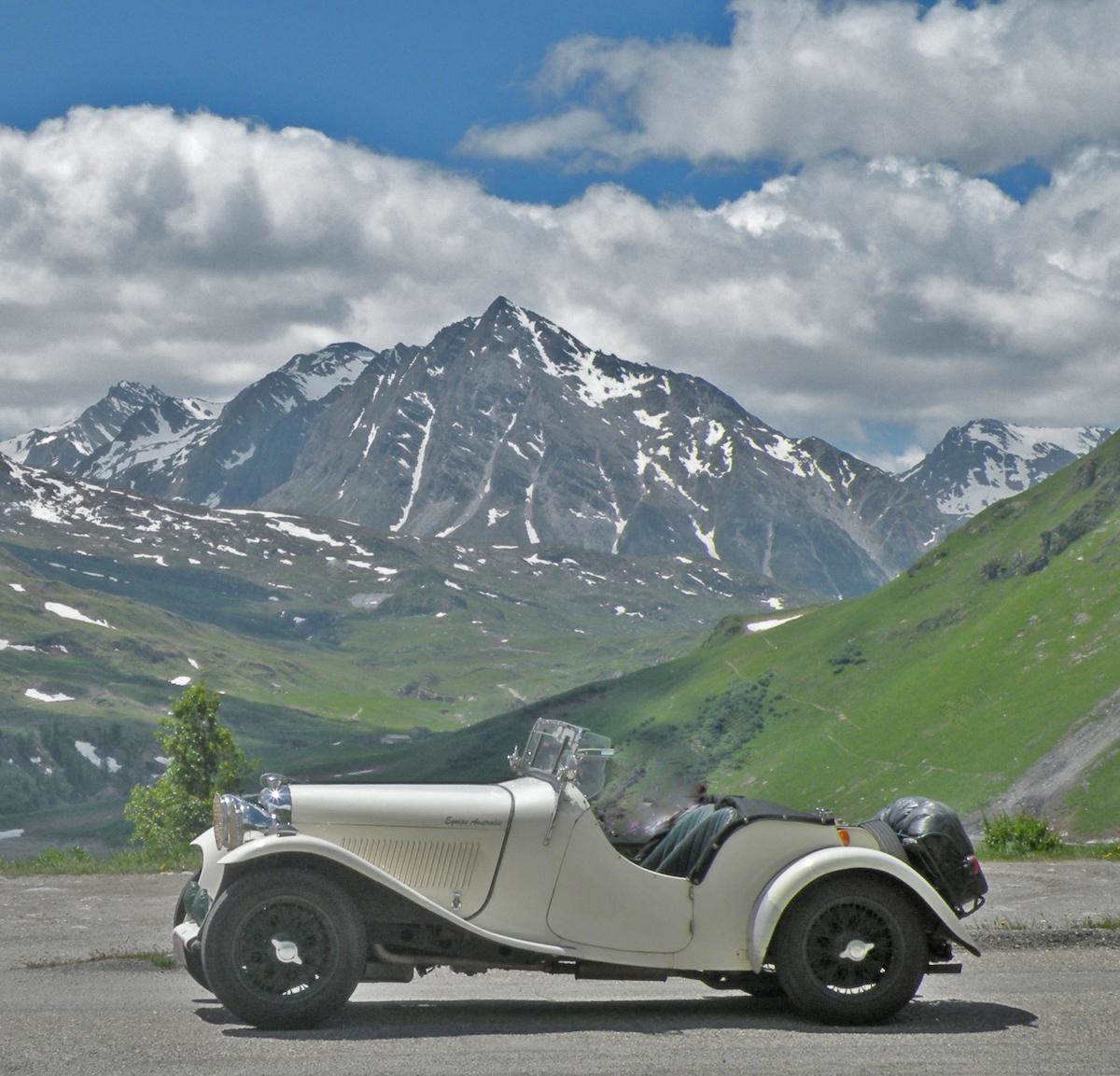 5-18-2018
Hello again
I know I am constantly singing the praises of the enthusiastic people who run the Rapier Register.
Todays mail brought the copy of the new Register for this year.
I would be happy to be proved wrong but I know of no other car club run entirely by volunteers than provide the members with so much information that is brought up to date at least once a year. I must remind you that the combined production of both Lagonda Rapiers and the Rapier Car Company's very small number of cars produced amount in total to just under 400 cars.
I will not attempt to copy all 44 pages but give you a typical example but first I must remind you the the membership of the Register amounts to just 166
First I will reproduce the Registrar's "Notes"
You may like to note that in the UK unlike some other countries, cars registered during the 1920s, 30s & 40s kept the same registration number for their "life".
i.e. My Rapier first registered in Cardiff Wales, KG 5363 on 8th June 1935 has kept this number for the whole of its UK life and for the purposes of the Register is still known by this number today, 83 years later!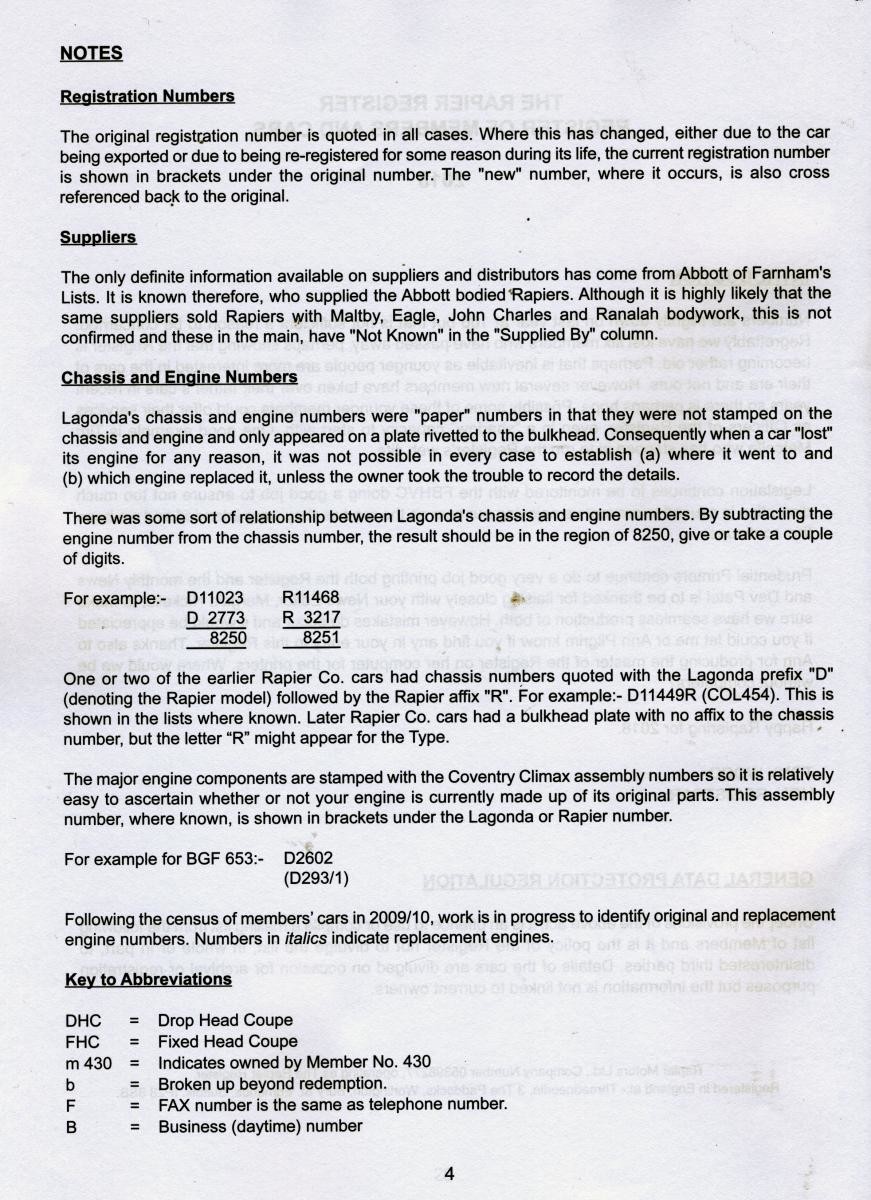 So as not to breach the confidence of my fellow members I will only show the information related to myself and my own car as an example of the thoroughness of the Registrars. The current membership amounts to 166 world wide. The first section of the "Register" amounts to the Members details.


These details occupy the first 16 pages. The next section relates directly to :-

As you can see this covers all the essential details of each car. Again out of respect to the other members privacy I shall use my own car as an example.


The next listing covers a total of 42 Cars with known Chassis numbers but unknown Registration numbers.

Finally the cars are listed by their Chassis numbers where this is known
Lagonda's Chassis Number Engine Number Original UK Registration Number

The next to last two or three pages are devoted to the winners of the three "Club Trophies". The Ashcroft Trophy awarded in memory of Tim Ashcroft the Designer of the Rapier, This is awarded for "Sporting Achievements" being first awarded in 1960. The next trophy is the Baily Trophy first awarded in 1968 and up until 1978 for voluntary services to the Register then from 1979 for the best car (Concours) at the AGM. The third trophy is the ElderTrophy awarded in memory of Elliot Elder one of the founding members. This is awarded in recognition of exceptional voluntary service to the Register.
The Final page is devoted to an alphabetical listing of current members including their "membership Number. In total over the years since the Register's founding in 1956 some 1110 Rapier owners have joined the Register. Present membership is 166 owning between them 185 cars.
Bernie j.
For some unknown reason I am unable to delete the duplicated heading below!

5-20-2018
Getting back to our Lagonda Rapier, for some time I have been concerned, the black fabric tonneau cover was looking very faded and shabby to the extent that while we have not been using the car I felt that a new one would be required to bring the car's appearance up to an acceptable standard. The rest of the car was also looking very dusty and unloved. As a result I decided that even though unused for three or four months It was in need of a wash. Accordingly I started it up and backed it out of the carport, filled a bucket with warm water along with a generous splash of Meguiar's "wash and wax" that I had bought to use on Helen's now ten year old dark red VW Jetta. I gave the Rapier's tonneau a good scrubbing and washed it off with a blast of high pressure cold water. First I was expecting that the rinse water would be dirty but to just say dirty would be an under statement. Now that it has dried any thought of replacing the tonneau has gone, it is now again a nice deep black and would not attract a second, derisive, glance at any concours. What ever is in the Synthetic Polymer Technology it has transformed "KG's" tonneau. Normally I would not write in such glowing terms about any car care product but I felt that the dramatic change in the Rapier's tonneau was worth a mention.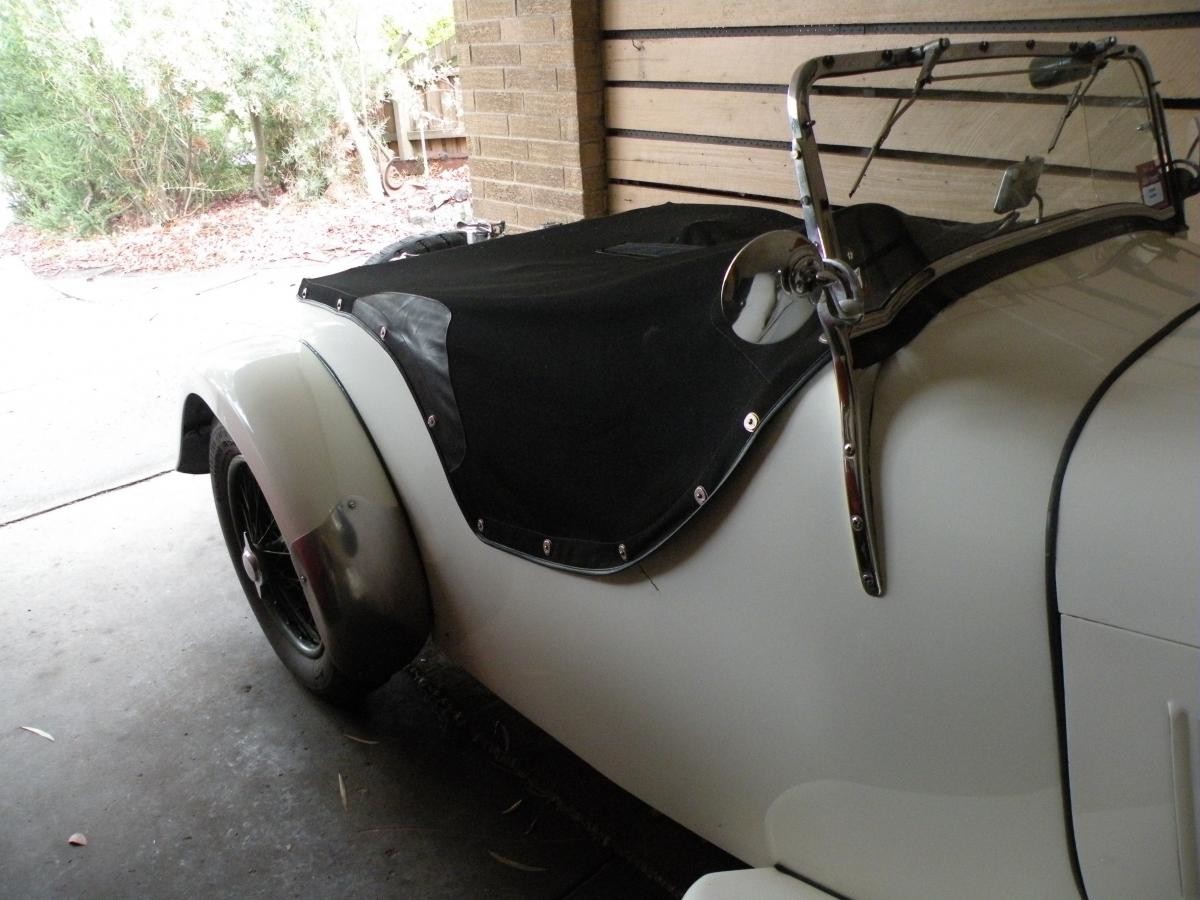 Anyone puzzled about the "Patch" on the tonneau, this is the sports car equivalent of those leather "elbow patches" on an ageing "Gentleman's" tweed jacket. With no door on the drivers side this is where I place my hand to lever myself out of the seat.
5-26-2018
Here is a little quiz for all the British Car people,
Who can identify this historic place.
Next items are three cars the Make and if you are really clever, the models?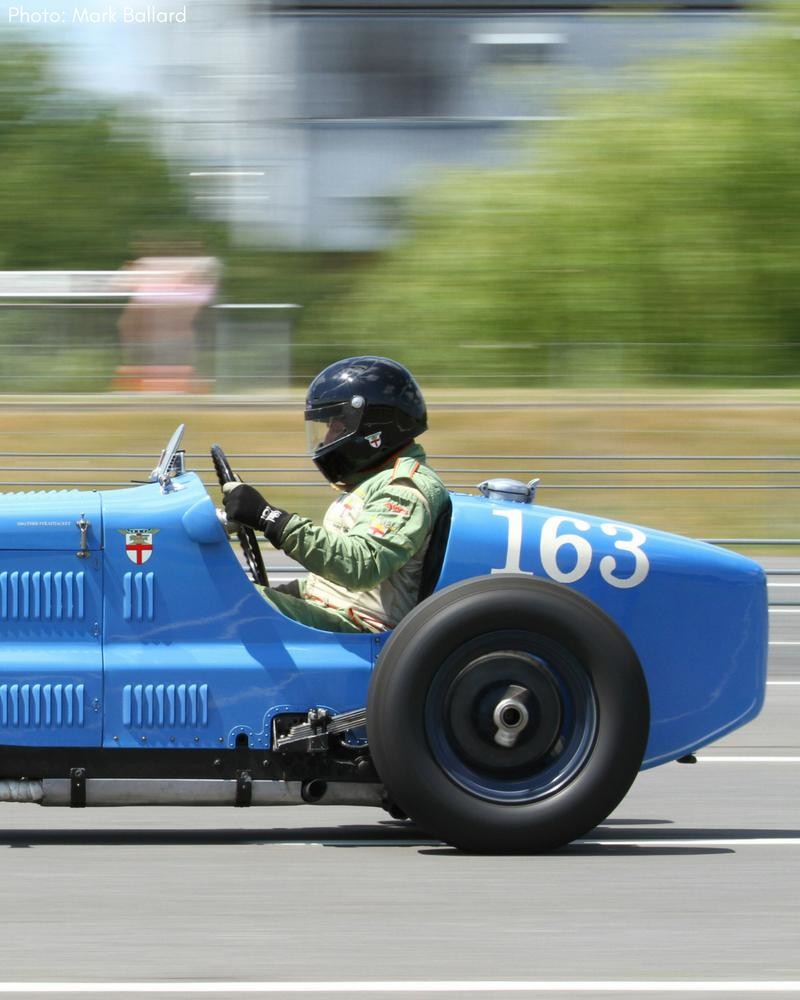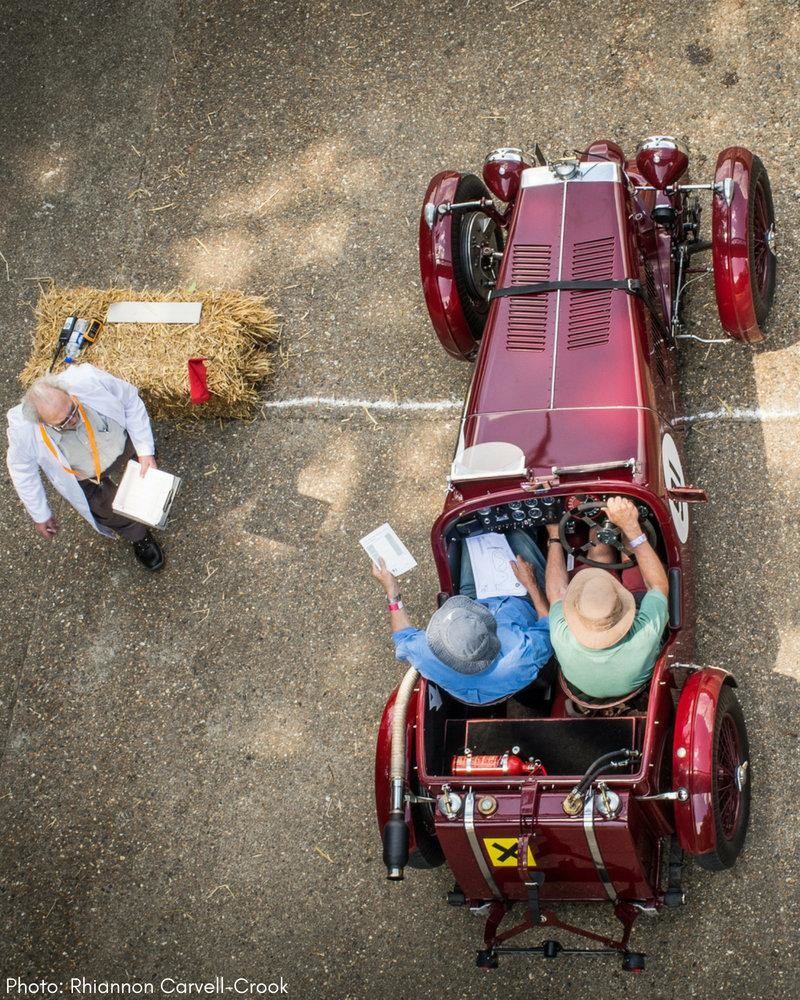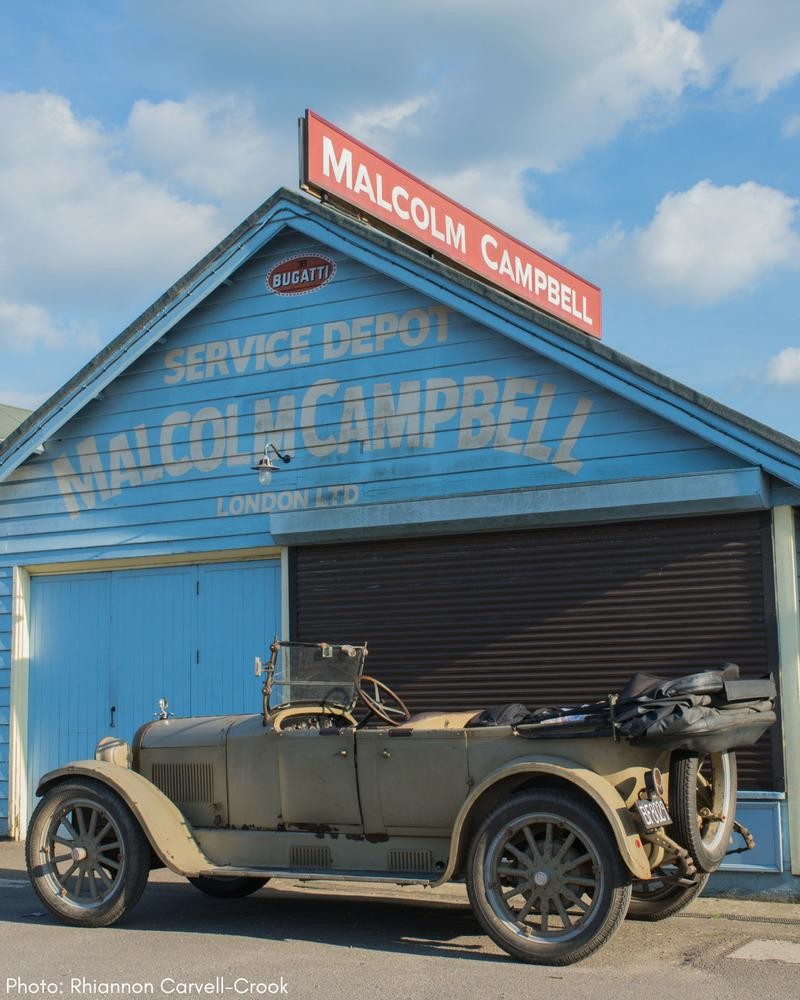 Regarding the "Blue" car (Number 163) in my previous post, of particular interest is the rear suspension. For a Bonus Ten points. What is the suspension medium and what is going on with the builders thought process? You may need to use more than one or two words to explain.
5-28-2018
Of course you are correct Matthew, when you see the full side view it is clear that the car has three carbs making it in all probability a six cylinder. Some more research in indicated.
I think that that Dodge is mid 1920s the Fast Four came towards the end of both the 1920s and the four cylinder Dodges. It is quite some time since I last owned a Dodge 4 and I am sure that there are people out there who know the Dodge story far better than I.
A very long time ago I wrote a short story about a mythical attempt to run a Dodge 4 at Le Mans.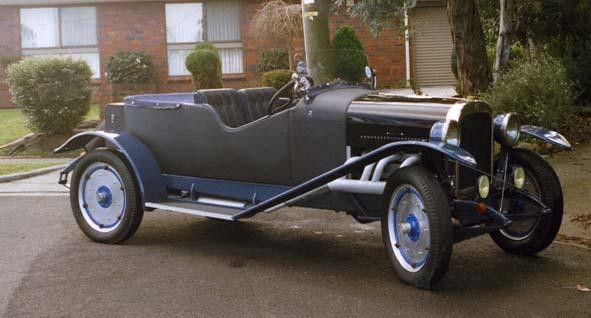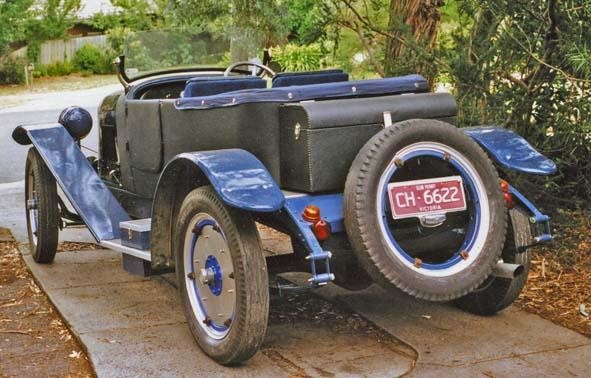 6-9-2018
Just to remind myself what this thread is all about and being a nice crisp early winter's day I have just taken some new photographs of our Rapier. Now is a chance for other owners to show us their cars.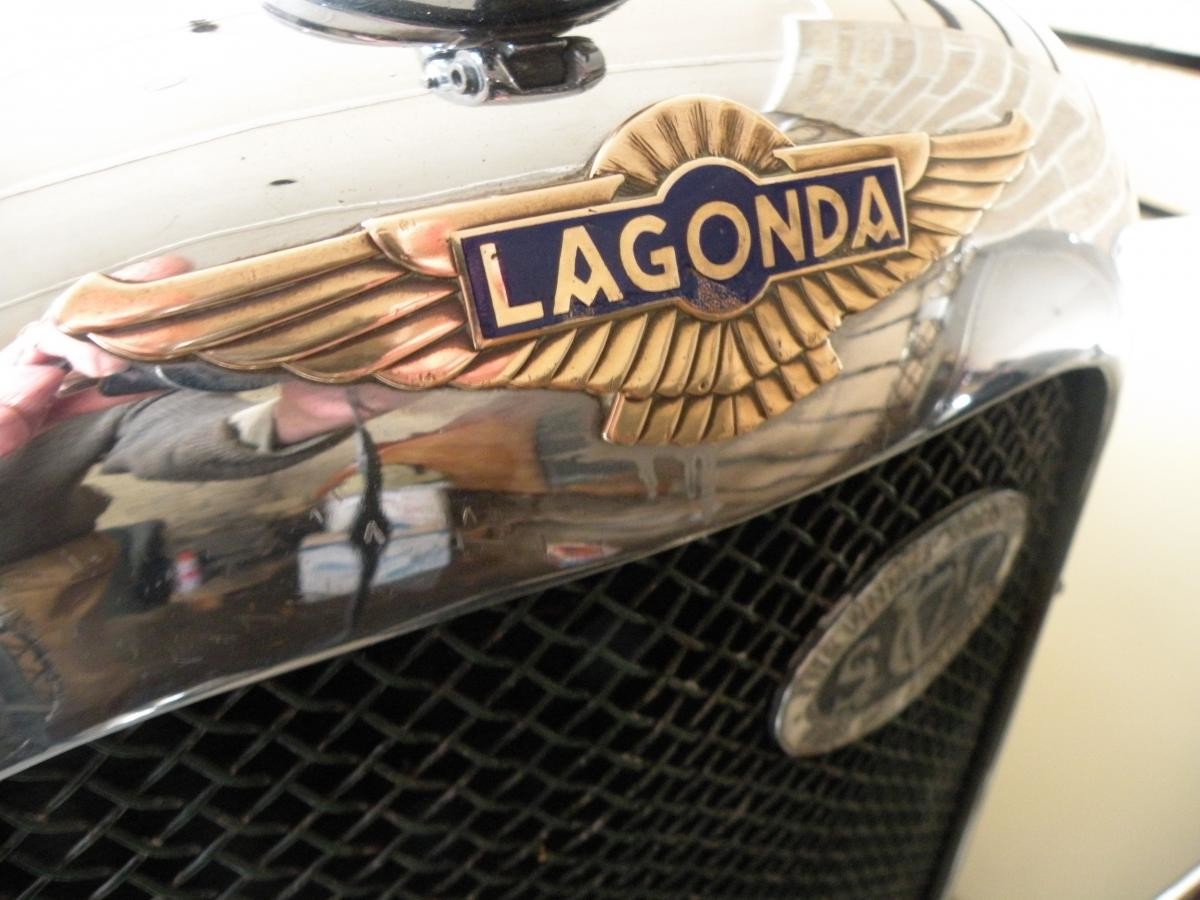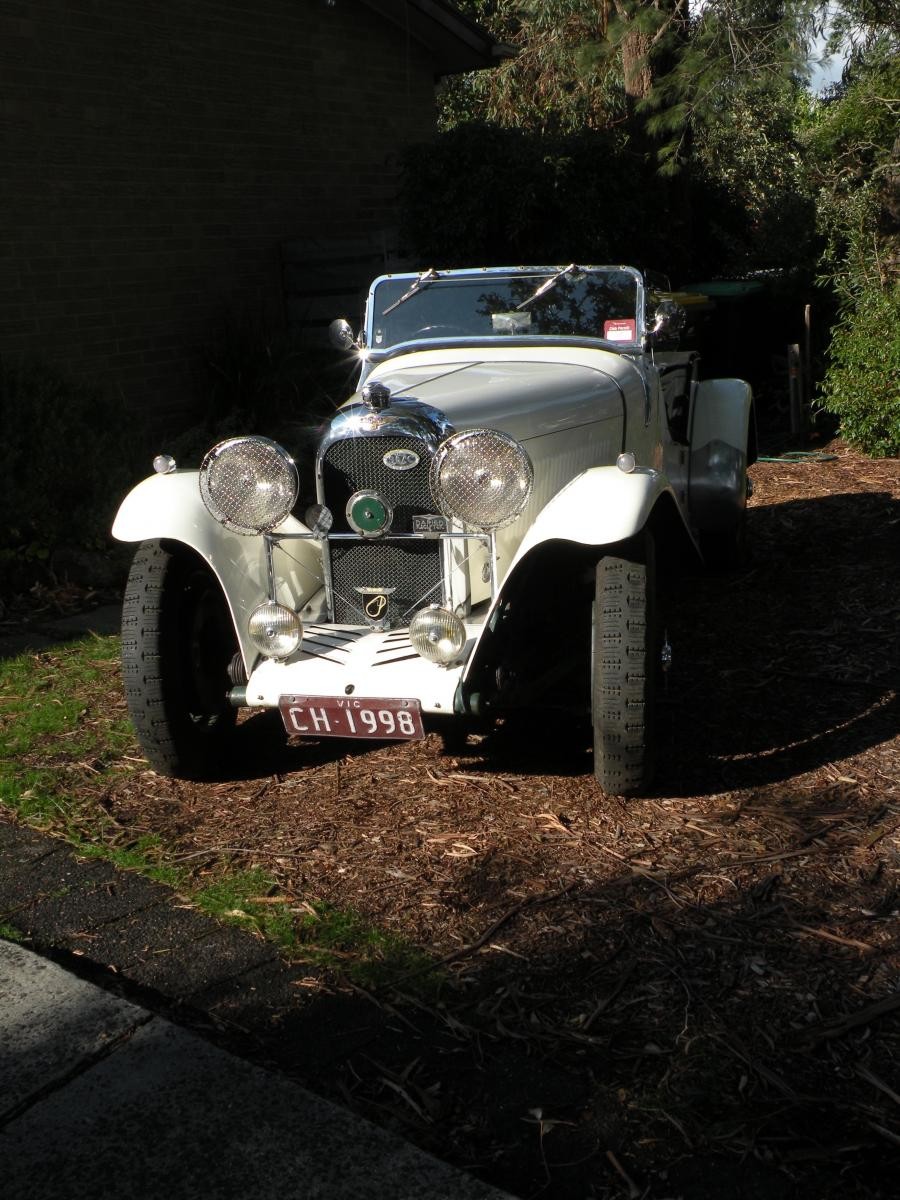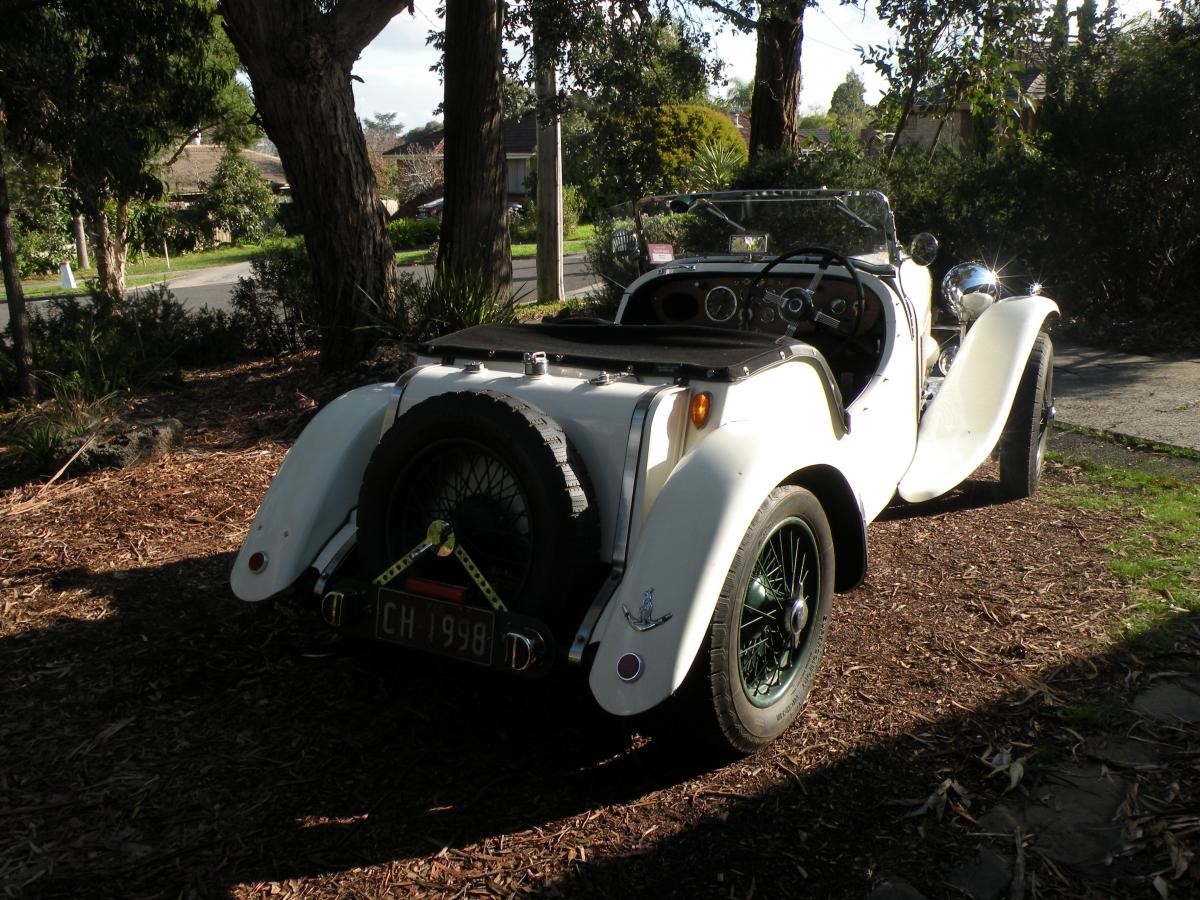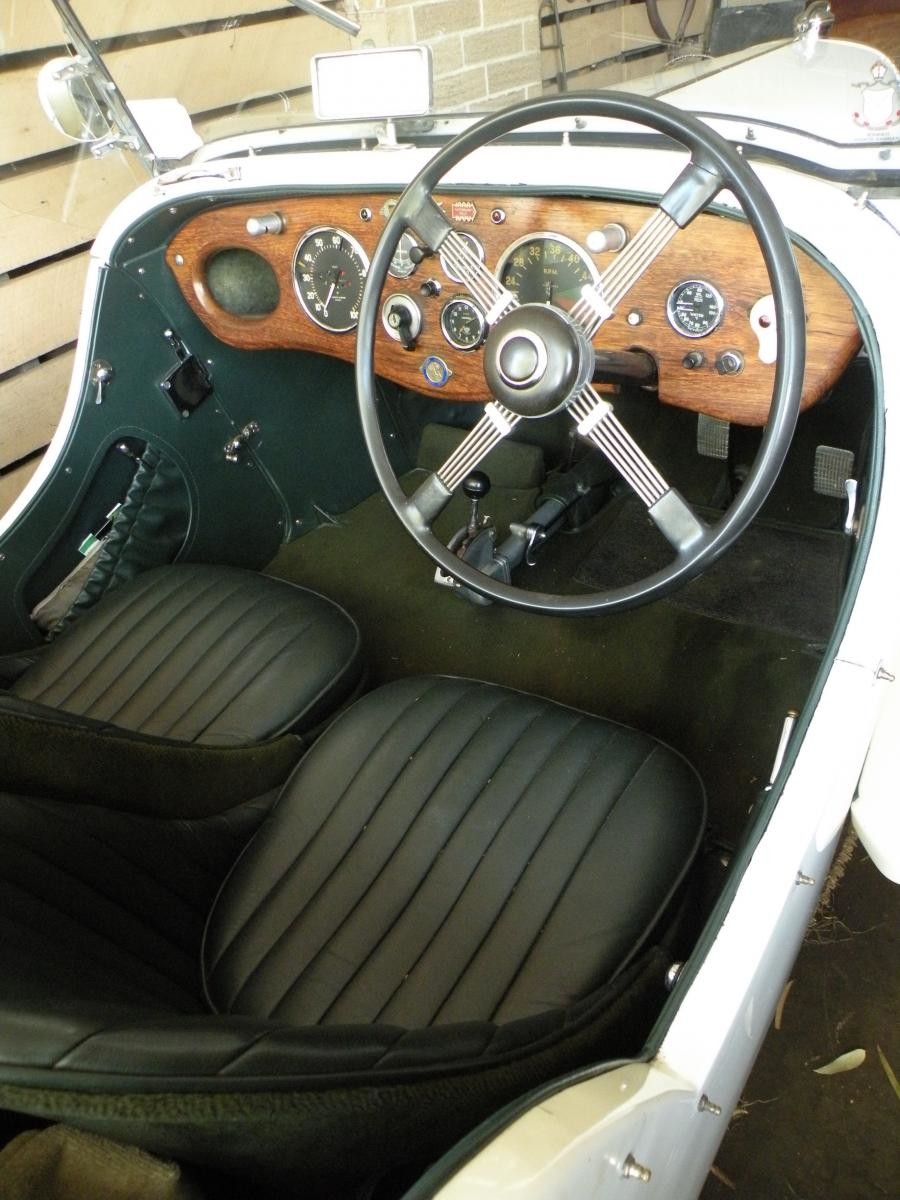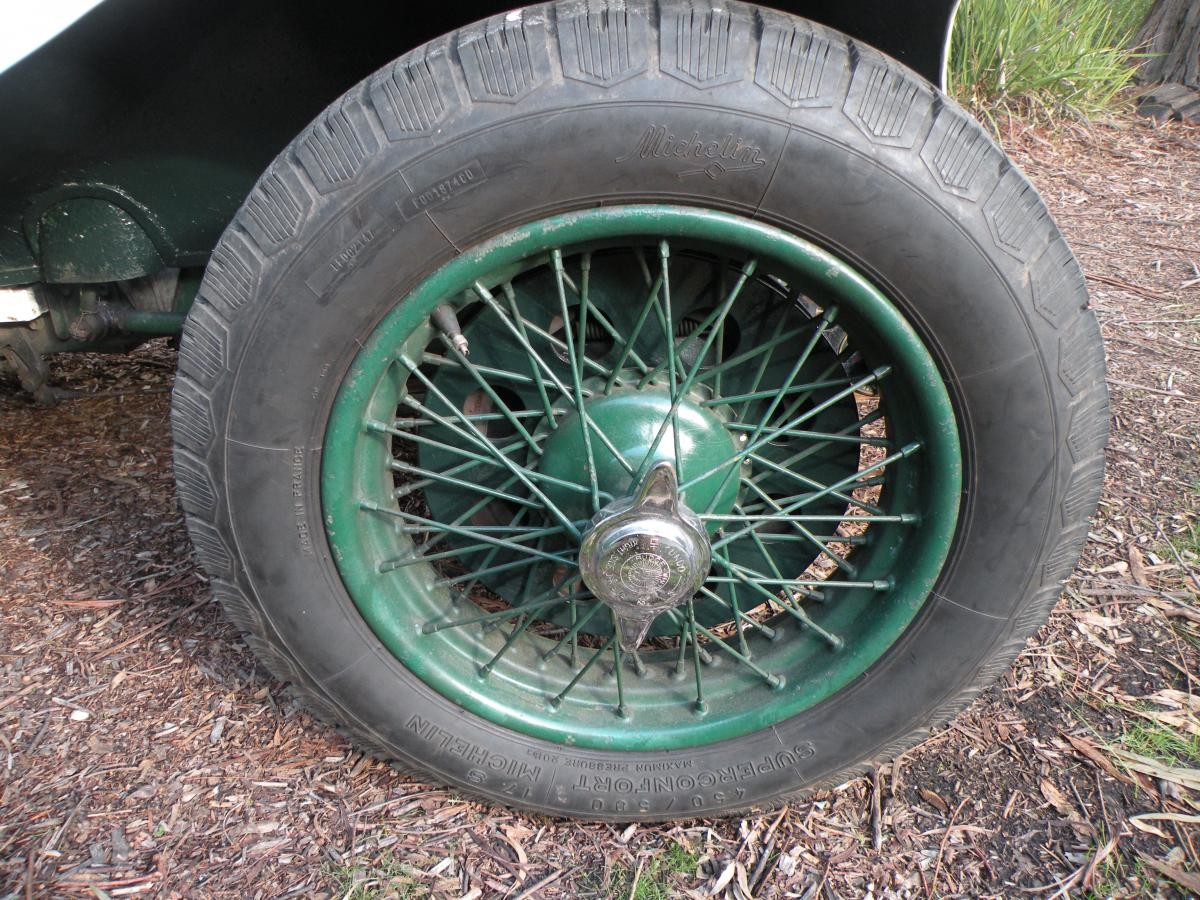 While not pretending for even a moment that KG is a "Show Car", I do attempt to keep it "clean& tidy".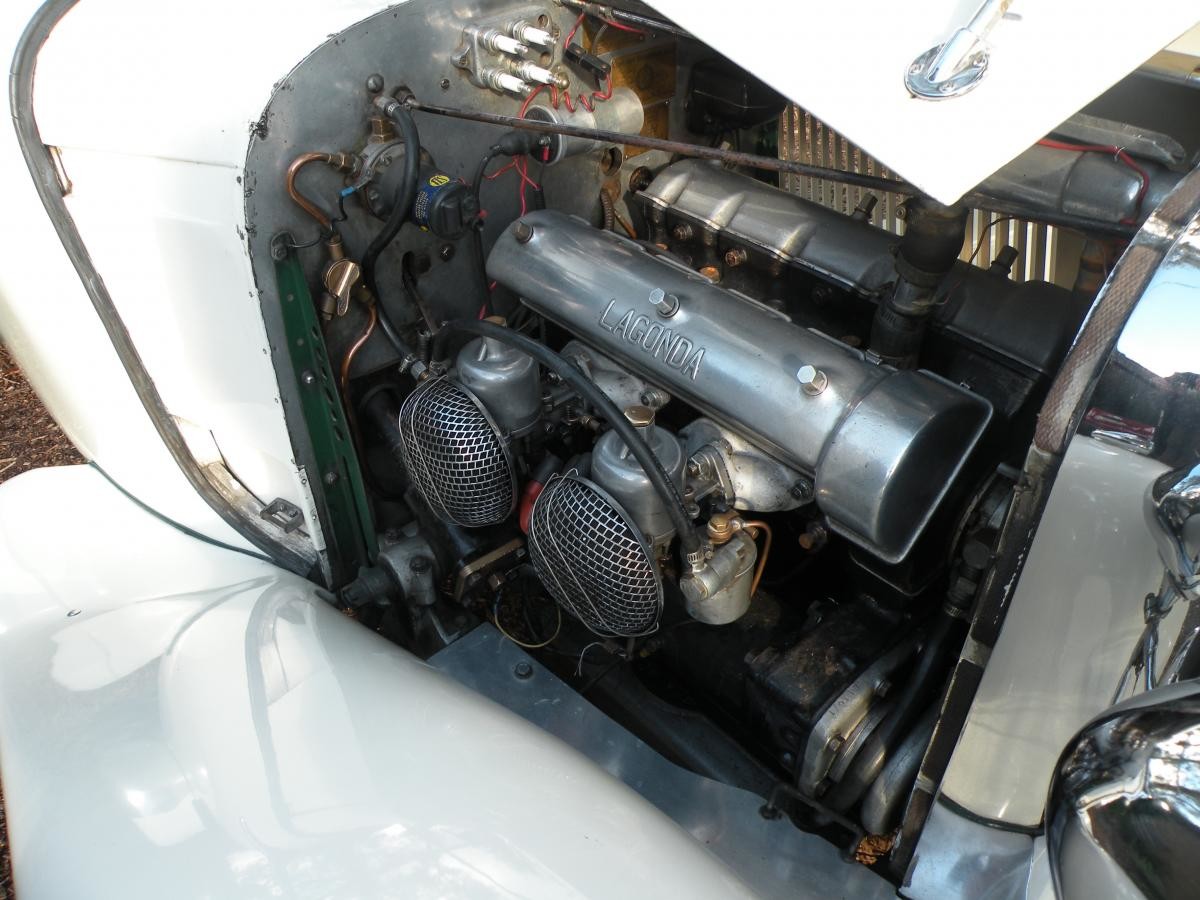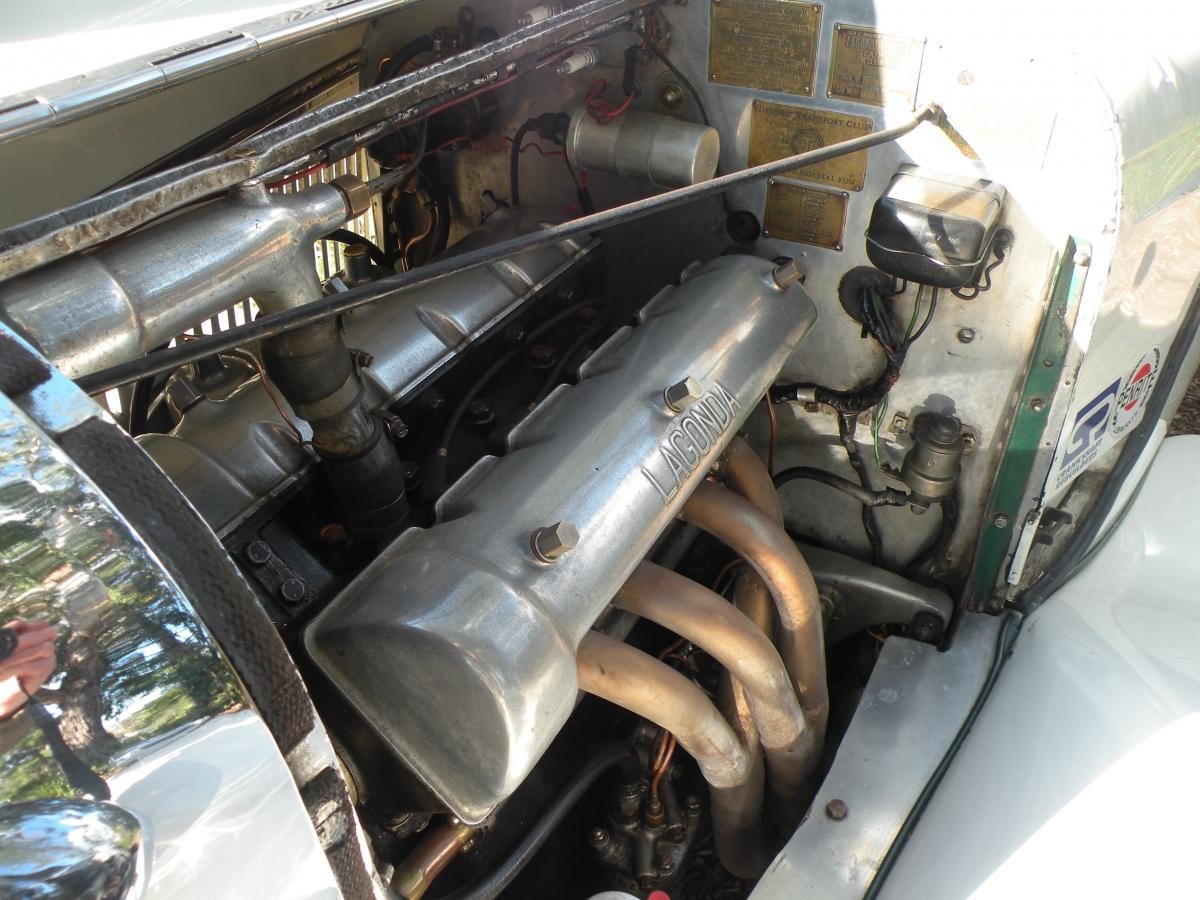 6-9-2018
Observant people will have noticed the "Reserve" tap below the petrol pump. This has two pipes coming from the petrol tank. Again the Rapiers system is just a little different. With the tap in the "Main" position the pump is drawing fuel through BOTH pipes. With the tap turned to the reserve position the pipe picking up fuel via the "main" pipe
that draws petrol from some inches above the bottom of the tank is closed and the pump continues to draw fuel via the reserve pipe from the bottom of the tank. Both pipes have inline filters at the rear of the car close to the petrol tank , there is another filter in the actual pump and finally there are two small conical filters incorporated in the banjo fittings at the entry to the Carb float bowls.
There is a "back up" electric pump under the car in the "reserve" pipe. This pump is controlled by a switch on the dash-board directly (below the amp-meter). When switched on this pump runs continuously with any excess petrol being returned to the tank via the main pipe. Both the petrol tank fitting and the reserve tap are original equipment.
At the time when the car was new Gentlemen would have referred to this system as "Belt and Braces".
or as my American friends would say Suspenders. Please do ask me to explain, either you understand or you don't.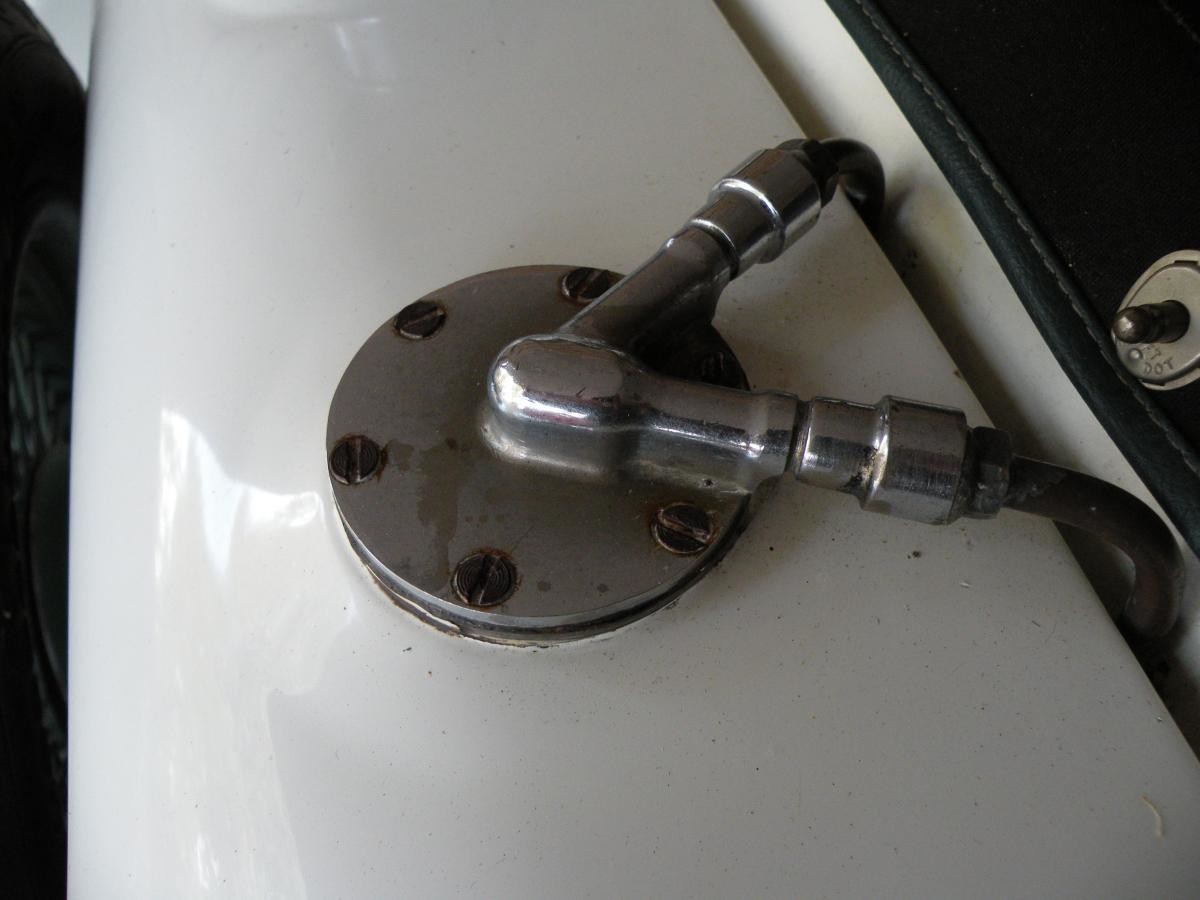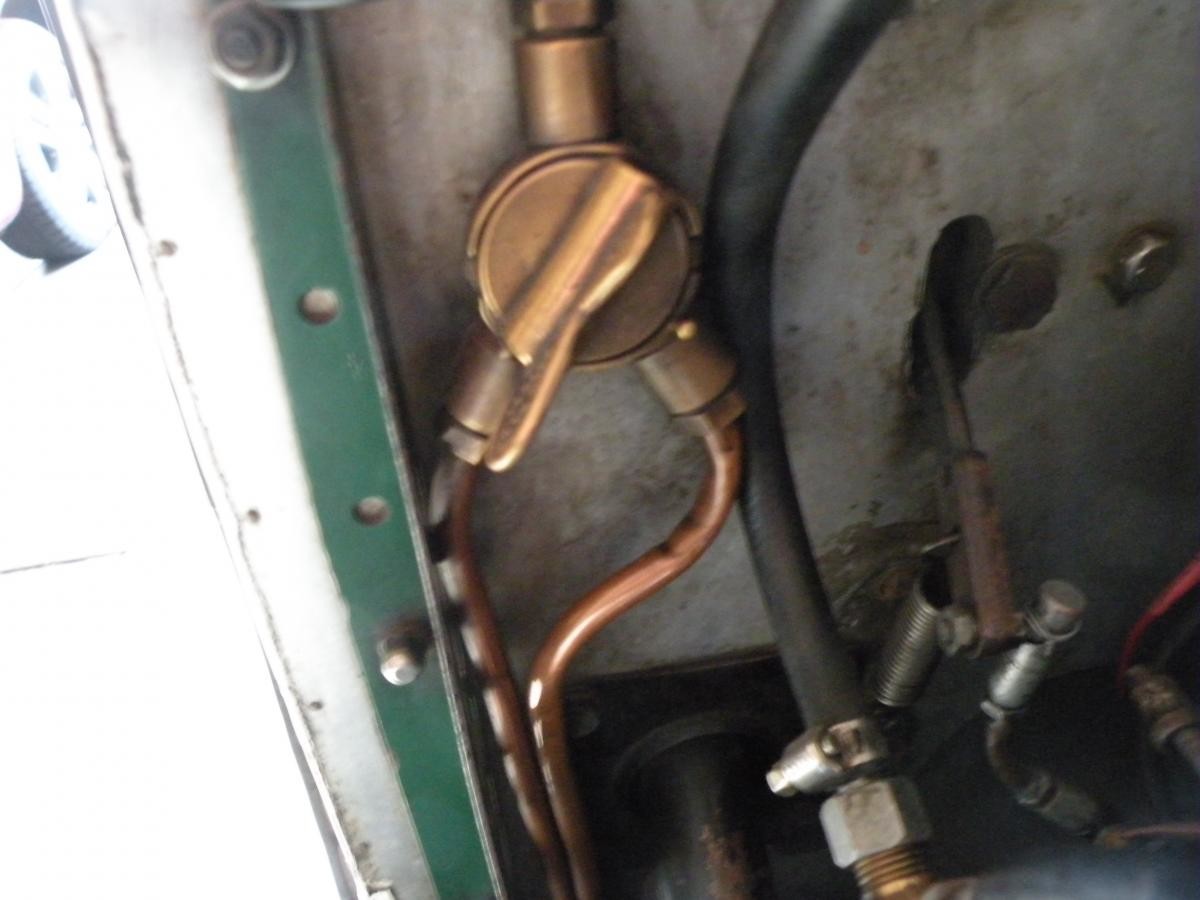 6-14-2018
Sorry! Not mine and we are not even friends. I just love Airedales especially at this age.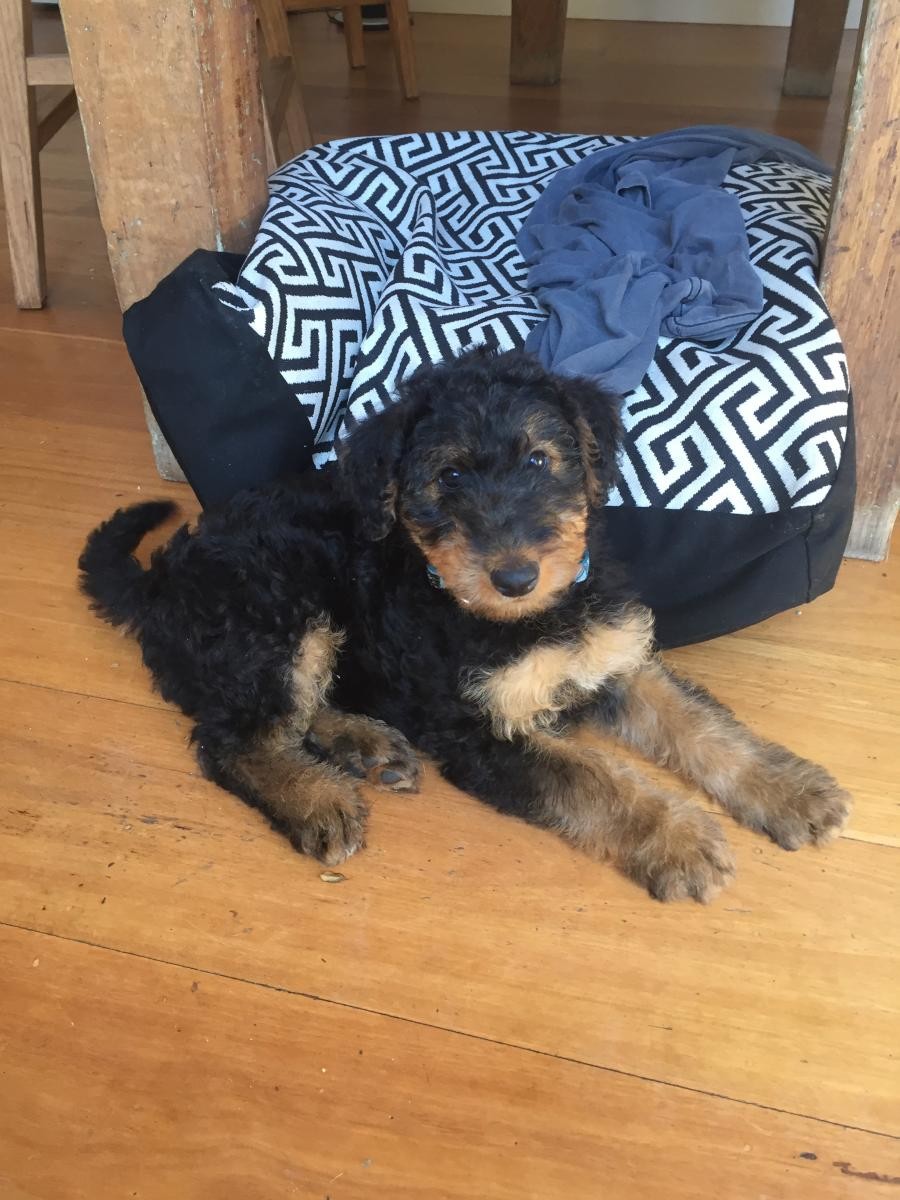 6-16-2018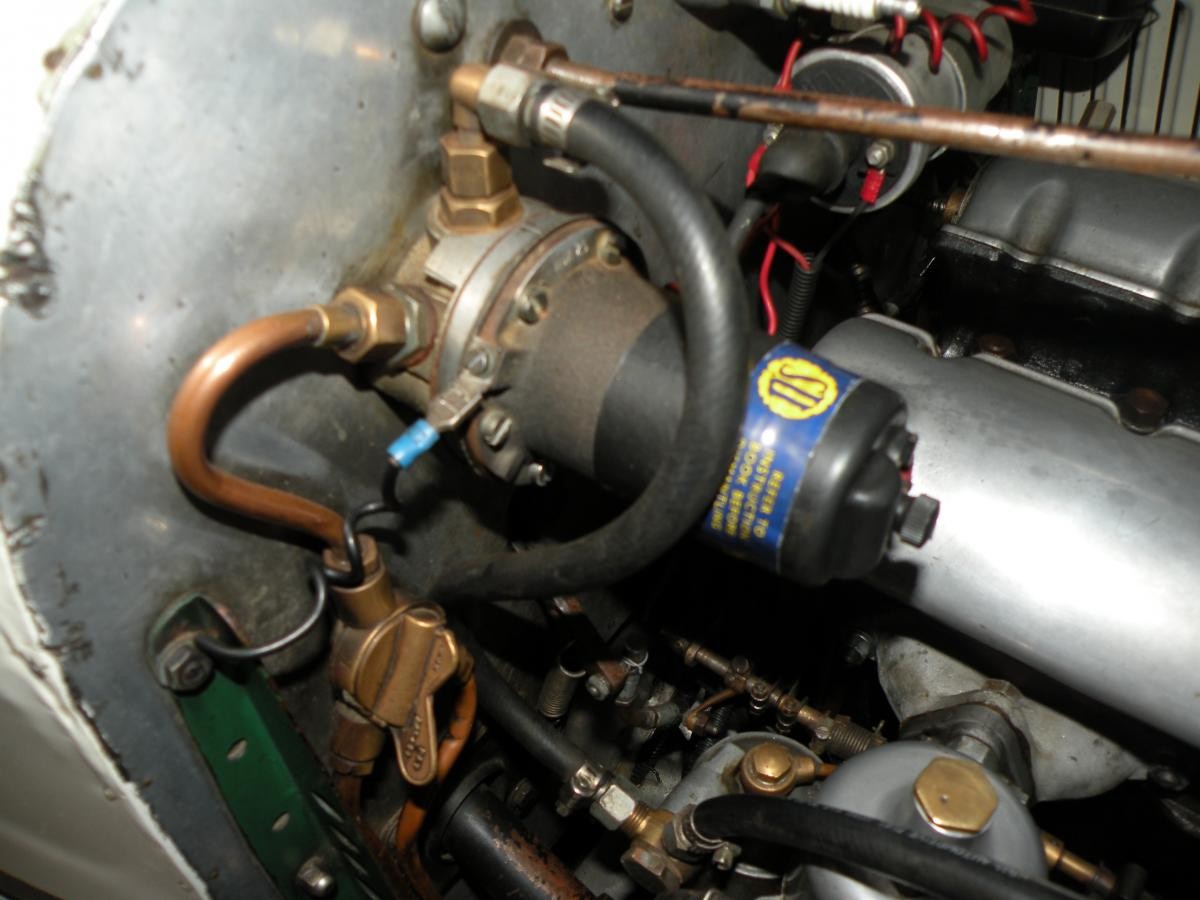 The return petrol system only came about after I had fitted the back-up solid-state electric pump. This is only used in extraordinary situations. It proved its value when we had a problem with the SU electric pump overheating on a hot Friday afternoon while caught up in the peak hour traffic on the ring road around Paris. Despite the reputation of French drivers they were more that patient with the idiot tourist driver in a funny old car. Giving us a chance to change lanes so that we could filter through the "bouchon" and keep moving so that with the help of the electric fan the radiator did not boil. For some reason Tim Ashcroft did not give the Rapier a cooling fan but then he probably did not envisage anyone driving a Rapier through this sort of traffic when he sat down to design the Rapier's engine in 1933/4
Along with Lucas Electrical equipment, SU electric petrol pumps come in for an unfair amount of criticism, mainly this comes from people who are ignorant about the design and maintenance requirements of these items.
Far too many people either are constantly messing about with stuff that they do not understand either how that item is intended to work or what the necessary maintenance or service requirements of the particular piece of equipment are!.
For example many people I have spoken with are completely unaware of the existence of the fuel filter built into the base of the pump. Others are completely ignorant of the valves vital for the pump to work, where they are located within the pump, how they can be accessed, and what attention the may require after extremely long periods of either continuous work or equally long periods of storage. On one occasion I saw a much maligned SU pump mounted vertically with the base horizontal.
I wonder how many of the people reading this can understand why in this situation it was unfair to expect the pump to deliver fuel to the carburettor. All I can say is that it had absolutely nothing to do with either the make of pump or its land or origin!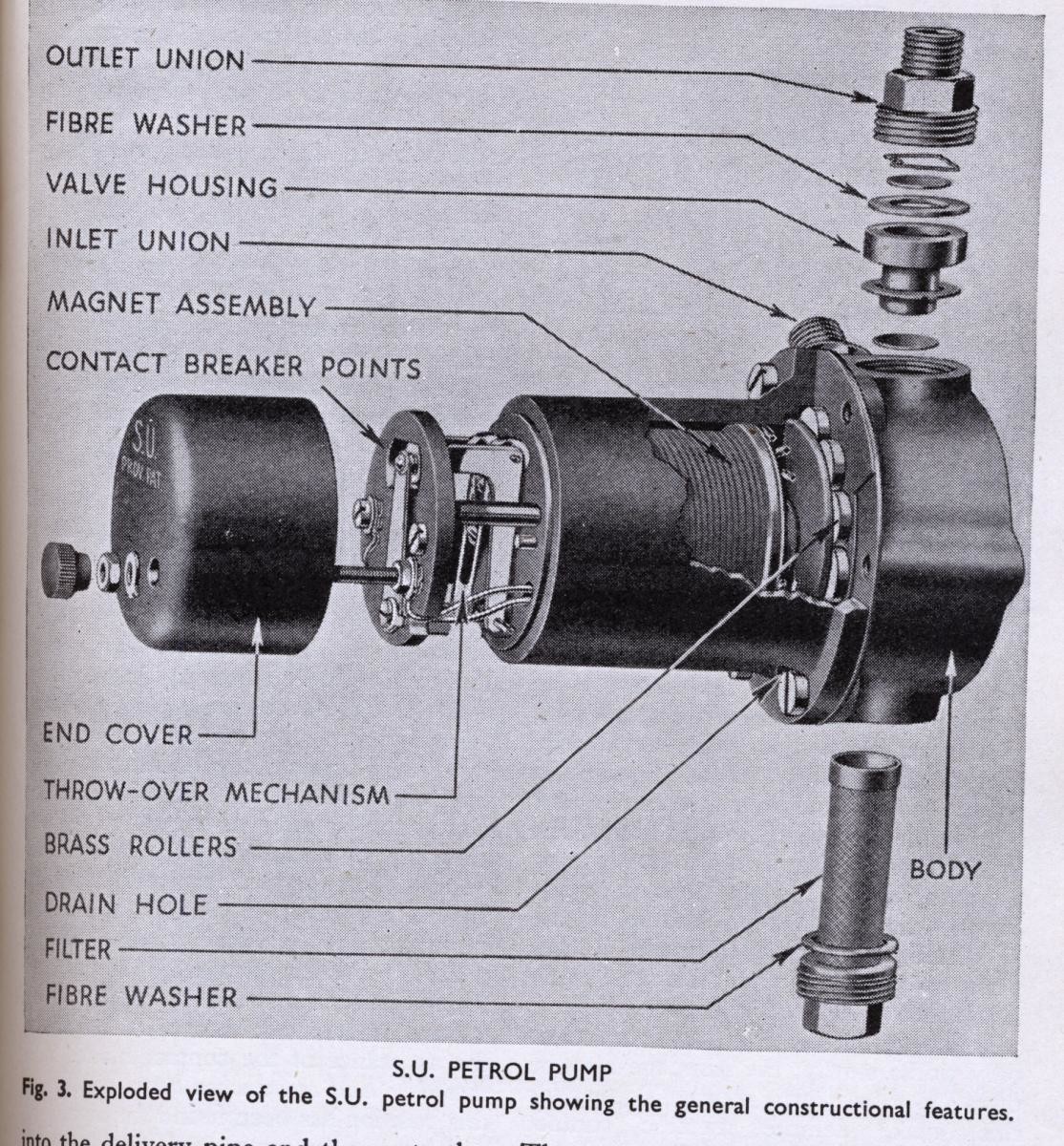 The above diagram was scaned from a book that has been my 'Bible" from my earliest days of messing about with old cars. Second hand it cost in the "old" Australian currency 25 shillings in todays money $2.50.
It's 480 pages cover a huge variety of valuable information and it has saved me on any number of occasions over a very long time. If you are ever lucky enough to see one in a secondhand book shop or at a swap/meet grab it and pay what ever the price is. To give you some idea of the extent of the subjects covered I have included a scan of the contents page and so that you know what to look for the cover and fly-leaf. Being printed in England it relates primarily to British vehicles but included is a great amount of general knowledge.
While It does not show the date it was printed I would imagine somewhere during the late 1940s or early 1950s.
If you do manage to find a copy one thing is sure, it will no doubt be well read and dogeared with possibly some loose pages and damaged binding. None the less it has been for me at least a valuable source of information, much of this I have been unable to find anywhere else.........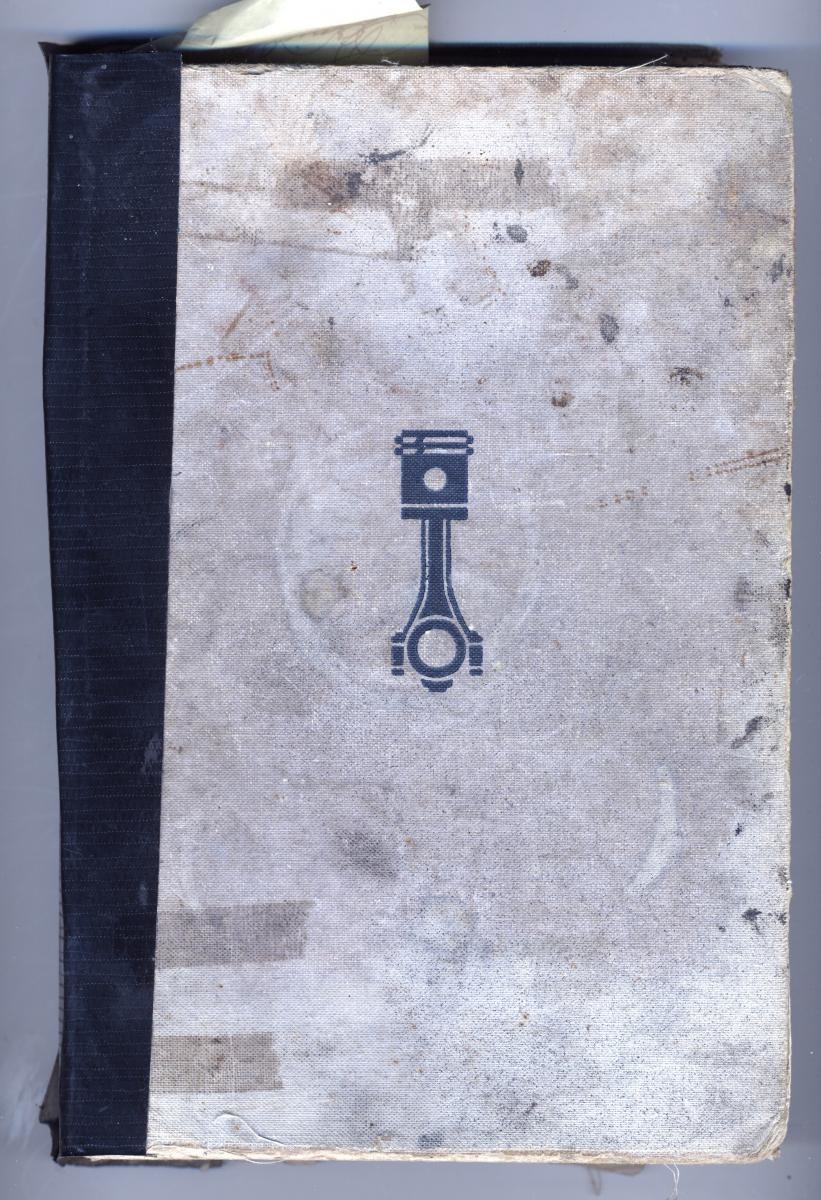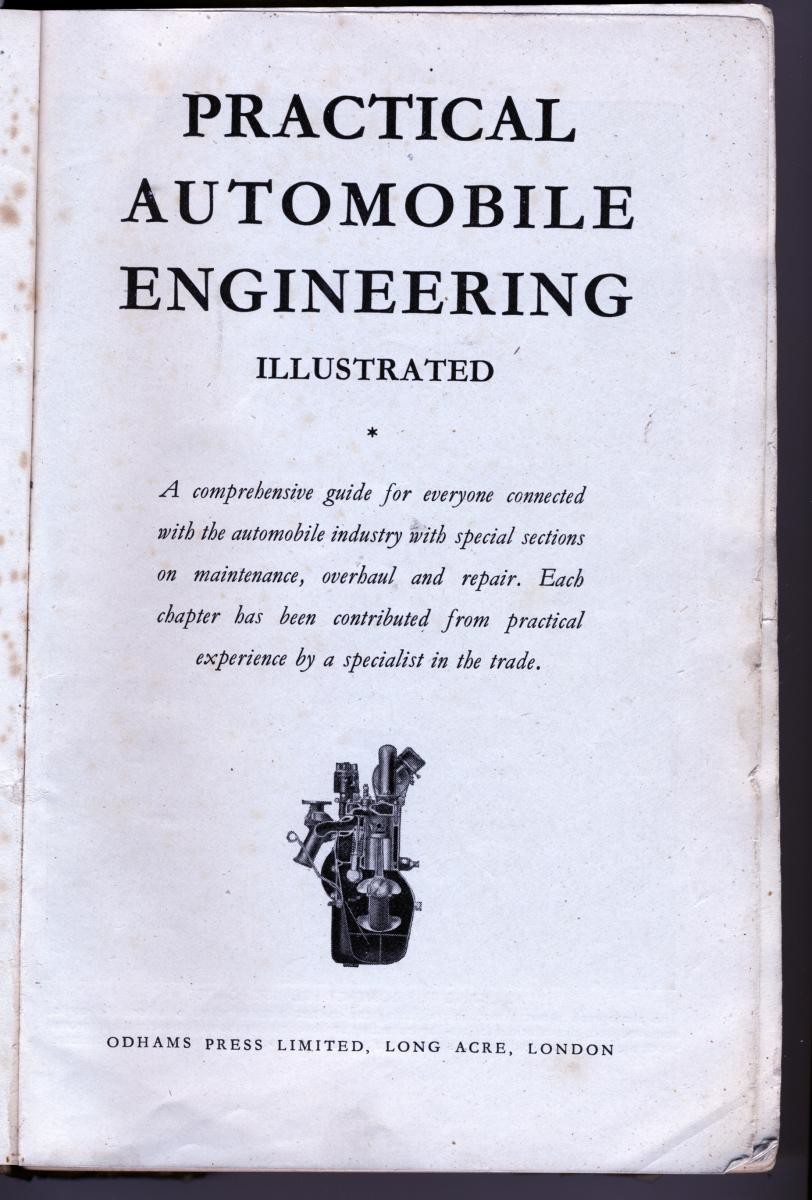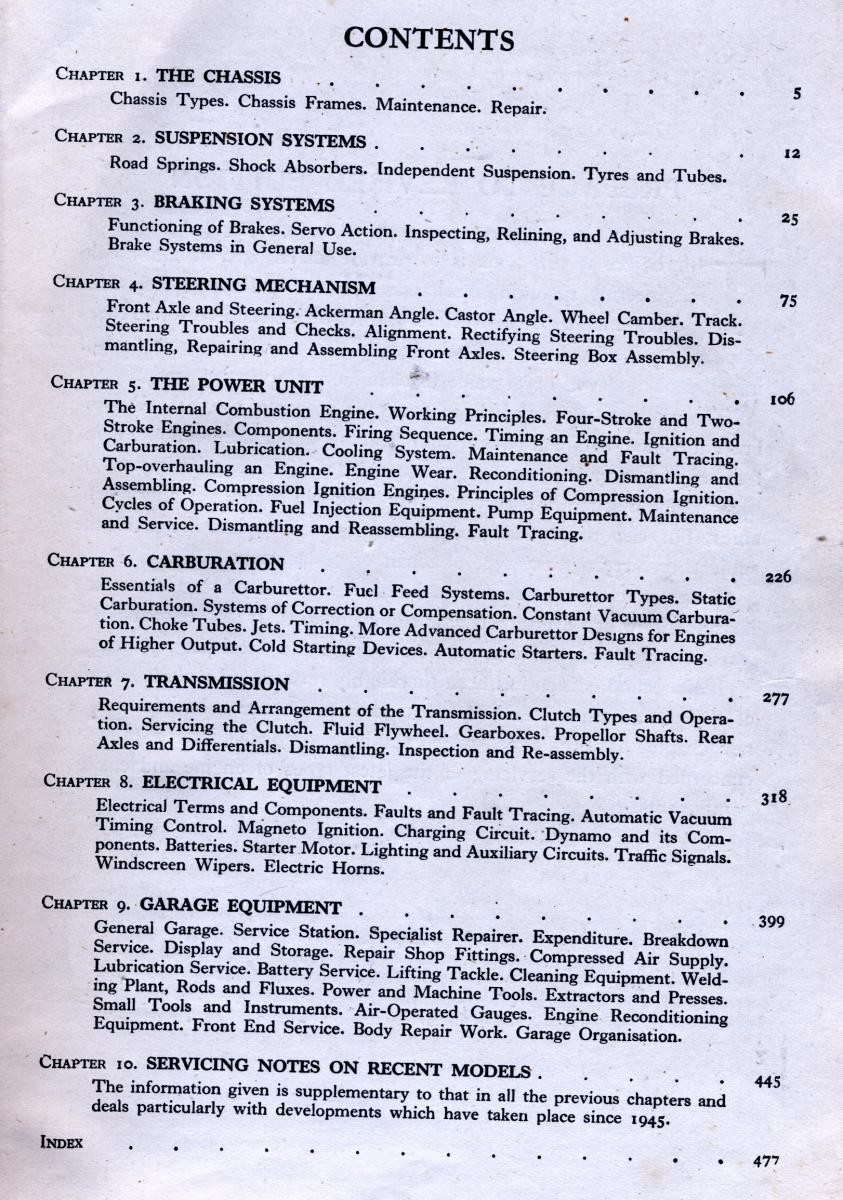 Depending on the period of the cars that you have an interest in or whether you are a collector or a "Do-er", either one would contain some information that you may be hard pressed to find else where.
If you never "get your hands dirty" don't worry, leave them for someone who can appreciate the value of the content.
After more than 50 years I still go back to refer to my copy but then maybe this is because I am so dumb! or that I have forgotten many of the lessons that I have learnt in the past.
Some people "Know it all" without ever lifting a spanner.
I guess it all depends if you are going to get some value out of owning either book or if it is something you just put on your bookshelf so that you can say that you have one.
It is a shame that you are so far away but at least these days we have the internet.
Bernie j.

P.S. Much of my comments to Mike must also apply to any number of people reading this. Perhaps it is just as well we are communicating by the internet rather than over a cup of coffee and kicking tires in the garage.
PPS. Hello Mike
As I understand it you are an Alfa Romeo owner/enthusiast. Unfortunately you will find very little with a direct reference to Italian cars or Alfas in particular. I am much more used to talking about and working on Prewar cars and more especially English Cars and or early 1920s vehicles. Having said that of course the Lagonda Rapier is 1934 and very advanced for that period. I have owned Prewar Lagondas and Rapiers in particular for a very long time. I bought my first car a 1918 Austin 20 hp in 1952. I bought my first Lagonda a 1928 3 Litre tourer in 1967/8.
6-19-2018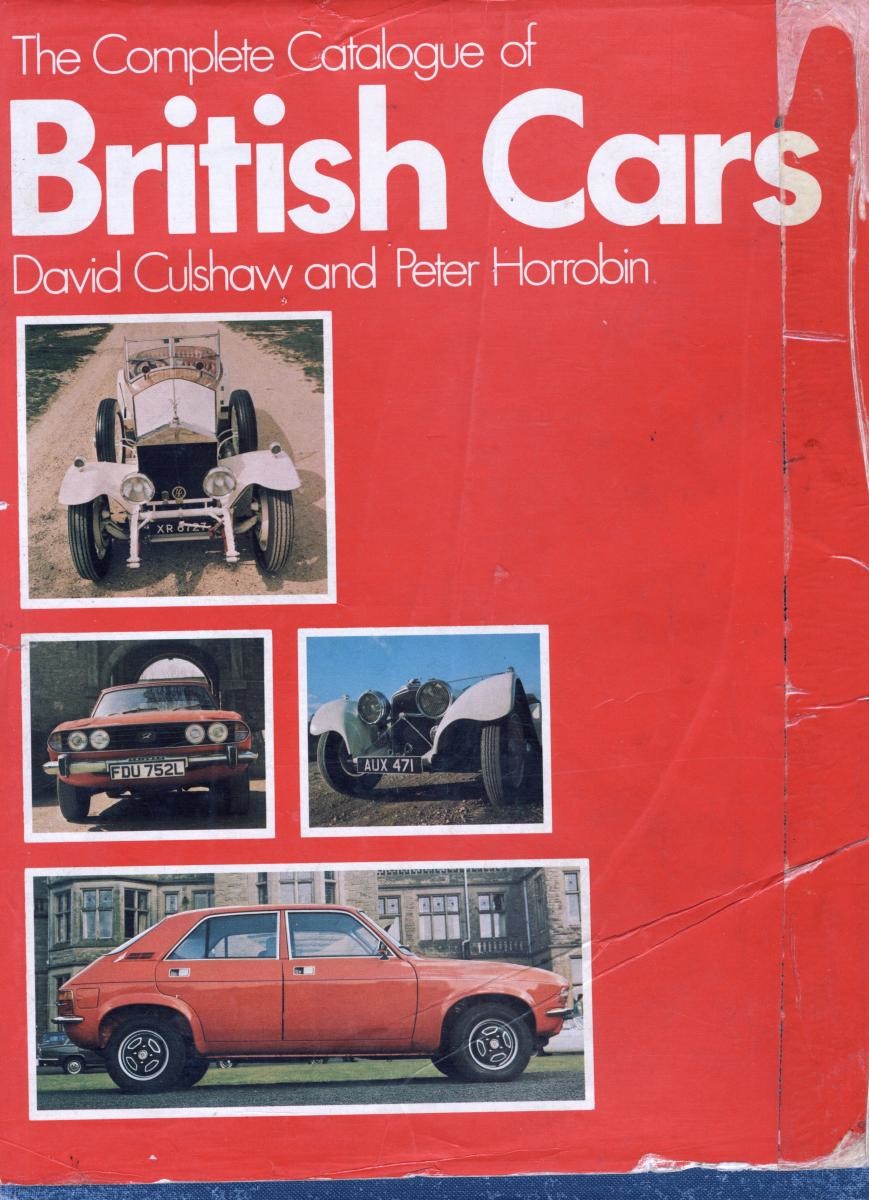 On the subject of useful books, the other reference book that I frequently use to look up information regardinga particular English Car is my Culshaw & Horrobin's Complete Catalogue of British Cars. This not only gives a brief history of each company but reasonably detailed specifications. As a totally random selection here is the entry for Day-Leeds cars, made only in the ten years between 1914 and 1924. Copies of this should be relatively easy to find.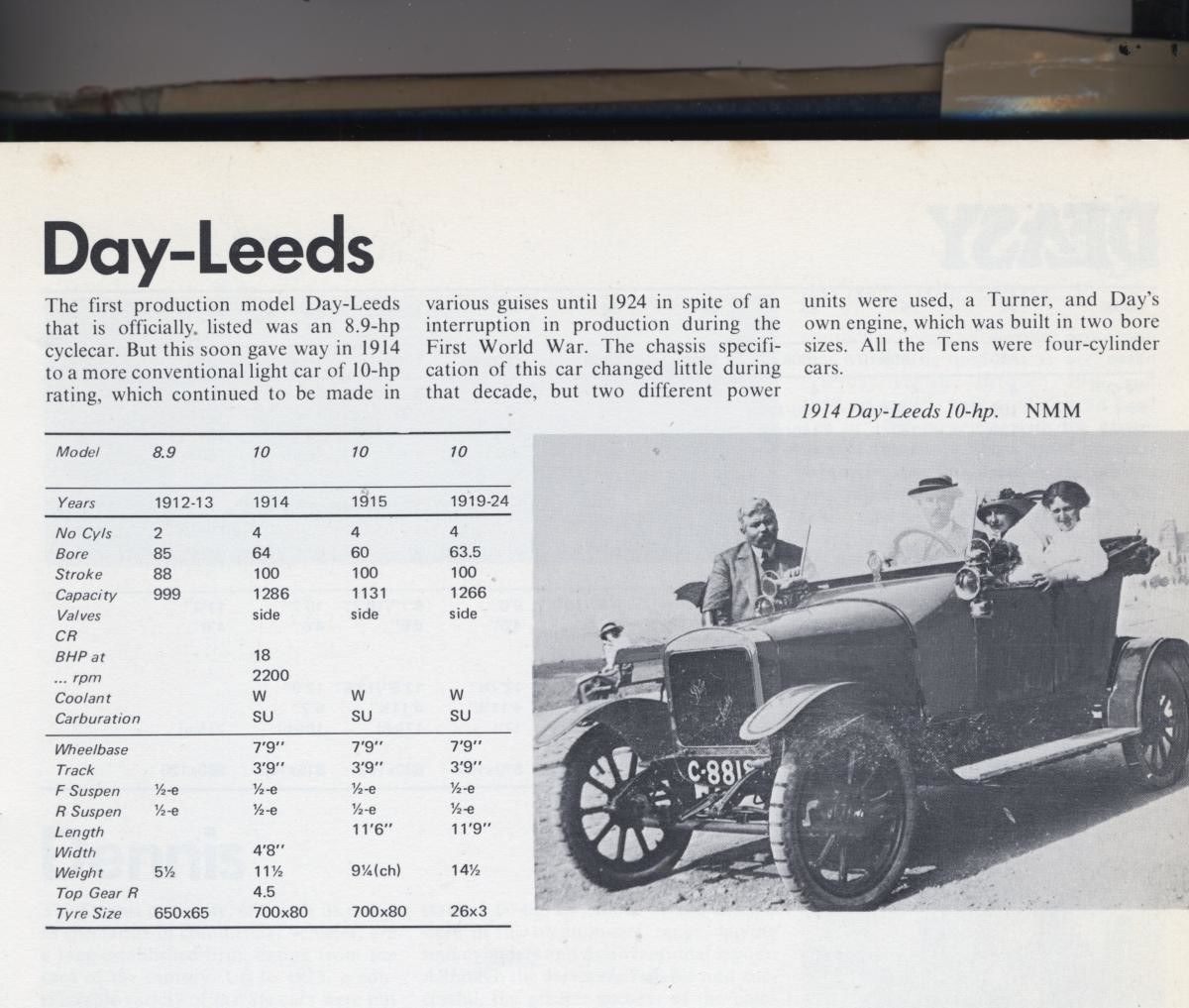 6-23-2018
Well done JP, I hope that you find it a helpful reference. Jaguar also used those double ended pumps. A very long time ago we had a 3.8s as a tow car it had twin petrol tanks with a seperate pump for each tank with a switching arrangement so you could turn from one tank to the other. This was very handy for fast interstate trips towing the racing Rapier Special in a tandem axle trailer. The Jag was a manual with overdrive on third and fourth gear.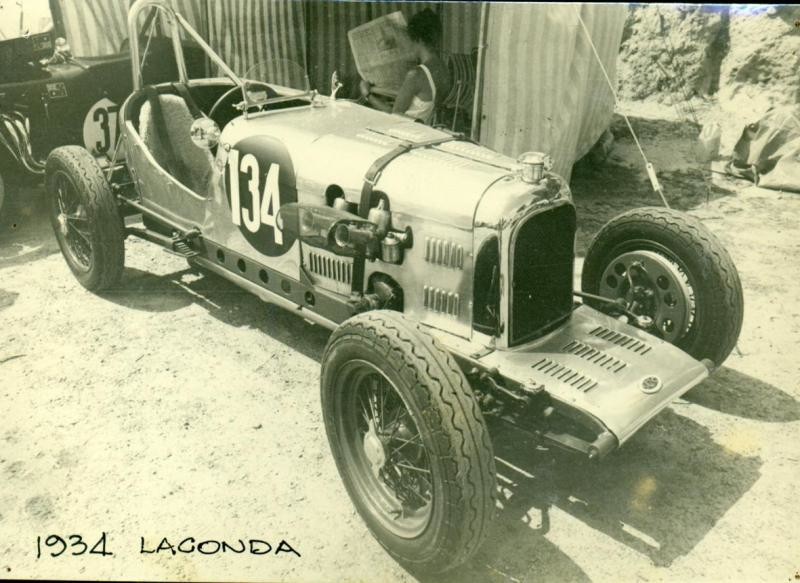 The above photograph shows the Rapier Special in the Pits at Amaro Park in New South Wales. This potent little car is now in the UK but it is almost unrecognisable as the same car. It now has a Supercharged 1500 Rapier engine and the body has been much modified and it has been painted a beautiful blue.
7-20-2018
For anyone else who is watching the Tour de France Bicycle Race on television they too would have looked on with some very mixed feelings as yesterday and today saw the race move into the Alps. For Helen & I with what may be our last visit to Europe with the Lagonda Rapier scheduled for the northern summer of 2019 we are making copious mental notes. I believe that this years tour may have alerted us to an Alpine Pass that makes the dreaded Stelvio pale into insignificance. I still have to do some homework but I should be able to give you some more information regarding this "find" very soon. I do appreciate that the immensely entertaining past-time of Charging up European Alpine Passes in almost 90 year old Sports Cars probably appeals to only a very seclect few but for us there is no better way to go on a "touring" holiday........
8-3-2018
We should never look back the experts tell us BUT who can resist a quick peek at the contents of a box of old photographs, especially when it contains gems like this one taken quite some time ago. Who takes B&W photographs these days?
This one shows I must confess not a Rpaier but a Lagonda none the less. This one the Lagonda LG45 Drop Head which falls into the collection headed "Cars that I have owned" It is shown rounding the "Dandenong Road end corner at Melbournes Sandown Race Course and goes some way to explain the rapid tyre wear experienced with this car. Close examination of the right hand front tyre speeaks volumes.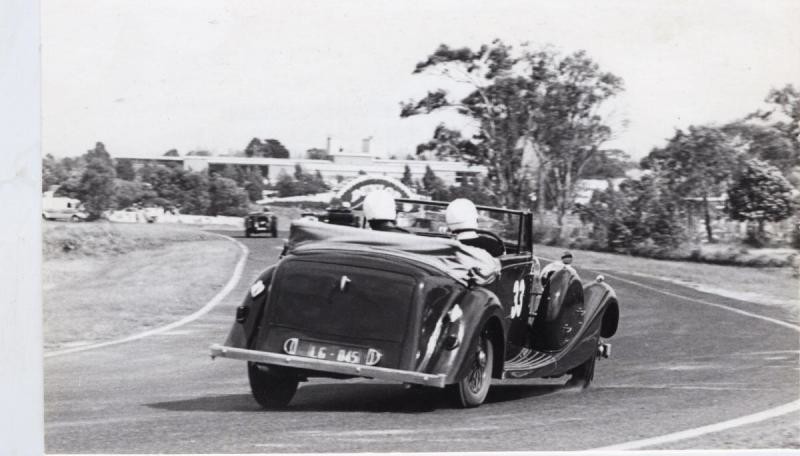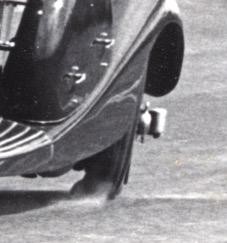 10-1-2018
Hello again
After what seems a long break I spent most of yesterday afternoon checking the oil levels and giving the Rapier a thorough cleaning.
I am pleased to report all the oil levels were ok and all that is needed is to fill the tank with petrol and it is ready to go.
Even after standing for several weeks if not months, it started "on the button" and idled smoothly.
At times I question my sanity getting so involved with restoring what can only be described as second rate cars. The problem, if it can be called a problem, is that there is very little that the Rapier needs to be done on it. Perhaps I need to drive it more?
10-5-2018
Now a "couple of days" later we took the Rapier out for a 'decent run' out into the nearby Yarra Valley on Thursday and the car went extremely well which only reinforces the question why I bother getting involved with anything else. With the end of this year getting closer every day I need to make some decision about whether we take the car to Europe next year or take the soft option with a modern hire Car. It is only the question about the Australian "Border Force" permiting the car to return to Australia without all the fuss, searching for any asbestos that may be hidden within the bowels of the car. The one potential problem is with the friction linings in the preselector gearbox.
10-7-2018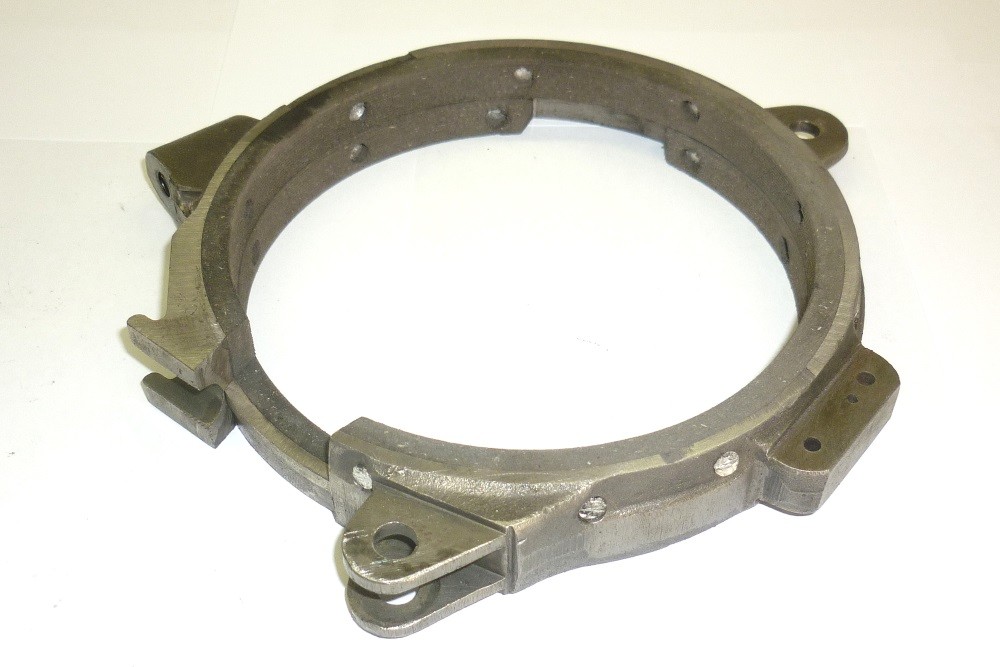 Do you have any ideas for dealing with this? It seems if you have new brake pads, with a receipt certified to be asbestos-free, and you have no insulation or heat shield which could have asbestos, then your only potential problem is with the transmission. Once they see you have no conventional clutch disc, then they will think either it has friction material internally or is some sort of automatic torque converter system. Do you have a spare transmission? You could get these bands relined and certified asbestos-free I would think. The ABF would accept a receipt with some sort of certification?
What you are saying is probably correct BUT to my knowledge there is no supplier of new ENV 75 bands in Australia. The main source of these bands is from one or possibly two Preselector Transmission specialists in the UK. They will not supply bands to do it yourself people. The only way they will supply bands is if they fit them whilst in the process of totally rebuilding the transmission. This involves removing the transmission and shipping it to England. You then wait for anything up to three or four months. When they have rebuilt your trans they will send you an invoice. After you pay what ever the choose to charge they will return your transmission. The last person I know who had a trans rebuilt in the UK paid over $10,000.
I have a spare trans BUT it is a "wide ratio" box. ENV in their wisdom built three versions of the '75. One as used by Riley 9, Triumph & Crossley 10hp had "wide" ratios. The one supplied to Lagonda for the Rapier had "close" ratios, the one supplied in very limited numbers to MG for use in the "Q" type had ultra close ratios. The linings and bands were probably the same for all three versions. The various other preselector transmissions Wilson, Daimler etc whilst similar are totally different and not interchangeable with the ENV 75.
I have on my shelf, spare bands and harnesses similar to your photograph but being all "old stock" it is almost certain that they contain asbestos. The spare linings that the Rapier Register stock are probably from the same source and age as mine.
There is another option, I can fit a clutch together with a modern Toyota 5 speed gearbox. This involves making non-reversible changes to the bell housing together with a new drive shaft.
If I was going down this path why not fit a new Toyota motor as well. Better still why not sell the Rapierand buy a completely new car. As it is my Rapier is worth around UK£65/75,000.00. It has an incredible history prior to my owner-ship. I have owned it since 1978, we have travelled over 100,000 miles in it. We have at various times driven it through the UK, France, Belgium, Holland, Germany, Italy and Spain.
The photo shows our car as it was in the 1950s & 60s When owned and raced by Beatrice Shilling. It is worth looking up Miss Shilling. She was the Carburation specialist at the RAF Royal Aircraft Establishment at Farnborough in the UK throughout WW2, There is a book "Negative Gravity" written about her life. When I rebuilt our Rapier there were a number of people who complained bitterly that I had "destroyed an Historic Car"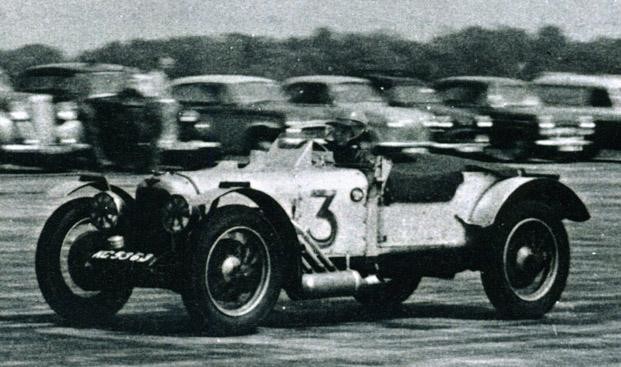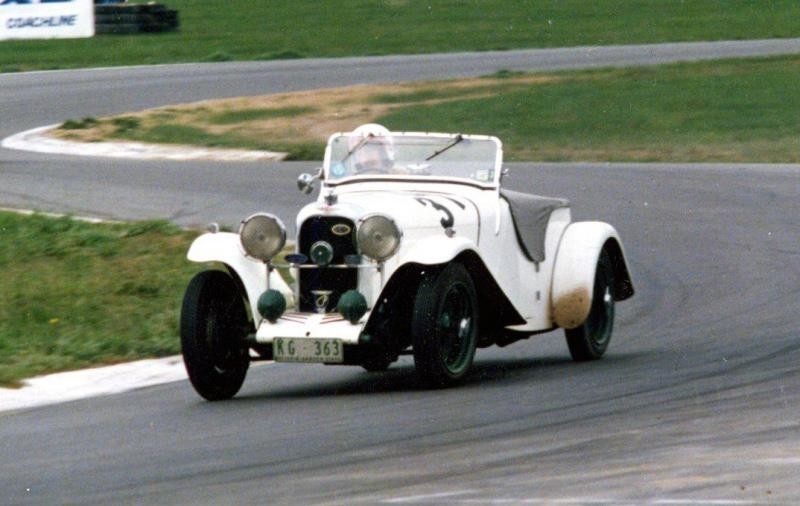 These bands are either new or very near new. They are from my ENV spares shelf. I bought them a very long time ago, without having them tested for asbestos content I have no way of knowing exactly what they are but I do know that I am not about to throw them away. I have to look at the "shelf" again but I should have a new "top-gear cone" too.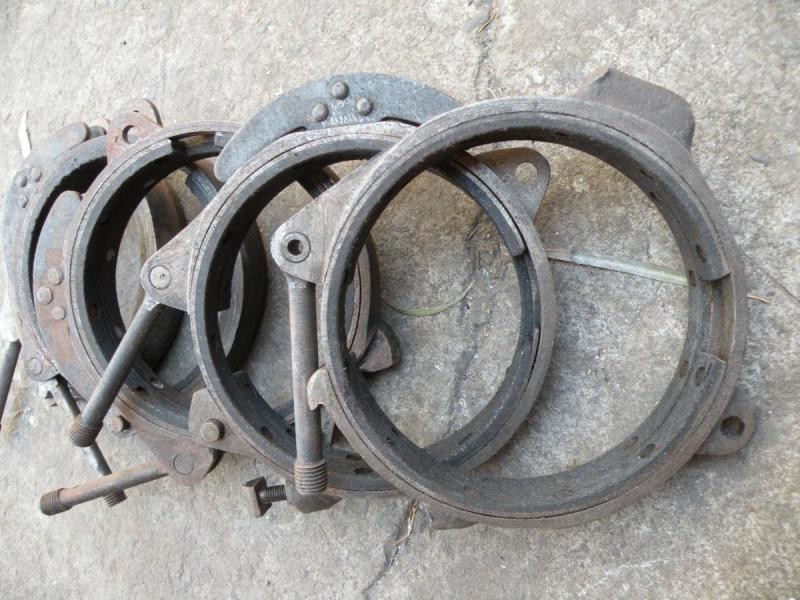 10-8-2018
Anything is possible, I think that maybe the first step is to have some tests done on a sample of the oil from the gearbox; I would sooner not have to take my gearbox apart and put it back together again before the car would be due to be shipped to the UK. I have done it before but not in recent yearsThere is no problem having the brakes relined & to obtain a certified statement that they are asbestos free. Time has a nasty habit of slipping away when you least expect it. The car would need to be ready to be shipped by late March next year. I need to think about it (perhaps an age thing) I could take the gearbox out while I am waiting for the brake shoes to be relined. I will probably have to fit new (roller) bearings in the planetary gears too and you never know "what else" until the box is fully dismantled. Probably the worst part is "thinking about it".
At least with the Fiat sold and gone to the UK I should not have any other distractions.

All this sounds to me as though the decision to take "KG" away to Europe with us again next year has been made.
How did that happen?
10-13-2018
It would appear that it is 99% decided that we will take the Lagonda away to the UK and France again early next year. Part of my preparation will be to remove all the friction material containing Asbestos. i.e.. Brake linings and the four "Bands and the Top Gear Cone" buried deep within the gear box. Not having a huge amount of time to complete these preparations I started yesterday to dismantle the spare gearbox. hopefully the attached photographs will give you some indication of the complex nature of the gearbox, This view is lookingat the rear (reverse) band closest the the camera. The second photograph shows the reverse band on the right hand side.
Top gear is actuated via a cone clutch which is already removed. In effect there is absolutely nothing wrong with these bands except that the friction material contains asbestos. Rather than wait until the friendly litle men of the Australian "Border Force" (Customs) to impound and dismantle (destroy) the gearbox when the car returns from our holidays I am now about to have the bands relined with "Certified Asbestos Free" material. This involves sending the bands and the cone to England to have them relined, then rebuilding the gearbox when they return. It appears that there is no one locally (in Australia) that stocks the linings or is capable of fitting them correctly. You can just see in the right hand background the four "gear sets"
In the third photograph shows the "workings" of the gearbox with the actuating spring and "bus bar" . In order to dismantle the box the spring must be held in a compressed position. The long bolt at the bottom right hand screws in, through the hole normally holding a brass plug, to compress the spring. This spring normally applies the pressure to contract the selected band to activate that gear.
I am sure that you all understand exactly how it all works. Unfortunately I do not have the space here to include a full description of the workings of a "Preselector " gearbox. The final photograph is of the four bands removed from the gearbox.. You will have to "look in" later to see the top gear "cone".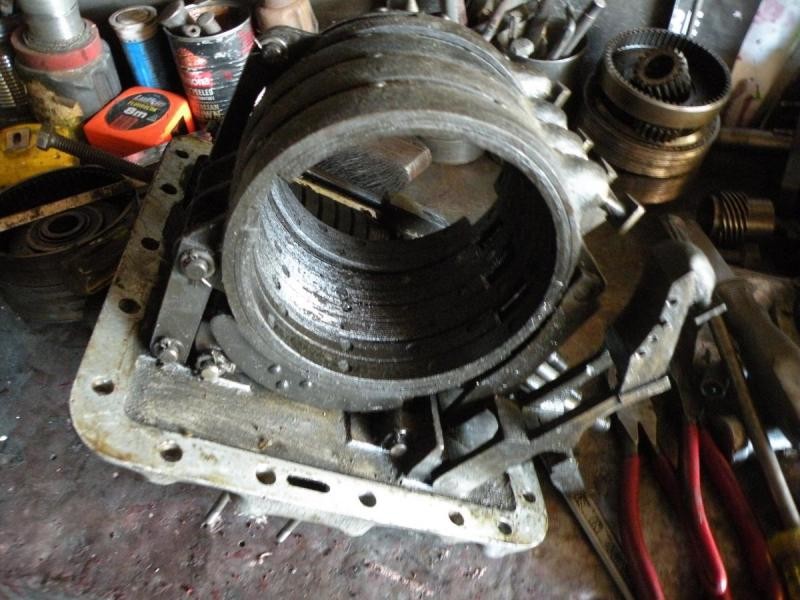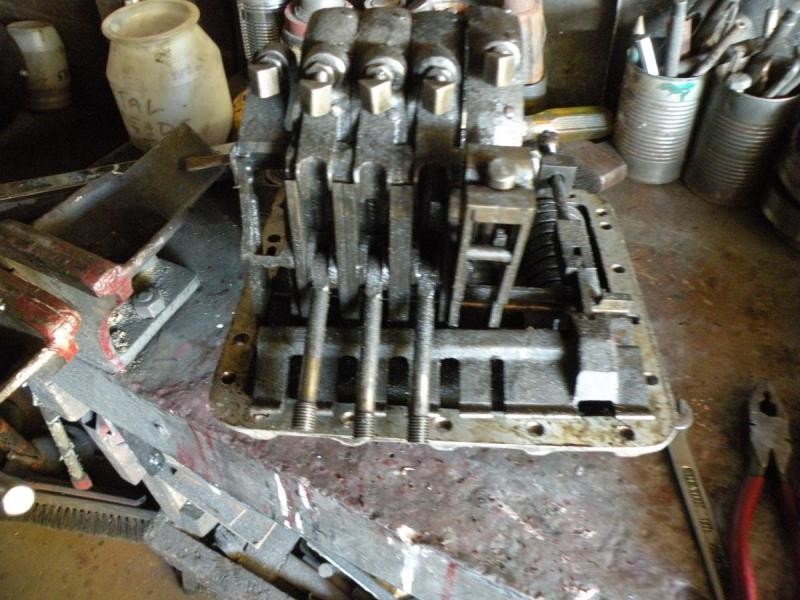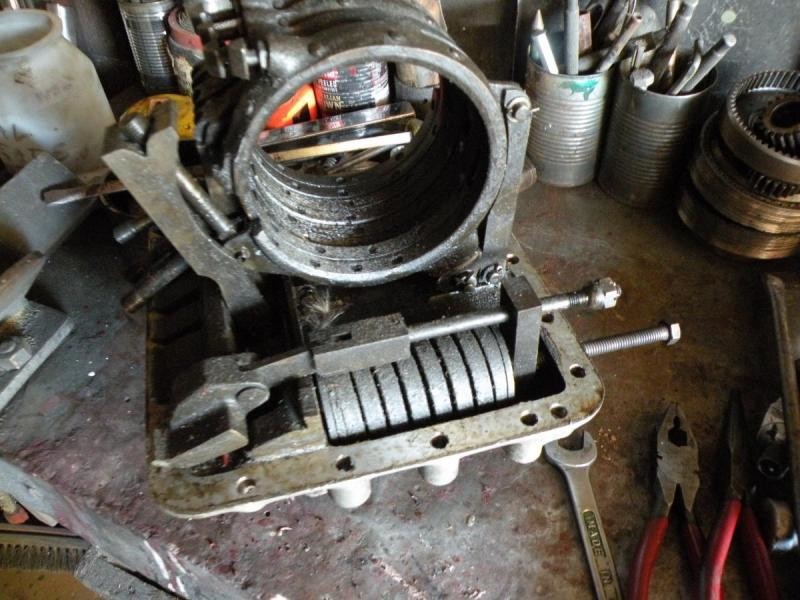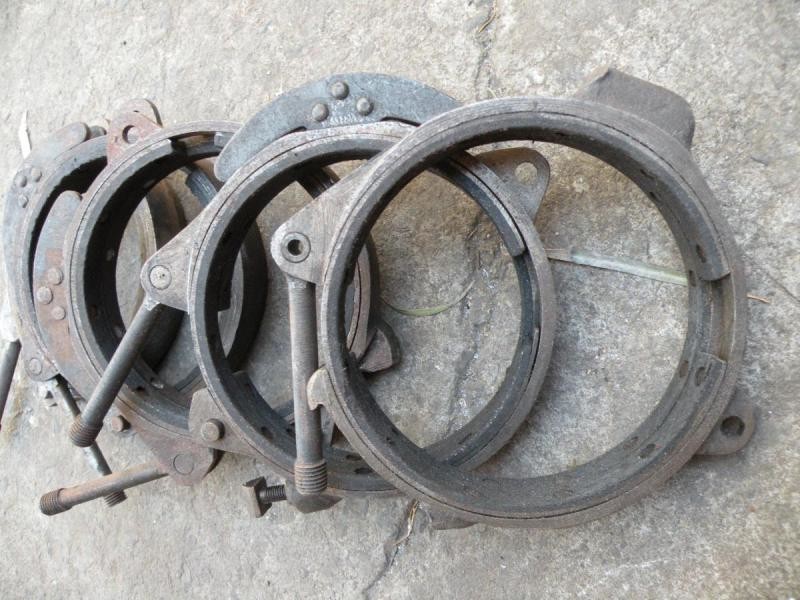 10-14-2018
"Great minds think alike!" I have the "bands and top gear cone" from my spare (Wide ratio) box all packed ready to go to Jeff on Monday morning. He will require them for two weeks (he says) and about the same for postage each way, which takes up all of one month. My plan is as you suggest to rebuild one or the other or both boxes once I get the relined bands back from the UK. We have the five day VSCC Alpine Rally at the end of this month which we are committed to attend so I will not start taking the Close Ratio box out until after then While It only takes one day to dismantle one of these gearboxes it seems to take considerably longer to put one back together and get it operating smoothly again!

Below are two more photographs the first showing the "female" section of top gear cone. You can just catch a glimpse of the "male" cone next to it on the bench. If you look at this even closer you can just make out two points of the "star spring" The purpose of this is to prevent the male cone becoming stuck in the friction lined female cone when another gear or neutral is selected.

I hope you are all following this very closely. I have been "playing" with these gear boxes for almost 50 years and I am still learning.........
Please note This gearbox has ben on the shelf for more than 20 years and I have not as yet started to clean anything. The bands and a top gear cone are already packed ready to be sent to the UK tomorrow morning (Monday)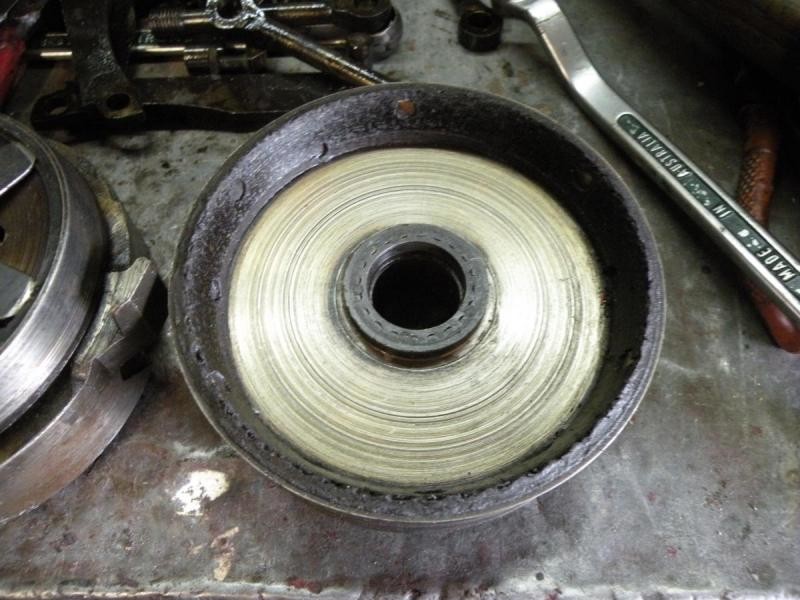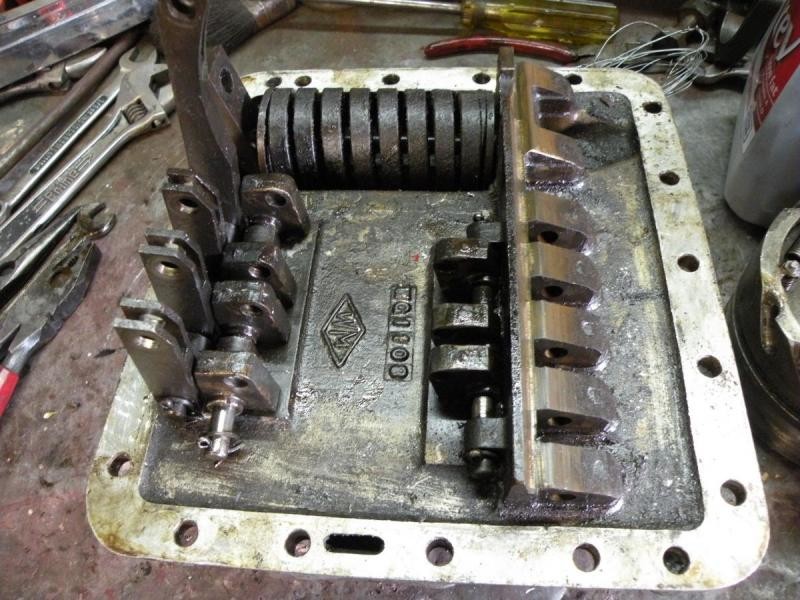 10-17-2018
The four bands and the top-gear cone are now on their way to England where they are to receive new Asbestos Free linings. Meanwhile I am throughly cleaning both the inside and the outside the housing and the various internal parts to be sure that there are no rogue Asbestos fibres remaining. Today I also chased down an amoying oil leak at the "banjo" fitting taking oil to the valve gear in the cylinder head, fitting new copper washers on either side of the "banjo".


I have also made contact with the Royal Holloway, University of London at Egham, Surrey, England. I have recently learnt that in the New Year they are to open a new Building the "Beatrice Shilling Building". It seem that she is finally after almost 100 years receiving some recognition. For people with short memories she was the Carburation Specialist at the Royal Aircraft Establishment at Farnborough in England during WW2, and is credited with saving many young pilots lives having solved a serious problem with the induction system in Spitfire and Hurricane engines. This problem caused their engine to cut out without warning when the Pilot was making avoiding action during an heated battle with German Fighters.
After the war she owned and raced my Lagonda Rapier.
Some people still think that I destroyed a historic car when I rebuilt it in 1978. I doubt that it would still exist if I had not saved it. When I bought it, it was already partially dismantled and the engine was in pieces.
Certainly today it would be hard to recognise it as the same car.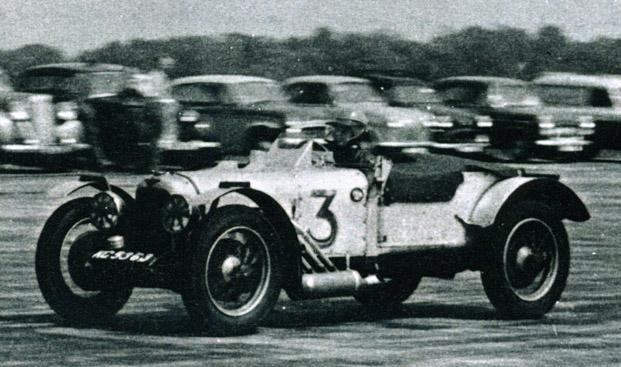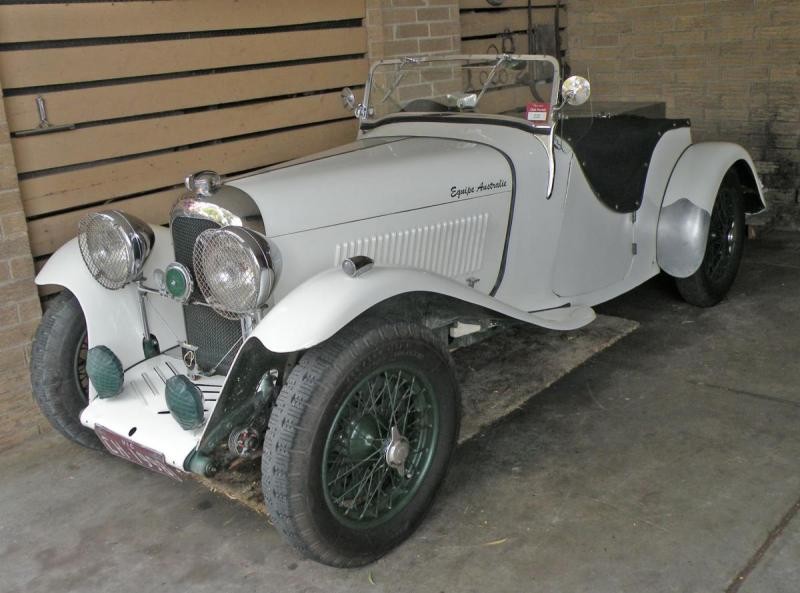 Re:- The green words seen here on the trailing edge of the bonnet (hood) "Equipe Australie", is French for "Team Australia."
It has now been removed, It was put on the four Rapiers and one Riley that went with us to France almost fivge years ago, to identify them as belonging to the group of six cars visiting from Australia.
10-18-2018
There were the two main suppliers of Pre-select transmissions in England during the 1930s. Wilson and ENV. Both transmissions were made under Wilson Patents. The ENV 75 box as fitted to the Lagonda Rapiers was slightly smaller and lighter than the Wilson equivalent. The gear selection was in a straight line with a lock out latch for reverse otherwise the principal was the same as on the cord. The Rapier's gear lever was floor mounted originaly the drivers right hand side. This was moved later to a centre position with the gear selection lever moveing in a straight line with Reverse furthest forward with Netural next then as the lever mover back first, second, third and top. This acted on a small lever on the left hand side of the gear box. This in turn rotated a "cam" shaft that pre-selected the require gear, depressing the pedal in the same position normally occupied by the clutch. This pedal depresses the large spring seem in earlier photographs allowing the strut for the next selected gear to move so that its "foot was sitting on the "Bus-bar". As the pedal was released the spring tightened the band controling the next set of gears and thus bring them into action. Gears are epicyclic revolving around a drum. By stopping the drum from rotating caused the planetery gears to revolve inside the selected drum in turn transmitting the drive via a central "Sun" gear this then took the drive to the rear wheels. Unfortunately to fully explain the principle required would take far too much space and time.
The photographs below show the gear selection lever with the reverse lock out. The final photograph also shows the there pedals with the "Change"pedal on the left, the accelerator the small pedal in the middle and the foot brake pedal on the right.
The last two photographs show the layout of the planetery gears inside the drum. The final photograph shows the complete "gear train" with a "soup tin" to show it's comparative size.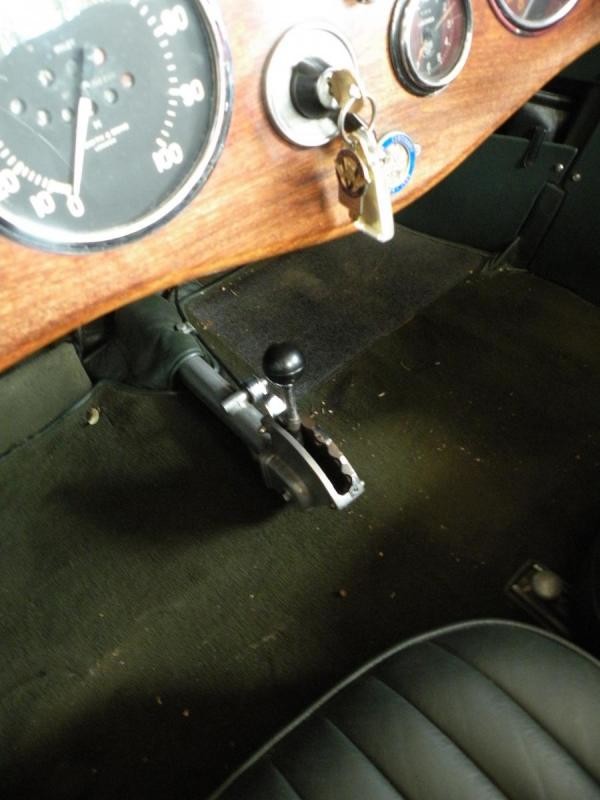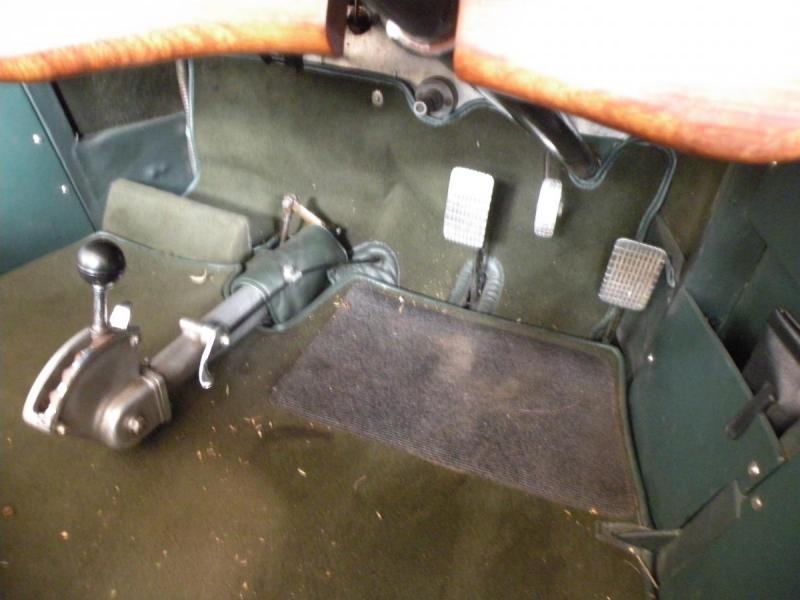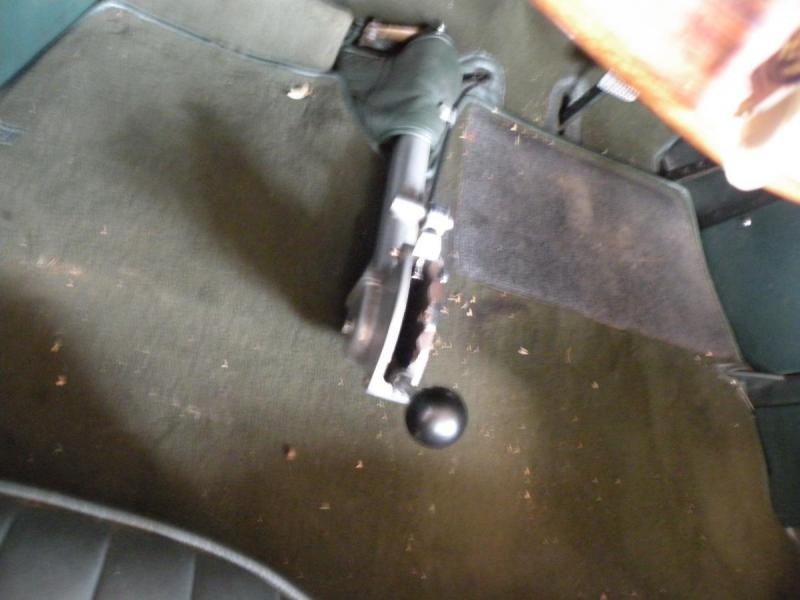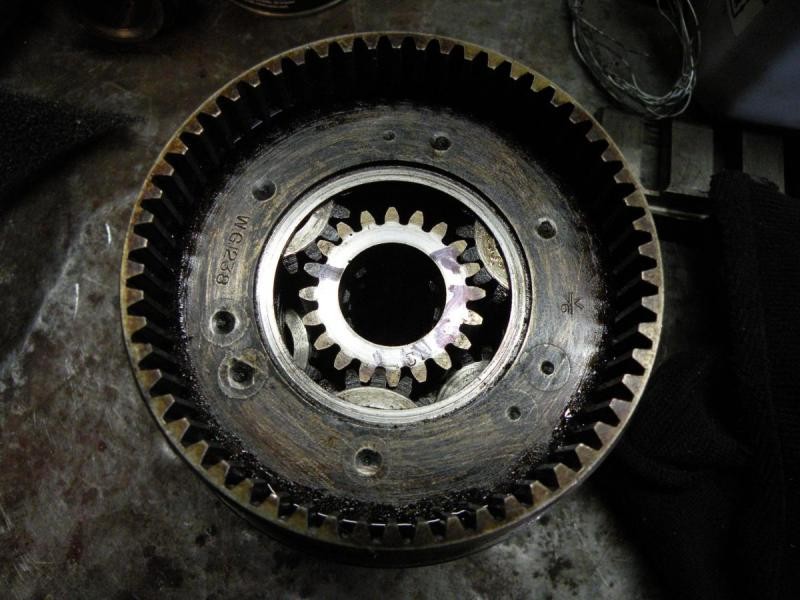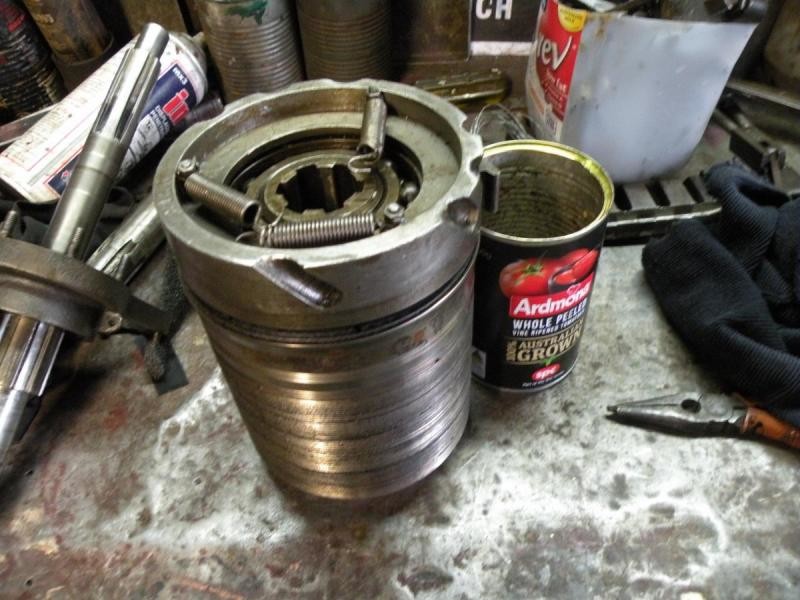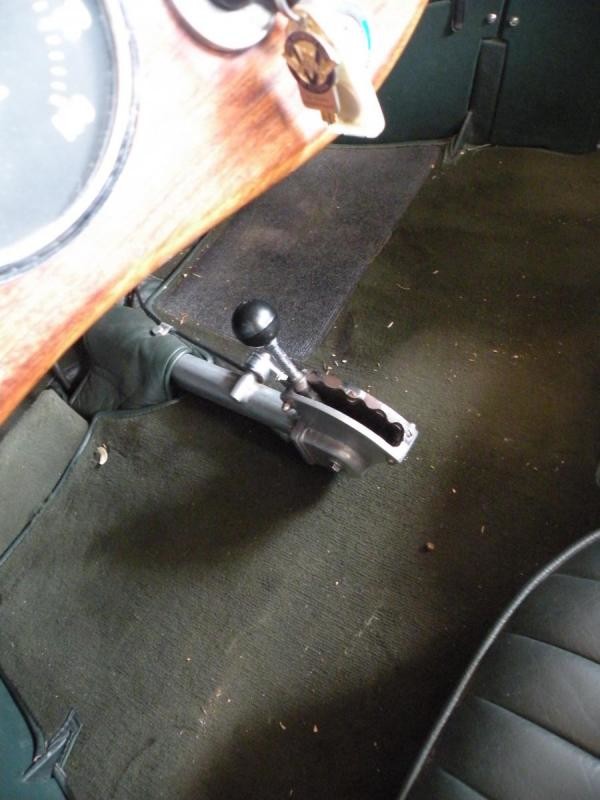 OK I am sure you are all anxious to learn more about these fascinating transmissions so I have gone back to square one,
The ENV 75 supplement to the original 1934 Lagonda Rapier "Owners Hand-book". The drawings contained therein will explain the workings far better than I, a humble, uneducated lay-person. If nothing else it may help you appreciate where all those fascinating whirrings and whining come from. To move from a simple straightforward non-synchronised "crash" gearbox of the 1920s to one of these just three or four years latter must have had many of the mechanics of the day, scratching their heads.\
At first glance it may appear as though I have duplicated the drawing on "Plate one". This is no so.
Please look again.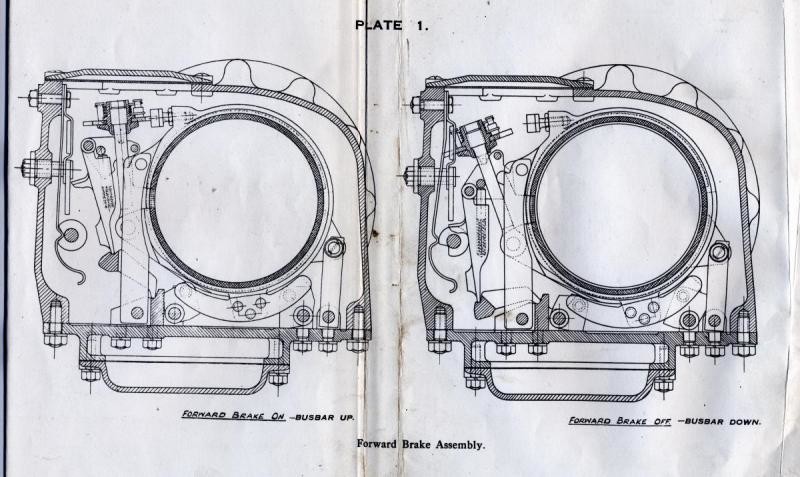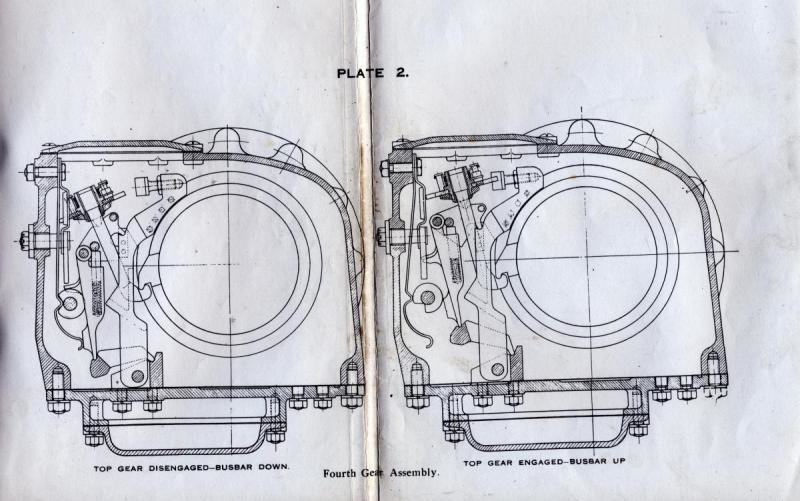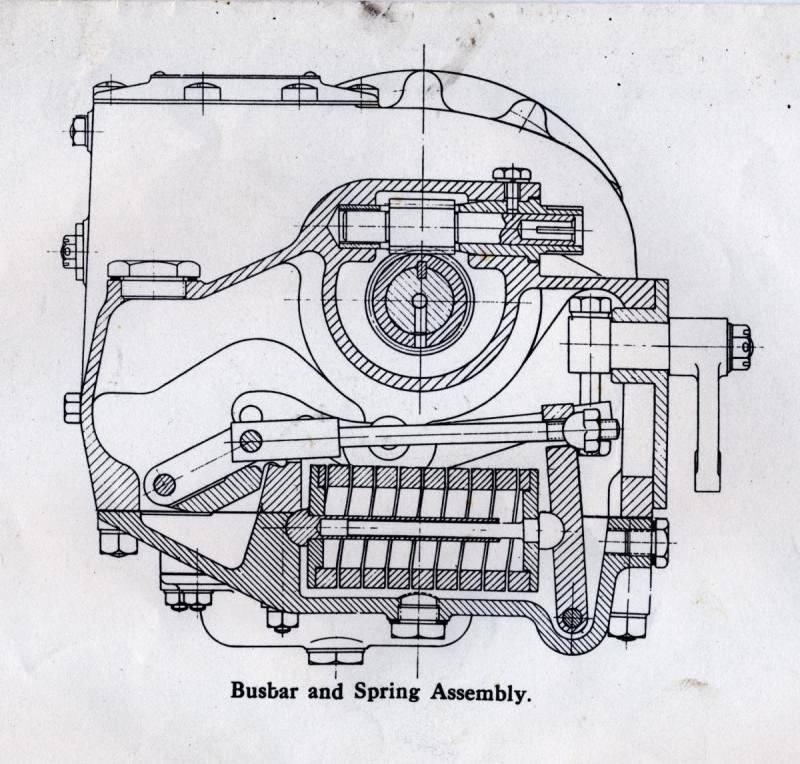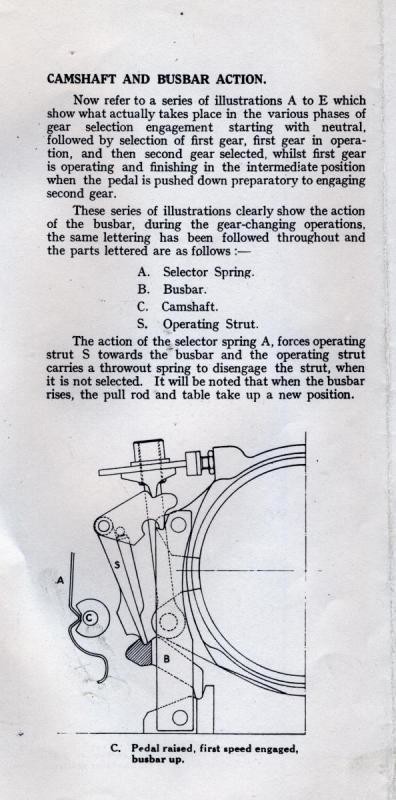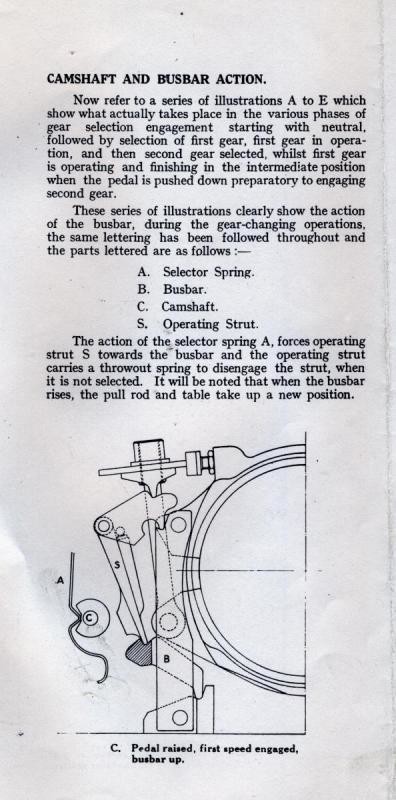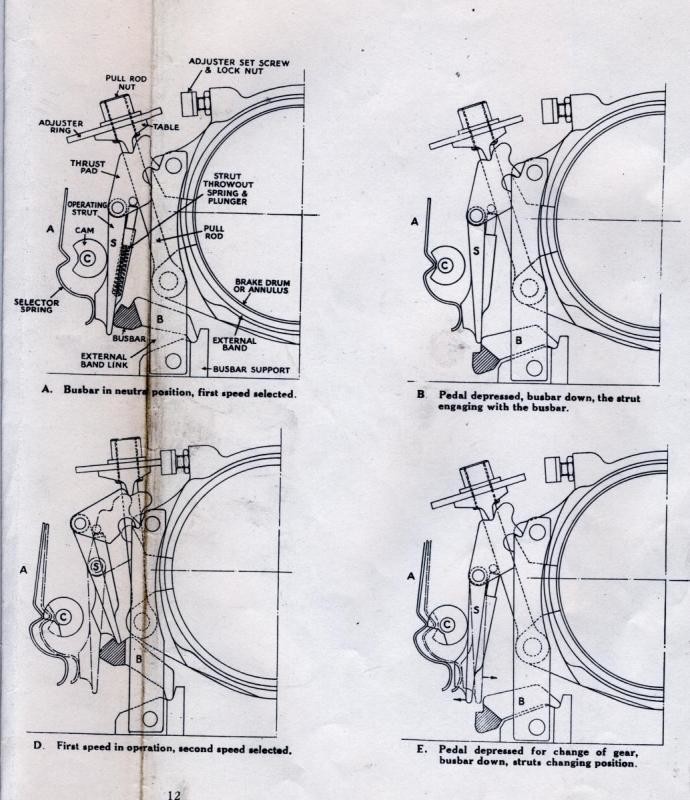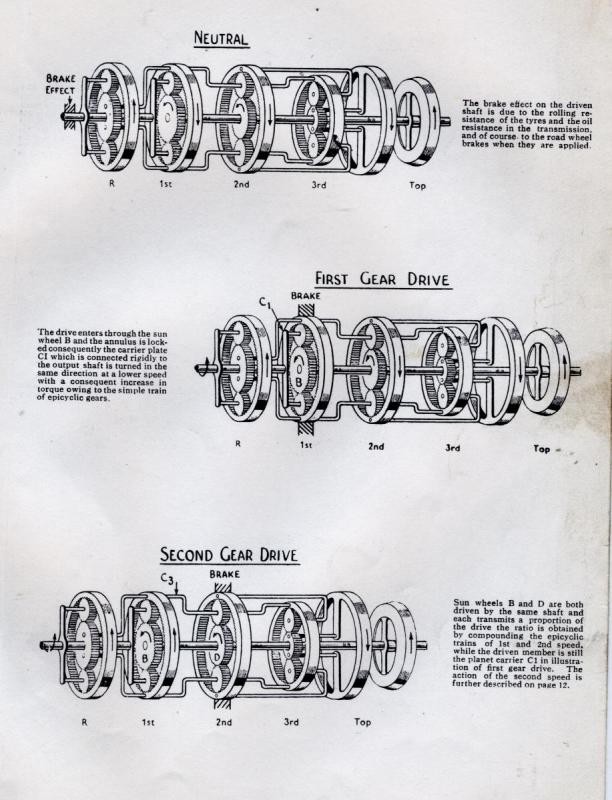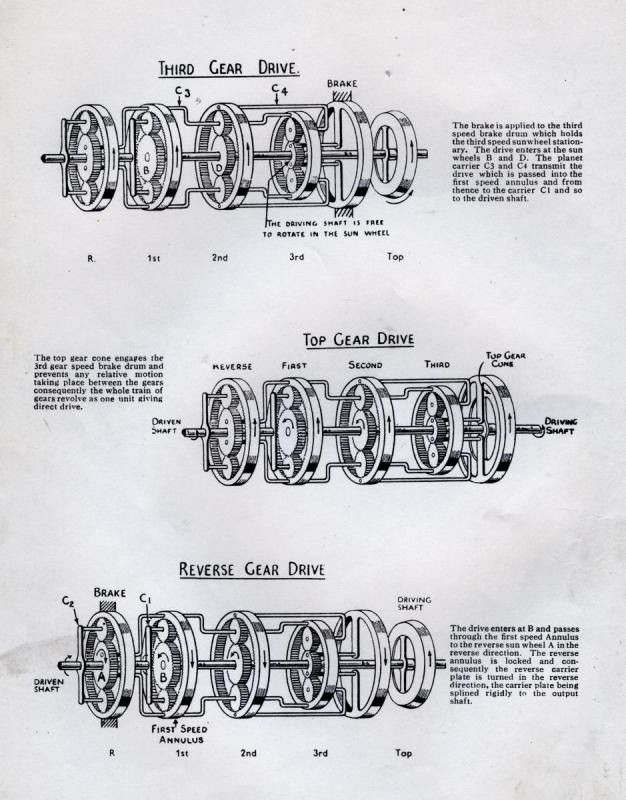 It is one thing to be able to look at the drawings and understand why it should work. It is another totally different thing to take one apart and put it all back together so it will work.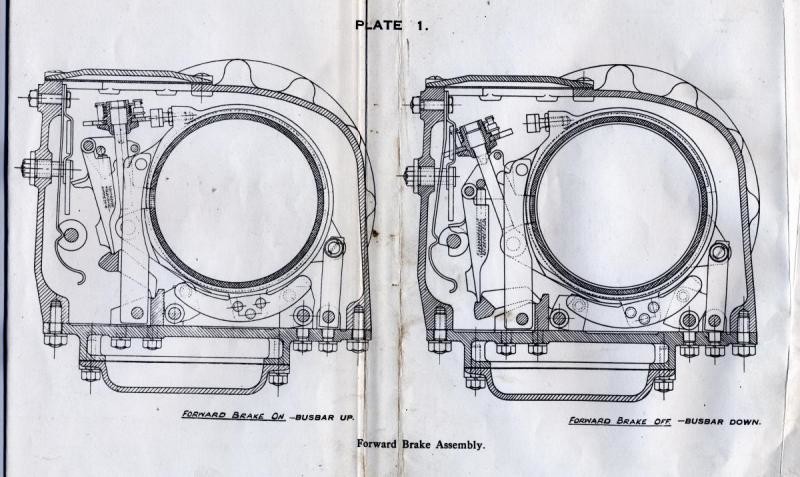 10-19-2018
One of the things that made the Pre-select gearboxes so popular with English and European, Racing and Sportscar drivers was the ability to make virtually instant gear changes either up or down without lifting your foot off the accelerator pedal.
10-20-2018
The other thing that may take a little while to understand is the actual selection action of the cam and the strut together with the busbar.
That and what that huge "spring" is for?
Without having a gearbox on your work bench this can be difficult to follow the inter-conection between the three or four counting the Spring......
You have to remember Major Wilson devised all this in about 1914 so that totally unskilled Army recruits most of whom had never been in any form of mechanical transport, could get in and drive a tank with a minimum of training.
Re:- ENV, This refers to the gear cutting background to the originaly French Company and to the original skill of their machinists in cutting double helical gears such as those favoured by Citroen. These are the basis of the French car manufacturer's Double Chevron well known but rarely understood "Trade-mark".
Bj.
Hands up all those who knew where and how the famous Citroen "badge" came into being. Of course anyone who has dismantled an early 5CV rear axle will recognise this at once.
Who can tell us WHY?
Next question :- What does the "CV" stand for?
10-23-2018
The following is my earlier reply to SebastianBuick on the French Car part of this Forum. One or two of you may find it interesting?

Hello Sebastien
Thank you for your ongoing interest in our activities. Our plan follows that for our earlier trips. We will fly from Melbourne (Australia) to Paris (France) where we will spend a week soaking up the atmosphere. From there we will catch the train under the "chunnel" to London. From London we will either take a Train or Taxi to Bury St Edmunds in Suffolk where we can collect the Lagonda Rapier from Cars Uk depot. David Brown at "Cars" will have done all the Paperwork to land the car in England. We have a number of friends living in Suffolk, so we will spend a few days catching up with them before driving down to one of the Car-ferry ports to take a boat with the Lagonda to Guernsey, where we will spend a few days exploring the Island. Previously we have gone to Jersey the other main "Channel Island". From there we will take another Car-ferry to France. Once in France, Helen takes command. Our first activity will be the Fougeres Rally organised by out friend Patrick Rollet. This is a long weekend (4 day) event based in Normandy and sometimes the northern part of Brittany. After Fougeres our next event will be another Rallybased at Cadillac just south of Bordeaux. This is another weekend event exploring the wine country south east of Bordeaux. From there we will have the whole of France to explore. I am sure that Helen already has some plans and as she is the Navigator I go where she directs me. We are right now in the planing stage but we tend to go where the Lagonda takes us provided we end up at the coast somewhere we can take another Car-ferry back to England. We still have lots of friends to see and perhaps a VSCC event, most likely Prescott Hill Climb which gives a chance to say "Helllo" to a lot of "Old-car" acquaintances. By then our three months will have simply disappeared and it will be time to take the Lagonda back to "Cars" to be packed into a container for its voyage back to Australia. The only thing left is to make our way back to Heathrow to take another long plane ride back home to Melbourne Australia.
This follows almost exactly what we have done on each of our earlier, five yearly, holidays. The sadest part will be saying good-bye to all our English friends as it is unlikely that we will ever do another of these wonderful holidays. The final part is the six to eight weeks wait for the Lagonda to arrive home again. I will have given it one "service" while we are away and it will certainly be due for another by the time it is back in Australia.
10-24-2018
Hello Jp
Thank you for your concern. I will be getting a signed statment from the specialist firm in the UK that are relining the gearbox bands and top-gear cone, stating that they are Asbestos Free and a similar one from the Brake firm.( Your friends at Eltham) who will be relining the brake shoesThe car does not have a clutch! There is just one gasket in the exhaust system and I will replace that also with a certified Asbestos free gasket that I can cut myself. I am already talking with our shipping man, Greg Gibson who has vast experience in shipping our cars into and out of Melbourne. We packed the Fiat 501 to go to England yesterday. I have shipped our present Lagonda to and from England before (seven times) and I do not know how many other cars either coming or going over the past 50 (approx) years. If you are sufficiently interested you are welcome to come and look at the wonders of a Preselect gearbox before I put it together and back into the car. Just let me know before you come. I will make and fit a new exhaust flange gasket before the car departs and retain an off cut of the material used, if anyone needs to either look at it or test it to destruction.I carry a spare NEW head gasket in the tool locker in the rear of the car so it will be easy to show anyone who is likely to need to see it. The gaskets under the carbs and between the inlet manifolds are made of a heavy paper that I also cut myself. I am sure I can find a sample of the material or even a spare gasket if needed.
I believe that I am reasonably experienced in both working on the Lagonda engine, etc and shipping the car back and forth, to and from, England.
I do not live all that far from you and there is a standing invitation for you to come and see me. I can promise you that regardless of age, I am not in the final stages of Dementia!
I am reasonably sure that there will be no over looked Asbestos fibres left anywhere in or around the gearbox.
Again, all I ask is that you please let me know before you come.
10-27-2018
Right now all this may be just another waste of money, I am having a serious re-think about going to the UK & Europe. The though of driving on the crowded roads in the UK is especially something I am not keen to do again.
Suppose its is not a bad thing to have another set of relined gearbox bands on the shelf. If we do not go I doubt the I will ever need to use them. I can always put the "Wide Ratio" box back together with the re-lined bands I already have "in stock".
10-30-2018
Just to be 100% certain I have just last week posted the set of bands and top-gear cone to England to be relined in the current Asbestos Free, Friction linings. Hopefully I will have these back in time for me to finish rebuilding the (spare) gearbox before the car has to take its usual sea voyage back to its home-land. Some four weeks later we will fly to England, & collect it for the start of our 'holiday". When we return home I can start the process all over again with the "CloseRatio" box that I have put on the shelf to await its rebuild.
10-31-2018
I will now have just over 1 month to wait for my re-lined (Asbestos Free) bands to return from the UK. Only then can I start to re-assemble this, the wide ratio, gearbox.
Tomorrow morning we start the VSCC (4 Day) Alpine Rally. Some proper motoring in a proper car.

Meanwhile I have to be extra careful only to mention "British" cars here.
Yes! For those who do not know and probably will never see one, the LAGONDA is a British car!
Yes! Having started in 1898 they are STILL in production!
11-7-2018
Meanwhile we have just returned home at the end of the VSCC Alpine trial. This FIVE day event covered some 2,000 Miles. Of these about a third was over gravel roads and some extreme mountain country. Attached are just three of the half dozen maps that we used. The thing about maps of Australia is that where there is nothing shown is because there is nothing there. In total we would have covered almost 2,000 miles we would have used some 70+ Imperial Gallons of 98 octane petrol.Filling up each morning and topping up through the day if & when there was the opportunity. Very few, if any, of the place names shown on the route would have had a petrol station. Remarkably I did not have to add any oil to the Rapiers (2 gallon) sump. Topping up the radiator took about 1/4 to 1/2 pint of water filling it to the top. Most of this would have gone out the overflow as the motor warmed up. The Lagonda Rapier would have averaged between 20 and 24 MPG. Sometimes we did not get out of 3rd Gear for miles.
Our route is hi-lighted in orange. I do not have any photographs on my camera and I will have to wait before I will have any from Helen's I-Pad.
She was kept busy navigating. While there are not all that many roads shown on the map, sometimes the difficulty is working out which track through the bush is actually the road. Some of these tracks finish in a logging camp, at other times they just finish. There were 34 cars entered of these 30 started and 30 finished. The smallest car was the MG L type and our Lagonda Rapier was next smallest. Shown as an entry, the Land Rover towed a tandem axle trailer as the recovery vehicle. It was not required! In places the road was only wide enough for one car. in other places there were up to 100 ft drops off the side of the road with no guard rail or edge marking.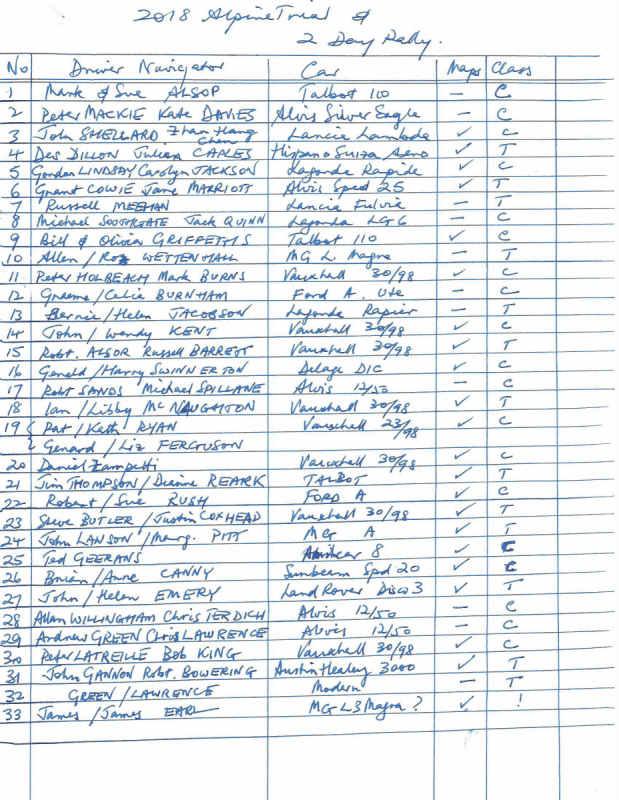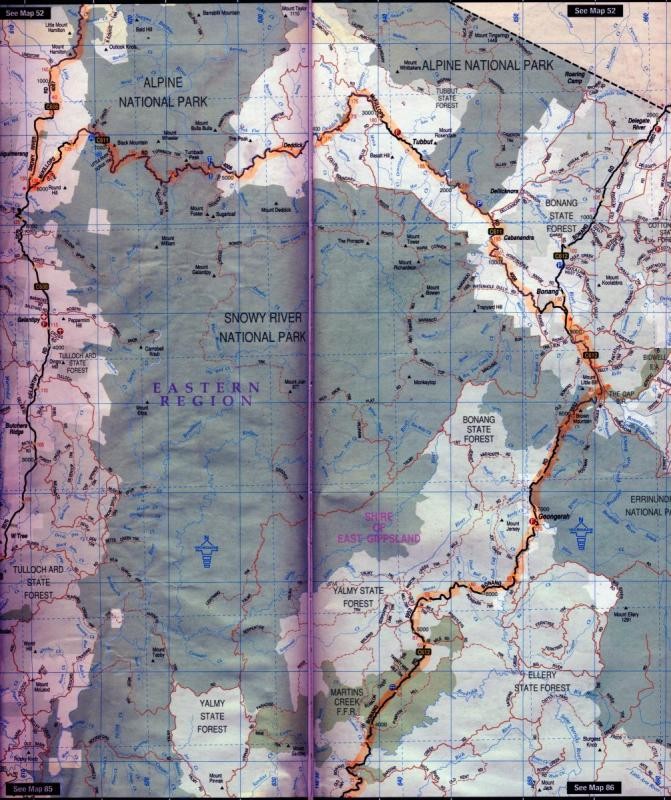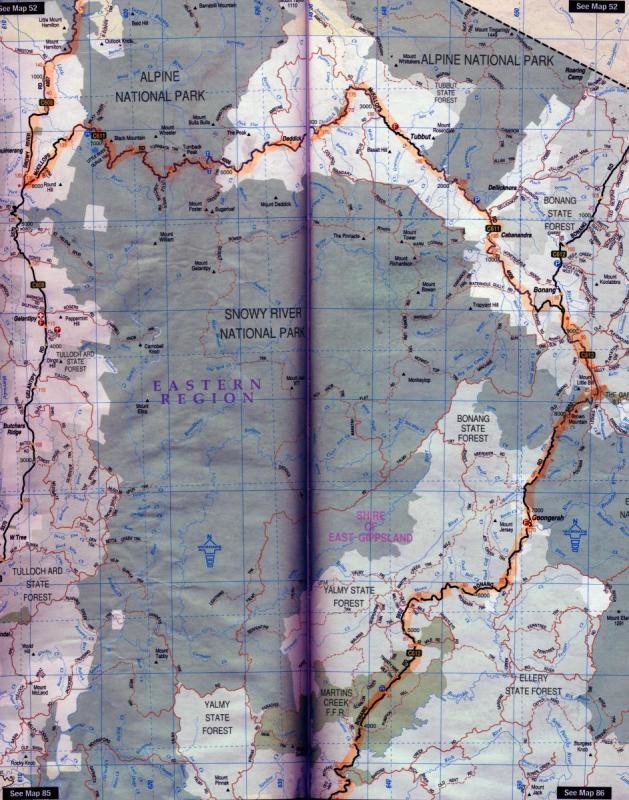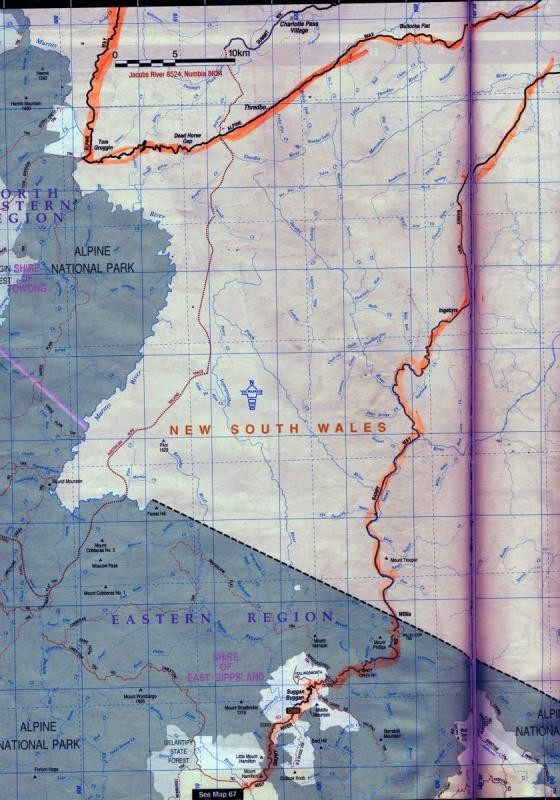 11-7-2018
Having returned unscathed from the "Alpine" I have to start the preparation for our next big trip. First thing to do was to remove all the wheels then the brake drums and brake shoes. This is so I can now have the brakes relined with Asbestos Free material. How well or otherwise it will perform at stopping the car is anyones guess. To help you appreciate the size of the brakes, the "lightening/cooling" holes are two inches across. The "shoes" are 1 1/4 inches wide. In 1934 The Lagonda Rapier was one of the first cars to be fitted with the then new Girling "roller expander" brakes.
These enabled the Rapier to be the FIRST British car to stop in less than 30 ft from 30 MPH.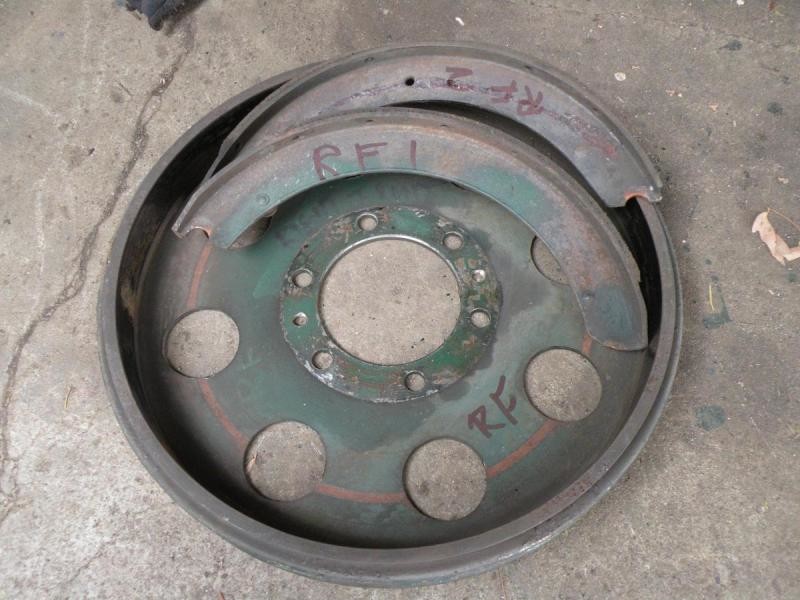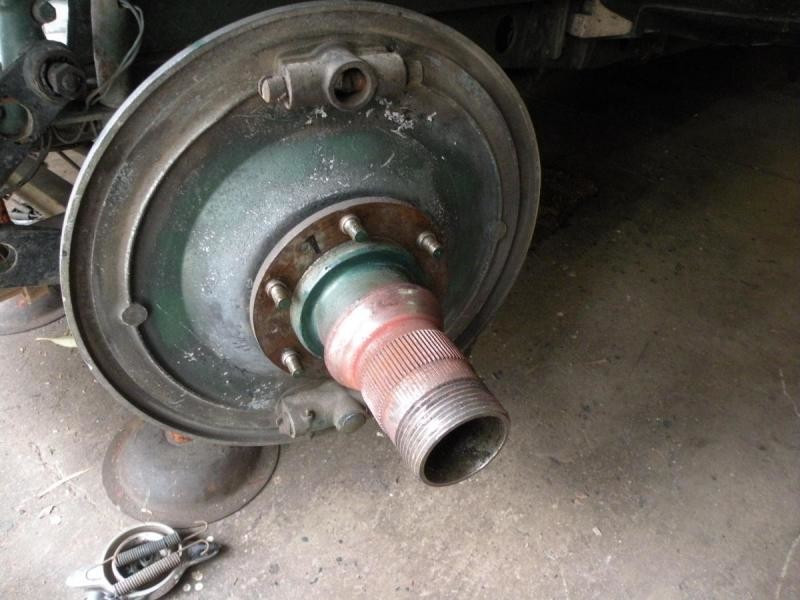 11-8-2018
Not brake failure but a moments loss of concentration perhaps. No not even that but a total loss of adhesion due to a build up of lose gravel or perhaps talcum powder on the outside of the corner? These three photographs warrant some close inspection.
In the first photograph note the distance between the front mudguard and the quite solid tree.
Looking at the next you will note the tow strap attached to the chassis behind the front wheel. The other end is hooked onto the tow-bar behind a 4WD. This enabled the Rapier to be pulled sideways away from the tree. The final photograph shows me about to climb into the car to make certain that not damage had been done and that all was OK. Within minutes we had expressed our thanks to the members of the Kooweerup & Lang Lang Rotary Club 4WD Group and were on our way again.
If you go back a couple of "Posts" to #543 and look at the top map you may find the place names Cabanandra and a little further alond the "road" Tubbut. It was on one of the numerous "bends" along this section of road that this occured. It was quickly apparent that a normal two wheel drive vintage car had no hope of pulling the car out undamaged. That the members of a FWD Group should be travelling along this remote road at that exact time is a remarkable co-incidence.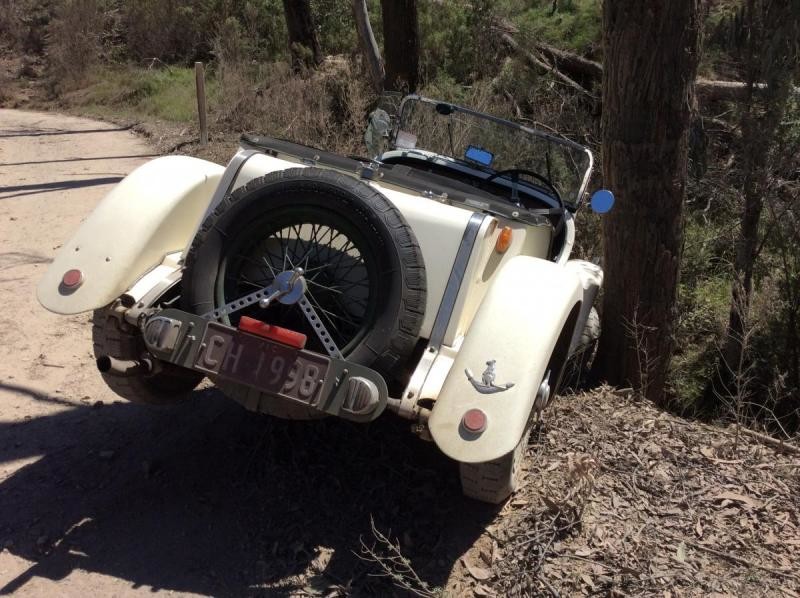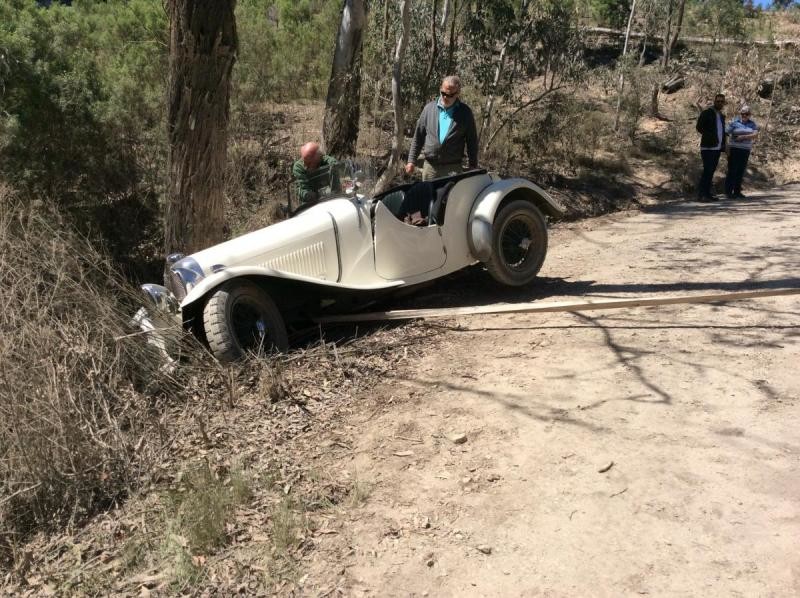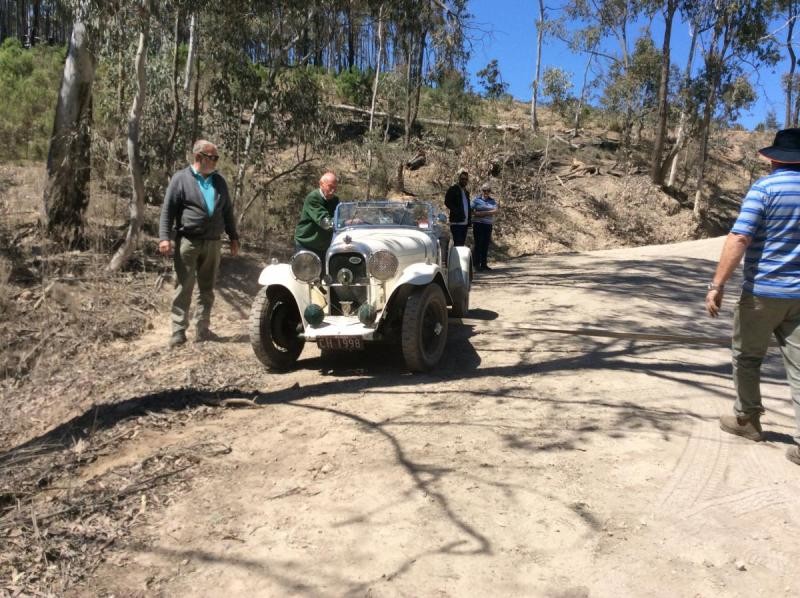 11-9-2018
I could see that tree coming and thinking "that is going to be nasty" it all happened in slow motion. Helen's door would not open so we had to climb out very carefully. She was a little jumpy for the rest of the day. I was so relieved that there was no serious damage, that we could continue the event.
I am now hard at work preparing the car for our next visit to the UK & France early next year, we plan to be away for three months using the car as our daily transport. Apart from everything else i have to replace all the Friction Linings so the car can come back into Australia without contravening the laws regarding asbestos. This includes the linings in the Preselector gearbox. This is a major job requiring the complete dismantling and rebuilding of the gearbox .
11-10-2018
OK! I never accept that "these things just happen", there is a reason behind everything. Looking at all thge facts I reasoned that the rear brakes were just not doing their job, I have to have the brakes relined before the car goes of on its little tour to the UK & France. Removing the rear brake drums has shown a build up of grease on the rear brake shoes so it is just as well that I am replacing them. In the process I have also removed and dismantled the brake expander mechanism.
As mentioned these Girling brakes were new for 1934 and the Rapier was one of the first cars to adopt them. OK, are you still "with me" The first photograph shows the component parts of a brake expander. When pressure was applied to the foot brake pedal. This motion via a series of rods pulled on a tapered cone within the brake expander. This in turn caused the two small rollers to transfer this pressure to the two plungers that acted directly onto the ends of the brake shoes, These in turn applied pressure against the inside of the brake drum hence slowing the rotation of the wheel and eventually stopping the car.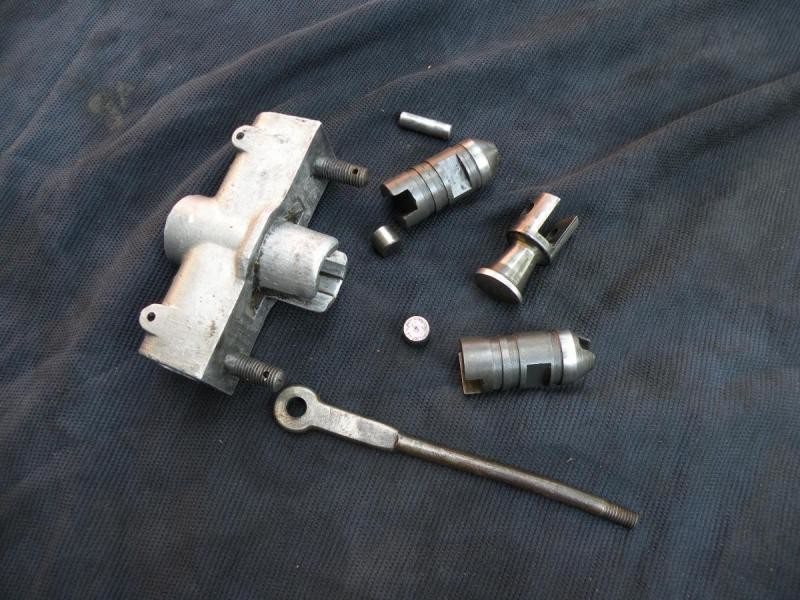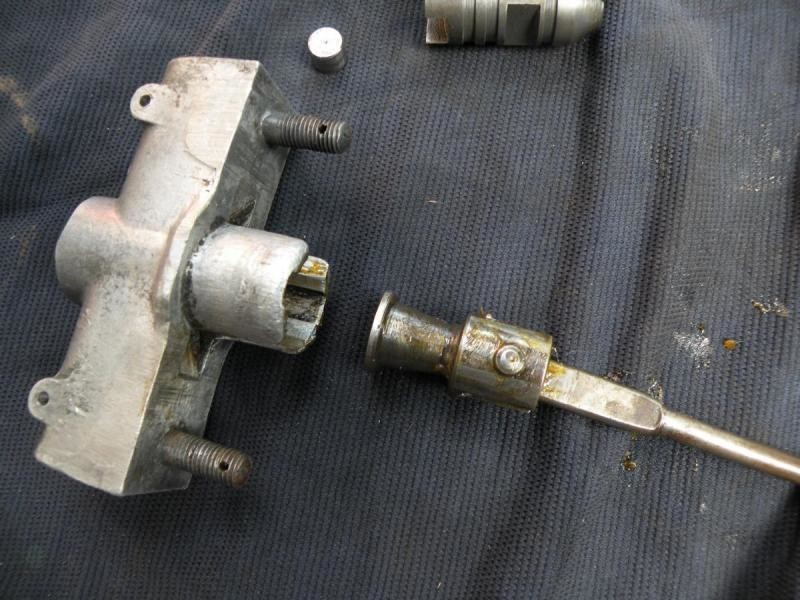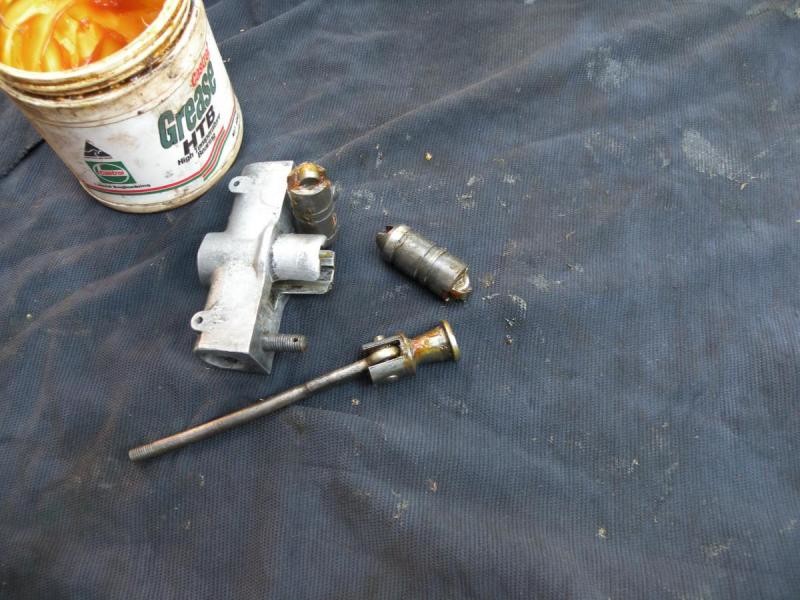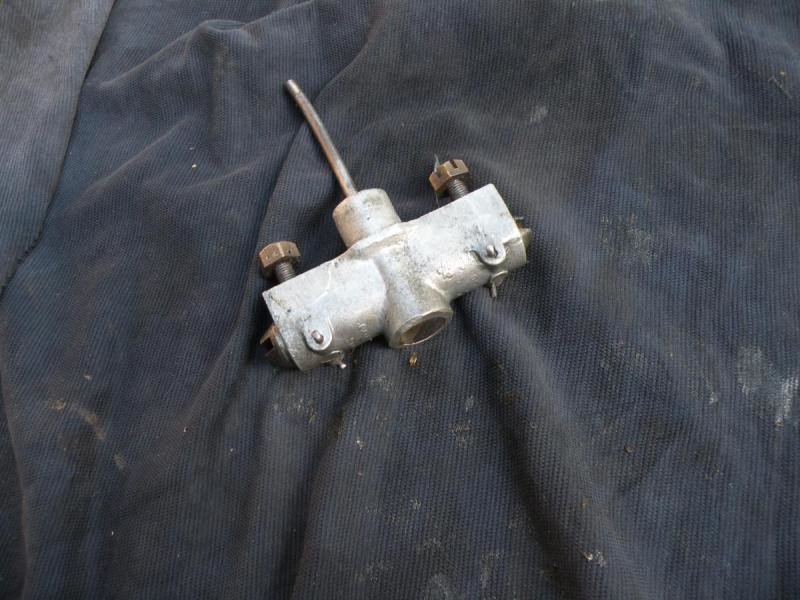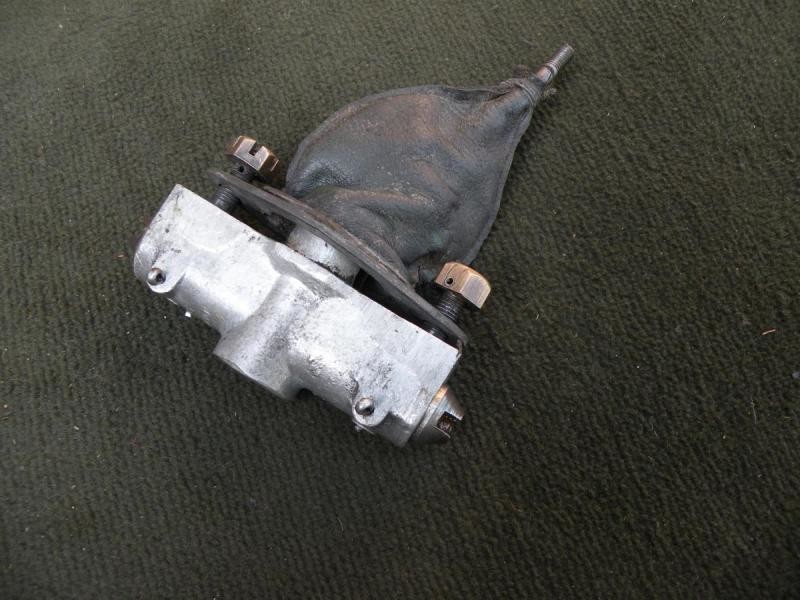 Firstly, Without Helen I could not achieve any of the things that I accomplish. We both agree that we are exceptionally lucky with our combined lives, she turns 80 in a few days time* and I have just had my 82nd birthday. The Rapier, first registered in in England in 1935 is now 83 years old. It would have left the Lagonda Factory in 1934 as a completed chassis. Bodies as I am sure I have explained previously, were left for customer to choose a Coachbuilder and a body style.
The crucial factor that I failed to explain is that there is also an opposing taper in the end of the plunger. This multiplies the effort exerted on the brake shoes
The adjustment is as you suggest at the other end of the brake shoes. This again shows some brilliant thinking on the part of its designer.The drawings, below, from my battered and much used copy of Practical Automobile Engineering shows this far better than mere words!

Bj.

* I wonder how many other Eighty year old ladies would choose to drive for two or three hours in pouring rain, in an open car, The hood (top) carefully stowed away, from choice. Admittedly as any "enthusiast" can tell you, most if not all the rain goes over the windscreen and over the driver & passenger's head.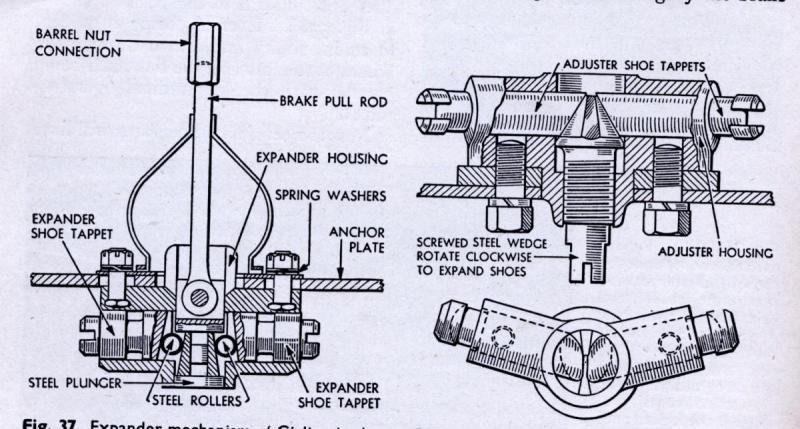 Further to the above, as Helen will tell you, "You dress appropriately", as shown in this photo. Helen can take videos using her iPad but she is usually too busy Navigating. i.e.. Telling me where to go! We use paper maps, electronic devises are generally not permitted in "competitive" events.

Bj

Re "Hoods"
Little Red Ridinghood always had one attached to her favourite red winter overcoat.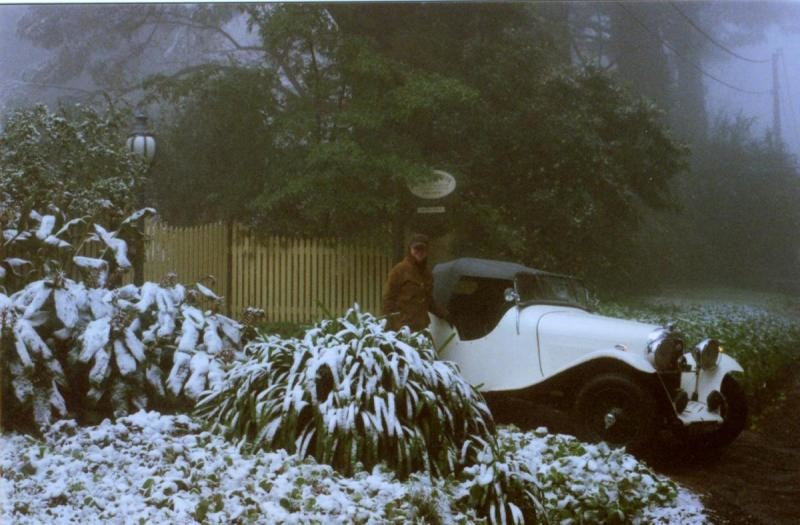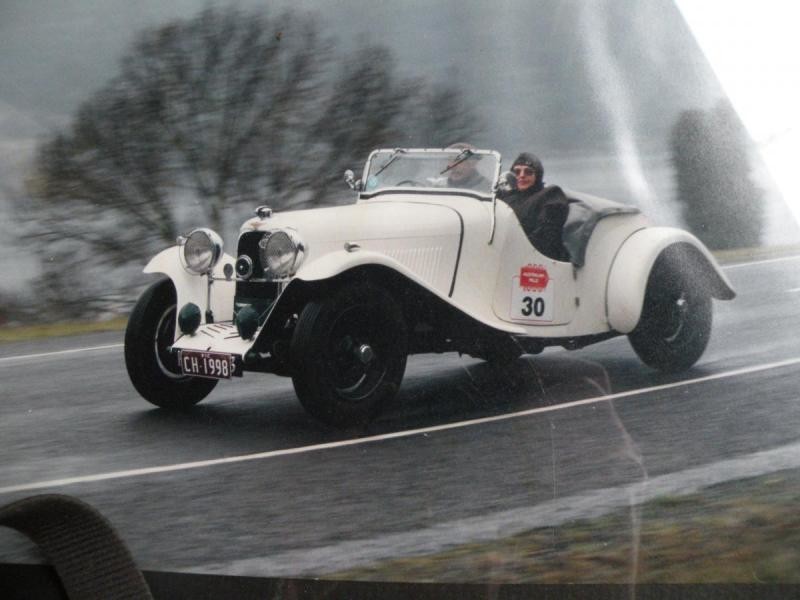 Some of you will have seen these photographs before. I am sorry if I am boring you all.
11-11-2018
Some people will tell you that it is sad that "cars" especially from the teens to the late thirties seem to dominate my life. That is certainly not sad for me and far from dominate my life those cars have expanded my life in so many ways. This Forum is a classic example but even beyond that these same cars have taken both of "us", H & I to places other people can only dream about and others have just not even thought about. Certainly we have not seen as much of the USA as perhaps we would like to but we have seen some of it and made lots of American Friends. Very much because of their English origins the cars that I have always been involved with, we have made numerous visits to the UK, likewise because of Helen's love of France and all things French we have an understanding that we try to spend the same amount of time in France as in England. Because we are very normal people living on an "Age Pension" we have had to restrict our "Over Seas" visits to once every five years. Fortunately I get a great deal of pleasure form working on "interesting cars" which means that I am able to do the bulk of the work on them myself. While I have absolutely no formal training in Engineering, necessity is a great teacher. Over the years I have owned a huge number of cars some only for days and none for as long as our present Lagonda Rapier. For me it ticks so many boxes I cannot think of another make or model that I would swap it for. Right now I am having so much pleasure from preparing the Rapier for our next o/s trip with it. Our plans are starting to fall into place with the Fougeres Rally in Normandy, traditionally our first French event taking place in May 2019. Allowing six to eight weeks for the car to reach the UK by sea means that "everything" must be done by March. While that may seem a long way off these things have a nasty habit of creeping up if you do not keep an eye on them. You can now simply sit back and watch. Hold on tight!
To give you some idea of the remote country last weekends Rally took us through here is one typical photograph. Higher up there was still snow on some peaks and in the valleys. At one stage we were driving VERY SLOWLY through dense fog where all we had to guide us was the edge of the road directly beside the car. In many places there were no guide posts or safety barriers and a long drop into the valley below. Creeping along in first and second gear.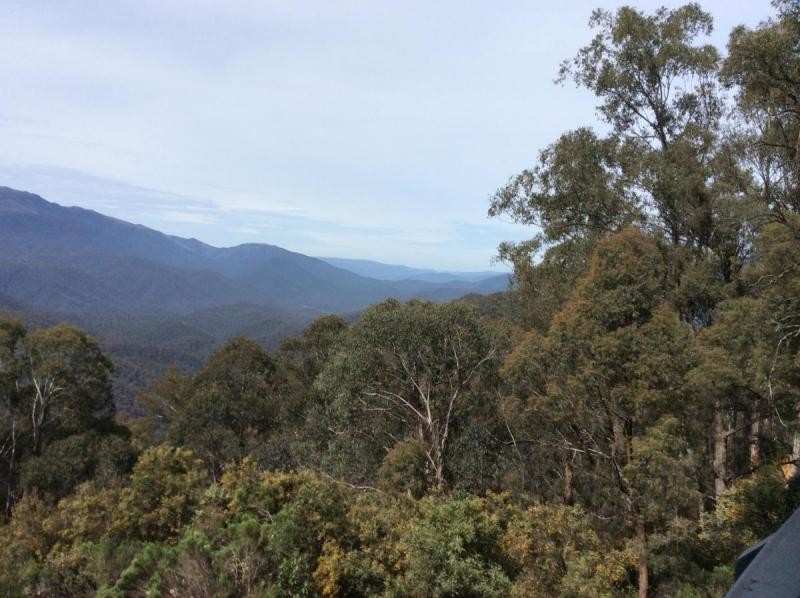 11-13-2018
While waiting for the Rapier's brake shoes to be relined I thought that I should look at the rubber bushes at each end of the front shock absorbers (dampers). I certainly have not replaced these in the time that I have owned the car and looking at them it is possible that they have never been replaced in the past 80+ years.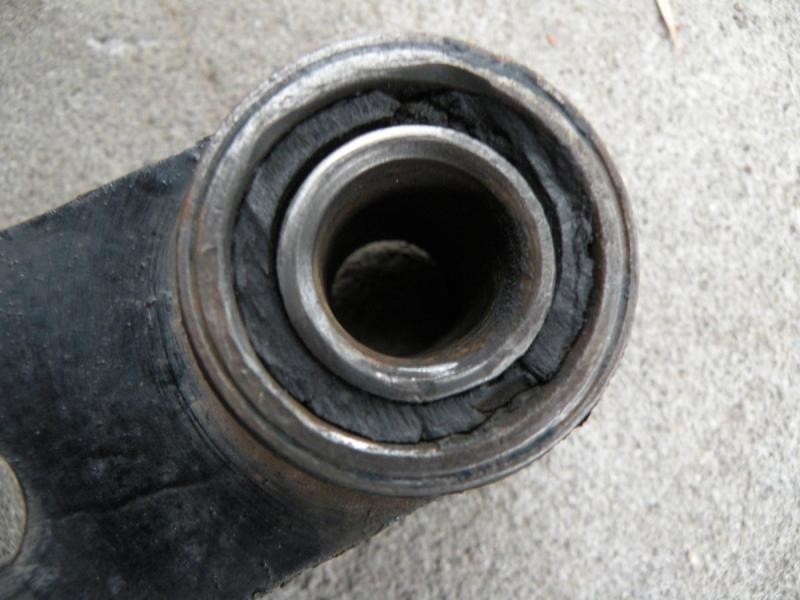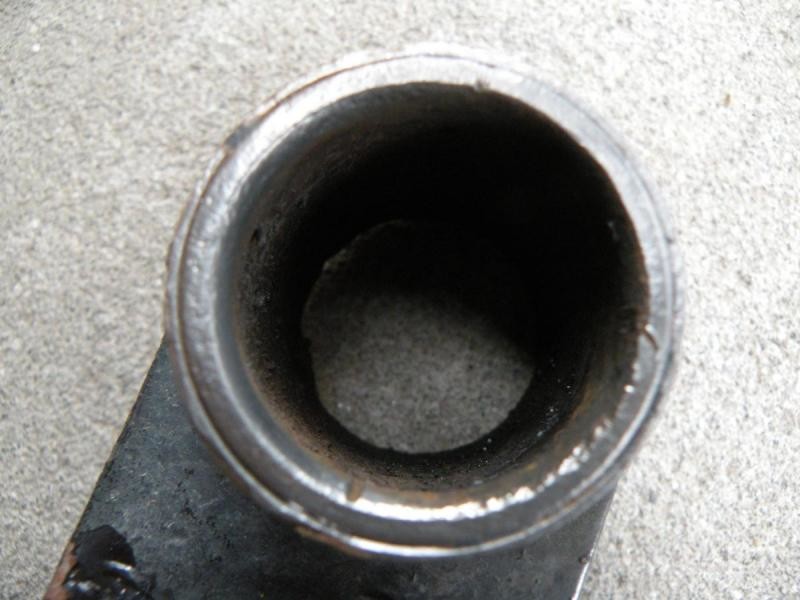 Who was it that said that you cannot teach old dogs new tricks?
Well! I can tell you that they were 100% wrong. I am currently anong other things replacing the rubber bushes in the front Hartford (Friction) shock absorbers.
Now another trite saying is about assuming that I am sure you all know but it is worth repeating. To assume is to make an ASS out of you (U) and ME!
Putting all that aside I now know that for the particular model damper fitted to the Rapier does not use the "Silent Rubber" type bush with both a inner and outer steel tube. In fact they require a plain rubber bush with a separate steel inner tube pressed into the round ends of each arm. This is where the trap for young players is craftily concealed. What appears as being the outer steel tube in fact is a structural part of the arm and must not be removed. If this is done that end of the arm is considerably weakened.
Looking at them it appears to the uneducated eye that these are the "silent-rubber" type bush with the rubber insert bonded to both the inner and outer steel tube.
However as I have just learnt the outer steel tube is in fact a structural part of the arm and cannot be removed. Graham Brown of Vintage and Classic Shock Absorbers in England
(www.vintageandclassicshockabsorbers.co.uk) alerted me to the fact that any attempt to remove what appears to be the outer tube would be fatal. Considerably weakening the arm.
11-14-2018
Unfortunately I am not a patient person by nature and sitting twiddling my thumbs is not something that I do very well. Meanwhile I have the car up on jack-stands with all four wheels and brakes off so it is firmly stuck in the middle of my little garage. Add to this the two front shock absorbers and my 'spare' gearbox in what looks like a million pieces on the bench. The more I think about it, the more I feel that I would be better served rebuilding the 'close ratio' gearbox which is still in the car. This will involve some extra work as I will need to replace the needle roller bearings in the planet gears for first and second gears. But the alternative is to wait until we return later in the comming year to change over the gearbox (again) which does not sound very logical to me. Having said that I would sooner not start taking the "box" out of the car and pulling it apart until I have sorted out the current list of jobs to be done. I do have a set of new, old material, bands I can use to rebuild the "spare" box and so clear that off the bench.
11-15-2018
Meanwhile being 2.45 Friday afternoon here in Australia, I have just telephoned the Brake Repair people, They could tell me that while my brake shoes etc are finished I will not be able to collect them until Monday.
11-16-2018
Unfortunately the local "Brake People" do not know about Preselector gearbox bands These have been sent at great expense to England to one of the few firms prepared to tackle relining the gearbox bands. These have to be riveted as they have to live and work in a bath of oil. The recommended oil for preselector gear boxes is simple SAE 30 engine oil (without any additives). Because firstly these gearboxes were incredibly rugged with standing all sorts of abuses and secondly because most 1930s cars were simply not used between 1939 and 1946 ......
Peter Meyer the expert on ENV Trans in Germany has explained that he uses a pair of "Vice Grip" pliers to compress and hold the springs when assembling the "centralisers". He also uses a slightly diferent sequence in assemlinig these which should help. Only time will tell.

The bands themselves while they look simple, are in themselves quite complex. Todays photograph shows the friction surfaces of these two bands. This at first glance may sound misleading but for each gear the "Band" has two strips of friction material. after riveting they have to be ground internally to size and machined to aid the bedding-in process. This photograph shows one "band" finished and the other prior to machining. The metal part of the band is extremely complex. To date I have been unable to find a drawing that adequately shows its construction. Not only does the band have to contract sufficiently to stop the selected gear's drum from rotating it also has to self-adjust to compensate for wear. This is self-adjustment take place every time a gear is selected.
It really is quite simple. I will let you look at the second photograph taken through the top of a gearbox and attempt to work out what is going on for your selves. For me to do it for you would take more than a page of typing to explain the action fully. *
Just don't let anyone tell you that Major Wilson was anything other than a brilliant engineer.

Bj.
* Having just looked at the relevant pages in the original Lagonda "Rapier Owners Handbook" I have found that there are almost 20 pages plus another eight pages of drawings devoted to the gear box. A bit too much to compress into one or two pages.
Please don't go away, it is just that we may have to do this one thing at a time. There are some good photographs in there that I can share with you, that is if you really want to continue down this path?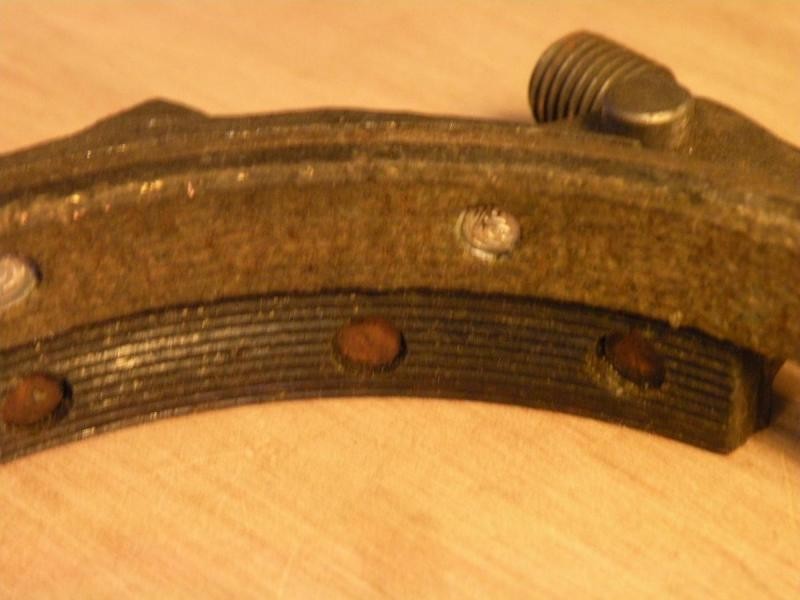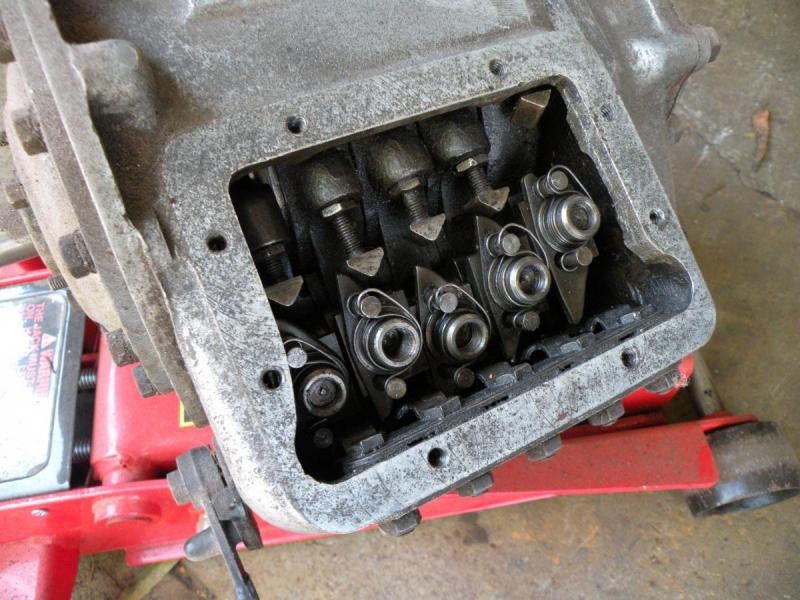 11-18-2018
It is all so easy, how could anyone mess it up?

Don't panic, the gearbox in my photograph is facing in the opposite direction to the one in the hand-book.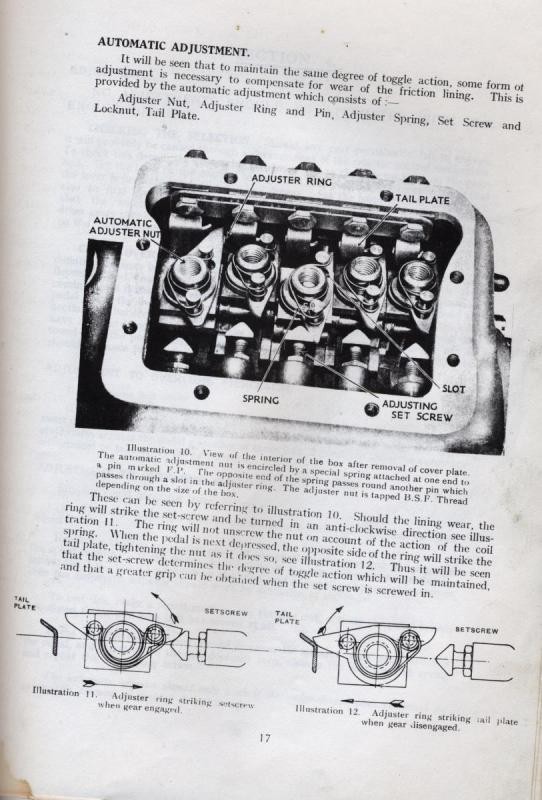 Here's a couple simple videos on the shifting action
11-20-2018
Thank you Mike I had not seen either of those before.
Unfortunately with the ENV 75 and virtually all Preselector gearboxes you cannot see most of the action. Basically what Mike showed us was the self adjustment of the bands. Even then it is difficult to see the actual movement of the "Nut". The hand book explains that to check if this is working you need to use a marker pen to draw a line on the top of the nut. Then by watching the action as you "pump the change pedal". It is actually the thin spring wire that grips and turns the nut. As I comtinue to re-assemble my "box" I will attempt to explain more fully.
Going to Mike's second video on Lagonda what it fails to tell you is that the 11.1, introduced in 1913, was the first "Mono" construction The angle iron body frame with the sheet metal panels riveted and soldered to it. There was no chassis as such.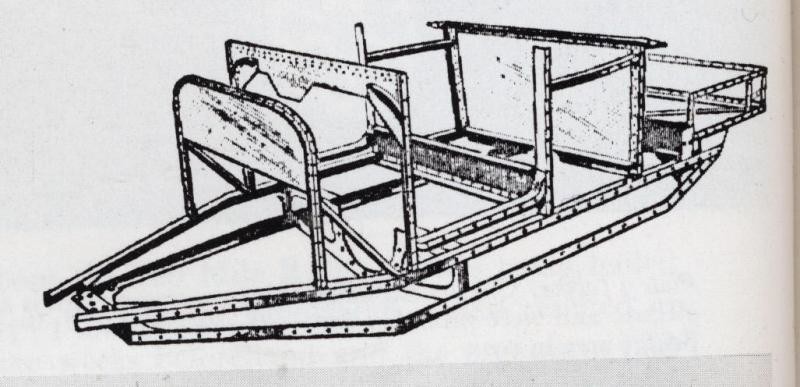 11-22-2018
I have just finished re-assembling the Rapier brakes with their new Asbestos Free linings. At the same time I have had the handbrake lever off and dismantled. Now at last after I do not know how many years, I have the hand brake "fly-off" mechanism and the associated ratchet working after what seems like a very long day under the car. The main object was to build up the tip of the ratchet and file it back into shape. To do this I had to remove the handbrake lever etc from under the car, then dismantle it. Then finally re-assemble it all and bolt it back onto the side rail of the chassis. All I can say is that much as I love the Rapier I do not want to repeat todays effort again for a very long time which in effect means never. With the brakes sorted out I can go back to assembling the spare gearbox while I am waiting for the "Asbestos free" gearbox bands to come back from England. When they arrive I will have the pleasure of removing the gearbox from the car and rebuilding it too. Can this all indicate the onset of dementia or something worse? "old-age"
Finally I have the documentation covering the Asbestos Replacement material. Hopefully this along with the Brake Service's receipt for relining the four pair of brake shoes will go someway towards satisfying the Australian Border Force when the Rapier returns home after our visit to the UK & France early next year.
I will need to obtain similar paper work from the people in England that are relining the gearbox bands etc.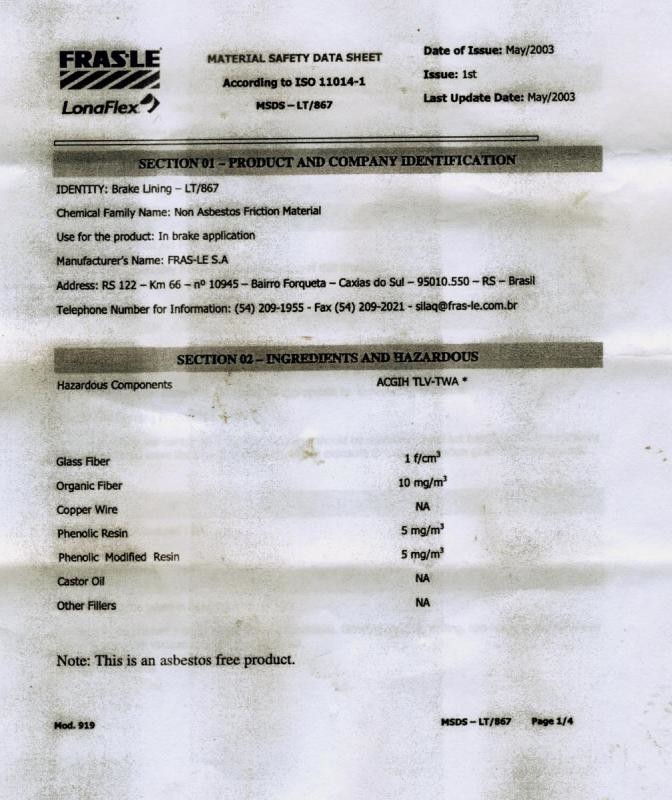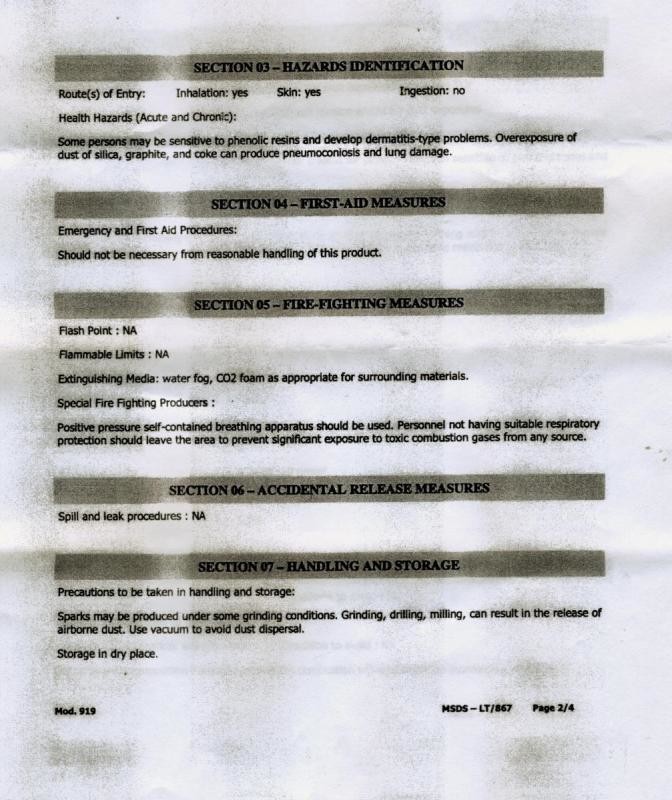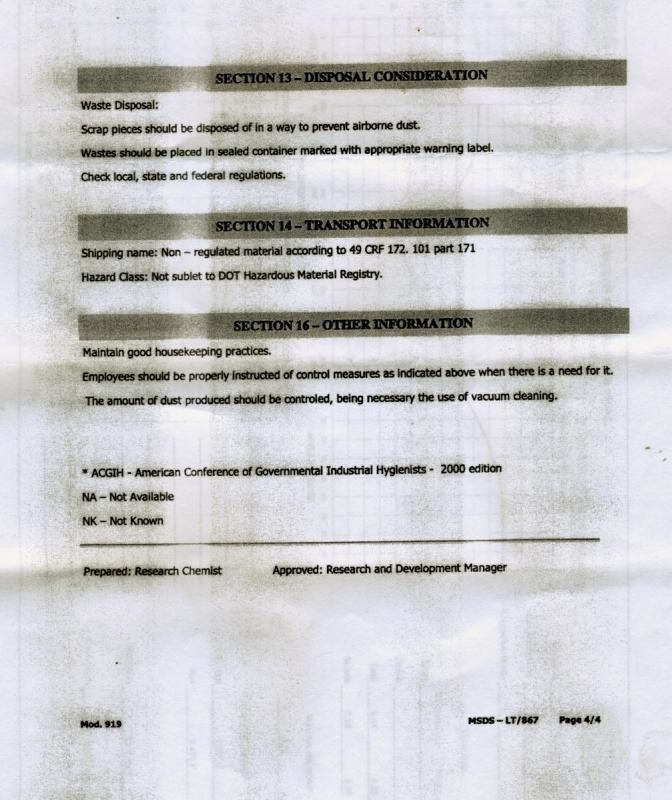 11-27-2018
Far too many to show here but for some really interesting photographs from the Victorian VSCC Alpine Rally run two weeks ago look at. https://www.hjhsphotography.com/VSCC-Alpine-Rally-2018/
There are lots of people photographs that you can skim over but the car photographs should be of some interest. Most people will have never seen many of these cars. When you are over looking at the cars look closely at the roads and conditions. This was a 5 day Event with 31 starters and 31 finished.
The Fuel stop is interesting; stocks of petrol are brought in 44gallon drums.
To access the photographs "click" on the Delage Radiator.

Bj.
Also look at McKillops Bridge Victoria Australia. It was along McKillops Road we had our little "off".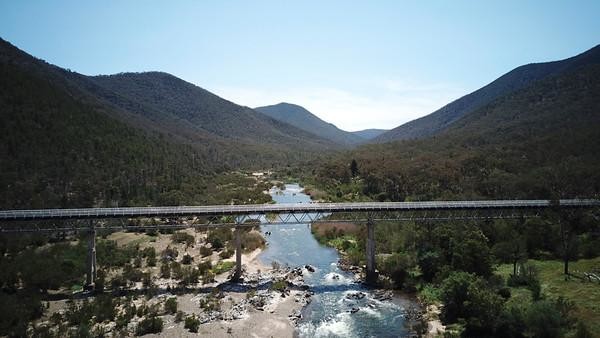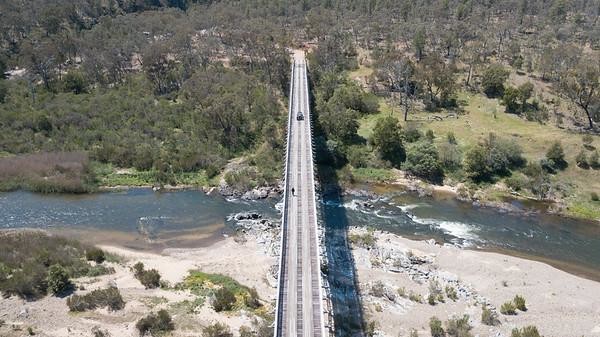 The "Alpine" is only run every second year and is one of our most serious events. It is definitely not for the faint hearted, if you look at the "people photographs" you may note that we "Aussies" do take our motoring very seriously, as we do take our "unwinding" after our days driving is over.
I am a little disappointed that no one looking at these photographs has bothered to comment. It is quite different to the "Car-show" type of gathering that many of you participate in. Yes our cars do become a little dusty but cleaning them after, only adds to the enjoyment.
A week later and I would be more than happy to take the Lagonda to any of your shows. That is provided that I could drive it to the show venue.
11-28-2018
Three photographs taken less than five minutes ago to show the terrible damage the Lagonda Rapier suffered during the "Alpine Rally just two weeks ago.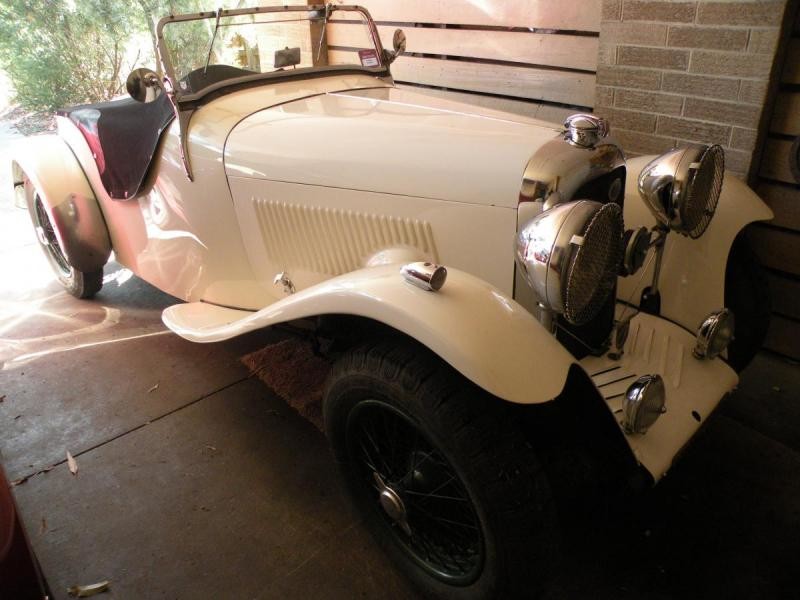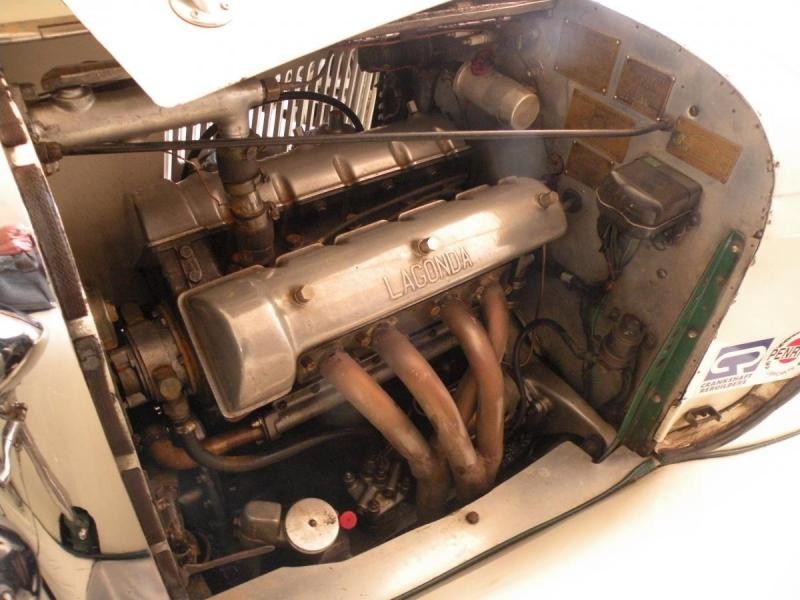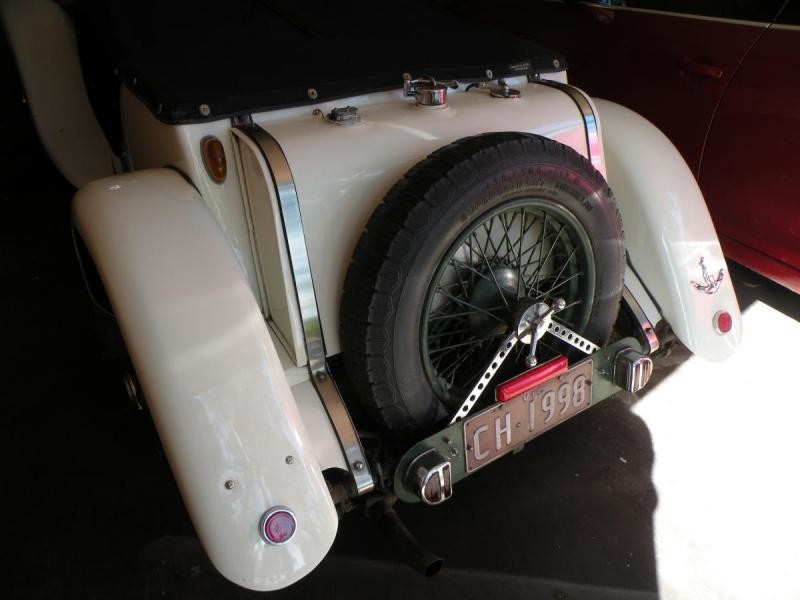 I find it difficult to believe that despite the number of "views" counted in the "index" of this forum that those viewers found the photographs from the "Alpine Rally" so boring that there was nothing of sufficient interest for them to comment.
Completely disregarding our Lagonda there were two other Lagondas, a M45R and an LG6, also a number of Vauxhall 30/98s, a couple of Talbots, just two MGs, two Model A Fords including a rare "factory" pick-up and the oldest car a veteran Benz, a vintage Delage, etc, etc.
SORRY but there were no Ford Mustangs or Chev Bel-aires!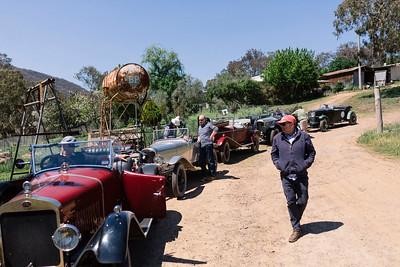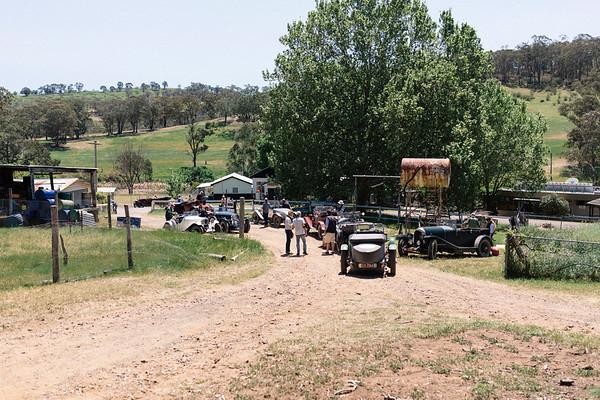 Even if none of the cars were interesting some of the countryside would have been different and Mc Killops Bridge surely should have been worthy of some remark? It is one of the longest single lane timber deck bridges in the world.
The first bridge built in the 1950s was washed away by flood water just about one month after it was completed.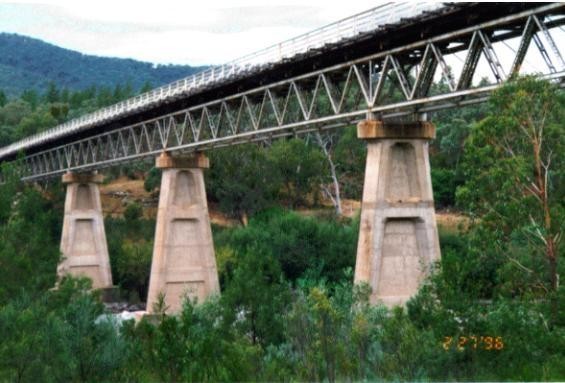 11-30-2018
Meanwhile work on the spare ENV 75 Gearbox continues. With the "bands" in position next step will be to set up the "struts" and "bus bar". I am sure that most, if not all, of you are familiar with the internal workings of Preselector gearboxes so that is probably enough.
In his earlier post Mike 6024's video shows you exactly how they work.
It is all very simple, you simply select the gear required and press in the (clutch) pedal then as you let it out that gear is engaged. That big spring, seen in the foreground of the first photograph, does all the work.
Any attempt by me to further explain the workings would be superfluous. Just think of the gear lever as a "magic wand", wave it about a bit and everything happens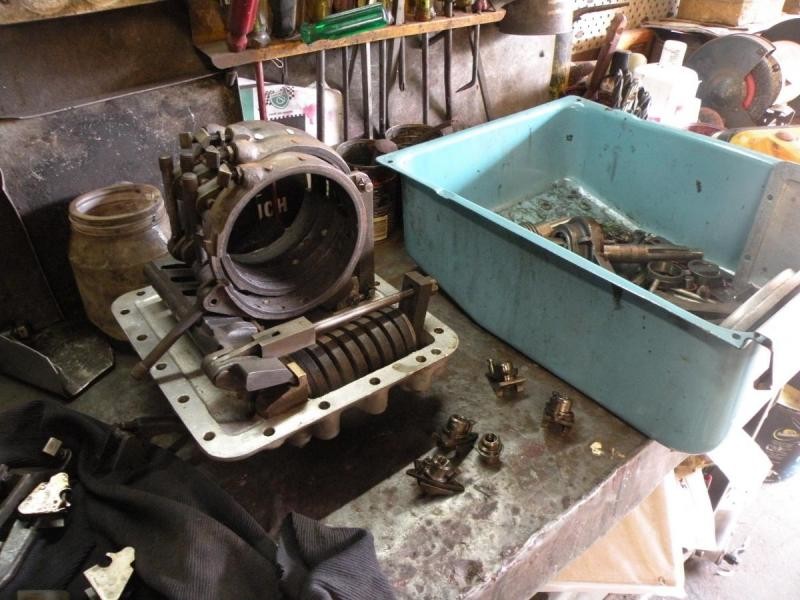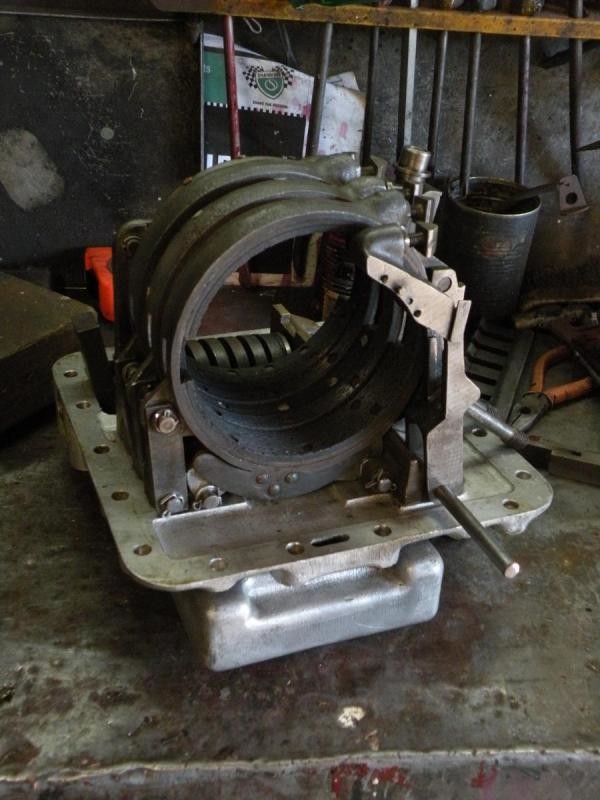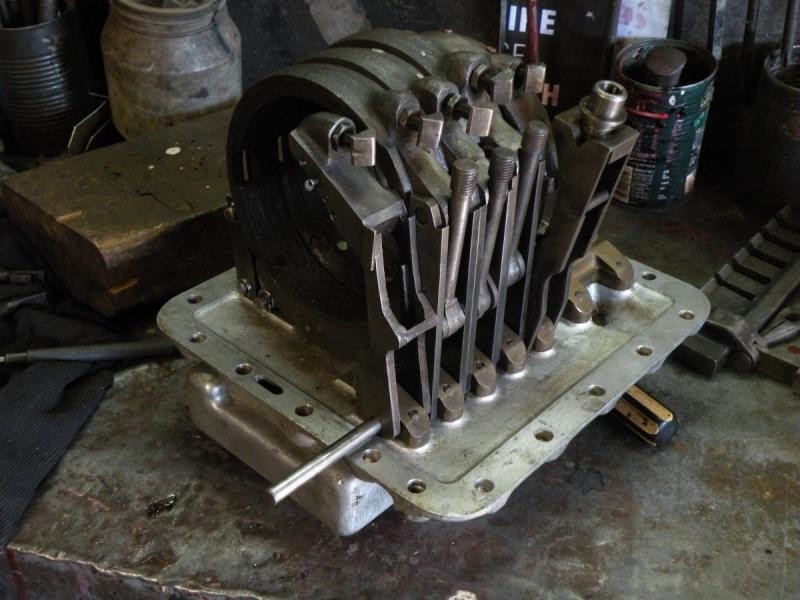 12-1-2018
We have now paid our air fares to Europe for just over three months touring holiday early next year. Taking into account the anount of interest shown this thread, it will finish then. Between now and then I will be busy preparing the Lagonda so please do not expect very much activity even before then.
12-2-2018
As I have been doing one or two little jobs on the Rapier today, I have been doing some serious thinking.
I really need to apologise to you all.
I have taken for granted that you all would fully understand what I am saying when I discuss the various aspects of owning, driving and working on cars equipped with Preselector Gearboxes. Thinking about this I am sure that with the majority of you, I may as well have been talking in Swahili.
I would estimate that over the last 90 to 100 years there would be possibly less than 5% of the people who have owned cars equiped with preselector gearboxes who would fully understand how and why they work. Even less have taken their car's gearbox fully apart and reassembled them, restoring them to working order.
I have been privileged to own, over a period of around 60 years, no less than seven or eight Lagonda Rapiers and just one Daimler, all equiped with Preselector gearboxes.
Added to this there may be just one or two of you who have ever actually seen a Lagonda Rapier and even less that have driven one.

Thank you for being so patient.
12-3-2018
Here we go again: -
Today as part of my trip preparation I will be changing the Lagonda's engine oil, it is a little over due for this change but this is not a great worry. The sump (oil pan) holds two (Imp)gallons. I also change the oil filter at the same time. This is a modern (spin on) type. I write the date and milage on the side of the filter's body using a felt tipped marker pen. The level has only just reached a point where, if I was not about to change the oil, it would need topping up.
I use Penrite 20w/60 which is about equivalent to what SAE30 would have been in 1934. This is also used in the gearbox so the difference between ten litres (The oil comes in 5 Litre containers) and two gallons does not go to astray.

This brings me to my next question:-
How often do you change the engine oil in your Classic/Vintage car?
12-4-2018
Six hours later and the job is done. I spent some time wiping up any traces of oil around the engine in the hope of locating one or two oil leaks.
I do spend some time chasing these leaks down but there always seems to be some stray oil drops left under the car. I suppose that IF I stopped driving it I would not have any of these worries.
rallye-cadillaccotesdebordeaux.jimdo.com
12-7-2018
Celebrating the world's first competitive motor hillclimb. For more info go to // www.comiteducentenaire.org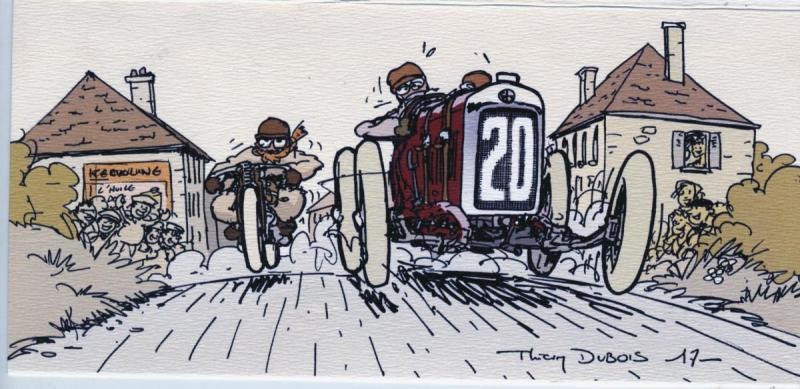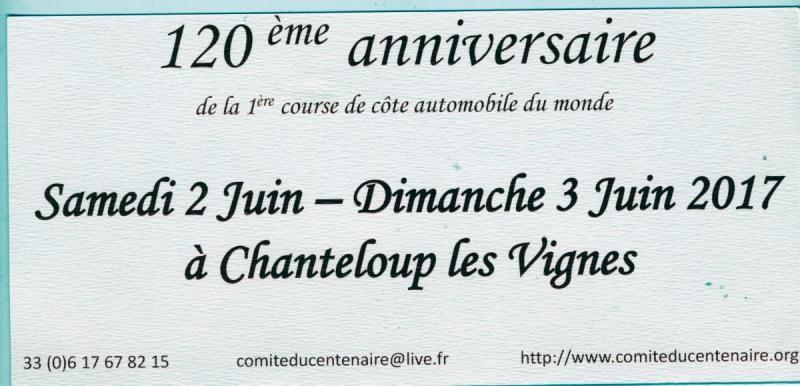 Of course the one French Rally that we have made a point of attending during each of our five yearly visits is the Fougeres Rallye -2019 will be this events 23rd year.

12-8-2018
Coming home from the VSCC, Mid-week, end of year run on Wednesday we managed to get caught up in some traffic, at one stage the radiator reached boiling point on the temperature gauge. This is something quite unusual for the Rapier as the electric fan should cut in at about 85/90 degrees. This did not happen which in some ways was a good thing. As it is the fan may only switch on once every three or four years. Normally I would check its operation every year or so.
Thinking about all this, in fact it must be quite some time since I last tested it. Over-riding the thermo switch produced a NO-GO result. Taking the fan off to test it on the bench showed it was seized solid. Now all these clever modern things are made in such a way as to be impossible to dismantle. All this goes against all my principles but with next years trip in mind I lashed out and bought a new fan. Of course none of the mountings are the same as the old one, so now I will have to make a visit to the steel merchant to buy a length of steel strip in order to fabricate some mountings for the new fan. Hopefully I can still use the original thermo switch.
12-10-2018
To the best of my knowledge the relined bands have been consigned to me. Hopefully by now they will have left England. I have decided not to take the transmission out of the car until I have the parts. I have yet to work out how to convey any sense of urgency to our British cousins. If the bands do not arrive in time for me to rebuild the gearbox, it will mean simply that we do not take the Lagonda but will have to hire a modern car for the three months that we are away. Today I have been busy making new mounting brackets for the new electric cooling fan. I finished making the brackets and did a trial fitting this afternoon, so now I can dismantle them for painting. It will then be another box that I can tick.
The good old Brits, no wonder their country is such a mess. The Parcel Tracking Service has given up already and as far as I can see the parcel containing my "parts" has not yet left the UK.
I can only think that I will be lucky to see the gearbox parts some time next year! No doubt Friction Services (Bristol) Ltd have chosen the cheapest delivery alternative which means it is waiting somewhere to be put on a slow boat that will take anything up to three months to get the parts here (Australia.)
About the only thing that they were interested in was how quickly I could arrange for payment to reach them.
Silly me, I thought that it may help to speed things up and sent the payment to them by "Telegraphic Transfer". That way they got paid within an hour of my sending them the money.
12-11-2018
If I hadn't told you youwould never know.
I have just spent the last two days or at least sometime on each of the last two days making the two mounting brackets and sorting out the installation of the new electric thermo controlled radiator fan.
I was lucky in that I could adapt the existing thermo switch. The old fan had actually died due to a lack of use. Being a sealed unit there was no way that I could get into it to lubricate the bearings that had actually seized due to under use. It probably had not run for at least three or four years and of course when It was needed it failed to perform. Normally the Rapier tends to run too cool struggling to reach 80c. Lagonda never thought that it was necessary to install a fan on the Rapier engine and it is only in exceptionally heavy traffic that the fan is needed. Even in the UK and France we tend to avoid traffic bottle-necks but sometimes you do get caught. Now with a new fan installed we should not have too many problems.
I am quite pleased that the new fan is no more conspicuous that the old one.
If I hadn't told you you would never know........
Looking at todays photograph, perhaps I should paint the thermo switch and the rear of the fan body matt black.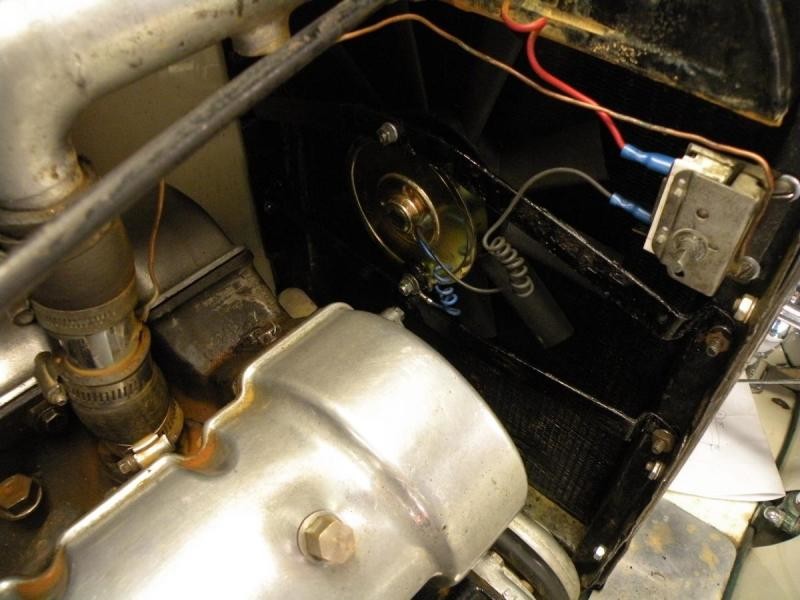 12-14-2018
Location:- Heston Middx England

Wow! now this is super fast service!

In TEN days my parcel of gearbox parts has travelled 20 miles.
Date-Time

Description
Details
13/12/2018 - 03:04Crossing border and in transit to carrier hubLocation: Heston, MIDDX
13/12/2018 - 03:03Transmitted customs informationLocation: Heston, MIDDX
13/12/2018 - 03:03Grouped when pallet scanned to crossing (DAI POST MEL 1)Location: Heston, MIDDX
13/12/2018 - 01:46Scanned at Landmark crossdock facilityLocation: Heston, MIDDX
12/12/2018 - 19:05ProcessedLocation: Heston, MIDDX
04/12/2018 - 09:36Shipment Data UploadedLocation: Heston, MIDDX
Parcel Number: 1600303980194389

Date / TimeDescriptionDetails
08/12/2018 - 13:58Delivery attempt made, allow 24h
08/12/2018 - 07:37The parcel has been handed over to the Hermes delivery driver to take to the Landmark depot16
07/12/2018 - 20:18Preparing for delivery to Landmark depot16
07/12/2018 - 20:13Preparing for delivery to Landmark depot86
07/12/2018 - 10:58At the national sorting hub03
07/12/2018 - 10:57At the national sorting hub03
05/12/2018 - 08:52Collected by the courier
I did ask for the parcel to be sent Express Air Mail. The same way that I had sent the parts to them! This was ignored and they sent it by their local Courrier, I also sent them payment by telegraph transfer so there would be no hold up in their recieving payment. All this was to no avail!
As you can see from the bank receipt this was not a cheap exercise!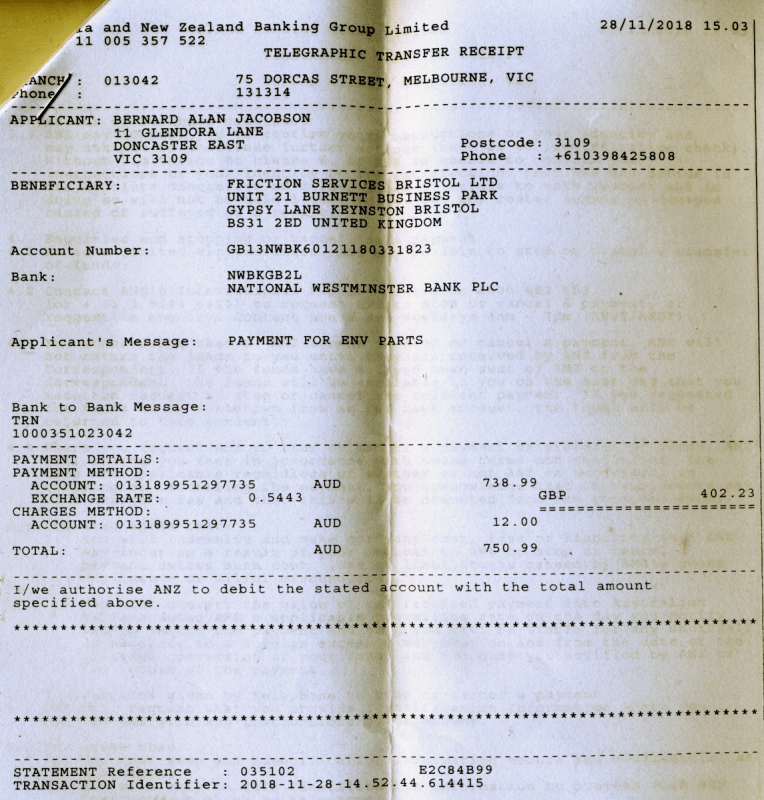 12-15-2018
No, it is all part of their "service"!
I have just this minute checked the courriers "tracking service". There has been no change since 3.04 13/12/2018. which would indicate that there has been no further movement.
I have now decided as there is nothing I can do to speed things up, I can relax and enjoy Christmas and the New Year. This will give me part of January and most of February before the car has to be loaded into the container for the sea voyage to England if all else fails we will have to modify our plans to fit around travelling in a Hire car. Not impossible but nowhere near as much fun.

As a diversion I am currently working on our customary "Christmas Letter".

As a further diversion, for anyone wanting to trace the (approximate) route of this years VSCC Alpine Trial, attached is the list of each days possible Fuel Stops. You will need a map of Victoria and Southern New South Wales. (Australia) This event covered approximately 2,000 miles including some 300 miles on dirt roads of varing quality, from good to loose gravel and potholes and frequently crossed with deep water courses. All extremely dusty when dry and muddy when wet!
Of particular note is the "Fuel Stop" at Tubbut.(Day two) The road into Tubbut is such that it is not suitable for a Tanker Truck to deliver petrol. All fuel is delivered by 44 gallon drums on the back of a pick-up".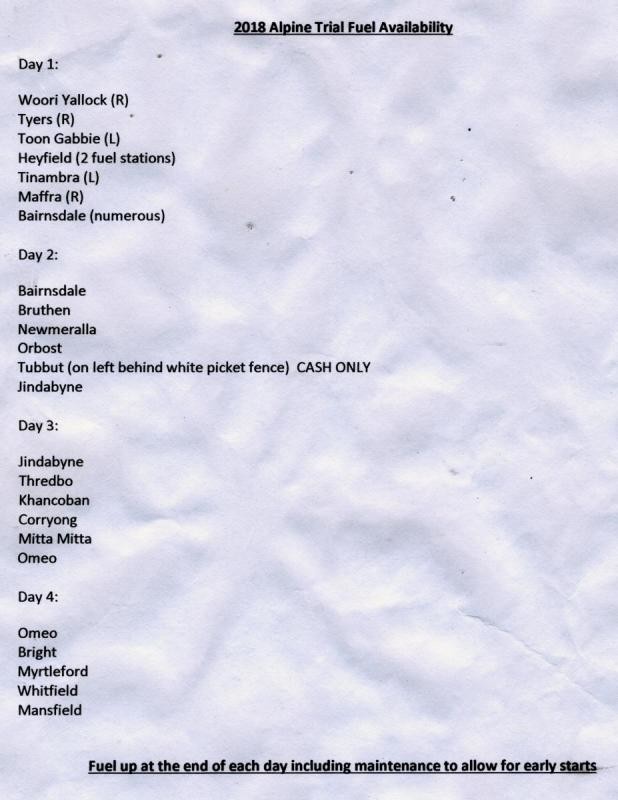 Day 5. There was another half days drive from Mansfield to home (Melbourne).

Below are also a couple of photoghraphs of the Tubbut "Service Station". Most of you should by now be familiar with the little white car in the foreground of the second pic.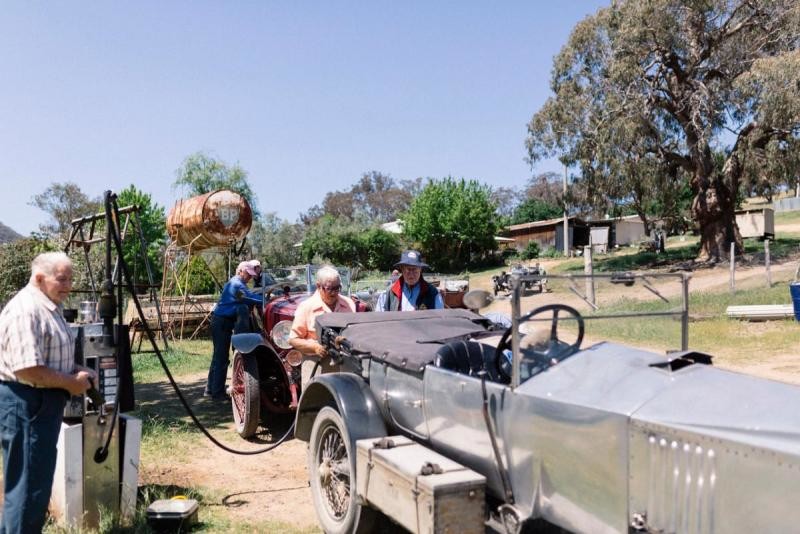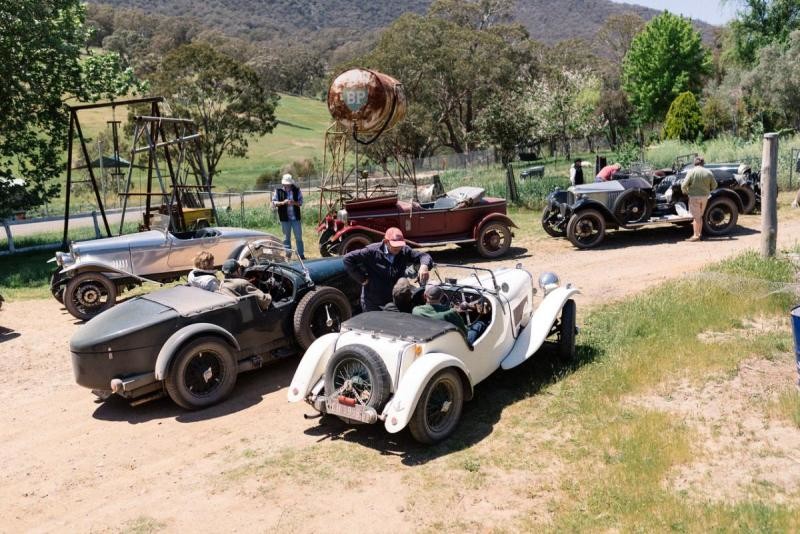 12-17-2018
On a slightly different tack, I receive a desk calendar every year from the Strohmer Family in Switzerland. They run the West End Hotel in Merano. We stayed with them some years ago on one of our numerous adventures in Europe. Merano (NOT Milano which is in Italy) is an ideal base for anyone wanting to enjoy a week or two exploring the Swiss Alps. For our guide book we used a little book titled"Motorcycle Journeys through the Alps" by John Herman.
I can recommend both to any one planing a holiday exploring in this fabulous part of the world.
Just reading some of John Herman's descriptions of his various rides in the Alps is enough to make you want to go.
There are excellent descriptions, maps and photographs throughout the book.
Unavailable
We stayed for seven or eight days/relaxing nights at the West End Hotel.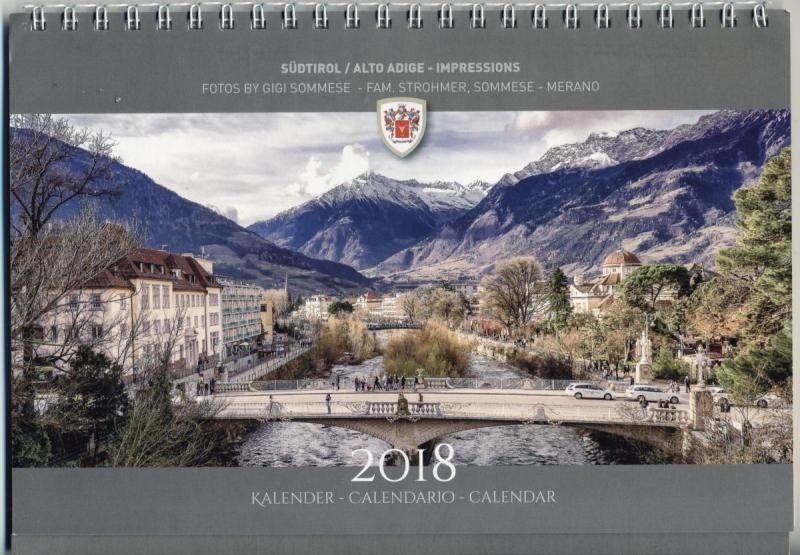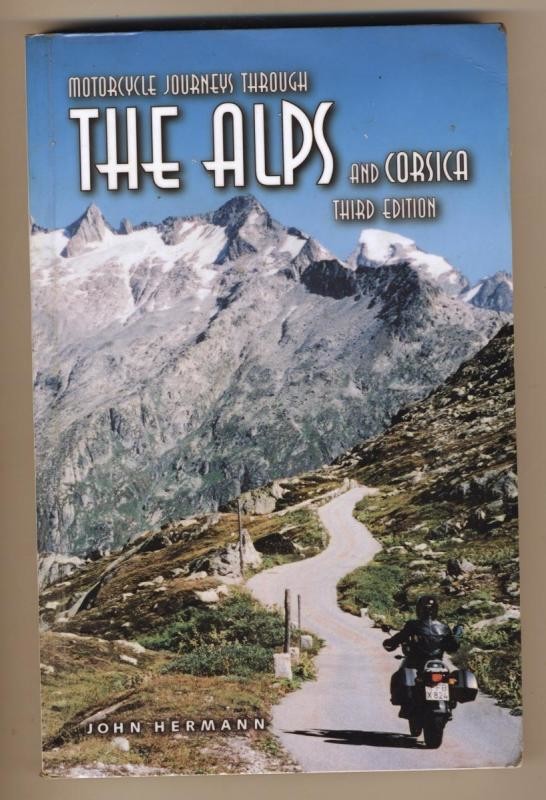 12-18-2018
So that no one feels left out I have attached a copy of our "Christmas/End of another Year Letter.

Welcome to our year 2018.

2018 has been a somewhat different year but none the less an exciting one.
Without doubt the most important happening was Helen's decision to have her right hip "replaced". This has made a vast difference to her mobility and overall comfort. The operation took place on May 15th and Helen spent four days in the Box Hill Hospital followed by an extended period with her going as an outpatient to physiotherapy for an hour or so twice per week on a Tuesday and Thursday morning until mid July.
Typically she has made a great recovery and is now back to playing her weekly round of Golf at "Heidelberg" her one concession is to hire a "cart' rather than walking the 18 holes. Each week her game is improving.
Helen's other important celebration was her 80th Birthday, this occasion was somehow extended to cover two or three weeks, with friends and family joining in. The first event was a family affair with our four and their respective partners and families enjoying Lunch at the Riverwalk Cafe. This also included my sister Beth and her friend Vytas. Our son Nic along with his wife Susannah and their two, Julius and Helena, made a special trip over from Adelaide. The following weekend we had a special Sunday Lunch with 30 friends coming to celebrate with us at home. Another fabulous day!
Apart from Helen's Golf and U3A activities, French, Strength Training and Yoga, as most you already know, our joint Vintage Car activities take up much of our leisure time. The 1934 Lagonda Rapier has been central to this since I first bought it in 1978, a long time ago. Added to this, buying restoring and selling Vintage "Basket cases" is a form of compulsory saving for me. This is my contribution to our "Going away Fund. This years main addition to this fund came in the form of:-
1. The sale of the 1920 Studebaker mentioned in last years letter. The has gone off to a far more dedicated person in England.
This was followed up by the purchase of :-
2. A 1926 Fiat 501. Bought as several trailer loads of someone else's junk. These rather pedestrian little Italian cars seem to have quite a following, especially when disguised as a Targa Florio "racer".
I make a habit of researching any relevant history of the particular make and model that is my then current project car. While doing this I discovered that in the early 1920s a young Czechoslovakian lady made quite an impact on European motor racing. She later went on to become a famous Bugatti driver. Eliška Junková (16 November 1900 – 5 January 1994), born Alžběta Pospíšilová and also known as Elisabeth Junek.
For convenience I will use her anglicised name. Either way while not pretending to build a replica of her car, I decided to make my Fiat a "salute to her memory". It has progressed from a load of old rubbish to a restored "rolling chassis" with a well advanced aluminium clad sporting two seater body. Now I really cannot explain but my recent "restorations" have seemingly progressed so far when I will wake up one morning having decided overnight that I really have had enough of this nonsense. Without further thought or discussion, I will decide that I have done enough, go on-line to the Prewarcar website and advertise the car for sale. In the case of the Fiat the response to my advert was so quick I had barely stepped away from my computer than I received the first of a rush of enquiries. So much so that I could even sell a similar pile of Fiat parts that our son Steve had bought from a deceased estate in the north-western country town of Stawell. Since buying his "Fiat" Steve had decided not to follow in his father's footsteps, and so was glad to be rid of it so easily.
Both "collections" are now packed into the one container and headed to the new owner in England.
With all this "out of the way" we could start thinking about our next five yearly visit to England and France.
This is Helen's territory and she now hard at work sorting out Air travel and Ferry schedules for Channel crossings. We have decided that as we had been to Jersey some years ago that we should try going via Guernsey we will have a one night stop over on the island. In fact the voyage from Guernsey to St Marlo requires a short stay on Jersey where we are required to change Ferries.
But before that I have a heap of work to make the Rapier ready. To meet present day Australian Border Force (Customs) requirements I have sent my spare set of the vital internal gearbox parts to England to be relined with asbestos-free material. The Rapier has an ENV Preselector gearbox that uses special linings on a series of "brake" bands to engage the various gears. These require a special friction material designed to operate inside the gearbox filled with oil. To replace these I must first totally dismantle the gearbox. I have already had all the car's brake linings replaced with similar asbestos free material.
Without doing this work on the car it is liable to be impounded by the Australian Border Force on its return to Australia. The only other alternative would be to sell the car in England; This is not an option!
I am currently waiting very impatiently for the vital parts to return from England. I do not really want to start taking the car apart until I am sure that I have everything to complete the gearbox rebuild. Even then I will have to do the job in record time to meet all the shipping etc deadlines. Unfortunately some of the people I am forced to deal with are not noted for their speed . The electronic "tracking of parcels makes interesting reading. It has taken Twelve Days for the 2 kg parcel to do a journey that I am reliably informed should take 1hour and 35 minutes travelling by bus & train.
Hopefully the courier firm involved may pass the parcel to Santa for him to deliver it to me.
Now back to our more recent activities in the Lagonda Rapier, the most recent outing was for the VSCC Alpine Trial. This event took us well into the mountains one of the high points in the drive was crossing McKillops Bridge, this is said to be one of the longest Timber bed bridges in the world. It is 255 metres long and is a single lane bridge.
see https://www.dangerousroads.org/australia-and-oceania/australia/6145-mckillops-bridge.html
But this just one bridge in four days motoring over almost 2,000kms including over 300kms of dirt roads. It was along this road that we took a minor excursion into the bush. Fortunately a group of members of the Kooweerup and Lang Lang Rotary Club's 4 Wheel Drive section came along at exactly the right time and with their help we were back on the road and on our way.
We completed the "Alpine" with out further problems although we did cut the final drive home short as most of the way we were driving in drizzling rain. I must add that this years "Alpine" was a First for us in that for the first time we had entered as Tourists rather than taking the "Competitive" option; the main difference being that we were not required to find the answers to pages of questions designed to prove that we had taken the proscribed route.
For those people wanting to follow more closely our adventure on a map of Victoria and Southern New South Wales, our first nights stop was Bairnsdale, where the Trial officially started. The next night's destination was Jindabyne, followed by Omeo and finally Mansfield. At no time could we be accused of simply following the Highway, if anything the opposite. At one stage on the road into Mansfield we drove very slowly and very carefully through a huge mob of cattle that due to the drought conditions had been turned out on to the "Long Paddock" , the grass verges along either side of the road. We later learnt that each of ten farmers had combined to add 50 head of cattle to the mob each, bringing the total to around 500! At mansfield we slept at a huge motel style Ski Lodge that had been built in the early years of the last century as a Convent/school for young Catholic Ladies. Being the last night everybody came together for Dinner and Discussion at one of the towns hotels.
Again from Mansfield rather than charge down the Highway we took a devious route going back into the nearby "Hill Country".

For the final event for the year the VSCC had a relatively short tour through the Dandenong Ranges finishing at Belgrave with Lunch at the local RSL. (Returned Soldiers League) Probably typically we opted not to return home directly down the main road deciding instead to make detour home via side roads through Lillydale, Here we ran into early peak hour traffic being brought to a crawl. Most uncharacteristically the Rapier started to over heat, normally this is automatically countered by the thermo controlled electric fan coming on to bring the temperature down again. It is quite some time, at least two or three years since the fan has been required so next day I decided to investigate the problem. Very quickly it became apparent that the motor for the fan was seized solid, simply from a lack of use. Being a typical modern accessory there is no way of servicing this and the sole solution was to buy a new one. Of course nothing remains the same and this also applies to the method of mounting for one of these simple appliances. New mounting brackets were required, for a change rather than mess about trying to adapt the old
brackets I bought a length of steel strip from the local hardware and made new ones. This kept me entertained for the best part of an afternoon. Fortunately the original thermo-switch is still working OK which saved me having to go through the process of adapting a new one to the Rapiers cooling system. All that is now required is to leave the motor running long enough to raise the temperature to near boiling, so I can reset the switch on position on the switch.
As already mentioned I am still waiting for the new asbestos-free gearbox parts to come from England. The arrival of these from England is critical to the timing of the cars departure on it's next adventure. There is about three or four days work that required to remove and fully dismantle the Pre-selector gearbox replace the "bands" and then put it back into the car. It now looks as though this will be my first task for the New Year. I just hope that the weather gods are kind to me.
The car has to be "on the water" no later than Mid February,

Now all that remains is to on behalf of Helen and myself wish everyone

A very Merry Christmas and a Healthy and Happy New Year.

Cheers!
Now for the one that got away.
Having owned two or three Jaguar XJ6 sedans I always wanted a Jaguar XJ6 Coupe. The two door pillarless version Finally one came up at auction in Sydney several hundred miles to the north from where we live. Having looked at all the pre-sale documents and photographs I decided to take a risk and put in a bid without actually seeing the car.
We were away when it was due to be delivered and I arranged for it to be delivered to a well known Jaguar specialist for him to give it a service and put it through its "Road-worthy" test. This is required by our Motor Registration Office.
Imagine my horror when on our return I was greeted with a message. "I have the motor out and stripped down you had better come and decide what you want to do."
12-20-2018
I am aware that many of the people reading this may have never held a spanner in their lives and even those who can claim some experience in undoing nuts and blots will have never seen the internals of a Preselect Gearbox.
The first photograph shows the gearbox still sitting on my trolley jack. The next shows the box with its contents after I had unwraps all the "bits".
Next photograph shows the "Top Gear cone clutch looking into the cone with its conical friction lining. The fourth photographs is of one of the three "forward gear bands" and finally the reverse gear band.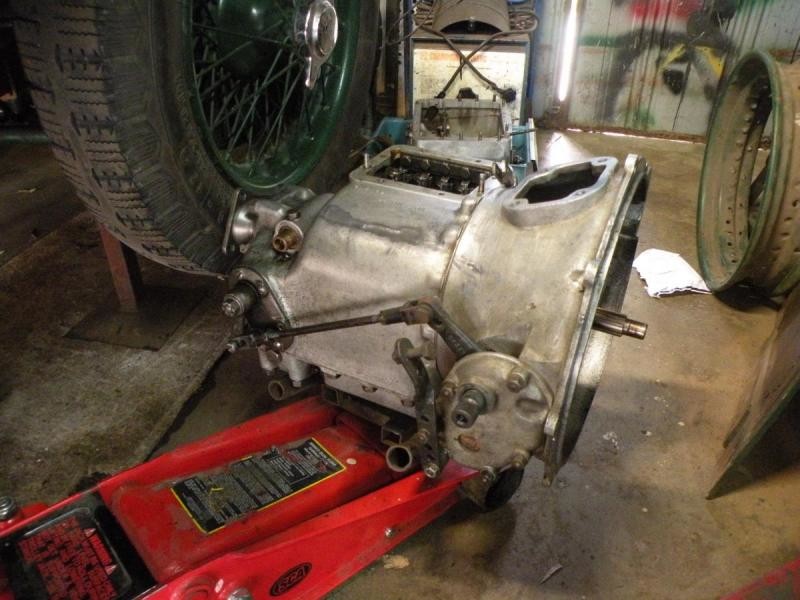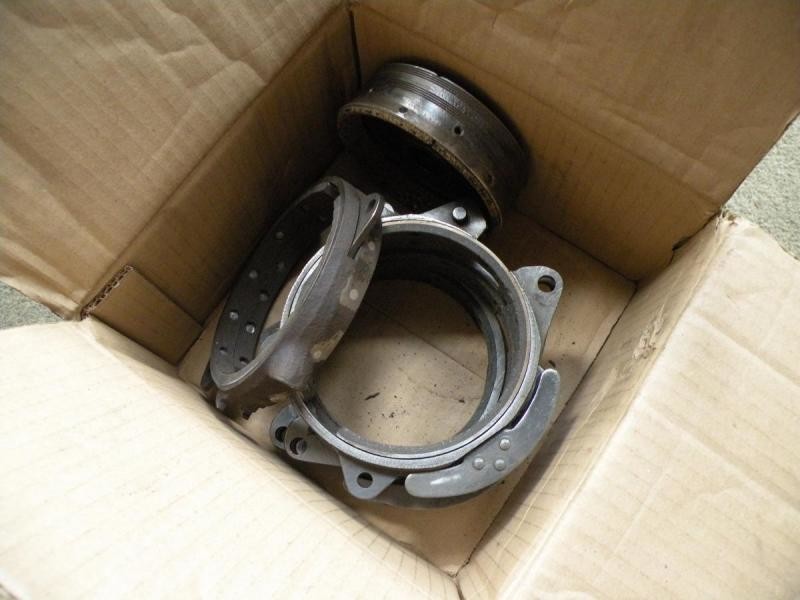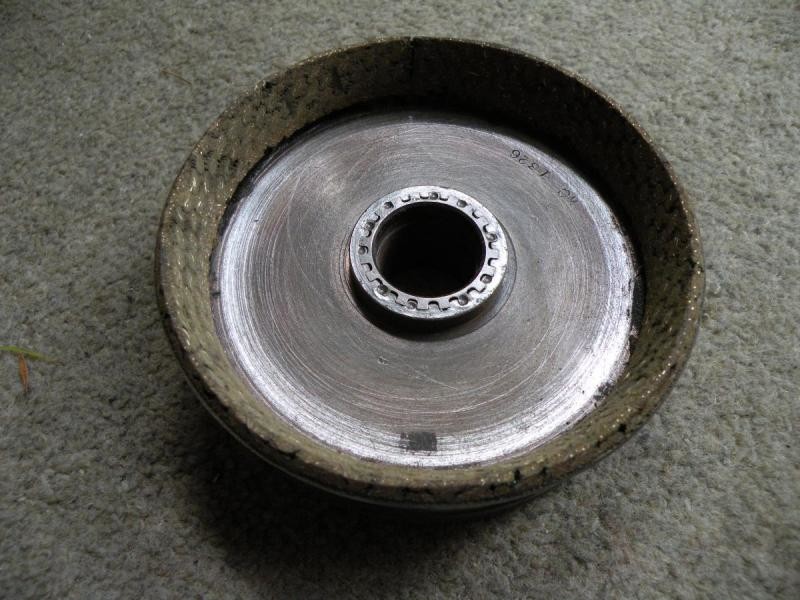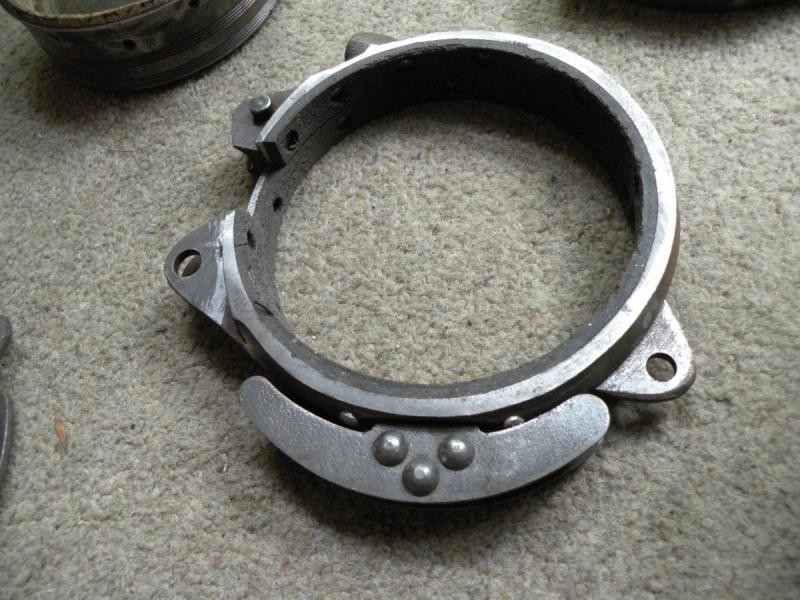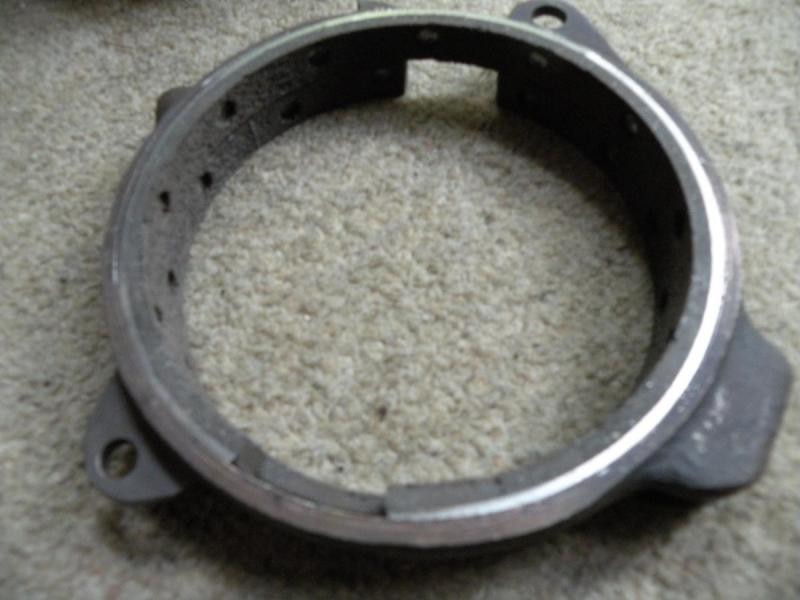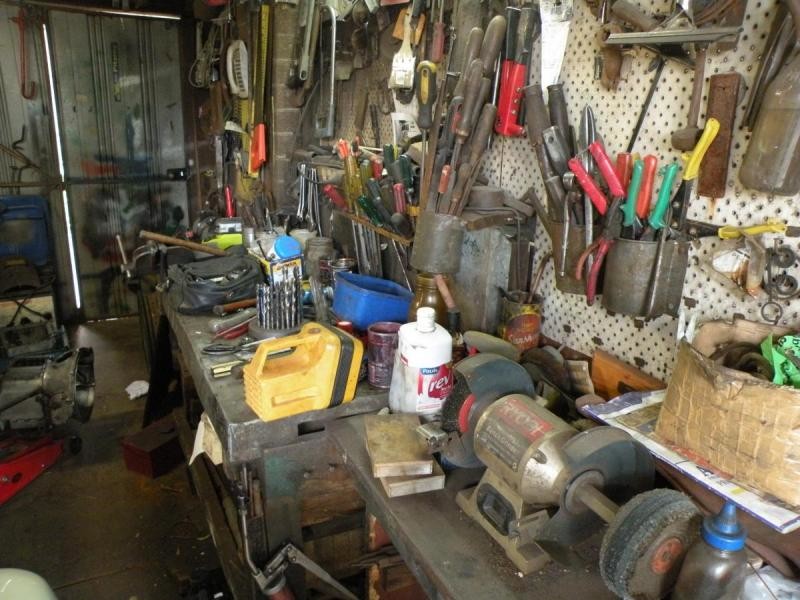 Before starting work I felt that I should show you my "work space".
All those smug self satisfied people with immaculate workshops that are yet to have any work done inside them can now switch to another subject!
You may have noted that the car is standing on "jacks " making it immobile. i.e, It cannot be moved.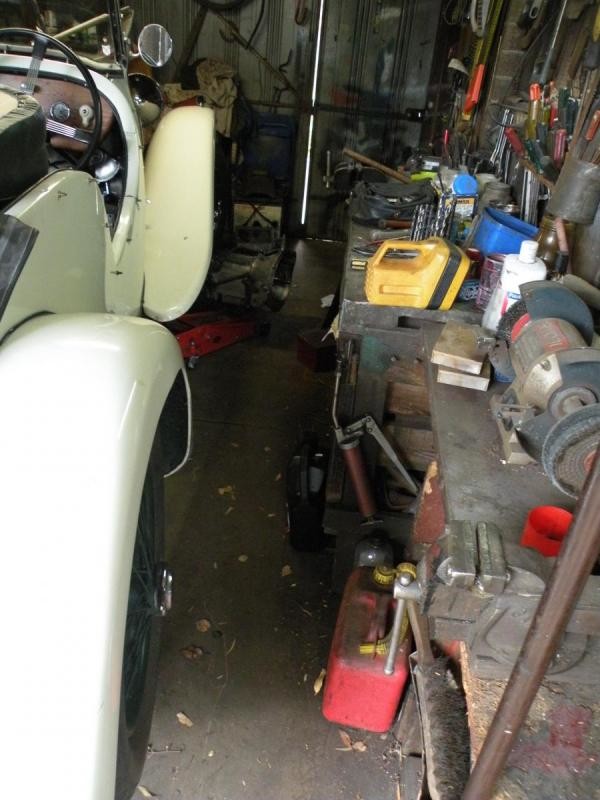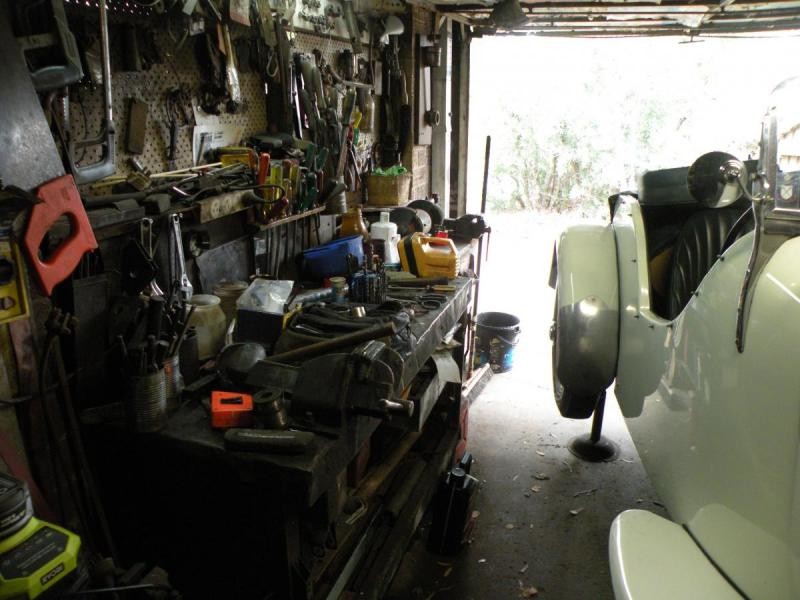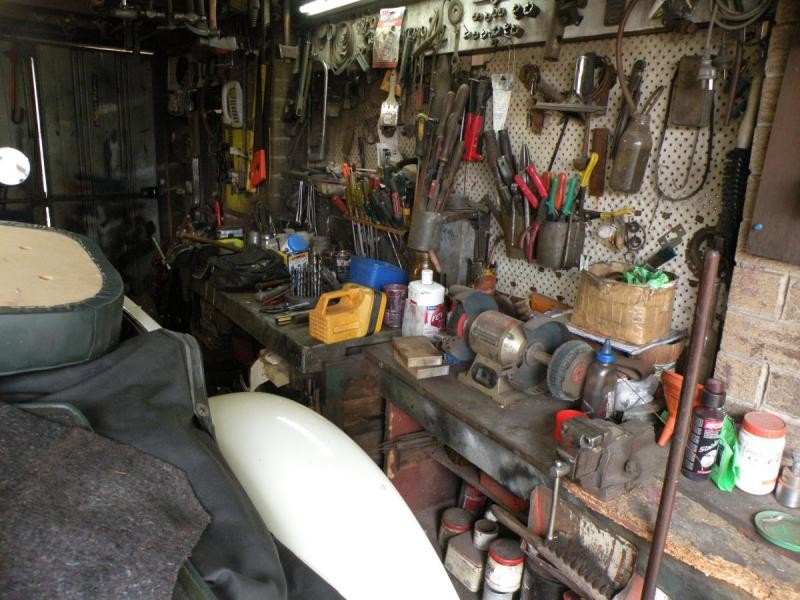 12-21-2018
Two or three hours later the gearbox is well on the way to being dismantled, all that remains to do is to split the case so the bands can be changed over to the newly relined ones. Then it can all be reassembled again and the Australian Border Force (Customs) can rest easily in their beds at night, relaxed in the knowledge that all traces of asbestos will have been removed. I have pages and pages of the specifications for the new lining material.
Once it is all assembled again I can ask the "maid" to wash and polish the work top and vacuum up any stray traces of asbestos dust.
Oh yes, I hope that you have all noticed that I have already started to polish the aluminium gearbox housing to a mirror finish. I will give it a final run over with the high speed buff before I put it back in the car. It seems a shame that I have to pour some of that nasty messy oil into it again. If I never drive the car again I suppose that it would not matter if I left it out. That way there is no possible chance that a Show Judge could take any points off for an oil leak. Perhaps I had better drain all the oil out of the motor too? Then I can polish the underside of the sump (oil pan) too.
If anyone is curious about the "Rev" label on the container for loose nuts etc on my work bench. That is actually a cut down 1 litre milk container.
YES! here in Australia we have "Hi Performance" milk too.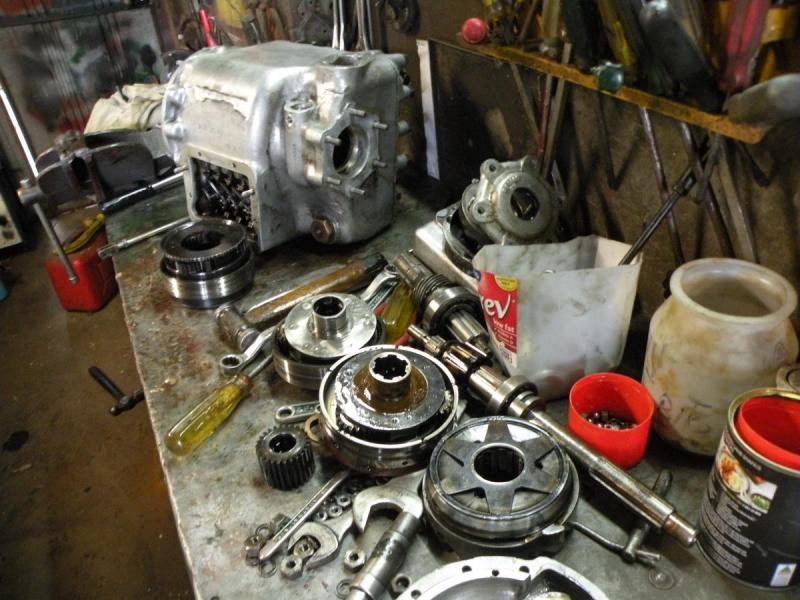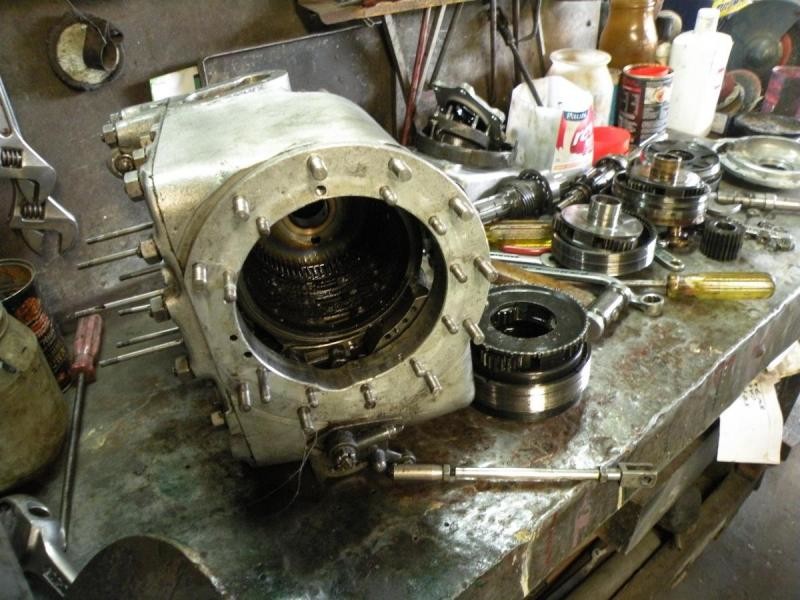 12-21-2018
This where the whole business is so silly. They may have x-rayed the box but did not open it. All the paperwork was neatly folded inside the box so they could not have read it without opening the package. Yet they, Australian Border Force (Customs), could impound the car and take it apart, depending on the mood of the particular inspecting officer and or perhaps his political viewpoint or attitude on the particular day. It all seems very arbitrary. In the past we have experienced some malicious damage to our car at the hands of people claiming to be acting under instruction. Hi-pressure washing supposed to remove any soil from under mudguards (fenders) that "accidentally" filled electrical equipment with water, on the asumption that the cars MAY have been on a farm and have contaminated soil attached to the cars underside. This when the car had already been steam cleaned underneath before leaving England. Please do not get me started.......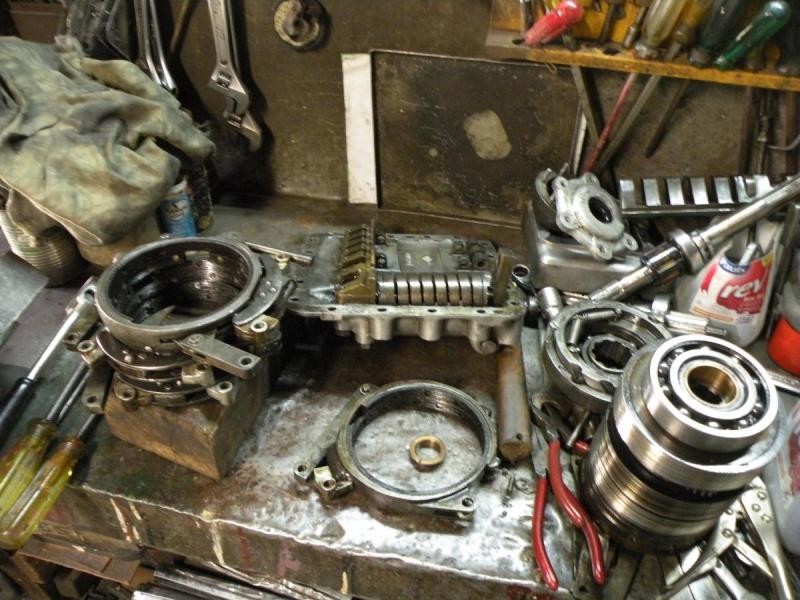 Now with all the new/relined parts to hand I could confidently start work on the Rapier Gearbox. I hope that you all appreciate what a rare gift I am giving you all.
Very few people anywhere in the world would have an opportunity to see one of these gearboxes totally dismantled then over the next few days seeing it go back together again. I am sure that with such a highly educated audience any words of explainantion would be wasted.
Bj,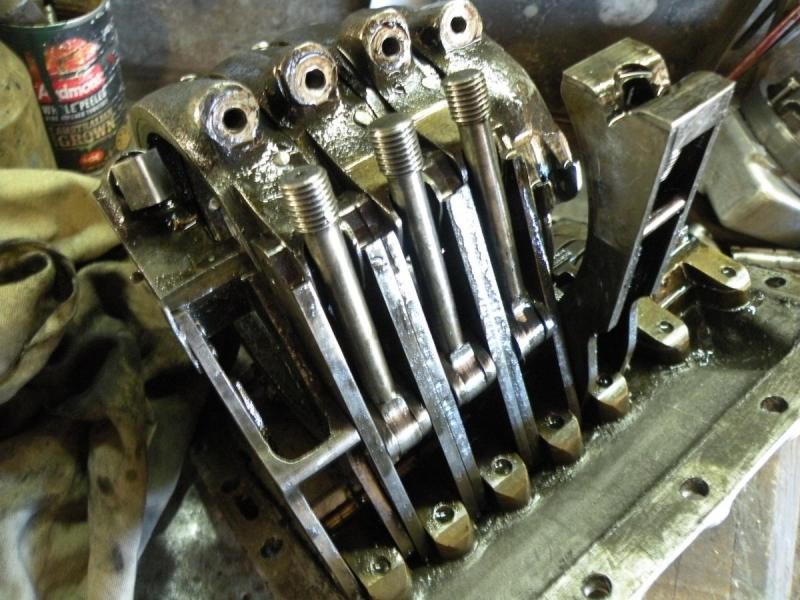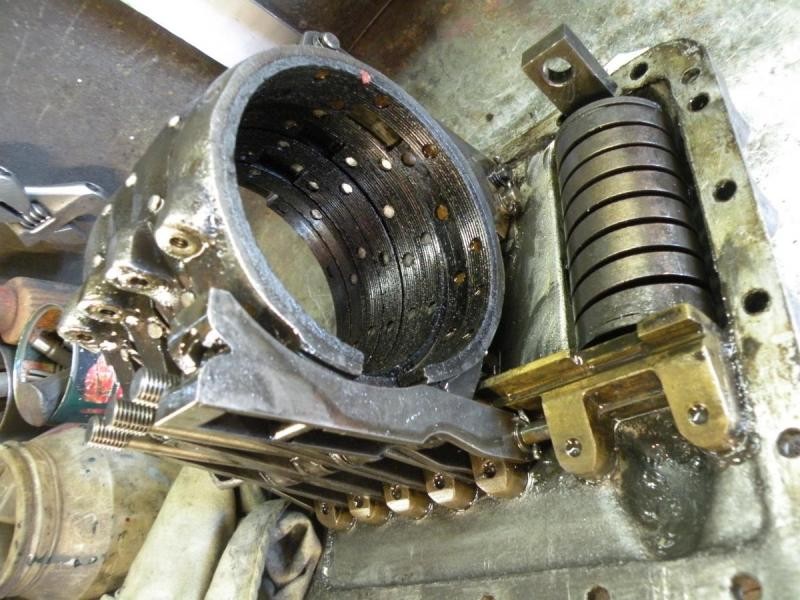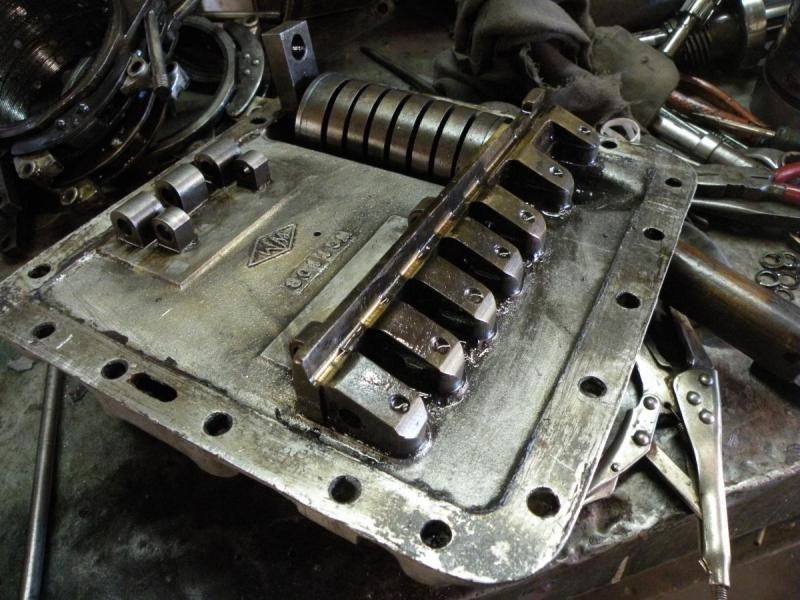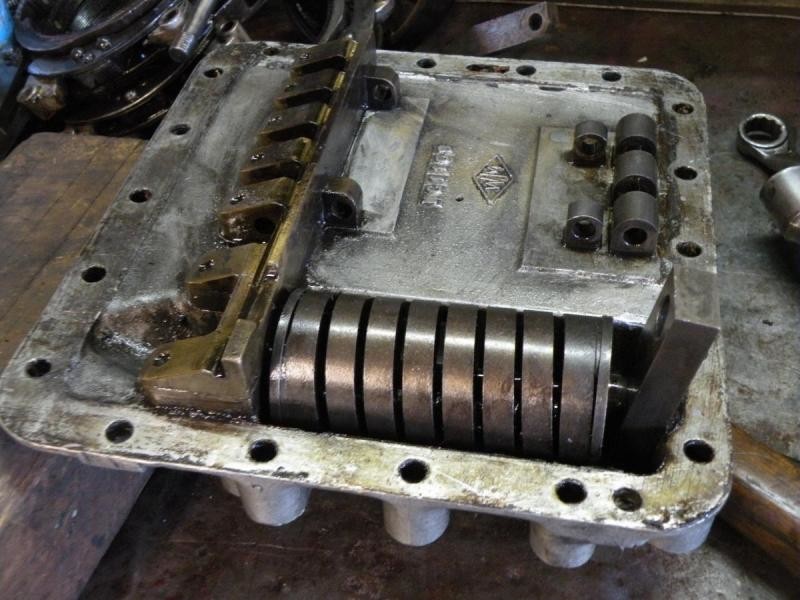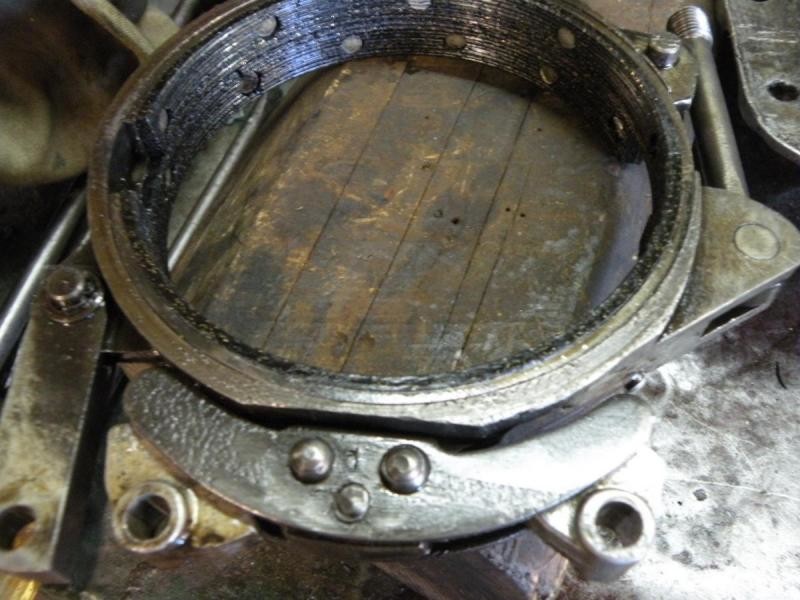 1-5-2019
While possibly/probably meaningless to most if not all of you those photographs that I posted on December 23 are in fact invaluable to me as I start to re-assemble the gearbox. I will not attempt to explain but they are worth to me more than all the thousands of words that have been printed or are about to be printed in learned handbooks on the subject of ENV 75 Pre-selector Gearboxes. While the only comment that author of one of these yet to beproduced could make was "That I should clean-up my work bench !" There is NOTHING that he could say that was of any more use to me than this set of half a dozen photographs. The fact that he would not offer any advice other than I should wait some indefinite period of time until his book was finished when I could buy one.
I will be amazed if even one of the hundreds of "enthusiasts" who eventually do buy this no doubt glossy volume, do more than glance through it before adding it to their collection of "important books".
Messy bench or not I believe that I could be counted among the two or three people who MAY have some practical use for such a book. Even then rather than sit on my hands while I await breathlessly for this so called "bible" to be produced I will get on with the job of rebuilding my transmission.
Meanwhile I think that I will manage to do quite well without it.
One of my personal friends is supposed to be doing a set of technical drawings for this book. Sadly in all the years I have known him, he has never finished even one of the projects he has started.
1-6-2019
While almost anyone can recognise all the major components it is the little things that count, fortunately while it reflects on my own limited ability, I did take the precaution of taking some photographs, messy untidy and scruffy workbench not withstanding, that will hopefully remind me where some of the smaller parts that are easily overlooked go when rebuilding my gearbox. Younger people with excellent memories will not have this problem. I did also take the precaution of ordering a new set of Centraliser springs. You will note there are three different versions of the centralising spring holders. It is important that each go into the correct position facing the right way, although you will not need me to tell you this. I am grateful to Peter Meyer who has told me the simple way of compressing these (springs) when reassembling the bands.
Just as a matter of interest I have just measured the size of my work bench so you can compare it with your own.
Mine is 36 inches long and 18 inches wide. Virtually all my work is done on it. I have a 4 inch (offset jaws) vice mounted at one end.It has a single Florescent tube mounted on the wall above it. For more light I can open the single rear door. Air conditioning is controlled by opening or closing the main front door. There is one other (Floro tube) light in the centre over the (single) car space.

People who are shocked/horrified by the conditions I work under can stop reading now.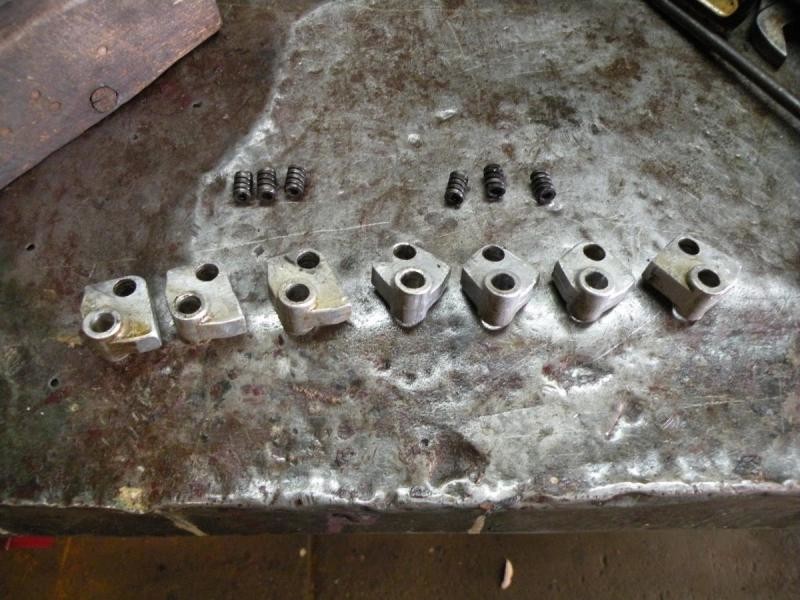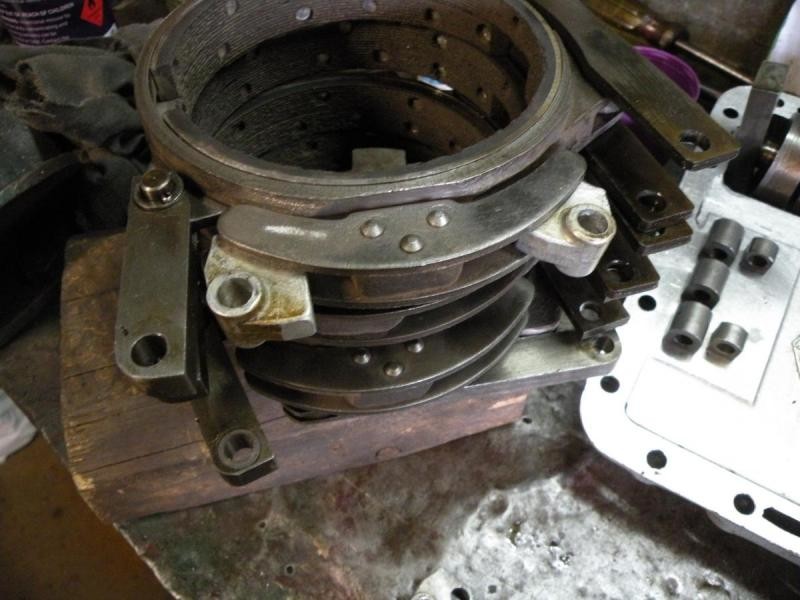 1-7-2019
Hello Again
Can I please have another helping of Humble Pie?
Old age is really starting to catch up with me. I simply cannot remember where the one longer centraliser spring and the drilled dowel that obviously goes with it, should go in the gearbox? Here is a perfect opportunity for someone to make me look a real idiot.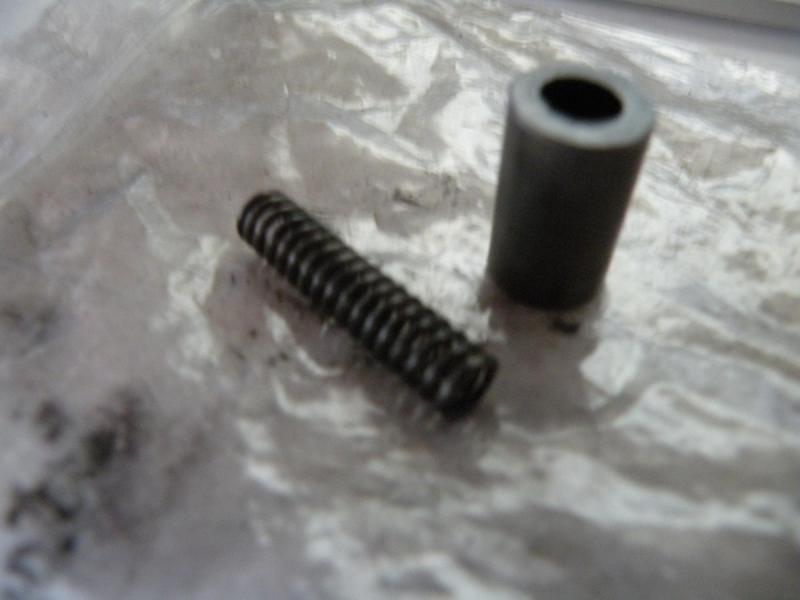 1-8-2019
In reply to my question regarding the different lengths of the wedge shaped adjuster set screws, Peter Meyer has sent me the attached diagrams. So now I can proceed with the next step in the final assembly of the 'box.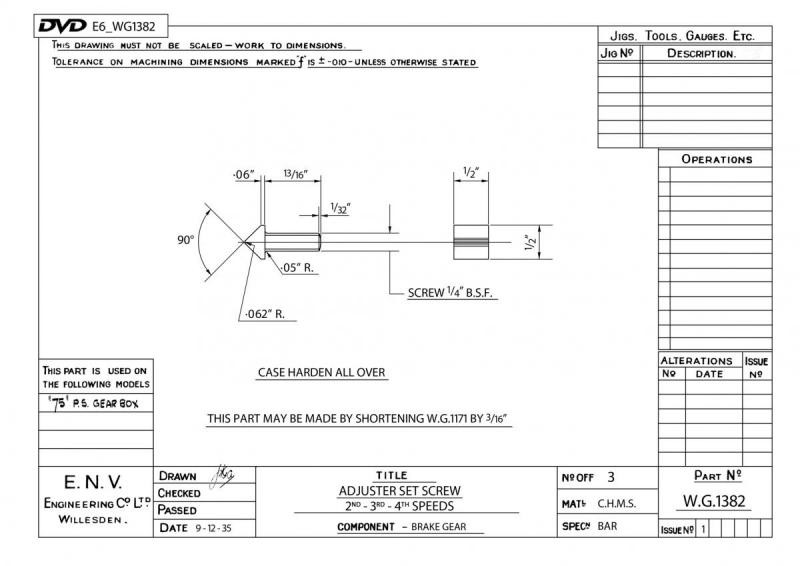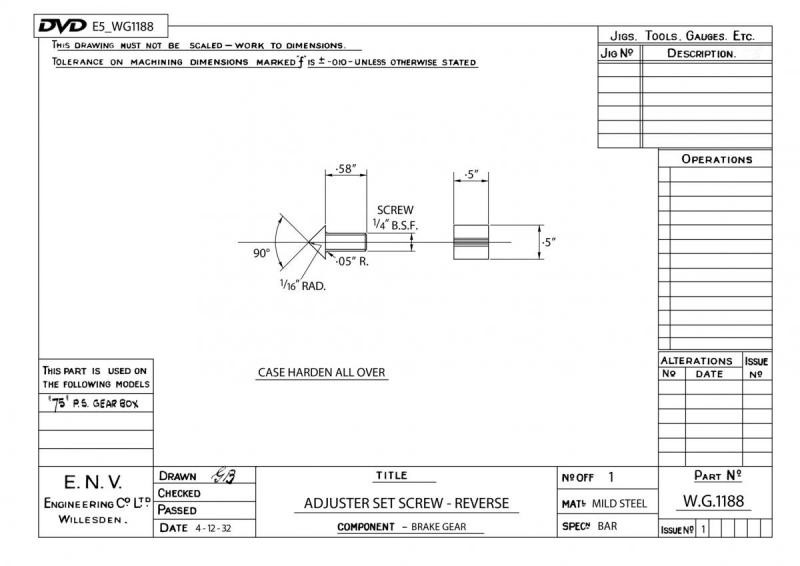 1-8-2019
This mornings photographs show 1. A strut showing the beak shaped projection,This is to prevent two gears being selected. The "Pad" closer to the bottom of the strut comes into contact with the spring steel blades controlled by the camshaft.
2. The wedge shaped adjuster set screws.

The second photograph looking in from the underside shows the interior of the gearbox showing the camshaft and spring steel blades. This also shows the swinging pieces which prevent more than one gear being selected at a time.
These in part demonstrate the immense amount of thought that went into the designing of these extremely complex transmissions.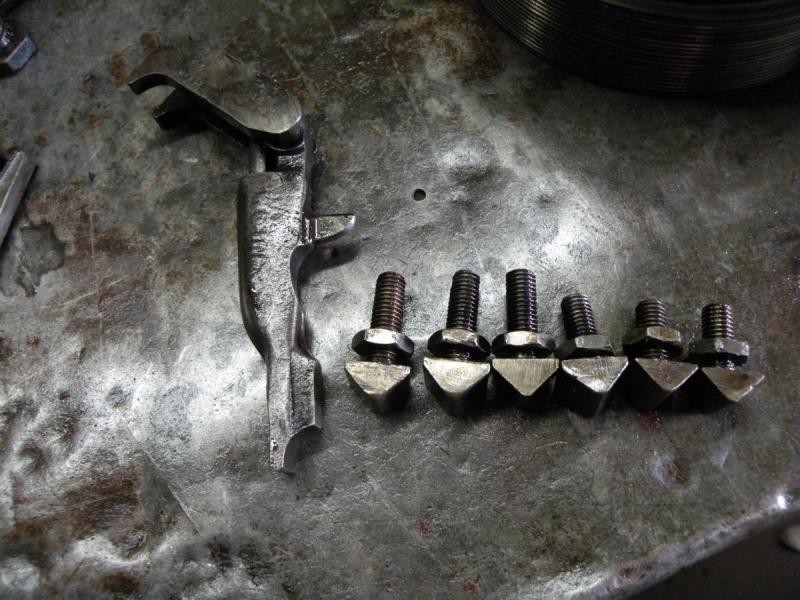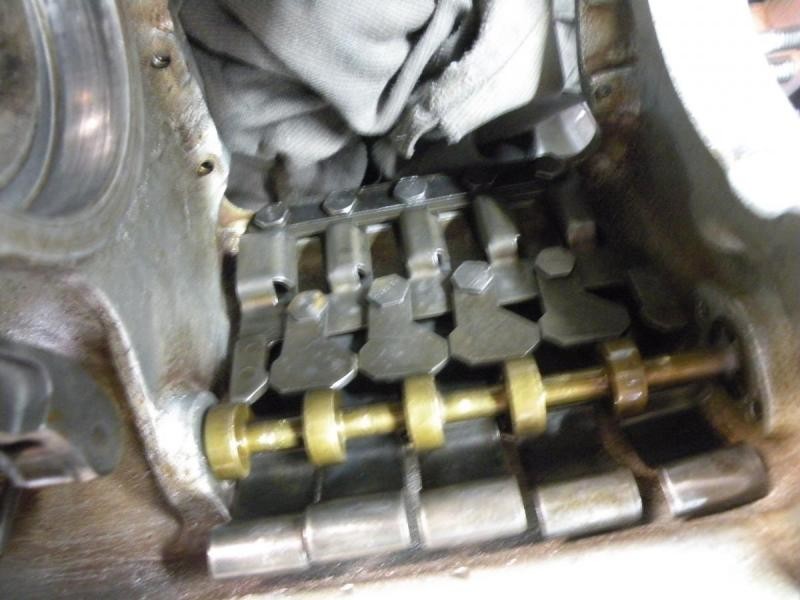 1-9-2019
Now for a change!
Not required to Take the Lagonda into England & Europe but nesessary to enable me to bring the car home again. The Australian Border Force (Customs) require me not only to state that there is no asbestos anywhere in or on the car BUT I have to be able to present the necessary paperwork to prove it.
Yesterday I spent FIVE MINUTES showing a"Licenced Inspector" the internals of the gearbox and the newly relined componemt parts. In the process of his inspection he took THREE photographs on his Mobile phone.
The cost Aust $220.00

AND he could not even get the spelling of my Name or the Make of the car correct.
OK the "Hob-goblins" have been at work. As a result one of the centraliser springs "popped out". To replace it in the correct position I have now dismantled the reverse band, putting me back at least half a day in my (imaginary) work schedule. In the tightly packed gearbox there is very little margin for error.

In the absence of Peter Meyer's much anticipated Manual, I am finding the 1930s Crossley equivalent extremely helpful. Their photographs in particular are very useful. Allowing for the quality of the reproduction. The upper (Forward 1st 2nd and 3rd gears) diagram shows the action of both the cam and the bus-bar and the positioning of the band centralisers.
The lower diagram shows the difference with the Reverse "Thrust Pad" (strut) etc.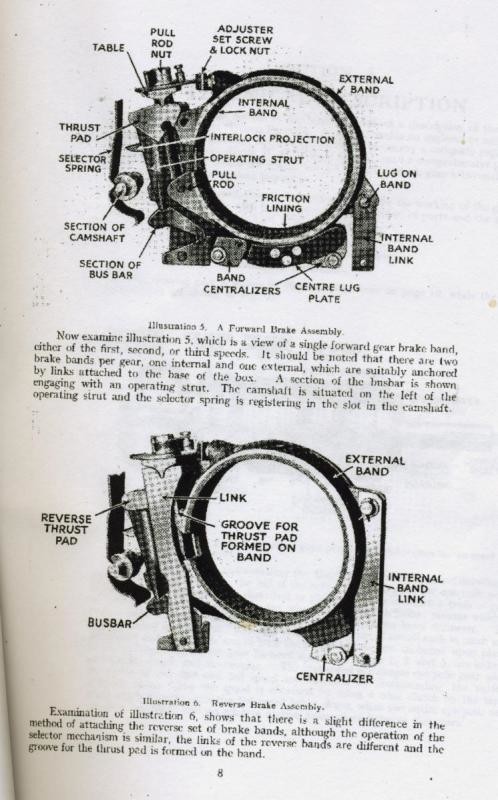 1-10-2019
It is now very nearly 5.00 PM EAST*. After a very frustrating afternoon I finally have the case sitting on the base of the gearbox with about half the nuts in place. I finally managed to hold all the "pull rods" in place with the aid of four or five large rubber bands. We have a very kind post-man, every time we have three or four letters for him to deliver, He places an official Australia Post yellow rubber band around them to hold them together as he places them in our "letter box". Helen has been saving these in a container on her kitchen bench. At last I have found a use for them! Well! at leastfour or five of them. The worst part is that to retrieve them I have to cut them first in order to pull them out with a pair of long pointed-nose plyers. They can then go straight into the bin.......

*EAST:- Eastern Australian Summer Time.
1-14-2019
Another day and a little more progress with the gear=train now back into the case, all that is needed now is for the top-gear mechanism to be fitted and then the oil pump and finally the front cover. Another day's temperature in the high 30sC is not helping.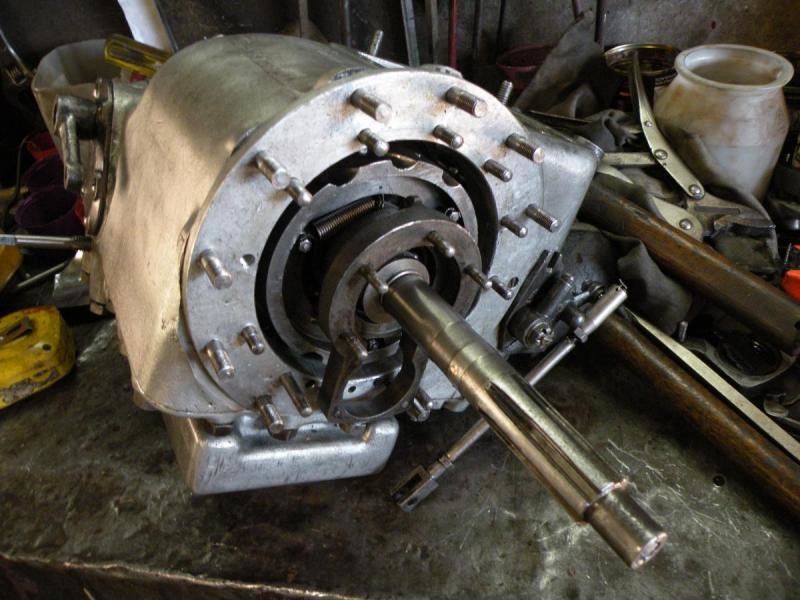 1-16-2019
Attached is a photograph of the Top gear "Strut and "Hook"
Top gear is a cone clutch and lives at the very front of the gear train,
The "Hook" plays a vital part in its engagement. This is just about the last thing to be assembled.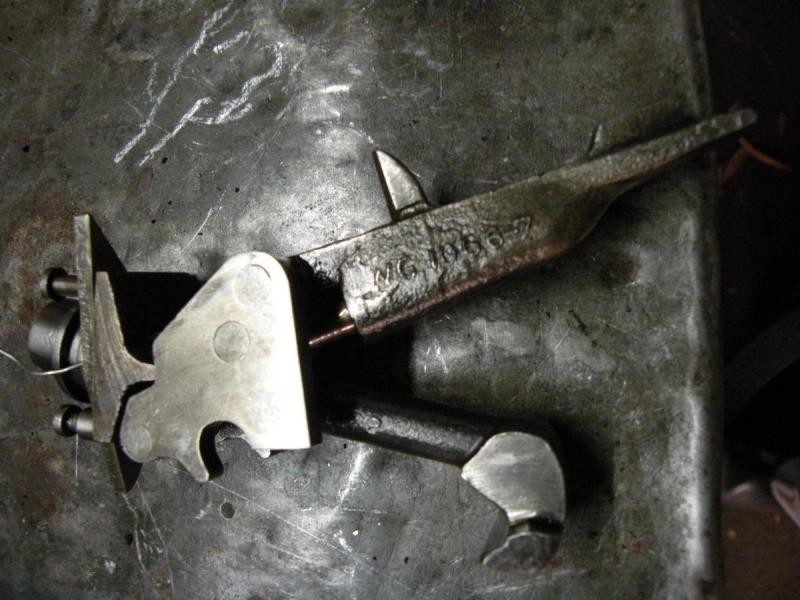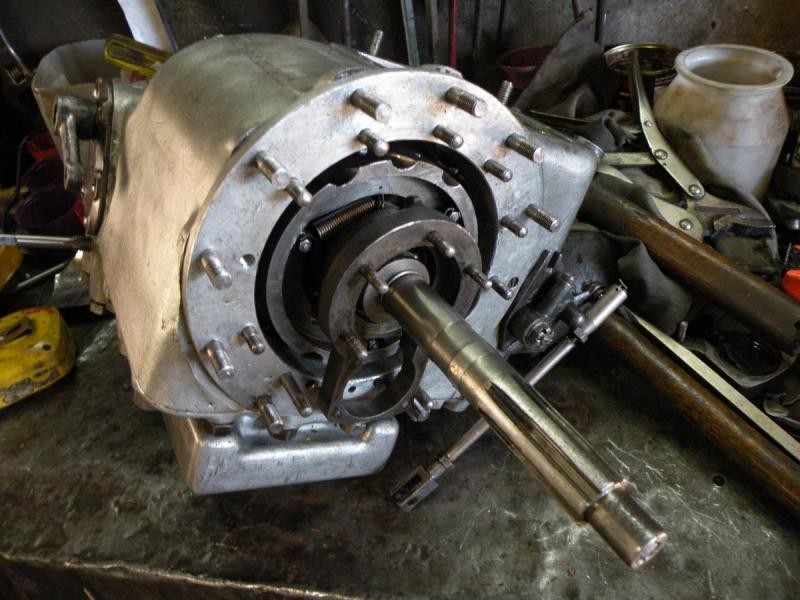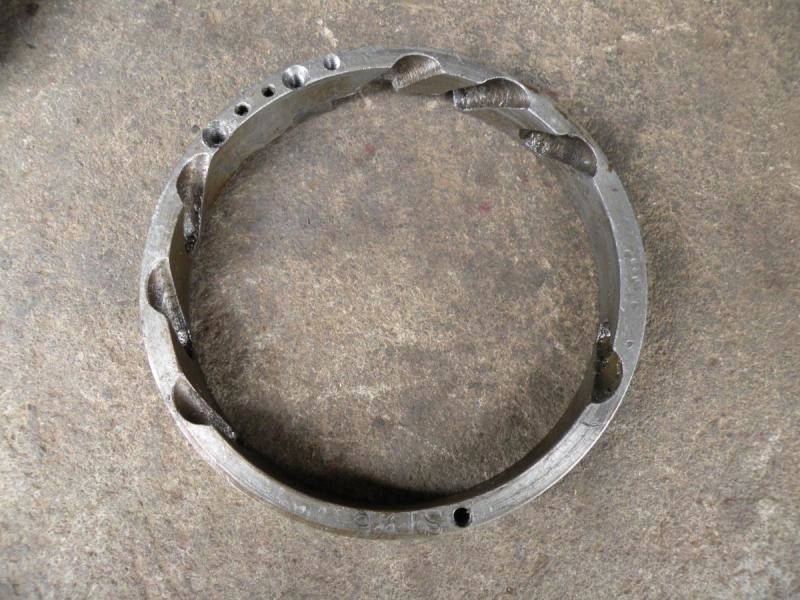 1-21-2019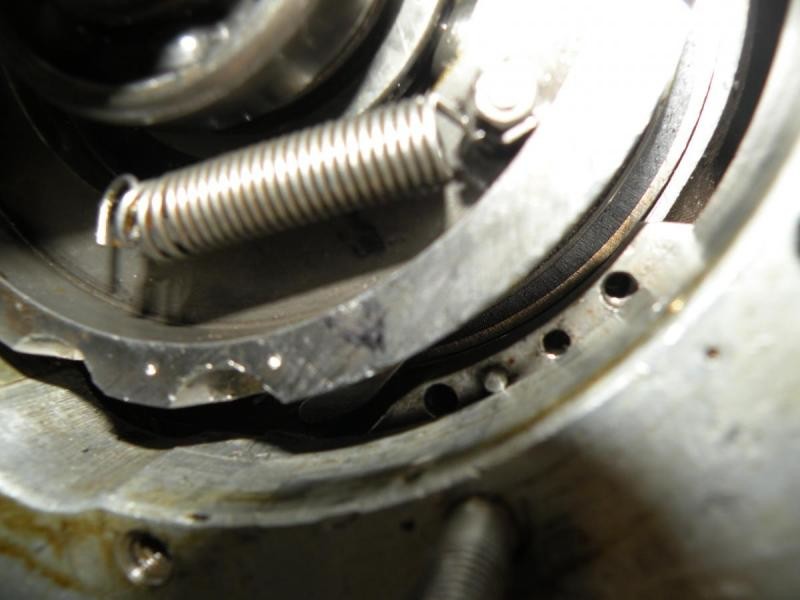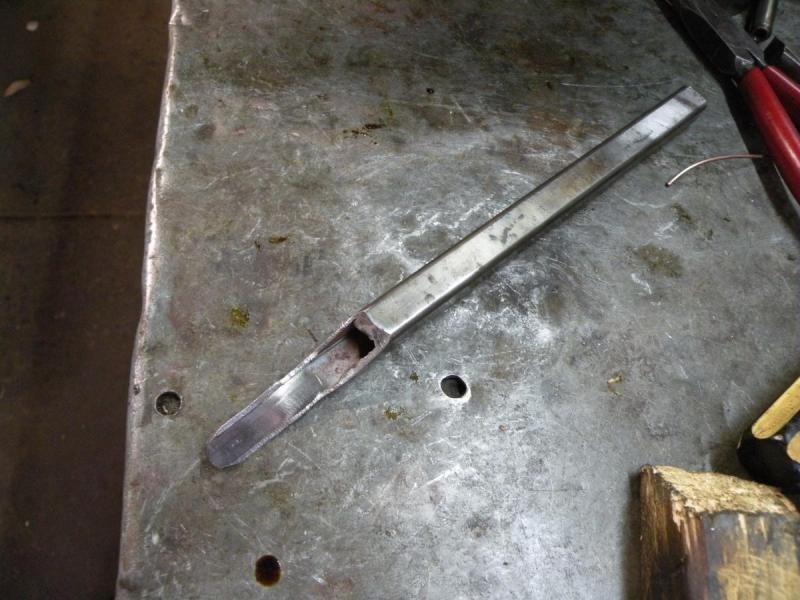 Right now I am really "jumping through hoops" with the gearbox rebuild. I have lost count of the number of times I have had it all together only to find it "Locked up" when I go to try to turn the input shaft..................................................................................................
I am about to do yet another "final assembly".
The most recent hoop that I have finally negotiated is the quest for a second 3BA X 1 1/4 inches long with slated countersunk head. There are two of these extremely hard to find metal thread screws. If you do not believe me, as a gentle exercise that will help fill in a morning or two try wandering around your local "Nut & Bolt Merchants" as best all you can hope for is a blank stare from the average sales assistant.
That is as maybe but I finally found the second one after turning my little garage upside down. Somewhere in there should be a second pair from the "Spare" gearbox but I am not going to start a search just yet.
Despite this small diversion the umpteenth trial assembly is going well and hopefully all will be well when I fit the front cover onto the "box"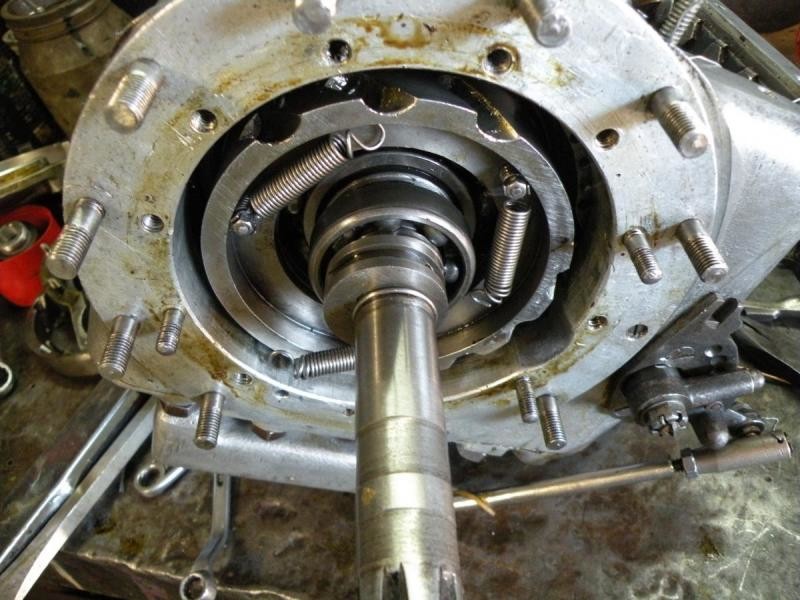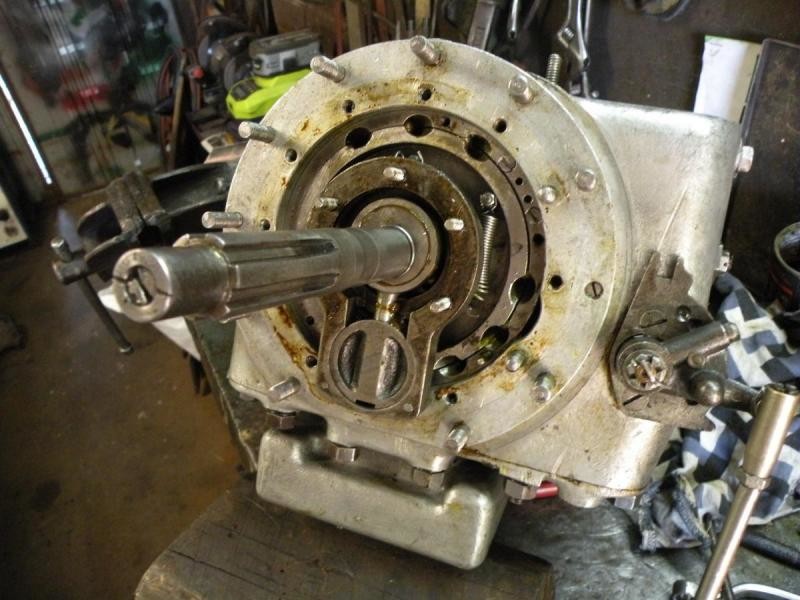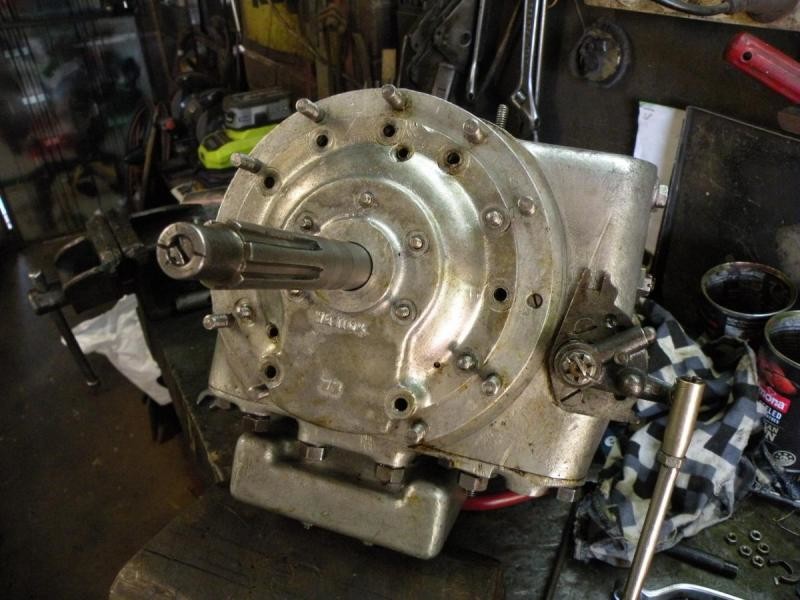 And now todays photograph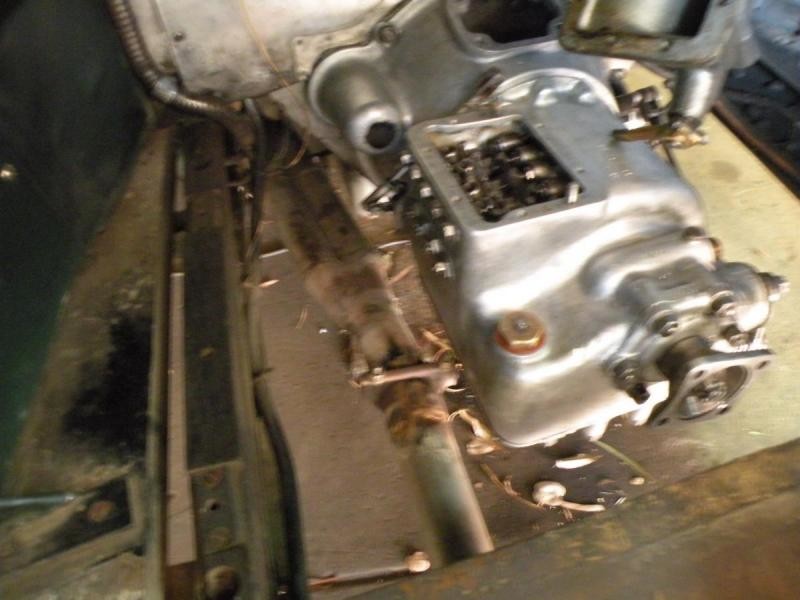 I am sorry this last photograph is a little "blurry" but the important thing is that the gearbox is back in the car. Tomorrow before conecting up the drive shaft and some other important bits. I can pour in some oil and start the engine so I can run it through the gears and make all the final adjustments before I go any further. This an important step forward but there is still a lot of work I have to do.
1-23-2019
It is now 4.30 in the afternoon and I have taken an early finish. I am just about pooped! All that now remains is for me to fit the "self Adjuster springs" to the thimble nuts, replace the gearbox lid/remote control/gear change, and do some fine adjustment on each band. Finally I will be able to fit the front carpet and passenger seat cushion, then I can the car a wash to remove the few oily hand prints.
The car is now back standing on its own four wheels, for the first time in over two months, it seems more like two years!
The motor starts "on the button" and I can select all gears including reverse.
Oh yes! I still have to cut a new gasket for the gearbox top but with those few simple jobs completed I should be able to take the car for a road test.
Meanwhile I have been spending up to two hours each morning working on correspondence regarding the question of Temporary Insurance for the three months that the car will be in the UK and EU a little later this year. Since January 1st 2019 this has been changed to be available to Permanent Residents of the UK only.
My mailing list has certainly expanded New years Day. (1/1/2019). Without a minimum of 3rd Party Insurance it is against the Law to drive in England or the EU. To date I have not bothered the British Prime Minister as she seems to have quite a lot to look after already but having said that her Time may still come !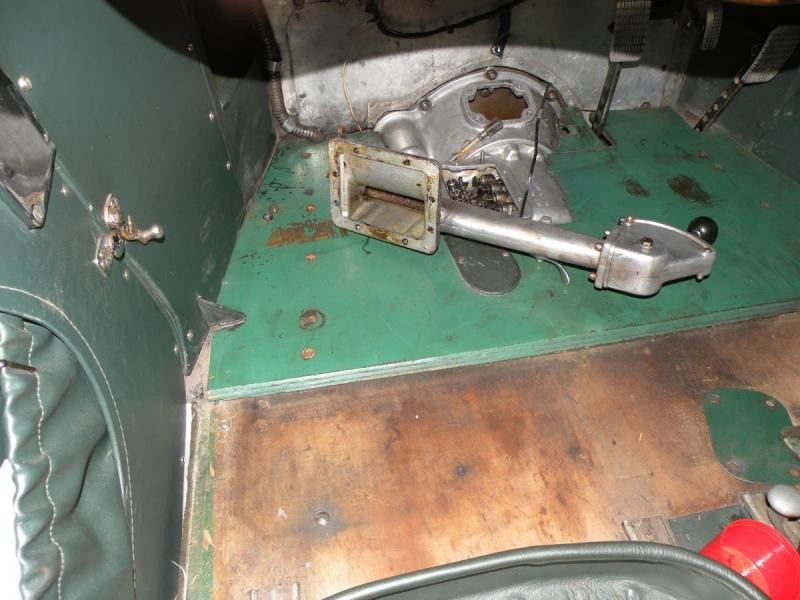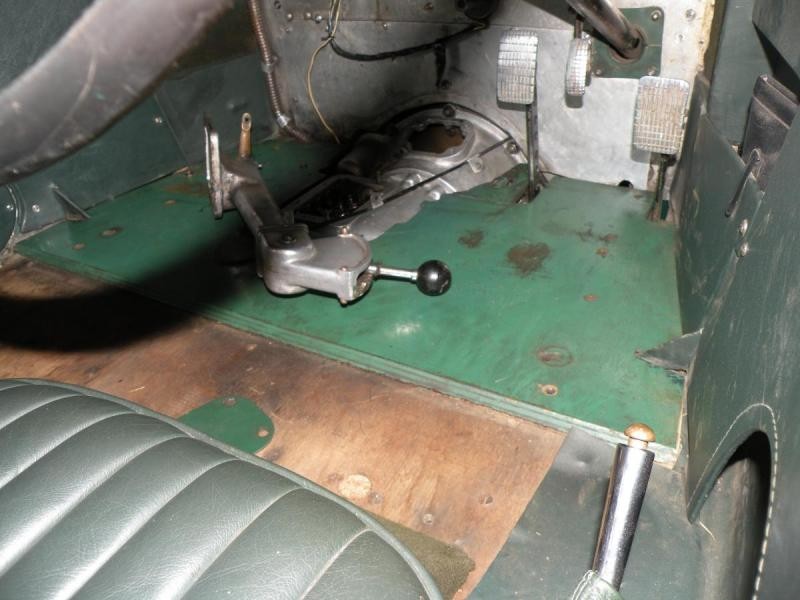 Oops! I almost forgot. I think that I have not yet explained the purpose of the very special tool that I fabricated if that is the right word.
When assembling the Top Gear mechanism it is necessary to support the lower end of the "pull rod" while fitting the strut, rocking plate and thimble nut. To do this access is restricted to a very narrow gap. The blade of this tool can be inserted through this gap. The tip of the tool is twisted through 90 degrees so the end will support the aforesaid Pull Rod. Without this "tool" the whole operation is extremely tedious to say the least.
I should have thought of it 50 years ago when I was rebuilding the very first ENV 75 gearbox I had ever seen.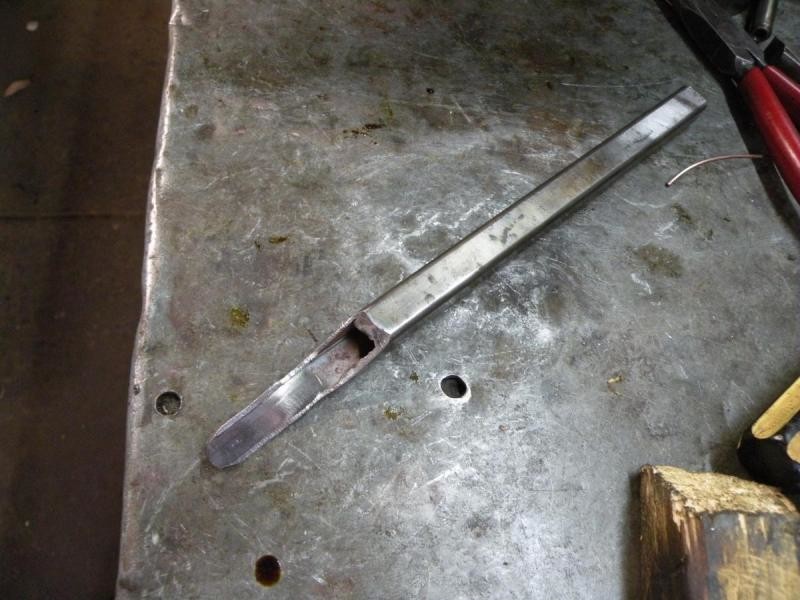 Looking back while it may seem a lifetime since I first started on my rebuild of the Lagonda Rapier's gearbox it was not until after the VSCC Alpine Rally in mid December that I first removed the gearbox from the car. I had a previously dismantled my "spare" gearbox so I could send the bands and top-gear cone to England to be relined.
1-28-2019
It is just before 3.30 pm and I have given up for the day. I am told that today's forecast was for 43 Degrees C. and it must be all of that in my little shed/garage/workshop. It was just starting to get too hot to have my head down under the dash board with the top off the gear box. This was necessary so I could make a start on fine tuning the bands for each individual gear. This requires the motor to be started as each small adjustment is done. I do not want to know how hot it was getting where I was working but for once I decided that it could wait for a day or two. It is forecast to reach 39 Degrees C tomorrow then have a cool change for two or three days.

Some of you may be aware that I was having some problems in arranging Insurance in the UK on the Rapier, necessary if we were going to take it away to Europe again this year.
Finally after some intense lobbying I have persuaded Hagerty's to give me cover for Accident Damage, Fire and Theft but not for Breakdown or Recovery. This should be sufficient, after all If it breaks down, I can fix it, or at least 99% of the time. At the worst I may have to have it towed to somewhere I can either work on it or arrange for it to be shipped home. Either way this would be a "first". I do not even want to think about it. What this does mean is, that I will need to have the car ready to ship before the end of March at the latest.
That was a couple of days ago. Now I am back in the Garage with the gearbox out of the Rapier again and already 2/3s stripped down. I just cannot get the adjustment on the bans "right" so I am going righr back to square one. Peter Meyer the Preselector gearbox Guru is being extremely helpful or as helpful as he can be with him in Germany and me in Australia.
I am going right back to square one with the "box" totally dismantled. The biggest problem is that there are multiple possible "starting points" in successfully setting it all up.