LHD Corsa to RHD Nova Sport Replica Track Car
By diyauto
You must be logged in to rate content!
LHD Corsa to RHD Nova Sport Replica Track Car
Compliments of MiniManDan118 @ pngclub.com
3-30-2013
So we've had a track Mk2 Nova for 2 1/2 years now and its gradually getting to the point where the shell is getting very crisp. Plan A was to pull it apart and restore it, but Plan B came in to action when this little beauty came up for sale.

She is a 1984 Opel Corsa 3dr, and I'll let the pics do most of the talking. To say its solid is a complete understatement. Although the Southern French sun has taken its toll on the paintwork.

The initial idea is to do the exterior as a Sport replica, stonechip and paint underneath and under the wheel arches too - make a really nice track & show car for Dad's business doing the Polycarb windows (see sig). We are in debate whether to convert it to RHD too.

And here's the photos.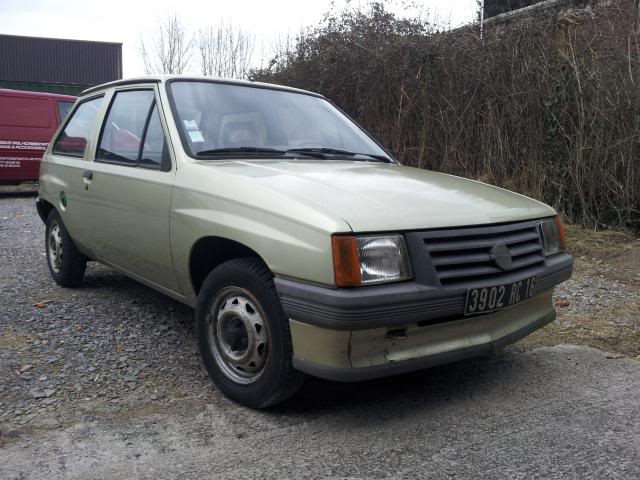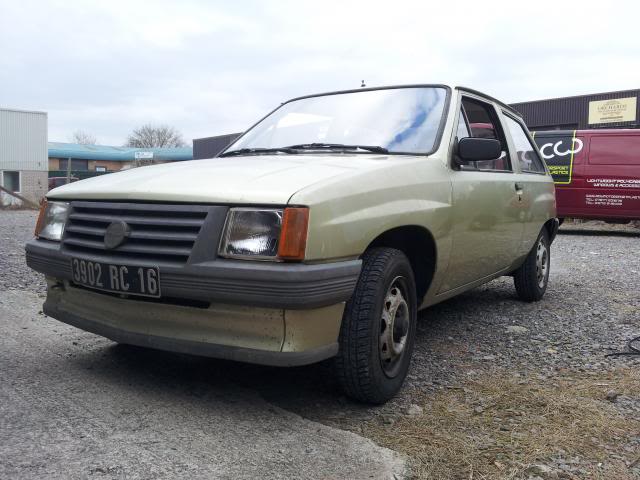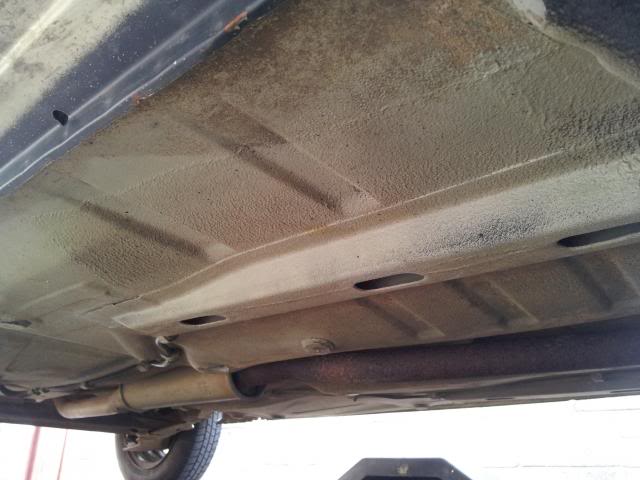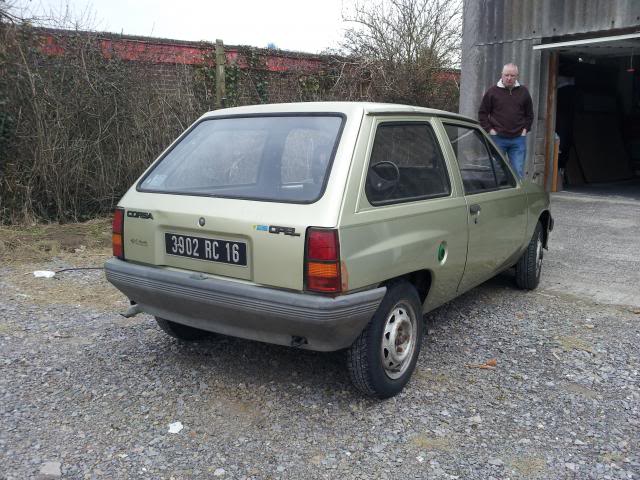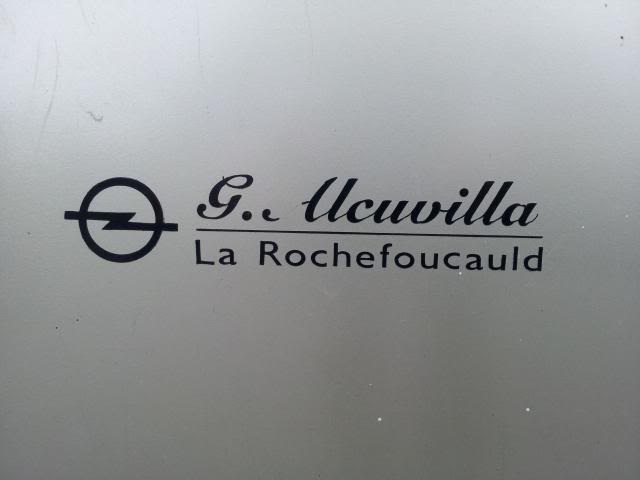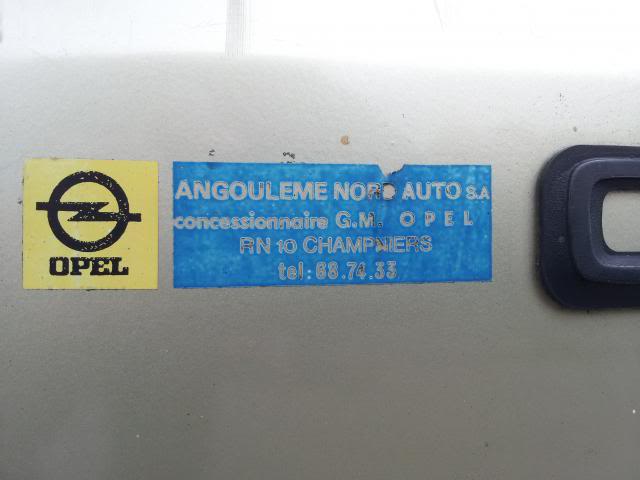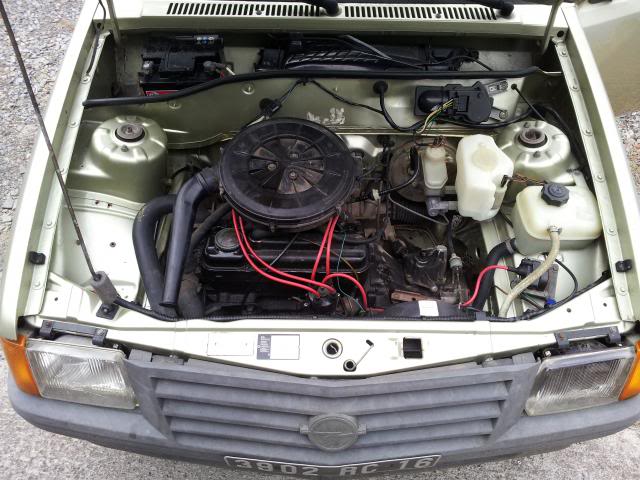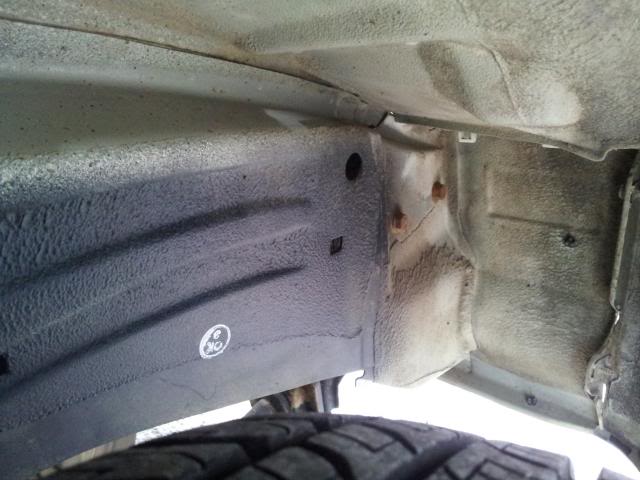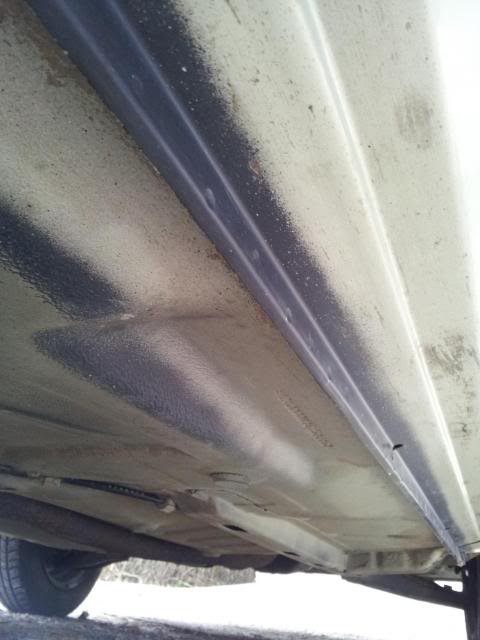 Such a shame the laquer has all fallen off! Never mind, bring on the summer project...
Its not being started on until I come back from Uni for summer, I doubt itll be completely finished in time for anything this year but it'll be ready for next year. I don't want to rush it and cut corners, the whole thing will be stripped to a bare shell and painted inside and out before reassembly with my early XE engine.
3-31-2013
Nope, only bought it yesterday! It came up late the night before and it was an opportunity not to be missed.

Here's the state of the paint and the rear arches. The only spot of rust can be seen bottom left of the picture which will be ground back to metal and treated when it goes for paint.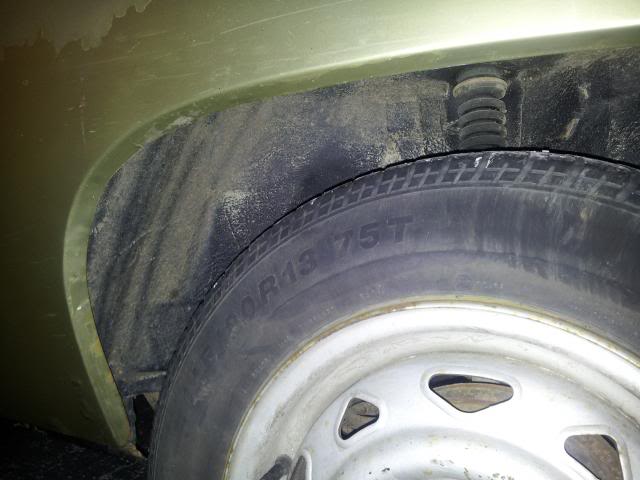 4-19-2013
Workshop now sorted for the summer months, also have a Safety Devices roll cage too. Looking forward to starting this properly

4-28-2013
Just picked up Nova No.3 to use as a doner for my RHD conversion. Its a rather crispy 89 Nova GTE, previous owner had it 21 years and covered 265,000 miles in it. Going to cut out the steering rack bracketry to use in the LHD shell, aswell as use the RHD Mk1 dash and GTE fuel tank.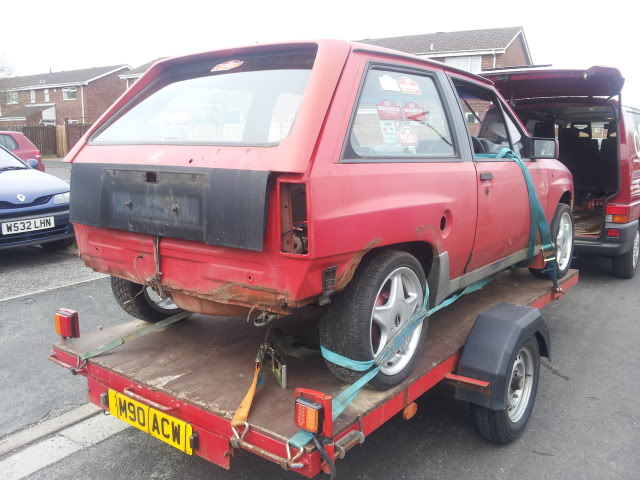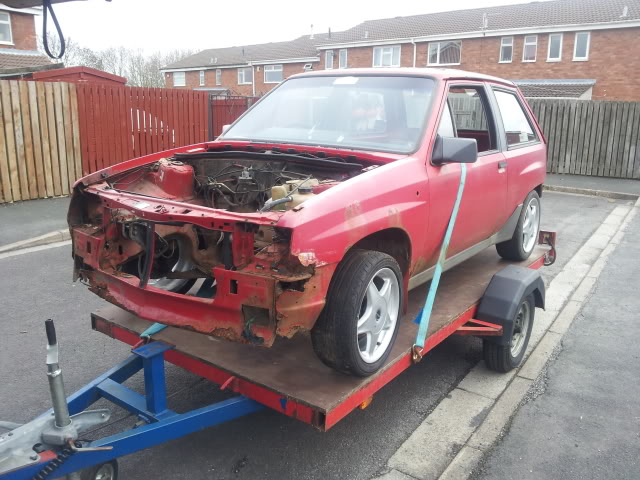 4-29-2013
How much are the early type of doorcard worth? They are in really good shape, in green and with door pockets. Just got the front pair out of the LHD shell and aren't any use to me.

Same as these but green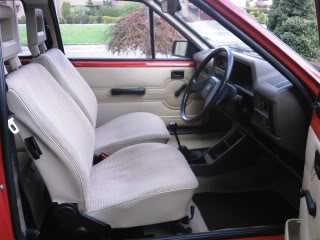 5-9-2013
Picked these beauties up over the weekend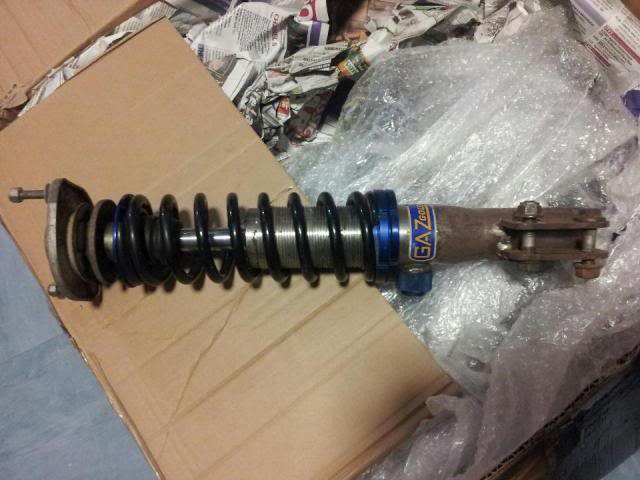 Already on to GAZ to see about new springs and re-valve as the rears are only 190lb.

What spring rate would you recommend? Bearing in mind that this is a race/track car and won't be used on the road (or at least very rarely on the road). I was thinking 300lb front and 400lb rear. I won't be running a front ARB.

2 weeks and I'll be getting started on all of these properly when I have my workshop. Can't wait

Just got in contact with GAZ, and they recommend using 400lb front springs and 450lb rears with the tyres I will be using. Think I'll trust what they say and go with that.

Quite surprised they also said my shocks don't need re-valving as they have a large enough range already. Happy days!
5-30-2015
So is nearly June which means time to get the workshop. Started the clear up operation today.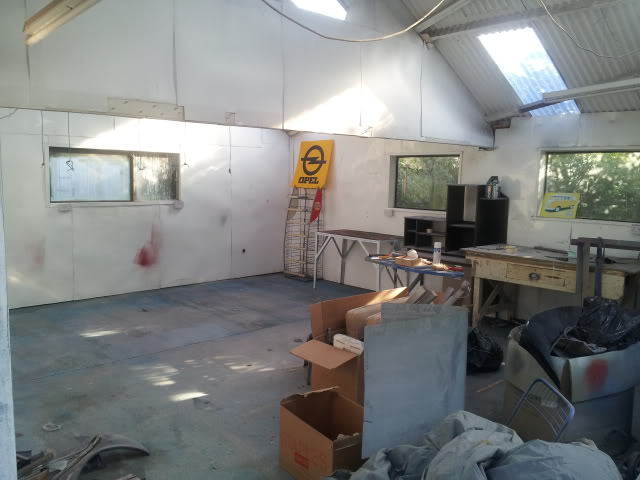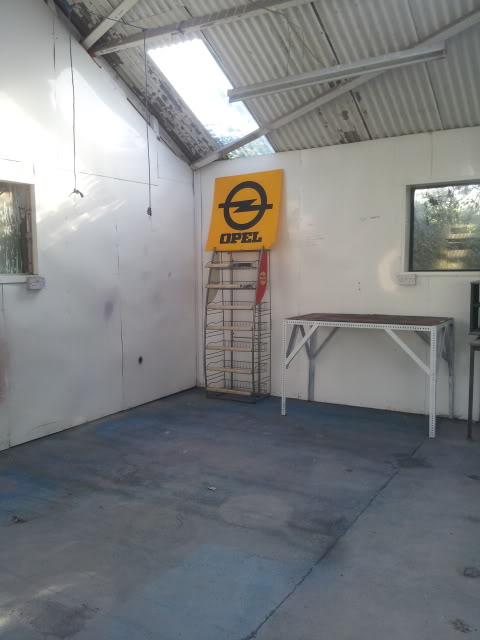 6-3-2013
Todays progress. Aim is to get everything off the doner GTE that is possible then get it gone.

Gave the underneath of the french car a deep clean before it came into the workshop too.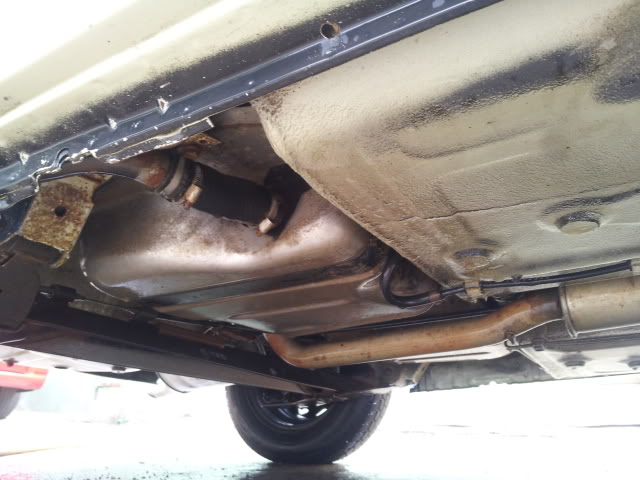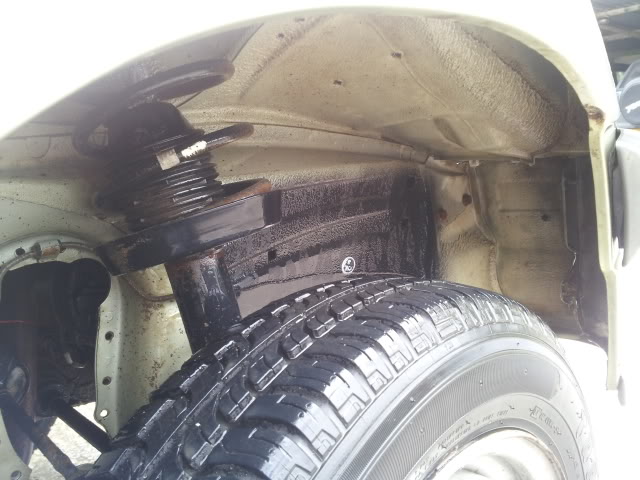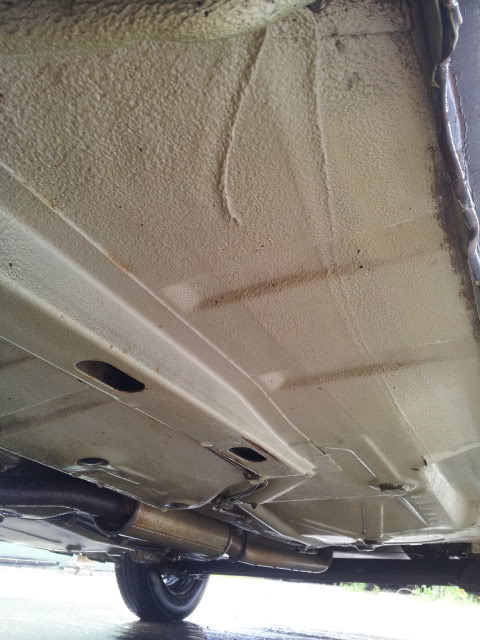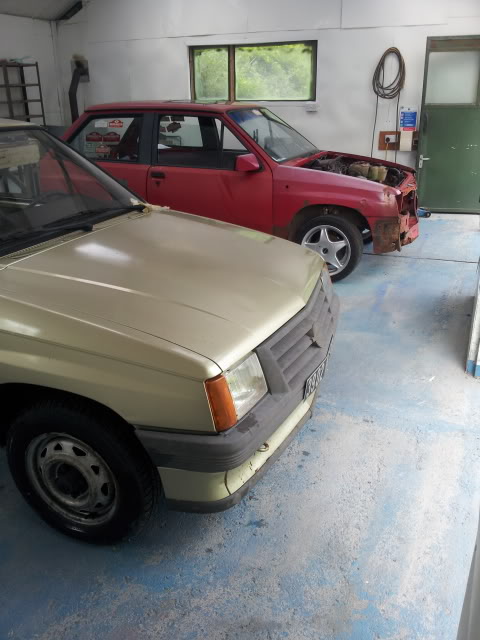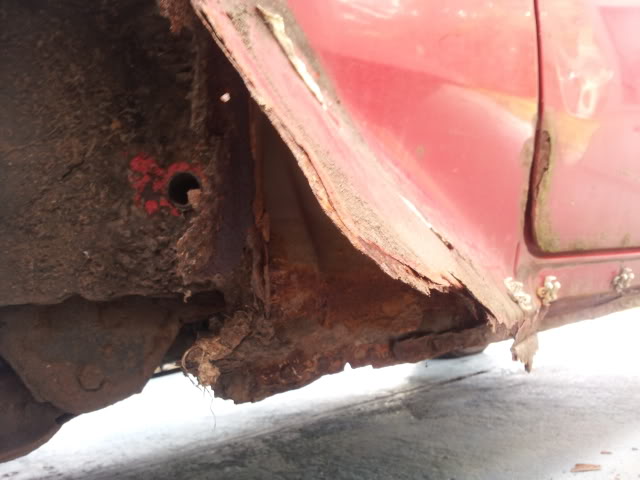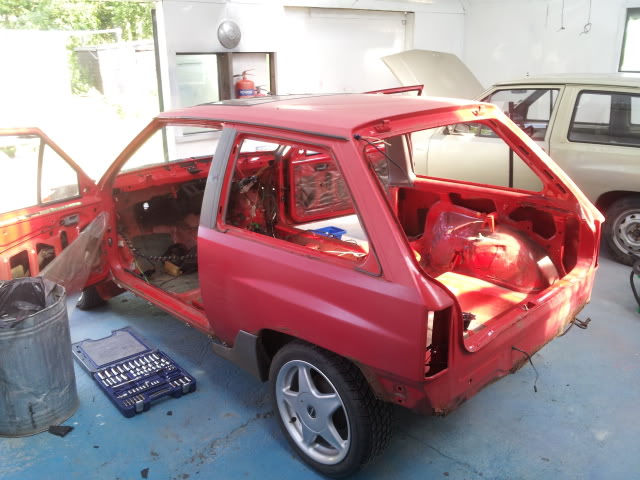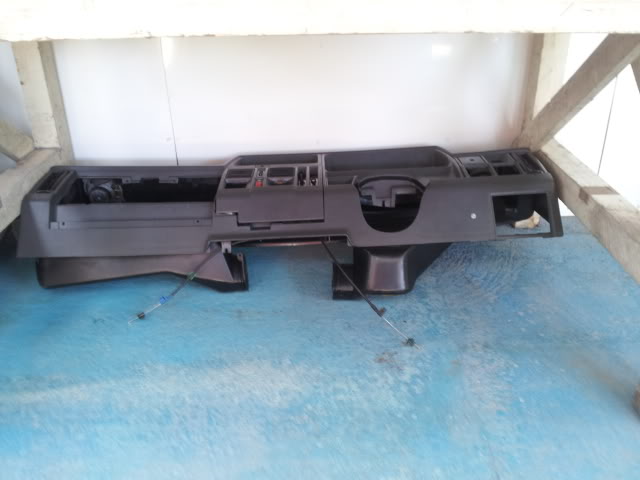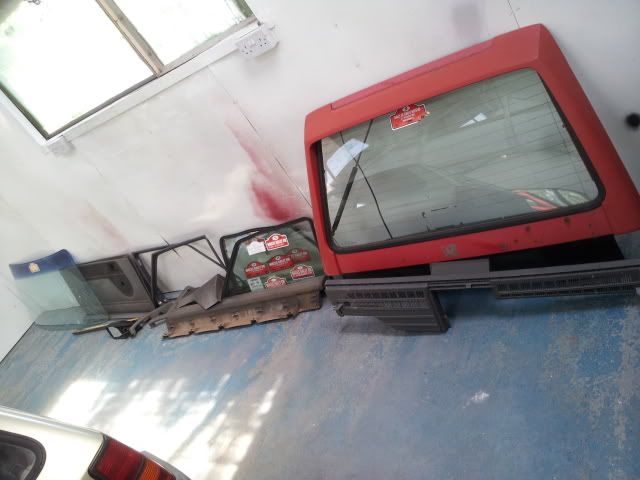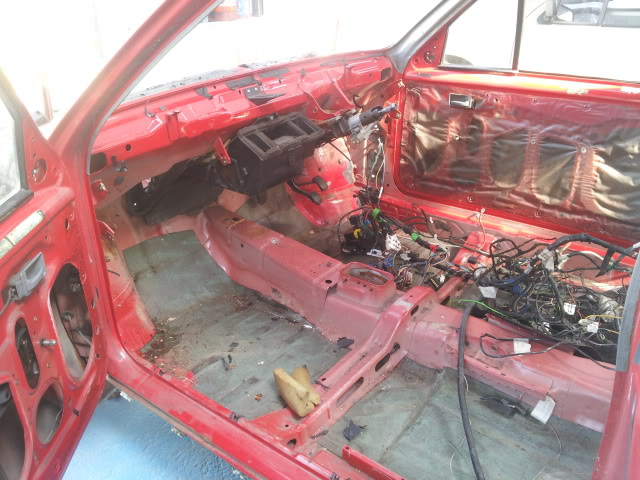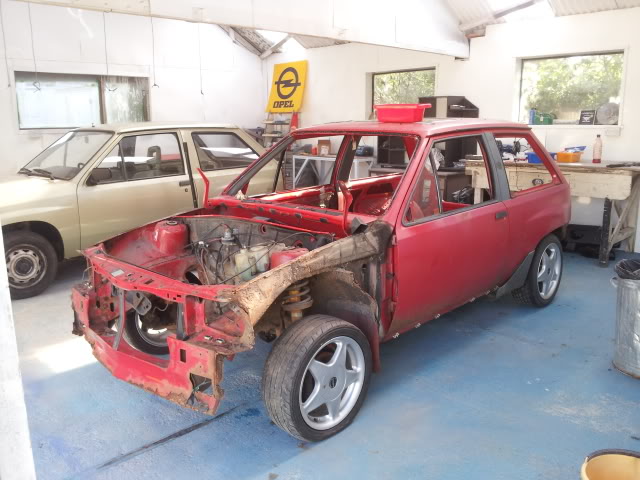 Been busy again today...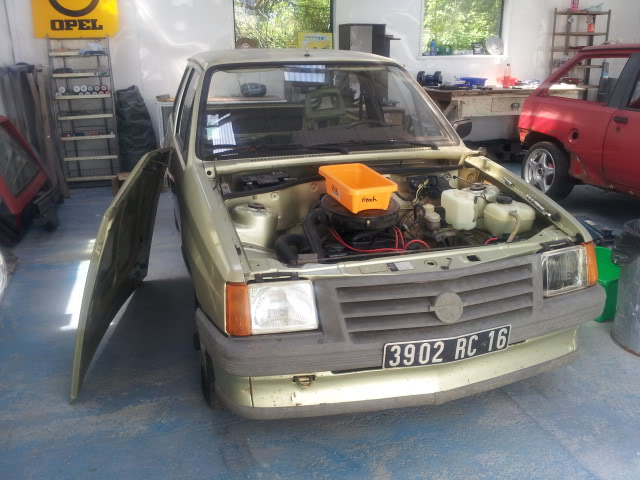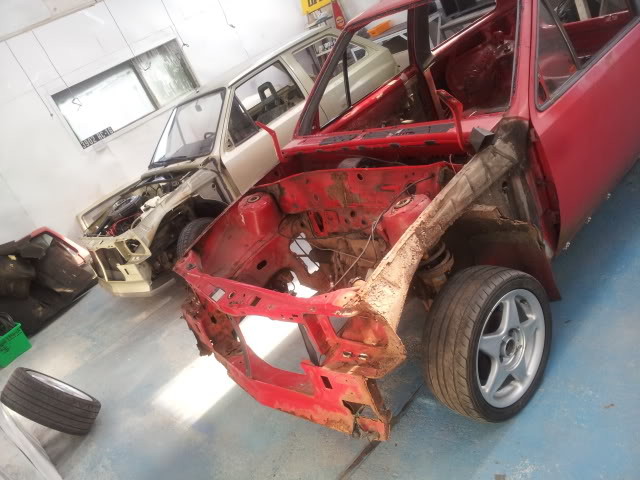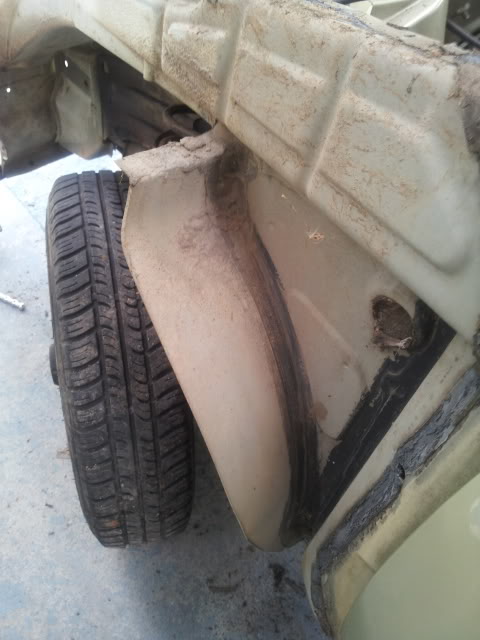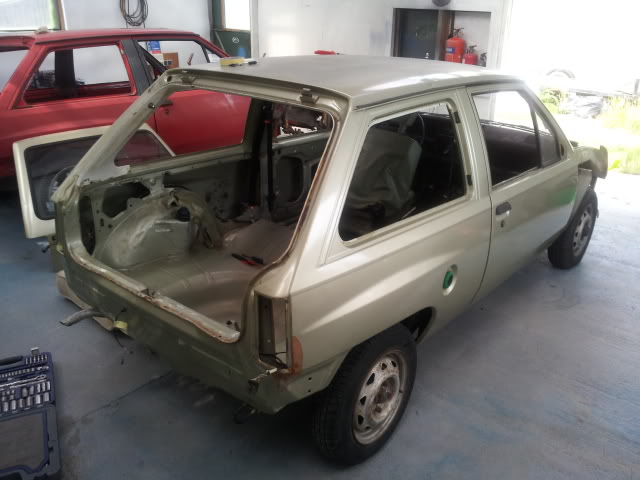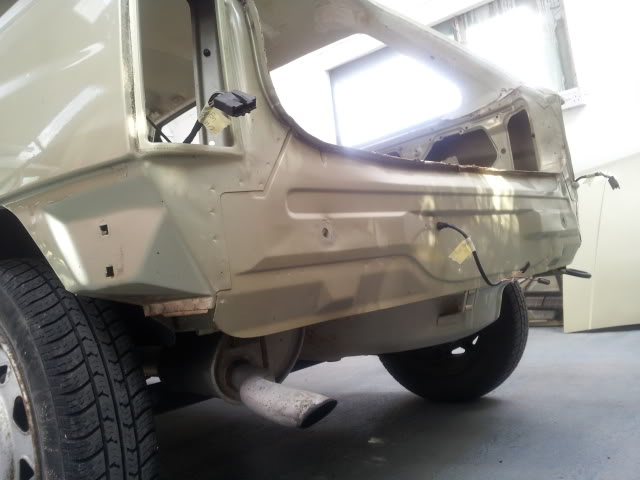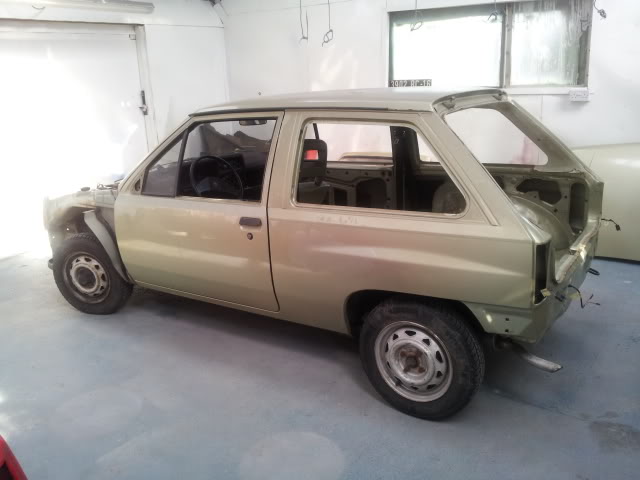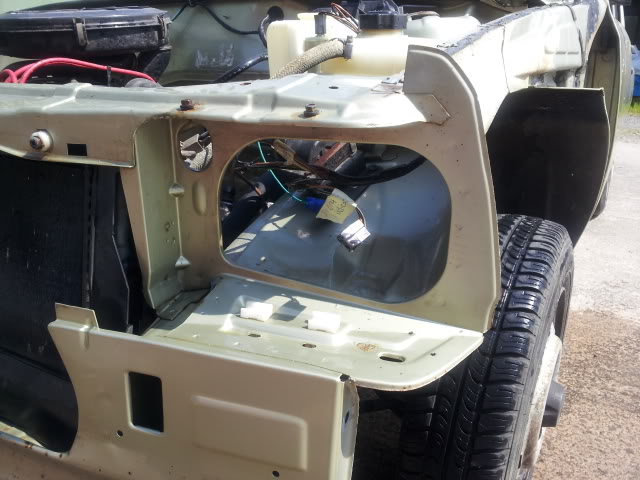 6-4-2013
The only rust holeIve found so far is in the battery tray, everywhere else is completely solid which is brilliant. Challenge for tomorrow is get the 1litre engine out and clean up the engine bay ready for welding in the strengthening soon.

New present turned up in the post today too, cheers to 8valve-Craig.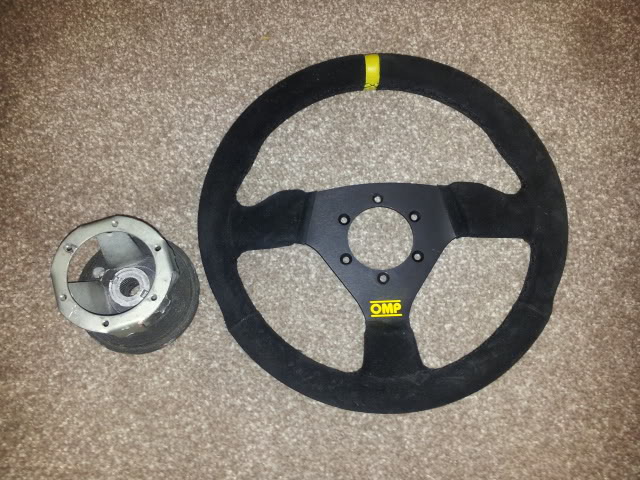 Got this too, add to the Sport Replica authenticity. It's even got a 2-speed heater. Its all in the detail ya know, the reg plate will be the correct year for a Sport too when I get it reg'd in the UK.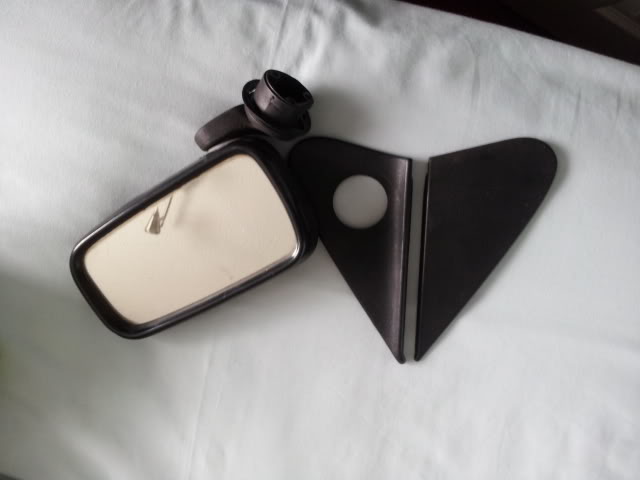 Being LHD means Ive got a matching early passenger mirror too.

The exterior will be as close to a real Sport as possible apart from the wheels, then the interior will be stripped out but tidy with a nice black flocked Mk1 dash.
6-5-2013
Today's progress. Engine was a little fighter, took a while but got there in the end.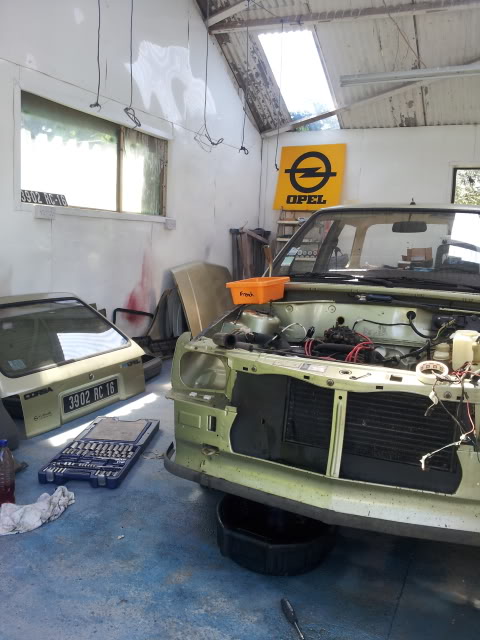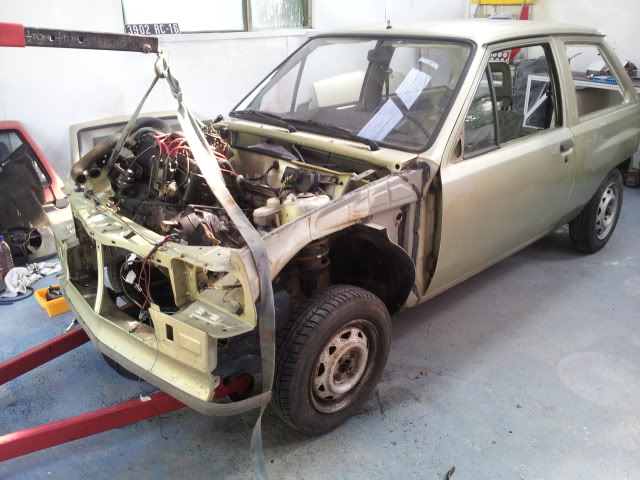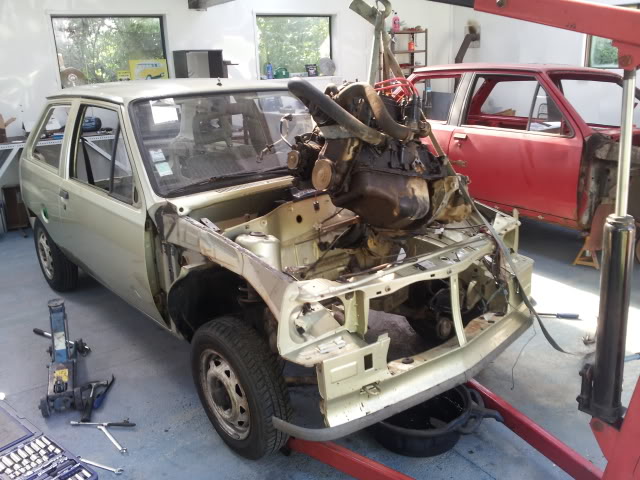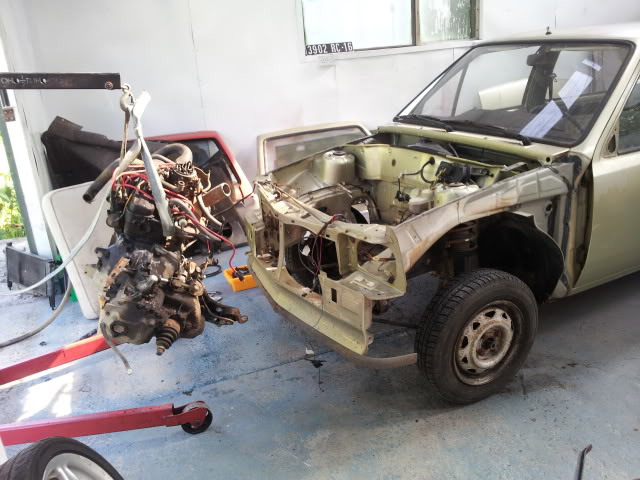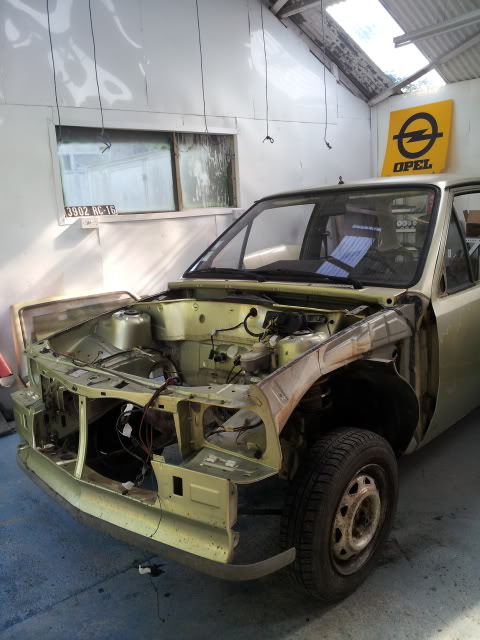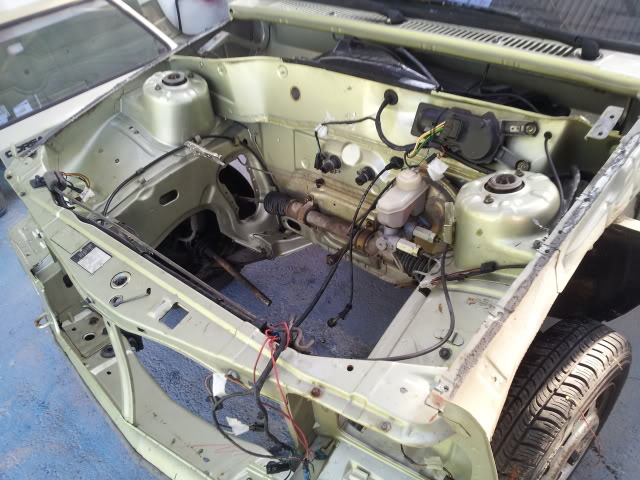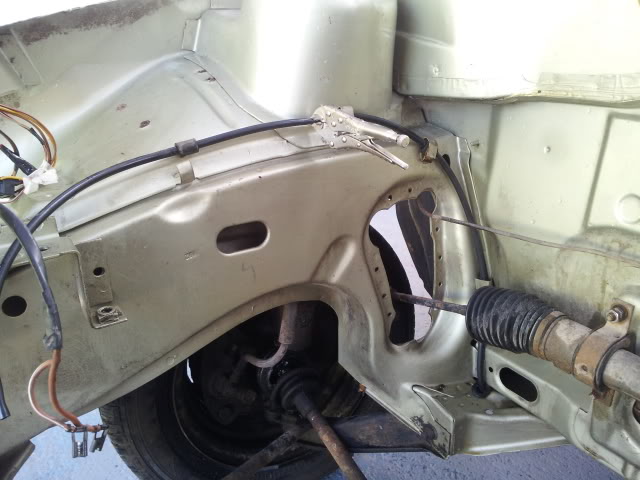 Rest of the interior, wiring loom and steering rack out tomorrow.
6-6-2013
Headlining out today and doors stripped right back to their bare shell. Also undid loads of other little bits like door and boot catches, the stuff people mask up when painting which really bugs me. Only had a couple of hours free today.
6-9-2013
More progress...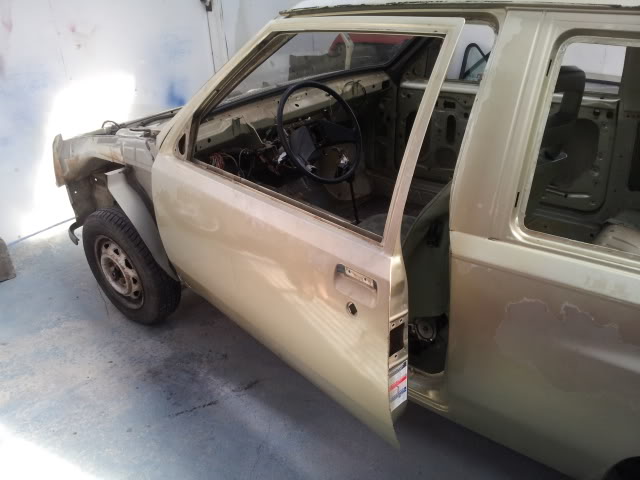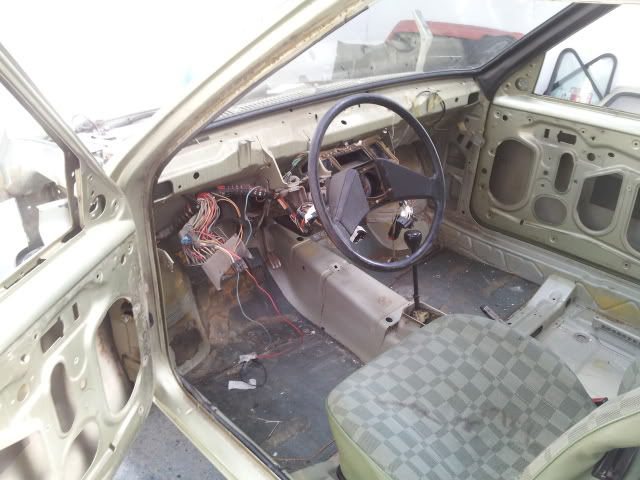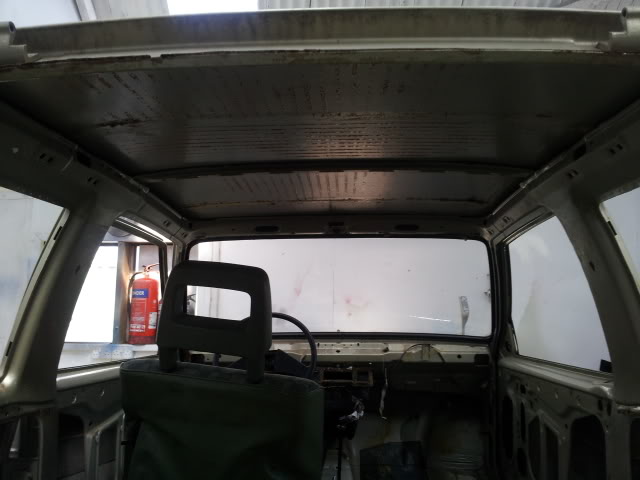 6-10-2013
Got the 1.0 loom out, brakes and pull tank out today aswell as starting on the RHD conversion...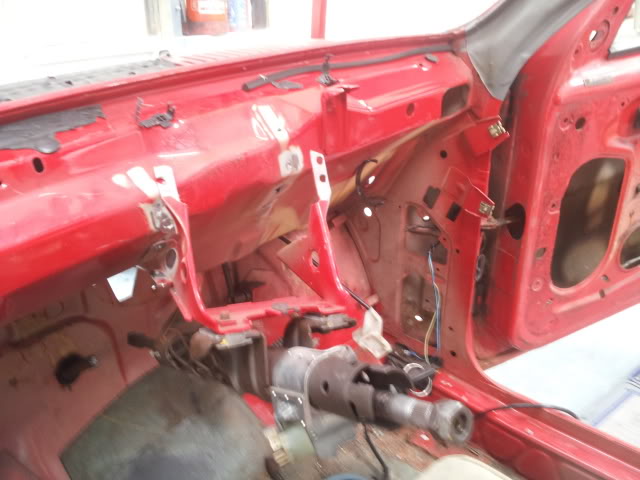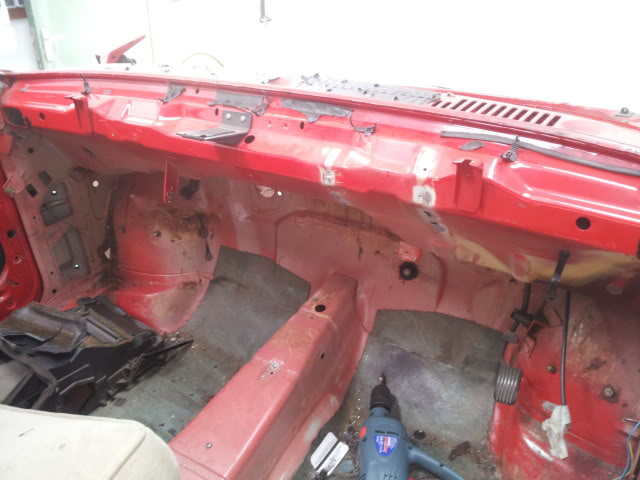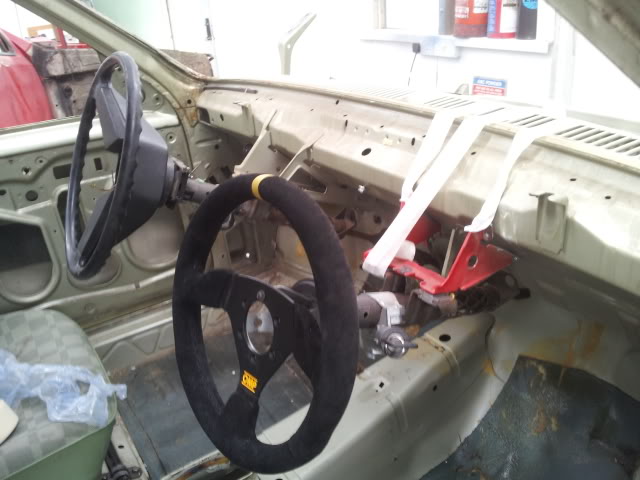 Hmmm, this is too tempting to keep!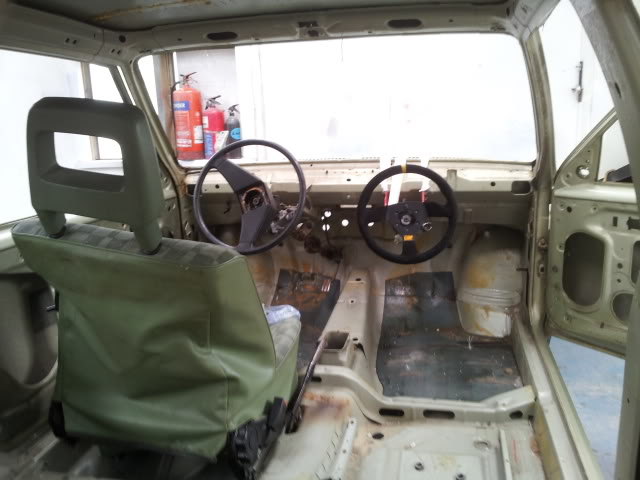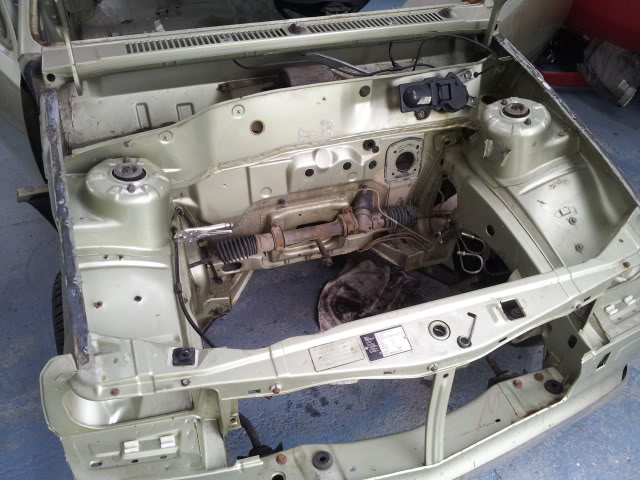 On the rear beam, pretty cool. Stamped 19th July 1984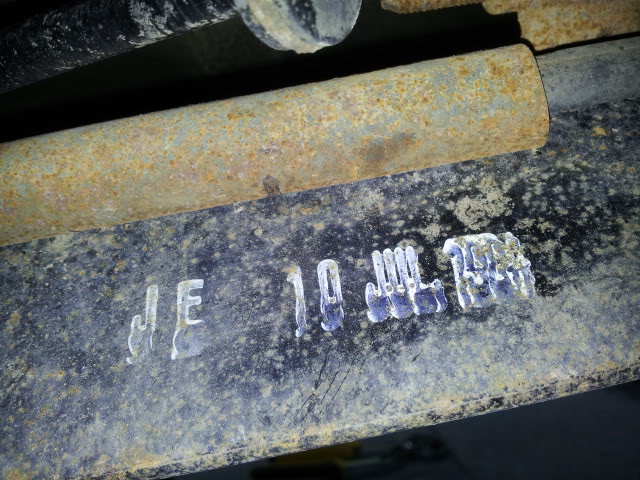 Tank straps repainted, masked up the original stamps for a bit more OEM-ness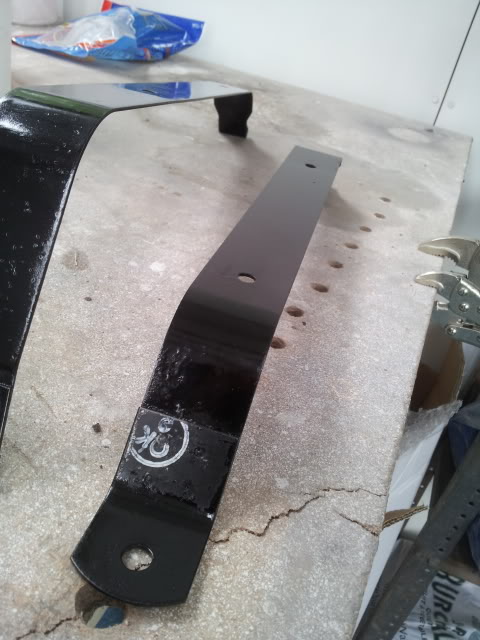 I'm going to take some photos of the differences between rhd and lhd shells so anyone wanting to do the conversion doesn't go in blind like I have. Aslong as you have a donor shell its pretty straight forward (so far!). I'm going to cut the bulkhead out of the GTE, hold it up to the LHD shell and use it as a template of where to cut/drill for the steering rack and pedal box. Should be as accurate as possible then... Let's hope!

Only noticeable difference will be the windscreen wipers going the wrong way. I was thinking of replacing sections of the scuttle from the GTE and welding them to the LHD shell, but it seems a lot of work that can easily go wrong and look rubbish if did go wrong. I will be sat low in the car so it affects only a very small portion of the screen in the top RH corner. Ill be fitting a subtle sun strip to the top of the screen if I cant refit the sun visors on with the cage.
6-11-2013
RHD to LHD bulkhead differences. Actual bulkhead is identical, just holes & brackets that need moving or swapping for RHD equivalents.

LHD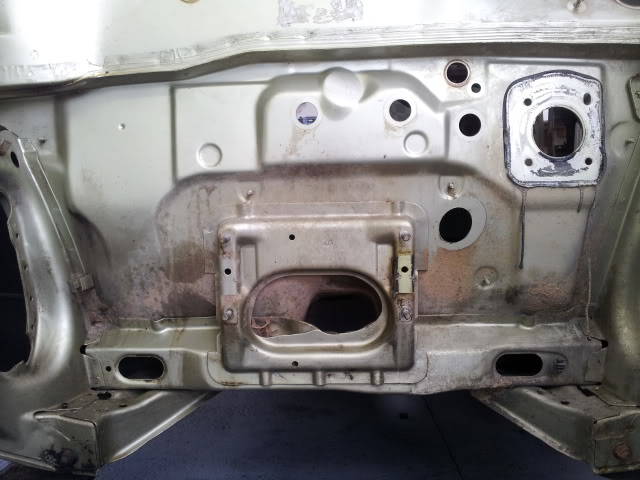 RHD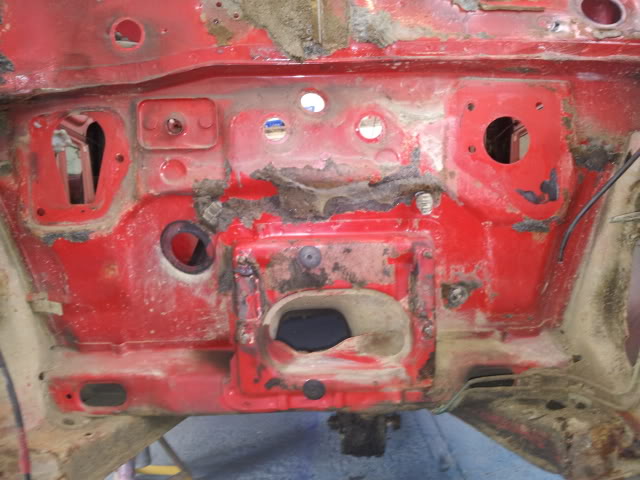 Removing the steering rack bracket was a complete nightmate, loads of hidden spot welds. Got there in the end though with not too much damage to the bulkhead.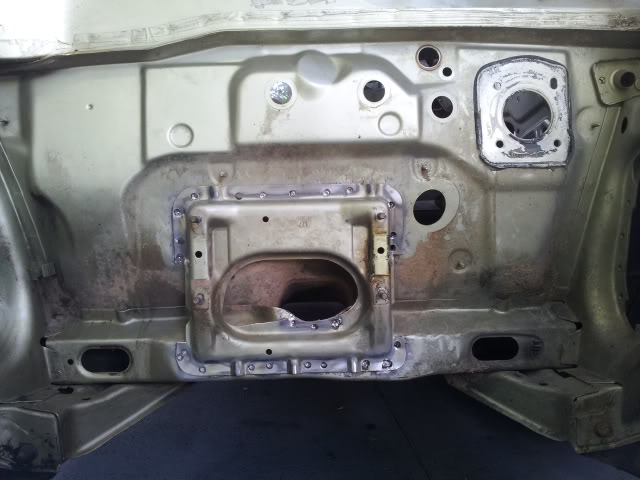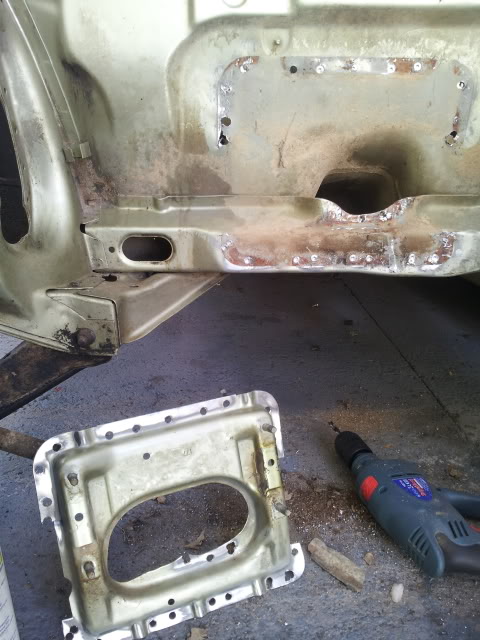 Tomorrow I will be cutting the bulkhead out of the GTE to use as a template to drill all the holes needed in the LHD bulkhead.

Is the difference in master cylinder because its an early car vs a later one, or because it is LHD?
My Redtop...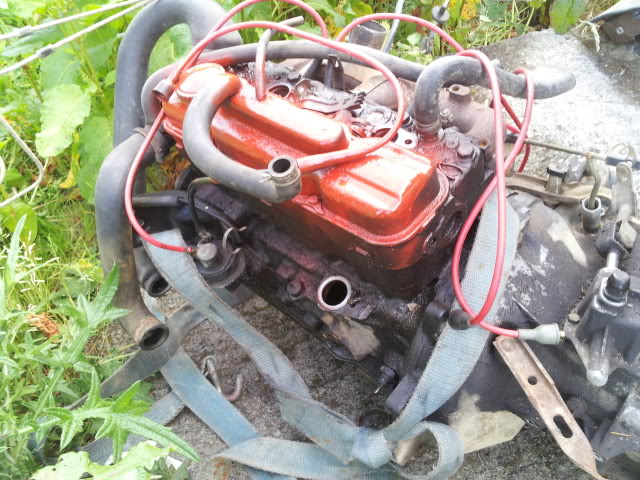 What ya think?
6-12-2013
Superb progress today, got the RHD pedal box in and mounted. Just need to pop in some plates & welds to get rid of some extra LHD things. Luckily used a RHD bulkhead out of the GTE as I didn't realise how different the holes were for the brake master cylinder.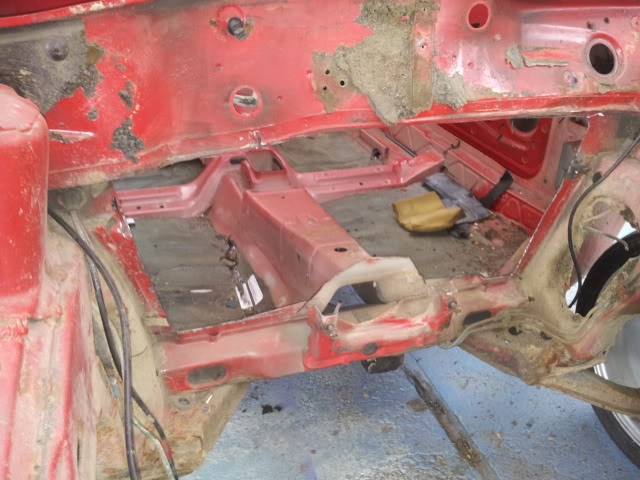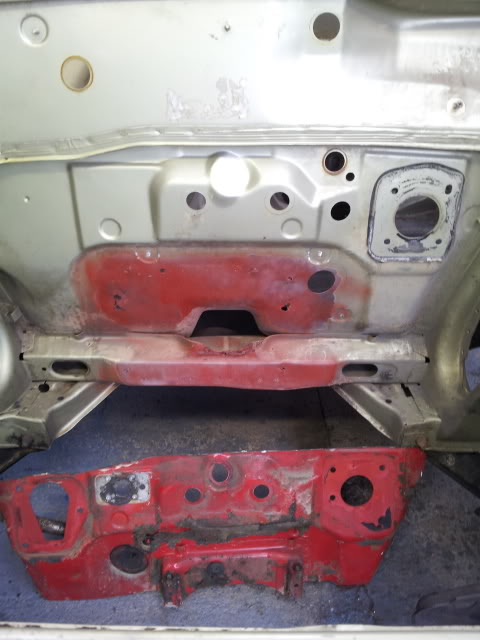 Clamped the RHD bulkhead onto the LHD shell and used it to template where to drill & cut. The 2 heater pipe holes are identical luckily, and so is the pressing so once I'd trimmed off the little screw threads that hold the plastic brake line clamps it fitted up nice and easy.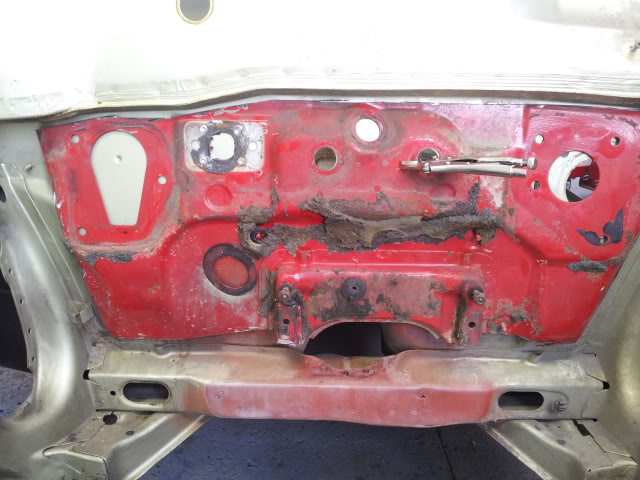 Sprayed over the template to show where to cut...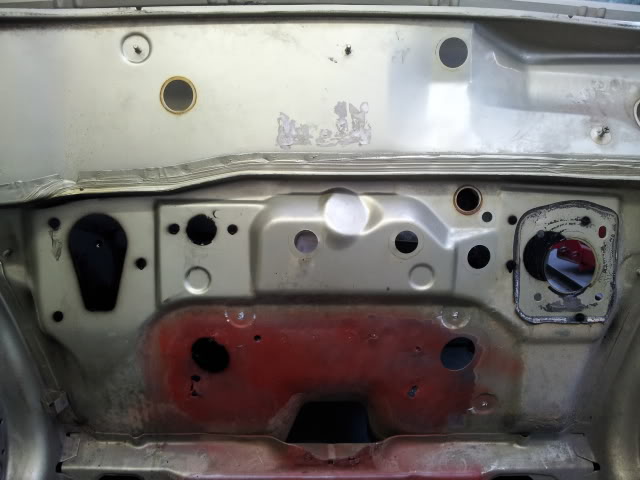 Started cutting and drilling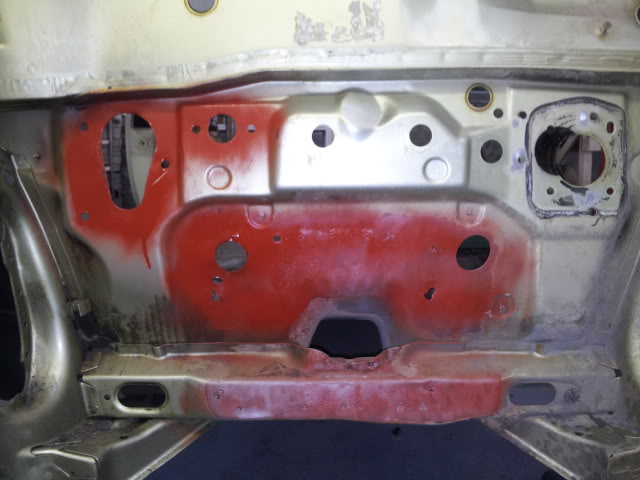 Bolted up to the bulkhead. Still need to cut hole for brake MC, but will do that once I've welded the current hole up.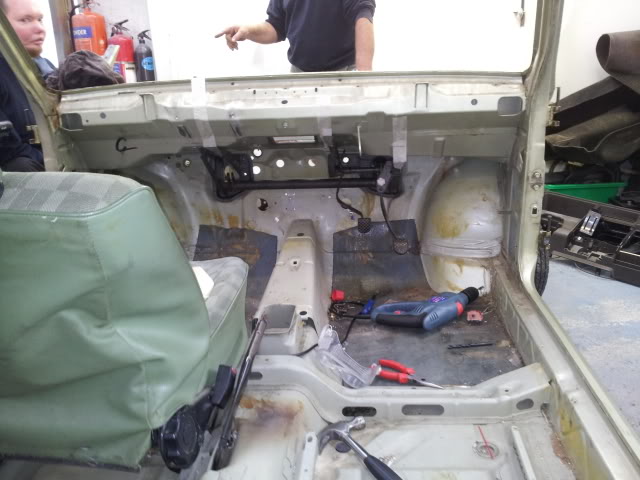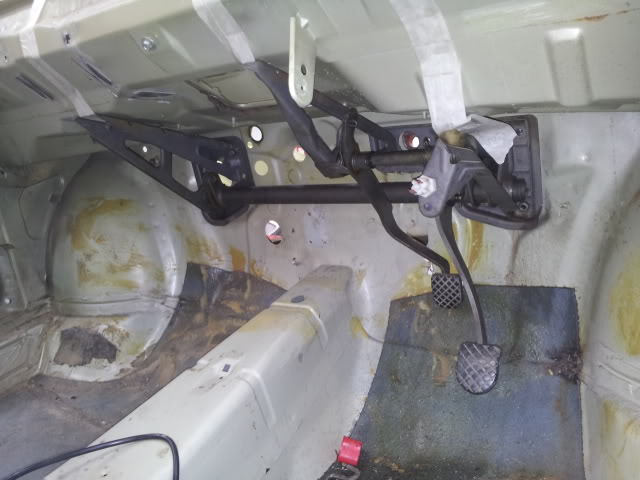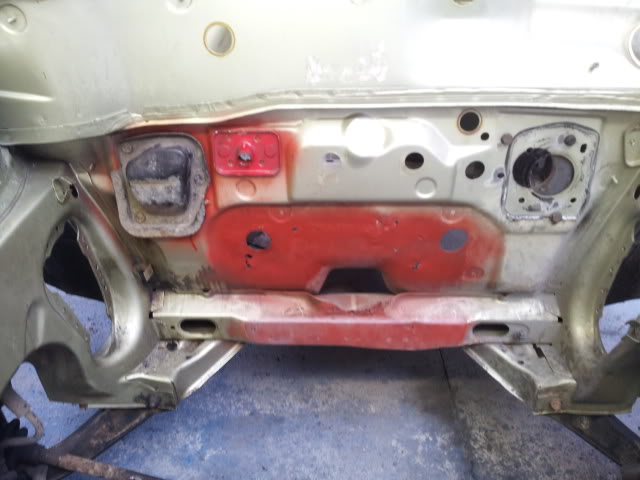 Need to get my welder sorted now so I can get on with putting the column and rack bracket on. Once its all built up it will all come apart again and be prepped for painting as well as cleaning & painting all the little bits too.
6-13-2013
Got my welder up and running today. Got rid of the master cylinder hole ready to redrill for the later master cylinder, and also got rid of the LHD steering column hole.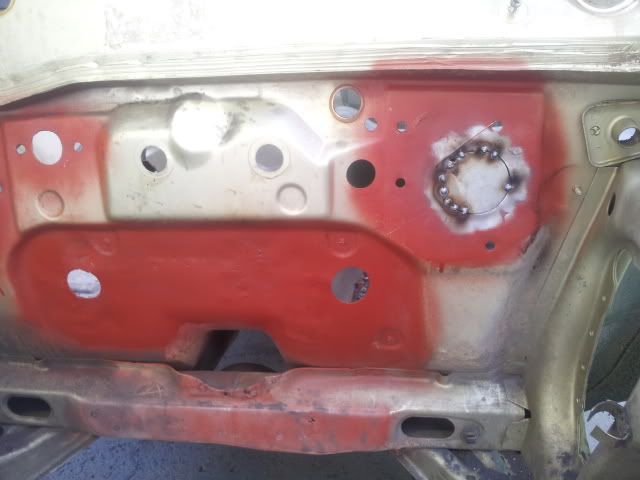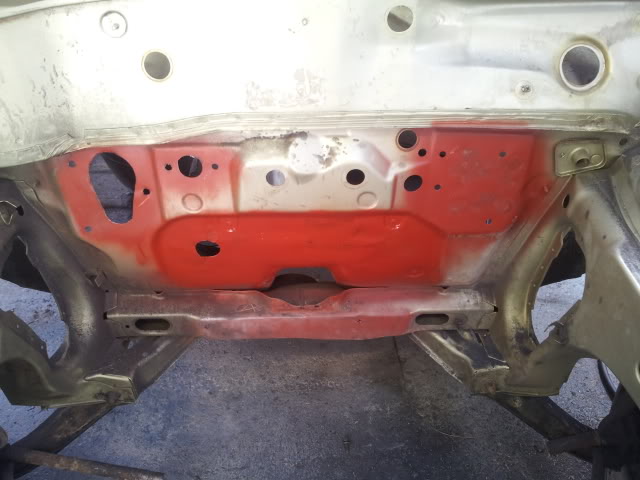 Then, ta da! RHD rack mount tac'd on, ready to stitch weld tomorrow morning.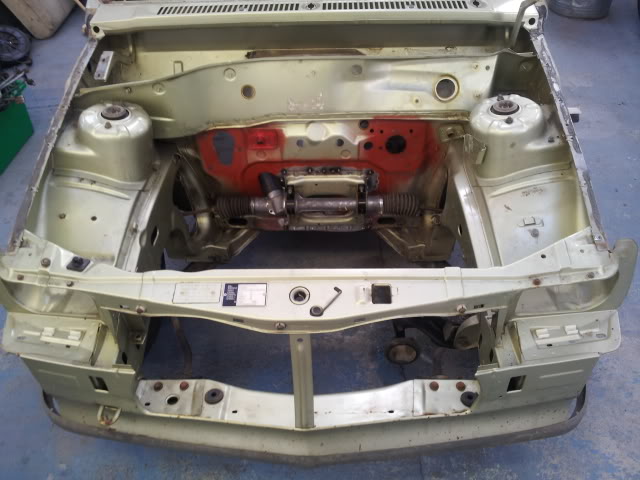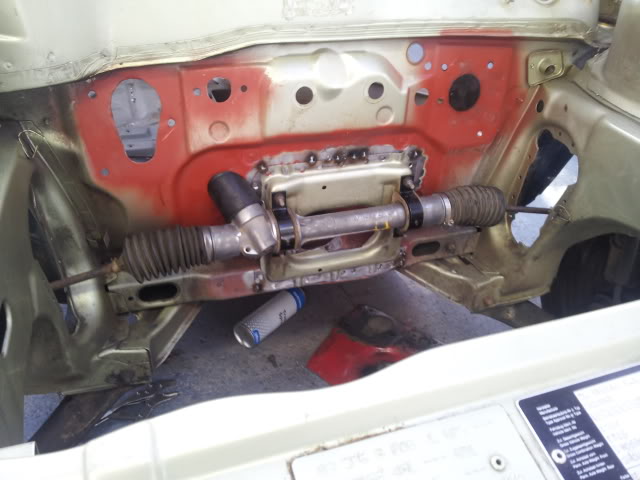 Master cyl. hole marked out ready to cut too.
6-14-2013
Went to weld on the steering column bracket this morning and thought screw it I want a double UJ Corsa column so I can straighten up the column. So, off to the local scrappies and got a not PAS column out of a Corsa B. Only issue was it was underneath a Ford Galaxy and right up next to another car. And had smashed glass everywhere, but we got there in the end. Hands cut, head beaten!

The bracket is only held up by string, but it is the standard Nova bracket moved slightly right and the 2 offset holes straightened up to each other. Wheel is nearly straight, about a million times better than standard.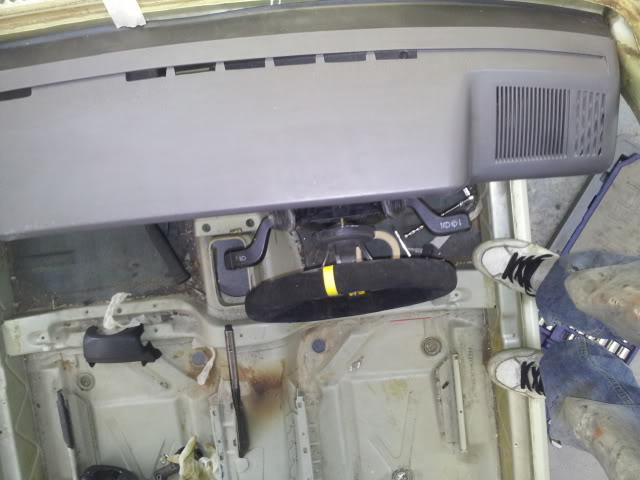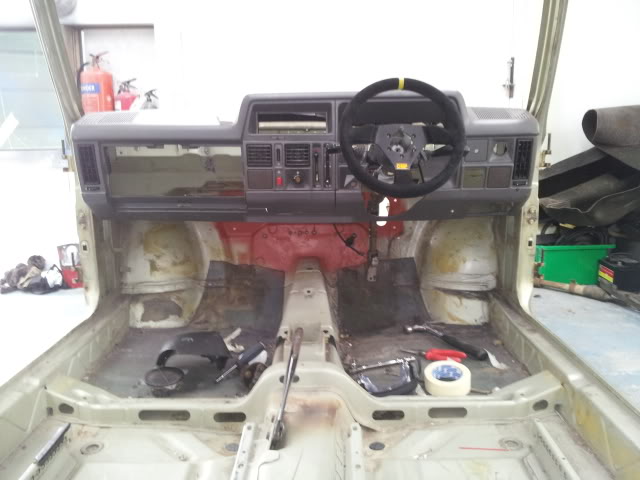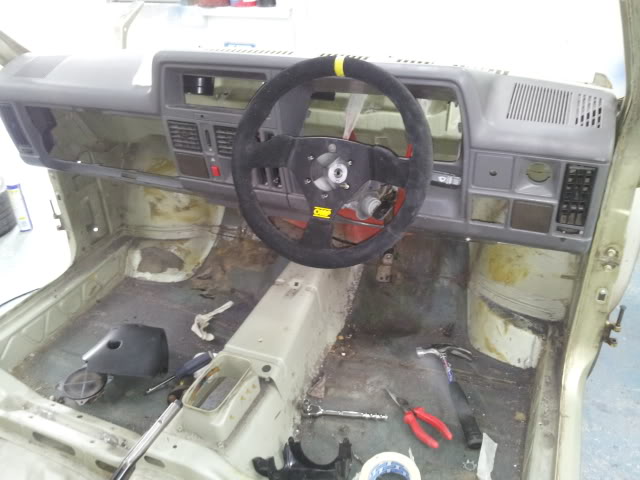 6-15-2013
Corsa b electric power steering rack turned up today, it's a manual rack with a quicker ratio turn to turn. 2.6 I think, I believe the track rods just need to be swapped from corsa to nova items.
6-17-2013
Cheers! If I can do it anyone can. Im only just 20 with no professional training when it comes to mechanics. All self learnt/taught. The only thing im qualified in is aluminium tig welding, which is pretty useless on this! No progress this weekend but will be back on it this week. Hopefully get the steering assembly finialized and welded into position and start on the chassis strengthening or roll cage fitting.

This is my third restoration though, I rebuilt both of these hence the name mini man Dan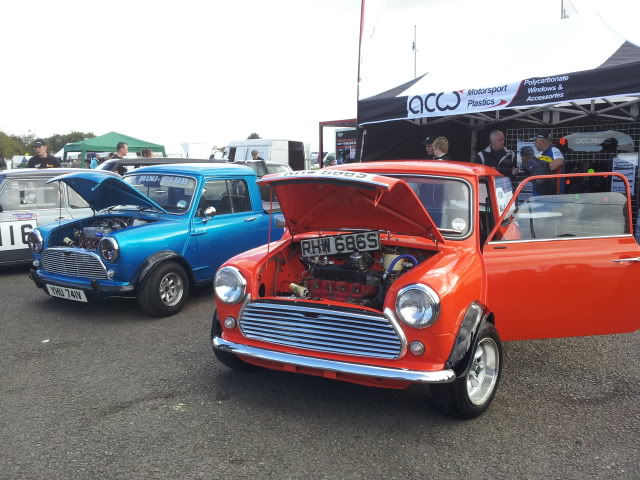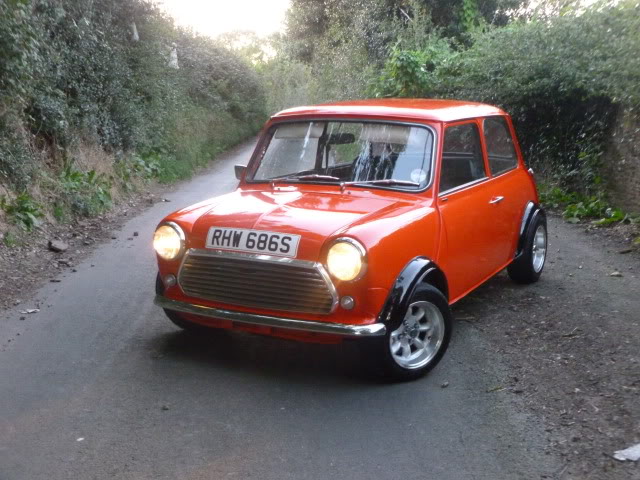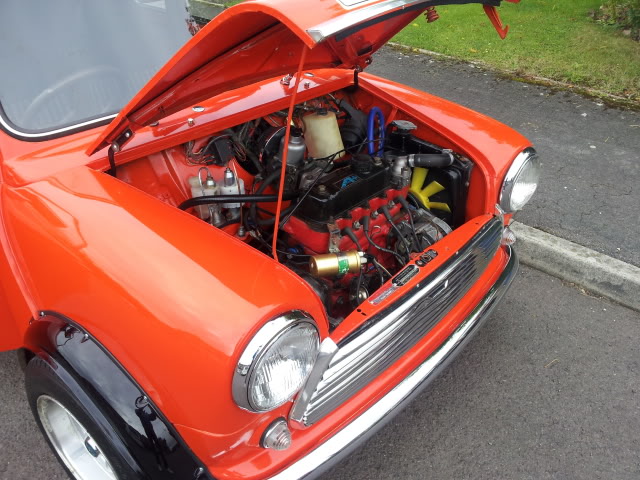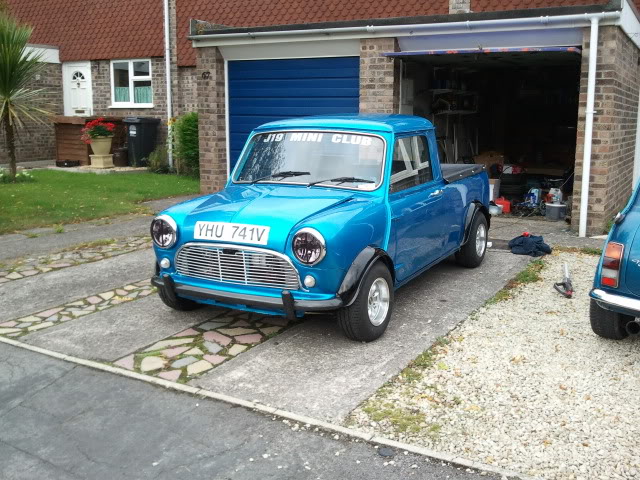 It was when I sold the pickup I ended up buying this, and after 3 years in my possession its finally in need of a major overhaul hence this build.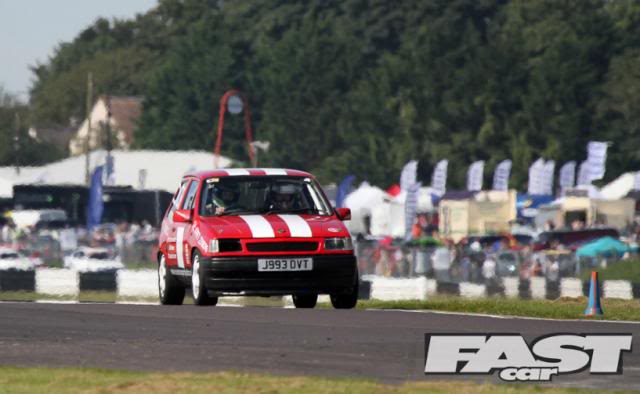 6-18-2013
Steering rack mount welded on...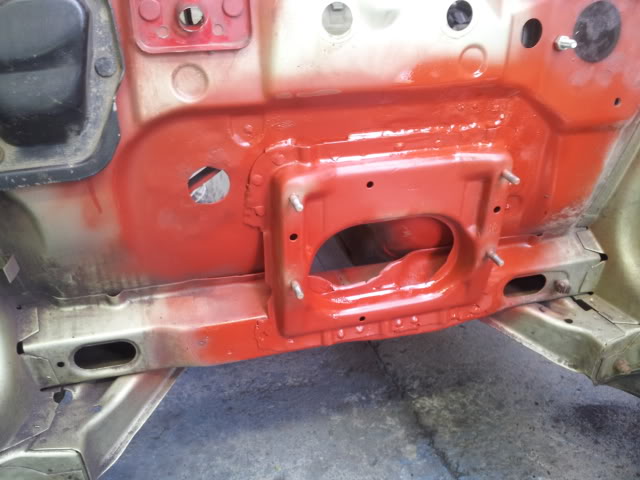 Pedals all there now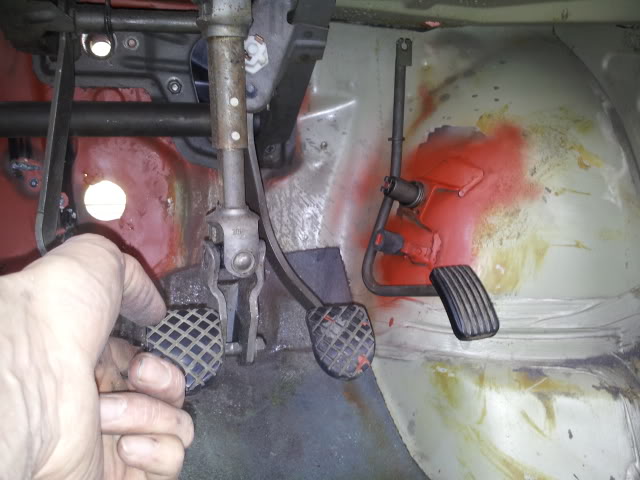 Looking much more complete with Corsa B column, stalks and shroud.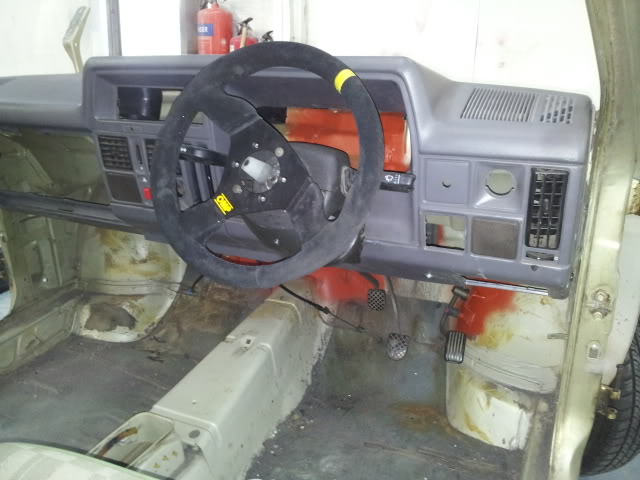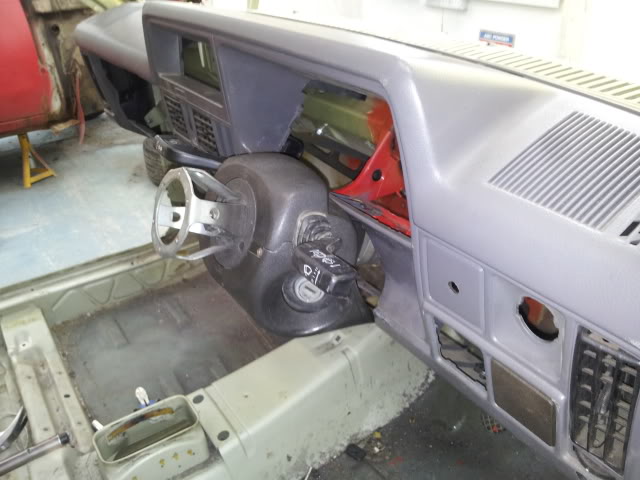 GAZ Golds test fitted to the rear, springs are very close to bodywork so will need some slight modifications. They had to go on on their lowest setting, ofcourse...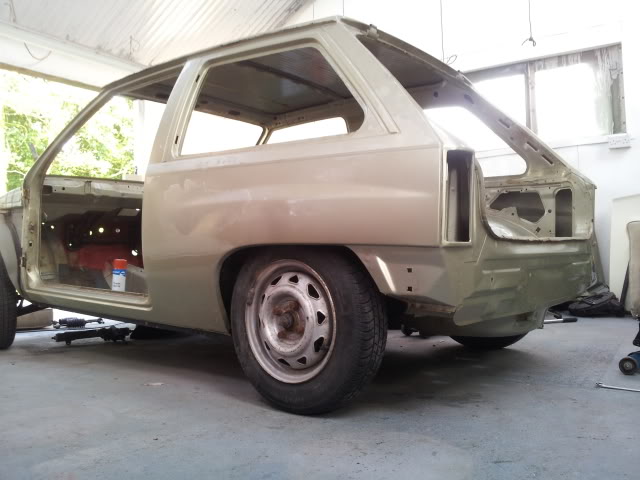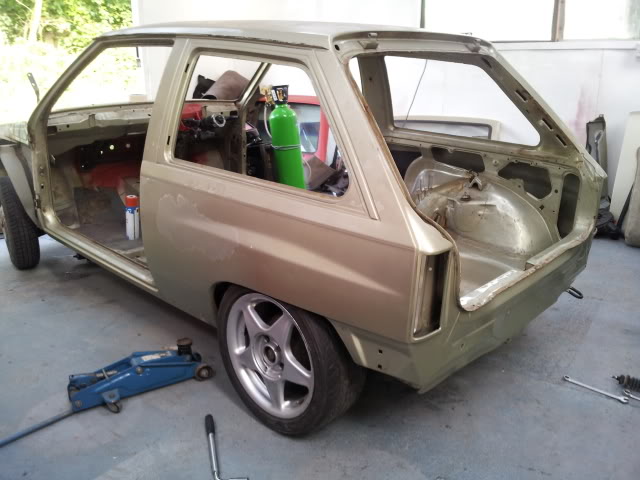 6-19-2013
Thanks for the positive comments! It will be worth all the effort, in the end....

Finished stripping the poor little GTE today, cut the rear corners out as they were one of the only panels that didn't have rust-worm. Also handy to keep if there were ever to be any incidents on track. Also started removing seat brackets in the French one.

Now its loaded up on the trailer ready to go to heaven I can remove the wheels, suspension etc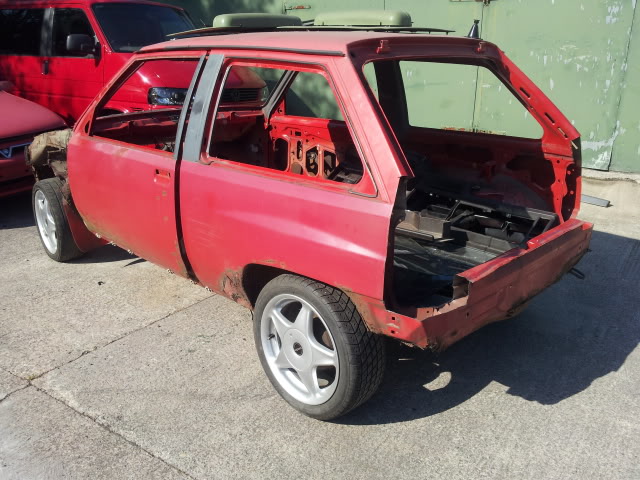 6-25-2013
Been buying more presents for the Corsa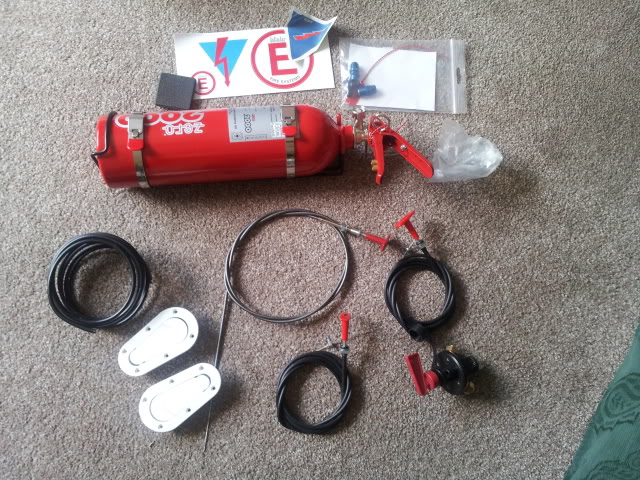 6-28-2013
Started on the passenger rear arche today, needed a few repairs. Just waiting for dad to tow my other one down to the workshop so I can start on the engine conversion. It's a pain not being insured on the van!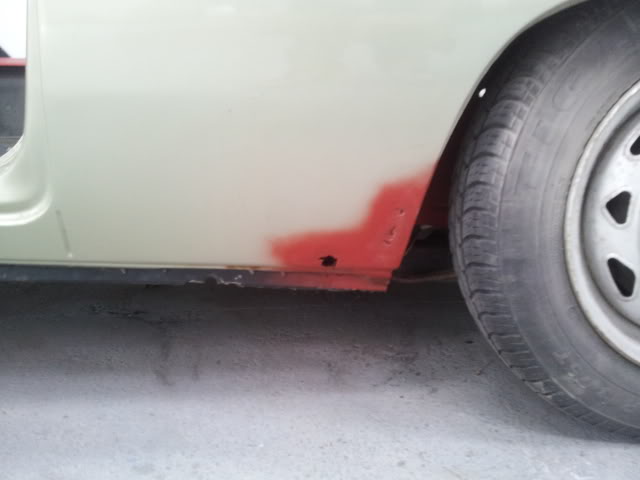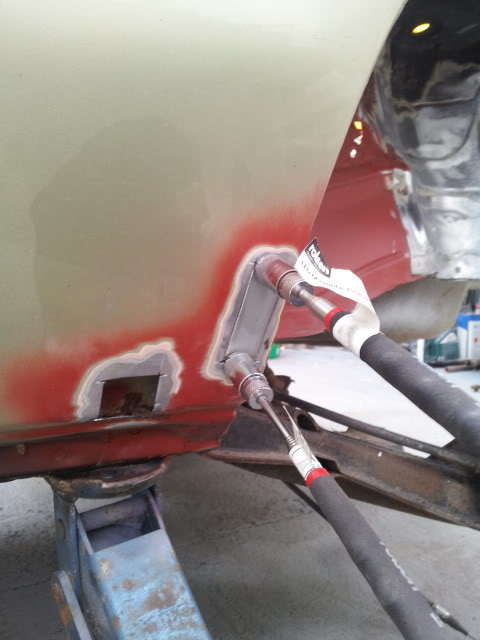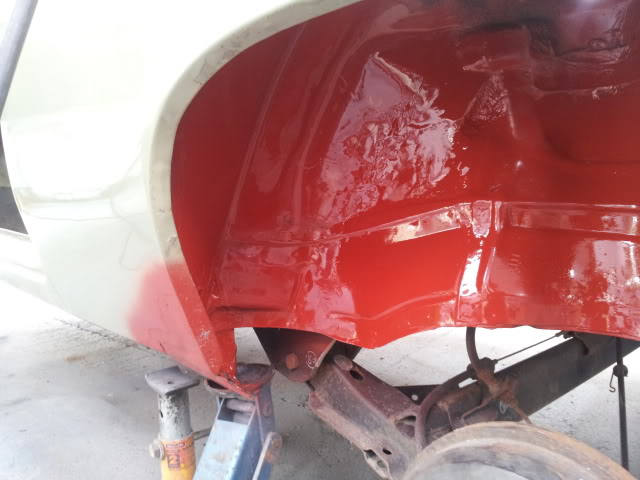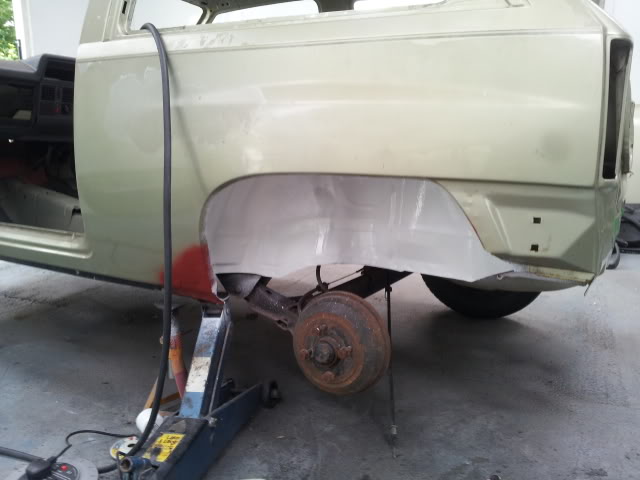 6-30-2013
Test fitted rear coilovers after reshaping the arch slightly and spring now has plenty of clearance. Also finished test painting the rear arch to see what kind of finish I can acheive.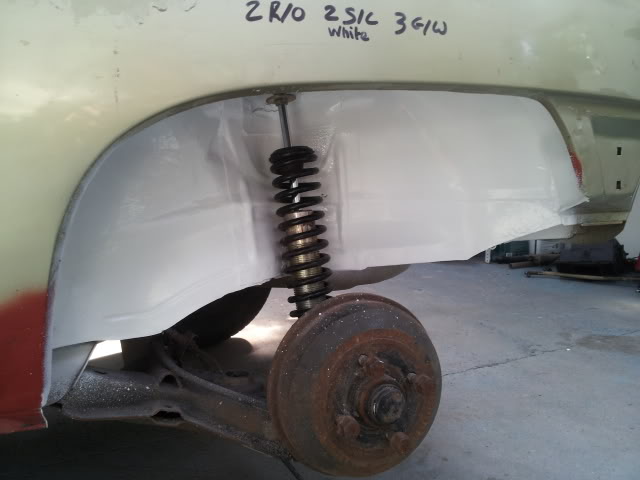 Trimmed strut top to allow for plenty of camber adjustment. Also welded on second strut tops and stitched the chassis leg.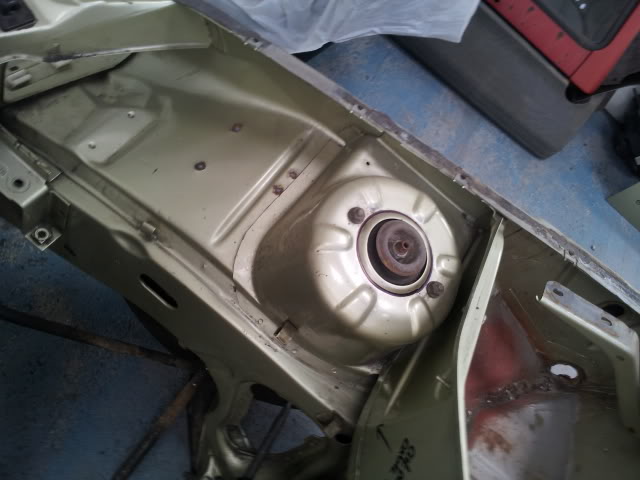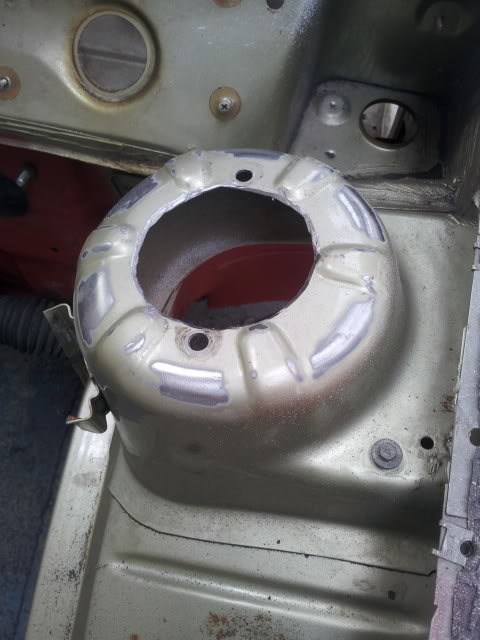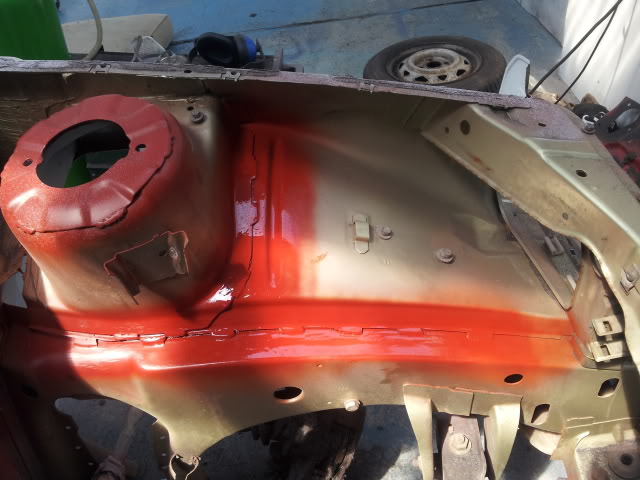 7-3-2013
Managed to get Dad in the van to tow the other one down and get the cage there too. The cage is so bulky I got that straight in and out of my way for now.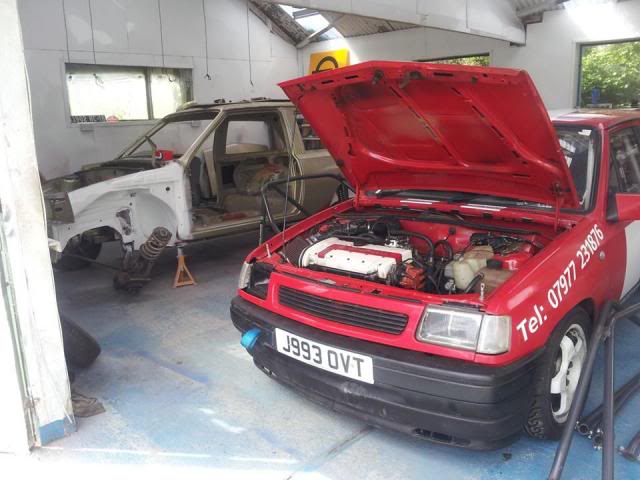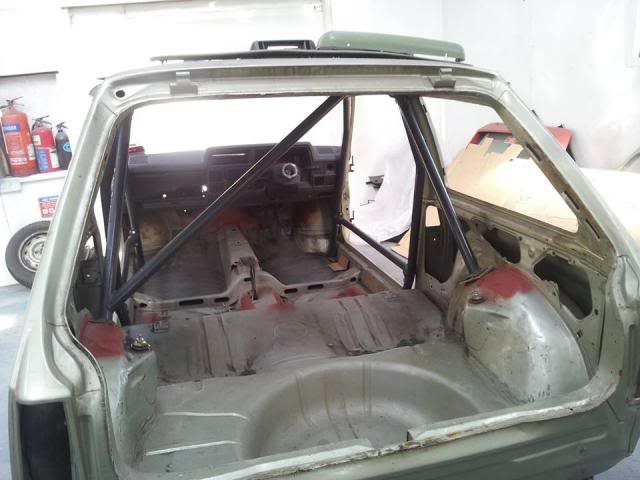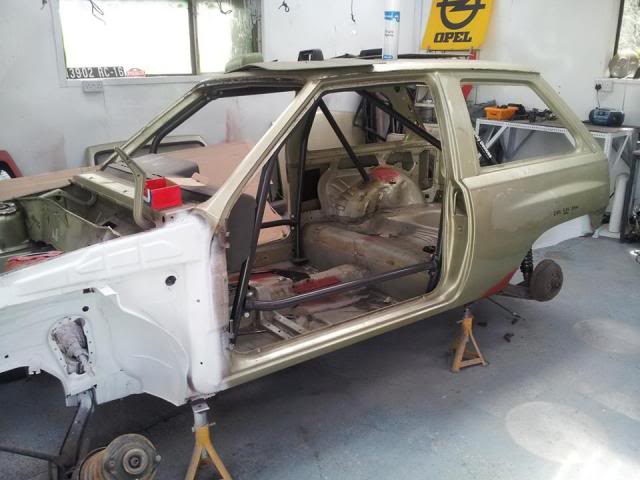 Next job is to get the left hand suspension back in and do all the same to the other side. All of the suspension components will be coming out when the car is on its side/upside down having the underneath prepped, so don't worry all the oversprayed parts won't be staying that way!
7-6-2013
Other strut top and chassis leg stitched today. Also started on the rear too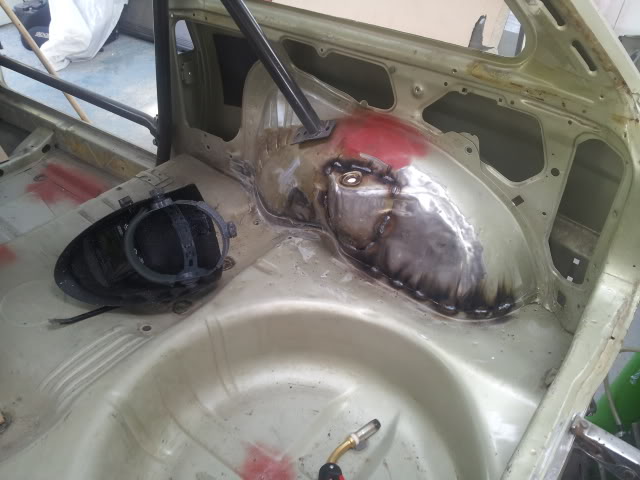 Last few days have been taken up by my other pride and joy...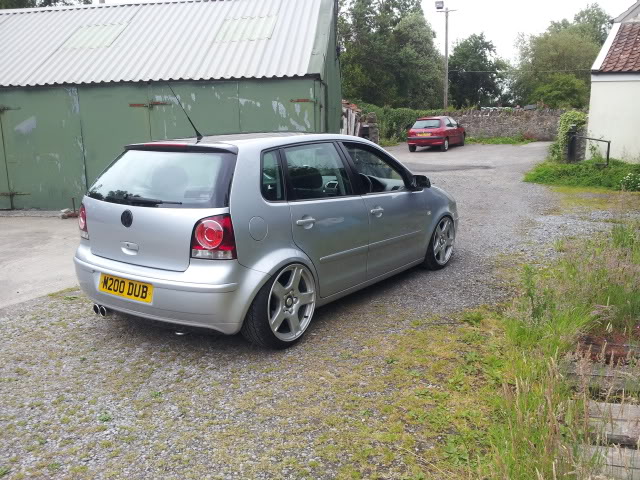 Fitting Corvette wheels took a bit more effort than expected, but I got there in the end.
7-10-2013
Made some rear plates for the cage to bolt on to and finished the stitch welding around the bottom of the arches today. The plates are made to well exceed MSA standards in the hope they don't change their minds on cage fitting rules like they seem to all too often.

Next job to make the A & B pillar plates, get them tacked in the remove cage to seam weld all around the plates. Plan is to get the cage bolted in by Saturday evening then concentrate on getting the other Nova stripped next week.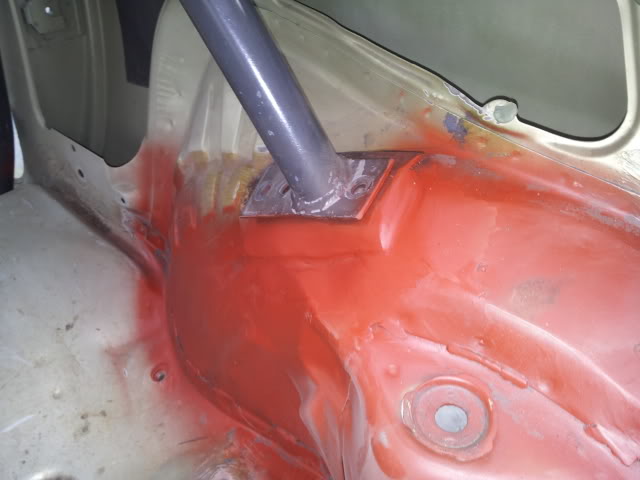 7-12-2013
The 1.6 8V is the biggest engine that came in a Nova, and many race classes require the block to be fitted to that type of car from factory in order for it to conform. Therefore if I had a MK2 Astra I could run a Redtop, but because there wasn't a Nova with a redtop that ever rolled out of the factory it wouldn't be allowed to compete.

And I did think of that dan23, but I'd just bought all new master cylinder etc for the other car which would've been a shame to waste. No other reason really, other than to say Id converted it all!

Got on with the roll cage plates today, will finish them off tomorrow. Sound deadening came out much easier than expected too!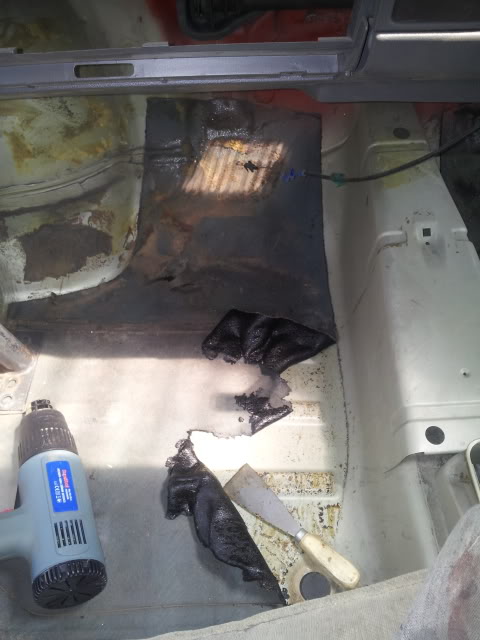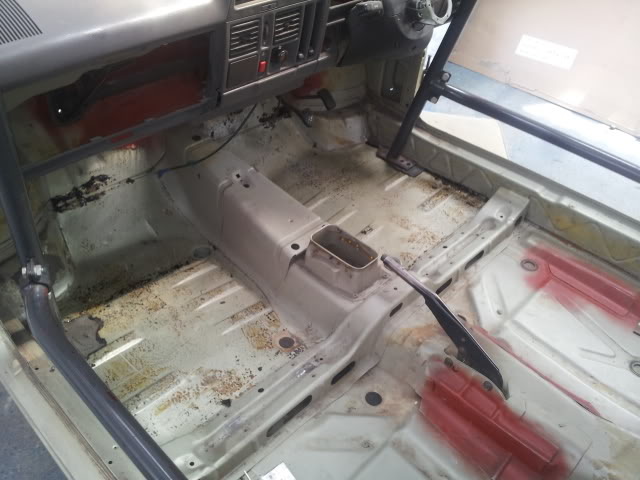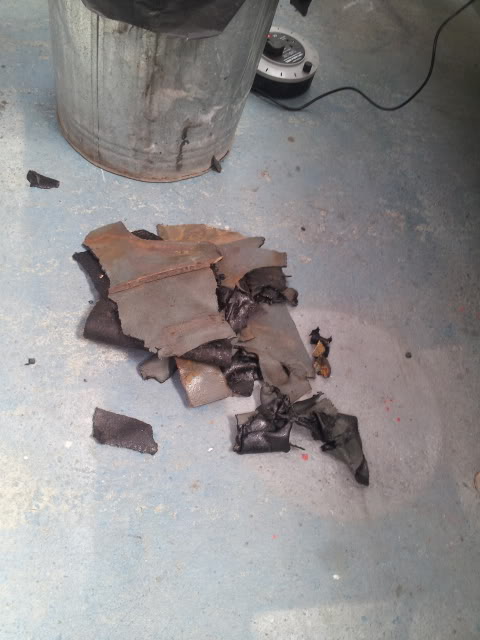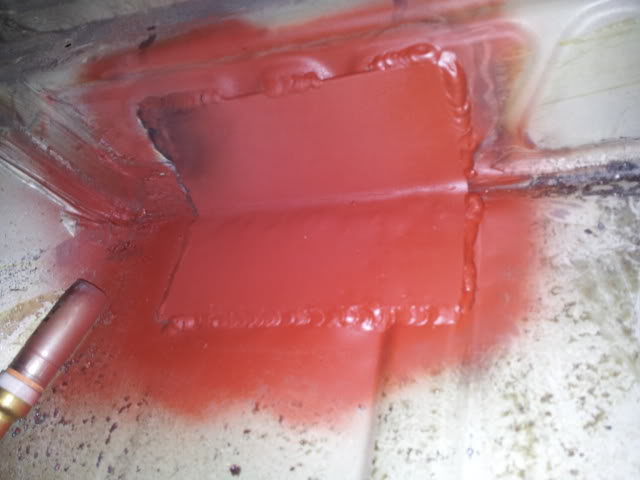 MSA rules state the rollcage plate must be 3mm thick and go up the sill to add strength.
7-13-2013
The plans for a 1.6 are a few years off. And thats if I cant find a formula to compete with a 2.0. But for now the engine is staying as is, with the quaiffe diff and F16CR box at it will purely be a track and show car
7-16-2013
Thanks for that Craig will look into that in the future.

Ive been making good progress the last few days. Roll cage is now bolted in with MSA spec floor plates (well, they exceed MSA spec). Ends will be closed off and they'll be seam welded when the cage comes out next time.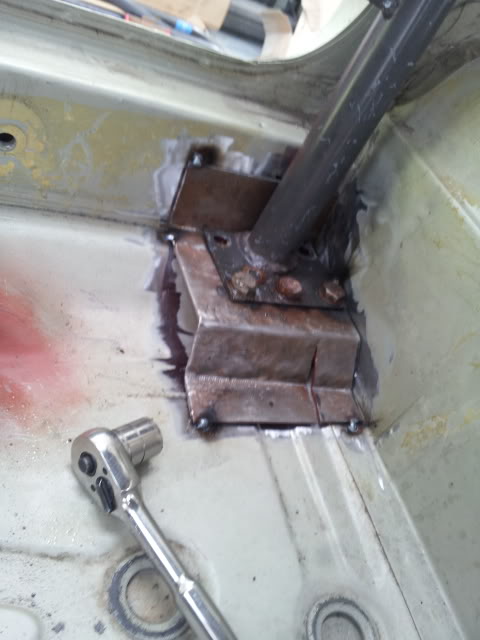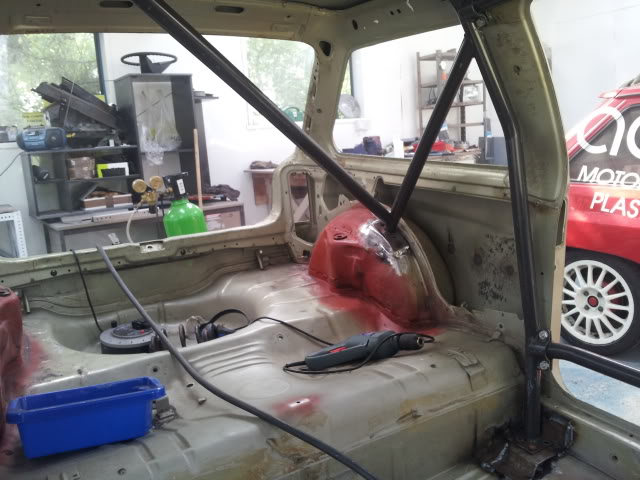 And the engine is on it's way out of the old car.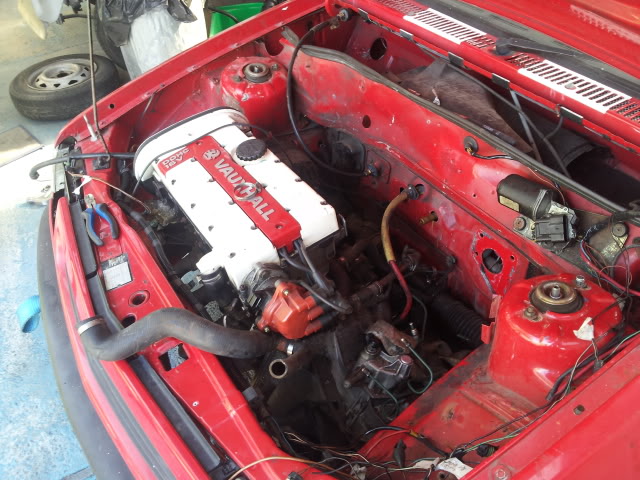 7-17-2013
Just found this beauty I took whilst fitting the cage...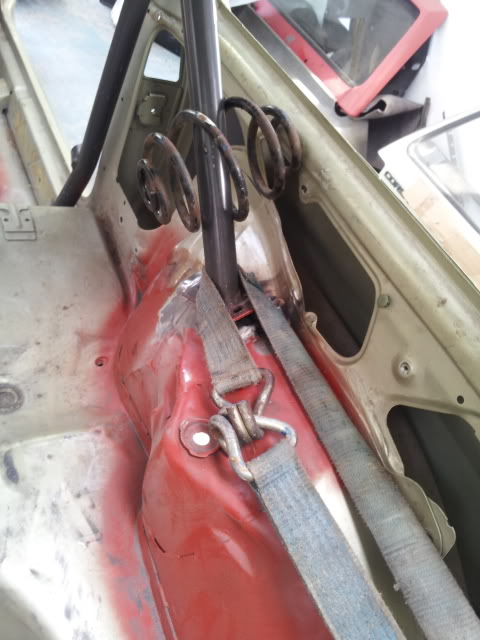 A coil spring is ace for repositioning a cage! Just twist the coil and it gradually moves the cage in and out and it holds there whilst you drill/weld.

My list of useful things found within a Nova is growing - coil spring to fit cage - bonnet stay as a punch to remove door pins...
7-18-2013
Yes, really!

Been a busy boy again today. Engine removed from the red car and the chassis leg notched for the 20XE to go in...

Before anyone asks, the engine came out downwards as I don't have a deep 32mm socket for the disc end of the driveshaft. I must invest in one!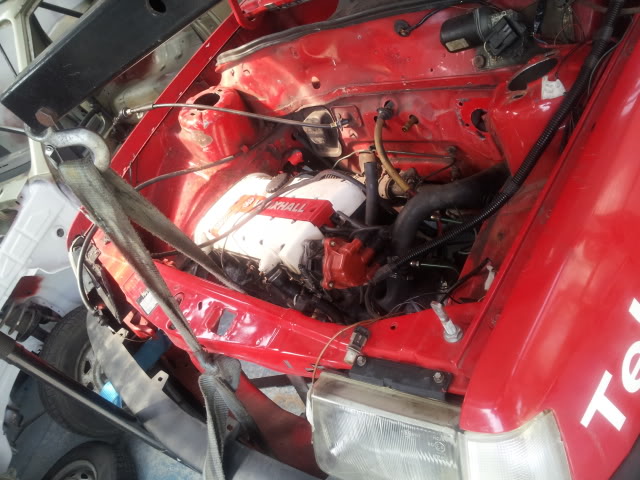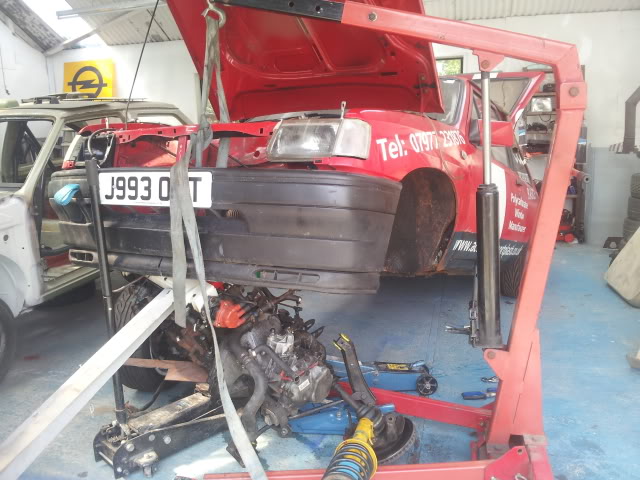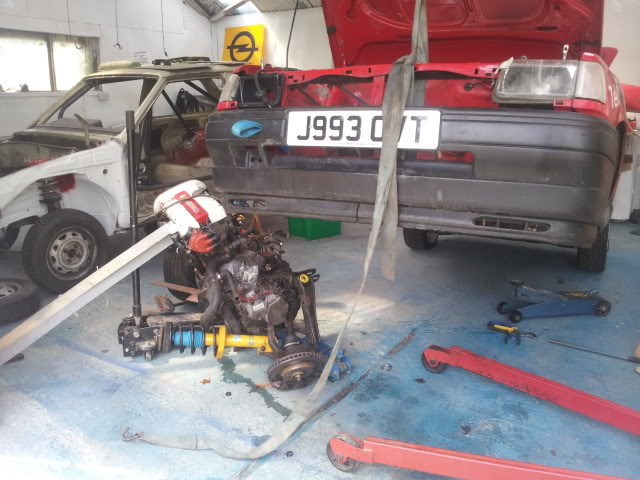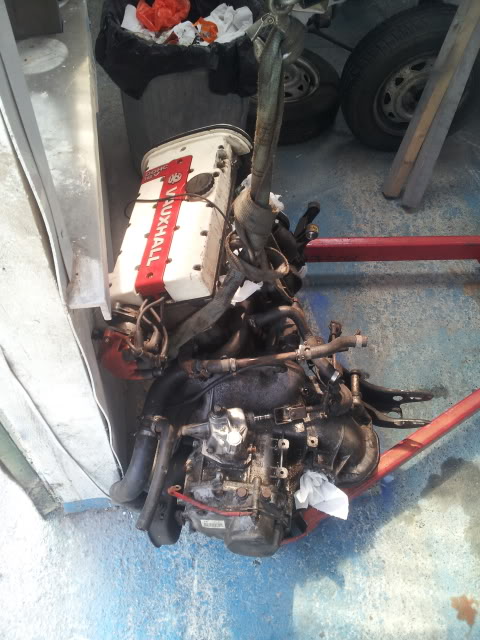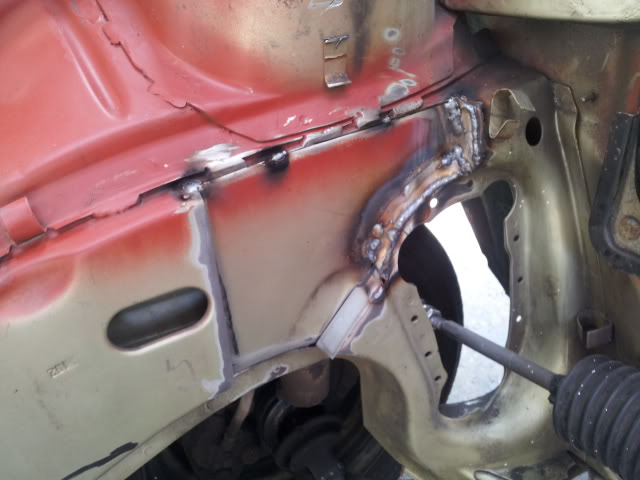 Still a little more tidying to do with the welds but it's almost there.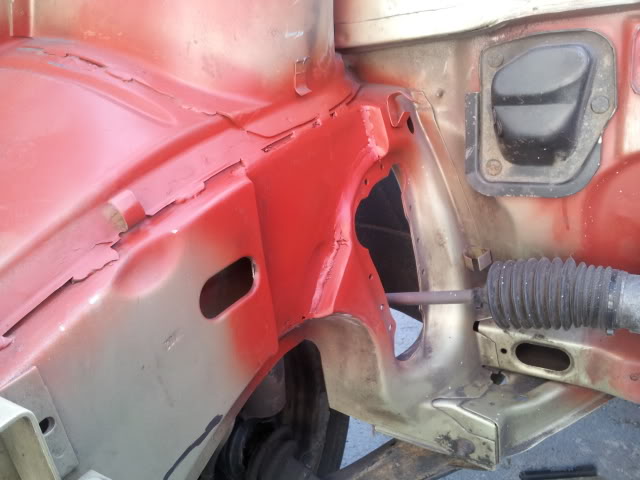 7-20-2013
Todays efforts.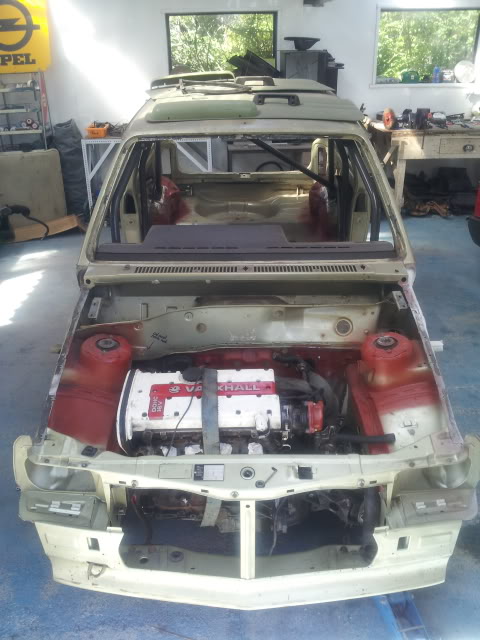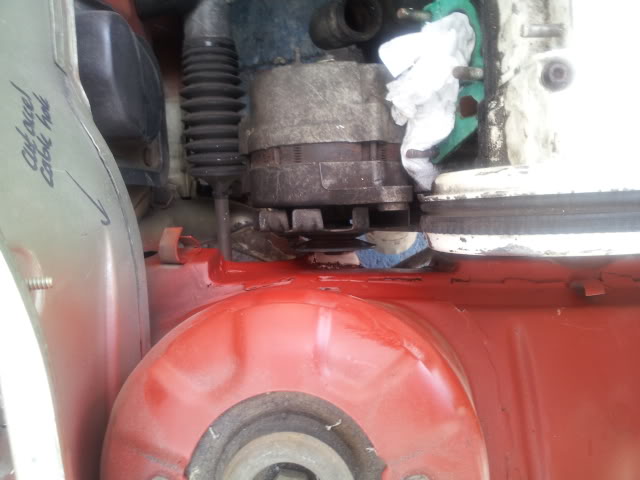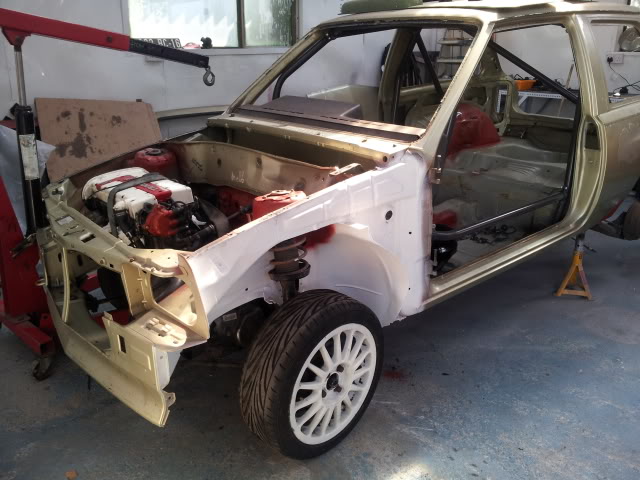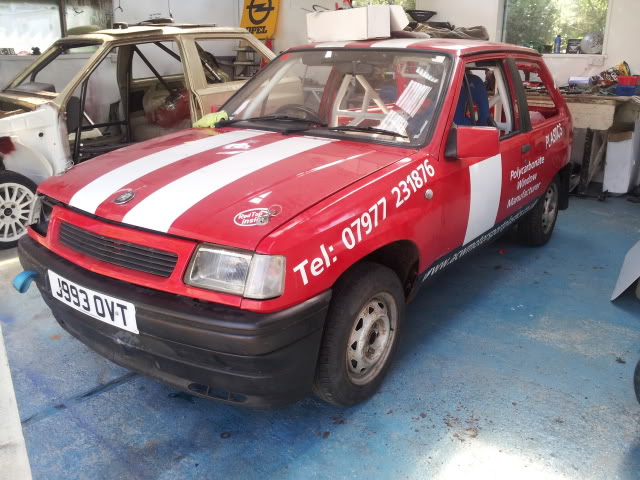 Ive never had a 1.6, thats planned for a couple of years time.

Made up and welded in a rear strut brace today.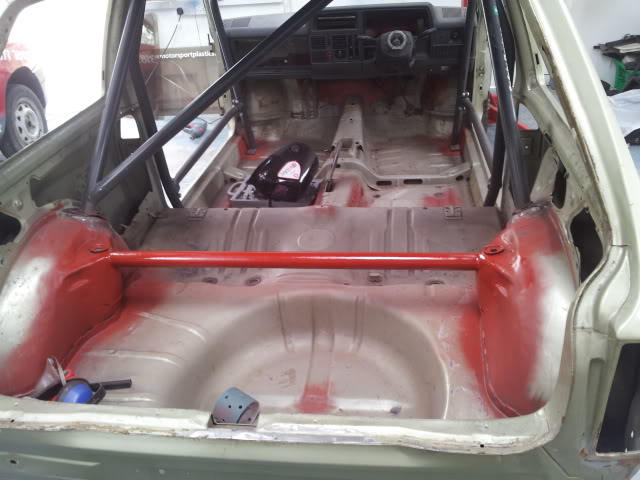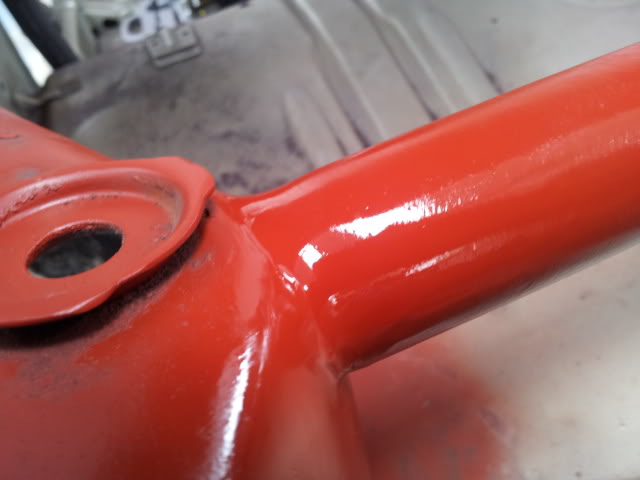 7-24-2013
So got all of the Harry Hockley strengthening kit welded in now and the chassis legs stitched up. This only shows it part way done but I finished at 10pm tonight. Back in at 9am tomorrow though for another flat-out day.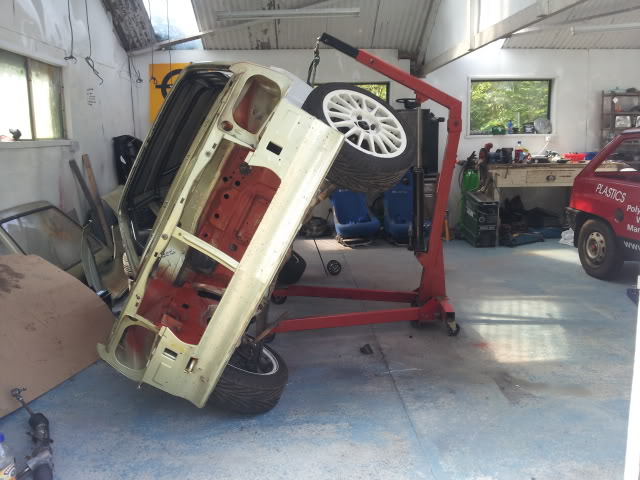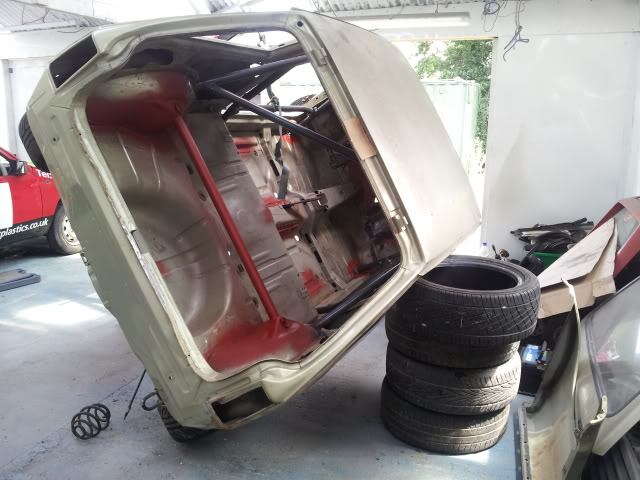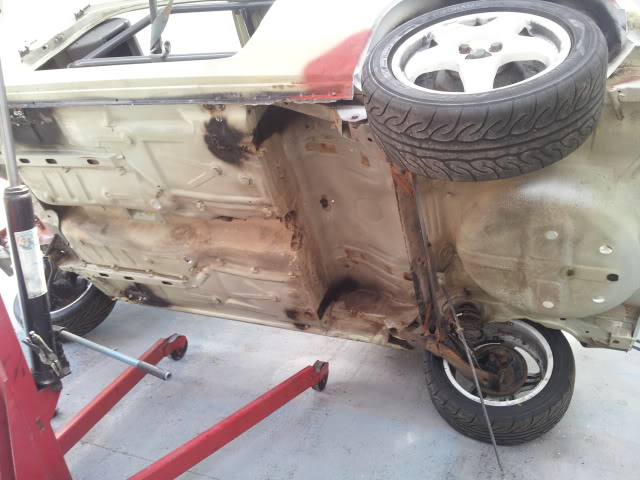 Just a quick coat of stonechip to see what it comes up like, will go for a heavier coat next time.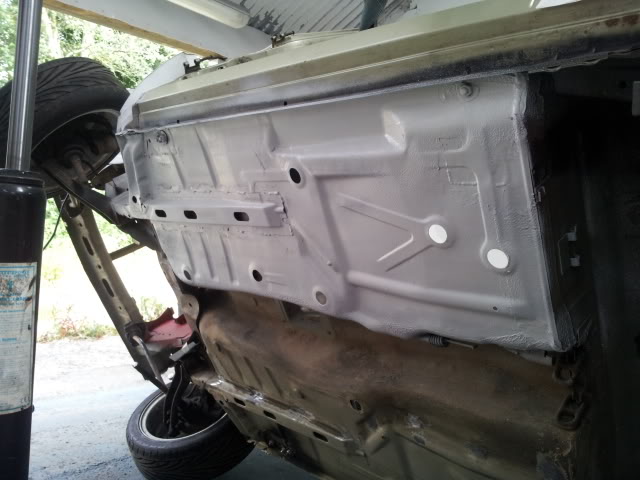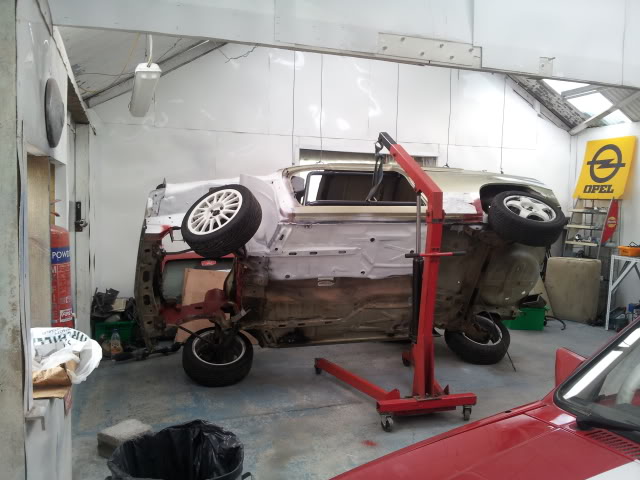 I have booked track time for Castle Combe's Forge Action Day on 14th September. And yes, that's this year. 7 weeks 2days. Challenge - accepted. Feel free to come and help!!
7-25-2013
Thanks Iain, I agree. Ill be picking up some stonechip tomorrow to be used on the compressor. This was a 'test' if you like to see what it came out like. I have heard good things about gravitex so will go for that. Seems pretty good money too compared to cans of stonechip.

Got some kore bits done today. Rolled the arches, fire extinguisher fitted, safety pulls fitted, hole in battery tray sorted and aerial hole in roof welded up.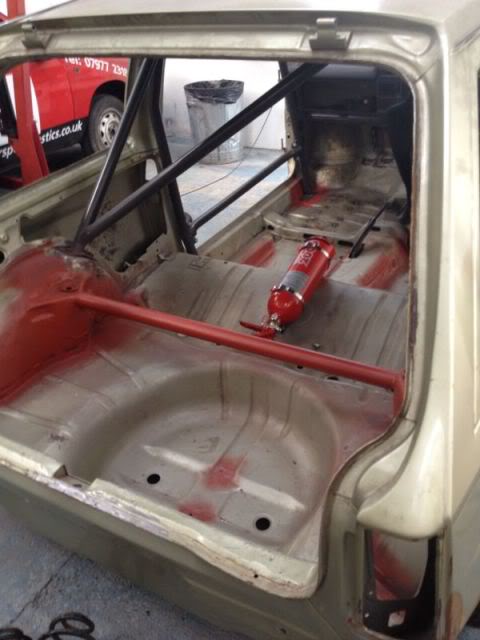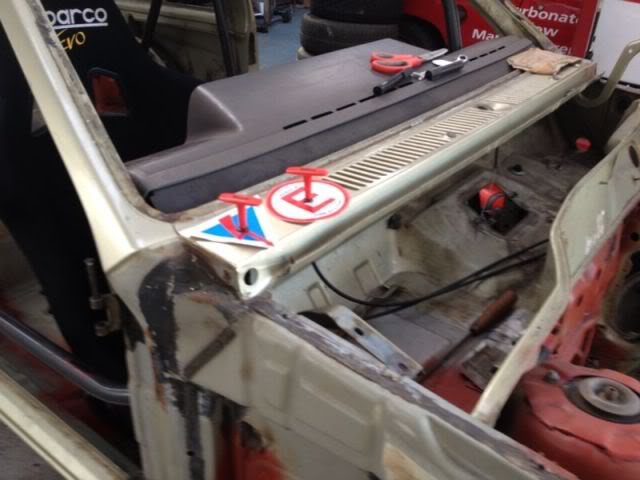 Will be rust proofing these before paint!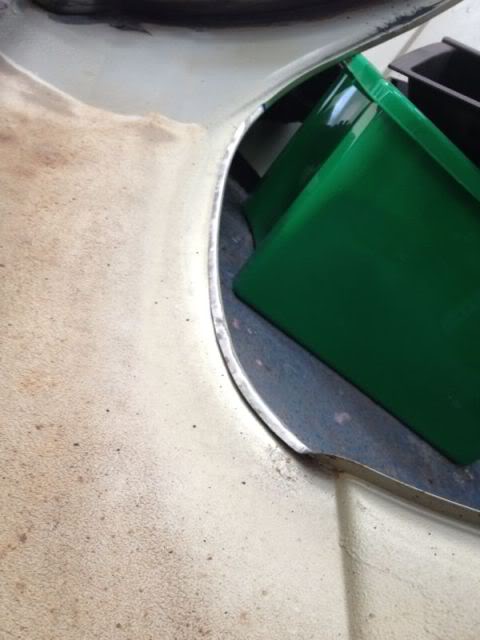 Checking clearance between arch and tyre without any suspension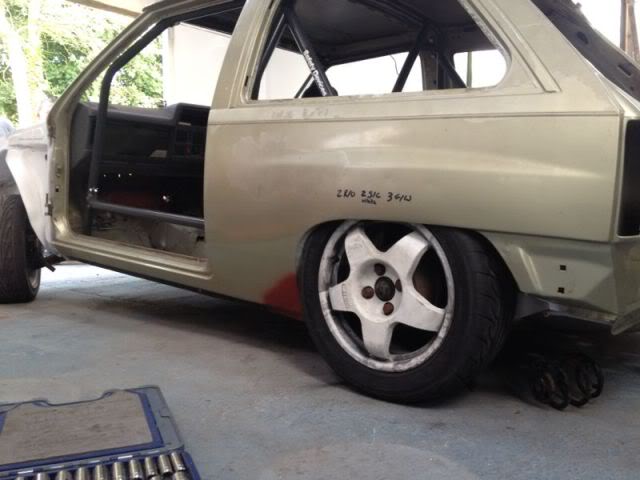 7-29-2013
Bulkhead cut ready for 20xe loom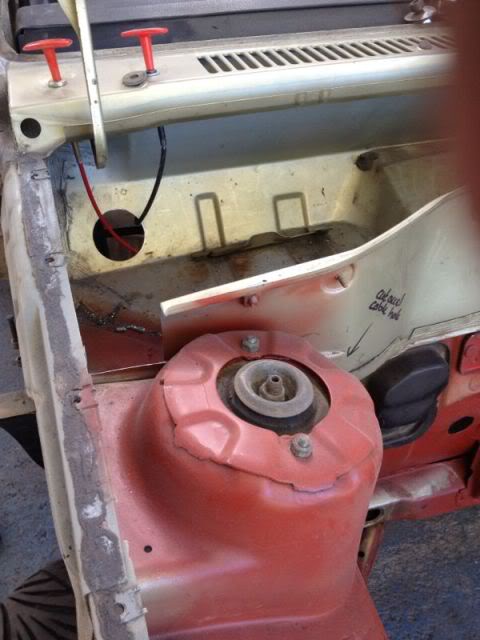 Brake servo hole cut and washer bottle bracket removed. Will be relocated on bulkhead by heater.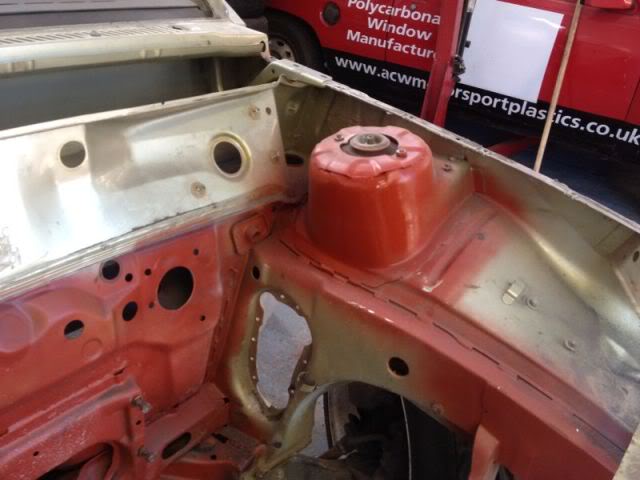 Finished the day by starting some bodywork.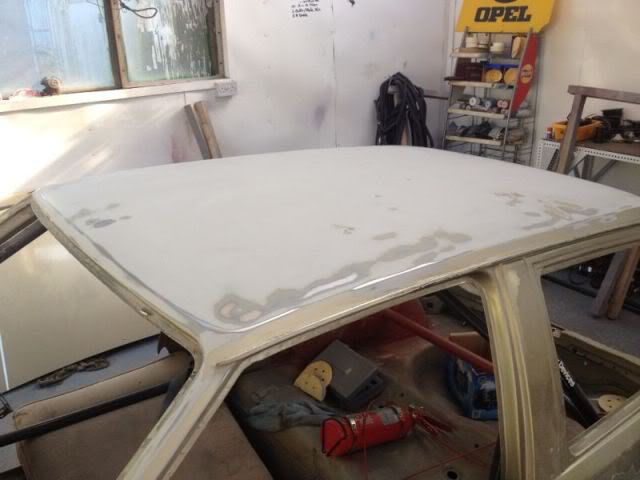 Aero catches now fitted to my lightened bonnet too but forgot to take pics of that.
Gravitex ordered and hopefully should be here tomorrow so I can prep the underneath.
6 weeks 5 days left to go!
7-31-2013
Cheers mate

Underneath prepped and painted with gravitex today. Better pics to come tomorrow!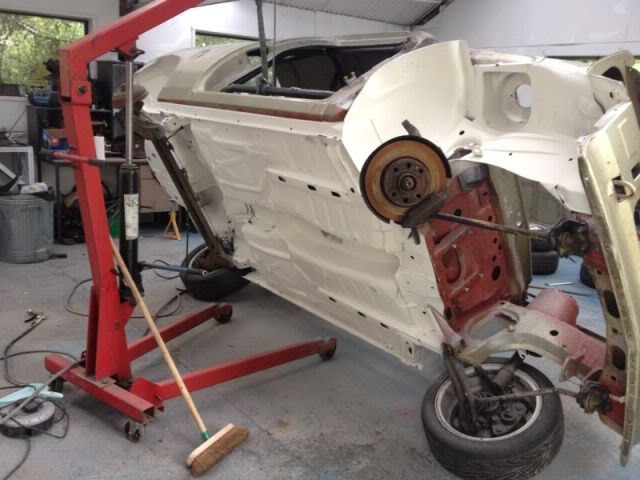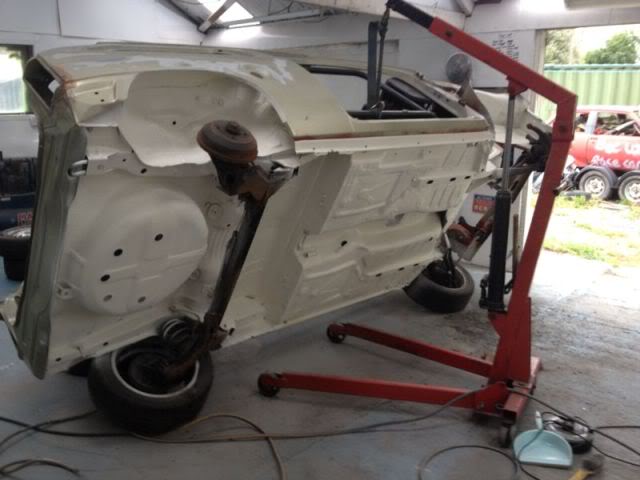 Rear end prepped ready for my paint guy to finish off next week. Roof also done.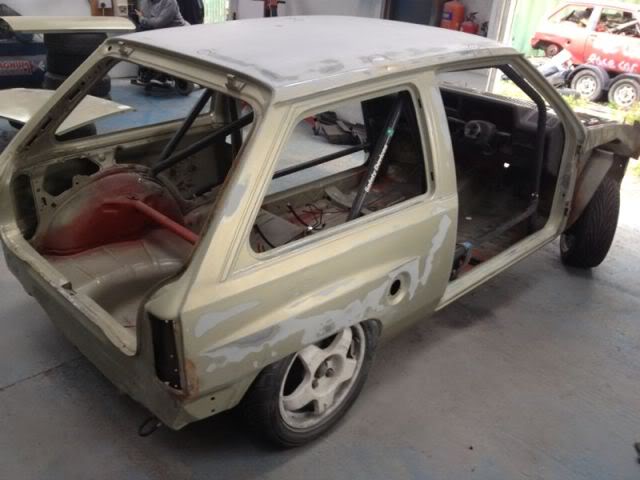 Aero catches fitted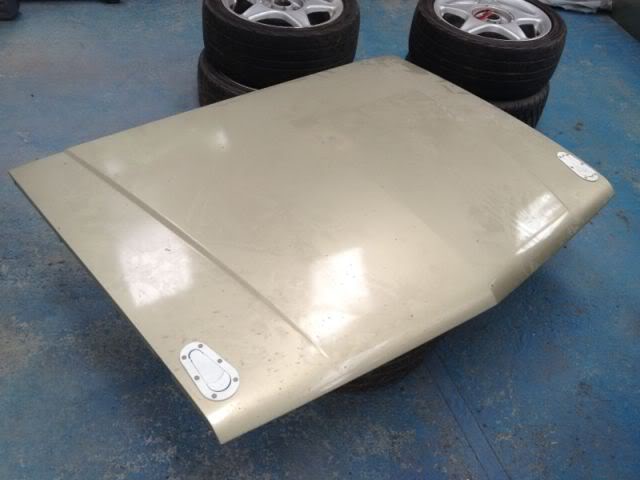 8-1-2013
Hopefully it won't! It will be sprayed and sealed by next week.

Thanks zeifer33

You will like the next photos if you like details...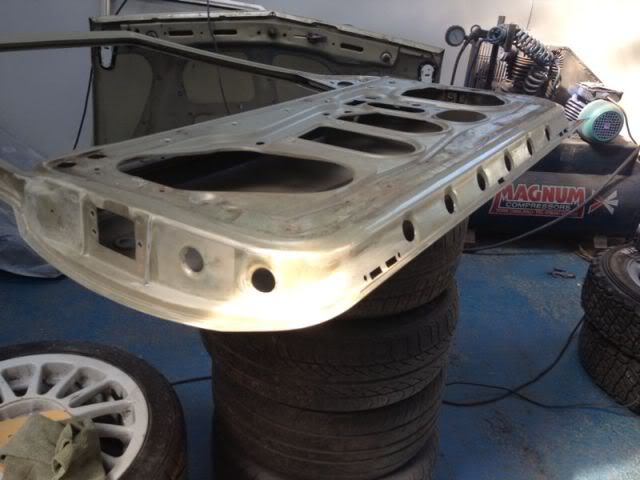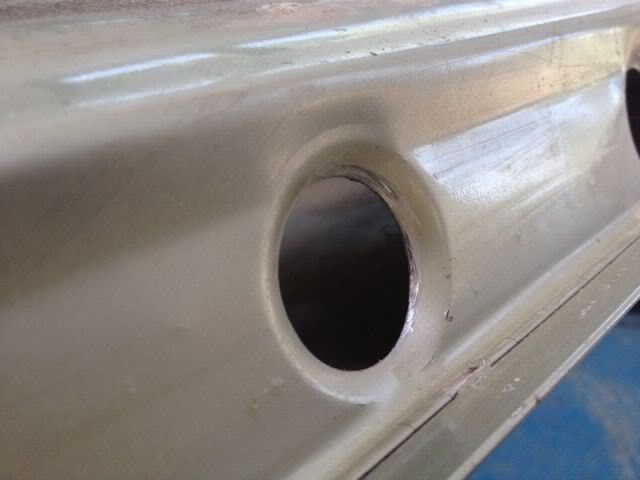 Is it much lighter? No, not really... Does it look cool? Yes. Job done!

8-6-2013
Yeah I think Im going to have the rear axle and front components powdercoated blue and the tank grey maybe. Ill decide when I get to the powdercoaters.
White or black cage? That is the next decision. The dash will be flocked black and the seats are black. Seat belts are blue.

It's a proper little swage tool we've got, 2 pieces of metal with a bolt through basically.

Cheers for all the positive comments, helps the self motivation a little!
8-8-2013
The car is going to be a Sport replica, so will be polar white with the sport graphics.

Been busy today...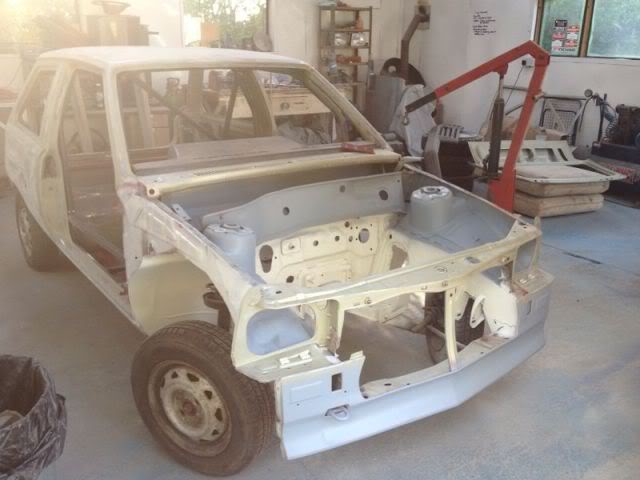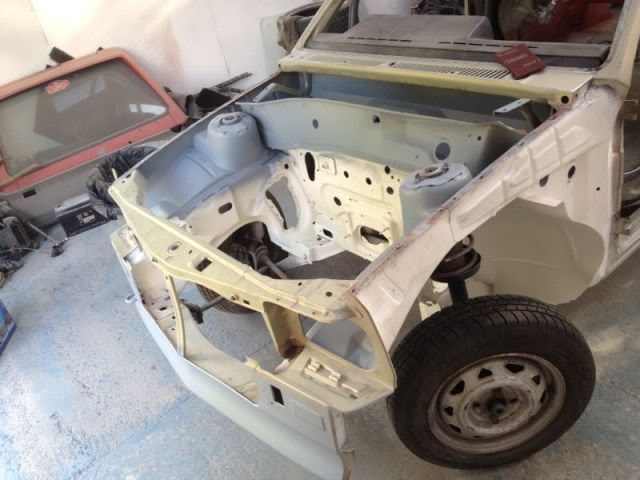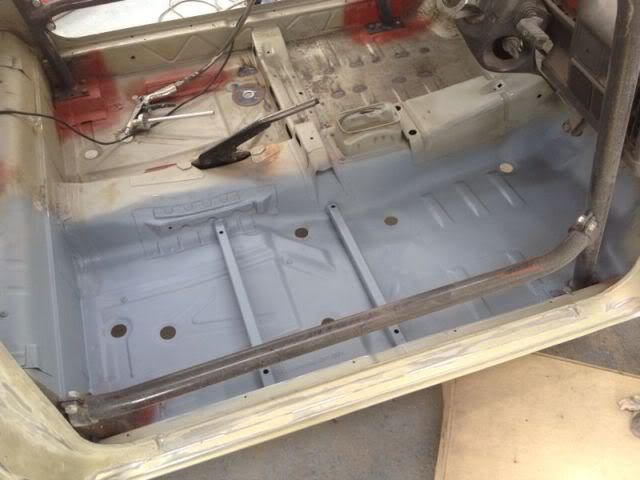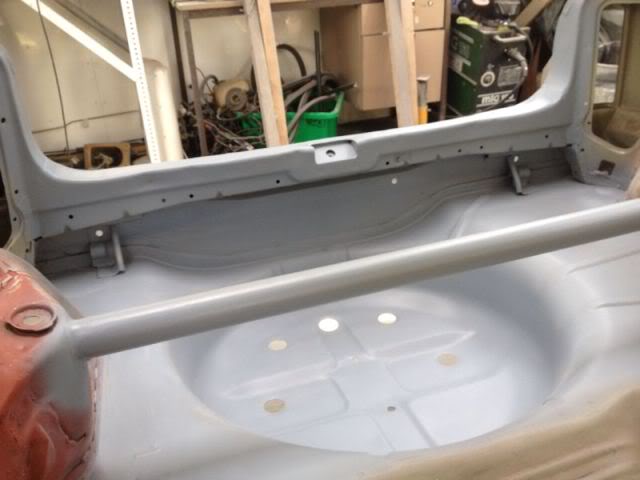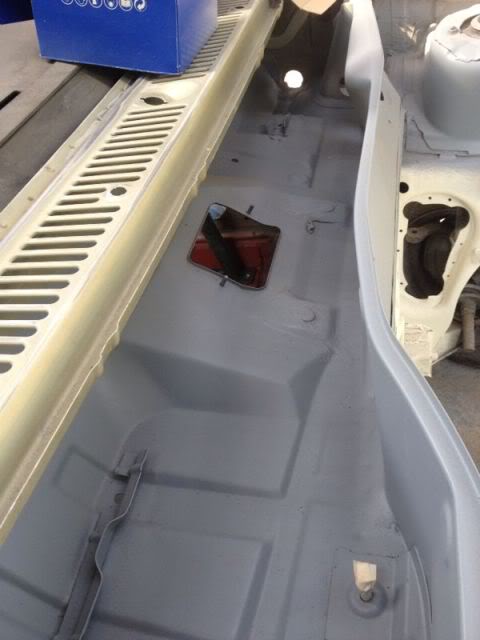 Also did the heatgun trick on the front bumper. Left side of the photo is done, right side of the photo is old and manky.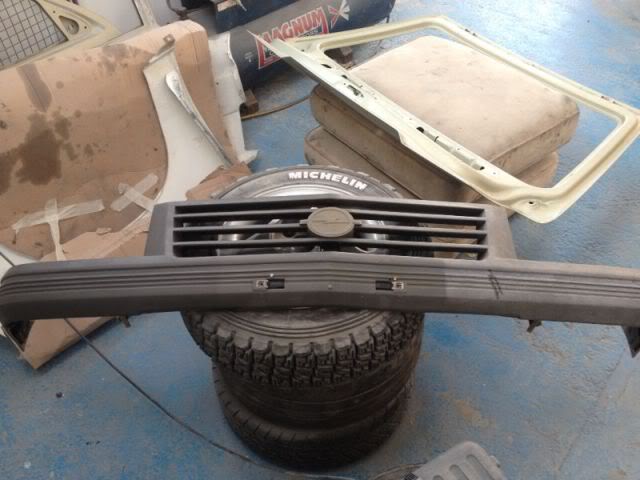 8-11-2013
Floors and rear arches all now in primer. Next couple of days the topcoat will be going on the inside, underneath and under arches. The outside ia being painted in an oven in the near future.
8-12-2013
Soo.... the underneath has now been painted. But im yet to see it as I had to work all night. Will be at the workshop tomorrow night to have a look and then wednesday to remove the cage and dashboard ready for interior and the engine bay to have their topcoat.

Thanks for the comments

The holes were done with a holesaw then this little tool/die
http://www.ebay.co.uk/itm/300947857660?redirect=mobile
8-13-2013
Interior, underneath and engine bay will be done this week but I go on holiday Thursday so the exterior is booked in the spray booth/oven for 31st August
Underneath and 2 arches painted as well as the back of the doors & bonnet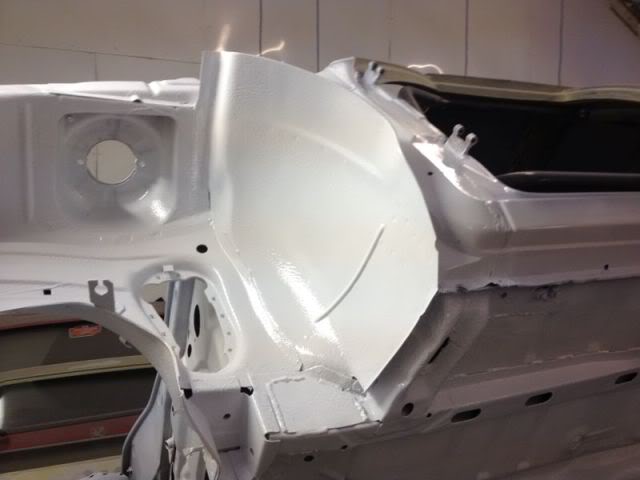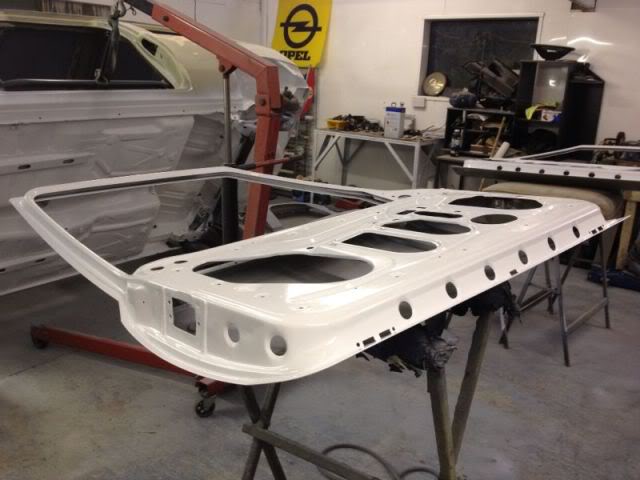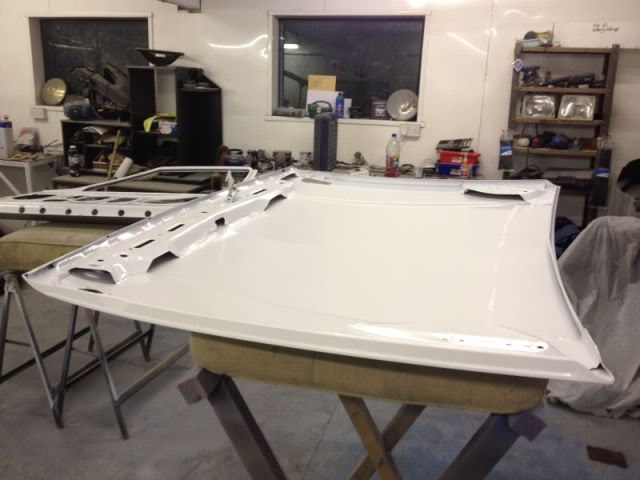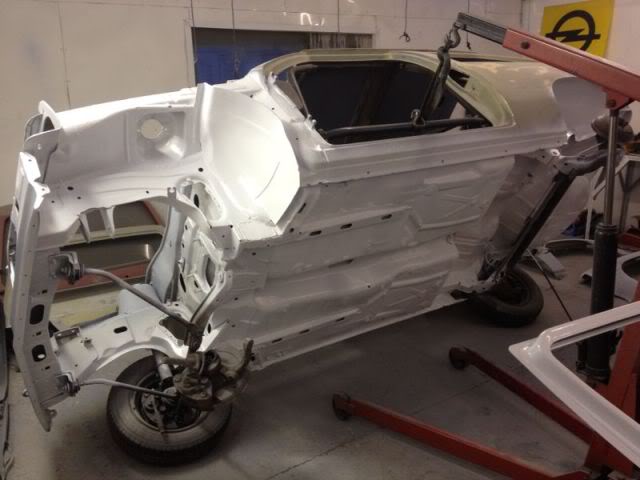 A very happy Dan

8-16-2013
Inside has now been painted, it looks really good. Im away for the next few days so there won't be any more updates for a little while.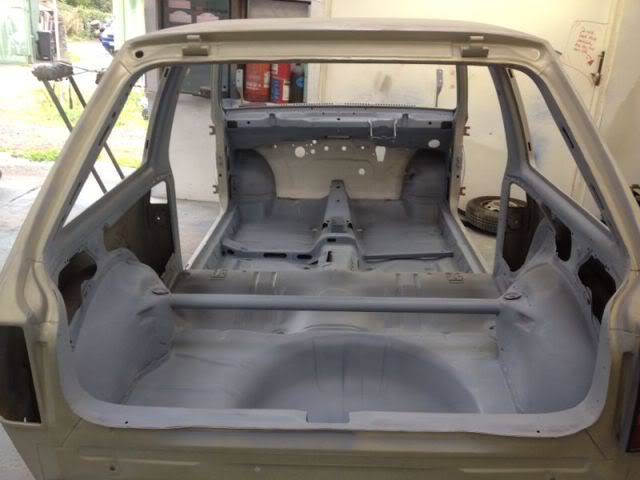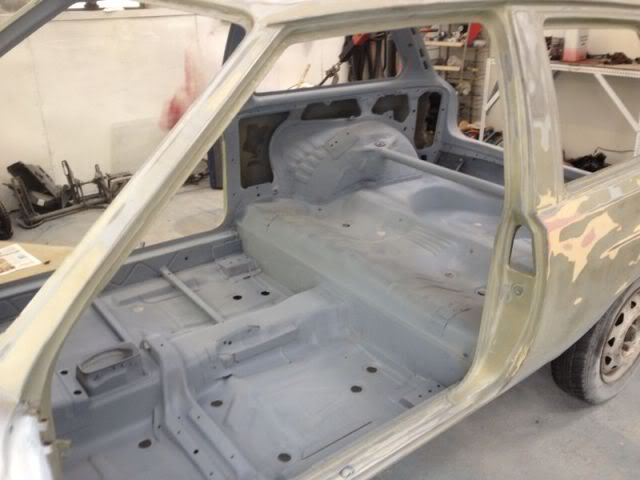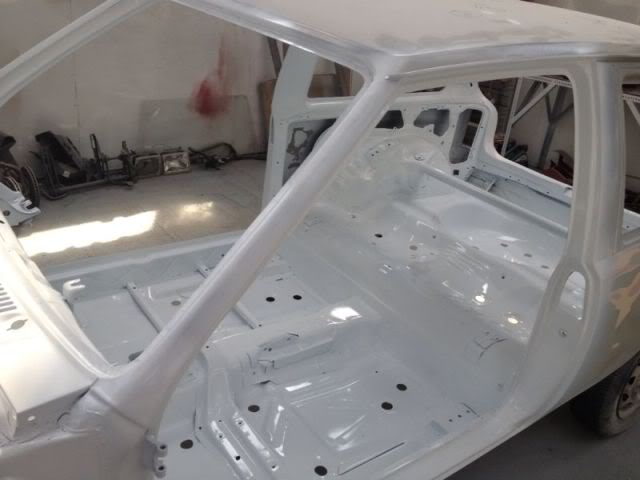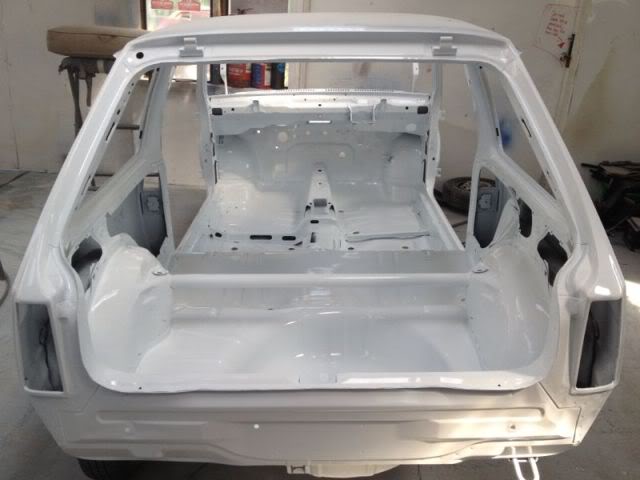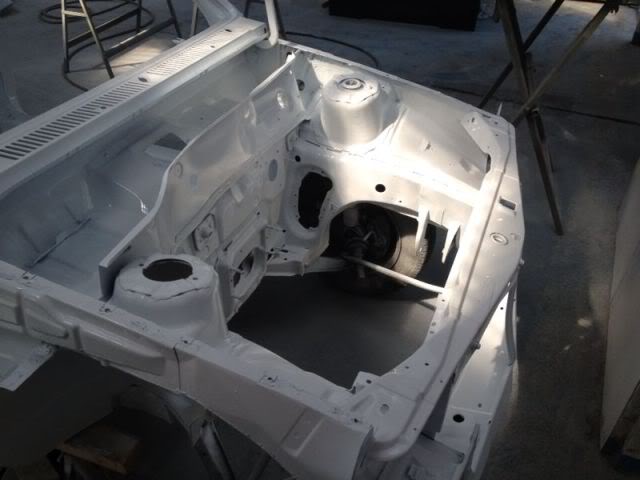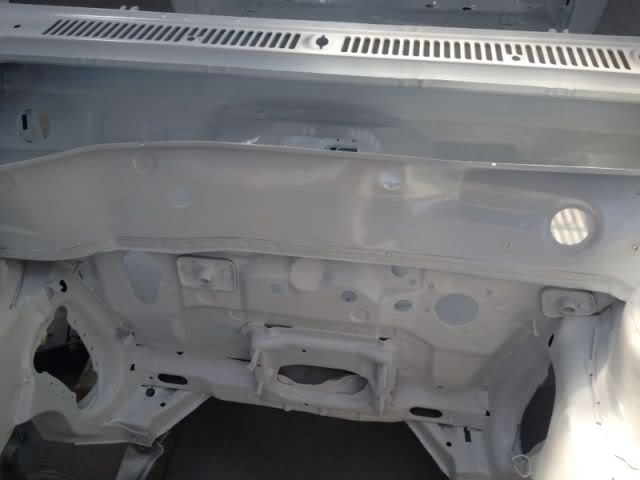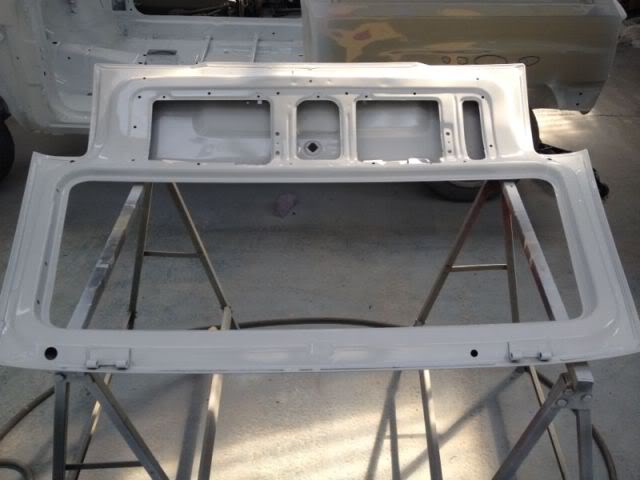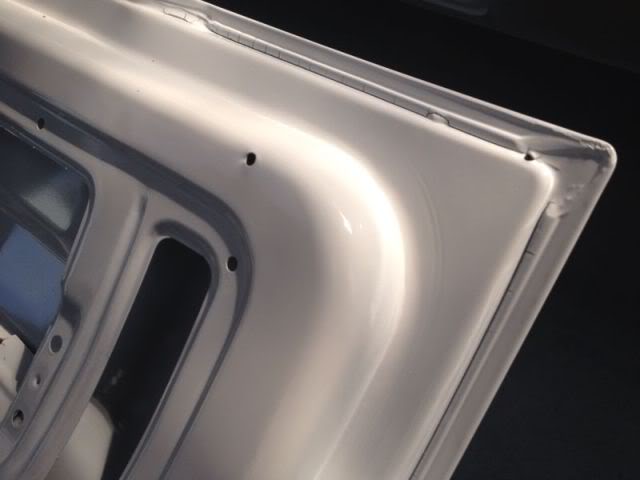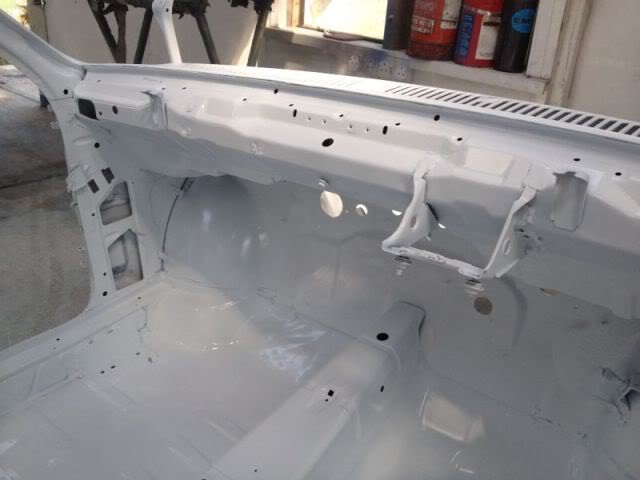 And also gave the engine a bit of a clean and repaint.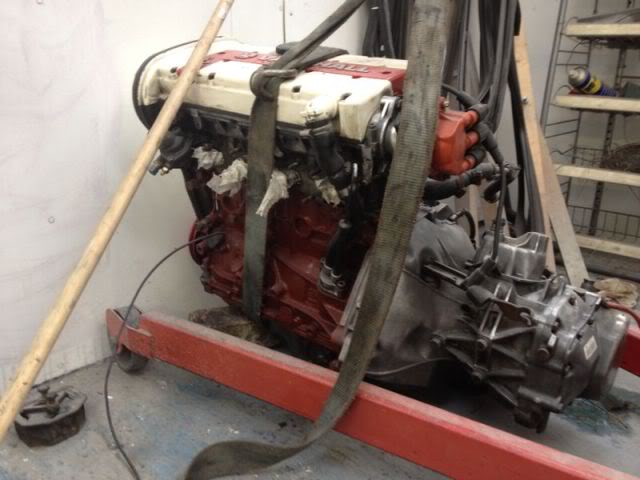 Ah its going on the road, got all the reg docs at home but waiting to finish it before I register it just incase they want to VIC check it. It may be an issue with insurance as I am only 20, so it may not be on the road so say for a while yet. It will be going on a B or C plate.
Thanks for all the comments :-)
8-26-2013
Cheers for all the comments.

Back from holiday now, putting engine in tomorrow and will have it wired up and running by Wednesday night when Ive managed to blag a mechanic friend

I'm colourblind so do not trust my wiring skills (or major lack of them).
8-27-2013
Here we go then...

Drum roll please.... The cage ended up...

BLUE!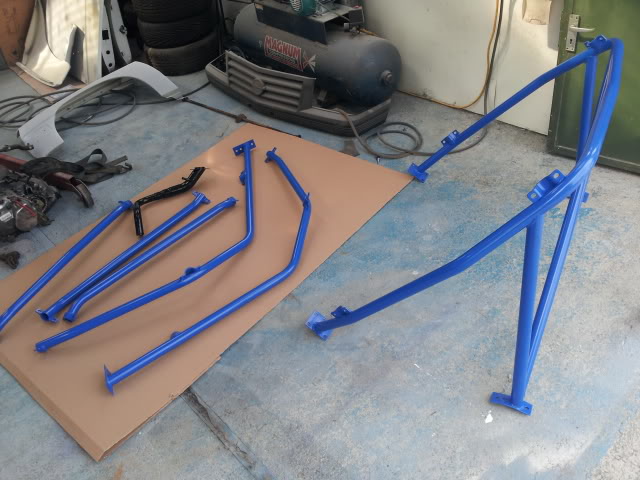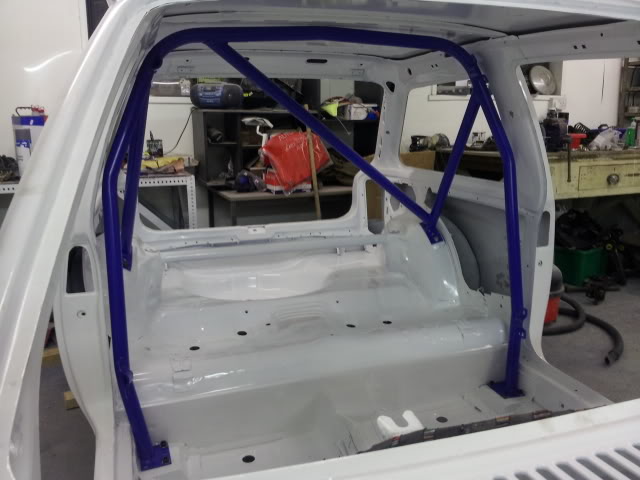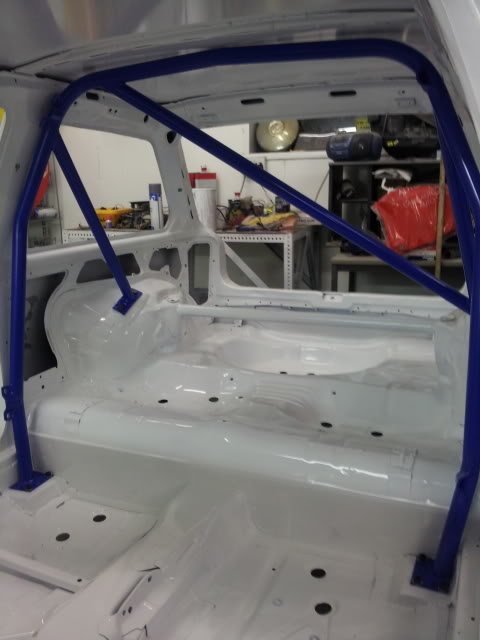 And got the engine on all its mounts today. Just got home, 23:37pm.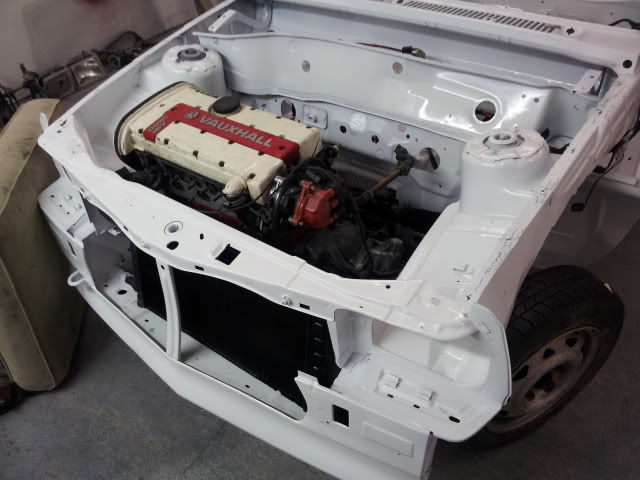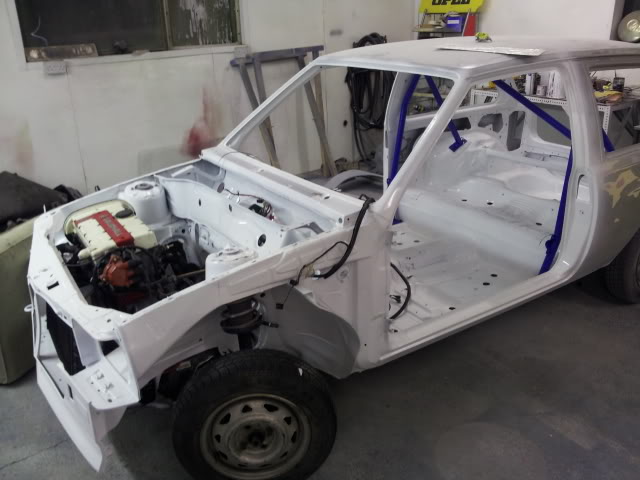 The rocker cover will be coming off and repainted ASAP too.
8-29-2013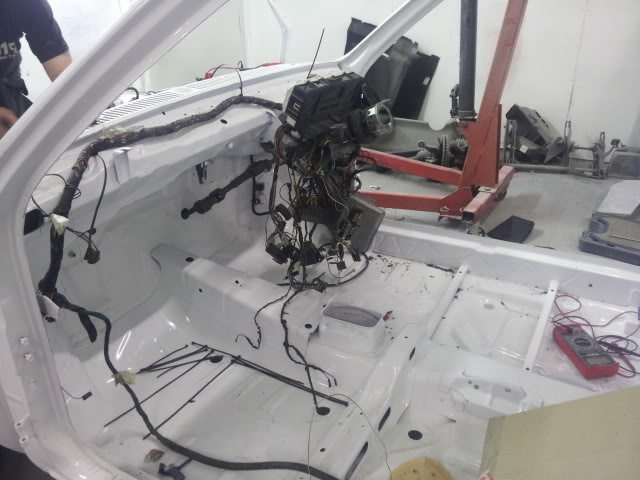 So we got it up and running very quickly (see vid below). Thanks to my very mechanic friend who did the wiring - I'm colourblind so avoid it like the plague!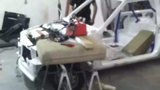 8-31-2013
Hmmm funny...

Made all the brake lines up today, also got the pedalbox in yesterday. Hopefully get it running properly now all the vacuum hoses etc are in place, it started but wouldn't idle.
9-1-2013
So I started off a bad day, well, badly.

The insane power of an early 20XE snapped a hub. So that didn't go to plan... New one ordered.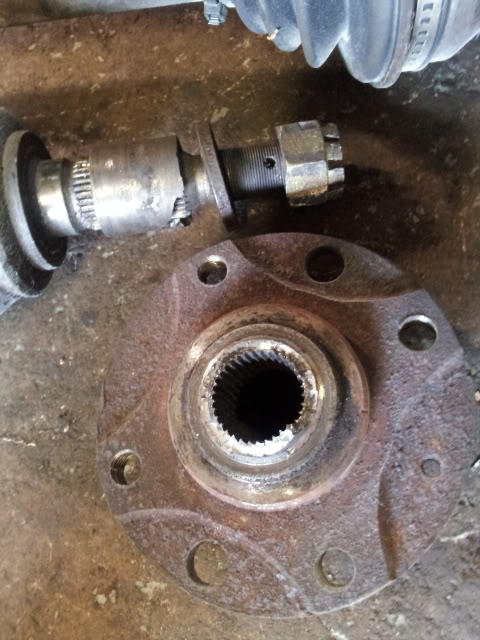 I hadn't been able to get the car in 4th or 2nd gear, turns out the Corsa B steering rack bracket can't be fitted to a Nova. Finding this out now means it took 2 1/2 hours to remove the Corsa B rack bracket and put in the 2 Nova brackets behind all of the engine and water pipes etc.

Got my dash back from being flocked and started custom fitting the GTE digi-dash. Dropped the screen from that and it cracked. Ergh. Got it fitted then it hit the steering column bracket, so had to cut that and reshape that a little. But I got there eventually. A bit more tweeking and I'll be happy with it.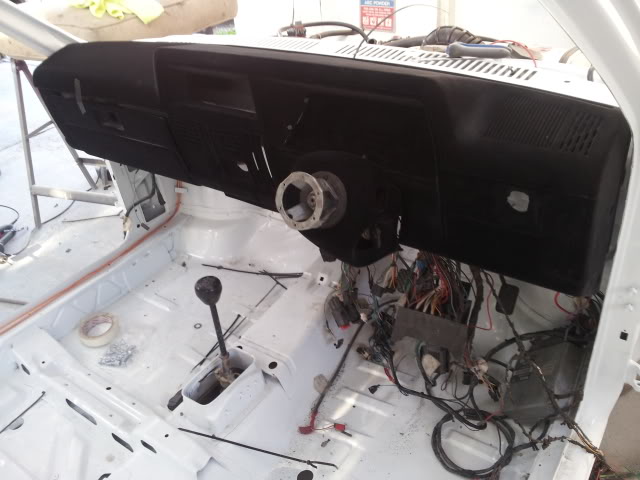 Brake lines done yesterday. LHD clutch mount turned out to be quite a handy little hole for the brake lines to go through. They will be joined by the fuel lines soon.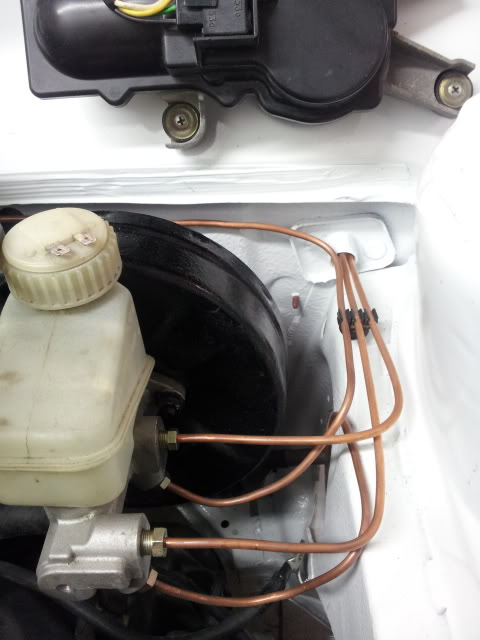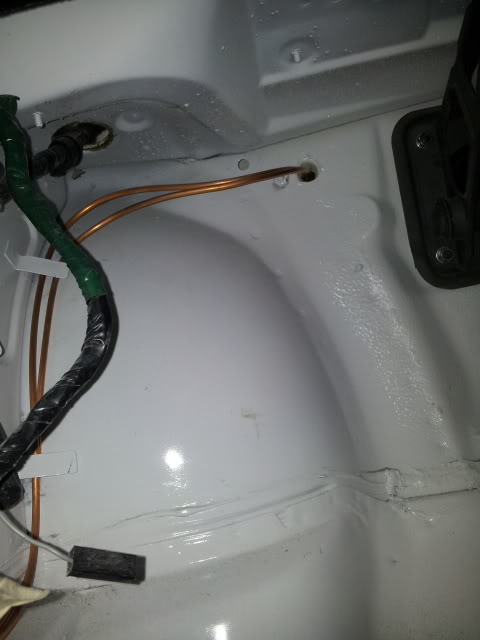 Rear beam out, stripping that tomorrow and get it to the powdercoaters Monday morning with the front suspension and fuel tank.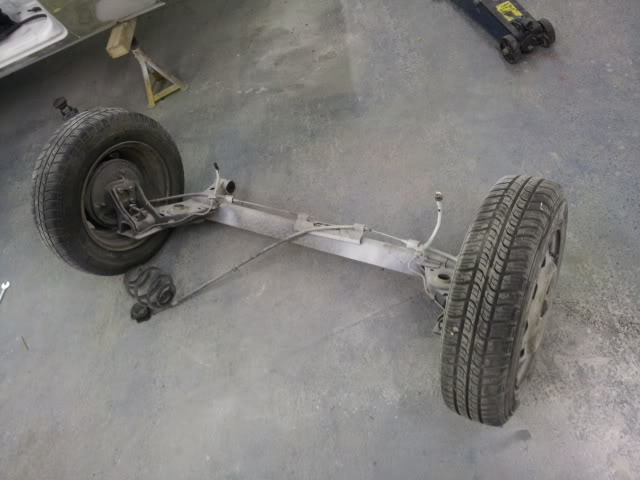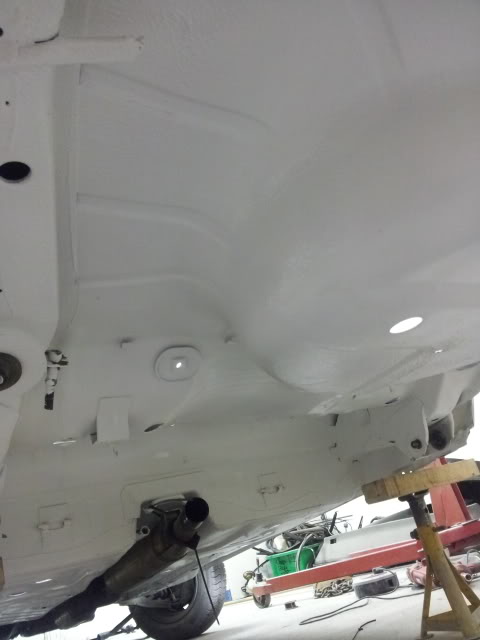 And finally my badges are now complete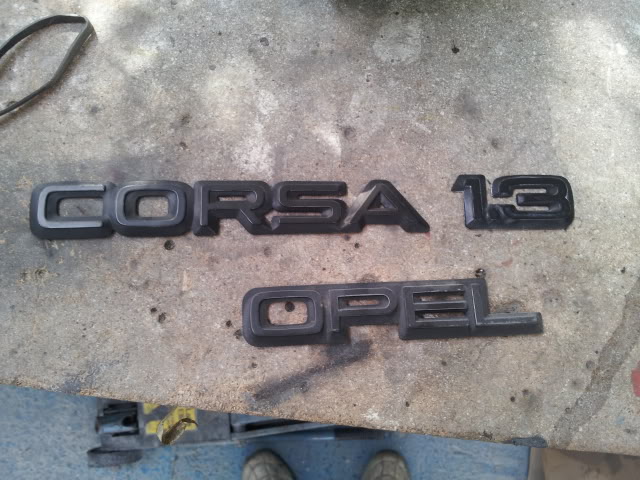 Well I'd only put these shafts and hubs in recently as I had 1.2 outers on my old shafts. Last time I was at Combe the hub nut kept coming loose, which must have been this breaking up.
9-2-2013
Pm'd back



Rubbed down and repainted the fuel tank today. Used hammered black hammerite in a can, it looks very good. The colour isn;t black though, it's a metallic graphite grey which is even better!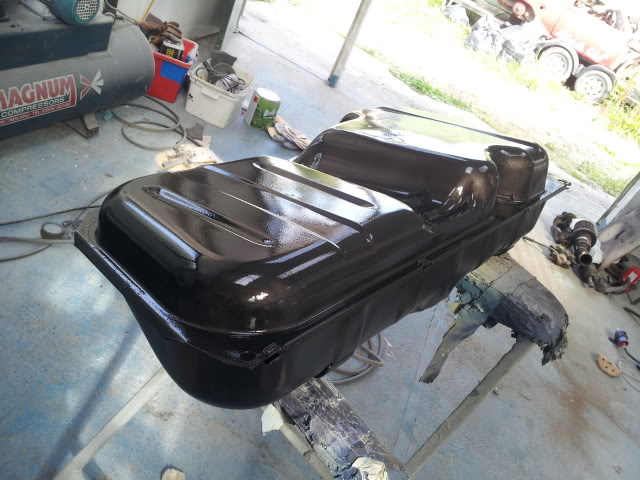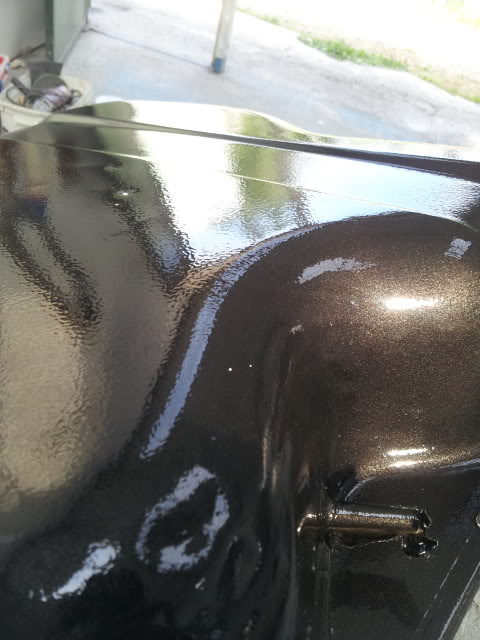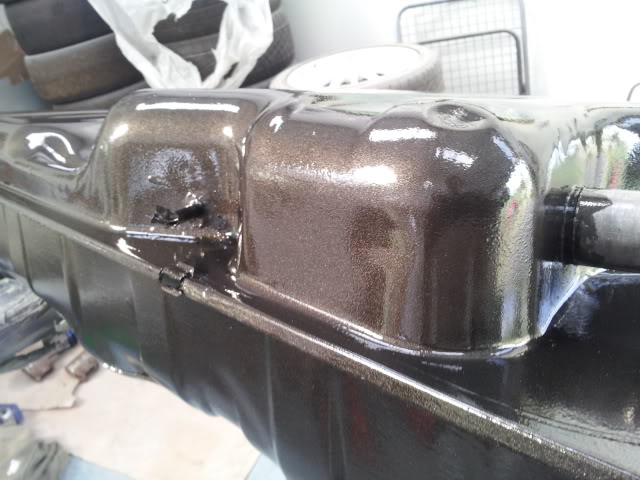 And the painter came, finished the rub down and got it in primer. Its off to a spray booth next Monday, so it's basically got to be complete by then apart from the pretty bits!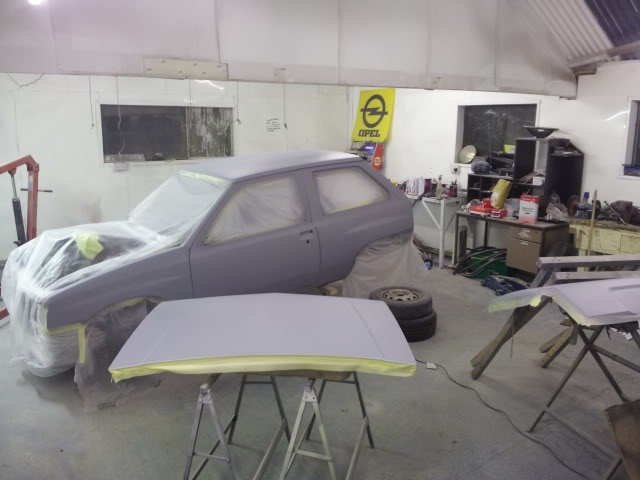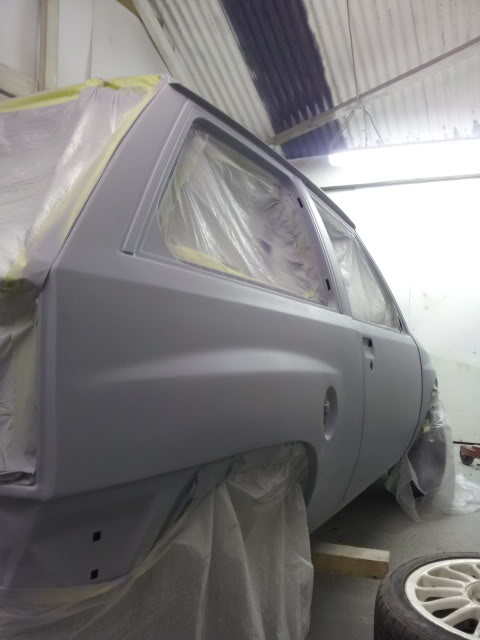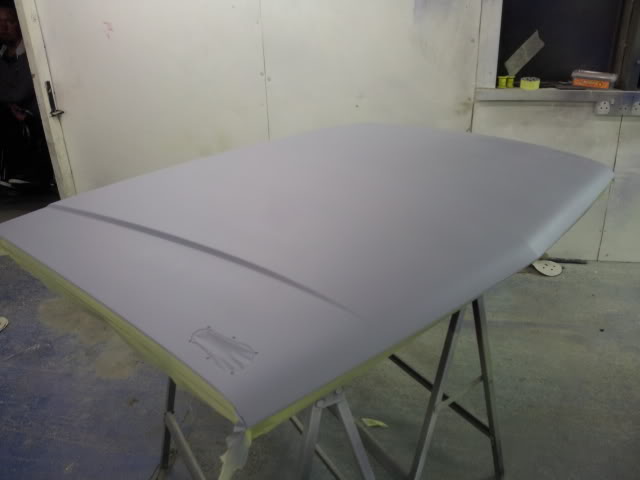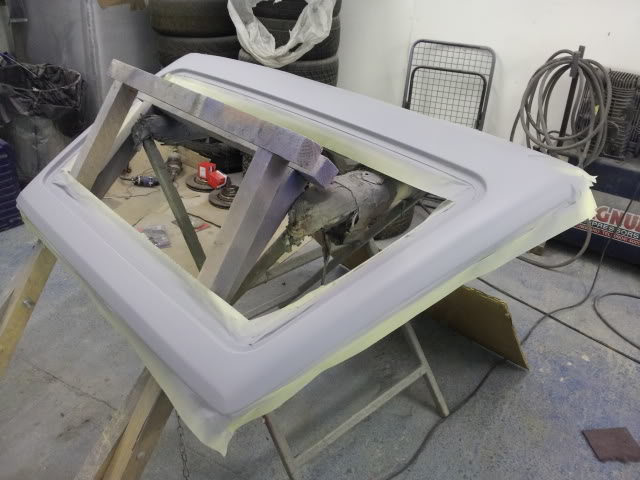 9-3-2013
Got the brake lines all bolted up on the back...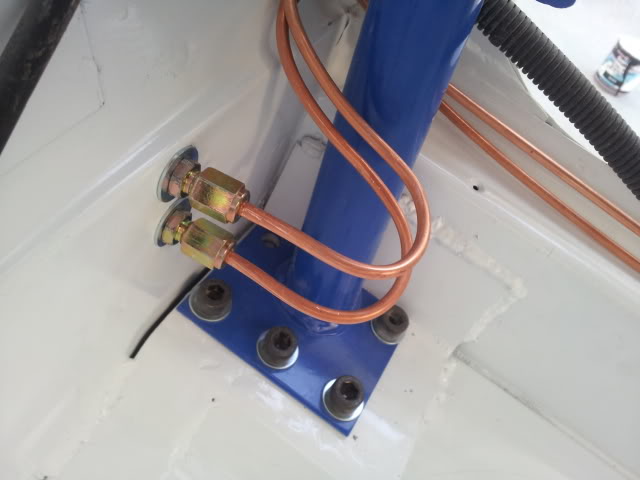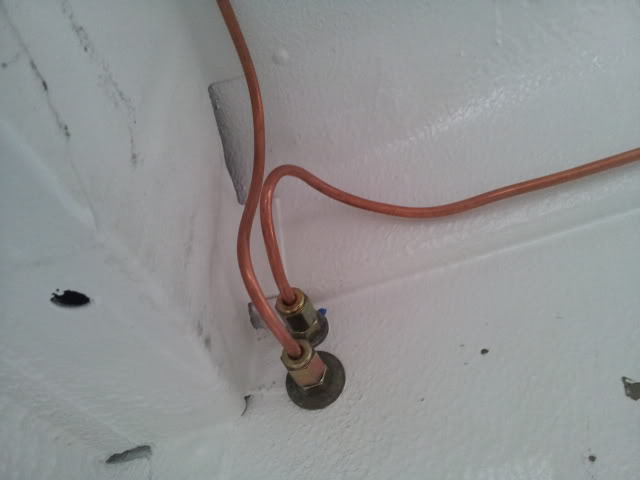 Fuel tank in...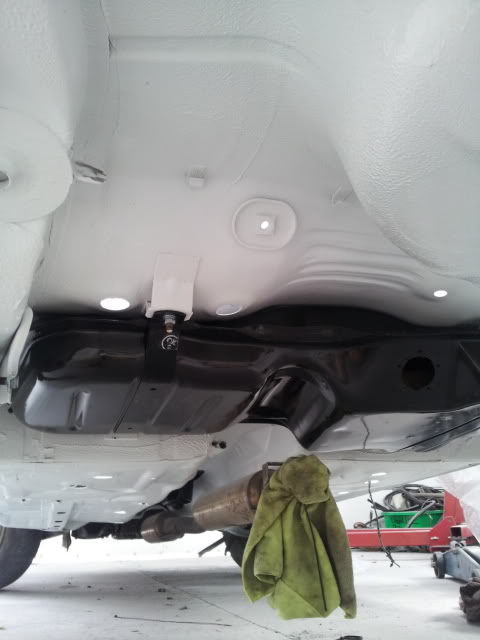 Just waiting on p-clips to turn up now to tidy everything up.
9-5-2013
Shiney bits!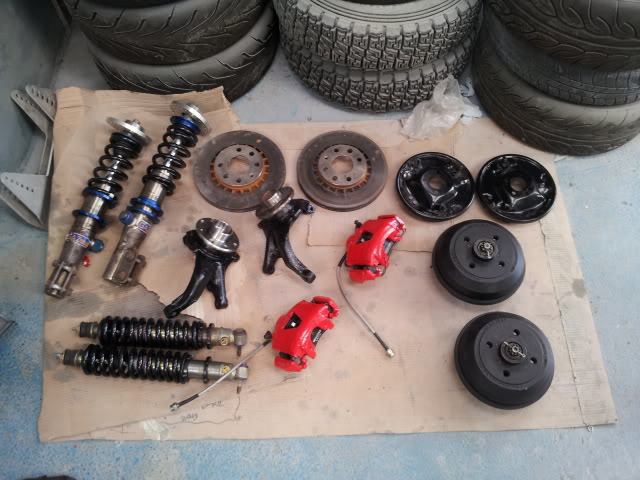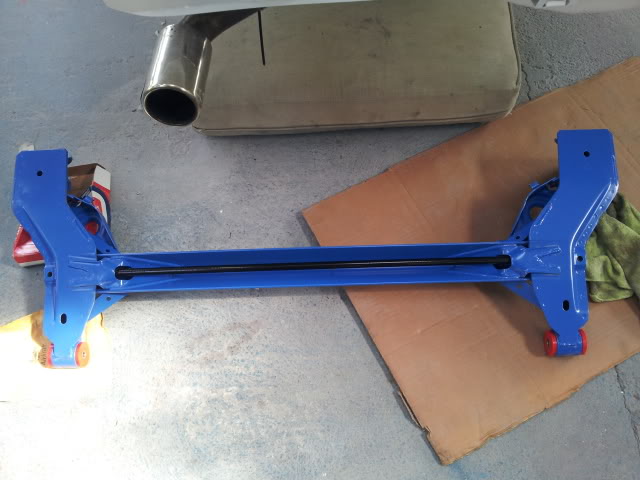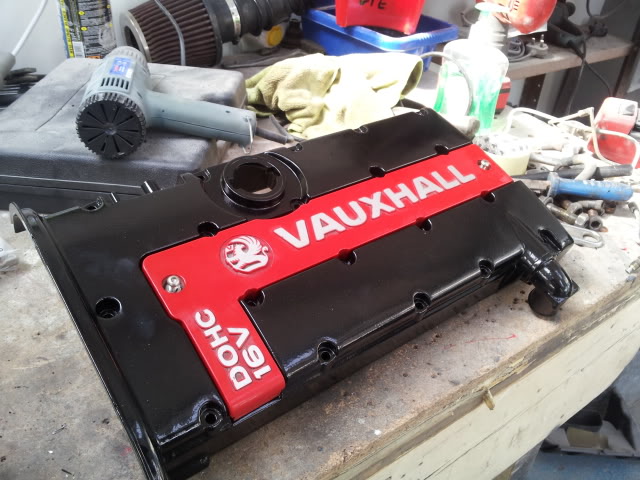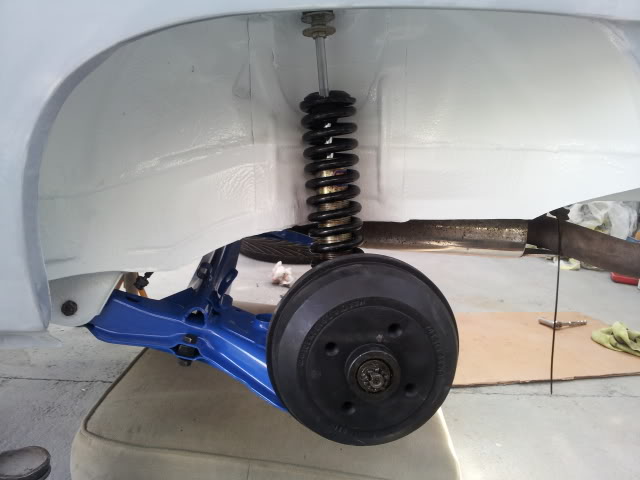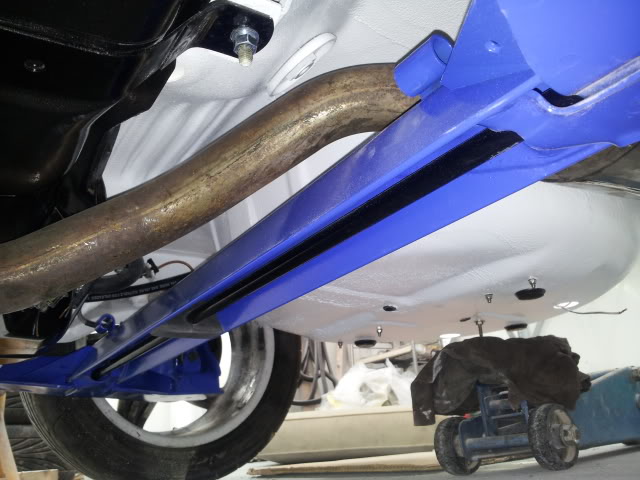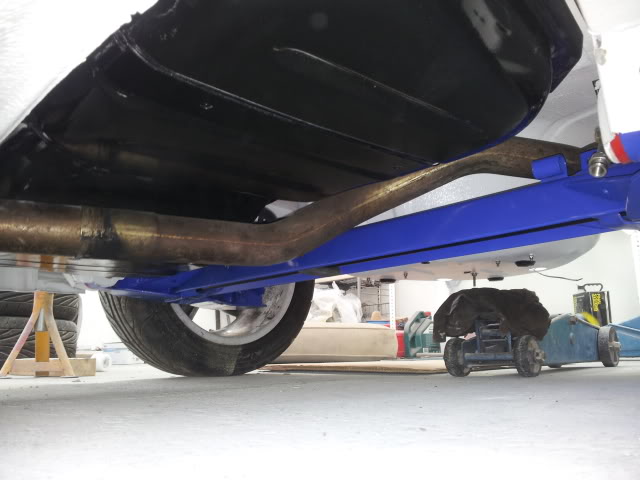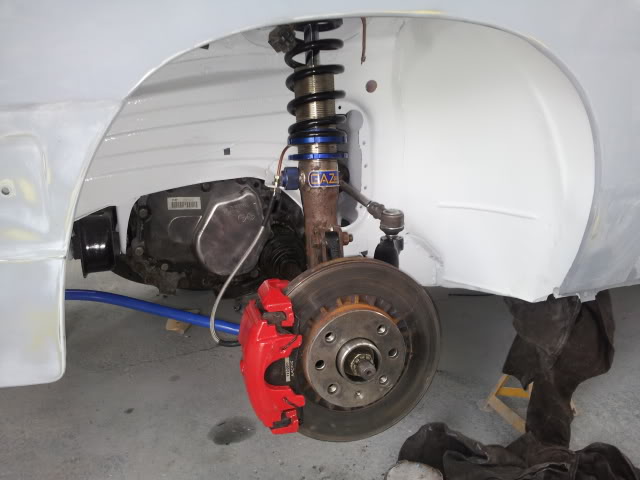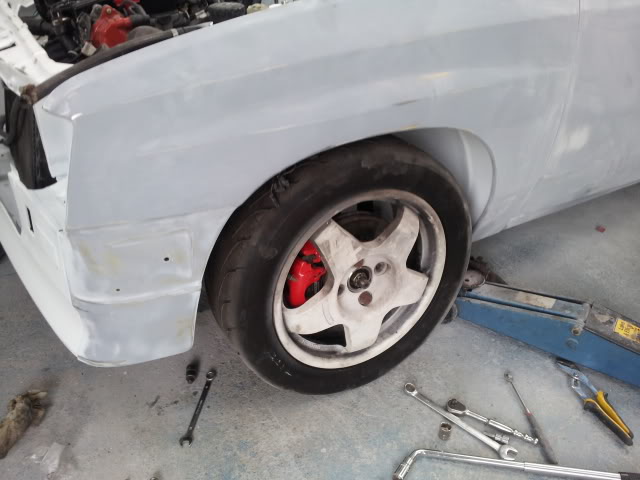 9-7-2013
Cheers

1 week till D-day! Got it running properly tonight, lights, heater and wipers working. The outside is being painted Tuesday then just build up the pretty bits before Castle Combe on Saturday. Im on schedule, it WILL be done!

Oh, its 1am and Im still in the workshop, dedication! Its cheaper than the pub too...
9-8-2013
Had its first drive...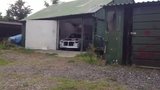 And some more pics of its current state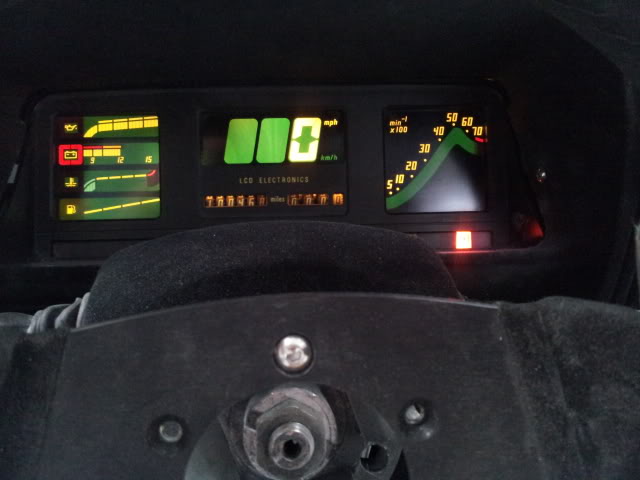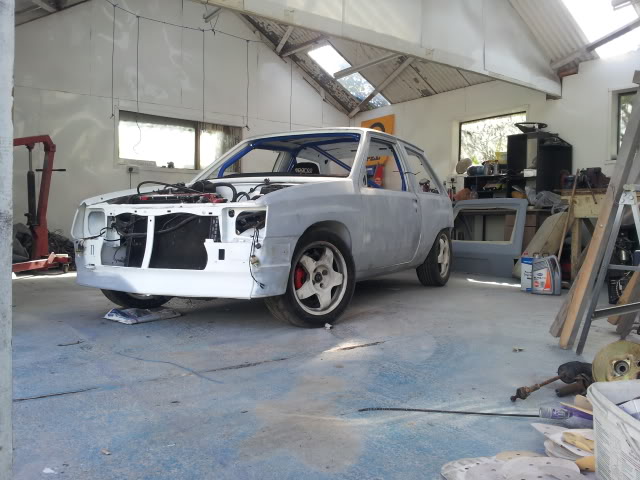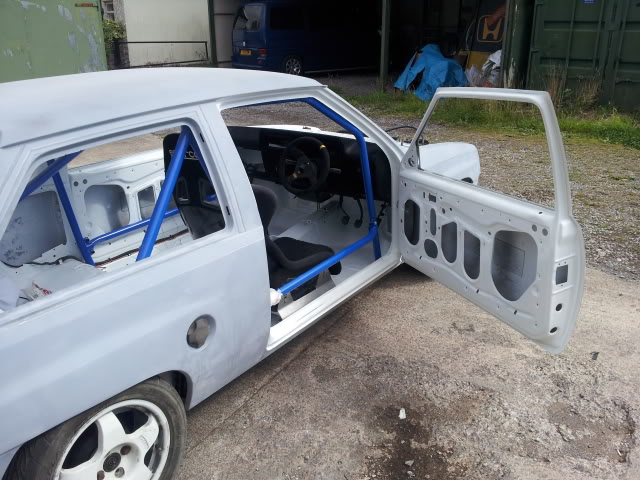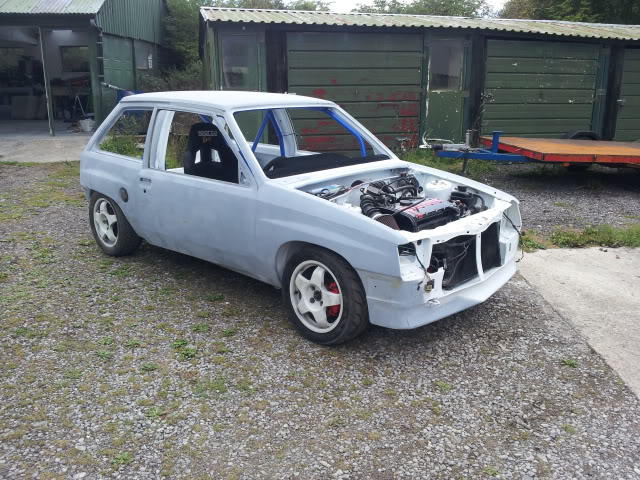 9-11-2013
So the workshop is tidy waiting for the arrival of a white Nova in the morning. Excited now! I wanted to get it stickered up straight away with its Sport livery, but have just read that ive got to wait atleast 30days before applying anything to fresh paint. NOOOO! Its not going to look anywhere near as good at Combe this weekend now. Dammit.
9-13-2013
So got it back from the painters at 10am this morning...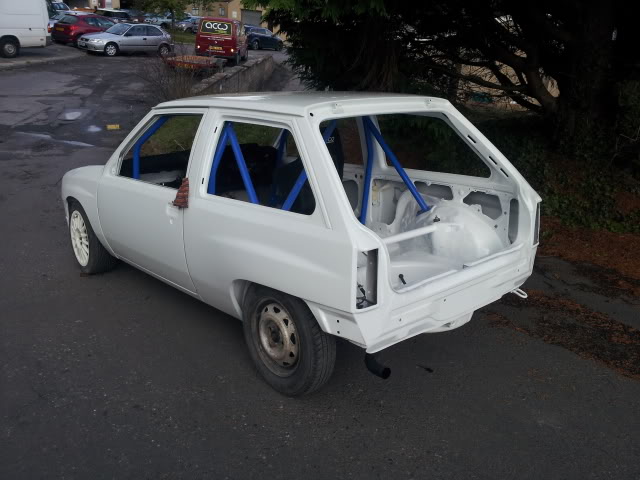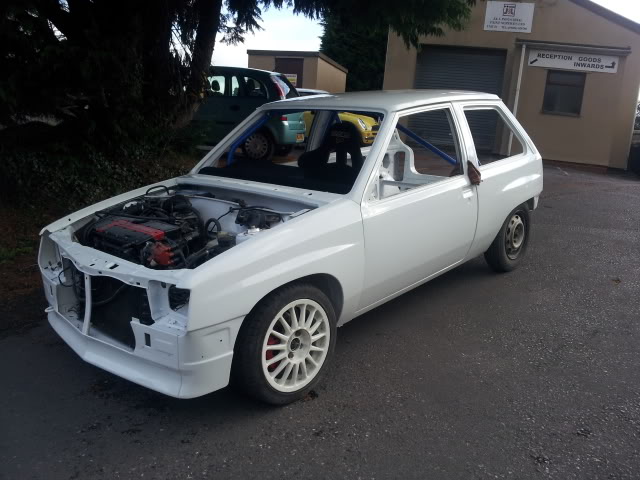 And by 1am tonight...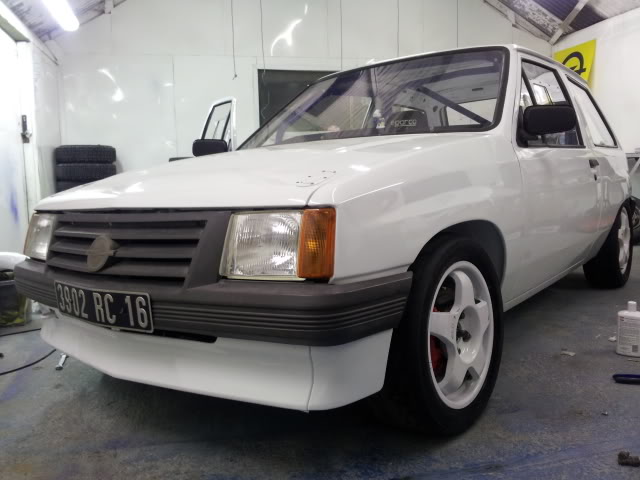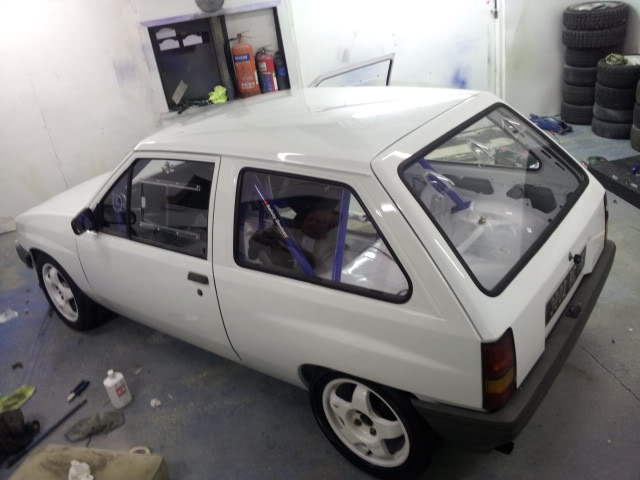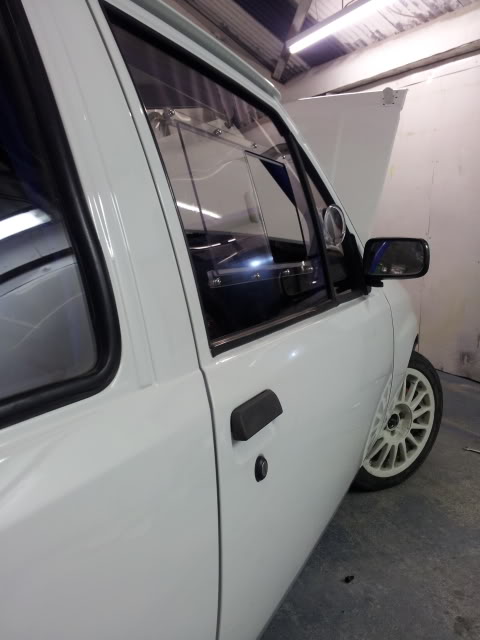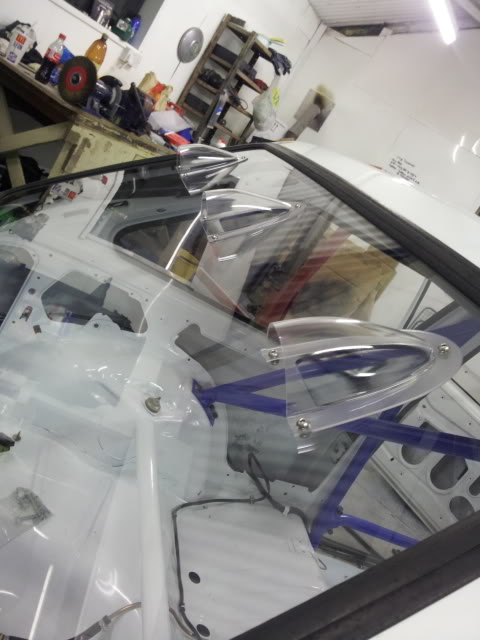 Who said it would take more than a day to build a car...?

Will get some better pics outside tomorrow
Thanks all.

RE The stickers, the car hasnt been baked so it needs plenty of time to cure. No rush anyway, ive only just finished the tracking and suspension setup! We are ready to go, cant wait.
This is my best effort round Camp. Don't worry, I didn't get lost - someone had dropped hydraulic power steering fluid all over the place.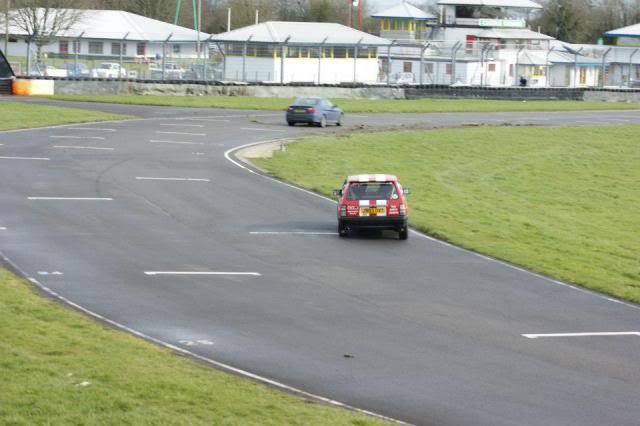 It wasn't just me though, here's my mate in his Mini going for it too.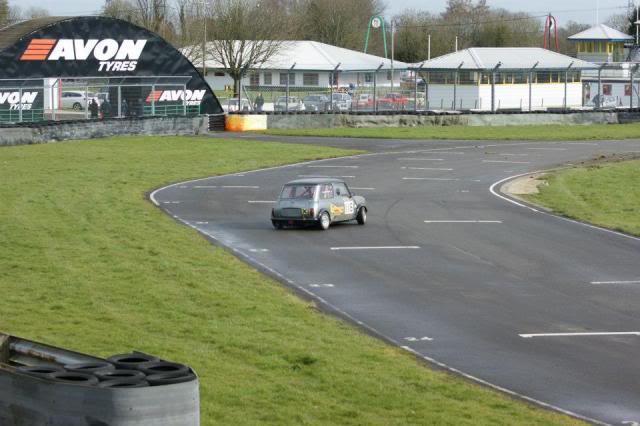 Ohhh forgot about this one! Ive got an in car cam of it too sideways the whole of Camp corner in a FWD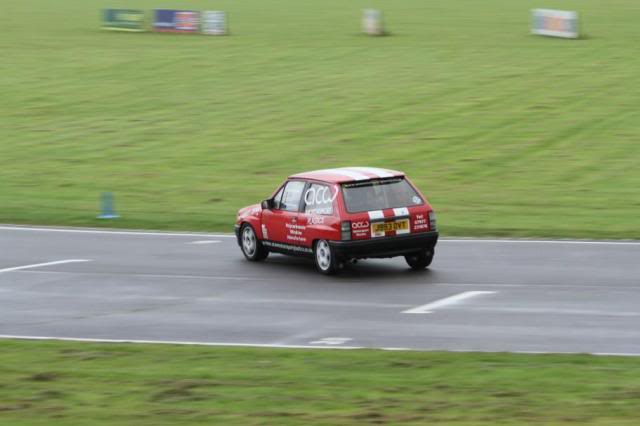 Just found the in car camera of the last picture...



3:50 is as I'm coming into Camp

And no I didn't chase down multiple 4WD Imprezas in the wet with semi-slicks on the front

9-17-2013
So I made it 2 1/2 laps in the old girl Saturday...

As I put my foot down coming out of corners it would cough and splutter - not ideal. I was hoping it would clear up but didn't so pulled in over by Old Paddock. Turned out to be a fuel pipe that was slightly twisted and had collapsed on itself. A pain, but also a God send. Drove it back to the pits, pulled up and oil was rapidly dripping from underneath. We thought it was the sump gasket (I'd replaced it at the start of the week and thought I'd cured the problem) so we drained the oil, removed the sump and baffle plate, cleaned it all up and bought some gasket sealant to go on there. Put it all back together, started it up and it was fine. For a while...

Turns out the crank shaft oil seal has given in. Something that I haven't even touched in the build of this car. So so so annoying! Will get it fixed up and hopefully see it out at the MiniWorld Action Day as they allow any cars out for the last few sessions of the day.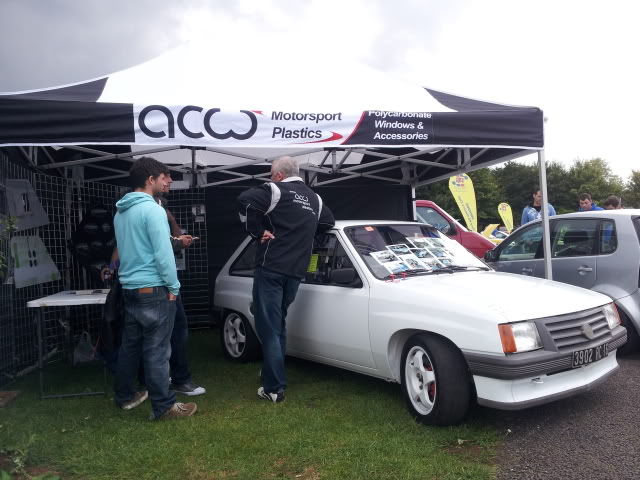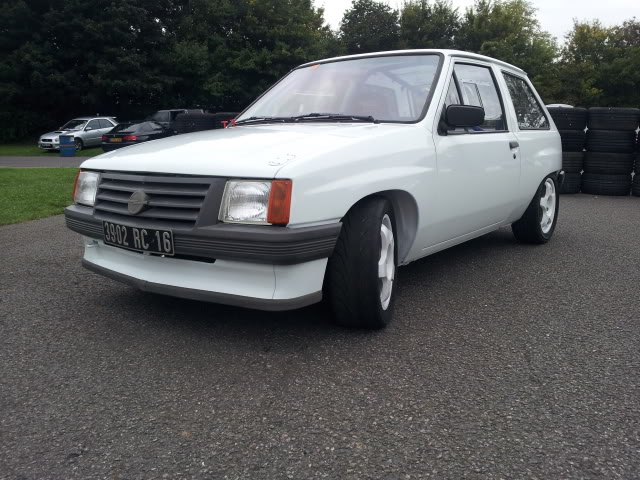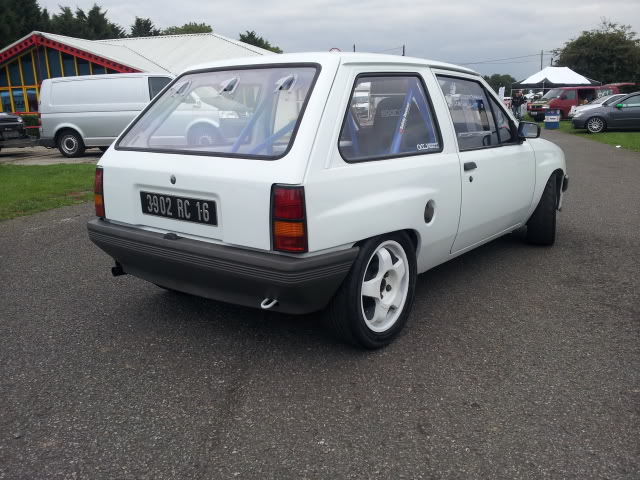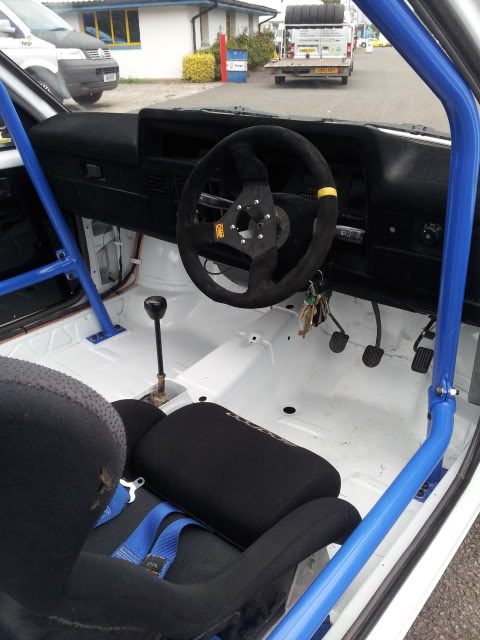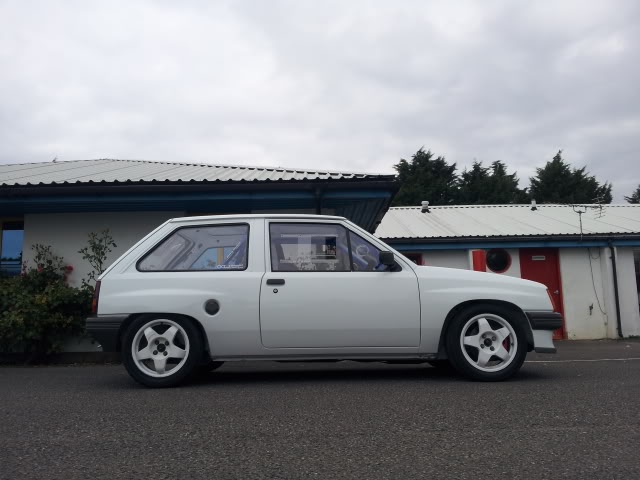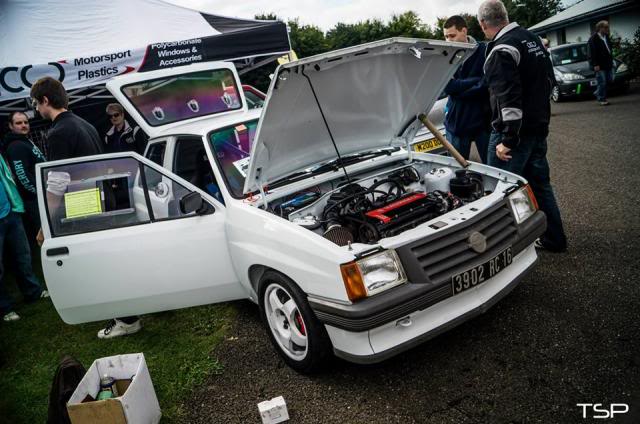 And my daily driver there too...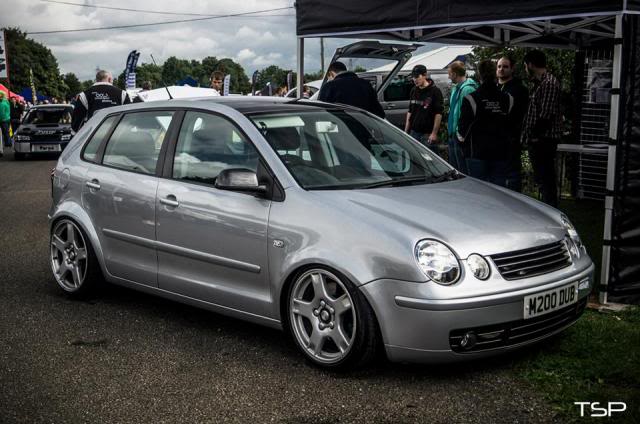 I'm dieing to get the Sport stickers on it too, but must wait 30days. Must wait.......
10-8-2013
Oh god, what have I done...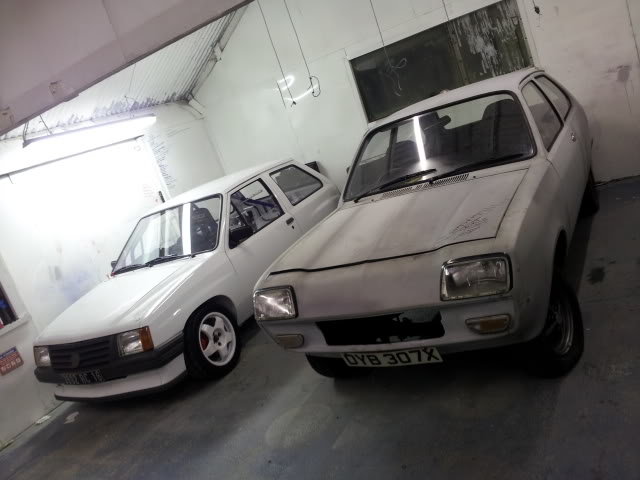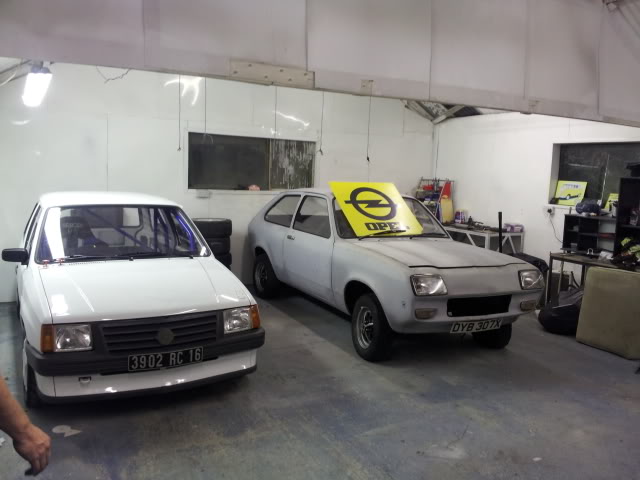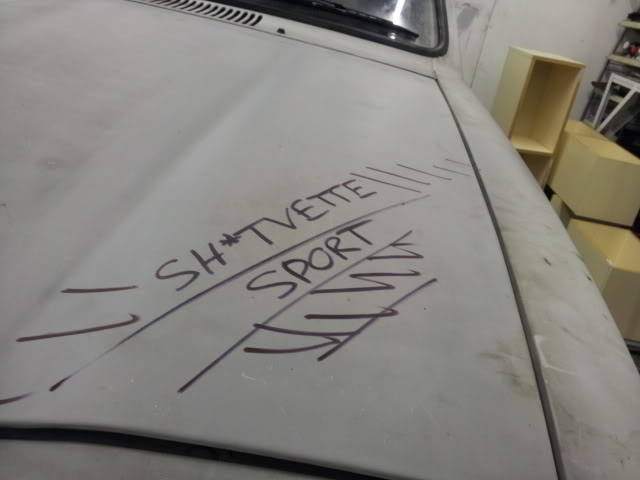 Will be getting the Nova/Corsa completely finished before I touch it though, or may even sell it on. Not sure yet!
12-16-2013
So the Chevette is off to it's new owner on Friday. It was a bit of a failed project, but the money is going into the Nova/Corsa now. A friend sourced me a matching spark plug cover so fitted that today. Hopefully will get it sorted over the Christmas break ready for trackdays next year. The Sport sticker kit is still waiting to go on too...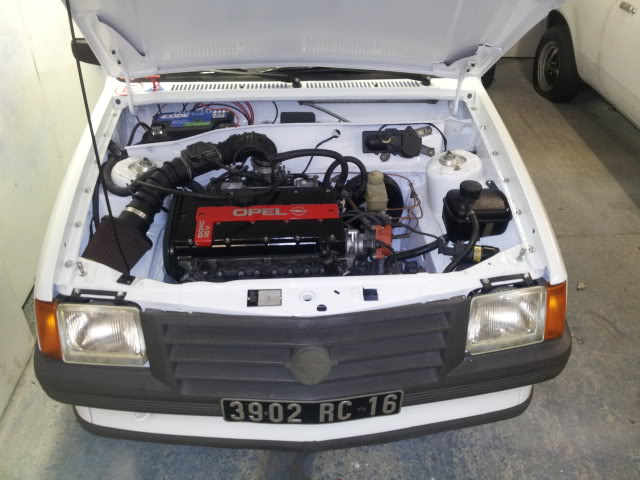 12-18-2013
Cheers guys

Just want to get it out on track and have some fun in it. I haven't really got a budget for it this year so no big changes will be happening. My plan is to get a suspension setup I like and learn the characteristics of the car. It's a completely different animal to the old car. Lighter with much more track focused suspension, with quicker steering rack and different tyres and all new bushes etc. Its like going from a Fiesta to a Ferrari. Well... almost.
12-28-2013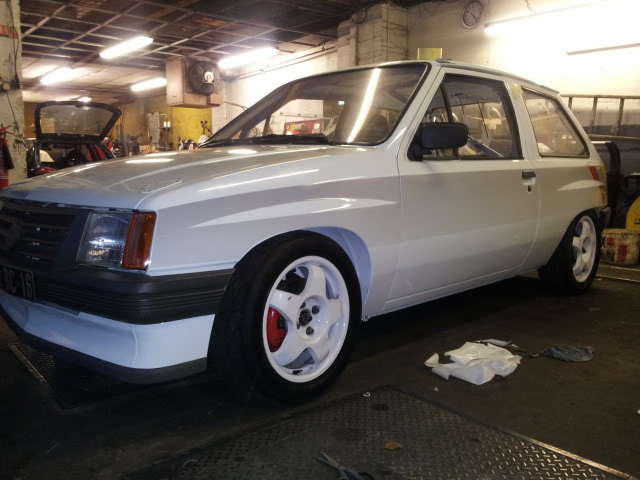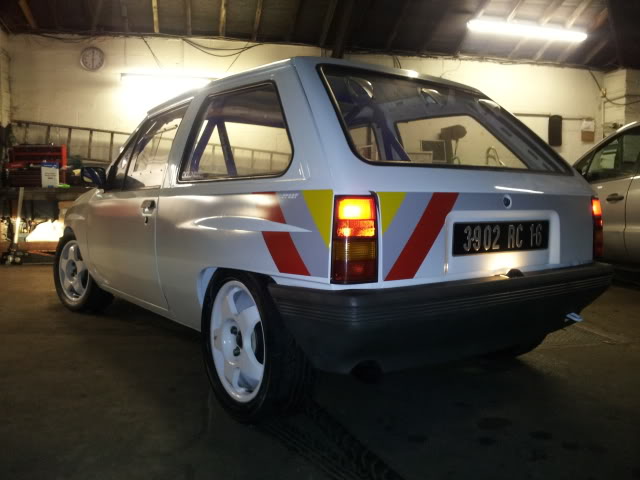 Finally!! Stickers on. What a nightmare, never again!!
12-29-2013
Better photo outside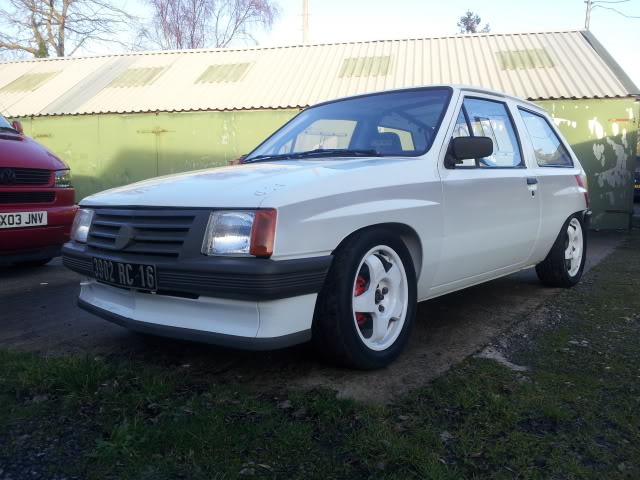 12-31-2013
Thanks everyone. The stickers haven't gone on as well as I'd have hoped, quite a few small bubbles, so I may get another kit and get someone who knows what they're doing to apply them again.

Time to get the suspension setup right and go play

Can't wait for the next season of trackdays.
2-13-2014
Cheers guys. The side stickers are being re-done asap by a friend who works for a local signage/wrapping company. Nothing wrong with the stickers themselves, just my useless positioning and application. It's a lot harder than it looks to get right. They came from DMB Graphics, it's really worth getting a pro to apply them though.

The car's getting a professional photoshoot on Sunday so I better get on and finish all the final touches
2-14-2014
Fire extinguisher in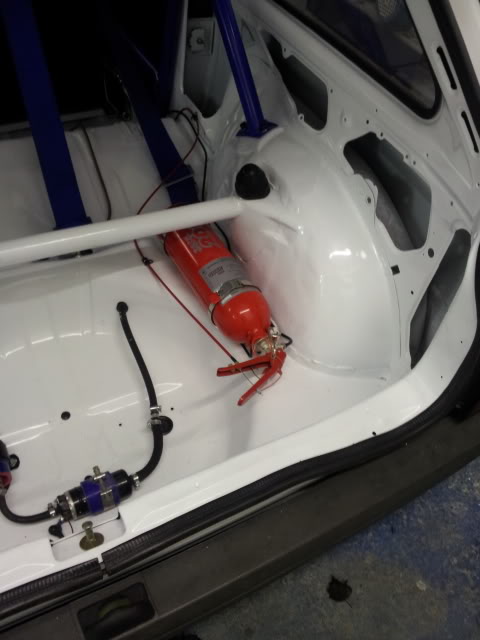 Original badges back on the boot, as well as the 1.3 and sport badge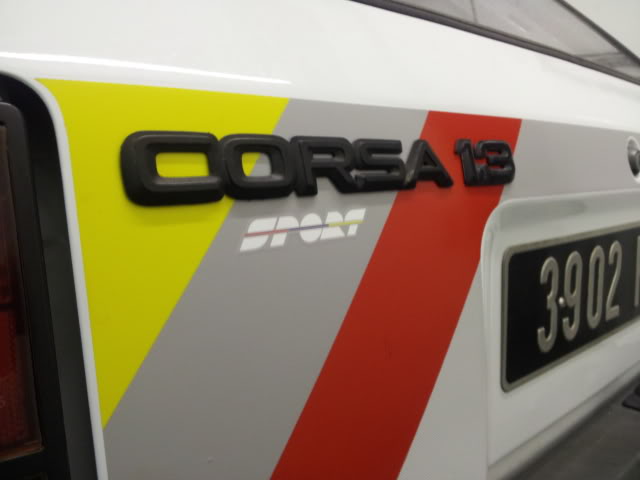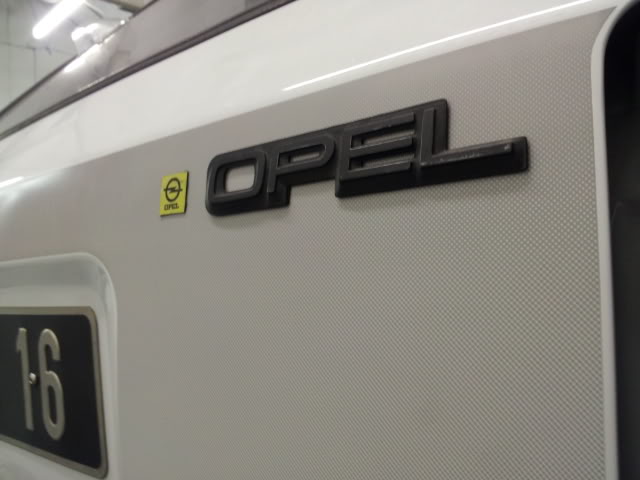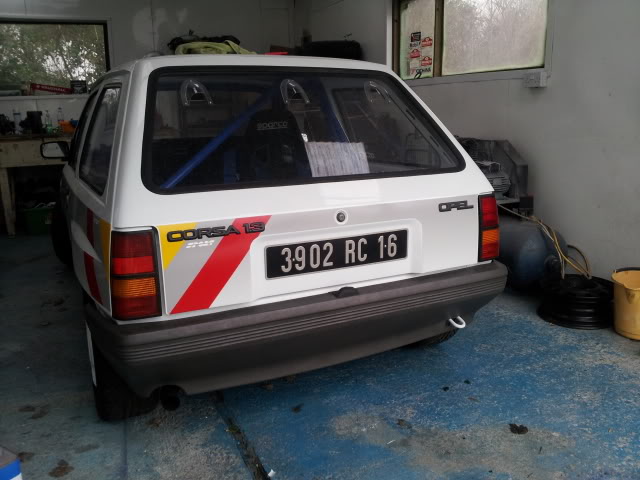 Bonnet sticker on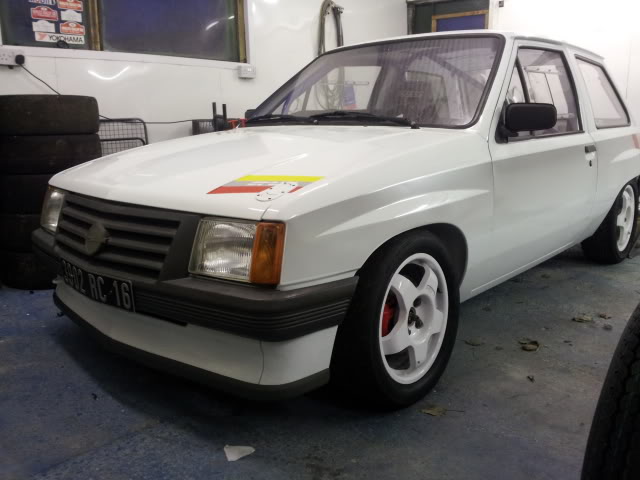 2-17-2014
A shot from today...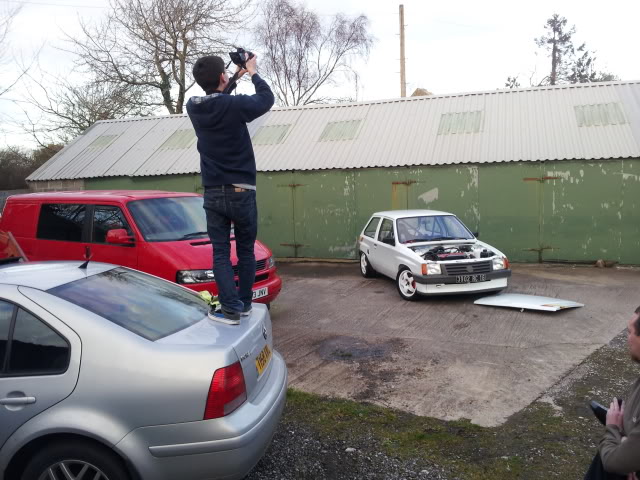 Who needs a step ladder?

Professional photos coming soon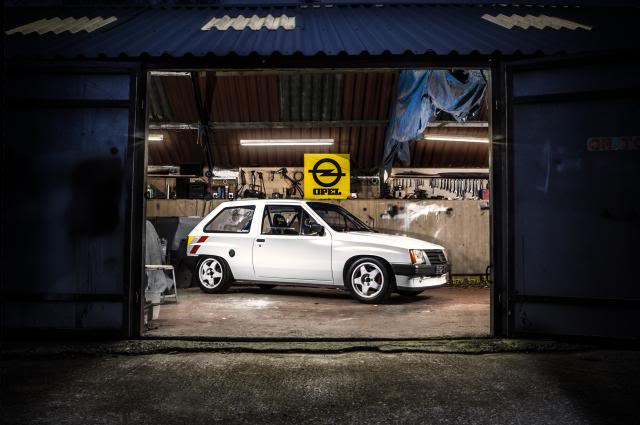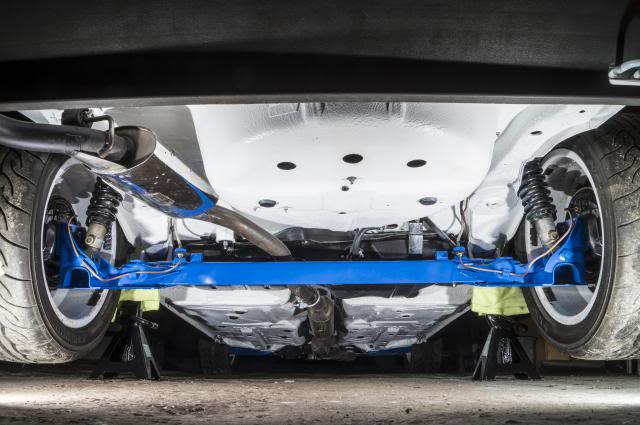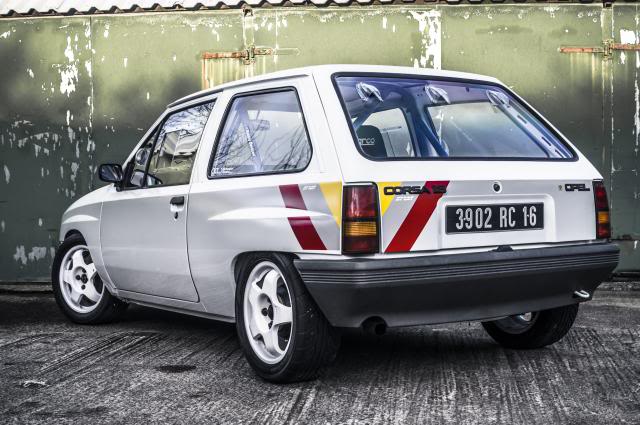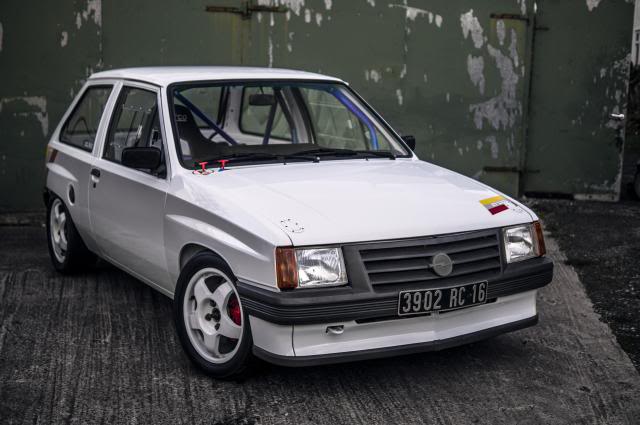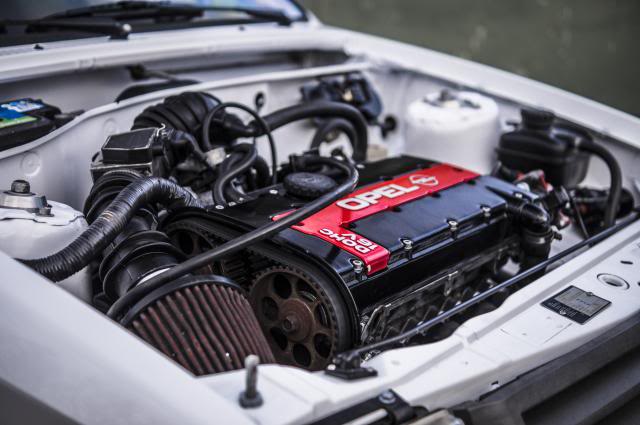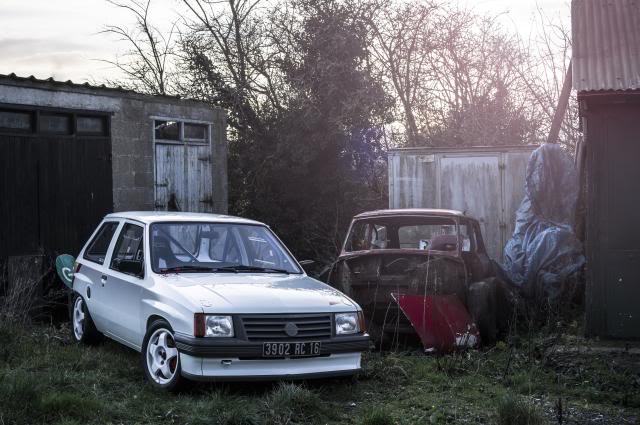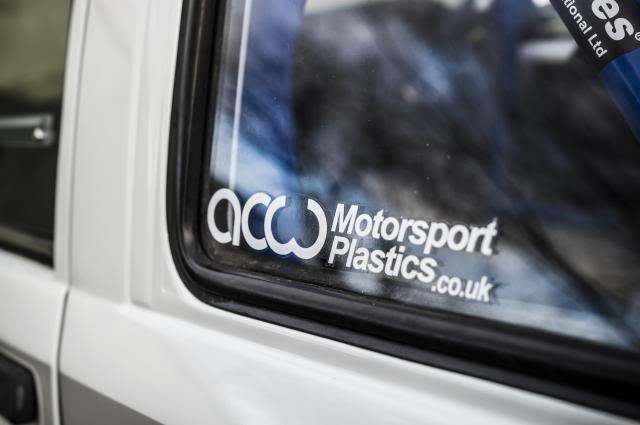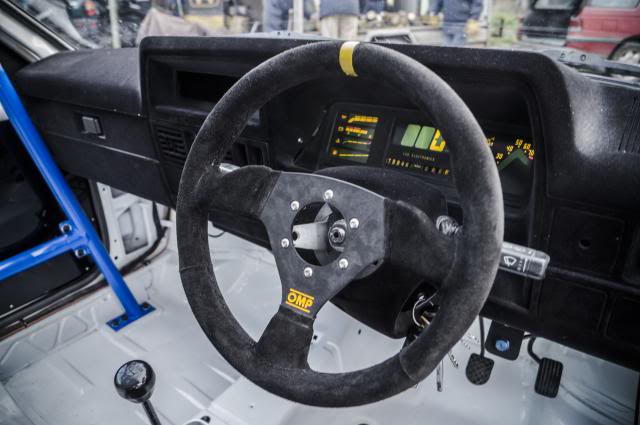 Didn't get chance to re-do the stickers along the sides so the rear quarter panel is still a little too high. But other than that, really happy!
6-27-2014
Thanks guys. To anyone who doesn't know its featured in the July issue of Practical Performance Car. Go grab a copy at WHSmiths!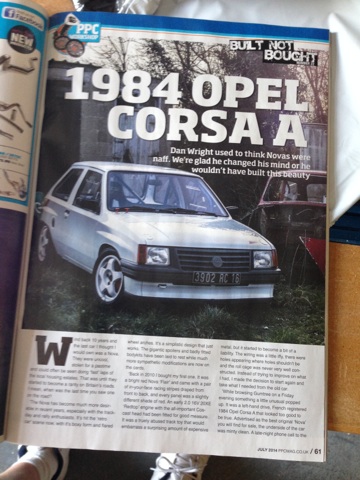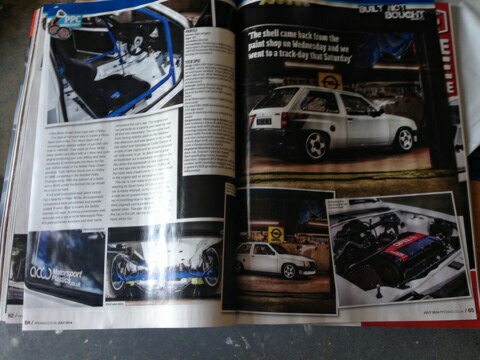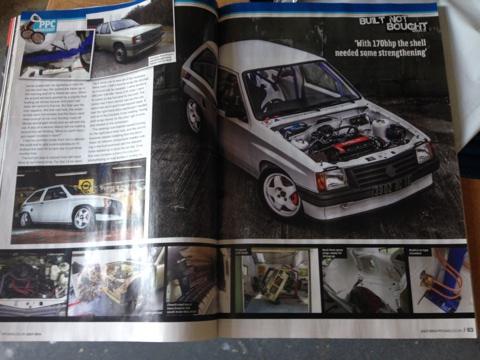 8-7-2014
Finally had the car out on a trackday a couple of weekends back. Car handled amazingly in the wet, was so happpy with it. As I was driving in the rear of the car dropped slightly with a worrying bang. I thought it was a flat tyre, drove gingerly back and as I pulled up I found myself looking worryingly towards the sky. With a puzzled face I got out the car to find the rear wheel had just fallen off. Face down on the floor. 1 more lap and that wouldve been a very messy 120+ mph crash over Avon Rise.

Well anyway, stub axle snapped in half. I think the grease cap fell off on track allowing all of the wheel bearing grease to come out. The wheel bearing then got so hot it seized and bang game over. Close call that I don't wish to re live.

Putting the car back together this weekend ready for llandow on 16th

8-14-2014
Cheers guys, was a close call! Big Man upstairs was looking down on me I think



I put 2 new wheel bearings, drums etc on the rear last weekend so out on Saturday at Llandow, will try and return with 4 wheels attached. Fingers crossed...
8-18-2014
So fuel pump packed up (yep, thats the noise at the start and the really poor acceleration out of corners...) but other than that was a hoot.

4 minutes in and it all got a bit lairy!
8-19-2014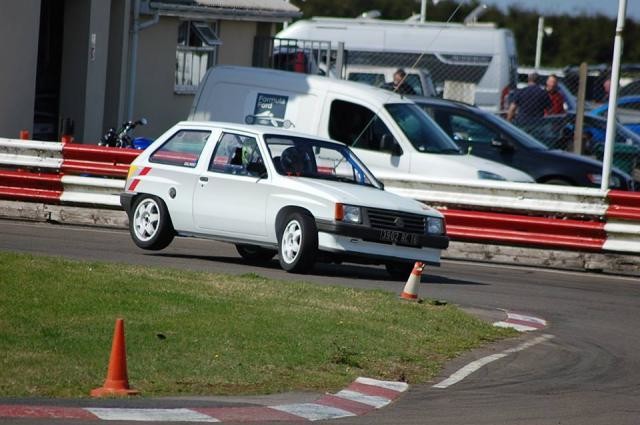 9-1-2014
Well I was going to do the Summer Action Day at Castle Combe, but have booked a last minute holiday and fly out that day. I want to do another one this year, probably Combe again until I get the little niggles sorted and get it reliable.

And yes - I built it to be driven hard! Shes no trailer-queen



Ive recently started working for these guys so am away from home and can't dedicate much time to the car unfortunately

http://www.topgear.com/uk/car-news/Z...mpaign=ongoing
1-18-2015
Final niggles sorted and we had a great day at the start of the month. Car is way too stiff for damp conditions, but now it is (hopefully) reliable I can start playing around with spring rates, damper settings and the like