My next project? 1921 Packard Coupe
By diyauto
You must be logged in to rate content!
My next project? 1921 Packard Coupe
Compliments of oldcar @ http://forums.aaca.org
5-27-2010
Hello again.
With the Dixie Flyer now on the water heading towards the US and seemingly unlikely to return after the AACA 75th Anniversary show it is time to start thinking about what I do next. One possibility is this 1921 Packard "Single Six" coupe. But first I would like to know a little more about it. It is a comparatively recent (about five years ago) import into Australia. West P tells me that the body is rather unusual, does anyone recognize it and can tell me if it is a standard Packard factory body or a coach-built? Obiviously the seats are not original. I probably will not do too much about it until after we return home in mid-July. Not all that far away.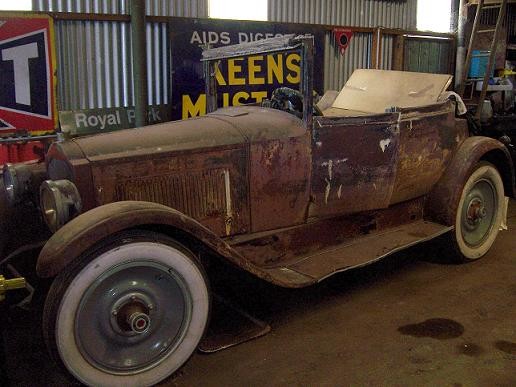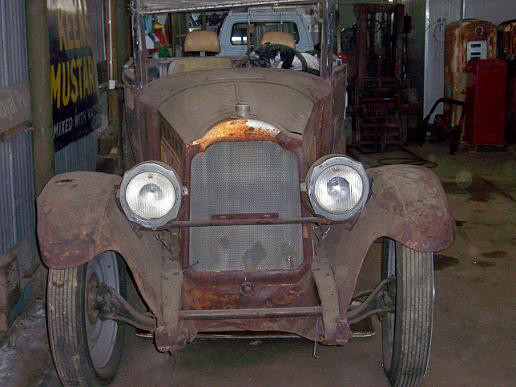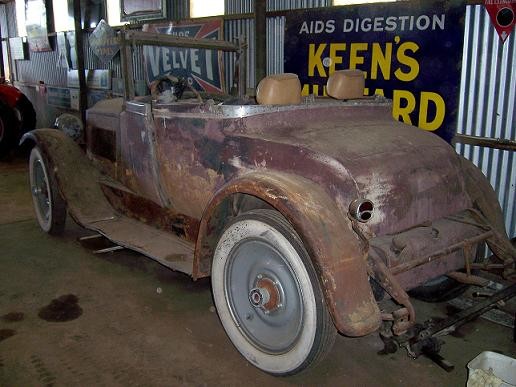 6-1-2010
Hi All
I went out to see the Packard yesterday. Sadly I will not be buying it It is much worse than it looks in the photos.
It was originally a four seat four window two door sedan. the roof has been hacked off and the car left out in the weather for years. It would be as big a job as the Dixie Flyer, something that I am not looking for right now. So this means that I am still looking! I will probably wait now until we return to Australia in early August. We leave for the US and Louisville on the 23rd just three weeks away!
6-6-2010
As mentioned above I am seriously looking for another project to replace the Dixie Flyer. It now seems almost certain to be staying in Kentucky........
I am looking for a large engined (over 5 litres) early (Pre 1918) either abandoned restoration project, basket case, rolling chassis or barn find. Prefer wire spoke wheels but will consider almost anything, any condition provided that it is interesting.
One thing I will guarantee is that what-ever I start I will finish unless death intervenes!
Please don't waste your and my time with telephone number prices.
8-19-2010
Don't look now but after some serious looking at other possibilities it now seems certain that I will be taking on the Packard as my next project. Mechanically it seems very original, complete and un-molested right down to the seventh spark plug. The body is interesting as from the windscreen back it is aluminum. It will need a speedo and the hand controls for spark & gas and a horn button from the centre of the steering wheel. I believe that I can construct an attractive sport roadster using much of the original panels. Watch this space......
8-25-2010
Chocks away!
With the Packard secure in our car port (there isn't room in the garage/ workshop right now), the lights, the left hand front fender, the apron below the radiator and the running board have been removed. The plan is to remove all the fenders, running board/side-steps, valances and hood before starting work on stiffening the timber frame up to a point where the body can be safely removed. Having got this far I have been able to uncover the Chassis number *1128317* so now the car can be accurately dated.
The whole car will be dismantled down to a bare frame before rebuilding can commence in ernest. Meanwhile I know that I will be looking for a few things in order to complete this restoration. These will include a 23 inch disk wheel, a speedo and probably the smaller instruments, the spark and throttle levers from the centre of the steering wheel and an early series hinged radiator cap. Any of the early Packard people reading this "Please look in your spares and boxes of bits"
Today's photographs include the Packard, the drivers side floor boards with remains of the original linoleum and aluminum edging intact. The dash as is at present. The cast aluminum "toe board" and pedals which are weathered show little or no signs of wear.
Having spent some time inspecting the underside of the car, more than ever I am convinced that it has done very few miles. The entire exhaust system is the original and there are very few signs of miss-use or make-shift repairs. The lining on the foot brake bands shows little or no wear. Having removed both front shackle pins when removing the apron I found both to be virtually un-worn.
Now a question. I have found this body style referred to as either an Opera Coupe or a Doctors Coupe. Which is more correct?
Watch this space!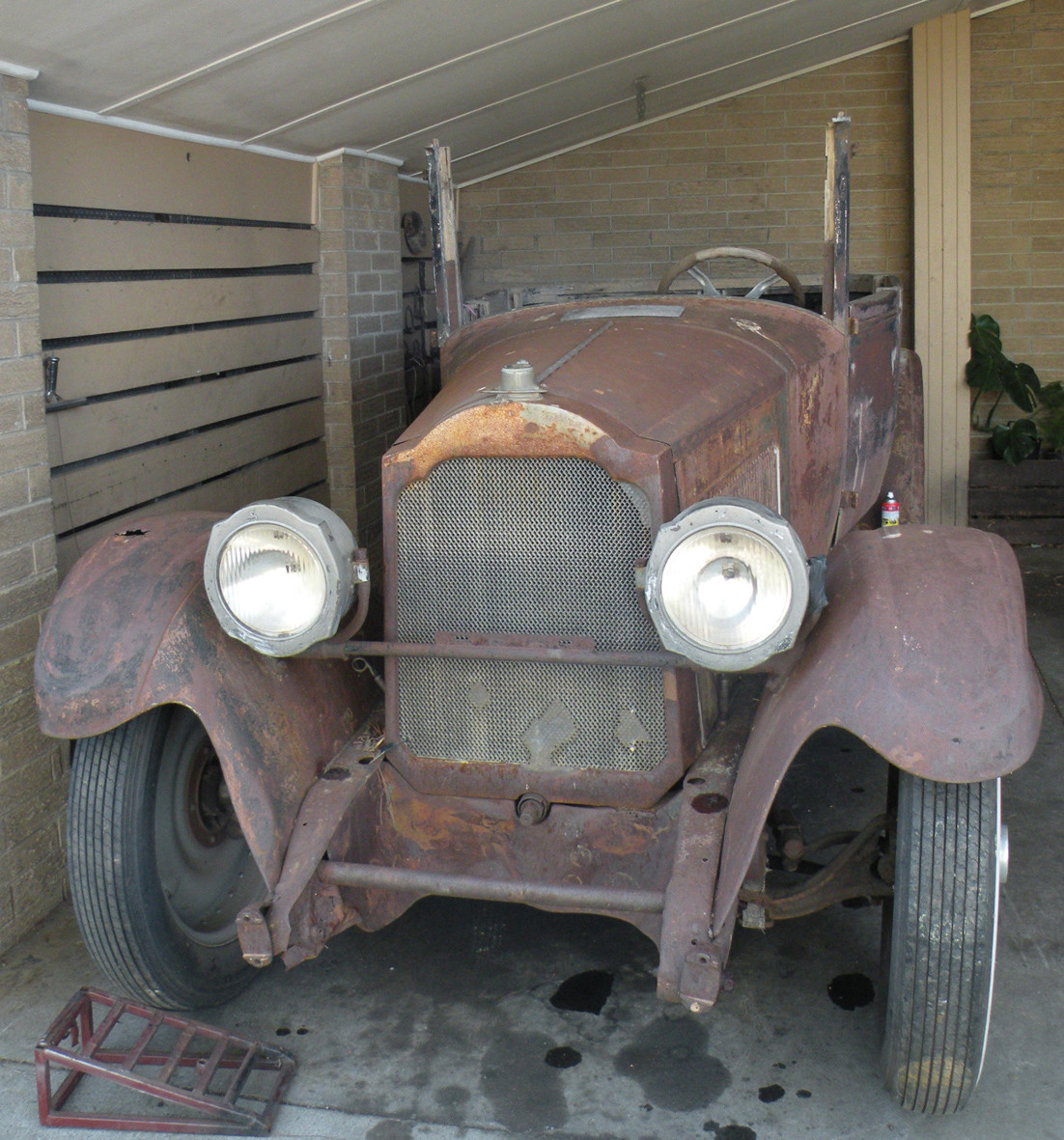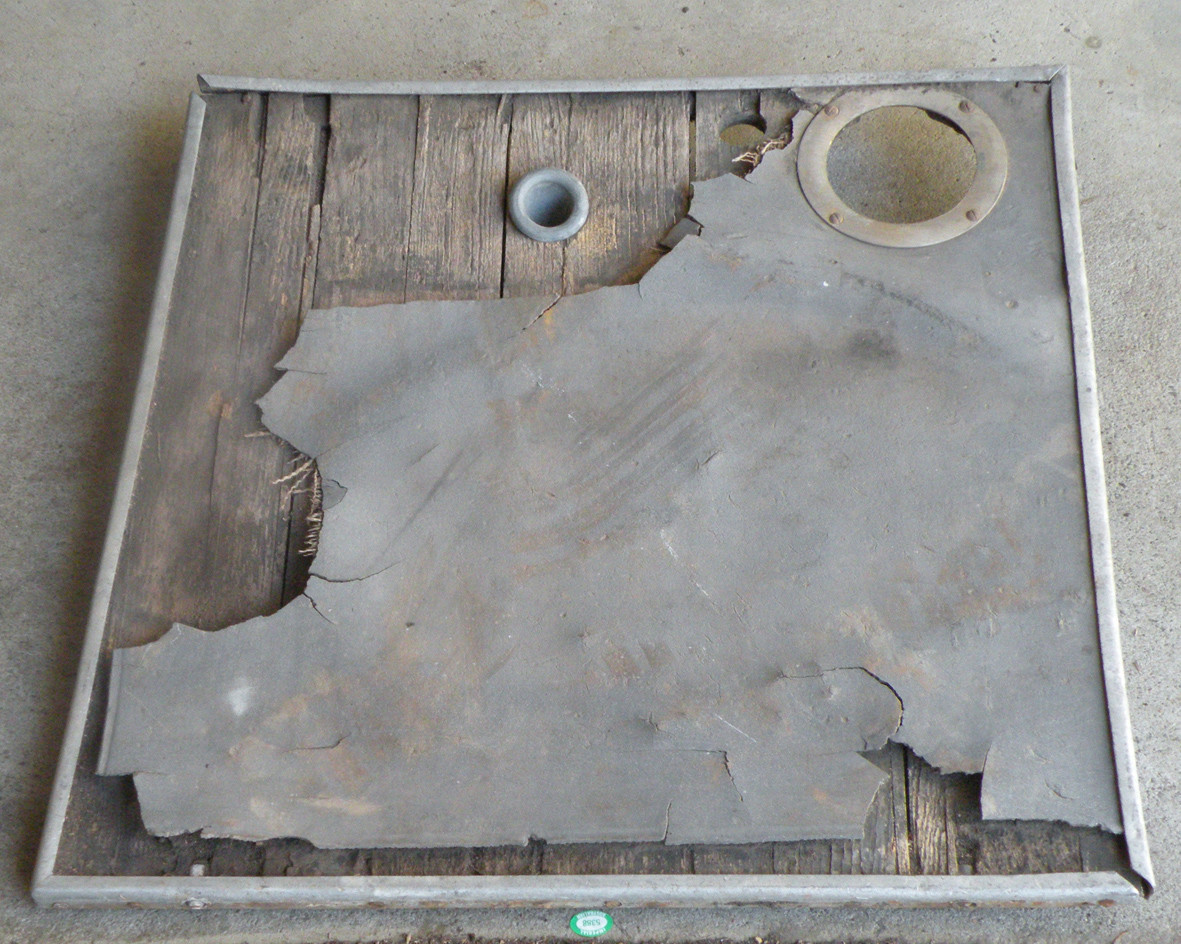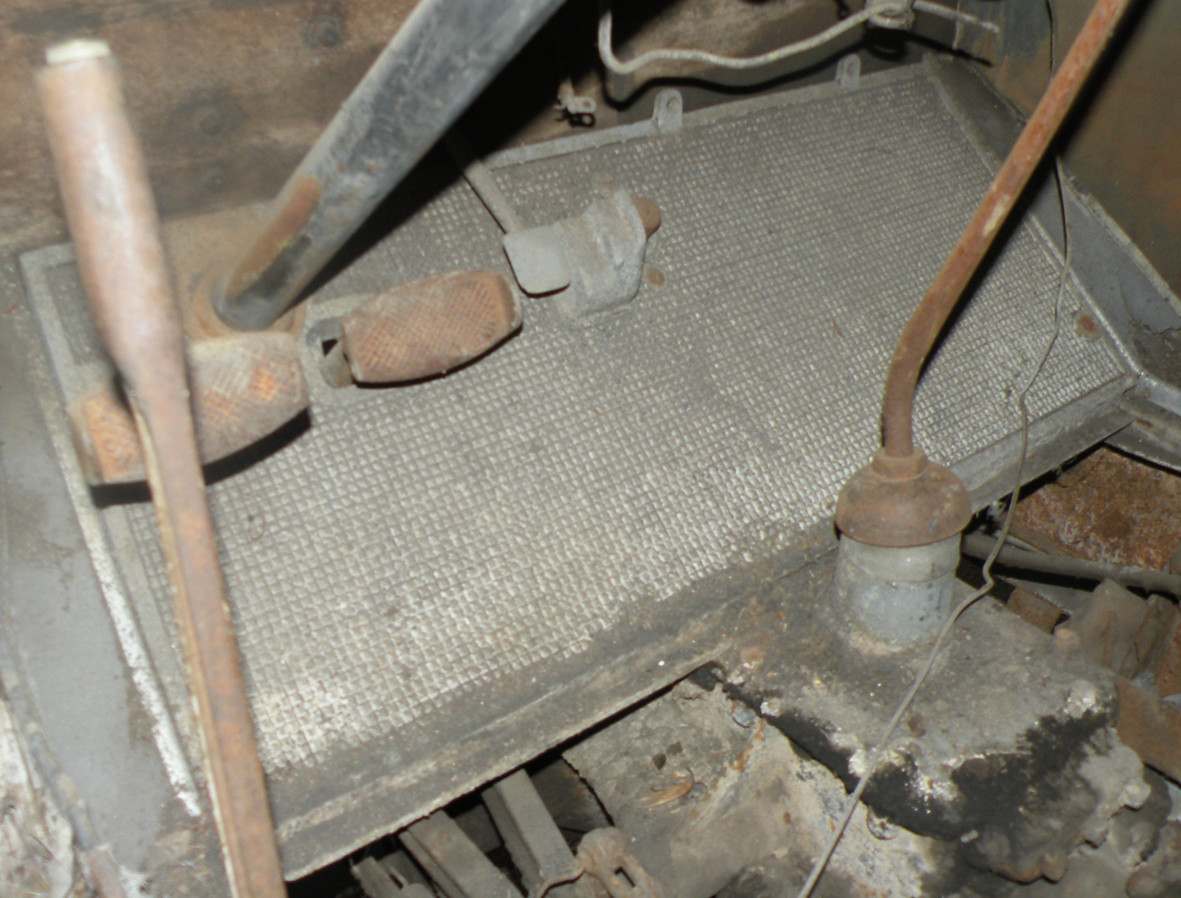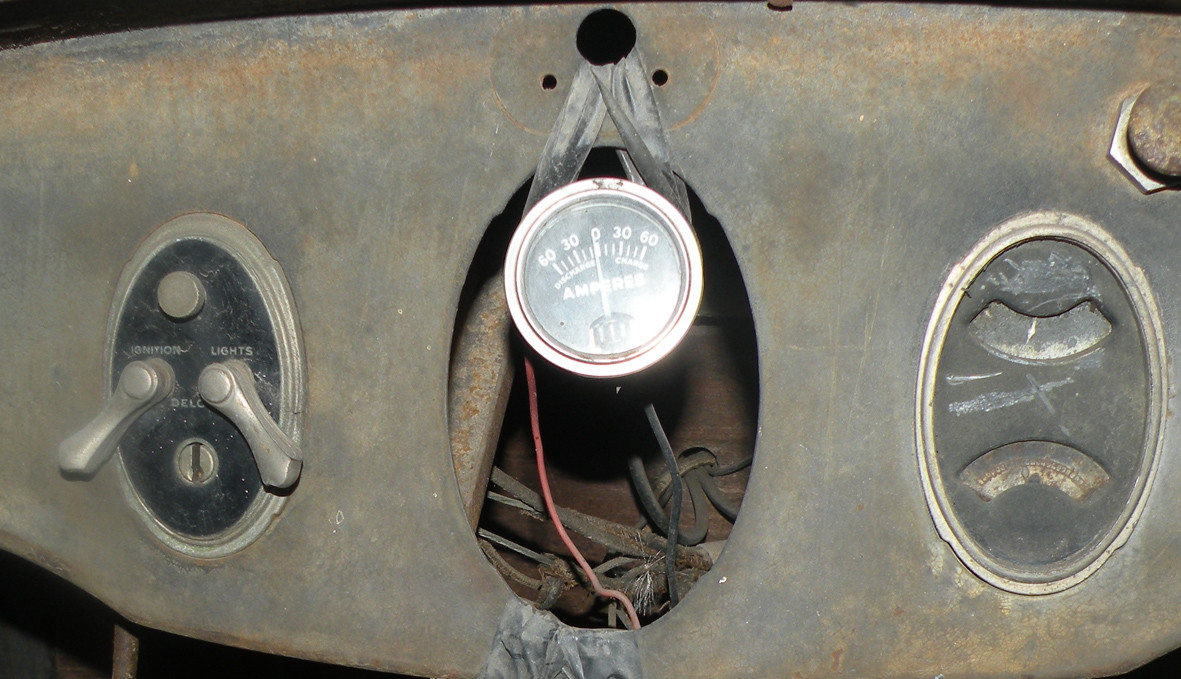 Funny how these things "just turn up". A friend who dropped in to inspect the new project brought an arm full of old magazines that he thought I may like to see. This cartoon turned up at on the back page of the Winter edition of Old Car Illustrated (No Connection) Vol 2 No4 of 1976.
Enjoy!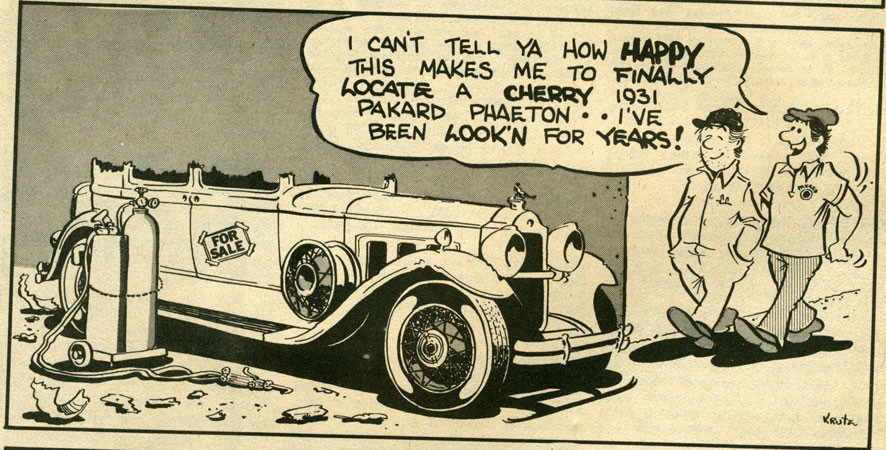 8-27-2010
Thank you for that helpful advice "B" but rather than getting rid of stuff I am accumulating it. I have just added a radiator cap complete with an original Packard Motor-meter to the collection.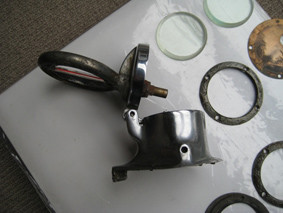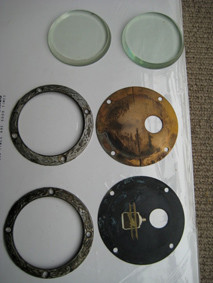 9-1-2010
Hello again!
Work is PROGRESSING. All four fenders and both valances and running boards have now been removed and are ready to go to be bead blasted. I am currently BUSY stiffening up the existing timber body frame prior to removing the panels. I would like to retain as much as possible of the original.
Please do look in your "Goody bins" or book shelves or where-ever you store your treasures and see if you just happen to have a Series 1 Packard Speedometer surplus to requirements. It will be Oval. 5 1/2 X 3 1/2 inches. have a rotating drum speedo at the top then two smaller windows for trip and total milage finally a small clock at the bottom. I hope to have a photo to show you soon but don't let that stop you looking.
Hope to hear from you soon
9-3-2010
Just a quick one. It is raining outside so I have time. Work is proceeding. With the right hand door skin removed I could see that the timber frame is basically sound but in desperate need of some new glue and screws. I have also added some corner blocks to stiffen up the structure. Next step remove the left hand door.
Just a small reminder: I am still looking for a Packard 23 inch Disc wheel & lock rim and of course I still have to find a Speedometer /clock.
9-7-2010
Hello Everybody!
It is not that I have been slacking off but quite the opposite. Work on the Packard is progressing as the attached photos should show. I have included one of the exhaust tip which I believe is part of the original exhaust system. It is CAST IRON and made in just two pieces including the clamp onto the chassis cross tube.
The other photos show the rebuild right hand door frame cut down to the proposed new height. In the other shot of the body side the tape shows the proposed new waist height.
Finally a close up of what is probably the worst damage to be repaired. To do this will entail removing the entire skin from the doors back. Finally a general shot of the car with doors, four fenders, running boards and valances removed
More later.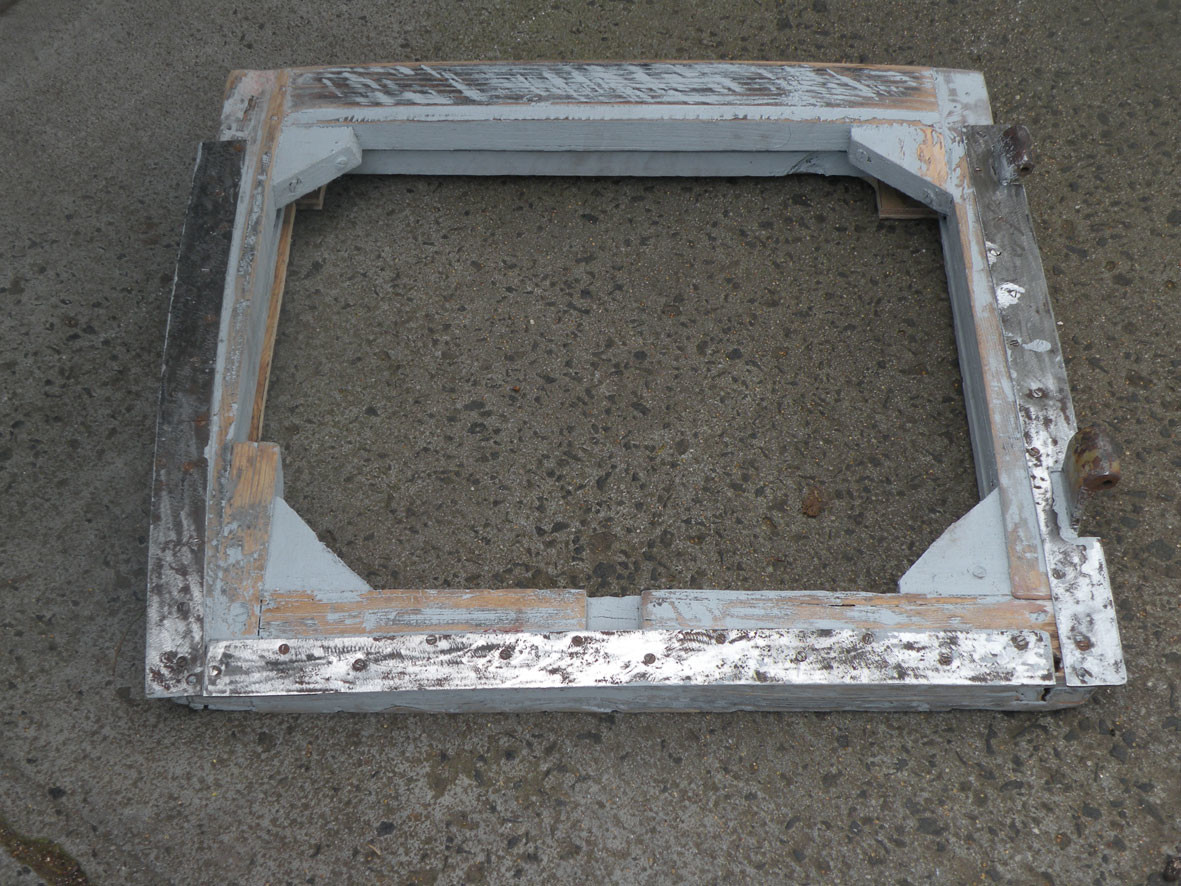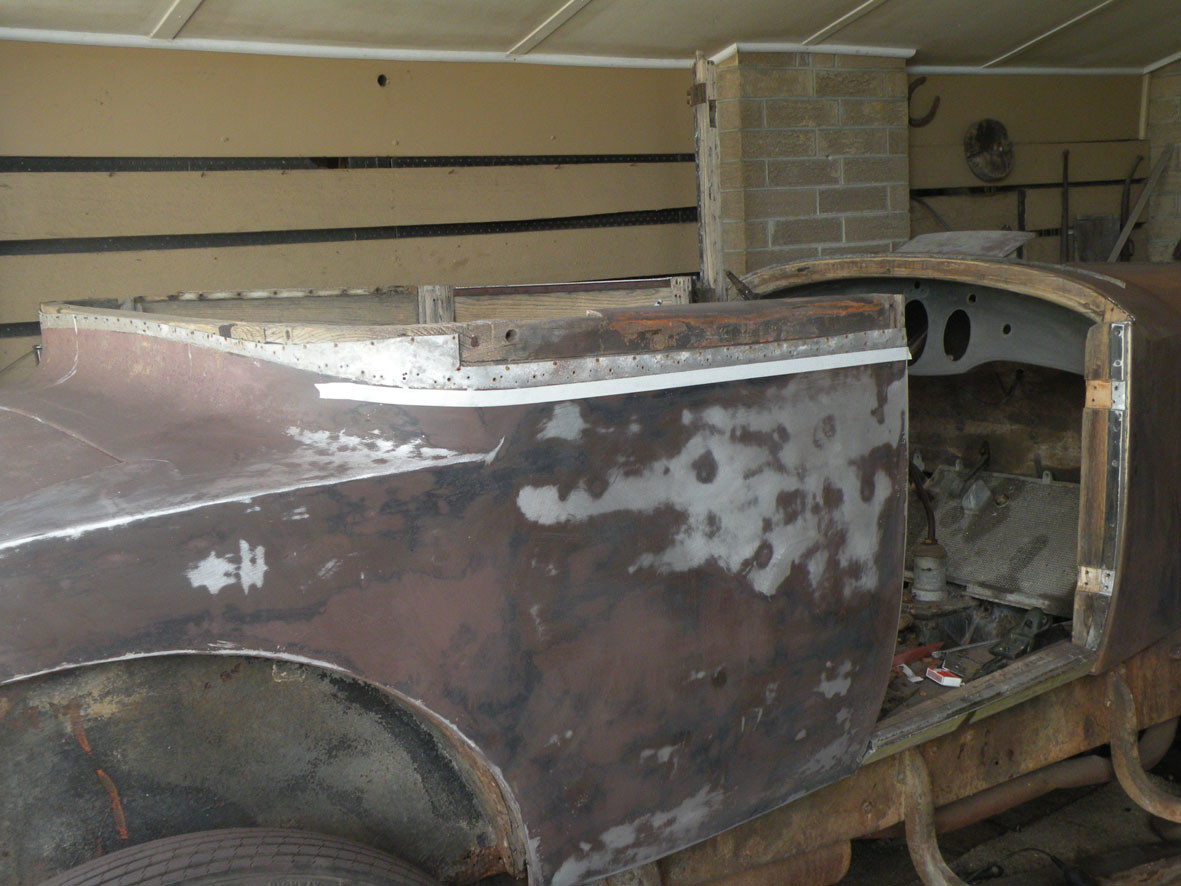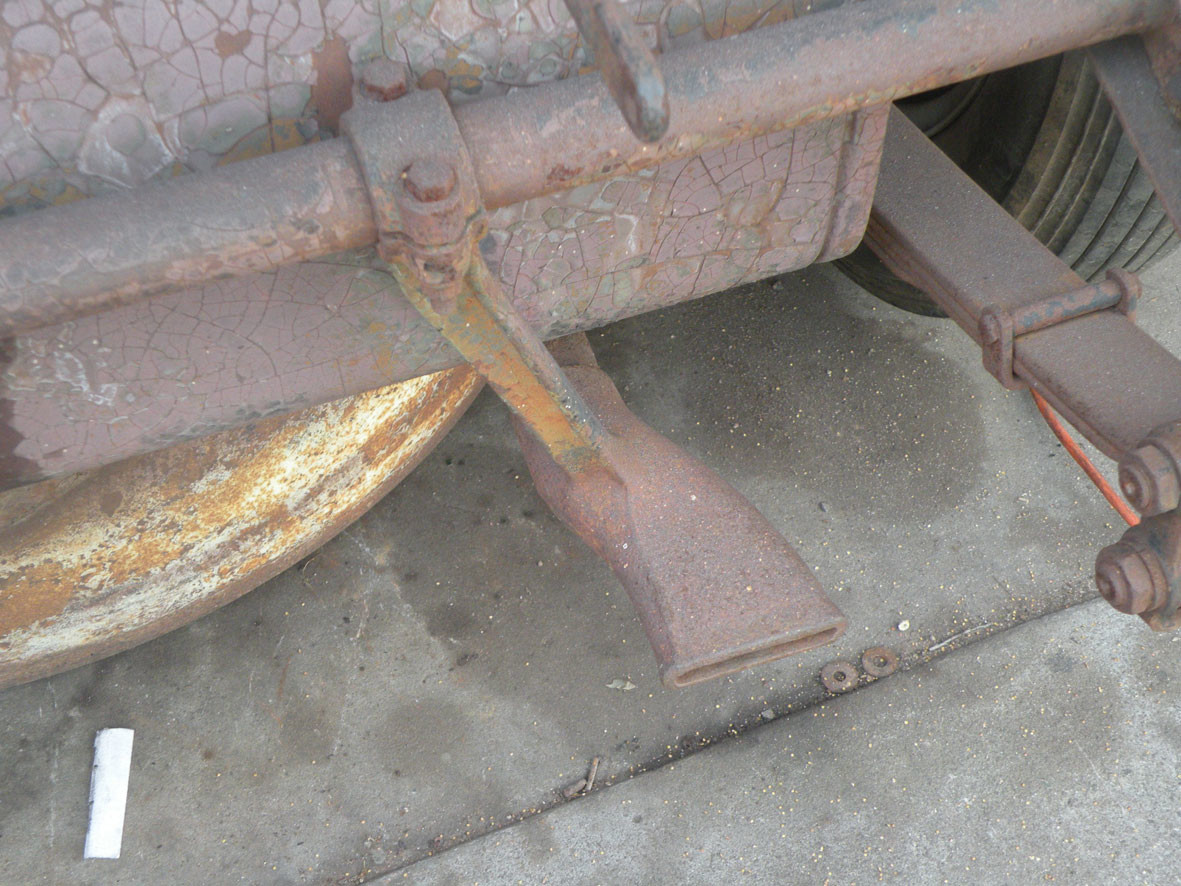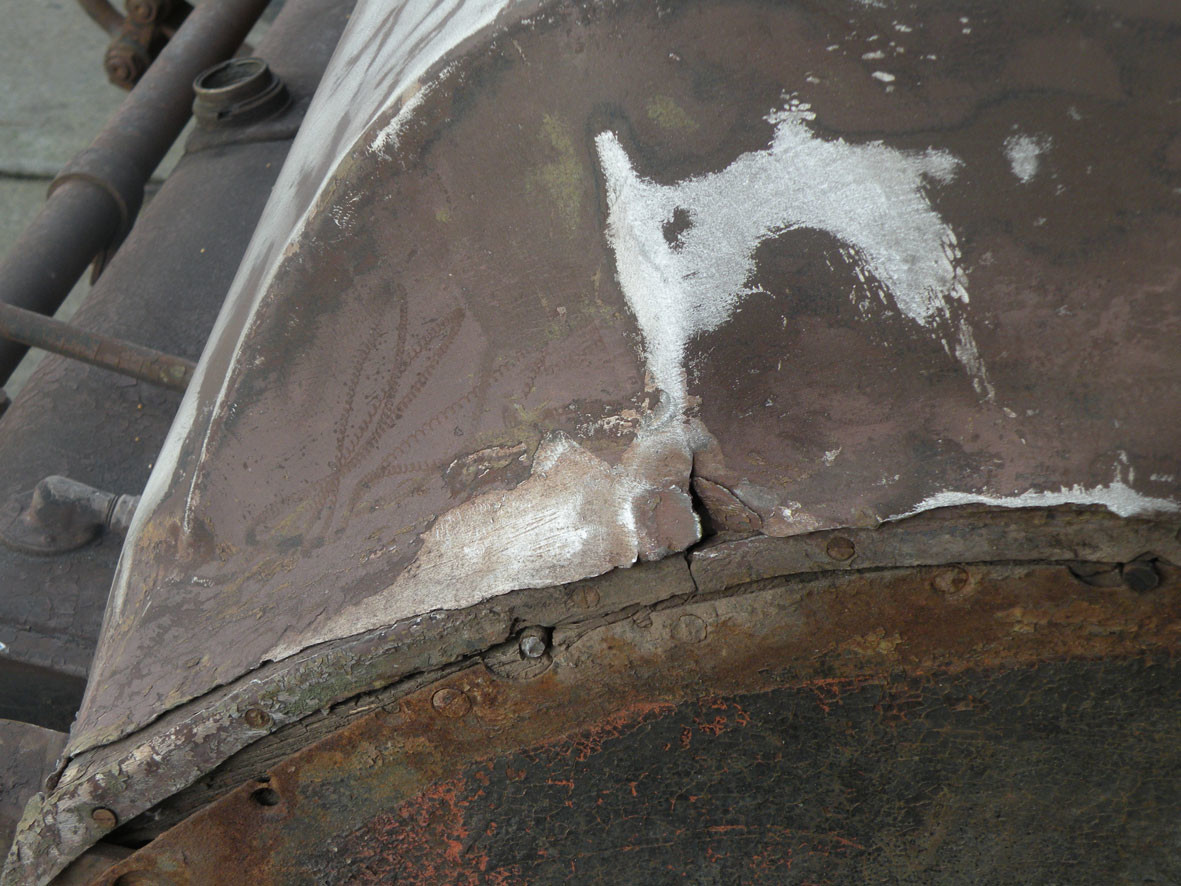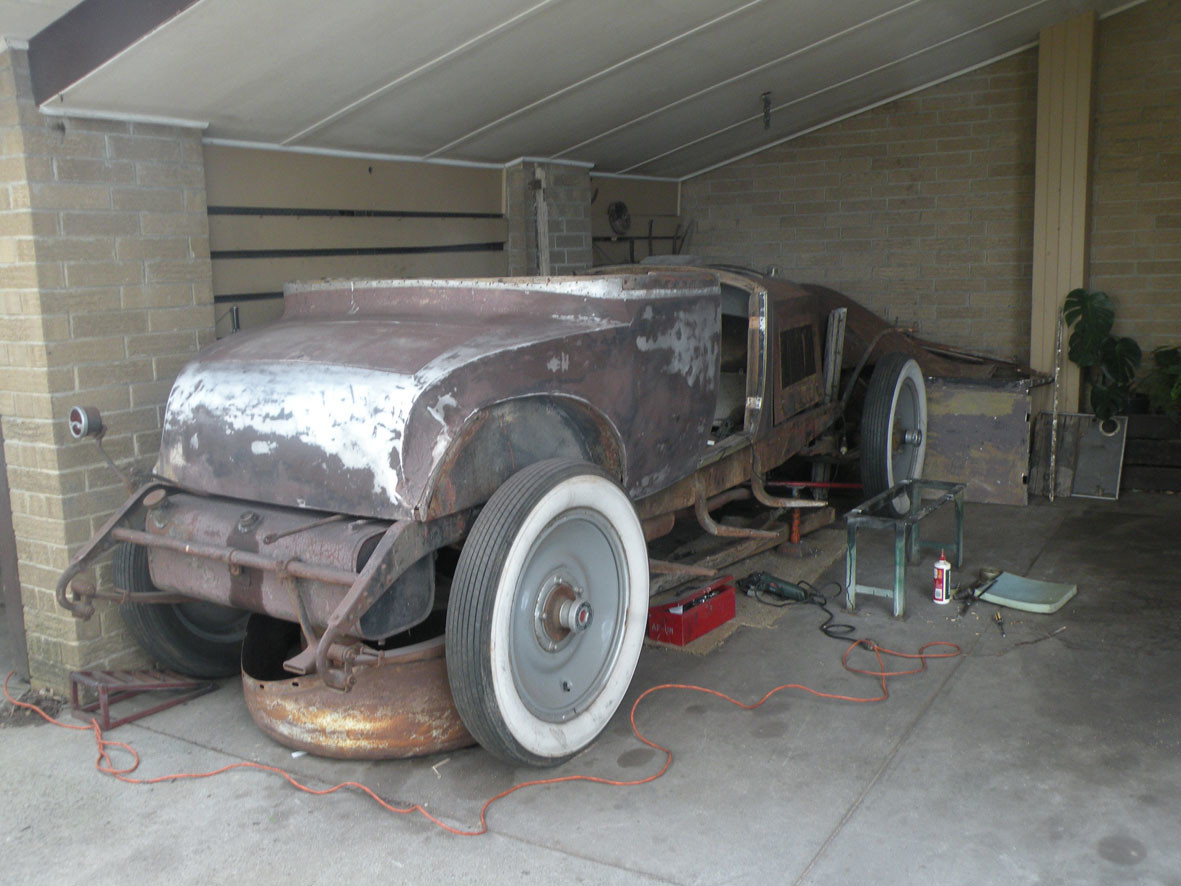 9-15-2010
For a change today I had to do some work on the Lagonda. Following the weekends motoring I had to remove the windscreen to have the glass replaced. for some unaccountable reason it had developed a crack from top to bottom right in front of the driver. Fortunately this was the only problem after about 450 miles of country roads on a wet and windy weekend. (It is early Spring here in the South East corner of Australia). After delivering the screen to have a new glass cut and fitted I managed to remove the Packard's trunk lid, remove the aluminum skin and re-glue and screw the timber frame. This will still need some more attention before the skin can go back on. The next step is the big one removing the skin from the entire rear section of the body (without destroying the timber frame in the process). It is interesting that all the panels are secured to the frame with small wood screws (at about two inch centers) rather than nails. The only place that nails are used is around the waist line where the original roof panel overlapped. This join was then covered with a aluminum beading.
9-16-2010
The more I do the more puzzled I become. Tim Martin from the Packard Twin Six Register assures me that Holbrook only built their Doctor's Coupe body on Packard Eight Chassis so who built these most unusual "purpose built" Doctor's Coupe bodies on the Single Six chassis????
The only real clues that I have to date are the method of attaching the ALUMINUM panels using countersunk wood screws. Having checked, the spacing of the screws is totally random! Varying between 2 inches to 2 3/4 inches, suggesting an hand built job.
The other is the numbers stamped into the timber rail inside the trunk lid and in other places around the body. See attached photographs.
Also attached is the drawing for the seating plan which indicates a special purpose design. the box at one side of the sear seat appears to have contained a sink. For the doctor to wash his hands in?
There appear to have been several of these coupes that have survived The final Photo is of one forwarded to me by Tim Martin taken of a similar car in Canada.
To my thinking it would seem unlikely that the Packard Factory would go out of their way to build such a single purpose car. If not them and not Holbrook who were the mystery coach builders? Any suggestions would be greatly appreciated.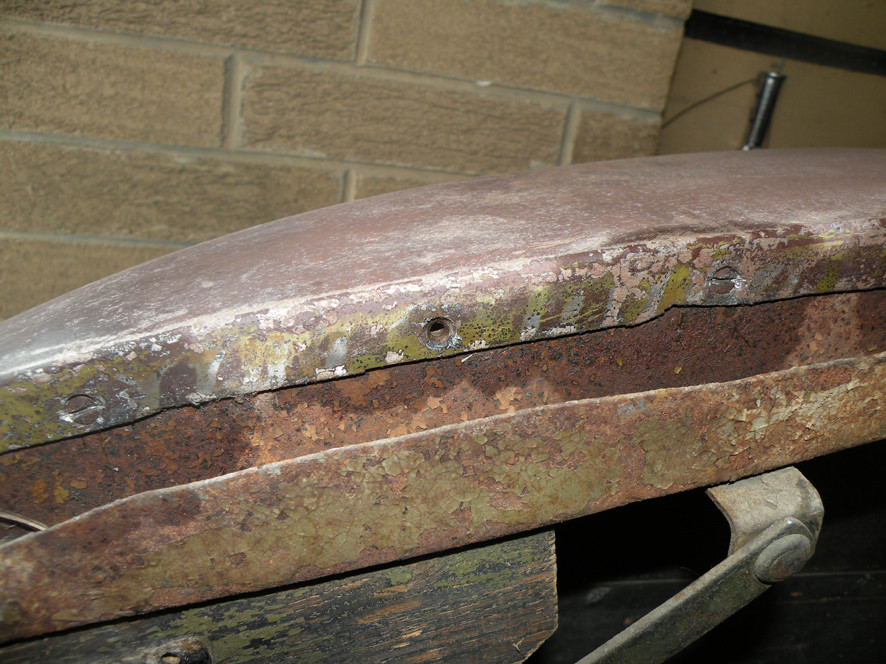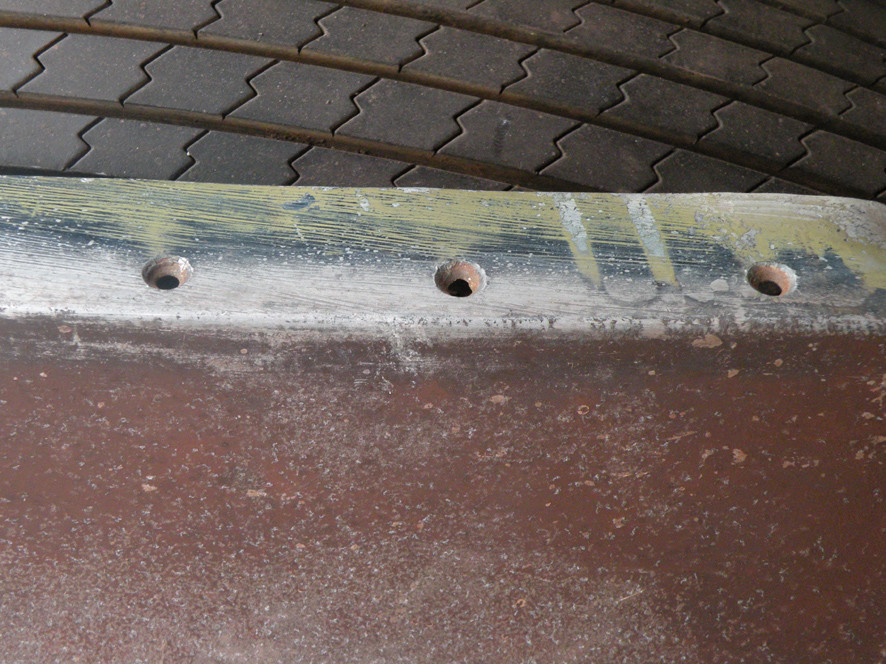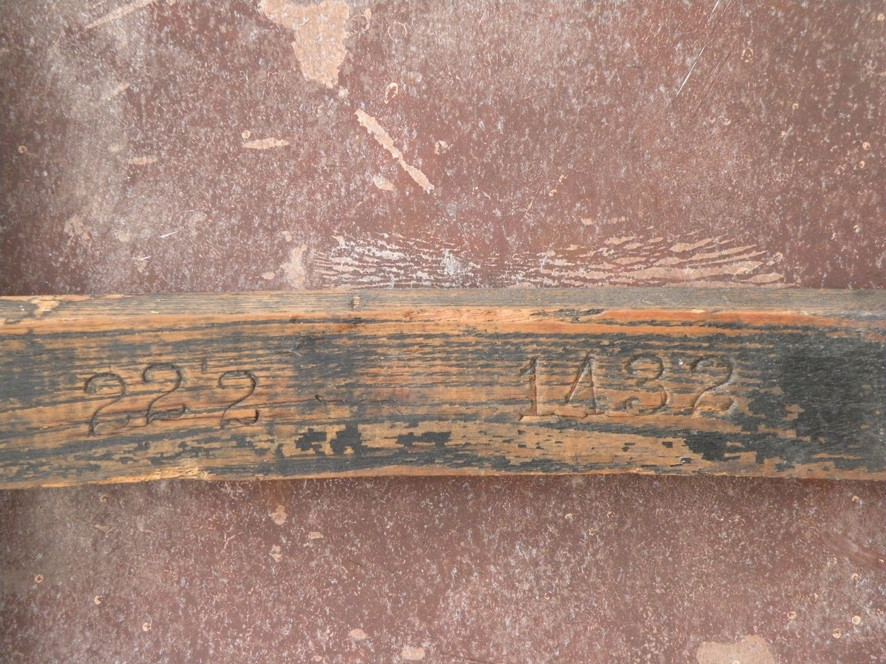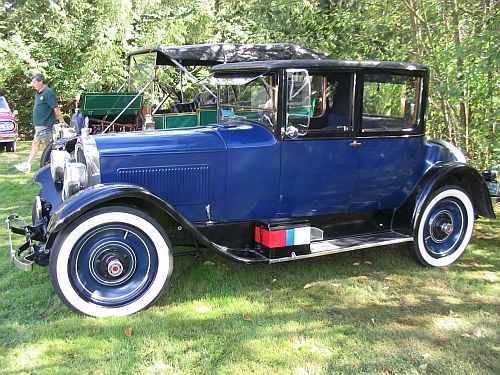 Sorry! Here is the drawing mentioned above. The front passenger seat is a small folding arrangement with minimal upholstery. Note box at end of rear seat.
Who would go to the trouble to built such a specialized body?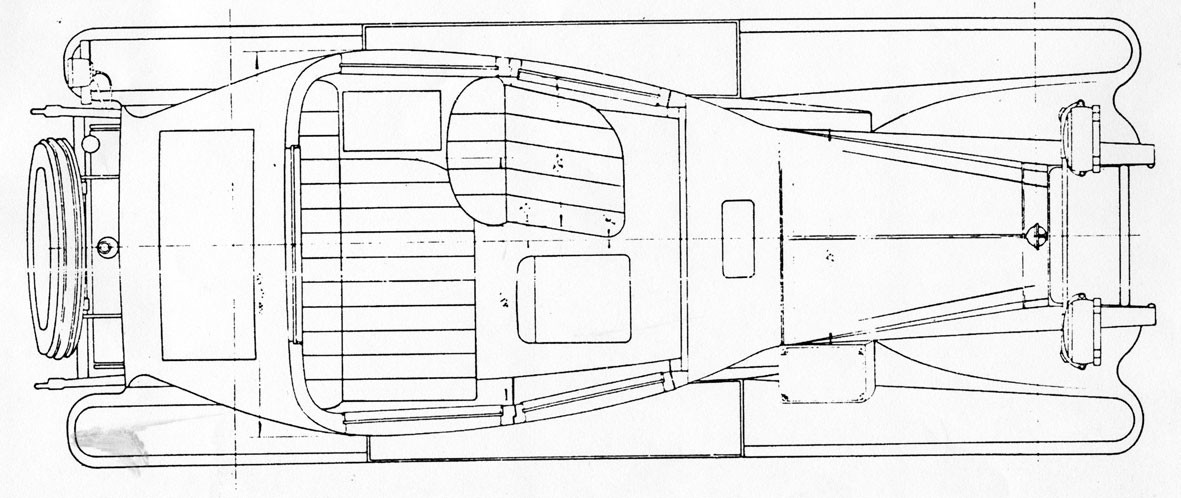 9-17-2010
Hello again.
Something that you may be able to assist me with is a pair of touring body door latches. Not necessarily Packard but typical early 1920s. I am looking for the type that mounts close to the top of the door with a cranked lever that operates through a slot in the interior door trim. Similar to the one photographed. Preferably either usable or restorable condition. Alternatively one matching that shown but to suit opposite side.
Thank you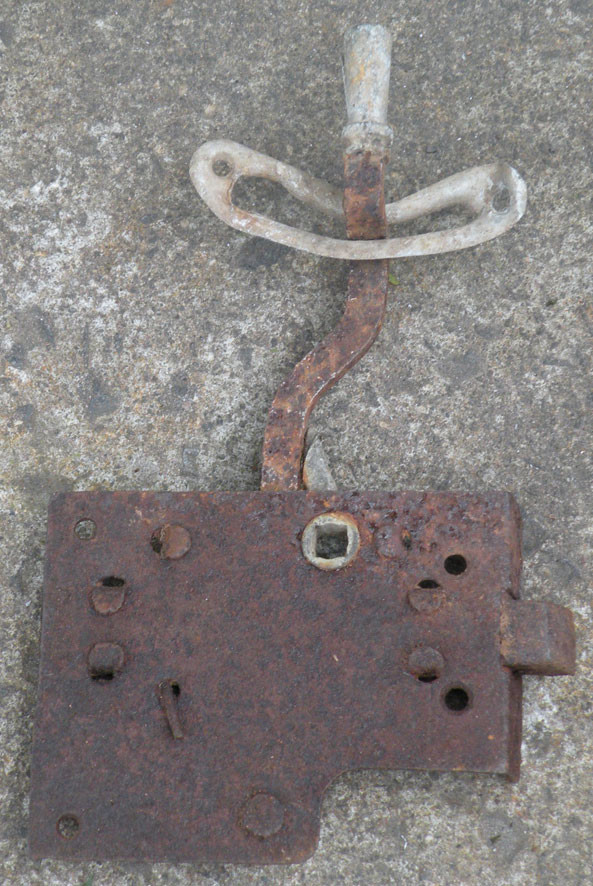 9-19-2010
Well! Yesterday was something of a write-off as we had local (Australian) Oakland gurus John Felder and Hugh Venables bring their house guests to visit. This gave us a great opportunity to renew the acquaintance we made in Louisville (remember Louisville) with Oakland-Pontiac people John & Candy Armstrong visiting from Lancaster, Ohio and Fred & Marilyn Lewis from Marissa IL. What a pleasant way to spend an afternoon. No work on the Packard but lots of talk. Somehow I think that this is what the "Old car" world is really all about. It is a real pleasure for Helen and I to be able to repay some of the hospitality that we enjoy during our holidays.
9-21-2010
Hello Edinmass
That sounds like an offer I cannot refuse, Thank you!
Attached is a photograph of the Speedometer/clock assembly. This taken from the owners hand book but it gives you the idea. If you trip over an (60 psi) Oil pressure gauge and an amp meter either loose as an assembly they could save me a lot of time/trouble. I am also looking for a 23 inch disc wheel complete with lock rim. Finally if you see the "Packard" script as mounted on the Radiator I will eventually need one.
Once again thank you for your very generous offer. I will send you my e-mail address and phone number so if you find some thing and wish to communicate direct with me.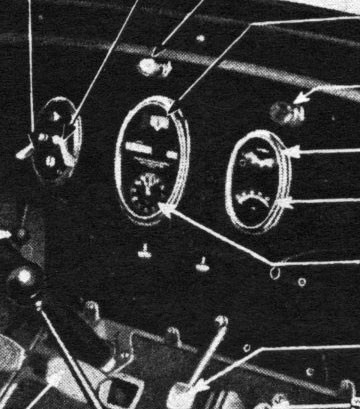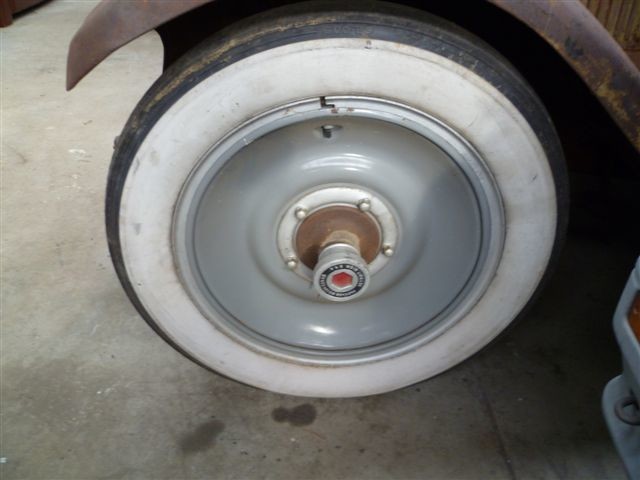 9-22-2010
Wow! Winter has returned to Melbourne with some really nasty cold wind days so work has slowed just a tad. The Packard is just too big for my single car garage/workshop so I am working in the carport open to the worst of the weather. None the less I should have the rear panel ready to remove soon but first Being a dutiful grand parent we are off to Adelaide, South Australia, for a few days helping to our ninth grandchild celebrate her first birthday.
10-3-2010
Our Long weekend away was great fun our youngest grand-daughter is quite a lady. we have not seen her since she was just two weeks old.
But enough doddering! I have just returned from my radiator man. The honeycomb core will have to be replaced as prior to forcing silicone adhesive into two or three areas one of the previous owners had had a real good go at "fixing" some leaks. Despite trying several different solvents it appears impossible to remove ALL the silicone and even if that was successful it would still be extremely doubtful if satisfactory repairs could be carried out.
I am told that there is a reliable supplier of new honeycomb radiator cores in New Zealand. It just costs money!
10-10-2010
While some people can wander around the countryside others are hard at work. Although As Heather Moss can confirm we did take a few days to catch up with the same son in Adelaide to assist in his 40th Birthday and his daughter's (our 9th Grandchild) First.
Sorry that we missed out on seeing you all but you seemed to always be going to where we had just left or something like that.
Meanwhile with second son Steve's assistance great things are happening to the Packard. as you can see in the attached pic that I have not been sleeping.
Virtually all the original timber in the body frame has been retained and every joint taken apart re-glued and screwed back together. Lowering the waist line is virtually completed and has been an extremely successful operation.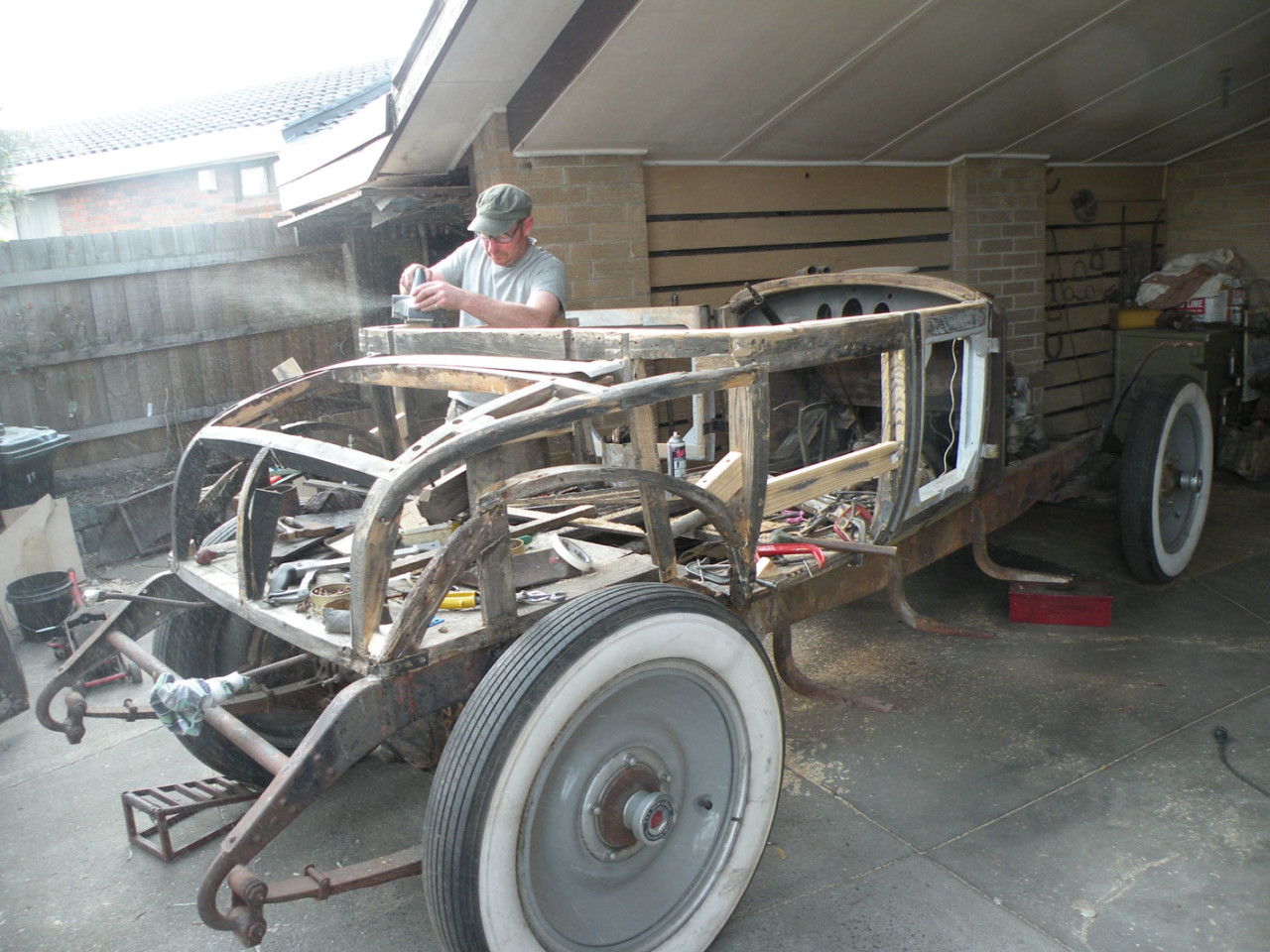 10-11-2010
Hi West
Many thanks for taking the time to look for me.
I believe that I may now have the clock, speedo and small gauges all under control. I am just waiting on the confirmation of the availability and condition of a wheel and the hand controls. I am also waiting to hear some more regarding a pair of door latches.
Meanwhile work goes on at an almost daily rate.
Regards
10-14-2010
Little or no work today. The weather forecast is for high winds, heavy rain and snow on the nearby hills. For those still enjoying an Indian Summer in the USA this is supposed to be Spring in Australia. We have a saying here in Melbourne, "If you don't like the weather, wait until after lunch! It should have changed at least twice by then!"
Despite the weather here is the latest progress photograph. The modifications to the timber frame are now virtually complete and all joints re-glued & freshly screwed, I was lucky enough to find a box of new slot head screws hidden away on a shelf in my chaotic workshop/garage. If you look closely you will see where the trunk floor has been extended out to form the base for an "occasional" rear seat/parcel shelf.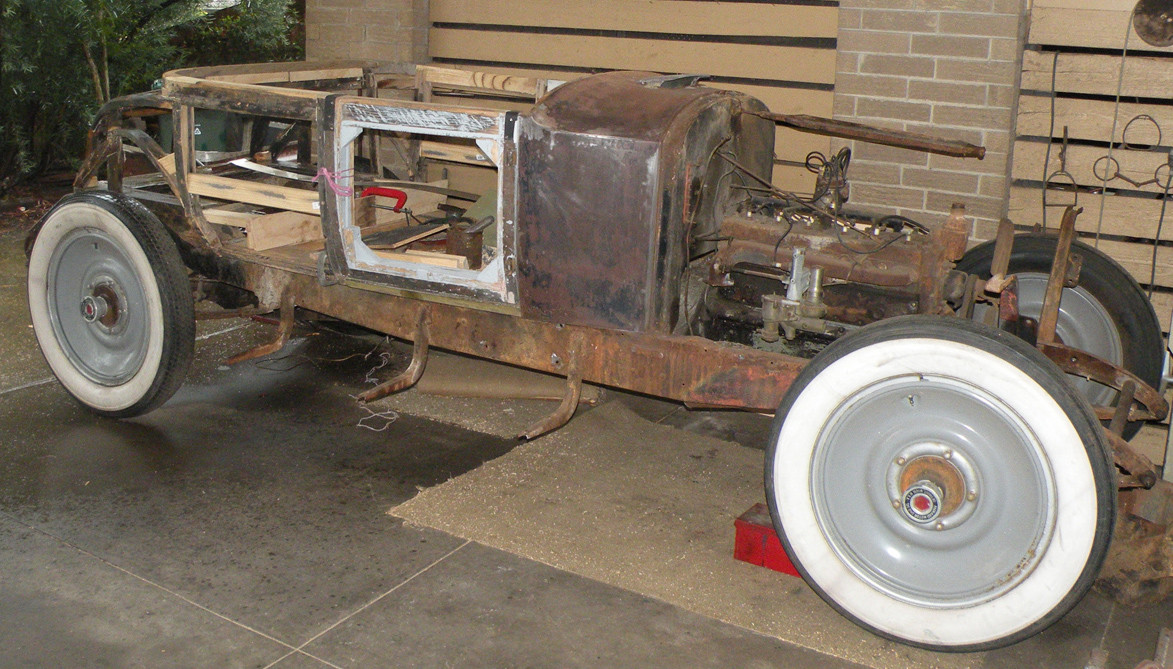 10-18-2010
Thanks West
The question is how many of the 23/4 Packards actually left the factory fitted with disc wheels. Certainly the bulk of the cars seem to have been fitted with wooden spoke wheels.
So far, of all the people who look at this thread and have read my advertisements in a wide variety of magazines around the world, only one has said yes he has a wheel.
It has a minor rust problem. How bad I will not know until it arrives in my letter box.
10-19-2010
Thank you West.
That tends to confirm my thinking that the five lug 23 inch disc wheels were ONLY available for the 1923 season
I may be slightly obsessive but I do like to fully research the history of all my restoration project cars. I find it fascinating! I like to know exactly what the car was/is.
MY next question is what color the "six" engine cylinder block and head were painted in 1923.
I want this Packard to be even better than the Dixie Flyer.
My present thinking is that the main color scheme for the car will be Dark Chocolate and Caramel with either a sand colored or salt & pepper top and a beige (leather) and dark brown (carpet) interior.
About 30 years ago, I ran a small business making Salt and Pepper cloth for auto tops and may just have enough material (put away for a rainy day) to do the job.
10-21-2010
Hi All
Just a quick up-date, Spent yesterday removing brake rods etc in preparation to lifting the body frame off the Chassis. This to give clear access to some of the holding down bolts. Attached is a photograph of the brake rod clevis pins. I think that for an 87 year old car the condition of these normally high wear parts is remarkable. Those from the hand brake rods show no wear at all while those from the foot brake show only slight wear. This I believe confirms my initial belief that the car has done very little work considering its age.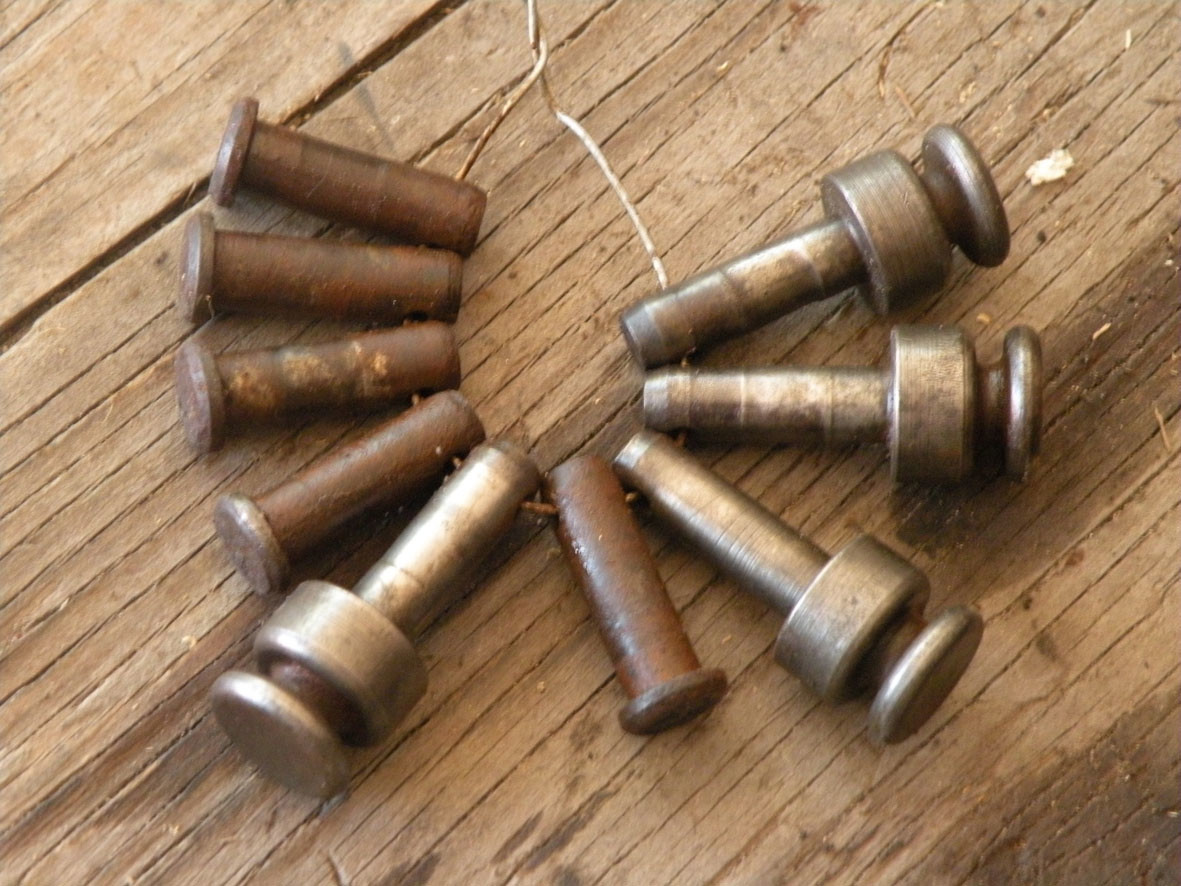 10-22-2010
Good News! I have just sent off the money to one of my good AACA/Packard friends in the US for a full set of instruments including a clock, one of those impossible to find 23 inch five bolt wheels and to another fan of the AACA Forum for a pair of door latches.
Now let us see if someone can turn up a set of hand controls for the centre of the steering wheel. Photograph attached.
My heartfelt thanks to those good citizens who have gone that extra mile!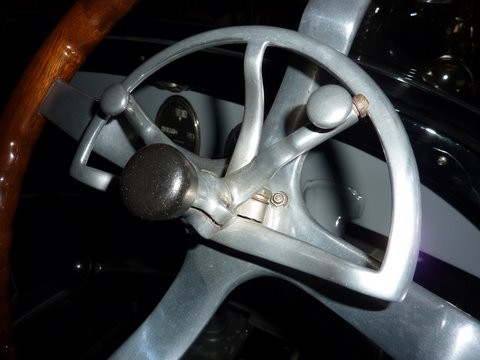 Another step forward. As mentioned "indian 4" has found a matching pair of door latches that will do the job on the Packard doors. I will just have to wait until that Pony Express rider canters up to the letter box. Meanwhile they are one more item I can cross off my shopping list. The petrol tank has come back from the sand blaster with just two small pin holes to be repaired before it can be painted and safely stored away with a tick against it on the list.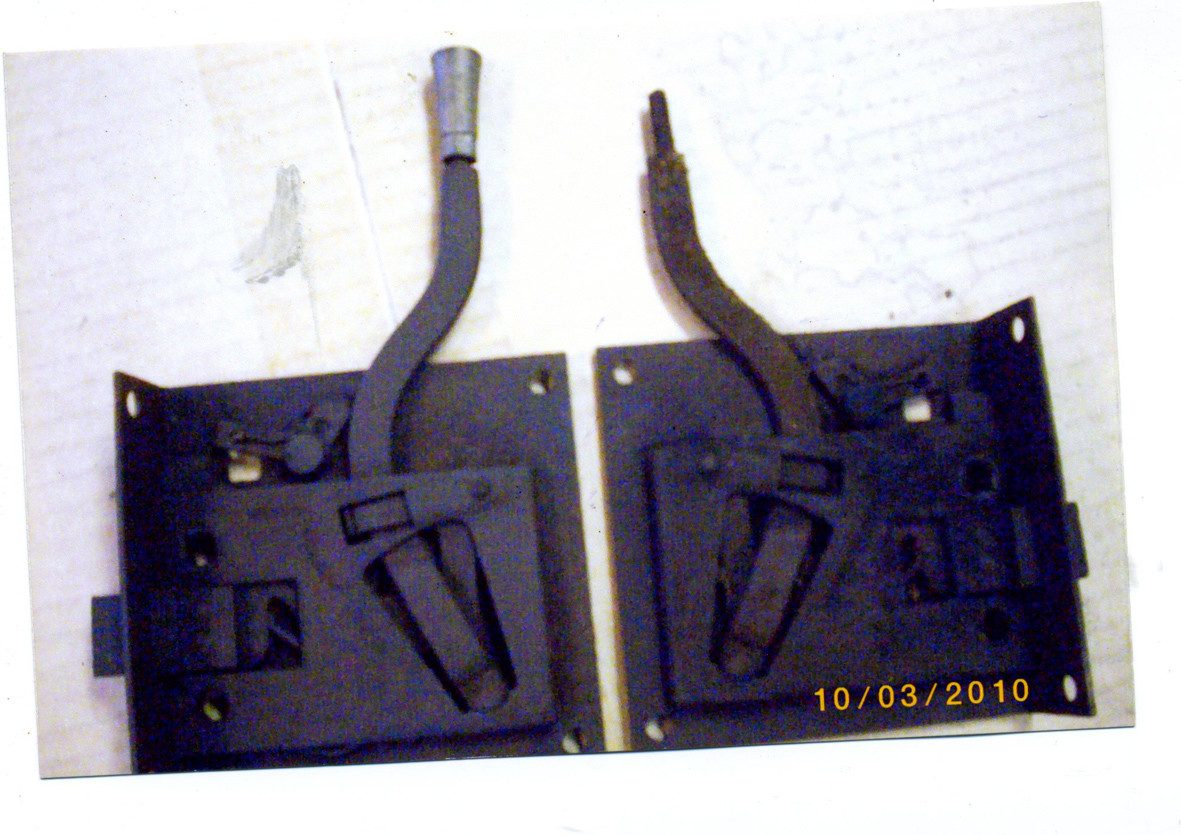 10-25-2010
I have received a engine enamel color chip from David Mc Credie Secretary of the PAC here in Australia. It appears to be a much darker green than that shown in the photograph of your engine.
On a different subject, while visiting our son Steve at Yarra Junction, an hours drive out of Melbourne. At his suggestion I visited the local hardware shop. I came away with a $5 box of 200 SLOT HEAD 1 inch wood screws. Now when I come to replace the panels on the Packard they can be screwed back on with the "right" screws. I also got 100 Nickel plated "raised head" to screw in the interior trim.
I really hate Phillips head screws in 1920s cars and avoid them when ever I can so this was a real find.
10-27-2010
The Petrol tank has just come back from being bead blasted. Three pin holes, (potential leaks) have shown up. These will have to be soldered before it has a coat of paint. It is currently in etch primer so that the bare metal will not start rusting. Note pin hole exposed next to gauge. Apart from these three minor repairs the tank is remarkably sound and will only require a wash out to remove traces of stale petrol.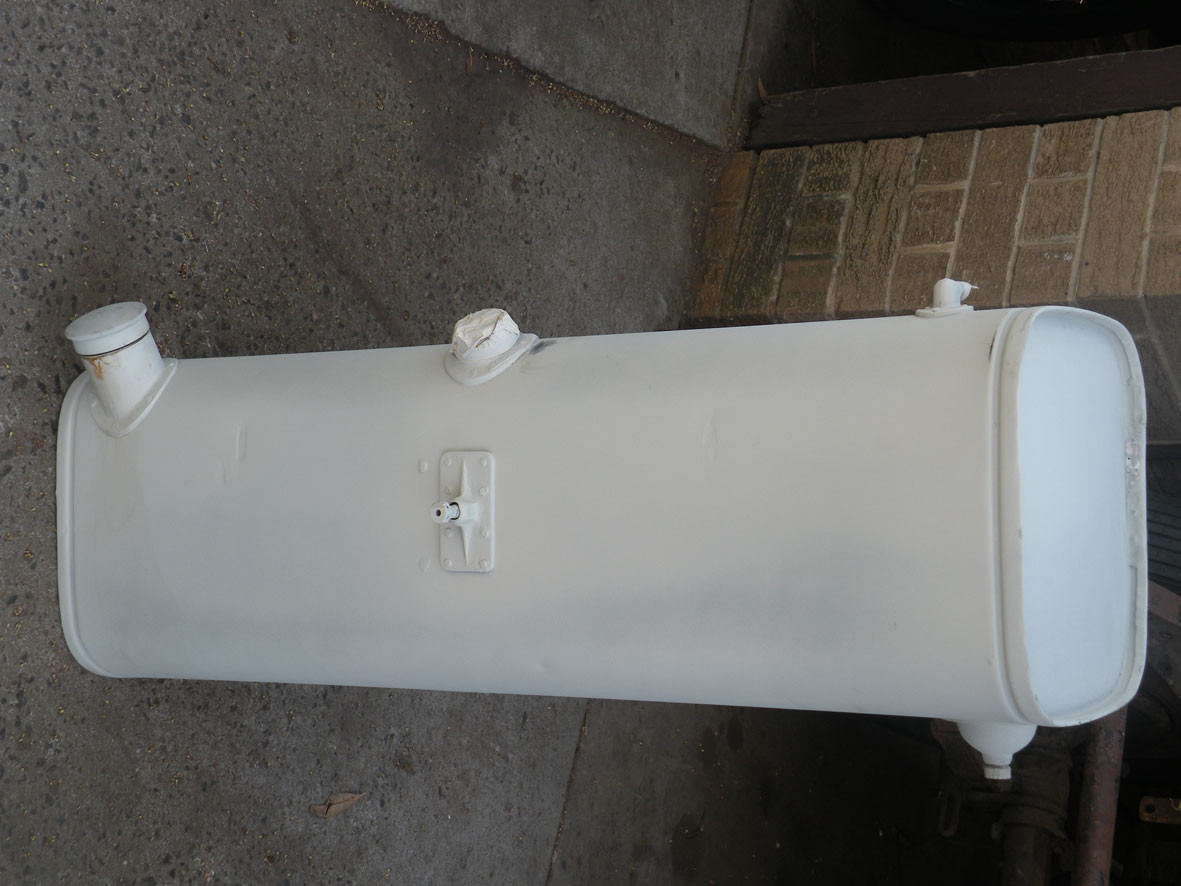 10-28-2010
Thanks for the compliment Brad
There will be more photographs as the rebuild progresses. You will have to be a little patient with this one. 1. I am not getting any younger (74 come early November) and 2. As a retired person money has to be spread a little more thinly. Remember the GFC!
3. I would think somewhere between two to three years time.
Finally, Yes, I believe that there is a wheel "in the mail" to quote a well used phrase.
Hi Brad
The product I am using is a local Australian timber hardener. It does not seem to be a epoxy but is very coy about what it actually contains. Painted onto aged wood it is said to bind the fibers together making it more workable and creating stronger joints. As it is said to take at least 24 hours to fully cure I really cannot comment as yet.
You will just have to be patient as we are off tomorrow morning (Friday here) for the start of the VSCC Alpine Rally. A three day event covering approximately 500 miles of mountain roads. Try putting Falls Creek, Victoria, Australia into Google maps to see where we will be spending two of the the next three nights. The local forecast is for heavy rain and near zero C over night for Saturday & Sunday.
This is a highly competitive navigation event, our car our trusty 1934 Lagonda Rapier two seater. Photograph below.
1934 Lagonda Rapier, 1500cc 2 ohc, 2 x 1 1/2 in SU carbs 9.5:1 comp 4 speed ENV close ratio preselector trans. Bought as a broken down 1 1/2 seat racing car in 1978, rebuilt and driven countless miles since. We return Monday evening so no more posts until then.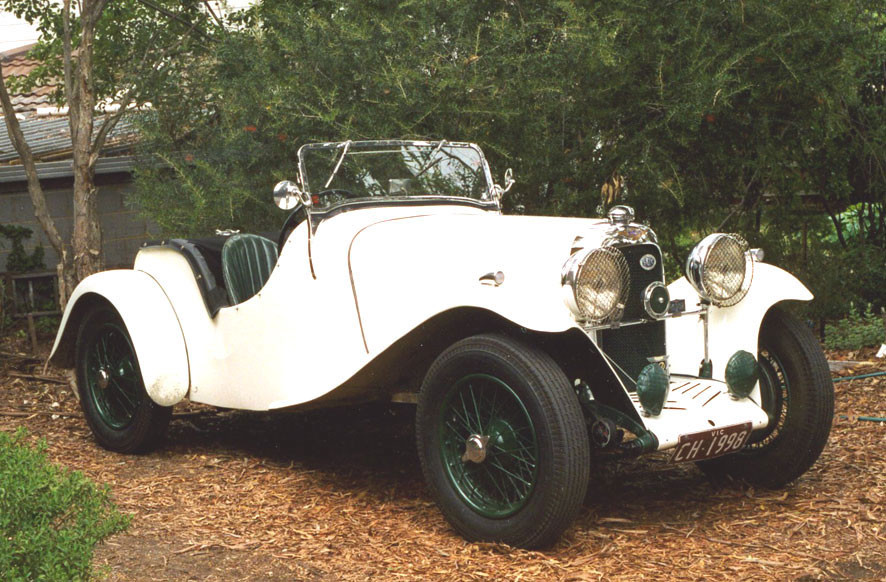 11-1-2010
Hi Mal
Technically you are right but when I joined the club in 1962 it was the VSCC of A (Vic Div)
The car radiator badge that I bought at the time of joining and that has been on what ever (proper) car I have owned from time to time clearly says Vintage Sports Car Club of Australia. The other badge on the car simply says Vintage Sports Car Club. With that club I have been a member since 1979. My Honorary Life Member lapel badge says Vintage Sports Car Club of Australia. In my opinion the change of the Clubs title was simply to meet the requirements of some small minded government bureaucrat.
About 60% of the dozens of trophies that adorn the shelves in my den all refer to competition successes within Vintage Sports Car Club of Australia events. I keep the Trophies from OVERSEAS Events, mainly for competition in the UK and France, in another room. I am afraid that old saying about teaching old dogs new tricks is in my case 100% accurate.
Bernie J
Past President and Honorary Life Member VSCC of A (Victoria)
Australian Secretary and Honorary Life Member The Rapier Register (UK) Joined in 1960s.
25+ year member VSCC (UK)
20+ year member Vintage Drivers Club (Australia)
Member AACA
50+ year member Royal Automobile Club (Victoria)
Member Packard Owners Club of Australia.
11-2-2010
To digress for a moment the concept of the Alpine trial is probably quite strange to many people who are following my thread. The VSCC here in Victoria, Australia is all about driving your "proper" car. Last weekend a long weekend linked to the famous Melbourne Cup (a horse race) we (my wife Helen & I) were competing in the Alpine Trial in our 1934 Lagonda Rapier (see above)
The route took us (three days) over some extraordinary roads, many gravel high into the Victorian Alps. This major event is run Bi-annually and on this occasion we covered over 800 miles, door to door. Spring in Victoria, Australia is known for extremely variable weather and this weekend was a classic example, with over four inches of rain falling during the three days! Yet apart from one day, Sunday, we motored with the top down. Even then for much of the day we were driving in bright sunshine, alternated by fog, driving rain and howling gales, with the temperature down into single figures (centigrade). Set average speed to be maintained throughout the trial was 40 mph (miles per hour) meaning that to compensate for getting down to 20 mph or less on some of the really steep and often gravel sections that speeds up to 70 mph were called for where possible to maintain the required average. This years Alpine Trial had over 50 entries with the most popular marque among the actual starters was Bentley (14) followed by Vauxhall 30/98 (5) Lagonda (3 Rapiers & 1 Rapide) Delage (4) Alvis (3) and one each Alfa Romeo, MG, Oakland, Chrysler, Frazer Nash, Lancia Lambda, Talbot, OM, Minerva, Rolls Royce, Bugatti, & Hispano Suiza. A veritable who's who of pre WW2 motor cars. The oldest the 1920 Talbot and the newest a 1937 Alvis Speed 25, this last mentioned the only lady driver.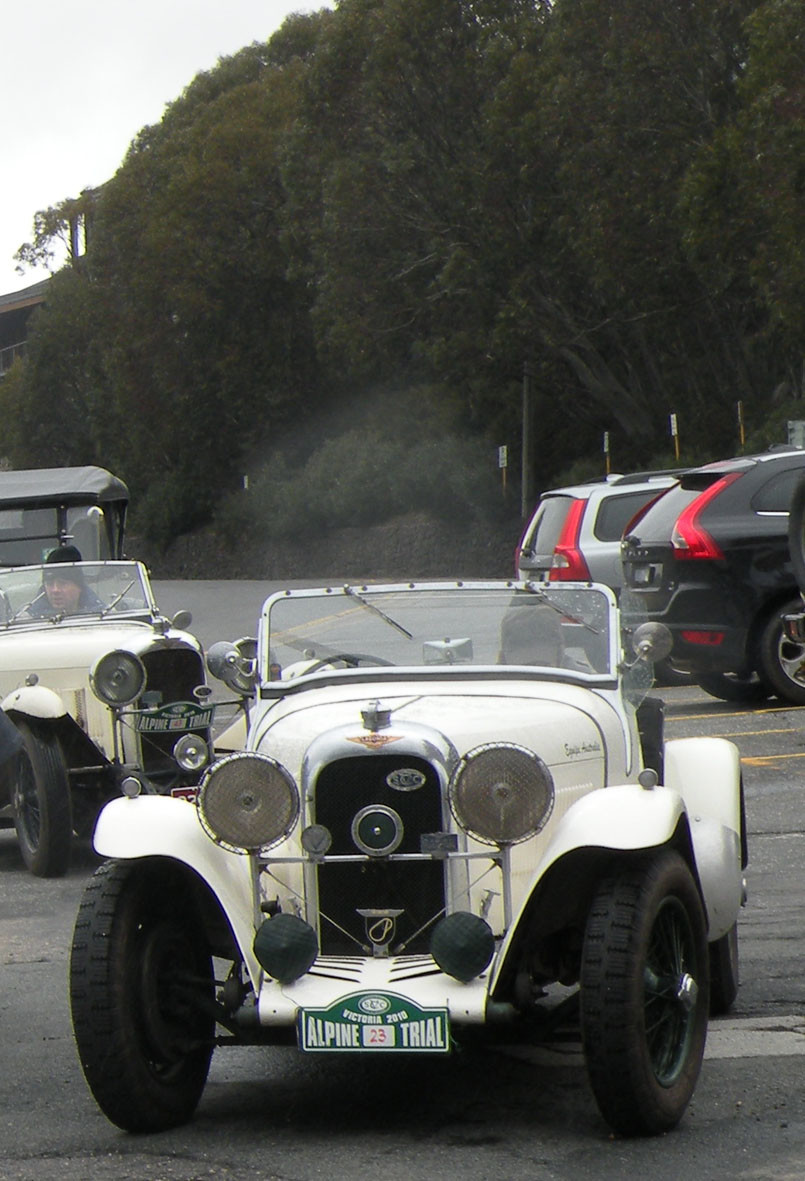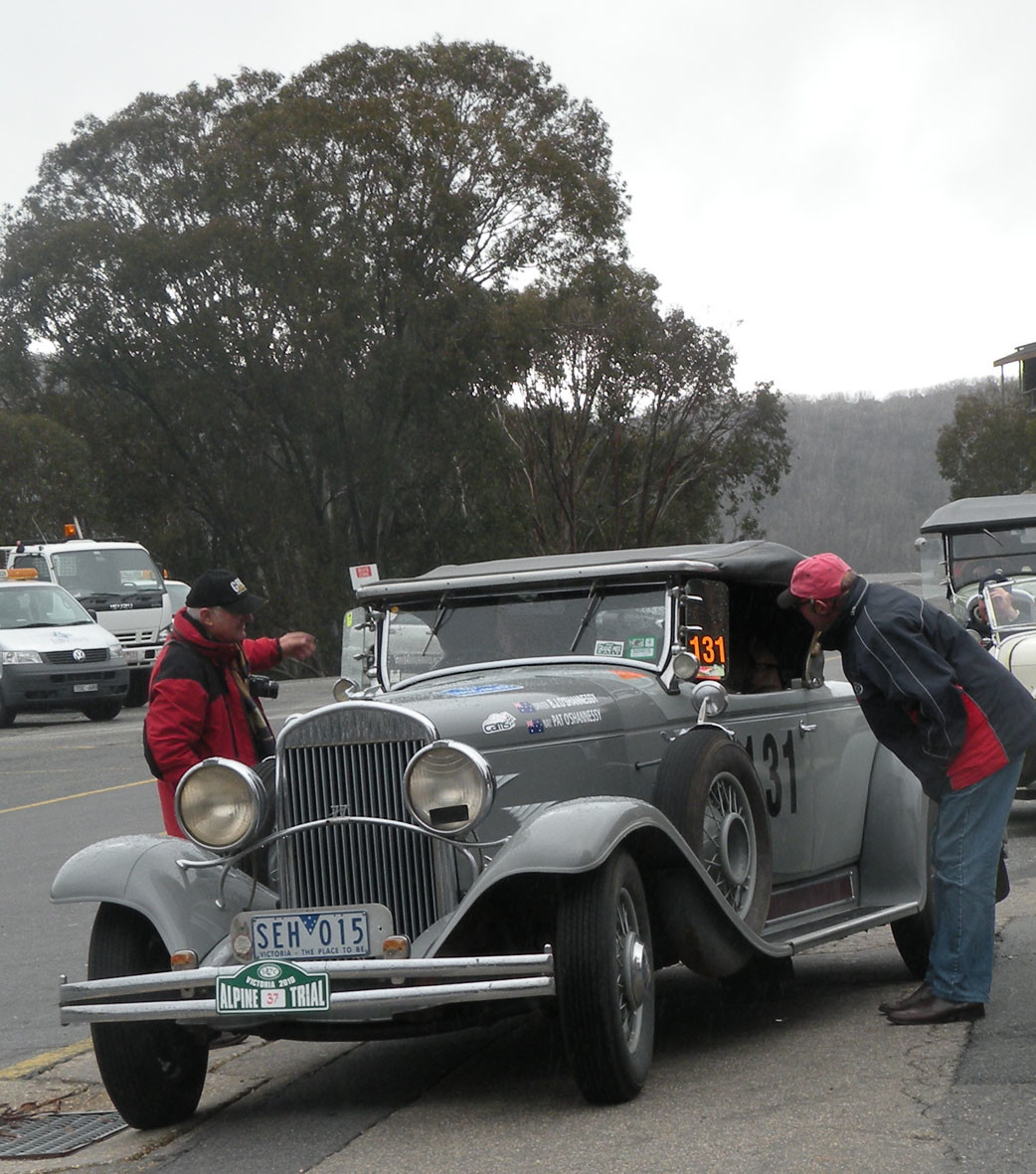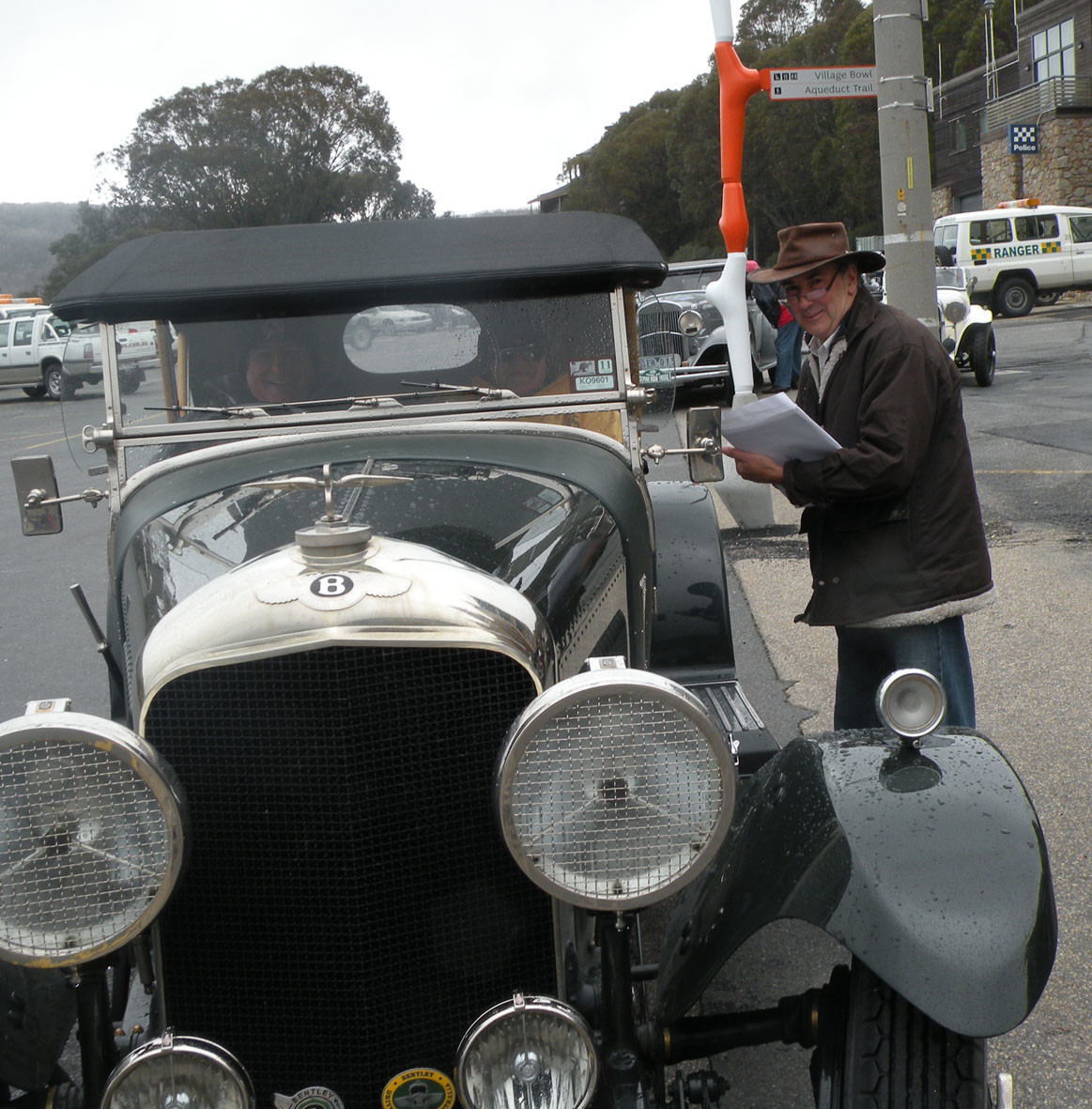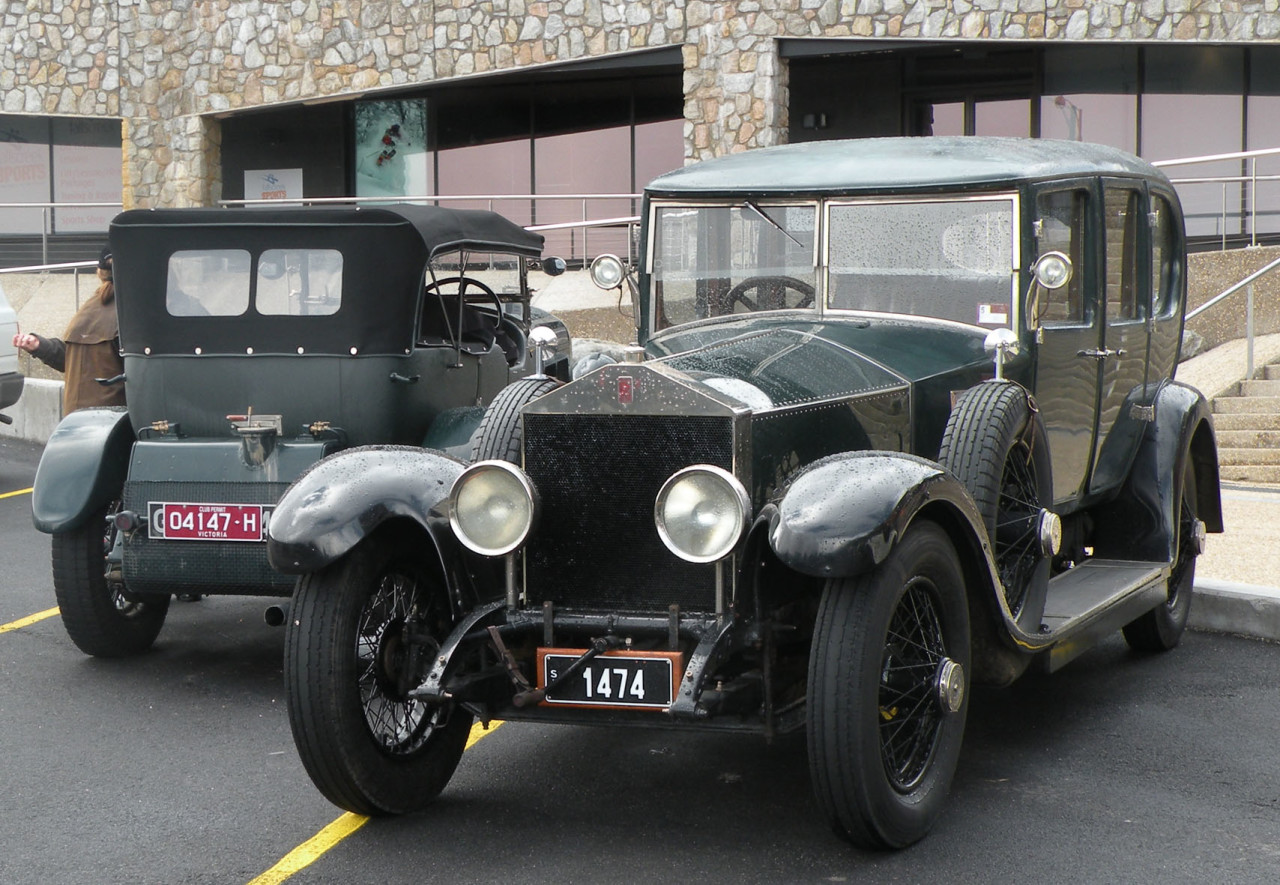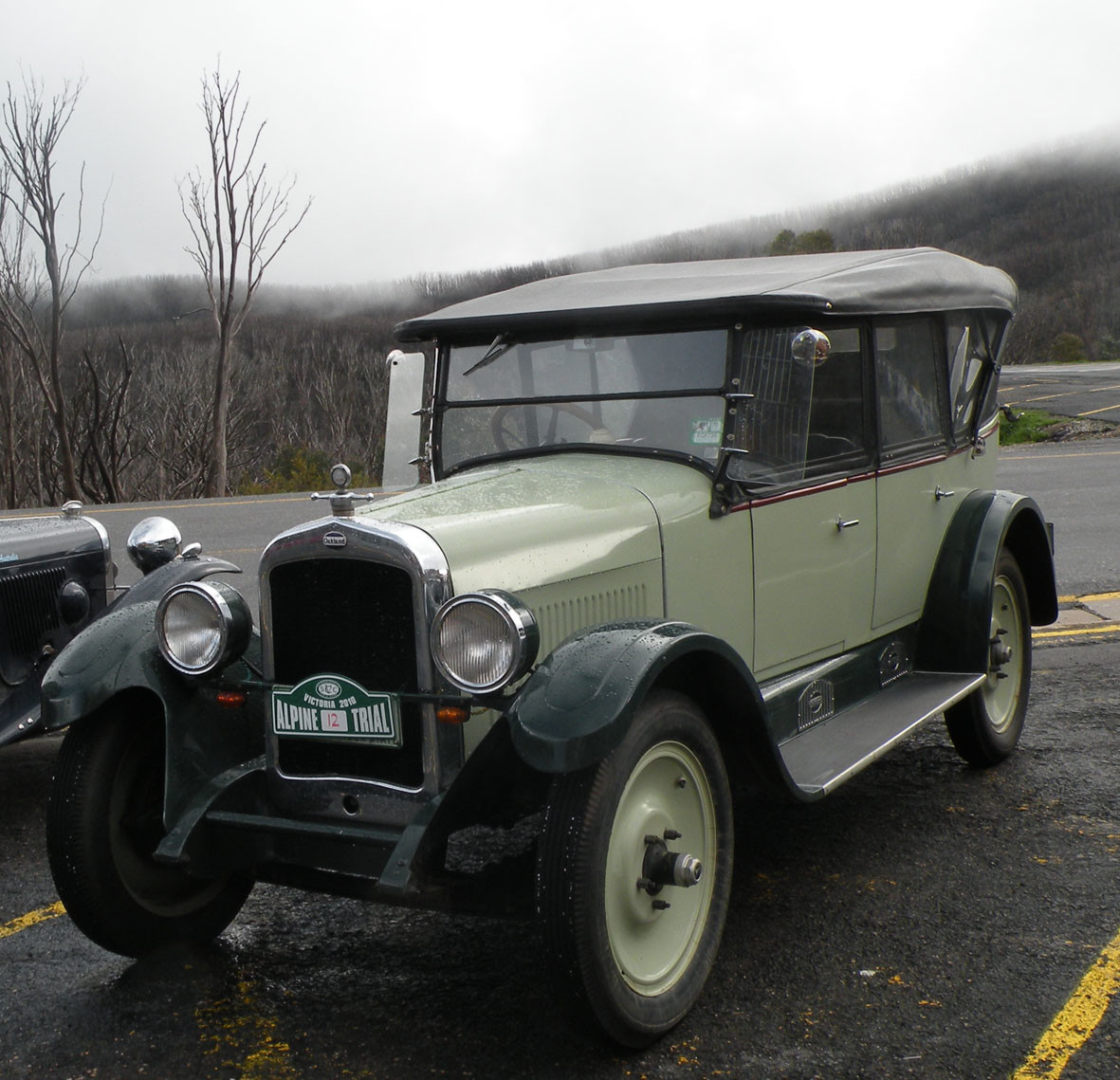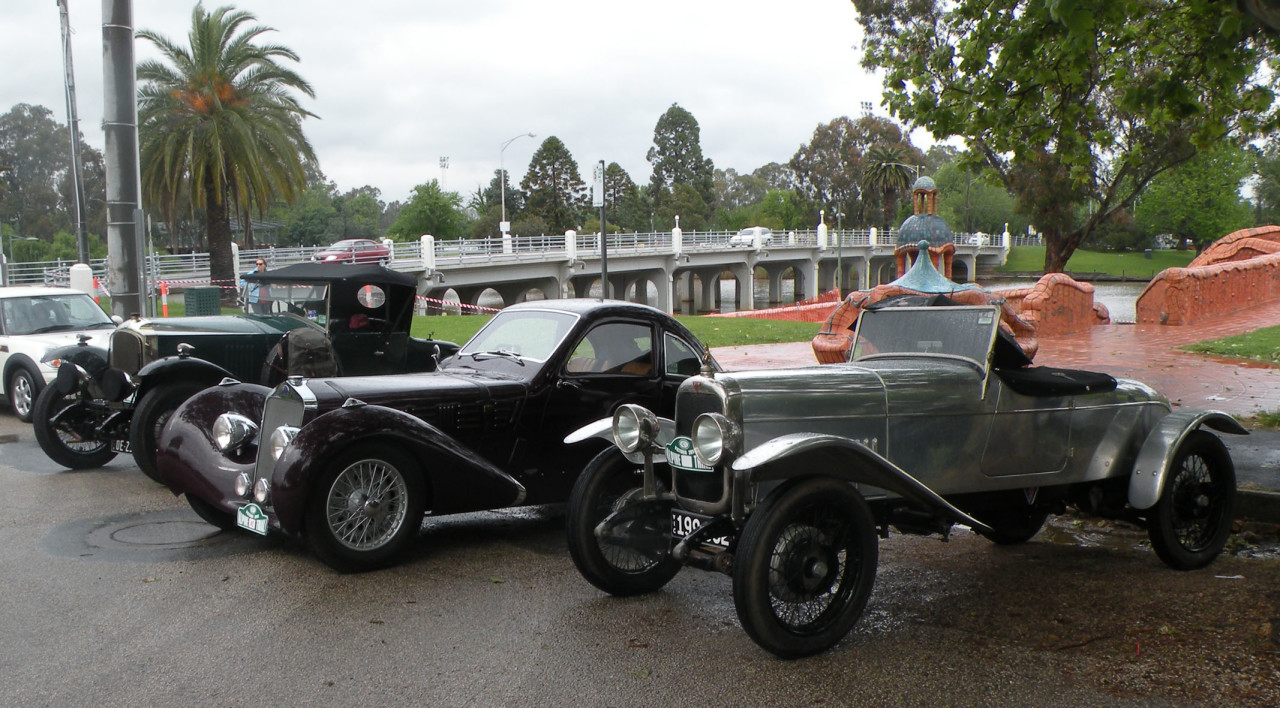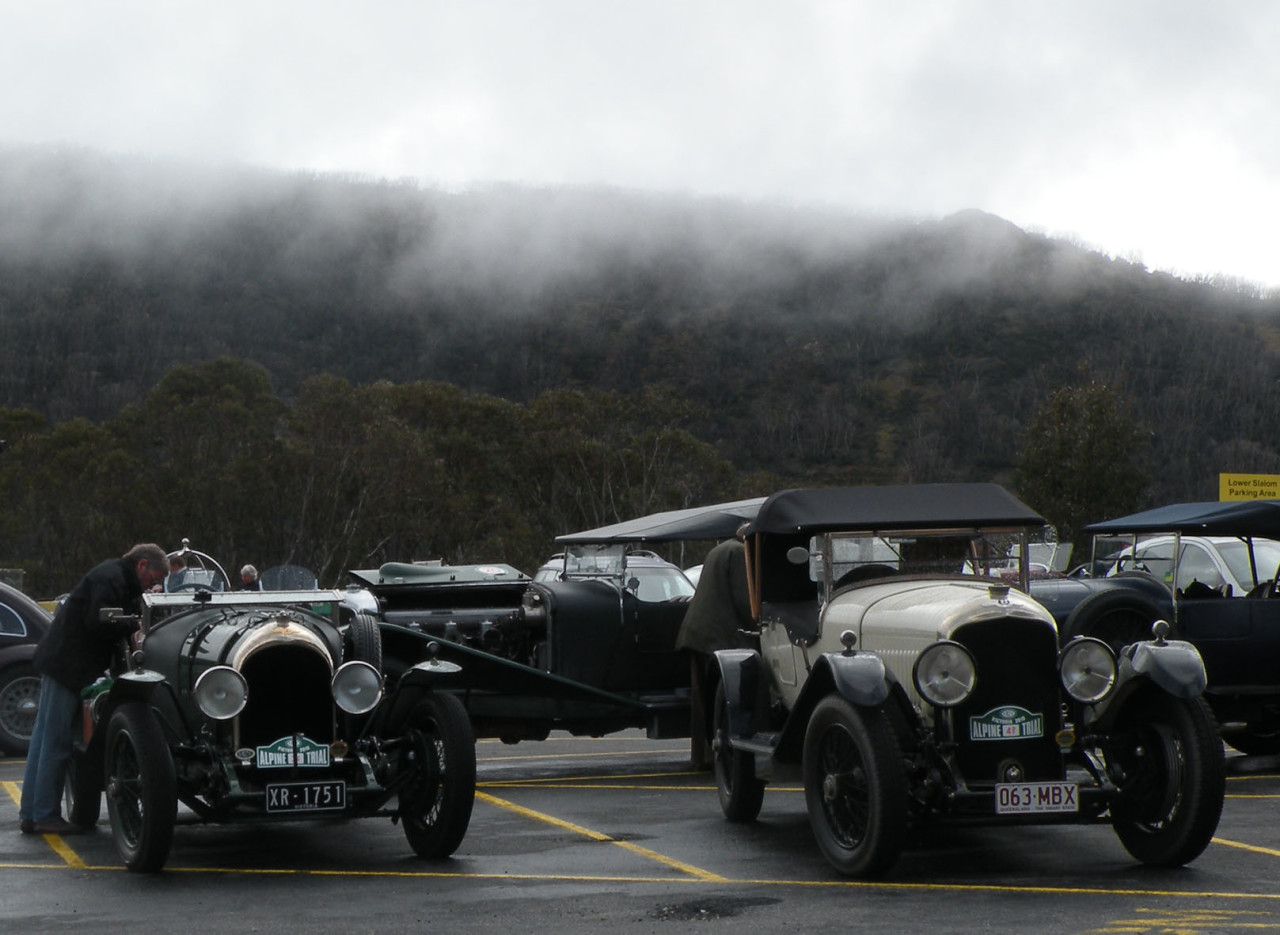 And more.... I forgot to mention some of the roads travelled are closed (impassable) for four or five months each year.
N.B. Not a trailer in sight (or even present) every car was driven to the start, at Benalla about 120 miles form Melbourne and home from the finish at Milawa about 150 miles. The final day started at 9.00 am and we eventually arrived home at 7.30 pm.
The Bentley Drivers Club had incorporated the Alpine Trial into their National Rally with several cars coming from interstate, some coming from as far away as Queensland.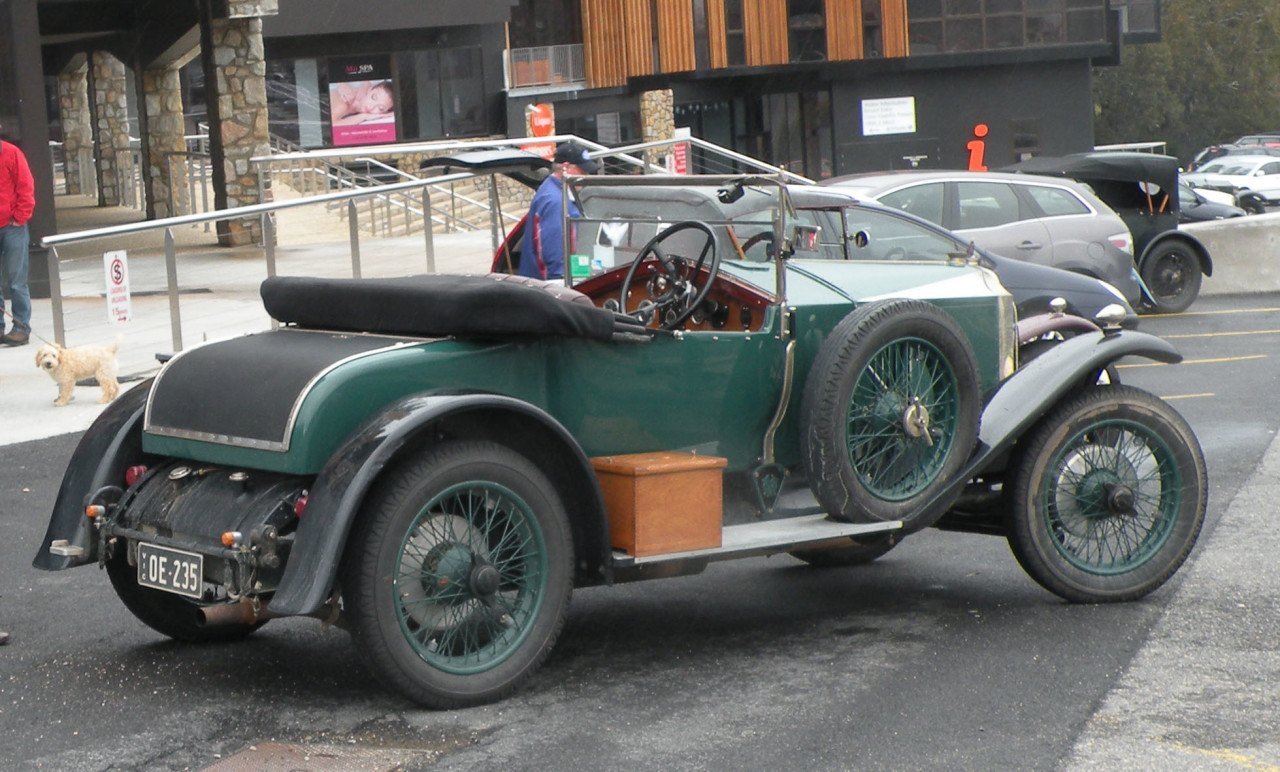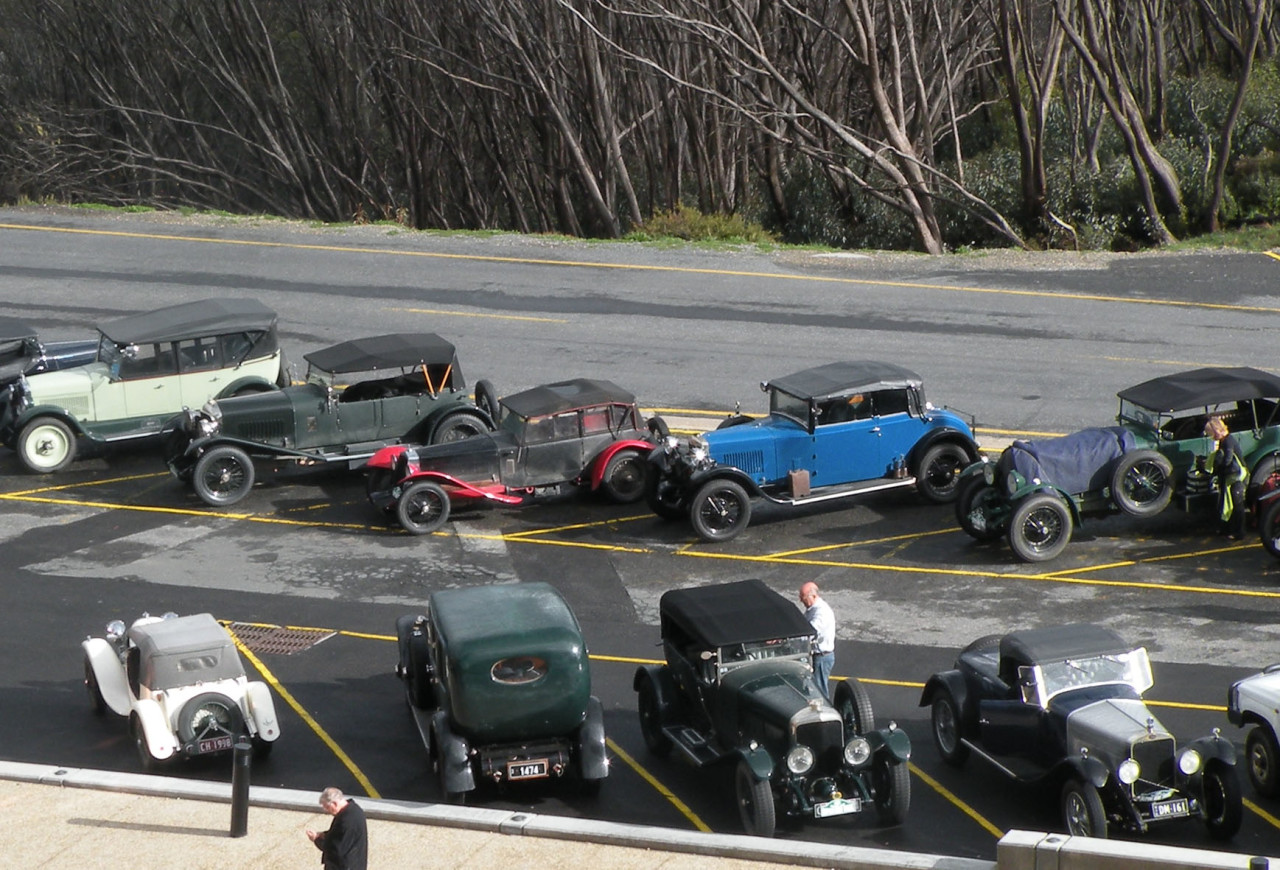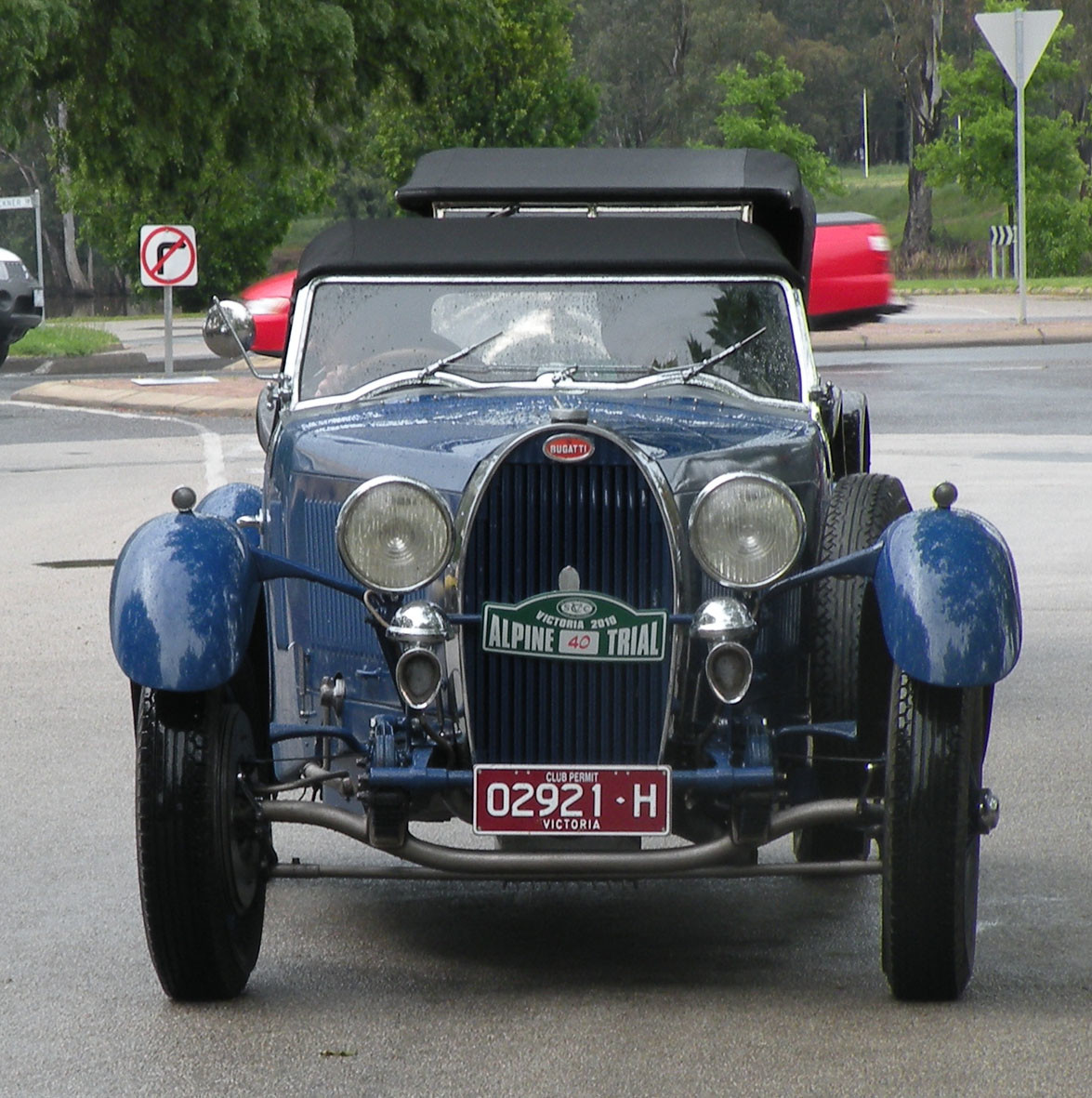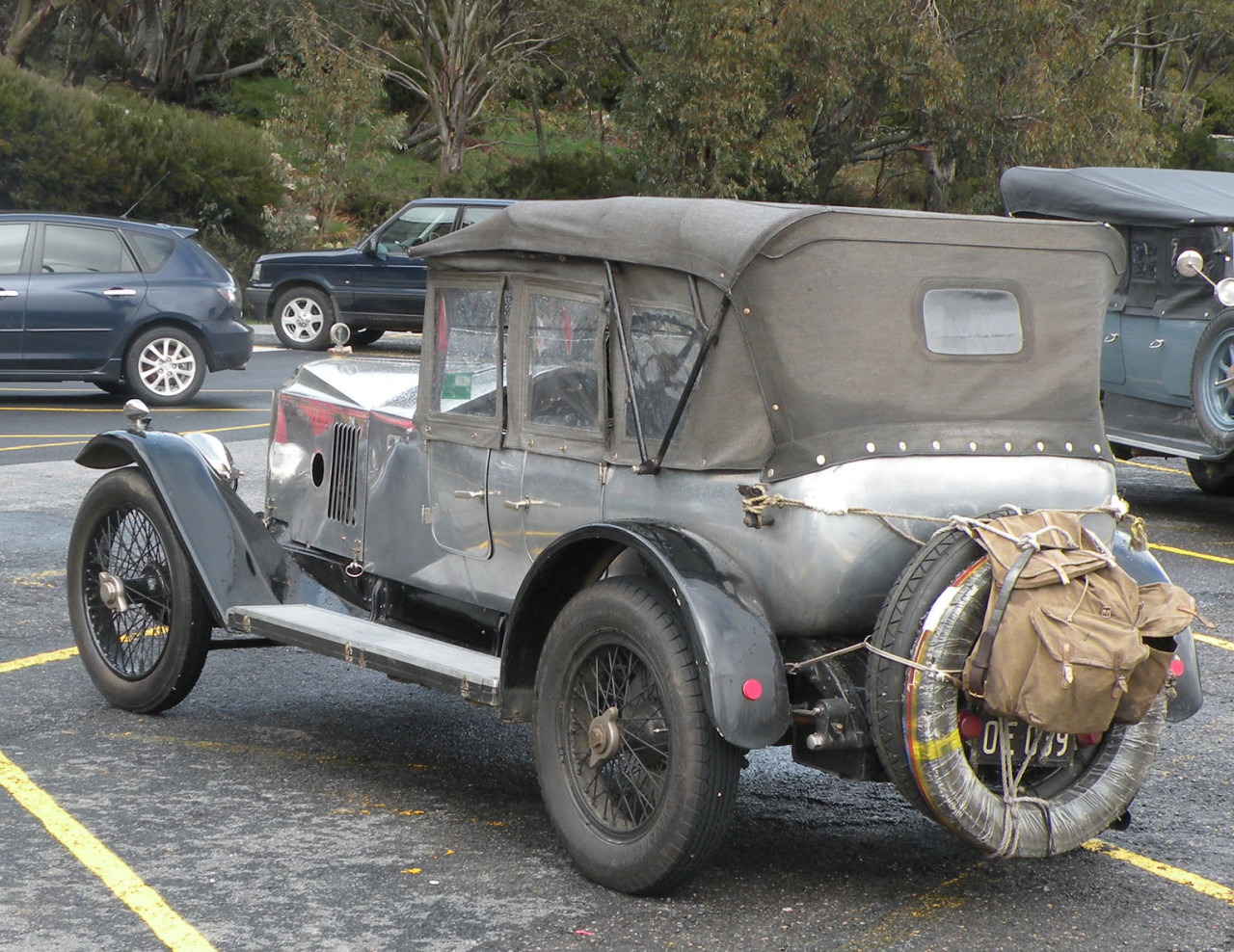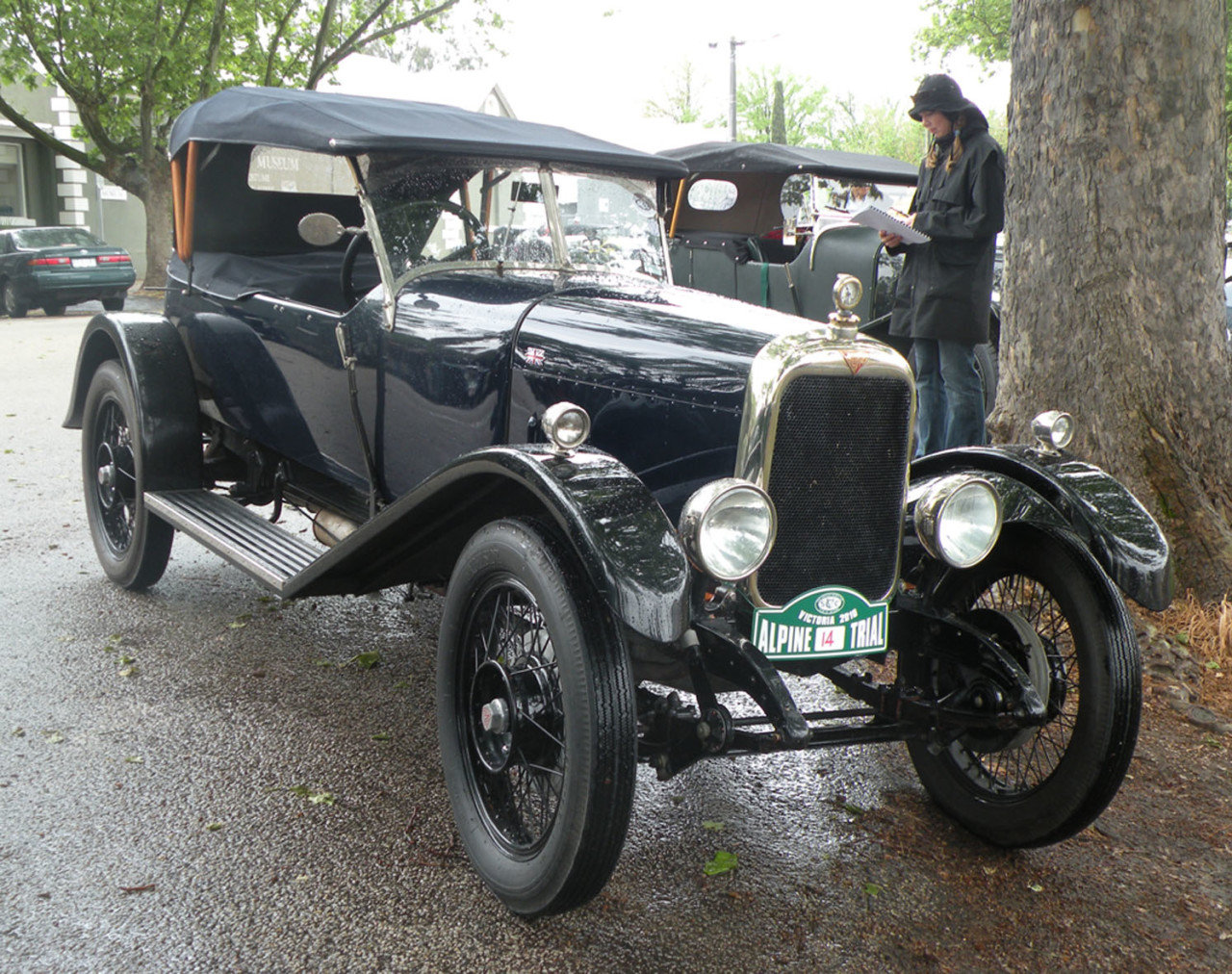 11-3-2010
Hi Tom
Sorry about the diversion. It will be some little time before the Packard is ready to rally but It certainly will be out on the road once it is finished. Funny thing, that is why motor cars have wheels. My main club here in Victoria, Australia even runs an event specially for cars with rear wheel brakes only. All good fun!
Right now I am busy sanding all the paint off the cowl, not all that exciting. All the aluminium panels are now ready to go to Arron for some minor repairs and refitting to the frame. Next step is dismantling all the suspension and lifting the motor & gearbox out.
11-4-2010
Back to work!
The last of the paint is now off the cowl and to fill in time I started to scrape some of the gunk off the sides of the crankcase and oil pan (sump). I would really like to know where this car had lived before coming to Australia. (I hope that West can find room for my letter/short article on this subject in the next issue of the Antique Automobile). The sides of the oil pan are coated with a layer of a mixture of oil and clay up to half an inch thick and baked on with a degree of hardness that even Mr Rockwell would have difficulty measuring. I started out with a paint scraper but have had to resort to a two inch wood chisel and a light hammer. Next step a heavy hammer????
11-8-2010
I know from our visit to some parts of the eastern side of the US of A earlier this year that it sometimes can rain quite heavily but I have some difficulty relating to the gutter installed inside the luggage trunk lid on the Packard. By local standards this would have to be considered a serious storm water drain.
The gutter is 3/4 inch wide and one inch deep while the tube draining water to the underside of the car is one inch in diameter.
There should be no problem with water damaged luggage!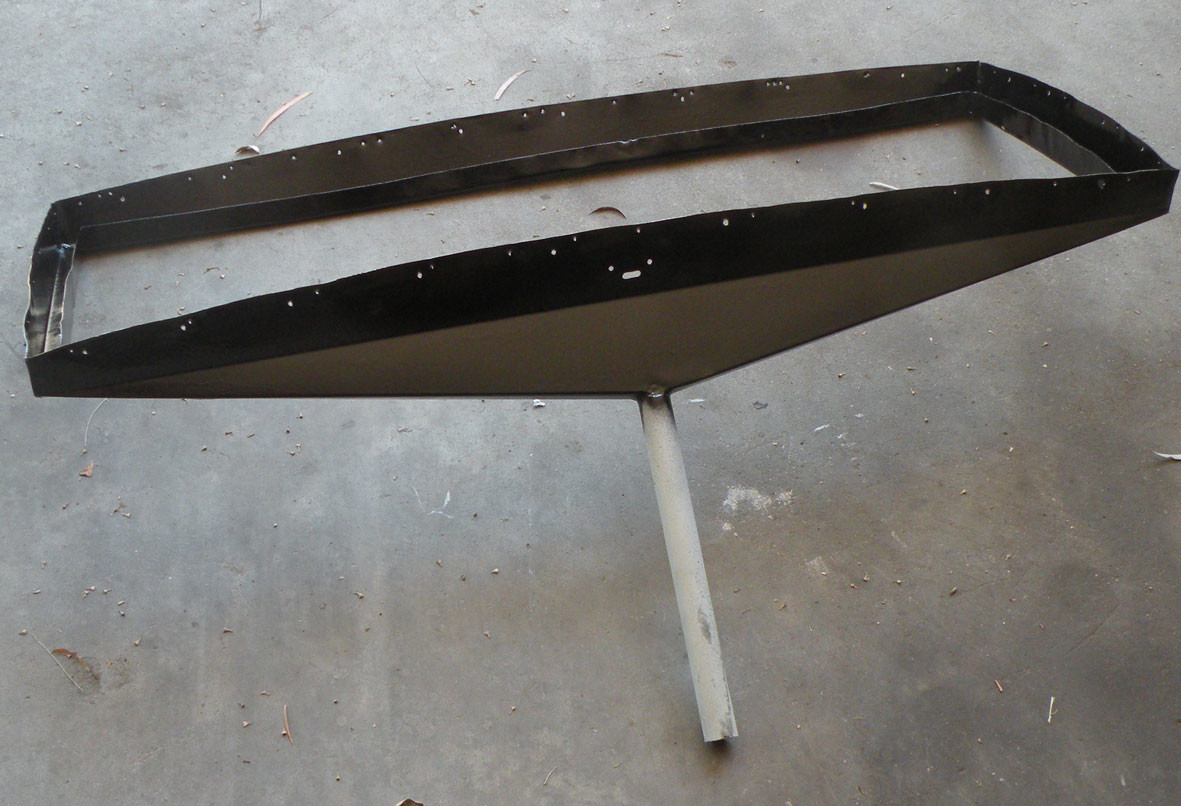 11-9-2010
Hopefully one of the older AACA Members may remember the car being shipped to Australia. The more I look at it the more I come to believe that the car has been off the road for at least 40 years and possibly a lot longer. How long it has been hiding in a "bond" store in Melbourne is anyone's guess. There was the famous example of three brand new 1928 Wanderers (German) that were eventually sold at a Customs sale in the late 1960s or early 70s. Still in their original packing cases! A VSCC Friend has one that still has not done 1,000 miles. (from new) He is still looking for the Dealership so he can get his FREE First Service!
Going back to the Alpine Trial. Oakland fans will be pleased to learn that John and Marg Cox in the 1926 "654" won the event outright. We followed them for quite some distance maintaining a steady 60mph. Well Done!
11-10-2010
More boring stuff today. I finally got the right hand side splash tray removed to expose that side of the oil pan. More baked on gunk to be chiselled off. Oh Joy!!!
11-13-2010
Hi
The post lady delivered the package bringing the door latches on Friday afternoon (yesterday our time) and I must admit I was rather disappointed when I unpacked them. Yes, I had been warned that they were a bit rusty but these were rusted solid. The vendor had very kindly given then a thorough drenching with some penetrating oil so that was a good start. First thing this morning it was raining outside so there was nothing to be done but to get started into fixing them. Now six hours later I am pleased to report that both have been totally stripped, all the component parts given a good going over with a wire brush fitted to my angle grinder then sand papered by hand as necessary, lubricated with wheel bearing grease, re assembled and given a first coat of paint. They are now hanging up to dry.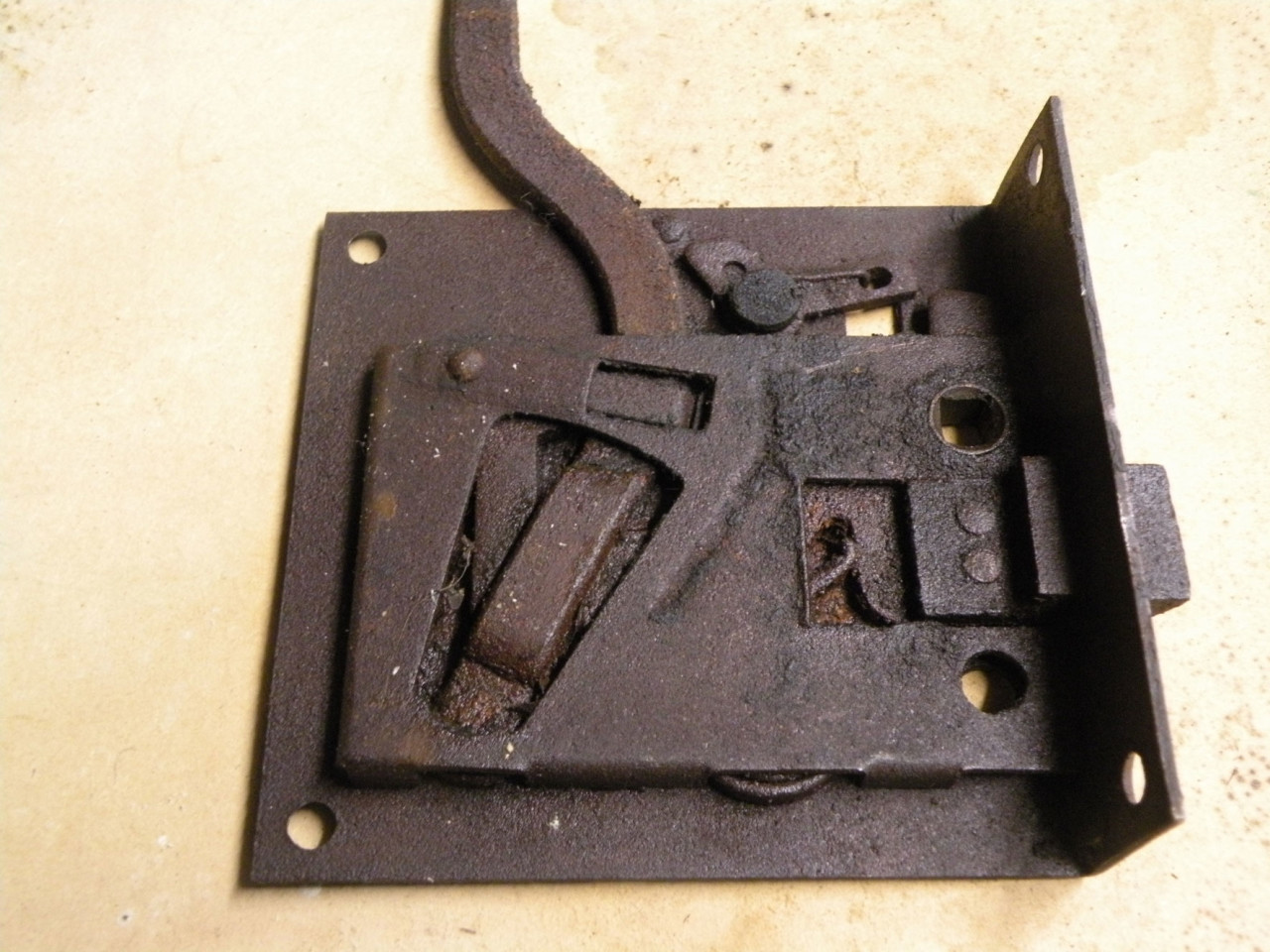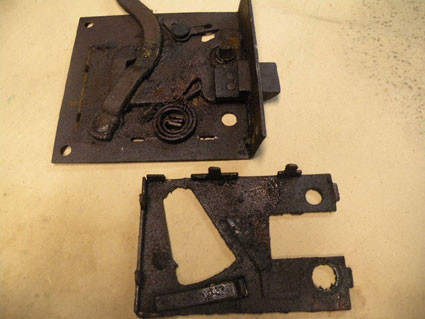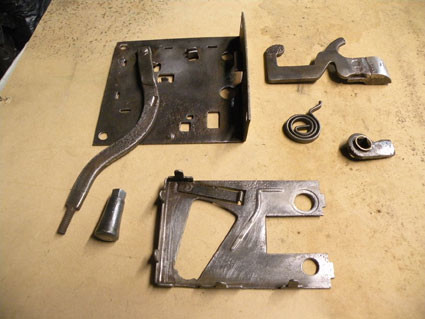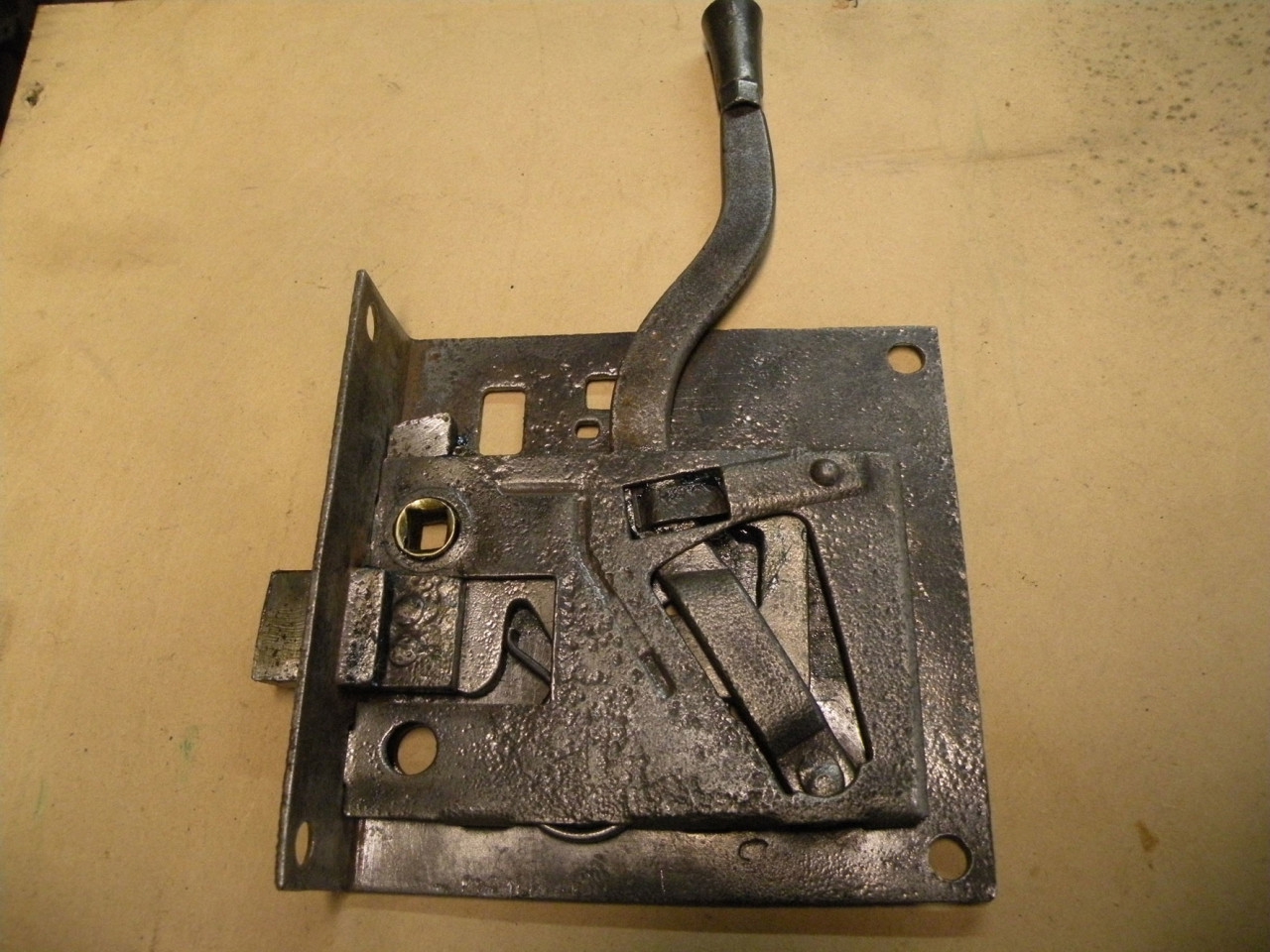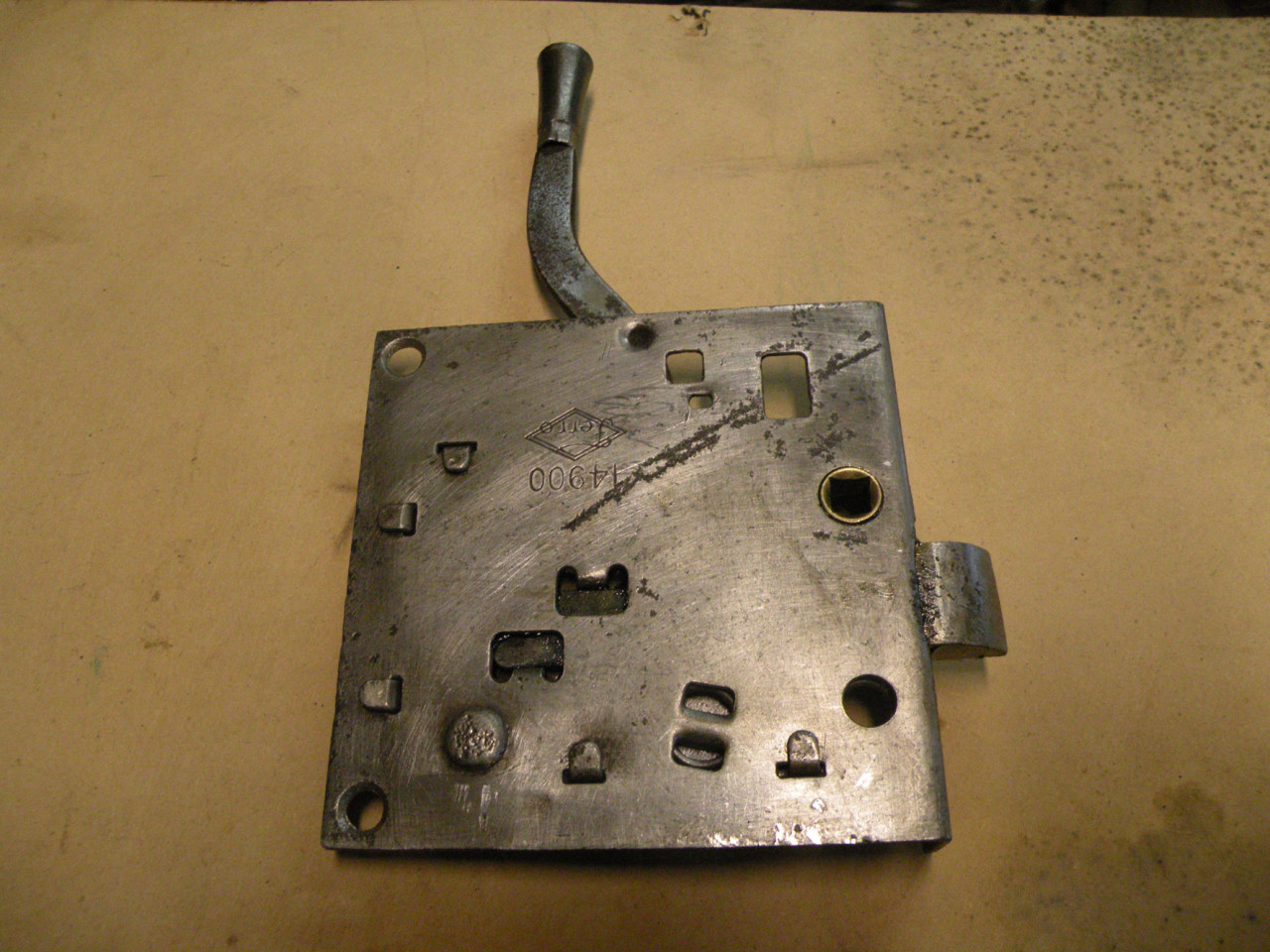 11-13-2010
Thanks Scott
The one problem is that in my extremely basic little workshop (and I mean little as in single car garage) things like compressors and blast cabinets are just a dream.
Major items like large panels (fenders etc) and the chassis frame mean renting a pick-up and a 20 mile drive each way with two trips a week or two apart. one to deliver the other to collect the blasted parts. With the cost of the pick up rental and the charge for the blasting this can add up to almost $1,000 depending on the size and number of parts I can fit into a pick up. The alternative to renting a pick-up is multiple trips in my little '85 Alfa Romeo "33" hatch-back. For one reason or another large parts like the Packard chassis frame just wont fit in through the hatch. That is unless I cut it up into pieces, something I am reluctant to do. However I do find that a wire rope wheel in my angle grinder gets rid of a lot of rust and a bench grinder/wire-brush helps for small parts.
True confessions time.
In addition to my reply to Scott here is a photograph of "where it all happens". We live on a suburban one fifth of an acre block in a house we built some 40 years ago. It has four bedrooms and two bathrooms a two car carport and a small single car garage/workshop. Helen drives a now 4 year old VW (Turbo Diesel) Jetta and my daily driver is a 1985 Alfa Romeo "33" hatch-back The VW lives in the carport and the Alfa outside.
" I have just celebrated my 74th birthday and have been retired about 15 years. 8 years ago I had major surgery for bladder cancer. At that time I had my bladder replaced with an (after-market) "neo-bladder" fabricated from a piece of my small intestine. At the same time I had my right kidney and my prostate removed. Some twelve months earlier I had a spinal laminectamy (two vertebra welded together) to overcome a serious chronic back problem. In addition to actually working on my restorations with my own two hands, I write articles (such as the "Return to Louisville" for the Antique Automobile) for the Automobile magazine in the UK and for two or three local car club magazines. Together with my wife Helen we take an active part in VSCC (Victoria Australia) competitive road events in our Lagonda Rapier two seater, a car that we have owned since 1978 having bought it as a broken-down racing car. The "Rapier"has also taken us on five or six visits to the UK and Europe. We are certainly not millionaires in fact far from it. We have four children (3 sons & 1 daughter) and 9 grandchildren. Cars such as the Packard and the Dixie Flyer are referred to as my "Project Cars" and tend to be sold on once the restoration is completed. This in part finances the next "project". I am a compulsive rescuer of basket cases and cars that no one else in their right mind would ever even think about taking on let alone fully restoring. In the past these projects have taken around 12 to 18 months to complete. As I have grown older and my standard of work has hopefully improved they have tended to take a little longer. I have lost count of the number of such restoration projects that I have successfully completed.
I am not a collector and generally look on collectors as selfish people, denying less fortunate people the opportunity of owning and enjoying an Antique Automobile.
Finally my creed is that God put wheels on Automobiles so that people could DRIVE them not so they could roll them into trailers.
I hope that I have not offended too many people but at least you know where I am coming from!
Bernie J.
P.S. To work in the "garage" I must first put the Lagonda outside. When it rains it gets wet.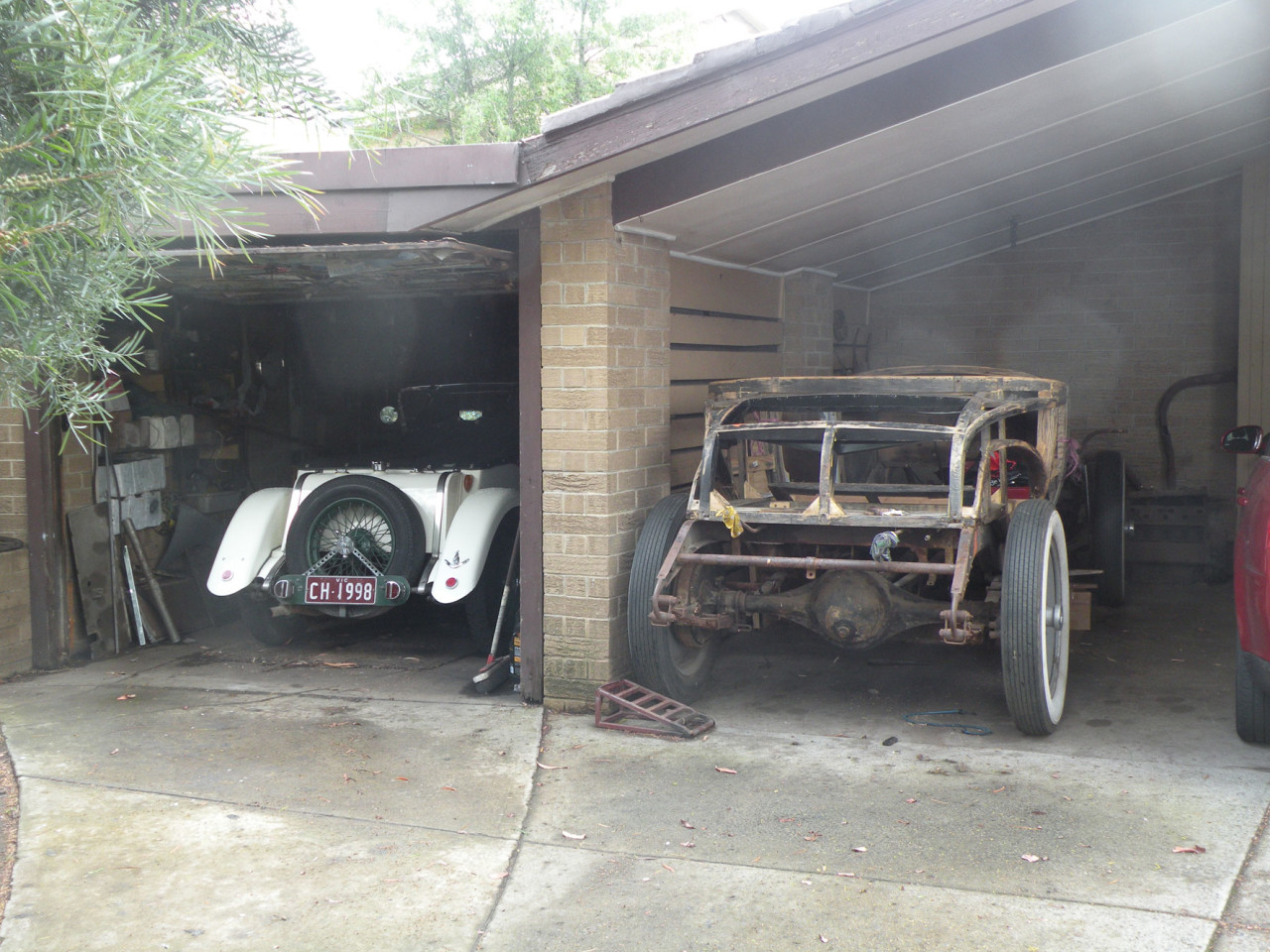 11-14-2010
Thank you Matthew & Scott
Having just returned from my weekly game of Petanque I am about to start work again on replacing the door-jams before removing the body frame to take to Aaron so he can start on refitting the body panels.
Scott, I admire you passion about saving cars from potential destruction/hotrodding but all to often I see people here in Australia who have saved cars but only to line them up out in the weather to await a slow death by rusting away. I have to be very strict with myself only to have one project car at a time. That way my efforts are concentrated and the cars that I start get finished.
Several of my Dodgey friends would love to see some current photographs of your DG8 coupe.
11-15-2010
Hi y'all
Just to keep you up to date here are a couple of photographs of this afternoon's work. The replacement door jam for the right hand side door. The original had been somewhat cut about and the wood was splitting away from the door post. This had to be cut away and a new jam made from good old Australian "Mountain Ash" (Eucalyptus) A nice straight grained hardwood.
Note that I am using as much of the original timber frame as possible. in the second photograph I show the door gap this will still need some adjustment by moving the hinge in or packing out as required. The knob for the new door latch can be seen projecting an inch or so above the top of the door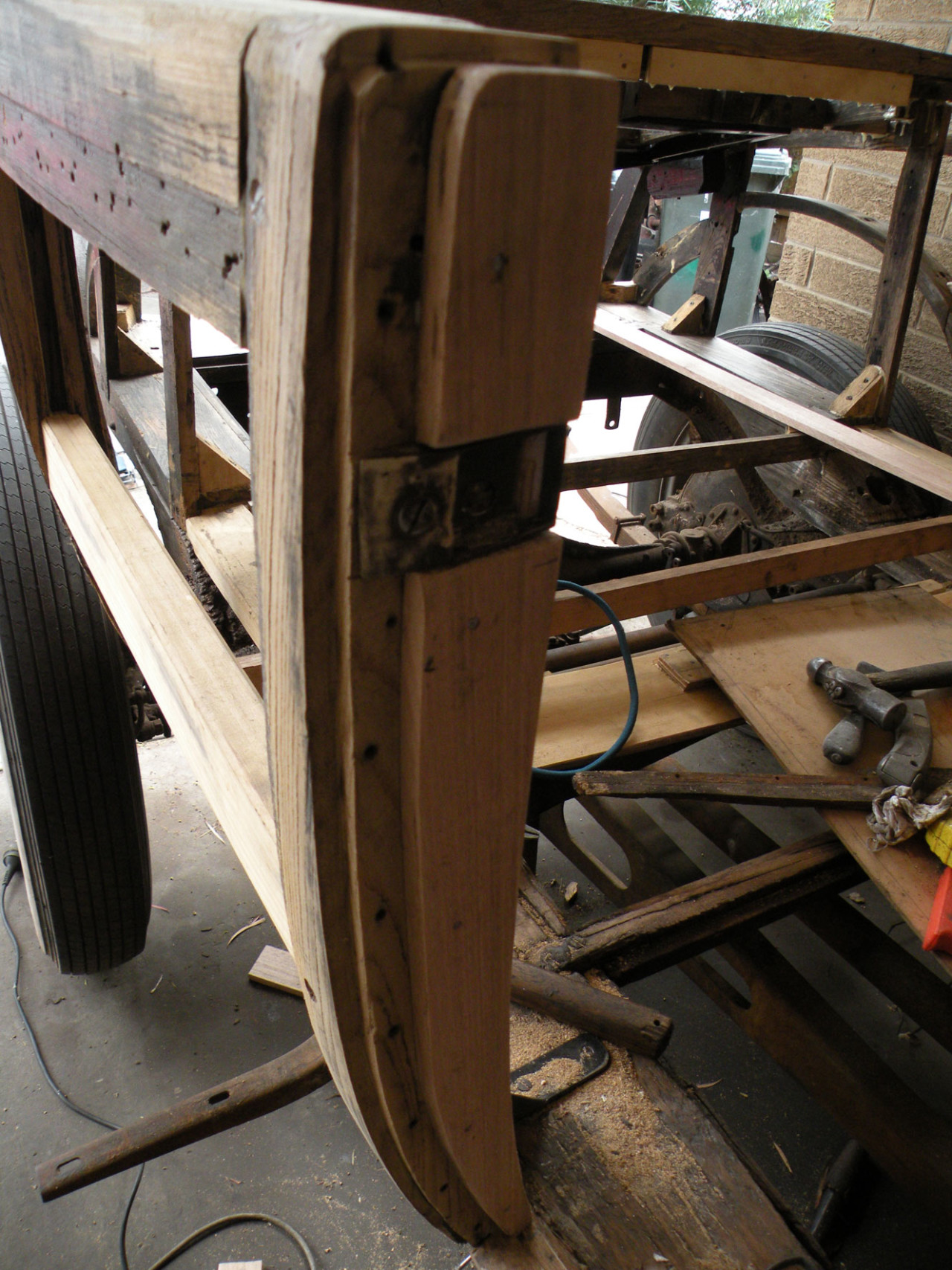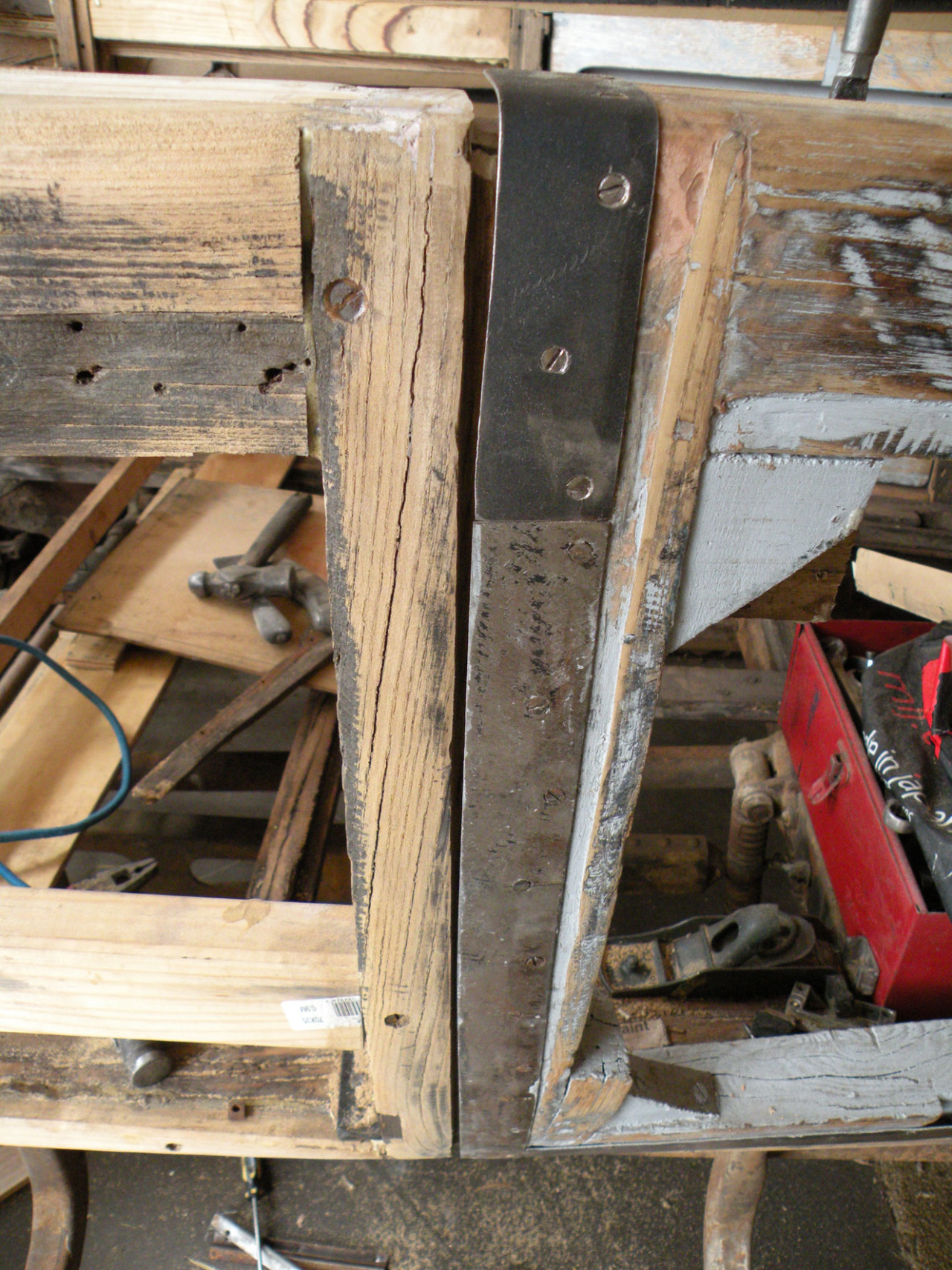 11-16-2010
Hi Scott
When I am not being side tracked by all sorts of obscure issues that are fun to pursue I try to do something constructive on my current project every day. It gives me a good reason to wake up and get out of bed apart form all the other things I enjoy. I have just finished mowing the grass. Please note I refrained from saying lawn. Our garden is about 80% Australian Native plants and there has to be some open space for when the grandchildren come to visit. This is mainly indigenous grasses but it still has to be cut during the spring and early summer or we may loose one or two infants.
Smart people who know their way around Google Earth can put in Glendora Lane, East Doncaster, Victoria, Australia. Our place is the one right at the end hidden by all the Gum (Eucalyptus) Trees.
11-17-2010
Sorry Brad
I would have to travel at least 15 to 20 kilometres to see a Koala, all we have in our trees are lots of birds and the occasional possum. We don't have any problems with Kangaroos either although my wife occasionally sees some on the golf course.
At present most of our Australian hardwood timber comes from overseas. From Tasmania....... Having said that we do have one of the beautiful "spotted gum" trees in the front garden. The same variety of Eucalyptus that provided the timber for the Dixie Flyer dash and steering wheel rim, but not from our tree.
At about 40 ft high it is probably almost big enough to be milled but then we would have to wait another 40 to 50 years for another to grow to the same size.
Despite all this I have actually done some more work on the Packard today, fitting up the drivers side door. I should be able to lift the body frame off the chassis in the next week or so and start work on the mechanicals.
It always amazes me what you can find on the internet. I can probably learn your home phone number, full address and age group then look at your front yard and get detailed instructions on how to get from my place to your front door, all without leaving my desk
11-18-2010
Not much work to-day Helen had me out in the garden all morning doing some pruning of tree branches where they were growing over the top of under-story plants. This afternoon I had my annual appointment with my Urology Specialist.
He has made another appointment to see me in 12 months time so apparently I can look forward to at least one more good year.
Attached is a photo just sent to me by C (Ben) Benson of a dash light and cigar lighter that he has found for me.
He tells me "The cigar lighter has a screw affair that turns on the current to the heat element,when the holder is pulled out about 4",,,the heat element is the same base as a dash bulb,,,,so it can be used as a maplight,,if you don't smoke!!!
That sounds almost enough to put most people off ever lighting up!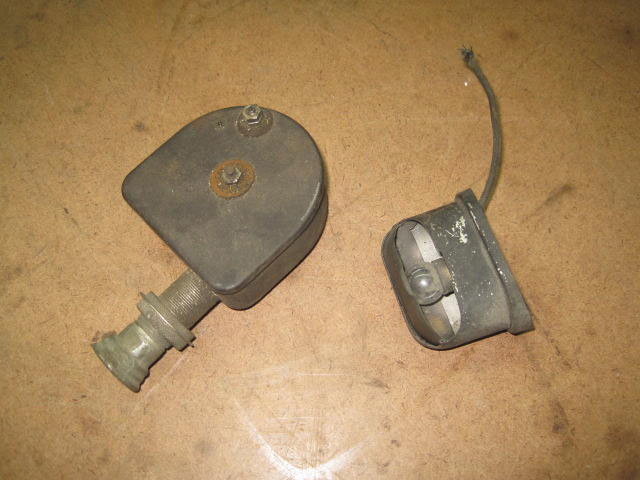 Just a thought for all those people who look up things on the internet. Our oldest son Paul and his partner Nicole are dedicated Bird watchers and as such travel into the most remote corners of Australia. Paul also does "Bird-song recordings. their website "Urban Birder" has some great photographs and sound recordings. Oh yes, you have to enter au after Urban Birder.
Enjoy
11-21-2010
I trust that those who bothered to look at Paul & Nicole's Urban Birder.Au website now have some insight into the Australian "Outback" and the unique sounds of some of our native birds. Anyone recognise the Kookaburra "laughing"?
Having taken some quality time pottering about the garden over the weekend it is time to start back on the Packard. Todays task has been to refit the rear "trunk" lid frame. This has been totally taken apart re-glued and re-screwed, once again dipping into my stock of "slot head" wood screws. As previously I have been at pains to use as much as possible of the original timber frame. The rear rail required repairing where previously there had been a "Yale" type lock.
To fit this lock entailed boring a large hole through the rail right in the centre of the joint. The wood here has been replaced (Photograph 1.) and in lieu of the "Yale" lock a simple spring catch cable operated from the rear seat will be fitted. Photograph 2,shows the underside of the lid where the original Packard 222 Body style number and part number can be seen. Note also the unique "goose neck" hinges and the rain-water drain. Also clearly seen in this photograph are the strengthening "corner blocks" that have been incorporated into all the stress points in the original frame.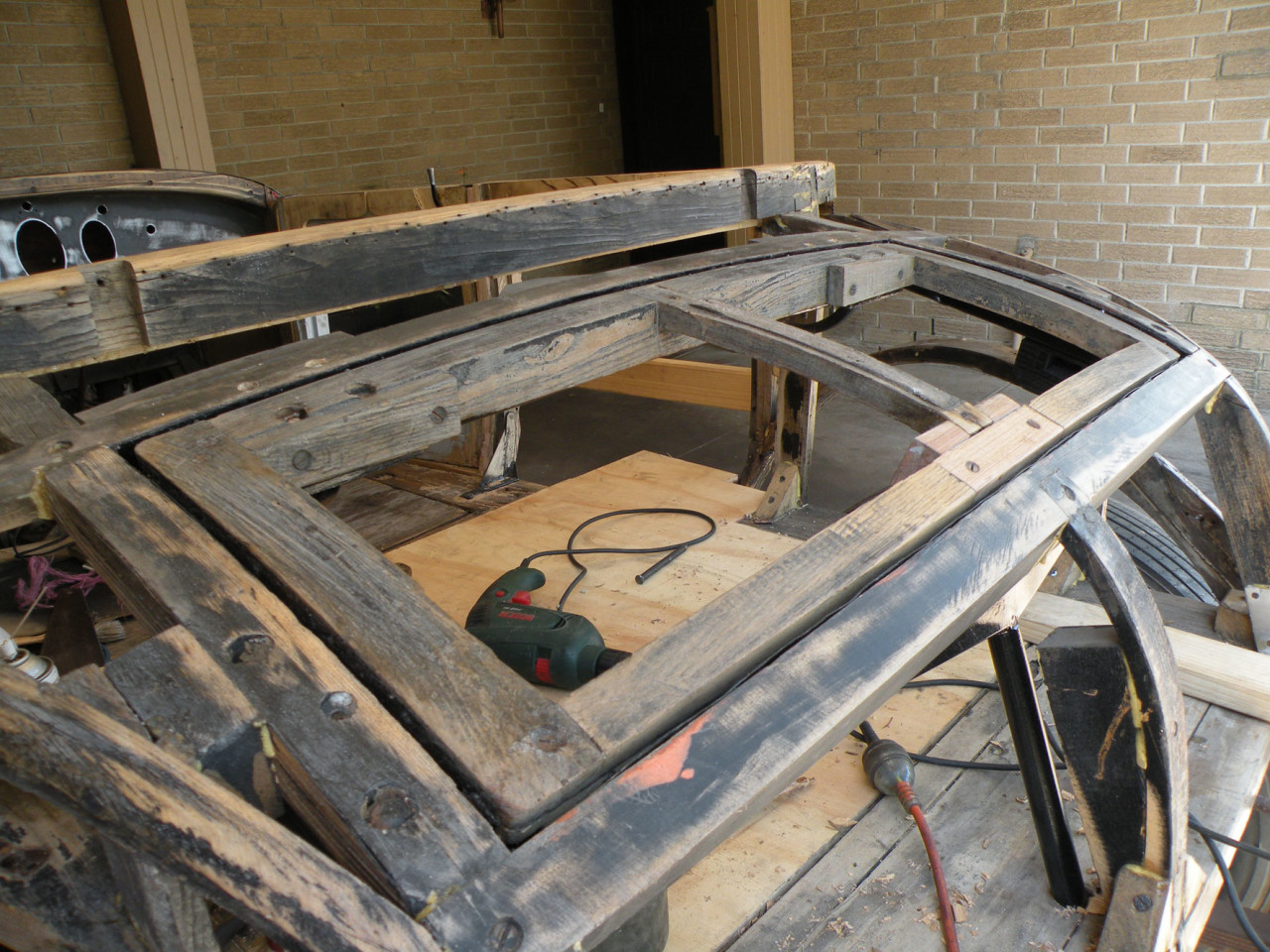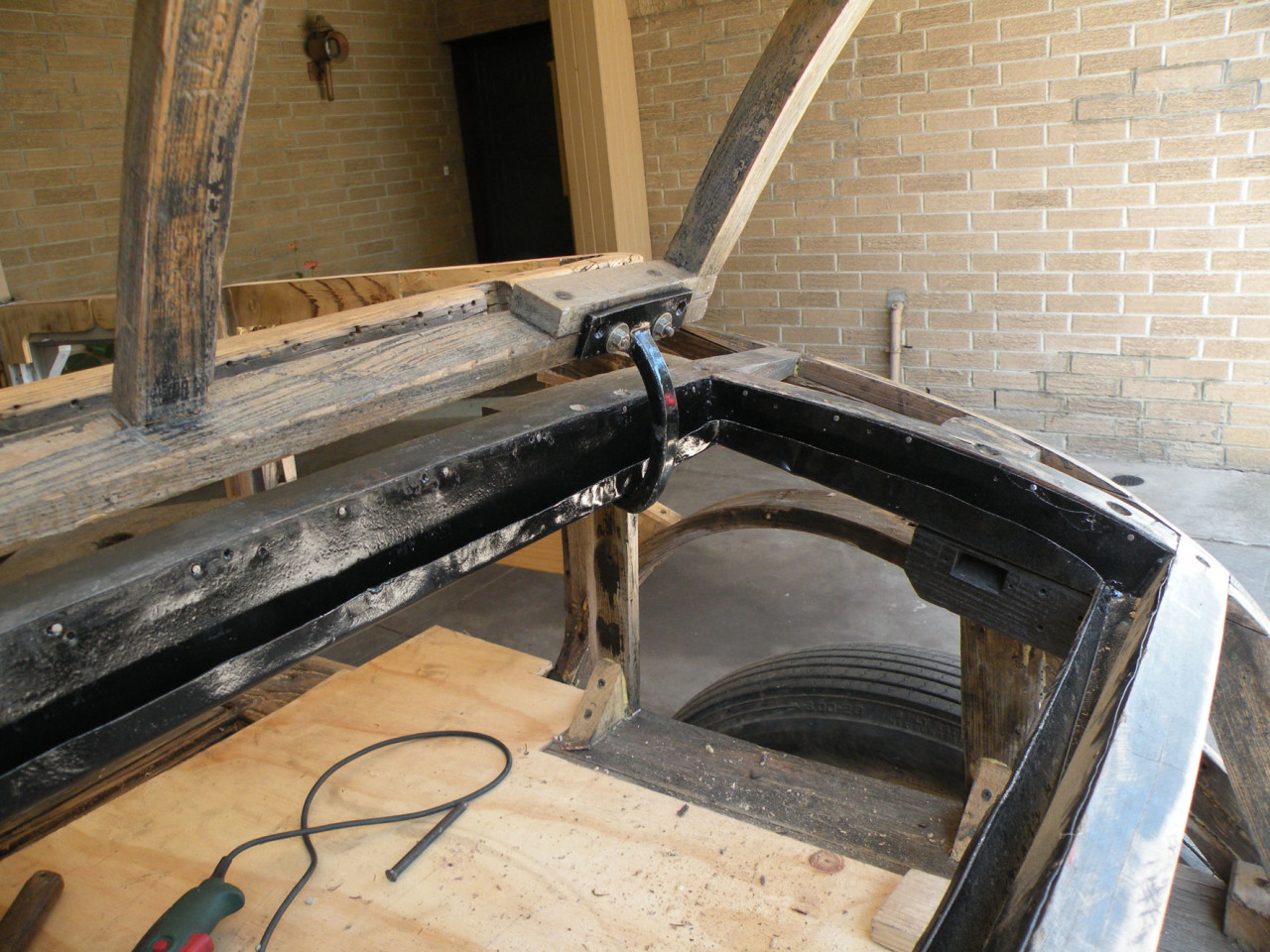 11-22-2010
Wow! It is all happening today, a charming young lady from the Post Office has just delivered the first of two packages on their way to me from C,"Ben" Benson this one contains the speedometer, clock and small (oil & amp) gauges, all fairly much as I had expected. Just one problem is that the clock is just too big to fit the space in the speedo housing. Ben thought that I may be able to turn down the case to fit but the dial, hands etc is way too large. Besides this the clock is far too good to destroy. It is a 3 inch black face Waltham 8 day It is running nicely and appears to keep good time. (only time will tell). The clock that I really need is quite a bit smaller. The recess in the speedo housing is 2 3/4 inches in diameter while the hole for the actual face is just 1 3/4 inches across. Both the speedo and the small gauges housings have their bevel edge glasses intact. I will need to be really careful taking them apart to re-nickel the rims.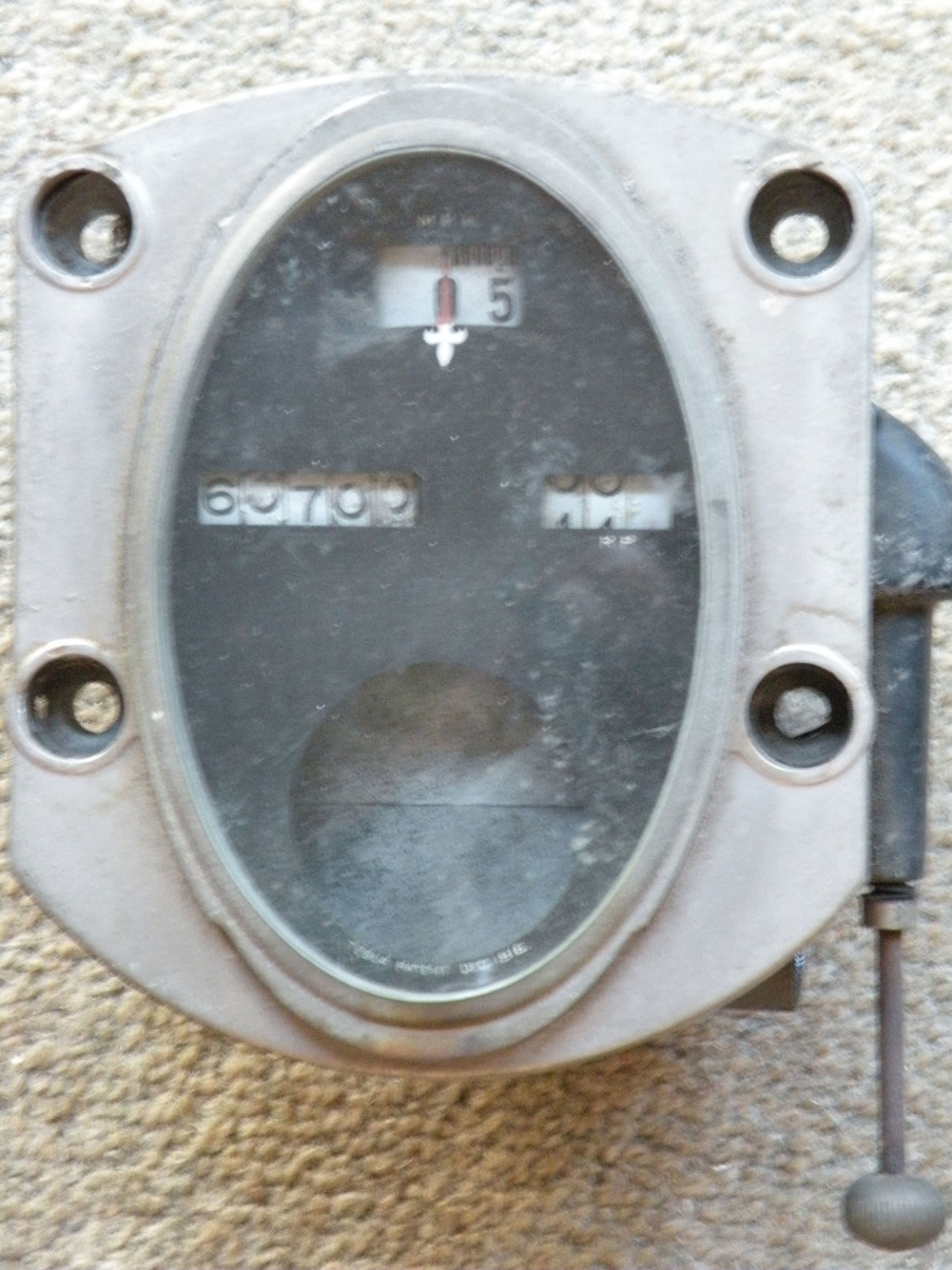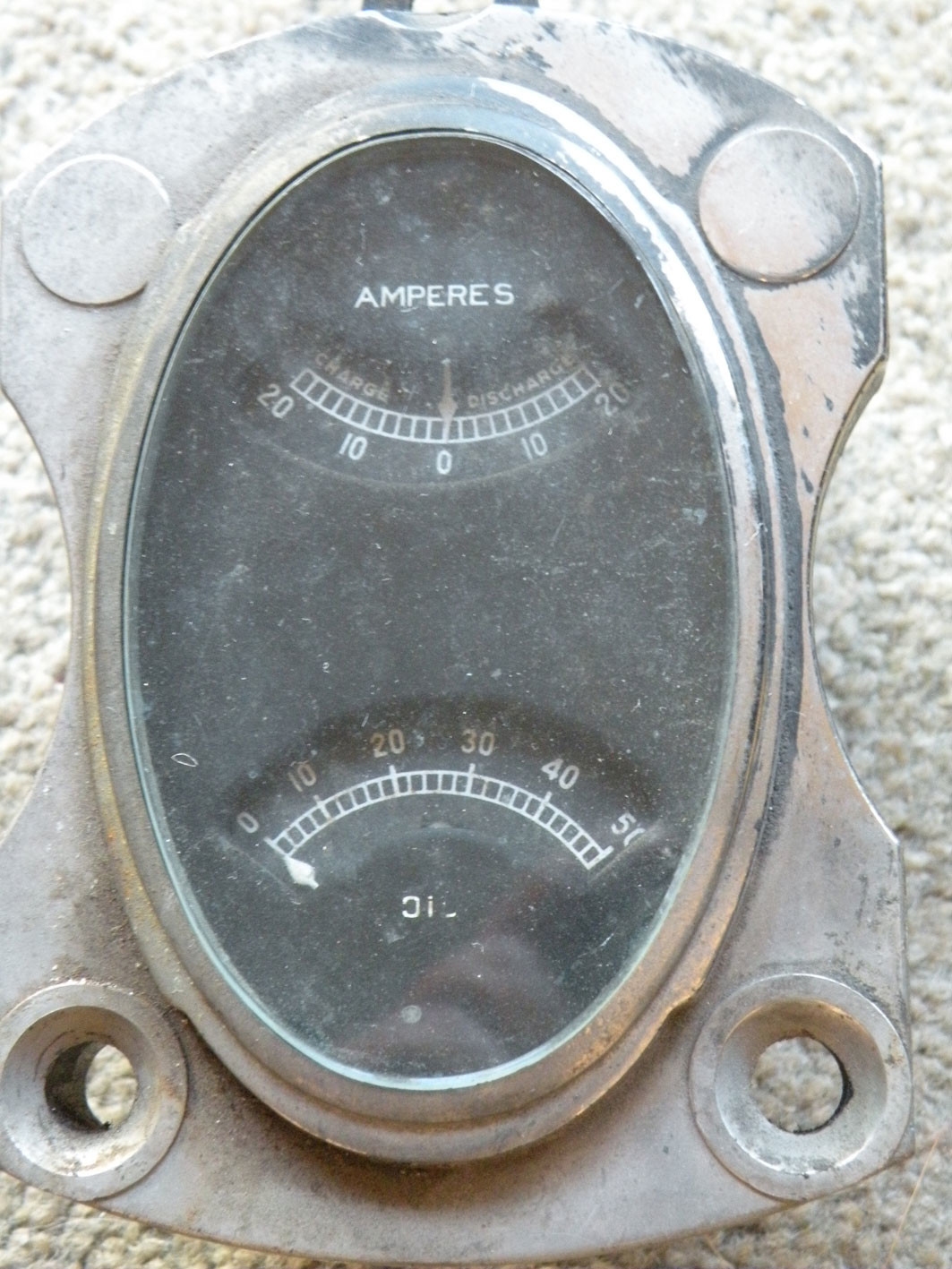 Further to the above, if there is someone who has the smaller version of the Waltham 8 day clock and would like to exchange it for the 3 inch one seen here please send me a pm. It really is a very nice clock in working condition complete with unmarked bevel edge glass.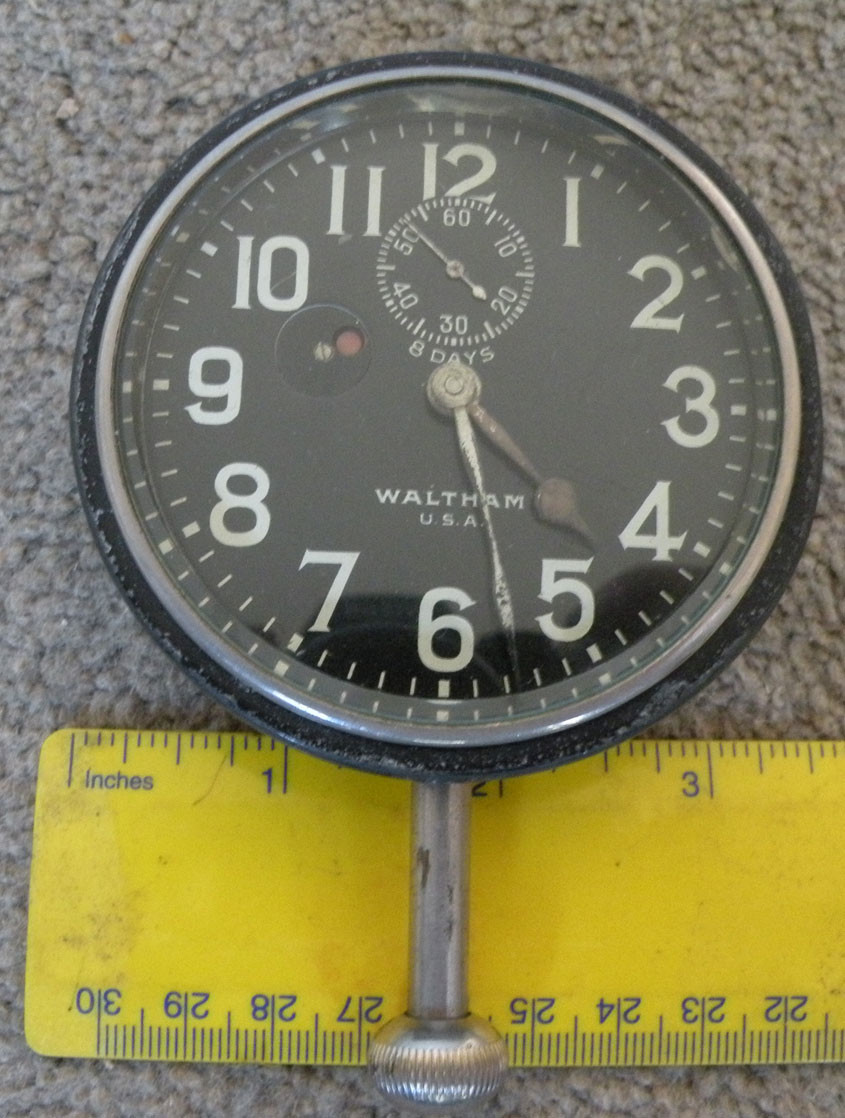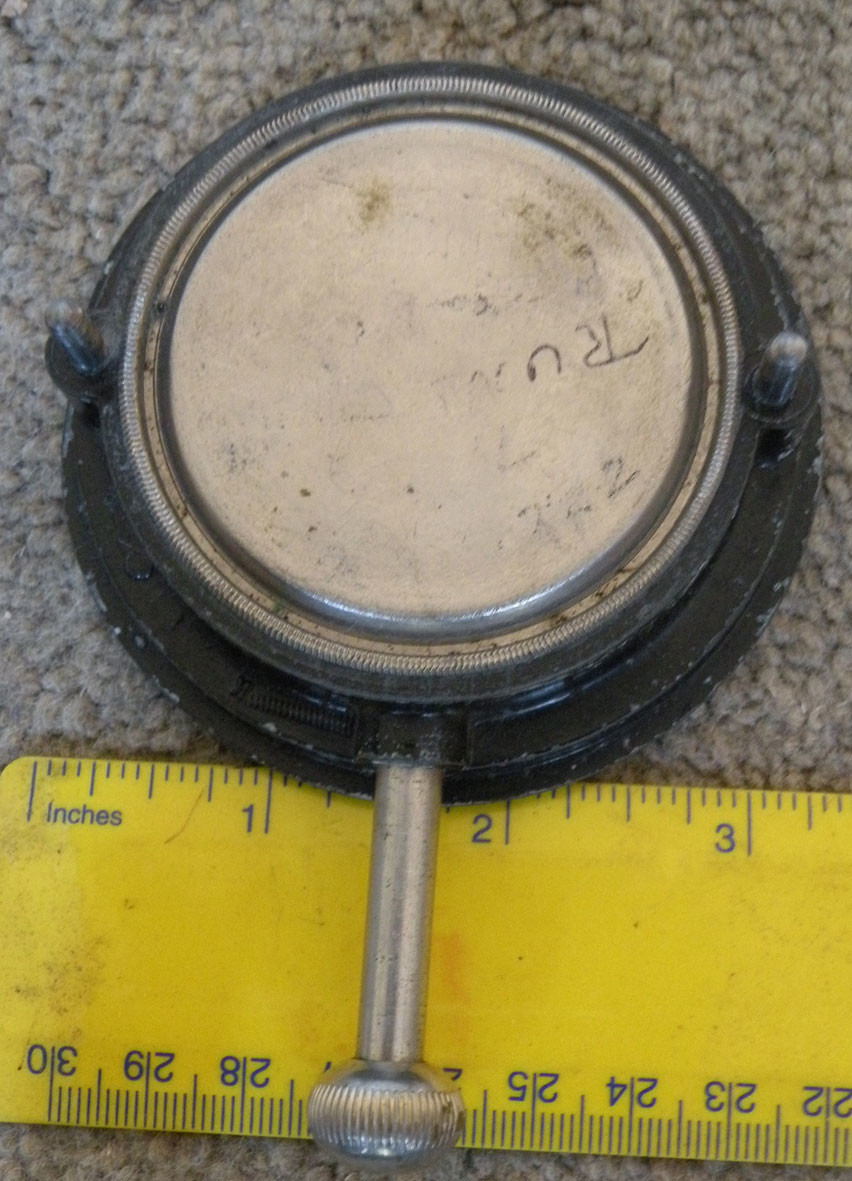 Now 18 hours later the clock has lost about a minute or two. It is sitting on a shelf next to my desk as I write this. It really is a very nice clock and is running smoothly. You simply cannot hear it ticking. The only way to tell it is going is to watch the second hand! Perhaps I will just add it to my collection.......
I really can't help myself. I have just unscrewed the back from the clock and to me it looks perfect. It should not be too difficult to adjust.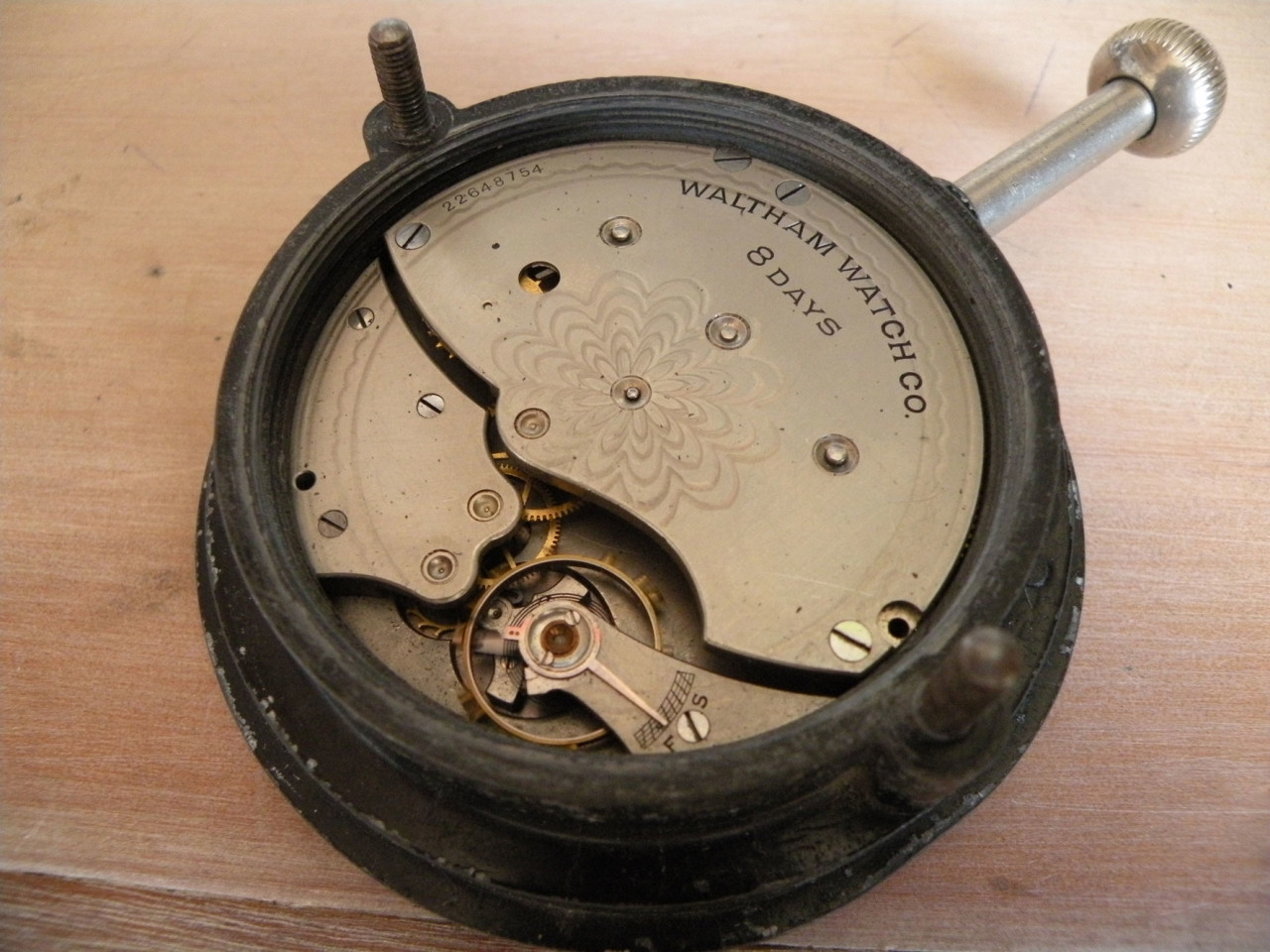 Our postman sure is being kept busy. He arrived again this morning with a large cardboard package labled in 4 inch high letters "HEAVY PARCEL". I knew at once, even before I had signed for it that this parcel contained. What must be one of the rarest motor car wheels in existence. A 1923 Packard FIVE lug 23 inch disc wheel! At last I have a spare wheel. Yet again my good friend C "Ben" Benson had come to the rescue. Thank you "Ben"!
For those with enquiring minds the USPS documentation states that the weight of the parcel was 38 lbs 1 ounce. And I should point out this is WITHOUT a tire.
11-25-2010
Slowly but surely my wish list is being reduced with a Kentuckian friend sending me a quadrant for the centre of the steering wheel, what is still proving difficult to find are the two hand control (Spark and Gas) levers. At this stage even broken ones that could be used as patterns would be fine. These are for the early 126 series 1 cars and are different to the later six and eight cylinder models. Please have a look among all your scrap aluminium bits and pieces, you never know what you may find.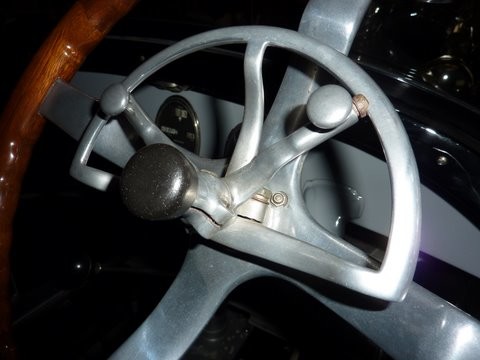 12-2-2010
Thank you David
The clock arrived safely this afternoon. This completes the full set of instruments all I am waiting for now is to get a price from Ben for the Dash light and Cigar lighter.
As Aaron will not be able to start work on the main body panels until the New Year I am busy cutting out the base boards for the interior trim. In fact I am finding this much easier without the panels attached to the timber frame.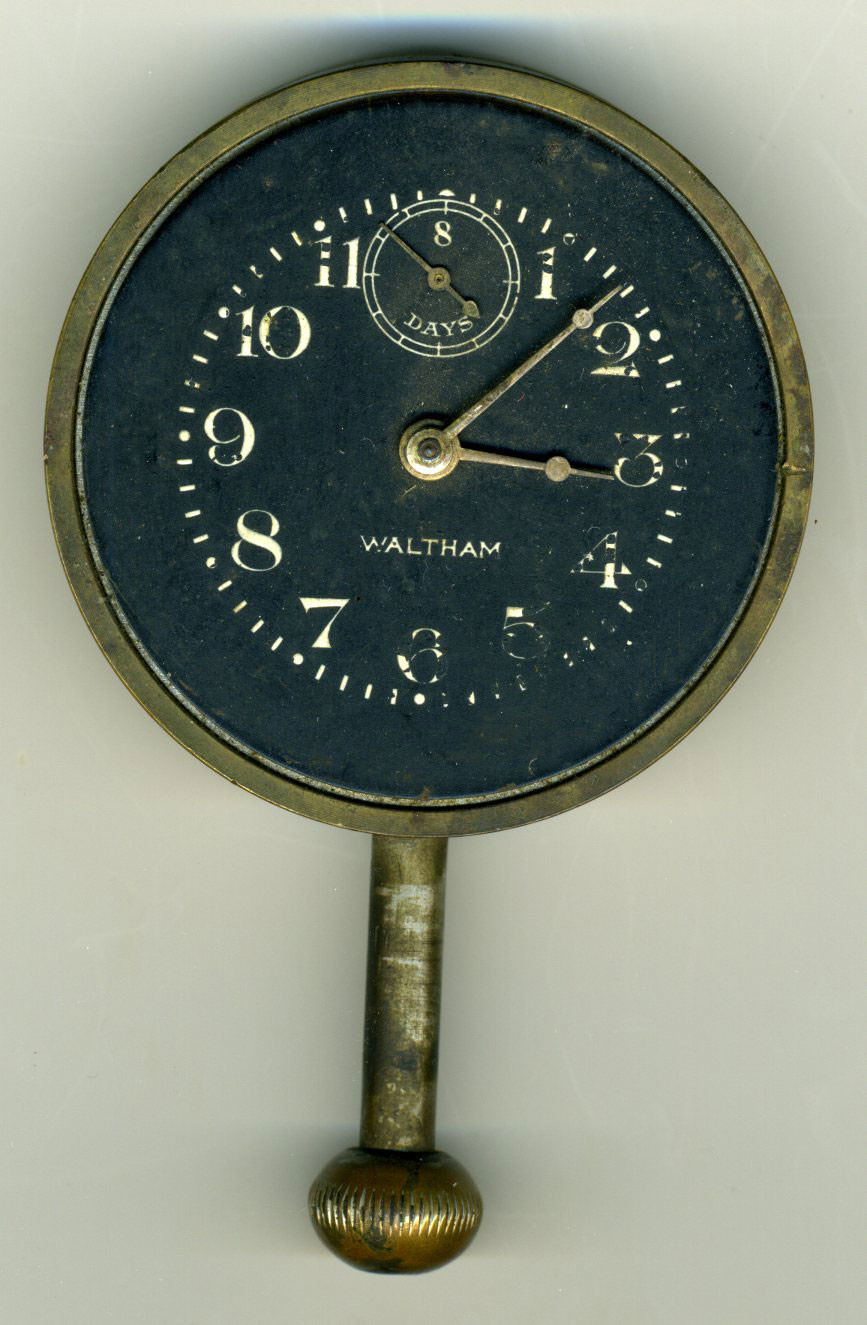 12-5-2010
As mentioned earlier I have been working on the trim panels and have now completed these for both doors, rear compartment and foot wells. Those in the doors and rear are to have storage pockets. Attached are photographs of the door along with one from the archives showing an original storage pocket.
The other thing that I am really delighted about is that the post-lady has just delivered a parcel containing the quadrant for the centre of the steering wheel very kindly sent to me by Donald Ellis. Thank you very much Donald. This has one lug broken but I am sure that a little old Italian specialist aluminium welder, who lives about ten minutes away, will be able to repair it. However I still need to find the two levers and the horn button. Please do have a look through you boxes of bits.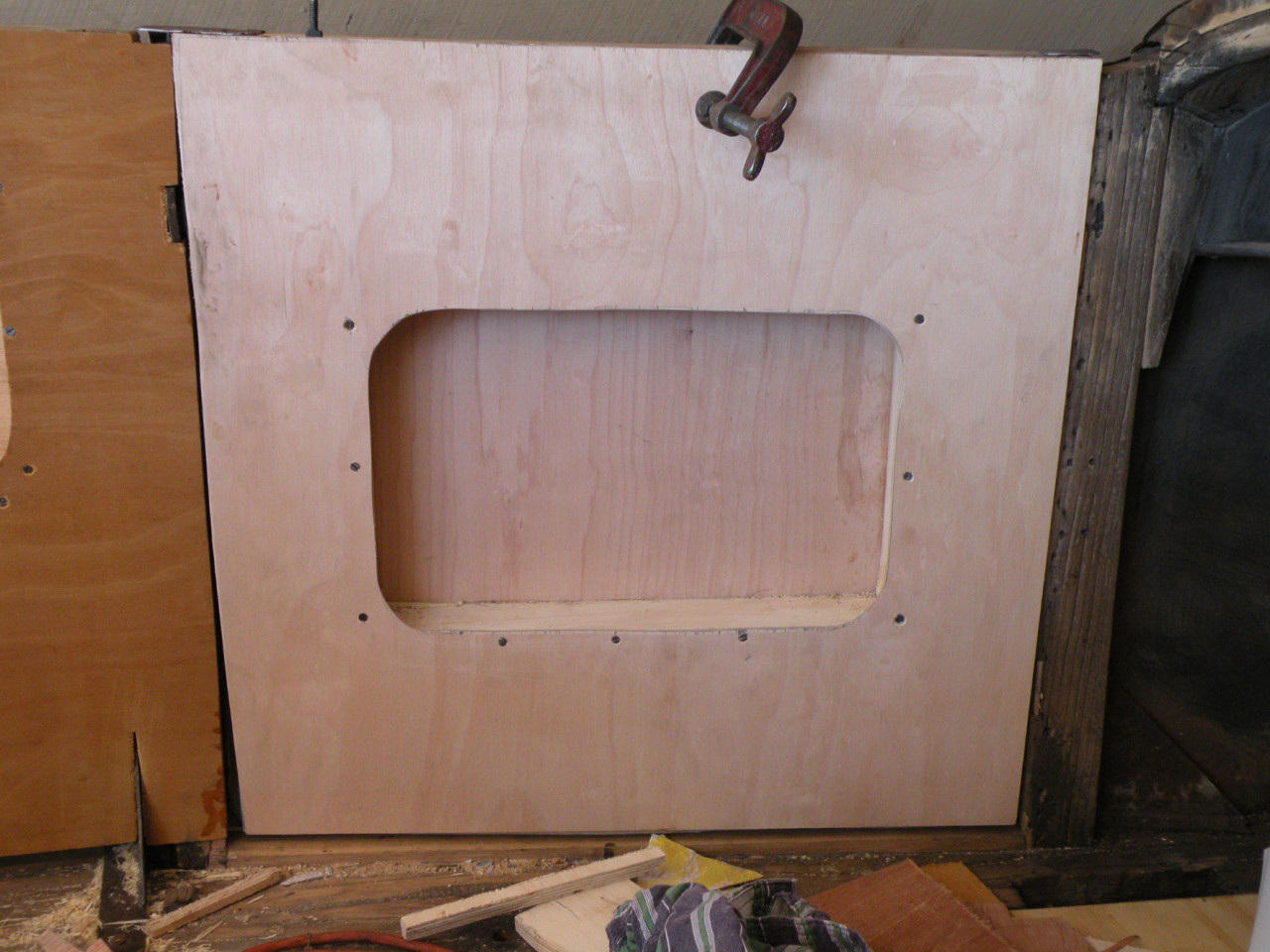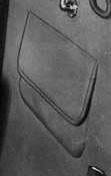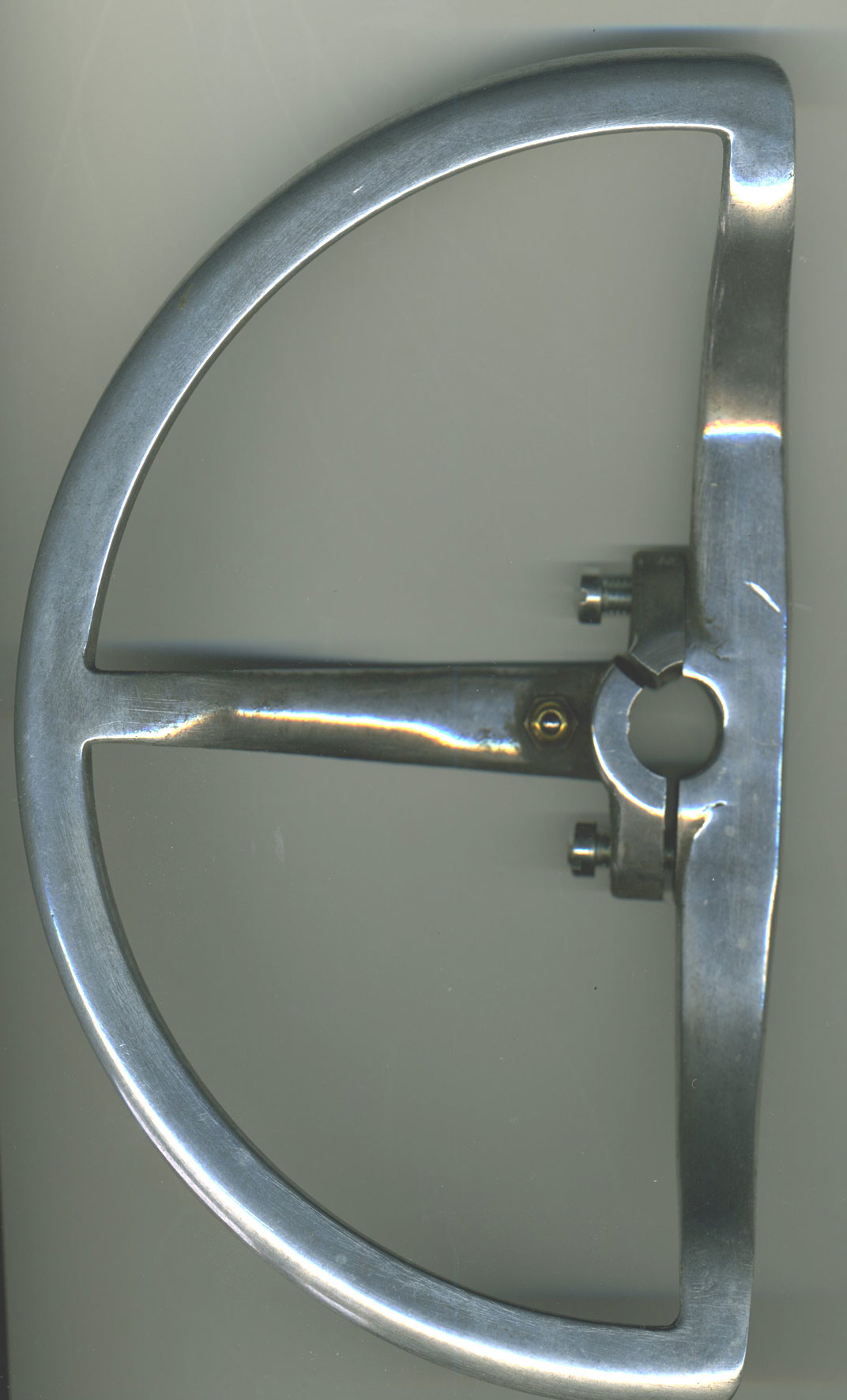 12-9-2010
Not a great deal being done this week, I have been busy doing other things. (Christmas is coming.) Just one little thing I will need is a photograph or better still a drawing showing the dimensions of the Left (Driver's Side) splash tray and how it fits around/under the steering box.
12-12-2010
Hi Keith
Thank you for 'popping in' The only way I have found to make incomplete projects "complete" is to work extremely hard at it
Start an 1922 Auburn thread. Tell people what you have and what you need.
If you don't tell anyone, no-one will ever know!
Because I have been around for a long time (too long some people may say) I am known not only in Australia but the UK, USA and many parts of Europe. Not because I am a shrinking violet but because I am prepared to make my actions fit my words.
I have found that to achieve anything in this world you have to work for it.
Here endeth the lesson
12-17-2010
Hi y'all
I have just posted (in the snail mail) just over 100 Christmas cards and messages. Hopefully I can get back to the Packard over the next few days but remember this is the silly season.
While all you people there in the United States and in the Northern Hemisphere are looking to enjoy a White Christmas, we in Australia are well into Summer and are enjoying fine days with temperatures around 25- to 30 degrees C. This year after eight years of drought, we have actually had Spring rain. Unfortunately in this land of contrasts we have had too much with floods in lots of places around the country. Where we live in Suburban Melbourne our gardens are loving this weather and everything is green and we have new growth every where.
No matter where you are, enjoy your Christmas and I hope that you are looking forward to a happy and healthy New Year.
12-20-2010
OOPS! I spoke to soon. Suddenly we are having most unseasonable weather with the temperature down into single figures .C overnight and over 40 mm of rain in the last 24 hours. That is almost 2 inches. Not much happening on the Packard either.
What a remarkable world we old car fanatics live in!
Completely out of the blue I have just received a wonderful Christmas present from a total stranger. Perhaps when I say a total stranger I should add that this person is also an AACA Member and a Packard owner, a 1916 2nd Series Twin Six. After seeing my "Wanted" advertisement in the last issue of the Antique Automobile he has sent me a replacement horn button. At this point I should say that the person, Charles H Brown is an Architect living in HONG KONG. He had discovered that a readily available replacement POT LID KNOB could with some very small and simple modification be turned into a almost perfect horn button. Charles has very kindly sent me two.
How can I thank you Charles?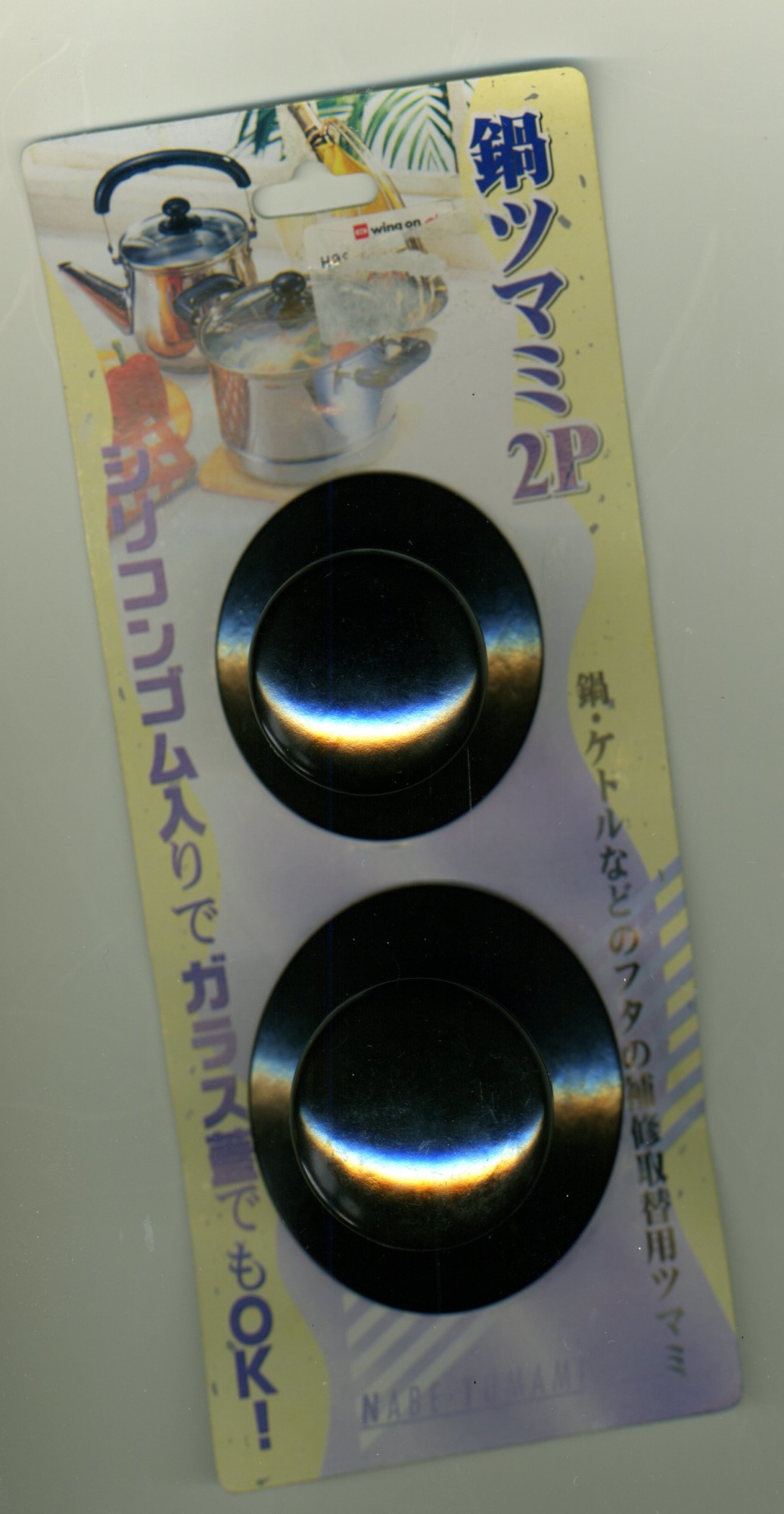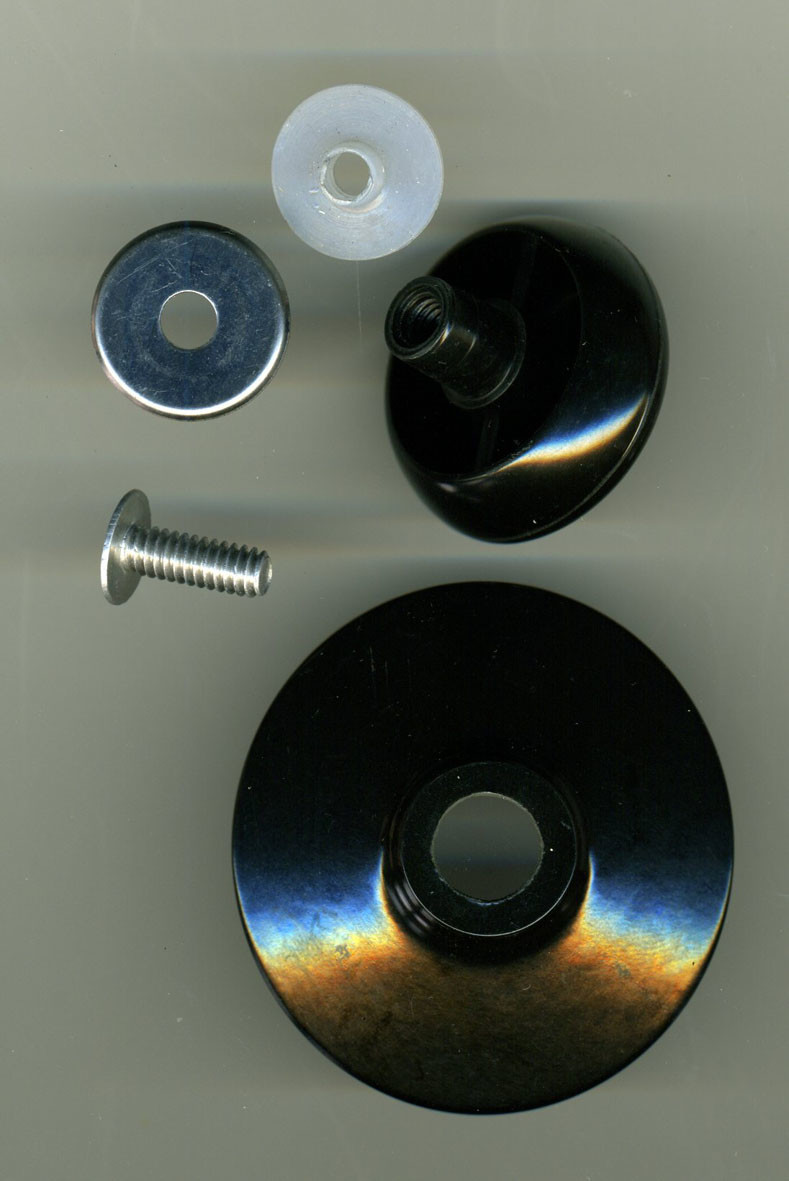 12-23-2010
Here in Australia as a result of living on the right side of the International Date line it is Christmas Eve already. Santa has been busy and as many of you know he has been searching the world for Packard pieces for me. Just in time he has found a pair of those extremely elusive hand control levers. Ross M. from Ontario in Canada has decided to let me have a pair that he has spare to his requirements.
Happy Christmas!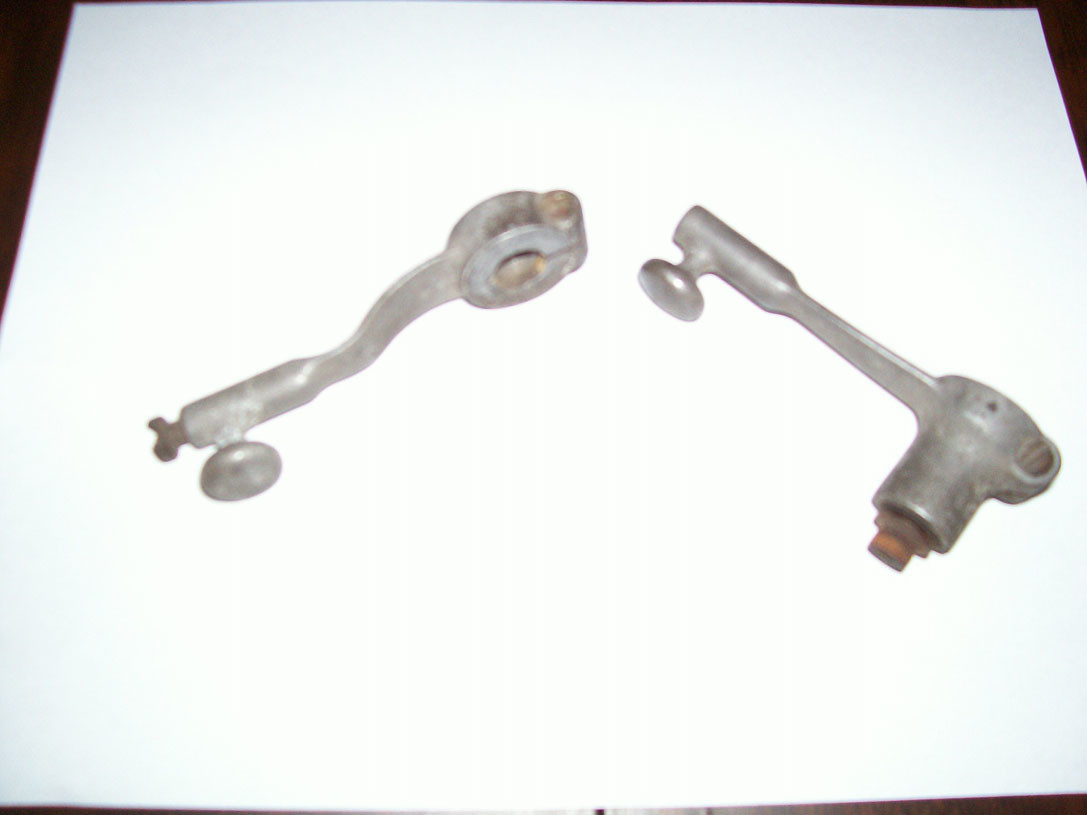 Christmas is all about sharing so I would like to share a couple of cards that I received from British motoring friends. The first one is produced by the Vintage Sports Car Club. It shows typical club cars attending a "Pre-Christmas Autojumble (Swap meet to you and me) This one includes a little test to help fill in your post Christmas lunch afternoon. How many different makes and model cars can you identify?
The other is produced by "BEN" a British Motor Industry benevolent fund that provides help and care in times of need for retired employees of the Motor Industry and their dependants. The scene portrayed is describes thus: It's the morning of Christmas Eve 1937, the driver of the Triumph Gloria flow free saloon is pulling into the Park Garage. On the fore-court stands a 1935 BSA 500 motorcycle whilst a 1937 AEC Regent 1-STL double decker bus drives past.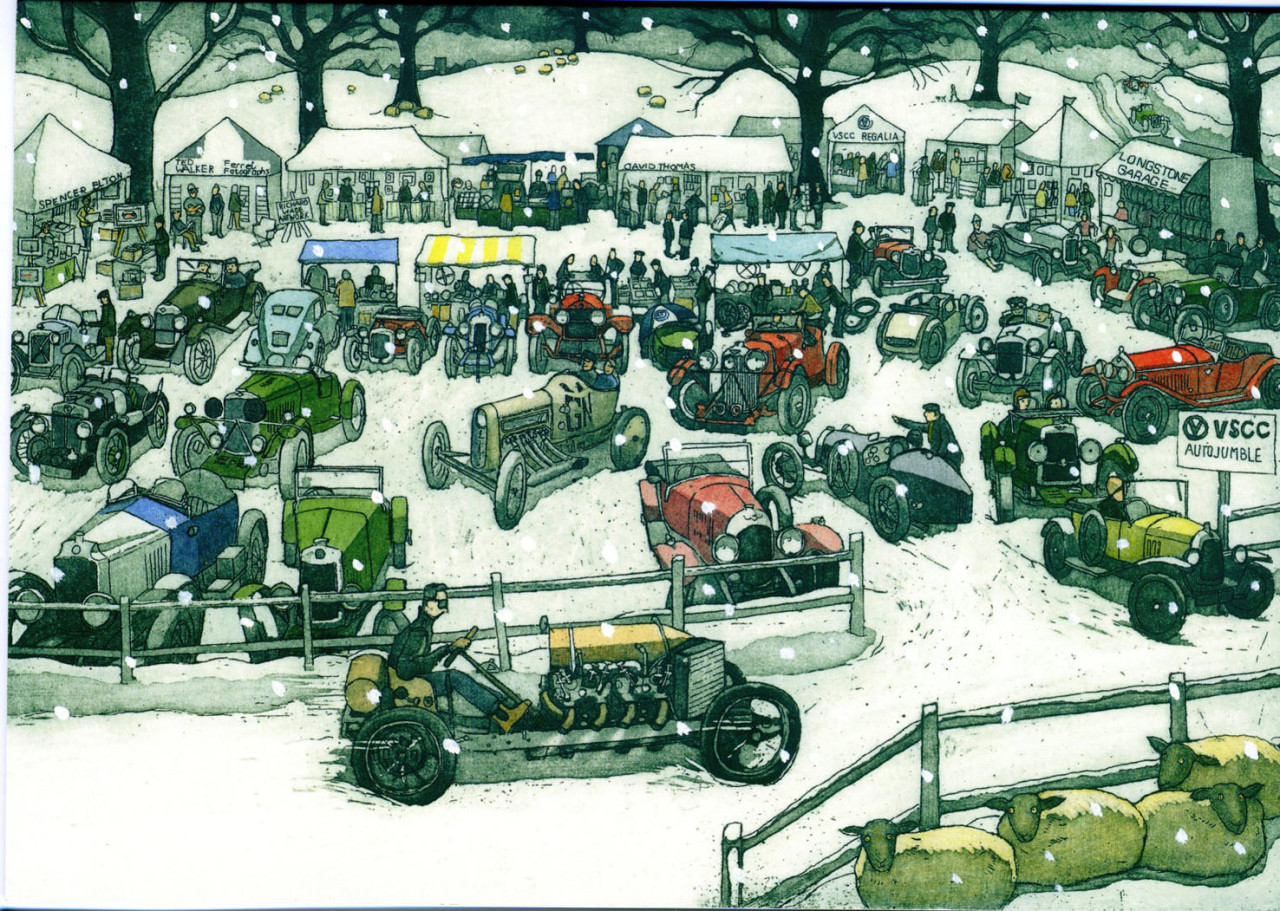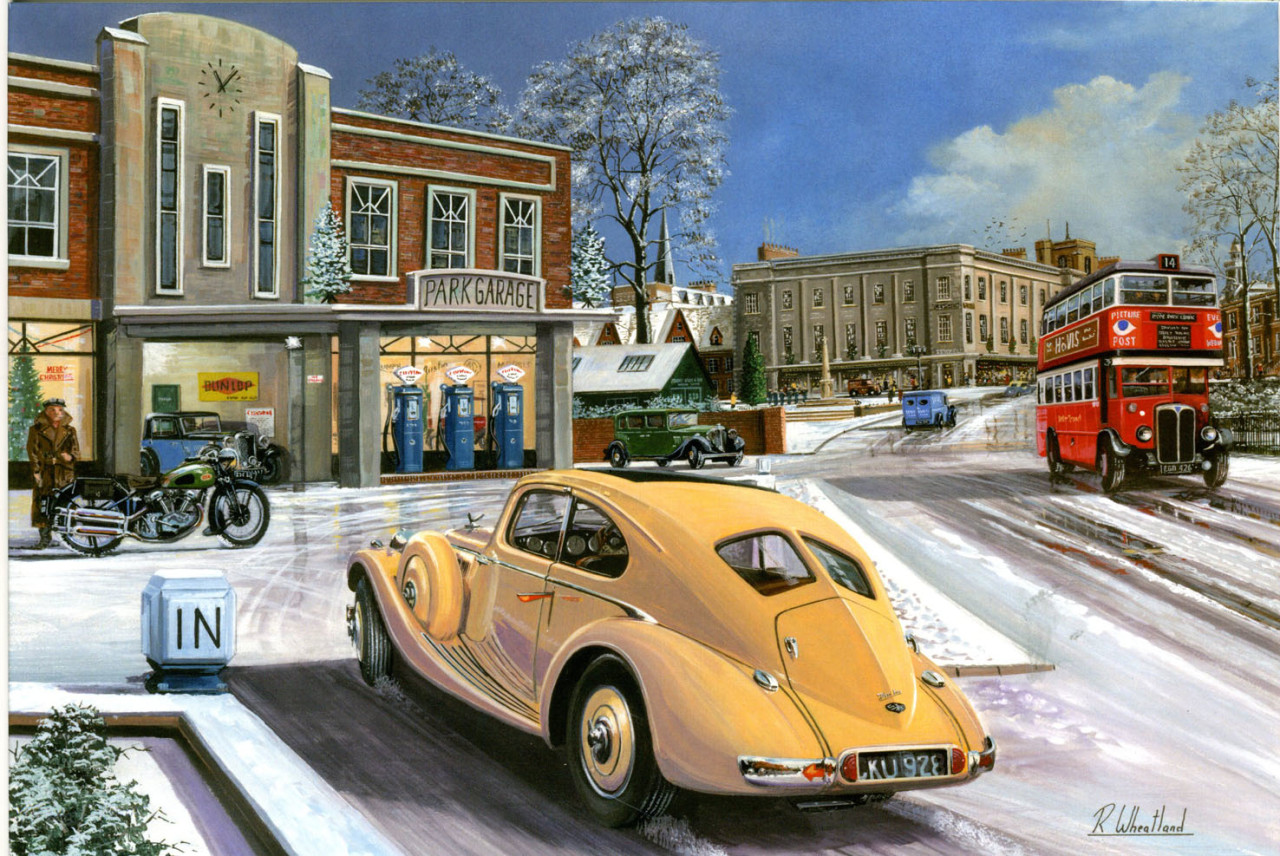 12-25-2010
Each year Ben produce a range of these motoring oriented cards, all featuring paintings of typical 1930s motoring scenes. These can be seen on www.ben.org.uk Then click on Christmas
12-26-2010
Now this is what I really wanted for Christmas......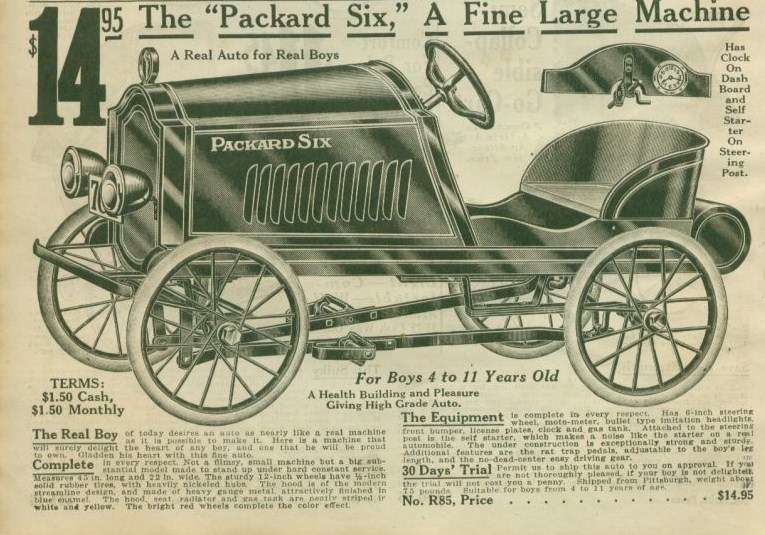 12-29-2010
Oh well! I will just have to wait until next year.
Meanwhile I have been filling in time doing all sorts of small jobs. Having completely dismantled and cleaned up the steering box, one thing that struck me was that all the links and connecting rods associated with the spark advance/retard and hand throttle appear to have been nickel plated under about 80 years of crud. Is this normal for a 126 Single Six Series 1? The nickel plating not the 80 years of crud!
Hi y'all
I have just had an e-mail from a friend in the UK who is also restoring a Single Six.(a saloon) He has a problem removing the Mazac crank from the window winder bezel, does anyone have a solution to this problem. He needs to remove it intact so he can cast up some replacements. either that or has anyone have some spares.
1-2-2011
Hi y'all and here is to an even better 2011.
Only a fool says that they have everything and know everything. I am painfully aware I still have a lot of learn about Packards. I doubt that I will ever stop learning I certainly hope not. As I have said previously I am a great believer in the power of the old car network. I never cease to be amazed at the places old cars can take you and the fantastic people that you need along the way. I rightly or wrongly like to think of you all as true friends. While due to one thing or another I have not been able to keep every car I have owned over the last 55 or 60 years I do not regret having owned any of them. Not all of them have been "good" cars but every one has taught me something. The people that I have met as a result of owning them I will never forget.
I look forward to next two or three years as being an exciting journey into "Packard Land". If it is even half as interesting trip as the first six months have been it will be fantastic. I look forwards to having your company along the way and to meeting even more enthuisiastic new friends.
It really is a great life and well worth living every second!
Have a Happy and Healthy New Year
1-10-2011
The holidays are over and so back to work. I have just finished re-assembling and adjusting the steering box and am now working on freeing up the tubes for the hand controls. Getting the larger of the three out of the steering column was something of a challenge but with the application of large quantities of penetrating oil and some gentle heat it has finally come out. Today's problem is removing the remains of the wire leading to the horn out of the centre (smallest diameter) tube. the old (original) insulation seems to have degraded and is well and truly stuck. I am reluctant to use too much heat as I do not want to distort the tube. The wire is broken off about an inch inside the tube at each end. My thinking is that I may have to drill it out using a 3/16 drill bronze welded onto a length of rod. Any alternative suggestions extremely welcome. Last thing I want is a drill broken off and stuck half way along the length of the tube.
1-13-2011
Hi all
Many thanks for the suggestions.
I seem to have managed to remove all the insulation material with some spray can Gasket stripper ( very aggressive solvent) but now have a wad of copper wire that seems to have welded itself to the inside of the tube about half way along its length. Possibly as a result of a short circuit at some time in the distant past. This wire is "live" when the ignition is switched on, and may explain why it was cut off flush with the bottom of the tube.
I think that the only way I am going to remove this is by "driving" it out with a suitable length of 3/16 semi-bright steel rod.
Many thanks to the several people who e-mailed their concerns. Living as we do in Victoria in the south east of Australia we are sufficiently far away not be affected by the floods which are mainly to the north in Queensland and northern New South Wales.
1-14-2011
Hi all
Again thank you for all the helpful suggestions. The big problem is that the inside diameter of the smallest (centre) tube is less that 1/4 inch. My guess is that a lot of patience and a little gentle persuasion will eventually bring the desired result. The "hole" saw idea is a good one Ben but I am just not good at working in miniature. I have tried the idea of bronze welding a 1/8th drill onto a length of heavy fencing wire only to have the tip of the drill snap off compounding the problem.
Persistence and patience seems to be the only answer. Or as we Aussies are credited as saying during times of stress, "Don't let the bastards get you down".
What Ho Jeeves! For those unfamiliar with such exotic things, attached is a photograph of a very fine example of a two tone Oxford and Cambridge blue P Type MG. This one is a very smart Aero coupe. Absolutely Supah! Don't-cha know? Frightfully British and all that....
The "Blues" are all about the inter-varsity boat races of course.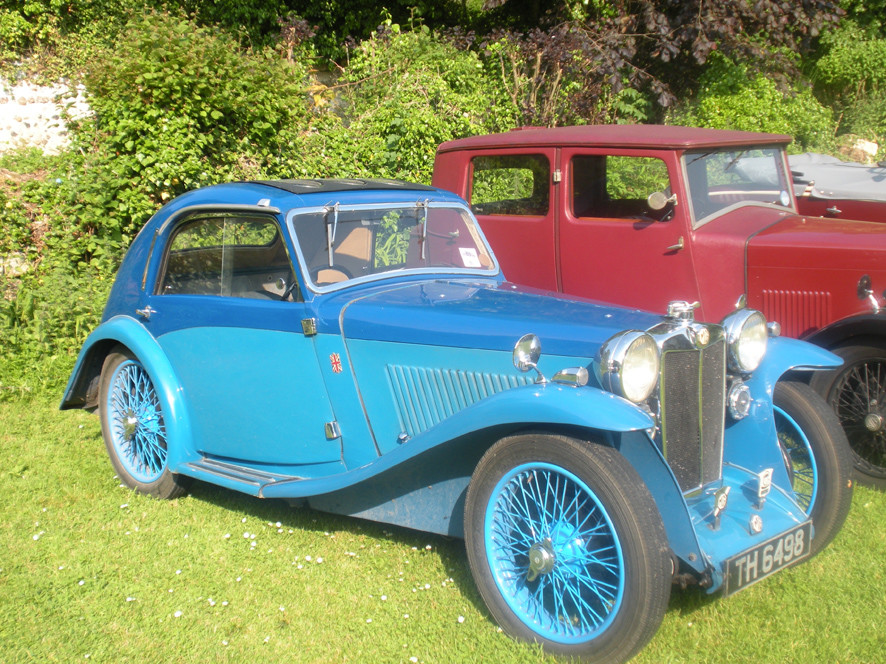 1-17-2011
Enough nonsense and back to work. Yesterday I decided to start moving towards pulling the motor and gearbox out. First thing was to remove all the accessories, starter, generator and carburettor. I have stripped down and cleaned 80 years of gunk off both the starter and generator and painted the exterior components. I will have the armatures checked but there is very little wear evident anywhere so they should be a straight forward re-assembly job and then they can go on the shelf for the time being. I am debating whether to nickel plate the brush covers or to paint them. I have a pile of other small parts that I intend to have plated so will probably throw them in too.
My feeling is that especially with a side valve engine as large as the Packard's that a little dressing up does no harm.
1-20-2011
Well now here is another trap for young players! 1928Packard526 very kindly has sen me a photograph of his steering box in the hope that it would give me some reference to look at when I was re-assembling the bexel gears that drive the control rods for the spark advance & retard and the choke/hand throttle. Alas his box is quite different to the 1923. Has anyone got or can take a clear photo of the arrangement on an early 126 car. Below are the photographs of my steering box and the one in Pete's later 526.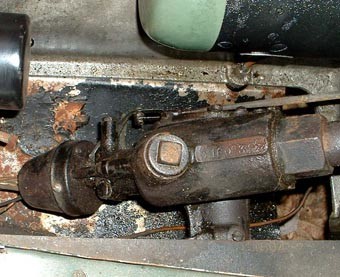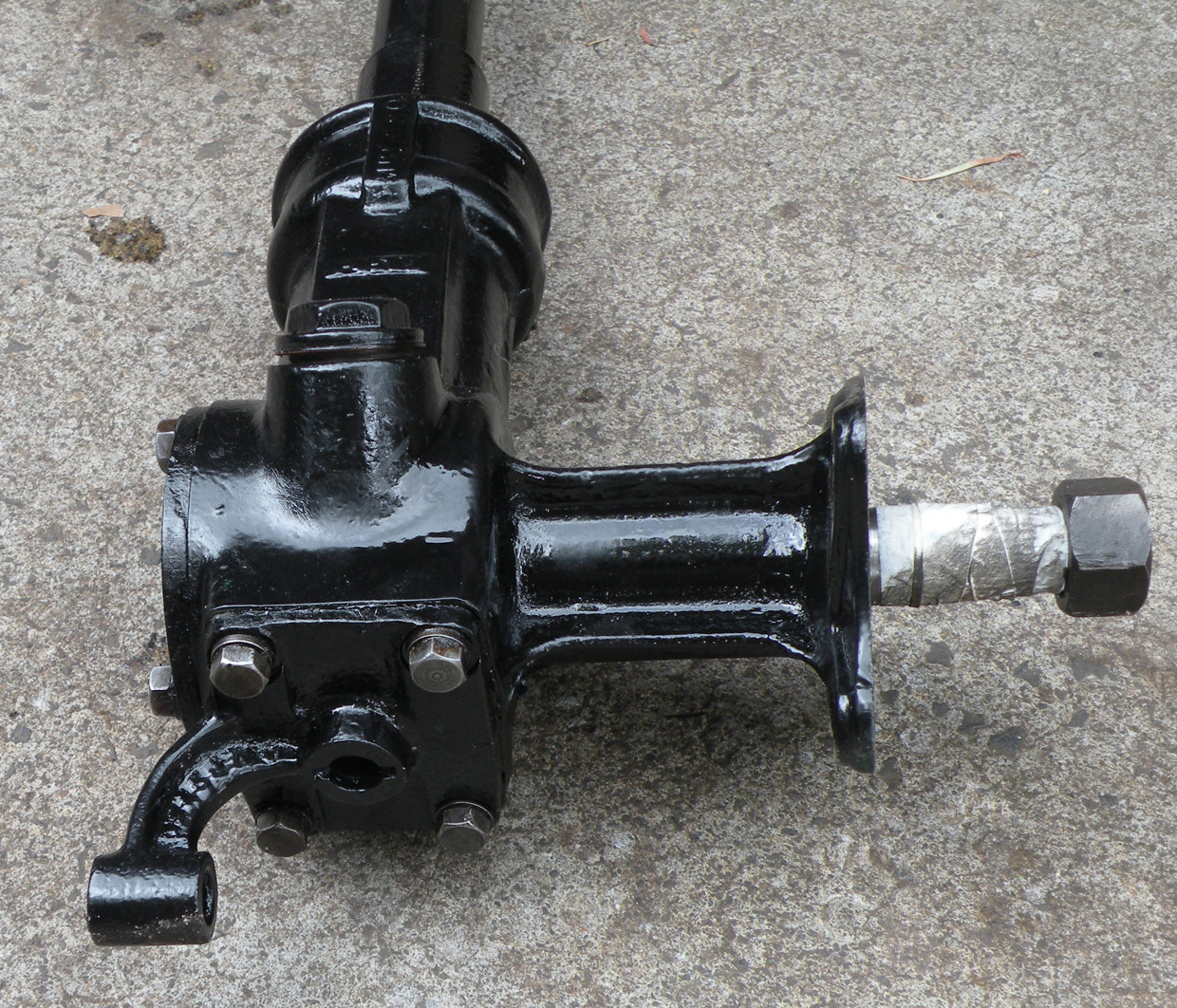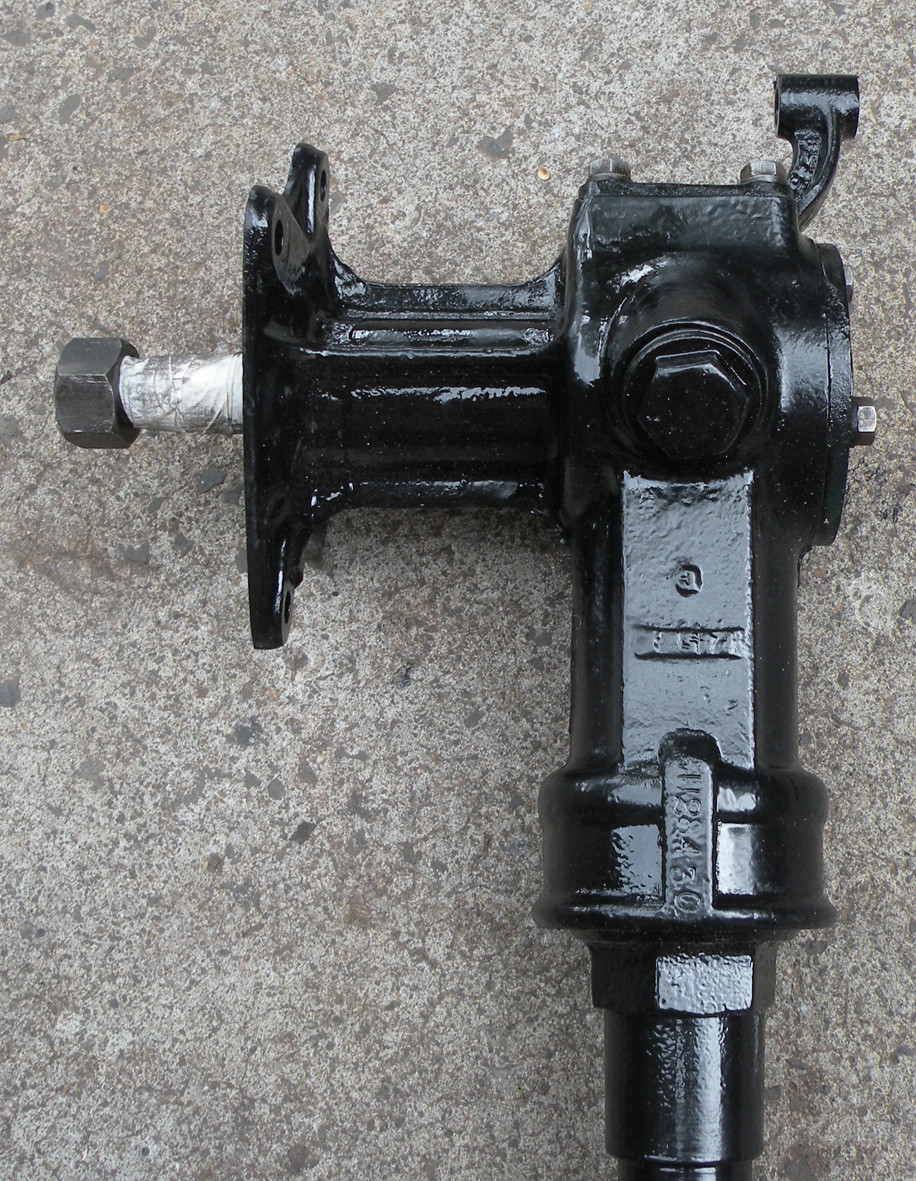 1-23-2011
Hello Ben, David and all
Thank you for your input. I guess that when I get around to doing the final assembly, which will be quite some time into the future it will all become self evident. I am about to start removing the cylinder head and engine oil pan (sump) so it should be interesting to see just what condition the engine is in. Having looked at the distributor it is difficult to find any evidence of wear. Having removed the thermostat housing from the front of the cylinder head it is clear that I will have to replace the thermostat. I must confess that it was my own fault the the bellows were damaged while removing it. I had overlooked the (secret) nut on the underside of the cylinder head. Is there a suitable modern replacement or a reproduction unit available?
1-24-2011
HI BEN
THANKS FOR THE WARNING RE THE DISTRIBUTOR DRIVE ROD. While the top (distributor) end is offset, the bottom where it engages with the drive gear is a plain square drive. Another trap for young players? Having removed the cylinder head the bad news is that the motor is going to require some serious work. While everything to date has indicated very little wear, the pistons are very loose in the bores although strangely there is no lip (or step) at the top of the bore. Pistons are the original cast iron. At present the oil is draining out of the sump in preparation for its removal tomorrow.
Re the piston/bore wear, this could well be consistent with a lot of driving in the two lower gears (first & second) on un-made dirt roads or tracks with lots of dust and no effective air filtration. This would tally up with the state of the Gabrielle Snubbers and springs in contrast to the lack of wear on the brake rod ends etc.
At present I am investigating the availability of suitable replacement (oversize) pistons but I really will not be able to make any decisions until I have the block off the crankcase and properly cleaned, then I will be able to take some meaningful measurements at both the top & the bottom of the bores.
It is starting to look like a total strip down and full engine recon.
Watch this space.......
1-28-2011
Many of you obviously have a lot more experience with Packards than I have. I have now removed the sump and have discovered a very poor attempt to weld the aluminium centre main bearing cap. Has anyone come across problems with the centre main bearing in early Packard Six engines?
I suspect the best way around this is to make a new steel cap. What is your thinking?
Otherwise the engine continues to baffle me. Having just removed all the valves they are all original and have plenty of life left. Just looking at it all makes me think that the head has never been removed. Certainly there are none of the usual tell tales such as centre punch numbering on the valves. No odd washers or nuts or rounded corners on the head nuts. Judging by the build up of dirt/clay/oil on and around the sump tells me that it is a long time since it was removed. . Yet looking around inside the crankcase everything is clean. I have not removed any bearing caps as yet but the big-ends seem to have no movement and feel good. There is quite a build up of sludge in the valve chest yet not nearly as much sludge and rubbish in the sump as I had expected. The oil pump screen is quite clean yet to get at the sump nuts I had to literally chop away the cooked on clay/oil up to half an inch thick and baked on really solid. We are going away for the weekend so won't get back to it until Monday.
I need to get the engine out (it is all ready to lift) so the chassis and body frame can go over to Aaron my body man. He is all ready to go and is waiting for me to deliver it to him.
Is all this weird or is it just me.
Hi y'all
The photos will have to wait until next week. We are off to the Coast to help my sister celebrate her 80th Birthday.
40+C forecast for Sunday then HIGH 30sC for the rest of the week. This always happens the week the children start school after their summer holidays.
Re: the snubber webbing so far I have not bought any. I had thought Restoration Supply Co but any suggestions welcome.
2-1-2011
Another day in the HIGH 30sC. Finally have the engine & gearbox out and almost dismantled. Should get the chassis and body frame out of the way, at Aarons for some real work on the panels and I should have some room to work on the engine.
Photos soon.
Hello Bill & Pete
Thank you both for your interest. I should get the block & head into my "engine" man's "hot tank" sometime this week. Once they are clean and any necessary work completed I can think about paint. It will be interesting to compare your paint "chip" with the one that David McC has sent me. It too is a dark olive green.
2-2-2011
On the subject of engine paint colour I have been able to save the remains of the original paint on the inside of the starter brush cover. This is a dark khaki green. Quite a bit darker that that shown on Pete's starter and a totally different green to David McC's sample. It will be interesting to see Bill's sample colour chip. If necessary I can probably use this as a sample and have some paint mixed to match. Meanwhile the engine is slowly coming apart. Right now I am waiting for a "tilt tray" tow truck to collect the rolling chassis and body frame.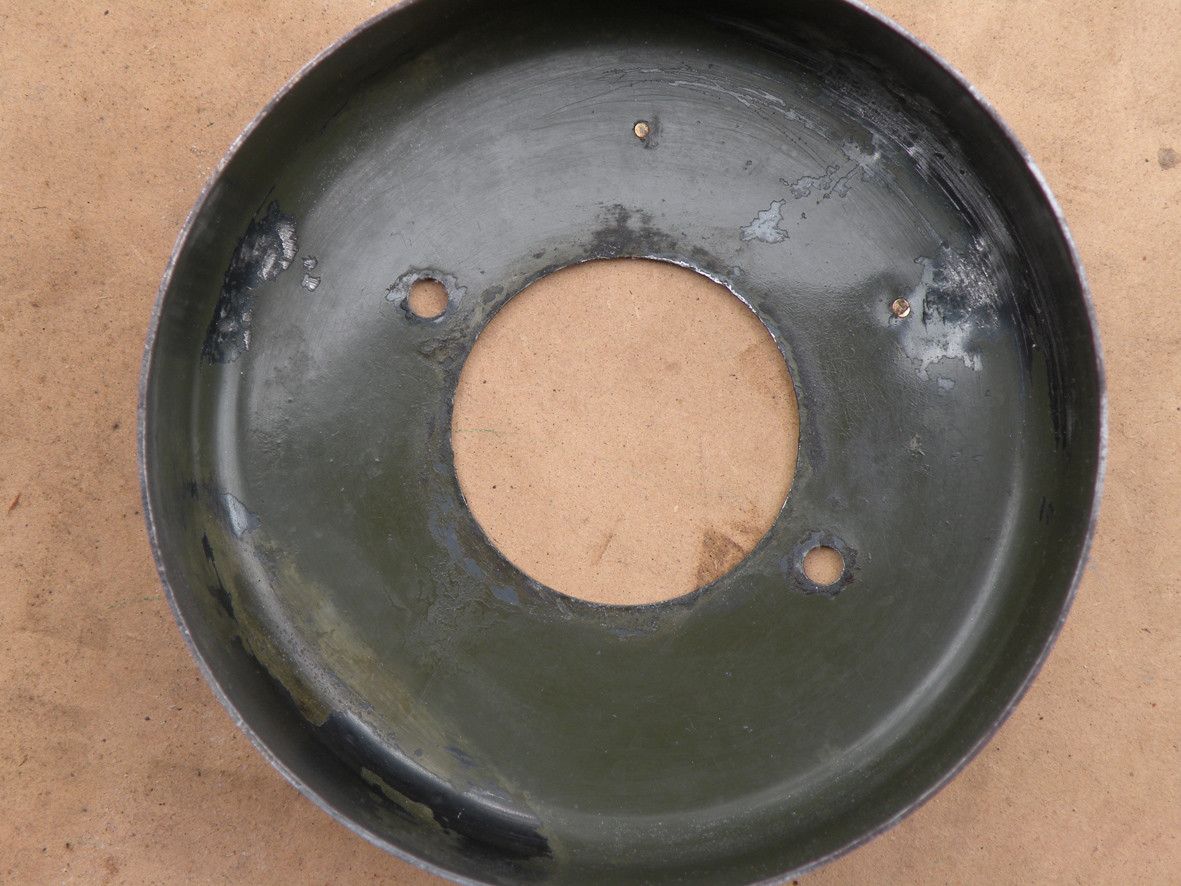 2-3-2011
At last I have got the engine more or less stripped down.
The centre main bearing cap sure is a mess. It looks as though the village blacksmith had a go at welding aluminium for the first time. Good try but not nearly good enough.
Looks like a new one needed.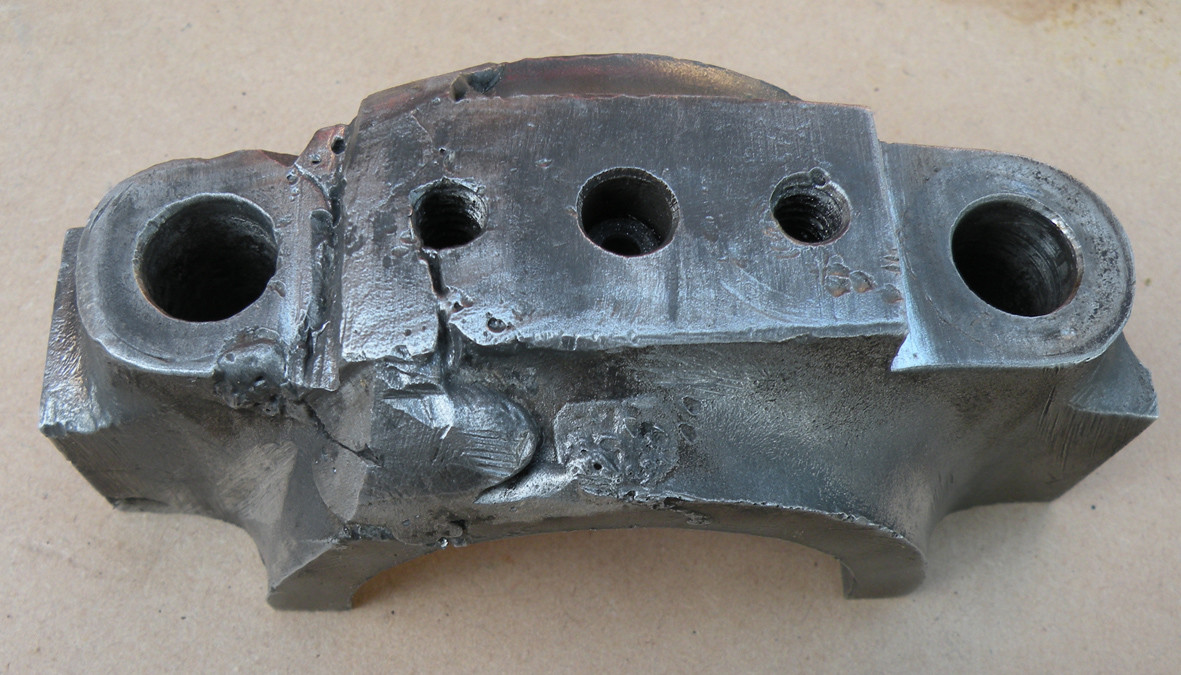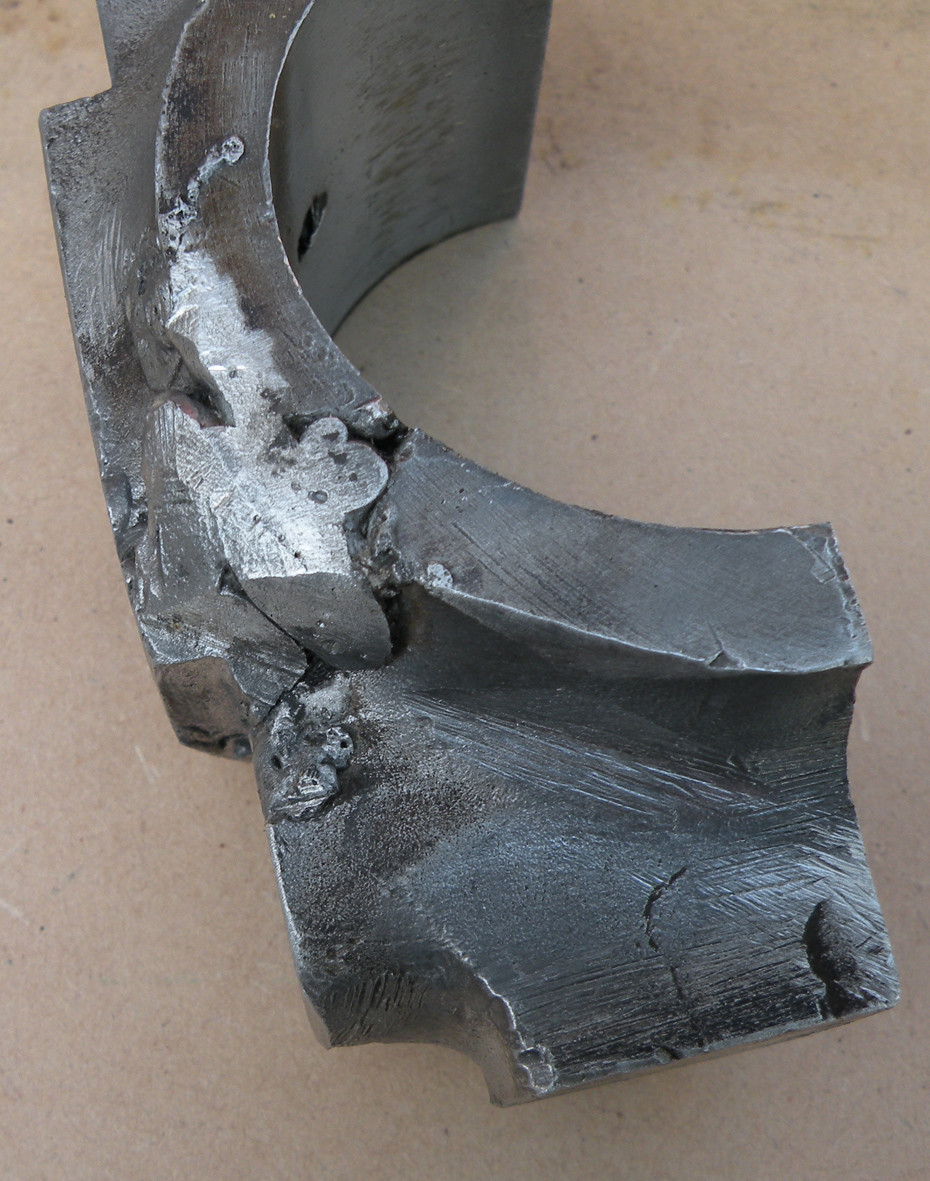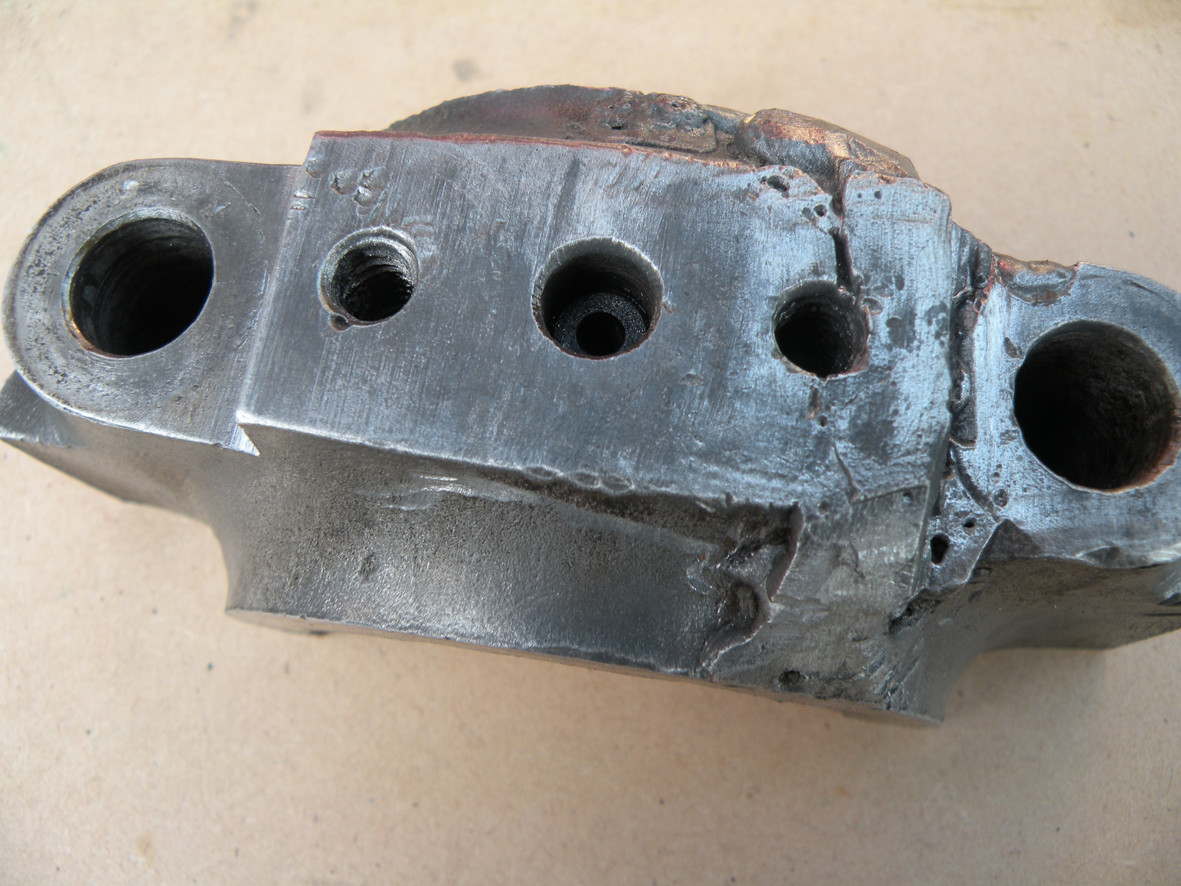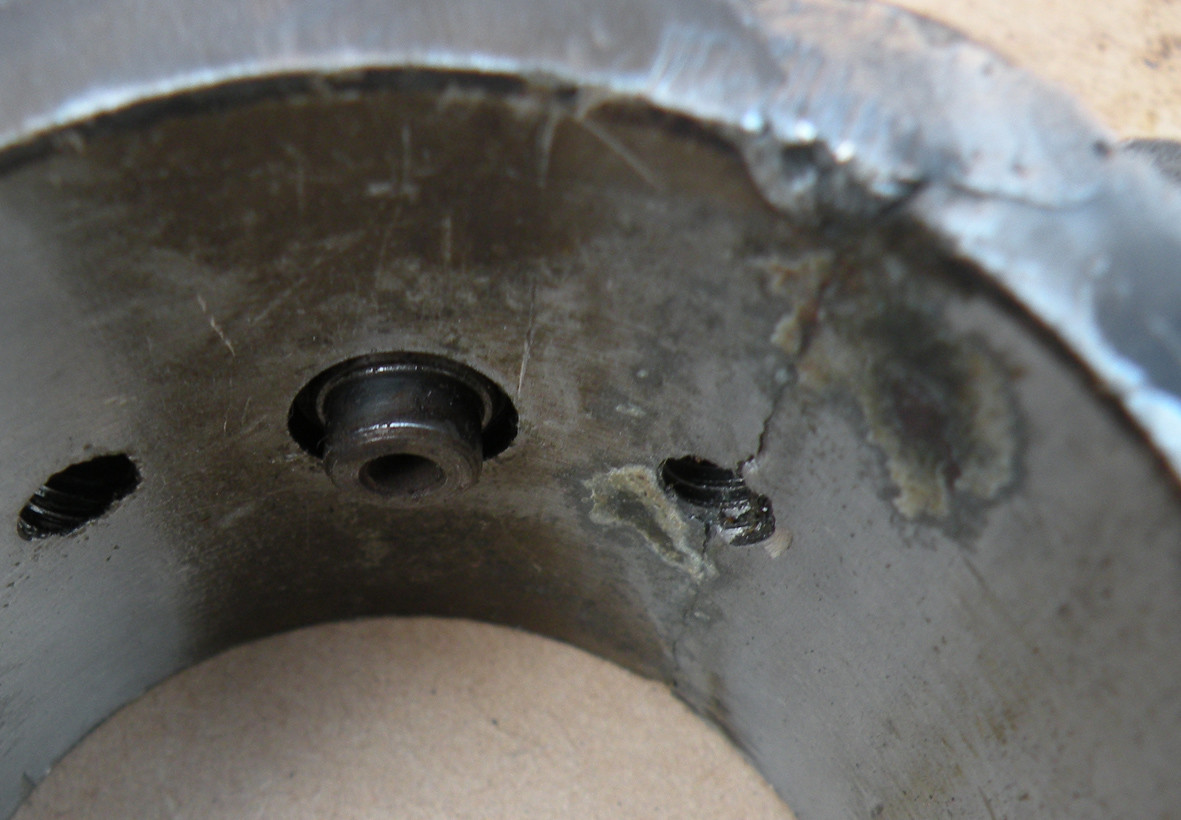 2-3-2011
I have taken the liberty of reproducing some sketches that David McC has sent to me. Hope that you don't mind David.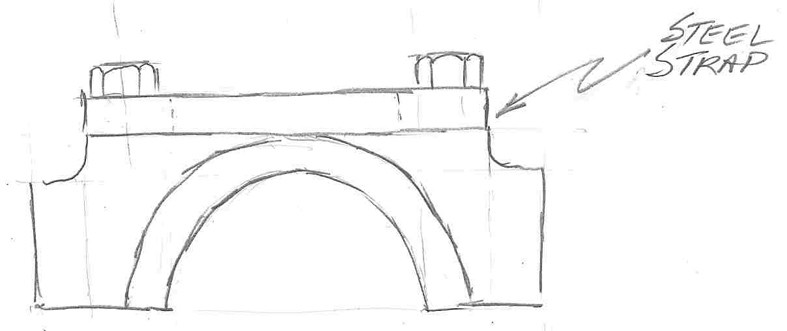 2-4-2011
Hi Brad
Thank you for the thought. It seems that this failure was quite common in early Single six engines. In the overall scheme of things to machine a new cap is not all that difficult. Any second-hand replacement is going to be at least 75 years old and I know just about how that feels. I just hope that no-one expects me to work for another 25 years without having something fail. It would be a nice thought but just not realistic. After all not even the AACA Judges are going to see it once the oil pan is buttoned up so there should not be any worry about a loss of points for a non-original component, or is the rumour that they have x-ray vision actually true.....
On the theme of replacement parts can anyone suggest a source of gasket sets for the early series six engine. I don't mind cutting my own paper gaskets but it would be nice if you could obtain die cut gaskets for places such as the cylinder block to crankcase joint.
2-7-2011
Every so often you hear or read of people who drag cars out of barns, find that the engine is "free" and turn over nicely and decide to poor some gas into the carburettor and start it up. Some people have difficulty in understanding why I steadfastly refuse to do this with out stripping down the engine first. The Packard is a classic example. When I bought it I was told that the engine turned over and had good compression. why not see if it will start it could run "real good". NO THANK YOU!
So far I have discovered that there is an unacceptable amount of wear in the bores, that the centre main bearing cap had been cracked and badly repaired and would have probably failed the first time the engine was put under load. Now I have just removed the side water gallery from the cylinder block. Imagine just filling up the radiator with water and starting the motor. Have a look at the huge amount of rust and gunk ready and waiting to ruin the water pump, block the radiator and overheat the engine. What fun!
No, I think I will stick to my policy of striping down first, doing what ever is necessary to put the motor into first class working order, then starting it up and driving a reliable car.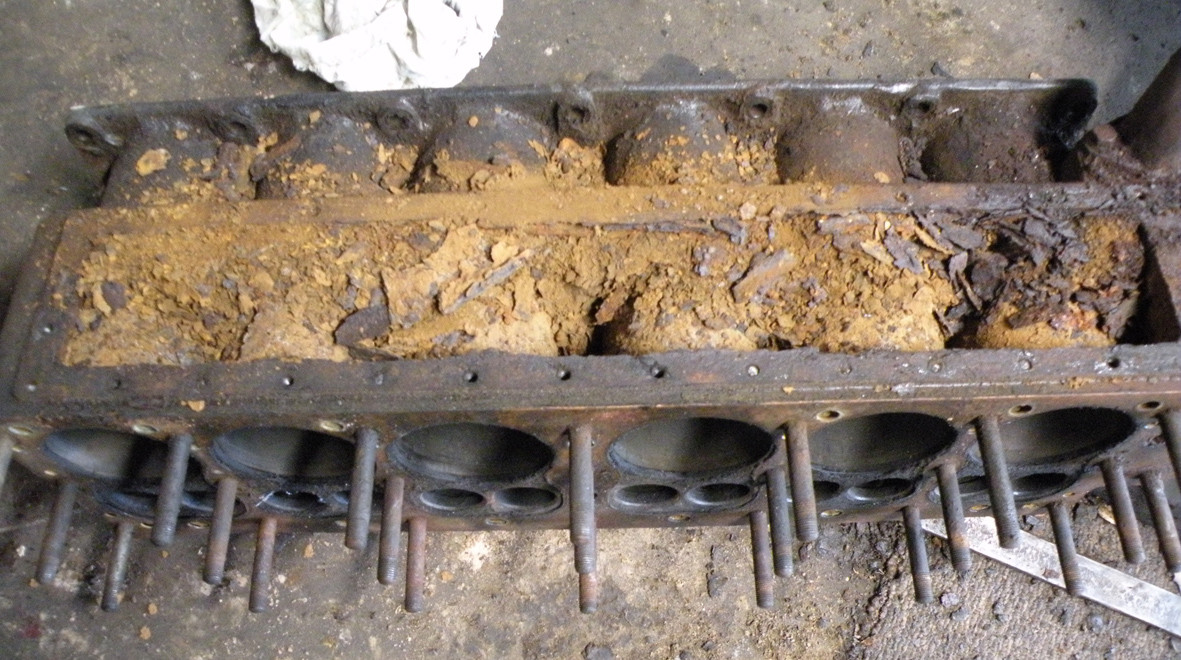 Going on from the above I am about to have a new BRASS side cover plate made by a local Vintage Drivers Club member who specialises in this sort of press work. If any other early series Single Six owners would like to order one now is the time. I will have some photos and costing early next week.
Meanwhile there is an interloper in the camp. Arrived last weekend via a widow friend of my sister. It has managed to cover 127.000kms since 1996. Never been off road and never driven over 90kph (50mph).
It looks as though it has only had the one occupant (the driver)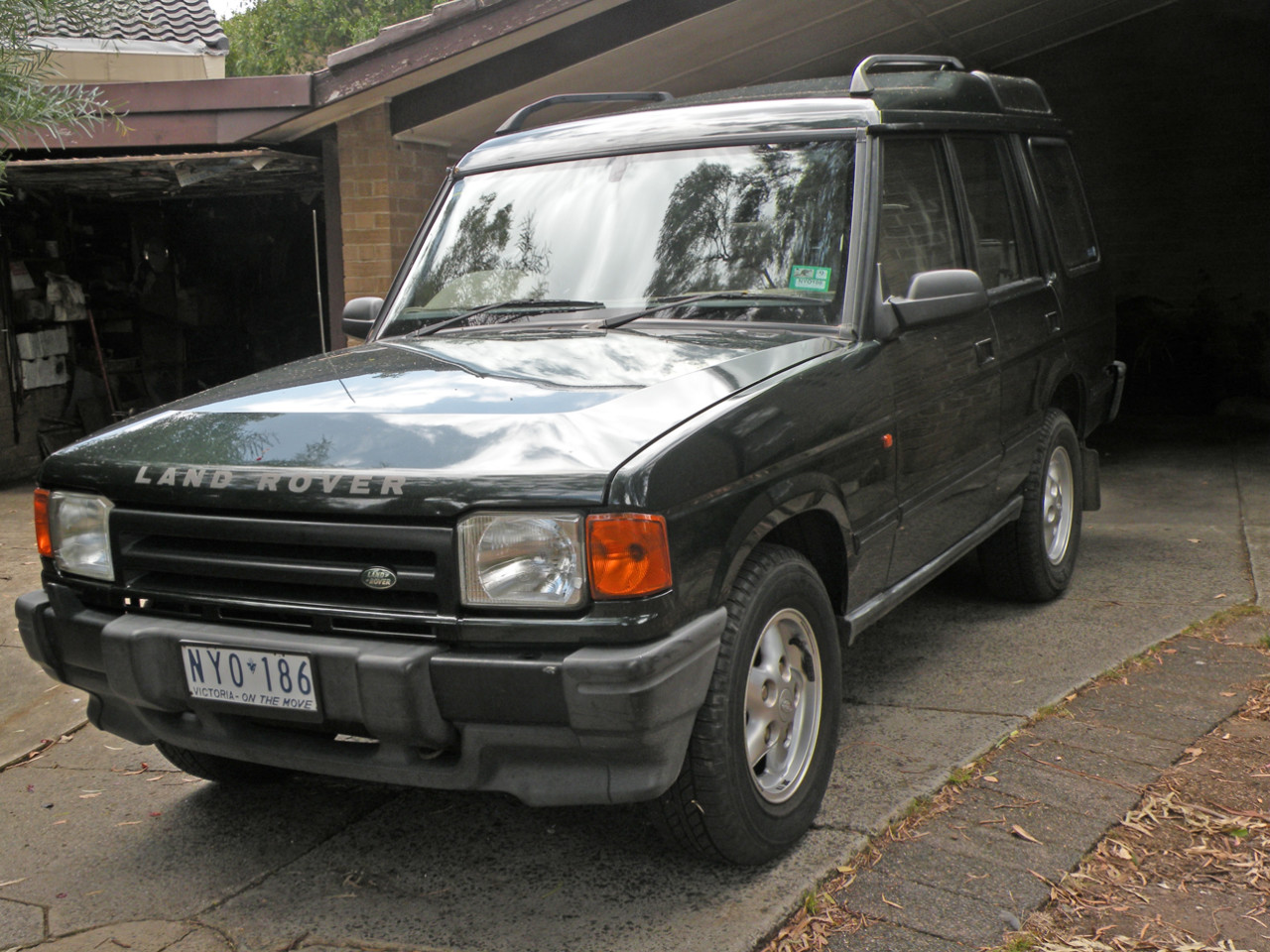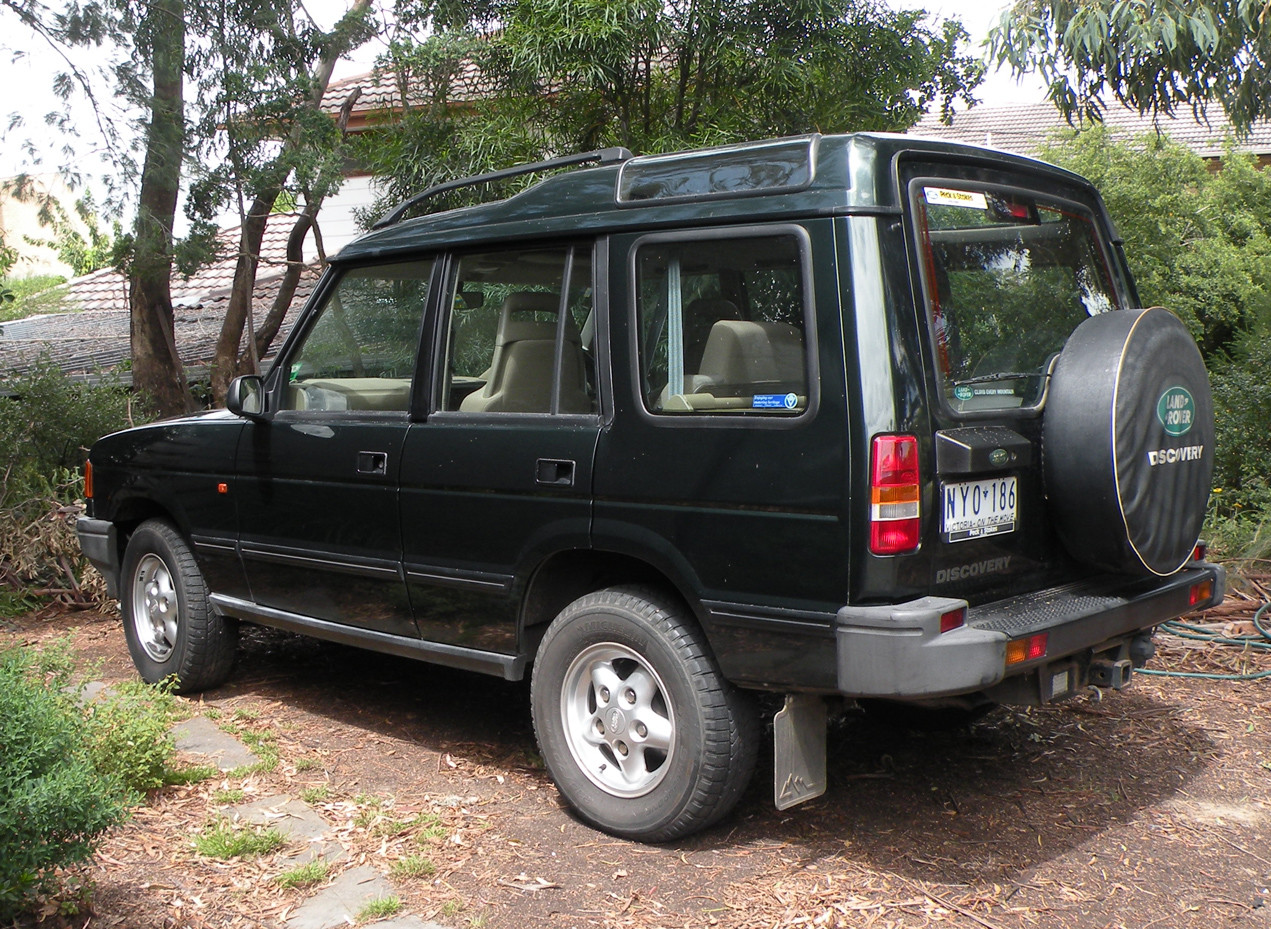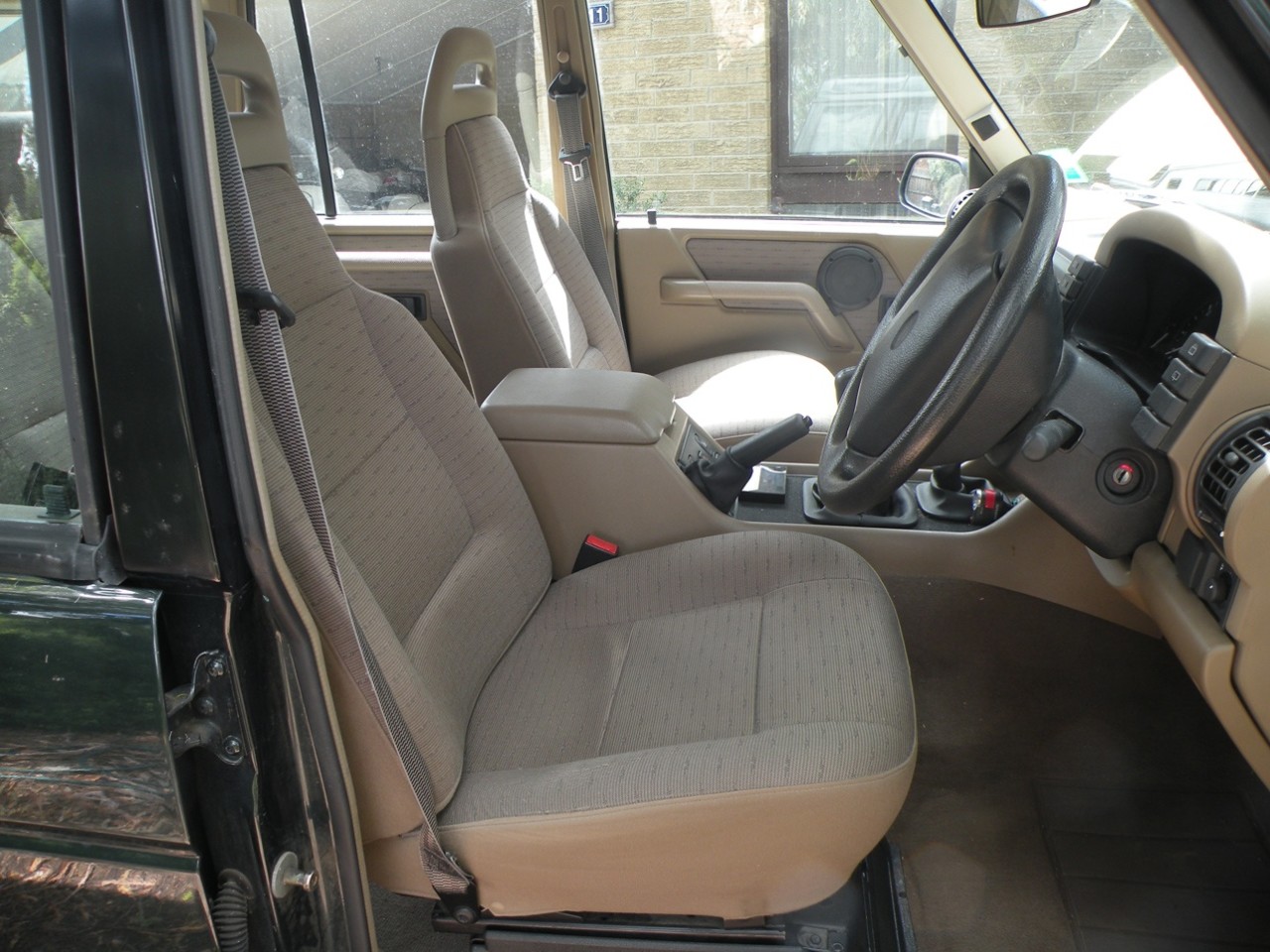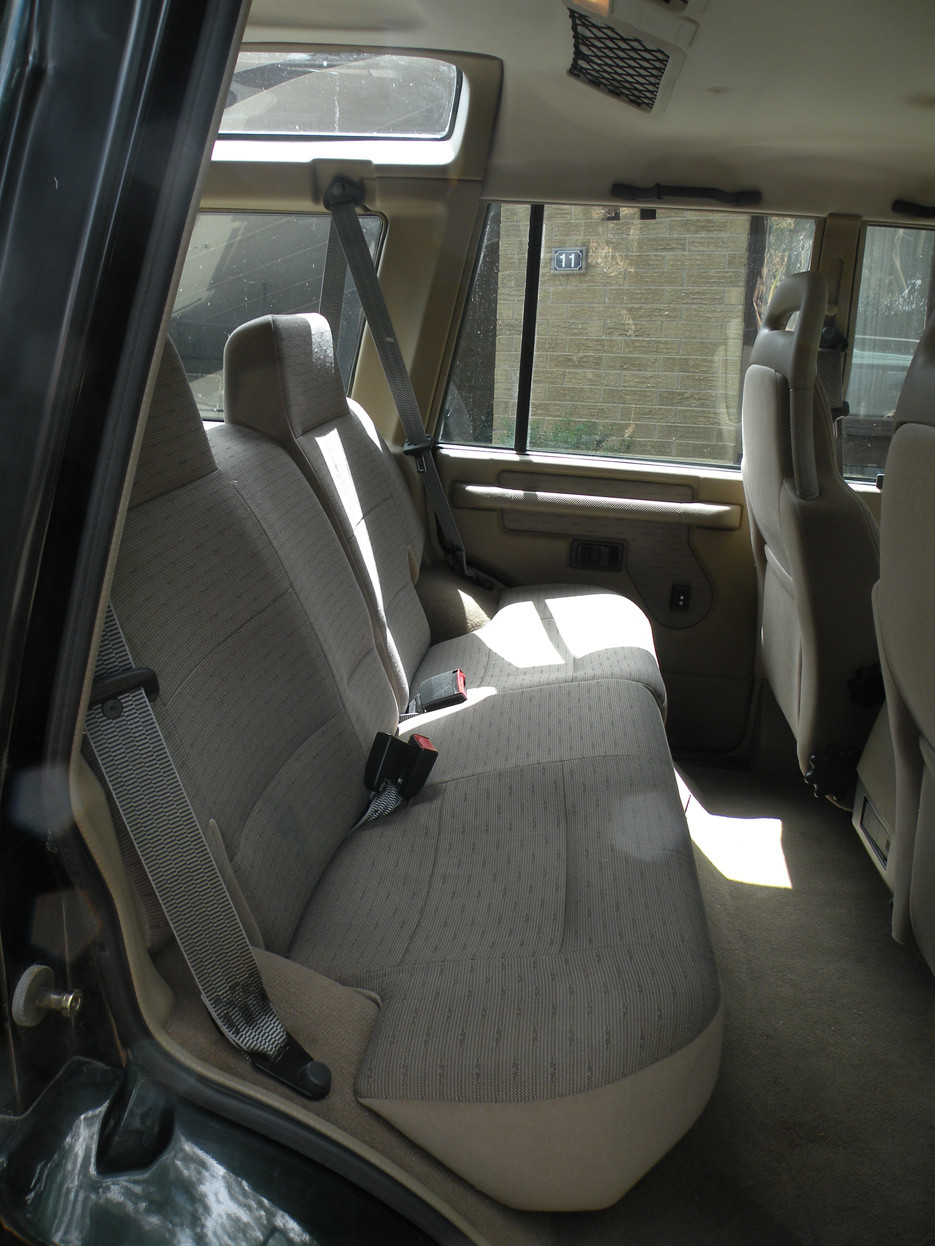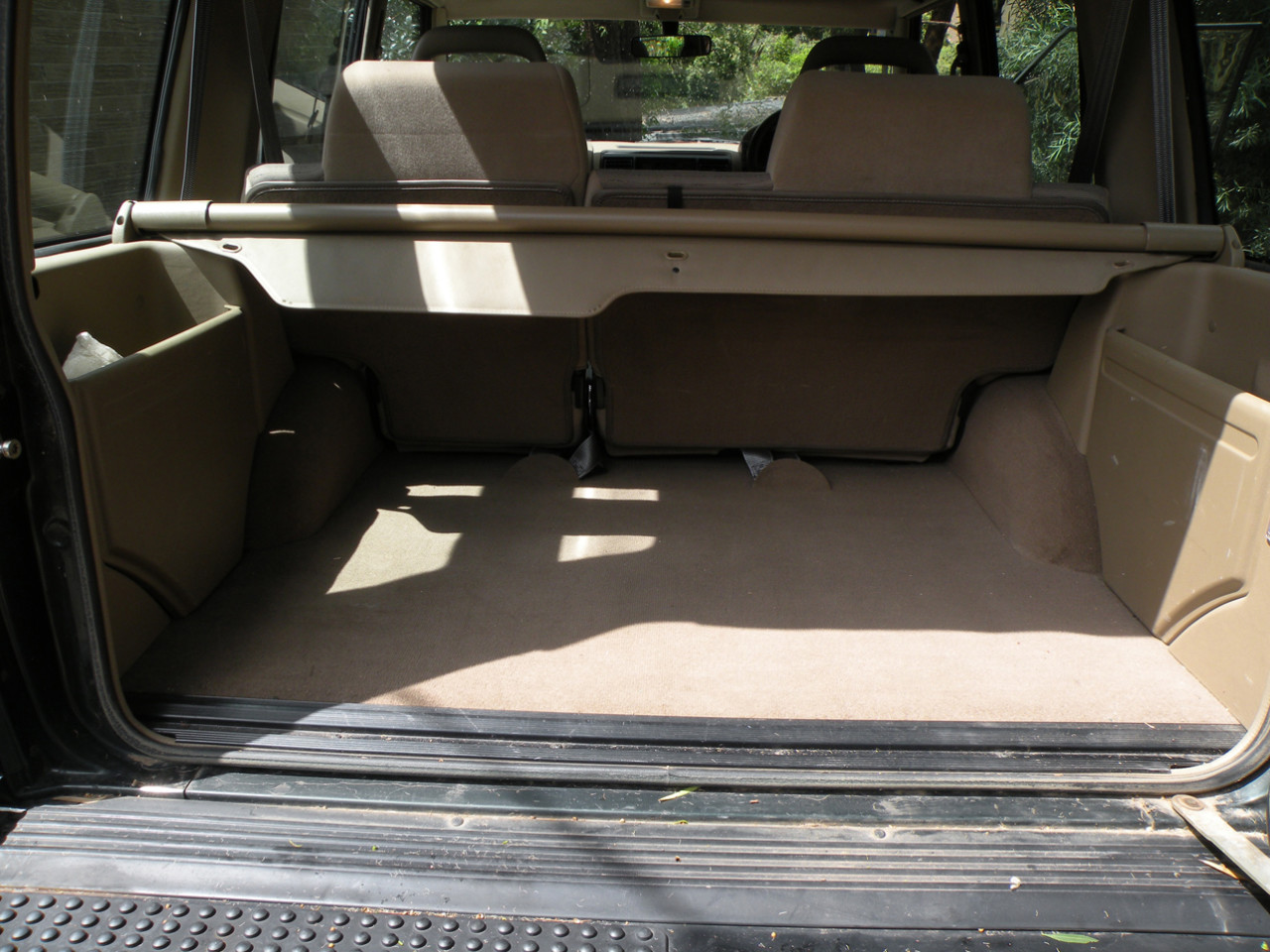 2-8-2011
The next problem is removing the water pump from the front of the block. At present it is swinging from a chain hoist with all the weight of the block hanging from the pump along with a generous amount of penetrating oil liberally applied to the slip joint so far it has moved about 30 thousandth of an inch. I will leave it swinging overnight and see what happens. Obviously no one has adjusted the fan belt for a long long time!
2-9-2011
I have just acquired a Dead Easy Tire pump, when restored it will make a handsome running board mounted accessory for the Packard.
What I need now is either a drawing (thumb nail will do) of the operating "crank" or some photographs of the underside.
Can anyone assist?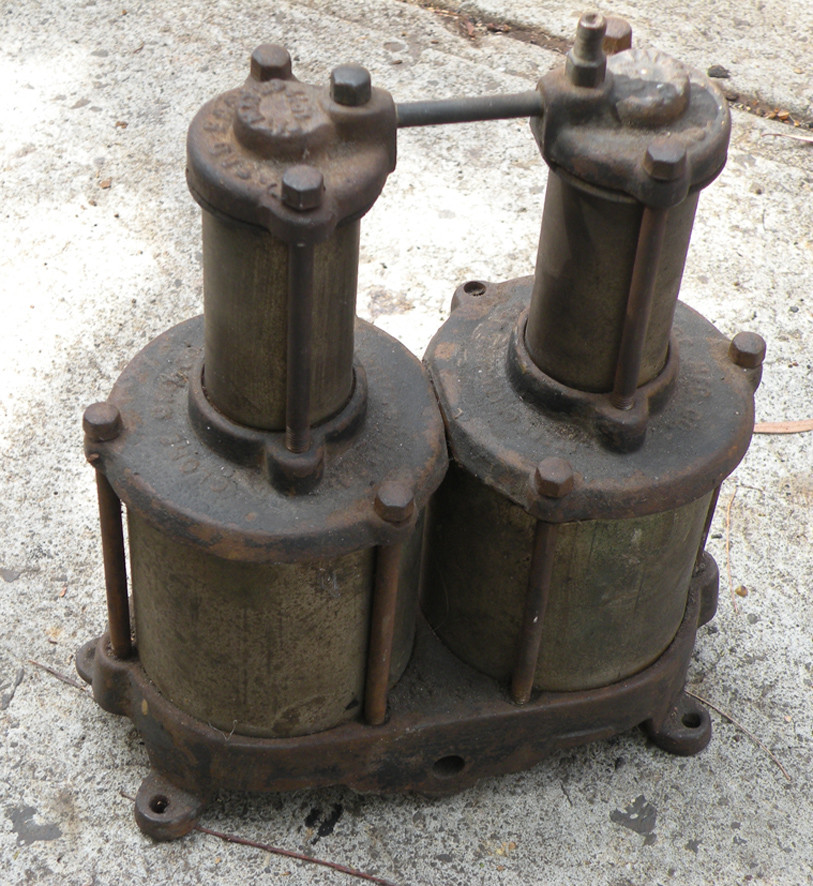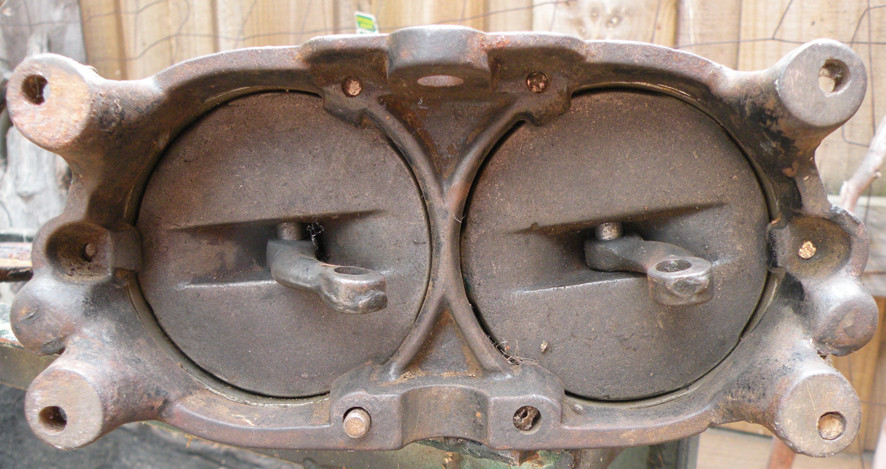 2-13-2011
Hello
Attached are a couple of photographs of the brass replacement for the rusted out water side gallery.
The manufacturer assures me that the inner baffle is made exactly as original. This is designed to direct the water coming from the pump to the rear of the cylinder block. Note the in one removed from my engine this inner baffle has completely rusted away.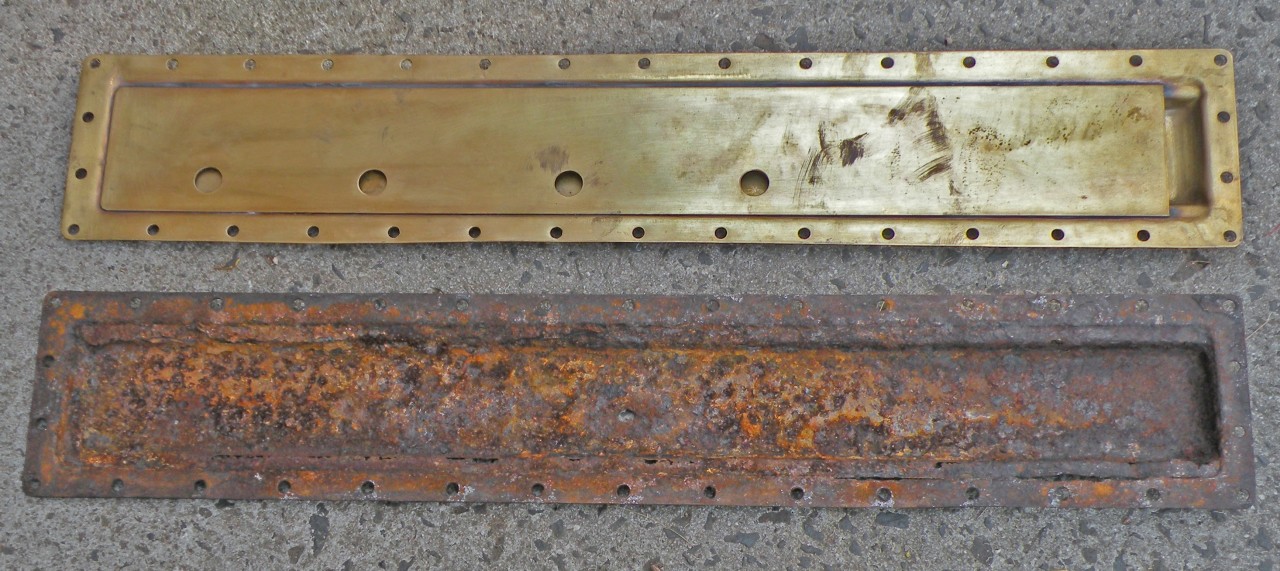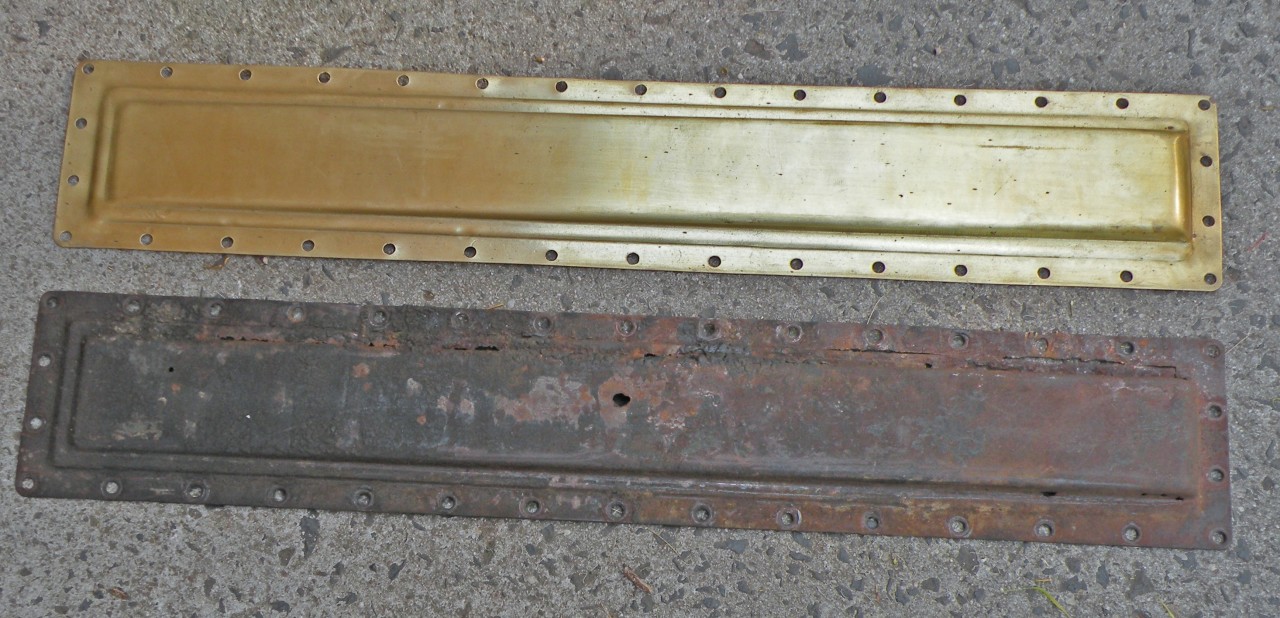 2-15-2011
Hello Chris
The water enters from the water pump via the slot at the front, exit holes are at the bottom and in-between the cylinder barrels to avoid cold spots on the cylinder walls. The way it is designed is to take the water to the rear of the engine so that it circulates around the entire engine passing into the cylinder head through a series of transfer holes exiting back into the radiator from the front of the head. The Chamber pressed into the plate tapers in depth towards the back ensuring even distribution. The Manufacturer of the plate is fellow Vintage Drivers Club (Aust) member David Dewar, 84 McDonald Road, Korrine, Victoria 3979, Australia. I will send you his e-mail and telephone # via p.m.
Well the predictable has happened! The water pump eventually came out of the front of the block. The problem is that it came out in pieces. The base plate of the pump had really become attached to the block, virtually rusted solid. As it is it has taken several days of patient tapping, copious quantities of penetrating oil and careful application of heat. As a consequence the main body of the pump parted through the bosses that the base plate attaches to. I am sorry but anyone who has not looked at a Packard Single Six water pump will think that I am mad. Anyone who has had experience with this water pump will know exactly what I am talking about.
The question now is. 1.Is the Single six water pump used in any other Packard models? 2. Is there anyone making a reproduction casting of the water-pump body?
3 Does anyone have a second-hand water-pump available for purchase.
Please help if you can or even if you think that you may be able to.
2-16-2011
Stop the Panic!
Having cleaned up the bits and had a quiet think I believe that the water pump is a relatively simple repair. All i need to do is strip out the impeller and shaft (something I was going to do the replace the stuffing gland with a modern water seal) face off the two surfaces and make three new "spacers" using some brass bar. To make a job worthy of a Packard these probably will be spigotted into the two faces and through bolted with some stainless bolts. It should then survive for another 80 years. Where I broke a couple of little segments out of the outer flange can be built up with some bronze and then machined flat. Presto a fully rebuilt water pump with the added benefit that these new components will not rust.
2-18-2011
Hello Ken
I am sorry but you will have to wait a little longer for Photographs. So that you can appreciate the problems, attached is a drawing with proposed modifications very kindly supplied by PAC Australia, membership secretary David McCredie.
The green "worms" show approximately where the original three cast iron "legs" had fractured. The plan is to machine the broken stubs off flush and to replace them with brass tube"spacers" located by stainless 1/4nf through bolts that will hold the water inlet end of the pump in place.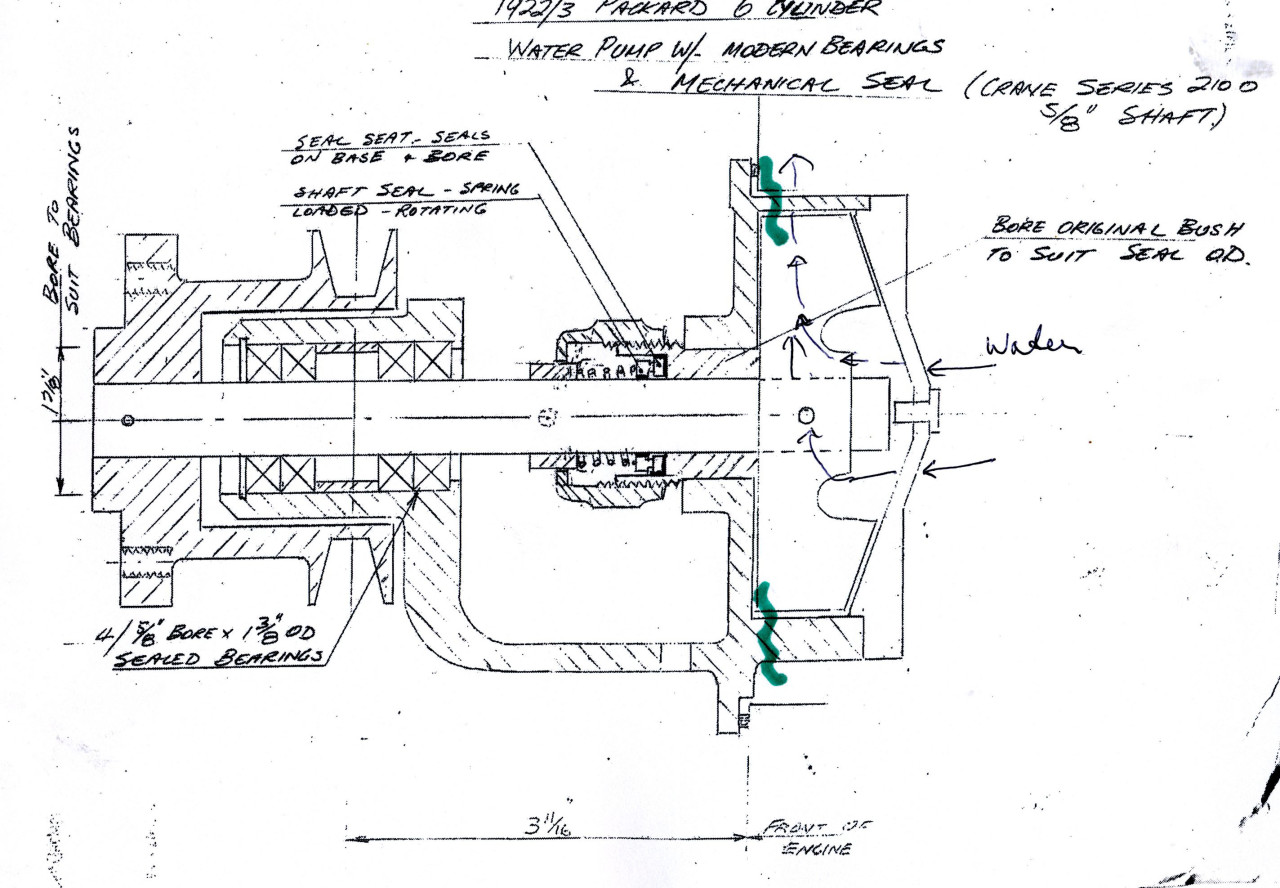 2-20-2011
Here is a question for all the Packardians out there. I have seen this fitting in the engine photographs of several 1920s Packards. Can someone please explain its purpose, There is no evidence that my 1923 car has ever had anything mounted on the bulkhead in this position next to the vacuum tank. What does it do and how does it work????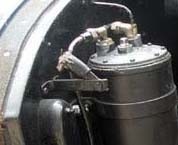 2-21-2011
Hi Chris
That is the same as my car although I am missing the cover for the electrical junction box.
I have the one on the inside and may have to make another if no one has a spare.
I have just received the pack of engine gaskets from Olsens, great service and extemely comprehensive.
I am off this morning to look at progress on the body.
Hello Walter
It is always nice to hear from another Packard owner especially one who has rebuilt a Single Six. Going on David McC's experience with his water-pump seal I think that I will go down the same path.
Having has a quick look in Olsen's package of gaskets I was relieved to see that it included the copper ring for the waterpump to block joint. It really looks to be a very comprehensive set.
Meanwhile I have just returned from Sleeping Classics where my friend AAron has made a start on the panel repairs. So far he has made two new inner rear fender panels and repaired the cracks and dents in the rear of the tail section. He has also made new edges for the arch over the rear fenders. These edges were in a bad way very many little cracks and some severe corrosion where the aluminium is sandwiched between the timber frame and the steel fender.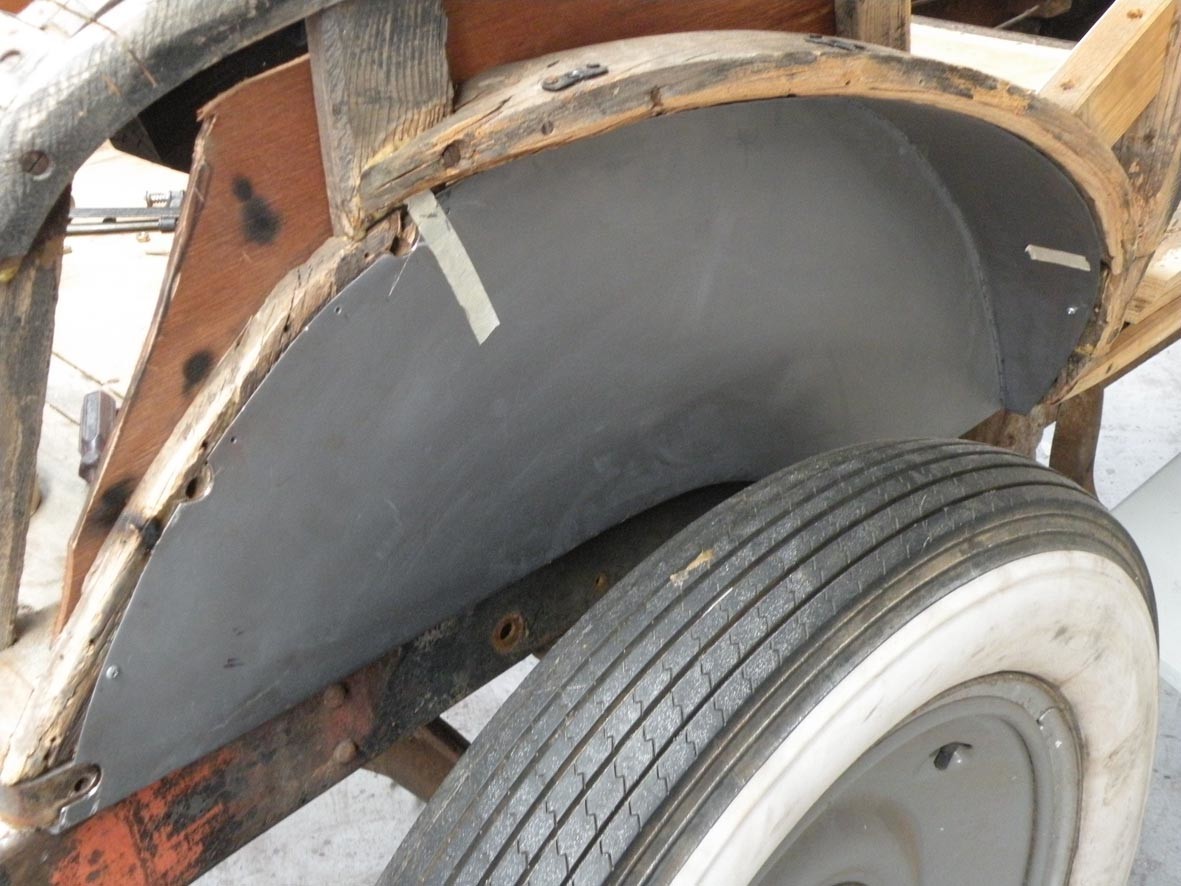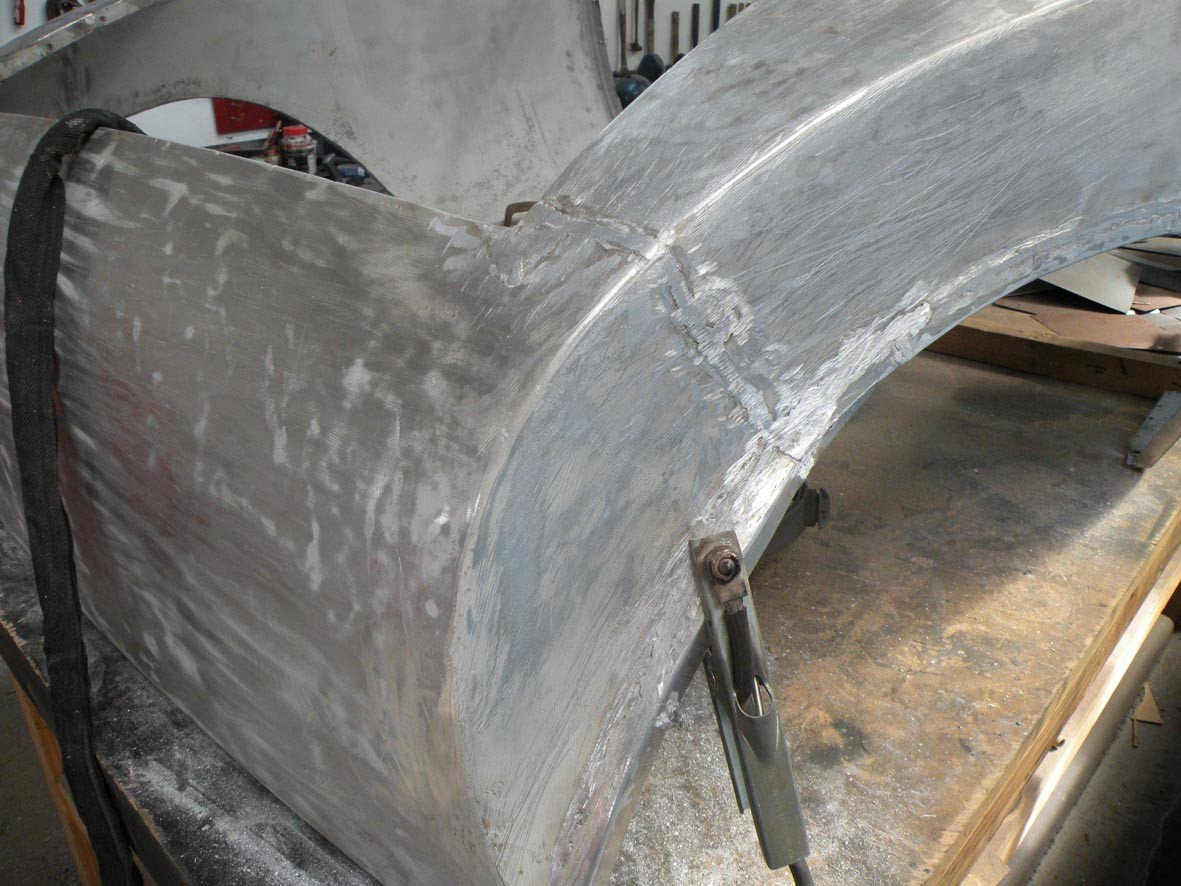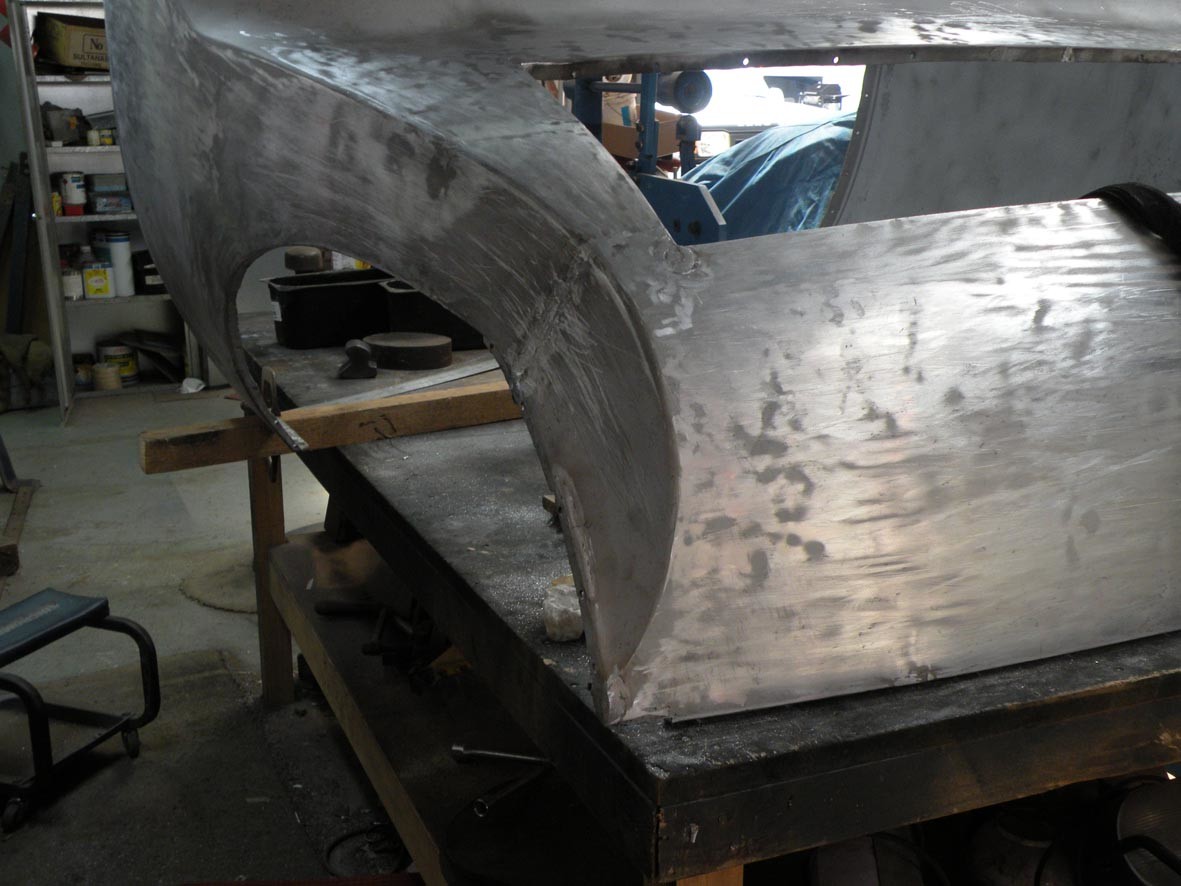 2-28-2011
Hi Folks
Just a quick one. Just because I have not made any new posts on this thread does not mean that I an not doing anything, quite on the contrary. The motor is now totally dismantled to reveal all sorts of problems. Perhaps someone can suggest how anyone can manage to BEND big-end bolts? Not to mention the up-side-down main bearing castle-nuts. The repairs to the cracked centre main bearing cap were just the start.
Not even the village black-smith..........
3-2-2011
A question for all the judging experts. I have finally managed to find time to clean up the oil pan and clutch housing. Originally they would have been very much as they had left the foundry with only basic grinding off any surplus from the edges etc. and surfacing grinding the matching faces where they bolt up to the crankcase etc. In cleaning up the exterior I have ground the sides and the bottom smooth and ask firstly If I will lose points as the finish is no longer factory original. Should I now polish then to a smooth gloss but not mirror finish. Leave them matt finish or start looking for another oil pan etc. As they came off the car the oil pan had baked on a mixture of clay and oil that over the last 80 years had taken on the qualities of terracotta. The only way to remove most of this bricklike material was with a 2 in chisel and a hammer. This inevitably left some scratching on the surface. Which way should I proceed Polish or leave matt and slightly scratched?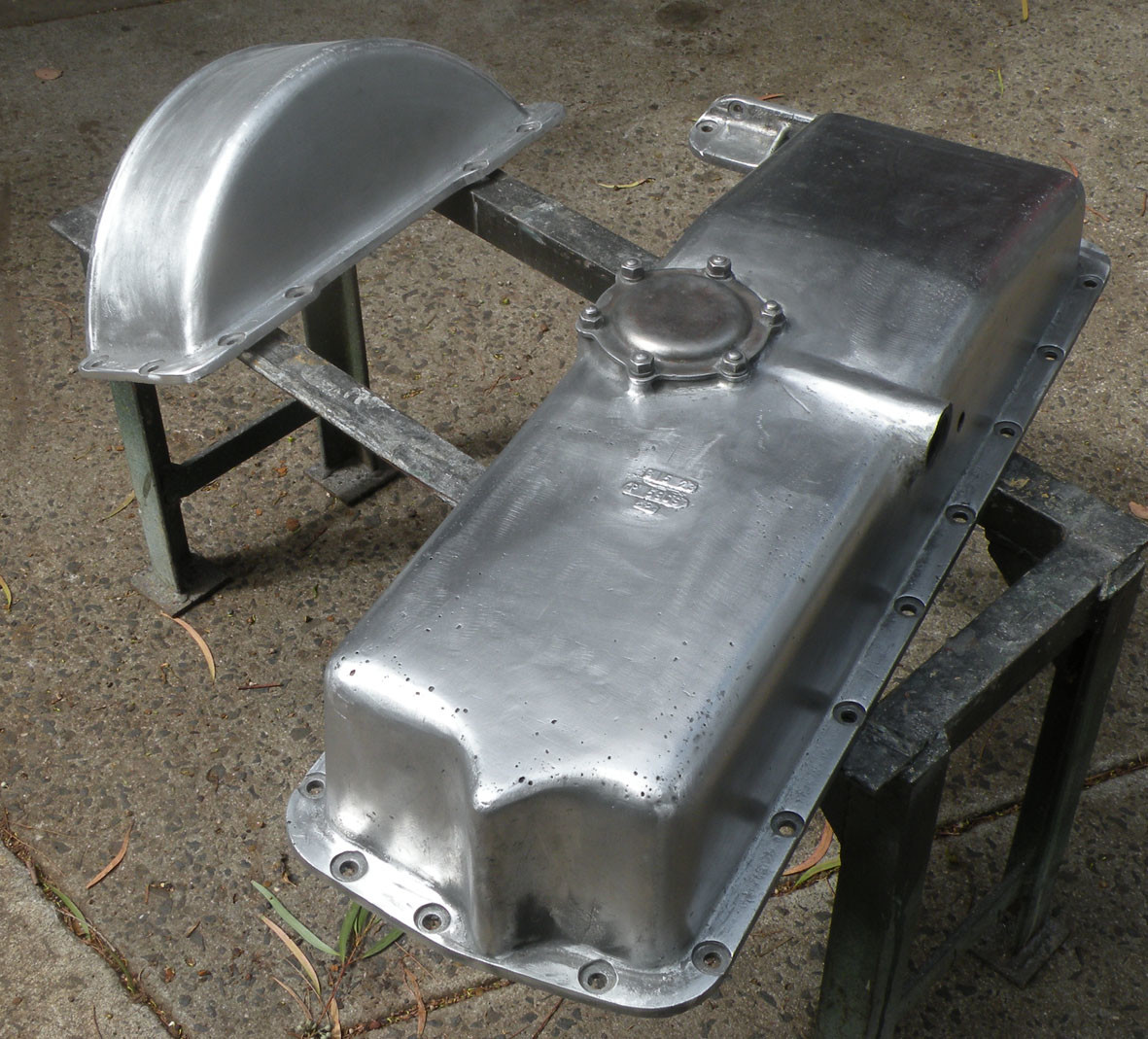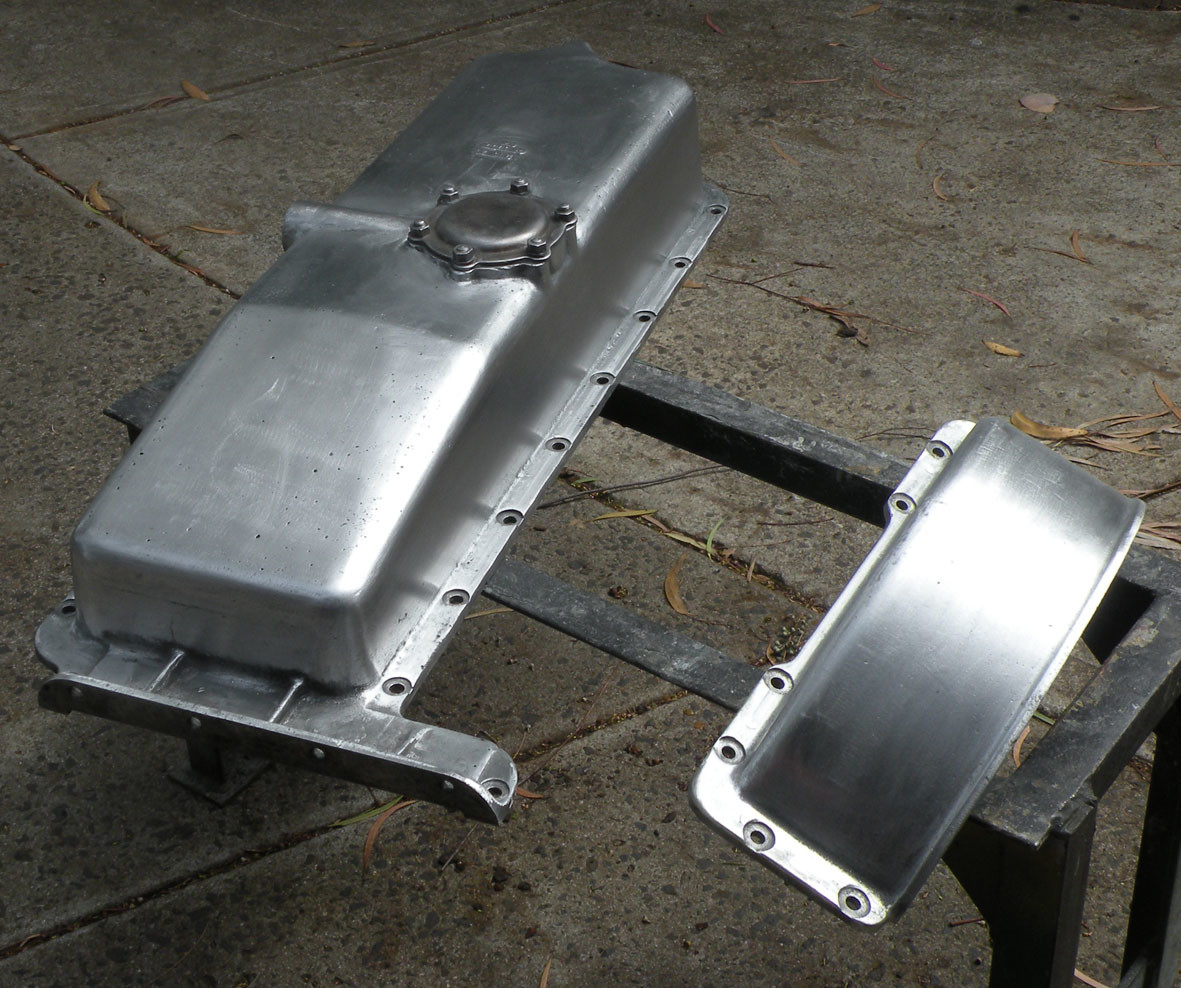 3-3-2011
Hiya all
I have been having some discussion with cben09 about the Series 1 Single Six cam followers/valve lifters. Later engines used a roller rocker while the Series 1 used a plain forged cam follower. Yesterday I spent the day cleaning these up and dressing the surfaces on an oil stone. I finished off the afternoon cleaning up the "rocker boxes".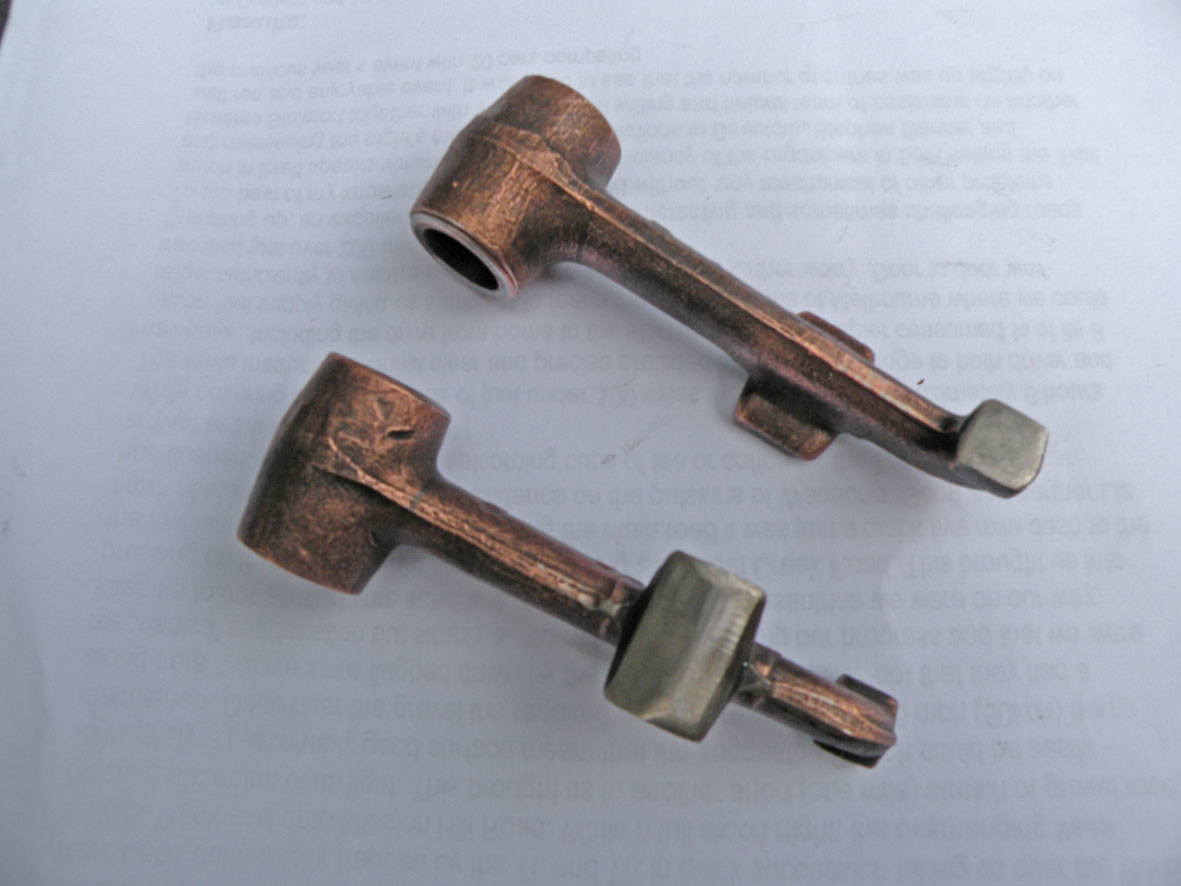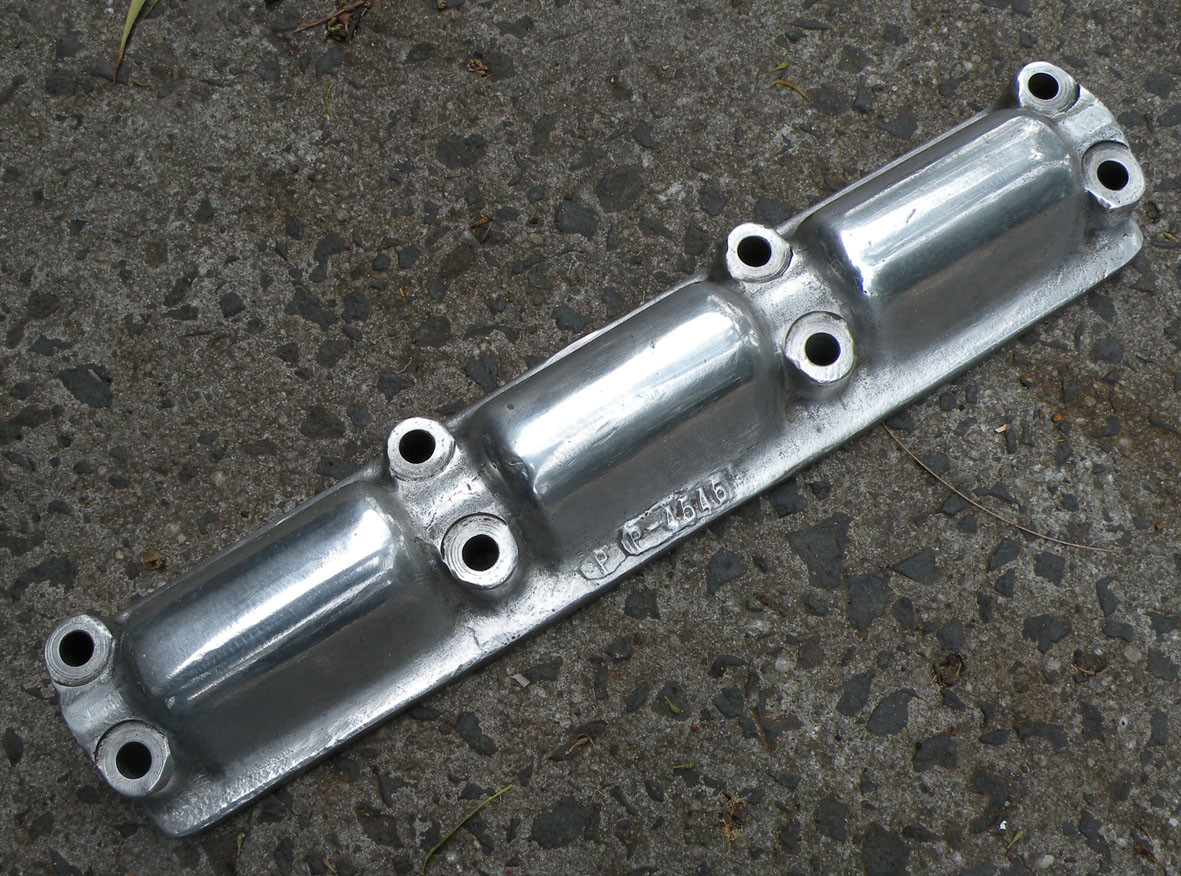 3-6-2011
Hi Chris & Pete
Many thanks for your input.
It will be some time before I start assembling my engine but I will be going down the plain nut path. That is what the factory used in the first place although I may use polished stainless for appearance sake. At the $5.25 per nut that the RSC were quoting for the "Packard" dome nuts in their #28b catalogue (my copy is probably 2 years old) for "the Right Stuff" it will give my bank balance a slight reprieve.
Regards to both
3-8-2011
Hello
Not everyone is slacking off, here in Australia my good friend and ultra keen panel man Aaron has been toiling away on the Packard. I will let you judge the results for yourselves.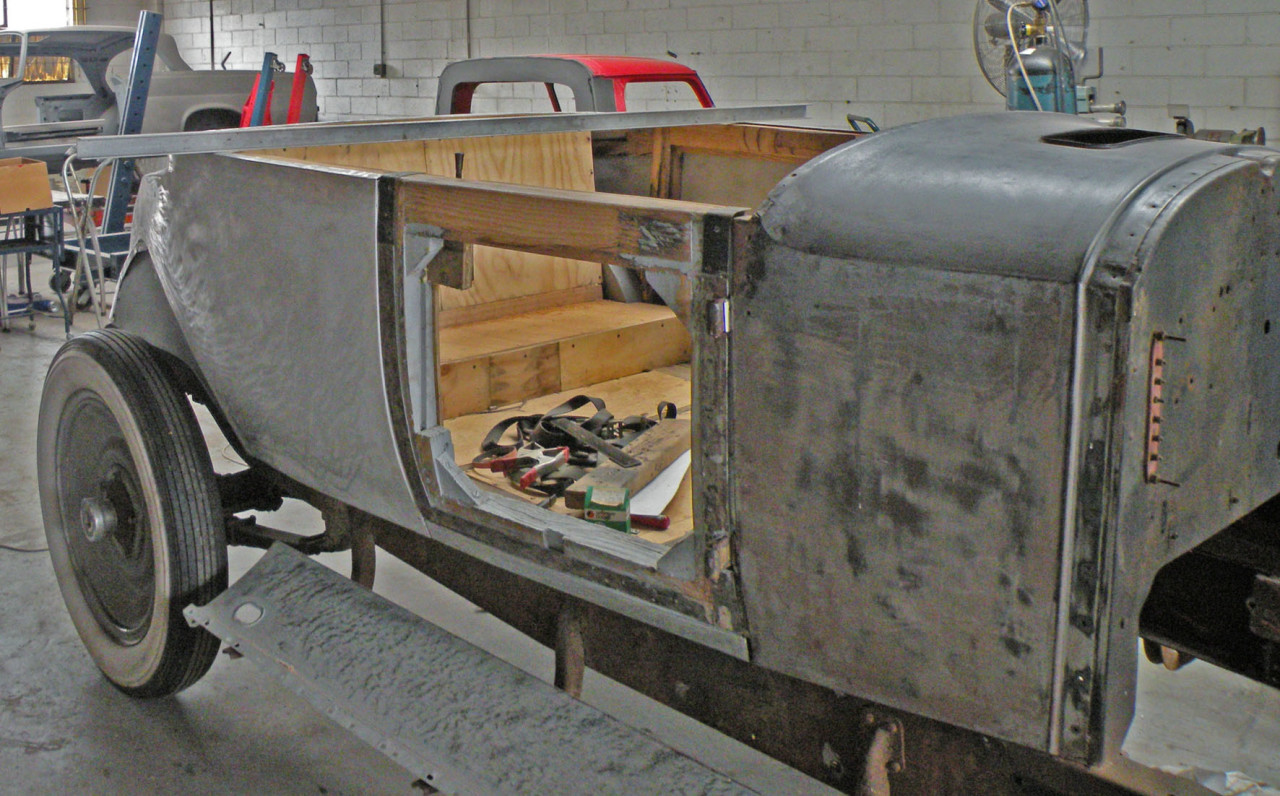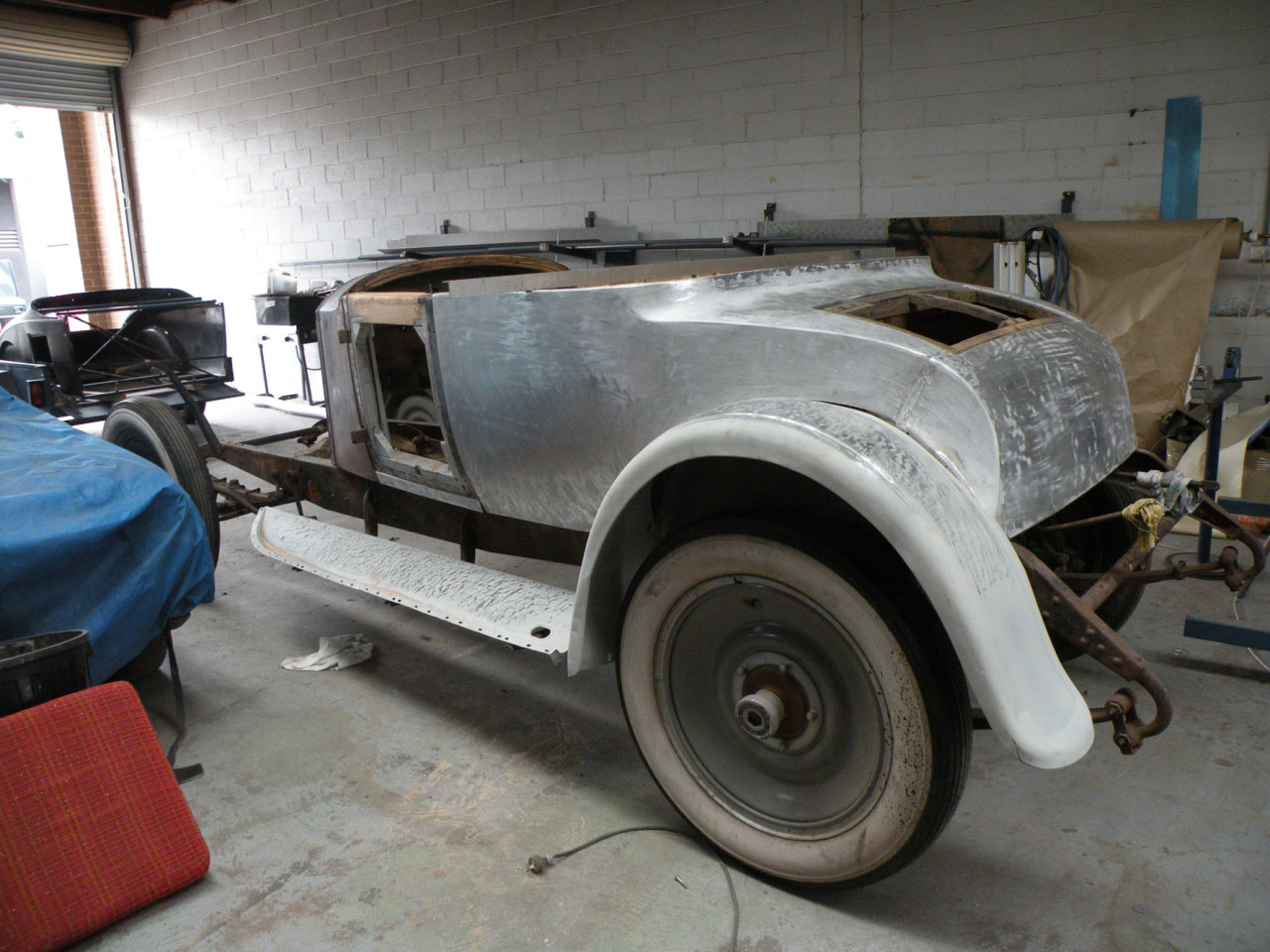 3-10-2011
Hello
Things are moving on the engine front too. Visited Crankshaft Rebuilders yesterday, the new pistons had just arrived, the crank has been reground and they are working on the new centre main bearing cap. the block has been in their "hot tank' and is now cleaned of all the rust and rubbish in the water ways.
Changing horses we drove out into the hills to Warburton East where I collected a complete actuating shaft for the "Dead-Easy" tyre pump from a fellow Vintage Drivers Club member. Now I can get on with its restoration. Watch this space........
3-21-2011
Hi All,
Sorry but I have been incredibly busy the last few days. We have friends visiting from Wales UK and have also spent the last four days taking in the Phillip Island Historic Auto Race meeting and doing some extended touring in the 1934 Lagonda Rapier. Almost 400 miles since last Friday 18th. While I have been out enjoying myself I believe that work on the Packard progresses apace.
3-26-2011
Our Welsh Friends return to the UK on Monday. Yesterday and today we have had the Lagonda working overtime, another 250+ miles on the speedo and we still have tomorrow Sunday.
Tuesday should see some Packard action at last.
4-1-2011
Hi All
Just when I was ready to tackle the Packard water pump the Lagonda Rapier generator has decided to go on the blink. Having removed and dismantled it I find that it has thrown the solder off the commutator.... looks like an a re-wind may be needed.
Fortunately I have a spare on the shelf so hope it checks out OK.
Definitely back to the Packard before the end of next week.
4-6-2011
Good News or Bad News.
The bad news is that both the armature out of the Lagonda's generator and the spare that I had on the shelf both have problems, so yesterday I delivered them both to be rewound. Ouch!
The good news is that as promised I am back working on the Packard. With the chassis and body away with Aaron and the bulk of the engine bits at Crankshaft Rebuilders I can concentrate on some of the lesser bits that I still have here. The cylinder head has been thoroughly cleaned and all the surface rust wire brushed off and it now has its first coat of engine paint.
Cleaning the head involved removing the priming cups. What a motley collection! Three are re-usable after some cosmetic work, two have broken handles and so present something of a problem. Do I use the centre out of one of the good ones and have two cast or do I look for replacements?
This brings me to the sixth. This is a totally un-original and quite ugly replacement and has to go. So this means that I am now looking for three original type Priming cups. Please have a look in your boxes of small spare parts.
Finally with gritted teeth I have removed the covers of all four Gabriel snubbers. The two from the front were full of mud-wasps nests. The two from the rear are basically in much better condition. Having said that they will all be totally stripped cleaned, the tin-wear wire brushed and painted before being re-assembled. At least two will probably need new webbing straps if someone knows of a friendly supplier?
While you were reading all this I have dismantled the water-pump and have repaired the broken flange using a total of three full sticks of bronze rod in the process. The shaft will have to be replaced as it is badly pitted under the seal. Naturally the main body will have to be machined to provide a snug fit into the front of the cylinder block. The correct copper compression ring seal came in the very comprehensive set of gaskets from "Olsens"
I was really very pleased with the quality of their gaskets and the speed of their service. I thought that their price was extremely fair.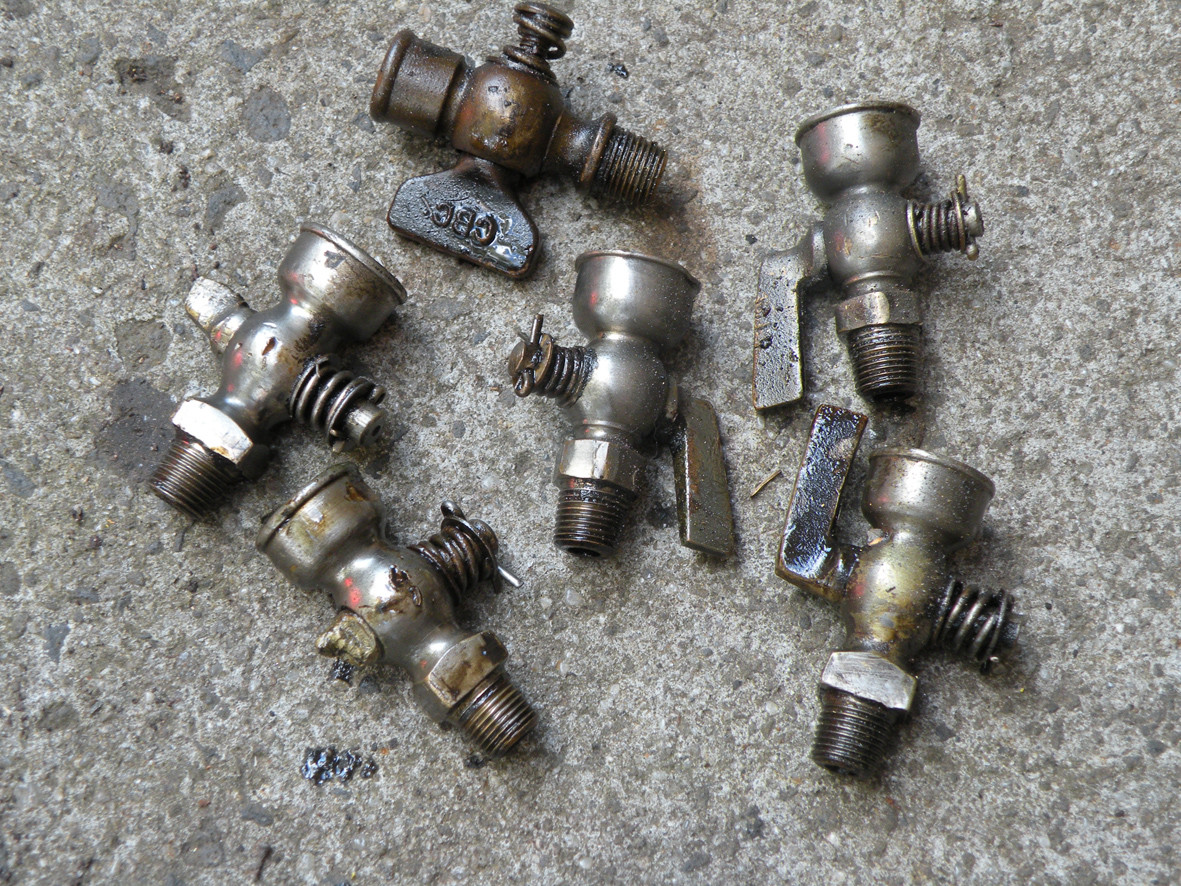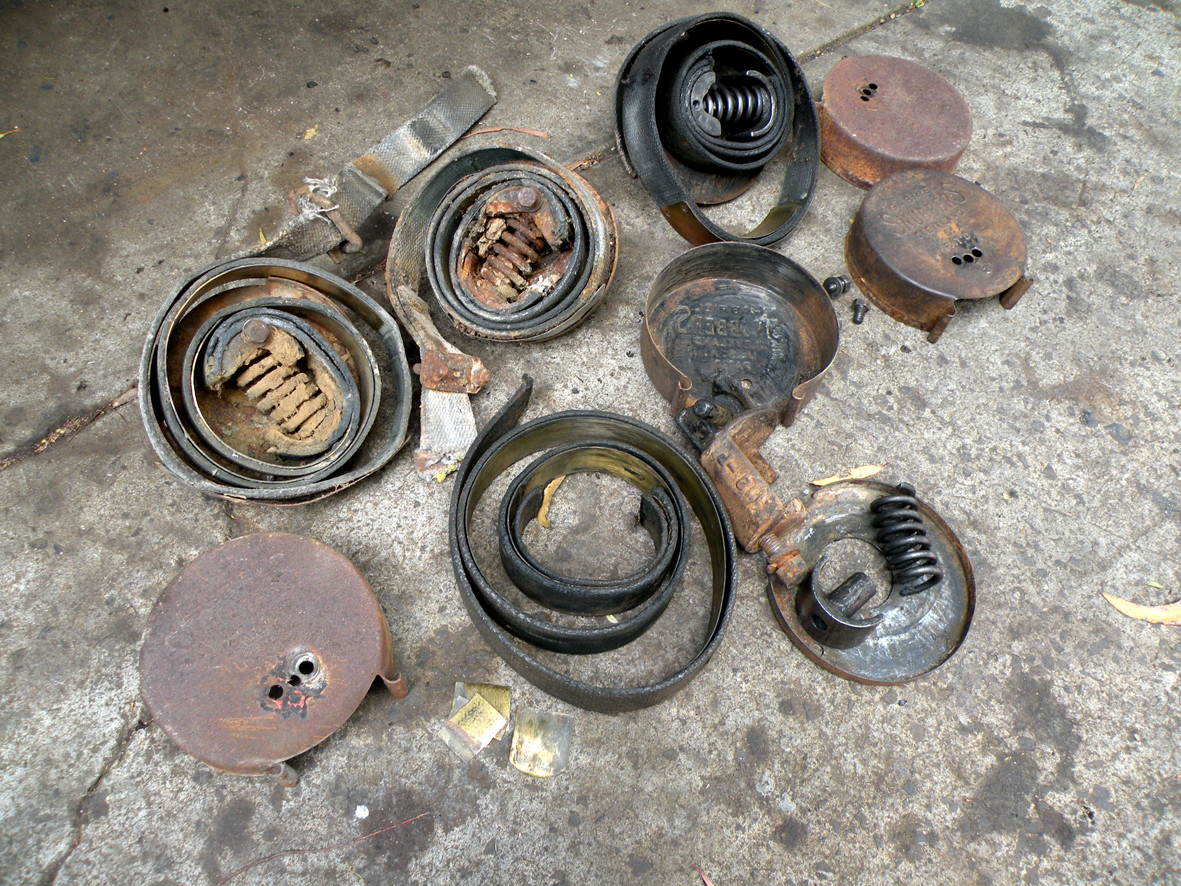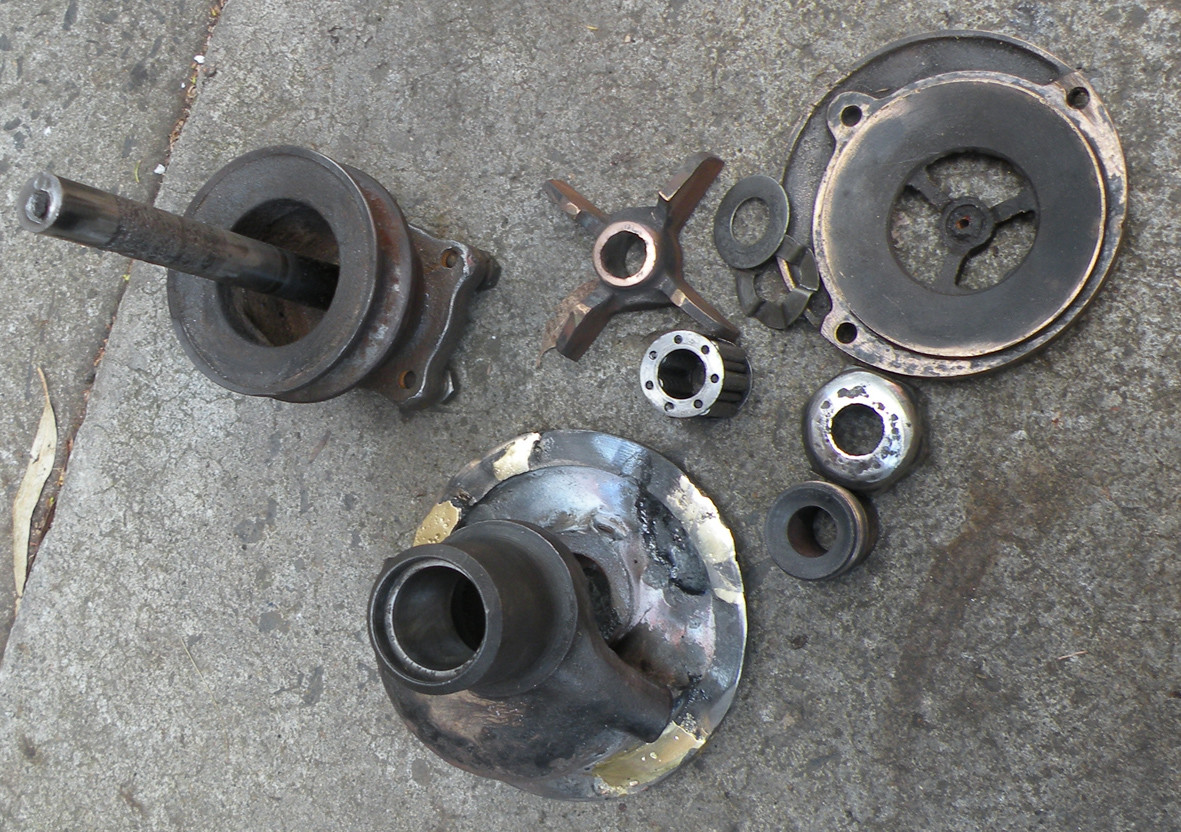 Hi all
Thank you for the suggestions Pete, Anthony and John.
Pete, I trust that you change of location is going to be beneficial.
I will follow up your suggestions re the snubber tape. I have bought "stuff" from the Restoration Supply Co before. Not always totally satisfactory, nothing wrong with the quality or service just not quite the "right stuff".......
Re the priming cup I really only need one to replace the non original one as I am sure that I will be able to repair the two ones with broken arms. If I cannot do it myself I am sure that son Steve will be able to assist.
4-8-2011
Hi Pete
My main gripe with RSC was due to some of their electrical equipment (fuse holders and headlamp reflectors in particular) not being as described in their catalogue. some of their other reproduction parts such as their Dash lamps leave quite a bit to be desired. But enough negative thoughts.
On a more positive note below is a photograph of the original Packard Priming cup that I require one or possibly three of. I am not looking for freebies but are prepared to pay fair market value for the right thing.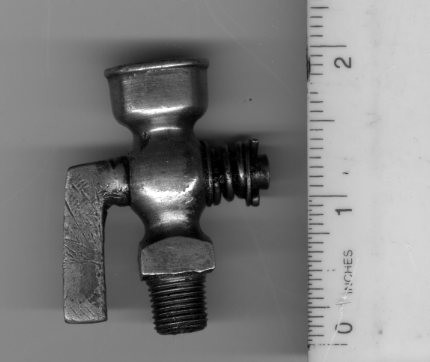 4-9-2011
Thanks Pete
I always value your opinion.
Attached is todays photograph of my brake and clutch arms showing the remnants of nickel plating. Having just unearthed the pedal pads out of a box of small parts I can see that they too had been plated originally too. What is the experience of some other early 1920s single Six owner/restorers.
The second photo shows the Gabriel snubbers ready to be re-assembled but first I have to obtain some new webbing strap. The main feature of the original strap was the brass strip riveted to one side. The replacement strapping available does not seem to have this.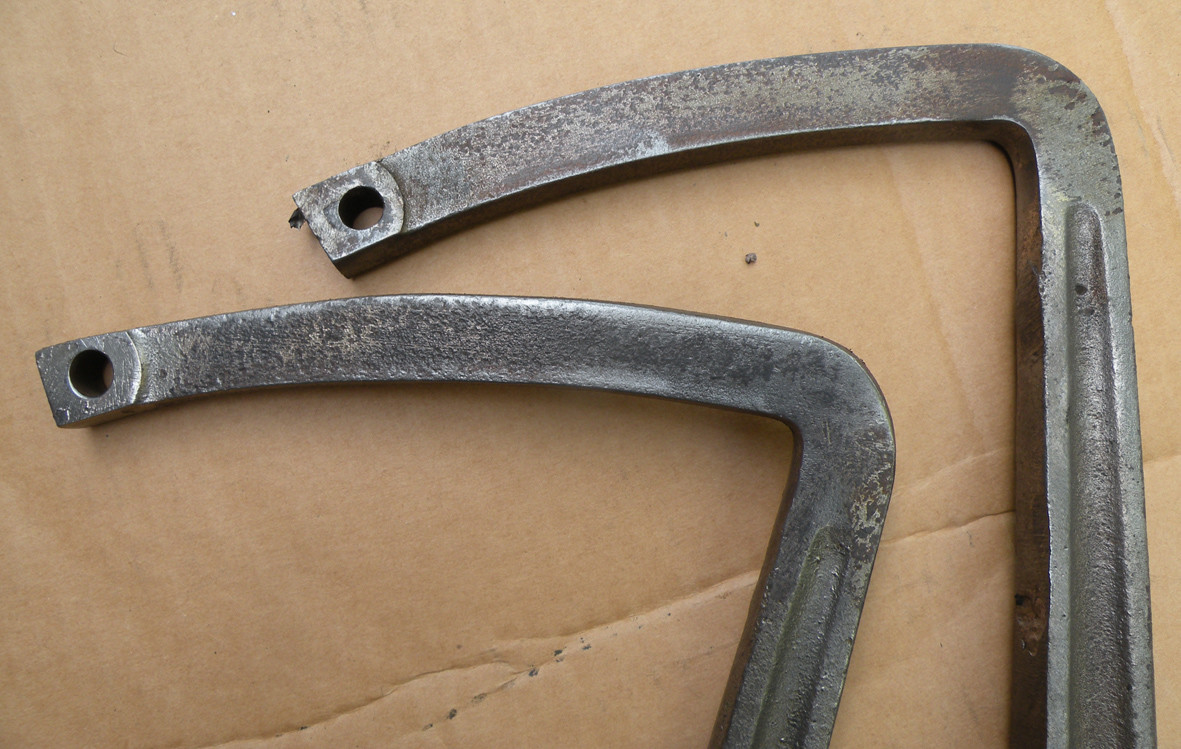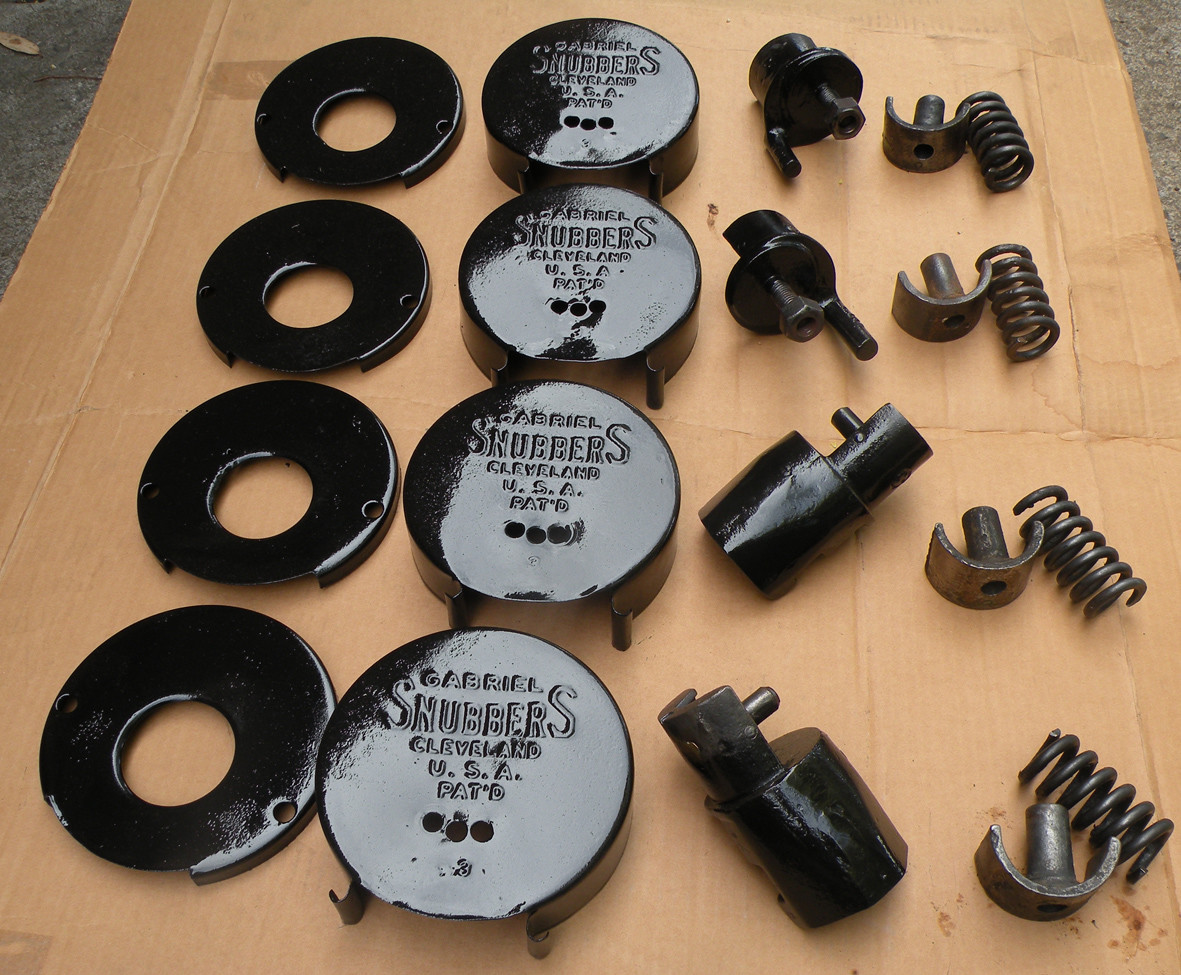 4-11-2011
While I have been messing about with things like Snubbers and Priming cups, out at Sleeping Classics Aaron has been moving along with straightening out the fenders. Considering that they had all been savaged by a monster forklift truck during its 40 year long holiday on the docks I think that he is doing some excellent work.
I have not been wasting my time entirely. I hope to have some information regarding a supply of snubber belt at a sensible price soon.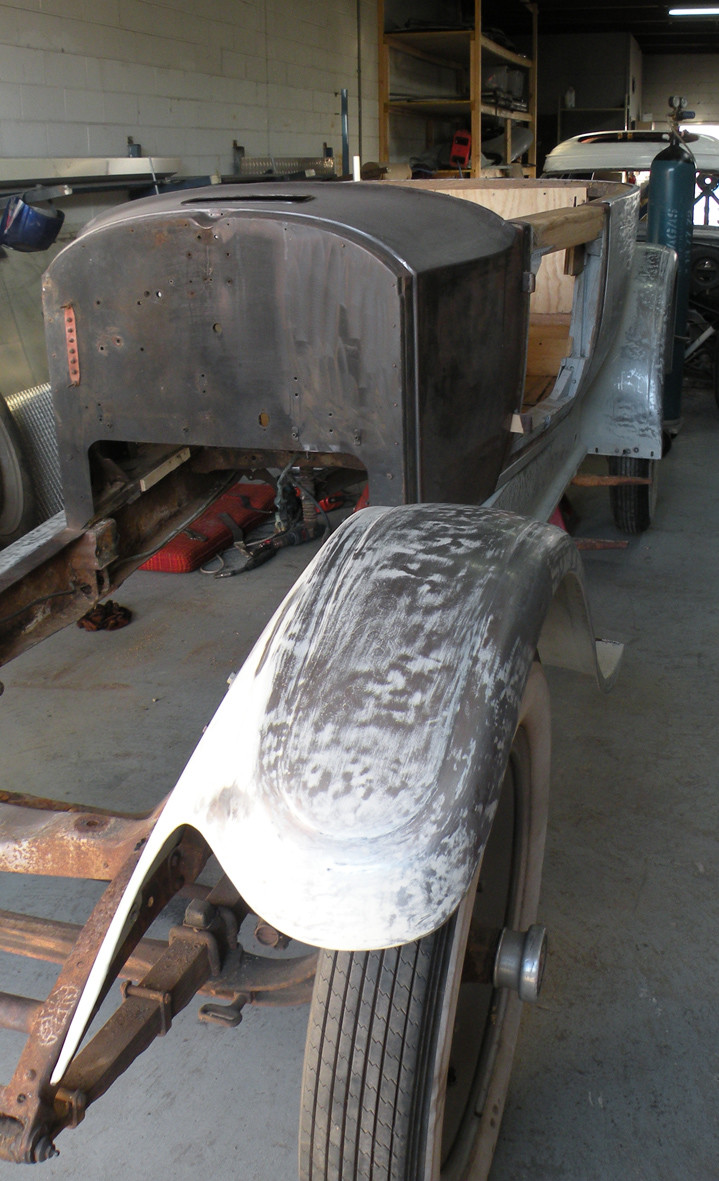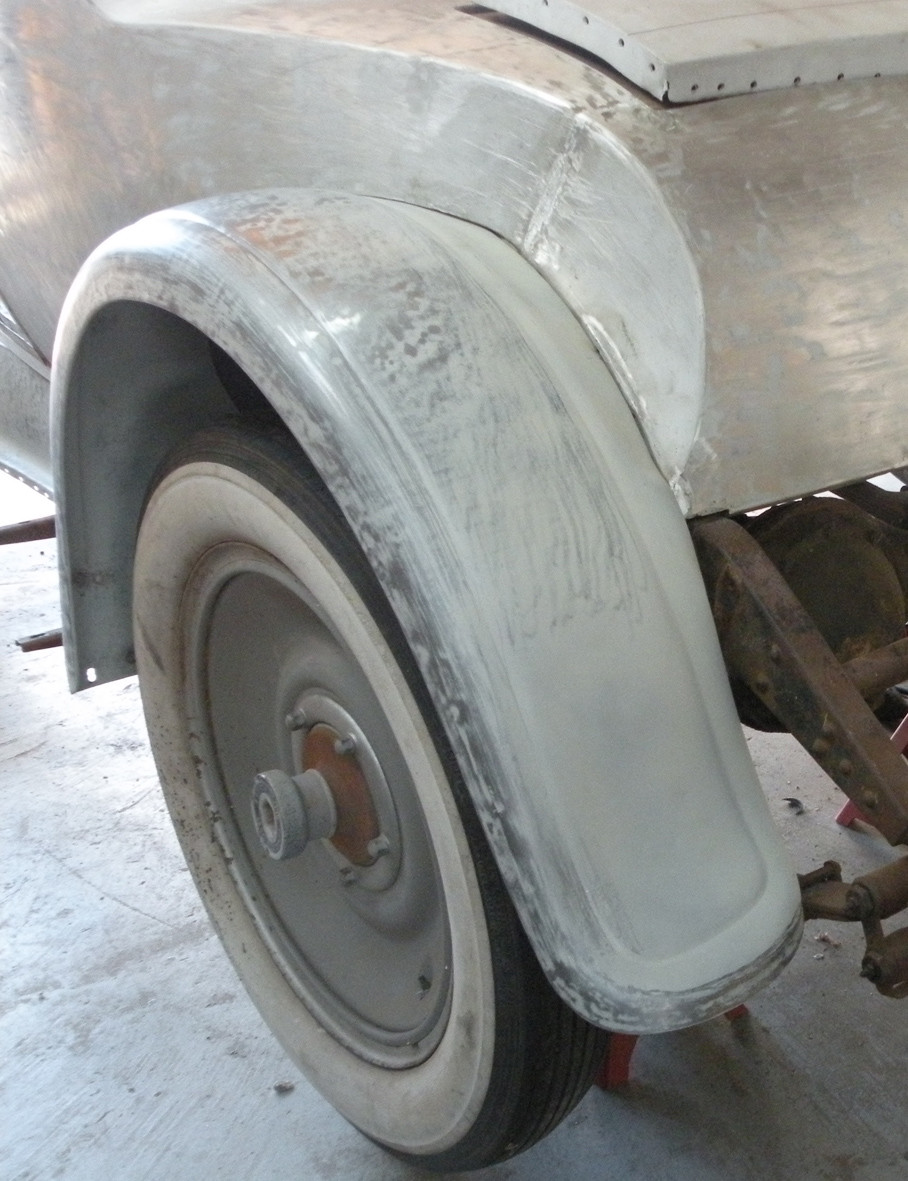 4-13-2011
A question for the judges......
How far do I go. The original 1923 Packard Fueliser bronze Carburettor appears to have been plated over a "foundry" finish. The car is intended to be a "driver" albeit a very nicely restored one. Do I totally strip the whole carb and re-plate "everything"? Do I simply re-plate the obvious things like the cylindrical cover for the extra air diaphragm springs and the float bowl cover? Or do I simply clean and polish where applicable, bearing in mind that this after all is an 88 year old motor car.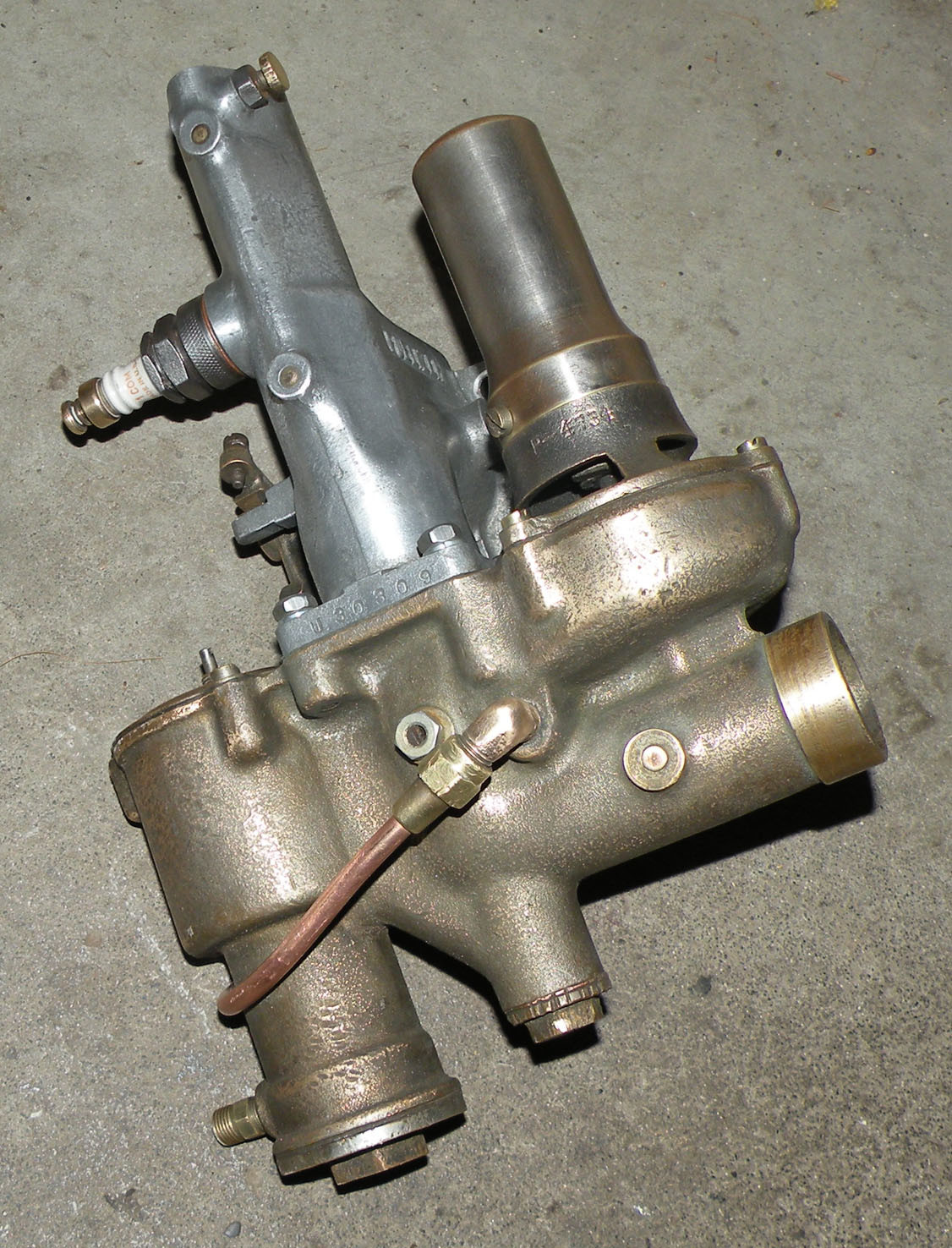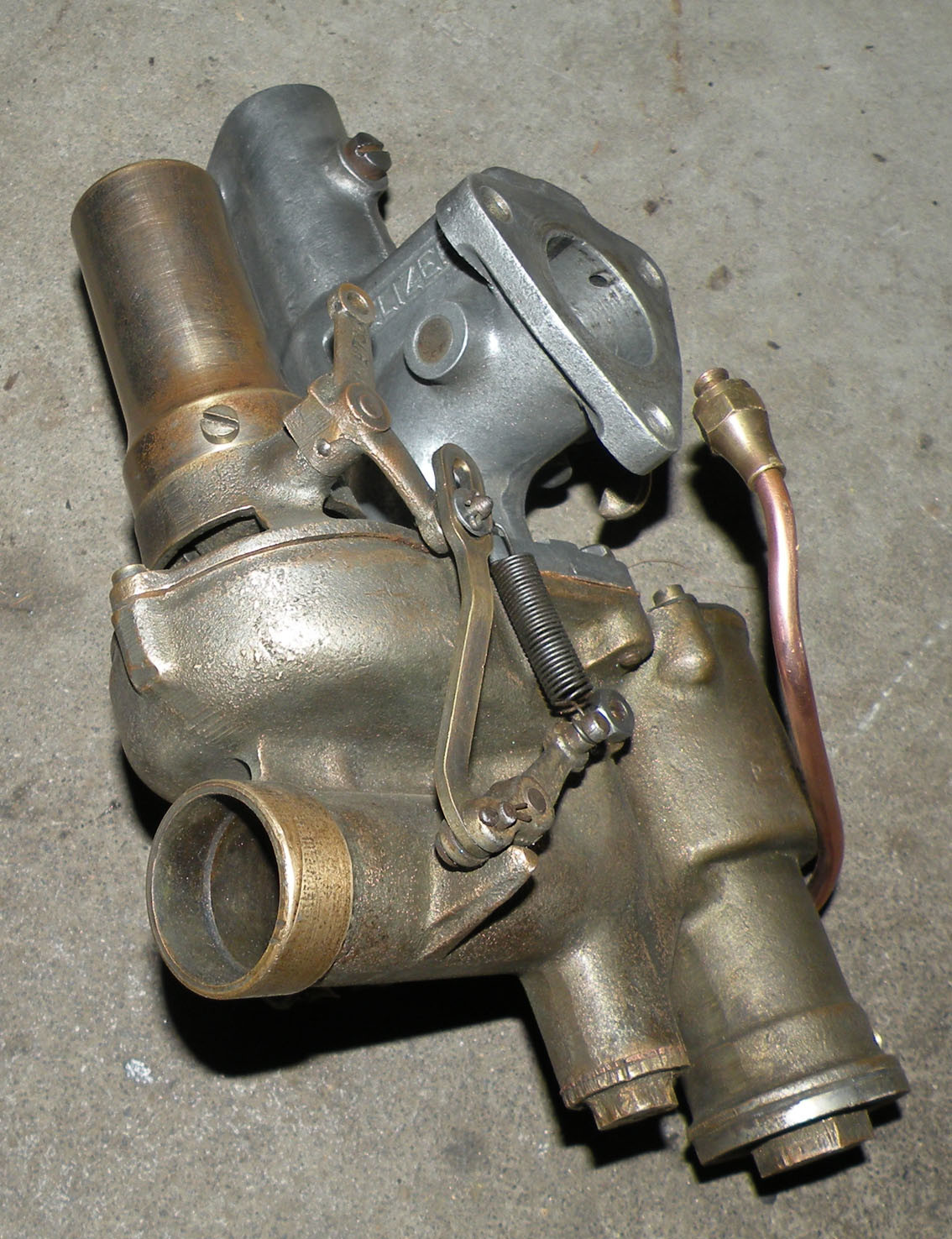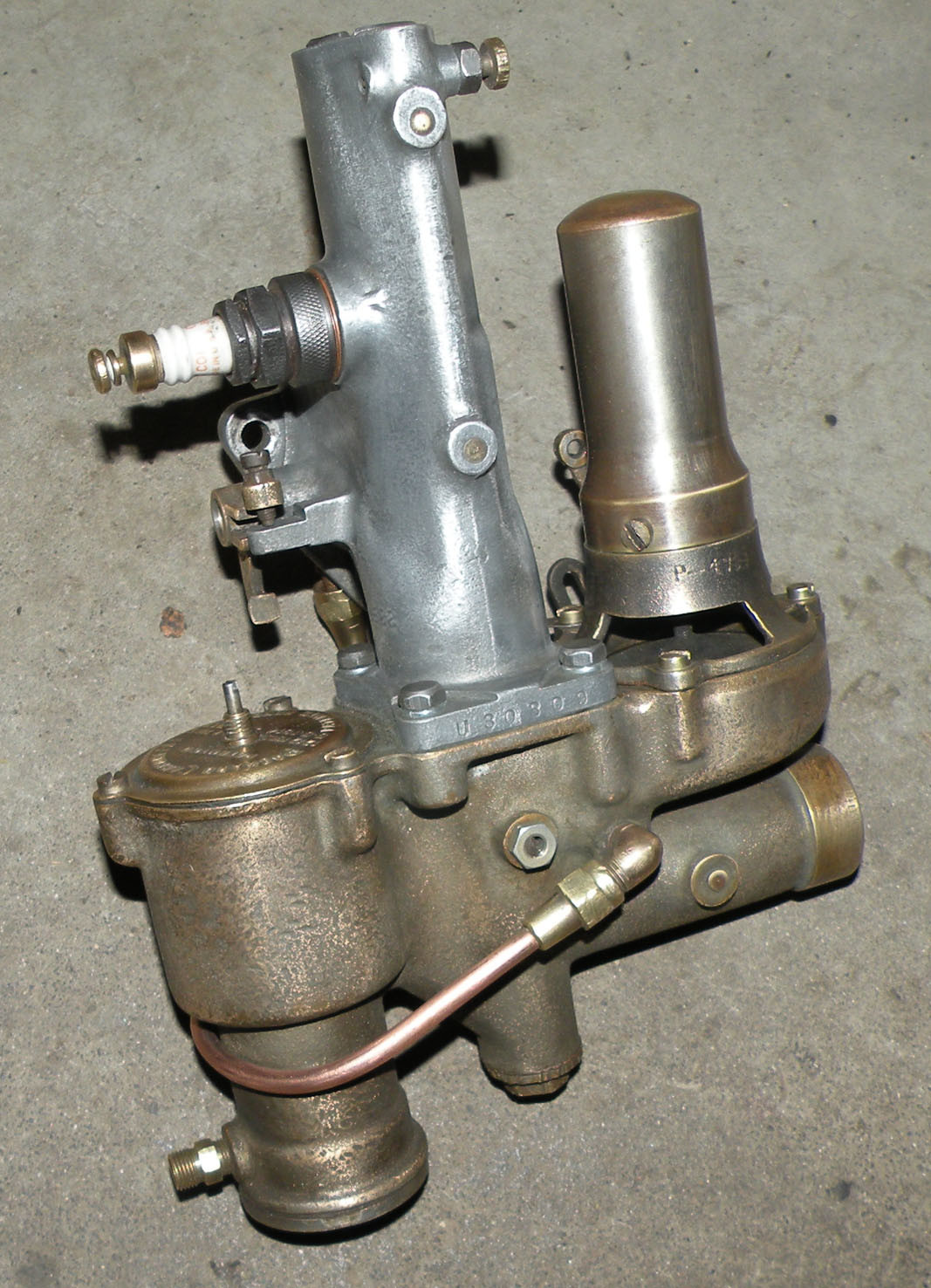 4-18-2011
Sorry about the absence but we have just spent three days touring in the High Country of the Australian Alps. The VW Jetta TDi performed admirably. With Helen navigating we did virtually the whole 1,000 mile+ trip without puting a wheel on a "highway". This involved quite a bit of gravel and single lane roads. Great stuff!
Now someone asked about the Packard Fuelizer. I have just copied the following out of the 1922 Packard Information book for the 1-26 Single Six
Hope it helps more than it confuses.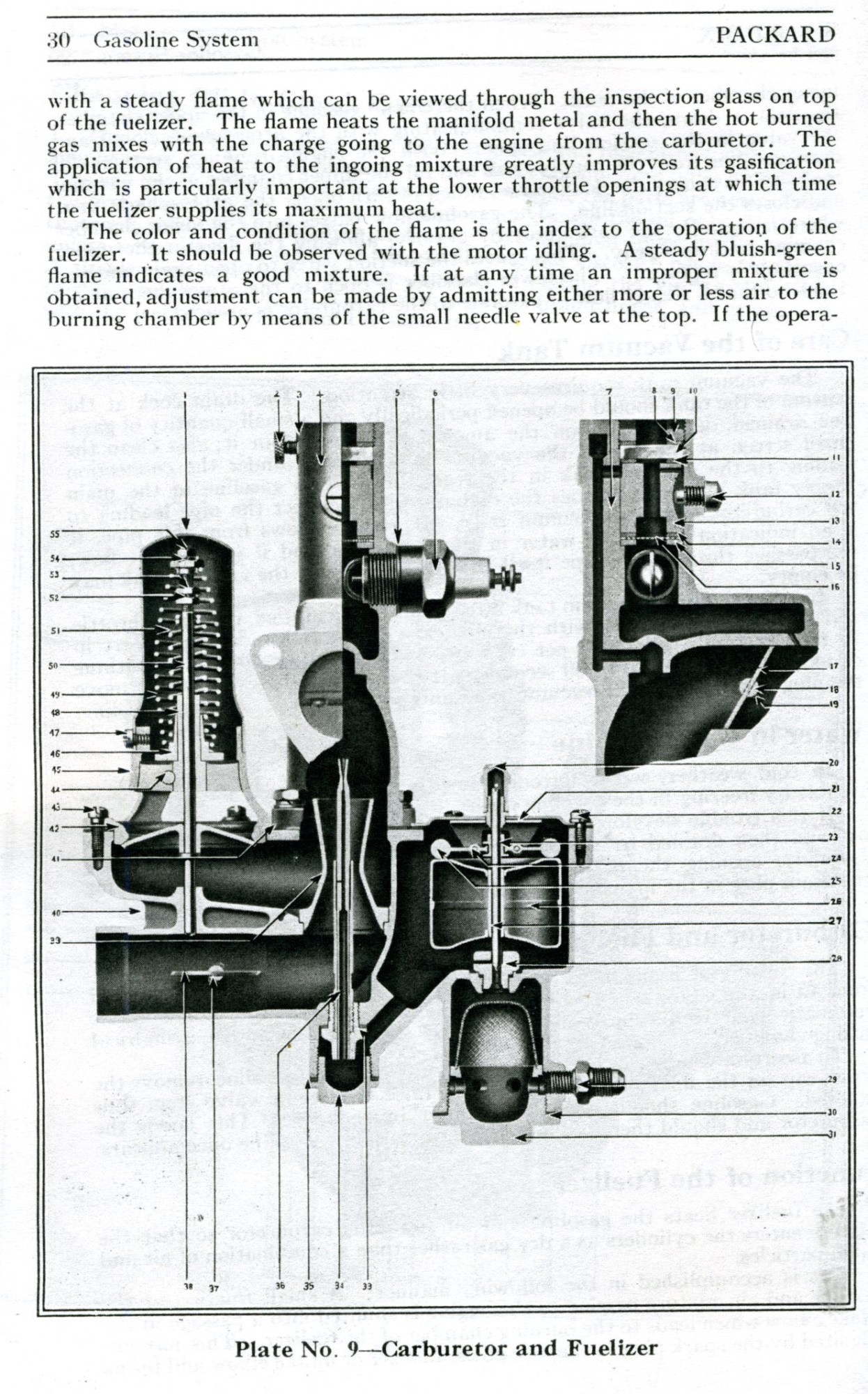 4-19-2011
Hi All
I would like to take this opportunity to introduce my number 3 son Nic.
Nic has just recently landed in Kansas with a Rotary Exchange Group from South Australia. He will be talking to Rotary Groups about Renewable Energy. Any Kansas based Rotarians out there say Hi to him. Here he is photographed with his son Julius.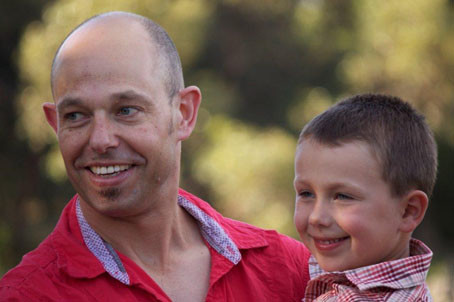 Hello again
I have just sent an e-mail to Pulfer& Williams about a reproduction ID plate for a Series 1 Single Six. It appears that they have not made one previously and require a photograph of an original one. Can anyone supply a good clear photograph that they can use.
While on the subject of "wanted". Firstly thank you Ken, I look forward to receiving the priming cup.
Next I need to obtain one useable hood latch to match the three I have. I have the four "posts" that it latches onto but also need the plate that attaches under the post to protect the paint on the side of the hood.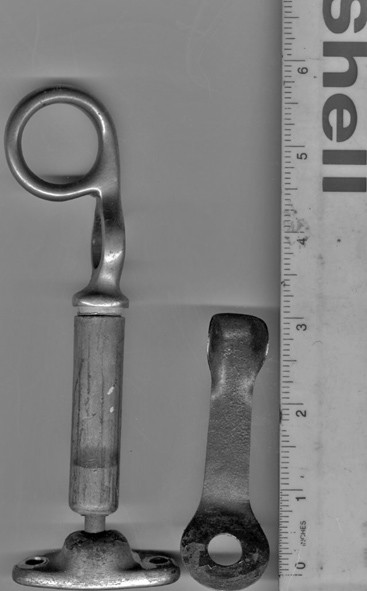 4-22-2011
Hello again
An old car enthusiast's life is never dull. While work is coasting along on the Packard I think I may have mentioned that the Lagonda Rapier decided to throw the solder off the generator armature. This has now been rewound and this afternoon being Good Friday I decided that the old adage probably still applies. The better the day the better the deed. This being so I cleared a space on my usually untidy bench and set to work. But I should explain, with the Rapier the generator is gear driven. (Lagonda never trusted belts & pulleys) The water pump is driven by a dog engagement at the front, while the distributor is driven by a pair of bevel gears from the rear. Any way four hours later it is all together, the distributor re-timed and the engine running. Oh yes the Generator is putting out a nice 10 amps until the voltage regulator kicks in.
One thing, as the gear on the front is mounted on a parallel shaft with a Woodruff key, the nut at the front has to be tightened to at least 80ft/lb.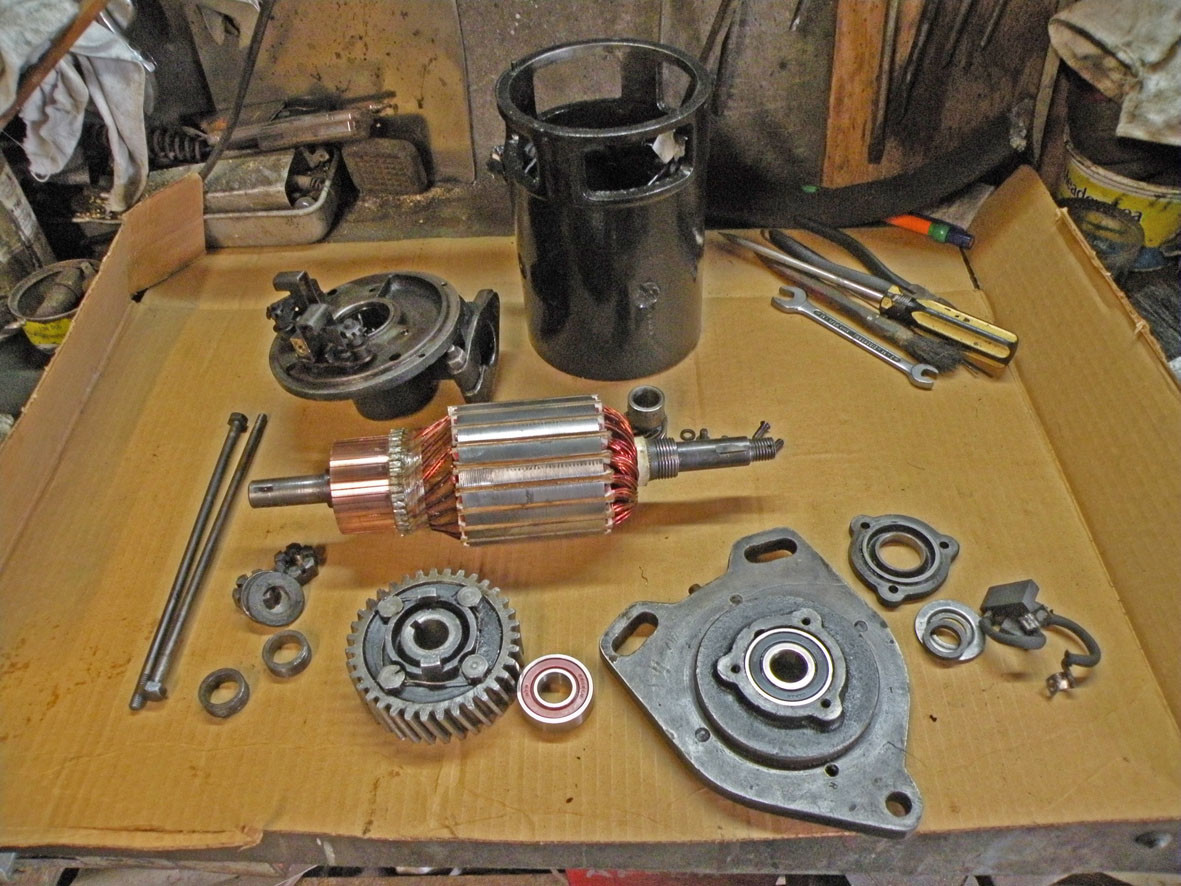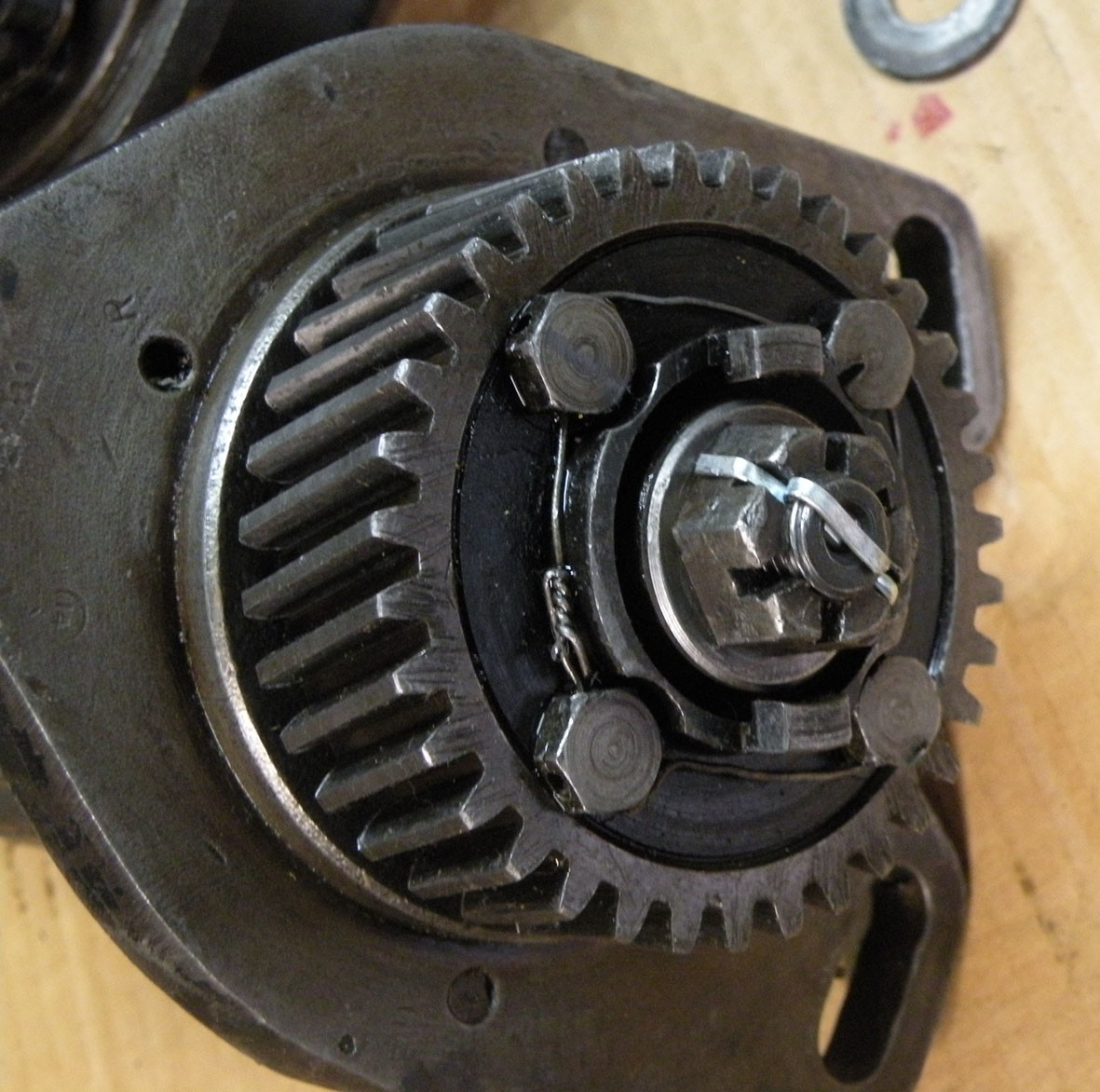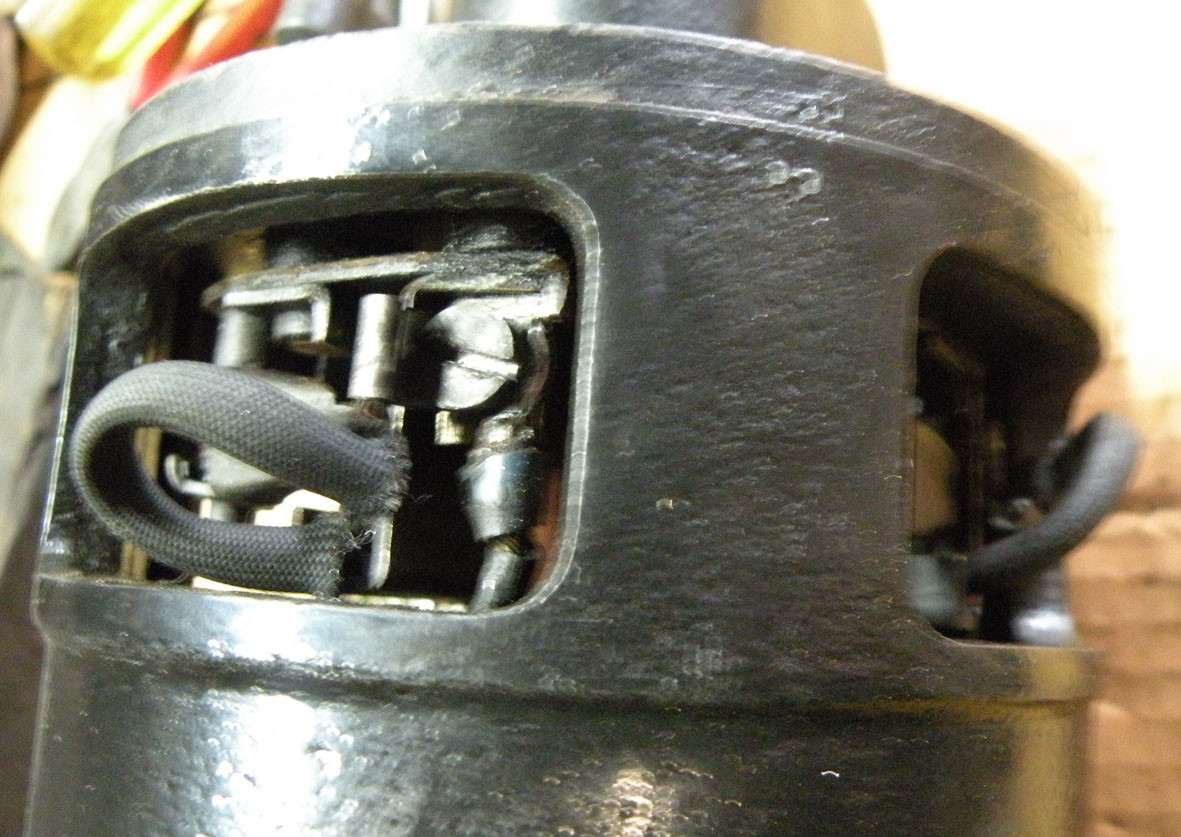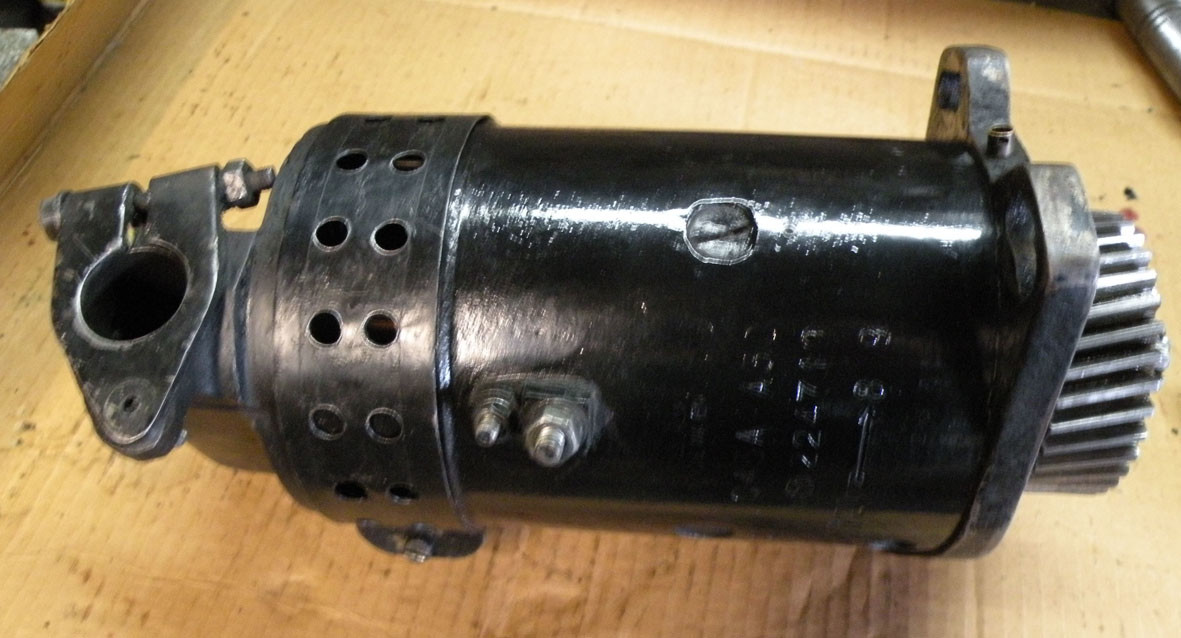 4-28-2011
Thank you Don
With a price difference between $65 for a 26-32 plate that P&W have in stock and $450 for a one off pre-26 plate that will have to be specially made, I think I know which way I will go. Apart from all the people who read this thread who is going to bother to read the plate and then say "Gotcha! That is not the right plate! This one has the extra "Ask the man" logo and the number of Patents held is different!
Which is better, no I-D plate or one that is a couple of years later? At least it would have the correct chassis number. and an approximate delivery date. What do the experts think....no plate or a repro from two years later but with the correct info?
4-30-2011
Just in case anyone was wondering about my "Brass Plates" attached is an example This one attached to an early 1930's Austin 12/6 Sports special called "Bramble" All my restored cars are given their own name in this case Bramble as the pile of bits that went to make the car were recovered from a blackberry patch. "Bottomley" was a 1928 Morris Cowley was rescued from the bottom of an overgrown garden. "Cackle" a 1923 Citroen 5CV found in a hen-house......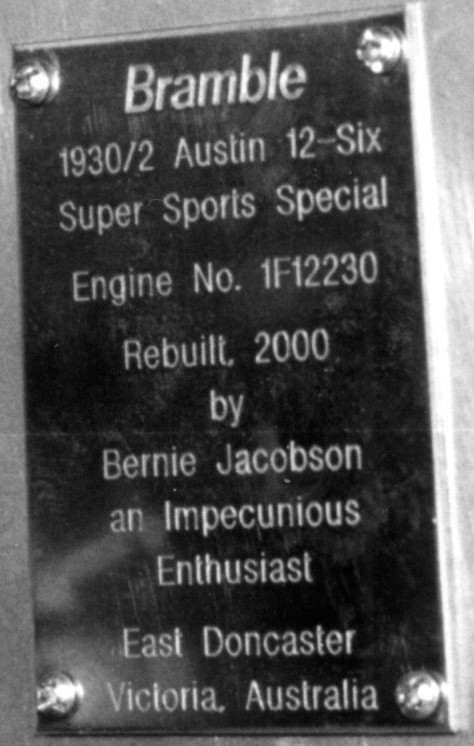 Bottomley before & after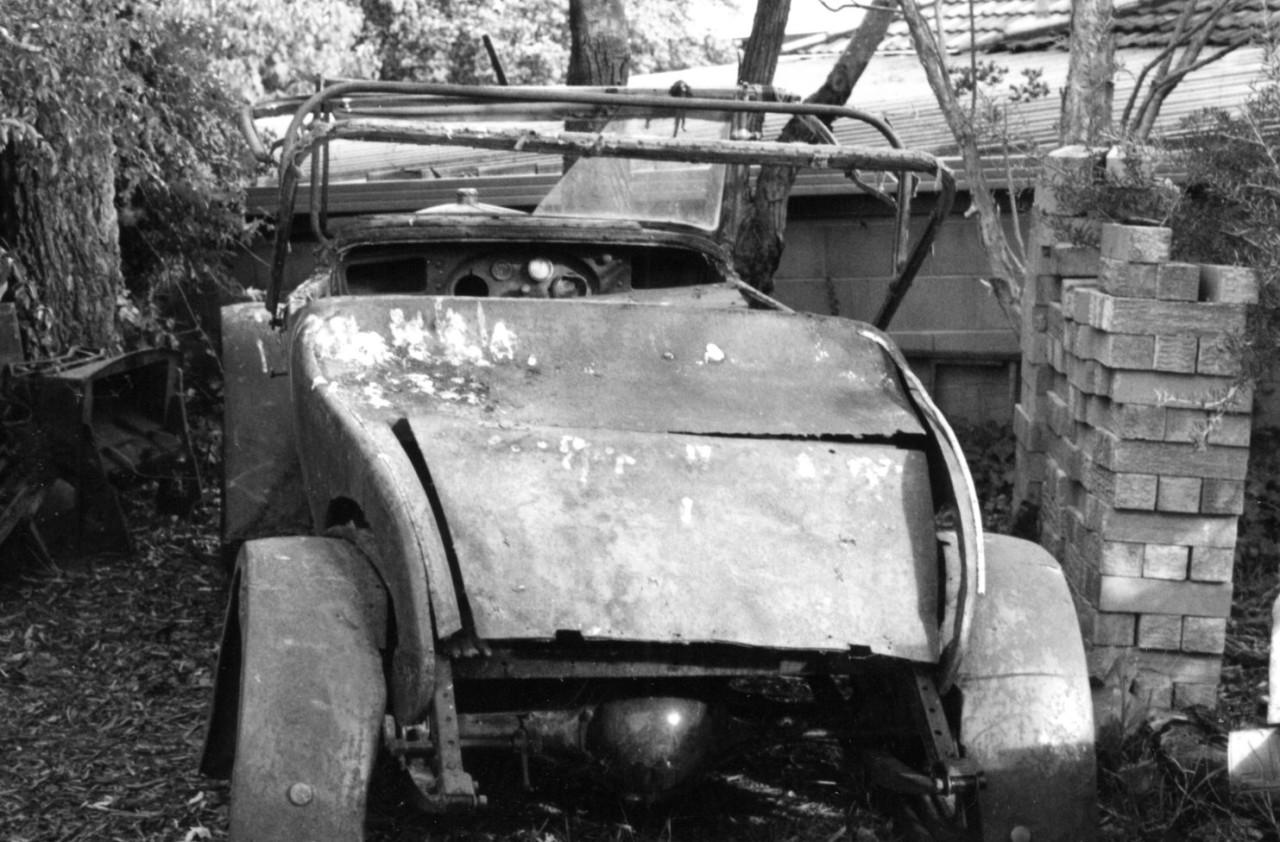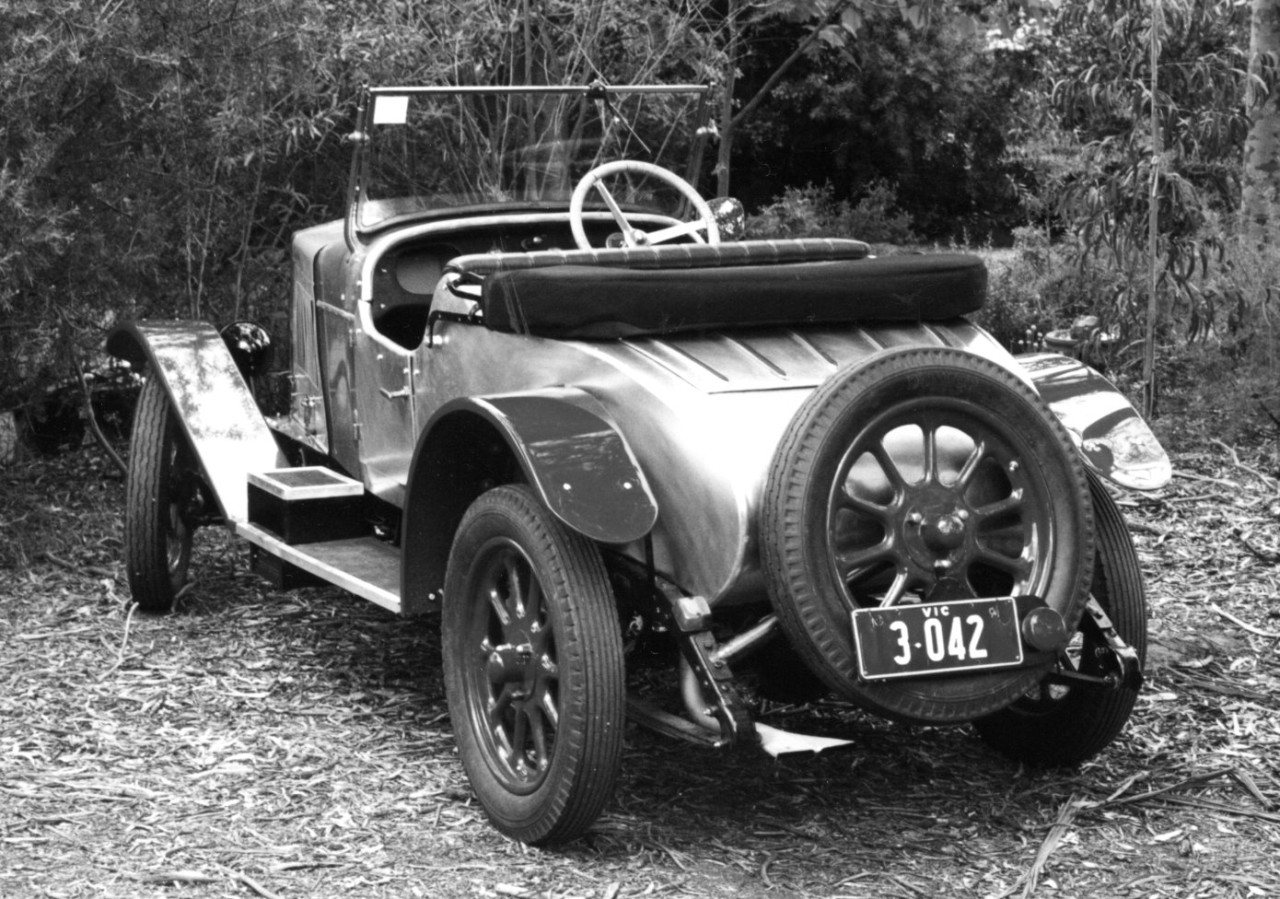 5-1-2011
Almost no work on the Packard again this weekend but all in a good cause. David & Veronique McC's visit was a great success. It was good to see their 1929 Roadster and even better to actually meet them in the person. Today has been taken up with the VSCC (AUS) Autumn Leaves run in the Lagonda. That is correct, here down under it is actually Autumn or as most readers would better understand "Fall". Great days motoring in the Lagonda, about 120 miles over some beautiful country with lunch at a small winery. Life does not get much better!
5-2-2011
David's 1929 352 Roadster while visiting.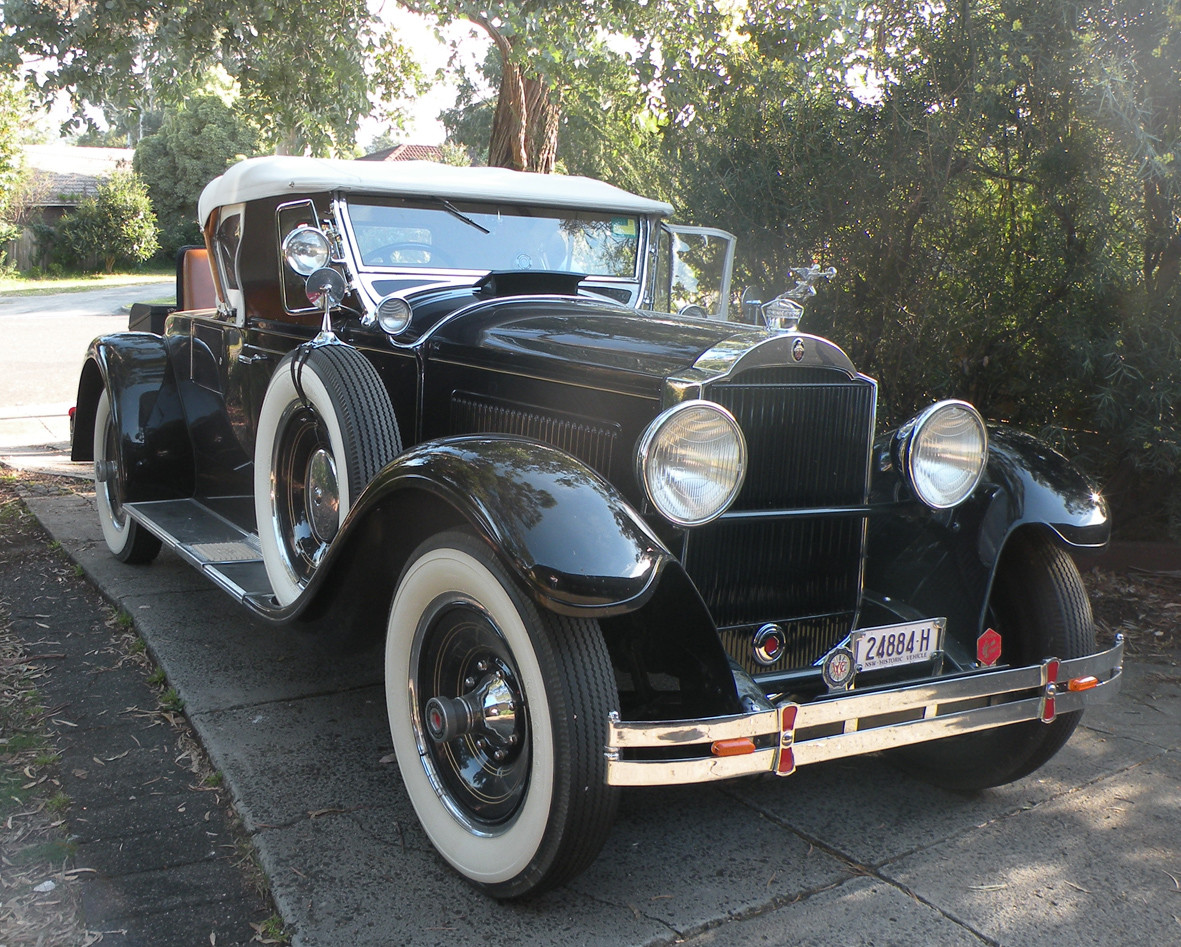 With my mind firmly back into gear I am pleased to report that some progress has been happening with the Packard. Aaron has been hard at work with the body and he tells me that another two or three weeks should have his part finished. I am delighted with the progress so far but I will let you form your own opinions. Meanwhile Crankshaft Rebuilders have been hard at work too and tell me that they have just about finished with all the machining work on the motor. Crank grinding and reboring etc and I should be able to start re-assembly work in a few days.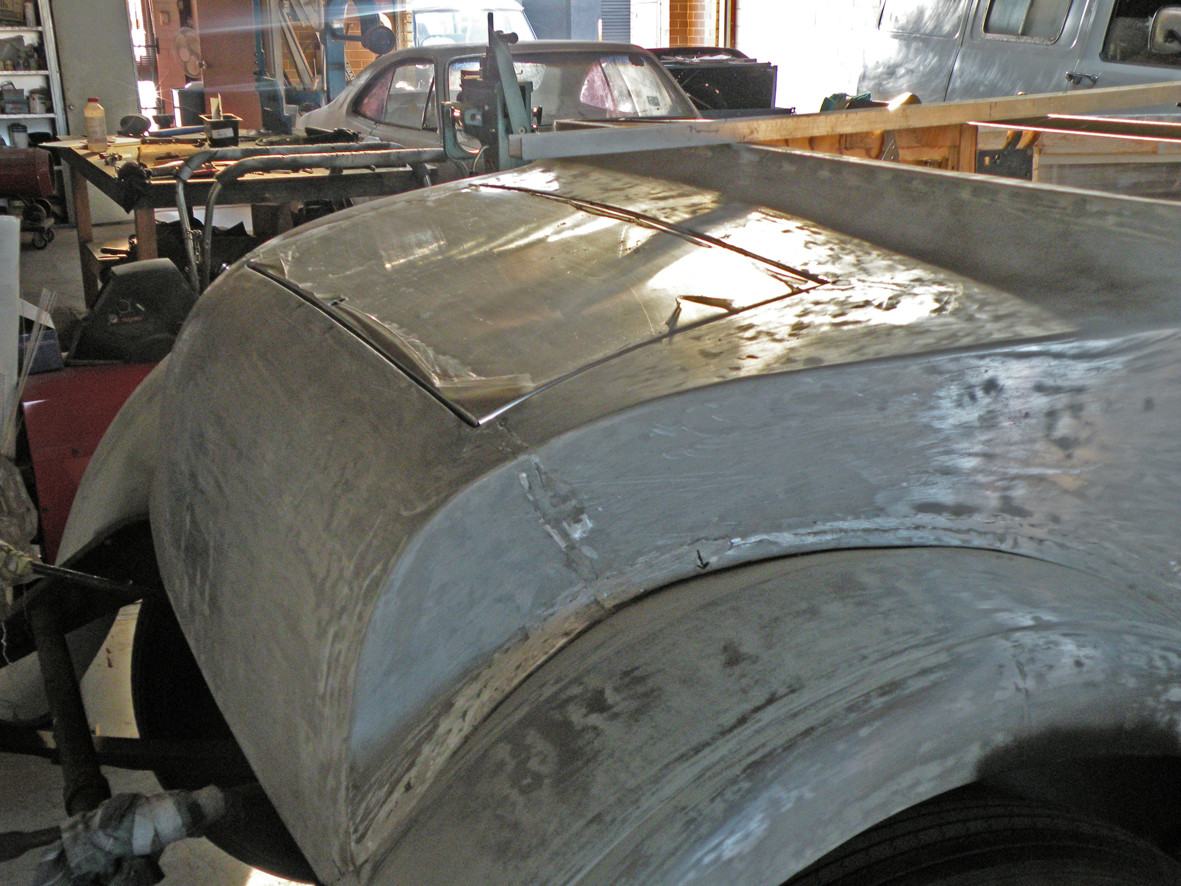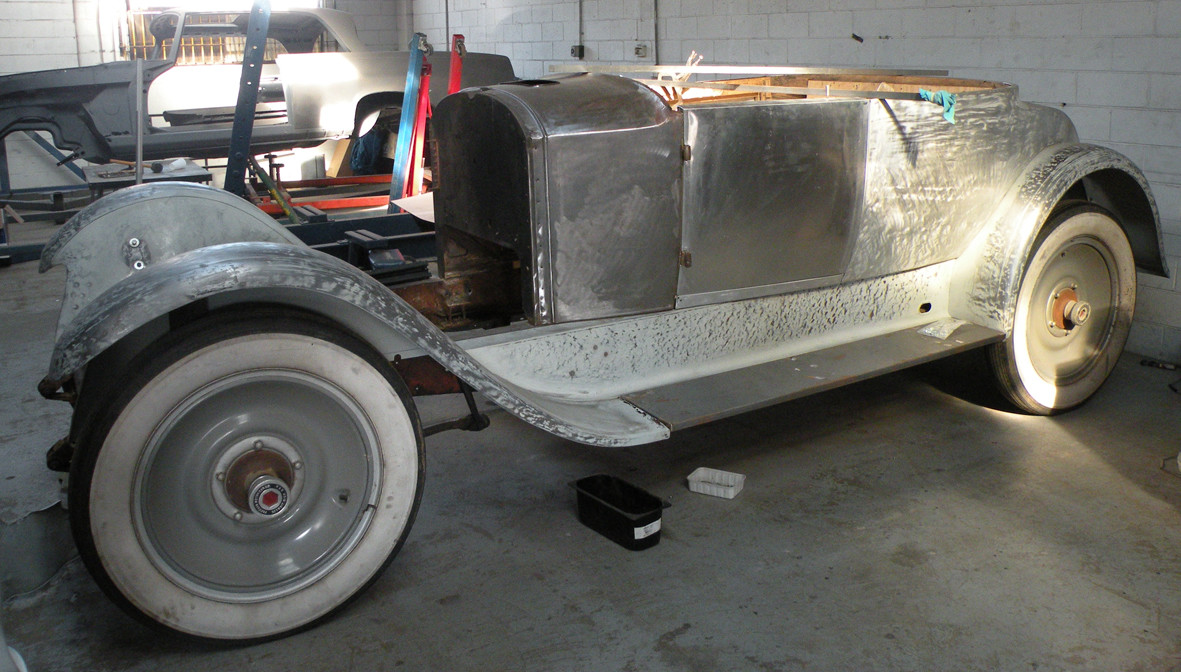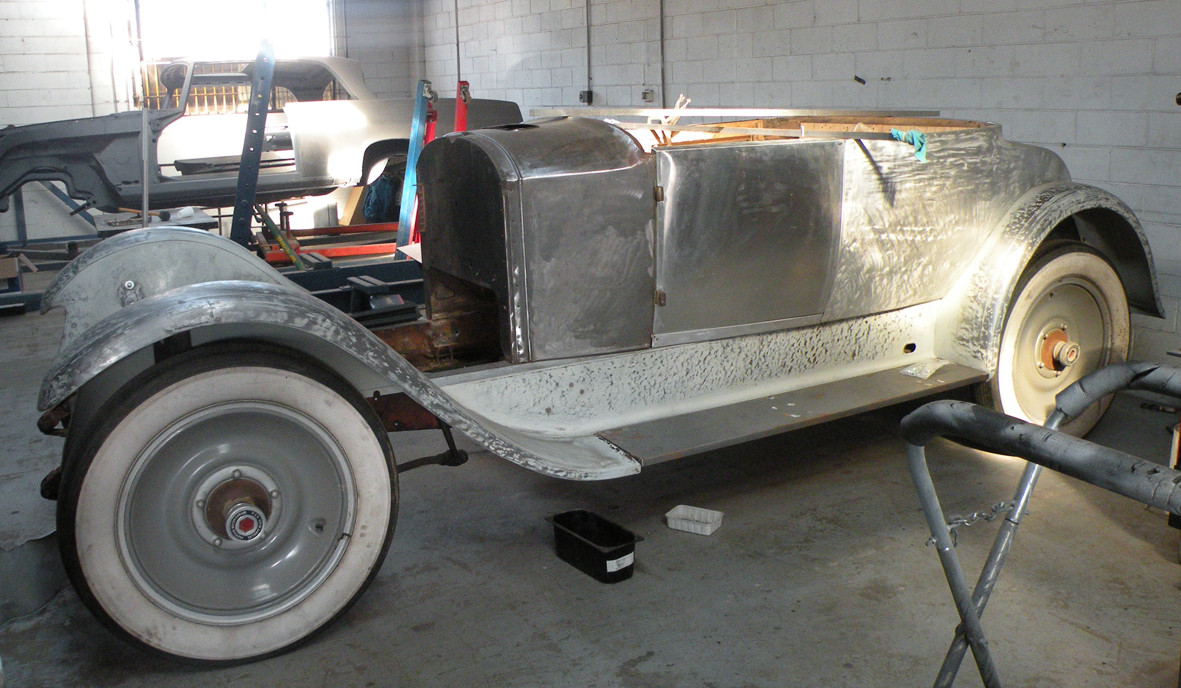 5-3-2011
At the rate that Aaron is working I will soon have to be thinking about paint colours.
Several options have passed through my mind, Dark Green and Black, I used that on the Dixie Flyer, Chocolate Brown and Caramel has been a strong favourite but really is not "traditional" for early 1920s, which brings me to the original "Packard" Blue and Black. Can anyone provide me with a sample of the correct Packard Blue as used in 1923?
Any other suggestions?
5-4-2011
Thank you "B"
As the fenders, top of the hood and rear deck would be black that probably is not an issue. Remember it has become an open car. Judging from the little that remained of what I believe was the original paint, it was black with blue along the sides. ie. Black fenders and above the waist line with blue on the sides of the hood doors etc. My first priority is for traditional Packard sophistication and elegance. To my mind on many of the restored Single Sixes the blue is too light. It seems that the Brown & Beige combination was used more during the later 1920s That is still probably my first choice still but I would sooner not upset the traditionalists too badly. I believe that with any Packard it should be all about "Elegance, good taste and style"....
Nature is always a great source of inspiration. I just happened to turn over a calendar to May this morning, so we have green on green...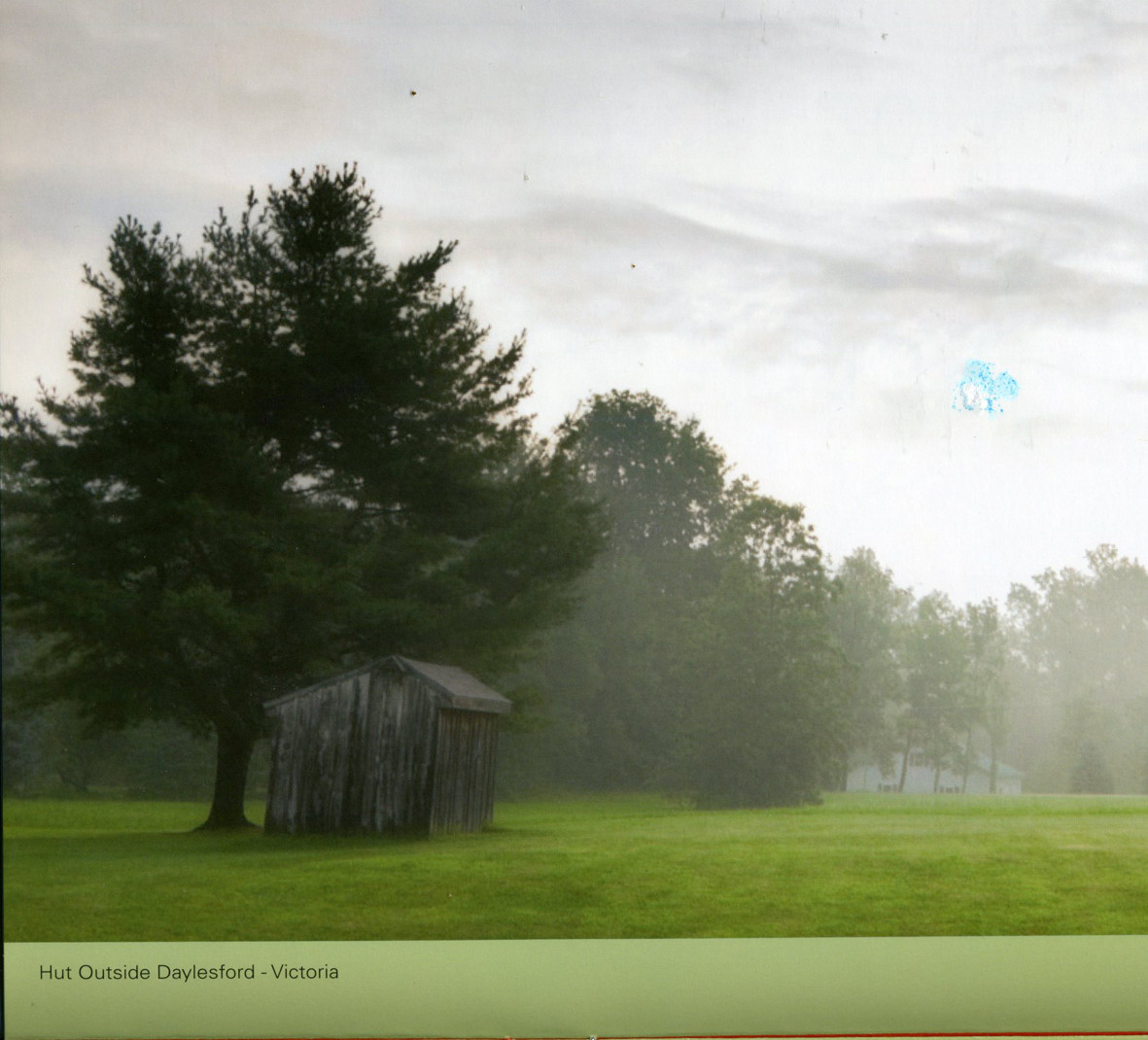 5-6-2011
I have just collected the first batch of things from the platers. Wow! I thought that the work they did on the parts for the Dixie Flyer were good but the headlamps and radiator shell for the Packard. I don't even want to unwrap them to photograph them. I may pluck up enough courage over the weekend. On the subject of things to go to the platers. I have just been sorting out a batch of small parts and guess what... I found the fourth hood latch! Just a day after I have sent off the money for the one I have bought on e-bay this week.
Your idiot friend!
5-9-2011
Some of you may remember I was rather shattered to find that the water-pump came out in eight pieces. Having asked around no one seemed to have a spare body so there was just one solution. Repair the thing. With some help from son Steve the job is done. Steve cleaned up my bronze welding repair to the flange on his lathe and I was so inspired with the result I decided to try completing the repairs today. Starting after lunch I have proved conclusively that eight really can go into one! All it needs now is a new shaft and some new packing gland material and it will be ready to go back onto the engine.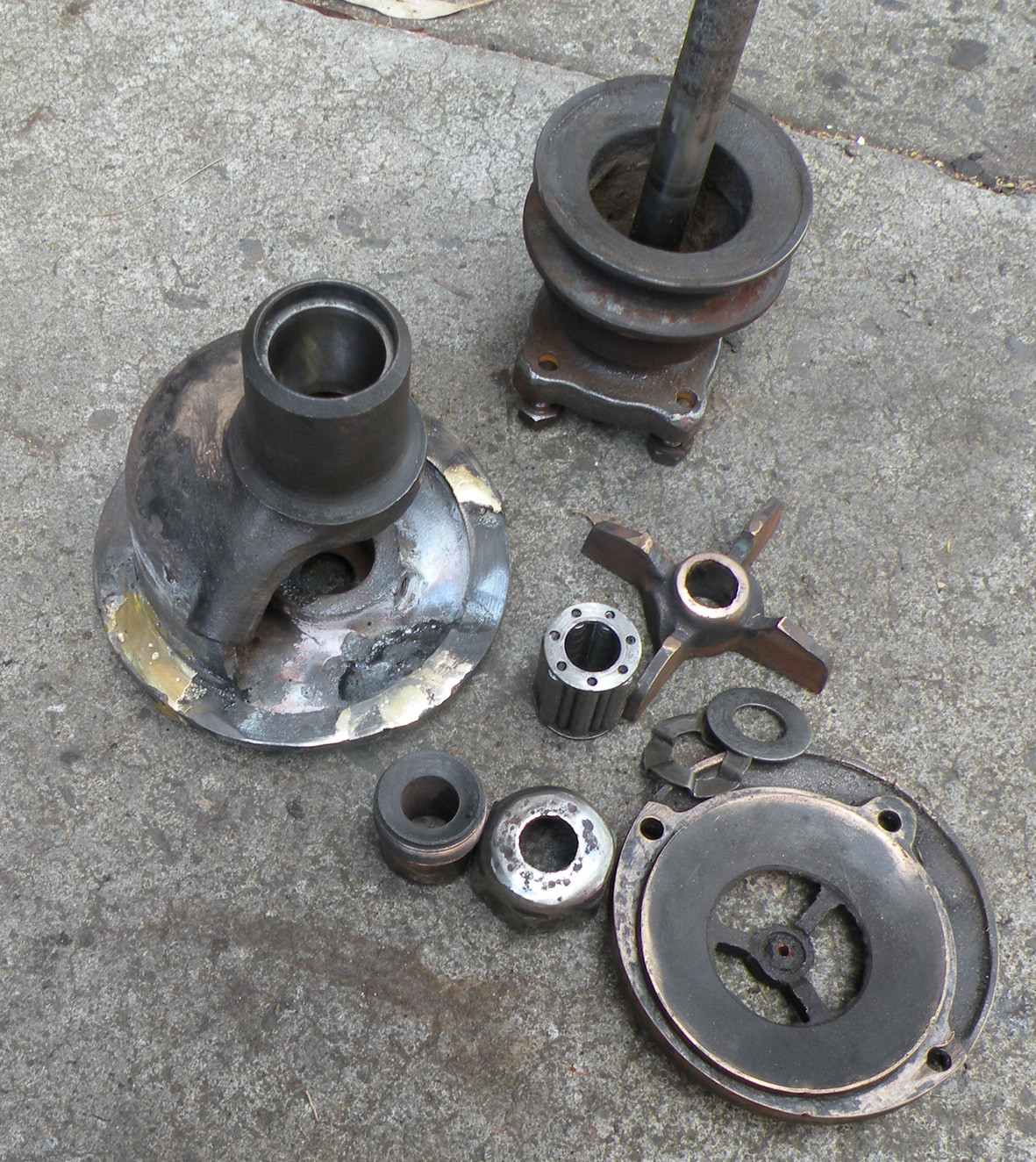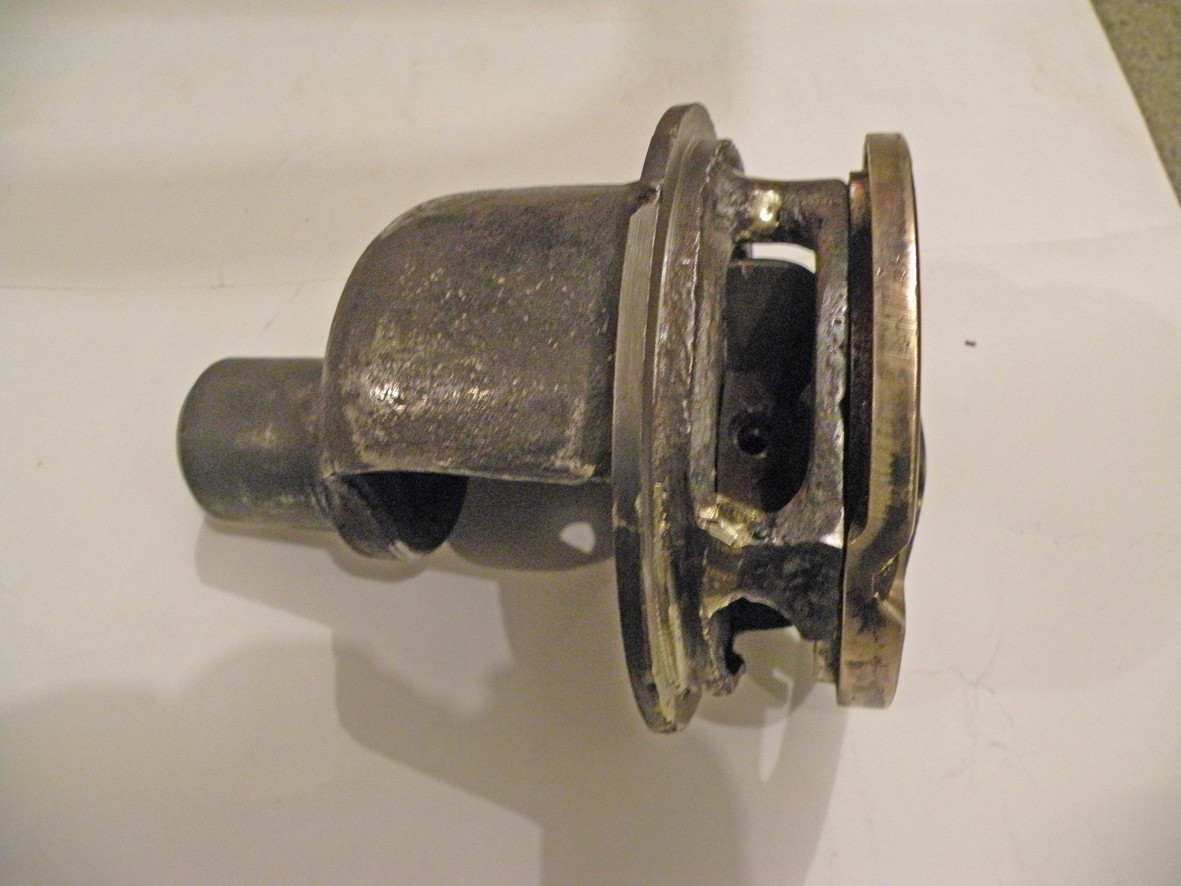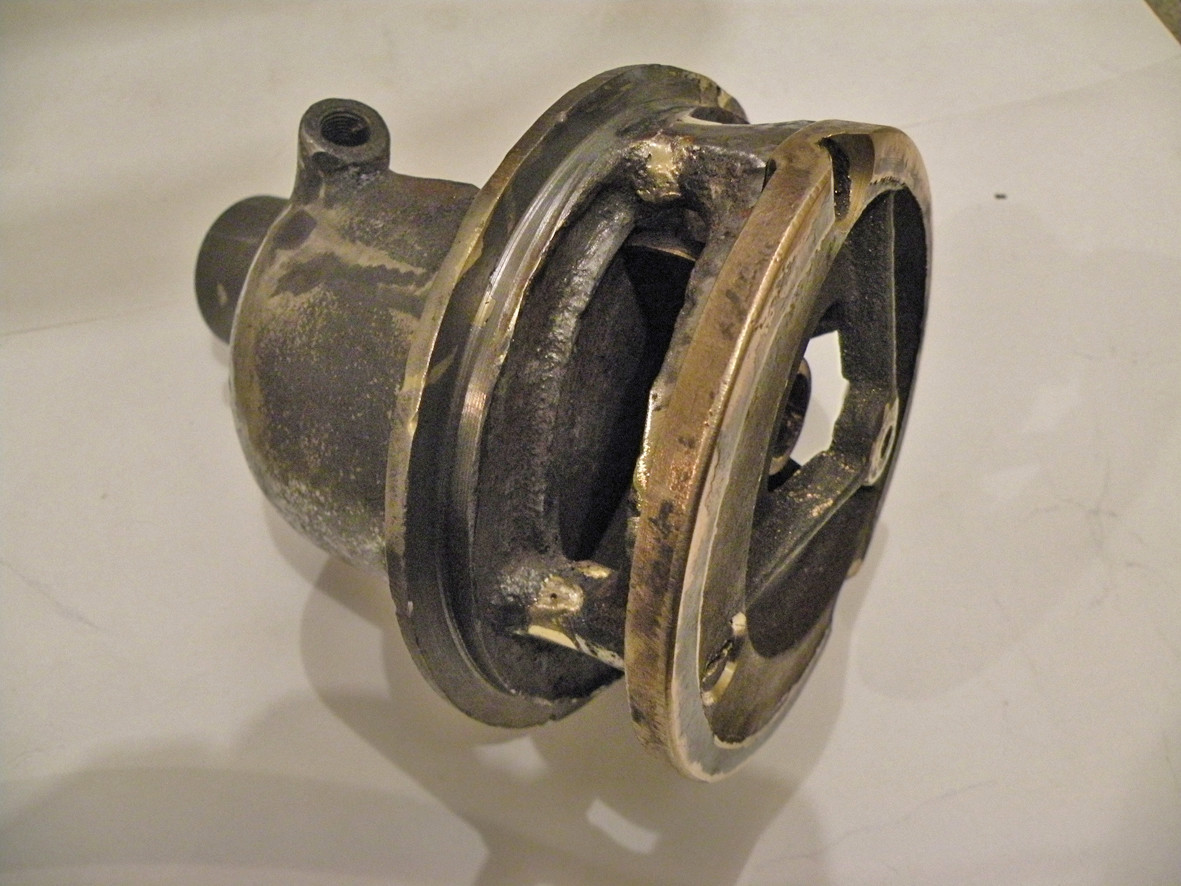 Hi Chris
I am going to replace the shaft as it is badly rust pitted under the seal. I have used the graphite impregnated string in two or three Dodge 4 pumps with good results and intend to try it again in the Packard. Once it settles down I believe that it can be a quite satisfactory solution to the problem. The main problem with the early sealing material usually comes from worn or rusted shafts.
5-11-2011
As the old saying goes "All work & no play makes jack a dull boy".
I have taken a moment off working on the Packard for some "play".
Remember some time ago I talked about a Dead-easy Tire Pump.
Having found a "crank-shaft" and collected the "cylinders" from the platers the other day I decided to have a day off and put it back together.
Here is the finished pump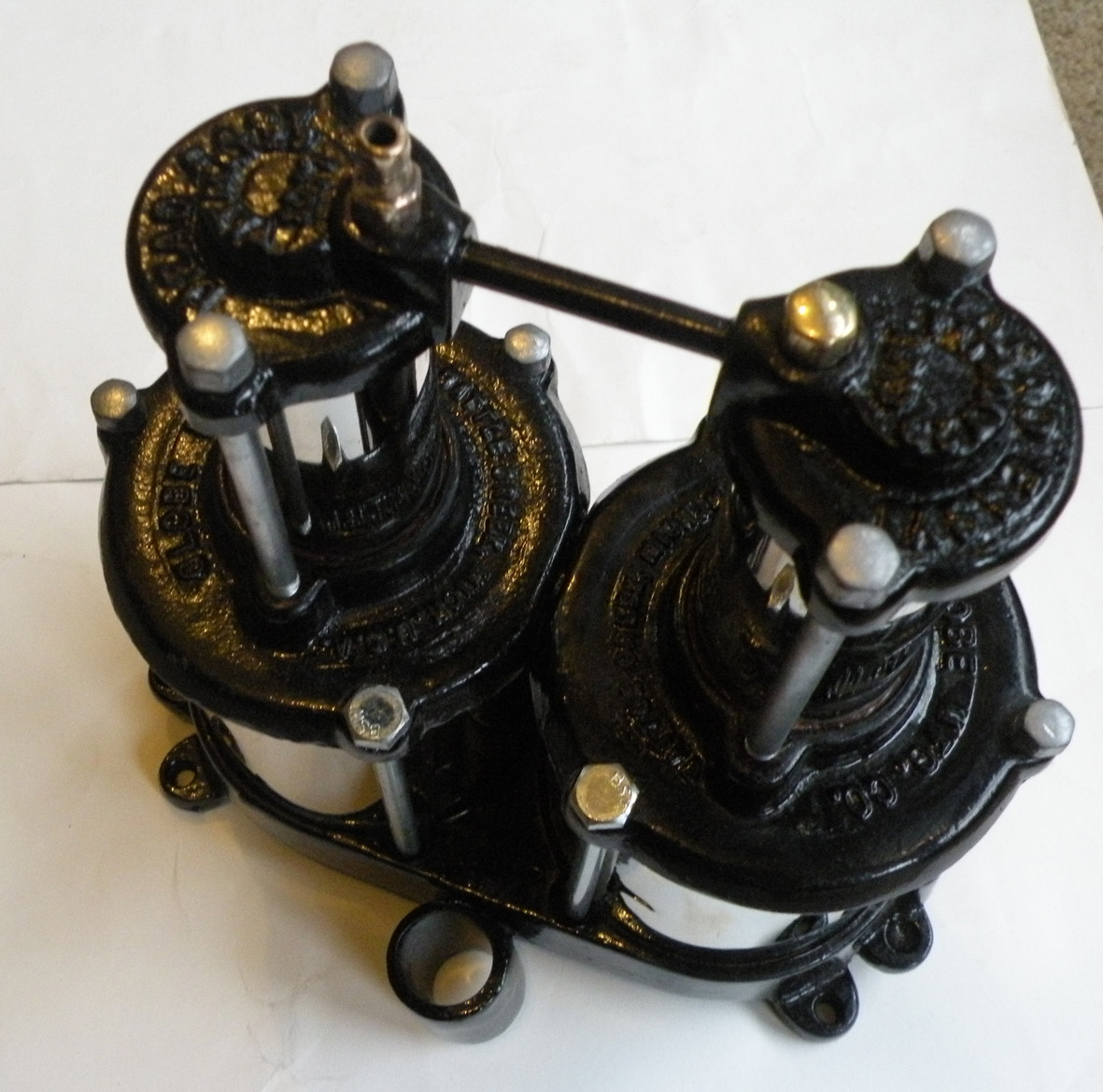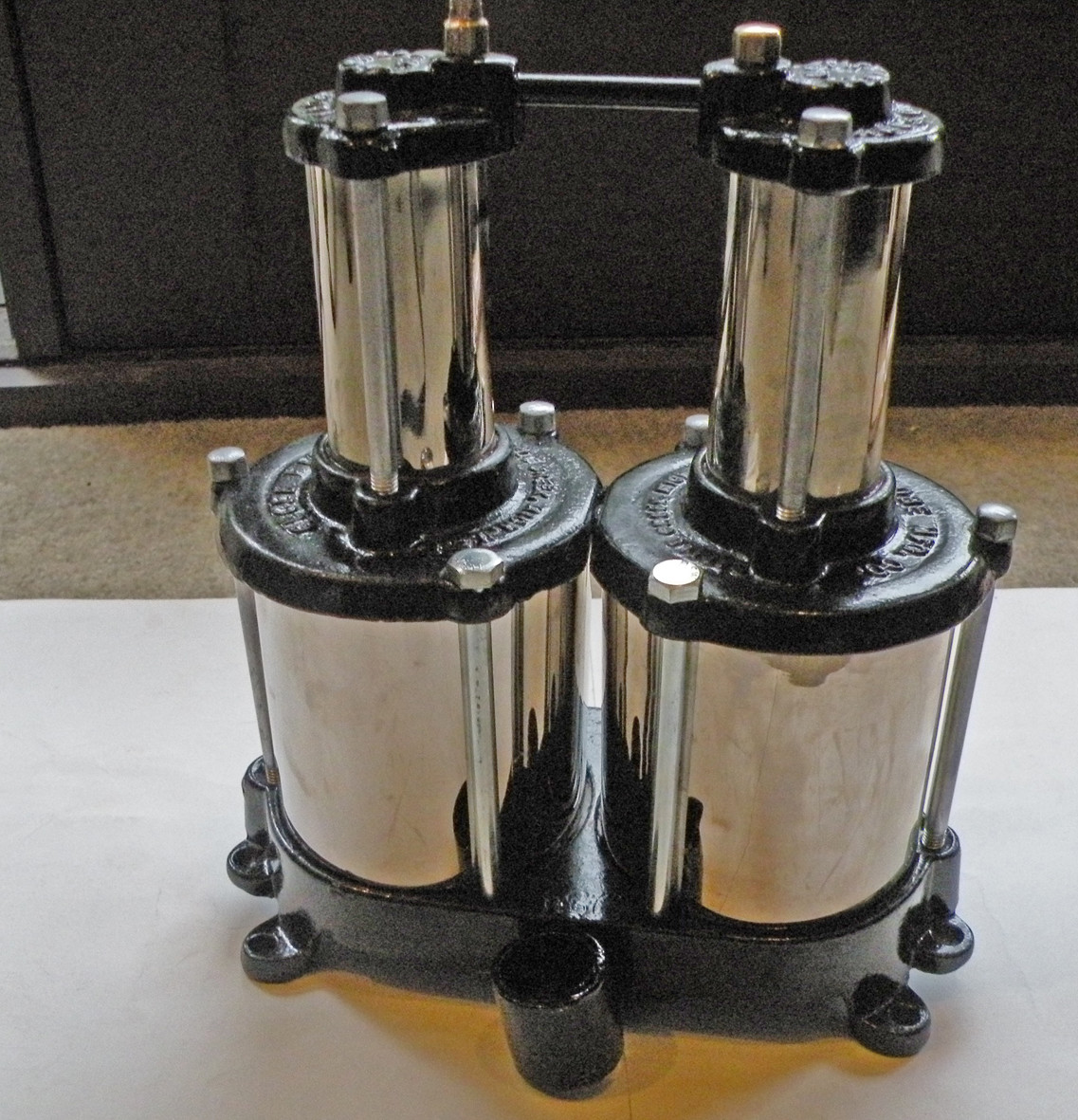 5-13-2011
Oh boy! are those Packard gear-boxes heavy or am I just growing old. I have had to rig up my one ton chain hoist to lift the thing. Now with heavy rain and near zero © temperatures it is not the time to be painting even gearboxes. The half I painted a day ago is still tacky so I cannot turn it over to paint the other side.
While I am waiting for the weather to improve I will make a start on sorting out the head lamps at least I can do those inside in comfort.
5-16-2011
The engine bits including the new aluminium pistons were delivered this afternoon. Now I can start to clean everything and start re-assembly.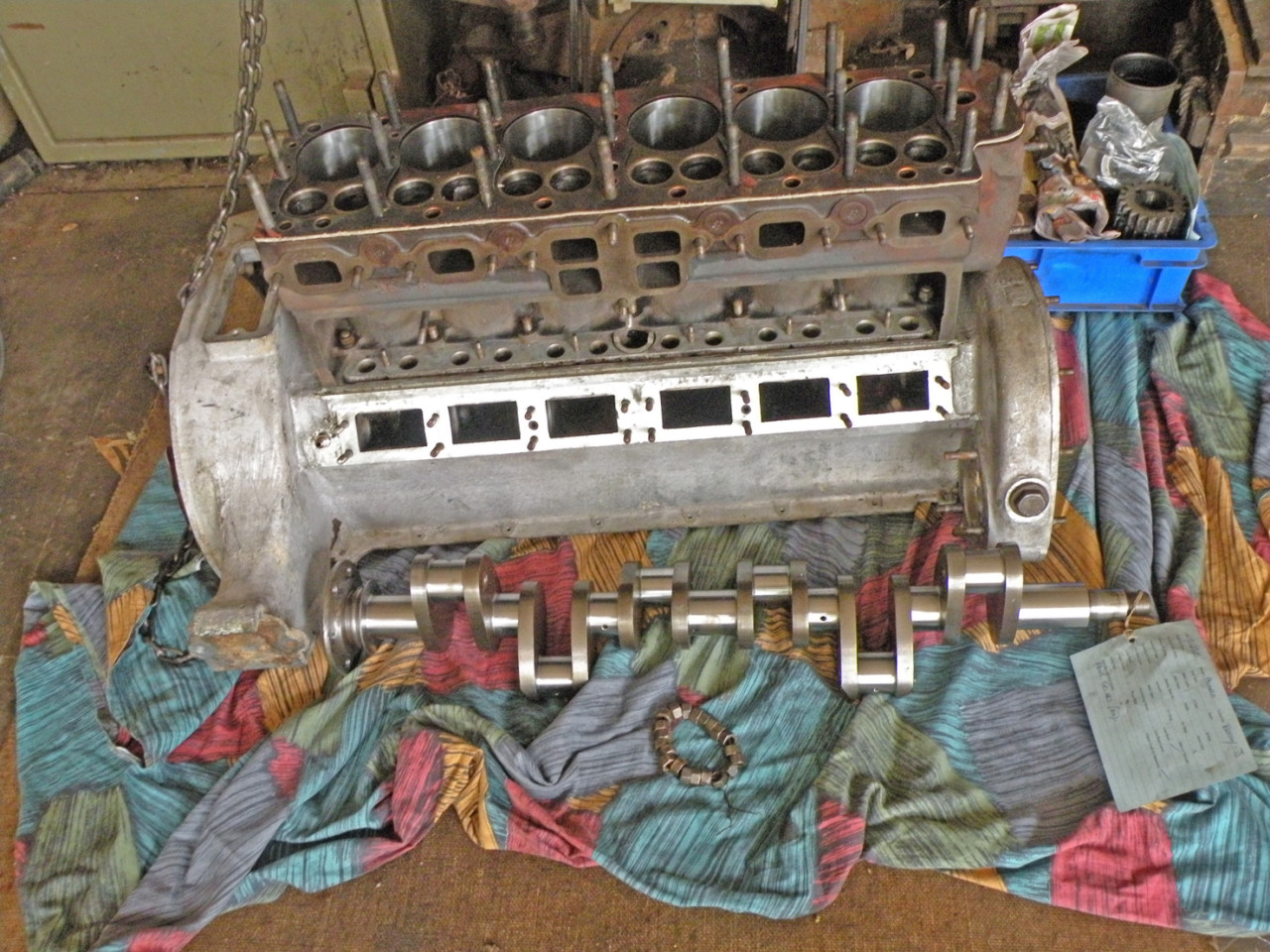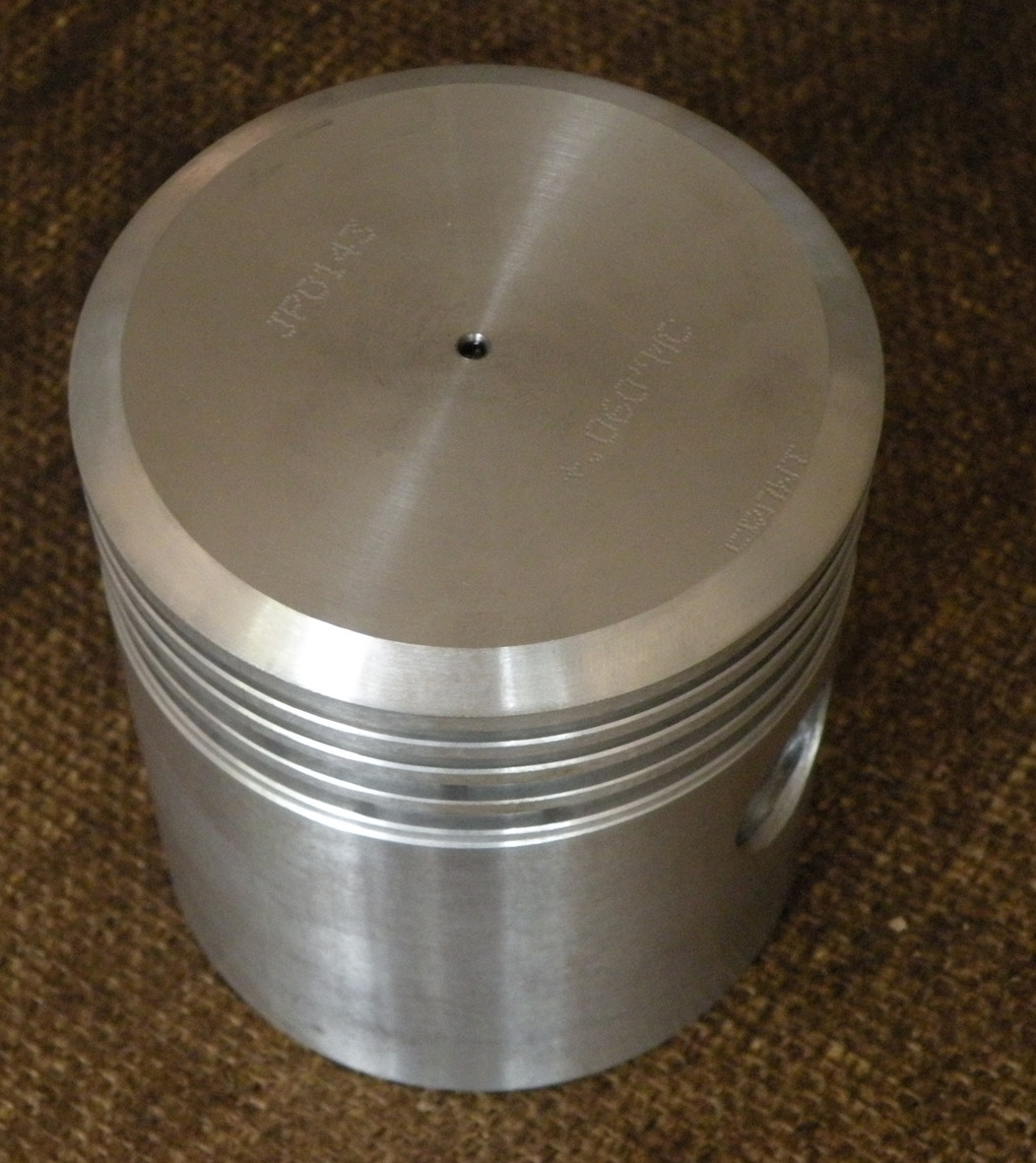 5-19-2011
Hi All
My absence for the last two or three days simply indicates that having almost recovered from CRB's $10,000 bill, I am busy out in the shed, slowly and very carefully re-assembling the engine. Having said that it is going together very nicely, while possibly somewhat expensive they have done a brilliant job in rescuing the crank shaft and bottom-end. Many people would have just said "too hard" and simply sent it to the scrap man.
Right now I am busy polishing the contents of a box of stainless steel, 1/4 UNF bolts 1/2 an inch long to hold the side water gallery onto the block. It all takes time....
5-20-2011
More progress today but every little detail takes time. I know that I am not saying anything new to many experienced restorers but with the Packard there is almost nothing that has appears to have received any constructive work in the last 85-90 years. For instance I doubt that the tappets had been adjusted since the car left the factory in 1923. When it last ran it must have sounded horrible. The ends of the valve stems had dug little craters for themselves into the heads of the adjusting screws.The depth of the indentations would have made it impossible to use a feeler gauge to measure the clearance. Below is a photograph two tappets, one as found and the other after refacing head of the adjusting screw. It is polished to a mirror finish, that is the reflected grain in the piece of wood they are on not scratches in the finish.
Ok it only takes twenty to thirty minutes to strip out each screw, grind down the head and bring it back to an acceptable finish then re-assemble it into the crankcase. There are twelve in the six cylinder engine taking the best part of six hours to complete this relatively minor task.
The good news is that they are all finished and last thing this afternoon I could lower the cylinder block onto the crankcase and bolt it down. Tomorrow I hope to be able to turn the motor over (upside down) so I can torque up the main bearing nuts and think about fitting the new pistons to the conrods.
Hopefully I will have some more meaningful photographs for you then.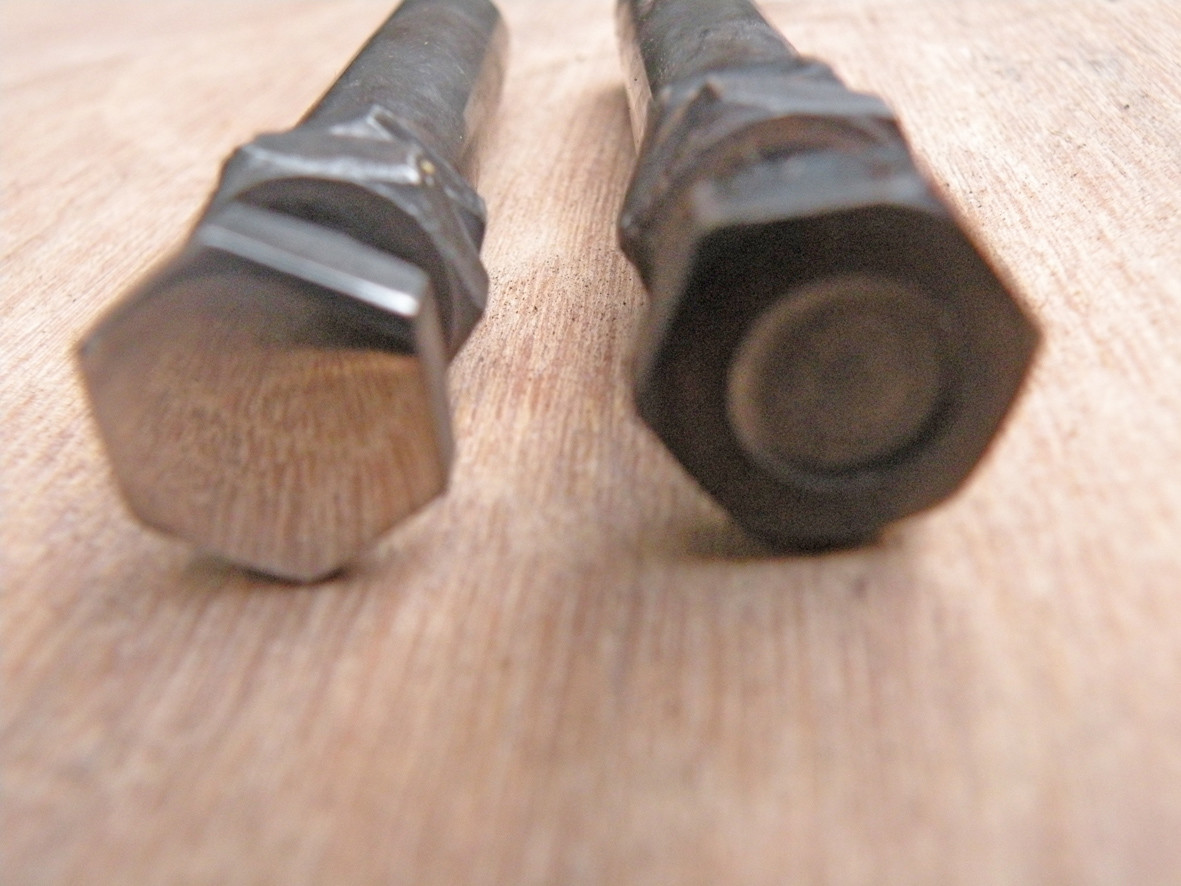 Hello Again
This may help.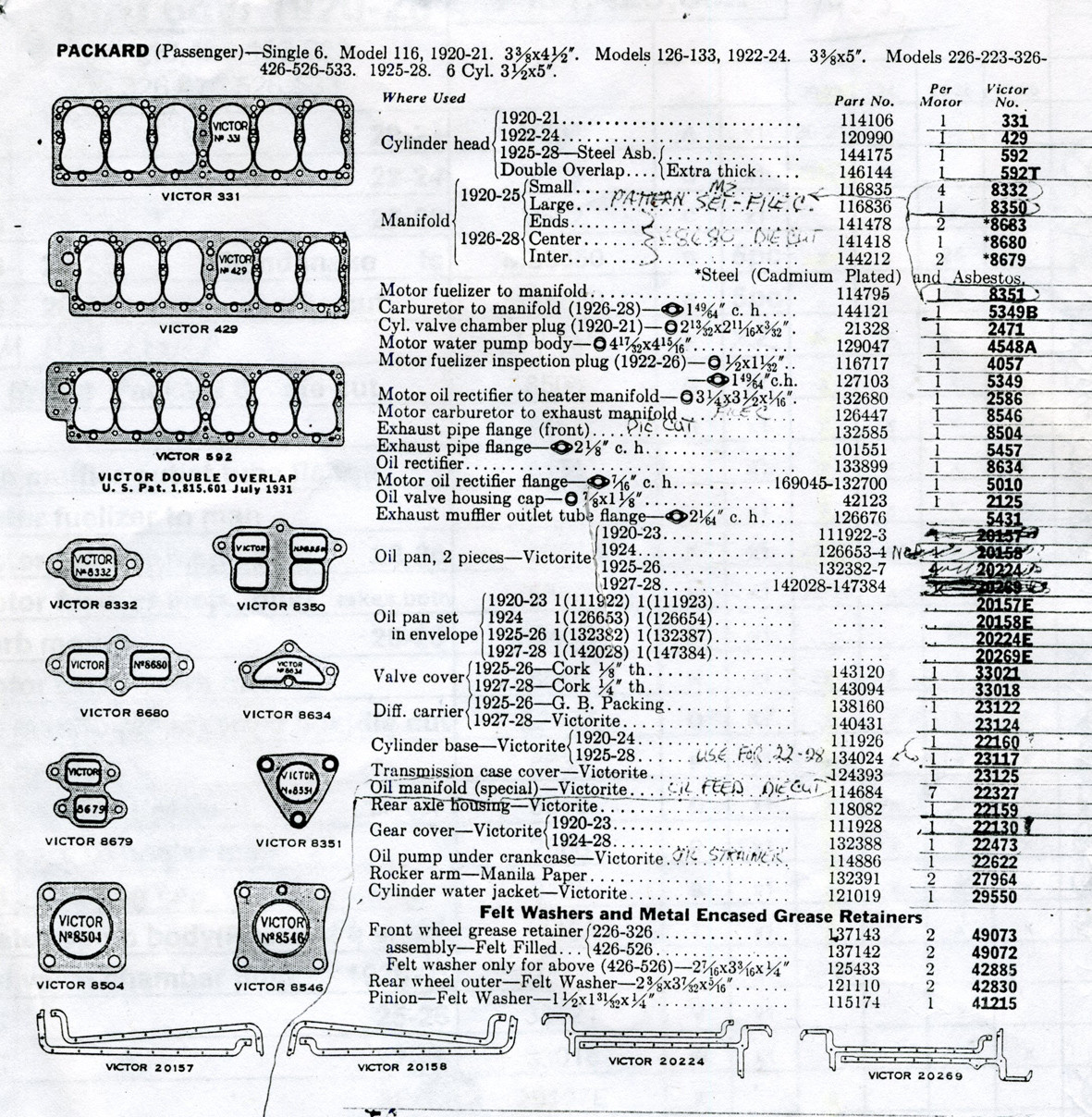 5-21-2011
Hi Chris
Sorry about the confusion.
I am old fashioned enough to believe that the gasket should do its job if the joint is bolted together to the correct torque. Having said that I do use Permatex Aviation Form-a-gasket on just one side of the paper gasket (Aluminium side in this case) Mainly to stop the gasket from "creeping" during assembly. This also means that if necessary the joint can be dismantled without damaging the gasket.
In the Lagonda Rapier's tool bag I carry a tube of Hi-Temp RTV Silicone "Gasket maker" for emergency repairs. By co-incidence this is also a Permatex product. Both packs tell me that they are made in USA. you can find them at Permatex - Adhesive & Sealant Solutions...Made for the Professional
Note: I have no connection, interest or share holding with the company, I just find their products tend to do what I want them to do.
5-24-2011
Hello Again
I had hoped to have some photos of the assembled engine to show you by now but every thing I have to do seems to be taking twice as long as I had anticipated. There are probably several reasons (excuses) for this. First, our Autumn (Fall) has suddenly turned into winter.
Then I managed to break an oil ring (*##*!) and am waiting on a replacement to come from Interstate. At least this has given me time to adjust all the tappets. This is much easier to do with the motor on its side. Not a job I would relish doing with the engine installed in the chassis working over the top of shiny newly painted front fender. Now I have finally decided to have the 23 original head nuts nickel plated so I have spent much of this afternoon linishing them and giving them a quick polish. Until I fit that last piston I cannot finish off installing the oil pump and oil feed pipe prior to fitting the oil pan. Tomorrow perhaps?
At last some progress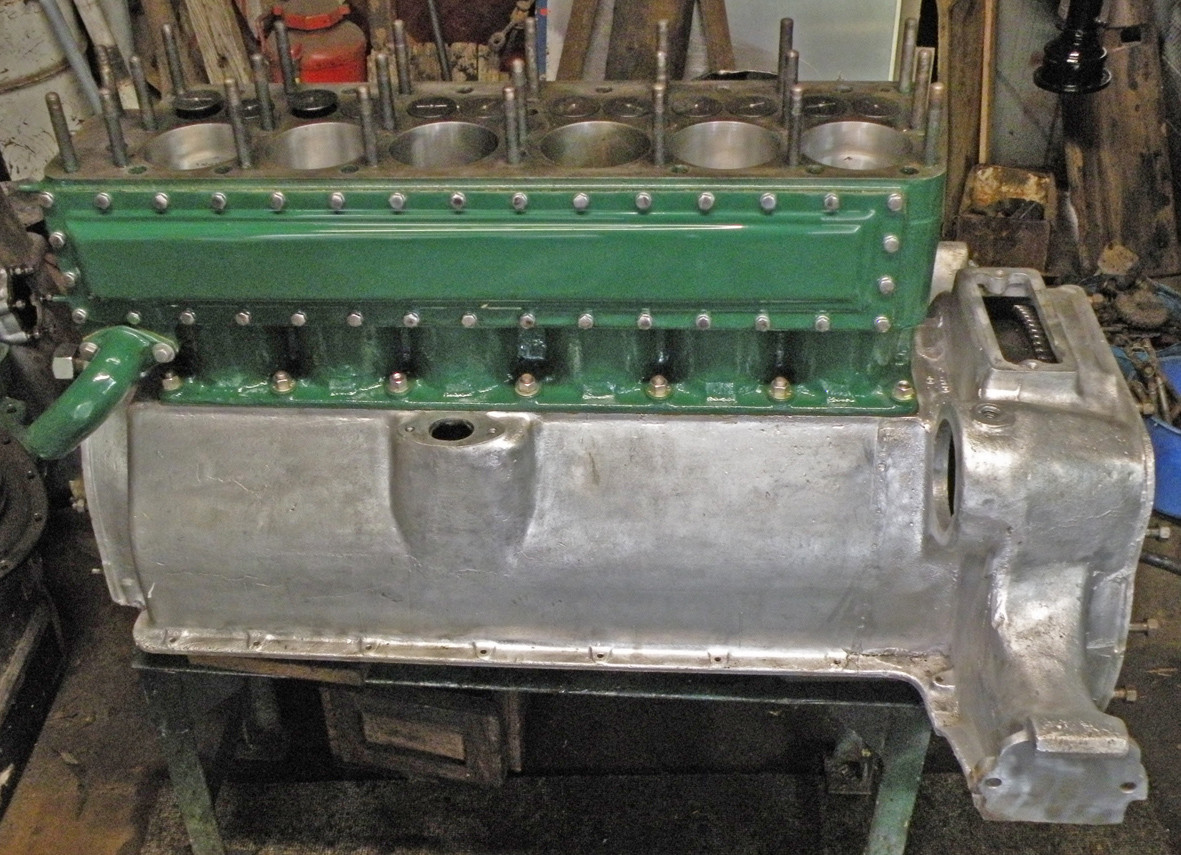 5-25-2011
Thanks Mal
The replacement oil ring arrived in the mail this afternoon. The postage cost more than the ring! The final piston is now in and all the B-Es torqued up, the oil pump and oil feed pipes installed ready for the oil pan (sump) to go on tomorrow am. Then the timing chain and front cover. It will be nice to have the motor all buttoned up before I start on the next item on the list.....
5-26-2011
Hello West
Again I am sorry but I simply do not know. Remember, I am new to Packards and the learning curve is quite steep. The one that came with my car is quite obviously not the original. It is a simple round Stop-Tail lamp and is from the wrong period (chrome). I had intended to have the rim re-plated (nickel) but that only partially solves the problem.
I am somewhat puzzled by the Green and White lenses on your lamp can you please explain their purpose. Certainly as it is genuine Packard I could be interested in buying if you are selling. Next question; do you have two?
Below are photographs of the lamp that came with my car. The multiple attachment options (see rear) would suggest that it is an after-market replacement. Perhaps someone can identify it?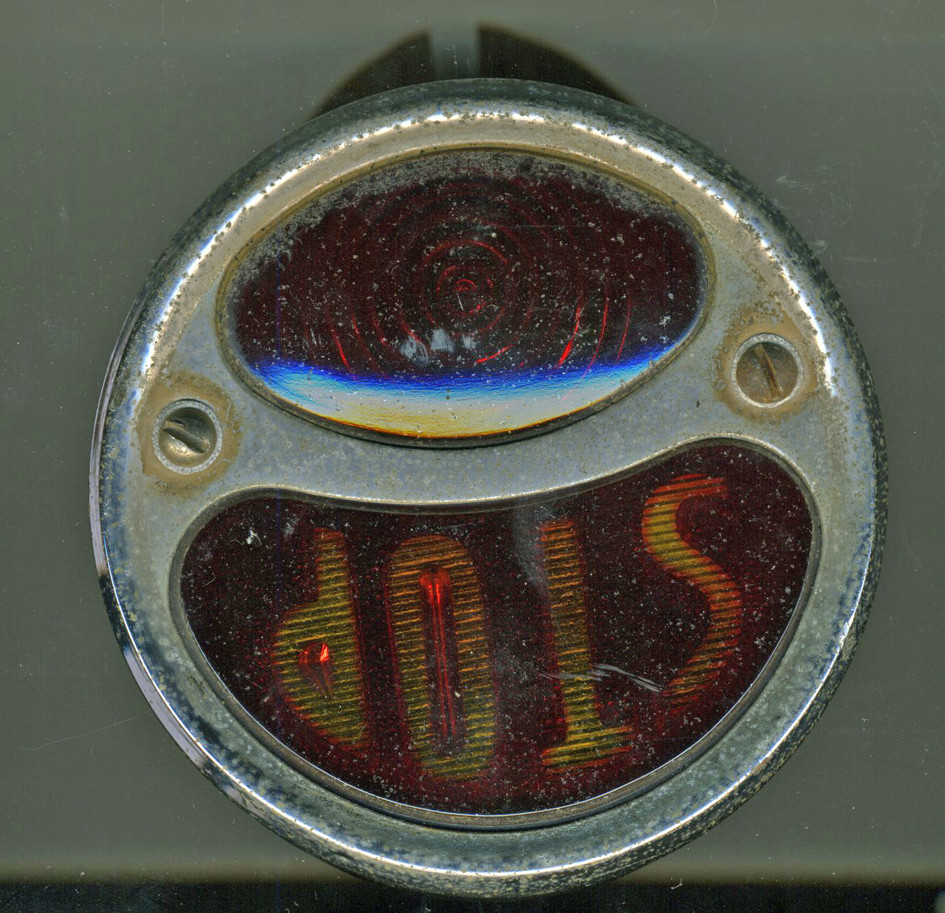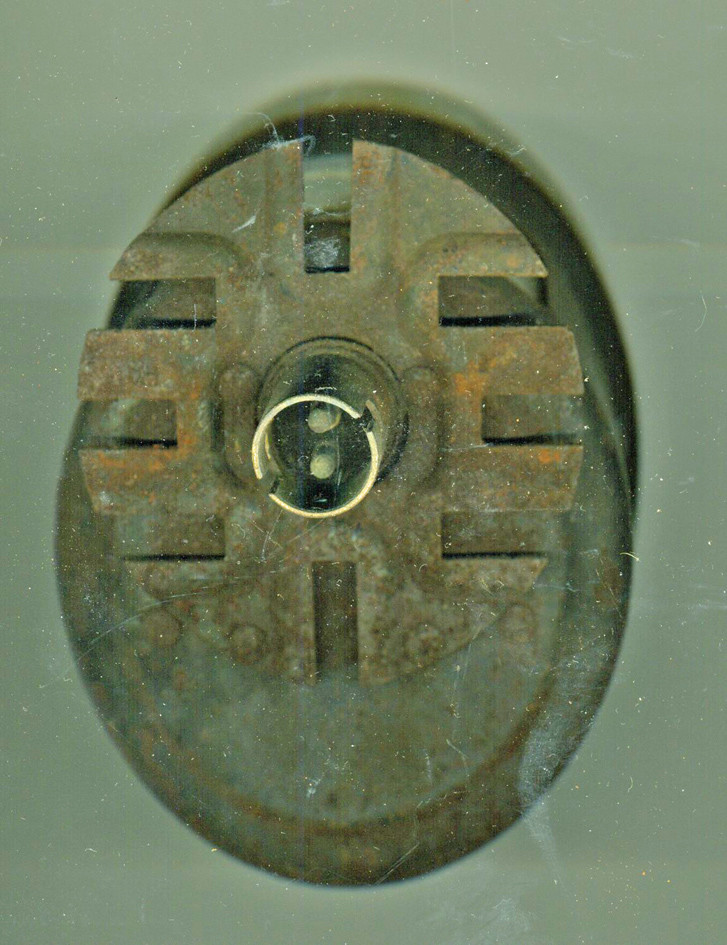 5-27-2011
Thanks West
I will send you a private e-mail re the tail lamp.
Meanwhile I am proceeding with the engine albeit slowly today I have been shopping with Helen Our regular Friday morning date. About the only time that she can persuade me to come out of the shed. This afternoon I "just had' to finish off a report on Vintage "happenings down-under" for the Automobile Mag in the UK, Readers of this magazine probably skip over much of my stuff.
Attached are some photographs of the engine progress. The gaping hole in the right side of the timing chain case is where the plug, that my pet poltergeist hidden somewhere in the shed, goes. The third photograph shows the top of one of the "high compression" pistons. The crown projects approx 3/16 inch above the top of the bore.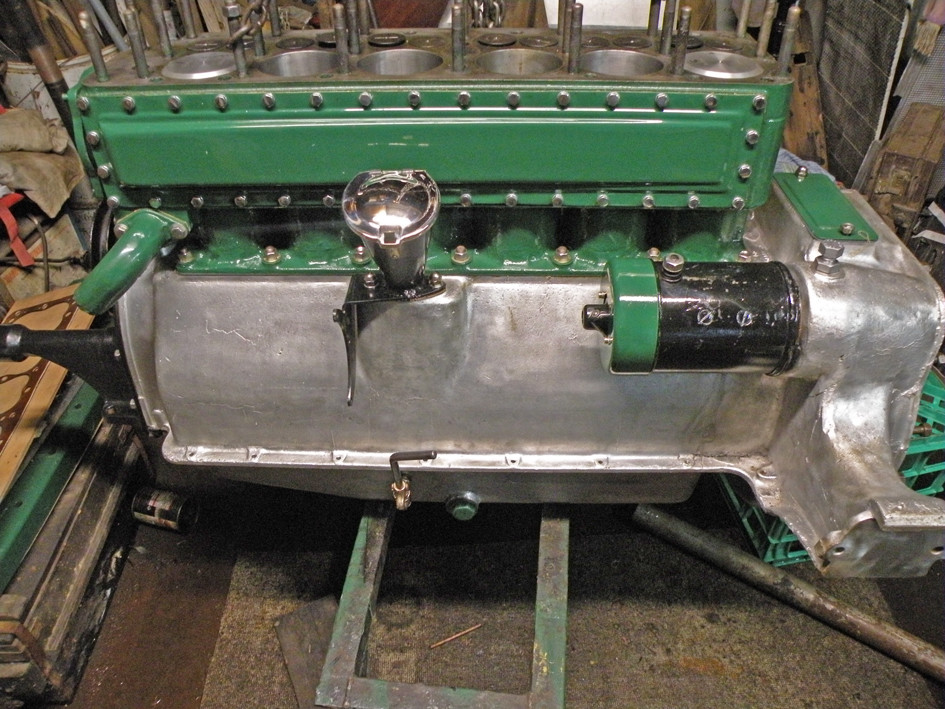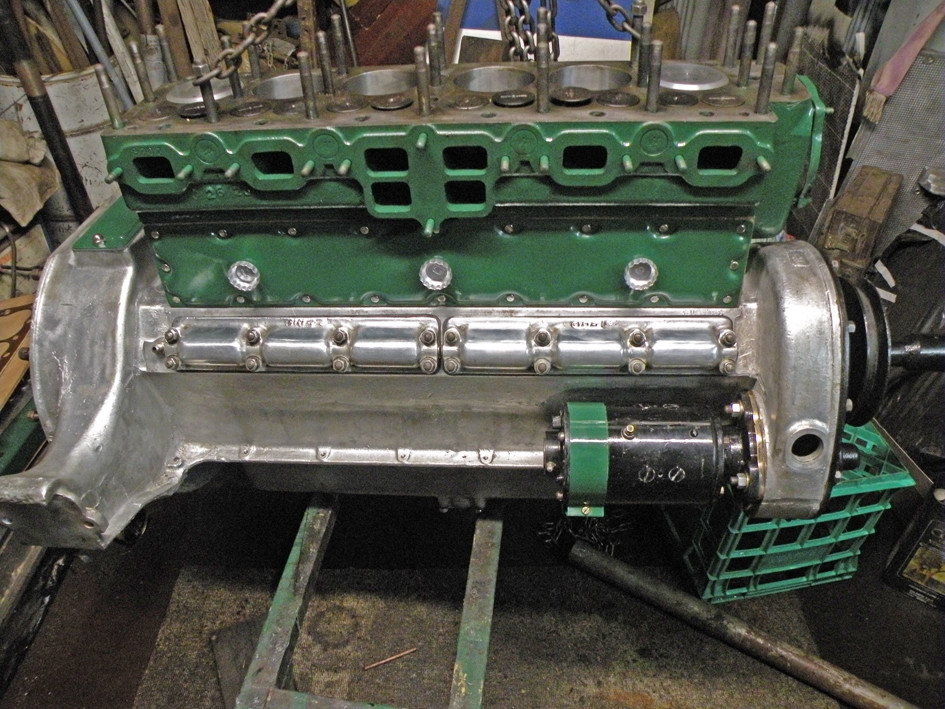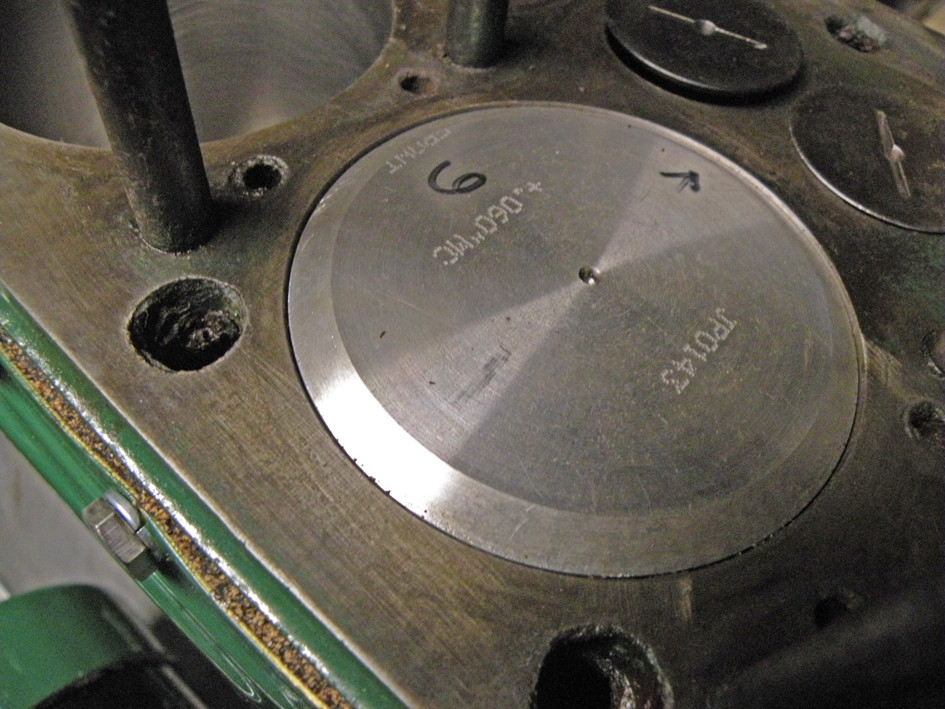 Anyone who has done a "proper" restoration will understand where the money goes. For example here is just one "shopping list" that I found in my jean's pocket, the one with the hole in it!
The problem is that I hate using old , rounded, stripped and rusty nuts and bolts.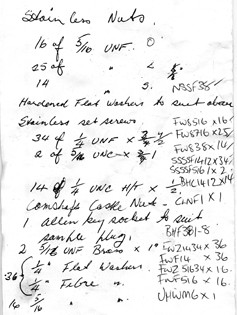 If any of the purists out there would like them I have several 1 Gallon (5 litre) oil containers full of "original" nuts, bolts & washers. All you have to do is collect them.
Re the above; I have used the original cylinder head nuts as they are a size and pitch no longer commercially available. As luck would have it they are the same size etc as those used on the Dixie Flyer so with some from the spare Herschell Spillman engines I have come up with 23 that cleaned up sufficiently to use. Most of the original nuts on the Packard engine looked as though they had never seen a spanner but two or three looked as though a rat had been nibbling at them.
5-28-2011
Hi Mal
Very early in this thread I explained that my car is actually 1923. It was simply my ignorance in all things Packard that caused this misunderstanding. Re the Taillamp West has told me via e-mail that Friatuck had identified that particular light as coming from a 1927-9 model possibly usually fitted to export cars going to Europe. If someone can explain how to alter the title I would be very happy to do so. Any connoisseur of fine wines will tell you that in France 1923 was a very good year for Reds.
It seems that my "original" Divided round tail lamp should be more than acceptable provided that I re-plate the rim nickel.
5-29-2011
Having done some more research neither the Wiring diagram in the 1922 Single Six Information book or the 1923 "Facts about" book make any mention of a Stop light. None the less in the interest of road safety I will be including a working stop lamp when I come to do the electrical work. RE keiser31's illustration. I feel that this more likely to be a re-touched photograph. Either way, I would think the chances of finding one of those tail lights to be fairly remote. I would be pleased to hear from anyone with one surplus to their requirements. Perhaps West's contacts at the Packard Museum would know of one.
5-31-2011
As I progressively work my way through the engine I have now reached the distributor. Can any of the good people out there with far more knowledge and experience than me suggest a possible source for a replacement distributor cap and rotor.
Thank you
6-1-2011
Hi Friartuck
Many thanks for the up-date & info. To the best of my knowledge my car is 1st Series (Mid 1923) Chassis Number *U28317* Perhaps someone can give me a precise date.
The lamp I have is plainly not original but until something better turns up I currently have it apart. The rim is at the platers having the chrome stripped off and new nickel plating. The body has been stripped and is currently in primer. I have done away with the multi choice mounting bracket and will have two bolt attachment to the original fitting. The two glasses (main [red] & number plate [clear]) have been washed and carefully wrapped in tissue.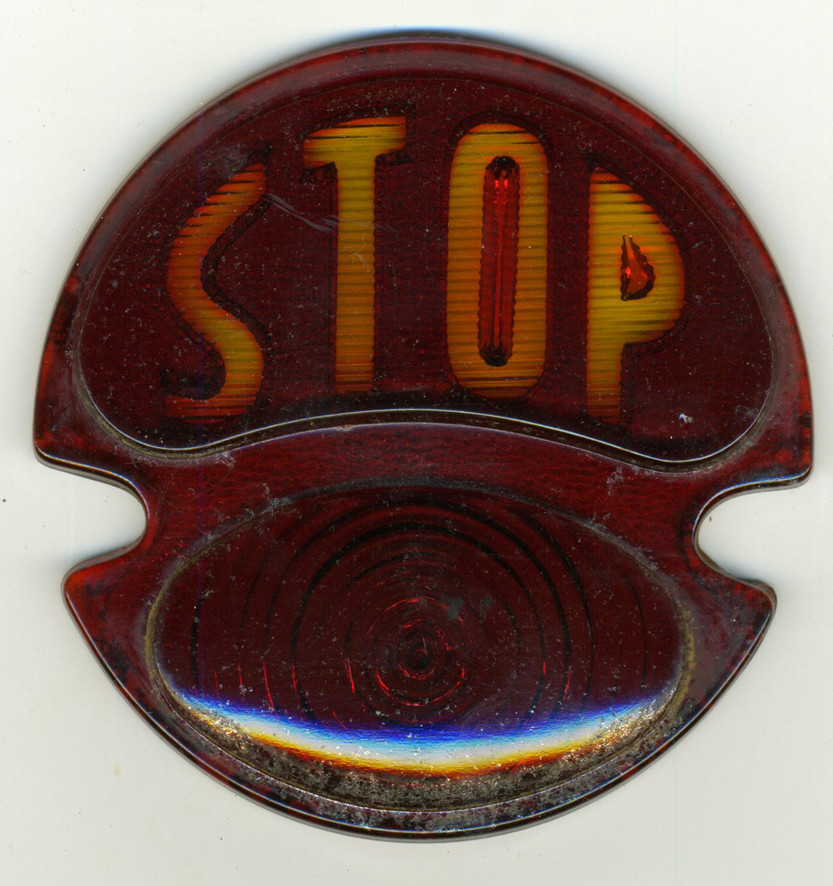 6-2-2011
One quick thought regarding the tail light glass. This is one piece and rather than a stencil for the word STOP, this is actually cast into the glass so the entire window is lit when the globe is illuminated rather that just the STOP. Most of the other lamps that I have looked at rely on the stencil to create the word and in doing so mask out the rest of the glass.
6-3-2011
Finally I have the cylinder head in place and this brings me to the question of spark plug leads. I want to replace the existing black plastic covered leads with the correct cotton covered hi-tension cable. The question is what colour? Yellow with a colour trace or black? Normally I would use the yellow but looking at photographs of other peoples engines they appear to have used black. Does anyone know what would have been used originally?
Finally I have the cylinder head in place and this brings me to the question of spark plug leads. I want to replace the existing black plastic covered leads with the correct cotton covered hi-tension cable. The question is what colour? Yellow with a colour trace or black? Normally I would use the yellow but looking at photographs of other peoples engines they appear to have used black. Does anyone know what would have been used originally? Also did the low tension wire from the distributor to the coil go through the conduit along with the hi-tension cables?
Bernie J.
Anything has to be an improvement on how it was when I first bought the car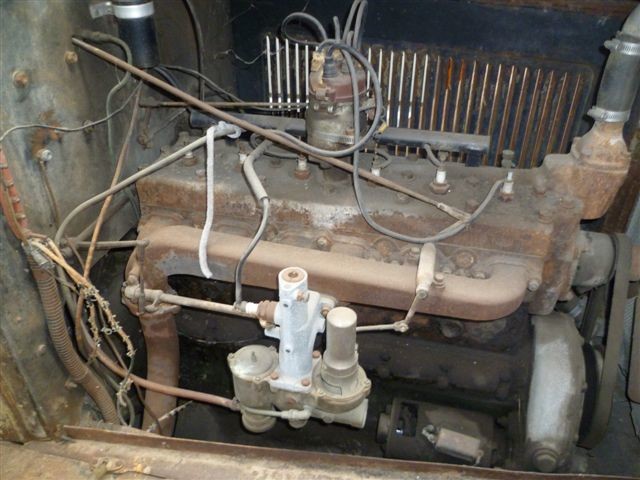 6-4-2011
Just a quick aside.
I am excited to be able to say goodbye to the Land Rover Discovery I really could never feel "at home" in it. In its stead I am pleased to welcome back an old friend. Our 1997 Peugeot 405 SRi. This has been in the family since 1998 and has just returned from an extended loan to one of our sons. It is a truly great car and I am looking forward to using it as my daily driver of choice again.
I don't know if you got this model Peugeot in the USA but this one is a 5 speed manual. Front wheel drive. It has typically French long legs and holds the road like a limpet. Super comfortable, air con and an electric (Glass) sunroof makes sunny day motoring a breeze.It has all the tricky bits of a Mi16 without the hassles.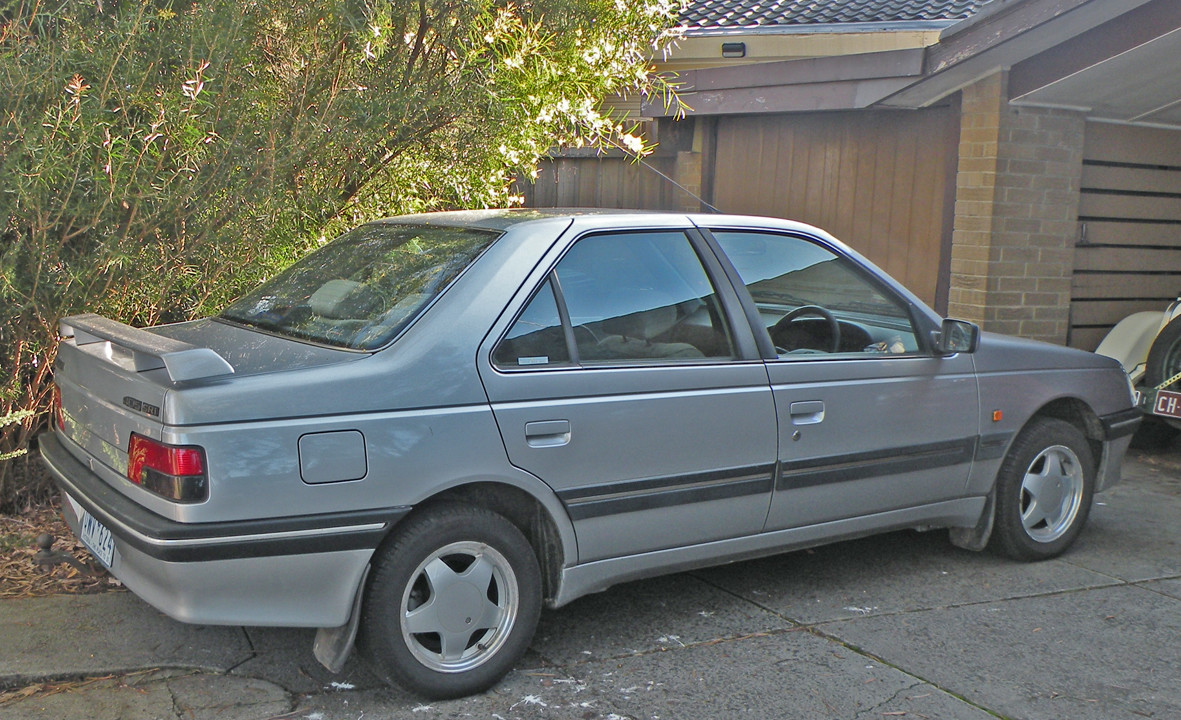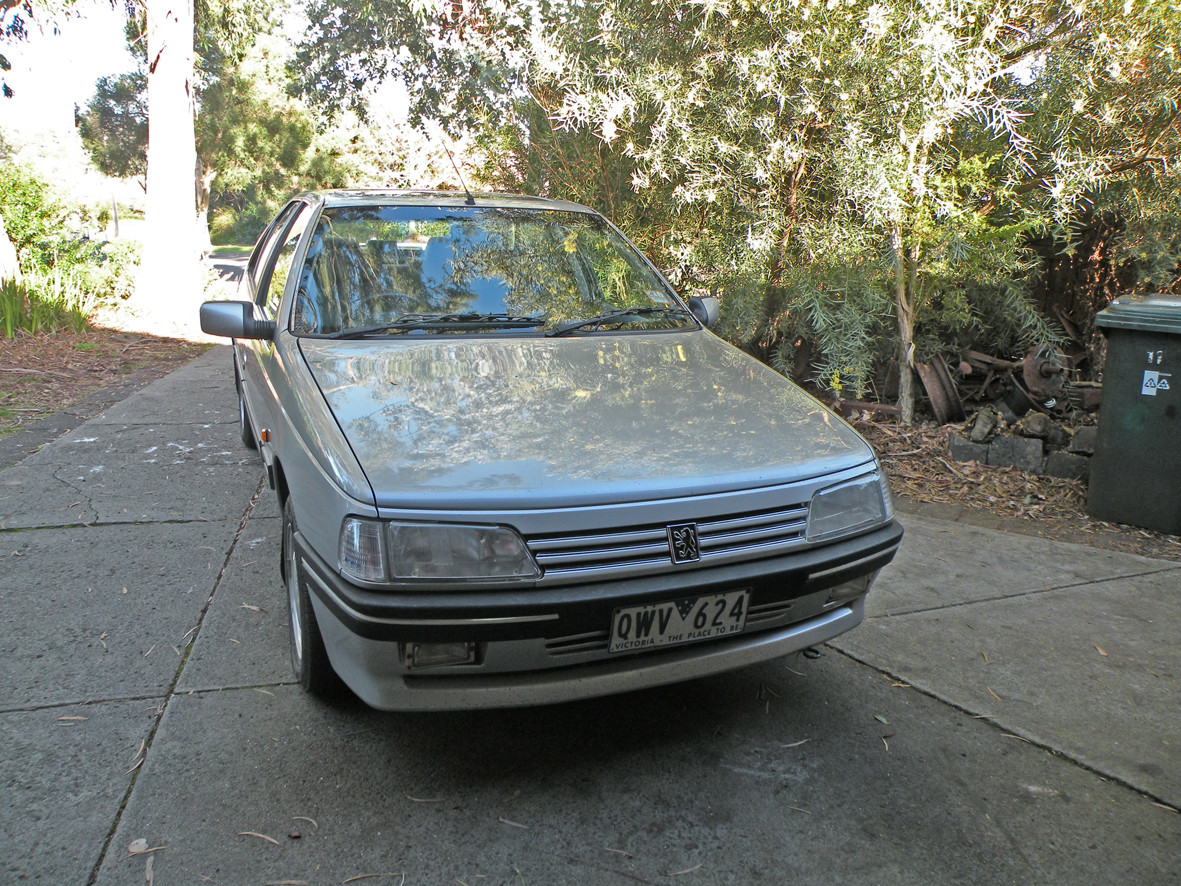 6-8-2011
Hello all
I seem to have shocked you all into silence with the photographs of the Peugeot. Pity it really is a great "drivers" car but enough distractions for now!
Aaron is onto the last lap with the Packard body he tellsme that there is about two more weeks work for him to complete. All I am waiting for now for the engine is the distributor which is being checked over by my friendly local ignition man. I have just this morning bought the cotton covered hi-tension wire for the spark plug leads. I am still searching for the screw in plug for the timing case that disappeared mysteriously into some seldom visited corner of my workshop a couple of weeks ago.
One more thing to be added to the want list is a mesh stone guard for the radiator.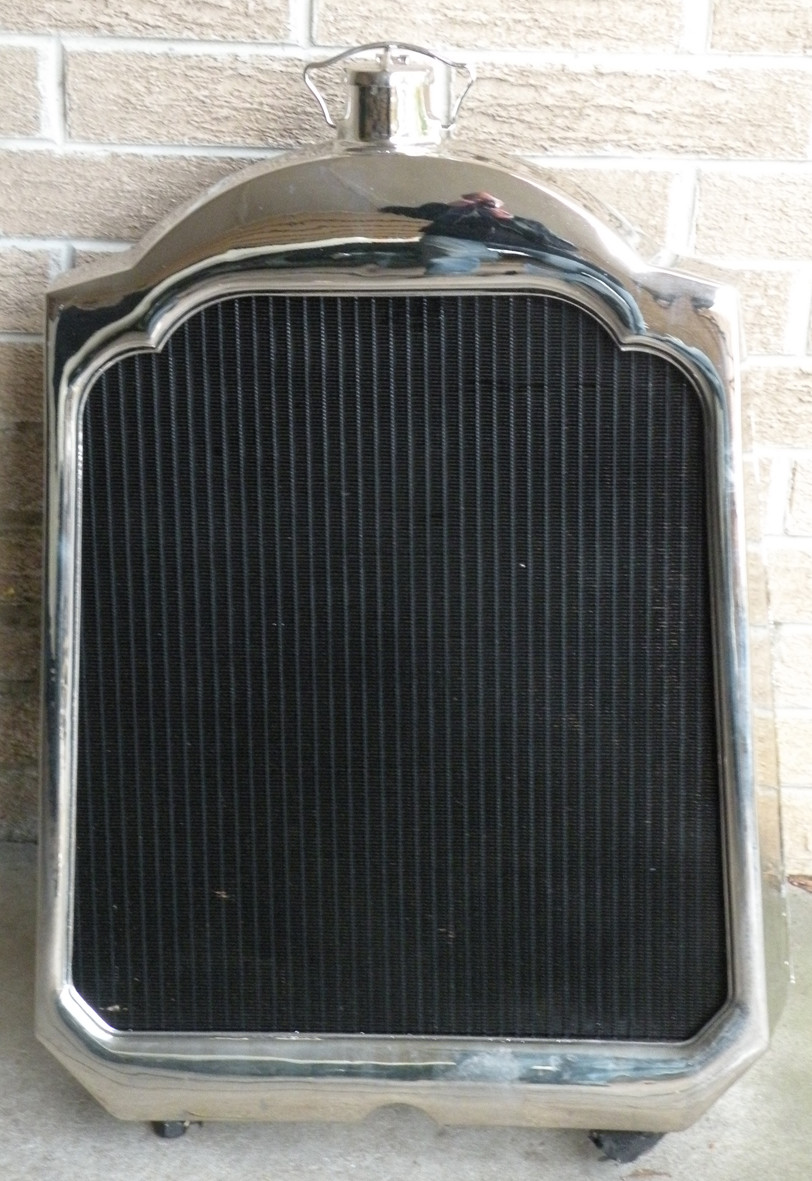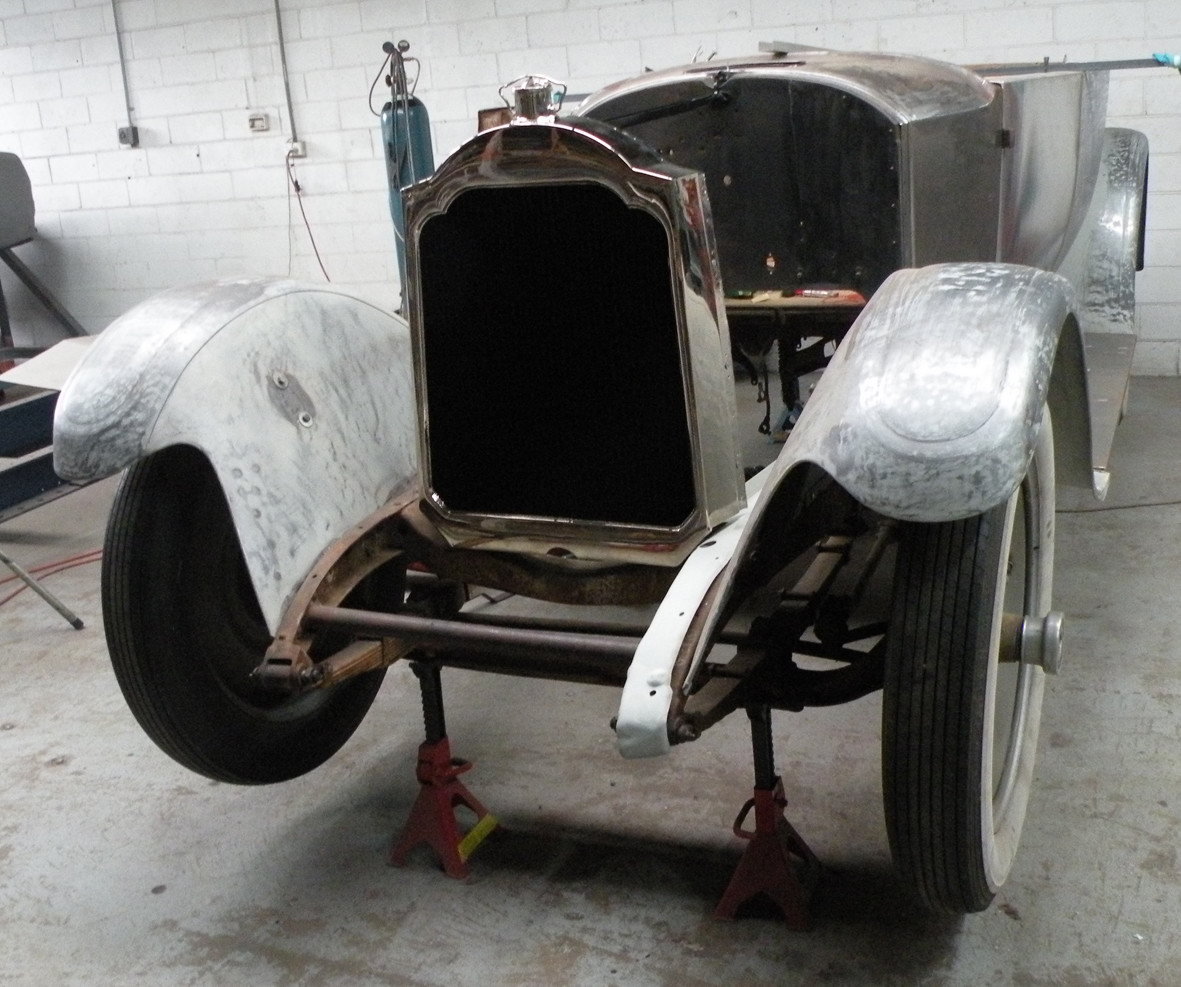 6-8-2011
Hi West
My reasons for wanting a stone guard is two fold. First, Yes I do like to drive my cars. Then having been given a choice between a $5,500 re-core using a reproduction honeycomb with questionable cooling efficiency and a $3,500 job using a modern core with guaranteed ability to keep the engine cool in modern traffic conditions, I chose the latter. The one problem with the modern core is that it is susceptible to stone damage and there is a lot of it exposed. Of course from an appearance point of view it is quite obvious that it is a modern core and it would look slightly better covered with a mesh "stone-guard".
Even if the stone guard costs $2,000, and I hope that it doesn't, I believe that I will have a better outcome.
Hello Again
Several people at various times have suggested that I contact Henry Yeska. Despite a number of efforts on my part I have been consistently unsuccessful. Can anyone please give me his contact details.
Surprisingly there are several H Yeskas living in PA none that I have tried seem to be the right one.
6-10-2011
Some little time ago we were discussing tail lamps. I thought that you may like to see my original one purchased with the Packard. I have recently done a little work on it.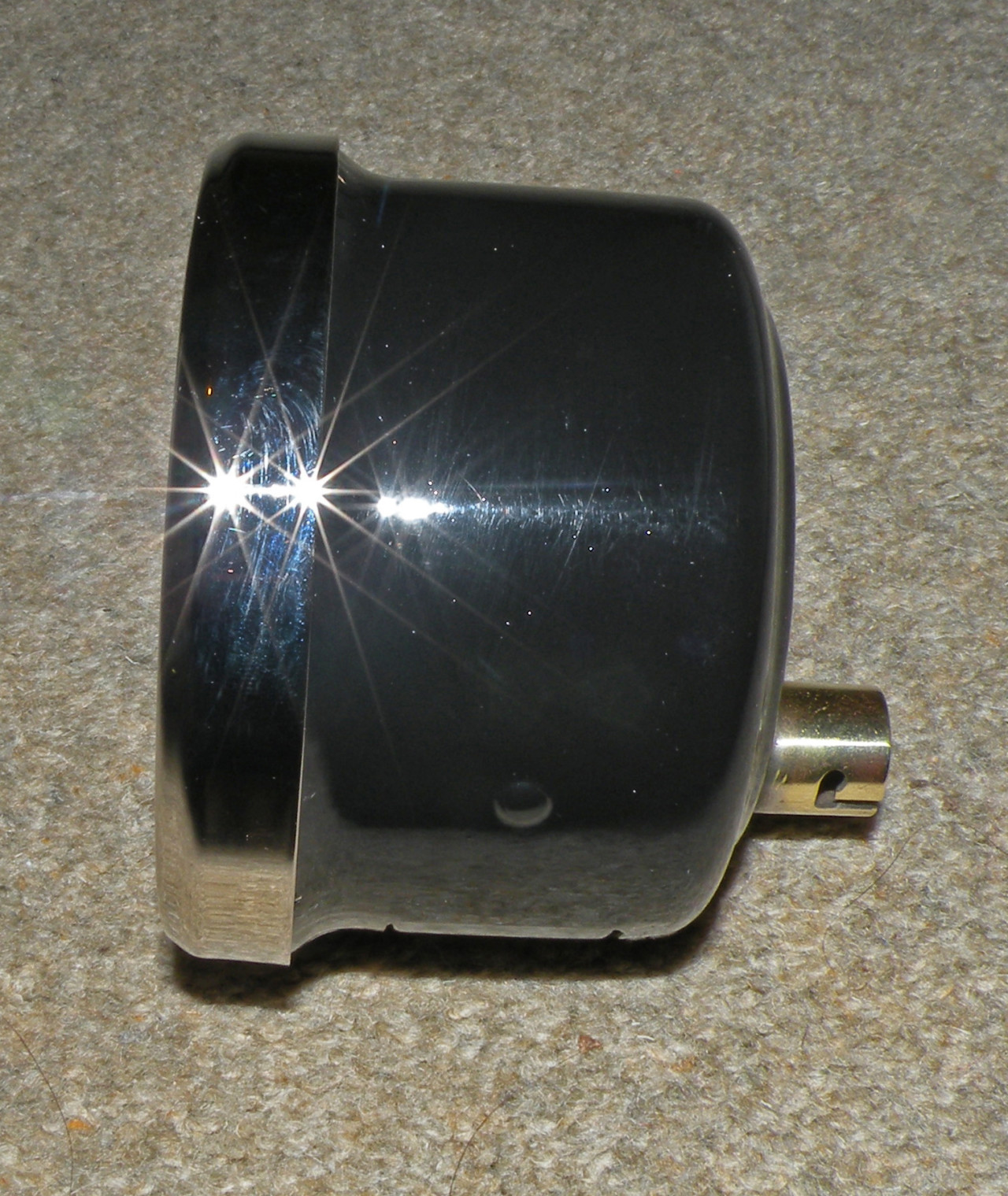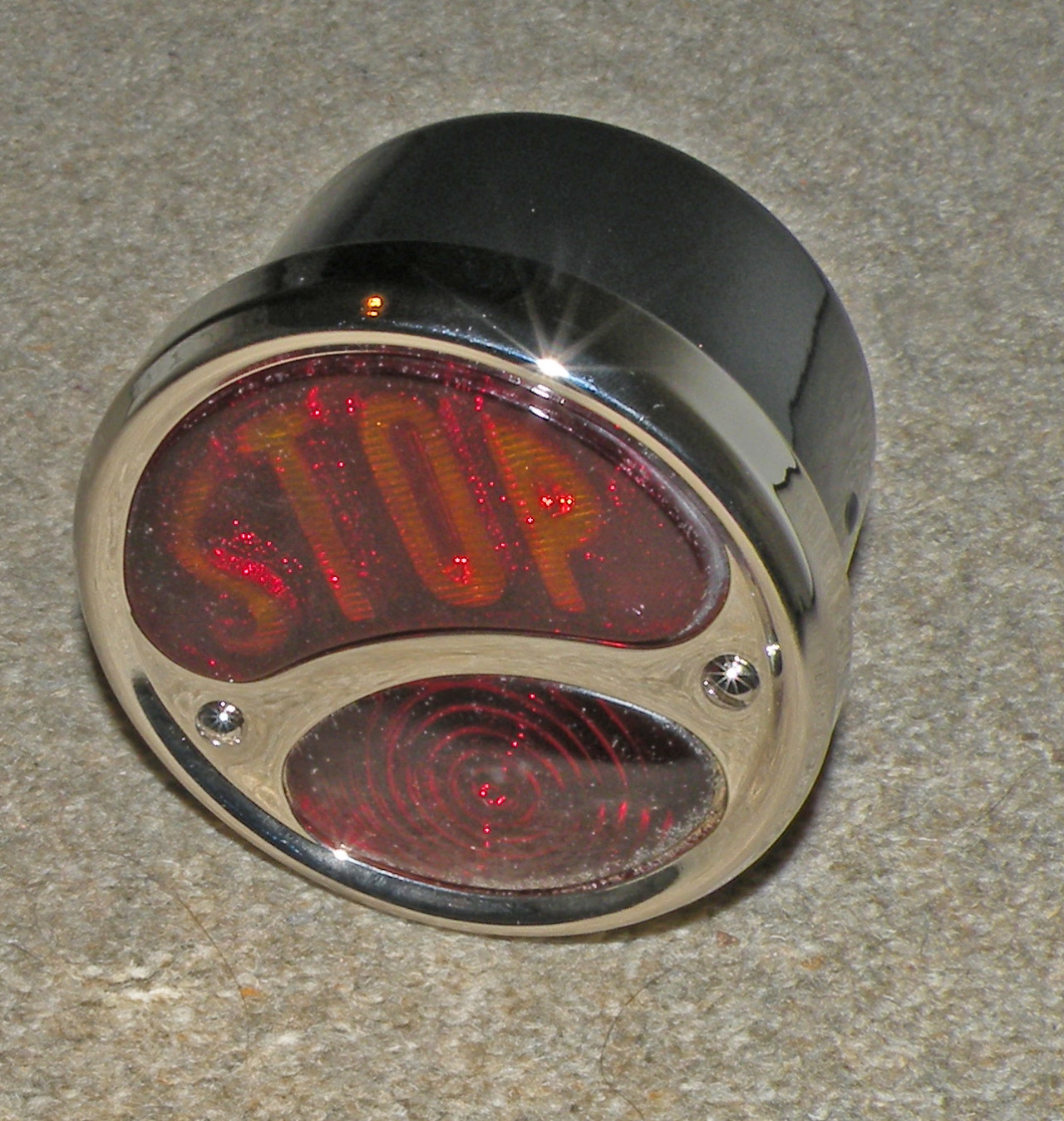 In addition to working on the Tail lamp I have done a bit more on the engine. I know that you all like photographs so I will share these with you.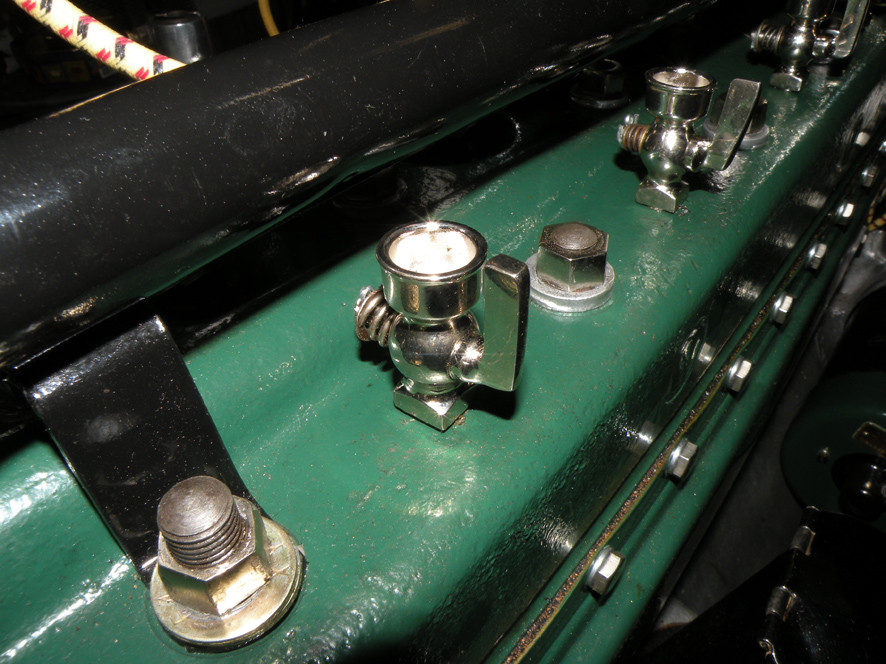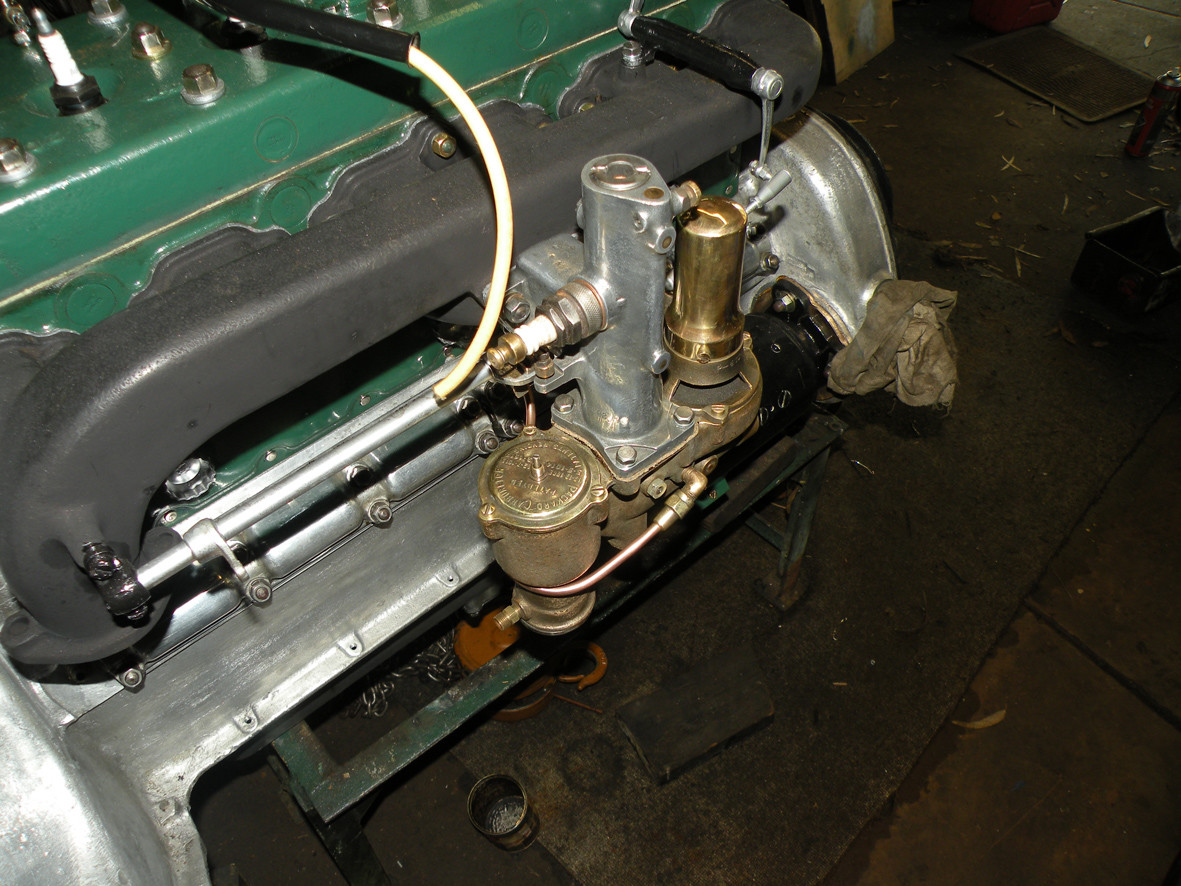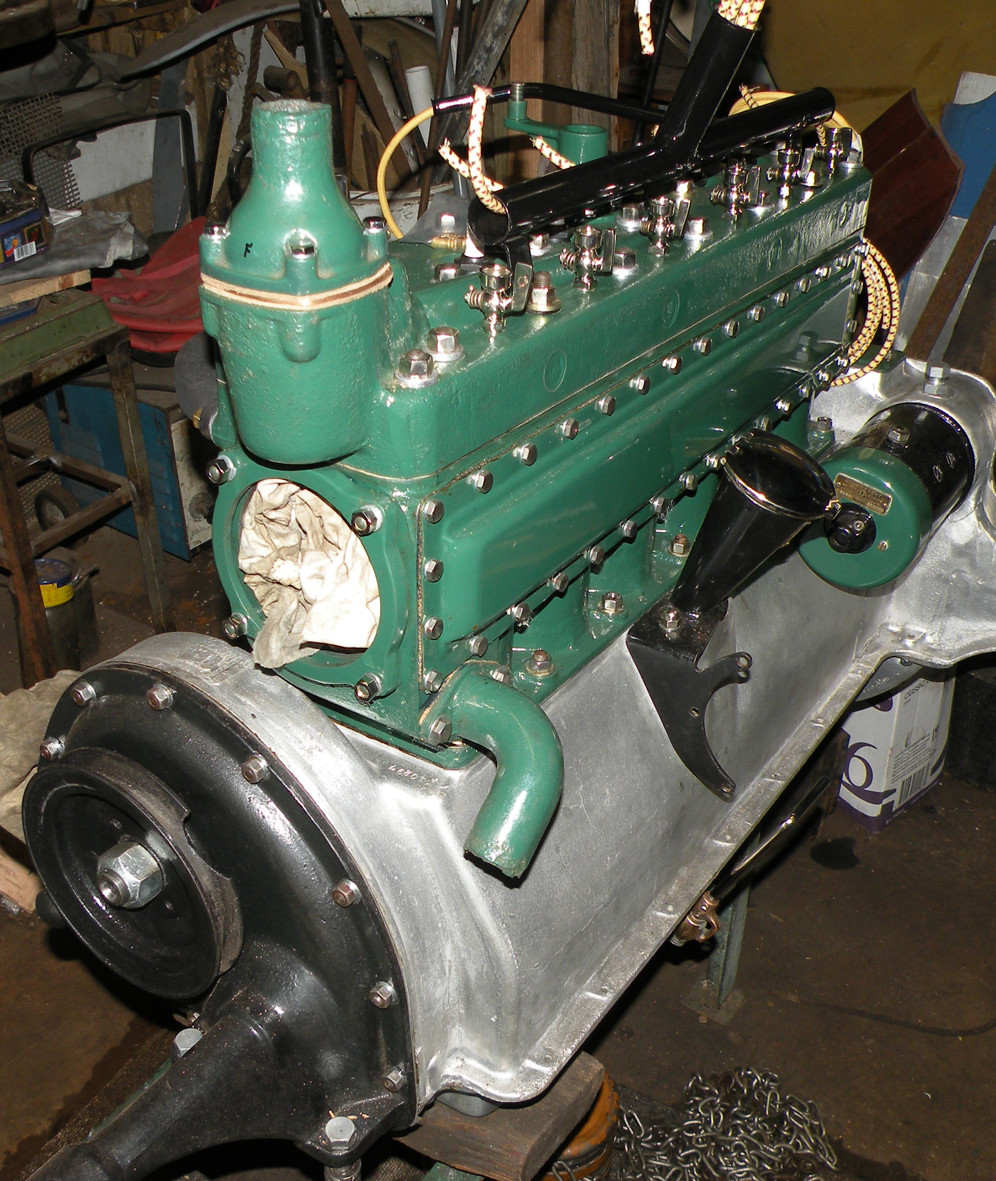 6-12-2011
Golly, those Packard gearboxes are heavy! Having got the box all lined up and the nuts all nicely tightened the next step was to put in the bolts that hold the clutch onto the flywheel.
For those who have never taken a gearbox off the back of an early Packard motor, you cannot remove the gearbox unless you undo these bolts first. Re-assembly is the reverse working through the inspection hole in the bell housing.
Anyway you all know what happened with the very last bolt! Yes, I dropped it down into the clutch pit so "You know what my first task for today is?" Release the clutch, remove the gearbox, find the loose bolt and start again.
Oh! to have the brains and strength, not to mention the steady hands of a twenty year old!
6-14-2011
I have just been looking through the Packard Information Book for 1927. It is amazing the changes/advances that were made. No Fuelizer, Twin points in the distributor, Watson Stabilisers in lieu of Gabriel snubbers, light switch on the steering wheel and four wheel brakes with three internal shoes at the rear to name a few. All in just four years, Automobile design/engineering was taking giant steps during the 1920s.This is why I find cars from the 20s & early 30s so interesting. I am sure that everyone has their own ideas on this subject, perhaps you may care to share yours????
6-22-2011
At last the distributor is almost finished and all I am waiting on now is some "duck-bill" ends for the plug leads. Note the modern replacement condenser.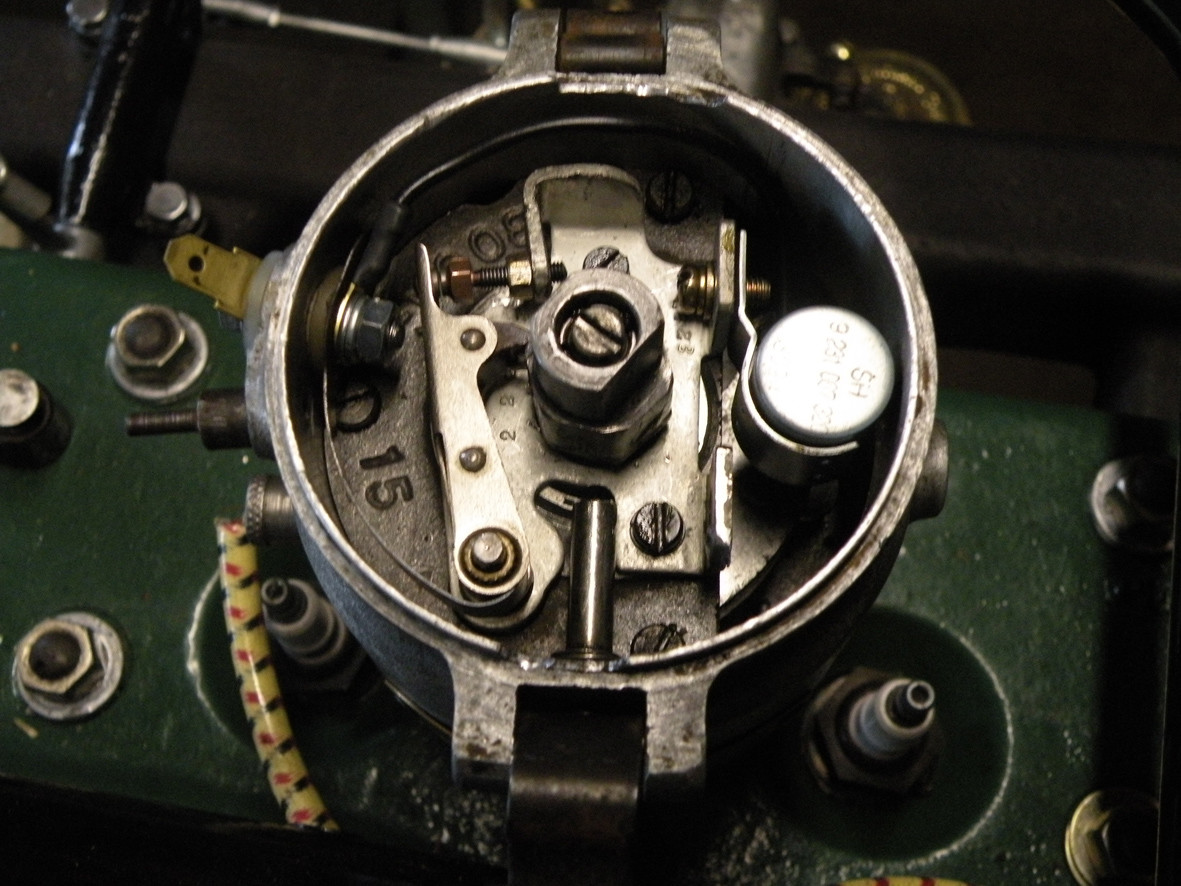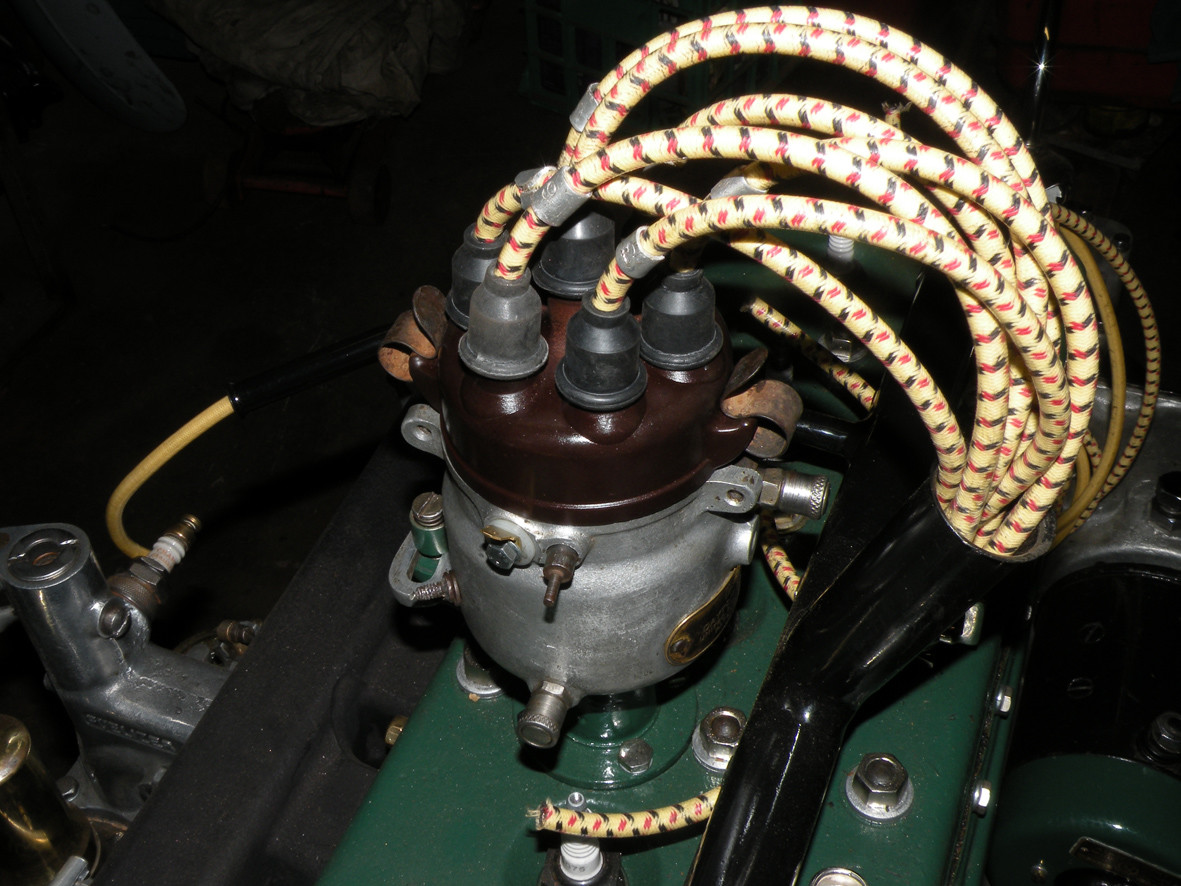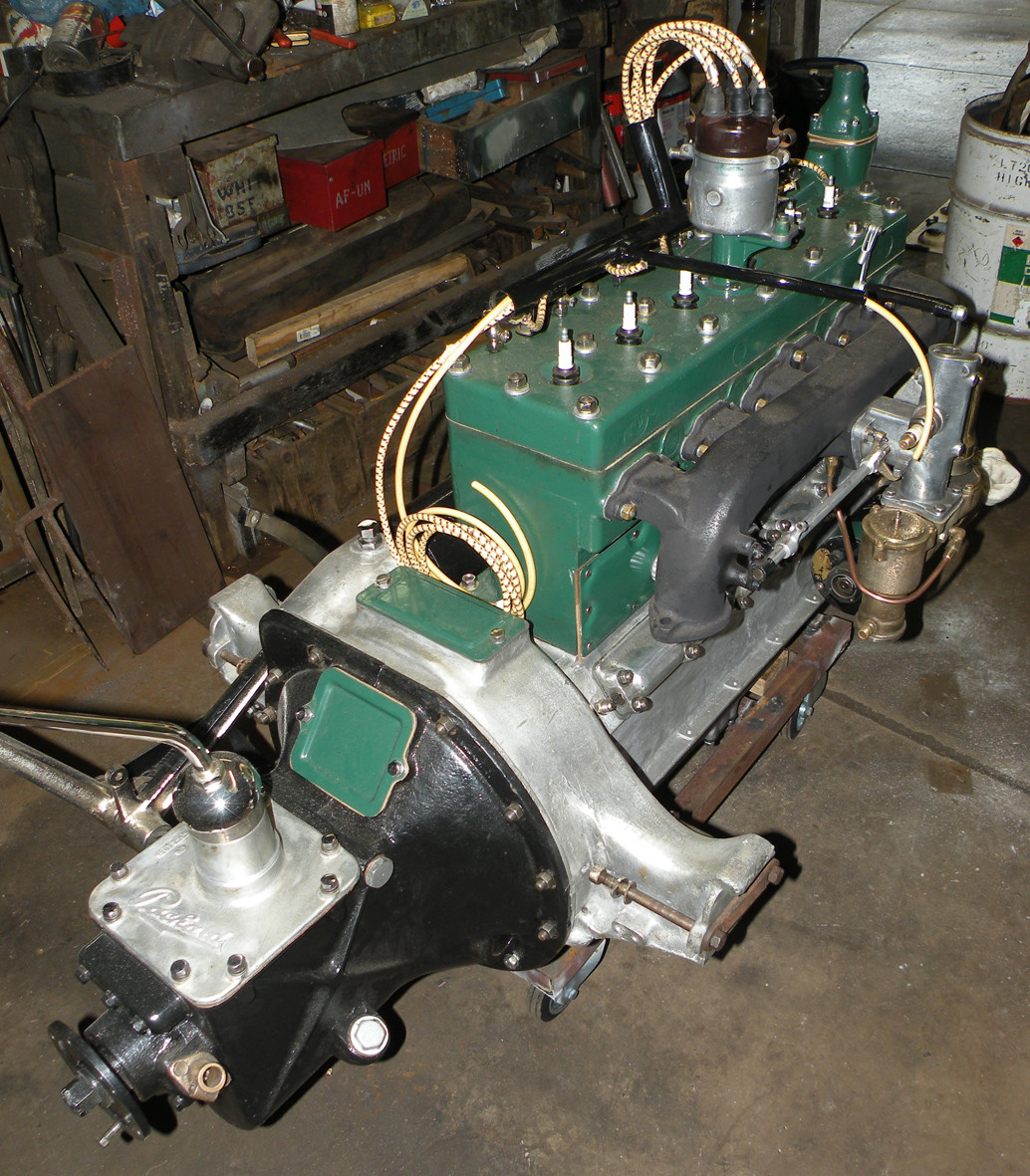 6-24-2011
On the subject of that replacement condenser in the distributor. I have gone back through some of my earliest photographs of the engine. The original condenser had a major short circuit and was deemed un repairable. I think that my solution to the problem is better than the interim "conversion" on the distributor when the car was purchased. See close up photo of pickaback condenser held in place by a radiator hose clip. I think that we have made a little progress....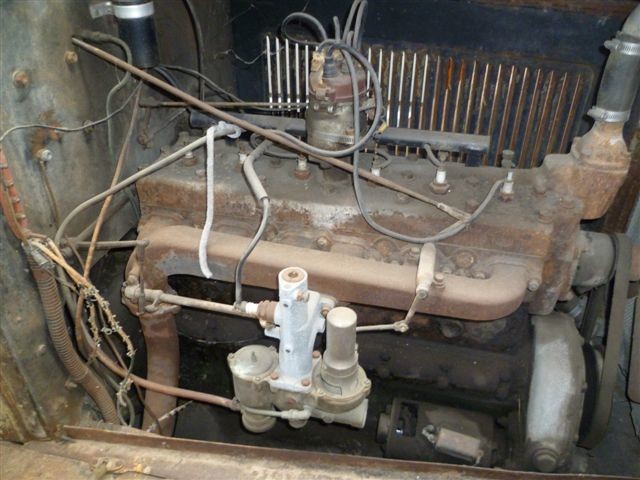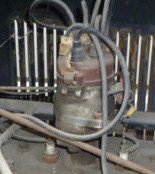 6-26-2011
Talk about being young and clever, I just wish I was young! I am having a huge garage clean out. Getting ready to start dismantling the Packard Chassis. There is 40 years of accumulated junk, I have about a ton and a half of scrap cast iron and steel for the scrap man to collect next week. What do you do with about 20 gallons of assorted nuts and bolts. I have this bad habit of replacing any used nuts and bolts, especially all the ones with rounded heads or damaged threads, with new ones and throwing the old ones into a bucket. This is then emptied into a 20 gallon (60 Litre) drum with the top cut out. One problem is that I simply cannot lift it. Last time I had one of these clear outs I gave a similar drum to a young friend who was playing about doing junk sculpture. Problem is that I would not know where to contact him again and forty years later he is probably a Company Director or something terribly smart.
Right now my back, hips and shoulders are telling me that I have done enough lifting for today.
6-27-2011
Just some of the 40+ years collection of junk! If you see anything that you want/need it is too late. I have been trying to give away some of this stuff for years. No one wants it! I am keeping the spare Herschell-Spillman crankshaft and one conrod and piston. Don't ask me why....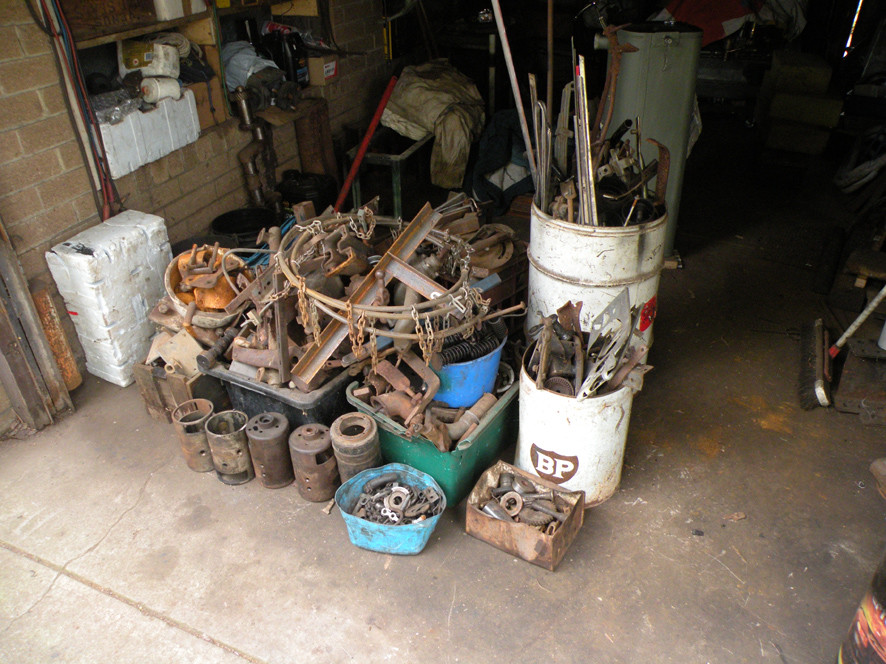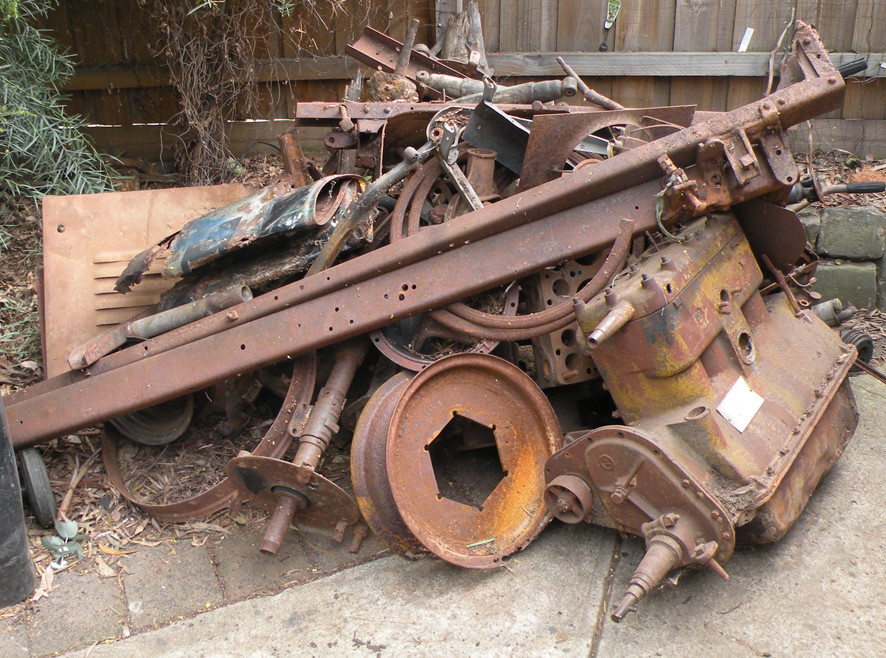 7-2-2011
Hello again
After a quick search I have found the photographs of the famous "Snubber Adjuster" Hope that this is of some help. Next thing is to find a suitable size horse shoe and a skillet handle... (First find the suitable size horse)
Fortunately the scrap iron man still has not come to collect all my junk so I can re-visit a couple of the bins in search of some suitable material.
Working backwards, the length of the pins should be approximately the same as the width of the strap. From there it should not be too difficult to guesstimate the other dimensions.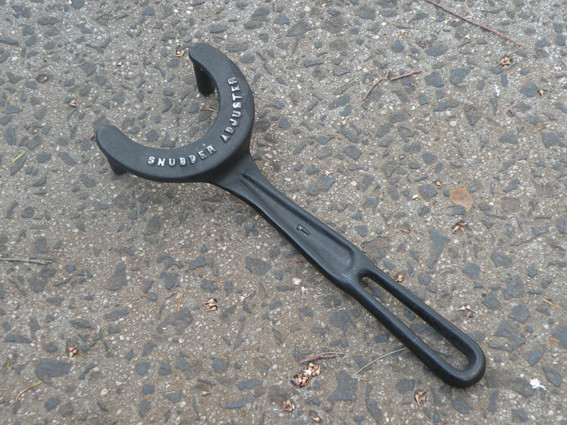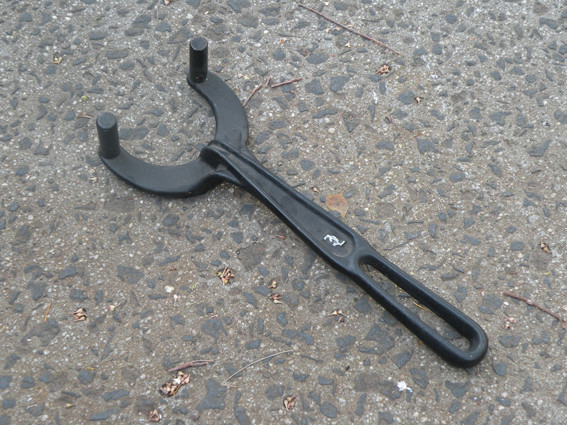 7-6-2011
Slowly but surely progress in being made.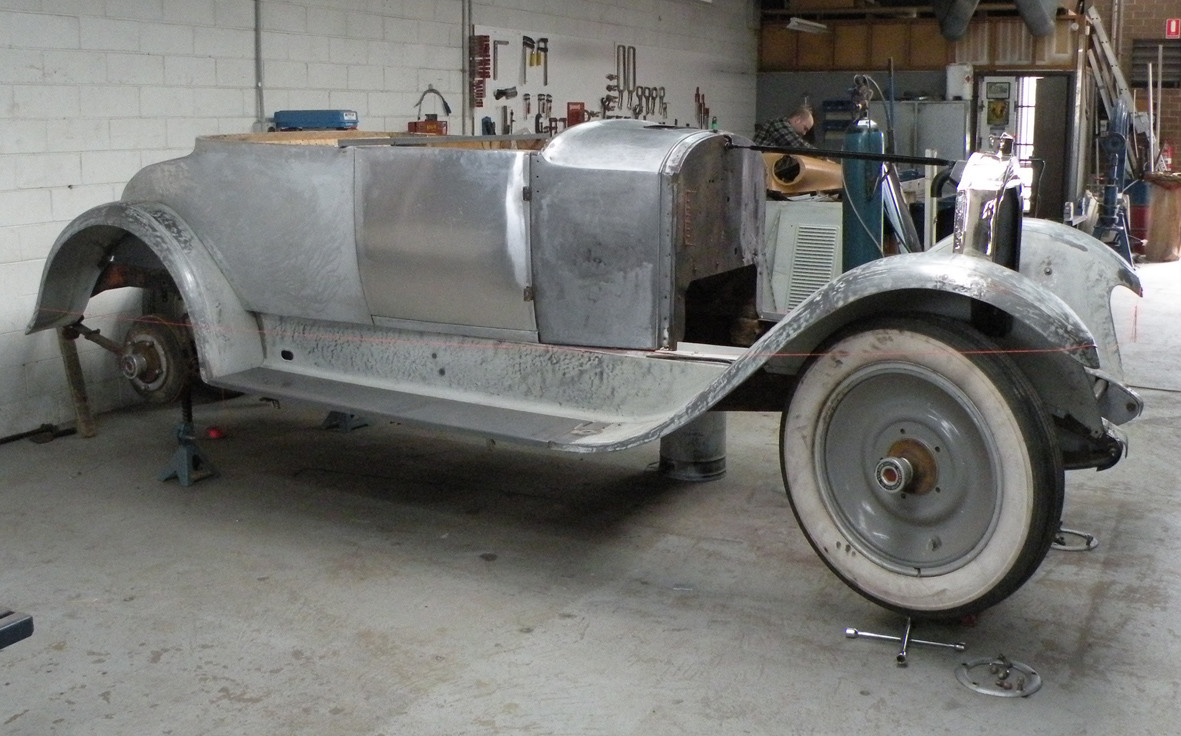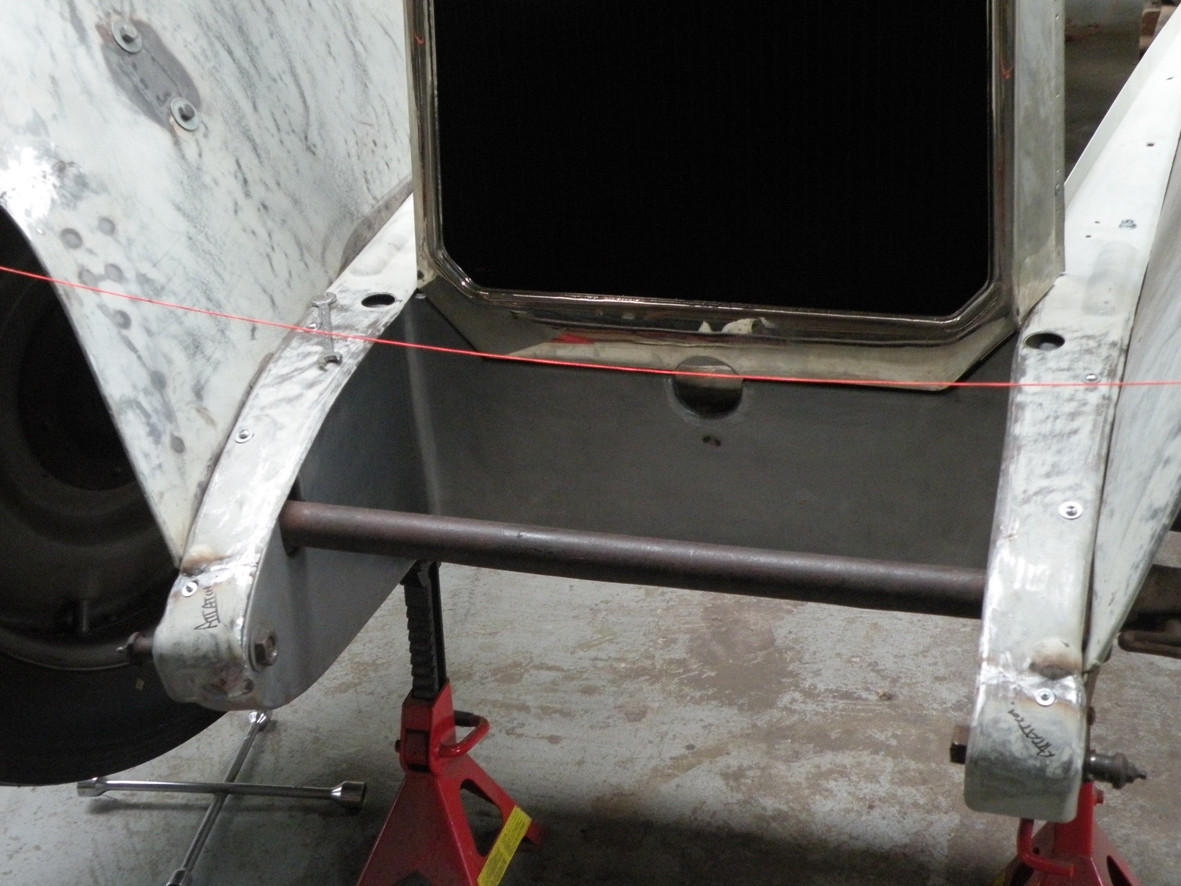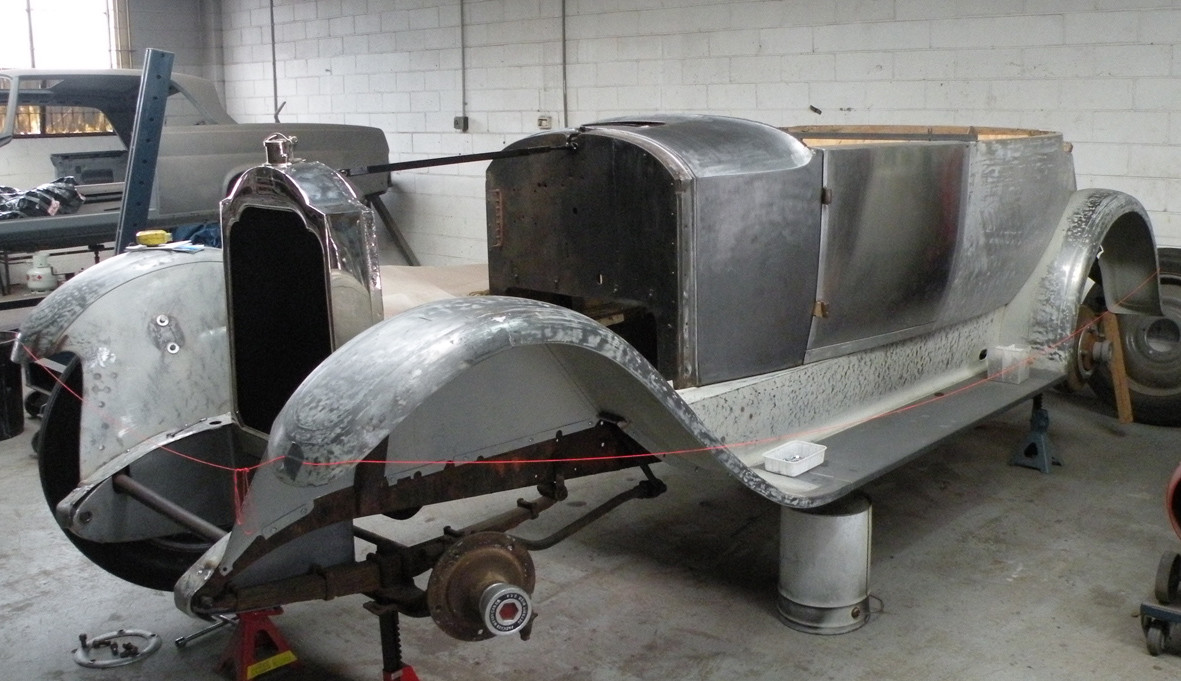 7-8-2011
Hi all
I have just purchased most of the material needed to make a start on constructing the seat frames early next week. Before that I have to give the Lagonda Rapier a service and clean in preparation for Sunday mornings VSCC Frost-bite Run. For those scratching their heads right now, here in the southern states of Australia it is now mid winter and a 100 mile run into the near-by hills in an open 1934 sports car can definitely be described as a Frost-bite run.
7-9-2011
Would you believe it?
After searching for the missing plug that goes into the side of the timing chain case for about six weeks including a giant clean-out. I walked back into the garage this afternoon after stopping for lunch. There right in the center of an otherwise empty floor was the missing plug. How did it get there? It certainly was not there when I stopped work. I had not even been working on the Packard, I had given the Lagonda a chassis grease, checked the levels in the sump and gearbox and adjusted the front brakes.
The only (totally illogical) explanation is that my friendly resident garage poltergeist had decided that it was time to quit that trick. Problem is what stunt will he/she try next?
7-10-2011
Well here we are on Sunday Evening Australian Time. As mentioned we had an early start this morning for the VSCC Frost-bite run. While it did not snow as it has on previous such runs, we had 161 miles of gale force winds, rain and heavy mist. After lunch we had had enough of being Spartans decided to put the top up. It really did not matter as with the weather conditions there was precious little scenery that we could see. The Lagonda Rapier went as we have come to expect, sitting on a very comfortable 60 mph, for most of the journey home. Back to the Packard tomorrow, start of another week.
Below is a photograph of some of the participating cars lined up prior to setting off for an entertaining days motoring. Reading from left to right;
1929 Lancia Lambda Saloon, 1926 Vauxhall 30/98, 1953 Riley 1.5 litre, 1924 Vauxhall 23/60, 1928 Ford Model A, 1927 Morris Cowley, 1934 Lagonda Rapier.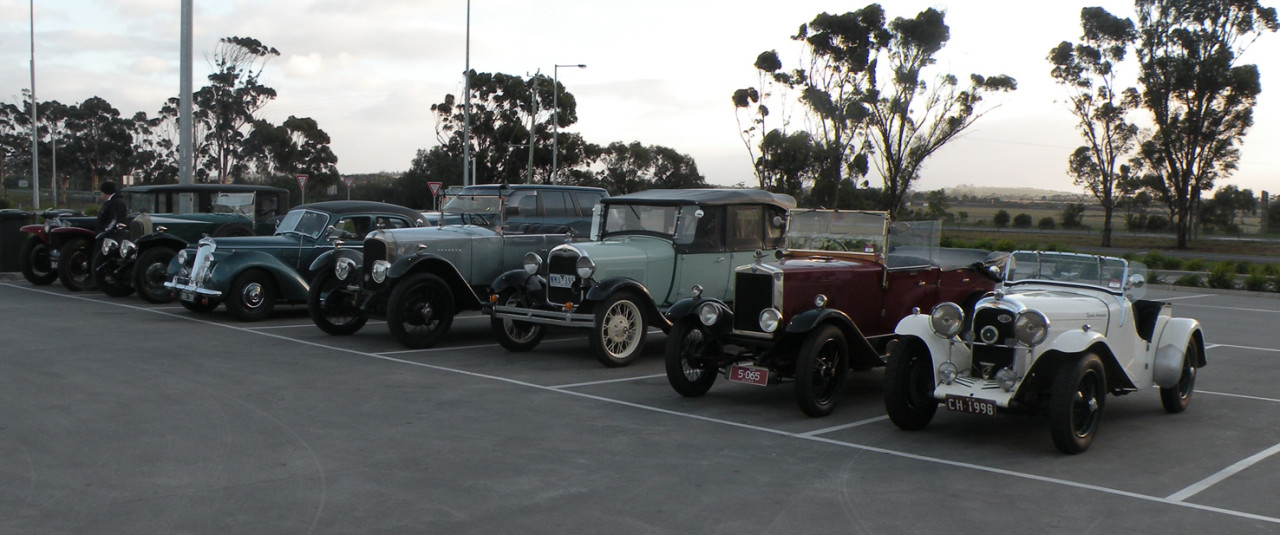 7-16-2011
As I have said previously I am a much more proficient welder than a carpenter.
That being so I have almost completed the first seat frame. Amazingly this one seat has eaten up almost 8 meters (26 ft) of steel tube 3/4 inch for the base and 1/2 inch for the backrest. To fit in with the floor plan of the body the seat-bases taper quite sharply towards the front. Rather than the little jump seat next to the driver my car will have two matching fully upholstered front seats. The seat backs will fold forward to allow access into the rear. At least they will not squeak or rattle, will stay together and will weigh a whole lot less than a comparative timber framed seat.
Yes, you will only be able to fold the seat back forward when the door is open.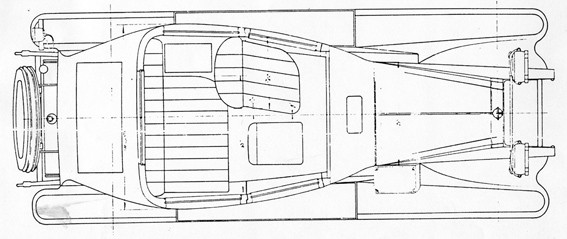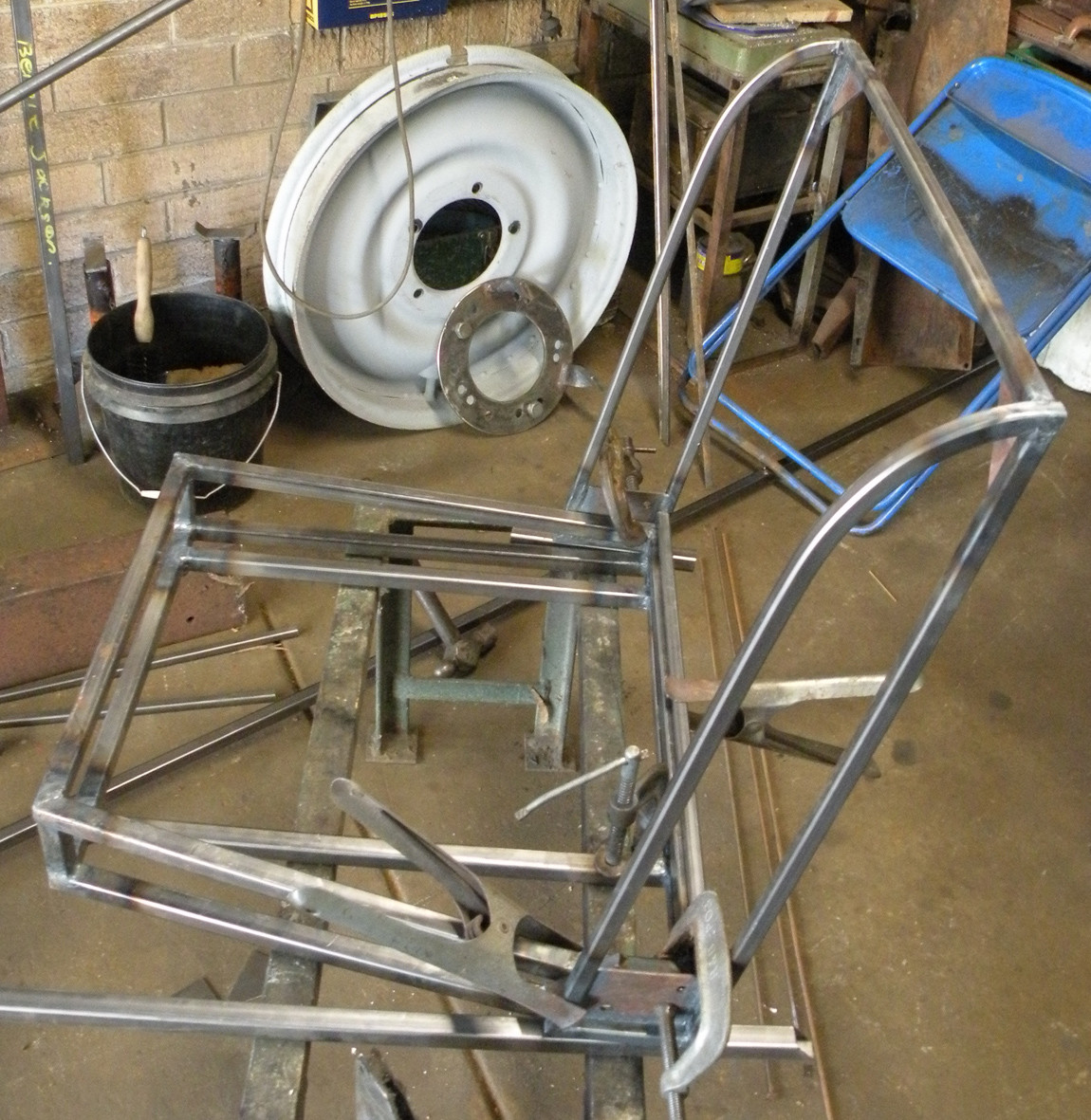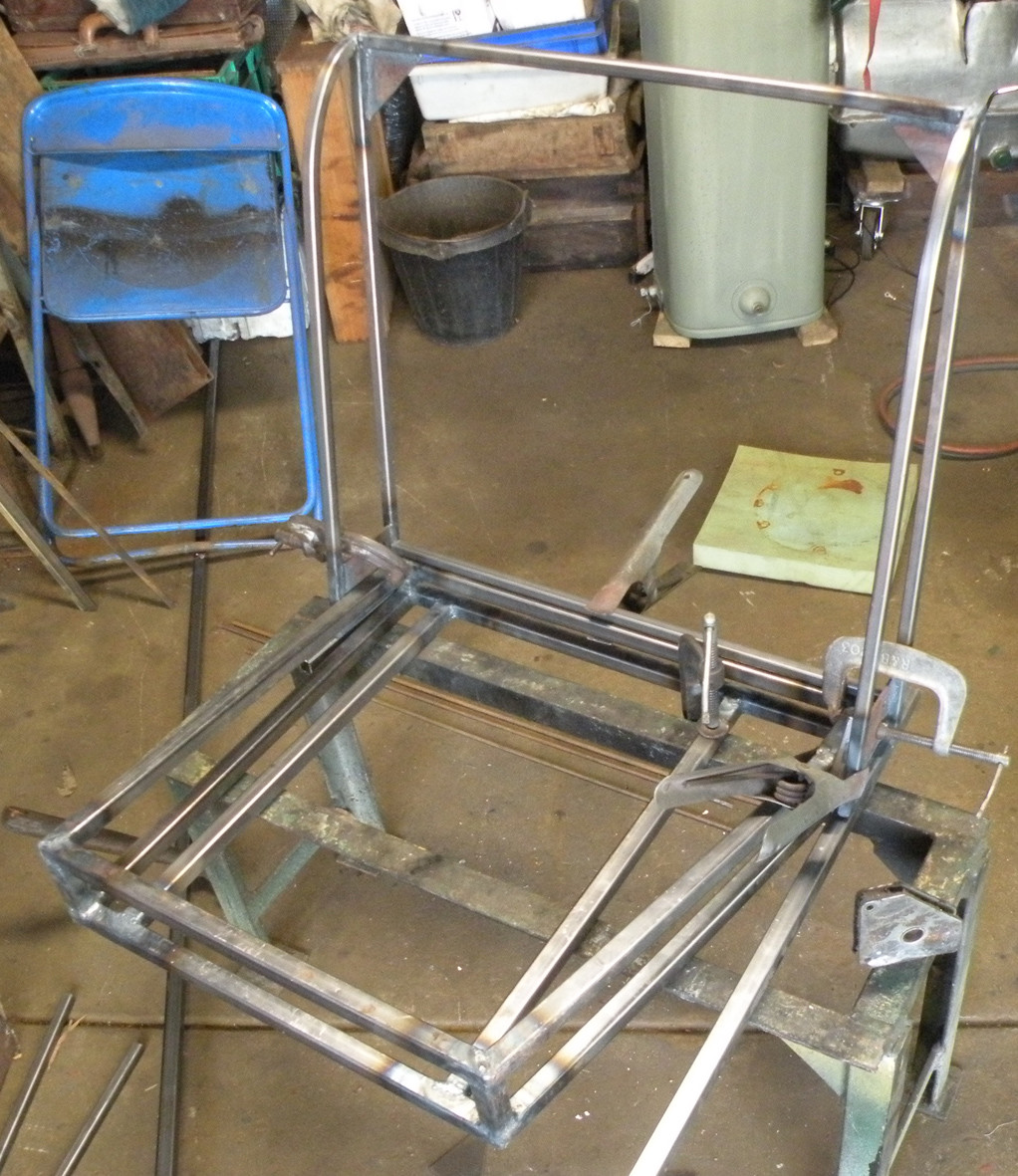 The photograph below shows similar design seats in a Dodge Four Speedster I built quite some years ago.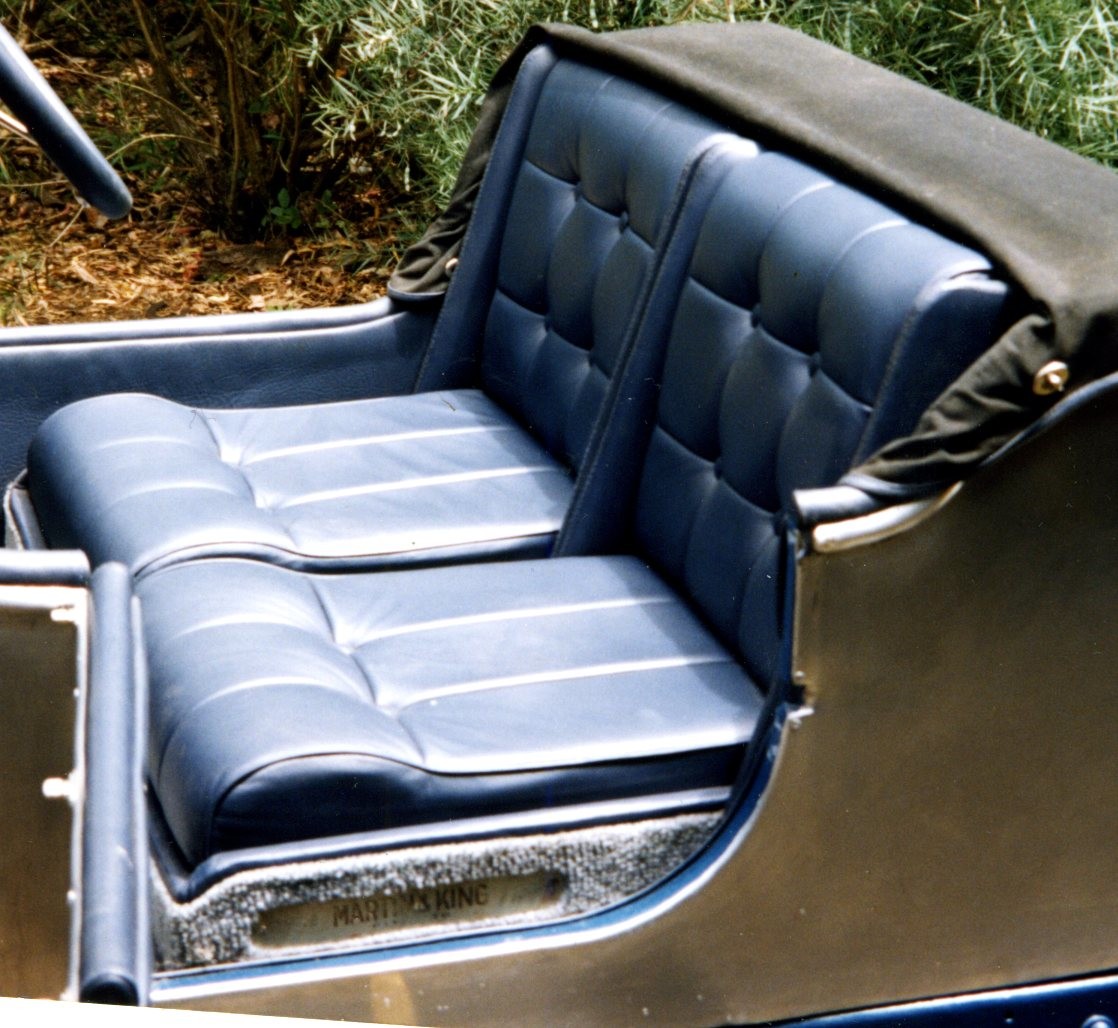 7-17-2011
How did you spend your weekend?
Fairly much as usual I spent mine out in the "garage" working on the seat frames. It is amazing how much you can achieve with basic hand tools and a little dedication.
Below are the completed seat frames started on Friday afternoon and finished about 4.30 Sunday afternoon. The third photograph shows my high tech welding bench and tube bender. The most sophisticated tools that I have used are the two magnetic "welder's friends". As I work 99% of the time on my own they are invaluable. I use an ancient gas welding set-up a four inch angle grinder with thin cutting disks and a drill. Oh yes and my brains! Funny how many people, as they grow older, forget how to use them....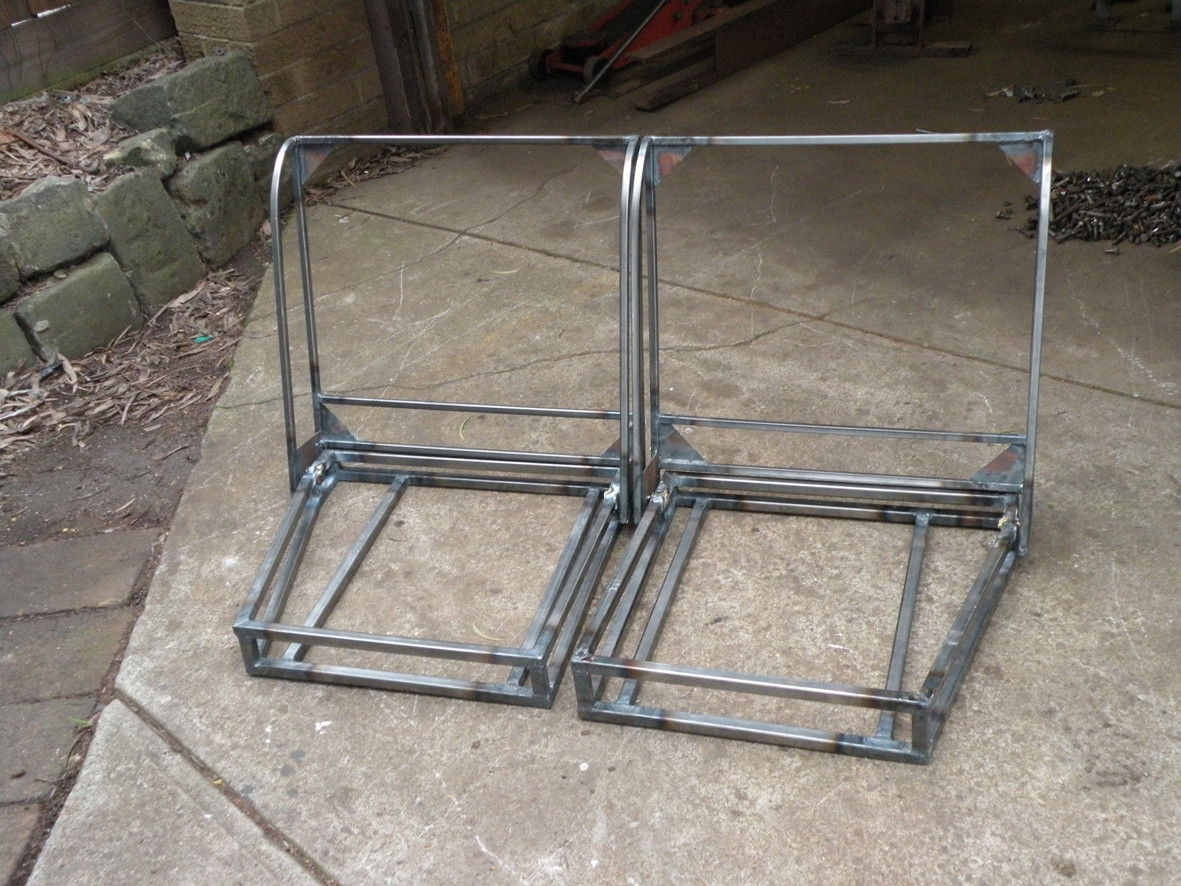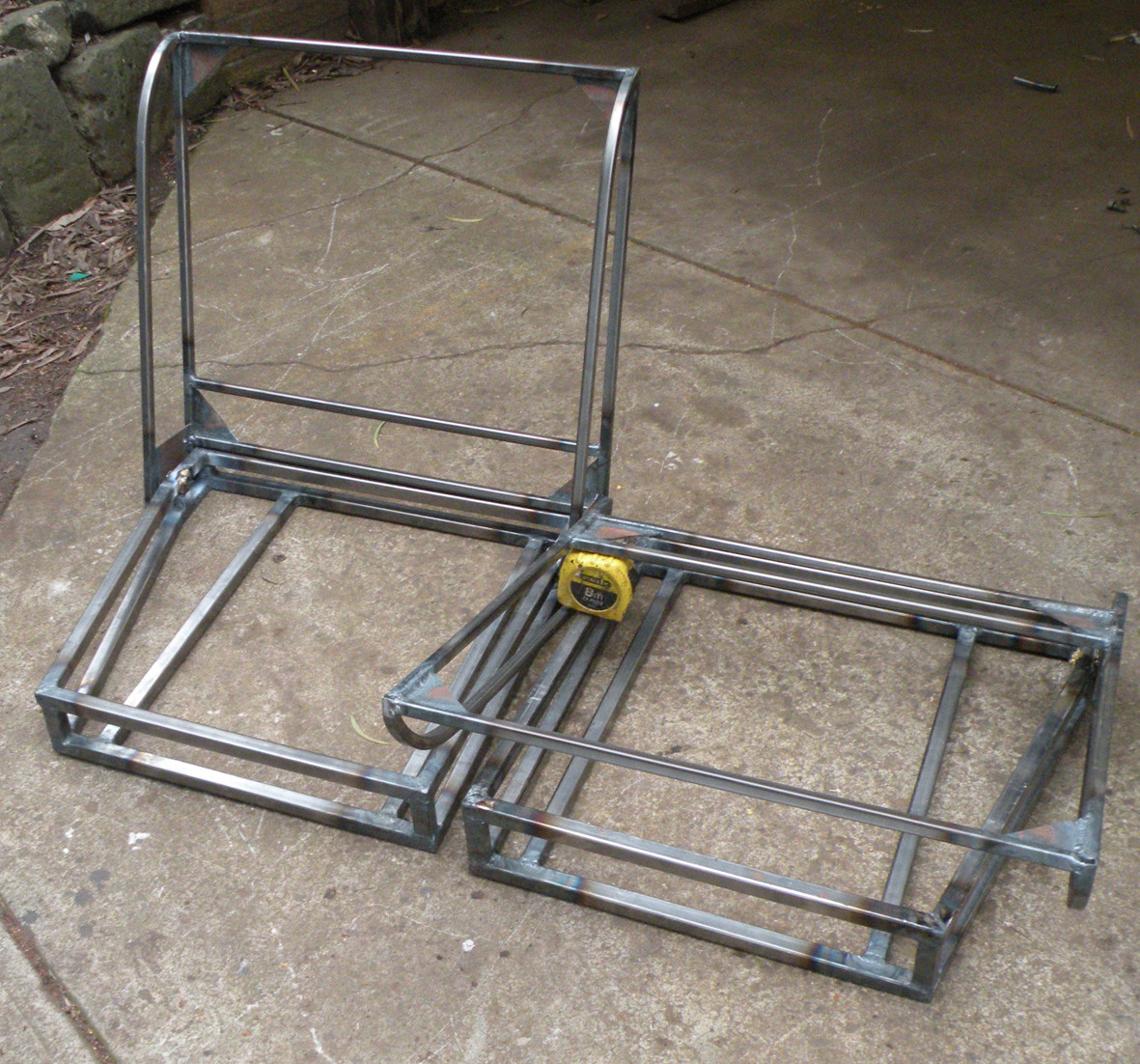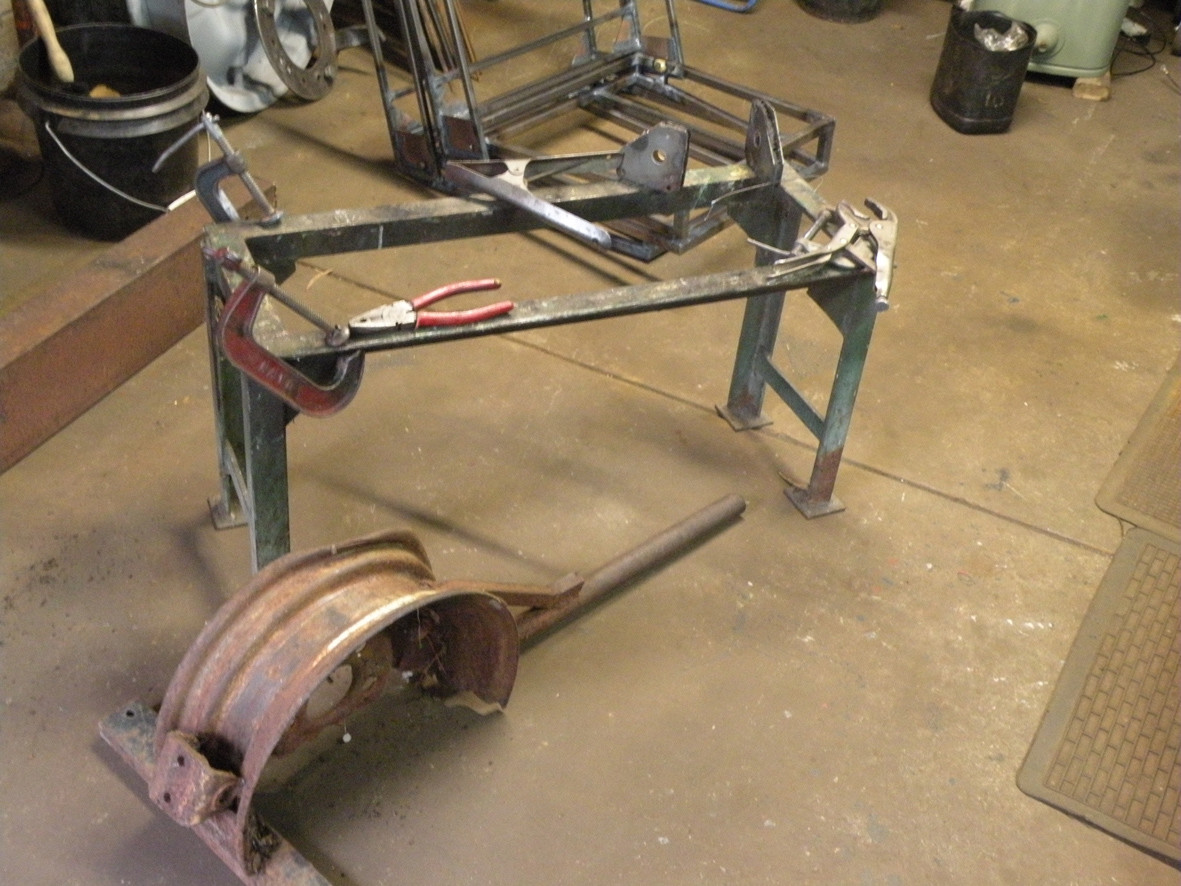 7-18-2011
Hi Chris
How is it all going?
You are correct the outside of the backrest is to be covered with 3mm ply as is the perimeter of the base. The frames are with Tony (my terrific Trimmer) now. I will try to get some progress photographs. His shop is about 20 minutes from my home.
The curved sections of the frame for the back rest are cold formed using my patent tube bender, seen in the foreground of the photograph of my welding"bench" etc. That is an old 13 inch rim cut in half, a bar welded across the "well" at one end and a extension "handle" on the other. Simply insert one end of the tube to be bent under the bar and carefully apply pressure on the other end. Presto a nice 13 inch radius bend. It works with both square and round ERW tube up to 3/4 inch with a wall thickness of 1.6 mm, without rippling or distorting the tube. All the welds are gas-welds (oxy-acetylene). I do have an equally ancient Arc (electric) welder that I use for heavy gauge materials. None of my tools or equipment are under 25/30 years old. Perhaps that is why it all works so well. Not necessarily fast but they get the job done! Just an aside, I have found that 90 year old hickory Dodge Four (23 inch) wheel spokes make excellent hammer handles. I have been using one for about 20 years!!!
Bernie J.
Just don't tell the judging people. I know that the finished results will look "right" and as I have said before they won't fall apart , squeak or rattle. The seats are to be upholstered in Biscuit hide with Chocolate brown carpet on the outside back.
7-19-2011
For anyone interested attached are some close up photographs of the tube bender with 3/4 inch round steel tube.
If you are wondering what happened to the other half of the wheel. It is doing sterling service as a hose reel (holder) bolted to the wall next to the outside garden tap.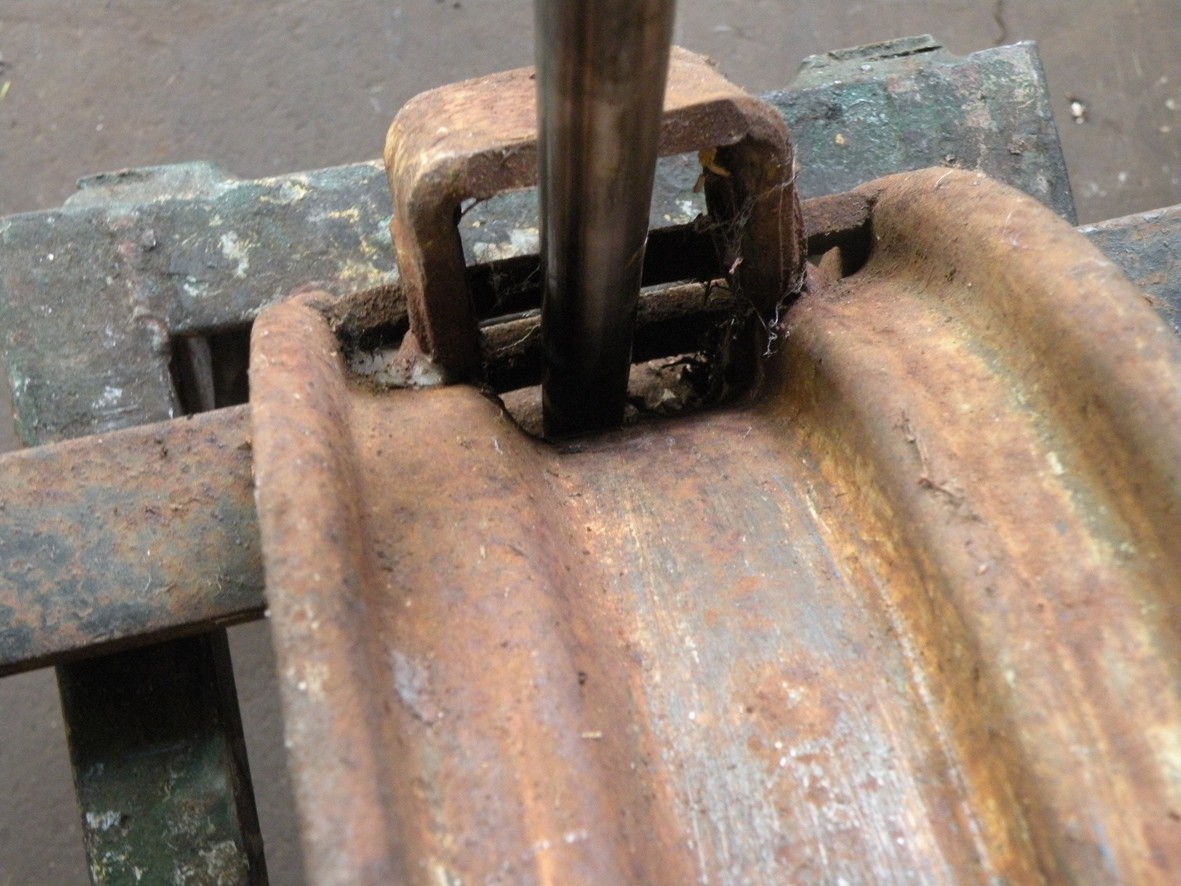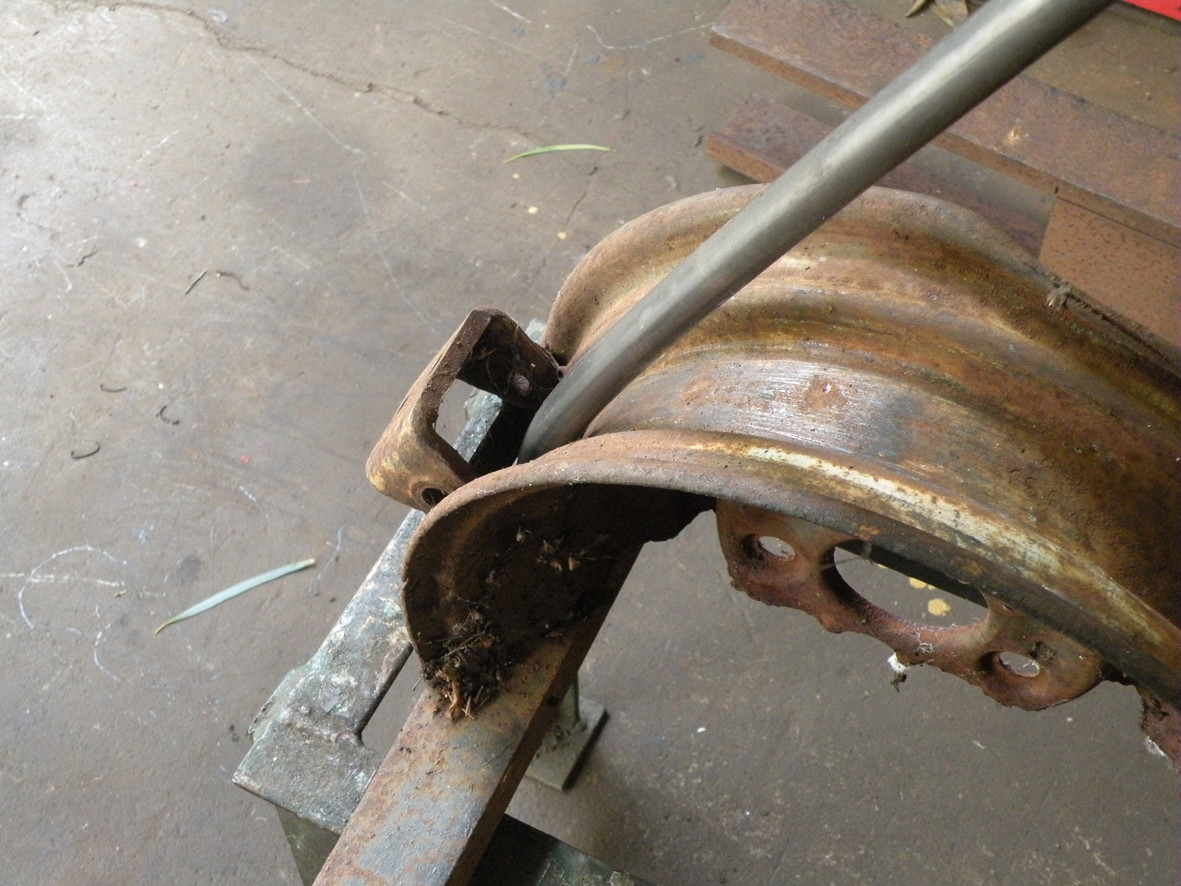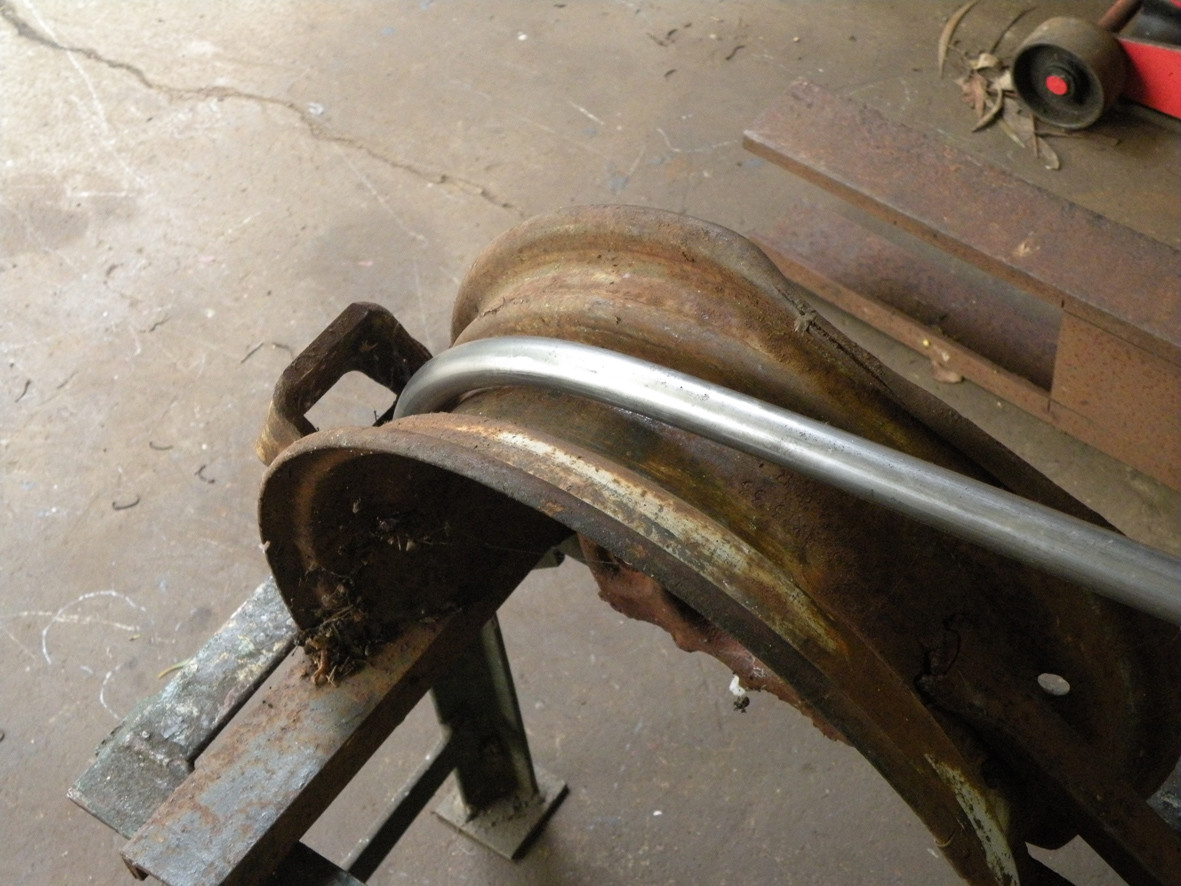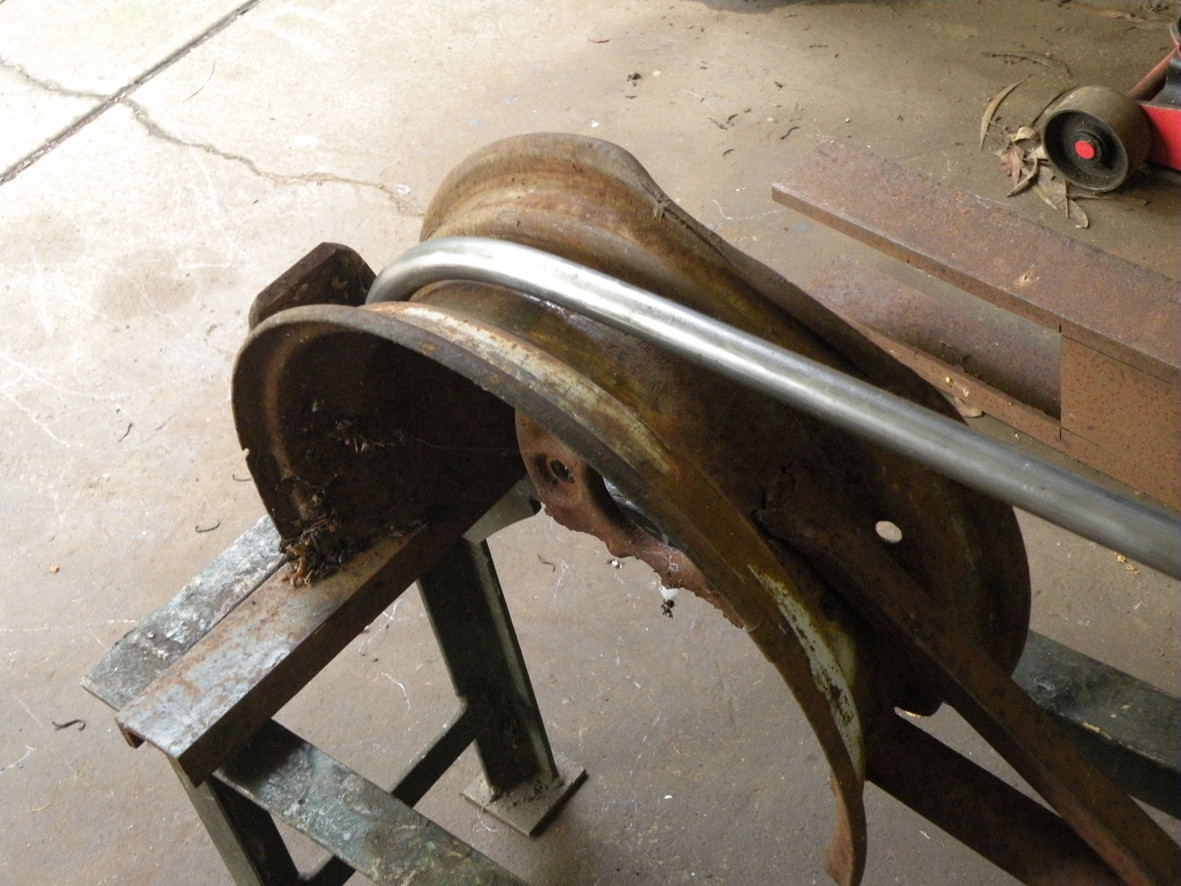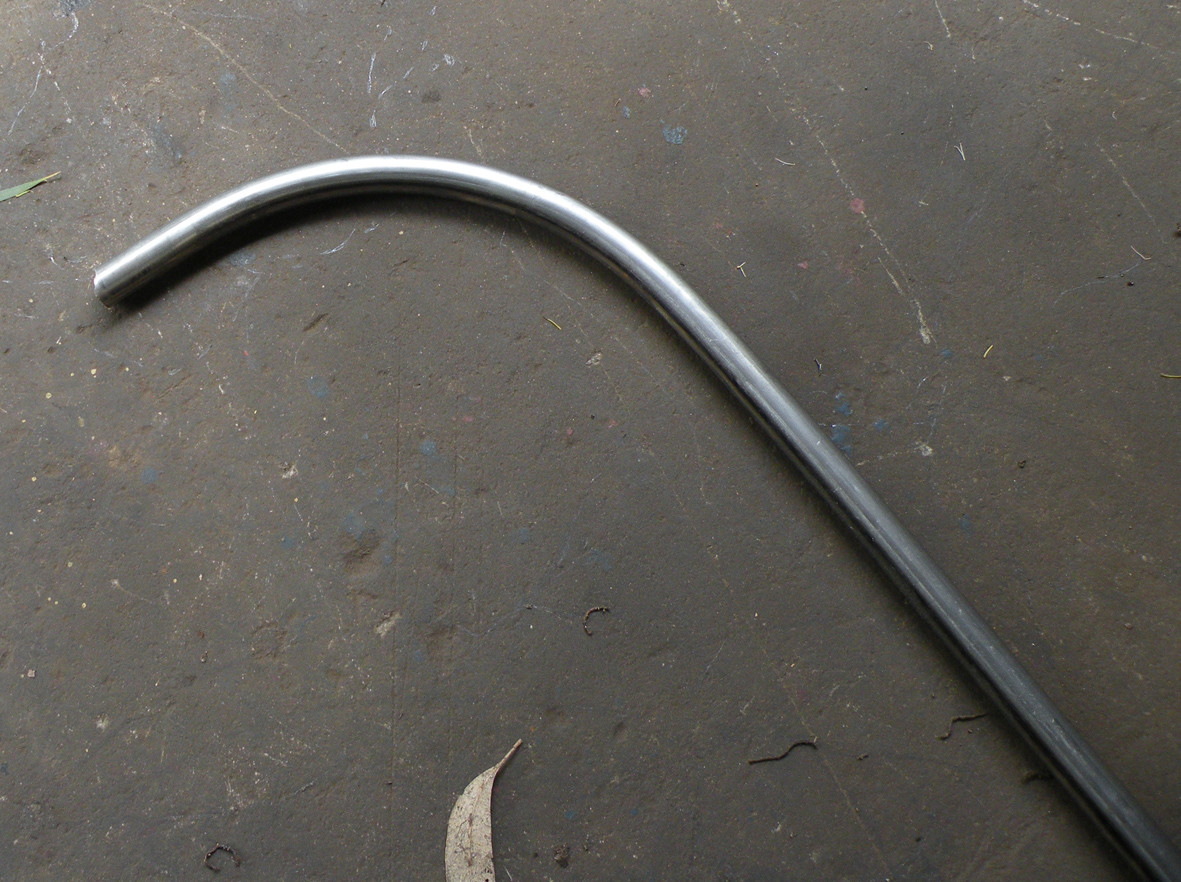 7-21-2011
Hi All
When someone asks "What did you do today?' they could hardly expect you to reply as I would have to today "I re-cut the slots on 200 wood screws by hand with a hack-saw"
But that is exactly what I have been doing. I proudly bought two boxes of obsolete and nigh on impossible to find, slot head wood screws. These are needed to re-screw the panels back onto the wood frame of the Packard, Imagine my dismay when I found that the antique bronze finish on these particular screws had filled the slots. There was only one thing to do. Clean out the offending slots by hand one screw at a time. A great way to fill in an afternoon! At least all the purists out there will not be offended by Phillips head screws. Even if they would have had to tear out all the trim to find them.
Bernie J.
In case you are wondering the Packard coach-builders did not take short cuts by nailing their Aluminium panels onto the frame. No! They screwed them on using little 6 gauge X 3/4 inch wood screws, one screw every two or three inches! This is one of the tasks awaiting me over the next week or two.
No power screw-drivers please, just the old fashioned jobs. Turned by hand using arm power.
What a difference just one generation can make. Son Steve has sent me these photographs of his "playthings".
His job? Making reproduction bits for early Harley Davidson Frames.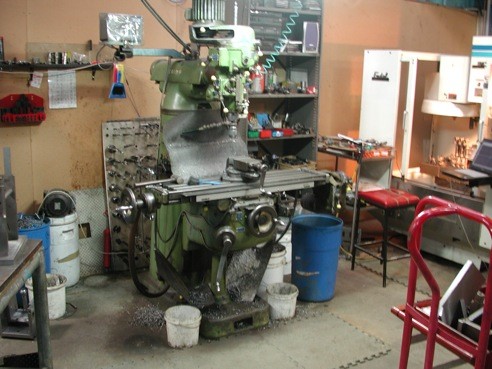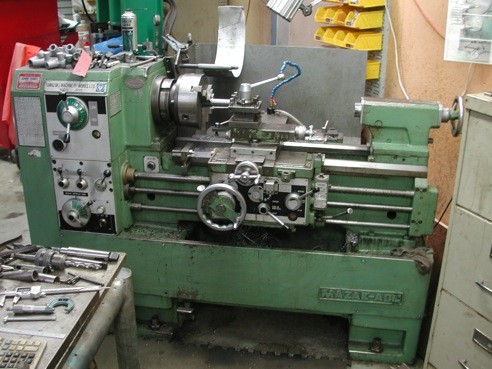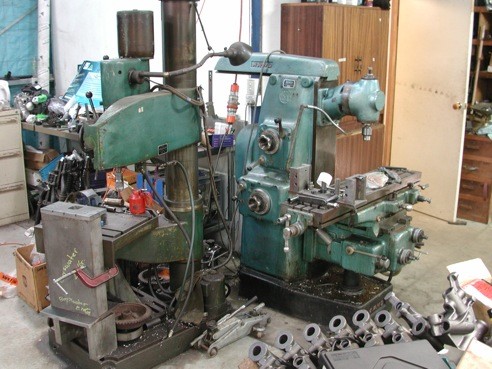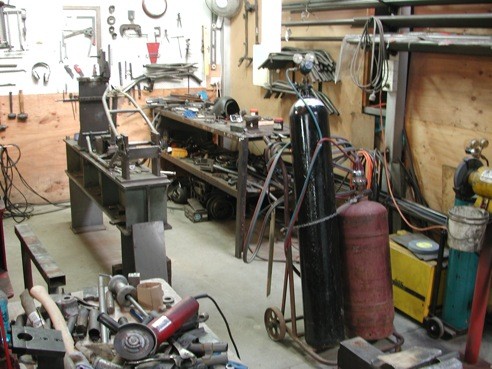 7-22-2011
Hello Alan
Starting from furthest from the camera there is a 1928 Lancia Lambda Weyman (fabric) Saloon, a 1926 Vauxhall 30/98 roadster, a 1953 Riley 1.5 Litre saloon, a 1927 Vauxhall 23/60 tourer an A model tourer, a 1928 Morris Oxford tourer and our 1934 Lagonda Rapier.
The mix is fairly typical of the members of the Victorian VSCC cars. Unlike the clubs in America the club prides itself that it has never held a static display, Concours or show. It does have a strongly competitive element to most of the monthly events. These vary but the road events usually are based on both navigation skill and time elapsed/average speed. In addition the club runs Speed Hillclimbs, Sprints and an Observed Section Trial (mud and wet grass test hills) The club has strict rules for the competitive events with just two classes. Vintage (pre 1930) and PVT (up to 1940)
For social runs such as the one photographed members may bring their post WW2 Classics. For speed events there are additional classes based on engine capacity and a further division for cars running without fenders, lights, etc and for "Specials" usually home constructed racing cars built from a mixture of components but from within the "period" i.e. Vintage or PVT (Post Vintage Thoroughbred) For example my car being 1934 is classed as a PVT as it has been bored out from 1100cc to 1498cc it runs in Speed events in the PVT Under 1500cc class. The VSCC has two, one for each category, perpetual trophies awarded annually for the best overall performance by a car and driver combination during the one year. These are keenly contested.
For those who would like to know more I write regular reports on the Clubs events in the "Automobiles in Action" section of the UK based Automobile magazine.
Sorry to be so long winded but I hope that this helps.
Hello again Alan
Knowing that you are, among other things, an Alvis owner I thought that you may like this Alvis 12/50 photographed at the start of last years Alpine Trial a two and a half day event run during the Spring. It usually attracts between 50 and sixty entries. As the name implies it is run through the Australian Alps with the over night stop at a ski resort. It usually covers about 300/350 miles.
Typical VSCC events usually have about 6 Alvis among the entries.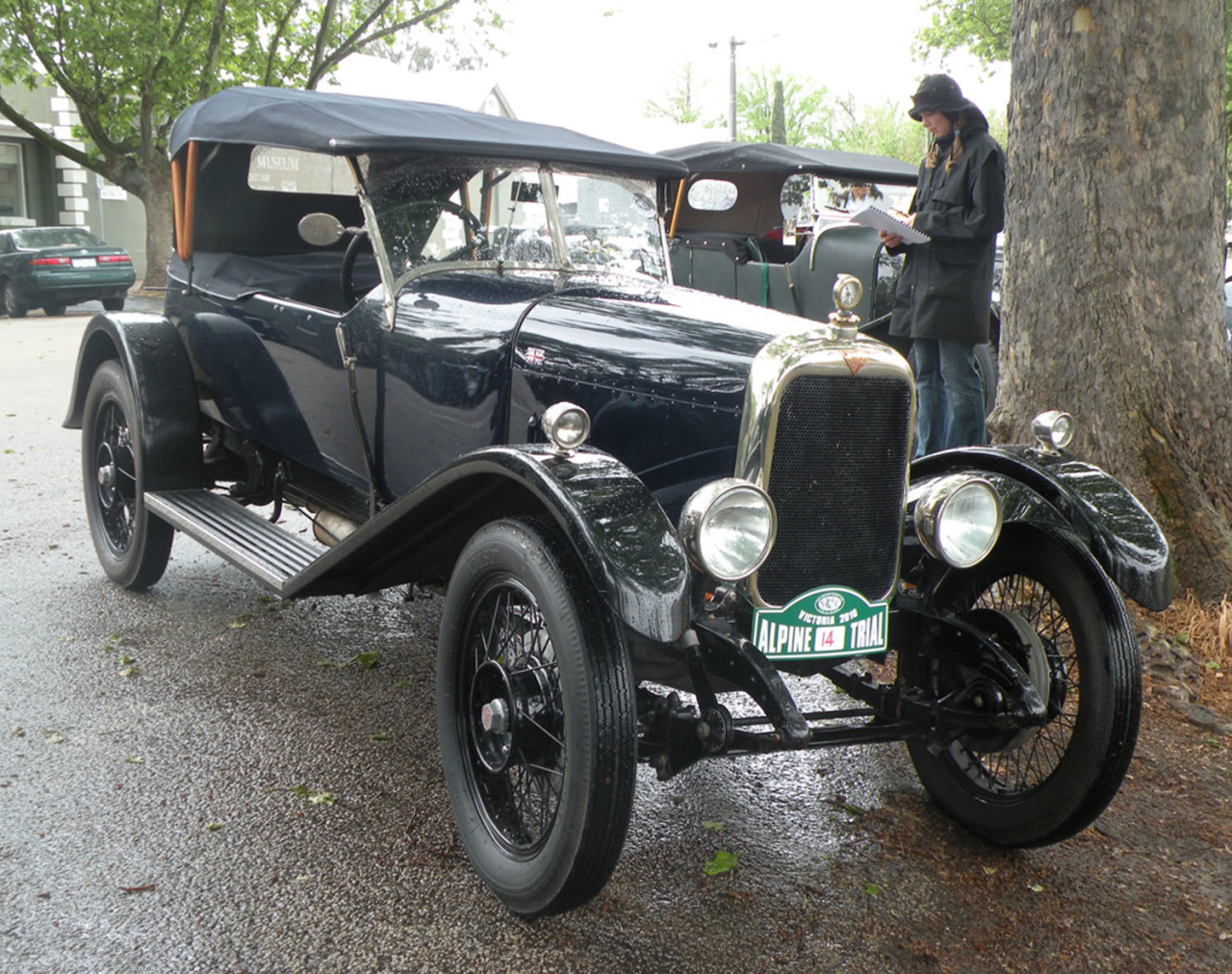 Attached is a small section of the collection of "Rally Plates" that have been attached to the front of the Lagonda over a period of years.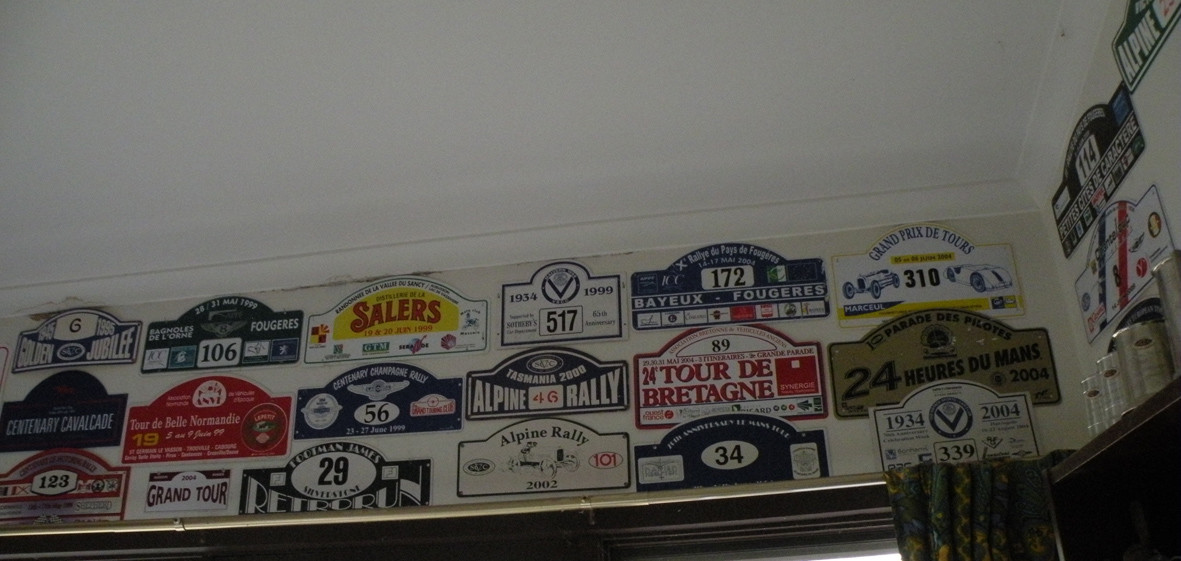 7-26-2011
I am just a little disappointed that no one was sufficiently interested in the Rally Plaques to comment. There are some interesting ones among them. How many of you have seen the "Driver's Parade" at Le Mans 24 Hour or better still actually driven your car in the "Parade"?
You don't get any of them in "Dime stores" you have to be a participant.
Enough of all that, it has been too cold in my extremely well ventilated work-shop the past two or three days. I have spent the time on my computer writing about 3,000 words but more of that later.
7-31-2011
Hi ocf
As I said I will just keep plodding along. This afternoon I have been straightening out the battery box support irons. I am convinced that the forklift driver down at the docks just did not give a damn, but that was a long long time ago. With some gentle heat and a heavy hammer they have now straightened out nicely and after all who is going to climb under the car to check them out? At least I will know that they are correct.
8-1-2011
Hello
As promised I am back at work on the Packard (at last) The rug rail/body brace is back from being nickel plated and trial fitted. The Hood (bonnet for Aussies) has been temporarily assembled and trial fitted and lots of other small things happening. I am going to see Tony Mc Connell (Trimmer) this afternoon to talk about Top material but more of that later.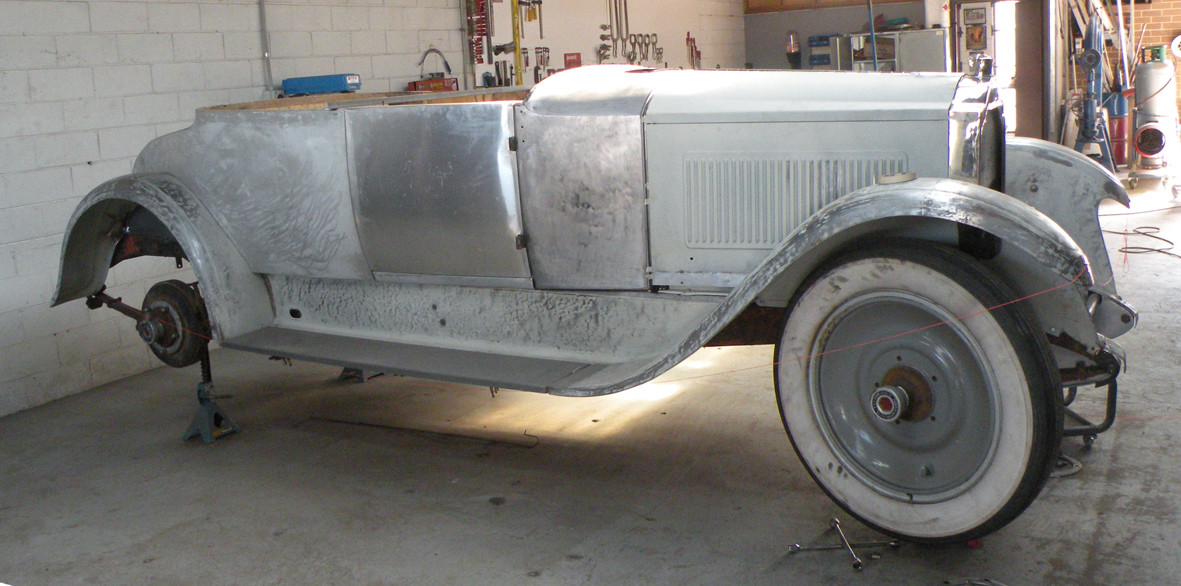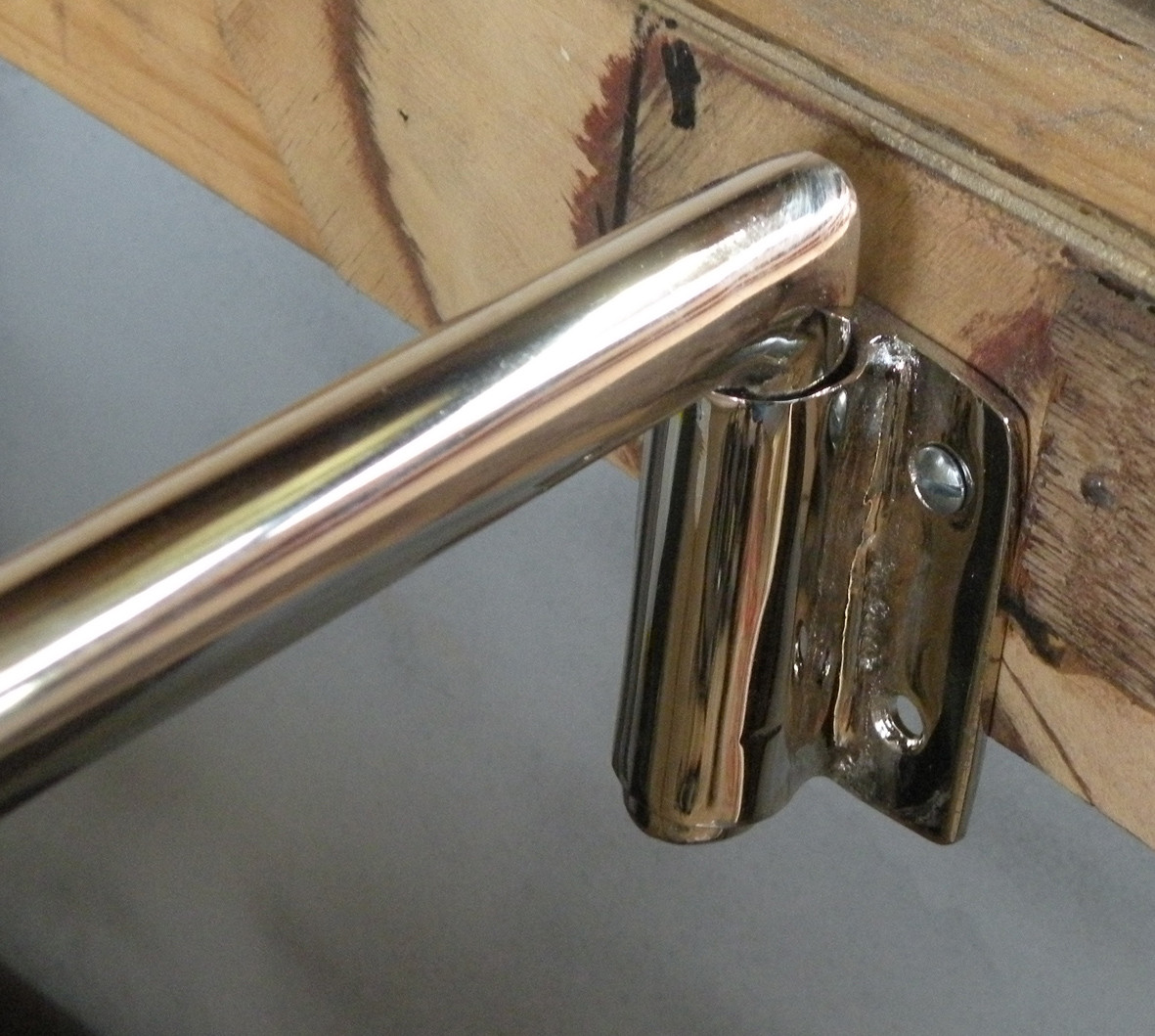 8-5-2011
Out of the Arc
A long time ago, probably before many of you were borne I used to have woven exclusively for me and sell the traditional 1920s Salt & Pepper top material. I have just one roll that I have had squirrelled away. It still has to be laninated The finished product is a three ply fabric with a heat sealed centre membrane of Butyl-rubber. I think that it could make the perfect "Top" for the Packard.
Bernie J.
Sorry about the duplicated photographs I have tried to delete one without success.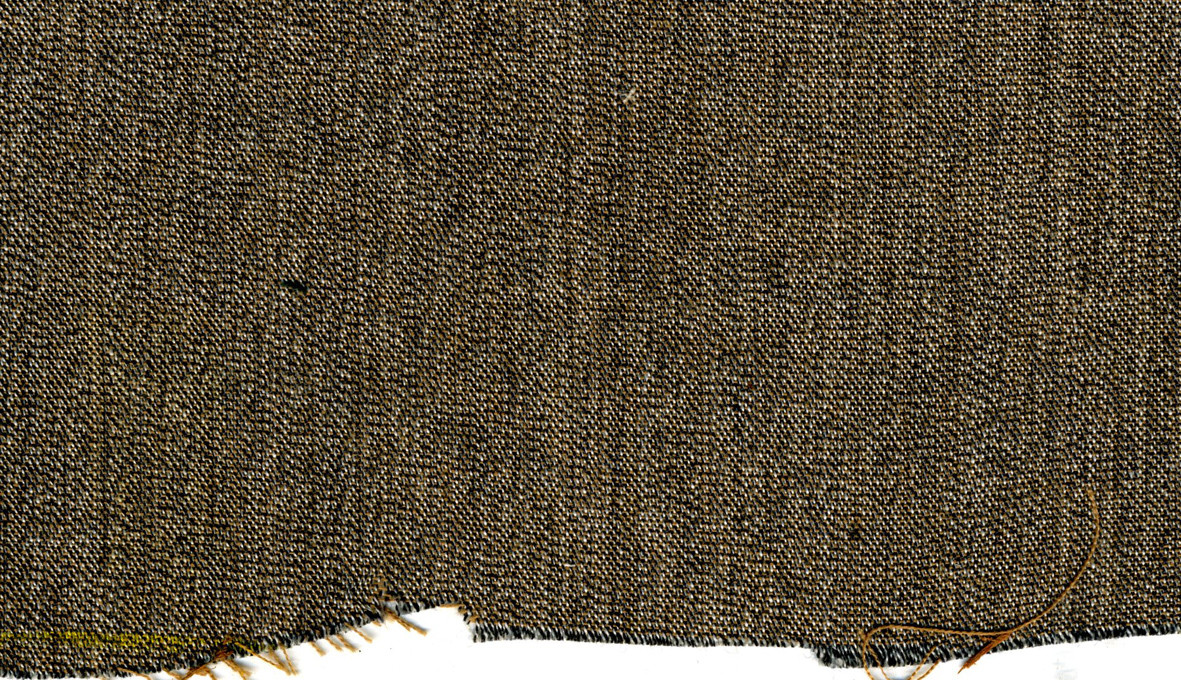 Hi Chris
I am not familiar with the Stayfast cloth you mention. The cloth that I used to have made is extremely flexible the butyl layer is no more that two or three thousandths of an inch. Having said that it is 100% waterproof. The "top" on our Lagonda Rapier is now 32 years old, it was fitted in 1979, and still looks as good as the day it was fitted. It folds up into an flat "envelope" 10 inches X 30 inches for storage in the tool locker in the rear of the body in front of the petrol tank.
The Rapier has a slab tank much the same as a "T" type MG.
Re: the colour scheme for the Packard. the dark brown and biscuit has firmed up as favourite. The interior/seats etc will be biscuit hide with dark brown lino on the front floor and matching chocolate brown carpet in the rear etc.The same brown linoleum also goes onto the running boards.
Attached is a scan of the Linoleum. Once I have samples of hide, carpet and paint colours I will put together a "colour board" for you.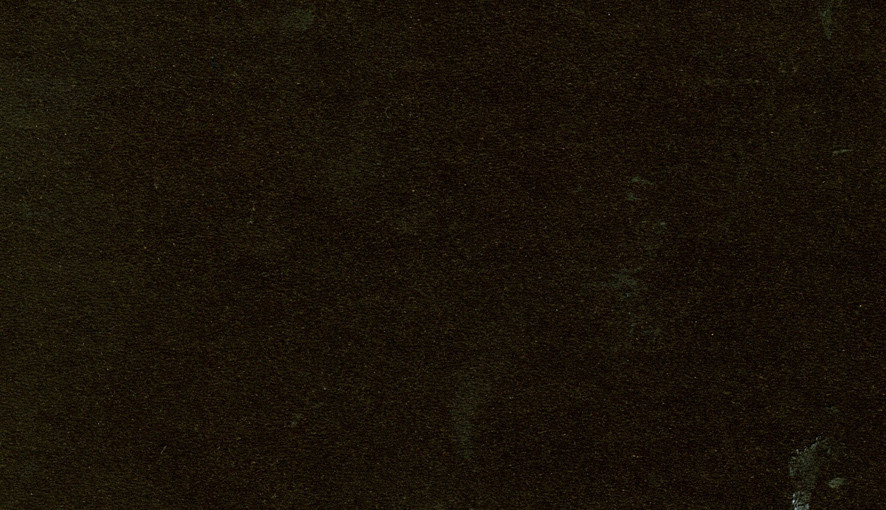 8-12-2011
With something of a lull in proceedings I decided that it was an opportune time to look at the steering box. All I had in the way of information was the photocopied "Information" book that David McCredie had very kindly sent me. Apart from a small cross section illustration it devotes slightly less than a quarter of a page to the steering box.
While I have certainly overhauled many steering boxes in the past I had never even looked at a Packard one before. Being an early twenties car mine has the worm and split nut variety, something I had not encountered before. For those who have not delved into one of these boxes, all I can say is that they are full of tricks.
The worm which is attached to the bottom of the steering column has both Left and Right hand threads, superimposed one over the other. One half of the split nut has left hand thread while the other half is right hand thread, the nut being split vertically. As the steering wheel is turned one half of the nut rises while the other half falls. these two halves are attached to the rocker mechanism in the bottom half of the box. This acts to rotate the cross shaft which in turn moves the drop arm backwards and forwards moving the drag link and hence turning the front wheels. As I am sure all this is as clear as nut I have attached the diagram shown in the Information book. The main adjustment is carried out by screwing in or out the large threaded section on the bottom of the outer steering column. some further adjustment can be made by shims under the side plate carrying the outer bush for the cross shaft. By trial and error I have now re-assembled the box and have virtually no play at the steering wheel rim.
I am unsure, not having the opportunity to check but I believe the steering box was changed for the next series (II) Single Six
I trust that this has given all those with an enquiring mind something to think about. With all the internals of the box laid out on the bench, it certainly did for me...
I just cannot wait to get into setting up the lovely little bevel gears that the "Gas & Spark" levers in the centre of the steering wheel operate but first I have to replace a damaged section of one of the inner tubes. Otherwise referred to as the steering post, spark and throttle sector, anchor tube..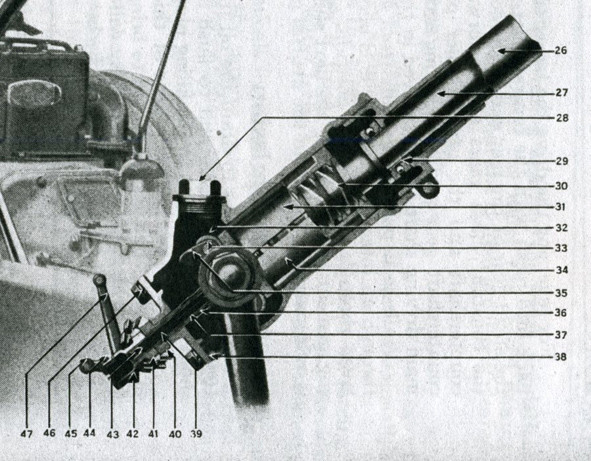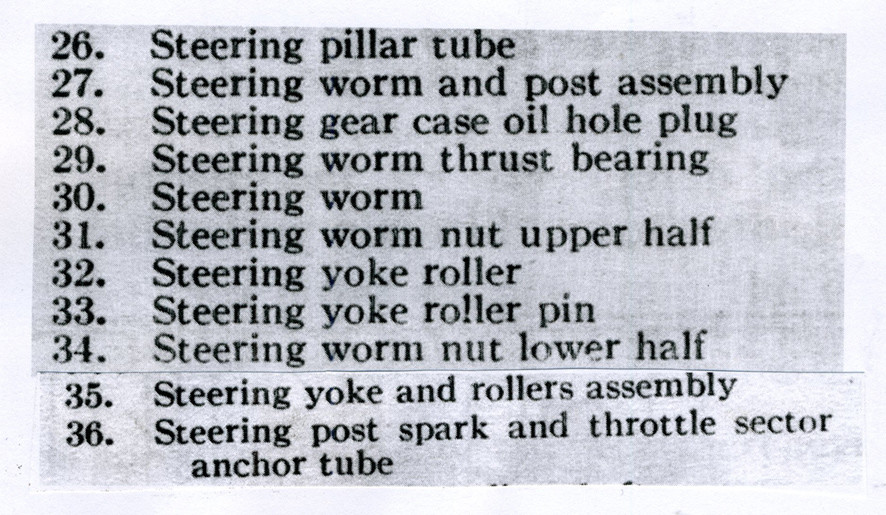 In case you are wondering. I once had a full head of hair, before I started to restore old motor cars.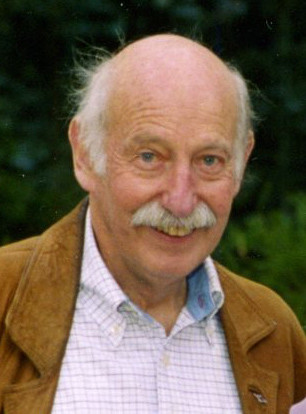 On the other end of the steering column. The steering wheel is cleaning up nicely. When we first bought the Packard the wood rim was falling apart with the glue completely dried out and the dovetailed segments coming adrift. The aluminium spokes badly weathered. These still require some final polishing. The rim is completely the original wood despite 40 plus years of total neglect. One segment had come away completely and was fortunately found amongst all the debris on what had been the floor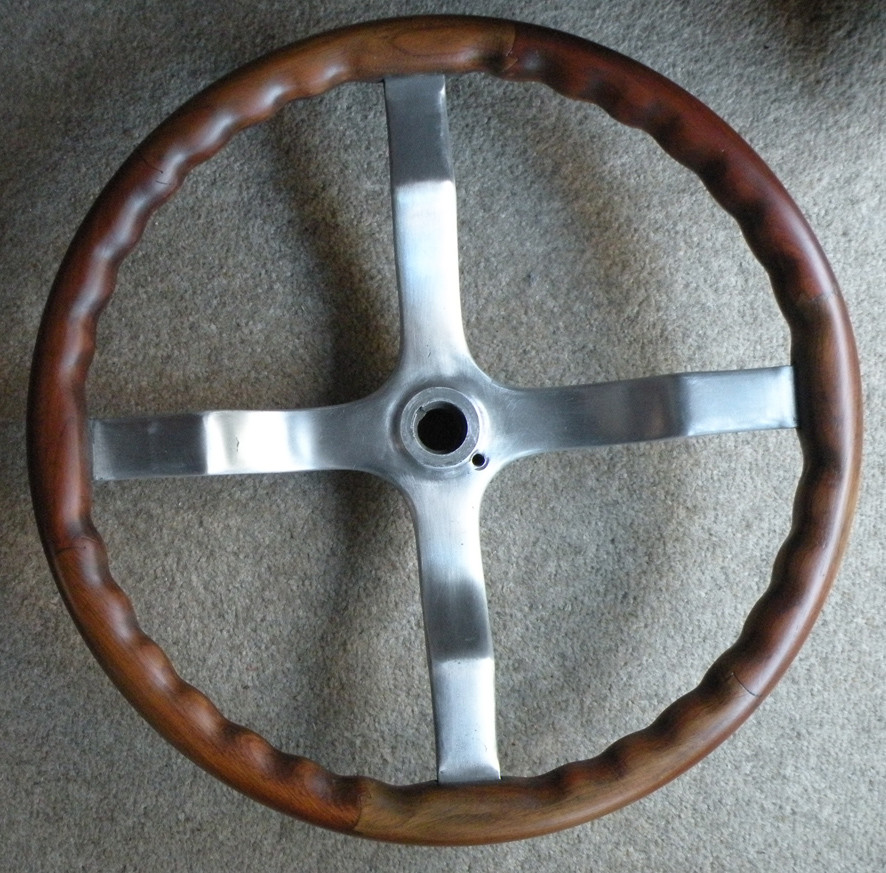 Hi Chris
I still have quite a bit of polishing to do so the steering wheel along with the quadrant and "gas & spark" levers will be included. To answer your question No my chassis just has individual grease points rather than the auto lubrication system. I don't know if any Series 1 cars were fitted with this. Perhaps one of the other Series 1 Single Six owners can enlighten us.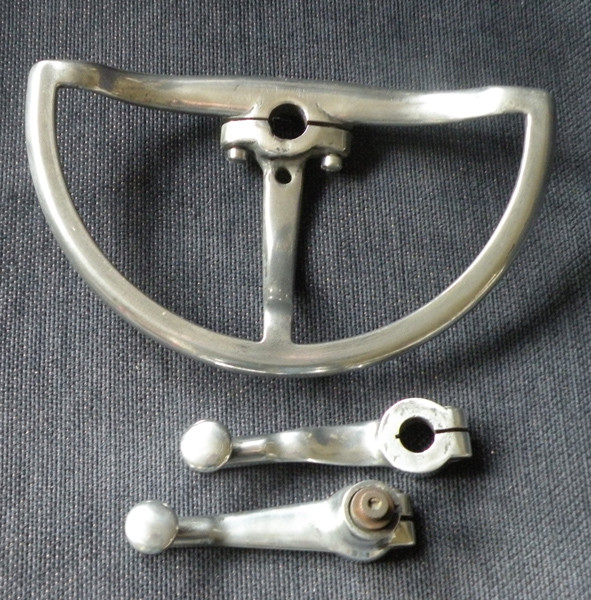 Hello West
I could only find the one "before" photograph of the steering wheel. Cropped out of a larger pic. This shows the location of the"missing piece of wood".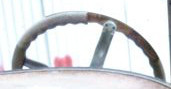 8-13-2011
Re: Some things I do twice.
This simply means that as I grow older I have become more discerning, when I am dis-satisfifed with the finish achieved the first time, I re-work the particular item to achieve a better end product. These days "near enough is good enough" no longer applies.
As an example I am currently busy filling the Phillips heads of countersunk screws with bronze and cutting screwdriver slots in them before nickel plating. I minor thing and time consuming but important if the result is to bring them into "period".
THANK YOU Steve.
Just one word of warning; don't bite off more than you can chew. My creed has been for a long long time. One car at a time. If you try to spread your time too thinly nothing ever seems to get finished and you can become frustrated. I know that you are younger but the market is overflowing with unfinished projects. Having said that, for your next project try a 1920s car. Then the FUN will really start.
8-14-2011
Quite some time ago somebody asked me about Packard sedan/coupe windscreen fittings (Photograph attached) at the time I was uncertain if I was going to need them myself. Having moved some way towards fabricating a windscreen frame I find that I will not be using them and they are now available.
I need to recover the cost of the nickel plating. Otherwise I will offer them for sale on the Packard section buy/sell.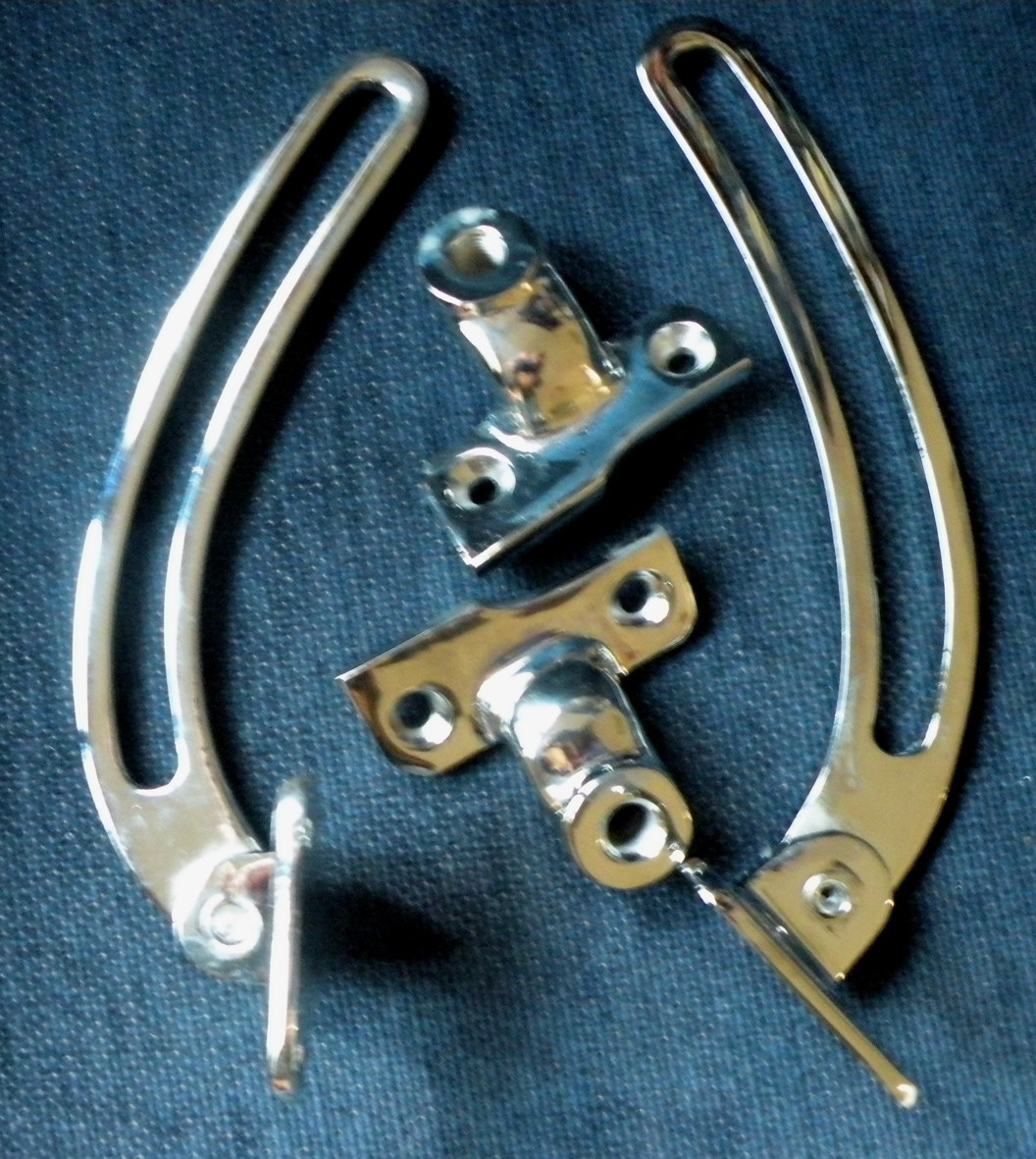 Further to the above. 1.You cannot imagine how difficult it is to photograph a single slot head screw. 2. Yes we do eat a lot of yogurt. 3. Several gallons of nuts, washers, bolts & screws. And as they say in those dreadful TV commercials "But wait there is more......."
8-16-2011
Without meaning to be offensive, some people may be out picking the daisies, while others smell the roses and maybe even one or two are mowing the lawn, others are hard at it working on their Antique Automobile of choice.
The two photographs below may seem to be a contradiction but in fact they show progress. The first was taken this morning at 10.00 am shortly after I arrived at Sleeping Classics workshop. The second was taken at 12.30pm just before I left to drive home for lunch. While this may not appear to some like progress that is exactly what it is. Dave, my painter, can start prepping the fenders and valances while the rest returns to Glendora Lane for me to lift the body off the chassis. Two things then need to happen. First I have to secure the panels and finish off some details on the underside of the body. Then my next task is to strip down the chassis frame so that it can go to be sand blasted before painting and re-assembly.
What did you do this morning?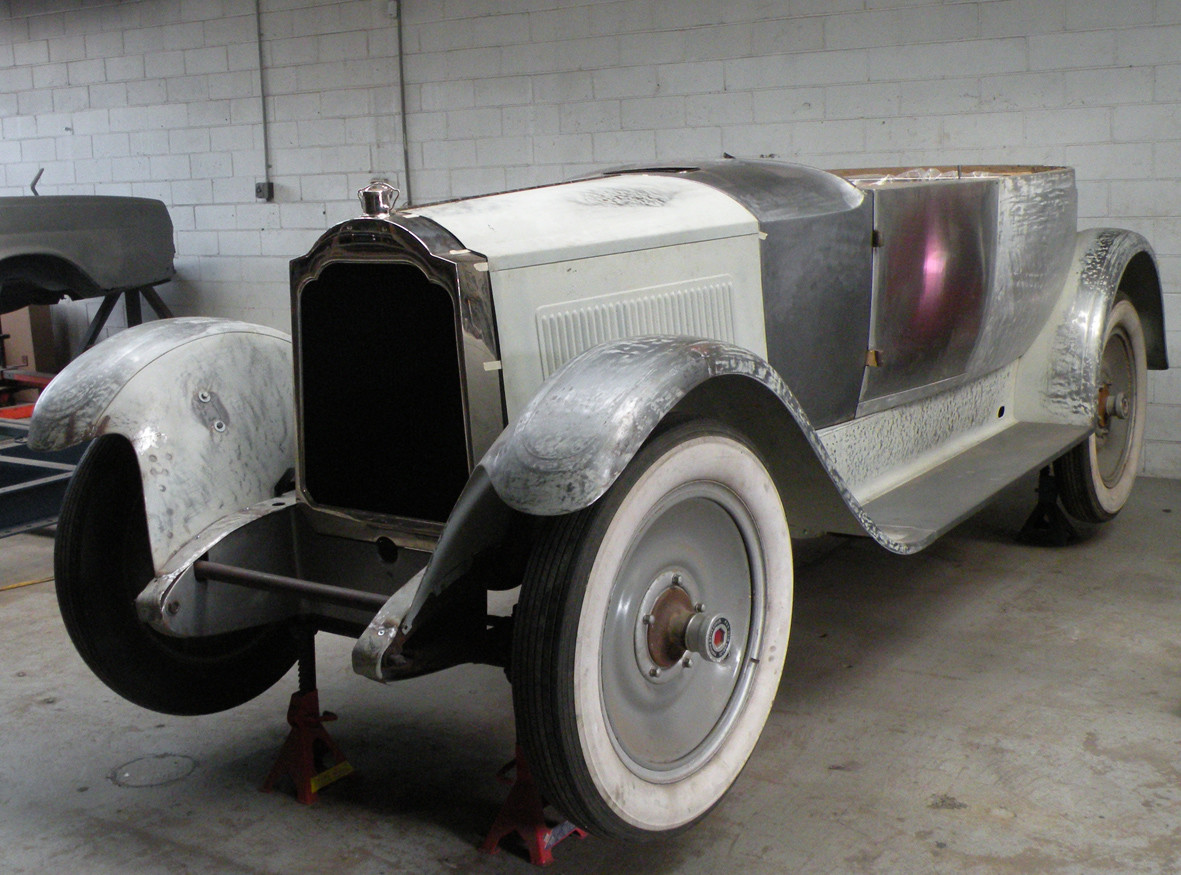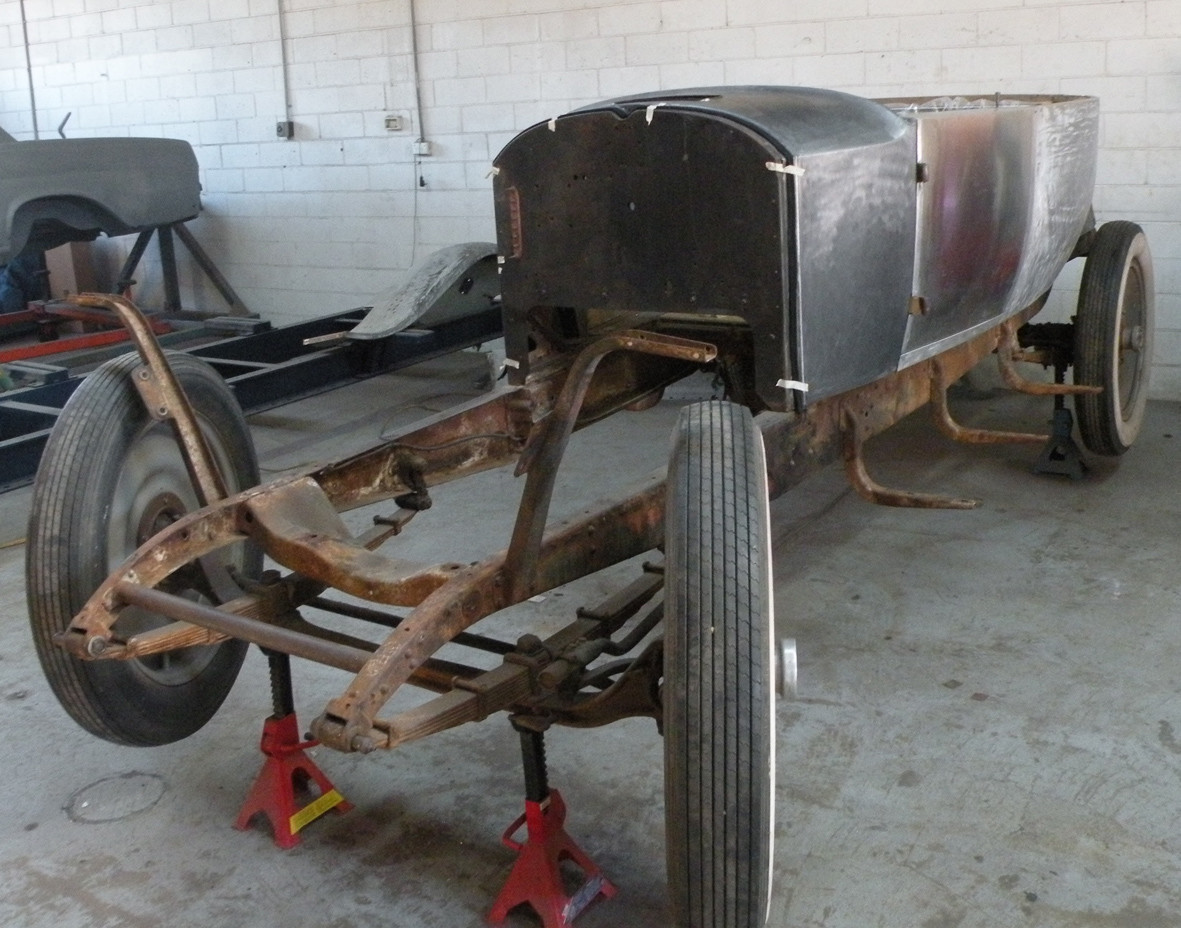 8-18-2011
On the subject of SCREWS
Sometimes it is worth looking in those bins at your local hardware retailer's
These are self tappers but any pack of 100 slotted raised heads for $3.91 is worth picking up especially when the bin is labeled "Everything $2."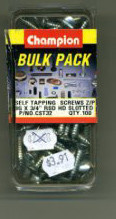 A handful of the above will be OK to use in conjunction with cup washers to secure parts of the interior trim where they cannot be seen. The rest will go into another of those yogurt containers and onto the shelf perhaps never to be used. At 2 cents each it is not going to break the bank. At least they will be better than the dreaded Phillip's heads.
8-19-2011
Hello again
Following my policy of doing things as the opportunity arises I am in the process of restoring a Stewart Vacuum tank for the Packard. The original had long since departed before I bought the car. Now I am faced with the task of finding one or two of the correct brass fittings. In particular the 5/8 inch fitting for the gasoline inlet on the top of the tank. I have two tops slightly different in detail but neither have this particular item in place. Does anyone have a spare that I could purchase or can anyone suggest a suitable supplier.
Thank you.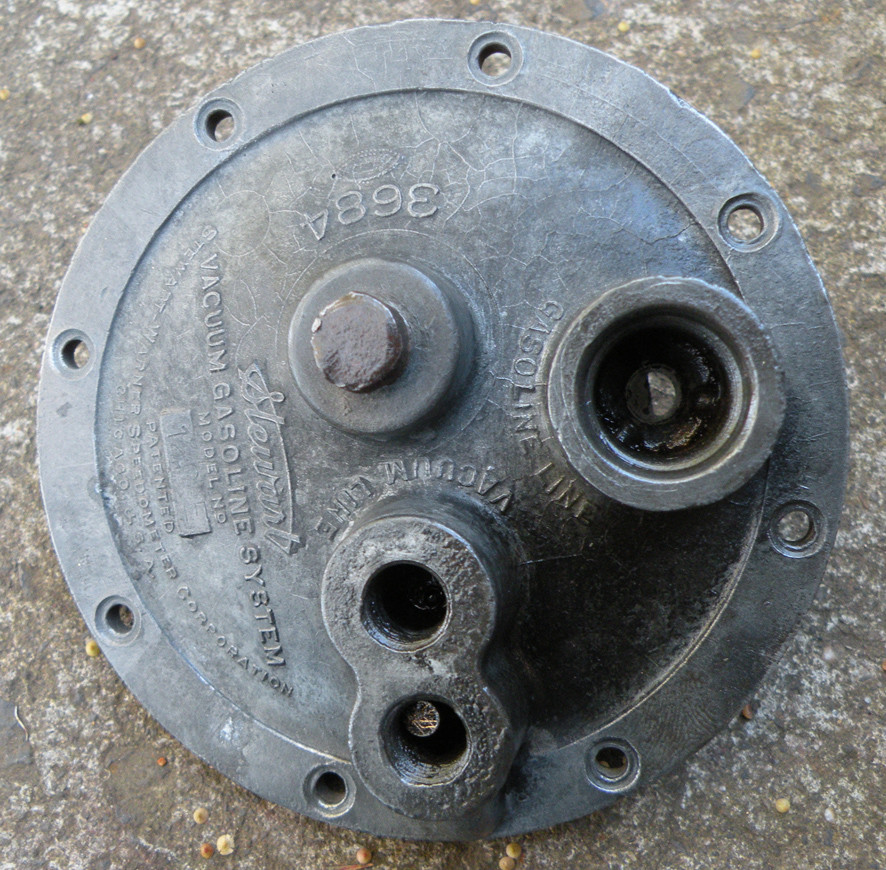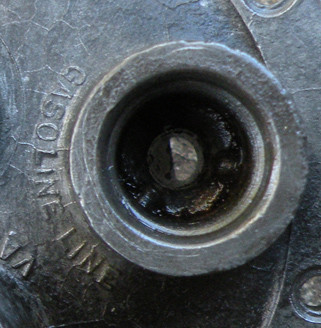 8-24-2011
The last two or three days have been spent doing the mind numbing job of screwing the panels back onto the timber frame. I have just about finished the first box of 100 slotted countersunk head 3/4 inch screws fortunately I was able to buy a second box of 100 so will have sufficient to finish the job.
To break the monotony I spent yesterday going to buy the stainless mesh for the radiator stone guard and the brass channel section for the windscreen frame. The other job that is almost finished is sorting out a Vacuum tank. While this one is not perfect it will suffice until a correct one comes along.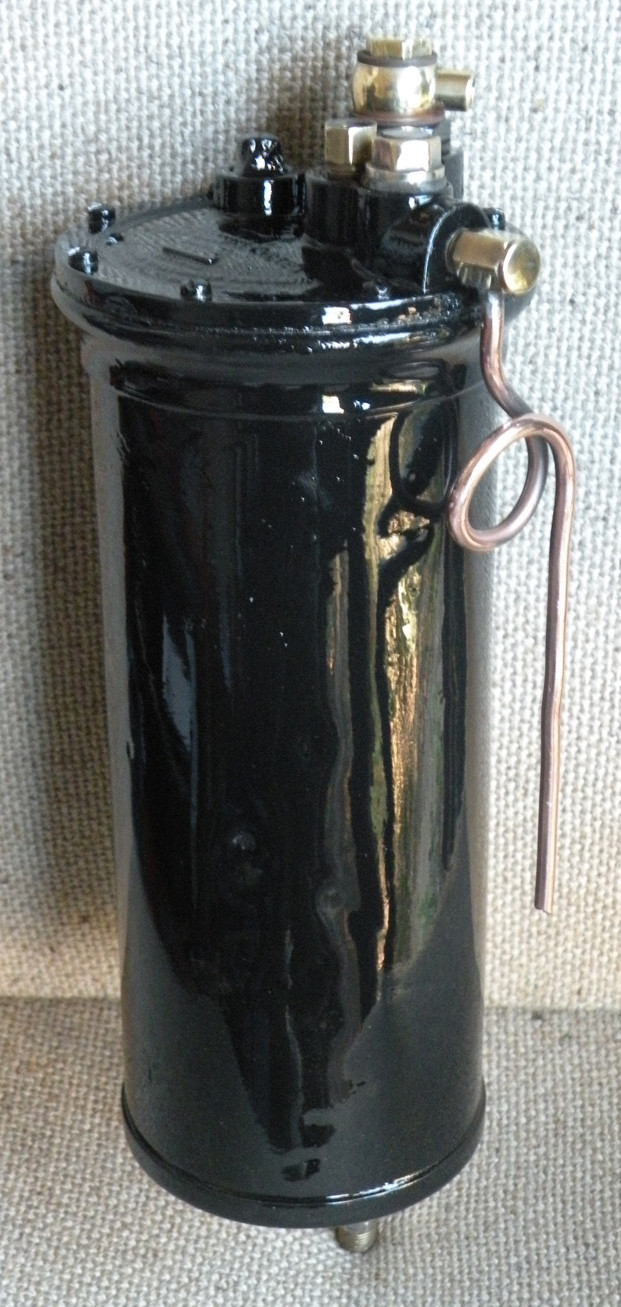 8-26-2011
It seems such a shame today I am locked in at my computer finishing a report on last Sunday's VSCC "Rob Roy" Hill-climb for the Automobile magazine in the UK while outside it is a beautiful Spring day.
Previously I mentioned buying the mesh for the radiator stone guard. This comes in a roll 54 inches wide and a minimun purchase of $100 which worked out nicely. I now have a 4ft 6 inch square which should give me sufficient to cut out the shape of the radiator on the diagonal.
This brings me to the big question. Which is correct for Packard radiator stone guards. I have seen both. Either with the mesh on the square and diagonal. Personally I prefer on the diagonal but before I cut it I would like to know what is correct.
The mesh I have is, double crimp, stainless steel woven in 1.6mm (1/16 inch) wire with the spaces 11.2 mm (7/16 inch) across, which seemed to be about the most suitable readily available.
What do the experts think???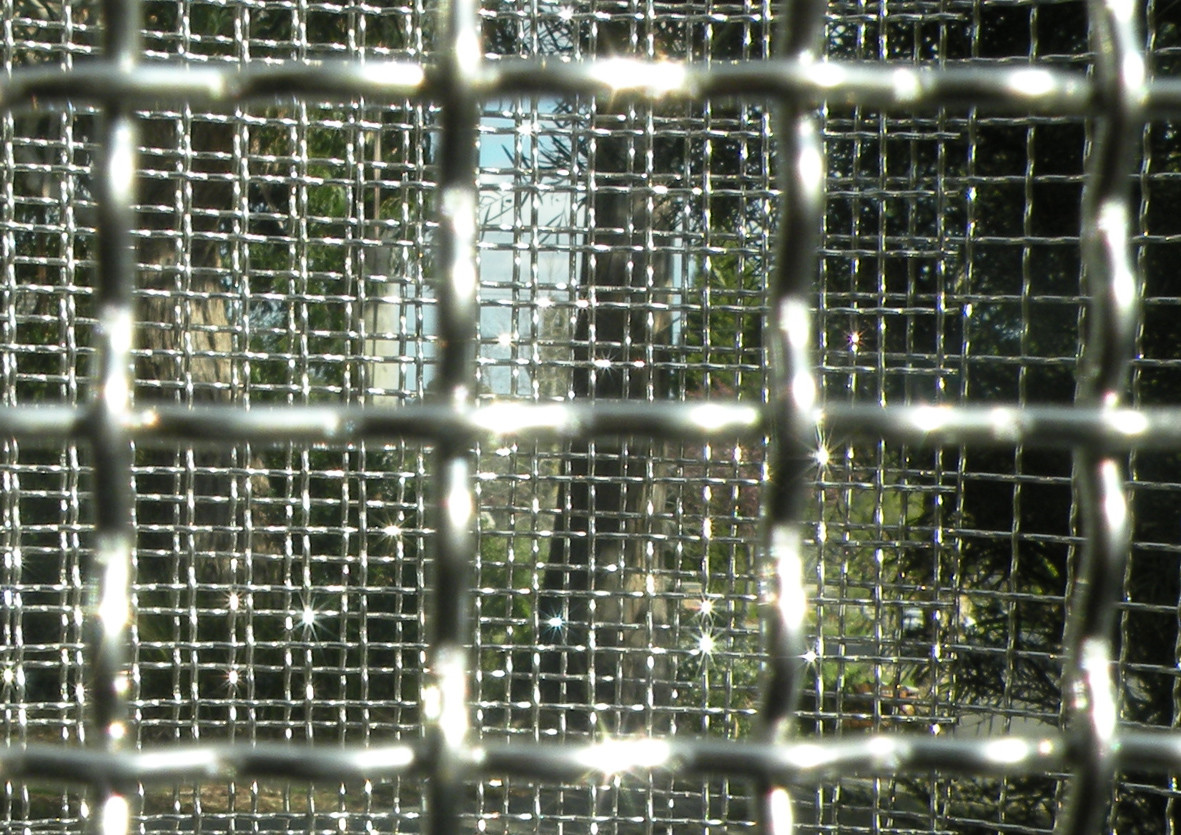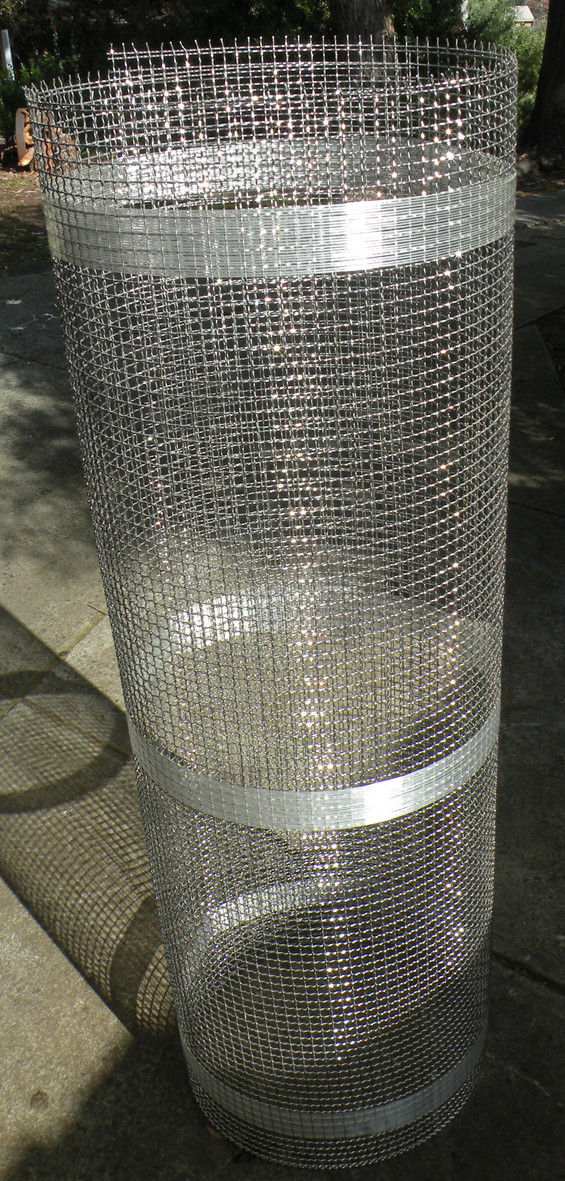 Thank you Chris
I know that the later 20s cars used this rather special weave mesh. I would be inclined to worry about the amount of air that it excluded from the radiator. It appears to block something in excess of 50% of the available area. In these times of Global warming we need to take these things into account. It is probably fine for show cars that take all their journeys inside totally enclosed trailers but I own neither a trailer or a vehicle big enough to pull one. Even if I did, with the cost of our fuel at around $1.50 per litre, I could not afford to take it anywhere. Helen's 2 Litre turbo diesel VW does around 1,000 kms to the 60 litre tankful. 621 Miles to 13.5 Imperial gallons.(46 mpg or 9 Aust Cents per km or 14.5 Aust Cents per mile) Sorry I don't have a conversion to US Gallons. My 1996 2 litre petrol fuel injected Peugeot 405 SRi is not quite so frugal.
Sorry about that diversion. I will post some more mesh photographs as work proceeds.
8-27-2011
Hi All
As this morning is a lovely sunny Spring day in Melbourne I decided that the time to end procrastination had come. You can see the results of this mornings efforts below. Please comment if you feel so inclined.
The various stages of the work should be self explanatory.
I am happy with the result and I guess that is what counts in the long run.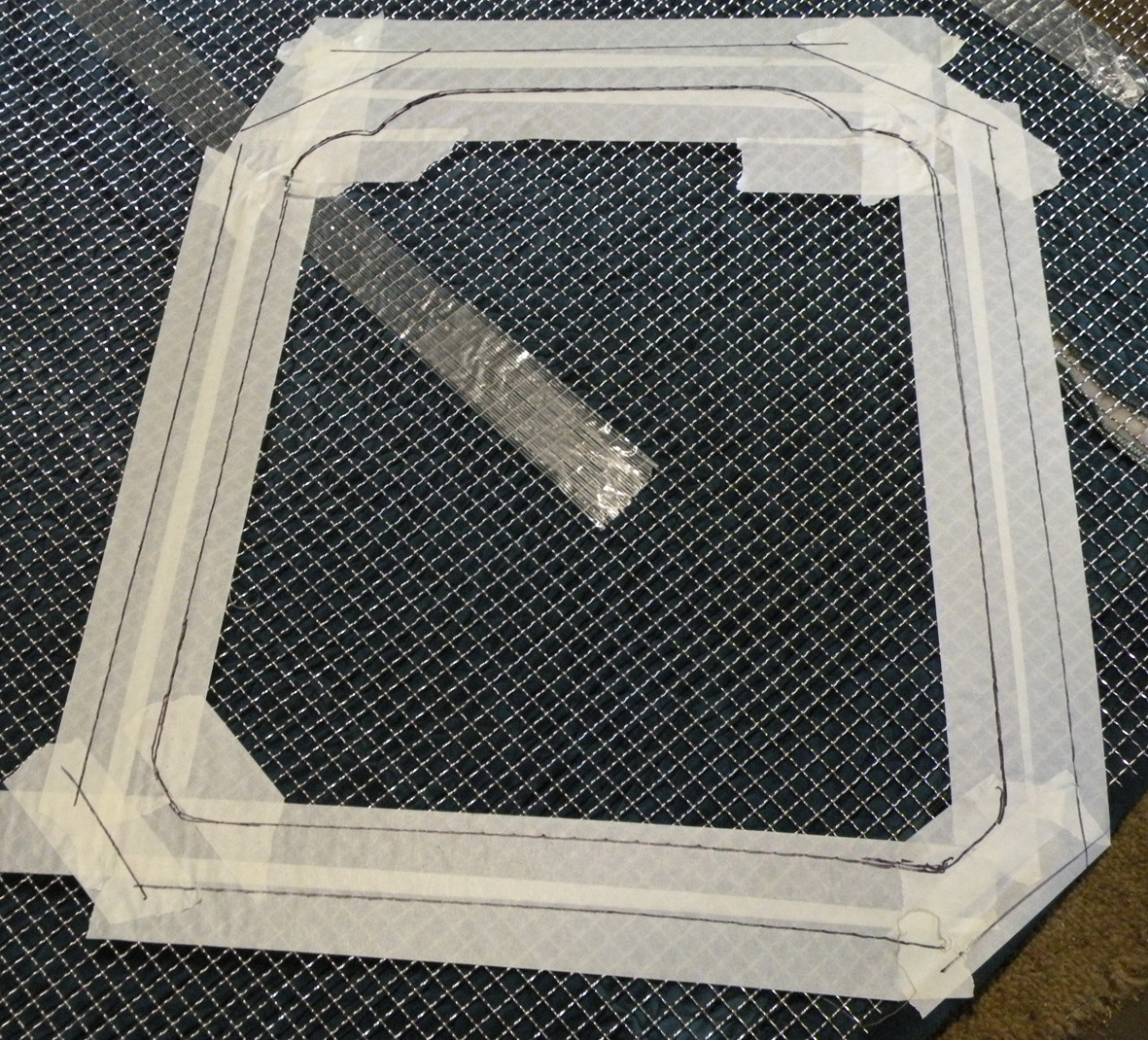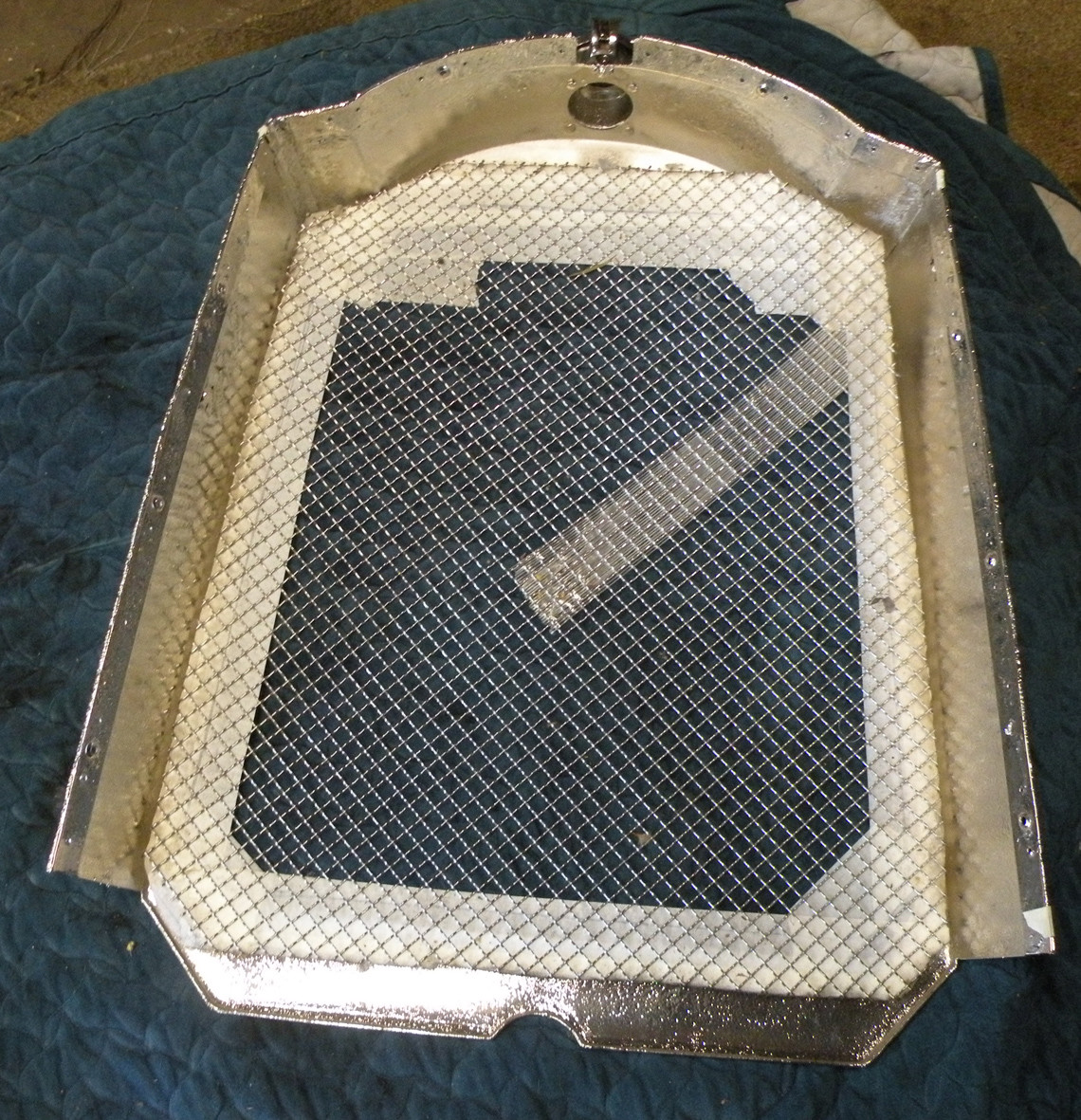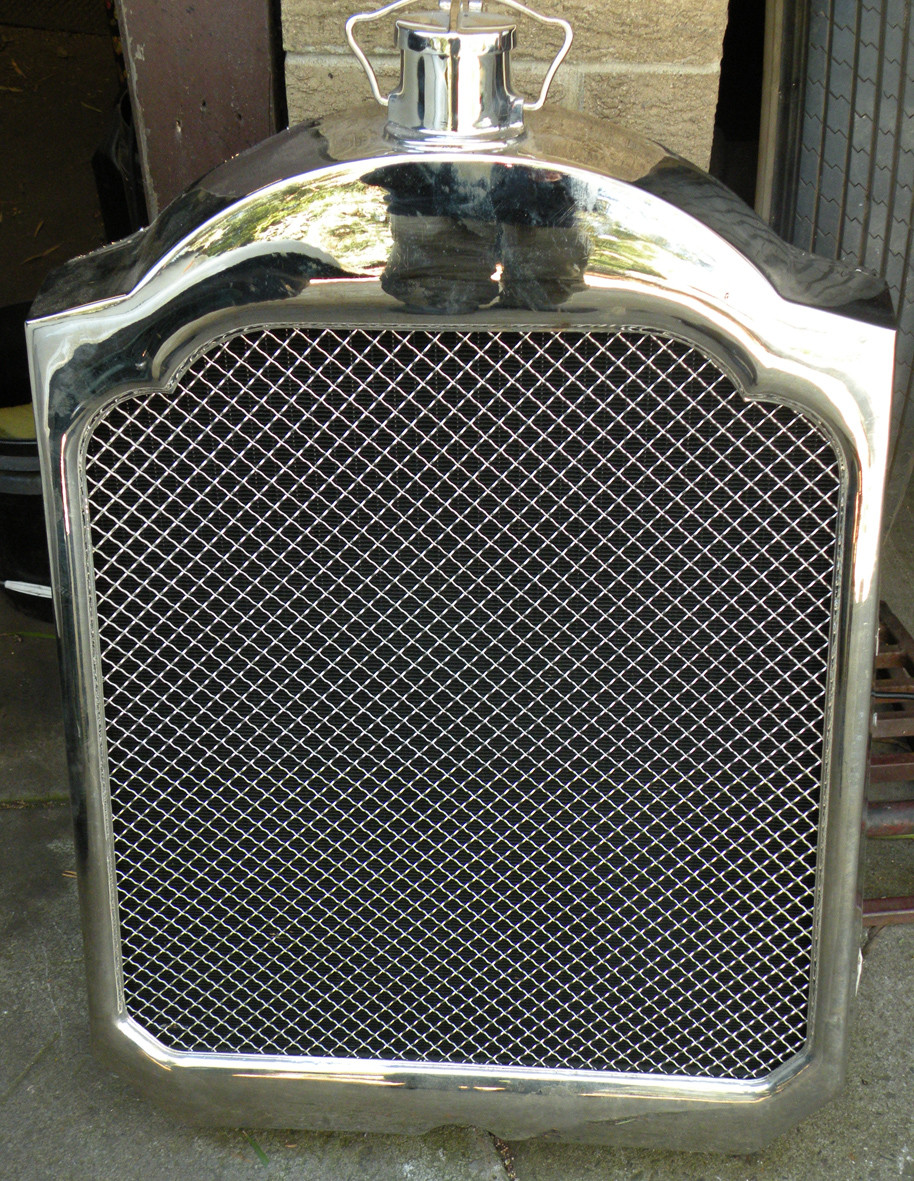 8-29-2011
Your are correct to be critical. Probably "Stone Guard" was the wrong term to use although it got the message across (sort of). The mesh is purely cosmetic, to disguise the fact that being extremely impecunious and also concerned about the reported reputation regarding the lack of cooling capacity of some reproduction honey-combe cores that I had used a modern core for the Packards radiator. I am sure that I had already explained this but that may have been on the thread that I started on the Packard section of the forum. (now closed) The mesh is attached to the frame of the actual radiator rather than to the surround. The difference in cost between a reproduction honey-combe and a modern core was around Aust $2,500/3000. In the same way the difference in cost between buying, admittedly the incorrect mesh, and doing the job myself and one of Henry Yeska's external mounted totally CORRECT Stone Guards was approximately $1,000. all in all almost the price of a set of four tires. I am sure that there a lot of people reading this saying "If he is that poor he should not (how dare he) have bought a Packard"! Unfortunately I am a slow learner. If I had not bought the "coupe" it would have most likely ended up in the melting pot to be recycled into saucepan lids or something similar. Anyone who feels that they are better qualified to complete the restoration (and of course do it correctly) are welcome to make me an offer.
I do try to be as honest as absolutely possible in all things that I do, say and write. Nothing is hidden what you see is what you get.
I am told that "Old habits are the hardest to overcome". My 1934 Lagonda Rapier (the poor mans Lagonda) has had a mesh in front of its radiator since the 1950s. The original vertical slats were removed to improve cooling. We have had global warming here in Australia for a long time.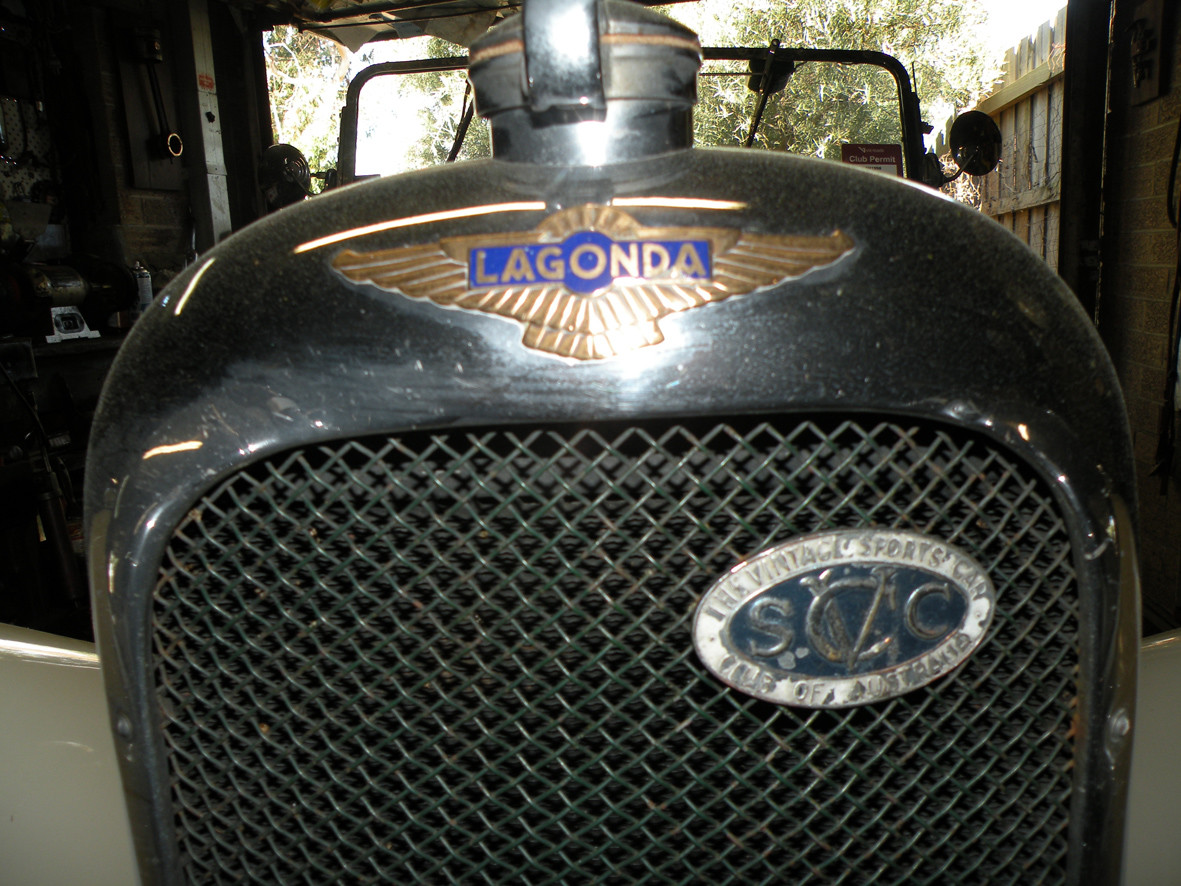 Back to basics! This mornings task was to remove the body intact and single handed. Now while to some this may appear to be a retrograde step it is actually a giant step forward! With the axles and springs removed there will be only one way that this restoration can move...forward.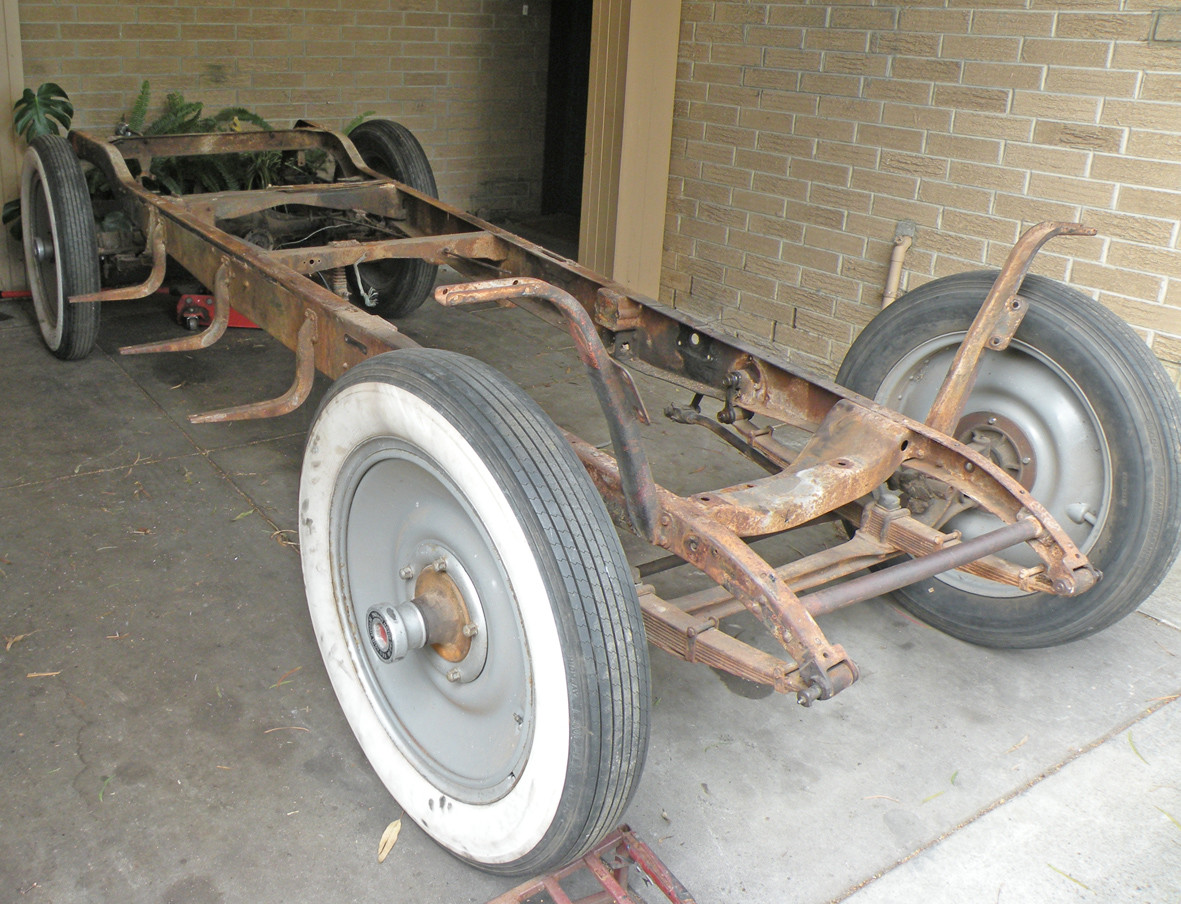 8-31-2011
When I said yesterday that I was "bask to basics" I was really jumping the gun. However today I can say "really back to basics" after a morning of persuading 88 year old nuts and bolts that have not been touched since they left Detroit to come undone. Remarkably the shackle pins and bushes show virtually no wear. The brake cross shaft was frozen solid indicating just how long it must be since the car was last driven. I am finding it difficult to relate the almost total absence of wear on any of the chassis moving parts with the condition of the motor. Despite this I am convinced that the motor is the original and has never been out of the chassis before. Those with fully equipped workshops with travelling cranes and fork lift trucks can have a smile at my expense.
How does a 74 10/12s year old move a Packard Chassis single handed? Well you may ask. The answer is demonstrated below. With a almost worn-out home handyman trolley jack and a pensioned off push lawn mower.
Now I can go back to dismantling the front axle. Has anyone got a spare 2 inch a/f spanner. I need one to undo the front wheel bearing retaining nuts.
One more question is there someone who knows where to buy reproduction rubber bump stops?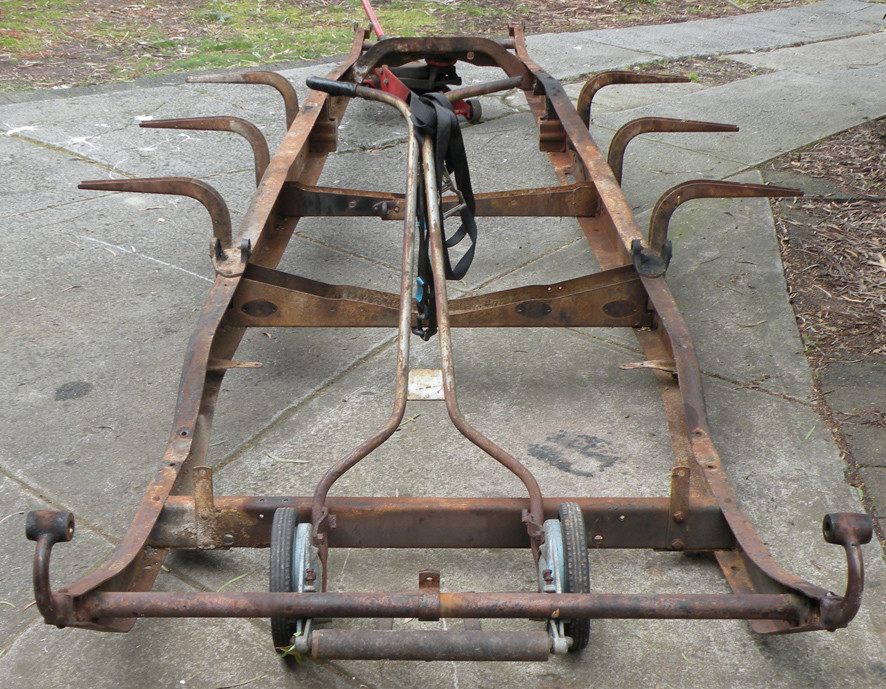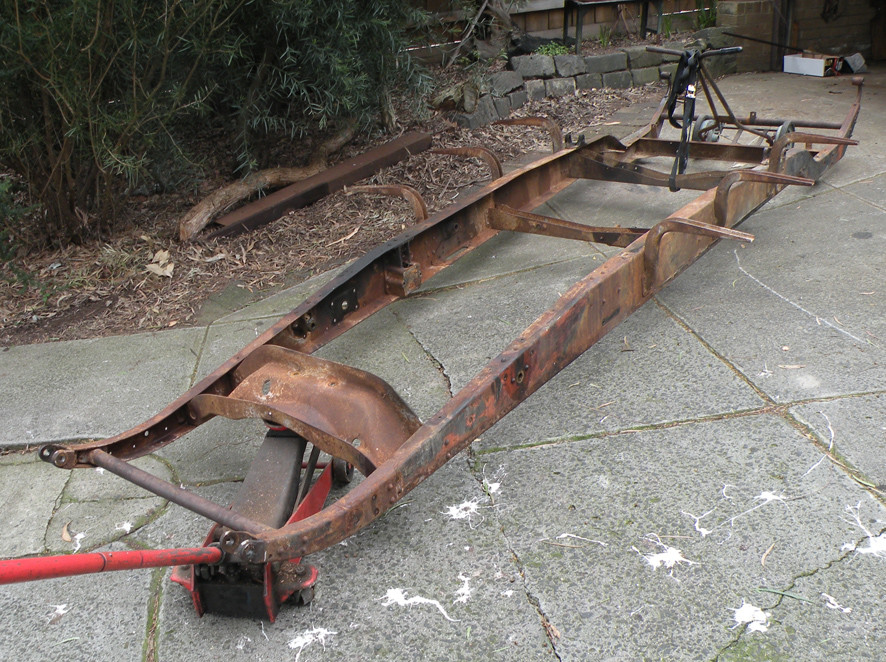 9-1-2011
Hello B
I have answered your question about AF Spanners
regarding what I call "Bump Stops". These are the rubber buffer attached on the front axle under the U bolts and at the rear bolted to the chassis immediately above the axle tube. so I guess that they could be referred to as rebound pads.
I have shown both the front and rear types below. The front are recoverable but unfortunately the rear have taken an absolute belting.
Also shown is the LH front spring. The first thing that is obvious is that the smallest Leaf is incorrect but what you cannot see is that the centre bolt that locates the spring on the axle and keeps the leaves in their correct place is broken, into four pieces. This tends to confirm my theory that the cars early life was mainly on rough potholed country roads.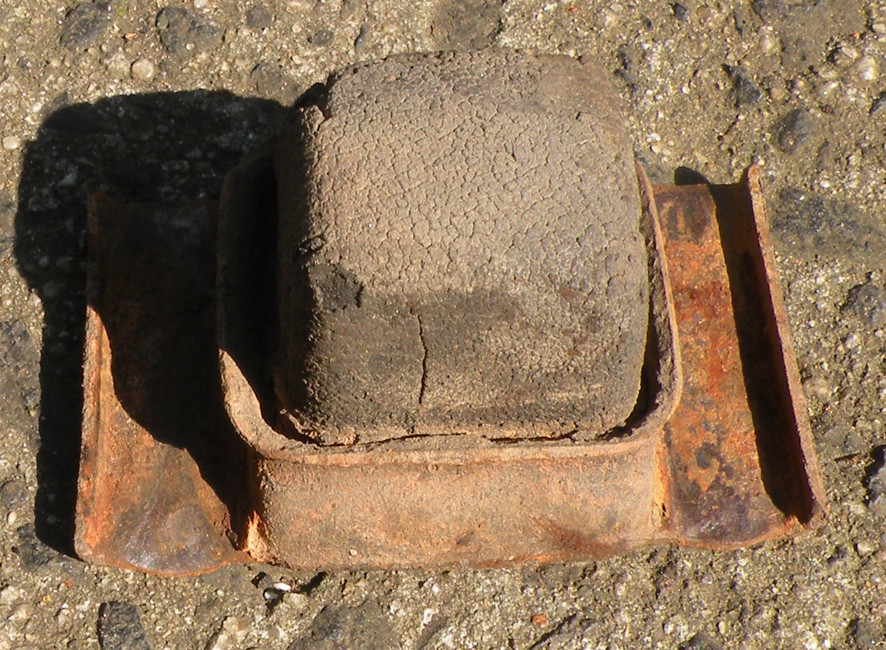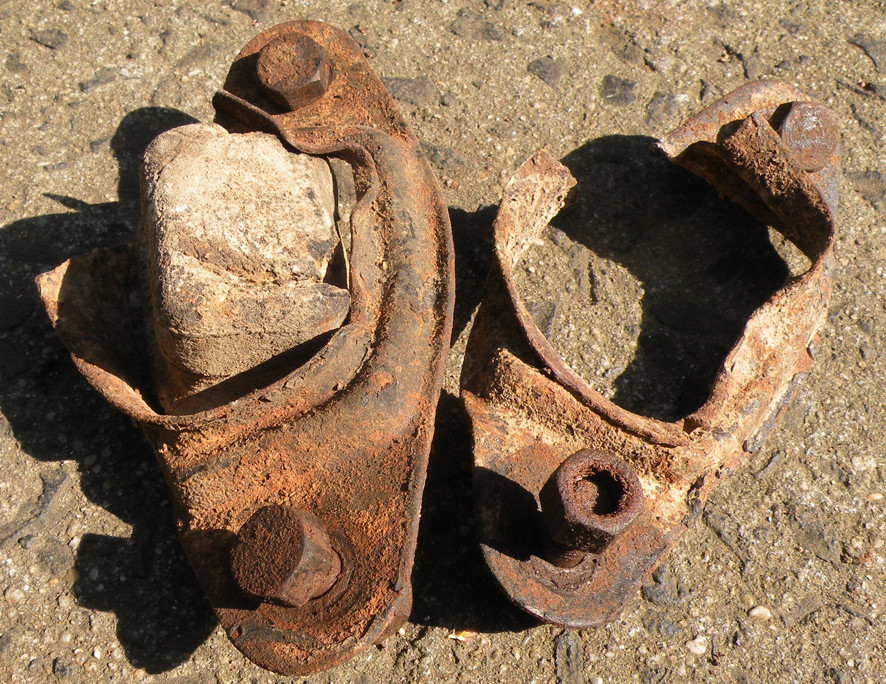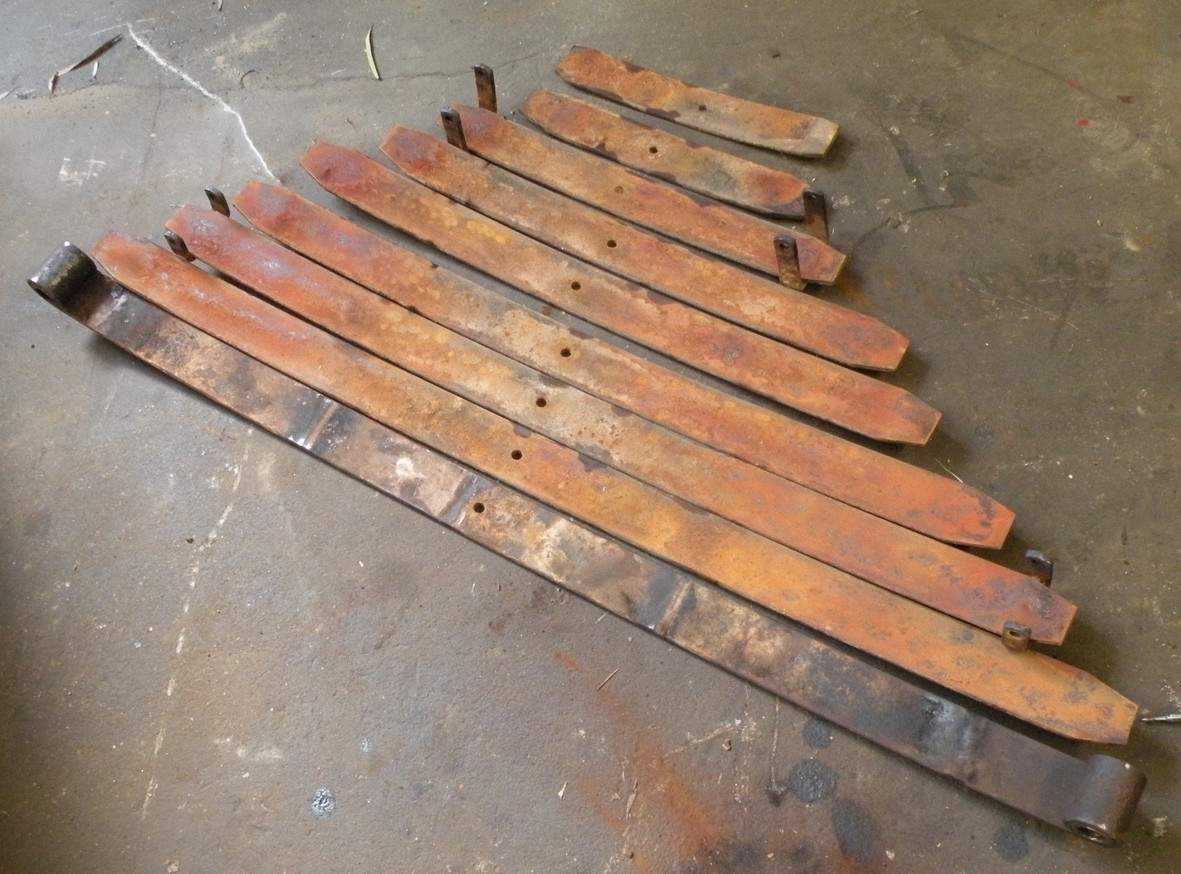 Hi "B"
AF is simply a system of identifying Nut and Bolt head size rather than the diameter of the shank. It takes the distance in inches across the head of a bolt from side (flat) to side (flat) so AF refers to the size of the spanner you need to fit a particular nut or bolt. Usually metric spanners also give you the size of the bolt head not the diameter of the shank( The diameter of the hole that it goes through). Imperial (English) BSF (fine thread) or Whitworth (coarse thread) spanner sizes refer to the size of the shank of the bolt not the size of the head which if fine unless you come across some special purpose bolt with a non standard size head.
In short the AF size stamped on a spanner refers to the size of the head not the size hole that the bolt goes through.
When you are buying nuts and bolts you alway refer to the size of the shank so a 1/4 inch bolt goes through a 1/4 inch hole but you need a 7/16 (Across the flats) spanner to tighten it up.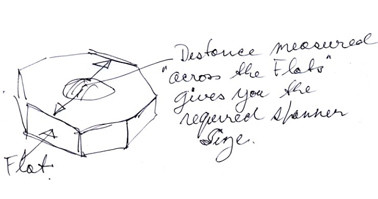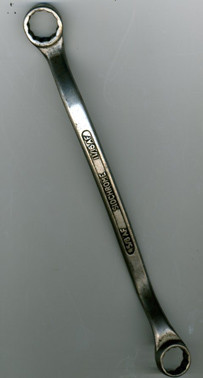 Remember that front spring shown in yesterdays post.....
One thing that has shown up for which I will have to seek some outside help.
The front axle beam has about 1 1/2 inches bend. Fortunately I know someone with a LARGE press.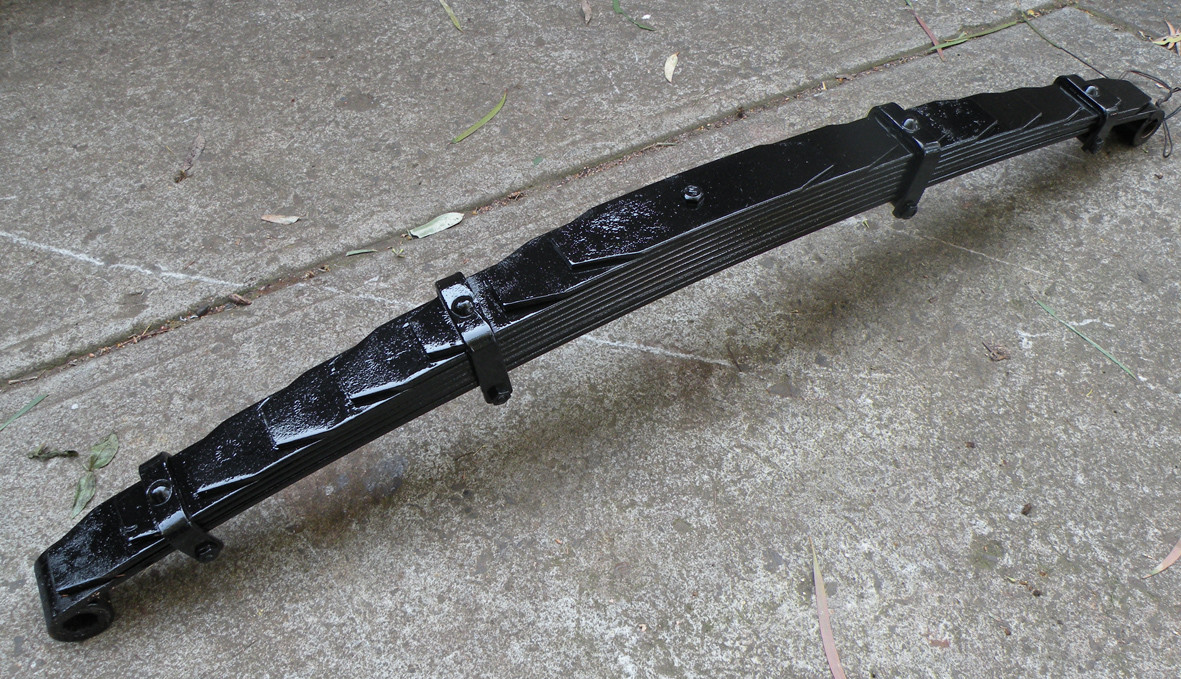 9-2-2011
Hi y'all
My good friends at Blast Off picked up the chassis frame this afternoon and while not wanting to start into anything major at 3.30 on a Friday afternoon I though I would make a start in straightening out the tinware for the rear "bump-stops". The front ones were OK as they mount onto the top of the spring and are anchored by the 'u' bolts. I think that I mentioned that the rear ones had suffered from a little gentle battering.
I have ordered new rubber pads from Steele Rubber thanks to 'B' giving me their web-site link. (See his post above) So far I have been unsuccessful in finding a source of the tin-ware that locates the rear one onto the underside of the chassis directly above the rear axle.
So with an hour or two to fill in I thought that I would have a go at repairing the originals. Below is a progress photograph of the first attempt along with its partner in as found condition.
The second photograph shows the work in progress with an original rubber pad trial fitted in place.
Before I go much further can anyone suggest a possible source of this tin-ware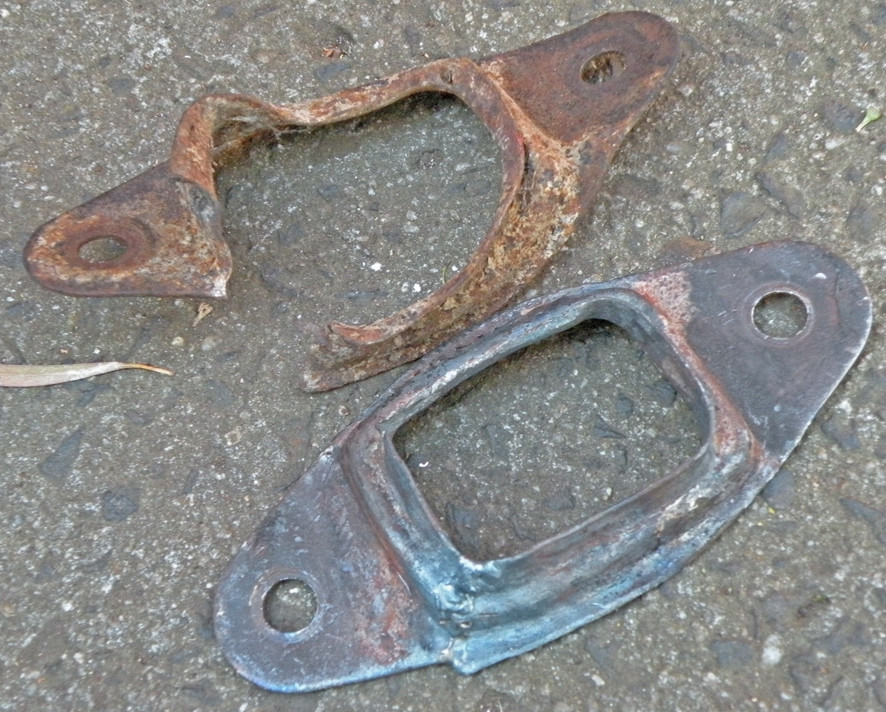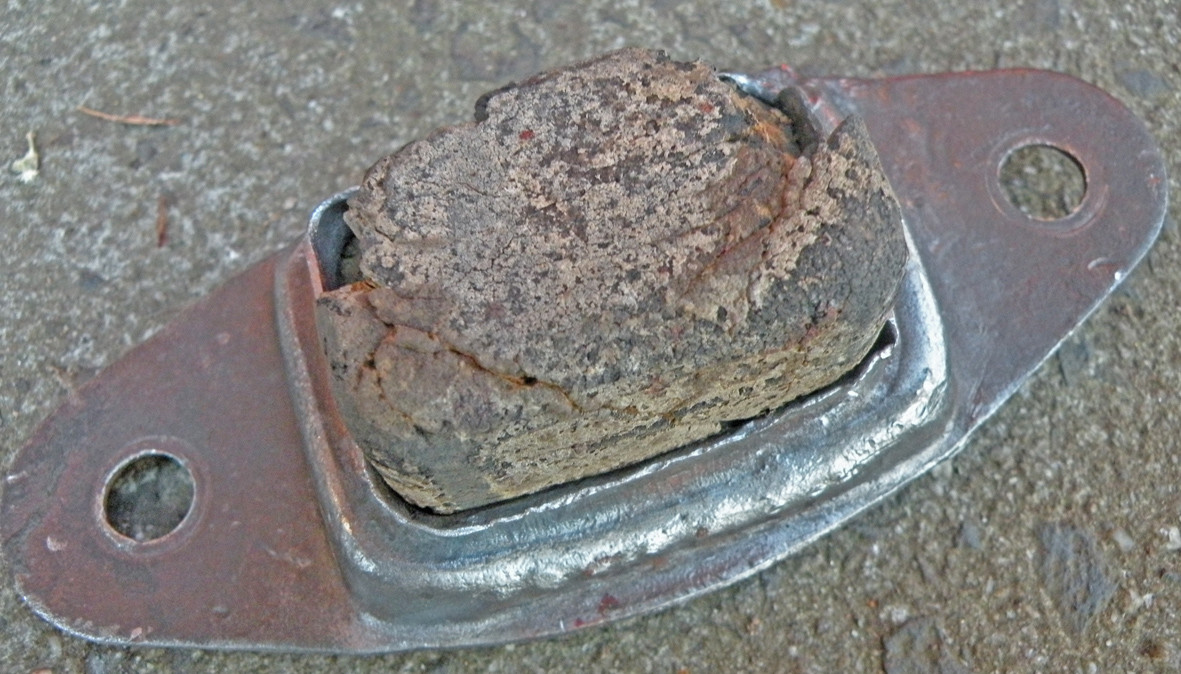 Hello Bill
Good to hear from you again.
I have decided to paint mine too. After welding and panel-beating them back into a reasonable shape they still are not good enough to simply tin plate. After wire-brushing them clean they appeared to have enough paint remaining to convince me that they had been painted in the first place. I have ordered the rubber pads for the rear from Steele Rubber but will have to cast the front myself. Fortunately I have one that with a small amount of filling will make a good pattern.
9-3-2011
Thanks David
Packard seemed to have a dislike of LH threads although the wheel bearing retaining nuts are "handed"
As I continue to dismantle the front end the more I become convinced of the short but rough life theory. None of the steering rod "ends" are showing any signs of wear. I believe that with a thorough clean and re-pack the wheel bearings can go back in, likewise with the king-pins, etc. Every thing is packed with a soild mixture of mud and grease. The track rod ends still have their original leather "boots" although as these have hardened I will be making new ones.
I really do wish that I could find out something, anything, about the cars early history. The more that I think about it the more I am convinced that its active life would have been finished well before WW2. Surely some of the older Packard people can remember something. It is not every day that someone cuts the roof off a coupe. Or for that matter do they ship a derelict car off to the other side of the world, albeit 40 years ago! Someone had to do it, the car did not just hop onto a boat all by itself.
Come of people put your thinking caps on... Please.
9-5-2011
Oh well! It seems that either no one actually looks at this "thread" or that most of you are either little more than school age or are so elderly that you simply have no memory left.
This is a pity as all the Packards early history is in the USA. I may be strange some would even say perverse but I really do like to learn as much as possible about my car's history.
Can any of the historians among you, tell me if there are any early Packard records still in existence?
Things like which chassis/id number car went to which dealer?
Enough of all that.. the photograph below shows the bare front axle beam before I take it to be straightened. My meagre workshop just does not run to a 50 ton press...
My other task for this afternoon was taking the stop light switch completely apart, carefully wire brushing and sand papering the folded tin body and mounting platform then giving them a coat of primer. They should be ready to give a light sand and a coat of black enamel tomorrow. While not a big deal even the stop light switch has to be restored back to working order. While it would be easy just to send off the money and have a reproduction one posted to me. The result would just not be the original, and not nearly as satisfying as bringing a 80+ year old switch back to useable life. Once you have taken one apart they are not rocket science.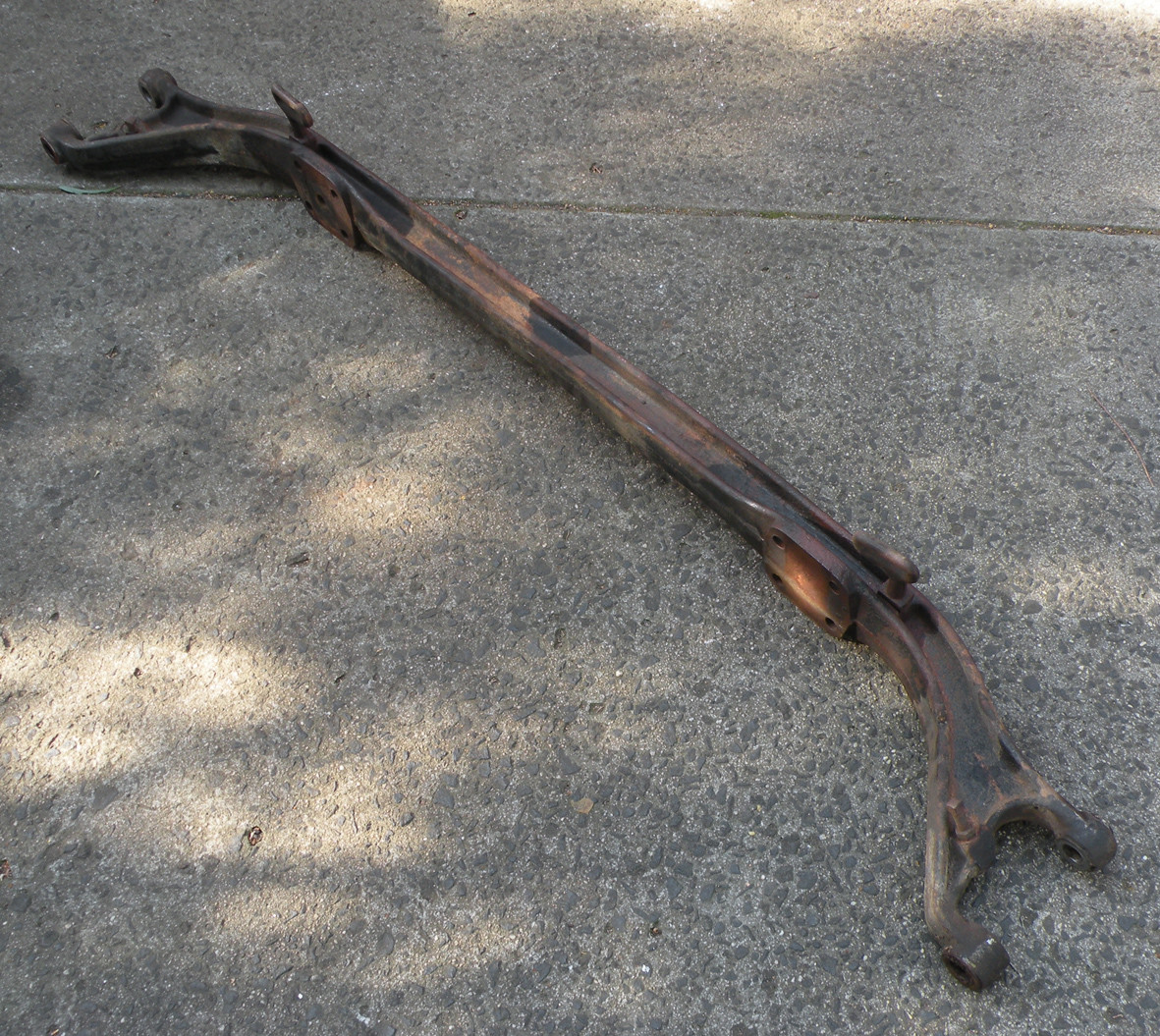 Hi Folks
Many many thanks for all your support and comments.
I have just started an inquiry with the Australian Government Archives to see if I can at least learn when the Coupe (remains) arrived here in Australia and to whom it was first consigned and by whom. Having tried to instigate similar (Government) searches in the past I will be amazed if I get a result but as the old adage says "Nothing ventured, nothing gained" Or if you prefer in layman terms "If you don't have a go you will never know".
My favourite breed of dog is an Airedale Terrier. Never try to take a bone from an Airedale!
9-6-2011
Hello Larry,
Your lucky, it was just a teenager (13) when I came along... I have seen photographs of the Packard plant as it is today and almost cry.
Hi Ben, Good to have you drop in..
As you will see from the photograph of the front axle a couple of posts back(#553) I have unravelled the mysteries of the front wheel bearing retaining nuts. As you say they are not excessively tight and a "monkey wrench" does the job just fine.
To-day I have been out to visit my son Steve who had offered to exert a little more pressure on the bend in the front axle than I could rustle up. About a 100 tons more. It just goes to show any job is easy if you have the right equipment and the know how to go with it. The first two photographs should be self explanatory. Looking at the second photograph you can see the spring pad with the remains of the centre bolt well and truly rusted into the location hole. Just above the end of the "straight edge".
The last photograph shows the sheared off head of the spring centre bolt and the hole after it was cleaned out. Of course I was wearing my "$2 Shop" safety glasses while operating the press!
Mal.
Defying all logic it was probably easier in this case to remove and completely strip the front axle than to take the car anywhere. I would have to find all the bits first... AND this way it fitted into the trunk of the Peugeot just fine.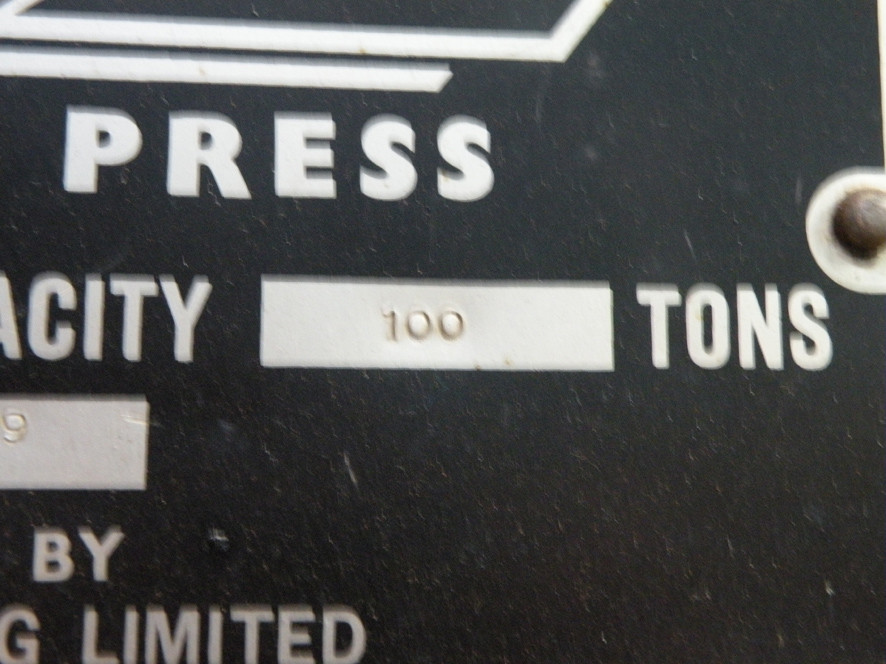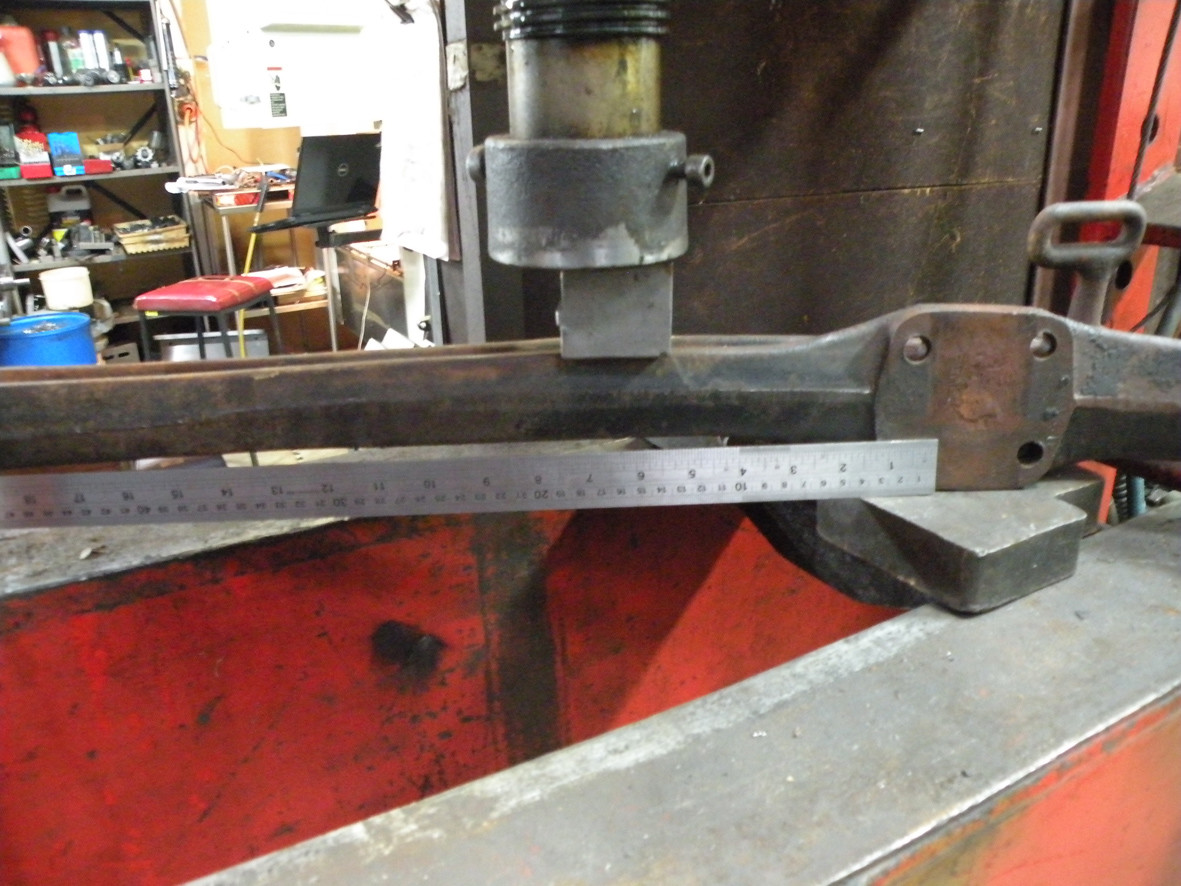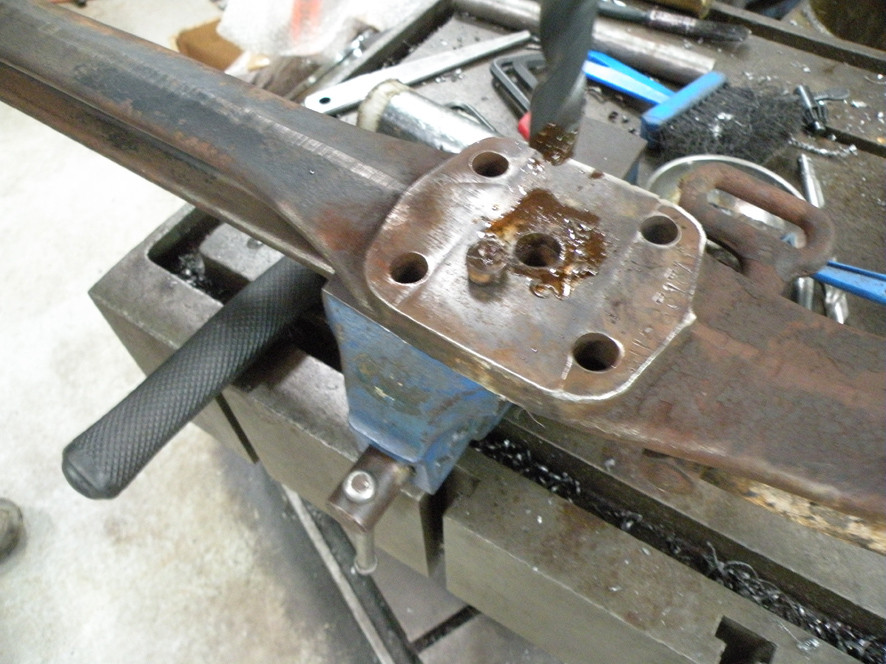 Ben
In reply to your question. If I knew the answer to that one I would probably know who was driving it at the time. All I know is that it sure was driven down some rough roads.
Country Doctors during the twenties certainly had to earn their keep. Making after hours emergency house calls down rutted unmade roads in the dark anything could have happened. At least that is what the car seems to be telling me. It was originally a "Doctor's Coupe". I just wish someone could confirm the story!
It may not look much but it is the original 80+ year old stop light switch. It has been totally apart restored to working condition and re-assembled. Probably a total of three hours work but how much satisfaction?
9-7-2011
Don't Look now you may be deceived into thinking that i have had a dreadful accident. Not so with son Paul's help we turned the body over so that I can screw the remaining sections of panel back onto the timber frame. This also revealed the fixing for the pivot points for the little fold down seat beside the driver confirming without doubt that the car had indeed been a factory Doctor's Coupe. These have now been removed and timber corner blocks screwed and glued into the corners to further stiffen up the original timber frame.
Time now to clean up and get ready for tea. First task after washing and changing out of my work clothes is to pour two glasses of excellent south eastern Australian red (wine). Strictly for medicinal purposes
Sorry about that but for some reason I could not attach the photographs so here they are now. The close up shows the pivot points for the folding front passenger "jump" seat.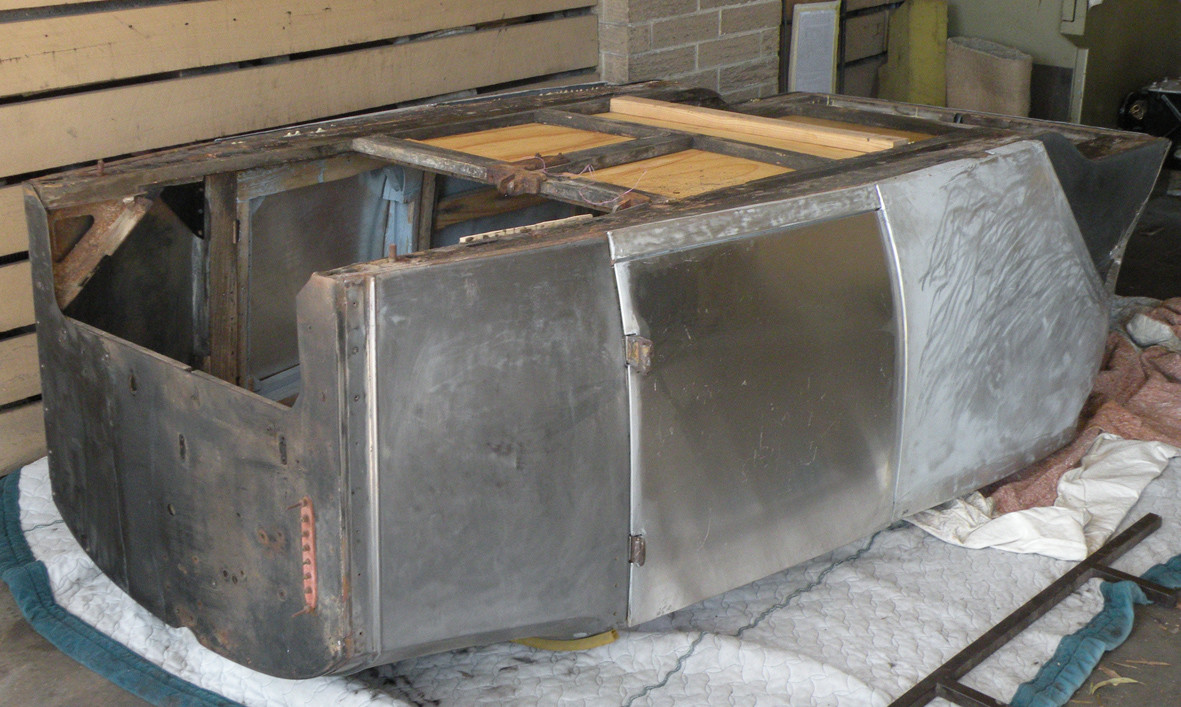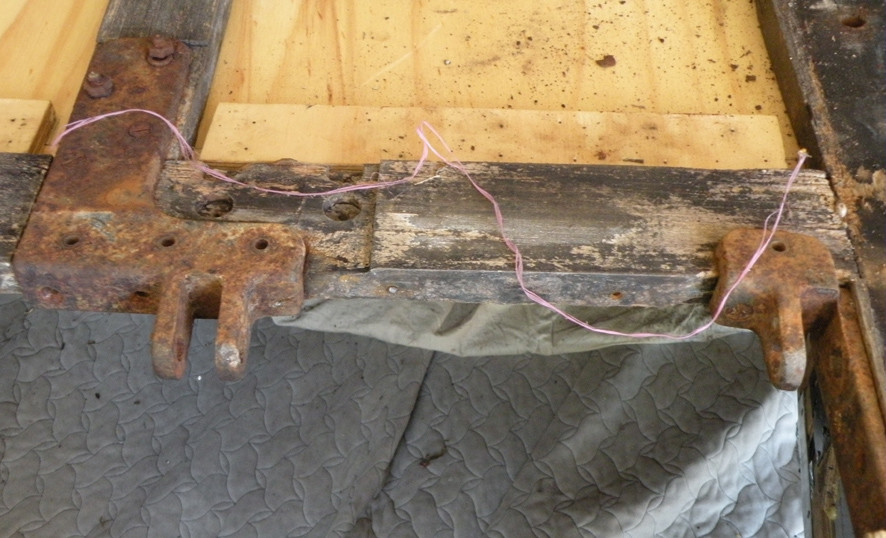 9-9-2011
Being a cold and wet Friday in Melbourne Australia there has not been a lot happening.
I have given the underside of the body another coat of matt black paint. Was that 80+ year old timber hungry? I have given it three coats of paint and first two went straight in. Once this final coat is fully dry I should be able to turn it over again. I can then make a start on fabricating the windscreen frame. The chassis has been returned by the sand blaster and he should have all the front axle bits done by mid next week so I can start painting them.
Question,
I plan to paint the fenders, valances etc a very dark brown. Should I paint the chassis and axles etc the same or black?
9-10-2011
Thanks "B" that is my thinking too. It certainly makes it easier when it comes to painting springs,axles and the rest of the running gear.
With the fenders valances etc in place you don't get to see all that much of the chassis unless you are crawling about under the car.
This morning I have spent almost the whole three or four hours undoing the eight nuts on the rear axle 'U' bolts. I don't think that they have ever been undone before. I ended up with a length of tube over the end of the spanner to give me a little extra leverage. Either they were extraordinarily tight and or well rusted into place or I am growing weaker in my old age. I tried everything lots of penetrating oil and a little heat but I was not prepared to sacrifice either the nuts or the 'U'bolts. Either way I managed to remove the second spring just before lunch time.
Hi Ben
You are right about the 3/4(AF) spanner. running the nut back to help the distribution of the penetrating oil also certainly helps. Not too sure about the grinding paste. If I had a die-nut the correct size and pitch that would have helped clean up the thread but sadly my collection of taps and dies are mainly "Imperial" (BSF and Whit). One of the problems created by coming to American cars later in life. Like many Australian enthusiasts I started out as a younger person on early Austin Sevens (that is rated horsepower not the number of cylinders) When I was a kid you could buy one for £5 ($10) if it was not going or £7.50 ($15) if it ran. That was in the days before decimal currency in Aust. I remember my first pay envelop contained £3/7/6 ($7.50) You could just about fill the petrol tank for 10/- ($1.)
When do you stop buying more tools and equipment?
9-11-2011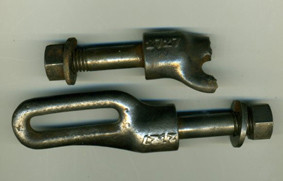 Meanwhile our son Steve has been managed to fit in some more work on the water pump into his busy schedule. He has made a new shaft and re-bushed the bronze bearing. Cutting the 28 splines for the pulley end of the shaft. With the pulley pressed onto the shaft it is now almost ready for final assembly.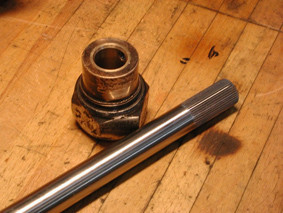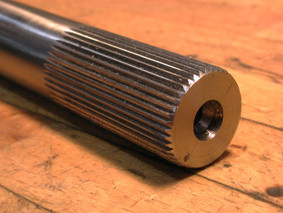 9-13-2011
Not a great deal happening today. I have been to the other side of town, 35 kilometres each way according to the Peugeot's trip-meter, to collect the roll of Top fabric from the good people who did the laminating for me. Oh yes, the other thing that I did was to turn the body over to its right side again, with the aid of my trusty chain block (hoist) but otherwise no outside help needed.
Next task is to sort out the windscreen frame. You will just see the first piece of brass channel mounted across the top of the cowl.
With the body off the chassis frame it is amazing just how small it looks for what is after all quite a large car.
Unimogjohn
I missed out on the Alemite grease "connectors"on e-bay but with the ones that Joe is very kindly sending to me along with the ones I already have I will nearly have sufficient. I will possibly need just one or two more.
9-14-2011
Hi Folks
Now that the rest of the front axle assembly has come back from being sand blasted the first thing that became apparent is that, now it has all the rust and grot cleaned off it, the tie-rod also has a nice (non standard) bend towards one end. I think that with the aid of some gentle heat I should be able to pull it straight. So that can be first job for the morning. Of course with the bend in the axle it could only be expected that the tie-rod would have suffered a similar fate. Right now it is 6,00pm which can only mean one thing. Time for our pre-dinner drinks........
9-15-2011
Hi all
While most of today has been given over to domestic duties I did manage an hour or two in the garage this afternoon. Having had the oxy-acetylene going to straighten the tie rod I thought that before closing it down I should have a try at repairing the broken snubber strap anchor from the back axle.
Having found a suitable piece of 3/8th rod this was bent, cut to length and the ends ground to a "V" the broken ends on the original anchor were also ground to a matching "V" then by using one of my magnetic "welders friends" could hold the two pieces while I tacked them together. finally I filled the V's with bronze and filed the resulting joins into some semblance of shape. While still not perfect (as my English friends would say it still requires some "fettling") if a replacement fails to appear it will do the job.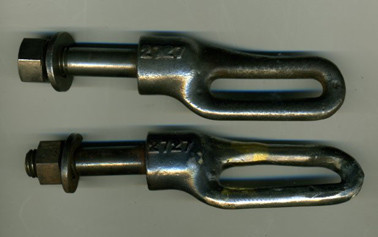 9-17-2011
Having done my "good deed for the day" this afternoon I was free to return to the Packard. It had been bugging me for some time that the brake cross shafts were both, hand brake and foot brake, frozen in their carrier bearings. These bolt to the third crossmember and permit some degree of balance for the foot brake. However ever since I bought the car I have been working away (without success) to free them. This afternoon I thought "This is it! Finally after applying a considerable amount of heat, penetrating oil (the good stuff) and not a little gentle persuasion, one by one I managed to get some movement and finally got the things apart. Again there is no perceptible wear on any of the shafts or their bronze bearings. This is really remarkable as there is no provision for lubricating the bronze bushes after they were put together. The bushes are the self lubricating type and probably would not have received any attention since the car was first assembled.(88 years ago). The First Series Single Six had rear wheel only, external contracting band, brakes so one would imagine that if the car was driven, regardless of the sort of conditions, that these bearings would have been working fairly hard. If only over a short segment of rotation. In practice with the brakes properly adjusted, the shaft would have barely rotated at all.
What is the experience of other Single Six owners?
The other photograph shows the anchor pin and springs for the front end of the torque arm.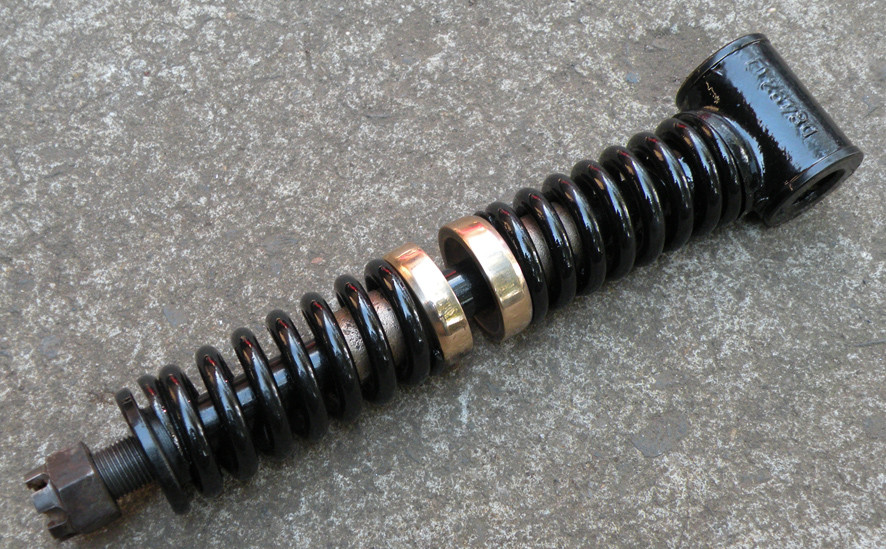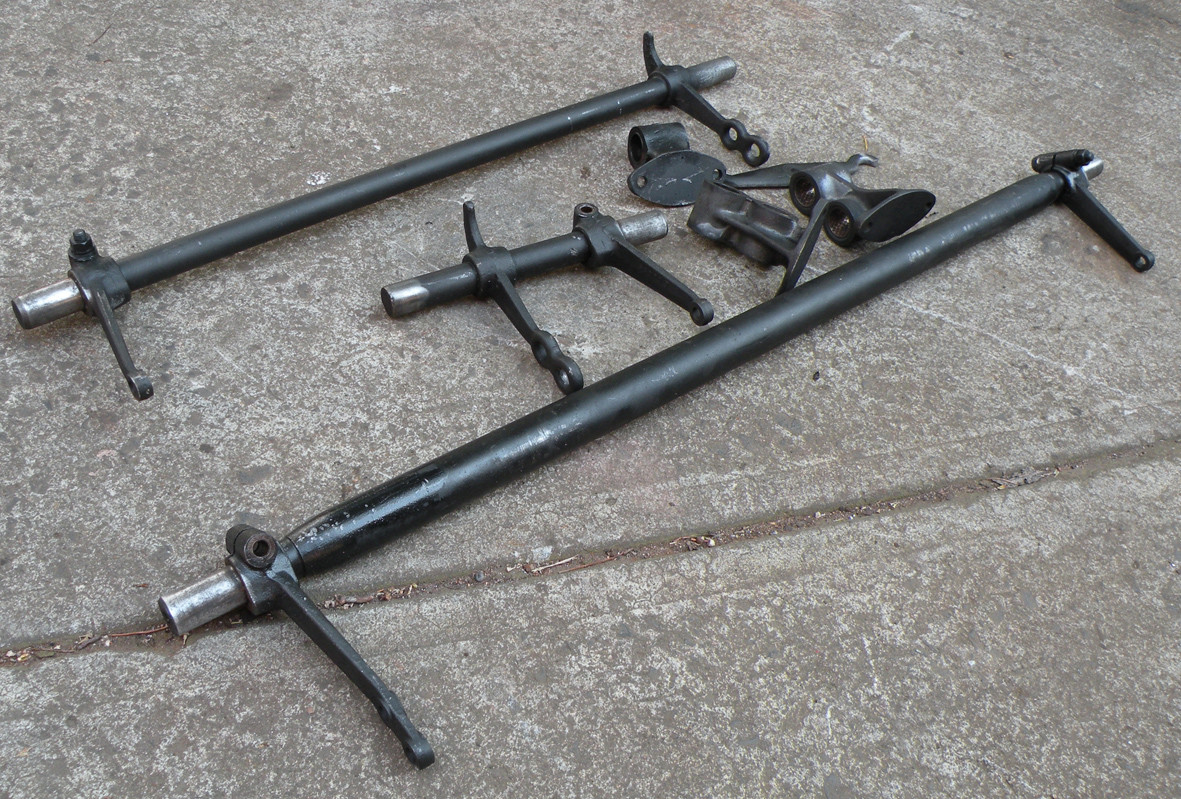 9-18-2011
Hi-ya-all
Right now my little workshop/garage is looking a like a Chinese laundry with bits and pieces all hung out to dry. Next task is to tackle painting the main chassis frame. then finally the rear axle assembly & brakes. I had a very nervous and tentative look into the inner workings of the rear axle and am relieved to say that apart from a very light dusting of surface rust, the crown wheel and pinion do not have a single chipped tooth or any signs of wear.
What a relief!
9-20-2011
Hi David
First your Alemite "connectors" arrived safely and two are already in place.
Thank you.
The production figures are interesting. Given the impracticable seating layout (see below) it is hard to imagine Packard finding 1550 buyers for the so-called 4 Passenger Coupe. I would have hated to be the fourth passenger sitting either crowded part way behind the driver's (fixed) seat or on the terrible little (hard) folding seat. Having said that the driver must have been glad when the journey was over! Sitting on an awkward angle on a non-adjustable seat could not have been a lot of fun either.
Hopefully my proposed, more conventional, seating arrangement, as in a convertible victoria, with two matching full sizes adjustable front seats with "occasional" seating for two (children) in the rear will be more appealing.
Oops! Sorry that one does not work so I will try another.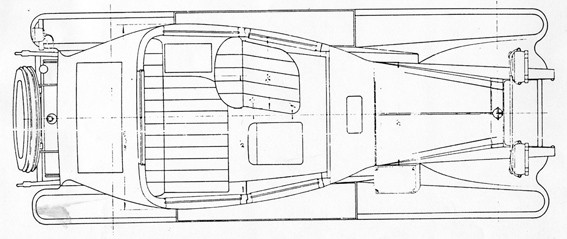 9-21-2011
Hello
Yesterday was another productive day. Having decided that hand (brush) painting was simply not going to deliver the sort of result that has become my standard for the Packard. I delivered it out to Dave my "super spray painter" with the aid of a Bentley owing friend who also has in his collection a handy 1 ton pick-up. That took up most of the morning.
After lunch I decided that the time had come to tackle the last remaining component. The rear axle assembly. I had had a tentative look inside to confirm that all was well with the crown-wheel and pinion but now with the garage floor almost clear I could put it up on some axle stands and start work.After removing the brake drums It was clear how it all went together. First thing was to remove the brake band and internal shoe. Next step was to remove the bolts retaining the rear wheel bearing and oil seal. Then by loosely replacing the hub/brake drum and screwing on the retaining nut part way I could use the hub as a "slide hammer" to with draw the half shaft.
This went well until the bearing was clear of the housing but the splines on the inner end had not yet cleared the "diff centre"when all movement came to a stop!
Somewhat puzzled I wondered if there was something that I had over looked. A quick phone call to David McC (my Packard help-line) convinced me that there was nothing that I had missed and that there was probably some slight build up of hardened grease that was restricting any further movement.
Finally after some more "slide hammering" the half-shaft came out.
All that remains now is to remove the bolts retaining "centre piece" and the the rear axle housing can go to the sand blasters. While there is plenty of lining left on the foot brake bands those on the hand brake shoes are worn down to the rivets and well soaked with oil & grease and will require relining. At the same time the rear axle and pinion oil seals will need to be replaced.
Back to work...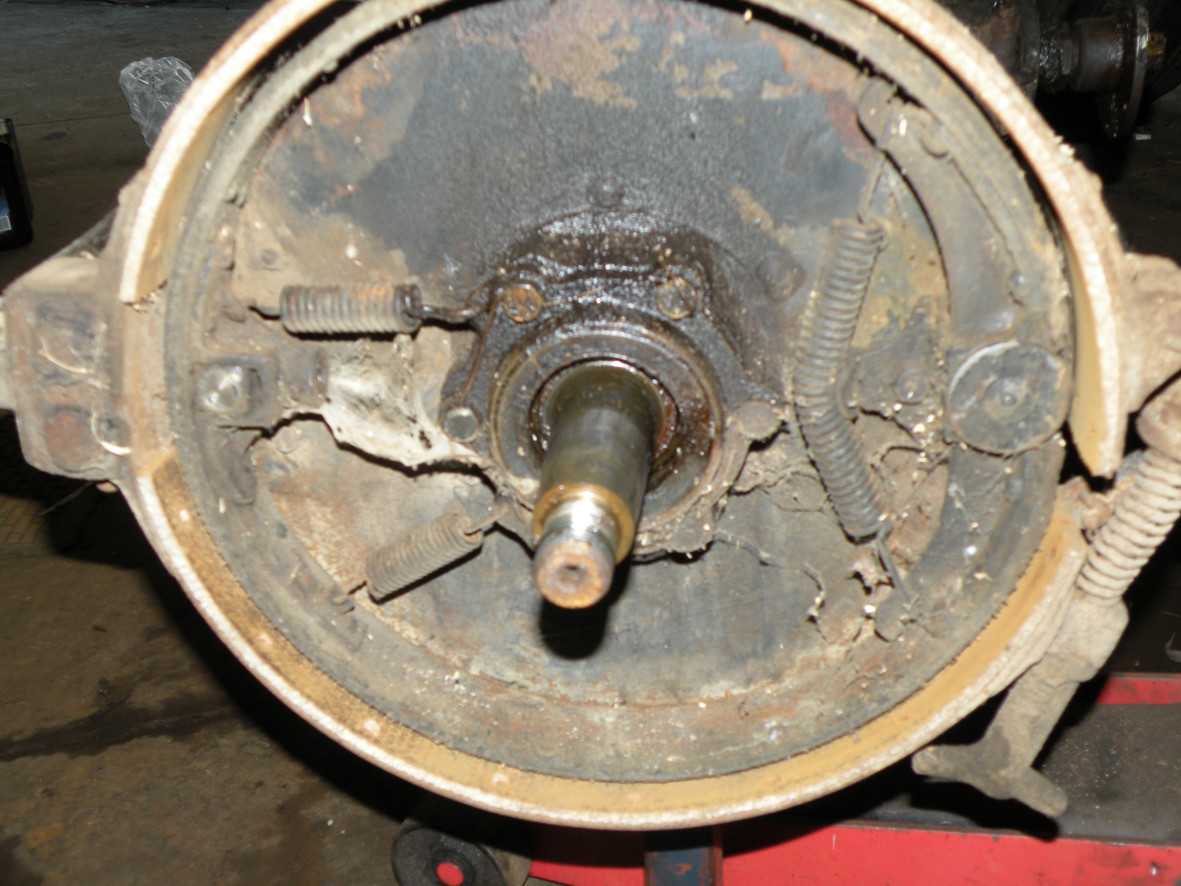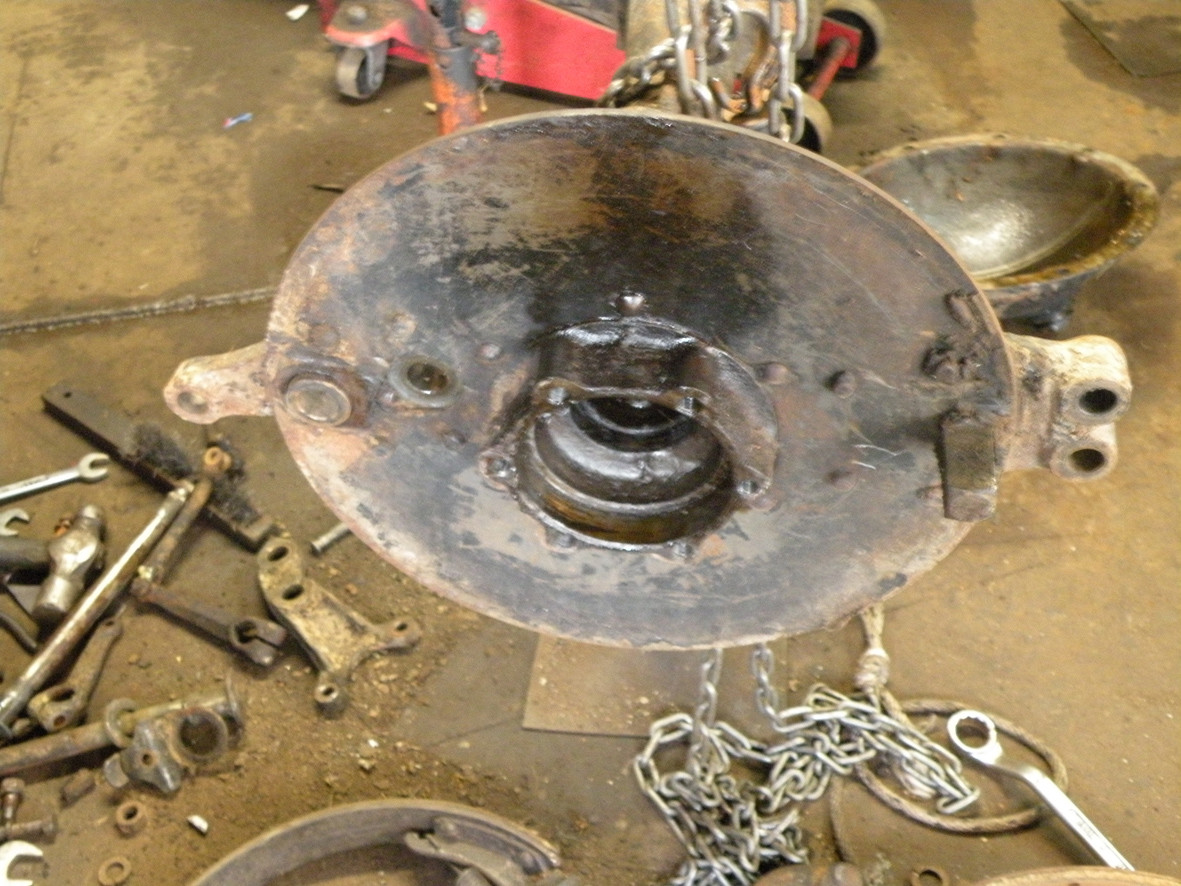 9-22-2011
Not much work on the Packard this afternoon. As we have the VSCC "Two Day Rally" over the weekend I have been checking the fluid levels in the Lagonda Rapier. Pulled out the four spark plugs checked the gaps and screwed them back in. All I need to do now is to fill the tank with 98 octane u/l petrol and we should be right to go. The 1934 Rapier engine has hardened valve seats and running on 9.5:1 compression ratio it is happy on Premium unleaded. The Rally starts on the outskirts of Geelong about two hours drive away which will mean an early start from home on Saturday morning.
One hour latter. I had a last minute thought and have spent the last 50 minutes jacking the car up to check the rear axle oil level (OK) grease the uni joints on the drive shaft, grease all the shackle pins, the king pins and steering joints, checked the tire pressures (OK).Checked the water level in the radiator (OK). So now it should be really ready to roll. Now at 6.00 pm it is "Drinks time"
Cheers
9-25-2011
Hi
Here in Eastern Australia it is just 6.00 pm. Sunday evening. We have arrived home after driving in the 1934 Lagonda Rapier a total of 437 miles since 8.00 am Saturday morning. Apart from the transit (Highway)miles from Melbourne to Geelong and return, most of this has been done either along sections of the "Great Ocean Road" and/or through the Otway Ranges in the South West of Victoria. Much of this well off the beaten track including about 20 miles of winding dirt roads.
Time for a well earned drink now. More later.
9-26-2011
Just a few photographs from our weekend of motoring. First some of the cars at the start. then a couple taken out along the route. For those who may be interested the first photograph reading from left to right are Alvis 12/50, Sports Morris Cowley, Sunbeam, Bugatti Brescia, Alta and Delage. The second Photograph is a Talbot 110 Team Car Replica, the third is a Lagonda Rapier the fourth & Fifth are the same Alvis 12/50 again.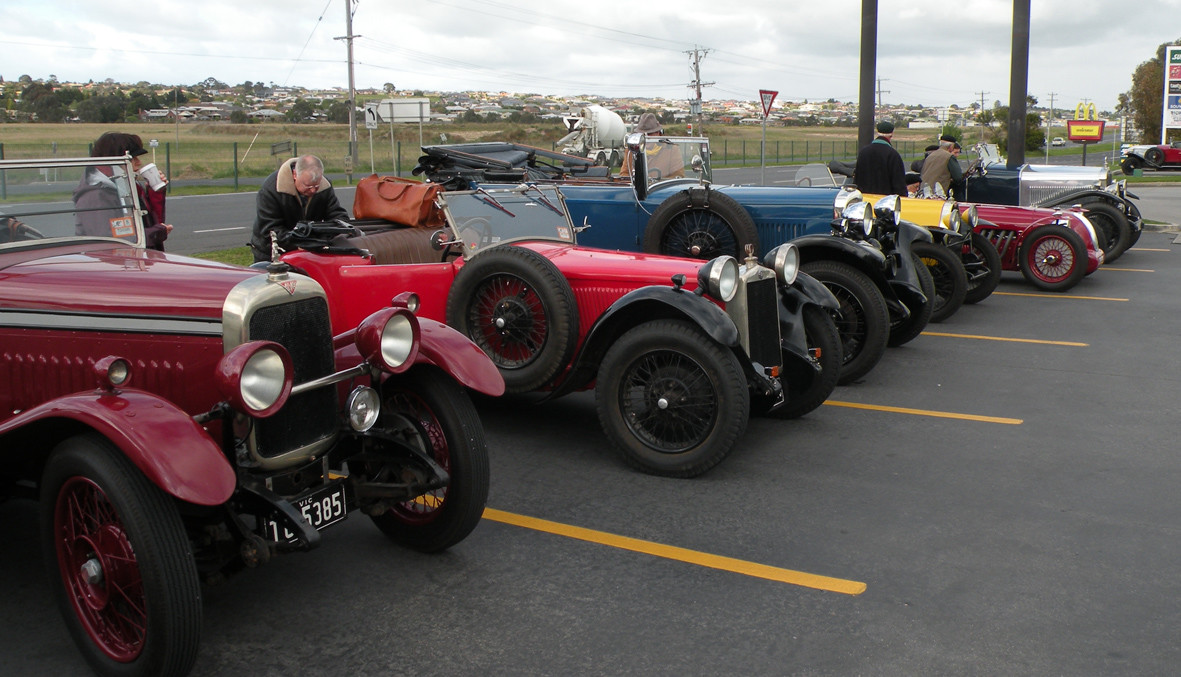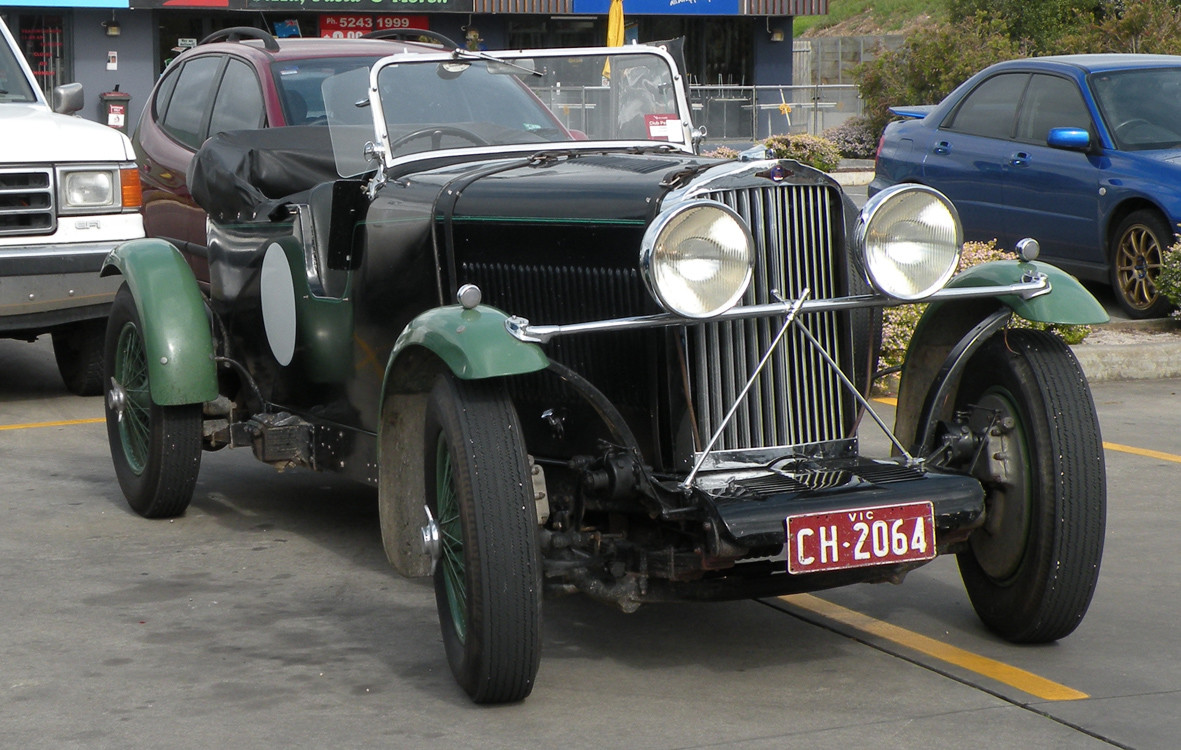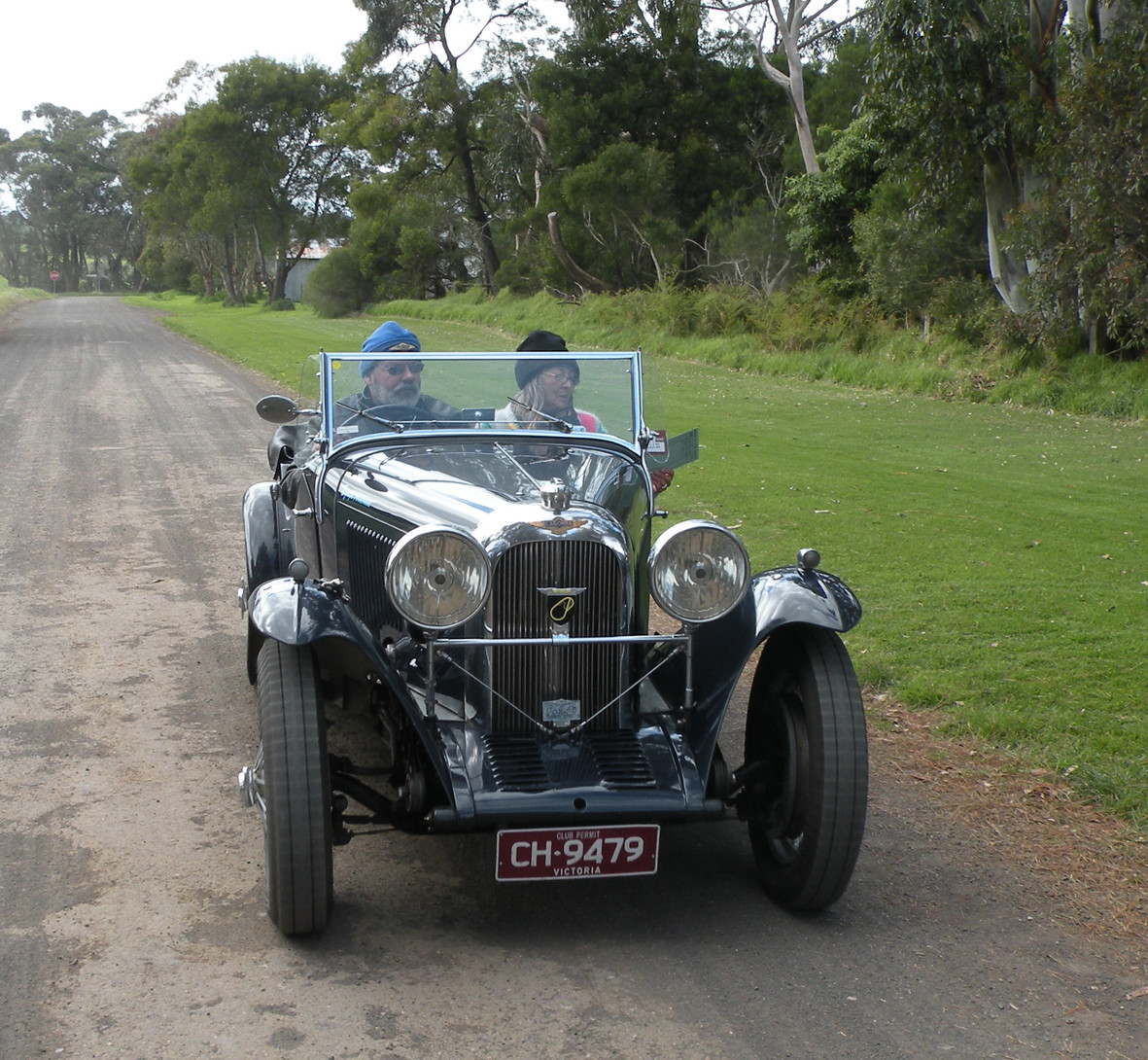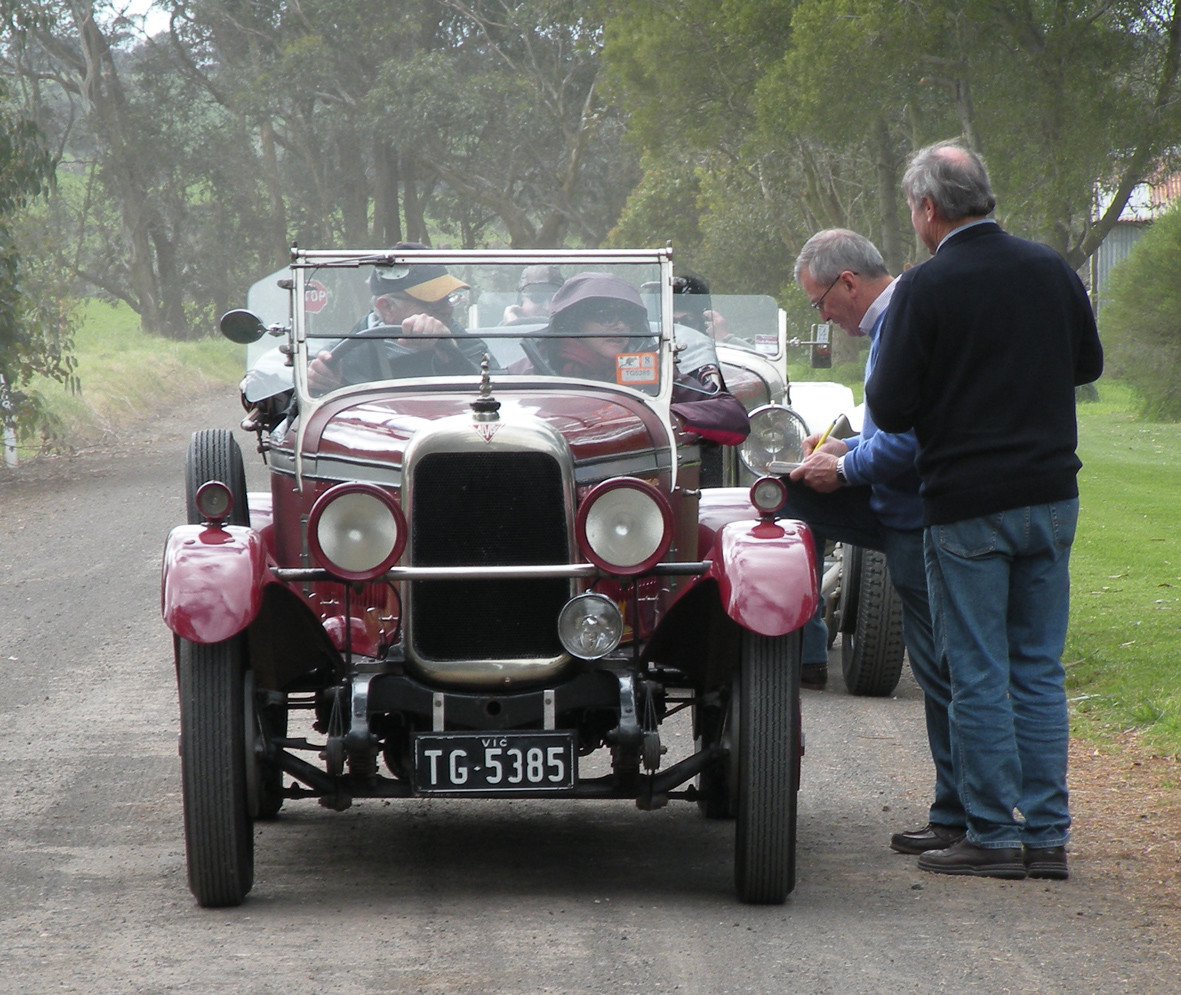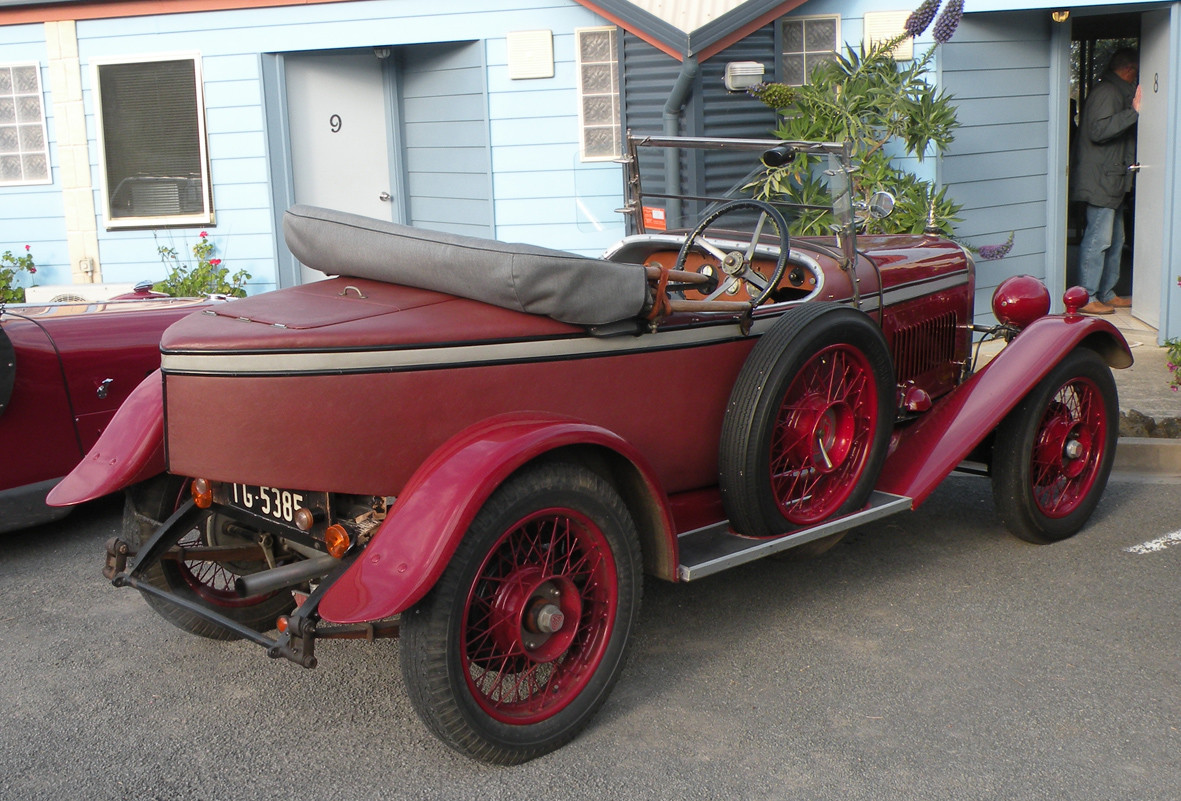 Some more photographs from the weekend. Here you see in the first pic a Vauxhall 30/98 with a MG "L" Type , a Riley 2.5 litre and the rear of our Lagonda Rapier. The second ia a close up of the MG "L" Type out on the road, Next a pair of Vauxhall 30/98s one 1923 the other 1927. and finally a Delage .
There were a total of 21 Pre WW2 cars on the Rally. This is a highly competitive event with sections timed to the minute and extremely challenging navigation over a variety of roads ranging from single track dirt roads climbing through mountain country to fast sections on good two lane country roads calling for high average speeds. Generally the weather was cool to very cold with some rain on Saturday. Cloudy and cool to cold on Sunday with gale force winds blowing straight off the South Pole. You will note that all the cars were driven for the whole event with their tops down.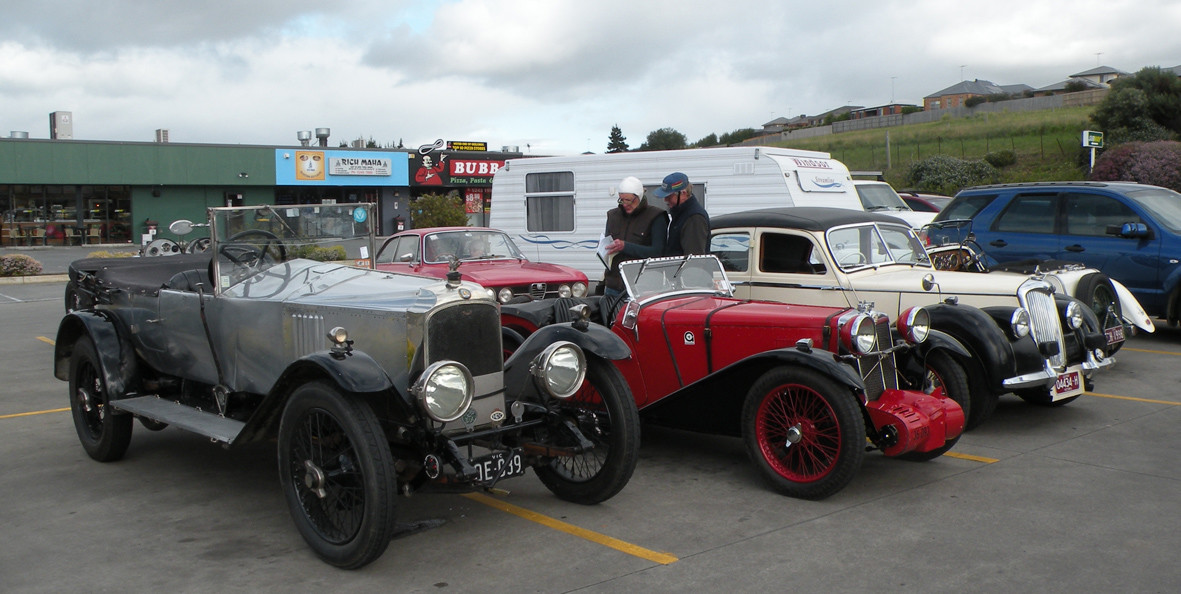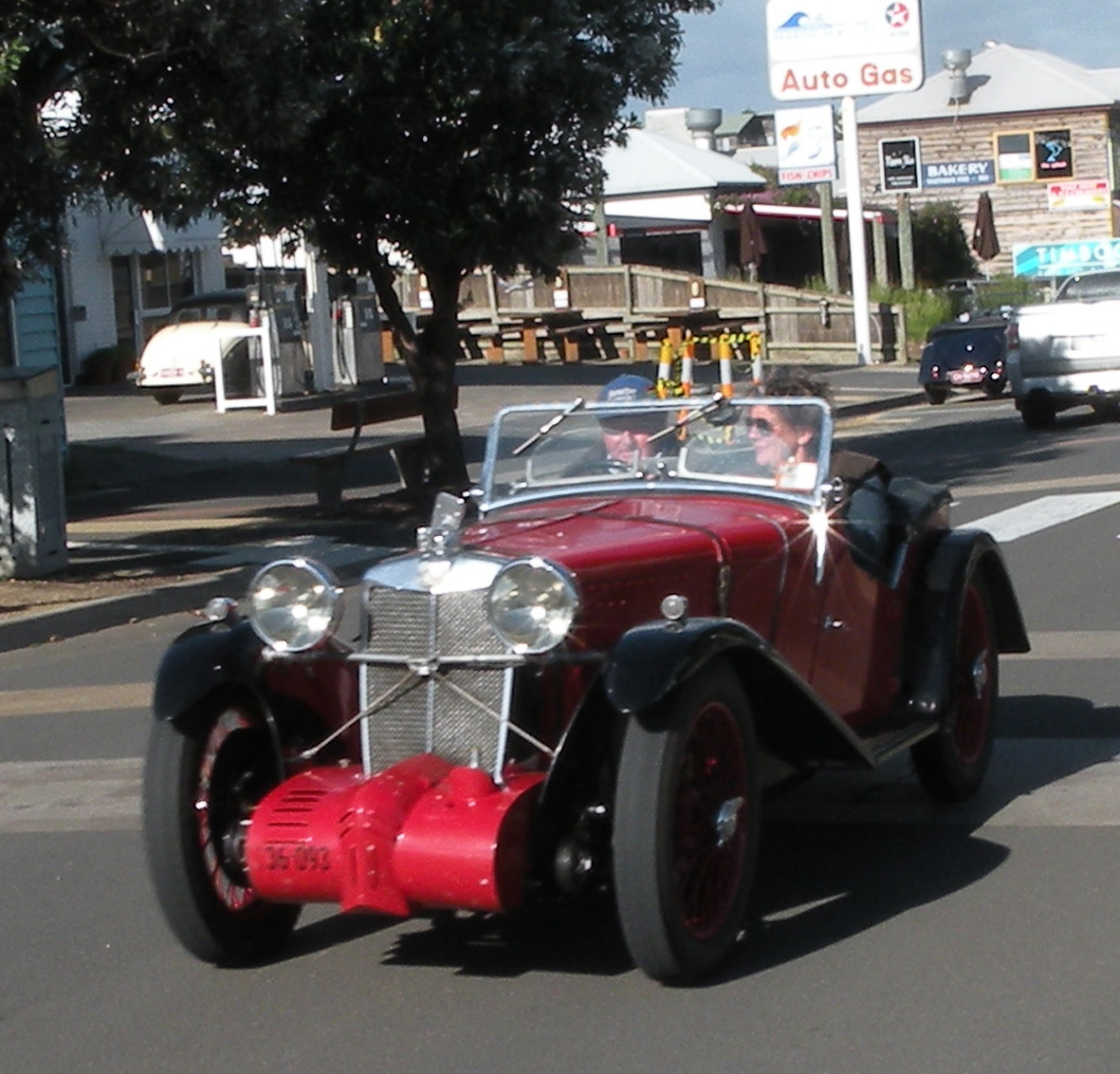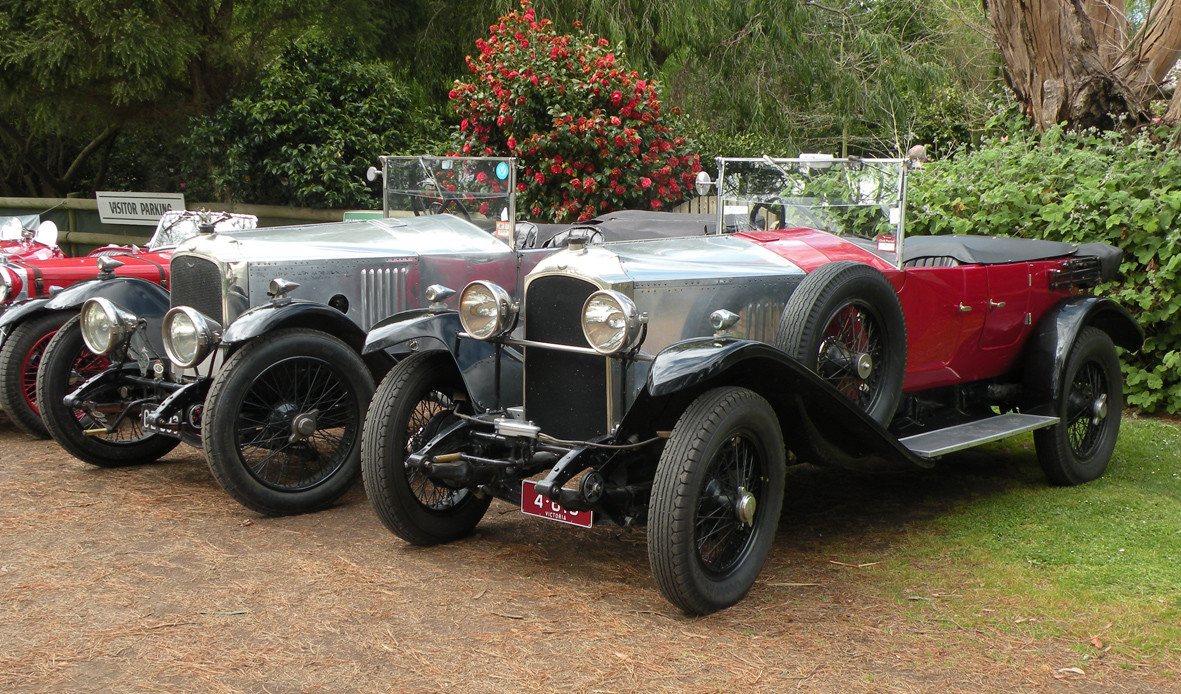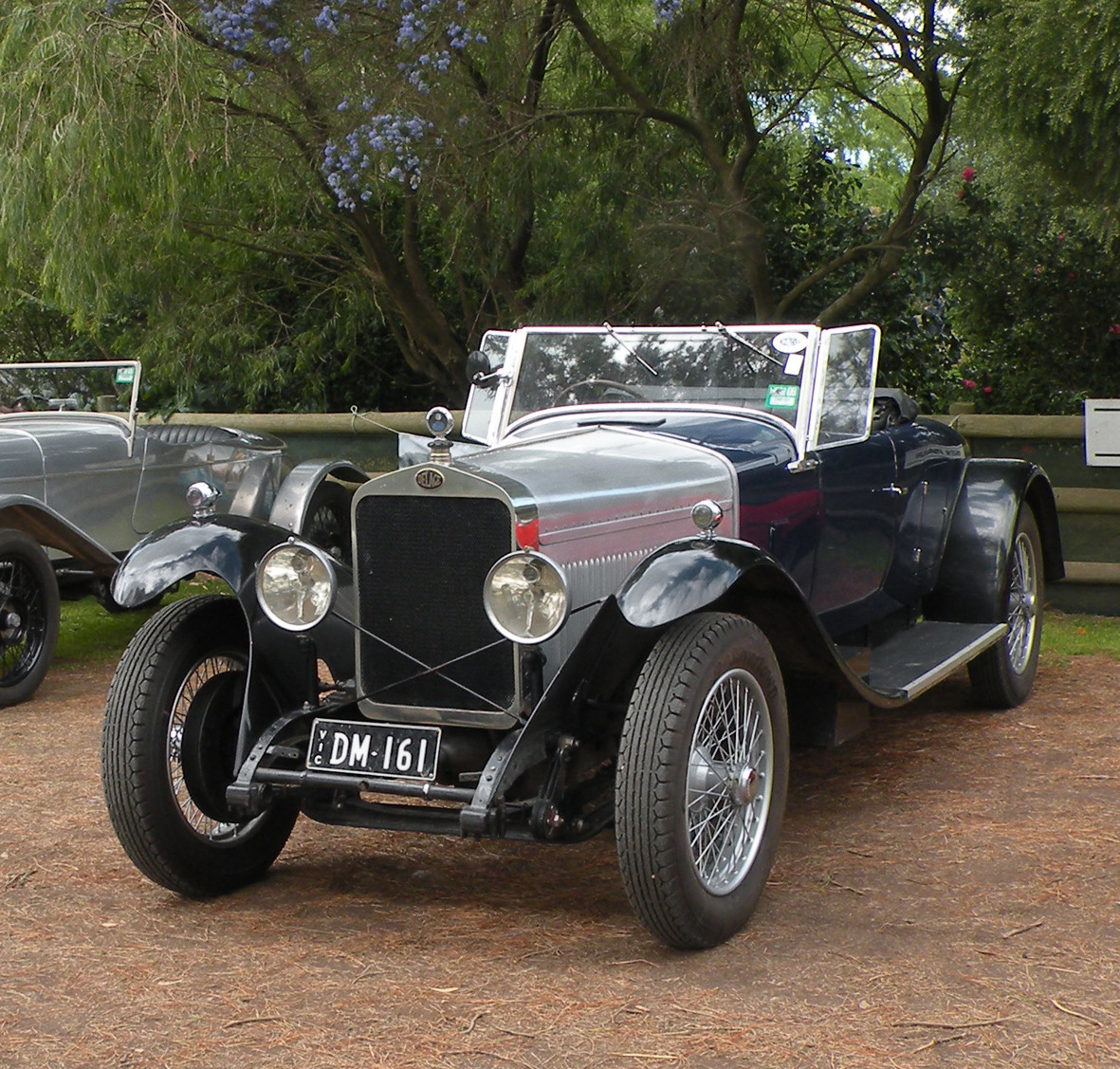 Having fully recovered from the weekends motoring, yesterday was spent profitably wire brushing all the rust and cr*p off all the little brake operating levers etc.
I have mentioned some similarity to a Chinese laundry before and the situation has certainly not improved. Sorry about the quality of the photographs but the lighting is not ideal and the space rather cramped.


9-27-2011
Hi West
Despite what they say about assumptions, you are quite correct. The "L" is basically the touring version of the racing K3. Six Cylinder (SOHC) 1200cc. Not all "L's" are supercharged but over 75 years all sorts of things can happen. This one has been with the same owner for as long as I can remember and is driven flat out everywhere. The good thing about supercharged cars is that you can hear them coming and going.
9-29-2011
Hi All
Sorry but I can't help bragging a bit. The attached photograph was sent to us by Susan Burns co-organiser of the Two Day Rally. It shows Helen & I being checked into the Cape Otway control during the rally. (Note AACA badge on Helen's wind deflector.)
By the way we came Second Outright and Second PVT (1931-40) in case you were wondering.
The other photo shows the entire Rally contingent enjoying Pre-dinner drinks on the fore shore at Port Campbell.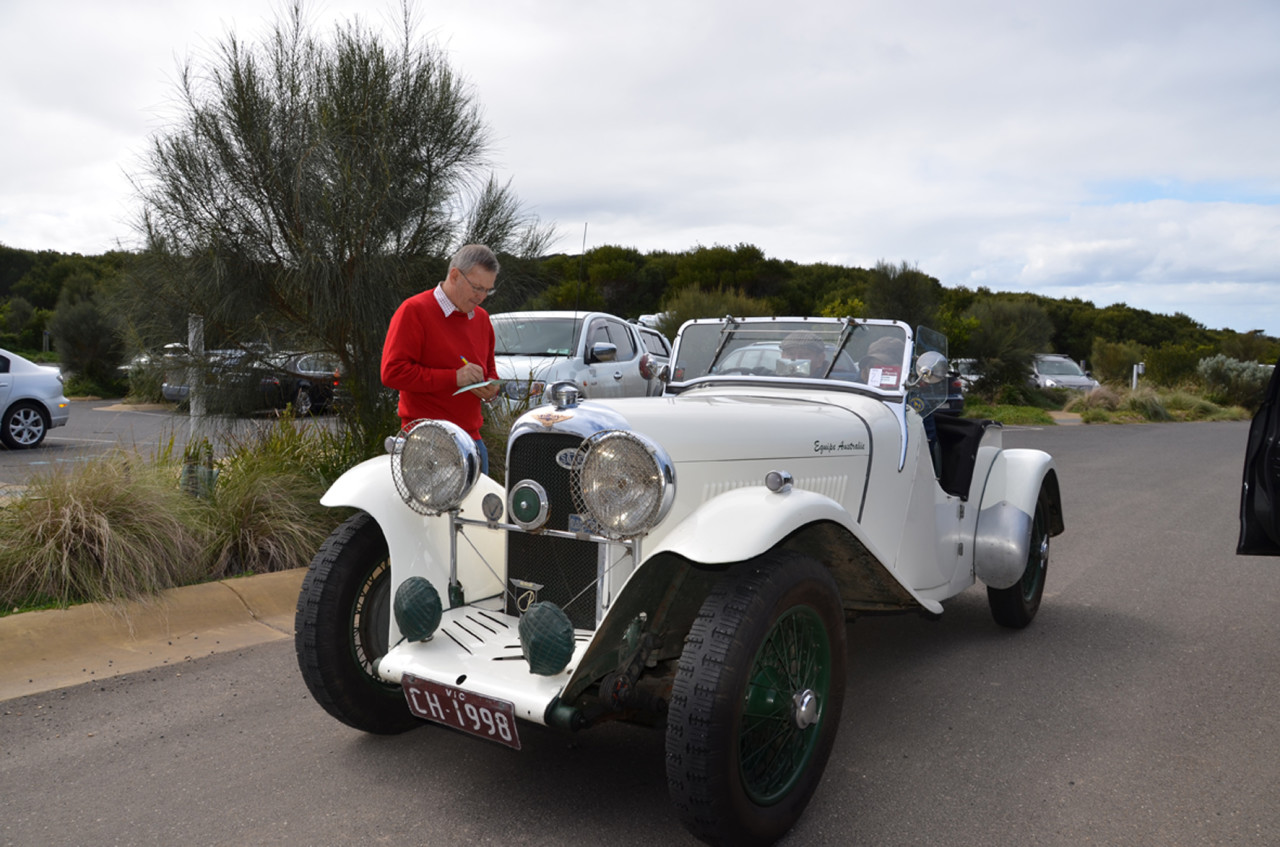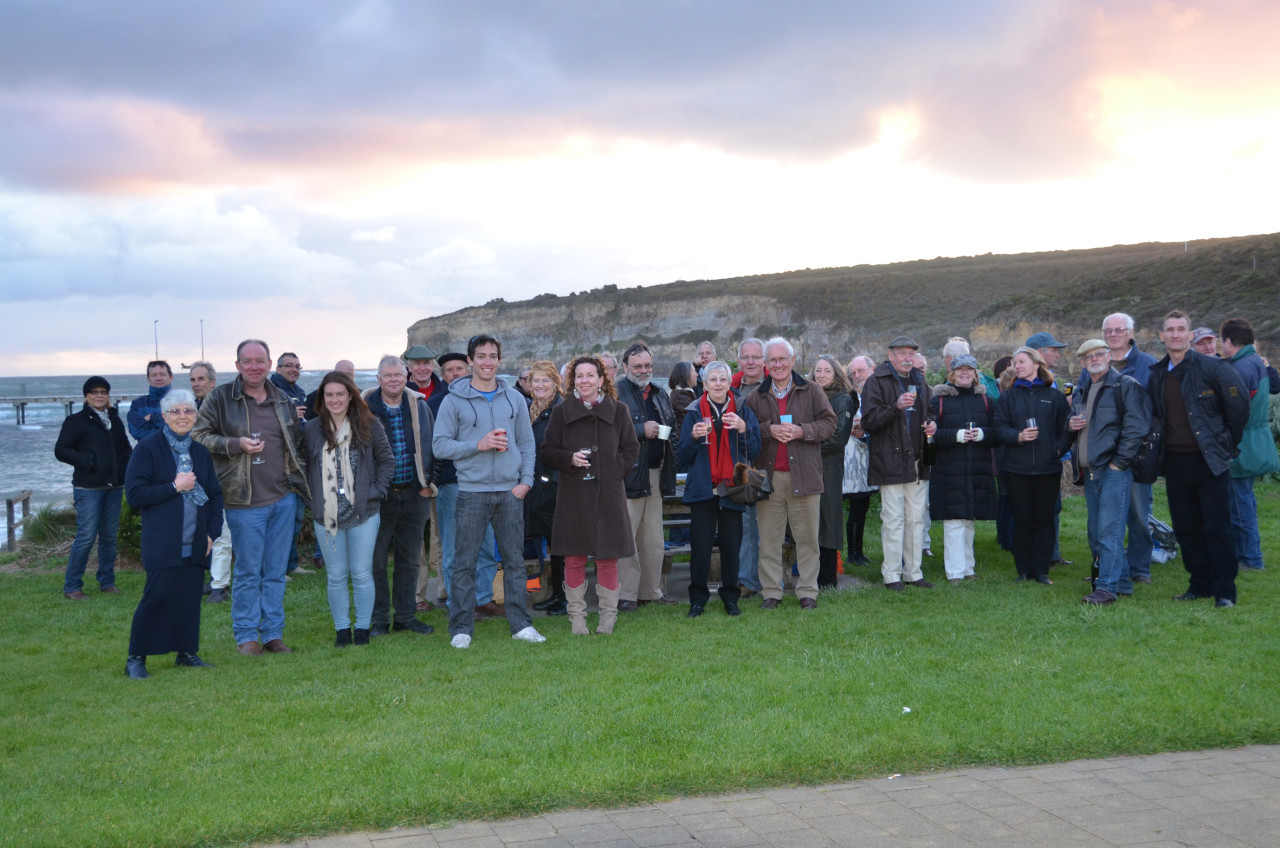 9-30-2011
Back to the Packard,at last!
A question for all the show people:
I am about to start re-assembling the rear axle housing, should I paint, polish, nickel or zinc plate the heads of the bolts retaining the centre piece and the rear cover? Likewise the clevis pins in the brake levers and brake rod ends? The new nuts that I am using for the "U" bolts and shackle pins are zinc plated do I paint them, polish them or just leave them the factory finish? Going back to the bolts I could buy Stainless bolts and polish the heads would these be acceptable? I have used polished stainless bolts to hold things like the side water plate on the engine, is this OK?
Come on all you judges, these are serious questions, someone must have an opinion.....
10-3-2011
Hi y'all
At last the tied seems to be turning and I am starting to put things back together. While I am unable, due to space constraints, to mount the front springs and axle back onto the chassis I have assembled the steering arms and front stub axles back onto the axle beam and replaced the U'bolts holding the springs to the axle. Next step was to washout and repack the front wheel bearings and lock up their retaining nuts and lock plates.
As my good friend "Ben" has mentioned these do not require a great deal of tightening and I could use my version of Ben"s favourite tool (a monkey wrench) that would open sufficiently to fit onto the 2" a/f nuts. With typical Packard thoroughness the left hand thread nuts are clearly marked "L".
Attached are some photographs that I hope are sufficiently clear to show the simple locking plate arrangement.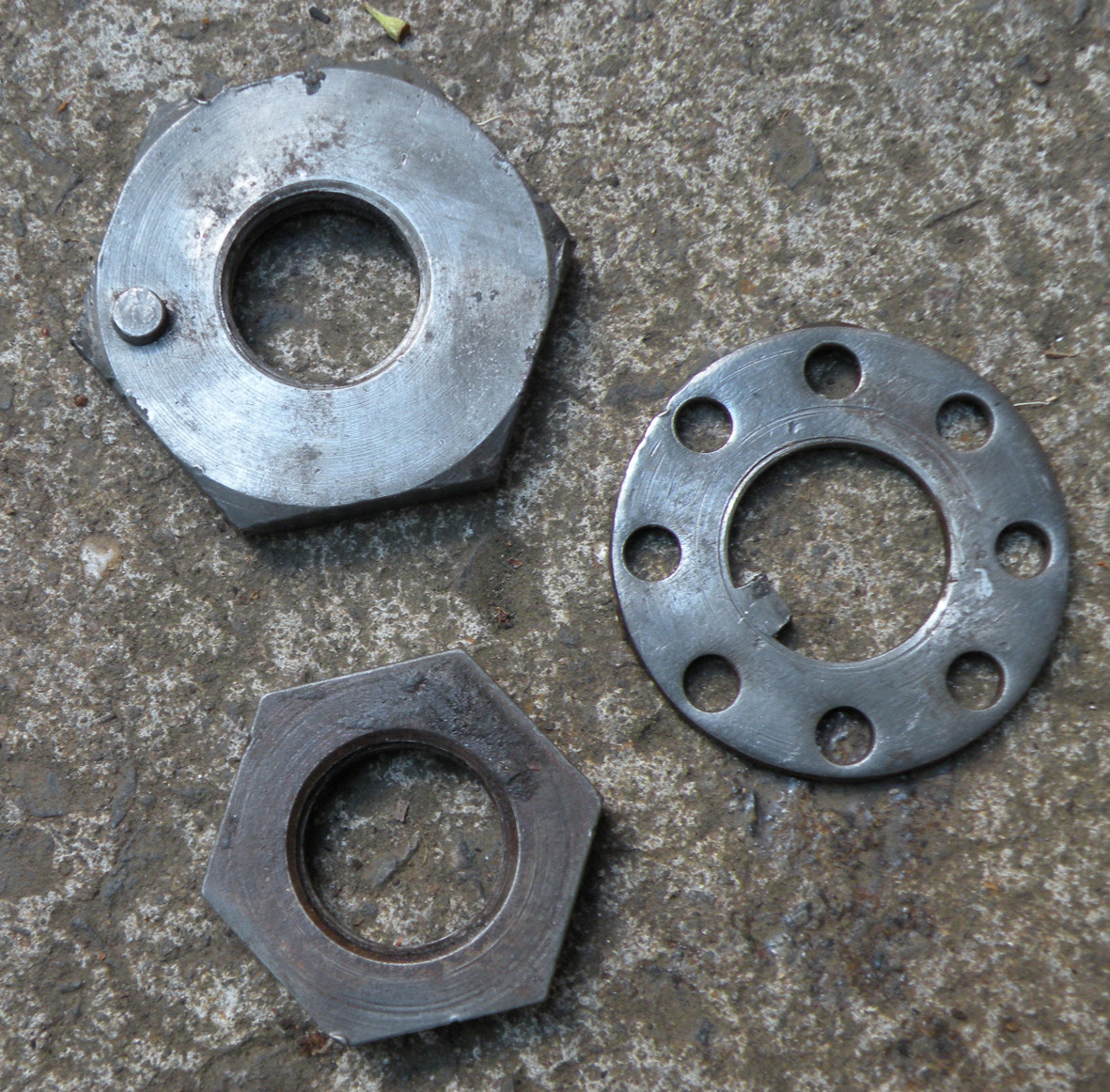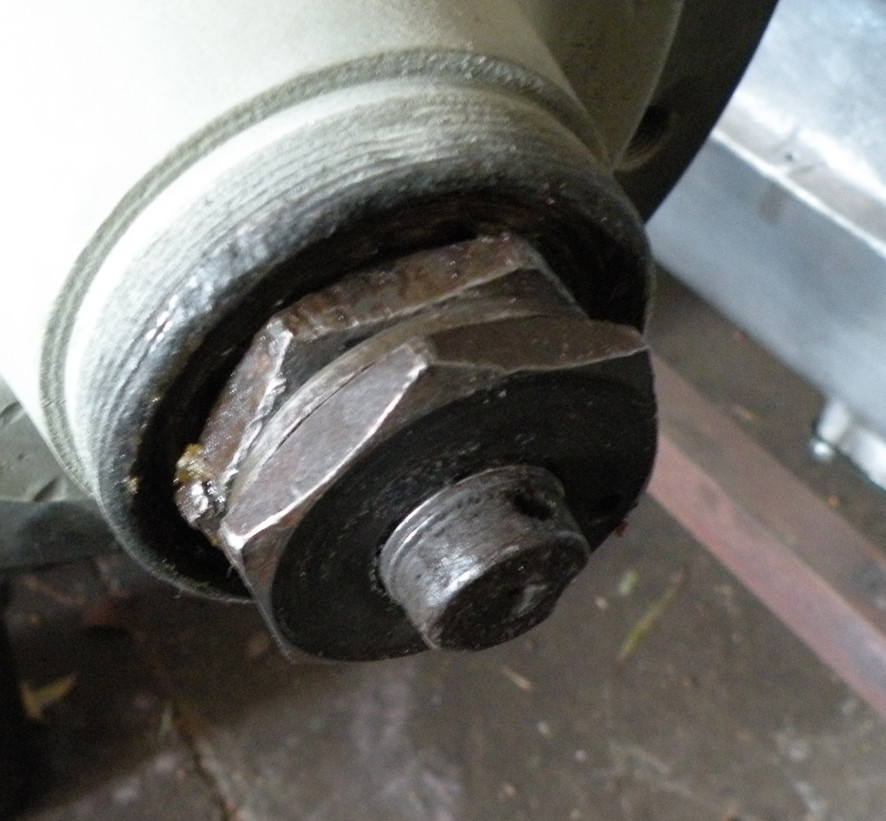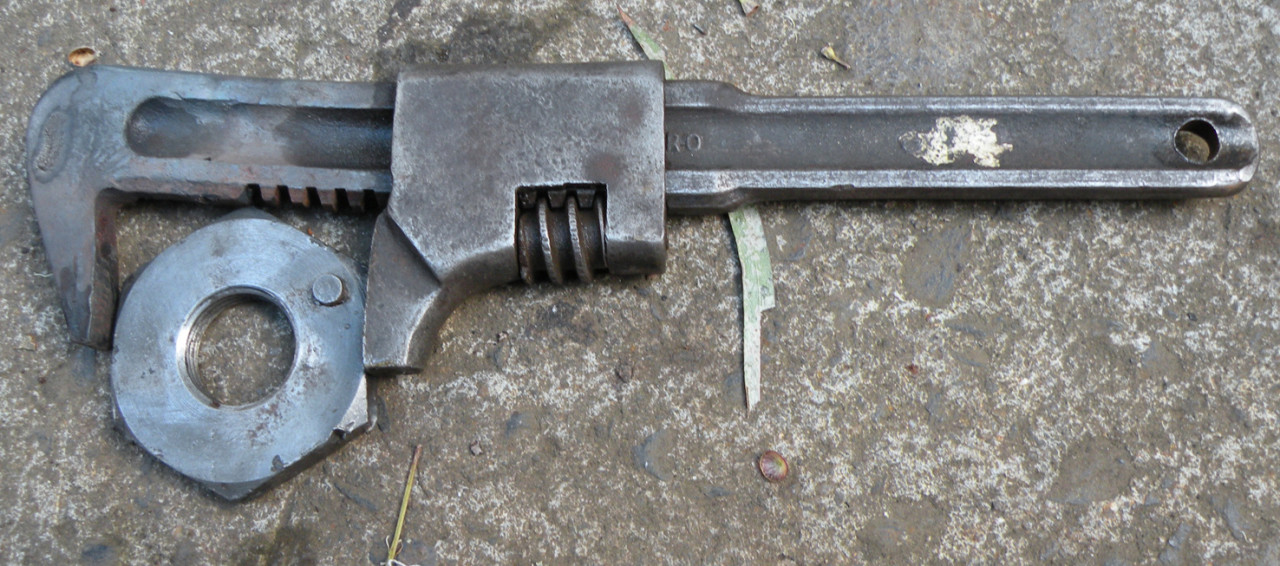 One more photograph of the front end showing the drag link end with its new leather grease retaining boot. and one of David's Alemite grease "connectors". The clip for the leather boot is the original.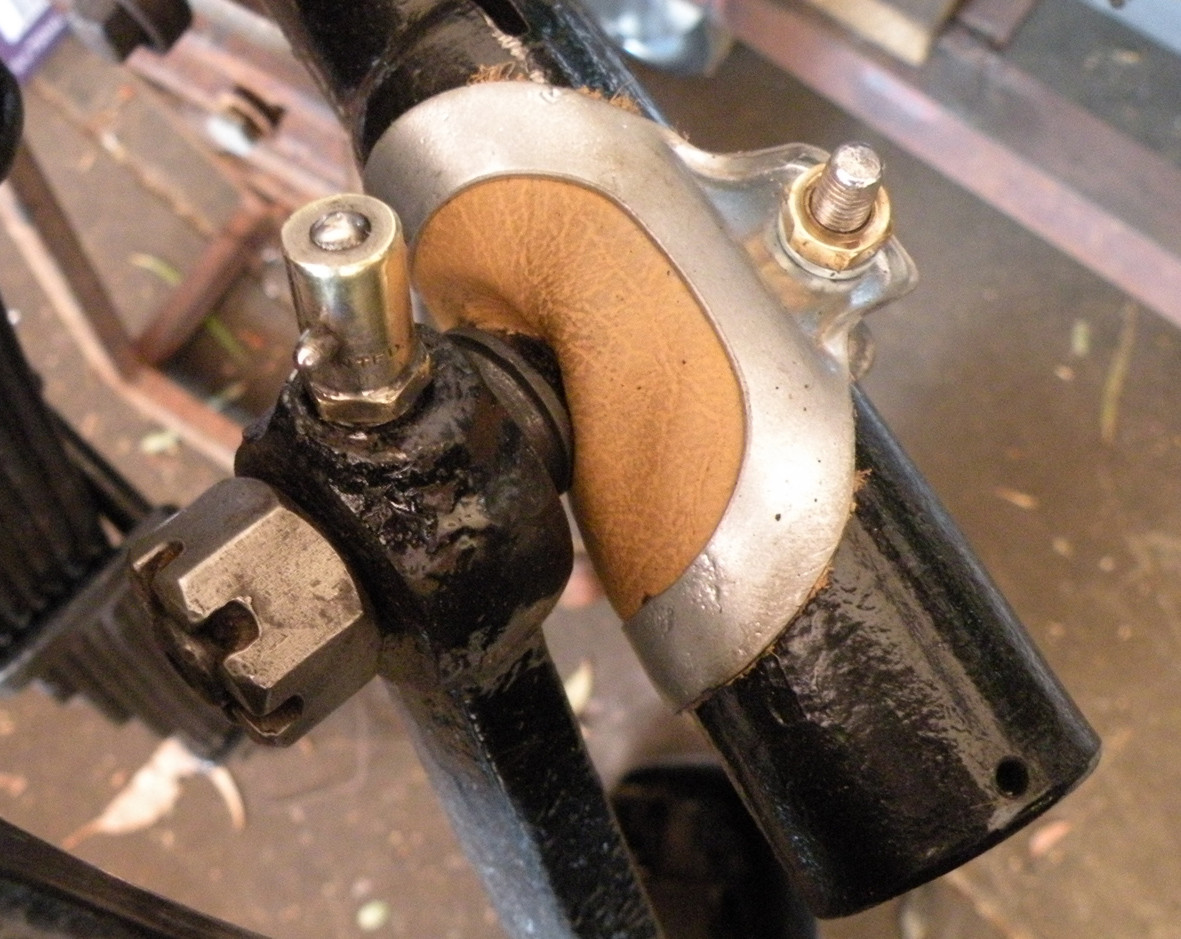 Hello Ben et al
You are 100% correct Ben this in effect gives a vernier adjustment of 16:1. If you cannot get the adjustment within this range it is time to give up. Meanwhile at last I can say that there is nothing more to take apart from here on it should be all re-assembly. I have just this morning collected the relined hand brake bands. I decided to leave the existing lining material on the foot brake bands as they were almost totally unworn woven lining material. With what it has cost to have the handbrake bands done I am sure that this was the right decision...
If it turns out that they have to be relined, it is not a big drama to remove the external bands.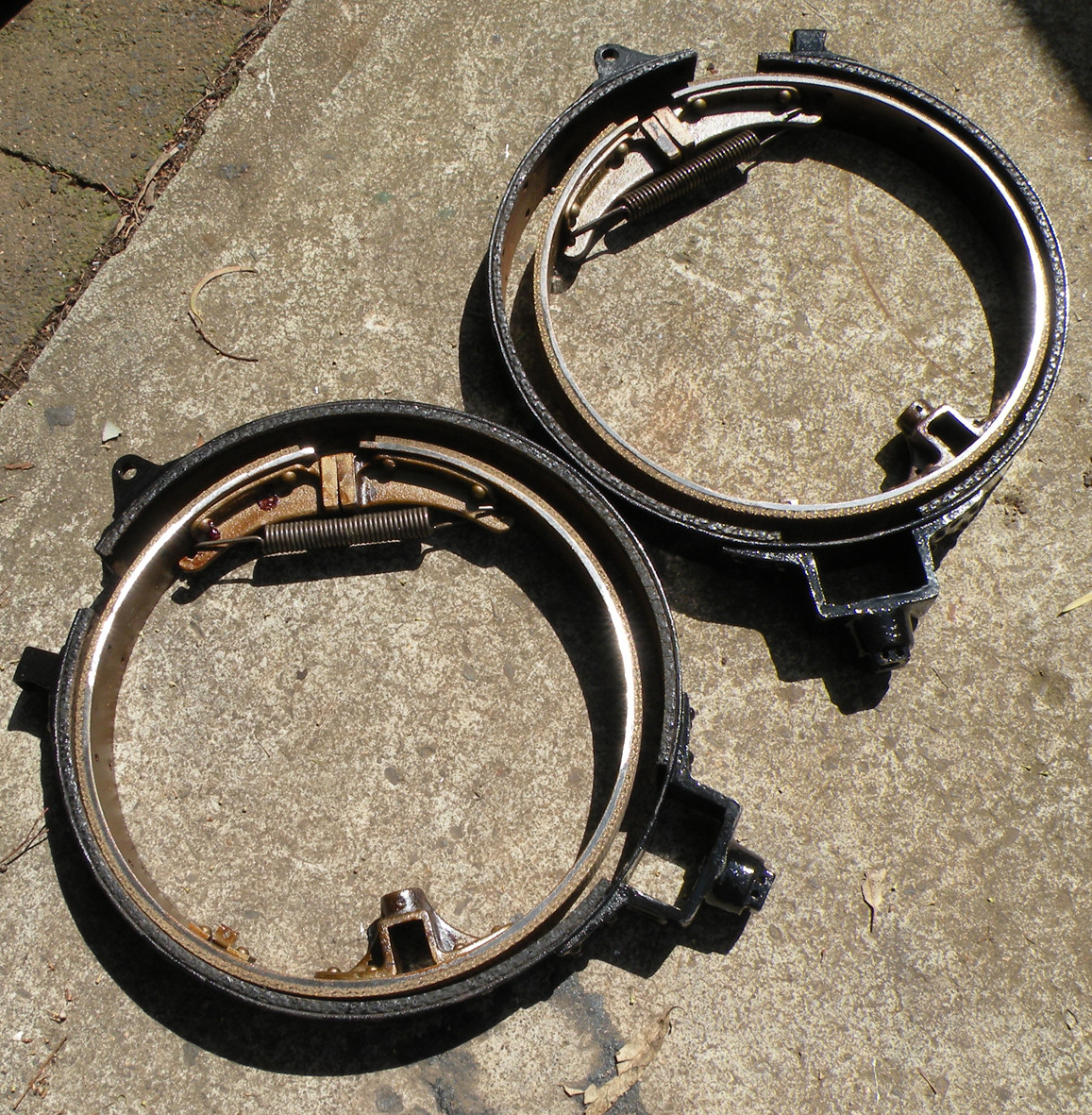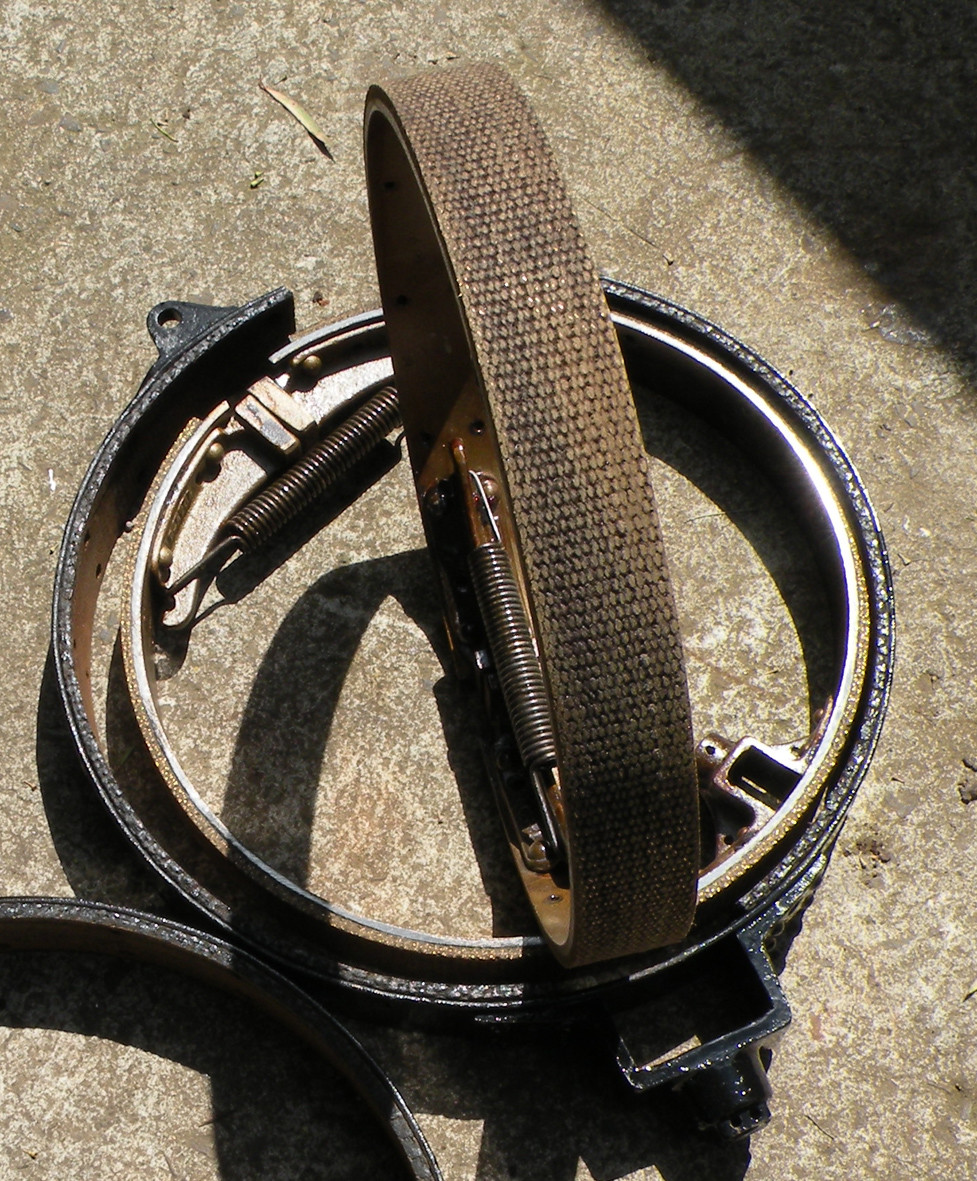 10-4-2011
Today I am into the rear axle further dismantling and cleaning mode. This has unearthed the fact that one rear wheel bearing had been loose on the axle halfshaft and will need to be replaced. This is potentially expensive however to offset this I have discovered that all the oil seals in the rear axle including the pinion seal are the felt ring variety and should represent a considerable saving over the leather lip seal type. So I loose on one and win on the others. Peter, my contact at "Blast-off", tells me that I should have the rear axle housing back ready to paint tomorrow. Once it is re-assembled I can start to seriously think about putting a rolling chassis together and back on its wheels. I still have one rear spring to dismantle, clean and paint but I have been putting it off as all the wire brushing has been not doing my right arm muscles a lot of good.
I really must be getting old!
10-6-2011
Hello
Slowly ever so slowly I am approaching the stage where things can be put back together again. with the bearings and felt seals under control all I need to do now is to buy a sheet of gasket cork to cut the gaskets for the diff centre and the rear cover. Last job yesterday was to paint the diff centre and hang it up to dry. For this one a length of welding wire was just not going to do the job. While in the mood I also painted the heads of the securing bolts. I have had this can of spray silver paint for years so I don't use it a lot and then only for small jobs. The finished job looks very like cold galvanising and is quite durable. If they look too "in ya face" when in place I can always paint them black.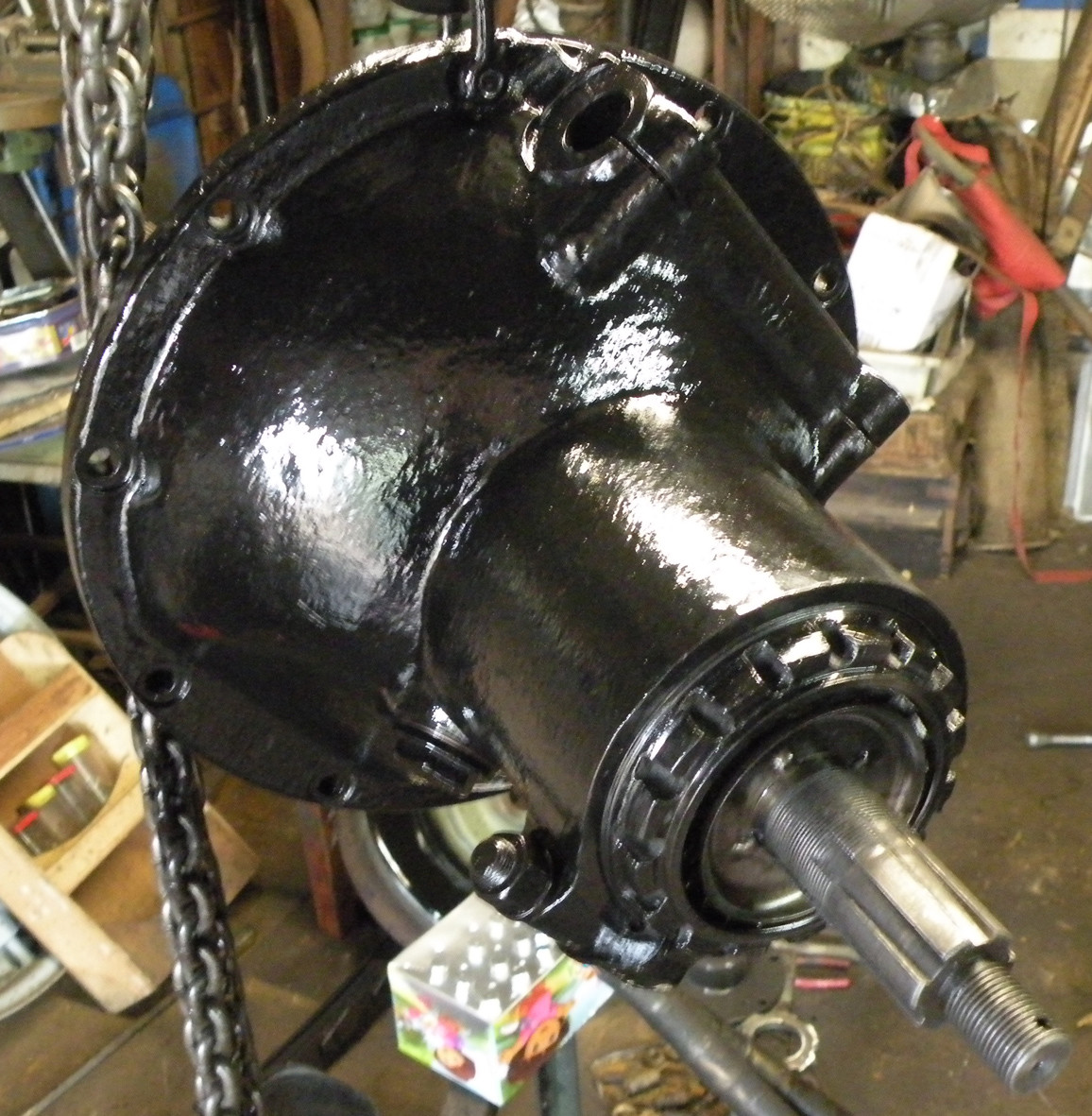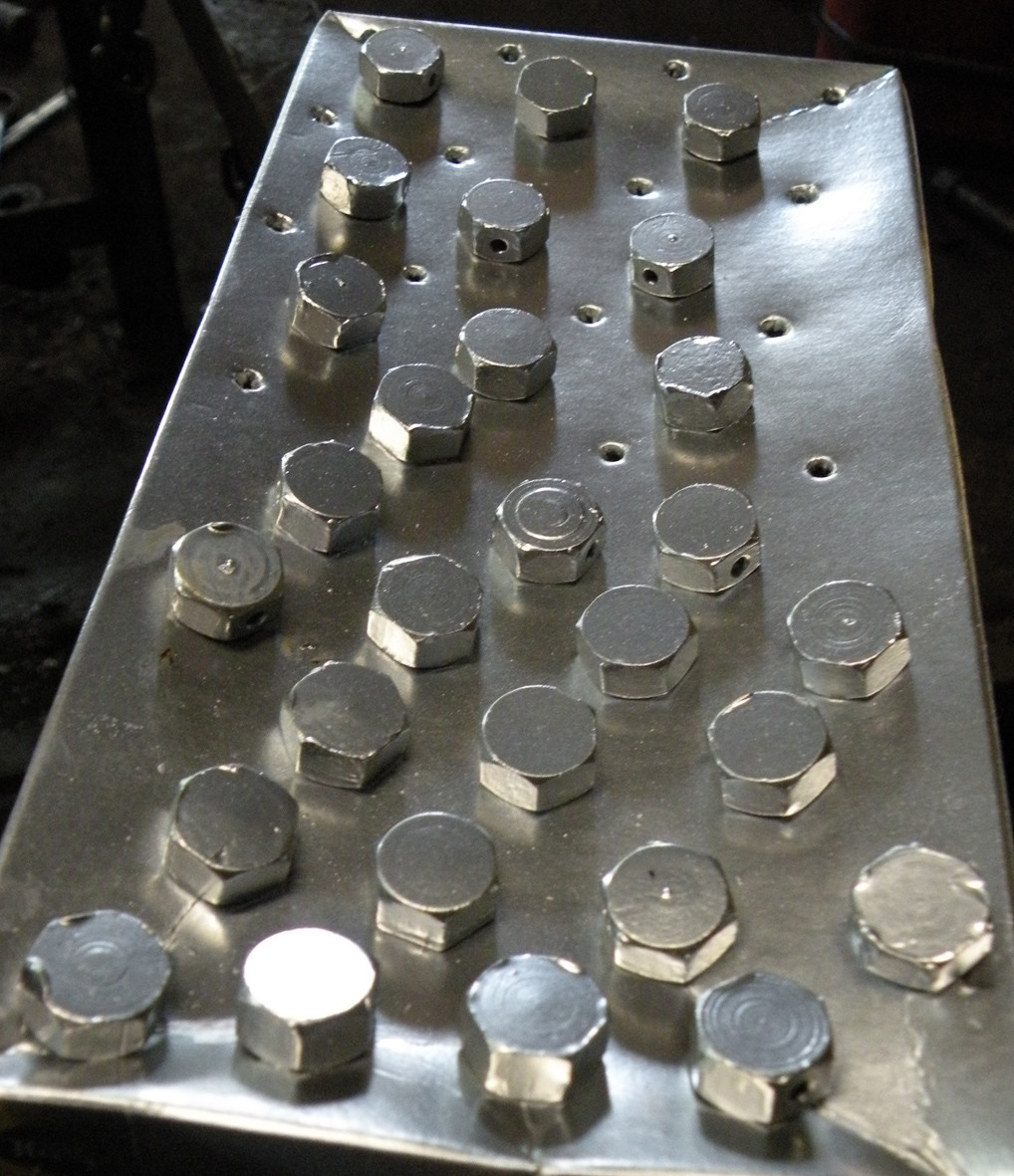 10-8-2011
Progress in a number of directions today. Son Steve came to lend some expertise in putting the various sections of the windscreen frame together. Unfortunately we ran out of time so he has taken all the various pieces of brass extrusion home to complete silver soldering them. Having come to a halt in that direction I completed cutting down the felt seals to fit the rear wheel bearing retaining housings. A little job but none the less one that had to be done and one that is now crossed off the list. Unfortunately my friends at Blast-off failed to return the diff housing on Friday so the rear axle assembly is still on the "to do" list. Next week!
With all the wheel bolts (lugs) and rings still at the platers it will be a couple of more weeks before I can put the chassis back on its wheels anyway....
10-10-2011
Hello Again
Sorry about that, I have been extremely busy in a number of directions over the past two or three days although I have managed to do some more work on the windscreen frame and have cleaned, re-assembled and painted the last of the springs. I am still waiting for the rear axle housing to return from the sand blaster, once this is back I can start in ernest on re-erecting the chassis. Hopefully by the end of this week.
10-11-2011
Packard32 is held up by the rain and lots of people have taken time-out to visit Hershey. I just get sick of being held up by un-reliable out-workers. Just how long does it take to sand -blast a rear axle housing??????
Meanwhile I bought a new piano-hinge for the top of the windscreen and filled in the afternoon yesterday drilling 3/32 holes and taping them out to 1/8 unc. I have 20 more to do this morning. At least once they are done I will not have to do them again. Then I can start shortening 40 1/8 X 1/2 inch long c/s metal thread screws.
Hey! this is meant to be fun???
10-12-2011
Its back. The rear axle housing has just been delivered. It is now 6.15pm so no more work to-day. First job in the morning will be to thoroughly clean every last grain of sand out of the interior!
I remember being on a rally some years ago when a newly restored Vauxhall 30/98 started making very expensive noises from the rear end. It turned out that the "professional" restorer had sand blasted the entire rear axle assembly without dismantling anything. Gave it a beautiful coat of paint and said "It is all a top job".
"Just sign the cheque (for many thousands of dollars) and you can drive it away."
Problem was that despite the rear axle assembly being all "buttoned up" about half a cup of sand had creeped in and after a very few short miles had ruined bearings, crown wheel and pinion, everything.
I think that I will continue to do things the hard way....
Hi Ben
It is always good to hear from you. I am not sure if my e-mail to you went or not so I will repeat it here.
I am sure that you will probably have heard this before but it is worth telling again.
To "assume" is to make an ASS of U & ME.
Cheers
Bernie J.
Crankshaft Rebuilders who do all my engine machining always state on their invoice
It is the customers responsibility to clean everything before assembly. They don't mean that you have to polish the hood before you shut it!
To illustrate my comments above the attached photographs tell the story. Beautifully painted on the exterior but look at what is lurking inside.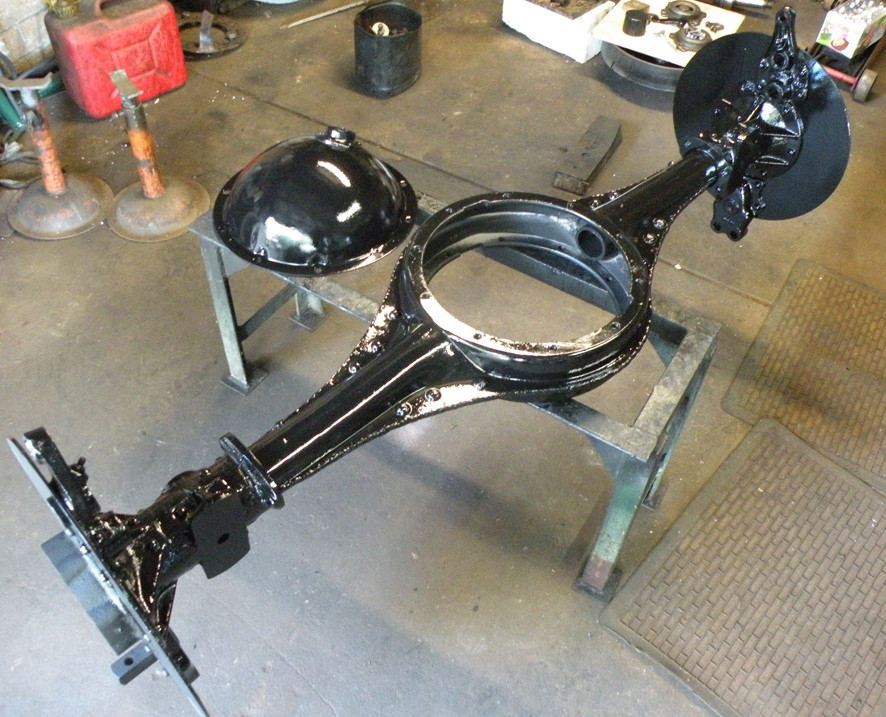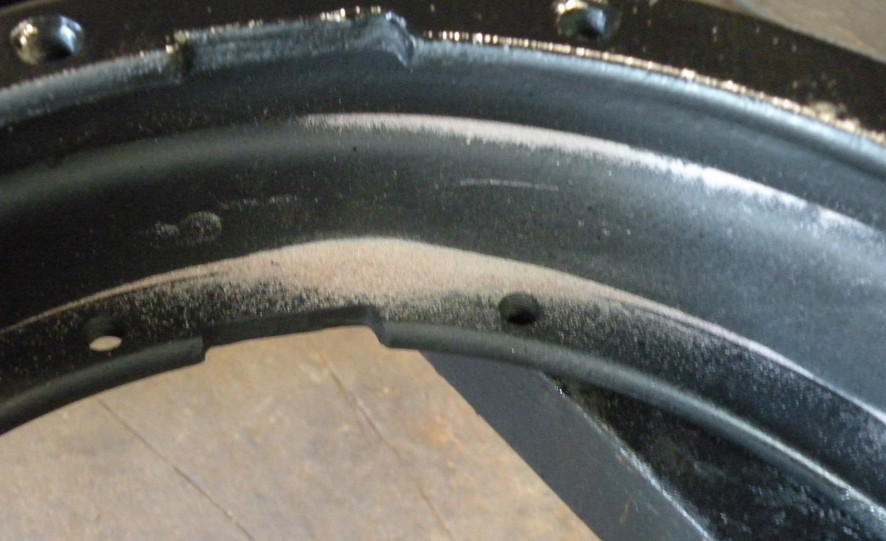 10-13-2011
I am amazed just how much sand I have extracted from that "clean" rear axle housing. It took the whole morning, sucking with a vacuum cleaner, brushing, even using a dentist's probe and blowing the stuff out of all sorts of nooks and crannies. I now have the diff centre bolted in and the half-shafts fitted to both sides. The brake bands are set up on one side and the hub/drum ready to go on. I am exhausted! Those parts are really heavy, I could just manage lifting the diff centre by myself and the main axle housing is almost as heavy especially when you are turning it end for end and over and over. I have learnt in the past that you cannot wash that sand out, wet it and it just sticks to everything that it comes in contact with.
It is now 11.15 pm and bed time.
11-14-2011
Some real progress today. I have one side of the rear axle & brake assembly put together. Time for some before and after photographs. Living and working in comparative isolation I am not sure what is AACA Show Standard. I am trying to achieve something akin to how the car would have looked when it left the factory.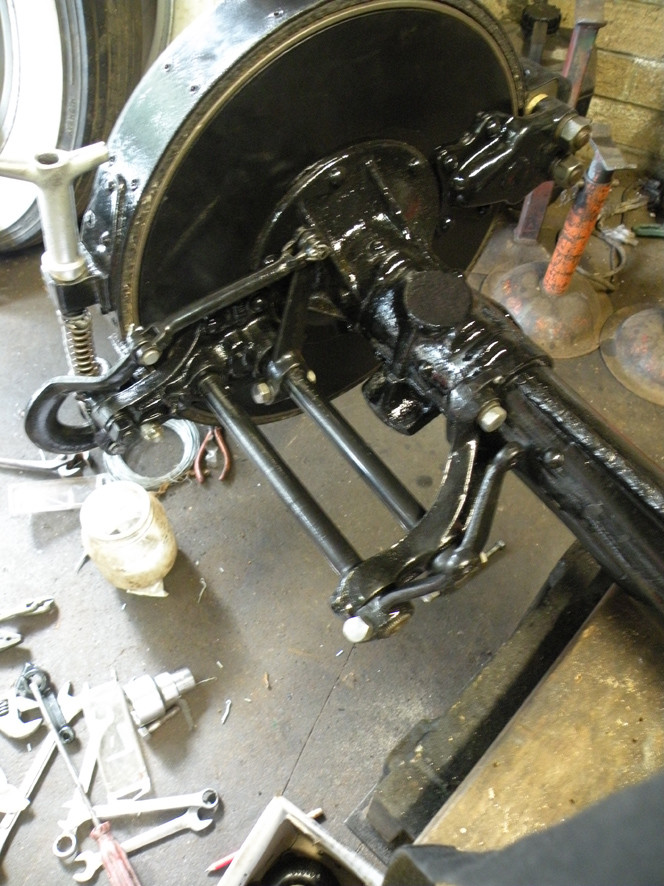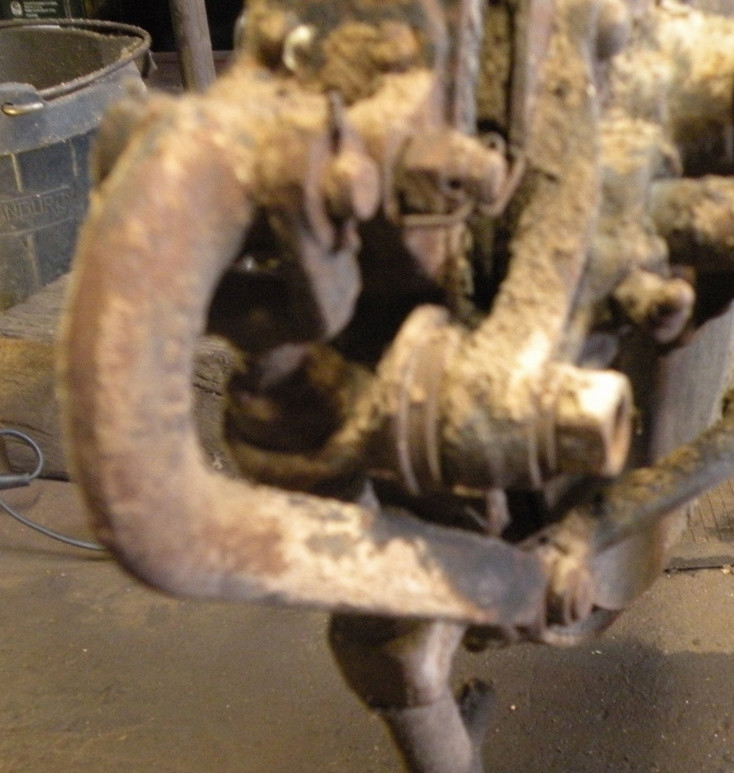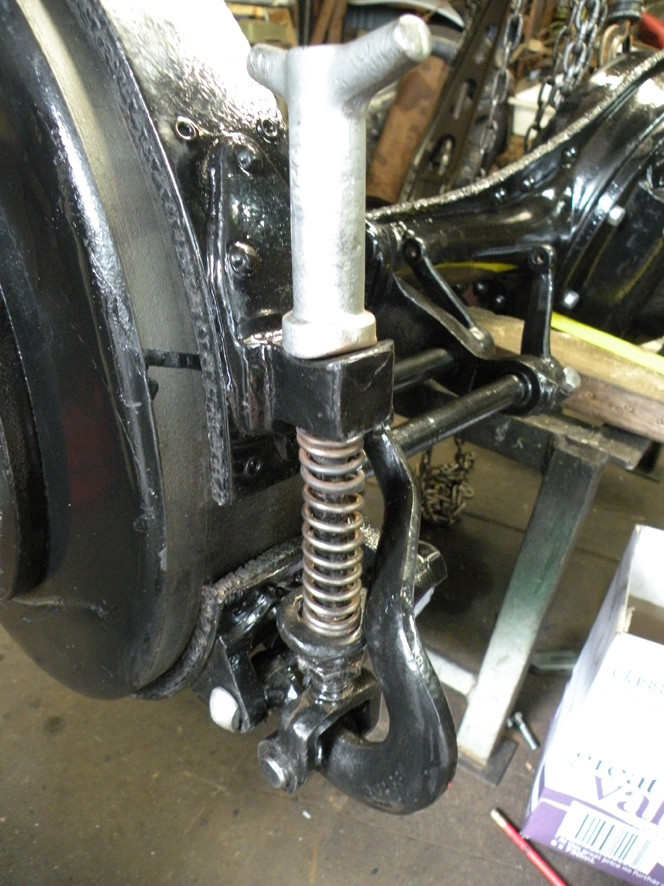 10-15-2011
Thanks Matthew
As an AACA Judge I value your opinion and input.
The rear axle assembly is now complete and once I manage to move some things (such as the body) to organise my space (or lack of) a little better I can start towards getting the chassis frame back on four wheels. Perhaps over the next two or three days. The next step will be getting a roll of webbing so that I can finally put the snubbers back together and set up on the chassis again.
Back to work!
10-17-2011
Hi all
Today as predicted has been full on, Unfortunately my help had a problem with his Land Rover and was unable to come so as they say in all the best books "When the going gets tough, the tough get going!"
Starting after lunch,(Monday morning is reserved for Petanque then coffee) first job was to move the body out of the way. The chassis could be moved from its resting place, standing one side, up against the wall. Then the front axle etc could be moved into place and the shackle pins fitted. This involved slackening the "U" bolts so the ends of the springs could be lined up.
With the front end fitted next step was to turn the chassis around, using one man power a trolley jack and a make shift hand truck. That achieved the next step was to move the completed rear end out of the garage and into place under the chassis. The rear of the chassis had to be lifted high enough to allow the rear axle to be wheeled into place. Problem my lifting point for the chassis was directly in the middle so so weight had to be added to the front. Simple just lift the four wheels complete with 600 x 23 inch tires up onto the chassis.
That done the rear end could be slid into place and the shackle pins pushed in. with jack stands in place I could call it a day. It is now just after 6.00pm (Eastern Australian Summer Time) which means just one thing."Drinks time" and the "Boss Lady" will be becoming impatient!!!!
Cheers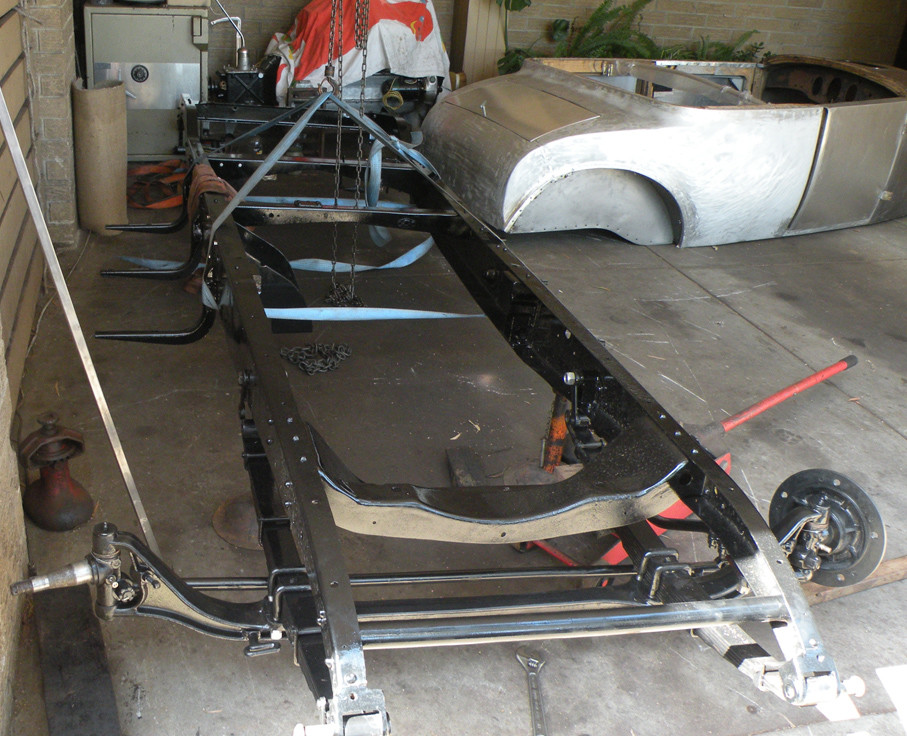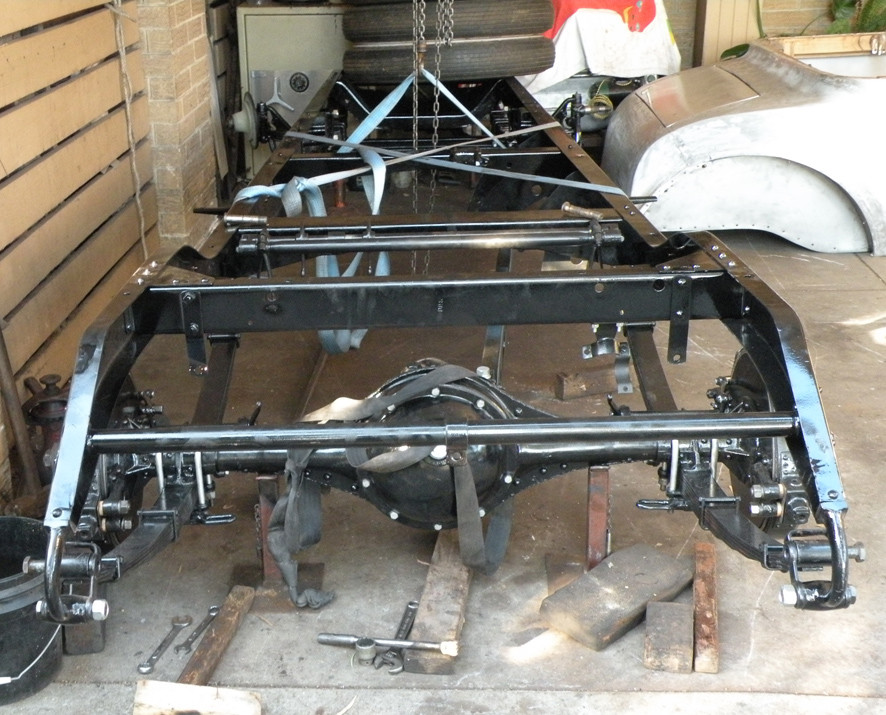 For all those who do not understand "Petanque". It is the "Bowls" game originally invented by and played by the French using steel balls, not unlike Lawn Bowls except that it is played on any available gravel area. If you need to know more try feeding the word Petanque into your search engine otherwise known as "Google"...
10-18-2011
Another day...
Today after finishing installing the shackle pins and tightening the lock nuts. For anyone who has not worked on an early 1920s Packard the spring shackle pins screw into the inside shackle plate and are then secured with a lock nut. Following this I have been assembling the brake rods and setting them up. In doing this it again reinforces my theory that this Packard had a short and probably hard life. One thing that bears this out is the fact that the yoke ends on the brake rods and their associated clevis pins show remarkably little wear. Added to this it is really nice to work on the car as virtually all the original small components are still existing. I am able to re-use all four brake return springs and the special clevis pins designed to be used in conjunction with them. Earlier I talked about restoring the original brake light switch. Today I refitted it using the original (bath-plug) chain and spring to operate it. One thing that was causing some concern was my inability to find the pivot bolt used to mount the handbrake lever. I literally have a dozen or so containers all holding an assortment of nuts bolts and small fittings removed during the original dismantling. Finally this afternoon I emptied out one of the last containers and there it was, the missing hand brake pivot. While I cannot fit the lever until after the body is back securely bolted down onto the chassis it is good to know that it does still actually exist.The only things that I am not re-using the originals are the split pins securing all those clevis pins. I think that I can honestly say that EVERY nut and bolt on the car has been apart. Now they are going together again. However I am replacing those with rounded heads, have stripped threads or that are rusty beyond recovery. Those with slight surface rust are wire brushed totally clean before being evaluated as being re-usable or not.
All new bolts are (Grade 8) Hi-tensile, UNF.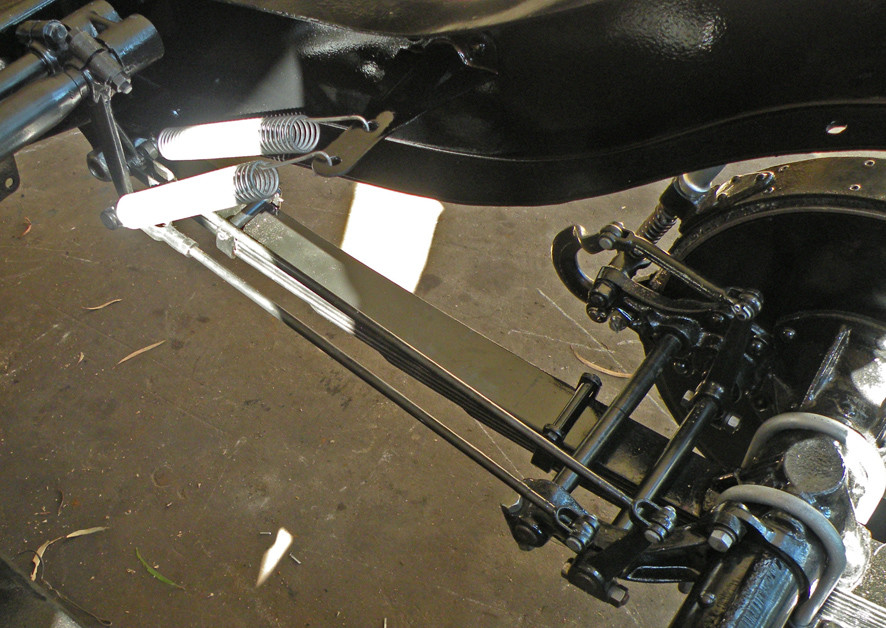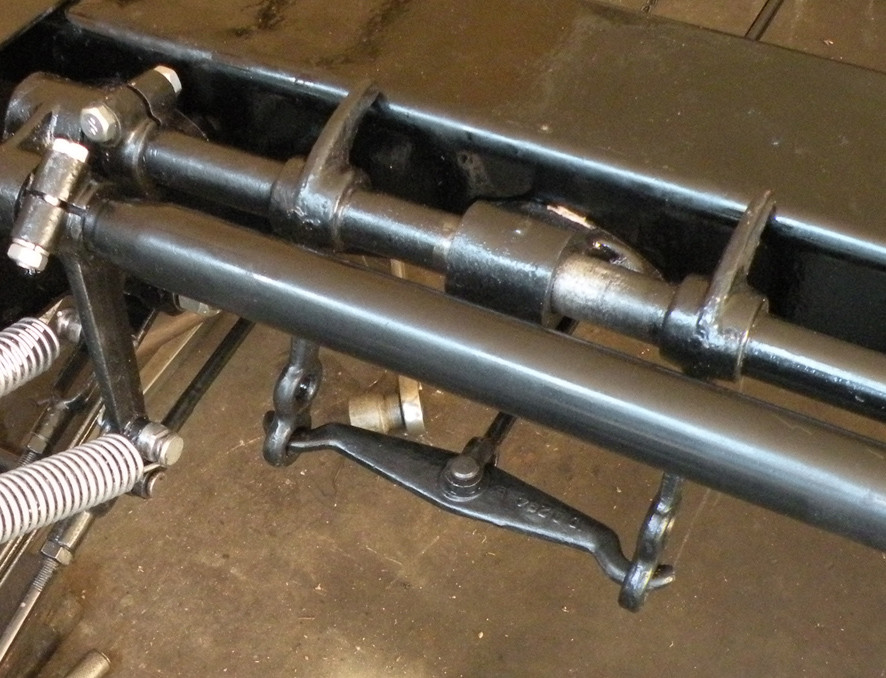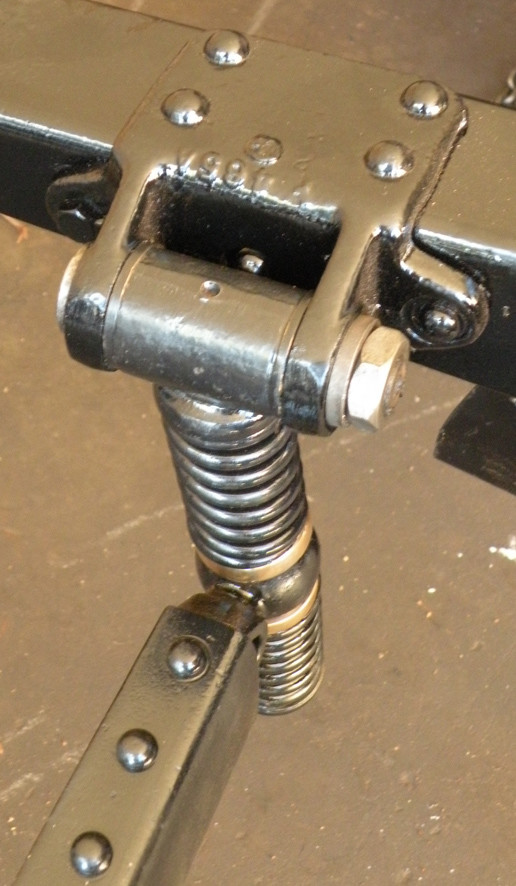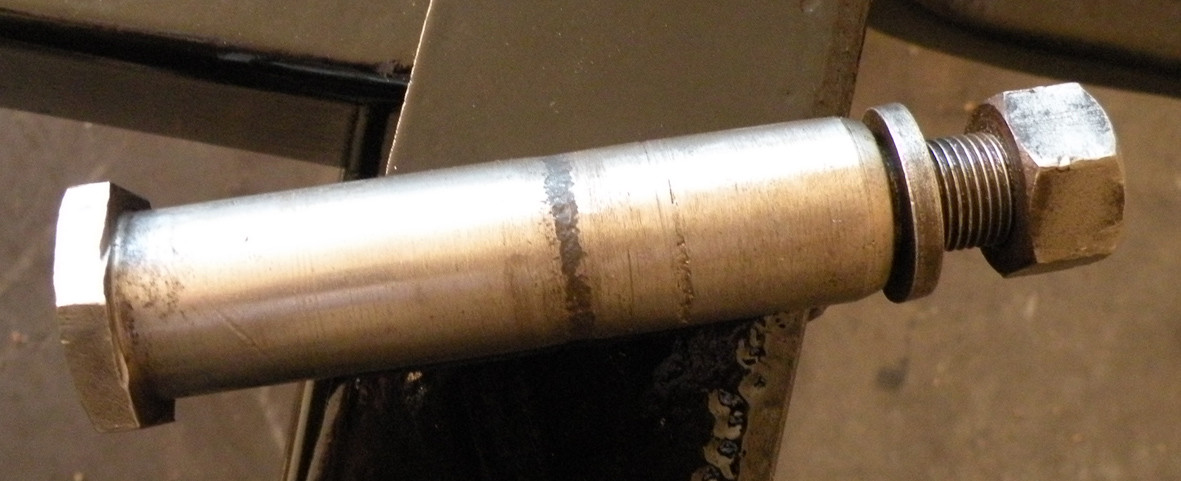 10-19-2011
Hi Pat
The only reason most of us punish ourselves doing this work is because of the satisfaction of doing a job to the best of ones ability. Sometimes it is more successful that others. It can certainly stack up any number of frustrations but then look at the compensations.
Today, attention moved to the front end. While I could buy the correct bump stop rubber buffers for the rear axle, the ones to suit the original mounting plates that were still on the front axle when I first dismantled the Packard were unavailable. I had been given some cast off samples of black hard rubber from a local rubber manufacturer and today was officially "National Bump Stop Rubber Buffer Day". This being so I got out my mounting plates and the rather large lump of black hard rubber. In a perfect world I would have simply cut out the required pieces on my band saw. Just one problem, a band saw is just one more essential tool that I don't have!
First attempt at cutting I used a cut-off disk in my angle grinder. All this produced was clouds of evil smelling smoke and a totally unsatisfactory cut. Next I tried a hacksaw but it quickly clogged up and jammed in a rather ragged cut. Finally I tried a carpenters wood saw treated with ample lubricant on both sides of the blade. While perhaps not perfect, the two rubber blocks that I cut were a snug fit into the original plates. In a perfect example of "belt and braces" I drilled two 1/8 holes through the plate and rubber block from side to side and threaded a length of tie-wire through to make doubly sure that they were not going to come adrift. In practice any any severe bump should put the rubber buffer into compression rather than dislodging it....
By a strange co-incidence It is also International Alemite Grease Connector Day so quite a bit of time has been spent sorting out the "connectors" that both Joe Puleo and David McC had sent to me. These are cleaning up nicely and one by one finding suitable homes around the various grease points. Together with the ones that I already had I now should have enough to cover all the grease points on the chassis. A big thank you to both.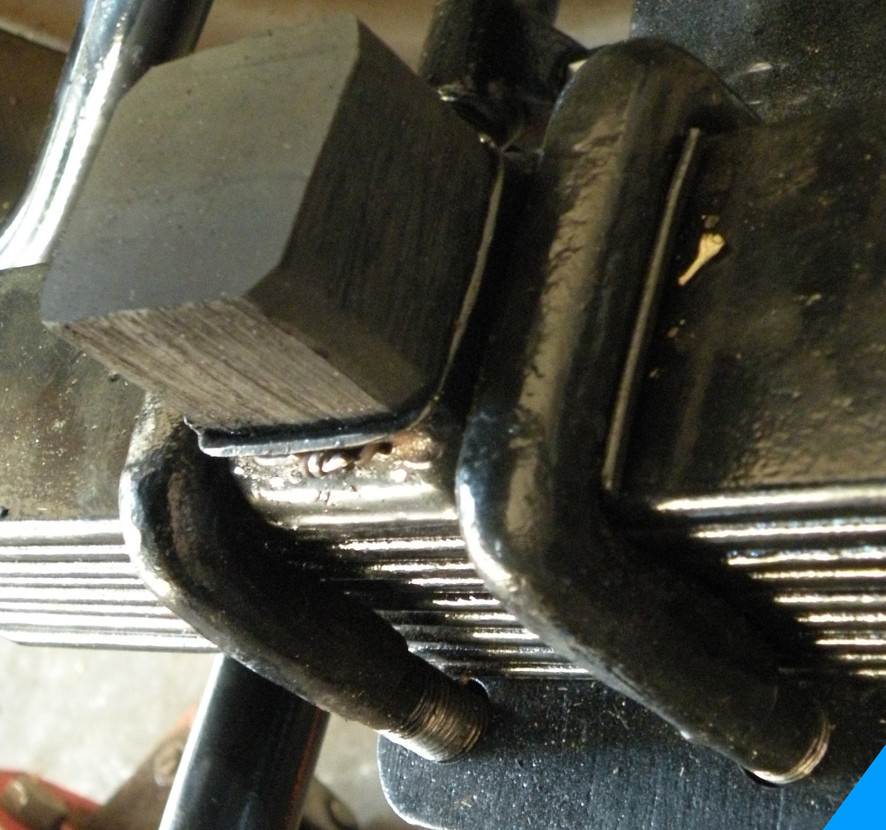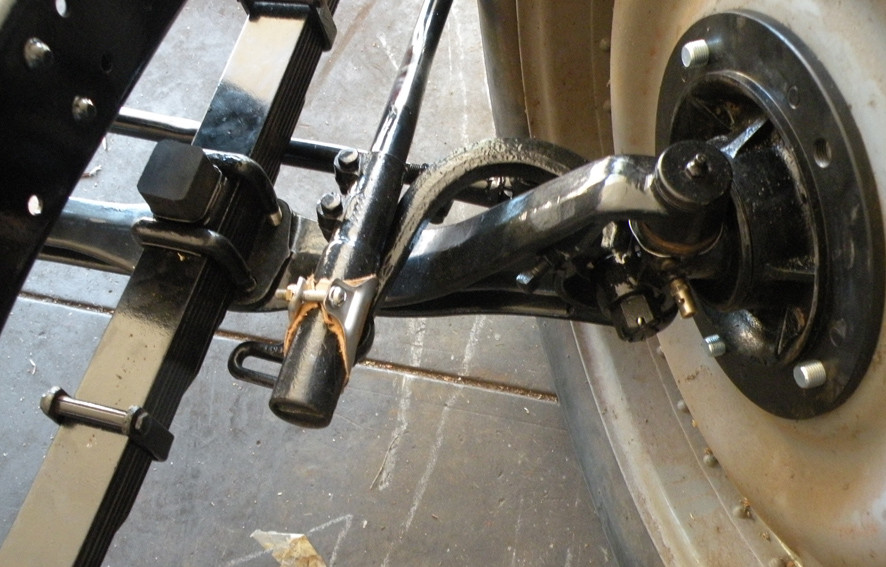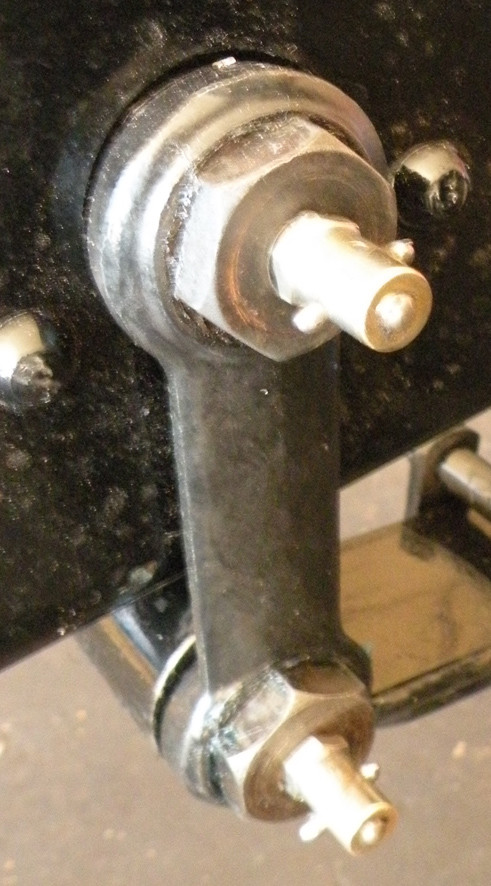 Watch out the "Gabrielle Snubber Day" is just around the corner........
Hi John
It has all four wheels on and is rolling. At present the wheels are secured by temporary bolts while the original bolts and "rings" are at the platers. You may have to wait a day or two until I have the engine & gearbox in the chassis for the "rolling chassis" photograph. I am currently waiting on the delivery of a 50 metre roll of webbing so I can complete the snubbers. That should come by courier today. I need to get the motor etc off its "transport" so that, that can be modified to go under the body before it is moved out to be painted. My extremely fussy painter says that he cannot achieve the sort of finish that he likes to work to with the body on the chassis.
Life does get complicated....
10-20-2011
Sorry! I hate to let all you folks down but there has been no work on the Packard today.
We have another driving event in the 1934 Lagonda Rapier on Sunday. As it has not been touched since parking it following the 437 mile Two-day Rally last month it was time that I gave it a good clean and check over. Not that I expect to find any problems. It was idling 50 to 100 rpm too fast so I wanted to adjust that. Check the oil and water levels etc. By running a program of regular maintenance any potential problems are "cut off at the pass". It is such an interesting (2ohc) engine it is a pleasure to work on it, Like any 77 year old it needs a little "TLC" from time to time.
As I have already explained to David in an e-mail, I have the remains of the original snubber straps complete with the brass interleaf. The webbing strap I have on order is a locally (Melbourne Australia) manufactured polyester material, mainly for Ratchet tie downs, used to secure loads on trucks and trailers. It has a far higher tensile strength than the original cotton, flax or hemp webbing and a much lower coefficient of friction so may not require the interleaf. The one I am getting is cost effective at about $1.00 per metre. RSC do offer a snubber belt that is the same width, 1.5 inch and thickness, 3/16 inch. They don't say what material theirs is made of but at $12.50+p&p per ft I can afford to do some trial and error. Theirs is brown, the one I intend to use is black. As with all their products RSC say repeatedly their's is "The Right Stuff".
They do not include the brass interleaf with their snubber belt.
10-21-2011
Hi All
Unimog John this one is for you.
Friday morning in the Jacobson household is set aside for shopping for our weeks provisions. After lunch while Helen went to her weekly Yoga Class I set about some exercise of a different kind. The main result of my labour is obvious, what you probably cannot see are the two rubber bump stops now mounted onto the frame over the rear axle or the two little umbrella shaped pressings that form part of the splash pans and cover the shackles at the rear of the front springs.(You can just see the left hand side one in the front view photograph.) These are the original factory parts. I have the right hand side splash pan but this still requires an hour or two's work before painting and fitting. Now the engine is back in the chassis I can cut a template for the left side pan and make, paint and fit it.
Having just taken delivery of a 8 metre length of 2" square tube, tomorrow I can start to cut out and weld the temporary frame to transport the body on.
By the time I change out of my "dirties" it will be time to go and pour our pre dinner drinks.
Cheers!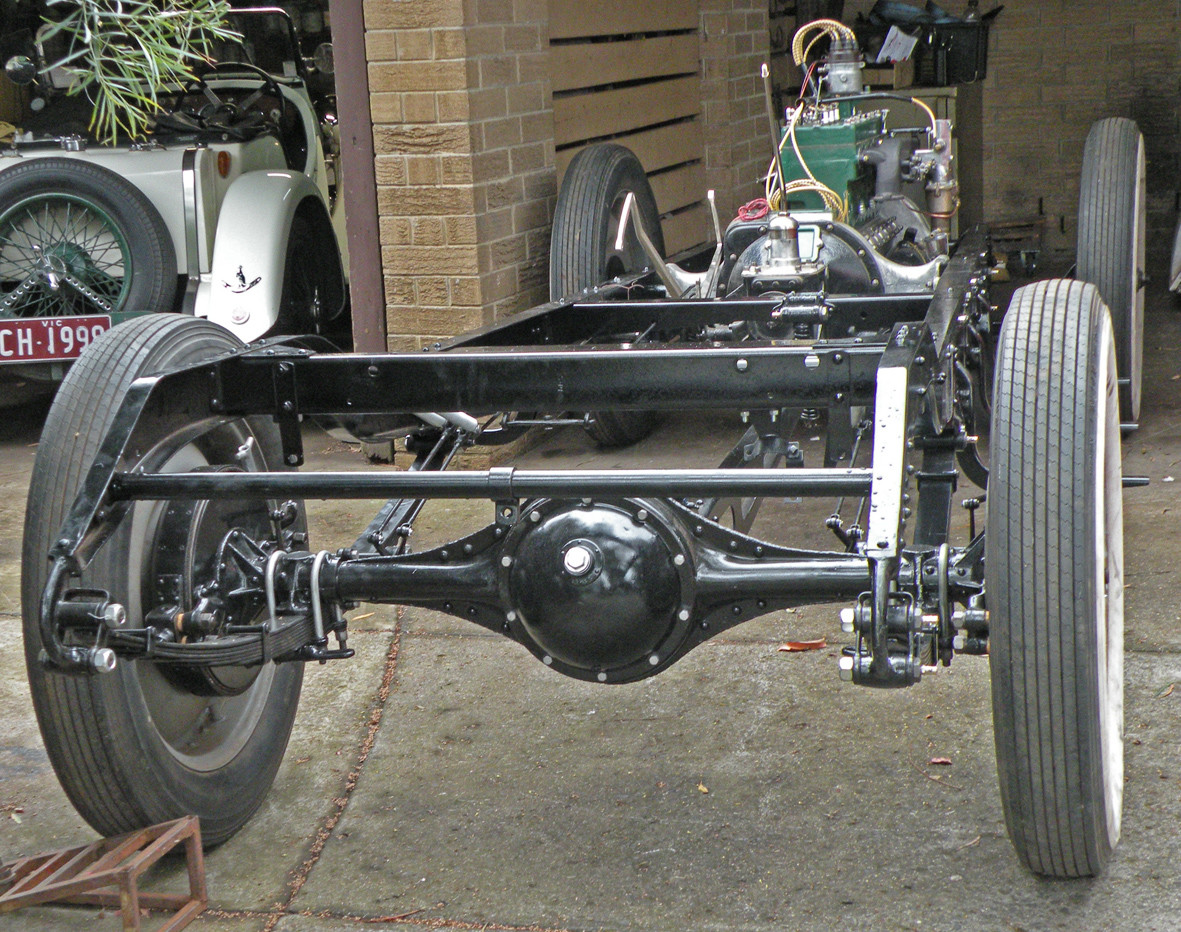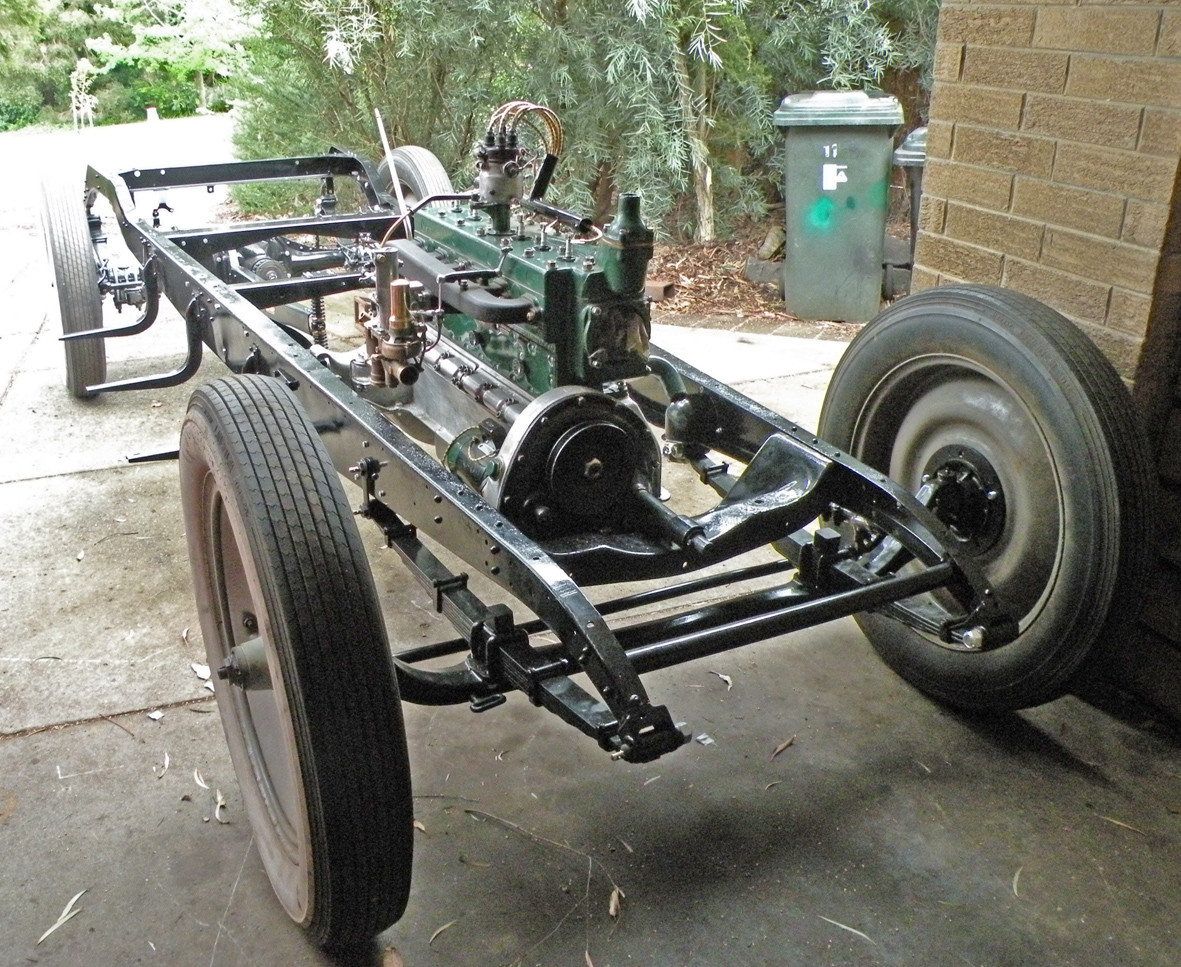 Hi Howard
Welcome to my thread. In reply to your question regarding leaf springs. Like you I totally dismantle each spring and wire brush them clean. I use a twisted wire rope 4 inch cup brush in my angle grinder. I find that this is much more aggressive than the wheel on my bench grinder. That is fine for cleaning threads on bolts and cleaning small parts. I give each individual leaf a coat of primer then fully assemble each spring before giving it a final coat of paint. I do not use any lubricant on the leaves.
10-23-2011
As Ben states it is possible lubricate springs but that doing so tends to make the ride too soft hence the need for shock absorbers in good condition. Springs rely on the friction between the leaves to control the movement of the axle. In the past on two or three occasions I have had springs repaired (new leaves inserted to replace broken ones)professionally. They were certainly not lubricated before delivery or any suggestion made that they should be greased or oiled either at the time of installation or during service. Almost without exception these were painted after assembly.
During the 1920s many racing cars had springs bound with cord to restrict movement. Ben Is also correct in saying many pre WW2 luxury cars particularly English makes used leather boots or "Gaiters" to enclose springs, mainly to exclude dust and mud. Some of these gaiters do have provision for greasing. Most of these expensive English cars also have double shock absorbers to help control excessive spring movement. In Howard's case to fully paint each spring leaf may be self defeating as unless the individual spring leaves were either baked or left for up to perhaps as much as two weeks for the paint to fully harden before assembly the paint may tend to cling to the leaves either side making the springs too stiff. In only giving each leaf a light coat of primer the sole purpose is to prevent the springs from rusting prior to assembly. I am neither an Automobile engineer nor a professional restorer but simply an enthusiast doing what experience has taught me. Squeaking is more likely to come from dry shackle bolts especially if fitted in conjunction with metal (bronze) bushes. Sometimes rubber or synthetic shackle bushes will squeak due to the presence of dust. This is more likely to occur with worn bushes.
Hello All
I am more than satisfied with the work that I have already carried out on my Packard's springs. They are now fully assembled and back on the car. I have no intention of taking them apart again or to change what has been my policy regarding the restoration of springs either now or into the future. Should anyone wish to continue this discussion may I respectfully suggest that there is possibly a more suitable location within the Forum to do so. As far as I am concerned I will be moving on with my restoration work on the Packard. Those who wish to follow its progress are welcome to do so and their comments are always welcome. I cannot see anything to be gained in pursuing what has become a rather abstract subject. What may be relevant to a 1941 Dodge, a 1935 Rolls Royce or some other vastly more sophisticated vehicle probably has very little to do with what I should have done or not done with my 1923 Packard. I am sure that there are any number of wild geese out there waiting to be pursued but I for one am to busy to be wasting time chasing them.
Thank you to all concerned for their interest and possibly helpful comments.
10-25-2011
Snubbers...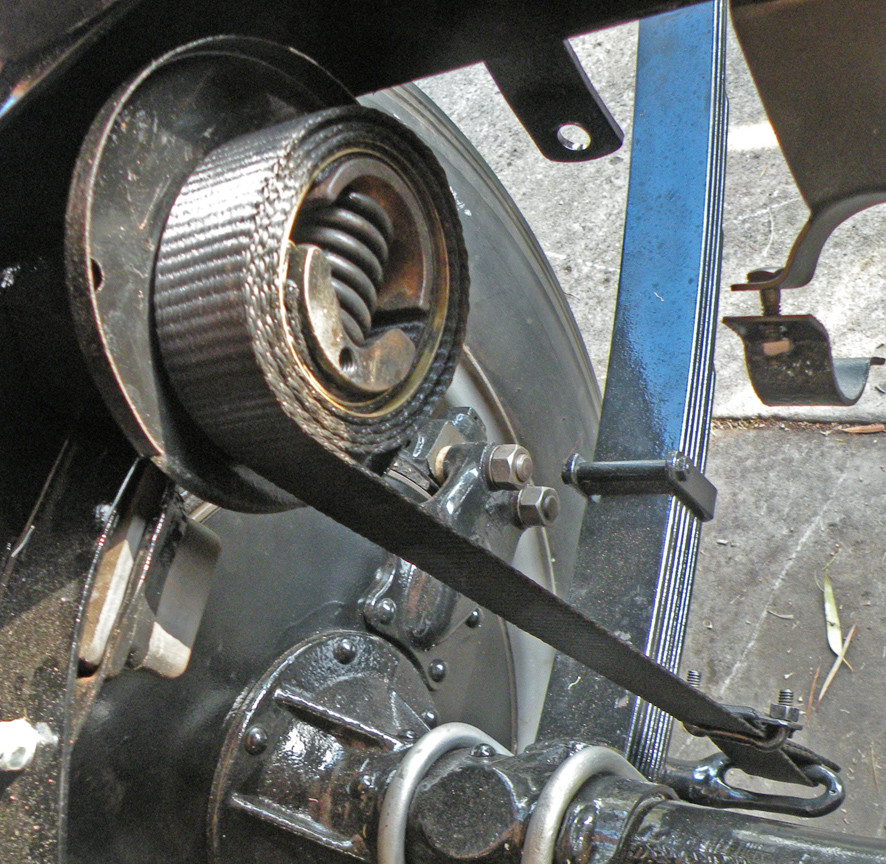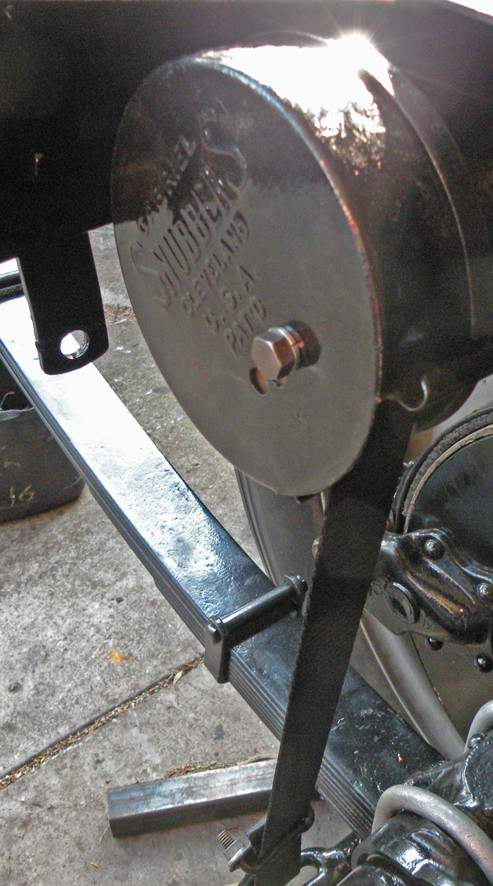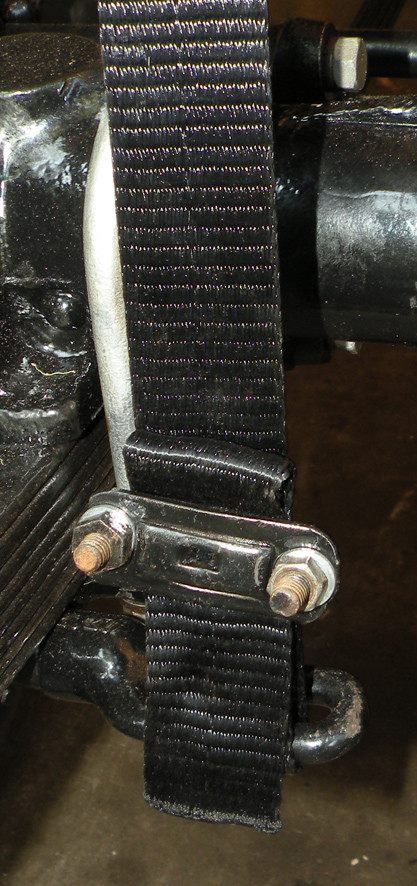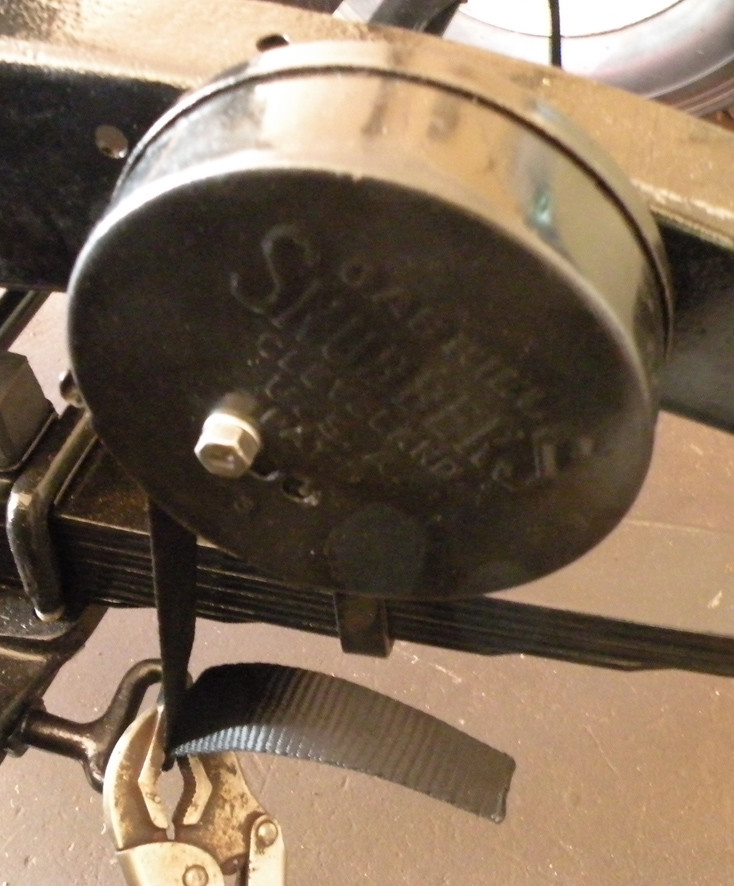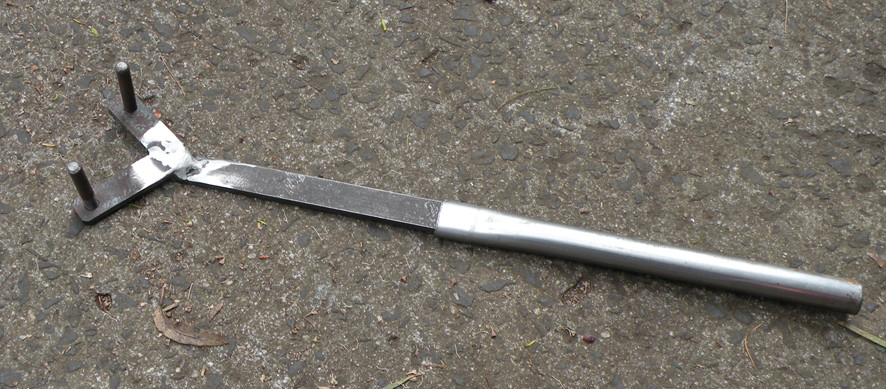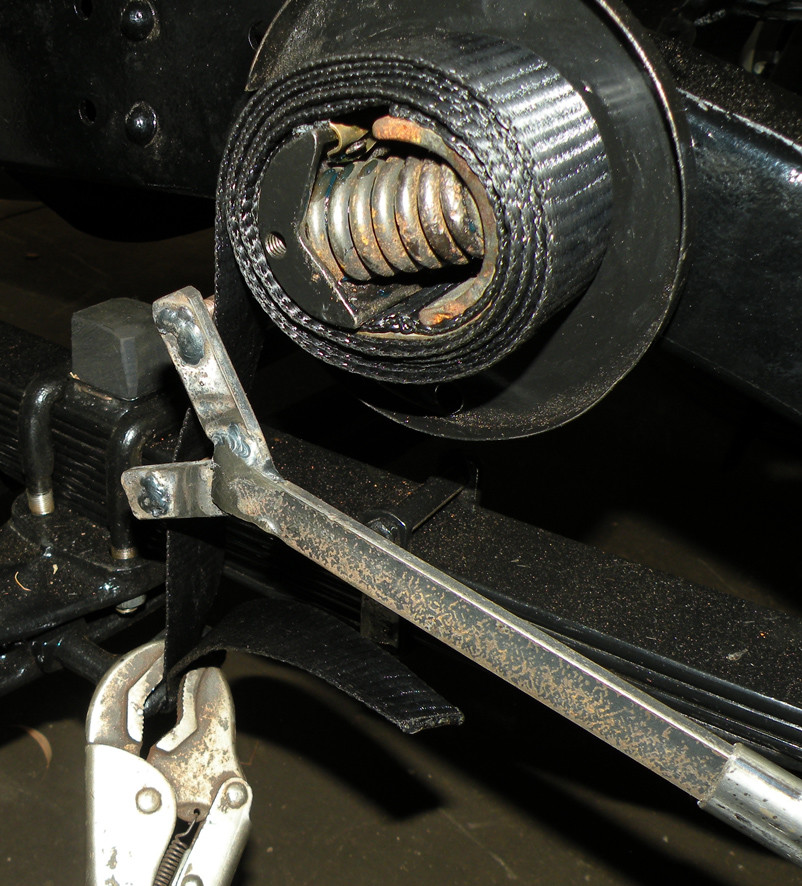 One that got left off. What Snubbers are made of.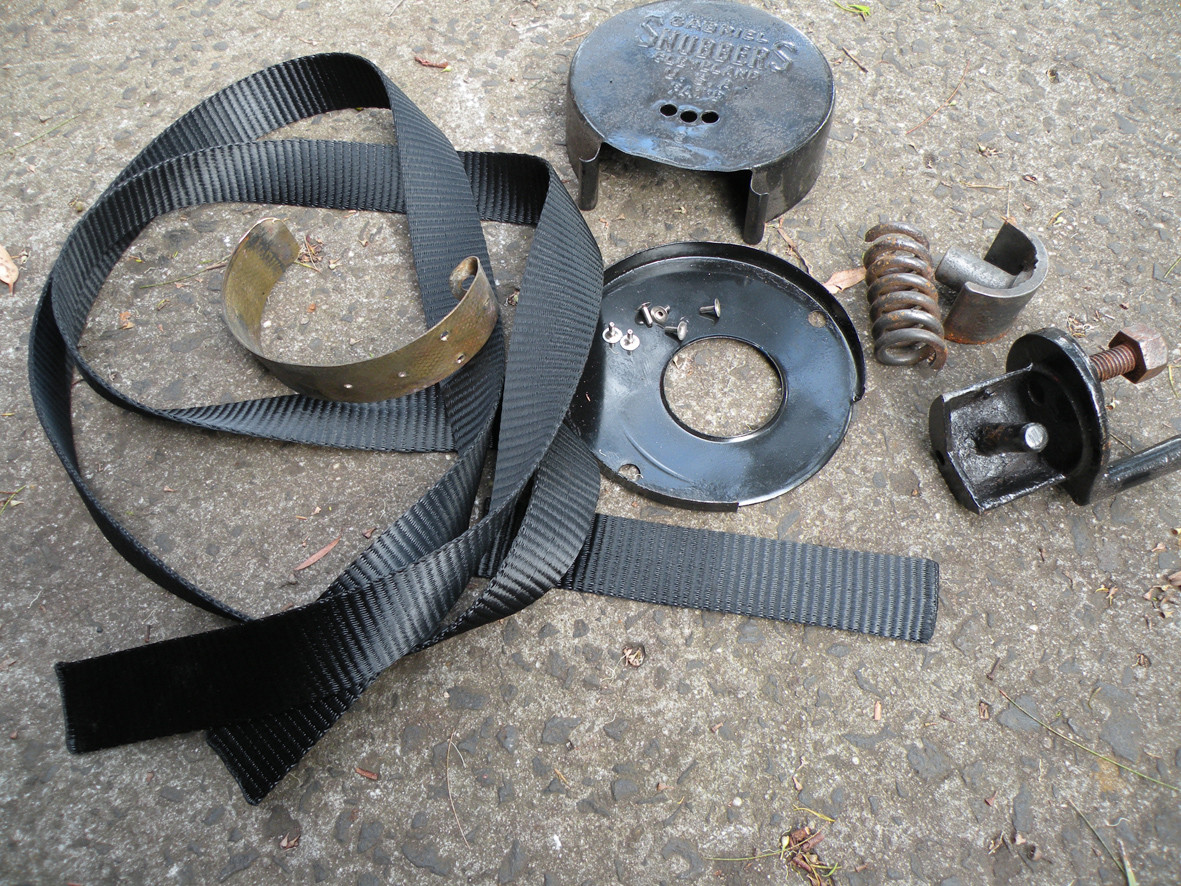 10-26-2011
In this funny world of old motor cars you keep learning new things every day.
Today I learnt that to fit the drive shaft on a early series Packard you must first move the rear axle back an inch or two. First you remove the shackle bolts at the front of both rear springs and the anchor bolt at the front of the torque arm. One step forward, one step back!
I forgot to mention the clevis pins in the brake rods too.
Either way three hours later and the job is done. Sadly that is all for today.
I have a Rally route to plan.
10-28-2011
Sorry! but I do have another life. Today I had a story to complete for the Automobile Magazine in the UK. Those who buy/read it may get to see it in a month or two.
Hi All
Something very different. Our son Paul and his partner Nicole are keen bird watchers and bird song recorders. They make frequent trips into the out back. Right now they are in the Flinders Ranges in the north of South Australia and have sent back these photographs.
Hope you find them interesting.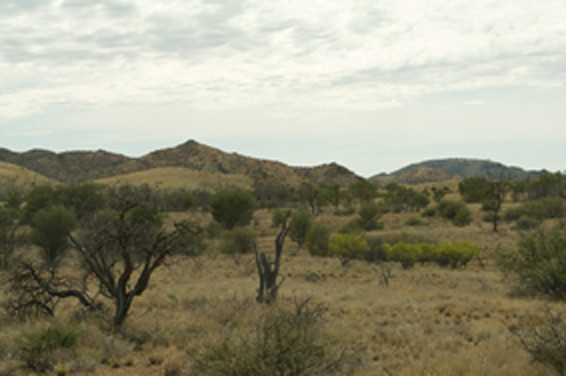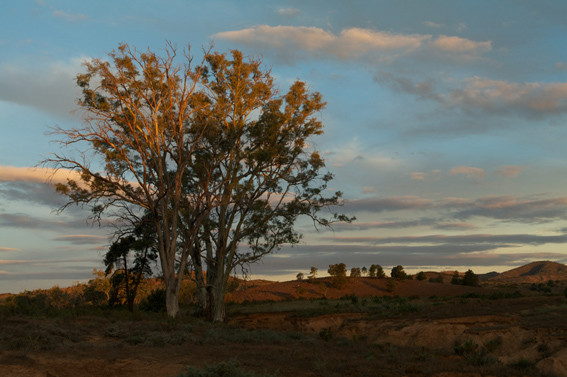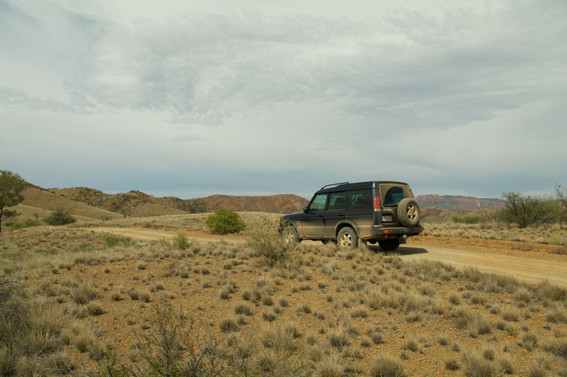 10-30-2011
While it may seem no big deal, I have spent the last two days working on getting the right hand door opening and closing to my satisfaction and keeping the gaps at both sides and the bottom of the door uniform. I know that I will probably have to do some of this again (final adjustments) when the body is fitted onto the chassis frame again but hopefully only minor adjustments. By the time the car is nearing completion (with trim carpets etc) it is my aim that the doors will close, as all Packard doors should, with just a discrete click.
10-31-2011
No photographs again! Sorry but I am busy doing boring things like making the "staples" to anchor the ends of the front snubber straps (I had the original ones for the rear.) and angle brackets to stiffen up where the door pillars join into the main body stringers (the heavy pieces of timber that sit on the chassis) All time consuming and essential stuff but nothing to get excited about. I would like to get the body out to Aaron for him to finish a couple of little things before it goes to be painted.
Then I can make a start on running some electrical wires around the chassis frame while I have unfettered access to it. Has anyone got a spare of the pressed metal cover that goes over the wiring loom where it links onto the red fibre junction board on the bulkhead I am not sure if this is unique to the early single six or a universal piece. I could probably make one but it looks like another time consuming & fiddly job. I will try to take some photos of this piece tomorrow. It is 6.34 P.M. now and the Boss lady will be getting impatient.
Hello again
Further to yesterdays post here are a couple of photographs of the electrical junction box cover that I am looking for. This one comes from inside the bulkhead behind the dash, there should be another similar on the engine side of the bulkhead. They are 8 3/4 inches long, 1 3/4 inches wide and 1 1/4 inches high. One end is rounded the other square with a horseshoe shaped cutout to cover the conduit carrying the wires to the junction board.
I could make one but it could never be the exact shape as the original is a pressing. If you are or have been an early Packard Single Six owner please have a look in your junk box. you never know what may be lurking there.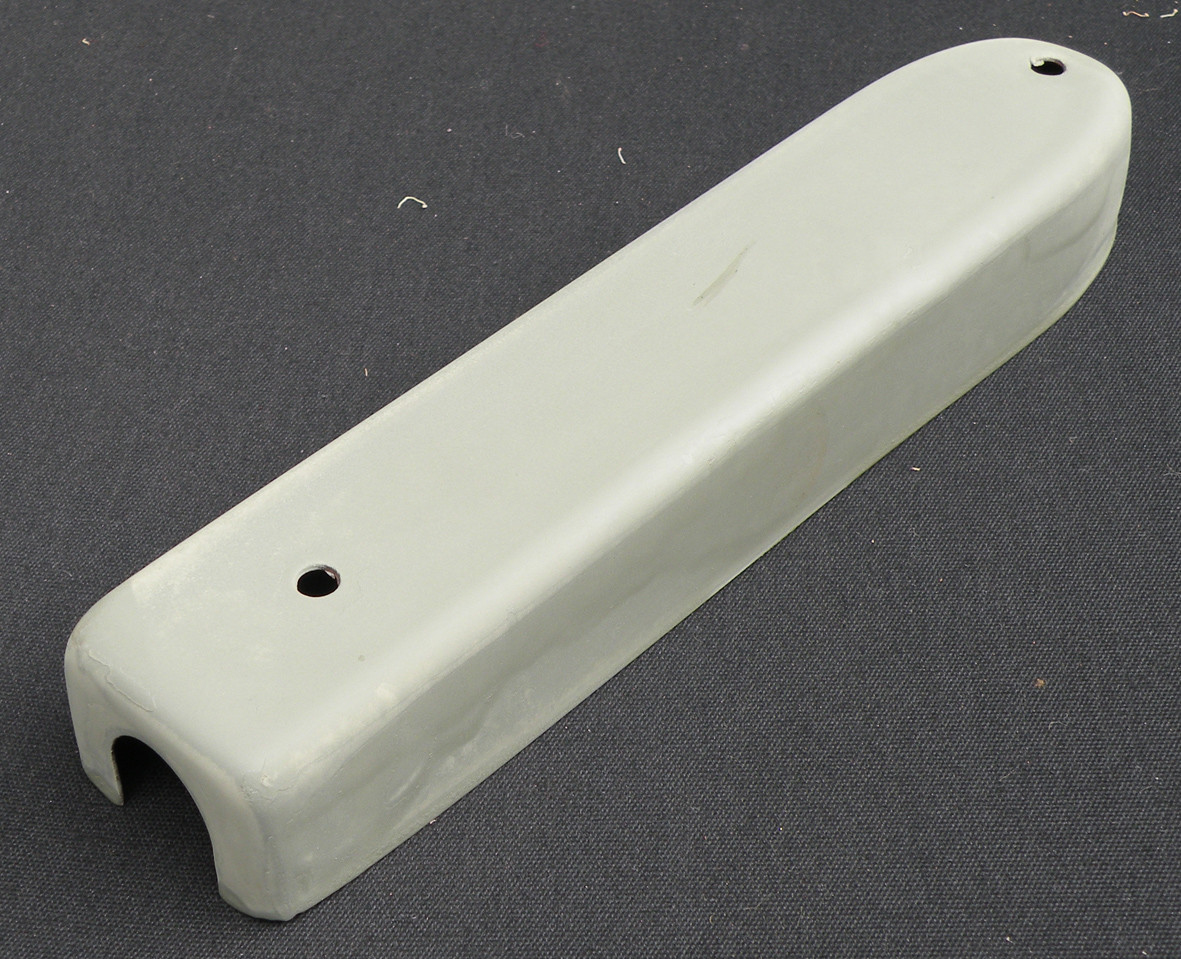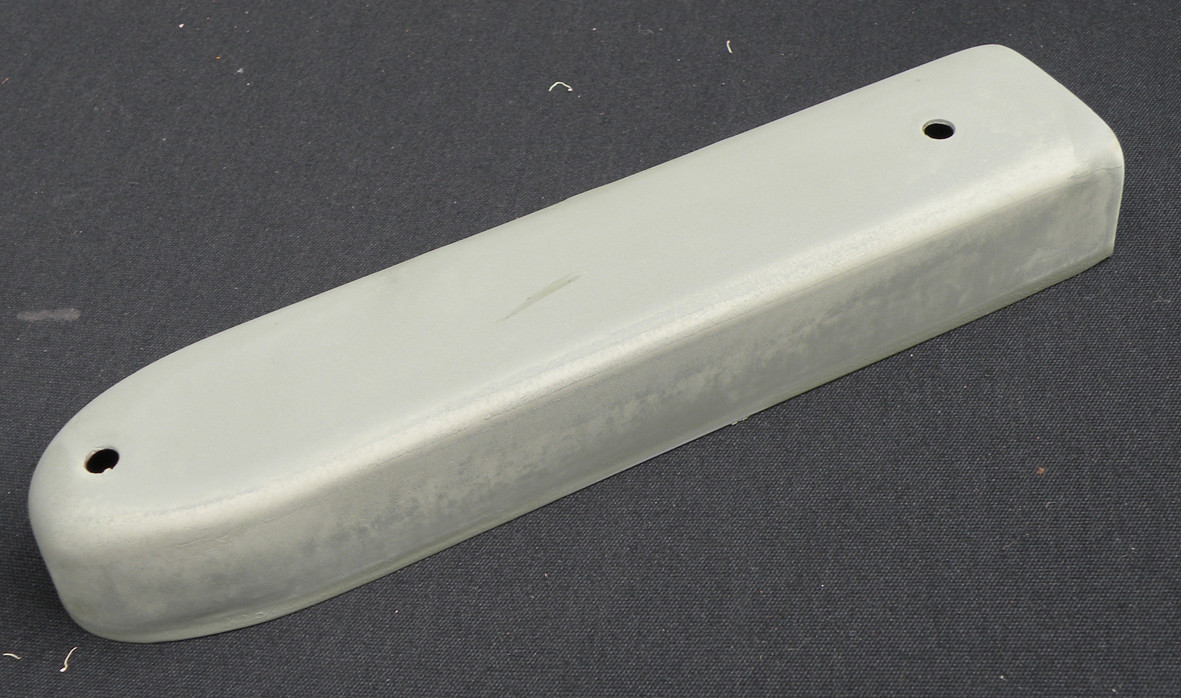 11-1-2011
Here we are again. It has just turned 6.15 p.m. and I have just finished washing up. This morning I finished screwing in the two body strengthening brackets I had made yesterday. This afternoon has been spent re-claiming about 75% of the original Packard flexible conduit and the two main junction boxes that mount along the right hand side chassis rail. One directly below the bulkhead the other in line with the stop-light switch at the third cross member. I will probably have to replace the smaller diameter conduit that runs forward to the headlamps and the one that carries the wires to the horn and then back to the base of the steering column. This also involved making two new lids to replace those missing from both junction boxes. Oh yes, I did stop for 15 minutes to watch the running of the Melbourne Cup, our most famous horse race, on TV.
11-2-2011
As Charlie Brown is reported as saying "Good Grief"
How many little clamps, brackets and fittings can you wire brush, sand paper, prime, sandpaper again and finally paint? Oh yes then there is the copper pipe from the petrol (gas) tank to the vacuum tank. It has lived under the car among all the grime and grott for the past 88 years. Hey, this is meant to be fun!
11-4-2011
Just as life goes on so does the work, As part of preparing the bulkhead for painting I have removed the red fibre board, electrical junction 'box'. While it is apart is seemed a good time to give it a clean before stowing it away safely. The thing that impresses me about this is the way Packard made sure that even the simplest country mechanic or village blacksmith (remember this was 1923) could cope with electrical wiring repairs.
Typical is the labelling of the various terminals. For instance, having done some reading on the subject, I know that the terminal marked 'Spl Tail' was to cater for those states that required that the tail lamp be switched on and off from the rear of the car. This connection is live once the ignition is turned on so will serve perfectly for the stop light switch. It is also worth noting that the matching terminals on the strip from the dash side of the bulkhead shows AM+ (ampmeter positive) and AM- (ampmeter negative) then the number of the terminal on the main switch e.g. SW#7 etc that that particular wire goes to. It is all these little refinements that make the Packard so rewarding to work on.
While on the subject of electrical wiring does someone, anyone have a listing of the colour combinations for 1920s Packard wiring? What was left of the original wire was so faded and decayed as to all look the same dirty grey. That is where any insulation remained.

11-5-2011
Hi All
I trust that I am not boring anyone but to explain what I am talking about I have scanned a couple of pages out one of my books on the subject of Auto- electrics. I have used as an example a section of a 1952 Morris Minor wiring diagram as a typical and relatively basic English car. This shows how a system of varied colours for the outer insulating coating of the wires simplifies the tracking of a particular circuit. For example all wires going to earth are Black. I find it difficult to believe that American manufacturers did not use some similar system to identify individual electrical circuits.
It would be easy for me to use the Lucas system but then it would not be as it was, when the Packard left the factory.
I believe that as far as possible for a restoration to be "correct" these things should be 'as when new'.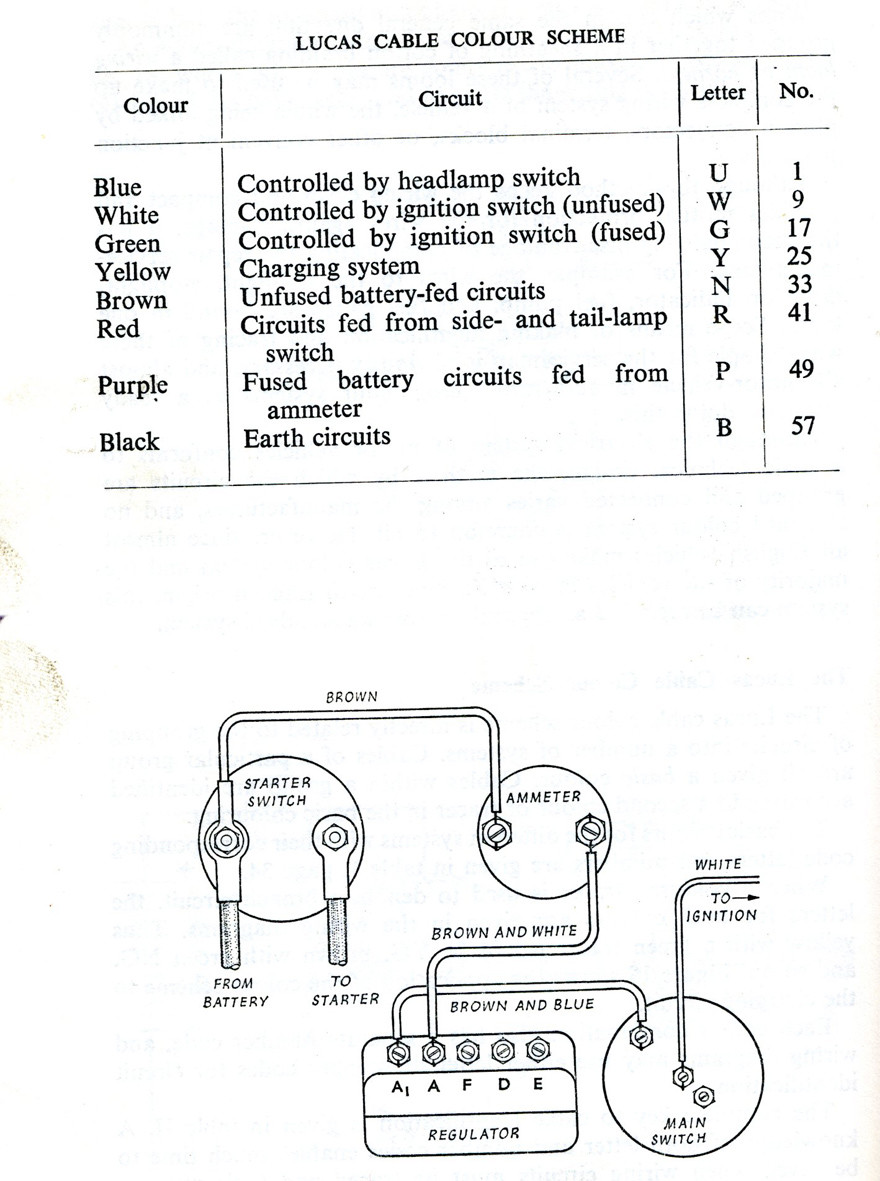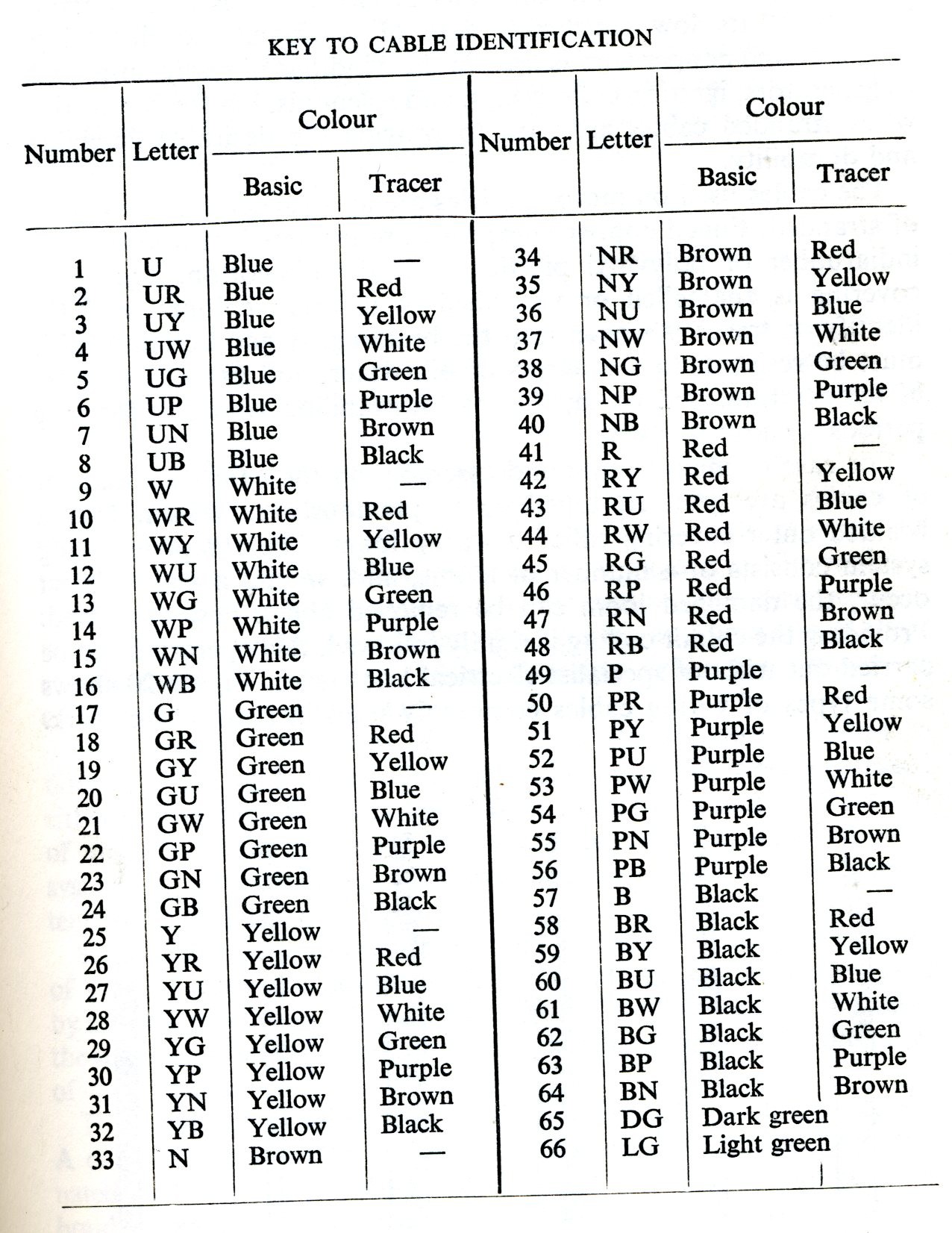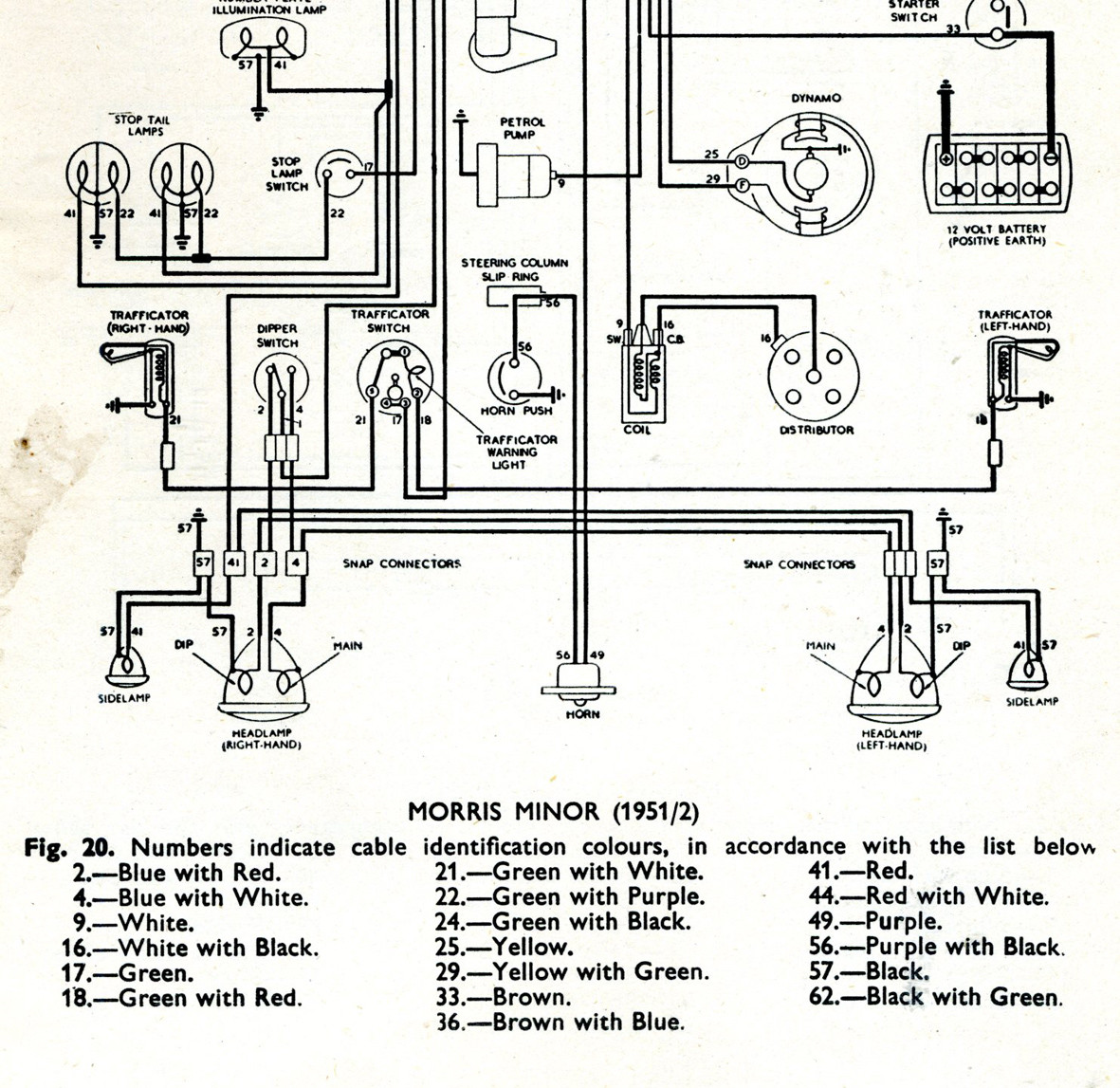 11-7-2011
Hi David
Many thanks for the Service Parts List. It is rather difficult to read in the form that you sent it but I will leave it until your life comes back to normal. Meanwhile I have just eight more Phillips head screws in the luggage compartment lid to replace with slotted head and the body is ready to go off to the painters. He is not quite ready to make a start on it but at least it will be in the queue.
It is now 6.15 pm so time to down tools and get cleaned up.
Hi All
Just a little insight into my days. By now some of you will have noticed that around 6.00 p.m. is my knock off time at the end of a days work. This day begins when the clock radio starts babbling at 5.30 a.m. It is now 7.30 and I have showered and am ready to start breakfast. My aim is to have finished my chores inside by around 9.00 to 9.30 then out into the shed. I take about an hour for lunch. No morning coffee or afternoon tea.
I just plod along slowly getting things done. One task at a time and definitely ONE project car at a time.
Some of you may be wondering about my wife, Helen, She too lives a busy life. Since retiring some years ago from her job with the Police Department, she has become the Secretary of the Ladies section of her Golf club. She plays 18 holes every Tuesday. We both play Petanque on Monday mornings, being a dedicated Francophile, Helen does three French language classes each week and Yoga on Friday afternoon. She enjoys cooking and is a keen (vegetable) gardener. She is an extremely good navigator and enjoys our competitive club motoring (Rallies & navigation trials) in the 1934 Lagonda Rapier. We are approaching our 50th Wedding Anniversary, next April. We both enjoy our five yearly extended European holidays (about 4 months) We ship the Lagonda ahead (by sea) and use it as our daily driver. Our next trip is planned for 2014.
Helen & the Lagonda Rapier at the summit of the Stelvio Pass in the Italian Tyrol in 2004. The second photograph has us on tour. The Rapier rear fenders seem to attract mud.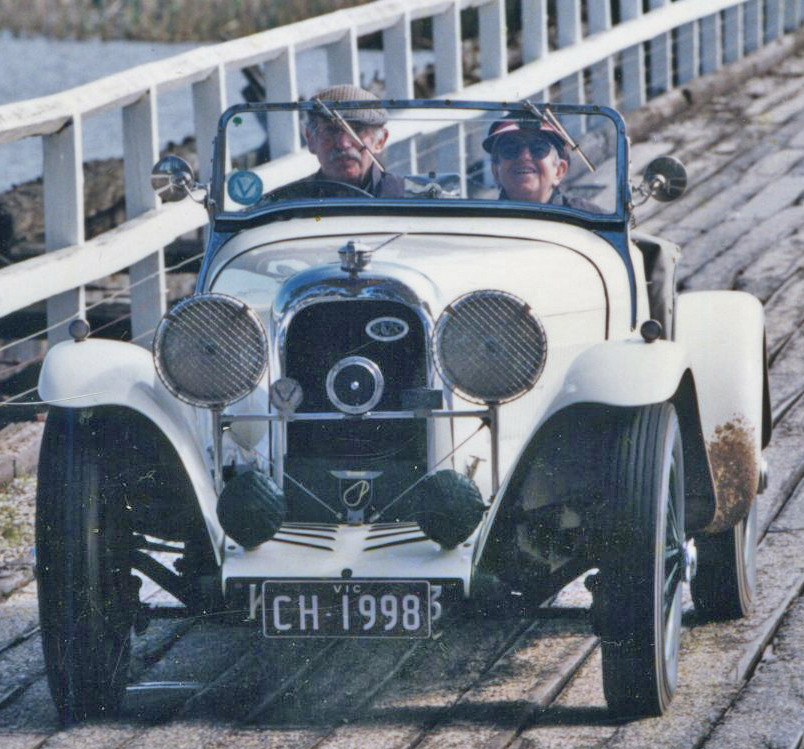 11-8-2011
It is that time again.
While it seems that not much progress has been made, looking back I have sanded the coating of light surface rust off the steel cowl and given it a coat of etch primer so that it will not go rusty again, not in the short term at least. This afternoon I have bitten the bullet and started to cut up the very expensive cabinet grade Black walnut timber for the door capping and to go along the top of the body at the sides of the rear seat etc. I wanted to have this done before the body disappears for a few weeks. Jim, my friendly tilt tray man, is due to pick it up tomorrow or the next day.
Hi all
Well following a diabolical weather forecast my tilt tray man decided that today was not a good option. Silly part is that this afternoon has seen beautiful sunshine. We had been told to expect torrential rain with up to 50mm (2 inches) in as many hours. As it has turned out it has suited me as I could finish off all the timber (Black Walnut) door capping and apply the first coat of sealer/polish to them. I know at first glance you could be excused for thinking that I have started making skis for my grandchildren but not true. Those four pieces of kindling wood represent just over $100 of my hard earned cash.
I know that I could have used any old timber and stained it a sort of walnut colour but as I keep repeating this car has to be "right". Packard used Black Walnut so that is what I am using. There are still two pieces that go on top of the door pillars but I cannot make them just yet. I have the original piece that goes across the cowl below the windscreen safely tucked away out of harm's way.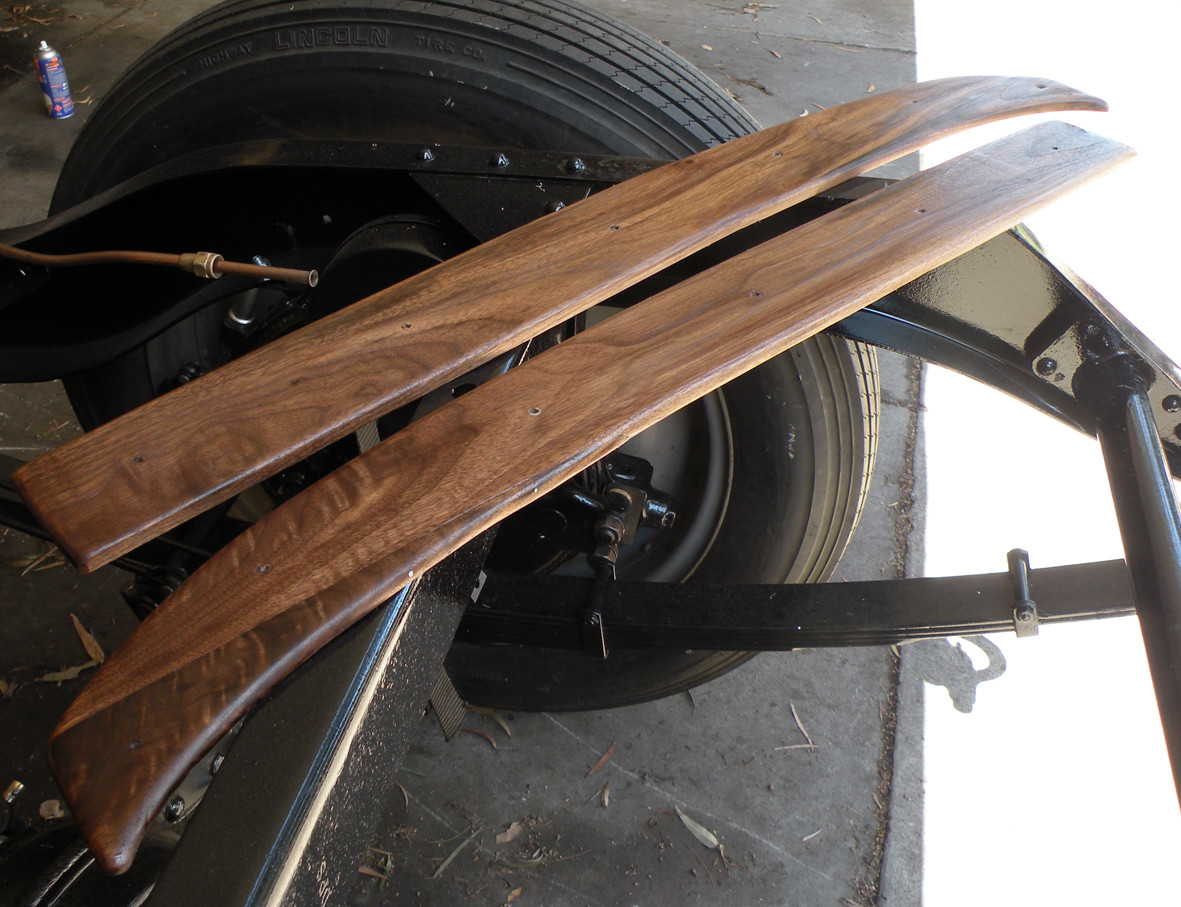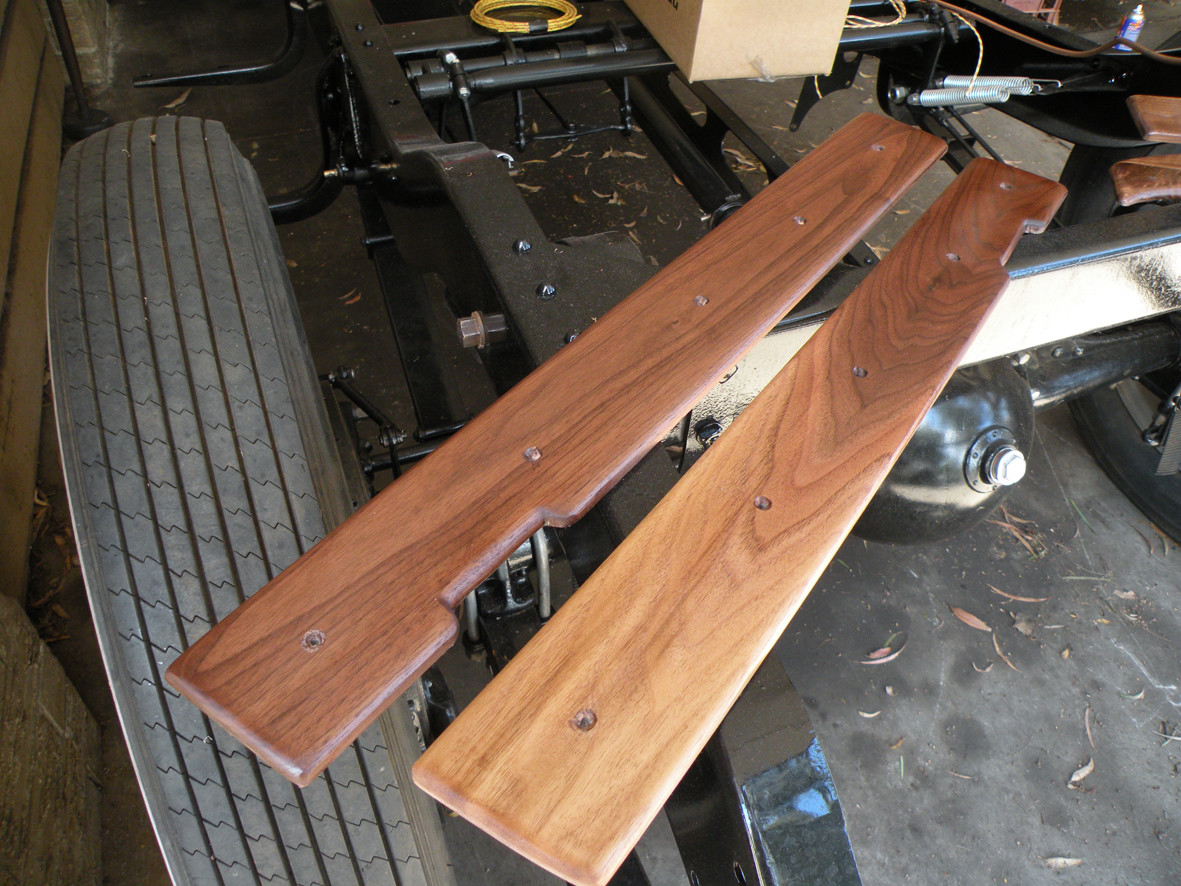 11-9-2011
Hi all
As anyone who has looked at my 'profile' can tell you yesterday (Nov 9) was my birthday. The Boss lady very kindly gave me a book that could be of interest to other Packard owners, some may already have it. "Packard Automobiles 1920-1958" printed in the UK by Brooklands Books as part of their Portfolio series. It is a collection of road tests and articles drawn from magazine and newspaper articles. At 296 A4 size pages it is a wealth of information. ISBN9871855209213
The Index reads like "Whose Who" of Motoring Magazines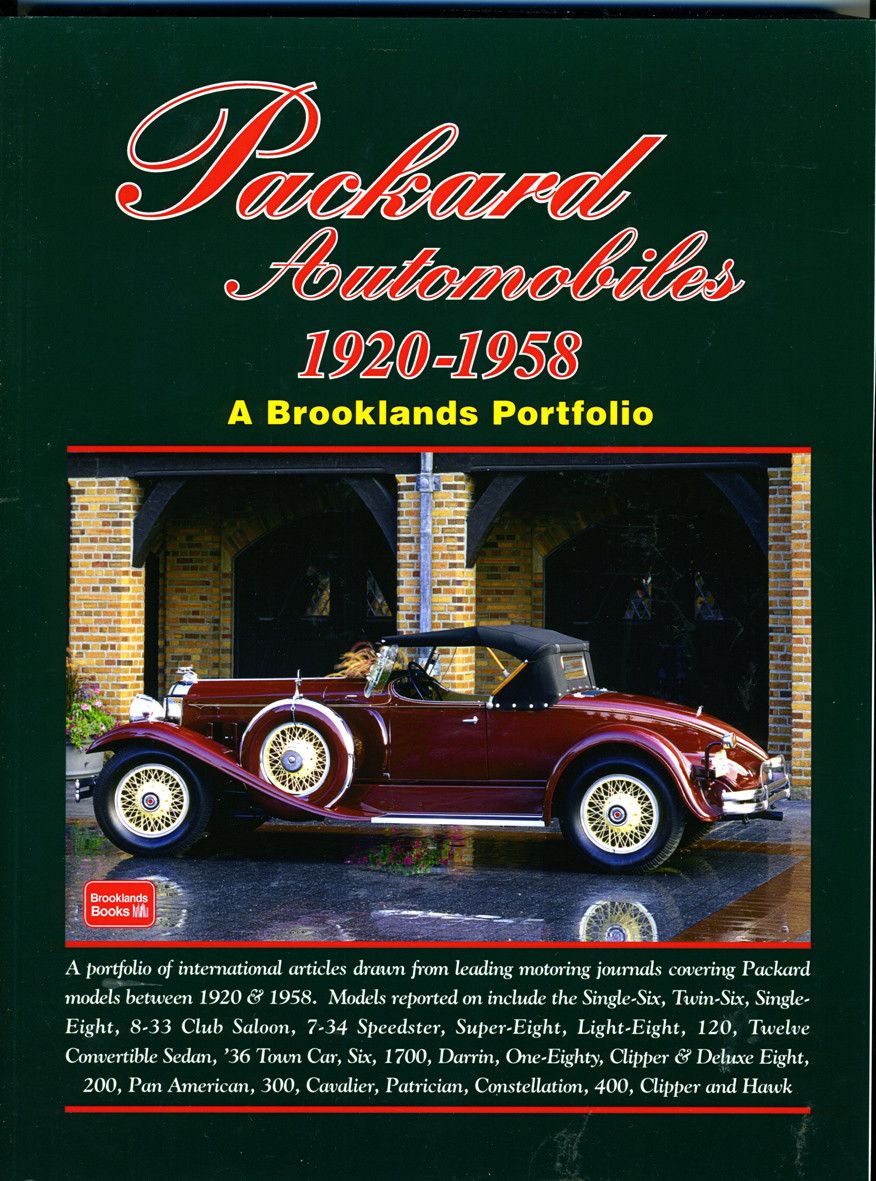 11-10-2011
Hi Don
Many thanks for your kind thoughts.
Getting back to the Packard Profiles. The attached copy of the index will give you some idea of how comprehensive the book's coverage is. I found it interesting to read an English road testers appraisal of the Single Six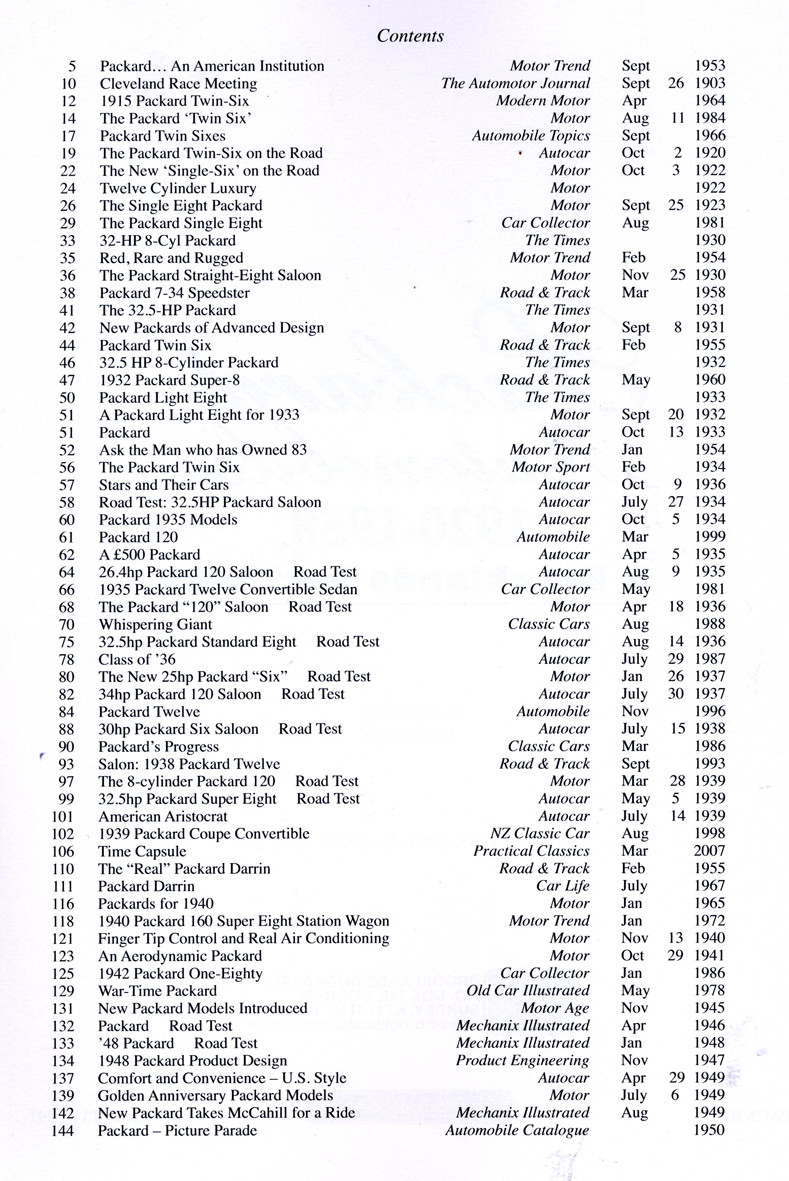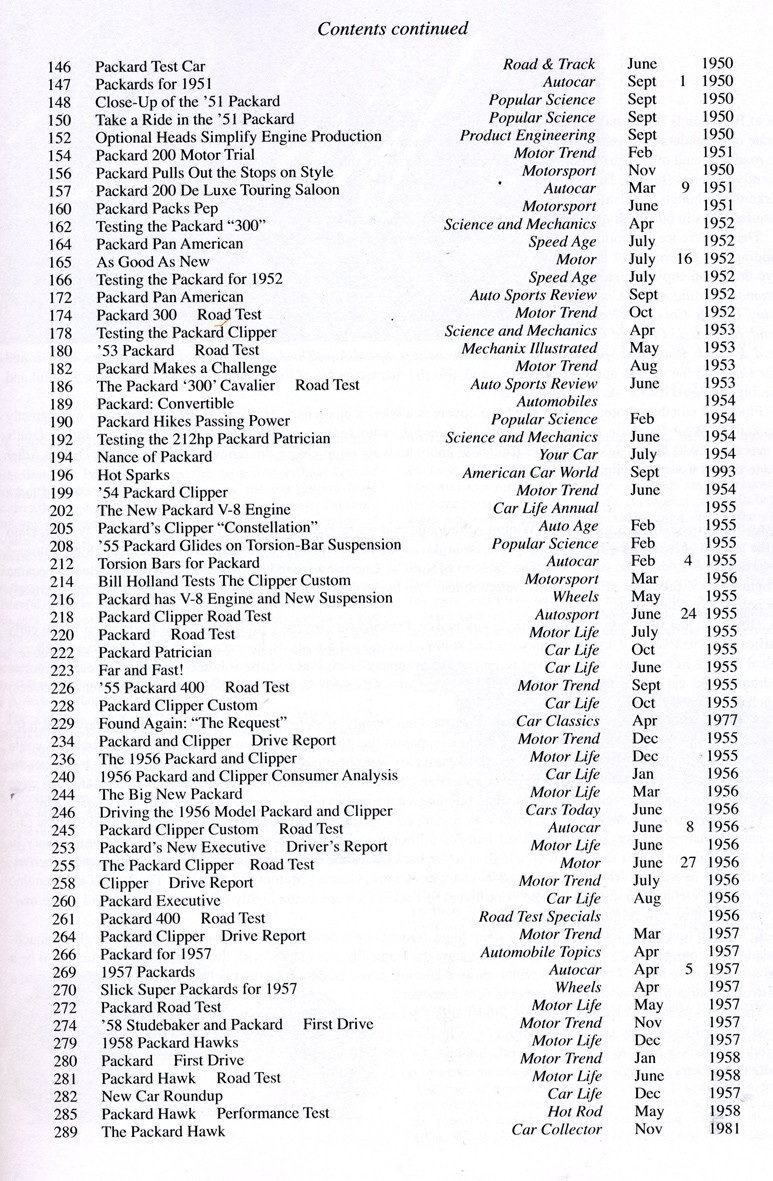 11-11-2011
Hi Jeff
That was the first thing I read. It is remarkable to be able to read the impressions of a "British" motoring writer of the car when brand new. He appears to have been completely bowled over by its top gear performance. This in a car that had only "delivery miles" on the speedo. All inspiring stuff. I can't wait to get the coupe finished. With that in mind the body went off this morning to commence its pre-paint preparation. The Wheel bolts (lugs) and rings are now ready to be collected from the platers.
I will take the door hinges and latches with me so they can make a start on them.
11-14-2011
Not much happening in the last three or four days, entertaining an interstate visitor. Back into it today with lots of running around. Collect the wheel lugs (bolts) and rings from the platers and deliver hinges etc. Then I have to take the doors and luggage compartment lid to the painters, collect some graphite string for the water pump seal and a new 5kg pot of grease. That should fill up this morning, more later.
11-15-2011
All the people who regularly follow this thread (there must be one or two) will remember all the drama a few months ago when rather than dismantling the water pump it was a matter of rescuing the various small and rather rusty parts from the front of the cylinder block. Today thanks to some fairly average bronze welding on my part and some precision machining on the part of my son Steve, the pump has gone back into the engine and is ready to go into service.
Fortunately Olsens included the copper ring seal to go in between the body of the pump and the surface of the block with the engine gasket kit they provided some time back. The fan blades need a light sand-paper and another coat of paint then they can be mounted on the front of the pump.
The other good news is that Dave can start into preparing the body for paint early next week. As any small child will tell you "Christmas is coming!
The eagle eyed and the super critical among you will have already spotted the socket head cap screw in there. It will be replaced with a "proper" grub screw in the next day or so. Those who have not seen it now is your chance, see if you can find it. Sorry no cigar...
Bernie J.
Ben.
You will be pleased to note that the only spanner in my collection that fits the gland nut for the rope seal is my "monkey wrench"..... if you keep something long enough you will always find a use for it.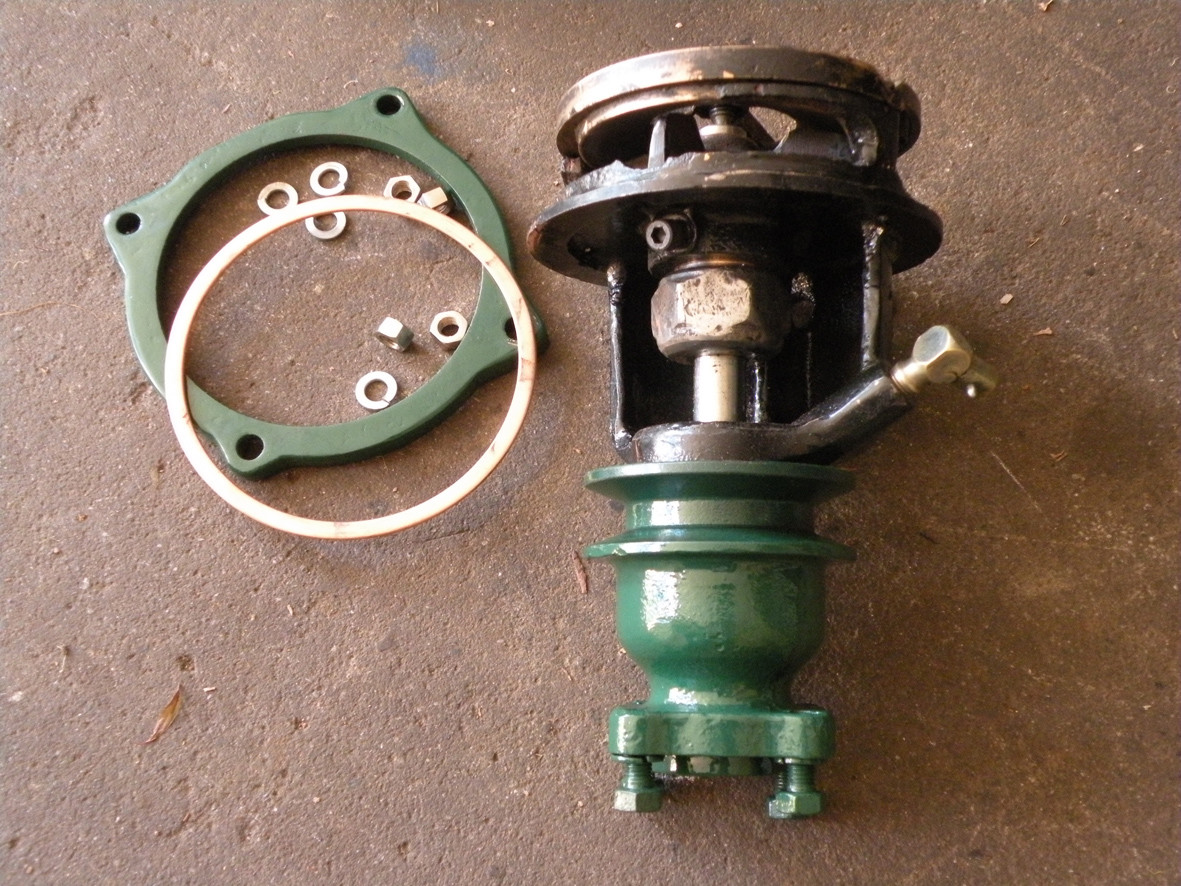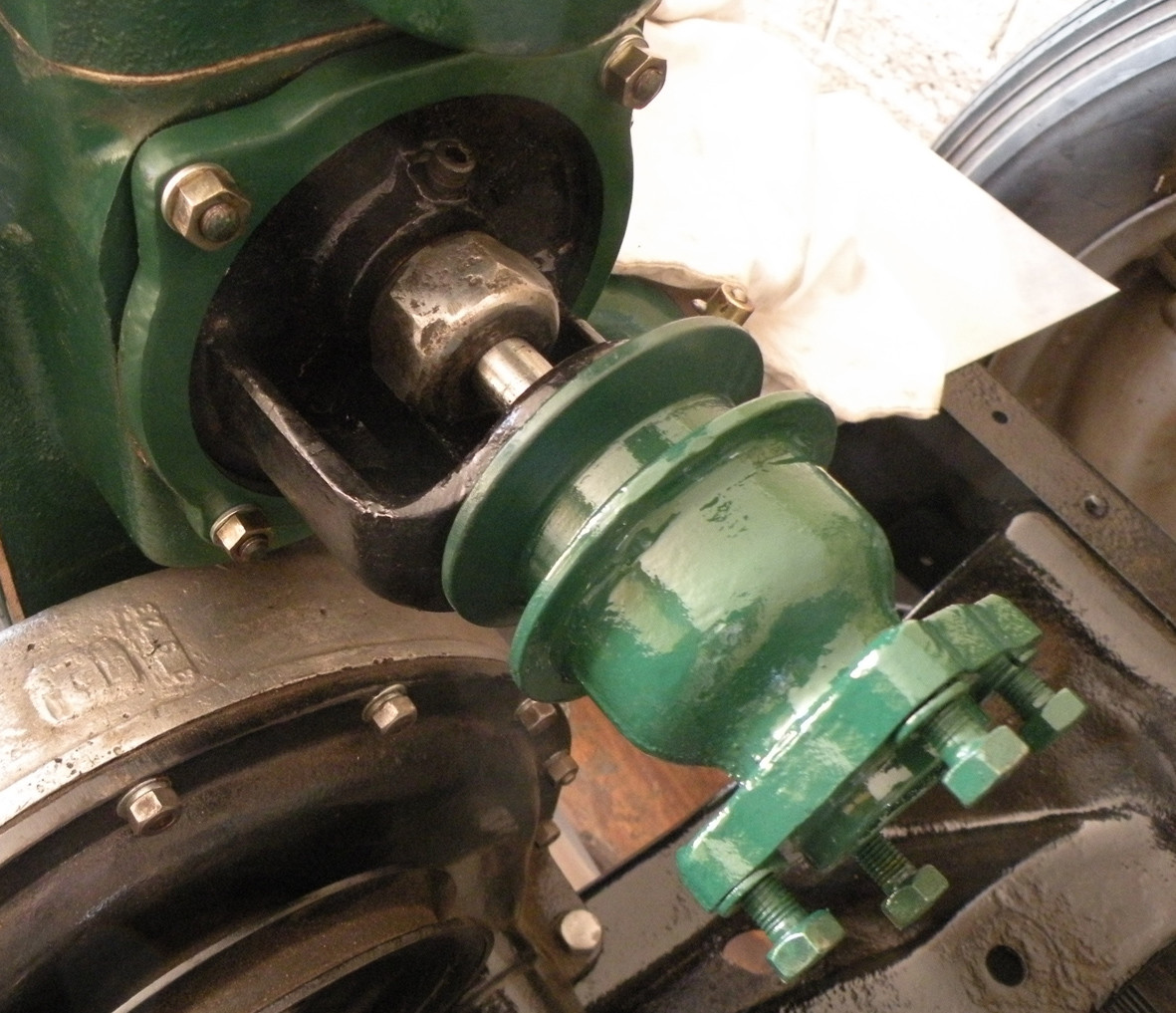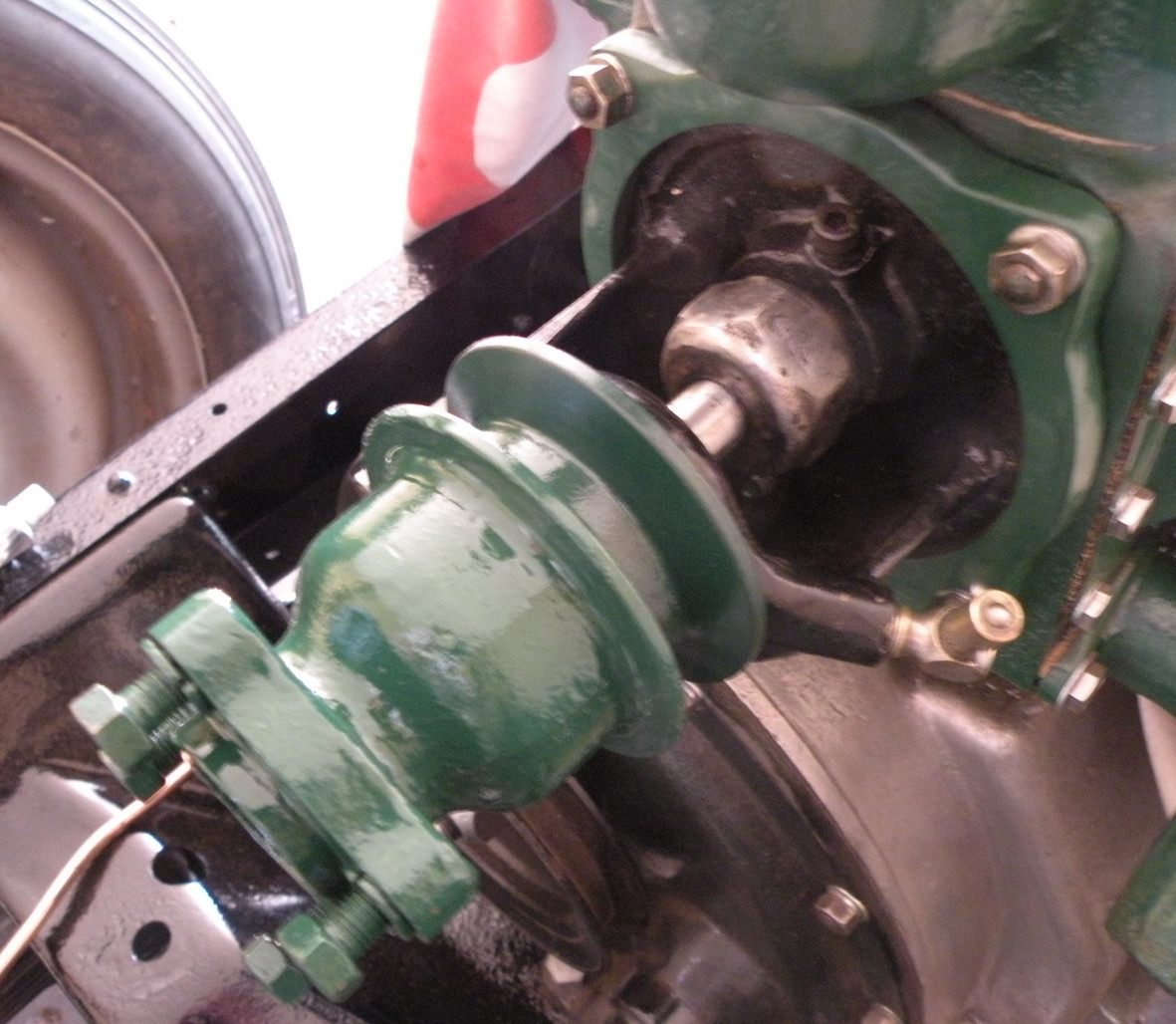 11-16-2011
Thank you Edinmass & Rex 876 for your vote of confidence.
Roger, Bon Jour,ca va?
We hope to bring the Lagonda Rapier to Europe again in 2014 for its 80th Birthday but have not made any plans as yet regarding destinations. One thought was to re-visit the Pyrenees which is in the wrong direction for Switzerland. The one thing that tends to be a fixture on our programme is the Fougeres Rally in Normandy.
No work on the Packard today I have been giving the Lagonda a grease and check over in preparation for the VSCC Day Navigation Trial on Sunday, a full day, about 250/300 miles, of competitive motoring.
Tomorrow I have another of my annual check ups with my specialist Urologist. This marks ten years since my big cancer operation.
So far so good, the alternative is not worth thinking about.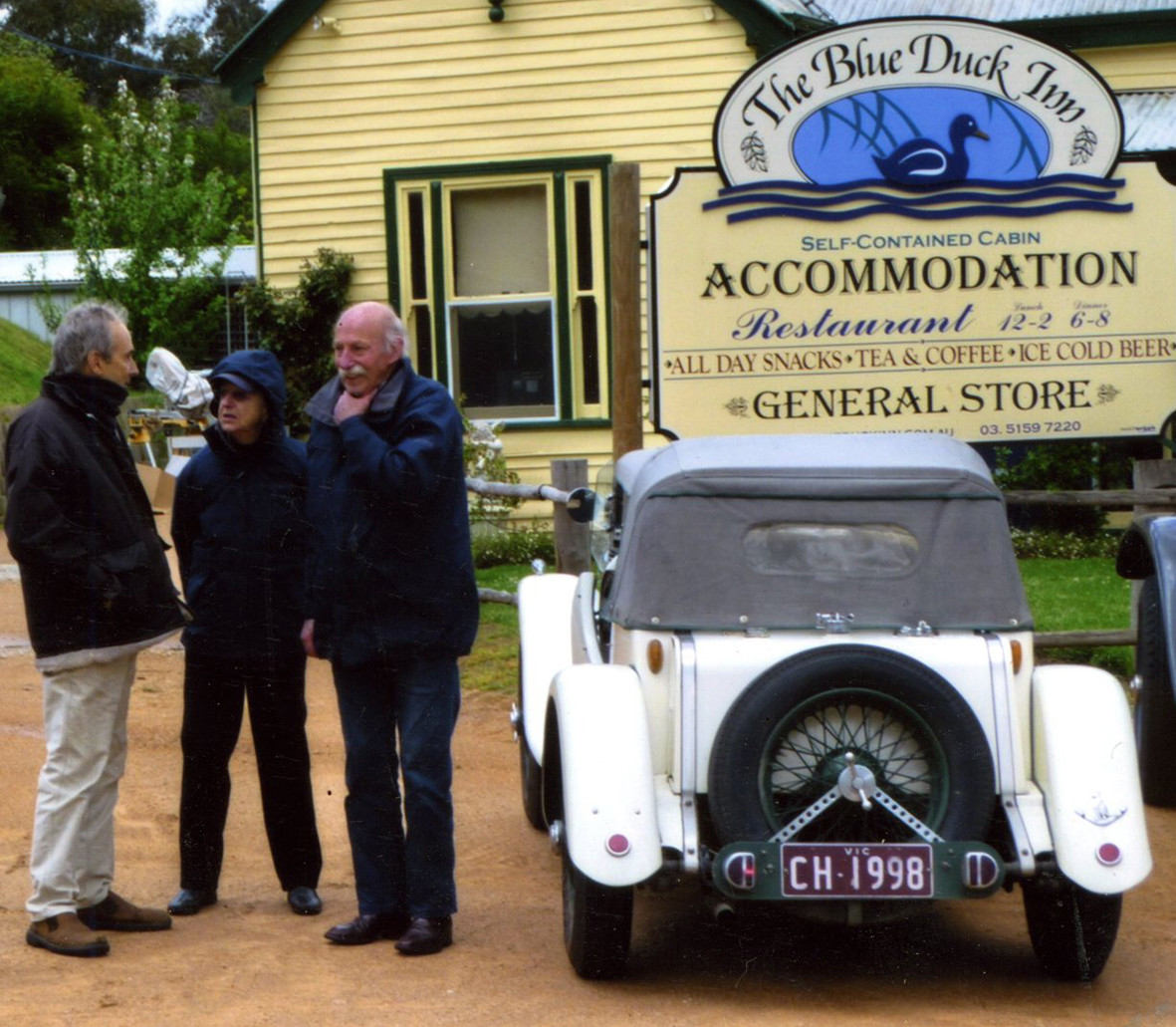 11-17-2011
After a frustrating day sitting around in Doctors waiting rooms and being prodded in the tummy by a charming young lady sitting at an Ultra-sound machine I am happy to report that I am still as fit and well as I was yesterday and the day before that etc etc ad infinitum. Now I can relax for the next 6 months until my next scheduled internal examination (you can watch the whole procedure on a conveniently placed overhead TV screen,) then another six months until the next ultrasound etc etc.
On the way home I could call into my local locksmiths where a very helpful and obliging young man (they do still exist) had very carefully taken the ignition/light switch apart and cut a new key. In fact he cut two so I have a spare should I misplace the first one. While all this is not new to all those people who actually have in the past or do own a 1923 Single Six. (1921-2 had a different switch arrangement.) I have included a couple of photographs of the business side of the switch. First thing is to note that all the terminals are numbered, these co-incide with the numbered terminals on the dashboard side of the engine bulkhead. The other thing is of course Mr Packards patent circuit breaker. In the unlikely event of a short circuit or overload this sprang into action sounding a warning BUZZ and reducing the current going to the offending hot spot in the wiring. This while still providing sufficient current to enable the car to be driven to the nearest authorised Packard service provider.
Going back to the key. My locksmith was compelled to dismantle the lock to "read" the combination. While the Yale lock still had the number for its particular key he was unable to access the required information for a 1923 lock from the Yale Locks website.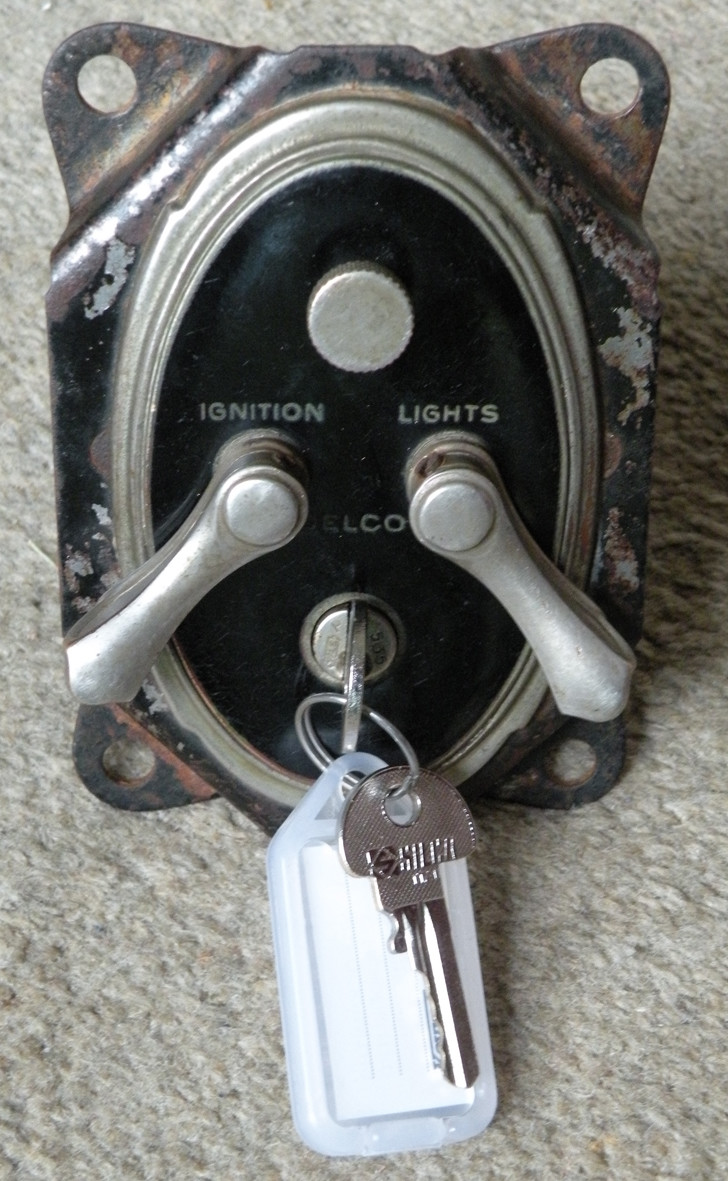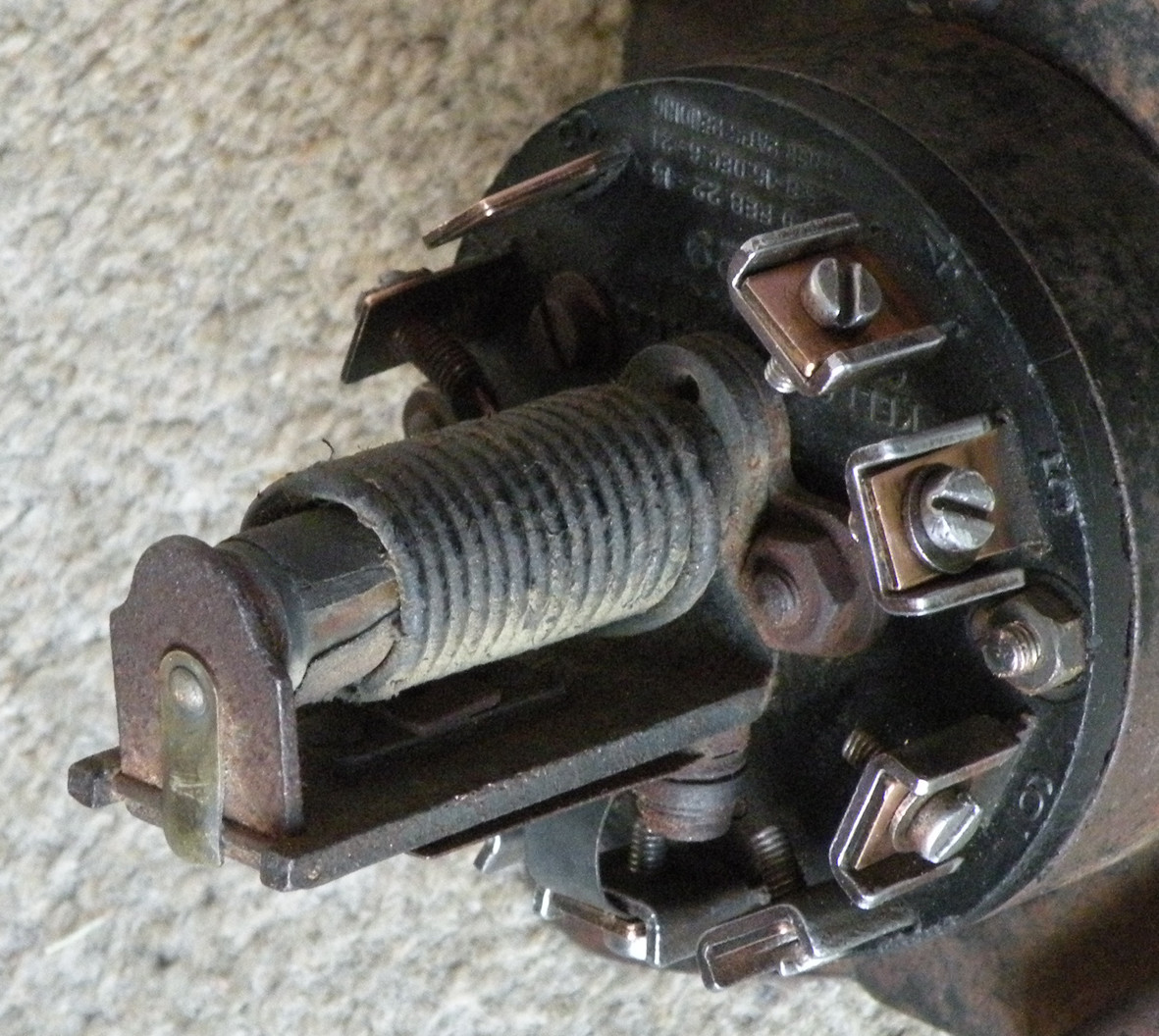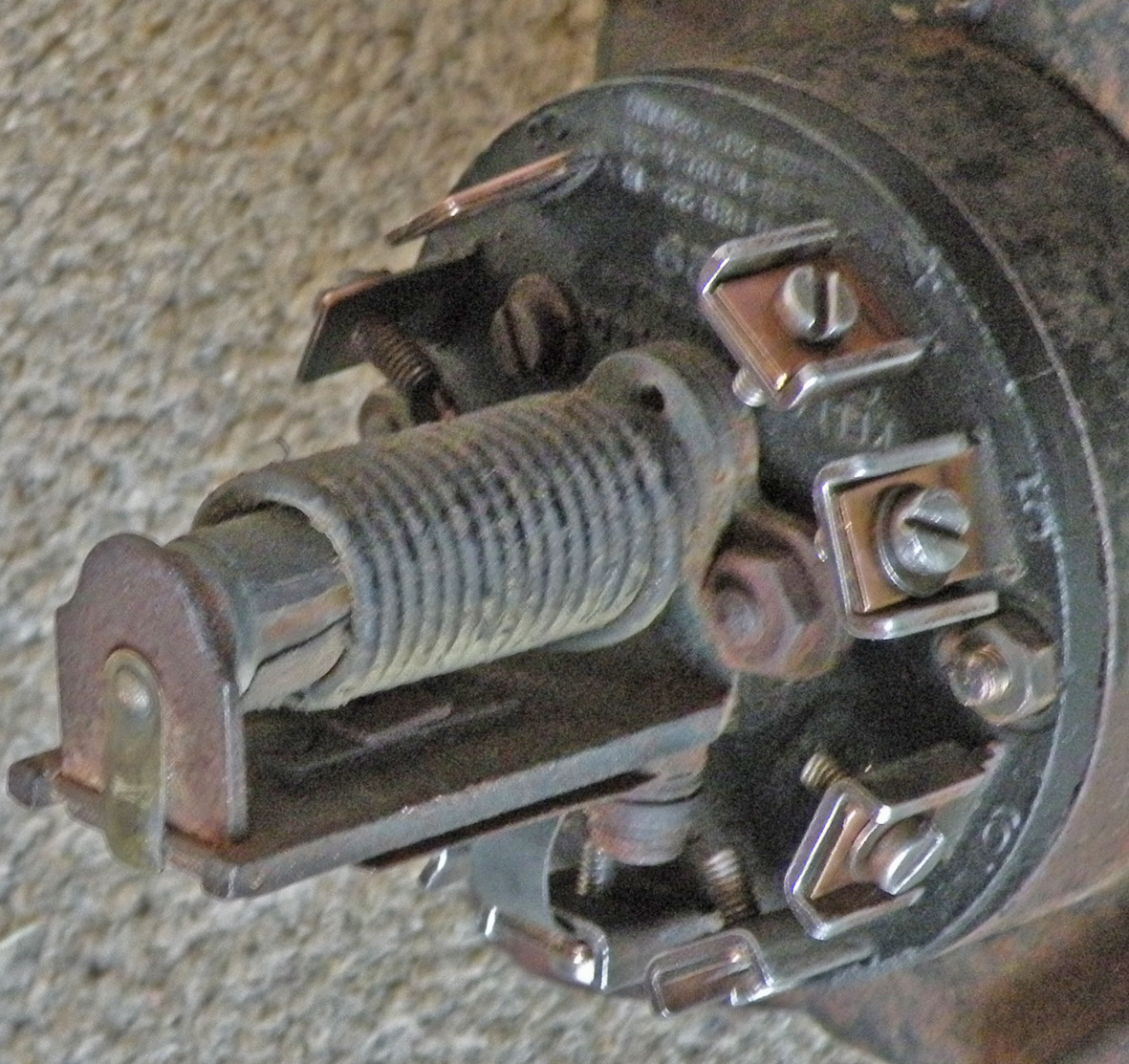 For those aghast at the surface rust on the circuit breaker I am reluctant to do too much fiddling with it given its fragile state. In all truth I will probably by pass it and replace it with a fuse block with correct period glass fuses on the drivers side of the engine bulkhead.
BJ.
11-18-2011
Hello again,
After exhaustive (and exhausting) enquiries regarding the possible colour combinations for the various electrical circuits, it seems that there was no recognised system of colours used by American Automobile manufacturers in the early 1920s. From the information David McC sent me and after looking at a number of web sites I have decided to work on a system of my own devising similar to the one I used when wiring the Dixie Flyer. At least I will know the intended destination of each wire as it disappears into the flexible conduit.
The gauge or value of the various wires will be determined in conjunction with the specialist firm supplying the wires. As a rule of thumb cable used in a 6 volt system needs to be approximately 25% heavier than for 12 volts. All wires will be correct 1920s style cotton covered insulated cable.
This is not intended to be a definitive listing but is simply a colour coding system of my own invention for my own use. "Bulkhead" refers to the double sided junction box mounted on the bulkhead (fire-wall) between the engine compartment and the driver/passenger footwell.
Bernie J
1923 PACKARD SINGLE SIX Electrical Cables (wiring)
Switch Terminal 5 to Bulkhead Black/blue trace
Bulkhead to Head-lamps (main) Black /blue trace
Black/Blue Trace Total 4.5 metres
Switch Terminal 6 to Bulkhead Black/Green trace
Bulkhead to Head-lamps (aux) Black/green trace
Total 4.5 metres
Generator ( cut out) to Bulkhead Yellow red/black trace
Bulkhead to Amp-meter (+) Yellow red/black trace
Amp meter + to Switch Terminal 1. Yellow
Total 3 metres
Starter switch ( Battery) to Bulkhead Yellow/Red trace
Bulkhead to Amp-meter (-) Yellow/Red
Total 3 metres
Battery to Starter switch (1.38 m)
Starter switch to starter motor (20 cm)
Battery to earth (26 cm)
Switch Terminal 3 to Coil, Red/Black trace
1.5 metres
Coil to Distributor Black/red trace
Total1.5 metres.
Switch Terminal 3 to bulkhead Red
Bulkhead to Stop light switch Red
Total 4.5 metres
Stop light switch to Lamp yellow/red trace
Total 4 metres
Switch Terminal 4 to Bulkhead Black
Bulkhead to tail lamp Black
Switch Terminal 9 to Dash lamp Black
Total 10 metres
Bulkhead to Horn Brown/Red trace
4.5 metres
Horn to steering wheel button Brown
5.metres
11-19-2011
Hi All
Anyone watching the Presidents Cup Golf from Royal Melbourne on television will be able to tell you that today was not a day to be outside working in an open carport. This is typical Melbourne Spring weather warm sunshine 28-30 degrees C. one day, cold wet and windy 18-20 degrees C, the next! We are hoping that it improves again for the VSCC Day Navigation Trial tomorrow. I have finished checking over the 1934 Lagonda Rapier, cleaning the spark plugs and checking the gaps, checking the distributor points gap, checking the oil level (the oil pan/sump holds two Imp Gallons) and filling the petrol tank with Premium (98) ULP. Checked the water level in the radiator, checked the tire pressures so all should be OK for an early morning start. We have to be at the start across town, about 35 miles, for a 9.00 a.m. check in. This is not just a Sunday drive but a very competitive event over about 250-300 miles at quite high average speeds, tricky navigation and all on secondary (country) roads.
Sorry, no work on the Packard again tomorrow.
11-22-2011
Hello
I have just returned from buying the electrical cable, flexible conduit and terminal ends etc so will be able to make a start on putting together the basics for the wiring loom.
I have just received the provisional results from the weekend. I must say that we were a little disappointed that we were one of just two cars, the other an 8 cylinder Type 44 Bugatti, handicapped into the "Fast" class with an average speed to maintain of 65kph while lesser cars such as a 4 Litre Bentley, a 1953 MG TD and a Straight Eight De Soto CF8 could slouch along at 55kph. Even so we managed 1st in the "Fast" Class and 7th outright out of a field of 15 cars.
Thought that you may like to see the sort of cars we Aussies rush around country roads in. We left home a few minutes after 8.00 a.m. and arrived back a few minutes before 8.00 p.m. Almost 240 miles later. Sunday Driving?
Officially the first two cars in the third photograph are "SLOW" a Six Litre Sleeve Valve Minerva Speedster and a Four Litre Bentley.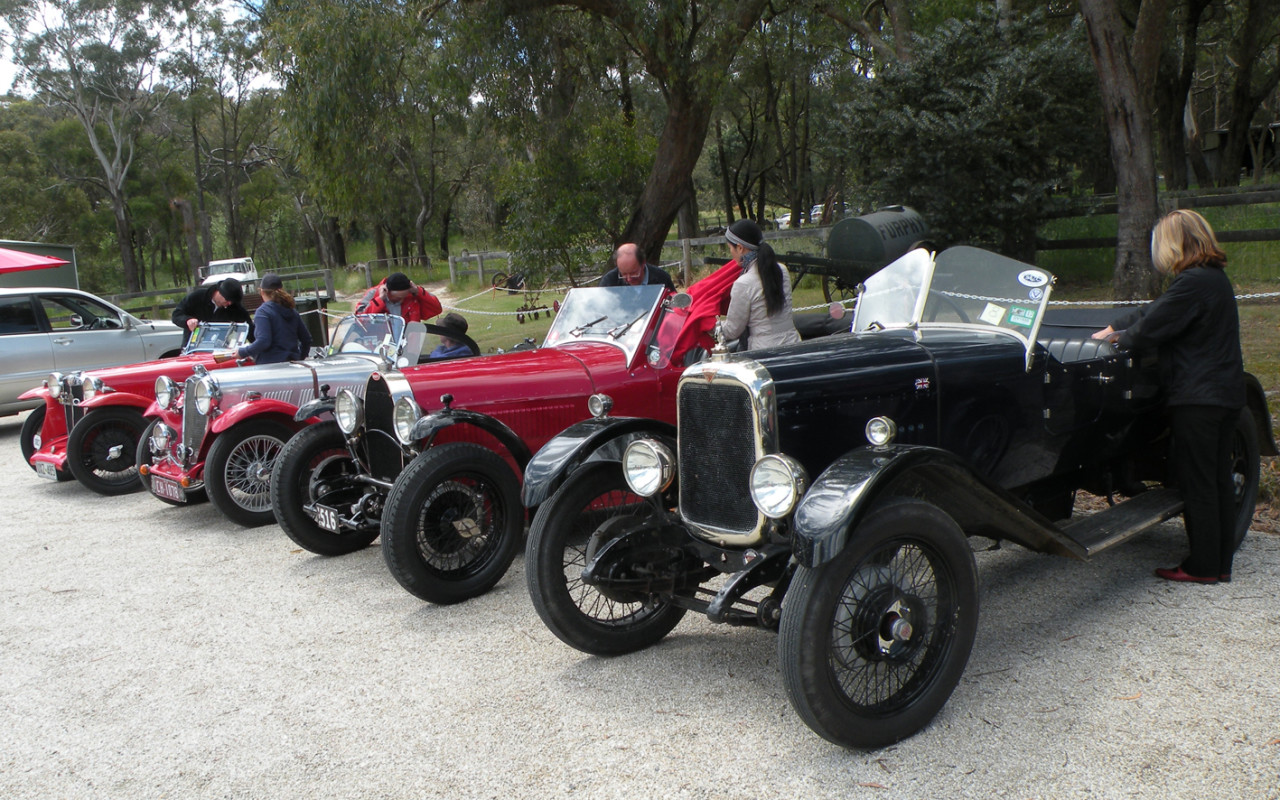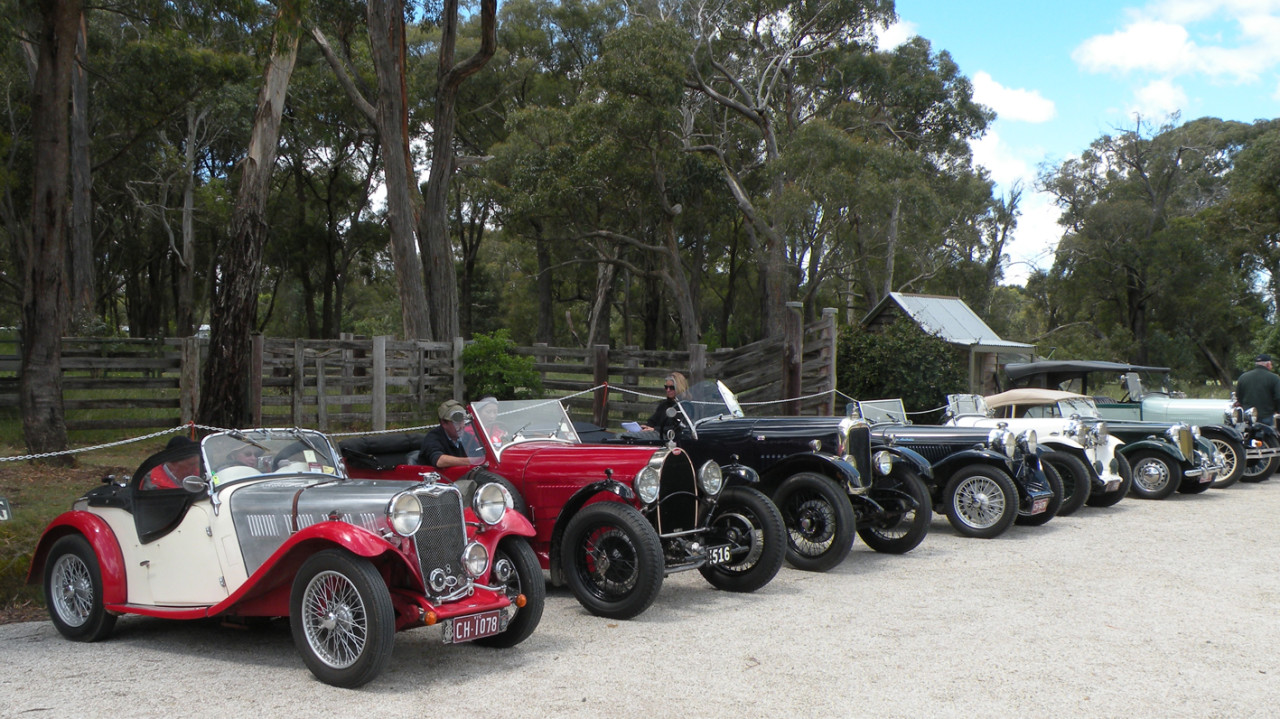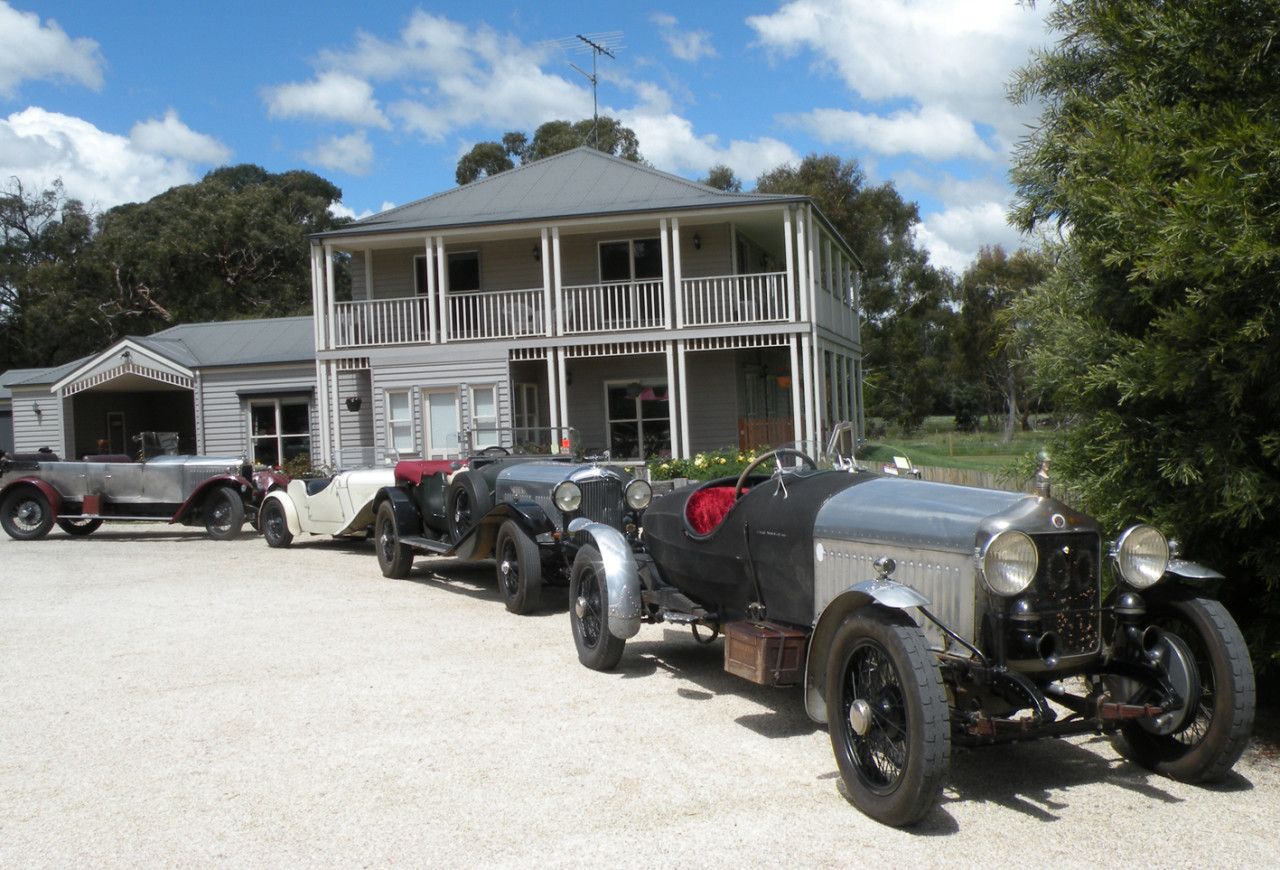 11-23-2011
Hi y'all
It is difficult to get too excited about soldering terminals onto lengths of electrical cable even if it is cotton covered. Like-wise this is not the subject for riveting photographs so I won't bore you with the details.
Much more interesting was the contents of a letter received from David McC this afternoon. He had noted my comments regarding the 1922 Autocar (England) road test of a Single Six. He has sent me a copy of the April 1923 Motor Life's impressions of a seven passenger touring Single Six. This magazine was printed in Sydney (Australia) and the author was most impressed with both the Fuelizer which he describes at great length and the cars ability in climbing several of Sydney's steeper hills in top gear. It is also claimed that the test car achieved over 20 miles to a single (Imperial) gallon of petrol, something that David is rather doubtful about.
The attached extract makes interesting reading.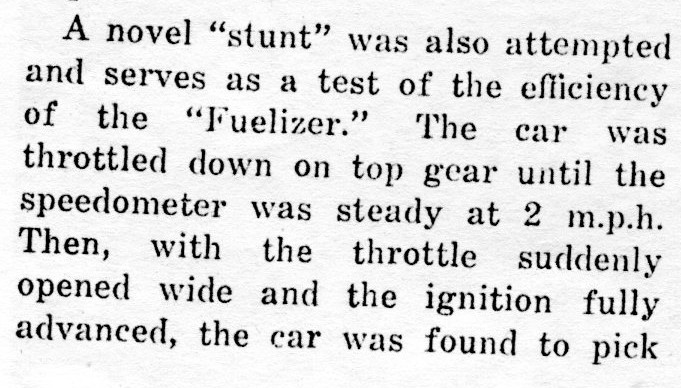 11-25-2011
Hello
Going back to the question of correct gauges for the various wires in an auto elec loom Travis from Rhode Island Wiring Service has been most helpful. He has sent me the attached chart with his suggestions. Unfortunately the cost of postage to Australia makes buying one of their looms prohibitive but for anyone living in the US I would suggest looking at their service. Meanwhile I have been also talking to Paul at Vintage Wiring Harness just a few miles from our home at Ringwood (Vic) He has an amazing range of cotton covered wire and can make up looms to suit most cars. Unfortunately his library of wiring diagrams etc did not include a 1923 Packard Single Six but he has supplied me with all the wire, cable ends etc that is needed, so I should be busy for a day or two. Next week I am to be "grounded" for a few days as I am due to have a small operation on my right eye on Tuesday morning.
Bernie J.
Rhode Island Wiring Service
Rewire Help guide by gauge.
Battery Functions:
Starter Switch (battery) to Ammeter
12-10 gauge
Ammeter to Generator Relay (early cars)
12-10 gauge
Ammeter to Voltage Regulator (late cars)
10 gauge
Voltage Regulator to Generator (A)
10 gauge
Voltage Regulator to Generator (F)
16 gauge
Ignition Functions:
Ammeter to Ignition
14-12 gauge
Ignition to Gauges
16-14 gauge
Ignition to Coil
16-14 gauge
Coil to Distributor (low tension)
16-14 gauge
Coil to Distributor (hi-tension)
7 mm Spark Plug Wire
Lighting Functions:
Ammeter to Headlight Switch
12-10 gauge
Headlight Switch to Dimmer
12-14 gauge
Headlight Switch to Park Light
16-14 gauge
Lighting Switch to Stop Light Switch
16-14 gauge
Stop Light Switch to Stop Light
16-14 gauge
Headlight Switch to Taillight
16-14 gauge
Dimmer to hi-beam
14-12 gauge
Dimmer to lo-beam
16-14 gauge
Headlight (ground)
14 gauge
Fog and Tripp Lights
14 gauge
Turn Signal System
16-14 gauge
General Lighting (dash, interior, courtesy, etc.)
16 gauge
Accessory Functions:
Horn / Horn Relay (feed)
12-10 gauge
Horn Button
16-14 gauge
Accessory / Heater / Defroster
14 gauge
Radio
16-14 gauge
Clock
18-16 gauge
Cigar Lighter
14-12 gauge
N.B. These gauge suggestions are just rough estimates.
They are generally acceptable for Autos from 1920's and into the 1960's
If you are not sure about the gauge of a function, you should use the larger gauge.
For the most part the smaller gauges should work for 12-volt systems, whereas 6-volt systems would more likely use the larger gauges.
Again, any given car may use different gauges for any of these functions; it is always best to size the core of your original wire to be sure you use the correct gauge for your functions.
11-26-2011
Hello David
You really should not bothered sending all that rain down to us in Melbourne. It has barely stopped all day. Last time Helen looked at the gauge it had about 45mm in it and that was a couple of hours ago! I took some time off to drive out to see Dave my friendly painter to discuss some of the details on the Packard body. He is scheduled to start "prep-ing" it next week.
One question: Should the engine side of the bulkhead be the body colour or black? Chassis frame and splash trays are black. Not very much of the original paint remained and it would be a brave man to guess what colour it may have been apart from "dark"
My main task over the last day or so has been feeding wires into flexible conduit. From the lack of suitable fixing holes in the frame and the absence of retaining clips it almost seems as though both the petrol feed pipe from the rear tank and the electrical conduit were simply "loose laid" along the bottom flange of the frame. Could this be right?
I intend to fix both with suitable clips but will have to drill new holes to secure them.
The only alternative I can think of would be that that were screwed to the underside of the wooden body frame. I had intended to have as much as possible installed onto the chassis frame before I refitted the body to the frame. It is much simpler to do most of this from the top rather than working under the car once the body is in place.
11-28-2011
That things that they don't tell you! My eye surgery went well this morning but now I learn that I should not go near the garage for at least two or three WEEKS! The dressing comes off tomorrow but I have to have drops in the effected eye four times every day for the next three weeks when I see the doctor again.
11-30-2011
Hello
While I am "grounded" I thought that I may at least do some more detective work on trying to solve the mystery of how and when the Packard first arrived in Australia.
The one clue that I have is that the tyres appear to have been fitted new before the car was shipped from the US.
These are 600 x 23 white-walls manufactured by the Lincoln Tire Co. the batch/id number stamped into the side wall is IFS 11083.
Perhaps there is someone who can identify the date of manufacture from this. Armed with at least a year, I hope to be able institute a search of the Australian Customs Service archives.
12-1-2011
I am told that the Lincoln Tire Co ceased production during the 1960s If I could narrow that down to an actual year it would give me a starting point. One way or an other I am determined to discover something of my Packards history. Meanwhile my eye seems to be healing nicely. I may even get to a point where I can read without spec's. I can see road signs and read number plates without them.
12-2-2011
Now the purists will hate me. Originally the door hinges and striker plates on the coupe appear to have been painted. In the past no matter how carefully I prepared and painted hinges, once in service it seemed no time before the paint got chipped. The only solution was to have them plated. Nickel of course.
My friendly plater calls me Mr Nickel. I have just picked them up yesterday. Again these have confirmed my belief that despite its condition when purchased my Packard had done very little work during its 88 years. I am re-using all four original brass hinge pins. None of them showed any wear! I had to 'ease" the holes to allow for the thickness of the plating. Like wise the condition of the brass striker plates tell me that the doors have remained shut for most of the cars long life.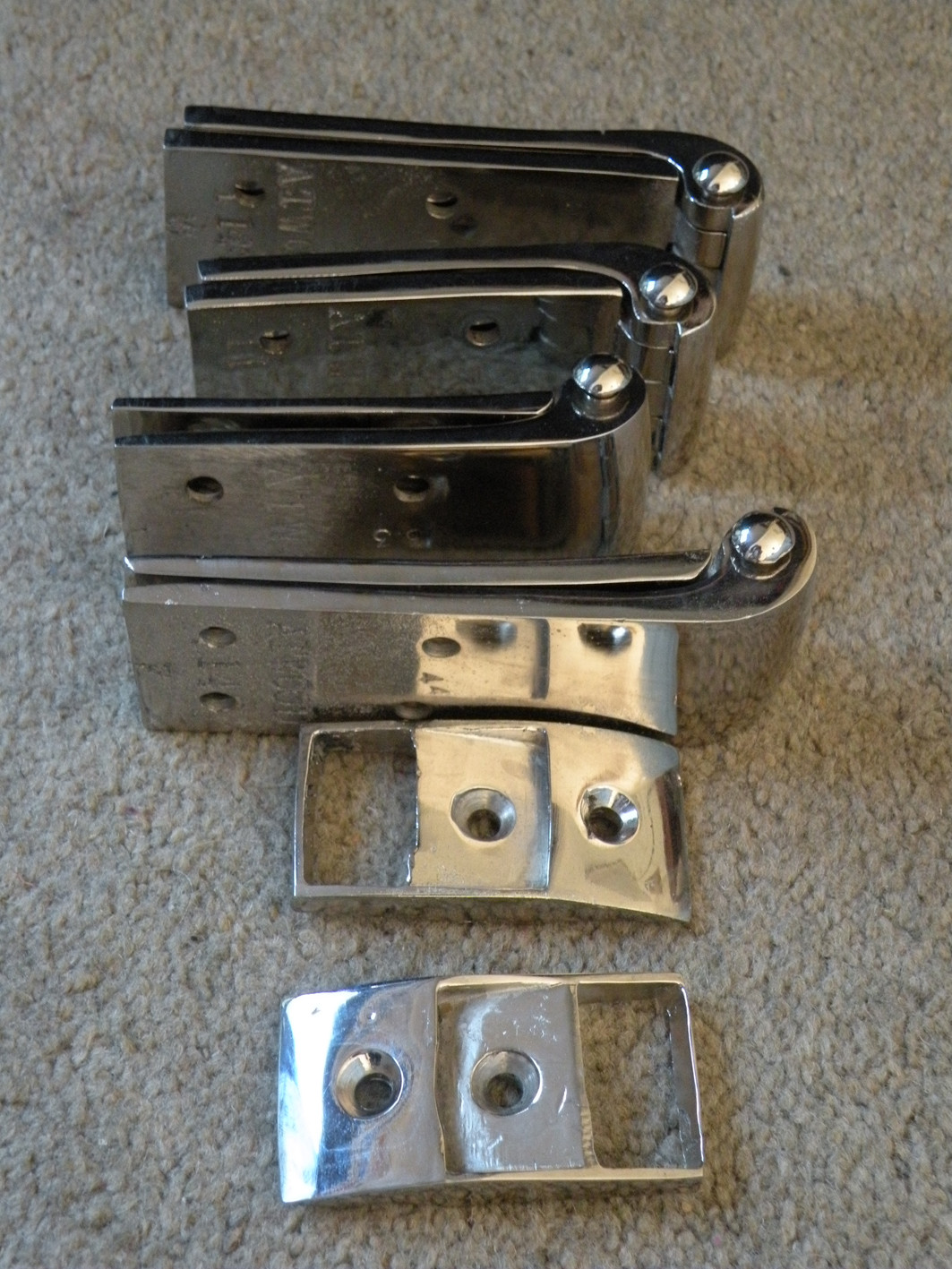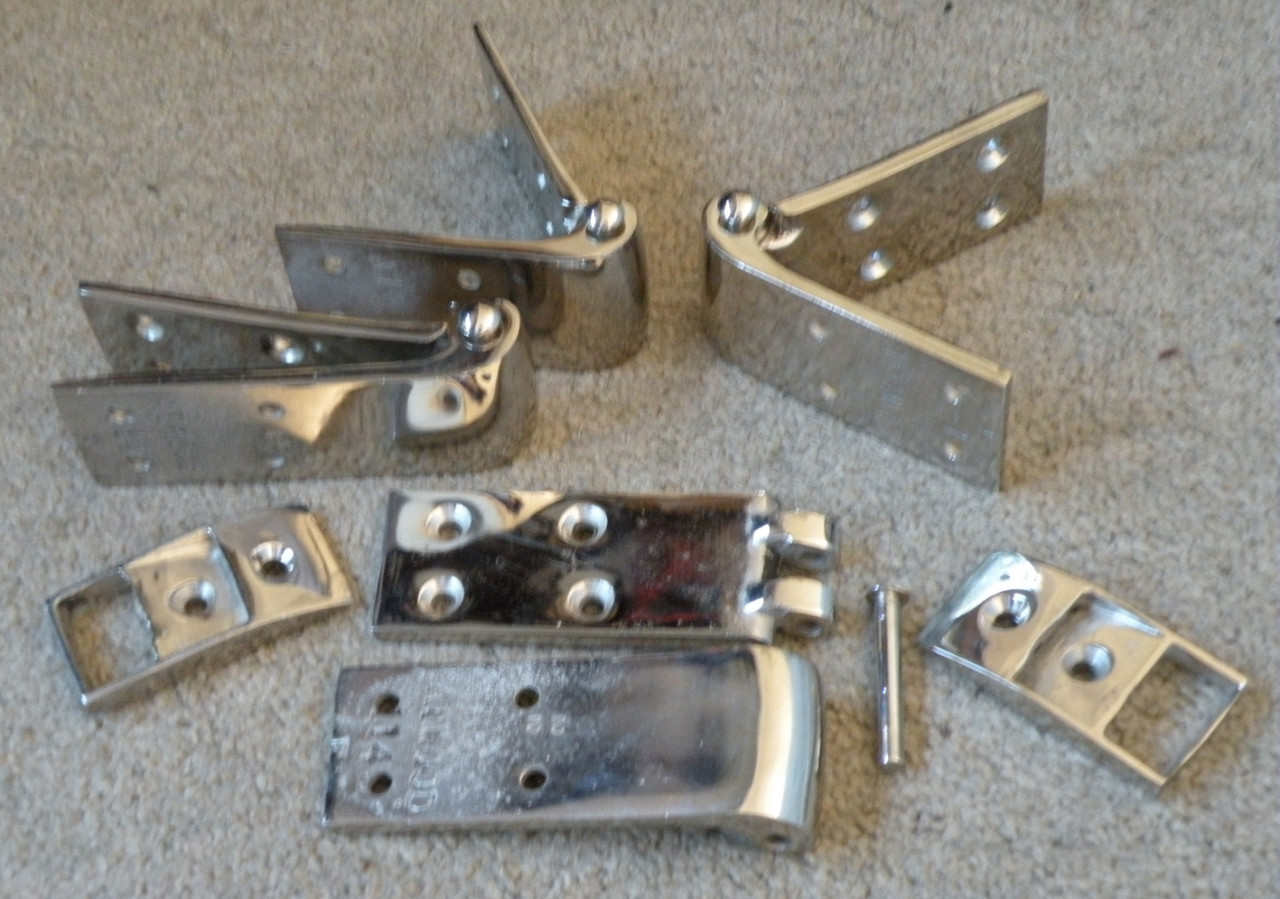 12-3-2011
Today I have been working on the '34 Lagonda. I have been having a problem getting it to idle at a satisfactory engine speed (800rpm) At last I discovered the root of all the problems. It had a very minor air leak in the gasket between the inlet manifold and the cylinder head. It has taken several attempts to find it but at last i have a nice even idle at the desired 800 revs.
12-4-2011
Hello Roger
I am exceptionally lucky with the 1934 Lagonda Rapier. The Rapier Register based in the UK has an incredible parts service. There is virtually no mechanical, steering or suspension part that they cannot supply. As a Club based service this is done on a cost plus basis. Postage is kept to a minimum despite an almost same day delivery. All this for a 76 year old car that the entire production over four years did not exceed 400. I keep a credit balance in my "Spares Account" this way anything that I may need is mailed the same day that I e-mail a request. Fortunately the car is so reliable that spares are very seldom required despite being used "competitively" at least once a month. I do all my own servicing and repairs. The distributor has been rebuilt to use a commonly available points set and condenser and it uses 14mm spark plugs that can be bought from any local parts supplier.
For the Packard I have had very few parts that have proved difficult to find, for those that are, I have found that generally my friends around the world have been extremely helpful, especially the ones I have meet through the AACA.
12-5-2011
the Lincoln Tire Co ceased production during the 1960s If I could narrow that down to an actual year it would give me a starting point. One way or an other I am determined to discover something of my Packards history.
Bernie J.
Going back some little time I asked if anyone could supply me with the actual year that the Lincoln Tyre Co ceased production. Of all the people who look at this thread surely there is one who can give me this information or can tell me where to find it. While it may seem trivial without some history for the car I may NEVER be permitted to register it for use on the road here in Australia. As the Lincoln tires on the car seem never to have been used it would give me an approximate date from which to start searching the Australian Customs archives. No small task on its own.
12-7-2011
While all that has been going on I have not slacked off completely. To-day I have spent some time on the wiring loom and fixing the flexible conduit to the frame. Some relatively boring photographs tell the story. The first shows the head lamp wires located in the fender stay. As a compromise I have used 'black" wire with coloured traces. also the main beam uses a slightly heavier gauge wire. The next photo shows the flexible conduit as it exits the front cross member and goes through the frame into the fender stay. Next shot shows a bunch of wires exiting the main conduit leading to the junction box on the bulkhead. Finally the ignition wires at the rear of the engine. The two high tension wires are the multi colour going from the coil to the distributor, the plain to the Fuelizer plug.
Speaking to Dave the Painter he tells me that he has made a start but will not have anything worth getting excited about to show me until after Christmas.
In Australia we tend to take our main (Summer) holidays at Christmas/New Year so I don't expect very much progress until well into January.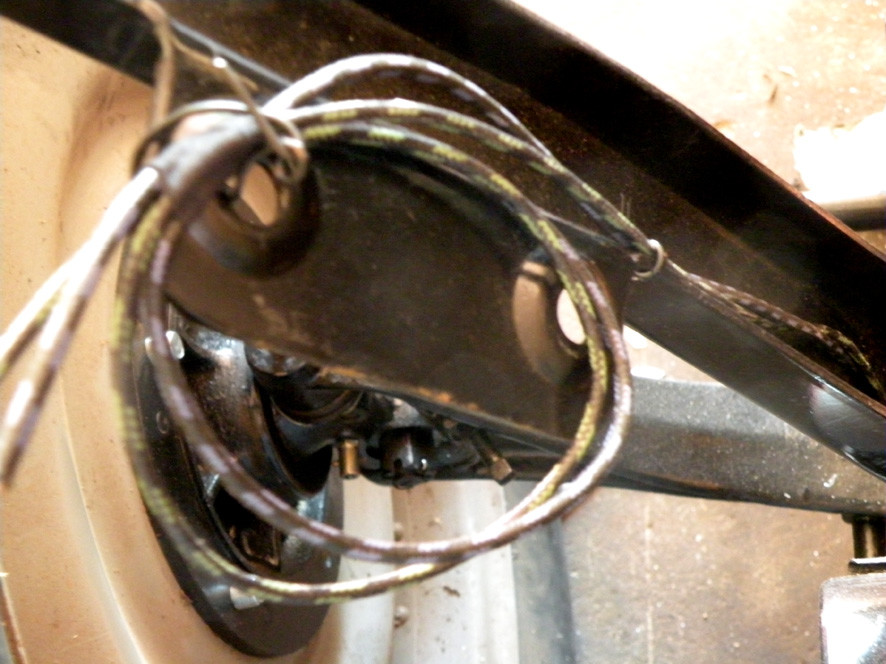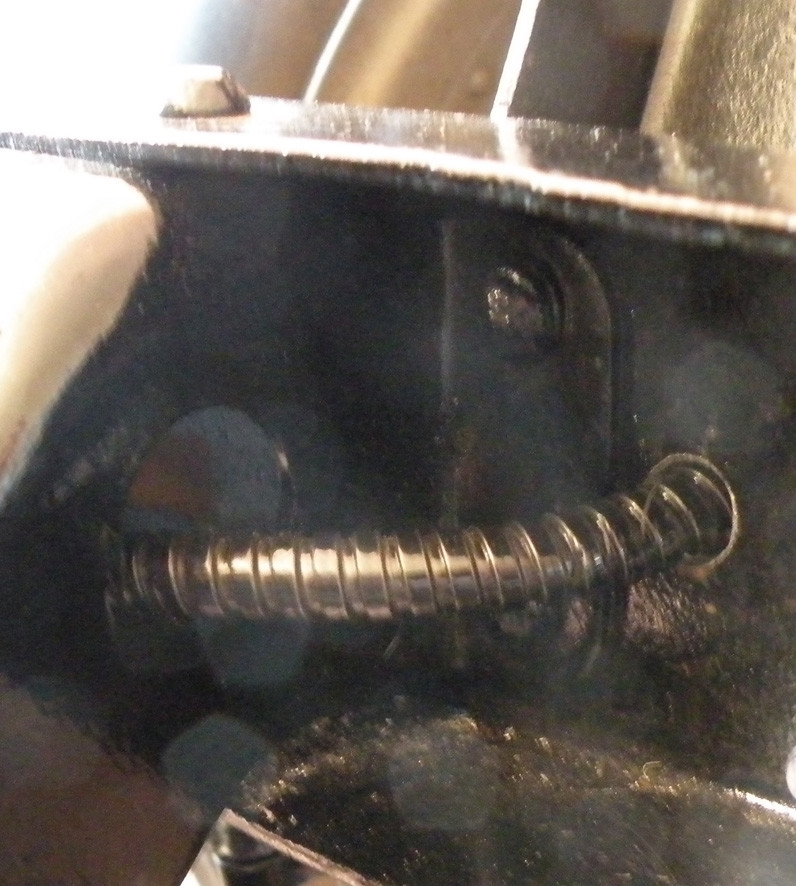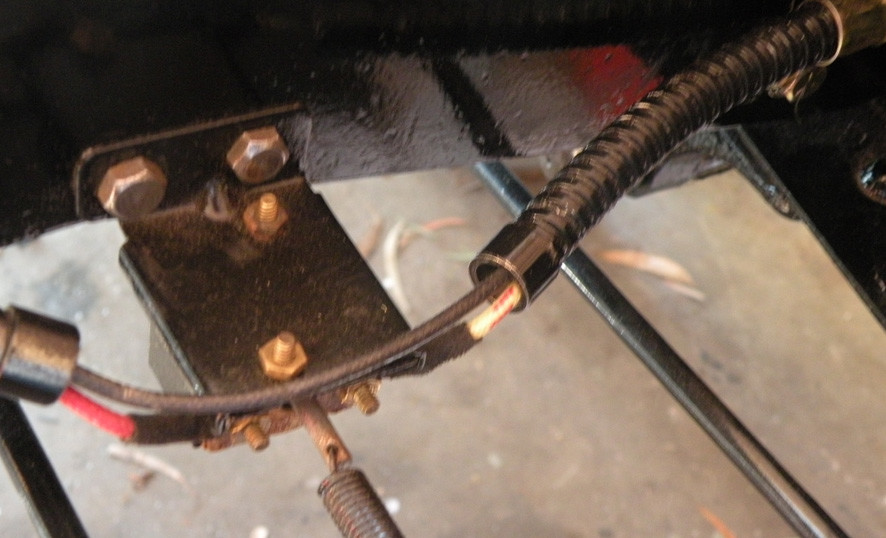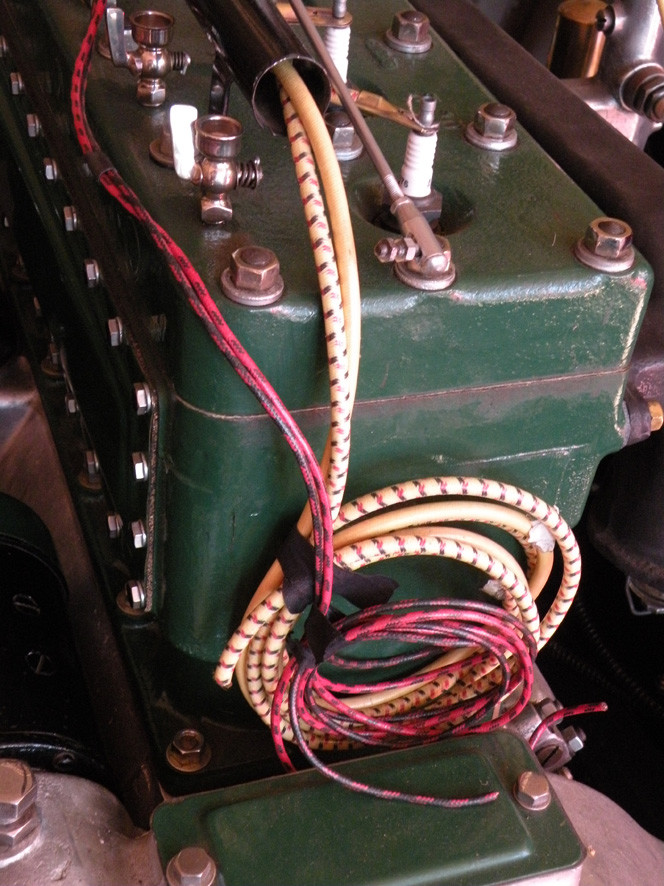 Hi Roger
I think that I will stick with pre 1940 cars thank you. I don't think that I could cope with all the power assist and computer controls. I think that a lot of the charm of late teens and early 1920s cars is their simplicity and their honesty. They simply do what they were made to do. Almost any fool can work on them. even old ones...
Going back to the photographs in my earlier post. The third one is of the stop light switch with a red wire bringing in live power and the yellow with the red trace going to the lamp. The plain black wire by-passing the switch is the tail lamp. I am not sure why the other photograph did not appear.
In effect this thread is an on going record of everything that is done on the Packard.
If you go back to my thread on the Dixie Flyer it did basically the same thing following the car from the day I first saw it at a farm clearance to the day it was returned to the family who still run the company (Kentucky Wagon founded 1860) that built it almost 90 years earlier.(Now Kentucky Trailer.)
By co-incidence I saw the Packard for the first time at the same farm clearance. Sadly I don't think that the great,great,great,great grand children of the founders of Packard had the same commitment
Hello again,
On the subject of the availability of spares from the UK most of these originate with "not for profit", one make clubs. the Riley and Alvis Clubs come immediately to mind. The Lagonda Club has a spares scheme for the bigger cars, the 4.5 litres in particular. The Rapier Register is a one model club catering for the 1934 Lagonda Rapier and the later 1935-38 Rapier cars (identical except for the badge) built by a separate organisation after the Lagonda Company was re-structered in 1935. Almost without exception these spares schemes are run by enthusiasts for the benefit of their fellow enthusiasts. Regarding the Rapier Register this club has at the last count 153 members. The Register can account for 381 of the approximate 400 built. There are examples all around the world, the USA, UK, Europe, Japan, Thailand, New Zealand and Australia.
Bernie J.
member:
AACA
VSCC (UK)
" Light Car & Edwardian Section.
VSCC (Aust) (Hon Life Member)
Rapier Register (Hon Life Member)
Vintage Drivers Club (Aust)
Packard Automobile Club (Aust)
"Friend of" APPF (France)
12-8-2011
Hi Roger
I look in on your thread from time to time and am always amazed at your patience and skill.
Your sort of cars are a rarity here in Australia. I was brought up on a diet of mainly pre- 1940 cars and have always gravitated towards English cars, Mini's (particularly Coopers), Jaguars and European, Fiats when younger,(My Fiat 1500 OSCA roadster was a wonderful little car, VW(Karman Ghia etc) Alfas & Peugeots. Helen's daily drive is a VW Jetta 2 litre turbo diesel. While the VW is air-cond (essential in Australia) it is a 6 speed manual. I can count on the fingers of one hand the Automatic trans cars I have owned in almost 60 years of driving. One of the first things that I did on my Jaguar XJC 4.2 coupe was to convert it to 4 speed & O/D manual trans. I guess that it all comes down to what you learnt as a child. Much of my early childhood disappeared during the years 1939-47. Petrol was still rationed and you went onto a waiting list for a new car well into the 1950s here in Australia. My father drove a little 1935 Standard 9 hp saloon until he could buy a new Citroen Light 15 in 1951. As a Pharmacist servicing the local hospital he went onto a priority list.
How times have changed...
12-11-2011
Still not much happening on the Packard front. with my eye still not quite healed I am respecting the Doctors advice.
12-13-2011
Thank you Ben
The last couple of days I have been busy firstly driving the Lagonda in the VSCC "Inner Urban" Rally on Sunday, then chasing up some of the history, for the current owner, on the Austin 12/6 that was the project before the project before the project before the project etc etc. See International Makes and Models/British/Austin 12/6.
It is a remarkable connection:- Australia-England-Austria-Switzerland. How some cars travel!
12-14-2011
Hi Ben
That may be true but it is really the people behind the wheel or with a spanner in their hands that create the history. Having said that I just wish that the man who wielded the power-saw that cut the roof off the Packard some time between 1955 and 1965 would put up their hand, Even the ones who pushed it into the container to ship it from the US to Australia about the same time. Surely not an everyday event. The car cannot tell me all its history! Only the people who owned it, drove it, or worked on it. We all need to talk to each other! Without communication there is no communication. Please! Someone knows all about it,. Don't be shy. I really get very frustrated asking the same question time after time.
Somebody in America shipped one or possibly two 1923 Packard Single Six cars to Australia some time between 1955 and 1965. One of those cars had a set of brand new Lincoln white wall 600x 23 tires fitted just before shipment. They were fitted to recently repainted rare five lug disc wheels. I am not asking that you remember what you had for breakfast that morning! Someone must know... Somebody just tell me how to reach them...........PLEASE!
12-15-2011
Hello Donald
I personally am not supposed to go near the garage for another 10days following my eye surgery. The body, fenders, hood etc are out with the painter. I don't expect to have anything back until the new year. I still have to complete the windscreen frame and the trim. The seat frames are already made and the base boards for the trim panels but nothing more can be done with them until the body is back on the chassis frame.
I have not been slacking off. I have just finished a 3,000 word piece for the Automobile Magazine (UK) and I am about to, some what belatedly, start on my Christmas letter to friends & family.
12-16-2011
Hi Donald
Further to my e-mail are these the sort of fittings you are looking for. I am missing the two knurled head bolts that go with them but it should not be a big deal to get two made.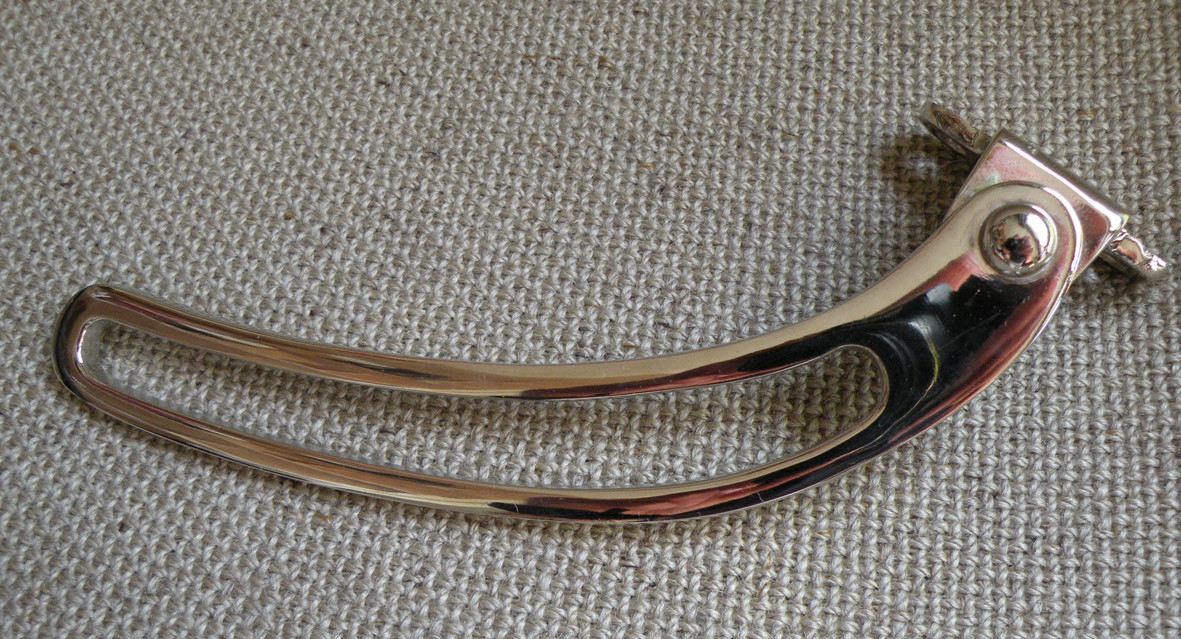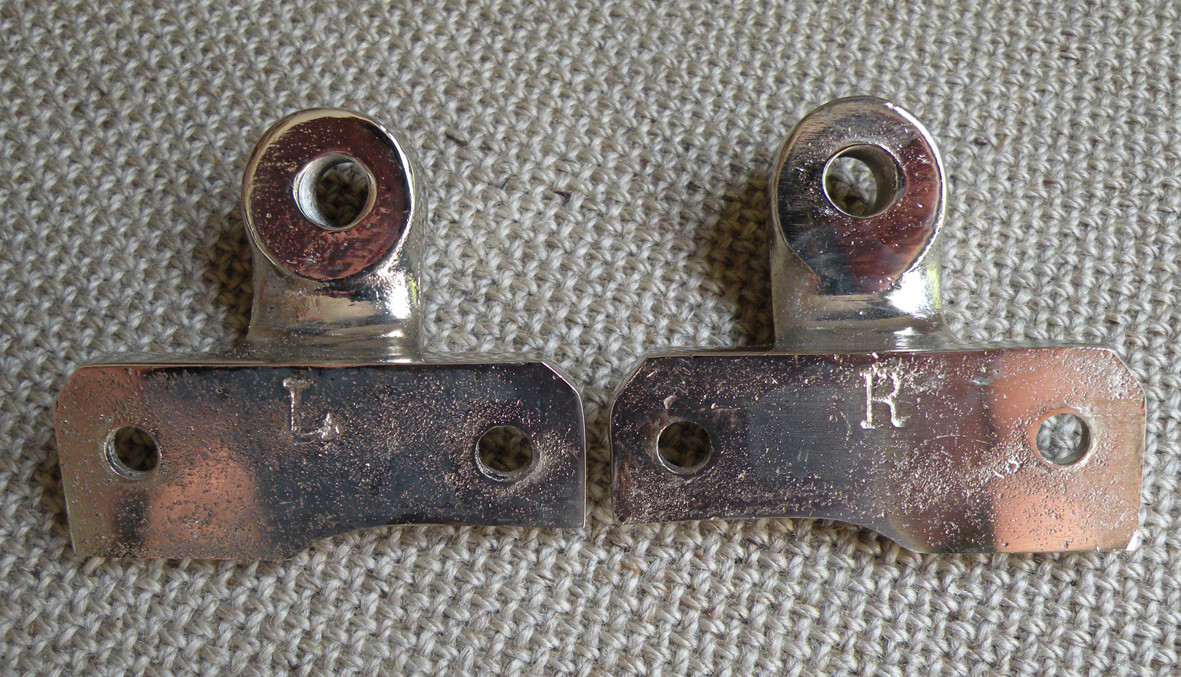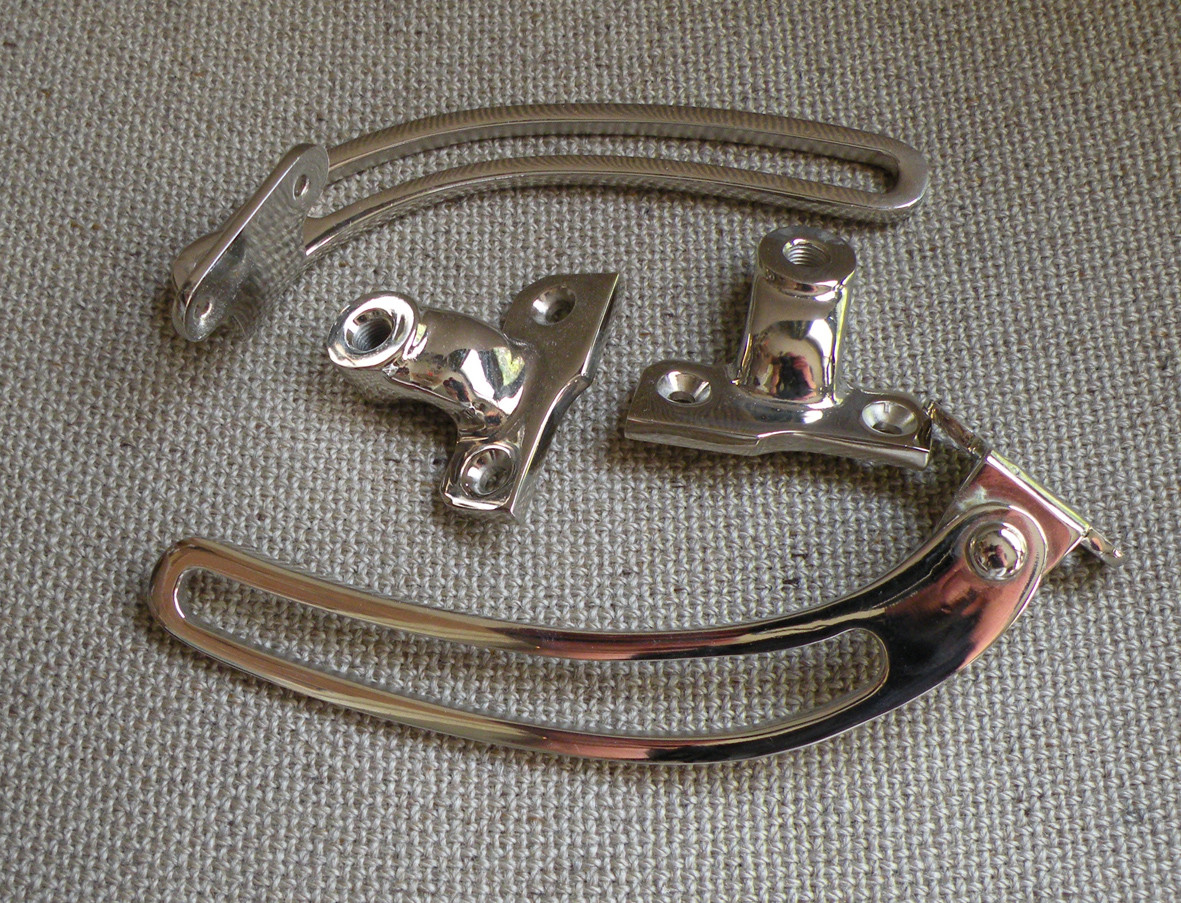 HI David
Thank you for coming to the rescue. If you can post a photo of the ones on your tourer it would be great. As you know the windscreen on my car (a convertible victoria*) is to be something of a compromise.
It is to be hinged across the top and split across half way down in the same manner as the closed cars but with much narrower side pillars. The control mechanism for the top half is still "on the drawing board". I may have a pair of nicely nickel plated pair for Donald yet.
Bernie J.
* Please note West
I have used lower case "c" and "v" as suggested.
12-18-2011
Hello John
Yes, the Packard is to become something approaching a convertible victoria. The top material will be a fabric that I used to have made for me commercially about thirty years ago known here as "Salt & Pepper" It has black and white threads twisted together in the warp and a plain tan thread for the weft. The overall effect is one of salt and pepper. It is a laminated cloth with a layer of natural rubber in the middle and plain biscuit coloured gaberdine on the underside. I discussed this some time ago in the overall question of colours. the only change to this is the car will not be two toned brown and biege but Black fenders valances etc and dark brown body with biscuit coloured upholstery and trim. Biscuit coloured wheels.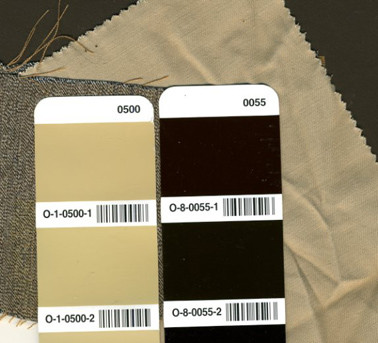 12-20-2011
Just a very quick one. Dave has made a start on preparing the body for paint. It is amazing just how much shape is in the rear section of the body when you see it like this.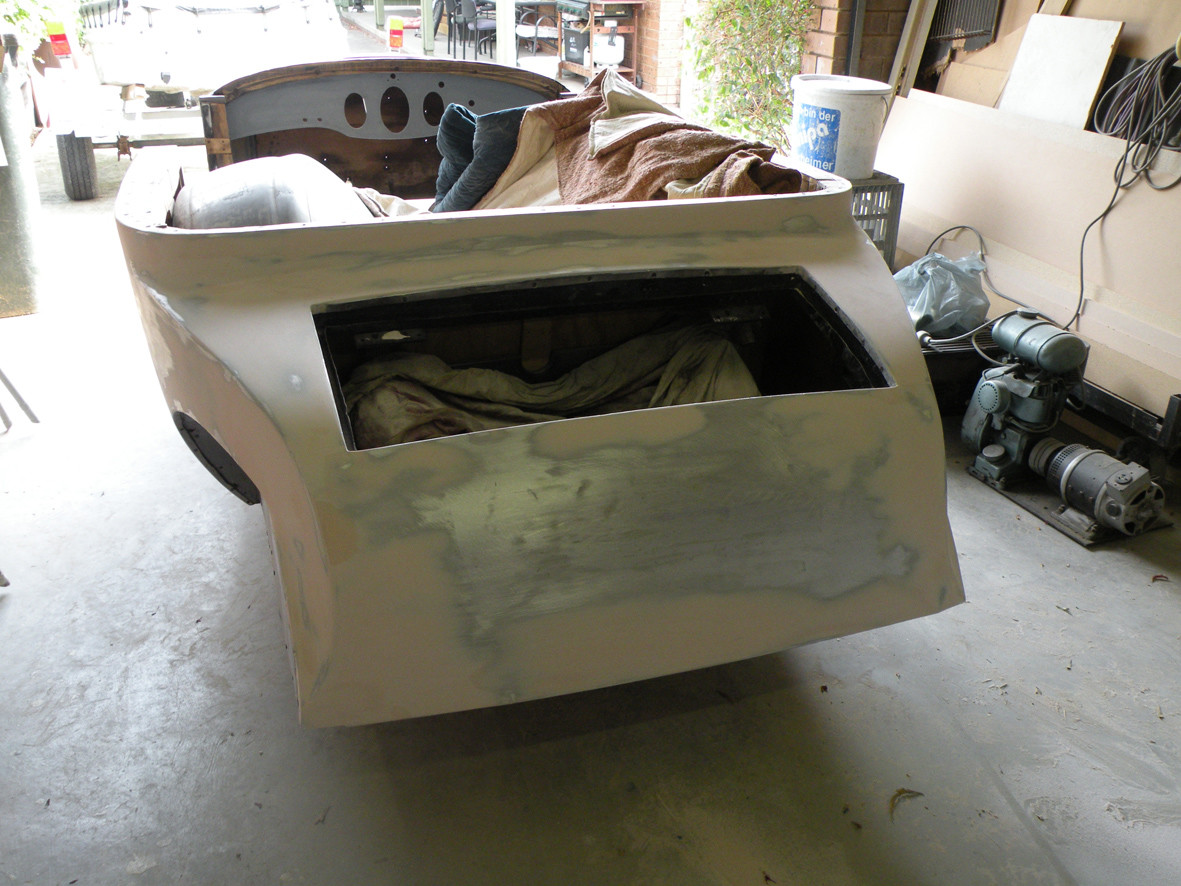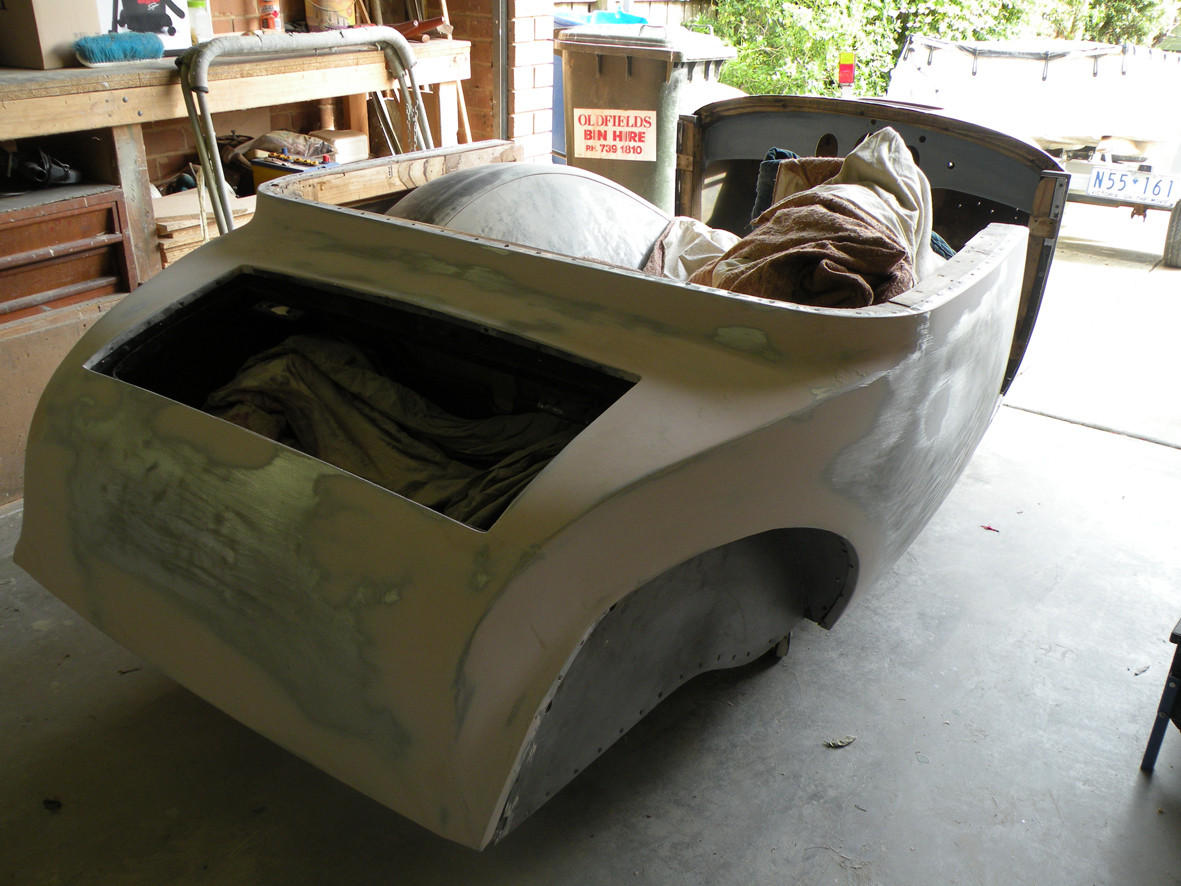 12-21-2011
Hi all
Just a thought, I have sent our "end of year" letter to several people. It mentions numerous places that many of you will be totally unfamiliar with.
There is hours of fun to be had tracing some of our journeys on Google maps."Get Directions" First use our home address as your starting point. 11 Glendora Lane, East Doncaster, Victoria, Australia. Use the satellite version of the maps. lock in "Avoid Highways, Avoid Tolls. then add the various destinations. You can zoom in and really see the country-side.
12-23-2011
Living here in South Eastern Australia has many advantages, firstly we never see snow or sub zero temperatures here in Melbourne (The Worlds most liveable city) Being situated where we are in relation to the international date line we are way ahead of almost everybody else in the world. As I write this it is just past 11.00 am Saturday morning, Christmas Eve. About 18 hours ahead of folk living on the East coast of America. That way we get to see Santa long before anybody else and so have the pick of all the good things.
While you were all rugged up and inside, last night we were sitting out in the garden (The temperature a balmy 25-6 degrees C.) entertaining a few friends having dined (al fresco) extremely well on a succulent leg of lamb cooked in a Kettle bbq. washed down with some excellent Australian wine, both red and white, and some very good local "Carlton Draught" beers. How they get a "Draught" beer into a bottle I do not know but it sure is good.
My wish for you, is that you all have an enjoyable Christmas, that life continues to be good and that the New Year brings you Happiness, Good Health and Prosperity.
Cheers
12-26-2011
Hello John
Further to my earlier reply the attached drawing should help you to visualise the final result.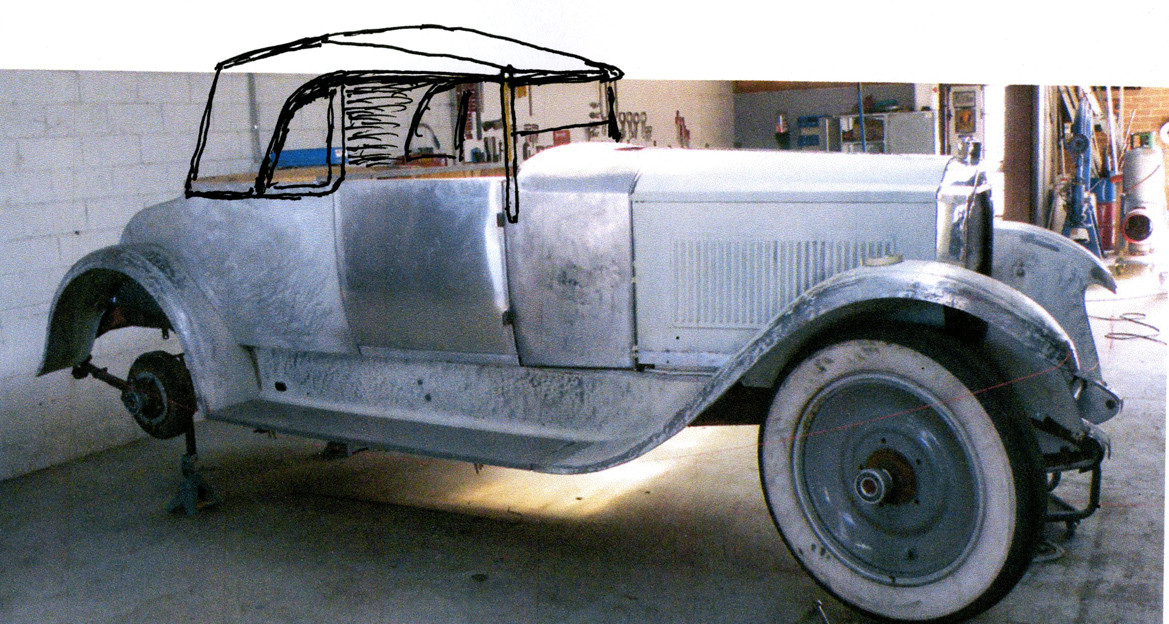 1-4-2012
Hello all
Welcome to 2012. I trust that this year will prove to be even better than the last.
We have just returned from a very pleasant break staying with my sister on the coast at Point Lonsdale. This is on the western opening to Port Phillip Bay. Some great weather provided that you like it hot. Over 30 degrees C most days.
We are having some friends from the UK staying with us over the weekend then I should be back to the Packard again early next week.
Don't go away.
1-6-2012
Hello
Spoke with 'Dave the Painter' yesterday and selected the main body colour, a very "vintage" dark brown. He tells me if he does not have too many interruptions that the body should be ready for me to start re-assembling again in two or three weeks. I hope to have some progress photographs soon.
1-8-2012
Our friends have departed on their long journey back to the UK and I can now re-commence work on the Single Six. This afternoons job to sort out some more of the electrical wiring.....
1-9-2012
The section of original factory "Service Parts List" that David McC very kindly sent to me gives the length of each cable but some how I just cannot bring myself to cut my new cotton covered cable to the lengths suggested. I think that I am going to leave that until I have the body back on the chassis frame. It means that I will have to find something else to do during the next two or three weeks. I am sure that there is something else that I can do.
Some people may be wondering why it will take something more than three weeks just to paint the Packard. Unlike modern cars that can be painted in a "couple of days", in some cases without even removing the glass from the windscreen and rear window let alone all the trim.
The Packard is entirely dismantled. Body off the frame, doors and luggage trunk lid removed, ALL trim removed even the cowl vent is removed to be painted separately. The hood is dismantled into its four separate parts before being painted. The fenders, side valances, front apron and petrol tank are all removed and each painted separately. Once everything has been prepared from the bare metal and is in primer it is left for 5 to 7 days to dry fully before being hand rubber back only then the final coats of paint are applied. This in turn is left to fully dry for another 5 to 7 days before it is polished. Finally the body will need to be carefully lifted back onto the chassis frame, doors etc refitted and gaps adjusted only then can the hardware, latches etc can be refitted. The last thing to be fitted will be the windscreen frame. The interior trim still has to be completed and installed, the seats upholstered, the folding top and side screens made and fitted. The tires have to be stripped from the wheels before they too can be painted going through the same process. Hand pin-striping being the finishing touch (NOT stick on decals). This is, in Australian terms, a PROPER (full) restoration, not a quick fix up, some "bog" and a quick coat of jam! It all takes time. Somewhere between 3 and 5 years, the projected completion date late 2013/14. If you get bored easily it is probably best that you leave now.
1-10-2012
Hi Roger
It is actually a German 2 pack paint system. It is just that my painter is sufficiently old fashioned as to believe that if a job is worth doing it should be worth doing properly. It probably could be pushed out the door the same day but he would not be comfortable that he had done the best job possible, he will only work to the one standard. Anyone who saw his finish on the Dixie Flyer will understand. I am more than happy to go along with him as I know that his work is impeccable. He works by himself rather than employ people who may or may not work to his standard. He is able to choose who he does work for and who he does not. Over the past 50 years I have had quite a few cars painted but no one else has come anywhere near his finish.
I am flattered that he is happy to do my work, he is someone who is prepared to work with me and to fully discuss every aspect of the job with me. All he does is paint vintage & classic cars and he is a position where he can paint for the people he wants to and refuse any job that he would sooner not do for whatever reason.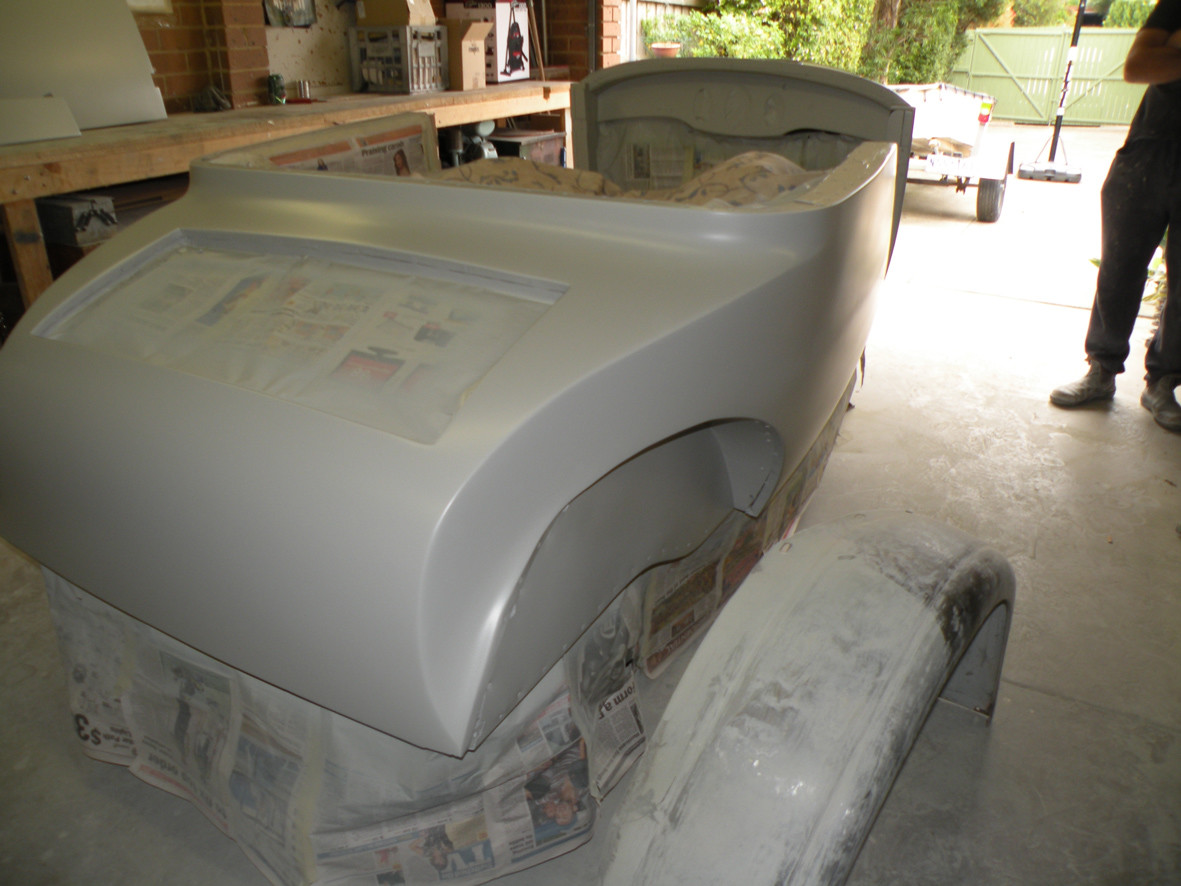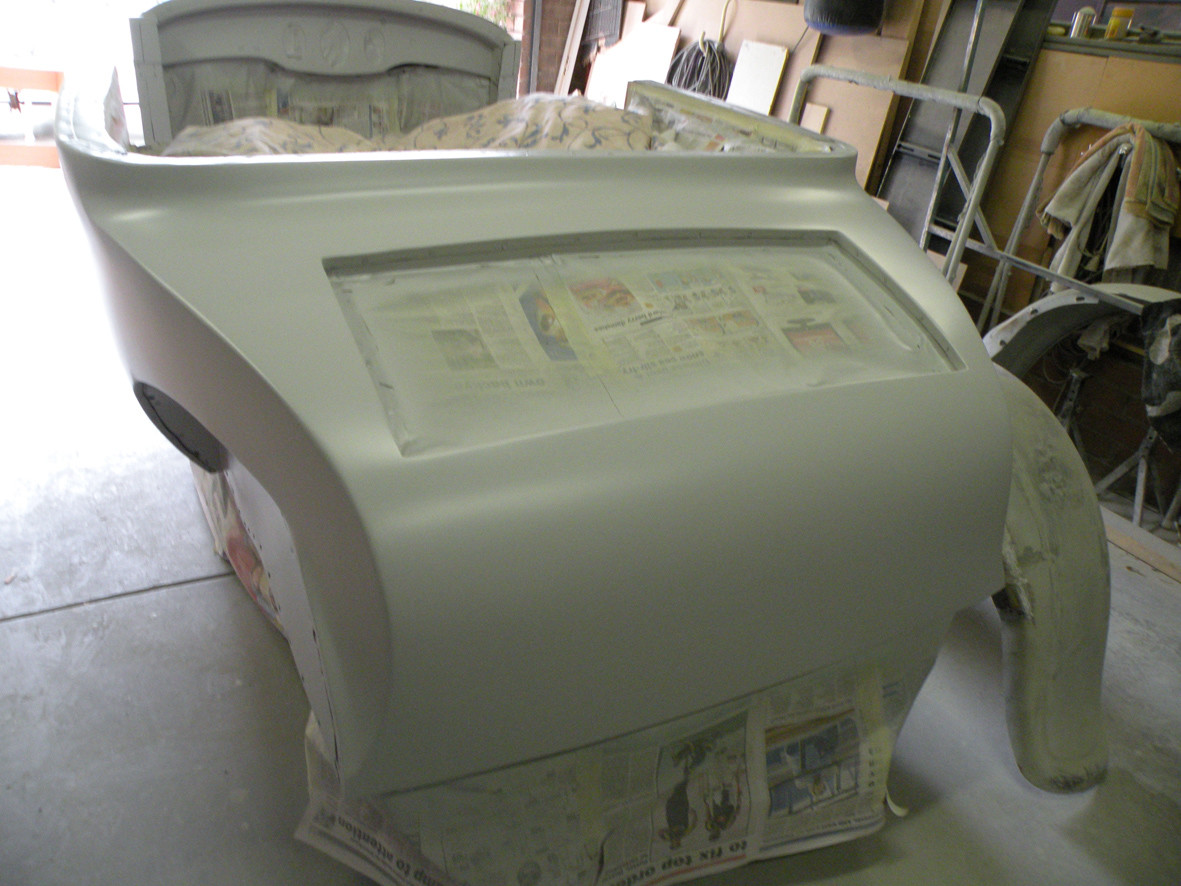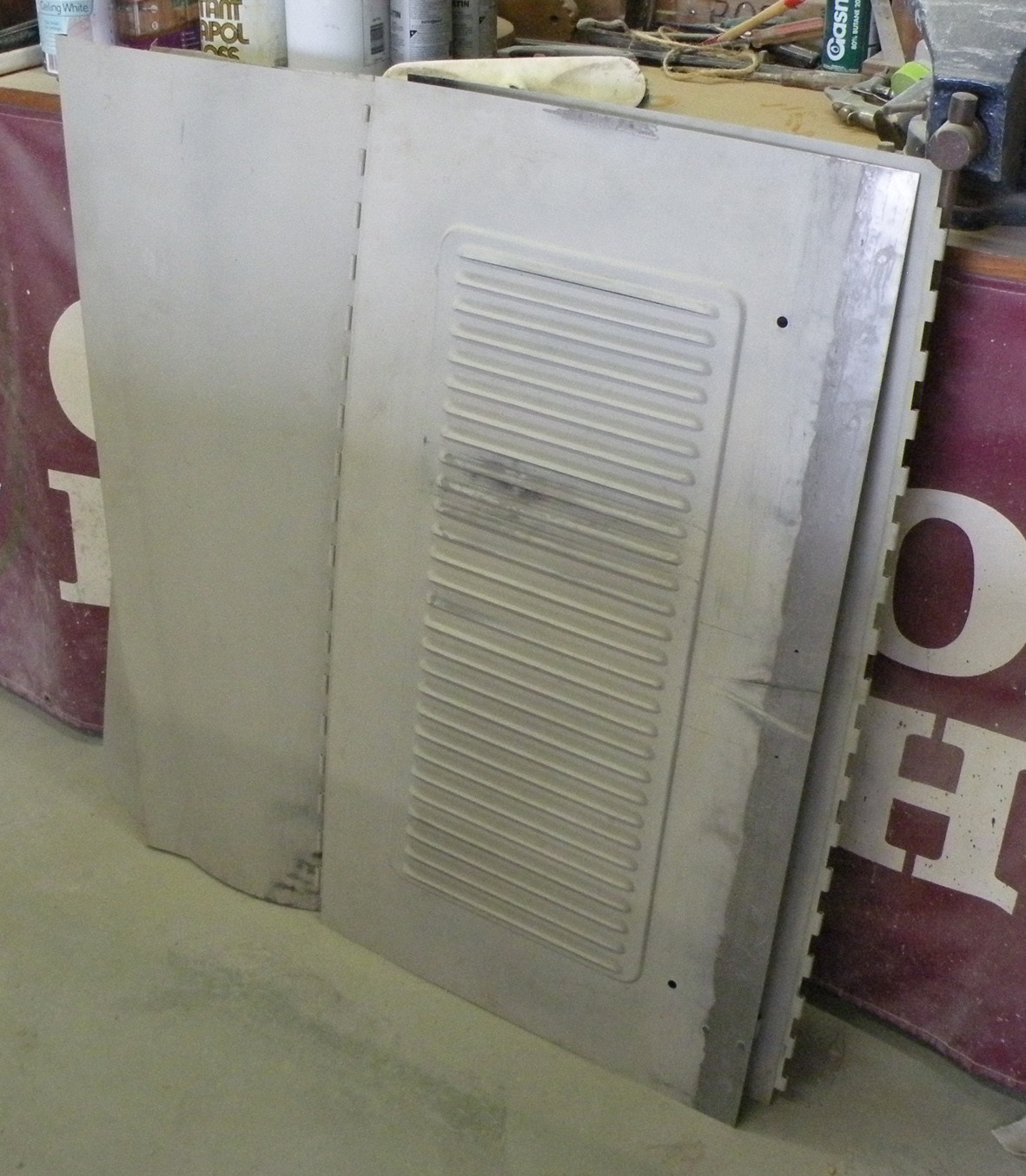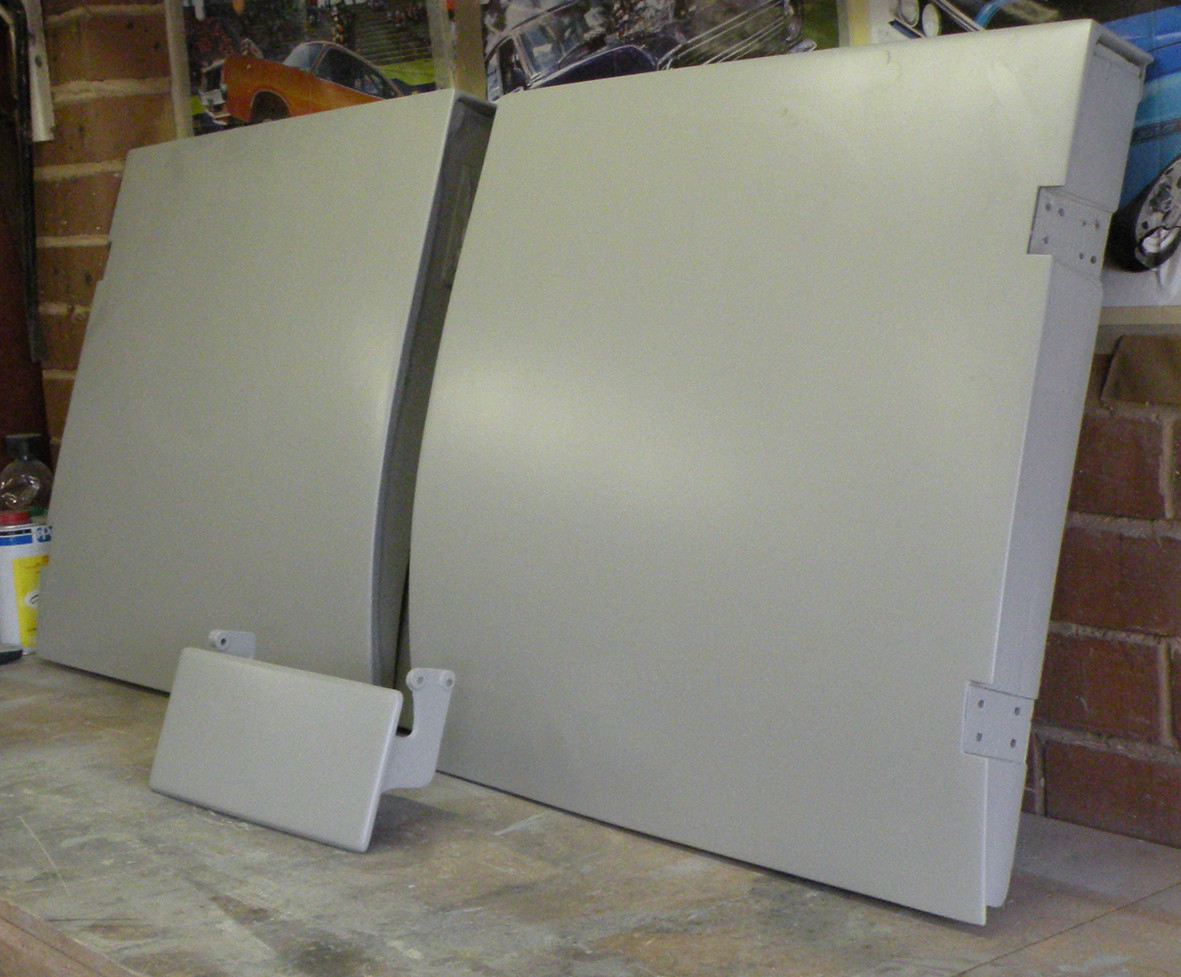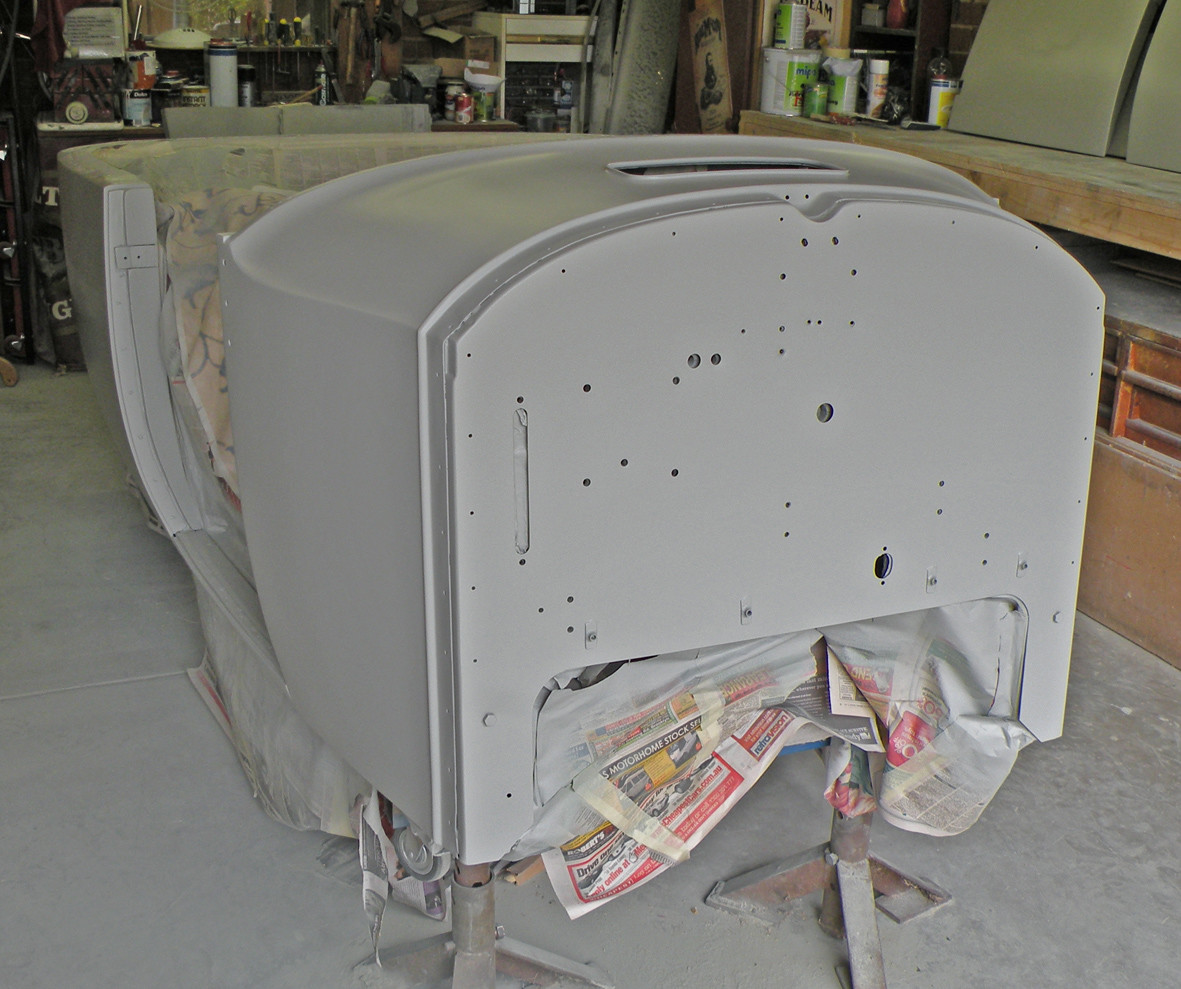 Just a quick reminder. The Dixie Flyer before and after. A paint finish to die for.
If the Packard comes out half as good I will be well pleased.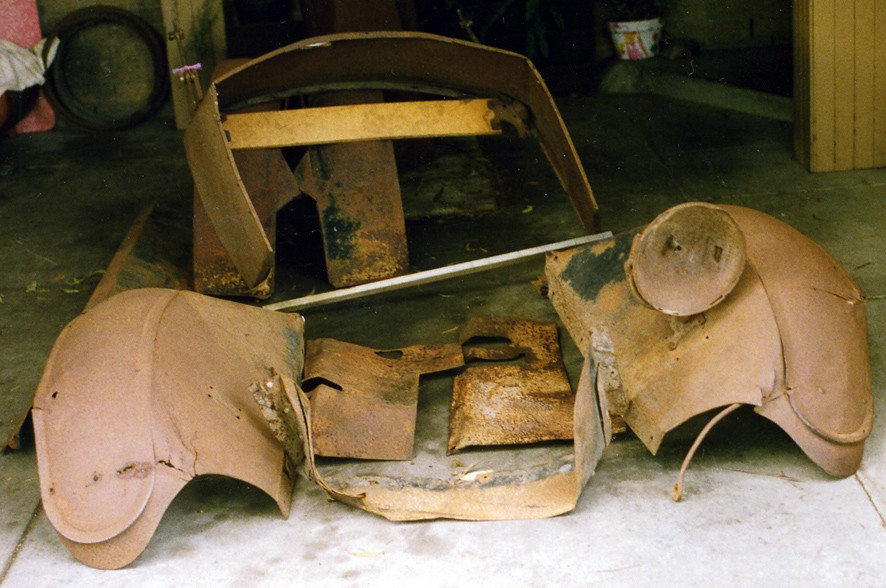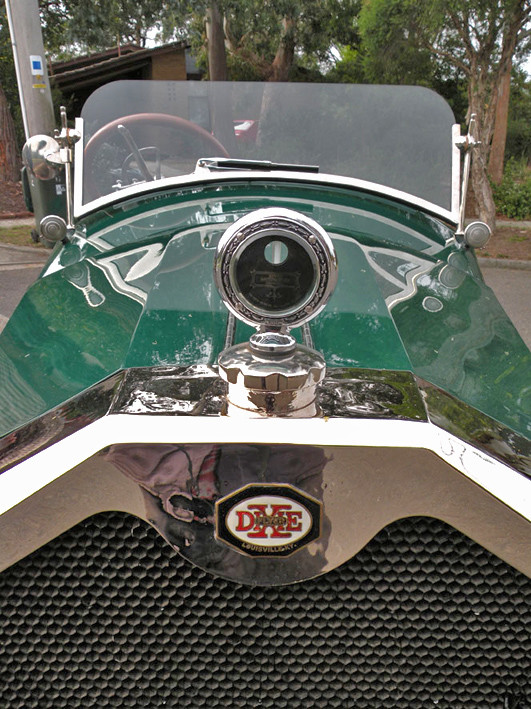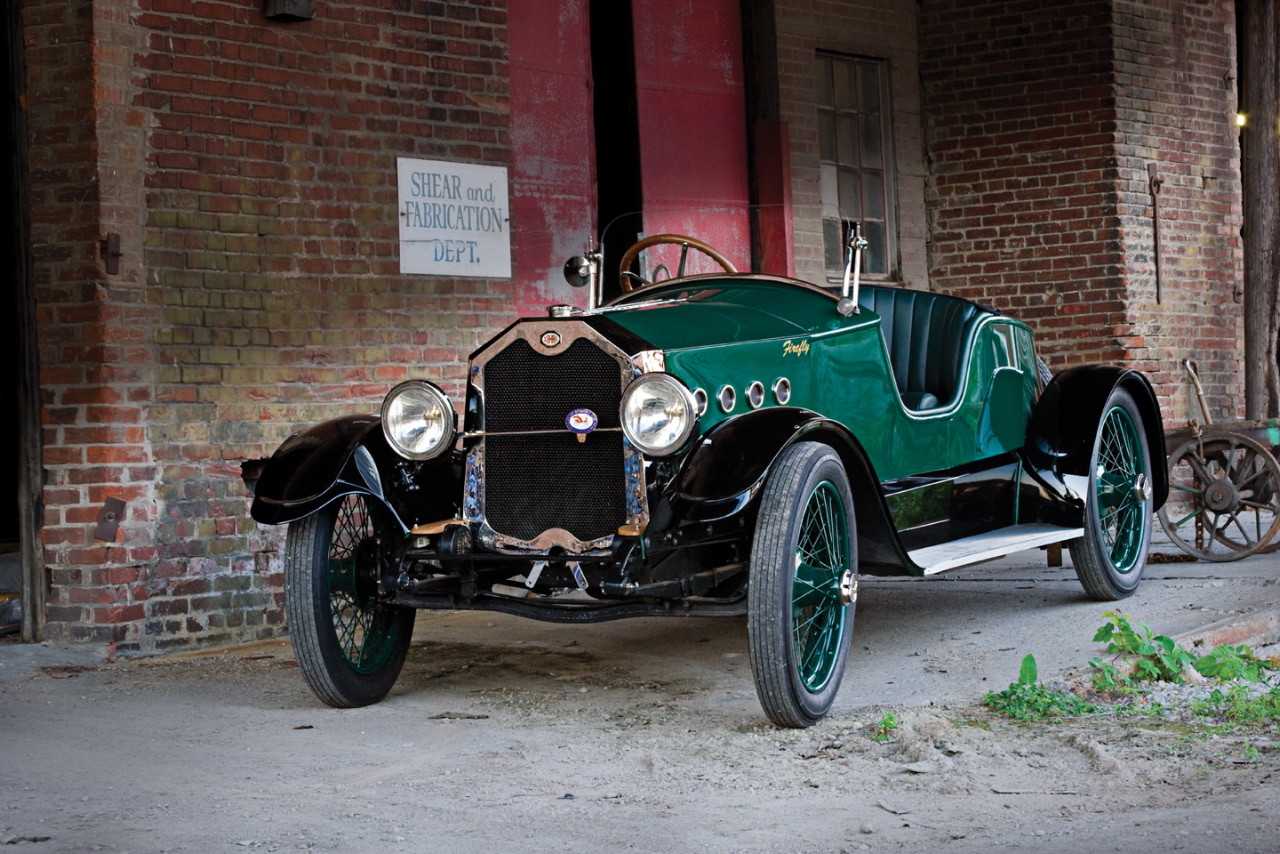 1-12-2012
Hardly an exciting day but it has to be done. A whole day spent measuring up and drawing a battery box. Extremely mundane but without it you can't go anywhere. Next question should the bottom be lead lined? Oh yes as the exhaust runs right next to it I guess some sort of heat shielding wouldn't go astray.... I can see why the next series shifted the battery to the front fender instead of under the floor.
Bernie J.
Simply not sufficient room
to list all the cars
that have passed through
my hands.
1-13-2012
Thanks again David
I have been looking at all my "scrap" sheet metal. I have enough either steel or aluminium. I am concerned about my ability to fold the steel with my folding equipment. (A length of RSJ and some angle plus an assortment of G clamps.)
This may be the first ever Packard with a "lightweight" battery box. It may just need that lead tray in the bottom to make up the difference.
Bernie J.
Seven Lagondas
Six Jaguars
Five Morris Cowleys and Five VWs if you count the modern ones.
Four Dodge Fours
Three Crossleys ( The English ones)
Two (Dozen) Rileys. It took a long time to learn just how bad they are!
One Dixie Flyer
Plus a lot of modern tinwear that I would sooner forget. You know the things that Ford and GM make in Australia. Also dozens of cars that were "just passing through".....
Then there were the 1920/30s Austin Sevens. How many? Just don't ask.
My first car? A 1918 Austin 4cylinder 20hp.
Now that I think about it there was my French period with Citroen 5CV's, Amilcars, Peugeots etc. and my silly season when I had a thing about Singers at least 7 or 8.
And of course then there were the Daimlers was it four or five if you count the one I almost bought. Lancia Lambdas I would prefer not to think about. Fiats too came and went, some good like the Osca 2ohc 1500 and some not so good like the Topolino that I drove (crashed) through someones front fence. Hey I could go on for hours.
Really I think this thing about listing cars is all a bit...........
Sorry about all that, right now I have just the four cars, the 2006 VW Jetta TDi, the 1996 Peugeot 405 SRi, the 1934 Lagonda Rapier all in regular use and the 1923 Packard Single Six restoration project. I learnt to drive on my father's then new 1949 Citroen Light 15. The sort with the gear lever protruding out of the dash, which may have had some lasting effect on me.
1-15-2012
No work on the Packard again today. I am doing some essential maintenance on the 1934 Lagonda Rapier in preparation for this years busy competition calendar.
Bernie J
Sorry I forgot to add the 1938 Delahaye & the Land Rover Discovery to my list.
It seems the more I think about it the more cars that flood back into my memory.
Don't go away there must be at least another 100/150 to come....
I an not sure where to put the 1935 Singer Le Mans Chassis fitted with a Peugeot engine and a body from a Bugatti. And I have not mentioned any of the MGs.....
I have attached a couple of photographs just to whet your appertites. These are of a little "Brooklands" style 1927 Singer 8hp racer, the little yellow car that can just be seen in the carport next to the white 1934 Lagonda Rapier is an even earlier 1925 Singer. Both these cars now reside in the UK.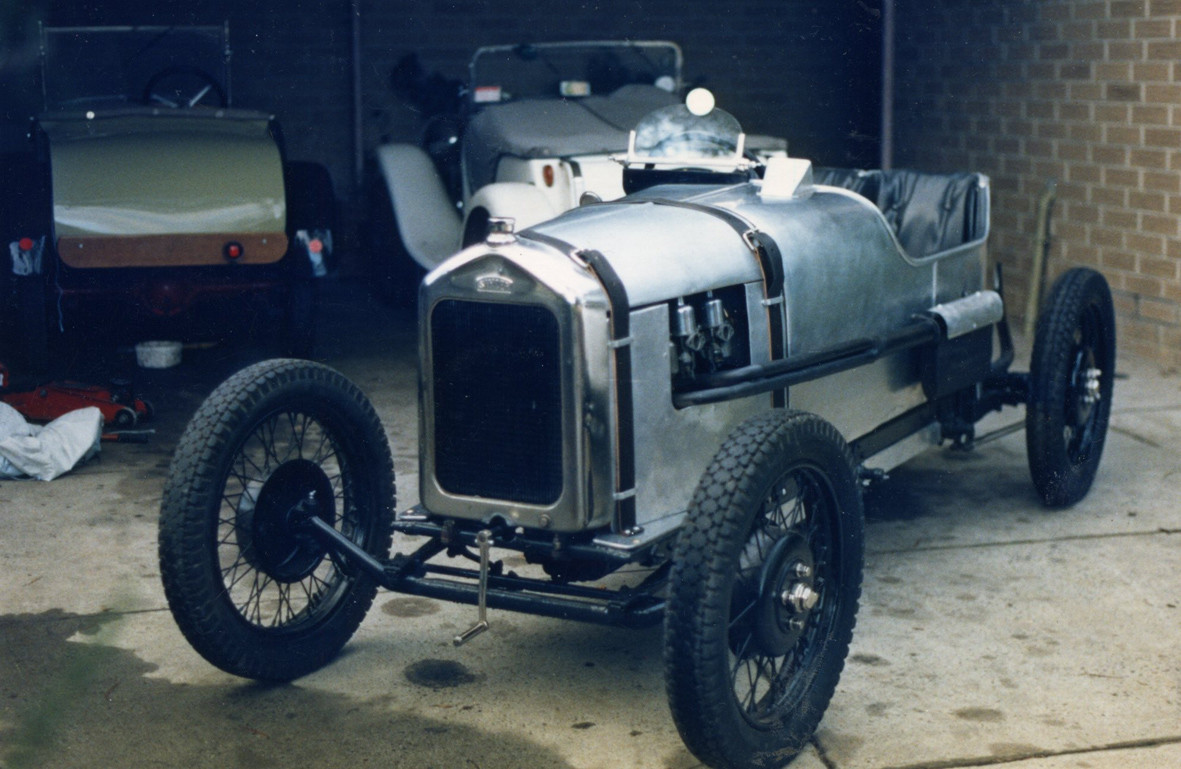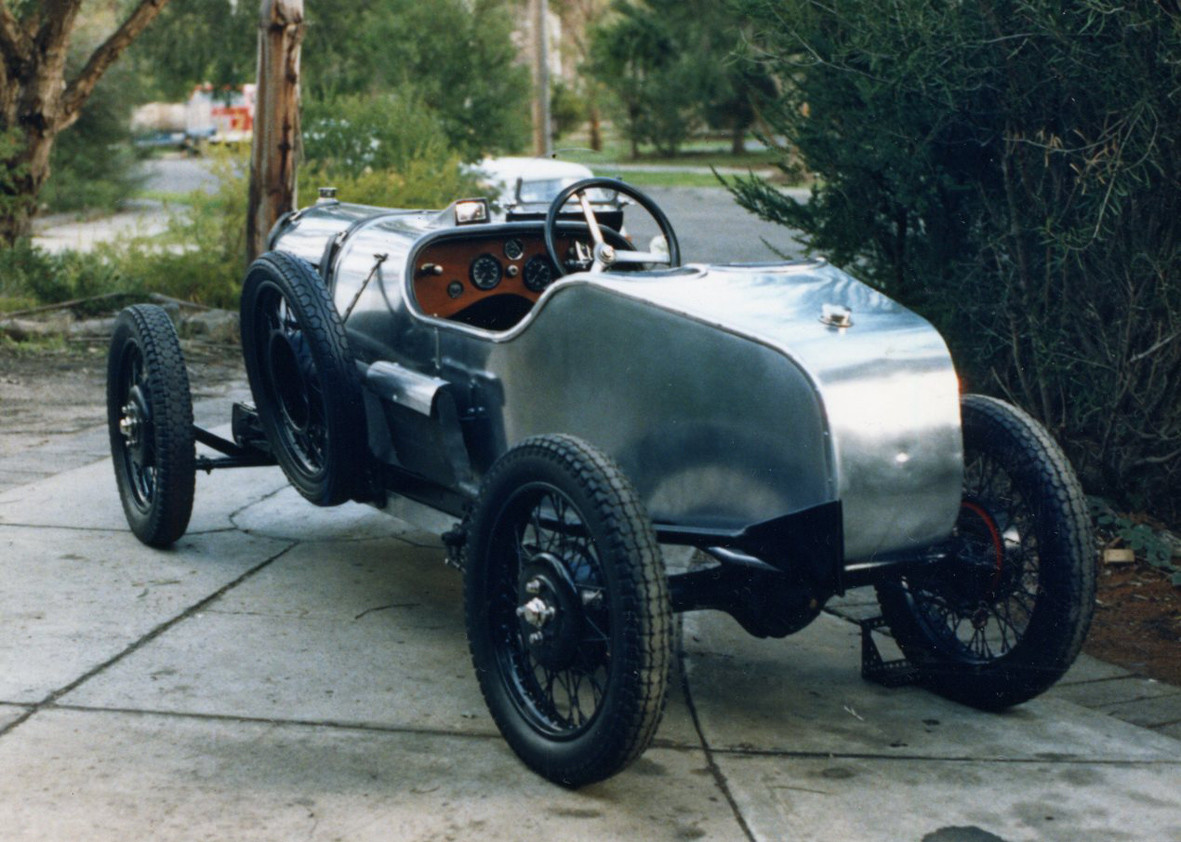 1-16-2012
The Snubber adjuster I used on the Dixie Flyer was an original tool. It went to Kentucky Trailer with the car. You could try contacting Dan Murphy at KY Trailer they have a website. or alternatively you could try making one similar to the one I fabricated for the Packard. It is not a particularly precise science, I made mine out of scrap and use a pair of vice grips to hold the tape from returning into the drum while shifting the clamp at the axle end.
You can get approximate measurements (18inches long, 3 inches between the prongs, prongs 1 1/2 inches long) from the attached photographs. If you want to be slightly rustic you could use a horseshoe, the trick there is to first find the horse. Good Luck....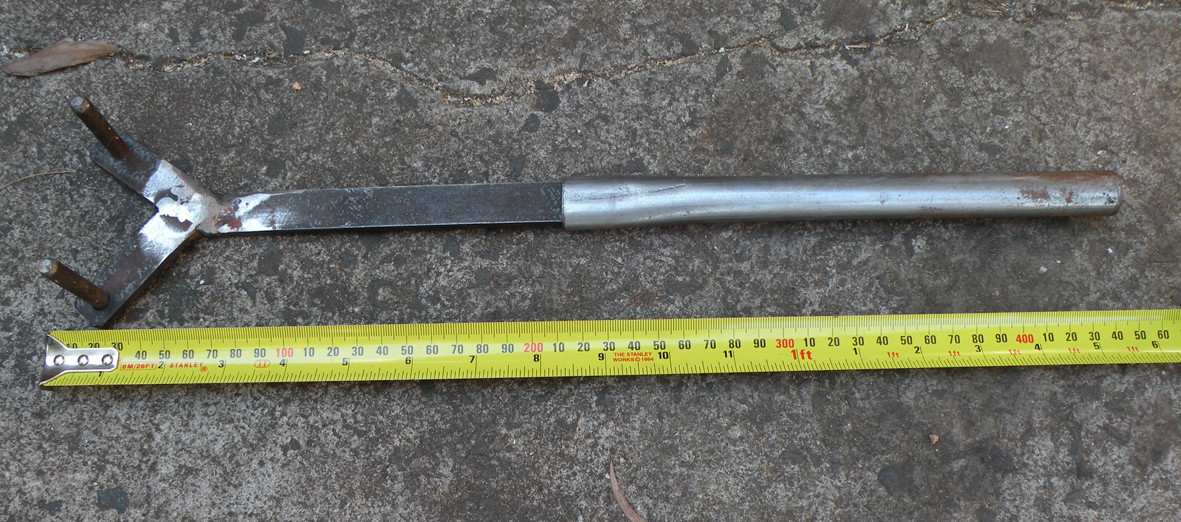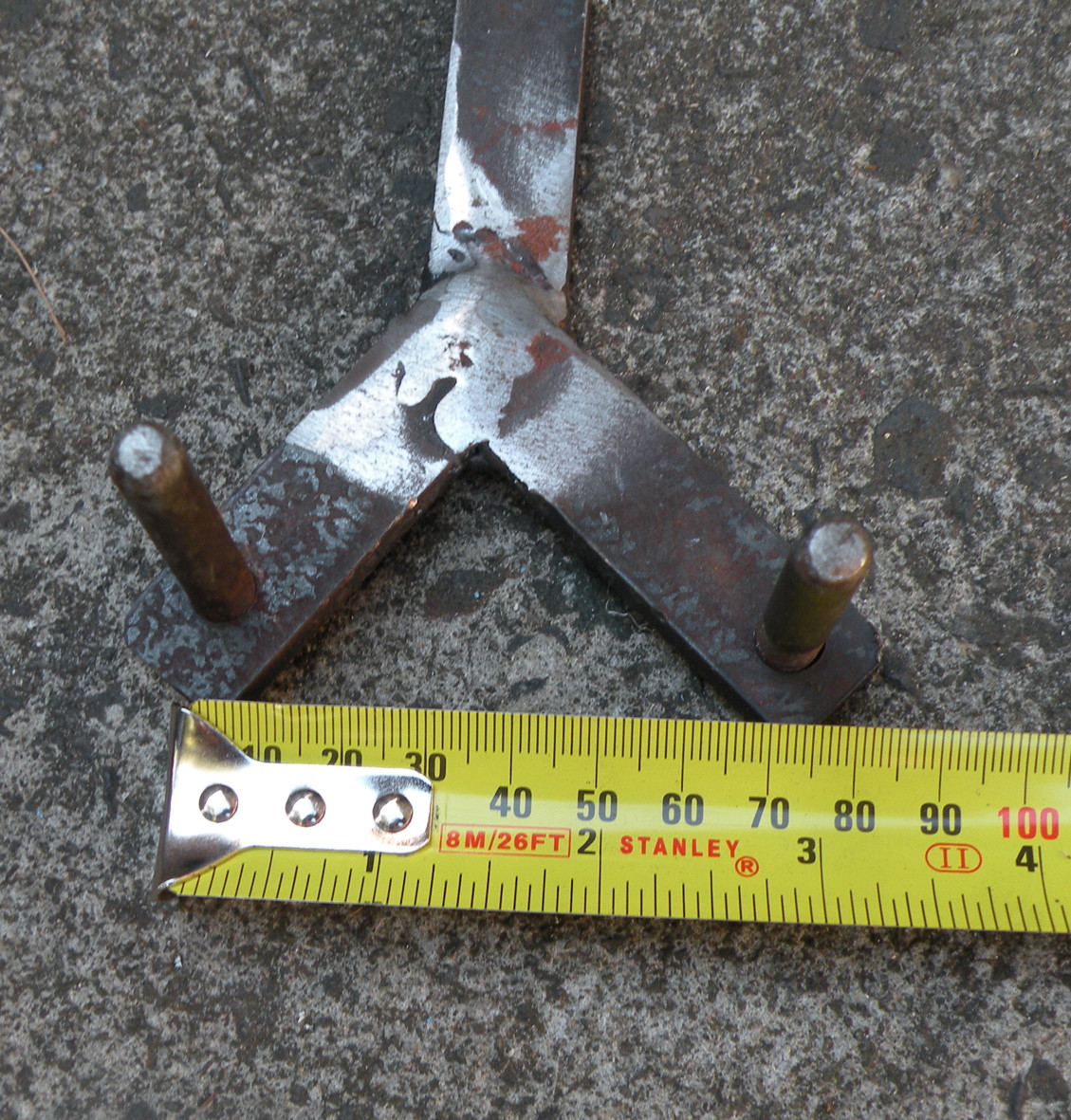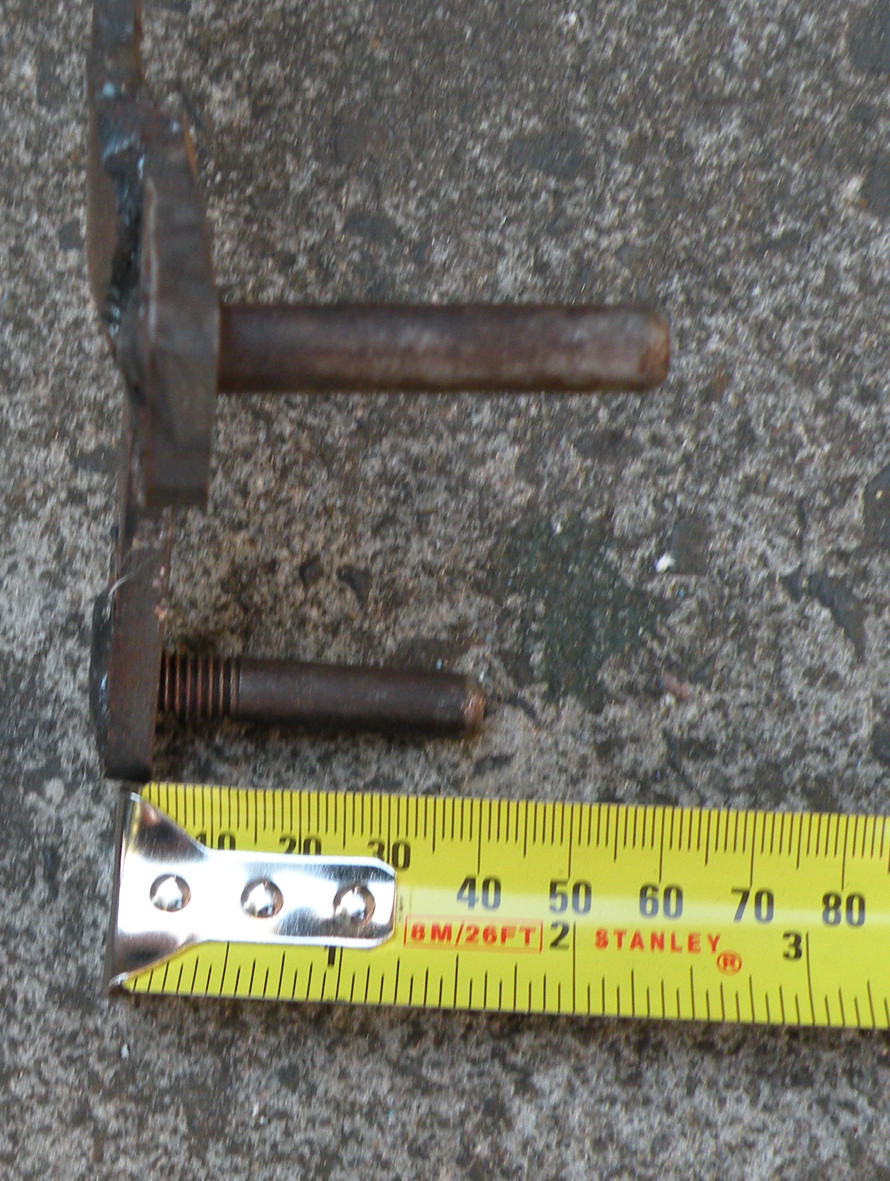 Hi
It is that "past cars" thing again. On checking my now becoming suspect memory, there were 8 or 9 MG's of differing "types" and two "bug-eye" and one MK2 Austin Healy Sprites.
How did get started on this?
Bernie J
There must be more to come. I remember now, there was a Studebaker "Daytona" Wagon in there somewhere too.
Hi Ben
Without wanting to be offensive I have never owned a Rolls Royce and have never really wanted to own one. A long time ago had a drive of a late teens Silver Ghost, once and that was enough.
The SECOND BEST car that I have ever owned is the 1936 LG45 Lagonda Drophead Coupe. A great car, 100 mph in complete comfort. The BEST car: the one I own now the 1934 Lagonda Rapier two seater. I have owned it since 1978 and unlikely to sell it any time soon.
Other cars on my NEVER want to own list are Bentley and Bugatti and wait for it....... Cadillac.
1-17-2012
While Dave has been slaving away on the preparation of the Packard body for paint, my attention has been diverted, rebuilding the inlet side of the Lagonda Rapier's engine.
For some unaccountable reason it has developed an air leak somewhere between the carburettors (Twin SU) and the cylinder head. This has resulted in an inability to slow the idle speed down to less that 1500 rpm. It usually idles at 800 rpm. Both carbs have been stripped down and checked, the faces of the manifolds checked to make sure that they were flat and the flange of the carbs checked in the same way. There is no excessive wear on the throttle spindles. These were replaced not all that long ago. New gaskets have been cut and the two short sections of rubber hose connecting the balance tube have been replaced. I am now about to go and assemble it all back together Fingers crossed. We have our first event for 2012 at the weekend.
1-18-2012
Having got the Lagonda Rapier back together and idling at 800-1000 rpm before lunch I could devote this afternoon to the battery box. This is now folded up out of 1.6mm Aluminium that I found that I could cut satisfactorily with my antique Gilbro long-handled snips. I have lined the box with some mystery board that has been taking up space in my shed for more years than I can remember. It is branded Walkers "Golden Walkertite" It is about 1/4 of an inch thick and should do the job nicely. I have made a timber edge surrounding the top and will now have to wait until the body is back in place to adjust its height as it should just clear the underside of the passenger side floor. I have cut a hole in the side adjacent to the speedo cable fitting on the side of the gear box. Without having a cable it is difficult to see exactly how it should fit. I am still looking for a speedo cable or at least the ends of both the inner and outer.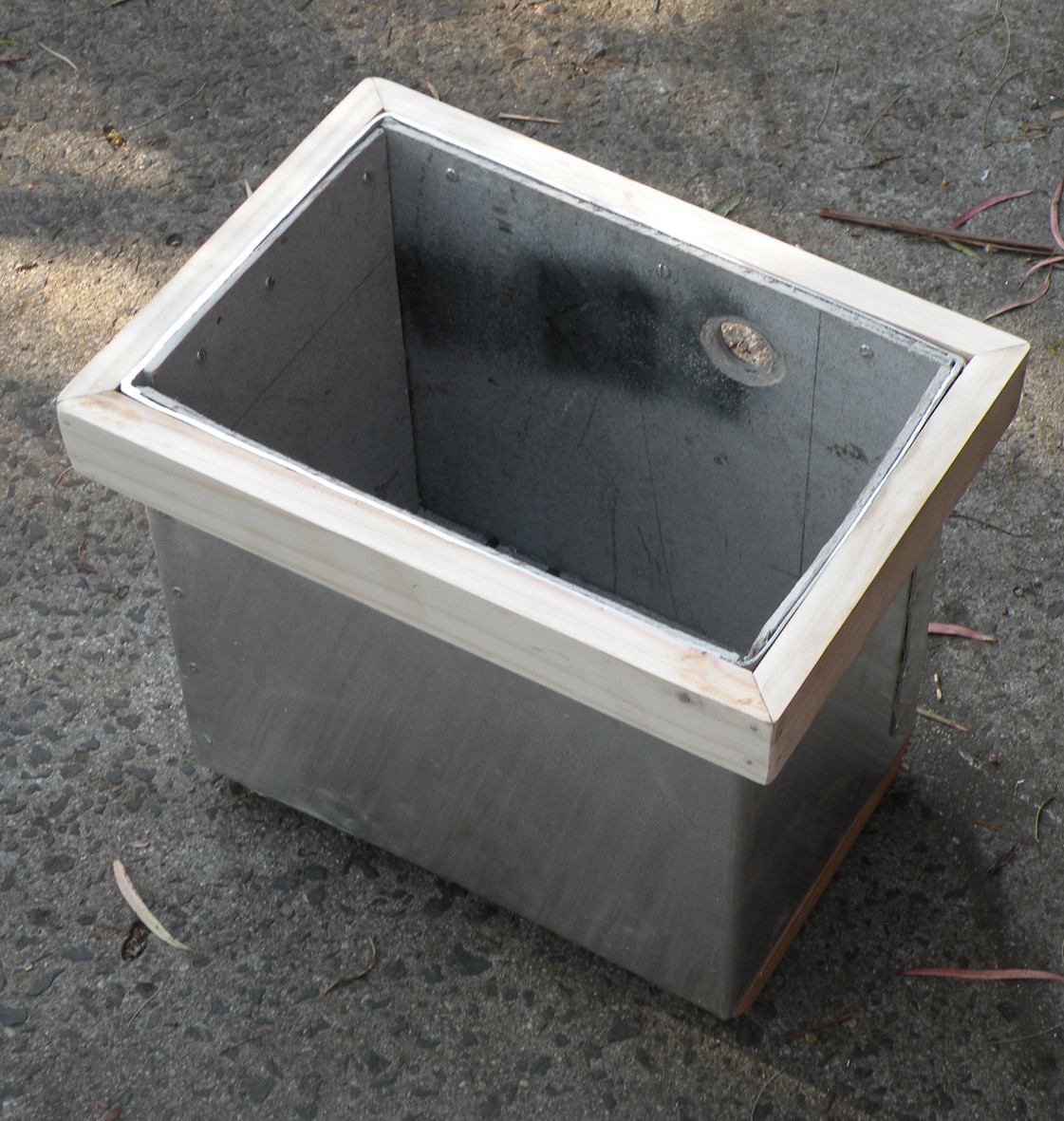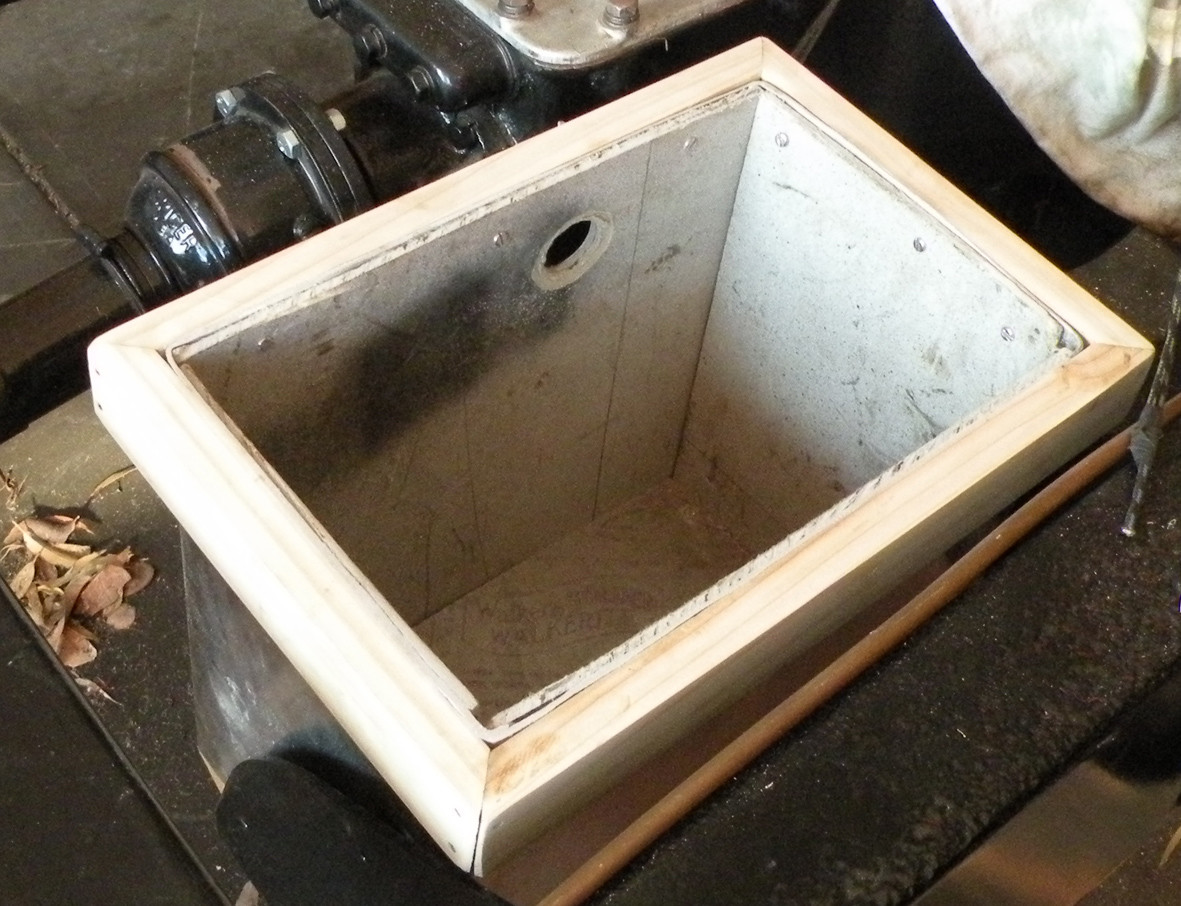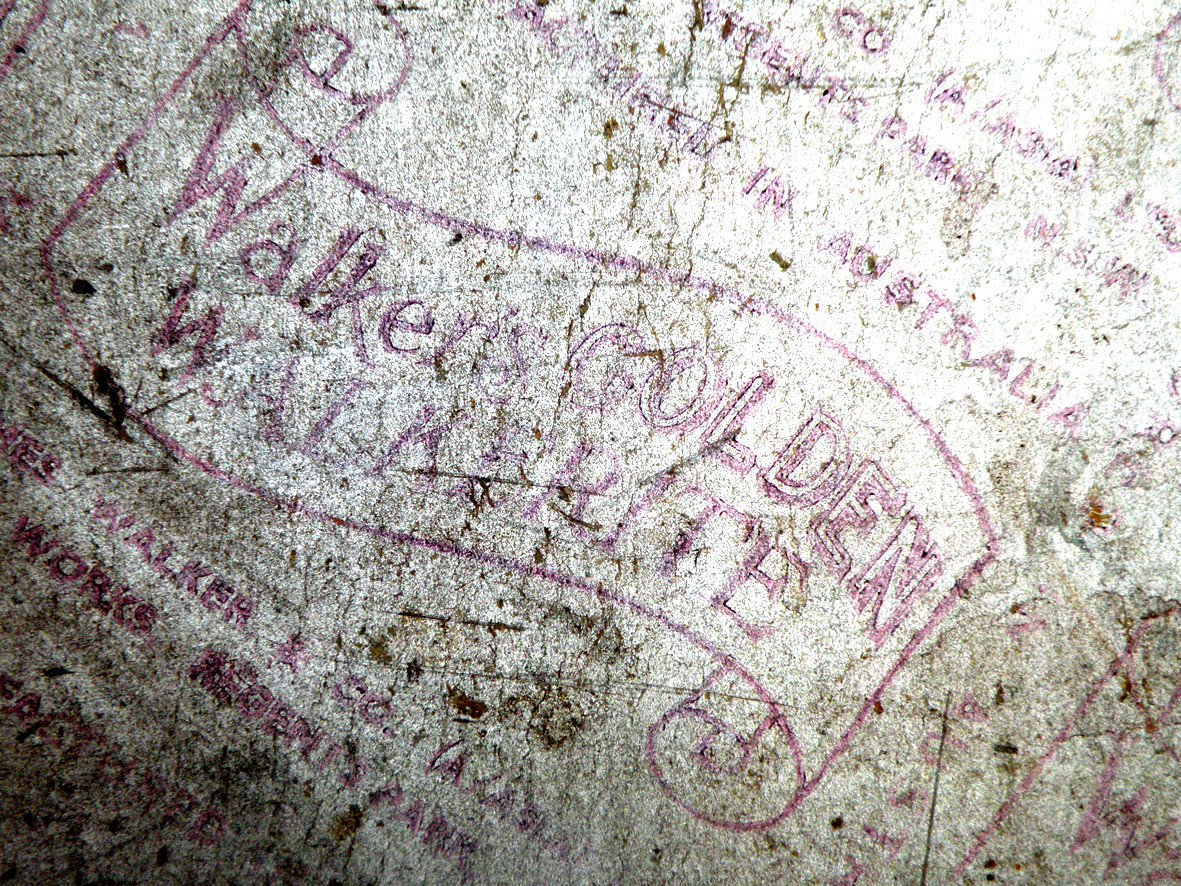 1-19-2012
Another day without any real Packard progress. Spent this morning making some final adjustments to the Lagonda Rapier's throttle linkages and now it is starting "on the button" and ticking over nicely at 800 rpm. Spent this afternoon giving it a through clean and a quick polish. It is remarkable, it was repainted (Freshened up) in 1996 prior to going to England for the FIVA Rally. Since then it has been back to England & Europe in '99, 2004 & 2009 and done countless miles of competitive motoring here in Australia. Over the last 12 months it has covered almost 7.000 miles. Apart from one minor graze on the right rear mudguard caused by backing into a stone wall in the French Alps and the odd stone chip, the paint is almost like new. The wheels are getting a little shabby and maybe need freshening up but as I would need to take it off the road for about two weeks to do that (properly) so they may have to wait. With our mild climate we have (driving) events at least once or twice per month all through the year. Finding suitable 500 X 17 tires is becoming a problem. The Michelin "Comfort S" that are currently on it are no longer available. Hopefully they will last another year or two.
I have mentioned several times that I am looking for a speedo cable for the Packard. To date apart from David McC's very kind offer to remove the one from his car so He could do some drawings which would enable me to have the necessary ends made I have drawn a complete blank. If all else fails I would really like to purchase (Buy) the ends from an outer (both ends) and an inner (both ends). Armed with these it would be a comparatively simple matter to have a complete cable made. Naturally if by some miracle some one has a complete cable surplus to their requirements I would be extremely interested in buying it. Perhaps one of the more knowledgeable Gentlemen (or Ladies) who have a far grater understanding of all things Packard than I could enlighten me. Is this cable exclusive to 1921 to 23 Single Sixes or are the fittings common to all early (1920s) Packards. Perhaps even to some other makes from the same period????
You will see from the attached photographs that the outer end is a plain push in and clamp male fitting (NO screw thread) 5/8 inch in diam. for both ends. The inner cable has a simple spade fitting on each end. Not actually rocket science.
N.B. The photographs of the speedo are from my file. It is in the process of being restored.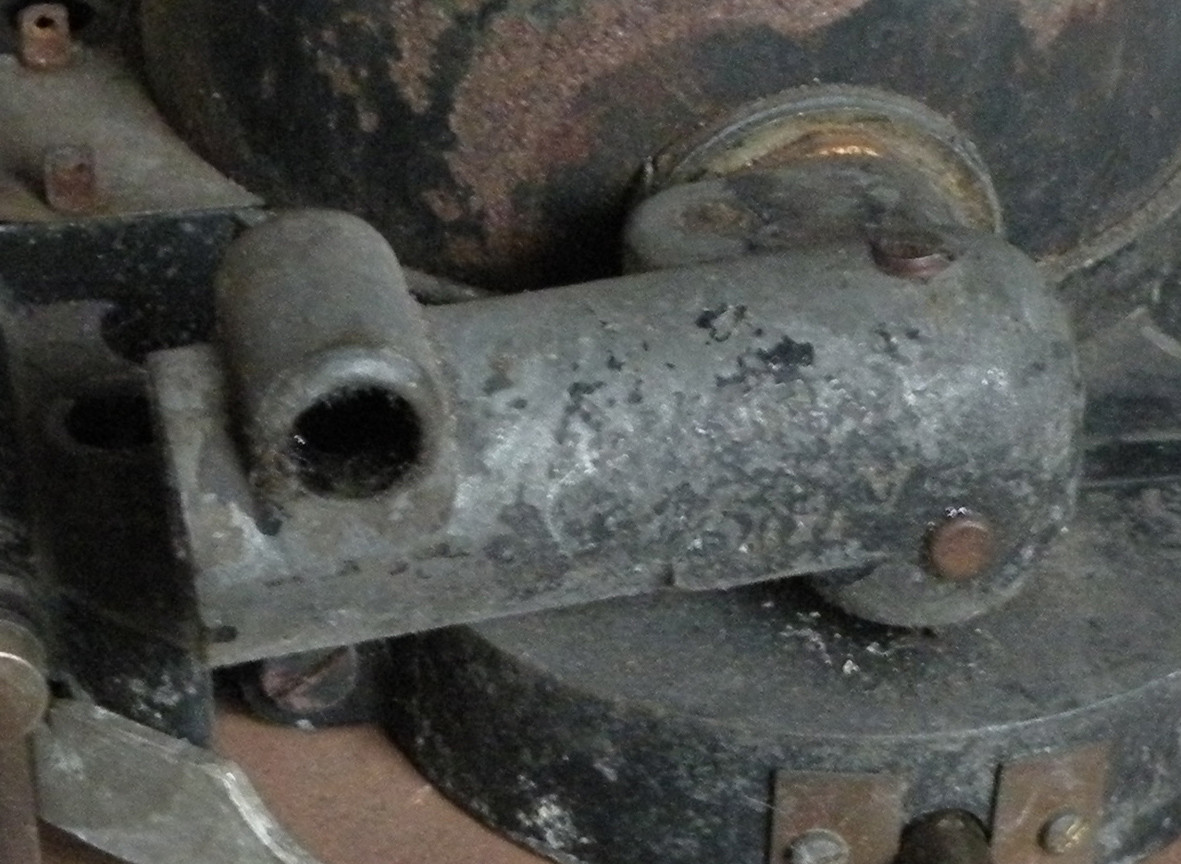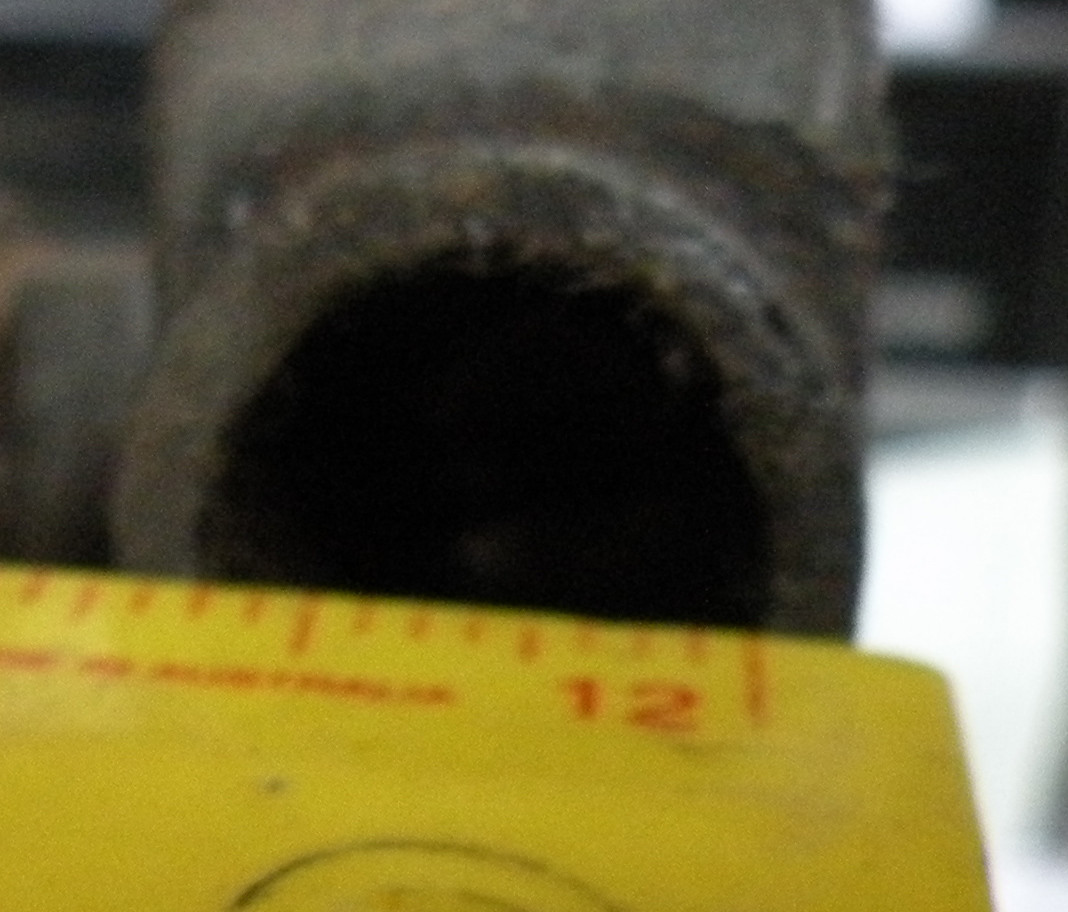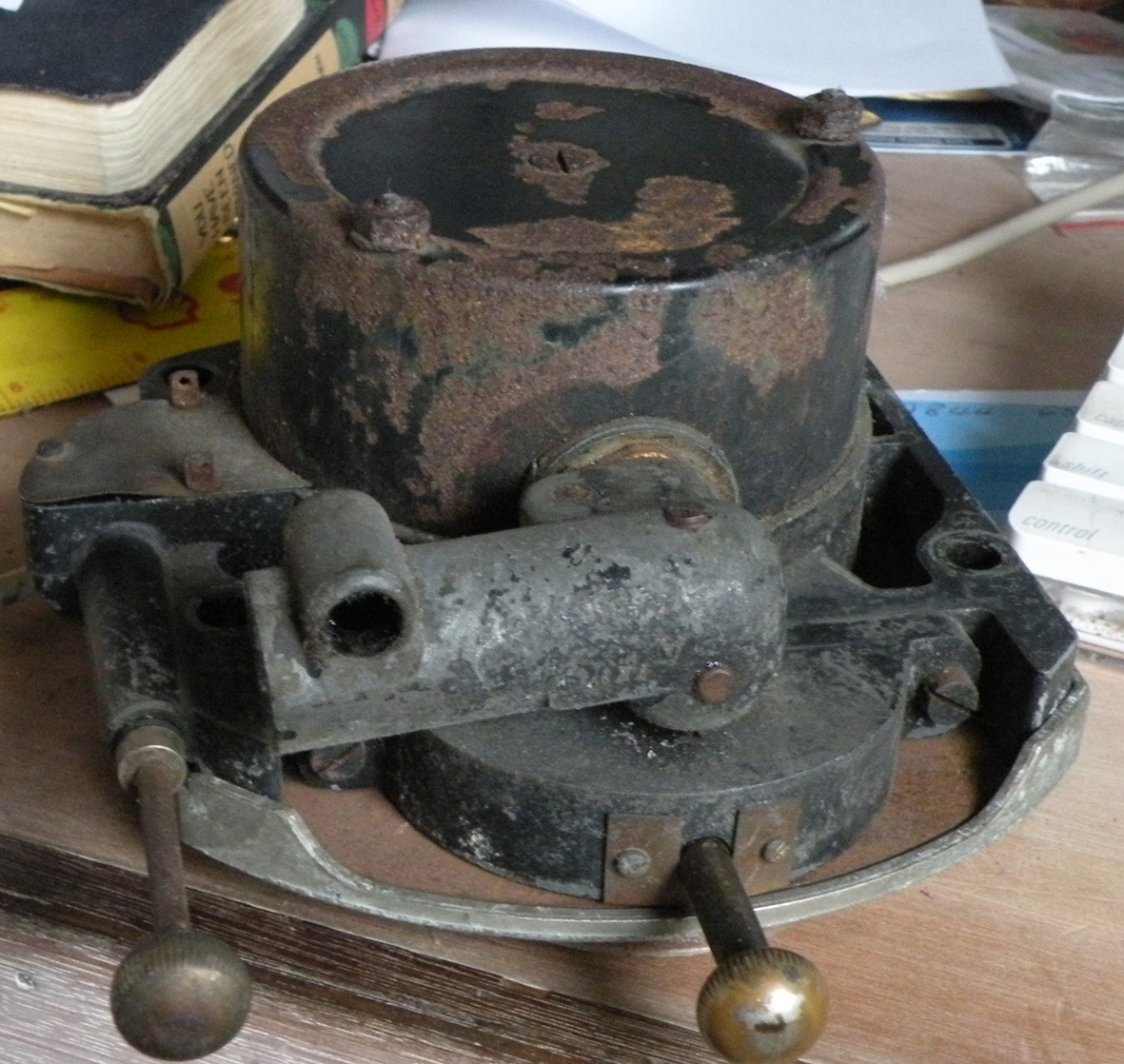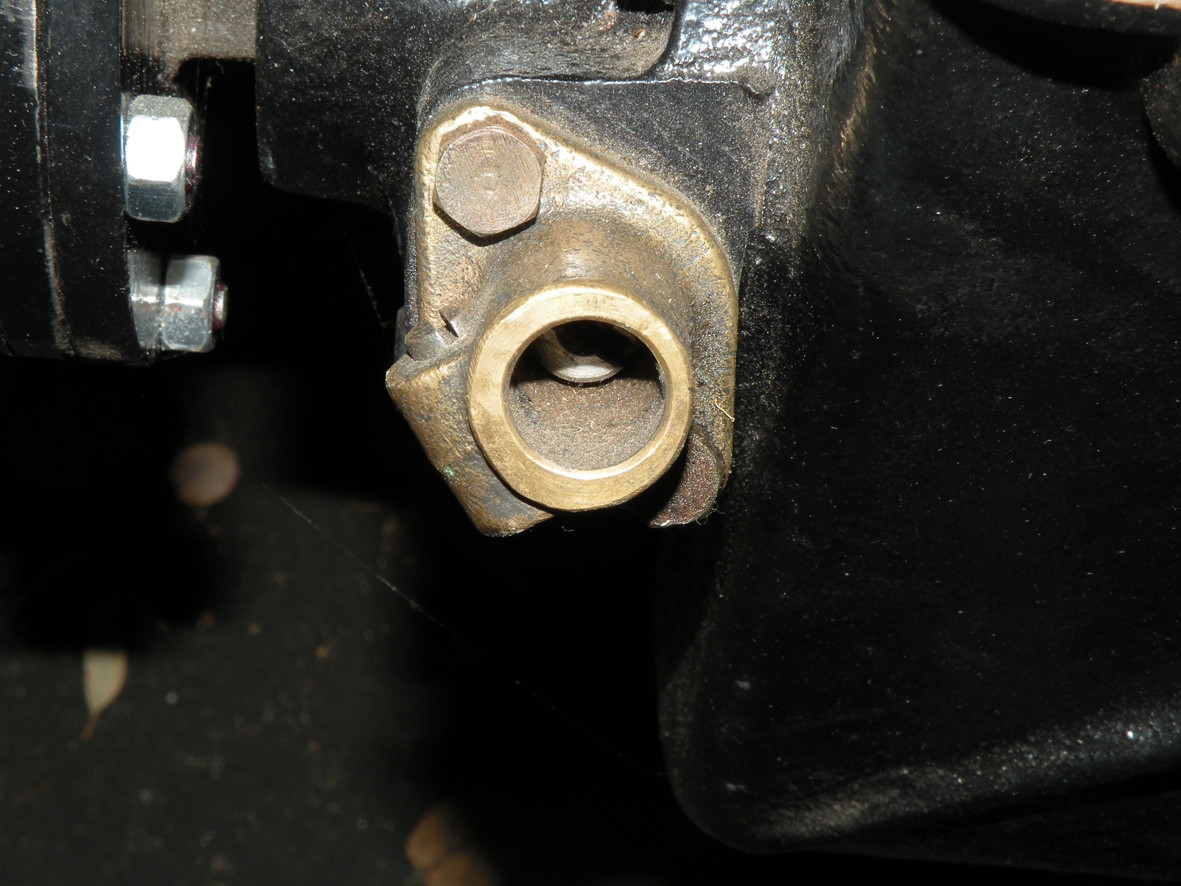 1-20-2012
Well, talk about "old home week"! First I had an e-mail from Ian Greenlaw who is restoring a 1930s 6 wheel equipped Dodge Sedan. I was able to introduce him to "Dave the Painter" who is now going to paint his car in two or three months time. Then I arrived home from the VSCC BBQ at Albert Park last night to read Craig's post above. Naturally, despite the late hour I shot off an e-mail to him. This morning I received a reply confirming that not only does he indeed live in Melbourne, Australia (not Florida) but he too was at the same BBQ.
As Ian commented it really is a small world. He lives just across the Yarra River about 5 miles from our house. There is another old saying "What goes around comes around" meaning simply if you help some one, someone else will help you, although not usually in the space of 24hours.
Amazing!
1-21-2012
This one is for Roger
While not a car that I would want to own, one that I can appreciate...
A friends 1936 Cadillac Imperial Convertible Sedan.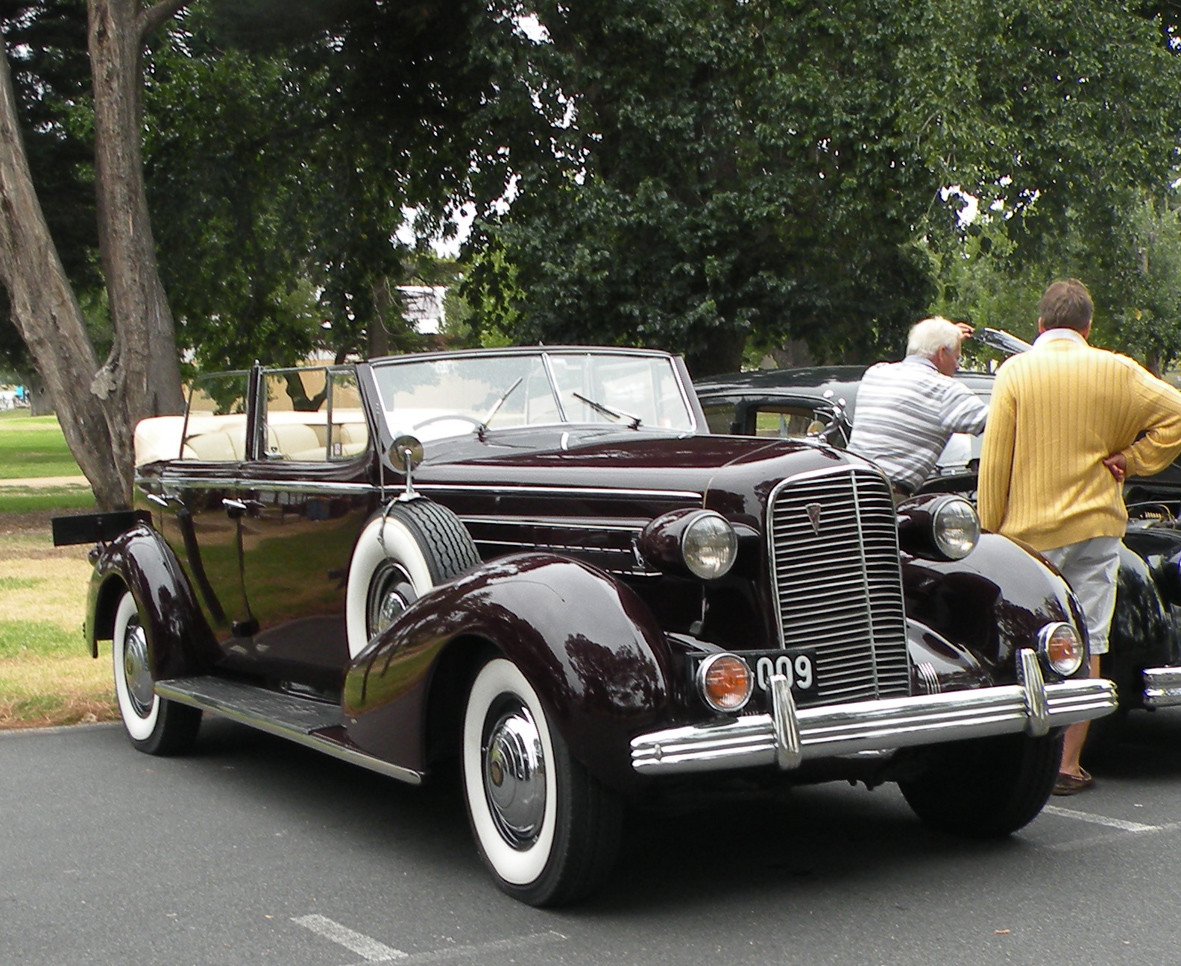 1-22-2012
I guess that is where we must agree to differ Roger. They are two things that would come last and second last on my list of things that I MUST have in any car. Certainly both the 1996 Peugeot and the 2008 VW have electric windows but the Peug is 5 speed Manual and the VW is 6 speed Manual. The 1986 Alfa also had electric windows using the "had" as in they no longer worked. Thank goodness it had a manual sun roof. It too was a five speed manual. With the Lagonda Rapier 99.9 percent of the time we leave the side screens at home simply because we never use them. When we take it overseas with us, we leave the side screens at home as they take up valuable luggage space.
The Packard will have a little more room and it will have a full set of side screens, but definitely manually operated. It has a manual gearbox too, but only three speeds.
Keep up the good work on your models. They look fantastic but are something that I would never have the patience to do and I do like to be able to drive my cars.
One of my favourite roads in Europe is the Gavia Pass (in the Tyroll). I certainly would not like to drive up it in any Cadillac even with electric windows and automatic transmission. There are probably very very few people reading this who even know of this road, let me just say it really scared one of my extremely "tough" motor bike friends. Much of it is single track with passing places, gravel surface and no guard rails. Oh yes, it is quite steep with lots of hairpin bends too. It makes the Stelvio look like a Sunday drive. But great un-interupted views, IF you are brave enough to look.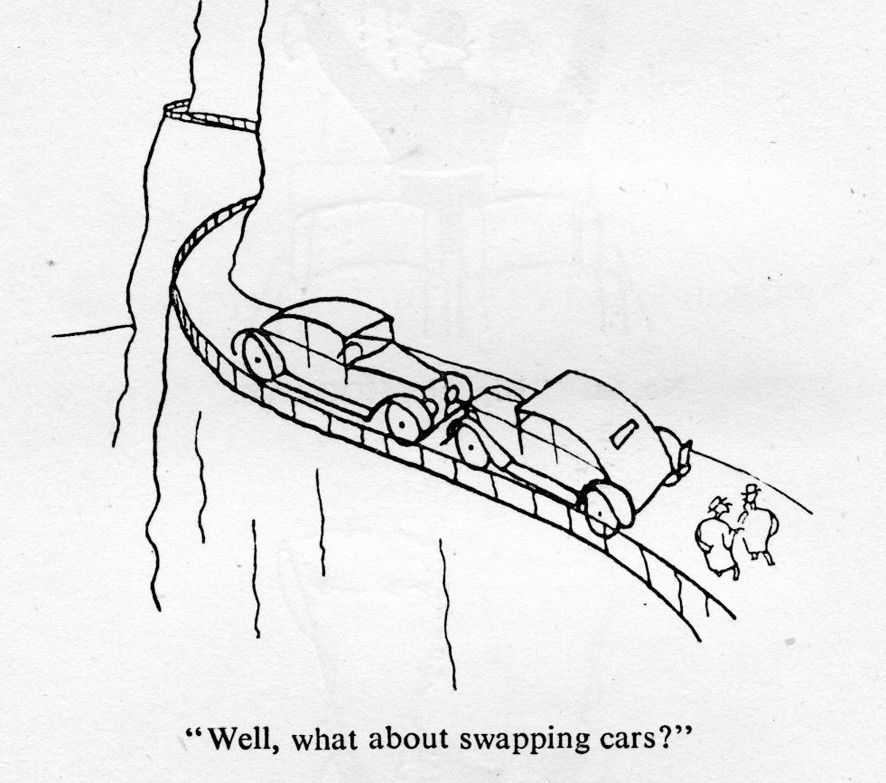 Hello
My biggest curse is that I was borne with a very competitive nature. We have just come in from our weekly game of Petanque. That is very competitive and great fun.
However there is nothing I love more than driving my little old (1934) Lagonda! It is so responsive and I feel very much in tune with it. It loves to be driven in the Mountains. I may be crazy but I believe that it "talks" to me all the time. You can tell by the way it performs, it revs so freely and handles so well. It does exactly what I ask of it and vice versa. I believe that there is a special bond between certain sports cars and their enthusiast owners that must be impossible for people who look upon cars as simply a means of transport to understand. Climbing mountain passes becomes an exhilarating game that we play.
Now you all know that I am quite insane... Something that I do not expect many/any of you to understand. Possibly some motorcyclists can, but I doubt that a Harley Davison rider would.
One thing I can say is that I rarely if ever become bored. Except perhaps on long, flat, straight stretches of road, maybe that is because little (Under 1500cc) highly tuned engines hate long periods of constant revs. How do I know this? Because the Lagonda told me so.....
Coming back to the Packard. I love the challenge in restoring cars that any sane person would say are past redemption. Once the restoration is successfully completed it will be time to move on to the next challenge.
1-23-2012
Hi Larry
Interesting road Larry, what other Vintage & Classic car events do they have in Bolivia? It is a long way to ship the Lagonda to just drive up the one road. Did you take any photographs of you in the Corvette while you were there?
Looking at the recent video of the Gavia Pass they certainly seem to have done some much needed work,although I note that it is still a single lane road with just enough room for the motorcycles to squeeze past oncoming cars, not really enough for a Cadillac. The photo below shows the extent of guard rails when we last drove up it in 2004......
For Roger, is the corner of the map for some of our travels through Switzerland Our route highlighted, and one photo taken on the descent of the Susten Pass (only 2259 Metres) and another taken shortly after during our lunch stop in Wessen with a couple of our "playmates". again taken in 2004. On our last trip in 2009 we concentrated on the Alps in the Savoie (South east France). The Col du Galibier (2556 Metres) etc......... The funny white car in the photographs is our 1934 Lagonda Rapier.
Larry, It is one thing to watch videos from the comfort of your lounge chair, another to ship your car across the world and go out and actually do it.....
Perhaps you would care to come along on our next visit to Europe in 2014. The only proviso is that you bring your pre-WW2 car to drive, all the way, every day. There is no place for "Trailer Queens" on these trips. Usually lasting 3 to 4 months, driving every day. (10 to 15,000 miles total) Sorry! No "sag wagon" or service crew wearing white overalls in a 4wd towing a tandem trailer. Just you, your wife/partner in your car, carrying all your own luggage.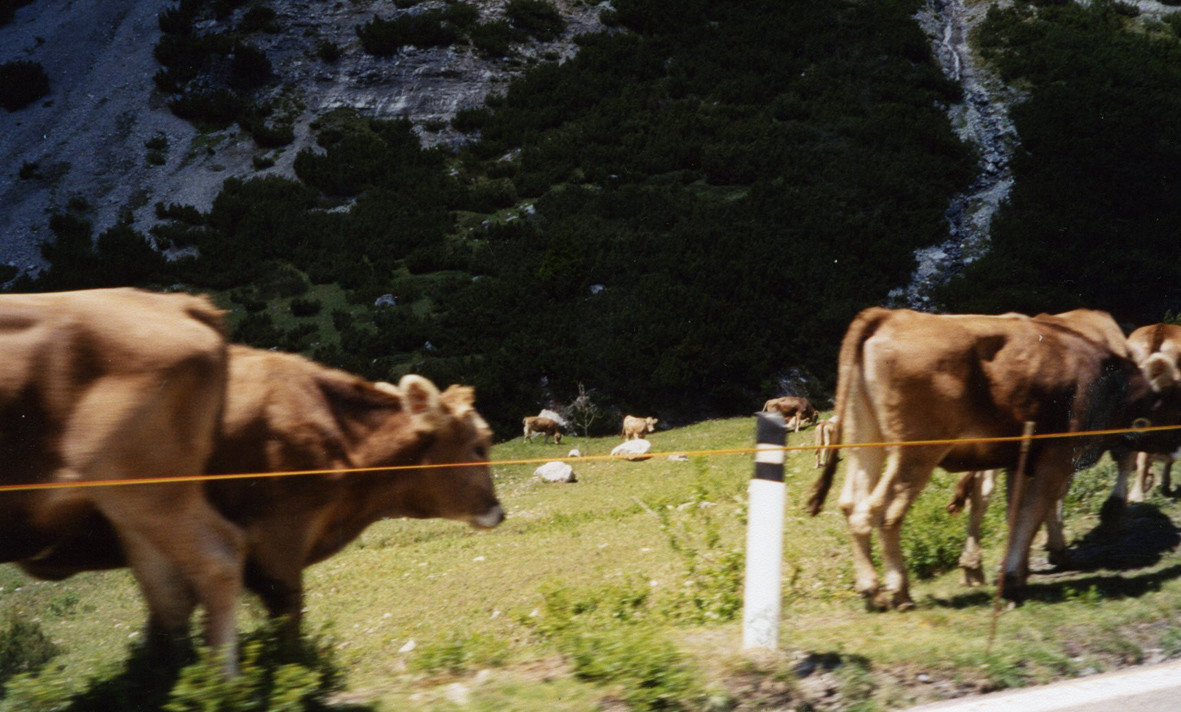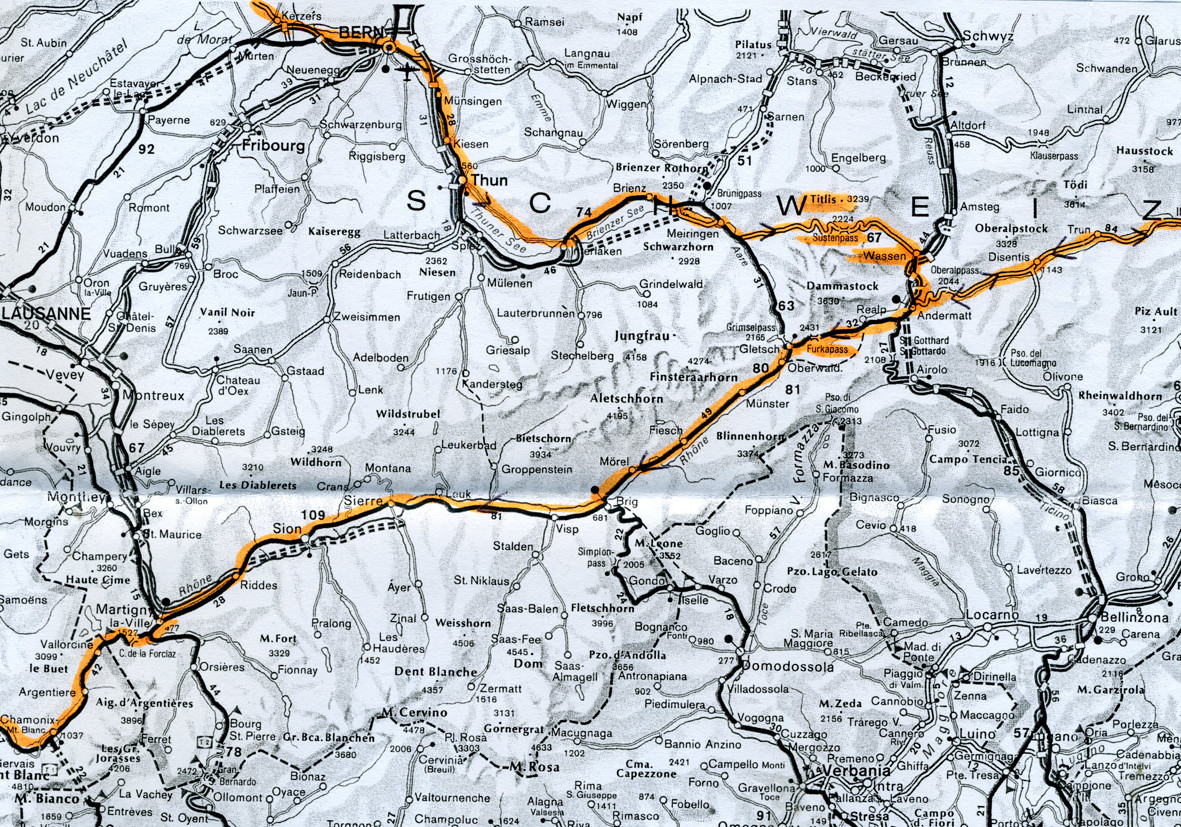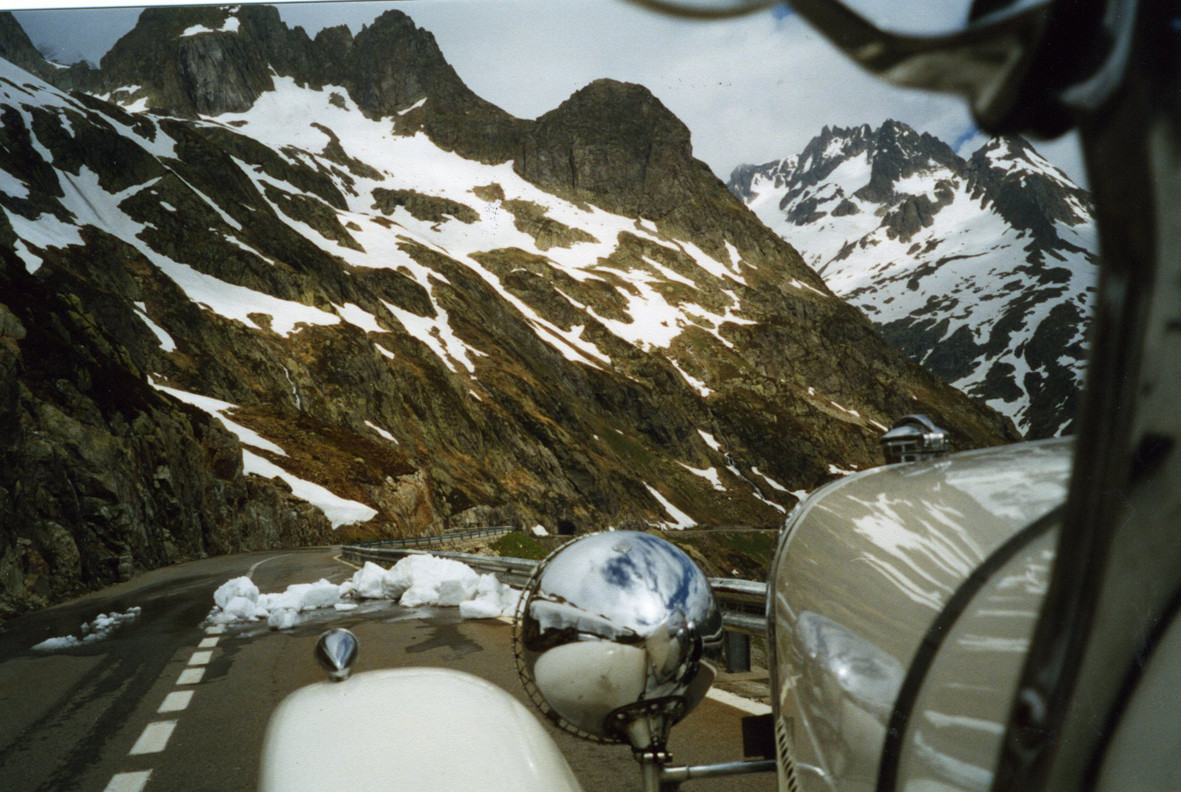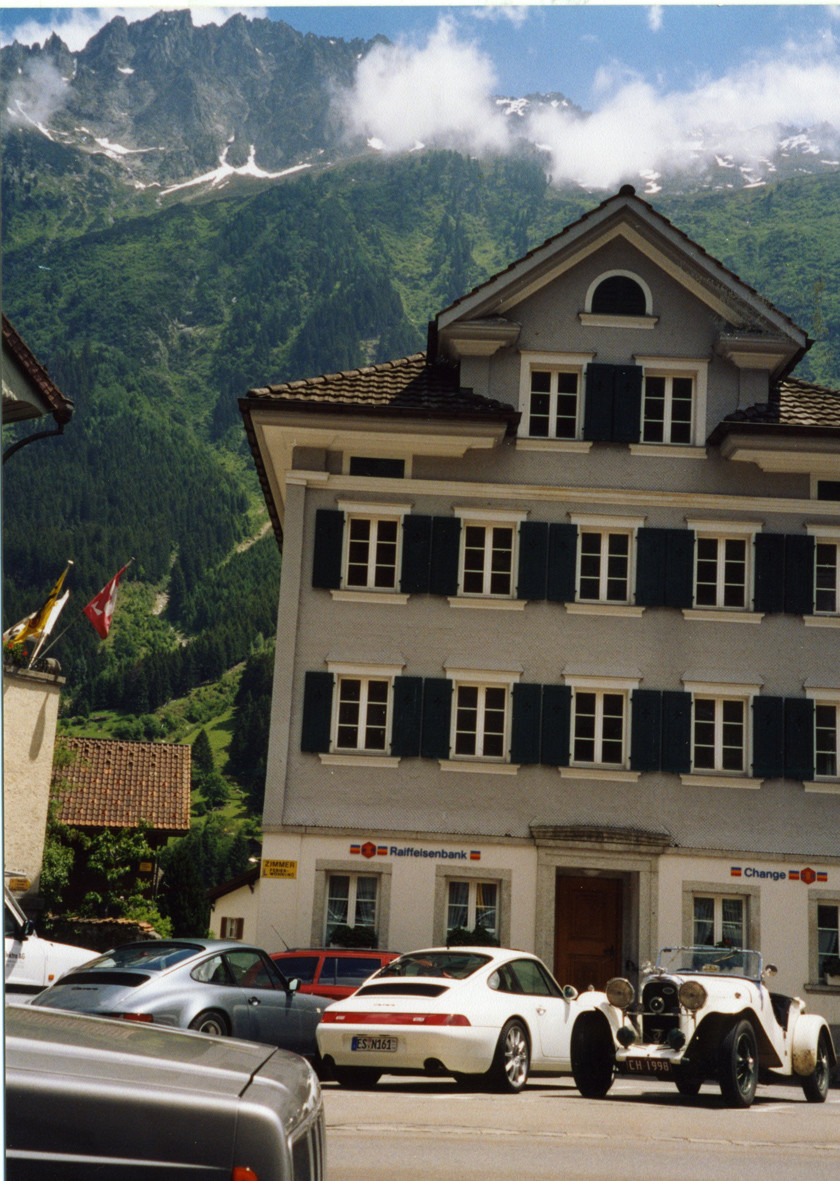 1-24-2012
Hi Everybody
Dave (the Painter) tells me that he will be spraying the Packard before the end of this week and I should be able to start re-assembly some time next week.
STAND BACK....
1-28-2012
So today it reached 36.5 degrees C. what better day to round up all the bits of the speedo that Ben (C Benson) sent to me all those months ago. Having cleaned up the case and all the bits and painted the parts that would have been originally been painted I decided that today was as good as any to put it all back together again. I have not done anything about re doing the numerals on the odometer as once you start on those things where do you stop. All that aside I like things to look their age. I have yet to see the 90 year old lady with the figure and skin of a twenty year old. In the same way I did not attempt to remove the original bevelled edge glass for fear of breaking it. I have simply hand polished the speedo surround with a not too aggressive metal polish.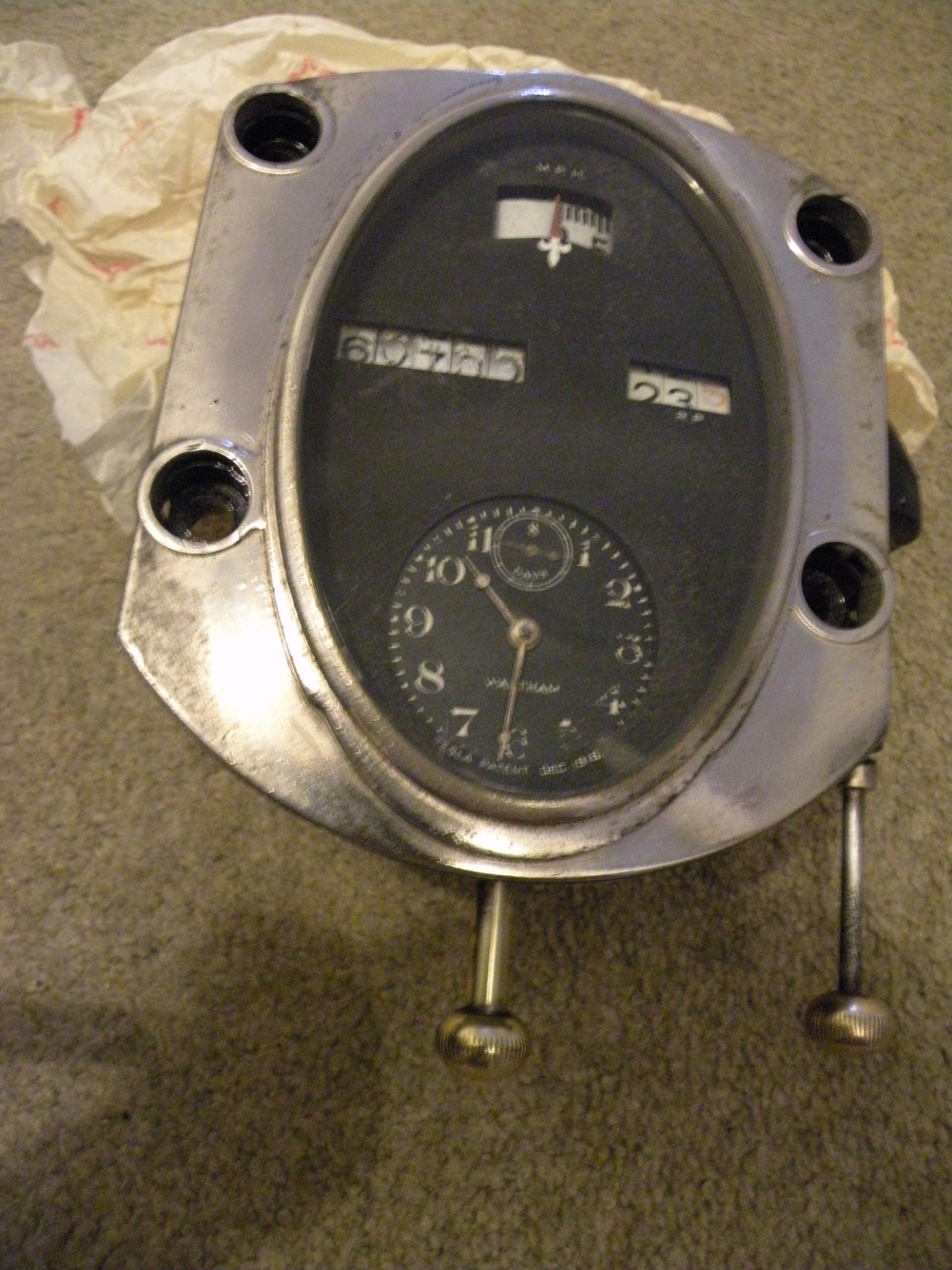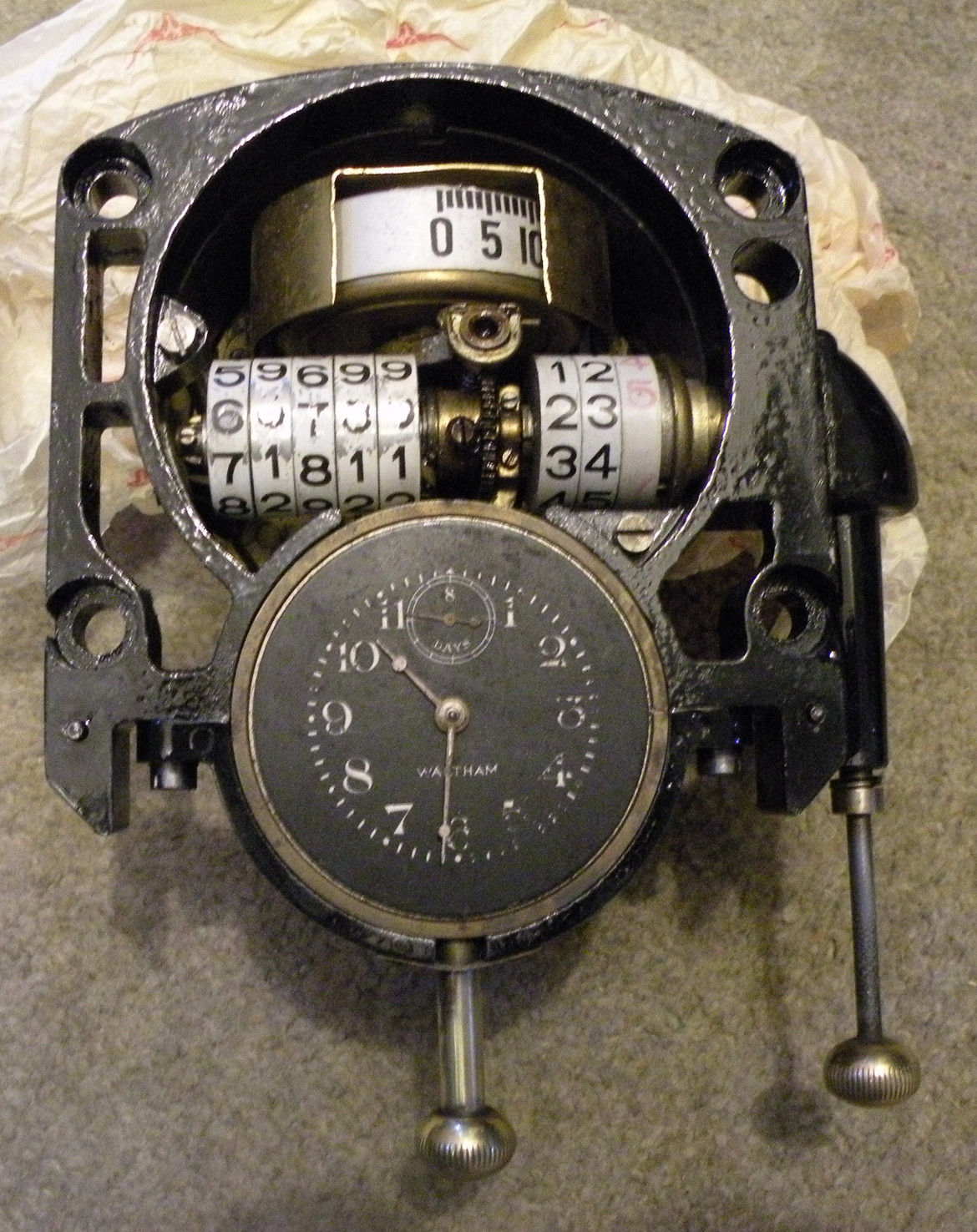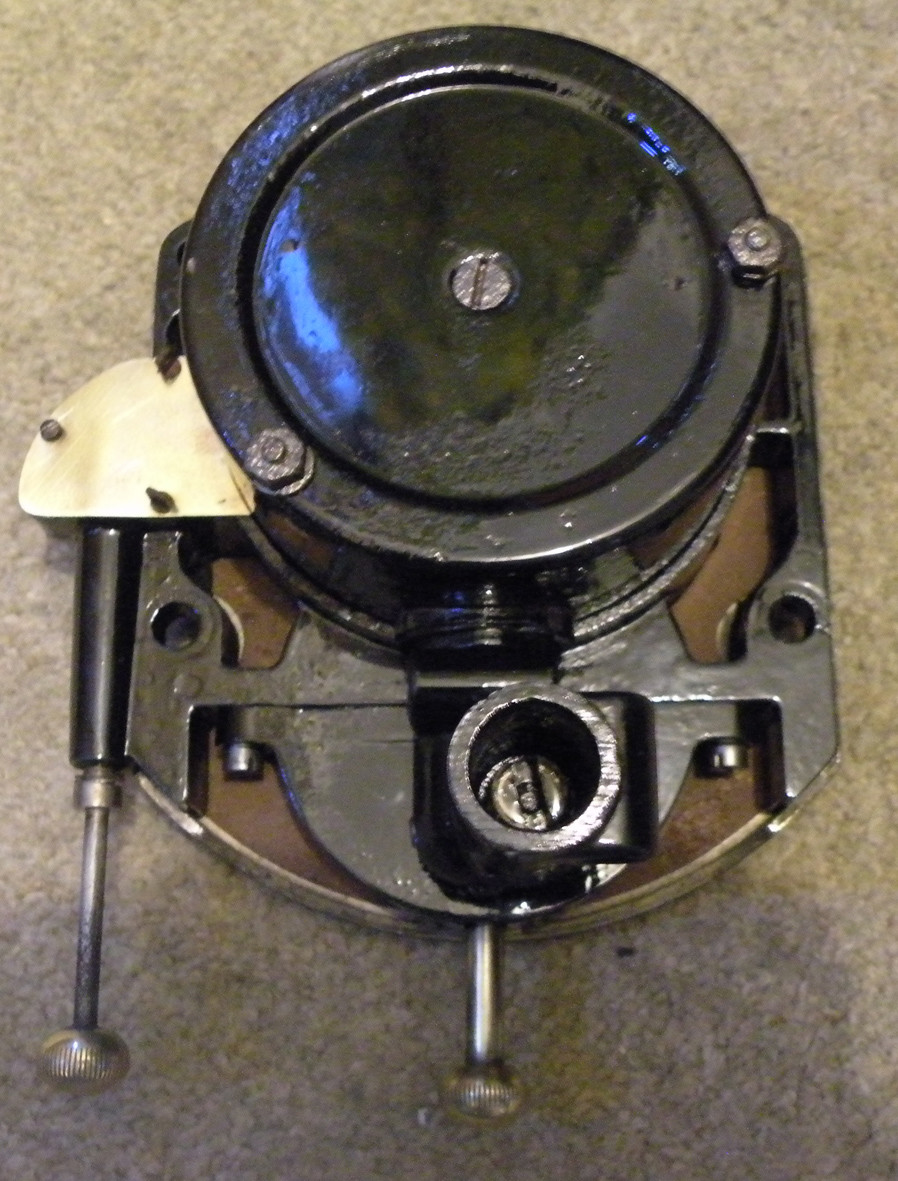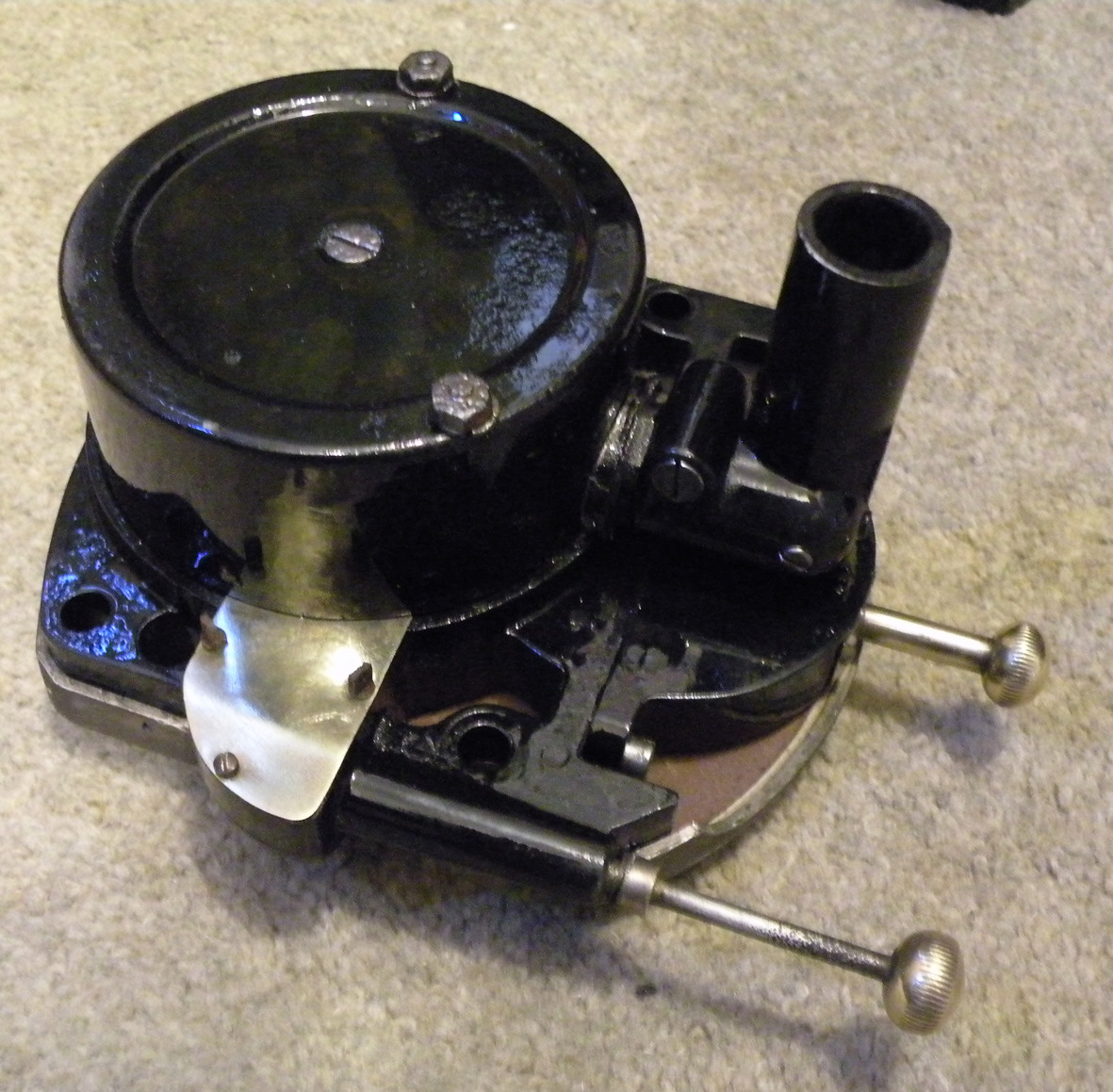 1-29-2012
Following my policy of picking one job and following it through to its conclusion and having re assembled the speedo yesterday todays job was the steering box.
I had previously cleaned up the ninety odd years of gunk and could now dismantle it in relatively pristine if not surgically clean conditions.
I should add at this point I have absolutely no higher qualifications except a degree from the School of Hard Knocks. Having said that over the years I have dismantled most forms of steering box found in British cars. Worm & Wheel, Bishop Cam, Rack & Pinion you name it but I had never before worked on a Worm and SPLIT NUT. I had looked at the photocopied Single Six Information book that David McC had very kindly sent to me some time ago.
Now I am sure that dozens of you with vastly more experience in all things Packard, than I, are sitting back saying "So What! Piece of cake" Now that IT is all back together I tend to agree except that it must be said "What a brilliant piece of engineering!"
I (being basically ignorant about Packards) don't know when this form of steering box was introduced or for how long it was current. In extreme lay-man's terms it is brilliant in its simplicity. The worm (thread) on the end of the steering column is cut with a right hand thread interposed over a left hand thread. Sliding inside the steering box are the two halves of the "nut", one half has a right hand thread the other half has a left hand thread. (Are you still with me?) As the steering wheel is turned the worm is rotated causing half the nut to travel in one direction (up) and the other half in the opposite direction (down) Turn the steering wheel in the other direction and the travel of the two halves of the nut are reversed (all very simple)
The half of the nut moving downwards bears onto a rocker which in turn causes the cross shaft to rotate. The steering arm is attached to the end of this cross shaft, and working directly on the drag link, which in turn, turns the front wheels in the desired direction.
The precision of this all depends firstly on the accuracy of machining the components and the degree of wear in the box.
The main adjustment controls the degree of end float in the worm (Steering column) Fortunately as with virtually everything that I have looked at there was no perceptible wear and it was a simple matter of cleaning the internals lubricating and re-assembling.
For all the technically minded people out there I am including the drawing out of the March 1922 Information Book. for your convenience I have coloured the two halves of the "nut" in contrasting colours.
Bernie J.
N.B. There is no provision for "power" assistance.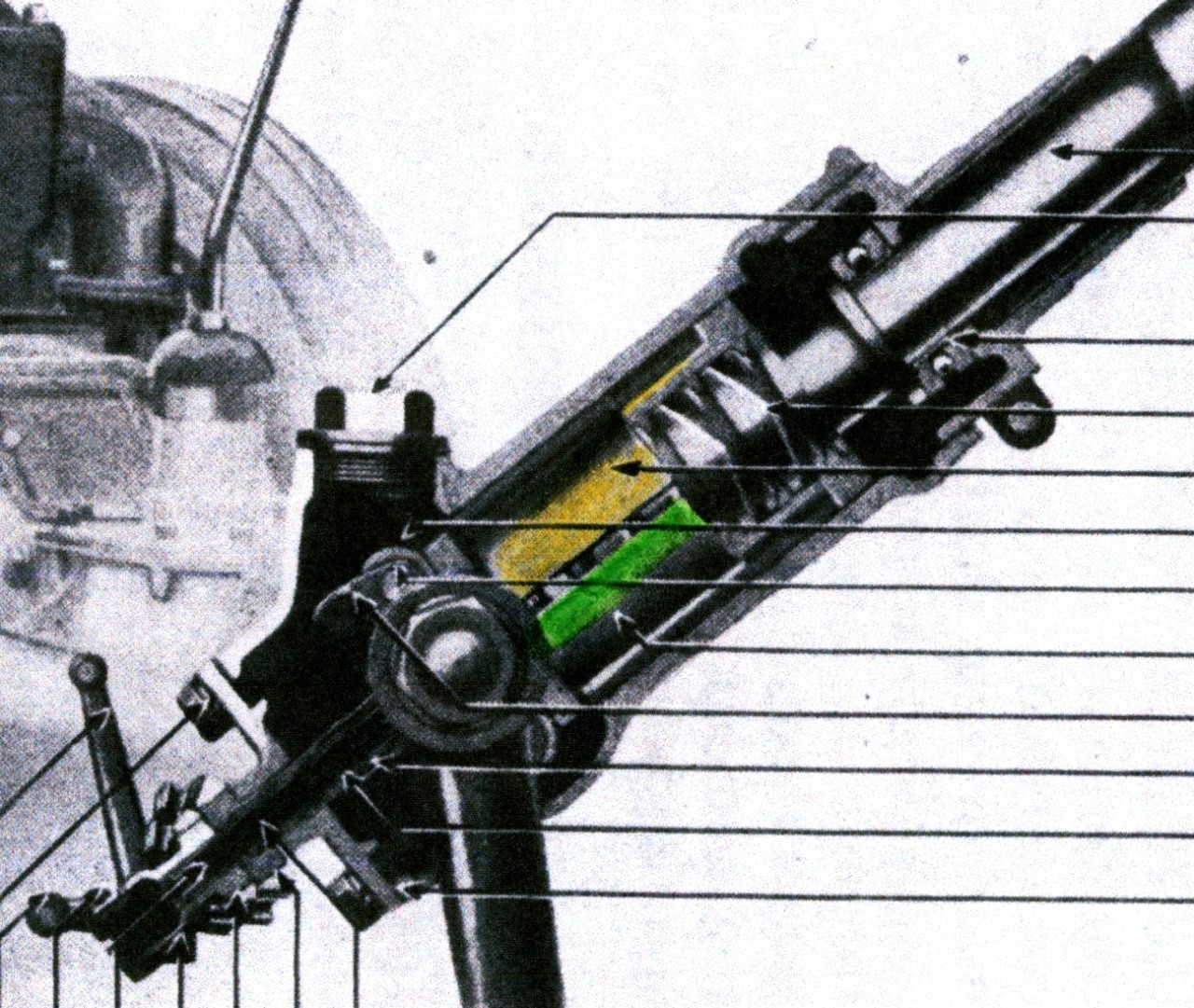 The words of the song say "little things mean a lot...." in our hobby this often translates into a "lot of time". Today I have been working on the control tubes that go down through the centre of the steering column. These are swaged at the bottom end to accommodate the bevel gears that operate the control rods to the Mixture (gas) and Ignition timing (spark). With the Packards long spell sitting in a customs "bond store" on the docks these had fairly successfully rusted together. I had managed to separate them some time ago but had inflicted some extra damage in the process. The result of all this, despite being cleaned of all rust inside and out, they would not go back together, so todays task has been rectifying this. The outer of the three tubes had been slightly crushed. Even after I had "panel beaten" the tube out, heating it to red heat and then carefully driving a piece of 1/2 inch rod down inside the length of the tube. Because of the swage in the other (bottom) end all this had to be done from the top. After doing this the rod would go "all the way" but the control tubes steadfastly baulked about 3/4 of the way down due to a high spot. Having tried everything else including bronze welding a 1/2 inch drill bit onto the end of the rod I am now attempting to grind the hi-spot out with valve grinding paste on the end of the rod. Very slow but I will get there eventually. Once done I can complete assembling controls at the bottom of the steering box. I cannot install this onto the chassis until the body is replaced hopefully in 7 to 10 days time. Slow-slow-quick-quick-slow or something like that.
I am sure that the smart people would have an expanding 1/2'' diam ream with a 4 foot long handle This of course would be less than 1/2 inch in outside diameter so that it could be pushed down the tube.
I understand that this arrangement was changed for the next series cars along with the introduction of the eight cylinder cars. I wonder why?
1-30-2012
It is amazing just how quickly three hours go and on the other hand, how much you can do in the same three hours.
The control tubes are in and working nicely and having some time to spare I decided that the steering box and column were looking decidedly second hand.
I had painted them previously when I first cleaned up the exterior of the box so that they would not go rusty while waiting for me to give them some TLC.
Having sanded down the steering box and stripped all the paint off the column. The box now has a new coat of shinny black. The dash is to be the body colour, a very dark brown. The hand brake, gear lever, brake and clutch pedals are nickel plated. Steering wheel spokes and small hand controls are polished aluminium, all as original. The question is do I take the outer tube of the column and have it nickel plated or paint it black.
1-31-2012
Thank you Ian
Today I took a step backwards. Having painted the steering column yesterday and had it looking almost perfect when I went to take it down from where it was hanging from a nail in a beam in the garage roof, of course I bumped it! With a resulting scratch about four inches long. No Problem I thought I will just give that area a light sand and touch it up. Oh dear! Wrong, the bl**dy paint has "fried up". Now I have the choice of waiting a week and giving it another light sand AFTER it has dried properly or strip the whole lot off and start again. I think I will sleep on that one.
2-3-2012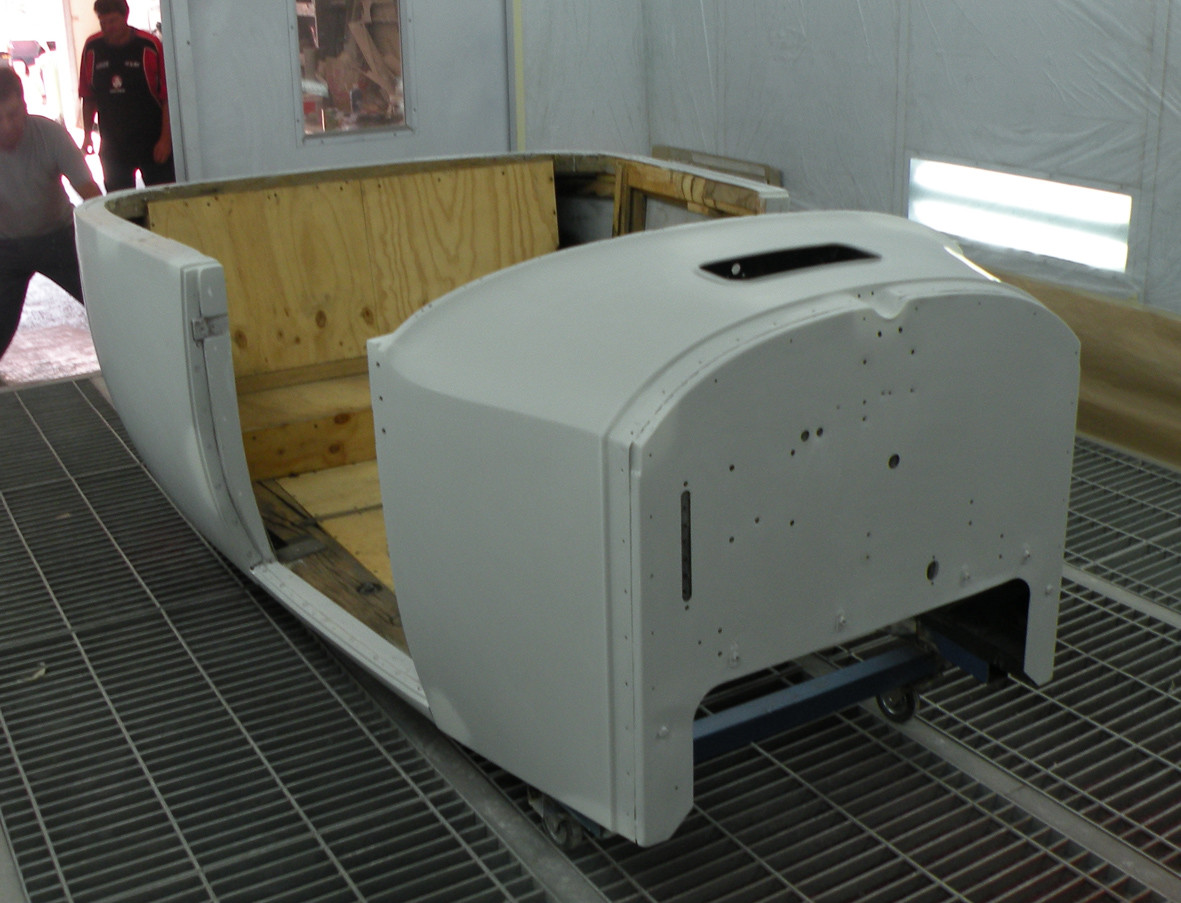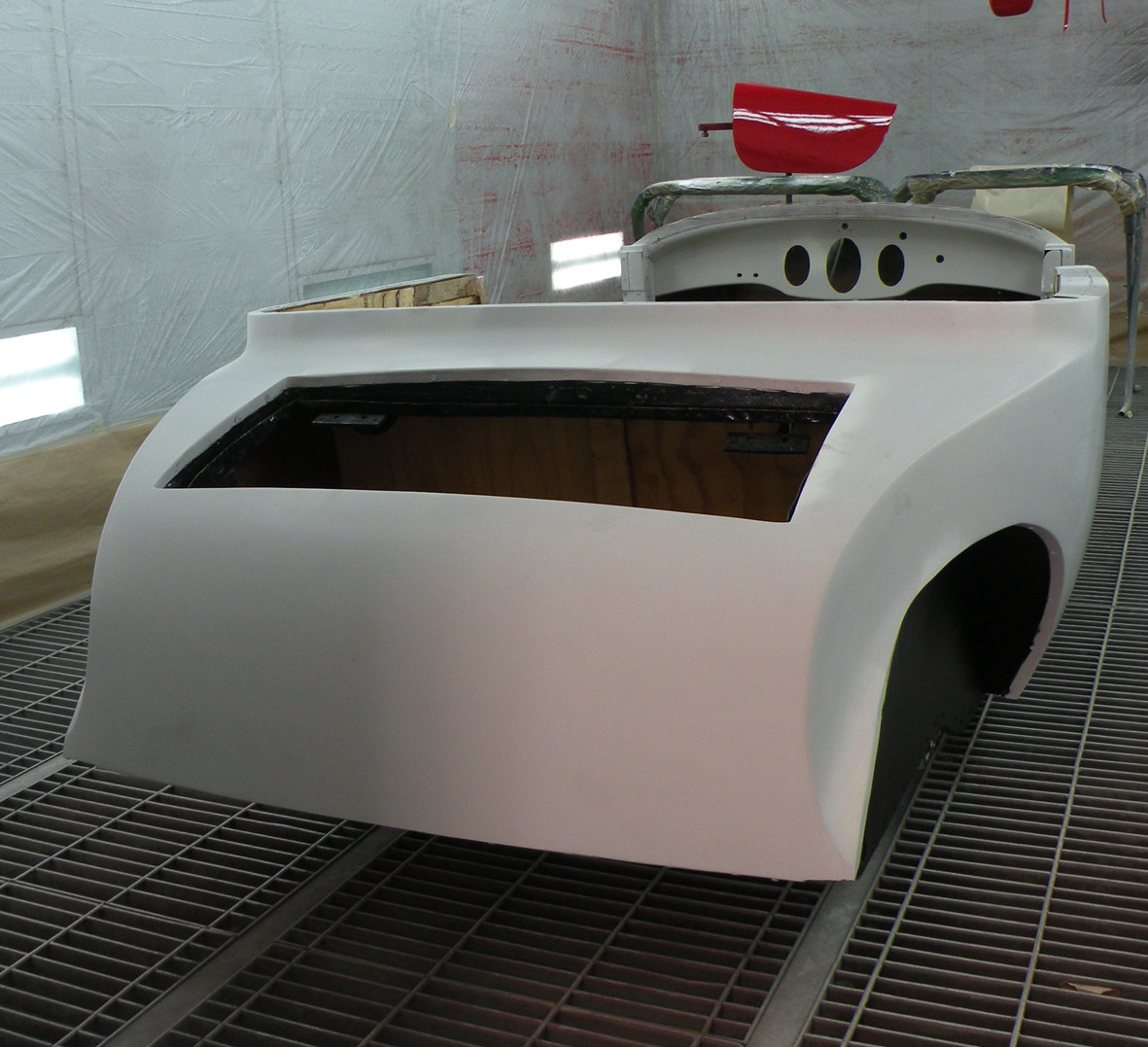 2-4-2012
What better job for a Sunday morning? The perfectionists out there will be pleased to learn that this morning I have stripped that pesky steering column back to bare metal and have started over again. Meanwhile the body will have received its new coat of dark chocolate brown and will be sitting in the booth gently baking. It should be ready for its journey back to East Doncaster and be ready to be refitted back onto the chassis frame. Anybody feeling strong? It has to be lifted (carefully) purely by man power.
2-5-2012
Hi 'B'
I will meet you at the station at about quarter to nine! Chatanooga Choo Choo.
On a more serious note I have just returned from Dave's workshop with the two doors the luggage trunk lid and the cowl vent. The body tub comes on a tilt tray tomorrow. meanwhile some more photographs. Sorry about the traces of polish and the reflections. You can check for ripples in the one of the door on a stand.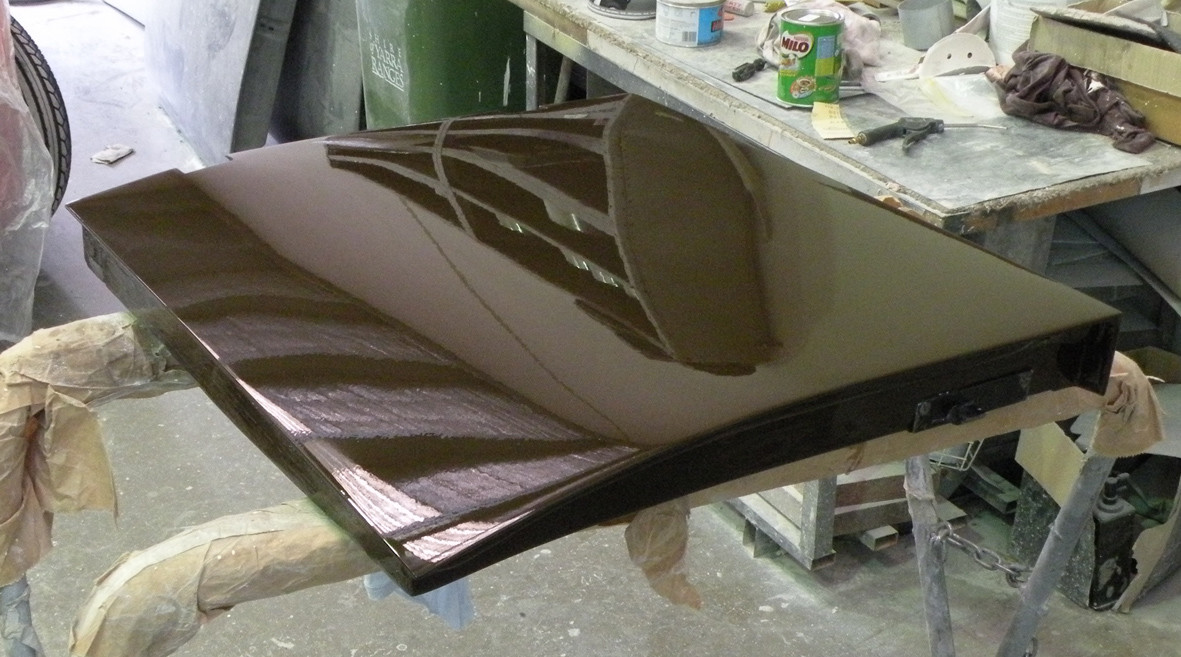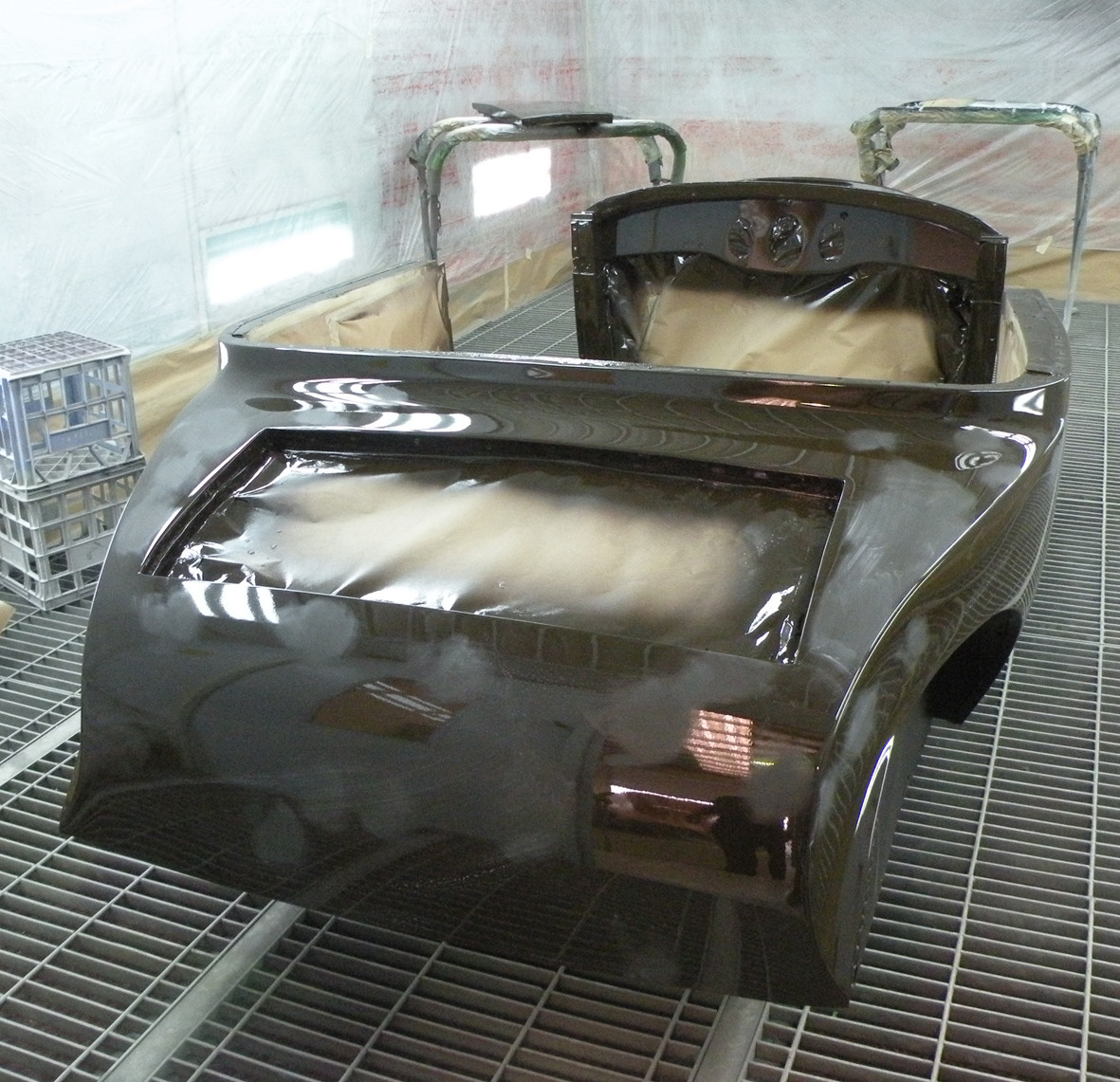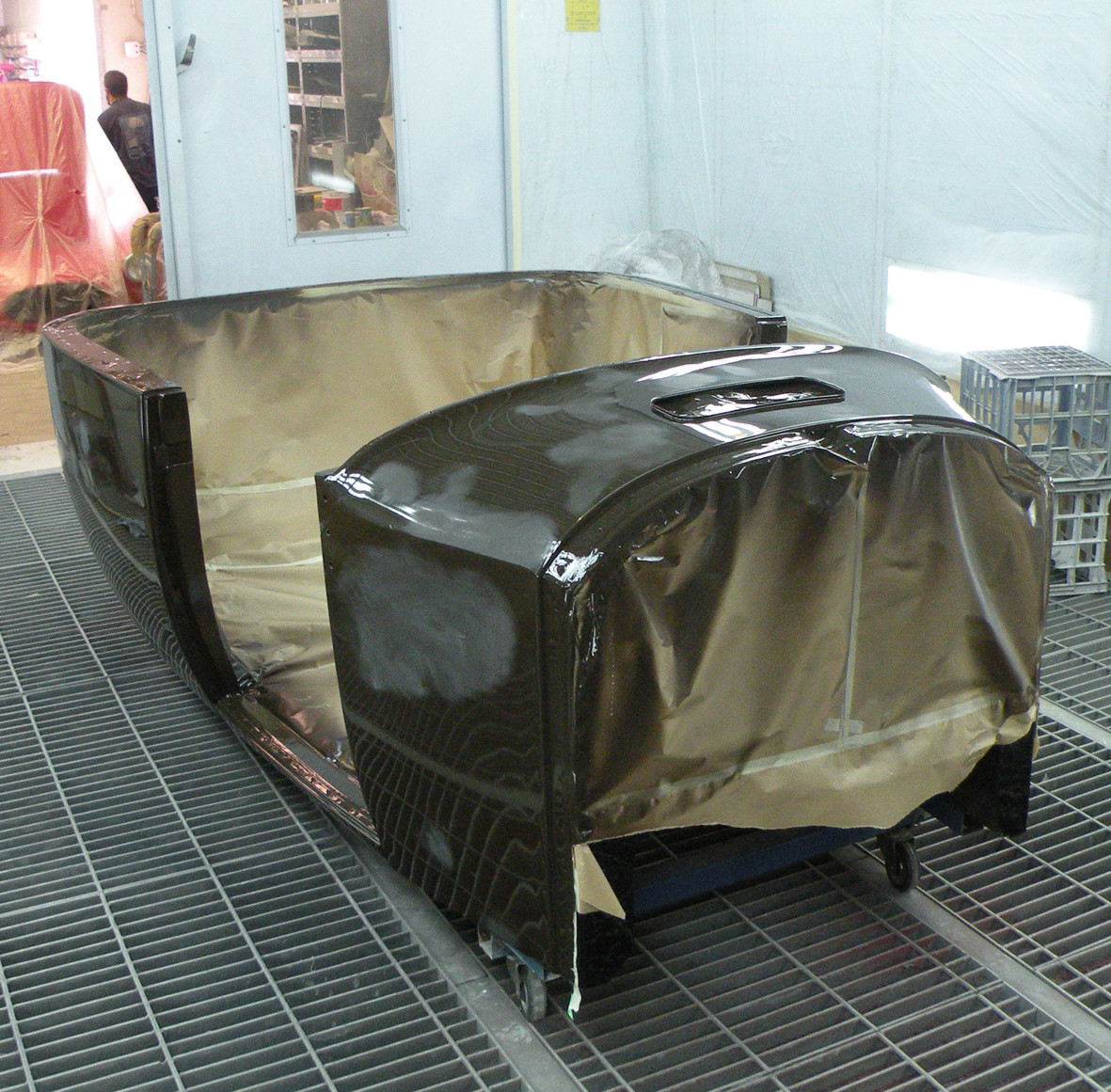 2-6-2012
Hi Ian
Right now the body is sitting next to the chassis in my carport I hope to lift it into place in the next day or so. To my knowledge with "vintage" cars Dave does not do a clear over but on some modern cars he does. You would have to ask him. Jim my tilt tray man is very reasonable I have just paid him for the last three trips back and forth to Bayswater and out to Lillydale and back and I got change out of $250.00. so you can work it out. What is more important to me is that he is pleasant to deal with, very careful with what he is loading, carrying and unloading and he usually comes when he says he will. I have used quite a number of towing firms over the past 40+ years. I used to own my own Tandem trailer and a big tow car. It is just not worth all the pain. Jim costs less than Trailer hire and makes shifting cars easy.
Ian, this one is for you.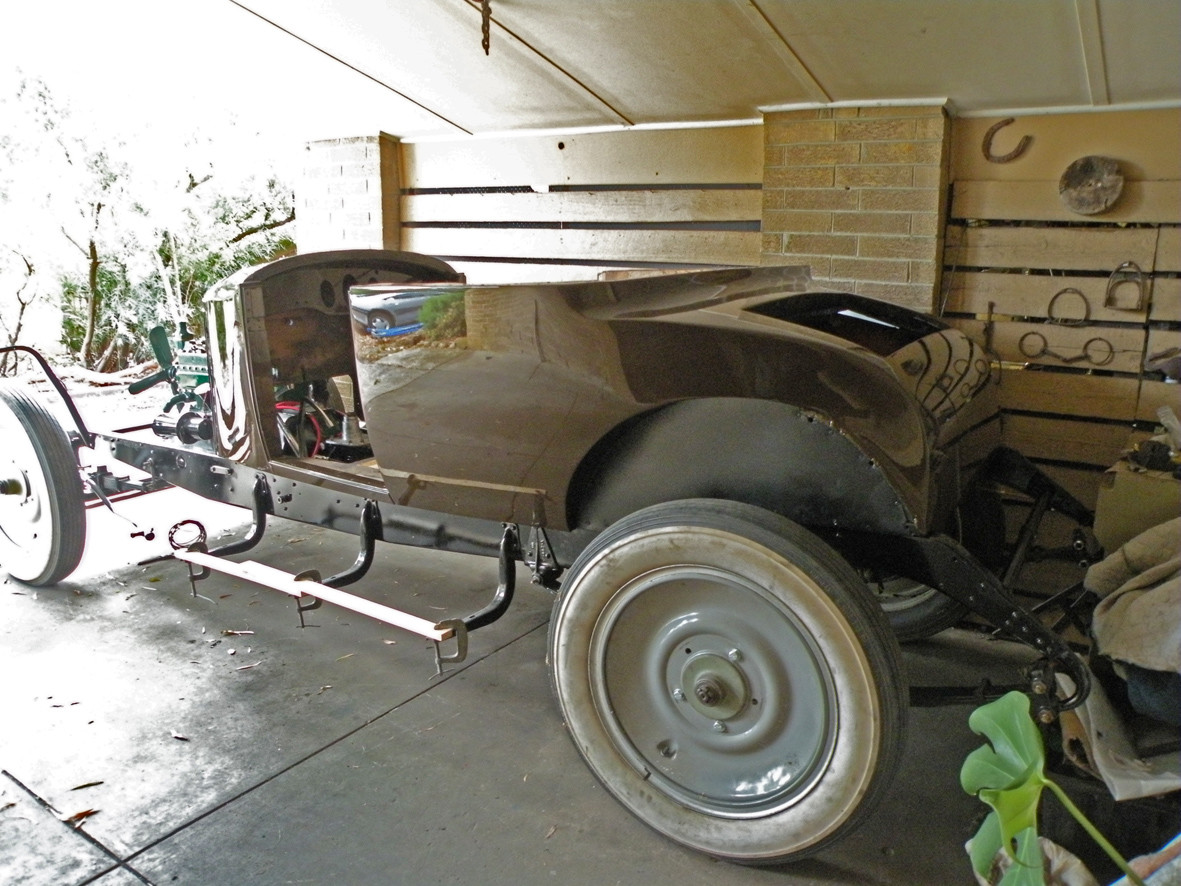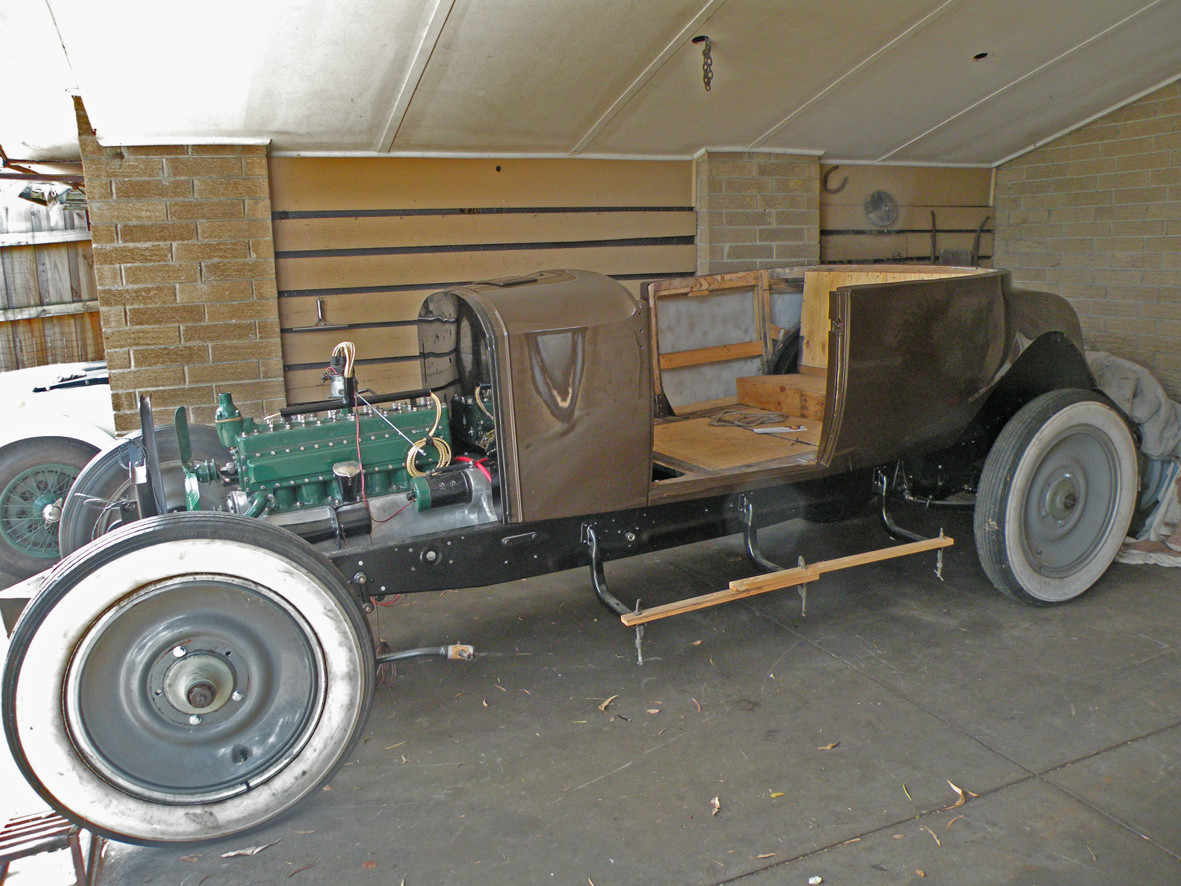 2-7-2012
Hi Keiser31
It took a long time and dozens if not hundreds of bruised shins to work that one out. They also save the doors on Helens VW from lots of nasty little dents and chips. Re the earlier photographs. Being "super-man" I lifted the body back onto the chassis by myself. The little mysterious piece of chain hanging from the carport ceiling tells the whole story. Pun intended.
Hi all
Don't expect any dramatic new photographs today. I am doing boring things like fitting the eight bolts holding the body down. I am using new bolts but to pacify the purists I will grind the brand and grade markings off the heads. I have already done this for the couple of dozen 1/4 inch bolts that will secure the valances and most of the other new bolts that I use. I use a part worn flap wheel on the angle grinder(clamped in the vice) as this is quick and less aggressive. I know that once the seats and trim, carpet etc go in these won't be seen but at least I know that they will look "right"...
Tomorrow my son Steve (who is good at these things) is coming to help me hang the doors and set up the gaps correctly.
2-8-2012
Hi Roger
Fear not
The bulk of the windscreen is already in hand. Most of the basics were done quite some time ago. All we now need to do is to confirm the angle where the pillars mount onto the side of the scuttle. This could not be calculated until the body was back on the chassis. The paint will be well protected during this operation. In some ways it would be better if this final calculation were done after the radiator is mounted, something that is still a little way down the track. My completion date is not until early 2014 so we still have a little time in hand. In fact the windscreen could be the second last thing to be fitted.
Hello Again
Again another fruitful day with Steve's invaluable assistance we have got both doors and the luggage trunk lid fitted and the gaps adjusted. Unfortunately by the time we finished the sun was in exactly the wrong place for good photography. so one below standard photograph. I will try for some more in the morning.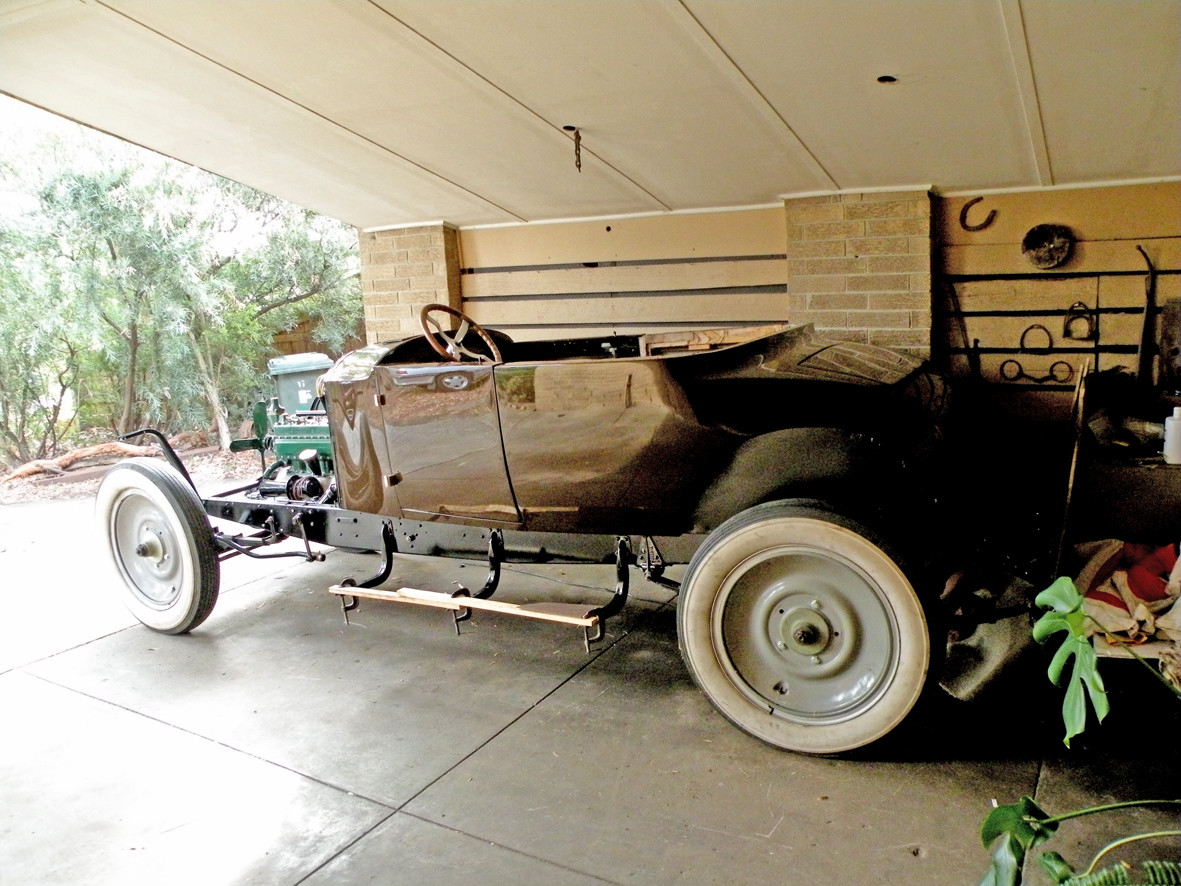 Hi Vern
Good to hear from you. I an afraid that I am just a bit too conservative for orange wheels. My choice is to match the interior trim and top which will be biscuit. with biscuit pin-stripeing. Brown pin-stripes on the wheels This will be kept to a single line along the waistline and high-lightng each louvre on the hood. All very understated.
Another photograph I still cannot get the lighting right. Too many darned reflections.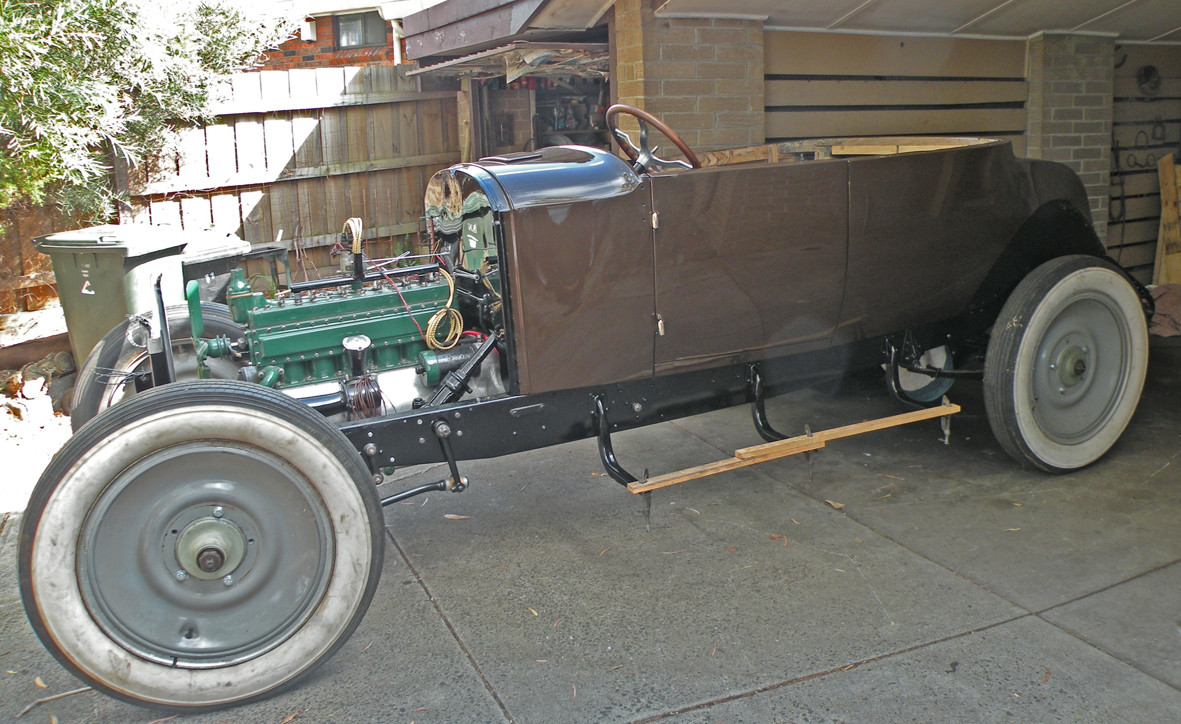 2-10-2012
Not a lot of action on the Packard today. Fitted the amp meter/oil gauge into the dash and screwed down the rear floor etc again. This was removed to give easier access to the body hold down bolts. Rest of the day given to preparing the Lagonda for the VSCC Night Navigation Trial this evening. This amounted to checking the oil and water levels, both OK, wiping off the dust and cleaning the windshield. Finally a fresh coat of "Rain-ex" on the outside of the windshield. The forecast is for rain followed by storms. Hopefully we will be home by about 2.am.
2-11-2012
Hi Ian
It is 1.29a.m. and we have just come in from a very damp night's motoring. We cannot believe that from all appearances we have had no rain at all in East Doncaster. It absolutely poured out the other side of town especially in the hills between Werribee and Bacchus Marsh. I will check in the morning but we must have done about 150 miles over dark, narrow, country roads. Great fun!! Average speeds about 45mph so most of the time sitting on 55-60mph. Didn't see any Kangaroos but one Fox.
Hello
Re last nights motoring epic. In fact we covered exactly 180 miles door to door. Not a bad nights drive. Pity about the wind & rain.
Attached is a photograph of some of our fellow masochists cars. Also one of the Rapier with the top erected something that is only rarely seen. Parked here with a friends Lagonda 3 Litre Tourer. It should be explained that he is a British expatriate, hence the open top.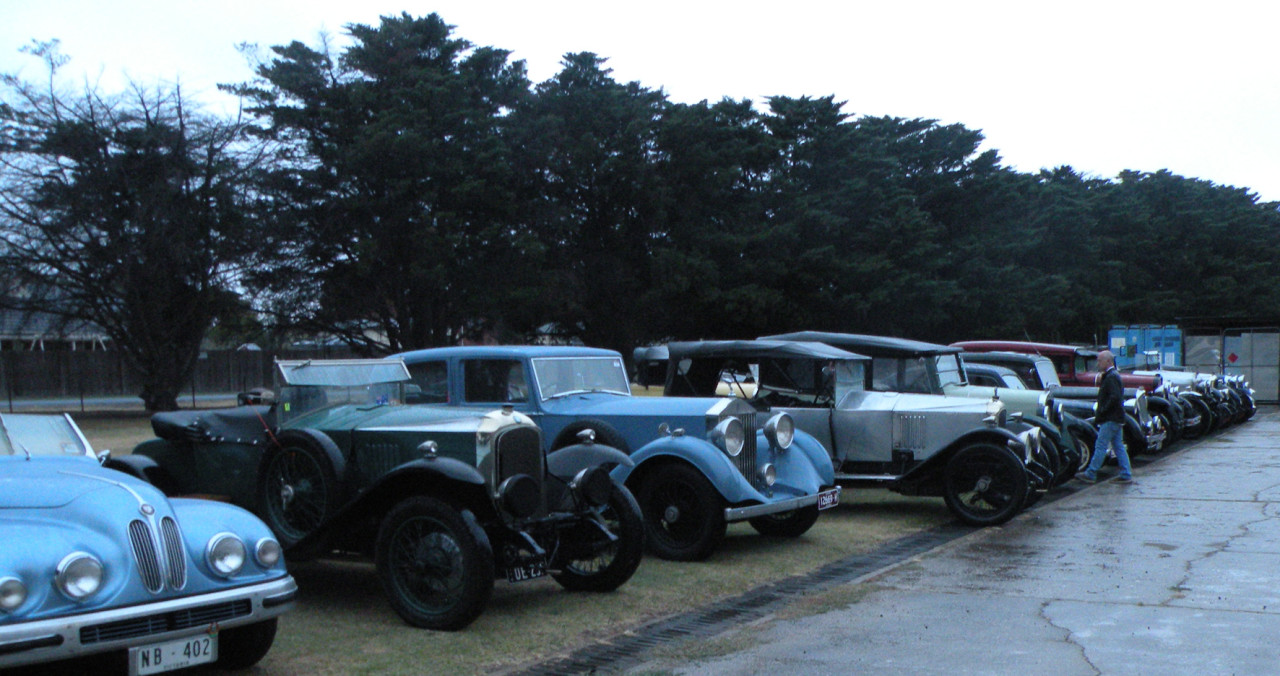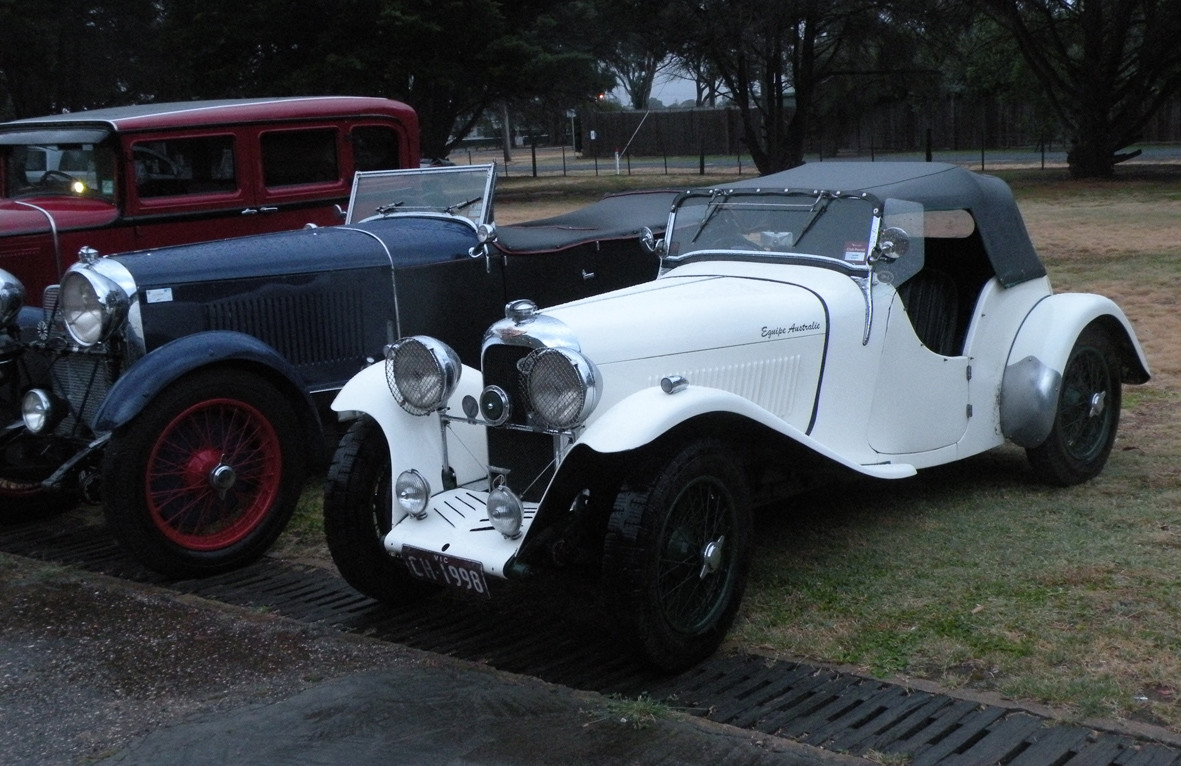 2-13-2012
Hi
Is my face red? Today I have spent possibly half an hour rectifying what was a very basic error on my part.
Going back two weeks to my post #830, I talked about the split nut steering box.
What I did not realise when assembling the steering box was that I had inadvertently transposed the position of the two halves of the "nut". While this may seem a minor mistake, it has serious ramifications. Doing this reverses the direction of the steering so that when the steering wheel is turned to the left the front wheels turn to the right! Fortunately correcting this problem does not require a total strip down of the "box", All that had to be done was to remove the outer column together with the top half of the thrust bearing. The inner column together with the two halves of the nut could then be withdrawn and the nut turned over. The complete box could then be re- assembled, the outer column replaced and the thrust bearing re- adjusted. Job done in about the time it has taken to write this. A final check and if anything the steering is slightly lighter and slightly more precise. AND the front wheels turn in the right direction.....
2-14-2012
Hi All
As Ben can tell us "Time flies when you are having fun"
Todays fun centred around the brass bevel gears at the base of the steering box operated by the the hand controls in the centre of the steering wheel for the spark & gas.
First task was to remove the square plate on the end of the steering box this has the pedestal for the cross shaft as part of the casting. Of course I had put it on 180 degrees out of position. Next step was to sort out which gear went with which and in what position. That done the next step was to sort out the spacing so the gears meshed correctly. "Easy peasey" I hear you say? Well not for me, I spent an hour or so doing trial assemblies trying different combinations of shim washers until I got a passable mesh. Right now I cannot complete the task of fitting the quadrant and hand levers until I get made a suitable "barrel" nut to secure the steering wheel. That may take a week or two. I am also waiting (impatiently) for some mail order slotted countersunk head 1/4 inch bolts to secure the toe board. I also need a second pair of hands to assist in fitting the split rivets locating the webbing around the top of the bulkhead. However on the plus side I now have the cowl vent installed and working well. Tomorrow's task will be starting to trim the various electrical cables to length and soldering on the ends.
While on the subject of electrical fittings I am still looking for one of the pressed metal junction box covers for the engine side of the bulkhead.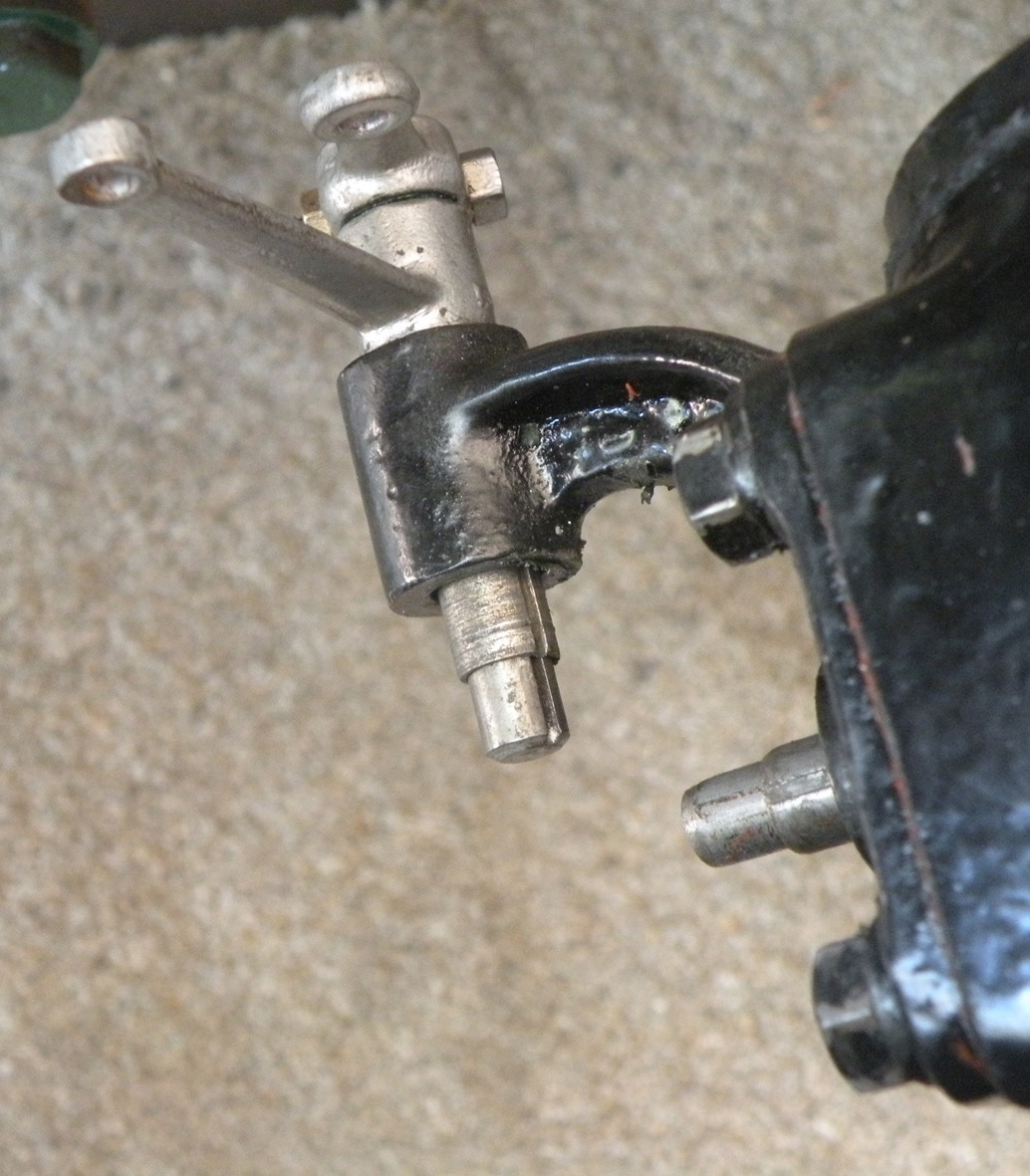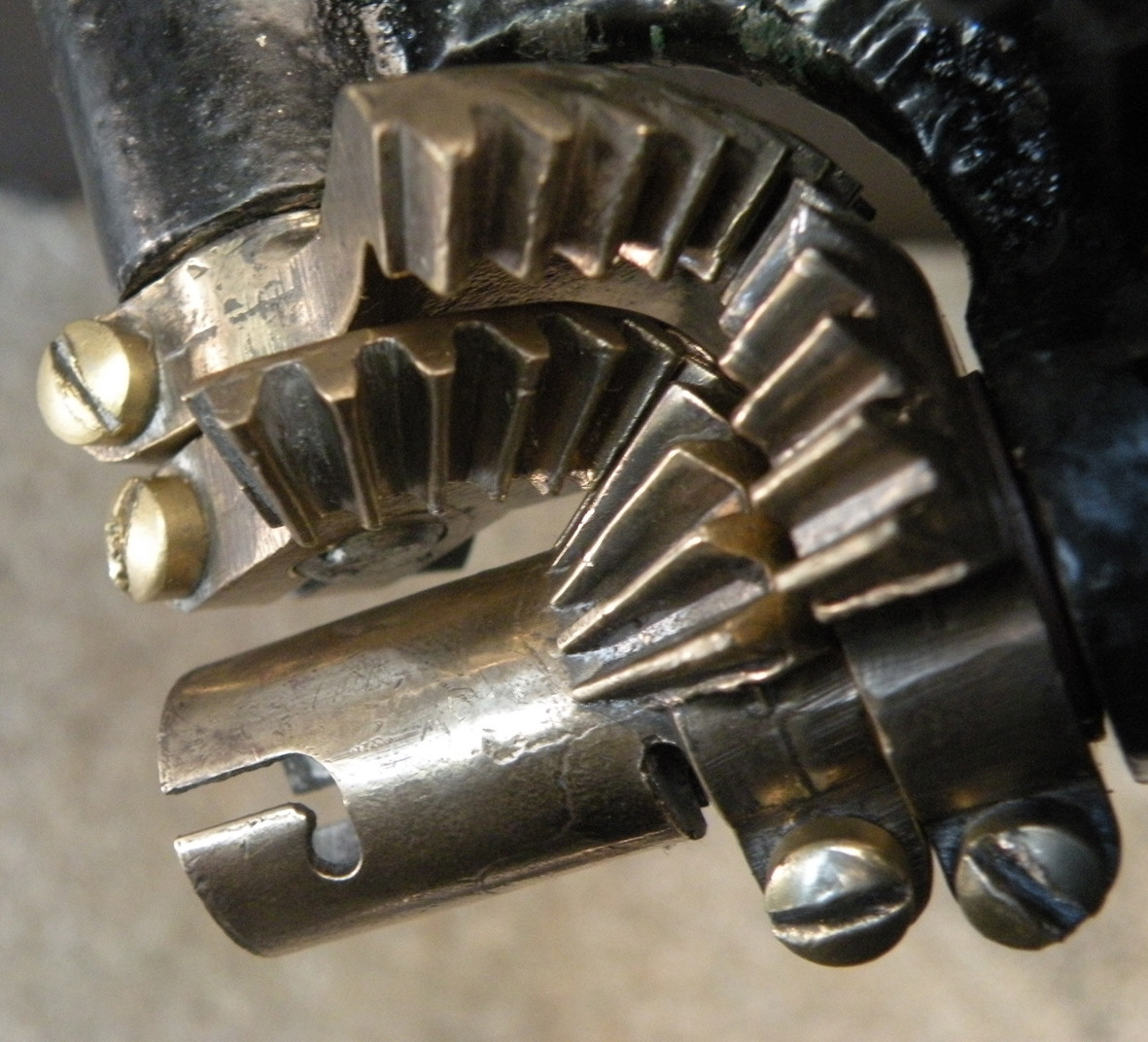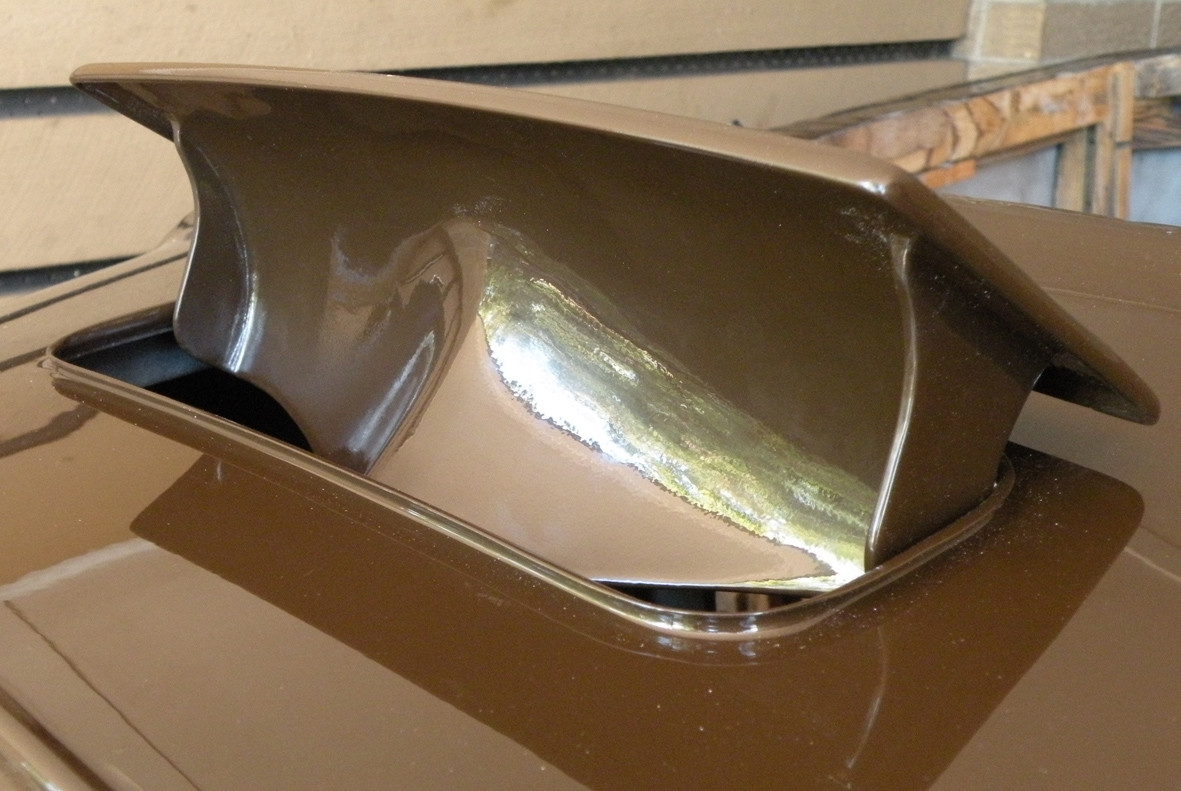 If you take enough little steps you will eventually arrive at your destination. Every restoration is the culmination of lots & lots of little steps.
This morning I have been busy with my soldering iron. As shown here I have decided to use the junction box cover from inside the bulkhead on the under hood side and to fabricate a new cover for the the inside. This afternoon I will make a start on the cables from the bulkhead to the switch etc,


2-15-2012
Hi Roger
I have thought about using shrink tube but rejected it as not within the period.
The tape I use is correct bitumen backed cotton tape. Just like auto electricians would have used in the 1920s. The same way that I use cotton braided cable instead of PVC covered wires. I solder on terminal ends rather than using crimp on "ends". Much slower and time consuming but they look right because they are right.
I must be getting too old to change. I have just received my membership renewal from the RAC(Victoria) for the 56th time. Helen and I celebrate our 50th Wedding Anniversary in two months time. Another thing that I am not looking to change, I still drive the Peugeot 405SRi that we bought in 1996.
I have no plans to change the Packard wheels to "Mags" with 15 X 10 low profile tires either. That way I won't have to bother about fitting Power Steering.
Every so often I take one of my 120+ P G Wodehouse (Pronounced Woodhouse) books off the shelf, I still manage to get a chuckle even after reading some of them four or five times.
You don't have to be mad but it sure as hell helps.......
2-16-2012
Meanwhile work continues with the trim panels trial fitted and the switch and amp meter/oil gauge installed into the dash. This part of the wiring is now complete except for the dash light and the cigar lighter. When these were last seen they were in a shed somewhere in Maine.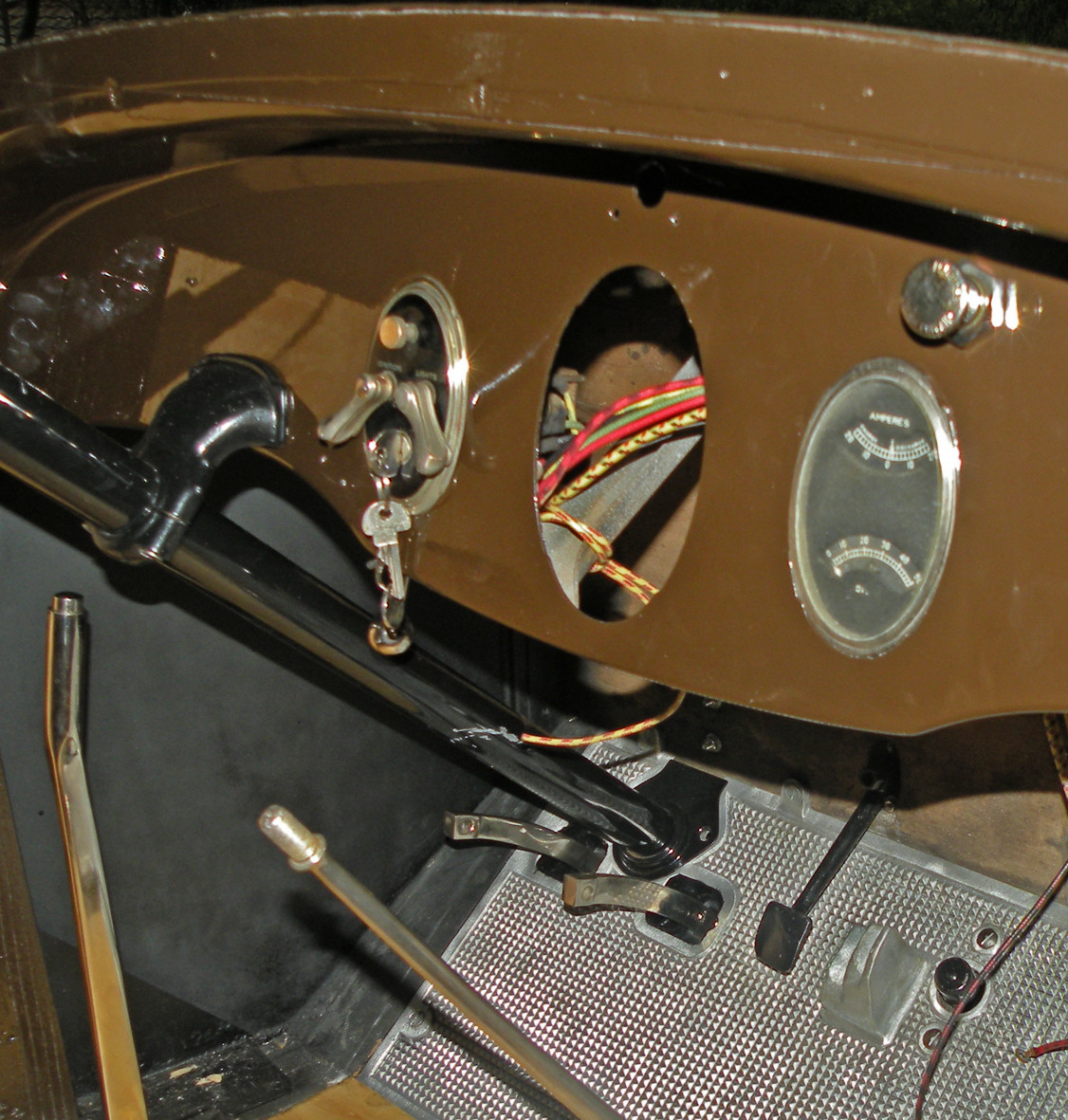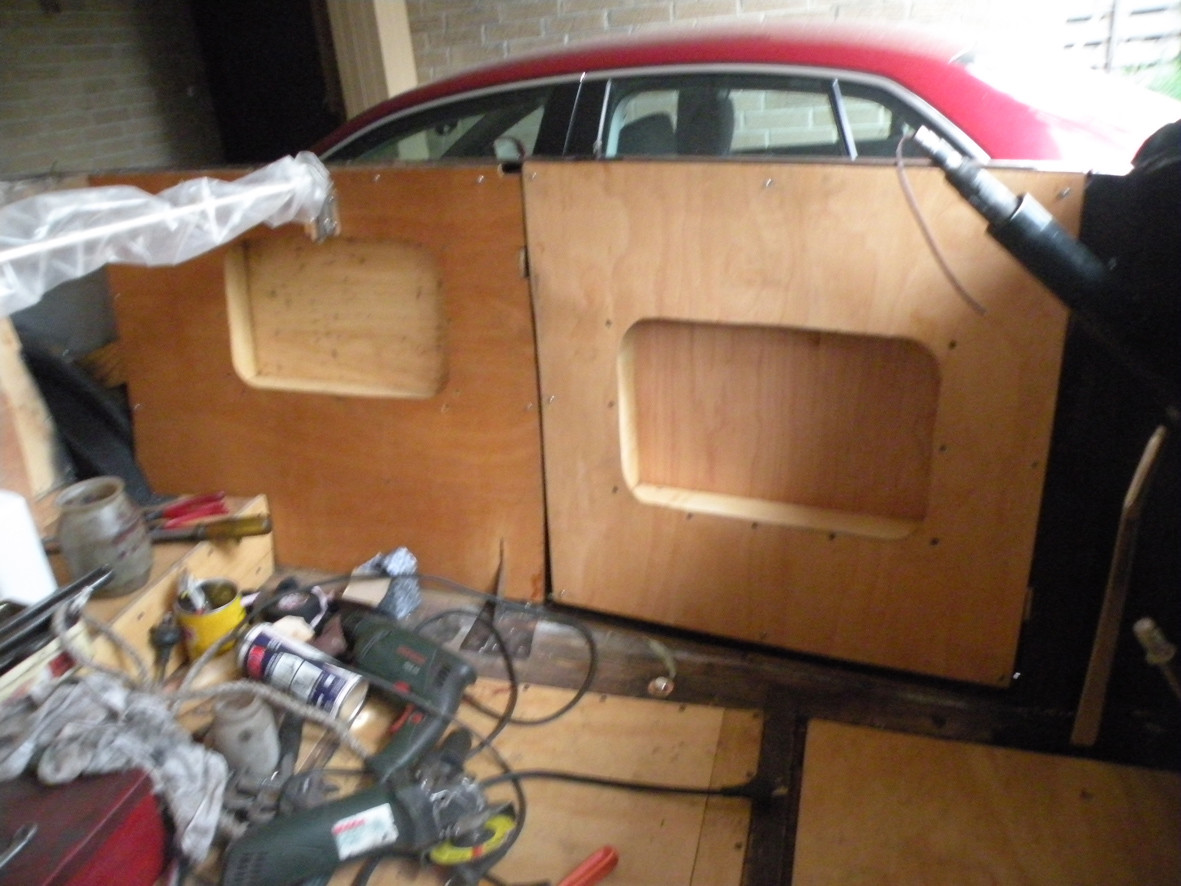 Thanks Ben
I had noted the slot for the cable but not having found a cable yet had not realised how tight the fit was. There are just eight 1/4 inch screws securing the cast aluminium toe-board so it is not too much of a problem. By contrast we are still having days in the mid 30s C. Last night we had our first decent rain (10mm) since New Year. It is amazing how quickly plants in the garden respond. I will send you an e-mail re your dash light and cigar lighter.
2-17-2012
Hi Ben
Fortunately for me the ones in my Single Six are all new and have only been fitted for the first time this week so hopefully they should still be relatively easy to unscrew. Better still while new countersunk head 1/4 UNF they did not have makers or grade marking on the head so they could be put straight in. No need to grind off brands or to polish the heads although depending on available time, if they have to come out again I might just polish the heads, or perhaps better still take then and get them nickel plated. What do you think would be more desirable?
Oh hum, life does get boring at times.......
2-18-2012
Wasted an hour this morning. I had ordered som 3/16 clevis pins to fit to the hand control linkages earlier this week so drove out to the supplier only to discover they had managed to get in 3/8 pins Baah! However I could get a new 9/16 NF castle nut for the drop arm on the steering box so the trip was not entirely wasted. This afternoon has been devoted to finishing cutting out the interior trim panels and the little timber cap for the front door pillar.
I managed to get one done so at least I know what is needed for the other side. These cappings are Black Walnut a really nice timber to work with. Once they are all finished and given a coat of clear they should look great.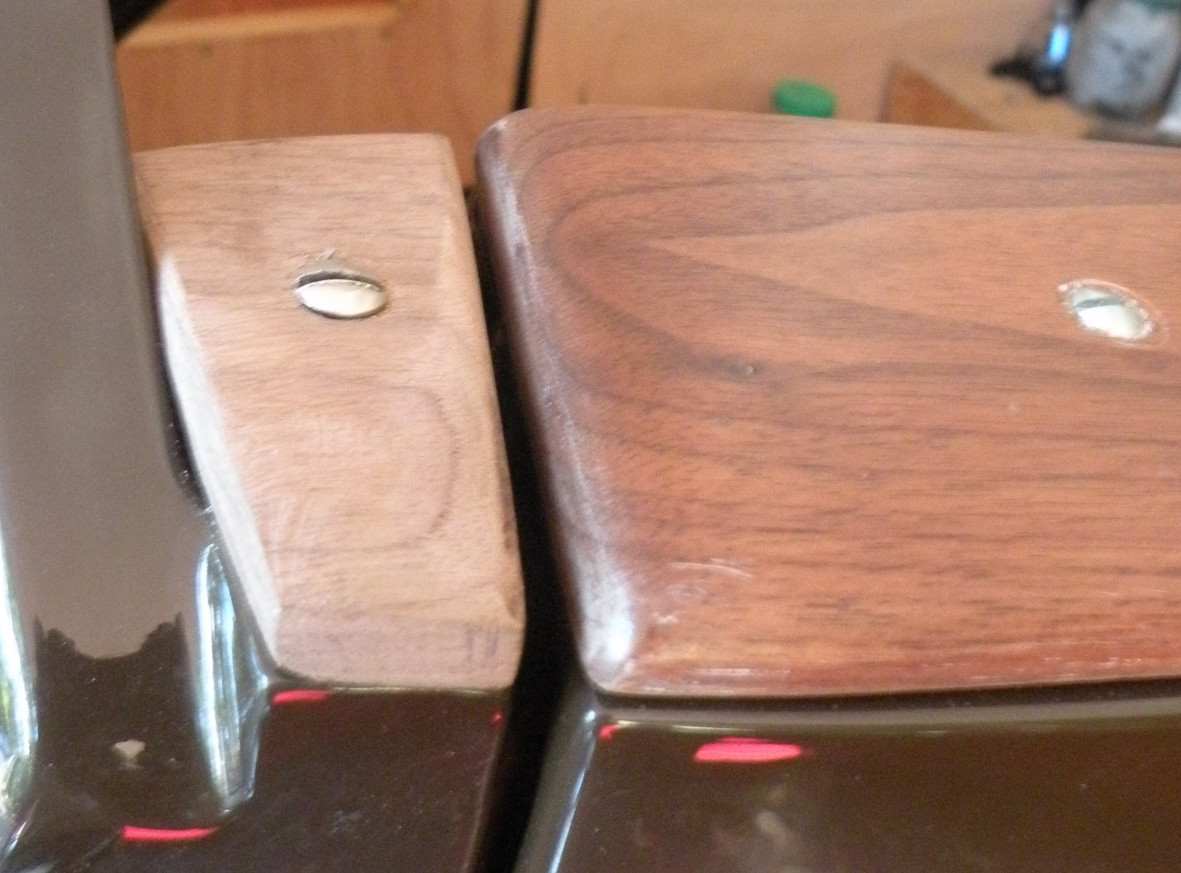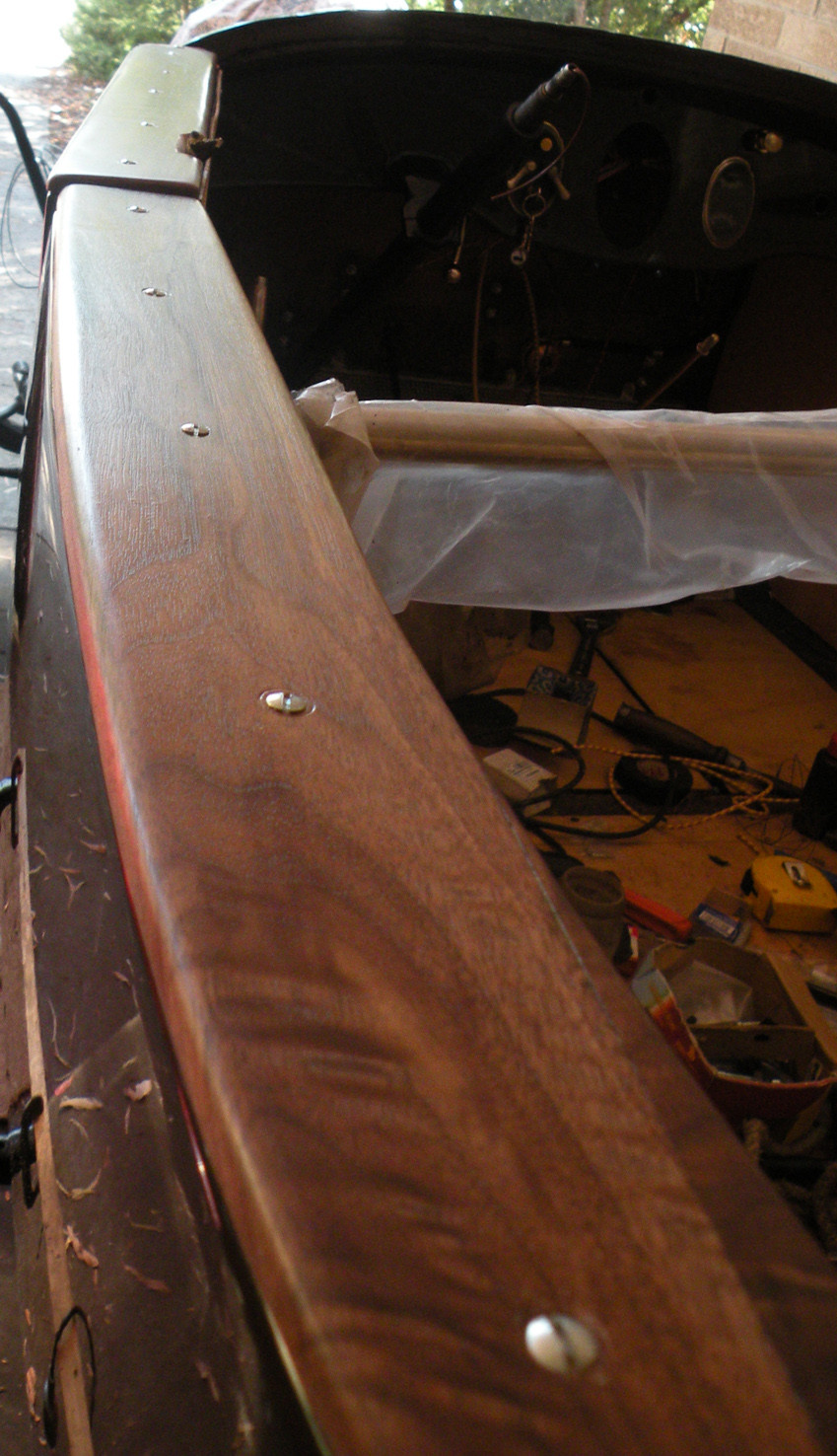 2-19-2012
Yesterday I took a day off and went to The Vintage Drivers Club Swap Meet buying a plug for the horn wire where it connects to the bottom of the Steering column. An expenditure of $3. I managed to sell a bit of "garage Junk' so came out slightly ahead.
While there I had a quick look at a newly restored 1929 Six Saloon. Very nicely done. The attached photo may help Donald decide about a sun visor for his car.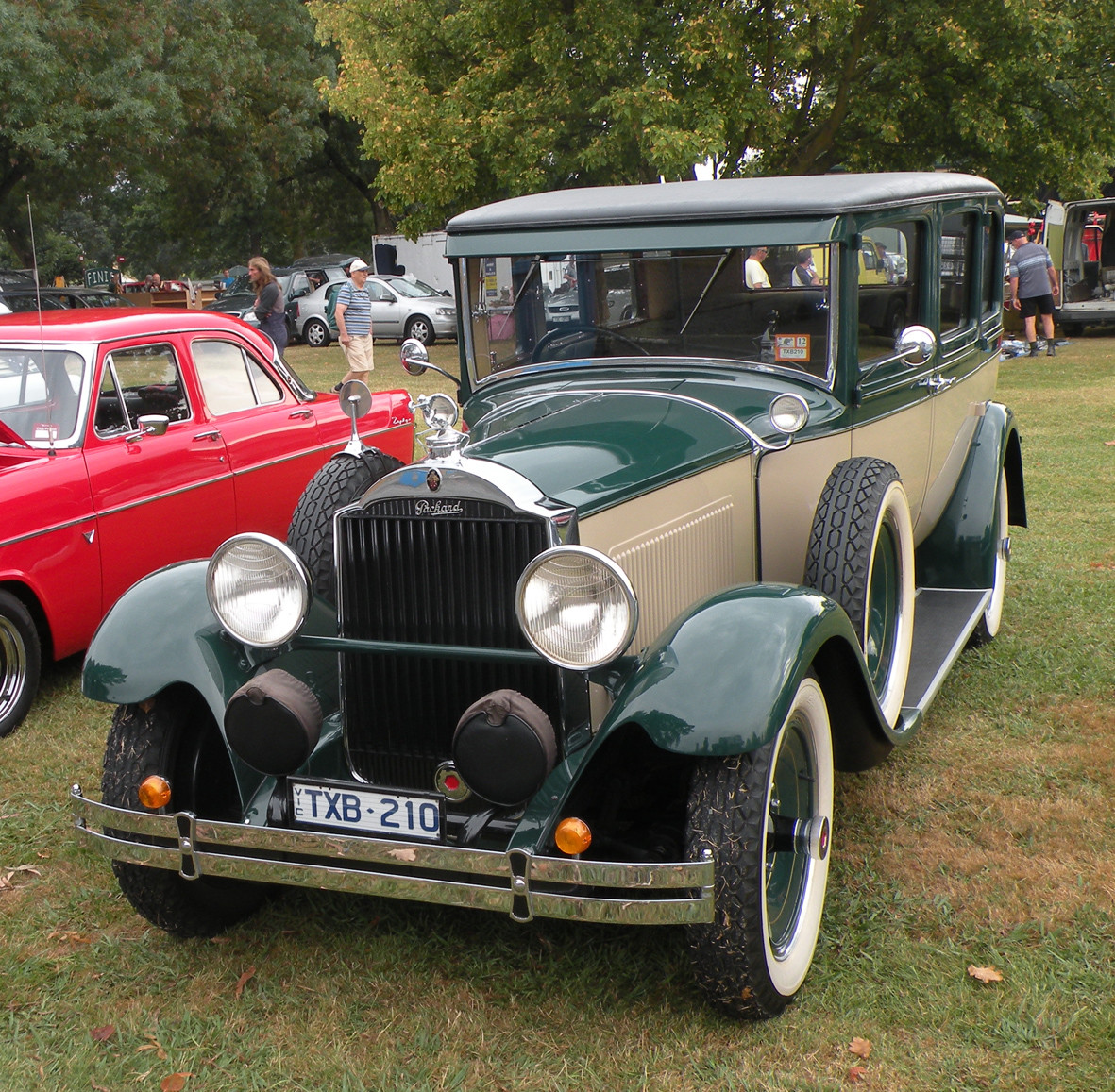 2-20-2012
Hi Ian
I have had the same site at Yarra Glen for years. Almost opposite where the 1918 Studebaker 7 passenger tourer was parked. Site 213, I have already booked it for next year. Don't sell much but catch up with a lot of friends. I took lots of photographs as I know that quite a few people are interested in early Studebakers. This one has been owned by the same man, now in his 80s, since the 1960s. I cannot believe that it has not sold at the price he is asking. $17,000. It has a modern down-draft carb fitted so he can fit an air filter but he still has the original carb and all that needs to be done to fit it is to turn the inlet manifold over.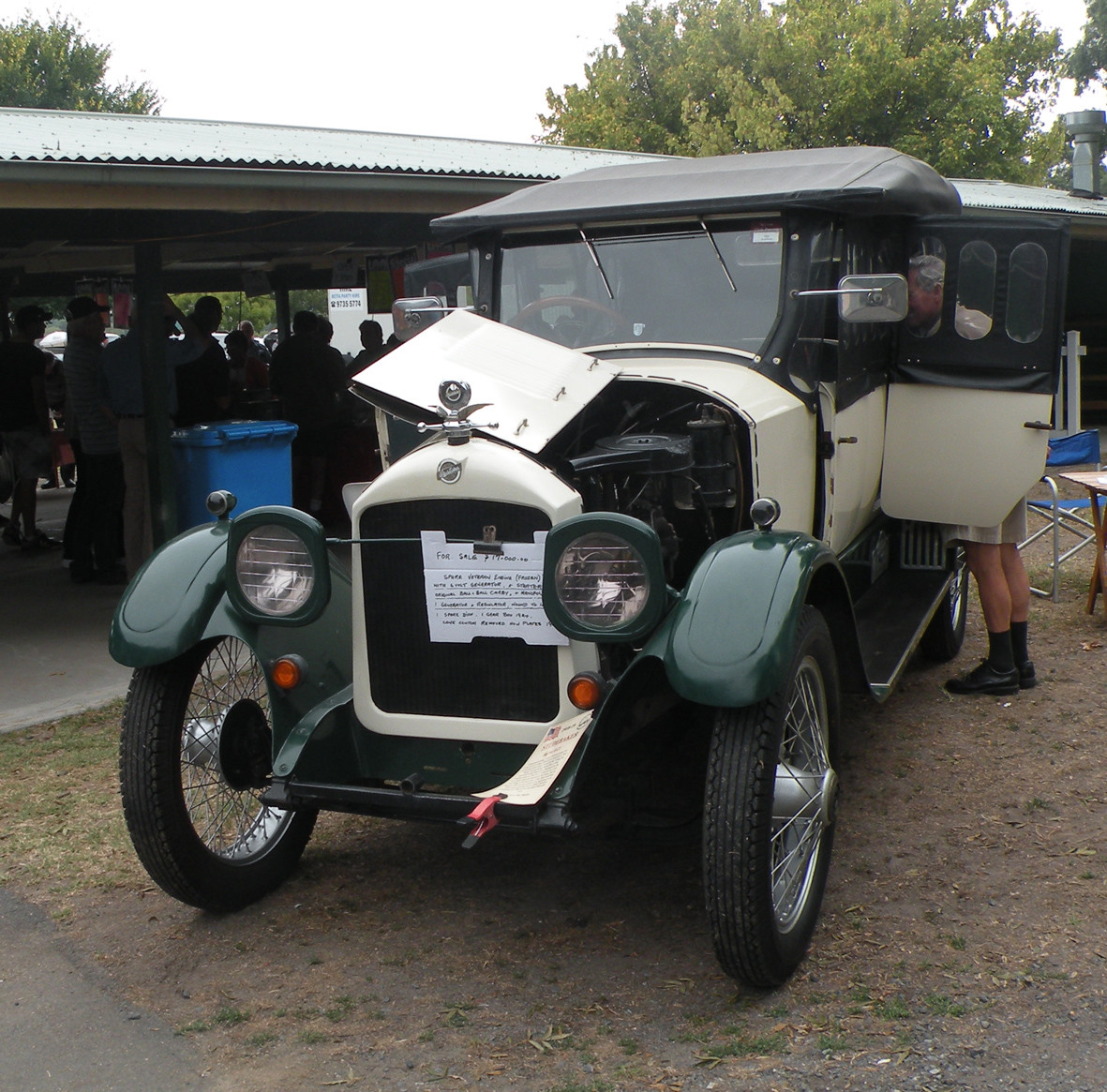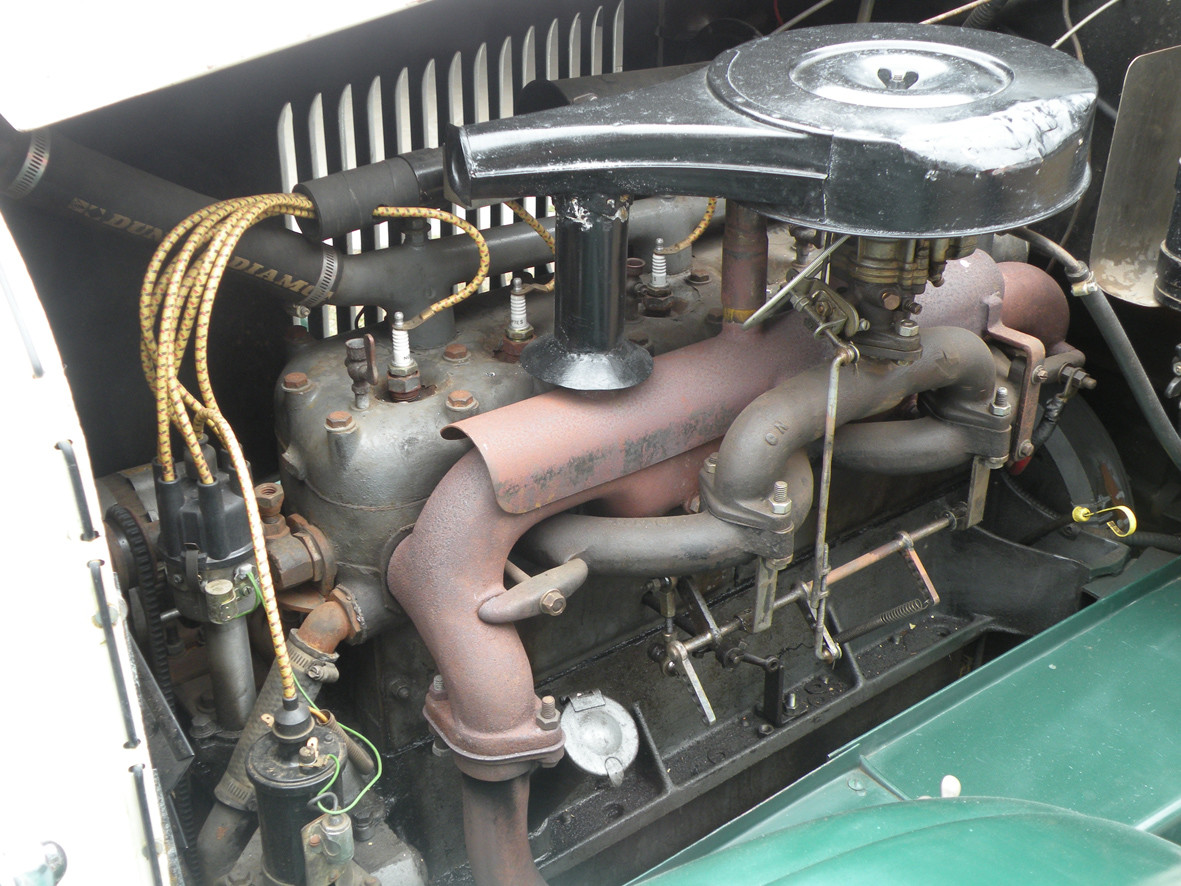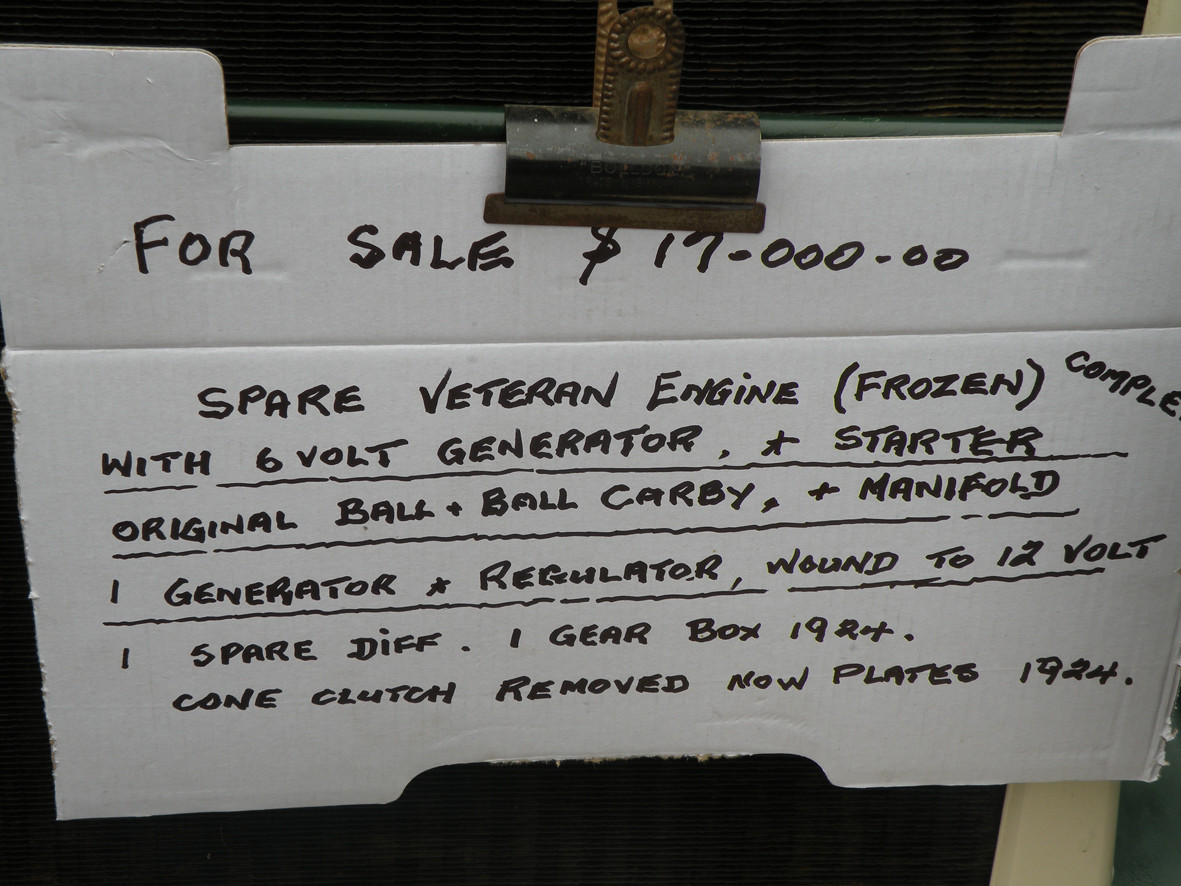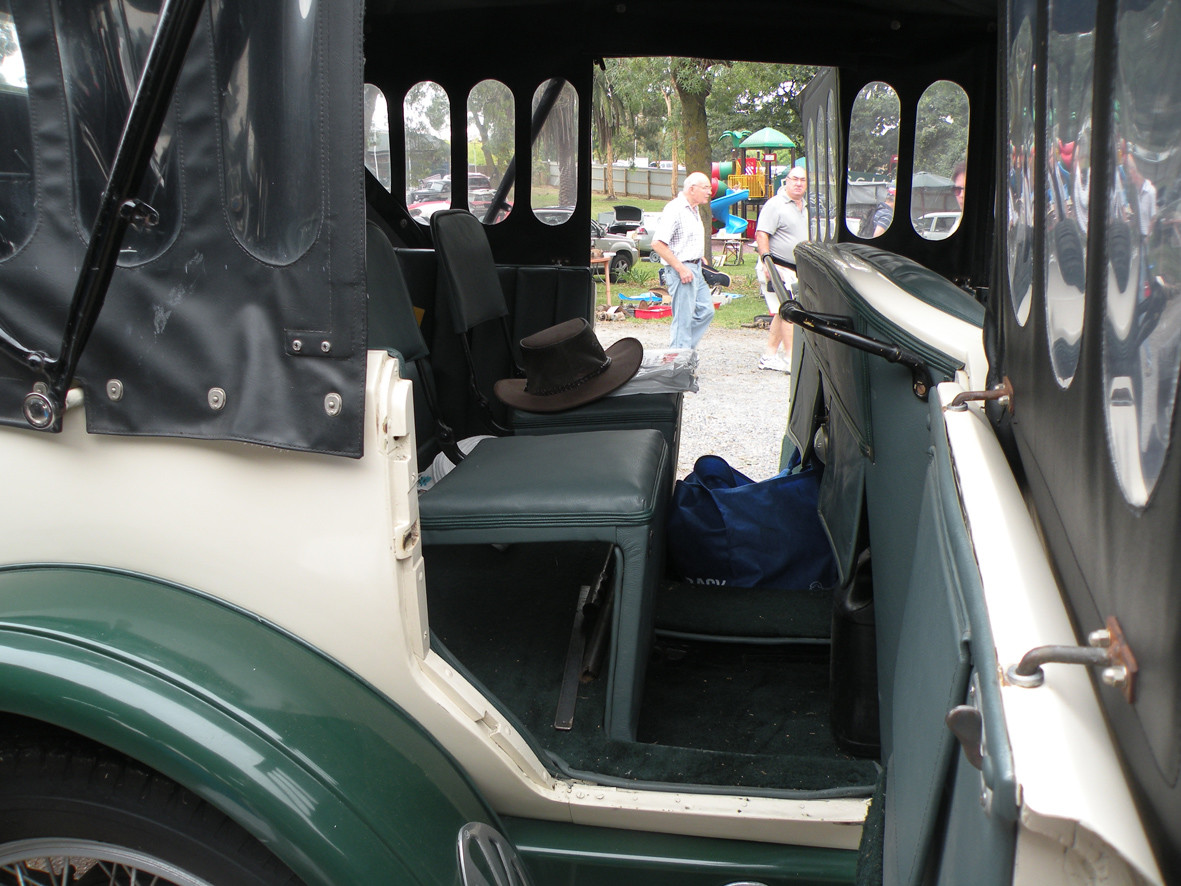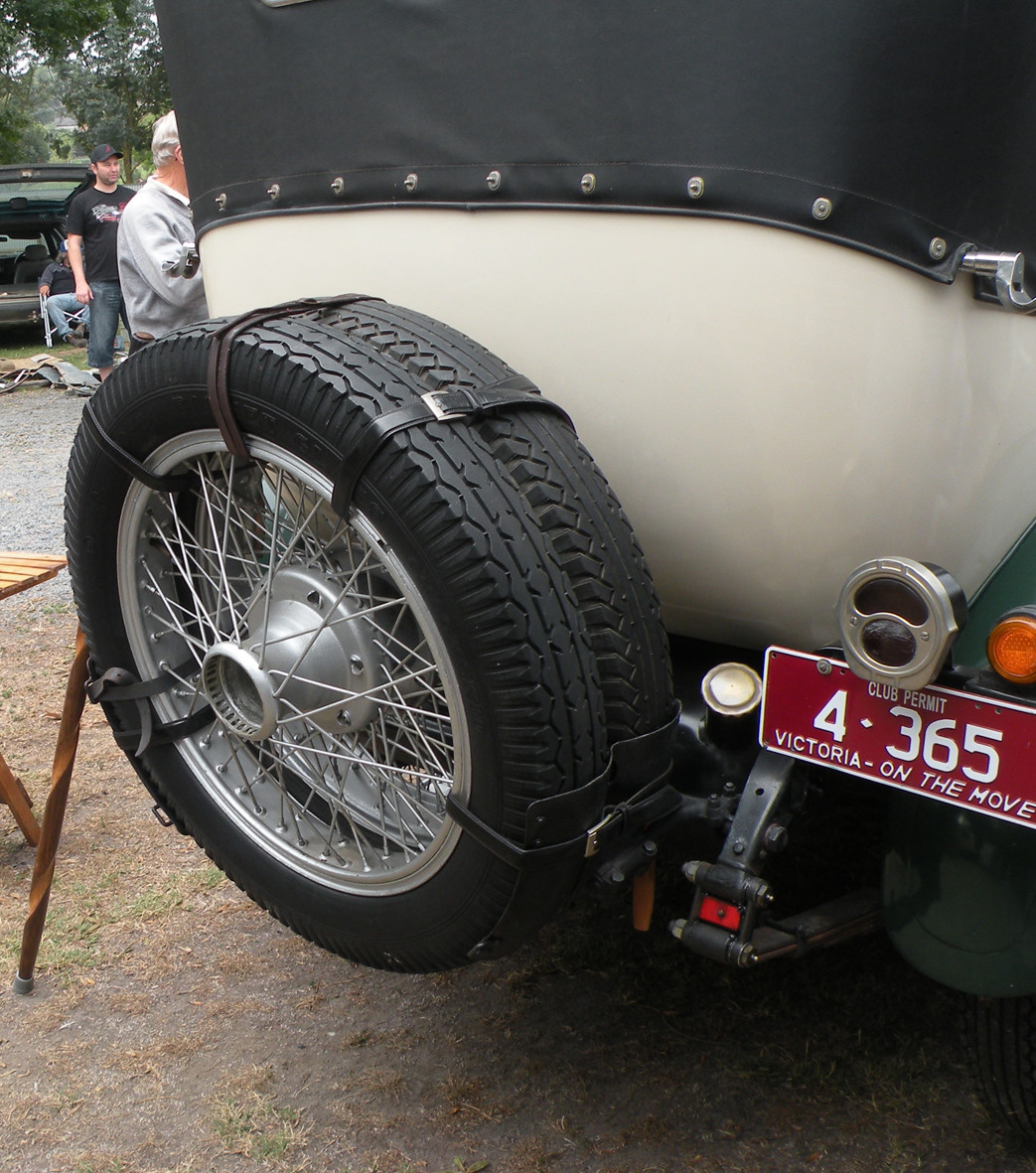 2-21-2012
Here we are and it is Wednesday morning already! Today I must make a start on making the patterns for the windscreen pillars. I have been giving these some serious thought, at first I had thought about fabricating them by silver soldering stock brass extrusions to obtain the desired profile. after the first experimental effort some weeks ago this was abandoned.
Next thought was to machine them out of brass bar stock but the thought off all those hours of machining and all that brass going into the waste bin put paid to that.
This morning I will try to develop my minimal wood working skills to make the required and aforementioned patterns. By making wood patterns I can adjust sizes and dimensions to achieve the most satisfactory (and pleasing) size and shape before committing them to metal. Wish me luck....
Further to the above the first step is to calculate the angle of the at the base of the pillar to the side of the cowl.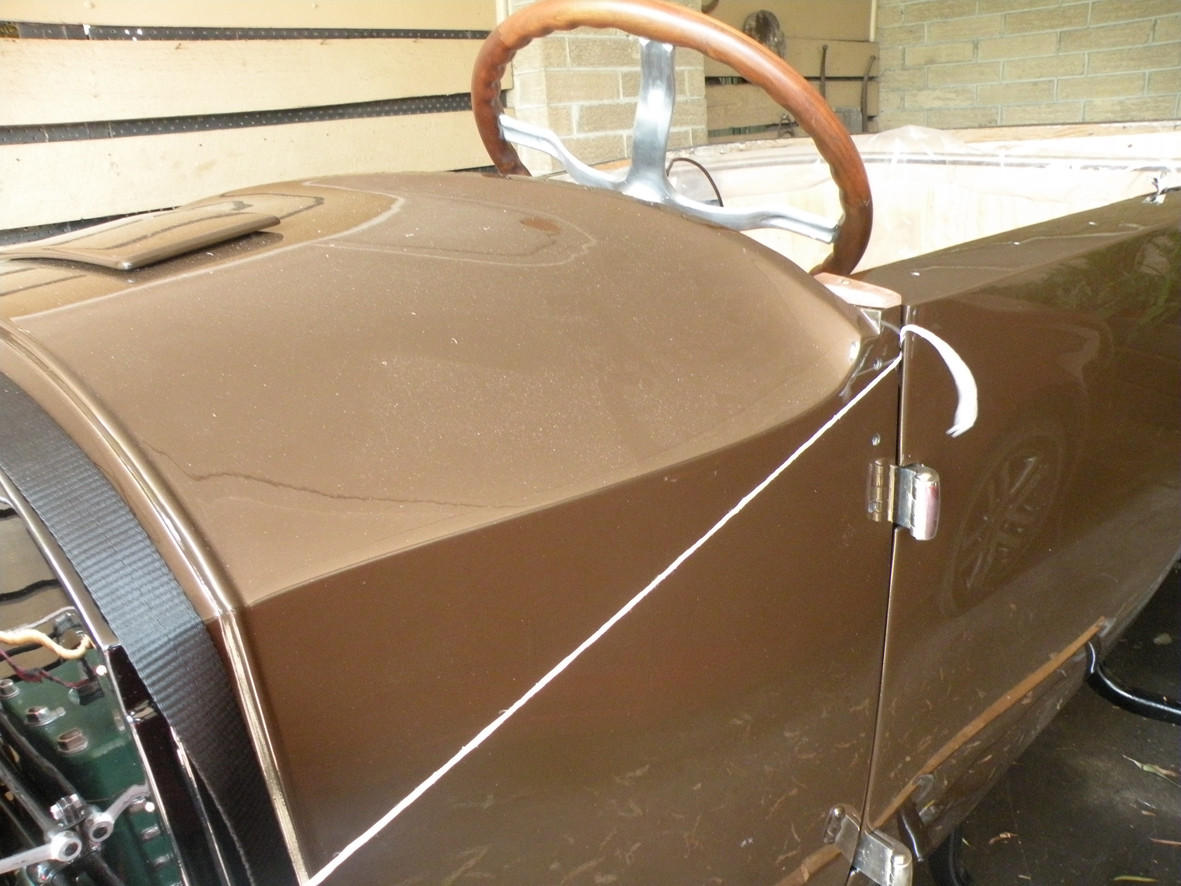 2-22-2012
Hi All
You will be pleased to learn that I have not completely waisted my day. Having spend an hour or so cogitating and doing doodles on the back of an envelope I started working in my usual "free hand" style. I seem to think better in three dimensions. By 5.30 this afternoon I have completed the first of the two windscreen pillar patterns. The next should be much easier as I have done all the problem solving with this one. When cast in bronze any minor adjustments can be made during the "fettling" process prior to nickel plating. Of course this one will still require some minor filling and "dressing up" before it goes to the foundry


2-23-2012
Hi Roger
With my windscreen pillars this is not quite so critical. The important dimension is the distance between the two inside faces of the pillars. This is governed by the width of the cowl which is not going to change. I have filled the mounting holes so these will be drilled after the castings are fettled (cleaned up ready for plating) The height is also not critical as the brass channel for the actual windshield frame will not be finally silver soldered together until the pillars are finished and trial fixed to the cowl. This will not be plated until it is soldered together. The very last operation will be to cut and fit the actual glass.
I know I keep saying this but the simple fact is that I have done this sort of one off fabrication countless times before. I think that by now I have some idea of what I am doing. Building one off sports "specials" is very different to restoring a production car, where everything has been done on a production line several thousand times, each time exactly the same using exactly the same stock production part. Even then, it seems to me that a lot of so called restorers get it wrong!
With the Packard while basically a stock factory body it would have been hand built 83 years ago. Like so many hand built cars there are no two that are precisely the same. Any one who has tried to fit a door from one seemingly identical pre 1925 car on to another will know what I am talking about.
Then there is the added complication forced onto me by whoever cut the roof off. In effect the car has become a one off. This is especially true when it comes to the windscreen, top and interior trim. Having said that I am going to enormous lengths to keep the car in the spirit of the year it was first built. No Doubt there are the doubters who are saying "But it is not original, it is not being restored as it left the factory"
My reply to them is two fold. First, yes you are right, but then it has not gone to China as pelletised scrap metal! Secondly wait until you see the finished product. Then and only then you can look at it but you will not be able to say "Look at what I have just done". Finally when it comes down to the bottom line there is only one person who has to like it. One person who can either be disappointed with the result or proud of what they have achieved. Before I bought the car it was widely offered for sale and there was only one person even vaguely interested in buying it and then again only one person silly enough to take on what has been and continues to be on occassion a mind-numblngly difficult task.
Thank you for your interest and patience.
Just for the record another pile of junk that no one wanted.
and what it became. the 1938 SS-Jaguar 1.5-3.5 Special.
Funny thing the last time I saw it it was in Switzerland.
Another rough home built special obviously made by someone who did not have a clue!
Bernie J.
Want to see some more? I have dozens of photographs of one off sports specials that I have constructed over the years.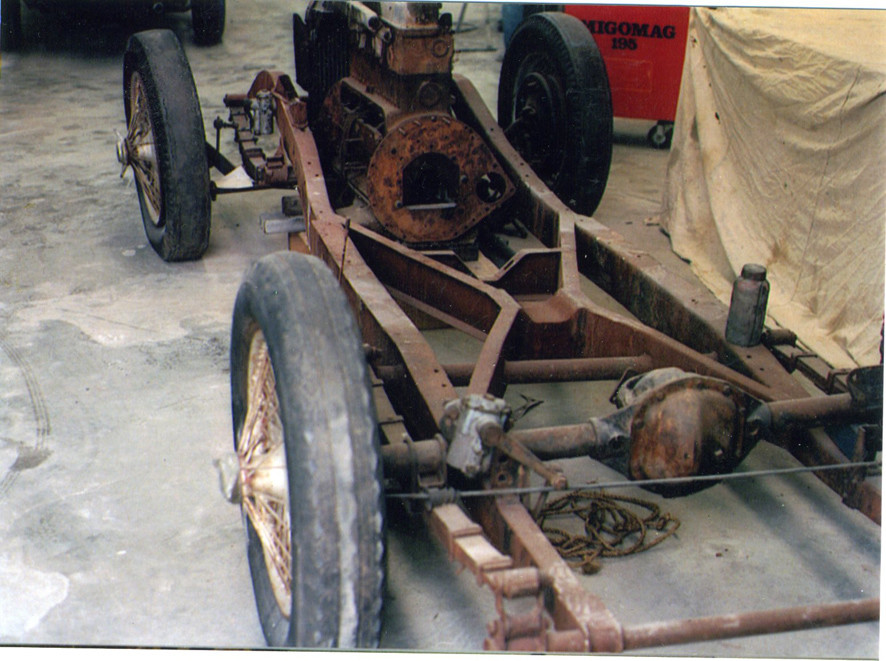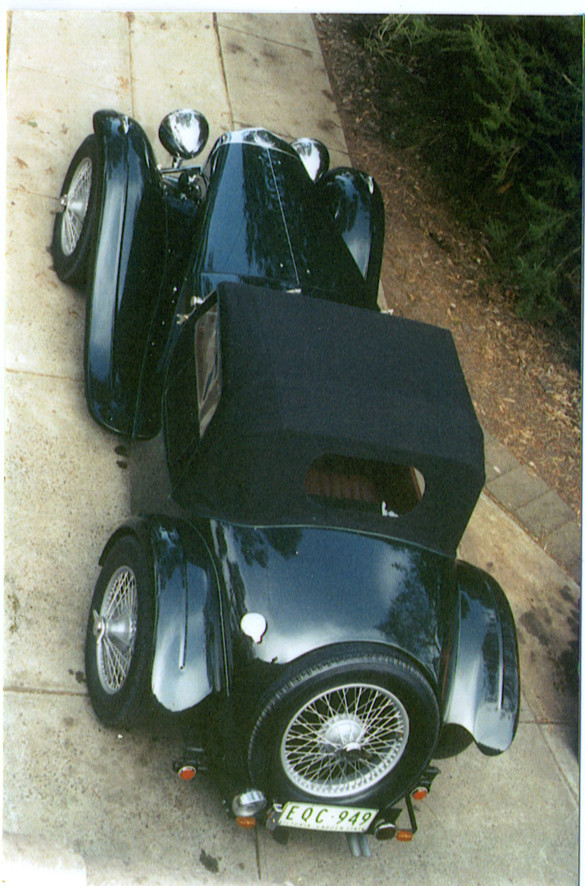 I though that this may happen. here are the photos I sent to West.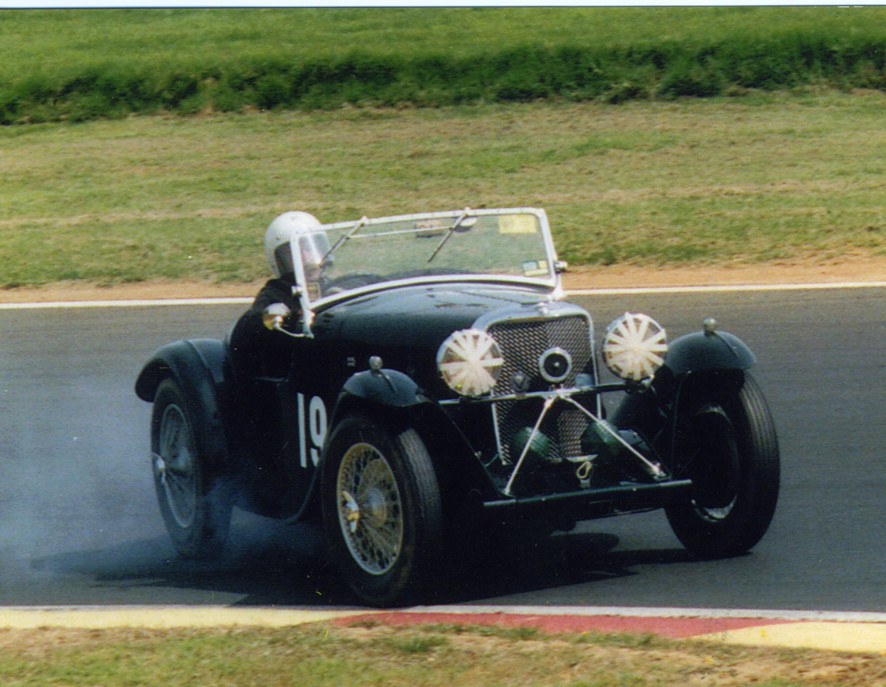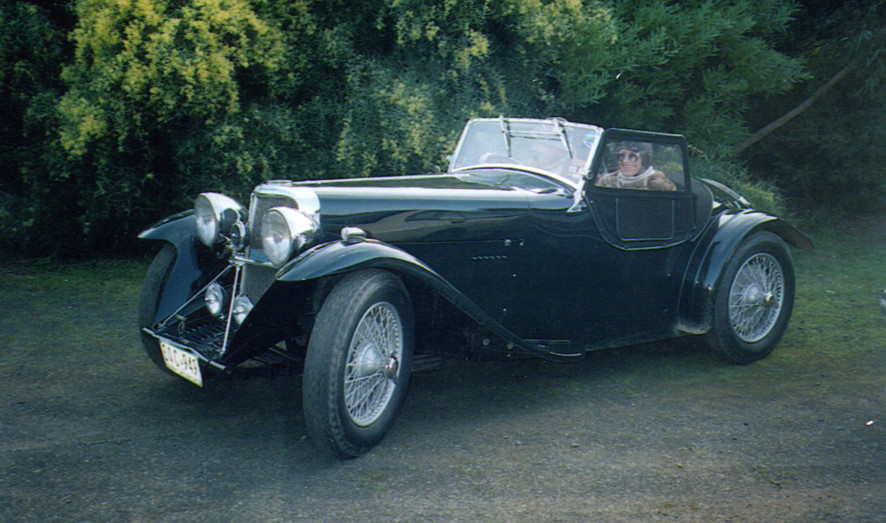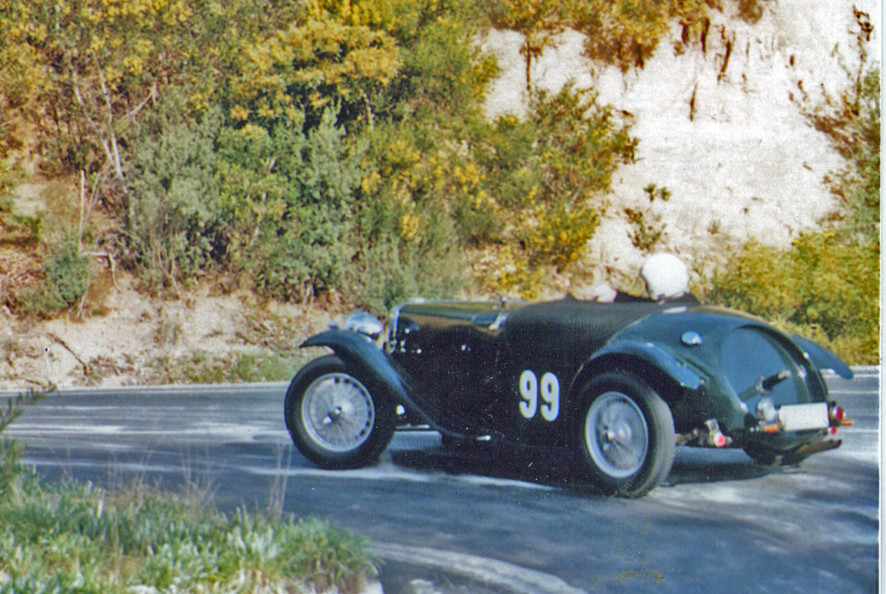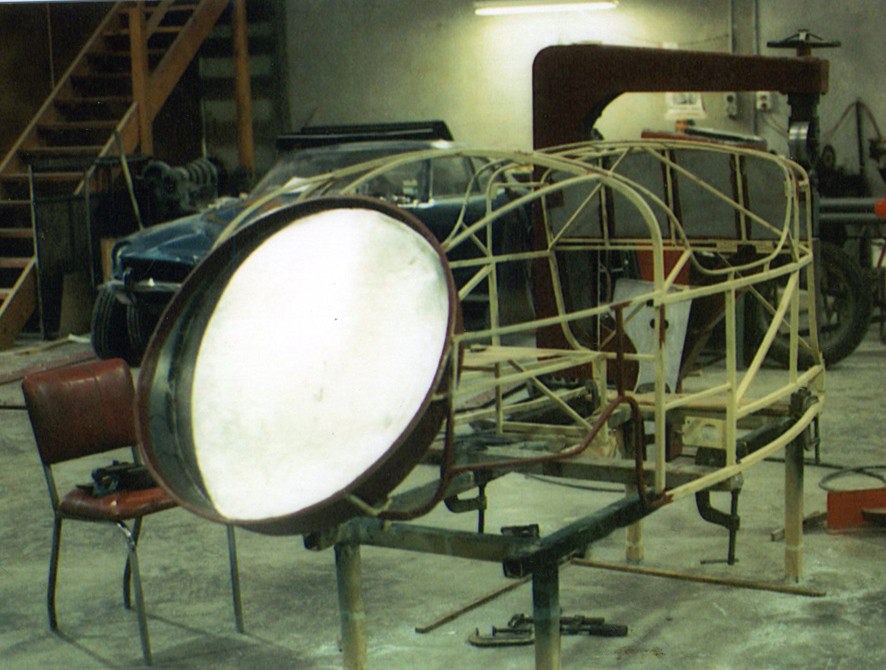 Having gone this far I may as well share the whole story. It was not just a pretty face. It earned the nic-name of "Cross-cat". It is six inches shorter, 4 inches narrower track and approximately one hundredweight lighter than a SS100. It has a close ratio 4speed gearbox and a high ratio rear axle. Maximum speed between 105 to110 mph and a 90mph third gear. Great for highway overtaking. There is no spare room under the hood.
Last heard of it was "somewhere" in Europe.
Bernie J.
Now back to the Packard.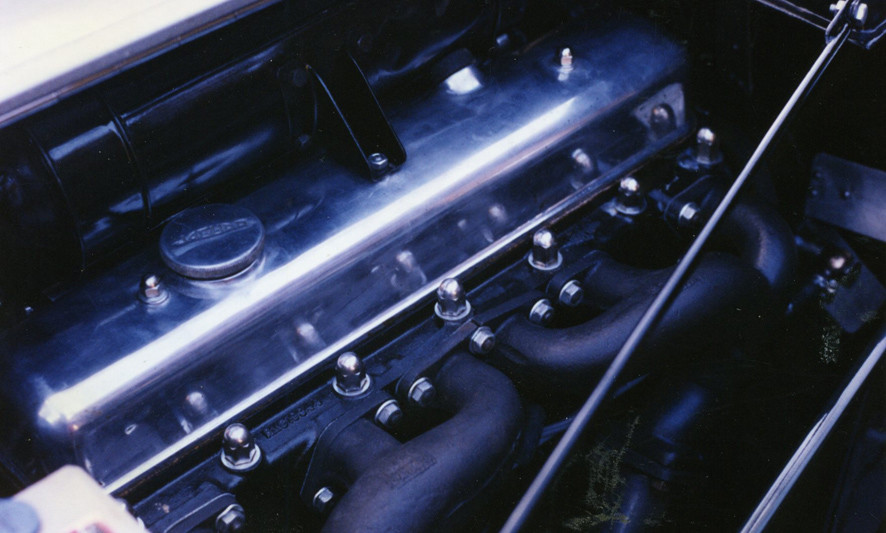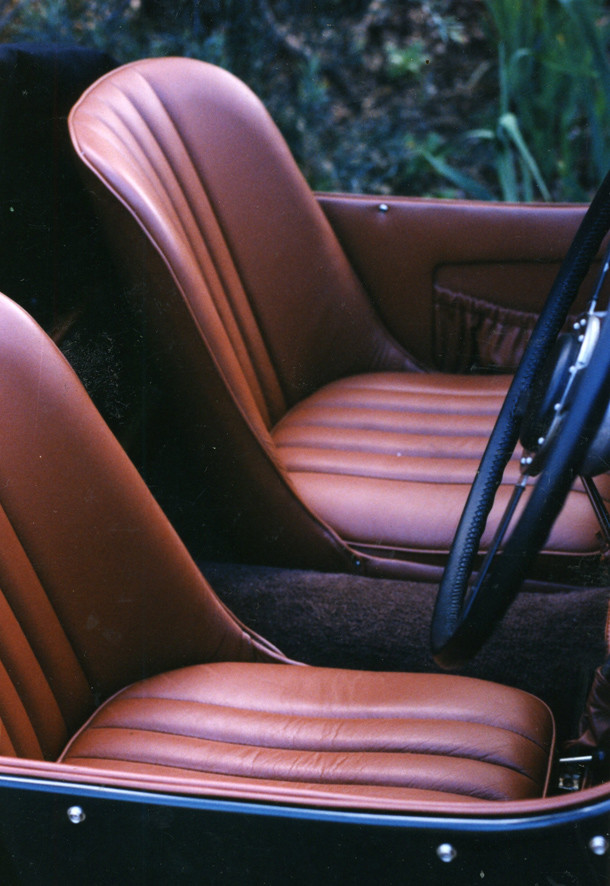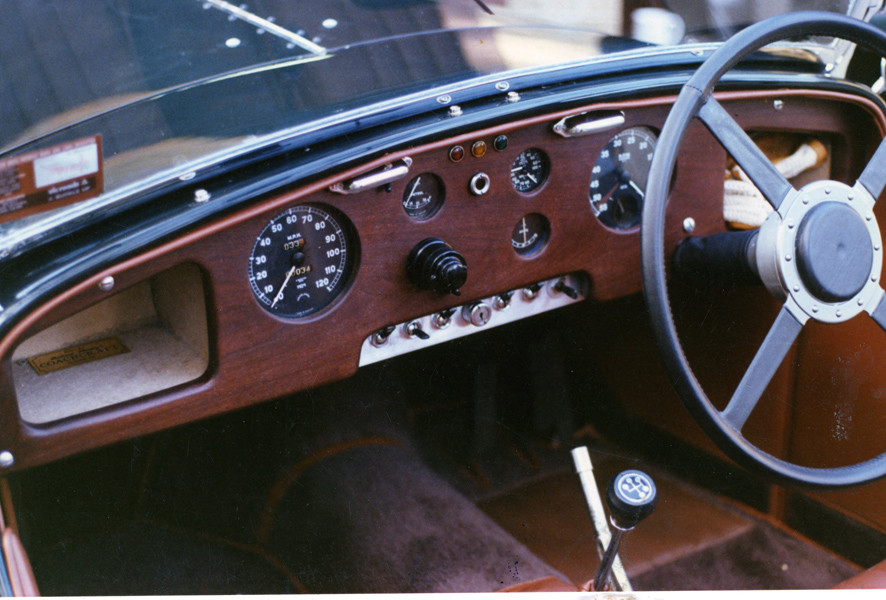 1-24-2012
While all the above has been distracting you, I have been hard at work and now have both windscreen pillar patterns ready to take the the foundry on Monday.
Next task is to drill all the mounting holes for the running boards to bolt up to the valances before they go to Dave for painting.
Hello
It is now 7.07 a.m. Having just heard the weather forecast I may have to re-think what I am doing today. The present outside temperature is 26degrees C. and the forecast maximum is 38 Degrees C. First thing I will b doing is giving the Lagonda Rapier a clean and service ready for the VSCC Club Morning Run followed by the Annual Presentation Lunch tomorrow. Then maybe I will think about drilling those holes in the Packard running boards.
2-25-2012
Hi Ian
It is now 4 p.m. I have just put the Lagonda Rapier away having given it a through chassis grease (we were driving through torrential rain last Saturday night/early Sunday morning), checked the gear box and engine oil levels, checked the radiator water level, adjusted the brakes and given it a good wash after last week's VSCC Night Navigation Trial. I have dried it off with a chamois leather and cleaned the windscreen etc. Dusted off the seats and checked the petrol level. All I need to do in the morning is fill the petrol tank and check the tire pressures and we are ready to be at the Service Station at the foot of the Westgate Bridge at 9.30 in the morning for the start of another day of excellent (competitive) motoring. What is the point of a brilliant motor car if you don't use it.
Ian, if you would like to have a look at some interesting cars we will be at the Veneto Club in Bulleen Road for Lunch.
I am afraid I am not into hosting "Garage Tea Parties". If my friends want to look at my car they have to catch it first.
2-26-2012
All in all quite a successful day. Two Lagonda Rapiers after todays Vintage Sports Car Club's Annual Awards Luncheon. Ted and Fran Geermans (Blue) PVT Cup (Post Vintage Throughbred) and Atlanta Cup (Most Successful Lady Driver) Helen & Bernie J.(White) Navigators Trophy (Most Successful Navigator) and Crossley Trophy (Best overall performance in club competition)
As they say in the classics "You have to be in it to win it" The VSCC has an intense programme of highly competitive road events over the year.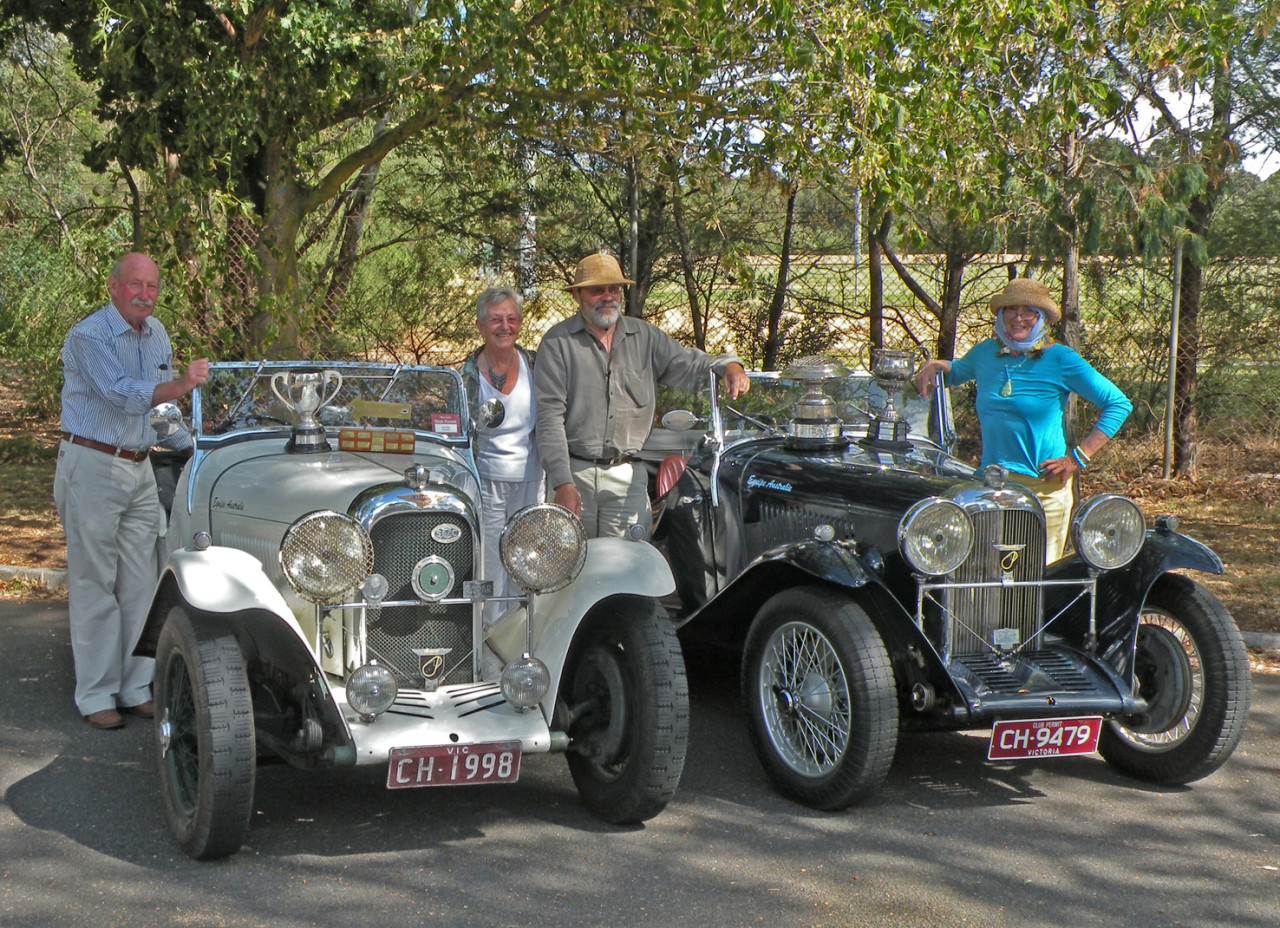 What a crazy place weather-wise Melbourne is after yesterdays scorching today is much cooler and drizzling rain. Mondays always seem messy days, a hangover from the weekend. I really must get motivated to drill those holes in the running boards.
2-27-2012
Finally the unpteen holes are drilled in the running boards so they can go back to Dave to be painted.
I have finally found a local (Australian) source of 3/16 X 1/2 inch, effective length, clevis pins, they are only available in stainless but they will suffice for the linkages from the hand controls so have ordered them. The seem to carry a huge stock of obscure small parts. I have been waiting for three weeks for my usual nut & bolt supplier to tell me that they were unable to supply these.
2-28-2012
This afternoon I took the running boards back to Dave He tells me he should have the valances and rear fenders painted and ready to collect early next week. While out I also took the patterns for the windscreen pillars to the foundry. They should be ready in two or three weeks so things continue to move along albeit slowly.
I don't know about the rest of the world but talking to Peter and Andrew who run the small foundry that I use, life is getting more difficult for foundry operators with almost constant harassment from EPA and Workplace Health & Safety inspectors. They tell me that another foundry shuts it doors every month. One local firm now sends all their work to India. What with the threat of solvent free paint only and all sorts of restrictions on noise, dust, soil contamination etc etc it is becoming harder and harder to find tradespeople who are allowed to work. I know of two chrome plating firms who have been forced to close their doors in recent times. Certainly not from a lack of work.
Now that the postman has delivered the 3/16 Clevis pins I have been able to complete the setting up of the hand control links. The next little task that while relatively unimportant is still one that had to be done. Mounting the new switch and a secondhand light fitting for the courtesy light in the luggage trunk. This involved removing one of the side trim boards. Nice job for a quiet afternoon. Removing and replacing about 12 screws mainly out of sight and all requiring using a screwdriver in my left hand. Rather than risk having the light left switched on inadvertently, I am linking it into the tail light circuit so that it can only be switched on while the tail lights are turned on. This is replacing the original switch and lamp which were beyond repair. As the Doctors Coupe was a relatively low production unit this does not appear on the original wiring diagram.
I don't know if the Roadster (runabout) had a similar lamp inside the rear luggage compartment. Perhaps if someone has restored one they could tell me. It seems a very advanced feature for 1923.
2-29-2012
I have commented before about Melbourne's changeable weather. Today is cool and rather damp, not a good day to be outdoors. Hence the flash-light photograph. So there will not be a great deal of progress on the Packard. Todays photograph is for Ben. It shows the now restored instruments and switches. I have used some liquid silver on the rims and switch levers with mixed success. It works extremely well on polished brass but not so good on die-cast (zinc) The two holes are, in the centre top, the dash lamp and the one to the extreme right I believe would have originally held the cigar lighter. If you go right back to the beginning of this thread you will see that the switches and speedo were missing and the small gauges left a lot to be desired. Ben supplied the replacements and I hope that he is still holding the dash lamp and cigar lighter for me. David McC very kindly sent me the correct clock. A local locksmith was able to cut the correct code ignition key to fit the switch.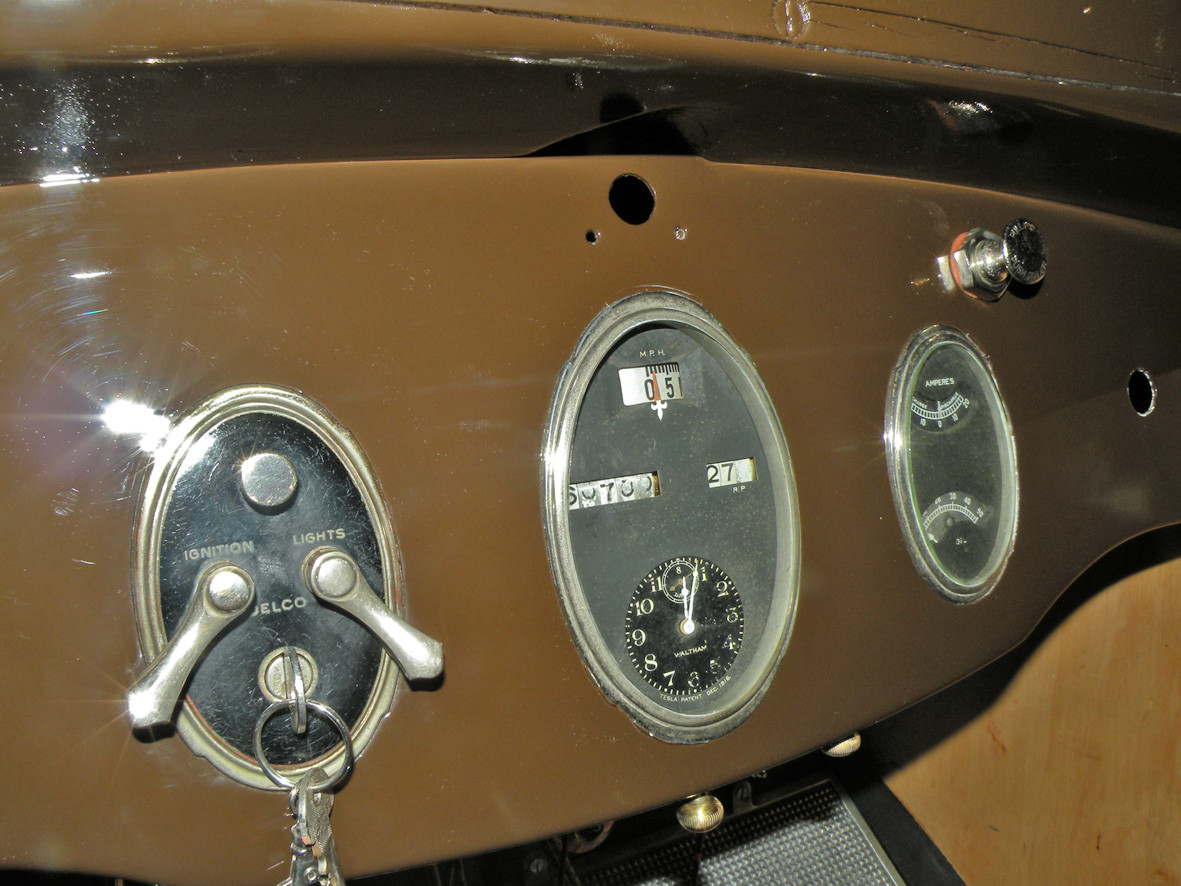 Thank you Jim
You really need to reserve your judgement until it is finished.
If you go right back through the whole 38 pages you will see that I have received a lot of help and encouragement from my friends. I still have some way and quite a few challenges to go....
Possibly another 38 pages?
3-1-2012
Thank you David
Below is a photograph of my replacement switch which fits into the original location next to the luggage trunk lid bump-stop.
I have replaced the separate boards lining the trunk with ply which will ultimately be covered with carpet. Perhaps not totally as original but in keeping with the quality of the car and today's expectations. How would the judges see this? The timber mounting block and bump stop are the originals, as is the rain gutter.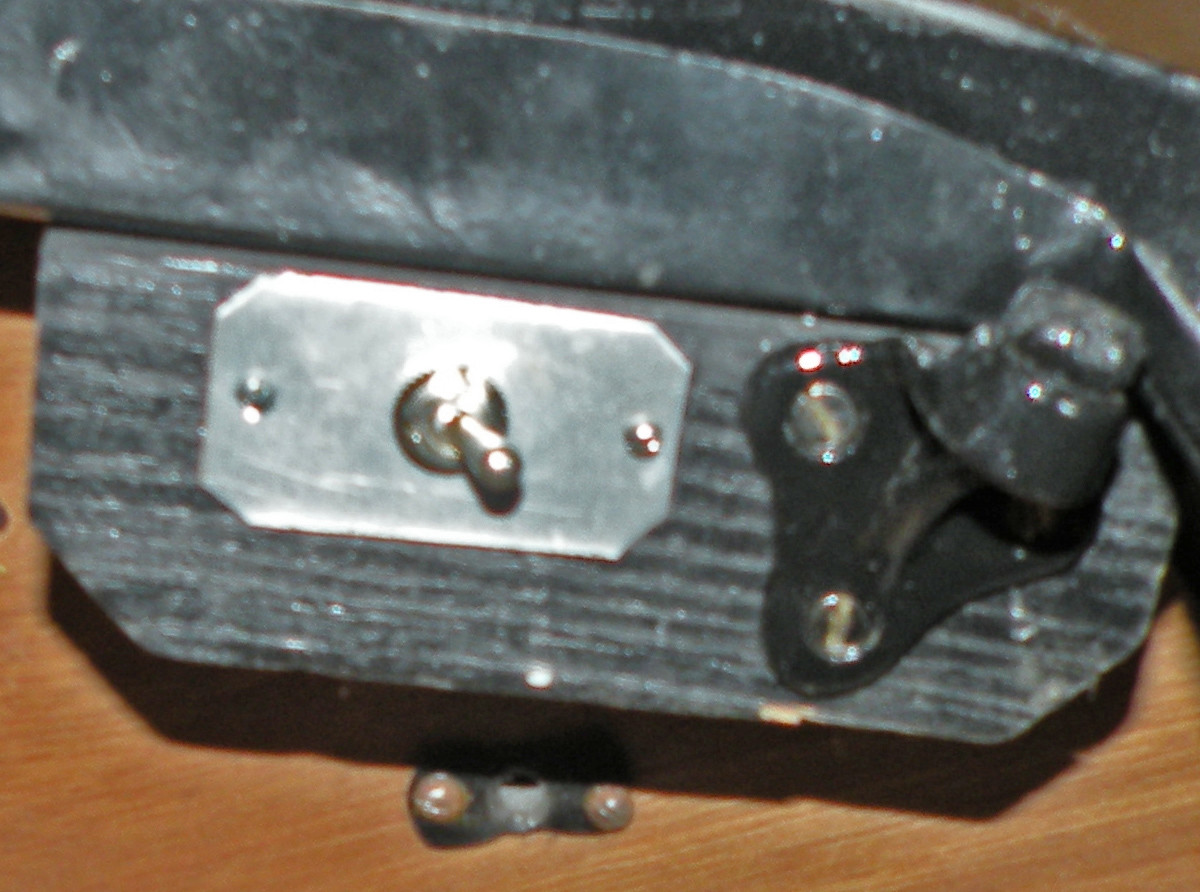 Hi Mal
I thought that we had lost you. Welcome back. Sorry you have photographed the wrong trunk
I use using the American nomenclature for what we Aussies refer to as the Luggage Boot. Not the Box on the luggage rack.
A common problem but thanks for your interest.
Are you still there Ben, desperately clutching onto the end of that 80ft chain?
This photo taken just one minute ago from outside my front door.
It shows the clear blue Australian sky with just a suggestion of light puffy clouds. Seen through the branches and leaves of good old Aussie Gum trees (Eucalyptus). Thought that you may enjoy actually seeing the sky.
One problem in living in "Gods own country". You forget how the rest of the world have to survive.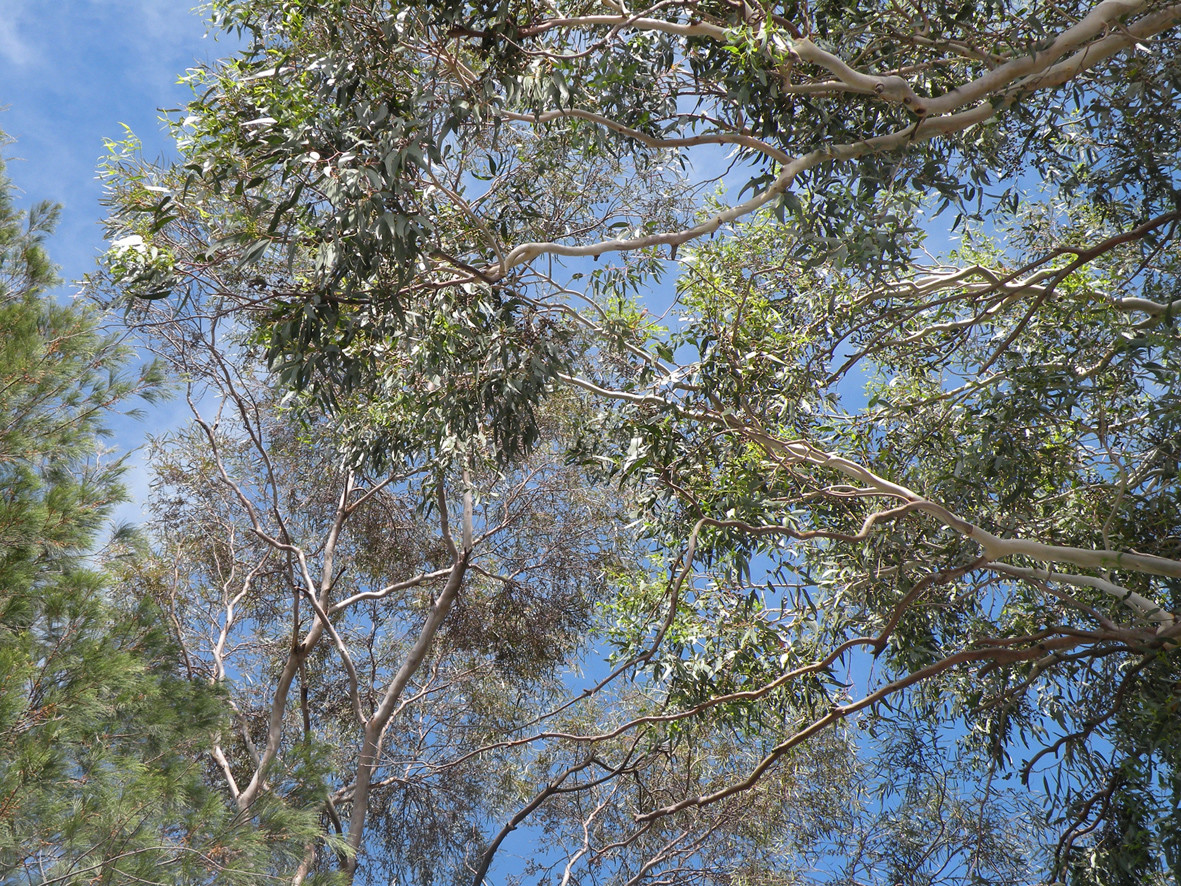 3-2-2012
Thanks Mal
I have attached a brand new photograph of my car's luggage trunk.
Ahead of its time in 1923 the Body style 222 Doctors Coupe included an enclosed luggage storage space within the main body. Certainly never intended as a rumble seat, the lid hinged from the front and the actual space would never accommodate a person. This was possibly one of the first examples of purely luggage storage incorporated within the main body structure.
The hinges, stay and other associated hardware is all original. The body number and the style code are stamped down the central rib in the lid as well as on the bottom rails of both doors. How much more original can it get? I still have to attach the trim board to the underside of the lid and detail finish inside the trunk. Paint frame etc.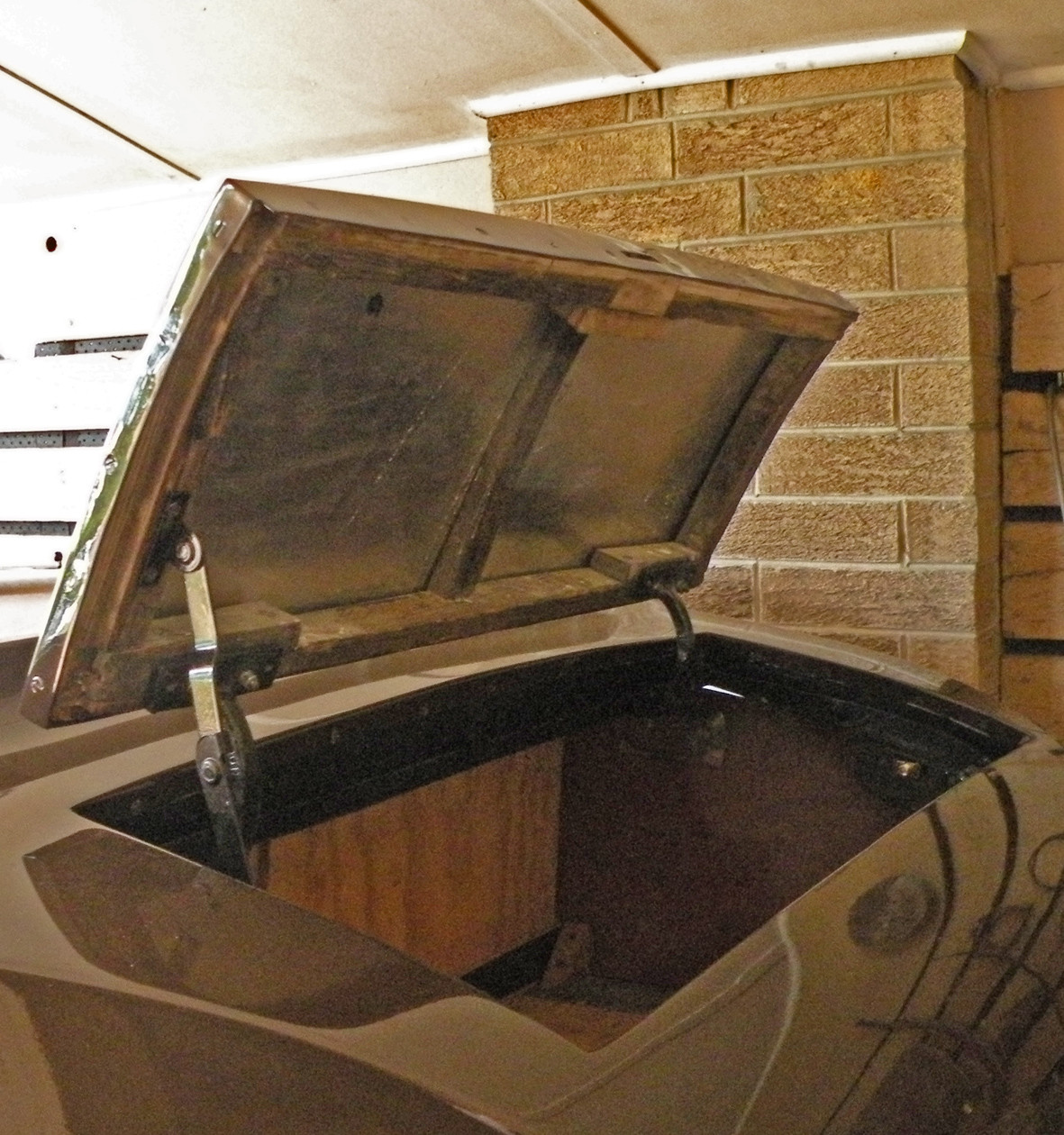 Hi Keiser31
Thanks, but as I said in my e-mail "you ain't seen nothin' yet"
I should get the rear fenders and valances back ready to fit early next week.
Watch this space....
Hi all
A little job but one that had to be done and ideal for a drizzly Saturday morning.
Riveting the hood lacing onto the radiator surround.
The cowl will be a little more tricky as I will need a second pair of hands. One pair inside to spread the rivets while the other pair tap them down from outside.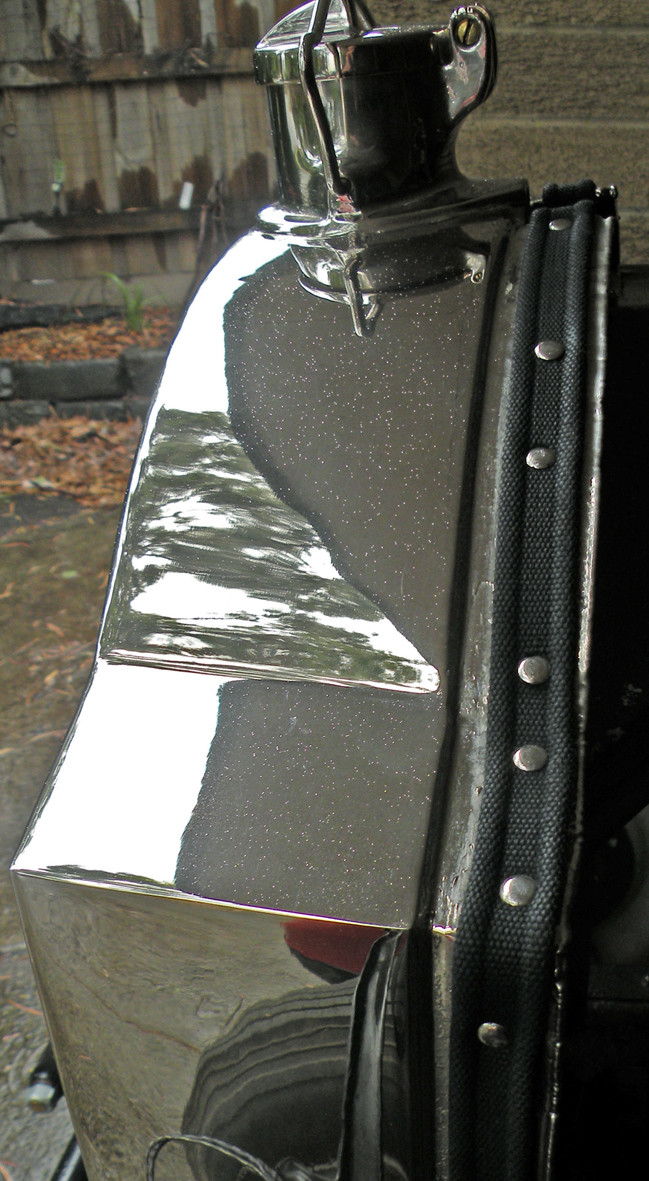 3-3-2012
Good Morning
Here in sunny if slightly damp Australia, it is now 9.00am Sunday Morning. If it seemed that I had not done a great deal of work yesterday I apologise. Most of the afternoon I spent indoors while there I finished and sent off two magazine articles one of 1550 words the other just short of 2,000 words so my time was not entirely wasted. This morning may be a good opportunity to have a clean up out in the garage. Things tend not to get put away so today is the day. I may even find the nut that secures the steering wheel.
3-5-2012
Hi All
This afternoon I collected the front apron and a couple of small parts from Dave. Due to a misunderstanding there is still a little bit to do on the valances. I should collect the rear fenders tomorrow. Hope to have some photographs then.
Don't go away....
3-6-2012
After a busy morning running all over town it seems I have managed to do a trial fit-up of the first of the fenders. The LH Rear.
I still need to adjust the welting and tighten up the mounting bolts. But at least I have the one on the way and the others in the pipeline.
Sorry about all the reflections. I will try for some better photographs tomorrow.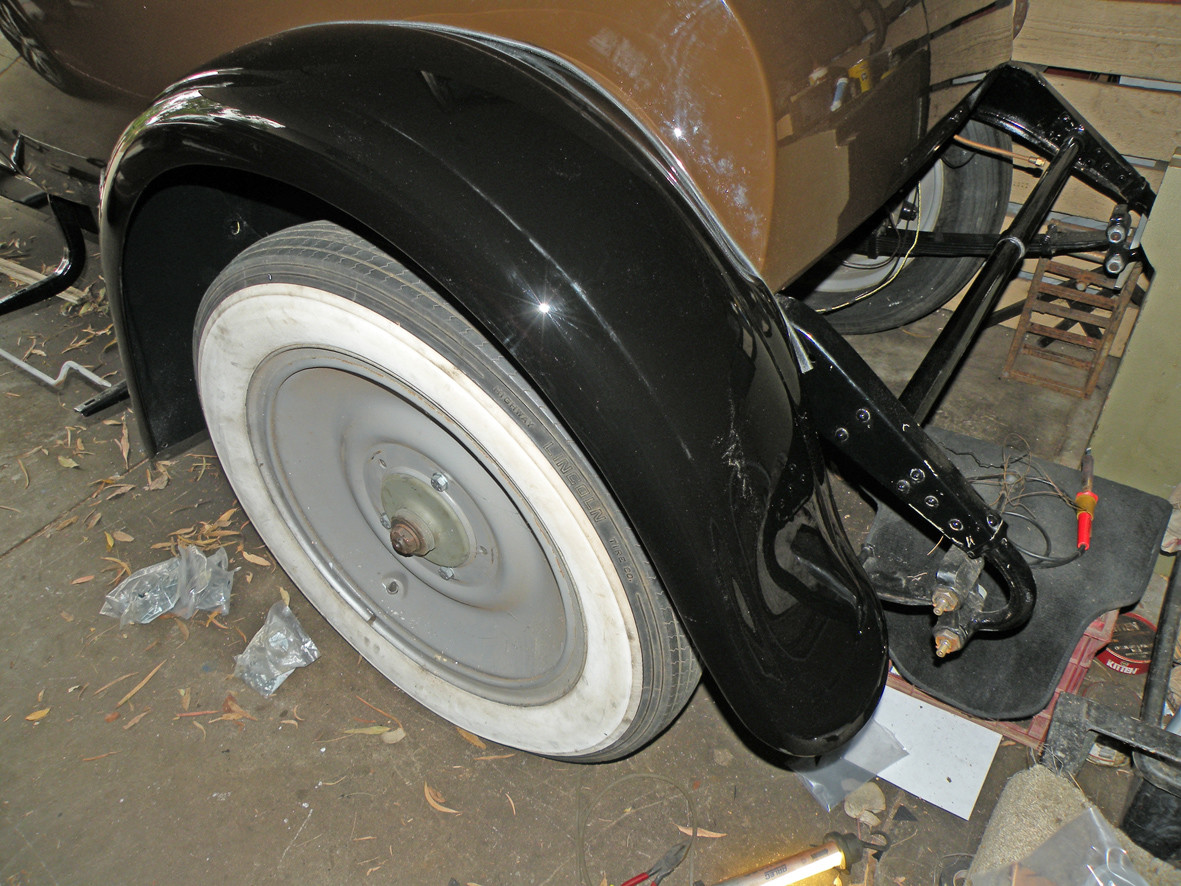 One of the things that I really like about the Packard is the elegant shaping in the rear fender and body section.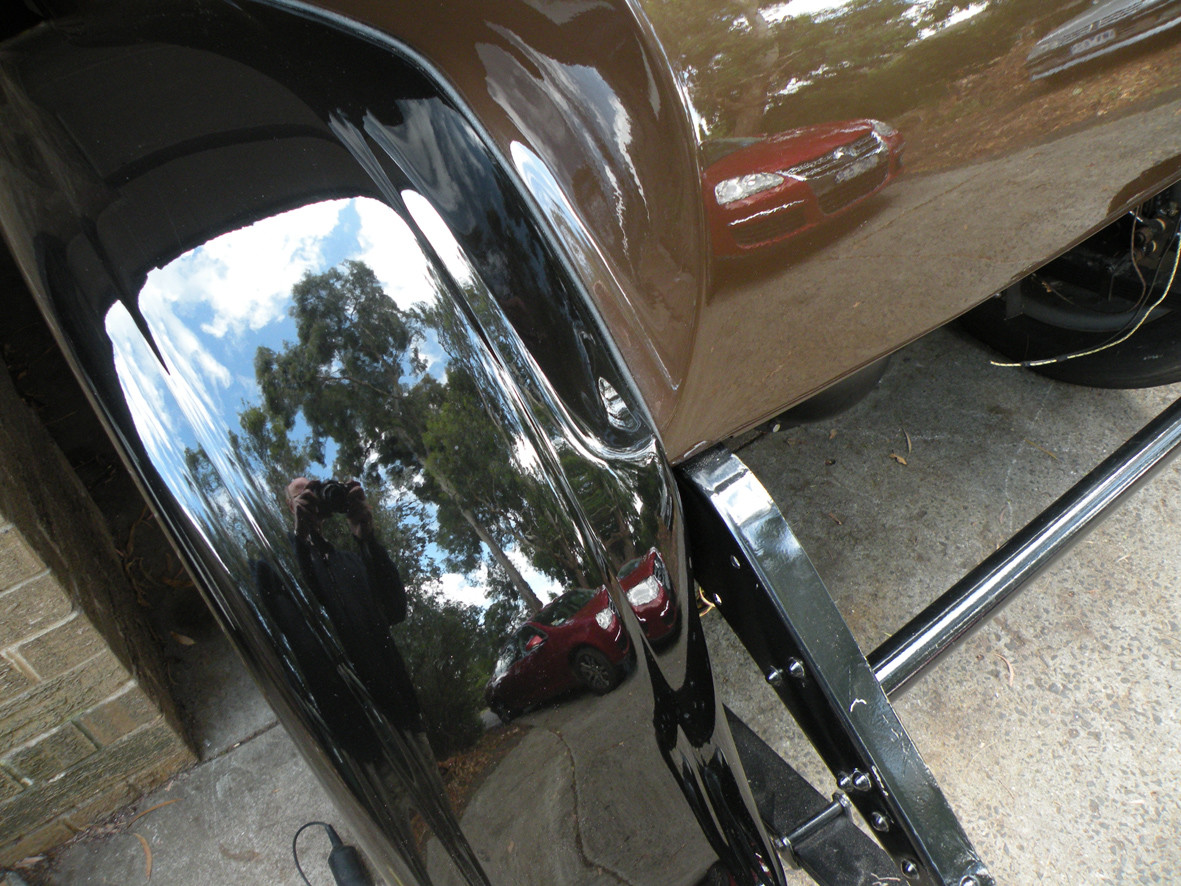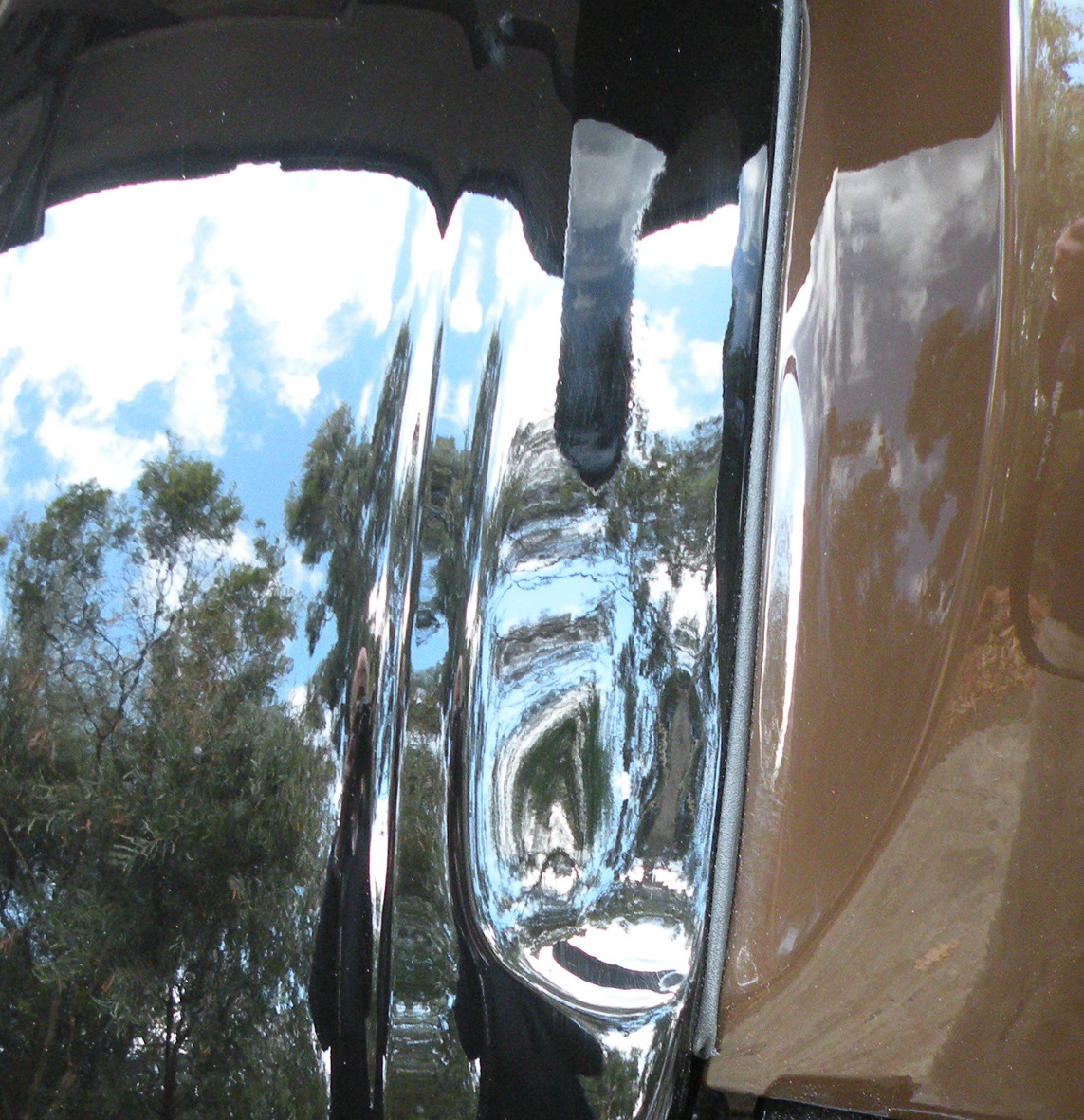 3-7-2012
Next step, if you will excuse the pun, is to buy the Brown Linoleum for the running boards and the drivers floor. I have located a source of the plain brown linoleum used on laboratory bench tops, which I think will be suitable. Then I will have to find some aluminium unequal, 1 X 1/2 inch, angle for the edges. I have some of the original for the drivers floor but not sufficient for the section over the battery box so this one, 3/4 x 1/4 inch, may prove more of a problem to source. Do any of the Aussies watching this have a suggestion? Other than milling down some of the larger stock.
3-8-2012
Not a lot to tell you so far today however I thought that those interested in these things may like to see the match up of the running board linoleum and the body colour.
I should be able to make a start on cutting out and attaching the linoleum to the running boards this afternoon. I have some housekeeping chores to do this morning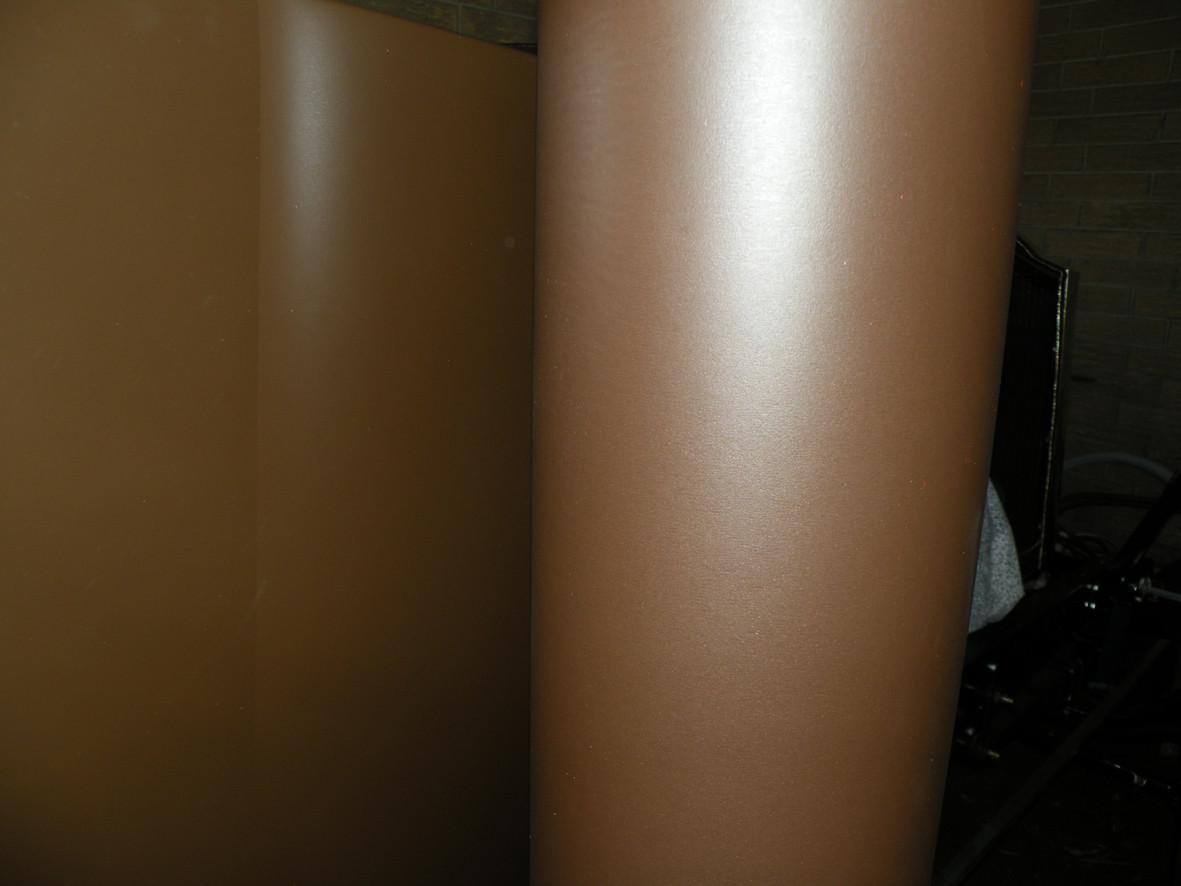 3-9-2012
Hi-y'all
Another Saturday morning and another week past. Where do they all go. Yesterday afternoon I cut out the running board shapes and they are currently rolled back to front to remove the natural tendency for the linoleum to roll back as formed on the original roll. Next step is to give the top surface of the running boards a light sand to create a key for the adhesive.
More later.
3-10-2012
While cutting the linoleum for the running boards I decided that I should cut out that for the front floor boards at the same time. While I still have to stick down the running boards I have done the floorboards and now have decided that I should complete cutting the aluminium edging and finish them first. I have ordered 100 slotted head counter sunk nickel plated screws to complete the job.
Just a quick one and further to the above; the front floor has now had its first trial fit. There is still some "adjustment" required around the gear-lever boss.
This is a remarkably tight fit! Even the original factory floor boards were "relieved" over the heads of the bolts holding the lid of the gearbox. As I have commented before "Just one step at a time".....
The nickel rim around the gear-lever opening and the aluminium finger "lift" in the section over the battery box are from the remains of the original floor.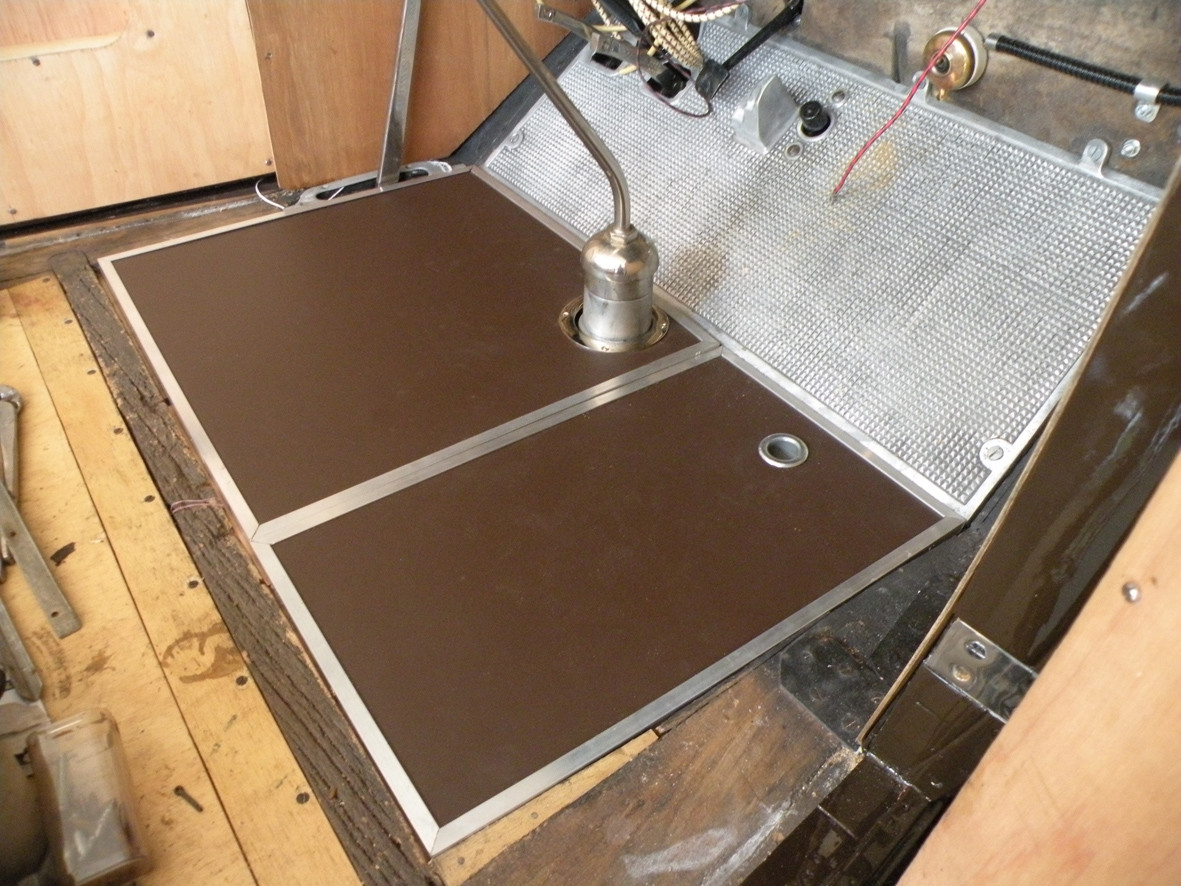 3-11-2012
Hi Pat
At present my thinking is the same treatment using the brown Linoleun with the aluminium edging, The alternative is the brown carpet that will cover the rest of the floor, with the edges bound with leather. This second option is attractive as the floor surface does not have to be perfect (requiring some wood filling) as is necessary for the linoleum. Remember the bulk of the wood in the car is 90 years old.
I guess that we will both have to wait and see. The running boards logically are the next step.
3-12-2012
Hi Pat
Going back to your comment about your friends Hudson cast aluminium foot board. I am lucky the one in the Packard is the original. It is one of the many things that show absolutely no signs of wear.
Ed
I will let you into a secret. My posts on this site are all part of my self motivation plan. If I don't have something new every day (well almost) I feel guilty that I am letting you down. To day being a holiday Monday in Aust I have spent the day in the garden with Helen. The only time I went into the garage was to get a power extension lead so that I could operate the "Chipper-chopper" turning all the bits that Helen was snipping off into mulch. While our garden is basically all Australian Native plants they still need cutting back from time to time. Otherwise we may end up having trouble getting to the front door. One good thing Lawns are kept to an absolute minimum, the only problem is that the mower needs a major engine tune every time I want to start it.
Hi all
While I am waiting for the next lot of painted panels to be finished (perhaps tomorrow). I am doing another one of those little jobs for which there does not seem to be the "right time". I am doing the felt interior for the door pockets. Not particularly exciting but just another something that has to be done "sometime". Prior to starting this I put some wood filler into the timber alongside the aluminium toe board. Hopefully it will finish up smooth enough for me to use some of the off-cuts of linoleum, from the floor boards and running boards as, I believe, would have been originally done.
3-13-2012
A picture is worth a thousand words or so some people say.
Below is a photograph of the first of todays effort in lining the door pocket, (One of four). In the bottom corner of the photograph you can just see the unfinished wood filler on the rail running along side the battery box lid.
The other photograph of some left over hide from an earlier restoration (a 1927 Morris Cowley called "Buttercup). While not the "Biscuit" I have been talking about it is a really nice mid (London) tan which goes extremely well against the dark brown paint. For those interested you can see the Leather merchants tag which tells us that this colour is called "Halo Honey". Personally I think that, despite the name, it is a much more "Vintage" colour and the one that I will probably use for the Packard. All the (automotive) interior decorators among you (professional or amateur) may care to express an opinion.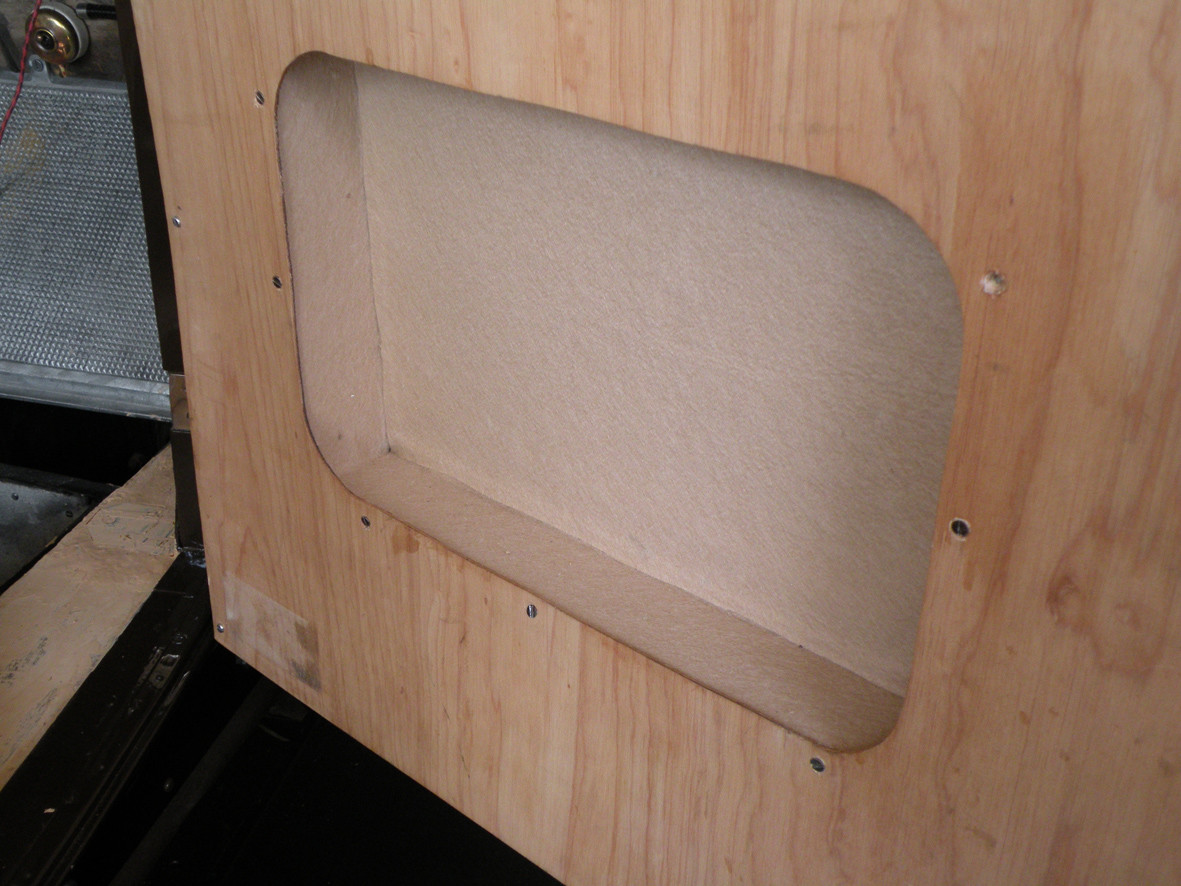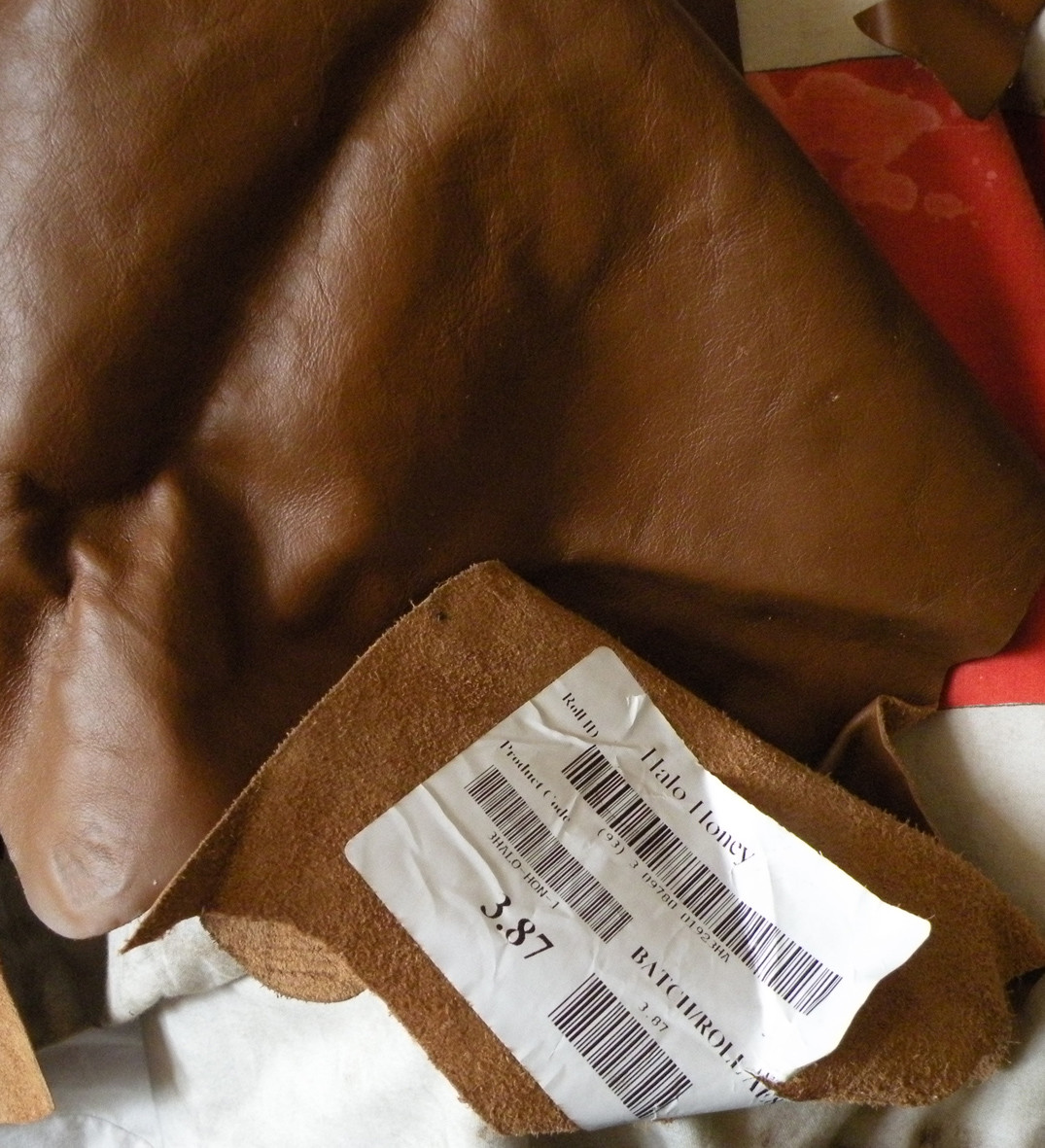 3-14-2012
Hi.
Having collected the valances from Dave yesterday morning, I got back home just in time for lunch, I made a start on fitting the right hand side. By evening I had it about 2/3 fitted, every one of the little 1/4 inch x 1/2inch long bolts has put up a struggle.
Refreshed after a good nights sleep (well, as good as you get at 75) I should finish the first one and be well on the way with the left hand side by lunch time.
Perhaps some photographs then. The postman has delivered the Raised-head stainless 8-32 UNF screws and nuts to hold the aluminium trim on the running boards so they are next in the queue.
Ben
This one is for you.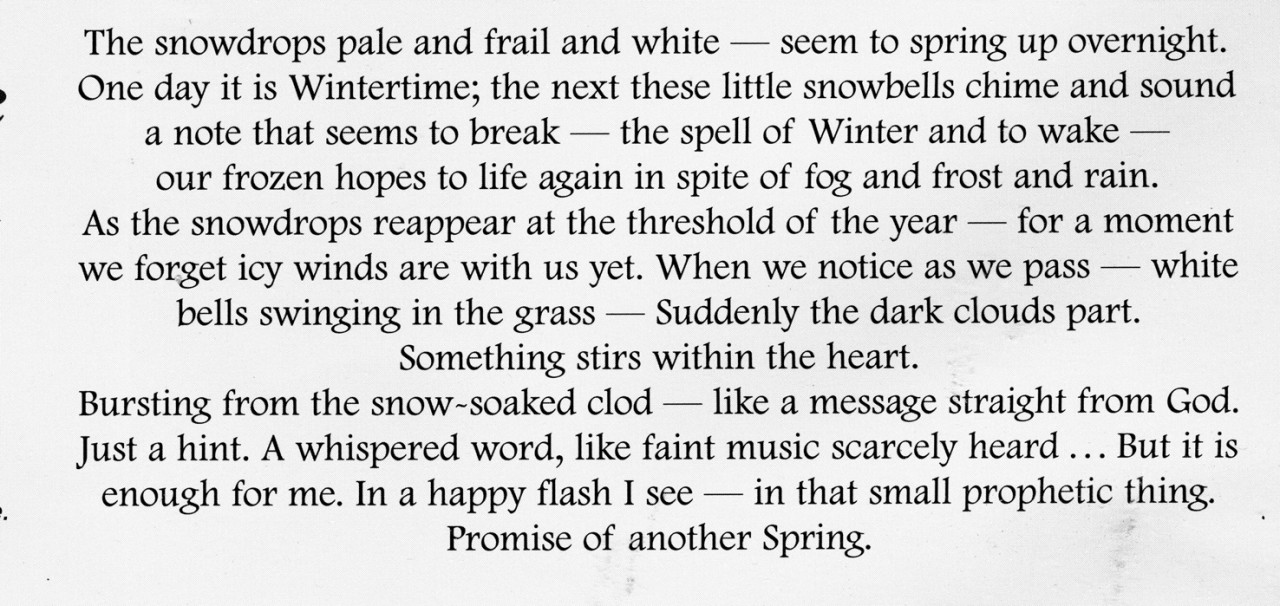 Hi all
On taget the first of the valances was fitted by late morning despite further battles with recalcitrant nuts and bolts in totally inaccessible places.
Good fun ain't it?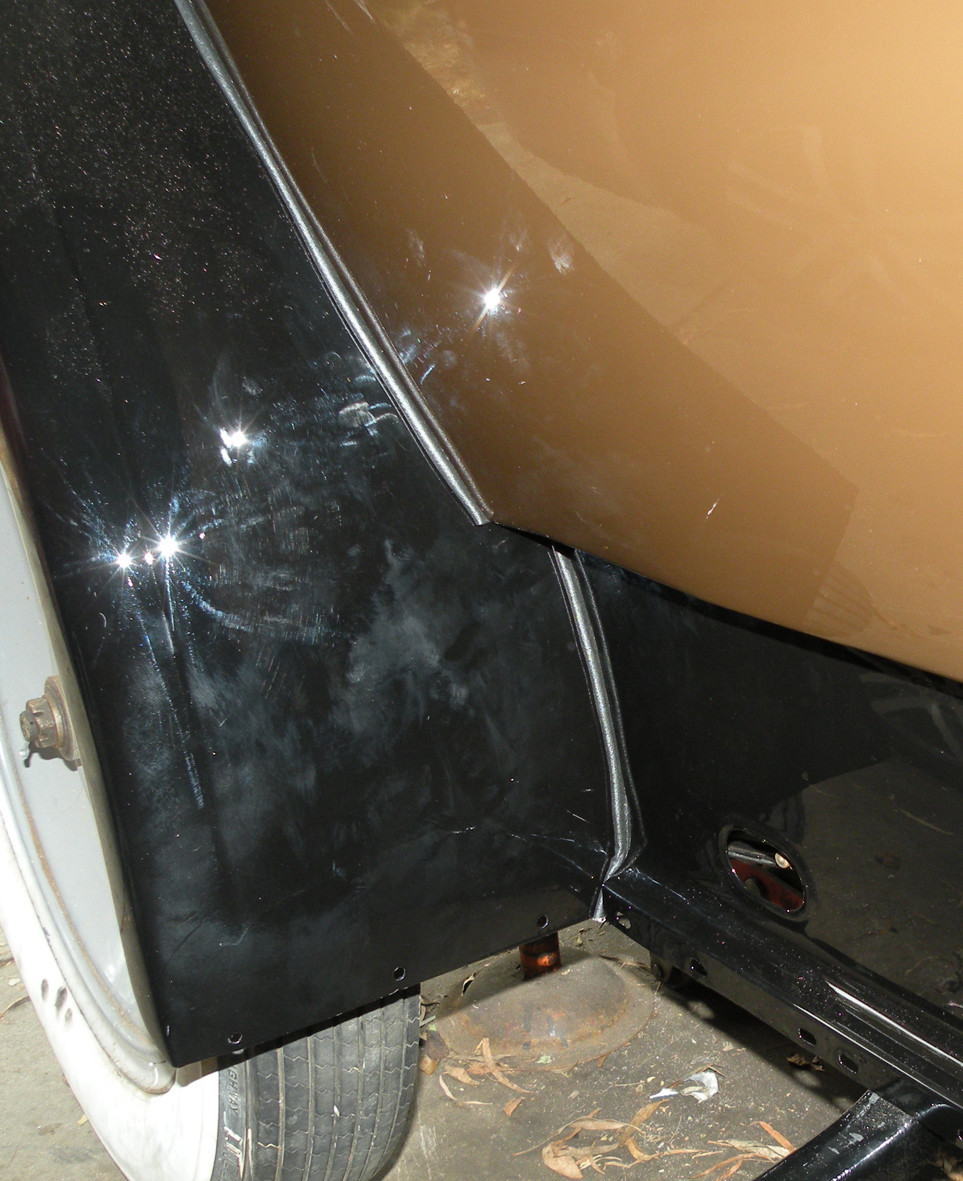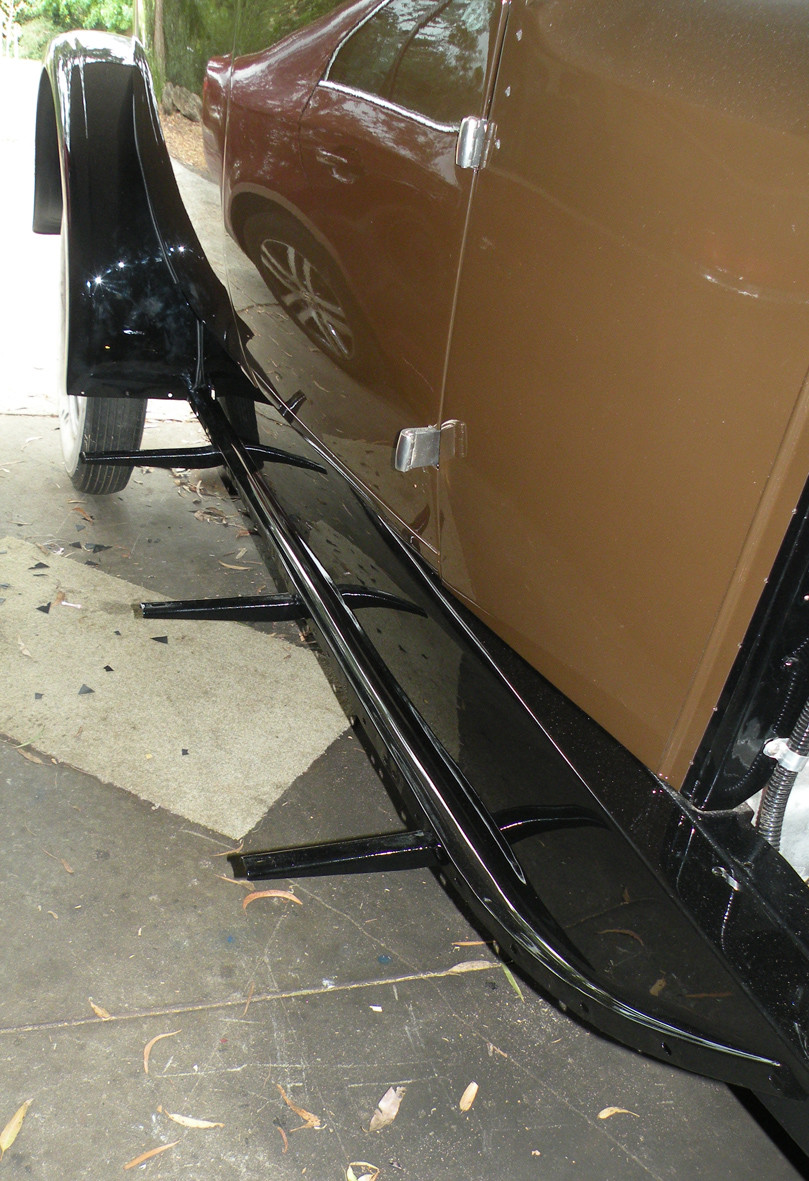 3-15-2012
Quite remarkably the left hand side valance jumped on all by itself! Well almost, having worked out what I was doing wrong, the second side went on with out a problem. Amazing what a good strong cup of black coffee will do. I have booked the running boards in with Tony (the trimmer) for him to spray contact adhesive on for the Linoleum. I believe that this will give me better adhesion and rule out the chance of any bubbles, lifting or uneven finish. Step by step....
I trust that I am not boring you all but some progress is happening.
No The linoleum has not yet been stuck down on the running boards.
I have not included a rear view as it takes me 10 minutes to turn the car around using a home handyman sized trolley jack.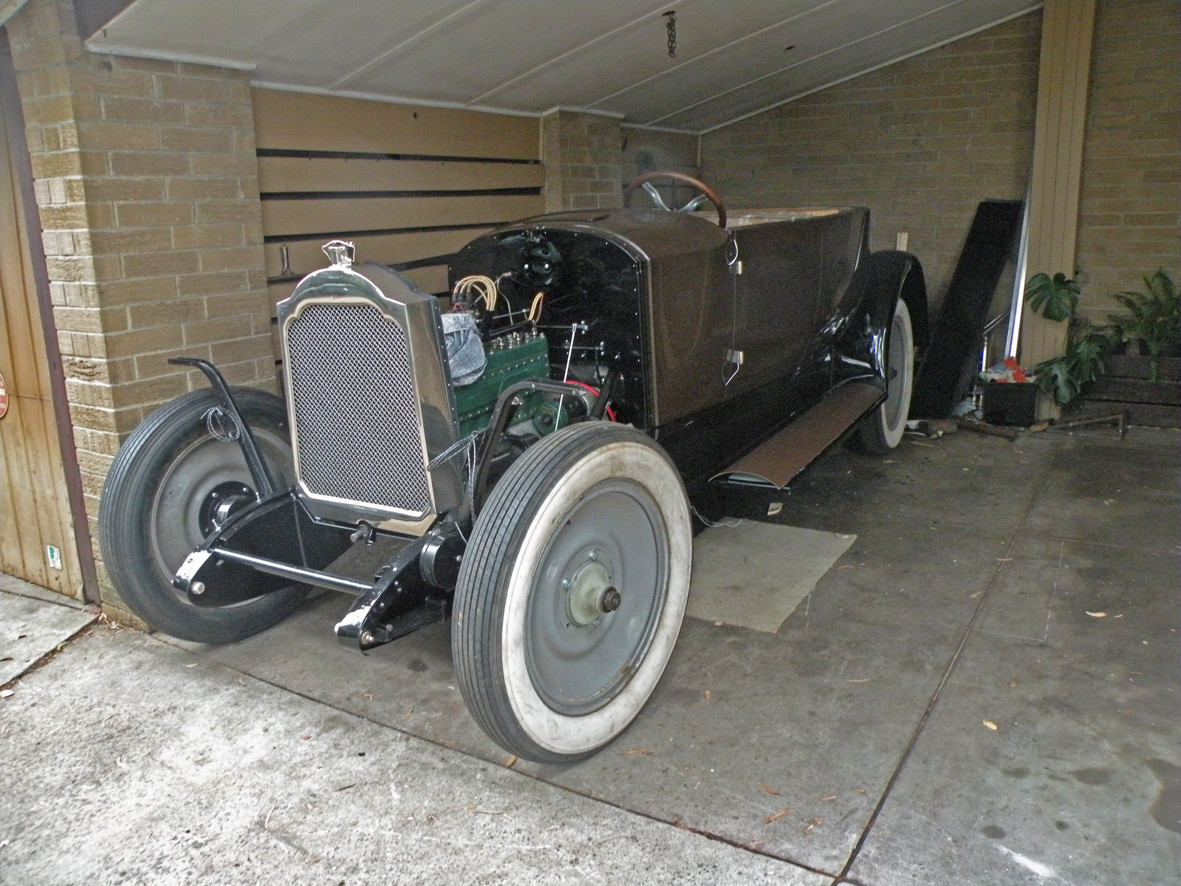 3-17-2012
Thank you Jeff
Rolling is probably the correct term as it continues to roll along. Today is more boring stuff. Nothing worth photographing! An hour this morning marking out and cutting the backing boards for the "wings" on the front seats. Then more time setting out and cutting the Aluminium angle trim to edge the running boards. As they taper in width towards the rear, cutting the mitres is not completely straight forward. Just the job for a quiet Saturday afternoon. Attached is a photo borrowed from the Packard Info site of a later 1930s Packard seat of a similar design to the ones I am building. At this stage I plan to have the seat cushion and squab using wide pleats as in the earlier 1920s cars. These are still some little way down the queue.
The second photograph most of you have seem before, I just have to keep reminding myself that I am actually making some progress.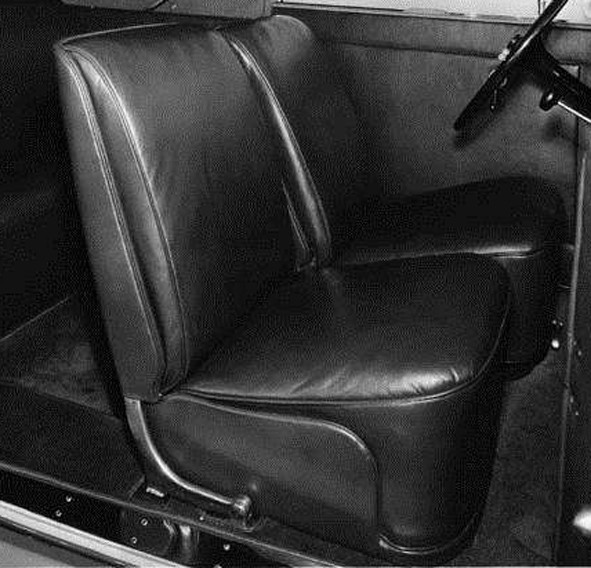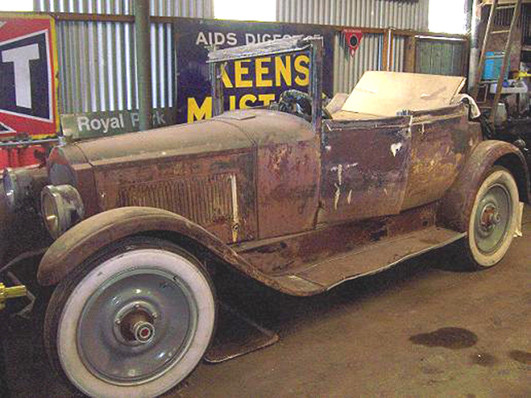 3-18-2012
Thank you Mal
If you wait for me it may never occur. Today while waiting for the start of the Grand Prix I have been doing more boring things like cutting out the ply for the two front seat backs.
I hope that you all take time to have a look at the Grand Prix. It is a fantastic day in Melbourne and the TV shots of the city are fabulous. It makes you realise why it is difficult to think why anyone would want to live anywhere else. March is the very best time of the year to visit. The really hot days have gone and we enjoy beautiful sunny days with temperatures in the mid 20C range. The city is blest with wide tree lined streets and spacious parklands such as Albert Park where the Grand Prix is run on what for the rest of the year are public roads.
Thank you Donald
The remnants of the original linoleum that were still on the floor boards and running boards were so grimy and faded it would have been impossible to accurately say what colour they were. Black, brown or grey I doubt that they would have started life as beige.
While I would like the car to be as "Original" as possible without the roof it left the factory with this is in all reality impossible. I have bought, cut and have stuck down the section of floor boards and have cut the material for the running boards, That I did not the easy route and buy the much less expensive ribbed rubber flooring and use that is sufficient to satisfy me. I think that the brown will compliment the car when it is finally finished. I appreciate your interest but in this case I will have to be content with what I already have.
Thank you for your support OCF
It has been my life long passion, saving basket-cases and lost causes that has kept me perpetually poor! But then again I have become rich in knowledge and attracted a virtual fortune in friends and acquaintances. Added to this I have been blest with a loving and supportive wife who enjoys motoring in old cars and is a great navigator. This is borne out by the fact that this year she won the VSCC of Australia's (Vic) "Most Successful Navigator Award" against a field of very experiences and enthusiastic males.
Thank you for your support OCF
It has been my life long passion, saving basket-cases and lost causes that has kept me perpetually poor! But then again I have become rich in knowledge and attracted a virtual fortune in friends and acquaintances. Added to this I have been blest with a loving and supportive wife who enjoys motoring in old cars and is a great navigator. This is borne out by the fact that this year she won the VSCC of Australia's (Vic) "Most Successful Navigator Award" against a field of very experienced and enthusiastic males. After 50 years she still looks forward to the Clubs competitive events. Our next the "Alpine Trial", three days of hard mountain driving.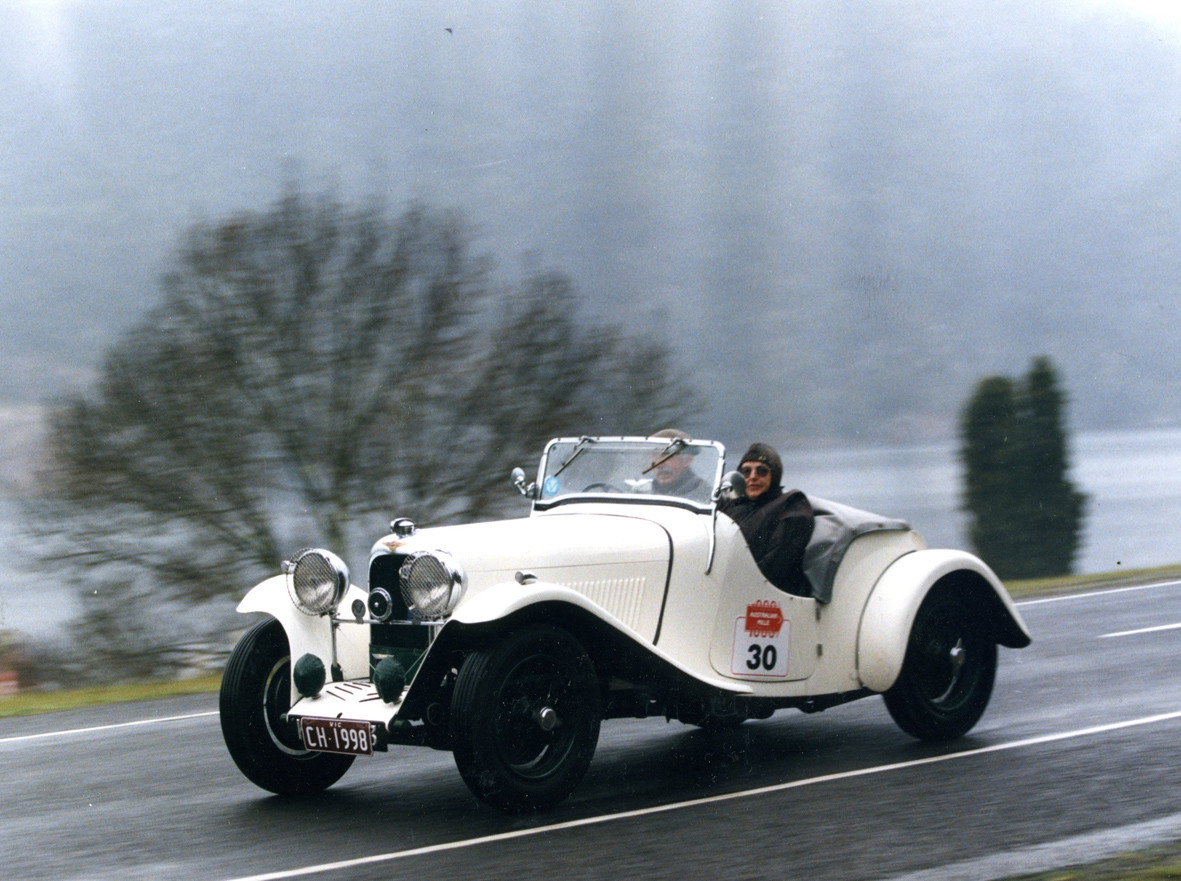 3-20-2012
The saga of the running boards continues. The linoleum is attached with the help of Tony my super trimmer. There is no way I could have stuck it down satisfactorily without his assistance. The aluminium trim is cut to size with mitred corners and now the left hand side "board" is almost all bolted up.
If anyone who has not done a full restoration is wondering why these things take so long and cost so much money the answer is simple. Just look under here. To save you the trouble of bending over, I have taken a couple of photographs. The first the underside of just one section of running board. the other two containers. The plastic pot originally held 100 1/4 inch UNF X 1 inch bolts and nuts, the cardboard box held 200 flat washers and 100 spring washers. Each Valance to running board bolt has two flat washers (one each side of the flange) and a spring washer under the nut. Mr Packard sure did not want any squeaks or rattles! The Aluminium trim on the outer edge of the running board is to be secured by 3/16 UNF Raised head countersunk stainless steel screws and nuts again with flat washers and spring washers on the inside.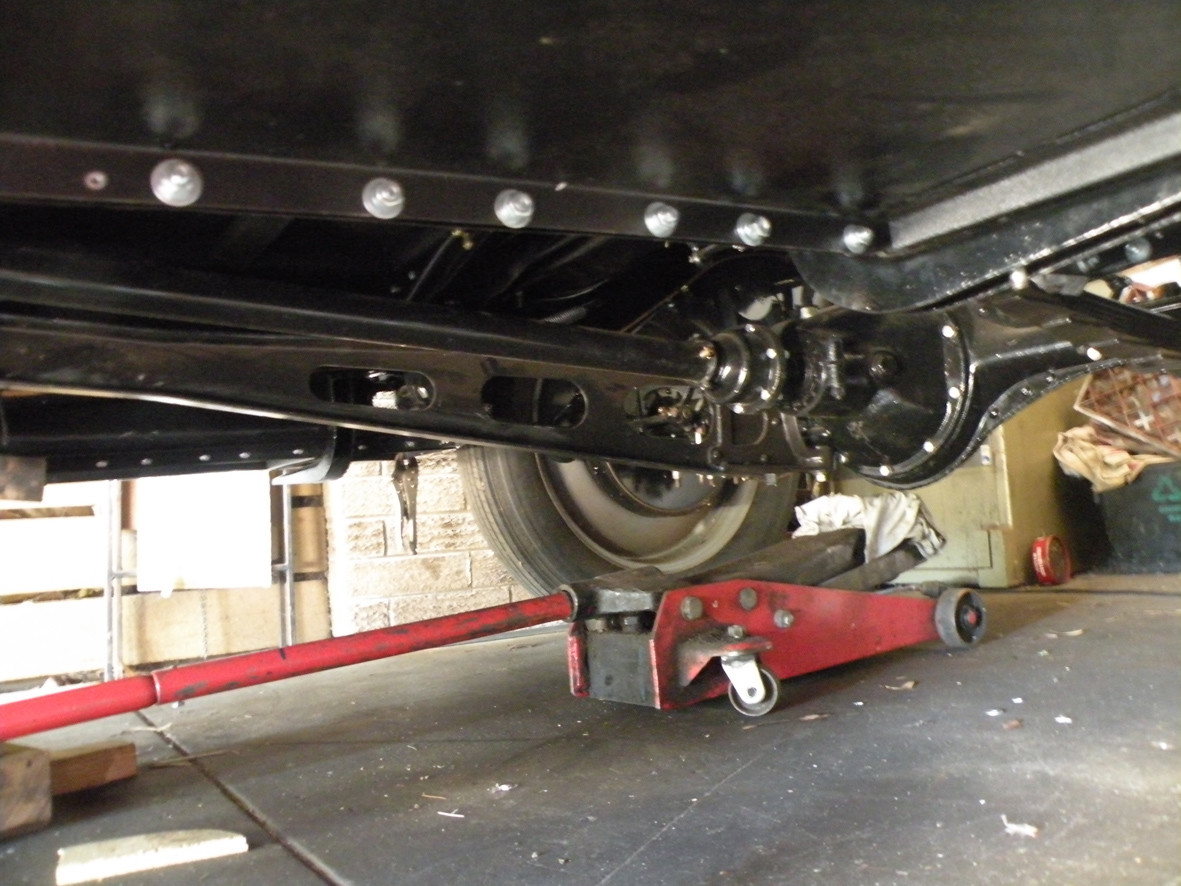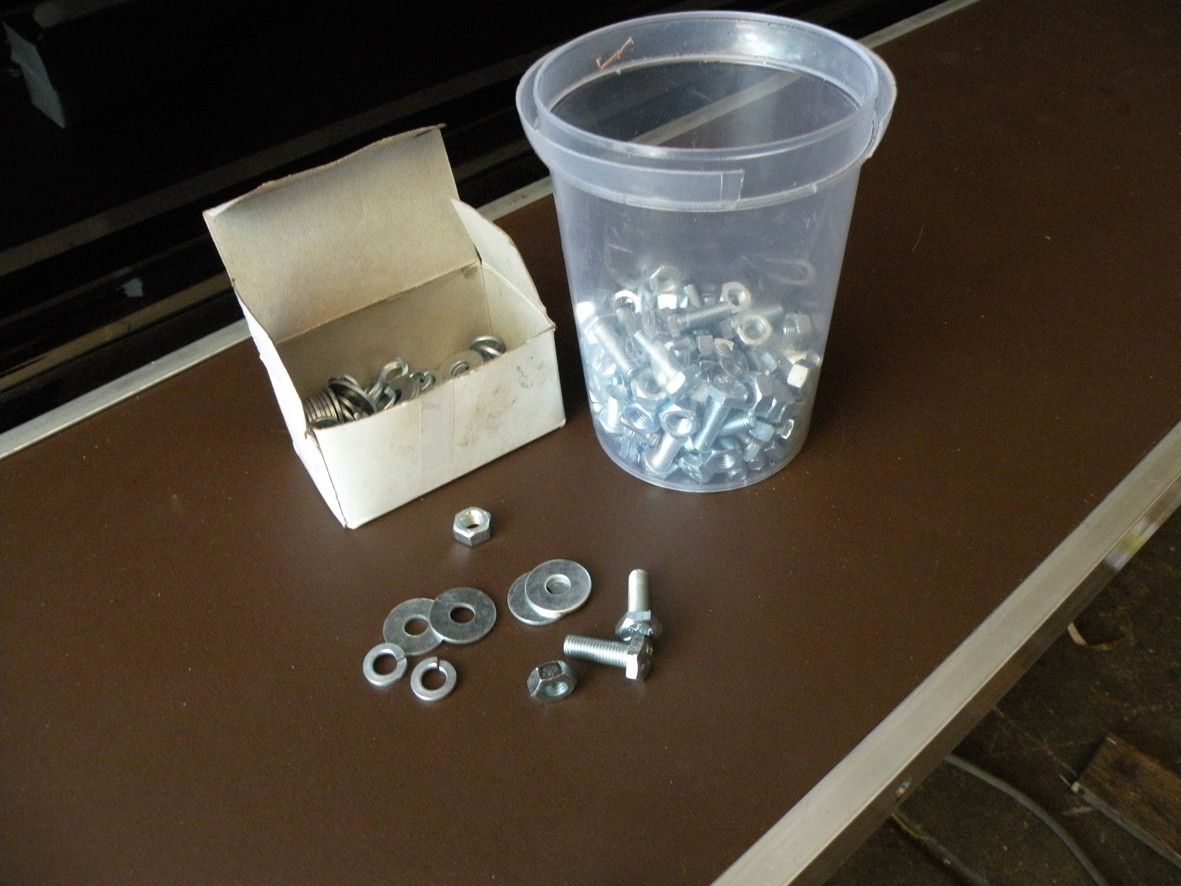 One hour later......
Donald, while it is neither Black or Beige, once the front fenders are fitted I think that my choice of Brown linoleum will be more that justified. I am told that it will actually darken with use. We will just have to wait and see.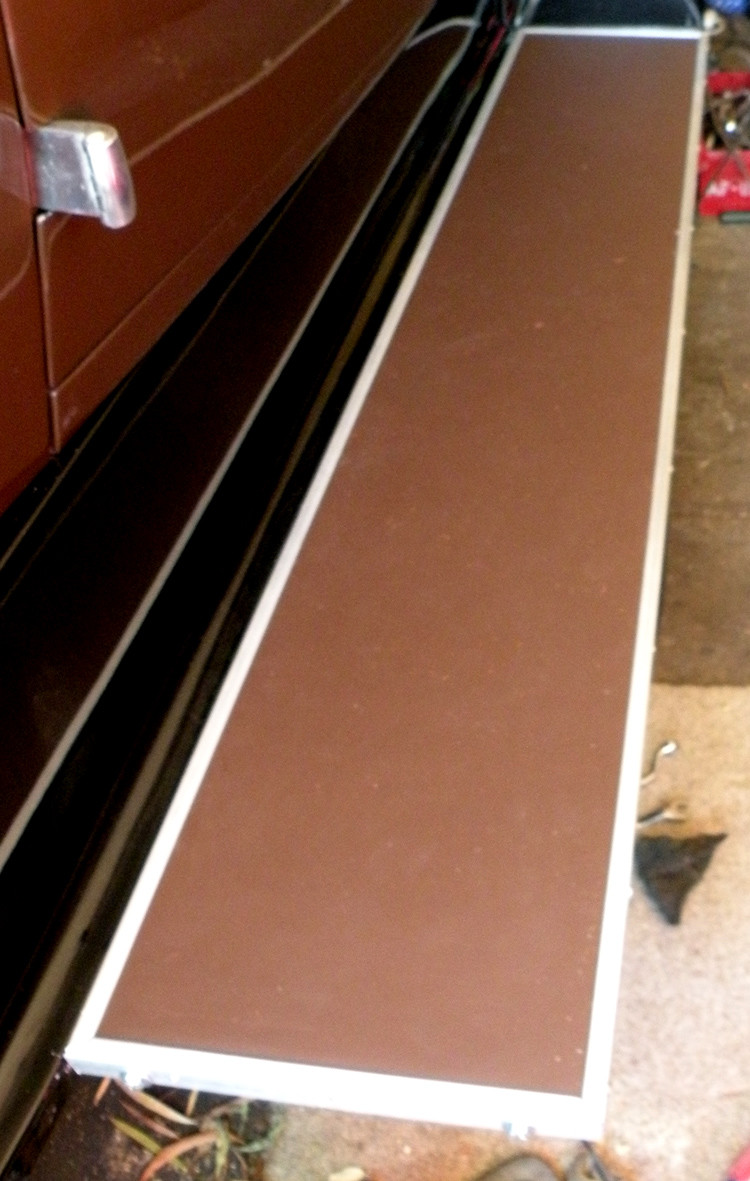 Another day another dollar....
First task to day is to go and collect the door cappings from the French Polisher. Having spoken with the foundry this morning they are pouring the bronze for the windscreen pillars later today so they should be ready to collect on Friday. The next task is to turn the car around so I can fit the right side running board.
3-21-2012
Hi all
I cannot help thinking that many of you, with your huge barns, fully equipped fancy workshops, acres of land, and unlimited manpower, have absolutely no concept of how I work. When I say that I have to turn the Packard (no light weight) around so that I can work on the other side. I mean exactly that. I can only work on one side of the car at a time! Turning it around means turning it in basically its own length using a small trolley jack and the manpower of one 75 year-old. They say that a single picture tells more than a thousand words. If I take it outside the area of the carport I have a struggle to push it back up the incline in the drive-way........ Regardless, at the end of the day there still has to be sufficient room for the Bosses' VW in the carport too. Now I can get on with fitting up the right-hand side running board.
See below.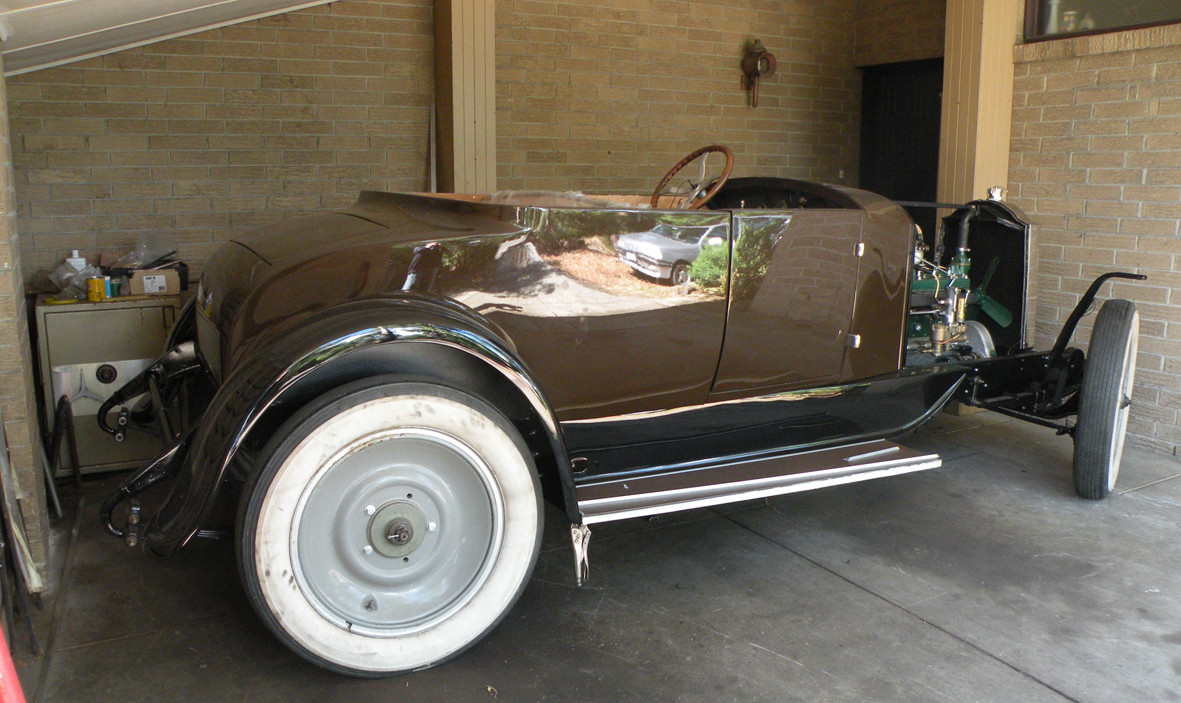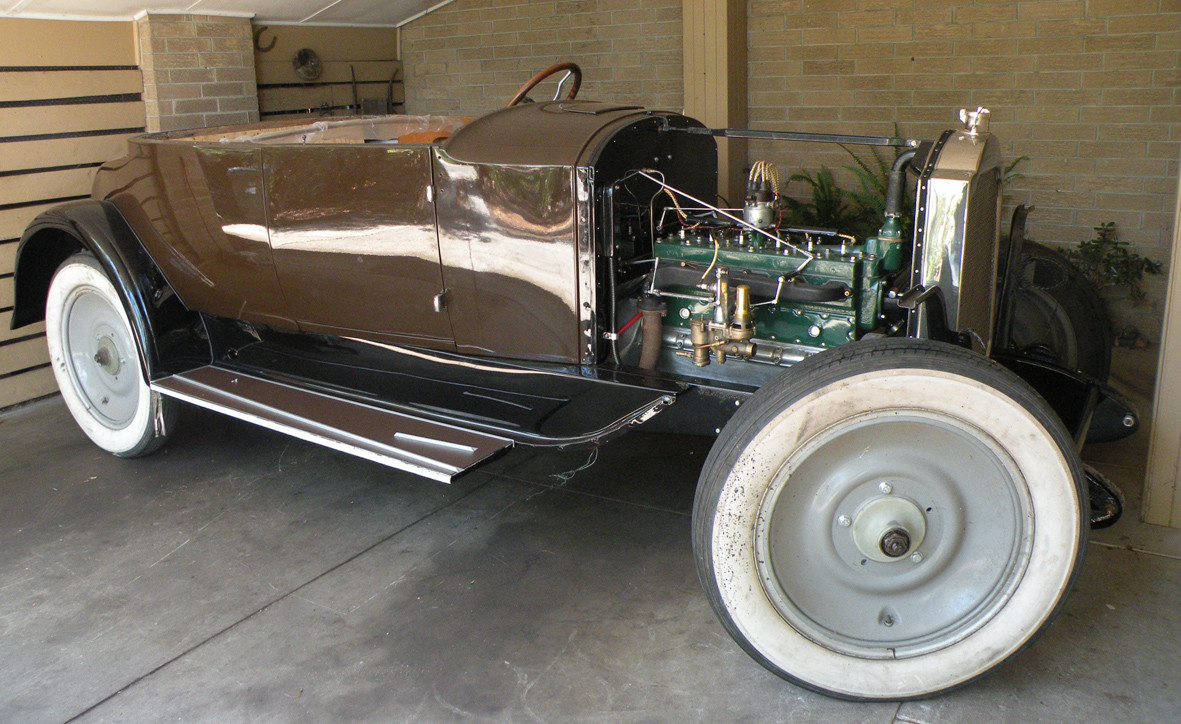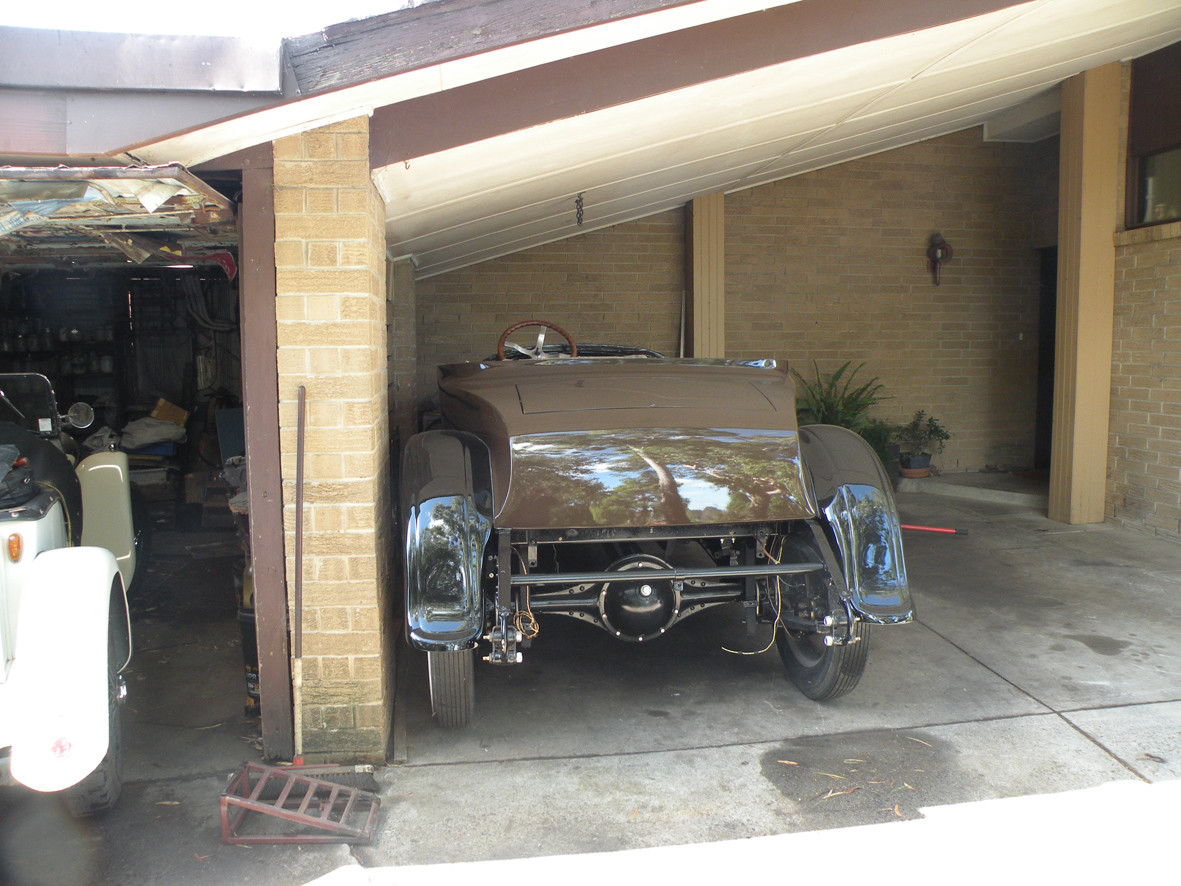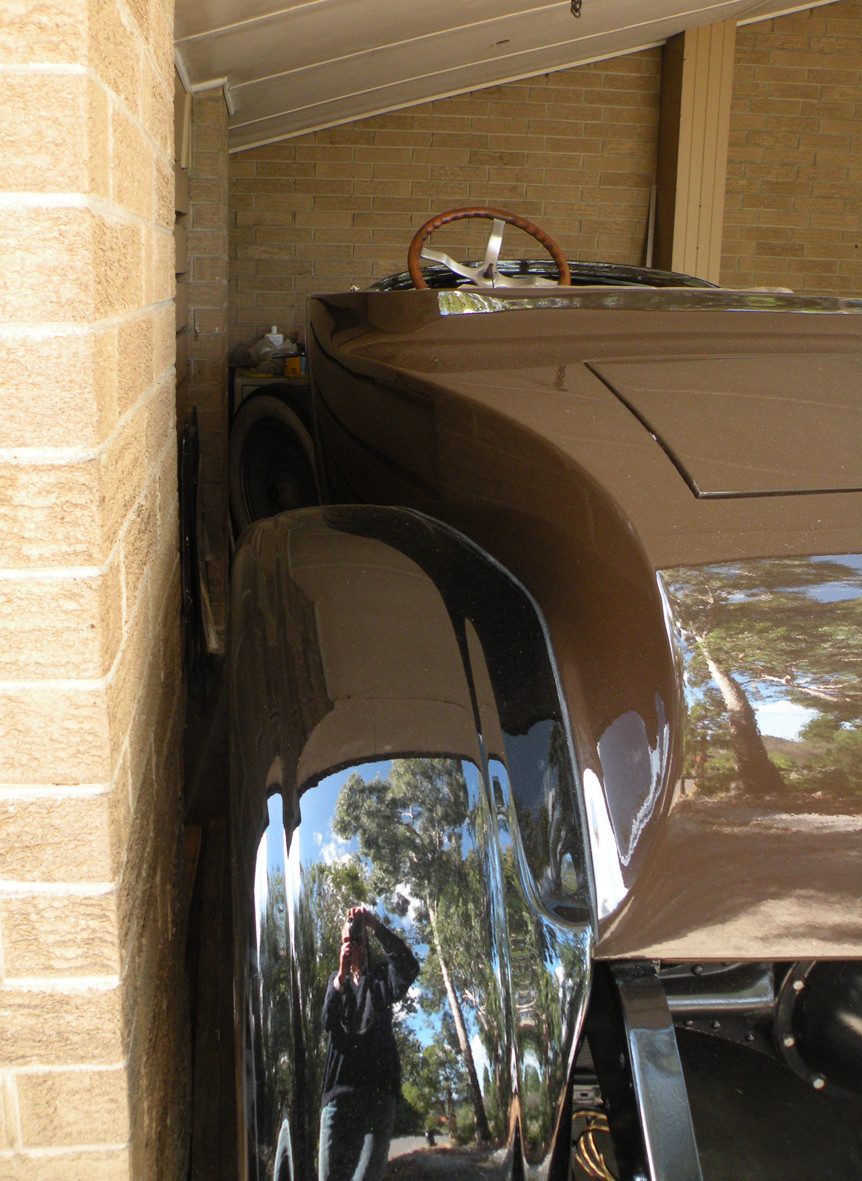 3-22-2012
No more work today!
Helen & I drove the Lagonda Rapier out into the Yarra Vallley for lunch at a winery then home, stopping at our favourite strawberry farm on the way. Round trip of about 60 miles, lovely sunny day, a mild 24 degrees C.
Back to work tomorrow.
3-23-2012
Friday is always a messy day at our house with the weekly marketing to be done and all those things that pile up for the end of the week. This afternoon I finished fitting the petrol tank and having bought the leather it was time to do some more work on the front seat frames. These are just about ready to go off to Tony for him to work his magic on. Sorry nothing worth photographing but with luck next week should see some progress. Only problem is some medical appointments on Tuesday and Wednesday will break up the week yet again.
3-24-2012
All the absolute purists out there had better look away now!
Below are todays photographs of the seat frames ready to go off to Tony for upholstery.
A quick look at the original factory drawing for the Coupe seating plan will explain the apparent strange shape of the seat cushion (the bit you sit on).
With my seats the squab (the back rest) folds forward to permit access to the rear of the passenger compartment.
All I can say to all those people sitting at their computer going "Tut Tut" just wait a week or three and all will be revealed.
I can say positively that they will not be having coil springs and horsehair upholstery but then again I don't go about wearing knickerbockers.... I am not about to make my front seat passenger sit on a little "tin" folding seat as per the original either!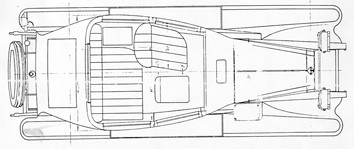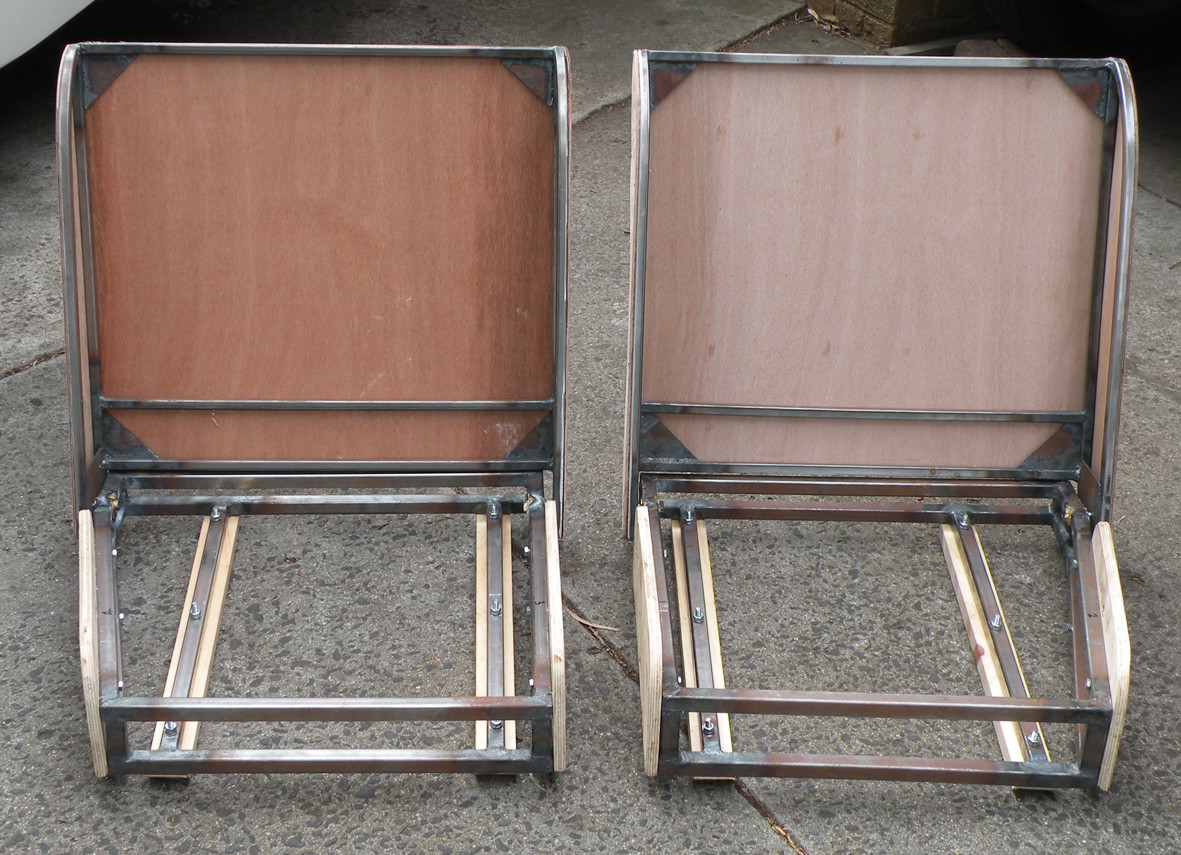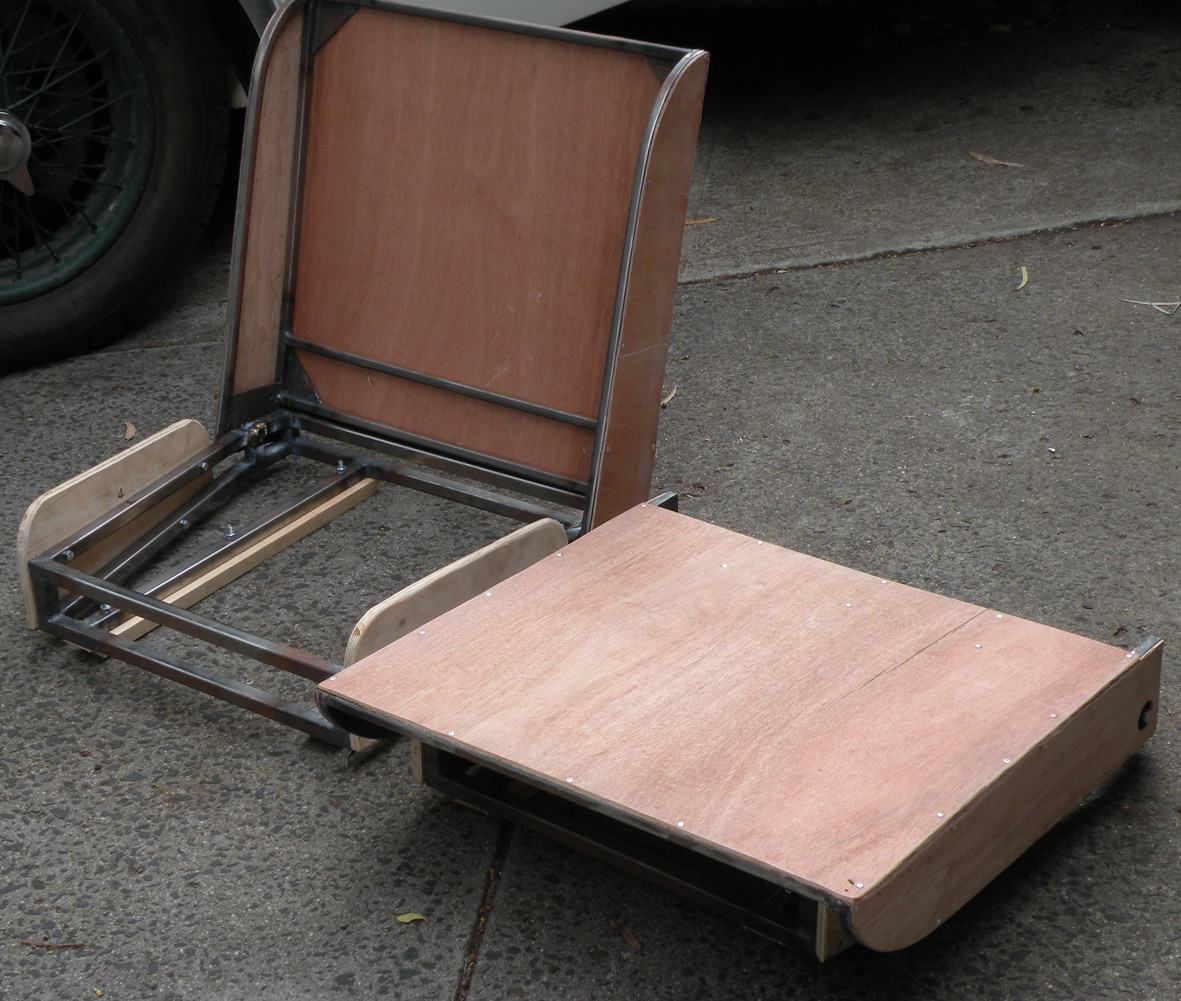 Just one more quick photograph for today, another step towards completion, the petrol tank is now installed and the main petrol pipe connected. What is missing from this photograph?
Apart from the exhaust pipe? My next little job is to fabricate the spare wheel carrier. Please can anyone supply a photo or diagram of a disk wheel spare wheel fitting for an early 1920s Packard.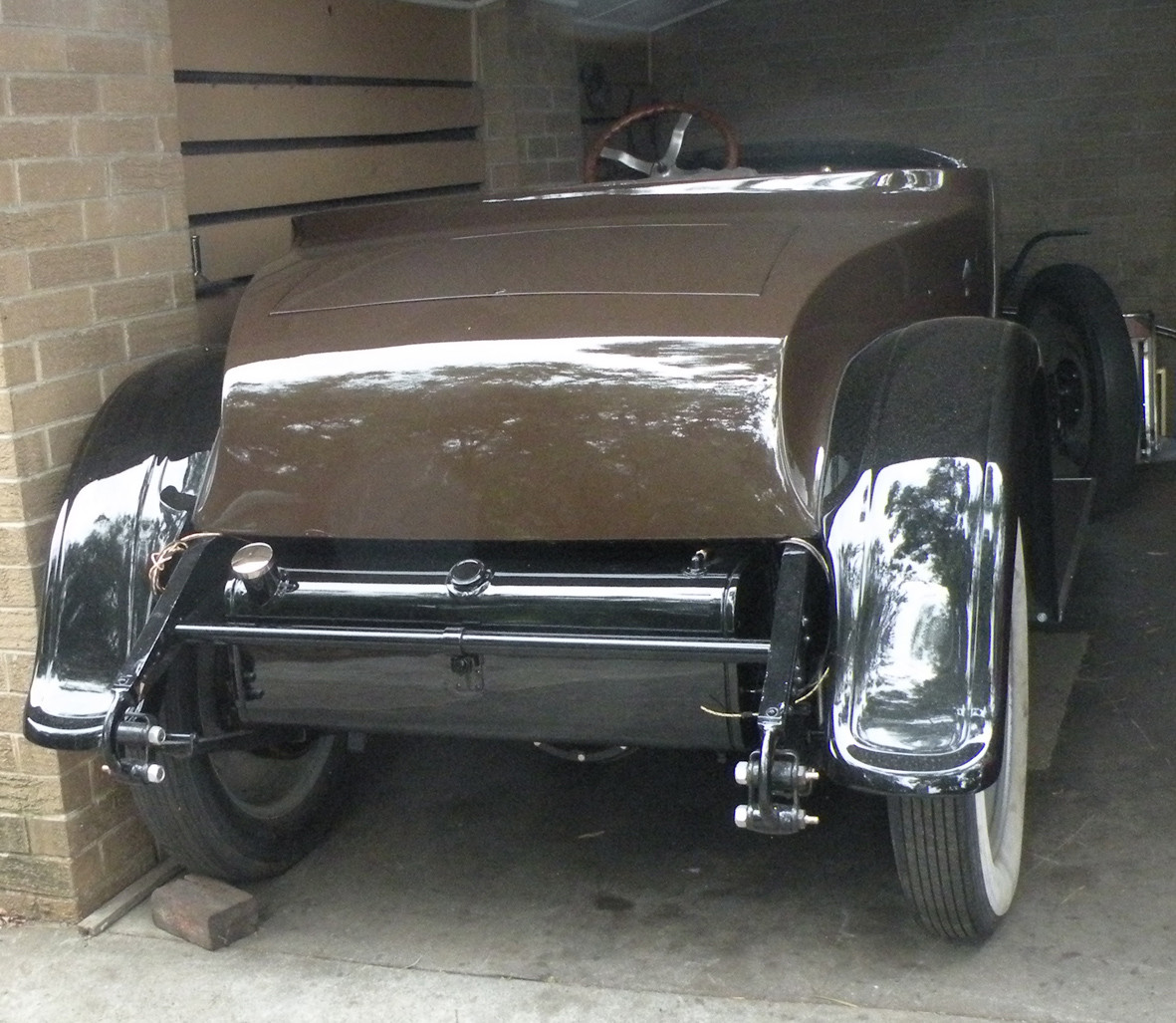 3-27-2012
While there has not been a great deal to report ( Spent much of today having a CT Scan of some of my plumbing) I did manage to collect one of the front fenders from Dave. I can only fit one at a time in the Peugeot. It is temporarily sitting in place. Tomorrow (Wednesday) morning is to be devoted to sorting out more medical issues, people who have known me for in excess of nine years will understand. I should be able to retrieve the last of the fenders in the afternoon. I also managed to collect the castings for the windscreen pillars too but they still require some machining and polishing before they will be ready to go to the platers.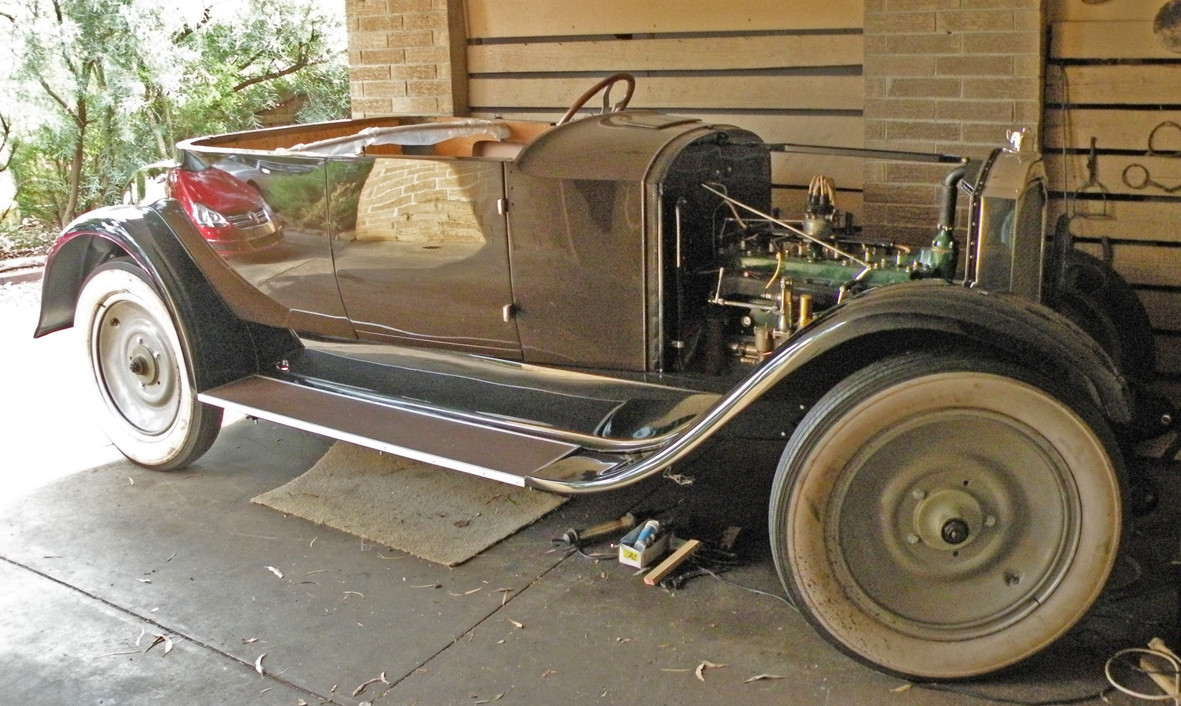 Hello Jeff
Many thanks for your kind comments. regarding the spare engine. It is a bit too far away for me to collect added to this I really don't go in for collecting spare major components. I believe that if you rebuild something properly it should last. Hoarding spares in shed very often prevents an other enthusiast from completing a project. If there is some one who can use it then the forum is doing its job,
Hello Donald
My generator is an Atwater Kent but I have a Remy cutout. This is possibly a period replacement as it only has one fixing screw. I am hesitant to drill and tap the case for the second screw. Regarding the Vacumn tank I have one ready to put on the car but I have to make holding straps for it. It is slightly smaller diameter than what I believe the original may have been but this is the one I have. I have been right through it and believe that it should work. It is another case of needing a roundtoit.
The exhaust pipe is the original. the entire exhaust system will need to be replaced as it had suffered at the hands of uncaring forklift truck drivers during the cars 50 odd years sojourn in a Custom's Bond Store. I have noted your comments regarding the need for some heat shielding and fully agree. This will probably be one of the last jobs to be done on the car.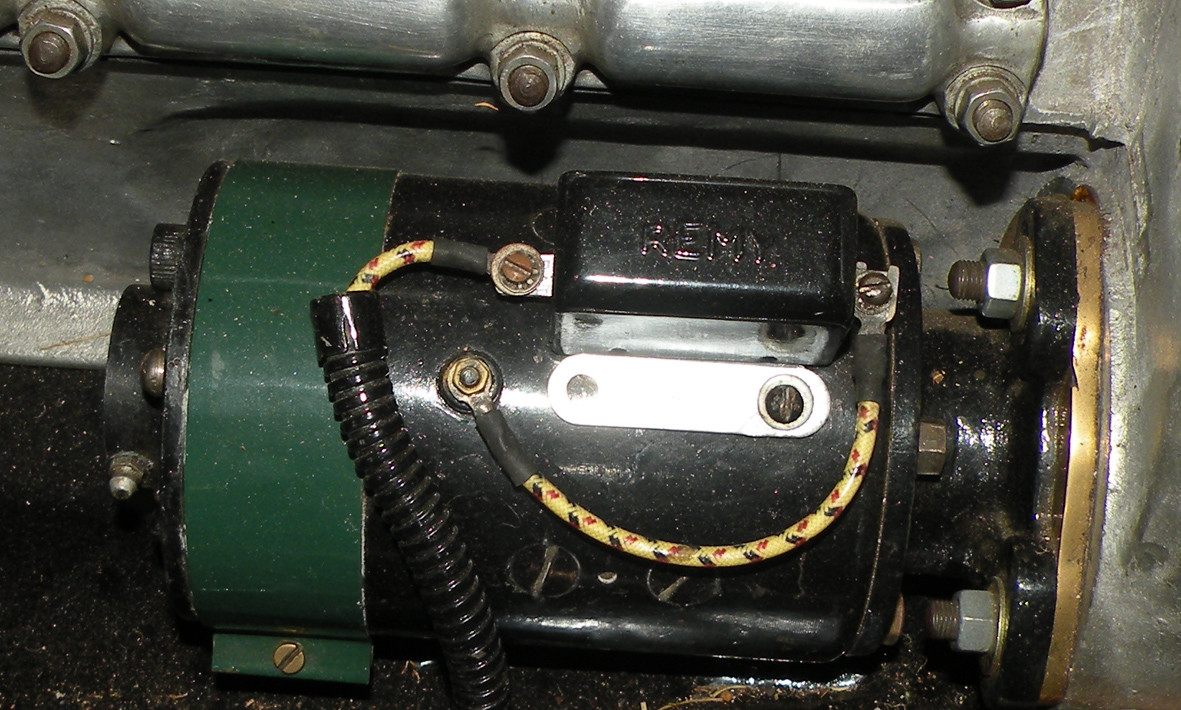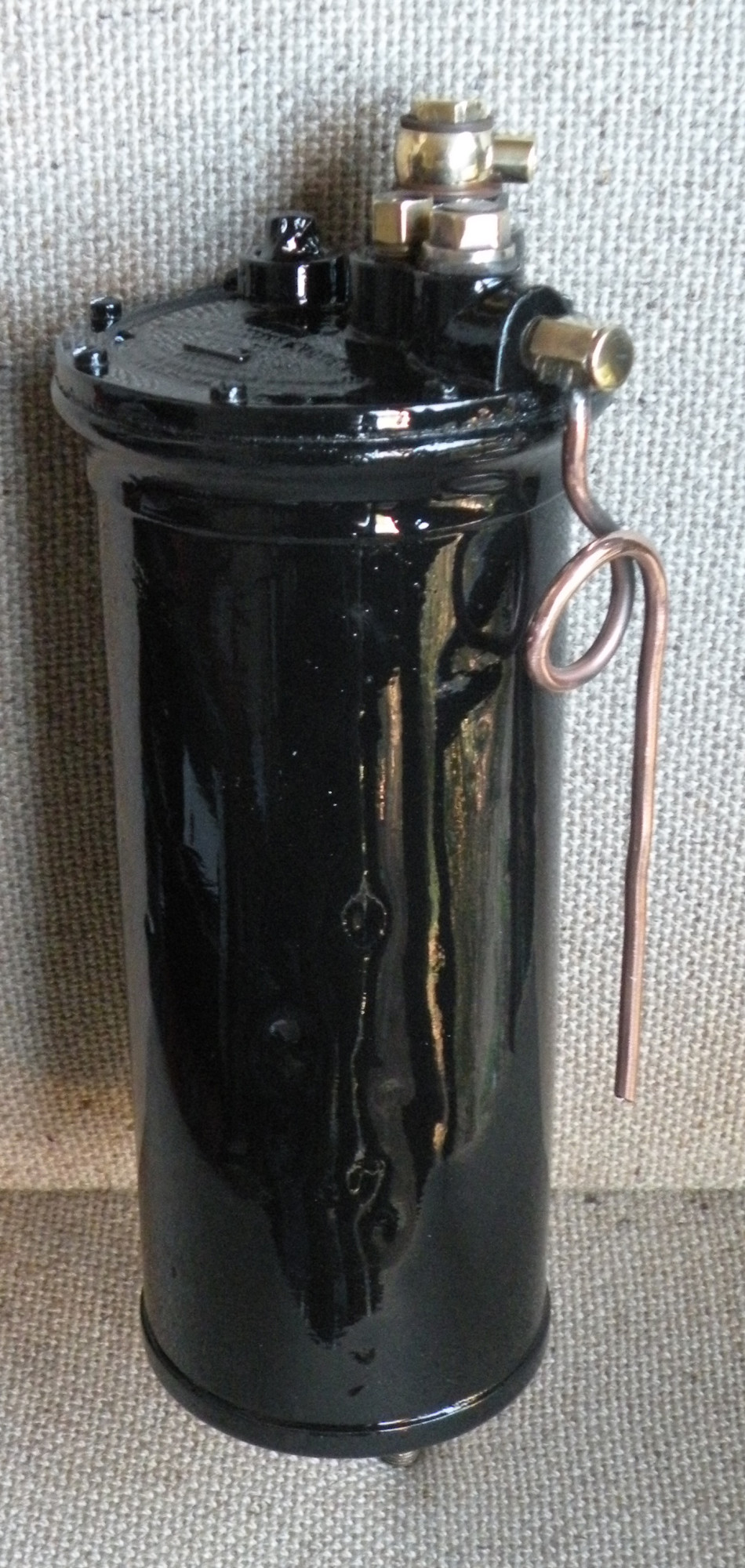 3-28-2012
Back to work having been told by my Specialist medico that "It was all a storm in a tea cup" I just wish they would tell you this first instead of putting you through a couple of weeks of torment. For those that do not already know I am a cancer survivor. Anyway as I said "Back to work". Just yesterday a parcel arrived from my good friend Ben Benson. At first I was a little disappointed, the contents were exactly as Ben had removed them from the donor car. The dash lamp was a matt black and the cigar lighter about the same. Now after a morning at the buff, the dash lamp looks very different. I have yet to dismantle the cigar lighter and restore it back to its original glory. Meanwhile I have cleaned up the bit you see and fitted it into the "spare" hole in the dash. I still have to clean up the speedo cable and remove the "toe board" so I can fit it too.
This afternoon I must get back to fitting the front fenders. The right hand side one is almost there.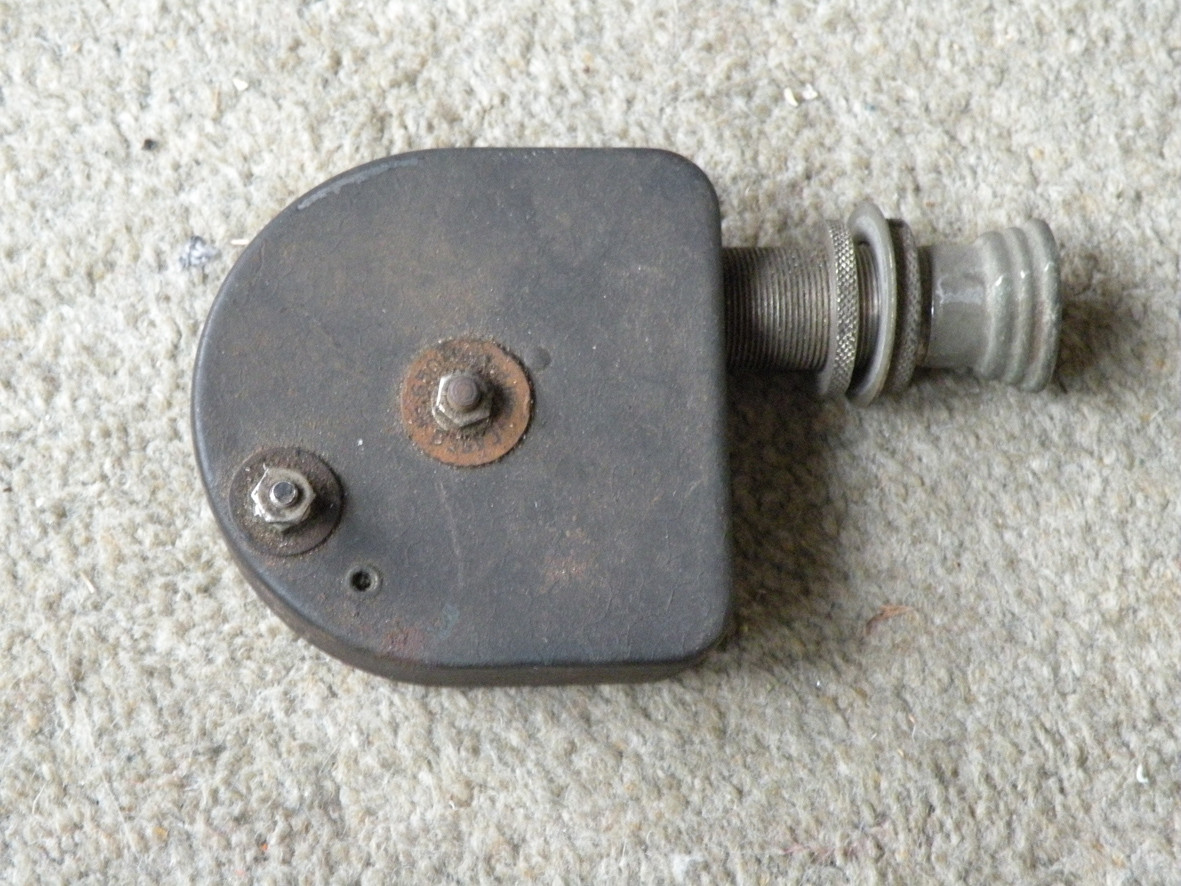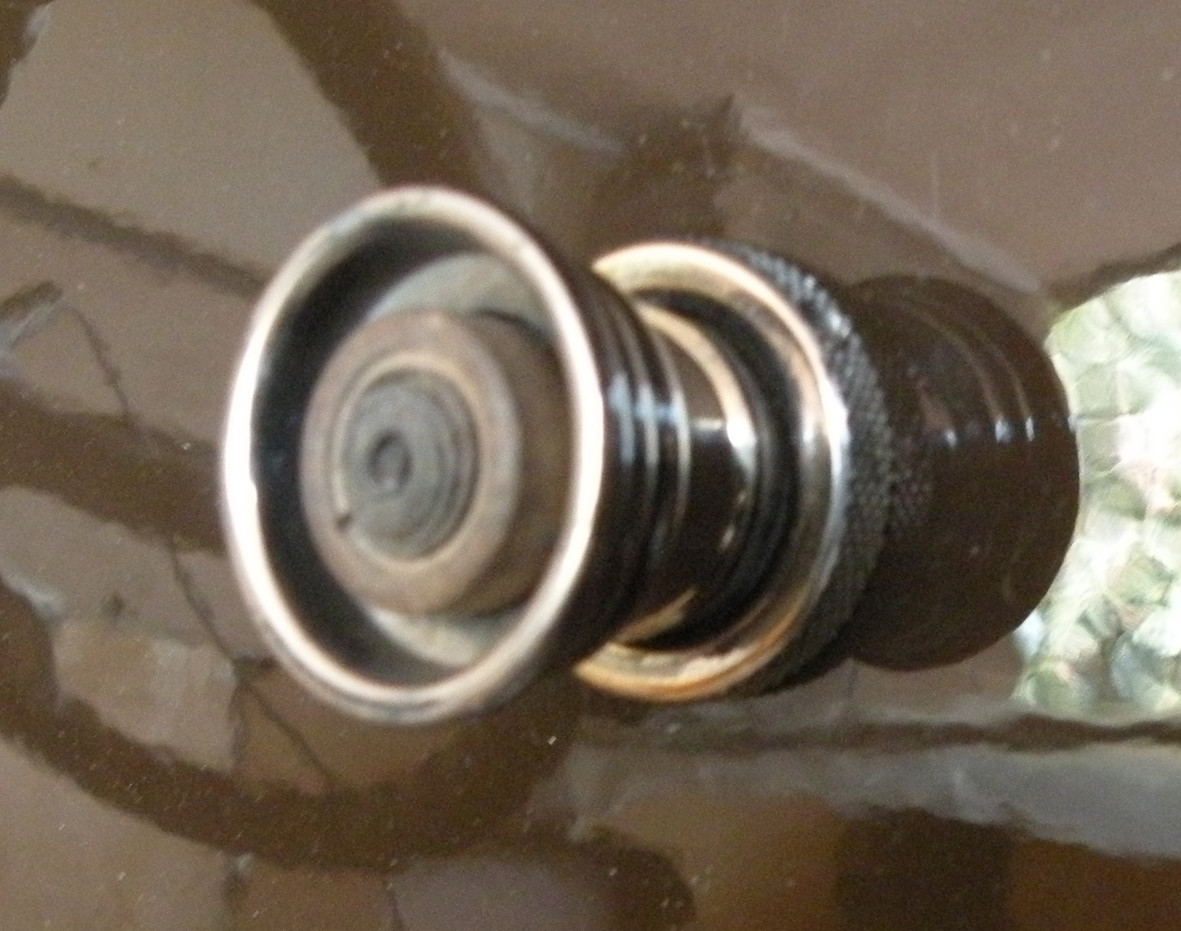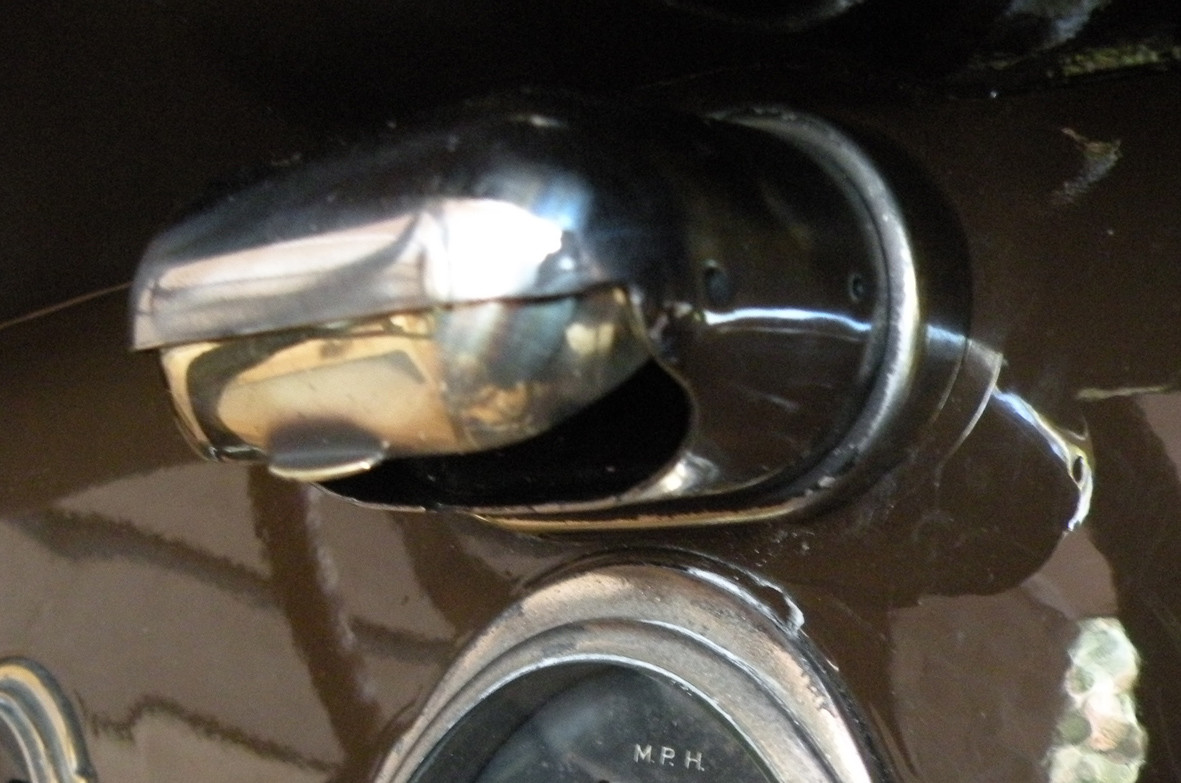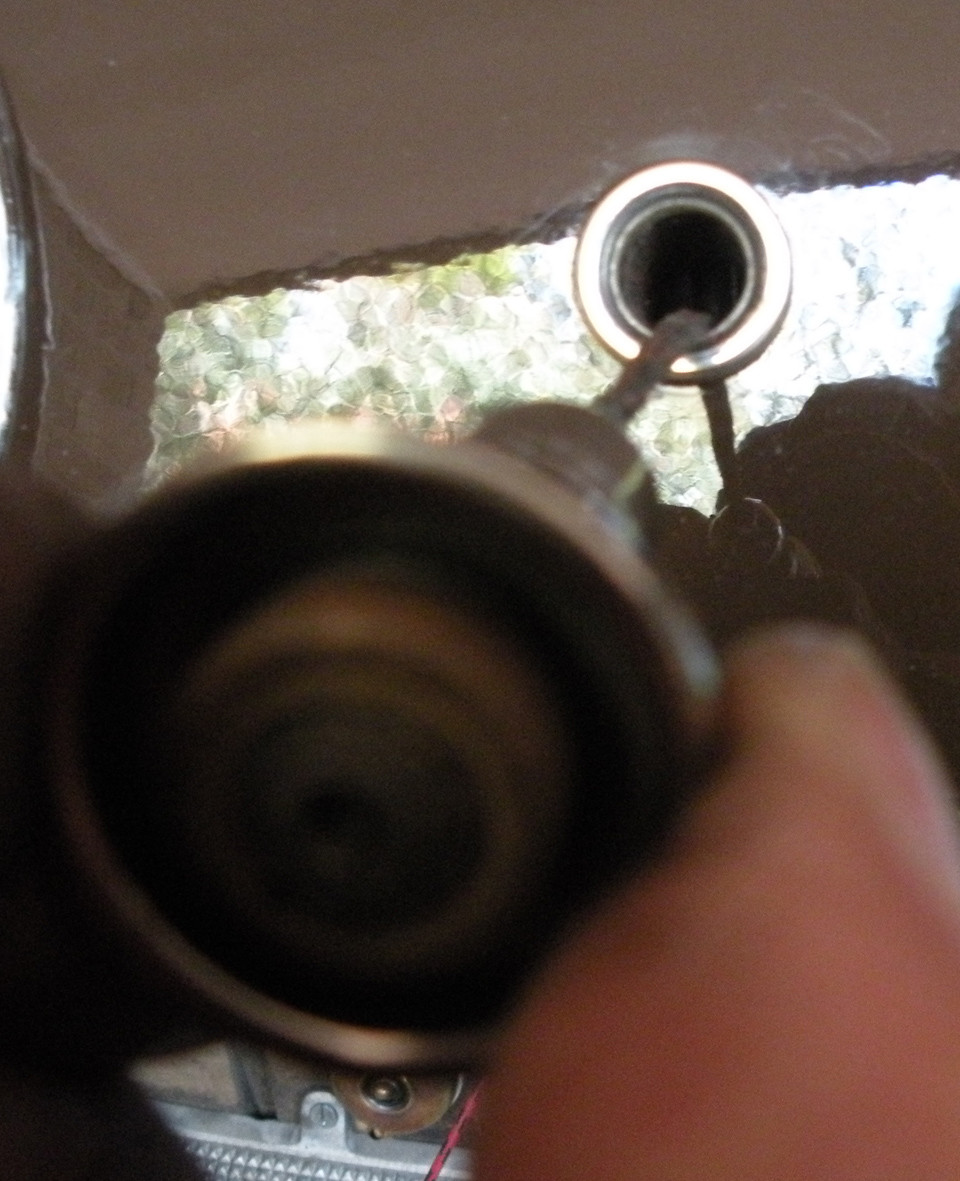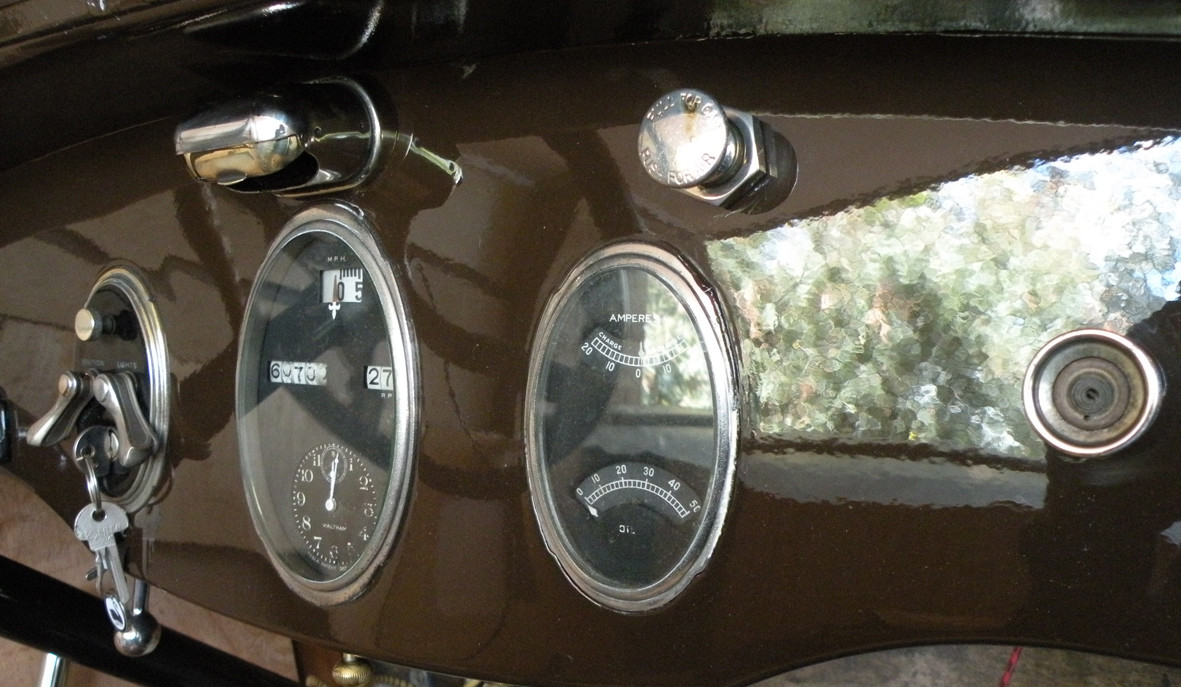 3-30-2012
Back to work having been told by my Specialist medico that "It was all a storm in a tea cup" I just wish they would tell you this first instead of putting you through a couple of weeks of torment. For those that do not already know I am a cancer survivor. Anyway as I said "Back to work". Just yesterday a parcel arrived from my good friend Ben Benson. At first I was a little disappointed, the contents were exactly as Ben had removed them from the donor car. The dash lamp was a matt black and the cigar lighter about the same. Now after a morning at the buff, the dash lamp looks very different. I have yet to dismantle the cigar lighter and restore it back to its original glory. Meanwhile I have cleaned up the bit you see and fitted it into the "spare" hole in the dash. I still have to clean up the speedo cable and remove the "toe board" so I can fit it too.
This afternoon I must get back to fitting the front fenders. The right hand side one is almost there.
Another quiet day, went and watched some Ladies Golf with Helen A lovely warm 28 degrees C but with lots of shady trees on the course.
Ordered more nuts and bolts. This time to hold the headlamp bar and the hood securing clips etc so some progress I suppose. They should arrive by express post on Monday. I intend to sit down and calculate how much I have spent on Screws, Nuts and Bolts in the last two years, but first I have to do a drawing for Tony for the seats. The Hood gets painted this weekend which will be the last thing to be painted. No not quiet I still have to take the wheels off and remove the tires. I am still looking for a diagram of the rear spare (disk) wheel mount. Just a rough sketch or photograph would do. ANYTHING!
While on the subject of the hood and the associated hardware I am also looking for one (just one) of the spring steady's that mount under the post for the hood closure clip. See photos below. Condition is not all that important as long as it is in one piece.
Thank you.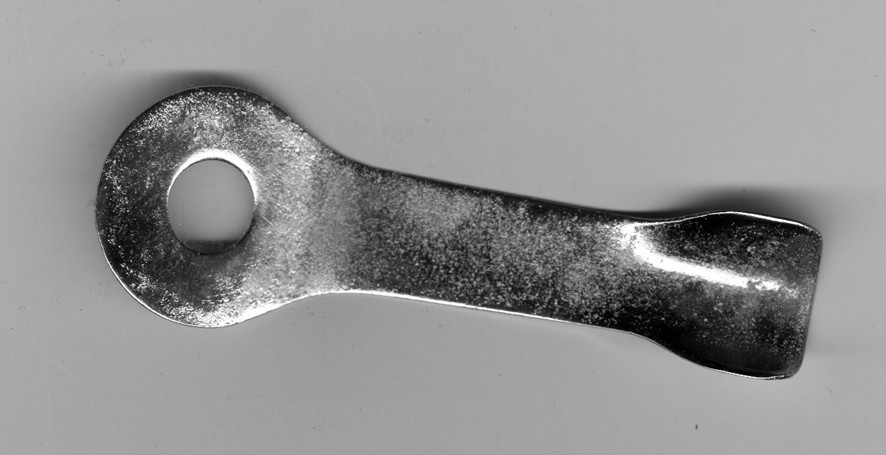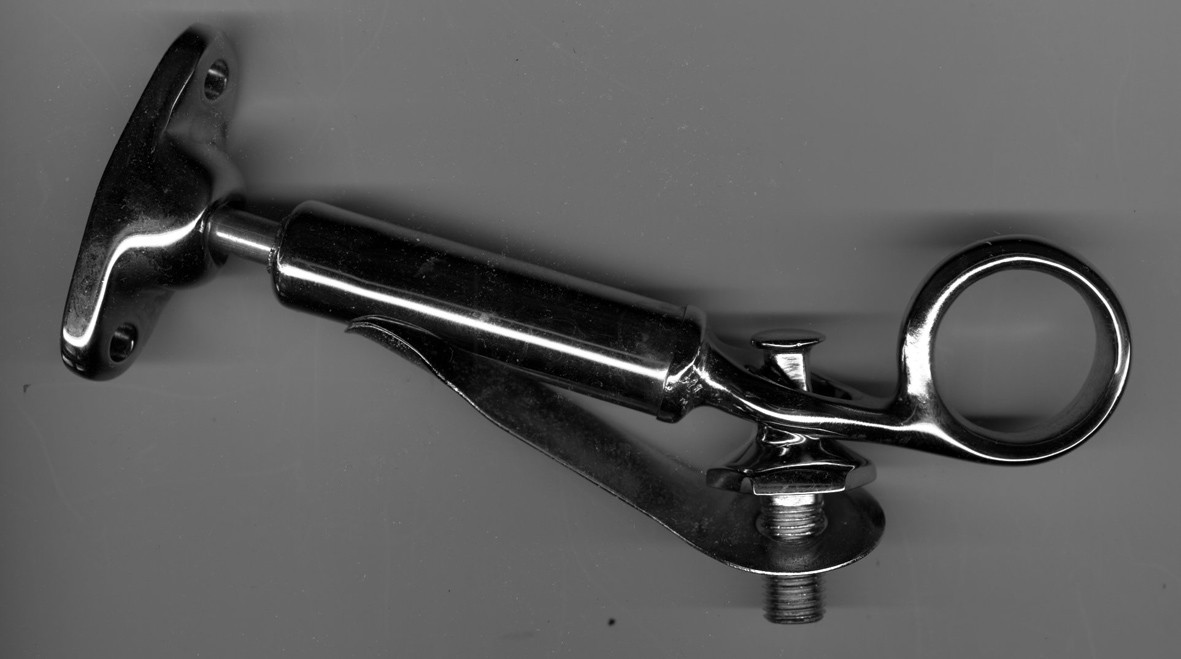 3-31-2012
Another fun day fitting and adjusting the welting in the four fenders. I know this does not sound like a big deal but it has taken almost all day and I am exhausted! Jacking up and removing wheels and then replacing them to move on the the next one.
At least the job is done now
4-1-2012
Re; the spare wheel carrier, Chris Wantuck has very kindly sent me photographs and measurements from his Series One roadster and another Packard owner from South Australia has a spare from a later series car, so one way or another it seems that another problem is solved.
A BIG thank you to all those who took the trouble to contact me.
This afternoon I should be able to collect the four finished hood panels.
4-2-2012
As it turned out Dave has not finished painting the hood so now I am concentrating on more small parts. The mail brought another parcel of slot head metal thread screws and the dome head bolts to secure the headlamp bar so I can fit the hood clips etc. Fitting the long thin trim panel that covers the chassis rail and holds the hood clips involved lifting the front of the body. One gets the impression that in the factory the cars were built from the ground up with the body going on after the valances and front fenders etc.
Sorry about the reflections but that is just the way Dave's paint is.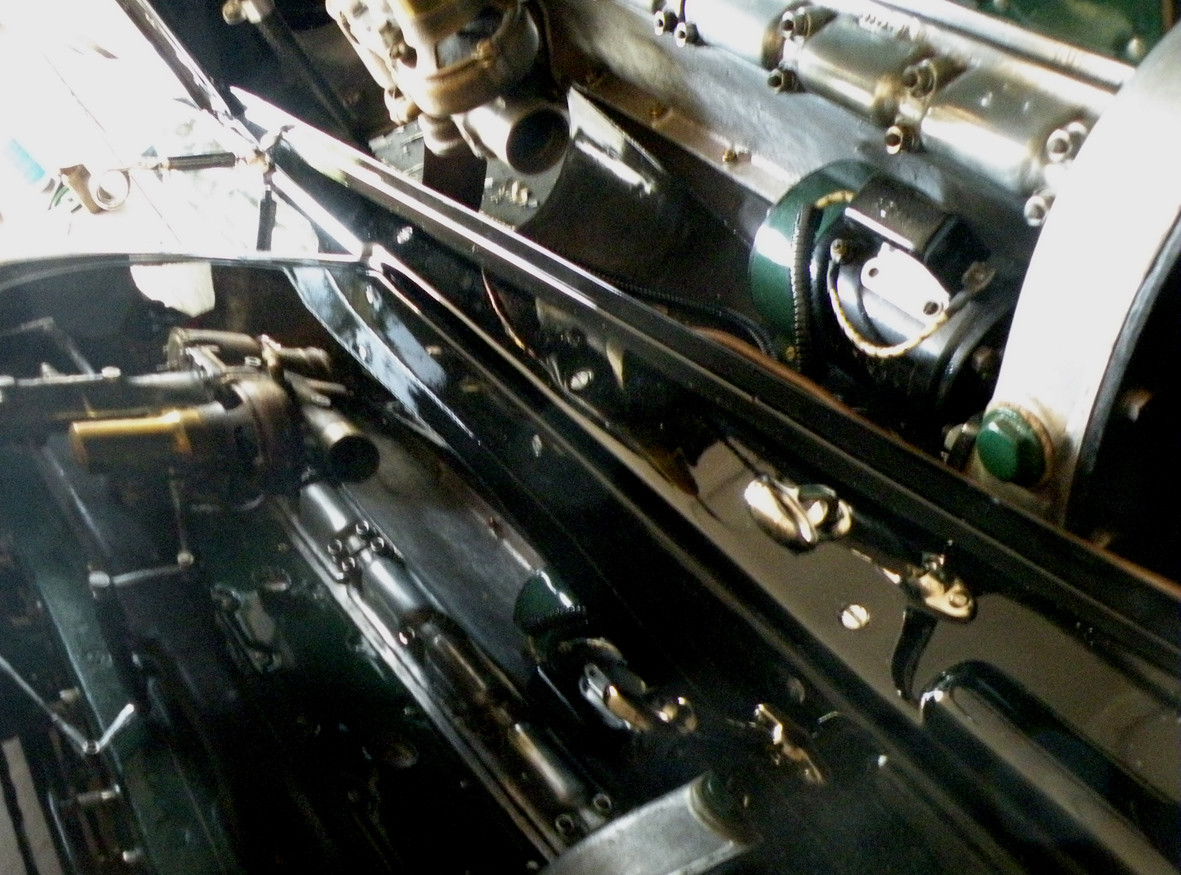 4-3-2012
Hi Scott
I am glad that you are enjoying the ride.
Ian
Apart from Sunday we should be home all weekend.
More fiddly little jobs today soldering the new wires into the globe holders for the head lamps and similar pesky jobs. I have 38 little 1/8th inch metal thread screws to secure the central hinge onto the hood. I only have the dreaded Phillips head screws. Is it really worth the time and trouble to fill each with solder or bronze then cut a slot or can I simply leave them. The alternative is of course to use those, Oh so convenient POP RIVETS.
4-4-2012
I just love all these little jobs.
Todays task is fitting the hood (bonnet) lacing to the cowl. Just how to spread the split rivets from underneath while holding them from the outside will be "interesting"...
4-5-2012
Hi Pat
I have just made an executive decision, my life partner Helen is going to help me. Failing this I am going to have to use stainless raised head self tapper screws and cup washers. I have used split rivets at the radiator shell so these are my first preference.... In the short term I will use a spot of instant glue between each rivet to secure the lacing.
Hi Roger
Certainly at times there are some jobs that may require assistance. I get some sort of perverted sense of self satisfaction from managing to do tasks that may take two or more lesser people to achieve. For instance, I managed to lift the freshly painted Packard body off its "transport" and on to the chassis single handed and without the slightest scratch, much the same way that I installed the engine and gearbox un-assisted. I have a huge circle of friends and acquaintances but I hate to feel that I may be imposing on their time. I have spent a life time discouraging people whom I consider time wasters who "drop in" for a chat and a cup of tea or coffee. Some people may say that I am anti-social, however I see too many people who never achieve anything because they spend all their time being "good hosts". It is only by simple determination and perhaps "Bloody mindedness" that I manage to do complete restorations while other people are still talking about what they are "Gunner-do".
Love me or hate me I am not about to change!
4-6-2012
Having finally gotten around to doing a trial fitting of the front seats and after some discussion with Tony, I discovered that I had probably not allowed enough for the thickness upholstery at the sides. This is one of the potential traps we fall into by sometimes doing things out of order. Not that it is such a big drama and given another day the problem should be solved. The first is nearing completion and having sorted out the solution the second one should go even quicker. Much better to find out now than after they were finished.
4-7-2012
I actually managed to collect the two top sections of the hood late this afternoon so I now have all four parts and can assemble it tomorrow. Once the lacing is in place around the cowl I can finally fit the hood the last thing (except the wheels) to be painted. I still have to locate the four little buttons that go, two on each side of the hinge, on the top of the hood to stop the top sections from touching when the hood is fully opened.
Sorry, that is clear as mud but people who know early 1920-30s cars will understand.
4-8-2012
At last the hood is all assembled and trial fitted. I will have to adjust the location of the bottom of the radiator to adjust the gaps down either front edge. This will permit the front hood latches to be adjusted for length. Otherwise it all seems to have gone back fairly much into place.
Perhaps someone can tell me what should go over the spigot for the crank handle where it projects from under the centre of the base of the radiator? That is other than a Campbell's soup tin.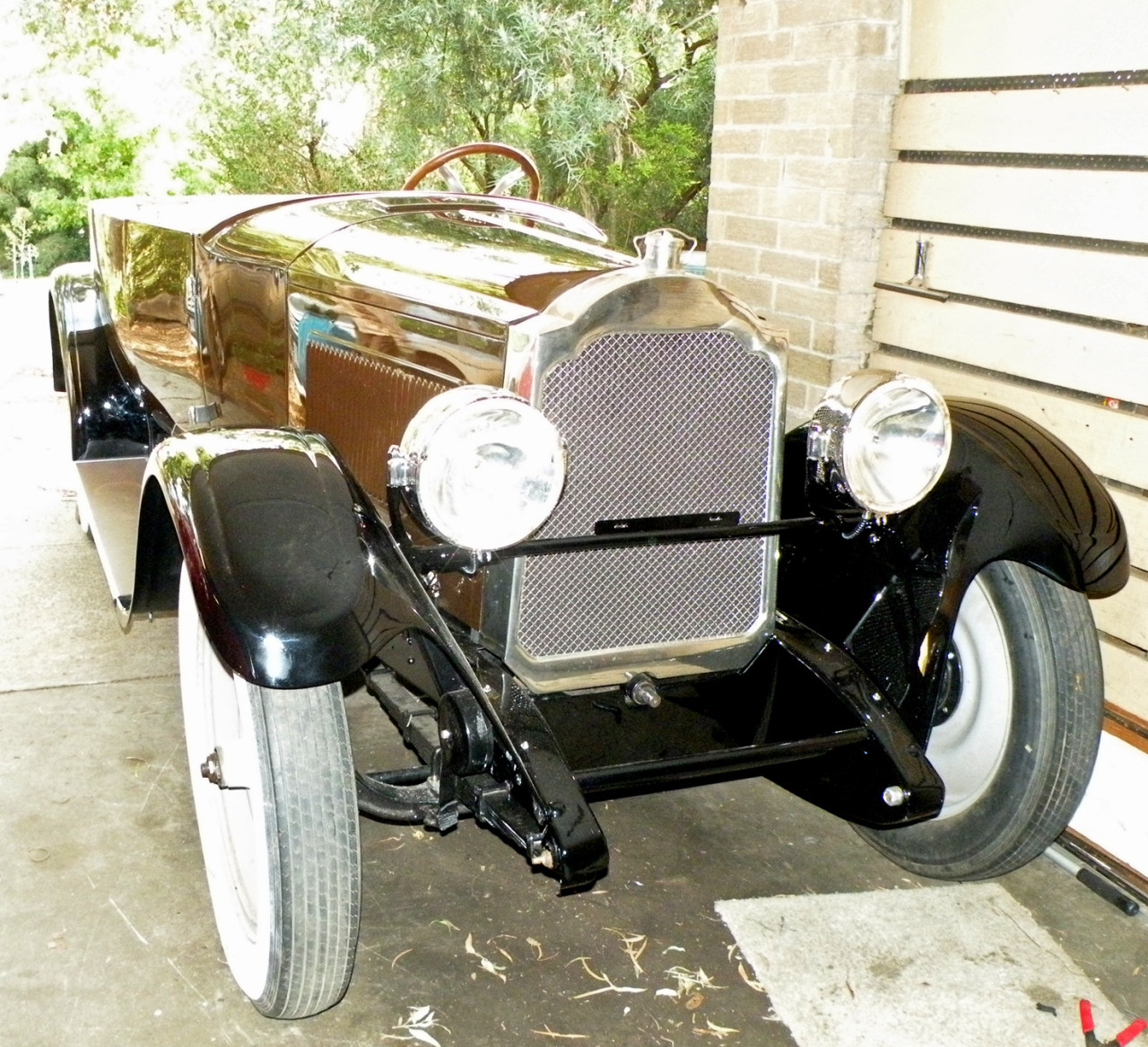 4-9-2012
The words of the old song tell us "Little things mean a lot".
In the case of the Packard this can translate into a lot of time being spent on the little things, this time in particular the section of the latch that secures the headlight rim. The original diecast half of the hinged fastening had virtually crumbled away. The simple solution was to fabricate replacements. The two photographed below represent almost a full days work! I still have to make a second threaded section and nut and then have the lot nickel plated.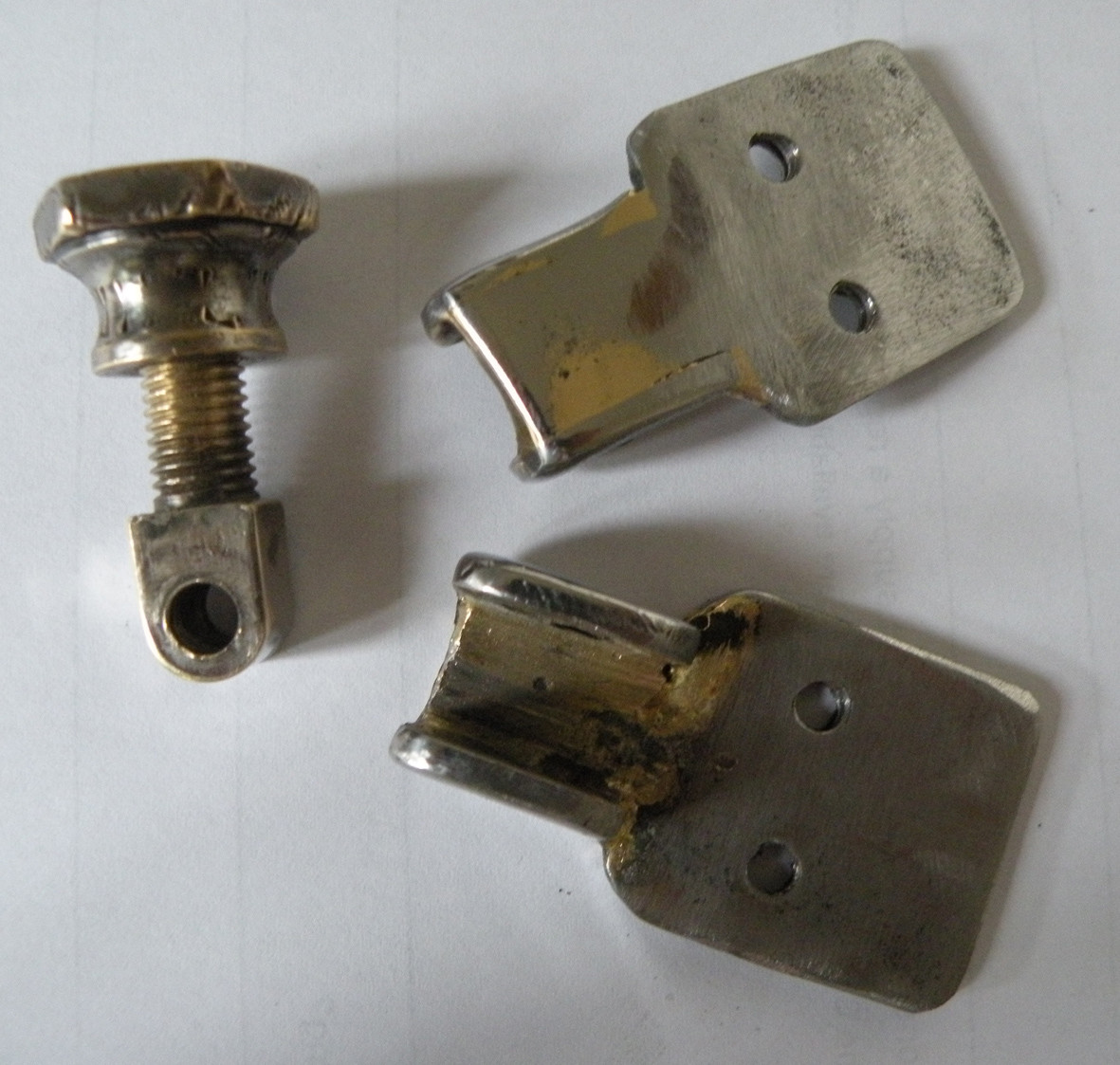 4-10-2012
The saga of the headlamp rim latches continues. This afternoons task was to make the replacement for the missing other half. This has been accomplished without the aid of lathe, mill or other sophisticated machinery. Just an oxy- acetylene torch, an antiquated drill press, a hand held four inch angle grinder, a bench grinder and a hand file. Oh yes, and a 5/16 UNF bolt.....
The one with the file marks is the hand made replacement.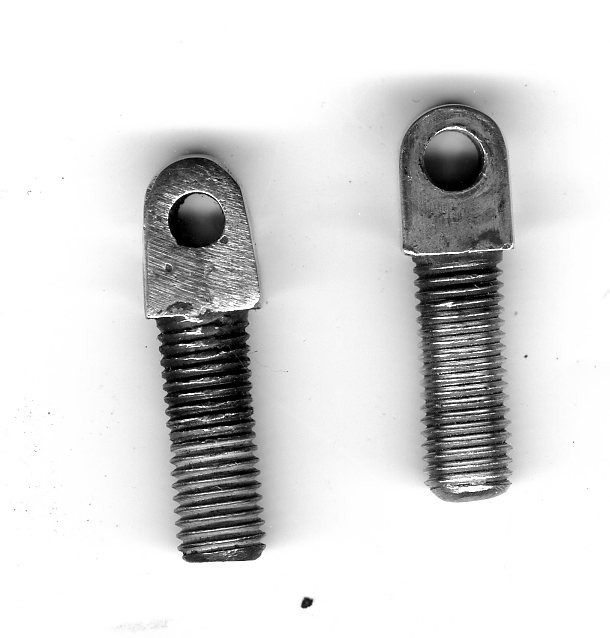 4-11-2012
Not a lot to show for today's efforts. To obtain the correct gap at the leading edge of the hood sides I have to remove the packing that I so carefully placed between the base of the radiator and the chassis frame. This is approximately 1/4 inch thick and removing it will make all the difference.
Again "Little things mean a lot".
Another step forward, this afternoon I removed all four wheels and stripped the tires and tubes off. The wheels are now safe in the trunk of the Peugeot ready to go out to Dave's for painting.
Removing those big 600 x 23 tires single handed is quite physical, especially as they have been on the rims for some time (almost 50 years)....
4-12-2012
Speaking of things that happened 50 years ago there will not be too much work on the Packard over the next few days all due to something that happened on April 14 1962.
Family comes first......
For those who may be wondering.
It is our 50th Wedding Anniversary.
4-14-2012
I have mentioned it before but one of the things that has caused something of a hiccup in this restoration is the lack of a steering wheel retaining nut. It seems to be impossible to buy a suitable tap (13/16 x 20 tpi) which makes making one difficult. The alternative is to remove the steering box and totally dismantle it in order to take the shaft with the male thread to have one made. Something that I would sooner avoid at this stage. Can any of the Packard owners/restorers assist.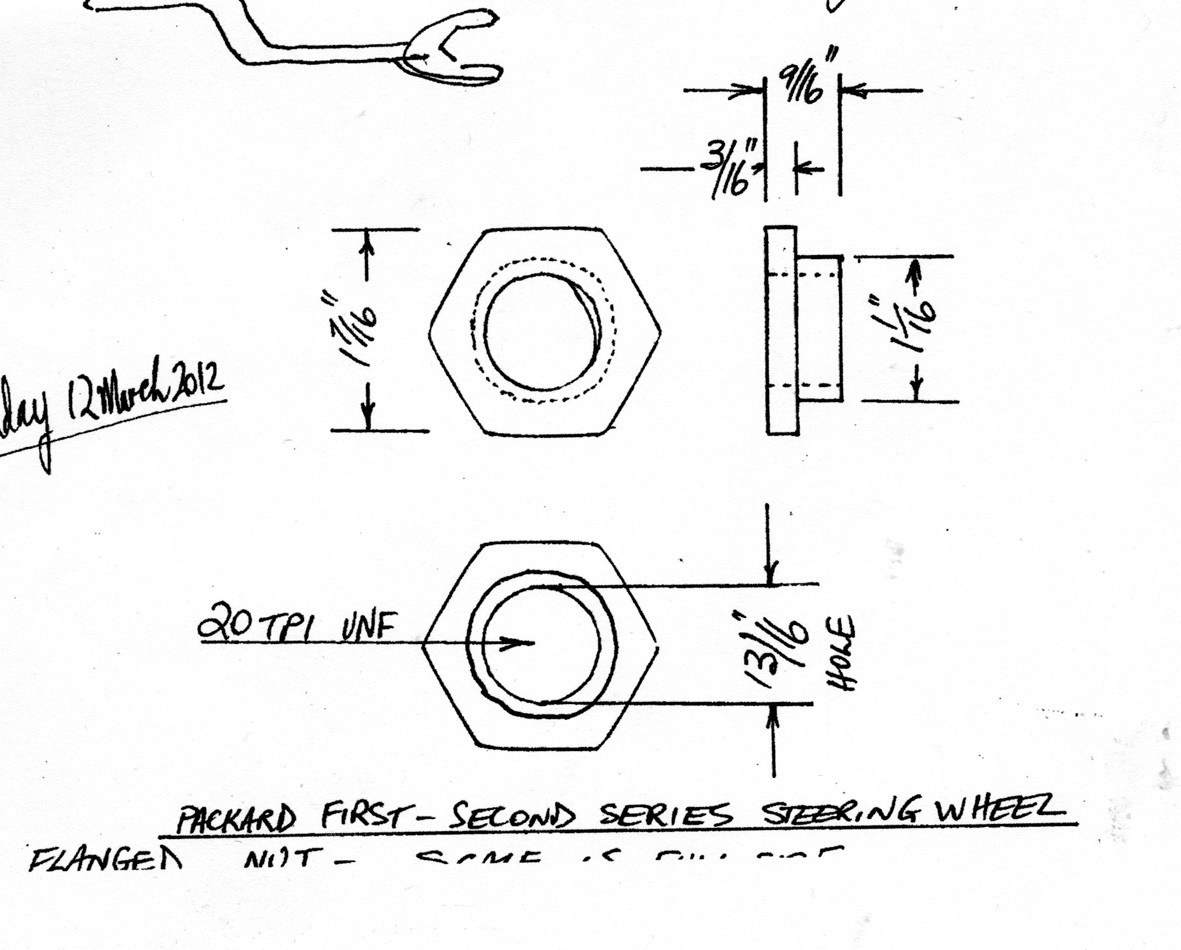 Hi Ben
The drawing was sent to me by a friend of David McC. so I am unsure of it's accuracy. I don't have a lathe so I have to have any machining done "outside". These are just two of the many reasons why I would prefer to obtain a nut from someone who has dismantled a car. My friendly machine shop wants me to remove the steering box from the car and totally dismantle it so I can take them the shaft, then they MAY be able to make a nut for me. It is not feasible to obtain and modify a nut with a common thread ( 20 mm seems the closest undersize) and recut the thread on the shaft as the flange on the top of the original nut is larger than a standard nut.
4-16-2012
Thank you Kent
I will keep your kind offer in mind should my Sth Aust friends fail to deliver. My next task is to do a drawing for the windscreen pillars as they still require some machining. and to finish off fitting the head lamp glasses and rims. One extra job is to run some wires etc for flashing turn indicators. Originally I had thought that I would not install them but as the car is Left hand drive and we in Australia drive on the left side of the road I think that from a safety point of view they should be fitted.
4-17-2012
Not a great deal to report. I did a drawing for the windscreen pillars and took them off to be machined yesterday morning. Cut out gaskets for the headlamp glasses but will probably not fit them until I have the latches nickel plated and fitted to the rims. Today I have to do a service on the Lagonda Rapier in readiness for this weekend's Alpine Rally. I need to look at the ratchet on the hand brake lever as it is prone to slip off.
Speaking of the VSCC Alpine Rally this is quite a big event with cars from both New South Wales and Victoria. It is run over three days with another full days travel to return home from the finish. I have included the entry list. Note the difference between the "Tourists" and the "Competitors" the later being the people who take their motoring seriously! These are just the Victorian entries there is a similar sizes list of people and their cars coming from New South Wales. A total of around 100 cars. The smallest car the Singer Le Mans 989cc and the largest the Sunbeam 12 Litres.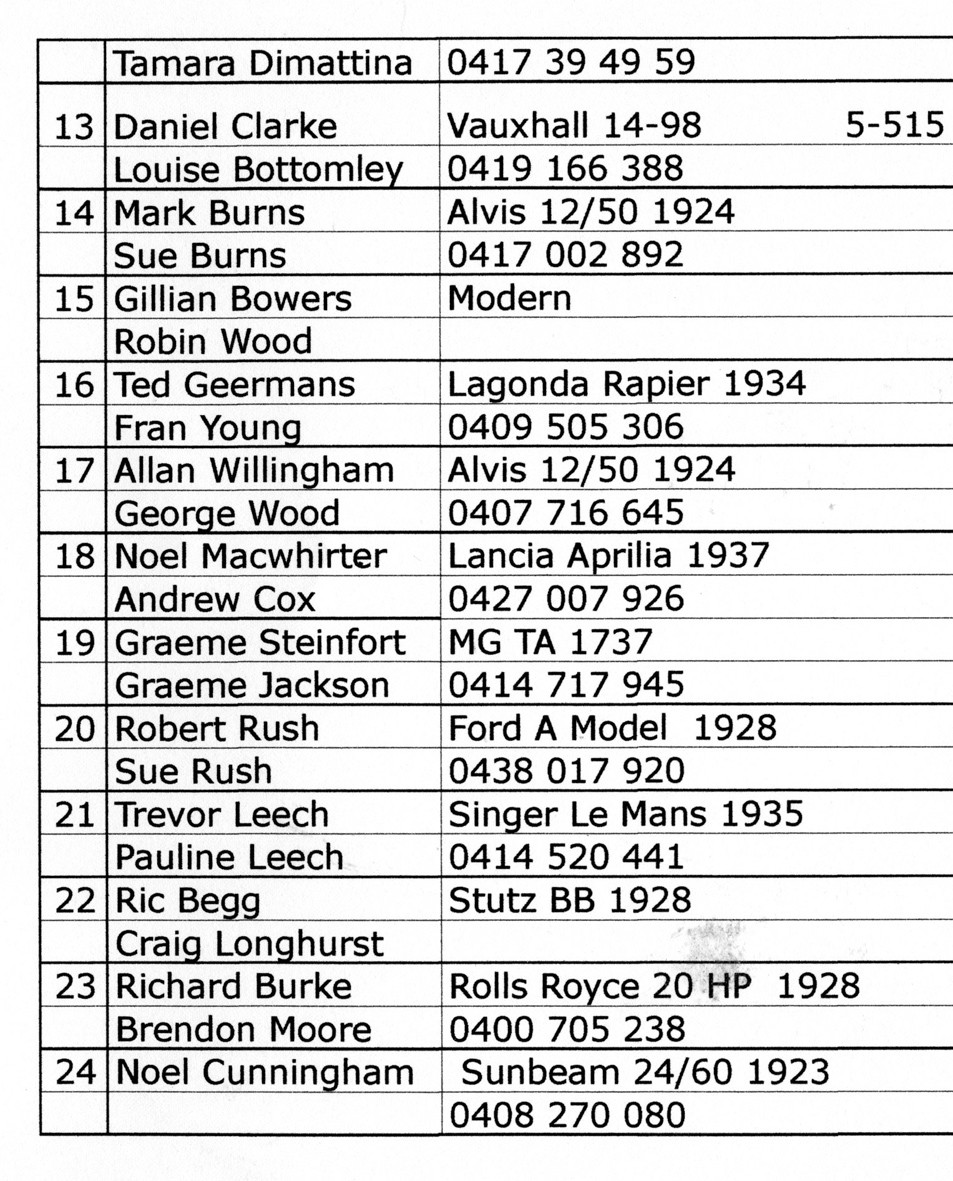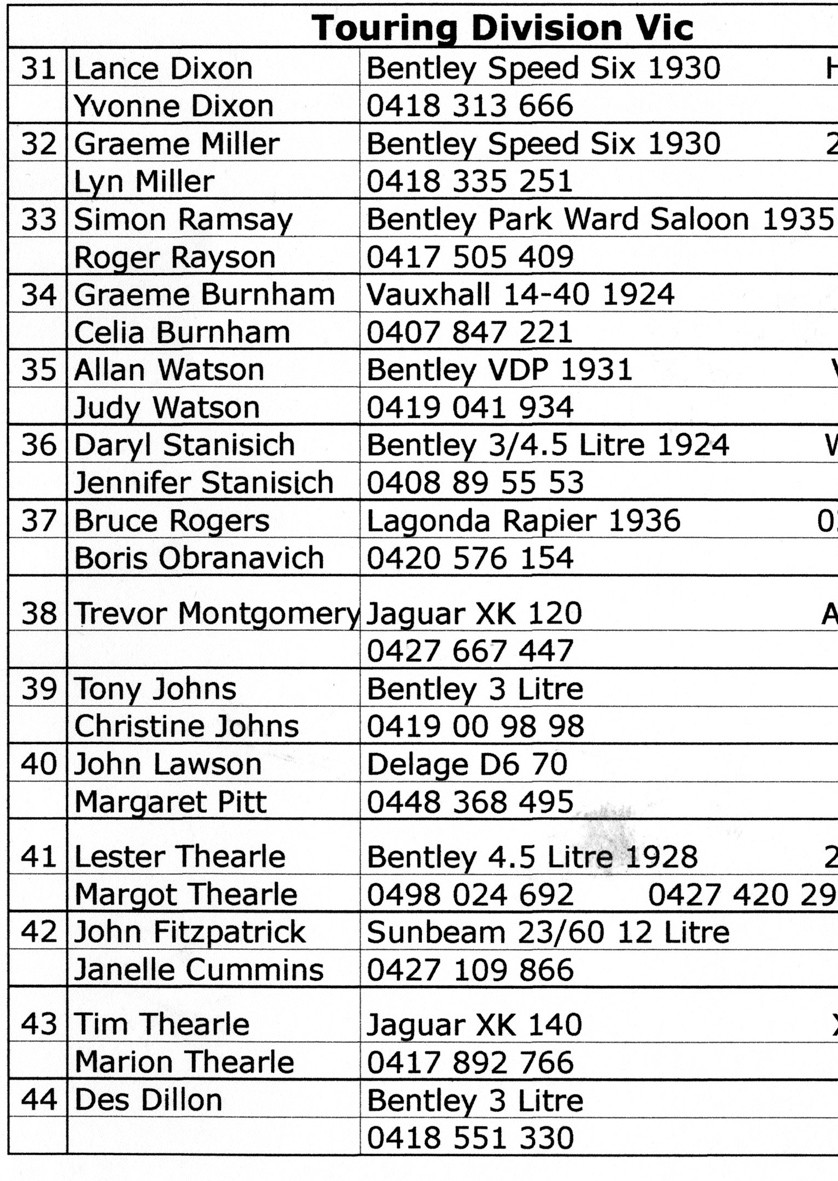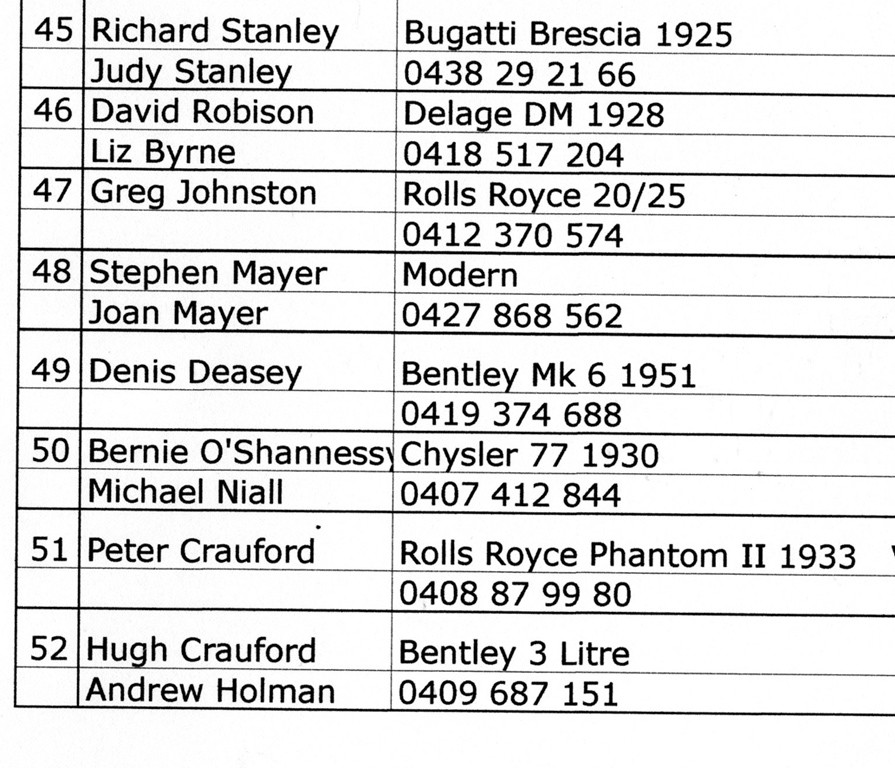 4-18-2012
Hello
Personal explanation time.
I may have appeared out spoken on another thread on this site.
While I would not claim to be a purist. I do have standards that I endeavour to adhere to.
It would be very easy to sneak in the odd POP rivet where no one would ever find it and to use Phillips head screws because that is all the corner hardware shop stocks. Most new cars sold in Australia use Metric thread fasteners so why not go with the flow.
Having accepted all those things then why spend countless hours sourcing parts and spend even more dollars reconditioning 80 and 90 year old engines and gearboxes. It sure would be much easier to slip in a good old Chevy V8 and an auto trans. The bonus there is that performance would be transformed, even more if I grafted a big GM Blower on top of the Chevy. As long as I kept the Hood (bonnet) closed no one would know. While I am at why not blow away that 90 year old body and slip on a sleek brand new copy of something exotic. That should WOW everyone. While I am at it I may as well get rid of those old springs. The Packard sure would ride a whole lot better if I slip a Jag rear end under her.
In all the spare time that I will now have, I think that I will have a go at whipping up a quick copy of the famous painting of the Sunflowers. If I write "Van Gogh" in squiggly little letters in one corner everyone who comes to our house will be amazed. Once I have finished the painting I might spend an hour or two at the old pianola knocking out a couple of Brahams or some other famous composers pieces. I can slip in a couple of "ad lib"bits of my own if the original gets too difficult. Everyone who hears them will be amazed and think that I am a remarkable musician. Just don't tell anyone.
So why do people like me go the extra mile to make things CORRECT, "as they were"
Why do we travel miles to find slotted head screws, search the planet to get the correct part, slave away for hours to make things "right".
WHO CARES???? Well for one I do.
4-19-2012
Sorry again! I am not the least interested in Hot Rods. I have been under the mistaken supposition that this section of the Forum was about Restorations (of original cars). I have two main interests out side my immediate family, 1. Driving (not trailering) my 1934 Lagonda Rapier and 2. Restoring to as near as possible to original condition what ever car is my current project. At present a 1923 Packard, Single Six, Series 1.
I have lost count of the number of cars that have passed through my hands previously but I can assure that when they left they were in far better condition than when I bought them.
4-25-2012
As I mentioned in an e-mail to Earl. This will be my last post on this forum for some time if not ever. The Packard will definitely be for sale on completion in the next 12 to 18 months. As is my usual practice, the selling price will be the total amount that I have expended on the restoration of the car excluding the cost of any labour or effort contributed by myself. I do keep meticulous records of every cent spent and my only interest is in recovering this amount.
Thank you all for your interest.
4-26-2012
In Jazz terms I could be and have been described as a "Mouldy Fig", especially when it comes to motor cars, not that I can claim to be an absolute purist as is evidenced by my disinclination to rebuild the Packard as a fixed head coupe and by the fact that my Lagonda has a "replica" body. In fact it has over the 77 years had three bodies, the last fitted by me in 1978, replacing the one built, out of scrap aircraft material including thousands of pop rivets, at the Royal Aircraft Establishment in England in the early post WW2 era.... Not an attractive sight!
At the time many people castigated me, saying that "I had destroyed a historic car." The present body is so close to an original Eagle two seater that the body has developed cracks in the aluminium panels is all the same places as the original.
If you have not noticed, I have a very complex personality. Some people would go as far as saying that I have two, as in the best Jykll and Hyde tradition.
Having said that, I am confident that no one who has met me would ever describe me as a "joyless nark". Unlike so many uneducated people who are prepared to accept "counterfeit cars", I am not.
As I said in my letter to the VSCC (UK) Bulletin. I doubt that the club (or for that matter anyone else) would be anywhere near as ready to unquestioningly accept payment for their goods or services in counterfeit money!
I am flattered and at the same time humbled by the number of people who have sent me e-mails, made "posts" etc, protesting my decision to abandon my Thread and on the basis of these I will continue on with it but possibly not on a daily basis.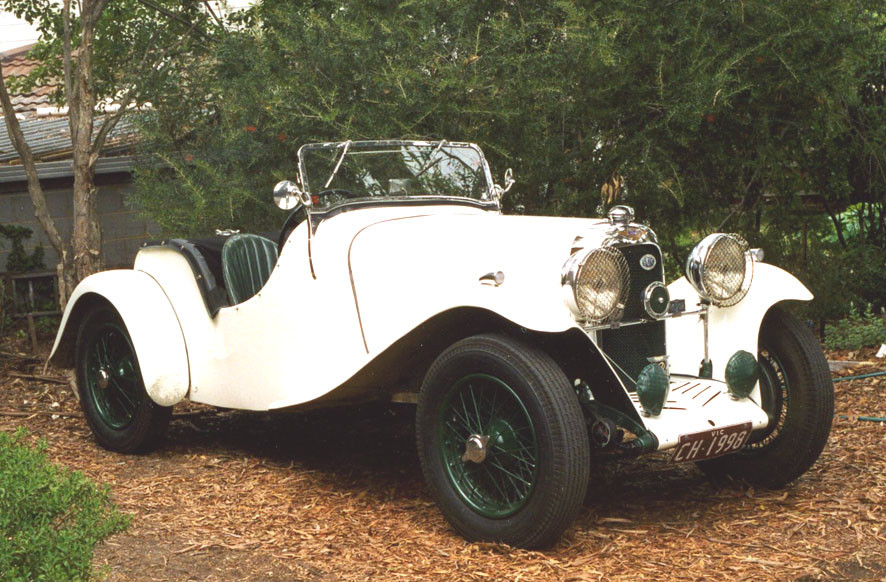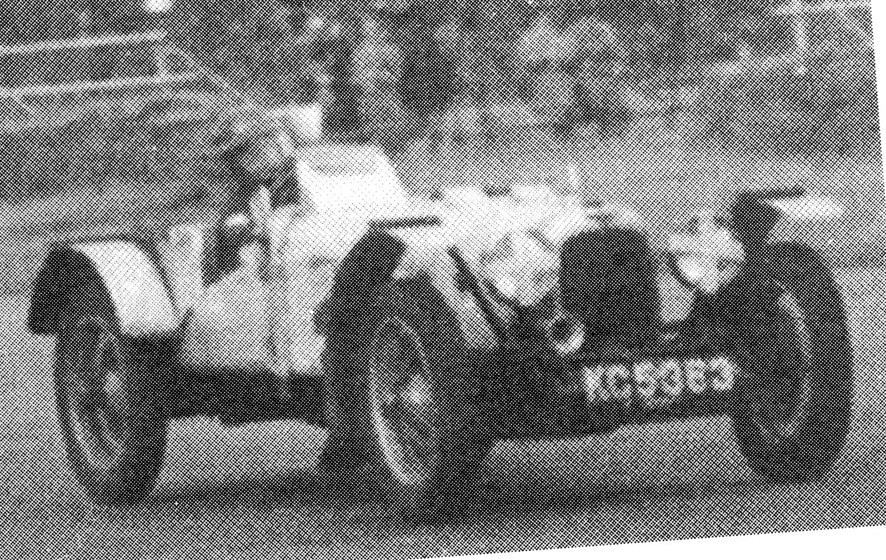 4-28-2012
Hello All
I have not been slacking off it is just that I am waiting for the Packard Wheels to be painted and the pin stripe put on them. Next week I hope to start in earnest on the windscreen frame. Meanwhile this morning I put the finishing touches on a 1,000+ word article on the sole surviving example of the 1934 Crossley Three Litre Sports. You will have to wait a couple of months and then buy a copy of the Automobile magazine from the UK to read it.
5-1-2012
Hi OCF
Right now I am wrestling with the Packard windscreen frame. As soon as I have something to report you will be first to hear. Problem is that my impatience has got me into difficulties yet again. Fear not, challenges are made to be met and overcome!
5-2-2012
Hello again
Things are progressing again, the wheels have now been painted and I spent some time with the local pinstripe wizzard, deciding where and how many stripes are to go on the wheels. As I tend to err on the side of conservatism I have decide that just the one stripe will be sufficient. The wheels are beige, the lock rims, hubs and the stripe are all to be the body colour (dark brown). When we get around to doing the pinstripes on the body and hood these will be the wheel colour (beige). The seat frames are now finished and have been delivered to the upholsterer who already has the hide and is ready to go.
5-5-2012
Another small step forward. I can now remove the jack stands from under the Packard having re-fitted the tires and put the wheels back on. The aluminium hub caps still require some more time on the buff but there will be time for that later. My next task is to jack up the Lagonda and remove the gearbox so that I can sort out a small problem that showed up during the Alpine Rally. Nothing serious, it just refuses to engage any gear. Preselector gearboxes have a mind of their own. Unfortunately to fix what is essentially a relatively minor fault requires the box the be totally dismantled. This is the first problem we have had with the car in 20 years of competitive motoring.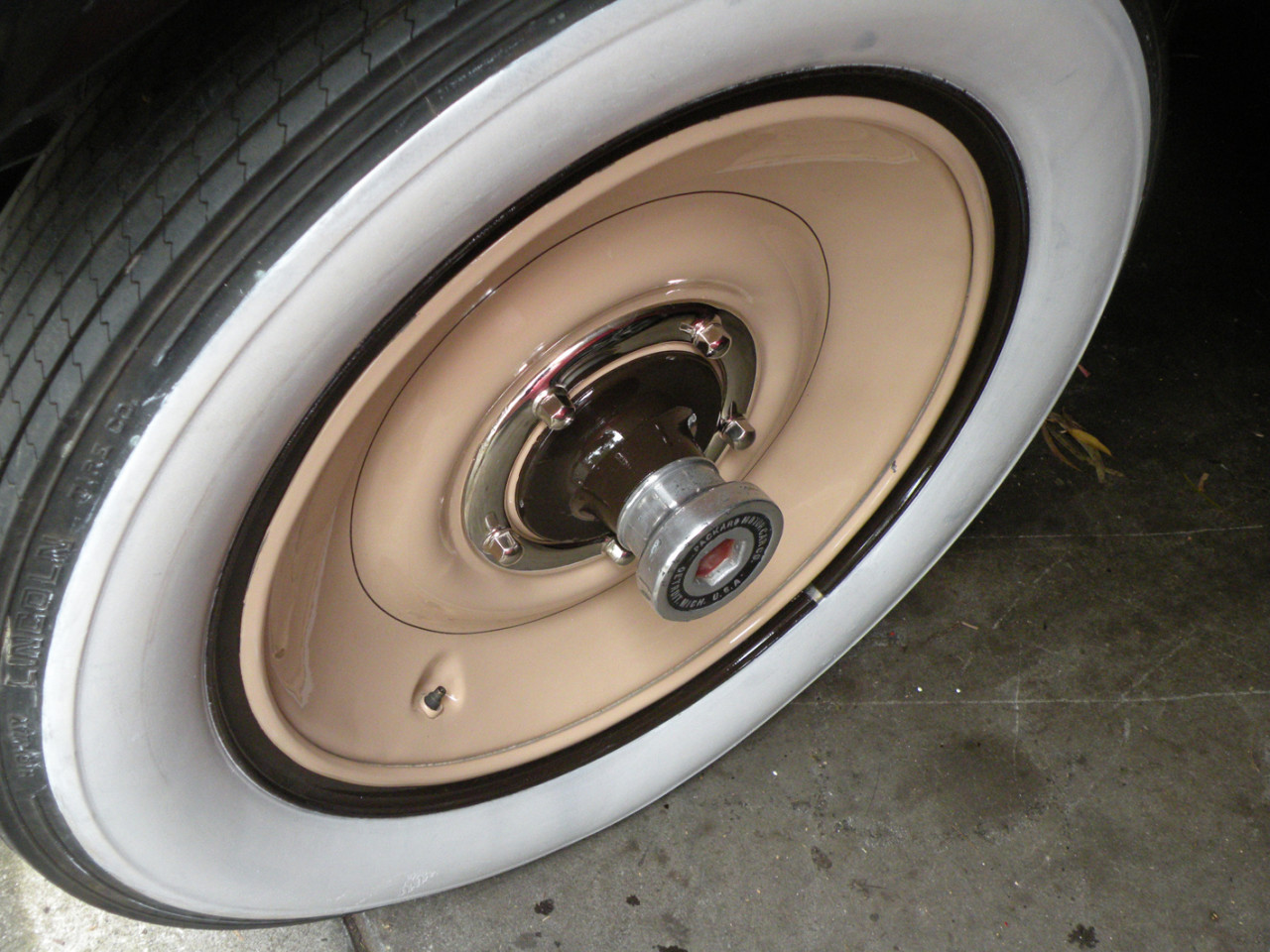 5-6-2012
I tend to err on the conservative side. I have seen photographs of wheels with four and six pinstripes. I debated with myself whether to have one or two. As you can see I have opted to start with just one. I believe that considering the contrast colours on the hub and the lock rim together with the nickel plated lug ring and lugs there is enough "going on".
It is my supposition that particularly during the 1920s, Packard were ultra conservative with most of their models and particularly with the "Doctor's Coupe"! Other than ministers of religion I doubt that there would have been a more conservative segment of the market at that time.
5-9-2012
Hello again
At last I have been able to make some progress in cutting out/up the windscreen frame. Next step will be to silver solder up the corners, drill and tap the holes for the fixing screws that secure the top frame to piano hinge that attaches it to the header rail and the ones that link the header to the windscreen pillars, then hopefully & finally another trip to the platers.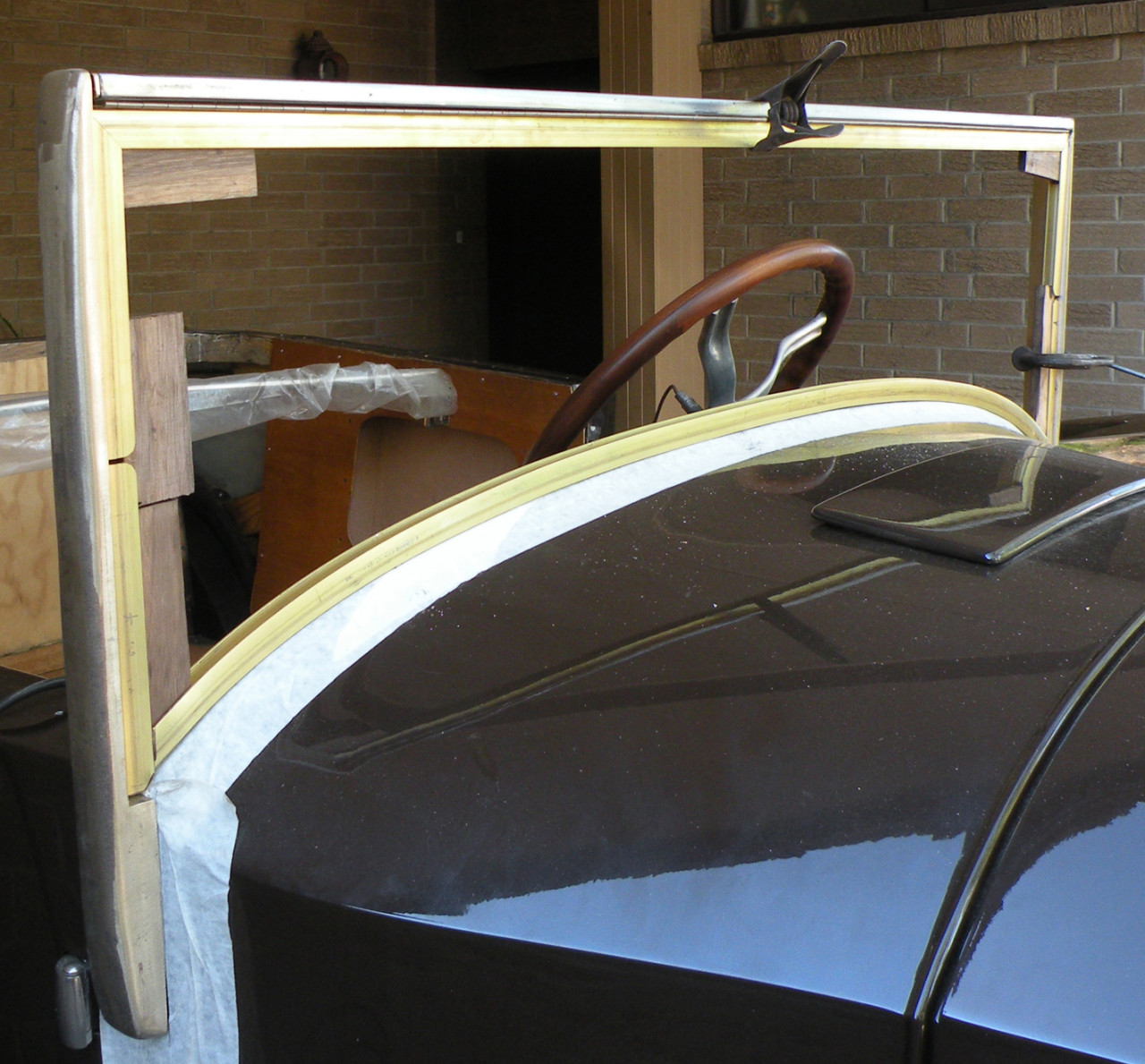 5-11-2012
Sorry to disappoint you all but all my efforts are being concentrated on rebuilding the Lagonda gearbox and will continue for a day or two.
5-15-2012
Don't go away I will be back on the Packard just as soon as I get the Lagonda sorted out. Sorry it is taking just a little longer than I anticipated.
5-16-2012
At last I have found a local source for the parts I need for the Lagonda Gearbox so it should be all back together again by early next week. Then I can get back to finishing the Packard windscreen frame.
5-22-2012
Sorry about my prolonged absence. People suffering from withdrawal symptoms can get a quick fix by visiting my Lagonda Rapier thread under British Cars.
I can assure you my failure to be doing any work on the Packard is far from intentional!
5-29-2012
Today has been a good day on two fronts. First the Lagonda Gearbox is poised to go back into the car a little later today. Second at long last the spare wheel carrier arrived on my doorstep about an hour ago. It will need a light sand blast prior to being painted but before that I need to trial fit it and drill a couple of more holes to suit five bolt wheels. In the same package was the stepped nut to secure the steering wheel so I can finally fit up the hand control quadrant and levers.
If you are feeling frustrated with the delay imagine how I have been, as I said on my Lagonda Rapier (British cars) thread. I have now achieved a PhD in Preselecterology. If you had asked me a month ago I would have laughed at any suggestion that it was going to take so long to dismantle and rebuild (5 times) that gearbox.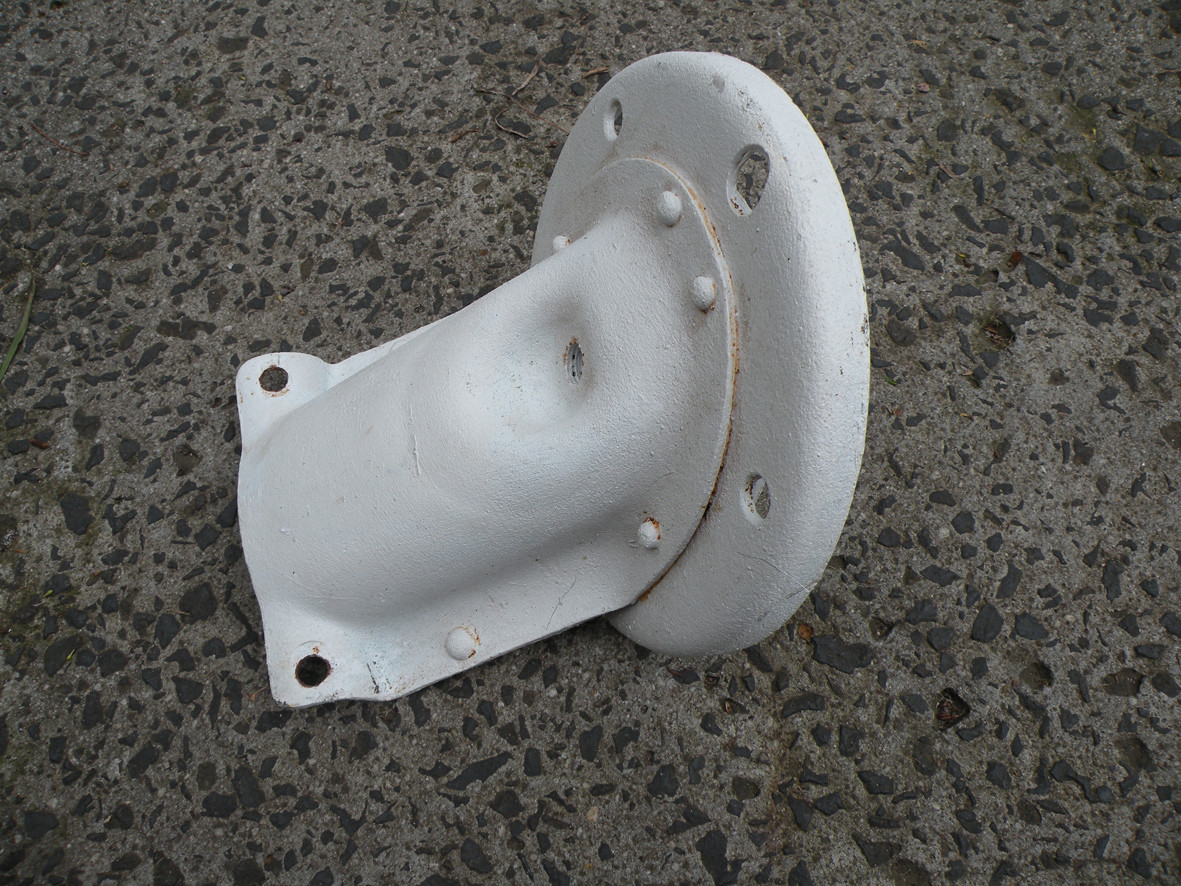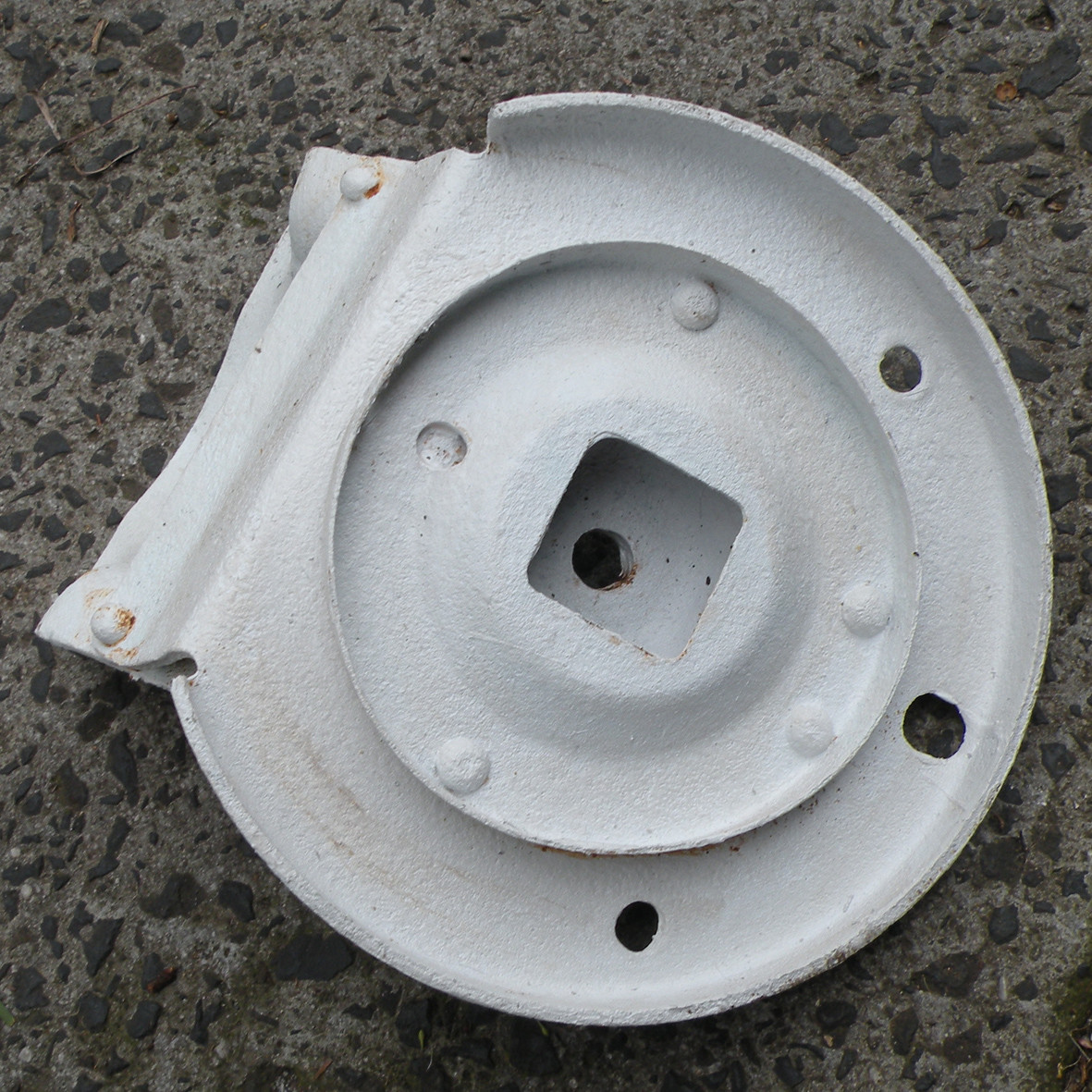 6-2-2012
Finally I have been able to make some progress (a little) on the Packard. This morning was spent washing all the greasy hand prints etc off the Lagonda and cleaning up generally. This afternoon I was able to cut out some gaskets and finally fit the glass into the headlamp rims. Next week I hope to make some real progress with both the windscreen frame and the spare-wheel mount.
6-4-2012
Having finally got around to actually looking closely at the spare wheel mount I realise it is from a slightly later model and will require some minor modification to accommodate the 1923 Five lug wheels so that looks like the next task.
With "old cars" nothing is ever simple!
6-6-2012
Mounting the spare wheel involves a little more than perhaps i had realised. First job was to remove the petrol tank, with that out of the way I could drill the required 9/16th hole in the centre of the rear chassis cross member, This is to take the original factory supporting strut. For some reason the car came with two of these but no centre hole. Next the as yet unpainted spare wheel carrier could be trial mounted prior to drilling the two holes in the rear tubular cross member. It all sounds so simple yet it has taken the best part of the morning. Next step is to have the carrier itself sandblasted then I can give it a coat of black paint, then finally install it.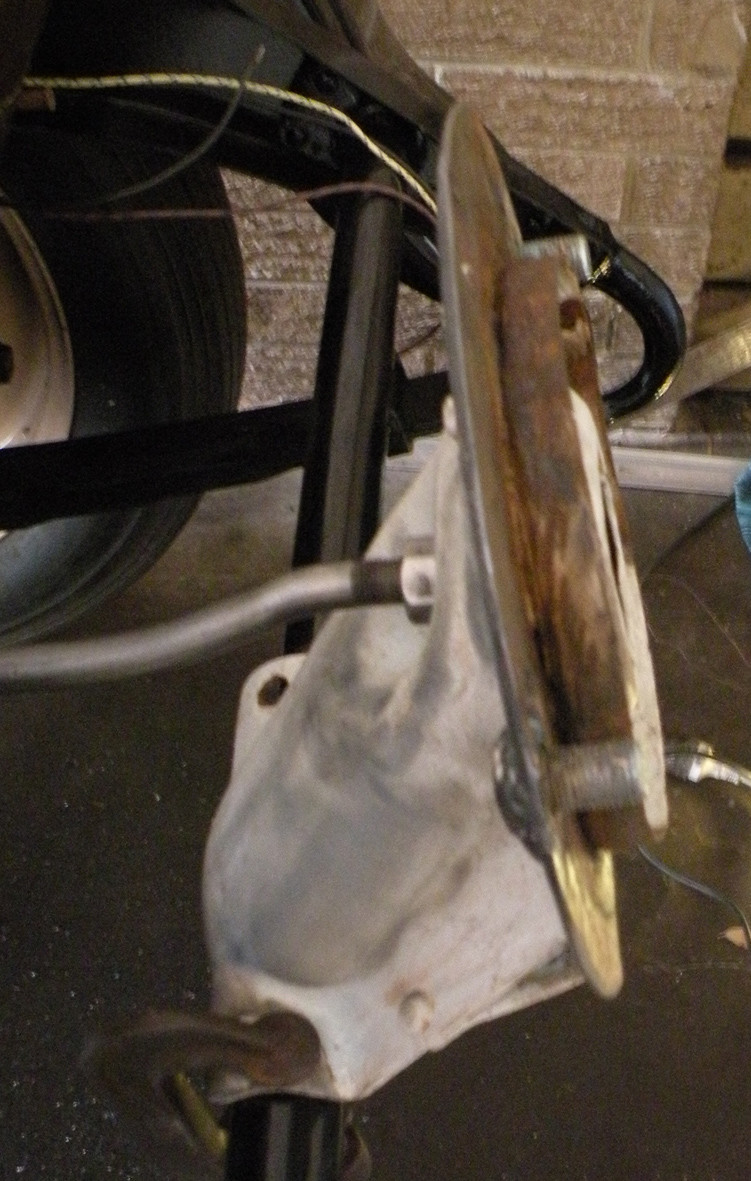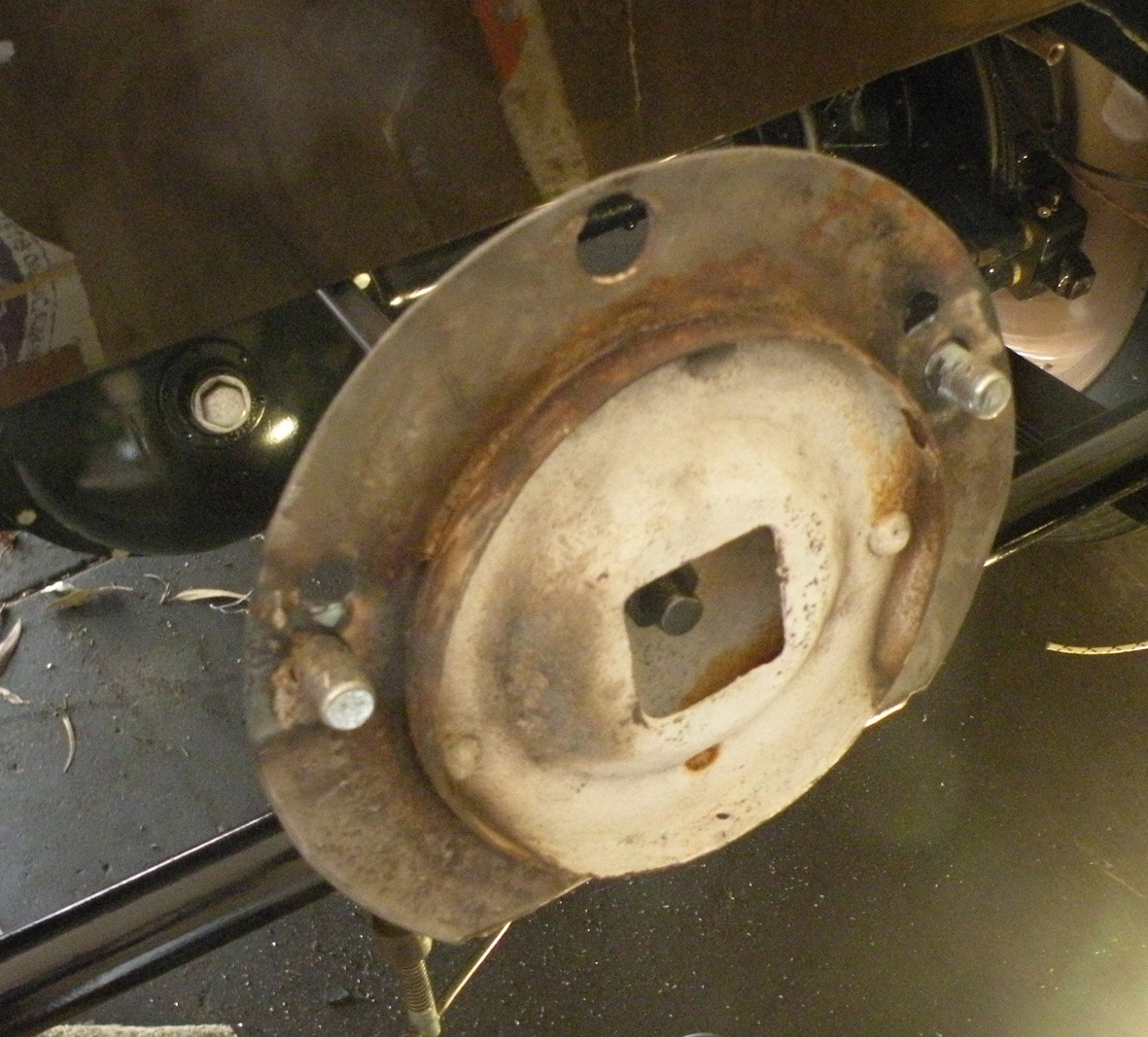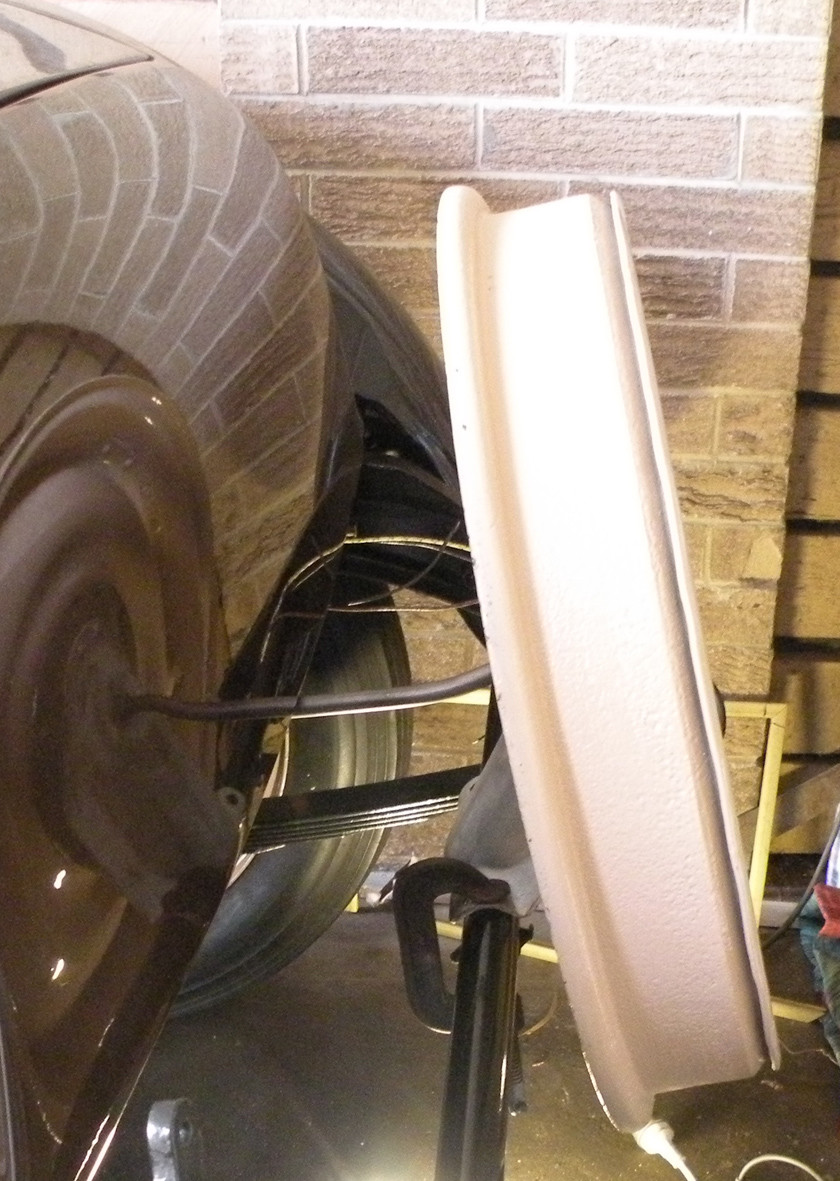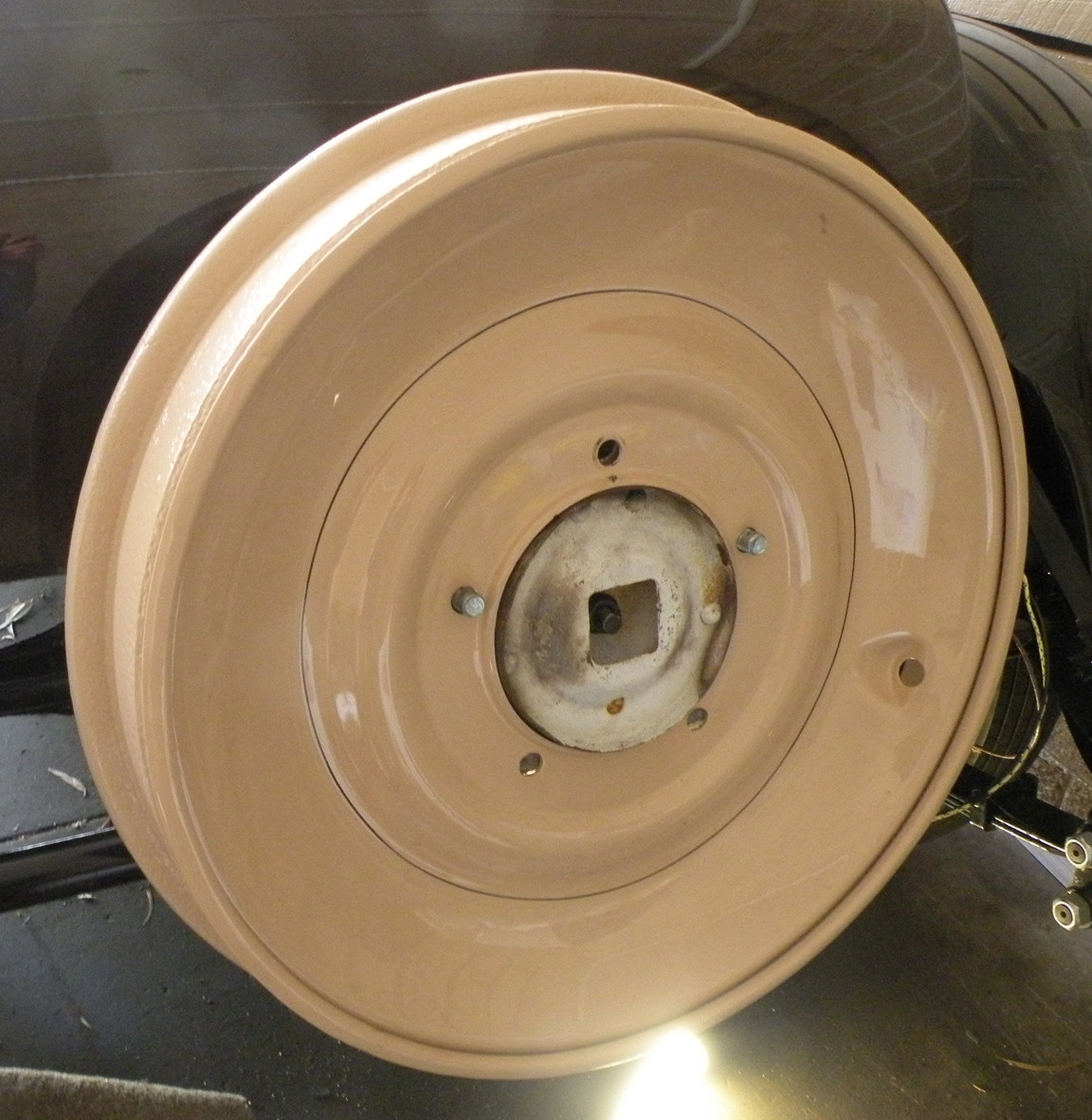 Just in case you were wondering I think that I can safely say we are definitely "Glass half full" people....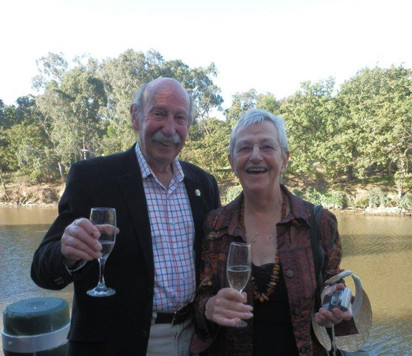 6-8-2012
Not a great deal of difference to the last photographs of the spare wheel carrier, the only difference apart from a day spent prep-ing and painting is that it is now (hopefully) permanently mounted. One more task to be crossed off the list.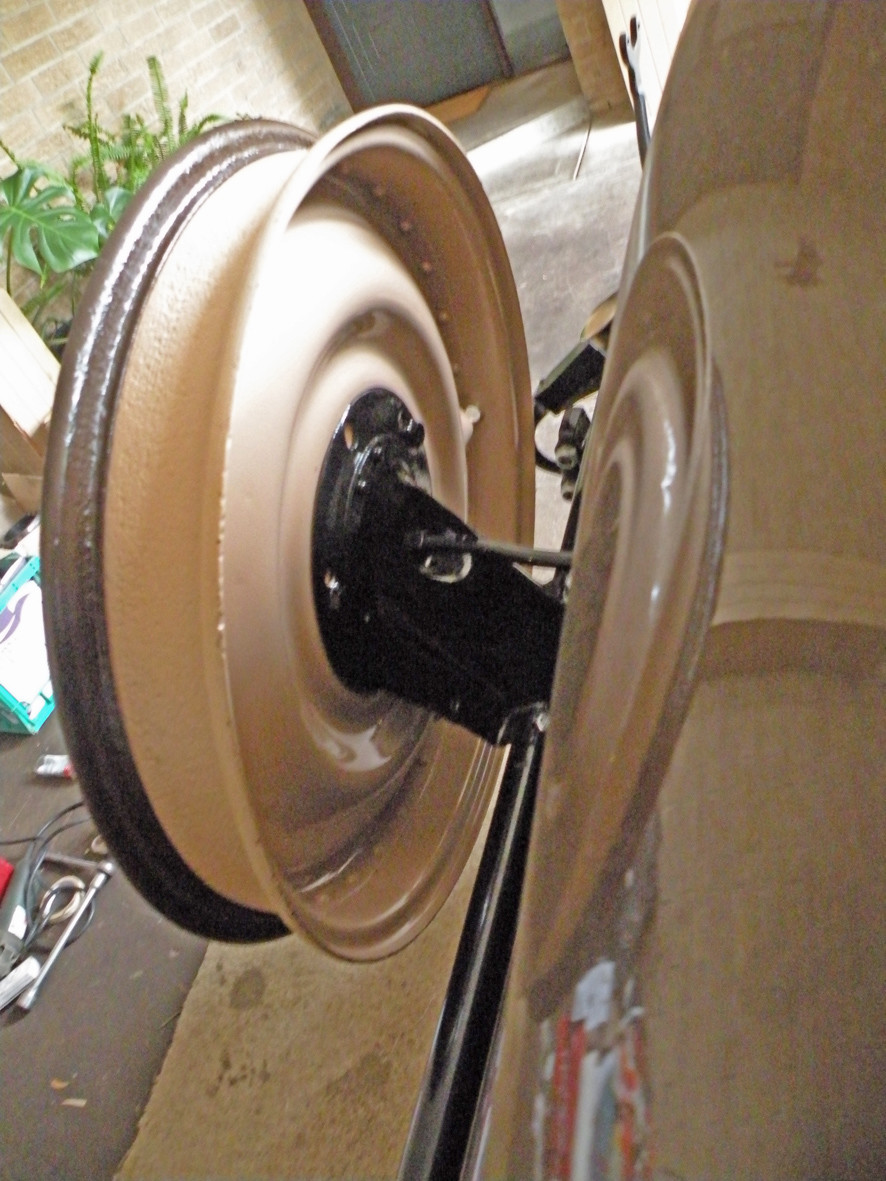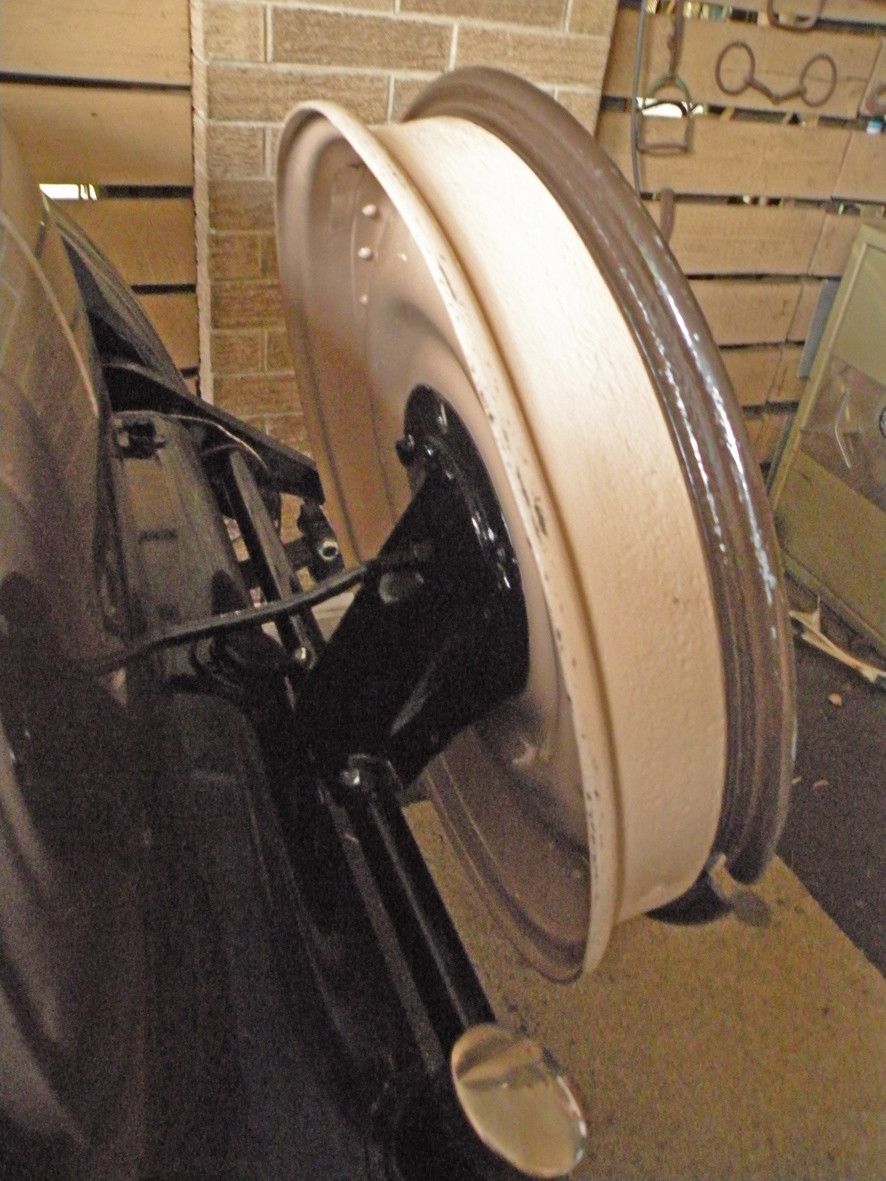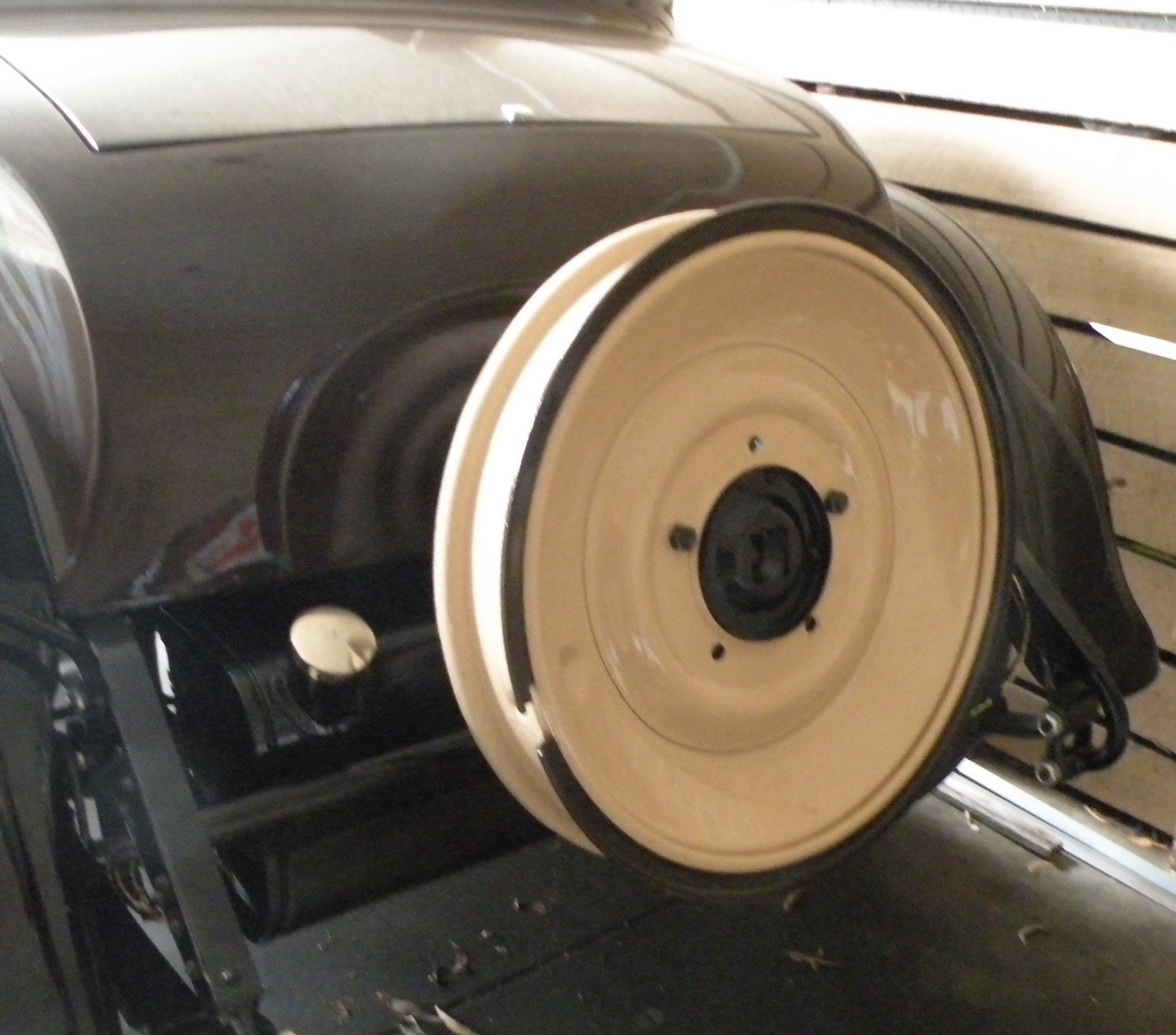 6-9-2012
Hi all
I am now working on the windscreen frame. Not very interesting photographs of pieces of brass channel so I won't post any. Just keep working.............
6-11-2012
Unfortunately it seems that I must have used the last of my silversolder flux and the trade shops are closed for a public holiday long weekend so I have changed back to road testing the rebuilt gearbox in the Lagonda (see my thread under British cars). No rest for the wicked!
What a remarkable and small world we vintage car enthusiasts live in.
Recently a friend who lives in Suffolk, England, sent me (in Melbourne, Australia) a link to a Dixie Flyer dashboard clock that was for sale on e-bay. I forwarded this information on to my contact in the Kentucky Trailer Co, Louisville Kentucky, originally the Kentucky Wagon Co makers of the Dixie Flyer and now owners of the D-F Firefly Speedster. I have just heard from them that they have now secured the clock.
6-12-2012
Hi West
Good to hear from you again. Thank you for the e-bay link, perhaps someone else may be inspired to restore an original Doctors Coupe. I think that one is sufficient for me to cope with at present. It is interesting to see some of the original features although I think that I prefer my seating arrangement. Somehow I cannot see Helen sitting up/down on that little hard folding jump seat intended for the passenger anymore than I can see her lounging in the rear. I hope to have my finished seats in the next week or so, then all the experts can pass judgement.
Looking at the photographs on e-bay I also prefer my disc wheels to wooden spokes. I think that they greatly enhance the cars appearance.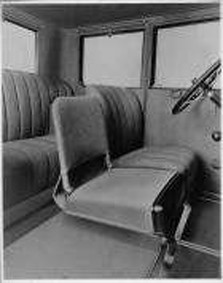 6-14-2012
Finally I have been able get back to some serious work. Having had a small collection of pieces brass channel sitting on the bench for some time I have been able to glue them all together albeit with silver solder rather than superglue. It has not been without trauma but I think that once they are all cleaned up they may be able to go to be plated. Before that I have to do a final trial fitting just in case there may be some minor fettling to be done. Only then can yet another box can be ticked.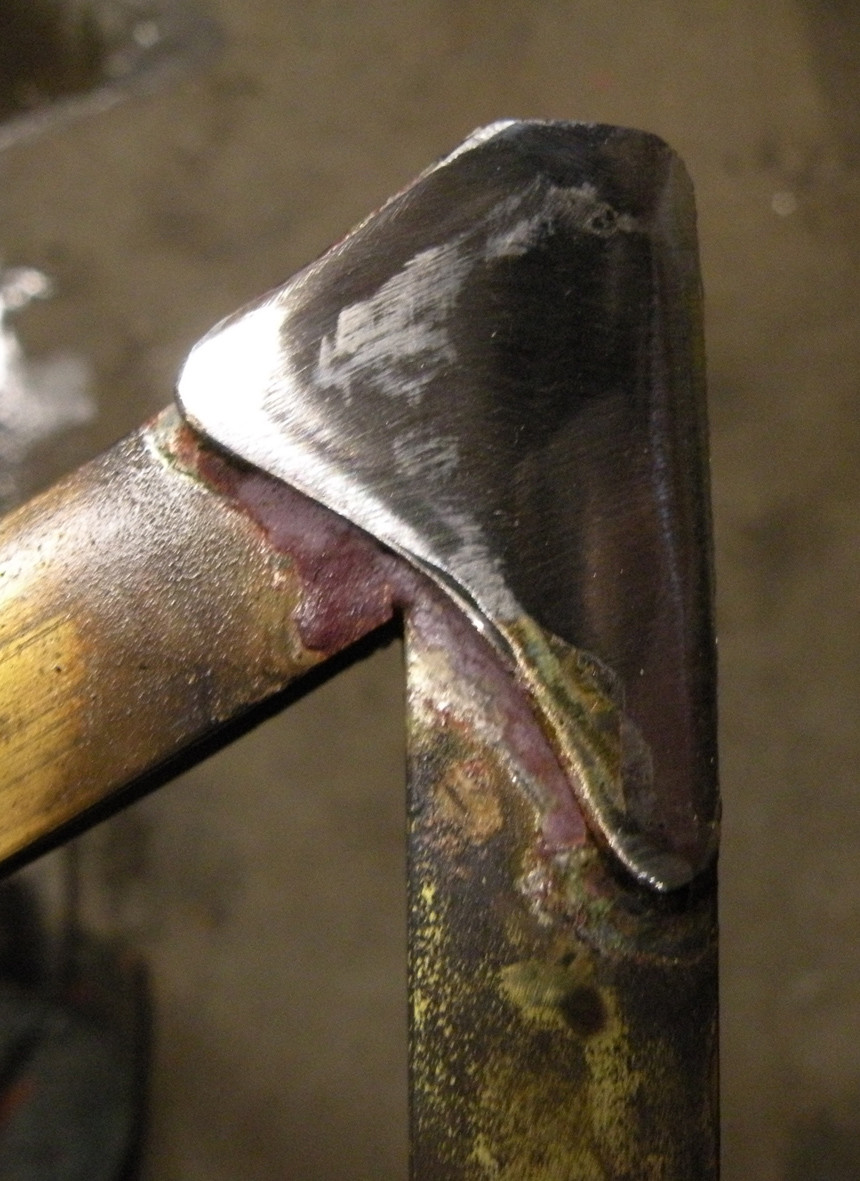 I seem to have missed one step in the process of building the windscreen. The first trial assembly as seen below.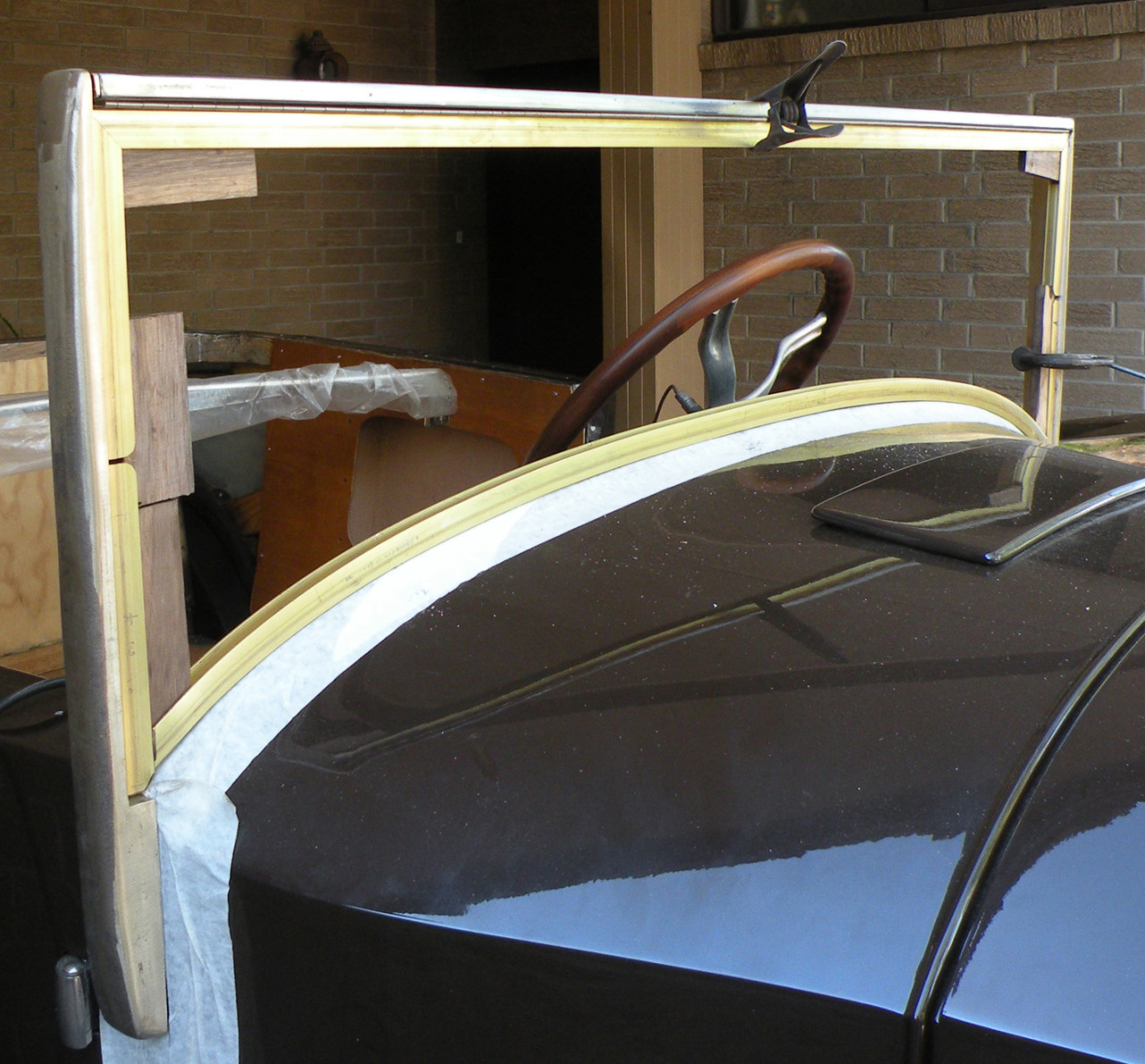 6-15-2012
Decisions decisions. I had originally thought to make the windscreen in two sections, divided horizontally with the upper section hinged at the top. I have now decided that this is impractical and will use a single piece of glass instead. In doing this I can overcome a number of small problems and believe that it will be a far neater and more satisfactory outcome in the end.
6-17-2012
Another day and a little more progress on the windscreen. The one last job I have to do is to drill and tap the holes for the fixing screws that attach the top rail to the side pillars.
Before you all rush to your keyboards, the camera angle has thrown up some strange perspectives. The sides of the windscreen are actually perpendicular and parallel!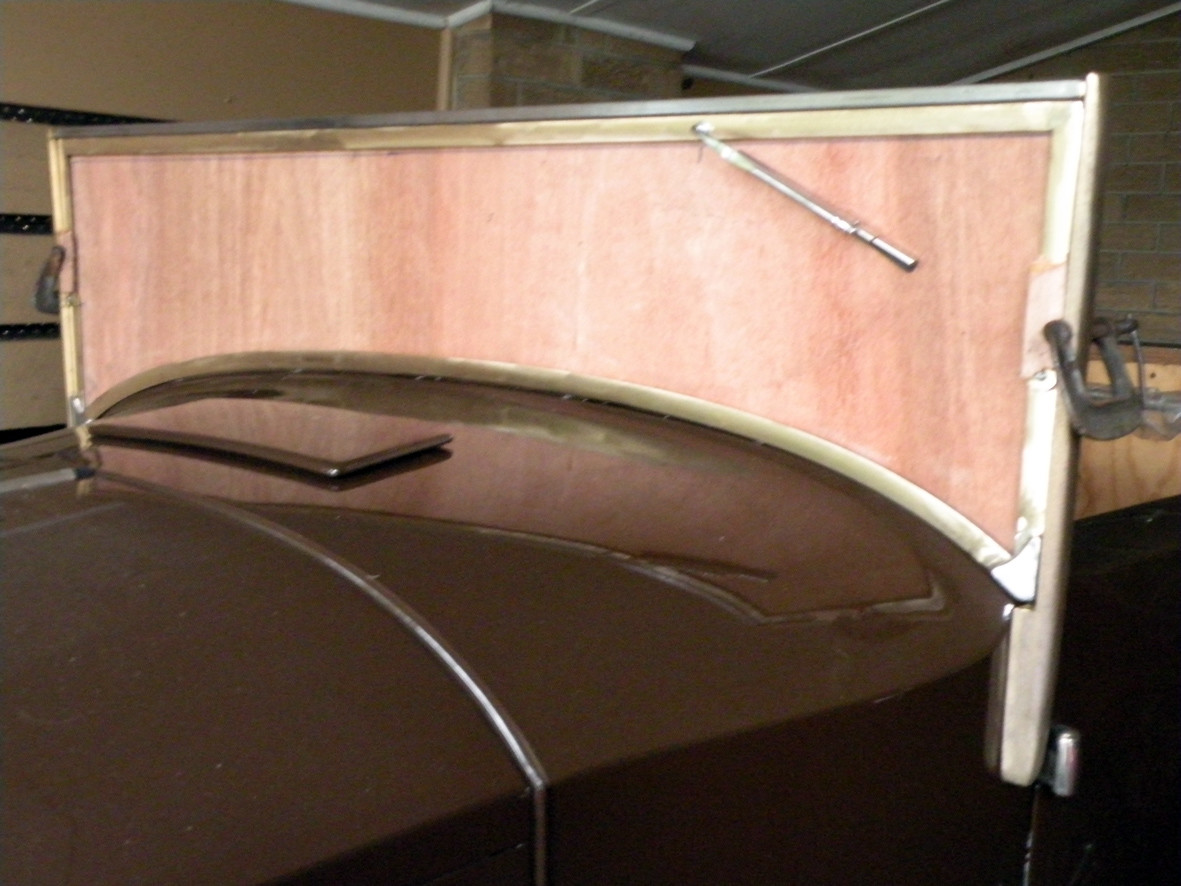 6-19-2012
Thank you to ALL my friends
I was not digging for compliments, I would just appreciate a little feedback occasionally. I am always conscious that not everything I do meets with instant approval. The change of plans for the windscreen for instance took quite some thinking about and time worrying whether it was the best solution to a difficult problem. I am always open to helpful suggestions and comments. As it is I have virtually made TWO windscreen frames and used up almost 12 metres of brass channel section.
6-20-2012
Today has been relatively low key. Since putting the gearbox back into the Lagonda Rapier I have wanted to do a reasonably long test drive. We have a VSCC Event this coming weekend and I needed to be sure that all was ok. This morning was cold but with some weak sunshine so I headed out through the nearby hills to visit Dave the Painter. I discovered that the adjustment for the remote control gearshift was failing to pick up top gear about every second or third change up. All it needed was one turn of a threaded rod, all that is left on the must do list is to buy and fit two new windscreen wiper blades. That left this afternoon free so I pulled out the bits of the basic top frame that I had started on months ago. Naturally with Melbourne's climate it had a complete coating of surface rust. After three hours with an aggressive wire brush in my angle grinder, a couple of sheets of sand paper and a spray can of Black "KIL-RUST" the bits have been "hung out to dry". At the very least they will not go rusty again.
6-21-2012
Yesterday I decided that I had procrastinated far too long and that my next task was to make the mounting straps for the vacuum tank. The photographs tell the story. Starting with a length of 1 1/2 inch X 1/8 inch strip the first job was to slice this into two pieces 3/4 inch wide. This was done using one of my favourite thin cut off blades in my angle grinder. These were then de-rusted and de-scaled and the edges cleaned up using a 120 grit "flap-wheel" on the same trusty angle grinder. They could then be measured and marked up having first measured the circumference of the Vac tank. The ends were then folded in my off-set vice and the necessary holes drilled, finally they were rolled around a former of the same circumference as the tank (in this instance a worn out emery wheel from the bench grinder). Finally they were given a light sanding to clean off any hand prints etc and given a coat of fast drying etch primer. This was again given a light sand-papering and a coat of black paint then hung up to dry. This morning they are ready to be fitted to the Vacuum tank. Next task will be to fit it to the bulkhead then I can finally move on to completing the plumbing of the petrol and vacuum lines.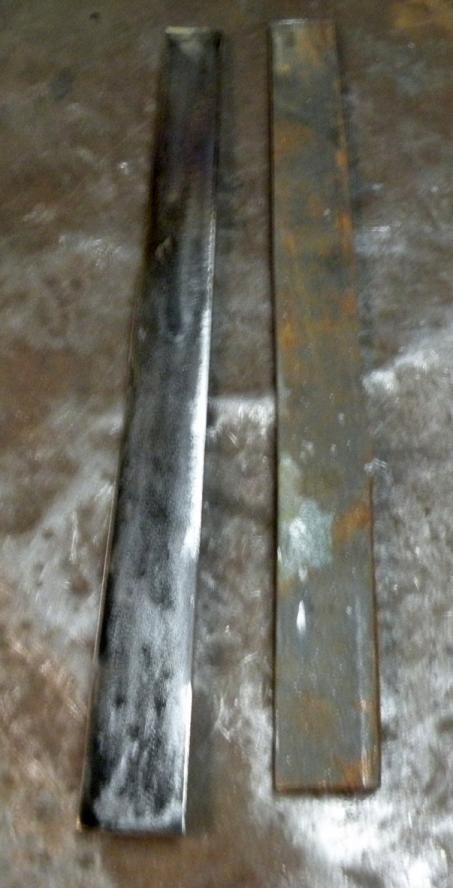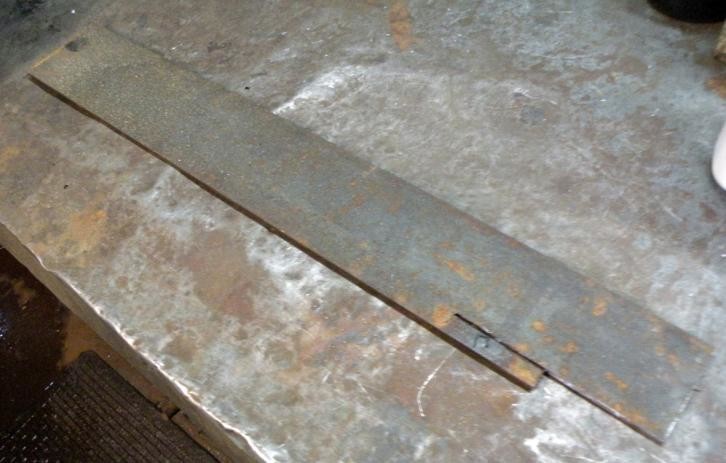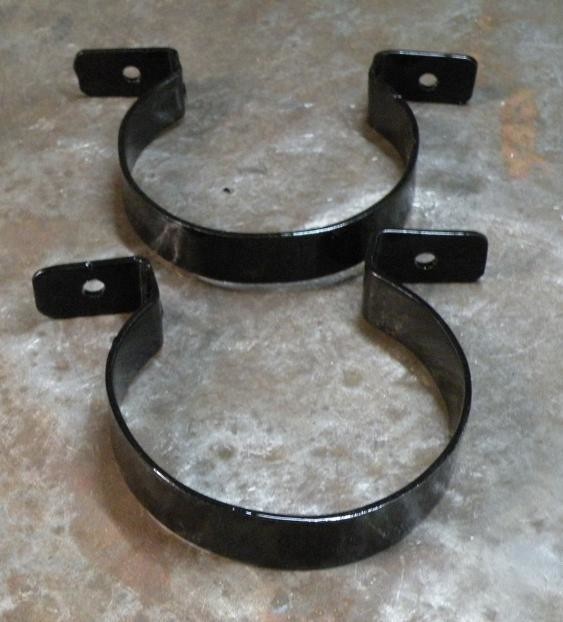 6-25-2012
Help!
I know that the improvements to the set up are obviously brilliant but I really am having trouble coming to terms with the system for uploading photographs. Can someone please explain or I will just have to give up, the frustration is killing me. Added to this I just don't have the time to keep going around in ever decreasing circles.
6-27-2012
Thank you Matthew
I have successfully posted some photographs on my other (Lagonda Rapier) thread. Work is continuing on the Packard. Today has been spent sorting out all the little brass pipe fittings to connect up the Vacuum tank. I still seem to be missing one hopefully tomorrow will solve that problem.
More progress on the fuel system I have discovered a local firm Pirtek who carry a large range of brass fittings for imperial size (1/4 & 5/16 inch) copper pipes. So at last I can move on one step closer to having the Packard running.
6-28-2012
At last. The next question is where does the return spring for the throttle linkage go?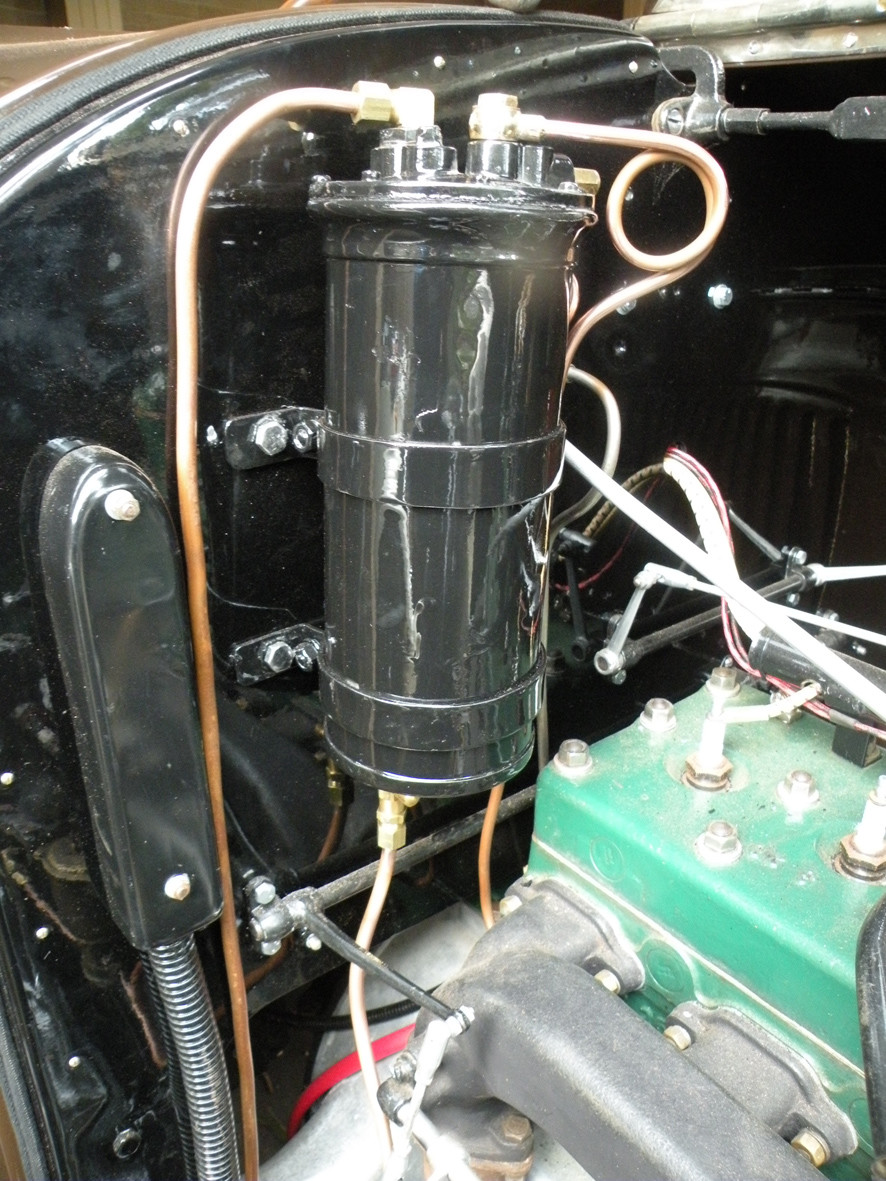 6-30-2012
At last after some hour or so of standing on my head, I have the throttle return spring attached. To meet with modern safety requirements I will probably have to fit a second spring somewhat closer to the carburettor.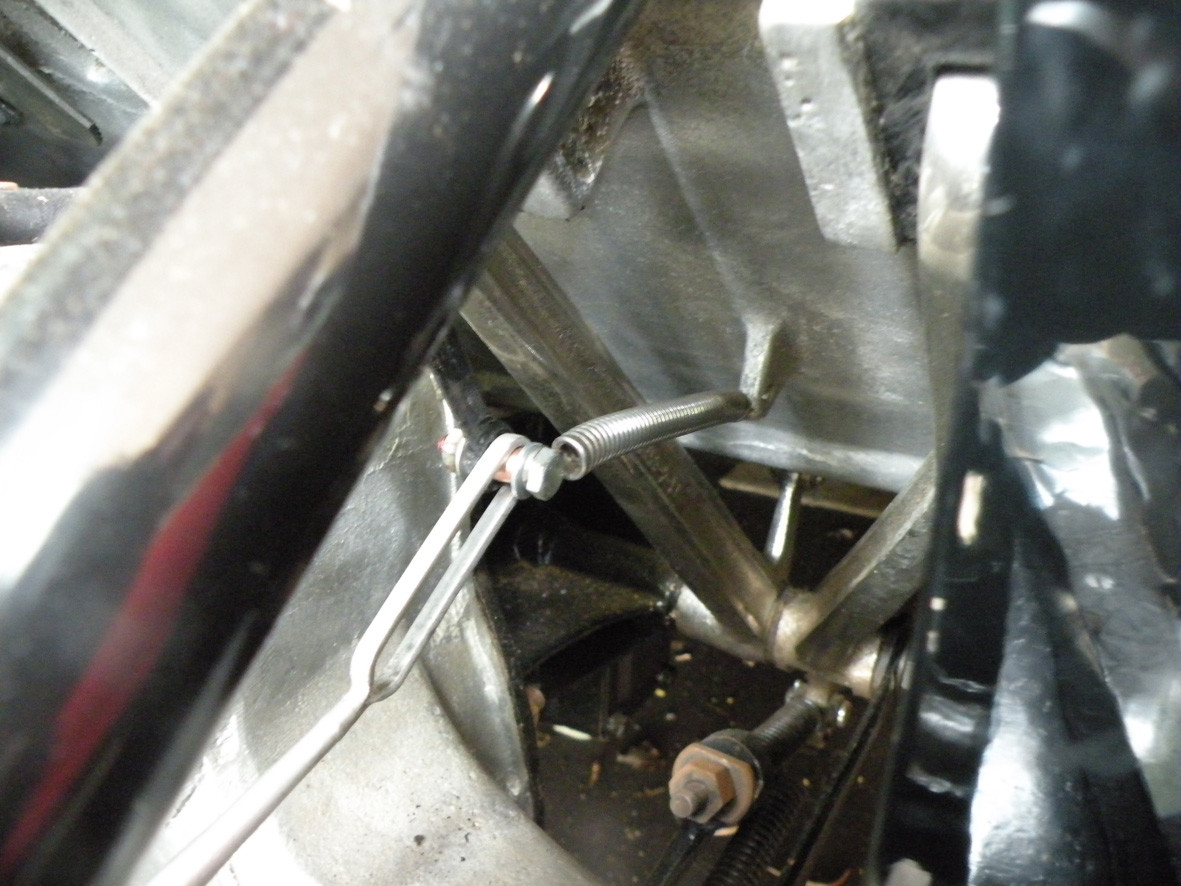 7-1-2012
My UK based friend Anthony Bryant who looks at this thread from time to time has sent me these photographs of the Packard ignition & lighting switch from an early series car. If anyone is interested in buying it I can put them in touch with Anthony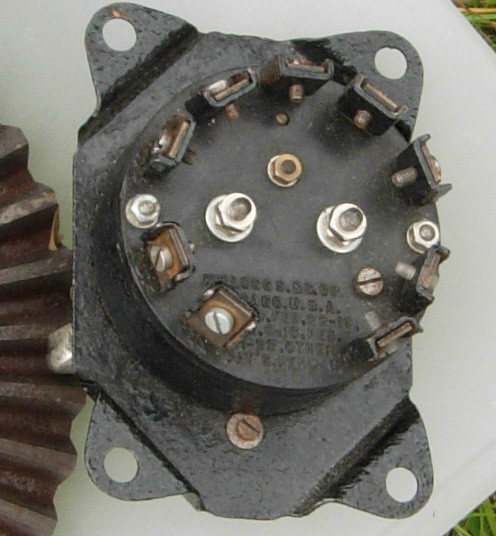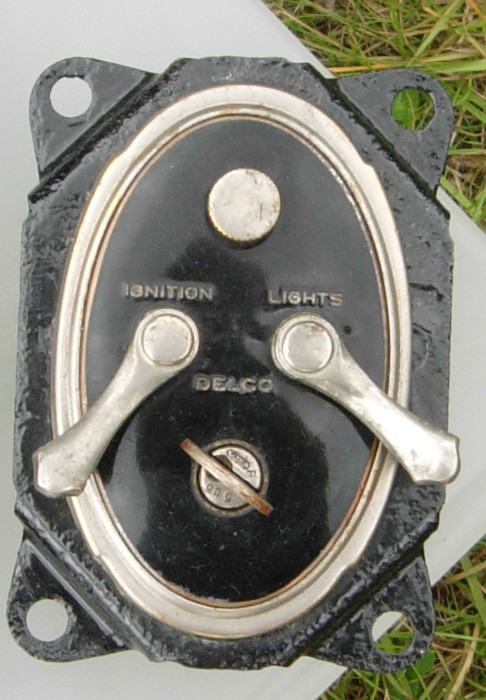 7-2-2012
As stated on 1162 I have now fitted the second throttle return spring as required under the Confederation of Australian Motor Sport (CAMS) requirements. This is required to have a direct action on to the throttle butterfly shaft. Not that I intend to be racing the Packard but I still think that a second return spring is a good investment in safety.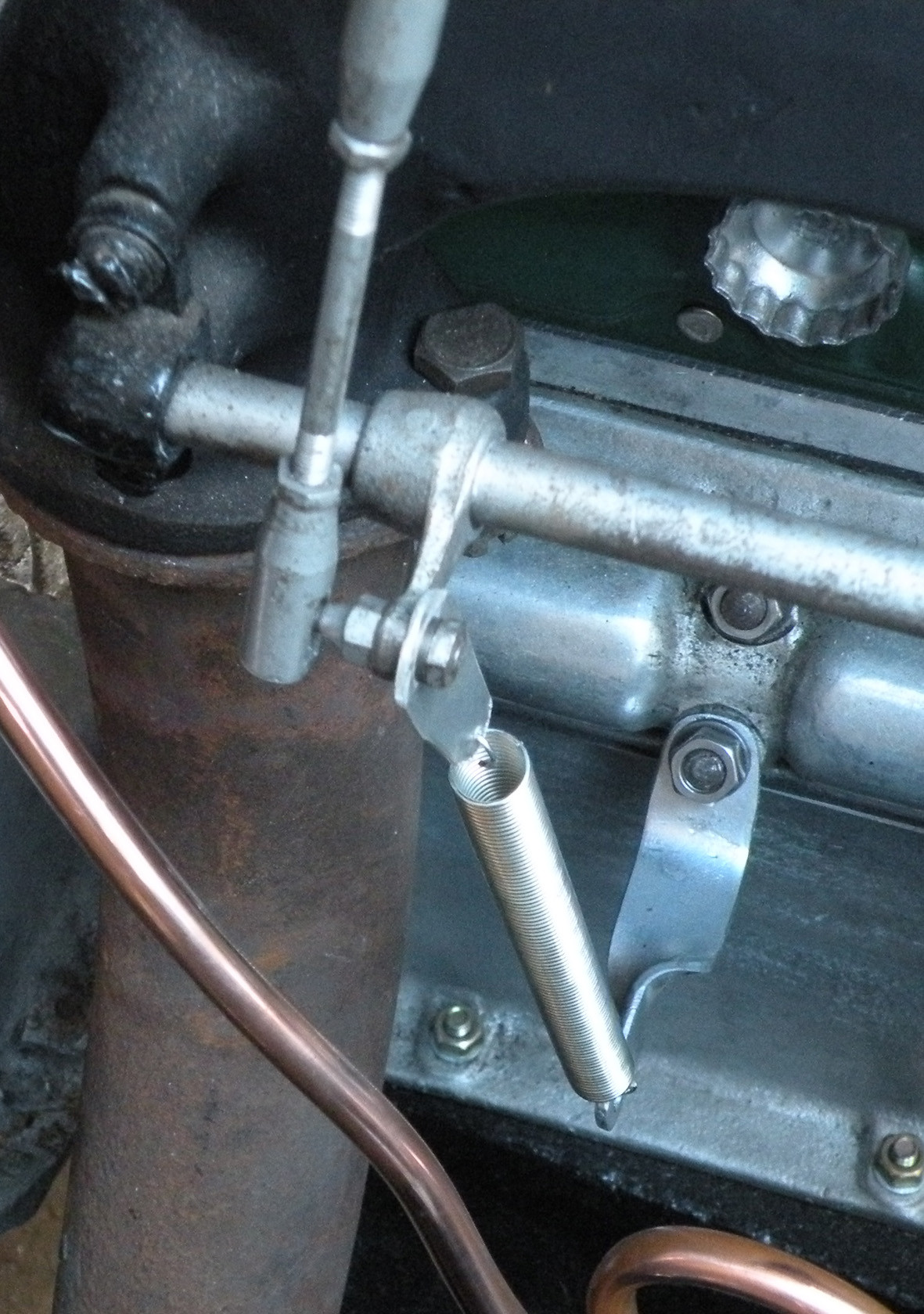 7-5-2012
Another day and a little more progress. My friendly pin-striper Simon has spent four hours applying his skill to the Packard. I will let you judge the results for yourselves. Personally I am delighted with his efforts.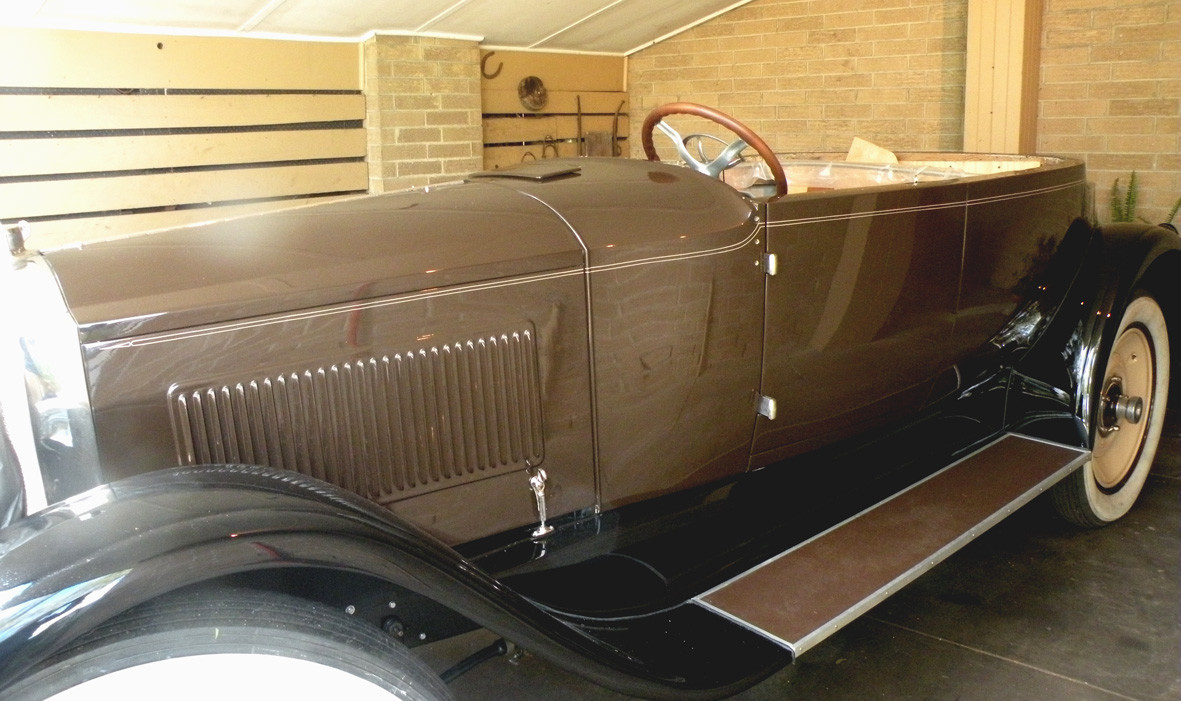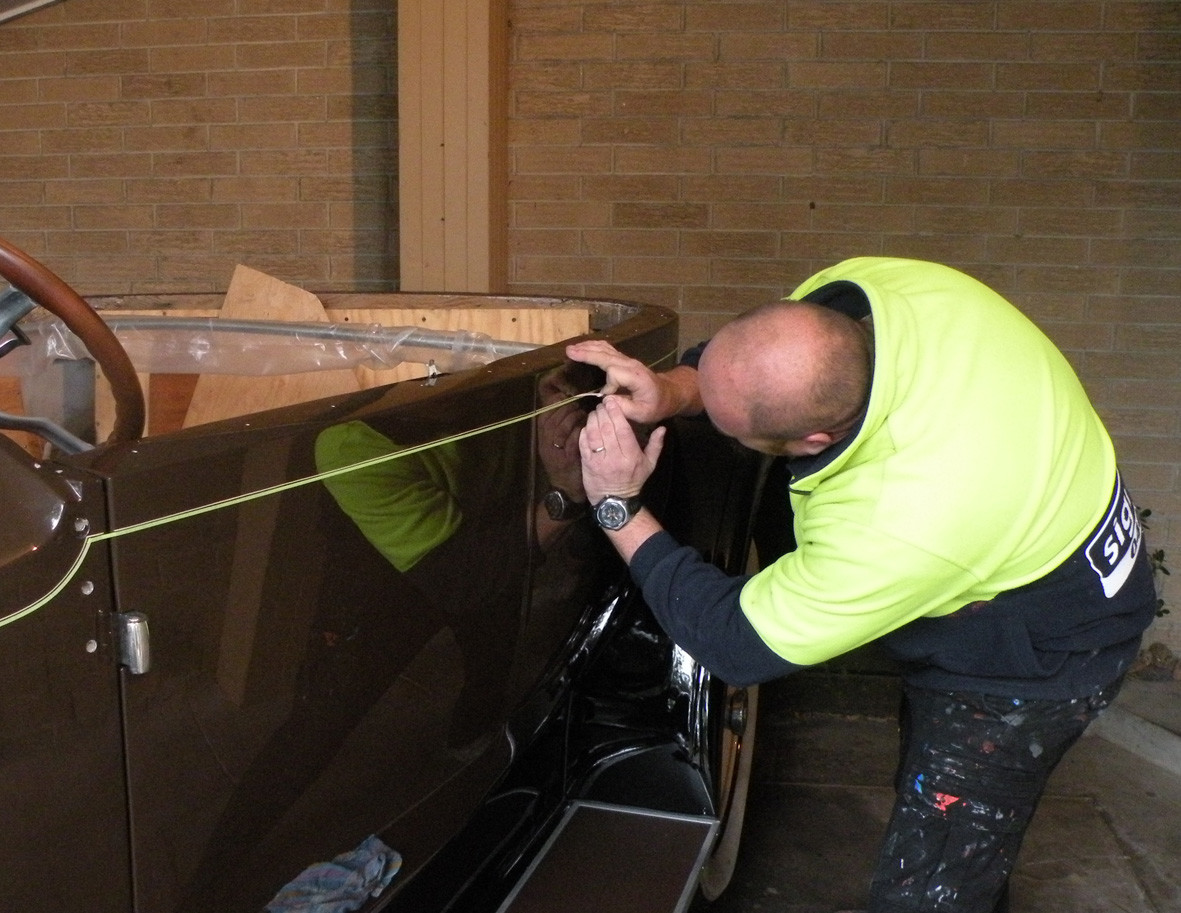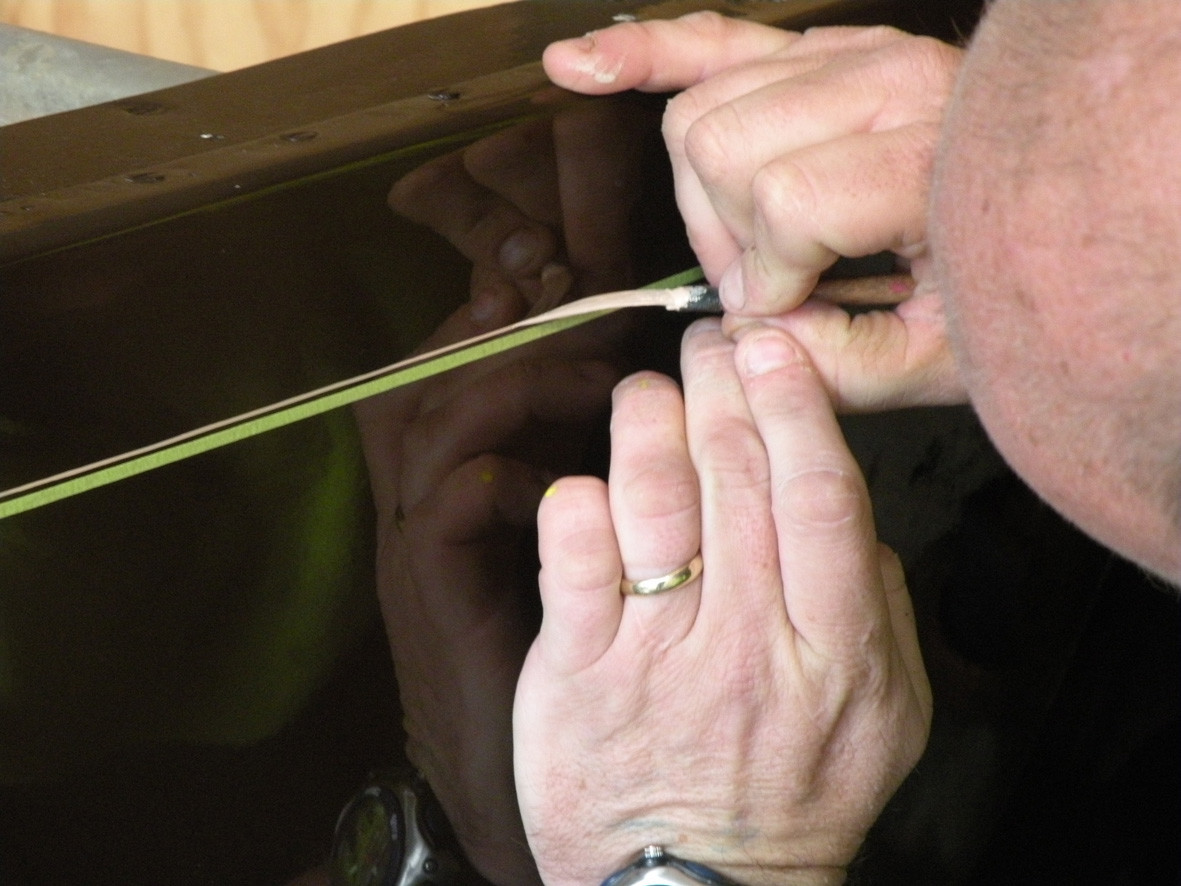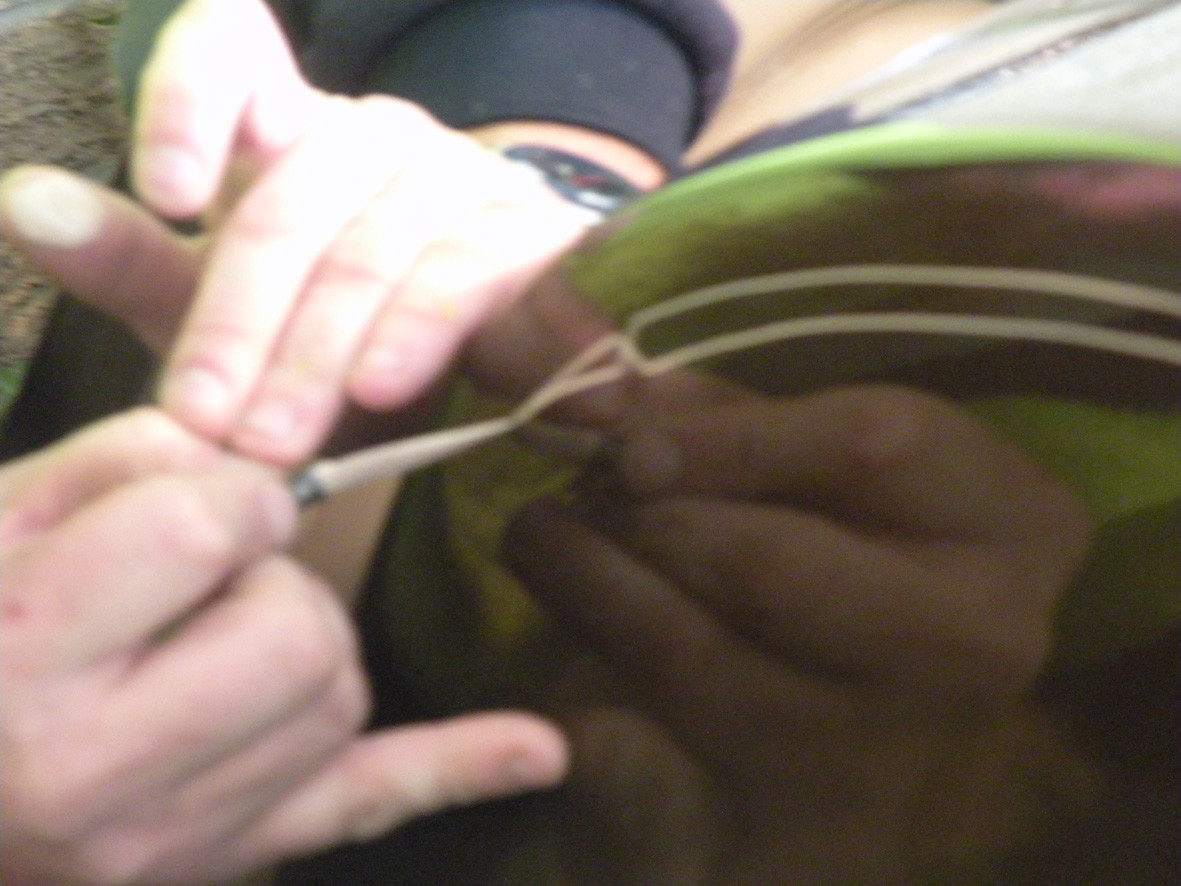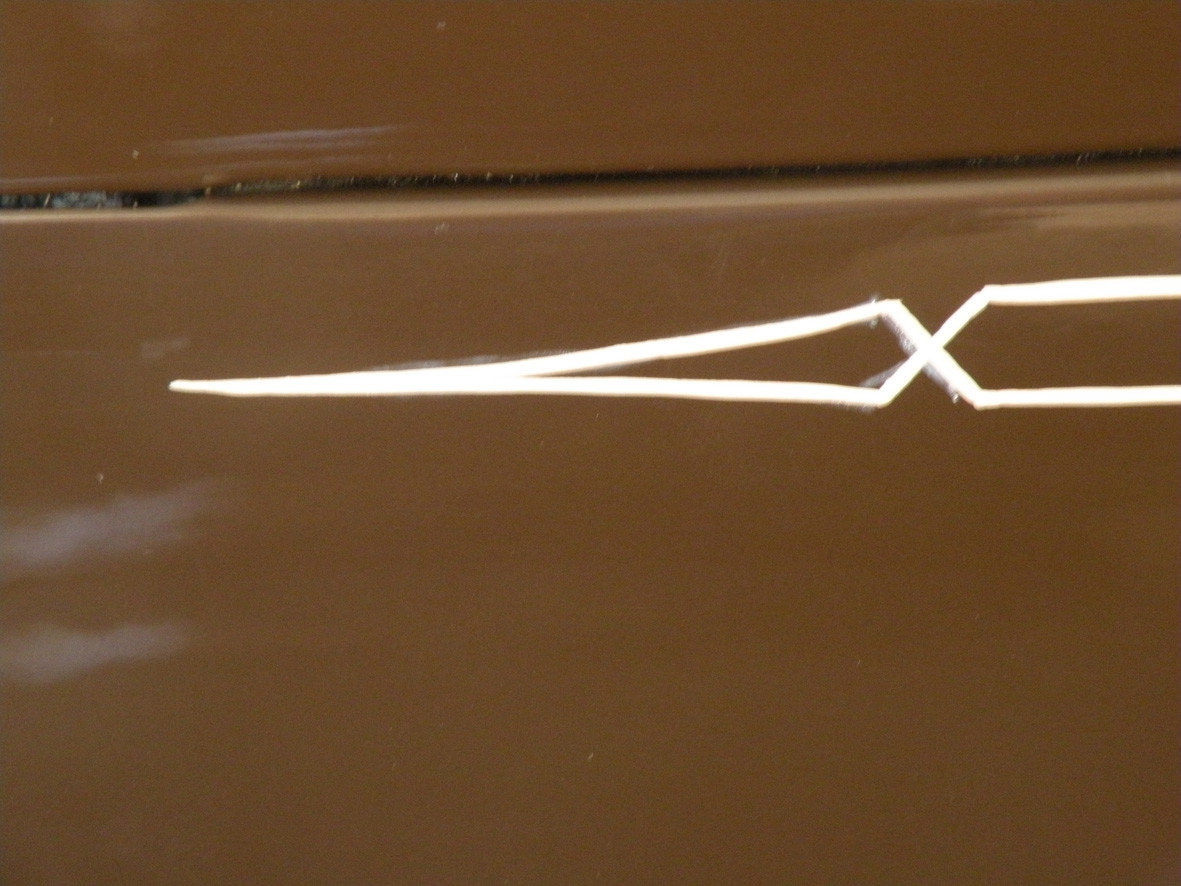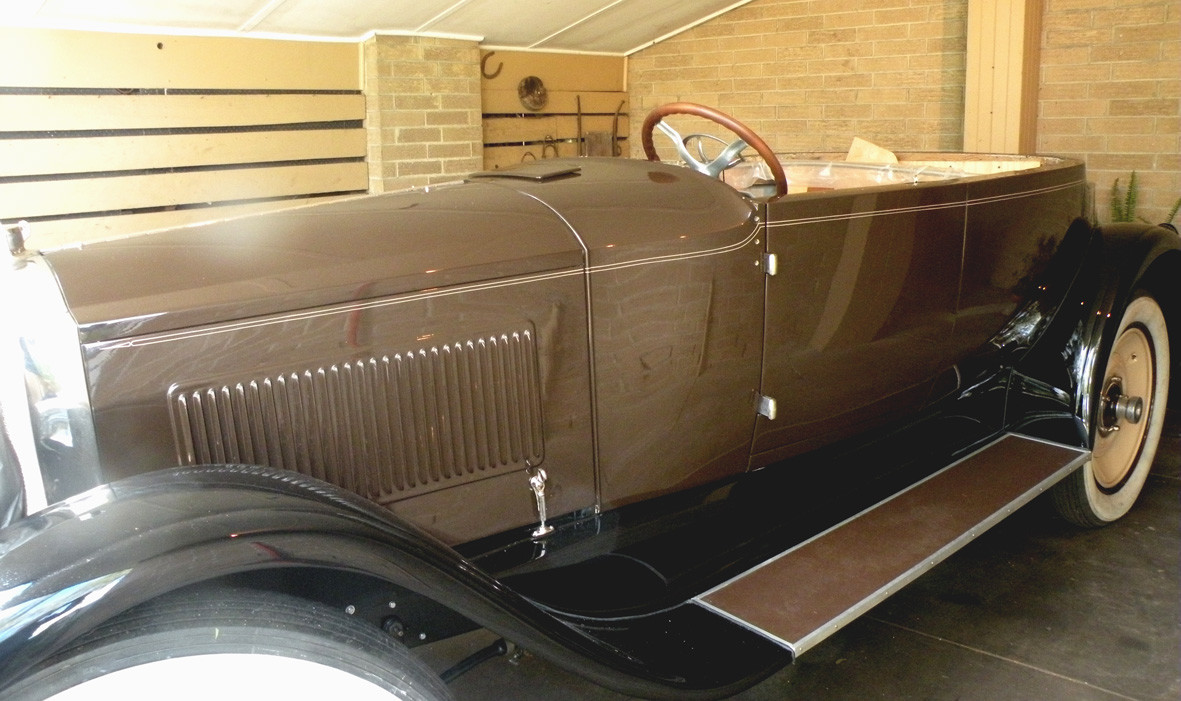 Hi All
I am delighted with the job that Simon has done with the pin striping. Re: the offending throttle linkage, I started to fabricate the correct clevis pin linkage yesterday afternoon. Next big job is to finish the windscreen and have the frame plated.. Then the interior trim.
7-6-2012
Hi Ian
Look forward to seeing your car after Dave has waved his magic wand over it.
Pete
Before rushing too far into making the new (Clevis end) throttle linkage I thought that I should have a look at some archived photographs. One that an old friend in the US sent to me some time ago and the other taken when I first acquired the Packard as a basket case... Possibly the only thing wrong is that I had painted my linkages silver instead of black.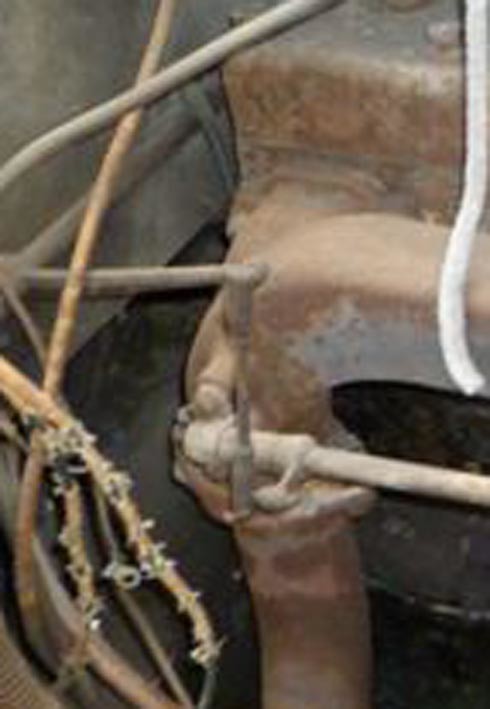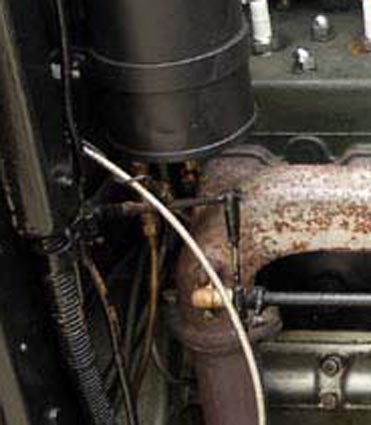 7-13-2012
Little by little progress is happening! Spend an extremely interesting day out at our son Steve's, he has been extremely helpful finishing off a couple of small but essential machining jobs on the windscreen fittings. Next task should be to take a load of "stuff" over to the platers for a nice fresh coat of nickel. That done I will be able to move on to ordering the glass.
7-15-2012
I am sorry that I don't have lots of exciting photographs to show you just now but as mentioned above this afternoon has been spent sorting out all those fiddly little bits to take to be nickel plated, First there are the two halves of the windscreen frame, the two windscreen side pillars, the rail that goes across the top of the windscreen between the pillars, two 1/4 unc X 3/4 inch raised head slotted screws, two 10 gauge metal thread round head slotted screws, the bits that go to make up the latches for the headlamp rims and the two 5/16 UNF special nuts that go with them and finally the two little angle fittings that go to hold the front rail of the top to the top of the windscreen. With the exception of the two windscreen frame and the pillars that I had cast in bronze from wooden patterns I made and the two special nuts for the headlamp rim latches I have fabricated everything largely from materials sourced from my "useful" bin. For the windscreen frame I actually bought a length (6 metres) of the correct brass channel section. This I cut up into no less than eight pieces then silver soldered it all back together again.
Recycling taken to the "enth" degree.
Bernie J.
For "useful" read; short lengths of steel, brass & aluminium, strip, rod, tube & etc, etc, all too good to be thrown away because I may find a use for it one day!
7-16-2012
Back to work! Having delivered all the windscreen bits to be plated I decided that while I was out and about that I should continue on and pick up a length of "link" belting for the water pump/fan drive belt. Having given this much thought I had decided to use this type of belt as the clearance between the fan blades and the radiator core was just too close for comfort if I was to fit a conventional "B" section endless V belt.
Having made this decision I am sure that there will be at least six or eight experts who will tell me that 1. This type of drive belt is totally incorrect for a 1923 Packard and 2. that If I insist using this belt that I should at least put it on the right way around. That these belts are directional and that mine is on the wrong way around!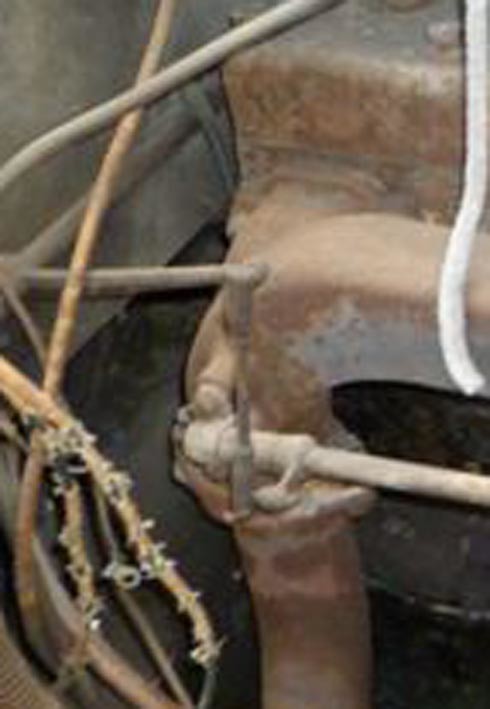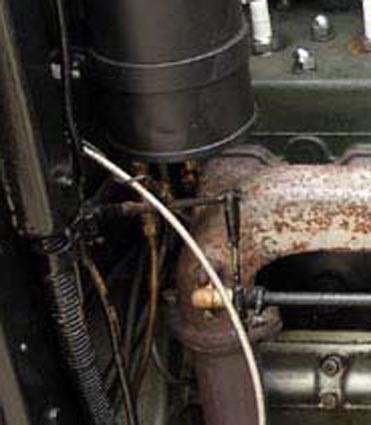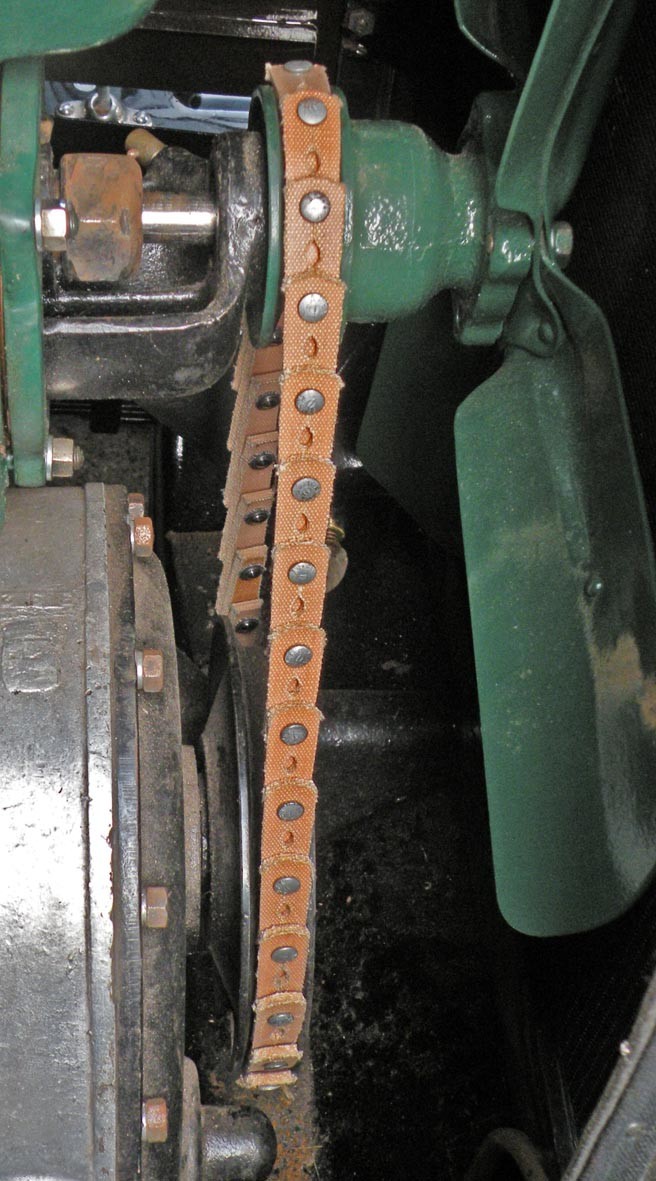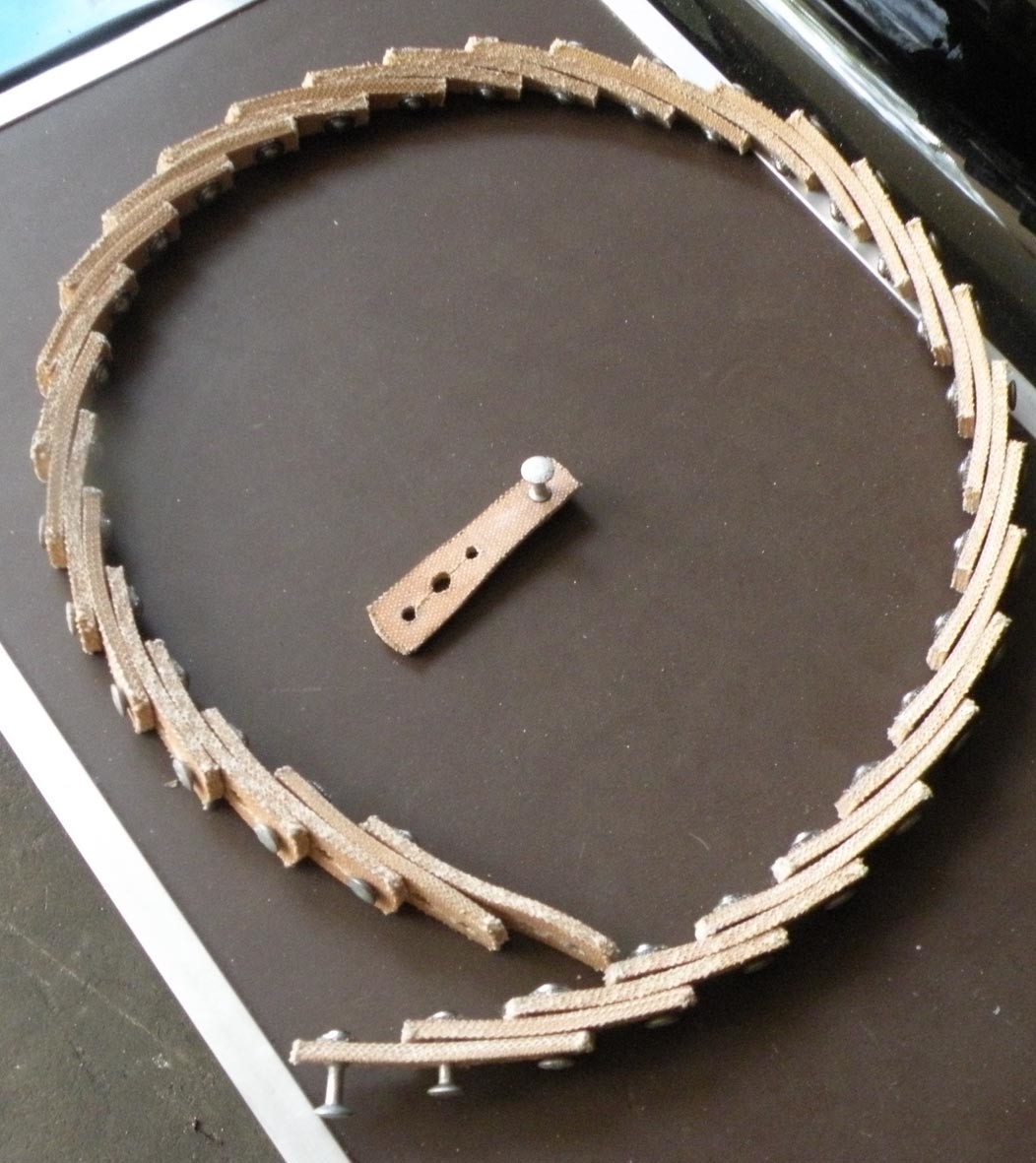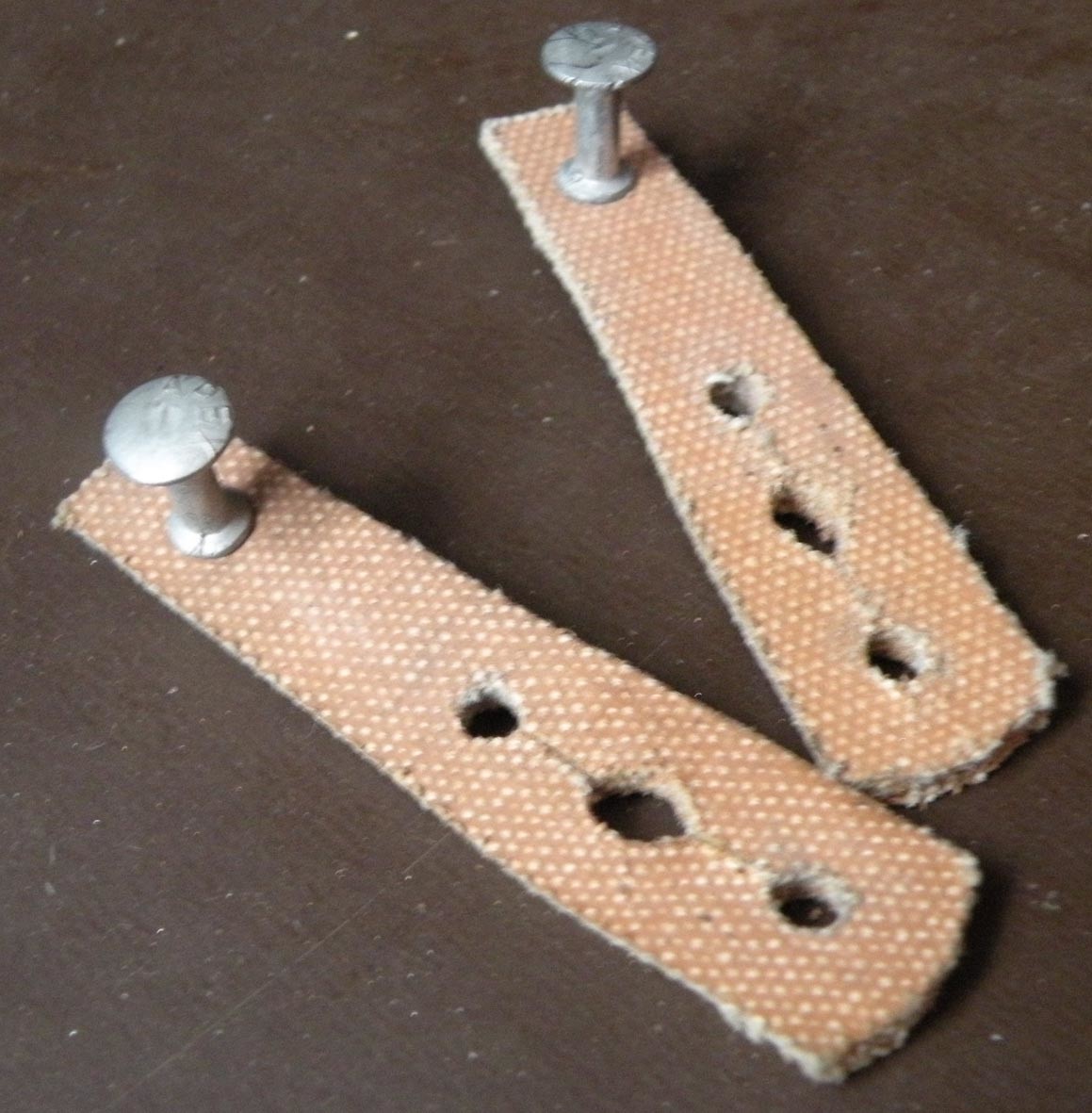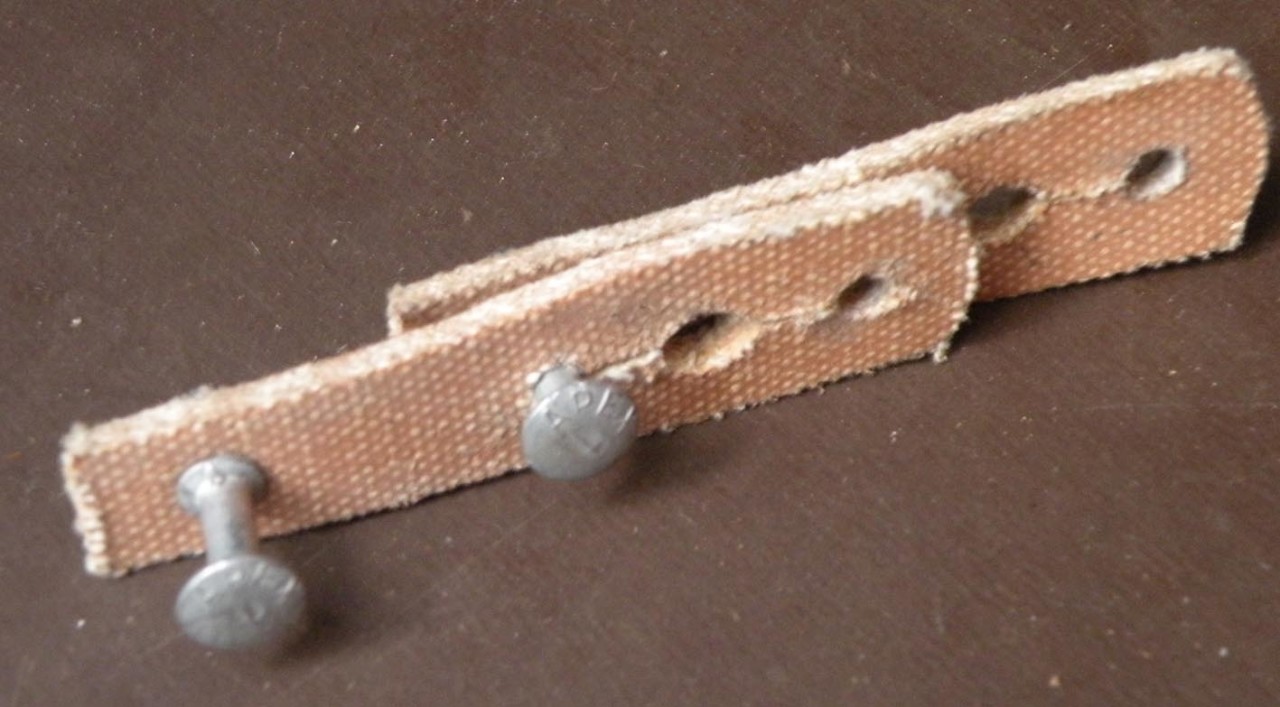 Hello Roger.
I am amazed at your ready confession to such ignorance.
There are two types of "link" belt that have been commonly used in industry for over a century. The Whittle belt invented by the grandfather of the English inventor of the modern Jet engine. This originally used wooden (lignum vitae) links. And the Brammer belt invented by a gentleman of that name living in Belgium. The Brammer belt is still used in industry, hence its ready availability over the counter from most Industrial Drive Belt suppliers. Some of the important features of this type of belt are its vibration free operation, its ease of adjustment to any given length, the ability to install it without the need to dismantle the machinery and the positive drive without the need for increased tension thus reducing the load on bearings etc. Modern "Toothed' belts such as cam drive belts are an adaption of the Brammer principals. This type of belt was also commonly used during the early to mid teens as the drive for "Belt driven" motorcycles and cycle-cars. Despite the attitude of many so called ANTIQUE car enthusiasts there WAS a sophisticated and thriving motor industry prior to 1950.
Google tells us:-
Commonly known as "Brammer" this type of V-belt (it cannot be used on flat-belt drives) is widely used in industrial and marine applications. Although more expensive than ordinary V belts it does have some important advantages:* It can be installed without having to dismantle the drive system and spend hours pulling apart well set-up or bedded-in components.
* It helps to prevent a drive system reaching a resonance frequency and is recommended where the transmission of vibration from the motor or other sources is undesirable - in precision grinding machines and high-speed lathe spindles, for example.
* It is of very high quality and claimed by the makers to have an improved shock-loading capacity and better abrasion, oil, chemical, damp and heat resistance in comparison with an ordinary V belt.
* It fits all standard pulleys - there is no need to replace or modify the existing setup.
* Adjustments to tension can be made without having to move pulley apart or together.
7-18-2012
Little by little I am now going through the process of ticking off the million and one jobs that tend to be put off. One of the next on the list is the quadrant and hand controls for the centre of the steering wheel, this of course includes the horn button. Before proceeding I must ask you to go all the way back to Page 7 of this thread, #151 on December 21 2010. Charles H Brown of Hong Kong I have neither forgotten or lost your Pot Lid Knobs! They have been carefully stored in a safe place awaiting this day. I just need a couple more days and one will finally reach its destination.
7-19-2012
Continuing on with my little by little policy, I have today unearthed a good 6 volt coil from my collection and fitted it to the original position on the inside of the bulkhead behind the dashboard. I have decided initially I will not connect the Fuelizer spark plug as there were some doubts about the efficiency of the original double ended 1923 coil. Then I discovered that the starter motor had dried out and stiffened up during its long rest so this has now been dismantled, lubricated, the armature cleaned up and the brushes cleaned and checked that they were not likely to stick in their holders, the whole thing re-assembled and checked for operation, all that still needs to be done is for the fresh coat of paint to dry and it can be re-installed.
7-21-2012
Hi All
I have not gone away but while I am waiting for the windscreen frame etc I have been giving my trusty daily driver a spruce up. a 1996 Peugeot 405 SRi This is the fully optioned 2 Litre (8 valve) Petrol 5 speed manual version of the French farmer's all purpose vehicle. Very quiet very smooth a delight to drive.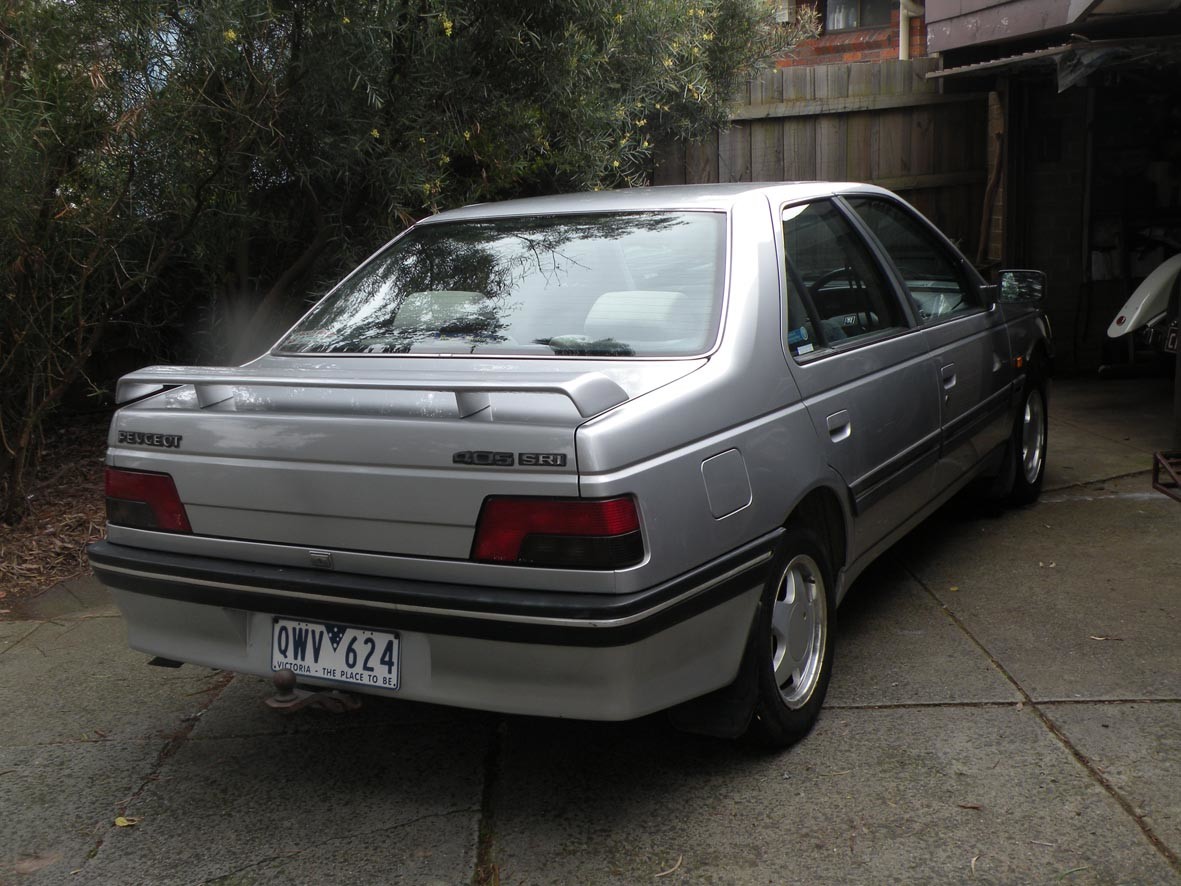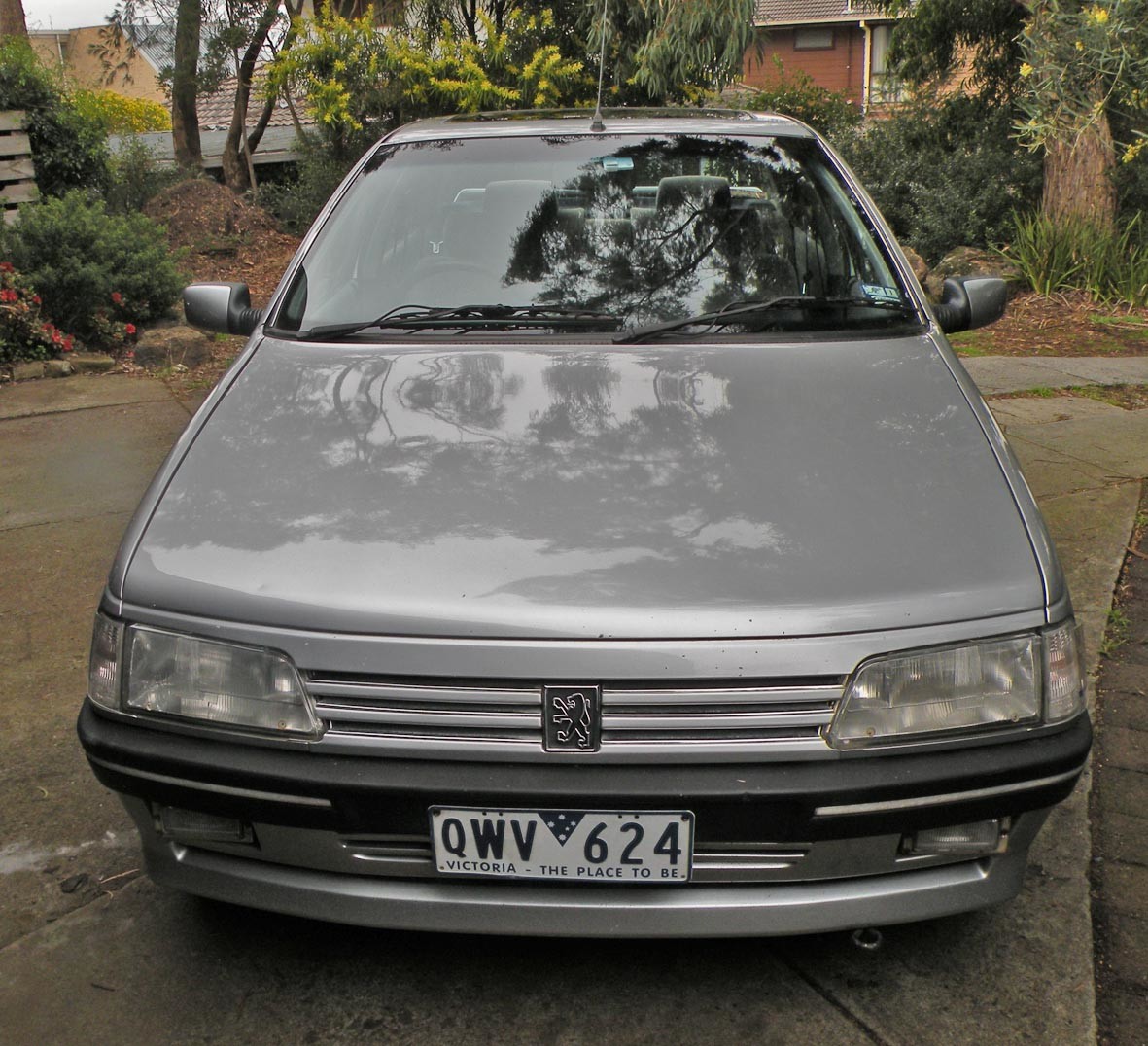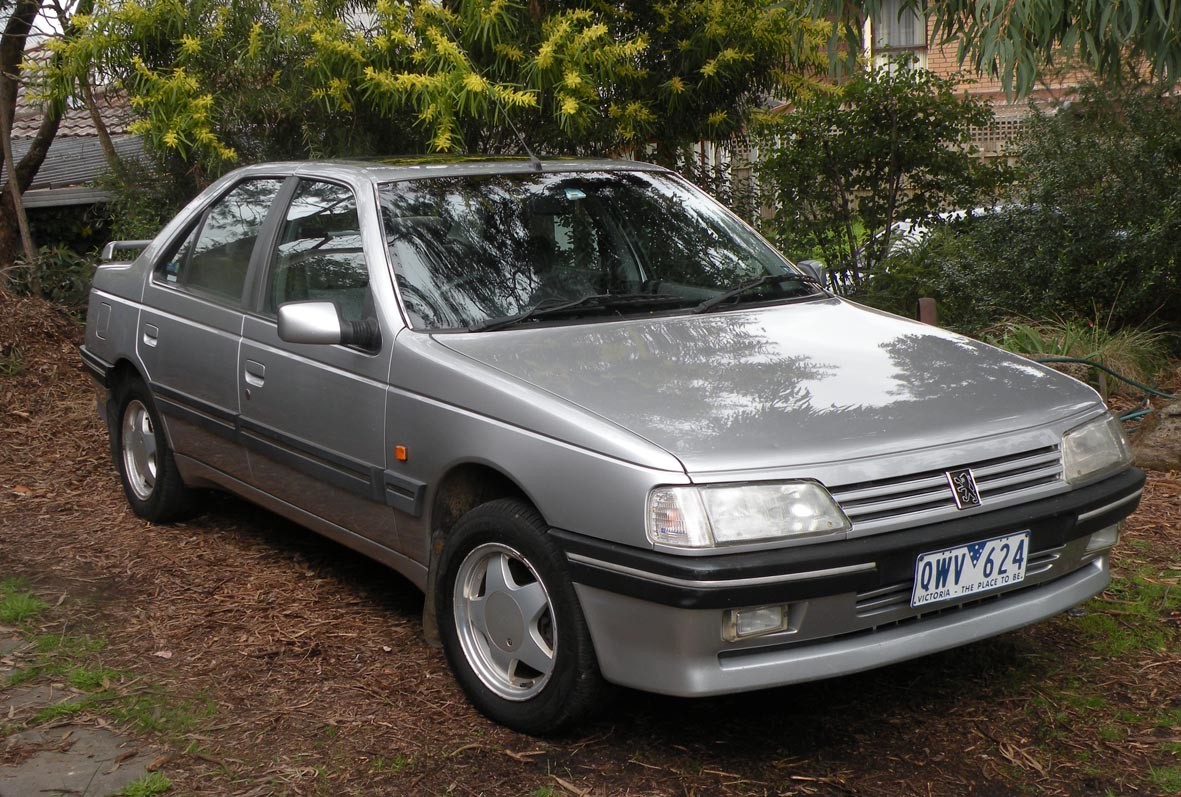 7-24-2012
As I had to drive across town to order the safety glass for the windscreen today I called into the Penrite factory outlet and bought the two litres of 140 gear oil for the rear axle and 90 trans oil for the gearbox. Filled the rear axle this afternoon, the two litres filling it nicely. The windscreen glass should be ready in about two weeks about the same time that the frame should be finished being nickel plated.
7-26-2012
Continuing on with my one job at a time policy the next item on the yet to be done list is the exhaust system.
During its 45-50 year life in a Custom's Bond Store the Packard was moved from time to time using a fork lift truck. This resulted with both the front, engine, pipe and the silencer being crushed. The silencer was originally made to be demountable being held together by three threaded rods running from end to end. With these removed the two end caps can be simply driven off using a small hammer and a suitable drift. The internal primary defuser is attached to the outlet end cap. The outlet pipe protrudes some six inches into the main chamber. The plan is to replace the outer tube using 6 inch diam double walled flue (stove) pipe and to repair the small rusted sections of the end caps retaining the original internals. The original (cast iron) end of the tail pipe will be sand blasted and given a coat of heat resistant black. a new front (engine) pipe and tail pipe will have to be bent up using the originals for patterns.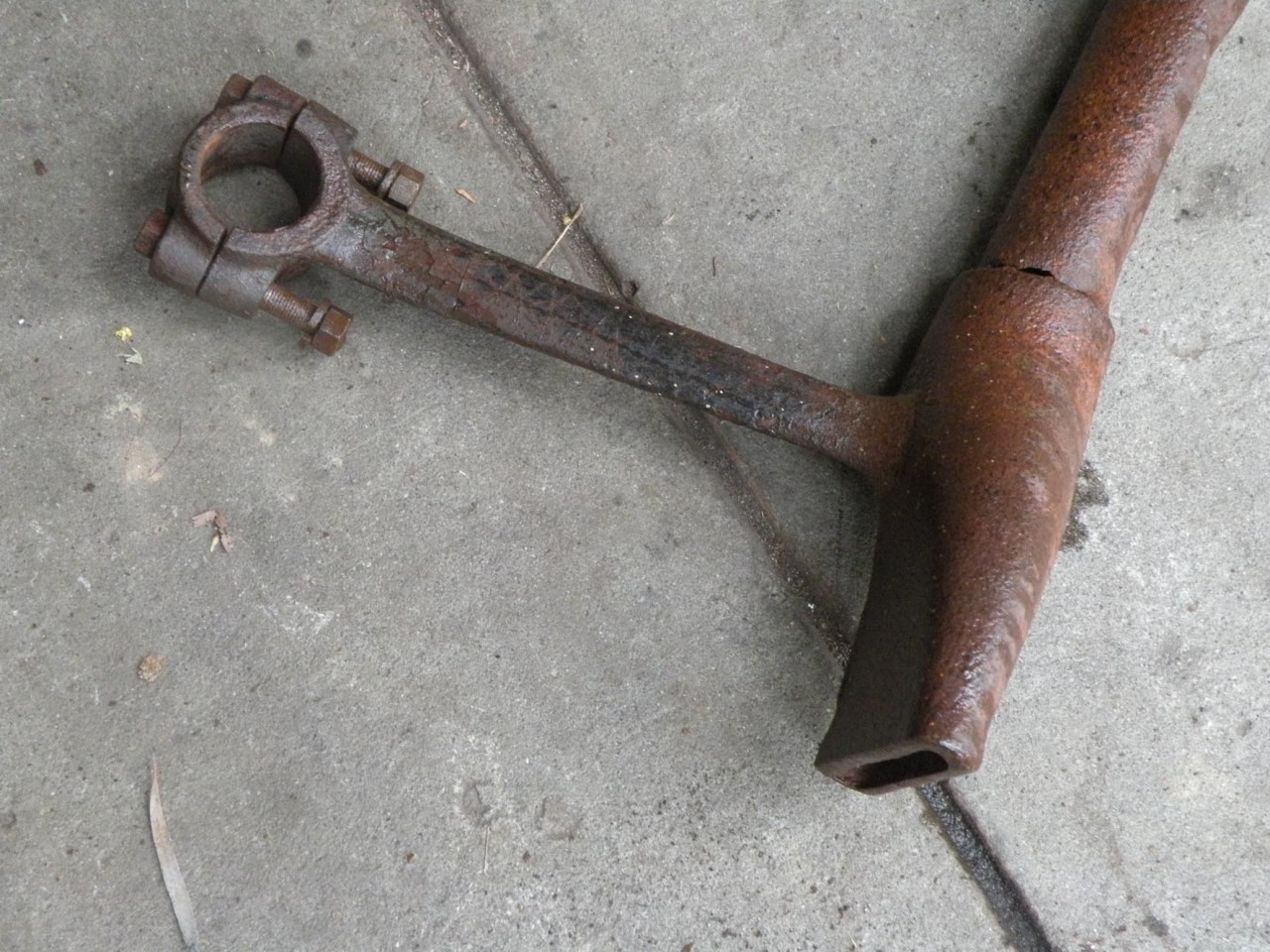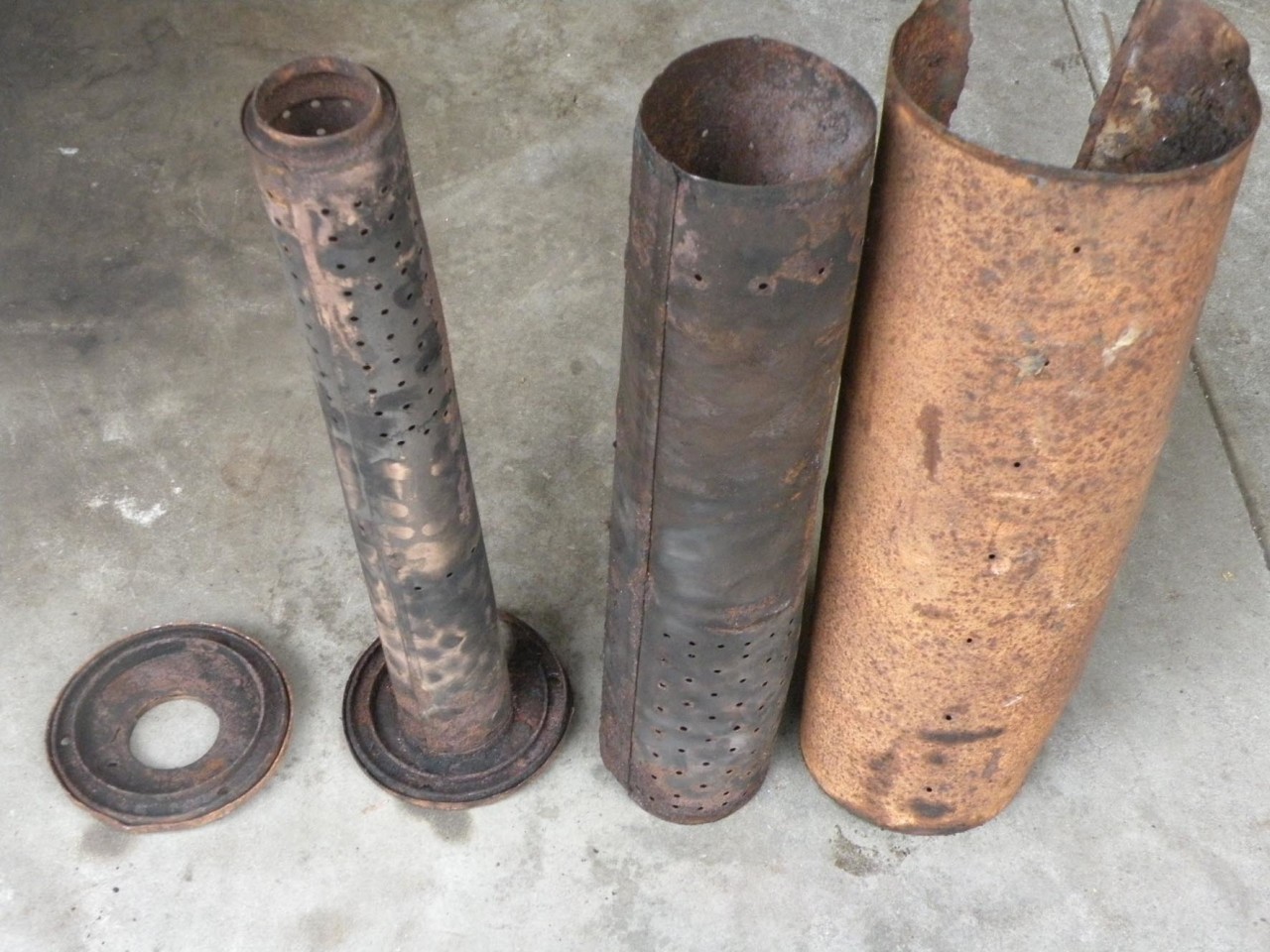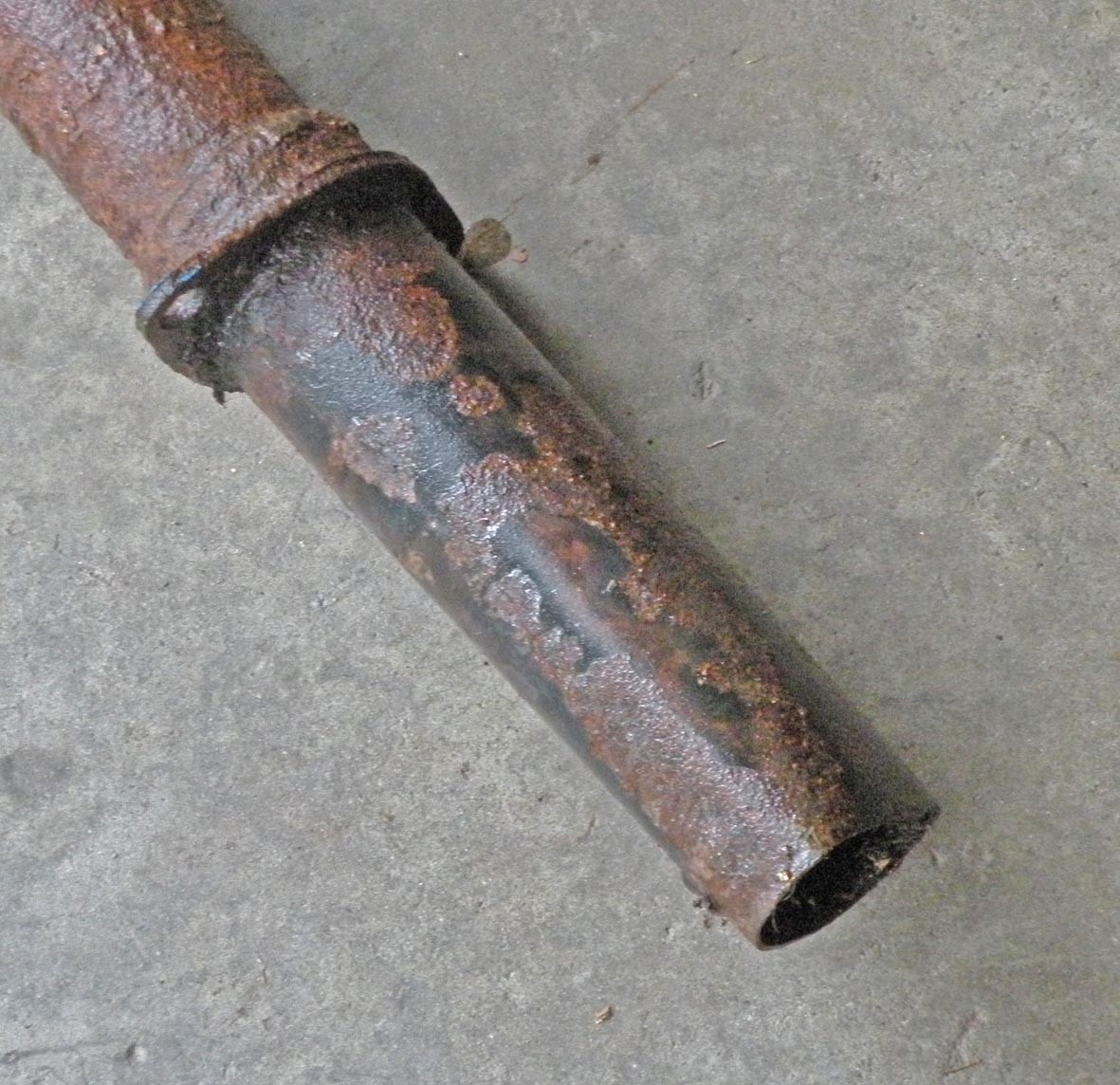 7-30-2012
With the original muffler internals in place and the end caps tacked into position is hardly the time to run out of acetylene but now I am waiting for another cylinder to be delivered. On the positive side the high temperature exhaust paint on the tailpipe tip has dried overnight so that is one more (small) box that can be ticked.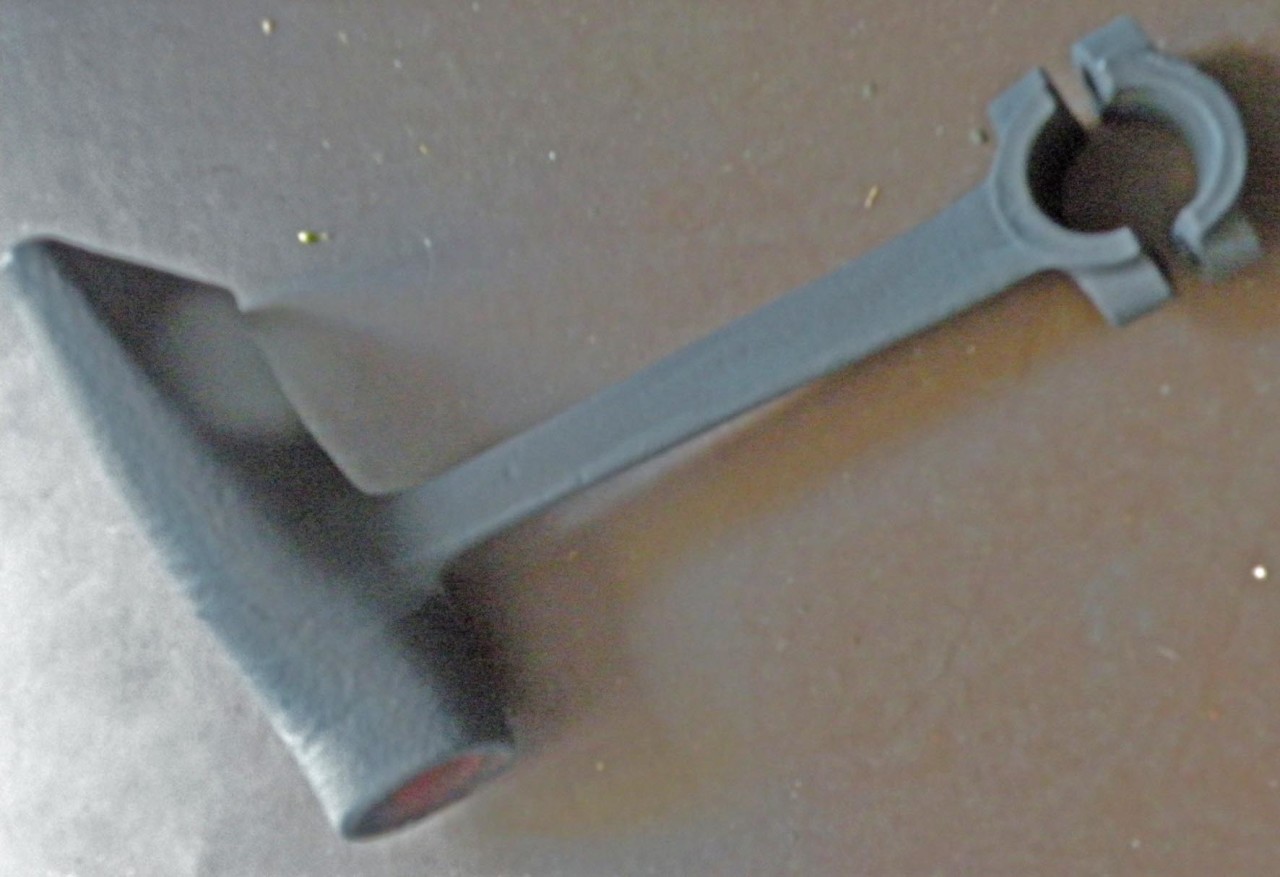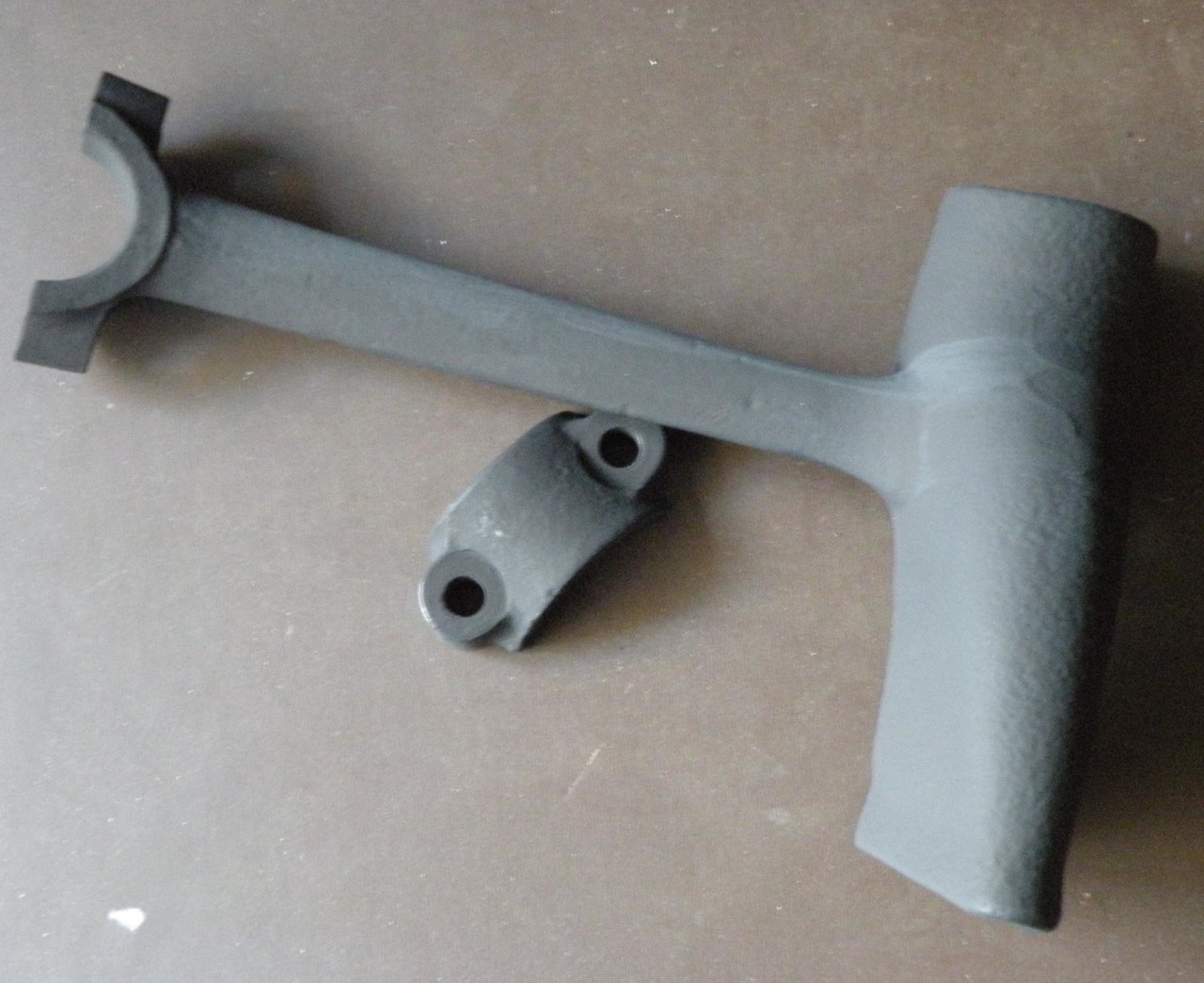 8-3-2012
A little more progress, collected the windscreen frame etc and the small parts for the headlight rim latches from the platers yesterday. The Glass will be ready on Monday. All I need to do now is to find where I hid the four little screws that attach the latches to the headlight rims.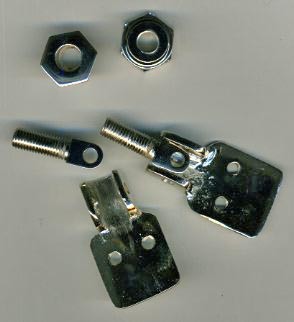 Yet another small step forward, the windscreen pillars and the bottom section of the frame are now in place and awaiting the glass.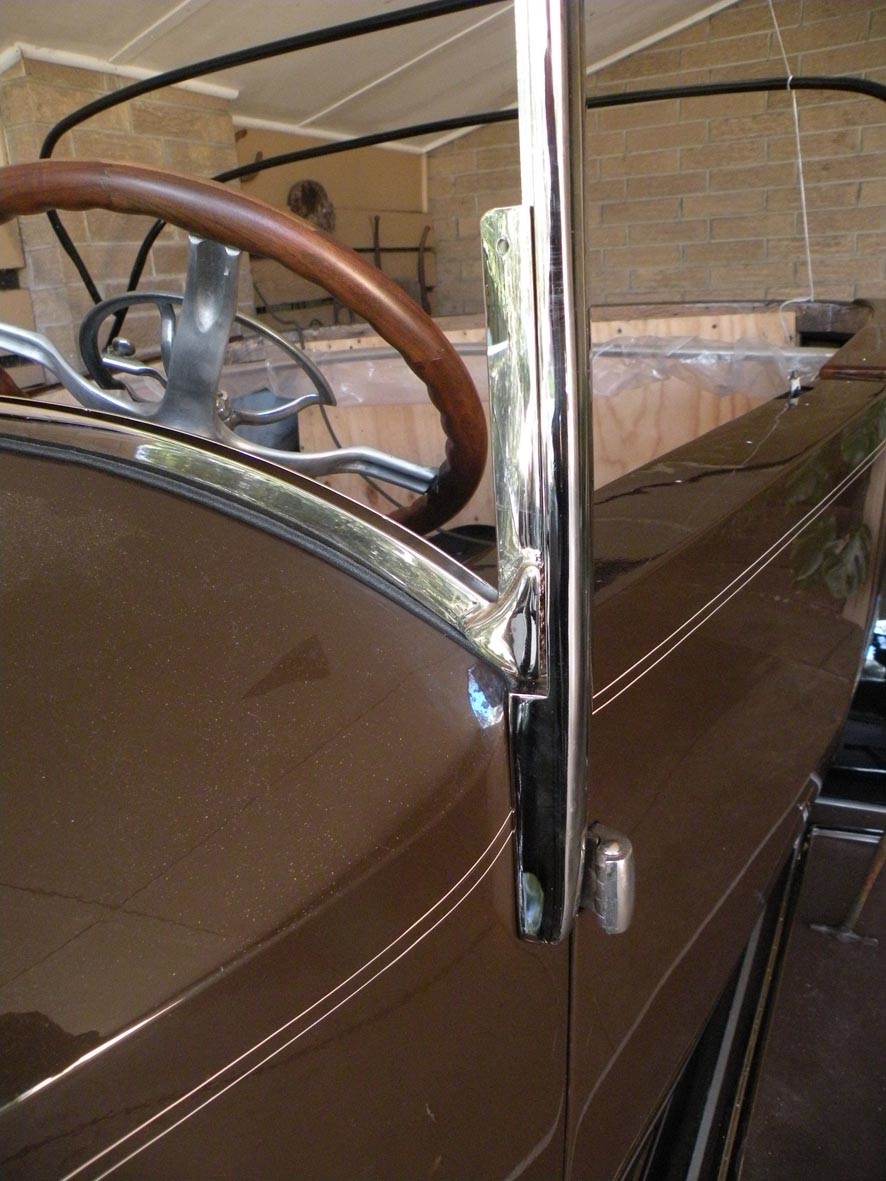 Hi Roger
After discussing this with the glass supplier I decided to go with his recommendation which was laminated.
Meanwhile I have been playing with little pieces of paper cut outs. This is the proposed top (hood) silhouette using just two bows. The actual fabric will be a fawn salt & pepper cloth, you need to go back quite some way to where I was discussing the proposed colour scheme to see the actual material. What you see here is the inside of the envelope that brought the latest issue of the Antique Automobile magazine, nothing is wasted. For those either reluctant to or unable to go back through the 50 odd pages I have attached an upclose scan of some "Salt & Pepper" cloth. Those knowledgable about these things will tell you that the warp is a black and a white thread twisted together while the weft is a single fawn (tan) colour thread.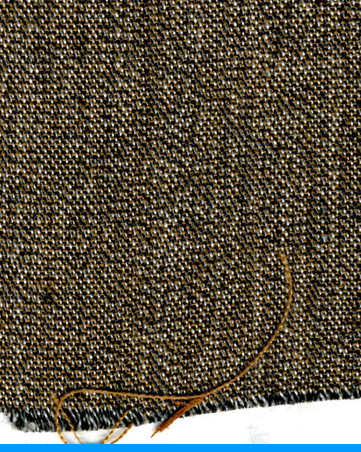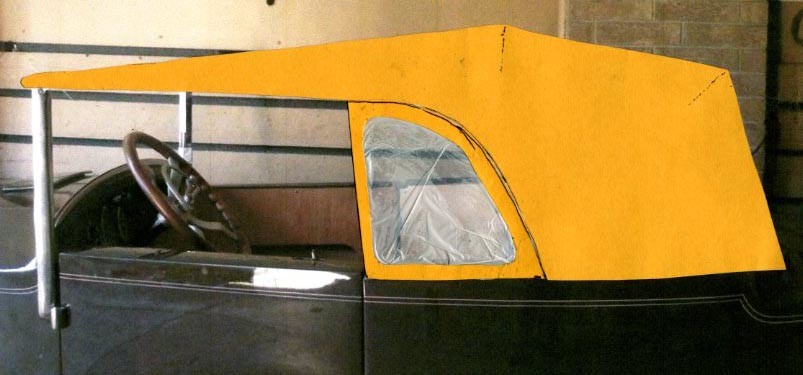 8-4-2012
Having collected the last batch of plating I have been able to complete the assembly of the headlamps and to trial assemble the windscreen frame (no glass just yet. but before the glass went in I wanted to be sure that it all still went together OK.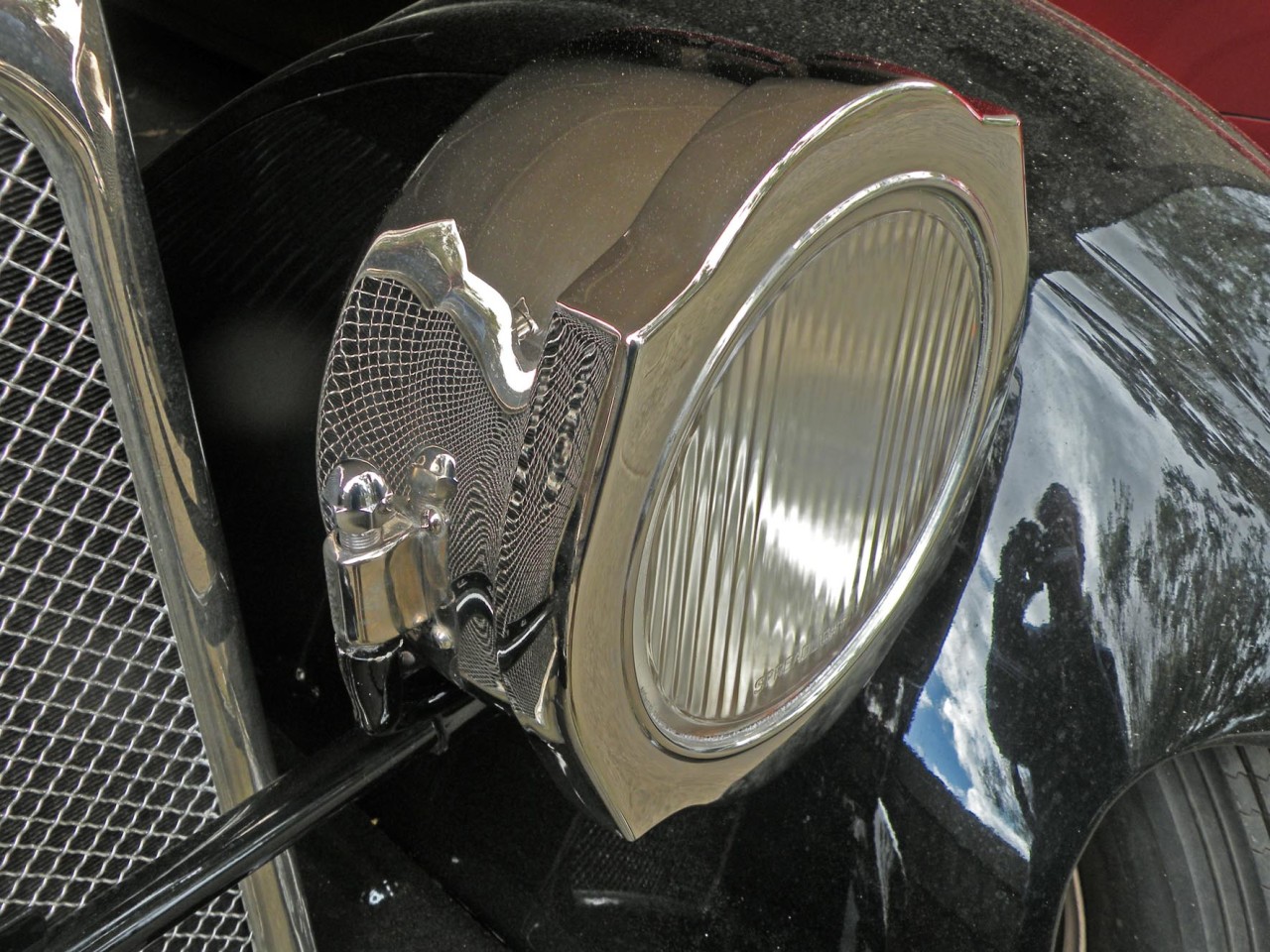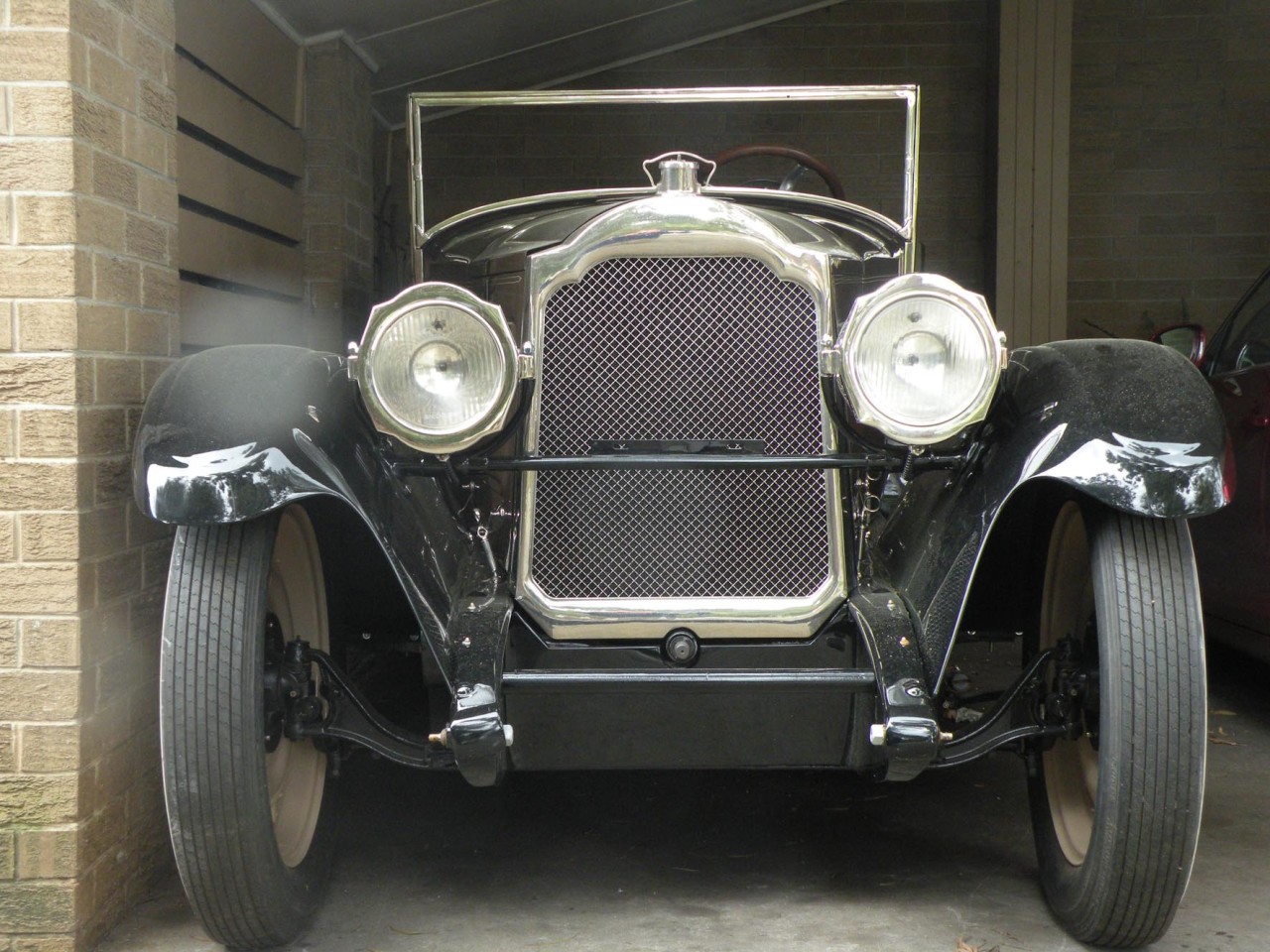 8-5-2012
Hi Col
I tend to agree with you with four seat touring bodies but with this particular body which is basically a two seater I think that the slight slope on the rear of the hood works. At present what you are seeing is only a mock up literally cut and pasted. Work on the actual top (hood) is not scheduled to start until late October. One thing I do have to consider is what the next owner may prefer. As with all my project cars the Packard will be offered for sale once it is completed. That way I can move on to my next project. I am by nature a compulsive rescuer of basket cases and lost causes.
8-7-2012
Hello Heath
Glad to have another (Victorian) Aussie coming along for the ride. I have no special claim to "oldcar" It was a name chosen by an English friend Anthony Bryant when he first introduced me to the AACA Forum. I first met Anthony through Michael Worthington Williams, who runs the Finds & Discovery pages in the (UK) Automobile magazine, when I assisted him with some 1928 Plymouth spares. Just another example of how small the vintage car enthusiasts world really is if you are prepared to extend your boundaries.
Bj.
Anyone interested in seeing something of the Australian outback should visit our son Paul's website. UrbanBirder.com.au
Paul and his partner Nicole are keen bird watchers and bird song recorders who travel the country in search of rare and unusual Australian Native birds.
Even if you are not particularly interested in birds of the feathered variety it is worth a visit but don't expect to see it all in a few minutes. When listening to the recordings turn your sound right up!
8-9-2012
While I am still waiting on the windscreen glass I have now got the carpet and can start cutting it to size and binding the edges. This afternoon I took sufficient carpet over to Tony for the outer seat backs and seat bases as the seats have now moved up in his queue of jobs. The colour of the carpet? Why, dark chocolate brown of course.
8-13-2012
What to do first??? I have just started to plan cutting the carpet and today completely out of the blue the windscreen glass is ready to be picked up.
Meanwhile I have discovered that there is sufficient of the brown linoleum left over from the front floor and running boards to cover the rear parcel shelf/seat for garden gnomes so there is another task that has just joined the waiting list.
8-16-2012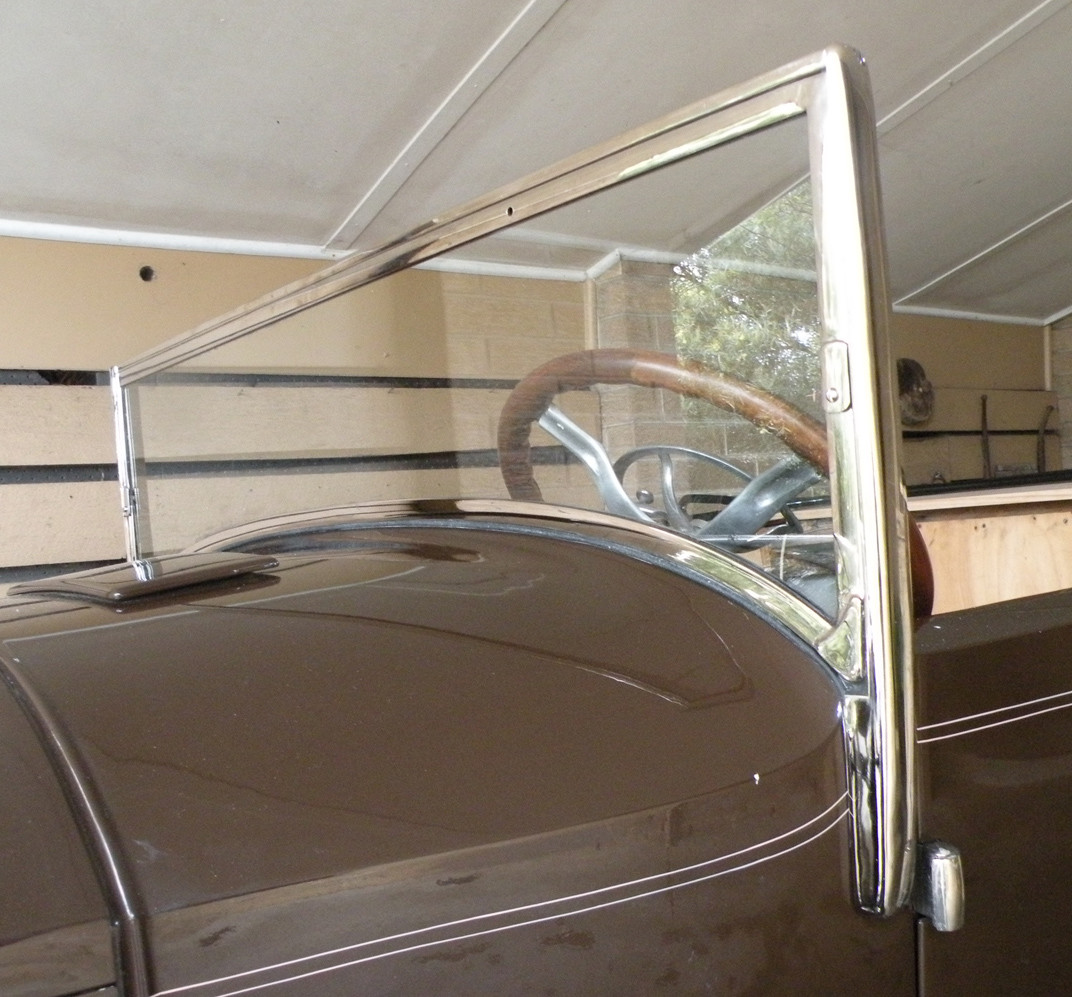 At last, after two or three days of procrastination I finally plucked up enough courage to fit the glass into the windscreen frame. Of course it went in without any of the problems that I could foresee. I have now moved on to the rear parcel shelf area. I have decided to incorporate a felt lined storage locker for the side screens across the back.
8-21-2012
While not overly exciting I have spent today sorting out how best to incorporate the side screen storage locker into the rear parcel shelf area. While some progress is being made it is hardly photogenic.
8-23-2012
Slow progress is better than no progress. I have finally sorted out the trim panels in either rear corner and a lid for the side screen storage locker. The interior of the locker is trimmed in beige felt. The luggage shelf/garden gnome seat is covered with the same brown linoleum as the front floor and running boards and now has protective domed aluminium strips in place. I still have to cut the piano hinge to size and attach it to both the lid and floor. Next step is to fit a couple of spring latches and a pull handle to the lid. My aim is to have the basics for the trim finished by the time Tony returns from his holiday in Germany.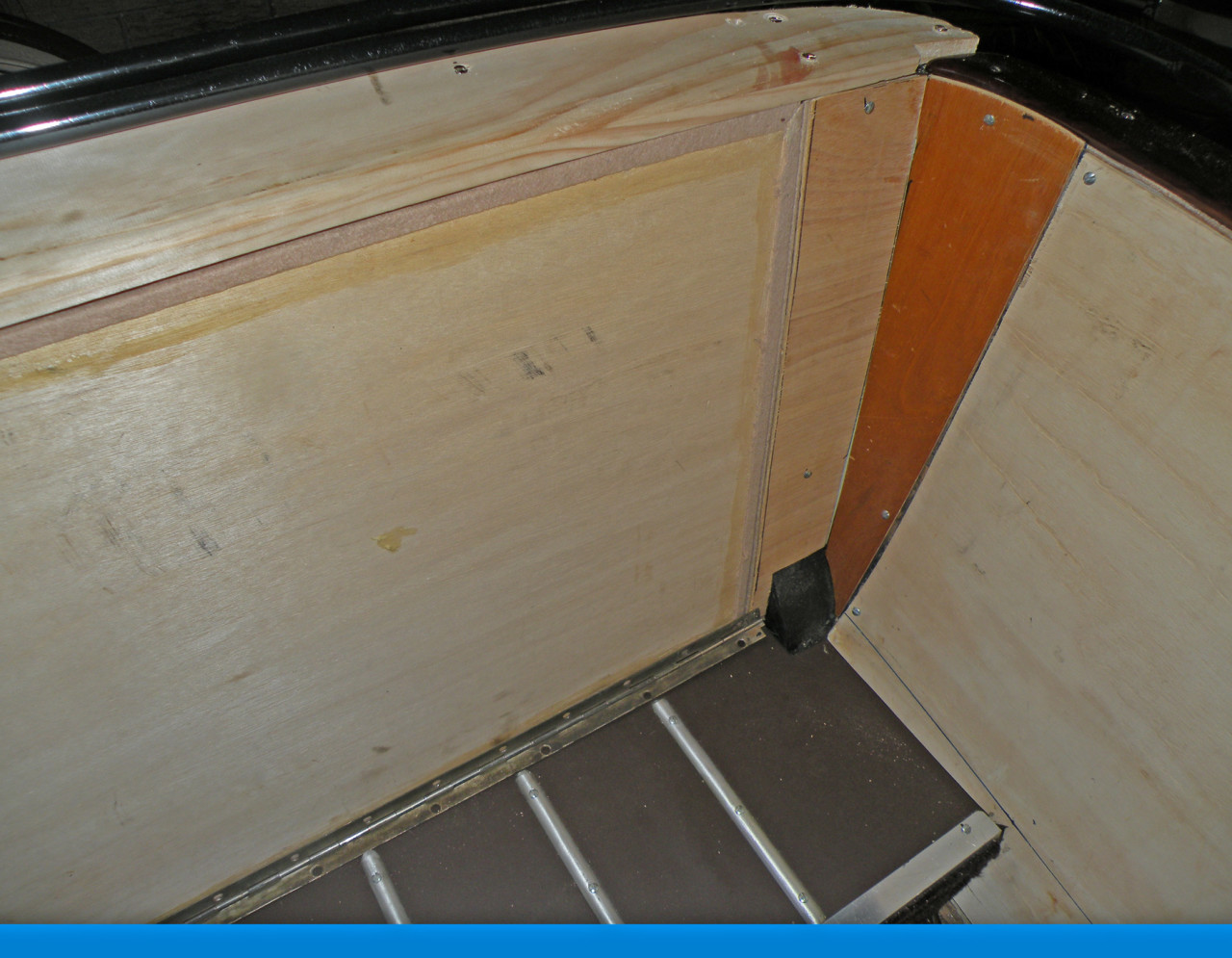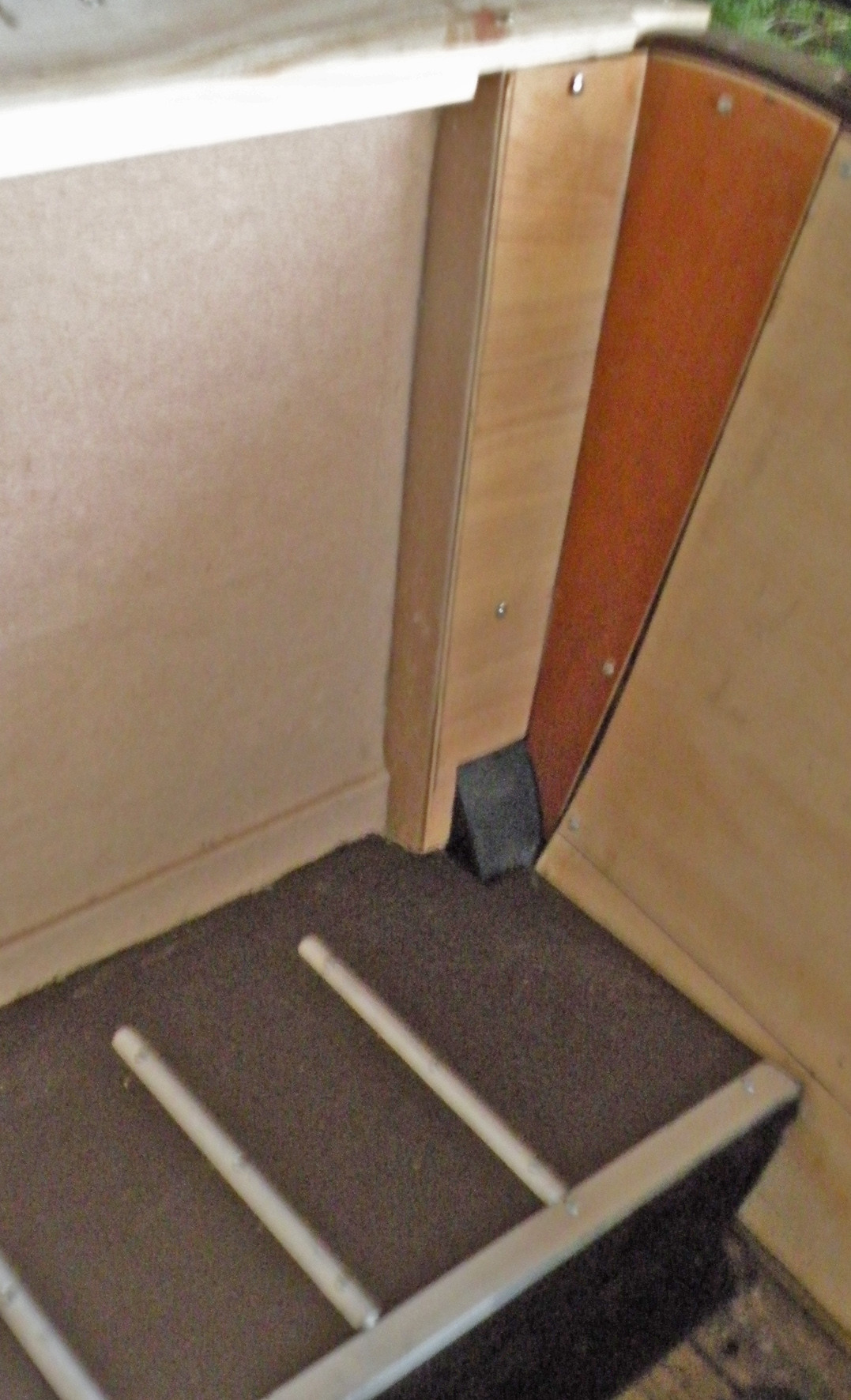 8-25-2012
Much of today has been spent in cutting a 5 metre length of Chocolate brown carpet up into bite size pieces.
8-28-2012
Hello again
Ben just in case you are still confused about those bite sized pieces of carpet here are a photograph. I am sorry but carpet is not one of the more exciting subjects for photography.
Please do not become alarmed flash light photography does do some dreadful things to colours in photographs.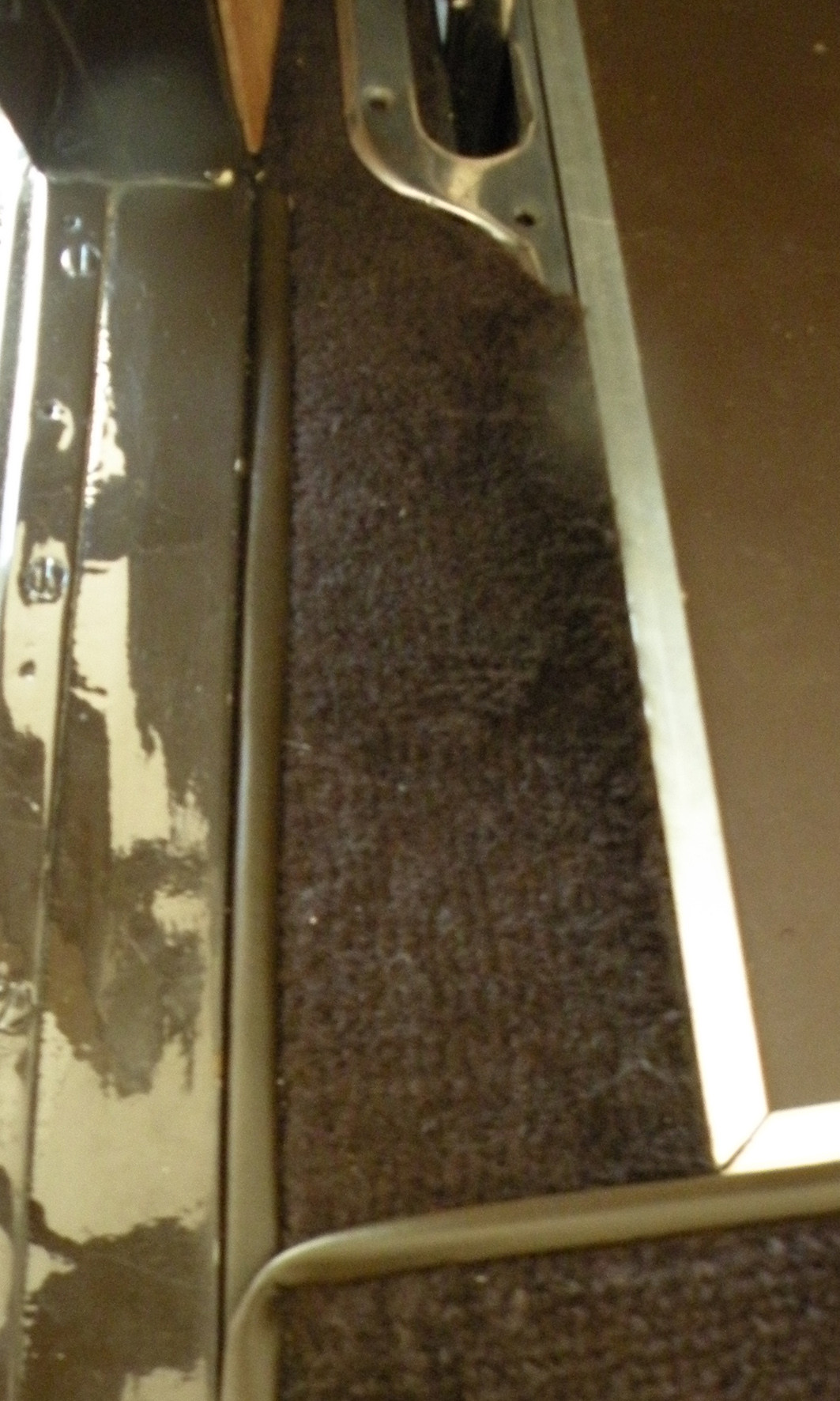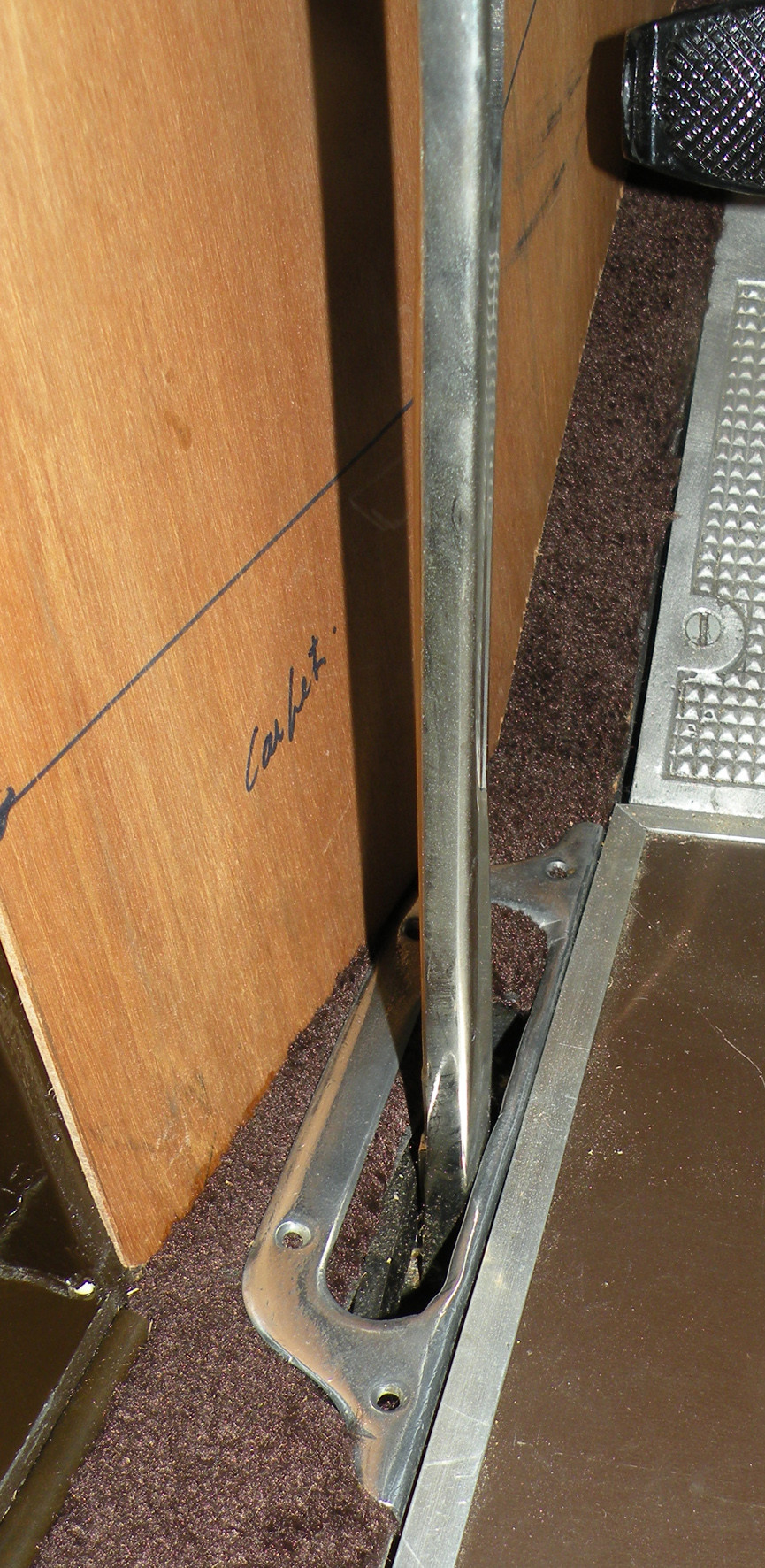 Amazing! I have just looked back at my diary and it is just two years and five days since the Packard was first delivered to our home.
8-30-2012
It has probably escaped the notice of those in the northern hemisphere that to-day is officially the last day of winter. This being so please excuse the lack of the sunshine needed to make these the perfect photographs. This is simply a progress report at the end of the second year of my ownership of the Packard. The mechanical work is virtually complete as is the body. Trim is progressing slowly although I hope to have the seats ready to install in two or three weeks time. The Top (hood in Aussie-speak) will not be done until my trimmer returns from holiday in late November. I still have to make the side screen frames. There are a few small detail jobs to be completed such as soldering the ends onto the main battery leads and installing globes in all the lights. I still have to find a suitable (matching) right hand tail lamp. I am sticking to my policy of not attempting to start the engine until I can sit in and drive the car.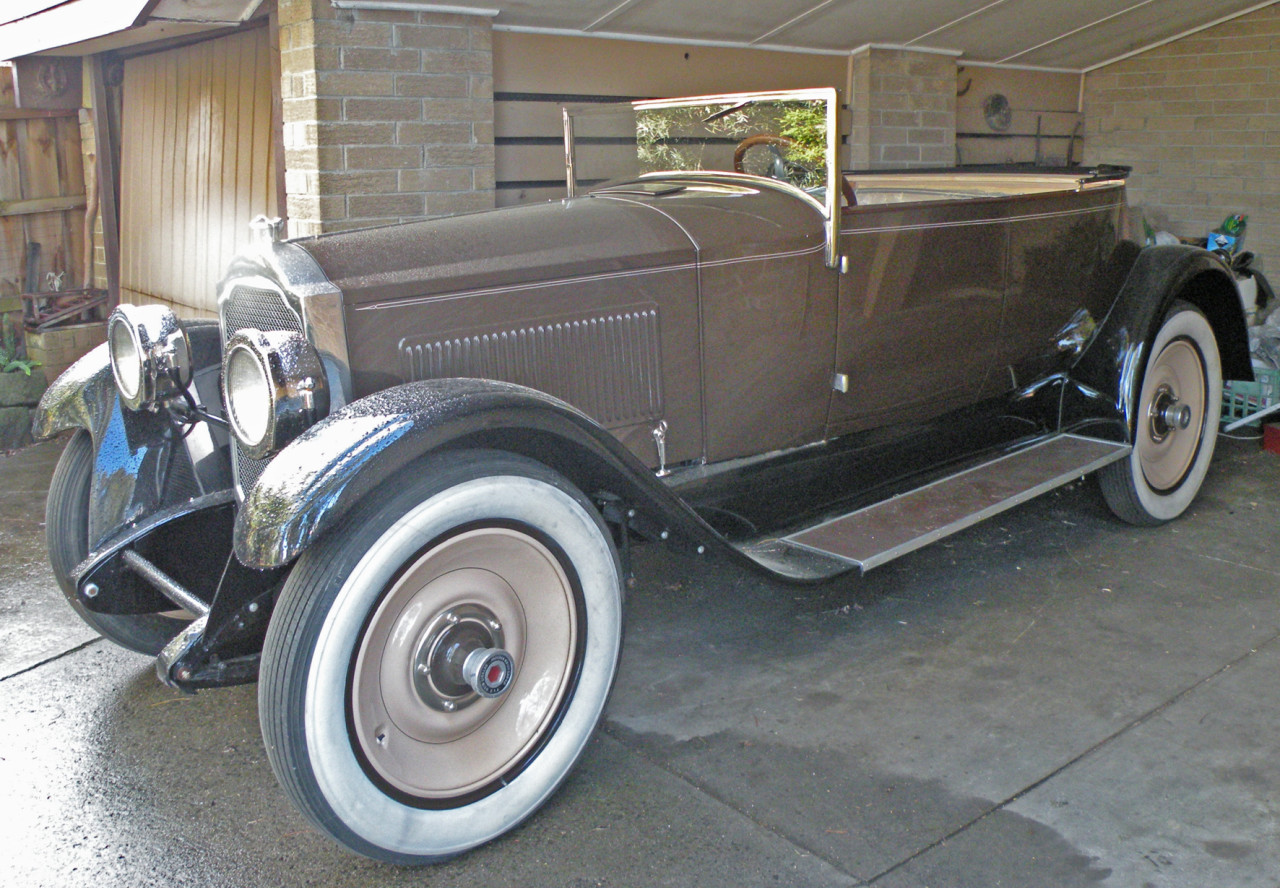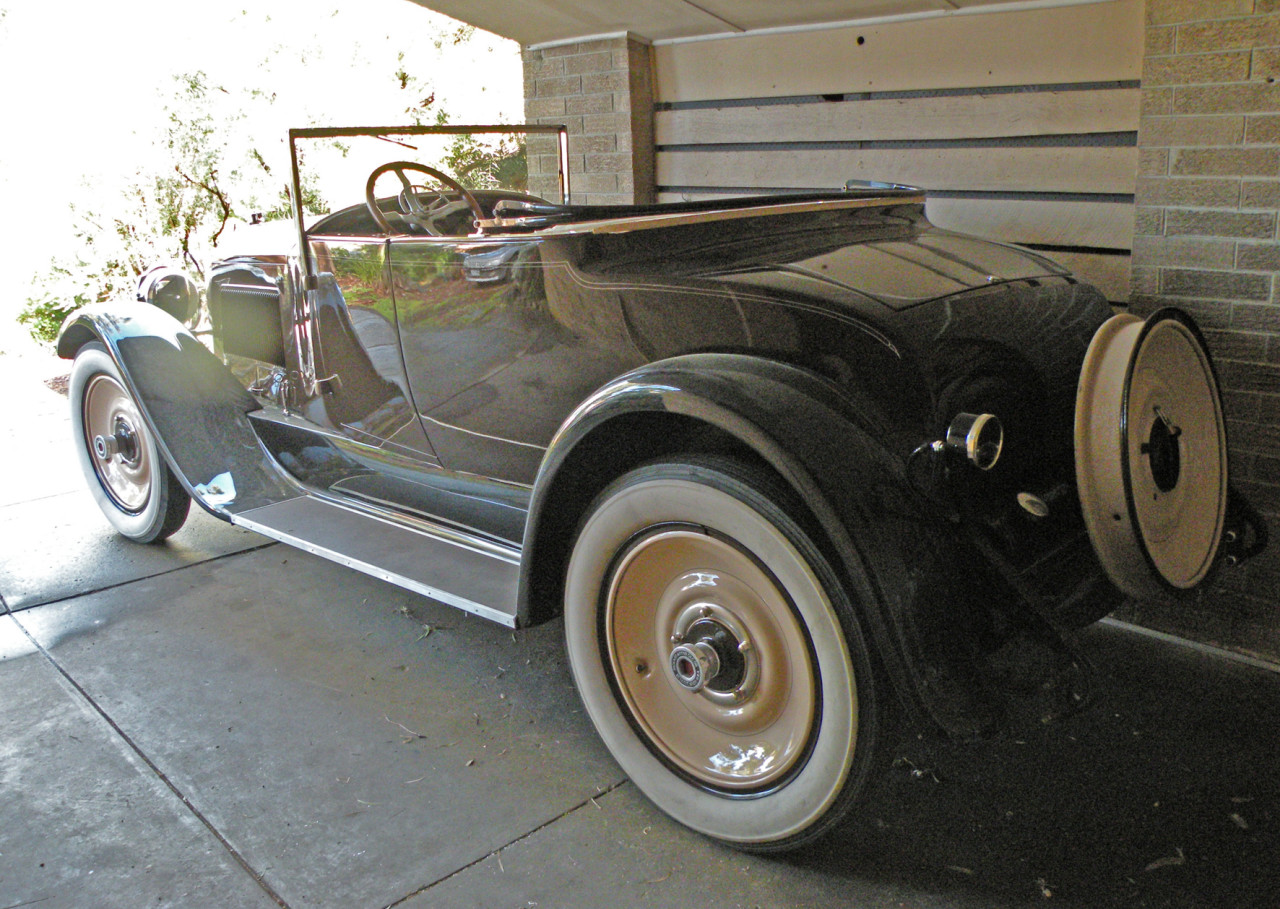 8-31-2012
On the subject of Winter; here in Melbourne in the south east corner of Australia it sometimes gets down as low as +5 or 6 C overnight. But then some days it does get up to around 35 C in Summer.
Can't think why anyone would want to live anywhere but in "the Worlds most liveable city". Great climate, delightful parks, wonderful restaurants, friendly people I could go on but I am sure that you get the picture.
Now, back to work you people!
9-1-2012
Back to work indeed.
I have just returned from visiting Tony (the trimmer) and despite being Saturday morning he is hard at work upholstering the two front seats. With luck he should have them finished some time early next week.
9-2-2012
On another forum I have asked a question. I will ask the same here. Every "period" photograph I have seen, showing the front of a 1922-3 Single Six show the radiator unadorned, yet almost every "restored" car of the same years has a Packard script on the radiator. There is no evidence that my car ever had one and I do not intend to fit one. Which is correct?
9-3-2012
Thank you both 'B' and David McC.
First thing is to get the Packard finished and running. This came a tiny step closer today. I spent half an hour soldering the ends on the battery cables and fitting the ones from the battery to the starter switch and from the switch to the starter motor. David, if you could let me have a tracing of your larger name plate it could come in handy when I finally get around to doing the spare wheel cover but first I have to find a spare 600 x 23 inch tyre. I have been offered a usable 500 x 23 but all the other tyres are 600. Eventually I may have to replace these. What is the correct size on 23 inch disc wheels?
9-7-2012
Hello again
I have just made a quick trip out to check on the seat progress.
I will let you form your own opinions but I cannot wait to get them home and set up in the car.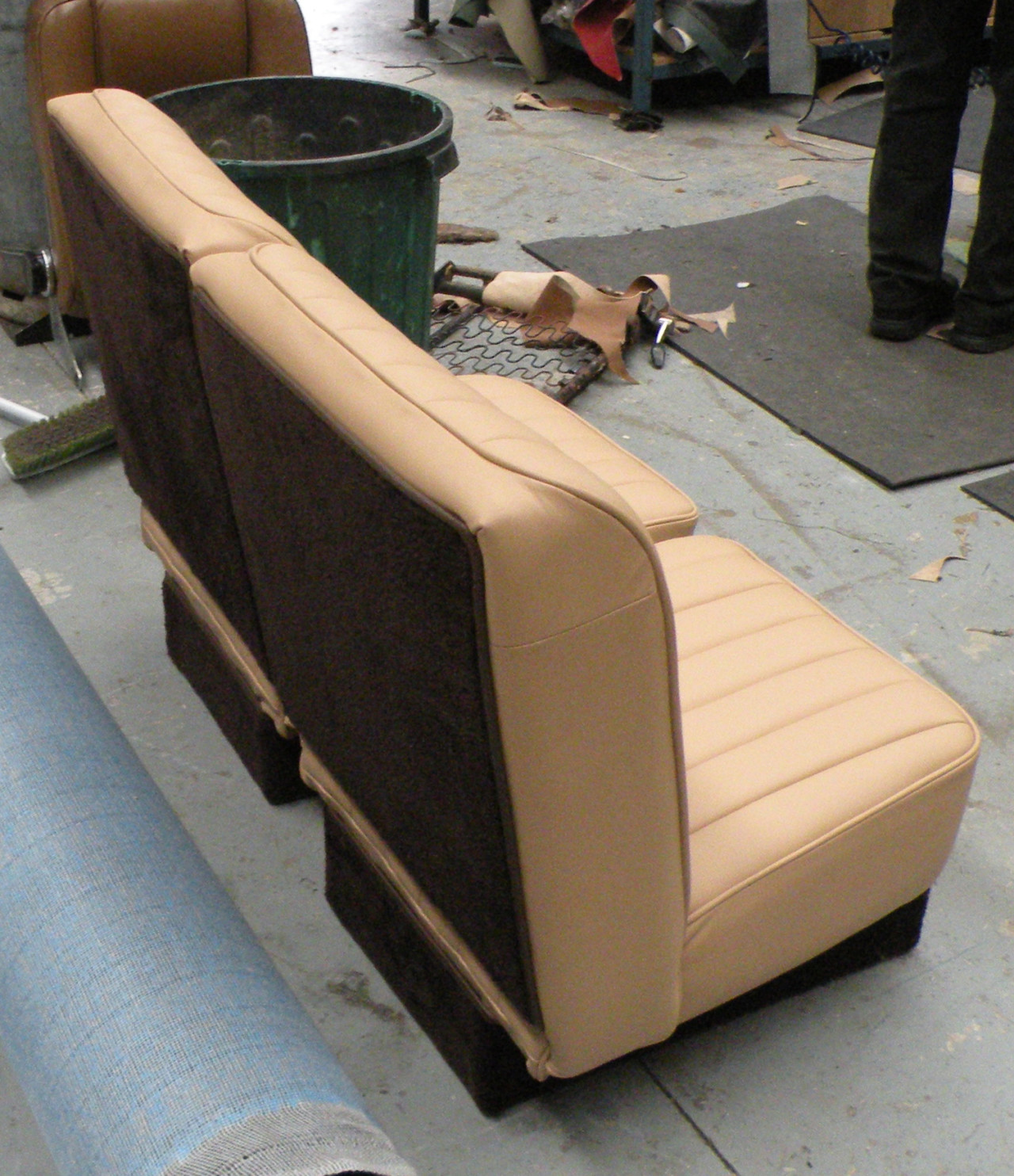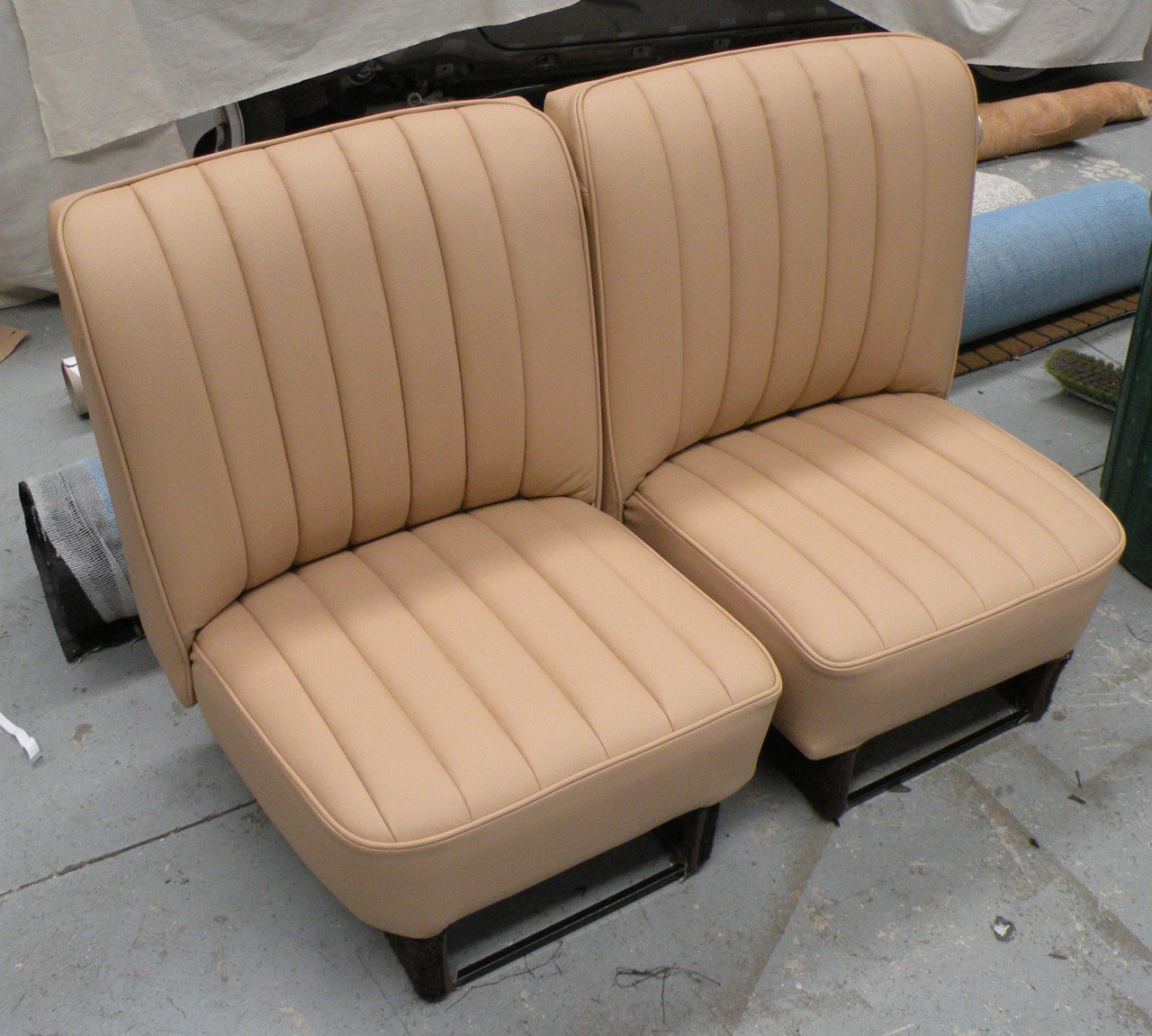 9-11-2012
I now have the seats at home and after a couple of minor adjustments they are trial fitted in the car. I still have to glue the carpet trim around the bases and complete one or two other minor tasks and there will be another box with a tick. There is always a small shadow of doubt when making seats from scratch, so I am really pleased with the result.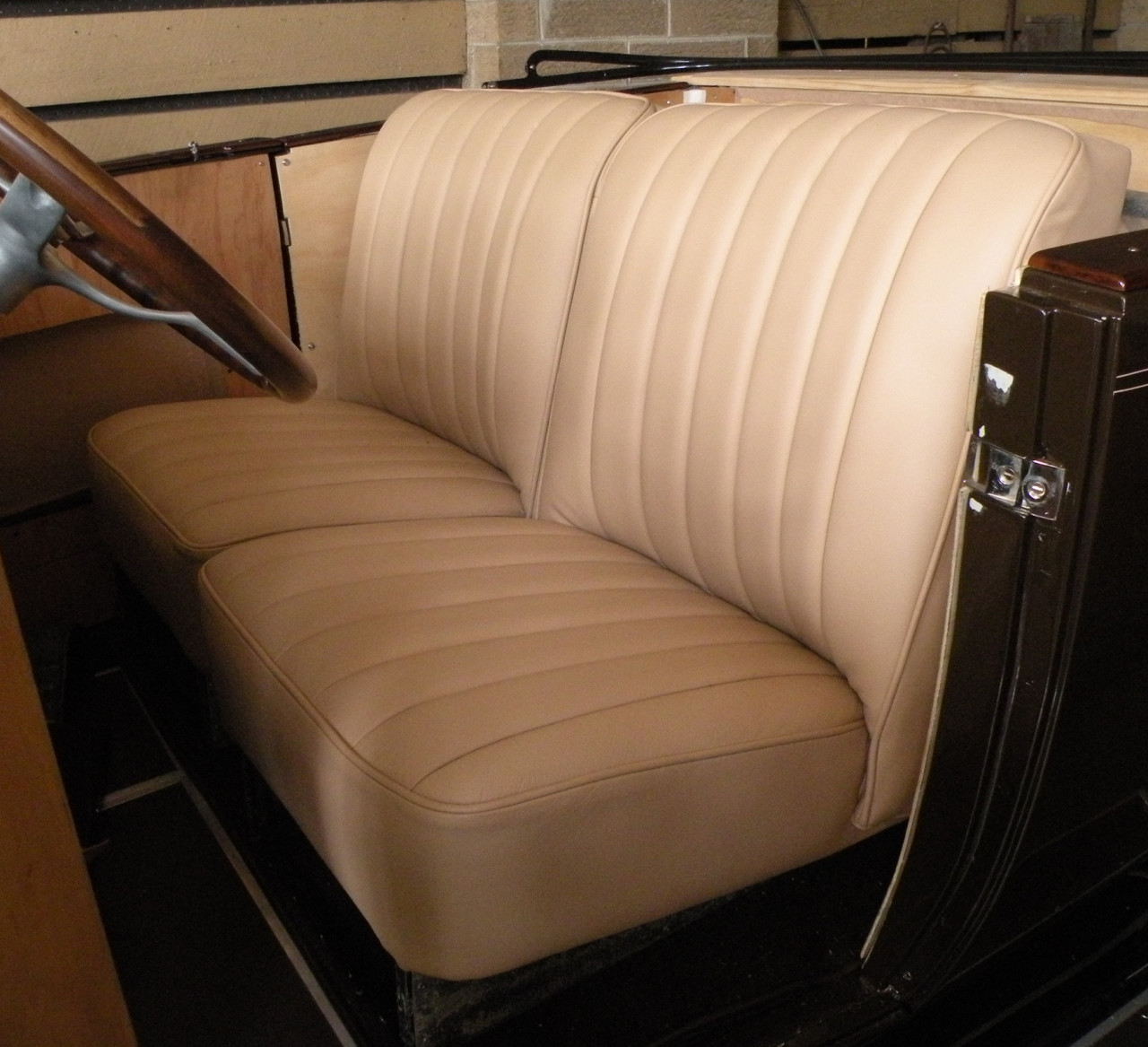 9-16-2012
Hi All
No Packard activity over the last two or three days. We have been away in the 1934 Lagonda Rapier over Saturday & Sunday. 400 Very competitive road miles mainly through narrow back roads through the hill country north west of Melbourne with the over night stop at Ararat.
Just a few photographs from the weekend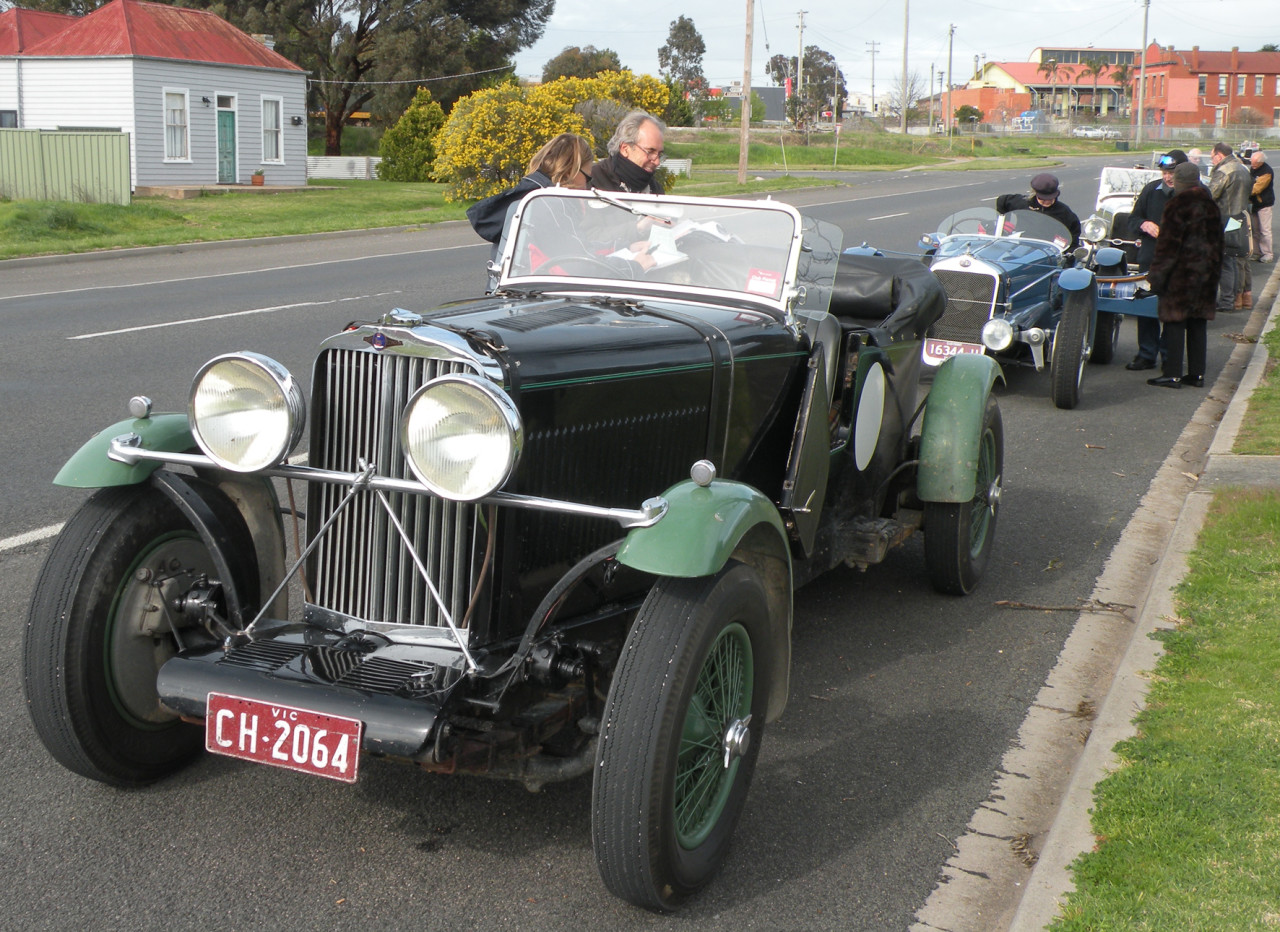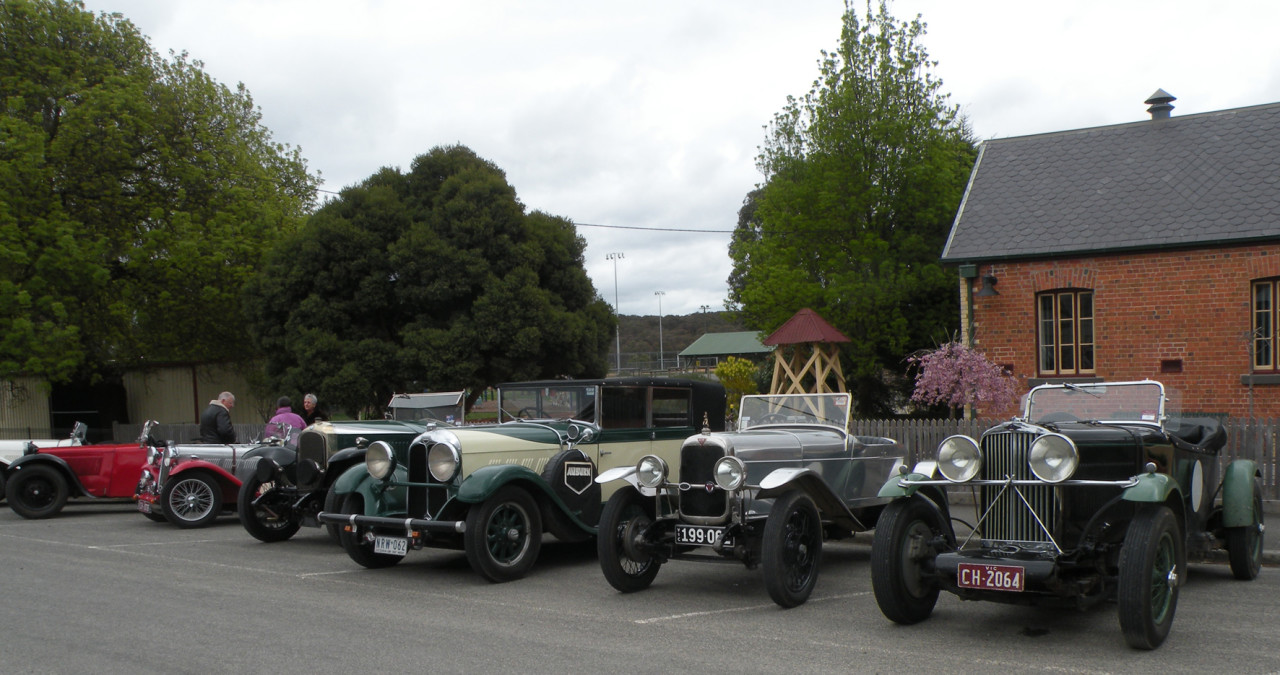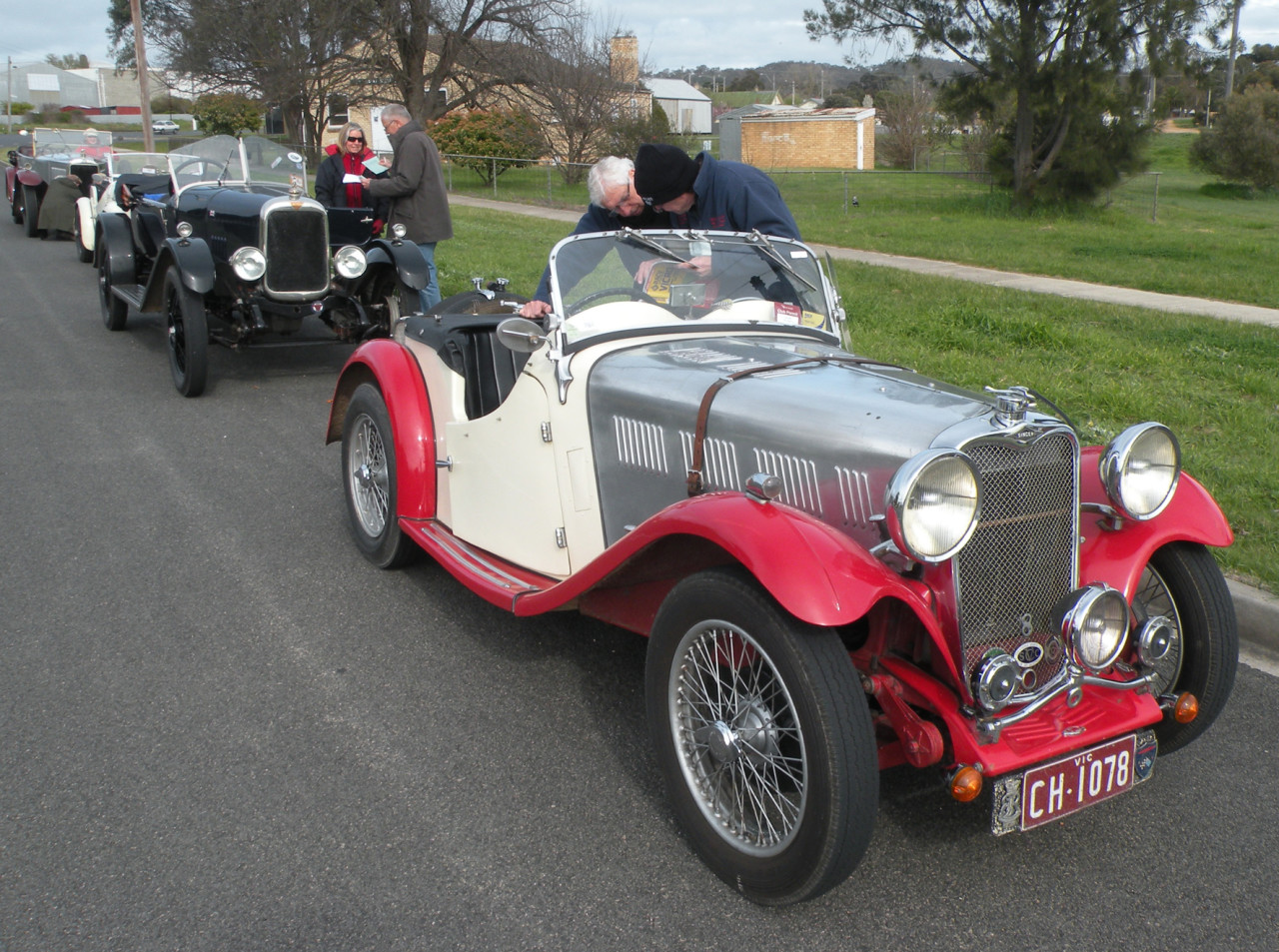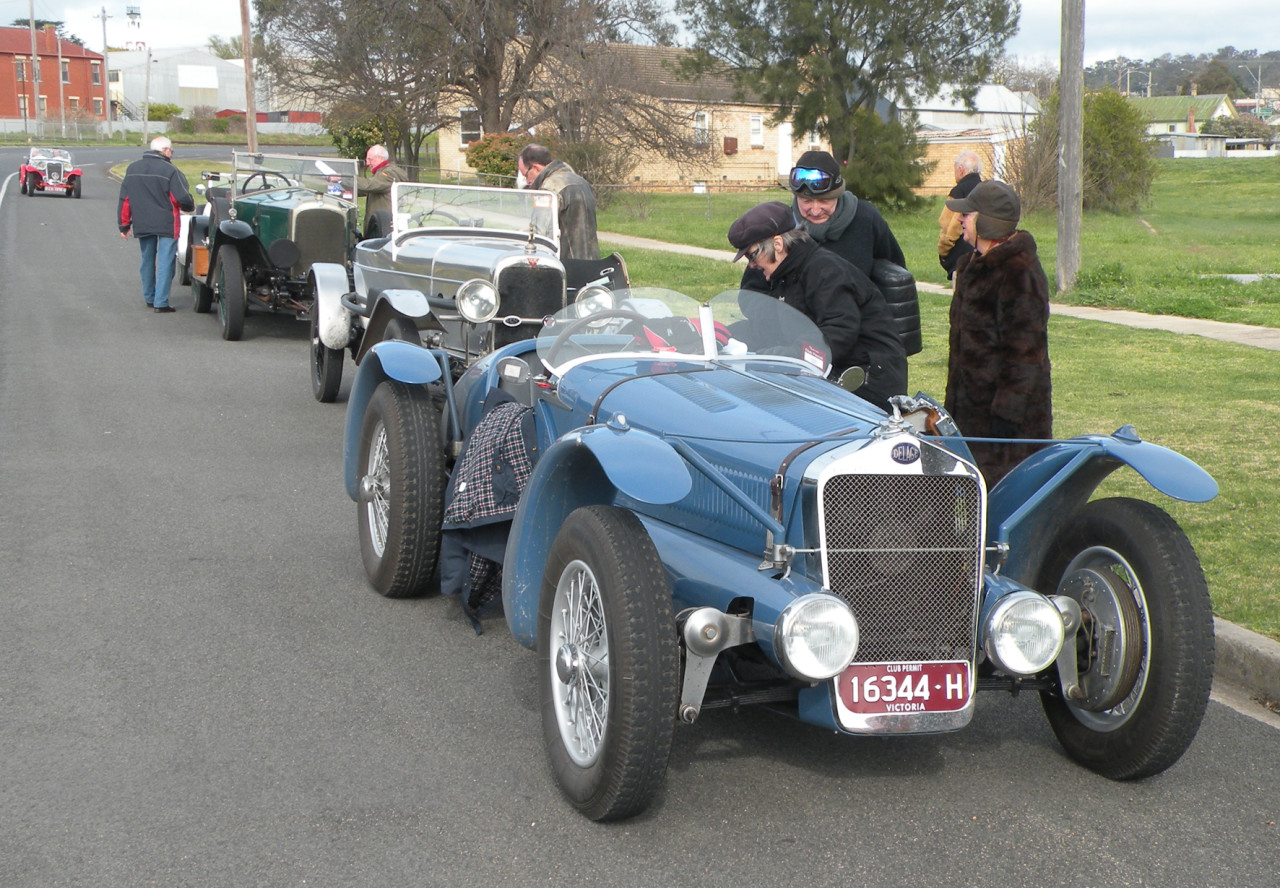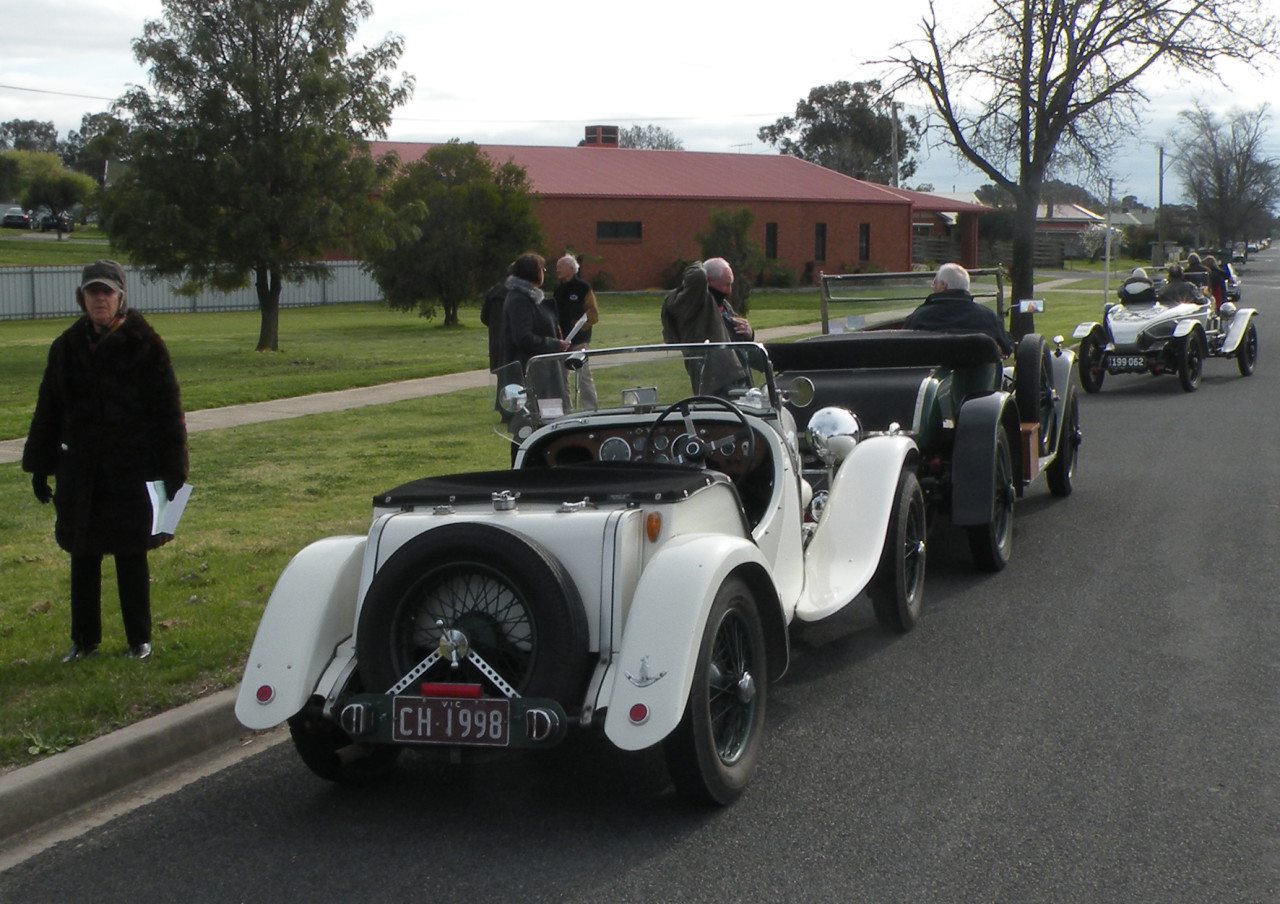 9-18-2012
Hi-ya-all,
Sorry about that minor diversion. Back to work on the Packard again, I have decided that the garden gnomes really need a couple of cushions to sit on. Having bought the required piece of heavy weight upholstery velour, naturally of an appropriate beige colour, I am now busy remembering how to make cushions with piped edges.Using Helen's domestic Singer sewing machine, four thickness of this cloth only just squeeze under the foot! I only hope that the gnomes appreciate all the effort I am putting in on their behalf. Photographs to come on completion of the task.
9-20-2012
At last, back to work! I have had a very productive day designing, fabricating and installing the front seat anchors. While perhaps not as convenient as modern seat runners, my anchors give infinite seat adjustment. to achieve this involves loosening two 5/16 UNF nuts (1/2 AF spanner) and retightening them once the desired seating position is reached. This may be further simplified if I can locate some 5/16 UNF wing nuts. Preferably either brass or stainless.
9-21-2012
As promised earlier attached are two photographs of the rear parcel shelf/garden gnome seat cushions. To give you some idea of size, the shelf (and cushions) is 12 inches from front to rear. and the full width of the rear compartment. The off-cut material (heavy duty upholstery velour)has now been sewn up into wind lacing for the door opening. I now have to wait patiently until November 1st when Tony will have returned from European holiday and will complete the rest of the interior trim, the top and side screens.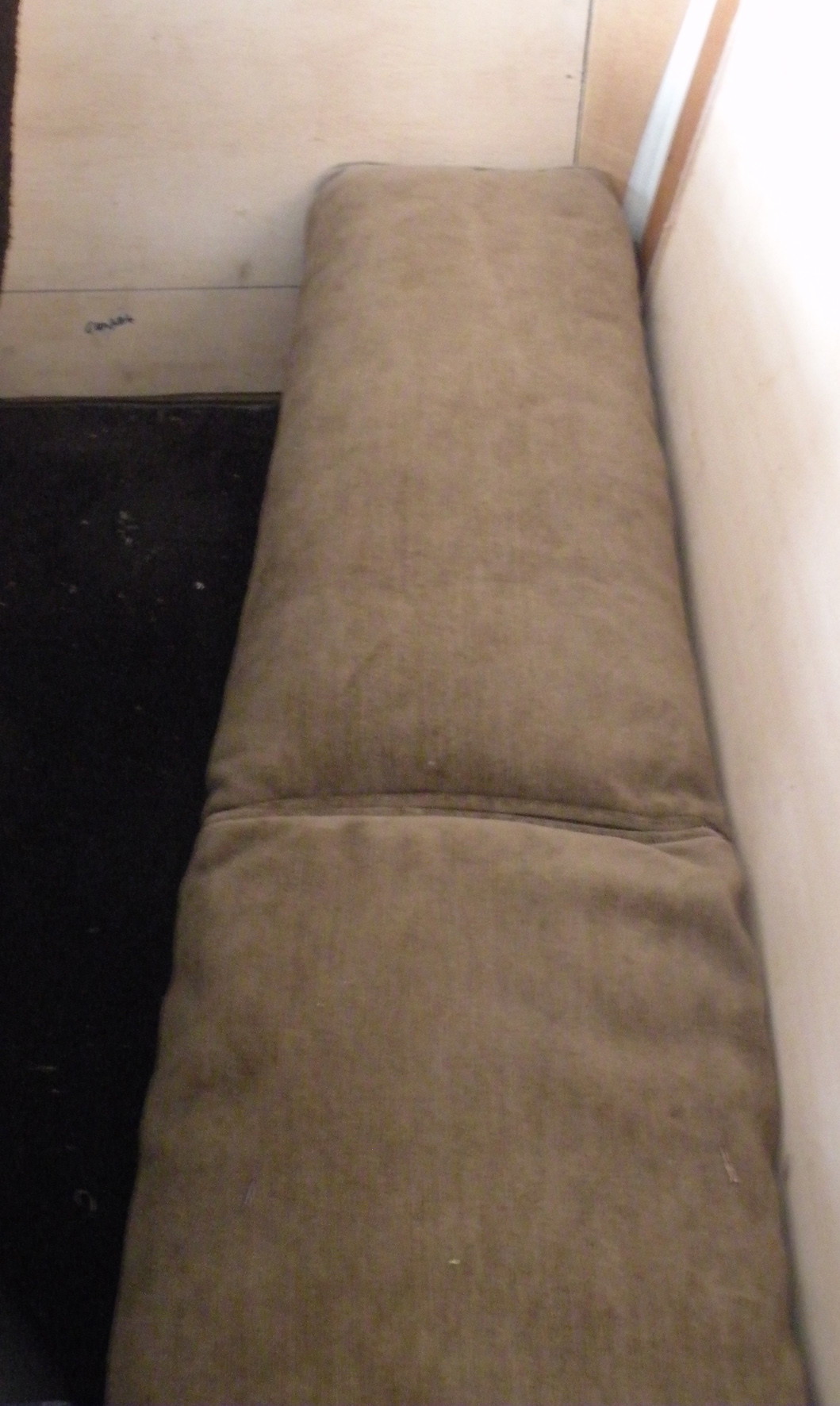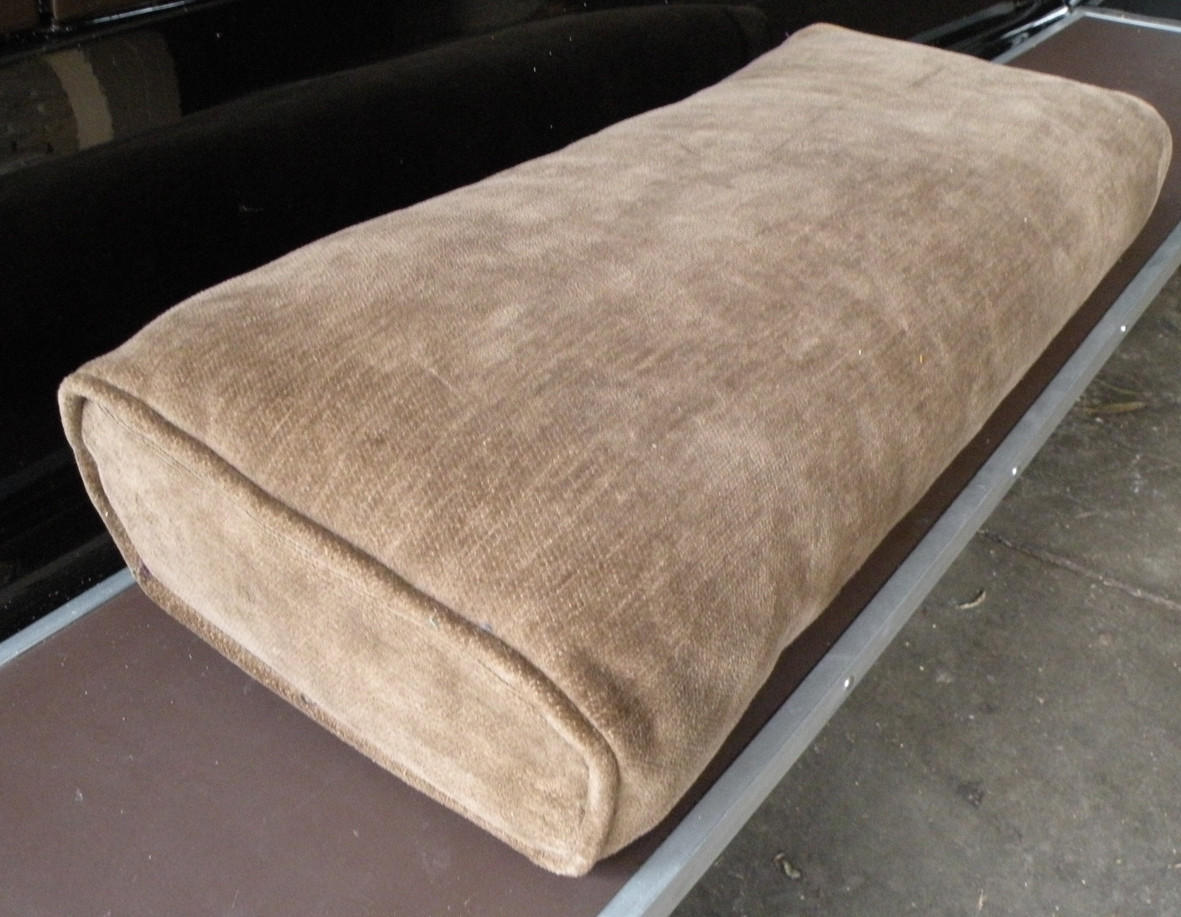 9-22-2012
More simply messing around than work today, after all it is Saturday afternoon here in Aust. I will have difficulty waiting until November to see it in the actual material rather than newspaper. As the cutting says Can you keep a secret?.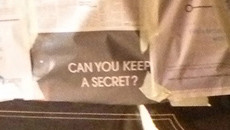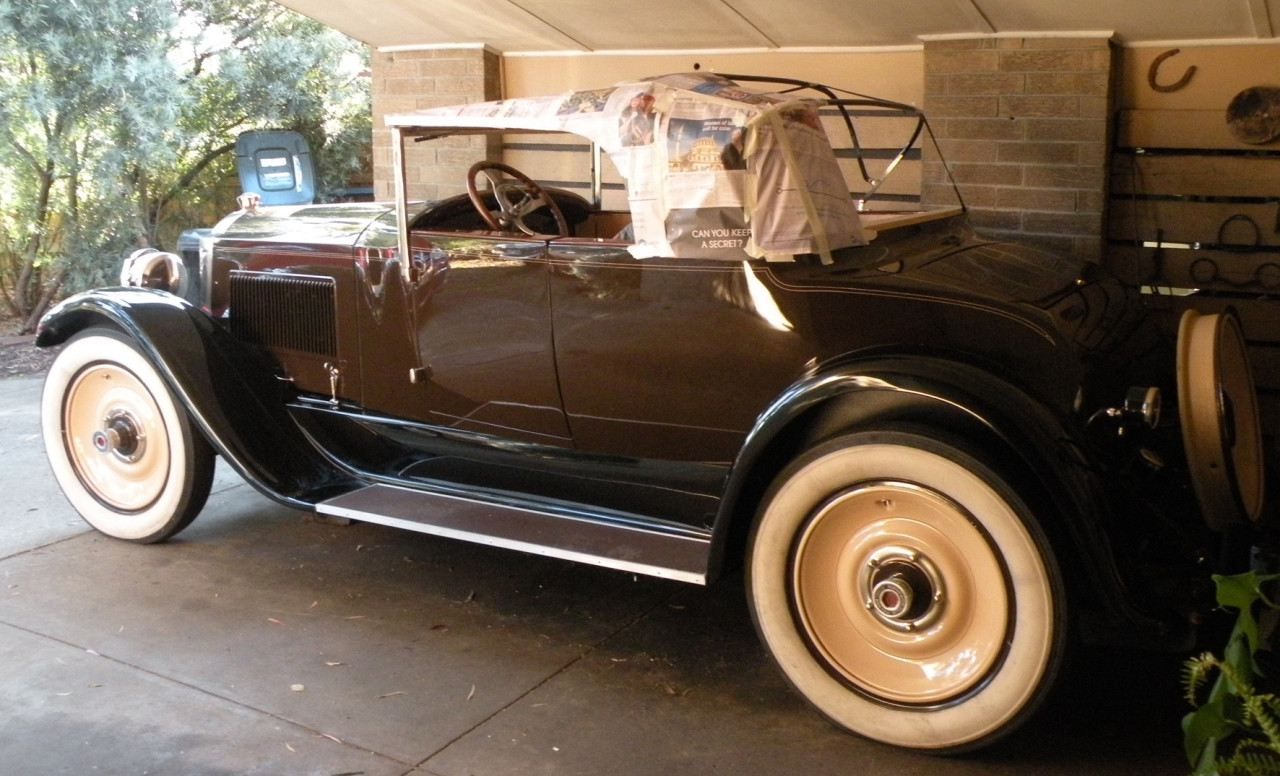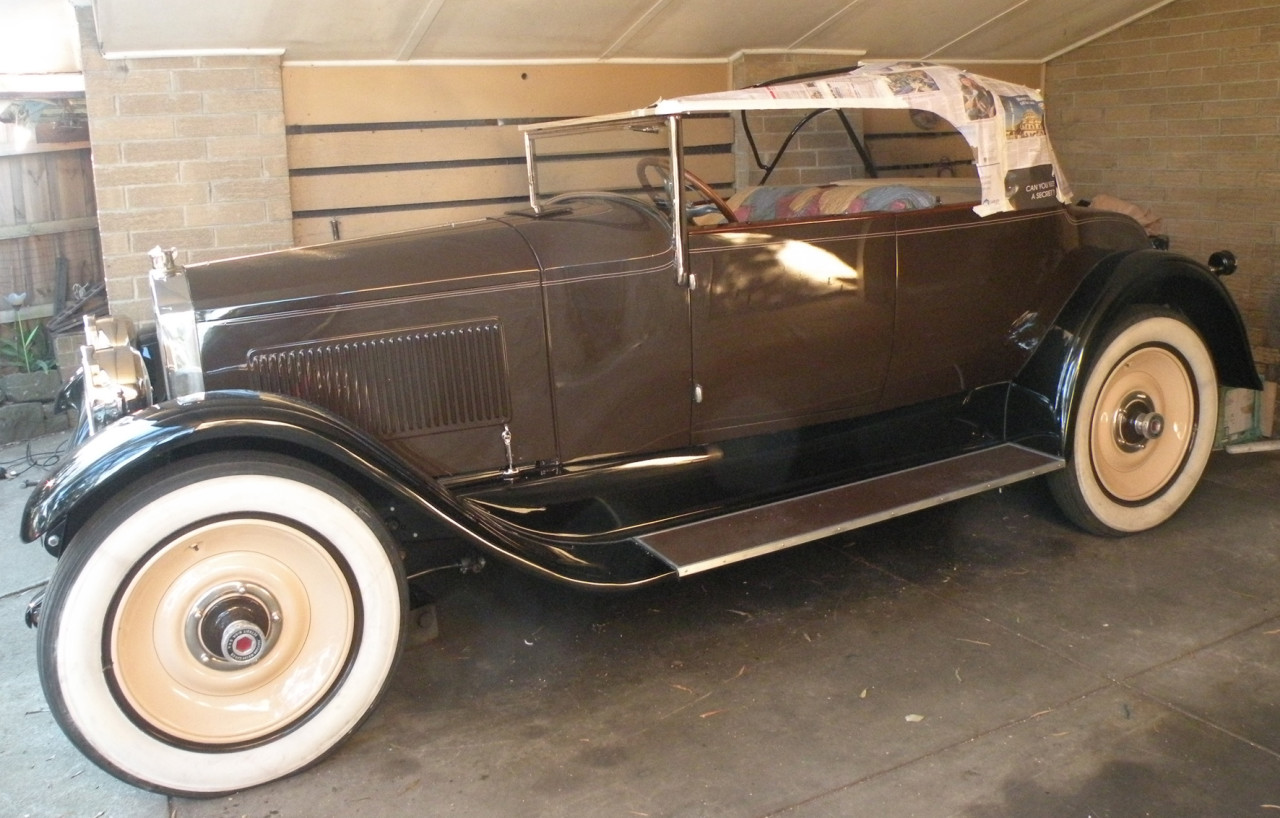 9-23-2012
Back to basics today, having unearthed the original interior light switch in a box of small obscure parts I have spent this afternoon taking it apart, cleaning the contacts & cut the rectangular hole in the trim panel beside the passenger door, next job will be to find a suitable interior lamp and run the wires. Time flies when you are having fun!
9-24-2012
Continuing on from yesterday running the wires has become something else. This has involved discovering a new Yoga position kneeling inside the minuscule luggage trunk in order to access the junction box that also feeds the interior light in the trunk. The other trick is getting out again. More of the same fun tomorrow. You do not have to be mad but it sure helps!
9-25-2012
It does not look much but it represents a day's work. What is it? The interior of the luggage trunk now fully lined with heavy duty felt with the same chocolate brown carpet as inside the car.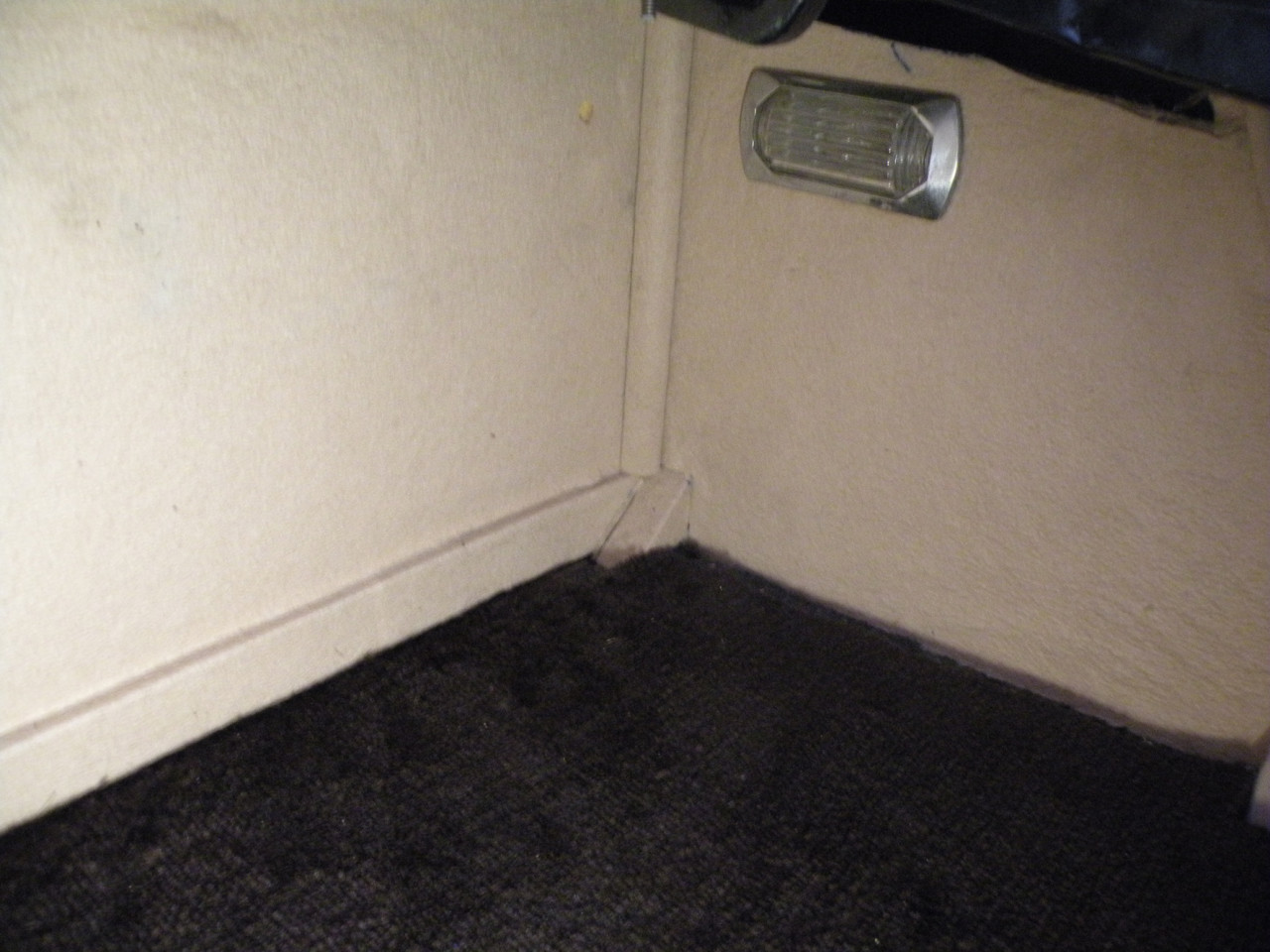 9-30-2012
Hi All
Those who have been also following my various posts on the other Packard specific Forum sites will know that I have been trying to establish the actual build (completion) date for my car. It had been suggested that the date on the bottom of the oil pan may have some relevance. This it turns out is the casting date for the pan. 3-5-23. This sent me in search of other casting dates. I now know that the crankcase was cast on 3-9-23 while the cylinder block is 3-26-23. All this tells me that the major components of the engine were all cast in March of 1923. The question is what was the typical delay between casting - machining - assembly - fitting into the chassis - construction of the body etc etc leading to the completion of the car. My guess is anything between to six to nine months. Suggesting that my car actually did not leave the factory until the later part of 1923. Has anyone got more accurate information?
What all this is leading to is the supposition that given the completion date of my car was sometime in the later half of 1923 it would be quite conceivable that it was delivered fitted with the same 23 inch, 5 lug, disc wheels that were fitted to the first of the eight cylinder cars which were first released in the second half of 1923 although dated officially as 1924 Models.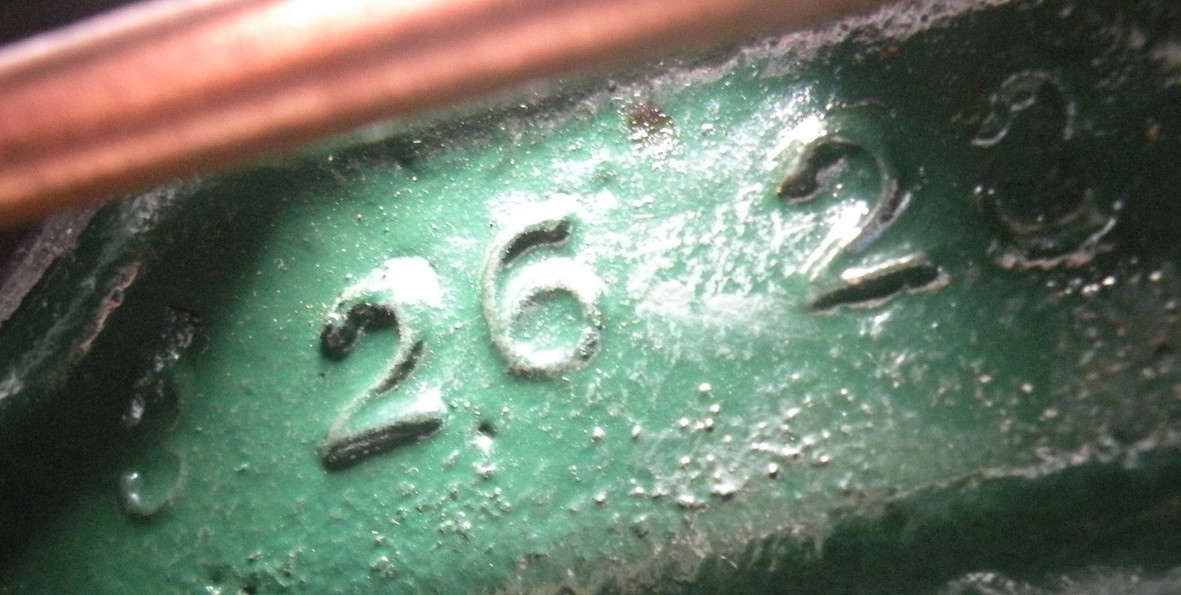 Thank you Roger
Unfortunately that only tells me that the Disc wheels were an option that the standard wood spoke wheels were 24 inch. It also tells us that the first of the eights had 25 inch disc wheels. This shoots my theory about the 23 inch wheels down in flames. So where do my five lug 23 inch disc wheels fit in?
Does anyone out there have a Packard with the same five lug 23 inch wheels. When did the Single Six change to six lug wheels? Checking out the period photographs on Packard Info it seems that the change to six lugs took place during the second half of 1925. Roger, perhaps your book will tell us what size wheels the 1924 Single six used?
10-1-2012
I have just discovered the answer, 1924 (Introduced on 12-27-23) Single Sixes used the same 24 inch wood spoke wheels. Tyre size increased from 33 X 4.5 to 33 x 5. Disc's were still an "option". Front brakes were standard.
Rather than sitting wondering, I have just been out and bought two lengths (2 x 4 metres) of 13mm X 3mm steel strip so I can make a start on the frames for the side screens.
Thank you again Roger
Your input and interest is much appreciated. Regarding my cars 23 inch wheels I find it almost impossible to believe that it is a one off although it took some searching to find a single spare wheel. At the time I was also offered a pair of wheels but that involved buying a complete rear axle assembly and the cost of freighting it to Australia was prohibitive. It is interesting that my car is fitted with 600 X 23 inch tyres, the equivalent to 33 X5.
10-2-2012
As promised today has been spent cutting up that steel strip and making a start on the side screen frames. Now I have to buy some more acetylene so I can finish welding them up.
If it ain't one thing it is another!
Hi West
I was allowing some time for "seasoning" of the castings prior to machining and then complete assembly of the chassis prior to the body being commenced probably thinking more in terms of bespoke coach-built bodies. That is what comes from being more used to limited production cars like the Lagonda Rapier. They took eight years to build something less than 400 cars. All the cylinder blocks were cast in the one batch in late 1933 but the first car was not registered in July 1934. My car was sold by F N Morgan, a sales agent in Wales and first registered in Cardiff on June 8th 1935.
In contrast to the Packard for which I have absolutely no history, for the Lagonda I know the name and address of every owner since 1938, missing only the original purchaser. I have its UK paper work since before WW2. The Rapier Register lists every owner world wide and the fate of 90% of the cars produced, this listing is updated every 12 months.The present count is 381 cars. The Register is the work of just two volunteers.
10-4-2012
Another box gets a partial tick. the side-screen frames are now ready for when Tony returns from Holiday.
Pegs and sockets are on order.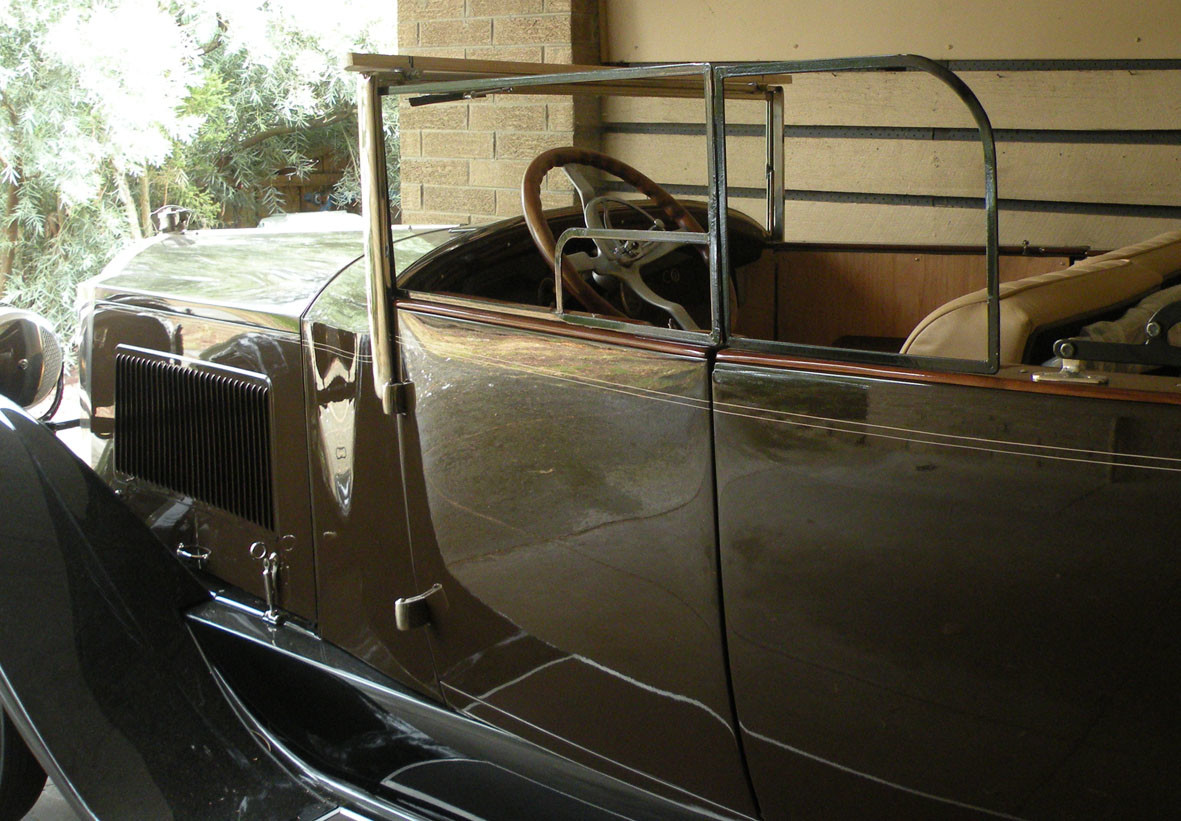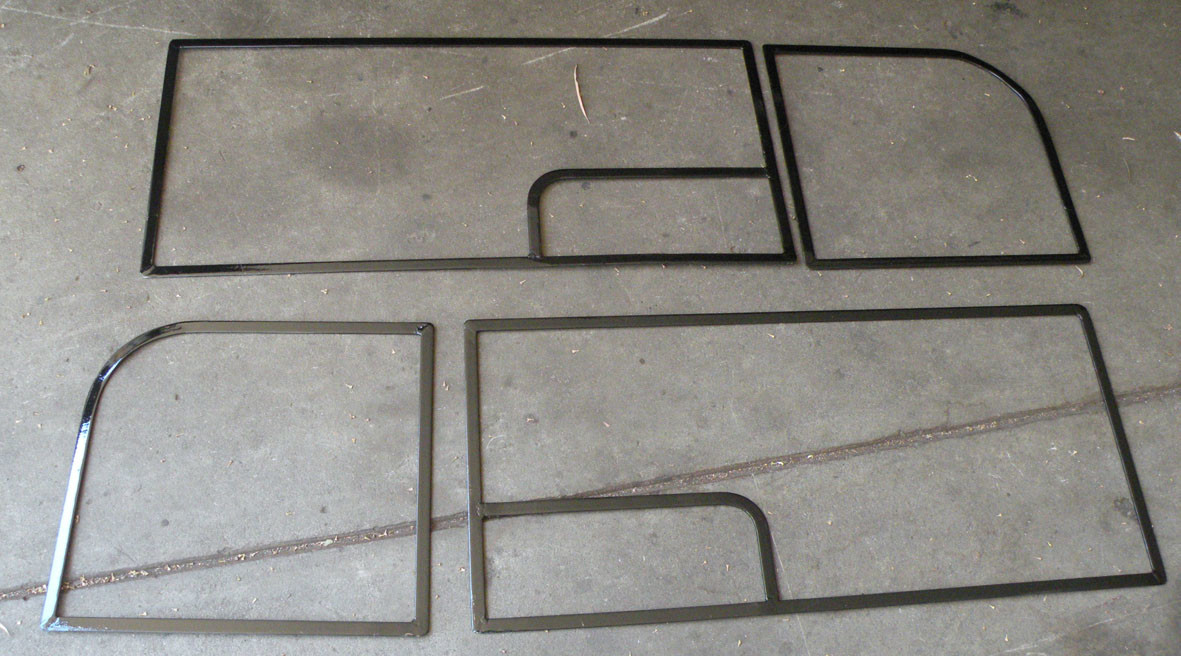 10-5-2012
Hi Ian
I tend to rely on Classic Fasteners in South Aust. you can look at their catalogue Classic Fasteners
If they cannot help try Restoration Supply Co in the US but postage becomes significant. Restoration Supply Company
10-9-2012
Hello
Rather than going through all the trauma of trying to find a matching rear lamp I have decided to mount the rear number plate board and stop-tail-turn lights from the centre of the spare wheel. I can buy matching reproduction units locally and will sell the "original" (restored) stop-tail lamp with its
original (LH) forged mounting bracket.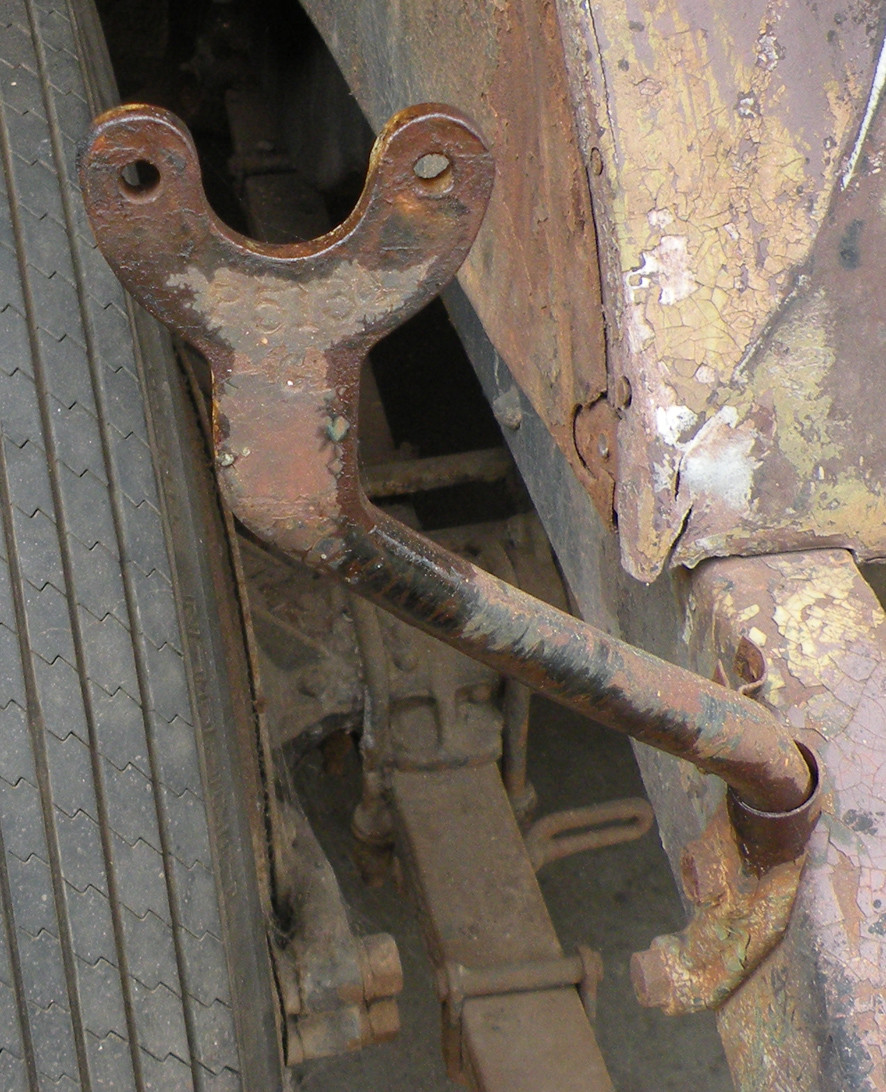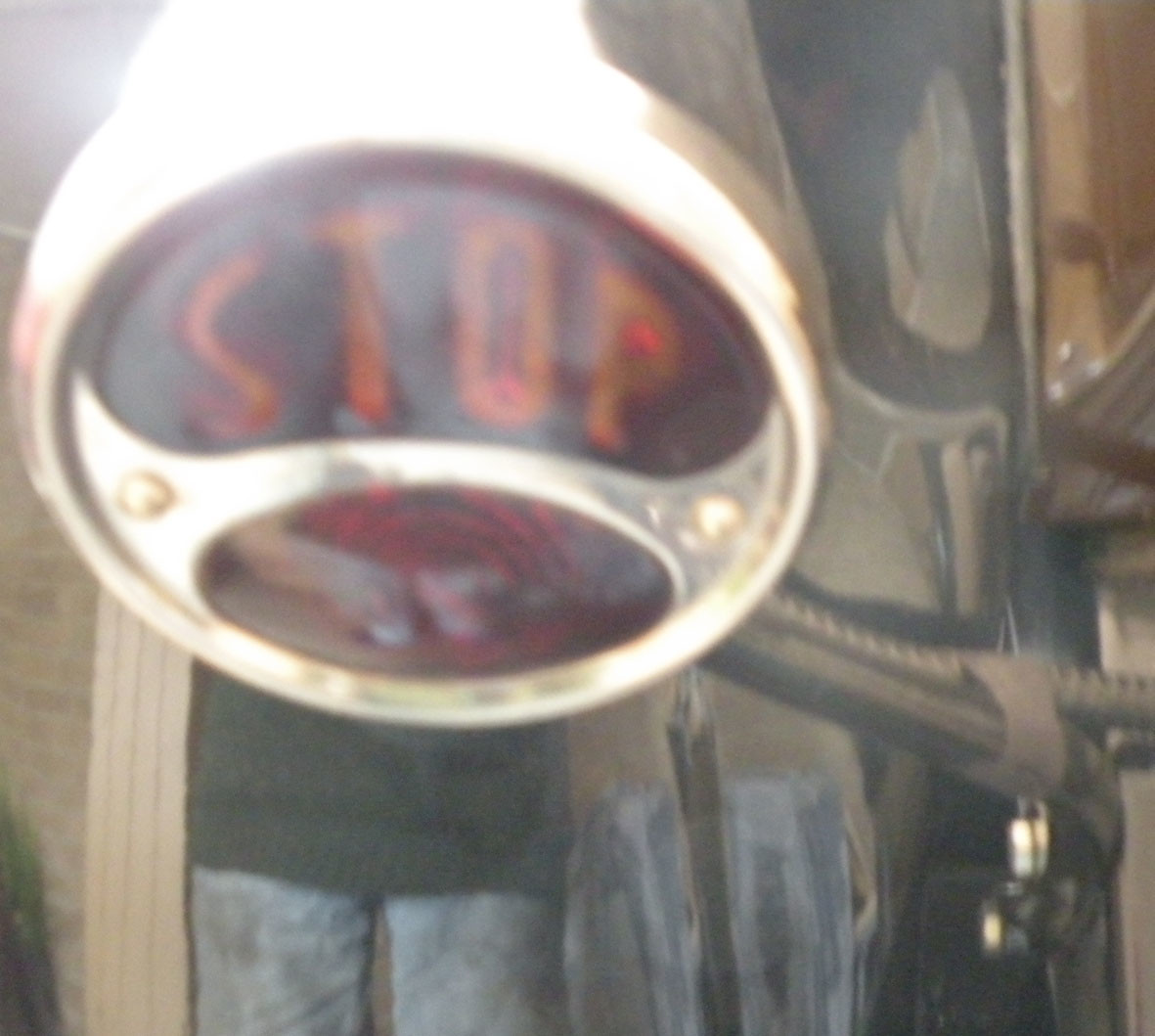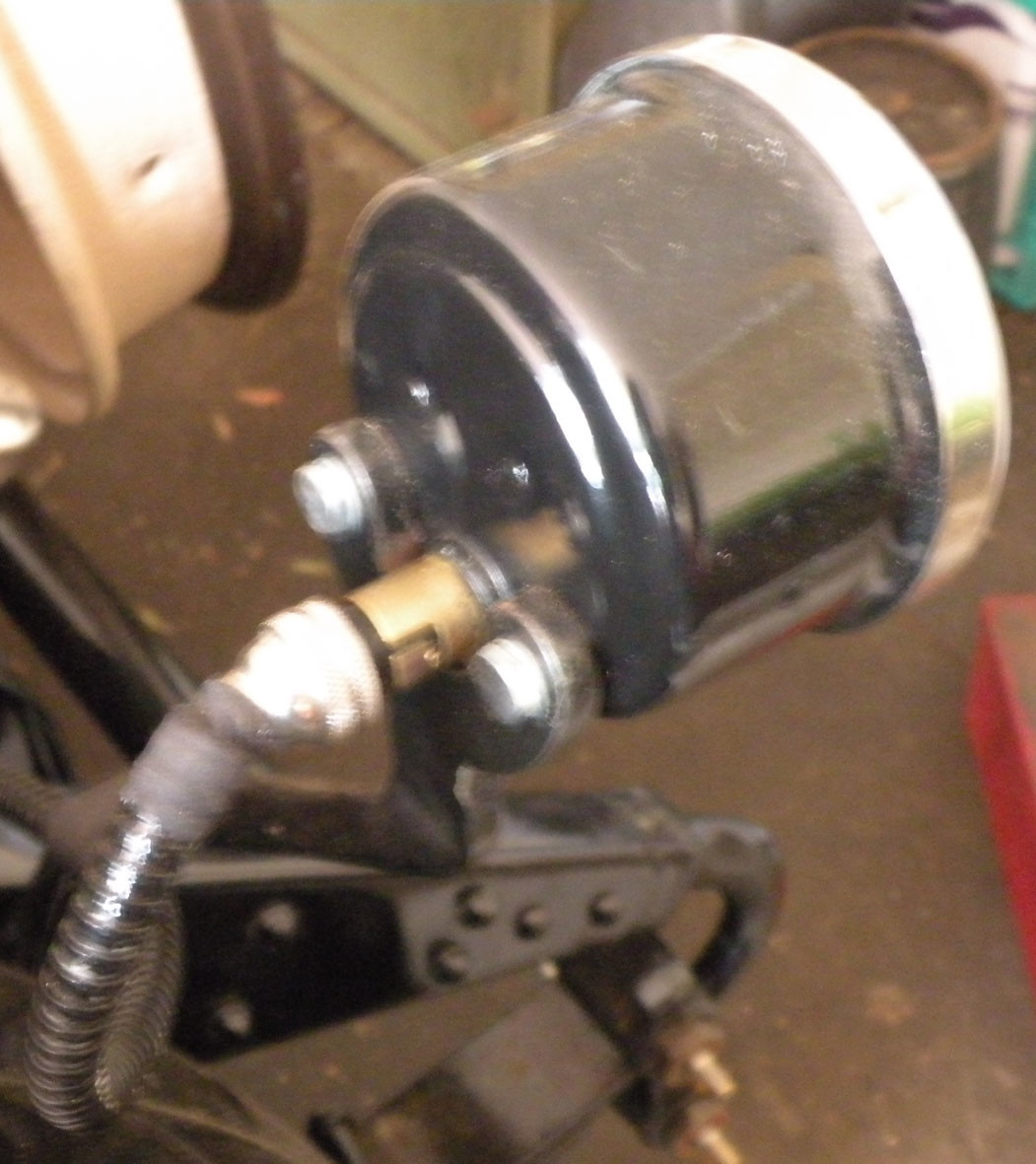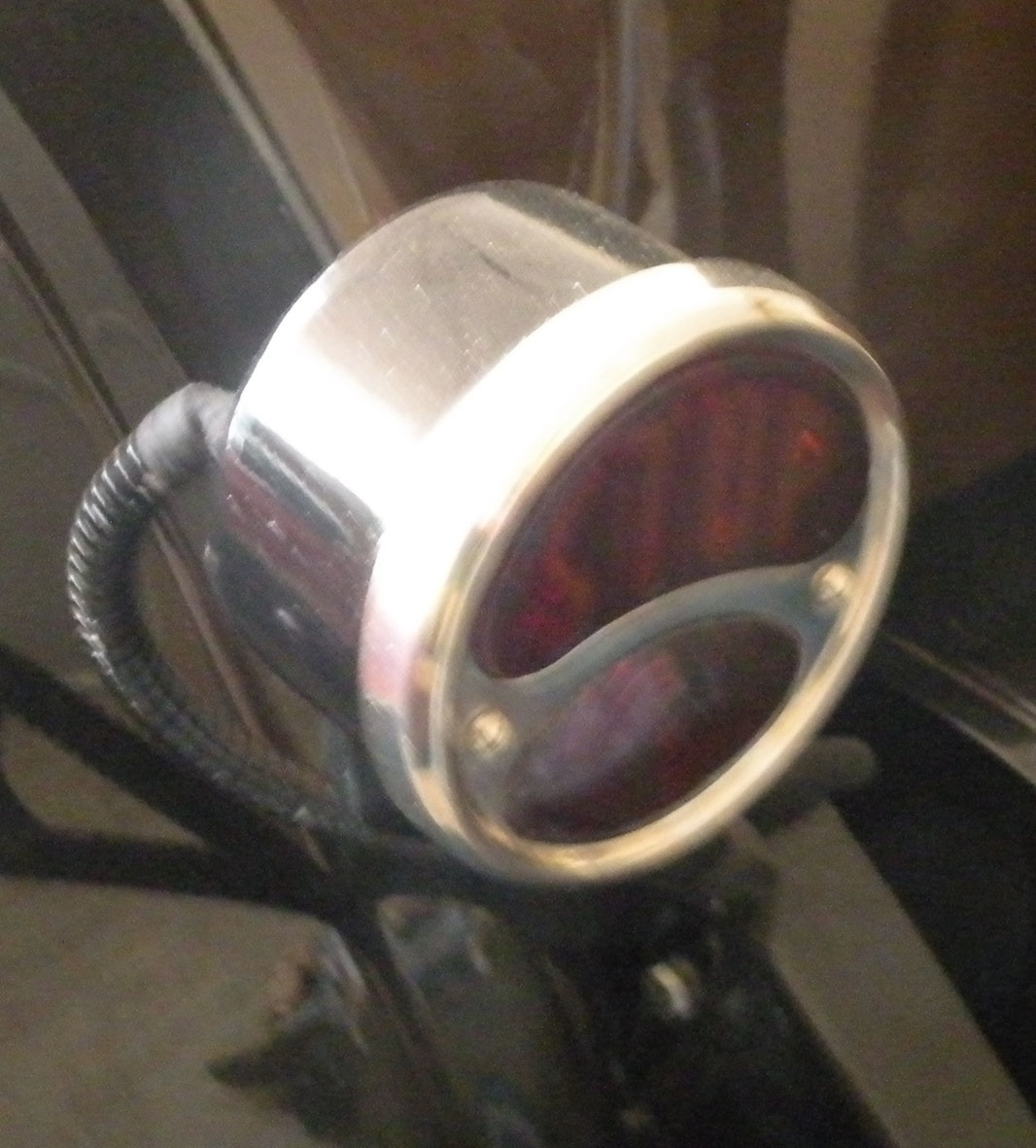 10-11-2012
Not a lot to report, I have been doing battle with a recalcitrant two stroke lawn mower! Finally after rebuilding the really nasty (plastic) carburettor, replacing the fuel filter and cleaning and adjusting the spark plug gap it starts first pull of the rope but not before giving me a rather painful inflamed right shoulder.
Meanwhile I am having quite a debate with myself about the rear lighting and/or the need to fit flashing turn indicators. Safety should come first if the car is to be driven on the road but then originality is important if it should become a show car. I could compromise and use quickly demountable indicator lamps using modern (visible) light units but I find them repugnant even as a temporary fitting. I know there are reproduction rear lamps with amber (turn indicator) lenses in lieu of stop lights but they are only half the solution and do not address the problem at the front. The 1923 Single Six did not have separate (small) side lights but an auxiliary globe included in the main headlamps.Going through a couple of hundred period photographs in the Packard Photograph archive it seems that cowl mounted side lamps did not appear as standard fitment on Packards until as late as 1928, even then they were not fitted to every car shown.
As the car is to be sold on completion perhaps I should not even worry but simply leave it completely as original with just a single rear (stop-tail) light. I have run wires for a second (right hand) rear lamp but can simply end them at a hidden junction box, giving a future owner the option to fit a second light. I have yet to run the wires for turn indicators. At this point in time I doubt that the car will stay in Australia, going either back to the USA or to Central Europe.
I could use (Ford A Model) reproduction rear lamps mounted off the fenders but Packard seem not to have used this type of tail lamp mounting until the late 20s or early 30s. One other alternative is to use a quickly removable board hung from the centre of the spare wheel.
Your suggestions would be appreciated.
10-12-2012
Thank you both Pat & Roger
My thoughts at present are really a compromise. By using readily demountable modern(trailer) lights mounted from the spare wheel fixing which will be visible at night and at the same time disposable. I can mount turn indicator lights at the front using the shackle pin nuts to locate them. This way will not involve drilling any holes in the car and can be removed without trace.
10-15-2012
Hiya'all.
I am sorry that I really don't have anything scintillating to report.... Just lots of little jobs while I am waiting for Tony to return from his holiday at the end of the month, then the big push towards the finish will (hopefully) happen.
10-18-2012
Hello
Sorry about the lack of progress on the Packard, sometimes other things require my attention. This time it was top gear in the Lagonda Rapier's ENV Preselector gearbox. This involves removing the gearbox and partially dismantling it to replace the friction lining. Top gear is activated via a cone clutch within the box. This was started on Tuesday, Wednesday was taken up with grandfather duties yesterday I started to replace the box in the car and will finish putting in the last two or three bolts and replacing the front floor this morning (Friday). Next week I should be able to get back to the Packard.
"Keep on keeping on"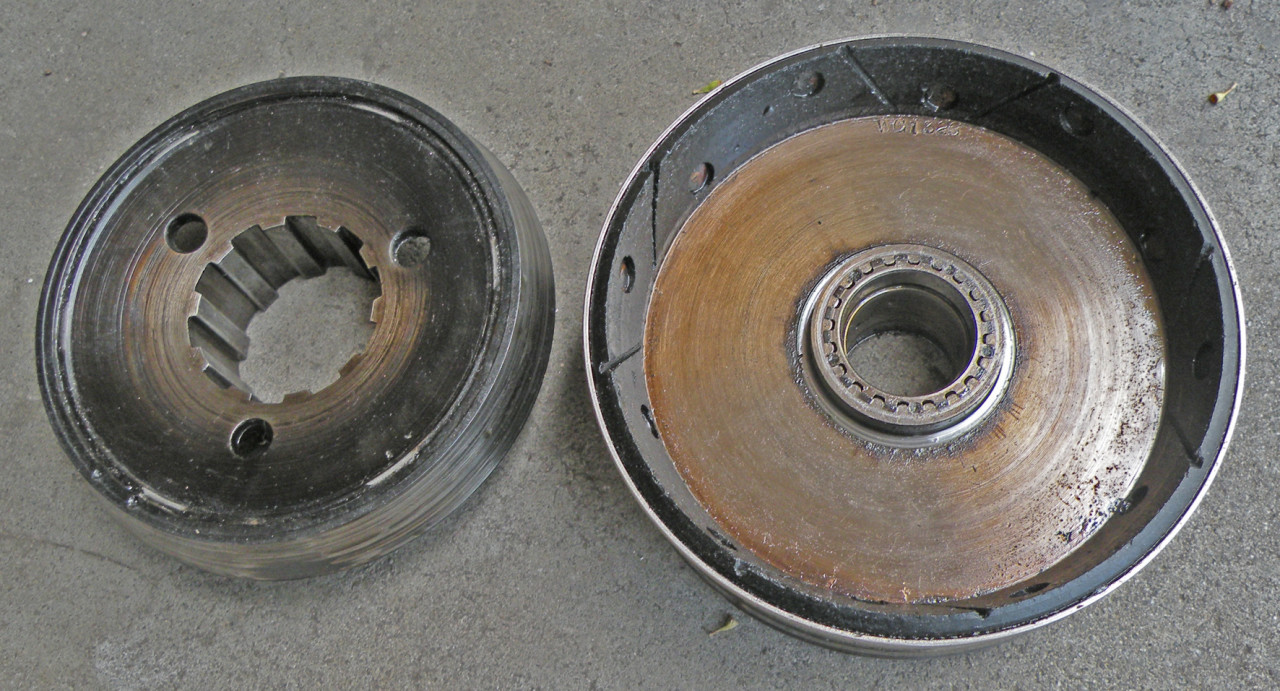 10-19-2012
Hi Ben
Thank you for understanding.
Some people will tell you that necessity was the mother of invention. I say that it is the reason for ability. I don't see or look for other people to offer assistance and sure as h#ll I cannot afford the $90/100 per hour the so called experts like to charge.
After all there is only room for one person under my car or at my work bench. No prizes for guessing who that one person is going to be.
You might have noticed I tend to be independent. It is MY car, NO one else drives it, I broke it so I will fix it.
Some times I wish I had a fancy, spacious, and immaculate work shop like some people but then I actually do work in my little shed.
"Keep on keeping on"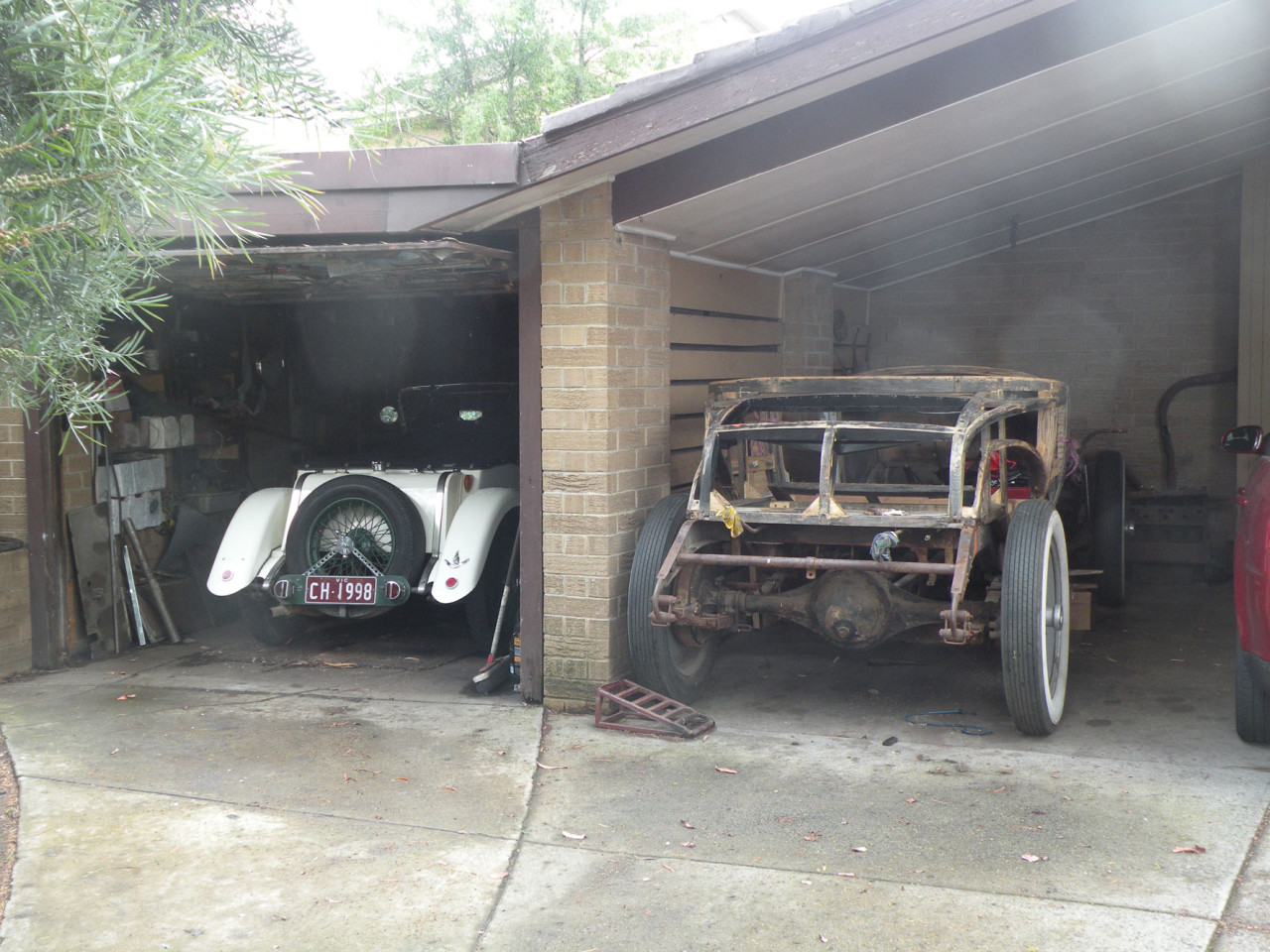 10-21-2012
Hello Ben & Roger
The Lagonda Rapier is roughly the size of a MG TC. Like today's Aston Martin Cygnet, it was brought into the range as an answer to the financial climate at the time.
The design brief given to Tim Ashcroft in 1933 was simple "Produce the Best Light Car in the World"!
He exceeded expectations, it is just a pity the company went into receivership (July 1935) just as the Rapier sales were starting to take effect. Sales were almost 300 cars in the first 12 months a Lagonda sales record. If the powers behind the company had just been a little more adventurous and specified a 1500 engine instead of the 1100cc it would have completely re-written the record books.
My car is now, in its 78th year, a one and a half litre and would out sprint, out run and out climb virtually every other pre ww2 un-supercharged Under 1500cc sporting car. It is a super two seater touring car that I would drive anywhere and it will take me anywhere I ask it. Driven carefully it will return around 30 miles per (Imperial) gallon of 100 octane petrol.
Out on the highway it will cruise effortlessly at our 110 Kph legal limit, (hour after hour) .
"Keep on keeping on"
10-22-2012
Actually back to work on the Packard! I have bought the steel strip and a length of Kiln Dried hardwood and started work on the rear numberplate/tail-light board. While essentially a temporary fitting I will have the steel component nickel plated. The fittings for the side screens arrived in todays mail so I will have enough to keep me occupied for a day or two.
Two hours later, allowing 30 minutes for lunch, things have progressed. For all those lacking the imagination to conceptualise what I am talking about the attached photograph should help. The top of the "vee" attaches to the bolt projecting through the centre of the spare wheel. The metal work is now ready to go to the platers and I can start preping the wood for the walnut stain and epoxy finish. I still have to obtain suitable tail-lamps but two large red reflectors and a suitable electrical junction box came in the parcel with the side screen fittings.
"Keep on keeping on"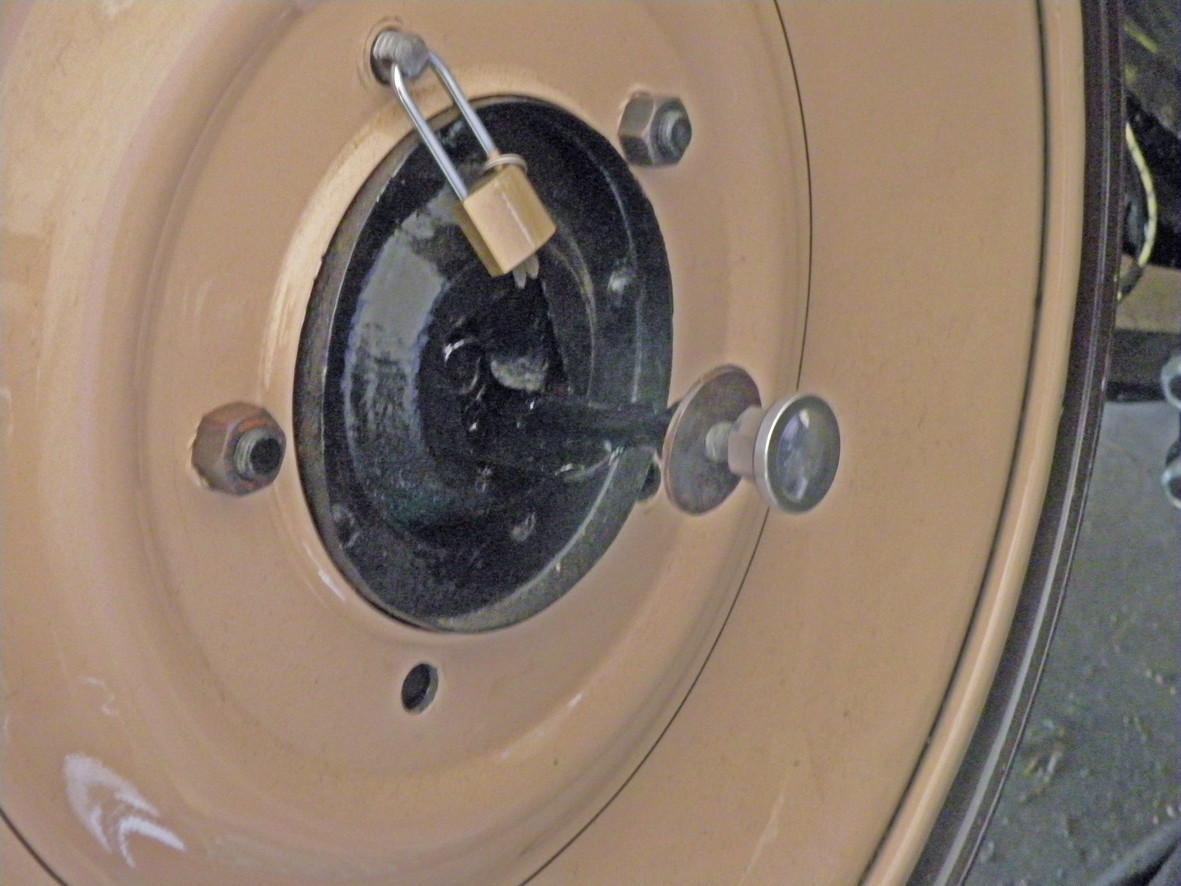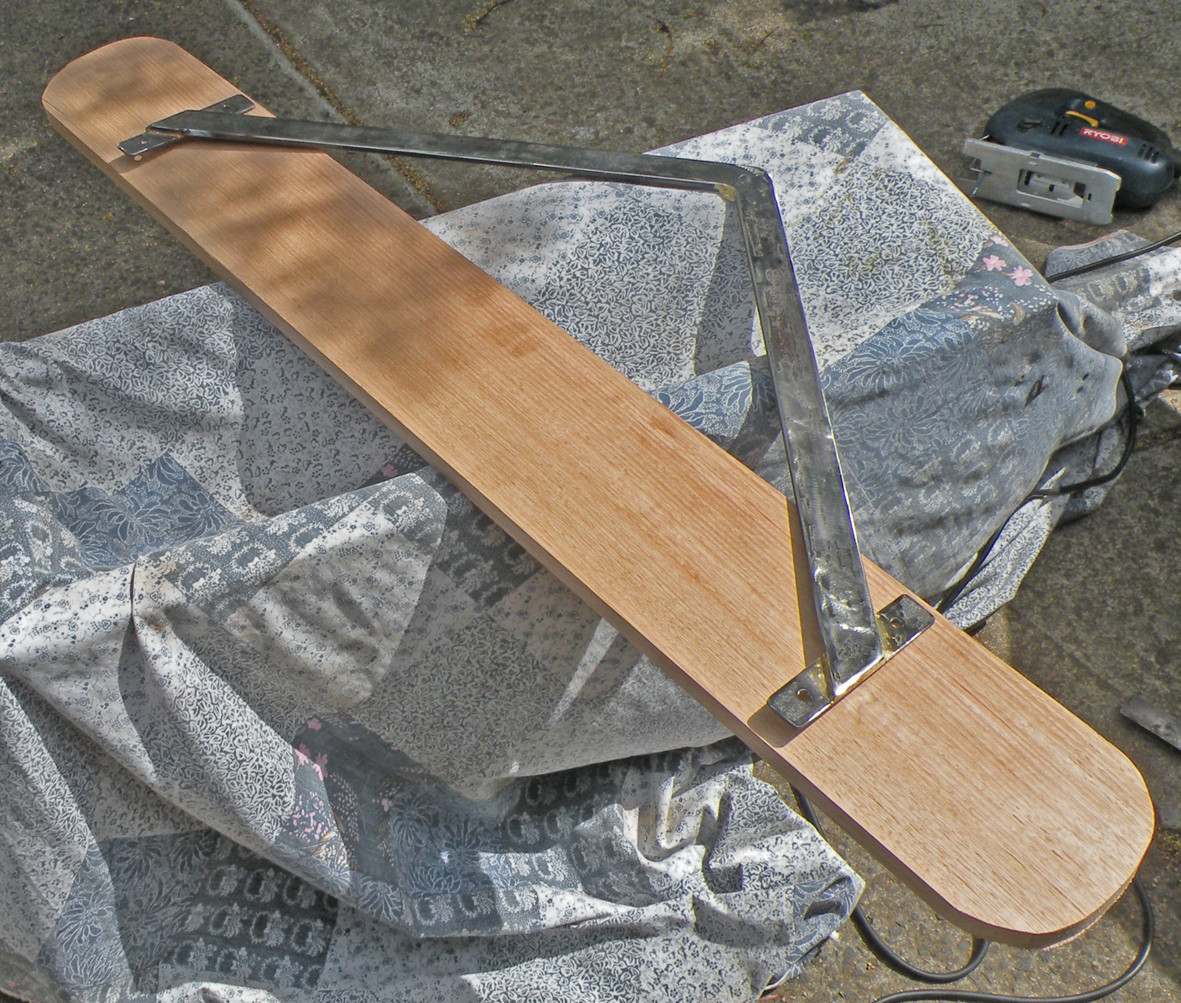 10-25-2012
Another day of little jobs, all seemingly meaningless but each important in its own right. Delivered metal Vee section and nut for the numberplate/tail lamp board to the platers, then back in the shed to start drilling and tapping the 16 holes for the side screen fittings. Sorted out a block of some unknown variety of incredibly hard wood for the gear-lever knob. This 3 inch X 3 inch X 3inch piece of timber was sourced from a construction site opposite my sisters house (right at the waters edge of Swan Bay) It was an off cut from the sun-decking along one side of the house. It has a remarkably close grain and should polish up very close to the colour of the American Walnut timber steering-wheel. Our son Steve called in for a coffee and went off with the afore mentioned block of wood and a suitable 7/16 UNF tap so he will turn up the gear-lever knob complete with a brass barrel fixing nut. Finally ground off the manufacturer's marking on the heads of the four stainless 5/16 bolts which will attach the number plate board then polished the heads. I believe that these little things are all important, even though very few people will even notice them.
"Keep on keeping on"
So what is all the fuss about bolt heads. Basically it is just about attaching a piece of board to a strip of metal. No big deal below is a photograph showing three alternatives, a stock hardware bolt straight out of the box, a standard nickel plated dome nut and a stainless bolt with the makers marking removed and the head polished. Which one would you use on your restoration? Which would the judges among you prefer? Click on the photograph to enlarge it. I must apologise about the reflections (not scratches) in the polished bolt head.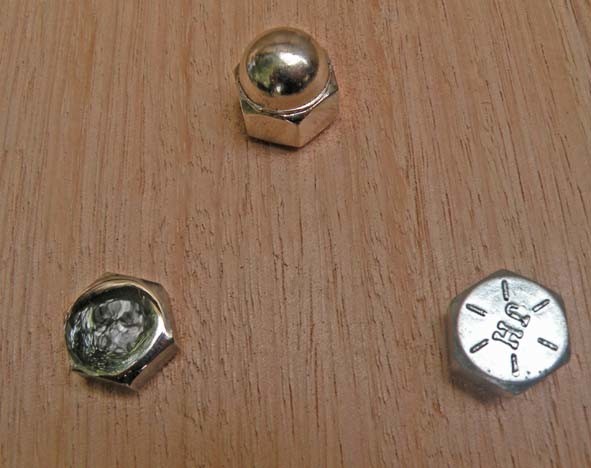 10-28-2012
Remarkable! Having stumbled over an Model A forum I could read how to recover the thermometer in my motometer. It seems that if they are left lying down for long periods as mine had been the red dye leaks back along the tube. The cure is simple. First place the bulb into some near boiling water then cool it rapidly under a cold tap. repeat this three or four times then having cooled it, repeatedly bump the base on a firm but malleable surface (Your spare tyre is ideal). This will shake down any bubbles. Presto the thermometer is working. Just don't leave it lying down again.
10-29-2012
Hello John
The attached photo was taken this morning note the position of the red. This has been all the way up ever since I first obtained it almost two years ago. It took all of twenty minutes to correct. and now responds to changes of temperature in the correct manner. I do have the correct Packard face, wreath rims, beveled glasses etc. unfortunately I will not be able to re-plate the main body as it is die-cast and very brittle. I am afraid that any attempt to dismantle it any further could be a disaster.
Ben
In a nutshell so am I but this will not happen until I get a new exhaust fitted which comes slightly out of order after the trim is finished. Right now I am watching my pennies very closely. EG. Having sold a Magneto at the weekend I could order the two rear view mirrors from a supplier in the UK yesterday
"Keep on keeping on"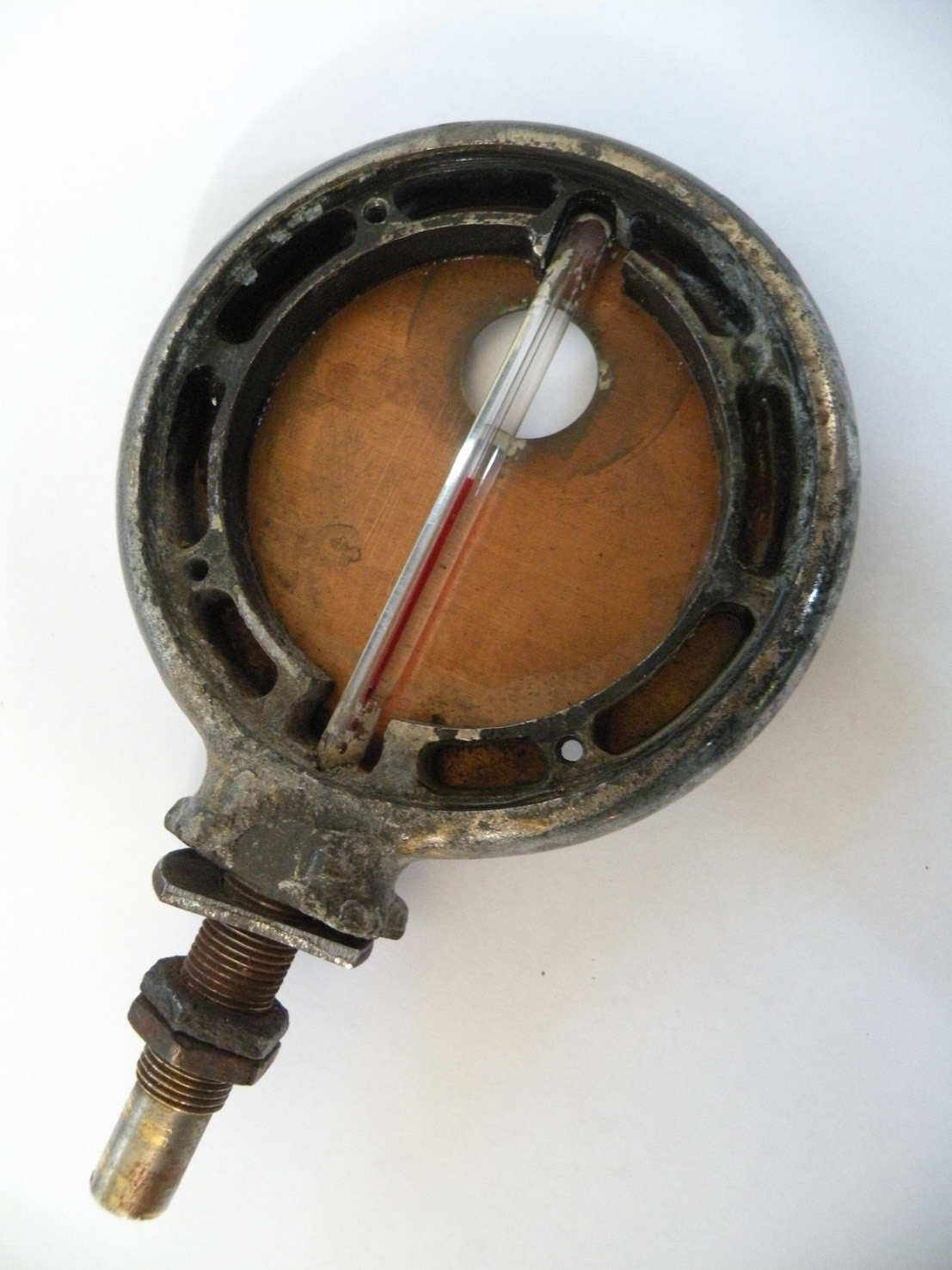 10-30-2012
What are you looking at? (Below) The answer is two and a half days work. I already had the right hand side splash shield that came with the car but the left hand side was missing. Making one is just one of a thousand little jobs that I tend to put off. On Monday I decided that the time had come to bite the bullet. Starting with a brown paper pattern which had to be sorted out while lying on my back under the car the next step was to find a suitable piece of sheet steel among the pile of odds and sods. after roughing it out the next step was to trial fit it. I find that no matter how careful I am marking out patterns that these things NEVER fit precisely first time. I have lost count of the number of times I have climbed under the car, marked out the location for the next cut or hole then climbed out. Finally with a fit that I was happy with the next step was to paint the thing. This was left to dry overnight. Then next morning back under the car. This shield is held in place by no less than 18 1/4 inch bolts 3/4 inch long. where these pass through the flange on the side of the crankcase and the bottom flange of the chassis rail they require a first a flat washer under the head then a spring washer under the nut. All that adds up to 18 bolts, 36 washers and 18 nuts. then there are another eight each bolts, nuts and 16 washers securing the domed cover over the spring shackle. 96 pieces altogether! All requiring some time to be spent under the car but many (most) impossible for one person to hold the spanner on both the bolt head and the nut. After working on my own for the last umpteen years I have learnt most of the tricks such as tack welding a length of wire onto the head of an out of reach bolt and have collected a range of vice grip pliers of different sizes and angles. Having bolted the thing into place.... I am now wondering if I really need an "inspection hole" though which to view the outlet of the sump oil level tap? Back to work!
"Keep on keeping on"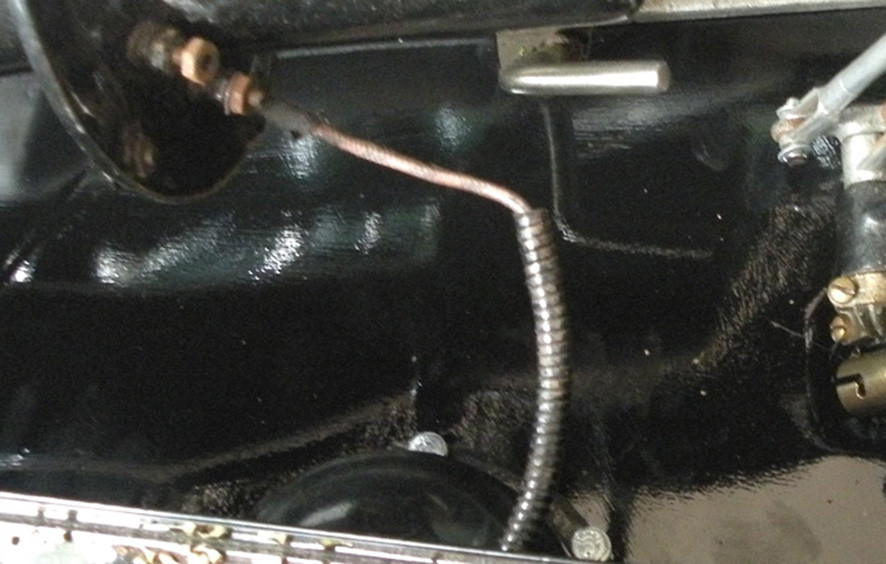 10-31-2012
I am now wondering if I really need an "inspection hole" though which to view the outlet of the sump oil level tap?
Another day and having given this matter some thought and in the absence of any information regarding what I am attempting to recreate originally looked like i have decided that it has to come off again in order to make the afore mentioned "inspection hole". No doubt as soon as I do this, someone will come up with the required information.
"Keep on keeping on"
11-1-2012
Hi All
Thank goodness for understanding wives.
Re the splash shield, no sooner said that done. All back on the car complete with inspection opening with hinged lid and latch.
"Keep on keeping on"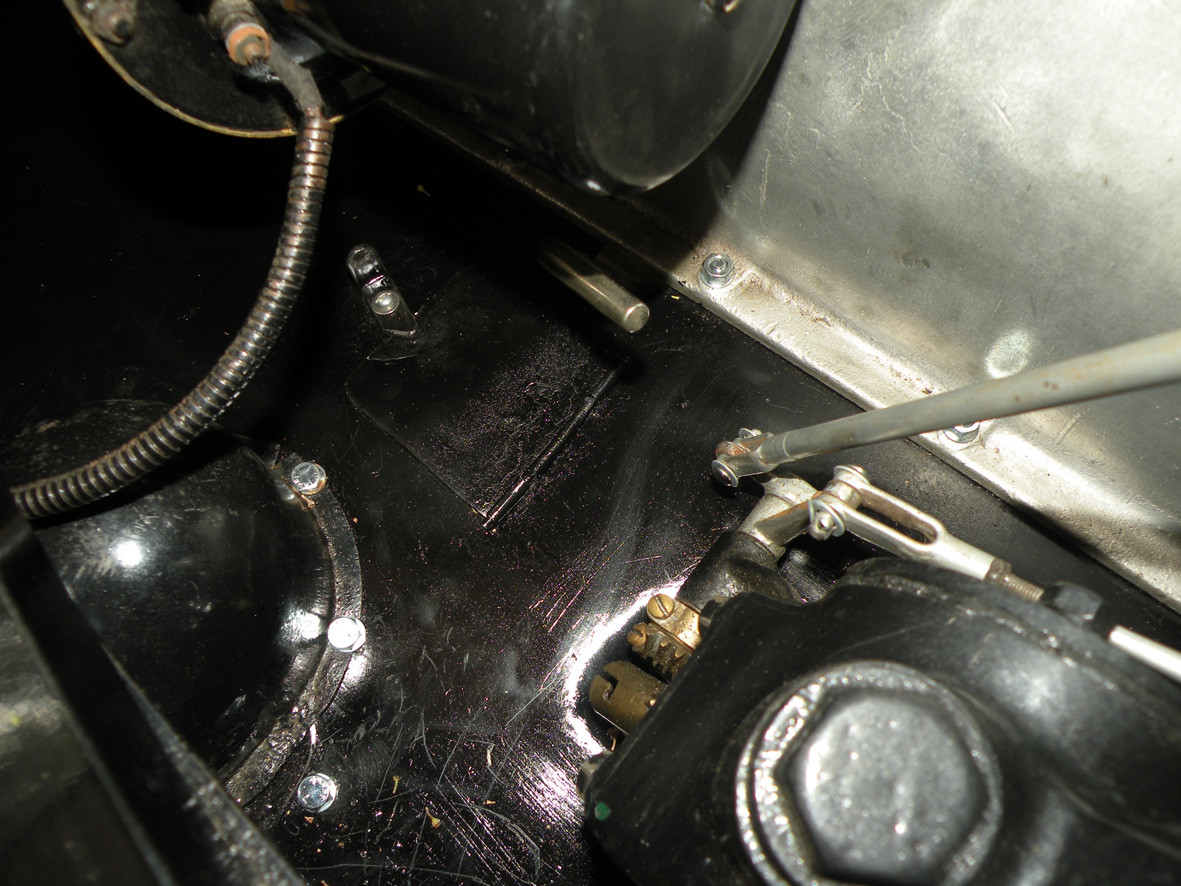 Glad to be of assistance John. That is what I believe the Old Car movement should be all about, helping like minded enthusiasts. That and having FUN in the process.
Chuck, my time-line for completion is probably aimed at a finish around March-April 2013. Once completed the Packard will be offered for sale following a "shake-down" period. I already have my next project in mind but nothing definite only that it will for sure be a much smaller car possibly French. One thing certain is that it will be early 1920s. I can say positively that it will not be an Austin Seven. It probably has not found me yet but I am watching one car that has been in a friend's shed unloved for years.
"Keep on keeping on"
11-3-2012
So what is it? I have asked several times on two or three Packard Forums and while I am sure that there are several that have been consigned to the mud in the back paddock or swept up with a whole lot of other junk I have had no replies. As is usual in these situations I have made one for myself incorporating one or two changes to suit my car. One clue is that it was fabricated from a 12 inch length of scrap exhaust pipe. I has taken about 45 minutes to make so at the going rate for "EXPERTS" working in the flash restoration shops it should have cost me $135.00
No Replies to yesterdays quiz, obviously too easy. The answer of course is the cover for the junction box on the bulkhead behind the dash. Why bother when it is virtually out of site? Simply because the factory in 1923 thought that it was sufficiently important to make one. For those unfamiliar with the early Single Six I have attached a second photograph showing the original factory counterpart on the engine side of the bulkhead
"Keep on keeping on"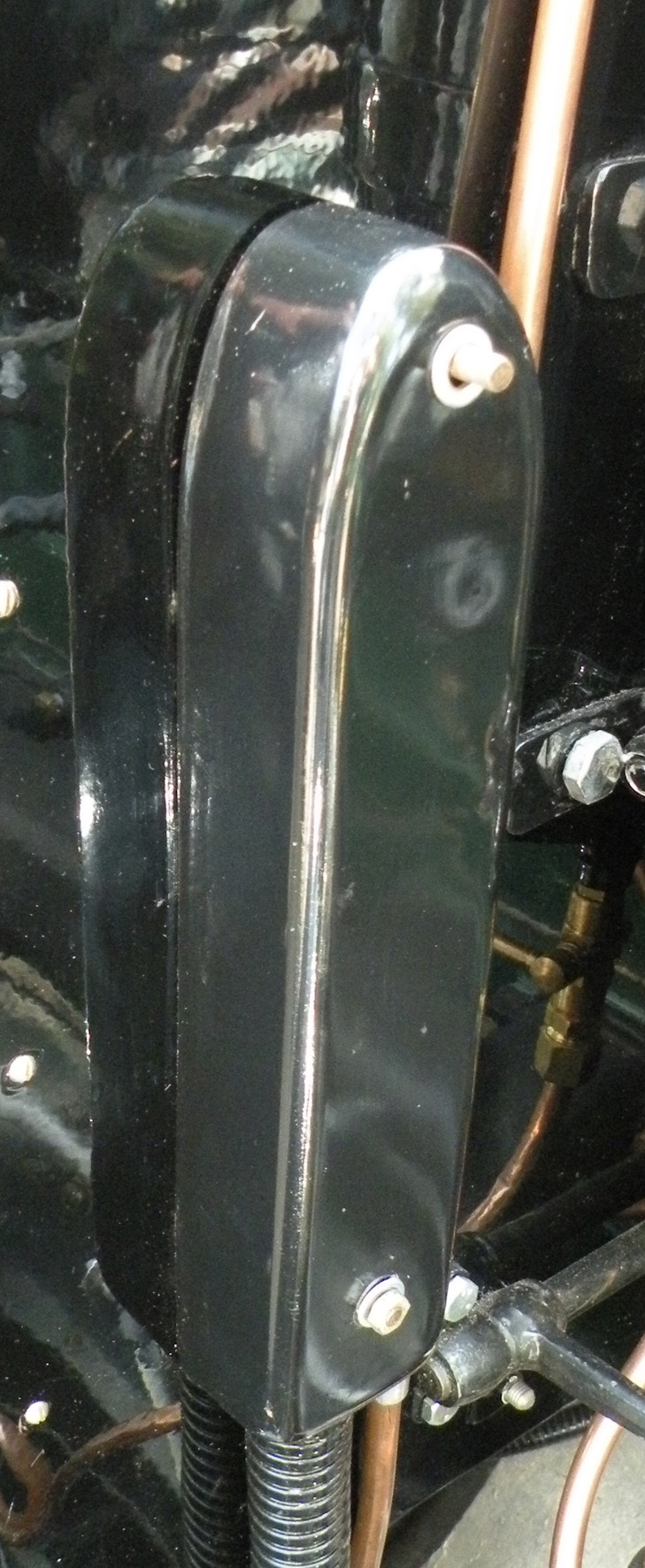 11-6-2012
Another day and with half of Melbourne's population glued to their Television watching the "Horse race that stops the Nation" the Melbourne Cup, others were quietly going about their day to day chores. I can tell you that something called Green Moon won adding another couple of million dollars to some millionaires bank balance but that is where my interest stopped. Instead I have bound the edges of the rear luggage trunk carpet and made two little leather pockets that are attached to the inner side of the hatch at the front of either seat providing useful storage space. One pocket holds the "key" for the lid of the rear luggage trunk the other a specially modified 1/2" AF ring spanner essential for the quick and very basic seat adjustment. Another small box can be ticked as completed....
"Keep on keeping on"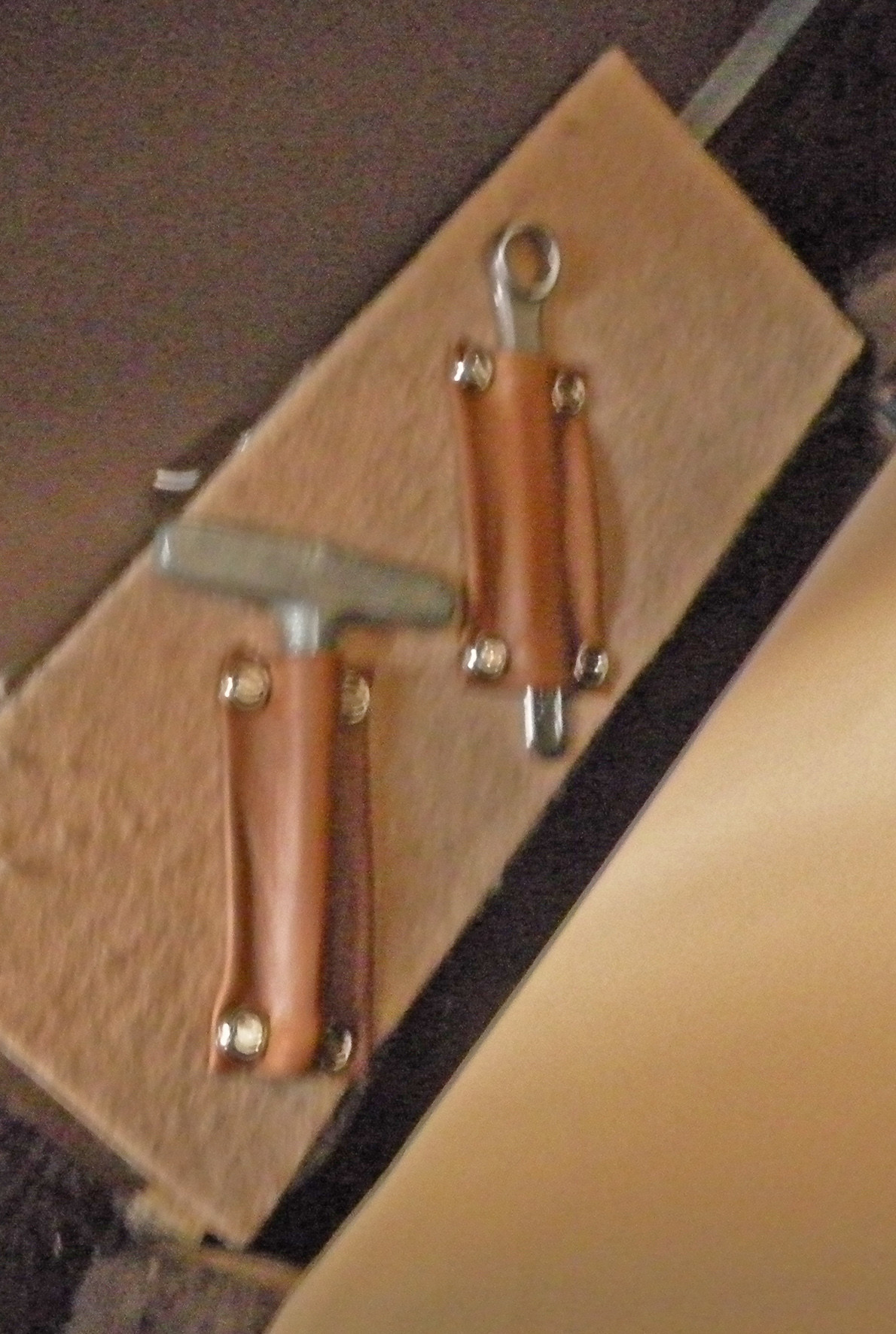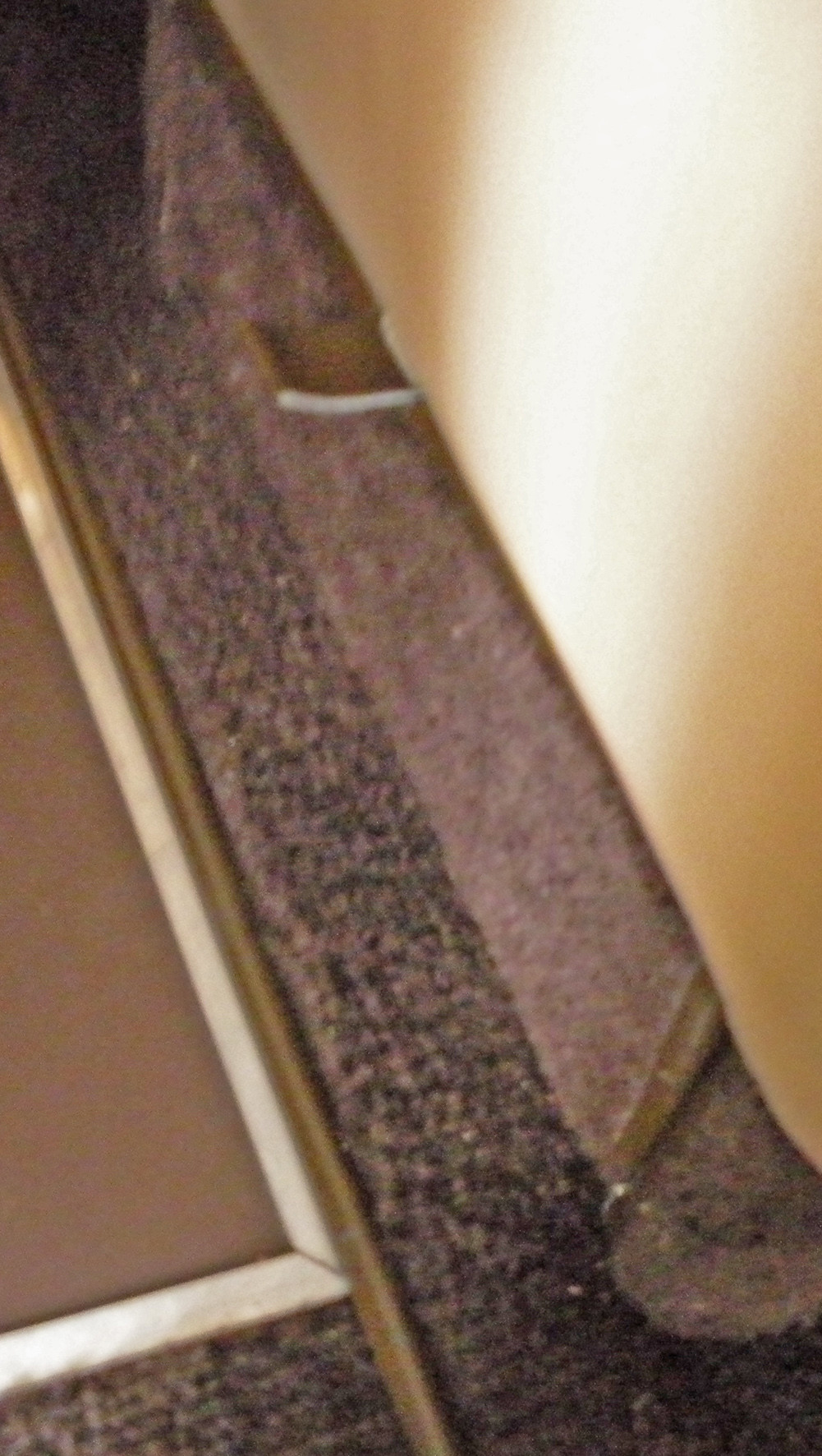 Another step forward the Packard went off to Tony for the completion of the trim this morning so I will probably have a couple of weeks twidlling my thumbs. I am sure that something will crop up to help fill in the days.
In answer to Ian's question "When i can finally sit in it and drive it." Hopefully before the years end. I will let you know.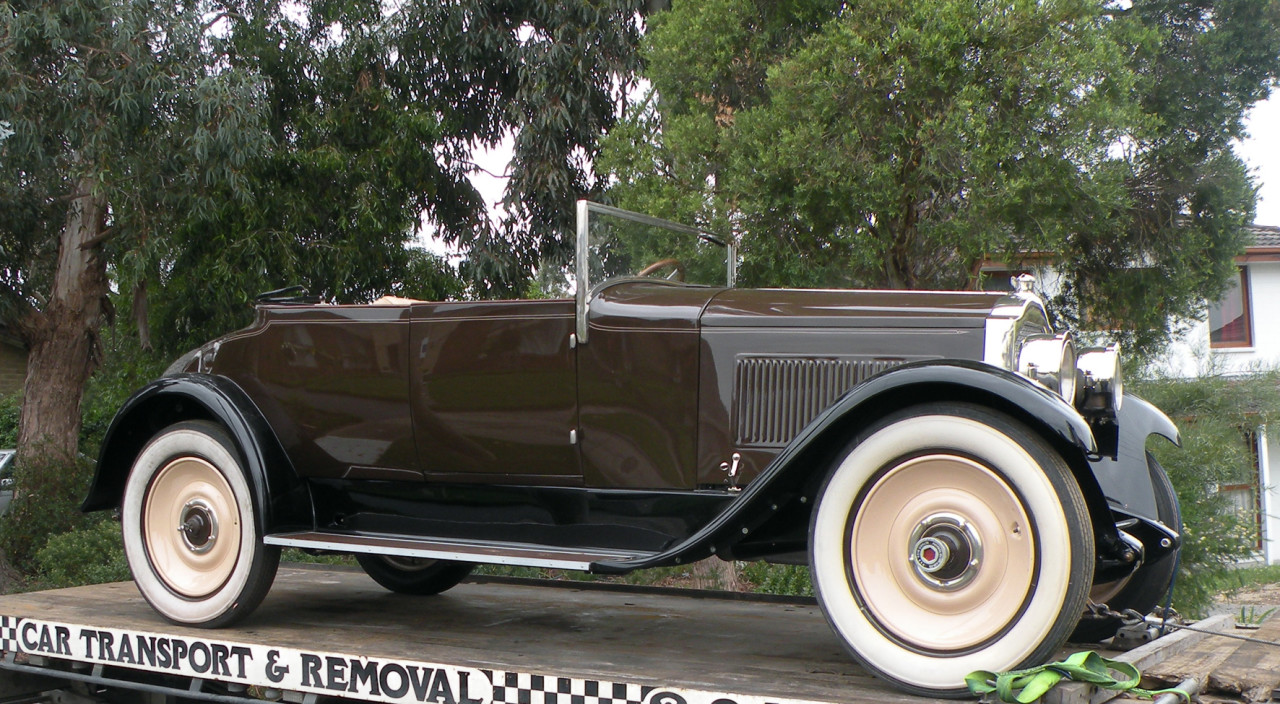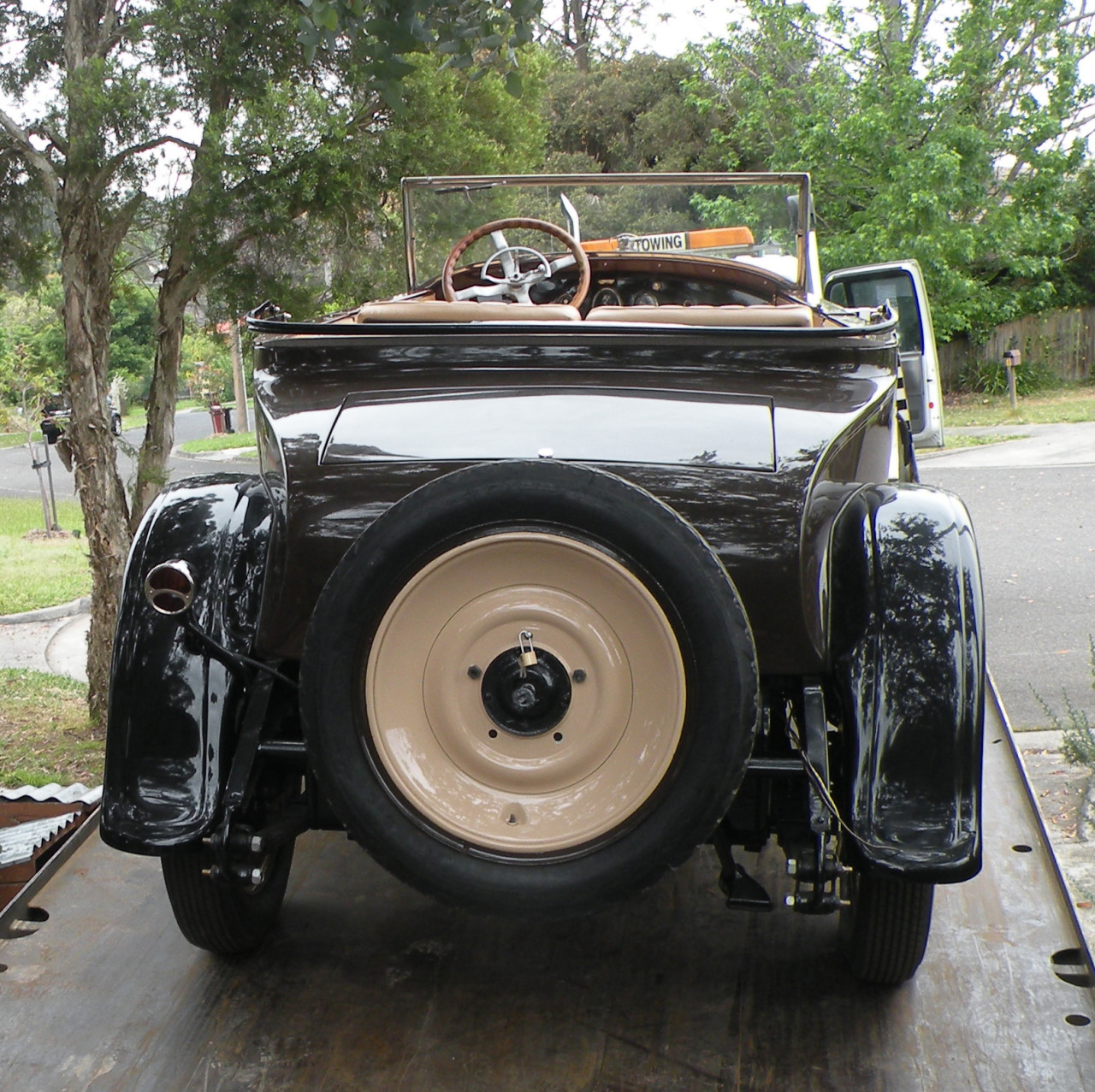 11-7-2012
Even with the car away at Tony's life continues...This morning I collected the support A bracket for the numberplate board from the platers and when I returned the postman had left the box containing the two exterior rear view mirrors I had ordered from Paul Beck in England. I am quite pleased with these they actually come NICKEL plated and while perhaps not exactly "period" I think that once they are mounted on the windscreen pillars they will look just about "right". As the end of the project draws closer the enjoyment changes! It is a bit like a grandmother supervising the dressing of a Teenage girl for her first big outing. Each piece of jewellery must be carefully selected to enhance the beauty while the wrong piece of "bling" can produce nothing short of a "tart". With the Packard one has to be aware of the original concept; Discretion and understatement is all important .
I am still looking for the "right" temporary tail lamps for the number plate board.
"Keep on keeping on"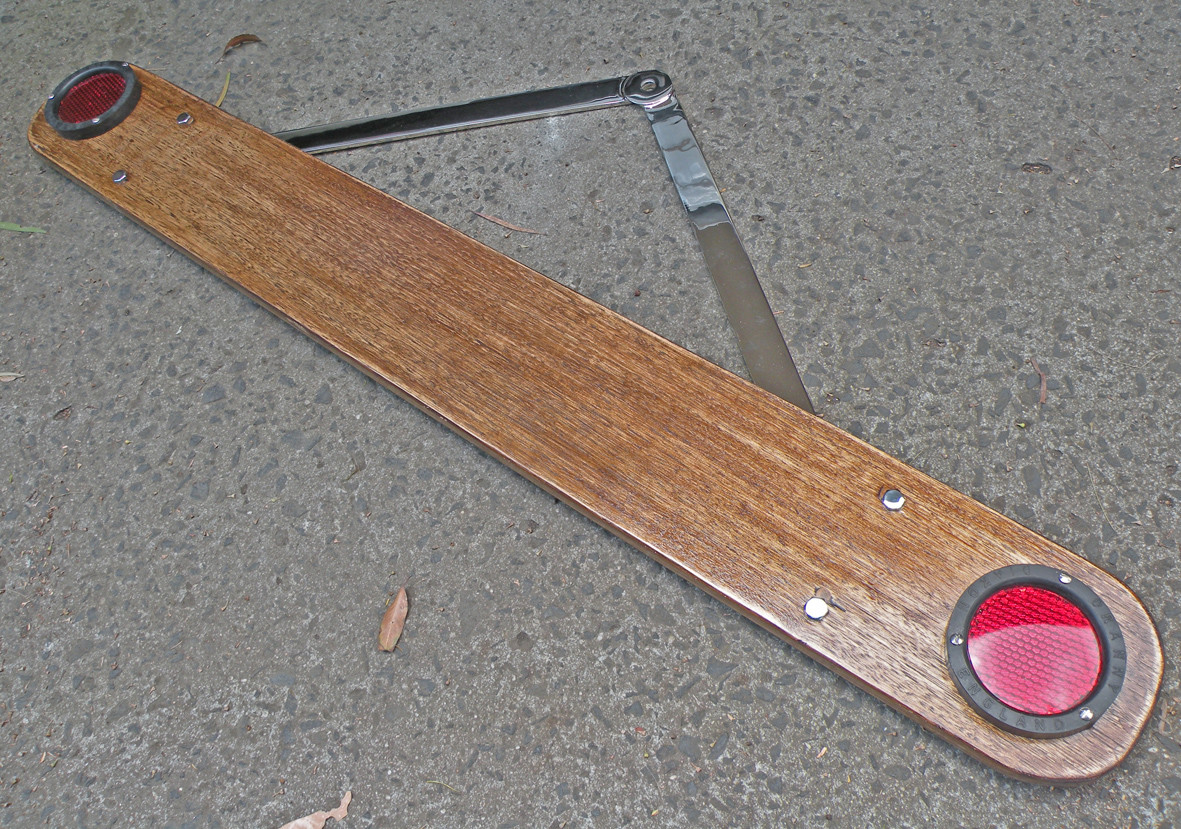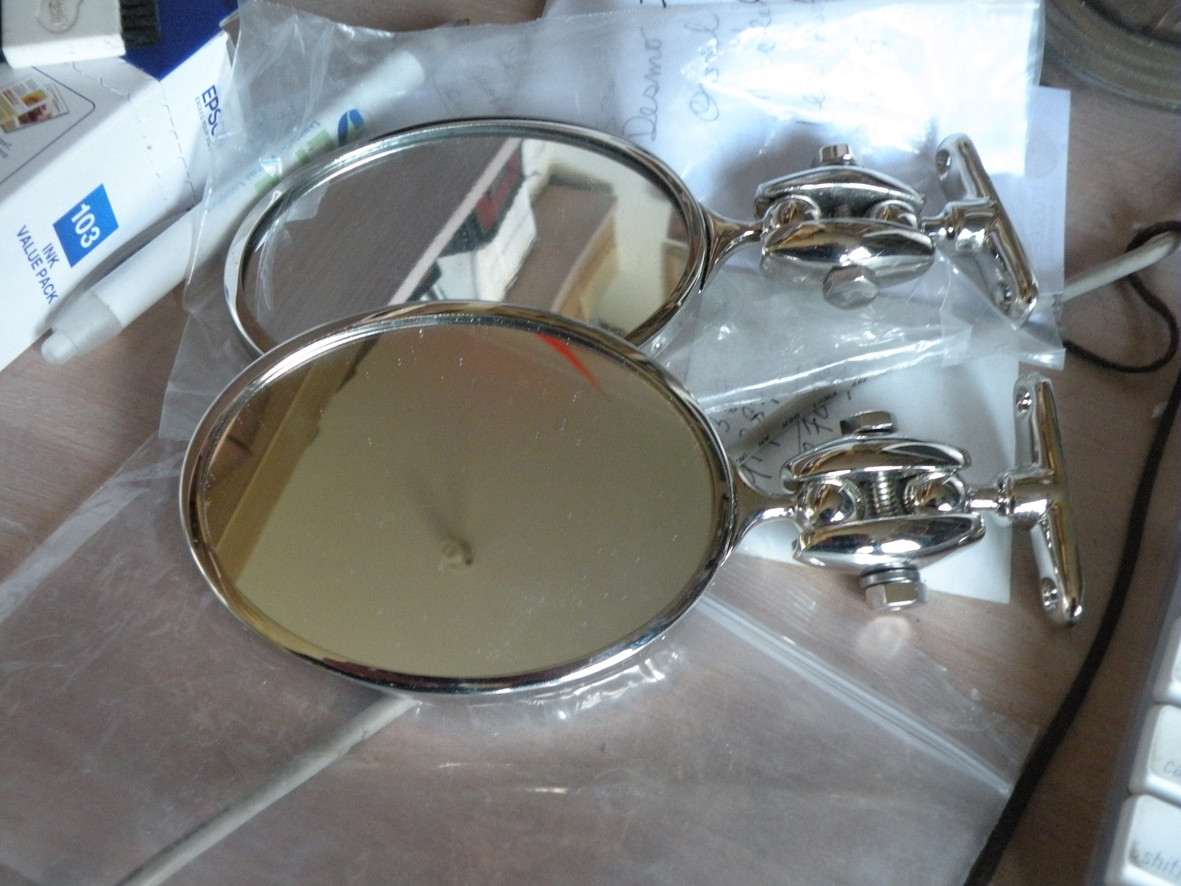 11-10-2012
Thank you both.
Perhaps you may like to make some comment on my latest conundrum. I have made provision for an interior light basically to illuminate the rear parcel shelf. I have an original Packard switch which is mounted in the trim paned adjacent to the right hand door pillar. with the wires going to the light protruding through the trim panel through the same trim panel in the right hand rear corner behind the passenger seat. Not all that important except that I have a nice 1920s light which will require 3 1/2 inch hole to mount it. Problem is that it is less than perfect, the glass being somewhat cracked and crazed. Do I use this or wait and look for a reproduction or n.o.s fitting?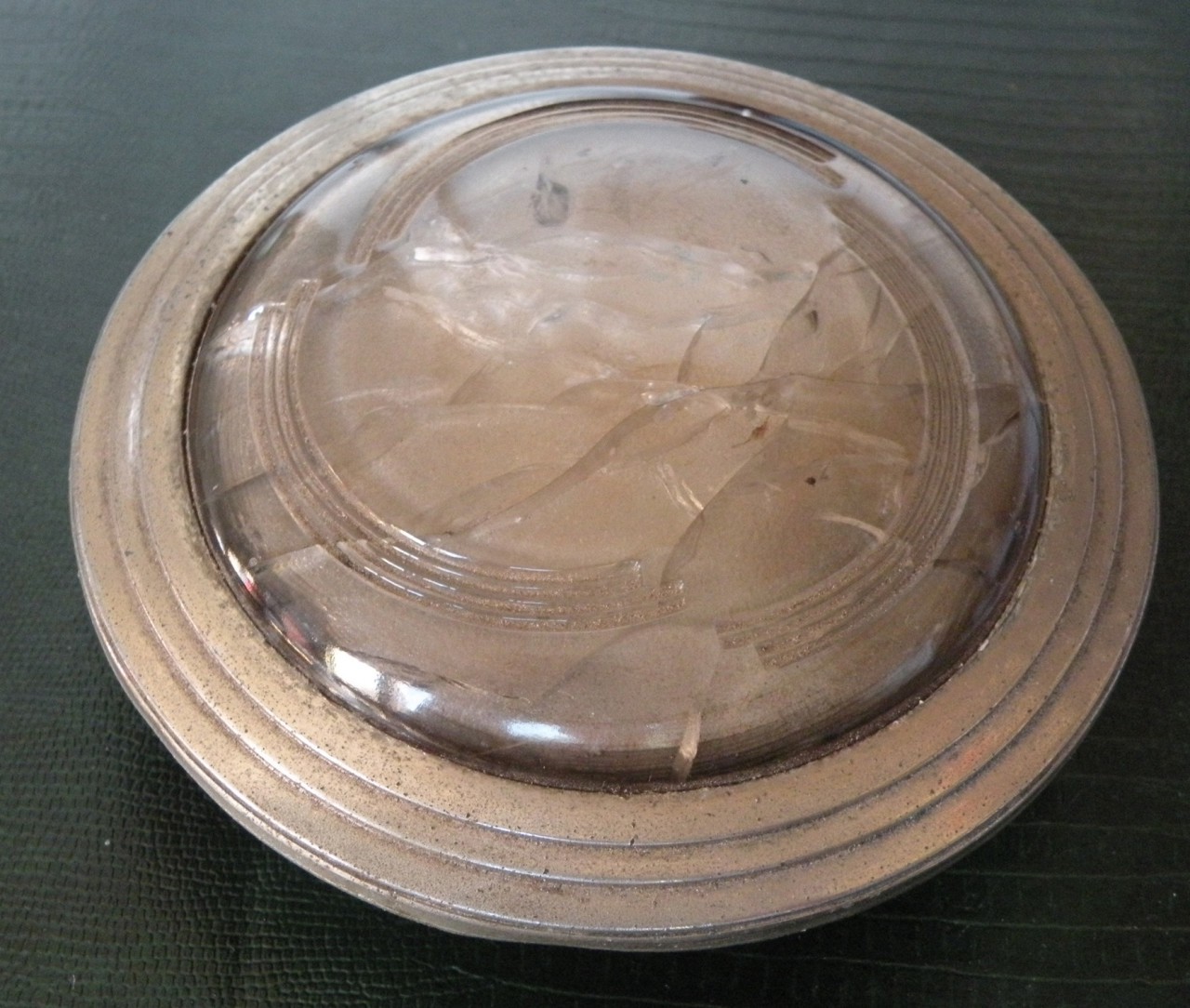 11-15-2012
Today those tiny steps are becoming "leaps & bounds" Tony has made a start on the door trims! My task for today was to approve the prototype flap for the door pockets. While I appreciate that Mr Packard only seems to have rather plain flaps on his door pockets in 1923 I rather like this treatment that Tony has come up with. Ignore the triangular lines they are not part of the finished flap. Just the rather understated letter "P". This is taken from an original script although possibly from the 1930s. Personally I think that it will be discreet enough not to offend even the purest Packard purist...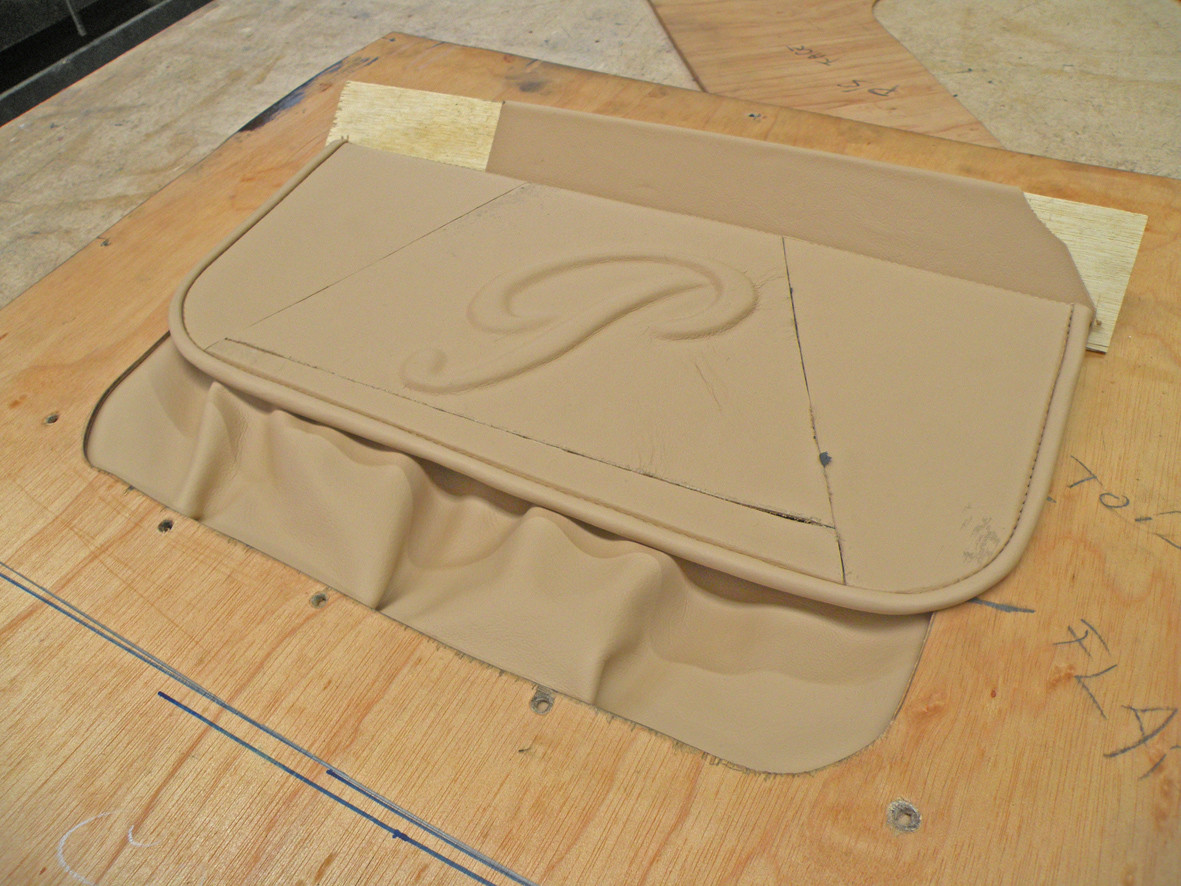 11-18-2012
With the aid of David McC's page out of the Parts list I can identify my interior light switch as Part Number 127388. The switch itself is marked Diamond H Switch, patent applied April 8 1913. This will go nicely with David's rectangular Dome light, Part number 132606. While I am not a total originality freak it is nice to know that I am using genuine Packard equipment as originally fitted to the 126 Single Six. As the old song goes "Little things mean a lot".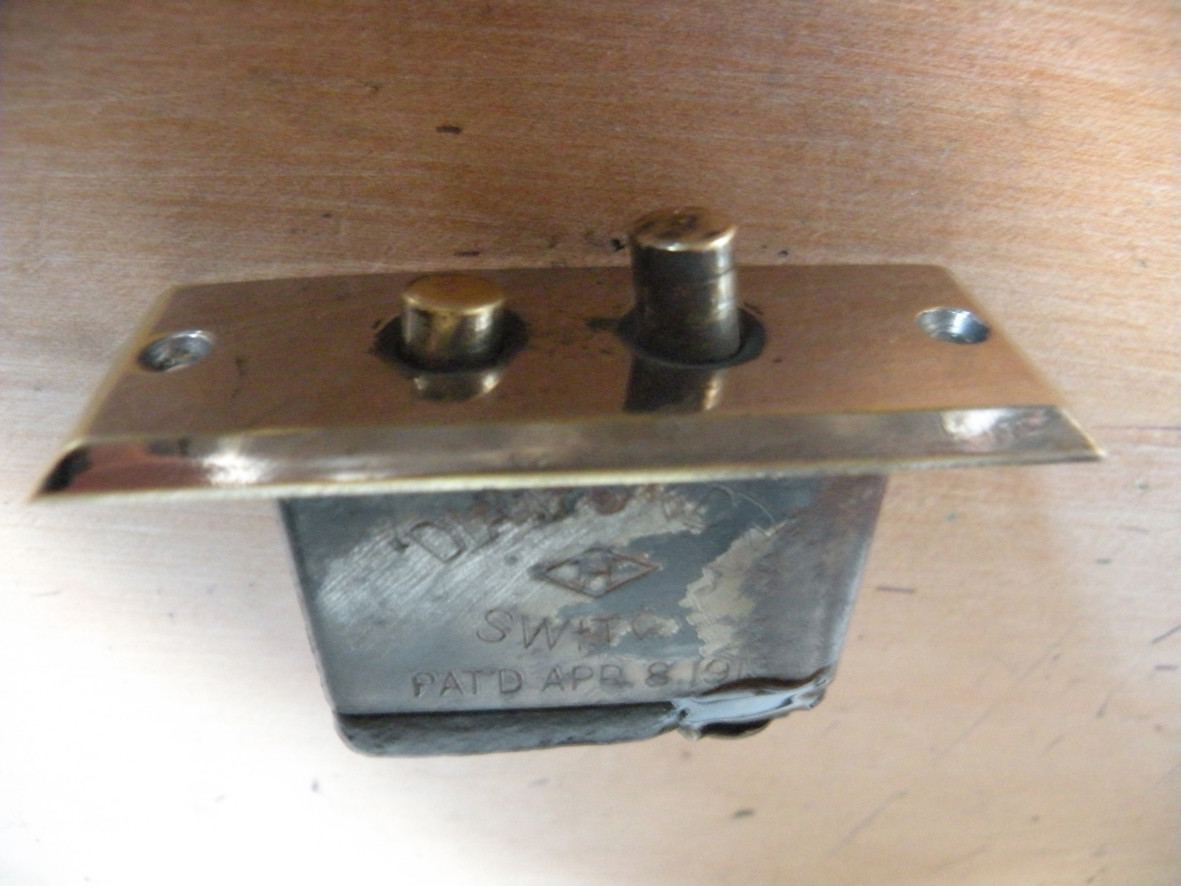 10-19-2012
Hello David
Your light arrived safely in this afternoons mail thank you very much.I am absolutely delighted with it! With some careful surgery and a little solder I should be able to marry your rim and glass to my base. I am going to visit my son Steve tomorrow and will take all the necessary bits with me. Steve is also going to do a small turning job on the moto-meter for me, reducing the diameter of the head of raised head countersunk screws that secure the wreath / beveled edge glass. A small but important (to me) detail.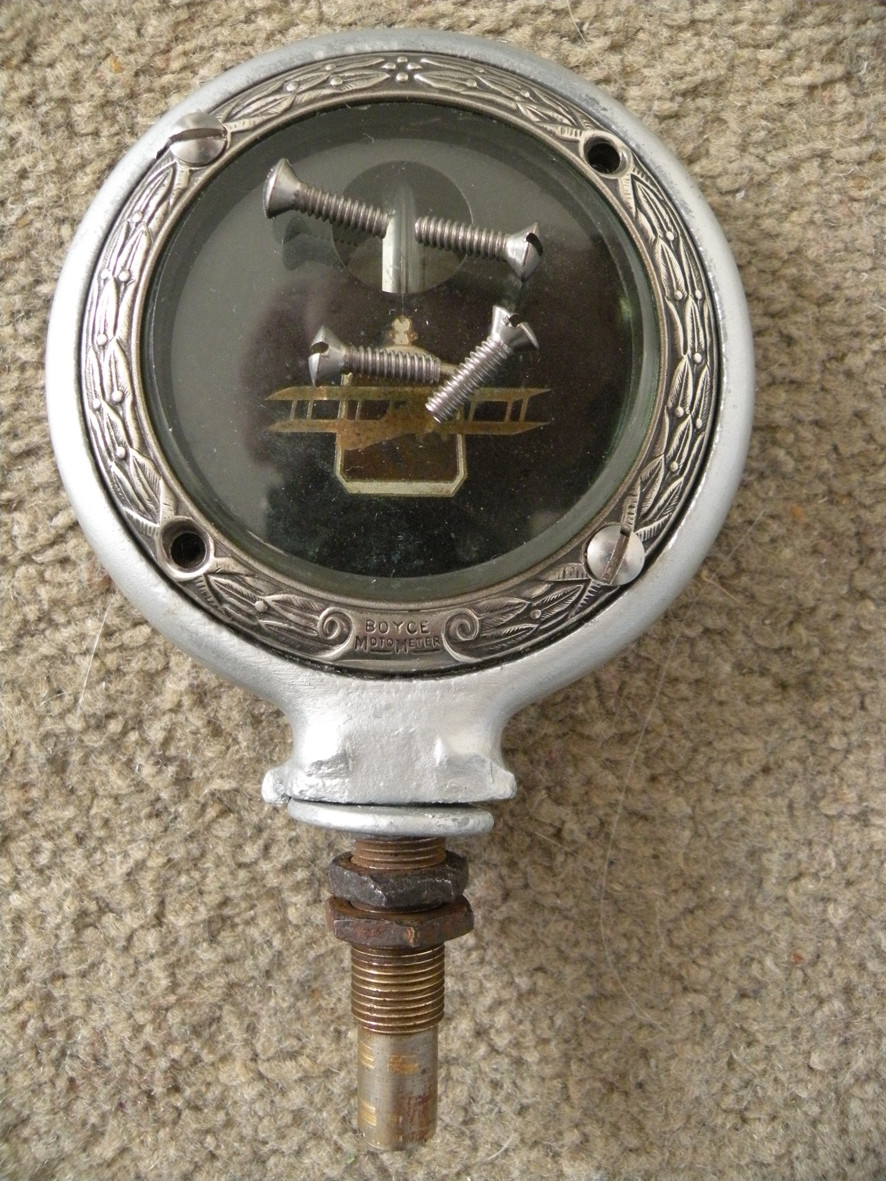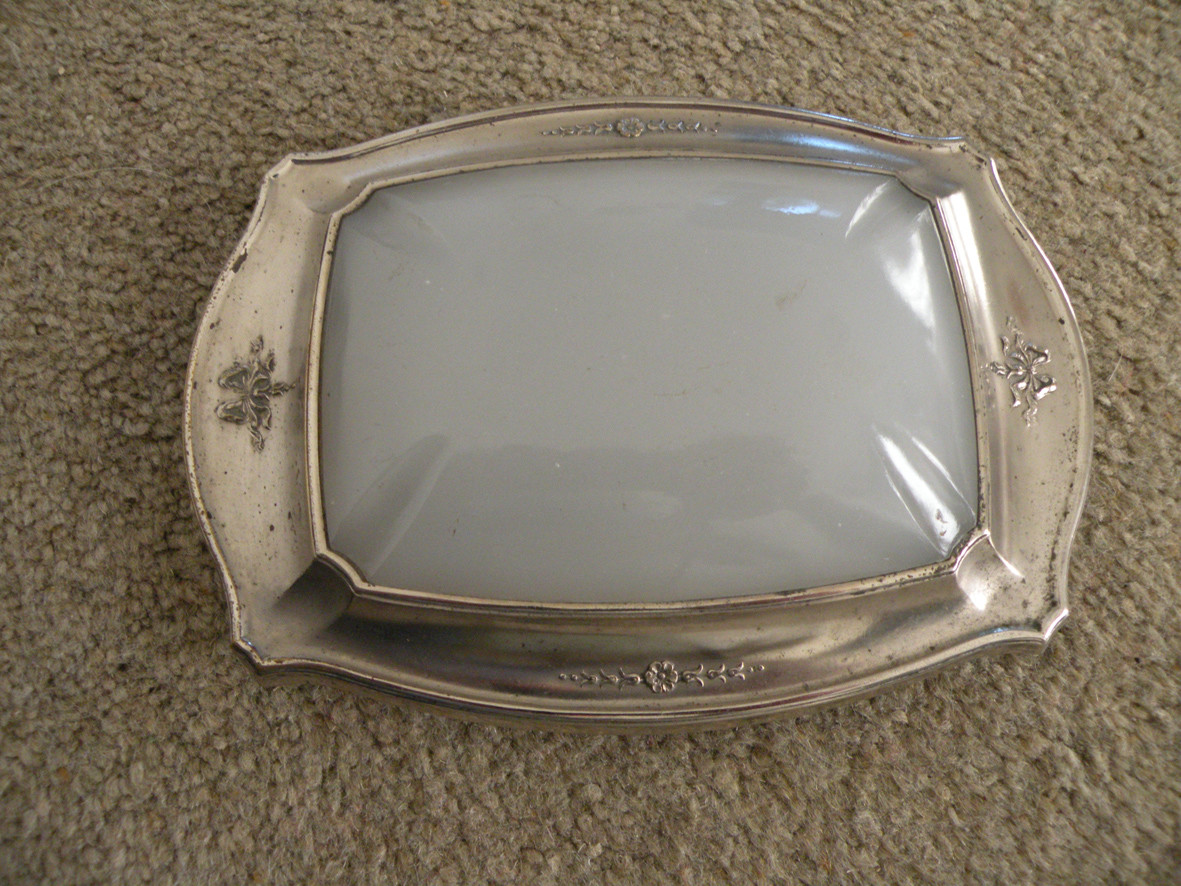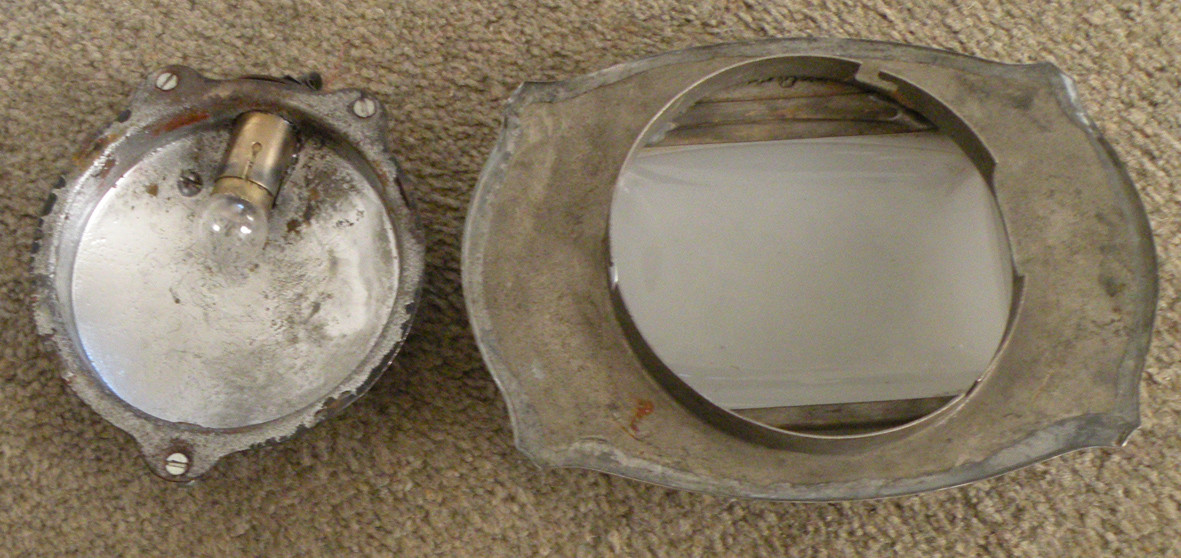 11-19-2012
Hello
I have worked out how to connect David's top to my existing (round) base so hopefully the next time you will see this light will be with it installed in the Packard. I spent some time yesterday afternoon with Tony working out the shape and profile for the top (hood to Aussies) so things are moving rapidly.
"Keep on keeping on"
11-20-2012
My day out in the Yarra Valley visiting my son Steve was a day well spent. We managed to sort out the interior light so that it is ready for me to install tomorrow, The Moto-meter is ready to fit onto the radiator cap and the horn switch now has it's handsome black (pot lid knob) button and ready to advance one step closer to being fitted. An unexpected bonus was the brass body ID plate that belongs under the carpet on the passenger side that Steve has managed to engrave on his little cnc jewellery mill. Another of those little things that all add up.
Keep on keeping on"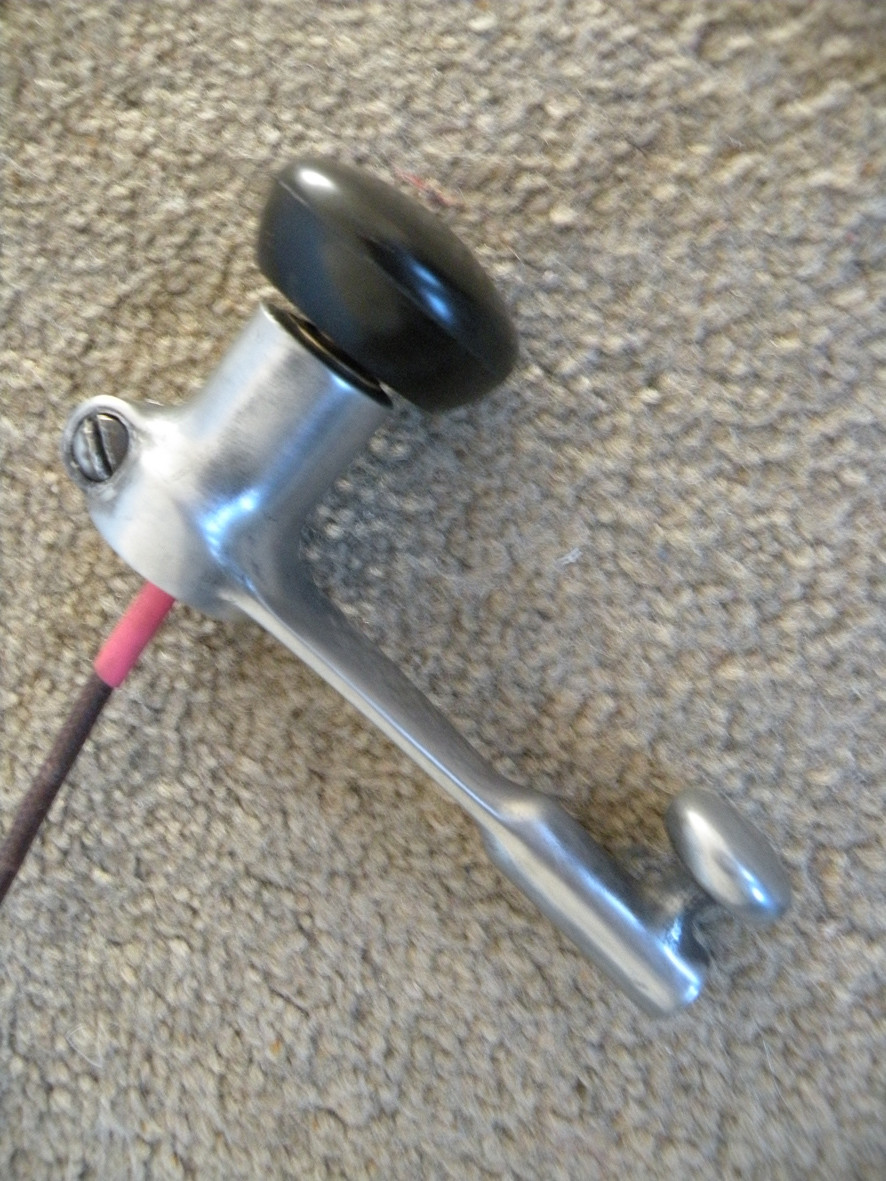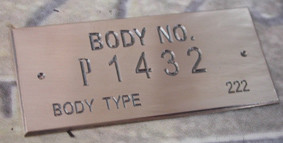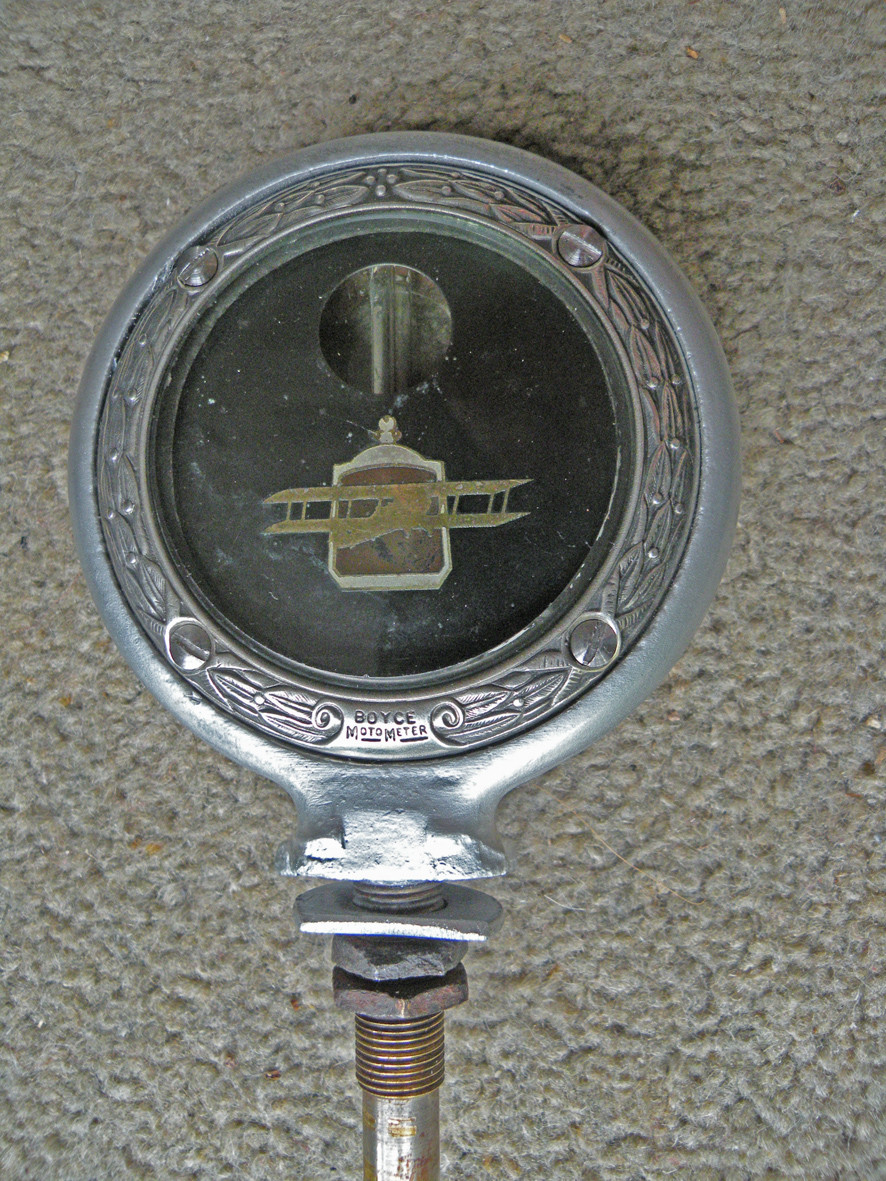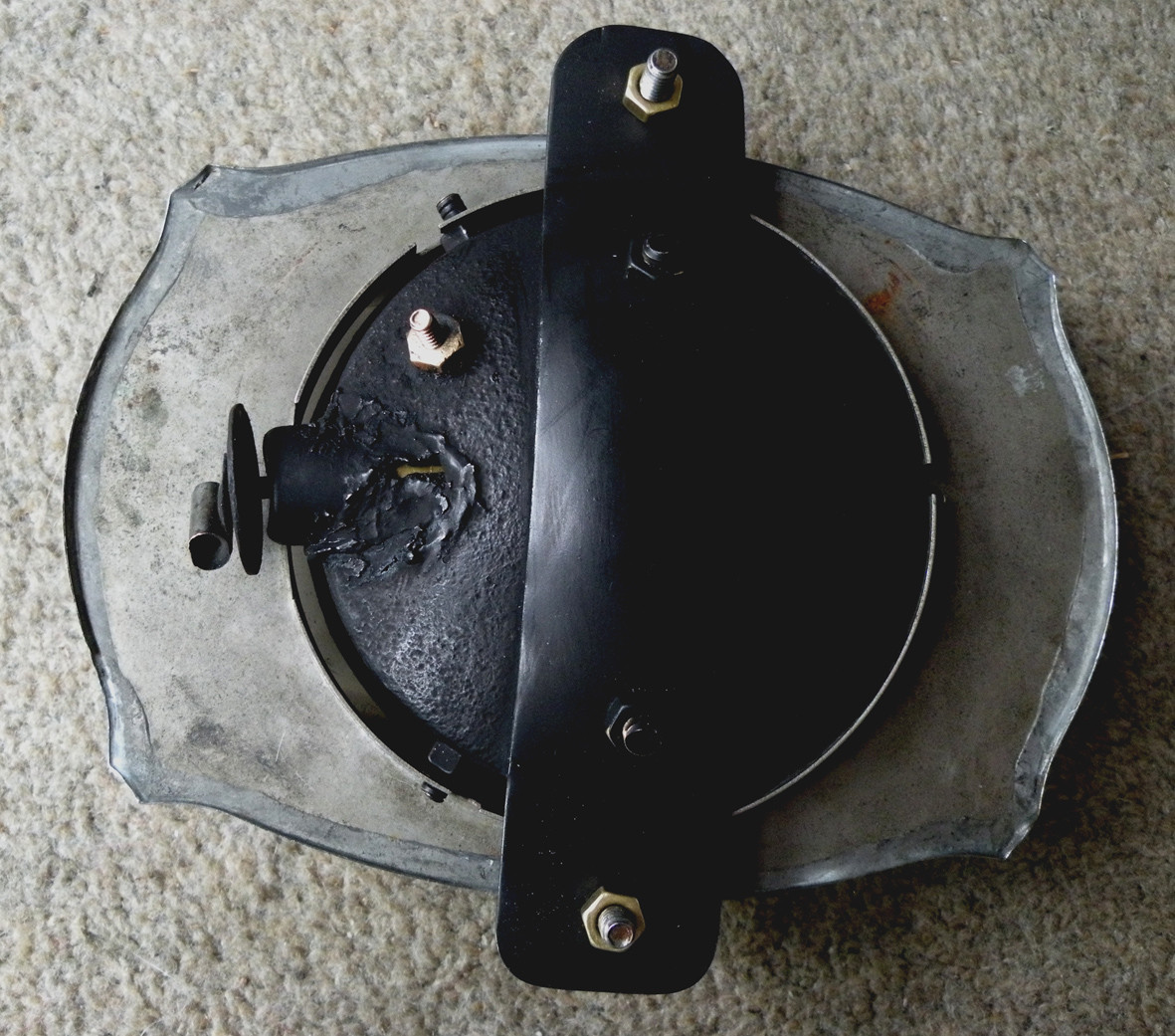 Hello Paul
Welcome to my thread. So that you are not wasting the day I have some new photographs with my friend and master "Trimmer" Tony McConnell at work on the top. You could be forgiven for saying "Top job". You can see more of Tony's work on www.classicandsports.com.au.
Keep on keeping on"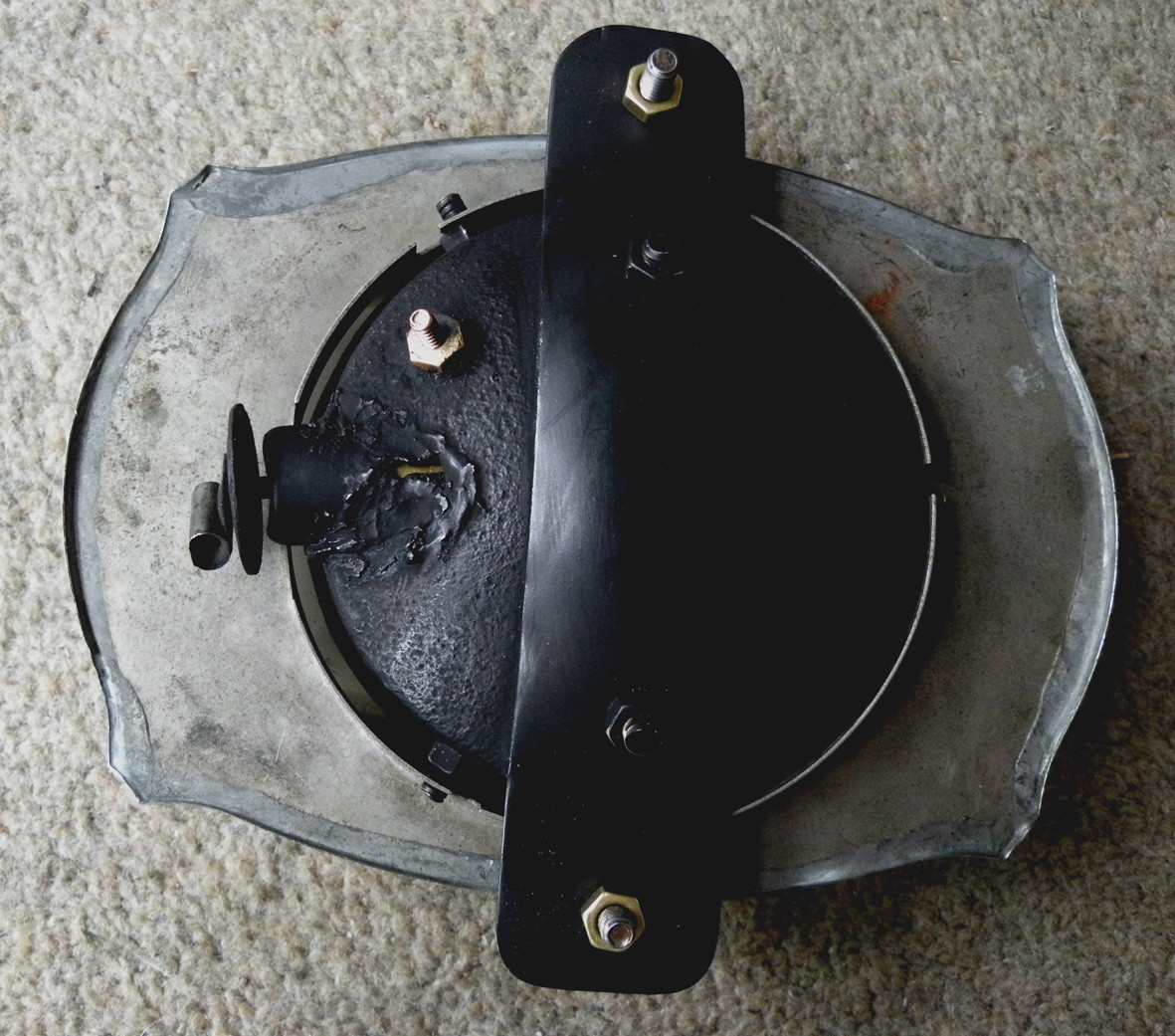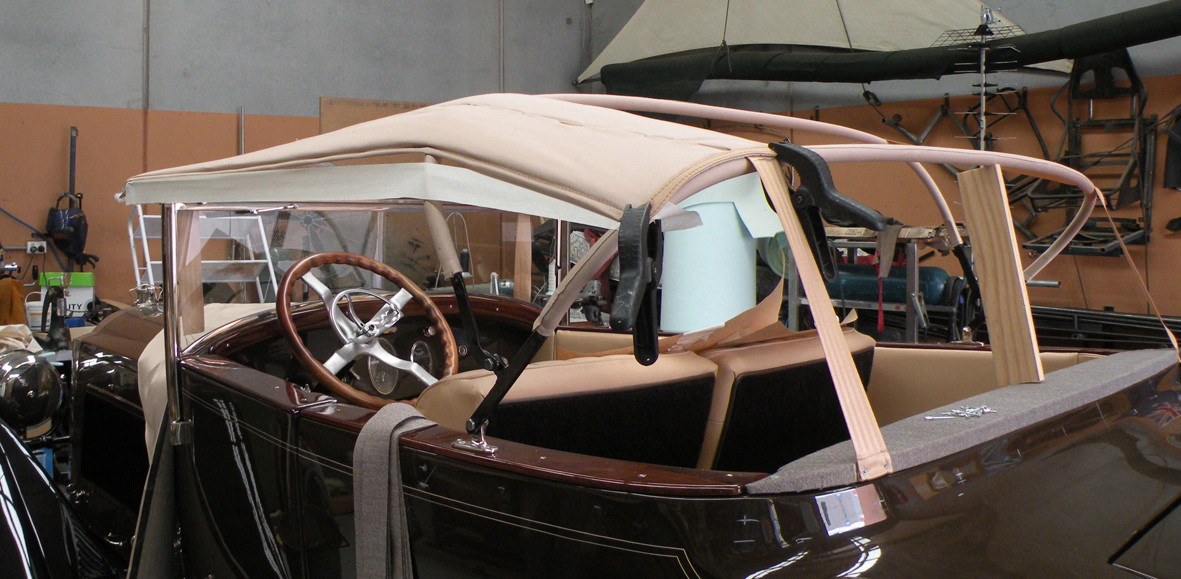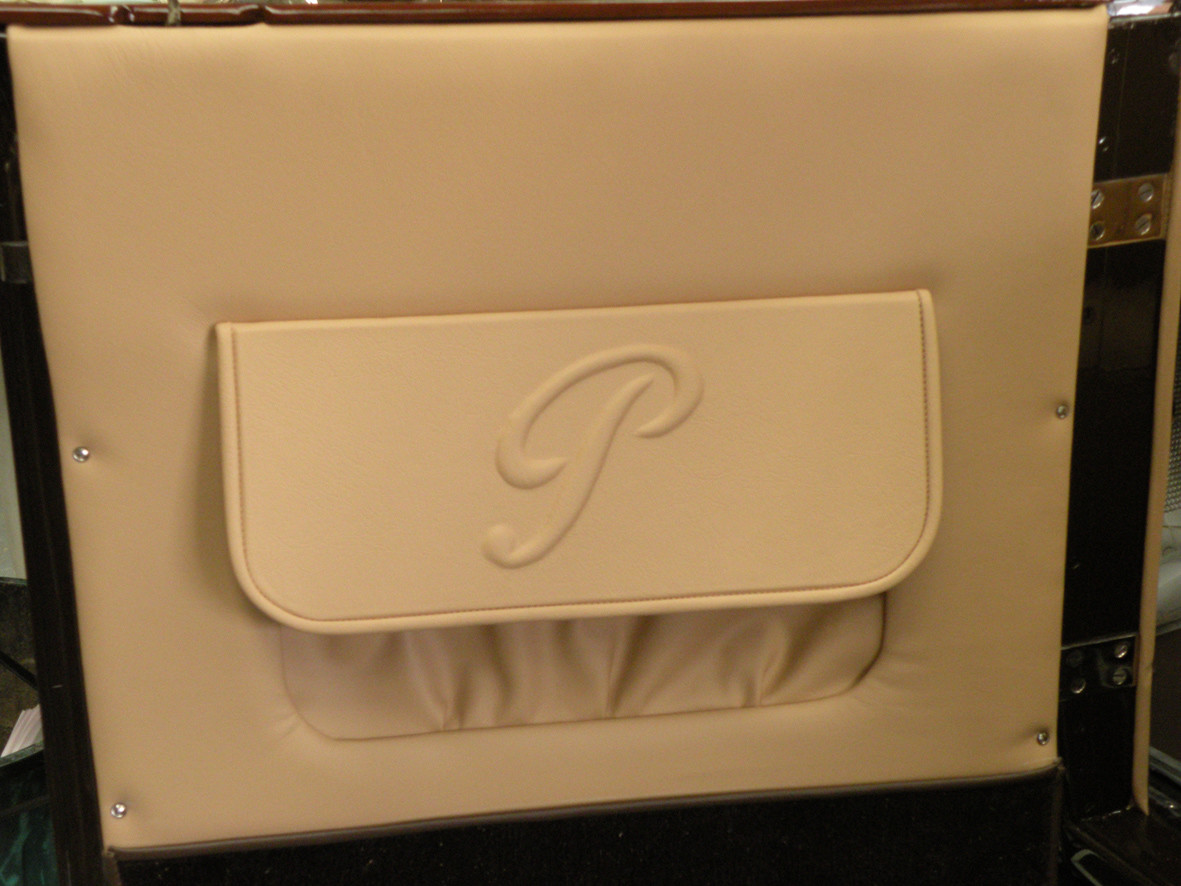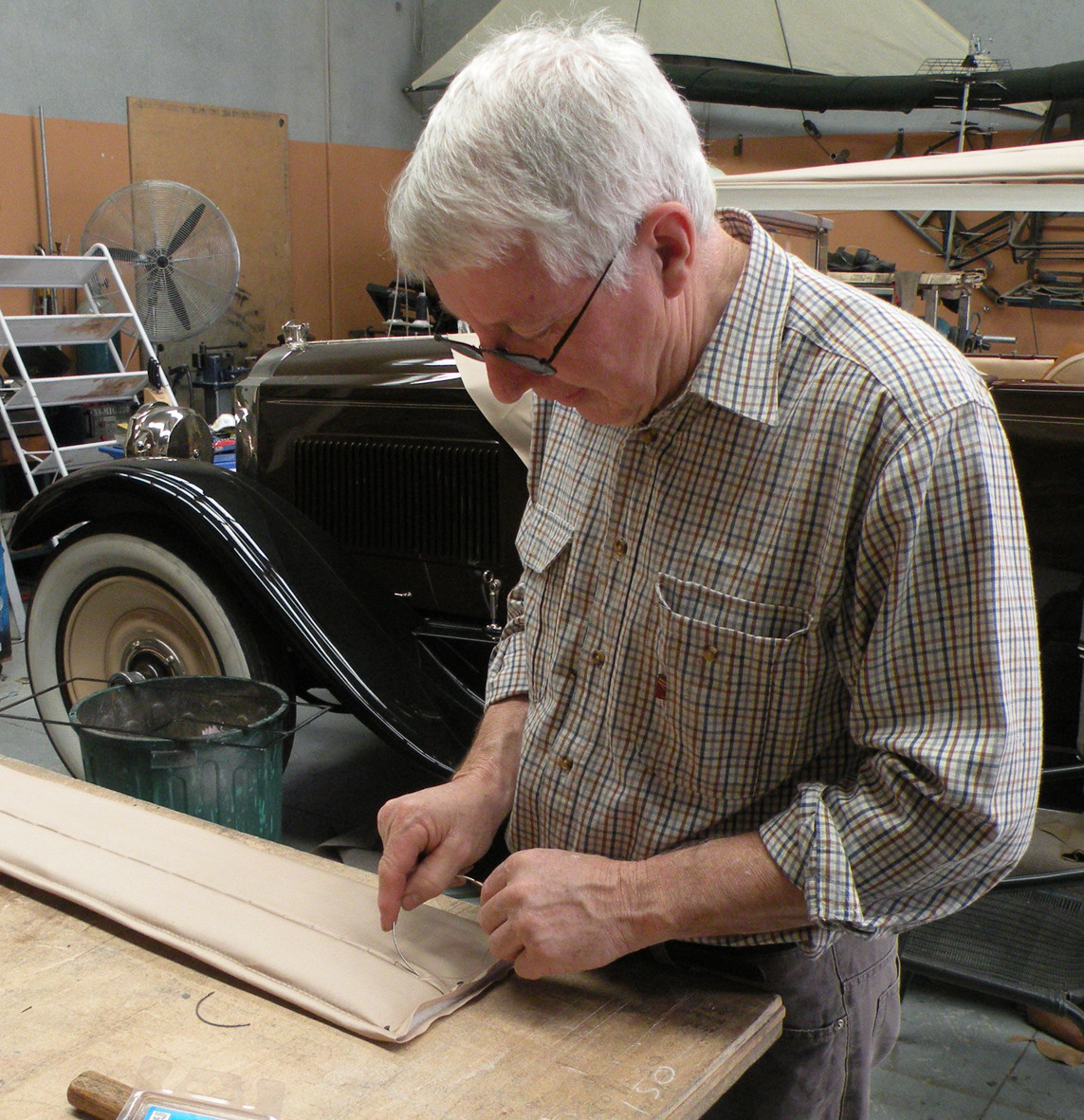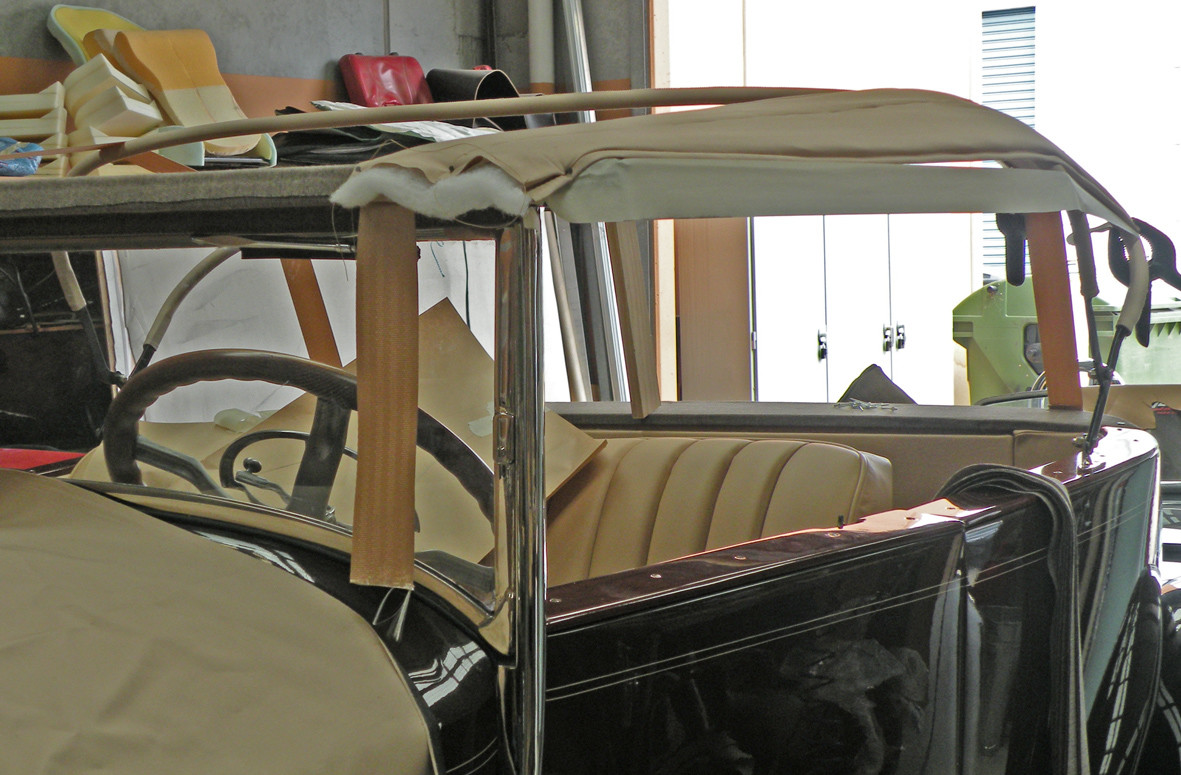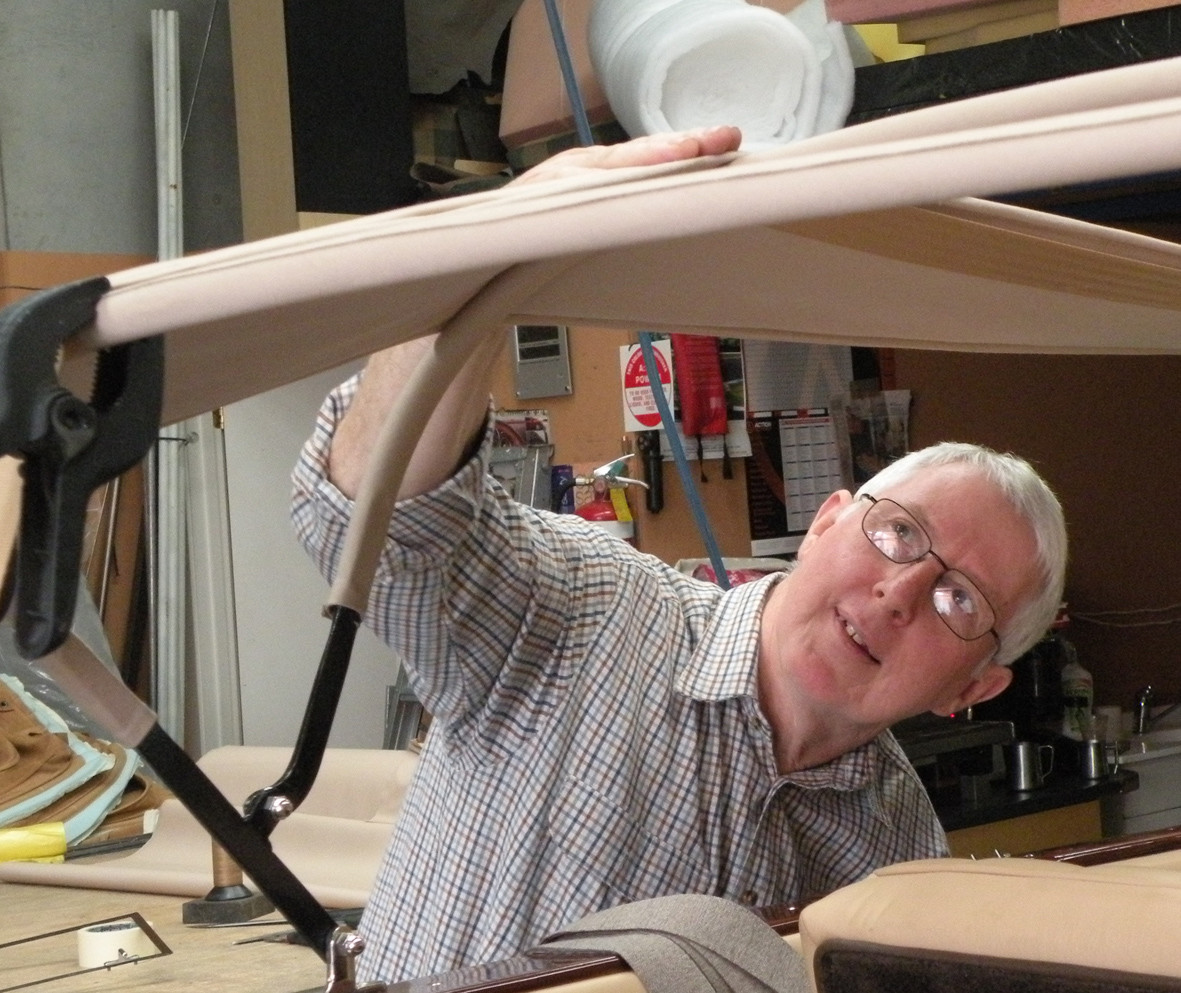 I really cannot claim all the credit for the Horn button. Charles H Brown, an Architect and Twin Six owner living in Hong Kong, very kindly sent me a pack containing two different sized "Pot Lid" knobs. He had found with some minor machining these made an ideal replacement for the early 1920s Packard horn buttons. Another amazing example of the kindness and friendly bond between enthusiasts and in particular AACA members all around the world! If you are wondering Charles, I have used the smaller of the two and have carefully stored away the other in case of emergencies.
"Keep on keeping on"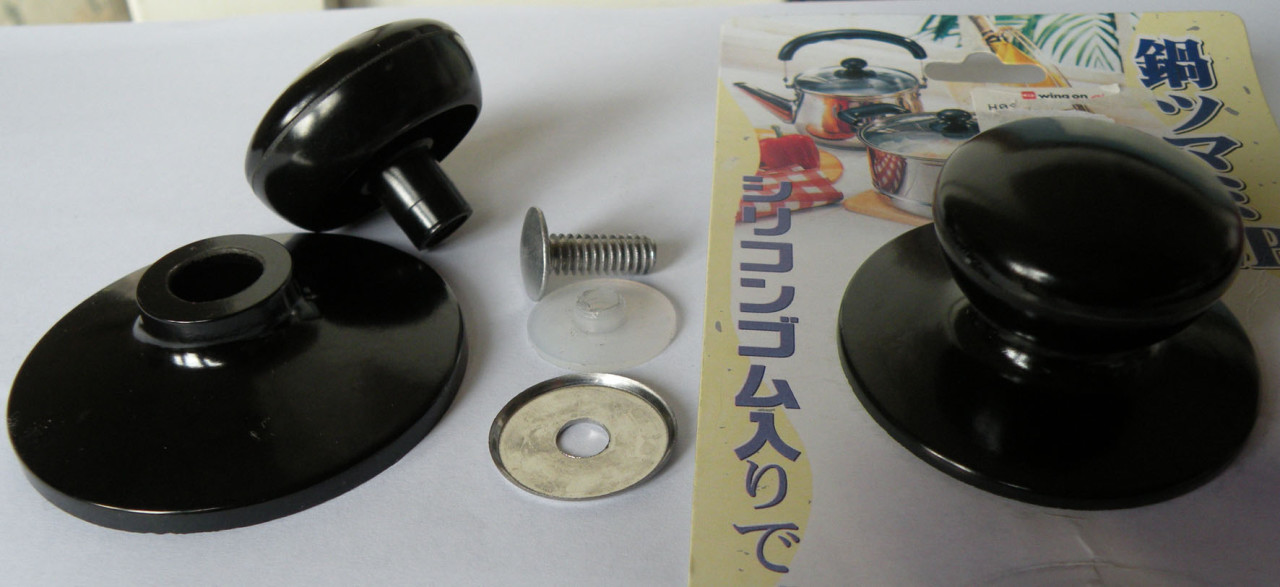 11-22-2012
Hello again Les
I am afraid that my wheels are something that are destined to remain a mystery. After two and a half years of looking behind bushes and turning over stones, I have been unable to identify either the person who sold the car and shipped it out of America or the one who bought it and imported it into Australia, only to walk away and leave it on the docks as unclaimed cargo all those years ago (In the 1950s).
Some how I believe that only one or the other of those two would be able to provide the answer. Possibly not even them.
The 1917 to 21 that your book refers to would be Twin Sixes. Looking at archive photographs of the then new 21/2 Single sixes with the optional Disc wheels were fixed discs with detachable rims, the 1923 and later Sixes had the five bolt disc wheels with lock rims the same as the first series Eights. These are the wheels fitted to my car and while not documented anywhere I suspect that all 1923 Single Sixes fitted with disc wheels had 23 inch. This is a very narrow 'window' as 1923 cars were two (rear wheel only) brakes while 1924 and all subsequent Packard cars had front brakes as did all the "eights". The brakeless five lug front hubs would have been used for just one year, even then only on the "Sport" (low radiator) and when specified by the original buyer as an optional fitting.
"Keep on keeping on"
Continuing on from the above.
One can only ask how many of the 1923 (Packard) cars were sold with the Doctor's Coupe (222) body AND the optional disc wheels?
Unfortunately a question that I doubt will ever be answered. But surely making my car extremely rare even before the roof was cut off in the 1950s. I have only ever seen the photograph of one other. Today it is the only 1923 126 Single Six convertible (coupe) victoria to exist. How the Packard purists look at it I don't know.
Do they hate me for not restoring the car back to an original Doctors coupe?
Or do I gain even a little acceptance for at least making an attempt to save the car from its original 1950s destiny, to be broken up for spares?
To my mind the original seating arrangement made the car impractical (today) for anything other than show or museum purposes.
What would have you done?
"Keep on keeping on"
Thank you Pat
Among all those who look in on this thread you probably have the best idea of what it is like to rescue a car that has long since been given up for dead by others.
I can understand those who become impatient with my slow step by step approach but todays post is another small step. The first trial fit of the top (hood) fabric. I for one am delighted with the progress that Tony is making.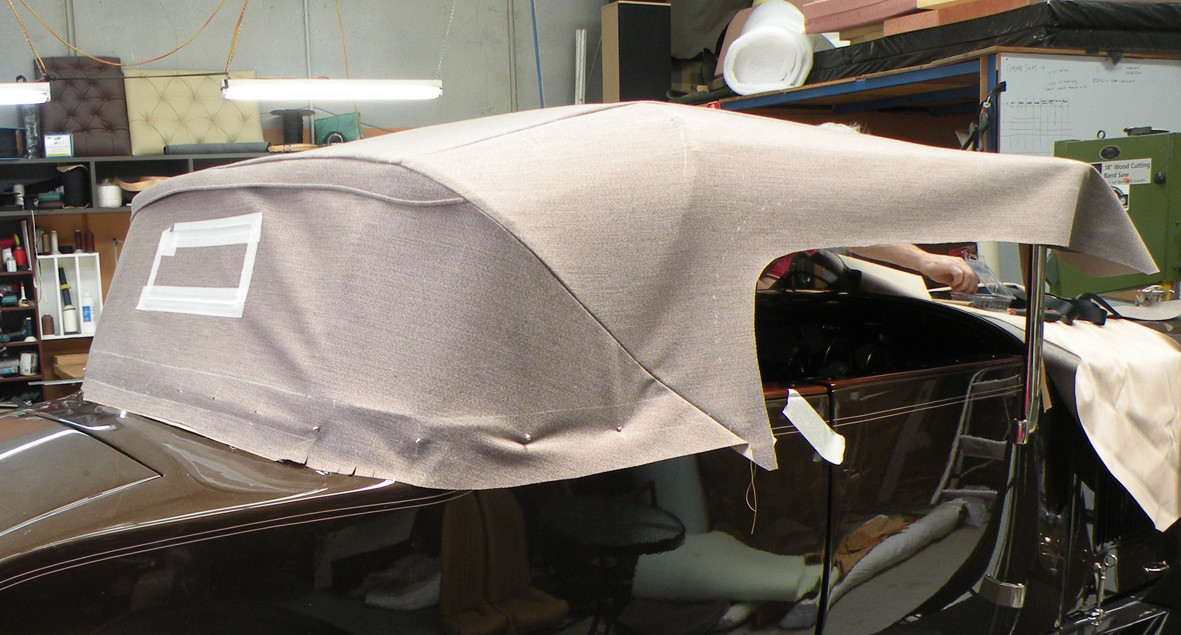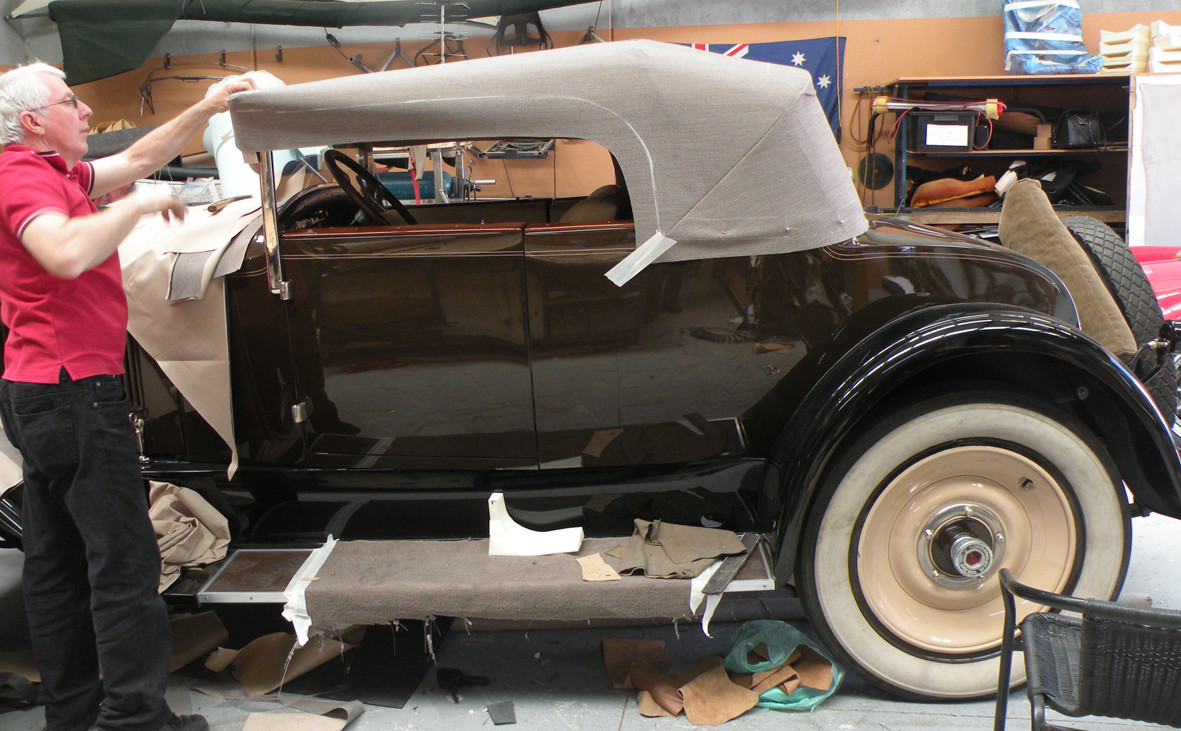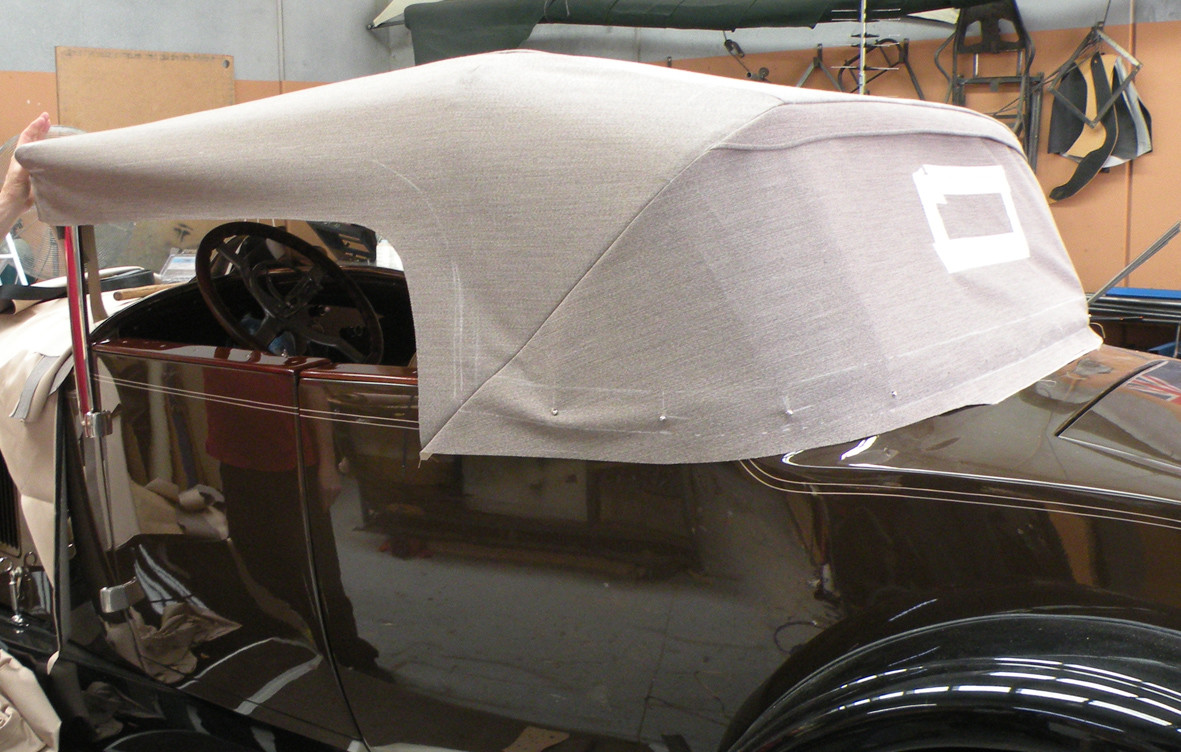 11-23-2012
Hi Les
I am by far my own sternest critic. Today being Saturday lunchtime in Eastern Australia not so much has been achieved but progress is steady one job at a time. the next task is the side screens but no photographs yet.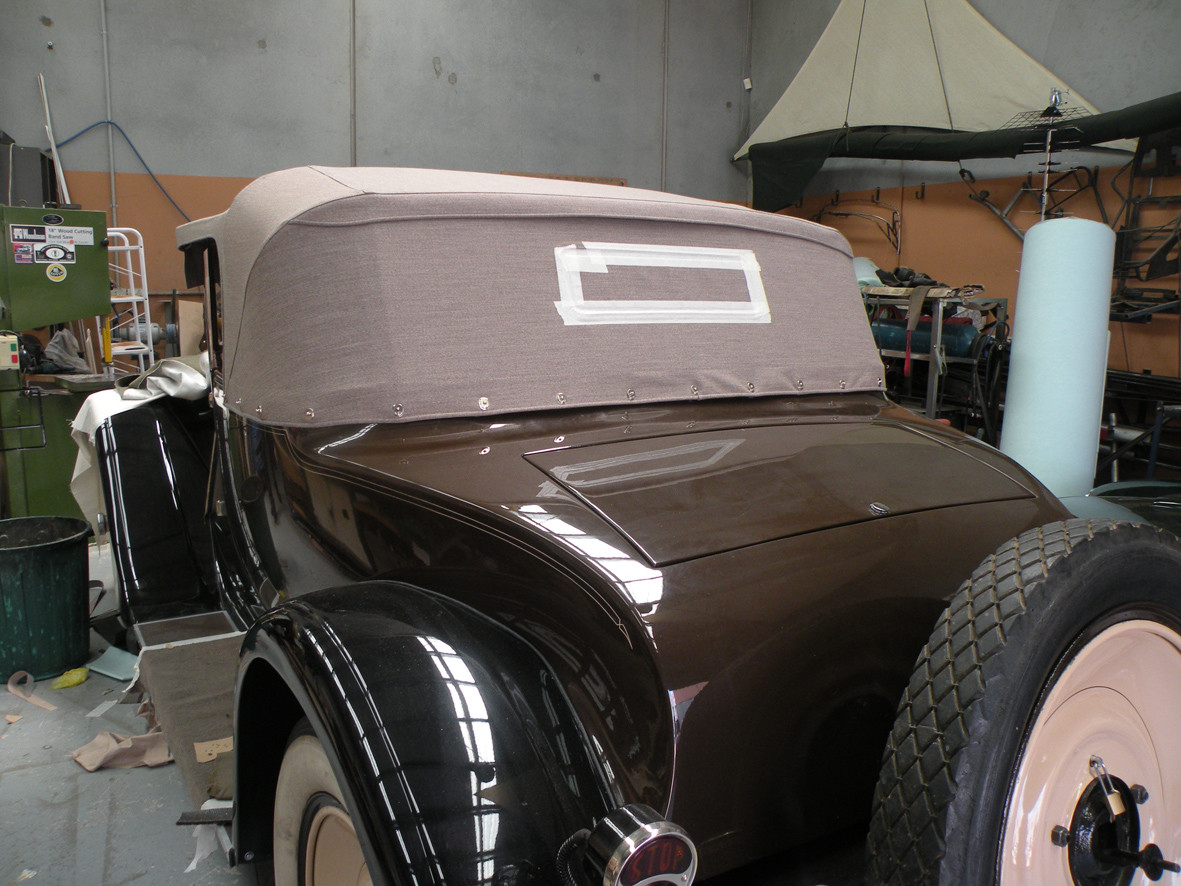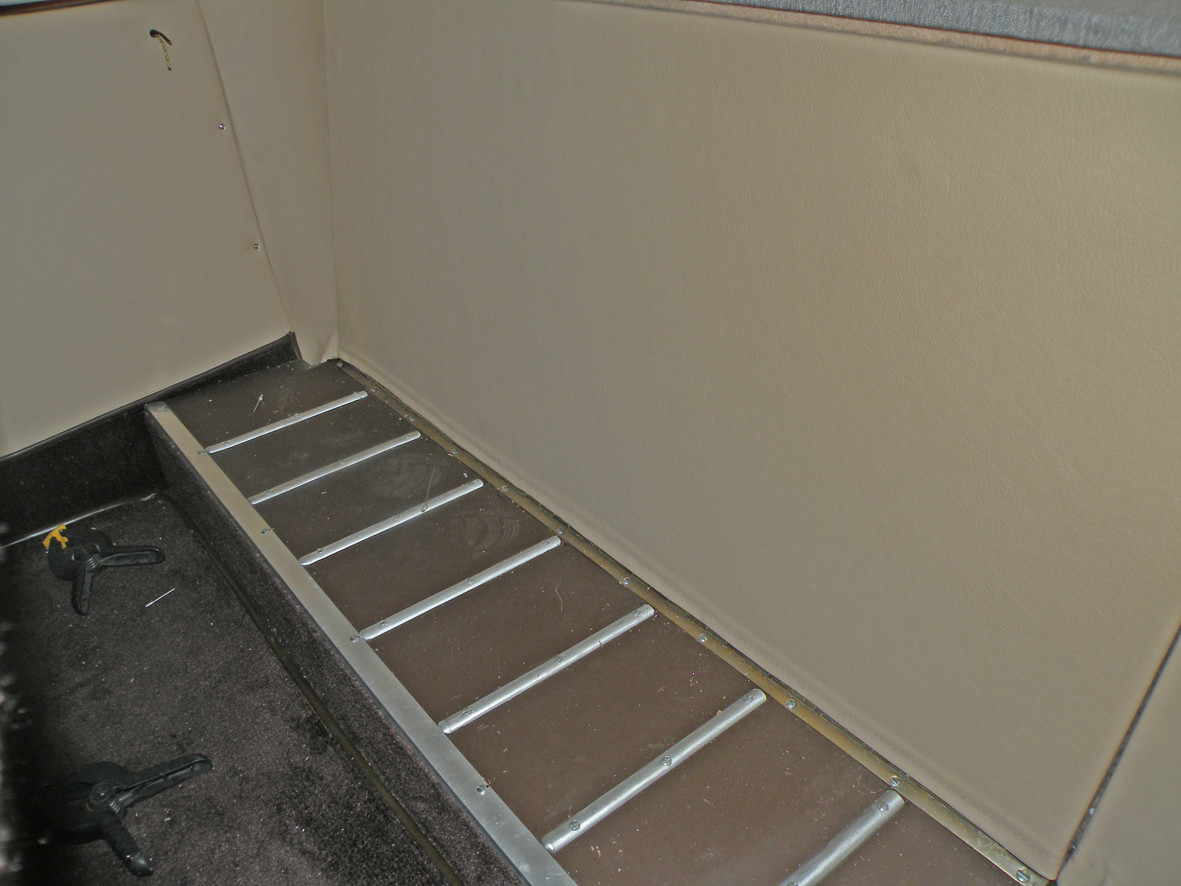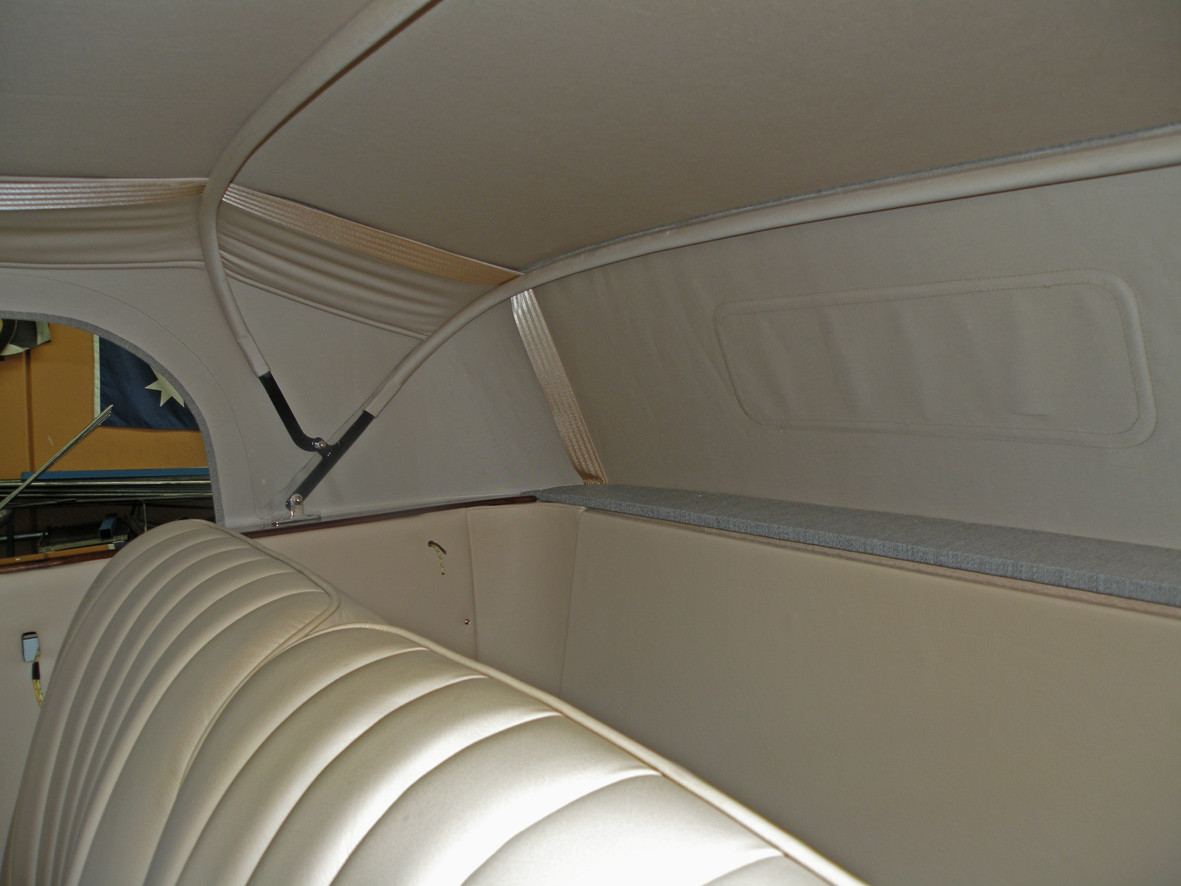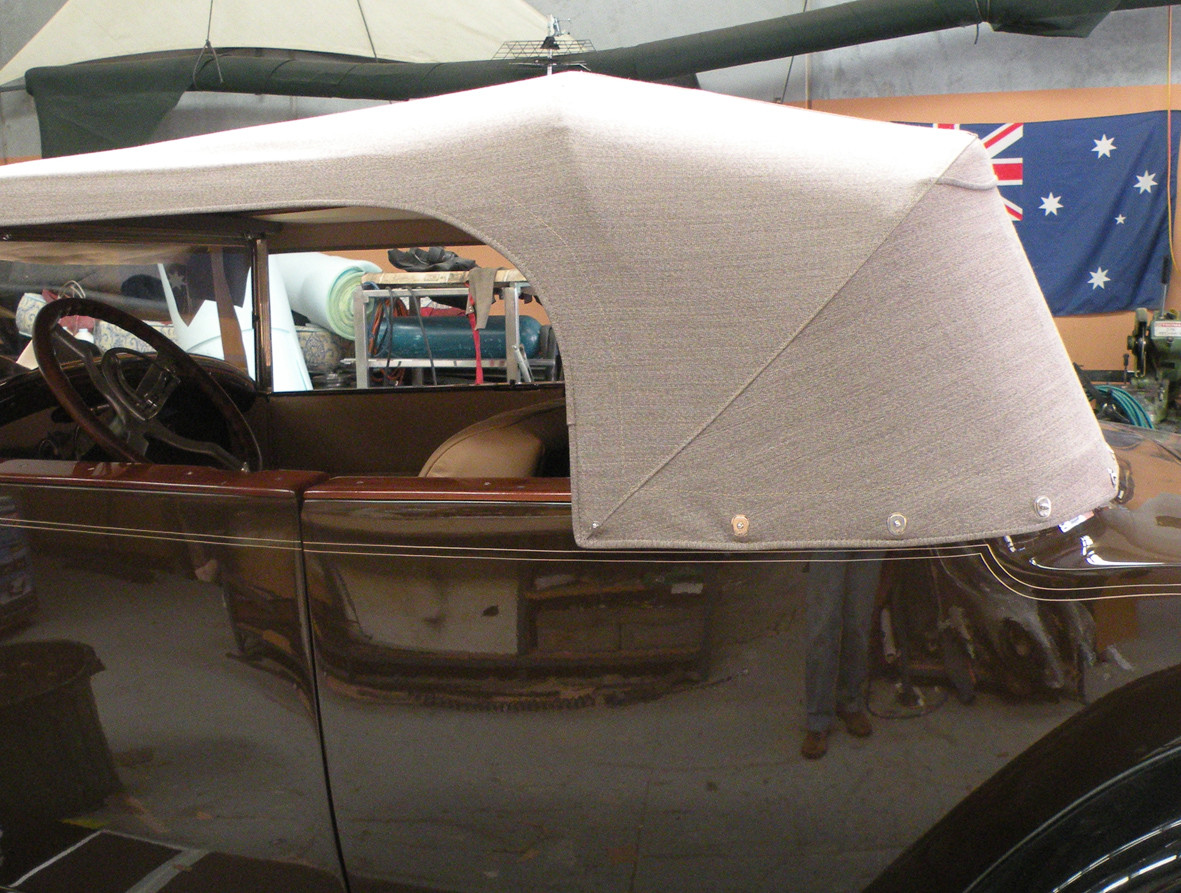 11-25-2012
A typical Sunday drive?
About 230 miles at an overall average speed of 35 mph over some of the best and the worst roads I have driven on in recent memory. Add some really tricky navigation and you have our day out in the 78 year old Lagonda. We left home at about 8.30 am and returned just after 7.00 pm. All in all a great days motoring together with a small but select group of fellow Vintage enthusiasts.
Tony is busy working on the side screens today, so by the end of this week he should be nearing the end. Hopefully some more photographs to-morrow........
"Keep on keeping on"
11-26-2012
Hi Terry
Welcome to my thread.It would be interesting to see your friends car.
My problem is that my car is totally original down to the timber body frame, as are virtually all the panels and it has matching numbers for all the mechanical components, it is just that some unknown person hacked the roof off and ripped out all the interior including the seats some time in the 1950s. My prime concern is that for judging purposes it may either be considered in-eliglble or be excessively penalised as un-original and be de-valued accordingly. My aim in restoring the car was to achieve a standard as near as possible to how it would look as a special order car leaving the factory in 1923. Certainly as a "convertible victoria" it is unique but as Roger suggests, it is something that could have been done in the 1920s or 30s.
11-27-2012
The work continues. You could say that it never ends, I have just returned from taking the two door pull handles and another smaller handle plus the four breeching staples for the door check straps to have the chrome stripped off and a layer of nickel plating applied. I believe that one of Santa's assistants will deliver them back. Unfortunately he is the one who likes to be paid. One could be excused for thinking that the end is nigh. The one remaining large task is to replace the crumpled original exhaust pipes. Once this is done, finally I will not have any excuse for not attempting to start the engine and to drive it.
"Keep on keeping on"
11-28-2012
Thank you West
Of course I should know that the AACA is about much more than just car shows.
Part of yesterdays activities on the Packard was refitting the "rug-rail".
Naturally a tourist owner would require a suitable "travel rug" so I have commenced work on an addition to the cars equipment. For such an exciting looking car something exotic was called for, a luxury fur for instance. My first thoughts were for an Ocelot but was disappointed with the examples available when I saw this one. Animal rights activists need not be alarmed I an talking about Faux (fake) furs. For those unfamiliar with the larger members of the feline family this one is a Jaguar. Please, we all know the stories about "fake Jaguars".
"Keep on keeping on"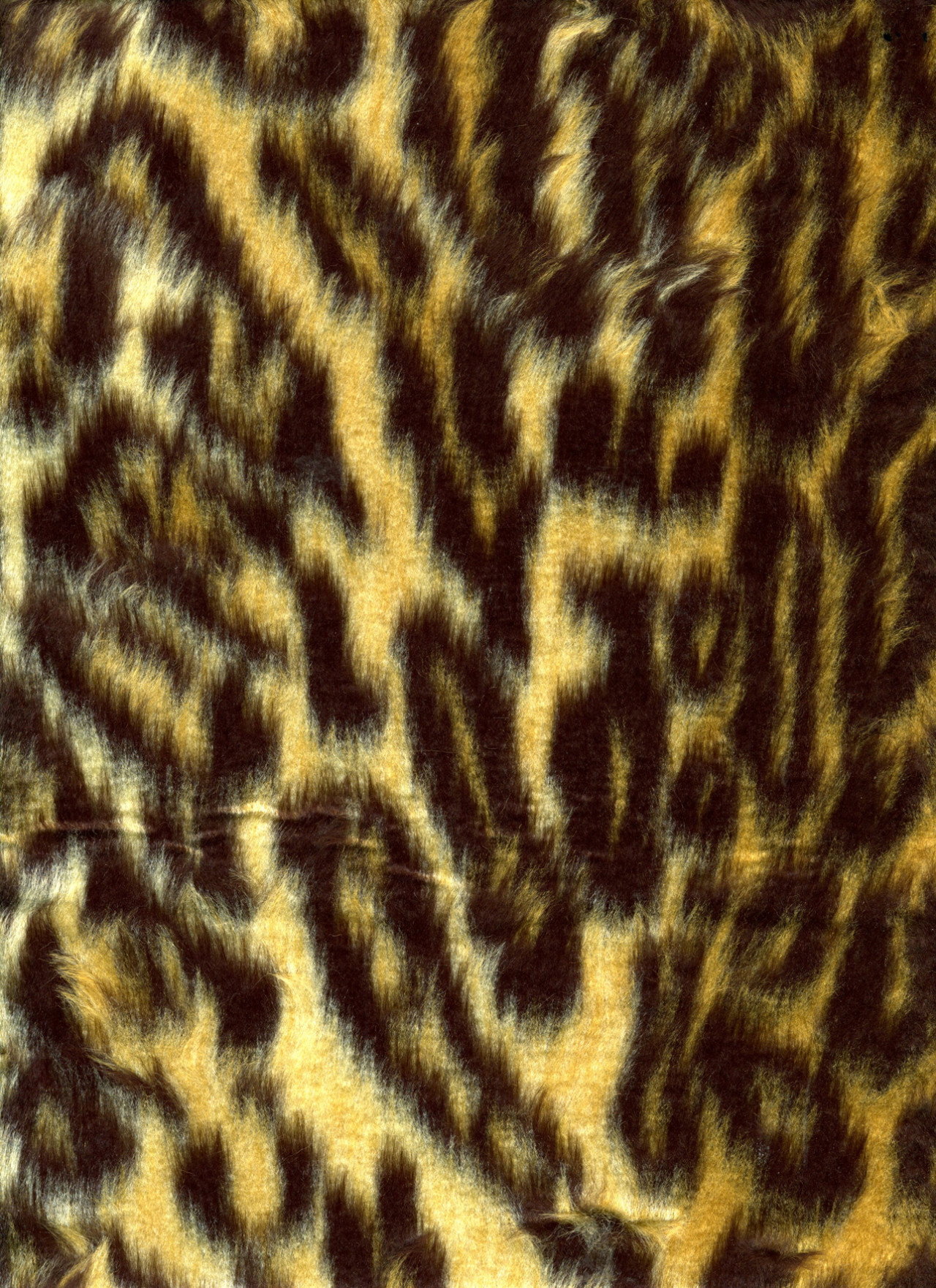 Now on our hottest November day for years work continues. All that is required now is the cover for the folded top, some press studs for the side screens and the door check straps. Note rug rail and interior light. The Spare wheel cover will be adorned with just one word "Packard". On the subject of the spare wheel cover, Not covering up some dreadful accident but a preventative "stitch in time" leather patch, adjacent to the filler cap, to protect the fabric from grotty hand pieces on service station petrol hoses..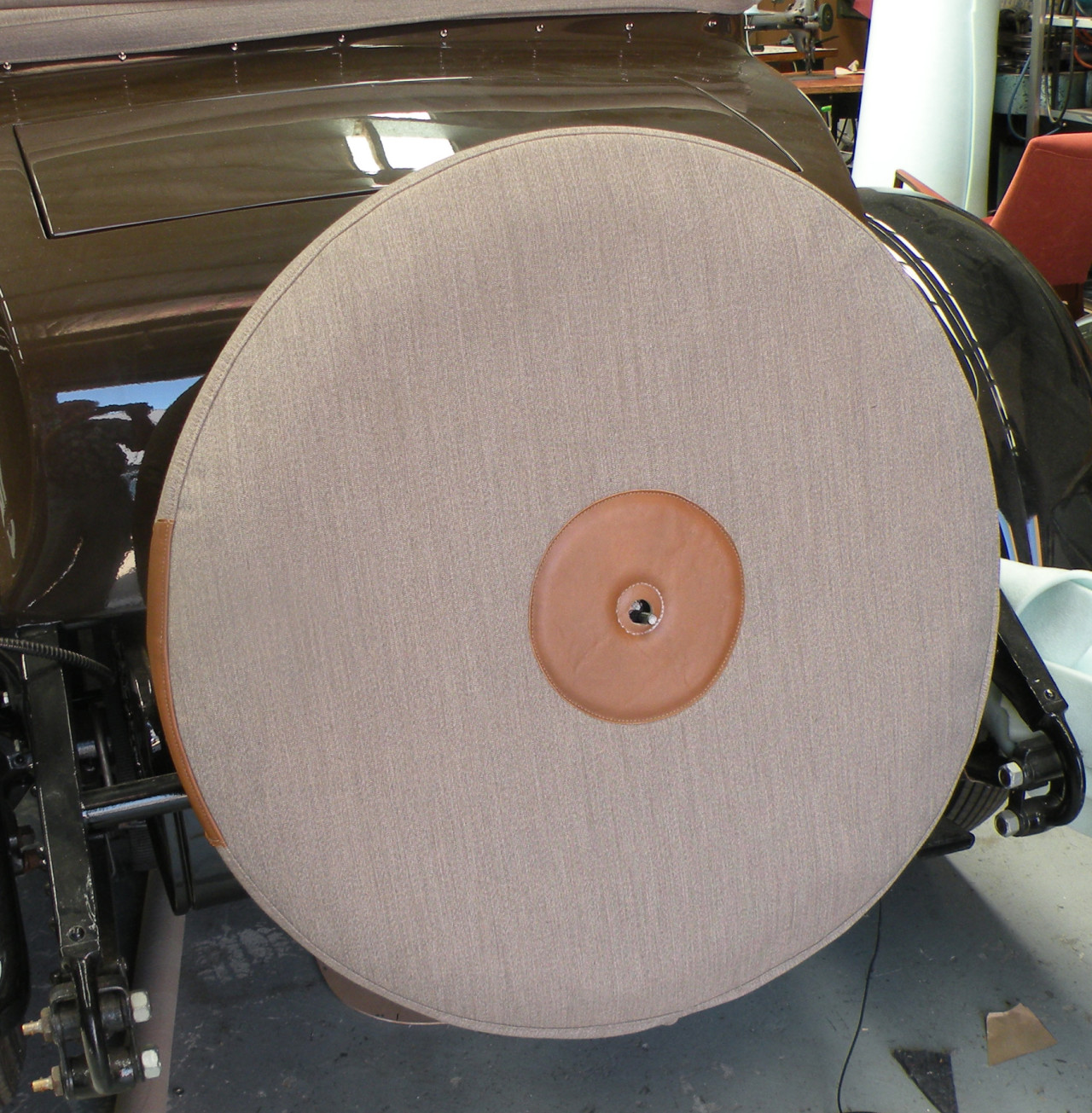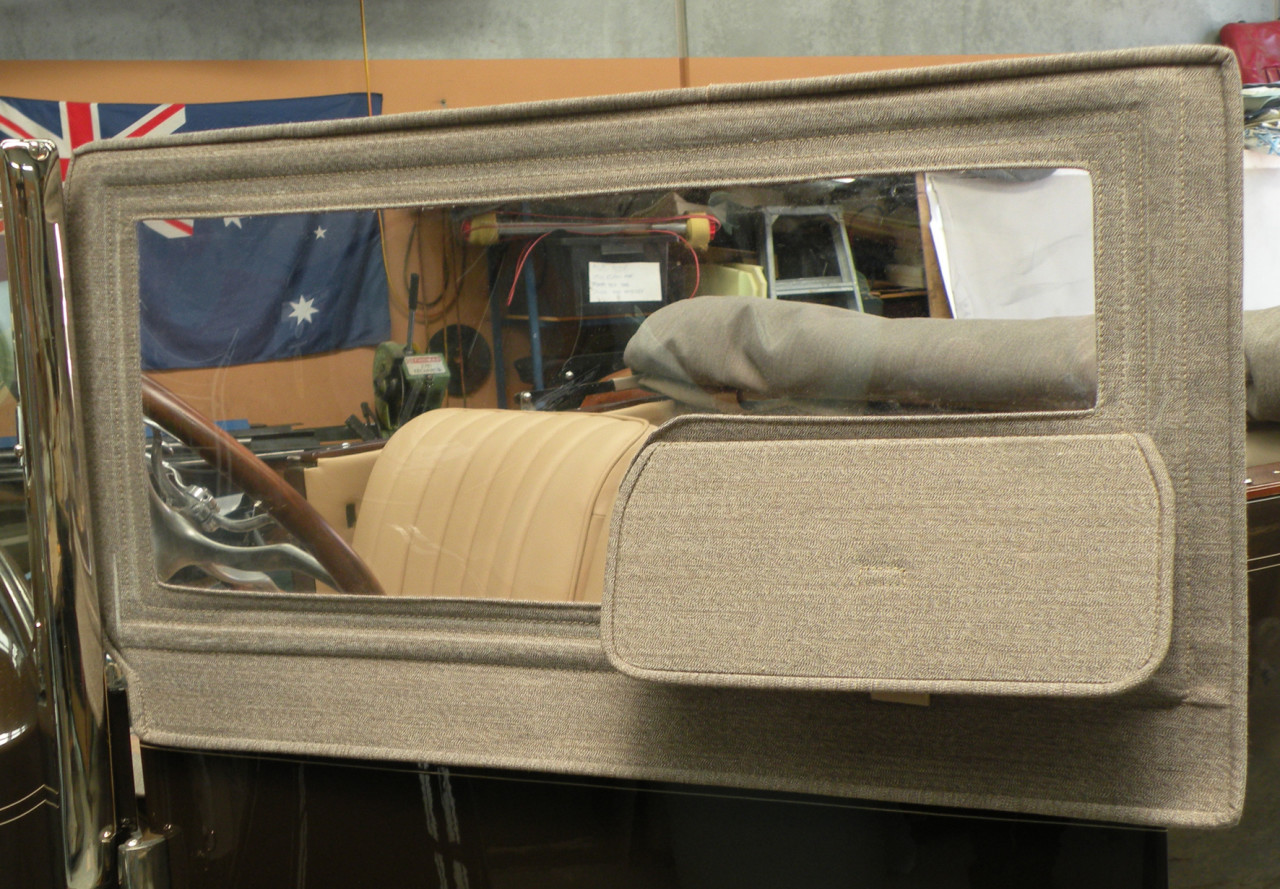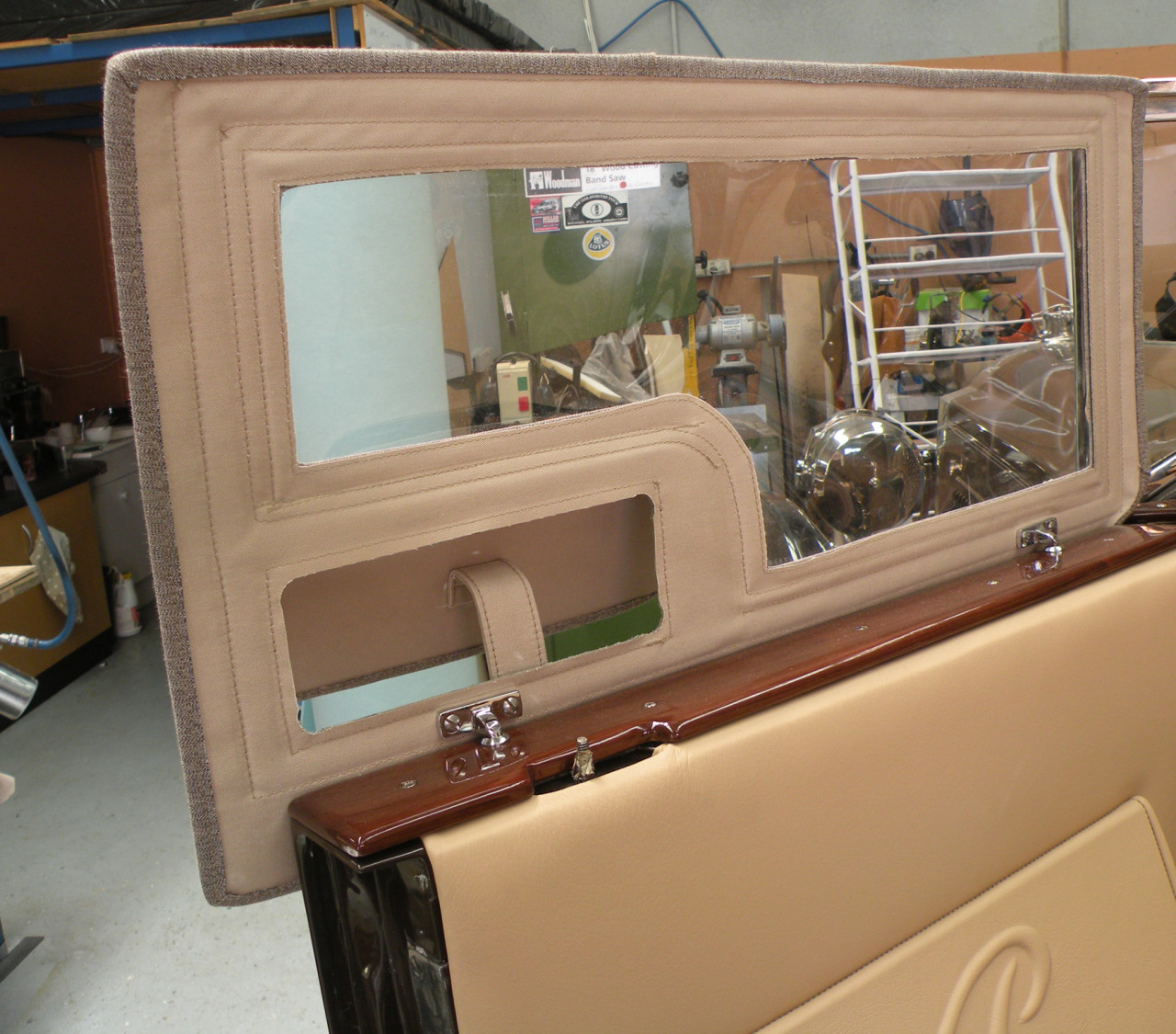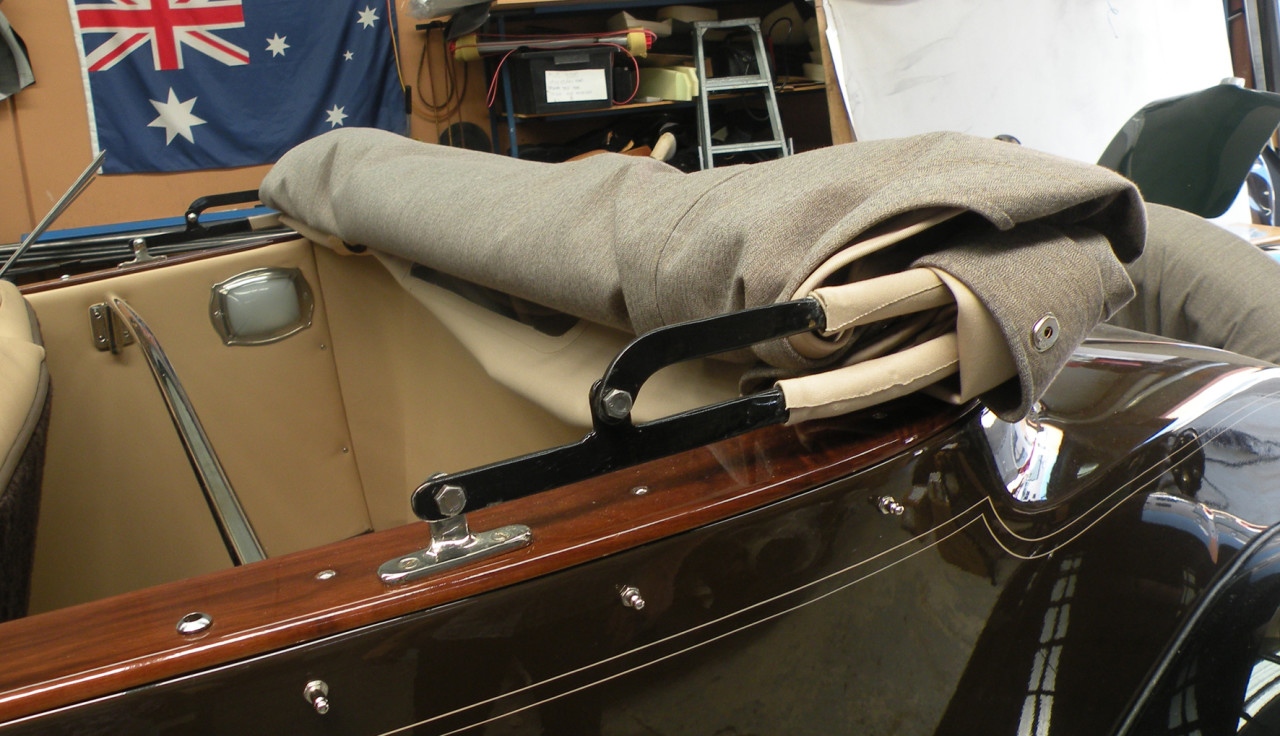 11-29-2012
Thank you Roger
As a Swiss gentleman, & knowing your tastes I think you appreciate the little things. At last the lap-rug; Faux Jaguar fur with a colour matching hand stitched Jap-silk taffeta lining. Sewing with it over my knees on a 38 degree C. day. For something to hang on the rail behind the seats, total madness...
"Keep on keeping on"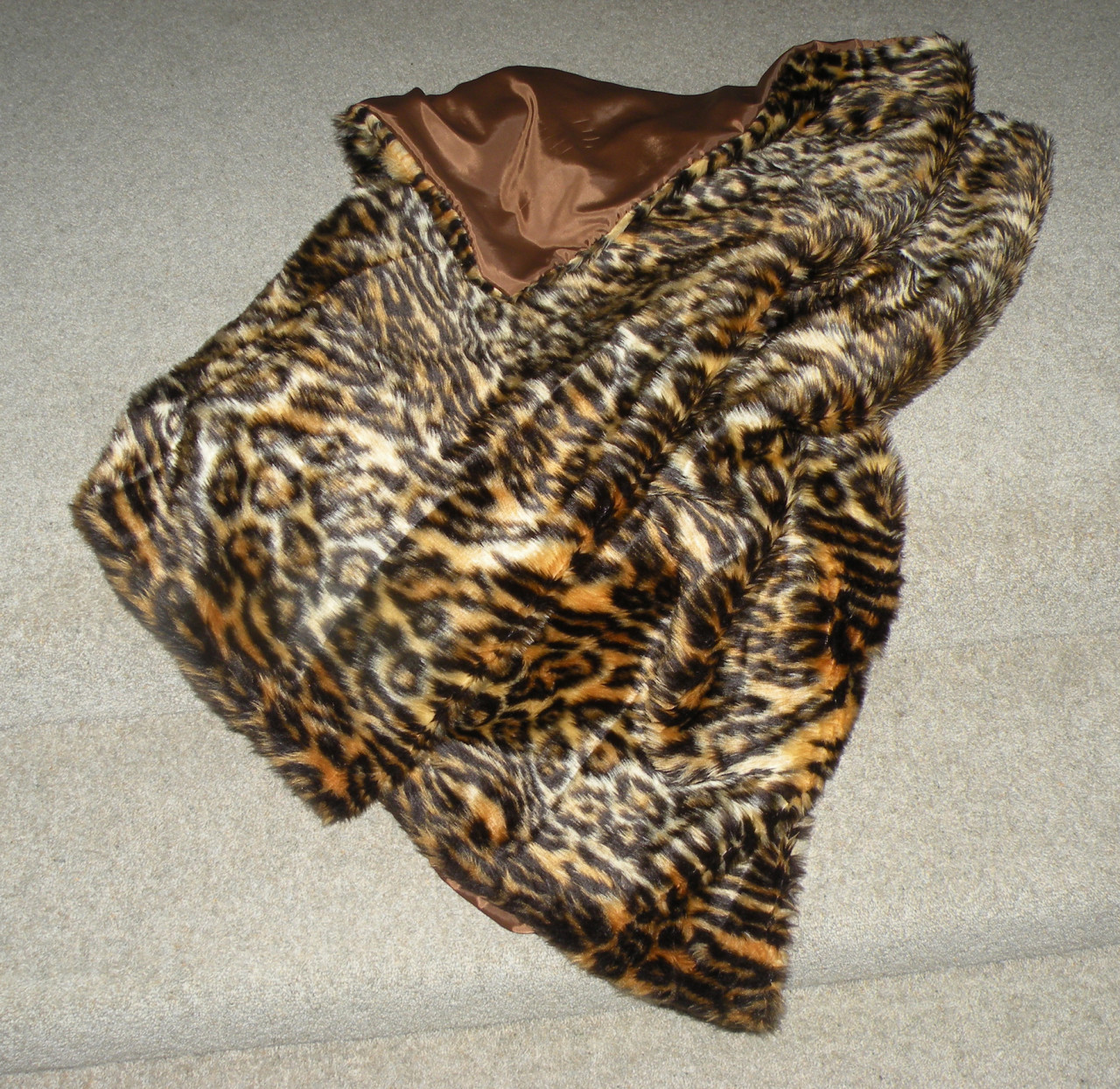 Hello Pat
I have to confess I made the top (hood) bows and sided screen frames. The nickel side screen fittings come from 'Paul Beck' in the UK. I also made the wooden patterns for the windscreen pillars and fabricated the windscreen frame using domed section brass channel.
Tom, welcome to my thread, I don't think I have seen you name before. Thank you for your compliments.
"Keep on keeping on"
Hello again Pat.
If you go back to page 41 you will see that I also fabricated the seat frames and then somewhere between then and now I discuss making the wooden patterns for the windscreen pillars and then fabricating the windscreen frame using domed section brass channel. I also fabricated the replacement latches for the headlamp rims. I really enjoy every aspect of restoring cars that time has forgotten, that were neither loved or wanted. While I have no professional training or qualifications. All my "Degrees" come from the University of Hard Knocks. I get great satisfaction out of meeting all the little challenges. This is something I have done for as long as I can remember dating back to my first 1925 "Baby" Austin Seven when I was about 17 or 18, almost 60 years ago. Sadly, for many of you, I have absolutely no interest in cars of the 60s and 70s. My period is 1920 to '36. Cars from the 80s and 90s are the one that think of as daily drivers. In my opinion many of the 1950s cars are the left overs of the worst of the late 1930s. Of course there are exceptions to every rule.
11-30-2012
Hi Scott
I appreciate your comments. My BIG problem is that I am an obsessive compulsive restorer of lost causes and basket cases. Something that has haunted me all my life so I cannot see my giving up any time soon. You are welcome to come along for the ride even if it does get a little bumpy at times.
"Keep on keeping on"
12-2-2012
Hi All
Tony officially finishes the trim today but the Packard will not be picked up until Wednesday morning. I still have lots of little jobs to do but this is a major step forward.
"Keep on keeping on"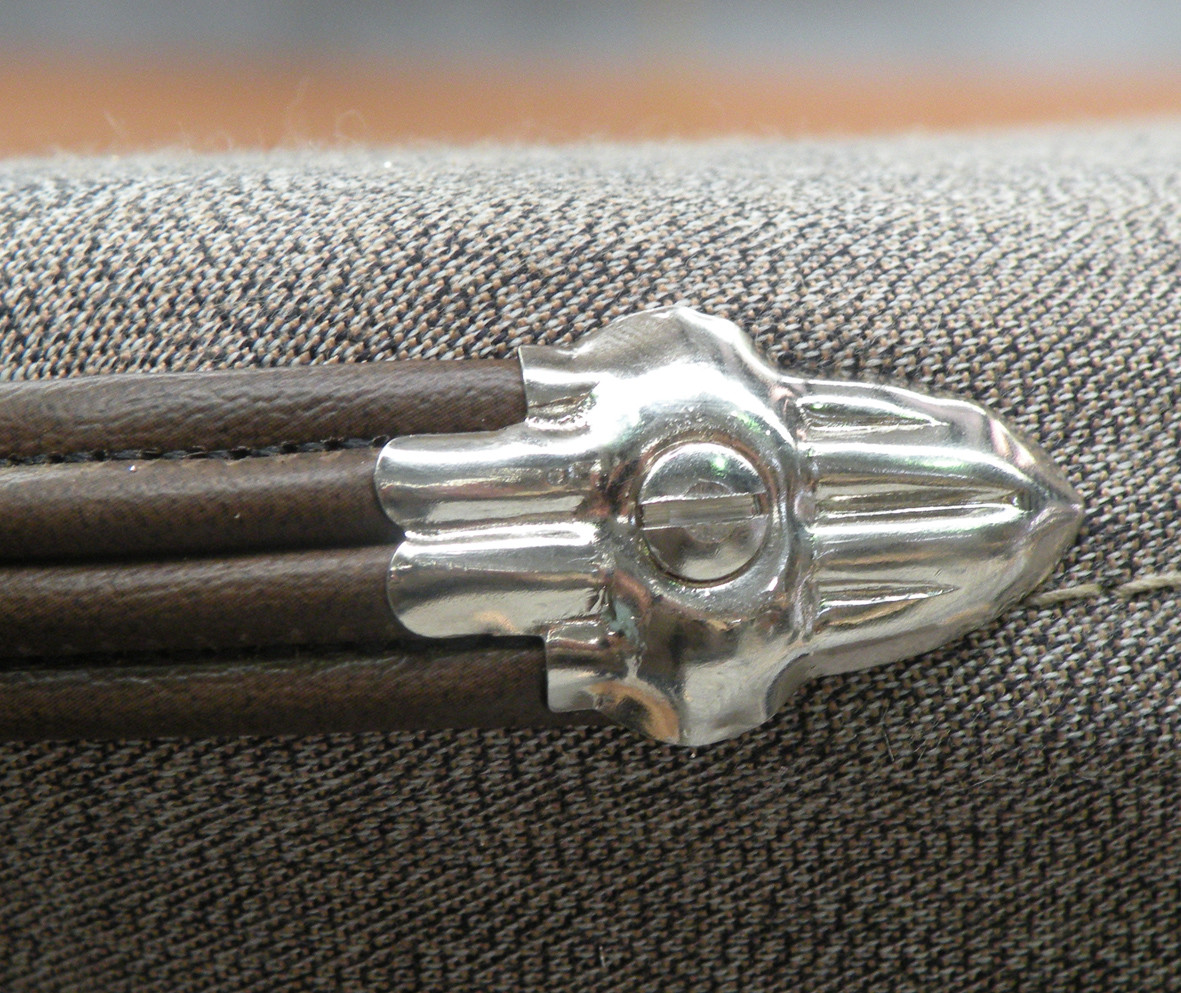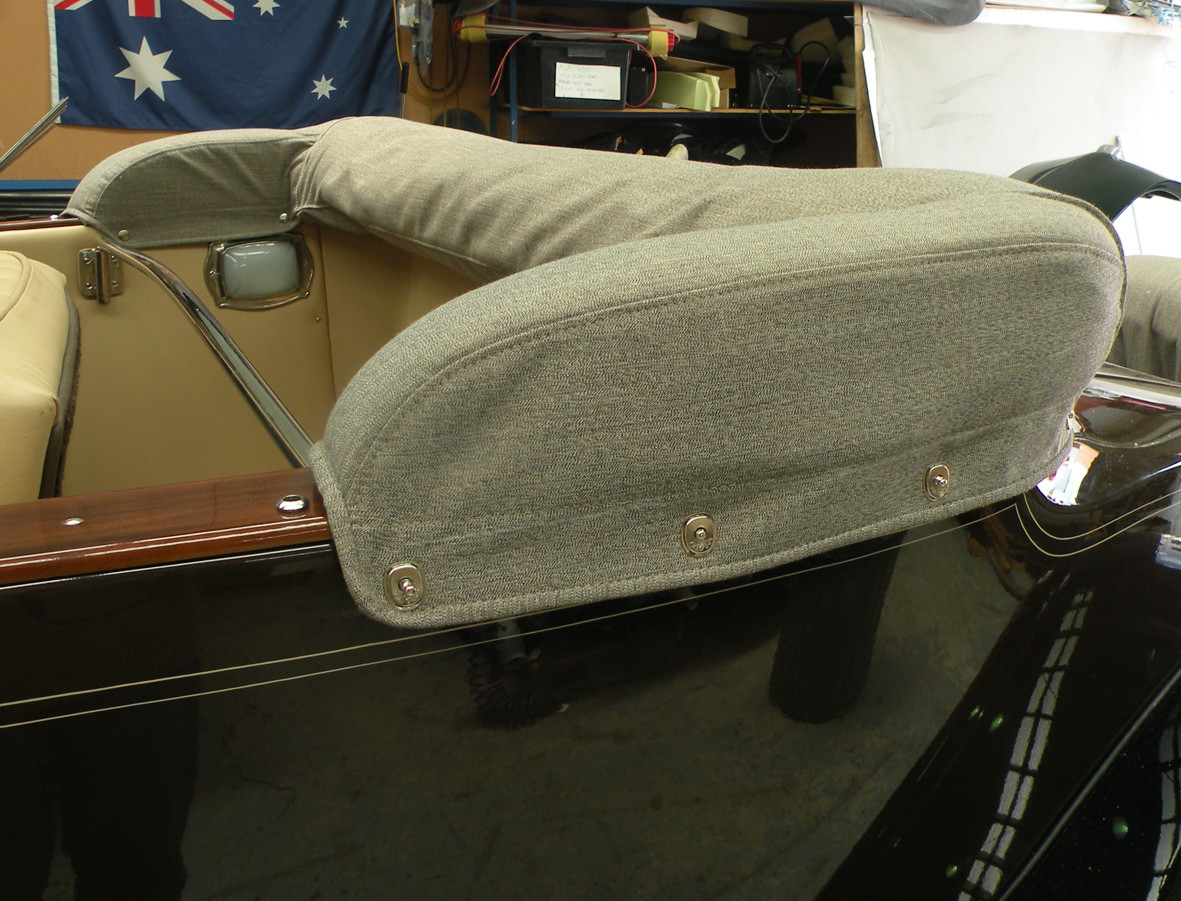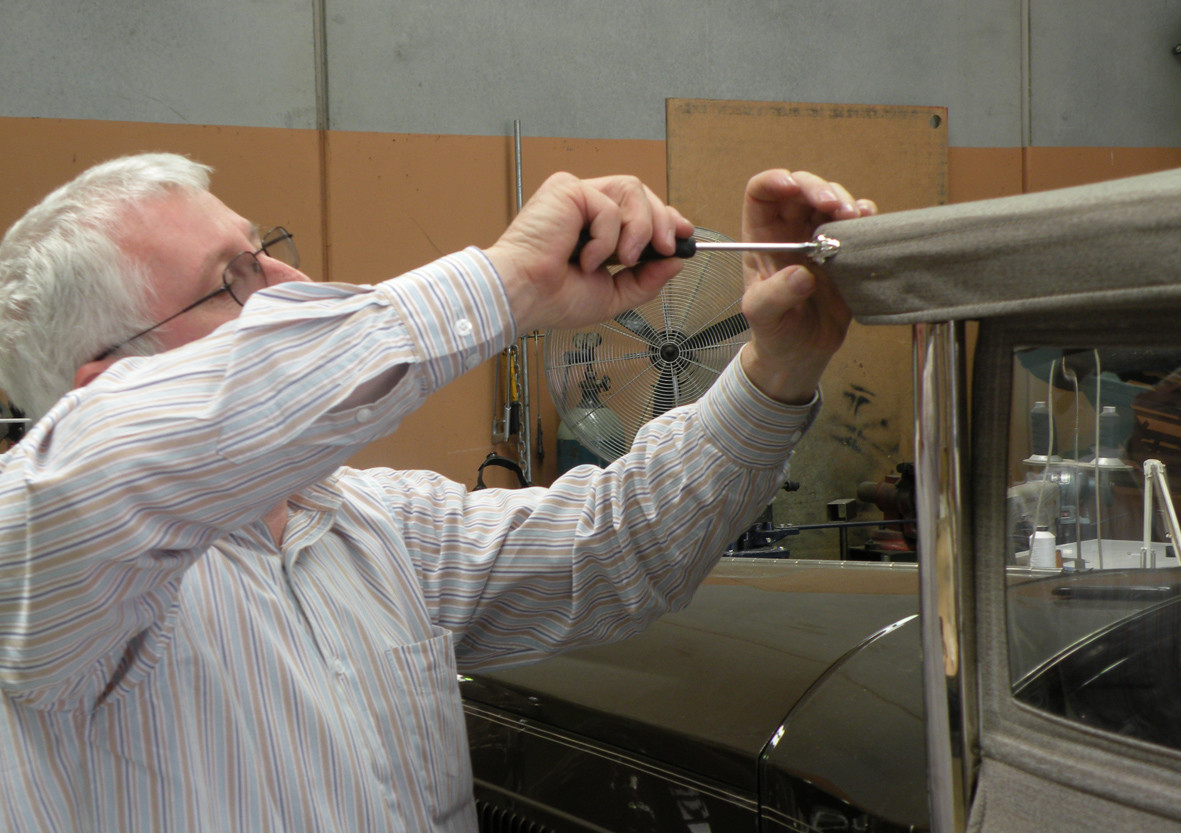 12-3-2012
Hi All
As suggested Tony has now finished his part of the work with the exception of the door check straps but he cannot finish those until I collect the breeching cleats from the plater so I will end up fitting them and the interior door pull handles hopefully before Christmas. I delivered the remains of the exhaust down pipe and tail pipe to a local exhaust shop to have new ones bent to match. Unfortunately the tube benders that I have used for years have simply disappeared. It seems that their site was too valuable and all their repetition work was going "off-shore". I just hope that this new "specialist" is as good as he says. I will know later this week. Jimmy my friendly tilt tray operator is booked to collect the Packard tomorrow morning so stand by for lots of photographs. I think that it is looking great but I may be biased. Still lots of little jobs to finish. Enough to keep me entertained for a week or two at least.
12-5-2012
Another day and another Dollar (Spent) The good news is that the Packard is home again so I can make a start on finishing all those little jobs. I am sorry about the quality of the photographs but they will give you some idea. Bright sunlight outside and shadow inside do not go to make good photography. No work tomorrow a pre-Christmas social day.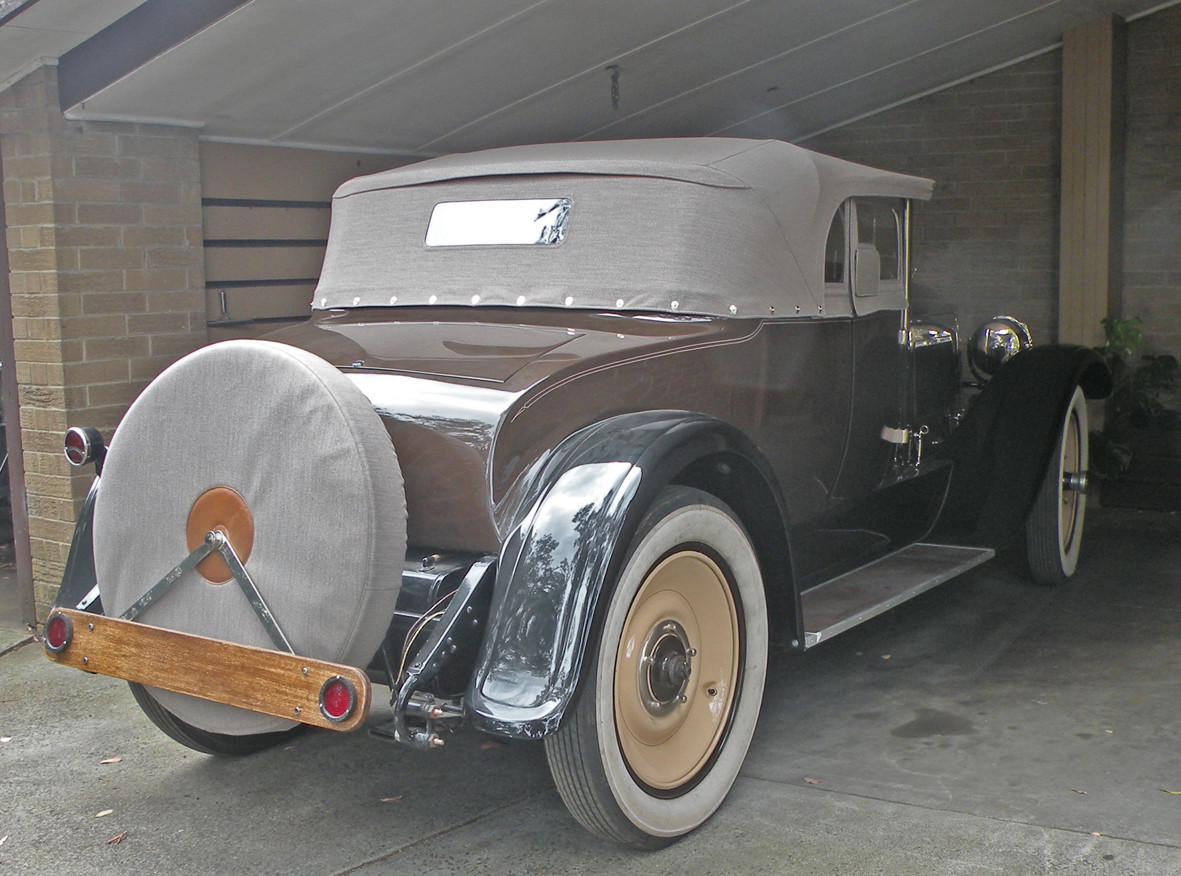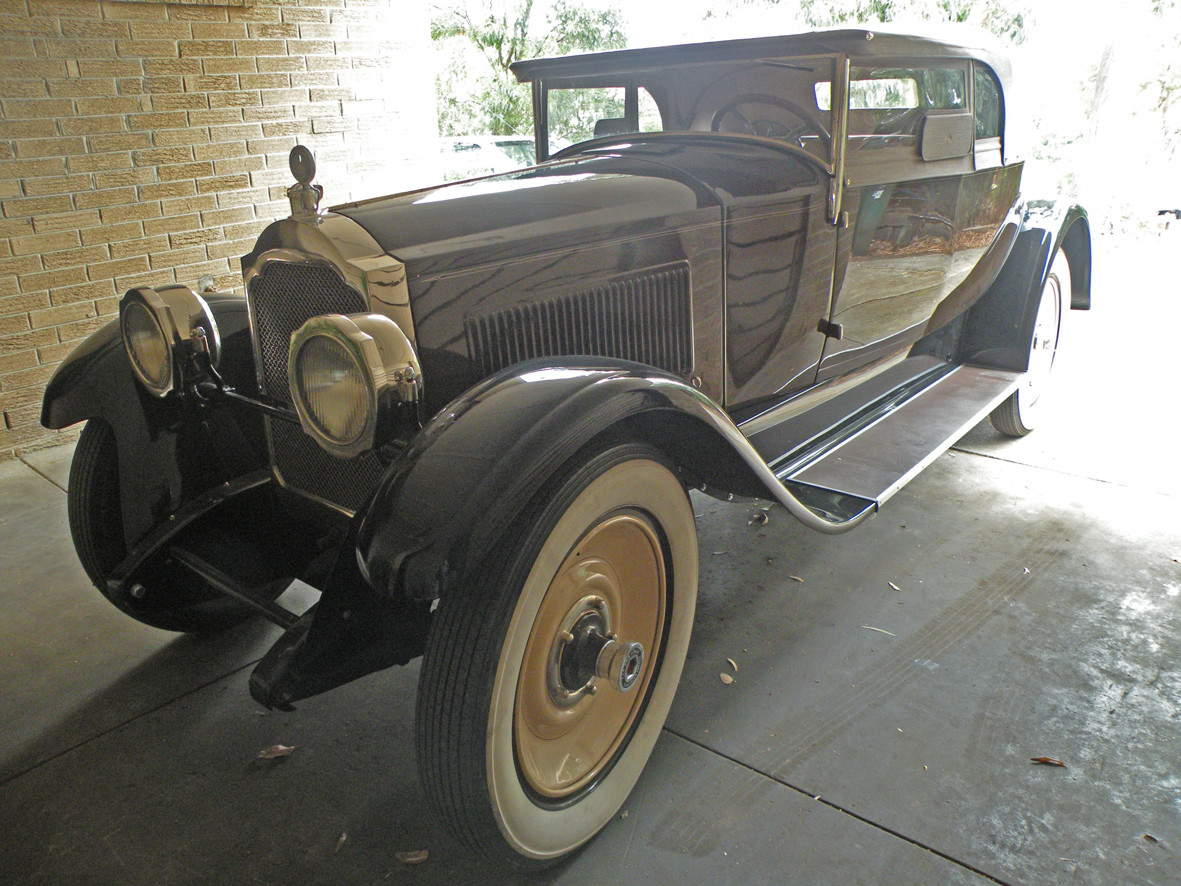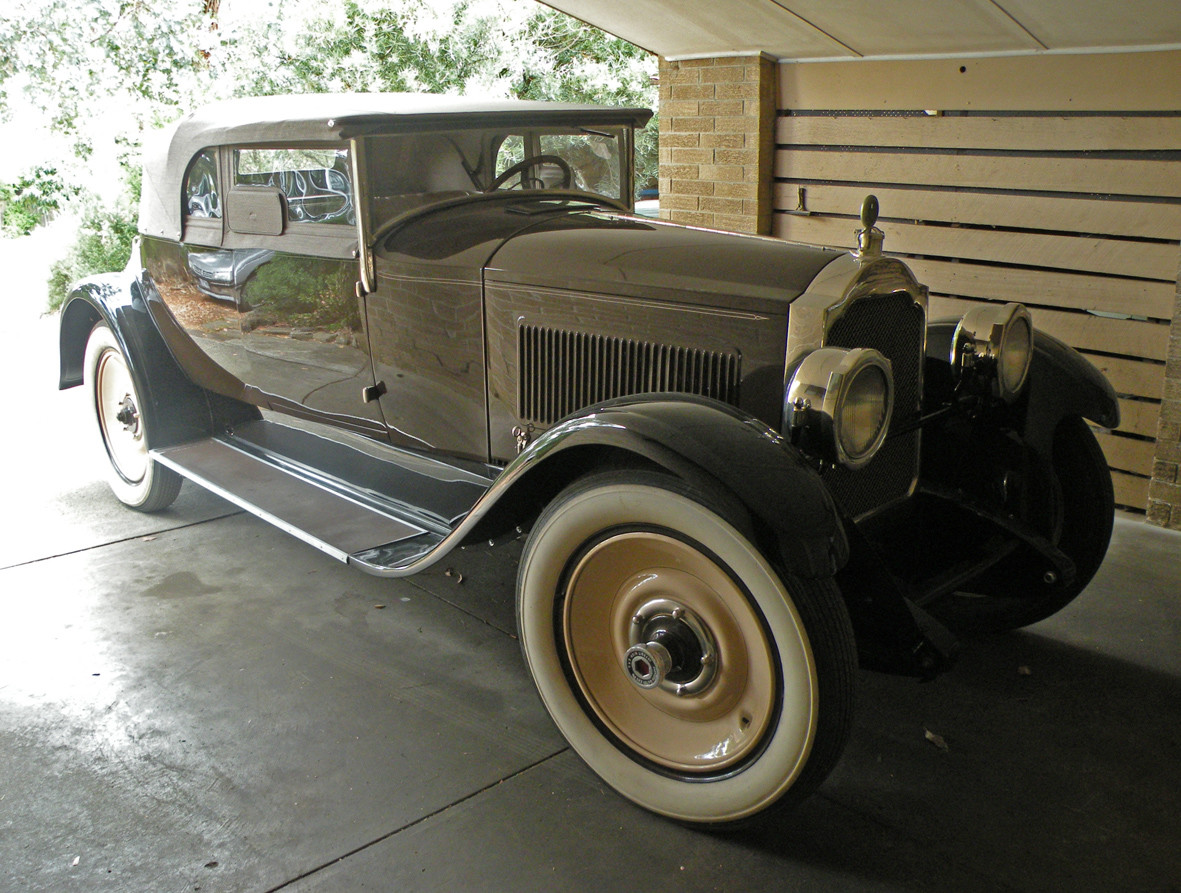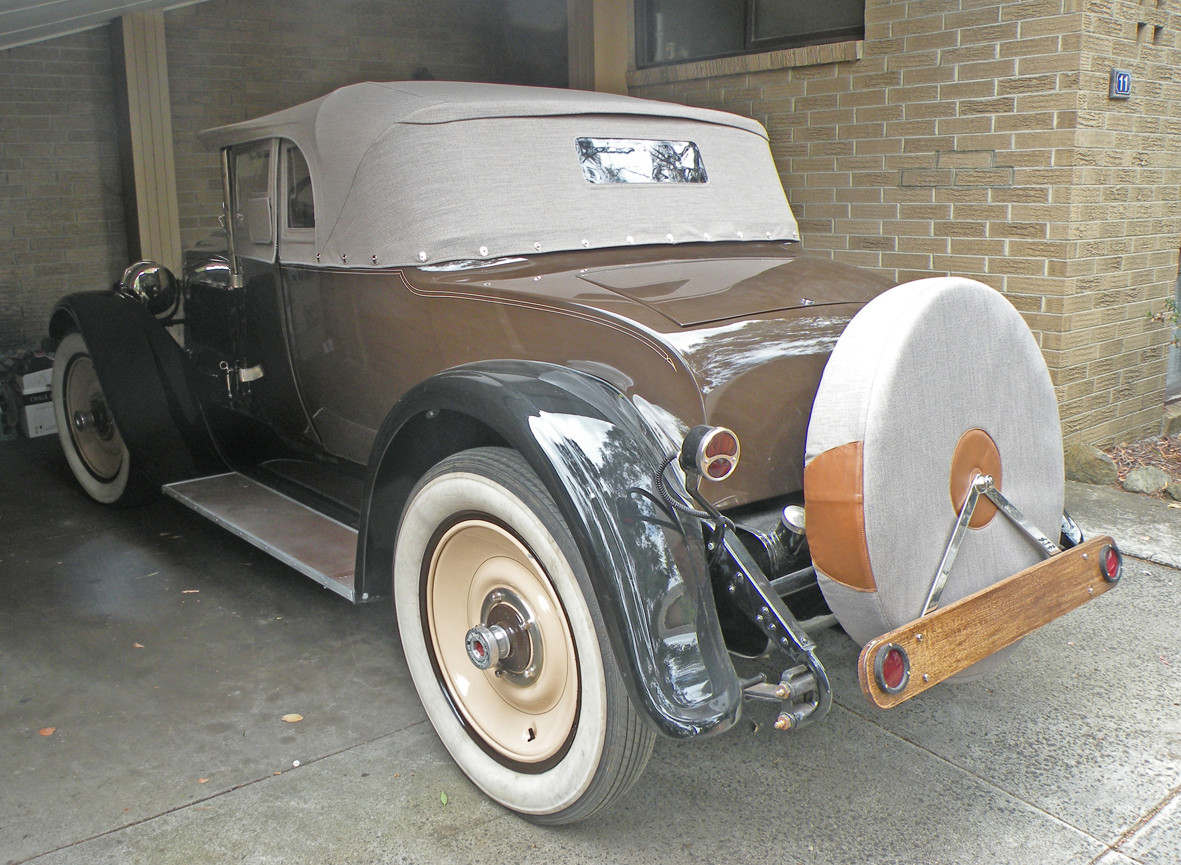 12-7-2012
Thank you all for the nice compliments.
Appearances can be deceptive. I have just returned from collecting a bunch of exhaust pipes bent to match the originals along with some new flanges and gaskets. Todays temperature is predicted to top 40 degrees C. so while lying on a cool concrete floor may sound tempting, cutting, filing and gas welding are all "no no"s on days of "total fire ban" so I have a good excuse. I have also just received the two new repro tail lamps to be mounted on the rear numberplate board so i will have something to do.
"Keep on keeping on"
12-8-2012
Well I am not sure if we got to the predicted temperature but regardless the tail lamps are now mounted on the number plate board and the wires coyly peeking out around the spare wheel. In the second (smaller) photograph you may just be able to make out the electrical junction box mounted in the channel section of the rear chassis member read to receive the wires for the stop and tail lamps. the sharp eyed people will also catch a glimpse of the original tail pipe and its new counter part awaiting my attention. The "engine" pipe is set up but will require some more minor adjustments and then a coat of hi-temp exhaust paint before it can finally be fitted.
"Keep on keeping on"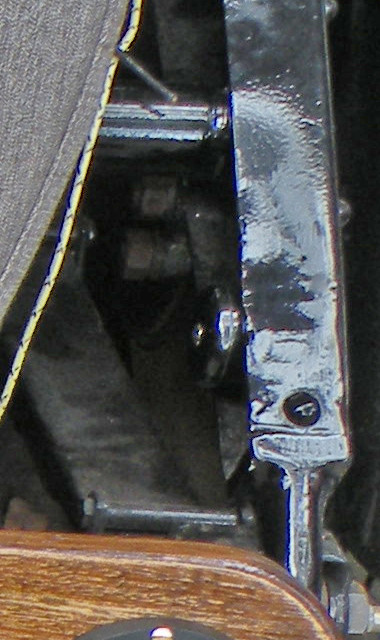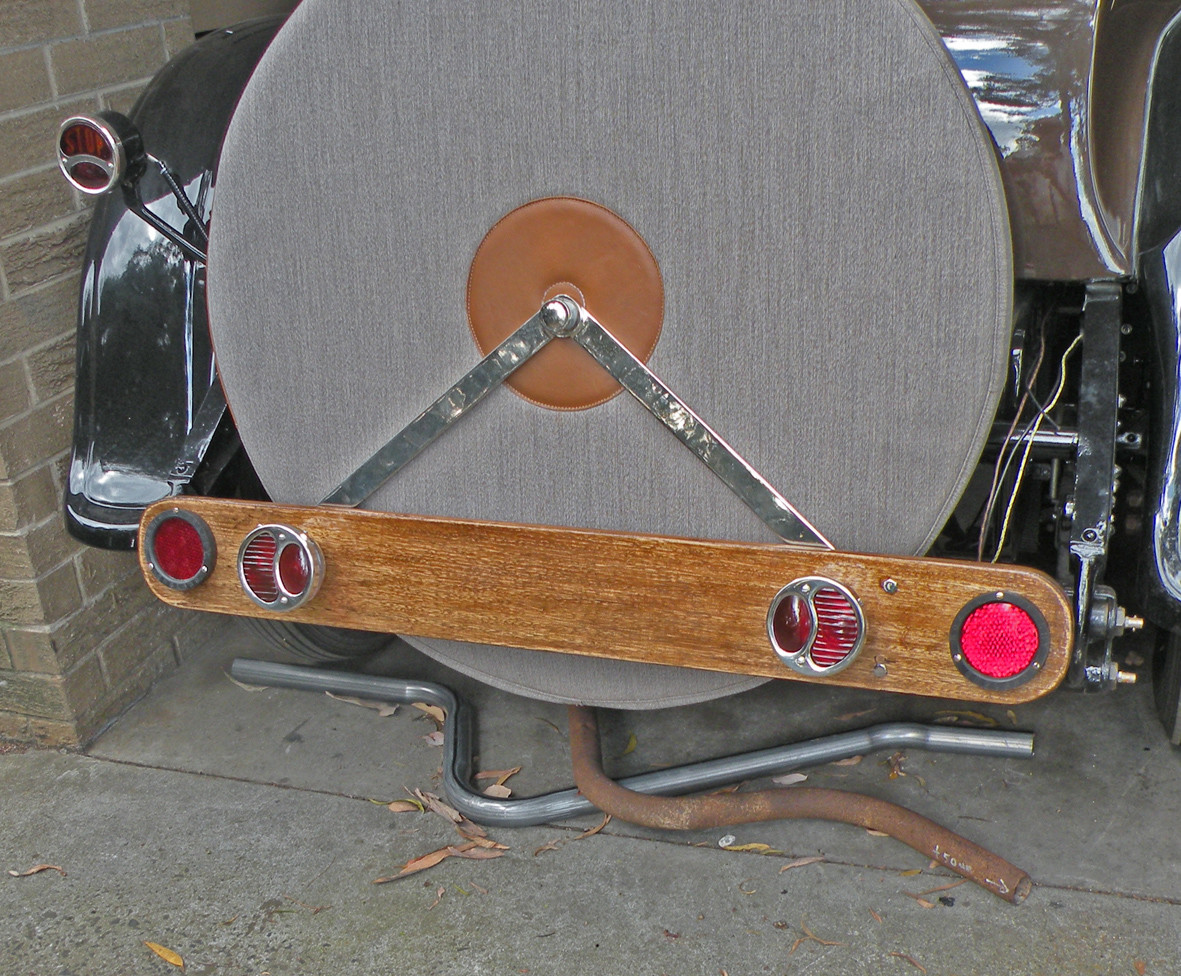 12-10-2012
Hi All
Don't panic! I have not gone away, it is just that it is "that time of year" and I seem to have lots of non car commitments. I will be back at work on the exhaust system and other things tomorrow.
12-11-2012
OK! Just one photograph but I am back working on the Packard. Our son Steve came down from the Yarra Valley to assist me with drilling and tapping the windscreen pillars for the external rear view mirrors. Since i have damaged my right shoulder I am terrified of breaking a tap off in the hole due to a muscle spasm. This afternoon I have made some real progress with the exhaust system and now have the engine pipe back to the muffler sorted out and hanging up waiting for the high temperature paint to fully dry before installing it.
12-12-2012
Anyone wanting confirmation that I am totally mad this has to be it.
I now know why the present day exhaust industry is so keen to use slip joints and flexible mounts.
I have spent the last two days under the Packard wrestling with the original muffler and exhaust hangers. The muffler required a new outer skin thanks to "careful" fork lift truck drivers but the internals are so solid I am sure that they have at least another 90+ years of life left. all joints are two bolt flanges and in the never ending quest for originality these have been retained along with the original rigid hangers. I probably have another days work fitting the tail pipe, also flange connected to the outlet of the muffler and the original cast iron exhaust outlet. With flange joints and rigid mountings absolutely everything has to be perfectly aligned.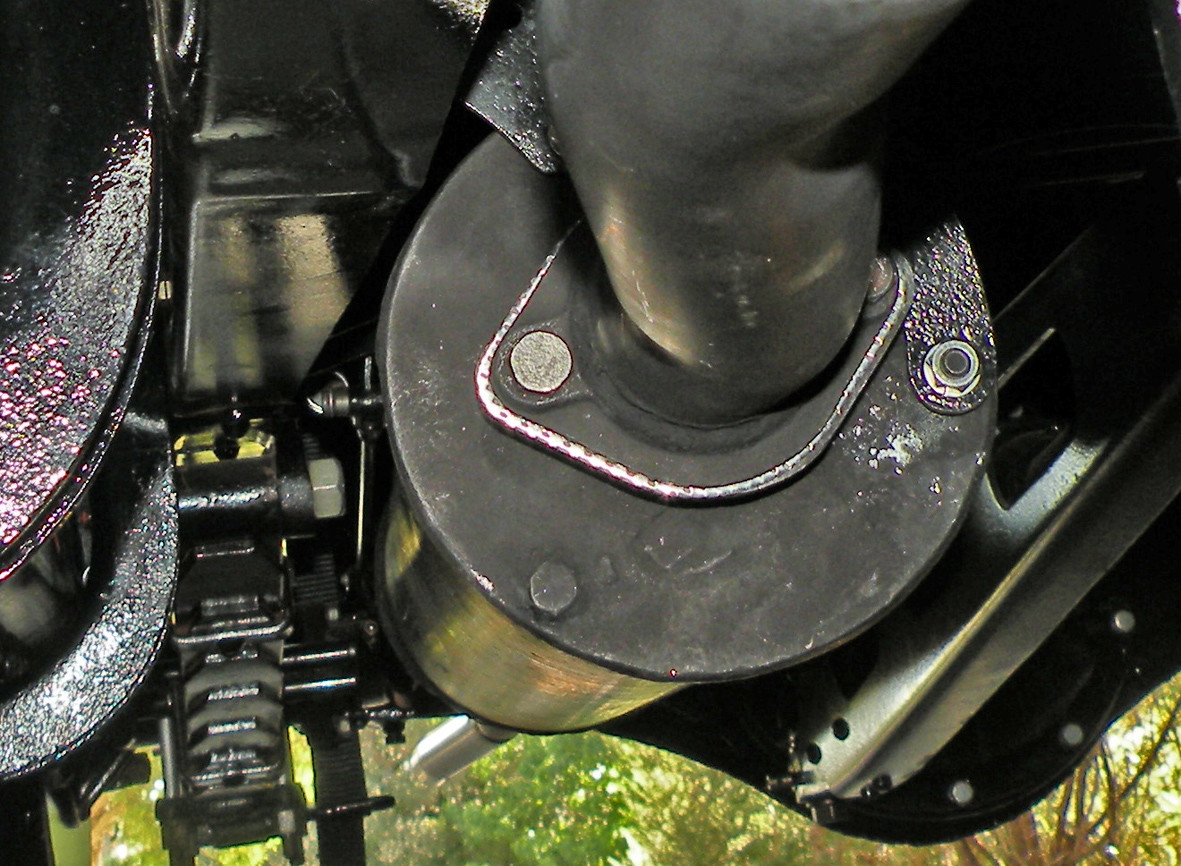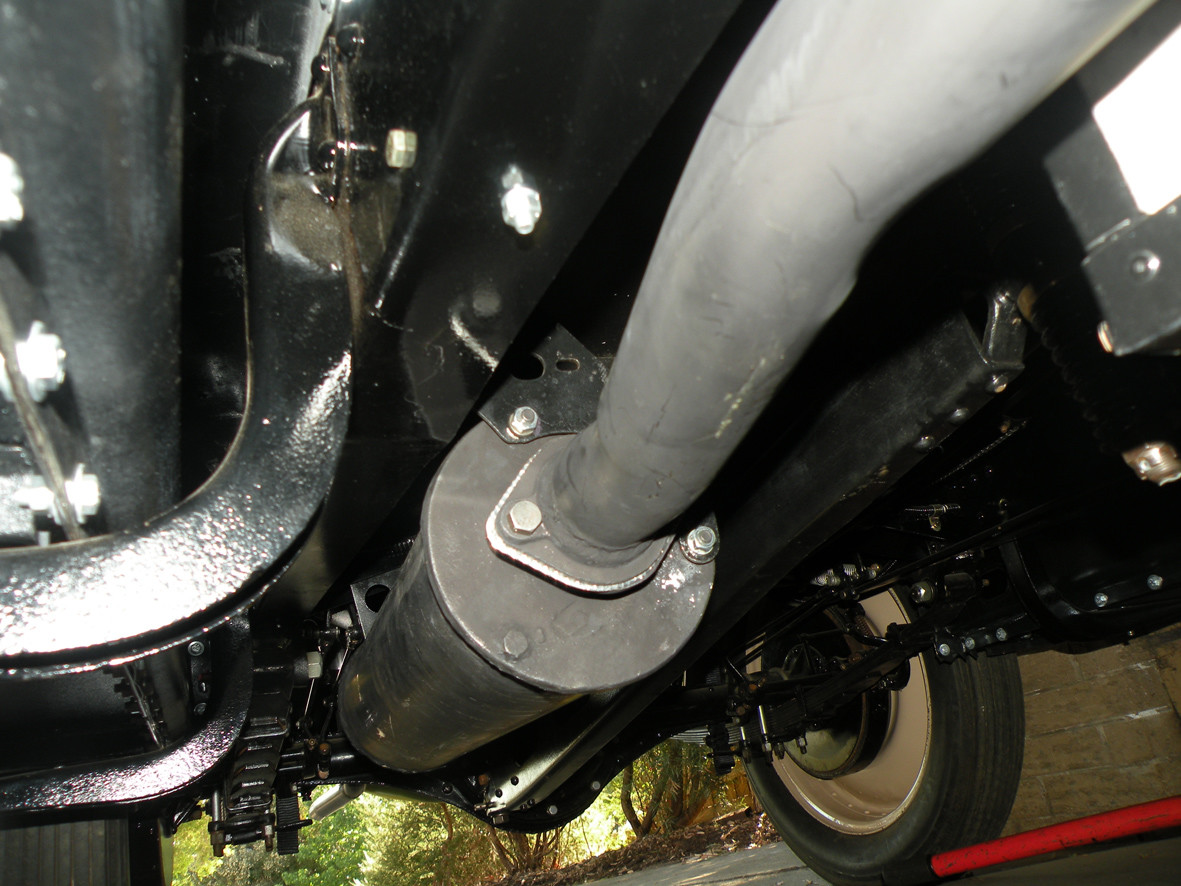 Hi y'all
With the Packard edging closer to completion the question of my next project seems to constantly creep into conversations I have with my friends.
This now seems to be resolved with my good friend Jim Williams offering me his unloved little Autobianchi. All I need to do is have it moved out of the woods behind his home in the north east of South Carolina. All offers of help would be much appreciated. Jim is now over eighty and while he can co-ordinate the move he will require some muscle power.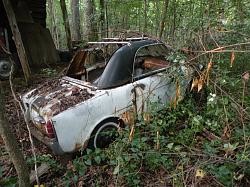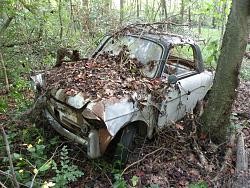 12-13-2012
Hi John
Of course I should have added Bianchina but I did not want to confuse people. I may have to learn Italian but then I have owned several Fiats in the past. These are just two. The single seat hillclinb car used a Fiat 1100cc engine driving a back- to-front Fiat 600 trans-axle. Its 14:1 comp ratio engine ran to 8,000 rpm on a mix of 100 octane Avgas and methanol. Its one big problem was that it kept trying to pass itself. The start line officials complained that it hurt their ears, even with industrial ear muffs! The Green car is a 1959 Fiat-OSCA which used a fabulous 1500cc 4cylinder 2 OHC engine designed by the Maserati Brothers and lots of other goodies to suit its performance. It was found out in the open at the back of a builders yard with the engine totally dismantled and all the nuts and bolts lost.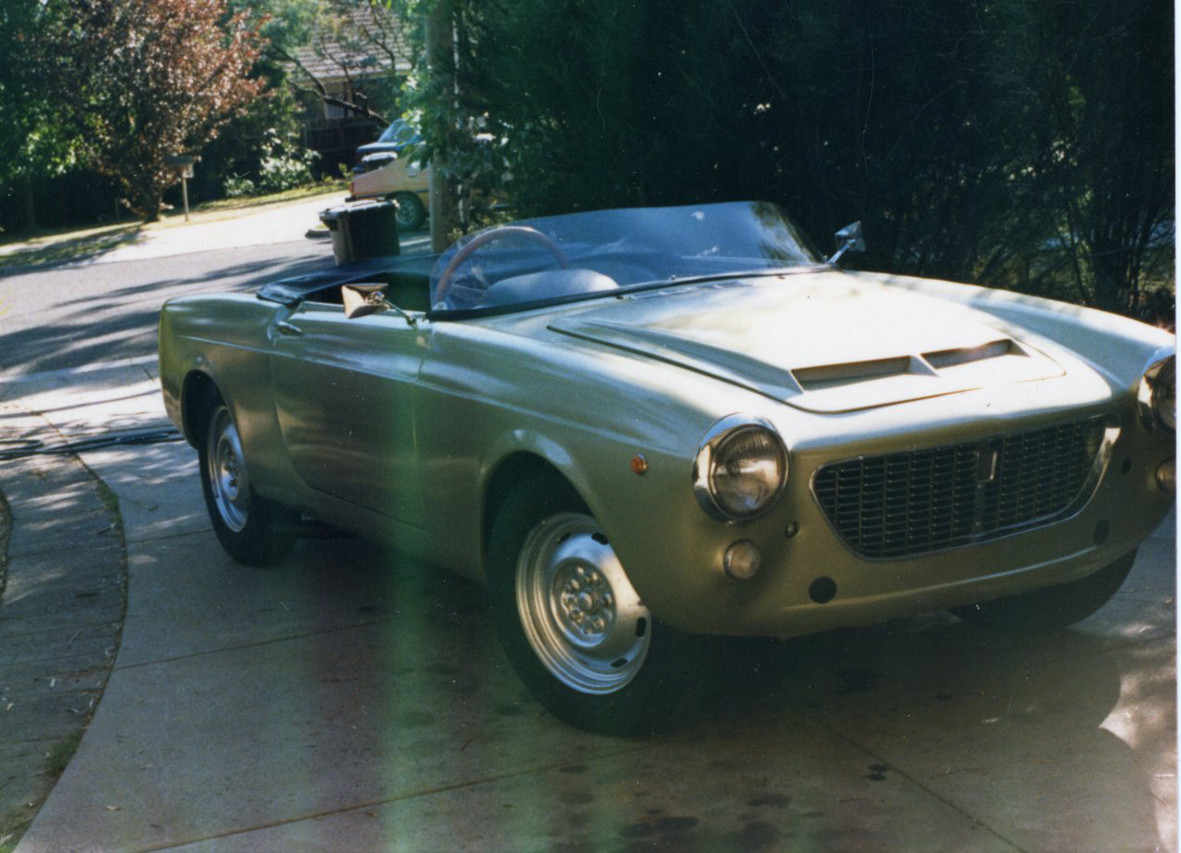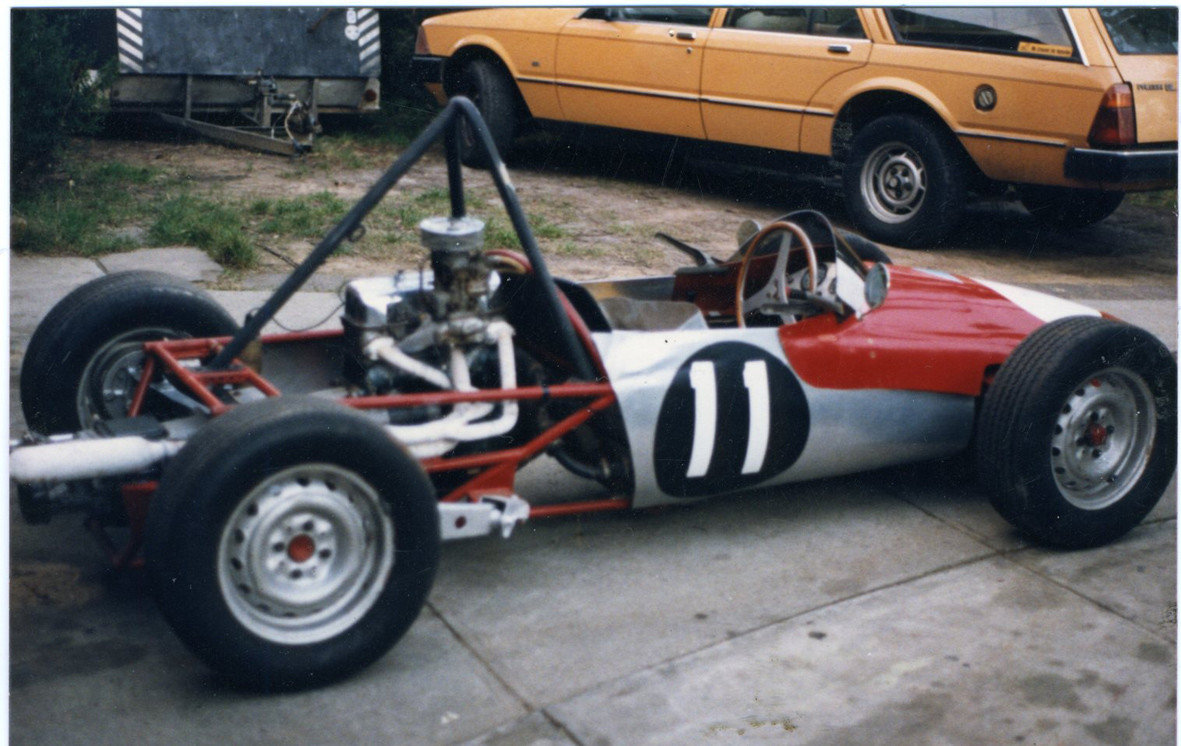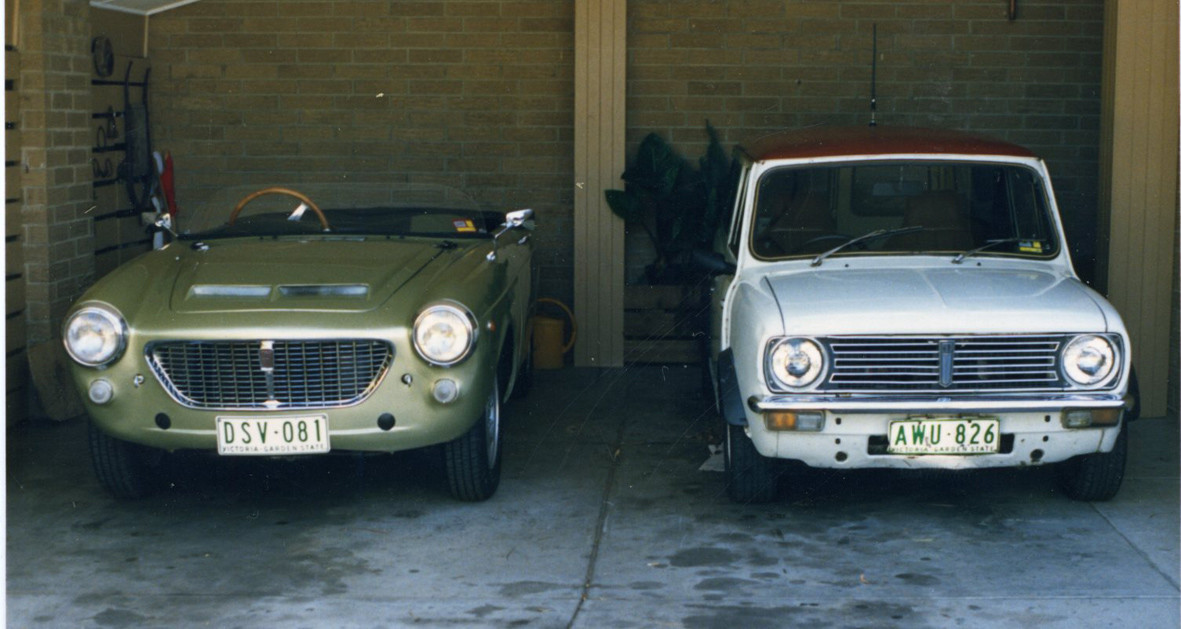 12-14-2012
While it may not look like it, the attached photograph represents another mile-stone. After almost a week of lying underneath the car, measuring, cutting, welding then crawling under again. This is the original exhaust tip fitted in the factory in 1923. while the two pipes (engine to muffler and tail pipe) and the black paint are new, everything else in the complete exhaust system is as fitted when the car was new, the muffler, flange joints, and all hangers are those fitted in 1923.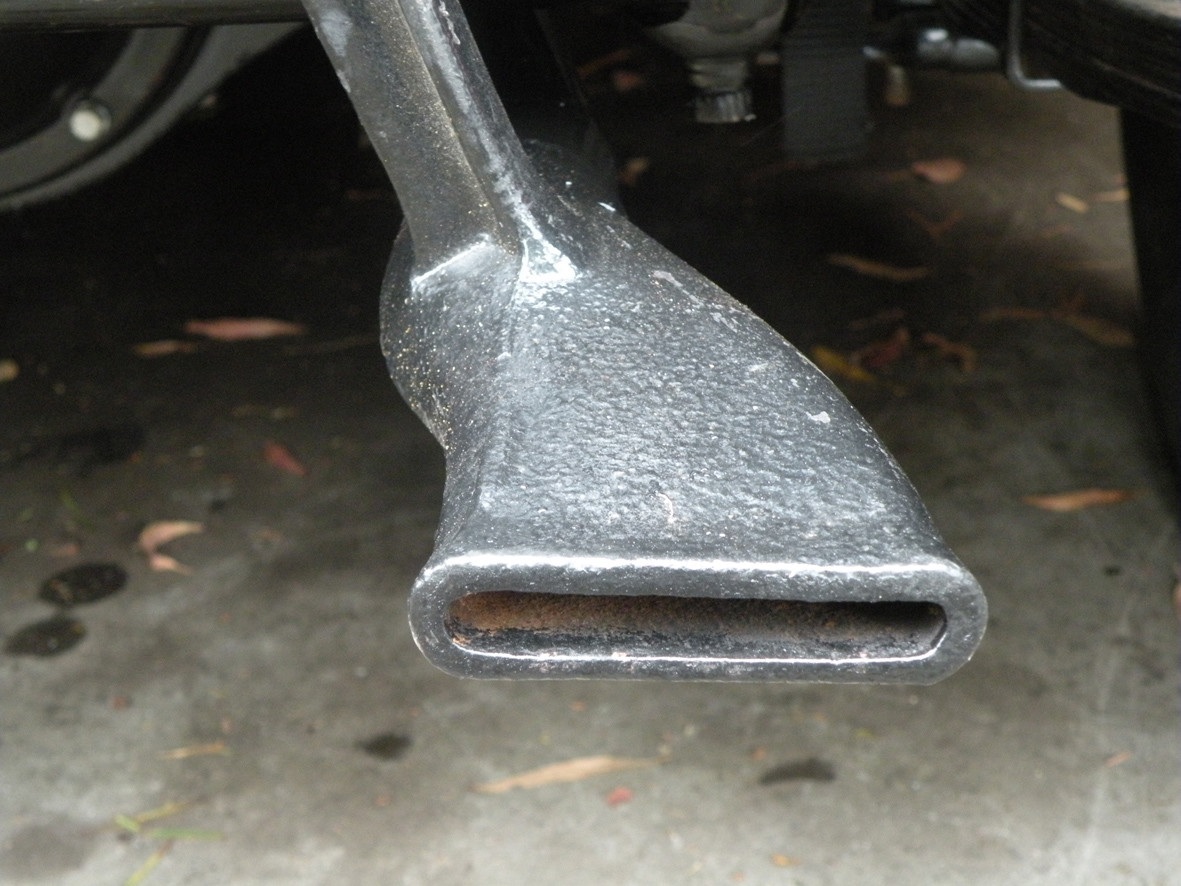 Hello Roger
You asked about compensation for the exhaust dilatation, that I understand is expanding with heat. I am sorry but that, I cannot answer. It passed through my mind too but I have made the exhaust on the Packard as close to the original as possible. The only answer I could think of was that with it's low compression ratio and relatively low octane fuel requirement the exhaust gasses do not reach the same temperatures as in a modern engine and accordingly the rate of expansion is lower. Certainly the factory seems to have made no allowance for the exhaust "growing". I did think about adding a flexible section into the front (engine) pipe but in the interests of originality, decided against it. Perhaps someone with a similar car may care to comment.
12-15-2012
Hi Roger
One for my "modern" car friends assures me that with todays turbocharged engines that on some hi-performance cars exhaust pipes can "grow" up to 4 inches (100 mm) in length.
It sounds remarkable but he claims to have the graphs and data to prove it.
It really does seem that with 4.5 : 1 comp ratio and fuel little better than kerosene that in 1923 this was not such a problem. Only time will tell.
One thing I do know is that with the tuned length "extractors" on the Lagonda Rapier that the wall thickness of the pipes has become appreciably thiner over 30 years
Moving right along, I must confess that I have made one concession to modernity! I have fitted a modern throw away fuel filter. Originally there was no means to filter the fuel. As the car has been standing around for so long and despite my best efforts there is a fair chance that there will still be a certain number of foreign bodies in the petrol tank, I believe that it is a wise precaution to install a filter. While I was under the car with my camera I could not resist a couple more photographs. The first shows a general view of the underside of the car, very much as I believe it would have looked in 1923, The next shot is of the brake rods and return springs. these are all the ones originally fitted. Finally the battery box, as the exhaust runs reasonably close to the box I have taken the extra precaution of fitting a heat shield along that side. Before someone complains about the lack of a split pin in the shackle bolt in the rear spring hanger. The bolt screws into the hanger and the nut is simply a lock nut. as a precaution I have used self locking "crown" nuts.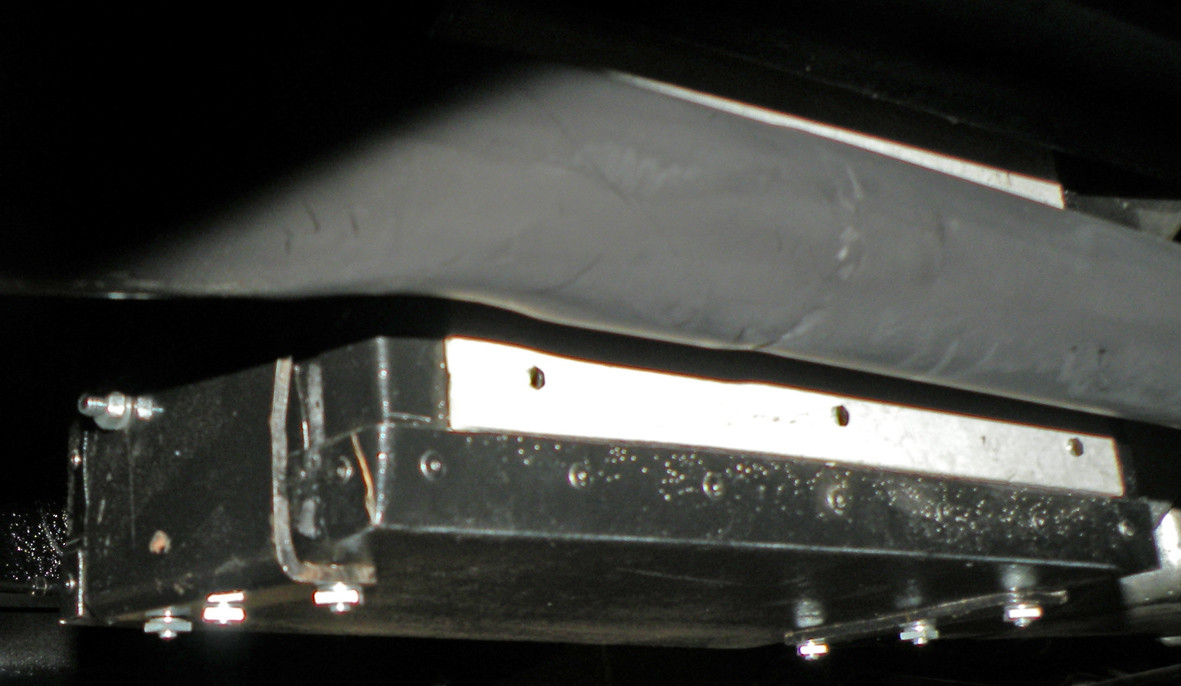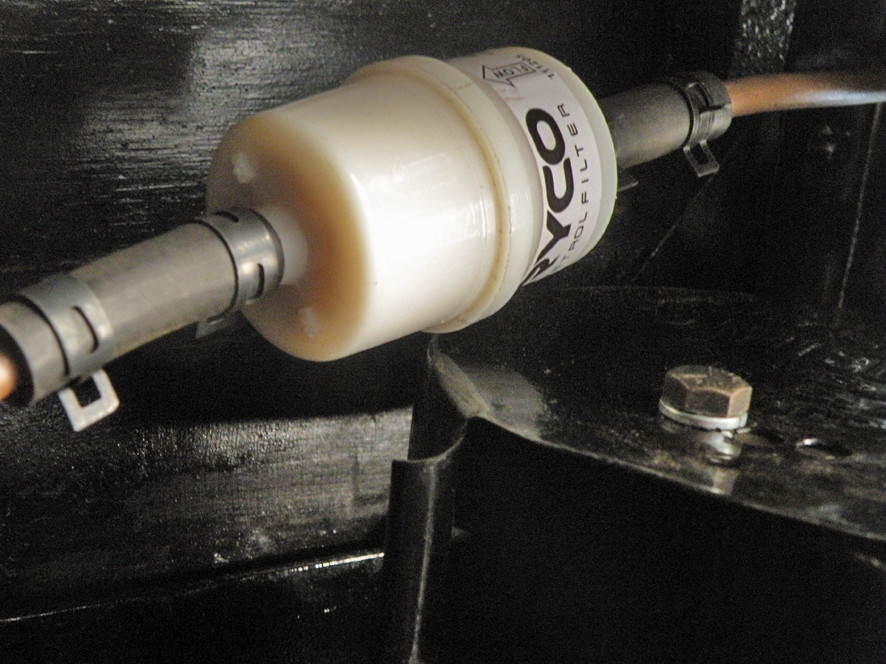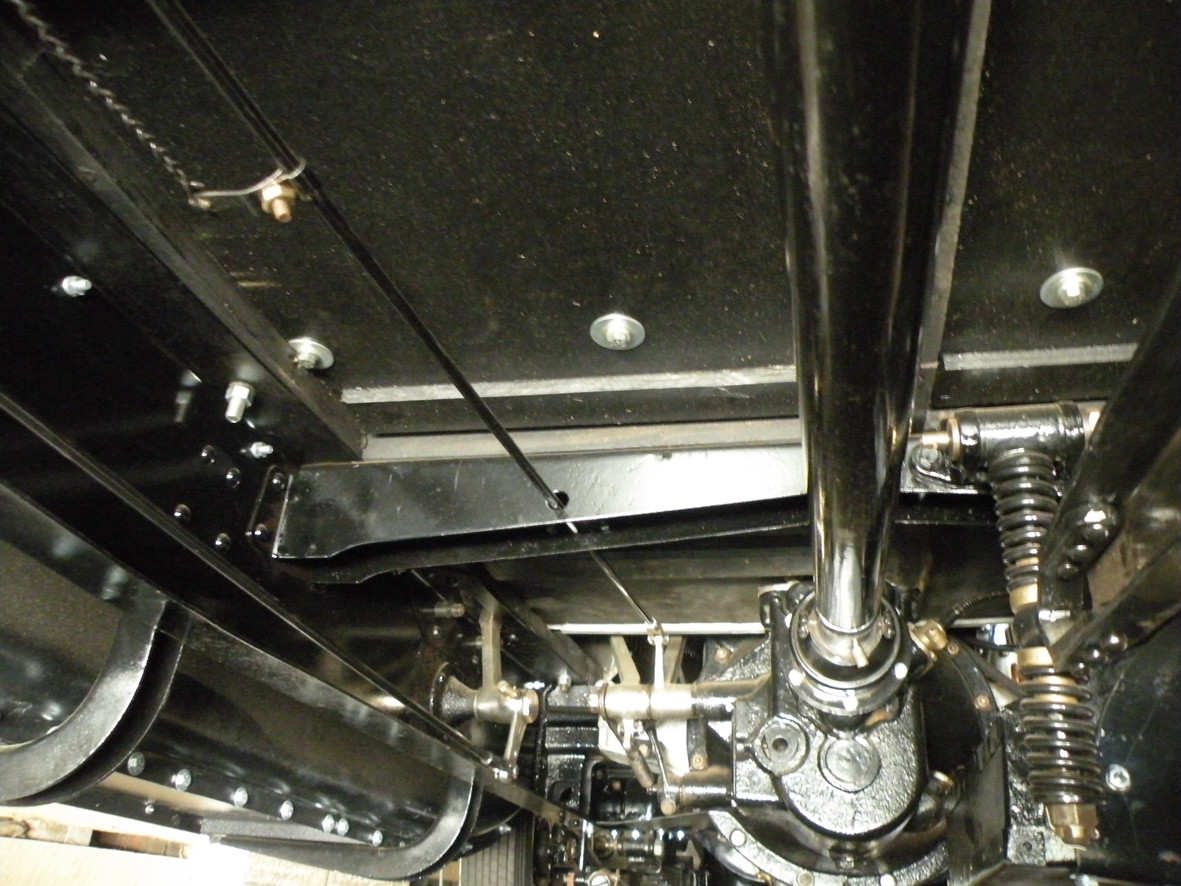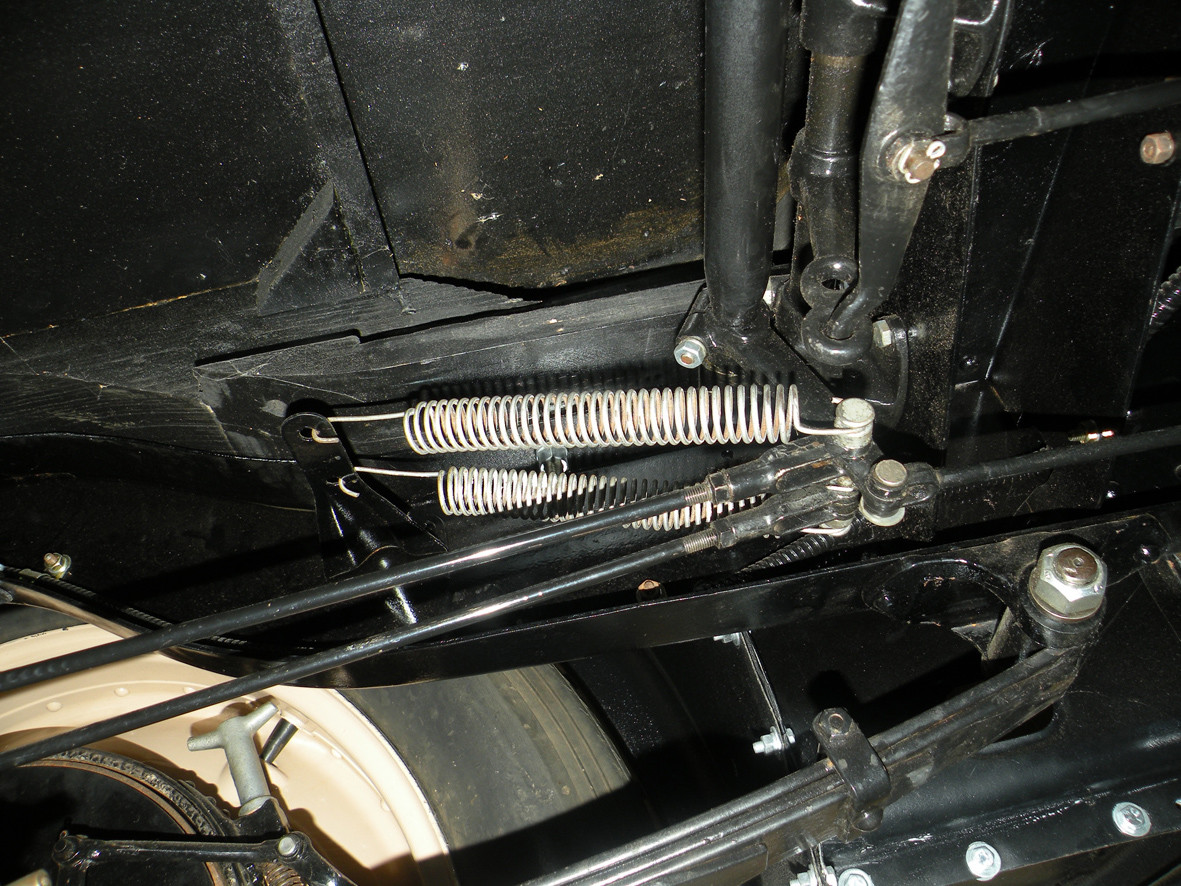 12-20-2012
We are back again having taken a couple of days off catching up with son Nic and his young family. They had driven over from Adelaide, South Australia to meet up with us, approximately half way, in Western Victoria. An enjoyable pre-Christmas chance to recharge the batteries. On our return journey we avoided the main Western Highway and drove on some great country roads barely seeing another car. While It may have taken an hour or two longer it was well worth the effort. Since returning late yesterday I have collected a small batch of plating and have managed to install the interior door pull handles. These had the chrome stripped off and replaced with nickel. For the 600+ km journey the VW Jetta used just a fraction over 5 litres of diesel per 100kms at a steady 100-110 kph.
12-21-2012
Hello Donald
If you go to the Packard Info photo archive and look at the photographs of"when new" cars of the early 1920s you will see that cowl lights were not introduced until later about 1925-6. Auxiliary lights were built into the main head lamps as a second globe.
I have spent hours researching details of the cars on this valuable resource. There is no where else with anything like the number of cars photographed in most cases when new or just months old. http://packardinfo.com/xoops/html/modules/myalbum/viewcat.php?cid=26
Having collected the proper black rubber case battery yesterday I have made one more step closer to completing the car only to take one step backwards after discovering a small leak in a soldered joint in the vacuum tank so it has had to come off postponing the long awaited "start up' one or two more days. At least I now know that the starter motor is working and the engine is turning OK. Patience is a virtue or so I am reliably informed. To the best of my knowledge there is just the one (two man) company still hand building batteries as there were in the 1920s & 30s here in Victoria Australia.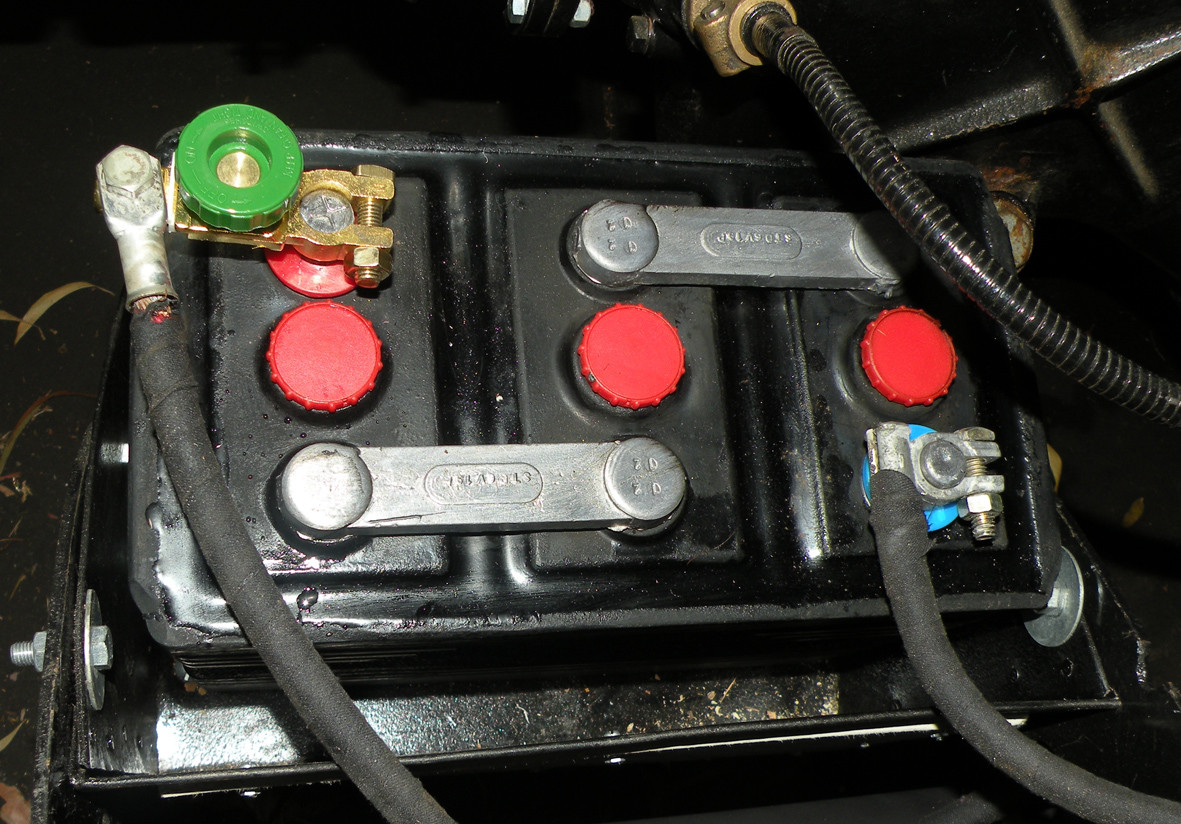 Hello Donald
Good to hear from you again. I hope that life in Pittsford is good for you. That is quite some move from Kentucky. I will have to go back through my files to find the contact in Hong Kong who sent me the horn button/replacement pot lid knobs. Perhaps you could look at some of your local cook ware suppliers for a suitable knob. I am not sure who had the switch plate but once again I will see if I can find something for you. Is that sunshade an internal or external? Below you will see that I have obtained a pair of reproduction tail lamps locally.
Meanwhile Simon the sign-writer has returned the spare wheel cover and the small plate for the front of the car. I am especially pleased as he had some trouble finding a suitable paint for the writing on the fabric cover. In the end he used Tee-shirt paint. Now there should be no doubt as to what the car is. Rather than white on black for the front plate he has continued on with the biscuit on dark brown colour scheme. Rather understated, exactly how I think it should be, discreet and not too "in your face".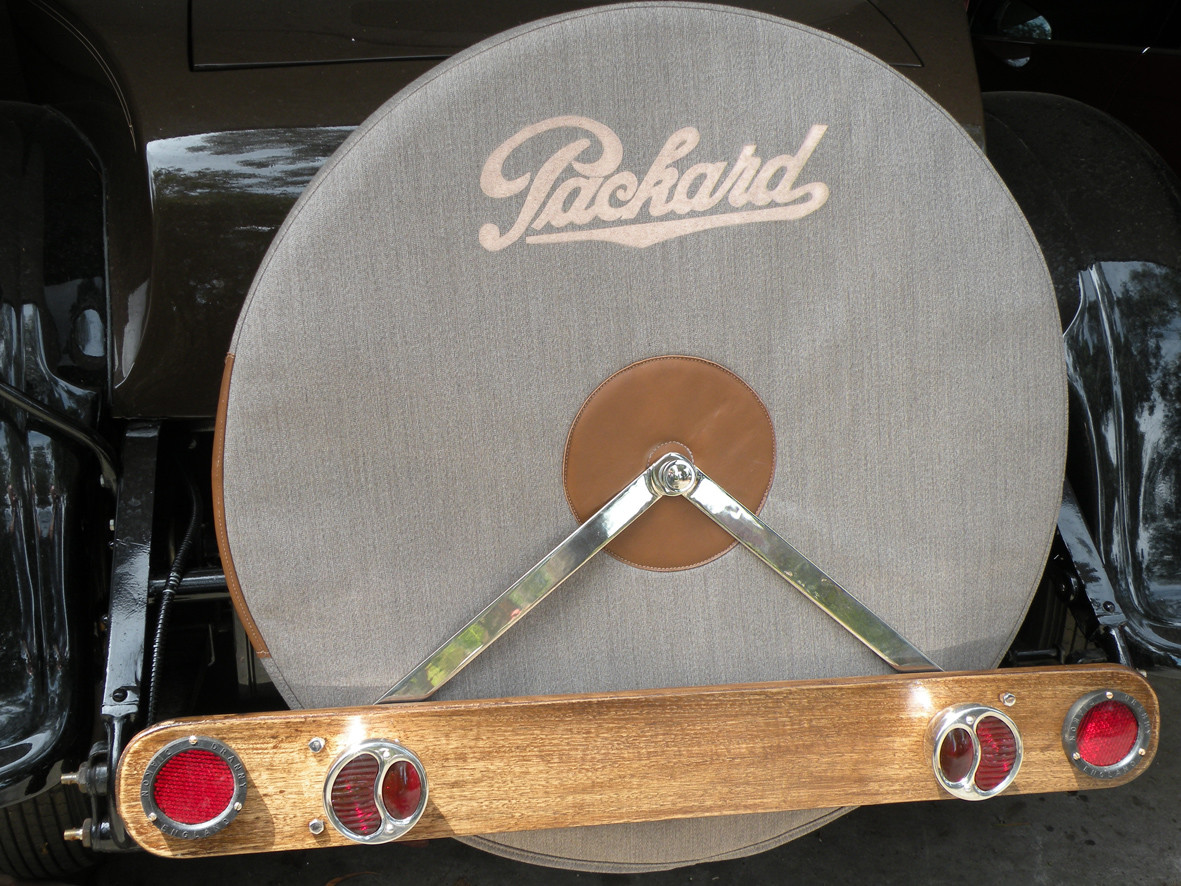 12-22-2012
Hello Donald
The Dixie Flyer now lives in the main office block of Kentucky Trailer, previously Kentucky Wagon Co now run by the second family to control the concern in 150+years. We were able to take photographs (organised by West Peterson) on the original factory floor where it would have been assembled.
The old factory had been sold to the Louisville University and was due to be demolished only weeks later.
Those wanting to know more or to see some of West's photograph shoot can visit http://forums.aaca.org/f190/dixie-flyer-firefly-speedster-photographs-252653.html There was a series of articles in Antique Automobile during 2009/10.
"Keep on keeping on"
BJ
I will send you an e-mail as time is pressing.
Hello again Donald.
I found my Diamond H interior light switch still attached to the timber frame of my car unfortunately they are one of those things that seem to be thrown away with the rest of the trim when early cars are scrapped. I will ask a couple of people here who tend to have collections on "bits".
I assume you are looking for one like mine. (see photograph)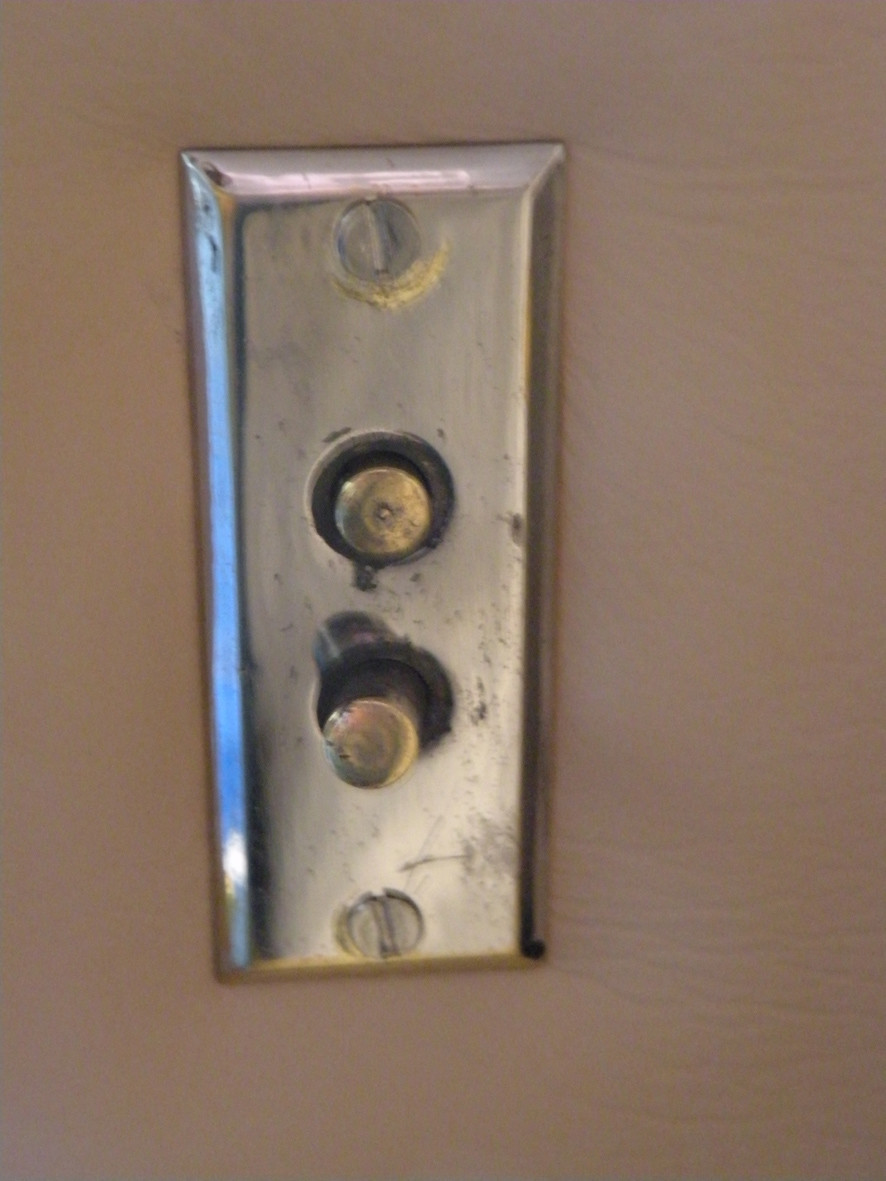 Hello yet again
It is too hot to be working outside at a projected 39 degrees C,
Attached are a couple of new photographs and two second attempts that may be marginally better than the last. Thanks to David McC's excellent Drawing Service I have now constructed a crank handle using the handle section out of the junk box and a short piece of heavy gauge tube from the off cuts. I am pleased to report that it work a treat and has been invaluable in checking the ignition timing. One step closer to "start-up".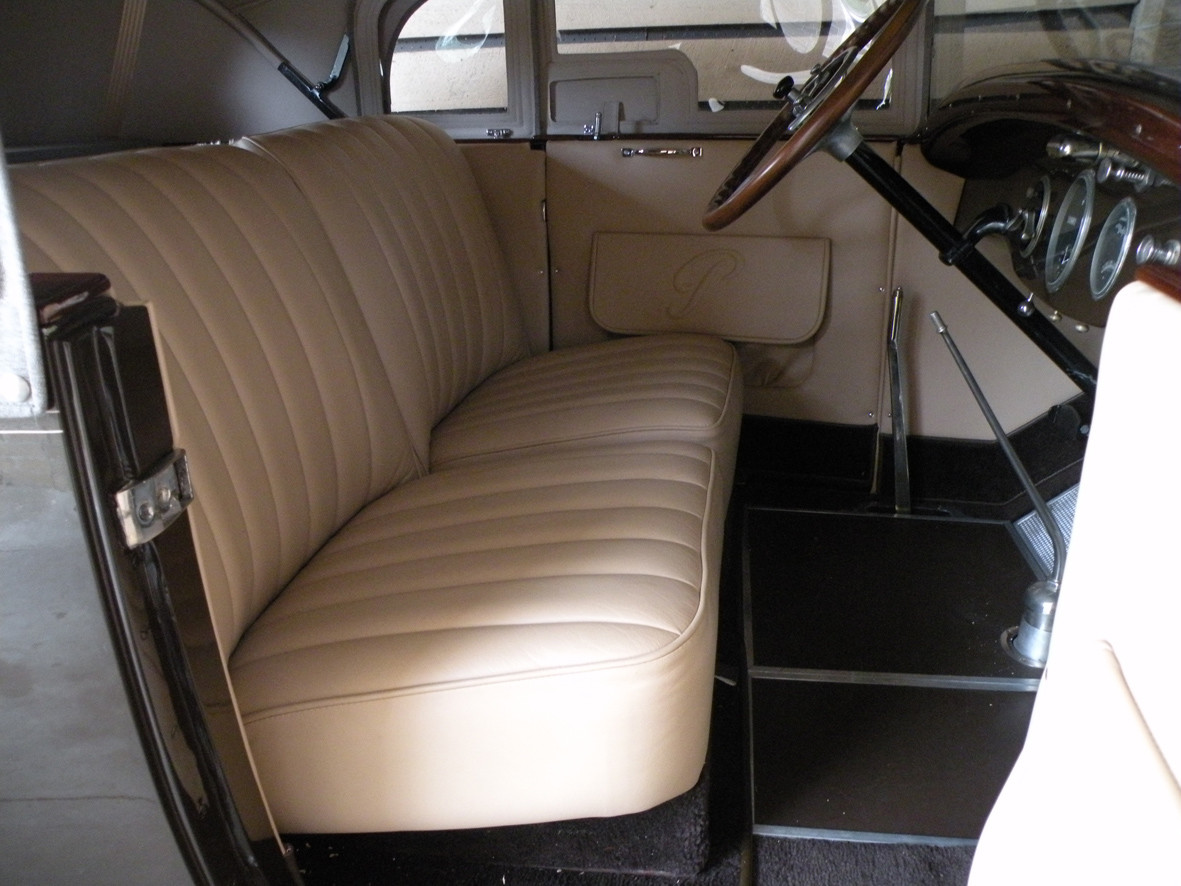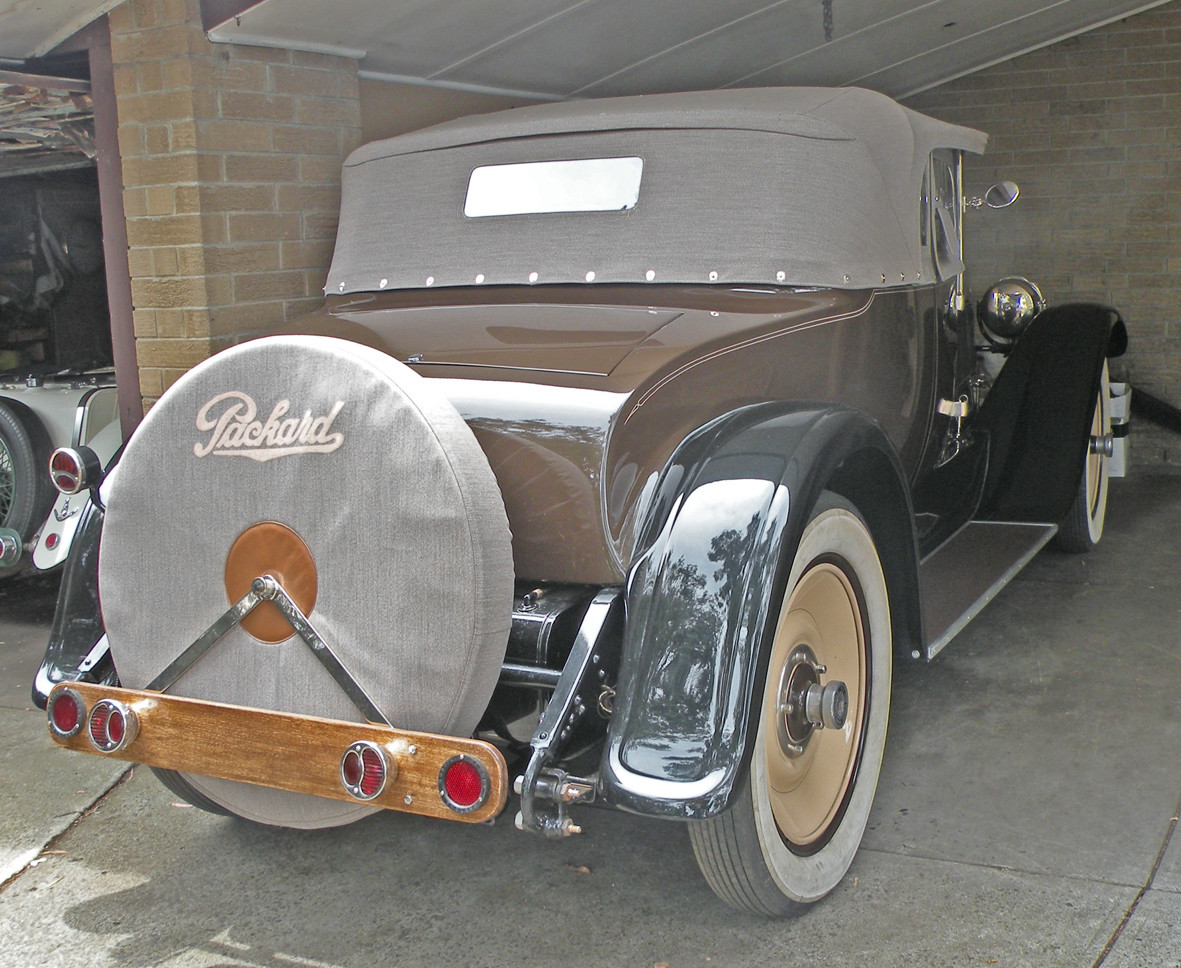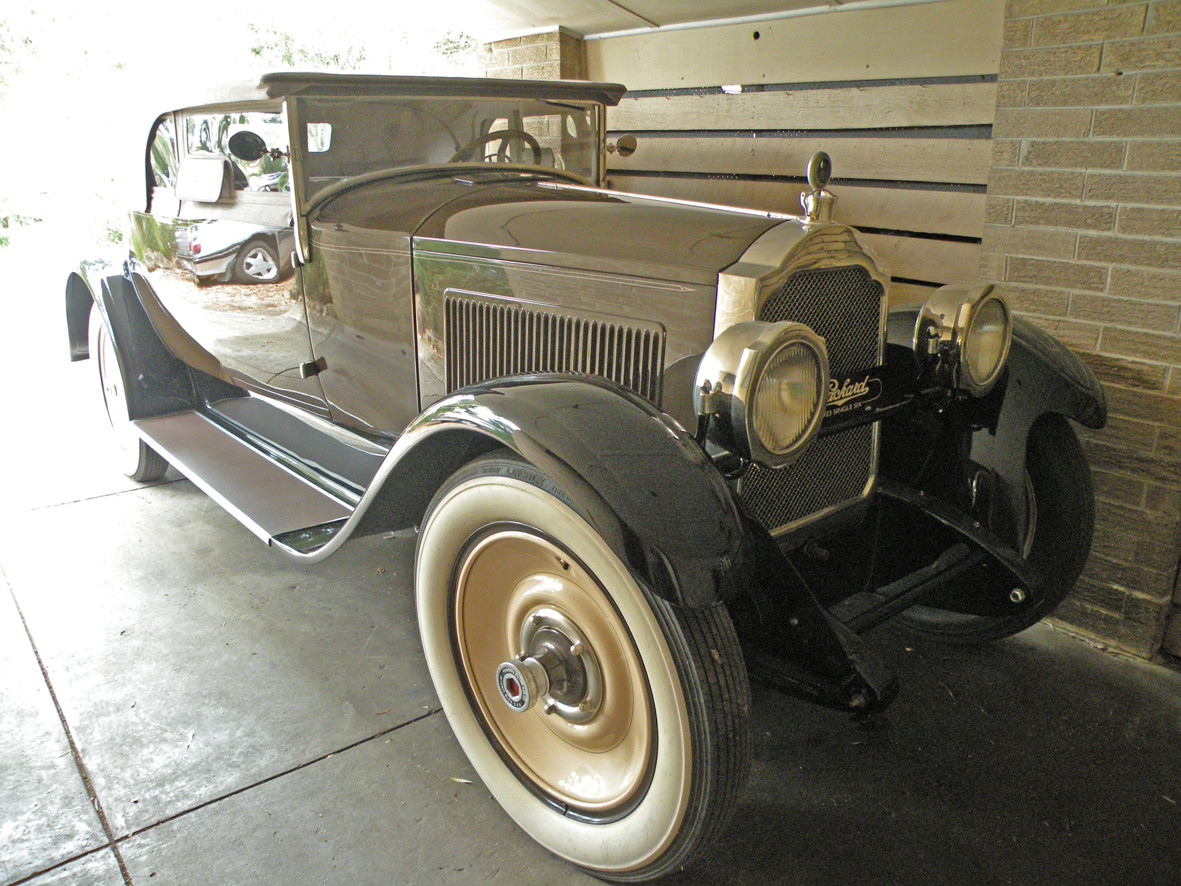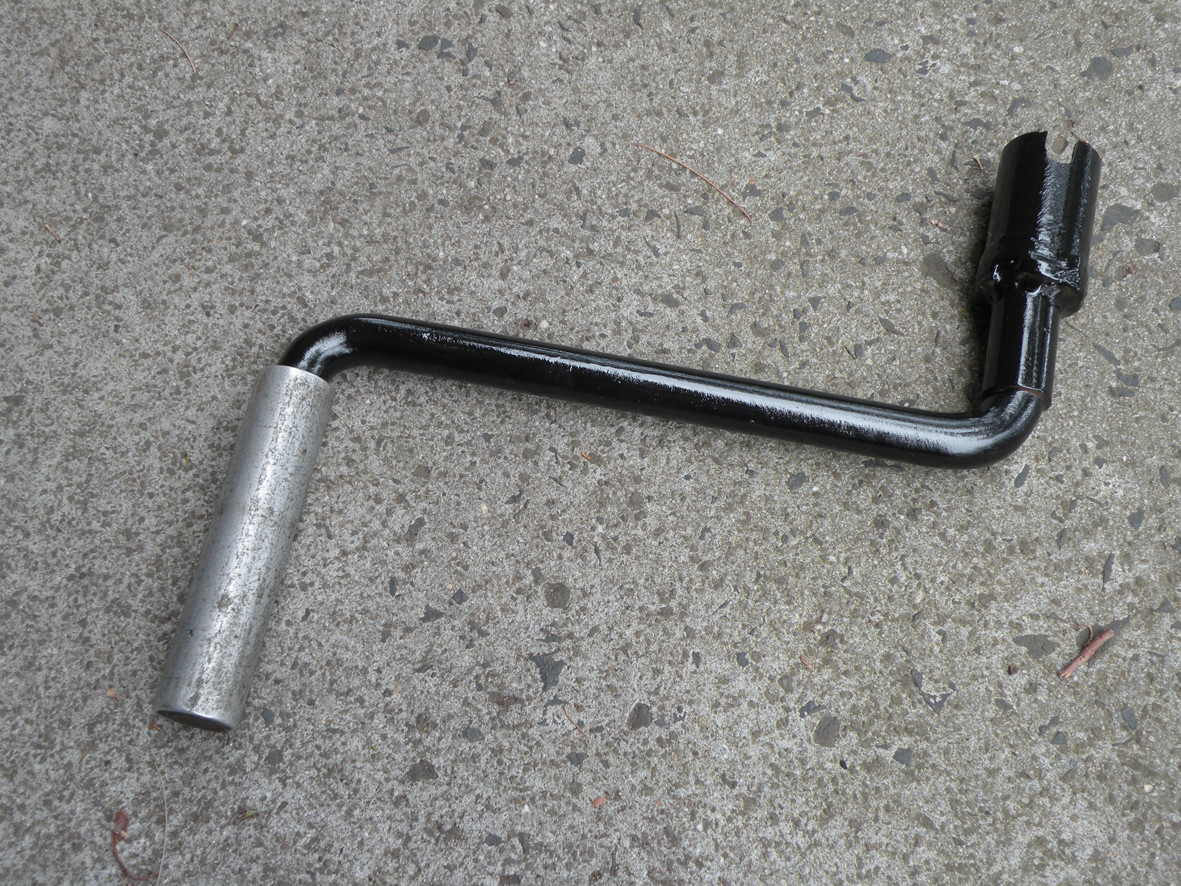 12-25-2012
Thank you Ben & David
So far I have only used the crank to bring the motor around to TDC on number one cylinder to check the ignition timing and to set the points gap. When the time comes, probably early in the New Year, I hope it will start on the starter motor. The procedure you recommend sounds fairly much like my standard start up drill for a vintage engine. Even with the Lagonda if it has been standing for any time likes the carbs partially flooded to start from cold. Once it has started and is warmed up it is"on the button"as I anticipate the Packard will be. I learnt a long time ago about trying to start an engine with the spark advanced. A lesson once learnt never forgotten!
Unfortunately our social calendar is a little crowded for the next few days to allow very much Packard time and I need to check out the circuit breaker on the back of the main switch before I go too far. I suspect that it has a malfunction or possibly a large spider/beetle inside it, there are no openings big enough to permit a mouse access.
With Melbourne Australia some 18 hours ahead of New York time we have just finished breakfast on Boxing Day while you are about to start your recovery from over eating your Christmas Turkey or what ever you had too much of. Helen's home made traditional Plum Pudding is always the highlight of our Festive Lunch. With just four of us this year we barely managed to make a small dint in it even after second helpings all around.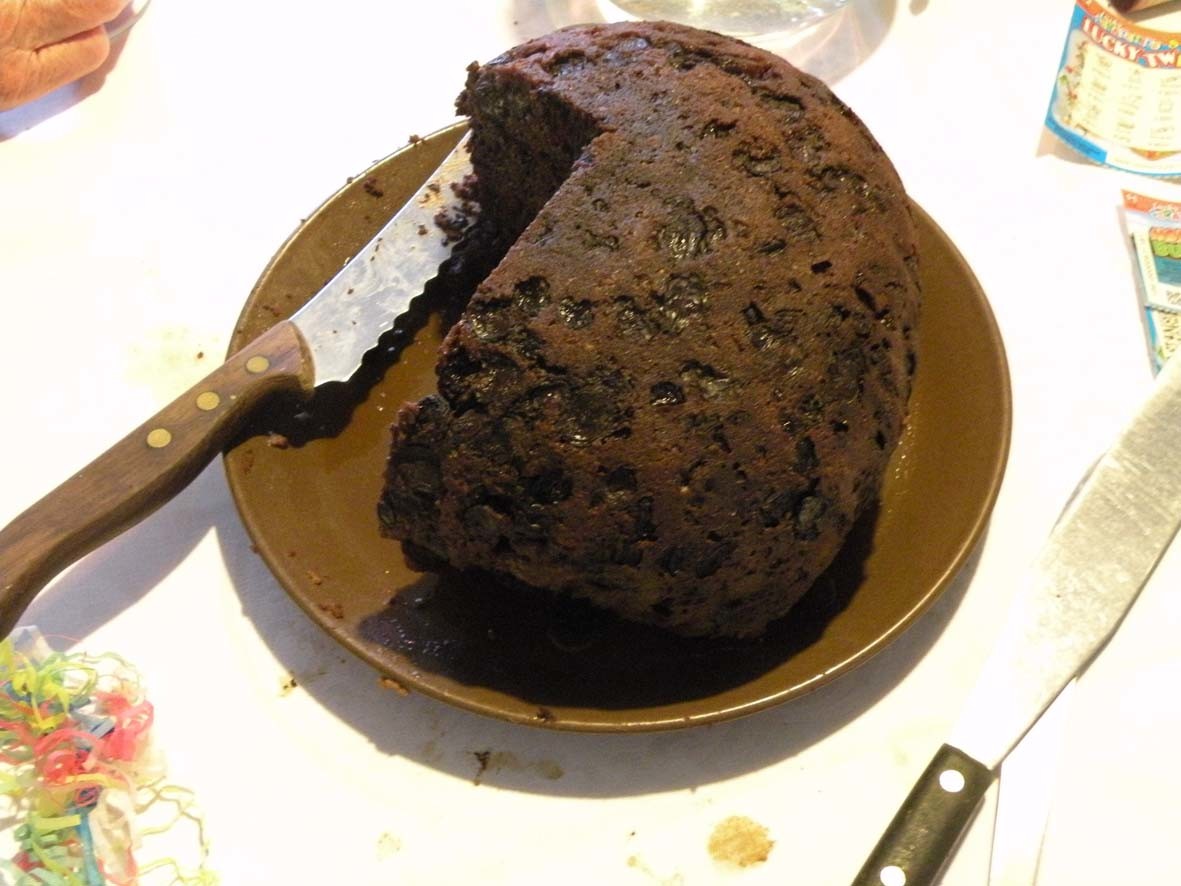 12-27-2012
I am pleased to report that following a lunchtime gathering of friends the pudding is now all gone. One of the great joys of Christmas is sharing with loved ones and like minded people.
12-28-2012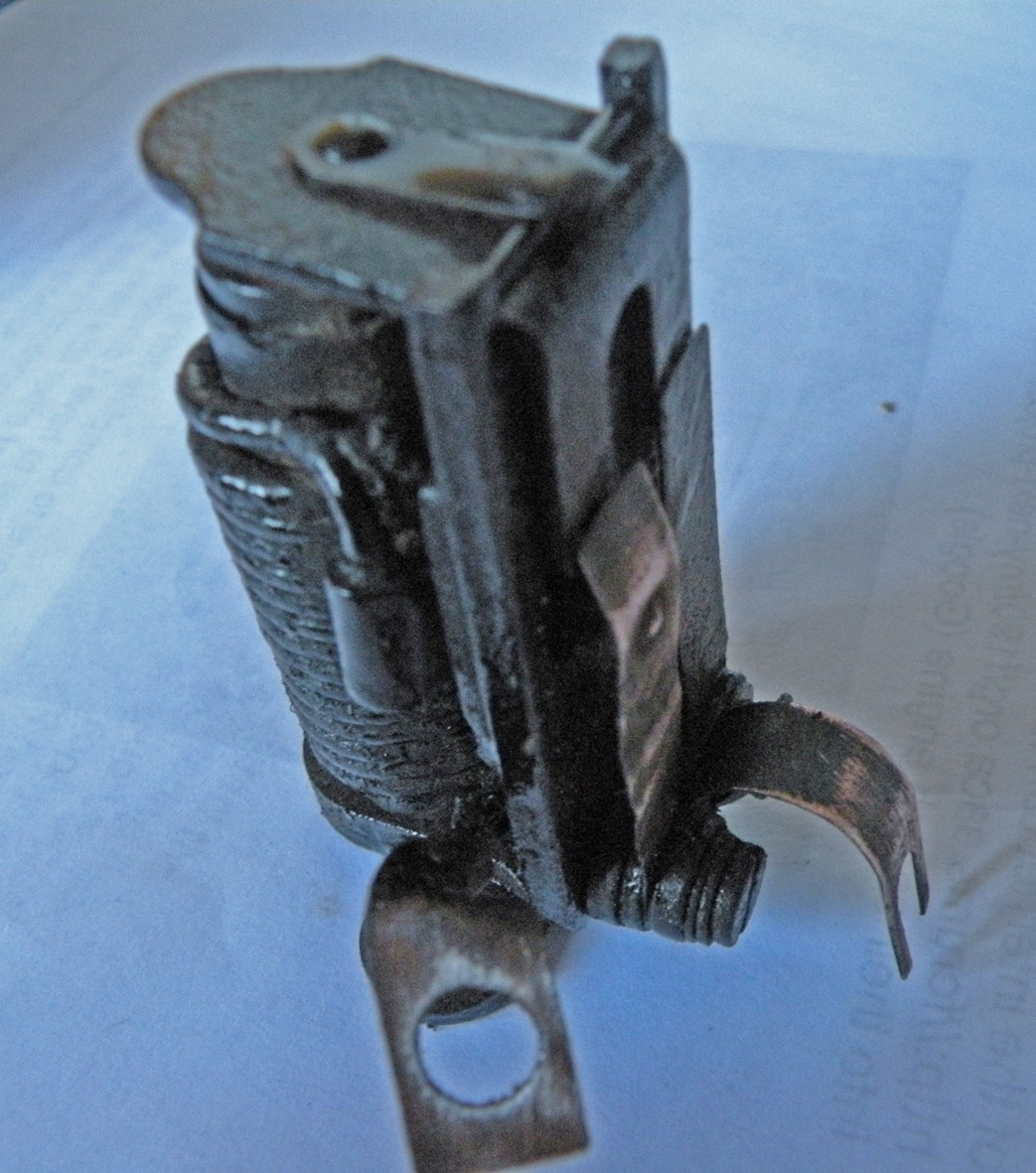 Having got so far the problem was that the Amp-meter had a nasty tendency to swing to maximum discharge when the ignition was turned on. Having traced back the various wires everything pointed to a major short within the main switch box/circuit breaker. For those unfamiliar with the early (First series) Single Six, Packard opted for the then far more sophisticated and as we would say today "State of the Art" circuit breaker. On further checking the one on my car had neither a mouse or a spider internally but the 90 year old insulation had cracked and was breaking down. Now having had the thing apart I can say that it is really simple with a minimum of moving parts. Having cleaned everything including the one pair of basic "points"and with the insulation refreshed/replaced it appears to be working just fine. That is on the bench and only time will tell but first I have to re-assemble the switch box and replace it all back into the dashboard. Given the time of the year, family activities do take precedent and it is unlikely that very much more will happen before the middle of next week or thereabouts.
Hi
THe original insulation was red fibre, I replaced it with plastic. the short was where the copper strip for the contact points and the bent strip going to the main switch are held by two screws. The same screws also hold the flat spring strip that works against the magnet to keep the flap at the top up.
Not a very clear explanation but I hope that you can understand. If not I can do a thumbnail drawing but not right now.
1-3-2013
Thank You Roger
We have just returned from four or five relaxing days with my sister & her extended family on the coast at Point Lonsdale. A great time eating, sleeping, reading and enjoying the odd glass or two of good Australian wines, unfortunately it was too cool for swimming. Of course today we had high 30.s C for our drive home and tomorrow is scheduled to be in the mid 40.s C. None the less once I have caught up with some chores I will be able to set about re-installing the light/ignition switch. More later.....
1-4-2013
As predicted we had our +40 degree C. day It was a really unpleasant day and not all that conducive to working under the dash with a lead light to add to the heat. I am much more used to Lucas wiring and have discovered that there are couple of basic differences with the Atwater Kent system. I mentioned earlier the complexity of the ignition/lighting switch, attached below is a diagram of the internal arrangement. Today after a very hot and partially sleepless night it is much cooler and I am about to go out and attempt to finish installing that switch. That done the next task will be wiring in the extra stop/tail lamps.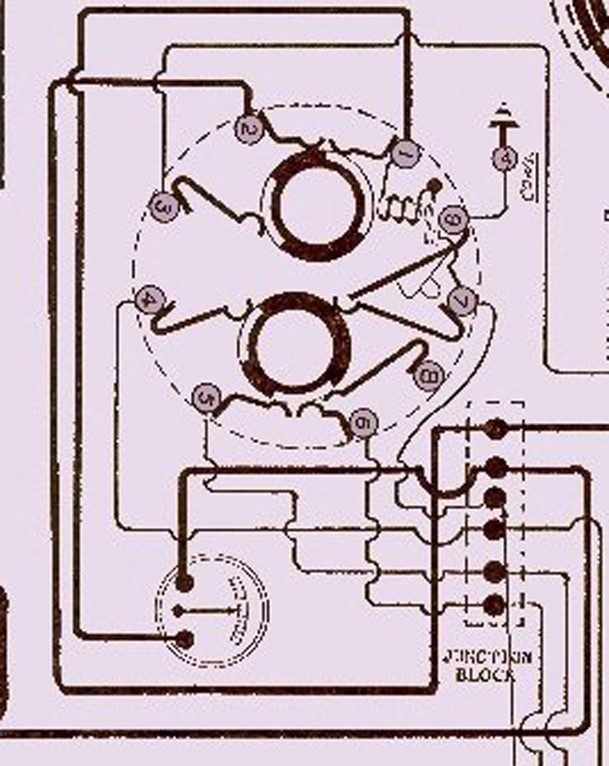 1-5-2013
While some people are still un-winding from their Christmas/New Year celebrations others have important work to do.
One problem that had reared its ugly head was an apparent short circuit still lurking "somewhere" in the electrical system. Every time I switched on the ignition, the amp meter had this nasty tendency to zoom right across to maximum discharge. After a morning spent tracing the individual wires and checking their continuity from both ends, it finally showed up a short within the "fully restored and ready to fit" horn I had bought at a swap meet about two years ago. (You have to buy these things when you see them rather than waiting until you need them.) On taking it apart it became apparent that 90 year old insulation where the supply wires were connected was at fault. Sure It had a passable coat of paint but very little work had been done internally. Two red fibre washers and a little crushable black plastic tube and the job was done. After testing it could be re-installed on its original (correct) Packard mounting bracket, part of the oil filler spout on the side of the crankcase and all the wires behind the dash tidied up. No more short circuit and it only took about four hours lying on my back with my head up under the dash and my feet hanging out the right hand door. And the car is one tiny step closer....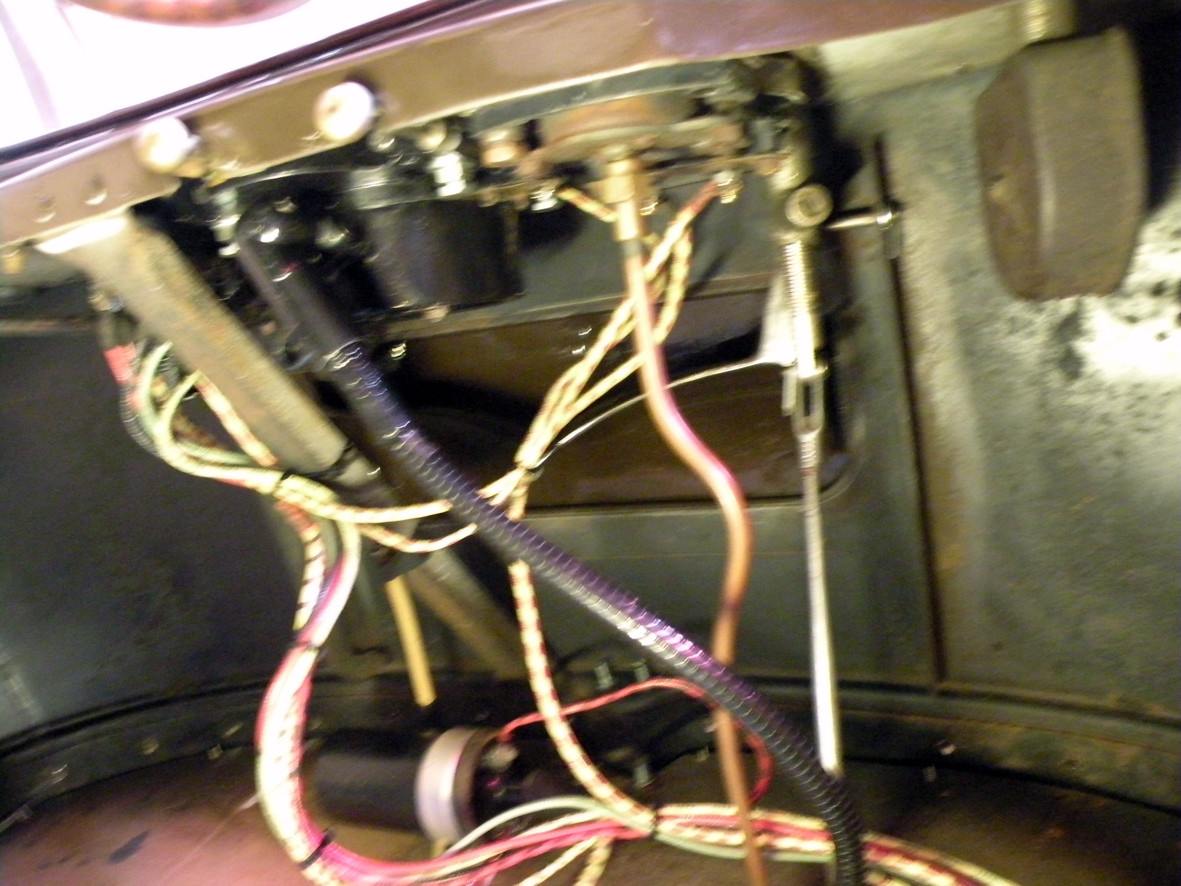 1-7-2013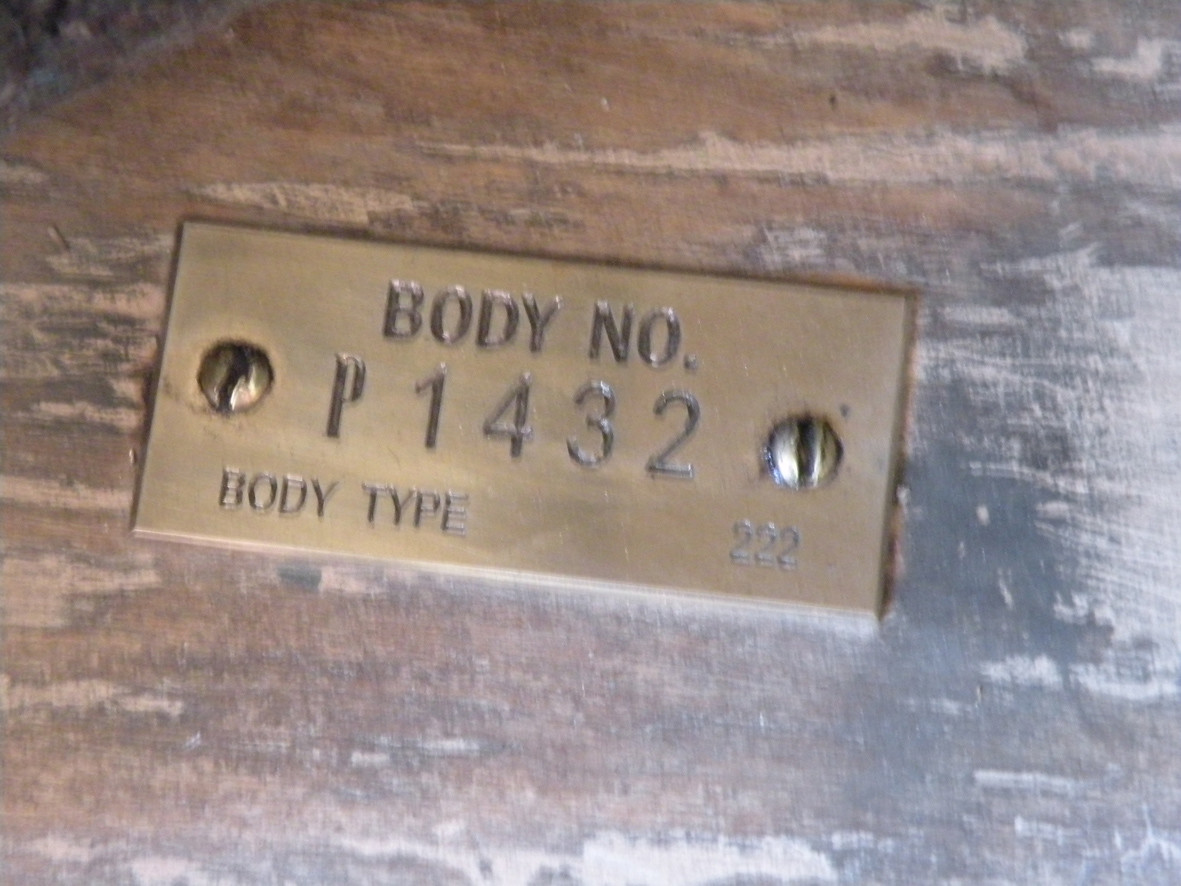 1-8-2013
Hi All
I am sorry for the lack of communication but our spell of hot weather has tended to slow me down, fortunately we are well away from the horrific bush fires that have been raging in Tasmania, New South Wales and parts of Victoria. Added to this I have been spending too much time tracking down and solving a series of electrical faults that ultimately proved to be a misplaced brass contact strip inside the main switch. Such a simple thing but one that has consumed hours & hours. The only thing now remaining is to connect the tail lights. The original one is up and running and now there are just two wire that connect the number plate board to a junction box linking it to the main loom. and most importantly the courtesy light in the luggage trunk still needs a new globe. That done I an ready to rush out and fill a 10 litre can with some fresh petrol, then stand back. Oh yes! there is one other thing. To fit the gear-lever knob that my son Steve is making for me, like the Body ID plate (above) an work of Art.
1-9-2013
Hi Ben
The good news is that you do not have to wait any longer! This morning I bit the bullet and filled the vacuum tank with some fresh petrol, filled each of the priming taps in turn, flooded the carb and retarded the ignition. As expected, it fired up straight away but is reluctant to speed up. I get the impression that it requires more advance than is available through the normal distributor links and may require the distributor drive shaft being moved by a tooth where it is driven by the camshaft. In addition the starter seems reluctant to release so I need to look at the Bendix spring.
So it is good news with a couple of reservations. Comments are welcome from any other Single Six owners especially re obtaining additional advance on the distributor. Oh yes, the oil pressure is excellent the needle on the gauge going all the way.
Hi John
Thank you for your confidence in my ability. I still have to sort out the ignition timing/mixture before I go venturing down the "lane". The problem being that we live at the top of the hill. The attached photograph should have appeared with an earlier post. It shows the tail lamps illuminated proving the the electrical circuit is intact. Working on my own makes it very difficult to check if the stop lamps are also working however by observing the amp meter it is possible to see the change in the current consumed when the brake pedal is depressed indicating that in all likely-hood the lights are indeed coming on. I had hoped to include another photograph of the approved Ben Benson modification to the crank-handle but with the number of stray reflections the photograph was hopeless. I will try again later.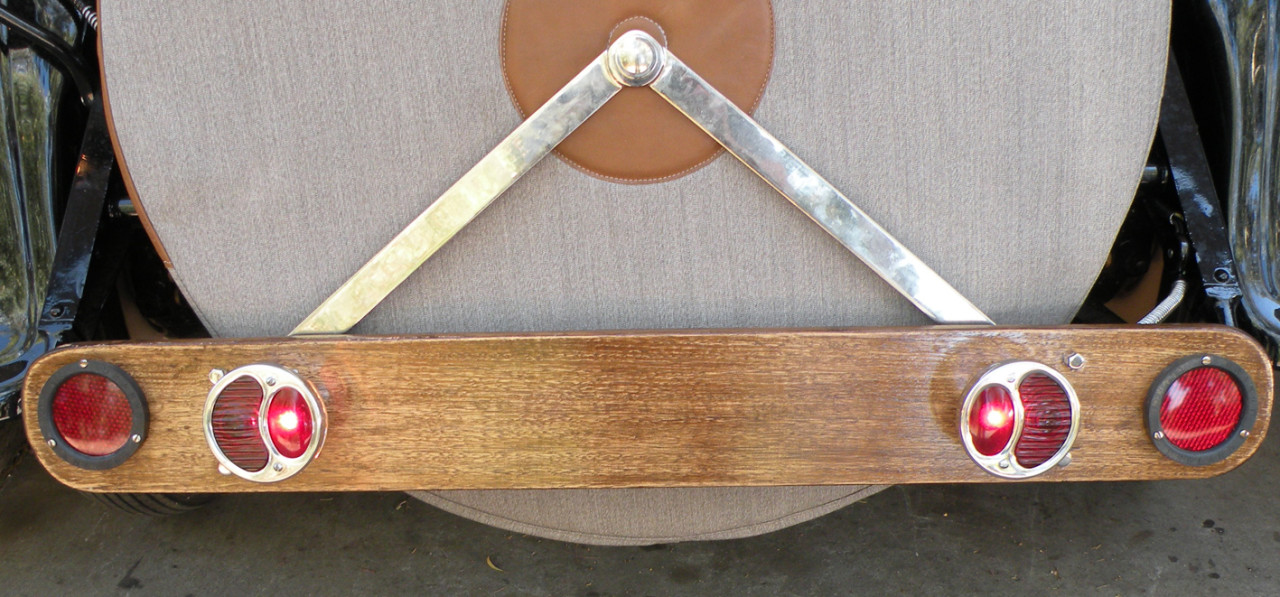 1-10-2013
Having had a long talk with David McC earlier and read up on the ignition timing in the 1922 Single Six Information Book. I am sure that given a couple of hours over the weekend I should have ironed out the bugs. Tomorrow we have a VSCC BBQ in the evening so will need to give the Lagonda a quick clean and check over.
1-12-2013
Hi Dale
Welcome to my thread.
My lack of activity here does not automatically signal a total lack of activity. Today has been spent sorting out several small things. Having among other things adjusted (advanced) the ignition timing and the timing chain the car is now starting "on the button" and running very nicely and quietly. Just as you would expect from a Packard. One priming cup had a tendency to leak (compression) and will have to be lapped in with some fine grinding paste (toothpaste perhaps) other wise the day has been well spent. I still have a couple of little nagging things to fix but hope to venture out on to the road some time soon. I probably need to re-tension the cylinder head nuts again after a few more hours of running.
1-13-2013
Thank you Mal
Just a cautionary tail for all those who would have me driving the Packard off into the sunset as soon as It had proved to be a runner.
Rather than going for a quick run around the block I like to be sure that all systems are in order and that there are no surprises lurking in the wings.
After some prolonged running (About 15-20 minutes) while I checked for leaks in the cooling system etc. I noticed that the engine had started to idle slightly roughly and it sounded as though the mixture had become rich. Opening the carburettor side hood I was alarmed to see a jet of petrol about six inches high coming from the top of the float bowl and petrol running out of the splash tray all over the exhaust pipe and forming quite a pond under the car. What had happened was that the float had sunk permitting a steady flow of fuel into the carb and out the top. I could quickly turn off the tap at the base of the Vacuum tank and switch off the ignition. One can only imagine what could have happened if I had been bowling along the road possibly completely unaware of the problem until the flames started to emerge from the louvers on the side of the hood. It just ain't worth thinking about! As it is after "boiling" the float in a pan of water to evaporate the petrol trapped inside it, I will be able to carefully solder up the two or three minute leaks around the centre seam and all should be well.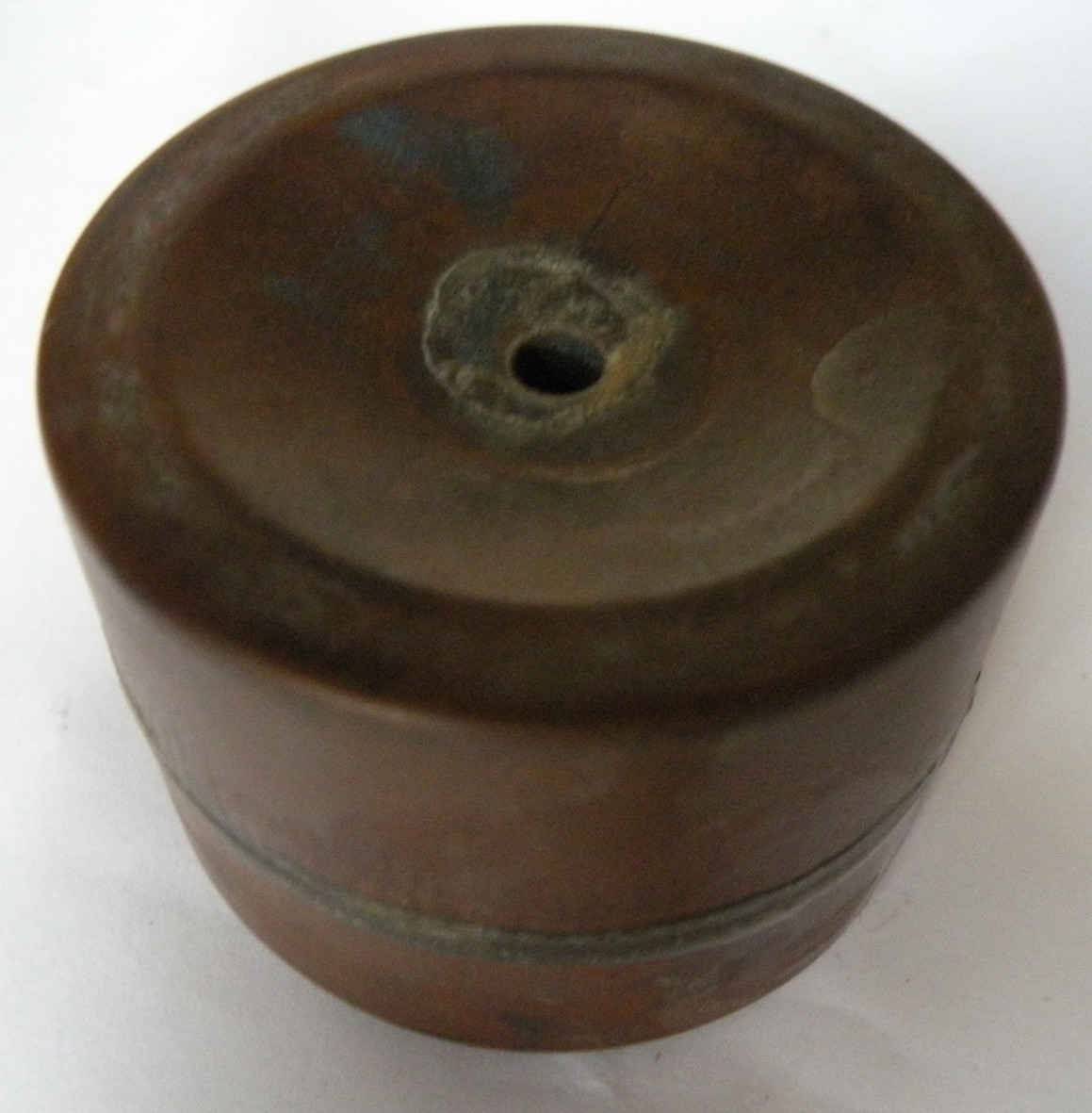 Hi All
Having "boiled off" the petrol from inside the float and throughly cleaned it I could check for leaks it by immersing it in hot water. By doing this I have been able to locate not one but four microscopic cracks around the soldered joint. It should be just a few minutes work to repair these by carefully running some solder into them.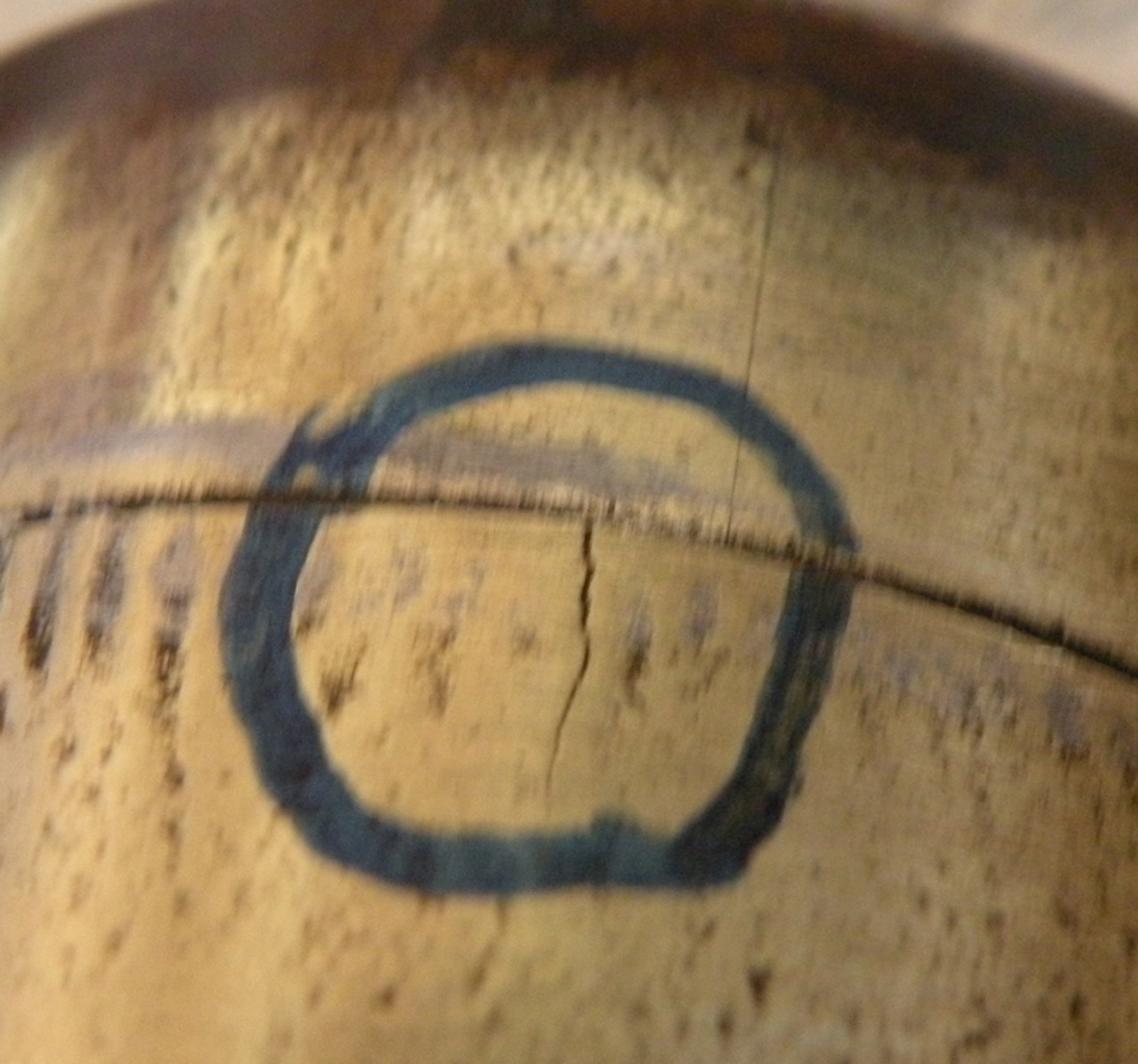 Jobs done! it took a total of 15 minutes.....
1-13-2013
Hi Jeff
Good to hear from you. Another small step I have now reversed the Packard out of the carport and driven it in again under its own power all I need to do now is to save up enough $$s to fill the petrol tank and apply for a temporary permit so I can drive it legally on the road. Once it is completely sorted out I can take it for its roadworthy test and register it.
Keep on keeping on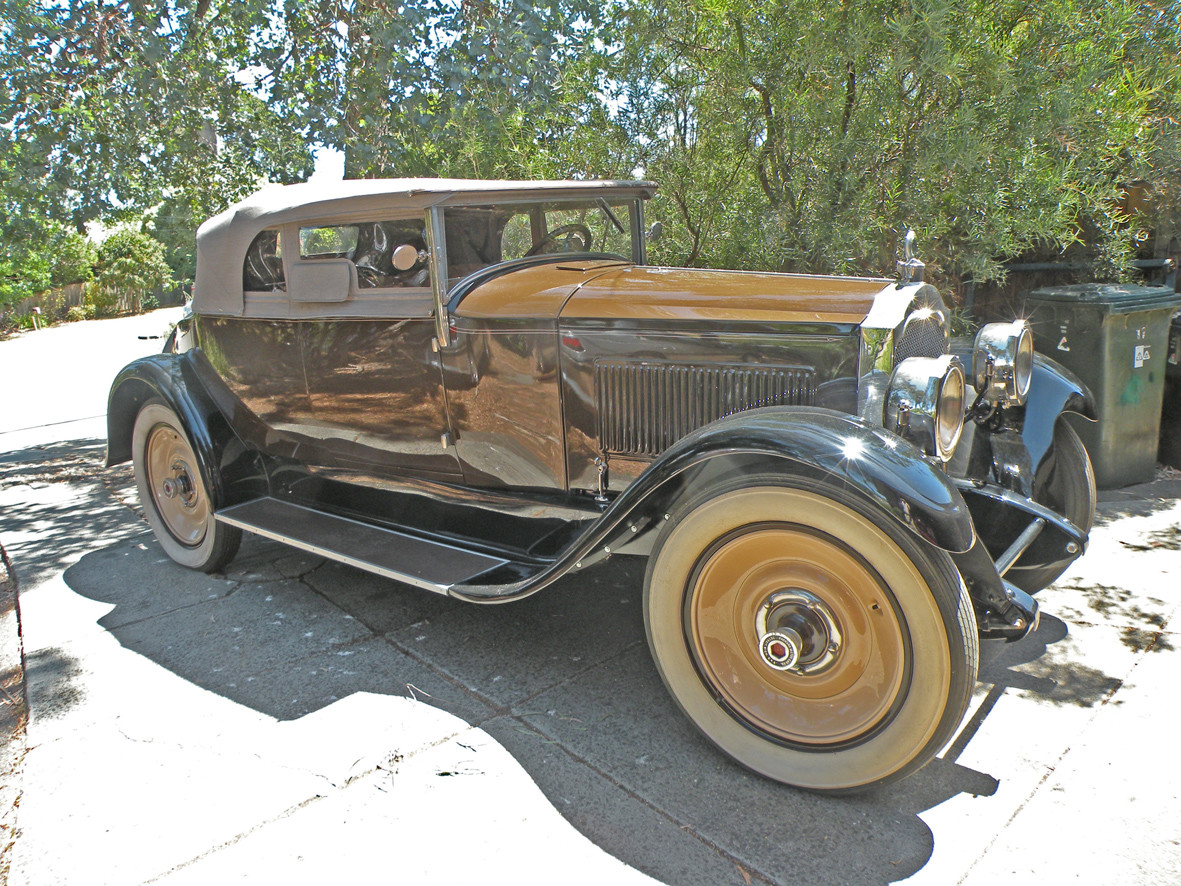 1-14-2013
Some of my older friends will tell you that I am a bit "kinky" about the tool bags for my cars. I have just bought at great expense this lovely hand made genuine Buffalo hide "Cellini" bag for the Packard. Its beautifully patinated dark tan leather makes it perfect to match the cars colour scheme. It is basically 12 inches X 8 inches X 2 3/4 inches across the base. It has a number of individual pockets to isolate the spanners from the screwdrivers etc and smaller zipp closed compartments for those important little things, things like feeler gauges, a points file and similar essentials. It fits snuggly into the storage locker under the drivers seat. It will never rattle or scratch the paint or upholstery, you will almost certainly never see another like it! By an extremely talented Italian fashion designer it comes from a very exclusive store or would have originally...... Each of my cars have one, no two are the same. I bought this one for the princely sum of $2.00 from my local Charity Shop.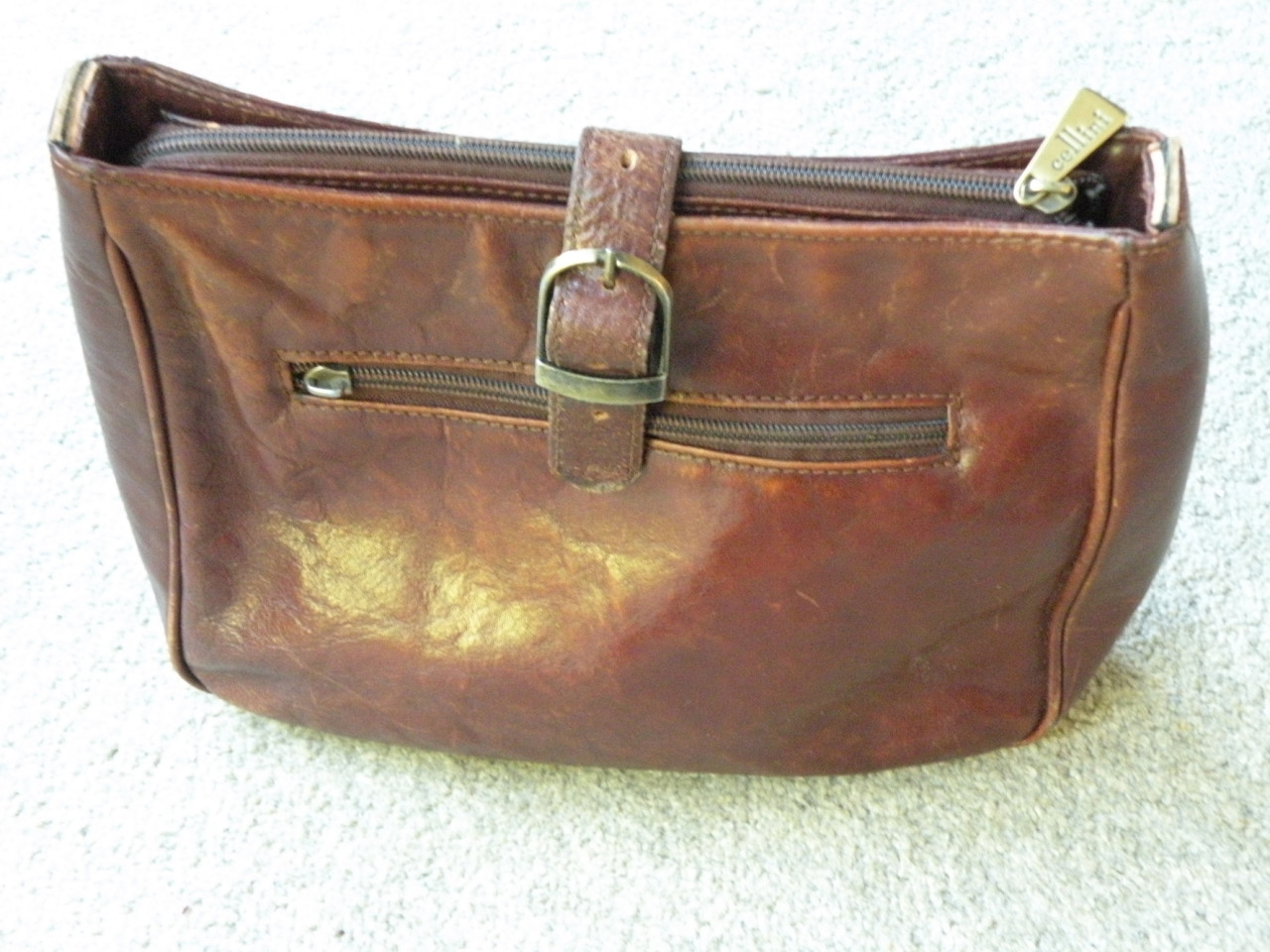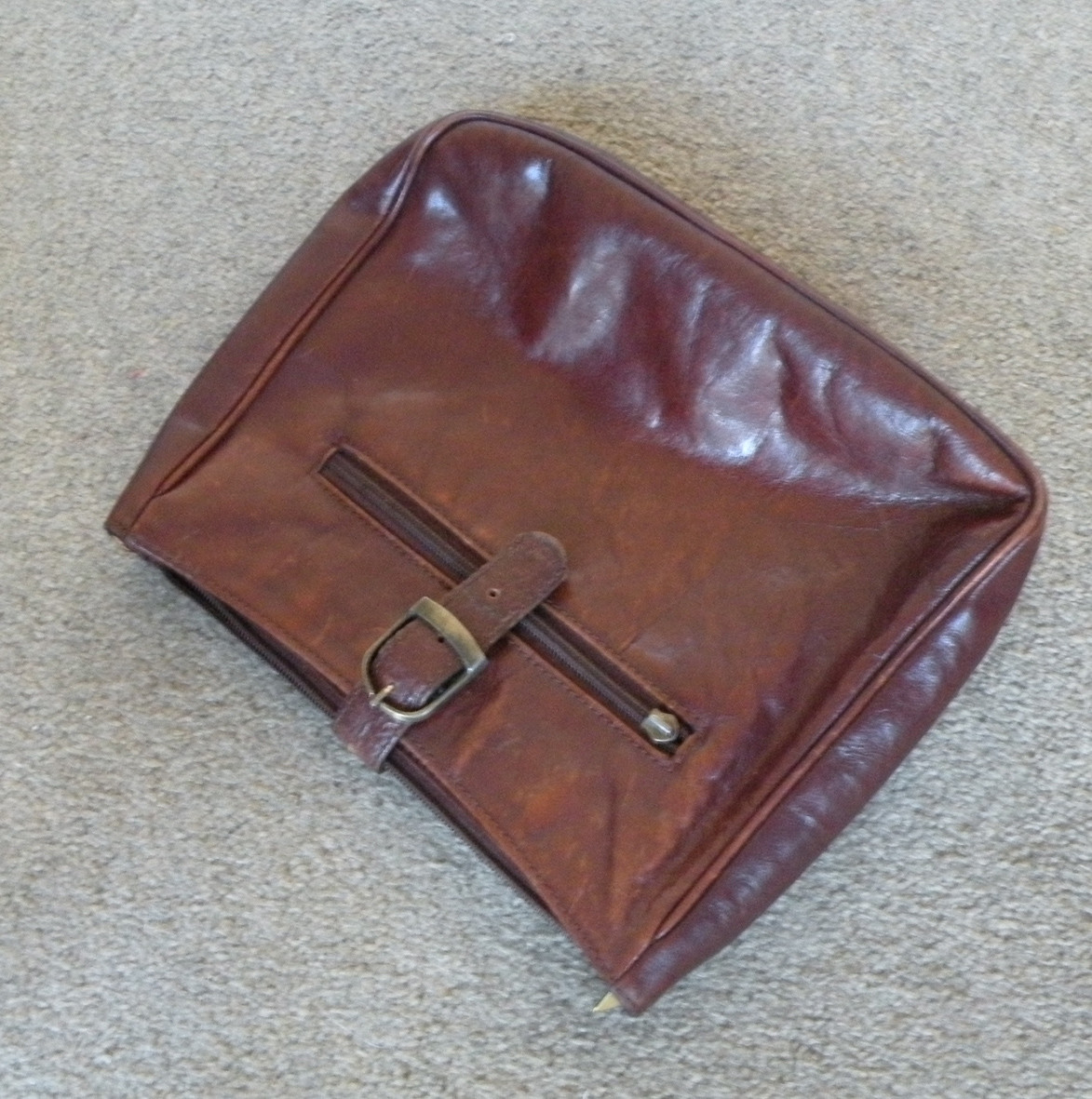 There are details and then there are small details, all are equally important in the over-all scheme of things. In the words of the old song "little things mean a lot!"
The holiday season starting to wind down I could collect the breeching staples from the plater where they had been receiving a shiny coat of nickel, while my good friend Tony the trimmer was converting a couple of off cuts of the upholstery hide into door check straps. With everything collected into the one place it was the work of minutes to screw them on. Another job done and now there is no chance of straining the door hinges by opening the doors too wide.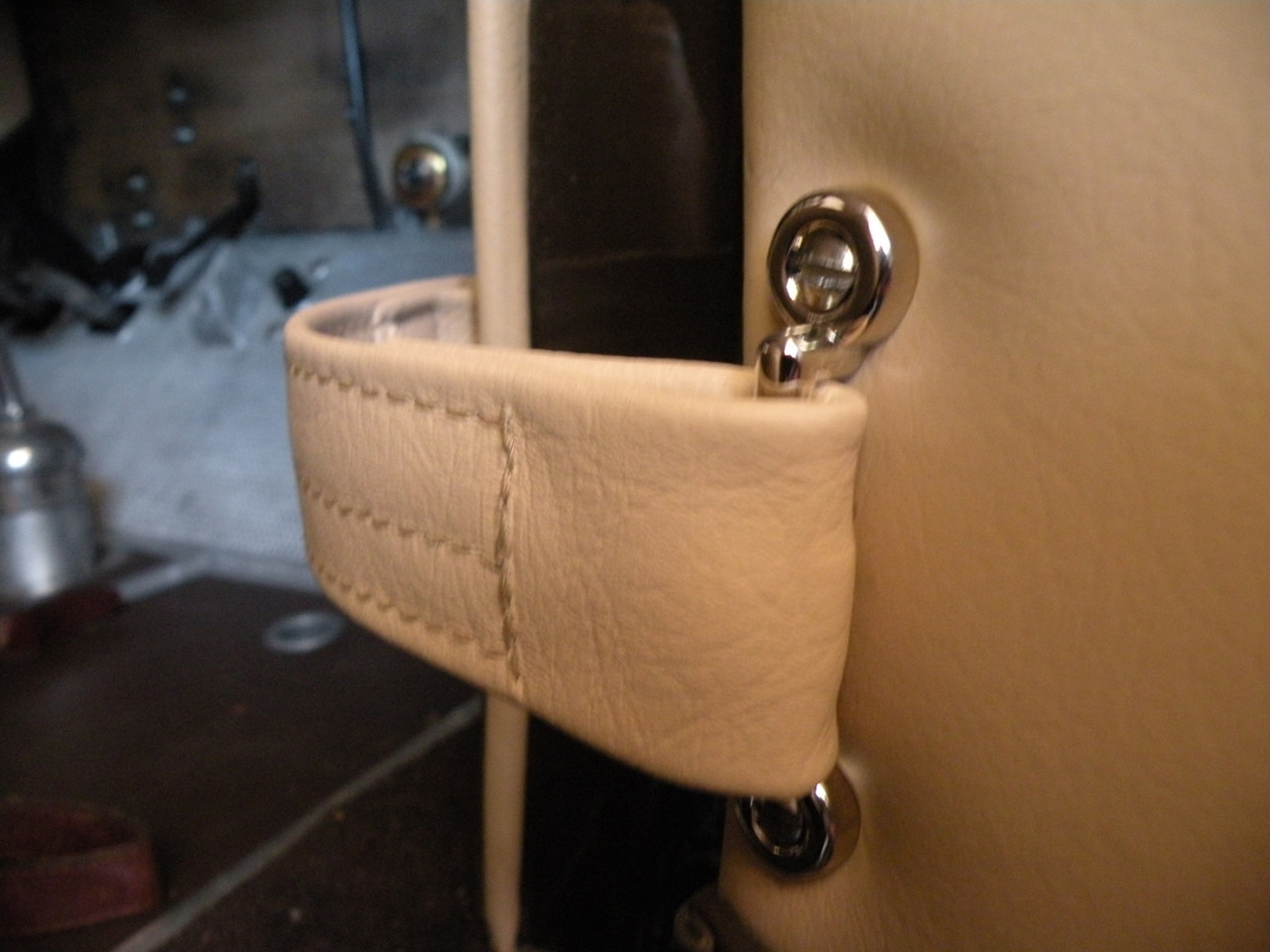 1-17-2013
Hi Tony
Apology accepted. We enthusiasts down here in Victoria take a totally different approach to our cars too. The Packard falls into the category of a Project car. You can expect to see it being offered for sale any time now in order to finance my next project. I am a compulsive obsessive rescuer of basket cases and lost causes. Having said that it is always my aim to have my cars 110% right. My other car a 1934 Lagonda Rapier has been with us since 1978 and will probably become part of my estate. It is driven competitively in VSCC events and is taken to Europe every five years where it is our daily driver for between three and four months. Our next trip away is in 2014. and will take us to VSCC Events in the UK, a number of rallies in France, down to the Pyrenees for a week or three and then probably over the Alps to Italy and into Switzerland. The Rapier loves mountain roads.
If you send me your e-mail I can send you a folio of Photographs of the "Flying Four" It now lives somewhere in Queensland.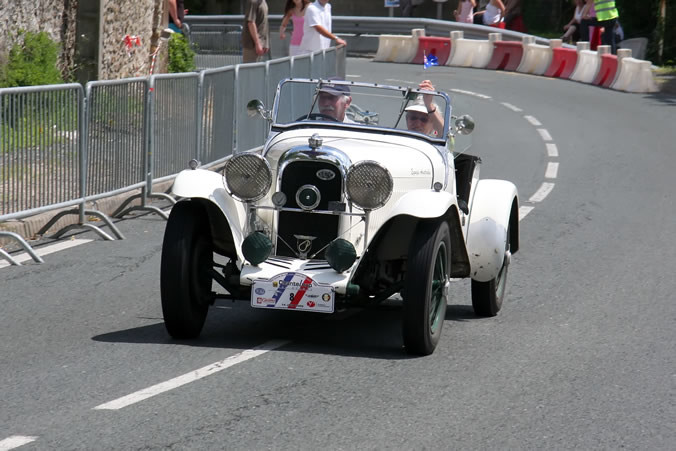 If you look closely you will see that we are taking part in the Chanteloup les Vignes a hill climb in a Village on the outskirts of Paris
Hi Ian
What is it about "Inorganic Chemistry" that you do not understand? You just have to learn to concentrate more on what is being said!
In line with my comment re wanting my cars to be 110% right, I have just spent the last two days with the generator spread across my work bench. For some reason the charge rate was either spasmodic or totally absent. Finally it is all back together and on the car again.
The armature has been checked on a friendly auto electricians "growler" and pronounced healthy. A set of three new carbon brushes fitted, the commutator has been cleaned up and new plate to replace the missing one that retains the bearing at the outer end made and fitted, finally the wiring circuits checked. Now at last the amp-meter shows a nice steady 8 amp charge. This can be adjusted up or down if necessary by moving the third brush. To complete the job the date was stamped into the end plate.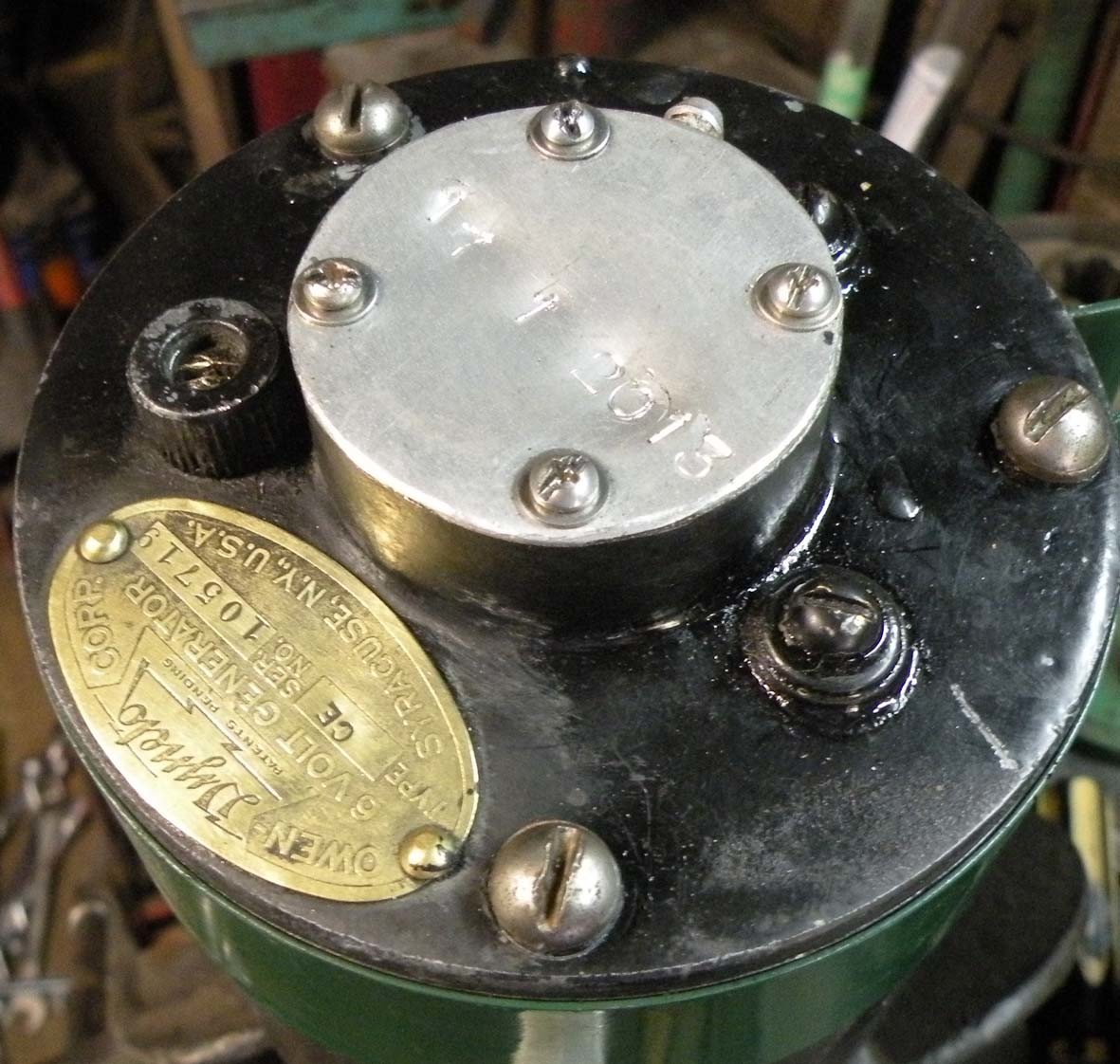 The final finish touch is now in place. Our son Steve finished the gear lever knob earlier this week, he has just delivered it this morning. It probably needs just a coat or two more of wax polish to give it the right amount of patina otherwise it is a fitting end to what has been a sometimes trying but always satisfying restoration.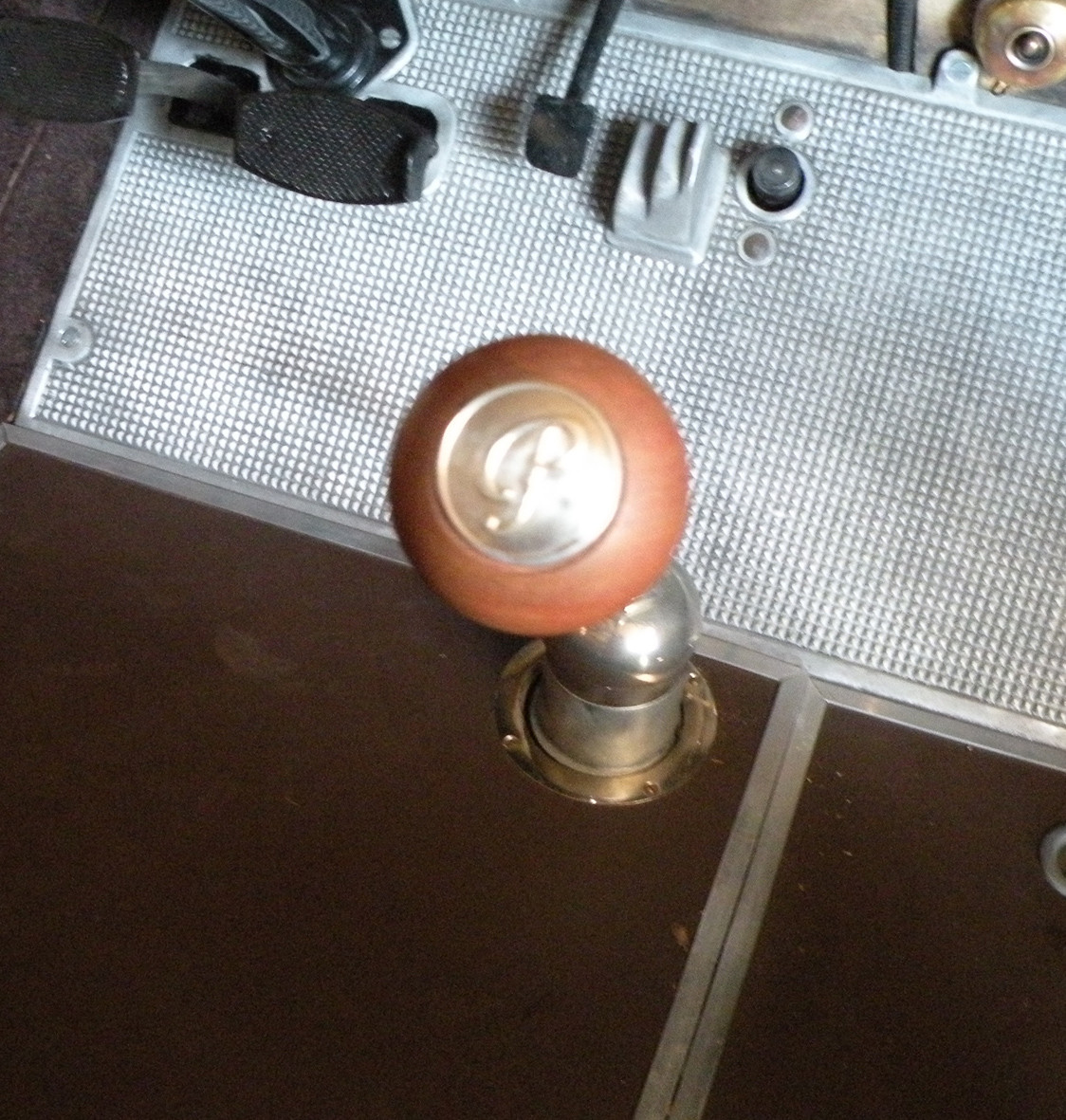 I hope to have a "photo-shoot" over the next three or four days and should have a complete folio of photographs available to potential purchasers. Genuine expressions of interest welcome.
Keep on keeping on
1-18-2013
So OK all you eager Aussies what did you do this sunny Saturday morning? After some running I noticed that two of the priming taps were leaking under compression so I removed the culprits, dismantled them and lapped the conical taps in with some fine grinding paste re-assembled them and returned them to their rightful place in the cylinder head. I then went over the left hand side of the engine and nipped up the umpteen 1/4 inch bolts retaining the water side plate as I had noticed one or two just starting to weep very slightly.
Keep on keeping on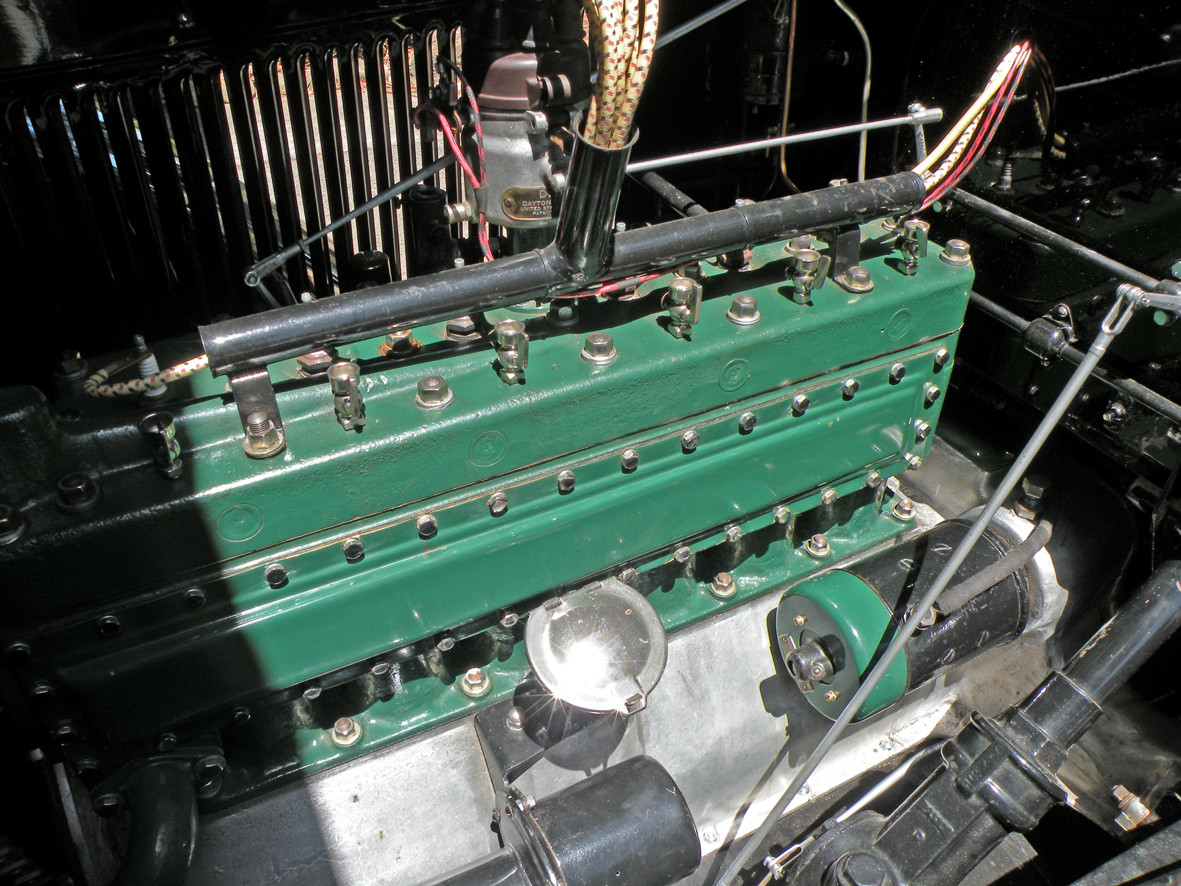 Yes all you super critics. I said bolts, they are of course technically screws. Another point that the perfectionists seem to have missed, my engine paint is not quite precisely the right shade of green for an early 1920s Packard. I believe with use, age, heat, weather etc it will "mellow" to exactly the right colour.
Before you say anything.... I know that I have plain cylinder head retaining nuts. Domed or Acorn nuts were not introduced until 1924/5 at the earliest. Plain nuts are absolutely correct for a Series One, 126 Single Six!
1-20-2013
Hi All
I have just invented a new game for car enthusiasts of all ages. "Find the missing contact" or "I wonder where the current went." Going back a couple of posts I described rebuilding the generator. This is where a little knowledge can be dangerous. When re connecting the generator I discovered that the correct terminal #2, on the back of the switch was "dead" I very cleverly made a little bridge to link this with the ignition circuit #3. This worked fine! Just one problem. Once started I could not turn the ignition off again! Even though disconnected from the battery the engine continued to run "on the generator". Looking again, comparing the actual internals of the switch with the diagram of the internal working of the switch I could easily track the path of the current, the only problem was that one contact was missing from my switch. I phoned my Chief Packard Guru in Sydney David McC. Yes he had the remains of a spare switch he could easily remove the required contact and post it to me. The only problem was that when he looked that contact was missing from his switch too. Fortunately there is another identical contact on the lighting side of the switch so he is able to send that one to me. My only thought is that this contact is the hardest working in the switch passing current each time the ignition is turned on or off. Given that there is a small spark arcing across the contacts, perhaps just this one contact burns slightly each time it is switched on or off, until it needs to be replaced. Fortunately the contacts for terminal #2 and #6 are inter-changable, as are those for #1 and #5. Anyone who actually owns a series one 126 Single Six, perhaps you would like to remove your main switch dismantle it and tell me what you see. Attached are two photographs of the internals of my switch and a copy of the diagram from the 1923 "Operation & Care" book. As I said in an e-mail to David McC, I can and often do take the switch apart in my sleep. Sweet dreams or night-mare?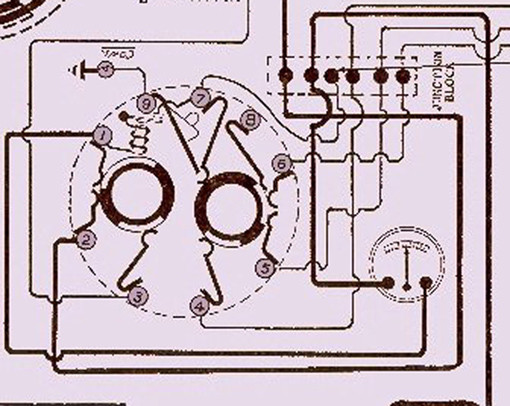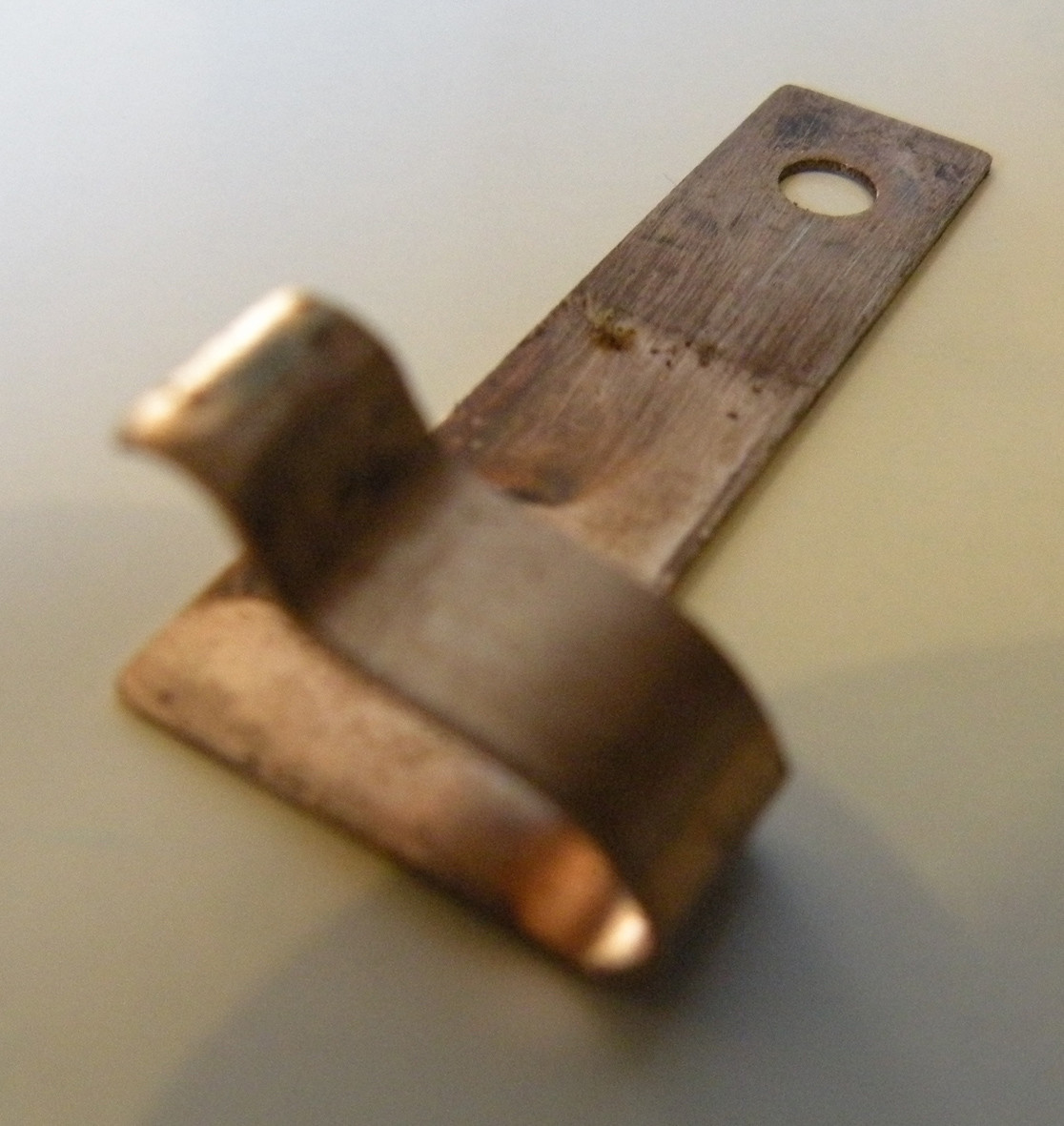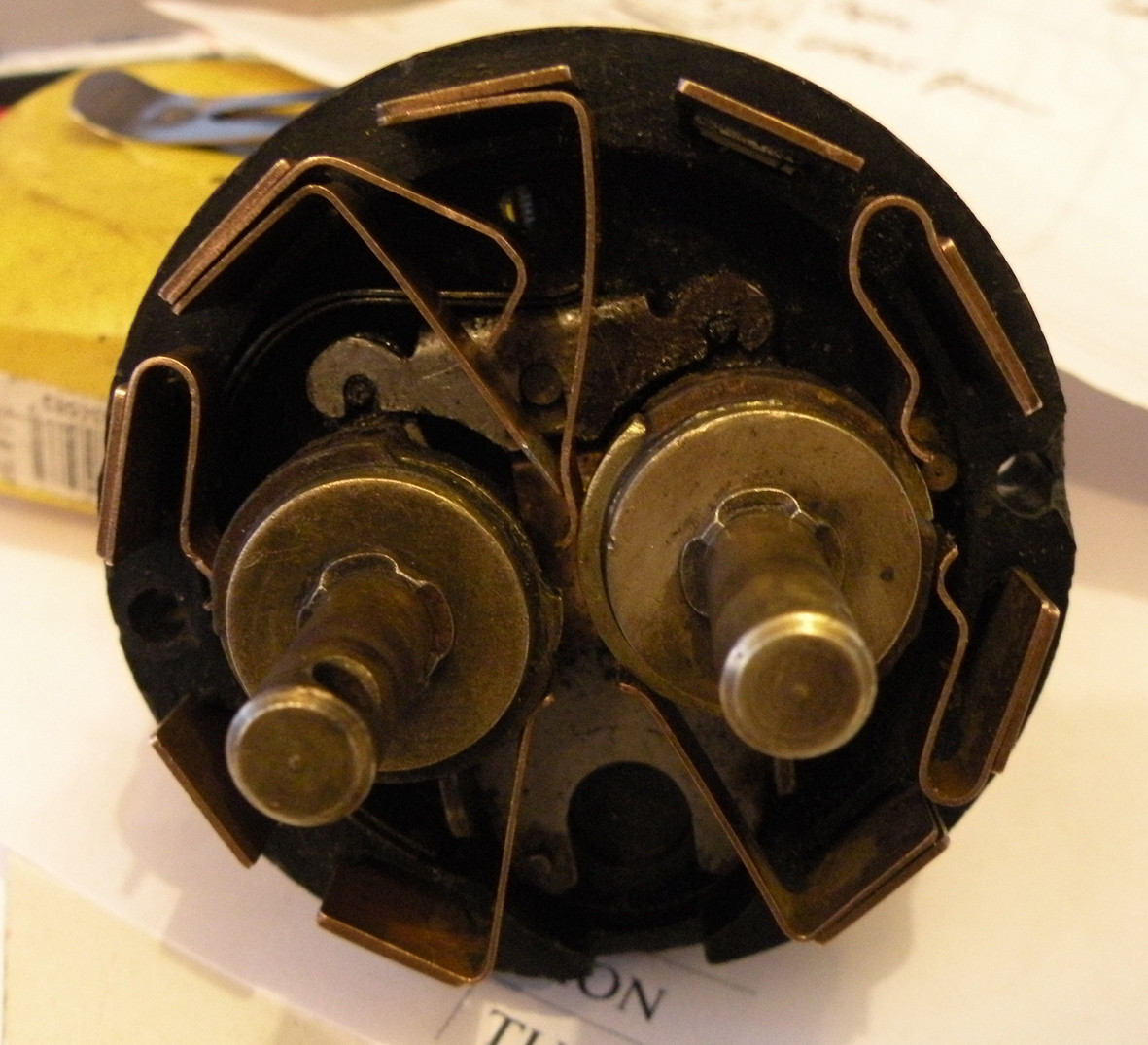 And now a question that I would welcome some educated replies to:-
Given that my 126 Single Six is pre 1924 and that the body panels (all original) from the windscreen back are aluminium can I assume that this can be correctly described as a Pullman body?
I have carried out a number of searches (Google etc) and have been unable to find a definitive answer.
Keep on keeping on
1-21-2013
Hello Donald
I am also almost convinced that the coupe was a standard Packard production body.
There were a variety of things stopping the car from idling properly. Firstly ignition timing being too far retarded and then the mixture was all over the place. Having gone back and set the timing exactly as detailed in the Operation & Care book and then having done the same thing with the Auxiliary Air Valve I believe that I can get the engine right down to a normal idle. The leaking priming cup/taps on two cylinders would not have helped either. You have to remember that the engine had not run for at least 50 and possibly anything up to 75 years. I had originally left the carburettor settings as I had found them.
Once I finally sort out the mystery of the missing contact in the ignition side of the main switch, it should be ready to drive. I find it much easier to sort out all the inevitable little teething problems at home before dashing off into the wide blue yonder. As I have already said I want/expect the car to be 110% right in every detail.
Hello Donald
I am also almost convinced that the coupe was a standard Packard production body.
There were a variety of things stopping the car from idling properly. Firstly ignition timing being too far retarded and then the mixture was all over the place. Having gone back and set the timing exactly as detailed in the Operation & Care book and then having done the same thing with the Auxiliary Air Valve I believe that I can get the engine right down to a normal idle. The leaking priming cup/taps on two cylinders would not have helped either. You have to remember that the engine had not run for at least 50 and possibly anything up to 75 years. I had originally left the carburettor settings as I had found them.
Once I finally sort out the mystery of the missing contact in the ignition side of the main switch, it should be ready to drive. I find it much easier to sort out all the inevitable little teething problems at home before dashing off into the wide blue yonder. As I have already said I want/expect the car to be 110% right in every detail.
Keep on keeping on
Bj.
You simply cannot imagine how frustrating I find not having any early history or for that matter ANY history for the car.
After all exactly how many people did export a derelict vintage Packard to Australia any time between 1950 and 1965. If they are having trouble remembering , they or someone close to them chopped the roof off AND fitted four brand new white wall tyres before it left the USA.
Hopefully the attached photograph may help jog their memories.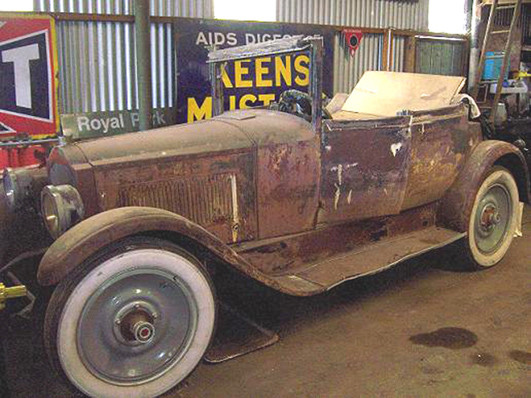 1-22-2013
Hi David
All that makes interesting reading but unfortunately is not conclusive either way. I have just added my six-penys worth.
I think that as far as this car is concerned the subject has run its course. One thing is sure, that the body left the factory as a Type 222 (4 passenger) Coupe. At least 80/85% of that body still survives on the chassis it left the factory attached to.
Keep on keeping on
1-23-2013
Today has been different, while I am waiting for the post-person do deliver the switch contact that David McC has mailed to me, I filled in the day catching up with all those little jobs that tend to be put off for another time. First I filled up my grease gun and with the aid of the Alemite grease connector adaptor I climbed under the car to grease all 34 grease points mentioned in the Schedule of Lubrication. While I was underneath I checked that every castleated nut actually had a split pin through it. While on the job I adjusted both the hand and foot brakes so that hopefully I can stop the car once it gets out on the road. The main problem with Two Wheel Brake cars is that you can usually stop one or both back wheels from turning but that does not always stop the car. Something to look forward to?
Finally I rescued a nice length of hardwood from the scrap bin. This is just the right length and size to make a dip stick for the petrol tank AND it fits snugly into the drivers door pocket. If the original petrol gauge had still been in the tank it would have been impossible to read as it would be hidden behind the spare wheel mount. One thing about a dip stick is that they are always reliable. I gave up on the dashboard gauge in the Lagonda years ago and now rely exclusively on the dip stick. It does mean getting out of the car to check the fuel level but it is better than being stuck in the middle of no-where because the Petrol gauge was not telling the truth.
Right on que our trusty post person sped up to our gate around midday. There among the bills and junk mail there was the envelope from David McC bringing the contact for the ignition switch as promised. Lunch over it has been the work of just a few minutes to slip the contact into its position and to close up the switch. All that remains now is to connect up the various wires to their respective terminals. This again should go smoothly in addition to colour coding the wires I have taken the added precaution of tagging each wire with the number terminal it connects to. Attached are photographs of the internals of the switch (for you to compare with the earlier photograph) a rear view. The sharp eyed among you will be able to see the numbers 1 to 9 around the terminals and one from the front with the switch all buttoned up.
Once again a huge thank you to David McC what would we Aussie 126 and early Packard owners without your wisdom, ready assistance and support.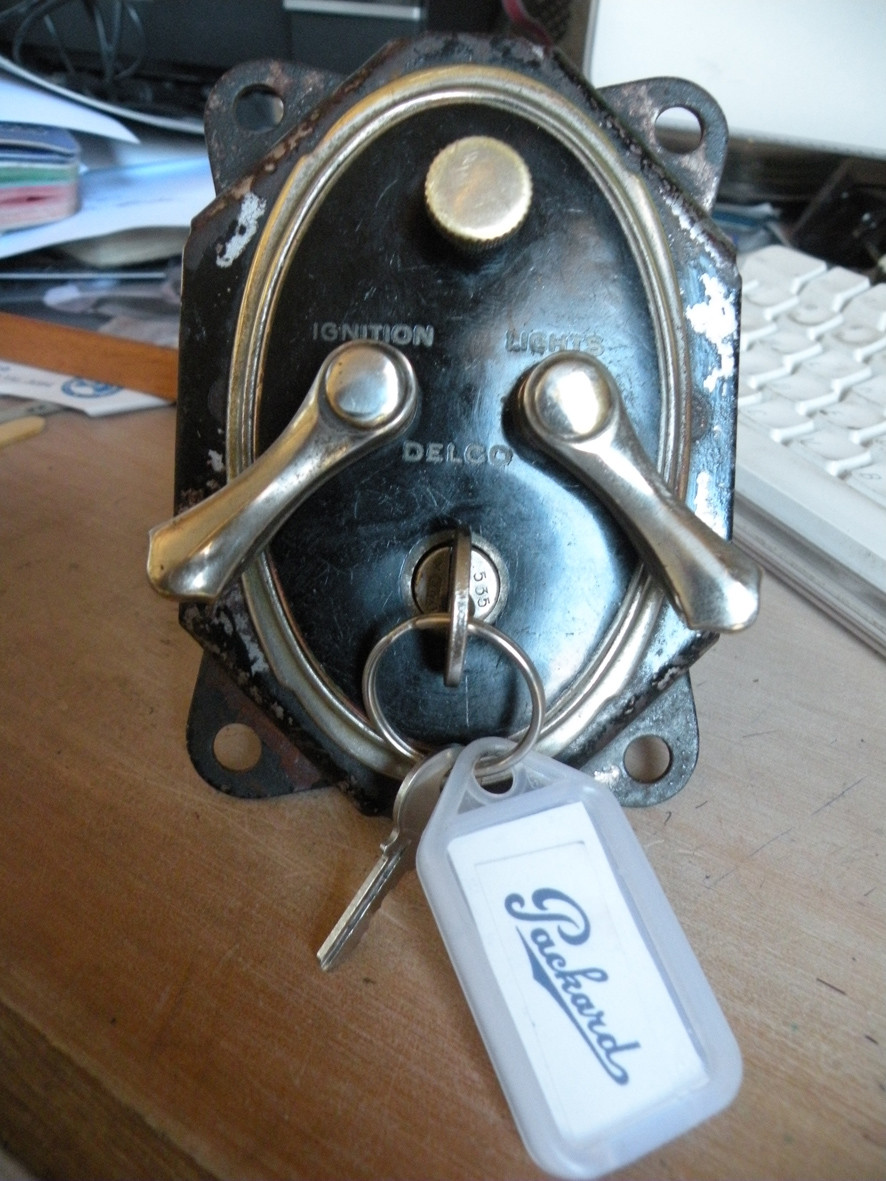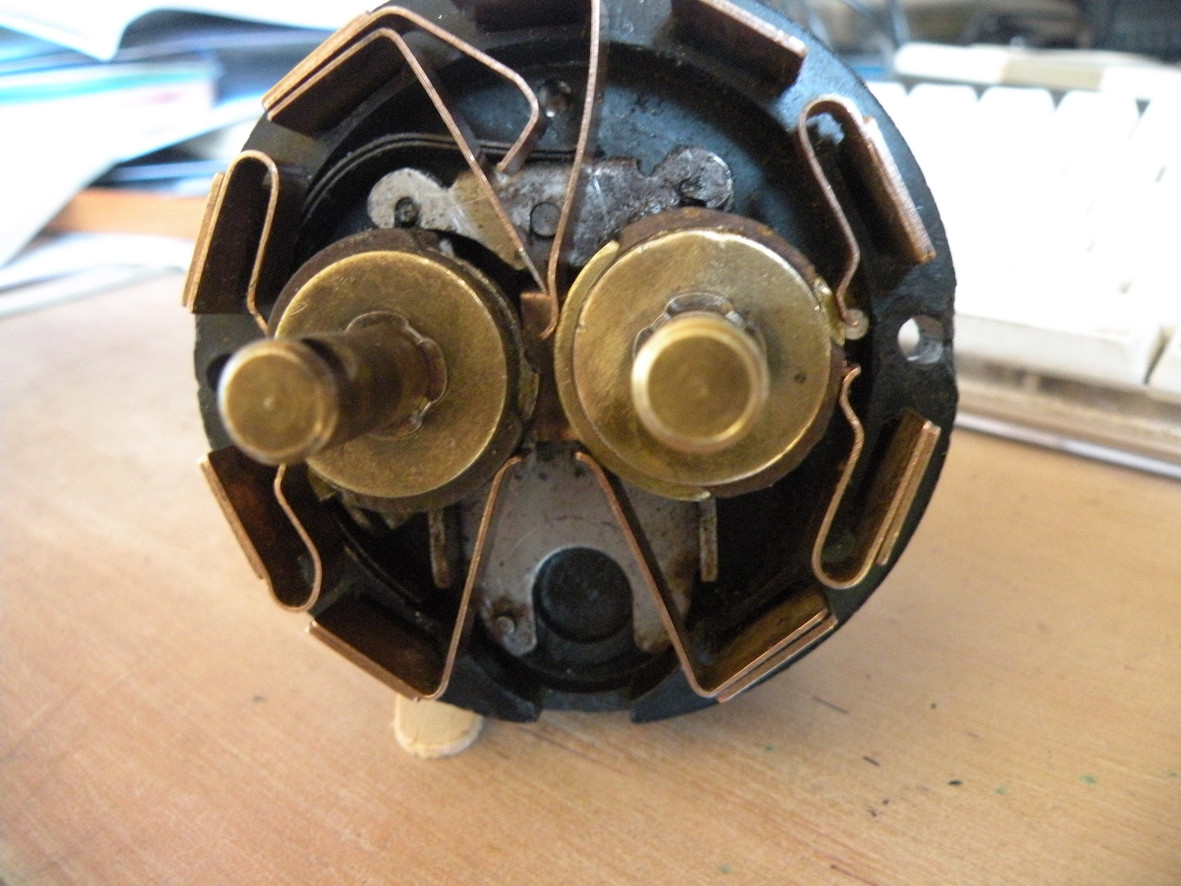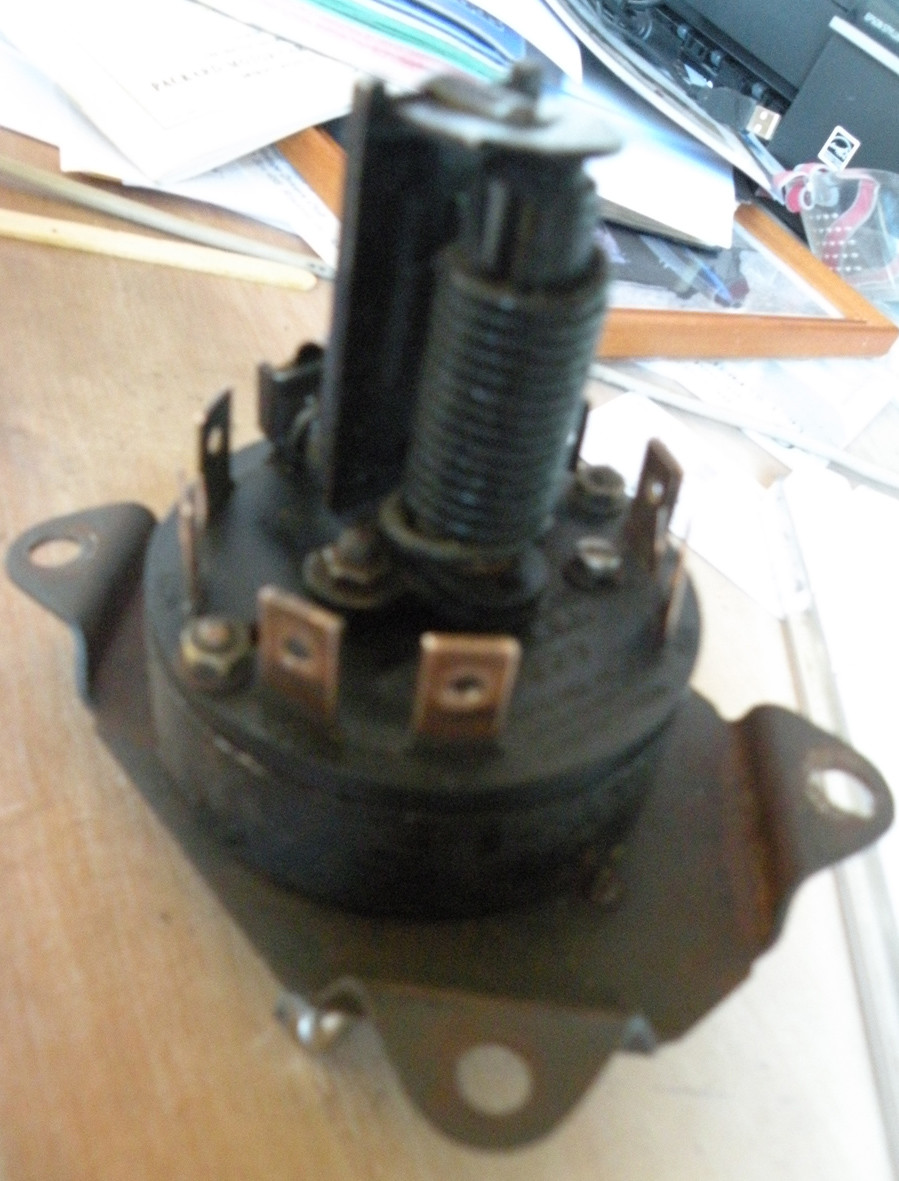 1-25-2013
Hi all
Today has been spent investigating the workings of an Expresso coffee machine for my daughter. I think that in the future I will stick to vintage cars they are so much more fun to work on.
The pursuit of perfection can be a long and arduous journey!
Having got the Packard to a stage that it is starting on the button and idling nicely it seemed to run only as long as the contents of the carburettor float bowl permitted. While the Vacuum tank was full the fuel was not reaching the carb in sufficient quantity to keep the Carb supplied. Back to basics....
There was sufficient fuel in the Vacuum tank, the pipe from the tank to the carb was free from any obstruction. I could disconnect this pipe from the tank but the fuel was only slowly disgorging from the tap. BUT if you removed the plug from the top of the tank it would flow normally. Probably there are many of you who have never seen a Vacuum tank and even more that have never seen inside one. There are in fact two tanks, one inside the other. One to draw the petrol from the storage tank by means of the vacuum created in the inlet manifold. The other to deliver the petrol to the engine. To do this the second tank must be vented to the atmosphere. Therein lay my problem. The vent for this second tank was almost fully blocked. having removed the top of the tank I could remove the vent pipe and clear it by passing a length of welding wire through it. With the top secured again the petrol could flow in a continuous stream. Problem solved.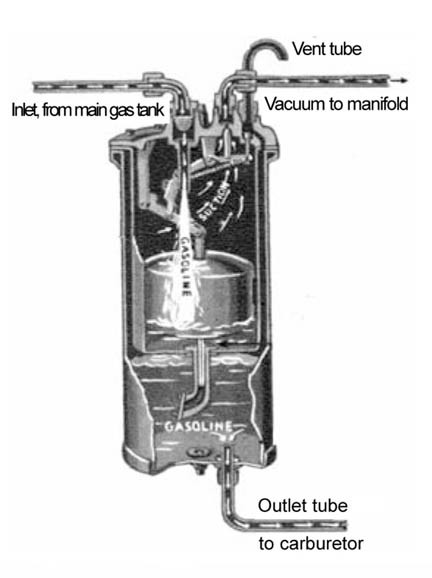 1-27-2013
If it ain't one thing it is another......
Yesterday while demonstrating to my brother-in-law how easily the Packard started I pressed the horn button. The result? Nothing! now I have something else to check out today..It WILL be 110% perfect!
Hi all
Well that only took a minute, half a turn on the adjustment screw and all is well.
Now I know you all love photographs so here is todays crop.
Keep on keeping on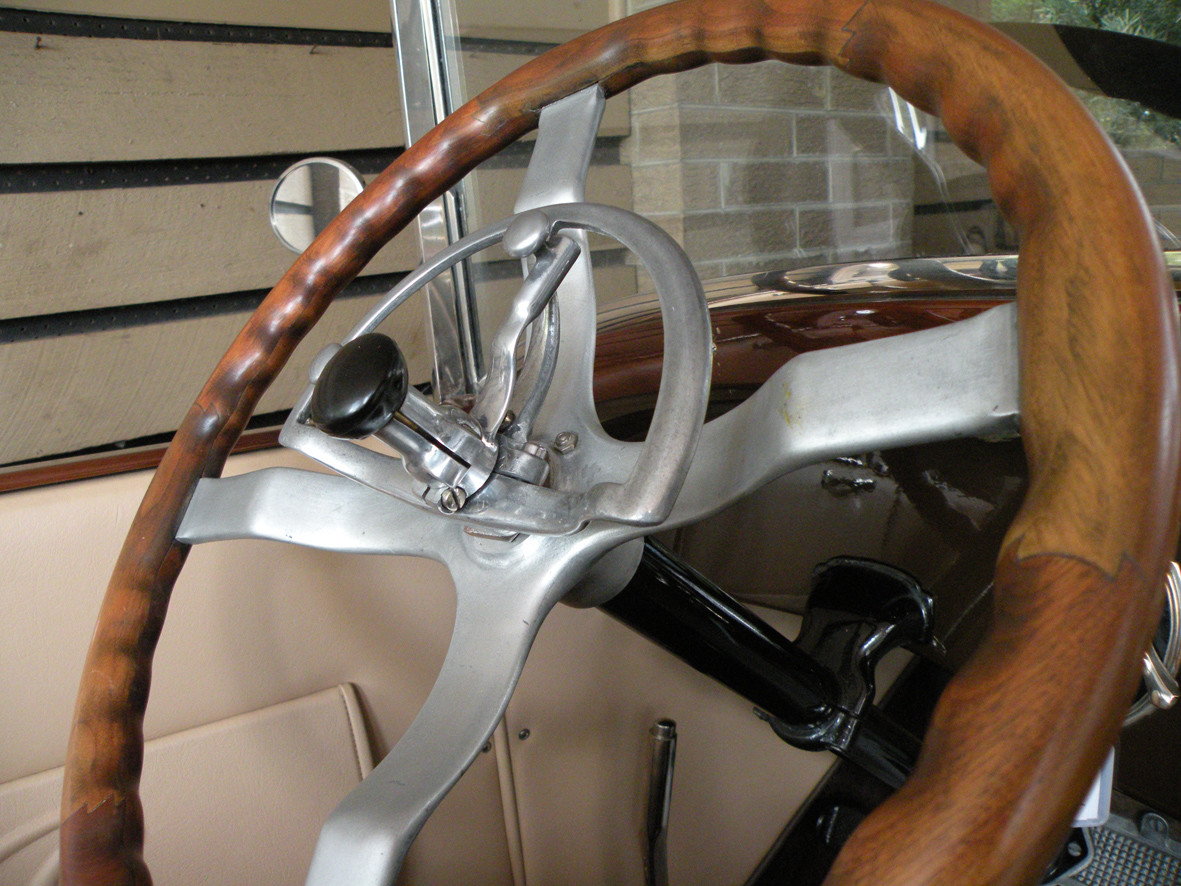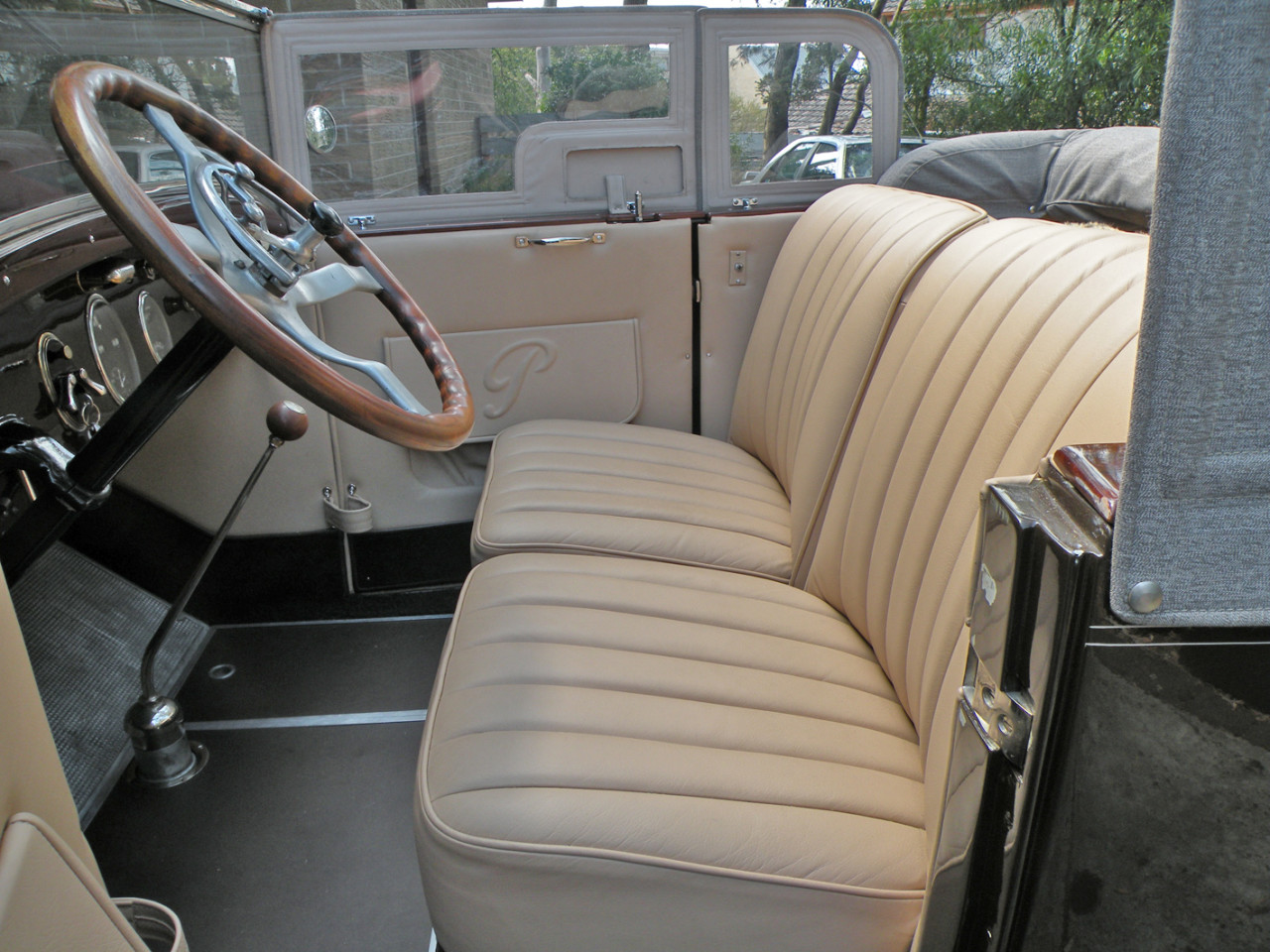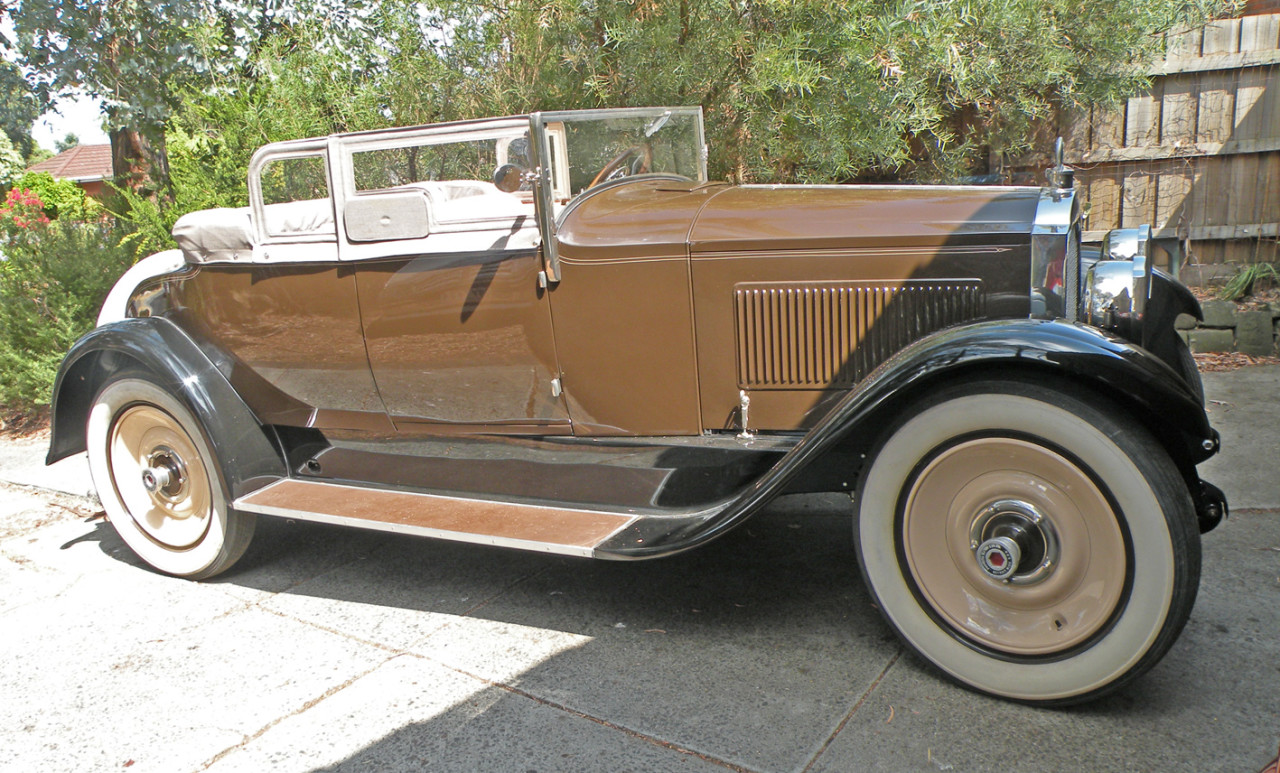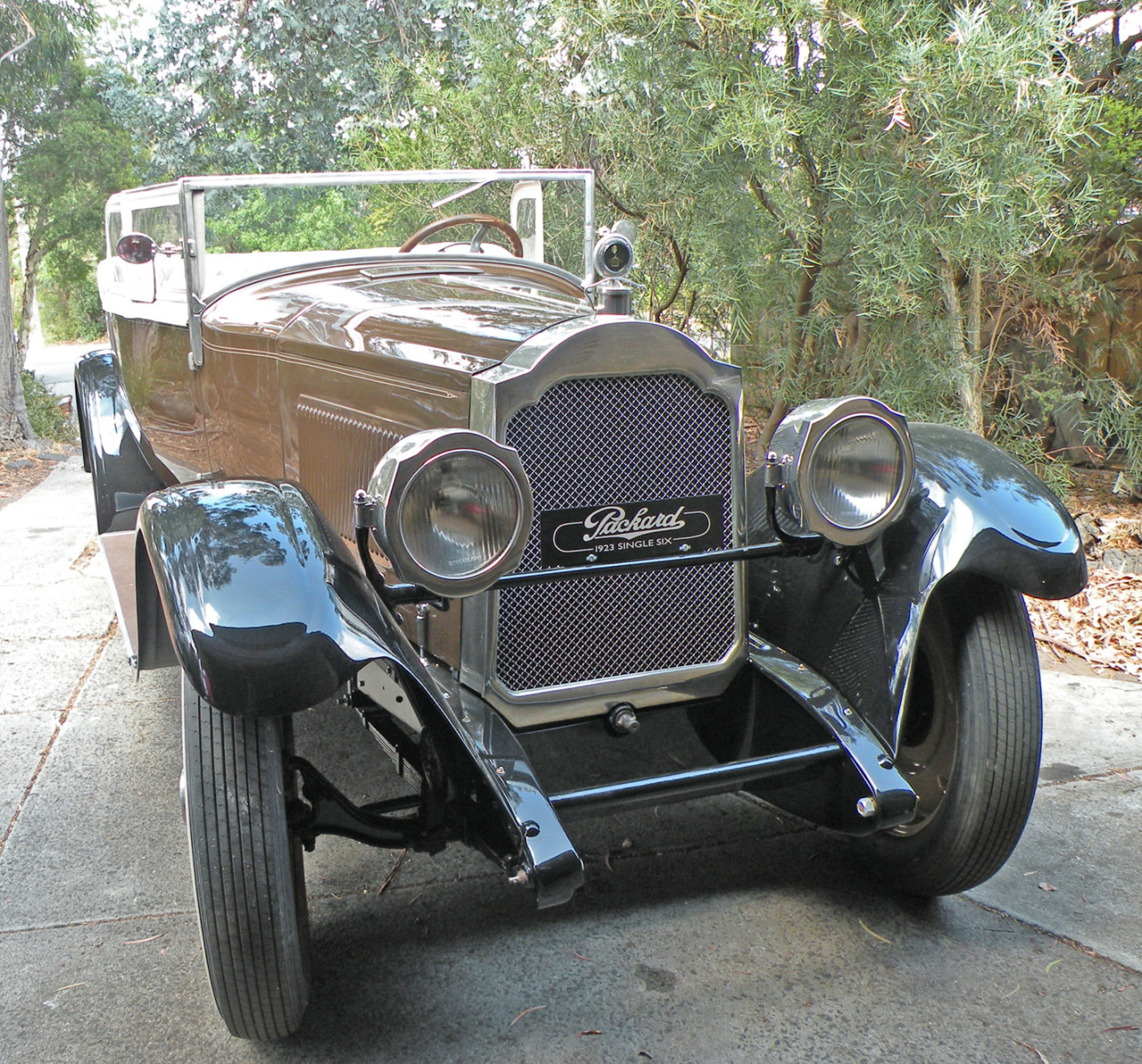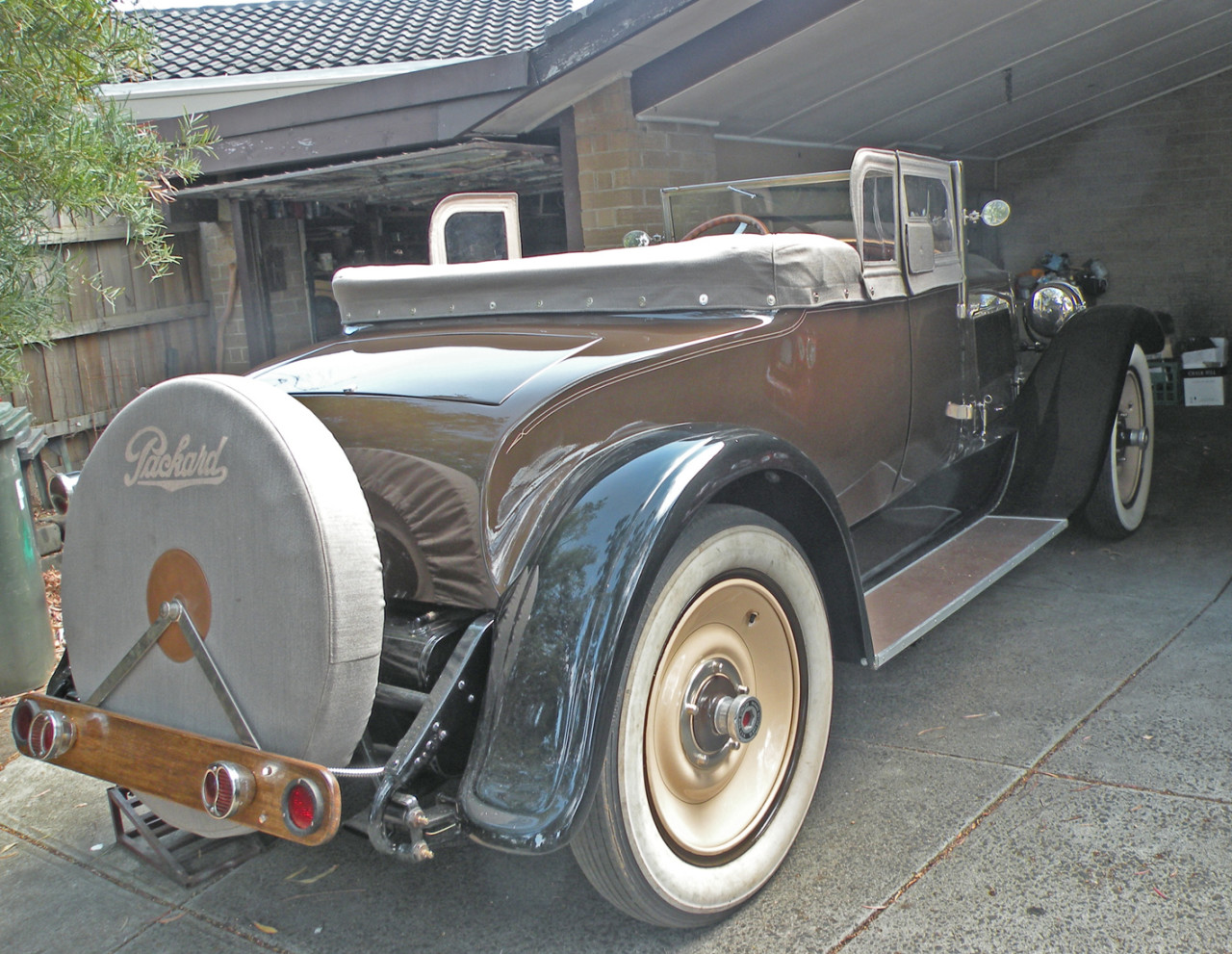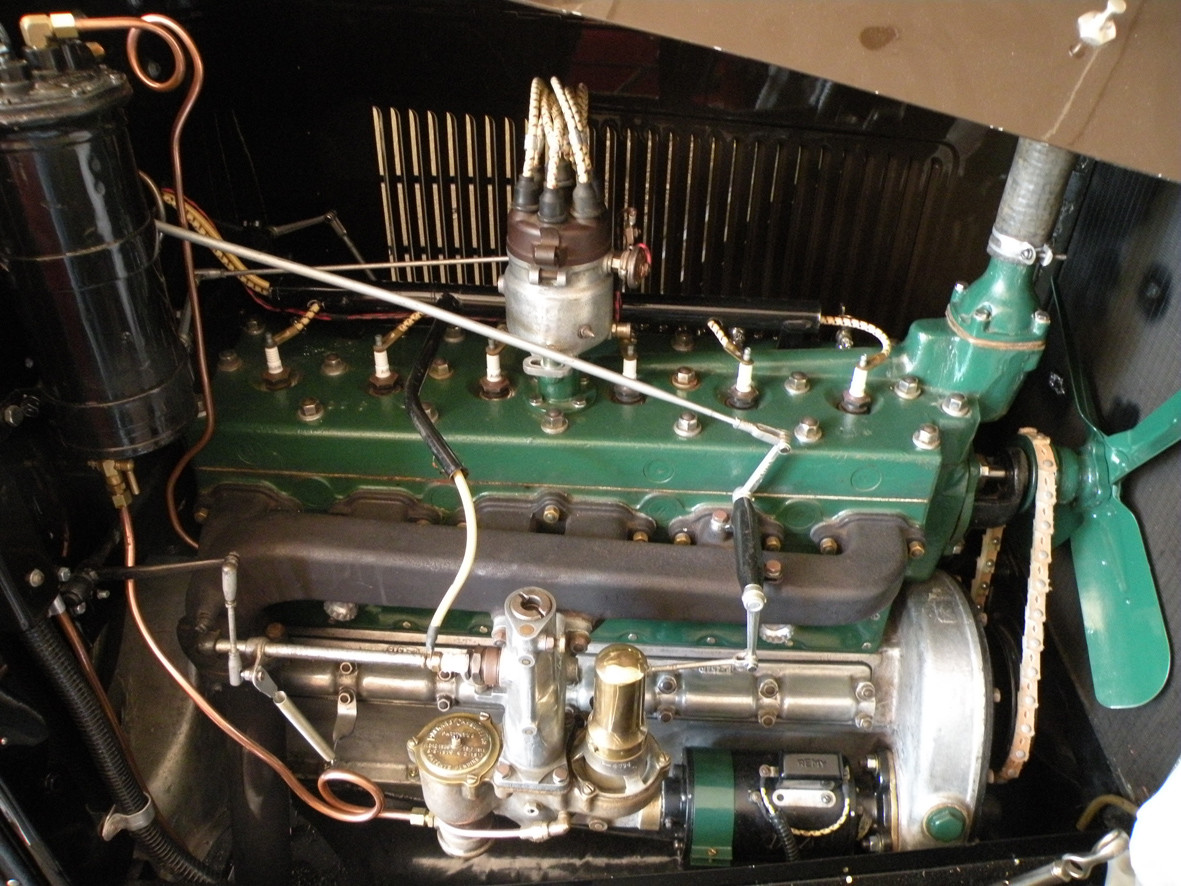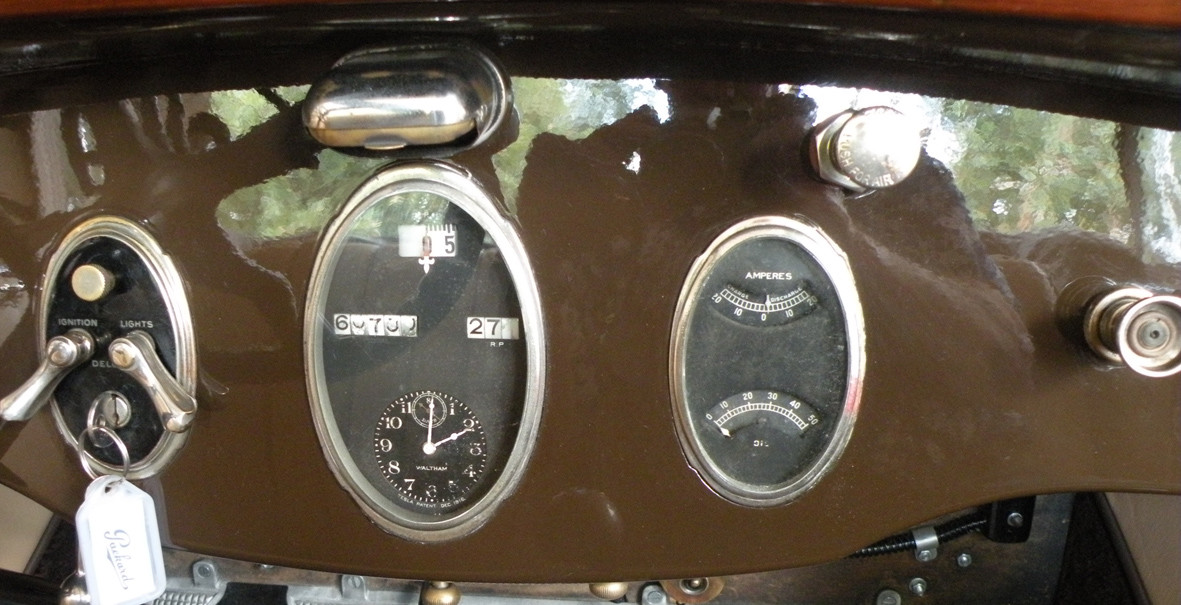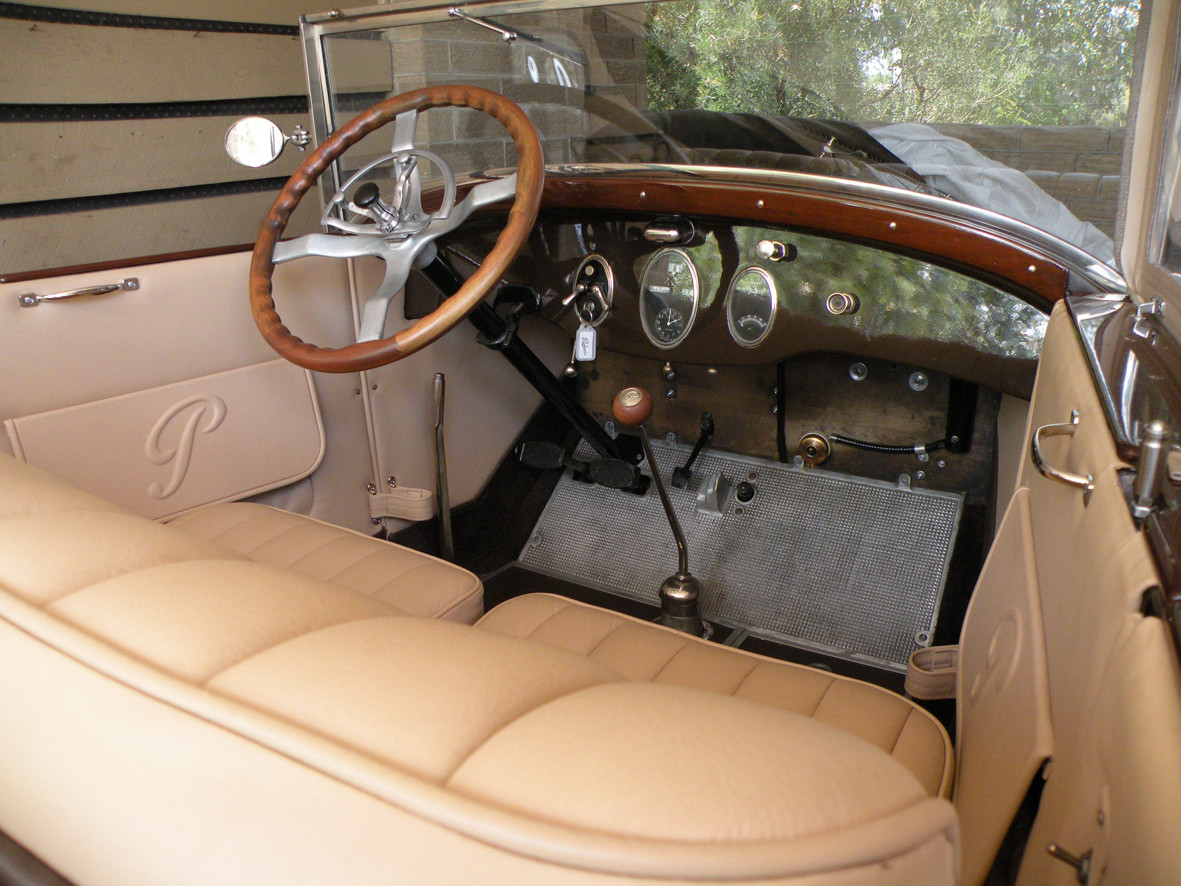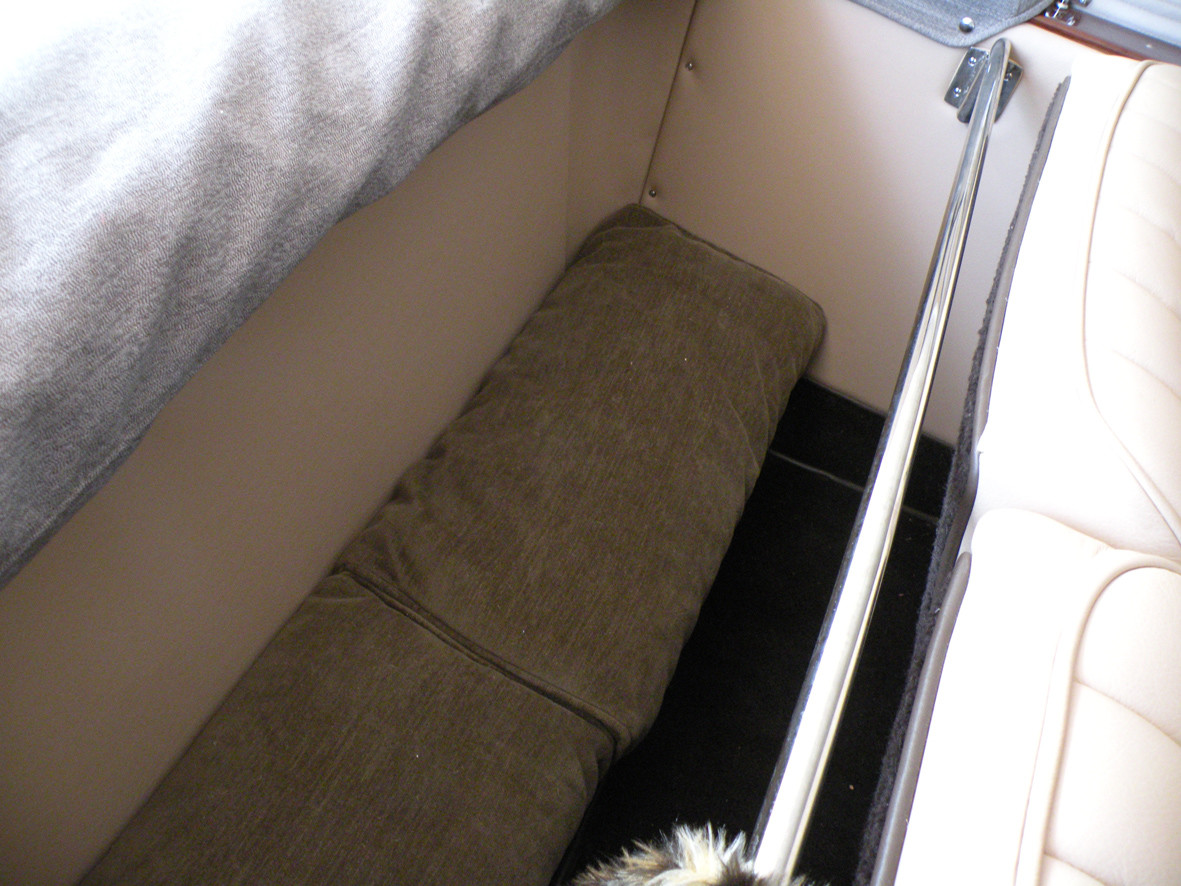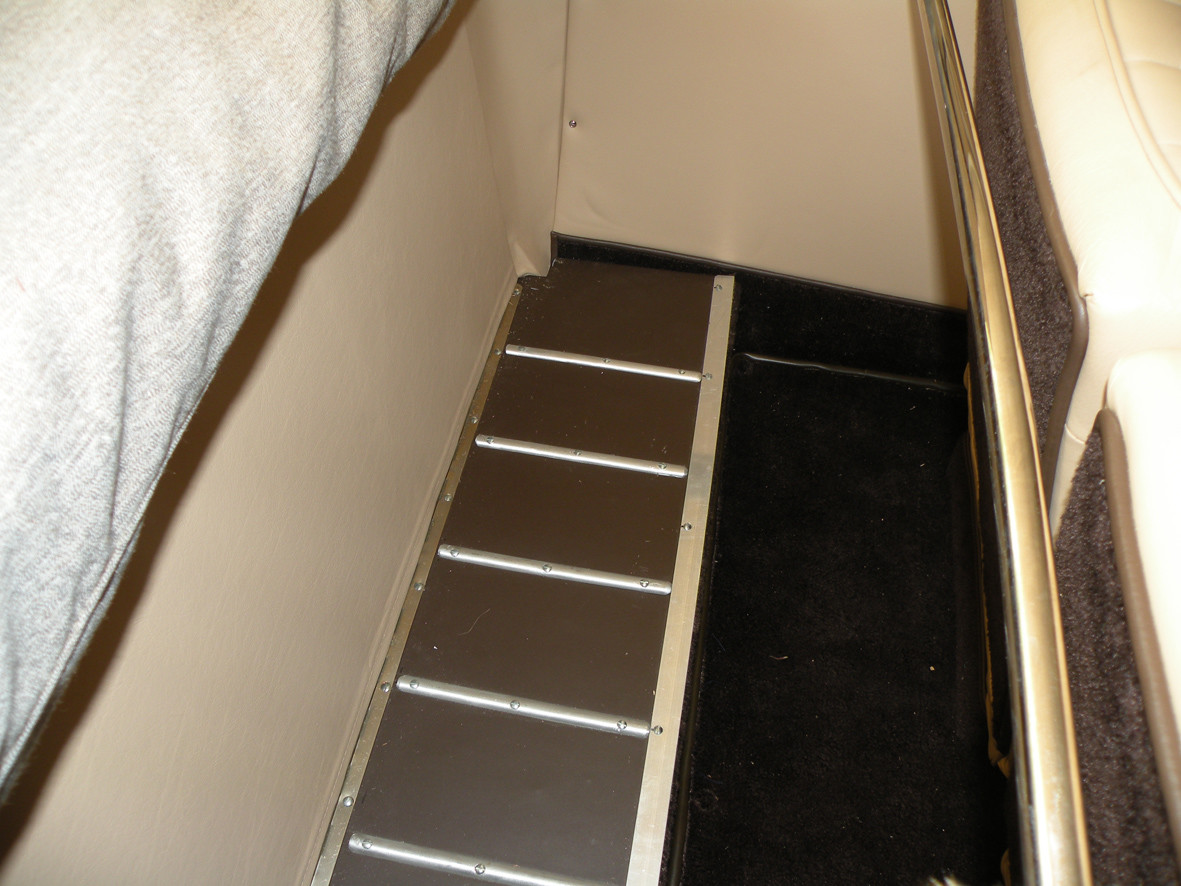 1-29-2013
Hi all
thank you for all the compliments.
Scott, I have already had two and a half years of fun/enjoyment from her! As I have said innumerable times I am a compulsive obsessive restorer of lost causes and basket cases. Once one is finished I can't wait to move onto the next one. Just think of all the fun and all the people I have met chasing parts and information. I now know more about early Packards than many people who may have owned one all their lives. The one problem or perhaps good thing is that due to both financial and space restrictions I can only do one at a time. Having said that by restricting myself to one project car at a time I concentrate on that one car and actually get it finished. Think of all the people that you know with a shed/barn full of cars that will never get restored. I have a "shed full" of marvellous memories. By chance just today I made contact with a Crossley (The English one) that I rebuilt years ago.
As I keep saying
"Keep on keeping on"
Hello all you eager beavers,
I have just returned from my first drive and the Packard's very first time on Australian roads under its own power. Just a couple of observations, the steering is a tad heavier than I expected, I need to take the foot brakes up a notch or two and the gap between second and top gear was wider than perhaps I am used to. Having said that it went up my #1 test hill in top gear effortlessly. The radiator got a wee bit hotter than perhaps I expected but it had been idling in the carport for some time and had quite a bit of manoeuvring back and forth to get out the drive way in reverse*
also the motor is still very new and possibly a little tight still. The main thing is that it has proven that the Vacuum tank is doing its job.
* We have a large tree right on the edge of the driveway which has been known to jump out and bite rear fenders.
Keep on keeping on
1-31-2013
Hello OCF
Regarding the rewards, I do not look to make big profits on my cars, if I manage to recoup my outgoings I am happy. My rewards come in the hours of enjoyment I get from my cars and the contact with likeminded people. These are indeed "bountiful". If along the way I inspire just one person to get off their tails, to get out into their "shed", and to actually finish the project that they happen to be working on, I am more than rewarded.
Keep on keeping on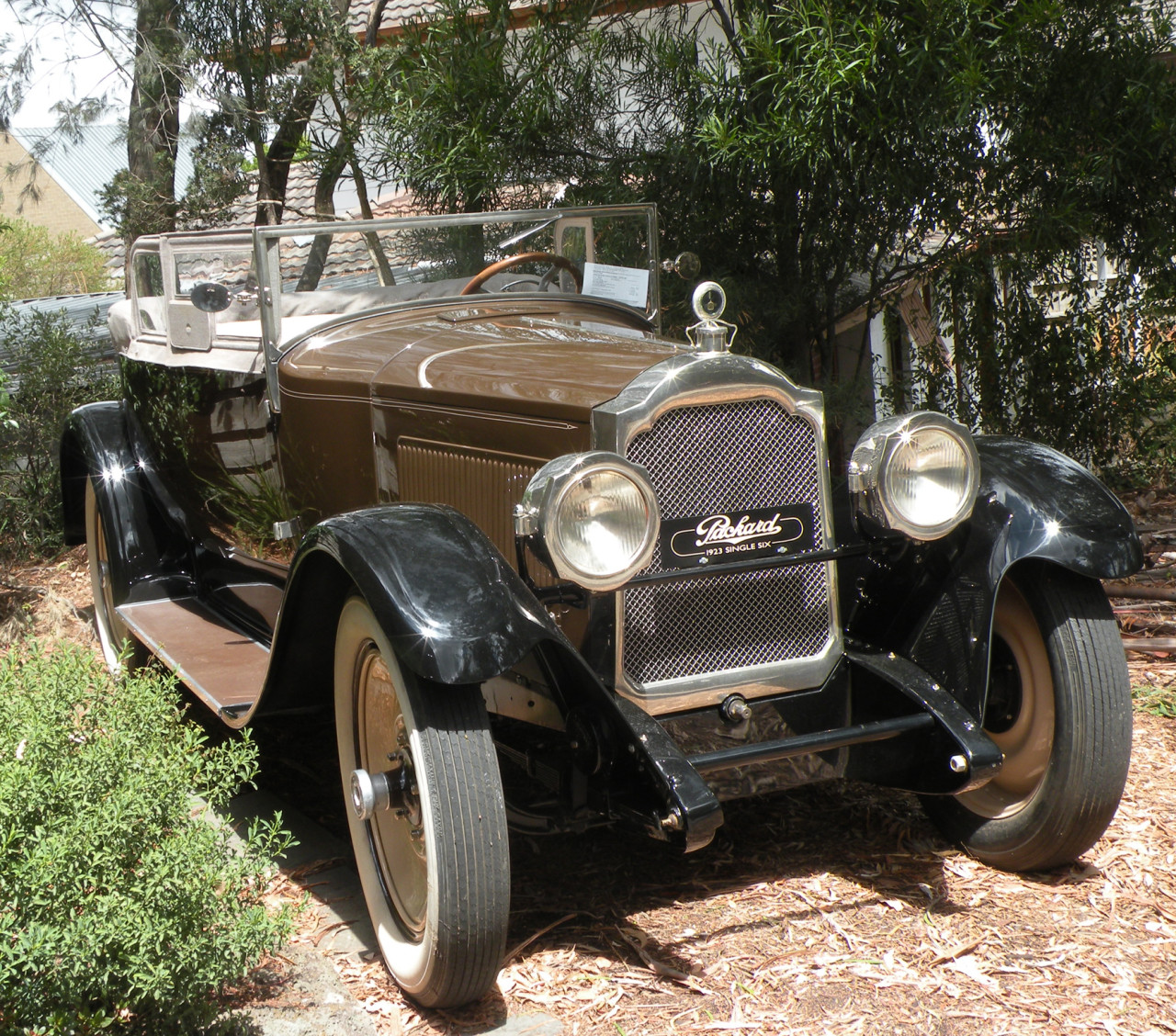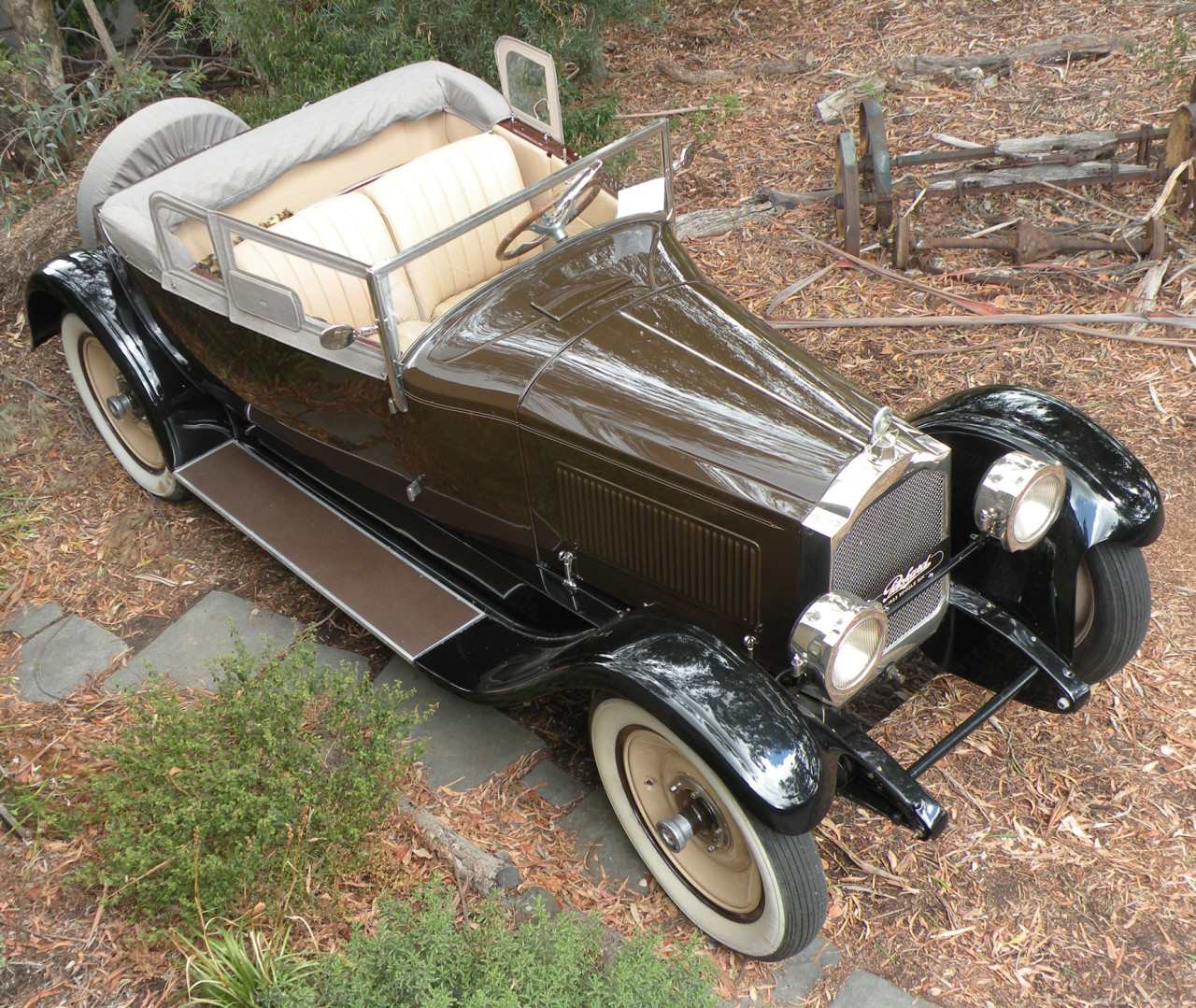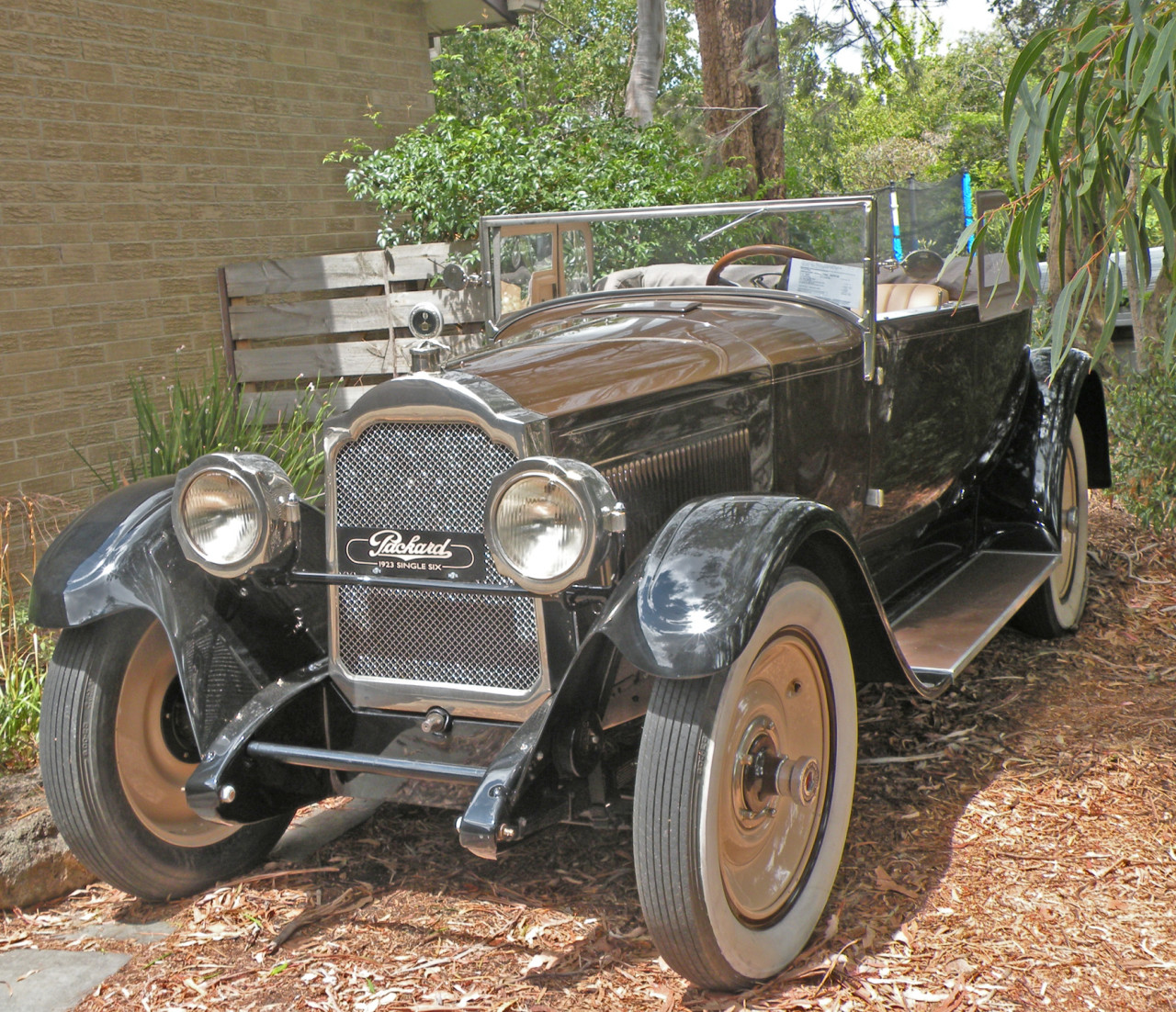 2-4-2013
Hello Donald
The secret with Electric fuel pumps is to get a LOW pressure one. Even with a fuel pressure regulator it is sometimes impossible to get the delivery pressure low enough.This applies in especially to bottom feed float bowls.
Regarding the "Fuelizer" I have mine wired in but not connected. I am using a single modern 6volt coil. I have the original Packard double ended coil but I am uncertain as to its efficiency. The fuelizer end is wound to produce a lower voltage. Having said all that I did spend quite a bit of time on the Vacuum tank before fitting it and before attempting to run the engine.
I have no experience with early (Sloper) SU carbs but certainly the principle of the later SU.s is different. The "piston" regulates the volume of fuel delivered by lifting the tapered needle in the main jet to permit the entry of both more fuel and a corresponding amount of more air by opening up the venturi. In the Packard carb the auxiliary air valve permits the entry of additional air into the mixing chamber so the science is quite different. I will dig out the relevant diagrams to copy and will post them here later.
Having listened to an in depth discussion about the discovery of Richard the Third's remains, I find the effort and the science put into finding them amazing. I am an enthusiastic viewer of the English Television Time Team.
The same principal applies to who ever you are and what ever you are doing, the only way to achieve ultimate success is to
Keep on keeping on
Thanks All for your input.
Back to the Packard Fuelizer V SU Carb question attached are the drawings of the two carbs. I think for the purpose of this exercise you can ignore the section of the SU drawing showing the Downdraught version. As you can see there are a significantly greater number of component parts to the fuelizer.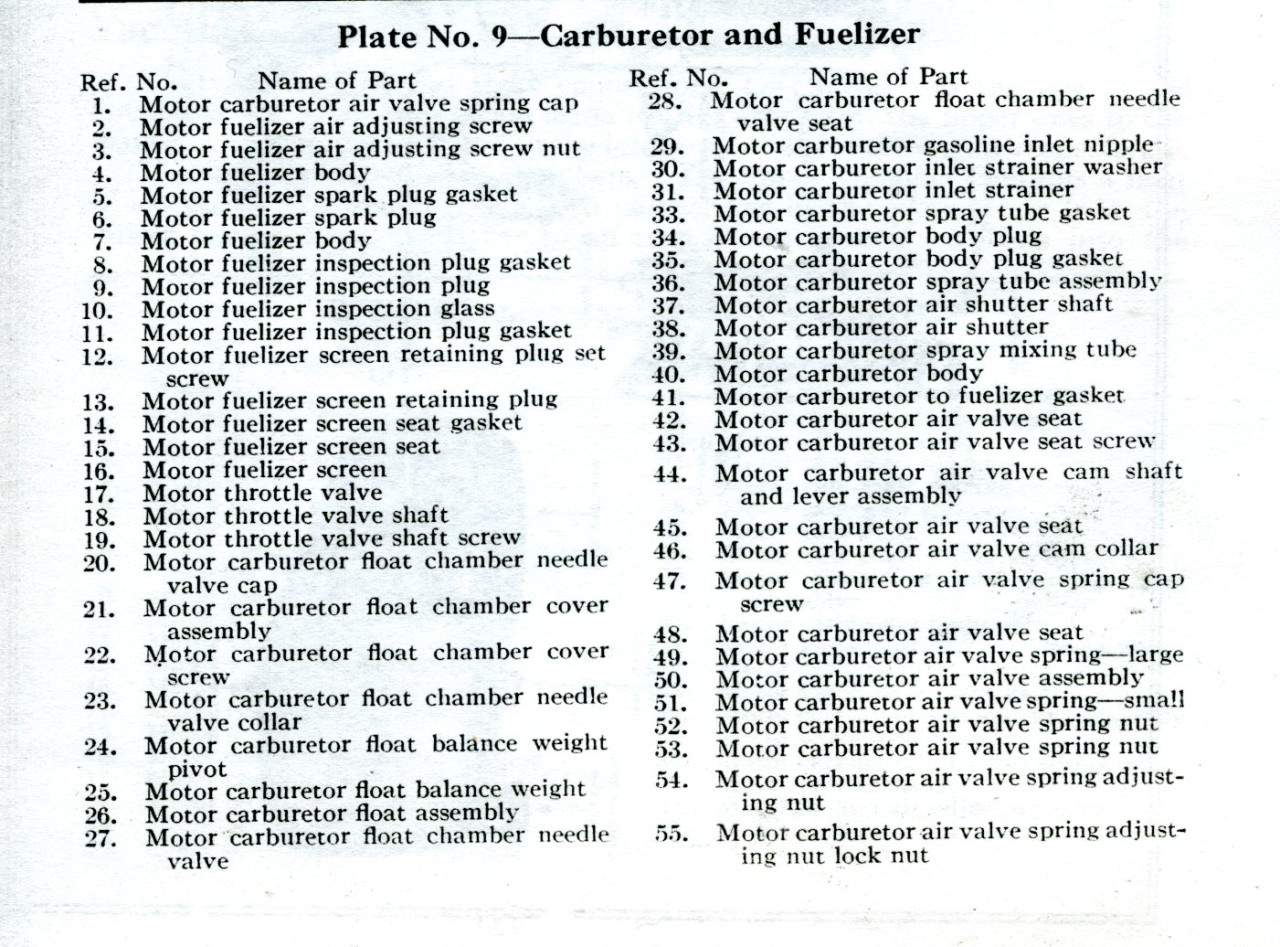 Hope that this helps to clarify rather than confuse. In the Fuelizer preheating chamber the screen (15) is the vital link. This is a fine brass flame proof mesh similar in action to the gauze screen on a Miners (Davey) safety lamp.
NO! there is no provision for a Canary, the tweeting sound usually comes from the fan belt.
Keep on keeping on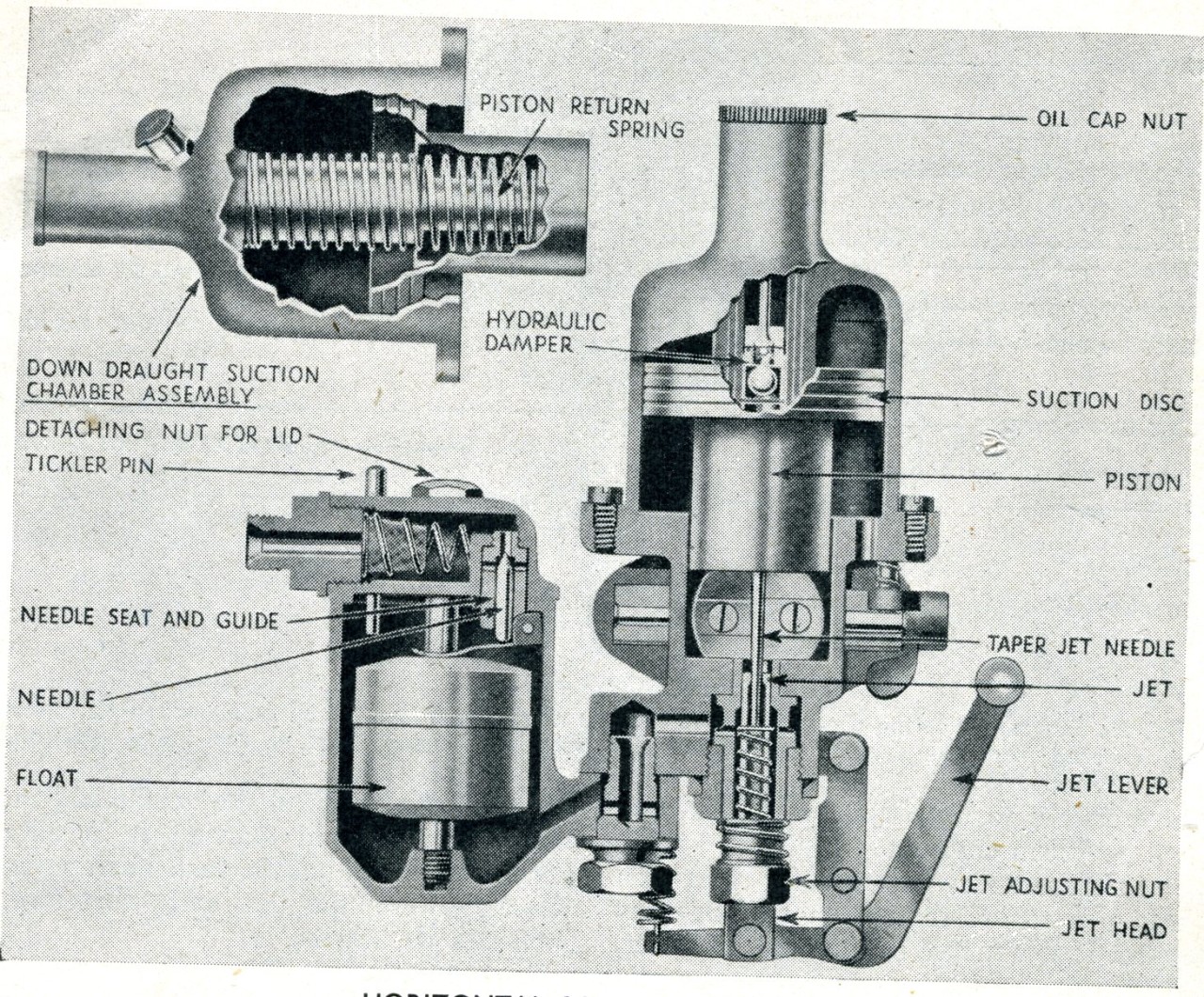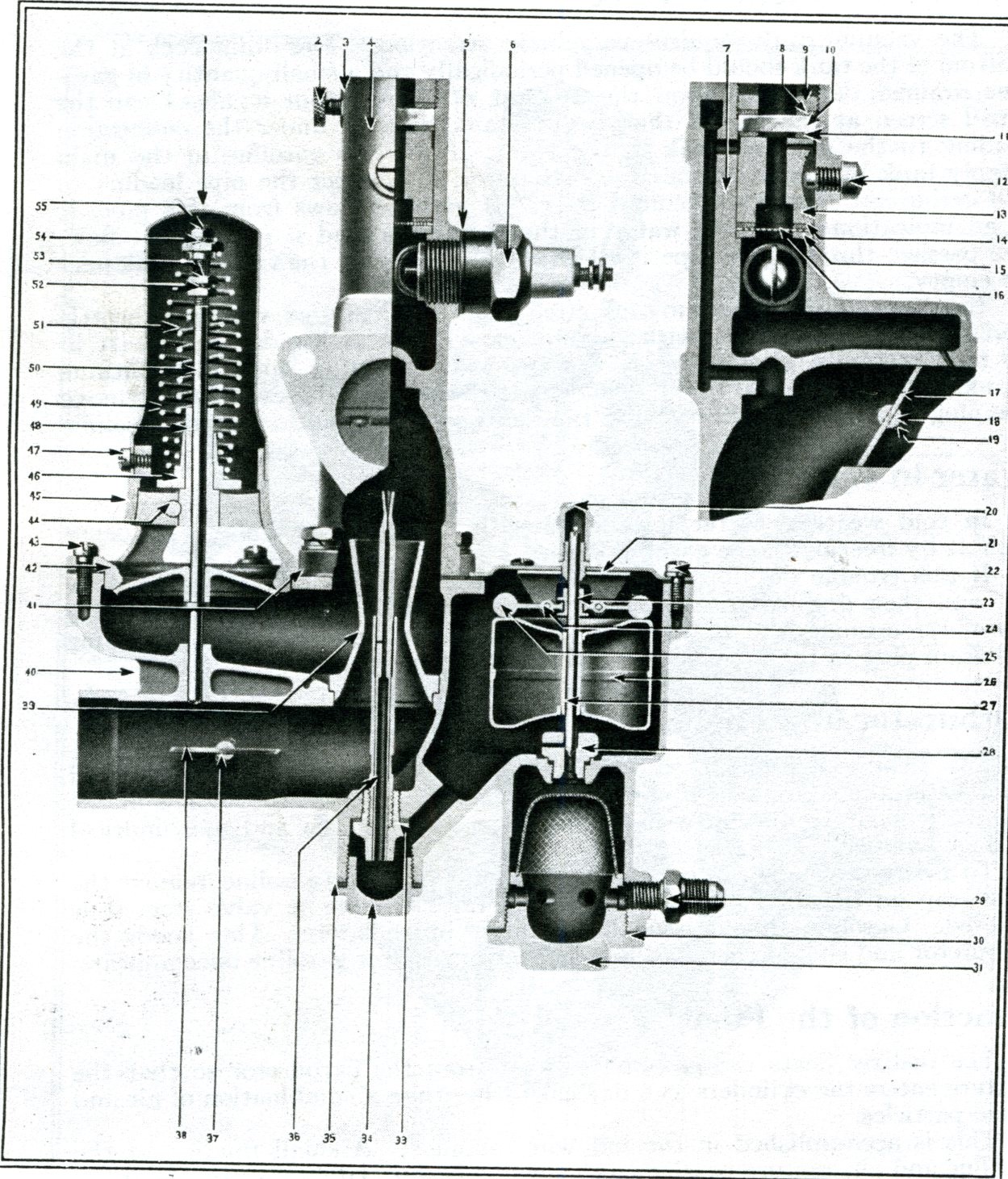 2-5-2013
Wow, Is my face red. Going back a page to #1529 I am bemoaning the problem that I was having with the ignition switch and the missing contact for terminal #2. Only now do I realise that it was never there! The "Operation & Care" manual that I took the wiring diagram from was printed in March 1922 according to the cover but when I look at the wiring diagram it states 1922 to 1924. Therein lies the rub. In small print across the top of the diagram it reads "Note.- On cars before Serial No. 37001 the generator lead was connected to the lower amp-meter terminal instead of No. 2 Switch terminal. My cars Serial (Chassis) number is 28317..... It seems that unwittingly I have up-graded my cars wiring to 1924 spec. Oh well! You learn something every day.
Changing the subject, I have received an e-mail from Donald Ellis asking about Cowl Lights. To the best of my limited knowledge these were not fitted by the factory on the early Series I and II Single Six but they were available as an after market accessory or could have been fitted some years later in an attempt to "up-date" an older car. Donald has sent me a photograph of a pair of cowl lights available in New Zealand. He comments that they are close but not perfect. He has included a pre-restoration photo of his car clearly showing cowl lights fitted. He does not say what happened to these lights but is looking for some guidance. Can anyone help Donald ?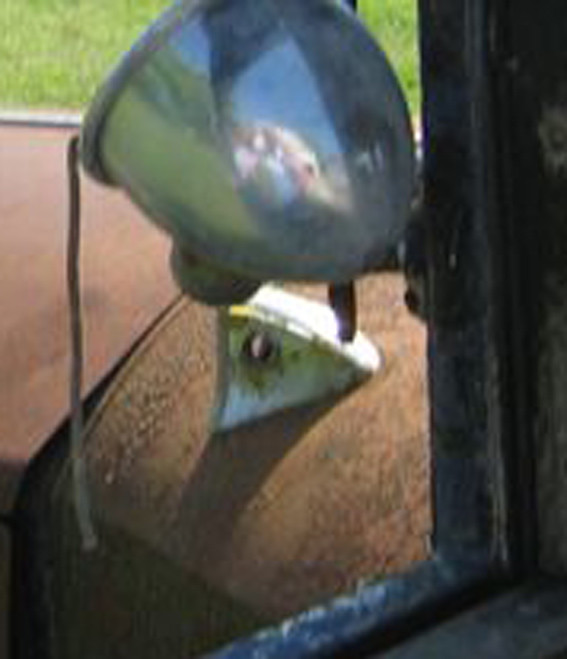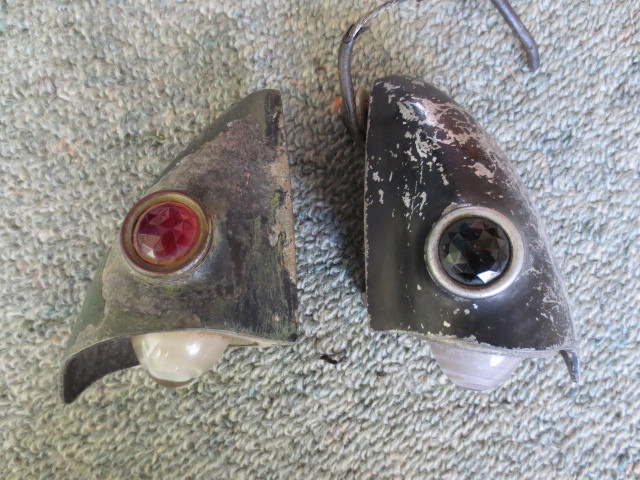 2-10-2013
Donald
My car had the remains of a fuel level gauge in the centre of the tank but as David has pointed out, it is impossible to read with a rear mounted spare wheel possibly even more so with a disk wheel as with a wire spoke. Certainly it would be clearly visible with the spare rim arrangement on a wooden spoke wheel car. I find my fully calibrated wooden dip stick extremely reliable, even with the alarming rate that fuel disappears out of the Packard's tank. I "blanked out" the gauge. For the benefit of all those people who have absolutely no idea what we are talking about, I have attached a photograph of the Fuel gauge (location). Once again I must apologise for all the reflections.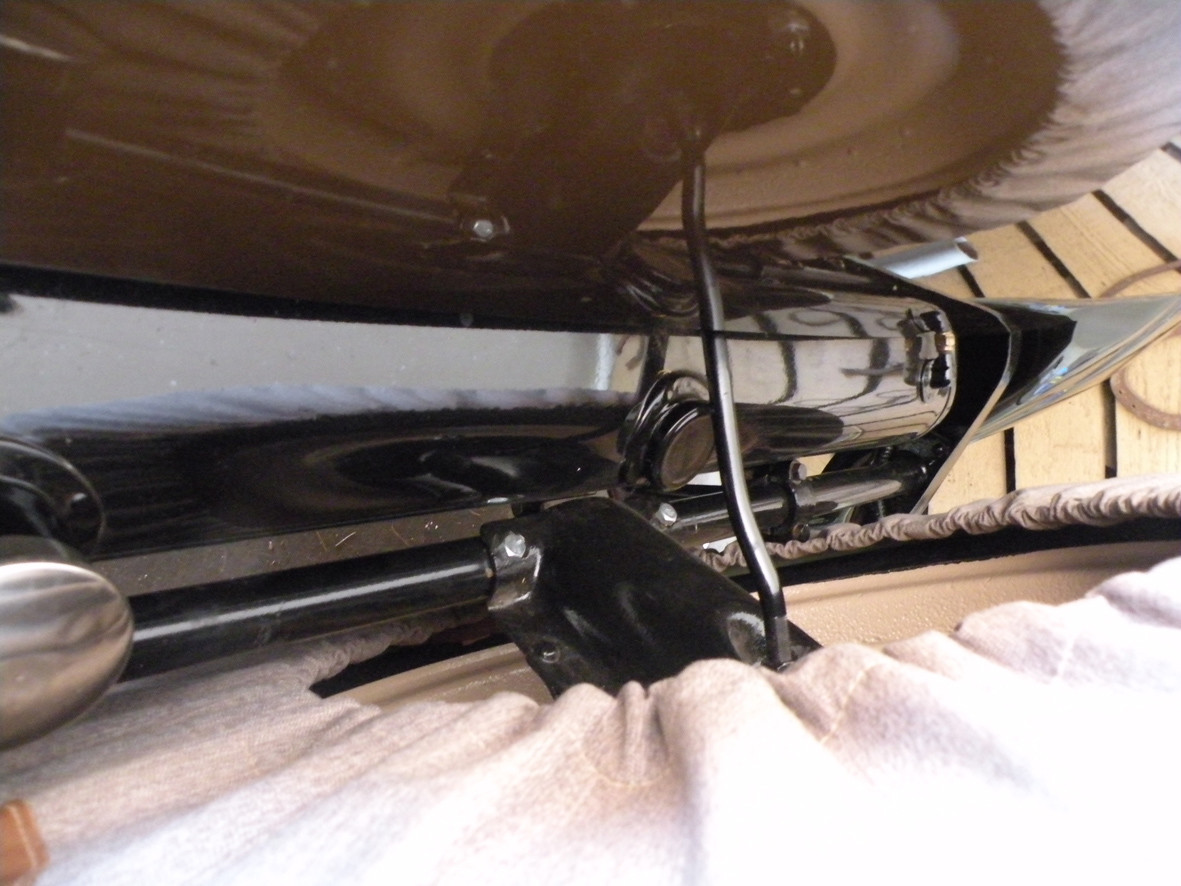 2-12-2013
Today I had the interesting experience of taking the Packard to have its pre-registration Road-worthy Inspection. This could also be referred to demonstration as how to waste three to four hours. Part of the inspection included jacking the car up removing the wheels and photographing the brake mechanism for each wheel including the non existent front brakes. Once this static inspection was complete I was invited to take the "tester" on a road test including a brake test. This involved driving the car down the road, doing a three point U turn and returning back along the same road. Once a road speed of 35 MPH was achieved I was instructed to apply the brakes (as in a panic stop). Both rear wheels emitted a loud screech from the tyres accompanied by some considerable amount of acrid blue tire smoke. The tester's tapley meter recorded an efficiency of just 31%. This he felt was satisfactory in view of the fact that the car has only rear wheel brakes and given that I have some experience in driving older vehicles. Accordingly I was presented with a "green form" which will entitle me to a "red number plate" which will permit me to drive the car up to 45 days each year. In addition to the red numberplate, I am to carry a Government issued Log Book in the car at all times and fill it in with date, likely destination, drivers name and signature, each time before I take the car out and a Brown "Label" which I must adhere to the windscreen.
Wow! That started quite a bit of unexpected comment.
Our (Victoria, Australia) "Club Permit" system has been in operation for a couple of years now in its present form. Previously there was no log book but use was restricted to Club events. The Club had to be one recognised by the State Licensing Authority. Now the system has changed to the Log Book and you can use the car for private use as well as Club events BUT again you must be a financial member of a recognised Club. If you are apprehended driving without having filled in your Log Book for that day you are charged as if driving a unregistered & uninsured (3rd Party) car as Ian has mentioned the fines are significant. The Club must keep a Register of members using a Club Permit and notify the Authority if the member fails to renew their membership and that persons "Permit" is revoked. Our Registration/Permit fees include Third Party (personal injury) insurance. With the Club Permit you can opt for either 45 or 90 days, the total cost for 45 days use is $67.60 by comparison 2 litres of milk costs around $4 and a litre of petrol costs between $1.35 to $1.55 depending on the day you buy it and the octane rating. Octane ratings are 92, 95 and 98. Fuel prices can vary by up to 8/10 cents per litre on any given day. Weekends and public holidays tend to attract higher fuel charges.
The Packard (5:1 Comp) will run very happily on 92 while the Lagonda (9.5:1 Comp) is more fussy and prefers 98. Each State has it's own system of Registration (Road Tax) and Insurance. Comprehensive (Accident, Fire and Theft) Insurance is optional in Victoria. Under this system you can drive your Veteran, Vintage or Classic car (over 25 years old) on any day of your choosing up to 45 or 90 days per year depending on which option you choose (and pay for). Living in the Best State in the Best Country in the World, we do not have to worry about being snowed in or flooded out. We do have our regular annual Bush (Wild) Fire season but you simply don't go there during days of Extreme Fire Risk (usually over 35/40 degrees C).
2-13-2013
Hi Donald
It really is quite straight forward provided you take a deep breath before starting.
On another front and before I become too entangled in red tape I have taken yet another tiny step towards the conclusion of the Packard saga.
This afternoon I called into the engraver who has done similar things for me in the past and collected the bulkhead plate for the Packard. This is the first car in recent memory that I have completely restored without giving it a name. It is simply known as "the Packard" I think that they have done a great job capturing the art 1920s styling for the corners of the border. Very similar to the corners of the glass dome in the interior light.
The question is should it go on the right hand end of the dashboard or on the bulkhead under the hood (bonnet) on the left hand side? A third suggestion is on the inside of the bulkhead above the cast aluminium toe board.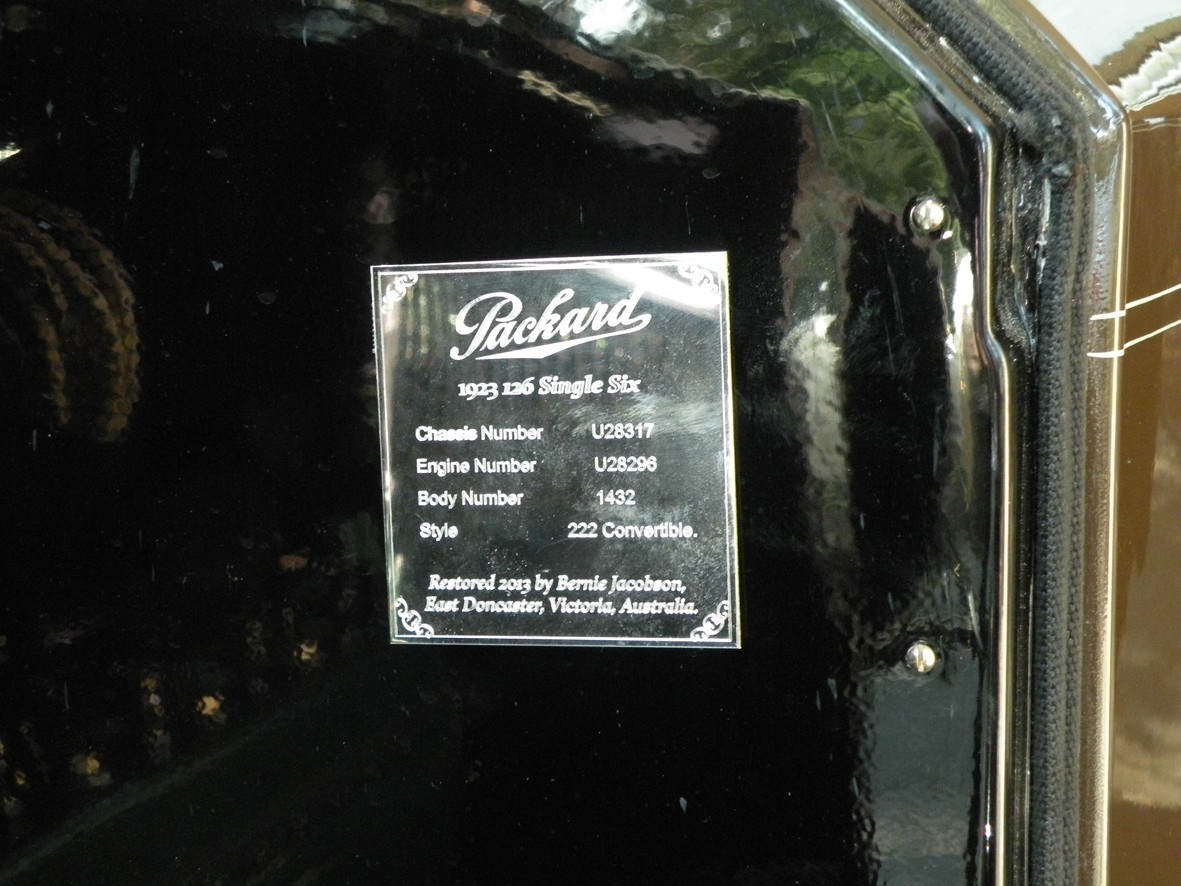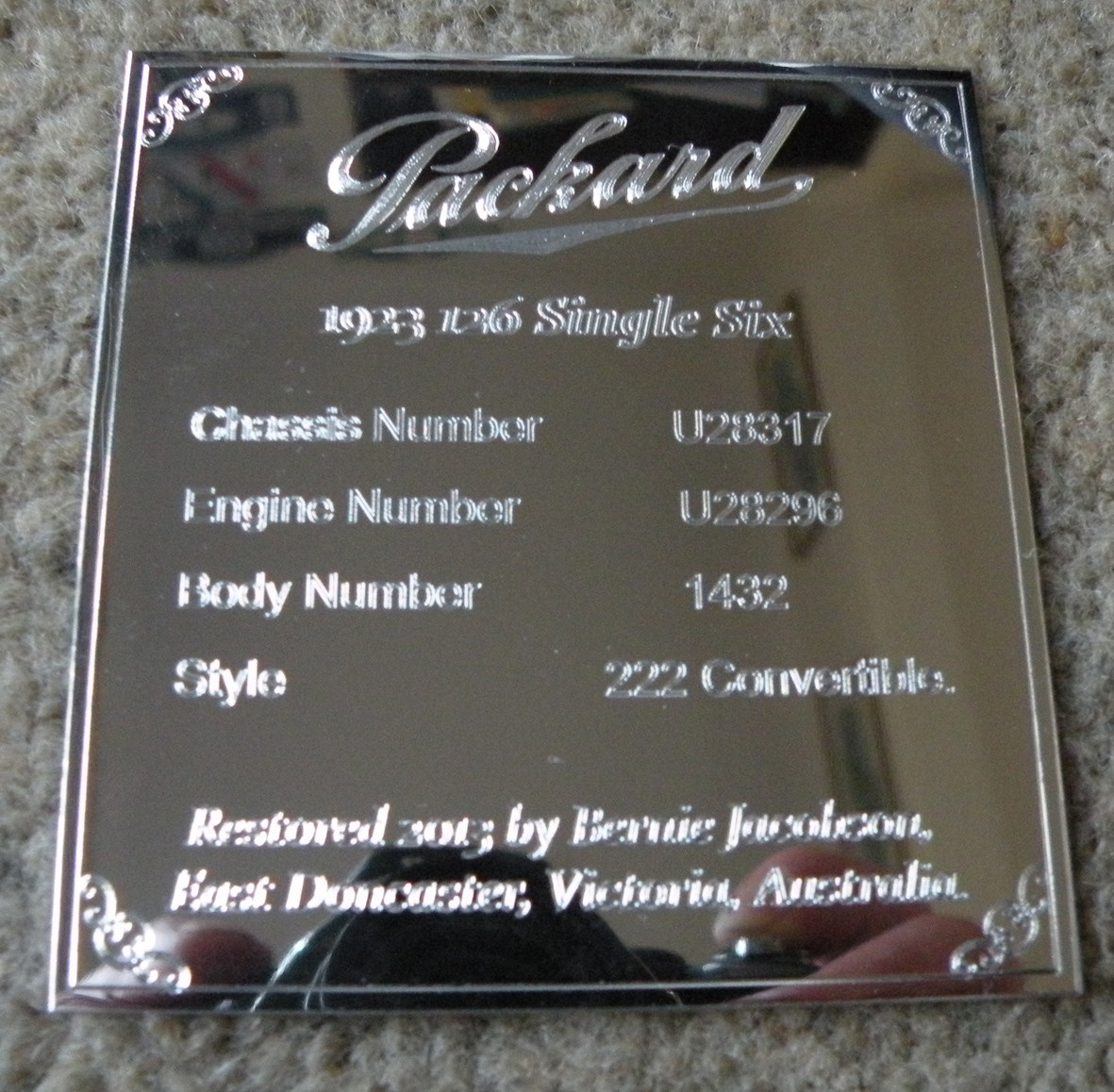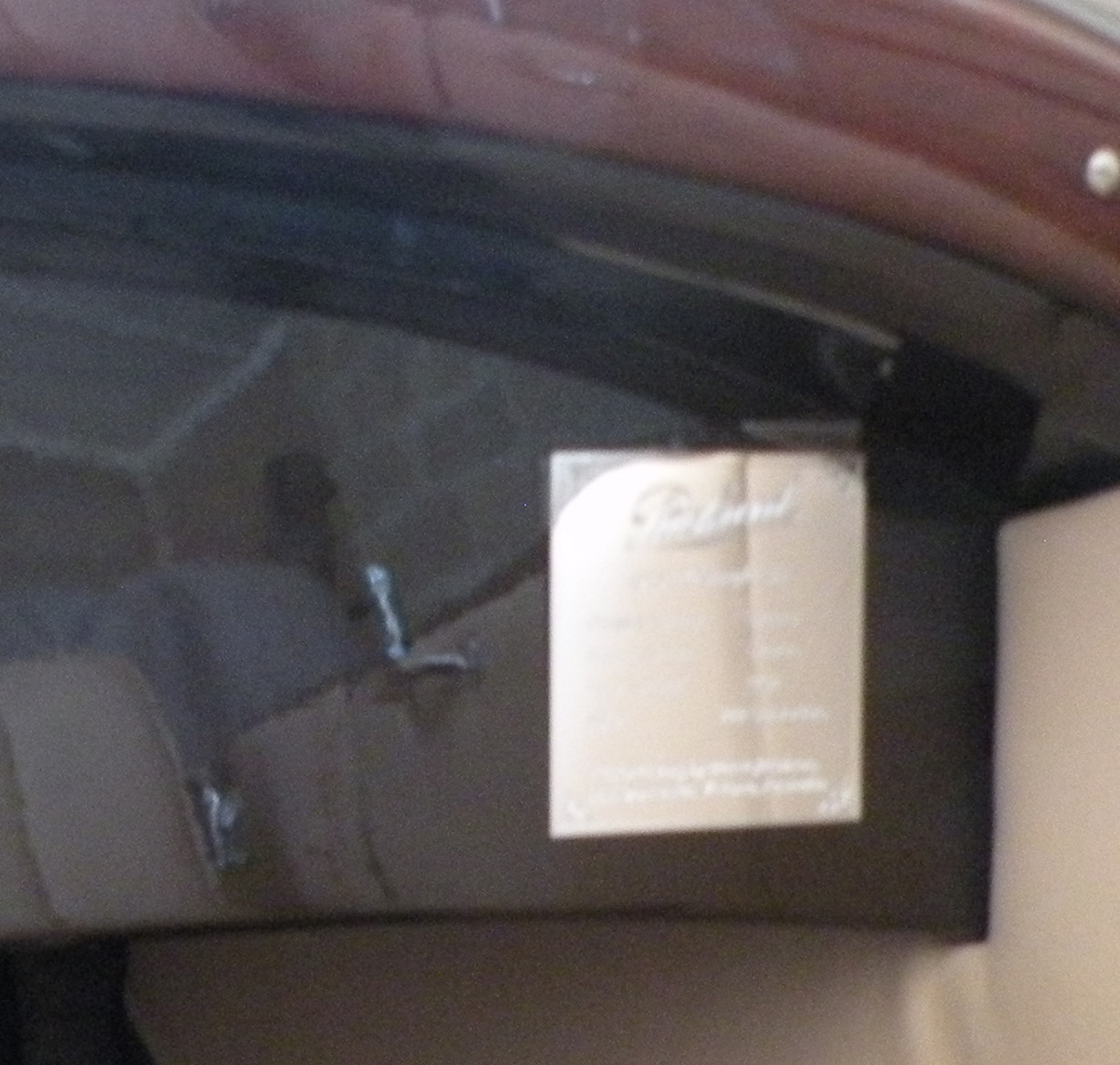 2-18-2013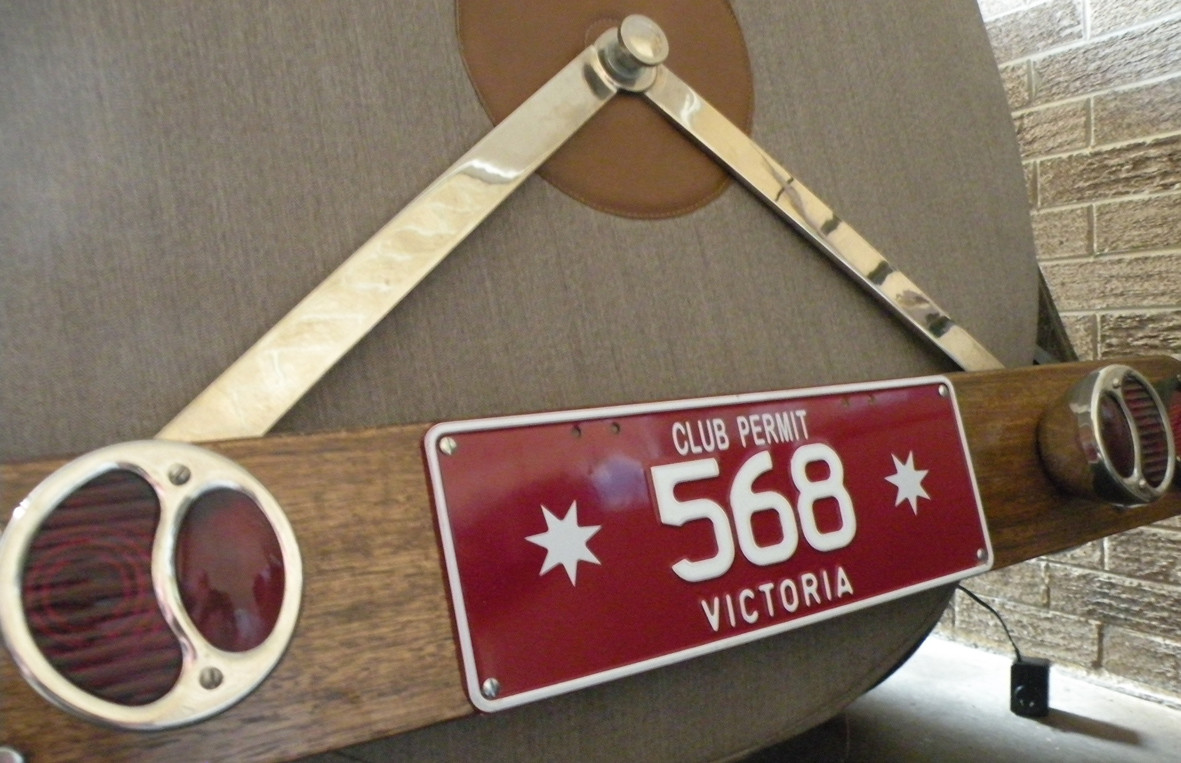 One is tempted to say "The End" but as anybody who has done a major restoration will tell you, you are never quite finished.
2-20-2013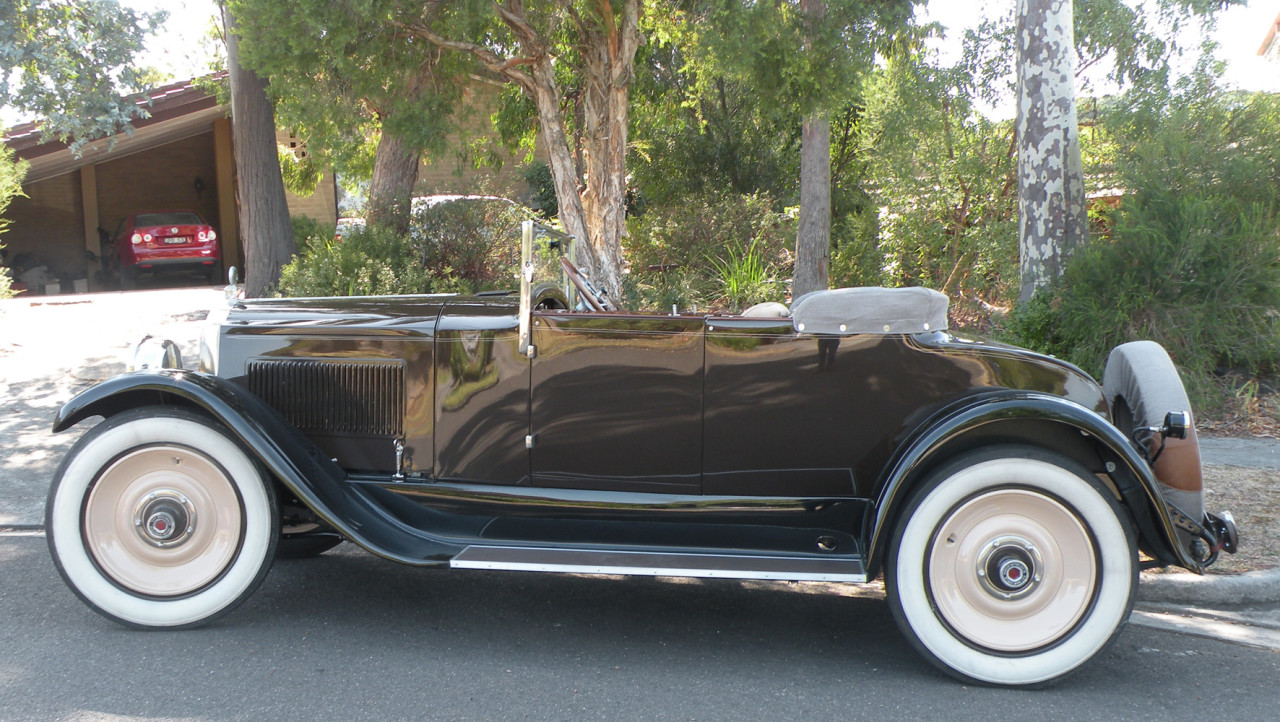 In reply to my advertisement on the 'Prewar Car' website originating out of Belgium an American collector requested that I send him these additional photographs. I thought that I should share them with you.
The car is currently advertised at 85.000. Euros To save you rushing for your calculator that is near enough to $110.000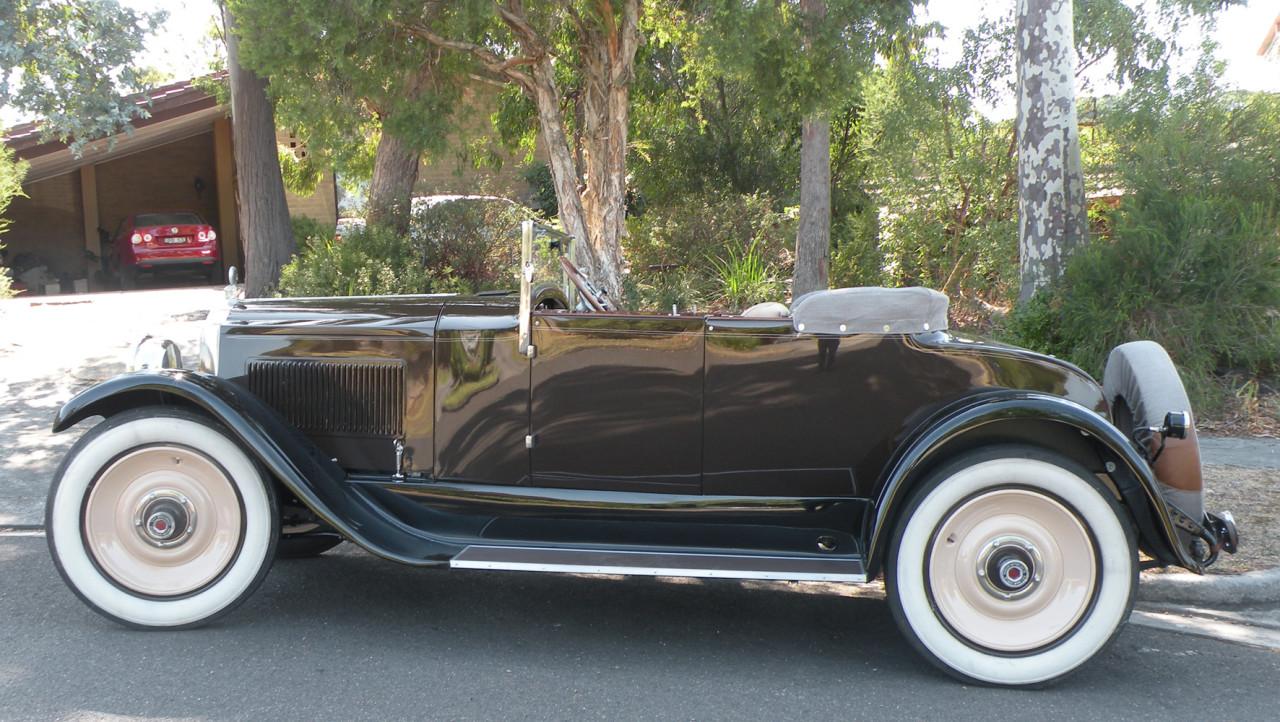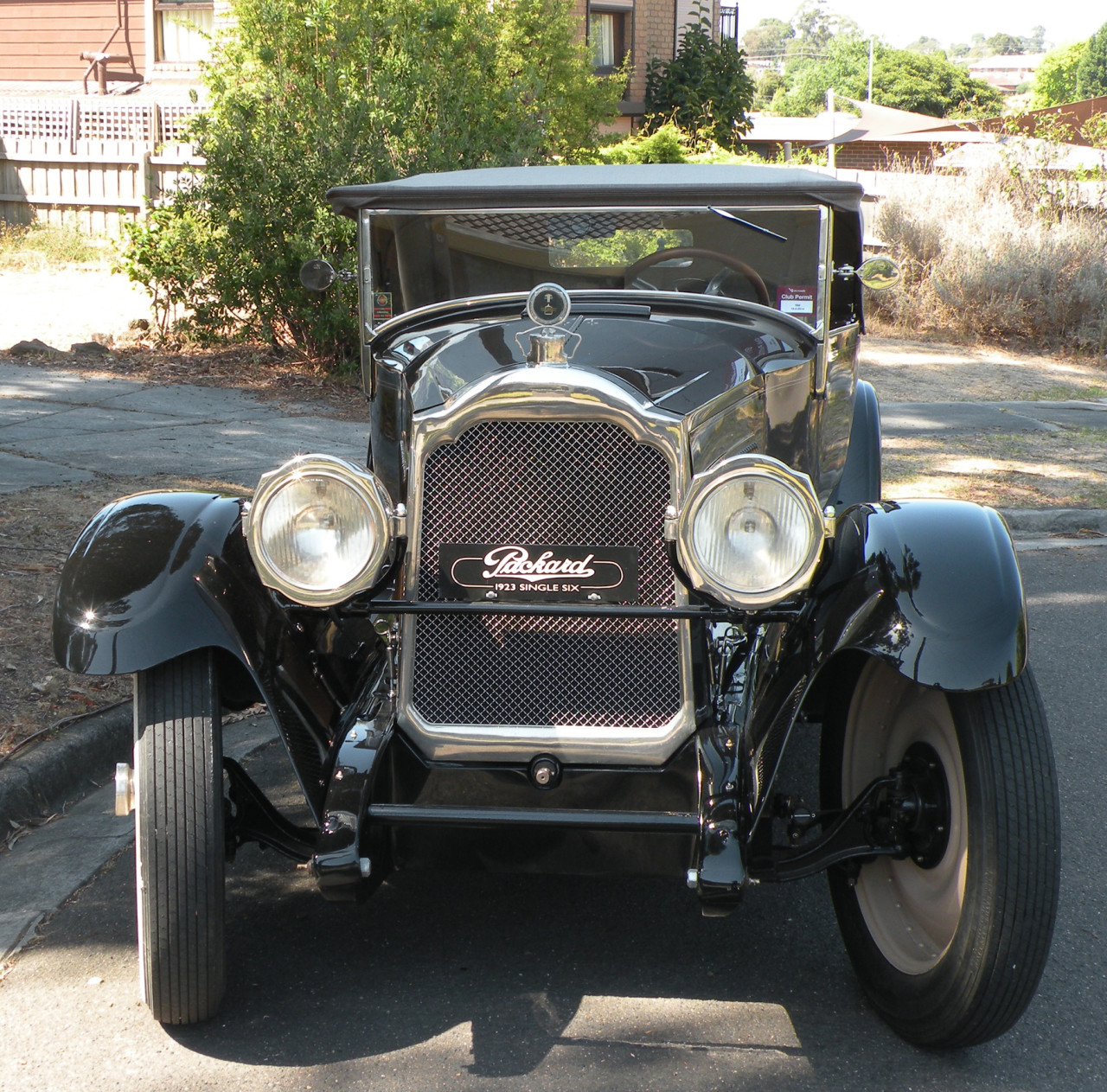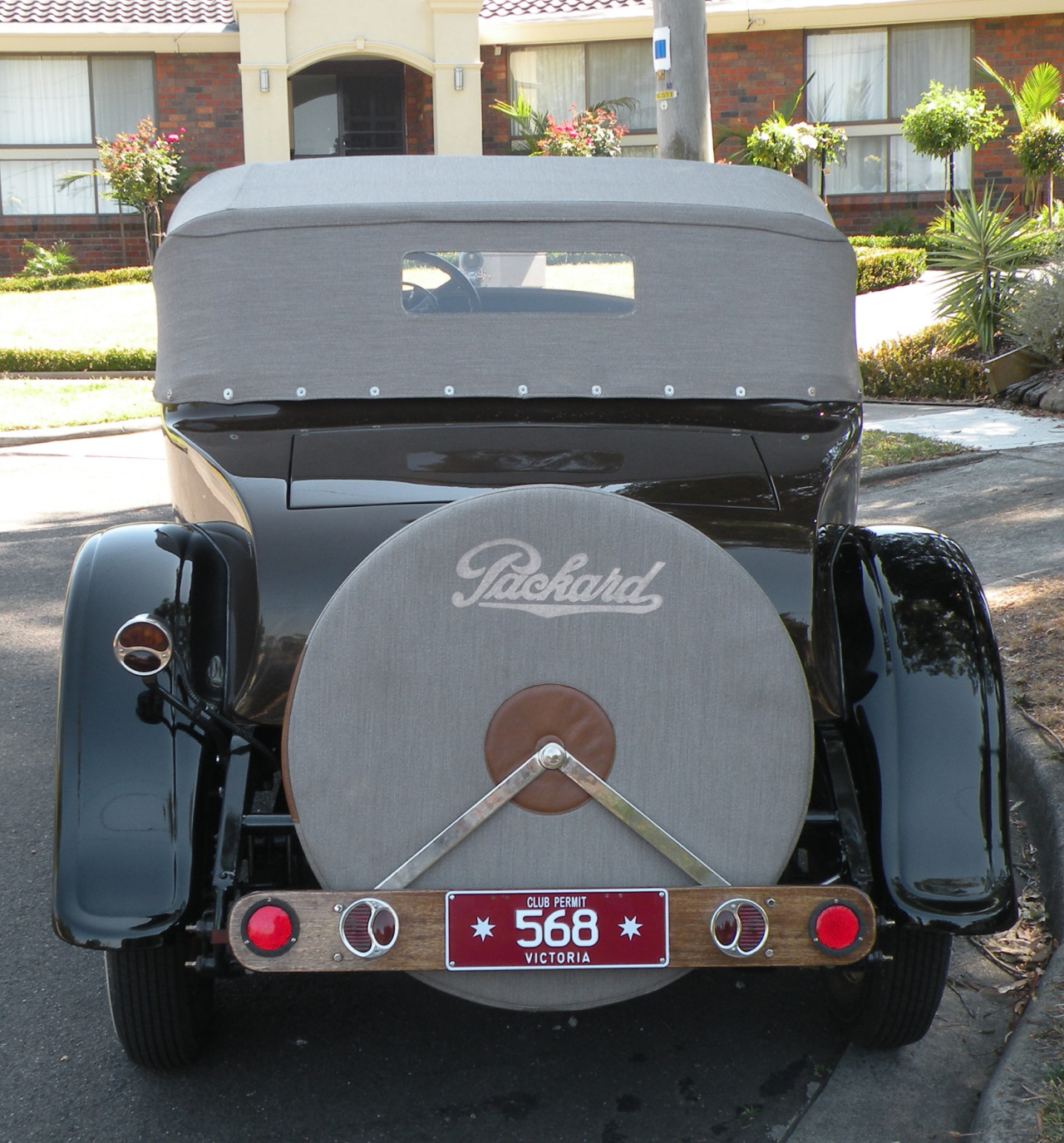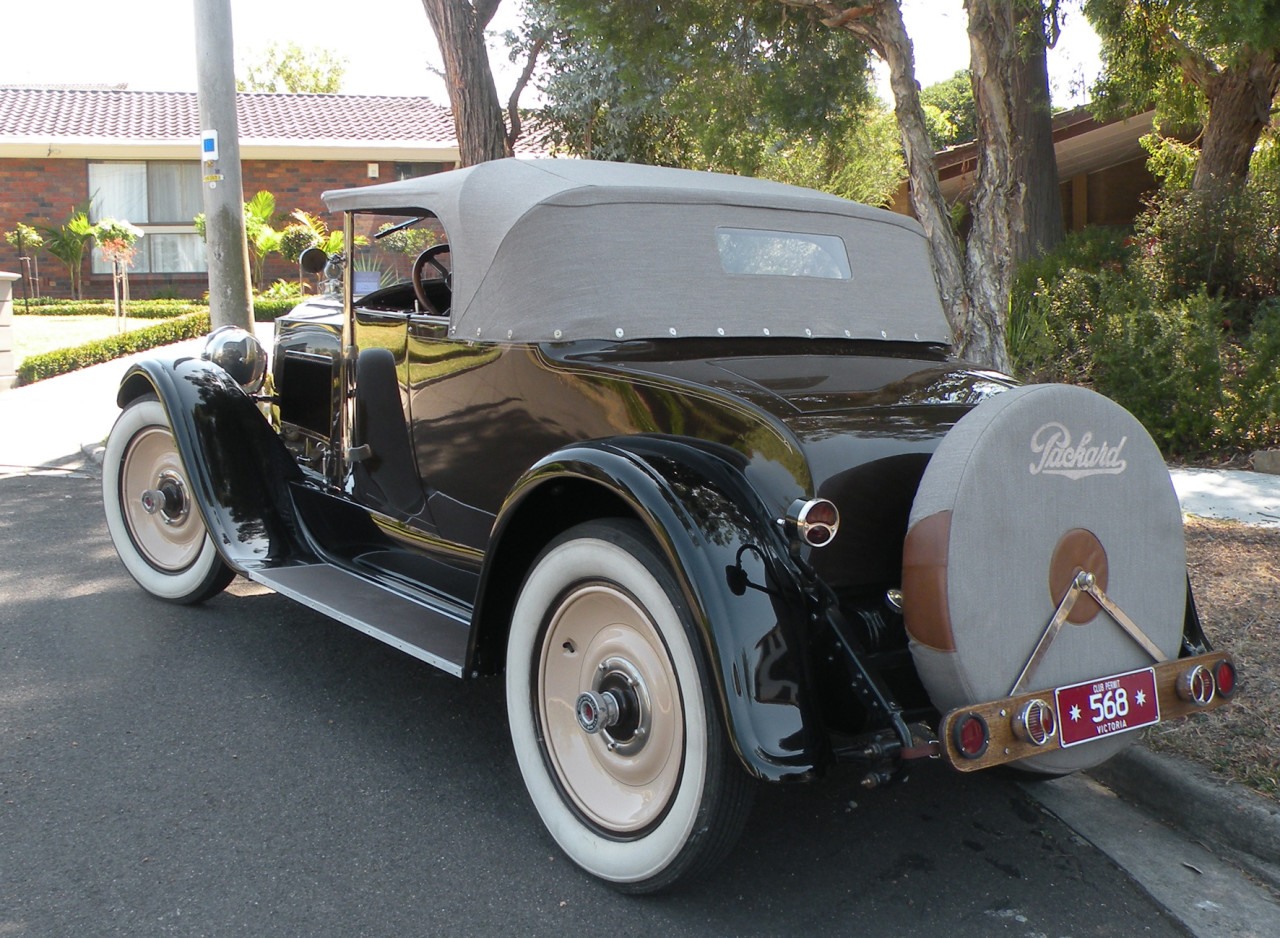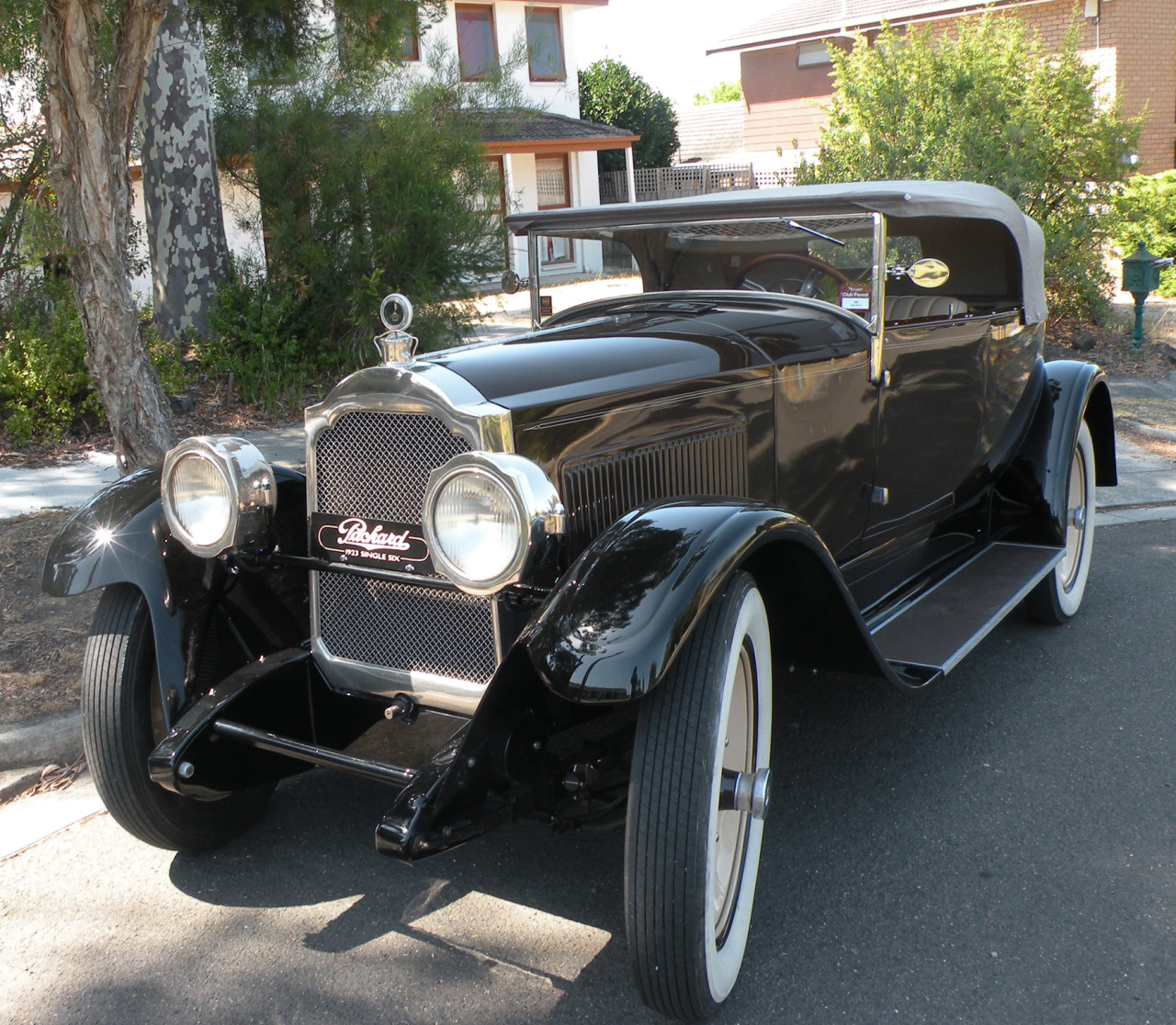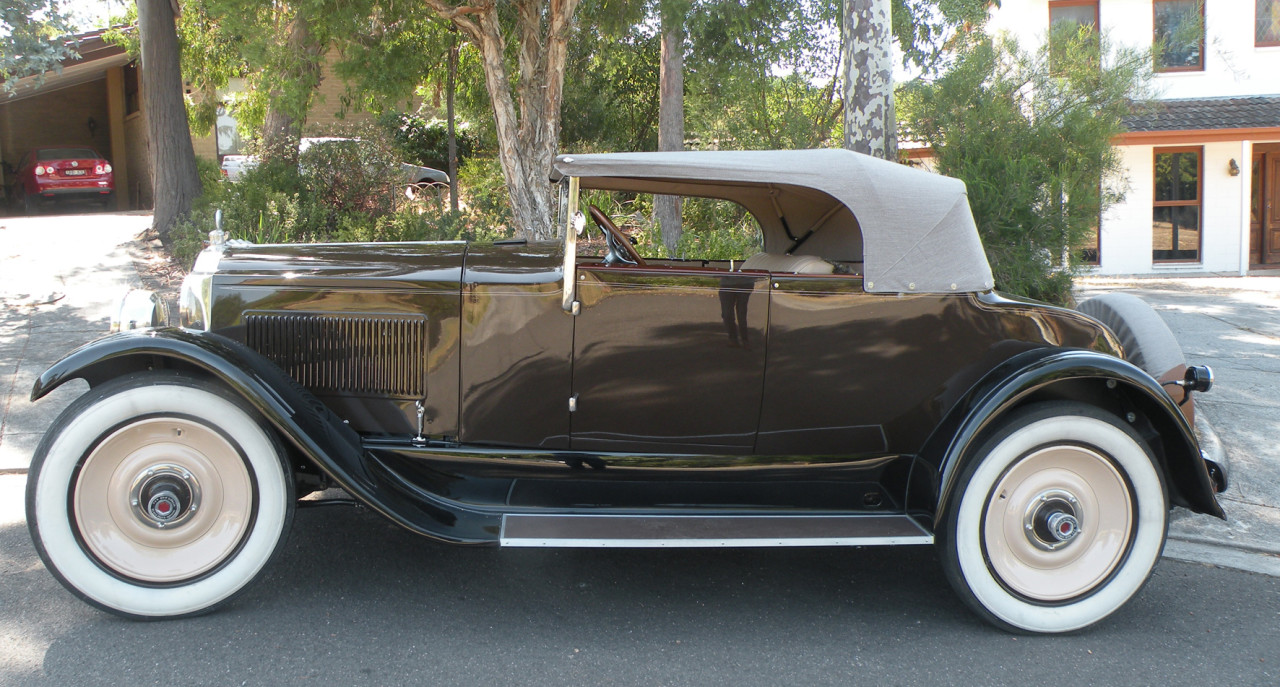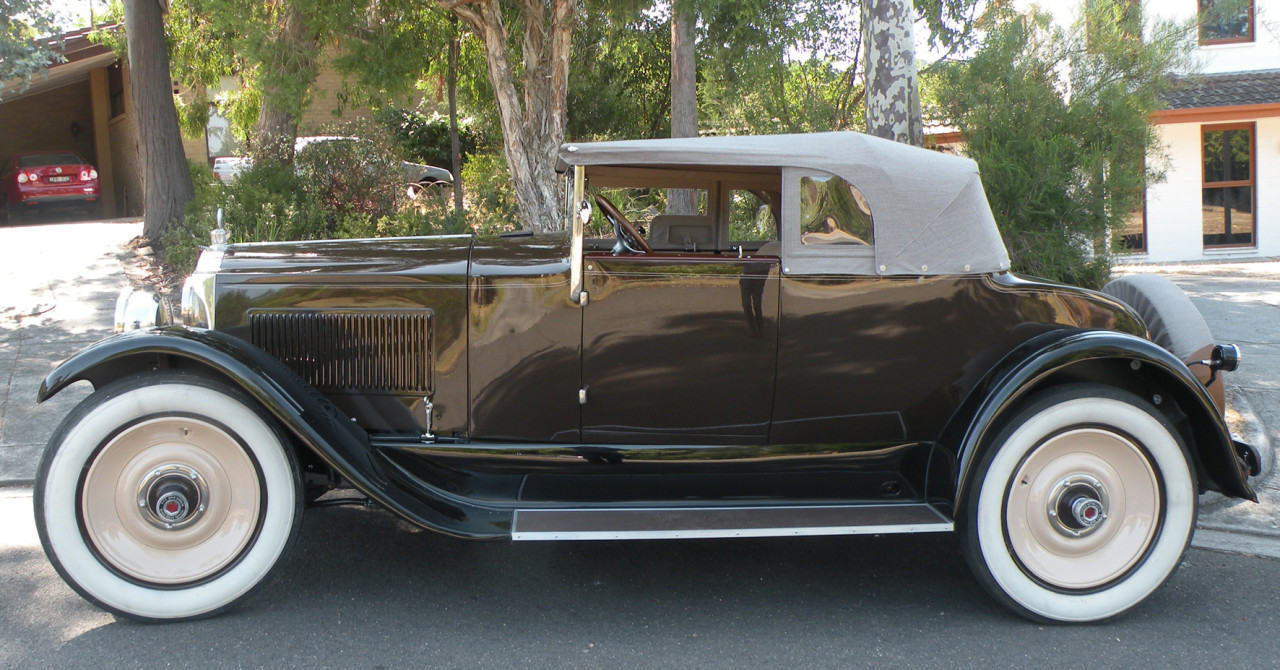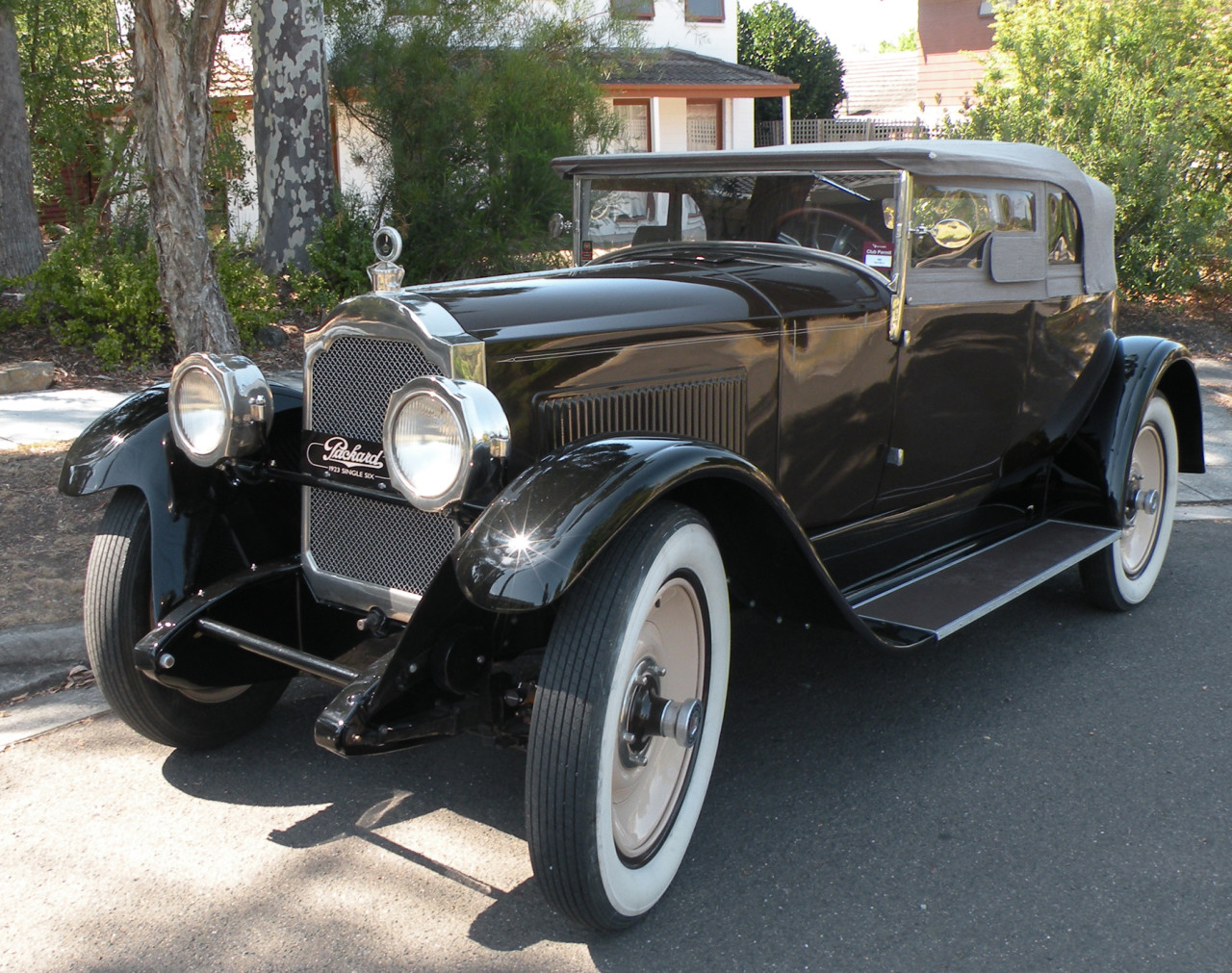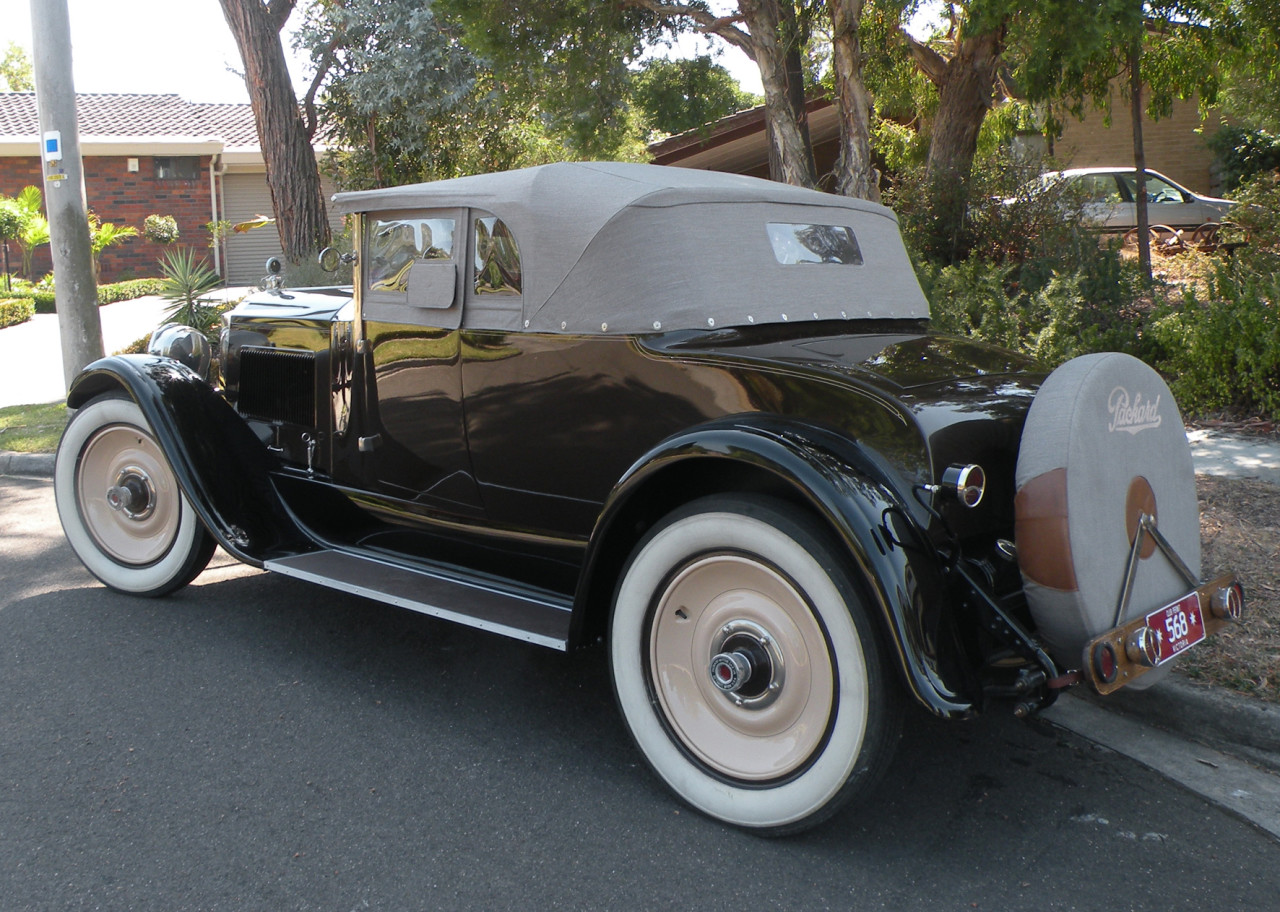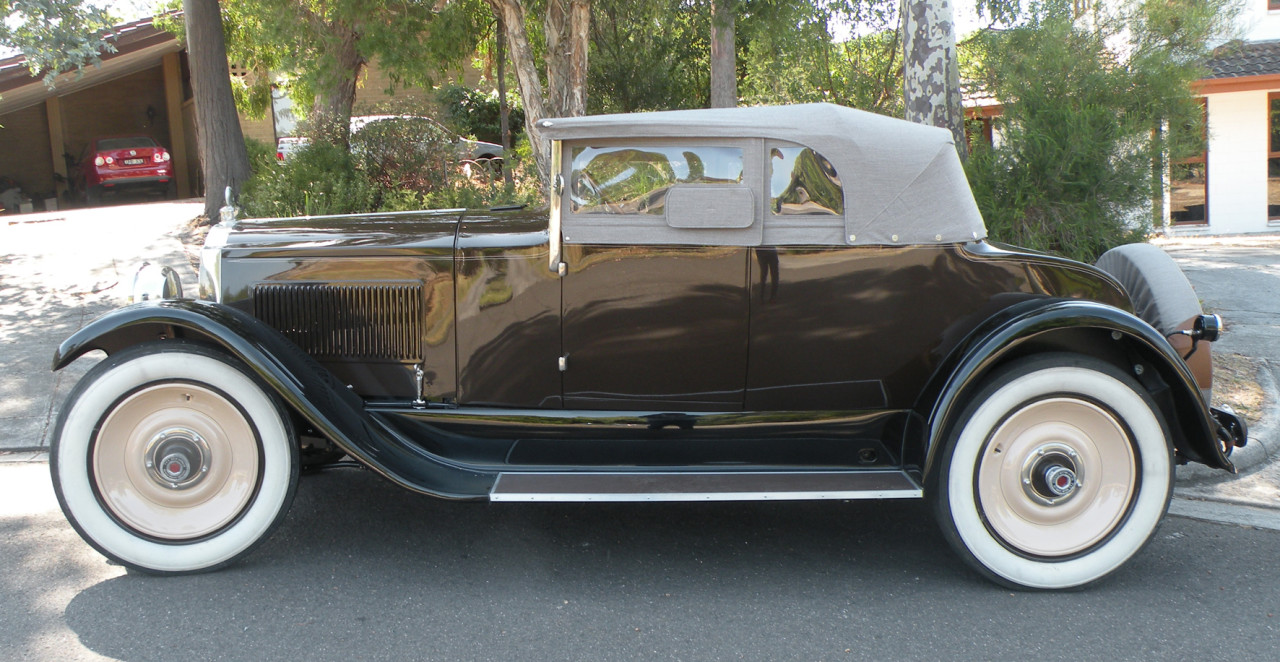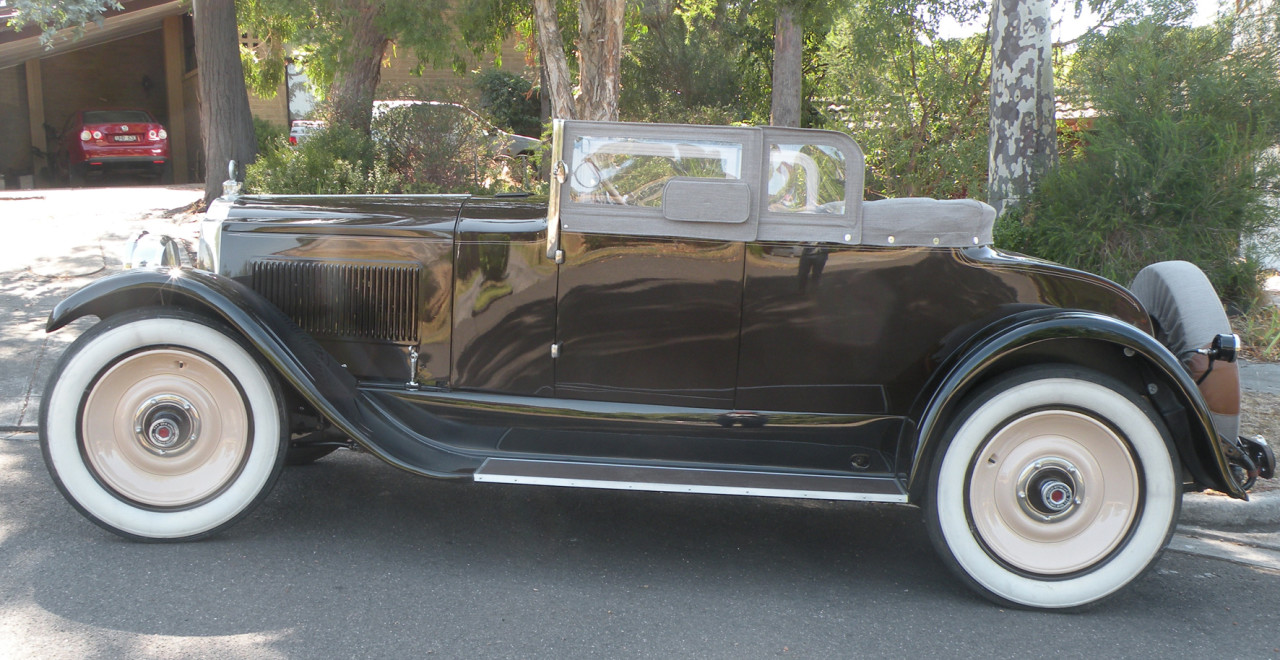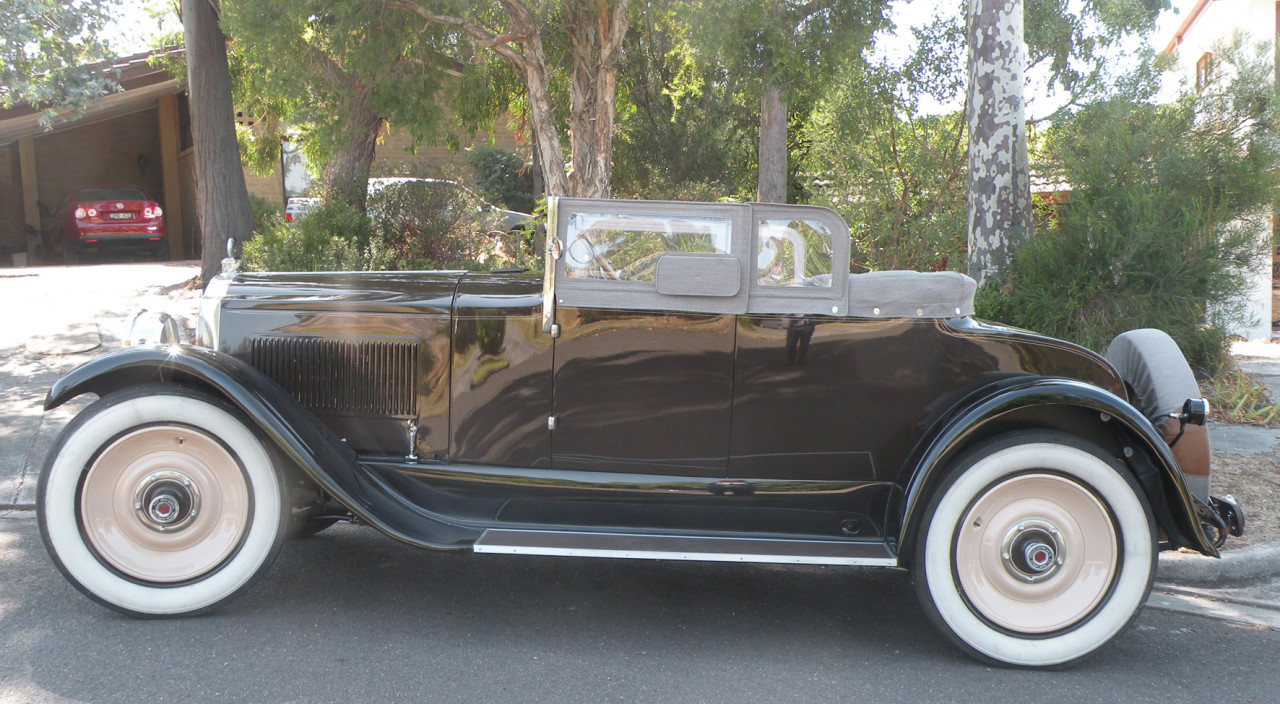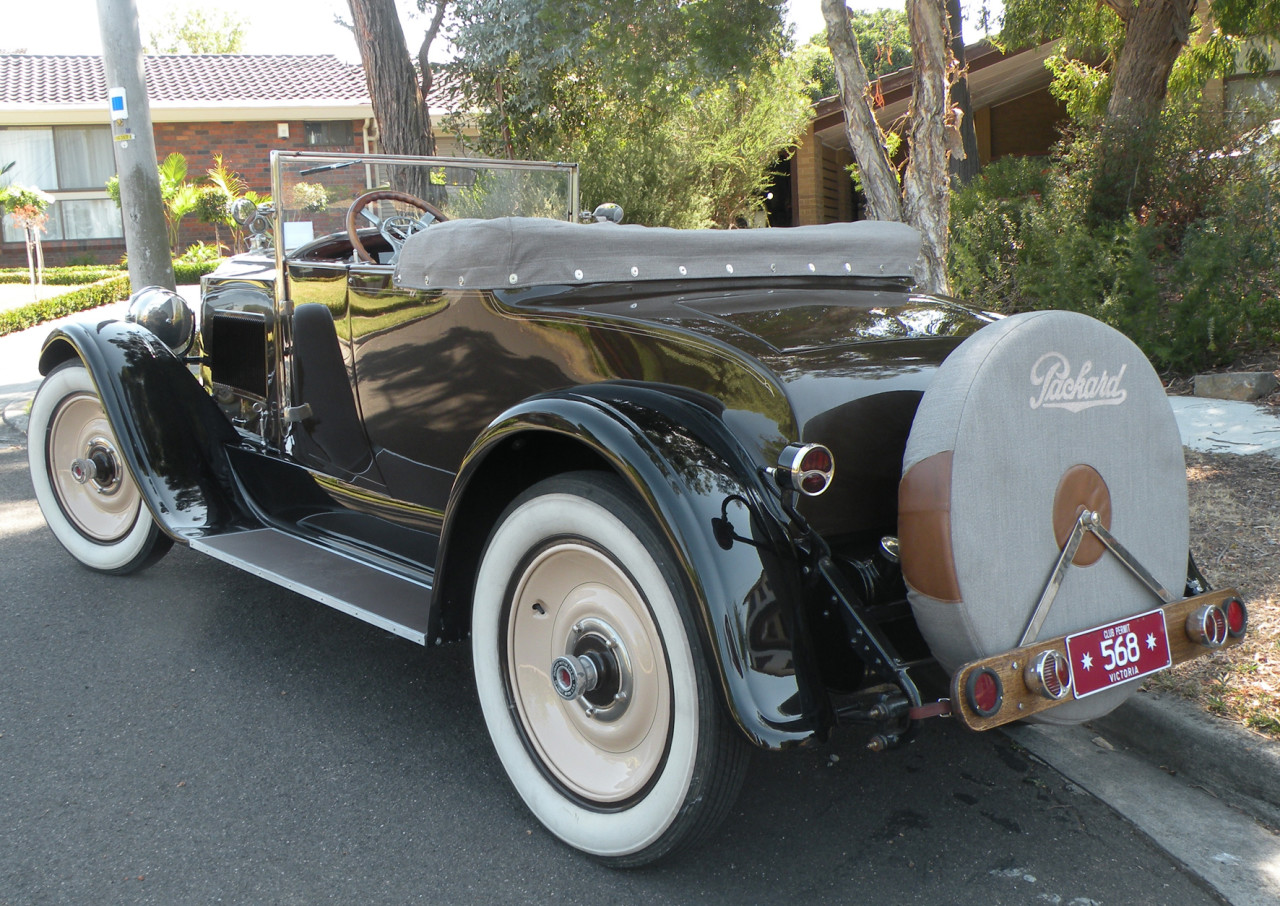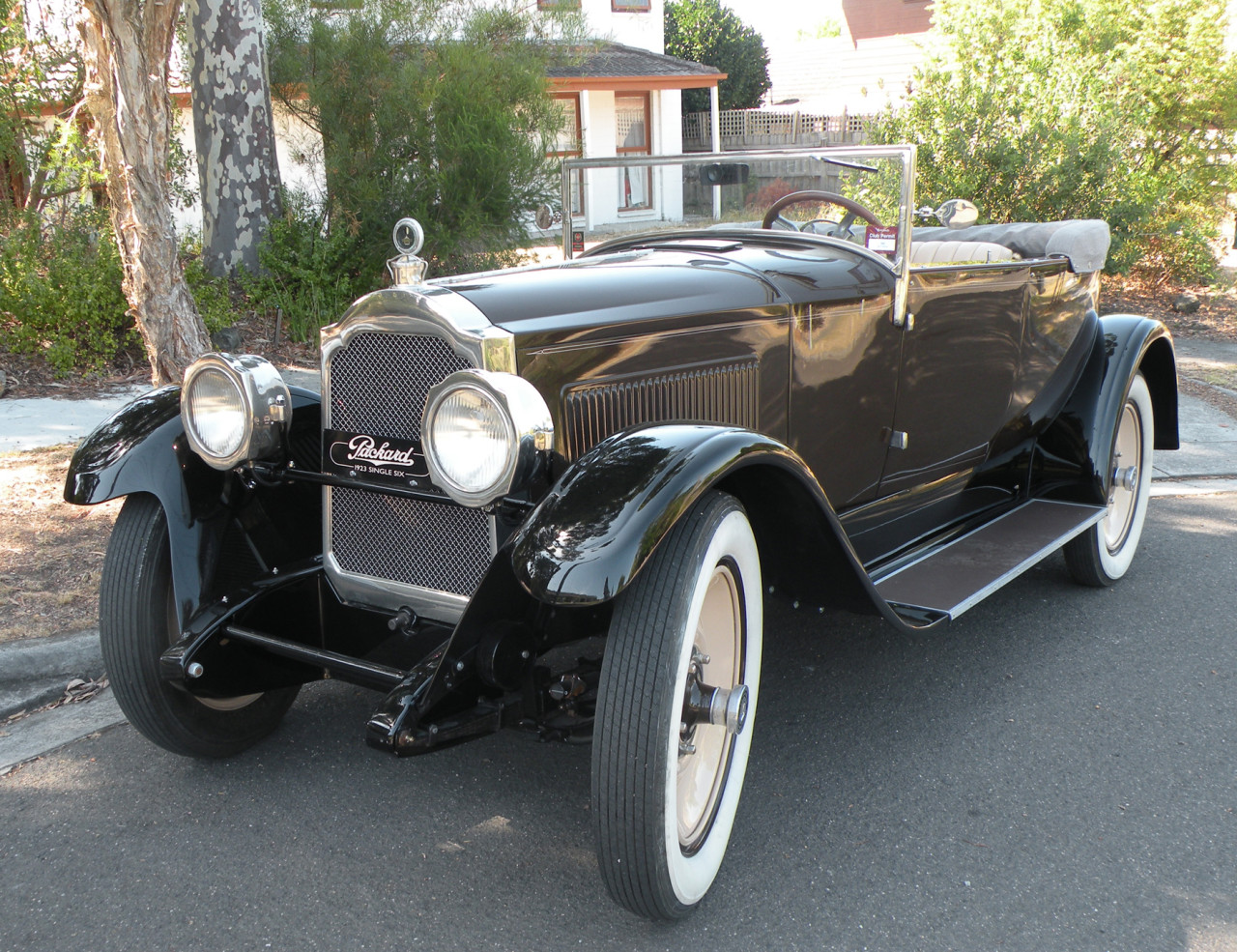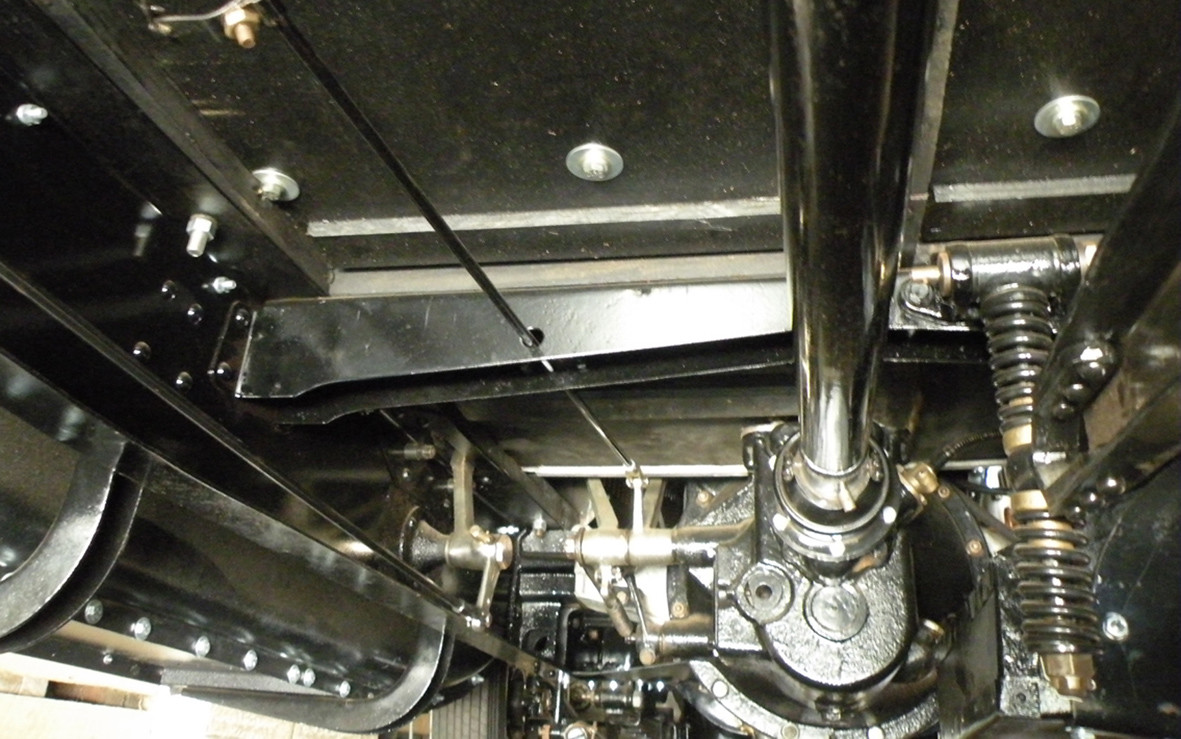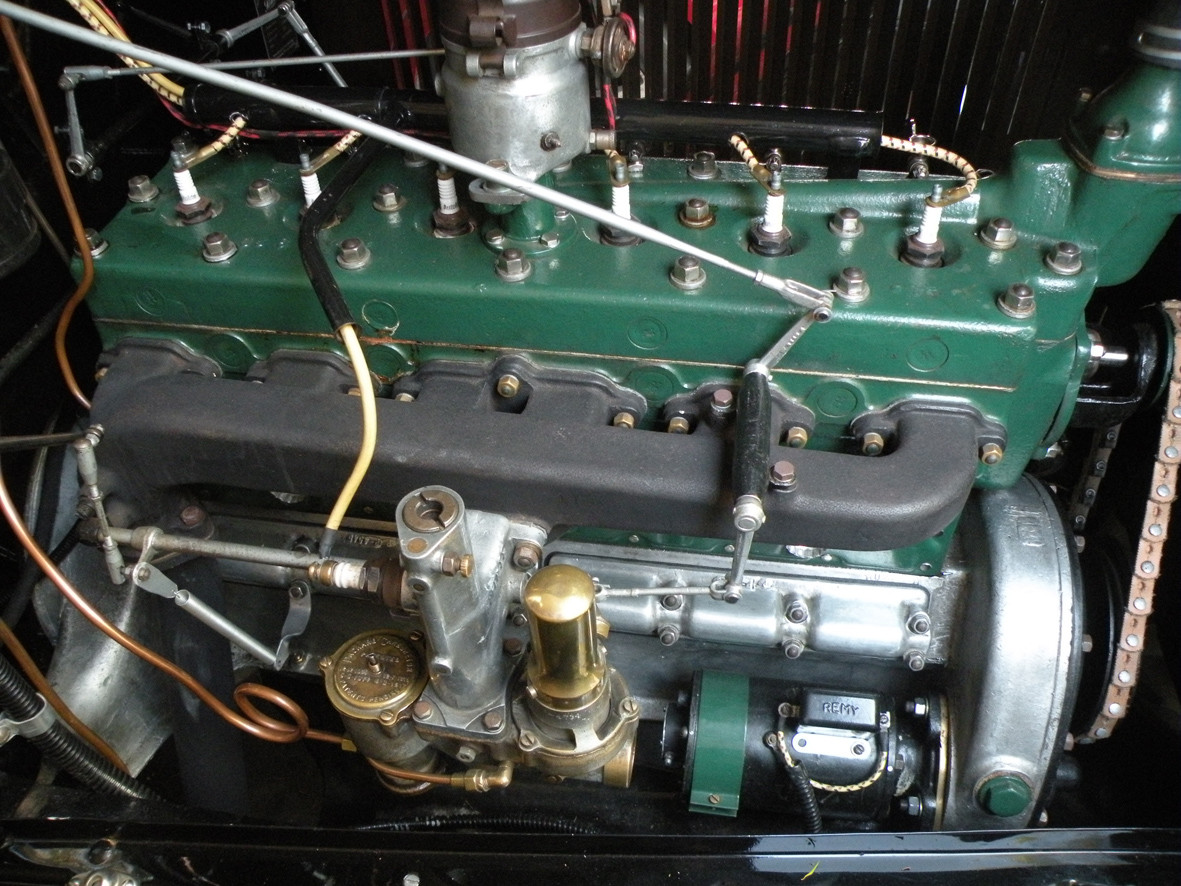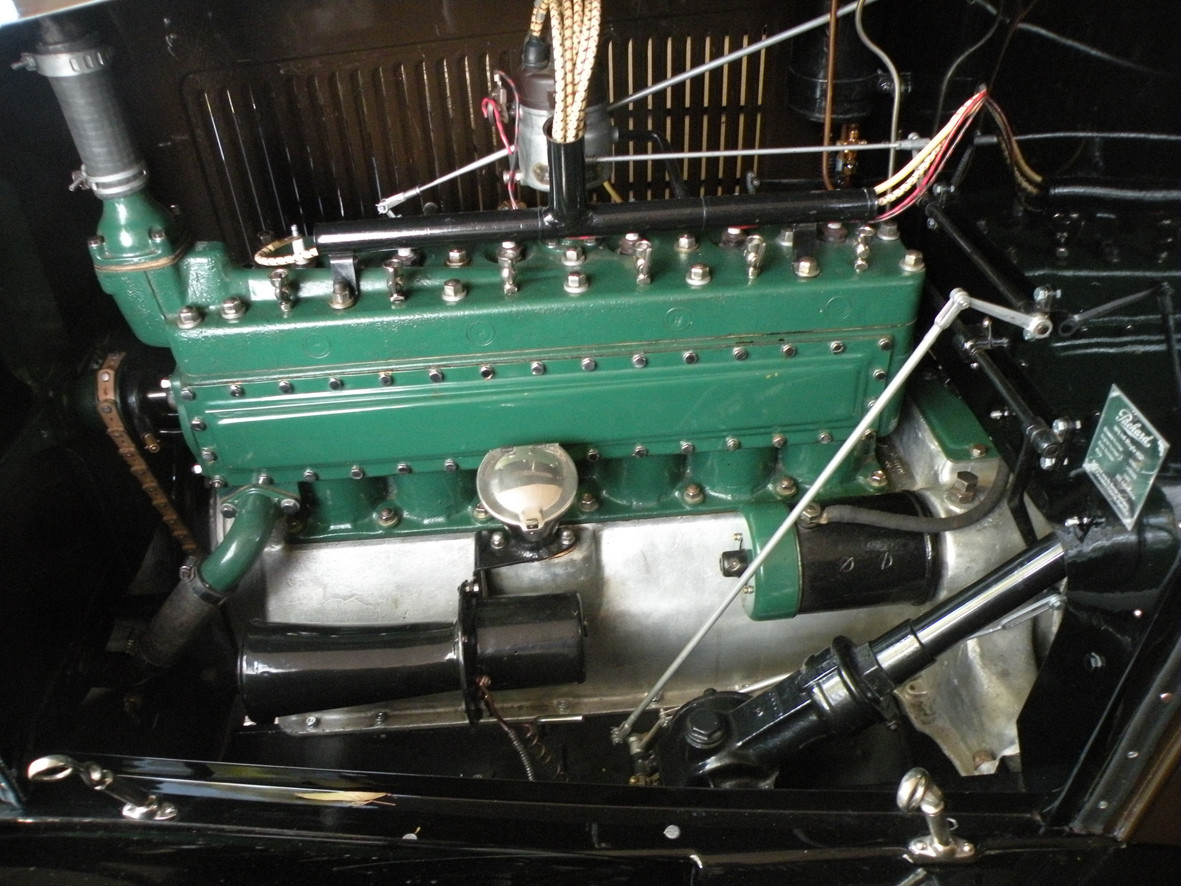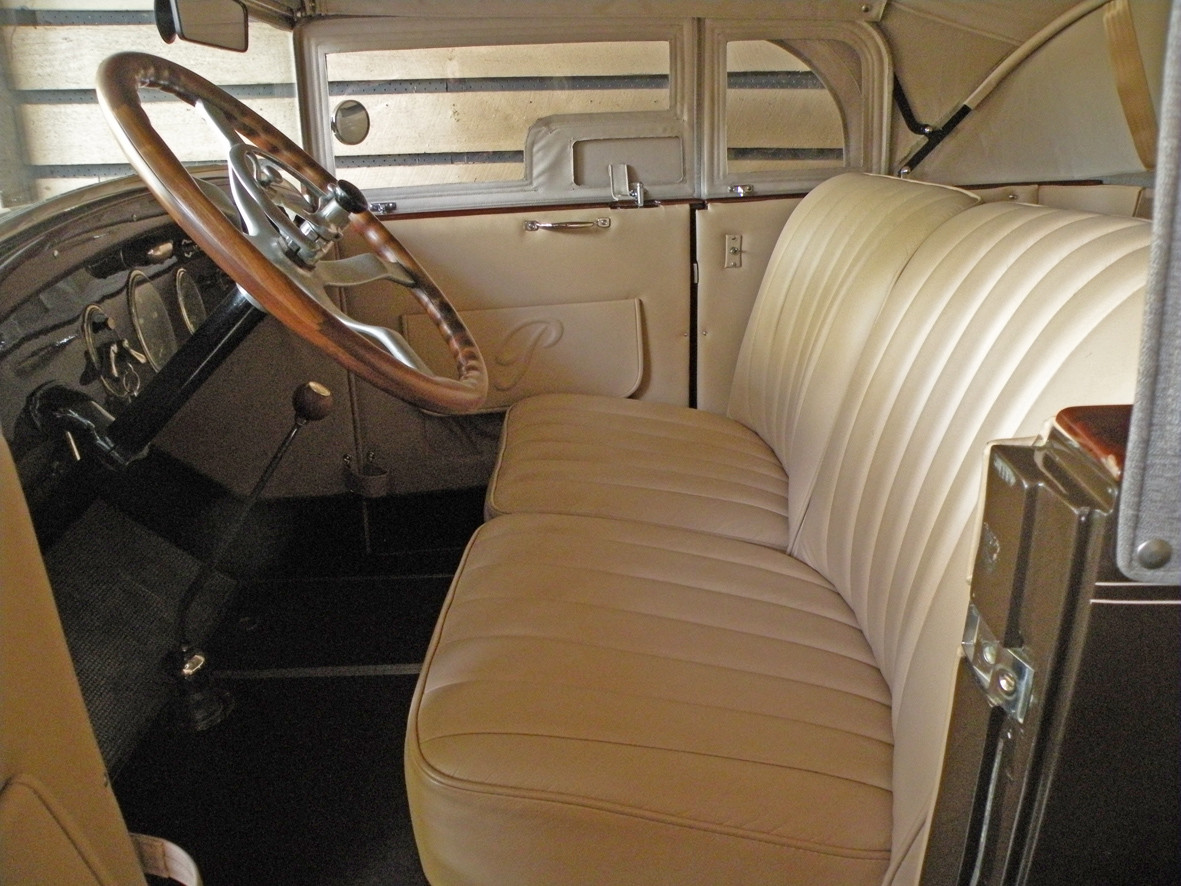 2-23-2013
A new experience for both the Packard and I. Having been asked to display the car at the Victorian Wholesale Fruit and Vegetable Market Traders Assn's Annual awards night and dinner dance, we both now know our way around the labyrinth of service passages and even up a couple of floors in the lift at Melbourne's posh (5 star) Crown Towers Hotel. Despite crawling along and making what seemed like about a dozen three point turns the new radiator core has proven its worth. Even after about half an hours creeping past stacks of chairs, edging along at walking pace (a slow tick over) and squeezing through impossibly narrow gaps, the car never looked like overheating and the water level this morning is exactly where it should be. It was a long day for us both. We had a move in time scheduled for 6.45 a.m. Saturday morning and we were last out at almost 2.00 a.m. Sunday morning.
2-28-2013
Hi all
This could well be the cherry on the icing on the cake. Having temporarily fitted a modern suction cup interior rear view mirror to meet the requirements of the pre-registration "Road-worthy" inspection, I have now located the long lost original one hidden in a box of "stuff to take to a swap meet". This cleaned up nicely and with a fresh coat of paint and a new bevelled edge glass it is safely installed. Unless something remarkable turns up this has to be the final thing to be done. I have had two enquiries from my advert on the Prewar Car website but nothing positive as yet. In case anyone is interested but is too shy to ask, the price is Aust $95,000 that is US $ 97,500.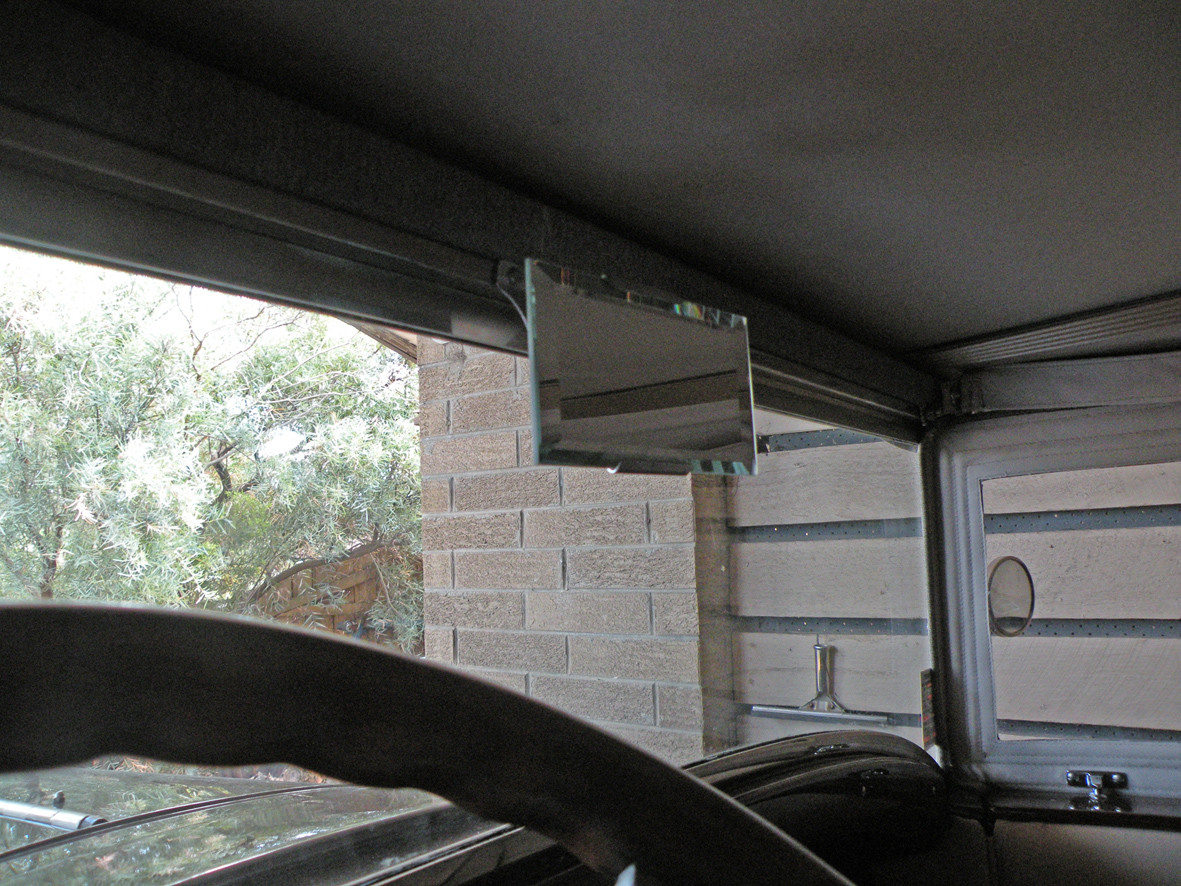 3-3-2013
It seems that you are all too shy to make any further comment. May I respectfully ask what any of you would think is the right price for what is arguably, the best early Single Six Packard in the World.
May I aslo be permitted to make one other observation. Having worked on the Single Six and studied the engine drawings of the Eight, apart from the actual horsepower output (capacity), from an engineering point of view the Six is a vastly superior engine in every way.
Keep on keeping on
3-4-2013
Hello Roger
The Hup looks perfect. It looks far more complete than many of my previous projects. It even still has the glasses in the headlamps. All its fenders and even the crank handle. The man on the site next to mine at a swap meet just last weekend had split rims for $1.00 each and another site had about fifty wood spoke wheels. Borrow a chainsaw and that tree growing through the chassis would be no problem. I just cannot understand why you have not snapped it up already. My friends at Cars UK Ltd would be happy to collect it, transport it to the England, pack it into a container and ship it to Australia. Just one problem......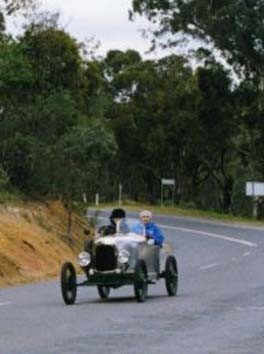 In case anyone is wondering about the alarm clock attached to the dash. It actually houses a tachometer.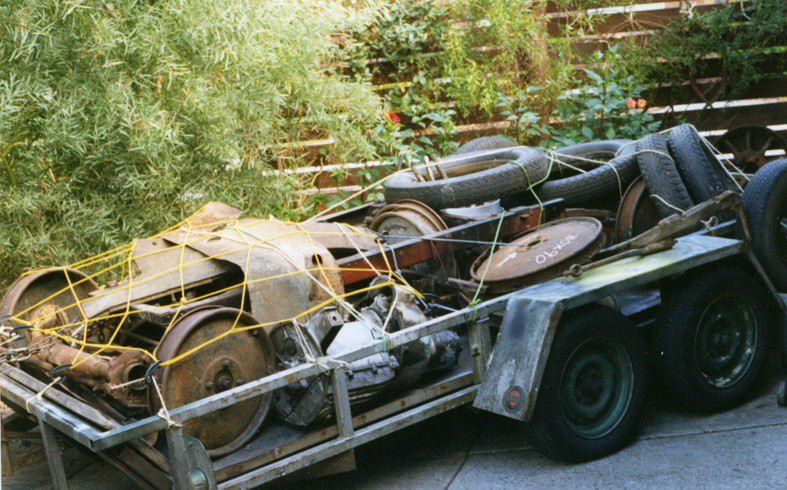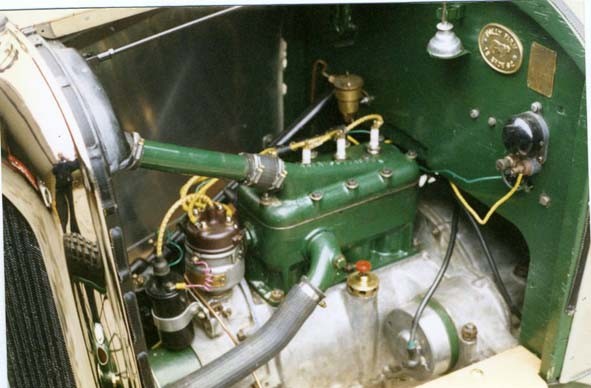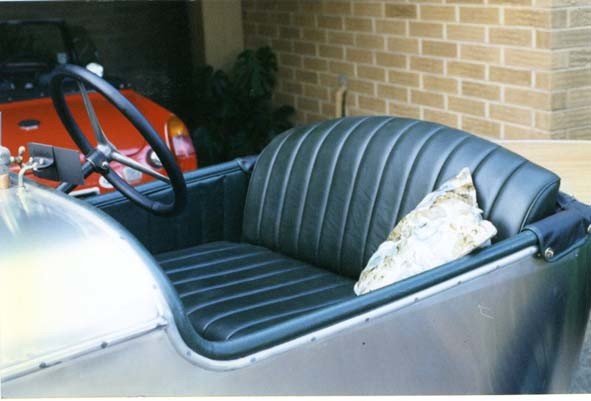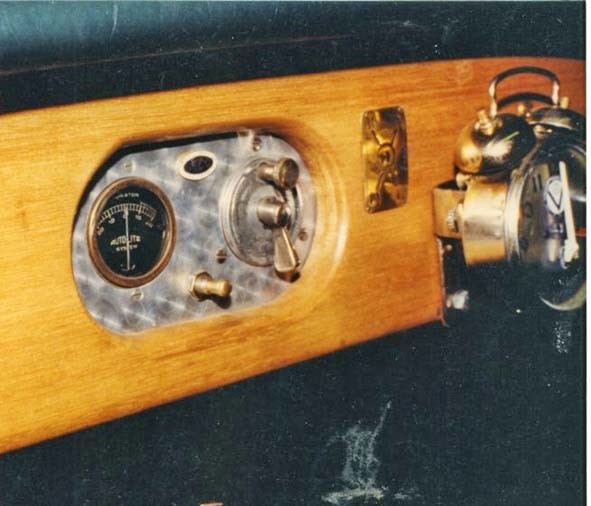 3-5-2013
Hello John
I hate to be a spoil sport but honestly I cannot remember every one and as far as having photographs, the quality of 127 Box Brownies really does not reproduce all that well. If I could remember, the AACA would have to start a new Forum as there would not be sufficient space here.
The teenage young lady in the black fur coat is now the mother of three. This was the third Citroen 5CV that I have restored over a space of almost 50 years. The coil and Delco distributor indicate that it was among the first 50 to be built. Subsequent cars had magneto ignition. A very long time ago I drove one as a daily driver. Just to give you a little background I have taken the attached photographs of the space around my desk. The trophies from our various expeditions to Europe with the Lagonda Rapier are in a different room.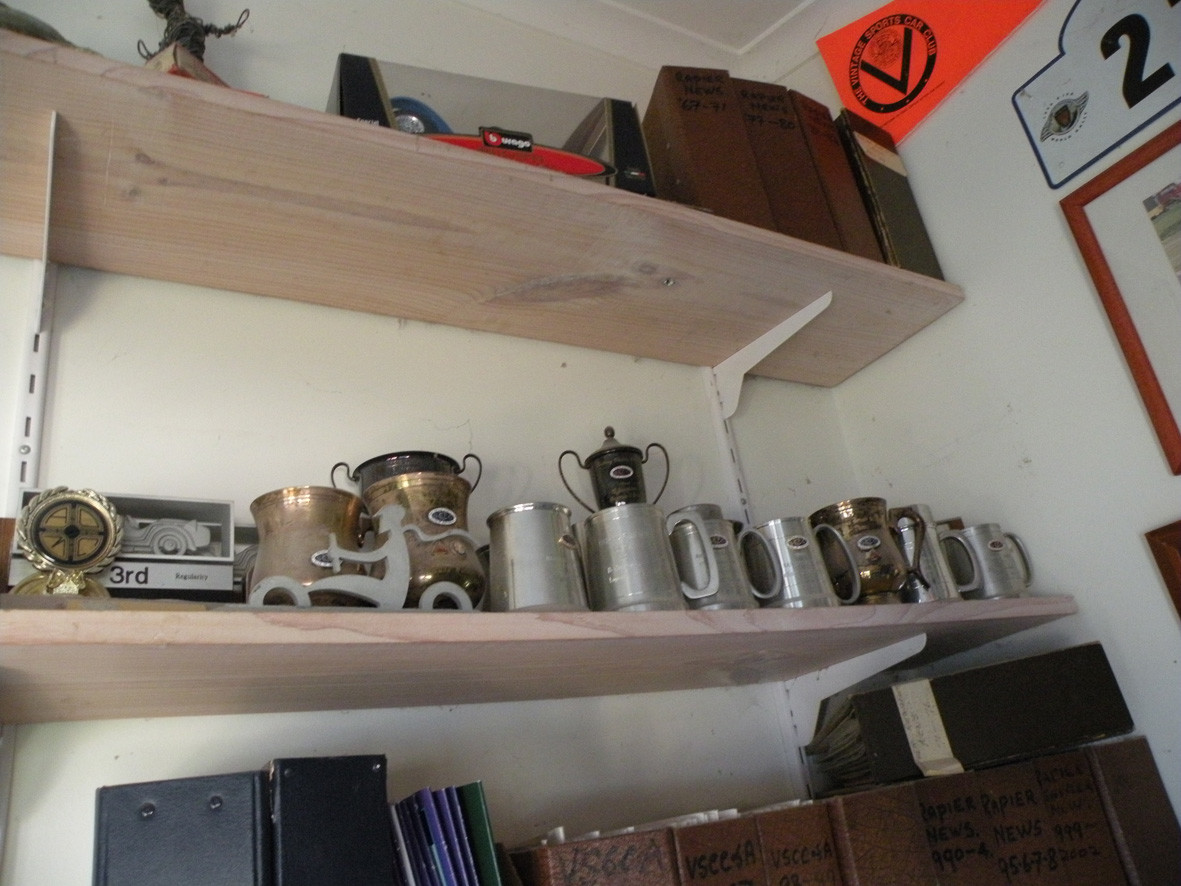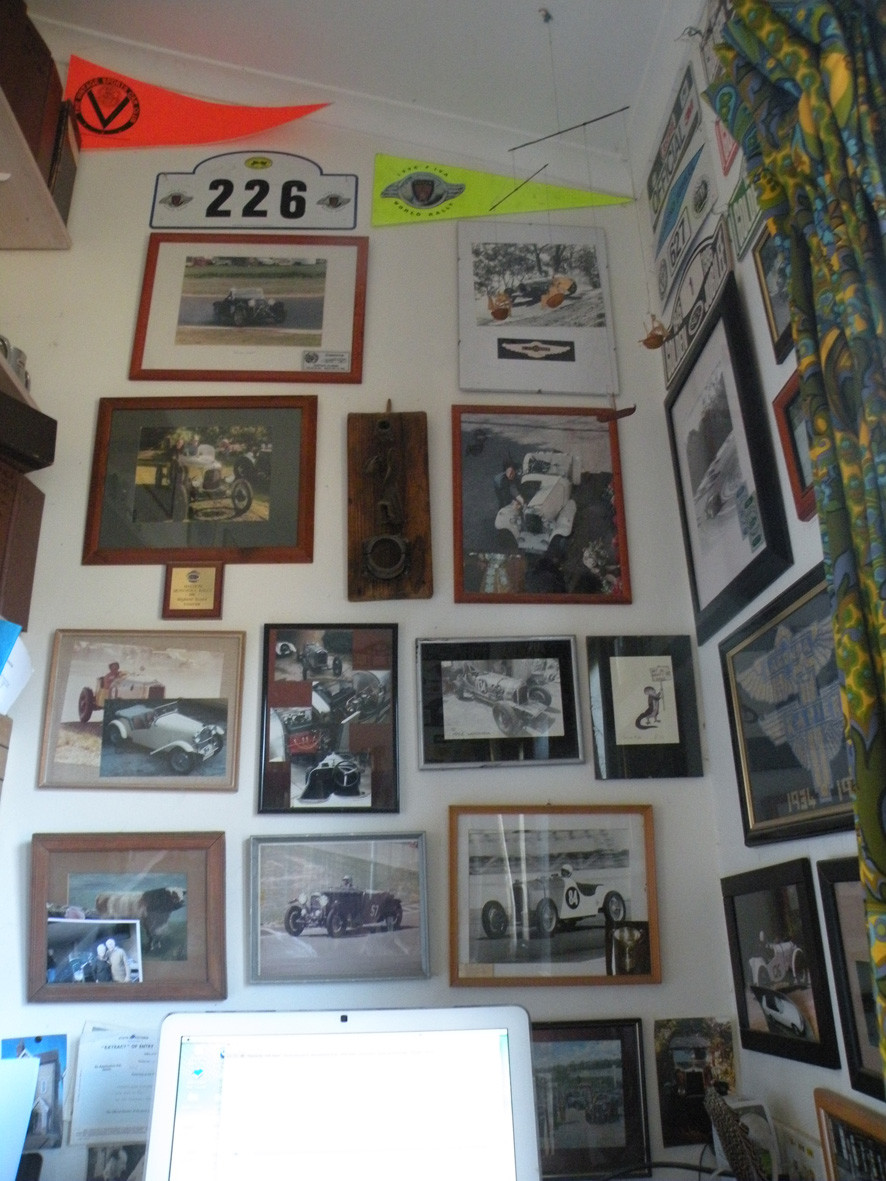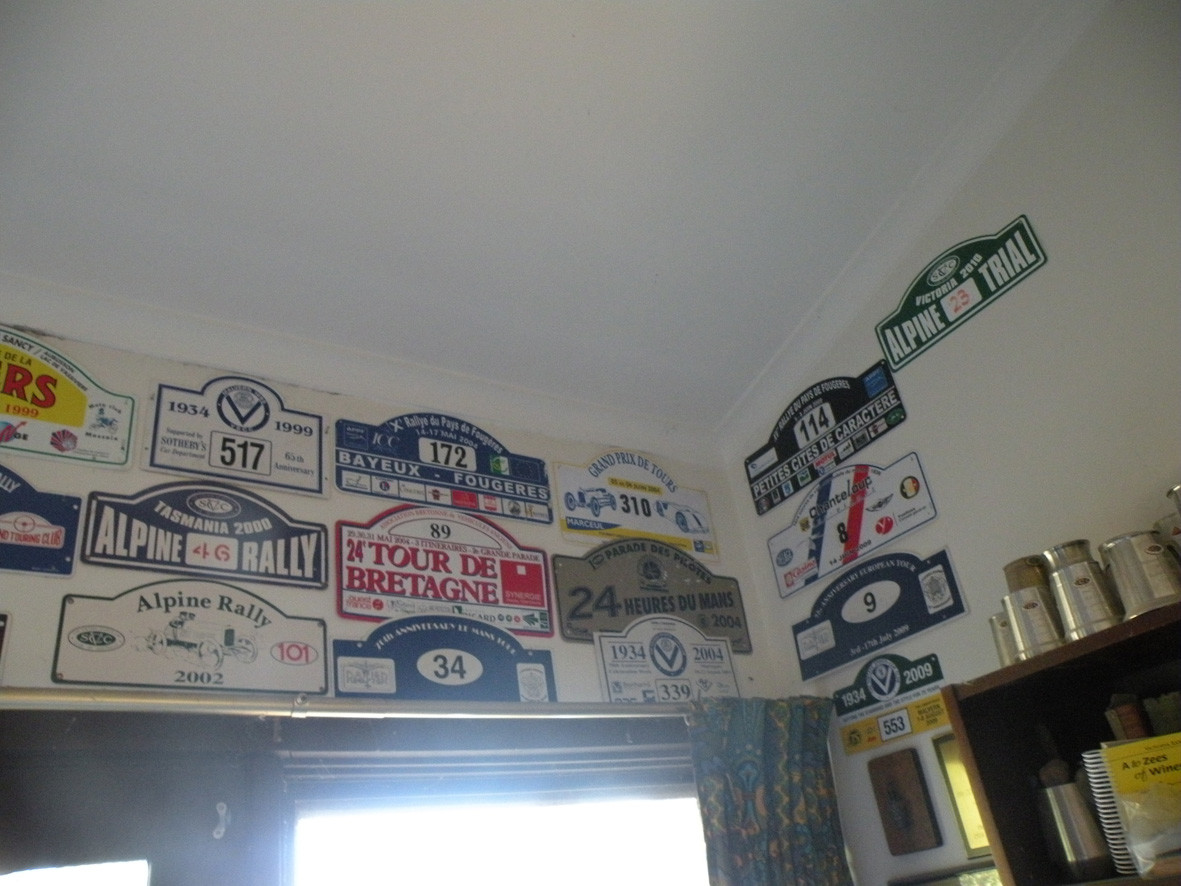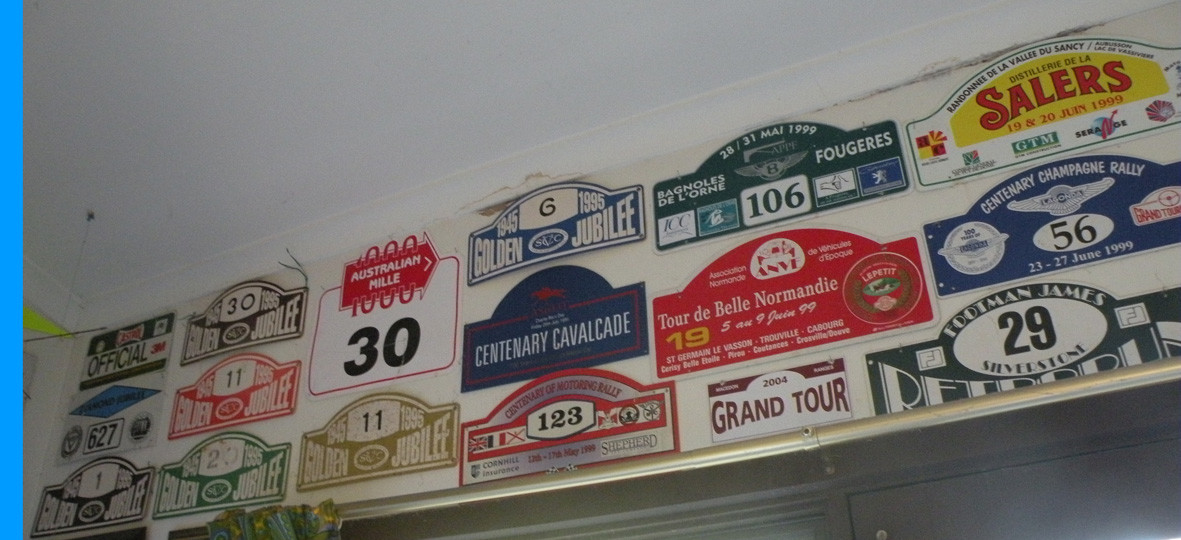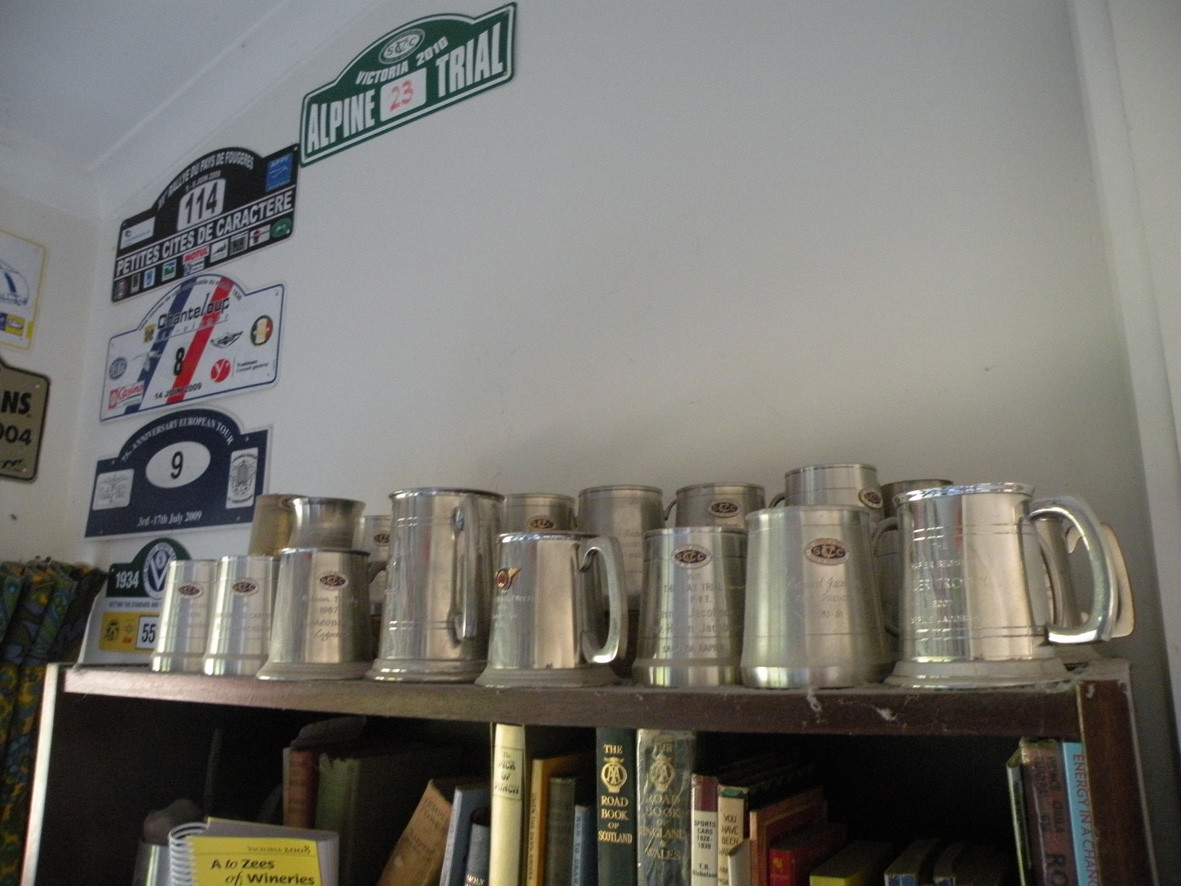 If I can speak on behalf of OC jr
SHE has far more important things to do.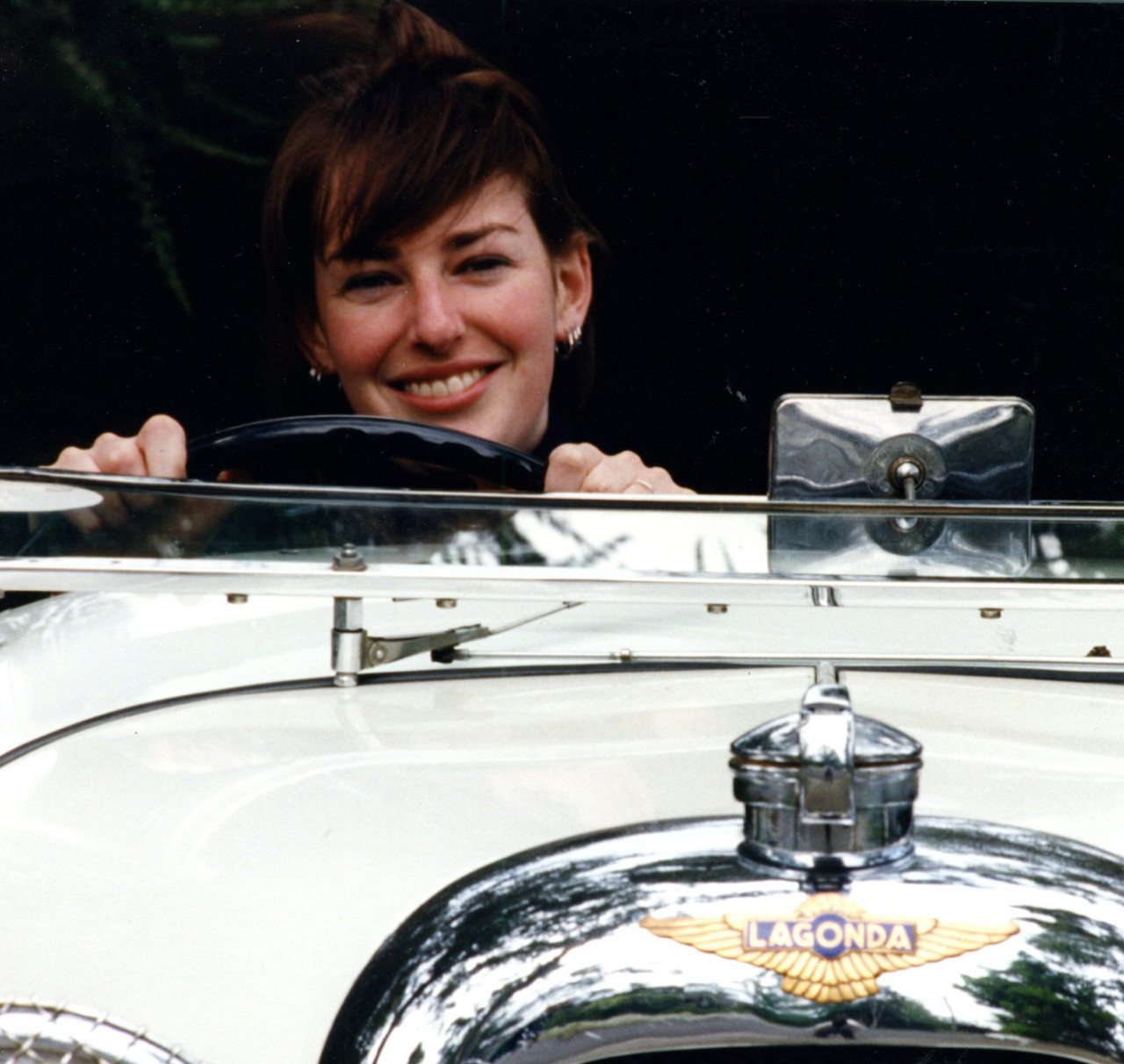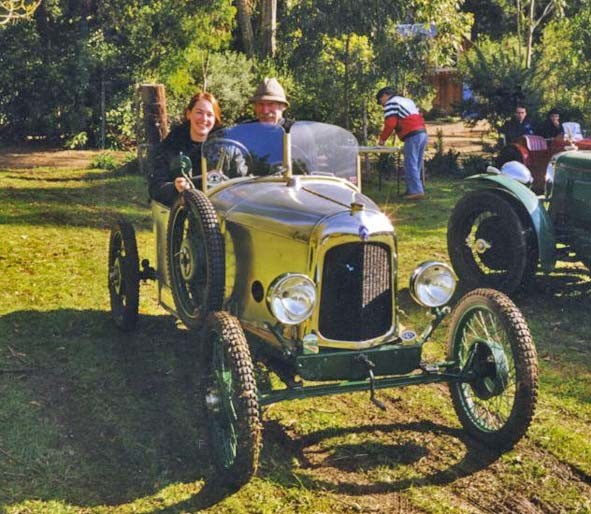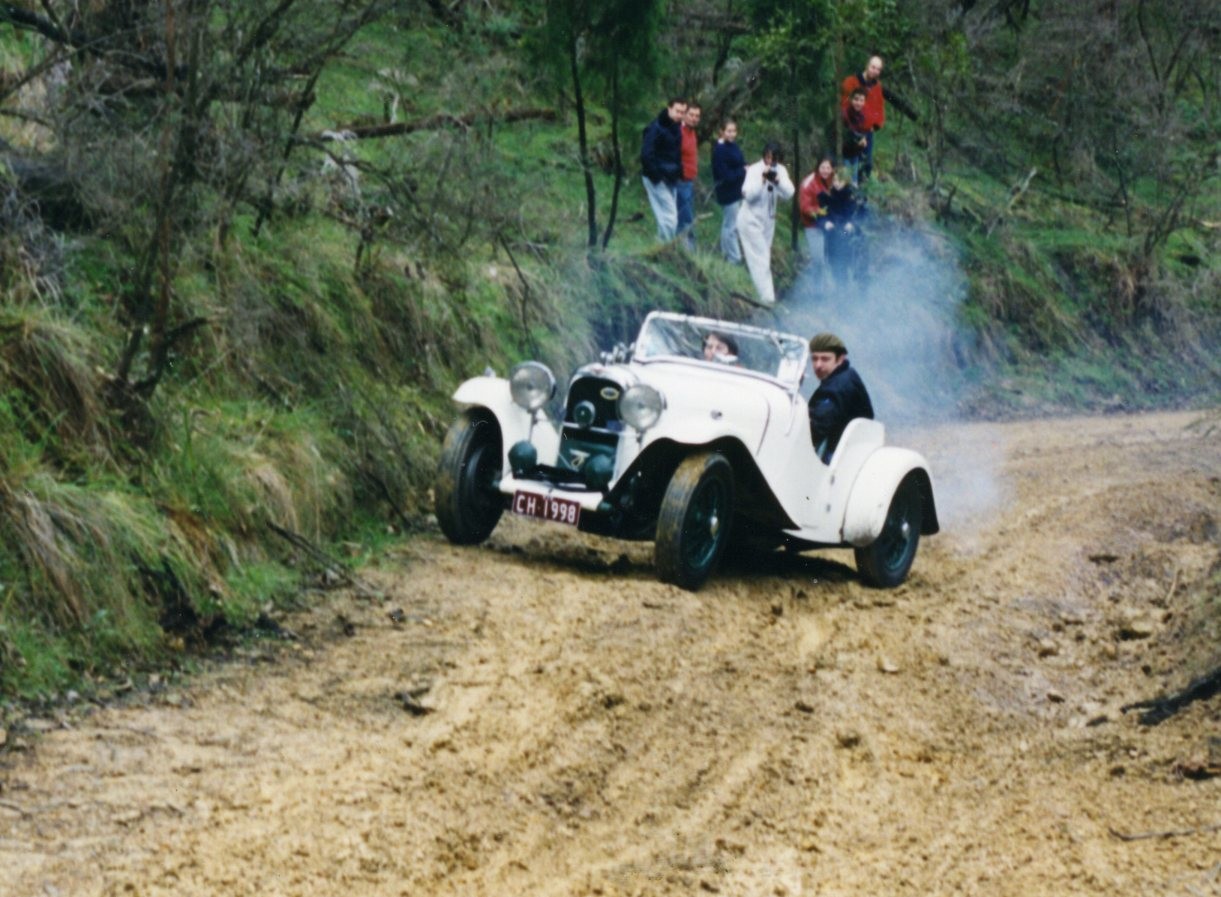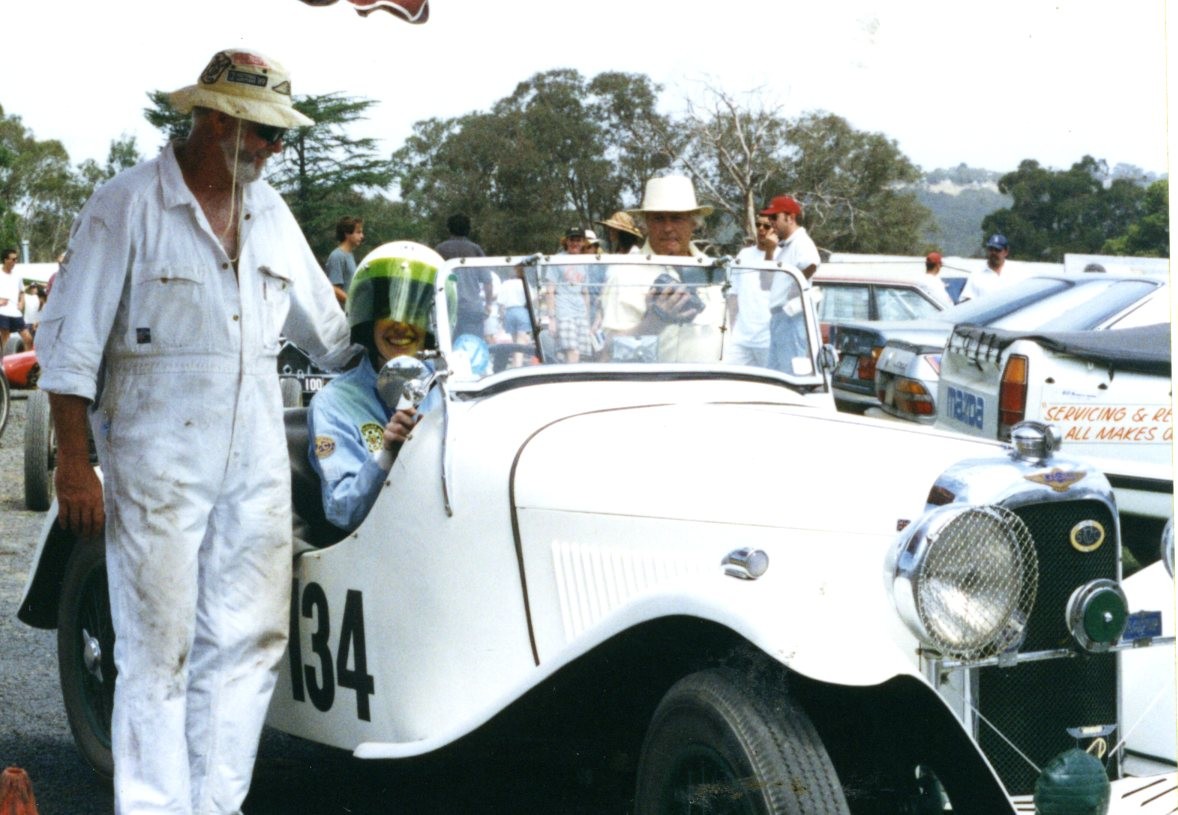 I am amazed no one has mentioned the "R" word. I have probably owned more of these than any other marque. A sure sign of a mis-spent youth. This one a 1924 Side valve 11hp. Again rebuilt from a pile of absolute junk that no one with any brains would want to touch.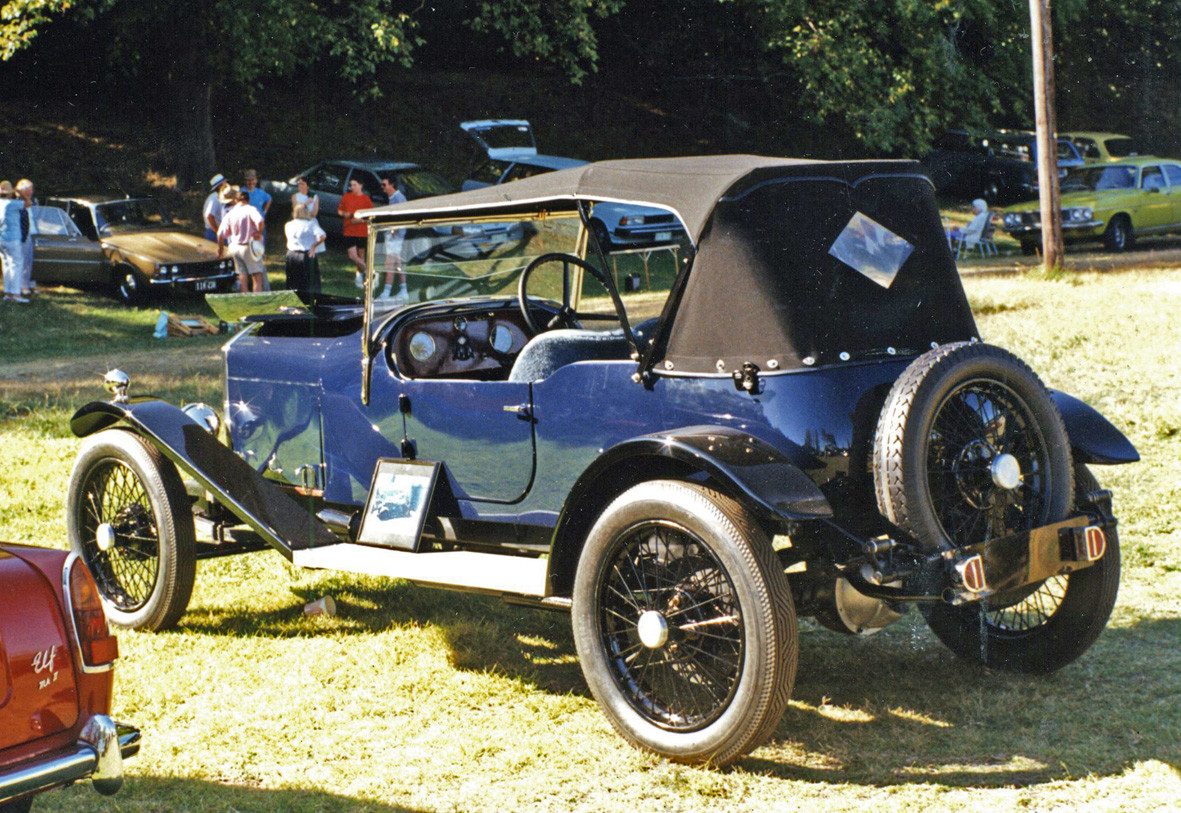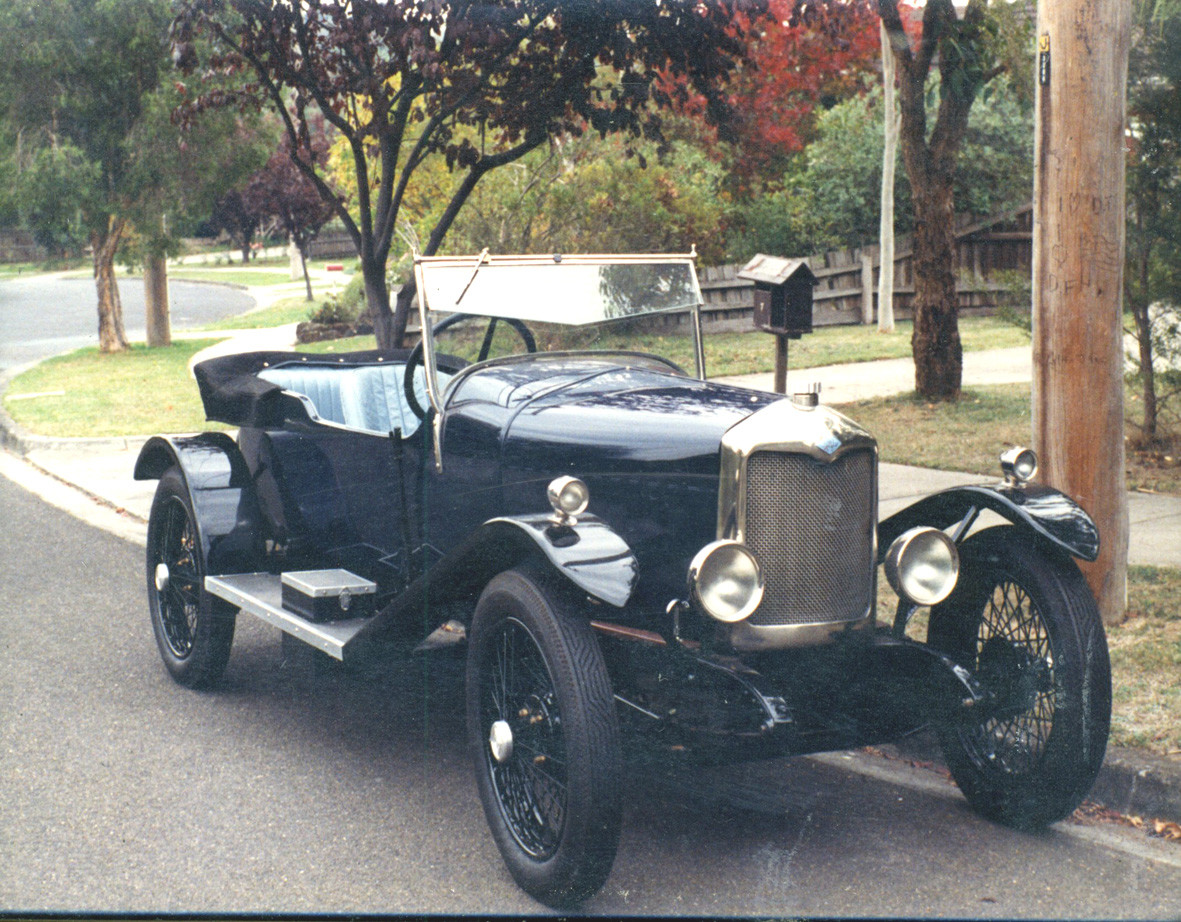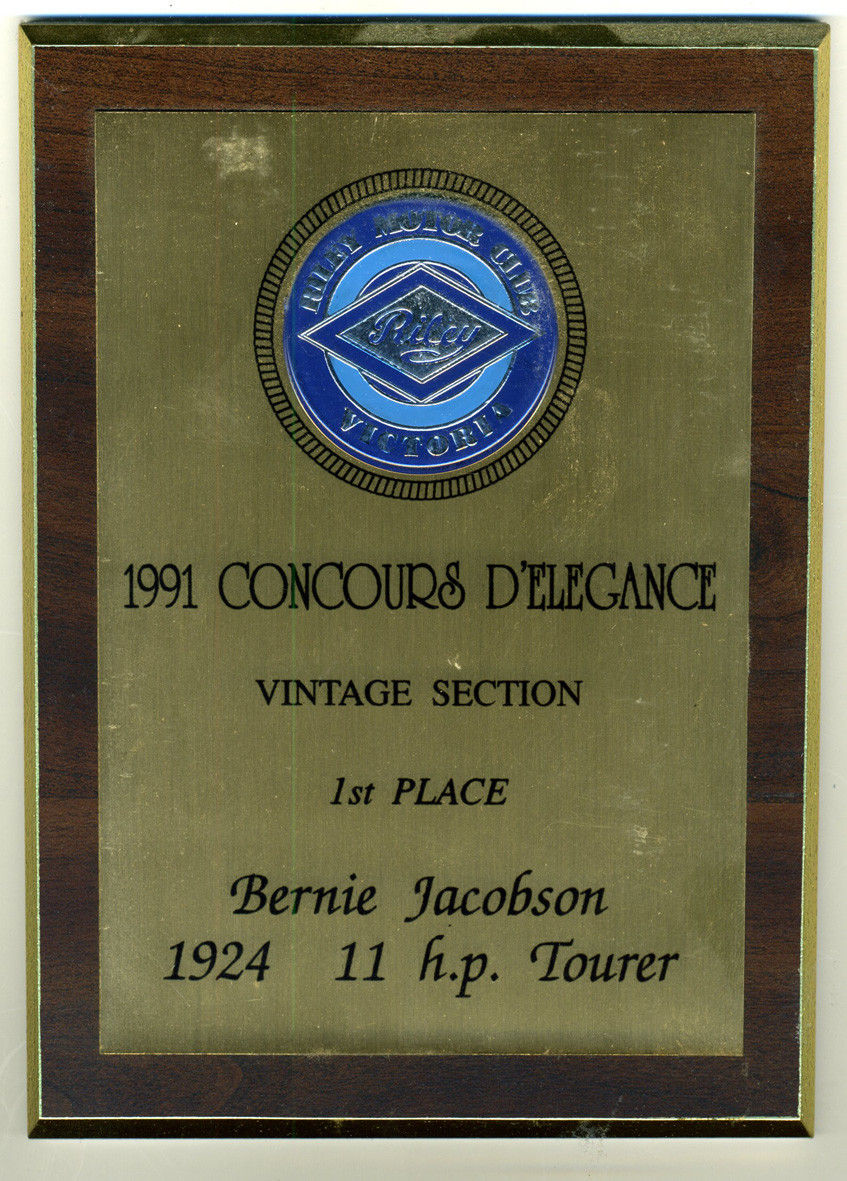 3-6-2013
This one is for Unimogjohn.
I did warn about the quality of early 1950s Box Brownie photographs. In this collection you see first, appropriately, my very first car, a badly retouched shot of a 16 year old Bj in his 1918 Austin 4 cyl 20 hp. Next my first daily driver a 1924 Austin 7hp "Chummy" tourer (note: Six inch brake drums. Foot brake worked on the rear wheels, the hand brake on the front.) and then the next car a 1928 Austin 7hp "Sports". This is followed by my first successful "Special" a 1938 Morris 8 hp. This too was used as a daily driver. At first it was driven as a bare chassis fitted with one seat. This caused many a raised eyebrow when travelling in what was then "peak hour" traffic.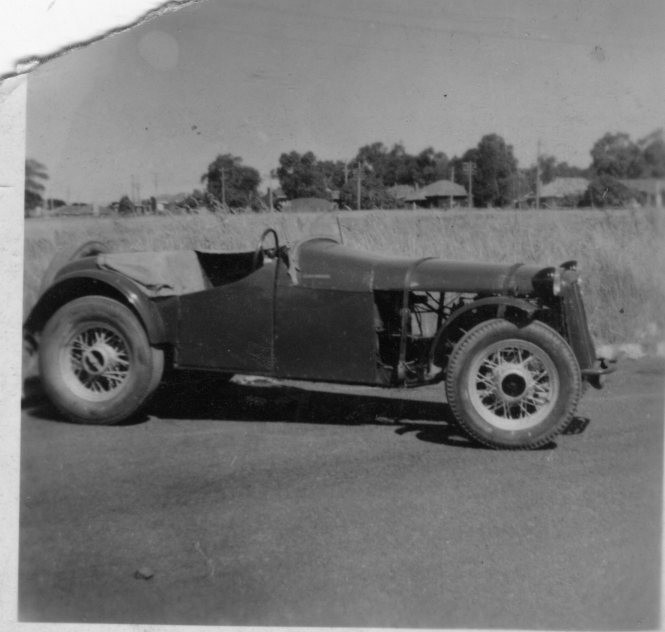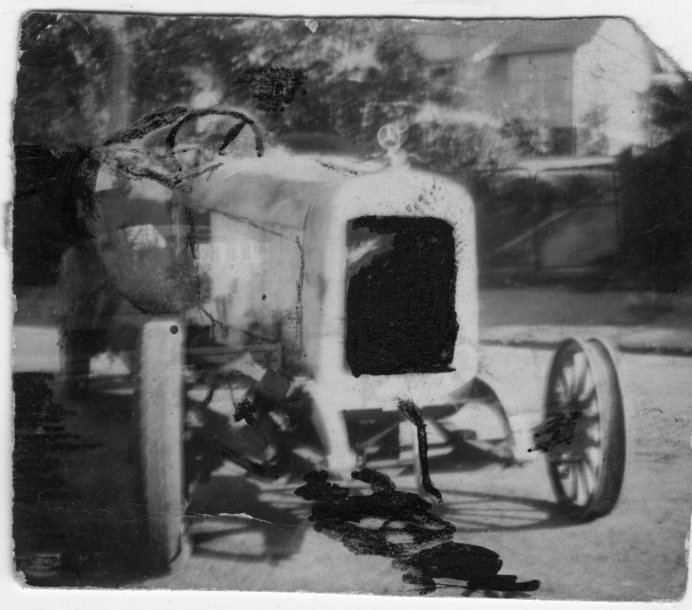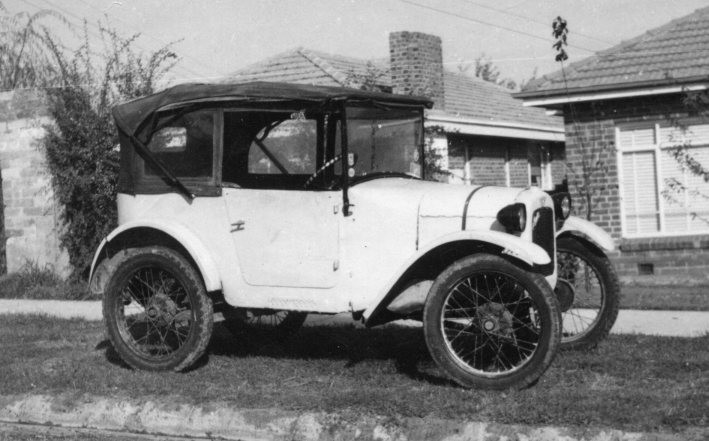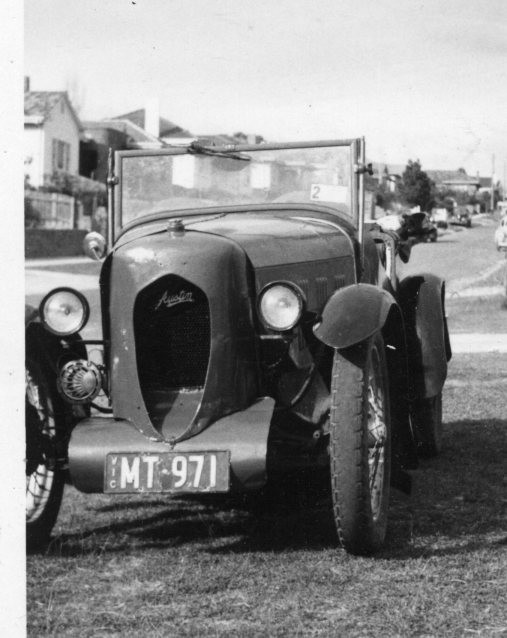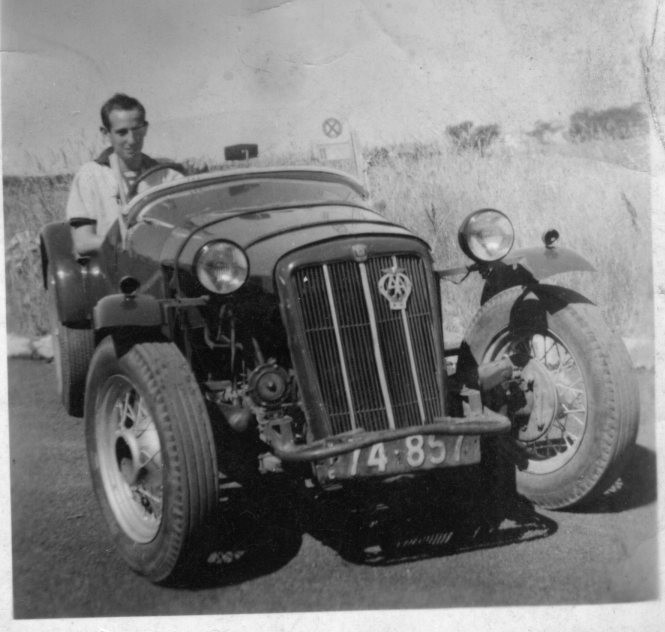 3-7-2013
I know a lot of people will not like this but that is their bad luck. The following is an extract of an e-mailed reply to a well known Classic and "Collector" car dealer. "I cannot understand the average American "Collector" who consign their cars to a morgue (a place for storing dead bodies) My own attitude is that of a Life Saver breathing new LIFE into cars that have been given up as dead. You need to remind your customers that "God gave us automobiles so that we could drive them. not just polish them". The first task in any of my restorations is to totally recondition the engine. Note not just fix it up a bit and paint it. How many early 1920s car owners among your customers can honestly put their hand on their heart and say that their car Is totally original? Show me one and I will prove them a liar! My biggest problem is that I am old fashioned enough to believe in telling the truth. For some strange reason some people find that offensive."
Keep on keeping on
Bj.
For instance, my engines have NEW pistons NEW rings NEW valves NEW gaskets NEW seals NEW timing chains etc NEW Oil NEW Spark plugs NEW points (AND condenser) in the distributor NEW spark-plug leads I could go on but I am sure that you get the idea. I would think that it would be nigh on impossible to drive a TOTALLY ORIGINAL (early 1920s) CAR around the block under its own power. Especially one that has been kept in a Museum or "Collection" for the last 25 years.
Some years ago I was given the opportunity to drive an exceptionally rare and powerful racing car said to be in "mint" condition, taken straight out of an "Important" Museum. It would have almost certainly killed me if I had not tried the brakes at about two to three mph BEFORE taking it out onto the track. I did not drive it any further.
Regarding that rare and powerful racing car, It was one of the prototype British Connaught's, when I did eventually get to drive it I only managed two or three laps before the "ORIGINAL" return hose from the scavenge pump for the dry sump engine lubrication fractured (fell apart) spraying oil all over the place. Luckily I realised that something was amiss and stopped before the engine was totally wrecked.
ATTENTION ALL.
Please disregard everything referred to in the previous 66 pages! I have a completely new story (and Sales pitch). I have only just discovered that the Packard is "hand on heart" in fact totally original! It was actually a one off special customer order for a convertible based on the four passenger coupe body. My clairvoyant has only just managed to make contact with the original owner, who if he can only materialise for a moment will swear on a stack of Bibles, Korans or what ever you want, that this correct. It may take a week or two the get the story sorted out but as soon as it is ready I will start a new thread.
Dear West et al.
Perhaps I should start by drawing your attention to your quotation from G.B. Shaw. My entire life has been spent adapting to situations outside my control. Only now have I become extremely frustrated by the inflexible nature of a great percentage of the people I have recently come into contact with. In particular with the mind boggling attitude of some of these people regarding the question of what constitutes "Originality" or perhaps what is REALLY authentic. In the past, almost certainly to my own detriment, I have been completely "UP-FRONT" regarding my every action, in particular within this thread, with regard to the Packard. I have never attempted to "pull the wool over anyones eyes". I find that I am now being made to feel a fool for even attempting to restore the Packard, with people laughing at me behind their backs because I have been so silly as to tell the entire truth. As of now this thread is ended! At some time in the near future I will start a new thread in which the Packard will be fully authenticated and shown to be absolutely as originally sold new in 1923. Even the readers of the Antique Automobile would love this thrilling and some times remarkable story, the only thing that it will not contain is pornographic sex. As I said in my previous post, "Please disregard everything in the previous 66 pages".
3-12-2013
Hello
West Peterson you may be the best person to explain this but anyone else who would like to comment is welcome.
There has been some discussion regarding the "originality or authenticity" of this Packard. I have always maintained that the ENTIRE car as it exists today is at least 85% as it left the factory! That is with the exception of the roof and the seating arrangement, it is ALL original. No not the air in the tires or the oil in the rear axle.
Now only just last weekend there was a Bentley tourer sold at Amelia Island for a miserable Two and three quarter MILLION dollars. My only question is "How much of that car is PRECISELY as it left the Bentley factory? By that I mean right down to the fabric covering the body let alone the body frame itself, the leather covering the seats and the seat frames, the fenders (or should I say "wings"), the ?????? " or does that all change because of the fact that it is, after all, a Bentley?
I know for certain of all the hundred or so Vintage Bentleys in Australia possibly there is just one or two that could be said to be (almost) original. New cylinder blocks, new crankshafts, shortened or NEW chassis frames, Red Label/Blue Label , gear boxes, the poor old SEDAN bodies long since gone, super-chargers where none ever existed before. it goes on and on!
Ra Ra Ra and Jolly Hockey-sticks! Absolutely Supaah!
But then their owners almost universally speak with a Plum in their Mouths while I probably have a Pickled Onion.
As we coarse Aussies sometimes say "It is all BU** SH*T."
3-13-2013
Going backward to move forward, returning to the cars I have owned/restored. Going all the way back to 1956 The first two photographs are of the same 1925 Citroen 5CV. For those ignorant of these things the CV label attached to French cars simply means Cheveaux Vapeur or in English, Horses of Steam. The French system of Horsepower rating predates petrol engines. This little charmer was my sole form of motorised transport for about two years. The second one, with the top up, came along in the early 1970s as an early restoration project. No it is not about to lift its rear wheel up against the Fire Hydrant.
These early Citroens actually used the famous Andre Citroen double helical gears in the rear axle, for the crown wheel and pinion. The inspiration/origin of the inverted Double chevron trade mark. Andre Citroen was a gear cutter years before he became an automobile manufacturer.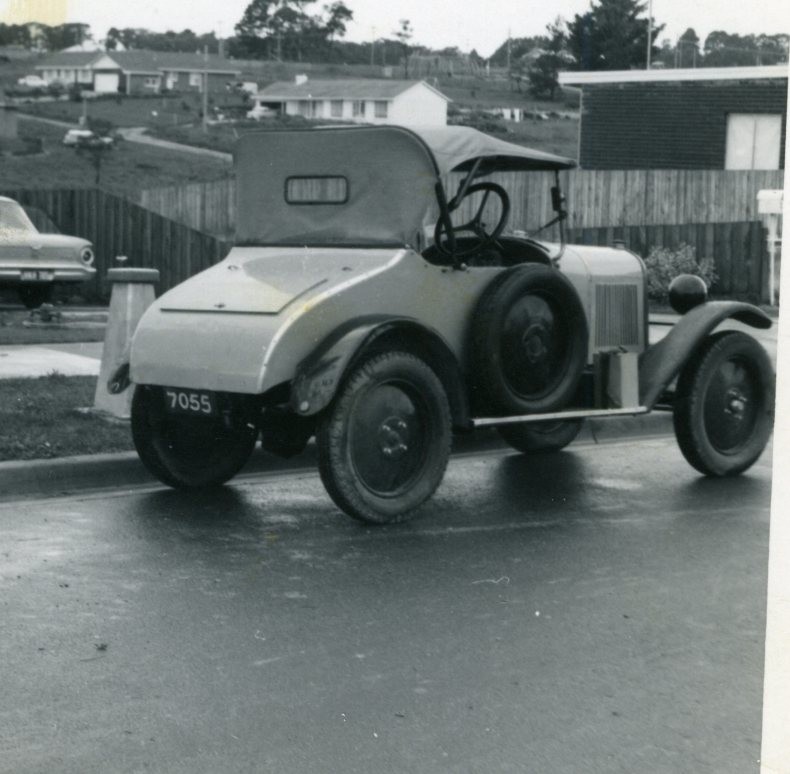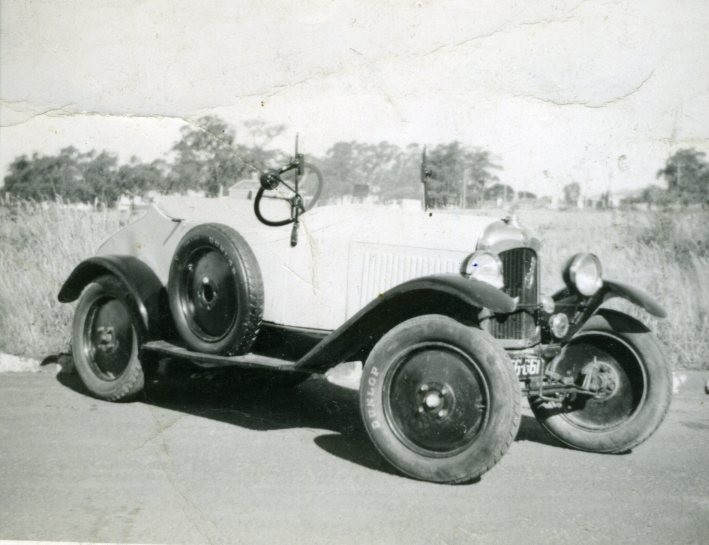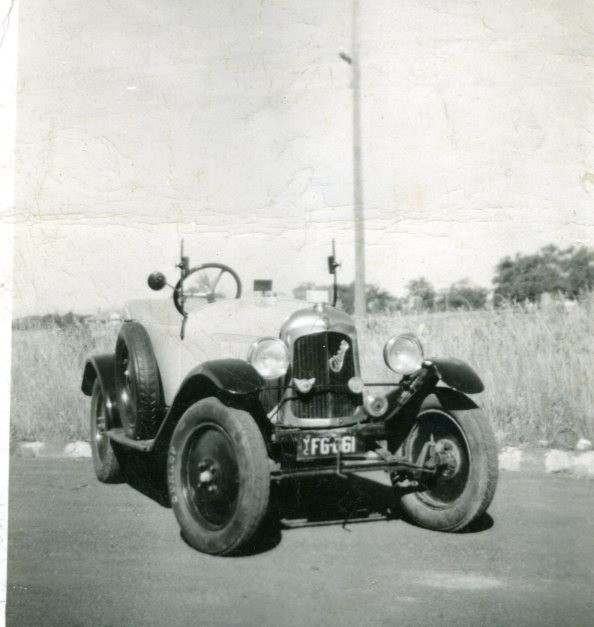 3-14-2013
Following the Citroen 5CV i decidedly moved up market. The next car than comes up in my photograph albums is the Sunbeam Talbot 10hp Drop Head Coupe. This when first purchased had very faded Maroon paint and a top that had been painted with some thick black goo in an attempt to make it water proof. None of this was acceptable so this lovely little car was brought back to its former elegance with a bare metal repaint Le Mans Green a metallic green a shade lighter than BRG and a new beige top. A much admired car but lacking in performance in that it had what was virtually a side valve Hillman Minx 10 hp engine. I have never seen it again from the day I sold it. Next came a another Sunbeam Talbot only this time a "90" with an over head valve version of the two litre Humber Hawk engine. This I remember had remarkable low speed torque. On one occasion I won a bet driving it and getting it going fast enough to engage top gear running on one cylinder, with only ONE spark plug fitted.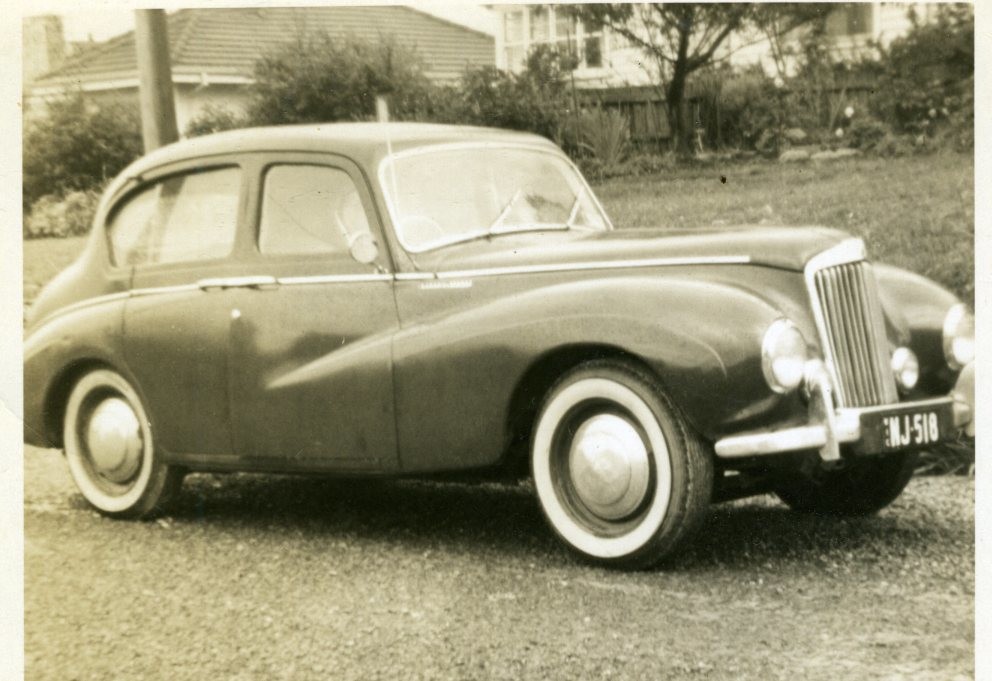 I trust that all this is not too boring but someone did ask. I did warn you about the quality of Box Brownie black & white photographs.
At this time I was still single and living at home with my long suffering parents. The next car I do not have a single photograph of, a 1923 Lancia Lambda fitted with a later series (larger and more powerful) engine. It seems that it did not keep going long enough to take any photographs. At my mother's insistence that I buy a sensible car I traded it in on a lovely little Fiat 500c Topolino convertible coupe. To think that in the late 1950s you could trade in a Lancia Lambda and the dealer would give you enough for it to pay the DEPOSIT on a second hand Fiat 500 is hard to imagine today. Times have changed. Sadly the Fiat was written off when a drunk in a Ford Customline rammed into it sending it through a fence and a large Cyprus Pine hedge. The owner of the hedge was furious with me for making a hole in his hedge. Apparently Cyprus Pines do not regrow on old wood, so the hedge never recovered. I remember looking at the hole as I drove past some years later.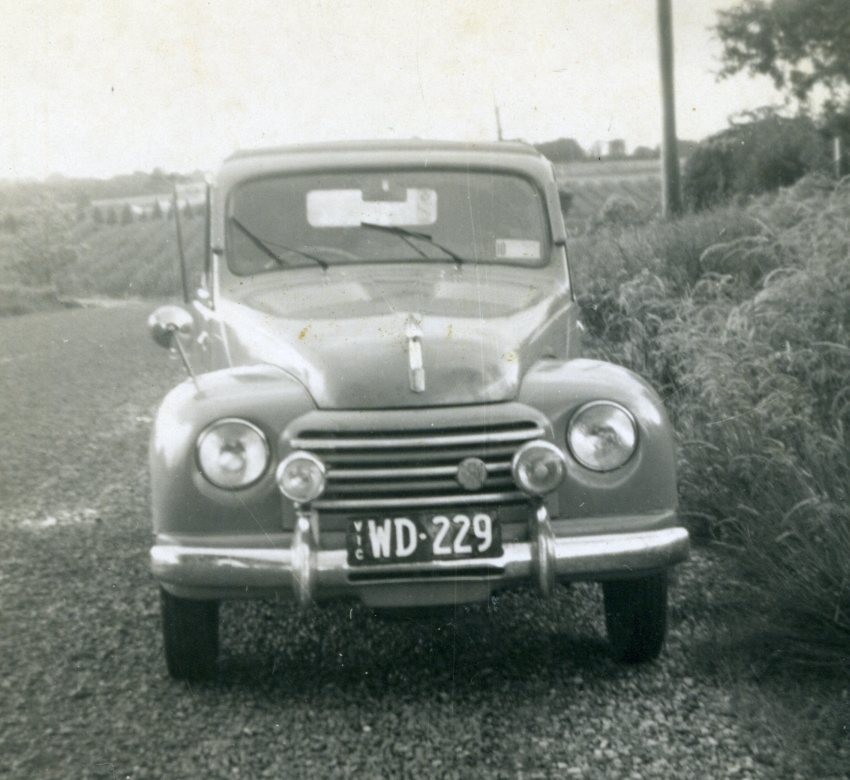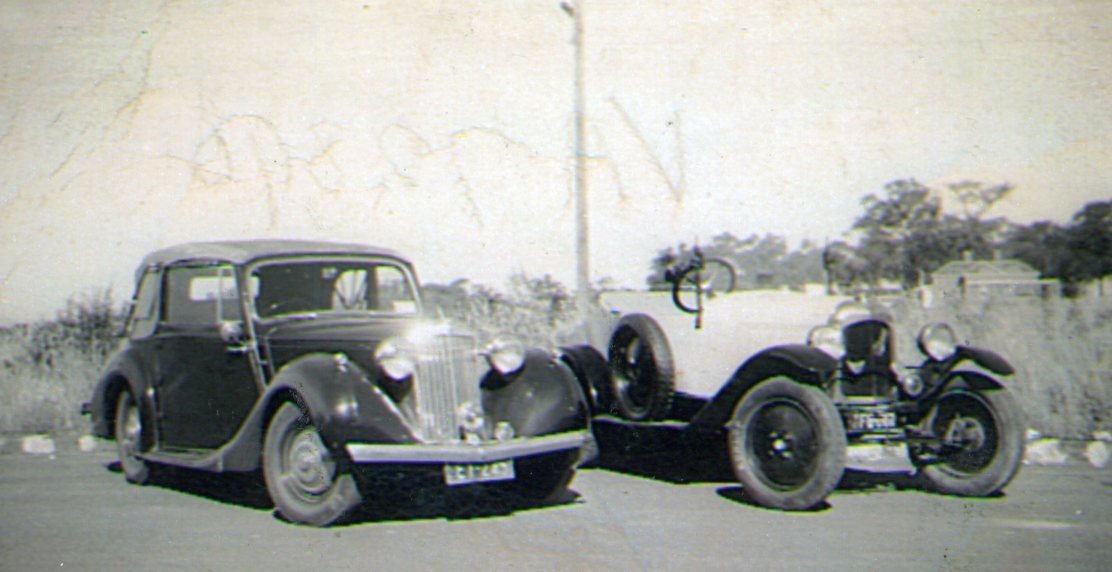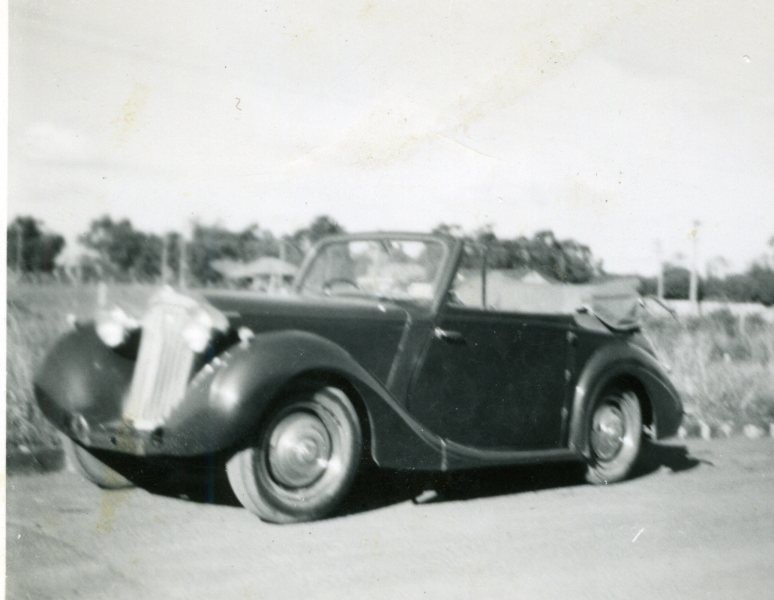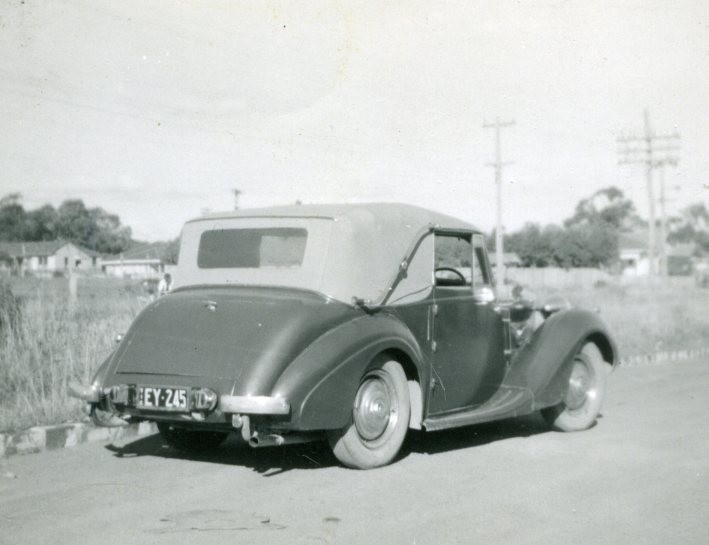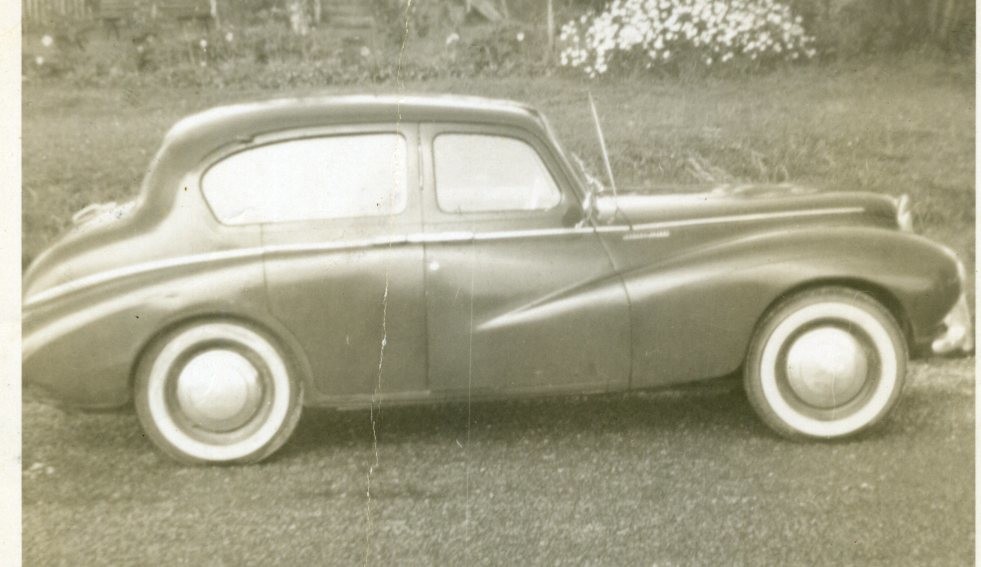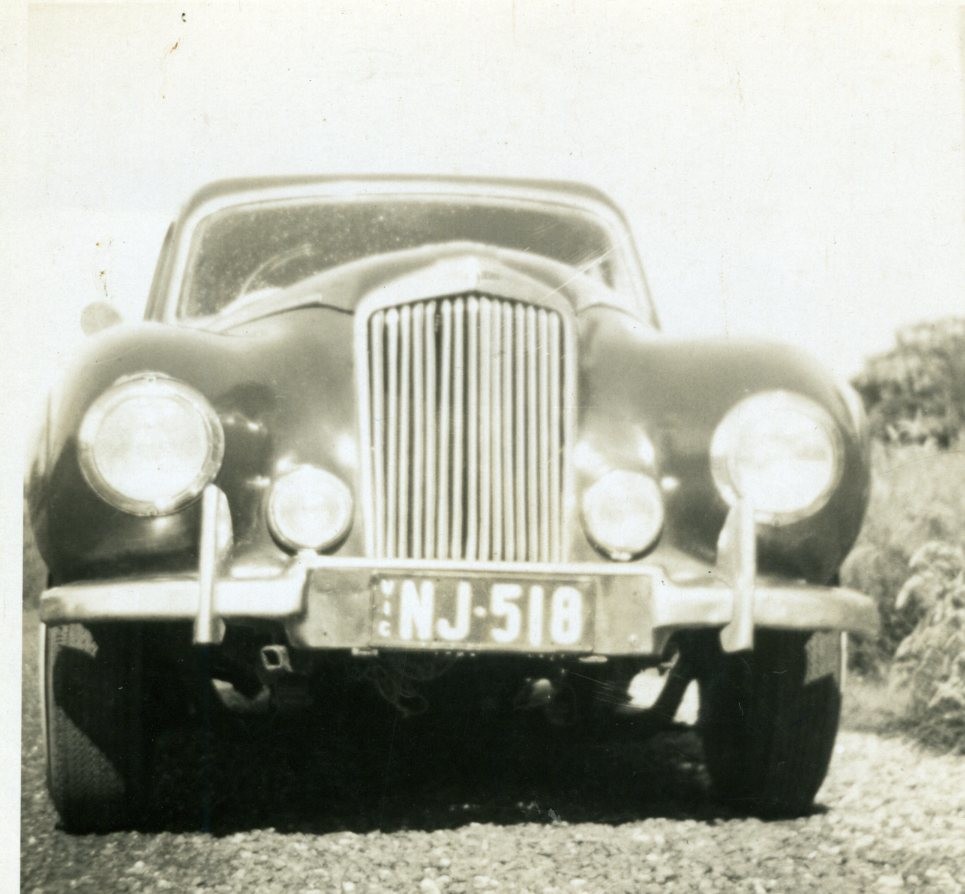 3-15-2013
Hi all
I am sorry to break your chain of thought but I need to go back to the Packard for just a moment.
While I was going through a container of "Useful things for the Packard"I came across the two nickel plated knurled nuts for the electrical junction box cover "similar to those which may have been originally fitted".
They have polished up nicely and certainly do look better than the couple of little "shop bought" nuts I had on there.
Again I must apologise for all the reflections. I must try to take all my photographs first thing in the morning instead of late afternoon. I will try again tomorrow (a.m.)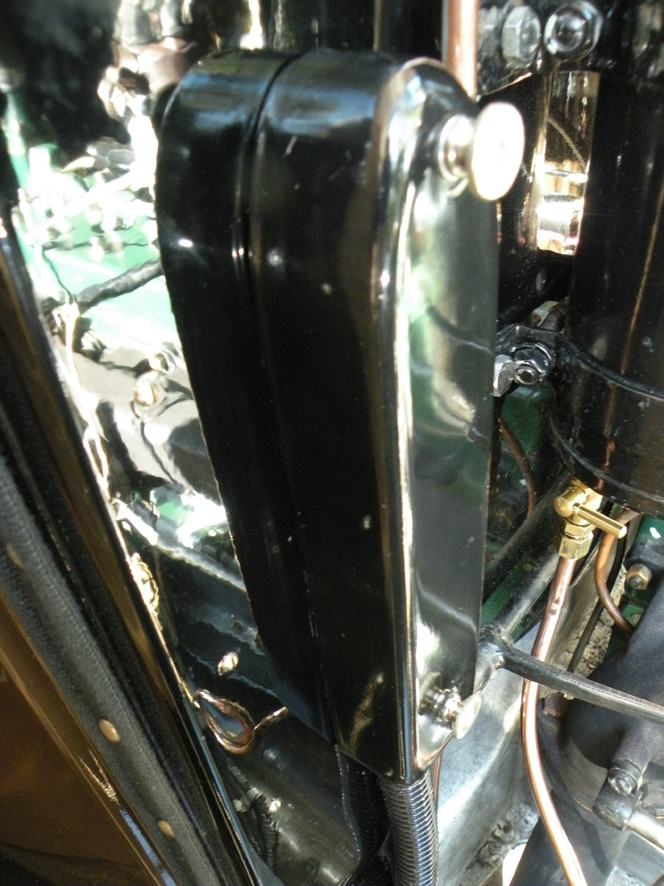 12 hours later it is drizzling rain but still some reflections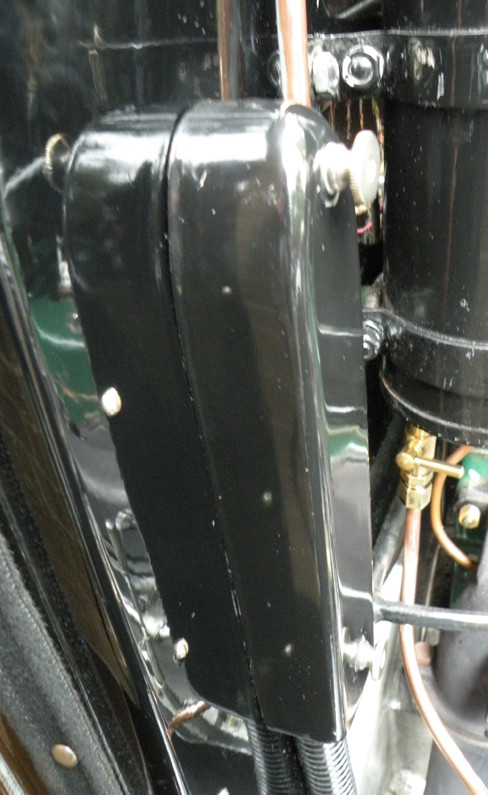 3-24-2013
At last a proper road journey, up into the mountains and home again without missing a beat. Even making the climb to the top of Mount Dandenong in top gear. Comfort, quiet, and effortless long legged touring. We have just returned from our first serious drive in the Packard, even the fuel consumption (or lack of it) exceeded expectations. Our destination the Combined Vintage Car Clubs Kalorama Rally. Even returning down the mountain the brakes proved to be adequate provided I kept an eye on the traffic ahead.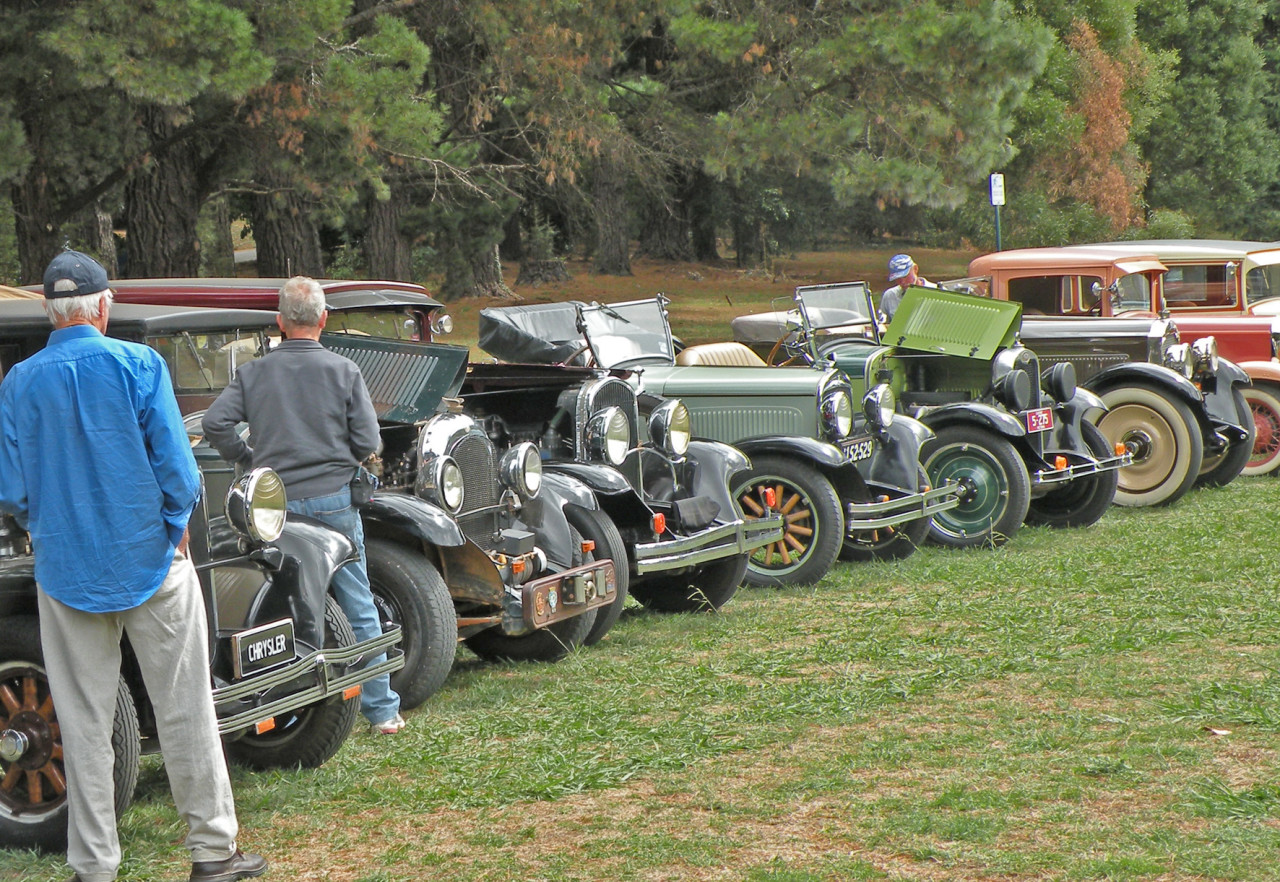 3-25-2013
Before going out onto the public roads the one thing that I consider essential especially with a LHDrive car in a country where everybody drives on the left side of the road are some reliable turn indicators. Rather than fussing around looking for "vintage" lights that MIGHT do the job I decided that if I was really concerned with safety that I needed lights that could be seen. This being so I bought a set of four universal trailer amber lamps, an "on-off-on" switch a 6 volt flasher unit, a small amber tell-tale lamp and most importantly an AUDIBLE WARNING buzzer.
How often have you driven down the highway behind an old car with its turn signal flashing away for mile after mile. This drives motorists mad and does the collector car movement no good at all. How often have you heard "All those ***** old cars should be kept off the road! Nothing is more annoying to our fellow road users and yet the solution is so simple. The one I use is available at most electronics hobby stores for under $5. It is simple to wire in, just the red wire to the output side of your flasher unit or if a three terminal unit the red wire goes to the centre "P" (pilot or tell-tale connection) and the black wire to any convenient earth. Most are suitable for either 6 or 12 Volt. Once fitted, unless you are totally deaf, you will not drive along having failed to cancel your turn indicators, and saved a whole lot of aggravation! The unit is so small and so light that I install mine behind the dash with a postage stamp sized piece of double sided "Scotch" tape. If you do not have one make sure you do, before you use your "proper car" on the road again! In case you are wondering the coin is an Australian $2 the same size and value as our 5 cent coin used to be. If you like to go back in time a little further, a quarter of a penny, a farthing.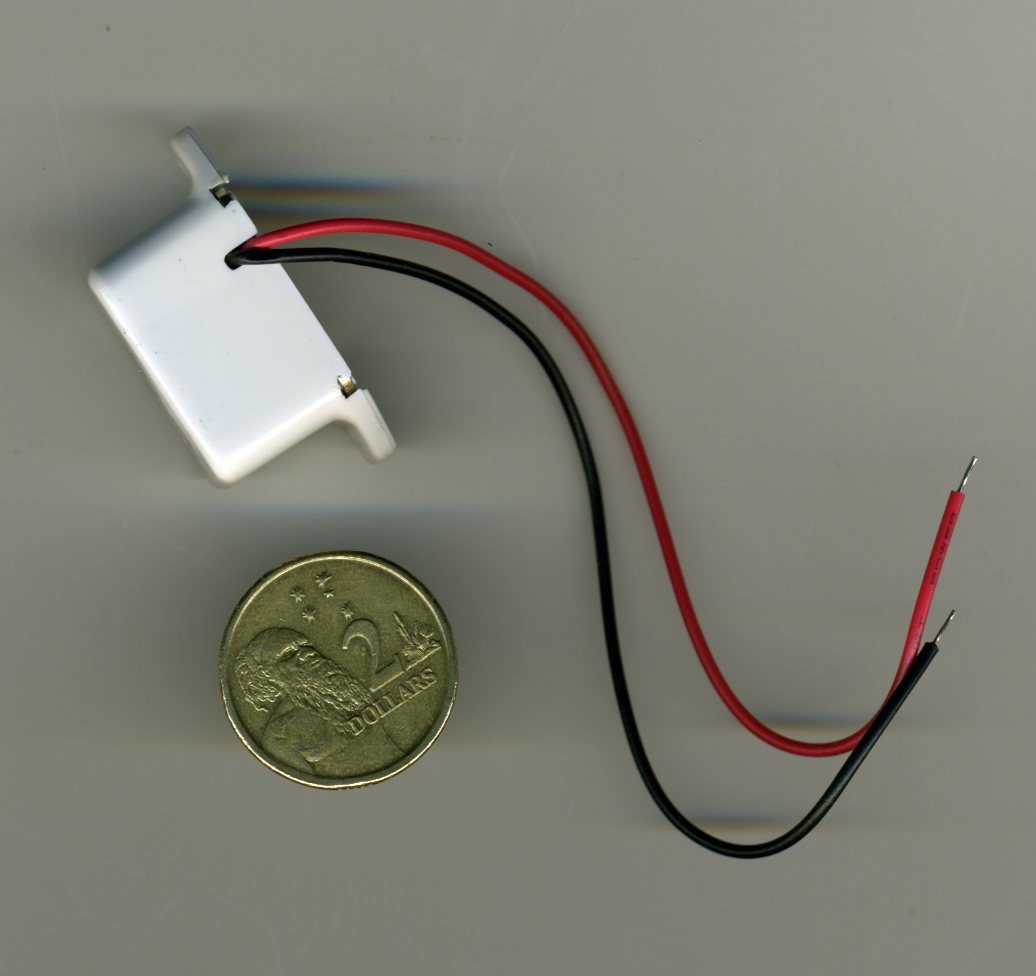 3-26-2013
For people who may be concerned that I have been drilling holes into the Packard to mount modern turn indicator lamps, you can rest easy! Everything about the indicator set up is designed so that it can ALL be removed without leaving a trace. Alternatively just the lamps can be taken off and put back in less that five minutes total. One pre-existing nut holds each lamp and the wires all have push together connectors that when disconnected can be easily hidden. Even the switch, tell-tale and flasher unit can be all removed in one unit without leaving a trace. If necessary, even the wiring can be removed without disturbing the main loom but this would involve a few more minutes spent underneath the car.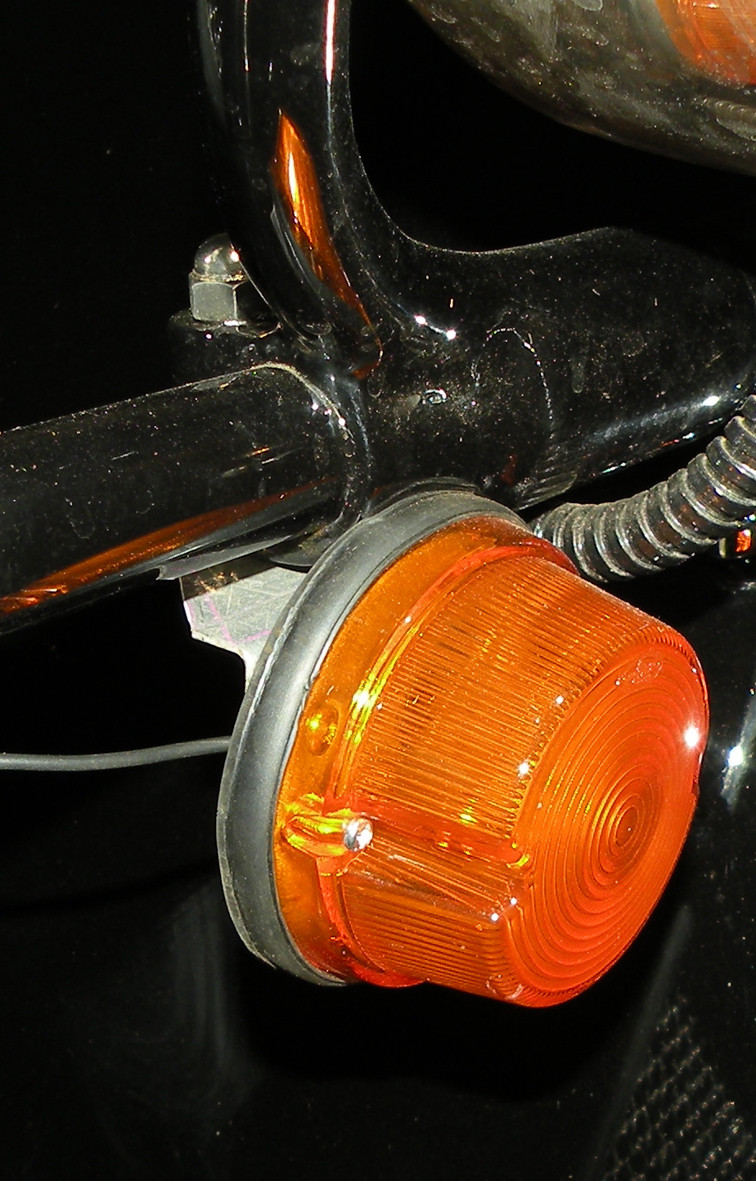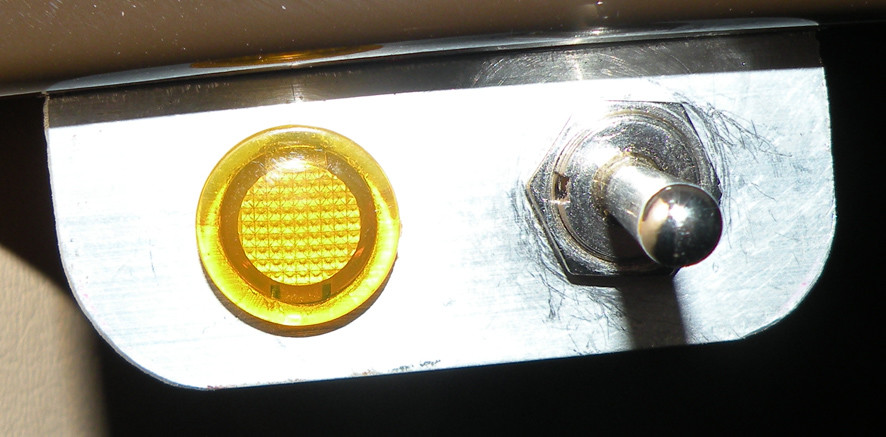 4-1-2013
The State Government has recently disclosed that some 200 dead Crows had been found on a road near the township of Castlemaine, in North Central Victoria. Local Wildlife Officers were alarmed that these deaths may have signalled an outbreak of avian influenza.
The Government Department for the Environment and Conservation then hired an Ornithological Behavioural expert who over the ensuing six to eight weeks examined a random sample of the remains and determined that the birds had actually died from vehicular impact.
After an even more extensive and exhaustive study he also determined that 98 per cent of the deceased Crows had been killed after being hit by trucks while only 2 per cent were killed by cars.
After researching into why the results are so disproportionate and following several more weeks of investigation his report finally arrived back at the Relevant Ministers Office.
''When Crows eat road kill, they always set up a lookout Crow in a nearby tree to warn of impending danger. But while the lookout Crow could warn the other Crows with a cry of 'Cah' it had
not yet learnt to call out 'Truck'!
4-4-2013
Moving forward with the review of some of my earlier restorations. This time the first of a series of Dodge Fours, this one according to the present owner a 1919 would be the earliest. I sold it almost finished but waiting the installation of the motor & gearbox and a set of tyres. The new owner completed the car fitting the fenders and the wire spoke wheels. He took it to the Lake Gardner Speed Trials (a salt lake in South Australia) where it was electronically timed at over 80 mph for the flying mile.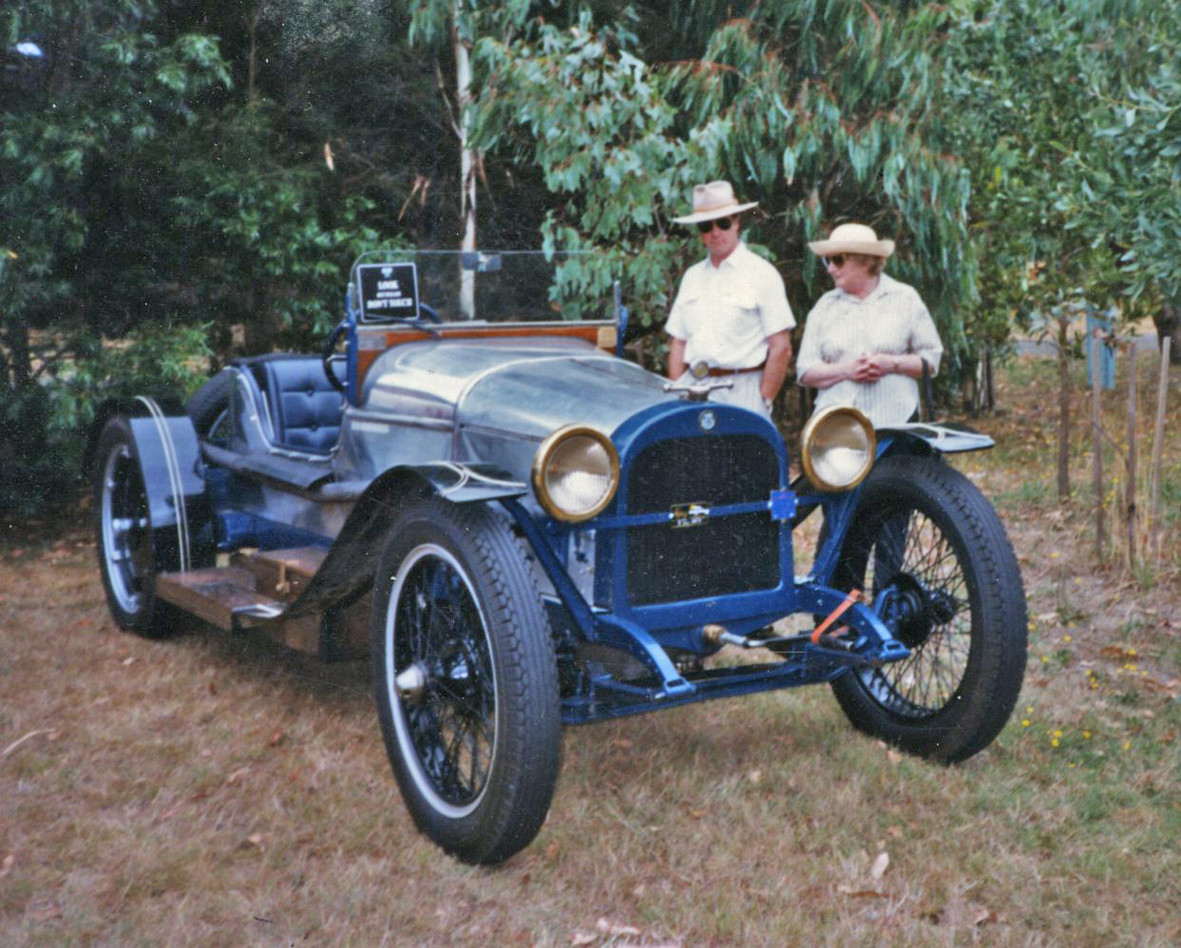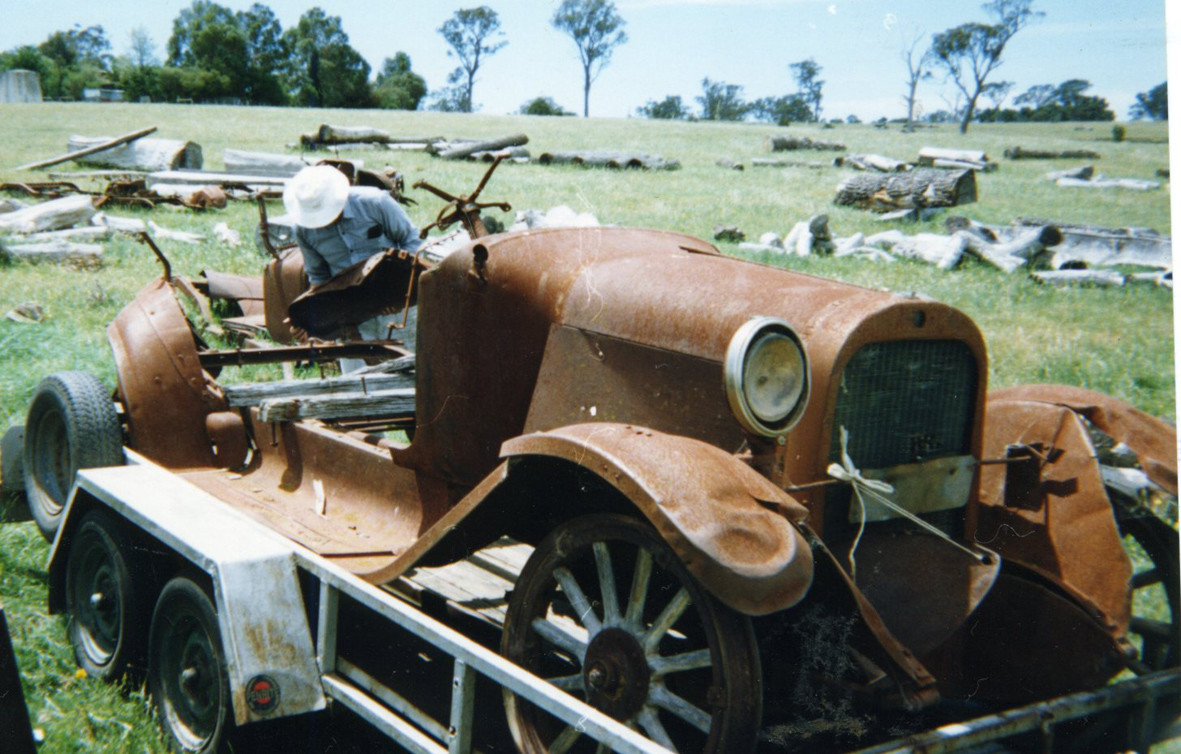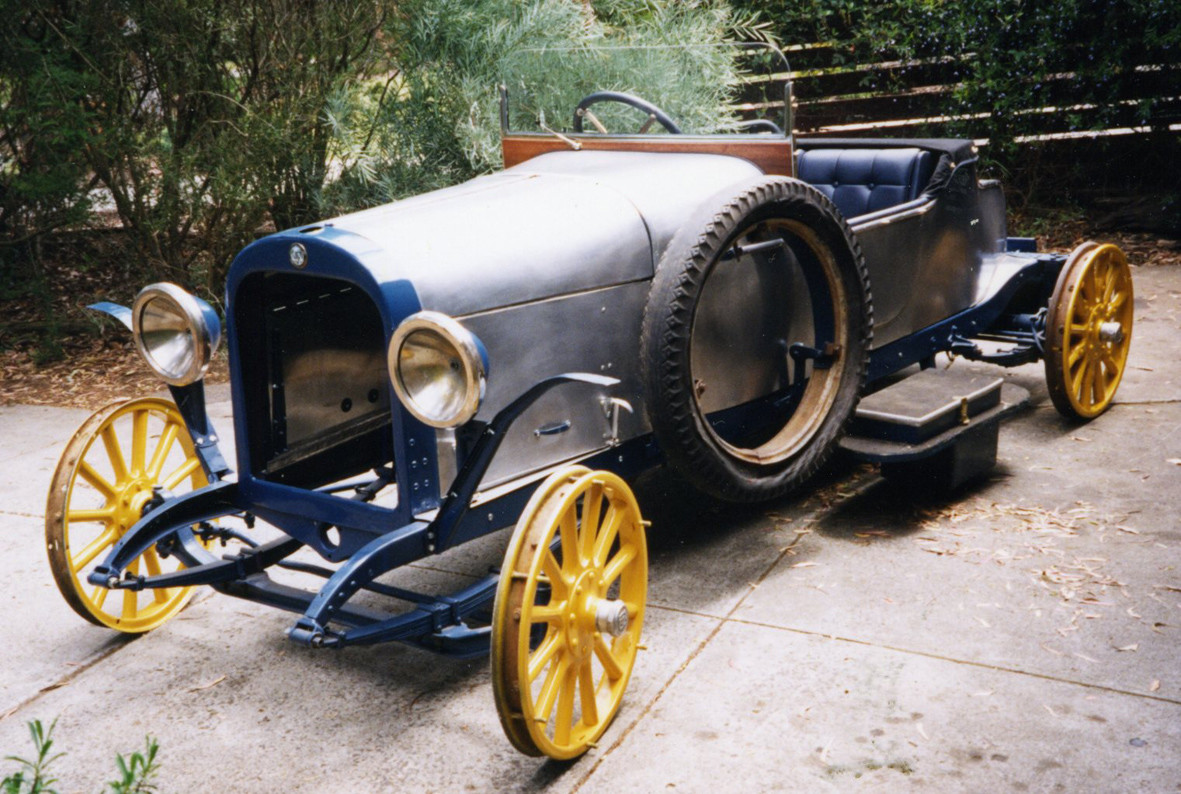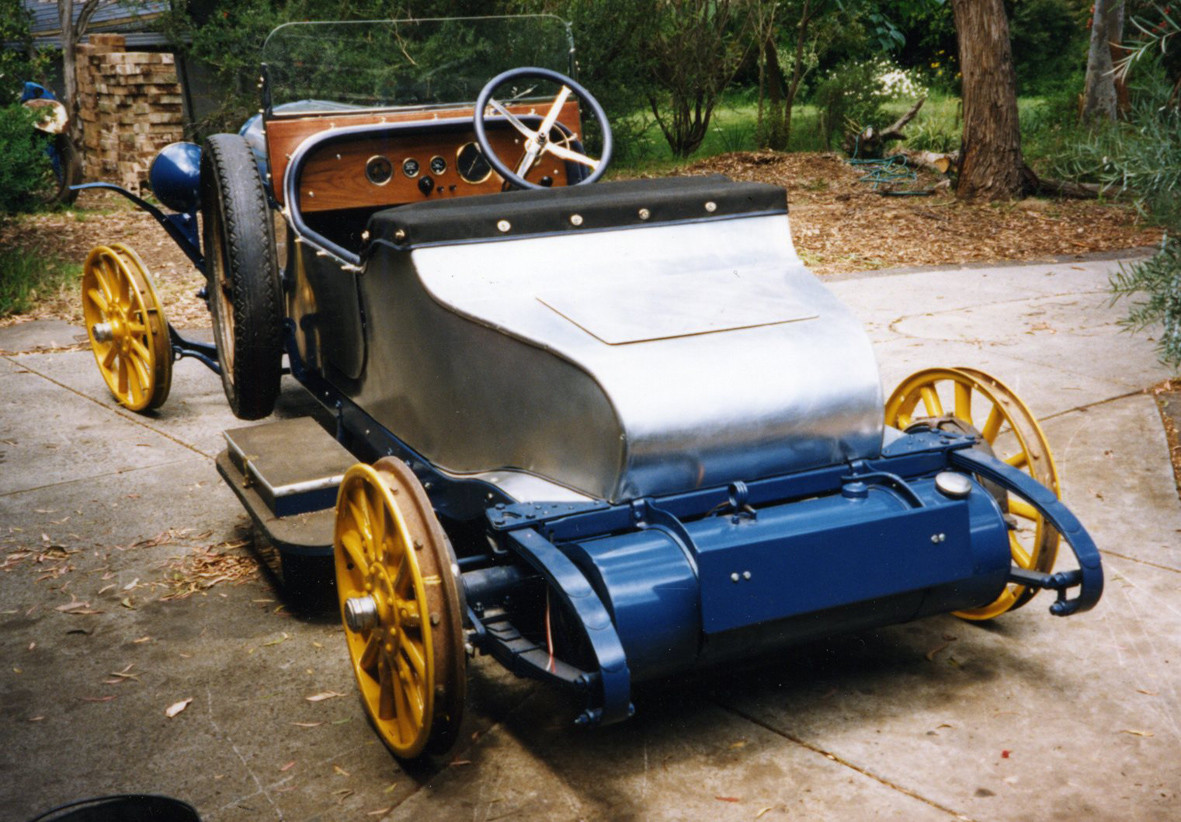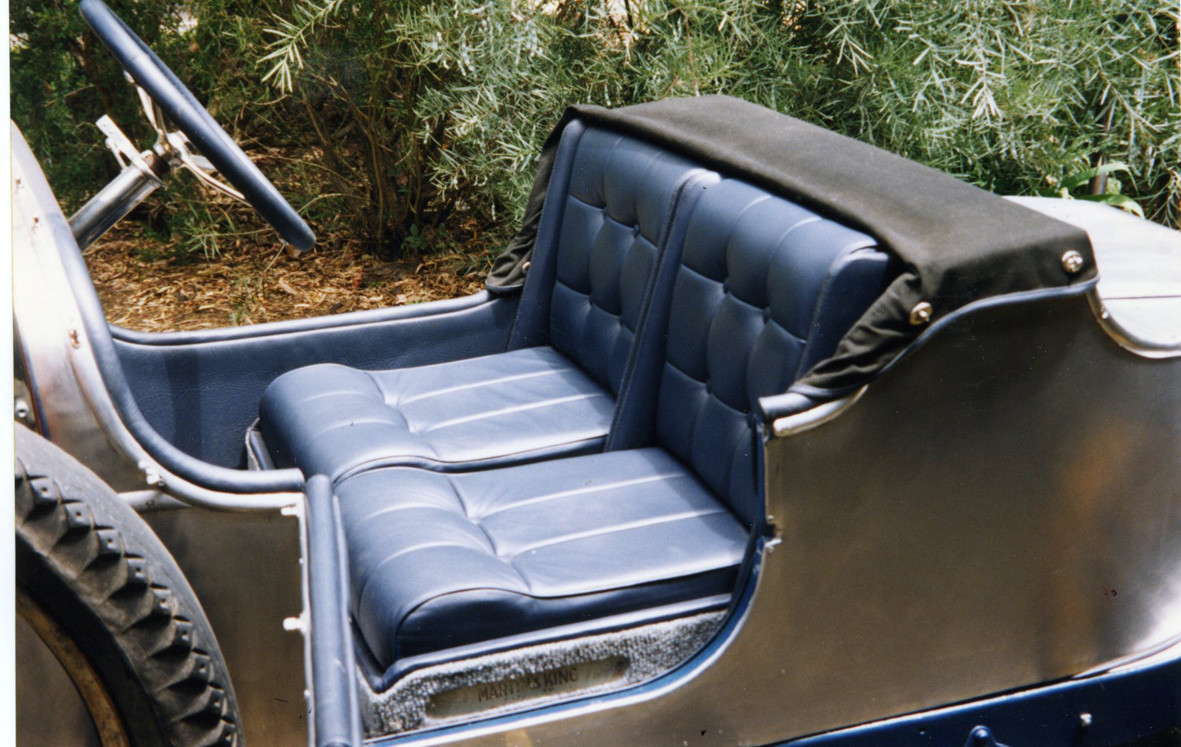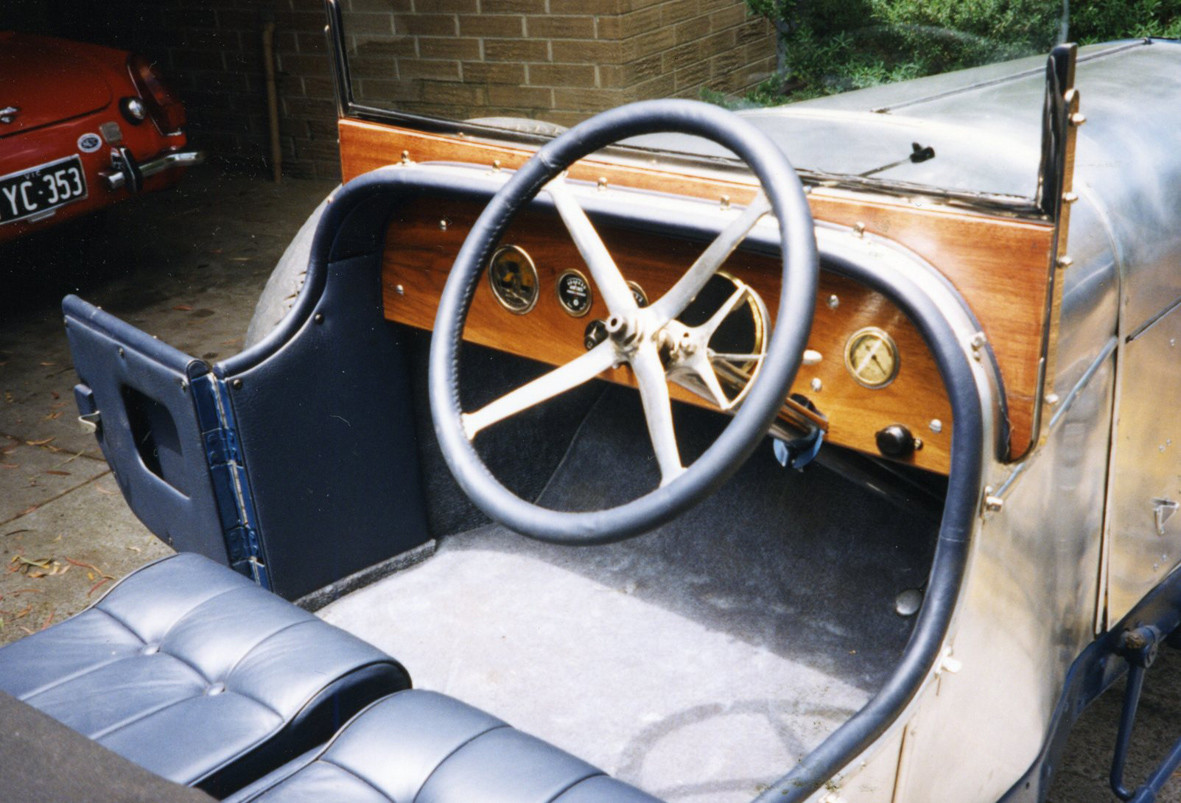 4-5-2013
Hello Roger
Yes the panels are all aluminium. I like working with Aluminium for body panels, It is light and comparatively easy to work. My first choice when selecting a new project is that it comes from the late teens or early twenties. Having made something of a study of the bodies on these cars it appears that most body builders did not own an "English Wheel" and compound curves were avoided wherever possible. I have found that I can build acceptable bodies in aluminium using simple curves only. By carefully planing how each panel is cut out, joins can be kept to a minimum. Judicious use of "crescent moulding" is regarded as being normal. Some amateur body builders do use it excessively which to me is just not acceptable. The Dodge Speedster body is an example. Including the door and luggage "boot" lid there are just six pieces of aluminium sheet plus the two infill panels each side of the tail. These were formed out of the piece cut out for the luggage "boot" opening. There are six pieces of Crescent mould. One each side of the tail following the outline, One piece around the cowl one piece along the top of the door and another piece covering the join each side of the cowl.The one on the passenger side is hidden by the spare wheel.
This principal can just as easily be applied to small English sporting cars of the 1930s. The attached photographs of the little 1932 Crossley 10hp is a classic example. Most of the saloon body had evacuated out the back of my trailer by the time it had travelled approximately 150 miles on country roads. Shown also is my patent "two bow" steel tube and strip top frame.
Roger can you tell me the number of individual pieces of Aluminium used in this body?
All my restorations including building the bodies are done single handed, in the same commodious one car garage and the car-port, open to all weather. This of course using only the most basic of hand tools. An electric drill, a angle grinder and an antique gas welding kit are my most sophisticated pieces of equipment.
Perhaps this explains why I have so very little tolerance for "poseurs" who cannot start their "restoration" until they have finished building and equipping their fully air conditioned home away from home. I would expect that a power operated recliner chair is the first piece of equipment purchased. An absolute must for fully technicolor dreams!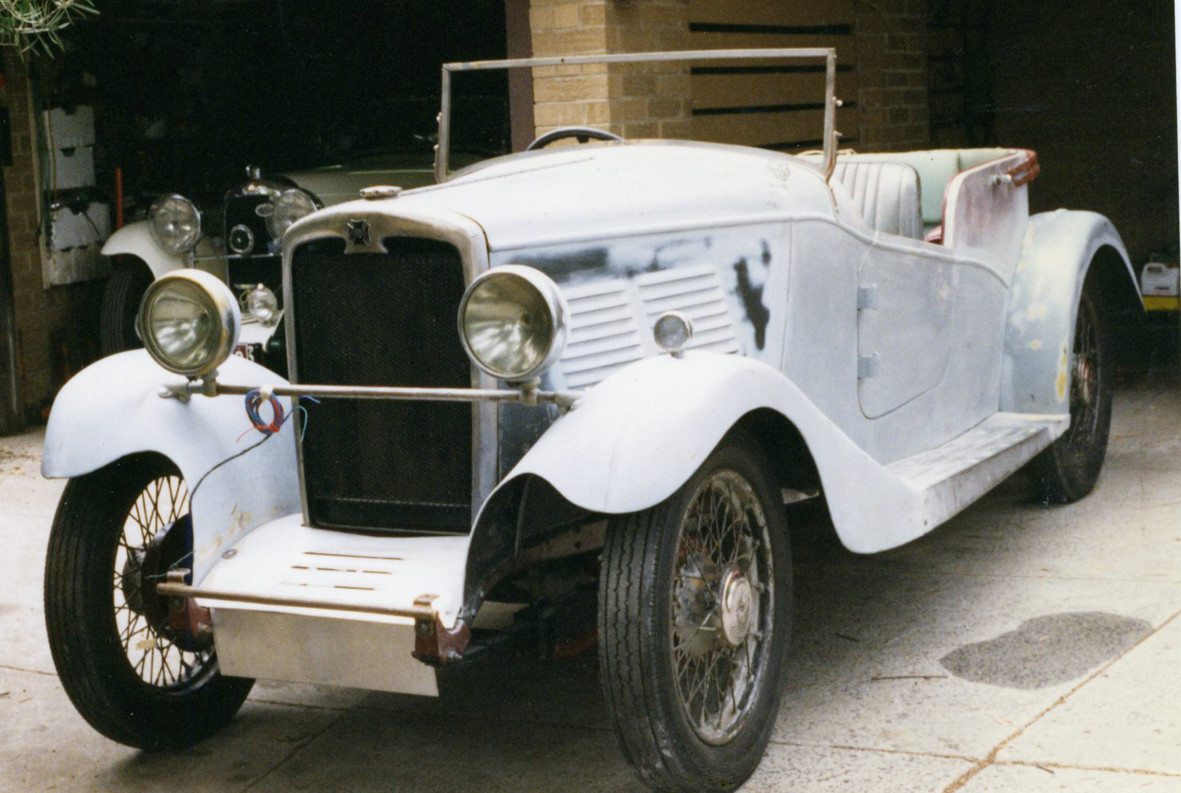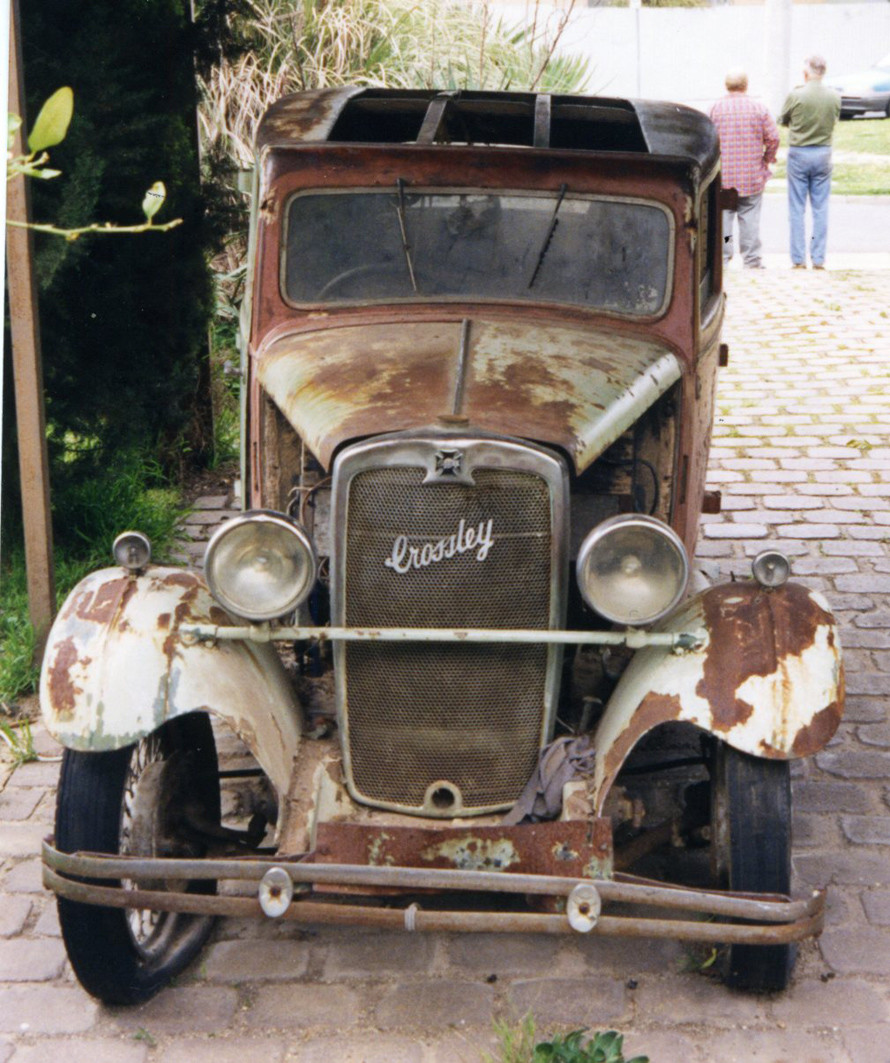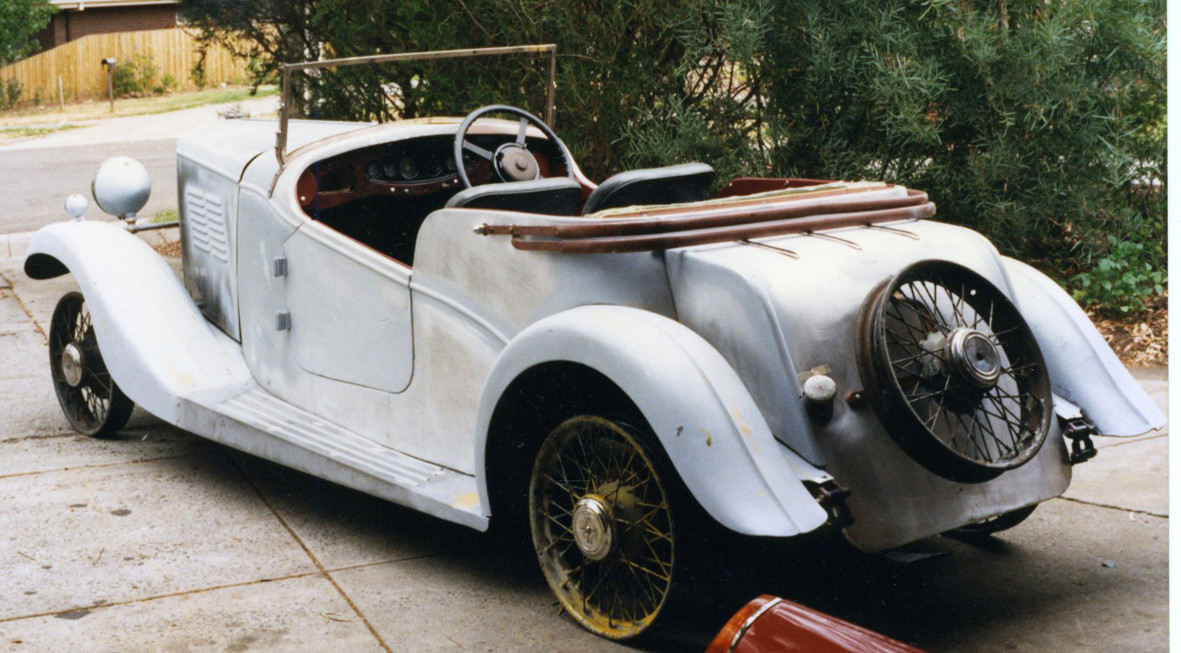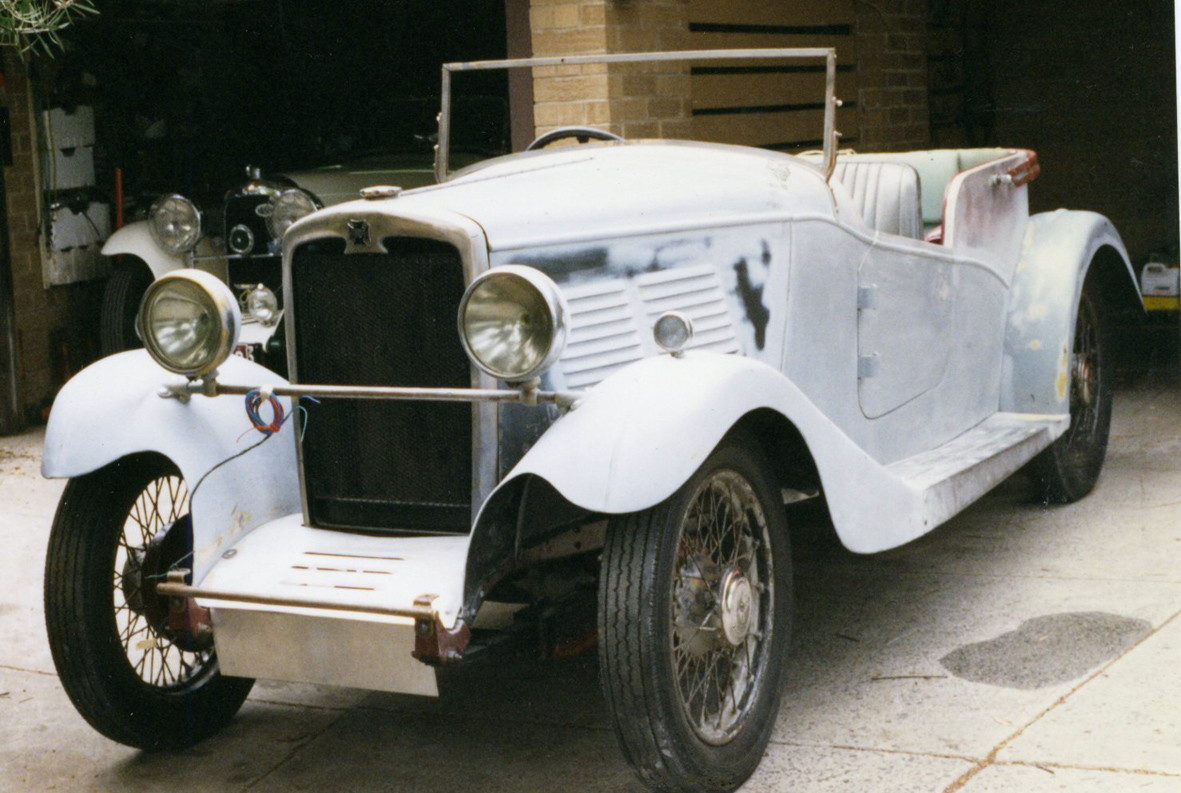 4-6-2013
The same principle was applied for building the 1930 Austin 12/Six Sports, This one the chassis was shortened to the same wheel base as the 1930s Six cylinder MGs. It had a 1500cc six cylinder engine with three SU carburettors. It now lives in Switzerland not far from you Roger. It has been repainted black as it is now used for "Historic" Ice and Snow Racing. I probably enjoy these little sporting car restorations more than the huge and exacting project that the Packard became. In retrospect I would probably been far better served to simply dispose of the original body and built a "Cheap and Cheerful" speedster. It would have cost a whole lot less and would have been sold by now allowing me to move on to my next project.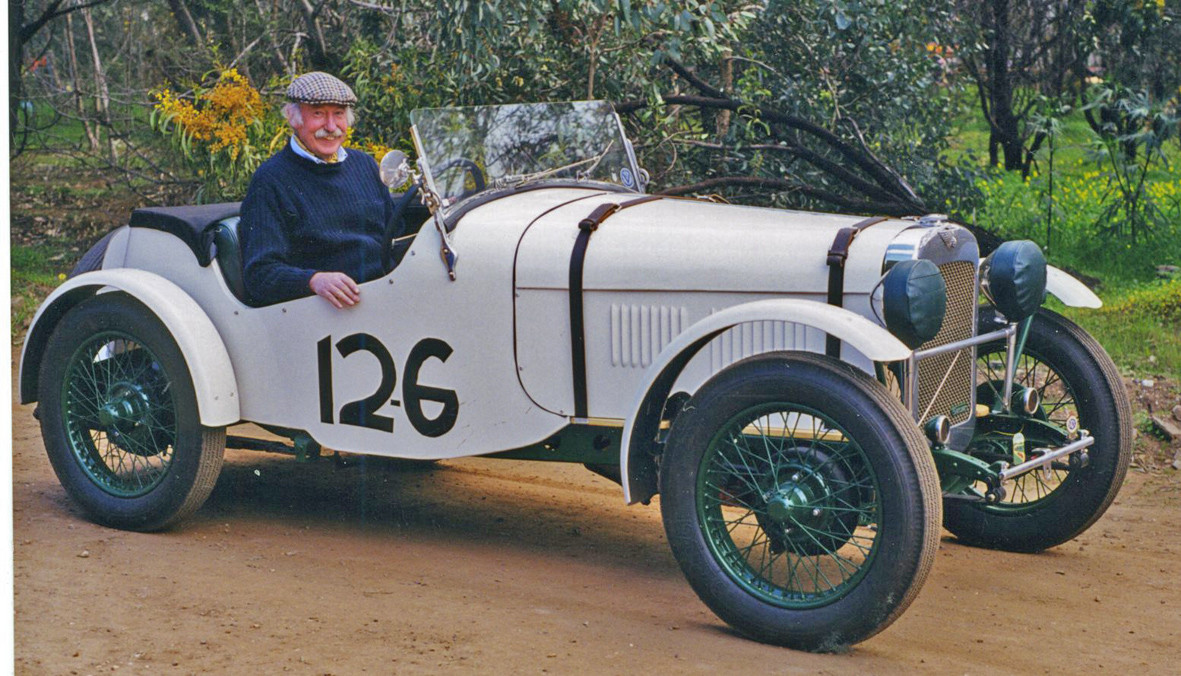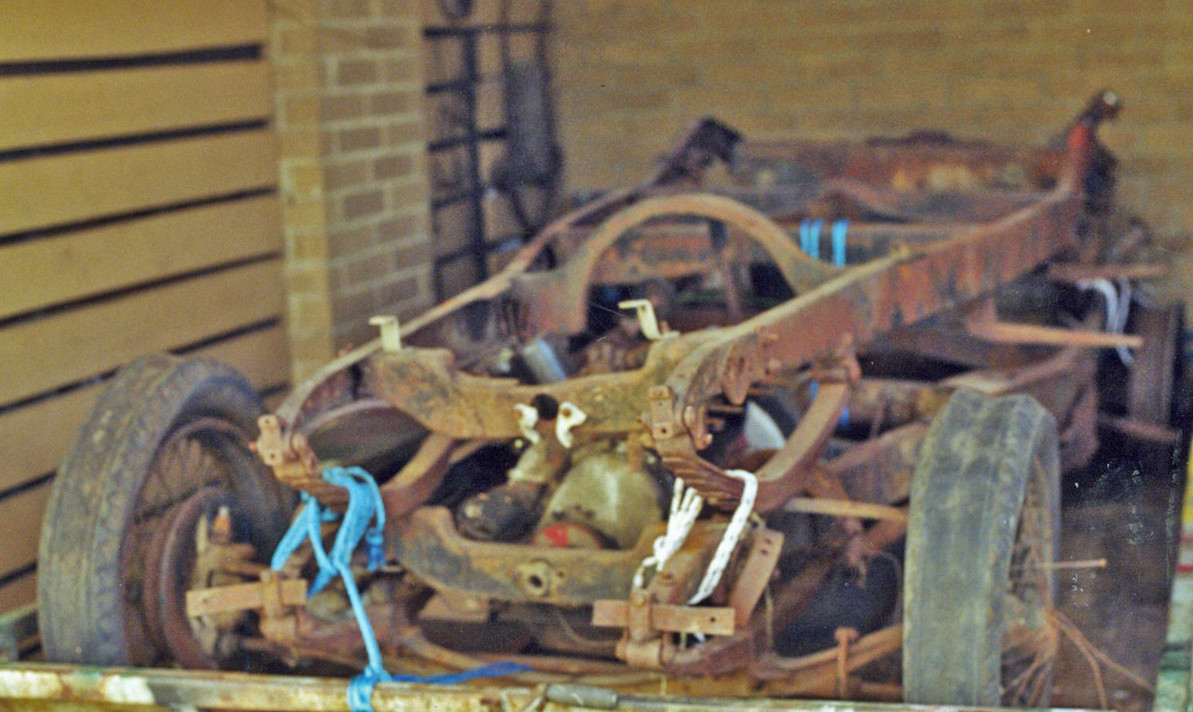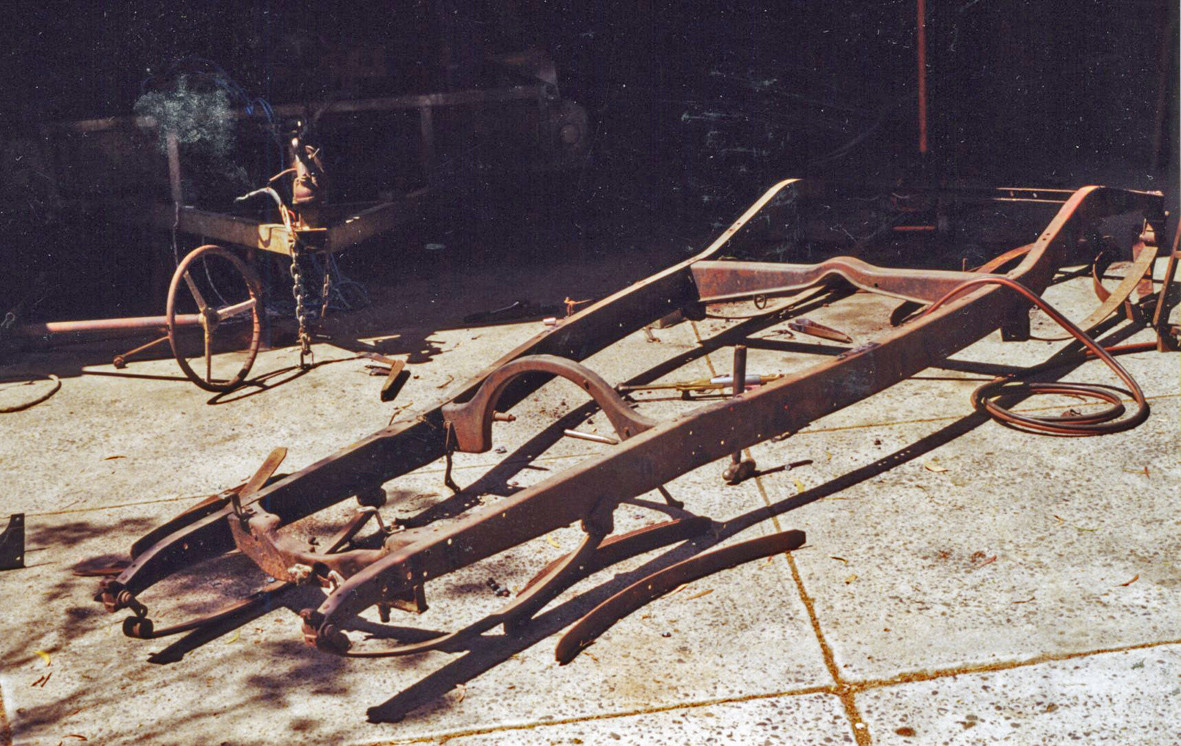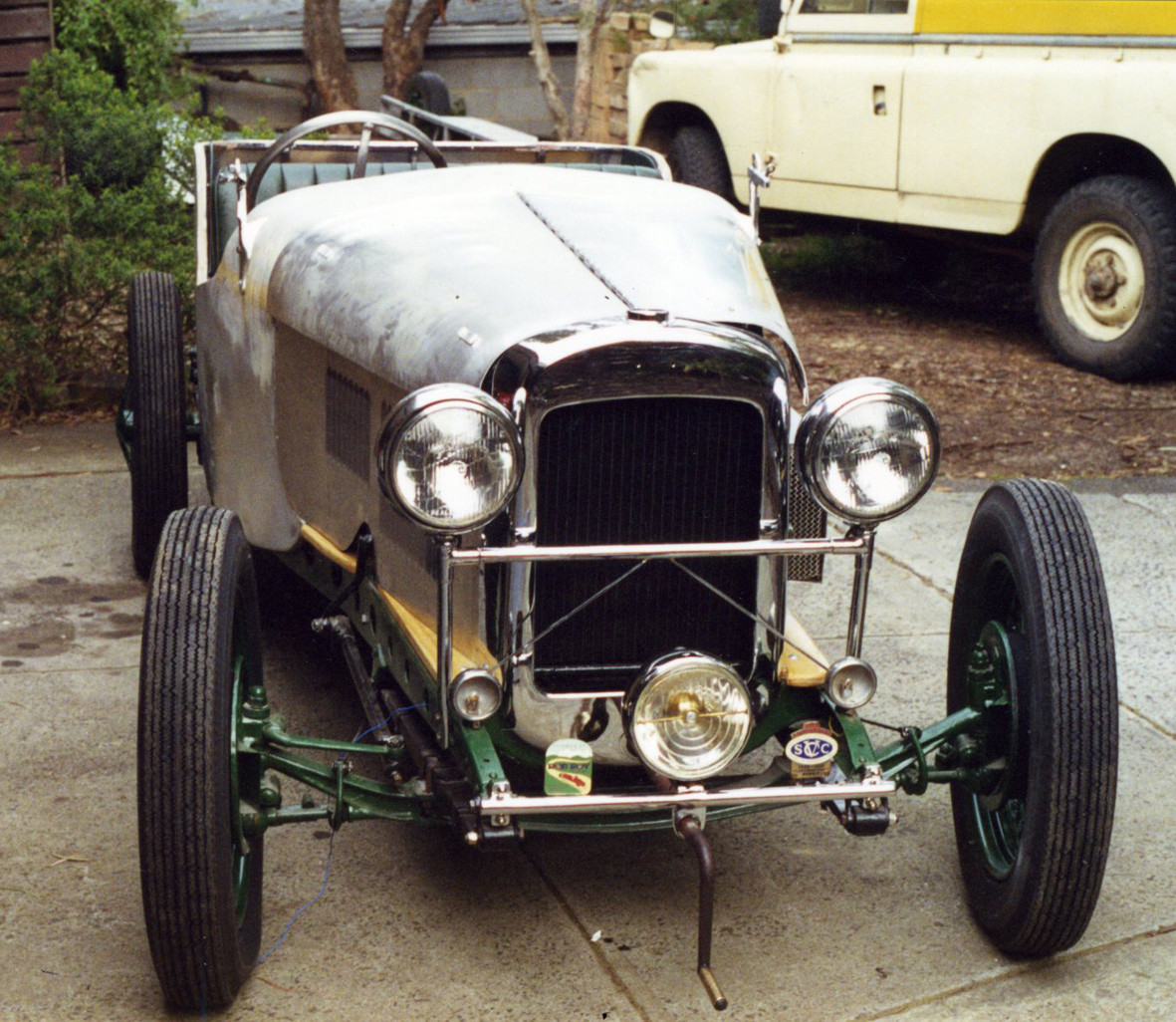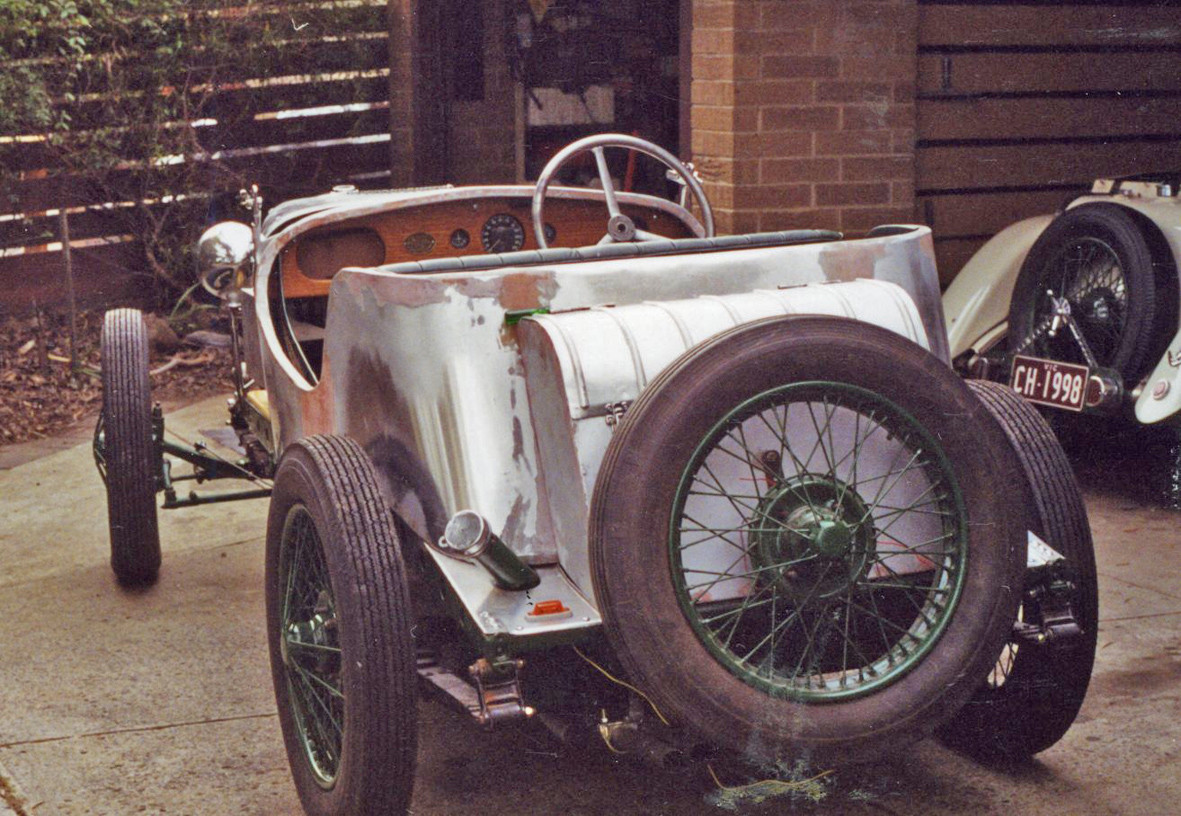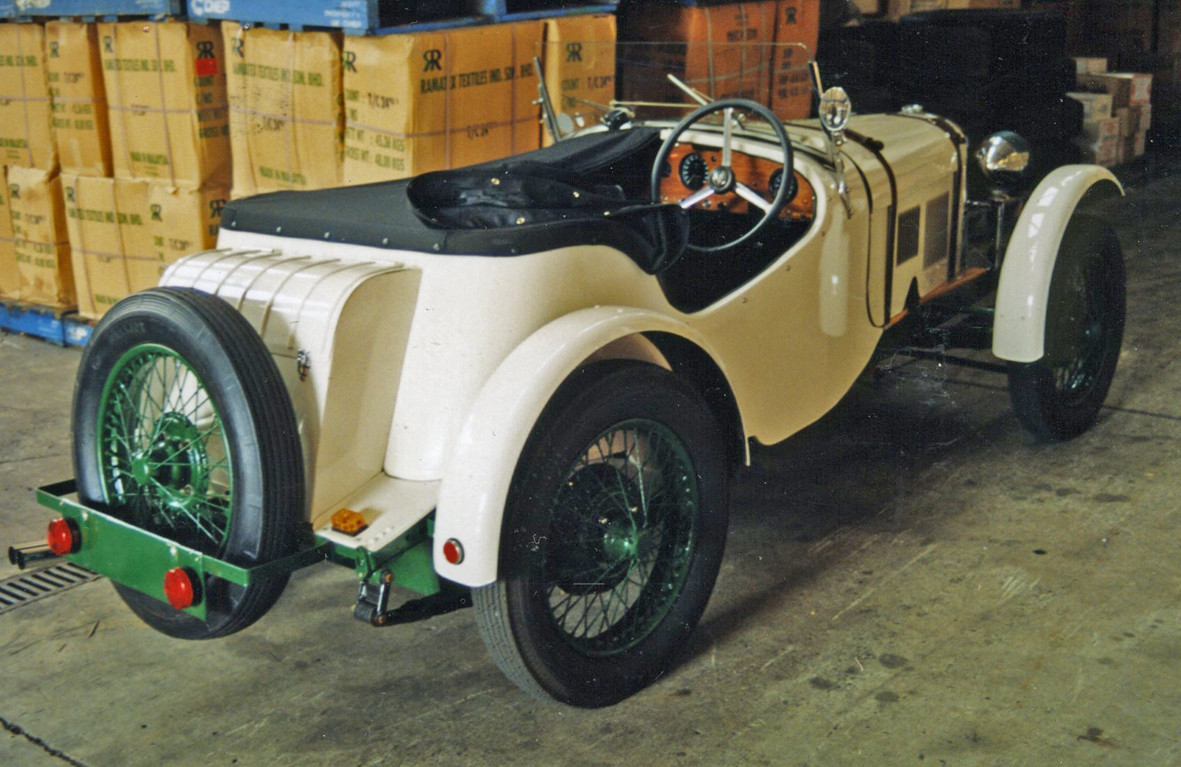 Hello Pat
Crescent moulding is an extruded aluminium strip with an end section in the shape of a crescent. Domed on the outside radius and concave on the inside. It is commonly used as a cover strip. It usually comes in a variety of widths from 1/4 inch up to 1 1/2 inch. The one I normally use is 1/2 inch. It must be annealed to bend it horizontally. It is very useful for covering either butt or lapped panel joints.
Keep on keeping on
Hello Roger
I was referring to the actual body not the entire car. There is one piece for the top of the cowl, two pieces for each side, two for the doors, one for the rear, the trunk has two sides, and a back. then there are the two little aprons covering the gap between the rear fenders and the trunk. 12 pieces in all. It all comes out of a single sheet of aluminium. The fenders are, as is the hood, the original that came with the car. Access to the trunk is via the rear seat.
Keep on keeping on
4-7-2013
Yesterday we braved the Freeway traffic to DRIVE the Packard to the "All American Motoring Show"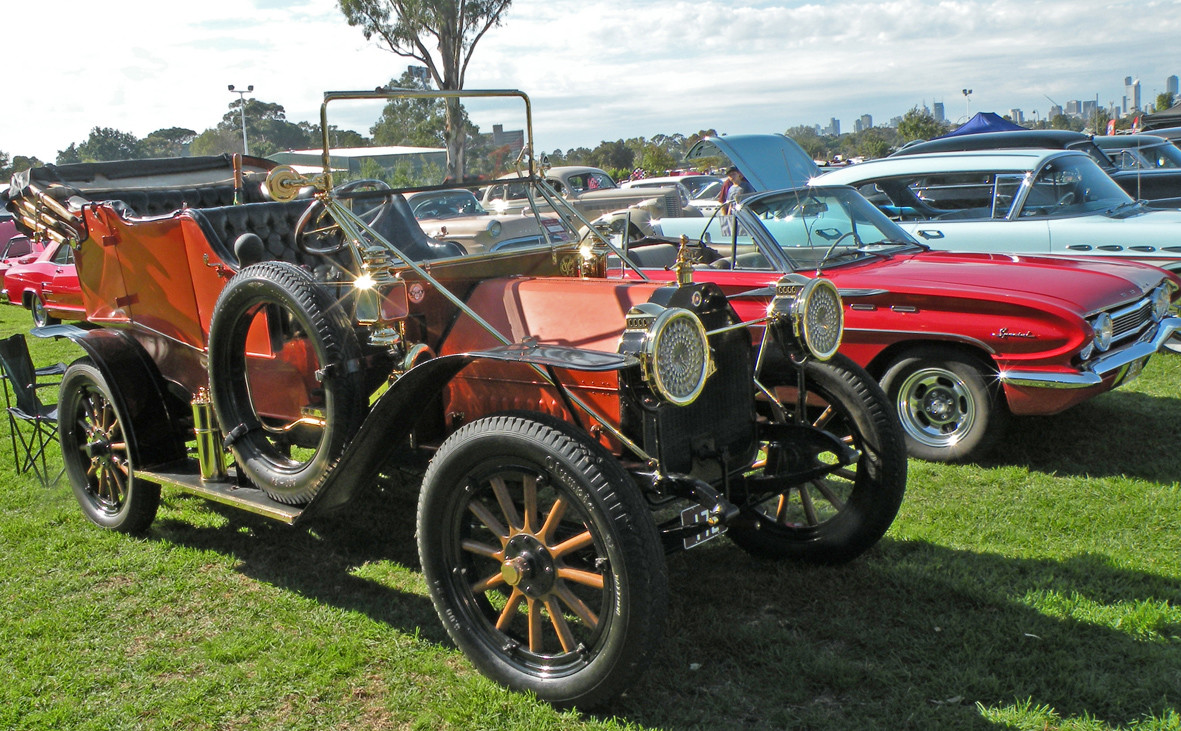 Just a random sample of the almost 2,000 cars present. You could count the trailers on the fingers of one hand!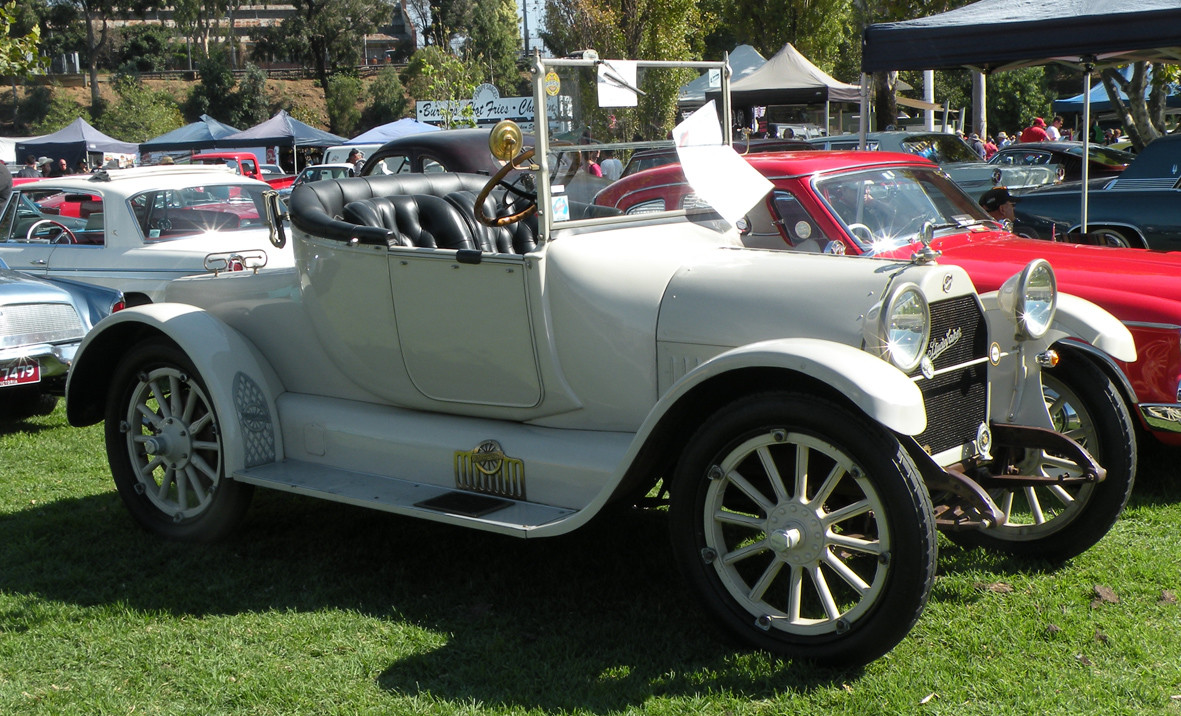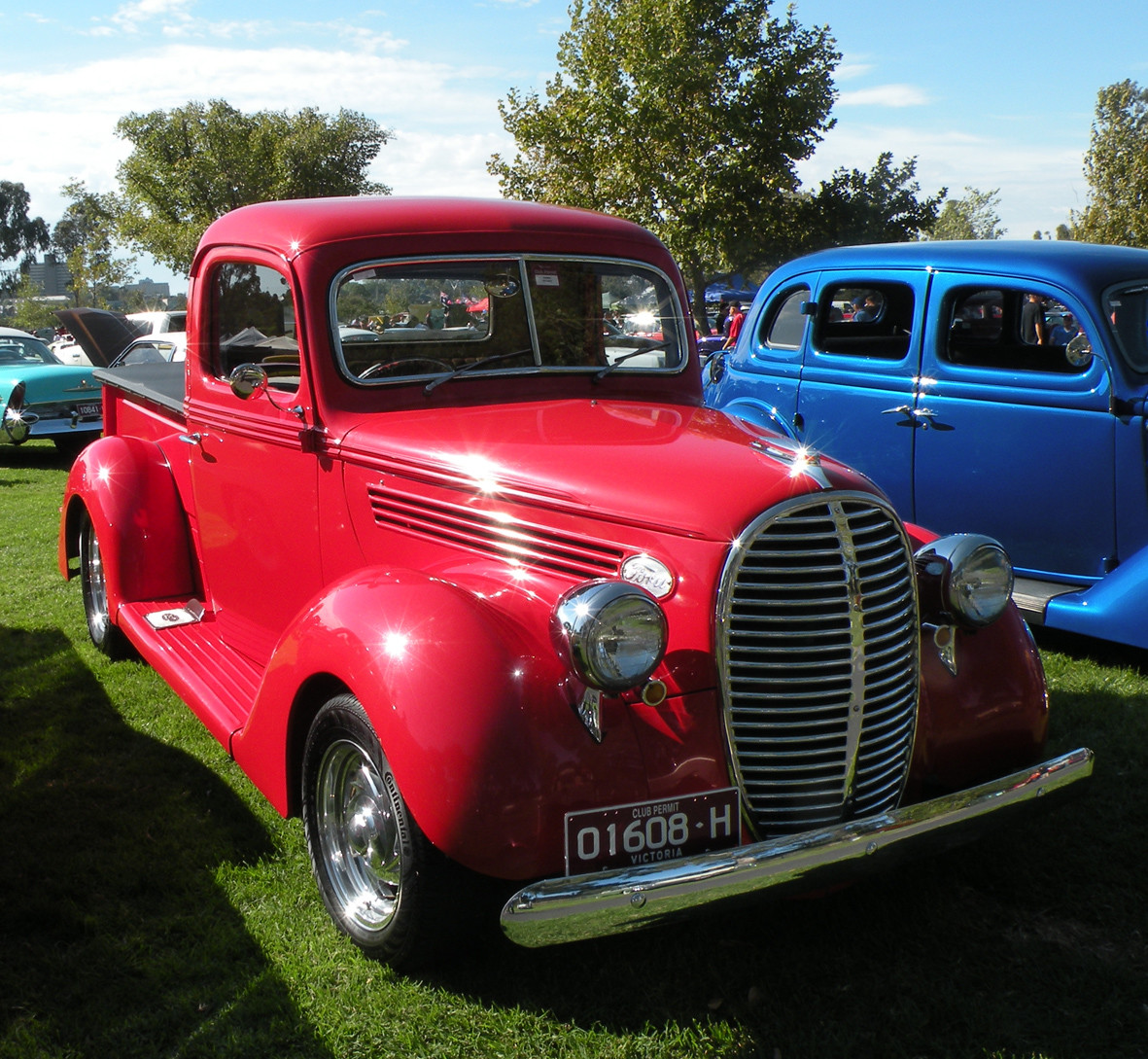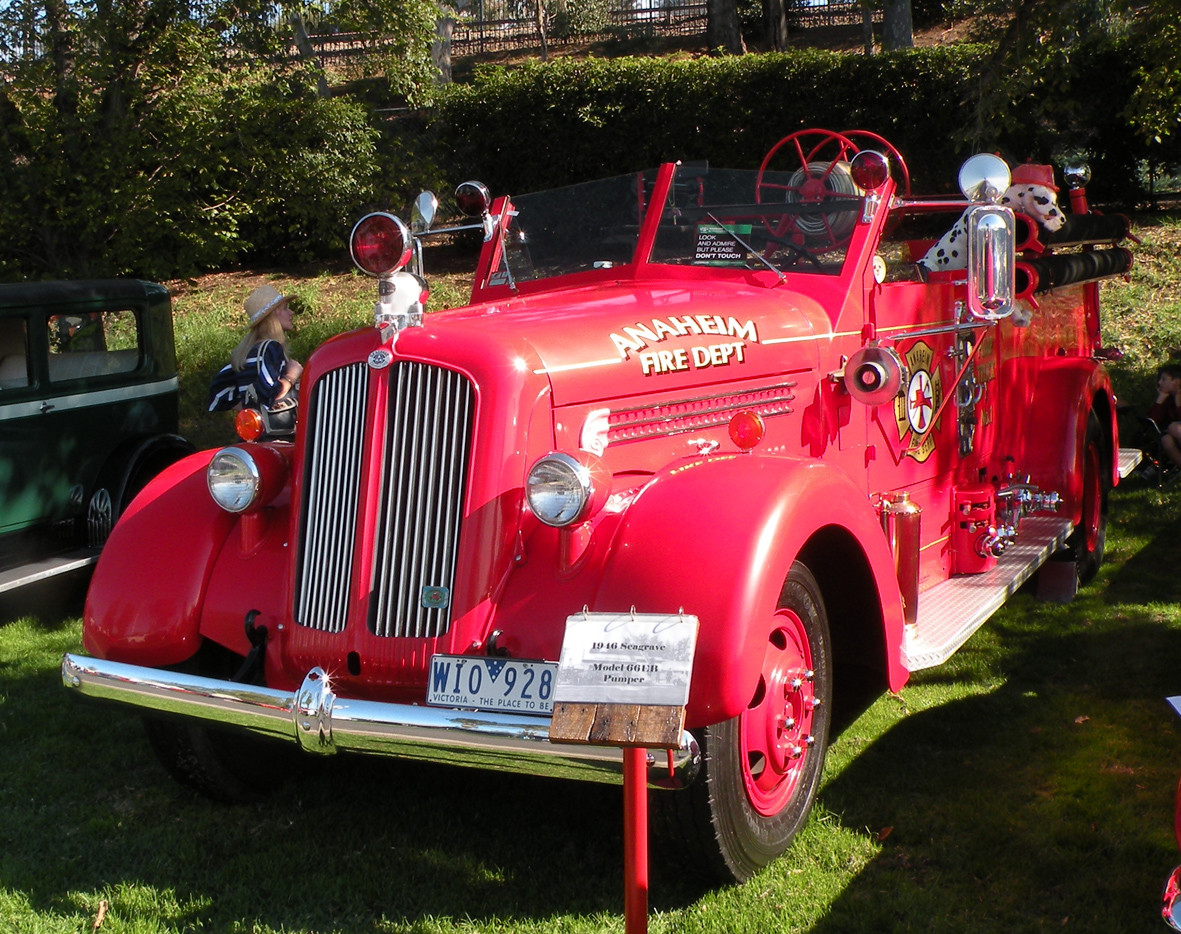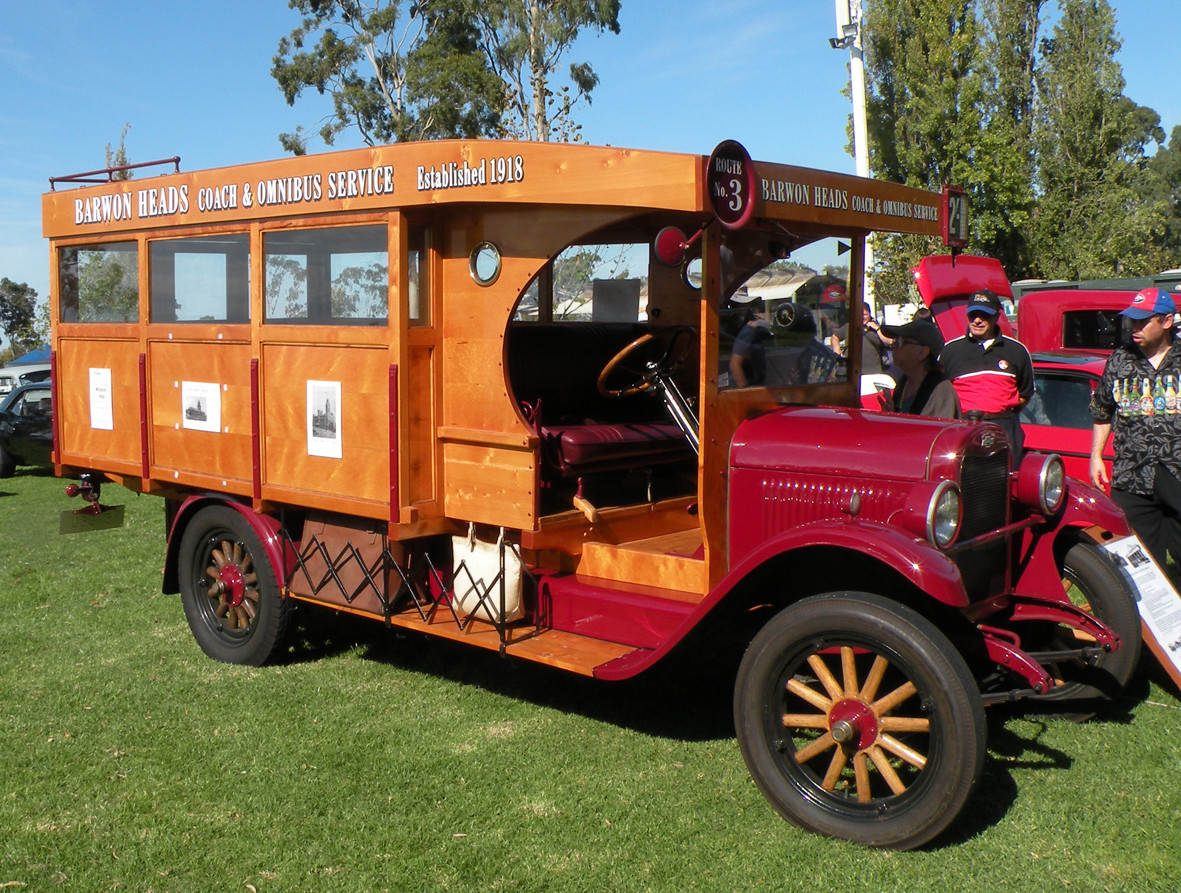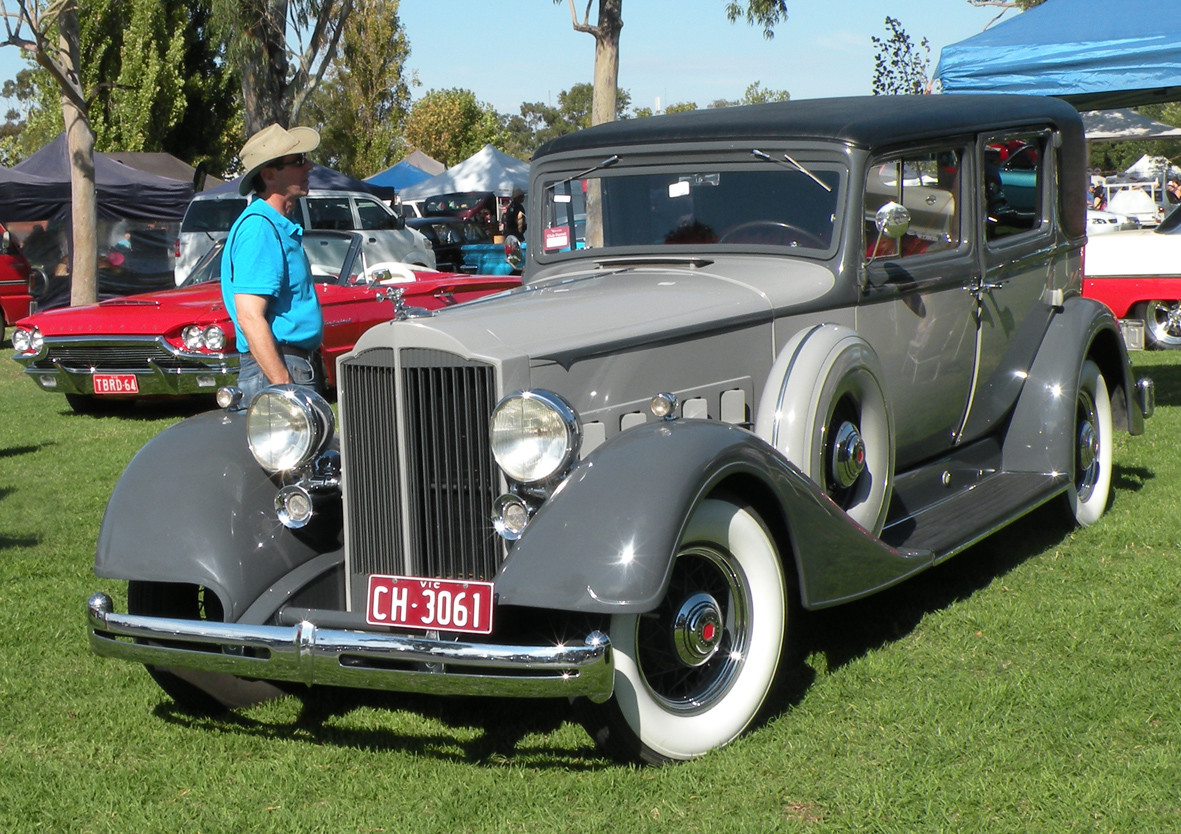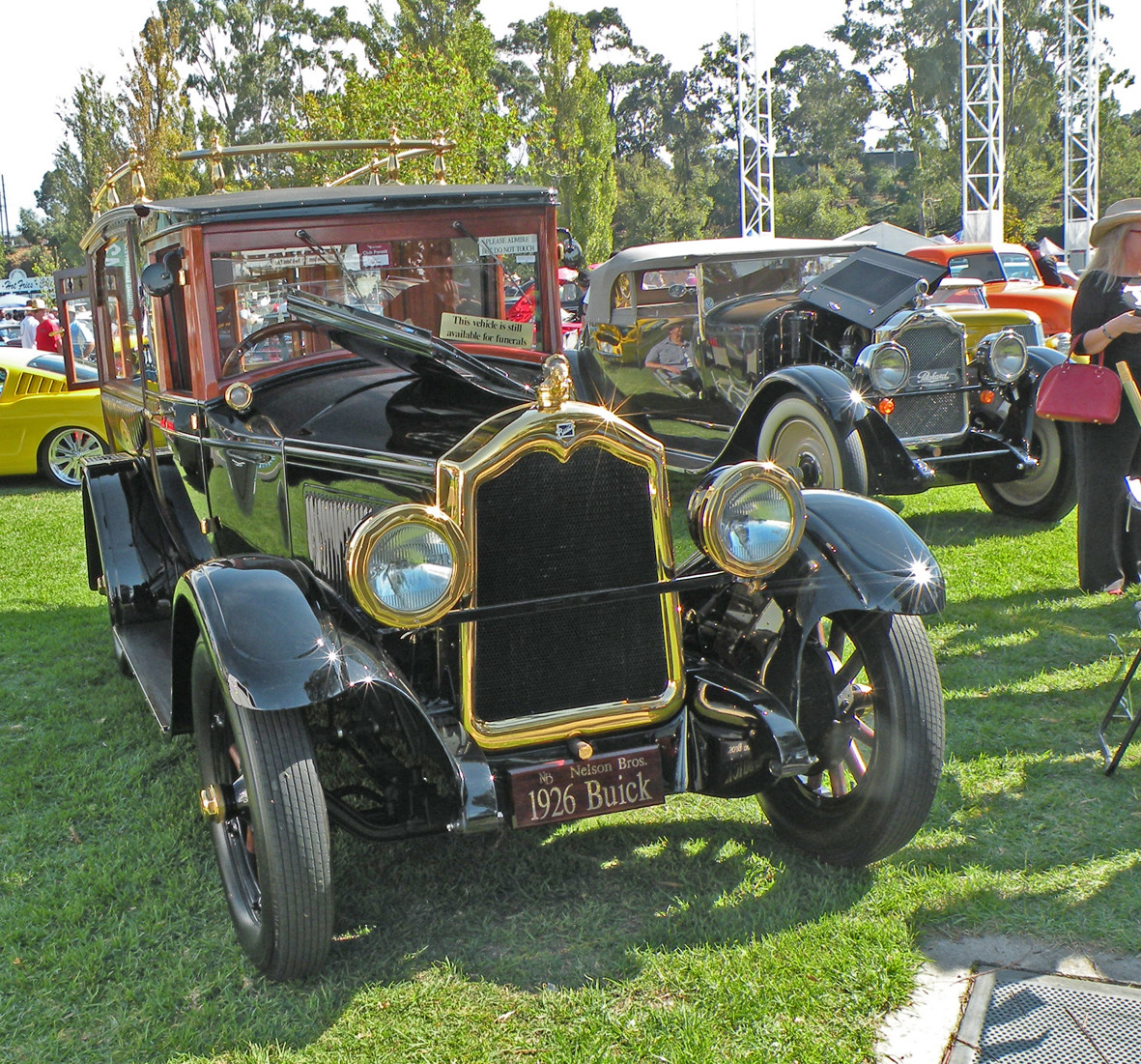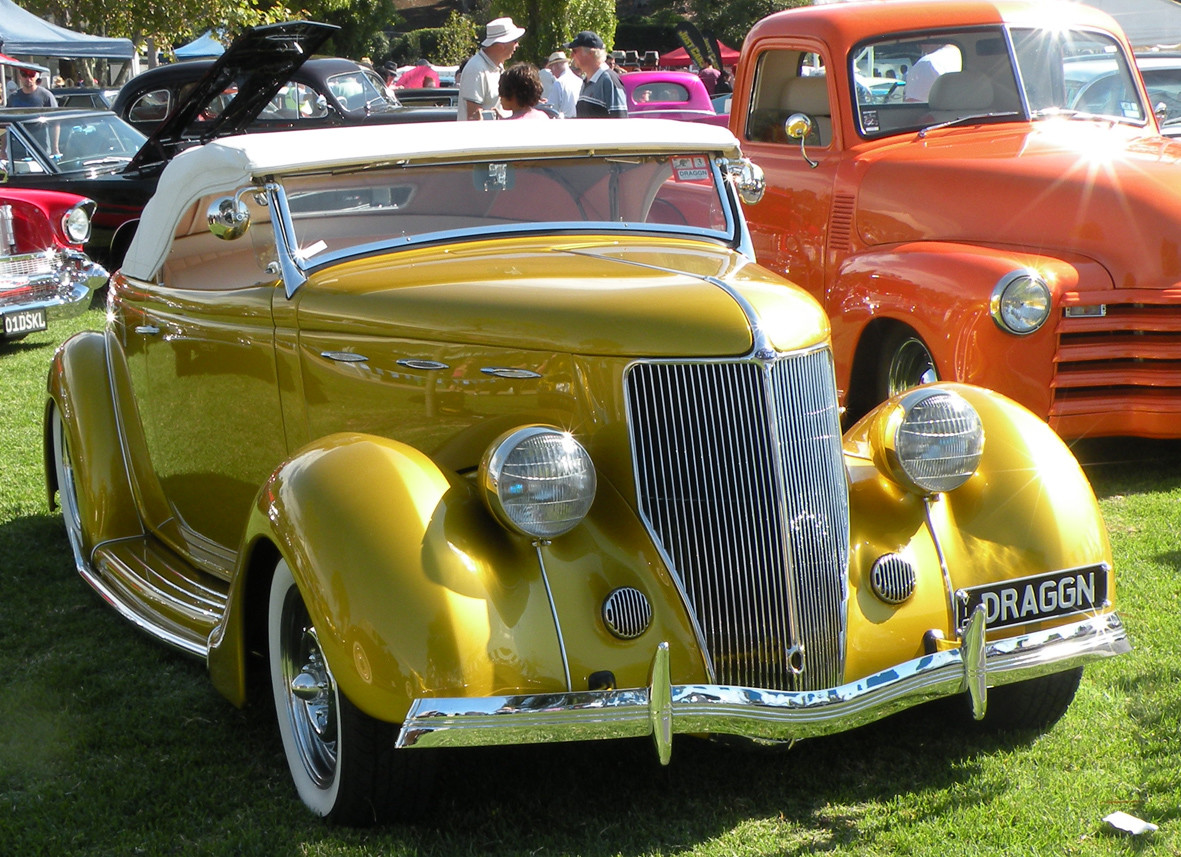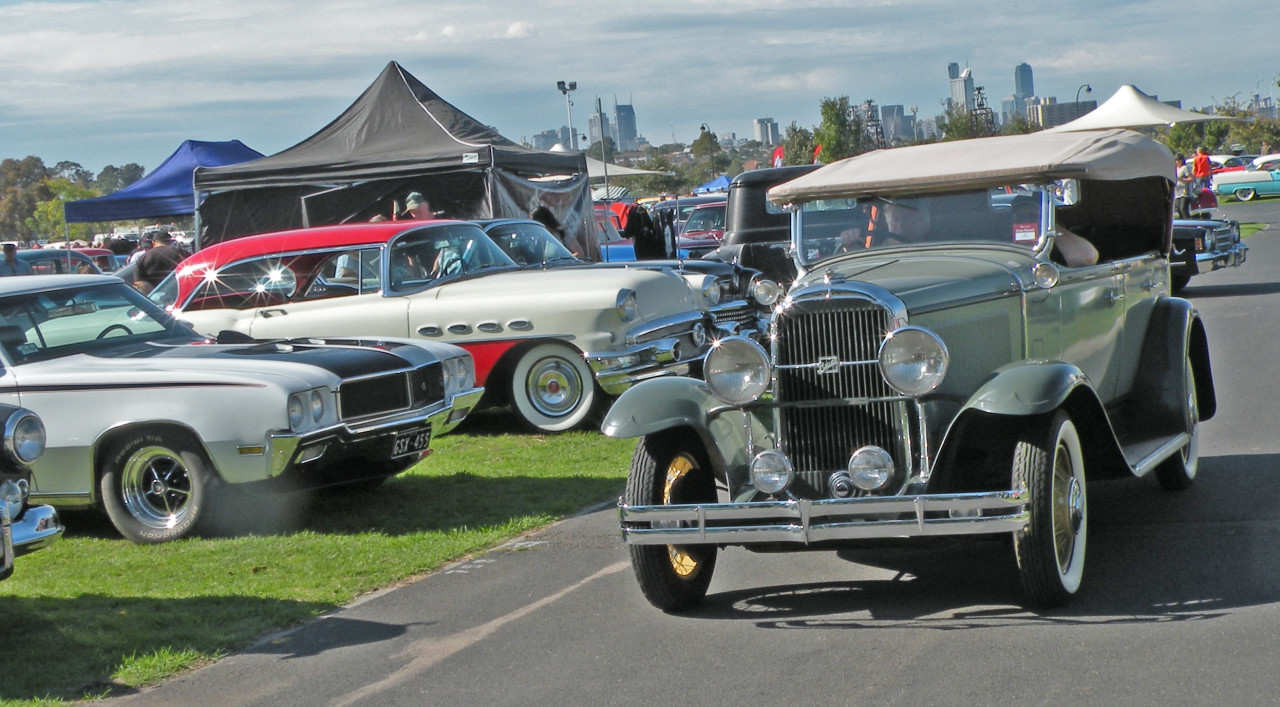 4-8-2013
Hi Ben
You may not have thought so negotiating the traffic jam going in at 9.30 on Sunday morning or coming out at 3.30 in the afternoon. Strangely it was only the sixties and seventies cars that seemed to be suffering from overheating and blocking the road for others. The Packard barely got to register on the motometer. The only time it got so that you could see some red was after a prolonged burst of keeping up with the "moderns" on the freeway on the way home. Even then it was a long way from the top. It does tend to get quite warm around the passengers feet. I think that I am going to have to wrap up the exhaust pipe where it passes close to the toe board. That and remember to open the cowl vent.
As I said previously there would have been no more than five or six cars NOT arrive under their own power. (ie, In trailers.)
Hi C,Ben
I failed to mention that it was for mid Autumn (Fall) quite a warm day, 35degrees C. I have no problem with the motometer, having checked it against a thermometer I have found it to be quite "progressive" as far being an indicator of the radiators temperature. It was "just" showing about an 1/8 inch of red into the circle. The radiator was certainly a long way from boiling and water loss was minimal. I was probably expecting a little too much of a 1923 car with a comparatively new engine to have it running at a steady 50mph for some miles. Re the "hot feet" problem If I had thought to open the cowl vent it would have improved things and I had planned to wrap the exhaust "down pipe" but had simply not got a roundtoit. As soon as I turned off the "Freeway" and slowed down to 35/40 mph everything returned to normal.
That cannot be too bad. I have been spoilt by the Lagonda Rapier for too long.
4-9-2013
Hello C,Ben
I have had some experience with the "sludge" that you refer to. I don't have a photograph of the inside of the oil pan and crankcase but this one of the side water gallery tells the story. Because the motor turned freely, some people would have just added water checked the oil and started it up. I prefer to look before I leap.
Keep on keeping on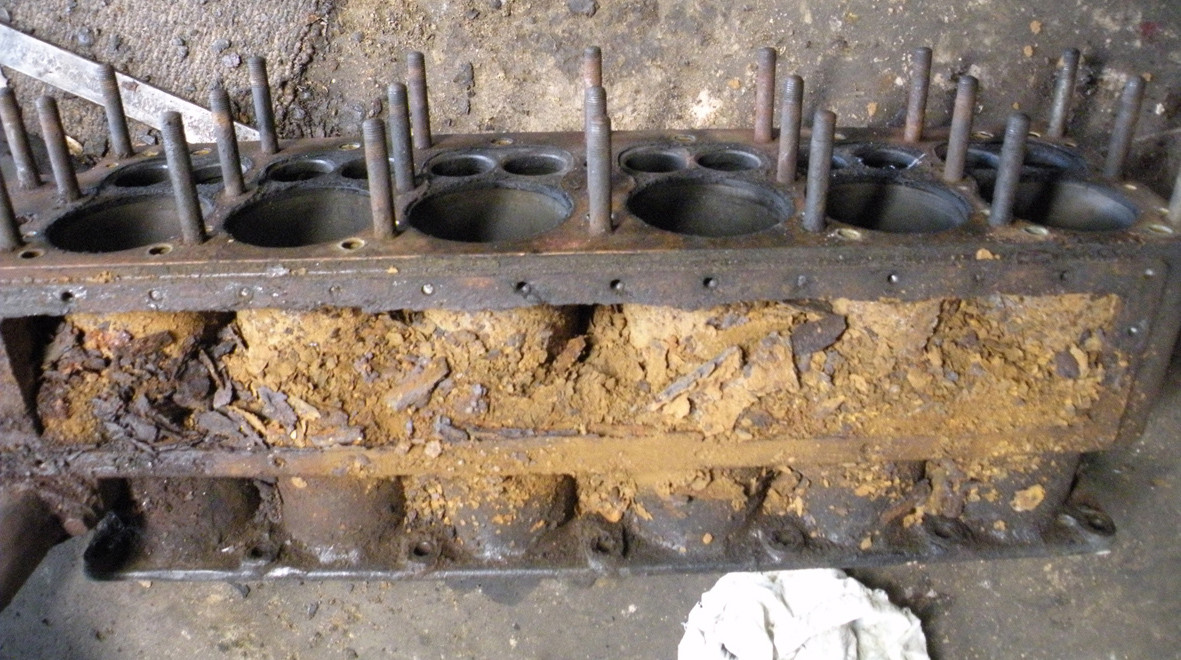 4-10-2013
I don't know about hard water but talking about hard words the Packard discussed here has been described on another thread as a "mongrel". Perhaps in the perspective of the most pure of purists who's only priority is scoring points on the show field this may be a valid criticism. As I have commented elsewhere I would have never NEVER restored the car back to an original 4 Passenger Coupe. To my way of thinking they were among the most ugly and impracticable cars ever to leave the Packard Factory. The original seating plan may have been ideal for a chauffeur driven, rather corpulent, doctor in the 1920s but as a useable car for pleasure driving for two people??? A fixed (non-adjustable) seat for the driver with a small folding "occasional' seat next to him and a seat for one and a half people (with cramped leg room if the occasional seat was in use)at the rear is not my idea of comfort.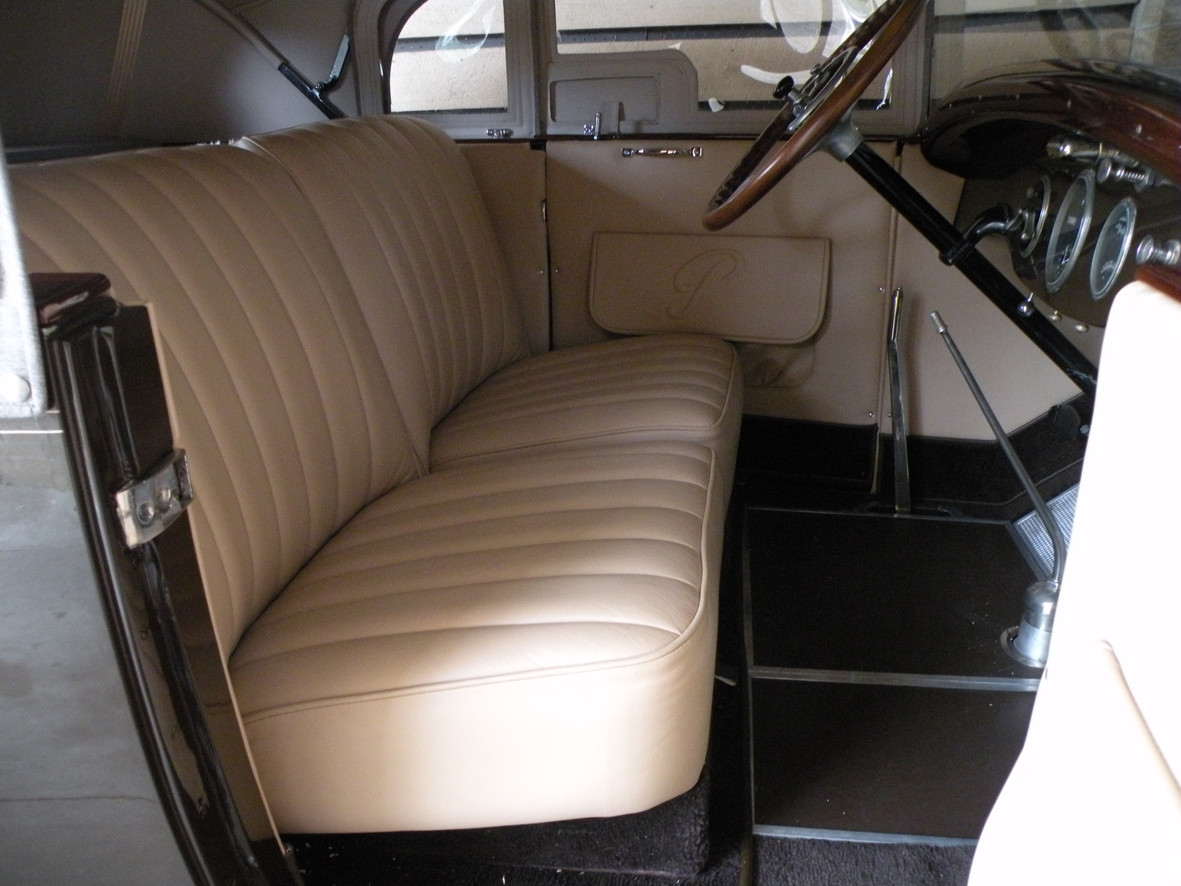 I rest my case.
Keep on keeping on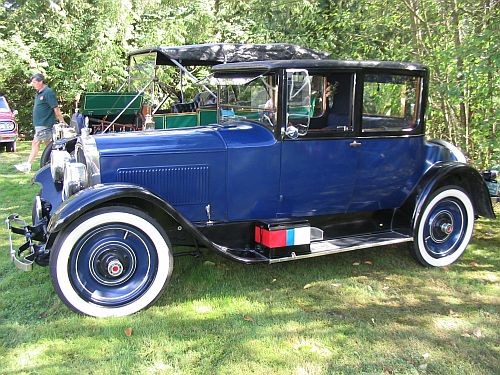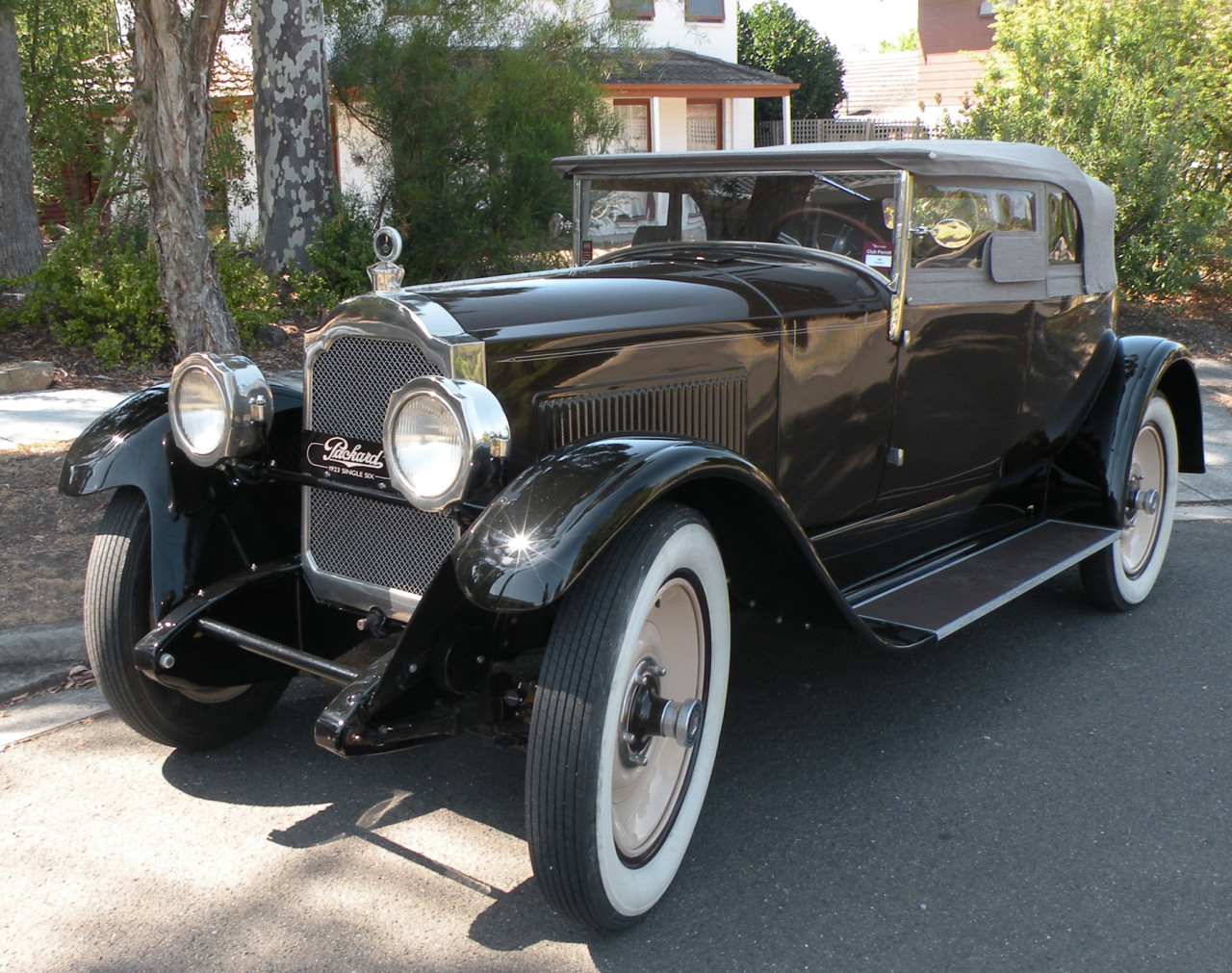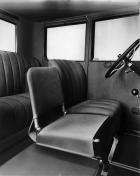 4-11-2013
Hello David
I was not attempting to disparage anything that Matt said. I am painfully aware of how the "Show" segment of the American "Collector Car" market see the car. Living and operating in a much more liberal environment I am used to dealing with people who look at Vintage cars as something to enjoy driving simply for the unique experience in driving an 80 or 90 year old car.
I am afraid the people who simply drive their cars in and out of trailers then dress up in fancy period costumes in order to pose beside their "car" do not realise just how much they are missing. If they get enjoyment out of doing this good luck to them but I cannot help feeling just a little bit sorry for them.
If by doing so they are fishing for compliments they would not believe how much more attention their cars would receive at the top of one of the numerous historic Alpine Passes in Switzerland, the Tyrol or the Southern Alps in France. There is only one way that all the people passing the compliments have arrived at the same destination.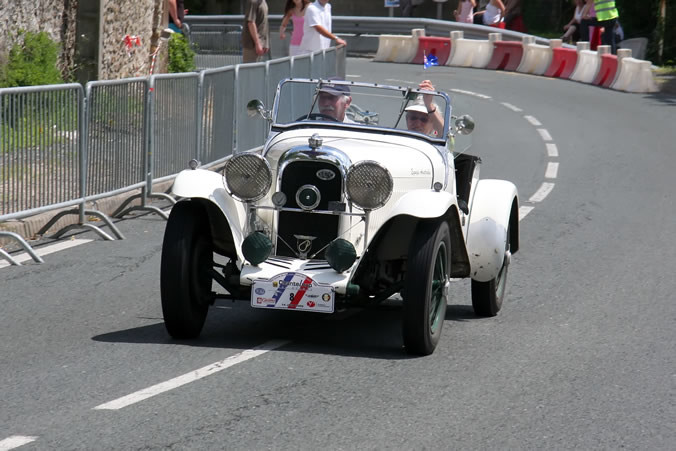 What better way to "show" your car than actually driving it.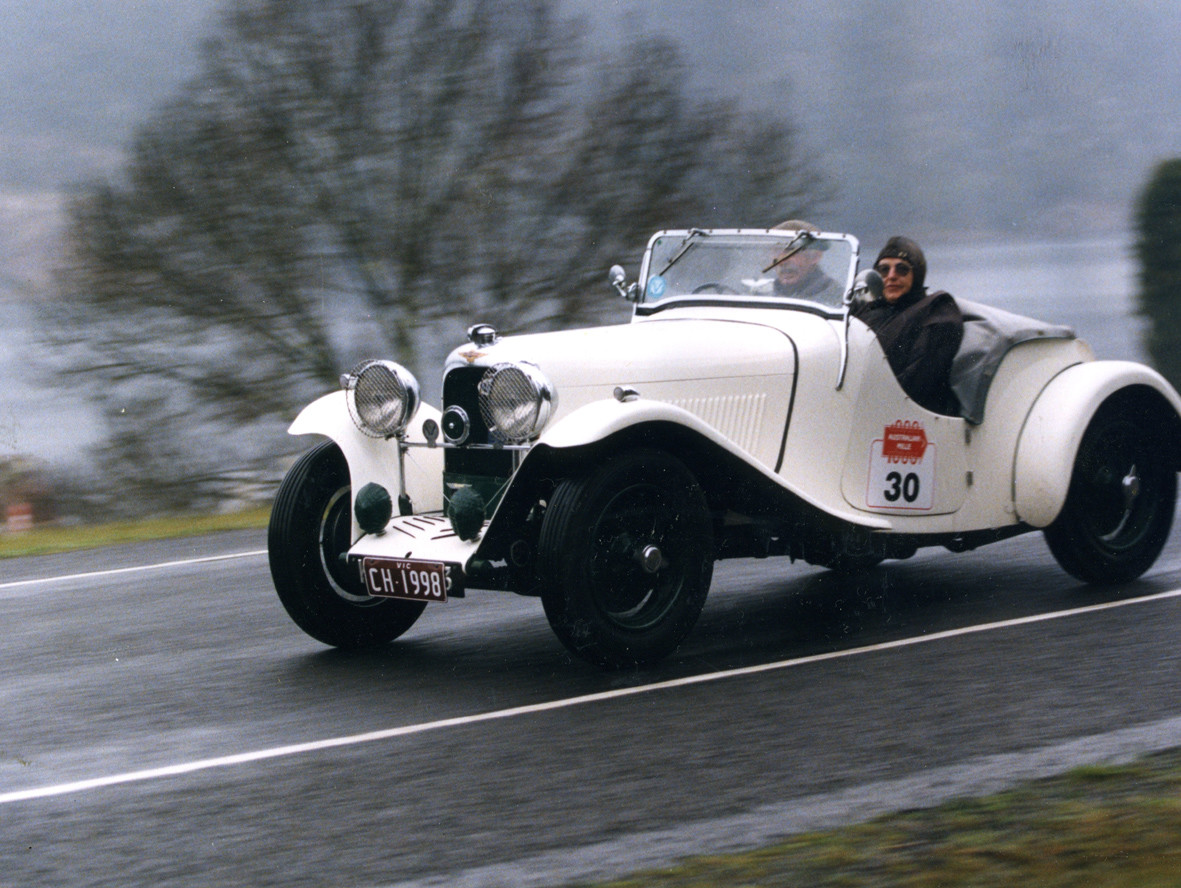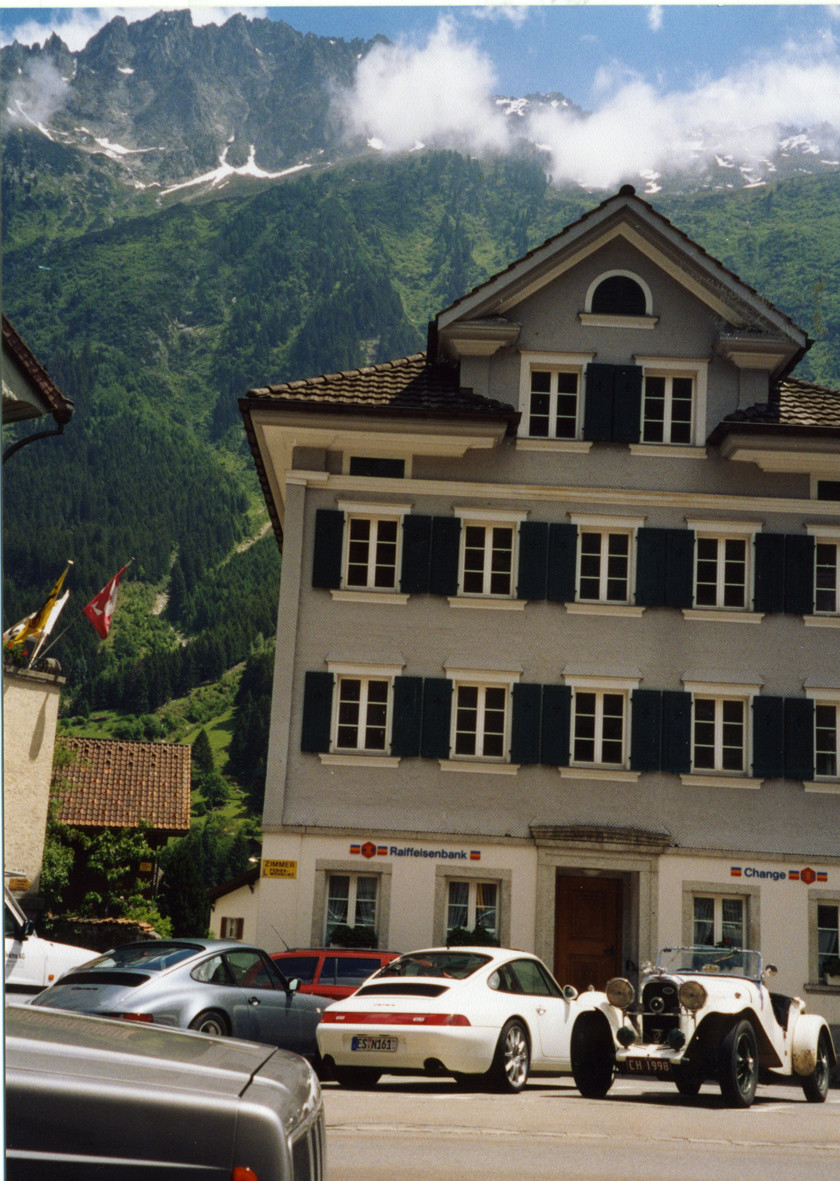 4-12-2013
Attached is a copy of an e-mail sent to David Coco this afternoon. I extend the invitation to anyone to inspect the car or to challenge my sworn affidavit in an Australian Court of Law.
According to the Factory Style number stamped into the bottom rail of each door and the centre rail inside the luggage compartment lid and further on the small brass plate fixed to the floor behind the passenger seat, the body is/was Style 222. Body Number 1432.
That the car was vandalised in America before it came to Australia does not detract form the FACT that ALL the existing body on my Packard is the remaining section of the actual body fitted to the chassis before it left the factory in 1923.
I invite anybody you care to nominate to inspect the car and attempt to prove it otherwise.
Regardless what you or anyone else may wish of hypothesise, the facts remain, all the of car existing today with the exception, as previously stated, of the convertible top, windscreen and the interior trim, are indeed those that left the Packard Factory as a single unit in 1923. I am prepared to make a sworn affidavit to this effect. Are you prepared to challenge this.
Below is a photograph taken during the restoration showing rear section of the original factory timber body frame. The second photograph taken only minutes ago show a close up of the actual factory stamped numbers in the inside of the centre rib of the luggage compartment lid frame. Stamped there by a Packard factory employee in 1923. The third photograph shows the entire body frame before it was removed from the chassis frame. Would someone please point out the NON-ORIGINAL parts.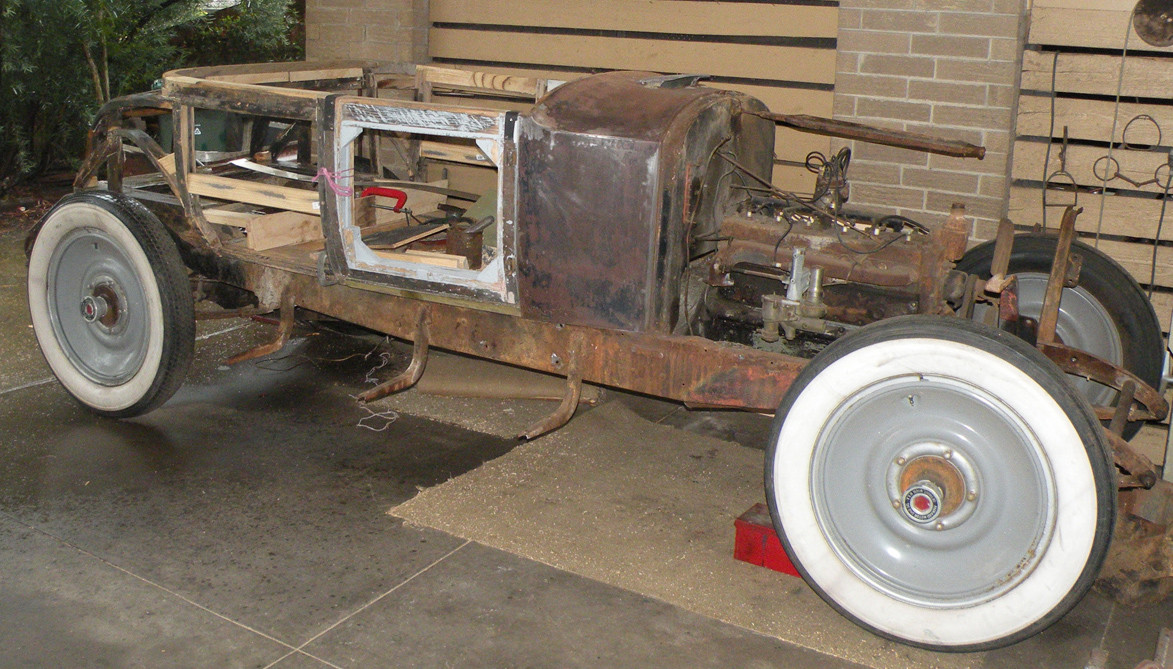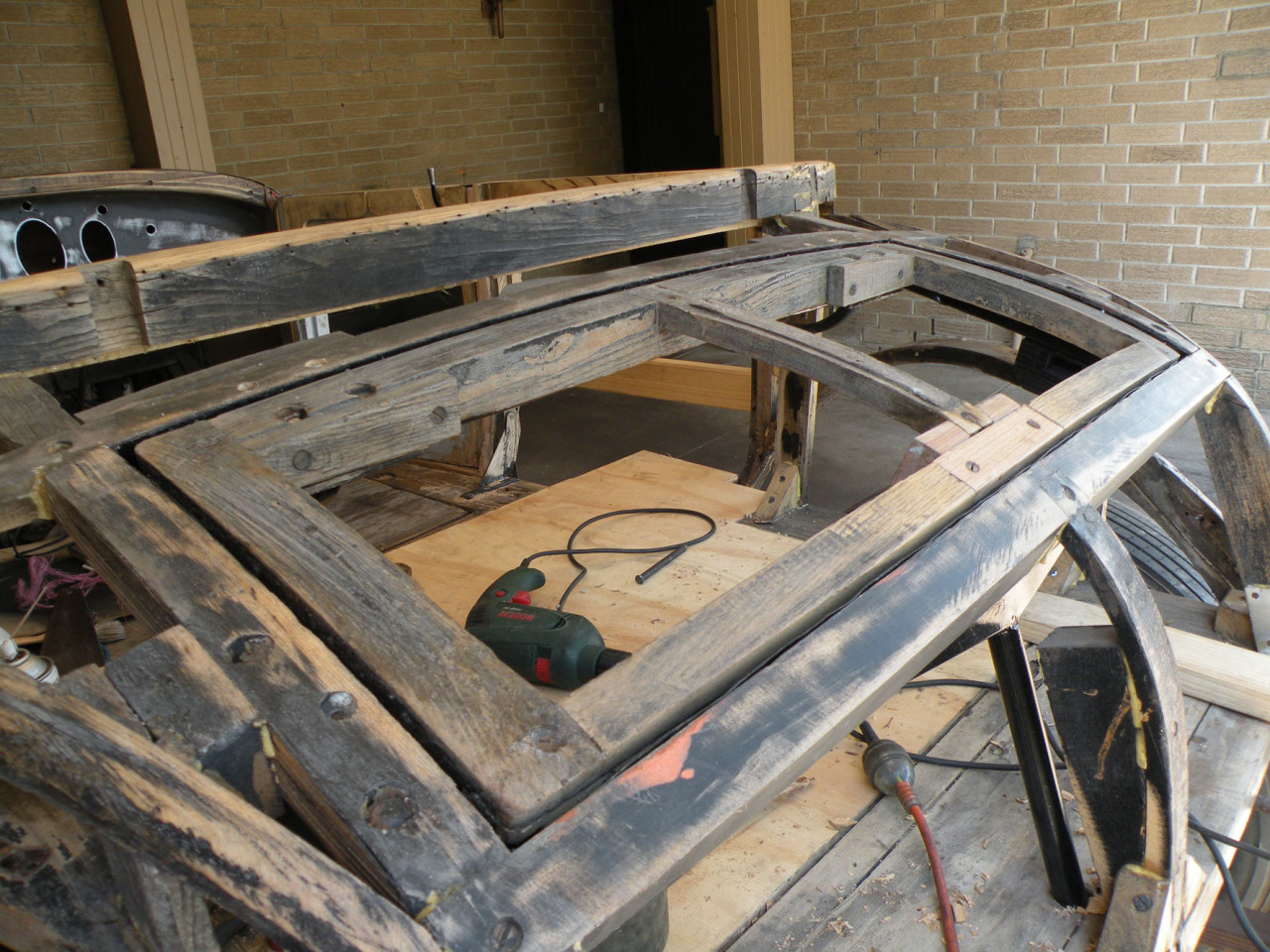 Hi Matthew
I guess what it all comes down to is that and I have made no secret of the fact I would like to sell the Packard in order to move on to my next project. I do not expect or wish to make a huge profit or even receive payment for my own input into the restoration. All I seek to do is to recover the bulk of the money that I have outlaid during the restoration. I do not think that I can be fairer than that. I keep exacting accounts of the money I spend. Note: Not the time I spend! I do this for the enjoyment and satisfaction I get from doing a job to the best of my ability. While I may be asking what appears to be a Top price I believe that my Packard can only be described as a Top car. I am really shocked and surprised at the totally negative attitude that so many of your countrymen have taken.
In effect both I and the car have been effectively excluded from the American Collector Car market.
There is no way that I am about to give the car away in order to see it re-appear on a dealers website/showroom at twice the price. I am not in a particular hurry to sell the car, as you say I can drive it and enjoy it. I just happen to be am extremely principled person and I believe in living by my principles. Regarding my Restoration Projects my PRINCIPLE is to only have one project car at a time. I cannot start my next project until the Packard (in this instance) has been "moved on". From what I an beening told, I have totally wasted my time and money as the car is Valuless
My 1934 Lagonda Rapier is the car that I have owned since 1978 because that is the car that I most enjoy driving. Very few people that I know of do more driving in their Antique Car than Helen & I do in the Lagonda. Apparently by American AACA and CCCA standards it too is a 'mongrel' but what a bite it has. It has also been known to wag its tail.
4-13-2013
Thank you Matthew.
For all those people who do not like the original (unknown) history of my car I have decided to fabricate a new history which may be possibly more acceptable to some people. The Used Car Dealers among you I am sure will approve.
You had better sit down because
1.It will take a little time to read
and
2. It is so incredible it will knock you off your feet.
By the most unlikely coincidence, I have only recently been able to discover what may well be the true history of the Packard (Convertible) Coupe Chassis Number U28317.
It now appears that virtually all my earlier assumptions may have been incorrect!
Laid down during the later half of 1923 the car was ordered by the Paris, France, Packard Concessionaires, L'Automobiles Barbezat through the Packard Motor Car Companies sales office at 102 Avenue des Champs-Elycees. The chassis was to be supplied fitted with a Style 222, 4 passenger coupe, body. This was shipped on a C.G.T. (Compagine General Transatlantique) freighter some time in October-November 1923. At this time of the year the Atlantic is known for its unpredictable weather. The ship ran into one of the worst Atlantic storms recorded during the decade and was considered lucky to have reached the port of Le Harve on the Normandy coast. During unloading it was found that some of the cargo in the forward hold had broken loose causing a considerable amount of damage. A large crate containing an industrial electric motor had shifted, breaking the heavy ropes securing it and in the process shattering the pine crate protecting the Packard. The entire weight of almost 1½ ton resting on the roof of the car. This was almost totally caved in, breaking all the window glass including the windscreen and bending the steering column down against the seat cushion! Adding to the carnage a hatch covering the hold had split open allowing sea water to flood into the hold, it was only by frantic pumping that the crew managed to keep the ship afloat.
From Le Harve the car was transported by train via Rouen to L'Automobiles Barbezrat's Service Depot at 13 Quai de Boulogne, Boulogne-sur-Seine on the western outskirts of Paris. Once the damage was assessed by the Marine Insurance Company, the car was taken on a float (transport) via the riverside road through the Bois de Boulogne north to Neiully-sur- Seine to the Carroserie des Ansart et Teisseire. A well-known coachbuilding firm specialising in prestige automobiles. Their particular speciality being Decapotable (convertible) bodies. After much discussion between Packard (France) M, Barbezart, the Insurance Company involved and M. Teisseire the principal in charge of Coachbuilding firm, it was decided that the craftsmen at A et T should carefully remove the remains of the now irreparably damaged roof retaining all the original factory aluminium panels below the waist line. This in order to convert the still unsold car to a luxurious open two seater with a folding fabric roof. The sodden and badly stained fabric interior trim along with the original Packard factory seating was removed, the little folding front passenger seat being deemed totally unsuitable for the soon to be changed character of the car.
The old saying goes that "An ill wind blows no good" in this particular case the reverse could be said to hold true. Thanks to the artistic prowess of M. Teisserire and the skill of the tradesmen at his command not only has he indeed created a veritable "silk purse" but also to M. Barbezat's delight, instead of a standard Packard Coupe with limited appeal, he now was soon to have on his showroom floor a highly desirable convertible coupe. To further divorce the car form its comparatively humble beginnings, and after further consultation with designer-craftsman M. Teisseire it was decided to change the colour of the car from the staid Packard navy blue to a rich chocolate brown, a colour much favoured by Parisian socialites during the early 1920s. This was to be contrasted by a top quality biscuit coloured hide for the upholstery together with the highly fashionable "Salt & Pepper" fabric for the folding roof. Suddenly the Packard Concessionaire could see that rather than sustaining a loss, that he now had the makings of a handsome profit. Not only could he include in his inventory an outstandingly beautiful convertible but one that was totally unique in the world and as such, sure to command a premium. In no time at all the car was sold to a fashionable Parisian socialite. During the ensuing years the car was to appear parked outside exclusive salons along the boulevards of Paris.
Like all good things, the extravagant lifestyle of the Parisian upper echelon was to be brought to a sudden halt by the devastating World Financial Depression of the 1930s. Unable to afford the cars prodigious thirst for petrol or to maintain it in first class order. Reluctantly the car was left with a Paris garage to be stored on blocks to await a return of better times. Unfortunately a certain German Dictator had different ideas. To avoid confiscation, at first by the French authorities desperate for scrap aluminium and then the Nazi invading forces the car was hidden behind a hastily erected wall. There it was to stay until the late 1940s when a post-war Allied Military Forces work squad, clearing bomb damaged rubble on the outskirts of Paris discovered the car, by now somewhat battered and looking decidedly worse for wear. One of their number, an Australian "Digger", (WW1 slang for an Australian Infantryman) always on the look out for anything interesting and capable of being sold on for a profit, quickly arranged for this prize to be towed back to base.
Over the next months and years the Packard changed hands several time until one Aussie, his tour of duty over and returning home, decided to ship the car back to his home port of Melbourne. Space on cargo ships being at something of a premium it was almost eight months later that a space aboard ship could be allocated to the car. In a deal with an American Gi, four new white wall tires were discovered and fitted to the car.
The returning Australian Serviceman's initial plan was to bring the car up to a useable standard and sell it at a nice profit to one of his car hungry friends back at home in Melbourne.
While waiting for the car to arrive by sea, he started to make inquiries about the cost and work involved to convert the Packard to right hand drive, this necessary to make it acceptable to the Australian motor registration authorities.
Very quickly all his visions of a quick and easy profit turned to dust,
After a motor engineer friend explained that there was far more required than simply changing the steering box to the other side of the car, chief among these was the problem of moving the clutch and brake actuation pedals from left to right. It did not take long for him to decide that it would be better to cut his losses. This decision was reinforced when on the cars arrival the Australian Customs announced that Duty was payable on the car at the then going rate, almost 100% of estimated value. The cars fate was sealed and it was left abandoned on the docks as "unclaimed cargo". After the required period of time the car was seized and moved into a locked "Bonded Store". There it remained for almost 60 years until the requirement for more much needed and valuable storage space meant, that the long forgotten car was moved out into the open. It was only after some weeks in the open that it caught the attention of a part time dockworker, who had a passing interest in old motor cars. After making some enquiries he was able to buy the car from the Stevedoring Company in whose shed the car had lay hidden for over 50 years. Another four years later I bought the car from him and its restoration started.