Phoenix Estate Vvc K-Series Diy Subframe Conversion
By diyauto
You must be logged in to rate content!
Phoenix Estate Vvc K-Series Diy Subframe Conversion
Compliments of Alburglar @ http://www.theminiforum.co.uk
7-8-2013
I should be working on my Zcars Minus, but I got fed up of boring eurobox daily drivers and vvc metros that aren't worth any more money when they're finished (even if they are 185bhp!). So when I got an offer I couldn't refuse on the latest VVC metro, I sold it and bought...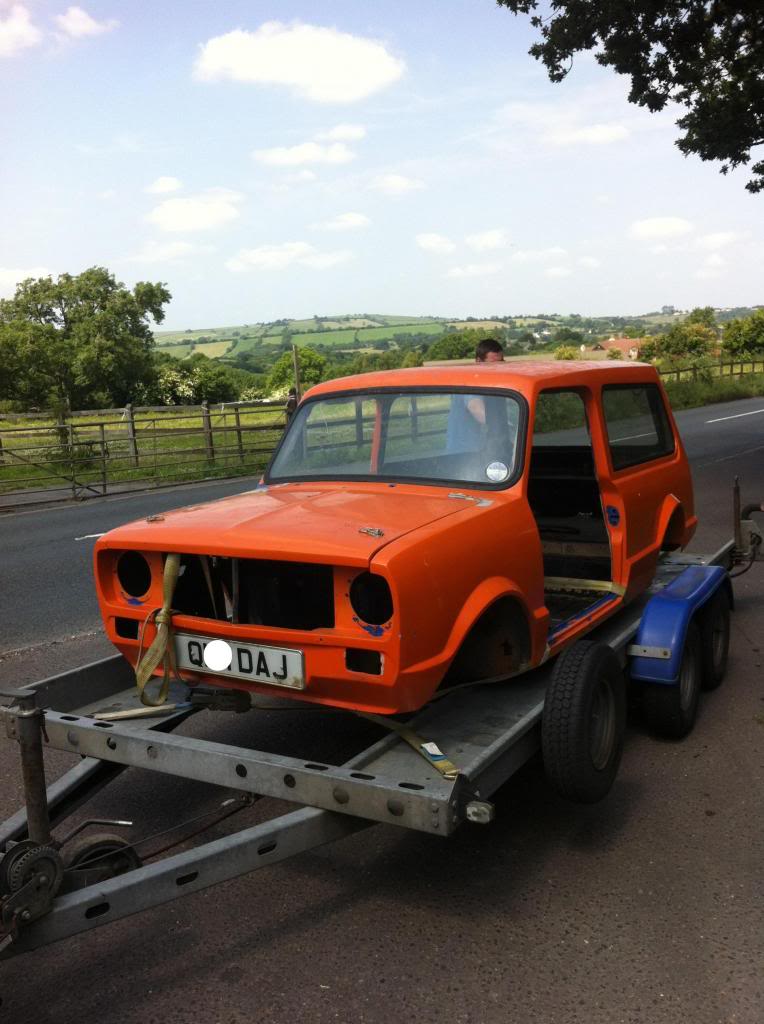 ...a ropey (but registered!) Phoenix Estate. For those who don't know, a Phoenix Estate is a fibreglass Clubman Estate style shell, with an ugly Robin Rialto/Reliant hatchback and rear lights (the trailer lights in this pic a no longer in it)... Ford p100 sierra pickup lights are the same too, 1987 to 93.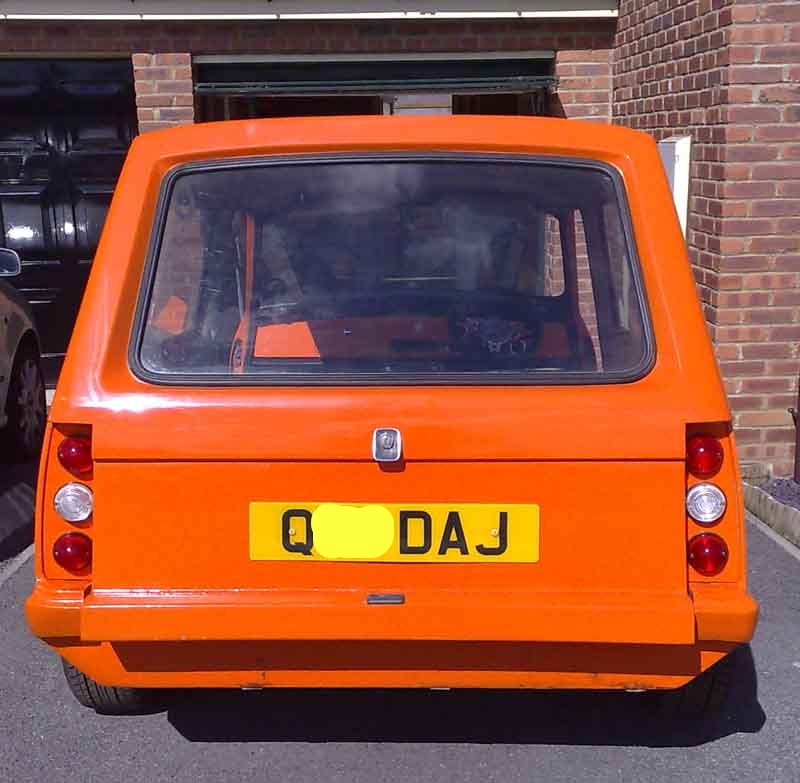 ...which I will sort out buy making and grafting on a grp clubman estate rear valance and shaving off the square box section at the bottom of the hatch door. I may possible add mini rear lights too.

I am going to try and do a 'quick' Watson's style DIY conversion to an MGF subframe, because I already have two along with LSD pg1 gearboxes, driveshafts etc.
Just gathering some more parts, but work should start soon.
...the shell really is ropey tho. The paint is peeling off the door steps and other places where they weren't sanded at all. Crazing in the gel coat had been fillered over and not sorted properly so that's falling off in clumps too! Gonna need a lot of sanding and repair...
I can't claim credit for the Gta. The last owner put that one together, but it needed a clutch or rather a pg1 conversion to get a bigger clutch on it, a custom exhaust, an uprated FPR then z&f remap, welding in an inner wing, welding to door steps, a rear quarter repair and the gti trim rub strips and skirts all fit terrible.
It would have been a wicked car once it's all done but that's a lot of money on a car that will only ever be worth £1500. The lad who built it, loved it and wanted it back so I sold it back to him, which was nice.

This is the phoenix from the field. It was on ebay for £1500, then £1300. I paid a lot less in the end. It really is in quite a sorry state. The rear end pic is from years ago just after it got sprayed. It is far worse now, two layers of paint (orange and blue under it) need to be sanded off along with all the filler, in order to get to the gelcoat. Then sort the crazing out. It needs the grp equivalent of a bare metal respray. Ill post some pics up.
7-12-2013
Phoenix Estate Vvc Diy Mgf Frame Conversion - Watson's Style.
...err or perhaps not...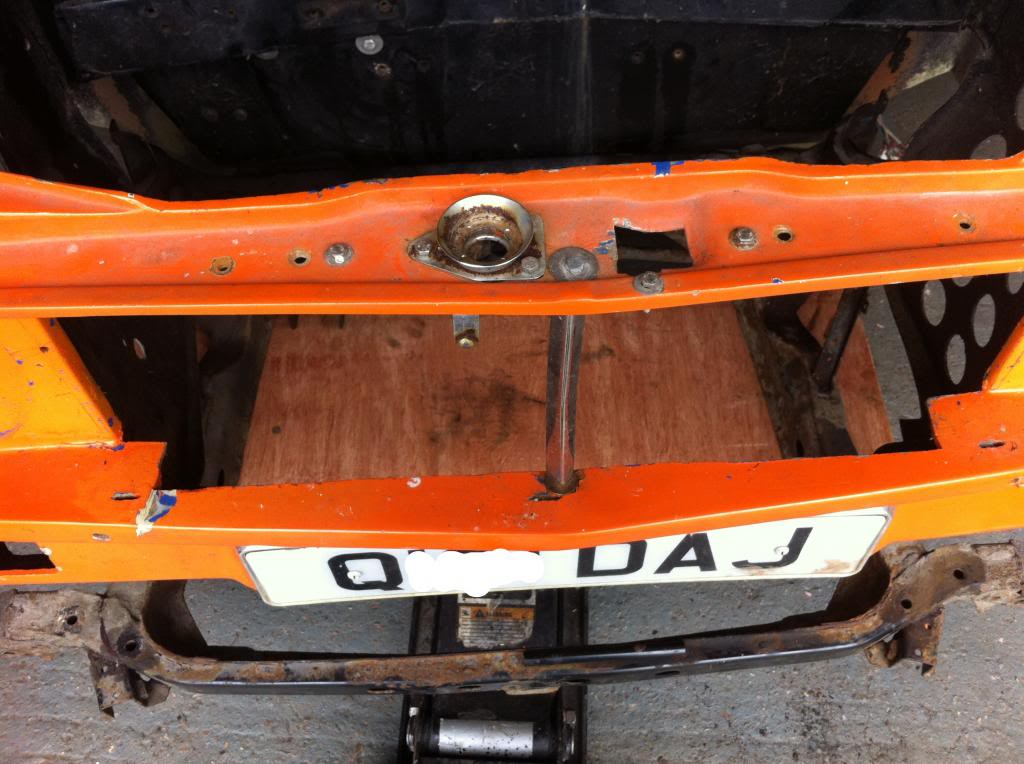 It don't fit
I haven't cut the steering rack moulding off the phoenix shell yet, (as watsons instruct you to on a normal mini) because I never intended to. They are moulded as part of the shell and I don't want to hack it off as retro fitting will be a pain if I change my mind. I was gonna cut the mgf frame to fit round it, then weld in a strengening bar if needed. But it doesn't touch that yet, it is up against the bulkhead and sticks out a mile at the front? Must be something to do with the shell shape at the front bulkhead.
So It will need cutting at the front and at the back to fit the phoenix, so I think sod it I might as well
a) cut the mgf frame about- front and back to suit.
pros: probably still the easiest route
cons: metro suspension and spacers at the rear.
but if I'm cutting and welding frames I might as well:
b) make a k frame out of a mini subframe and use pg1 bits or
c) get some money (from tooth fairy?) and buy the alspeed frame, use r65 gearbox
pros: I get to use proper mini suspension
Cons: I have to make driveshafts.
decisions, decisions
So I removed the windows and stripped the headlining out. It was manky but it all came out in one piece which will be good if I need a copy made up.
The paint is flaking off really badly where it wasn't sanded properly and where the crazing in the gel coat undernearth hasn't been repaired properly: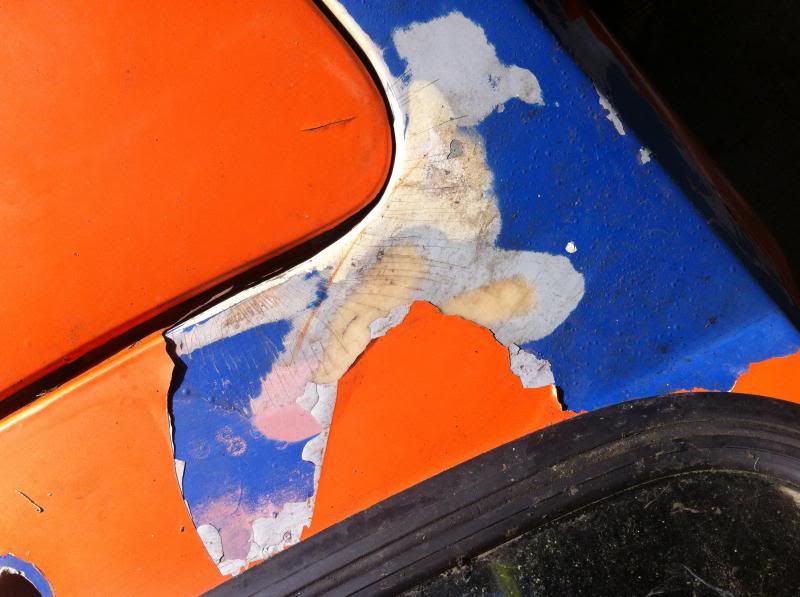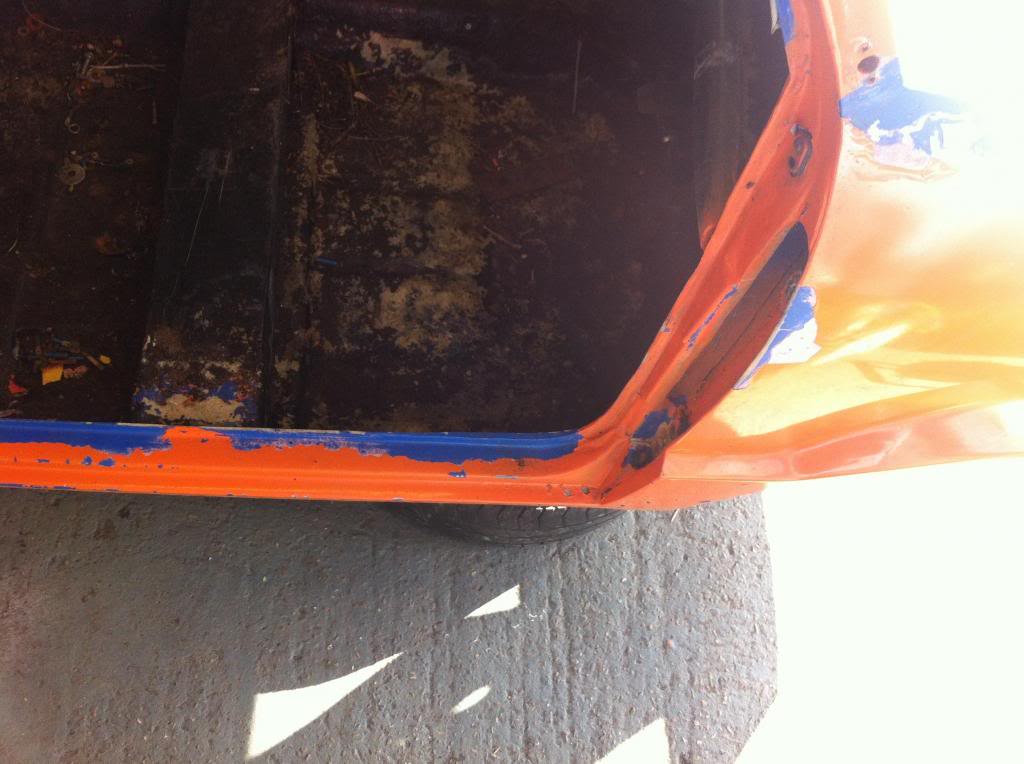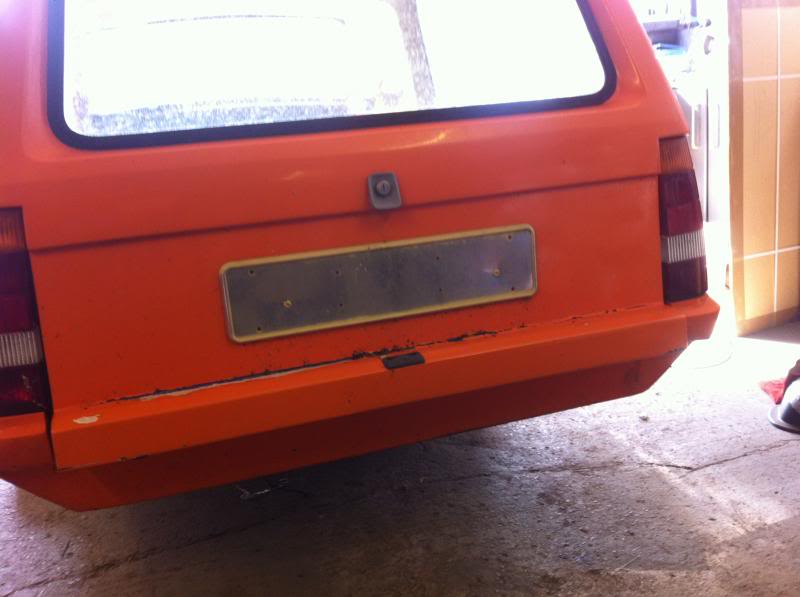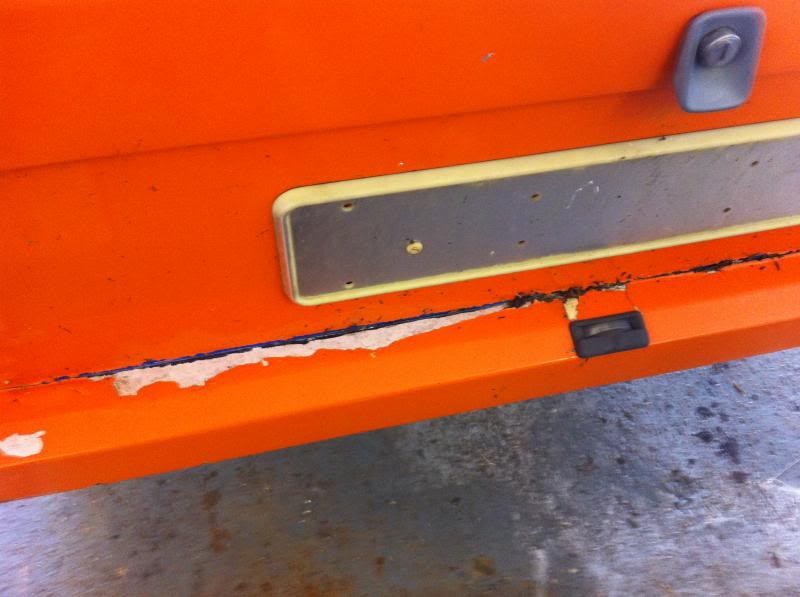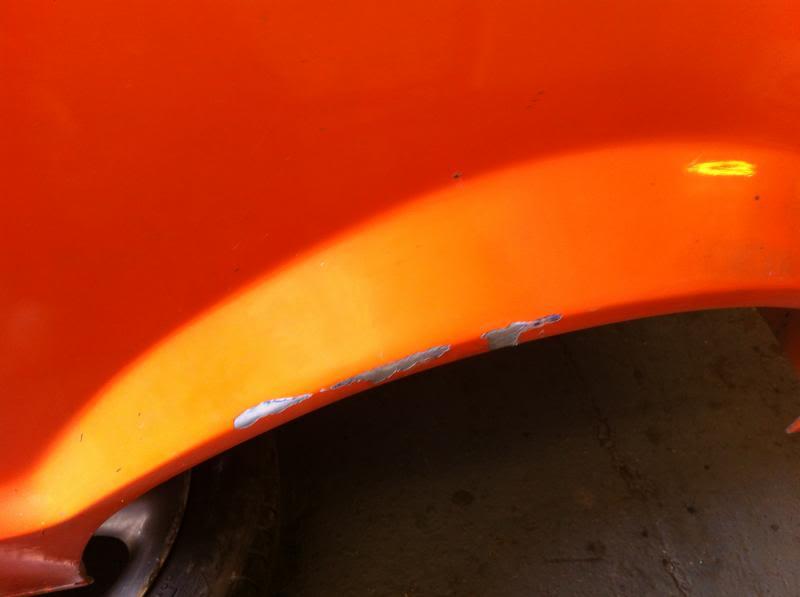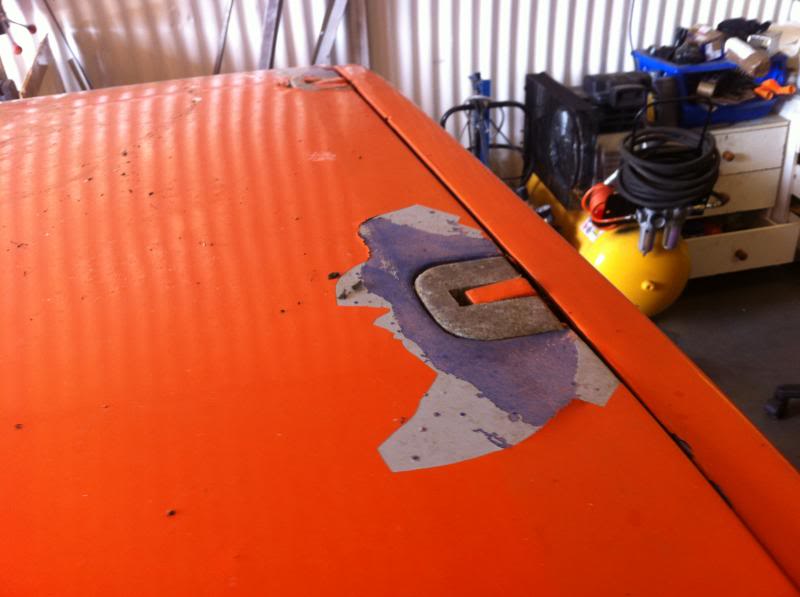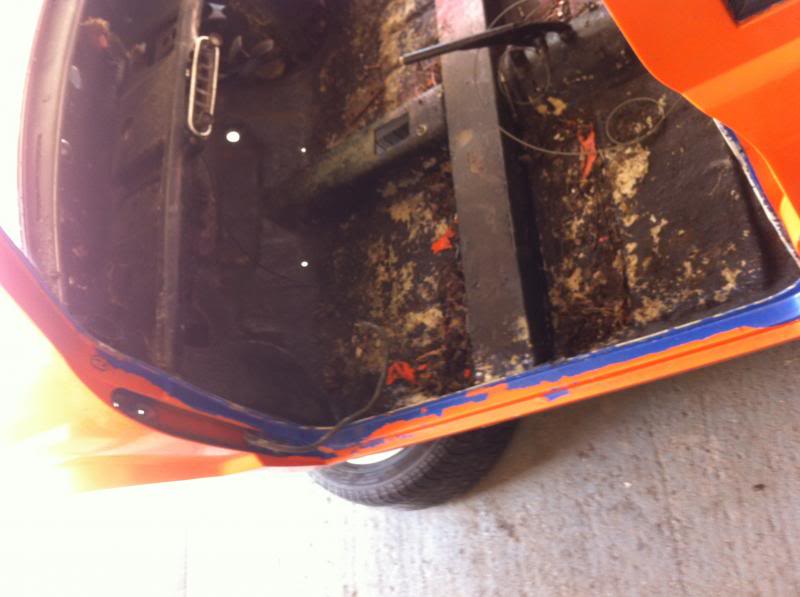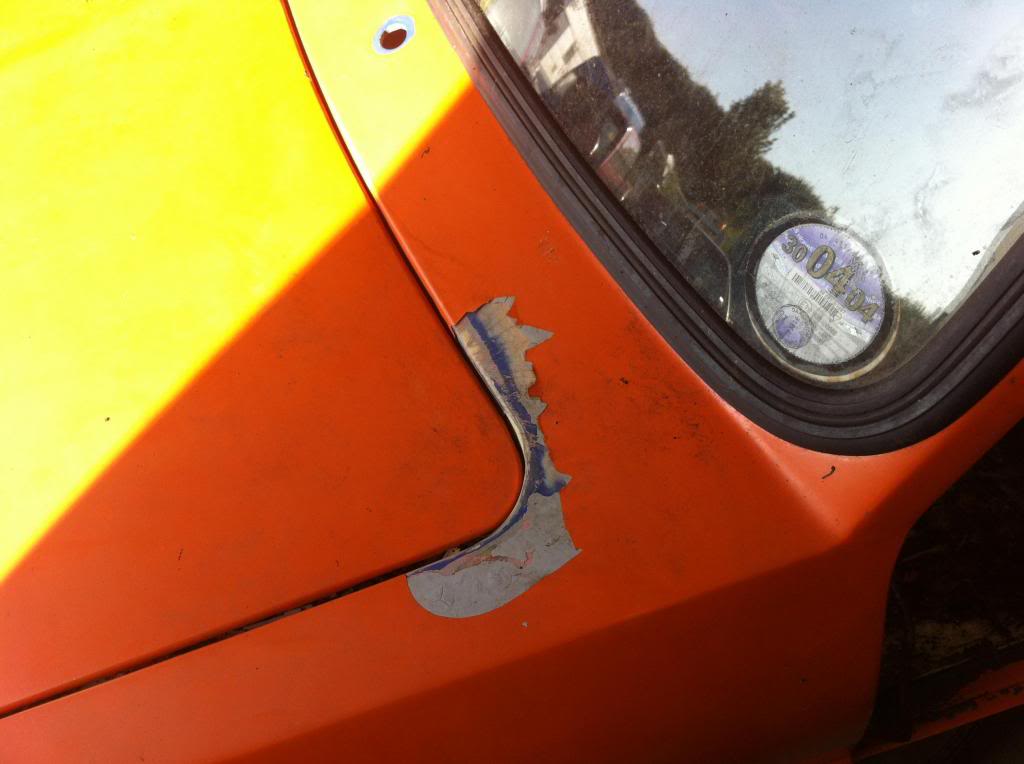 So I gave the front quarter a quick go with a DA sander with 150grit pads. Its come up pretty good, but I think I'll be sanding the remaining orange paint and it's primer completely off the whole shell, just to be safe.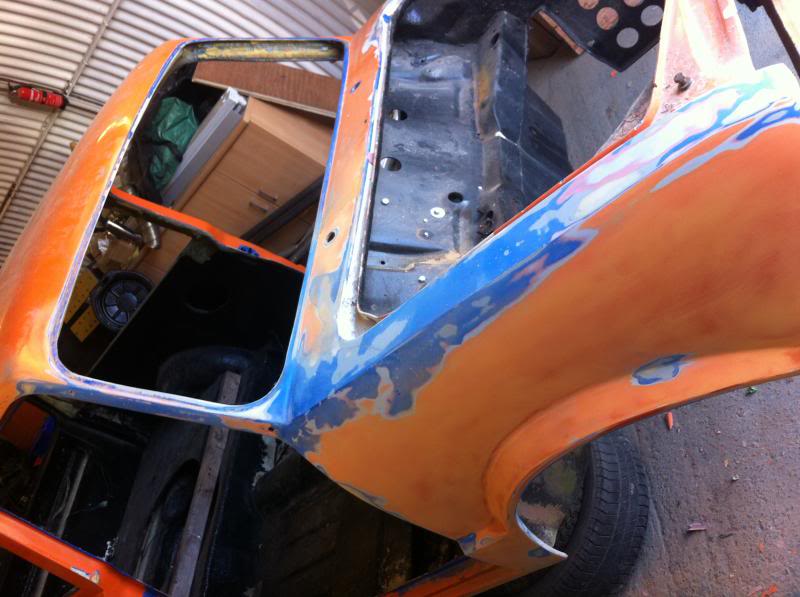 ...too scared to cut the front end off the shell at the moment also
7-19-2013
So today I cut off all the unwanted bits of the Mgf frame and offered it up again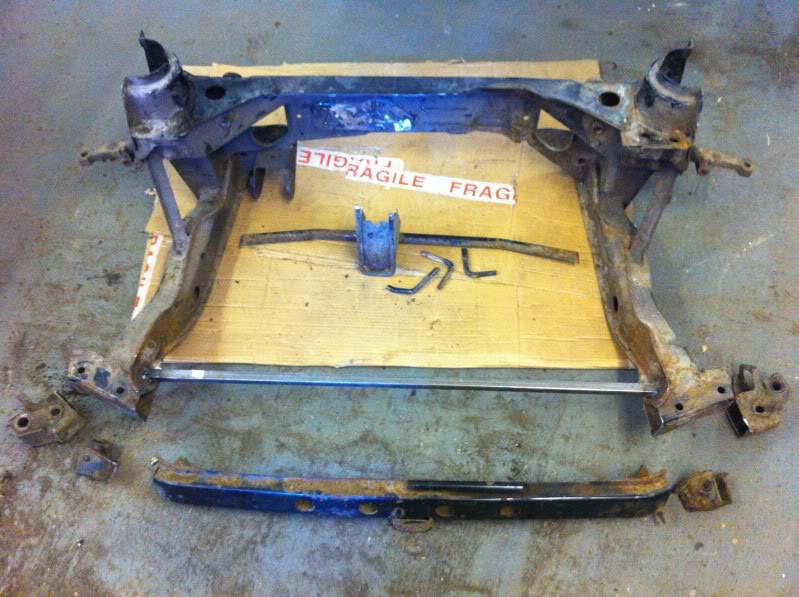 It is no better fit at all and I haven't even got the steering rack on it. The Phoenix 'clubman' front must be the same length as a round nose, because it needs extending by about 90mm to fit, which I'm not interested in doing.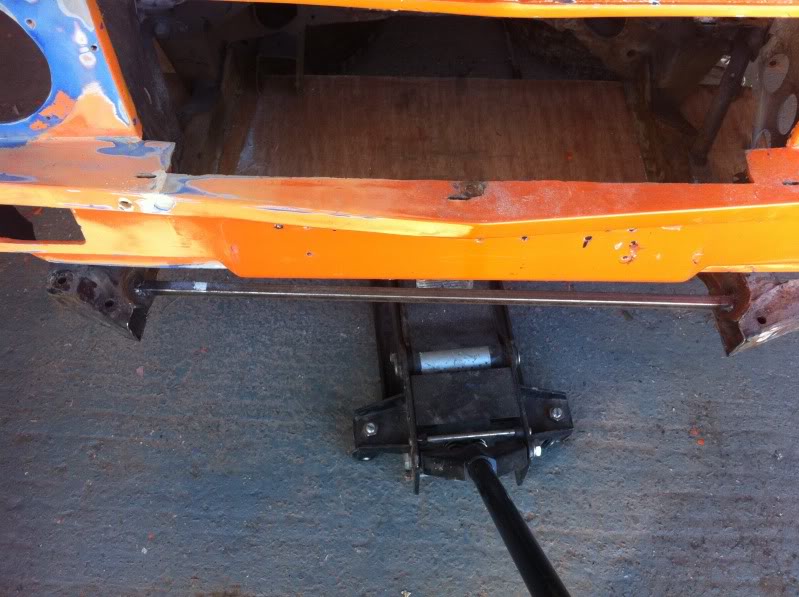 to make it sit within the Phoenix front end I'd have cut the rear off here (pens mark the spot) and fit the steering rack inside. Or cut the bulkhead drastically and grp a new one in. Which I am also not interested in doing.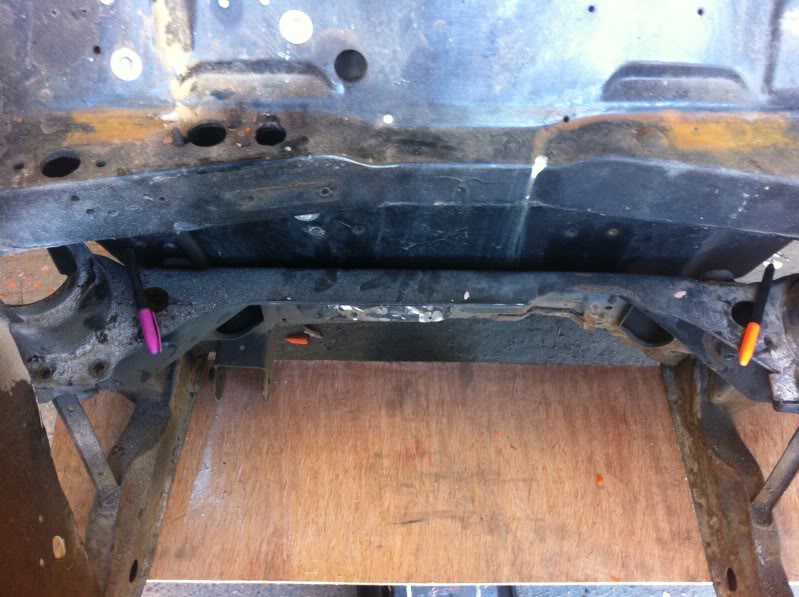 Time to order some more cutting discs and have a go at the mini frame.
7-30-2013
I made a start today.
I used my pipe bender for the first time. It bends round tube and even went well with square tube. I did this: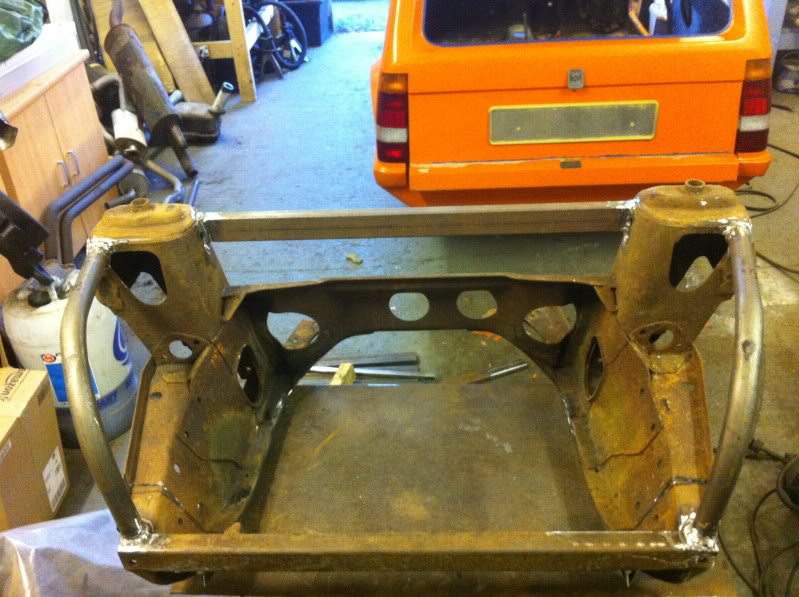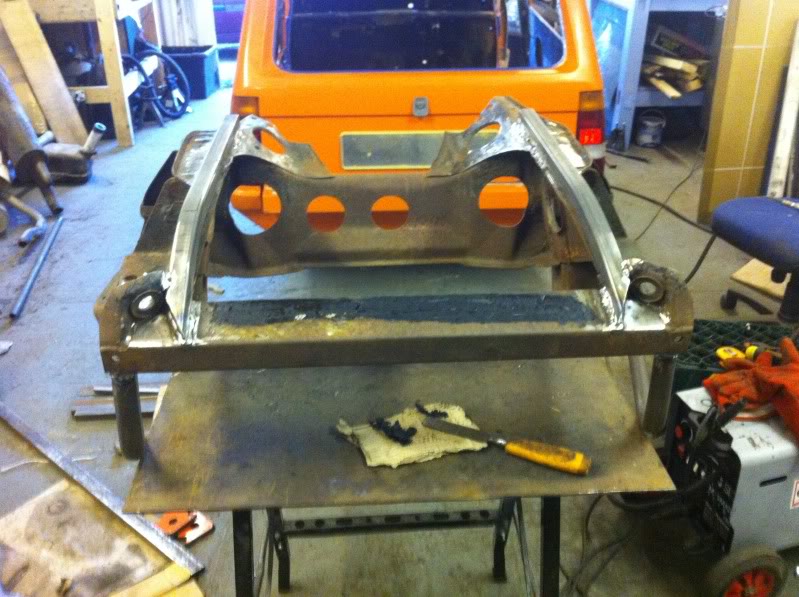 And then cut out the sides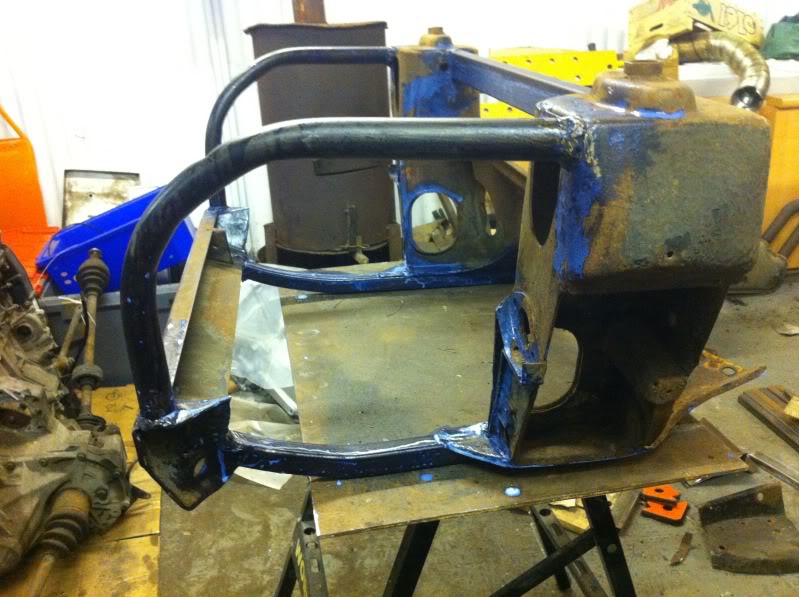 Just waiting for my engine mounts to turn up and get my engine hoist back off my mate. Then hopefully I'll wriggle the engine in.
7-31-2013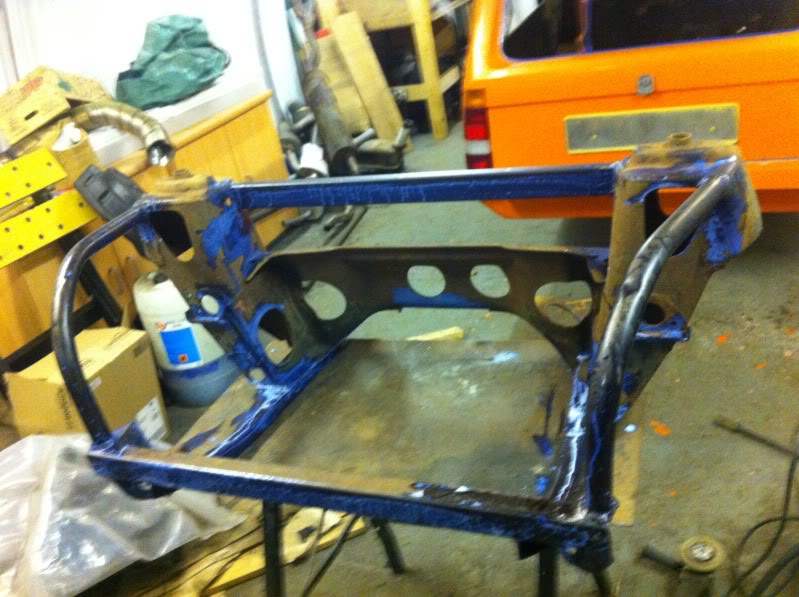 Should probably get the title of this thread changed really. If any mods are watching could you please change it to:
"Phoenix Estate VVC K-Series DIY Frame Conversion"
8-1-2013
Work in progress...I've got to bend a bar that will replace the majority of the front. should create a 'bulge' in between the front mount holes. The Phoenix front end has a lot of space there.
Cheers for the 'heads up' tho Darren, any other foresight from folks who've done one is appreciated.

...so front bar next, trial fit in bay, remove and offer engine up...
8-4-2013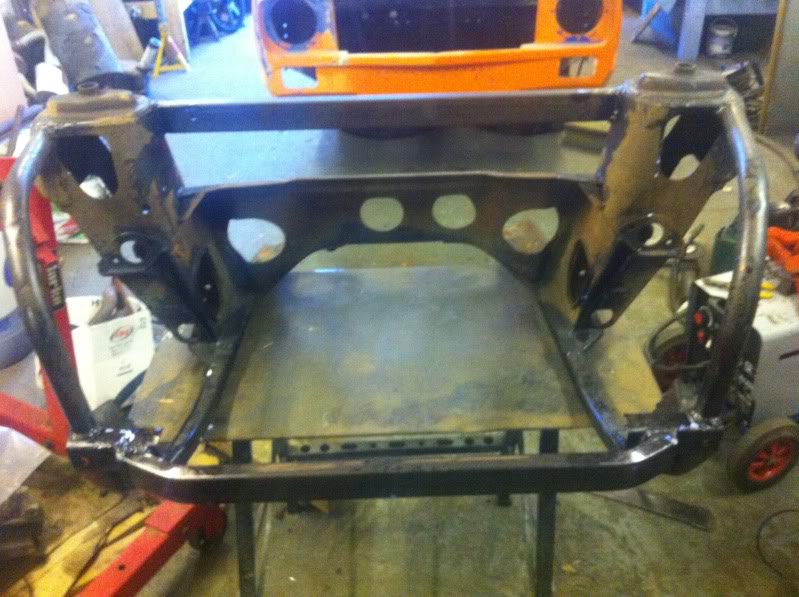 Bent Front bar added to help with exhaust manifold clearance.
8-6-2013
Not an overly productive day.
416 engine side mount, needs shorter bolts than mgf mount, and i didnt want to cut up the mgf mount (incase i change my mind and use it) so needed 54mm spacers made up. I will weld a fillet between them at some point.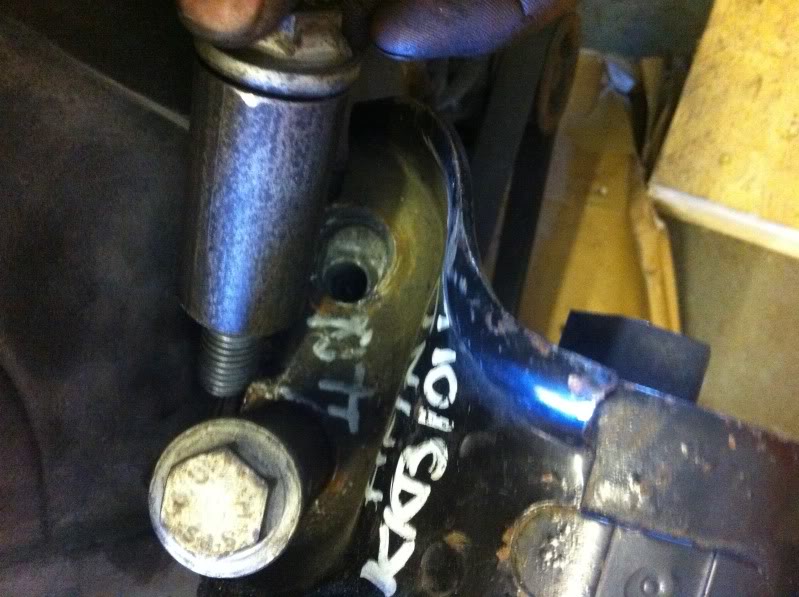 I used the crap style mini ball joint remover to get the pg1 driveshafts out. It worked a treat.

The engine needs tipping up engine mount side to get the gearbox past the subframe bar, so every te you do it all the oil comes out the empty drive shaft holes -doh! So I've welded some extensions on and spaced the subframe arms out.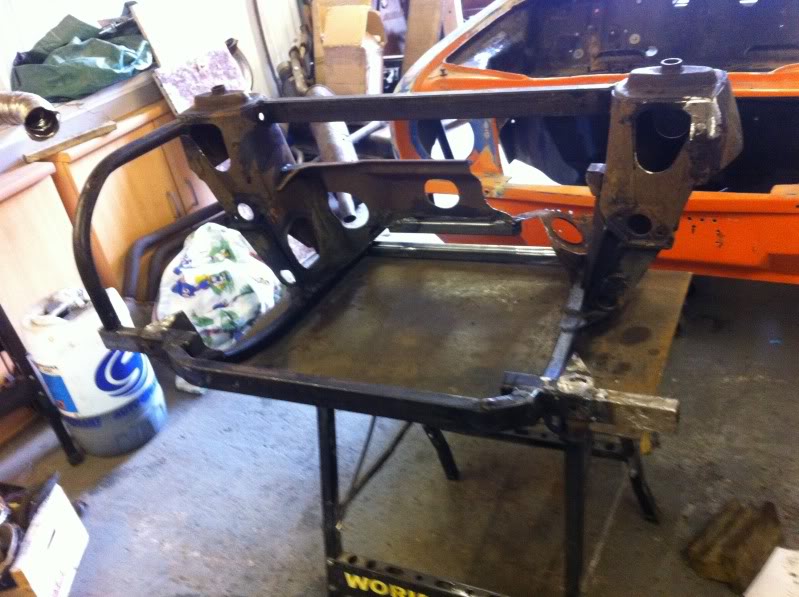 Oil filter housing sender fouls the frame too, so I made up a tempory blanking plate. I can either fit a remote filter housing or mod the frame a bit more.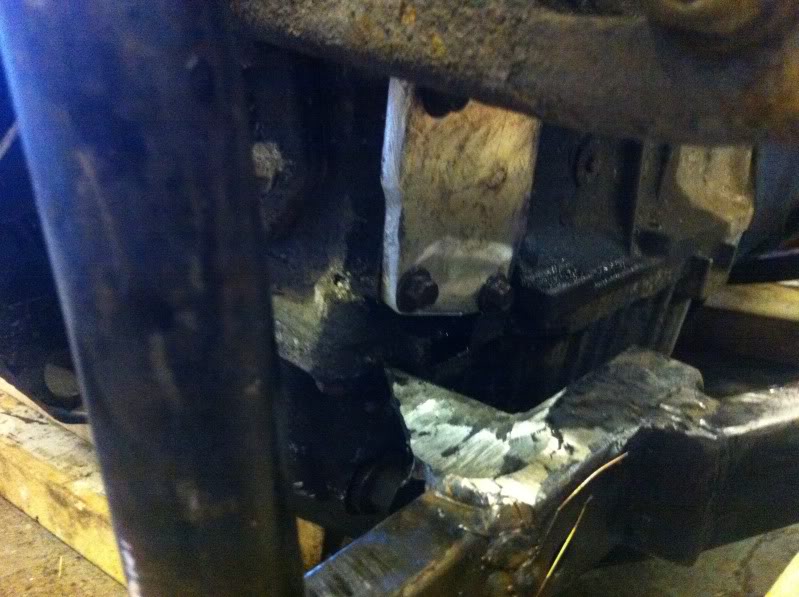 Also one bolt on gearbox hits the frame and so does the sump mount bracket. I have a plan but ran out of time. I might just mod the sump bracket rather than cut the frame.
Had an afternoon free today.
Still a work in progress, but This is how it looks for now: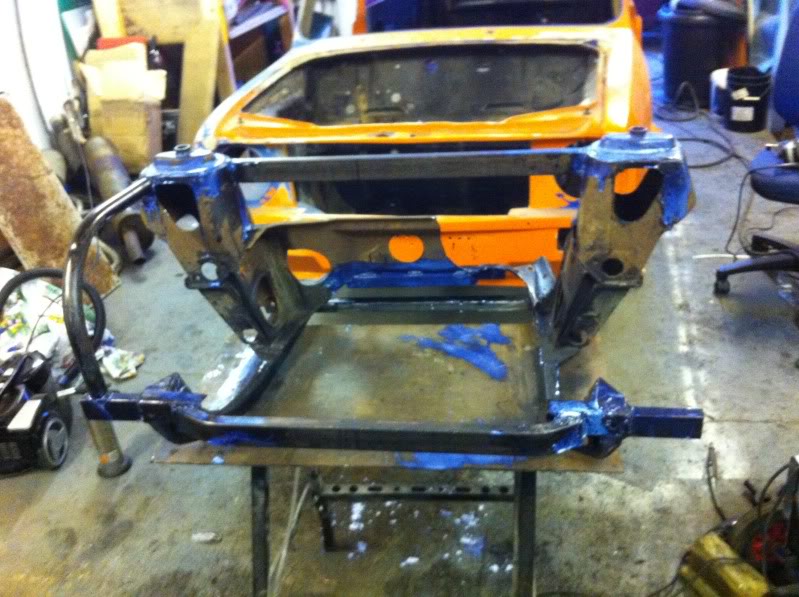 I have left the tube off the gearbox mount side for the time being. I'll leave it till the last minute When I know exactly how it sits.
The gearbox bottom bolt still hits the frame here so I need to sort that.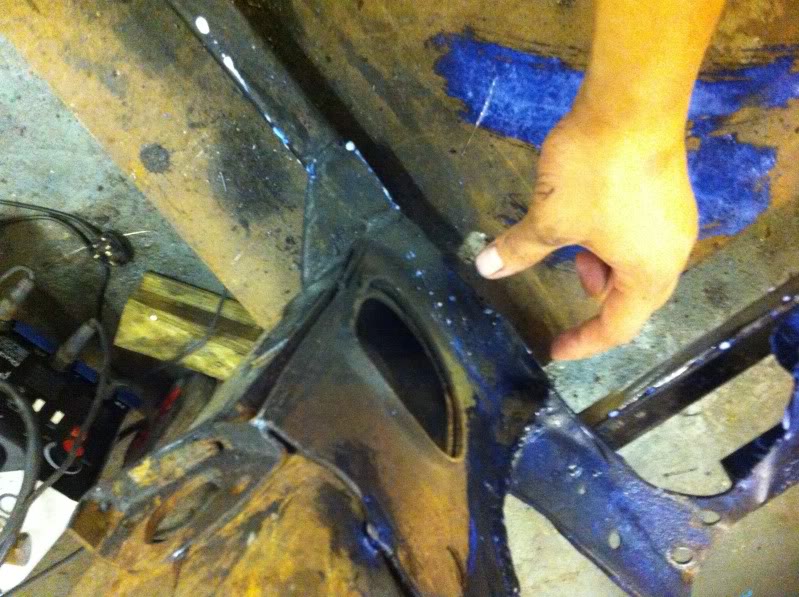 And sump mount fouls the frame here, on the opposite side. I'll probably extend the sump mount bracket to move it over a bit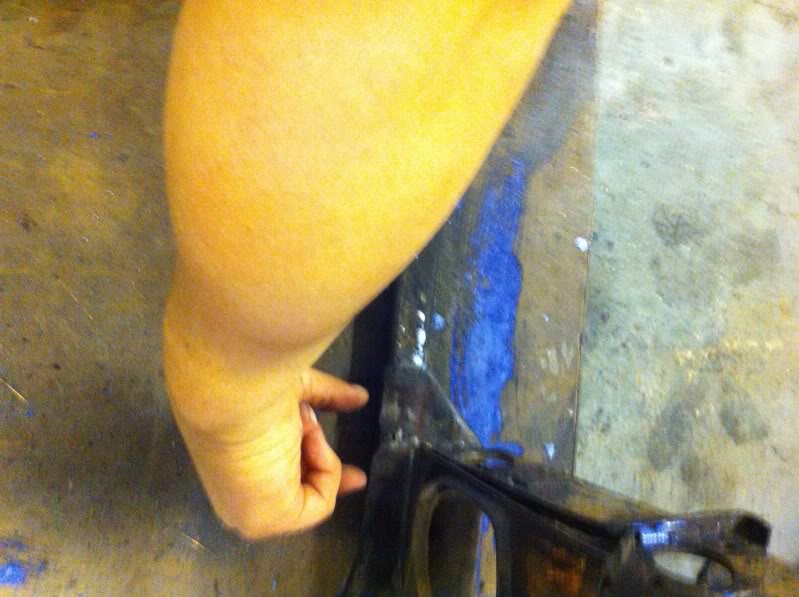 I had to cut quite a lot of the frame away here to clear the gearbox and linkage so I've added some bars for support: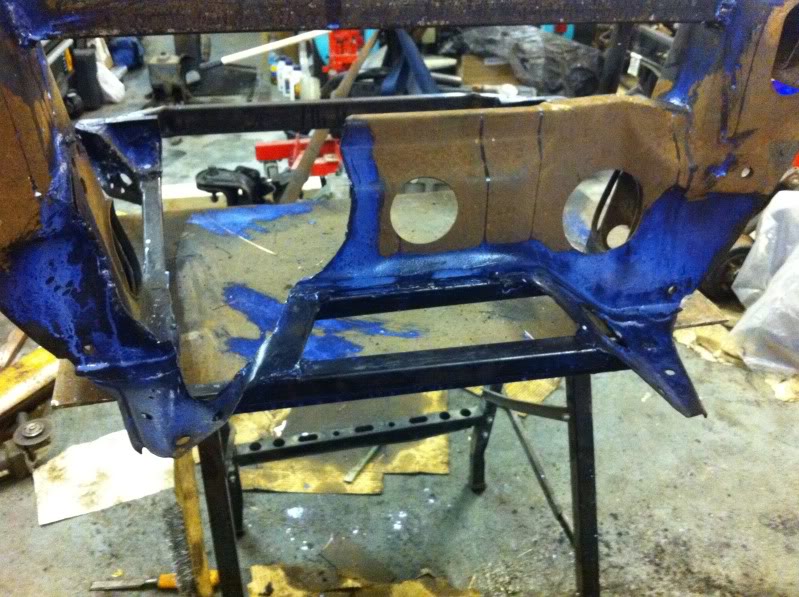 But it needs some triangulation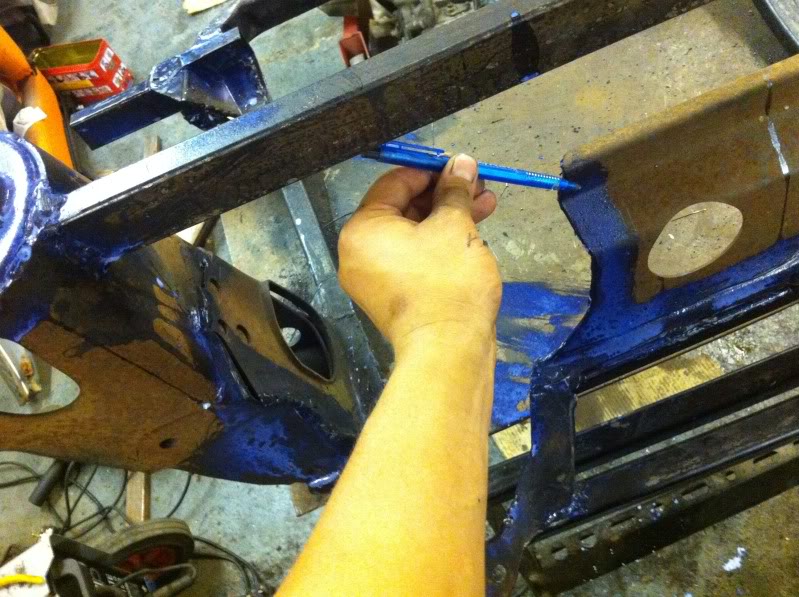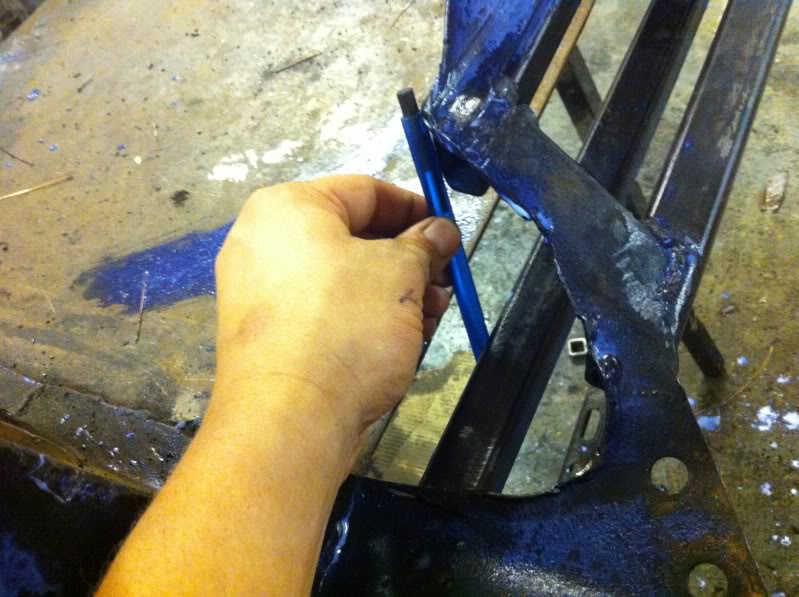 8-24-2013
Not a lot done, but I've made the gearbox leg removeable as it will make clutch changes much simpler. Plus I wanted that done before I started to cut the frame to clear the gearbox bolts.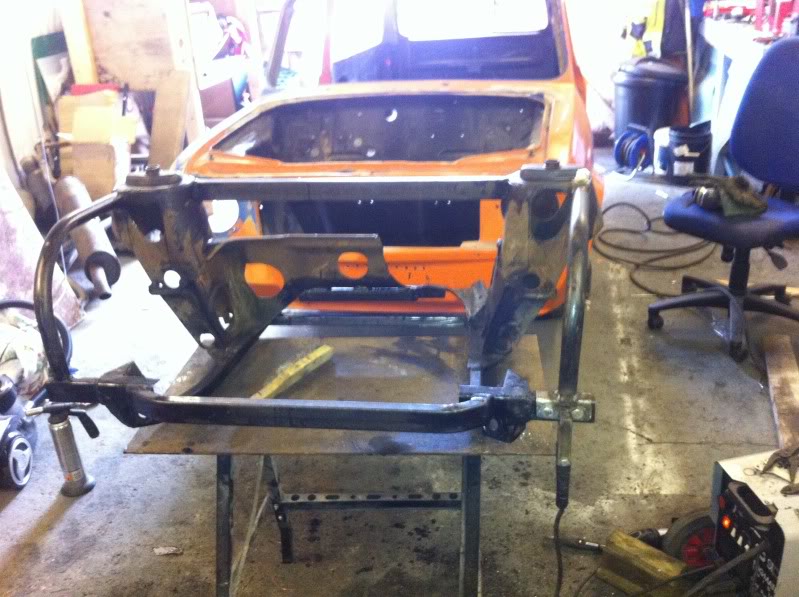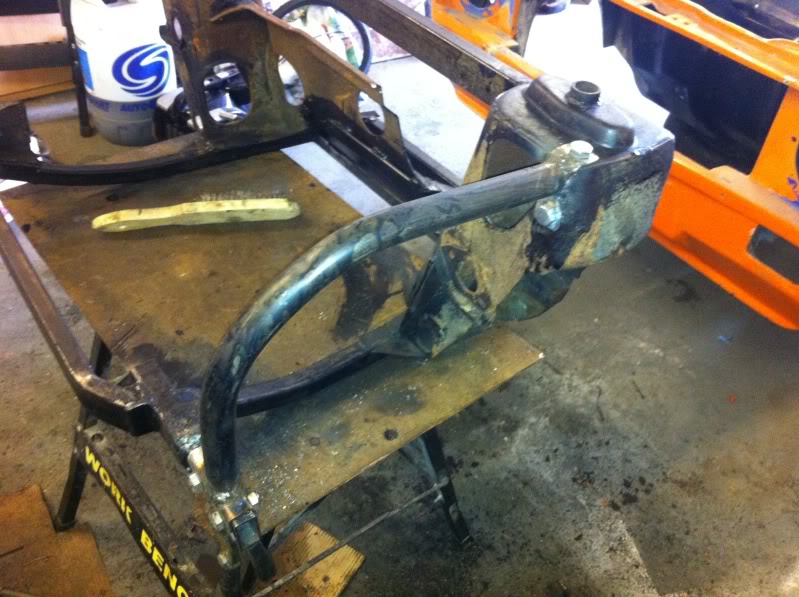 I've offered it up a couple if times and addressed what has cropped up so far. I wont know exactly how the sump affects things until I've notched the bar where the gearbox hits. It didn't look like it was gonna be an issue.
I was planning to mount the engine with the drive shafts parallel through the subframe driveshaft holes (if that makes sense?) and it is nearly there.
But we'll see...
9-6-2013
Not a massive update, but I offered the engine up to the frame and yes the sump will hit the bottom arms of the frame. And considering the gearbox hits it on the other side I thought a re-design was in order.
I made these replacements up making sure they don't interfere with the tiebar or suspension bottom arm. I just need to tack them in, cut off the old straight ones and offer it all up again. Fingers crossed.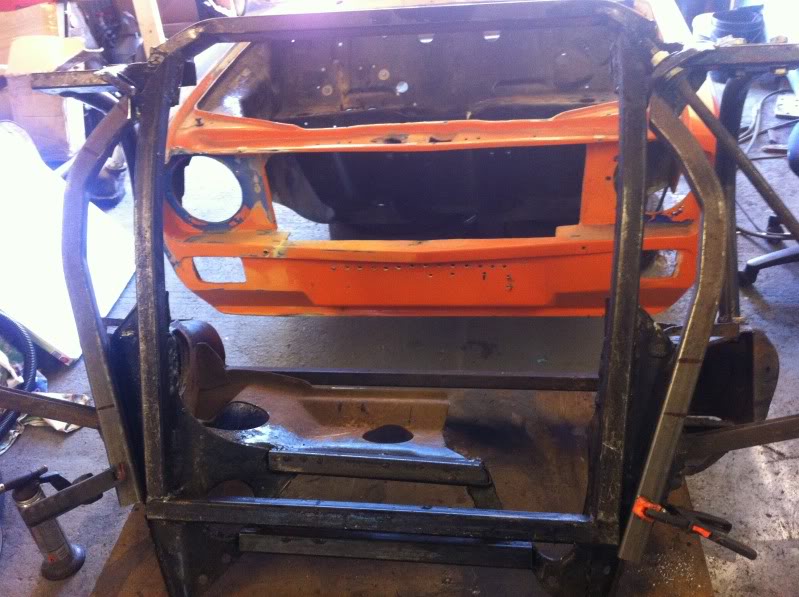 Once that's sorted I can think about the drive shaft holes. I could weld in a support (where chisel is) and add some triangulation (where the pliers are) to support the suspension arm pin. I've seen other frames where they've just cut the forward strut of the suspension tower off, to clear the drive shafts, but it just looks to flimsy for my liking.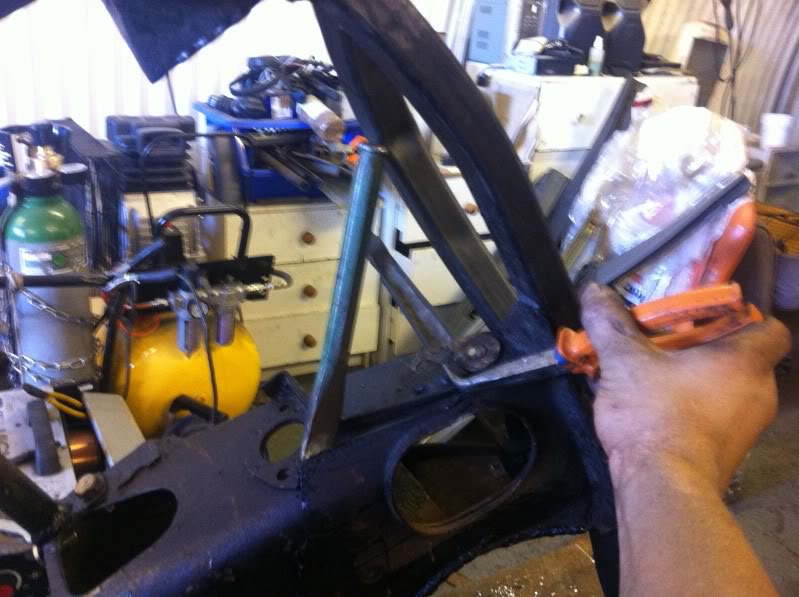 9-9-2013
Bottom subframe arms mk2 are in and old ones removed: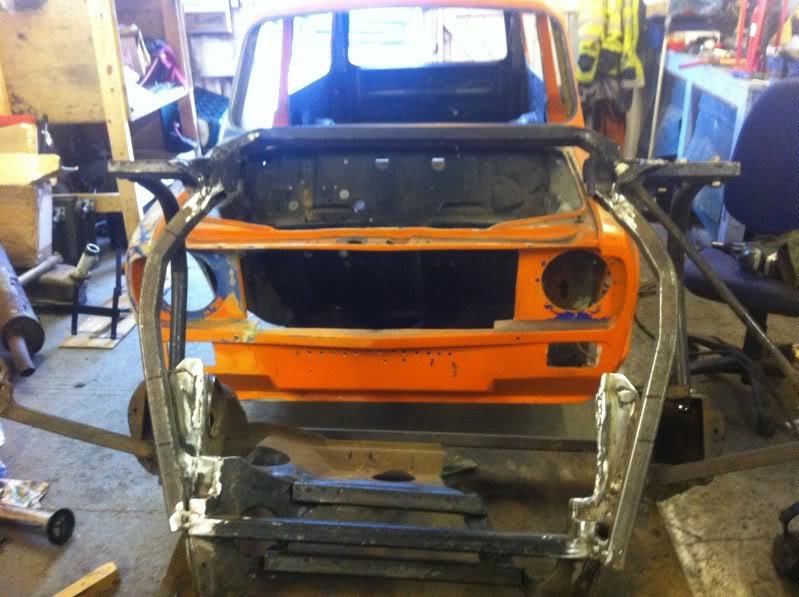 Offered it up, but its only partially successful. Gearbox has plenty of clearance.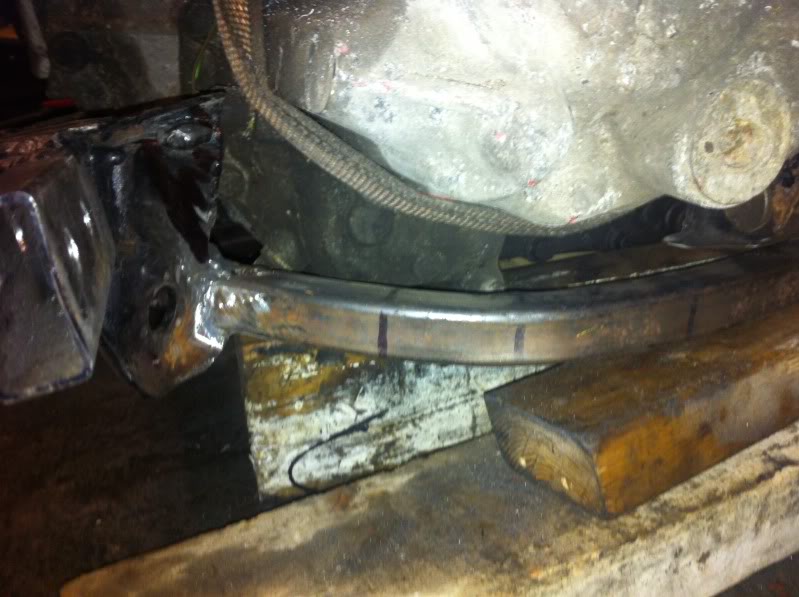 ...but sump still doesn't clear and there may not be enough space to move the arm over without it interfering with the tie bar.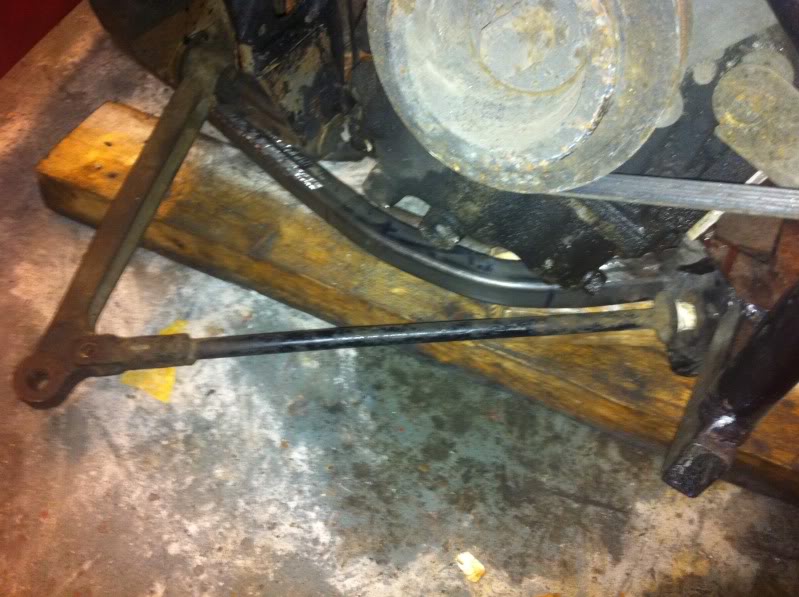 If i can't move it over, plan b is to build up at the tie bar end and end up with something like this: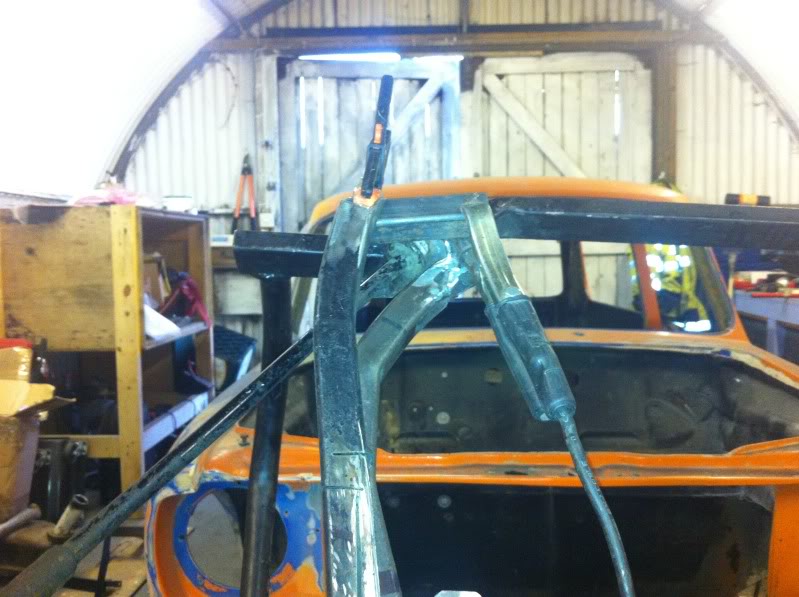 Top subframe arm issues:
Not enough clearance belt side, but luckily there looks like enough space on my 'extension' piece to move it over by the required amount.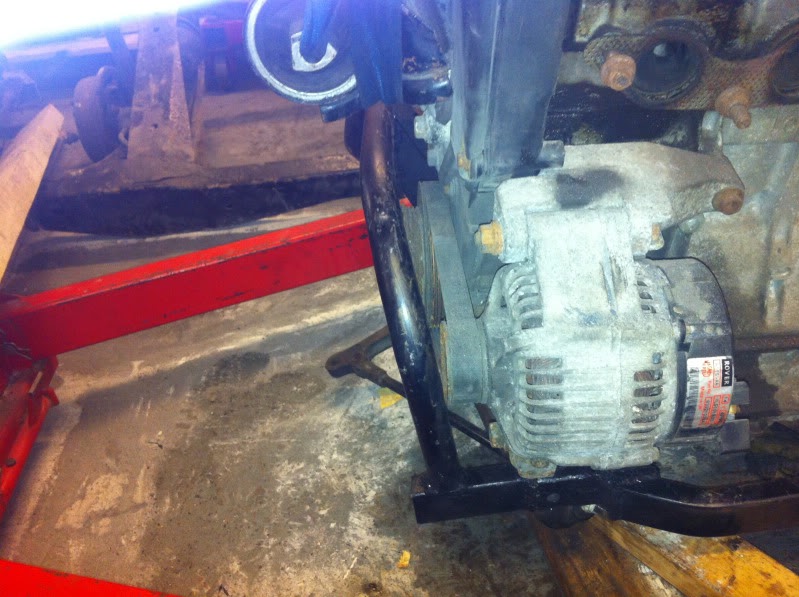 Gearbox side mount will need to be a carrier type setup, welded end on under the removeable arm.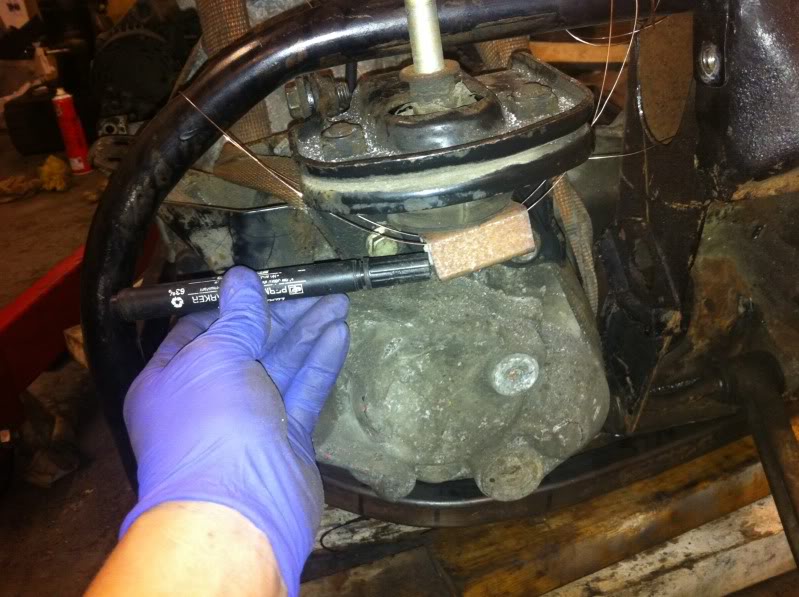 I may triangulate it with another removeable leg onto the bottom subframe arm.
10-25-2013
Managed to grab an evening at the workshop tonight.
Hopefully this is the final attempt at the bottom arm and it will clear the sump now.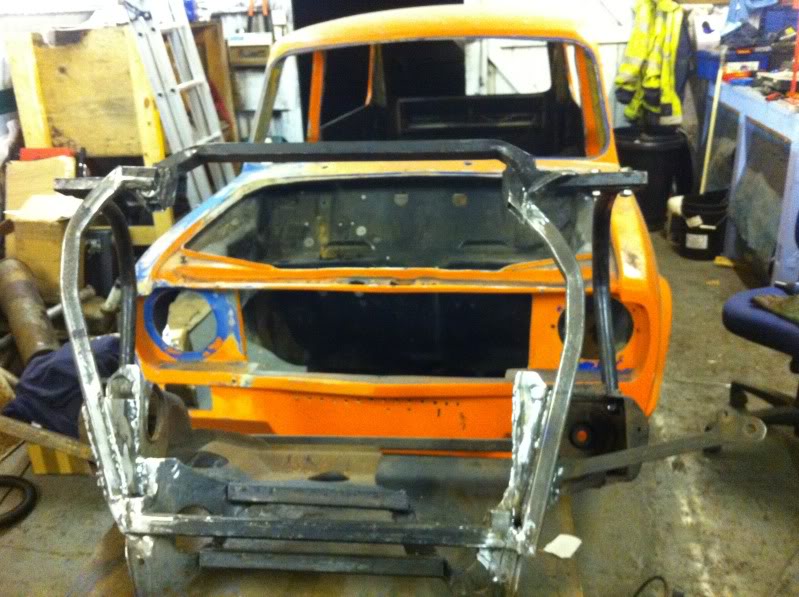 I built up over the tie bar mounting hole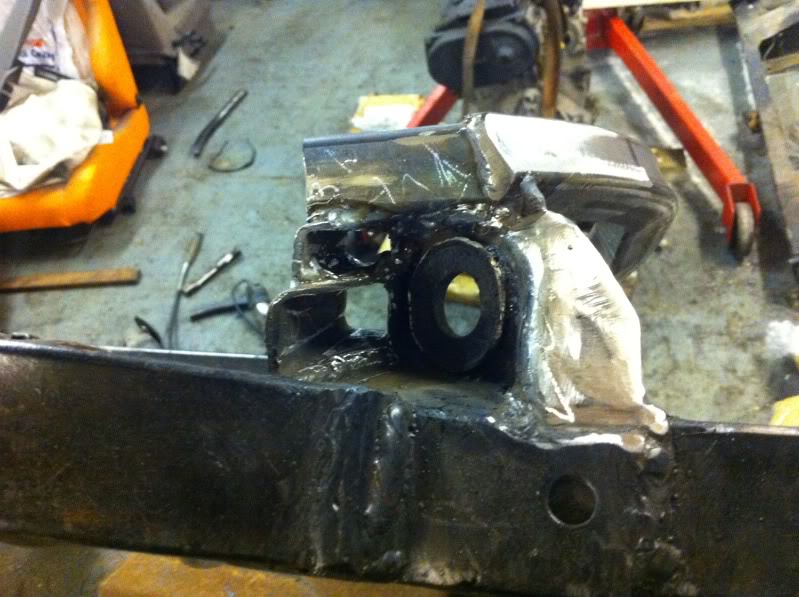 I will box it all in and make it pretty, once I know it works.
and at the other end I added some gussets to meet the bottom of the suspension tower.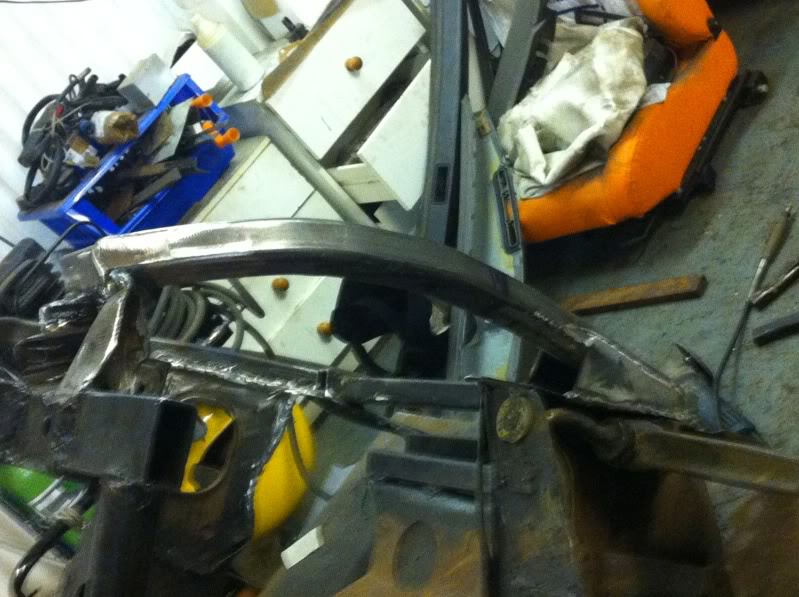 I just need to move the bar over at the cam belt end and then I can offer the engine/box up again.
11-12-2013
Shoehorn required, but engine is in the frame: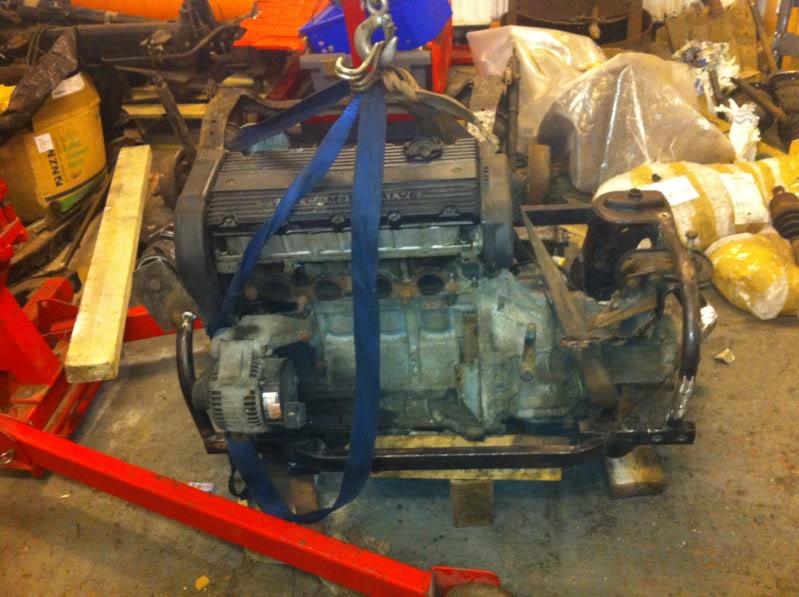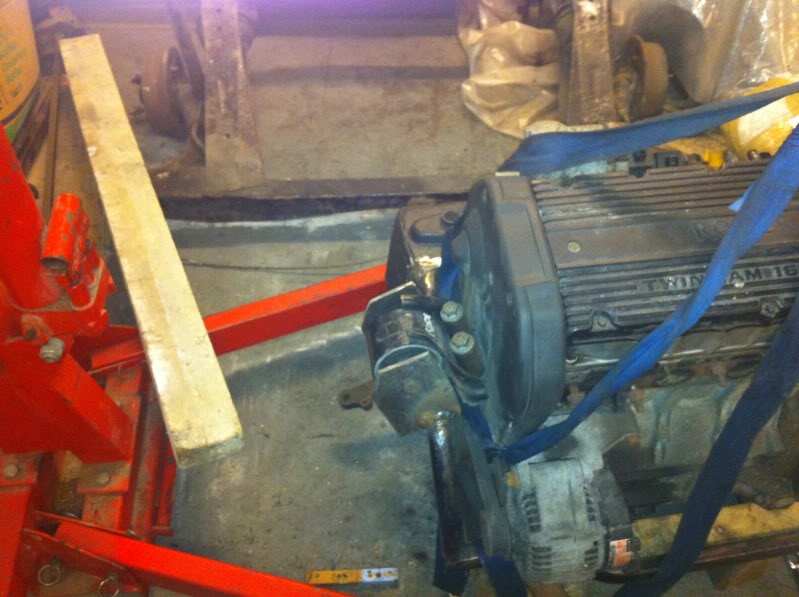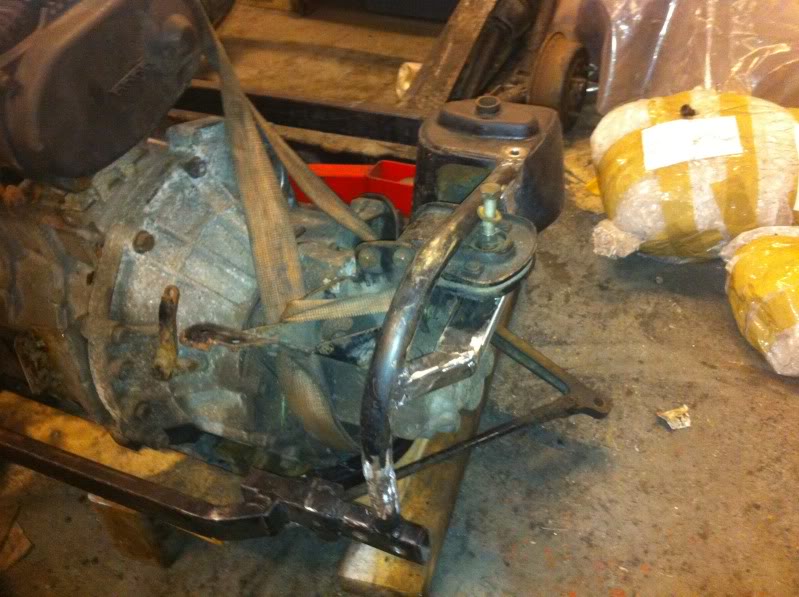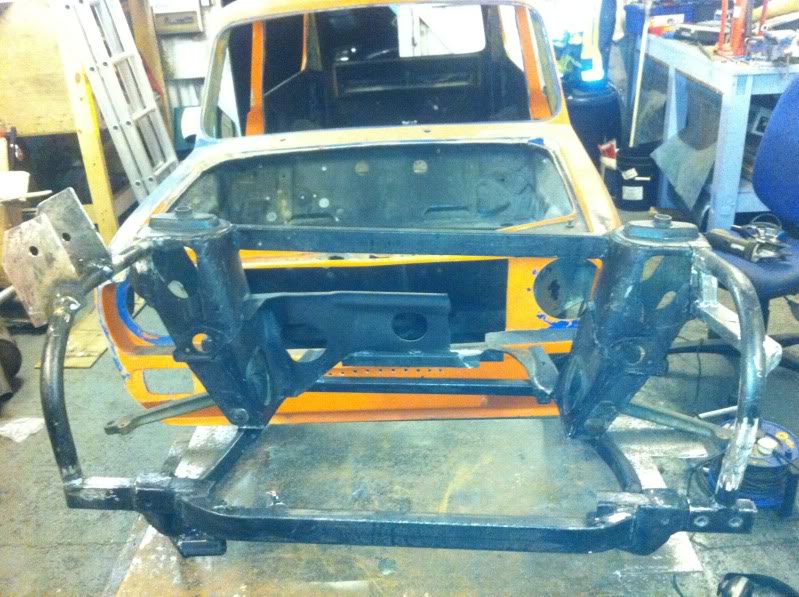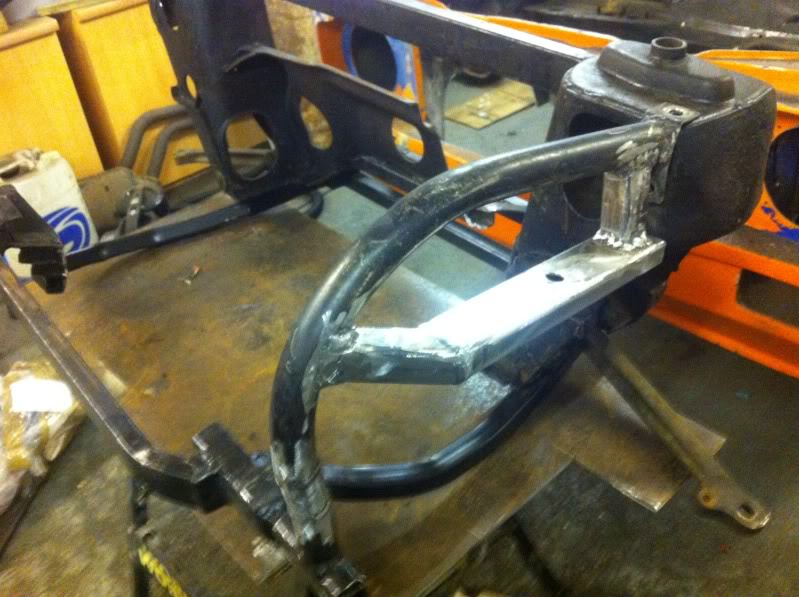 I had to extend the removeable bar and add the carrier for the gearbox mount. The bar at alternator belt end got moved over.
The sump was still touching the bottom arm slightly, but the engine was sitting level with driveshaft holes lining up with the outputs on the gearbox, so I thought sod it. And did the mounts.
I can probabably get away with a very shallow notch in the bottom arm to clear the nob on the sump that touches the frame.
11-18-2013
Fits in the engine bay, with only minor trimming of inner wings.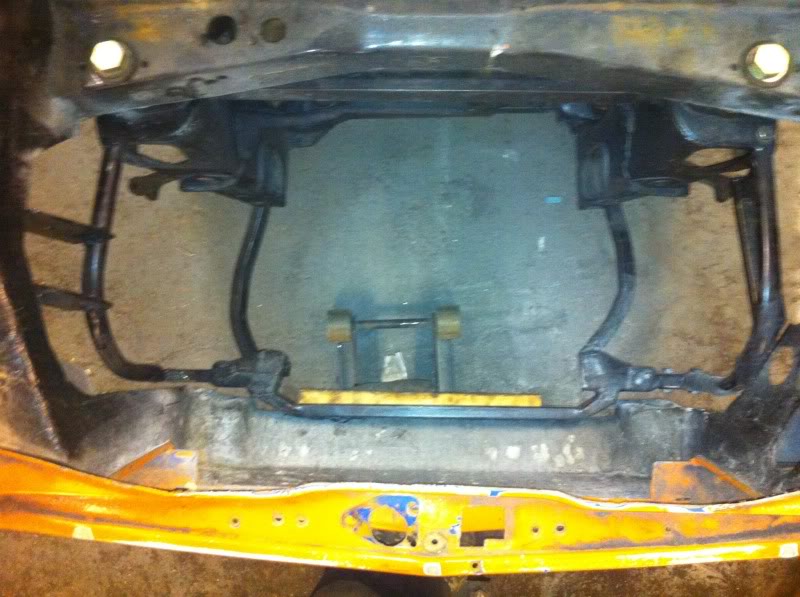 Needs tidying, but notch in near side is done to clear sump (hopefully!)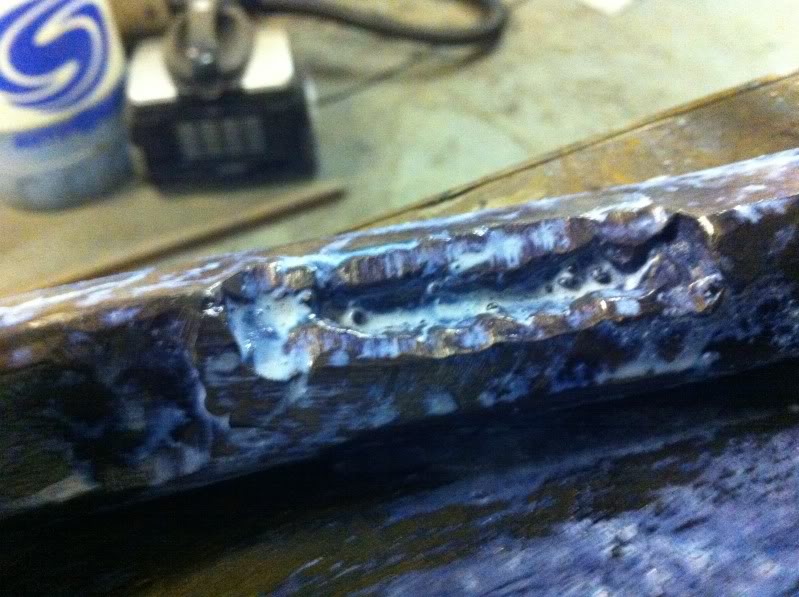 12-21-2013
A couple of little jobs boxed off. I made the notch look pretty, although it appears impossible to take a good picture of.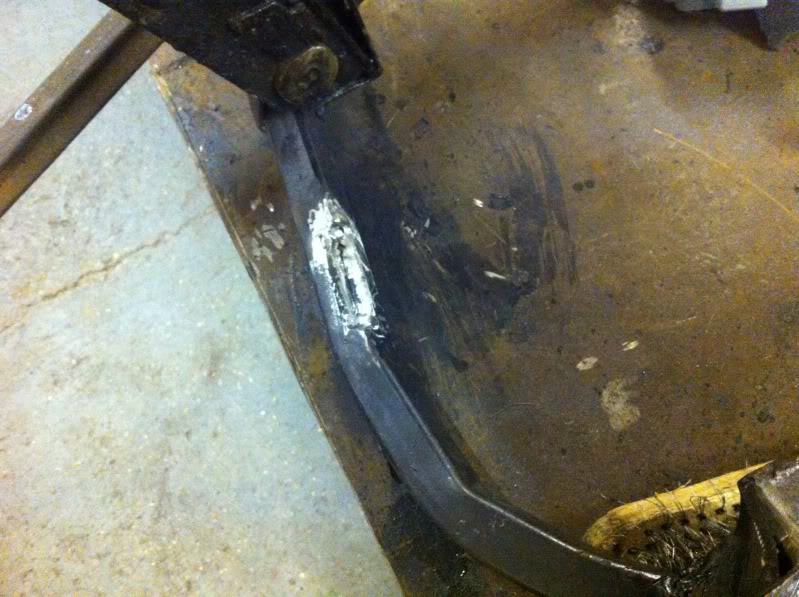 I finished off the removeable arm for gearbox mount. I added another bit to stop any forward/backward motion.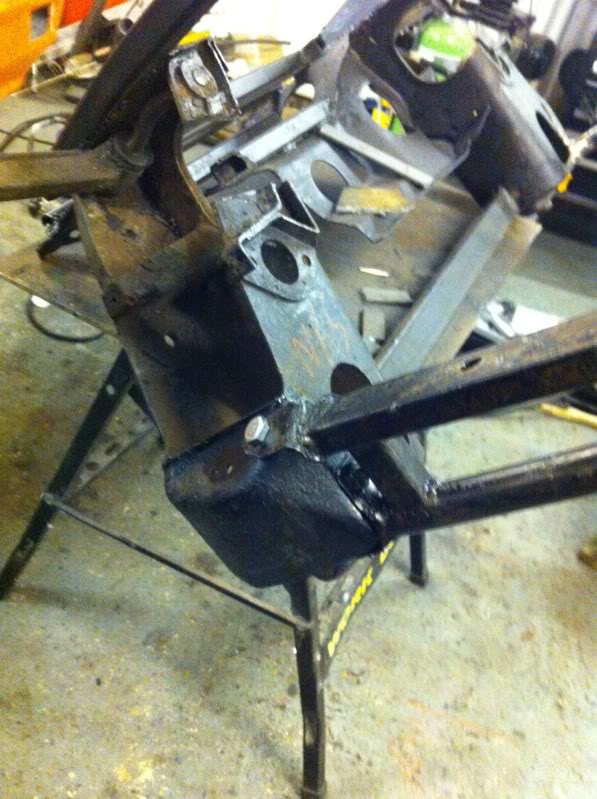 Then I cut out parts of the subframe towers to get the driveshafts in and out. It looks horribly weak though, so I'll be adding some steel here. These will bolt into tabs I will weld onto frame.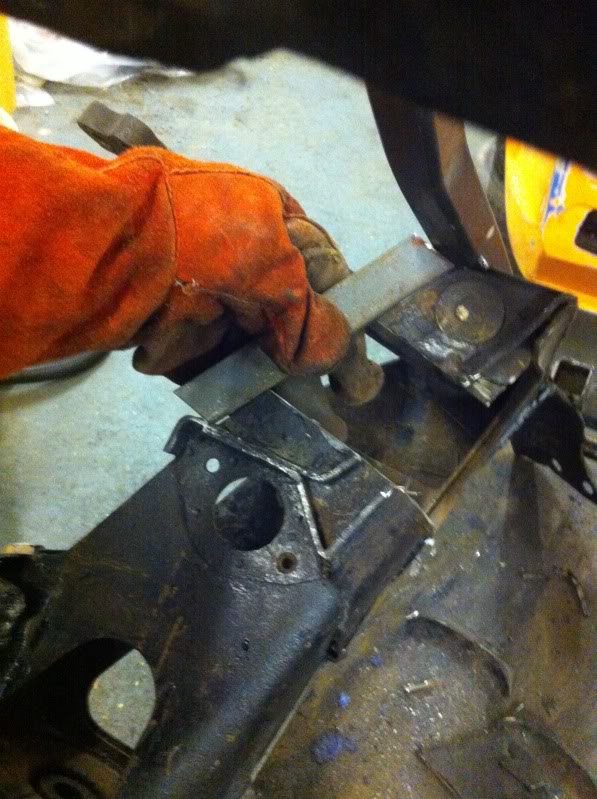 12-31-2013
Started prepping to cut the front off today. I figured out where to cut, then cut only the first 30cm from the bottom. Then grp'd on to the inside of each wing, onto gaffs tape on the bulkhead (so it won't stick) it will need a couple more layers before it's strong enough, but bolt through here into inside the car, just above the floor pan. Then cut the rest and do the same grp work on the inner wing into the engine bay and bolt through there to make a removeable front end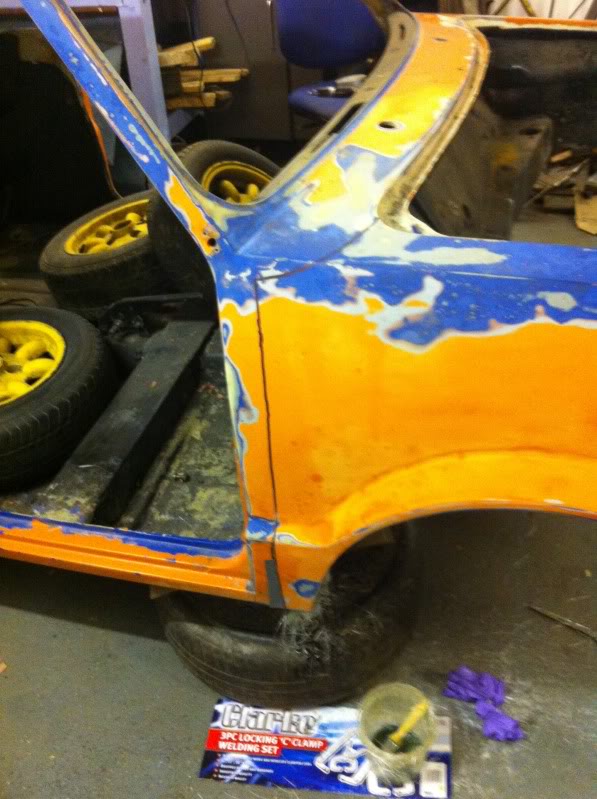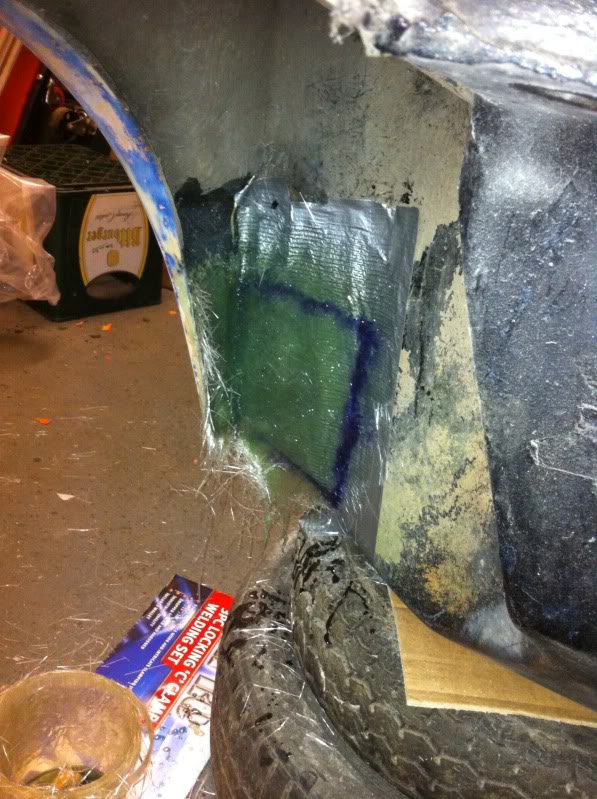 1-6-2014
Cracked on with the front end modifications today.
I made four of these. 2 for each side of the car.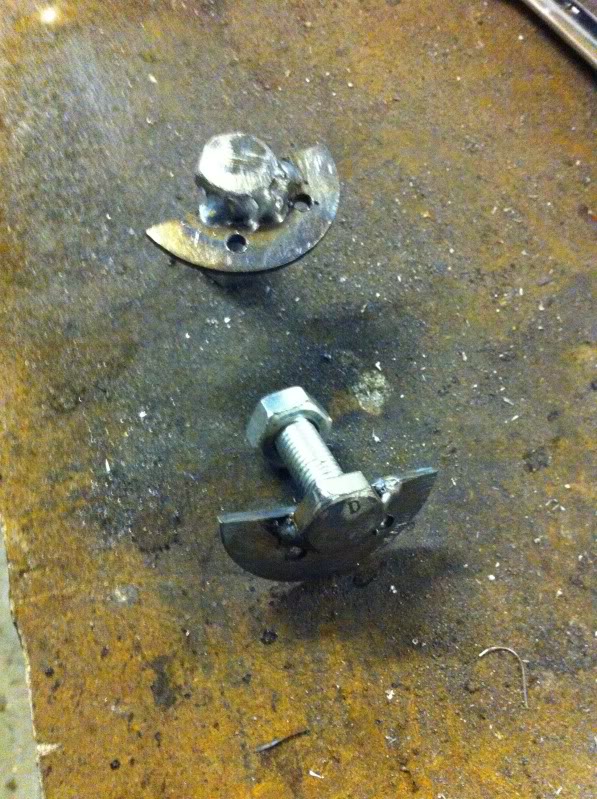 I Drilled through and fitted the bottom stud.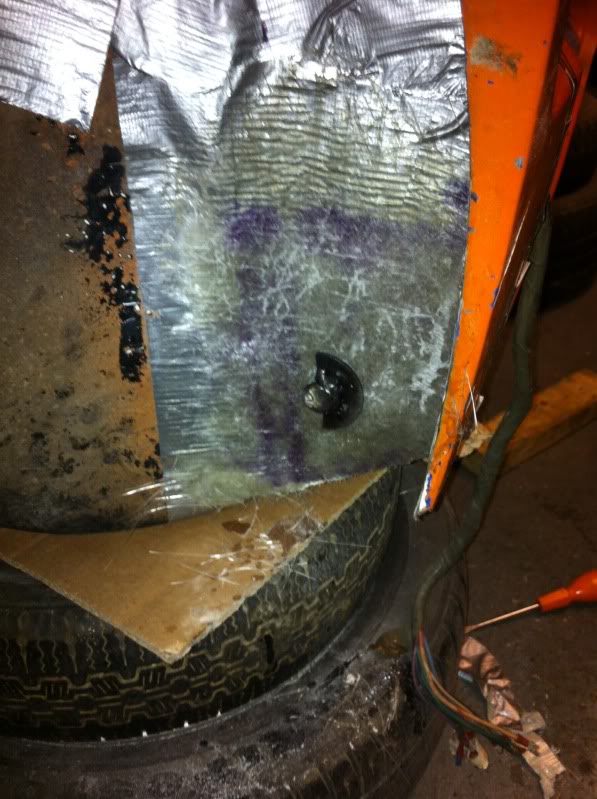 Then I taped up the rest of the bulkhead in the inner arch and fibreglassed up to just below the top door hinge holes.
Then I added the other stud at the top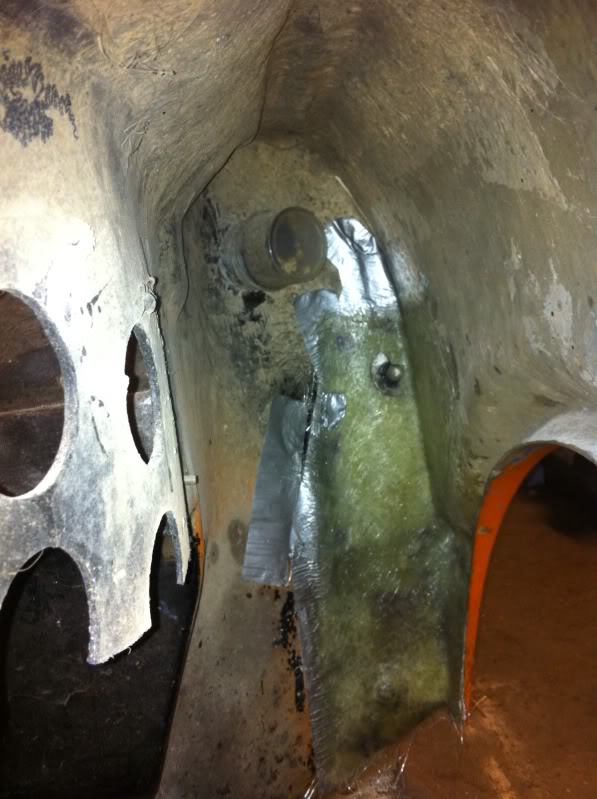 ...and finished off fibreglassing over the top stud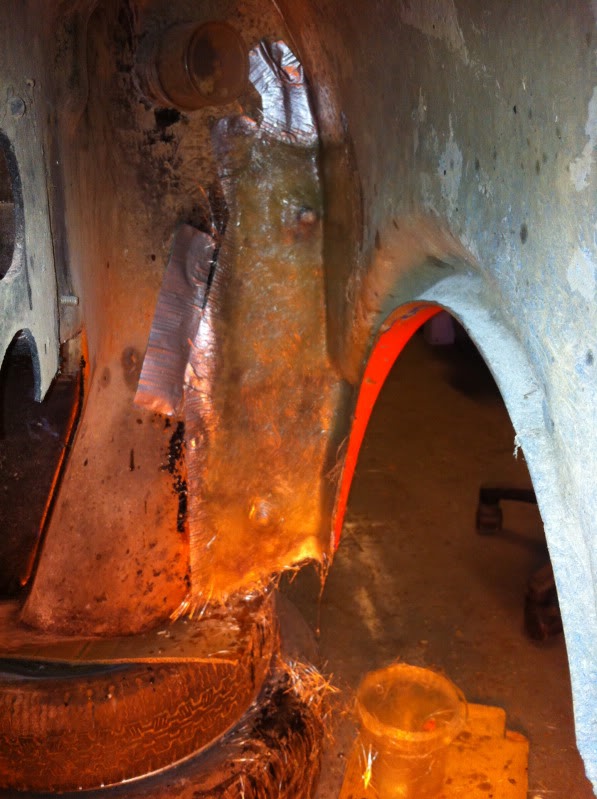 The studs are now 'captive', they pop through in the bottom corner of the bulkhead and the top one is in the door shut.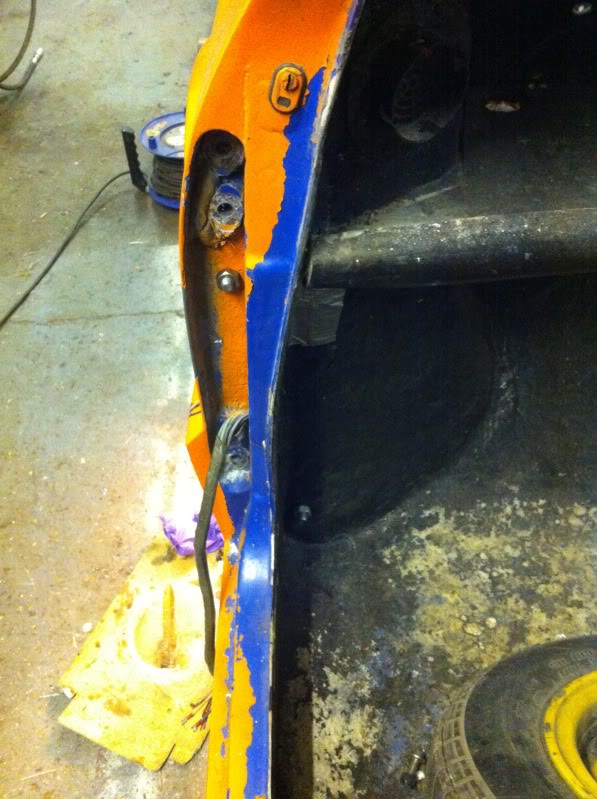 If the door shut one is a pain to get off and on with the doors in situ I'll move them inside the car like the bottom ones.
I will have to cut out a hole to fit round the bottom door hinge.
I never intend it to be a particularly quick release front end, but Depending on how the top splits part at the bonnet line, I may be able to bolt that bit together just using a bonnet pin at each side.
1-7-2014
I bought a pair of these as a bit of an unknown entity, but they were supposedly new old stock from ministox race cars and at 240mm between the centre of each bolt hole(on there shortest setting as pictured), I figured they were the same that mini shops sell as the coilovers for lowered mini's 'avo pa 240'. They do indeed measure 240mm, but they look tiny or am I just being a complete mangina?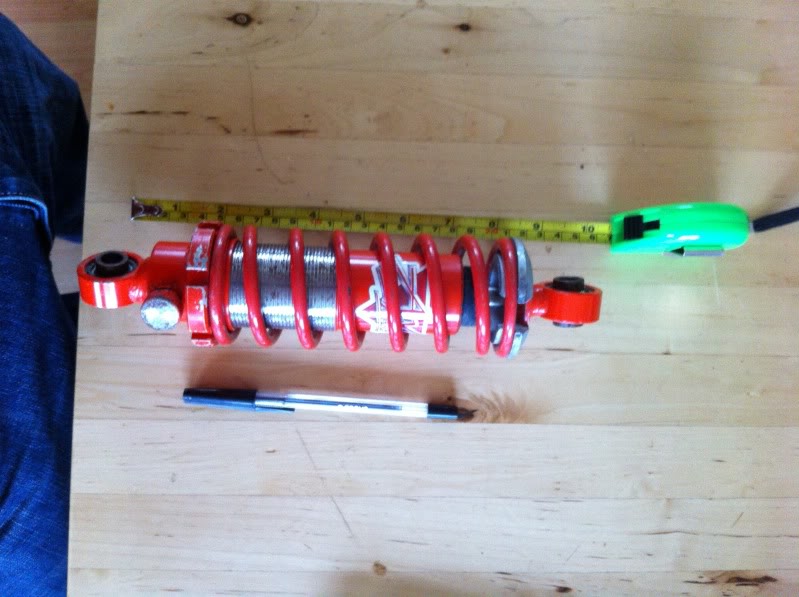 1-17-2014
Front is off: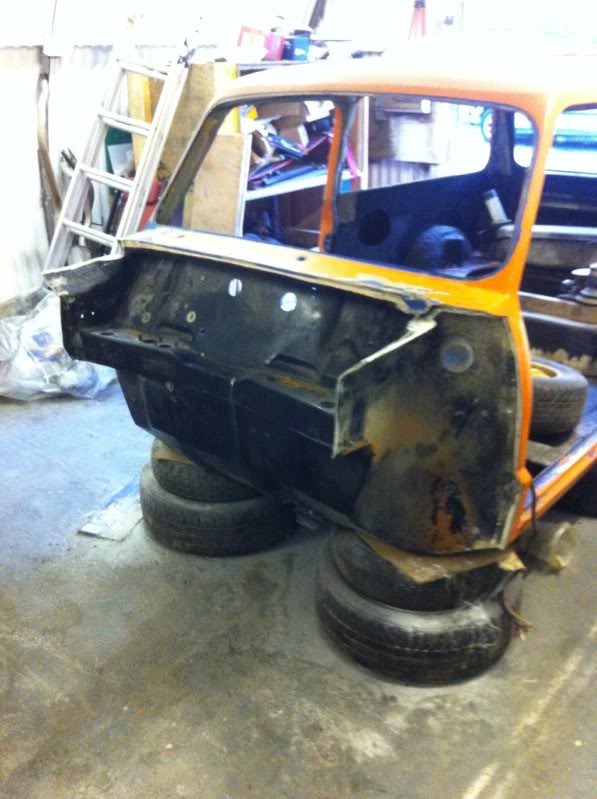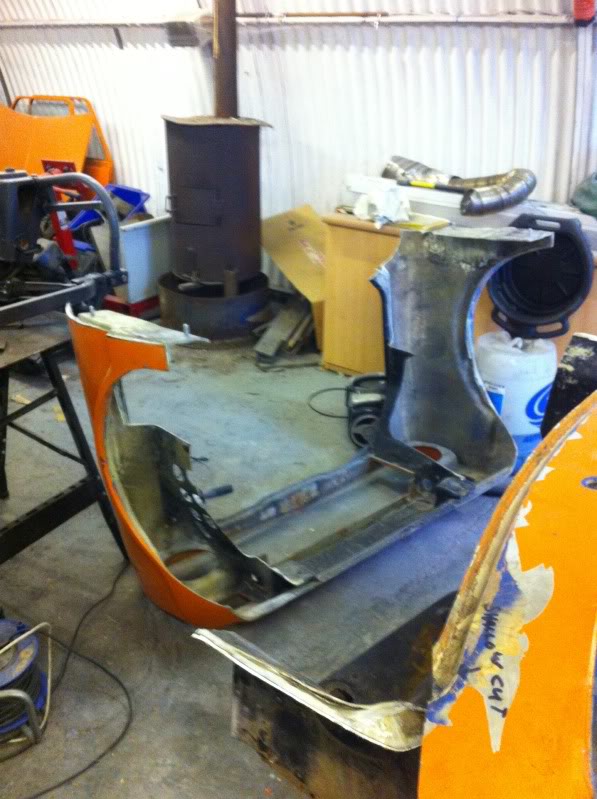 Offered up the coilover brackets but nothing is ever simple with kit cars...they don't fit.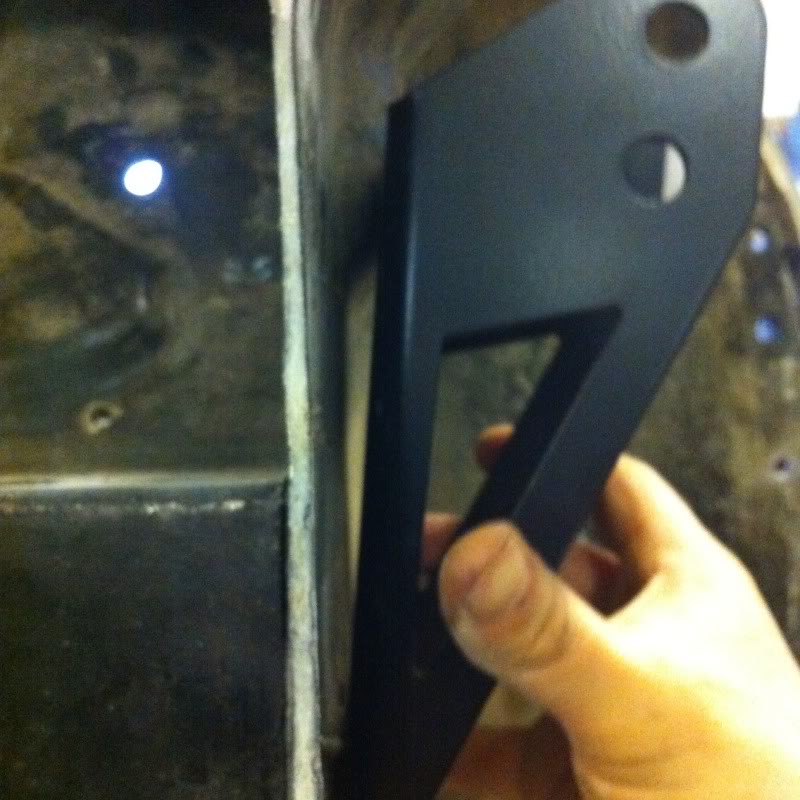 There is a scalloped section on the inner wing, on both sides, which must be a recess for the wiper motor for both right and left hand drive set up.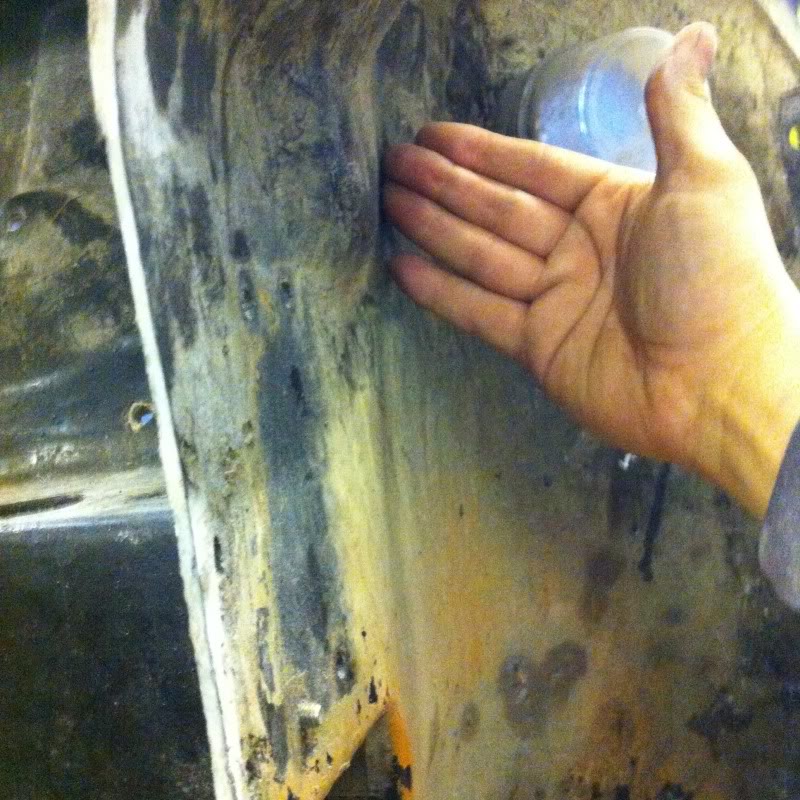 So it had to go. I'll worry about wiper motor fitment later.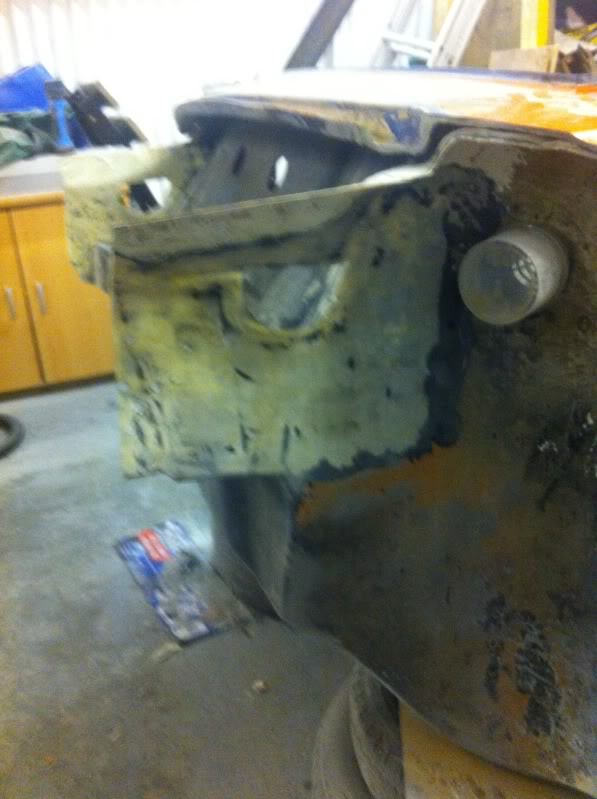 I then grp'd over it, so the panel is flat now. I did it with the front back on so It also made a lip to bolt the removeable bit to.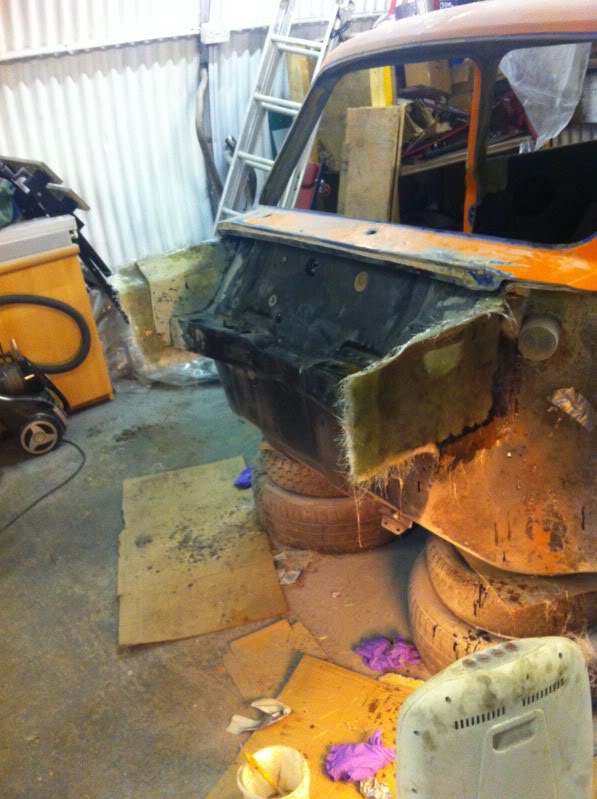 I then cut the access holes for the bottom door hinge nuts.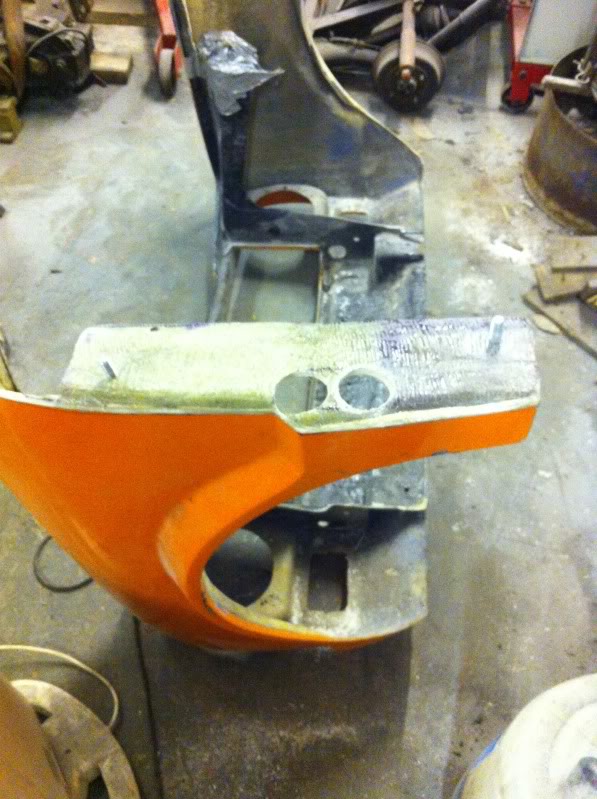 I can bolt through here if needs be too.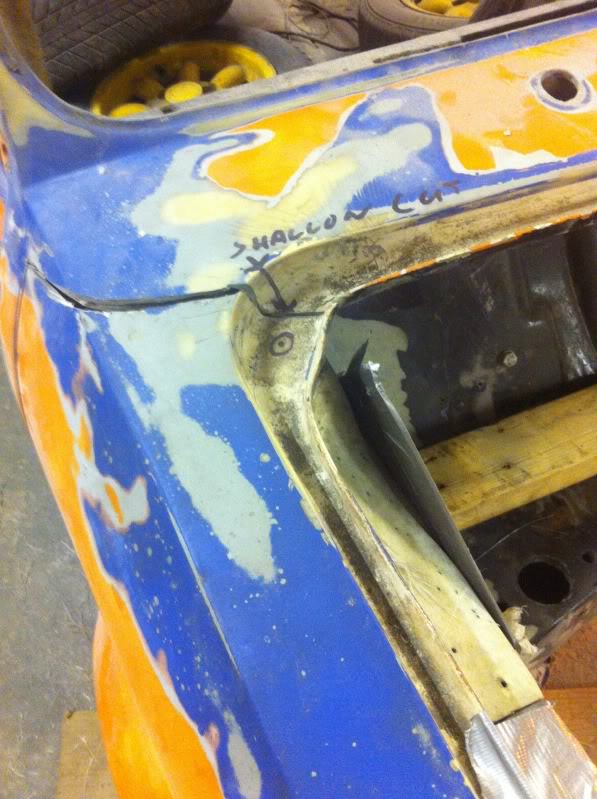 1-20-2014
Thanks. Plenty more fibreglassing to do:
B-pillar repair.
Tidy up the cut off front end and scuttle and A-panel equivalent area.
Re-inforce the scuttle ends where the used to be bonded to the wings/a-panel.
Re-inforce the front bulkhead cross member. It is currently not joined to inner wings and needs strengthening.
Tidy up minor cosmetic damage to lower bulkhead.
Make rear boot hatch match rear body mouldings.

I'll do these jobs at some point, but for now at least I can start bolting the front subframe and components on and mock up the drive shafts....
1-27-2014
B-pillar repair:
Don't know how good this pic will be, but the fibreglass on the inside of the n/s B-pillar is separating from the shell on both edges, at the door and rear window seams. Pretty much the most common type of restoration work on a fibreglass mini with any age to it, (this one is nearly 20years old).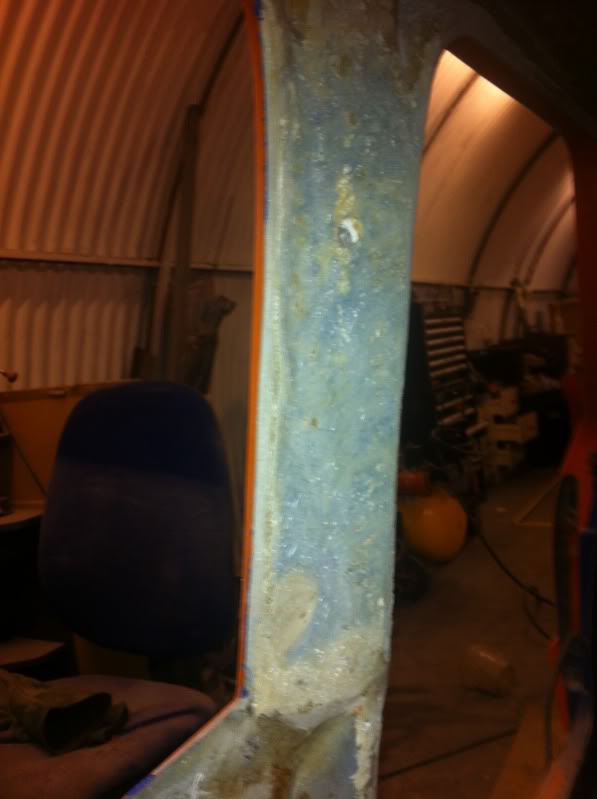 This is it already sanded back, with a grinder with a sanding pad with coarse paper. This should be your weapon of choice when doing any fibreglass body repairs. It strips off loads of material ( which is necessary when adding nice thick layers of chop strand Matt) and leaves the surface keyed ready to start.

But after laying up, the resin soaked csm started to peel away from the edges, so once tacky (not dry) I needed to tape it round lightly, so that the edges layed against the seams and should make a nice bond...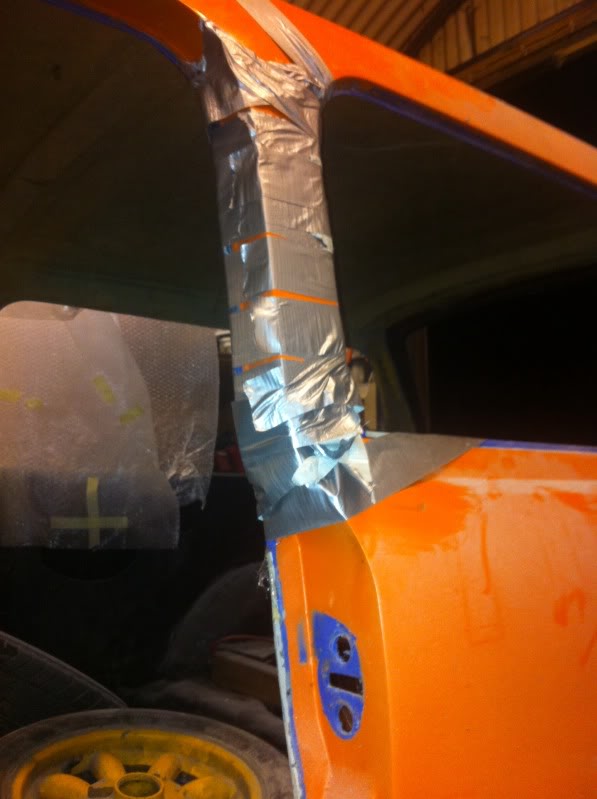 ...but I won't know how well it's worked until it's cured.
These horrible gaps will need filling, which will add some strength to the scuttle also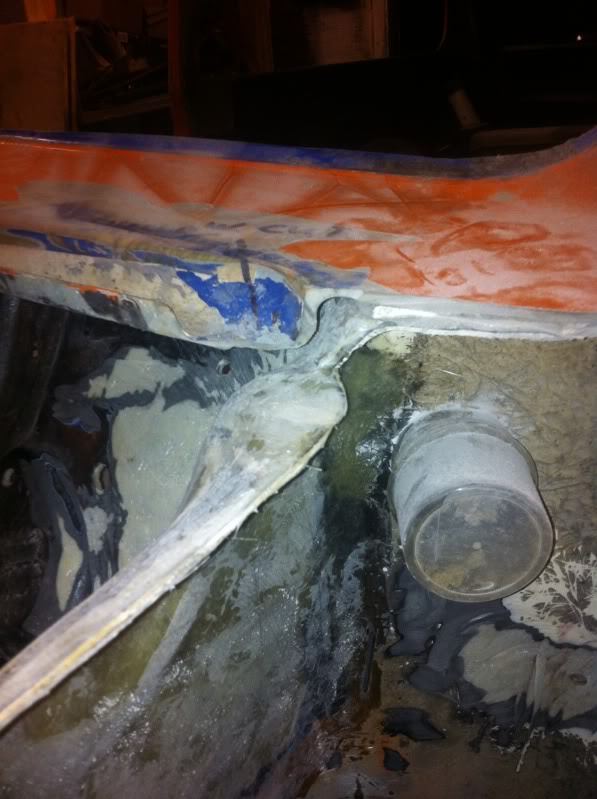 The body work near where the mini exhaust manifold was is frazzled. I always had a heat shield here on the minus. This one was really bad and really brittle. I stripped it back ready for repair.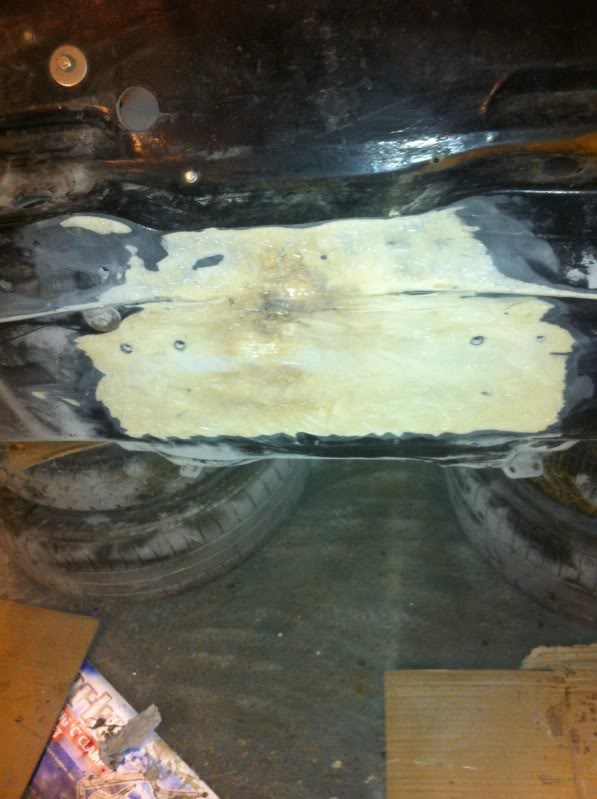 And here it is.

This pic also shows where I made a start fibreglassing over the bulk head and inner wing seam, which were not bonded together at all! This will also re-inforce the coilover mounting points. This spot is now almost 1/4 inch thick, but I still think I will probably tie the coilover brackets in to the subframe by welding something to join them.
2-1-2014
Bulkhead to inner wing work has gone well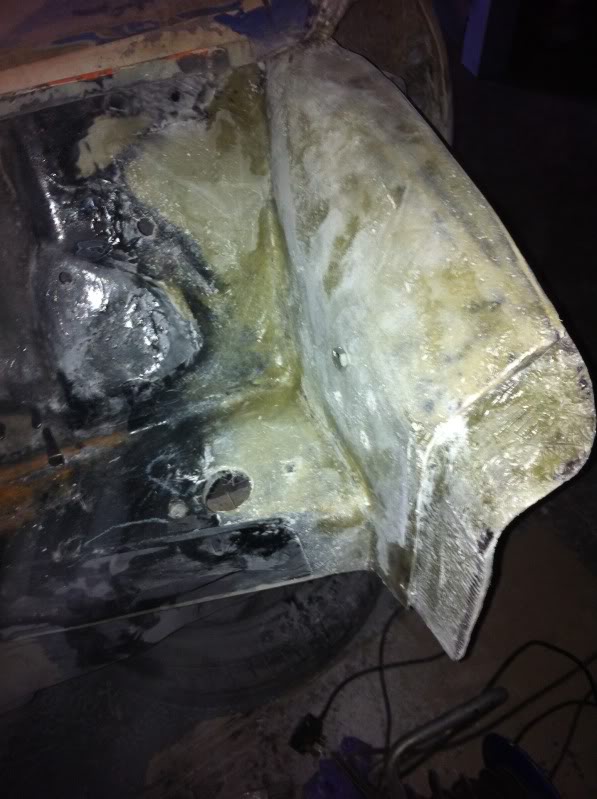 ...along with middle bulkhead repair, although it still needs a bit of a tidy up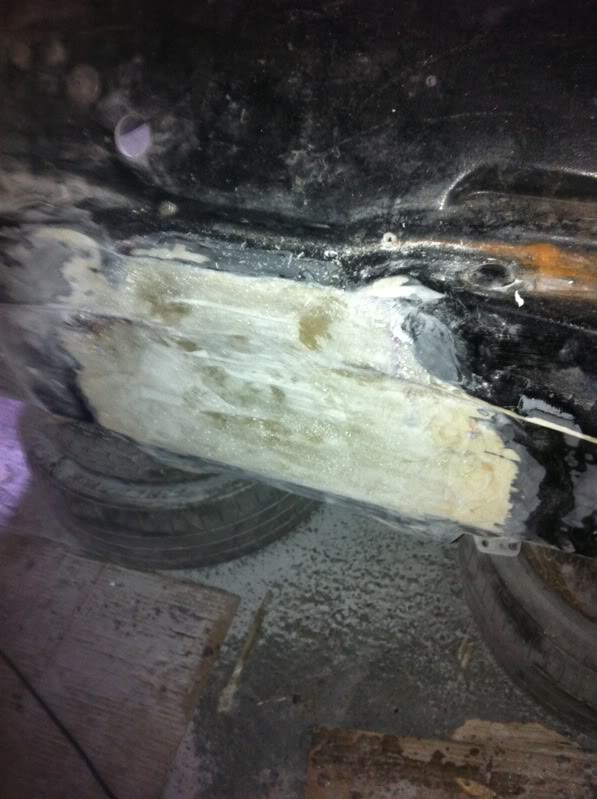 ...and coilover brackets now fit.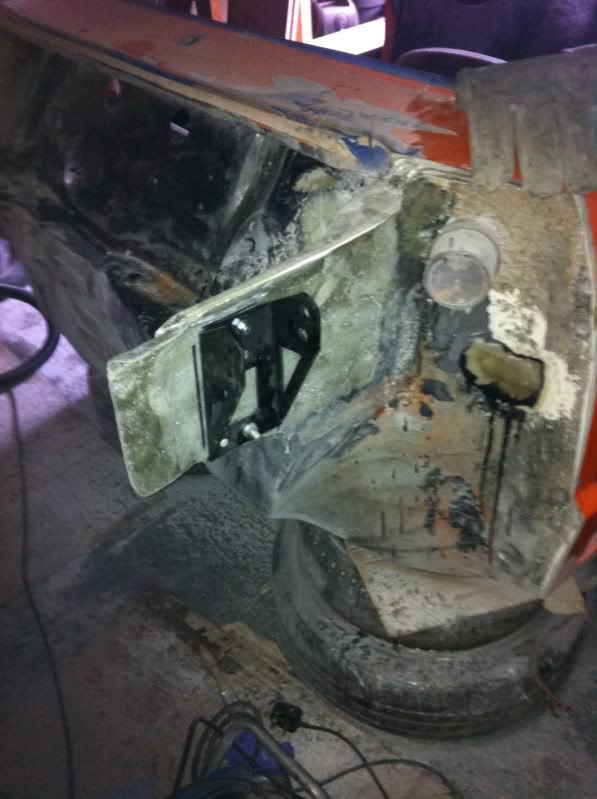 B-pillar repair worked great too, but needs a proper tidy before it's pic worthy
2-12-2014
Had to take some time out to make a pond cover, because my toddler is getting a little adventurous,
But just quickly put the steering rack and subframe on.
Looks like the nice hole I cut out for the gearbox is neatly filled by steering rack.
Bugger.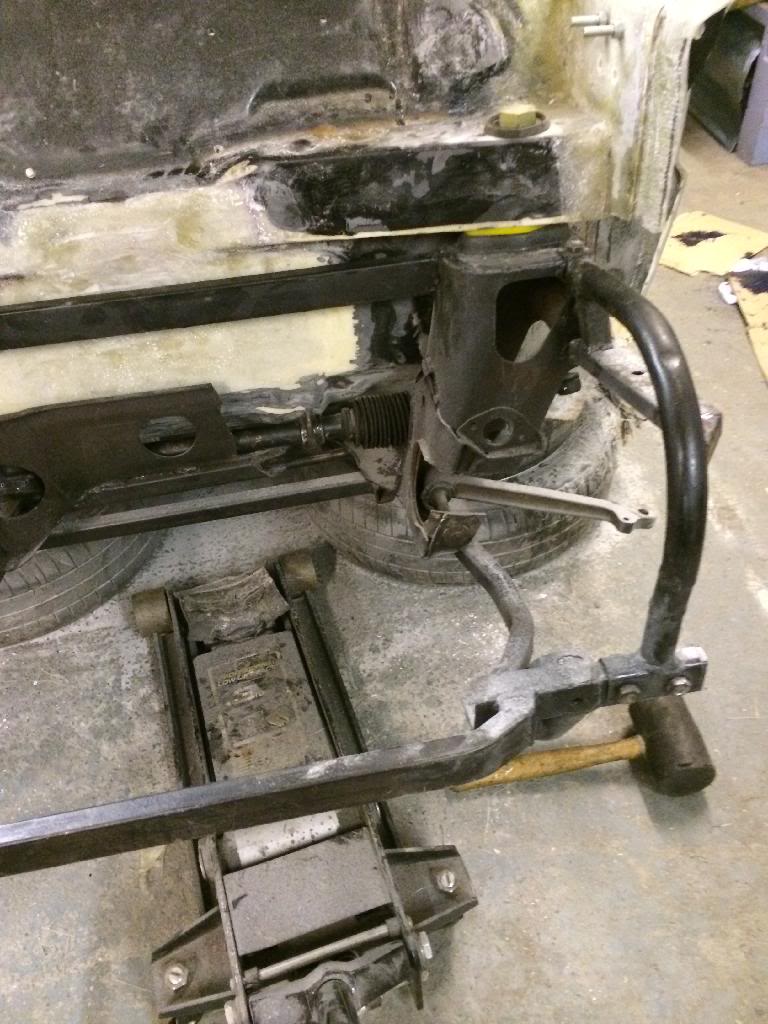 I'll offer the engine and box up to make sure, but looks like I'll have to move engine and gearbox mounts forward.
Not too bad, a unless I have to re-do the bottom arms too...
We'll see
2-20-2014
Gearbox does hit the steering rack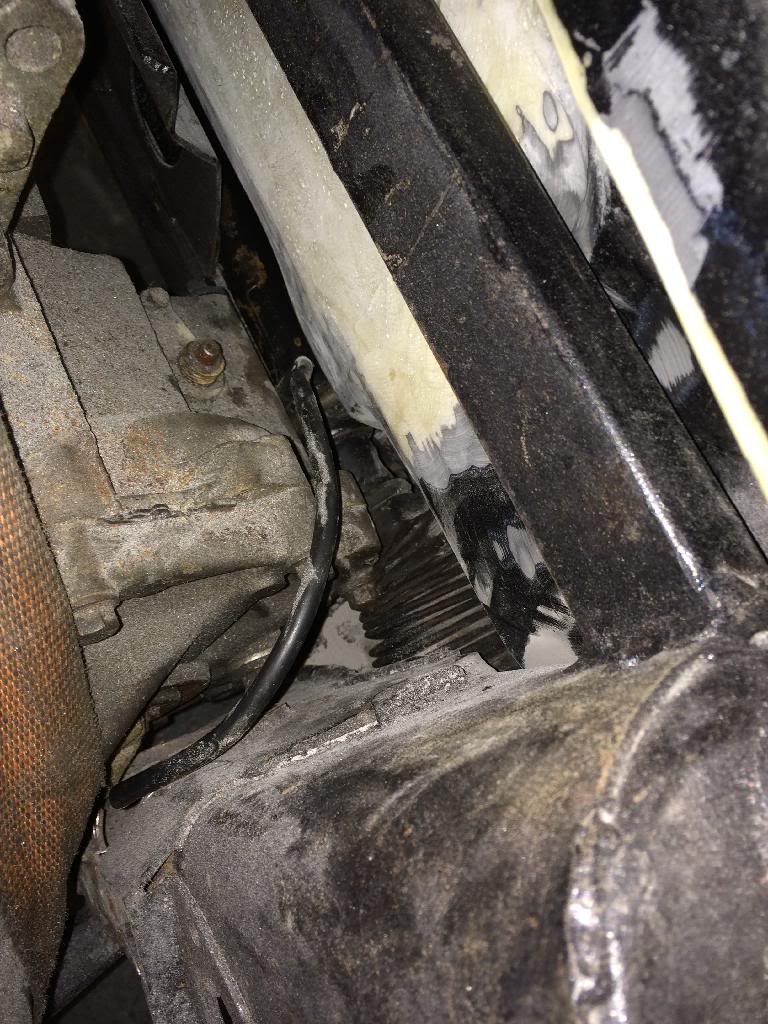 I could have moved all the engine mounts forward, but engine would have been way out past the wheel line and I fear it would have handled *******.
Plus the pg1 driveshafts would have fouled the frame in this position.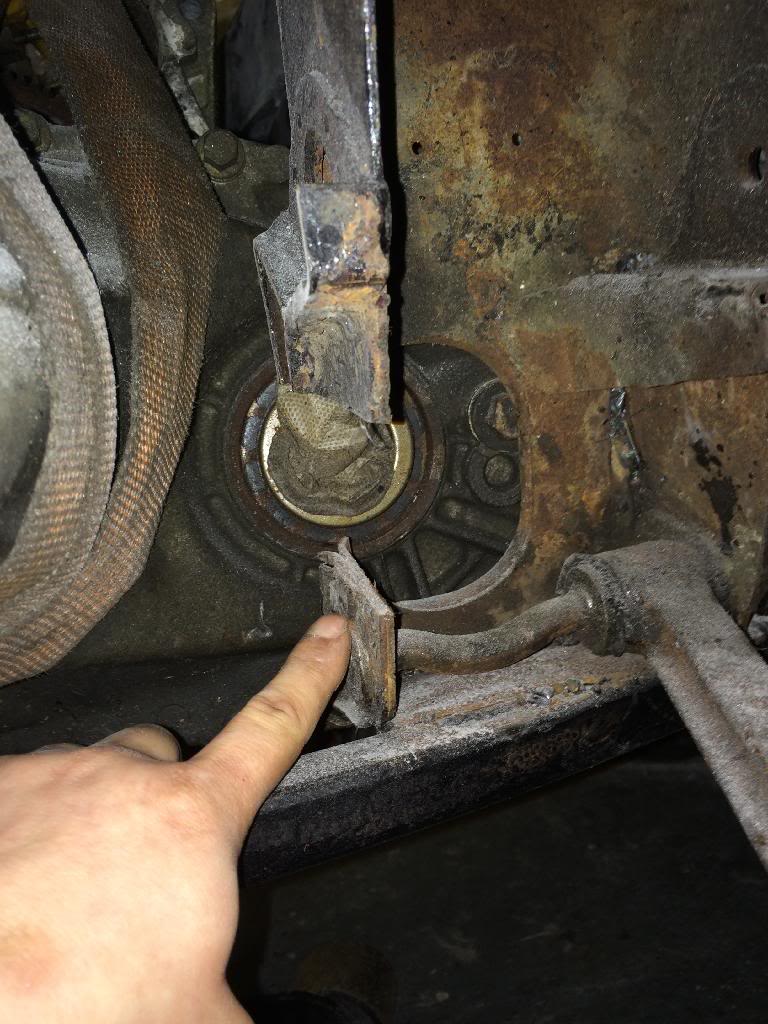 So I cut round the steering rack and moved it back. I just put a couple layers of grp in the middle and have left it to set. I just want to hold it in place for the time being.
Engine now sits in nicely.
3-4-2014
Had another go at the steering rack position as the brake and clutch pedals weren't clearing it. I have moved it as close as it can get it whilst clearing the gearbox by about 2mm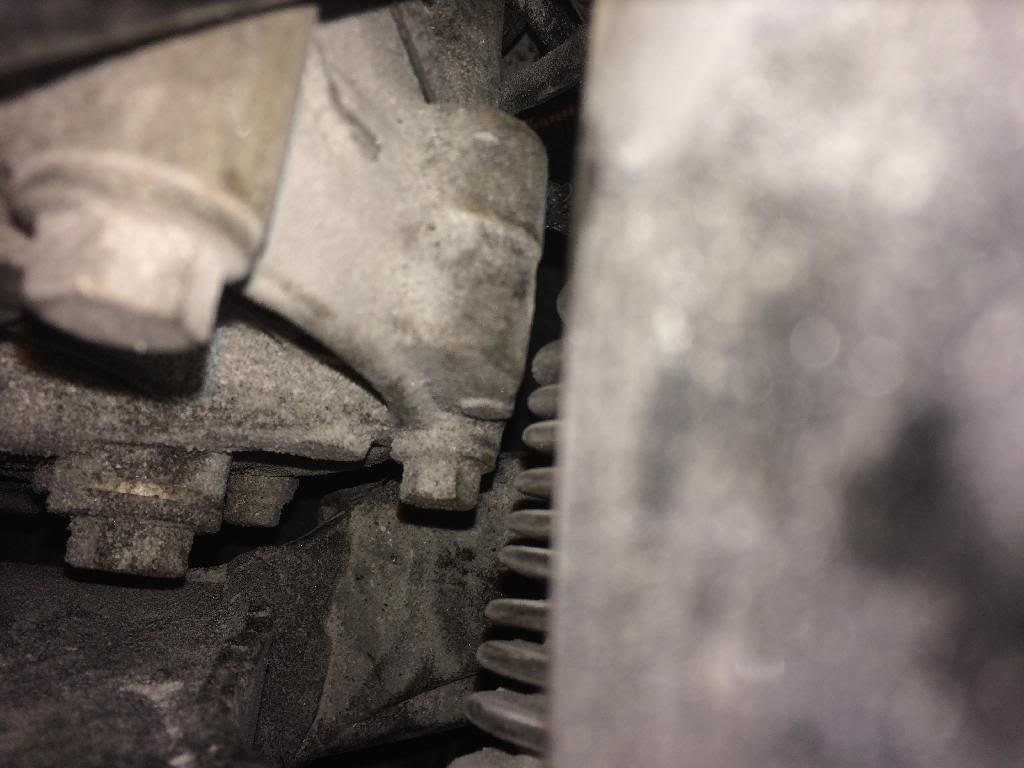 Brake pedal is now ok, but clutch pedal is gonna require some modifying...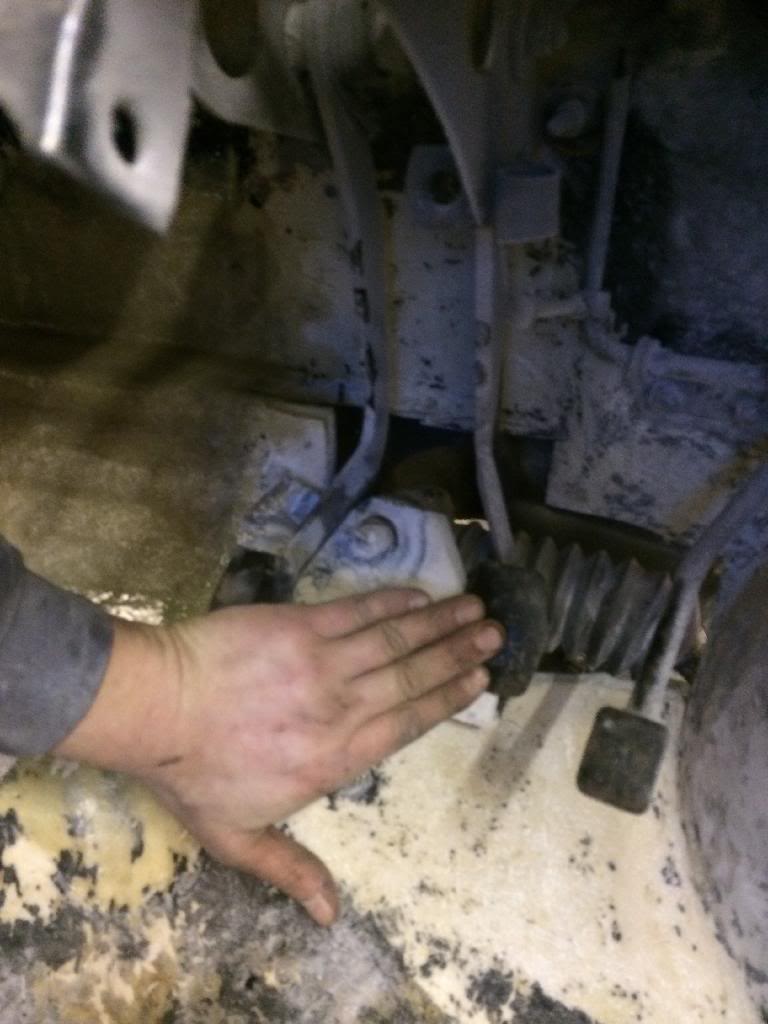 3-7-2014
My uncle (now retired) used to run a fibreglass factory and has been involved in making grp for bennetton F1 (when it was new technology), Disney land paris, he's made body kits, kit cars including Ferrari replicas (Google Rawlson 250lm) race cars etc, so I've always had a good source of advice available.
Yes a grp roof chop is entirely possible, as its the same process as putting the components of a grp shell together, in the first place, apart from the fact the outside bits have to look pretty.
but the process will be brutal, time consuming and very dusty prep work!
I would approach it by bracing the pillars, either side of where you are cutting. a basic approach of drilling through the pillar and use a big self taper screw into a bit of baton stretched between the a pillar b pillar and c pillar. then tie those batons together with more baton to stop any front to back movement.
Cut out your 4inch (or whatever) sections on each pillar.
drop the roof onto the remains of the pillars and use a grinder with a sanding pad to sand off a scary amount of material for at least 6inchs either side of the cut. Lay up with generous amounts of resin and woven strand mat, its stronger (instead of chopped strand mat which I have used here).
once cured, remove the interior baton frame and do the same lay up on the inside of the car.
you can then sand the outside to nice shape with the grinder, but leave the inside material alone and nice and thick, apart from the window rims where you'd fit the rubbers.
I doubt you'd need filler over the outside even.
That's how i'd do it, very dirty and time consuming with the sanding, but end result would be perfect.
...watch this space, I may even graft a proper van/ estate roof onto this ugly b@stard...
3-10-2014
Today's progress.
I Ate a pot noodle. Then used it.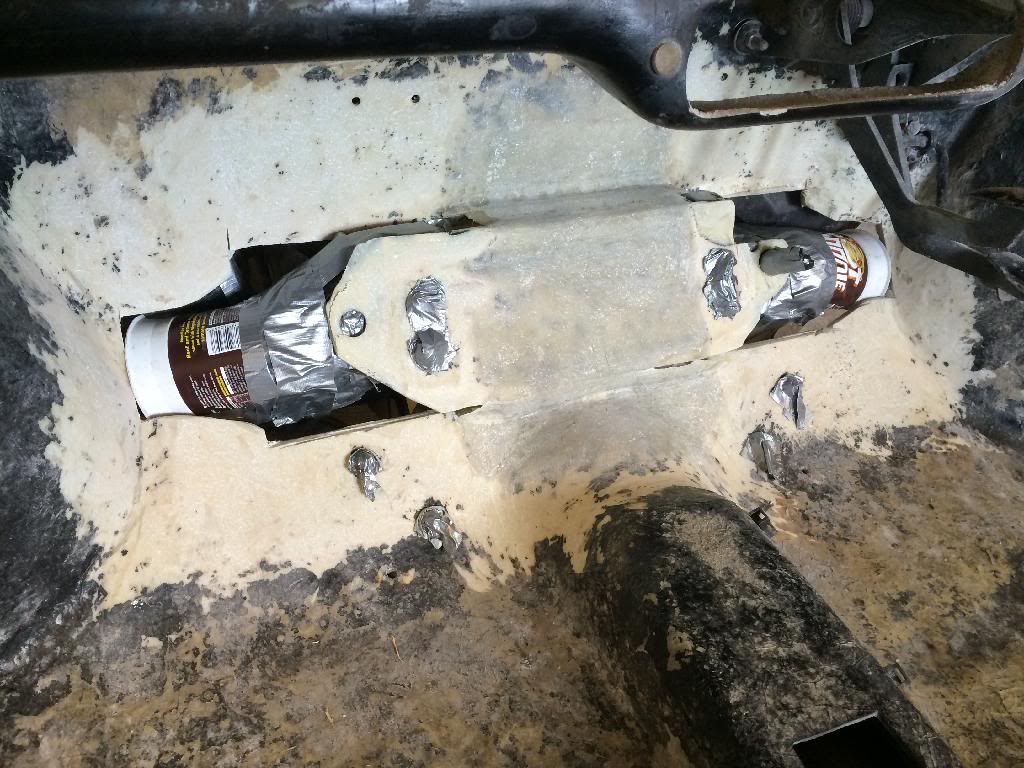 Still not pretty but it'll be fine. Just got to take front subframe out and repeat the process from the outside now.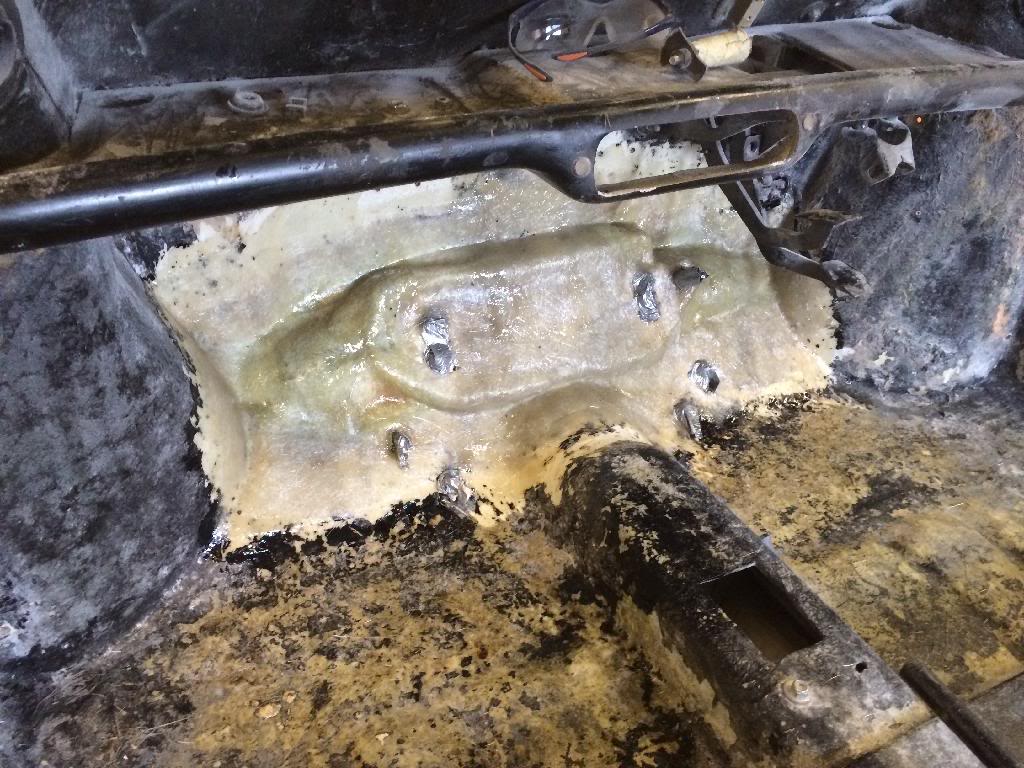 3-19-2014
Got my gearbox mount nearly sorted.
I moved the bush on the OE sump bracket over a bit, so that the OE gearbox steady arm would fit inside my frame.
Then got the OE bracket tacked on. It will need welding properly when the frame is out next.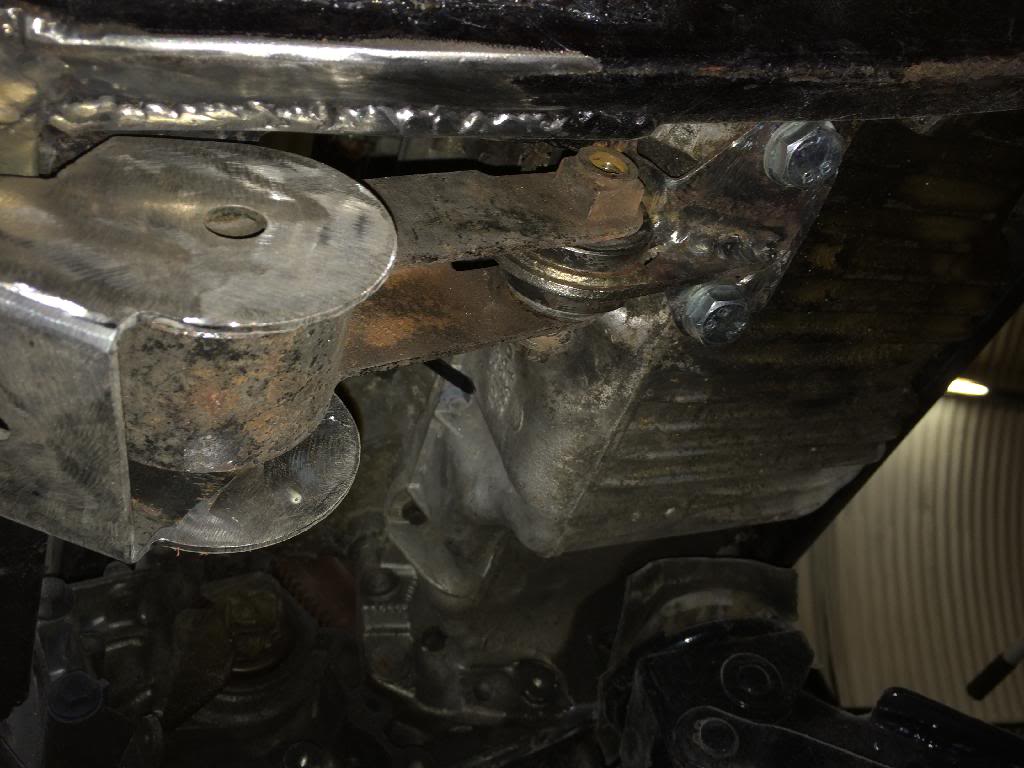 The n/s drive shaft isn't quite central and doesn't pass through the mini tower holes quite as I'd planned. I can't be arsed to move the gearbox mount, so I will have to either mod the lower arm bolt like Darren's photo, but we'll see.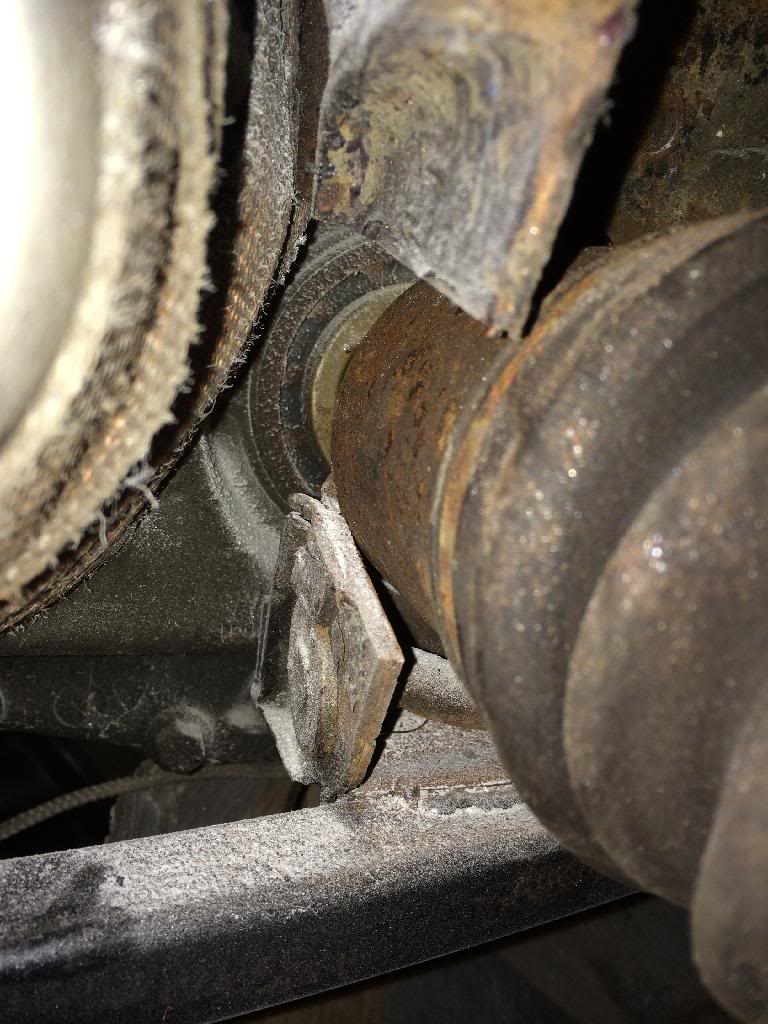 3-15-2014
Finally grabbed another afternoon up the workshop.
A couple of little jobs ticked off.
Welded a brace in between the engine mount tubes.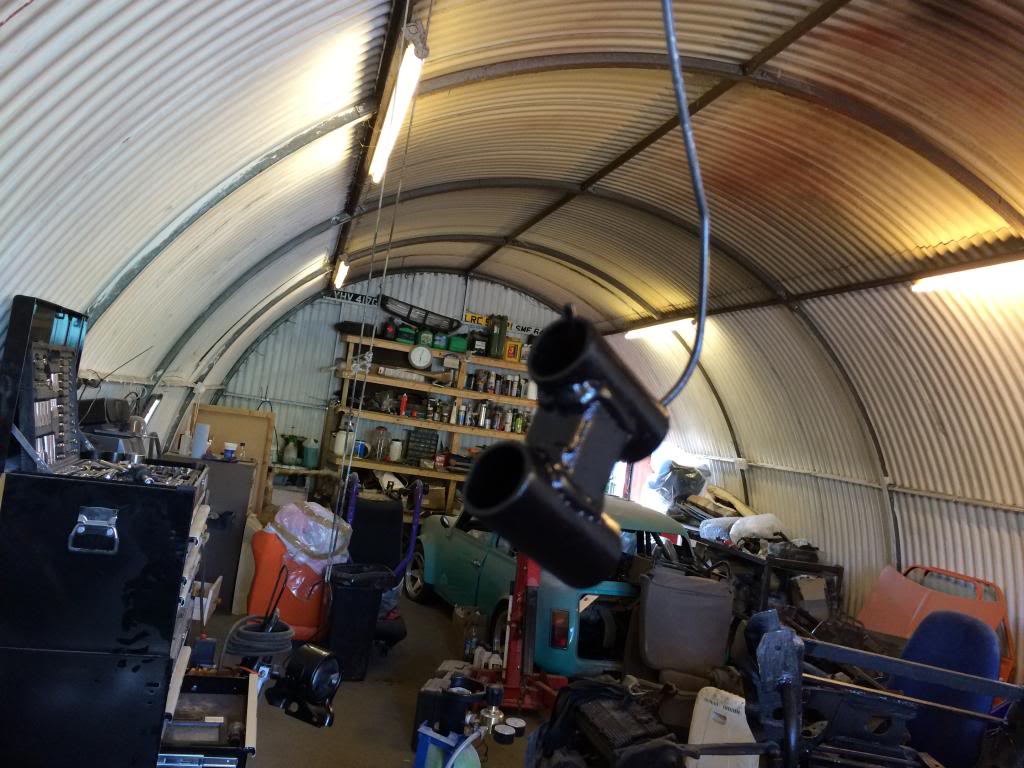 And between the subframe part of the engine mount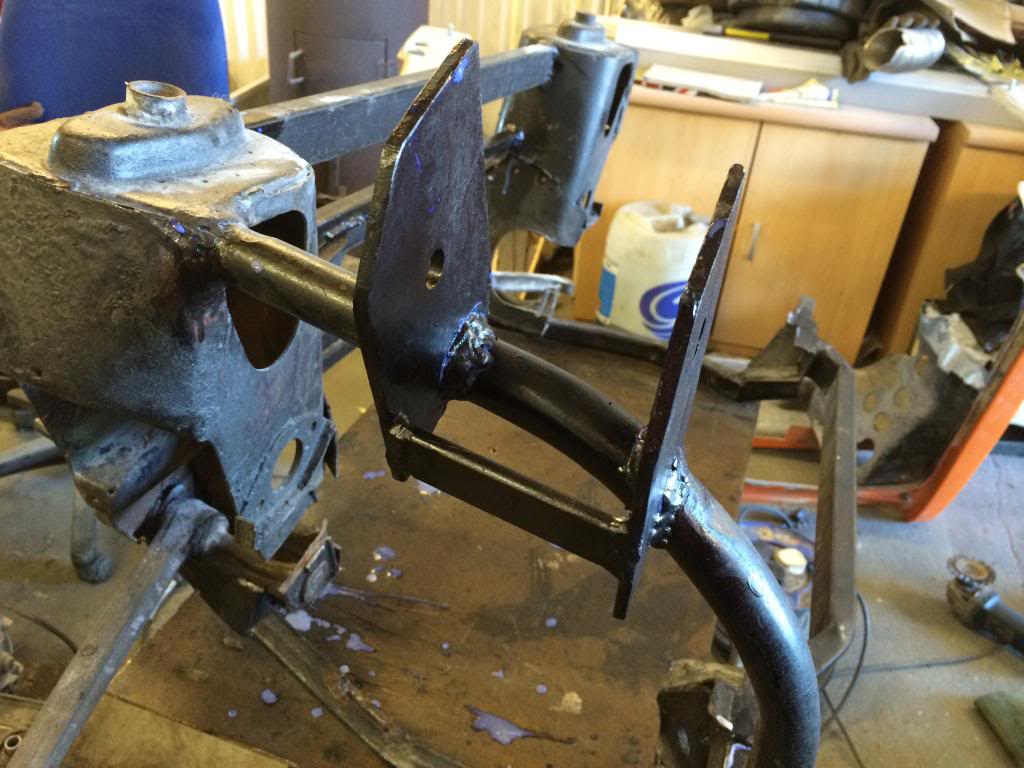 Then added a piece to support where I've cut away the subframe to clear the diff.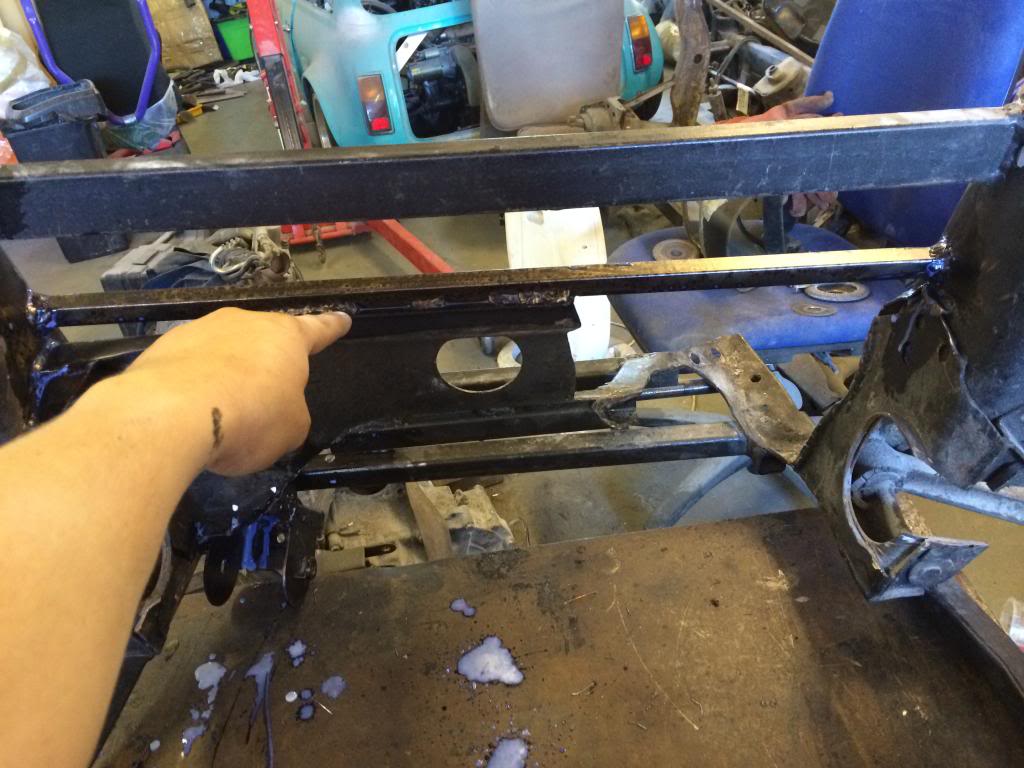 Then I finished off the subframe part of the sump mount.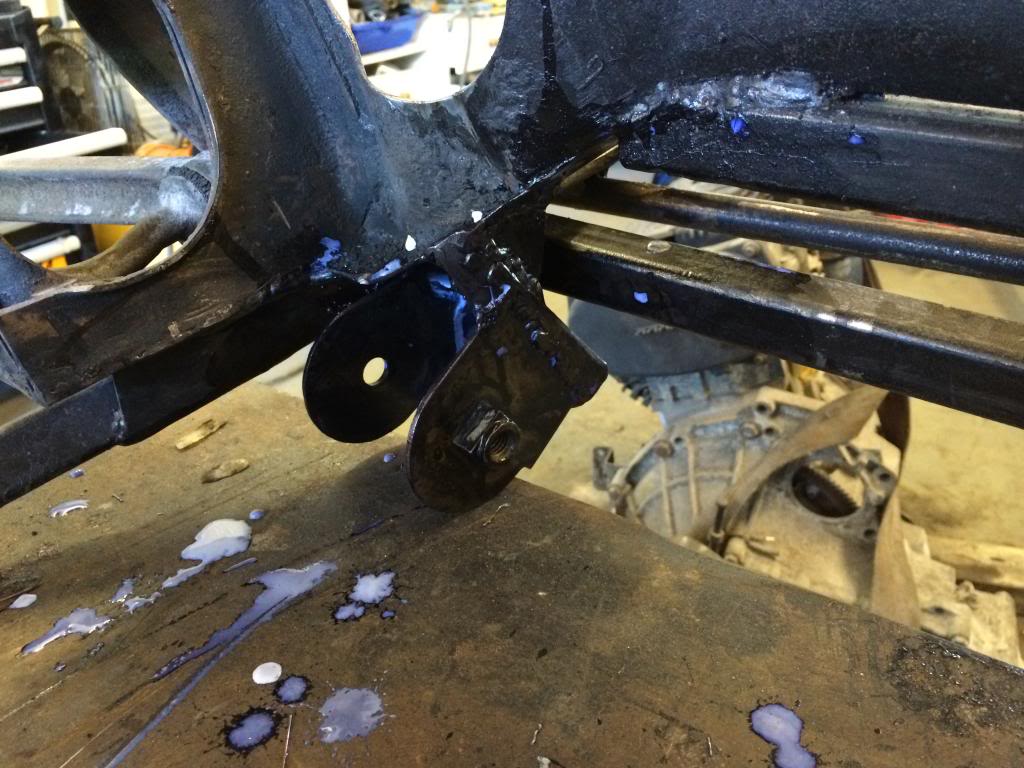 5-19-2014
Not mine actually, but I found the pic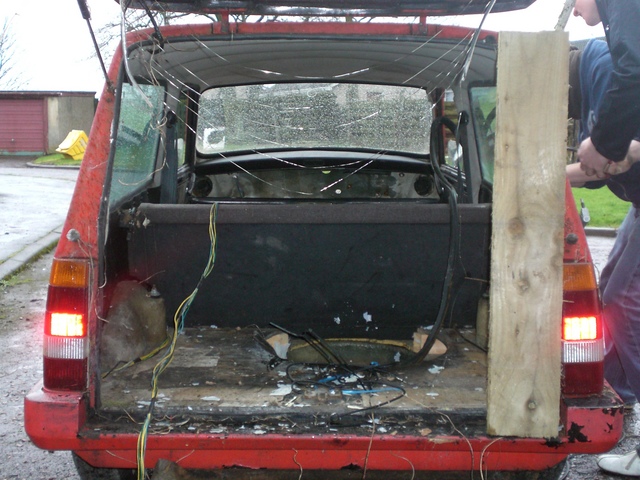 But I also found a pic of a phoenix with a rounded more conventional looking mini roof (or is it just a sympathetic colour with the light bouncing off?), which is exactly what I planned on doing.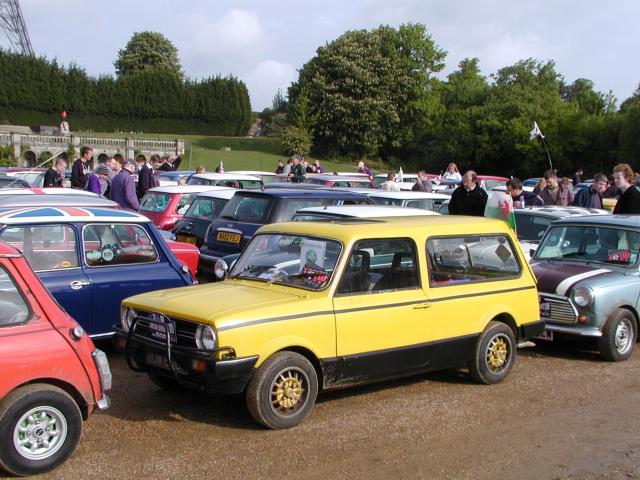 Compared to mine... which I actually think looked quite cool as it was... can't decide...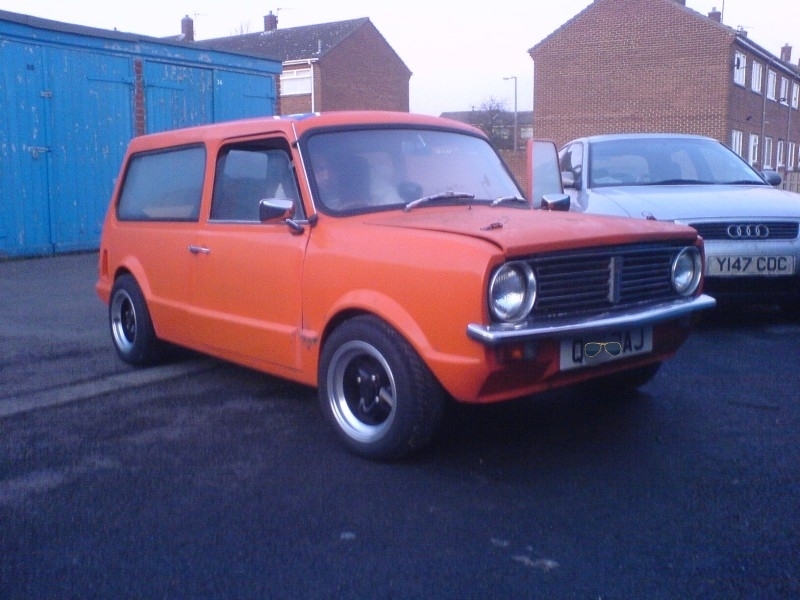 5-27-2014
Got the bottom arm mounts done.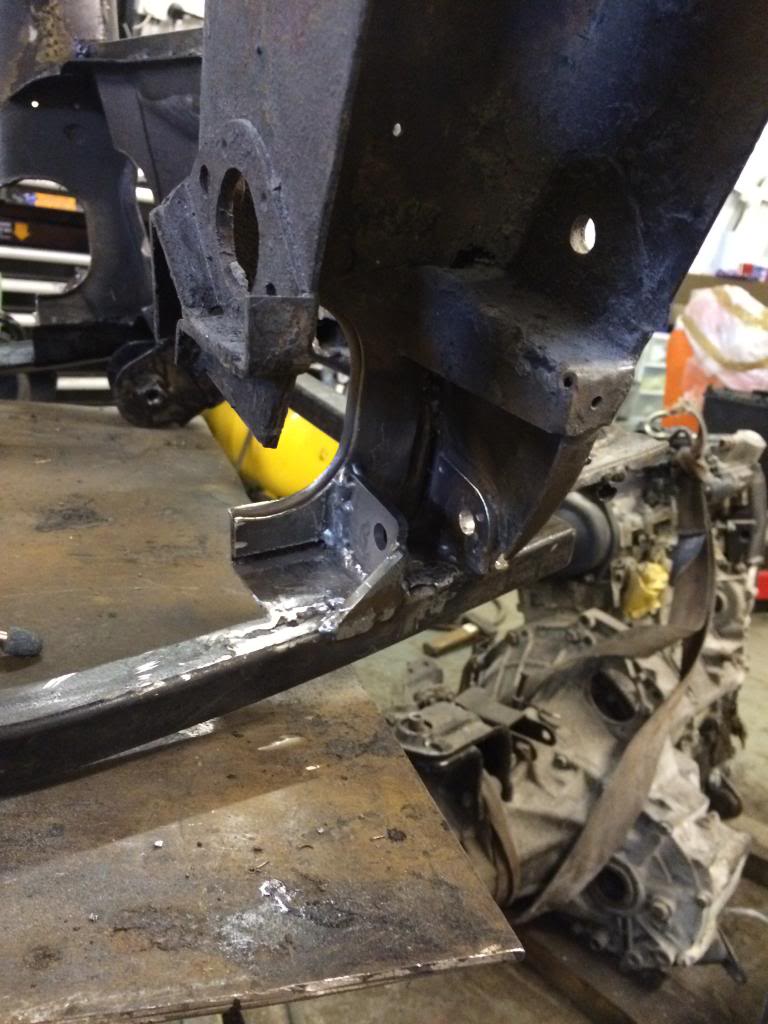 Pulled the steering rack off and have a lot of tidying up to do here.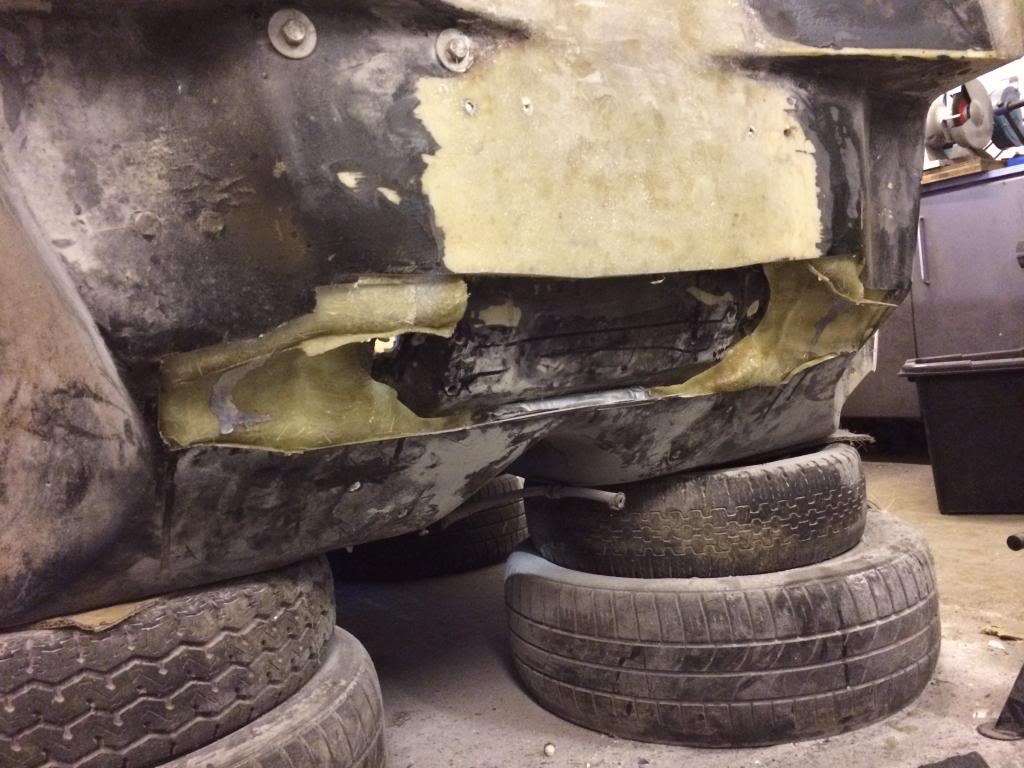 Gonna modify the clutch pedal, something like this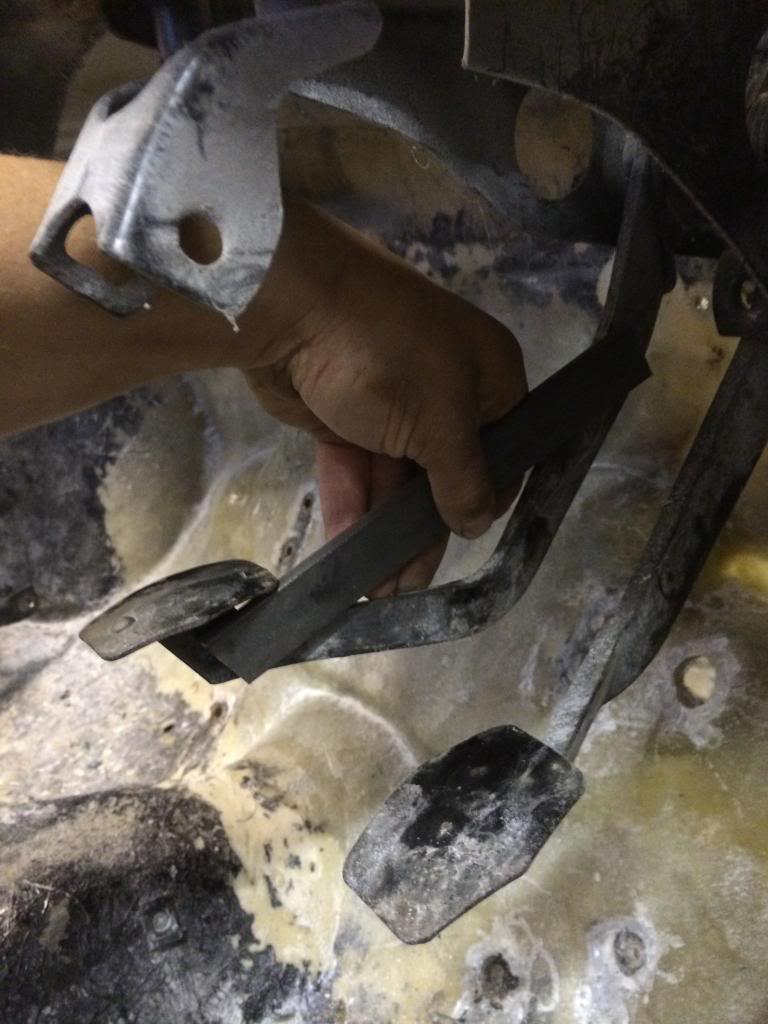 I had tacked in 3 bars to brace the rear subframe/body mounts whilst I cut the frame about. I couldn't leave them though, or it would have got in the way of an exhaust. So Today I triangulated them and cut out the middle or removed the bars: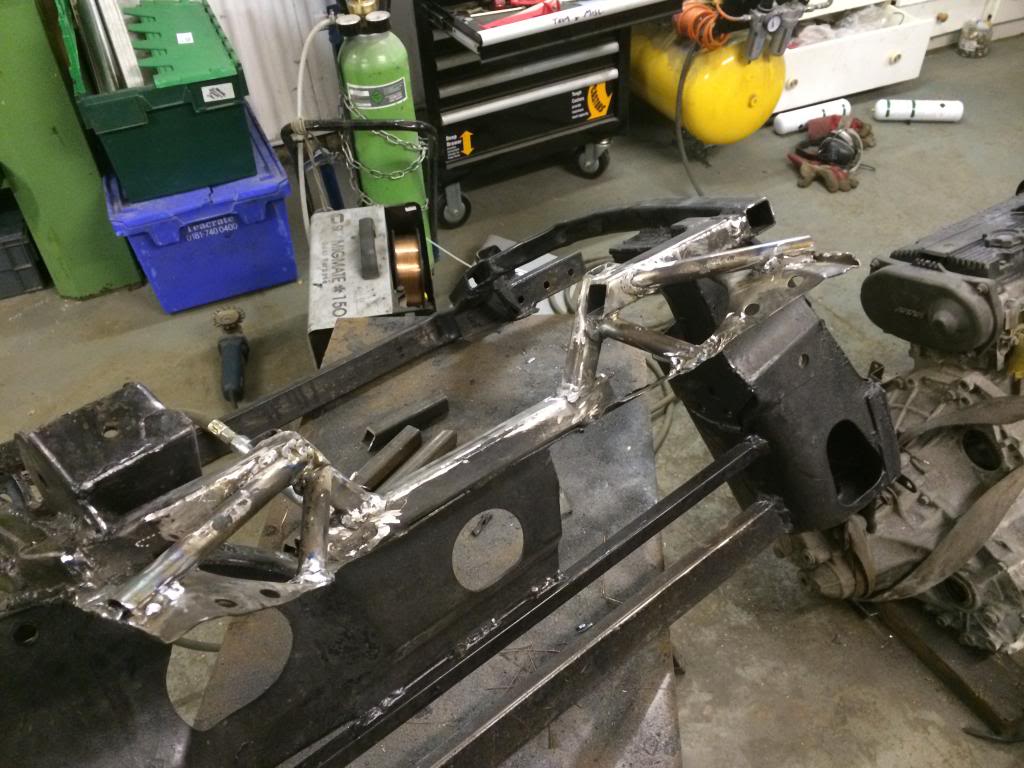 Looks like this from the other way up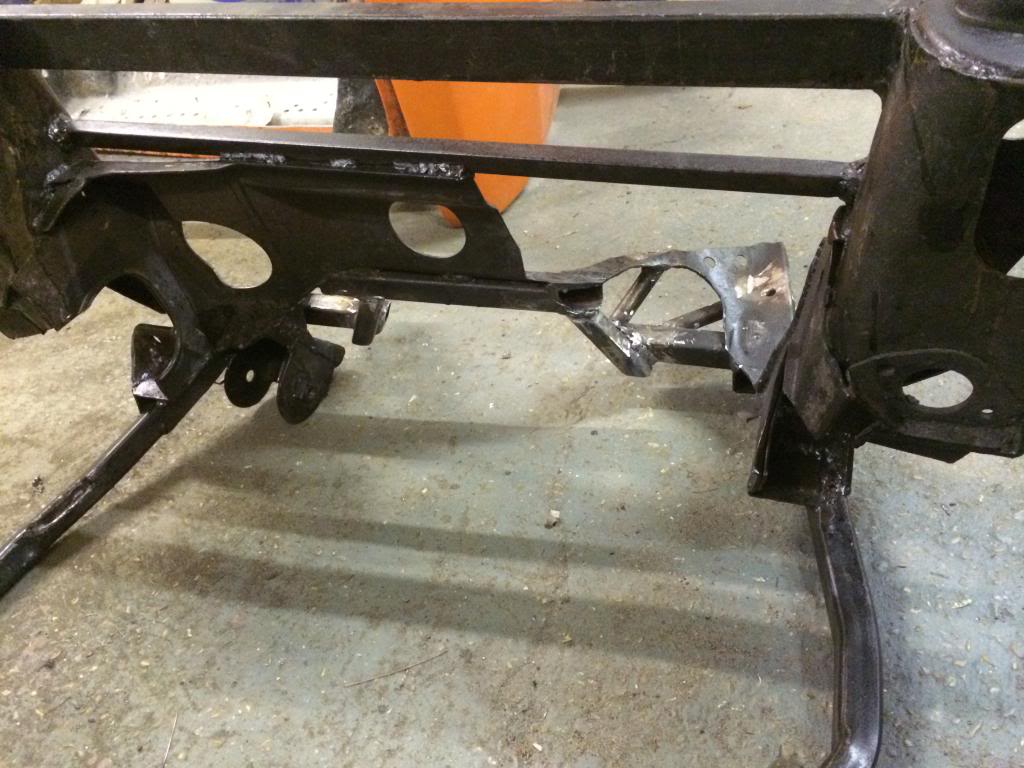 Trouble is my gas ran out so most of the welding is awful and will need grinding back and re- doing, which is annoying.
Could possibly do with an extra brace here on the weak side: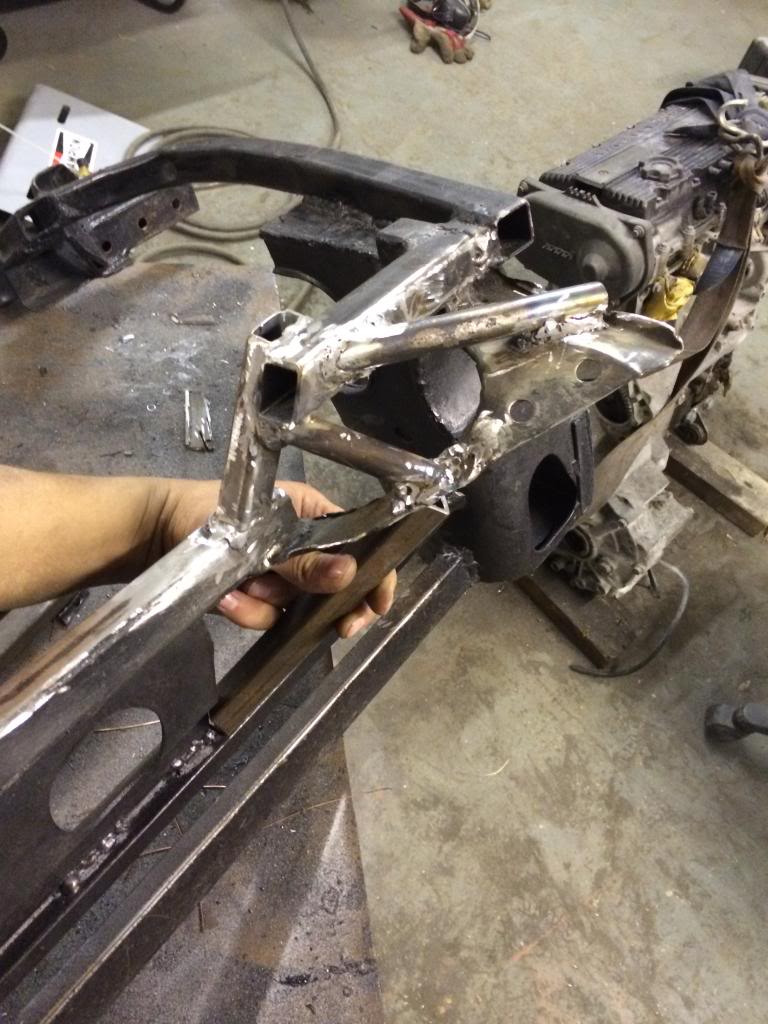 And maybe something else here across the back:
6-24-2014
Still not pretty but at least the bits are actually welded together now.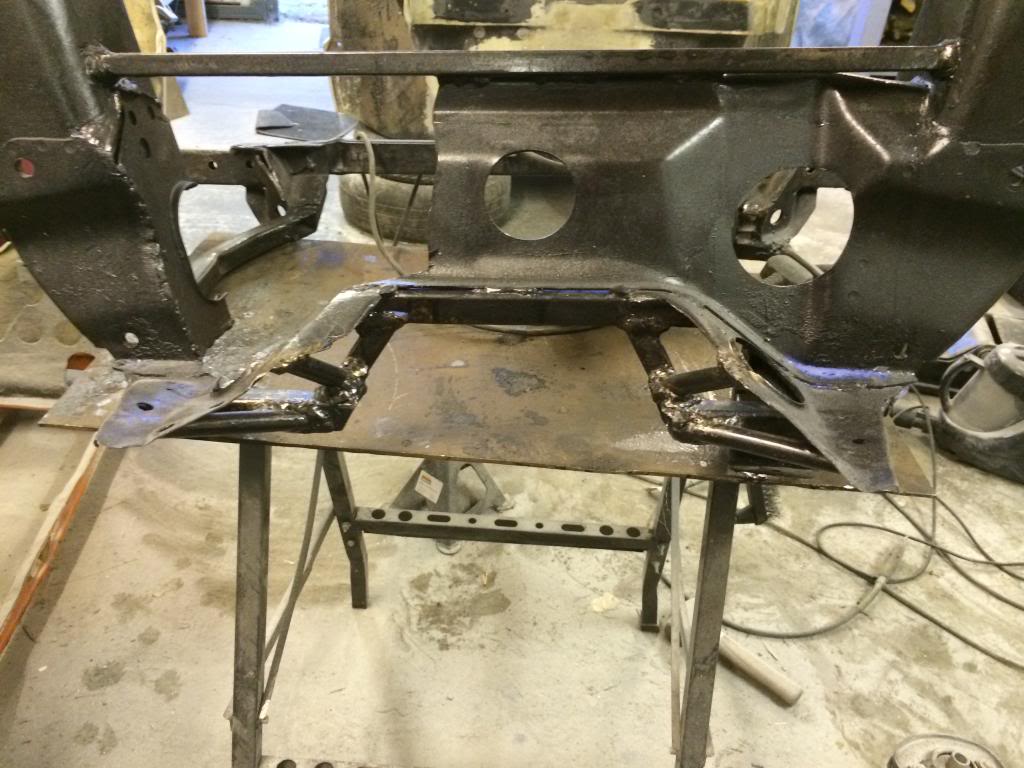 Got 99% of the prep done for finishing the steering rack job.
Dusty!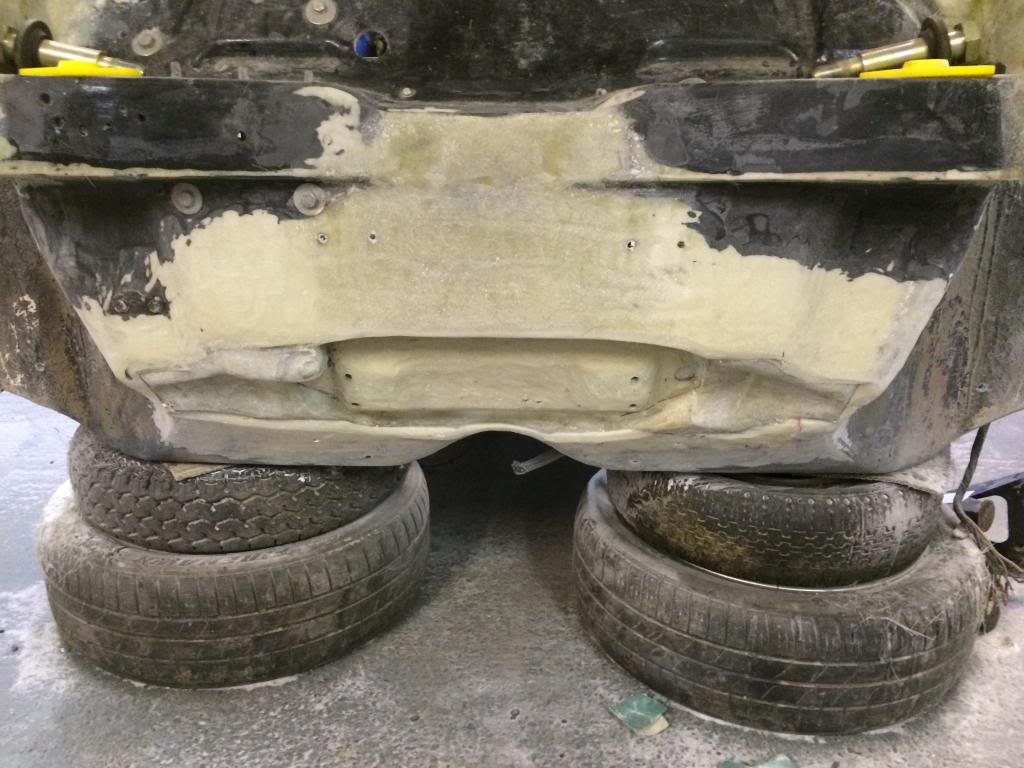 6-29-2014
Rather annoyingly I ran out of polyester resin about 1/3 of the way though the steering rack job, so I'll have to sand what I did today and start over when I've got some more.

I did manage to get mgf gear linkage off, which is a bugger, because the cable bracket gets in the way of the roll pin, and the linkage part stops you putting a socket on the nut that, in my case, the spanner rounded off!
Anyway, the rover 200 pg1 linkage fits past the subframe revisions, so that's good.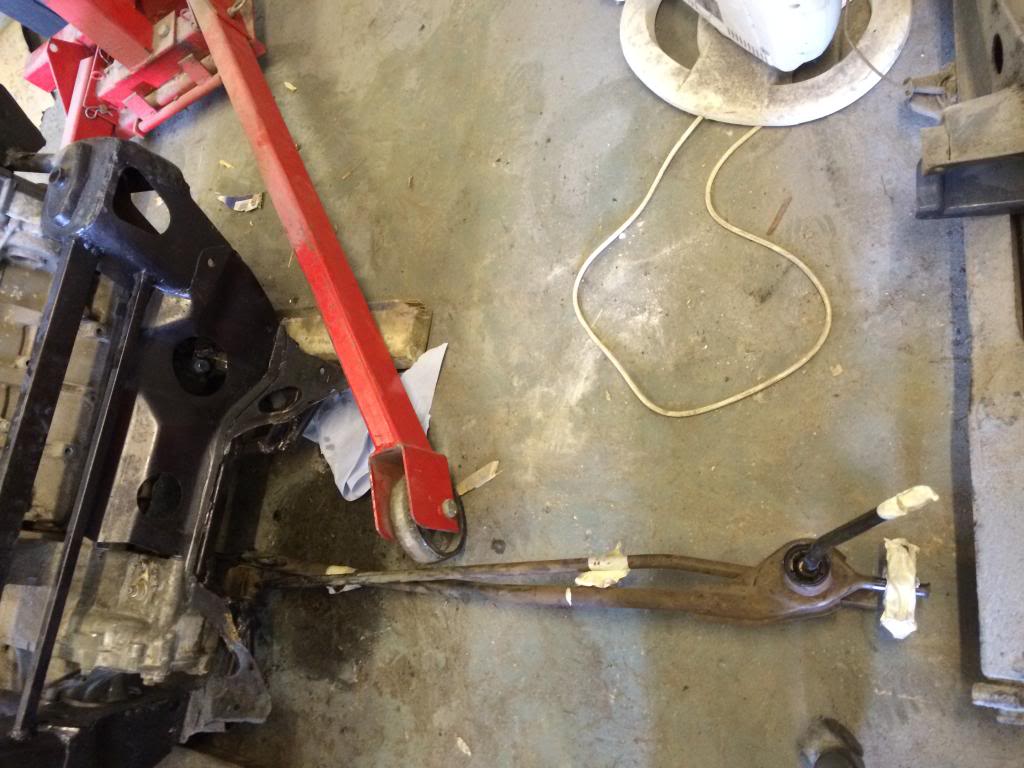 7-2-2014
Slightly better pg1 linkage shot. I have no idea what car this linkage came from? Rover 25?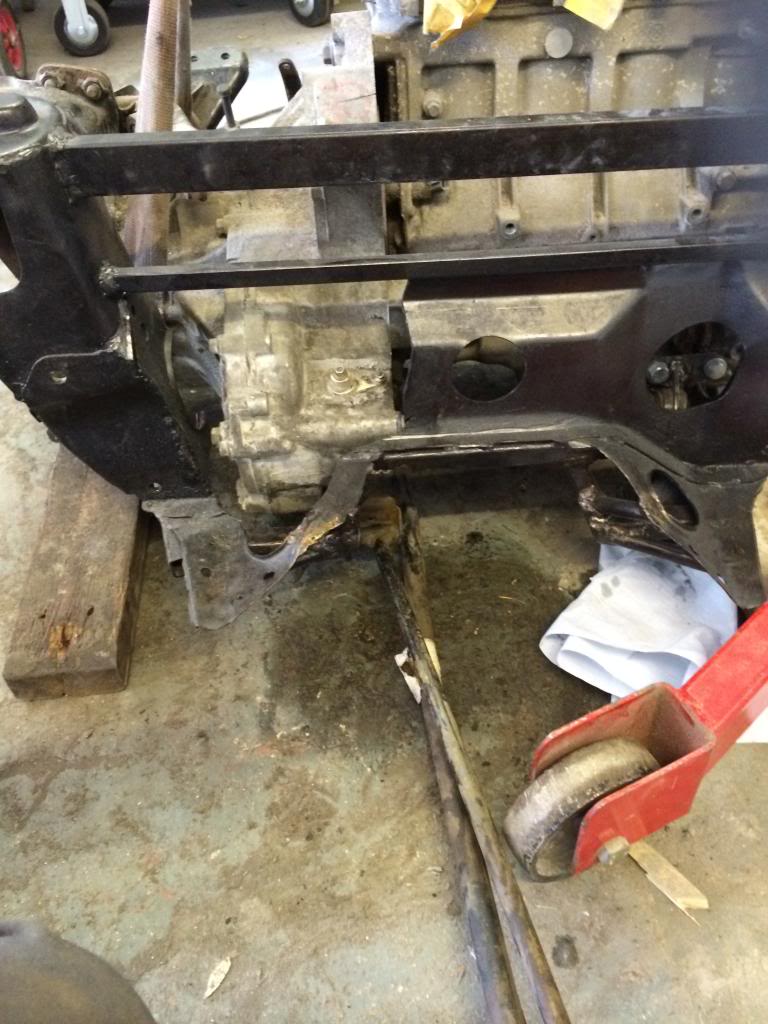 7-28-2014
A messy job, but steering rack job is glassed in on the bulkhead side now.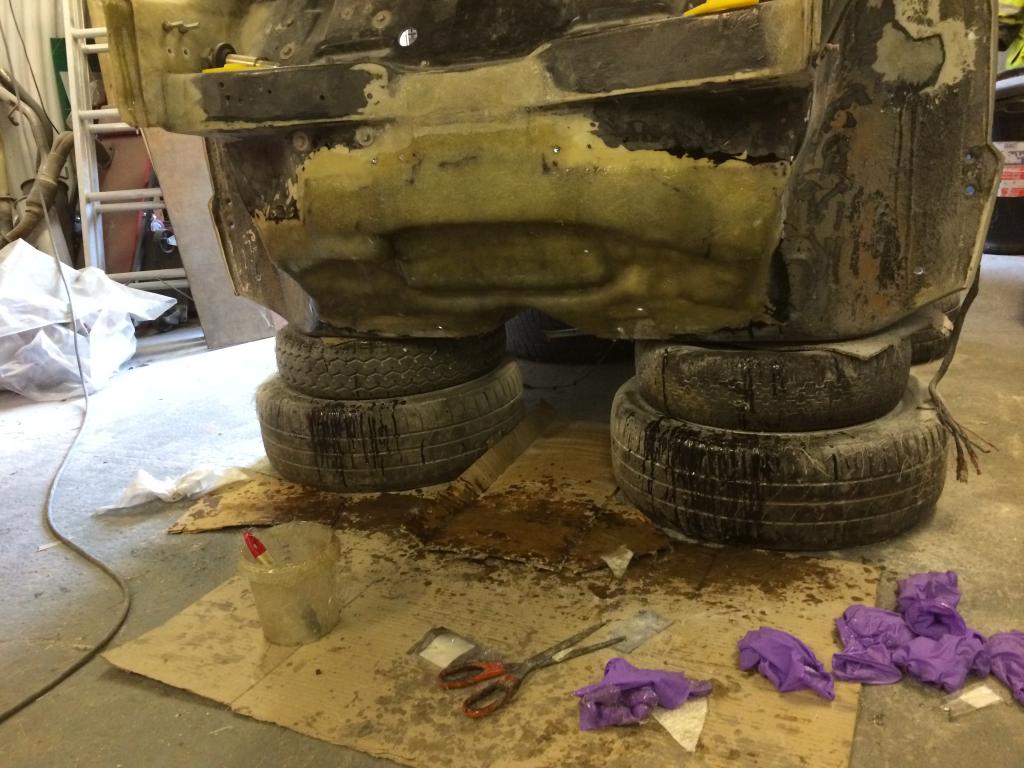 9-2-2014
Lol. Yeah. want to buy a box?

I finally got round to sanding both sides down and was thinking about painting bulkhead,
But thought I'd offer everything up first.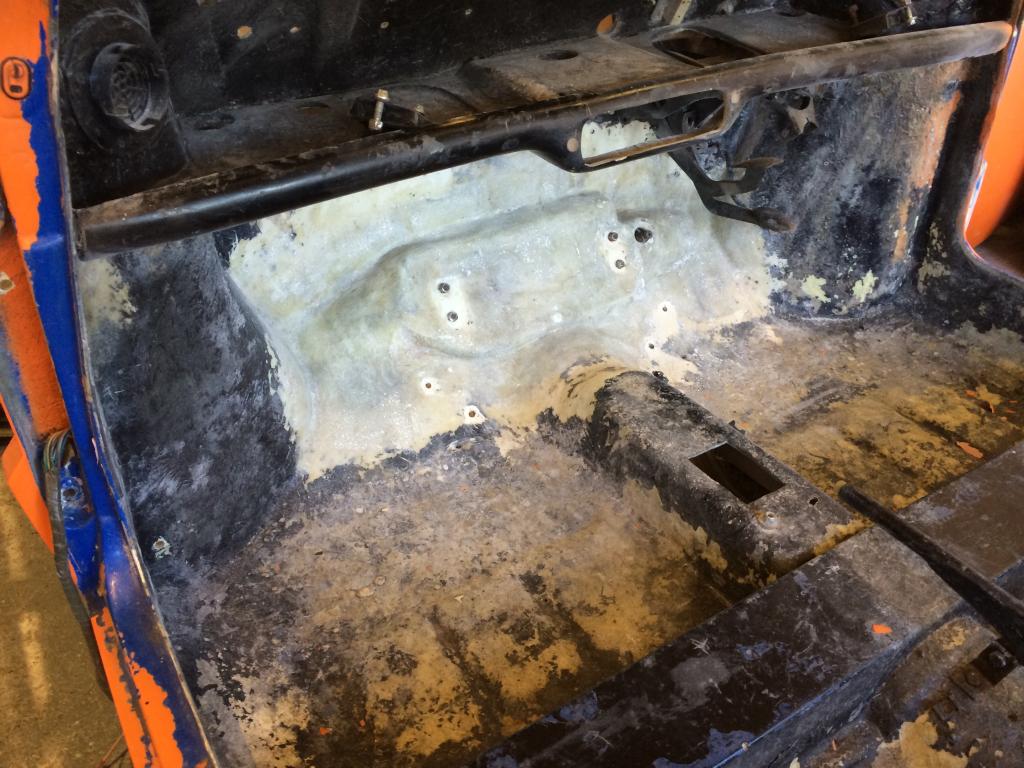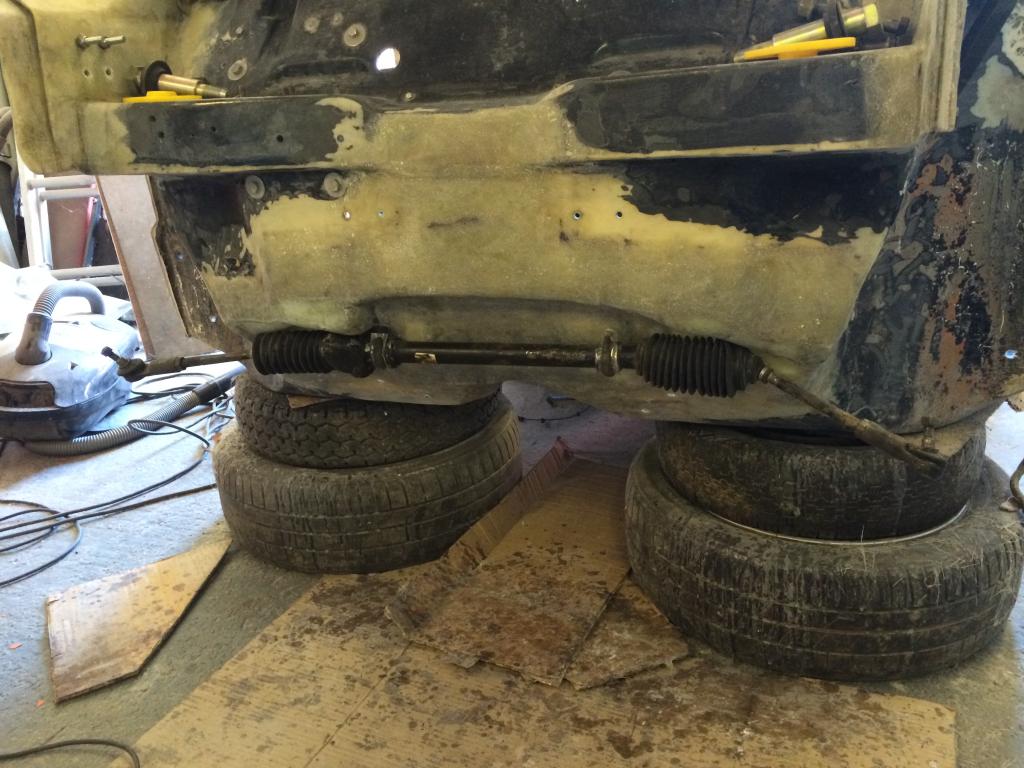 Good job I did because the near side rack gaiter needs more clearance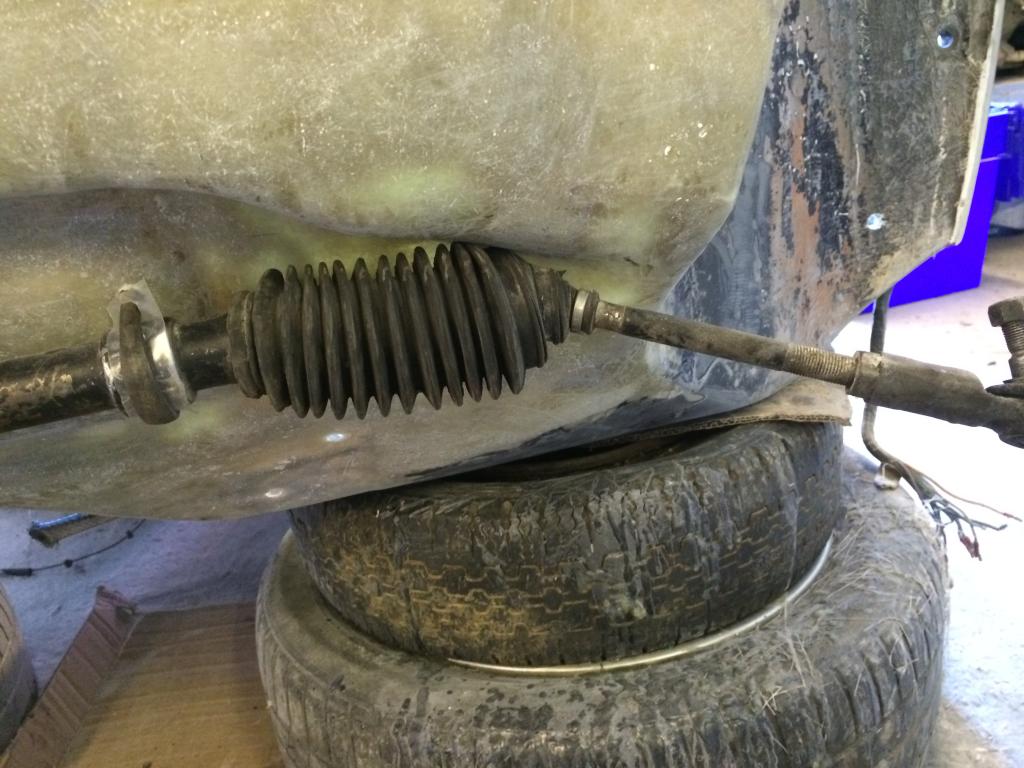 So I got busy with the pot noodles and gloves again!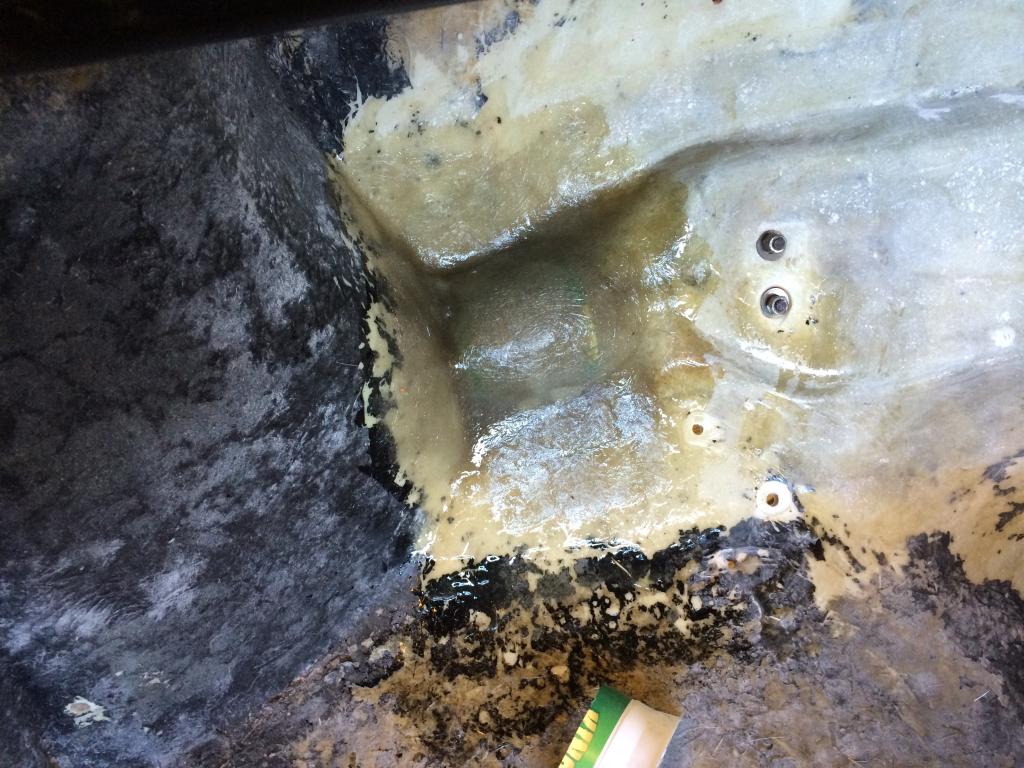 9-12-2014
Made some more clearance.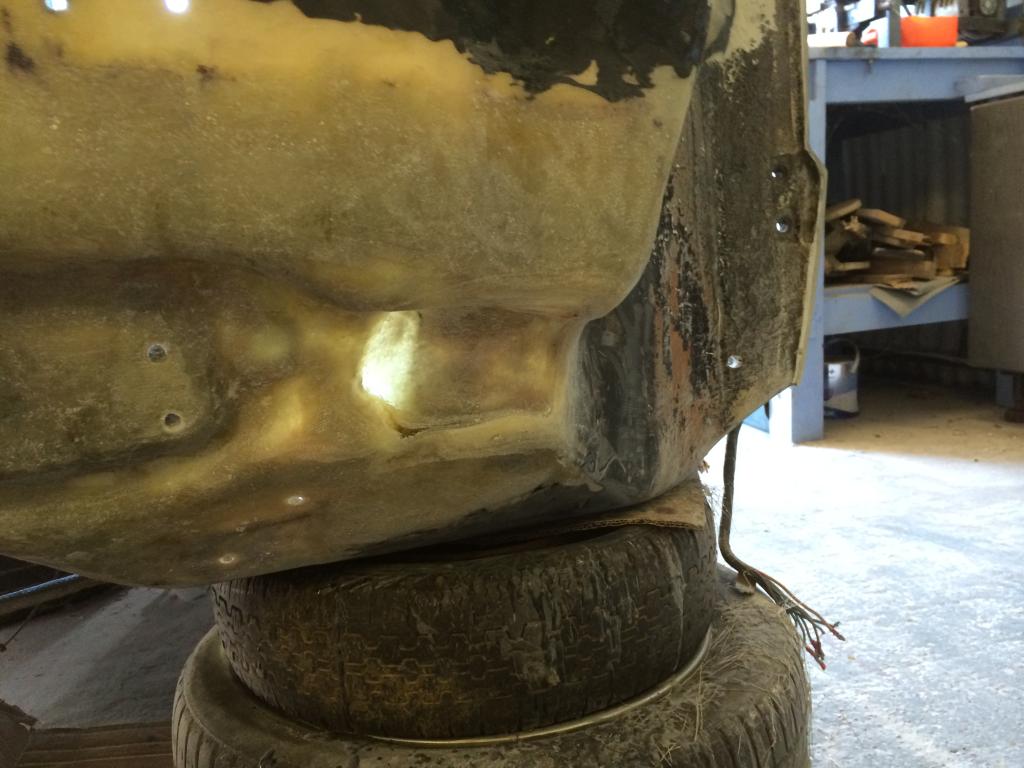 Made it sound again, by re-inforcing the seams. Couldn't add too much material here because of clearance.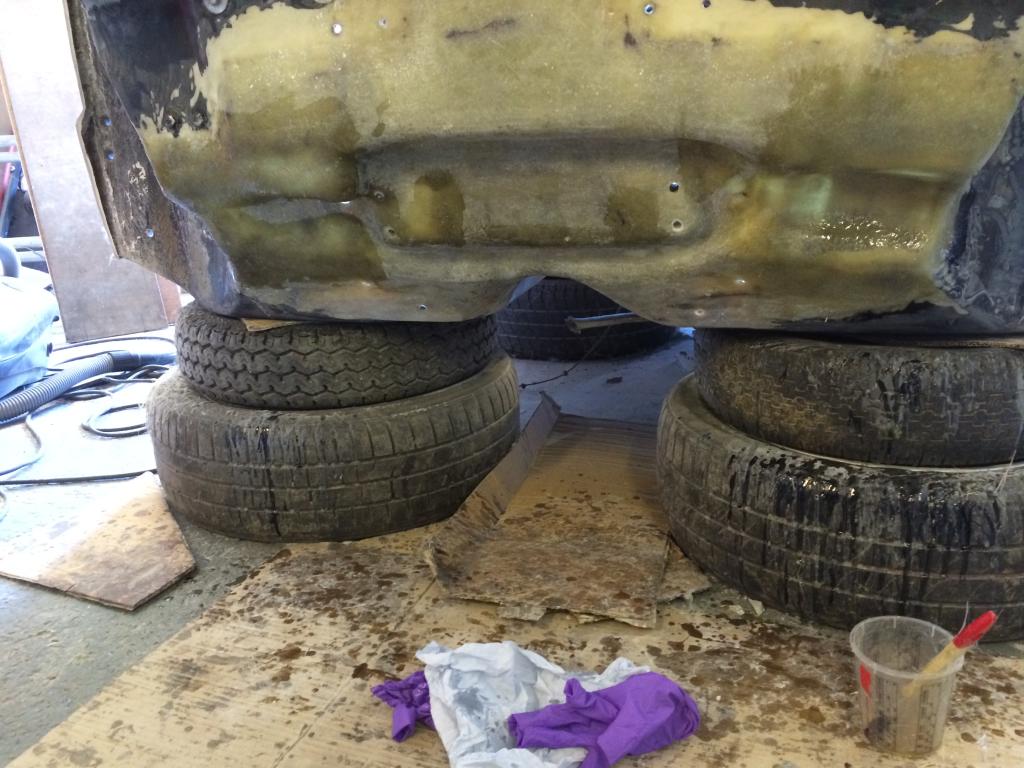 So re-inforced it some more from the rear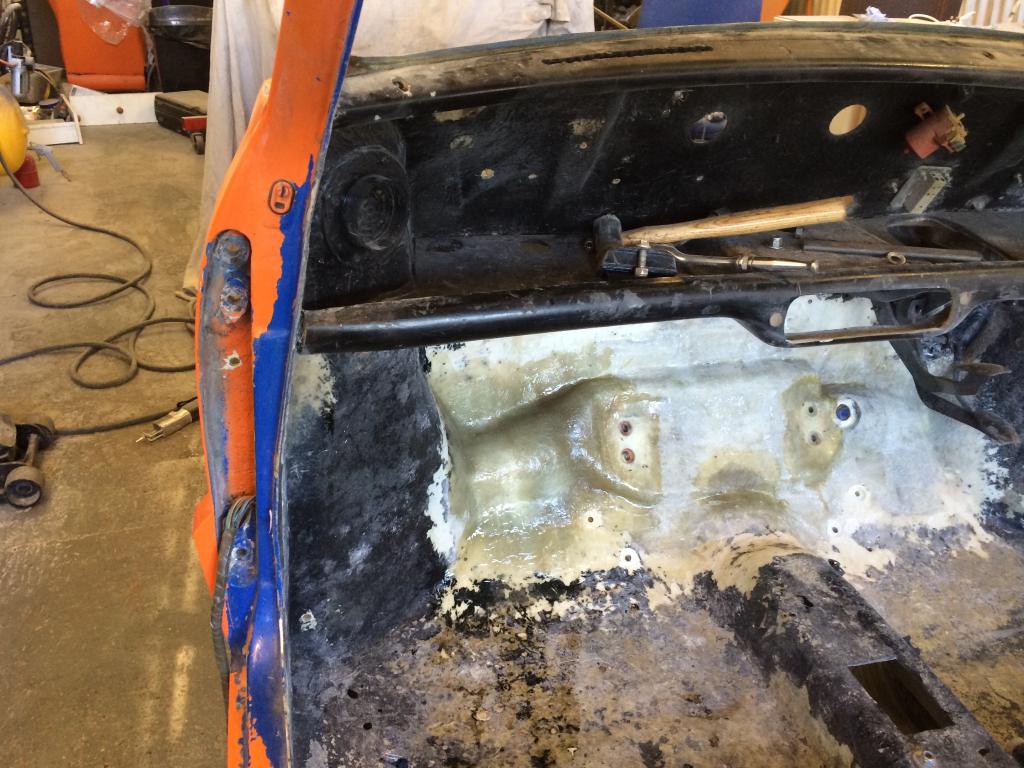 Just got to sand it when dry and Hopefully this will be the last time I have to do this!
Boring pic, but it replaces a double post.
10-1-2014
Well I am a total arse.
Everything in, with what I thought was loads of space for the inlet manifold.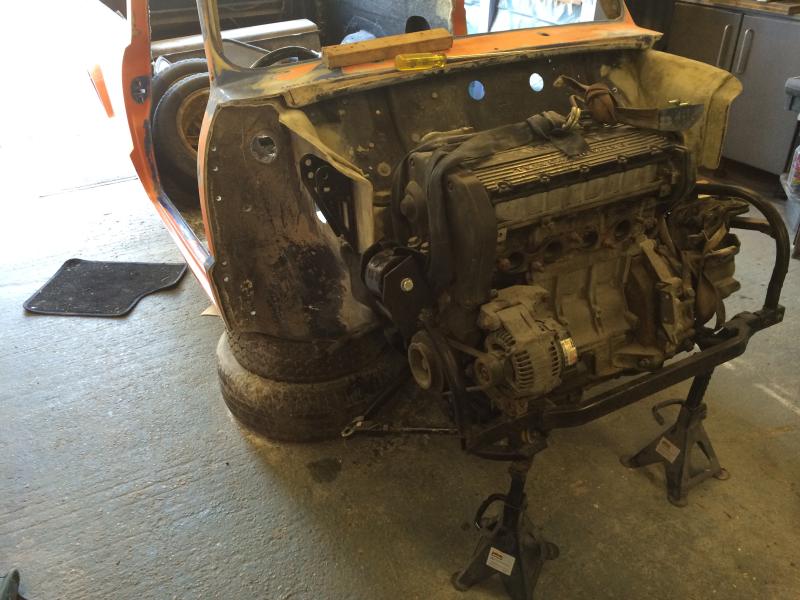 Or not. School boy error,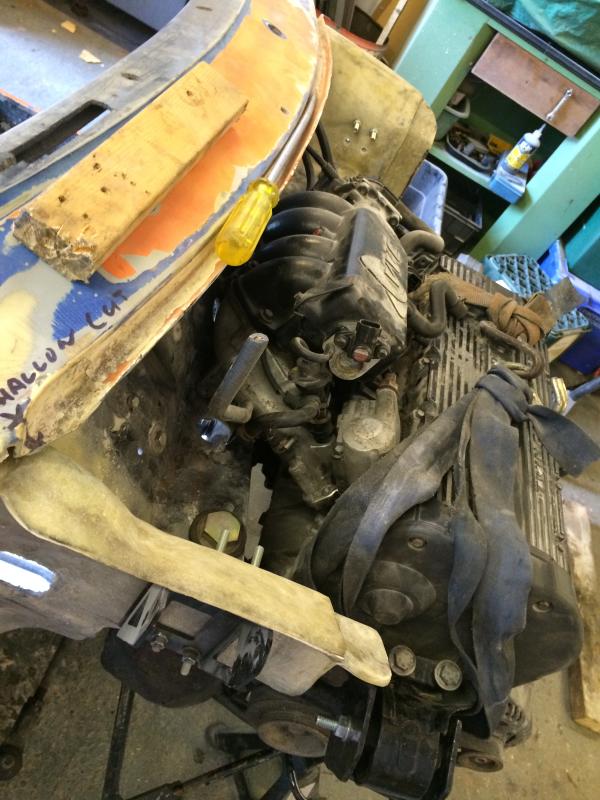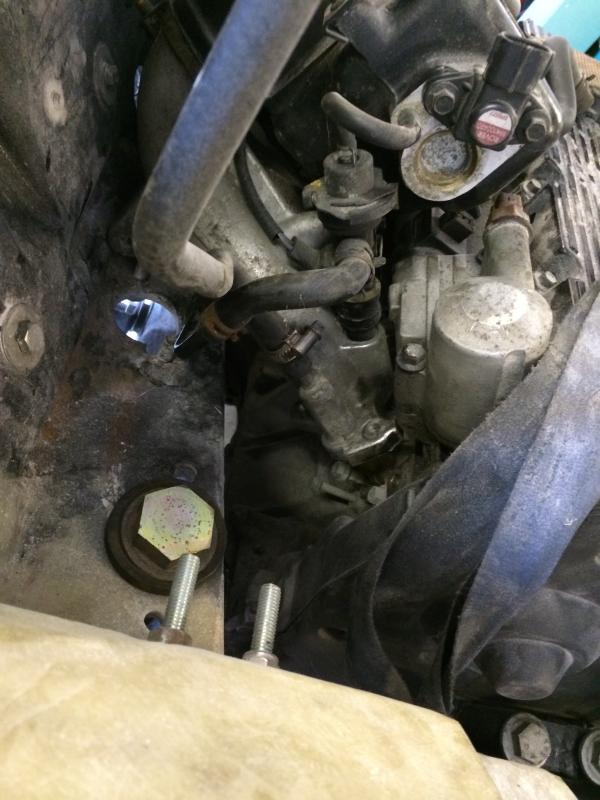 It's right where the pedal box and master cylinders are so I can't even put a bulkhead box in. I could but a floor mounted pedal box in but I want to be able to put back to standard if I ever fancy it. So either a custom inlet or move engine forward. Bugger.
10-2-2014
Ok so I need to shorten the inlet manifold. And then offset the air box higher and more central (further to the right) by raising the flange the air box bolts to on the manifold.
So here's the plan: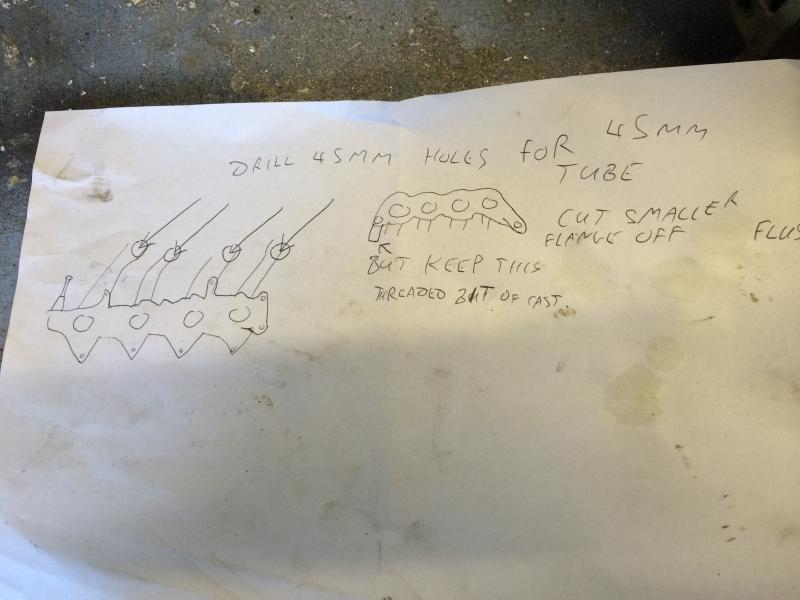 Air box and manifold.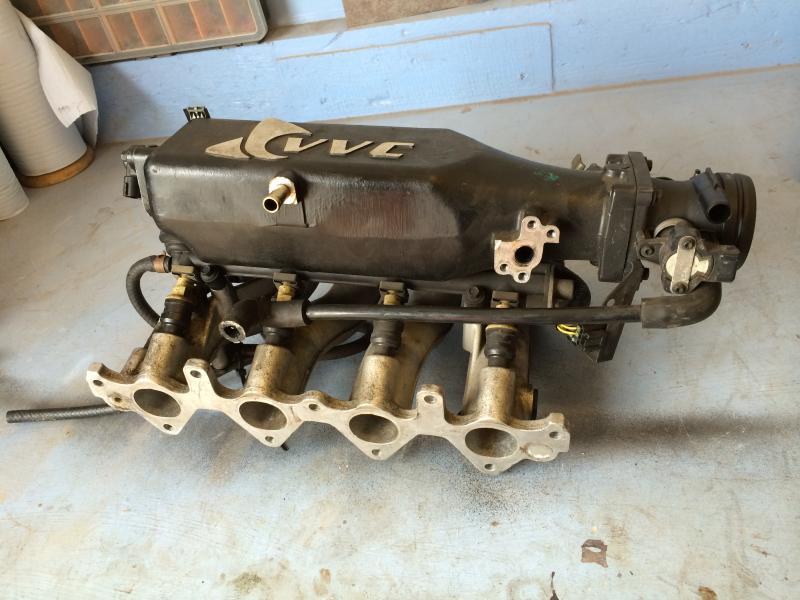 Manifold with injectors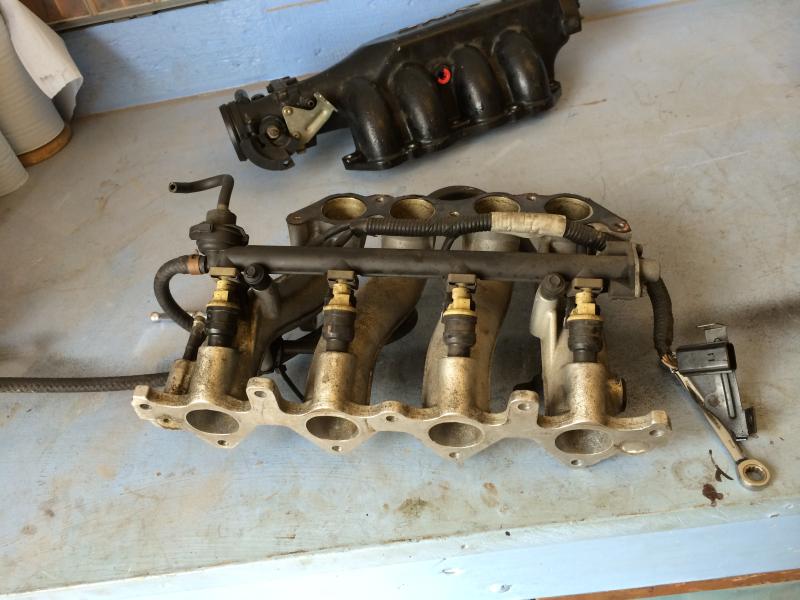 Got some 48mm tube.(not 45mm).
Gonna go together something like this but the tubes will be 200mm+ and the air box flange will sit on them.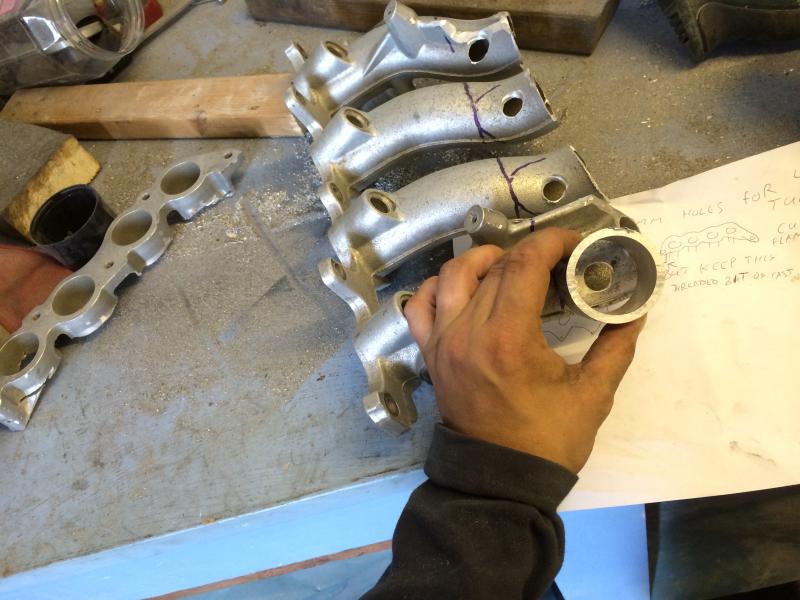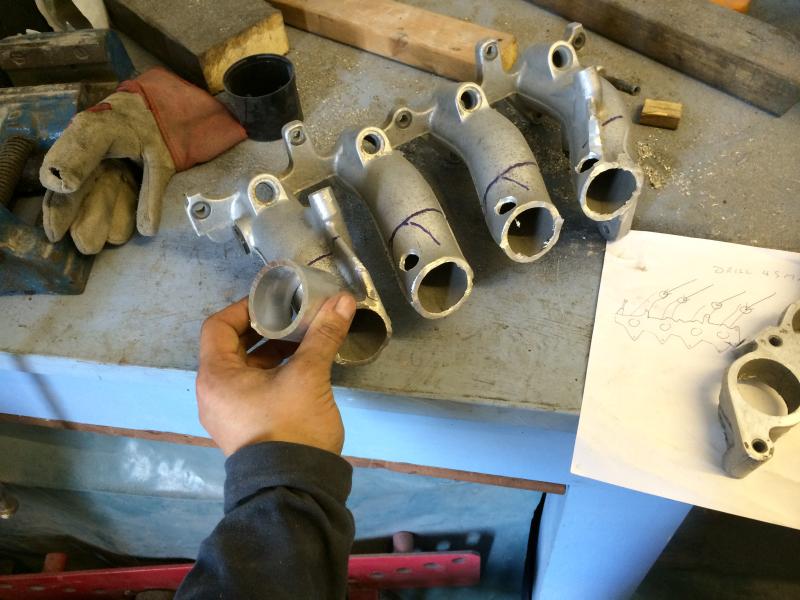 I can't make it too short and still use stock injector position, so Bulkhead will need some attention, but standard mini master cylinders should still fit if it all goes to plan
10-3-2014
I've had to change from the round bar route and gone for some 50x25 rectangle box section, so the manifold is cut flush now.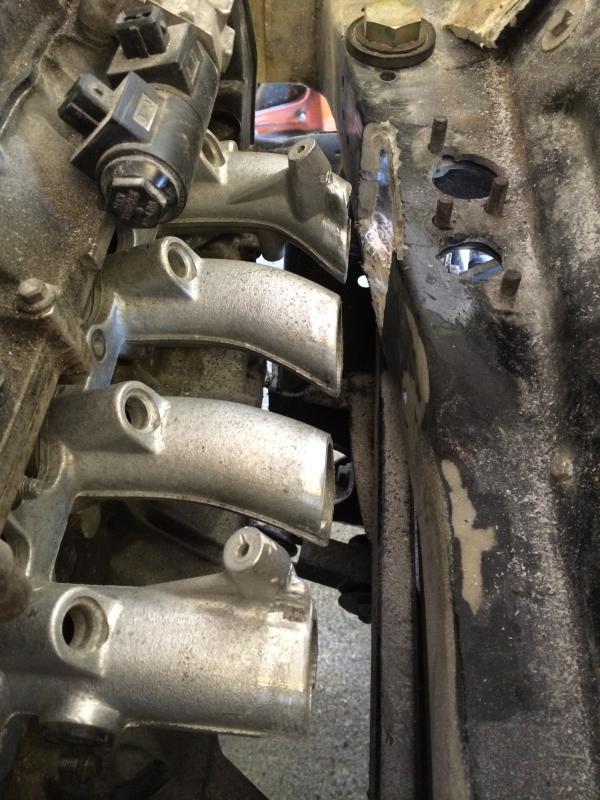 The 48mm tube won't fit and I can't fit them any closer to where the injectors sit. But the box section will work. It will come off at this angle...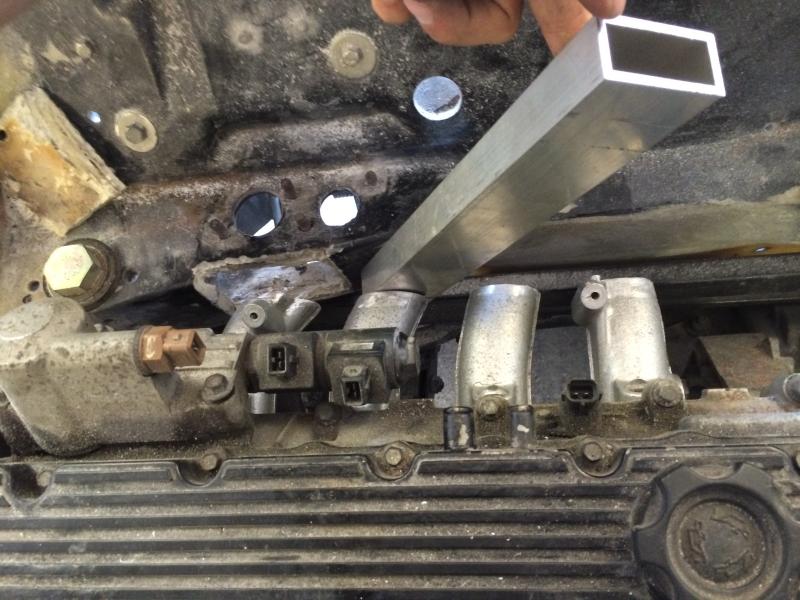 ...and the inlet we end up here, much further over to the right.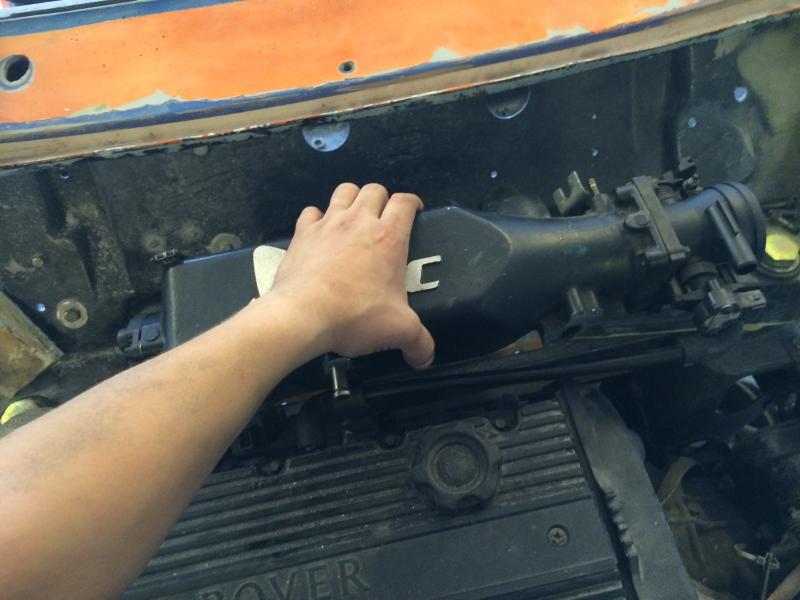 I've cut the top flange flush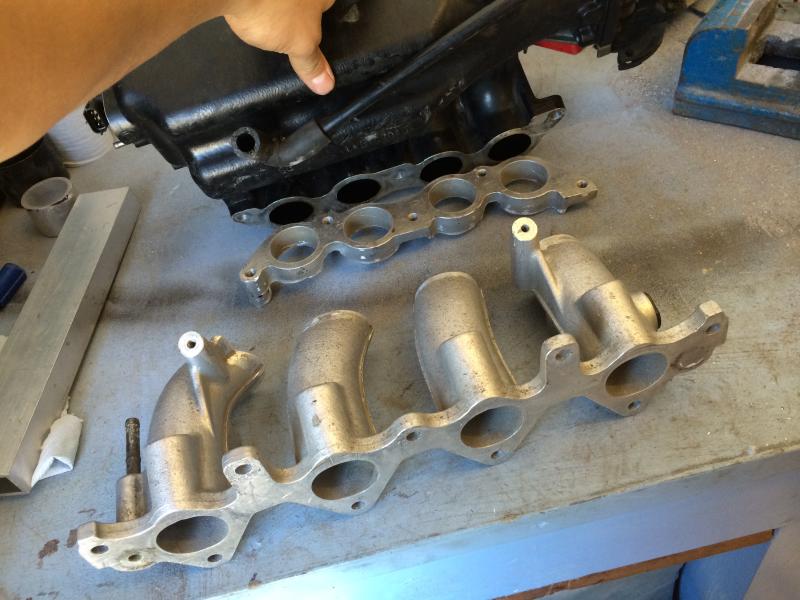 10-3-2014
Next step is to build a jig to test final fitment and to make sure everything is in the right spot when it gets welded up .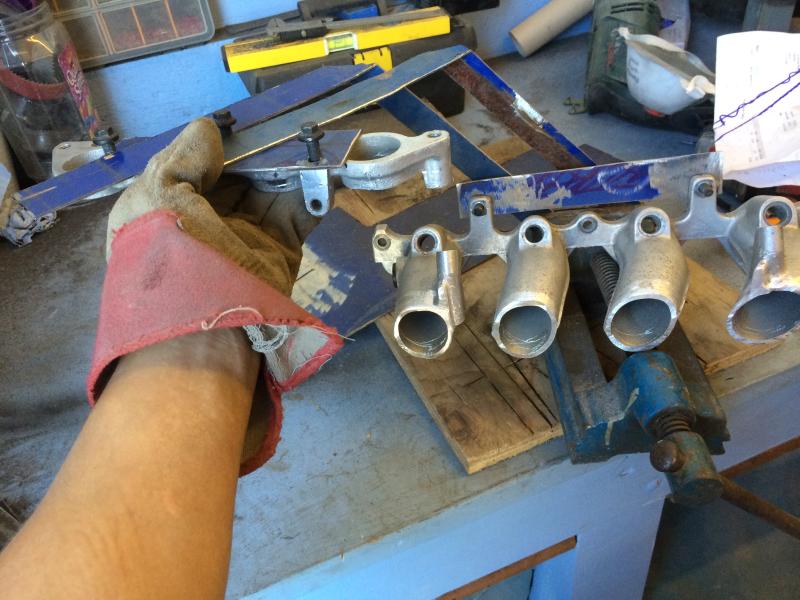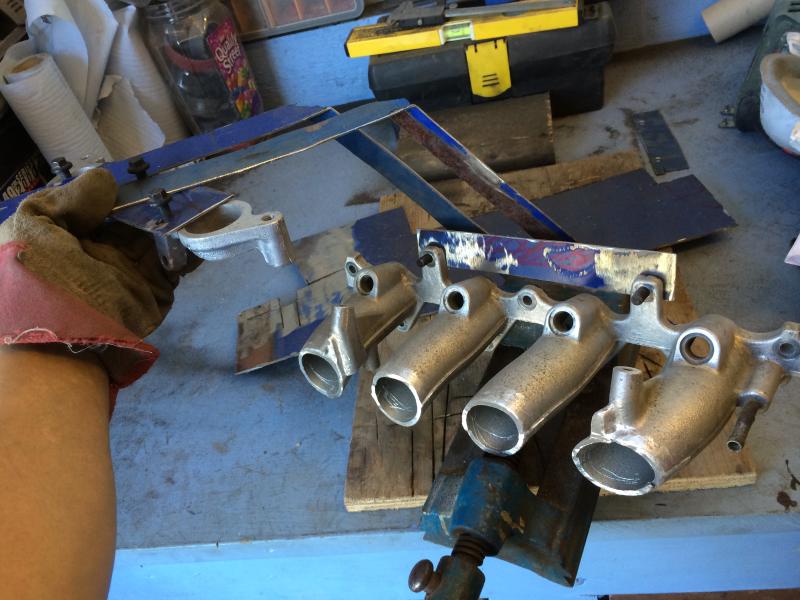 10-4-2014
Due to some new input, I'm worried now that the required inlet changes could bugger up the engine map and performance.
Perhaps I should just bring the engine forward, so standard inlet fits like everyone else. It does mean changing my whole frame tho, as lower bars wrap around the engine with no room to play with. But if inlet works, then it will handle much better with engine where it is.
But floor mounted pedals would fix all issues, but the bulkhead box required for standard inlet would put shell past point of no return for ever bolting standard mini parts back on it.
I think I will recon my hubs ASAP, fit them and have a proper look at driveshaft position, before I make a final decision.
But I'll probably persevere with the inlet and just try it!
...making this whole post, utterly pointless. For that, I apologise.
10-9-2014
Thanks.
I had a look today and tilting it looks like the alternator might hit the frame and possibly leave no space for oil take off plate, without major frame changes,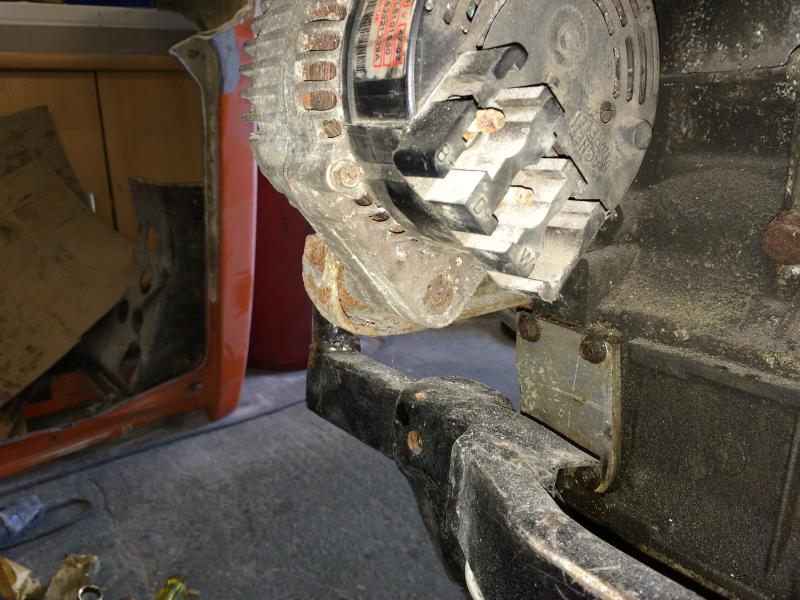 plus new engine and sump mount, so not an easy fix. I will give it a go though when I next take engine out after I've made the jig for new inlet, just to see if it's worth it.
Need to get hold of the oil take off plate to make sure that fits and offer the front end up to make sure the alternator has clearance too.

I also removed, cleaned up and fitted some top arms.
10-10-2014
Here is the remote filter take off I have ordered from jlhmorrisminors. I was going to make one, but this is exactly what I was going to make, so silly not to...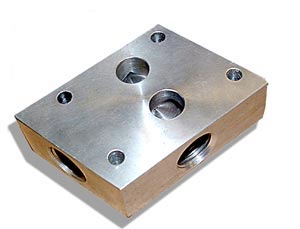 Pictures of it fitted are in this link
http://www.jlhmorris...ent/k_more.php#
...edit: just figured out how to do screen shots!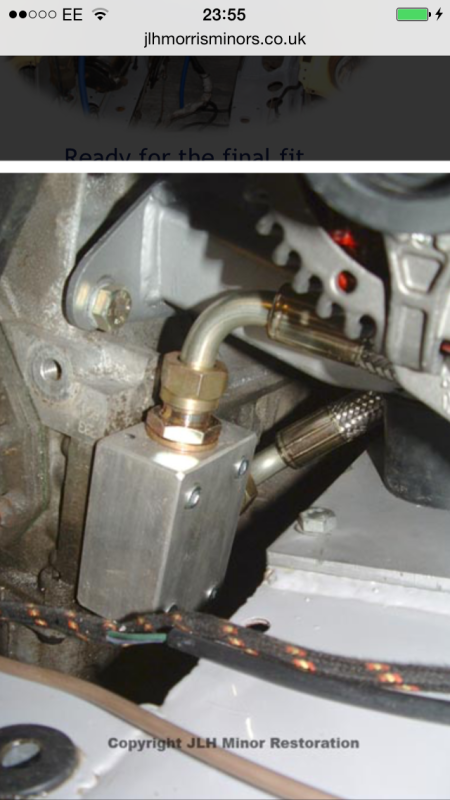 Little alternator that jlh used on their moggies looks just the ticket too!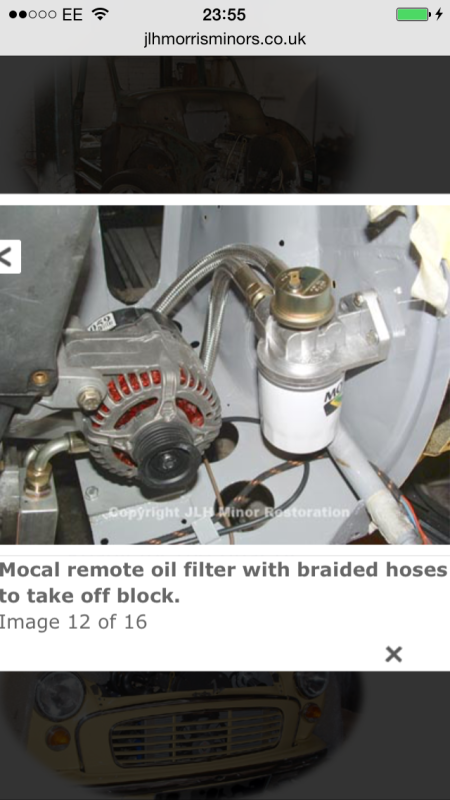 10-11-2014
What arrived was slightly different to jlh website. It is a mocal / thinkauromotive item.
32mm without the gasket so should work.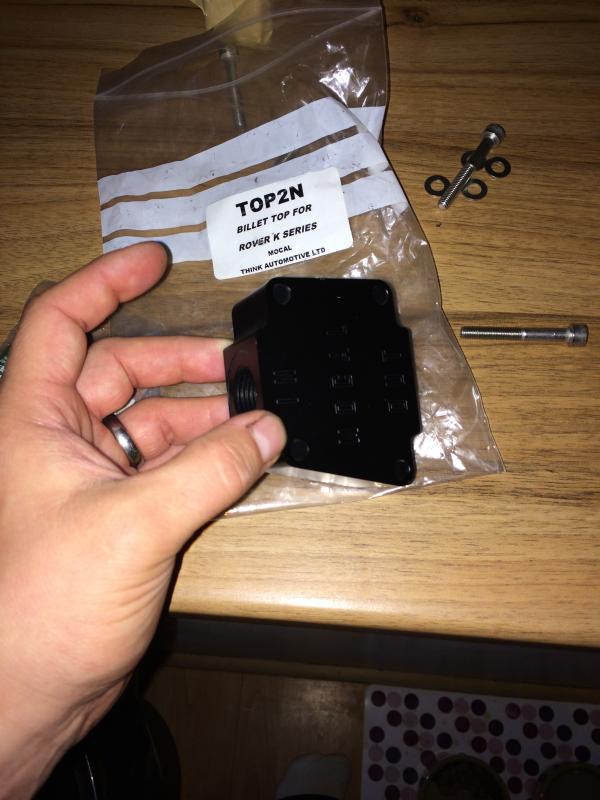 10-17-2014
A bit more progress with the inlet today. Can't quite call it a polish, but definately smoothed out the cast inlet internals.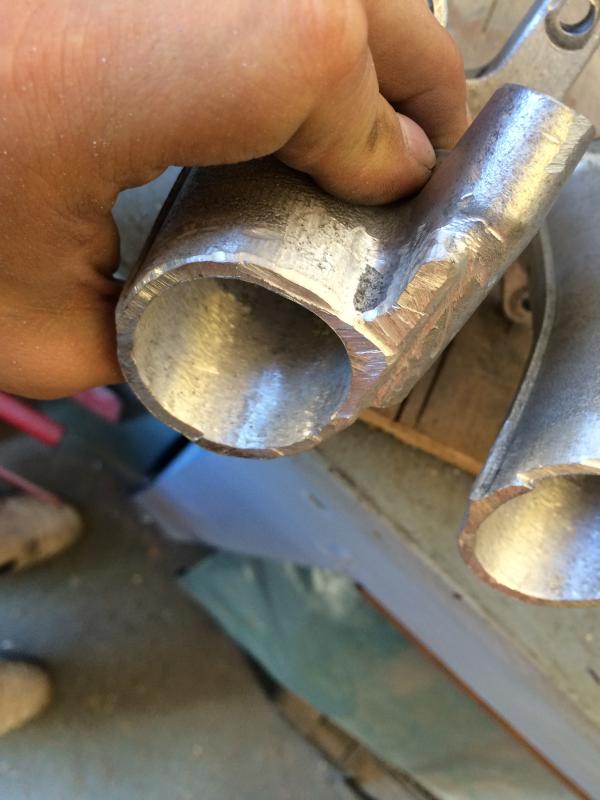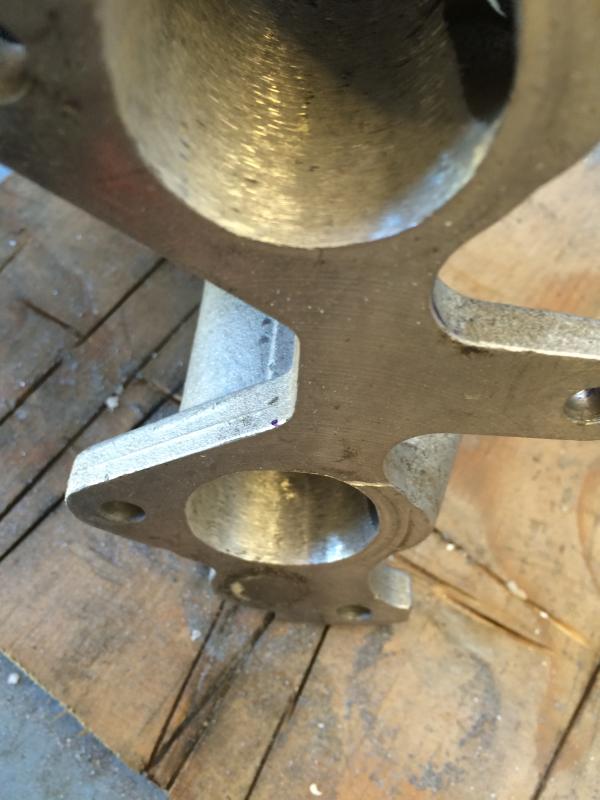 Then started on the jig.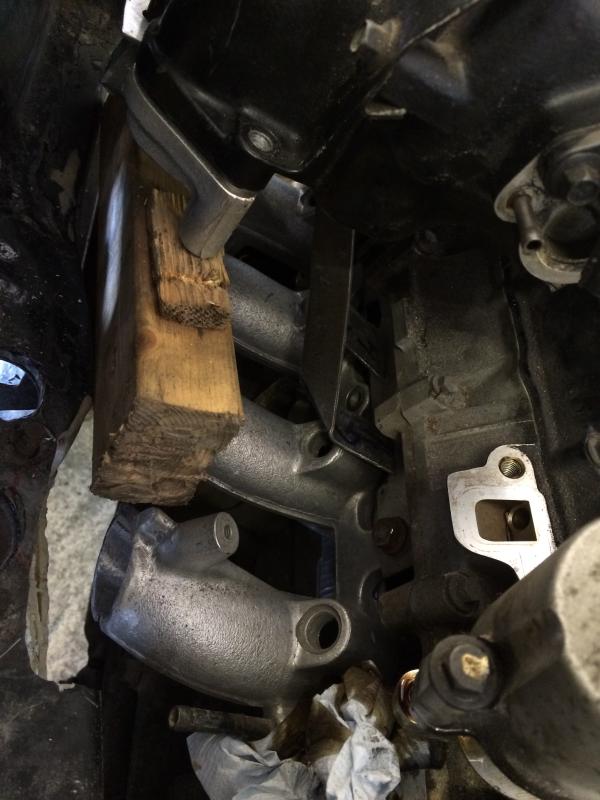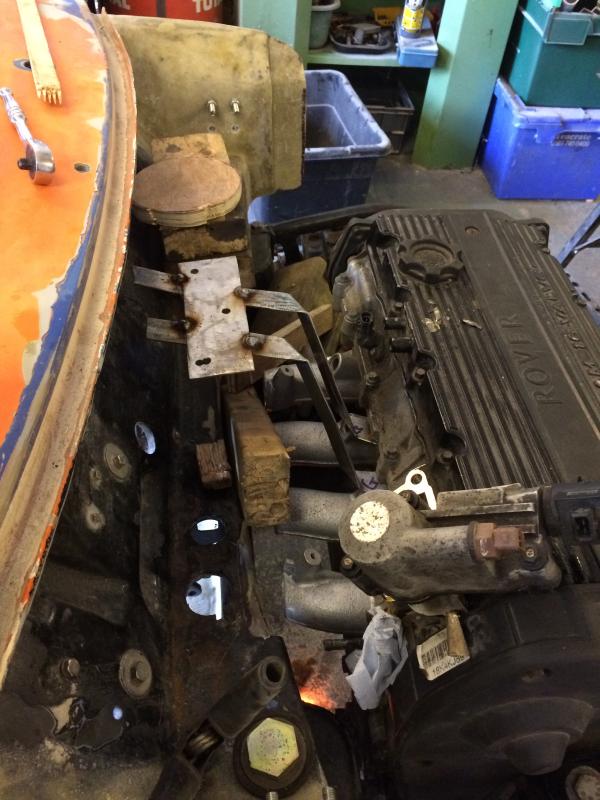 Then added some bracing to the jig.
and ended up with this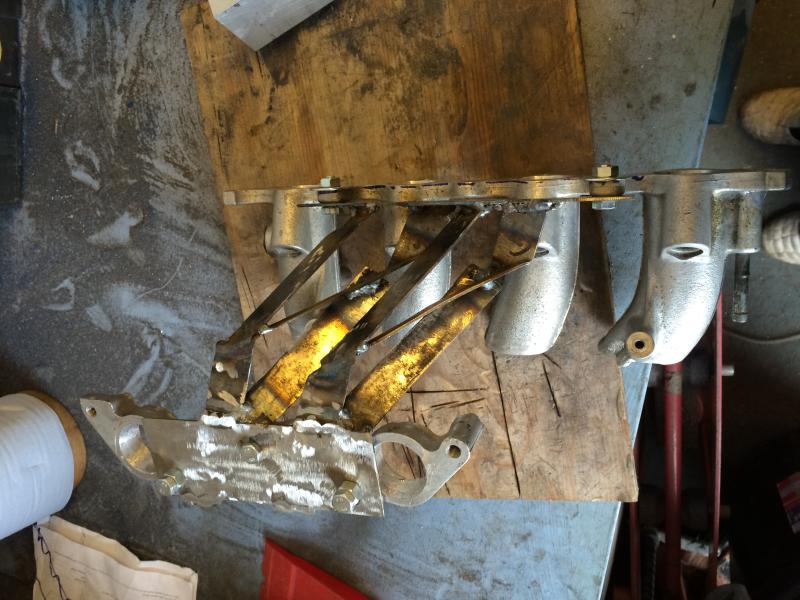 With tube ends flattened out (using a press) and holes drilled.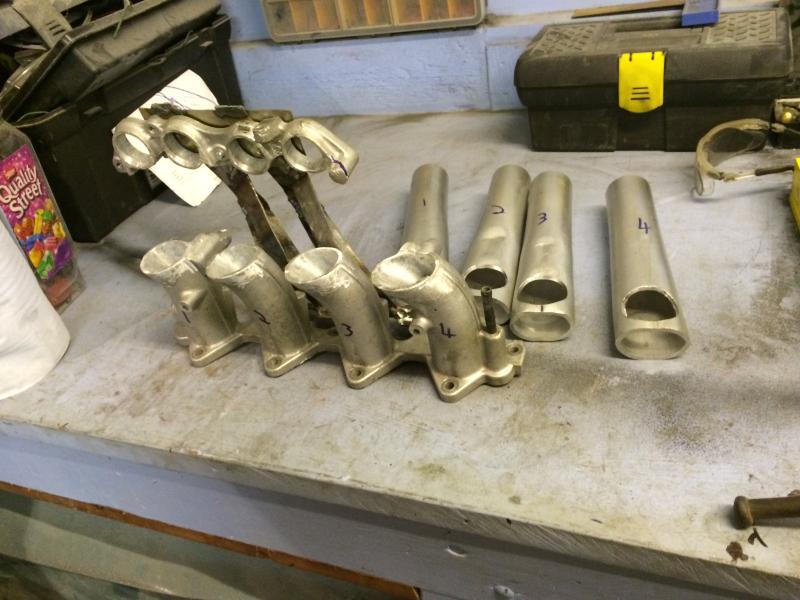 ...just got to cut them to size. Which is gonna be trickier than it sounds.
11-5-2014
Well I made the first two pipes for the inlet and the slash cut required increases the width far more than I anticipated and leaves next to no space for welding.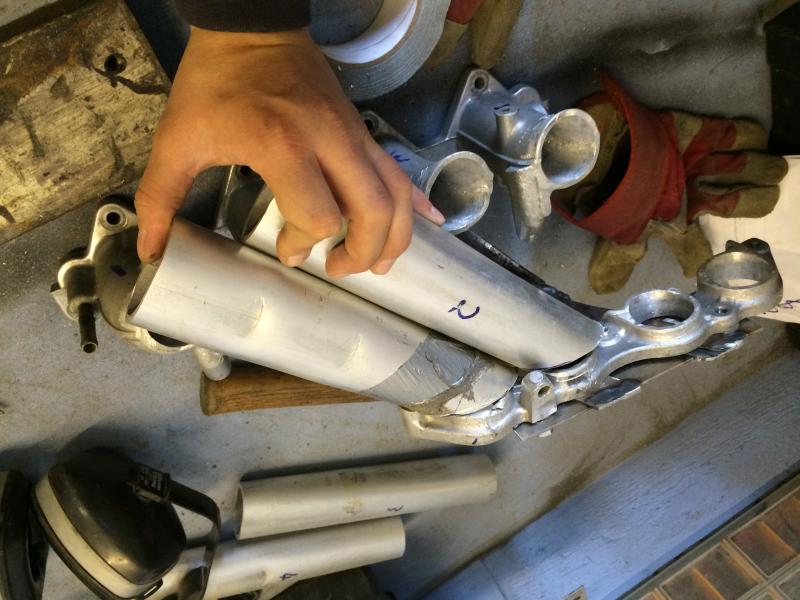 I could sort it out with lots of time but I do believe it will actually be less work to tilt the engine and go with standard inlet.
So I've started to make some of the parts. I made up a lower arm to weld in this position, then I can cut away the one that wIll foul the engine in the new position.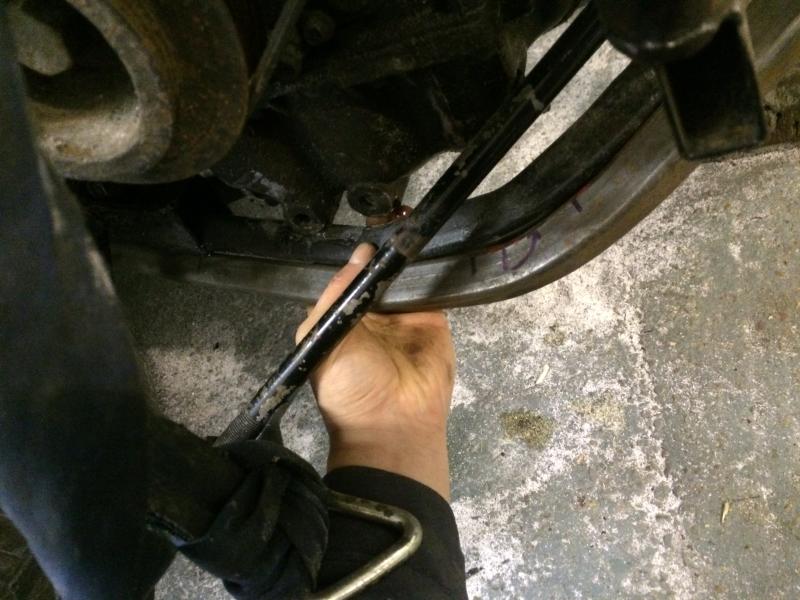 ...and then started on the plates required to move this mount.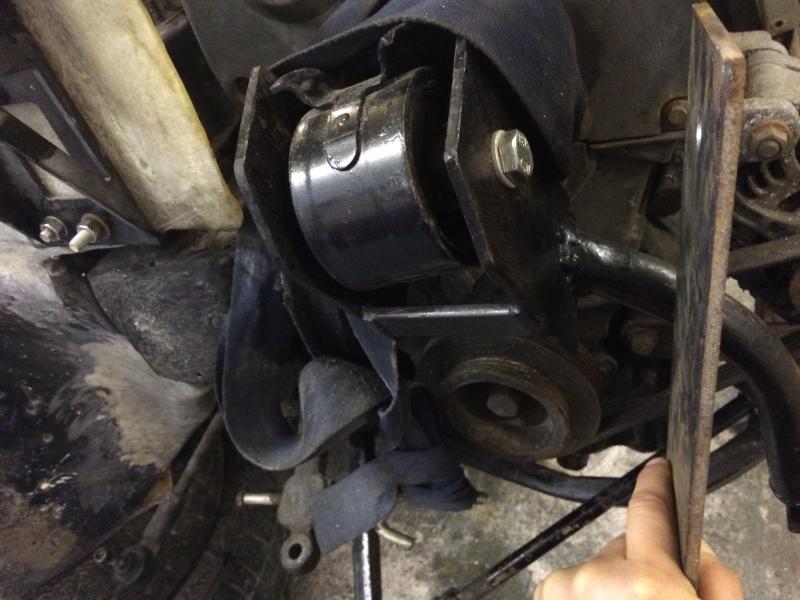 1-29-2015
I had an afternoon at the workshop today for the first time in months.
I put some new ball joints on my mini hubs.
I got my new lower arm tacked in and cut a slot in the old one ready to tip the engine forward.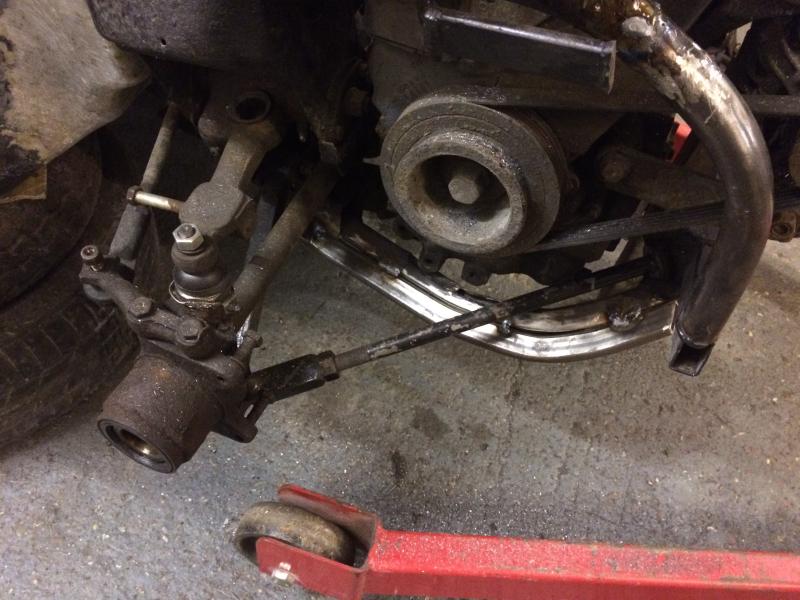 I have cut off the front of the engine mount ready for its be position too.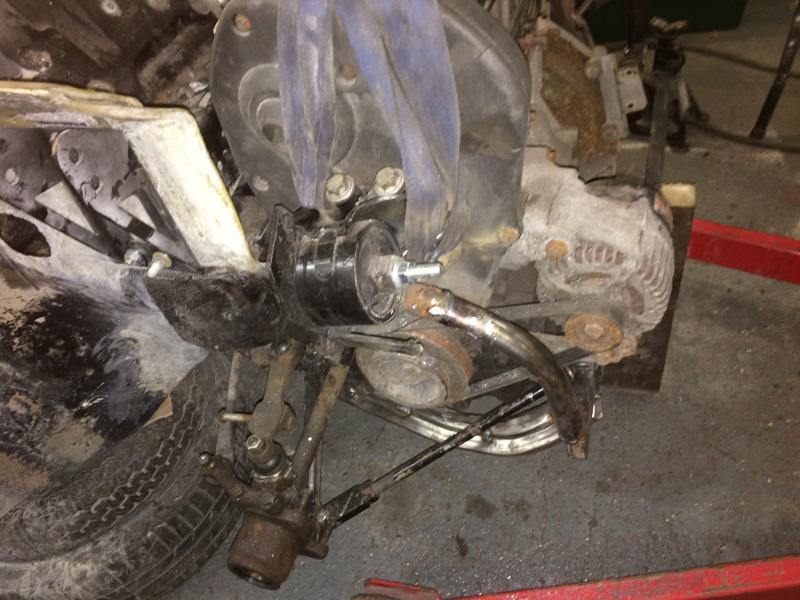 I just need another afternoon up there for more progress...
5-12-2015
Moved house, so haven't been up the workshop for a while, but made some progress today.
I got the offside engine mount in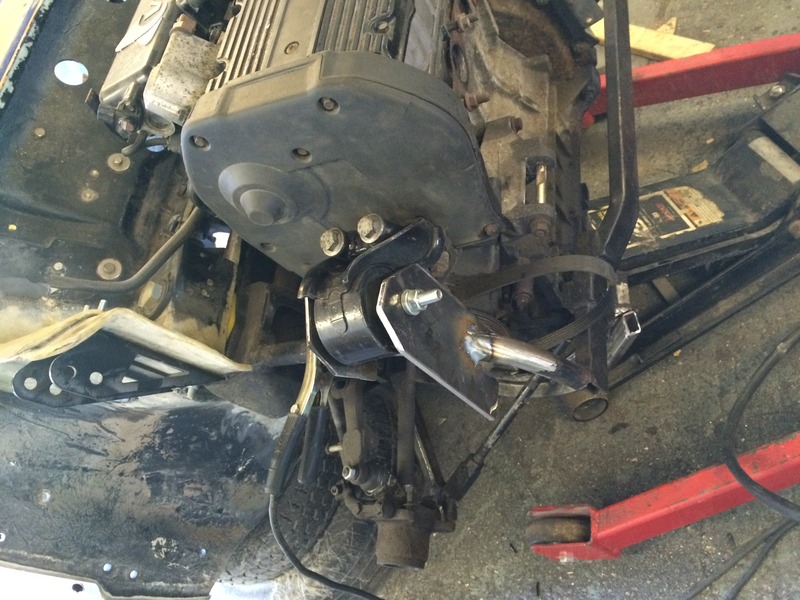 And the engine is in its final position with inlet on and everything else checked for clearance.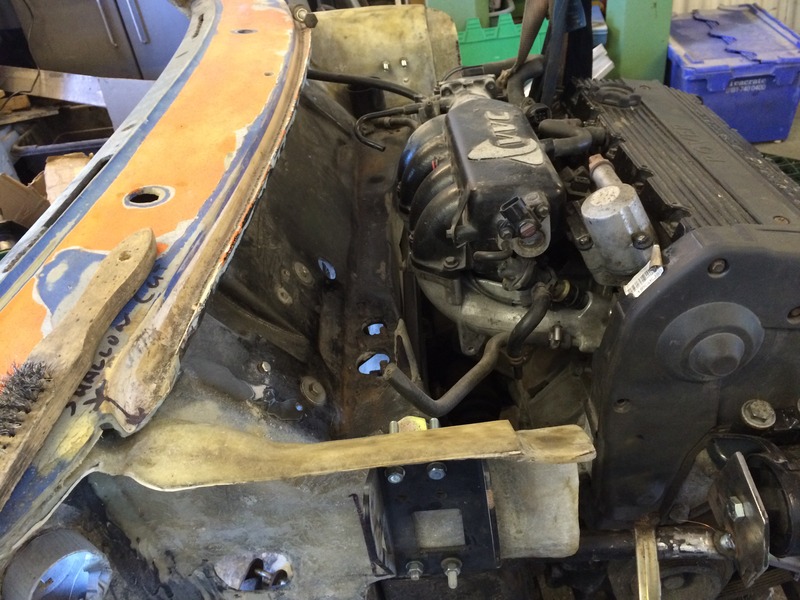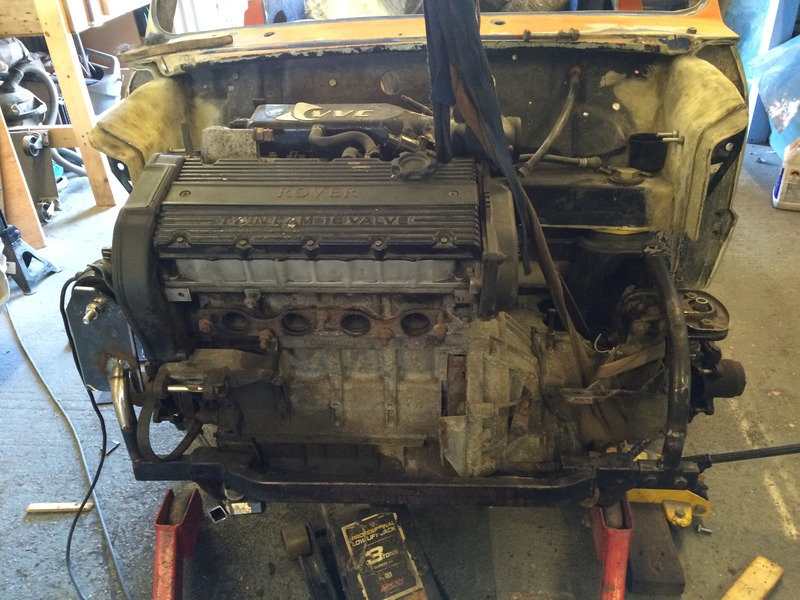 Although alternator clearance and oil filter takeoff is going to be very tricky.
Nearside mount is ready to be welded together again, then will need to redrill the hole for the mount in its new position.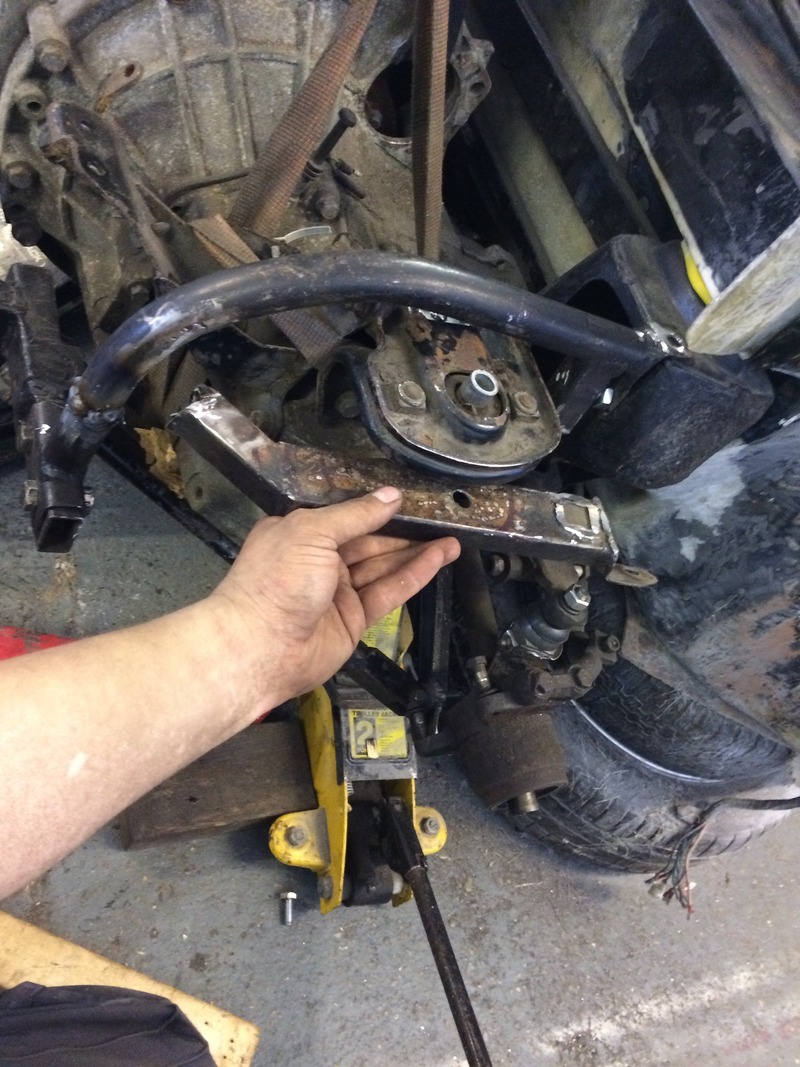 The driveshaft is touching the frame, but there is very little room to play with as the tie bar only just clears the gear box when hub is in its upmost position. If I cant tweak the engine position to to clear everything I'll make the drive shaft hole in the frame bigger.
5-14-2015
I got the gearbox mount all tacked together.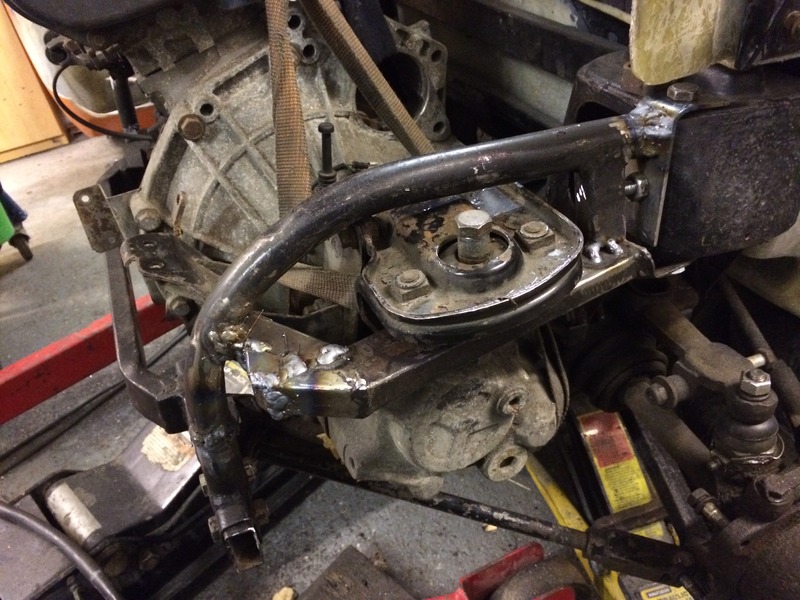 I will definately need to make the driveshaft hole bigger on that side.

The oil filter take-off will have to be a thin plate with two flared pipes coming out of it, but the frame will still need some mods here.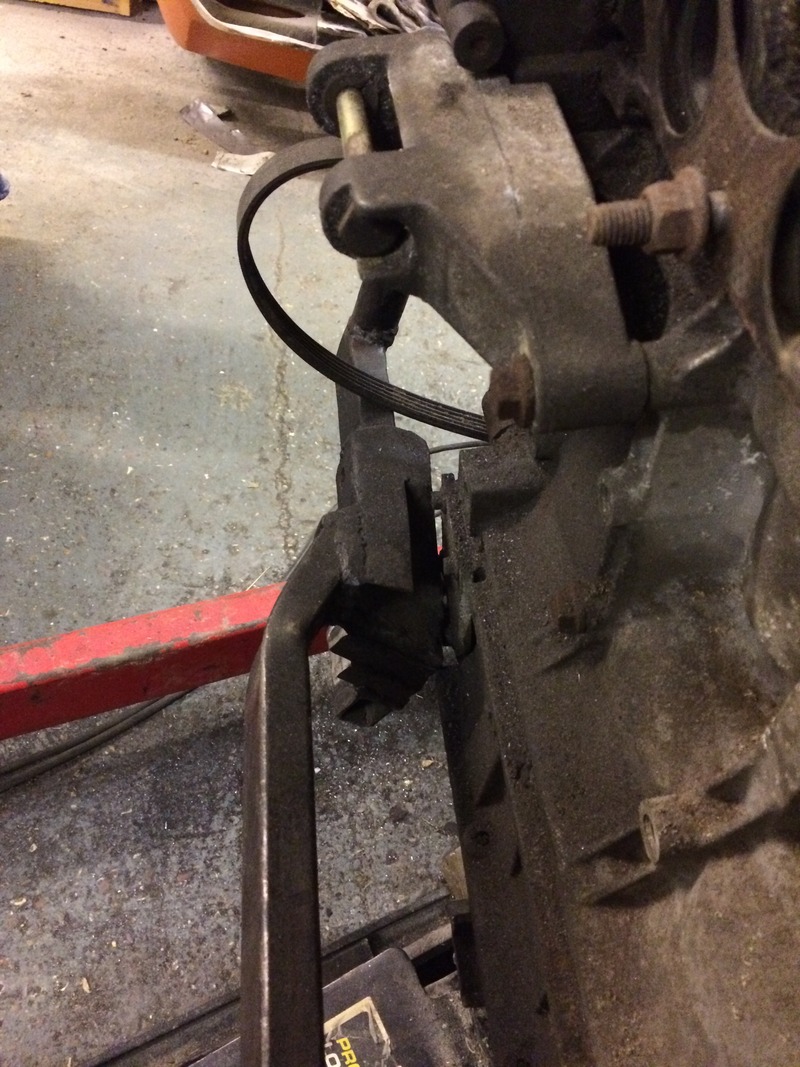 5-20-2015
With the front end on (not fully in position, probably 5-8mm off being pushed backed far enough) you can get a good idea of how much space I've got for the alternator.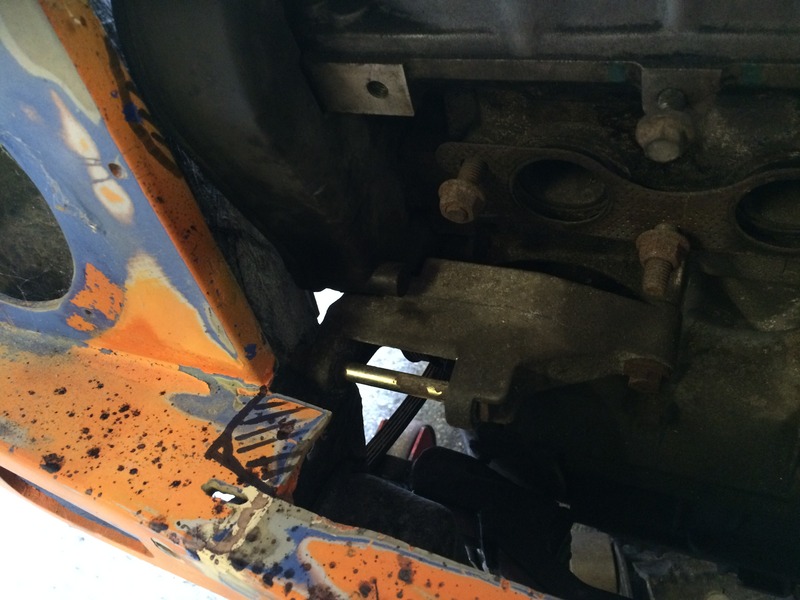 ...and this is, was, how much space I had for an oil filter take off.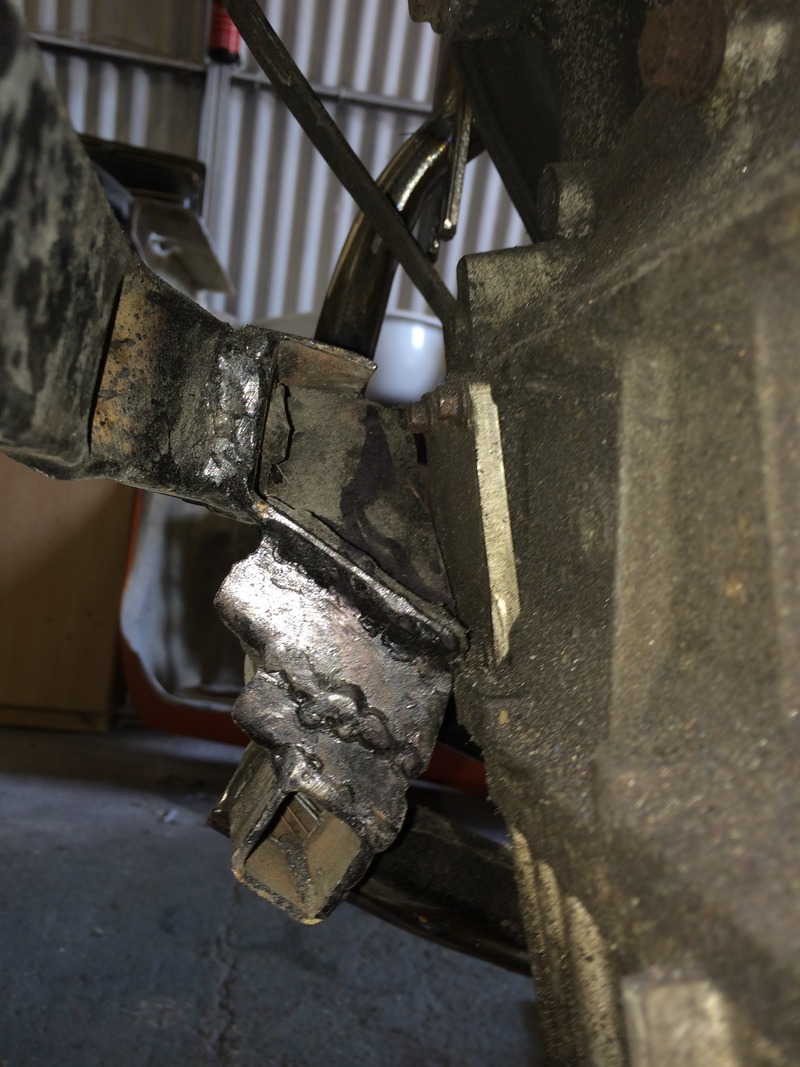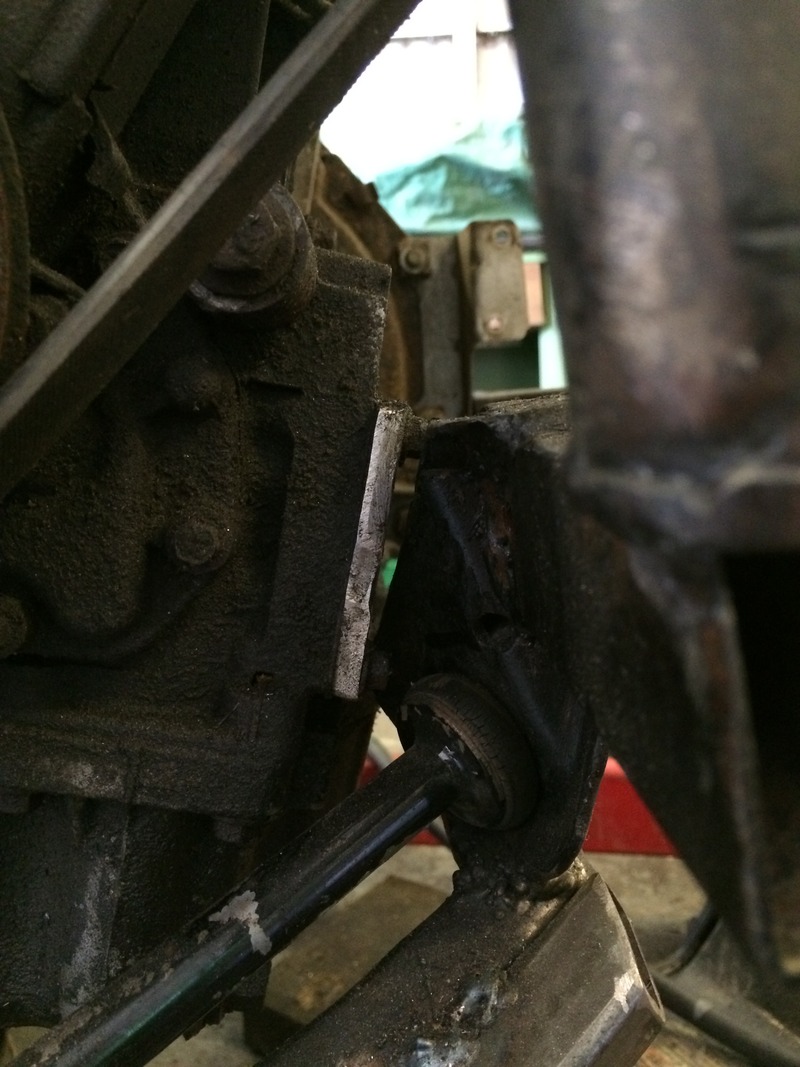 So I had to make some space. And cut a big chunk out here: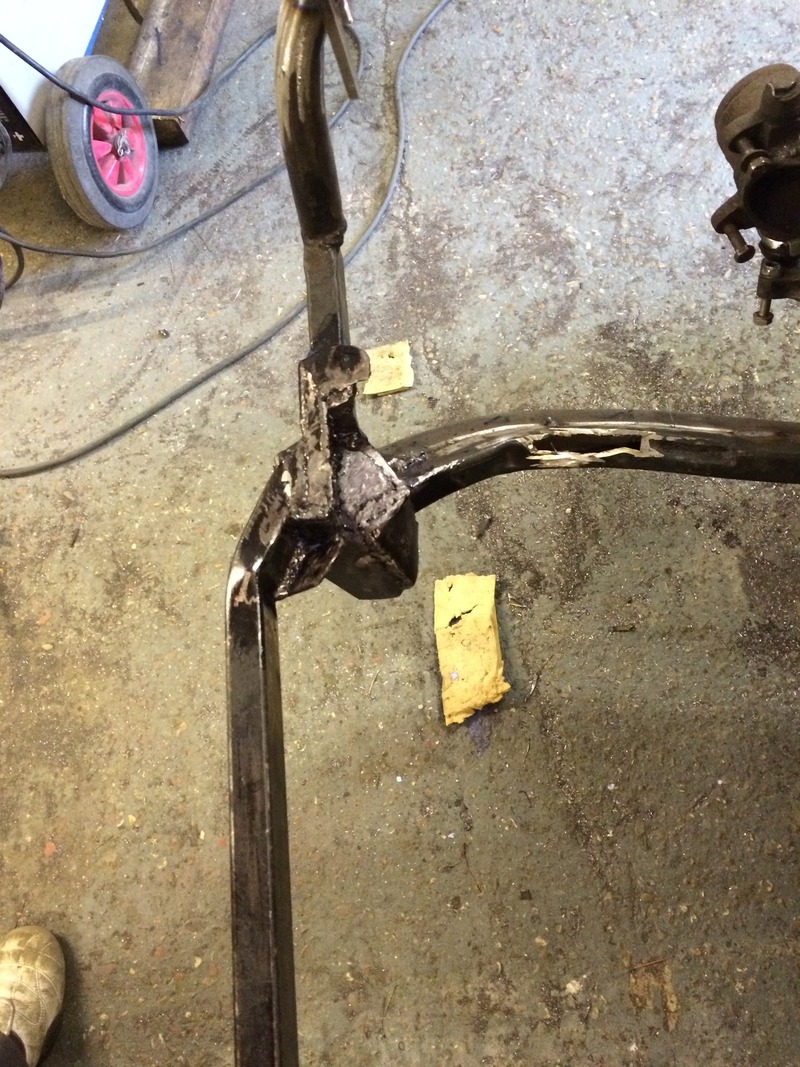 And triangulated it here, to add some strength back.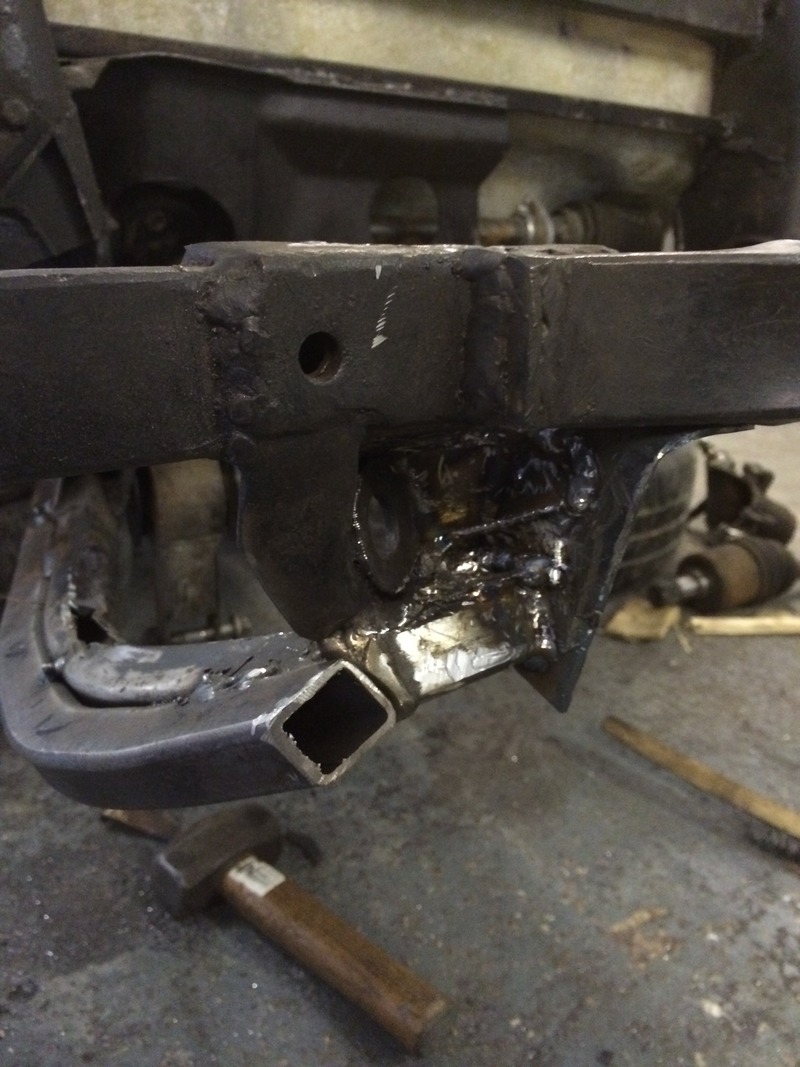 (Just realised I forgot to weld it in the top right corner)
The engine is much further over now so I don't need the notch I cut for clearance, so I'm gonna sort that out and get rid of the the second bar I tacked in.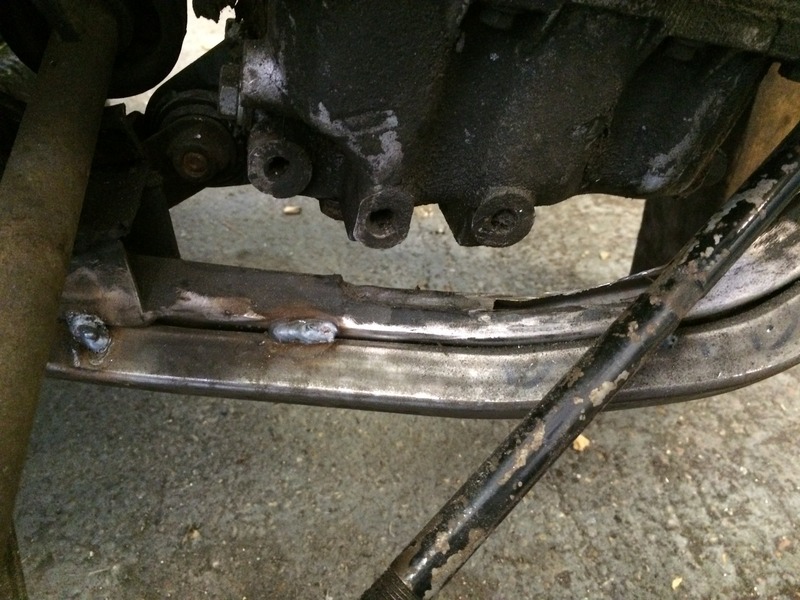 Note to self:
I need to cut out here to clear the n/s drive shaft.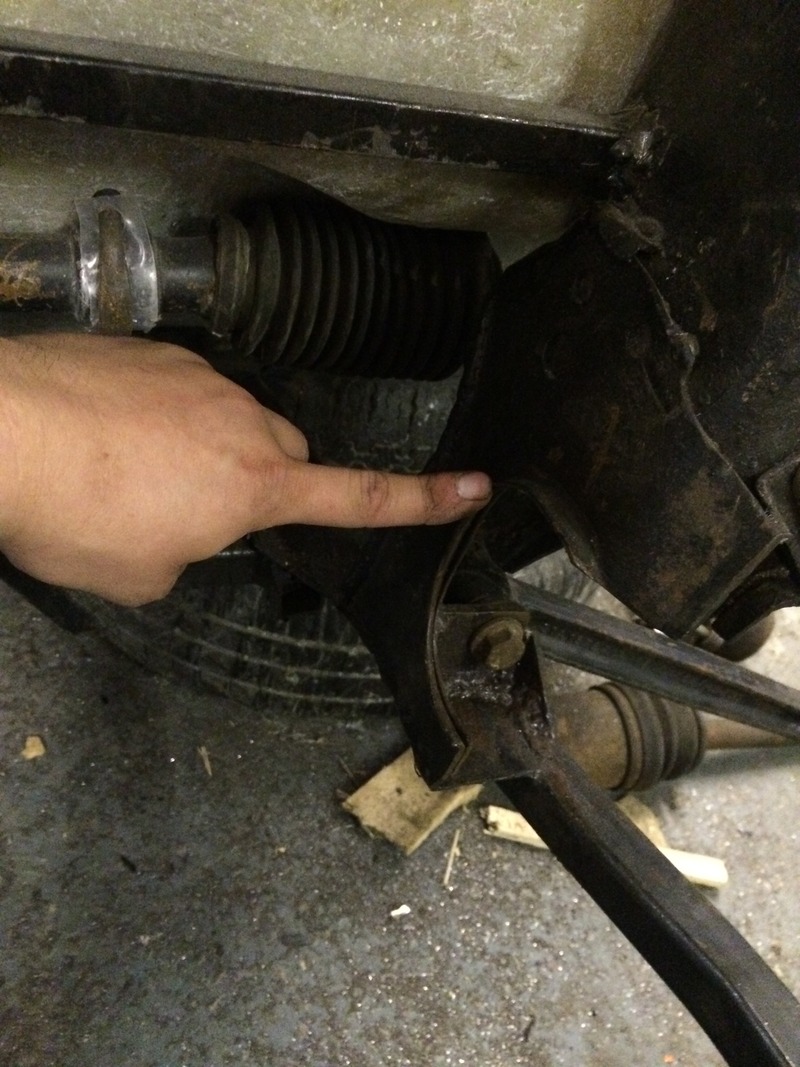 And here on the nearside, because the o/s shaft touches when the suspension is fully down.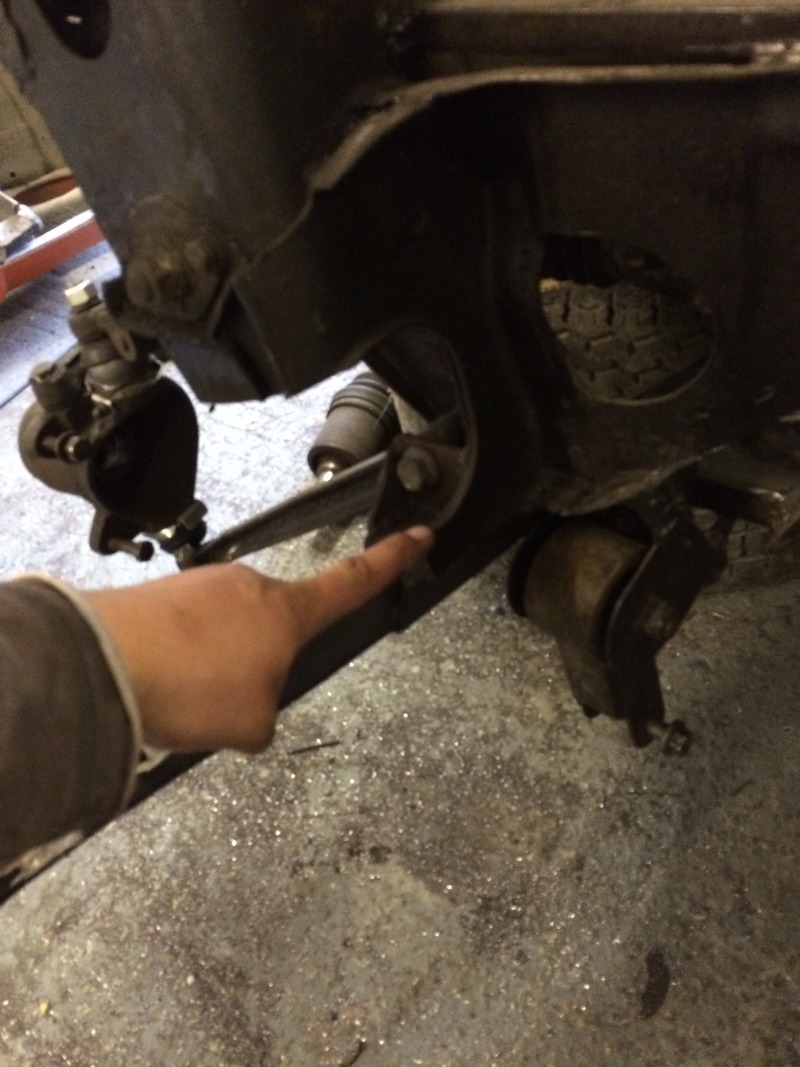 I'm going to triangulate here too, for a bit more strength.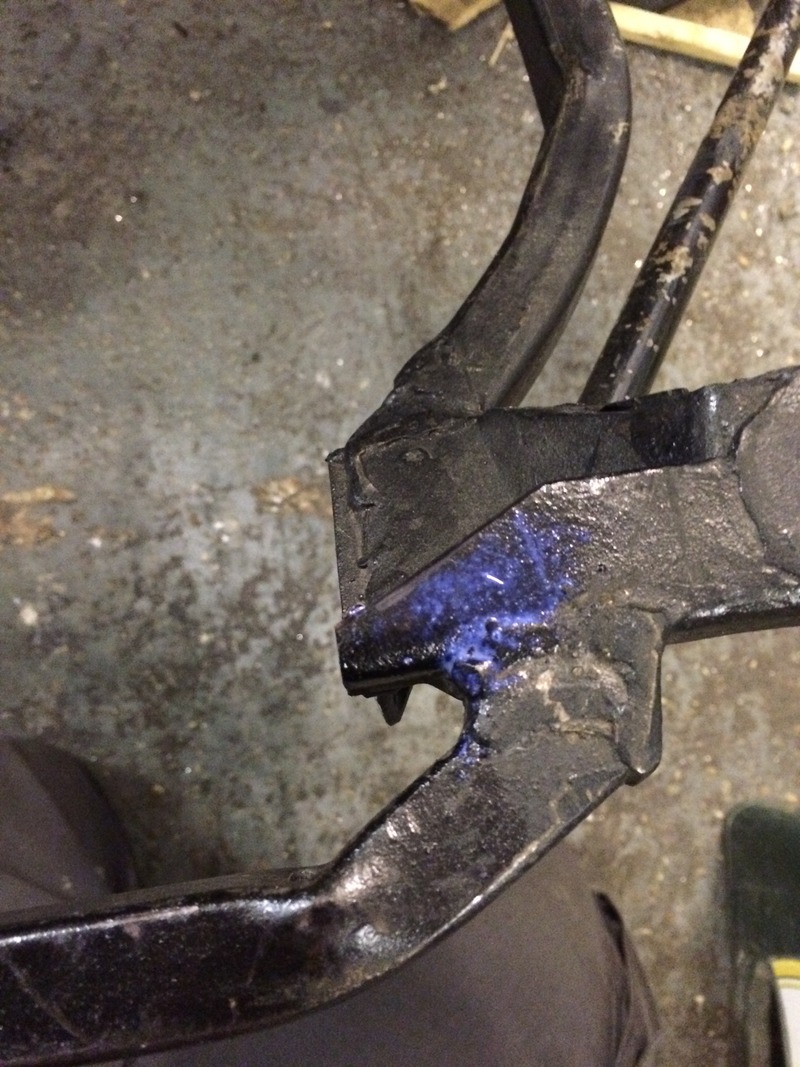 6-8-2015
I was after a small Nippon Denso alternator and some people have found them in Daihatsu Charades and such like. I took a chance on this one cod it was £12. But it's only a little bit smaller. Fail. I'll post up all the info I have so other people don't make the same mistake.

SUZUKI ALTO 2005 ( 03-06 ) 1.1 16v ALTERNATOR
TAKEN FROM A NON AIRCON MODEL
DENSO MAKE
PART NUMBER 31400-79G00 / SR102211-5610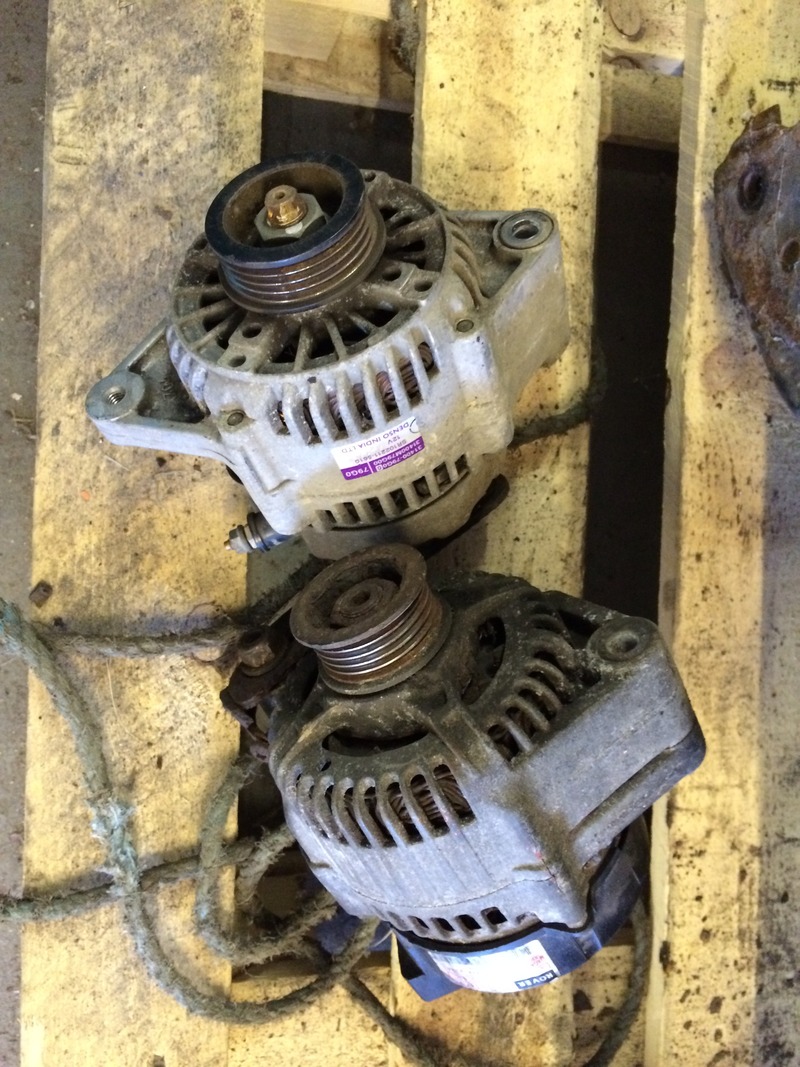 Before my welder started buggering about, I got the gearbox mount done.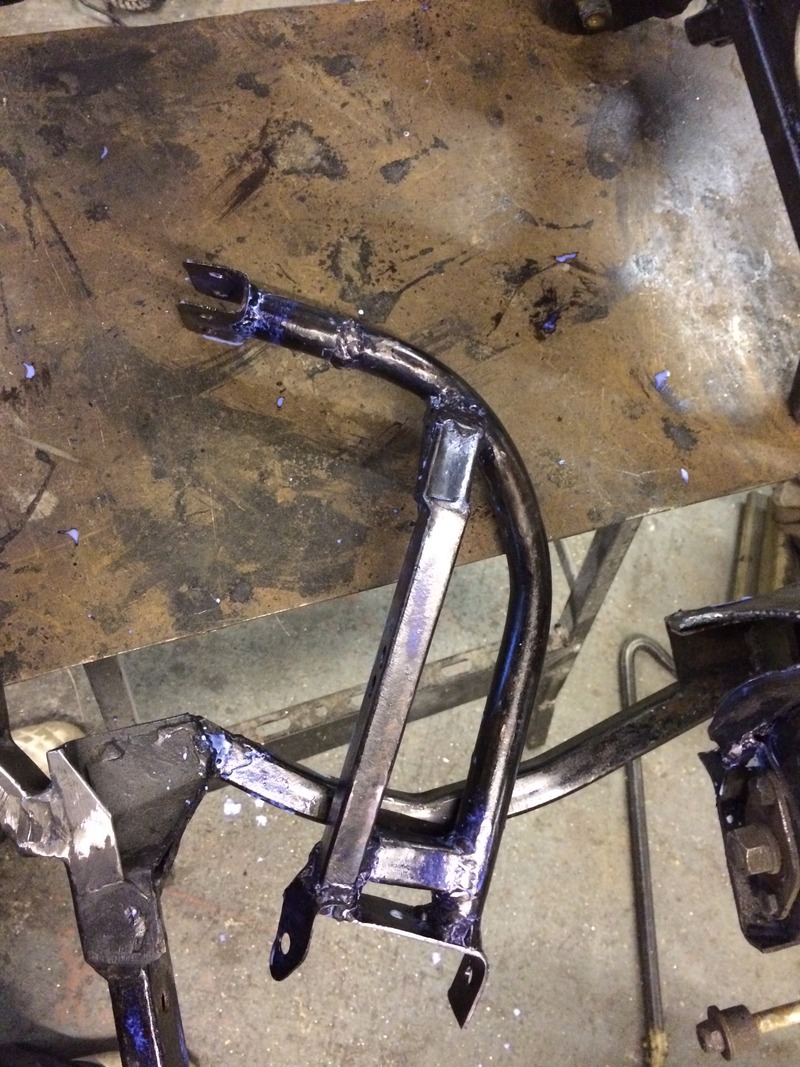 I cut off the extra support and covered the notches in the lower leg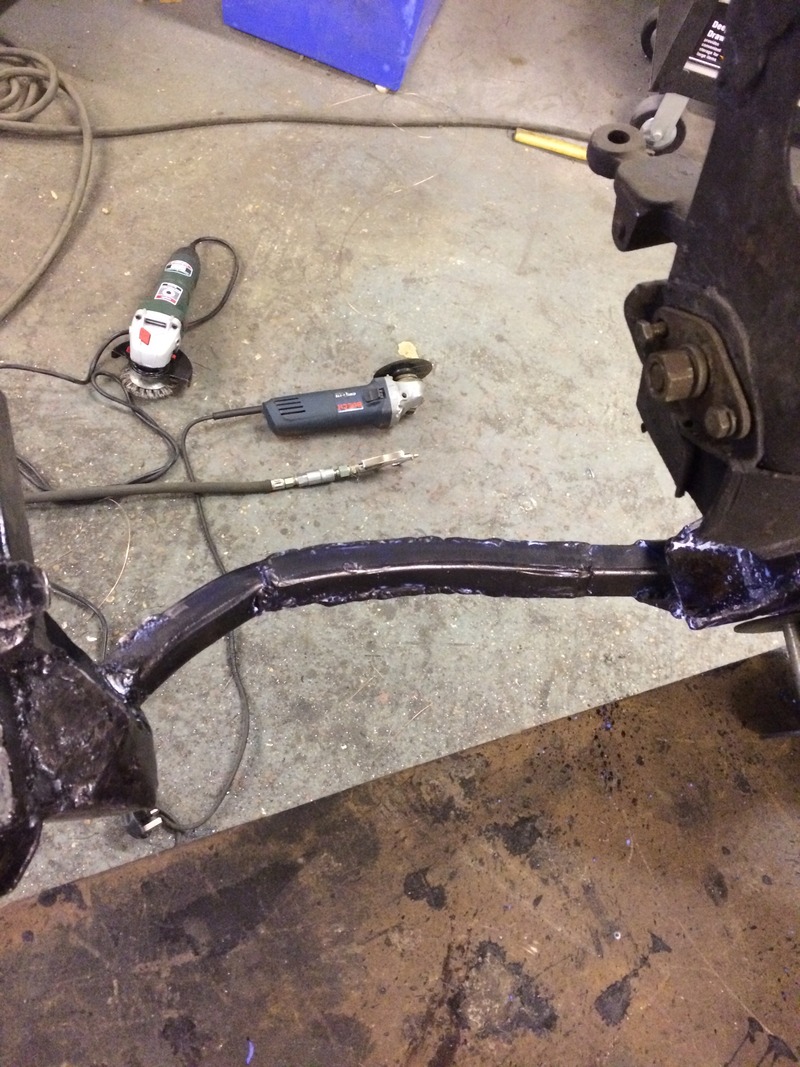 I cut the o/s driveshaft hole bigger and then welded the seam for strength.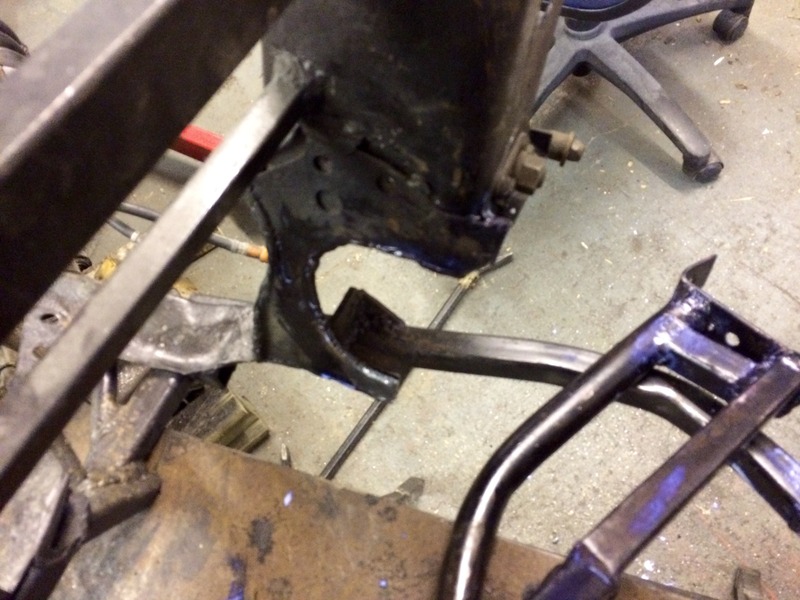 Ditto for the n/s driveshaft clearance.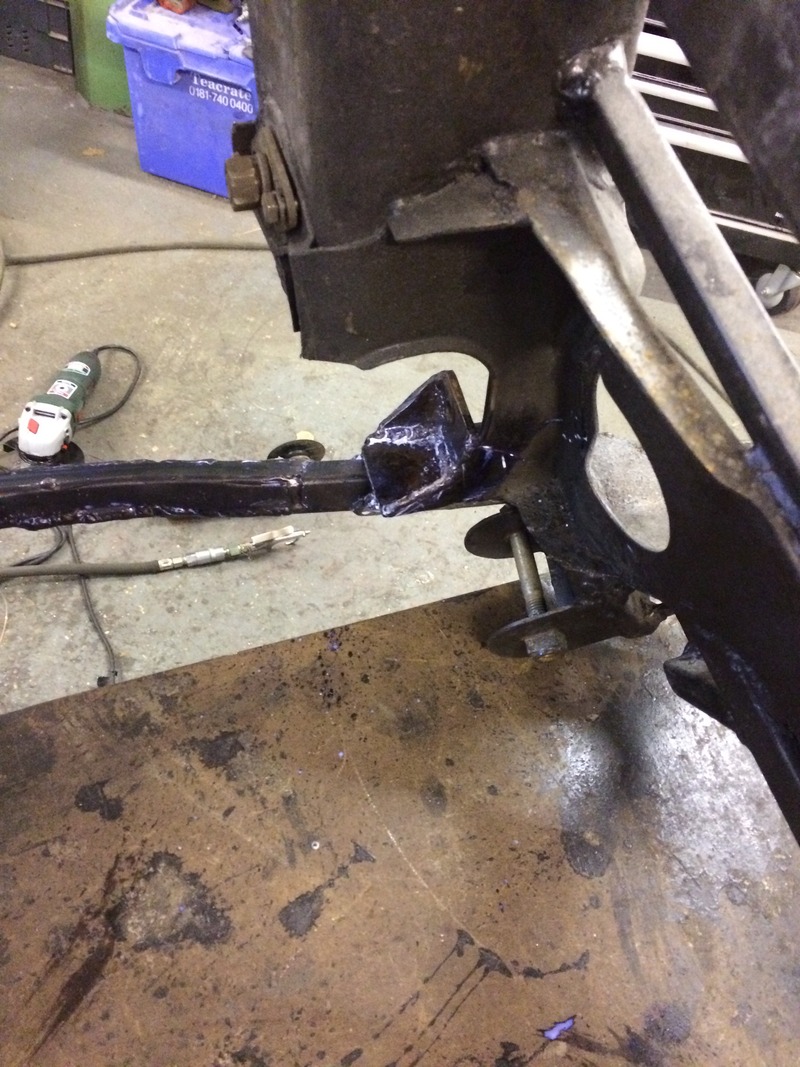 7-30-2015
I spent just as much time fixing my welder as I did welding today, but I got a couple of bits done.
I re-inforced the front corners as planned.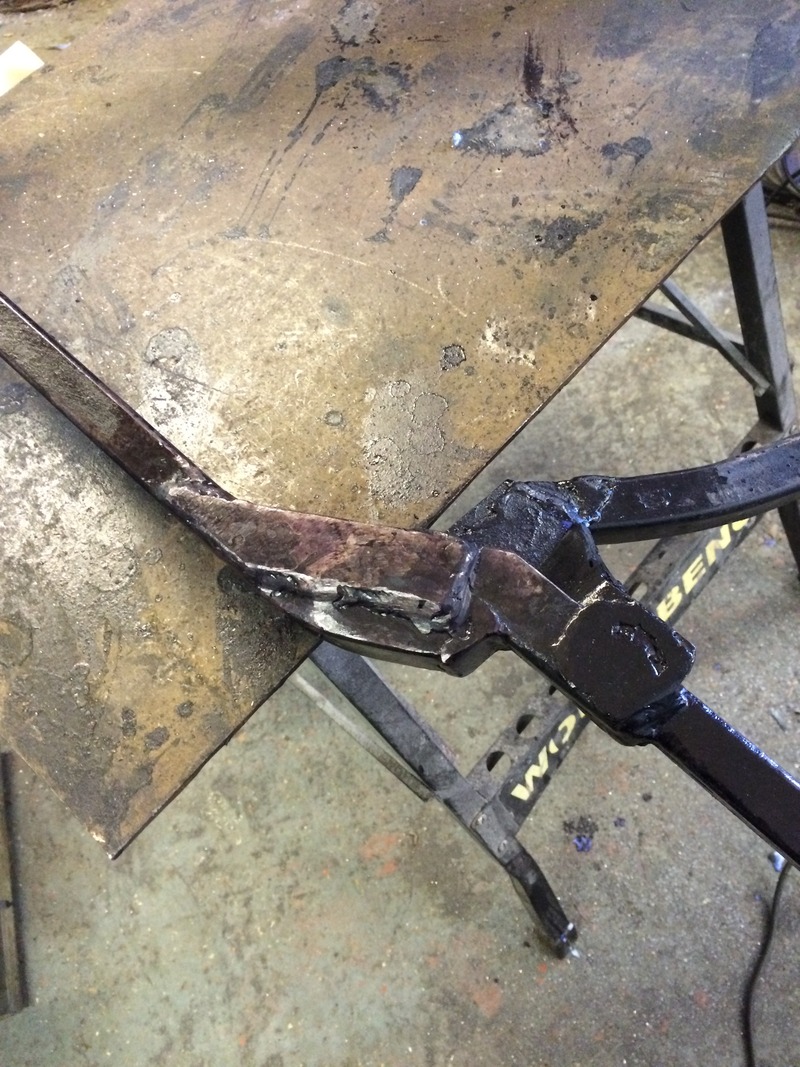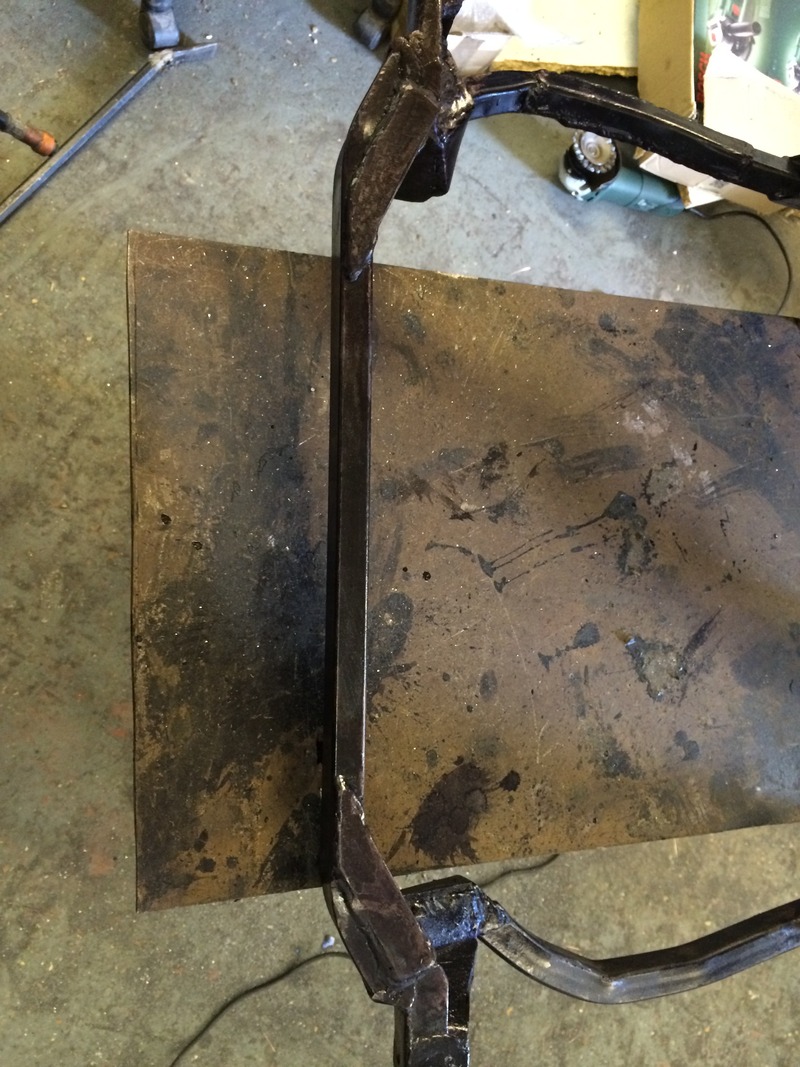 And then finished off the engine mount by adding a support.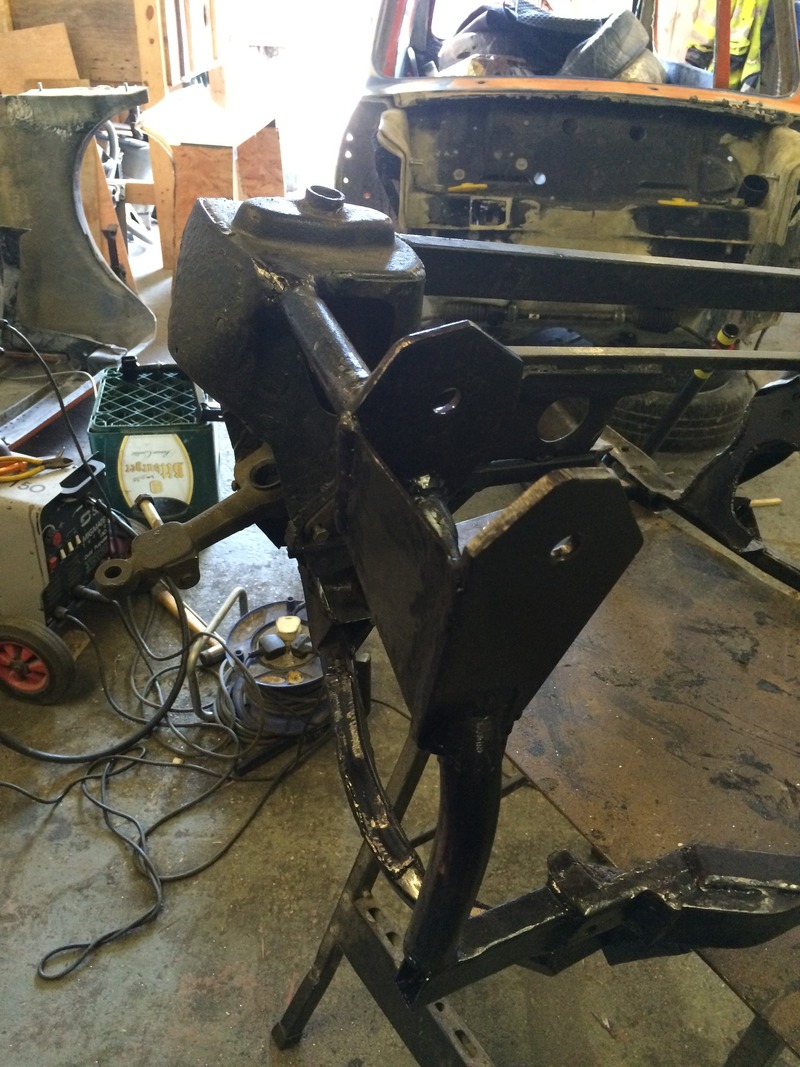 ...and I think that's it, so I might even risk painting it next time.
I'll have to finish off the body work on the front end at least and hopefully start bolting stuff in, in their final positions
Body work jobs are :
Sand out the gel coat cracks on both sides of each panel and re-glass them.
Make the shut lines,where I cut off the front end nice, by re-glassing them.
I need to fix the hole I cut in the bulkhead, under the master cylinders, when I was trying to figure out clearance for the old inlet, which I've now ditched in favour of OE inlet.
...and if I remember correctly, once I'd fitted the steering rack, I wasn't 100% happy with the clearance on the drivers side gaiter, so I may have a go at that, whilst I've got the sticky stuff out.

I'm also debating on doing loads of grp on the inside roof edges and rear corners and tailgate, then sanding the horrible 'Phoenix' roof lines into something more mini estate/ van like.
But I reckon it'll add 50hours to the build.
I may just leave it and use a white carbon effect vinyl on the roof, as the old general lee vinyl made the roof look ok. I think the main car colour will be almond green....
8-18-2015
Boxed some ends off today.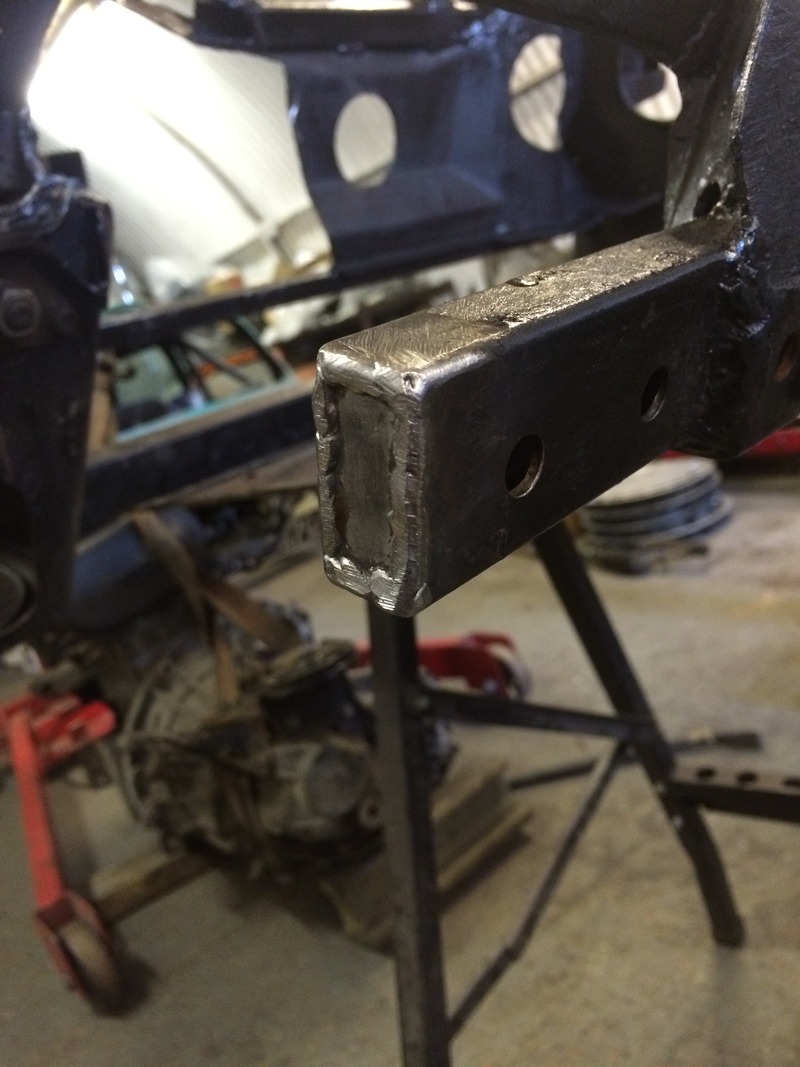 9-21-2015
Subframe is painted.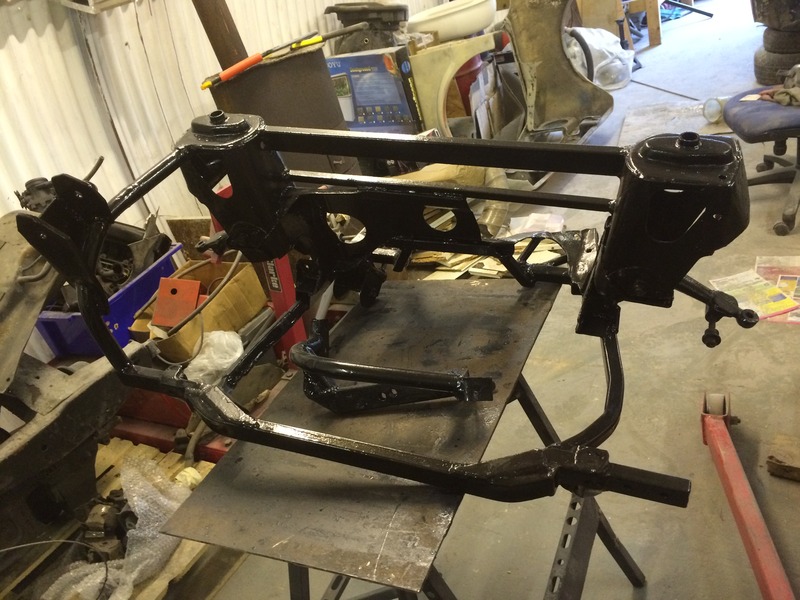 Then I've been sanding like a loon to get ready to fibreglass stuff.
These shut lines need tarting up.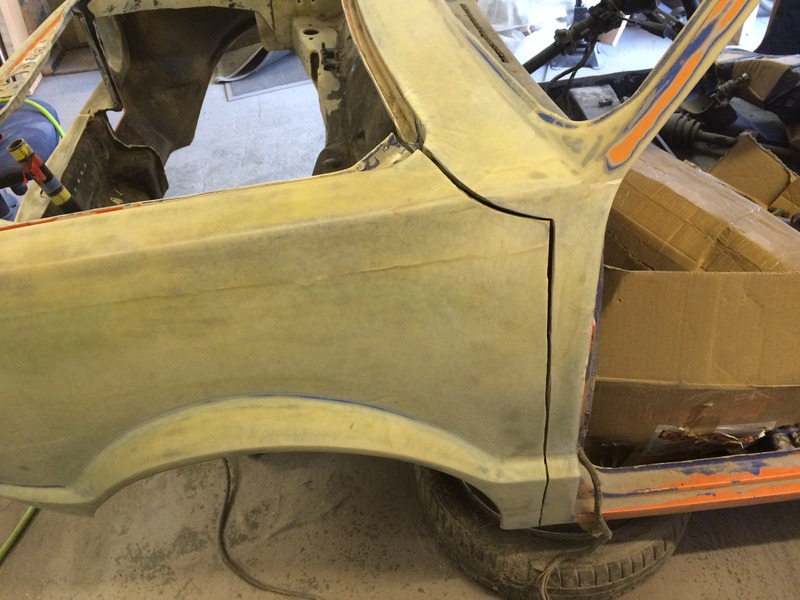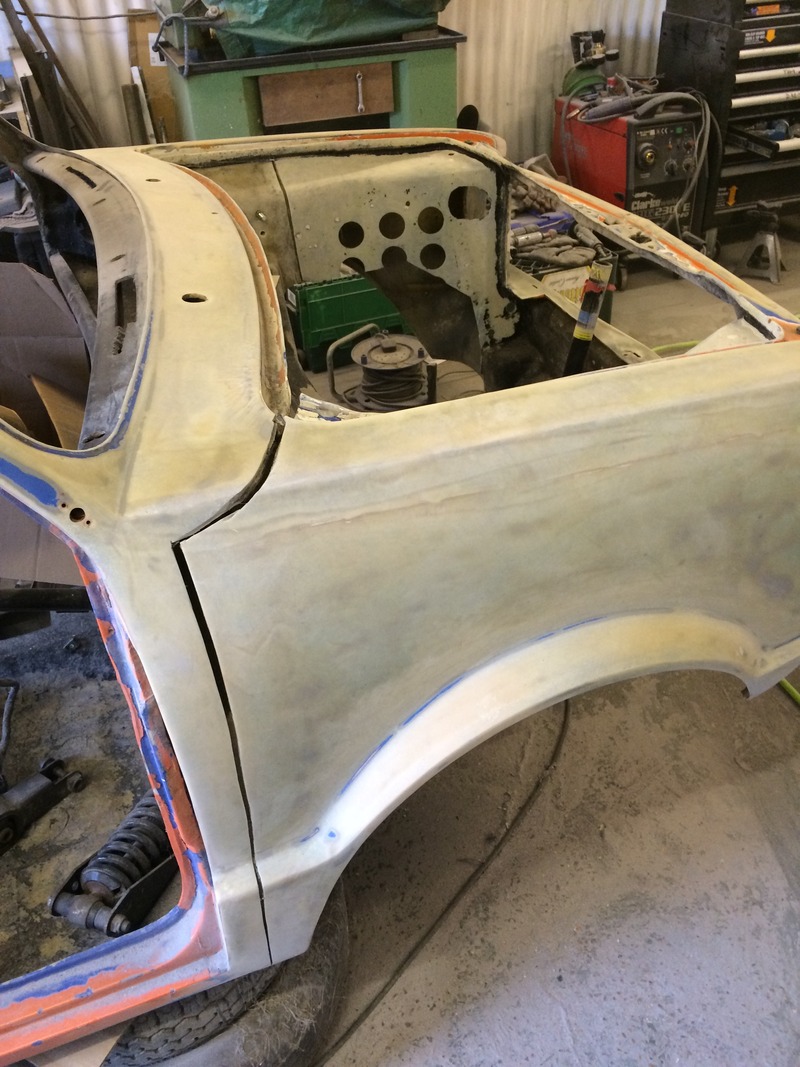 This crazing needs taking right back and reglassing.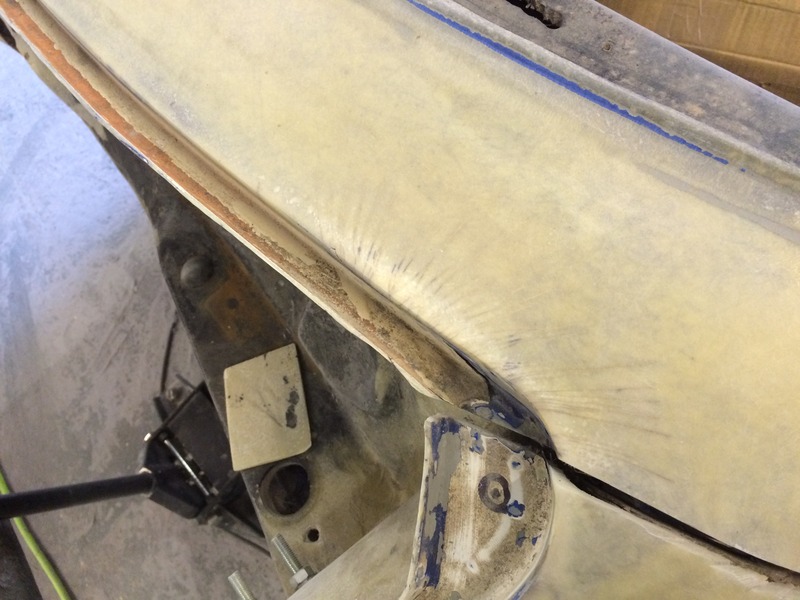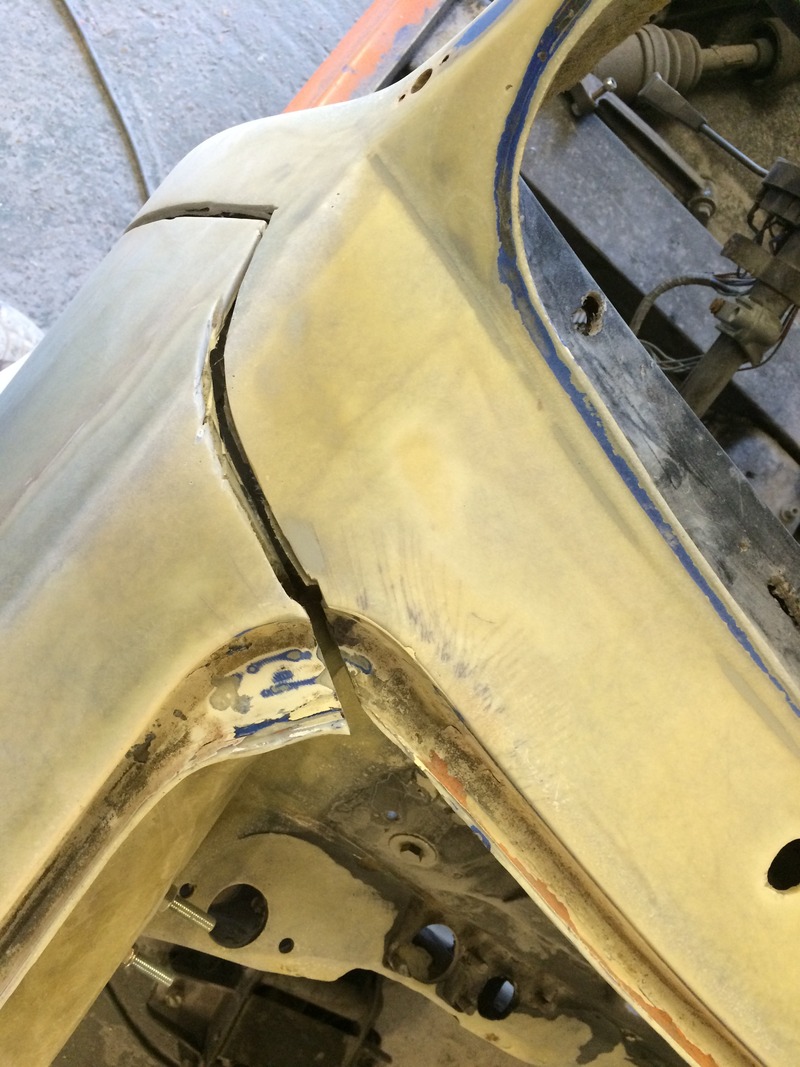 Smoothed the inner wings of the removeable front.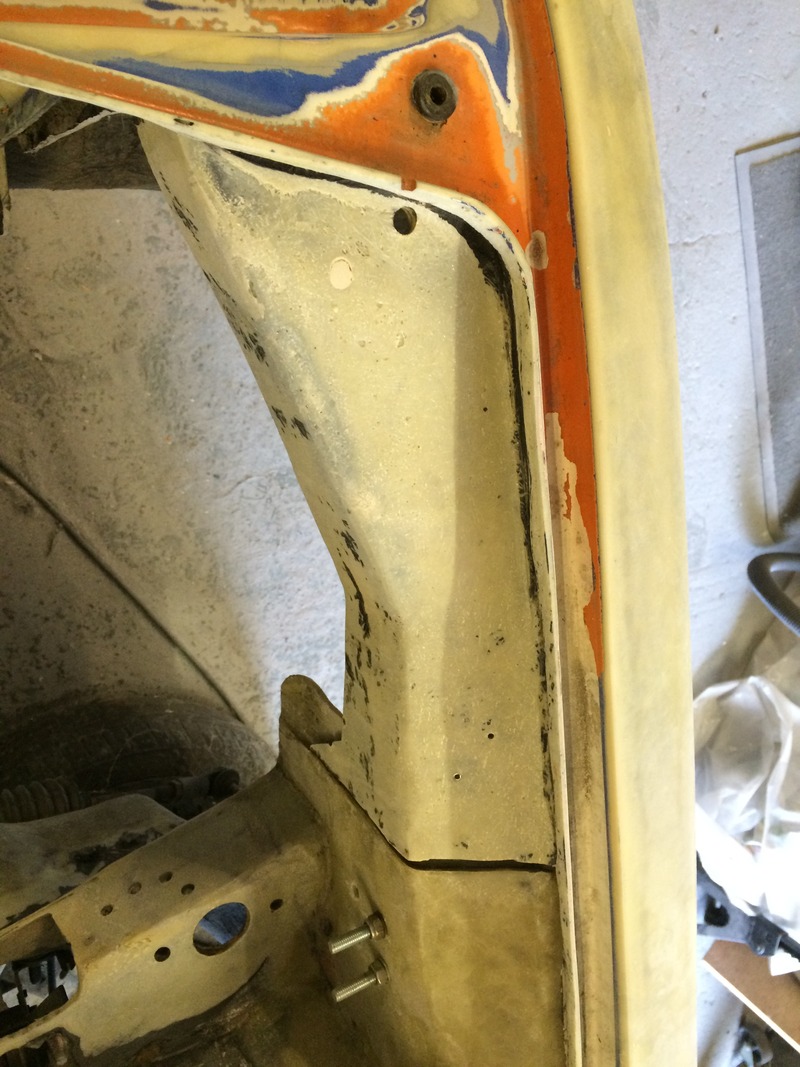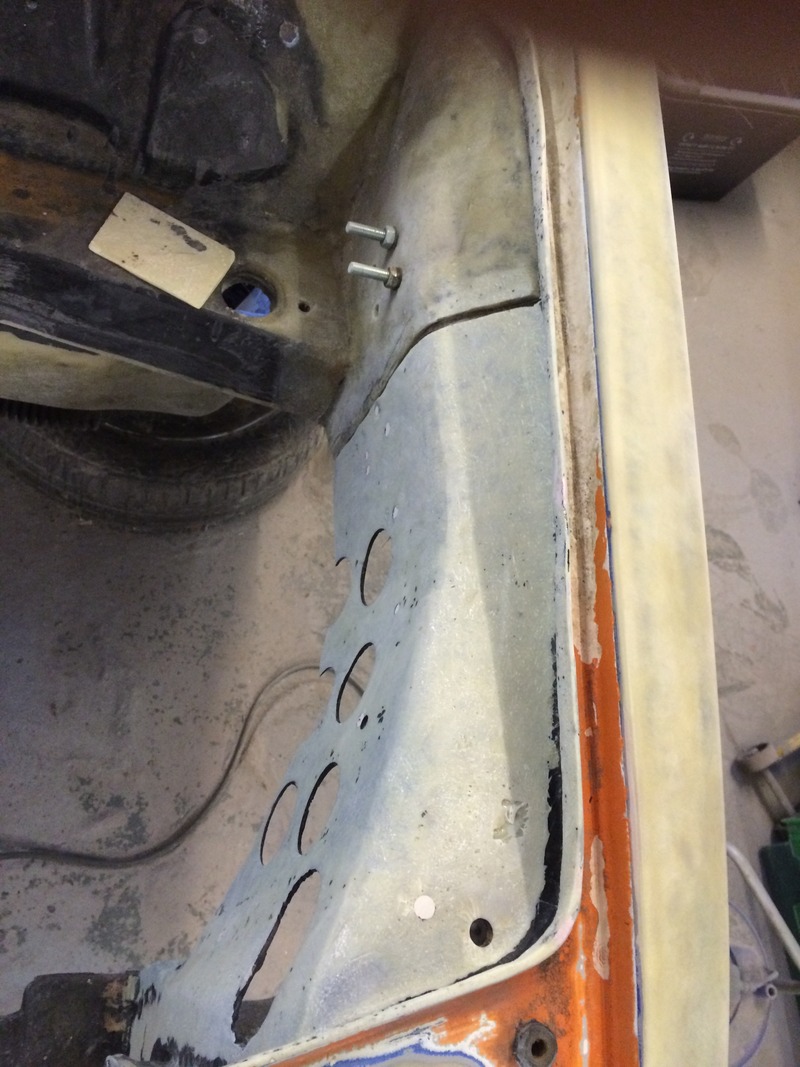 I also filled the hole I cut in the bulkhead to clear the old inlet. This was a minor disaster as the bottom started to peel away, but I taped round a block of wood and used that to pin it back. I should think it will need sanding and re-doing half of it tho.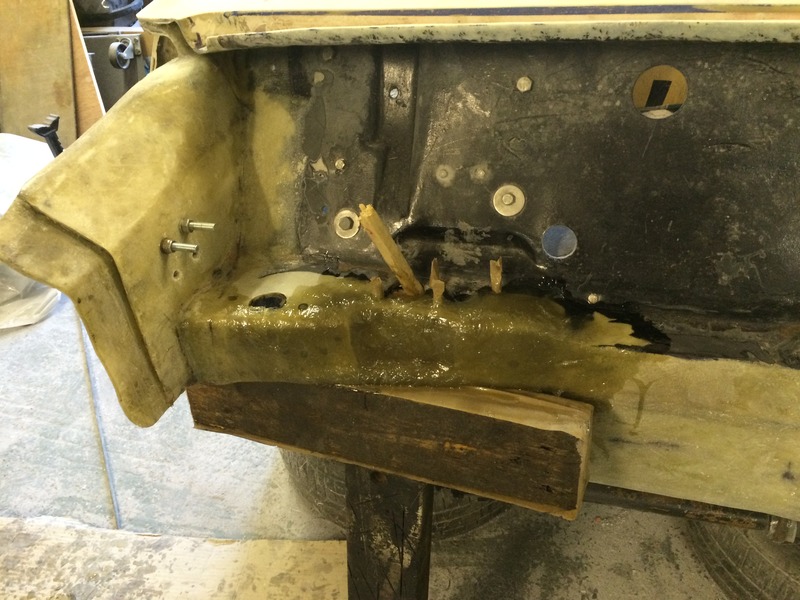 12-22-2015
A bit more tidying up to do but re-glassing the bit I cut out the bulkhead has gone quite well.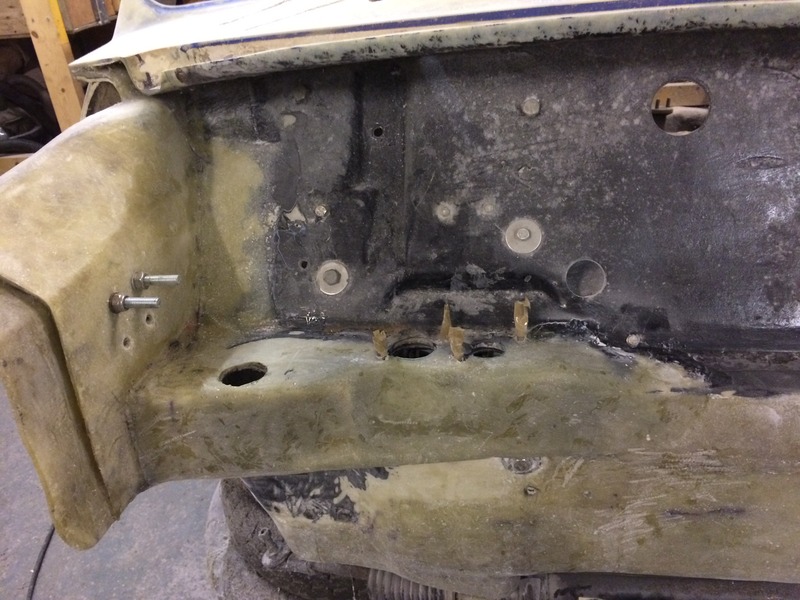 1-16-2016
Nope. Misses is up the duff again, so decorating the house has taken over a bit. I did buy Maximum Mini 2 book and can now see that a properly fitted boot actually looks quite tidy, so I will continue with my plan to sort that out. Need to cut down the tailgates bumper as it protrudes out past the bodywork bulge, etc.
Here's a good one: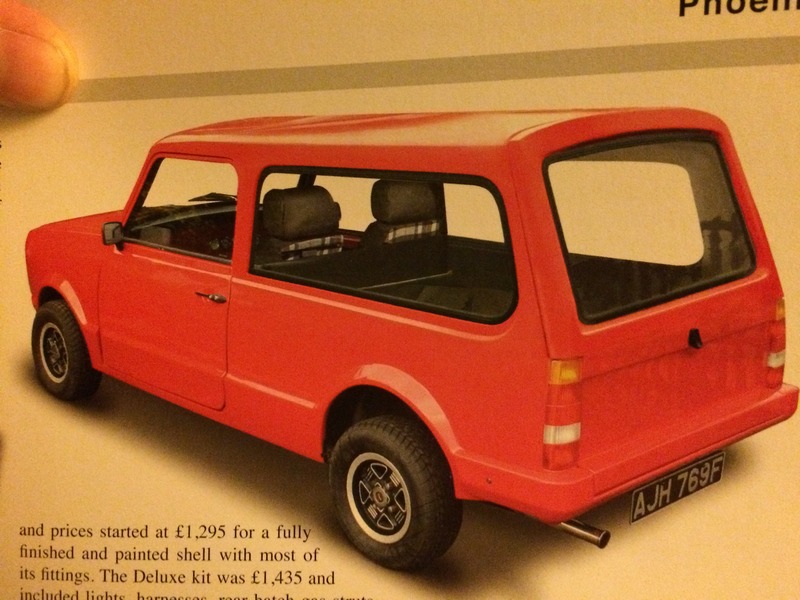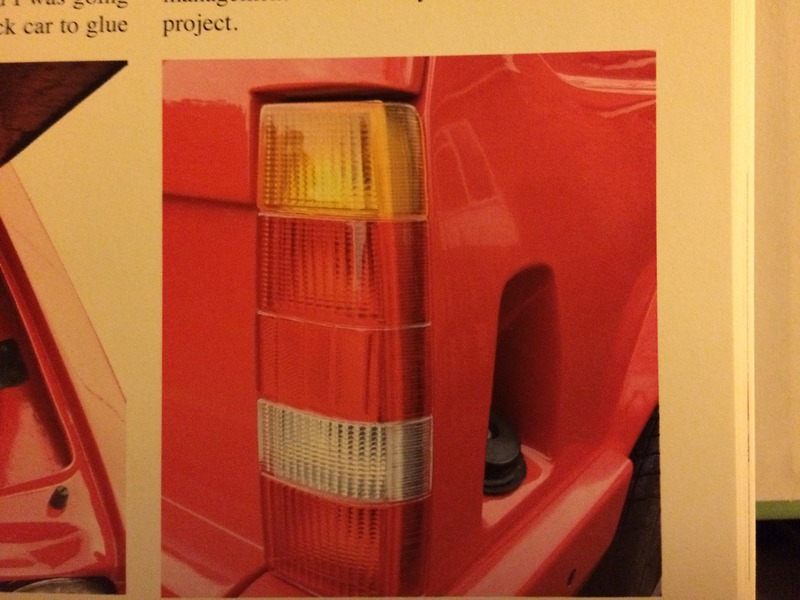 And maybe adding a little spoiler to hide the gash roof line. Or at least mocking one up to see if it looks good. A bit like this but smaller.