1932 Packard 906 Twin Six Seven Passenger Sedan by John_Mereness
By diyauto
1932 Packard 906 Twin Six Seven Passenger Sedan
Compliments of John_Mereness @ http://forums.aaca.org
3-29-2009
Hello,
Attached (hopefully) are pictures of my next sympathetic restoration project, a very original and almost virtually untouched 1932 Packard 906 Twin Six Seven Passenger Sedan. The car is perhaps the only closed 906 that exists. The project includes mechanics (hoses, fan belt, carb, fuel pump and etc), replacement of broken die cast, some minor paint touch up, repainted wheels, replated lock rings, restored hubcap emblems, and new 7:50 X 18 Bedford Double White Wall Tires (they came last week and are spectacular) from Lucas Tire. This week the project consisted of research and new Wiper Arms from Ficken. A new stainless driver's taillight bracket came today via Marge Verdone. We were also lucky several weeks ago to track down its original sidemount tread covers and are on the look out for the original side plates. The project for next week is having a locksmith make the missing keys (tool box, battery box, ignition, pass door, and tire locks). A few other people are helping with missing parts as well and we will update you as this project shapes up.
Does anyone have a set of Trico air horns or at last trumpets ? You will see a broken up set on the front and will replace them as holes are drilled in front fenders.
Does anyone have a V-12 rack and/or a set of luggage rack strips? I can make do with the non 12 rack if needed.
How about a driver's side interior sunvisor ?
Who has recast the passenger side hood handle ?
This car is in the permanent collection of Citizen's Motor Car Company, America's Packard Museum, in Dayton, Ohio. The museum is in an original Packard dealership from 1917 and sits on a 1/4 downtown city block.
The museum is starting an "Adopt A Car" program (I am first with this 32) and we are starting a more active volunteer base (time for some handy people to come out of their retirement - plenty of projects for every taste). If interested in helping, please e-mail me at johnmereness@aol.com
The Citizens Motor Car Company
America's Packard Museum
420 S. Ludlow St.
Dayton, Ohio 45402
Office 937.226-1710
Fax 937.224.1918
#3366FF AmericasPackard@aol.com
A Section 501 ©(3) organization under
the Internal Revenue Code.
All gifts are fully tax deductible.
Thanks,
John M. Mereness, Esq.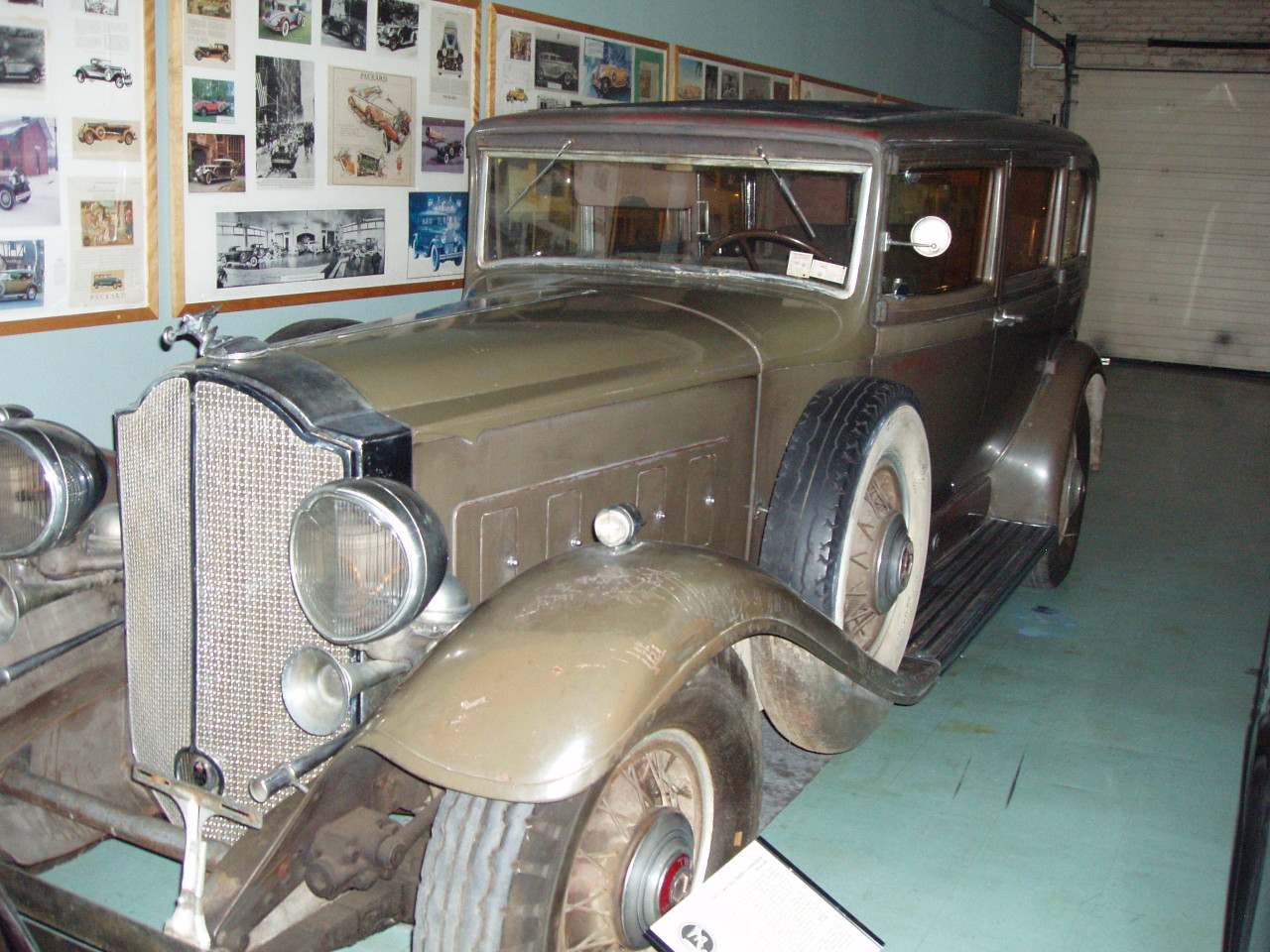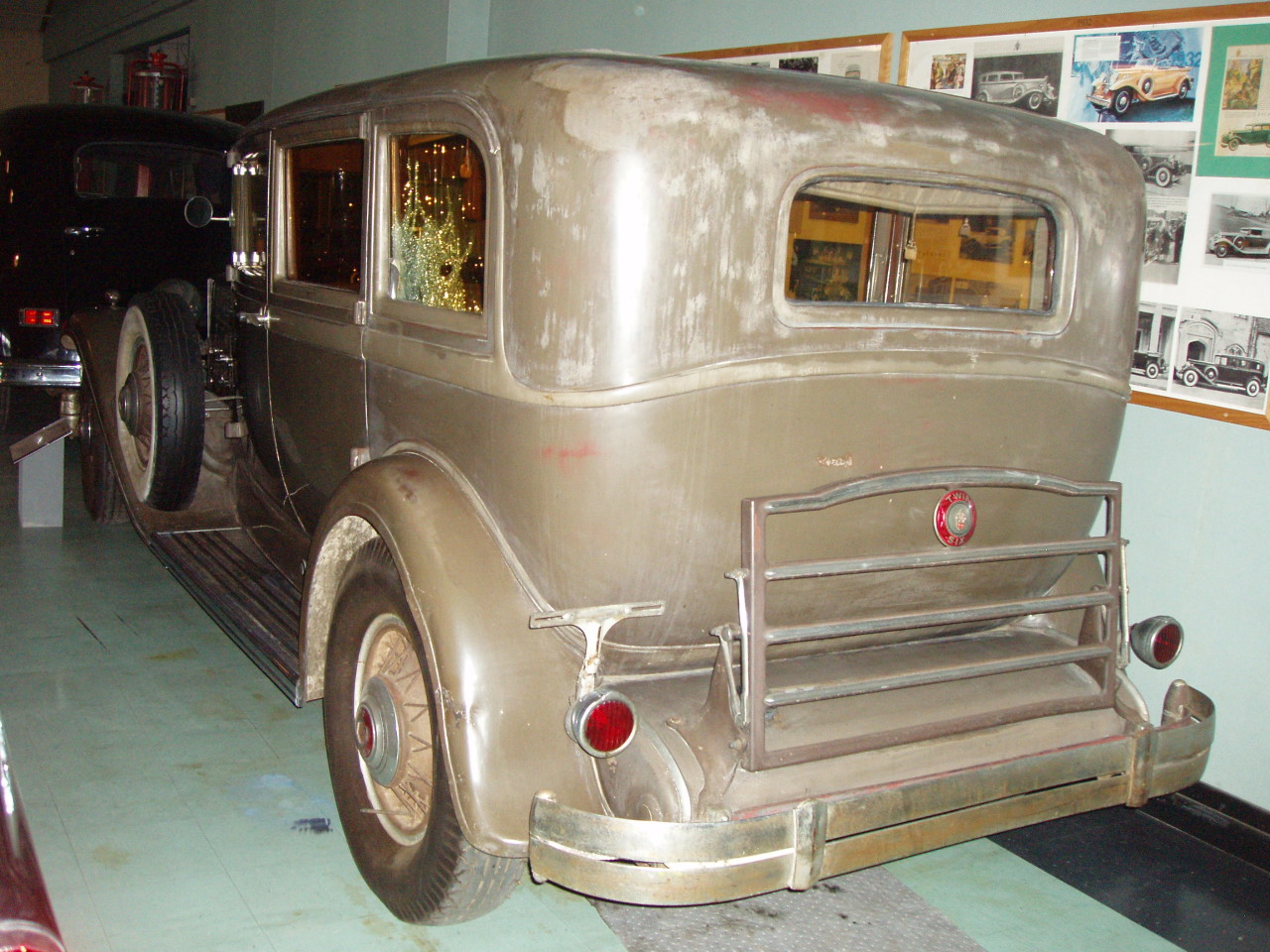 Here are a few interior photos. A good cleaning and some careful moth repair is very much in order.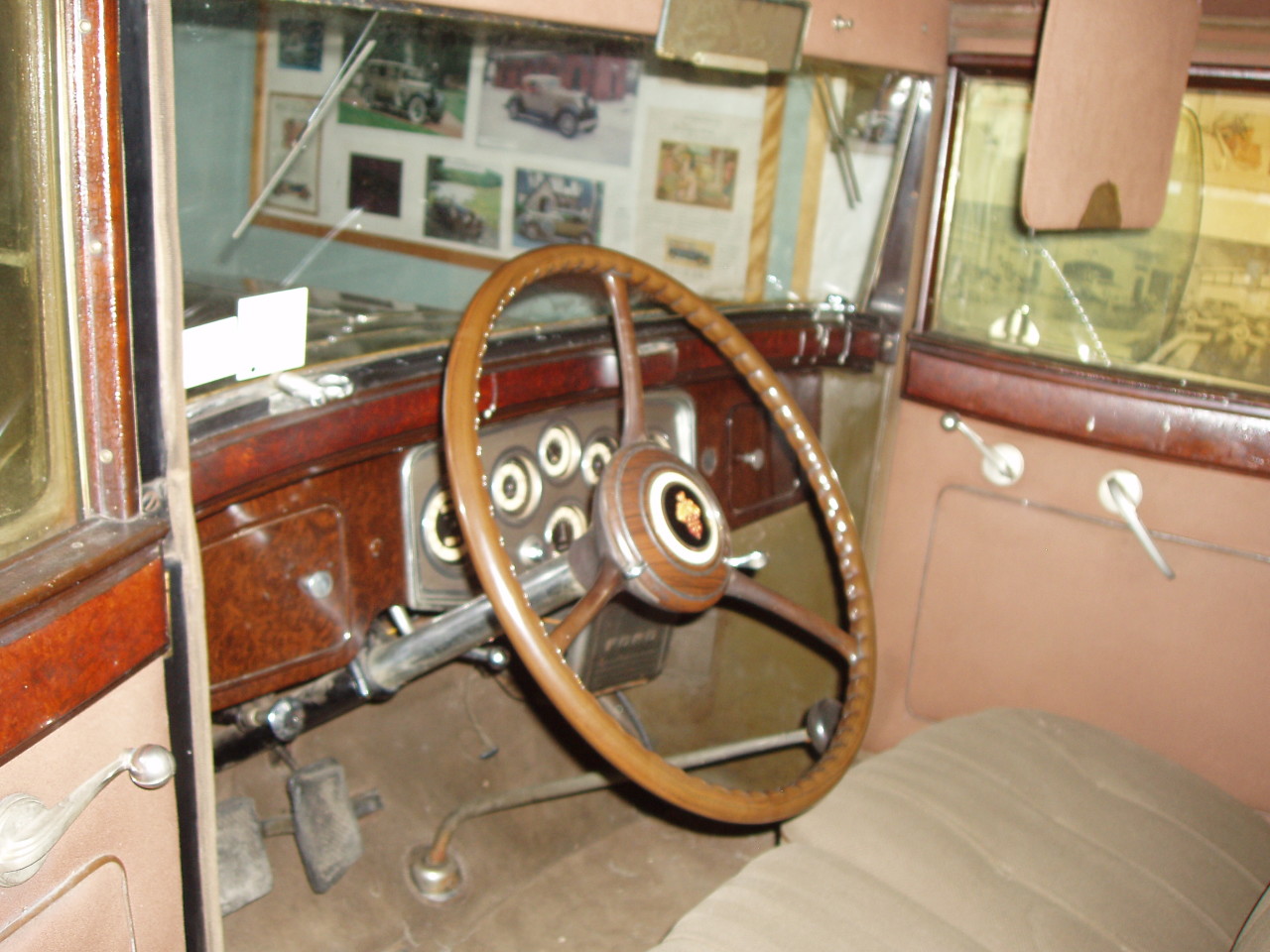 4-5-2009
Hello,
I did not get very far this week due to the job search - so much for negotiating Software purchases for one of the World's largest banks. I did snap some engine photos for those asking and I did grab the battery box lid to start getting keys made (hopes are that same key fits Battery, tool, and spare tire locks, perhaps even a door handle if we hold our breath.
JMM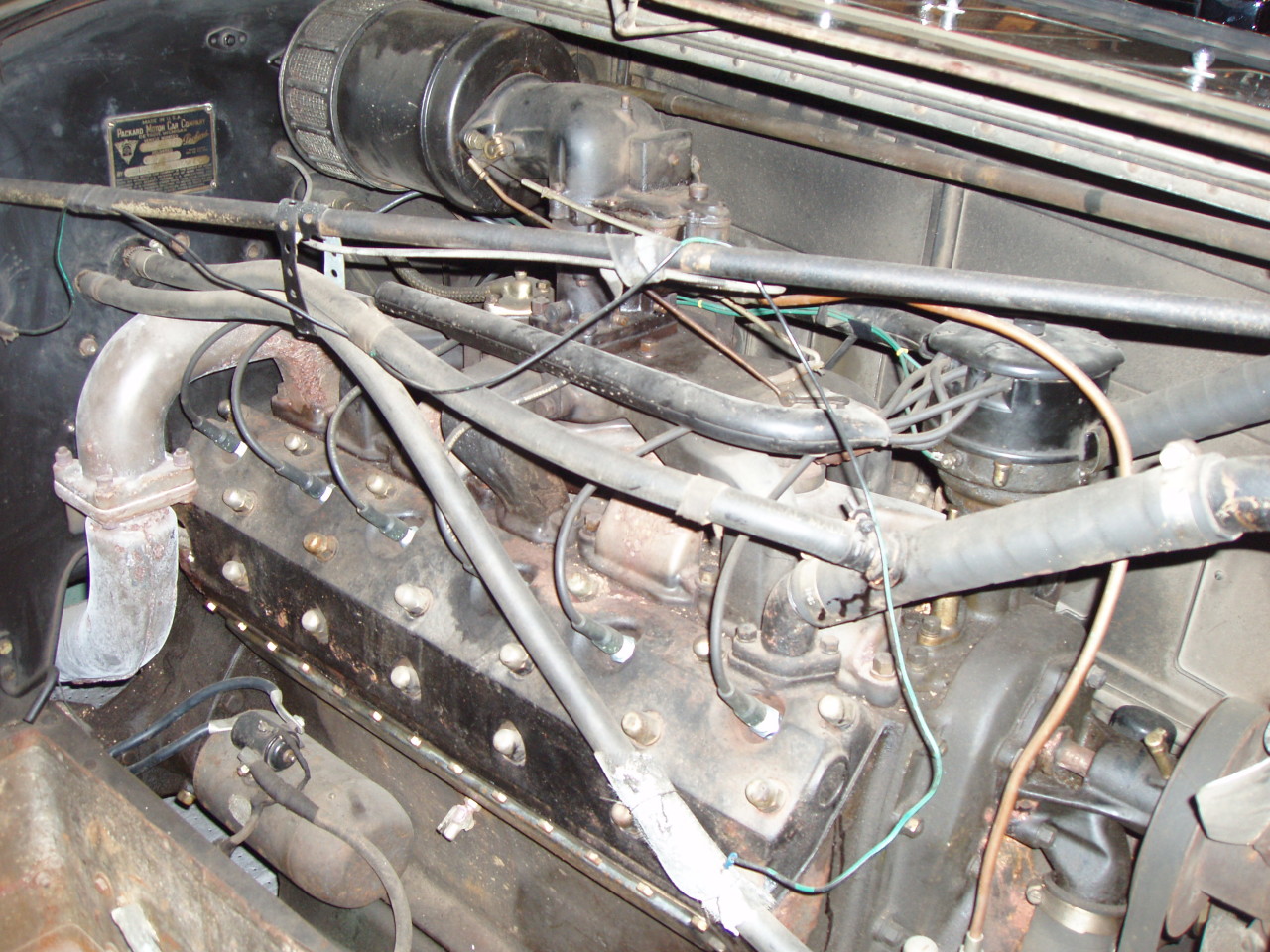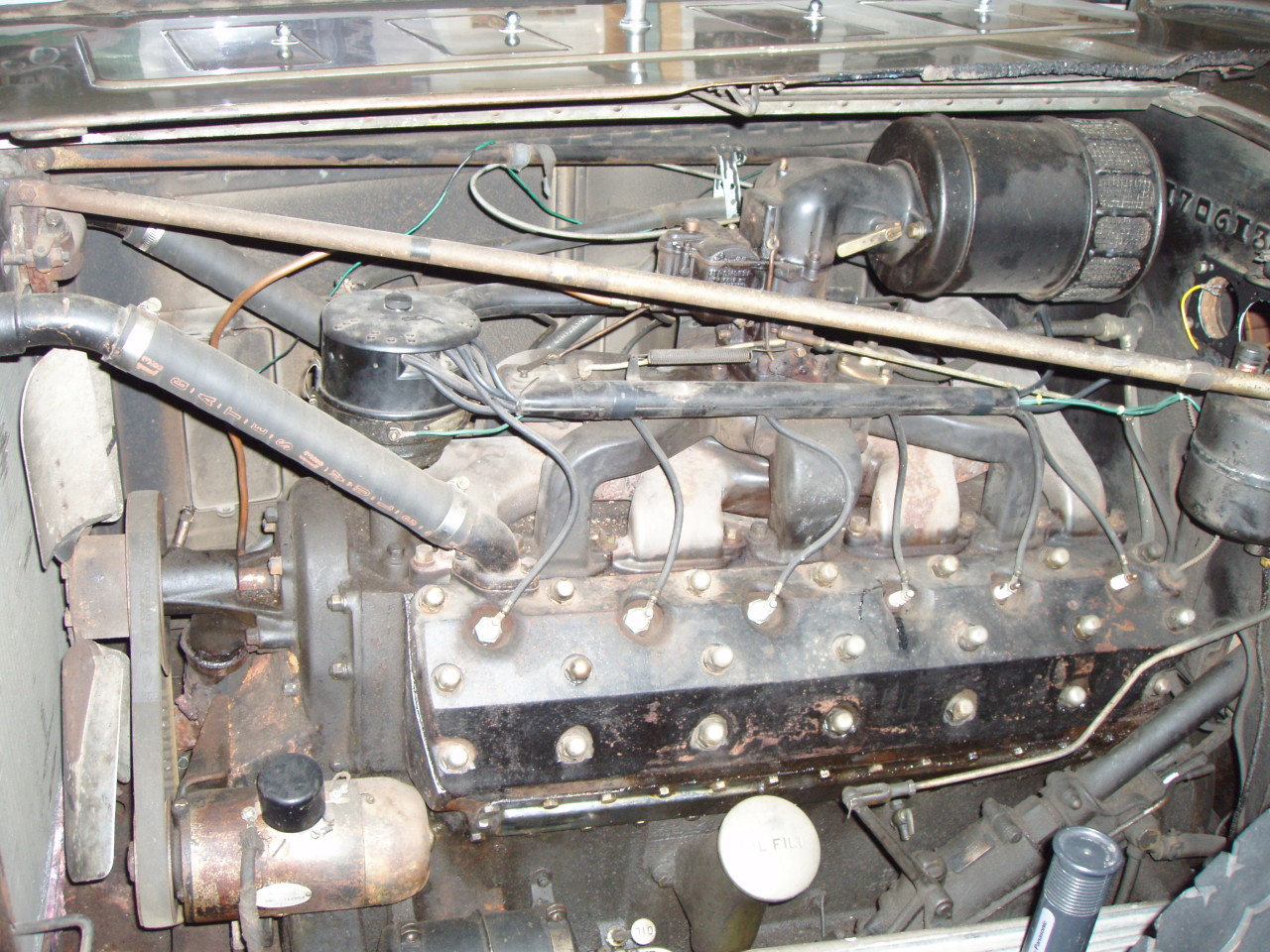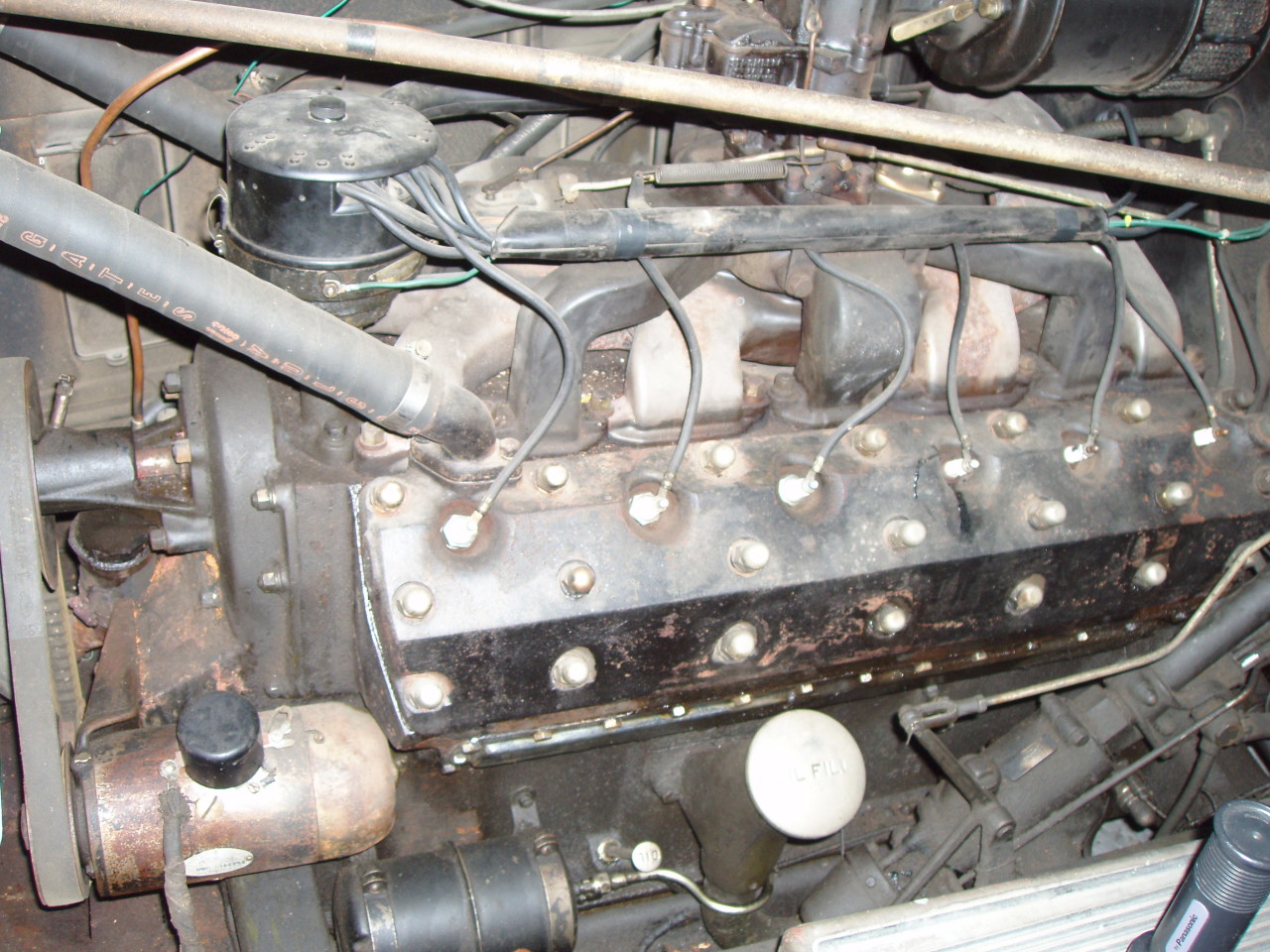 This weeks visits were productive in many other ways also. Cincinnatian's Dan Shaw and his son Joshua Shaw (well known in Rat Rod, Hot Rod, pinstripping, sign painting, and historic race car restoration), were kind enough to stop in all day Friday and touch up the original paint and pinstripe on the Museum's 1935 Packard Dietrich Twelve Convertible Sedan. The big yellow car was looking very enticing to play connect the dots on so their help is greatly appreciate. The Twelve also runs super sweet thanks to Daytonian, Don Boeke, "The Egyptian."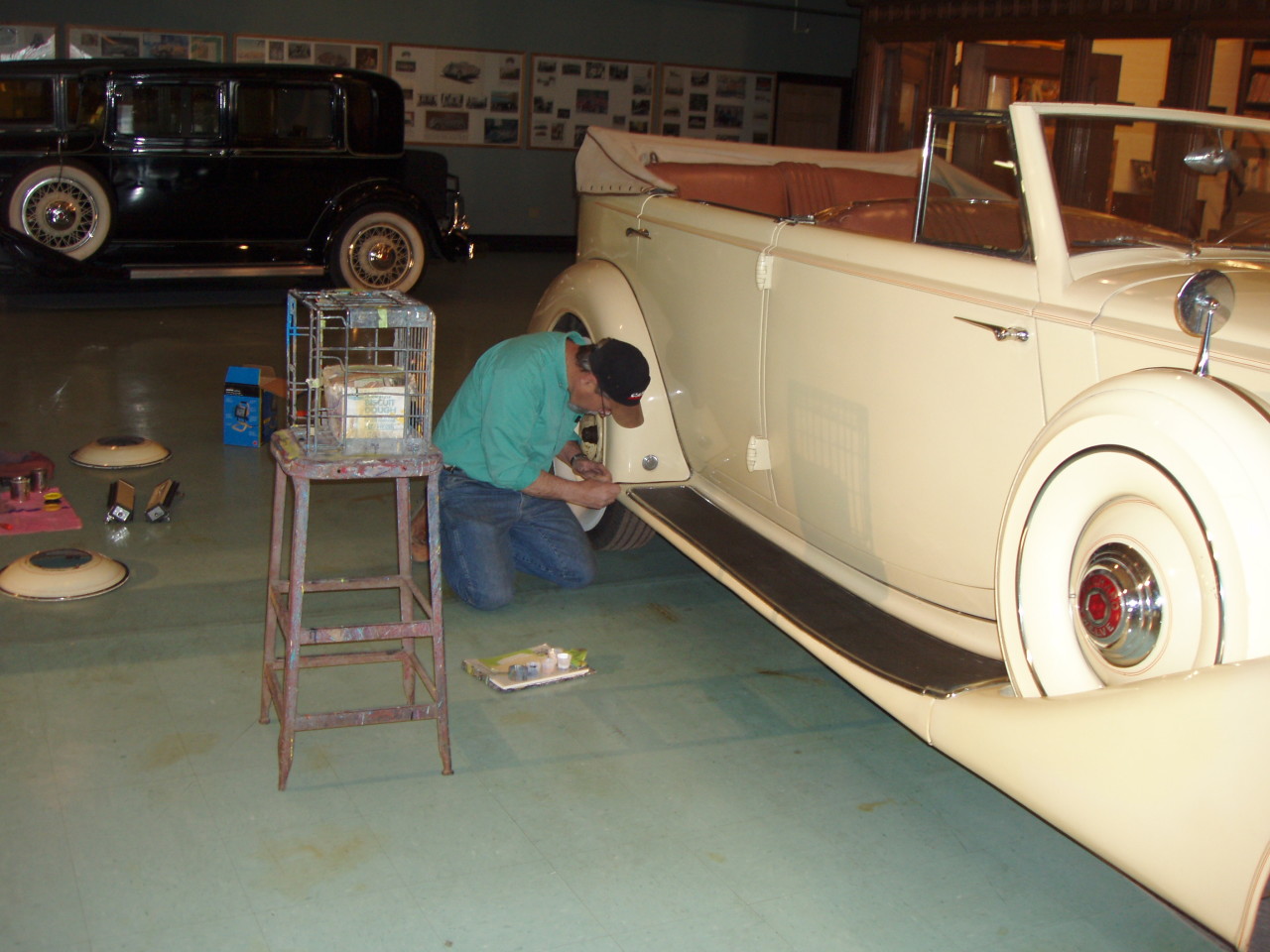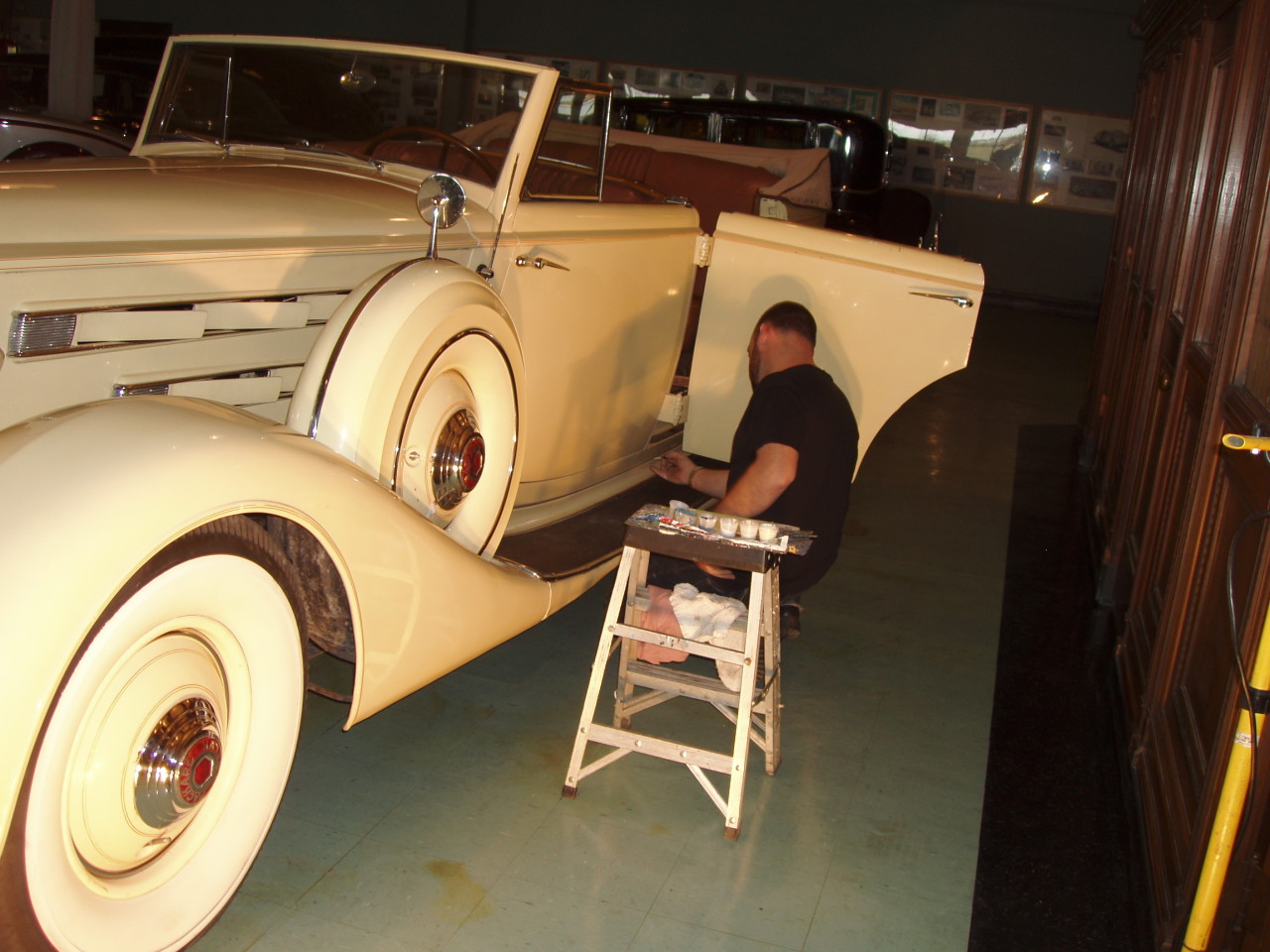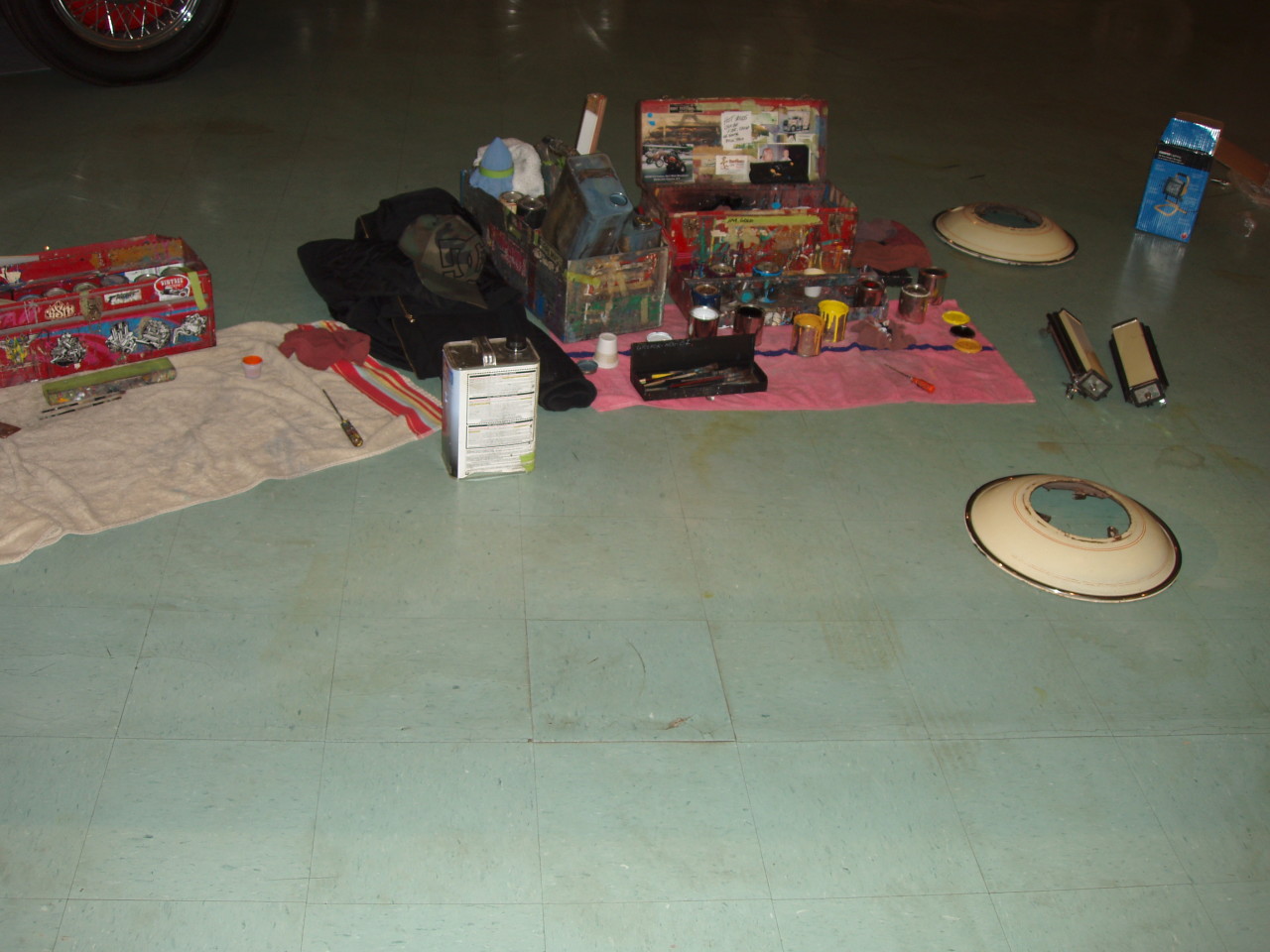 4-19-2009
Twin Six gets reproduction front frame end covers via Bill Hirsch and a restored trunk rack emblem being Dale Adams.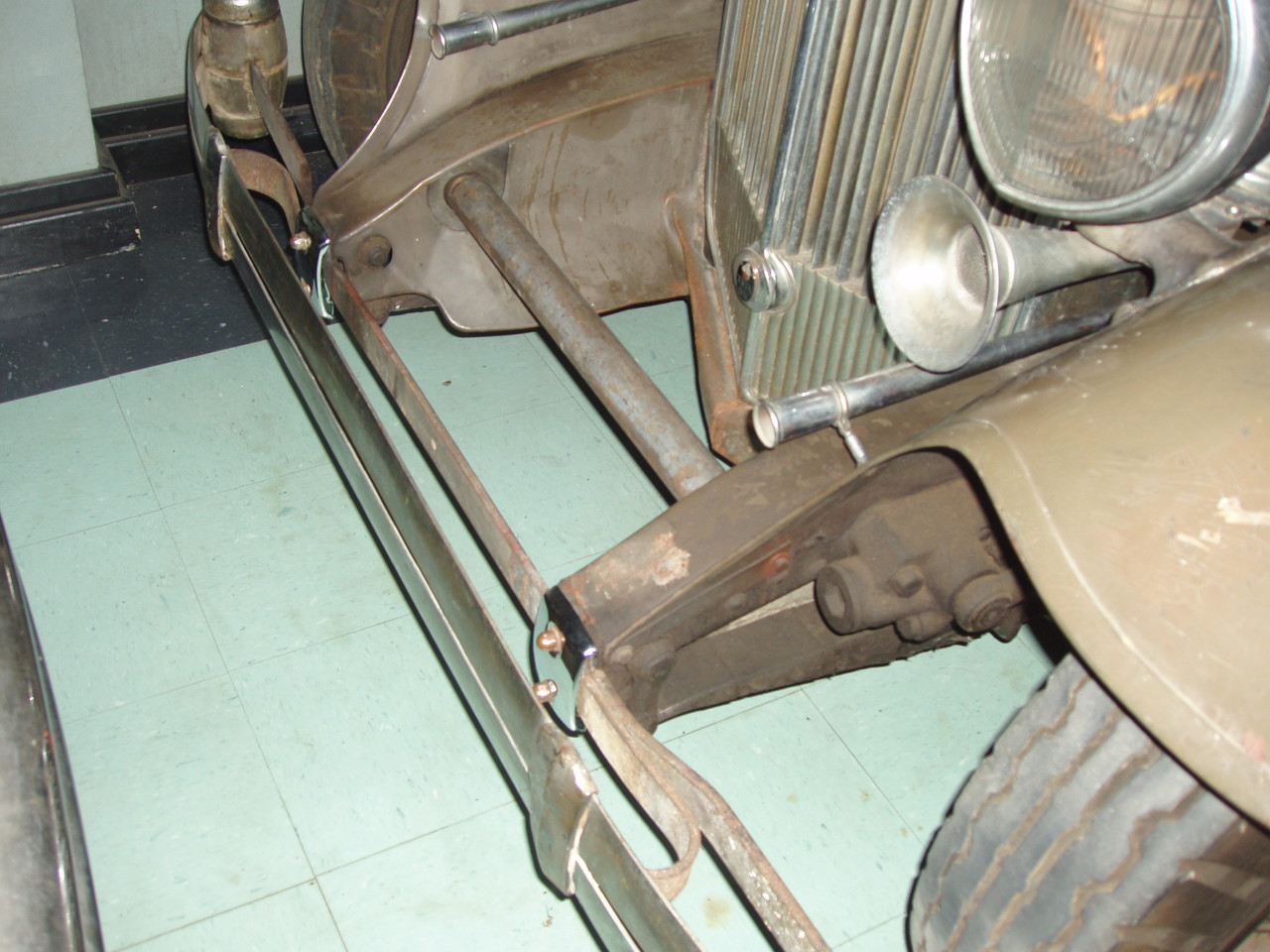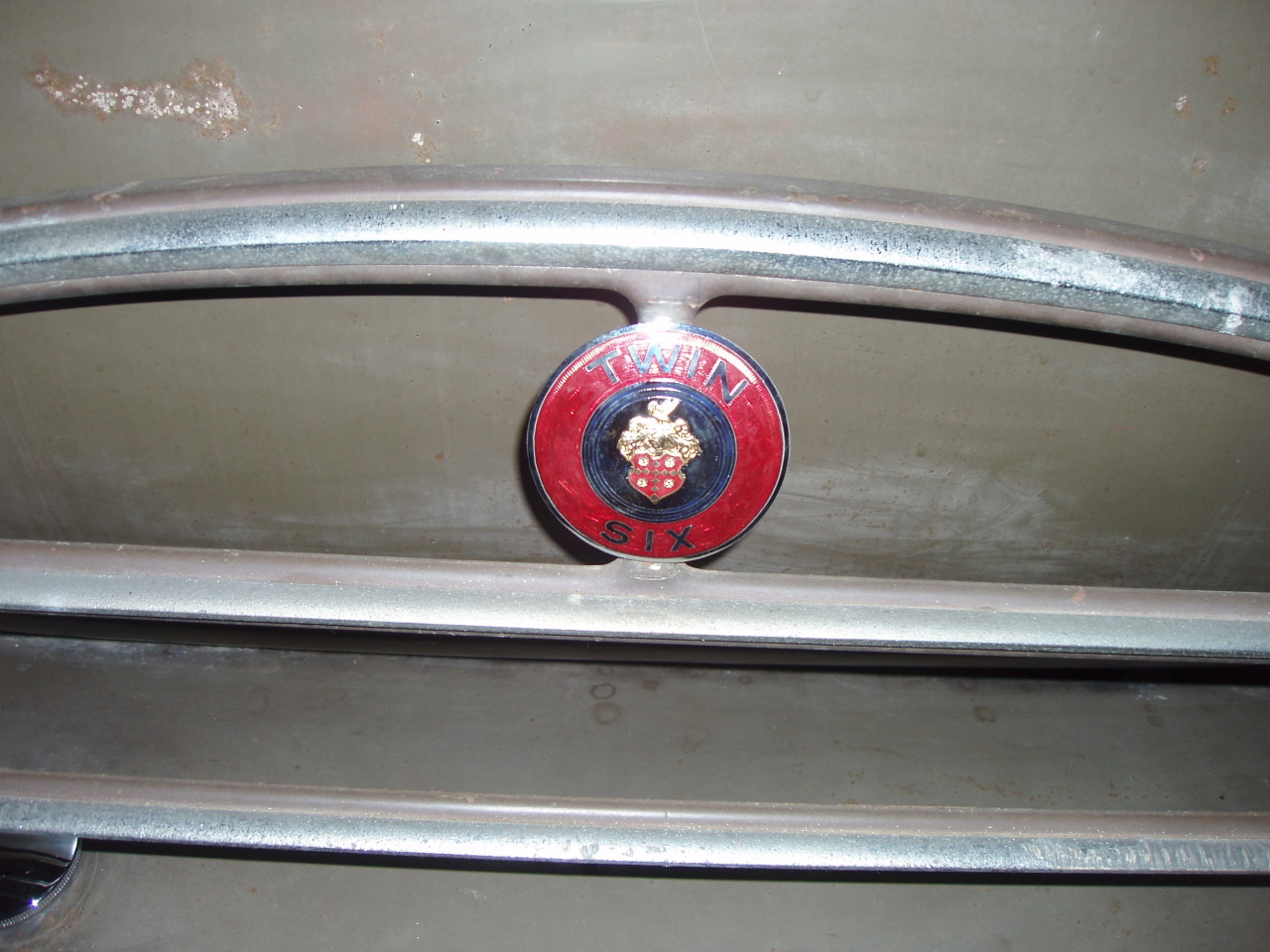 Twin Six gets a radiator cap rebuild via parts courtesy of Max Merritt. The cap was loose as a goose and sat crooked. Inspection revealed the inside of the cap was cobbled up junk from the inside of an old gas cap. Now with new reproduction guts it actually will be able to function as a cap - nice reproduction part.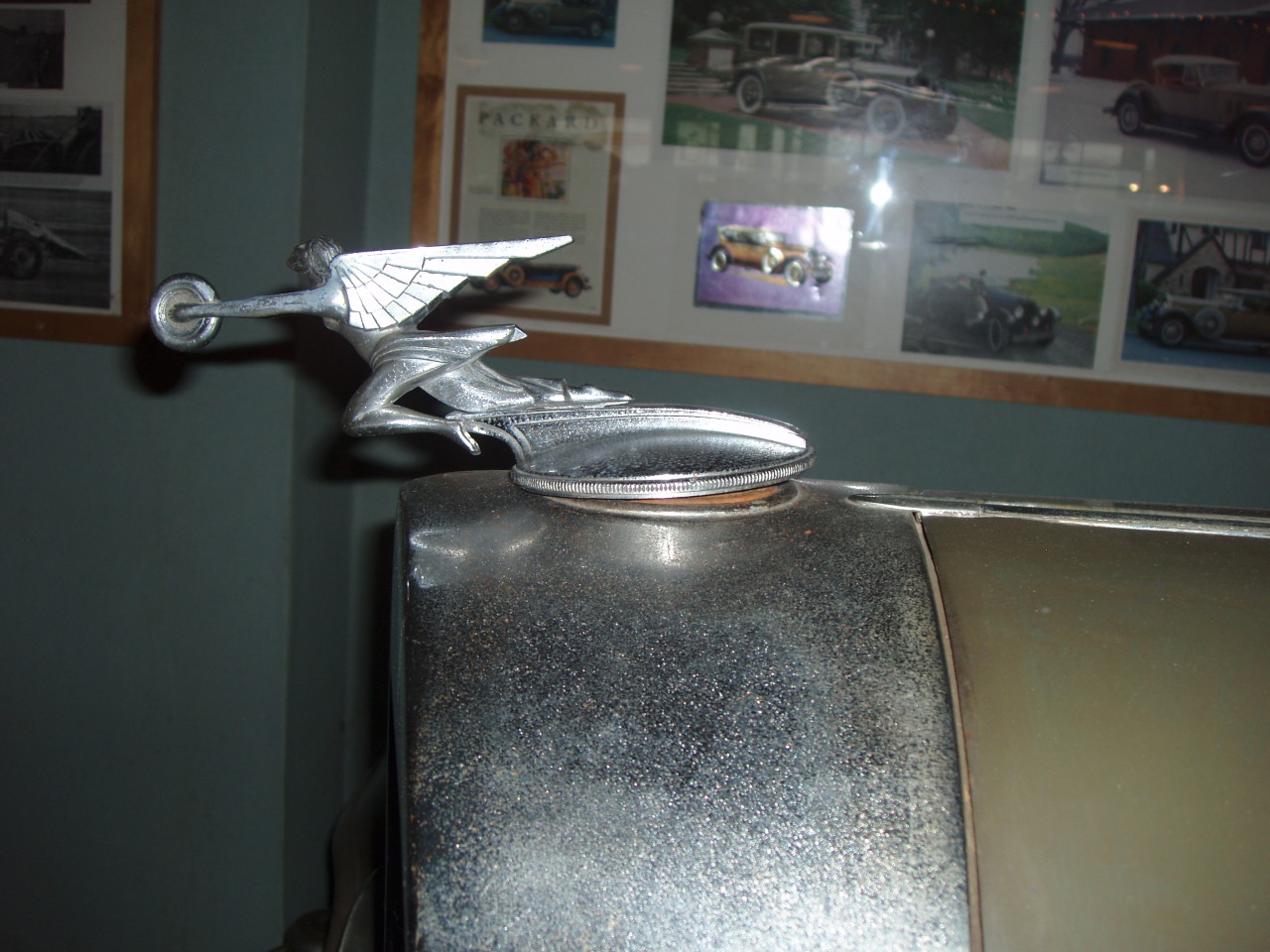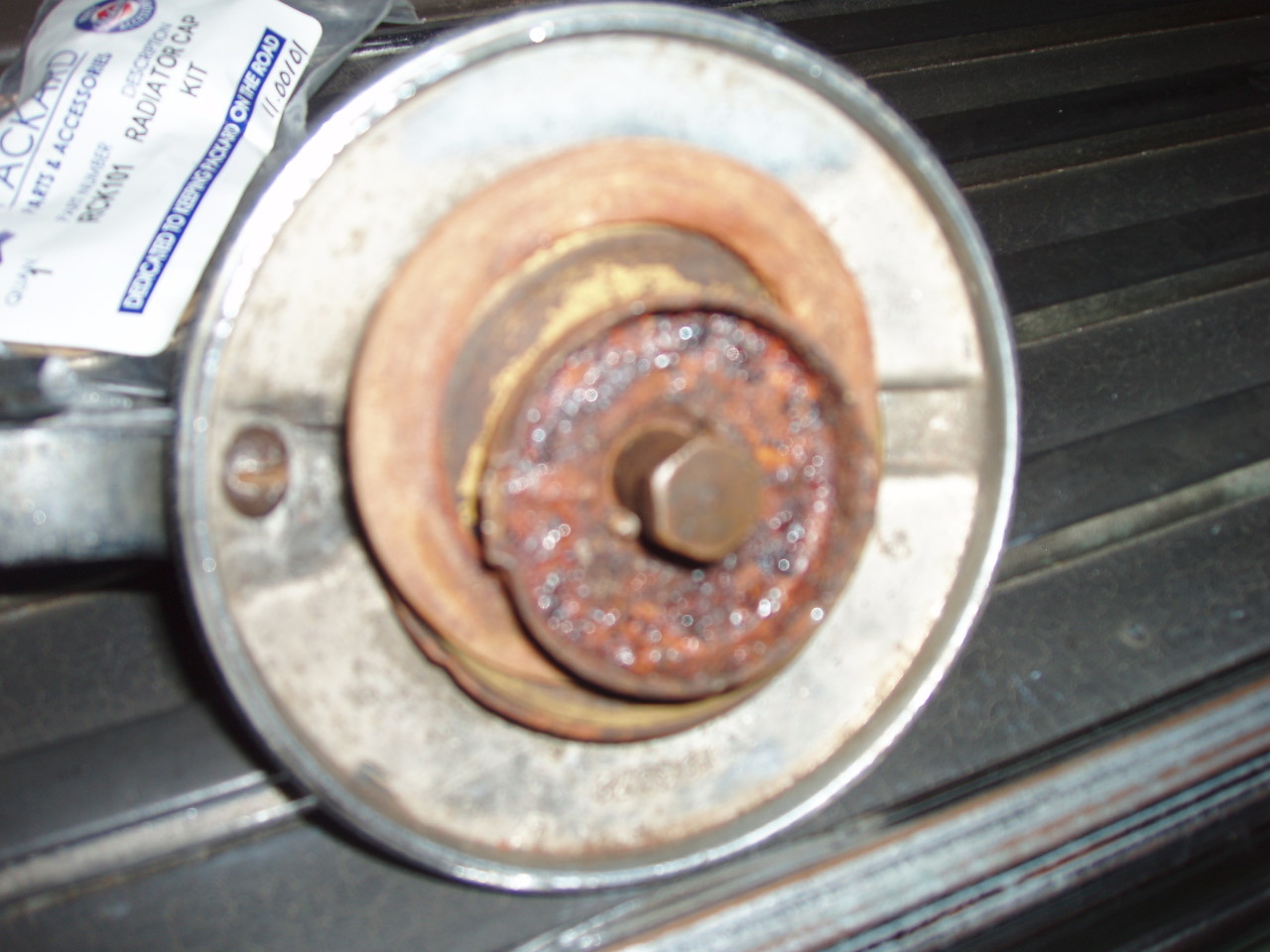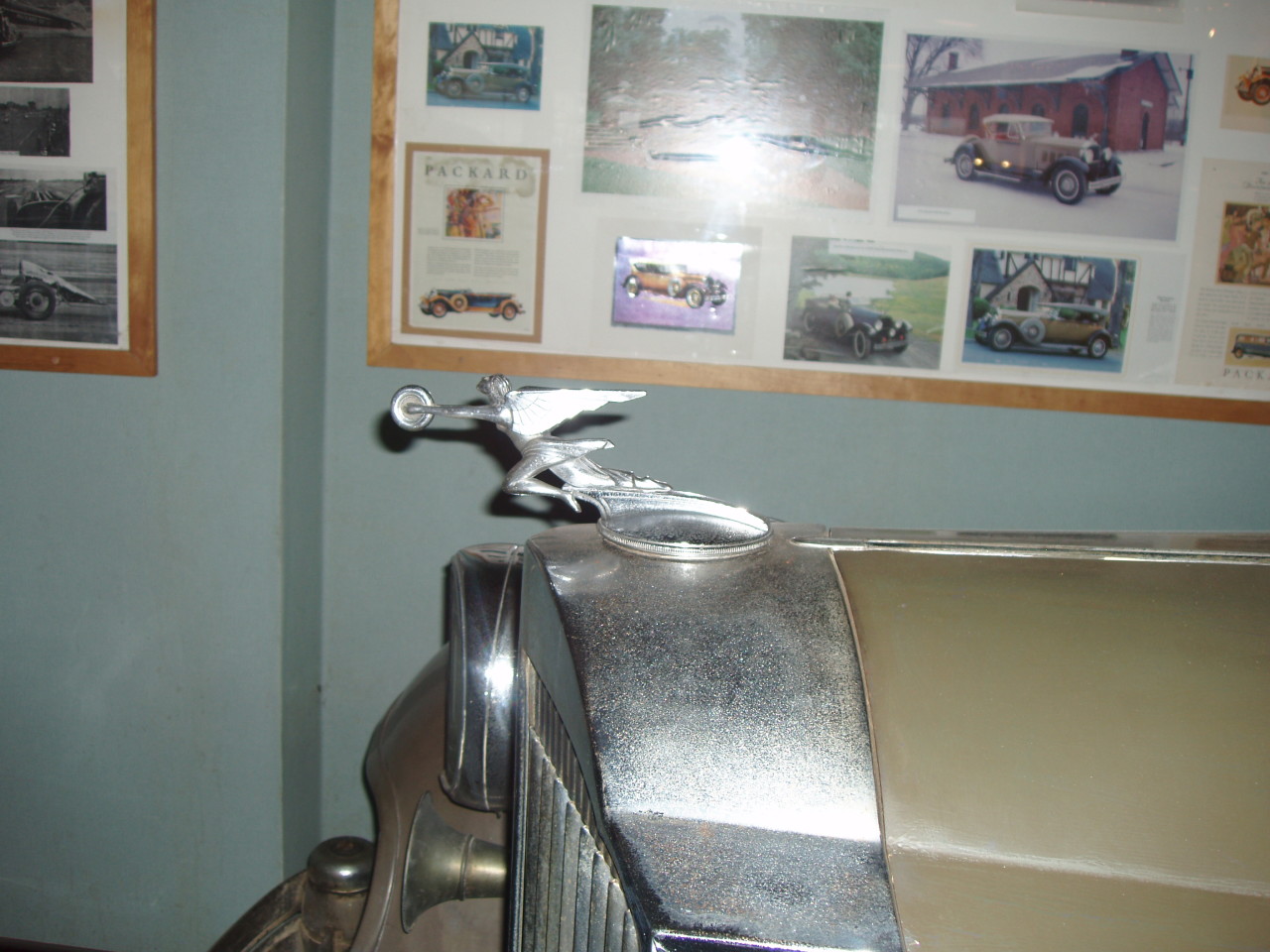 Stopped in on Tuesday after a job fair at Wright Patterson Air Force Base (thousands of unemployed people showed up - a real mad house but made two really good contacts - helps being from a top 5 global business) and installed a pair of pedal pads from Bill Hirsch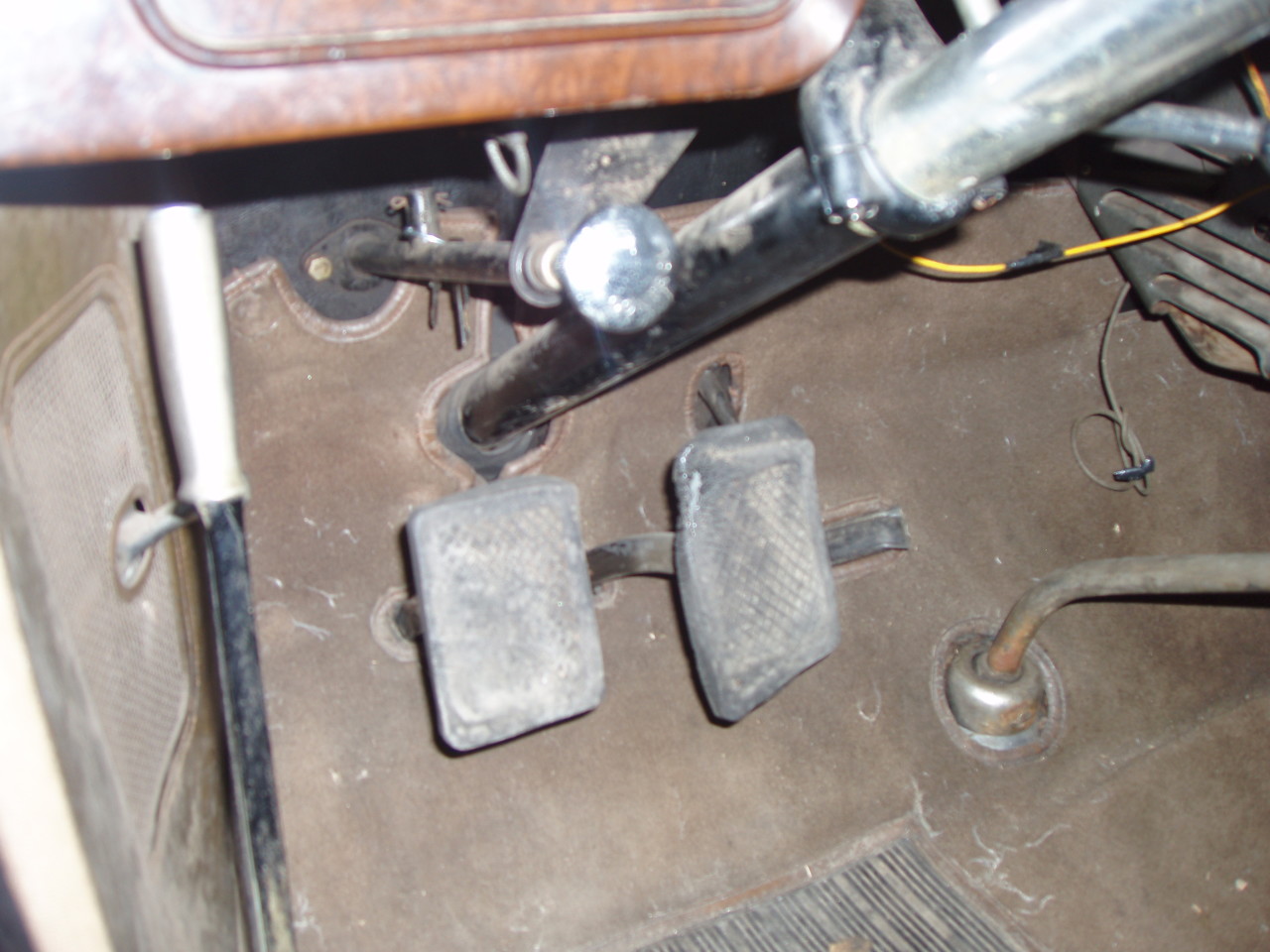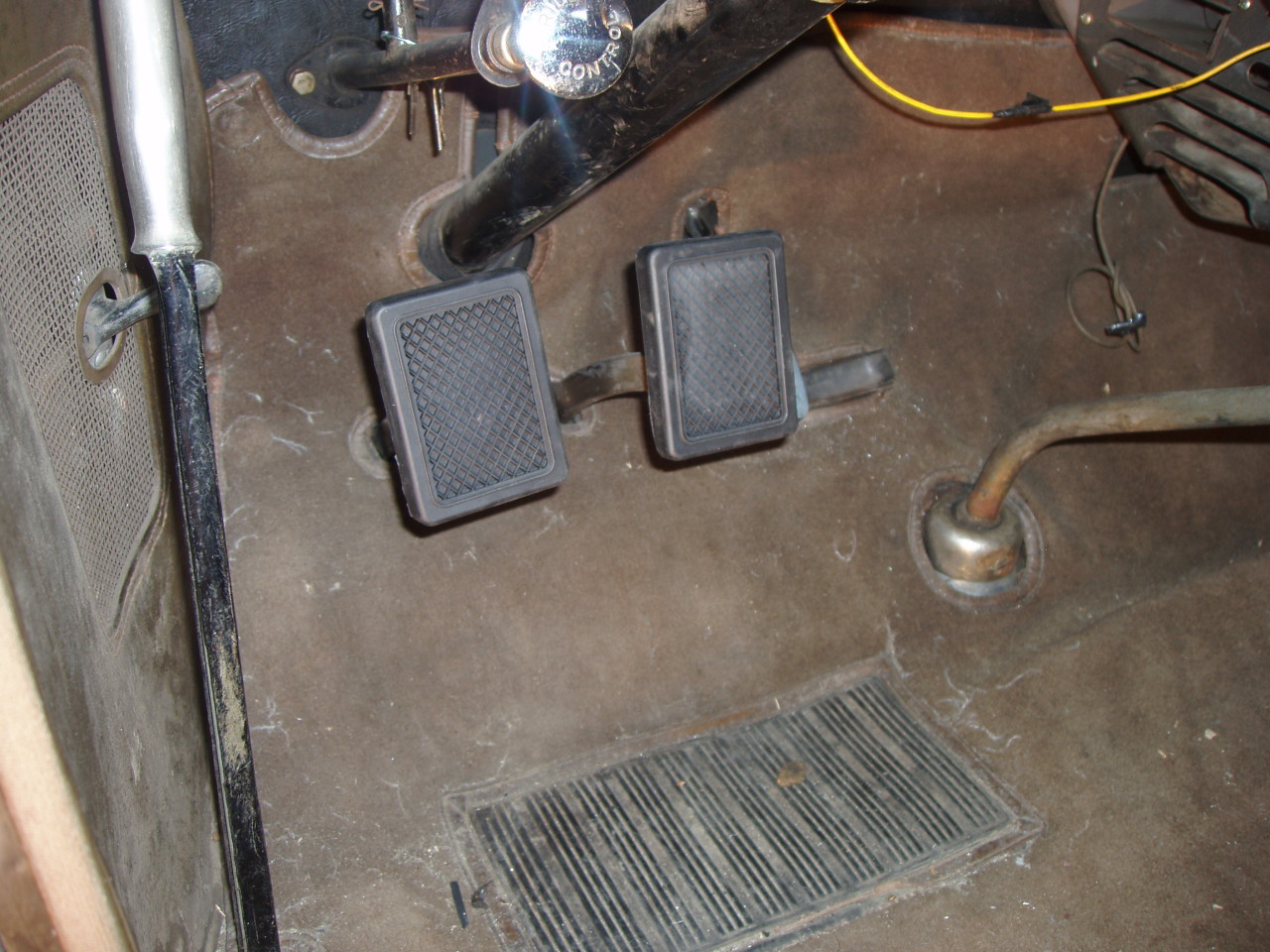 Made some progress on Friday. Several weeks ago a tailight base came from Marge Verdone and I have been prepping it to installation - which went very well. The original was badly broken and being die cast was best replaced with a new casting (in this case stainless). Also Hoosiers (the nickname given to people from Indiana) Steve and Roger Gardner stopped in the prior weekend and traded me (they needed a Bijur pump) the rare Trico Clarion Air Horn buggles to replace the destroyed originals - You see these installed in the same place on only two other cars - both of which were custon designed for personal use by Walter P. Chrysler (a roadster and a sedan that both survive today). Also, installed a new gas cap from Bill Hirsch to replace the original - they must have heard something fall off so they backed up over it see what it was.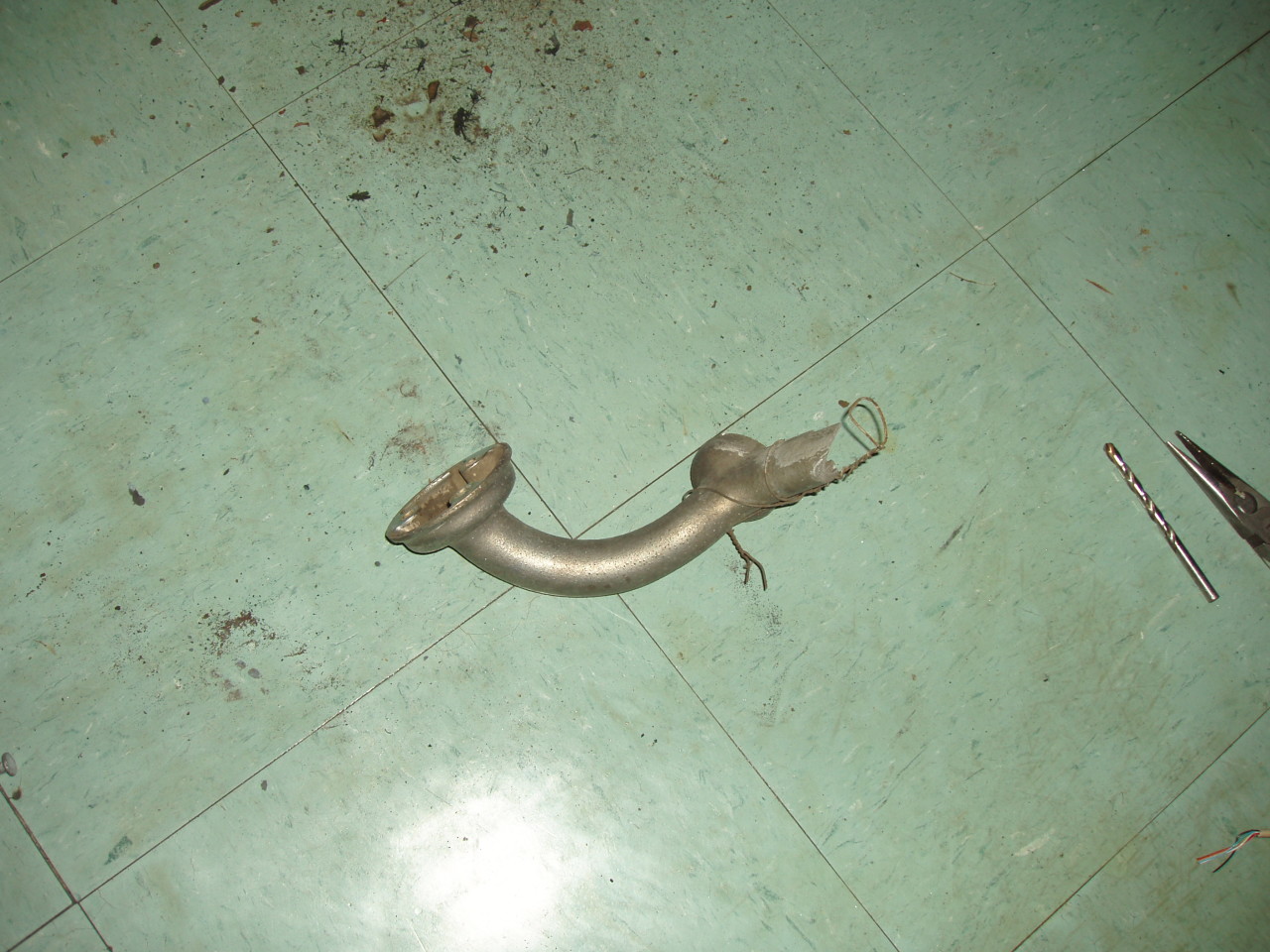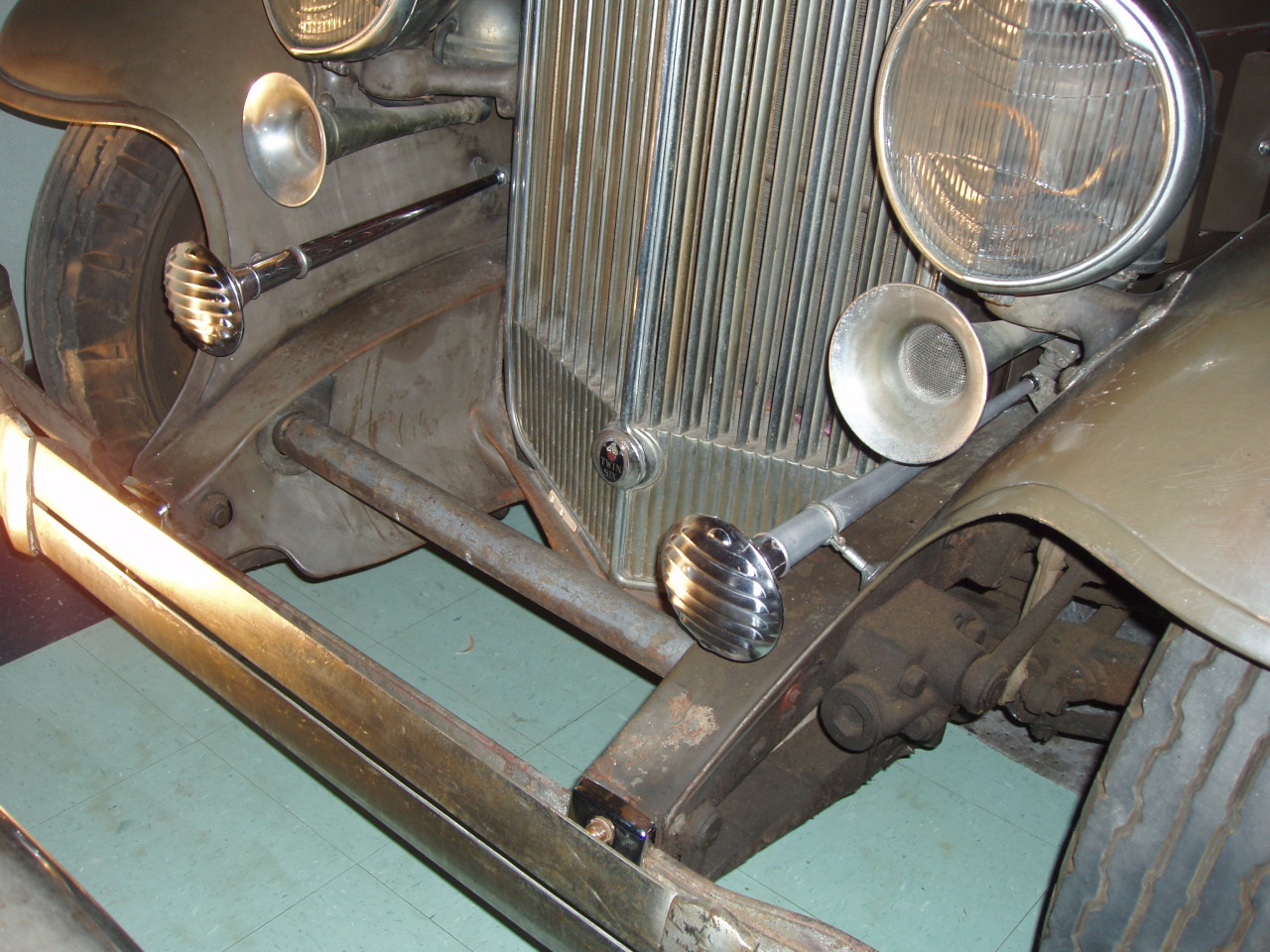 Had a few unexpected projects on Friday. First one was that the 1947 (originally purchased by ganster Al Capone - his last new car ever purchased prior to death) would not run so worked with the guyes through the day. Here is a picture of Scott with it at perhaps midnight just prior to being able to get it to run.
Therafter, we were discussing the 30 Town Car and determined the car was in dire need of a trunk for storage of misc items that would be required for its use in a Saturday wedding - so we scavanged up a trunk from the basement and gave it a good clean up. Surprise was that trunk was filled with a perfect set of luggage (temp set aside). Argh, we finished this project at like 1:30 a.m.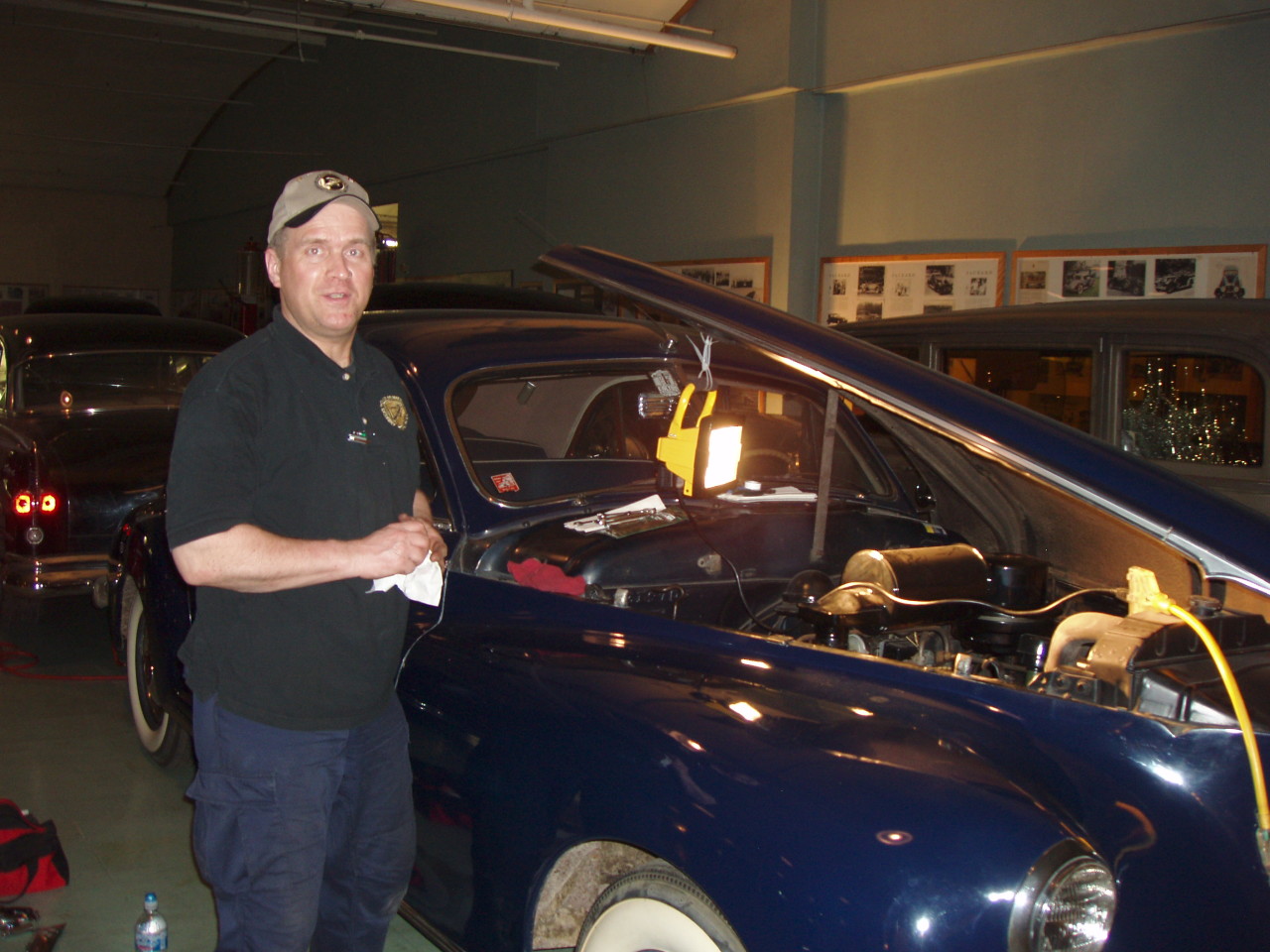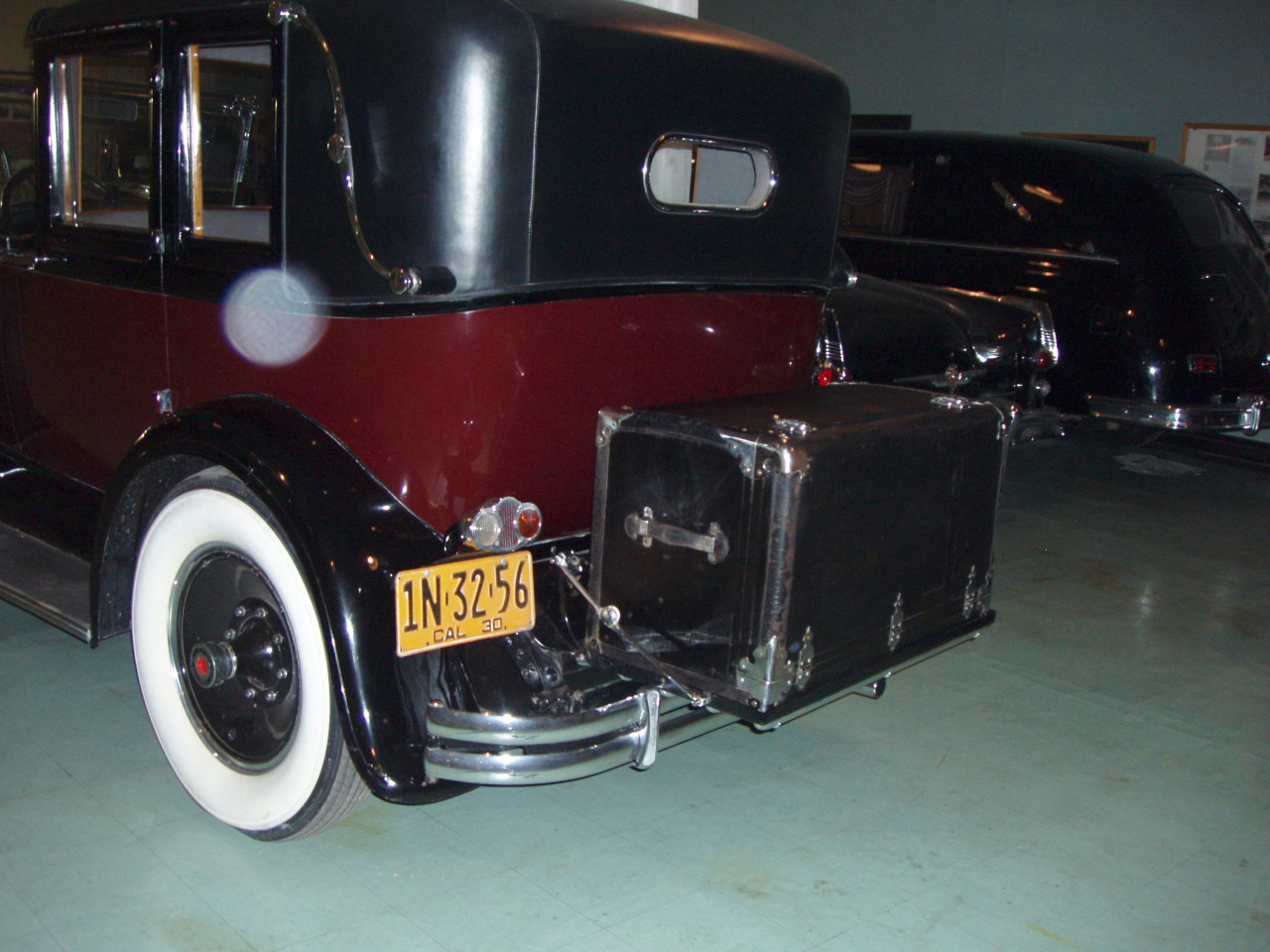 Here is a little project that I need parts for - does anyone have the automatic choke linkages for a Stromberg EE-22 Carb for a 1933 and 1934 Packard Super or Standard 8 ?
Also, did have a second to snap a picture of the building late in the day Friday.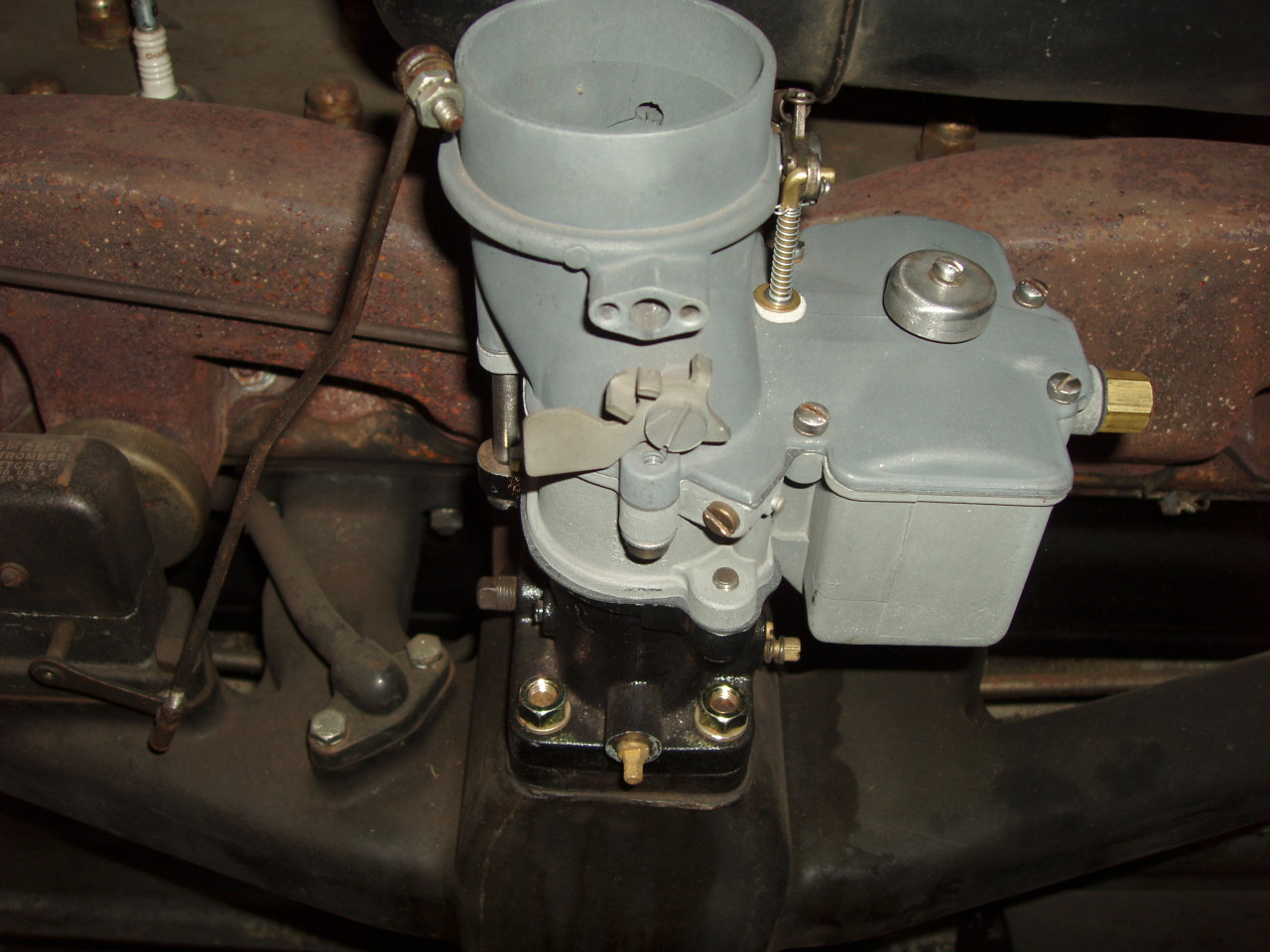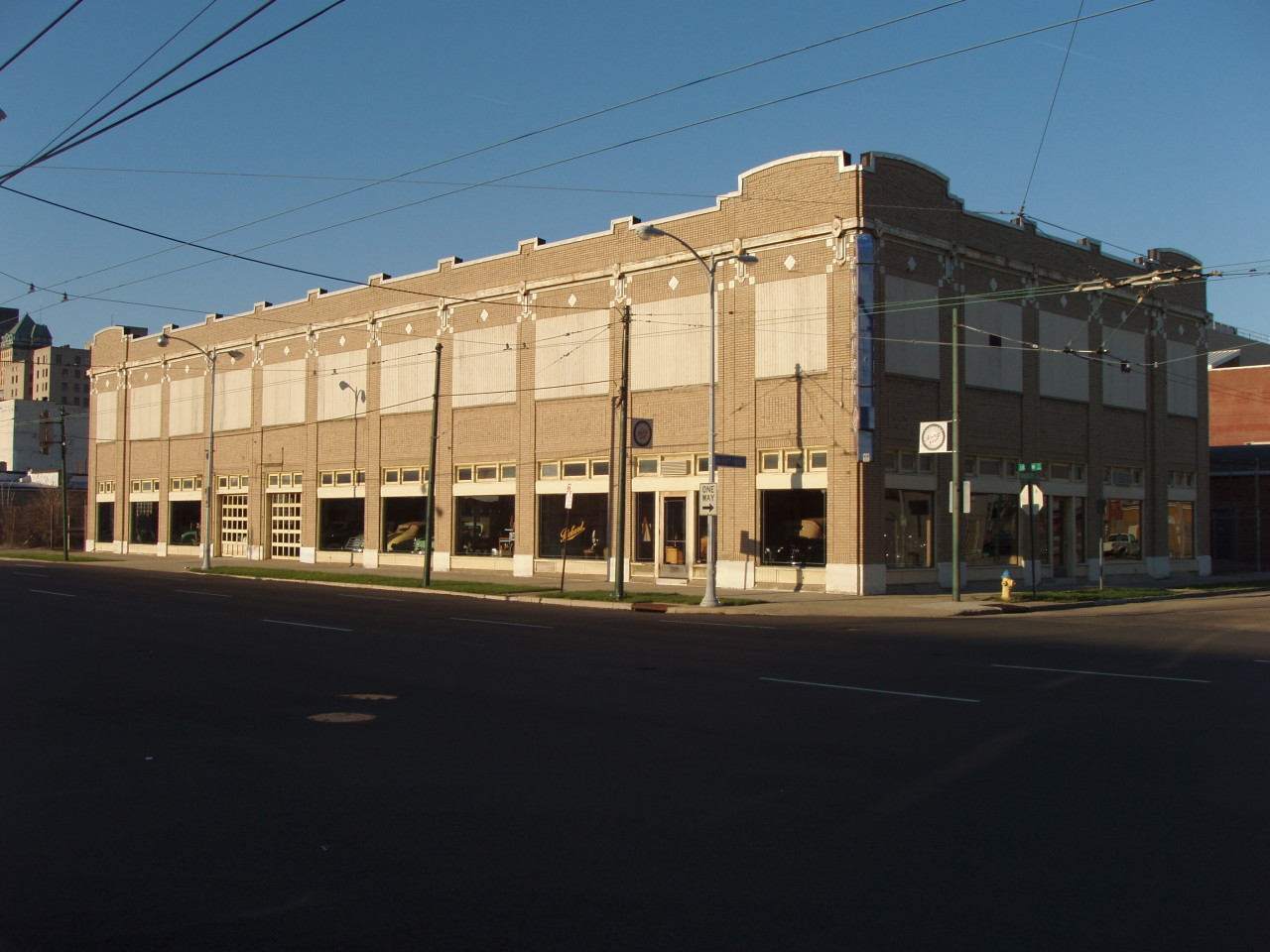 4-20-2009
Roy's daughter from Roy's Locksmith Shop on Third Street makes all the keys for the Twin Six. The Oakes Locks give her grief for almost three hours - apparently they used die cast lock fingers for 1932 - cheap and frozen up - one comes out fine after hours and the other is hopeless and has to be drilled (Casting survived and just needs new fingers and tumbler). Keys are good.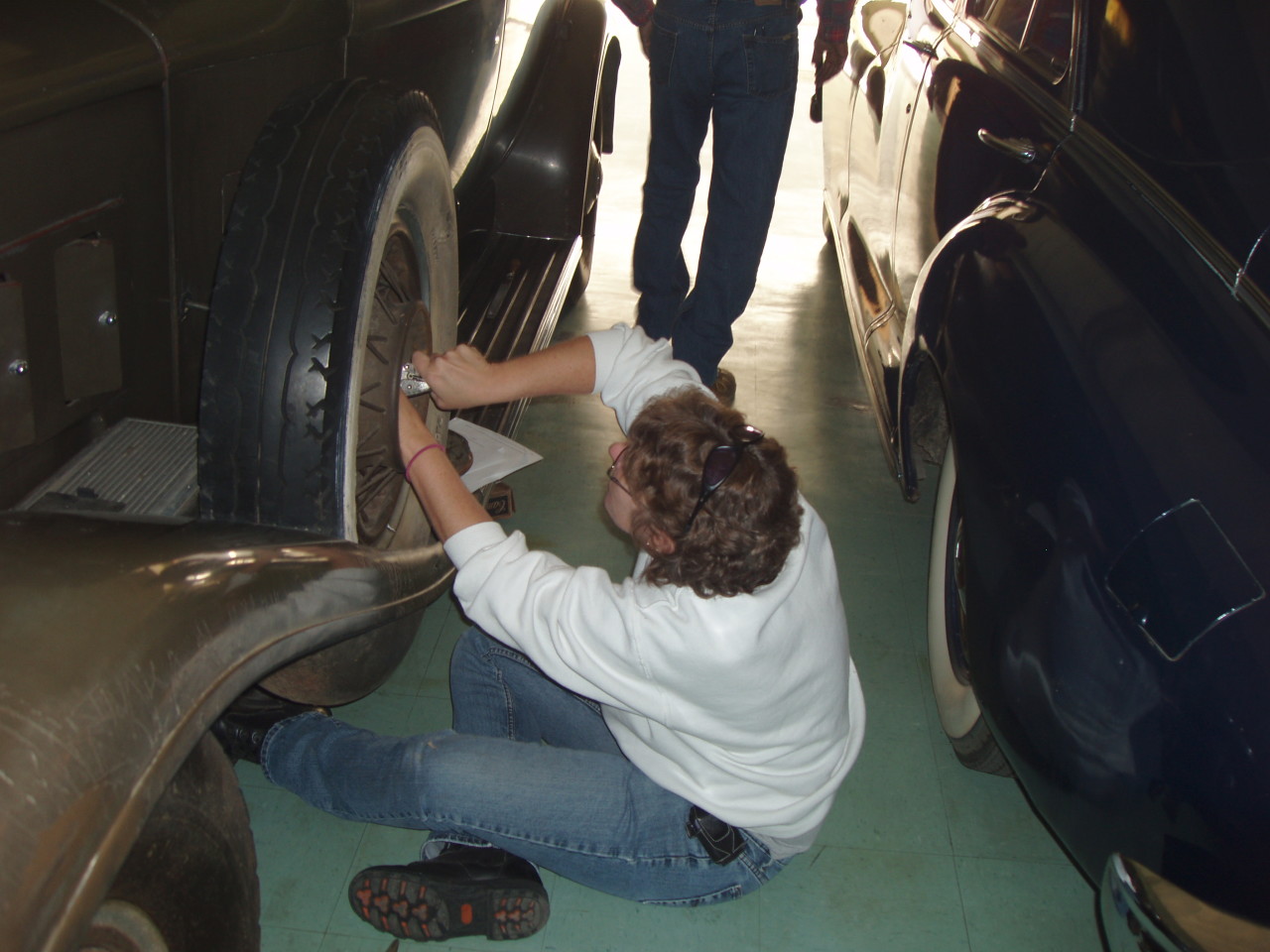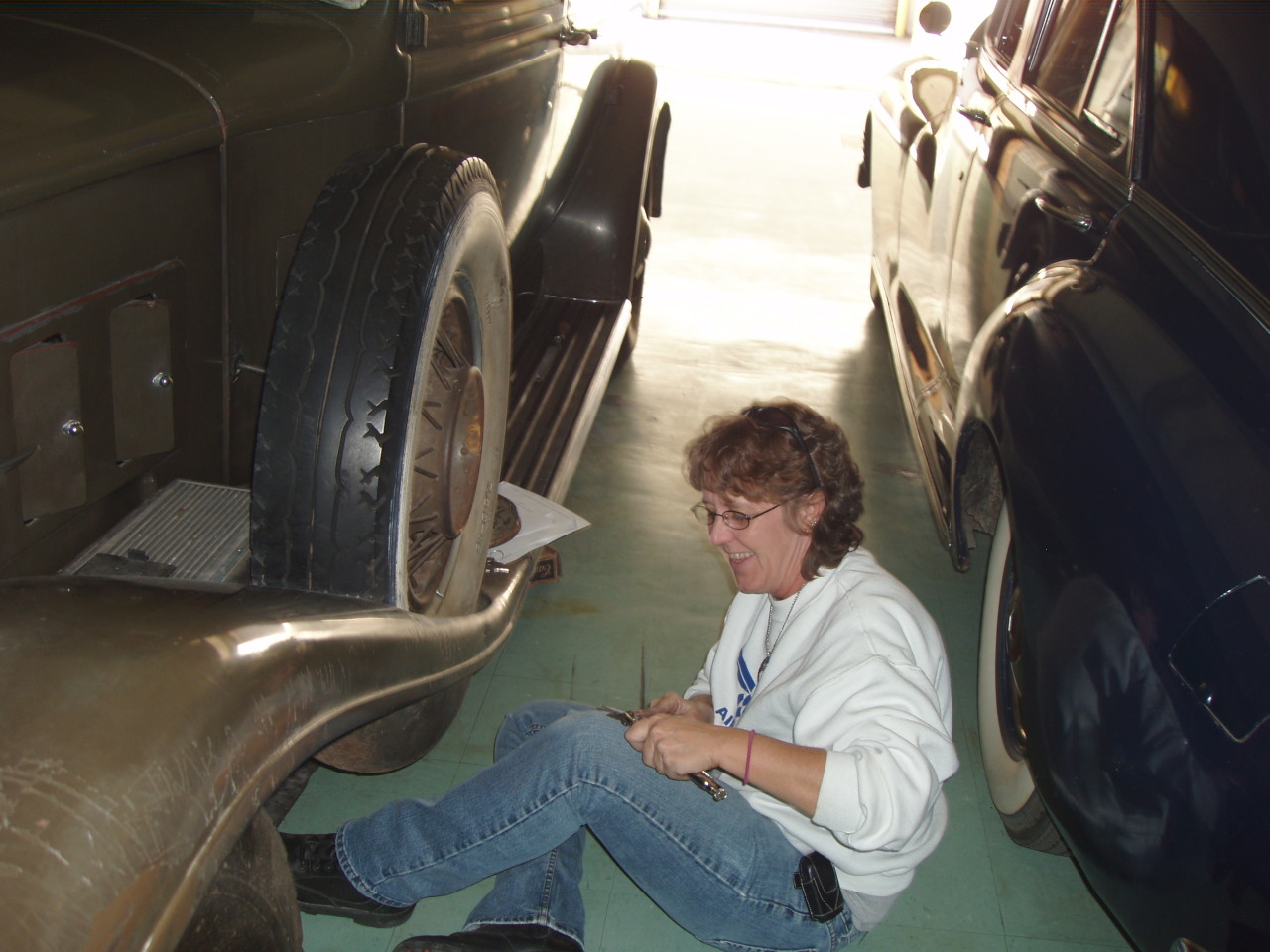 4-28-2009
This is an picture from the 20's of Citizen's Motor Car Company - "some things have not changed much in 80 years."
Every night all the neon is lit and it is great.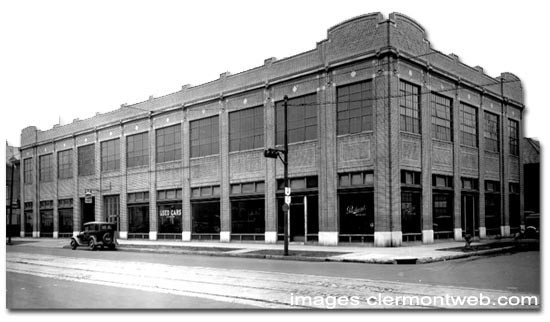 5-11-2009
The whole engine is pretty impressive. I started cleaning on it and was amazed at the amount of chrome and nickle trim on it and on the firewall. I also started cleaning underneath the car and it is perhaps nicer paint than on the topside (someone coated whole car with oil underneath, but what a filthy dirty mess to get to the paint).
Changing the subject for a minute. This is my next project - a 1939 Packard 120 Town Car, originally built for Lilly Ponds, an opera singer.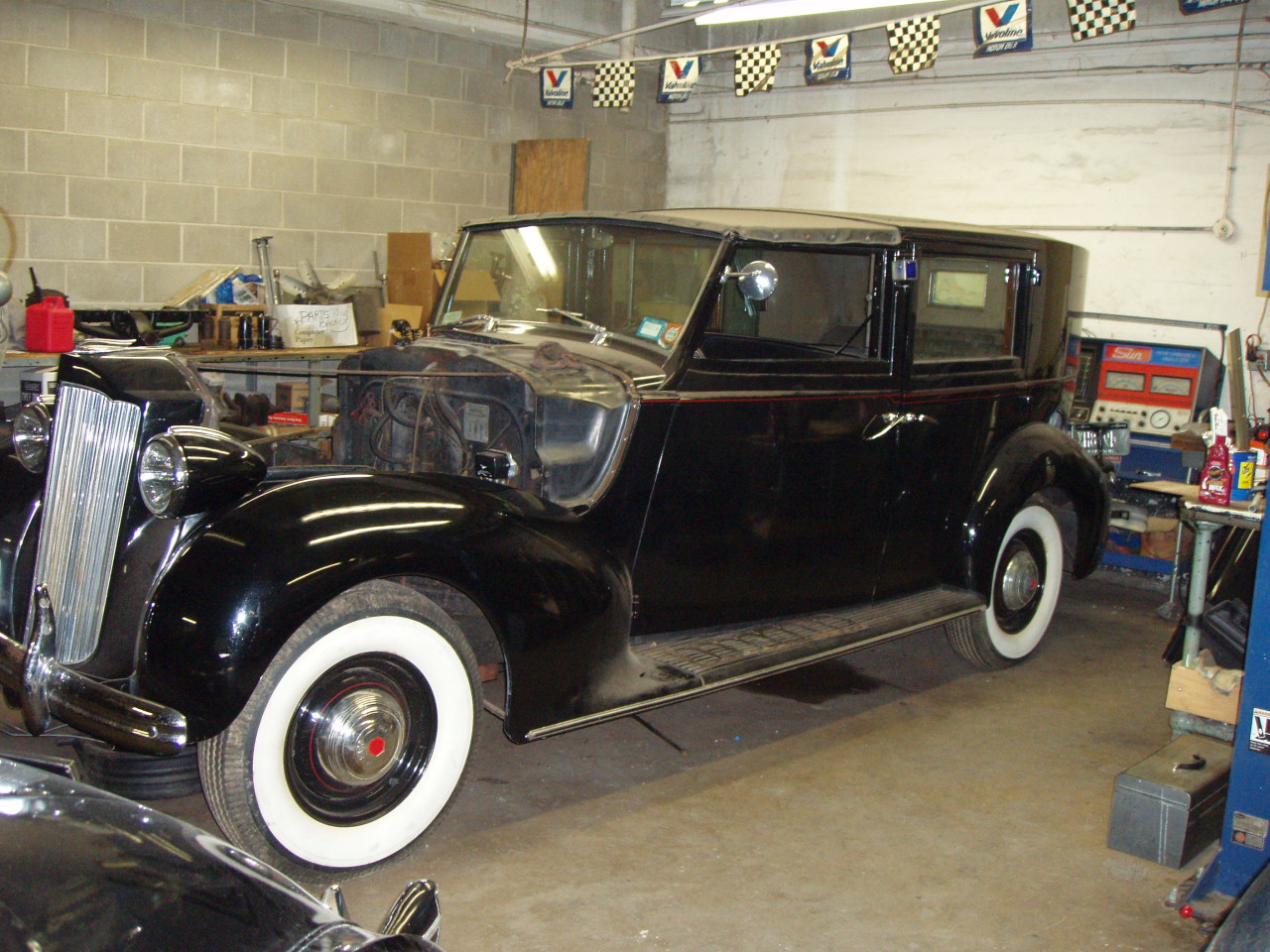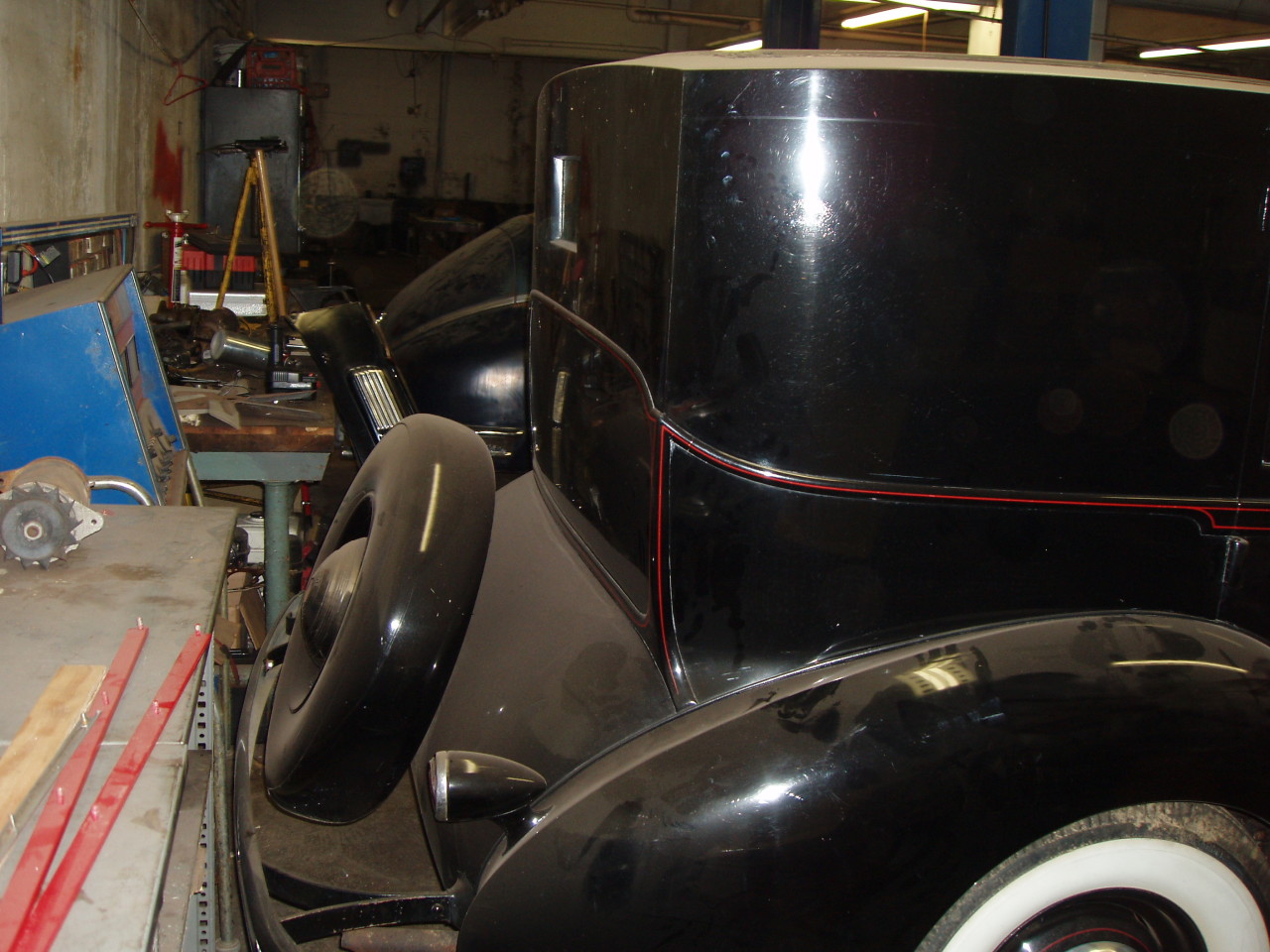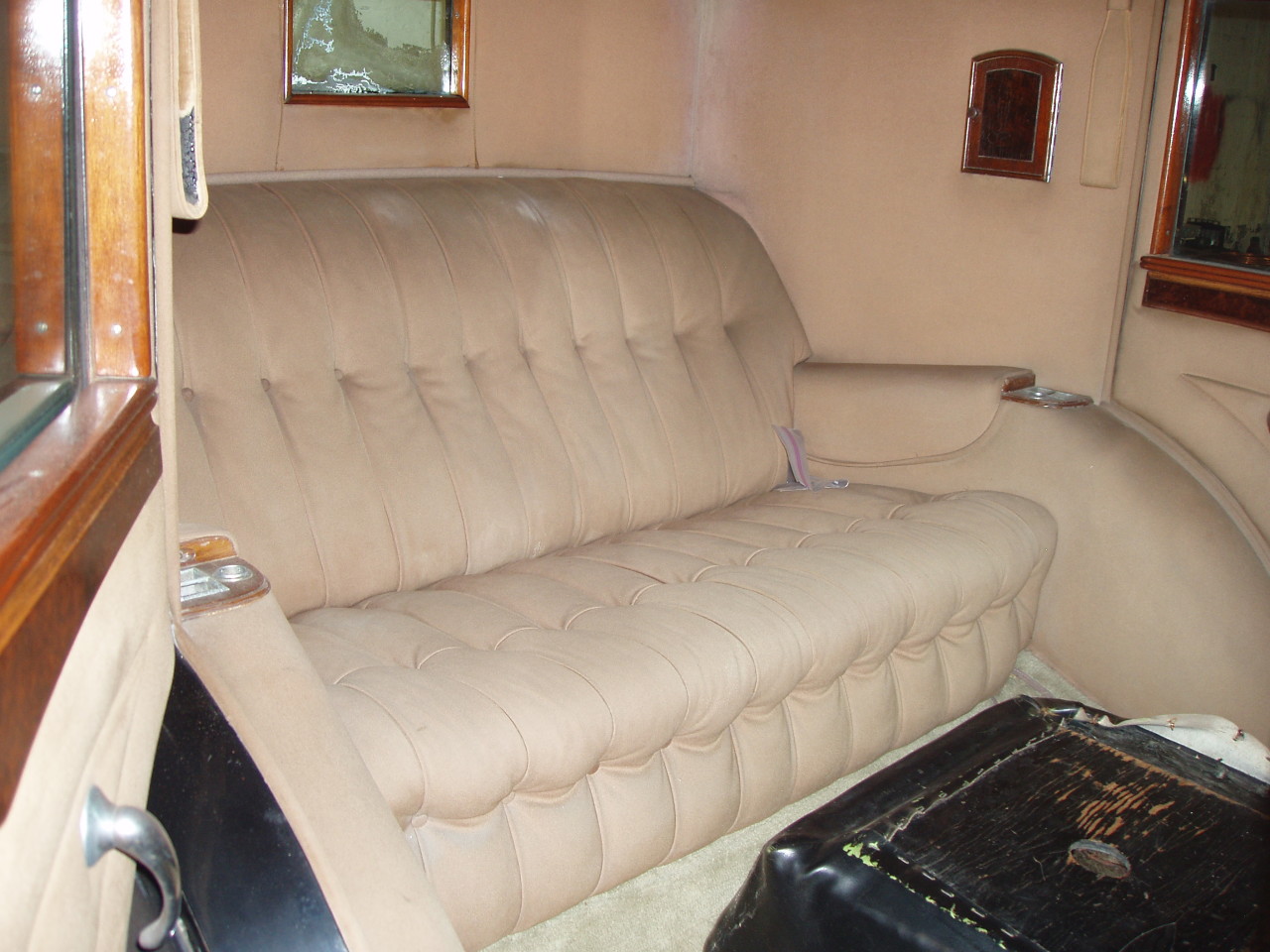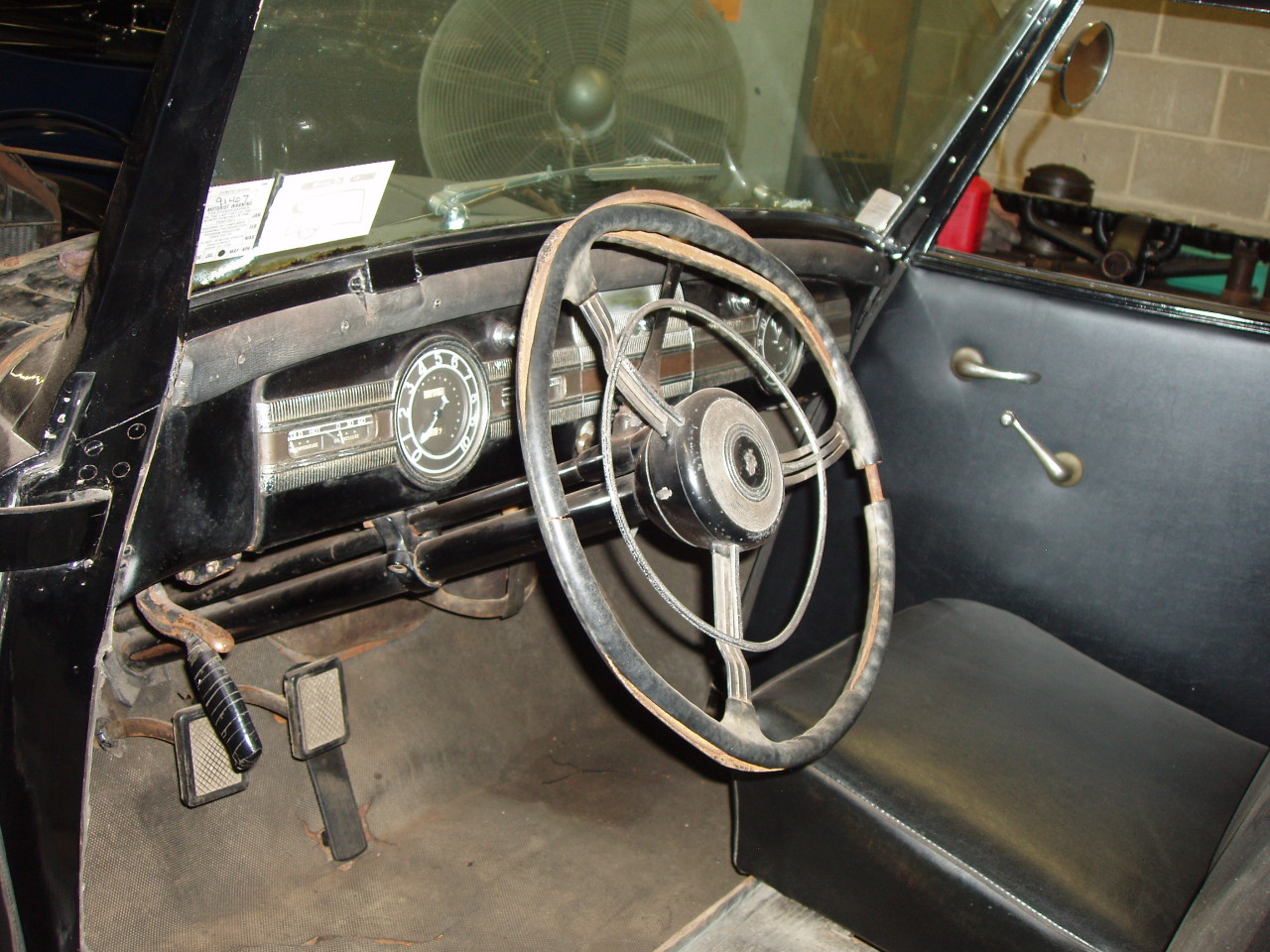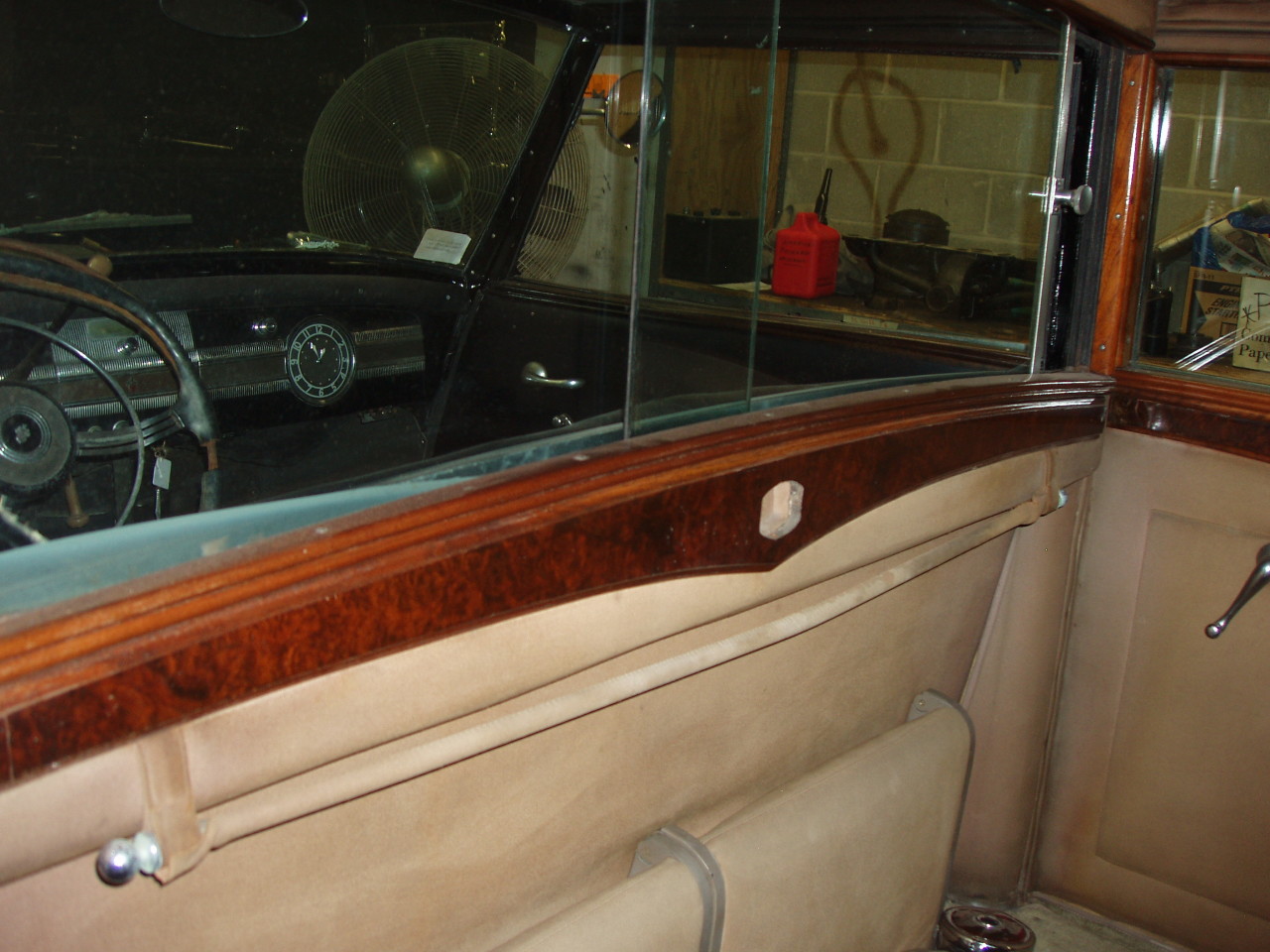 No, not a Lumber Jack or Paul Bunyan, but a rather surprised (did not see my camera coming) James from Grismere Tire in Downtown Dayton. He was just coming back from a truck roadside repair when I called and begged for help. Problem was the tires were 8 ply truck and could have stood on their owwn without air - HAAAAAAAAARRRRD as a Rock. The bead on each tire excepting the one original Firestone spare was almost 1 1/2 inches thick each (not much room when you also have an area on a 4 1/2 inch rim that has a metal valve stem through it. James had all the proper tools and basically resorted to brute force. He spent nearly 3 hours to demount 6 tires.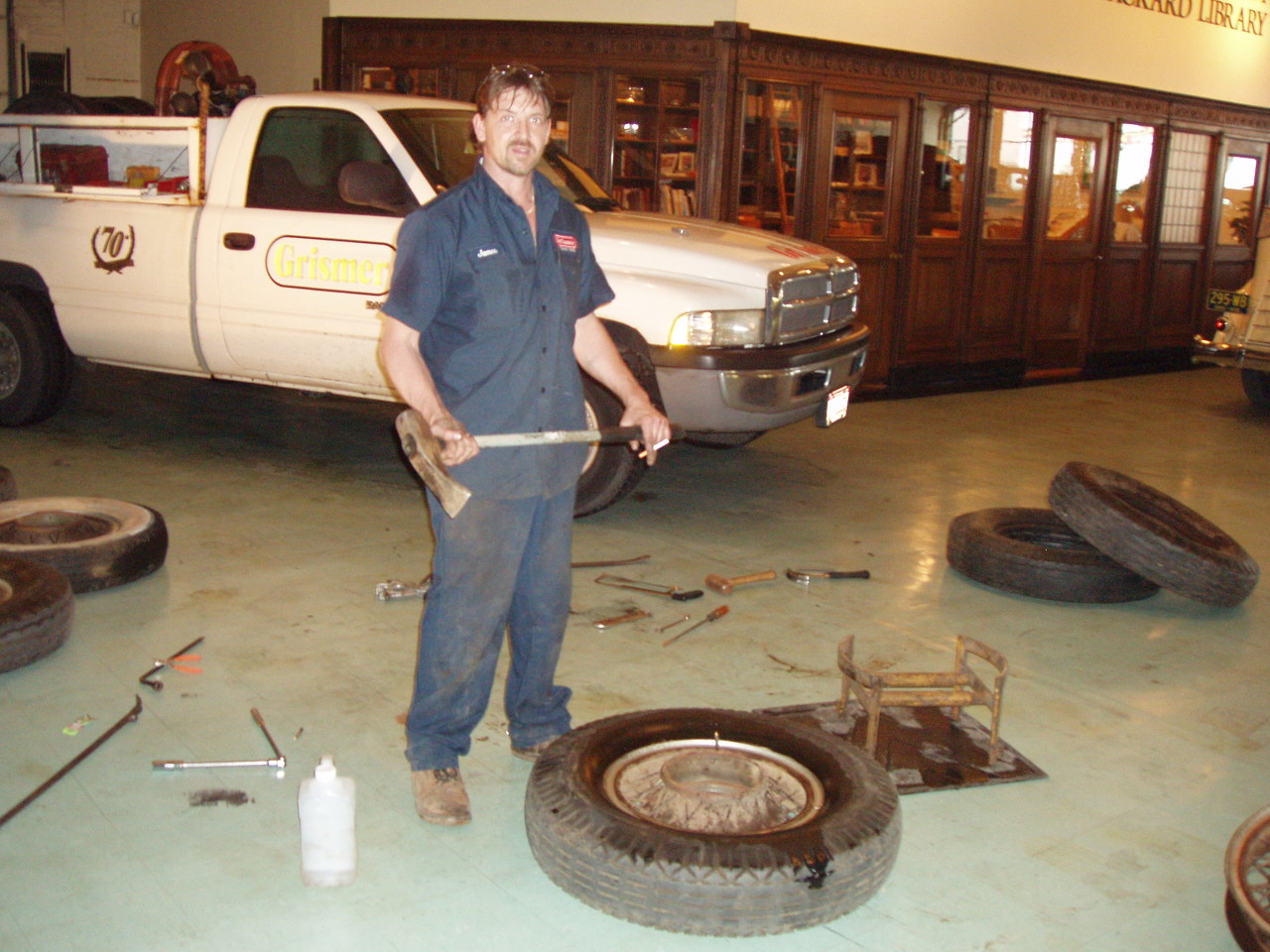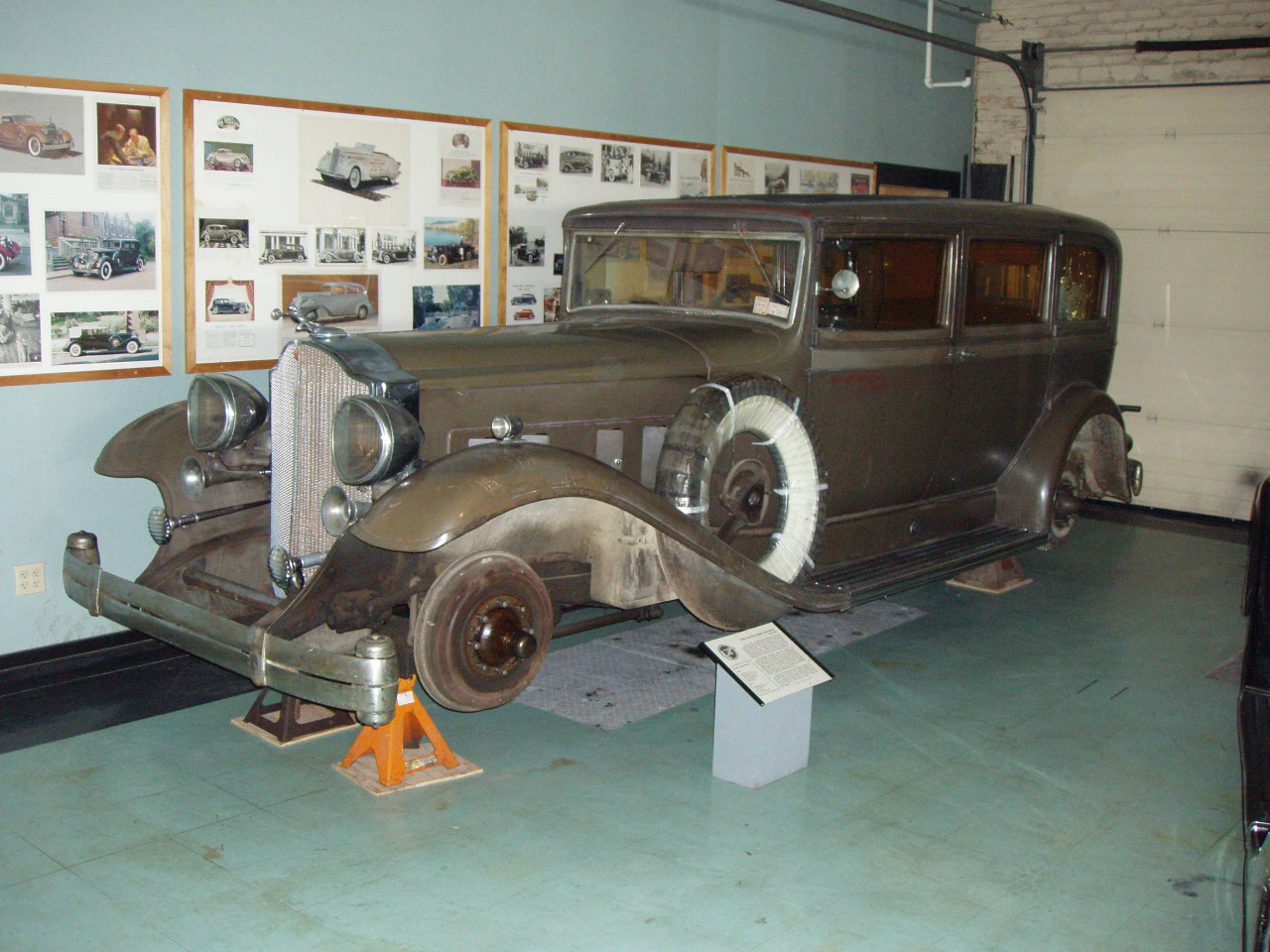 Finally, Stone Guard Brackets are made and installed. Hours were spent cleaning up the stoneguard (it has a brass screen behind it that was polished - and now has been repolished), repairing emblem, and getting whole thing mounted.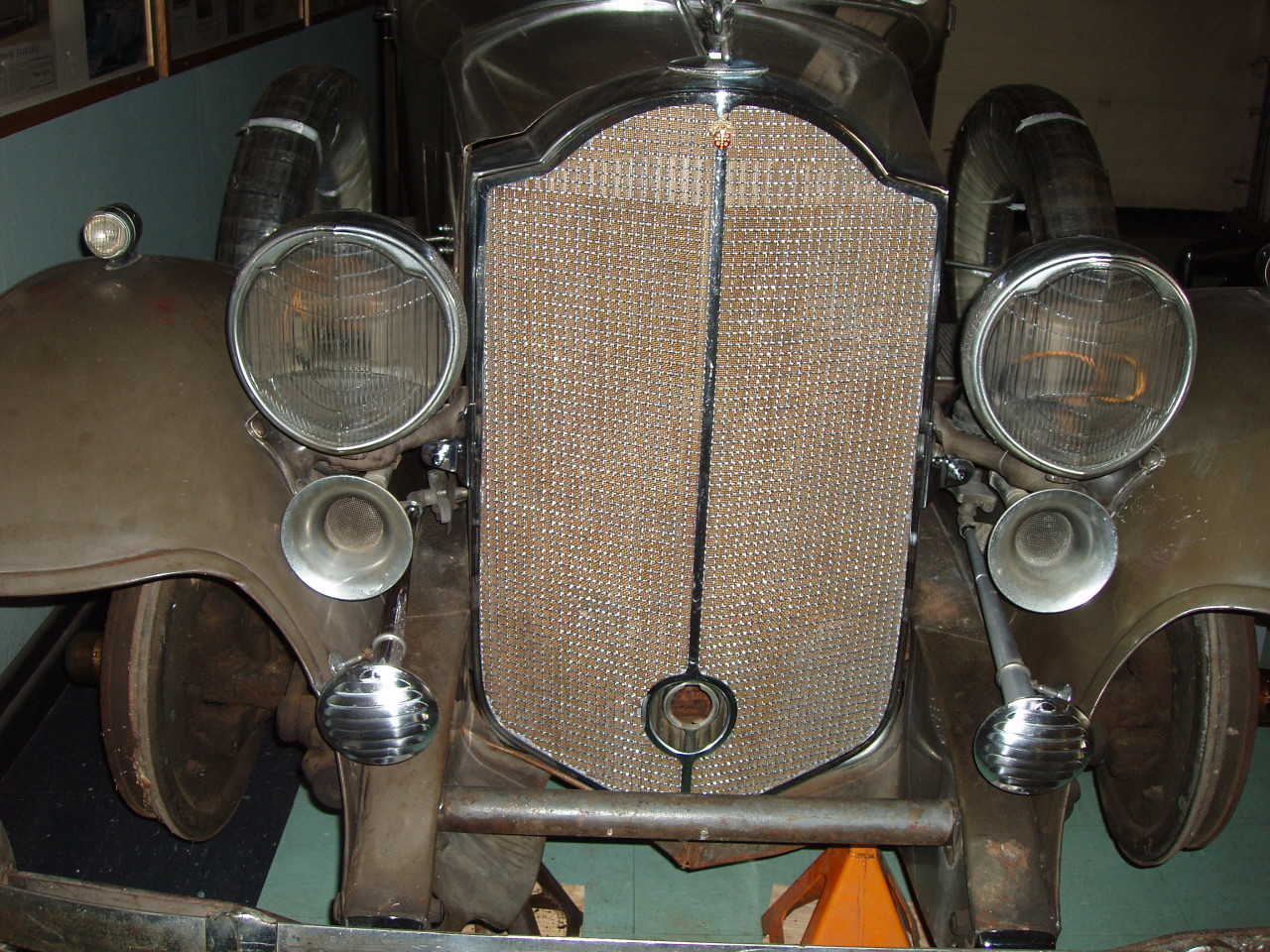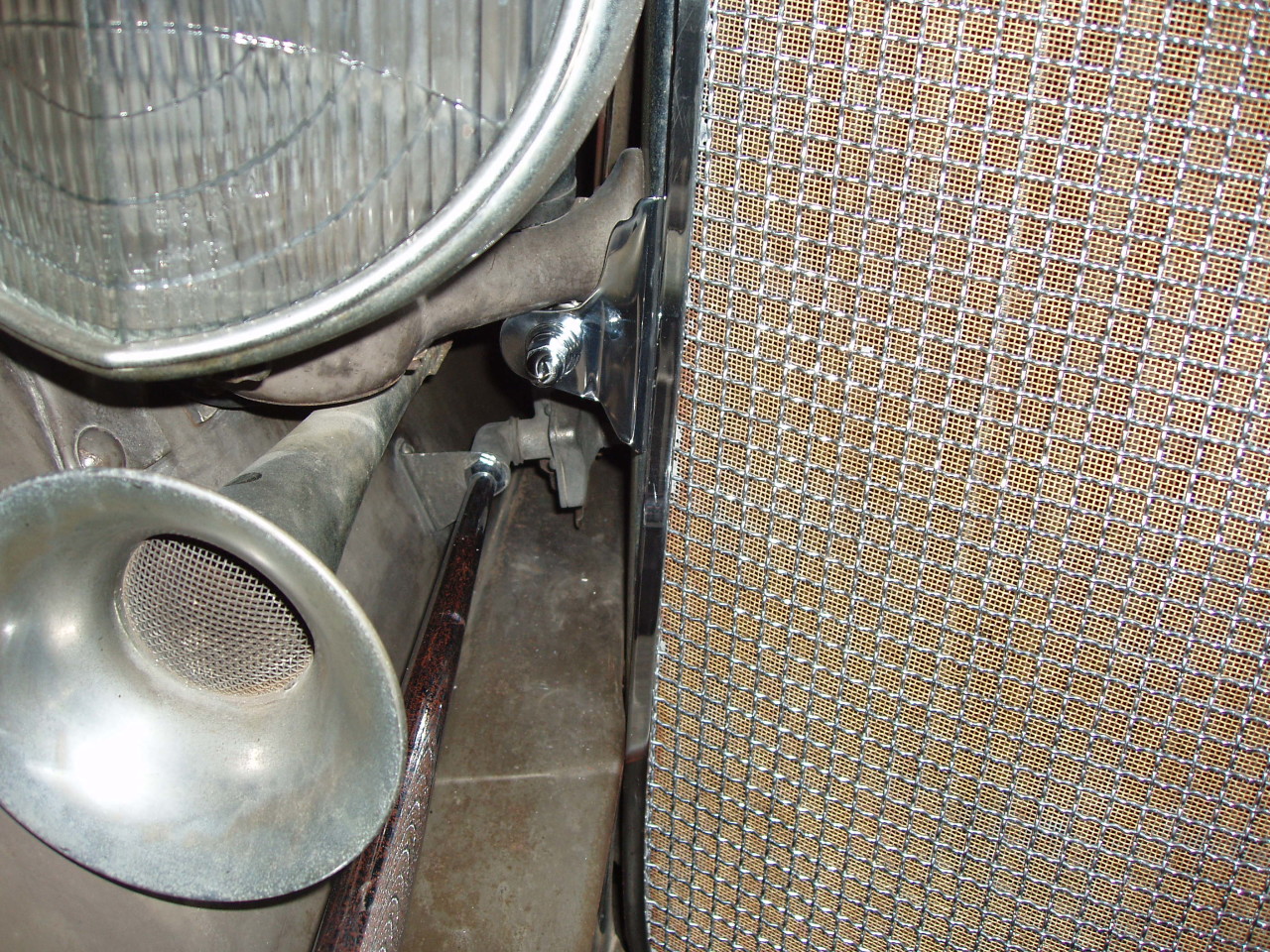 Cecil makes beautiful horns - The ones on the car may clean up (so much to clean and so little time available each week) and have no dents; but if they do not clean then Cecil will be my first phone call. Glad to hear hear he is still in business.
5-30-2009
Crisis possibly adverted on Memorial Day: Roughly 12 hours to actually clean out oil pan (with a hammer and a chissel) and pick-up screen - it was TOTALLY CLOGGED (plus, it took 1/2 hour to get pan dropped and 40 minutes to reinstall. Sorry, did not have camera, but take it as a lesson - ENGINE WOULD HAVE BEEN DESTROYED IF I HAD STARTED IT.
Wednesday, May 27th: Lock rims picked up the Monday prior to Memorial Day and they came out rather nice. Wheels were picked up from the painter the Thursday before Memorial Day. Todd the owner of RIMWORKS in Centerville did a very good job. Todd sandblasted and painted, but also had to repair some curb damage, misc scrapes, and one chunked out section of rim that was on the driver's side rear wheel (someone had apparently run it into a curb and not only damaged rim, but also caused damage to the threads on the brake drum (a quick call to Ted Davis in OK revealed thread was 9/16 x 18 (friend Glenn Grismere happened to have a tap) and all holes were rethreaded except one that was a hopeless and all bolts were basically hopeless as well so replacements were sourced.
Wednesday May 27th - Picked the wheels up from Grismer tire and they did a great job in mounting (and little to no paint damage as well - which you know is nearly impossible on a lock ring / snap ring style wheel). So here are the pictures of the wheels mounted to the car.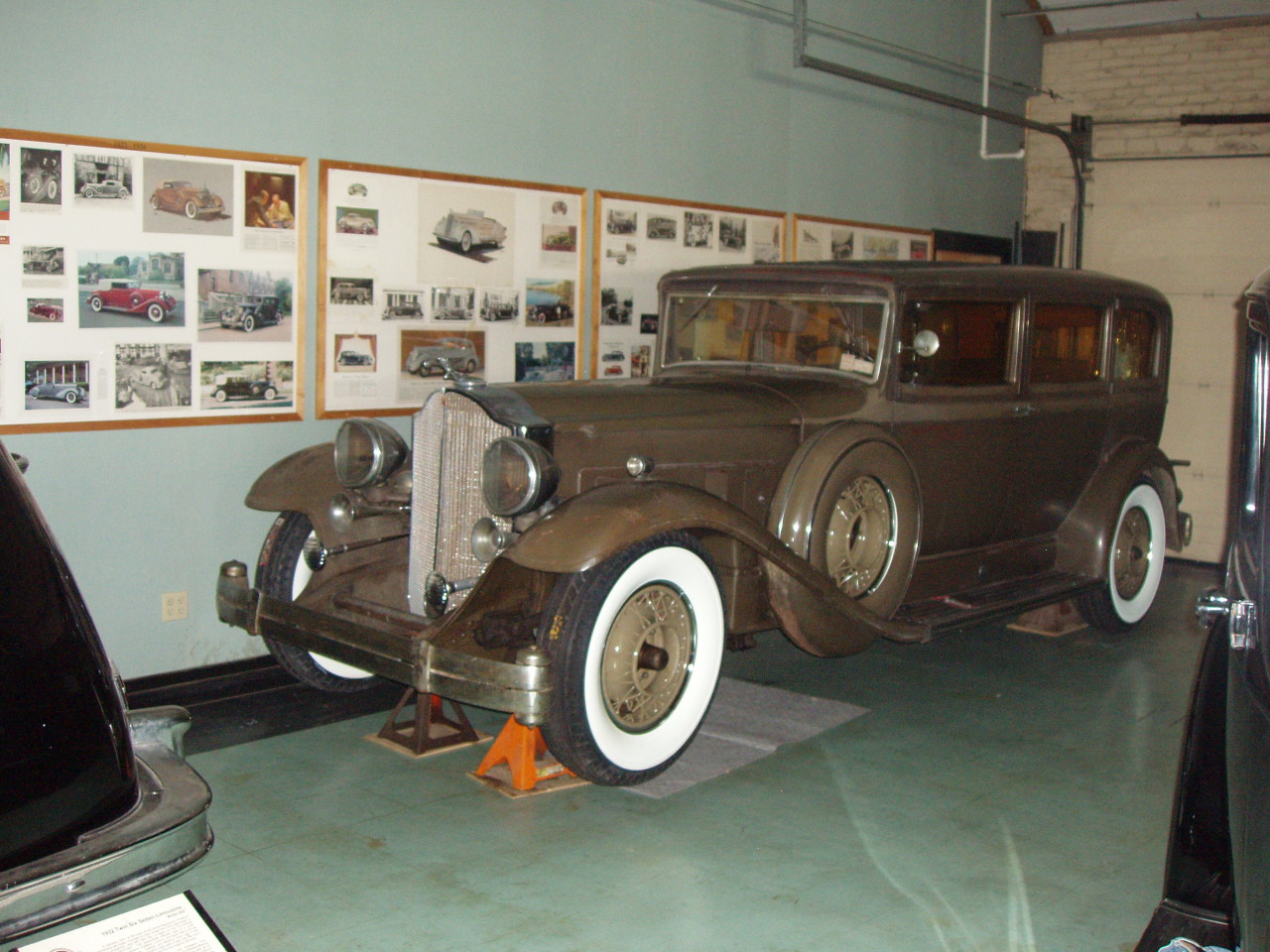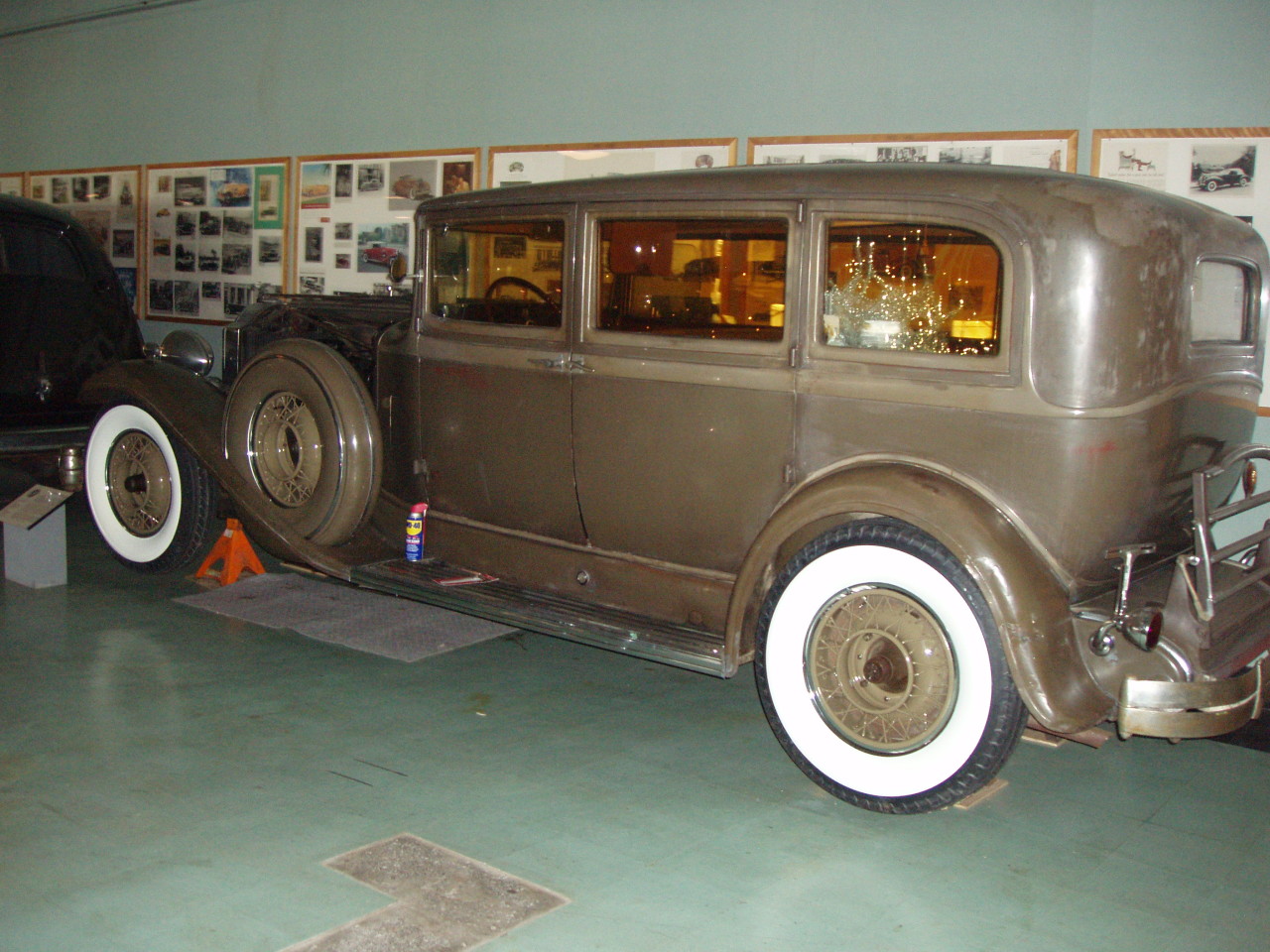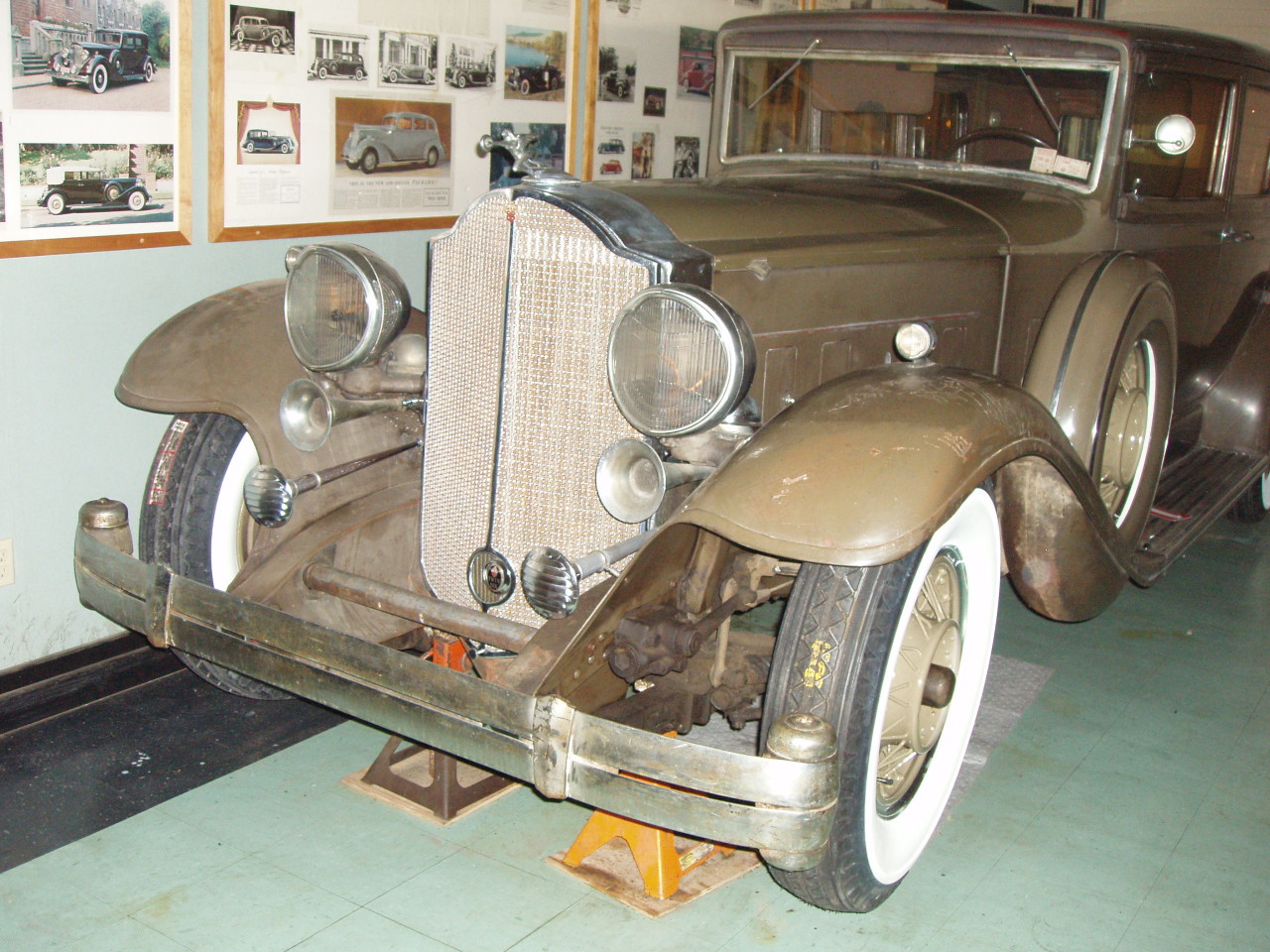 Here is a close up of the sidemount with the cover installed. Paint color on wheels is Artec Olivine Green - Light (IM 1096).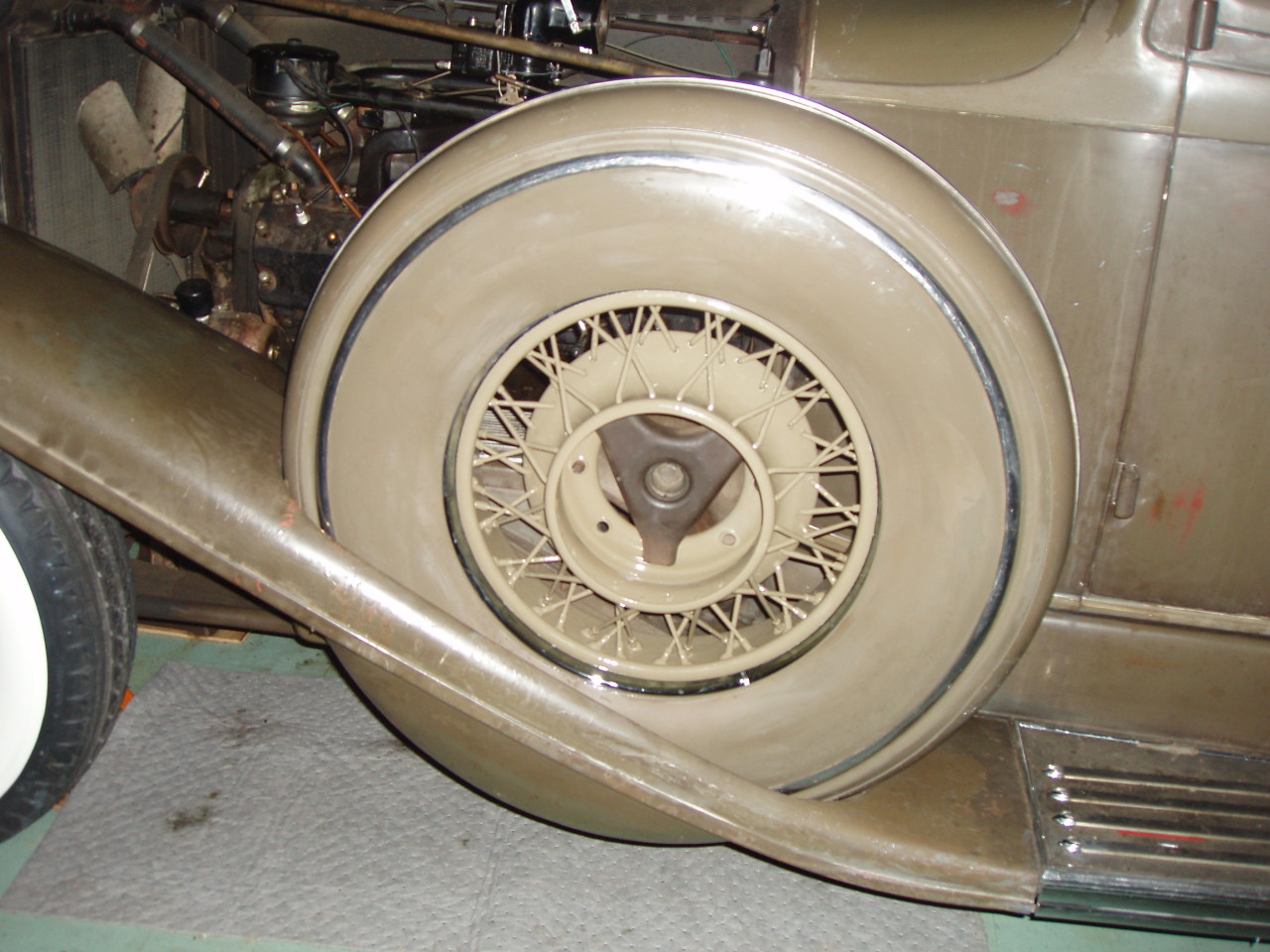 Engine bay is starting to take shape with lots of cleaning and I rebuilt the fuel pump and carb (plus did quite a bit of work to get coils in the car - they were stolen or lost - jury is still out. Carb is an EE-3 and is beautifully built (that was 8 hours of my life that I am never getting back).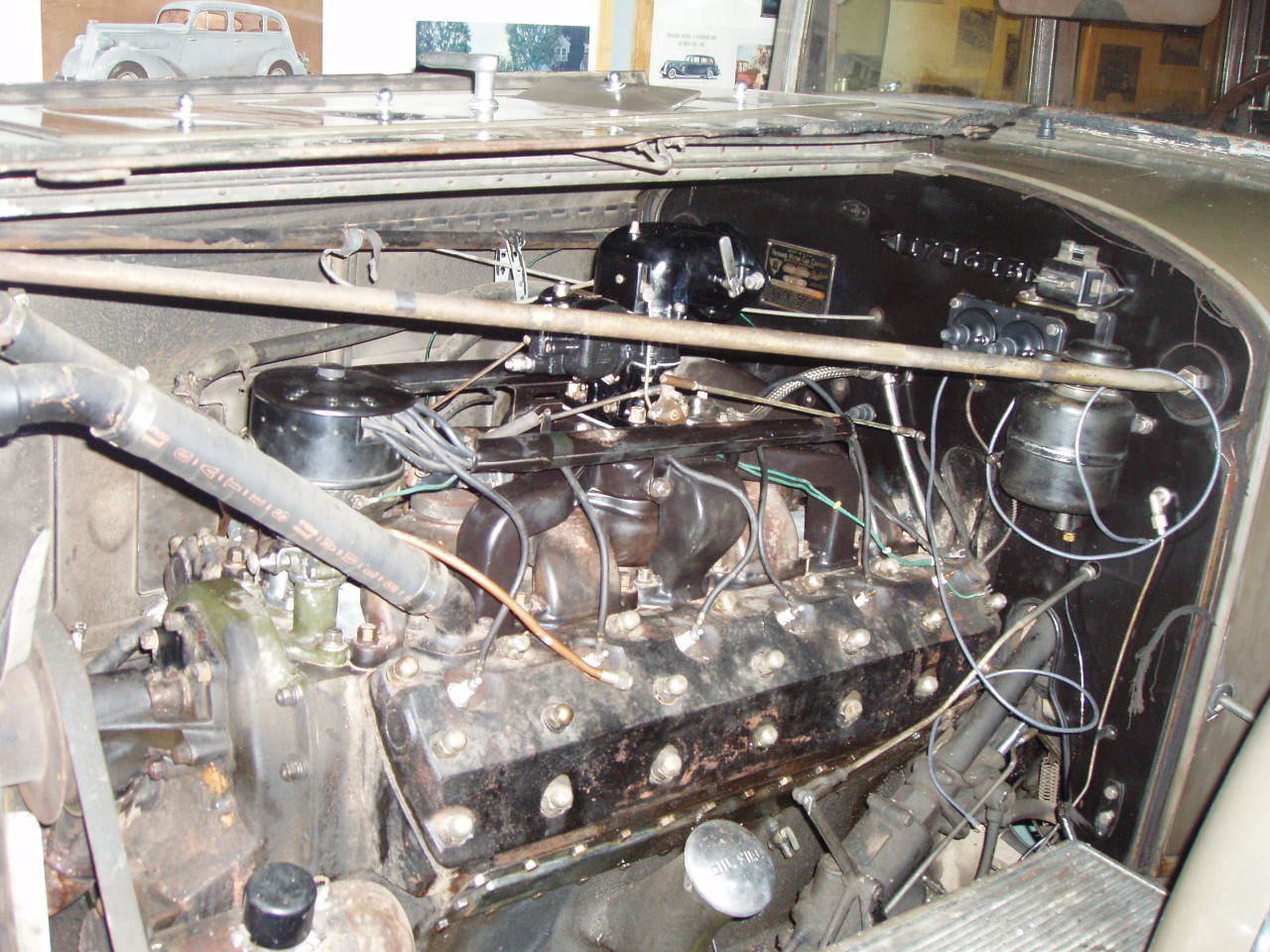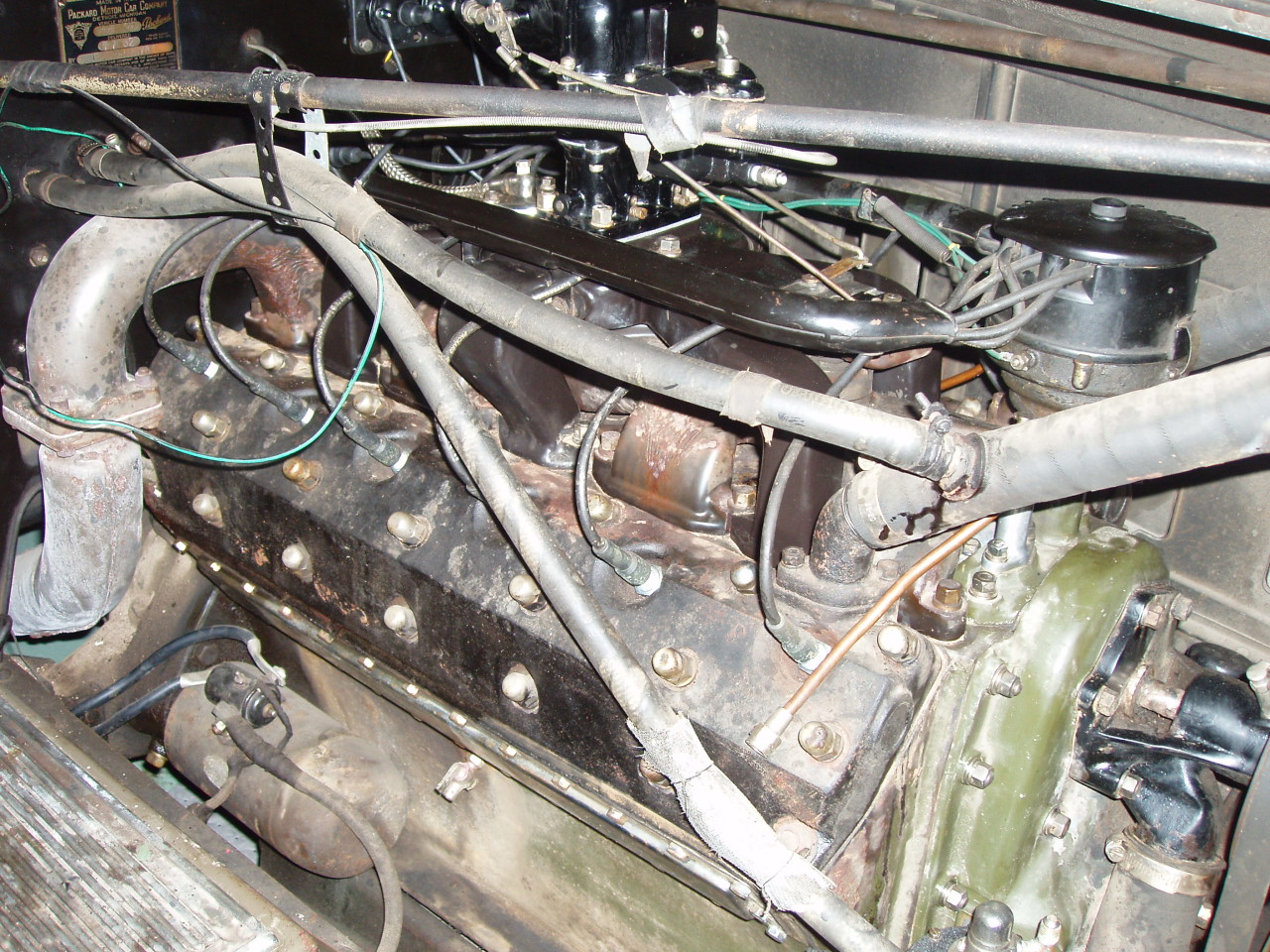 Pictures of the fuel pump and carb.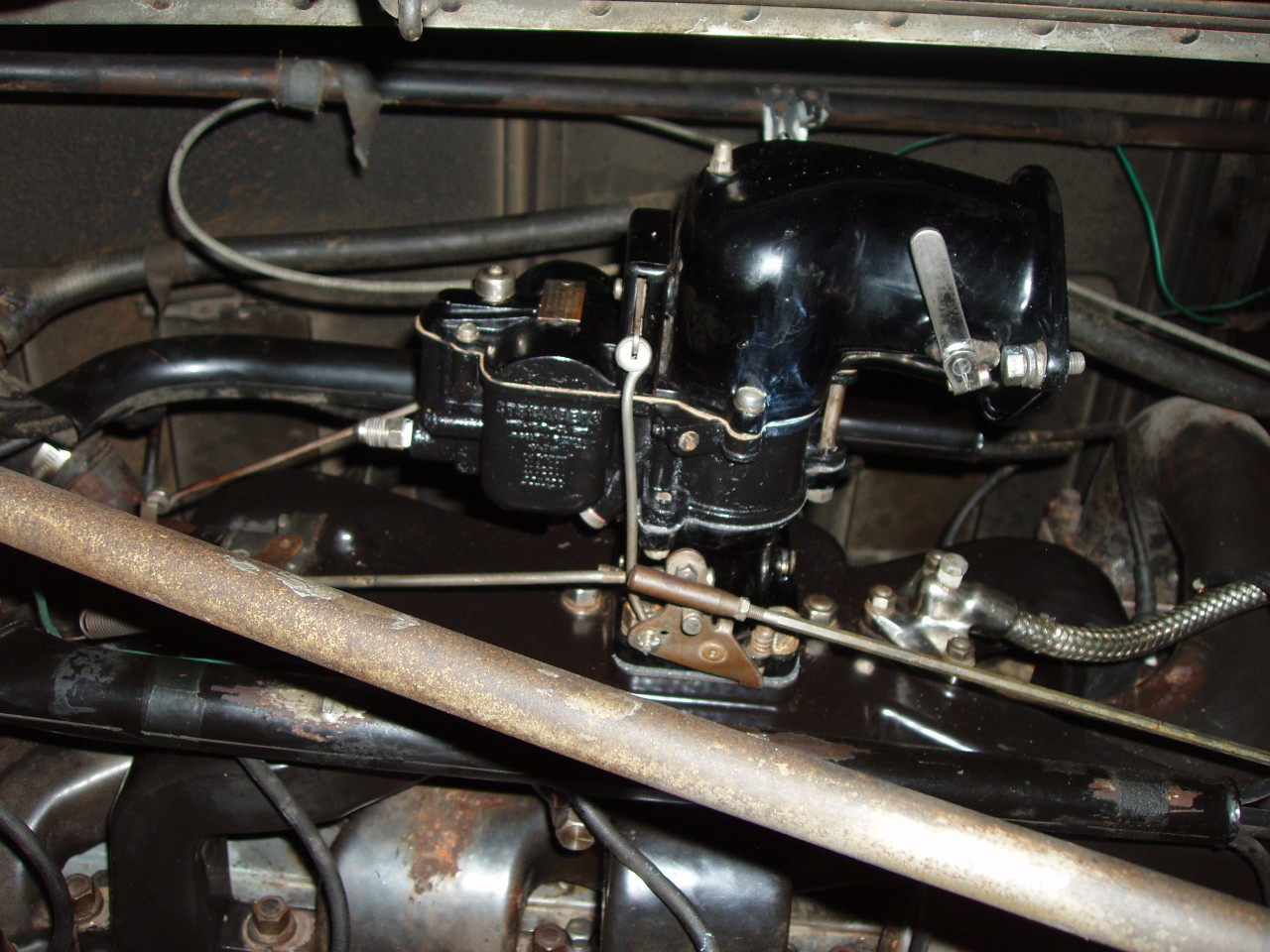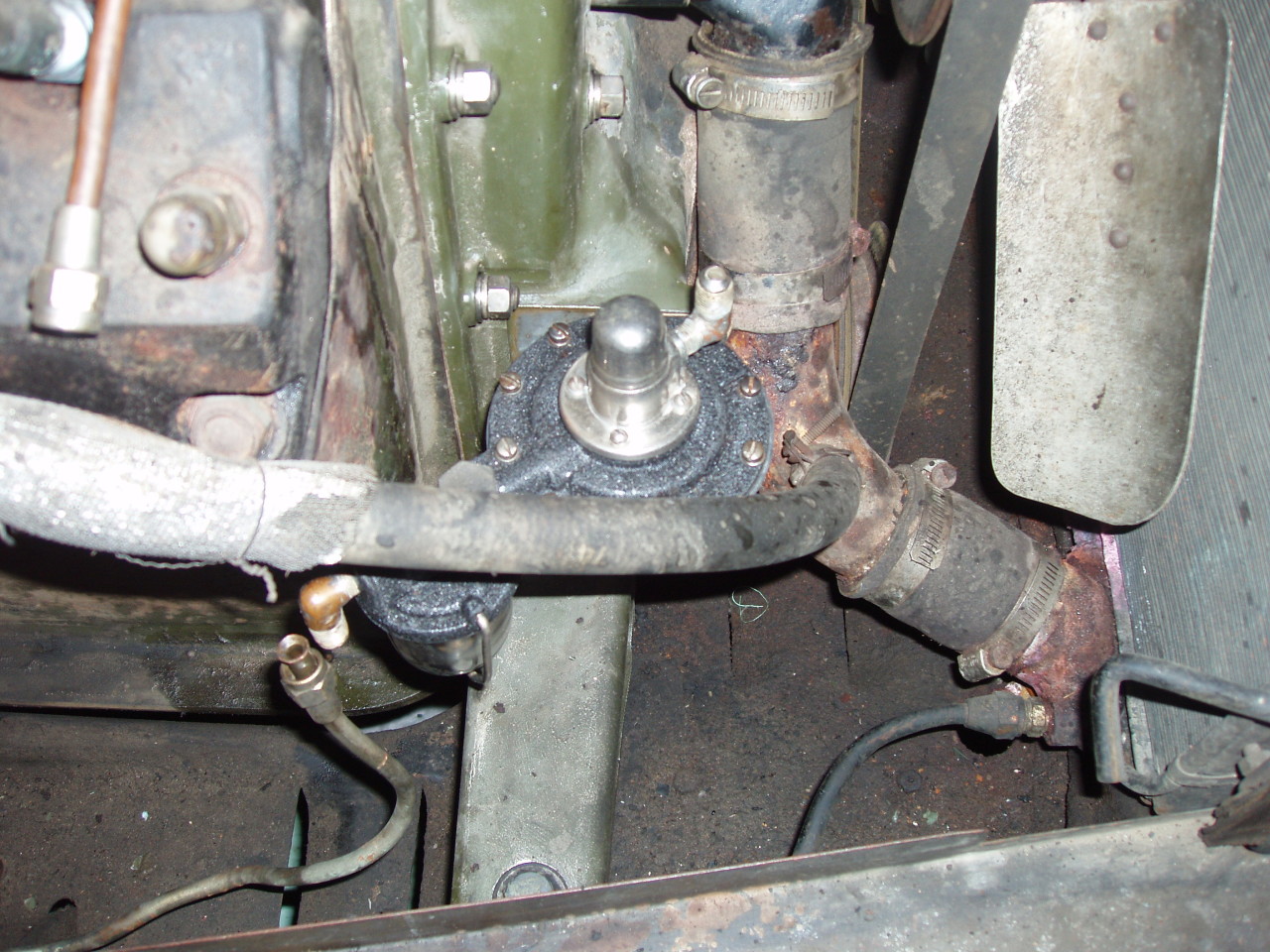 So what do you use when taken off or re-installing wheels ? Of course, you use a jack that is as old as the car. Check out its size. We may just start calling it a crocodile. BELIEVE IT OR NOT, WE HAVE TWO (2) SUCH JACKS and the other was camping out under thwe 1939 Lilly Pond Packard 120 Rollson Town Car while Frank Crawford and Mike Mereness (my dad) were adjusting valves.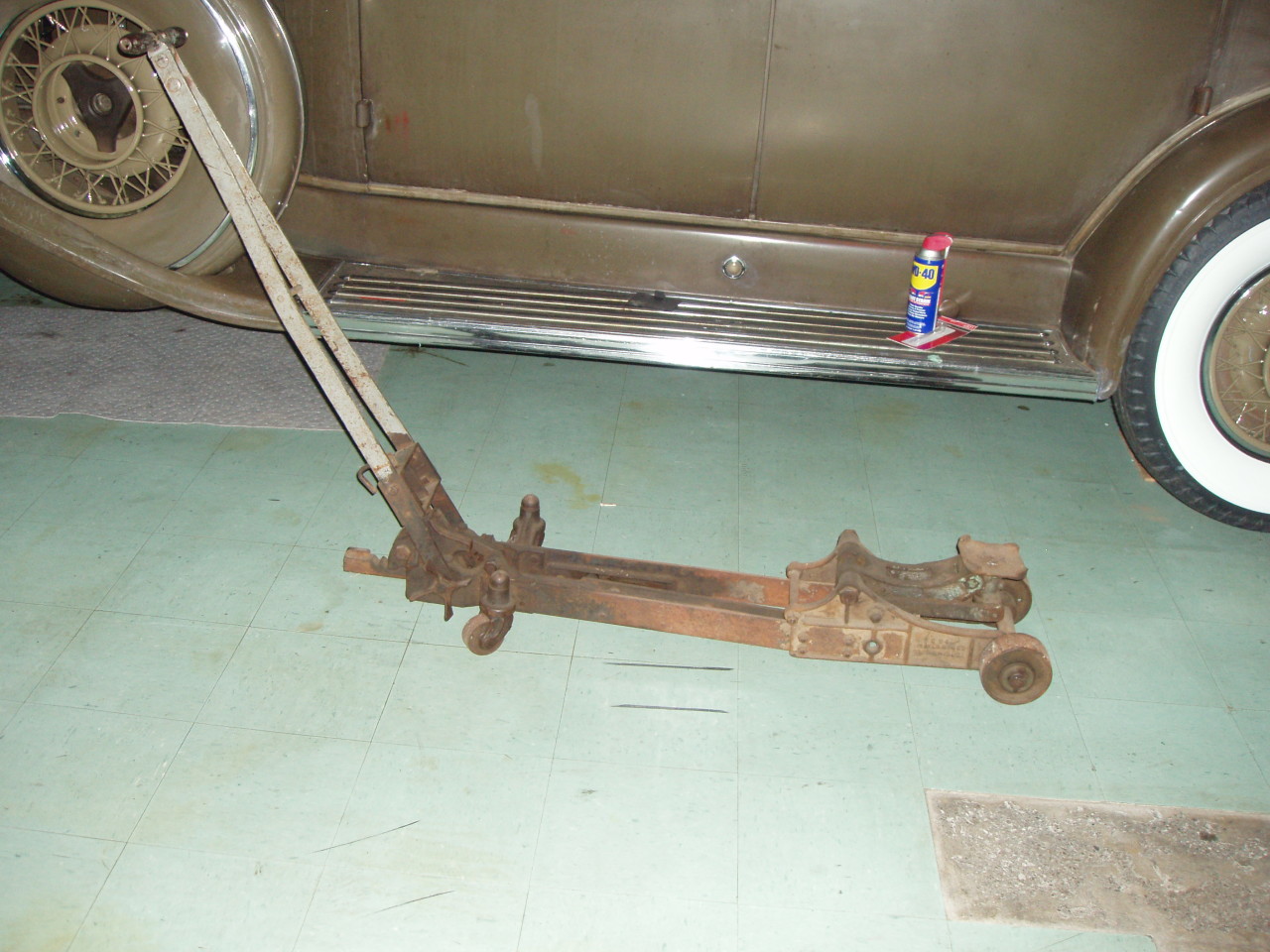 So here is the final product of the paint touch up on the 35 Packard Twelve: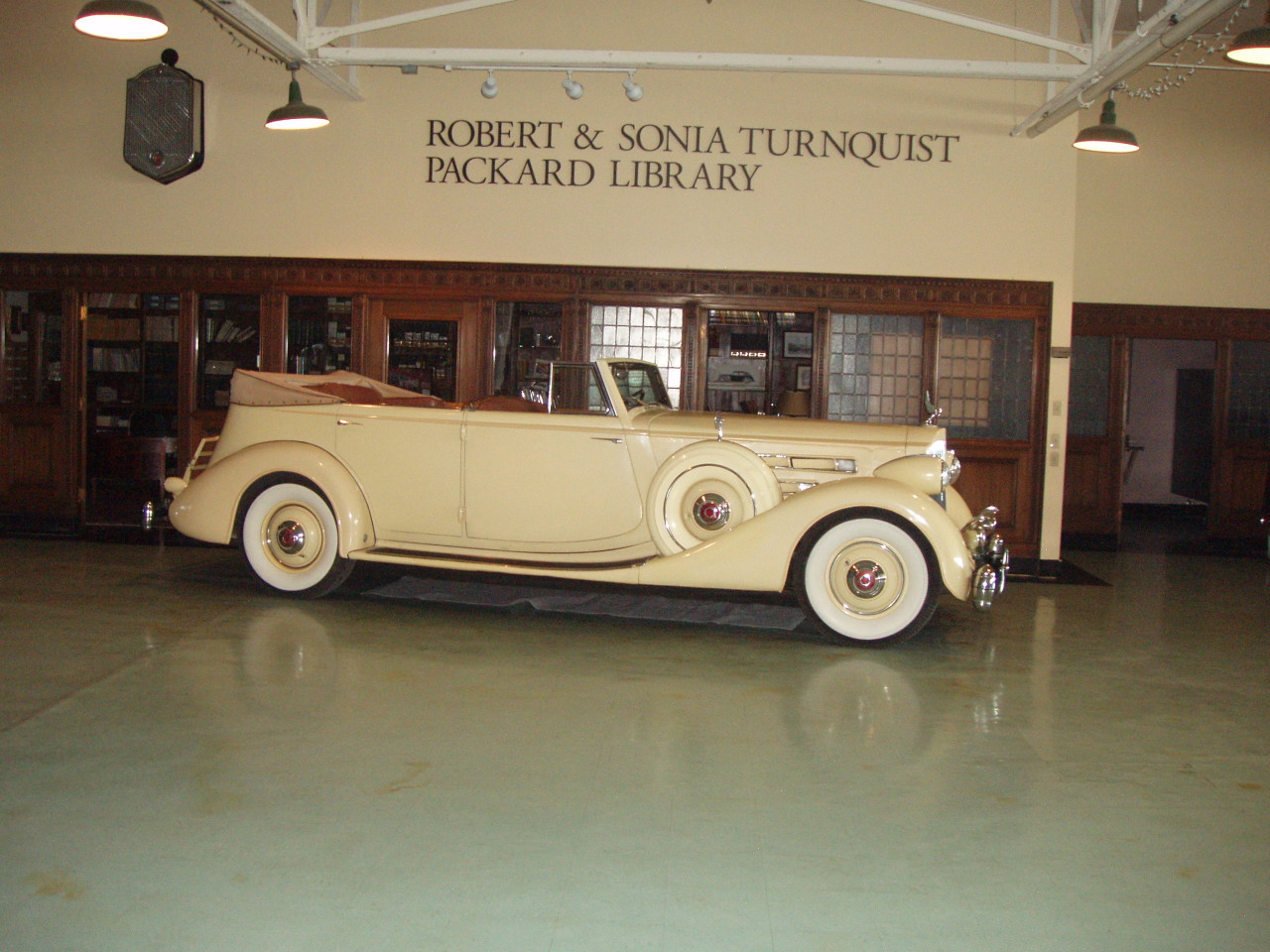 1903 Packard Gray Wolf LAND-SPEED RECORD HOLDER gets the broken sprocket for the crank removed from the crankshaft. This could have been days of a project though came out freely in just shy of two PAINFUL hours.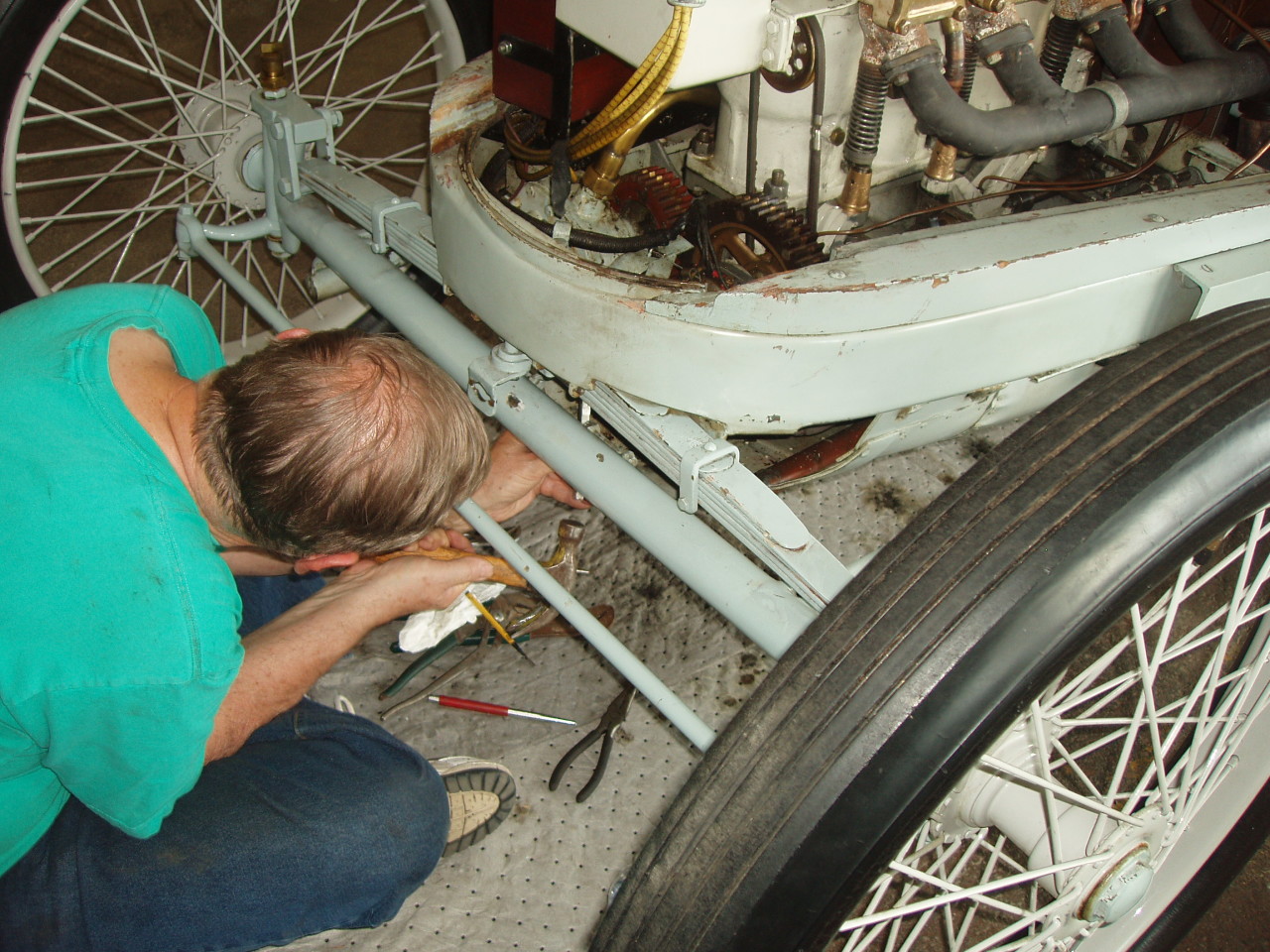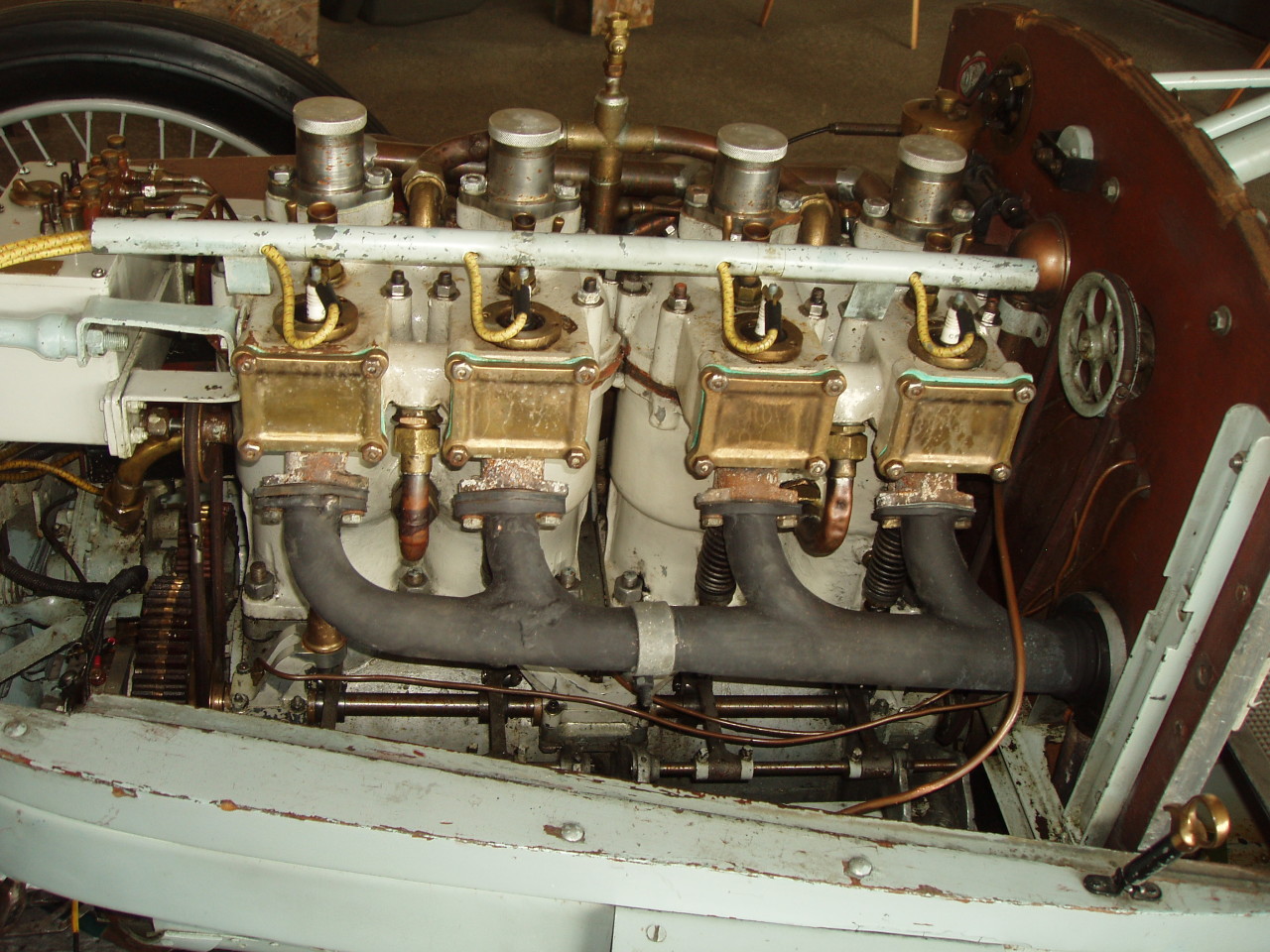 So you have heard of 1920's and early 1930's CCCA cars having undercarriages color keyed to match the exteriors - the 1932 Twin Six is one of those cars and what you are looking at is what you find when willing to get the dirtiest you may ever get in your life - the frame has been well oiled to protect the underside. There are only a handful of cars that can come close to this car in originality and condition.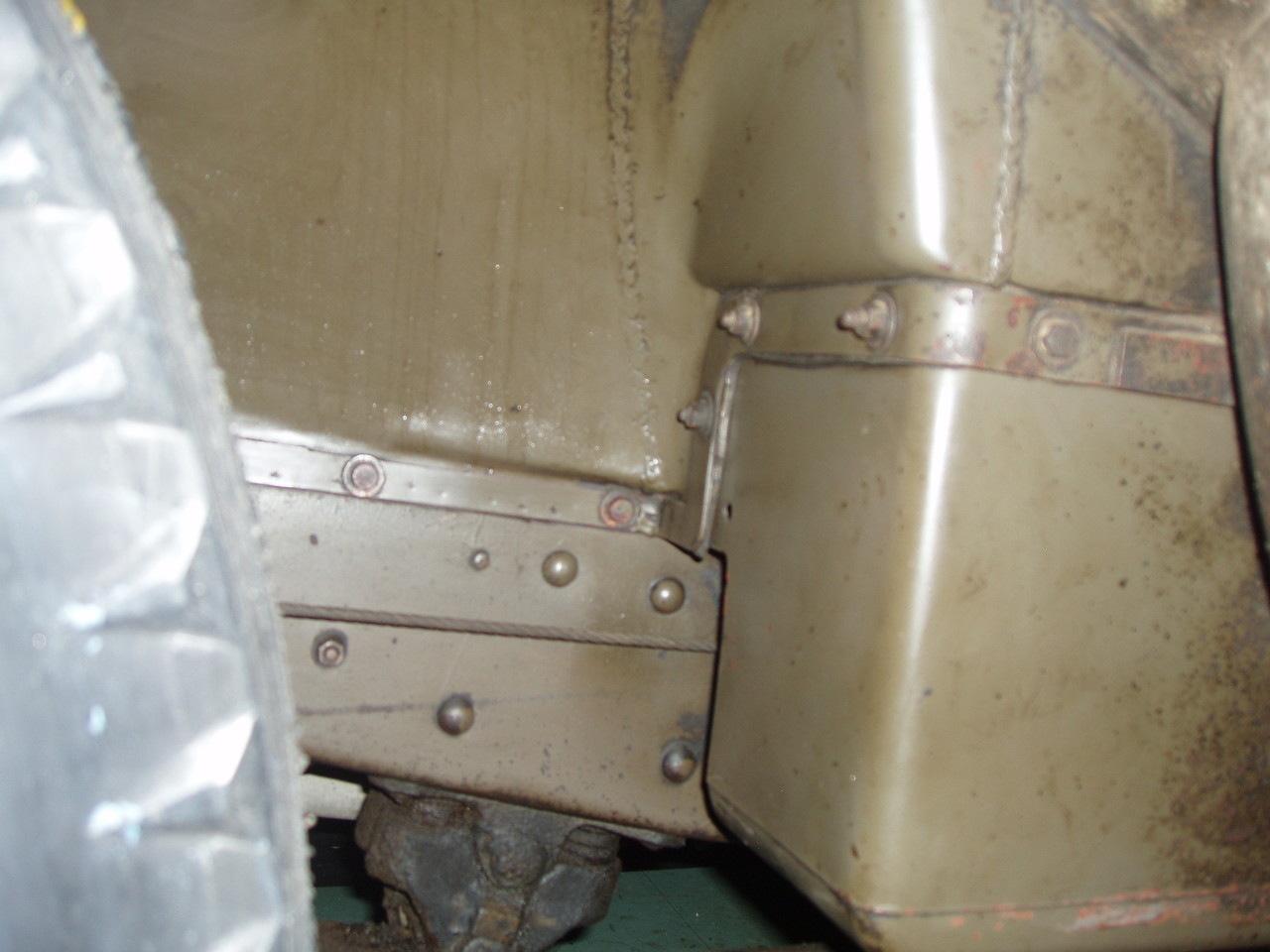 6-2-2009
There are actually two (one original and one reproduction). The Packard Museum in Dayton has the original and the other is an amazing duplicate has been built using the original drawings by a fellow by the name of Ted Davis in Oklahoma (at the cost of some half million dollars). My guess is the original was saved in the early days of car collecting by Barney Pollard of Detroit. The original is powered by a very rare Model K Packard engine. My understanding was the original was wrecked at some early point (1904 or so) and the restoration was done in the early days of car collecting to a level that was the best available for the time period though is not up to today's standards. I am not sure if Ted's is powered by an original "K" engine or an exact reproduction (stunning nevertheless) engine. Both cars were exhibited together at Amelia Island Concours two years ago (see www.conceptcarz.com for pictures). JMM
6-16-2009
The 1939 Packard 120 Rollson Formal Town Car gets a valve job and some engine detailing - more details to follow.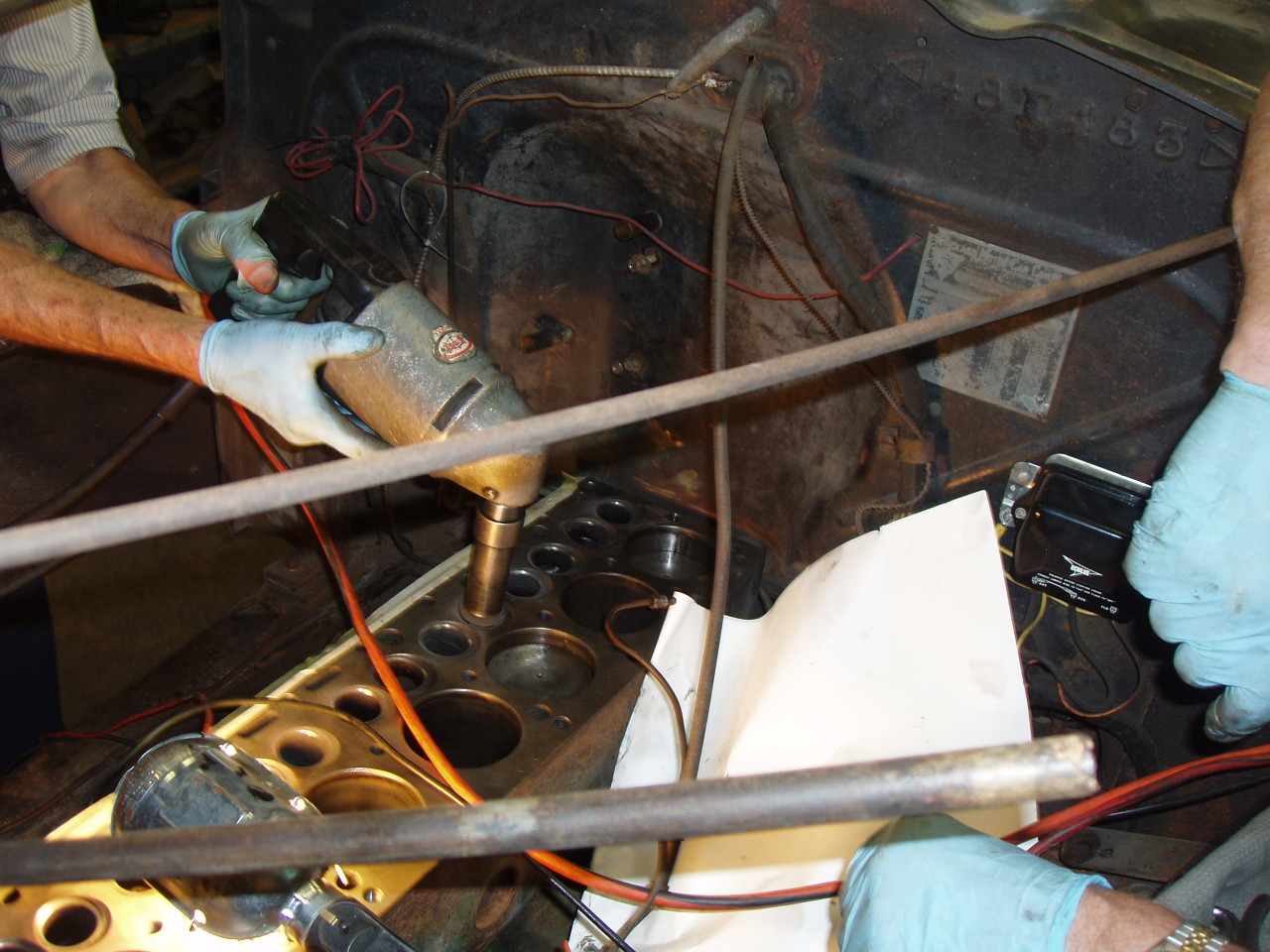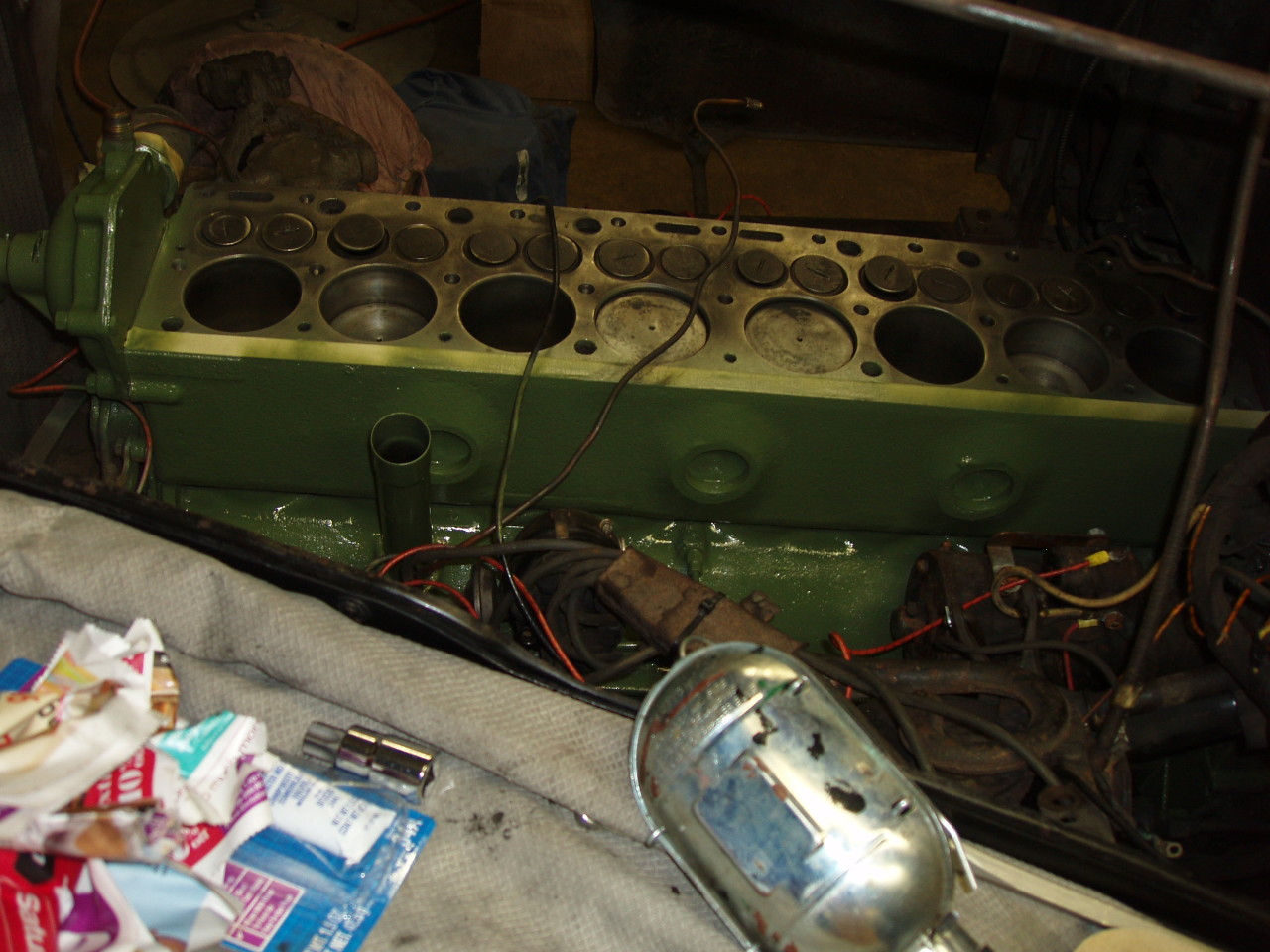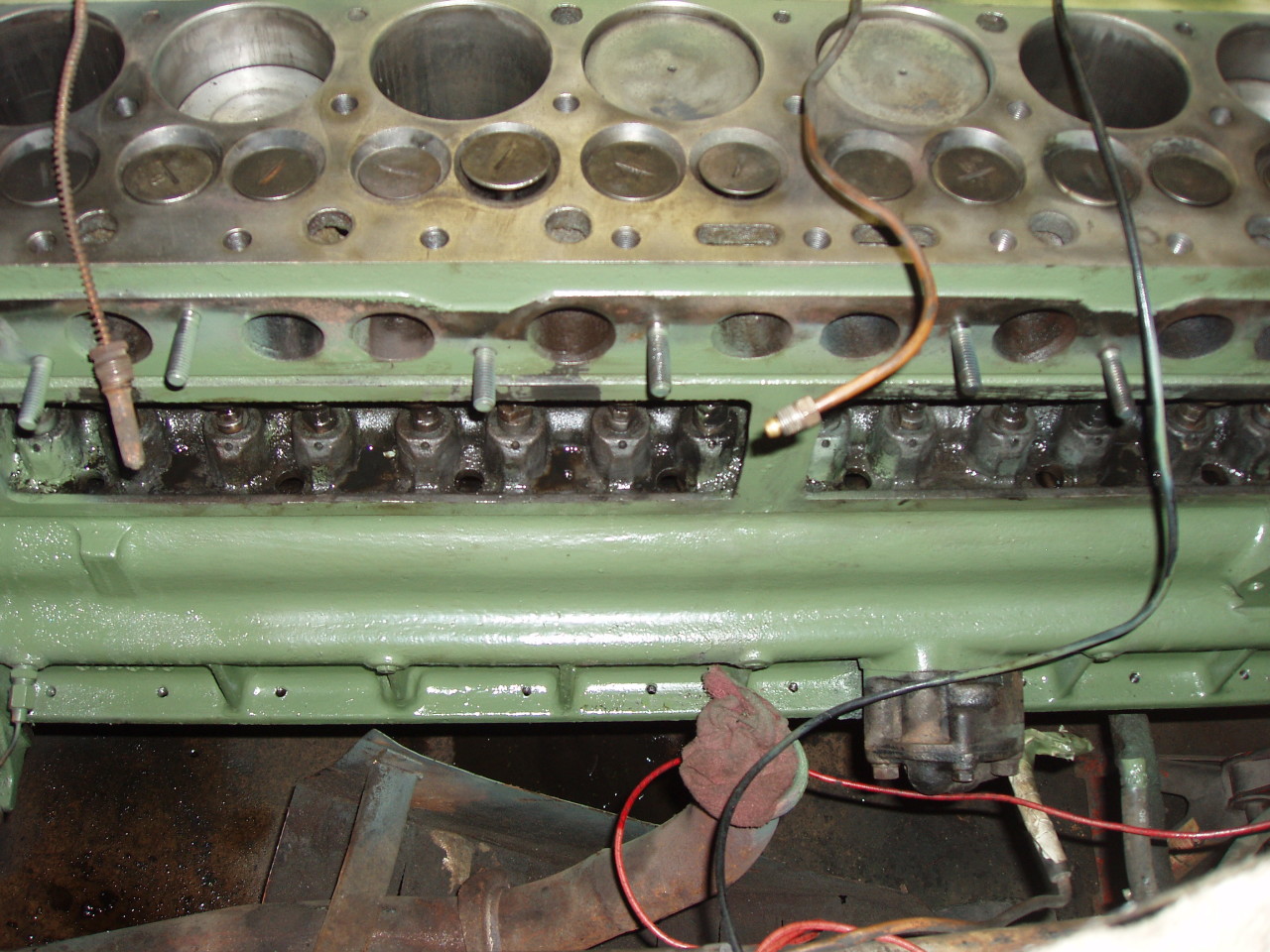 A night shot of the 54 Carribean - Has anyone a stash a green leather to match this color ?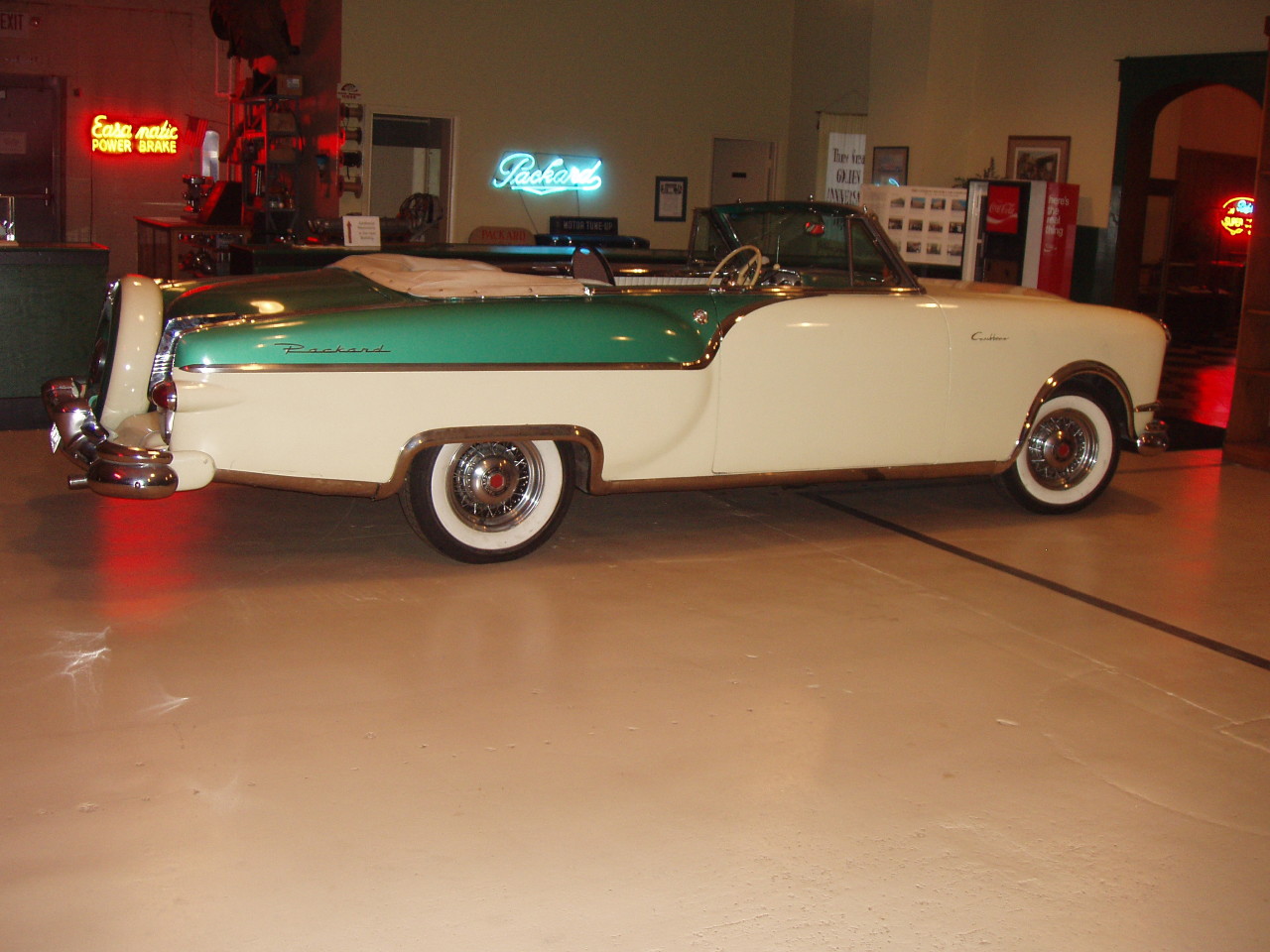 A night shot of the 1931 1932 Twin Six Prototype Engine.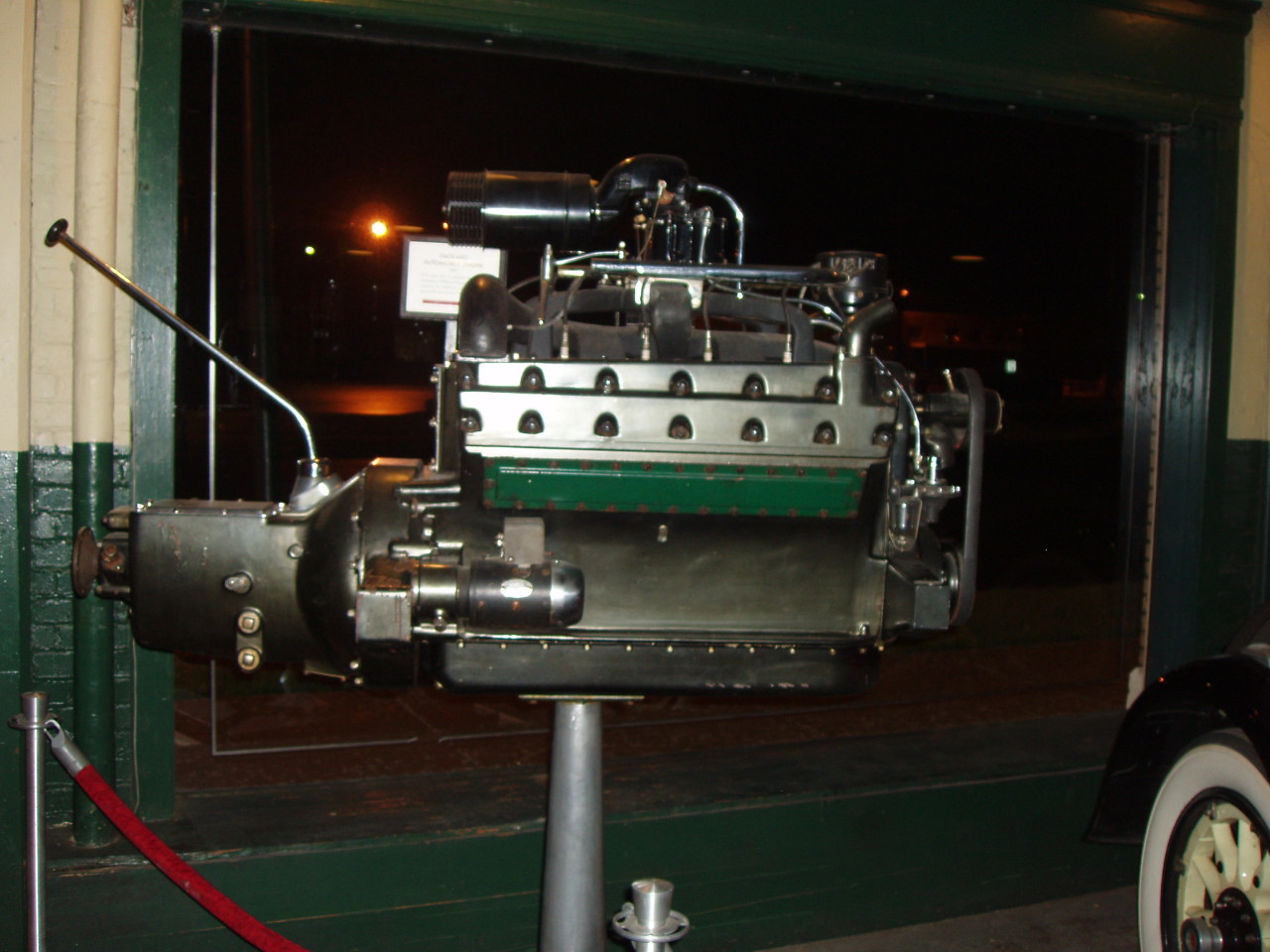 1933 Packard Super 8 7-Passenger Touring/Phaeton- Bought new by the Proctor family of Proctor and Gamble (note the "black out" chrome - god forbid we show our wealth in the middle of a depression). This is a totally unrestored car excepting new tires and now new carpet. We cut new gray wilton carpet to replace the threadbear set that had been installed in the 1940's but unfortunately we are totally out of budget for these types of projects and new binding will have to wait for another month - it has a debut at the Glendale, Ohio car show later this month. The way I best like the museum - impressive at any time but at night the neon and look of cars is great. The car to the right is a fairly unrestored 34 Standard 8 Coupe-Roadster. Do you see the test patch for the new floor finish (see under the 34) - out of budget for this project as well - but fingers are crossed for a donor.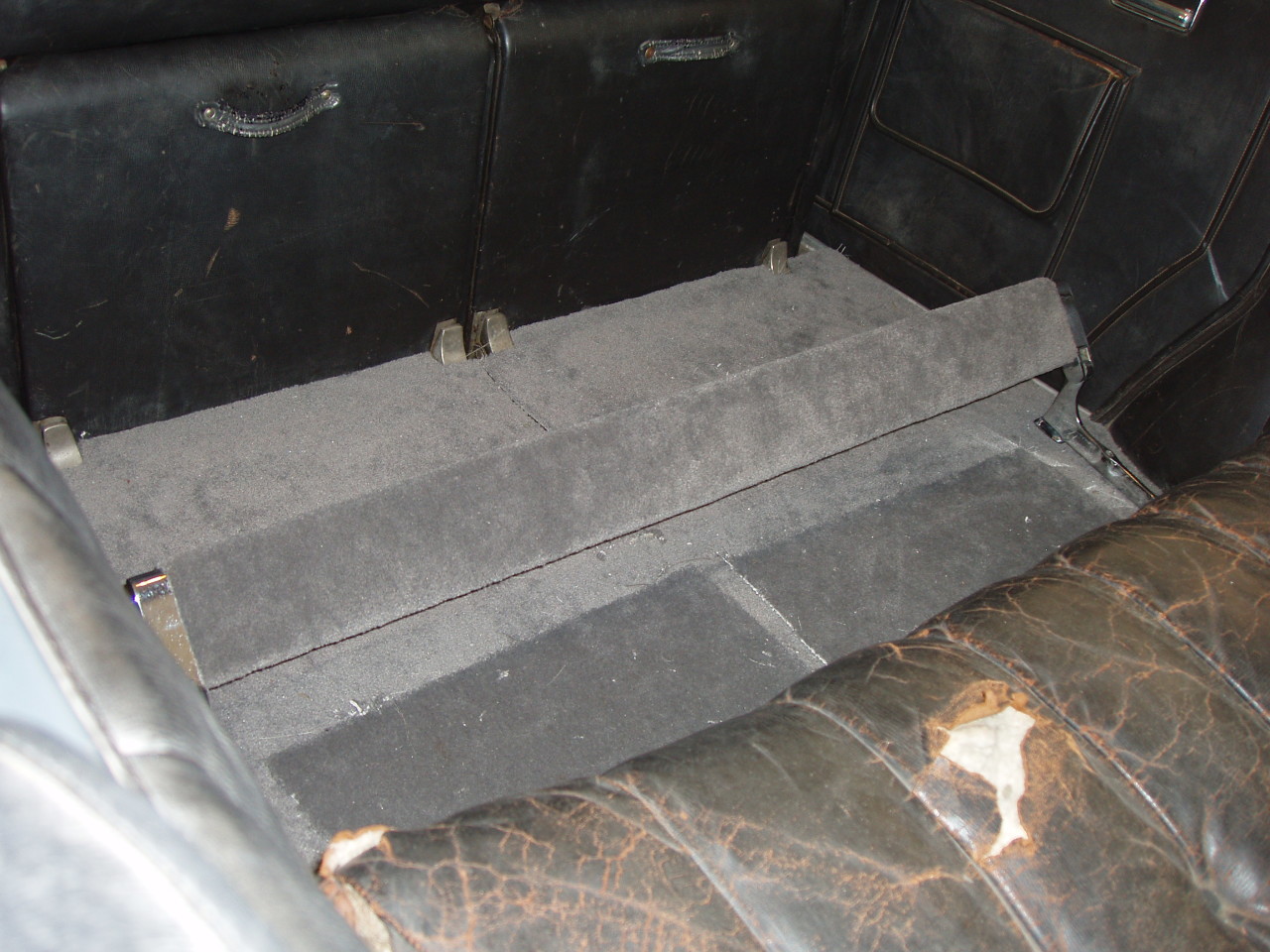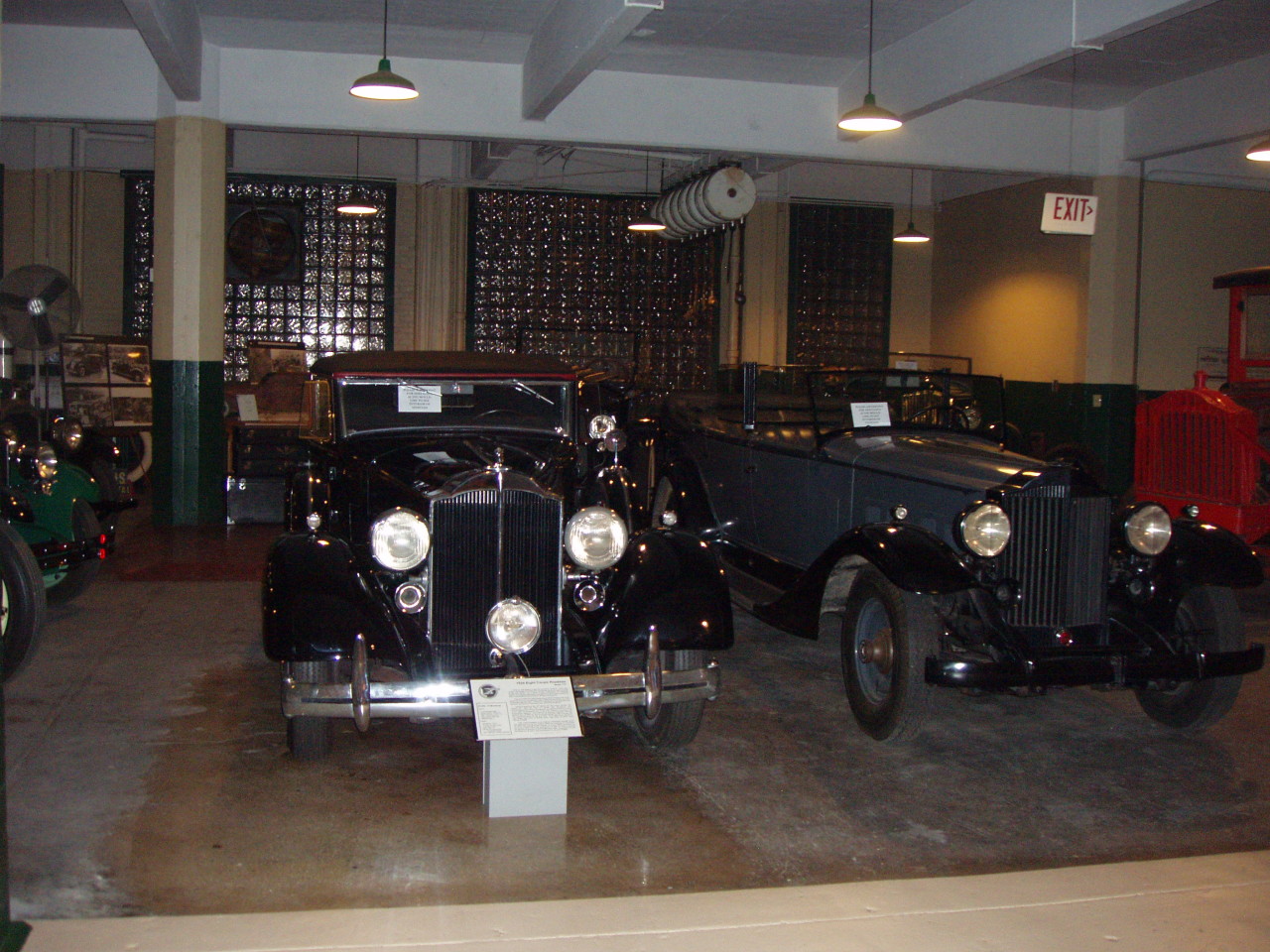 Stay tuned: 1903 Packard Gray Wolf was shown this past weekend at Ault Park Concours d'Elegance - www.ohioconcours.com
Pictures should also be posted at these great sites:
http://www.conceptcarz.com/default.aspx
and
Link to pictures posted on Cincinnati.Com
http://news.cincinnati.com/apps/pbcs.dll/gallery?Site=AB&Date=20090614&Category=NEWS01&ArtNo=906140802&Ref=PH
6-28-2009
Joshua Shaw just finishes up touching up paint and re-pinstriping the 1925 LeBarron Touring (one of two built and the only known survivor). It cost $10,000 new and is one of the very first Hot Rod sort to speak in that it has a custonm grill, hood, and cowl in relation to its custom body and they are basically 4 to 6 inches lower than a normal Packard. To put in an endorsement - ONE SWEET RIDE AS WELL - SMOOTH ON THE ROAD WITH A GREAT GEAR SOUND.
We were just notified today that to allow car to be driven up at the Meadowbrok Concours that Coker Tire would be providing new Firestones to go on its original Firestone wheel rims. 7:00 X 21 is the size and Coker makes a great historic reproduction. Timing will be critical here so fingers are crossed.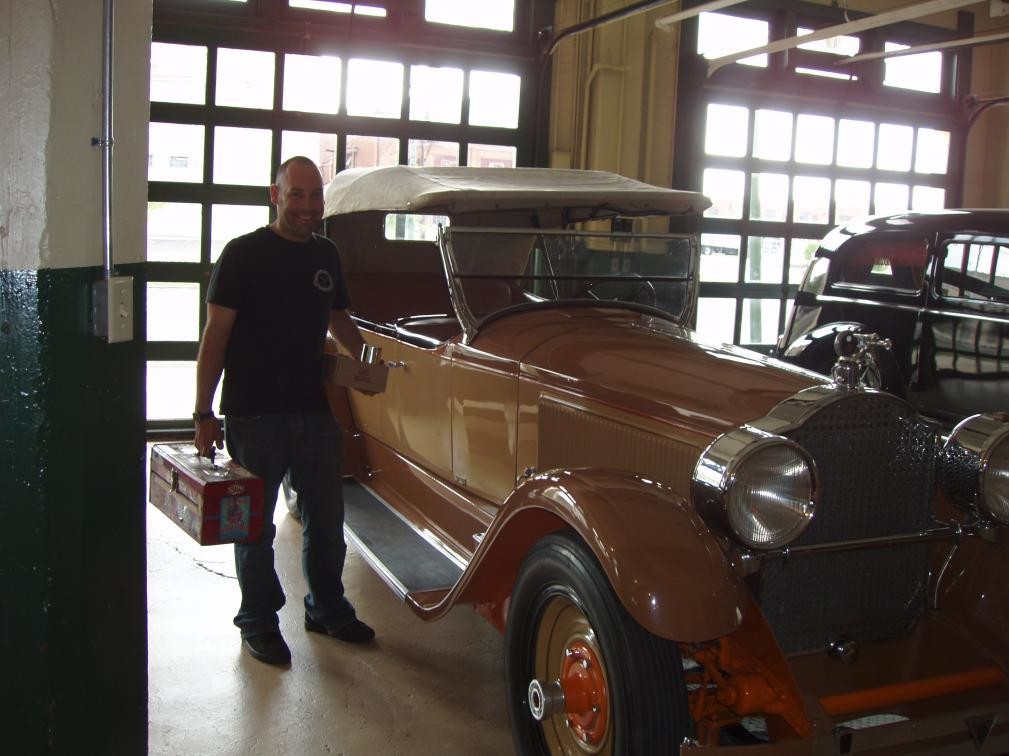 11-17-2009
The 1925 LeBaron Speedster Phaeton gets new 7:00 x 21 Blackwalls. The car actually has Firestone rims on it (and such are stamped on the rim and the locking ring). The new tires are great - they are an exact reproduction of originals and made by Coker. Coker went out of their way to make sure the car had new tires and they could not have been more gracious. A special thanks to the folks at Coker tire.
The old tires literally fell apart while we were out roadtesting in the week prior to Meadowbrook Concours. The end was near, but we made it through the concours and then loaned car out for a parade to a museum volunteer - he came back with cords and little to no treads. Still, this was one job to get these installed on car as the flaps had bonded themselves to the rims and the old tyres had to be dynamited off.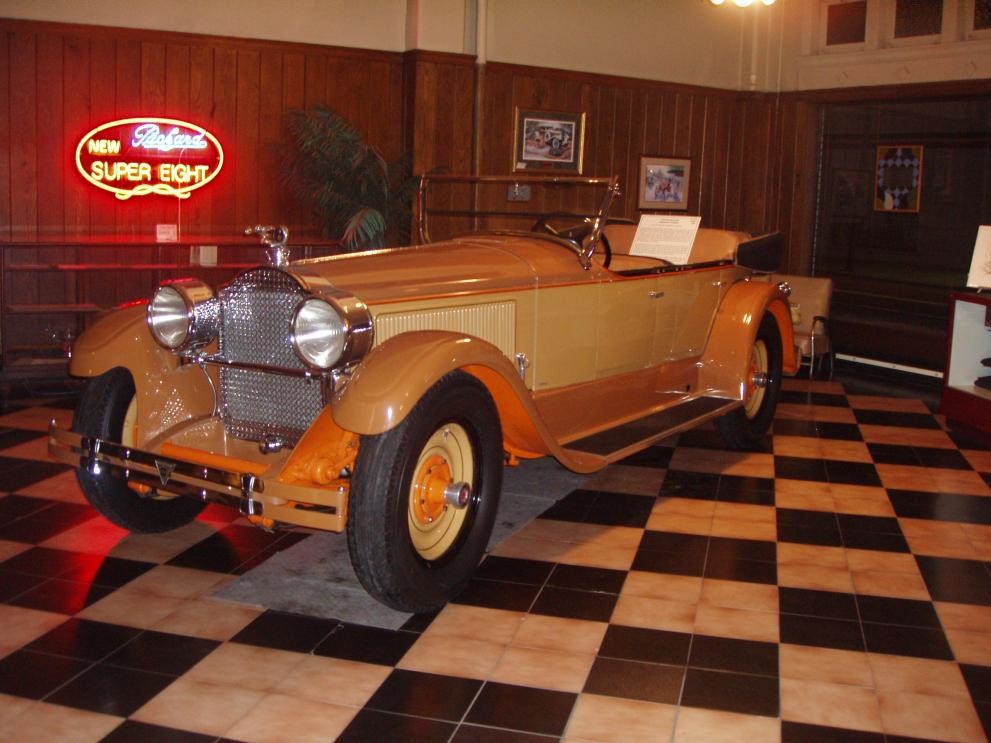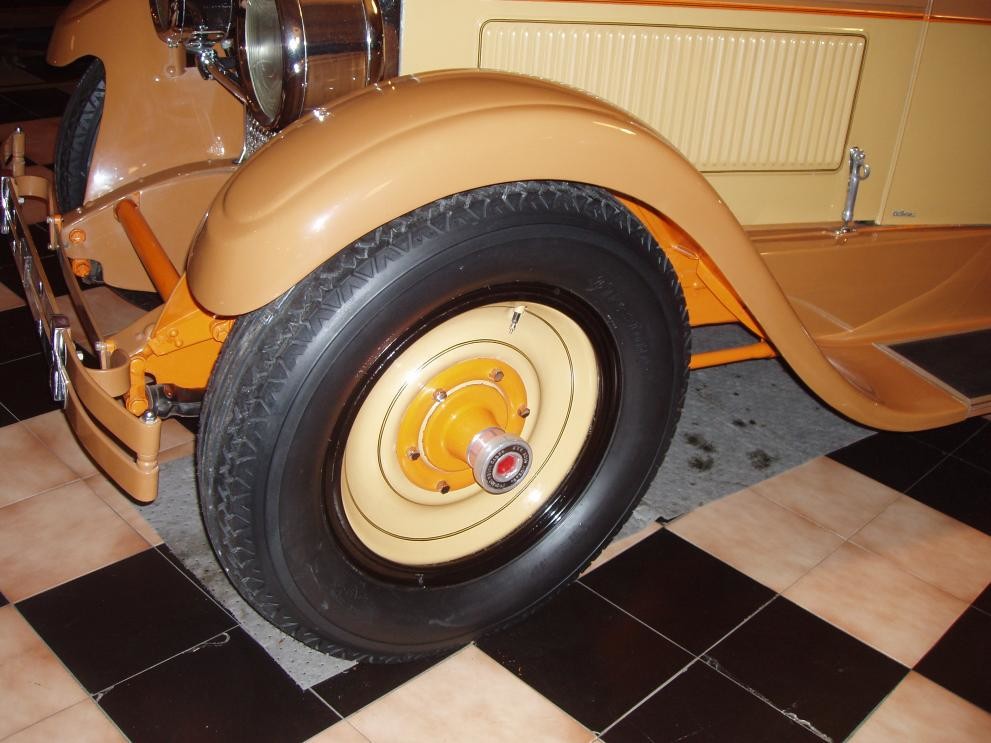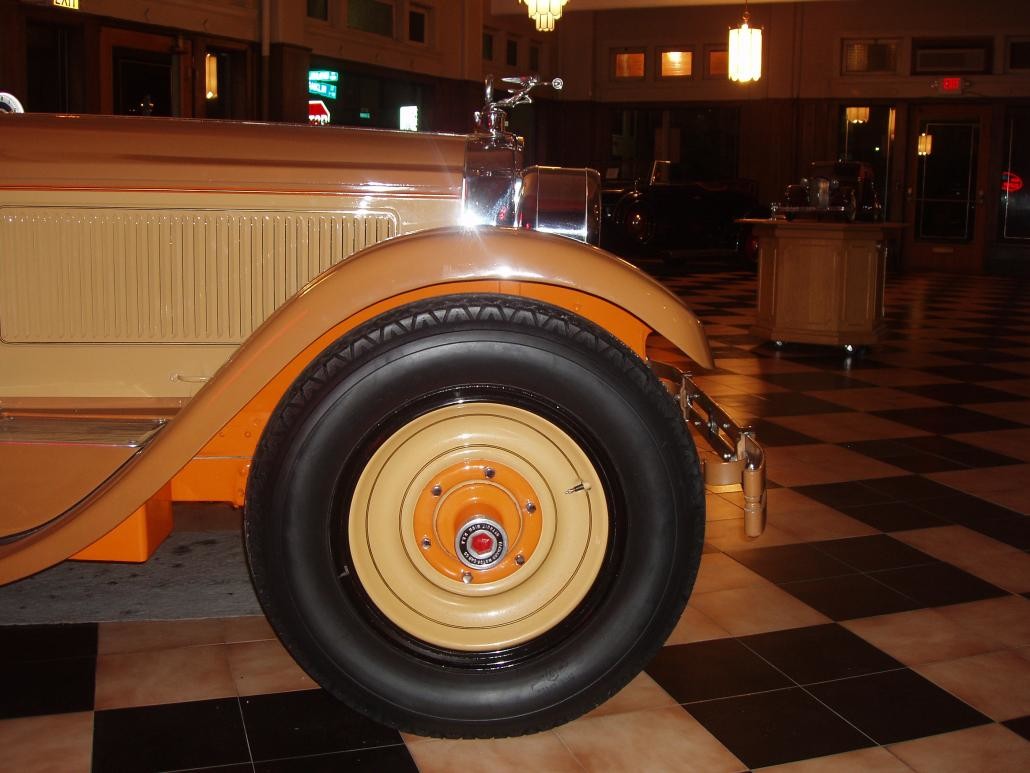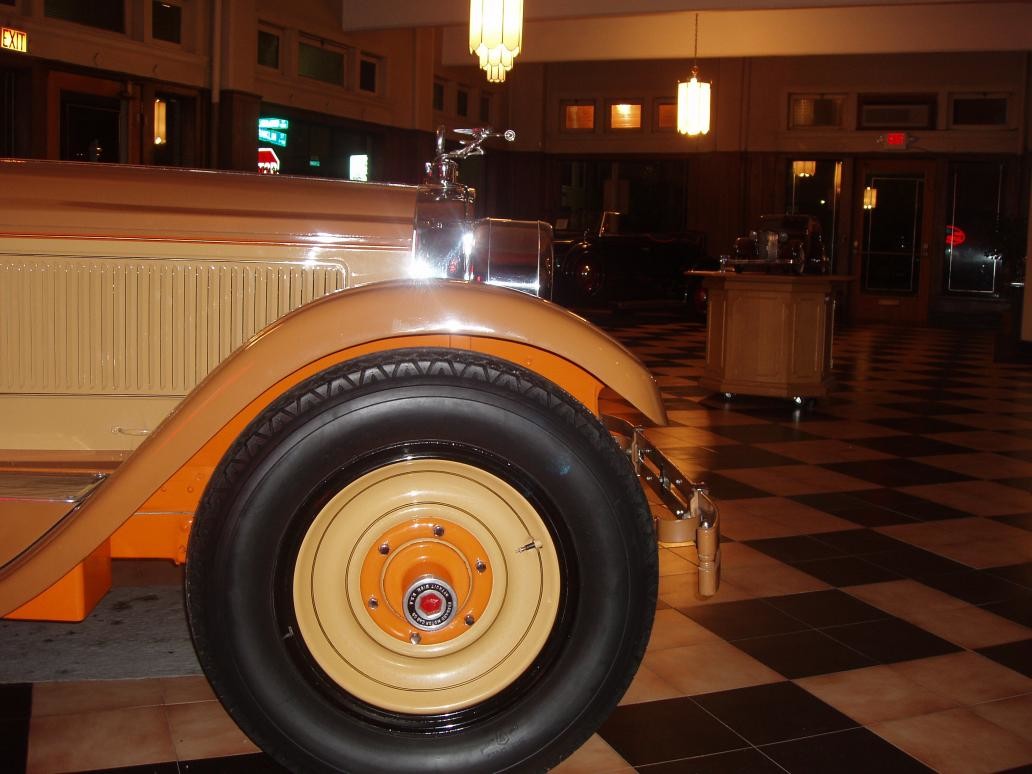 Here are my most recent picture of the 32 Twin Six. It is coming along - slowly but coming along - never seems to be enough money to go around and I have a pretty agressive agenda of projects throughout the Museum. Needs a battery and Classic Car Club of America, Indianapolis Region, Oil Project (10w40 oil) D.A. Lubricants Oil installed to get the car started; and will need exhaust within minutes therafter - very very sad exhaust system that has been bandaged for far too long and now just nothing left of it.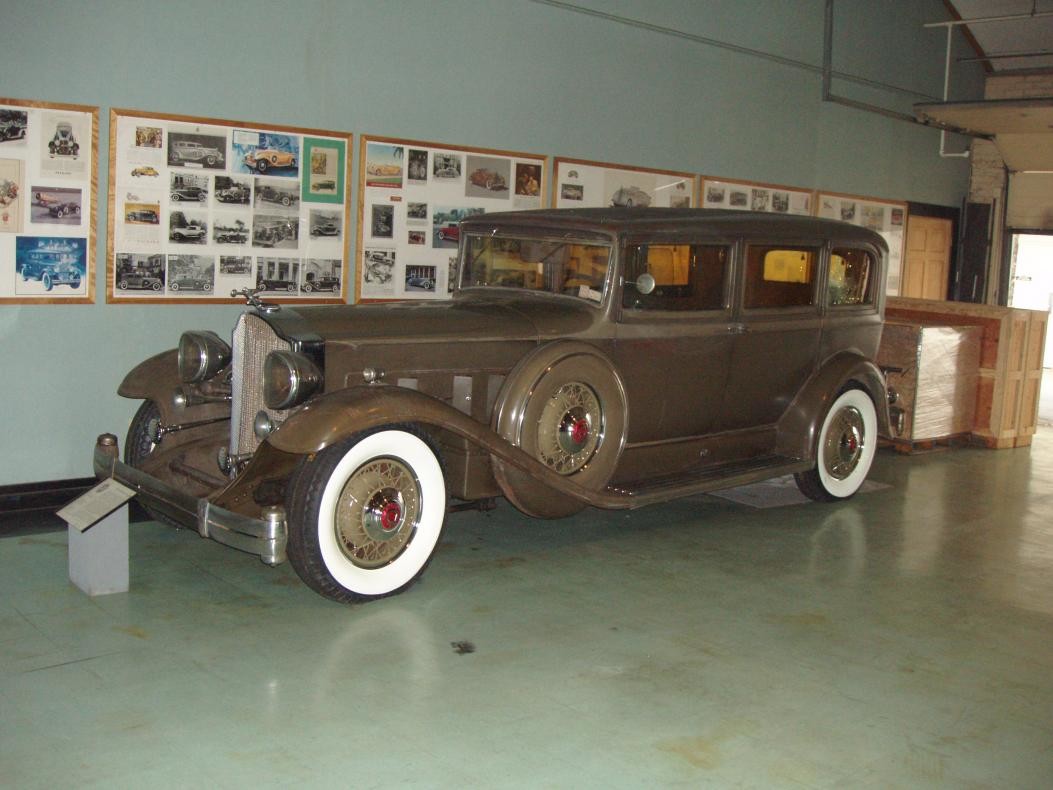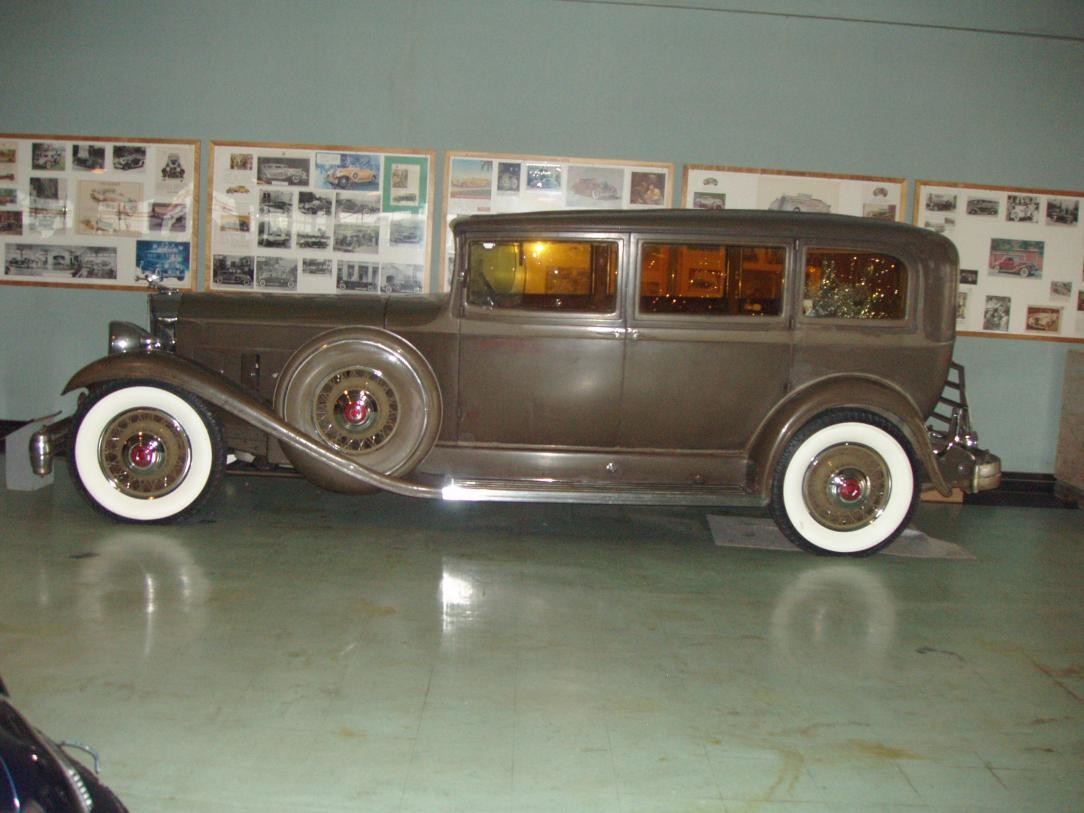 This was a little project that ate some time prior to Auburn. My 851 phaeton eats a tappet just a week and a half prior to the 600 mile ACD festival round trip. Fortunately, the probelm showed itself about a half block from home after having just completed a 130 mile round trip to have new tie rod ends installed, aligned, and all wheels rebalanced. Car performed flawlessly for labor day weekend.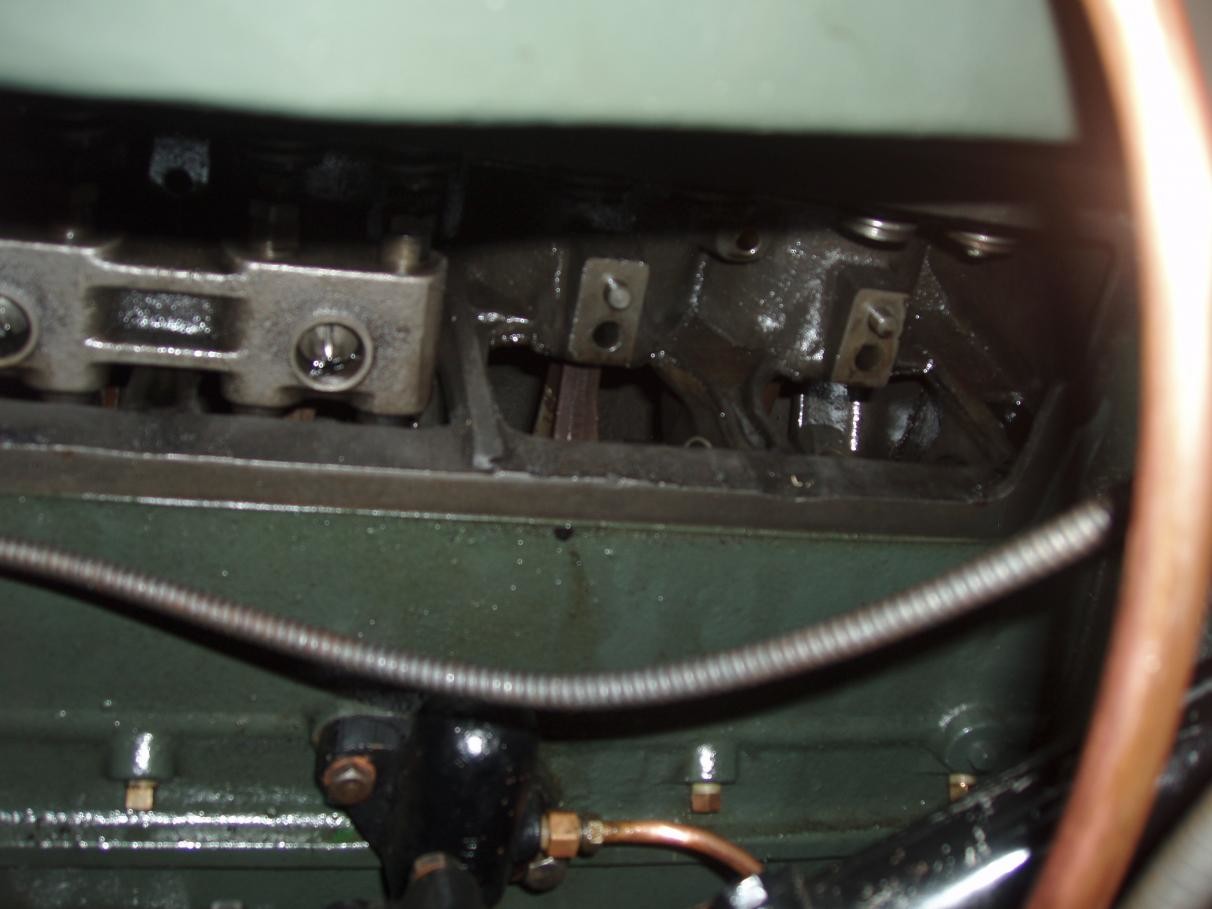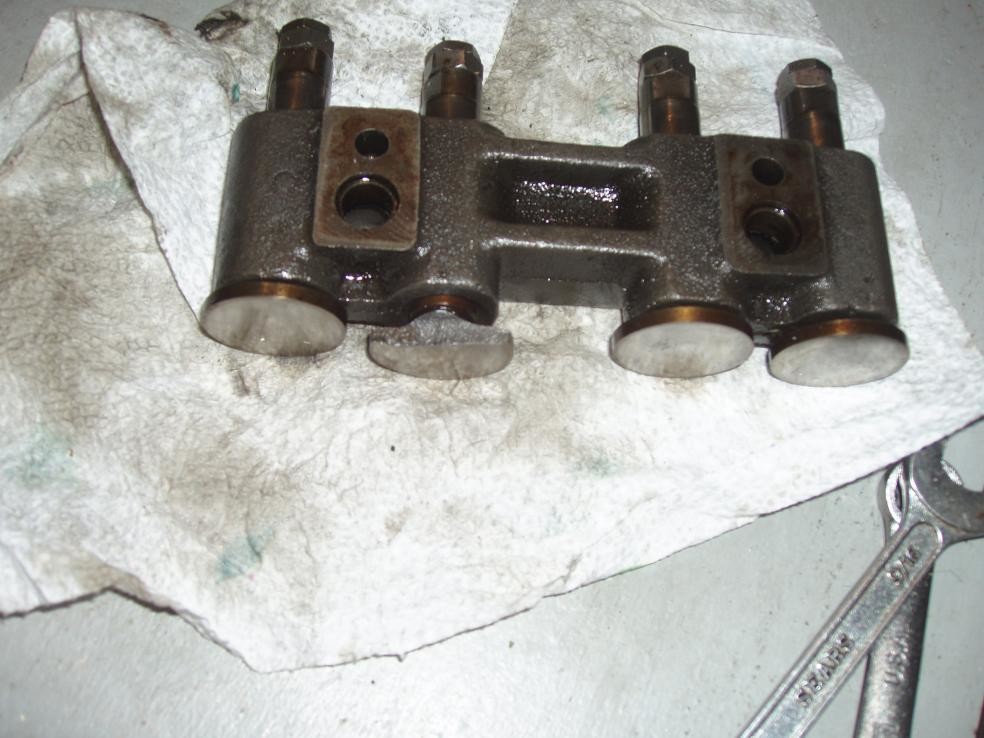 A few more night shots. People rarely see the place at night unless you schedule a wedding reception, but Museum does have a cool look at night.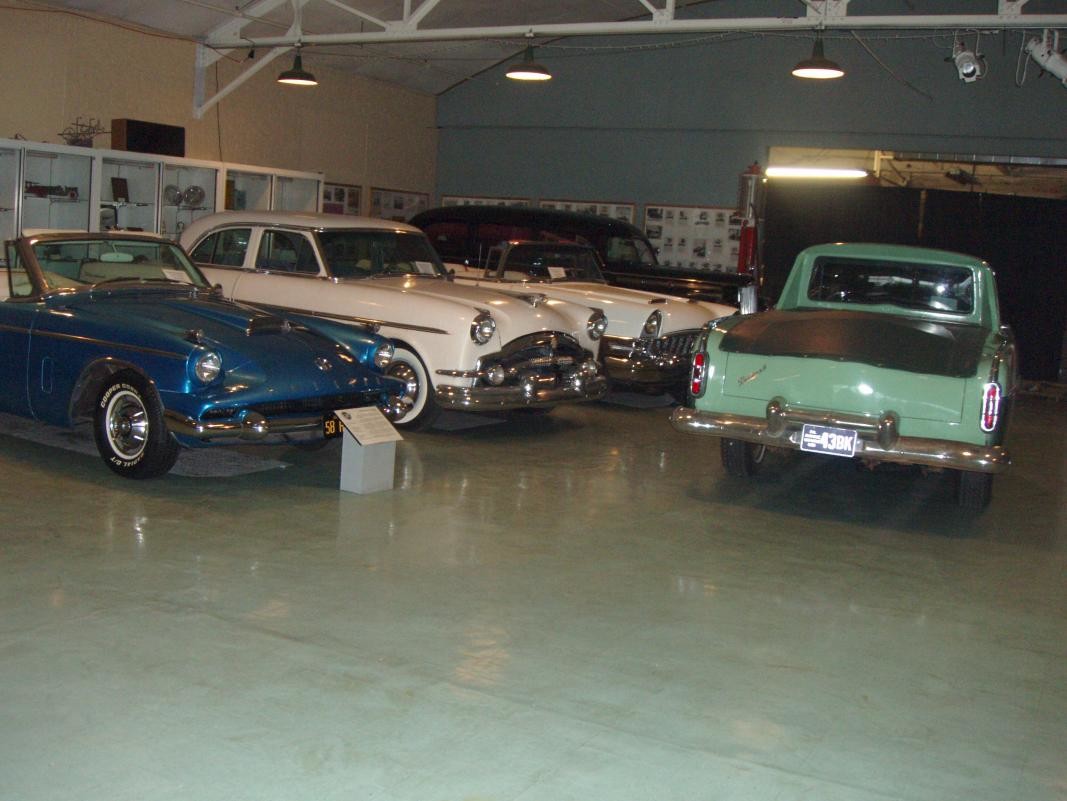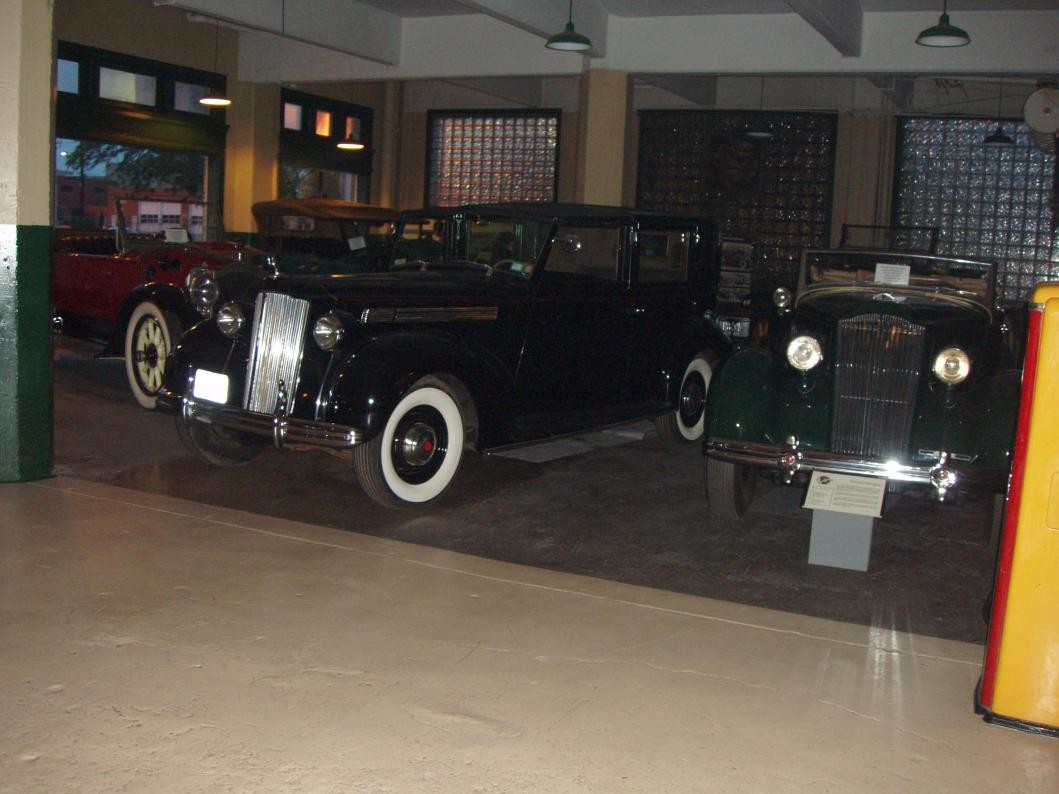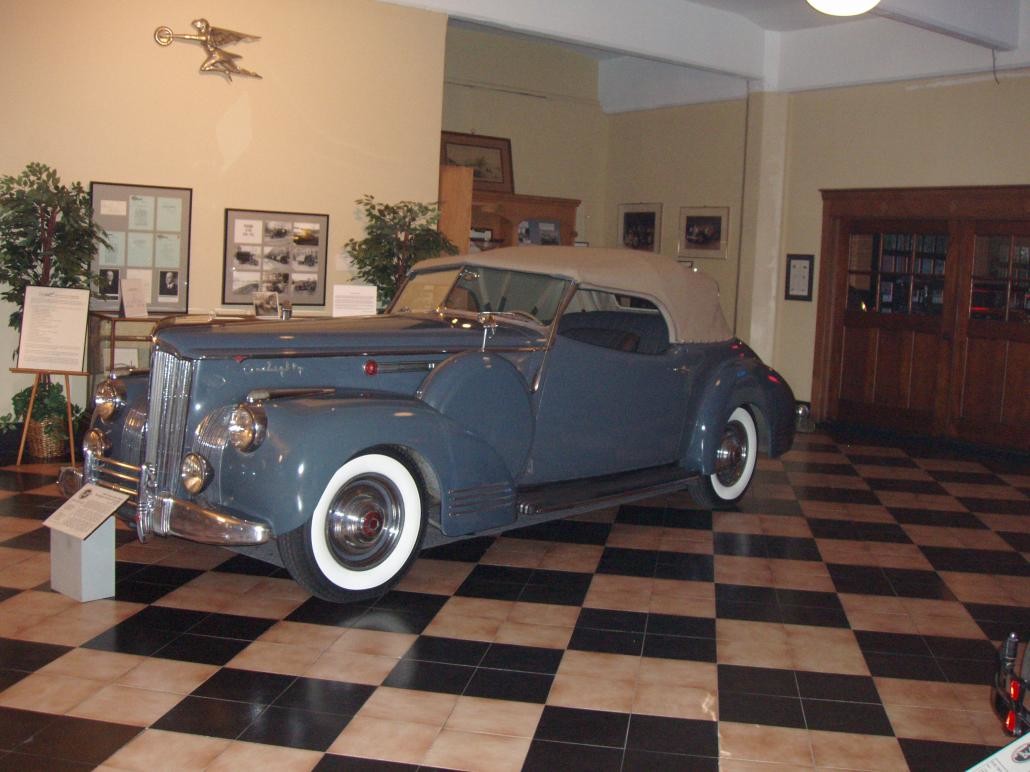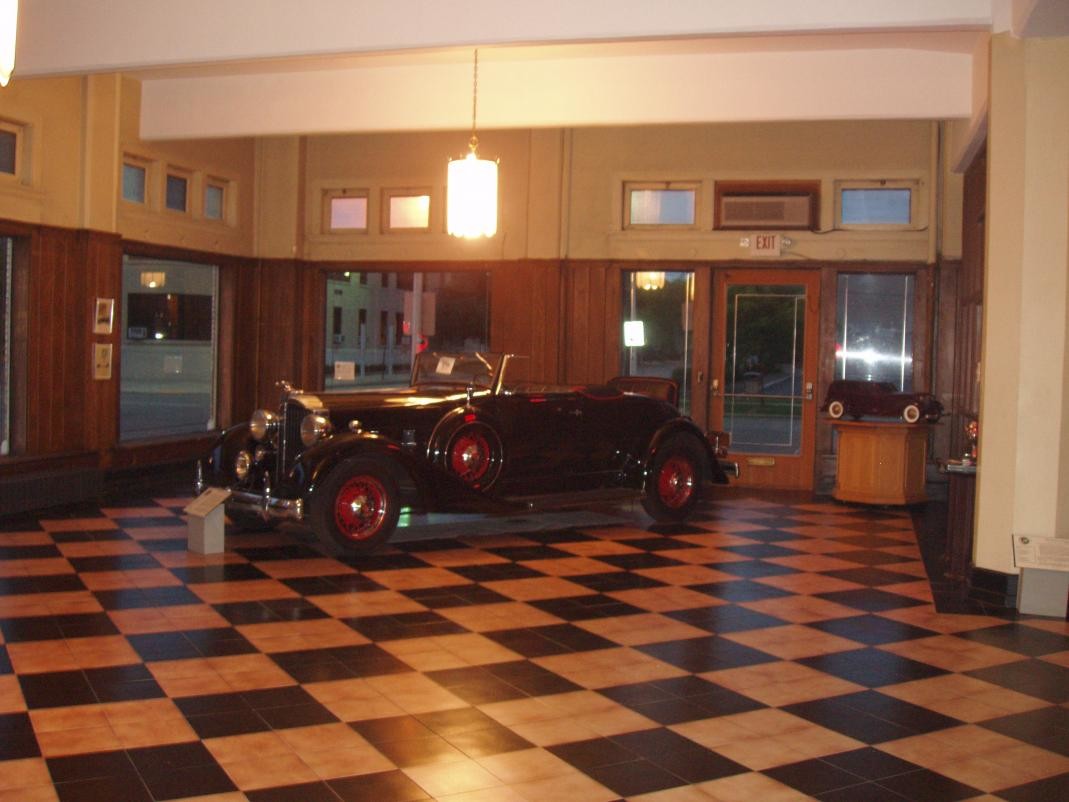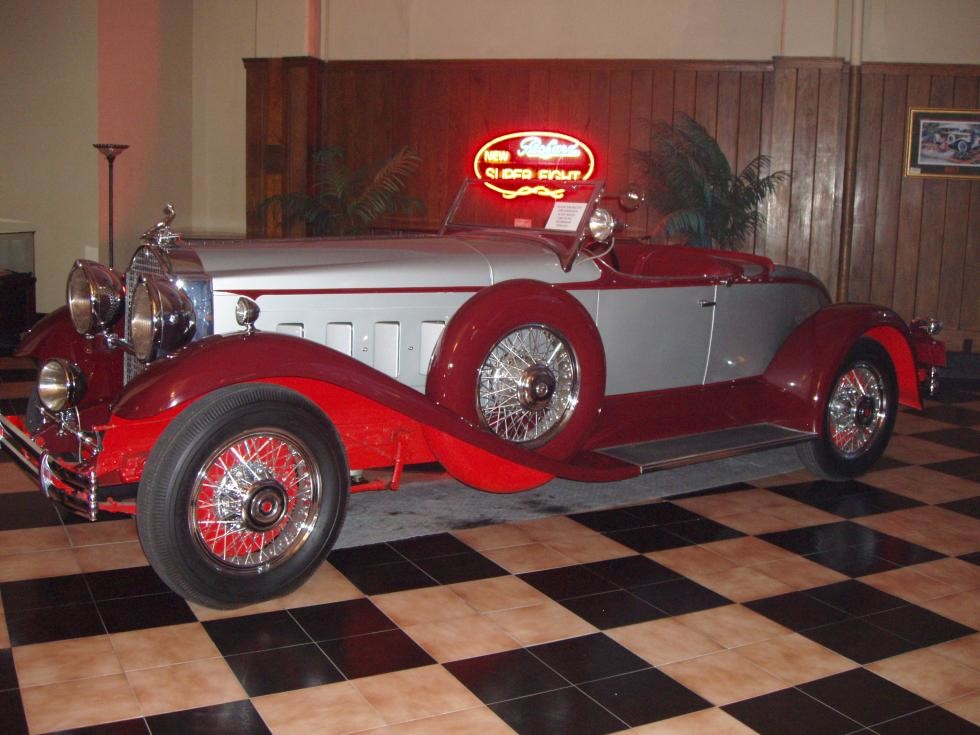 Can't play Packards all the time. Here are some Auburn Pictures that we took during and after parade; and and on way back downtown post club dinner. My nephew "Carter" is a big Auburn fan at 2 years old (and his second ACD weekend). We did what uncles do best after we took the picture at the restored filling station - WE CHASED DOWN TRAINS.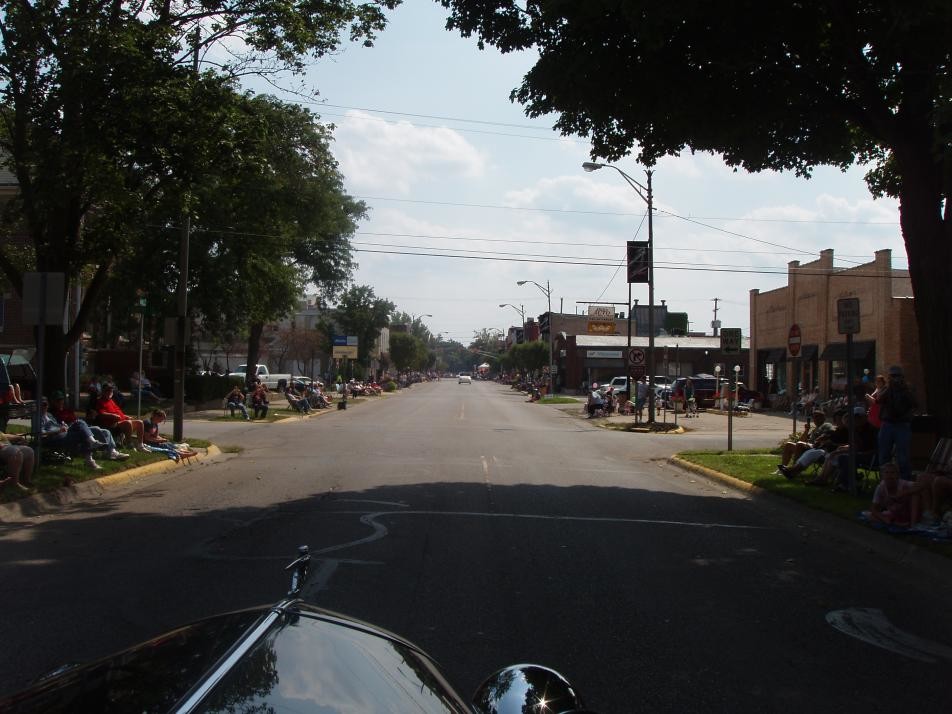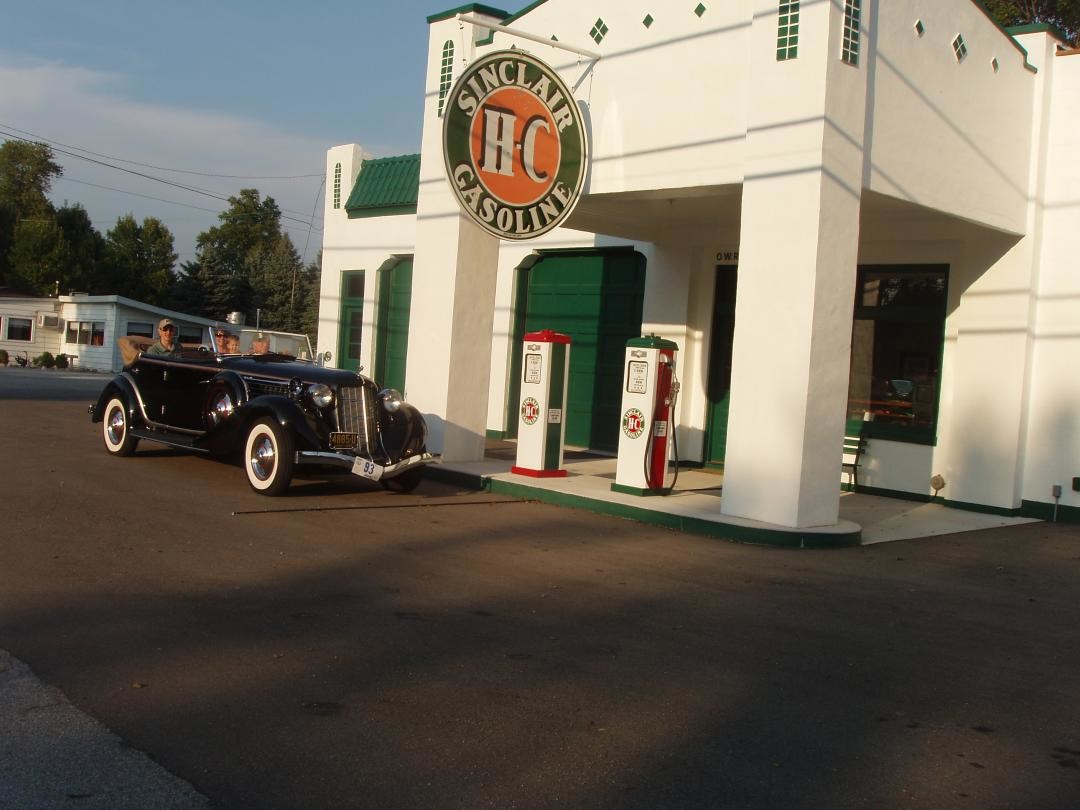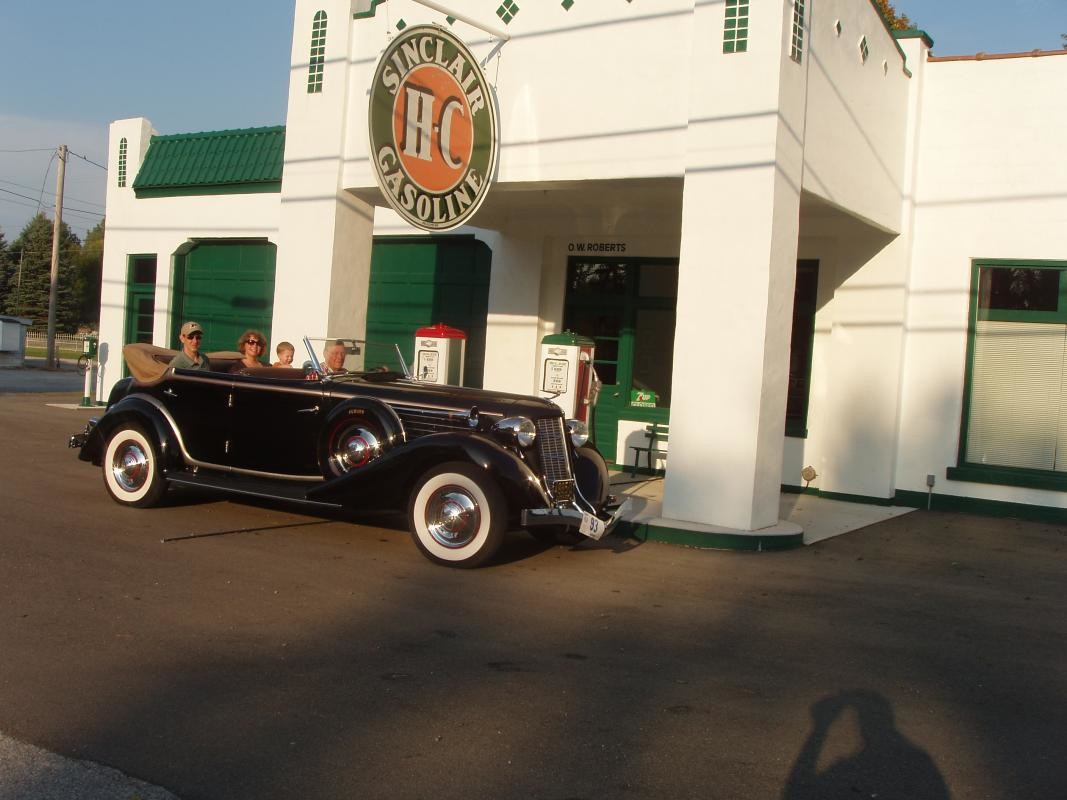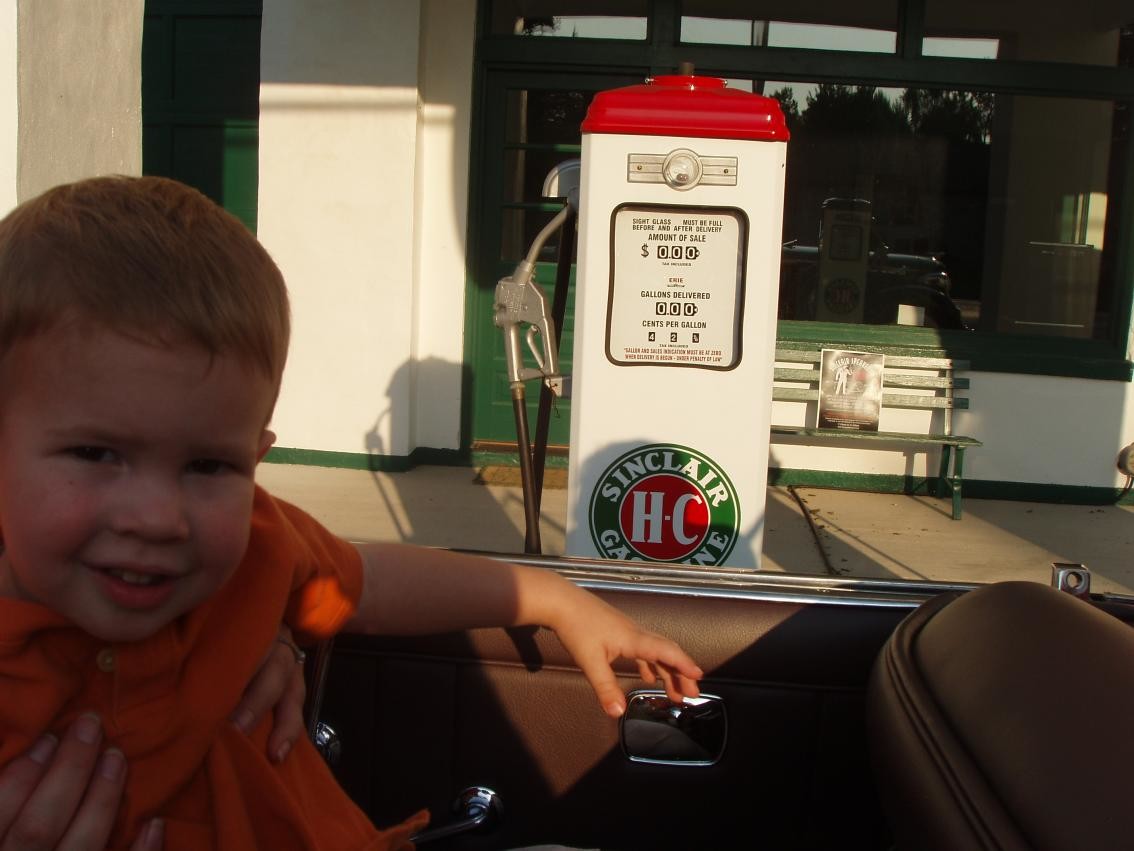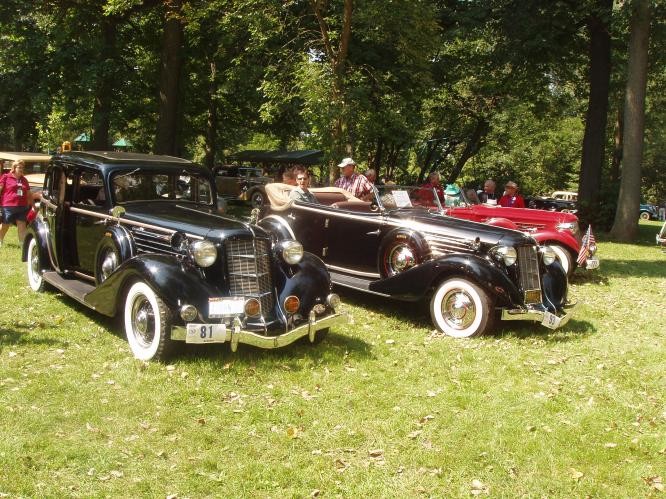 12-24-2009
Merry Christmas and a Happy New Year.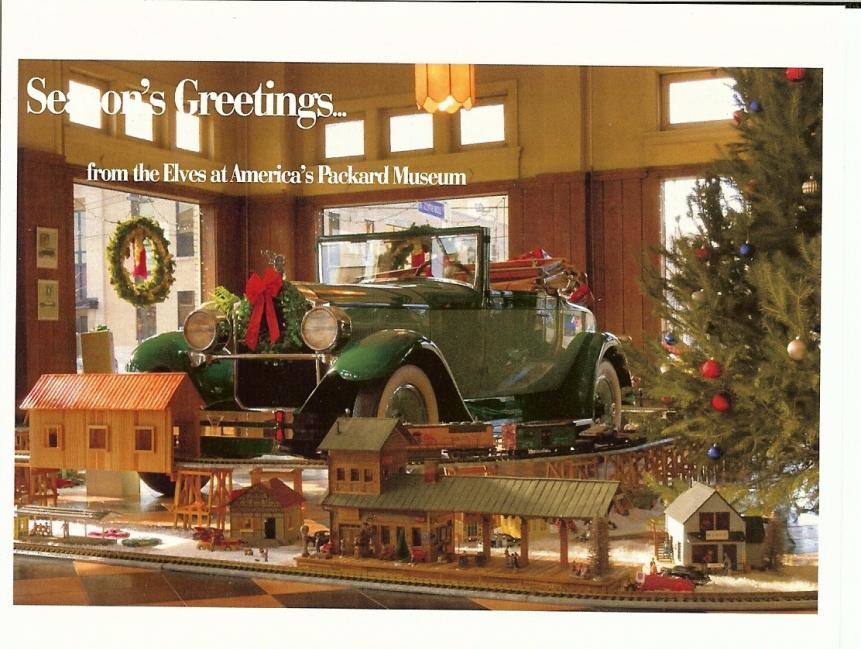 7-21-2010
Well, we had the 1946 Custom Super Clipper at the Lexington Concours and we also had the 1914 4-48 Runabut there as well. A great thanks goes out to out CPA/Tax Accountant Dwain Fansler for all the hard work on the 1914.
10 minutes ago I just received the call that the 1914 was all spit shined, touched up and ready to go to Meadowbrook Concours "Concours d'Elegance of America" A special thank you goes to Joashua Shaw of Shaw Hot Rods - the best historic sprint car restorer, pinstripper, and paint touch up guy out there. Bio - Shaw Hot Rods
See everyone at Meadowbrook!