My next project "La Petite Chanteuse" by oldcar
By diyauto
My next project "La Petite Chanteuse"
Comliments of oldcar @ http://forums.aaca.org
7-5-2013
We are off again, this time something smaller and very different to the Packard. I still have to organise some space and collect all the bits. but it will be a Marque 2 version of a car I did quite a few years ago. Despite the title of this thread it is British and just 8 hp. The photographs show 1. the inspiration and 2 & 3 the car of the same make but an earlier model 1926 this one is 1928/9.
Bj.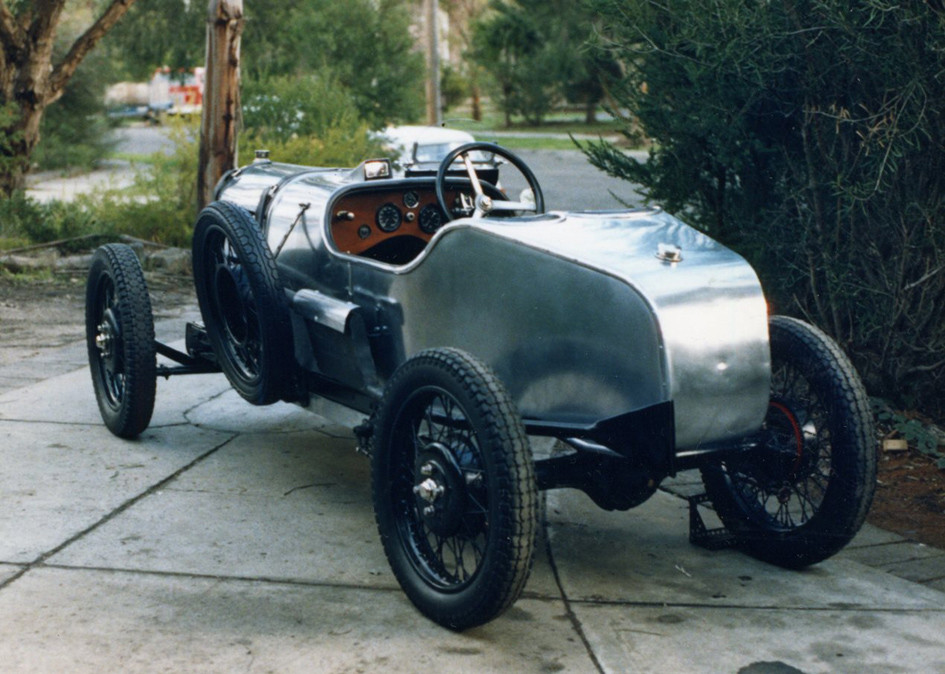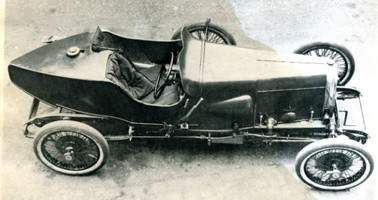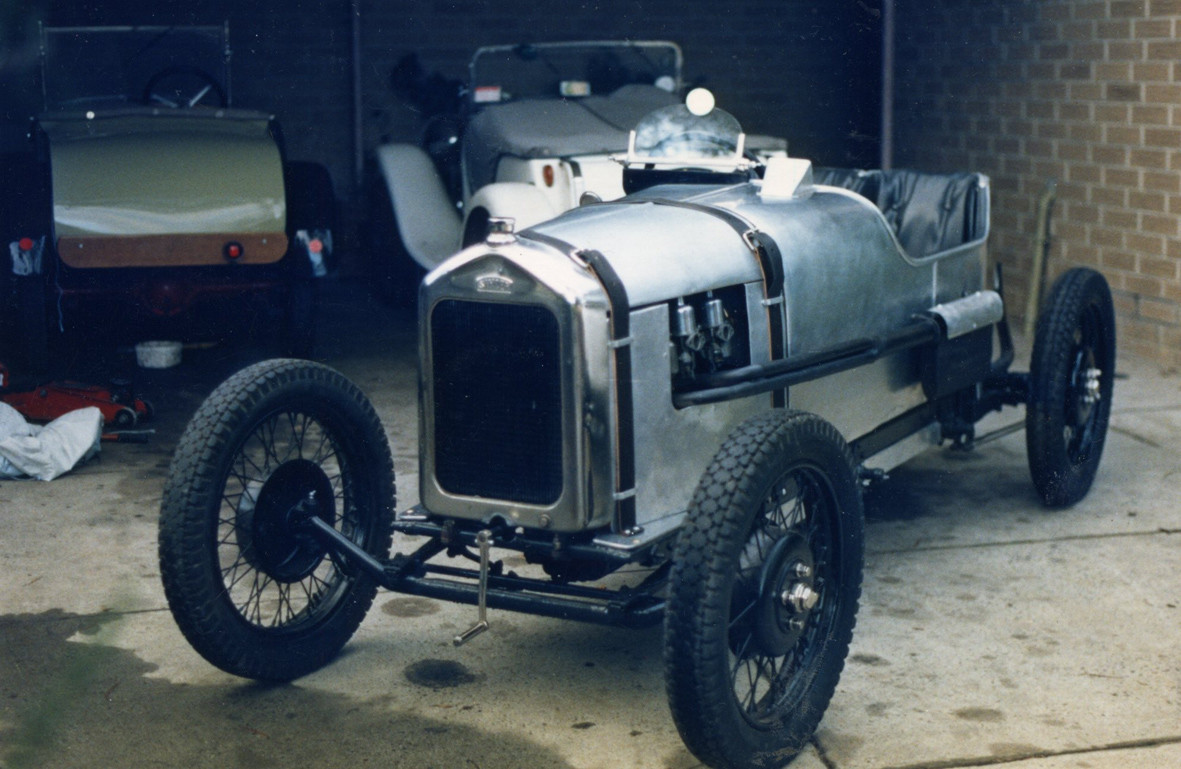 Hello John
No, It is a little Singer (no relation to the sewing machine) 4 cylinder single overhead cam 848cc. The Coventry based company started out building bicycles and produced their first car in 1906. They built their last cars in the 1970s.
Bj.
7-6-2013
Hello John
The first one was based on a 1926 8 hp, this car is now in England. This new project is to be based on a 1928/9 Junior basically the same car but with a revised chassis which included front wheel brakes and semi-eliptic springs replacing the 1/4-eliptic springs and rear wheel only brakes of the earlier cars. You will just have to be a little patient on this one. The first (inspiration) photograph is an early Aston Martin. Lionel Martin worked for Singer before going out on his own to make cars under his own name. The Aston part of the name came from the Aston Clinton Hill-climb where he had early competition successes.
Bj.
7-10-2013
It will be at least two or three weeks as I have a week in sunny Queensland then some organising of space etc to do. Having been magnificently messed about by the worlds greatest time waster, I have still have to find a home for the Packard, in the short term at least.
Bj
7-23-2013
Back from holiday, I went to have a look at just what I was getting into with my 1929 Singer Junior project. It appears to be 99% complete but 100% dismantled. The bonus is that there are duplicates of some major components and the main part missing is a brake cross shaft that if totally necessary can be fabricated. Having said that I believe that there were so many of these little cars about (in Australia & the UK) that spares should not be too difficult. For those who suffer from faint heartedness look away now.
Bj.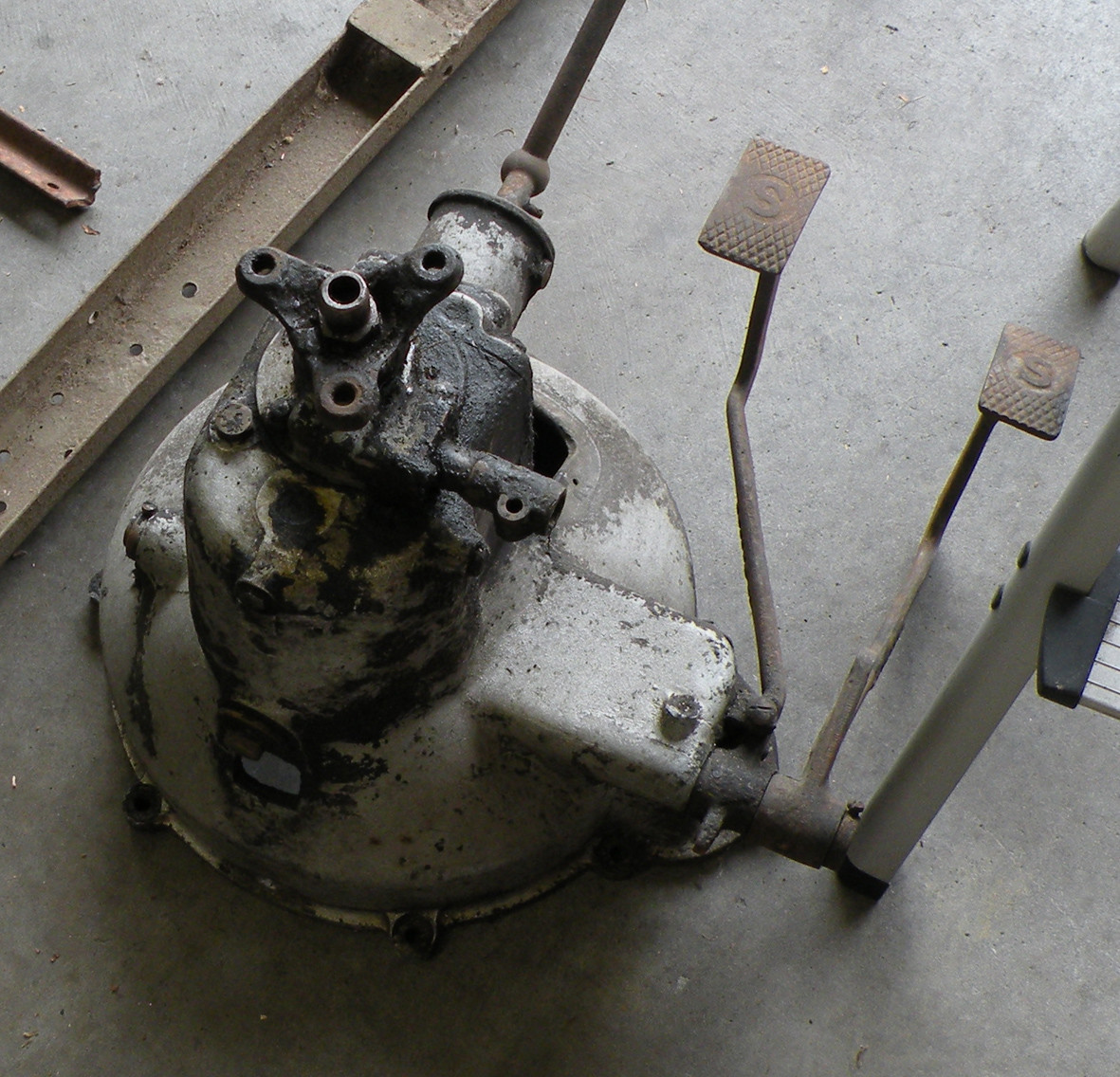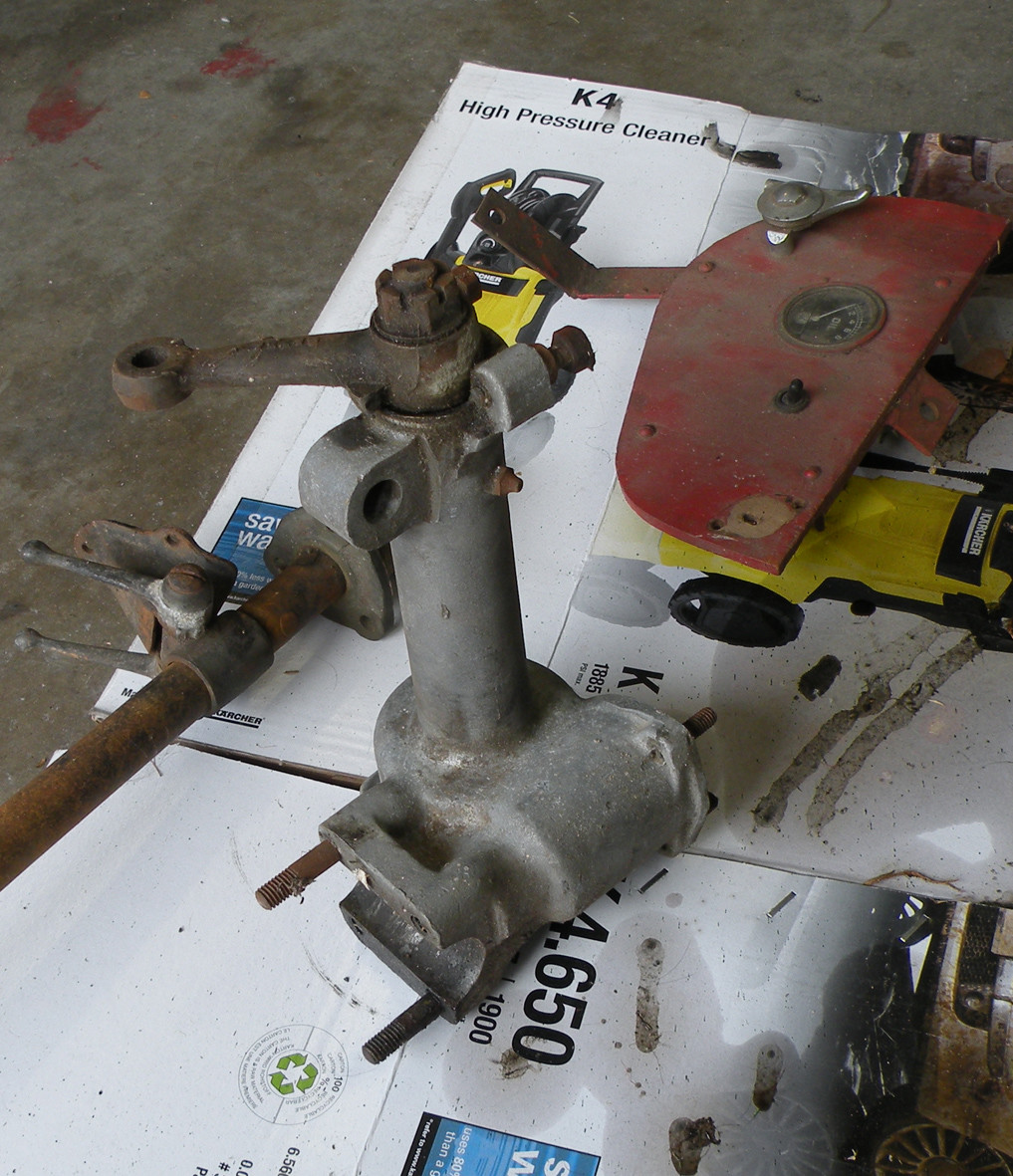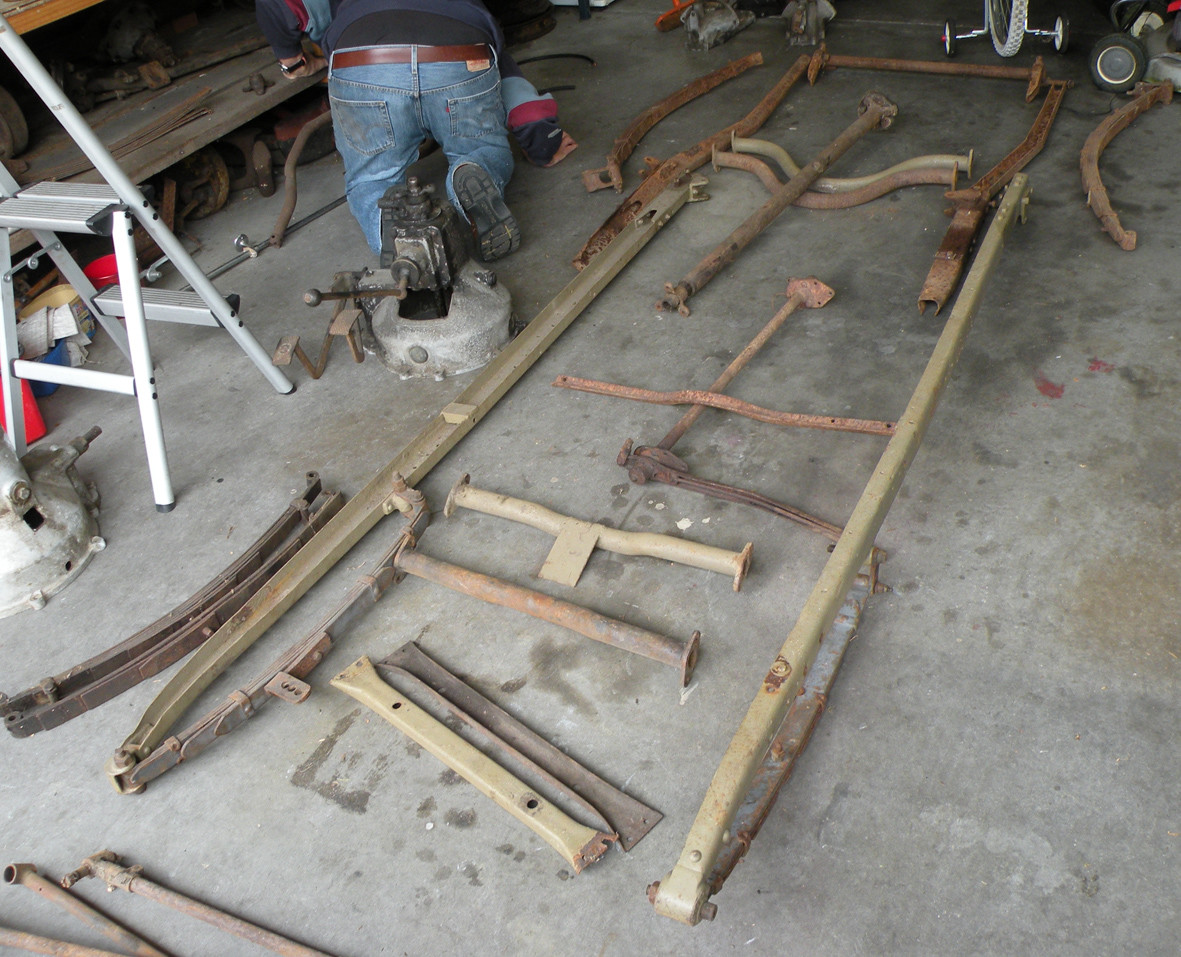 7-30-2013
Sorry for the slight delay. Yet again I have been messed about by Gold Medal wining experts but enough of all that as it does not concern this project, that officially starts today!
The first load of chassis components fitted nicely into the Peugeot sedan and has arrived home.
An hour later an I am well into removing the dozen or so rusty nuts a bolts so the rails and assorted cross members will be ready to go to the sand blaster tomorrow morning. Hold onto your seats!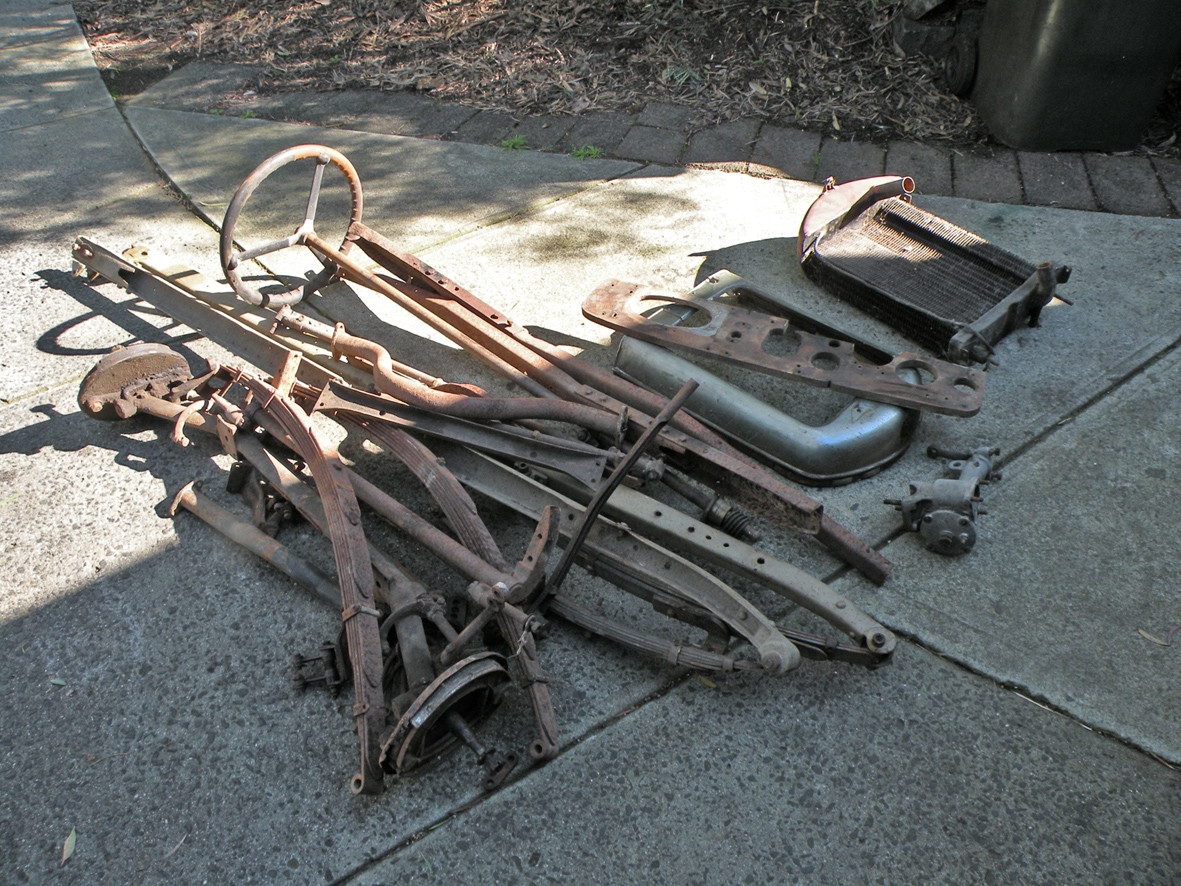 8-1-2013
Little car, little steps. One advantage in obtaining the Singer in kit form there is a minimum amount of time spent dismantling. Having said that, looking for a small job to fill in the afternoon I decided to make a start on some of the fittings that will eventually be mounted on the chassis frame. The brake rod idler arms seemed an ideal starting point. These were well and truly rusted up and seized solid. After some judicious application of heat and some penetrating oil they eventually came apart. Surprisingly there is virtually no wear on the shaft or the eyes for the clevis pins that secure the ends of the brake rods to the levers. This afternoons task was to Dismantle, clean up all the components on the wire brush wheel, re-assemble then with some wheel-bearing grease on the shaft and give them a coat of primer. Jobs done.... I use wheel bearing grease for assembly as it will be some time before these are actually fitted to the chassis frame and put into use. These mount on the chassis above the front shackle pin of the rear springs.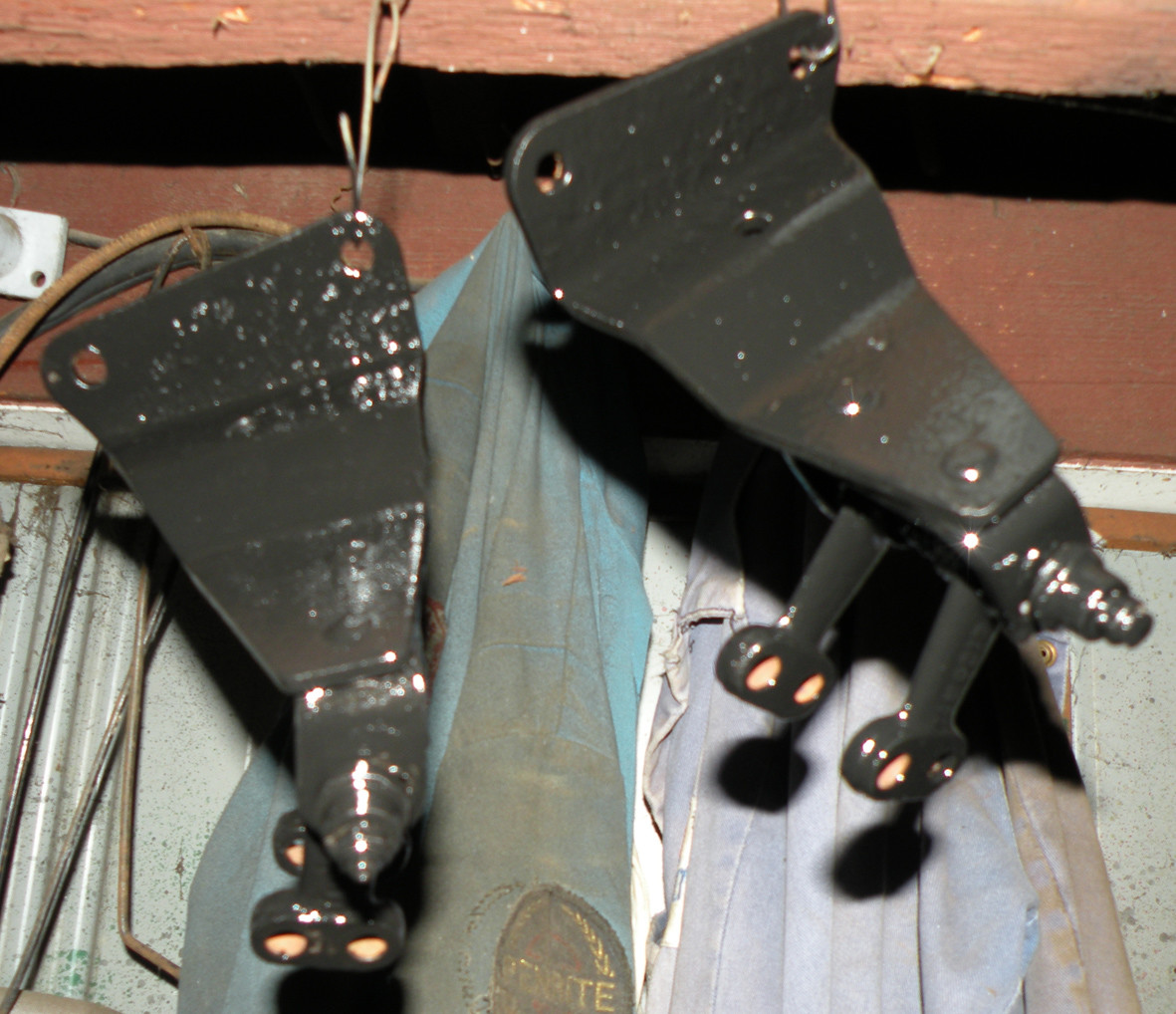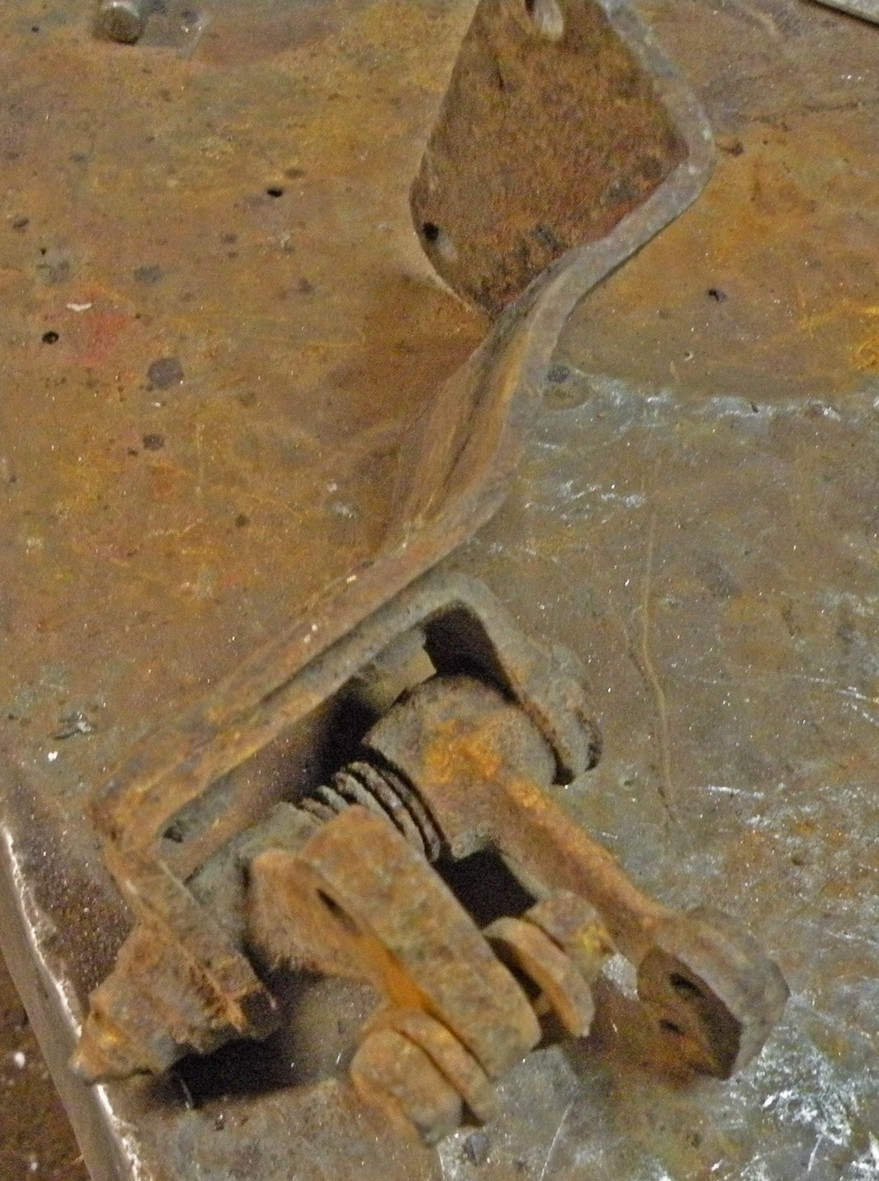 8-2-2013
Having an hour to spare this afternoon I pulled out the radiator shell and did a minor repair at the bottom where the drain plug is located.
The shell is otherwise in good condition but will need to be re-plated.
8-3-2013
Singers like a number of other quality car builders in the 1920s bolted their chassis frames together, Having bought this new project in a totally dismantled state attached is my shopping list for the first lot of nuts and bolts. People who have followed my earlier restorations will know that I cannot abide rusted, rounded, bent or stripped nuts and bolts. Second hand spring washers are in my opinion, worse than useless. You could say that it is something that I am nutty about. For those unused to English cars BSF stands for British Standard Fine the most commonly used thread profile on quality English cars up until the 1940/50s. Unlike the bolt sizes that most of you are familiar with i.e. A/F, SAE, UN, where the spanner size is measured across the width of the bolt head or nut, BSF sizes refer to the actual diameter of the bolt shank. For example you use a 5/16 drill to make the hole that a 5/16 bolt goes into. The spanner that fits this size bolt is labeled 5/16.
24 of 5/16 BSF Bolts X 3/4" Hi Tensile Zinc
12 of 5/16 BSF Bolts X 1 " " " "
8 of 5/16 BSF Bolts X 2 1/2" " " "
8 of 5/16 BSF Bolts X 3" " " "
4 of 5/16 BSF Bolts X 3 1/2" " " "
4 of 3/8 BSF Bolts X 2/1/2" " " "
56 of 5/16 BSF Nuts"" "
4 of 3/8 BSF Nuts" " "
100 5/16 Spring washers
Bj.
8-5-2013
Hello Gundog
Thanks for the offer but I would think that by the time I paid the freight (postage) and spent time wire brushing each one I would still be better off with new ones. They are reasonably readily available here is Australia from people like Classic Fasteners in South Aust. I have containers full of second hand nuts an bolts that I too would be happy to give away. Nearly all the cars I restore are well past the oily-rag condition and require, as with this Singer, ground up, last nut and bolt restoration.
Please do not think me rude but thank you but no thank you. My time is precious, I do not know how much more I have left.
The attached photograph of the underside of my 1923 Packard shows the standard that I like to work to.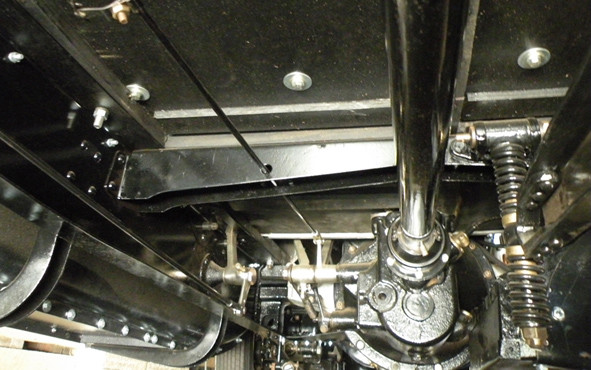 8-6-2013
Hello All
To answer John's question. Yes The engine will grow new inlet and exhaust manifolds. The inlet will have two 1 1/8 inch SU Carbs the exhaust will have a tuned length tubular manifold with a outside pipe incorporating a Brooklands type "muffler". The cam will be reground to give slightly more lift and overlap. Gearbox and rear axle will remain more or less standard. The rest you will have to wait and see.
I took the chassis side rails and cross members to the sand blaster's yesterday. I cleaned up the steering tie rod and track rod on the wire brush and gave them a coat of primer.
Bj.
I feel that I should make some personal explanation. My nerves are just returning to normal after being led a merry dance by a person that I can only describe as a scammer. I am lucky to still have the Packard. A person claiming to be a well known Czech Ice Hockey Champion of International renown had over a period of two months negotiated to buy the Packard, which he was to pay a $20,000 deposit and the balance on presentation of the Bill of Lading, a document the shipping company issues AFTER the ship has sailed. Fortunately I was rather reluctant to see the ship sail away with my car on it still unpaid for in full. I decided to at least wait until the deposit money was actually in my bank account. THIS NEVER ARRIVED. The very official "Bank document" he had e-mailed to me was a fake. In the process of negotiating he introduced a third party (his father-in-law) who was claimed to be the proprietor of a large "on-line" toys and novelty goods store also in the Czech Republic. Both these people actually exist but I very much doubt that they are the people I was dealing with. The supposed "Ice Hockey Champion" sends e-mails in Broken English sometimes two a day demanding more photographs and proof of ownership and the vendors credibility. Proof that he can trust you!
Just be warned!
Bj.
8-7-2013
All four original steering rod ends have now been totally dismantled, cleaned, carefully inspected, re-assembled and given a coat of chassis black. None of the ball-ends or sockets show any significant wear. There is no damage to threads or castle nuts so for once I will re-use the original 3/8 BSF castle nuts. One clamp bolt had some slight damage to the hex head and it has been replaced from "stock". Even the original lock tabs for the main adjustment were OK and re-used.
Bj.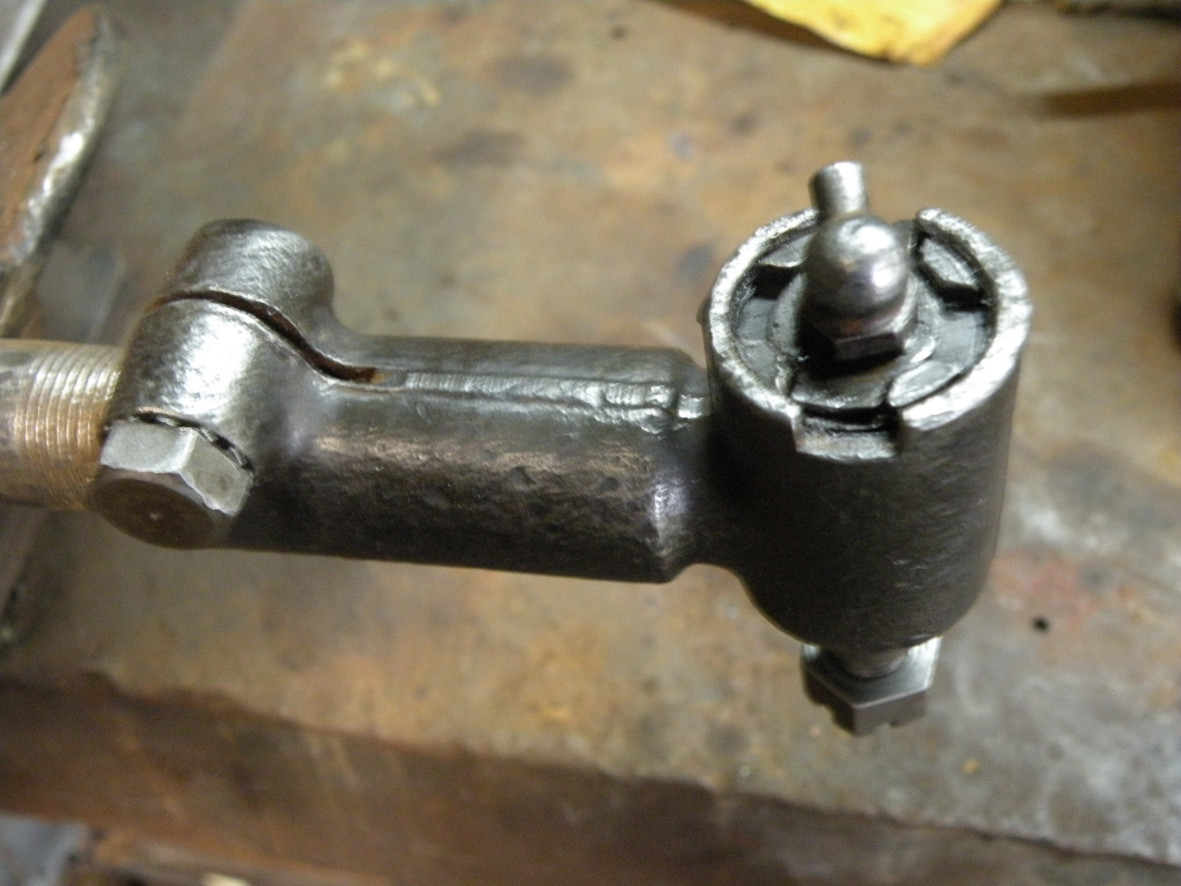 You would be excused from thinking that this car could not come apart any further but to clean up the mounts for the hand brake cross-shaft, the lever had to come off the end of the shaft. Only then could the mounting plates which also contain the pivot points can slide off. The lever is fixed with two taper pins. No problem. Four hours later and some gentle heat it is all apart. After all the man that put those pins in, in 1928 did not want them to fall out. Times like this a 20 ton press could be helpful.
Bj.
8-13-2013
Hi all
Sorry about the slight delay in proceedings. Straight after lunch today I went and collected the dozen or so loose bits that go to make a Singer Junior chassis frame from the sand blaster. I am still not sure whether it is Leggo or Meccano but it all goes together with an assortment of nuts and bolts rather than just pressing together so so I guess Meccano is closer. The big thing is that the basic frame is almost all back together.
Bj.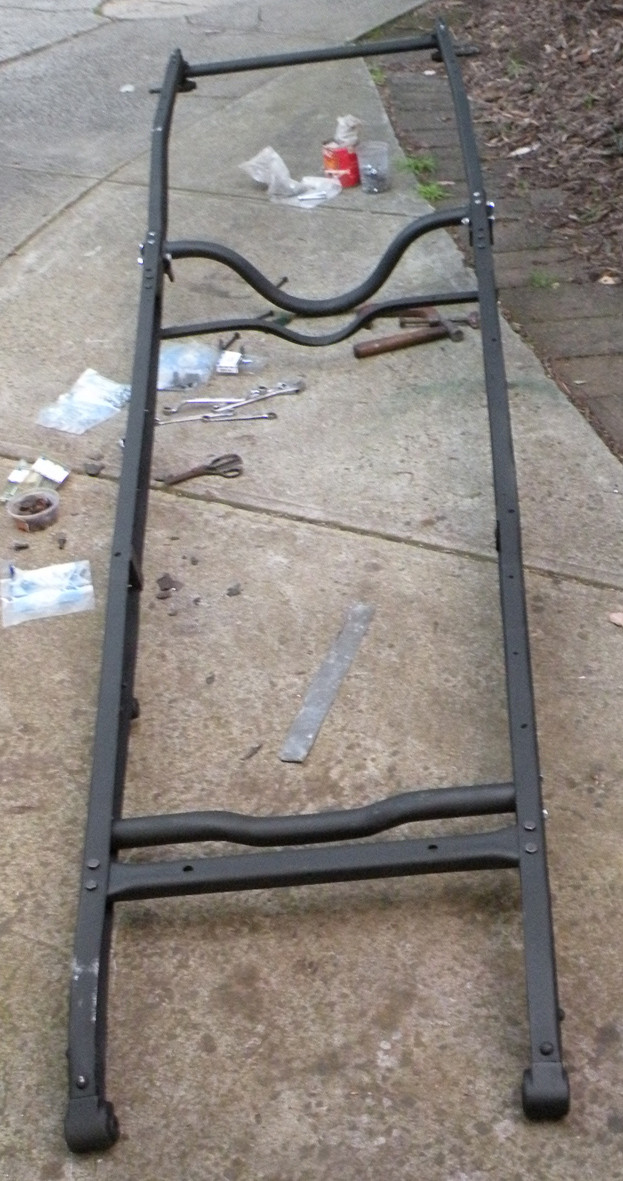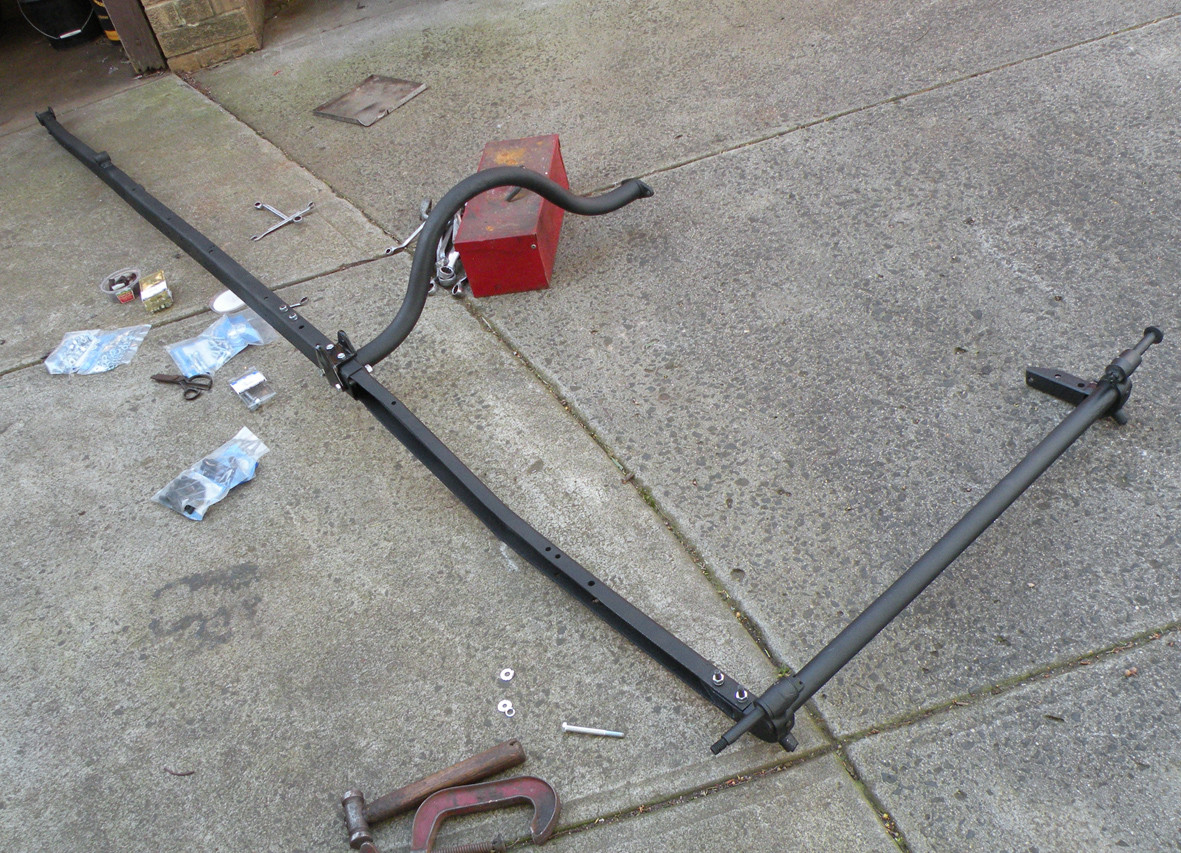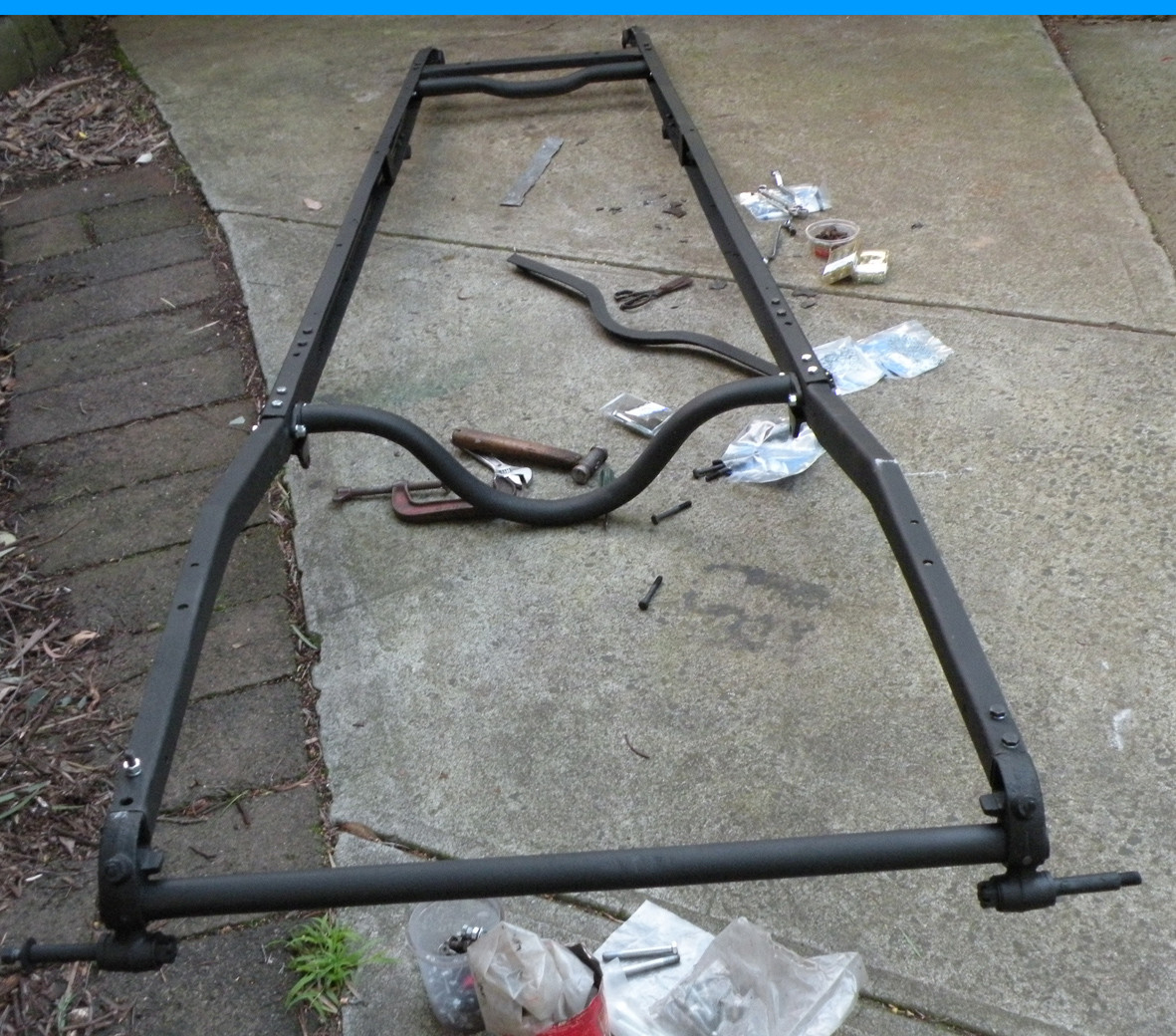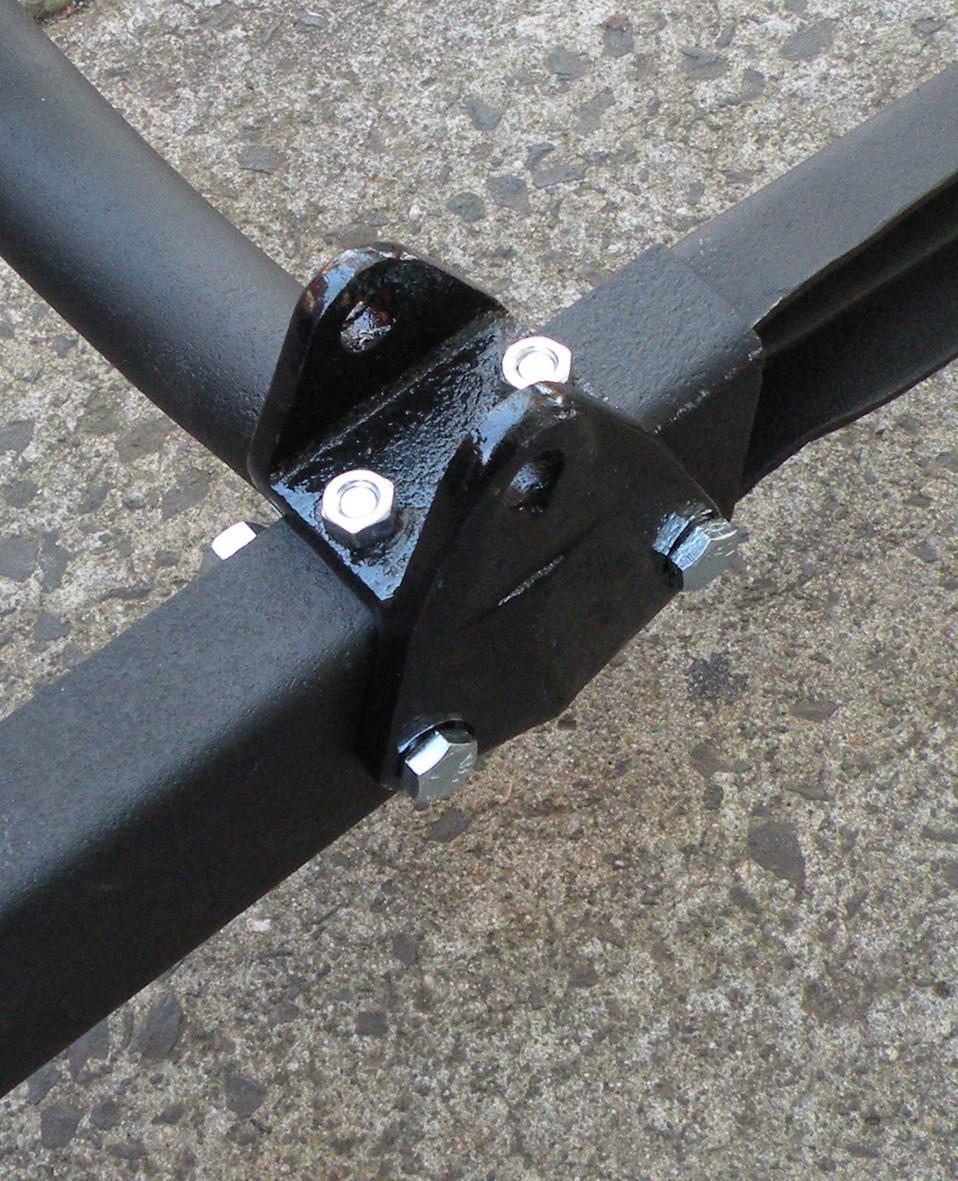 8-17-2013
I suspect that very few of the people looking at this have even the slightest ideal of what a Singer Junior is.
The chassis frame(as above)is exactly 10'3" long, I can pick up the bare frame by one side rail and carry it single handed.
The engine is 848cc (52 cubic inches) 4 cylinder, overhead cam. The Junior was current between 1927 and 1932. After Austin and Morris, Singer were the 3rd best selling car in the UK.
B.j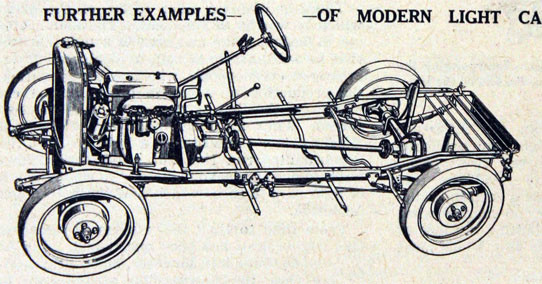 8-18-2013
Today being Sunday, the day of rest, I have just done a few little jobs. First I hosed the worst of the grott off the front axle assembly with a high pressure washer. I have done some more cleaning up on the hand brake lever. I still have to decide whether to nickel plate this or paint it with "Chinese Chrome" (silver paint) as it will be on the outside of the body on the drivers side. Just like 3 & 4 1/2 Litre Bentleys. I have mounted the hand brake cross shaft. See Chassis drawing above or the photograph on #1. Finally I dismantled, wire brushed and painted the front springs.
Time to wash-up and change out of my "garage clothes".
Bj
8-20-2013
Tuesday morning (in Australia) and after a chilly (3 degree C) start it was time to make another trip to my friend Peter Lester's to collect some more Singer components. This time the Peugeot's luggage trunk was filled with no less that five wheels, a rear axle assembly and another front axle. This one to be the source of a much needed brake backing plate. That and a little container holding 16 brass wheel nuts, eight Right hand thread, eight Left hand thread and four of the little nickel plated screw on caps that retain the grease in the front wheel bearings and cover the rear hub retaining nuts. Looks as though another visit to my friends at Blast-off will be required some time soon.Before that I have to work out how to remove the four wheel studs that some clever person has welded into the wheel centre. That is without damaging the wheel. Hopefully I will be getting some badly needed space soon but I have been caught out counting chickens before, so we will just have to learn to be patient.
The real find today was the "saddle" i.e. the bottom half of the housing that clamps the steering box to the tubular cross member. Thank you Peter.
Bj.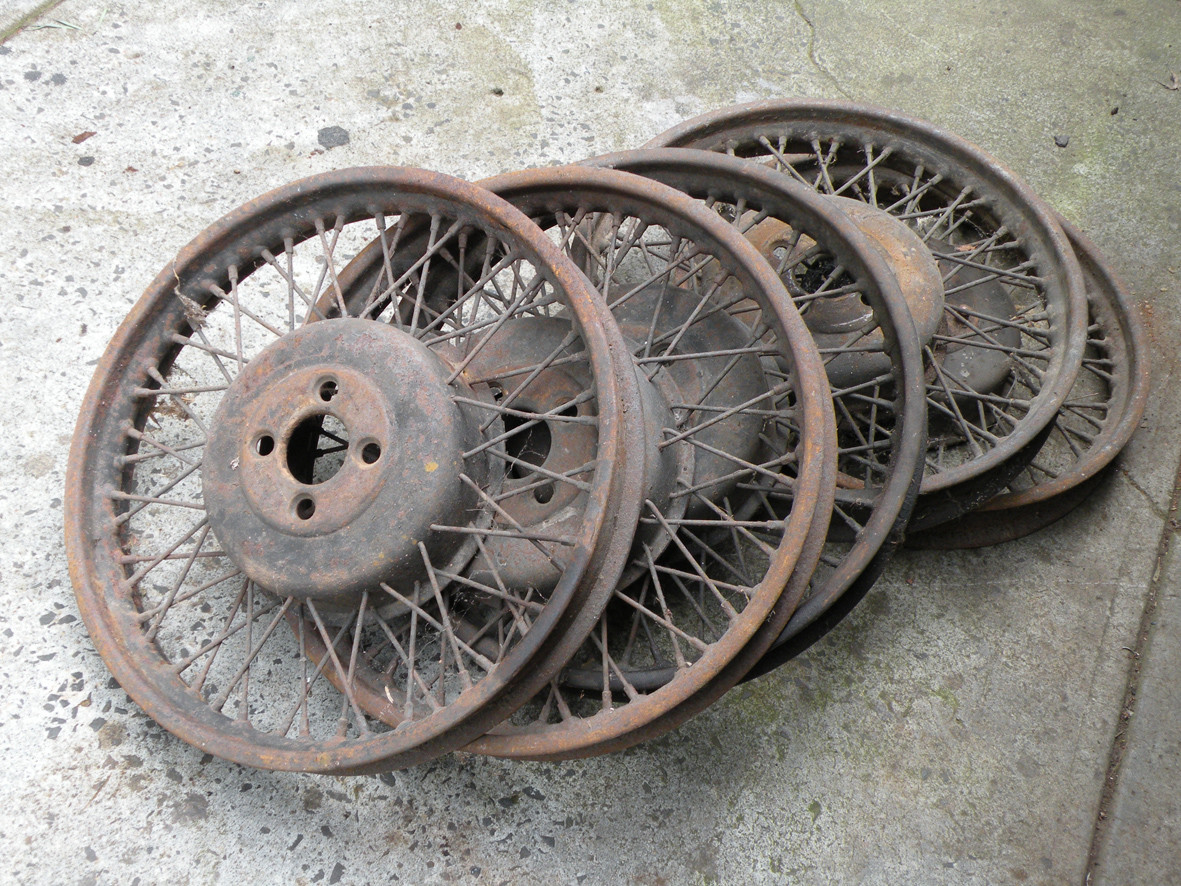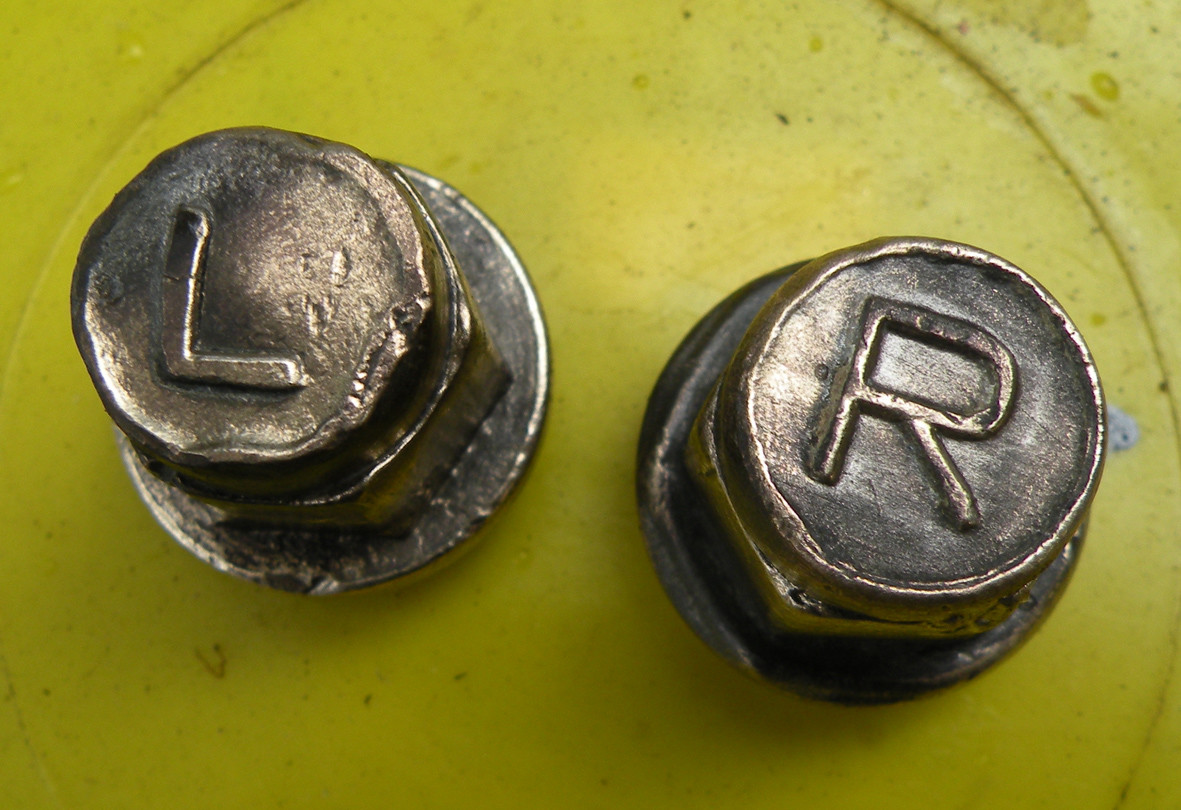 8-20-2013
After the remaining hour or so before going in to clean up for our evening meal spent with my angle grinder and drill with various sized bits the four welded-in studs are gone. The fifth wheel is usable, albeit as a spare. Next item on the agenda is the front axle assembly.
Bj.
8-21-2013
Hi Keiser31
Good to hear from you again. They must have been almost universal although I do have two or three variations in my collection of spares. I have some left over from my last restoration of a 1923 Citroen 5CV, only difference is that the French ones are marked G & D, Gauche=left and Droit=right. The UK based Riley Register Spares Ltd have new ones available UK £9.70 each for plated and £7.75 for plain brass, plus vat and p&p makes them a tad expensive if you are replacing a full set. The Singer has only four per wheel, early 1920s Rileys with bolt on wheels had five, later 1930s cars six.
Bj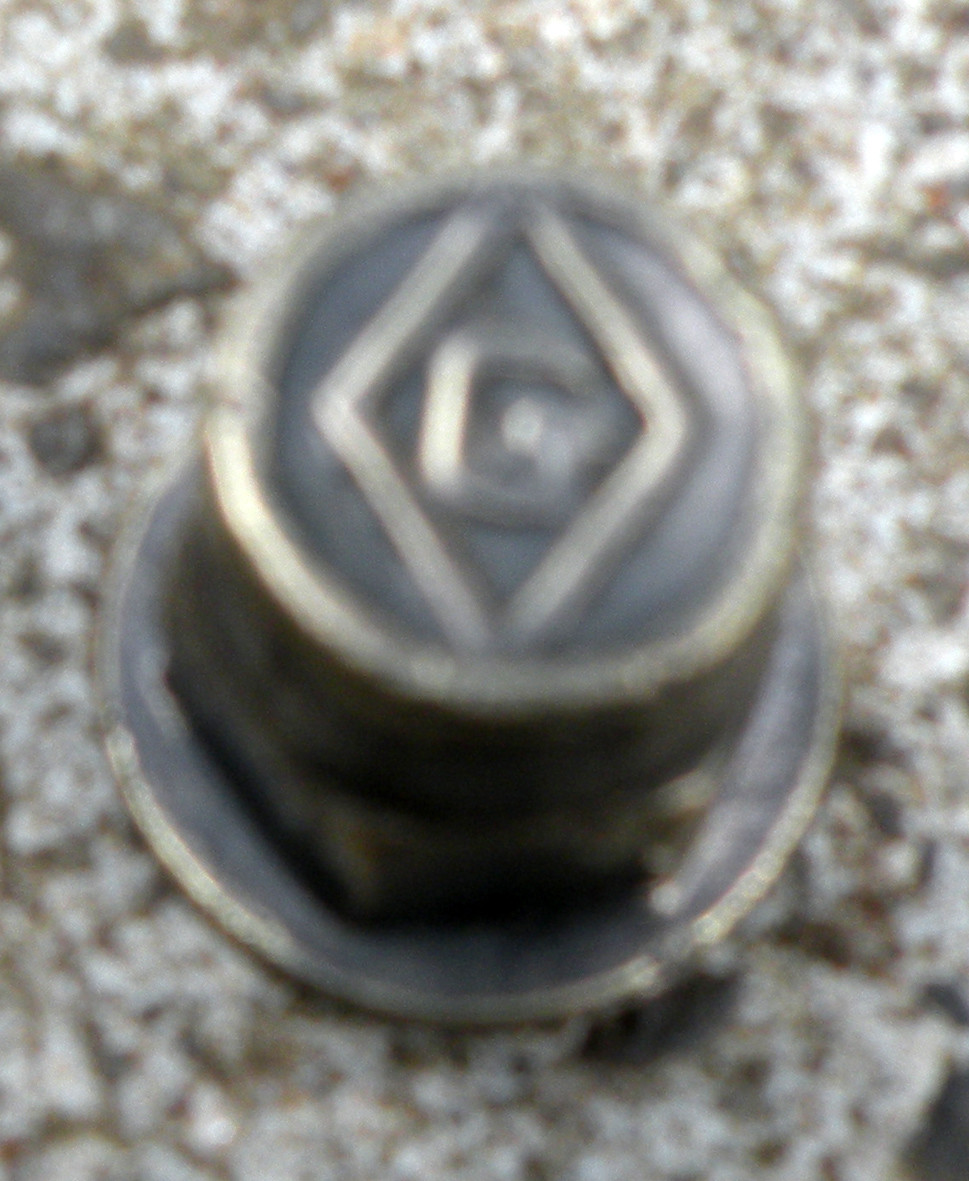 Today I decided to move my attention to the rear axle. The reason for this change is simple. I had to move it and in order to do this I decided that it had to loose some weight. First by removing the brakes and then as it had eventually had to come apart, why not make a start on it now? The left side brake drum and hub came off nice and easily but the right side has decided to be difficult. The rear wheel/axle bearings are retained in the ends of the axle tubes by a ring nut requiring a 2 inch across the flats ring spanner something that not every tool kit has. In the past unthinking people have over come this by using a hammer and drift. To add to the confusion with the usual British thoroughness (in the 1920s) as with the wheel nuts these have right and left hand threads. Going by the amount of dirt and solidified grease it is a long time since this has been apart. The rear brake drums hold four shoes on each side. Two for the foot brake and two for the hand brake.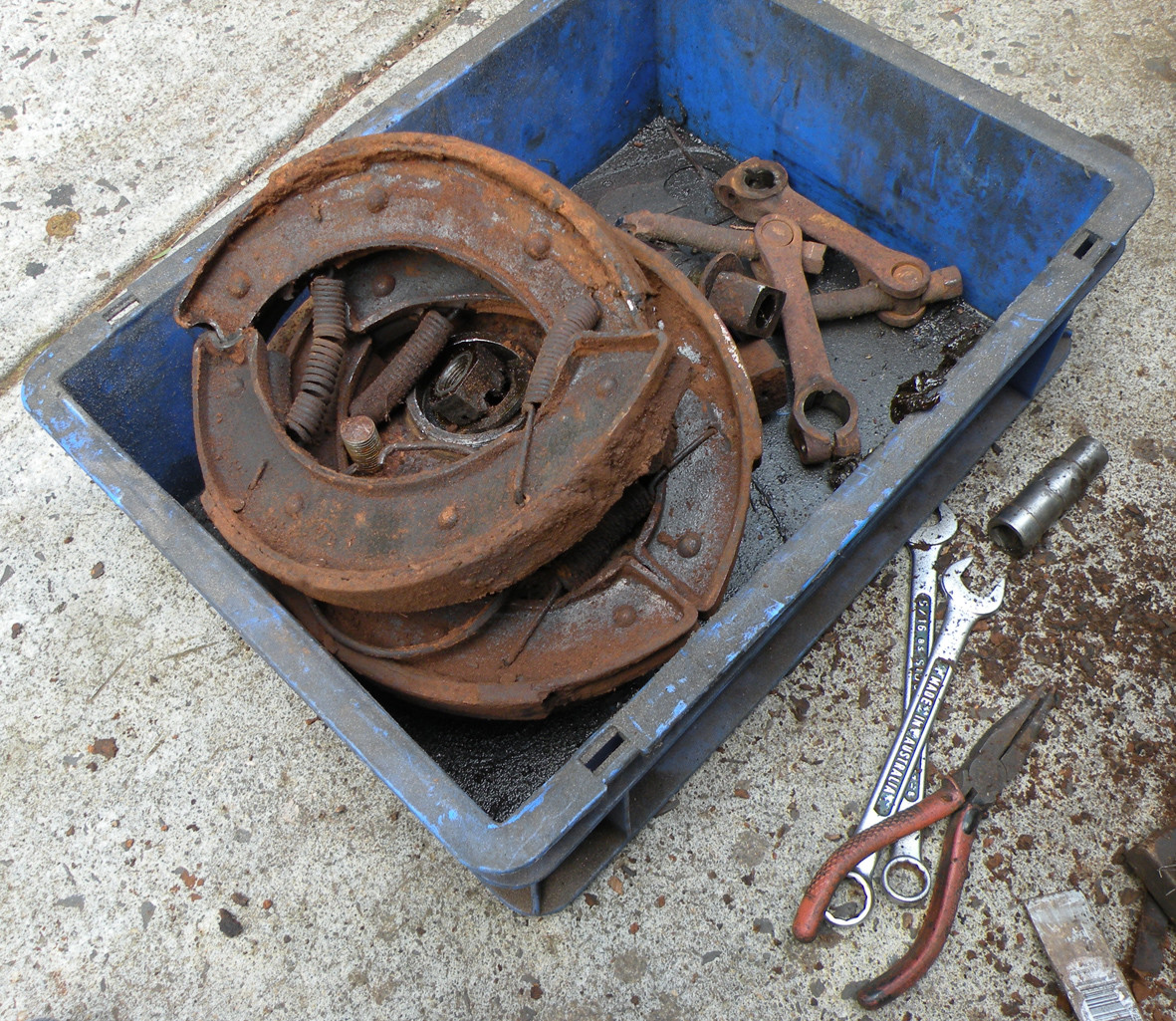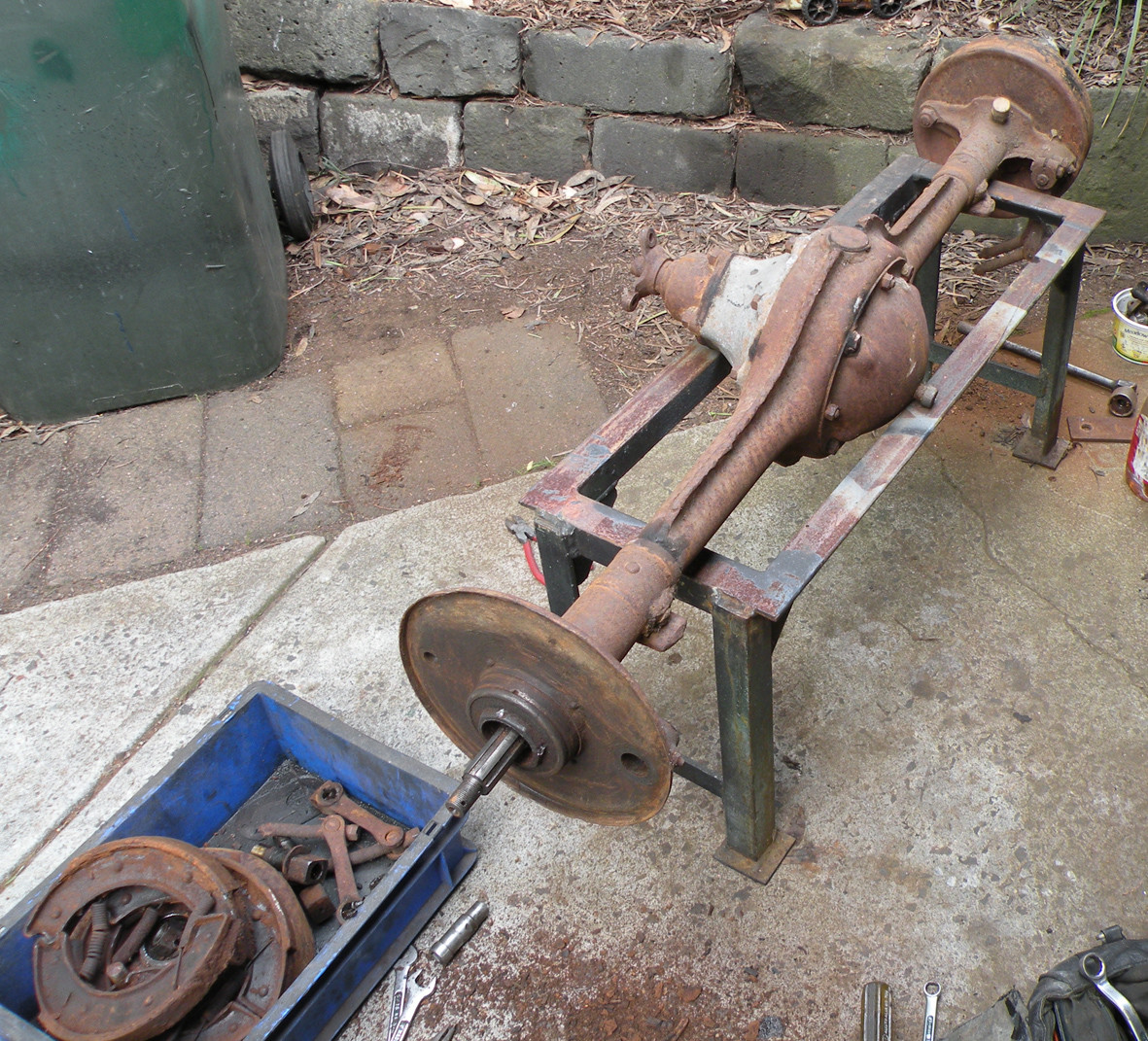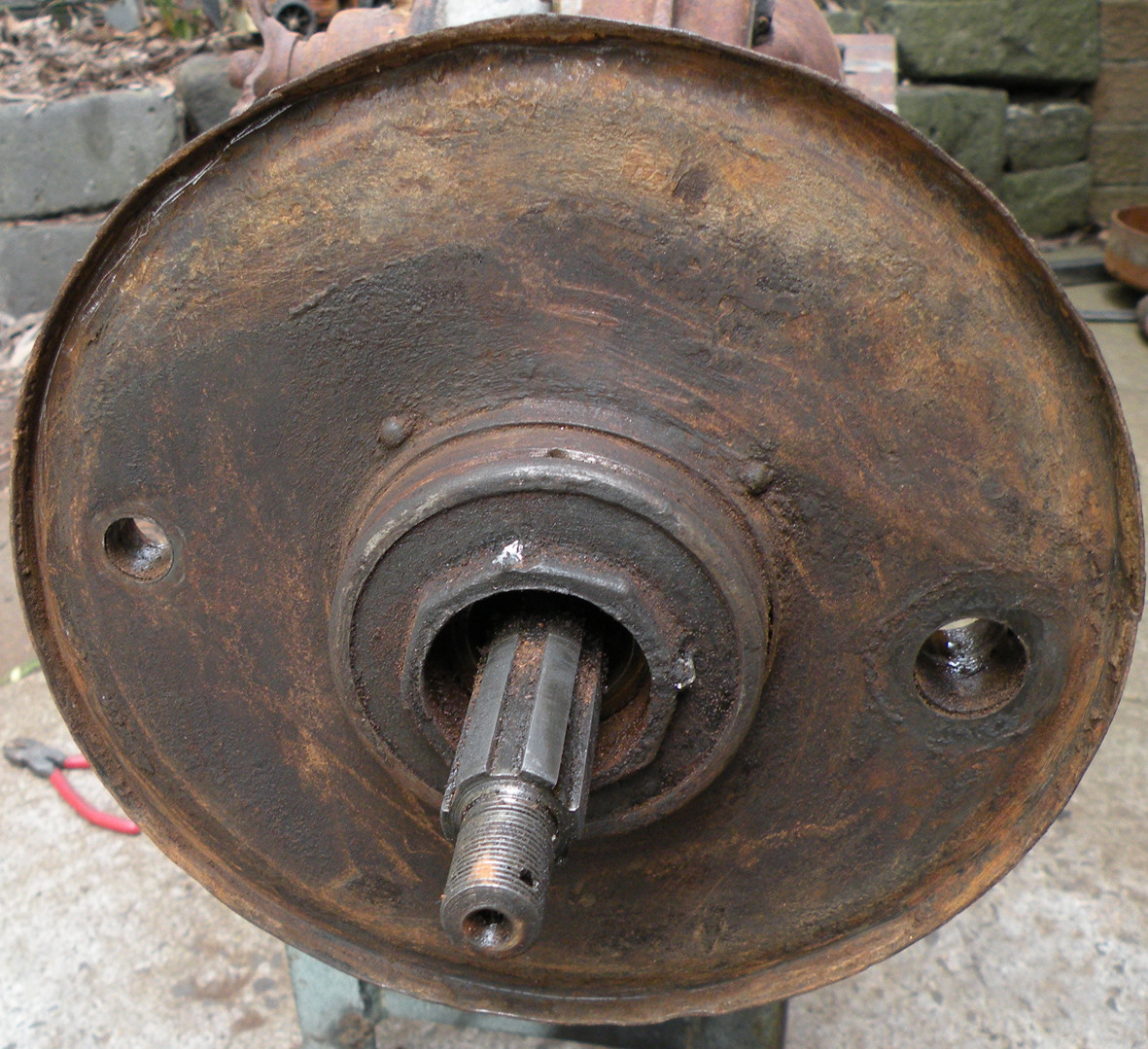 My good friend Ben C Benson will be pleased to learn that my trusty Monkey Wrench has come to the rescue. It opens up to the required two inches easily.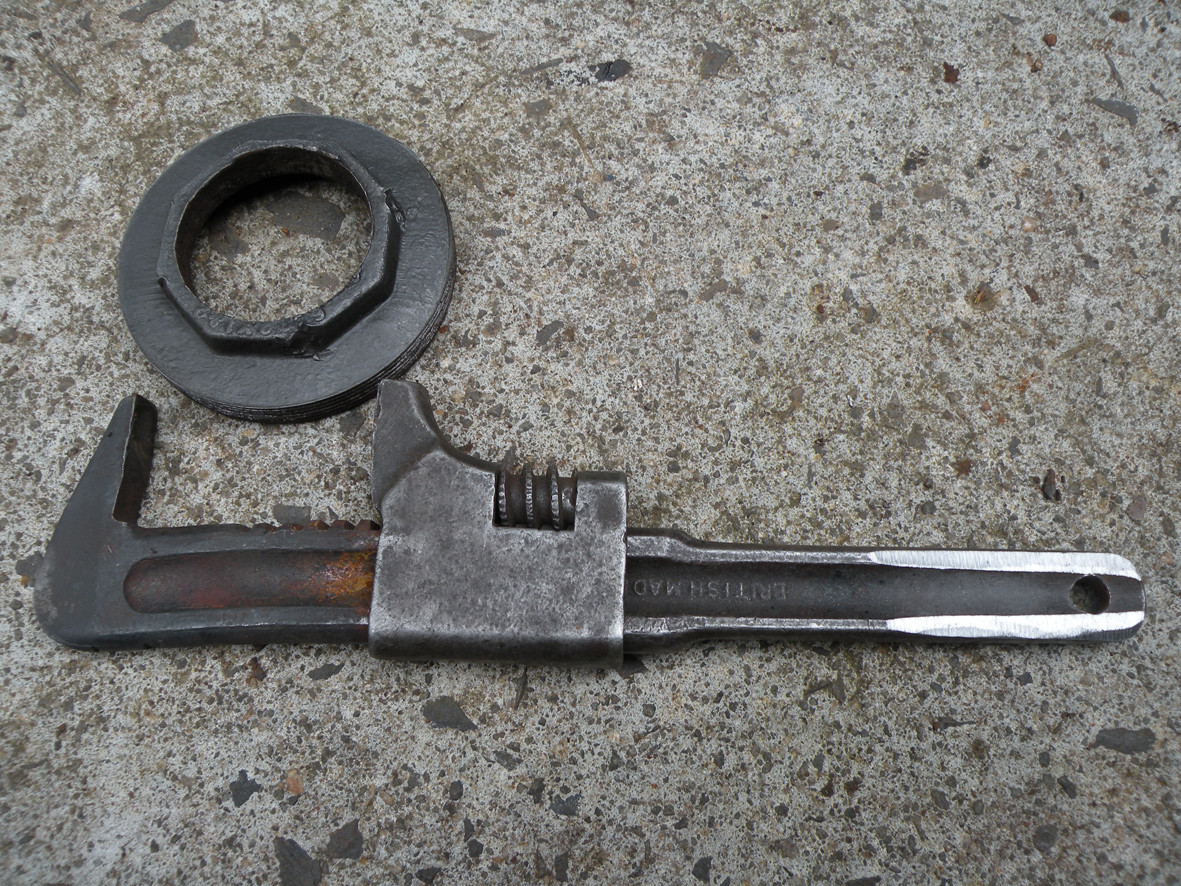 8-24-2013
I know that this is a long long way from Chevys, Buicks, Mustangs or Corvettes but please be patient, miracles still happen.
My son Steve has just turned up these early 1920s drawings for me. All I need now is a printer that is big enough for me to print them out to full size so I can mount them up on the garage wall.
Go back to #35 and let your imagination run wild.
Bj.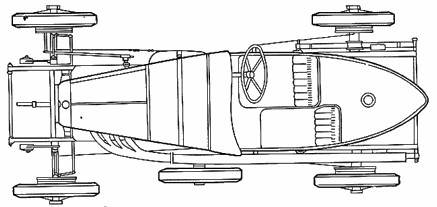 Hello Pat
This Singer when acquired was totally dismantled, even the chassis, if you look at my earlier posts, had been taken apart (they are bolted together). There was not even a suggestion of a body so I will be constructing that from the ground up. The drawings are for a 1922 Aston Martin. Previously I have used an earlier Aston Martin body style on an earlier Singer and on of all things a Dodge Four (See attached photographs.) The staggered seating arrangement is ideal for the Singer as the chassis is only 2;6" wide at its widest point. There is a connection between Aston Martin and Singer in that prior to starting his own company Lionel Martin was a works racing driver for Singer.
Bj,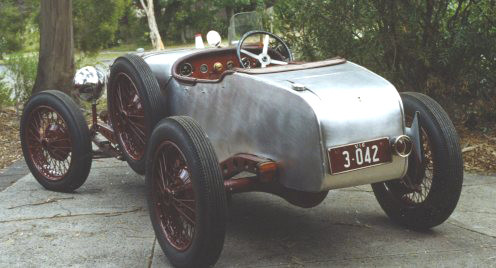 8-25-2013
Five hours later and a start has been made on laying out the dimensions for the body frame and an order for materials e-mailed to the supplier for delivery early next week. Not the BIGGEST, the smartest or the "prettiest" workshop and certainly no fancy-nancy, state of the art, fully automated, power equipment but an actual working one.
Stand well back!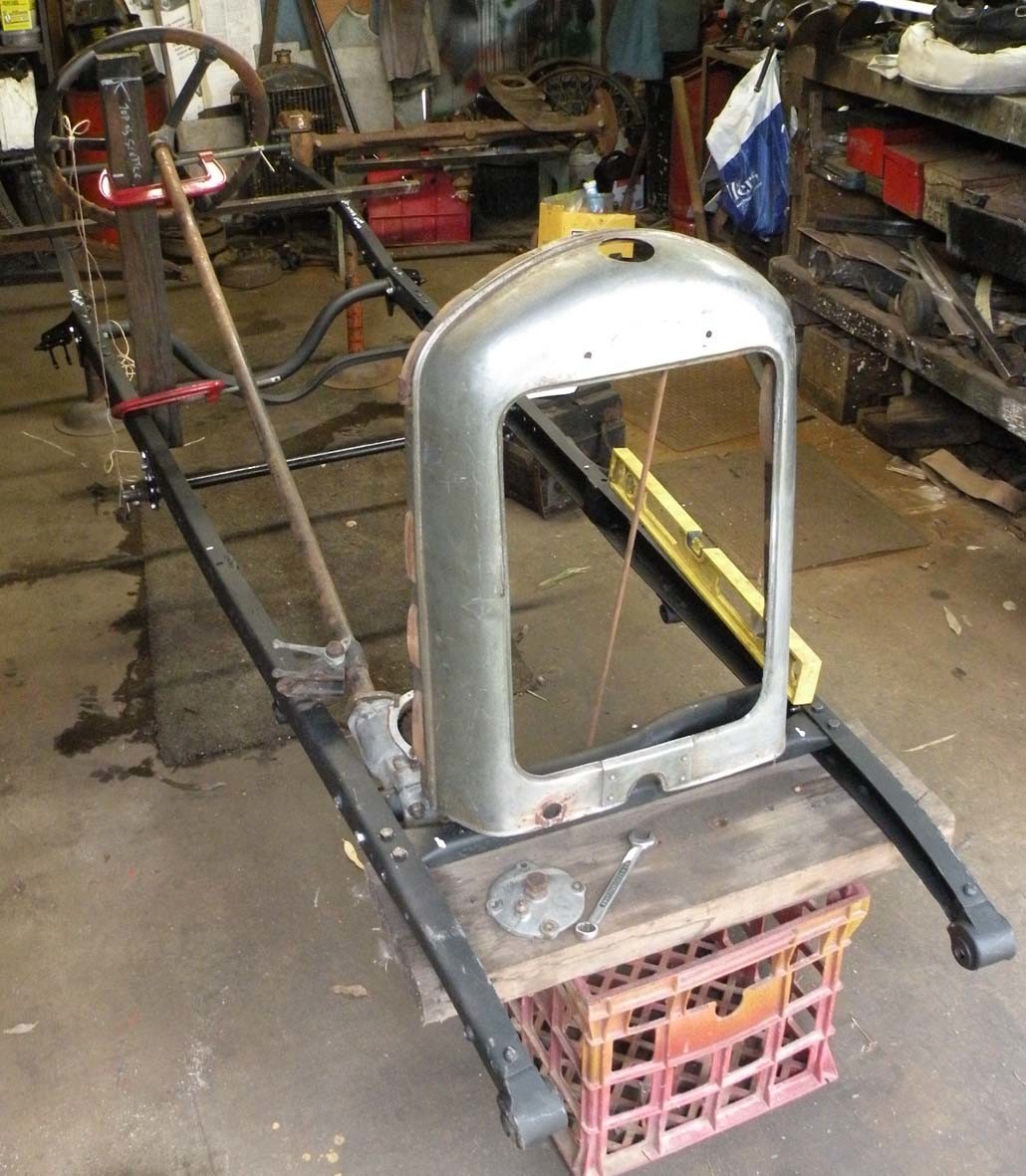 Some light relief... Our son Paul and his partner Nicole are "touring" in Central Australia. Their emergency sat-nav beacon sent us this message with their location. Findmespot.com It is worth looking at the "satellite" version and zooming in on their actual location. The colour of the background is correct. That is why it is called the RED Centre!
Bj.
For all the armchair travellers here is Paul & Nicole's location today.
http://fms.ws/DZyFN/30.31140S/139.33458E
8-27-2013
While it may look as though nothing is happening, I can assure that you my brain cells are working overtime! Unfortunately not even simple things like body frames just jump together. Anybody who has built one from just a few lines drawn on a sheet of paper, and I am sure that there are not all that many of you reading this can put their hand up for that one, will affirm that there is as much or possibly more "thinking" time as there is actual working time.
I am sorry but you will just have to be patient, my CNC body frame machine is "off-line".
Bj.
In an attempt to explain exactly what I am talking about here is a photograph of the frame I built about 10 years ago for a similar Singer Junior. One big problem is that my standards have gone up quite a bit in 10 years.
Bj.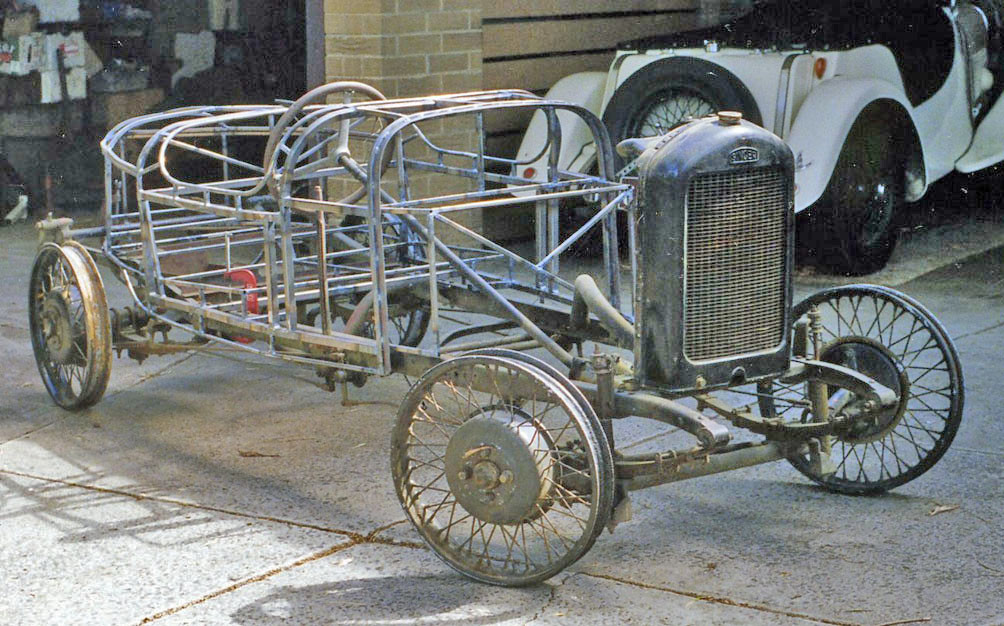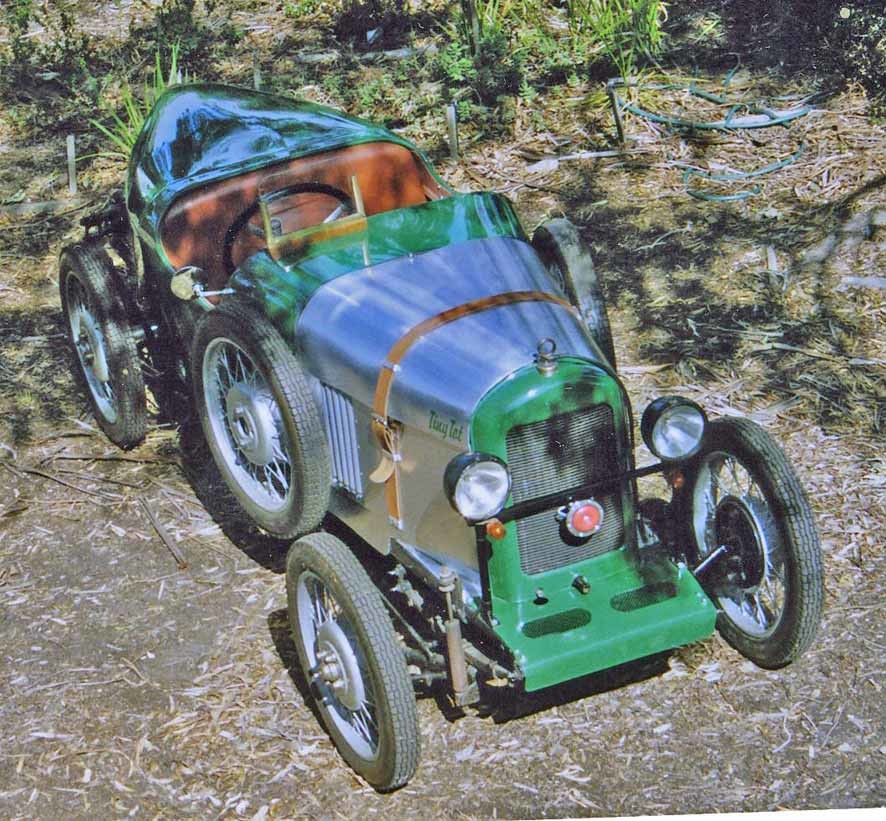 8-28-2013
Another day. A start has been made on the body frame with the main (bottom) rails in place. Sorry nothing really worth photographing. More of the same today.
Bj.
8-29-2013
Hello Joe
Nice to hear from you again. The Singer chassis was as were Lagonda bolted together in the factory. Rather than Independent suspension the chassis were designed to allow a certain amount of twisting. One reason why many English open cars with aluminium panels tend to develop cracks at some stress points. My Lagonda Rapier is a classic example with this exacerbated because the passenger is given a door while the driver has to climb over the side. This was the standard practice with all sporting Lagondas, even four seater larger cars only had three doors. (2,3 and 4.5 Litres)
Singer relied on the body frame to impart a certain amount of stiffness. Having said that there are just six mounting points for the body. With the engine bolted directly in, the crankcase also lends a great deal of stiffness to the front section of the chassis.
Bj.
Will all the super sensitive people and absolute purists look away now.
For more years than I care to remember I have willingly confessed that I am a far better welder than I am a carpenter. This being so, this Singer as with countless others of my "restorations", will have a steel tube body-frame.
Having said that to me at least there is one mitigating reason for my actions. "What would in all probability remain a pile of junk or worse still become fodder for the scrap metal mans muncher, I am "restoring to life" a going and usable vintage car that someone can use and enjoy.
Once the restoration is completed with paint and interior trimming (upholstery etc), it will take a very keen eyed observer/judge to detect the difference. Having said that it is not my intention to deceive anyone and as with everything else in life I am completely up-front. Often to my own disadvantage.
Shocked by this revelation? No one is compelling you to continue to follow this thread.
Bj.
9-2-2013
I really do not expect too many of you to even start to understand what is going on here. Basically I am "drawing" the body frame in three dimensions, free hand, using steel tube instead of a pencil. What you see here represents almost a week of concentrated work. Much of this time has been spent "thinking around the various problems as they present themselves". If you can understand that you are probably as mad as I am.
What you are looking at is the centre section of the body "tub" from the cowl back with the passenger (riding mechanic) seat staggered behind and to the side of the driver's seat. The two sides of the body are totally different to each other. I am just starting on the drivers (right) side.
Bj.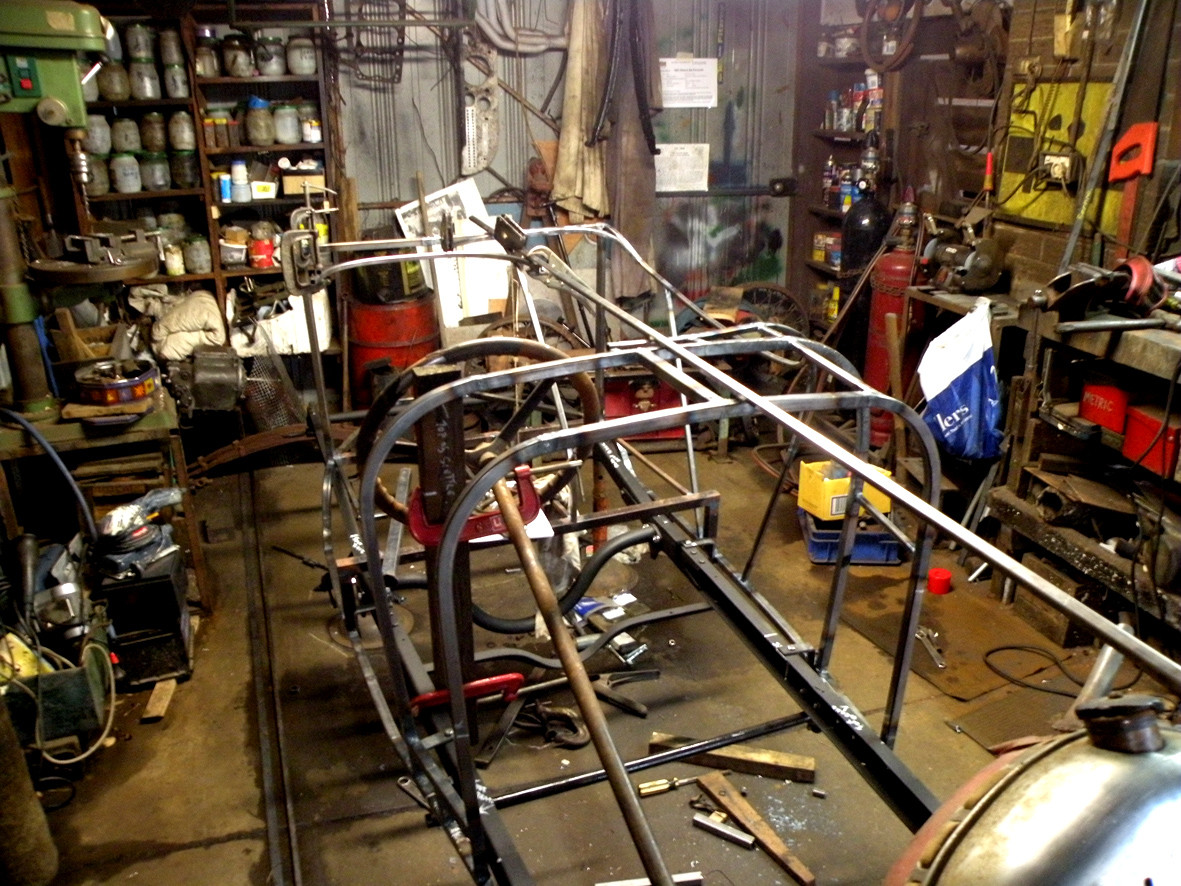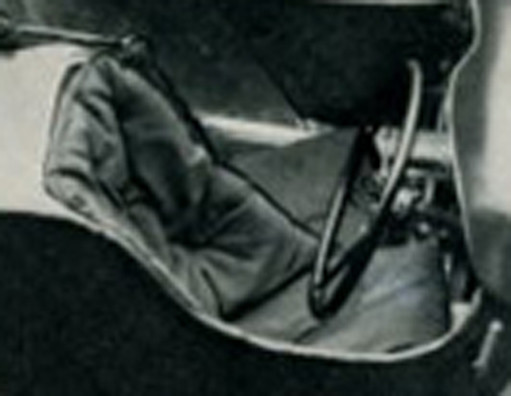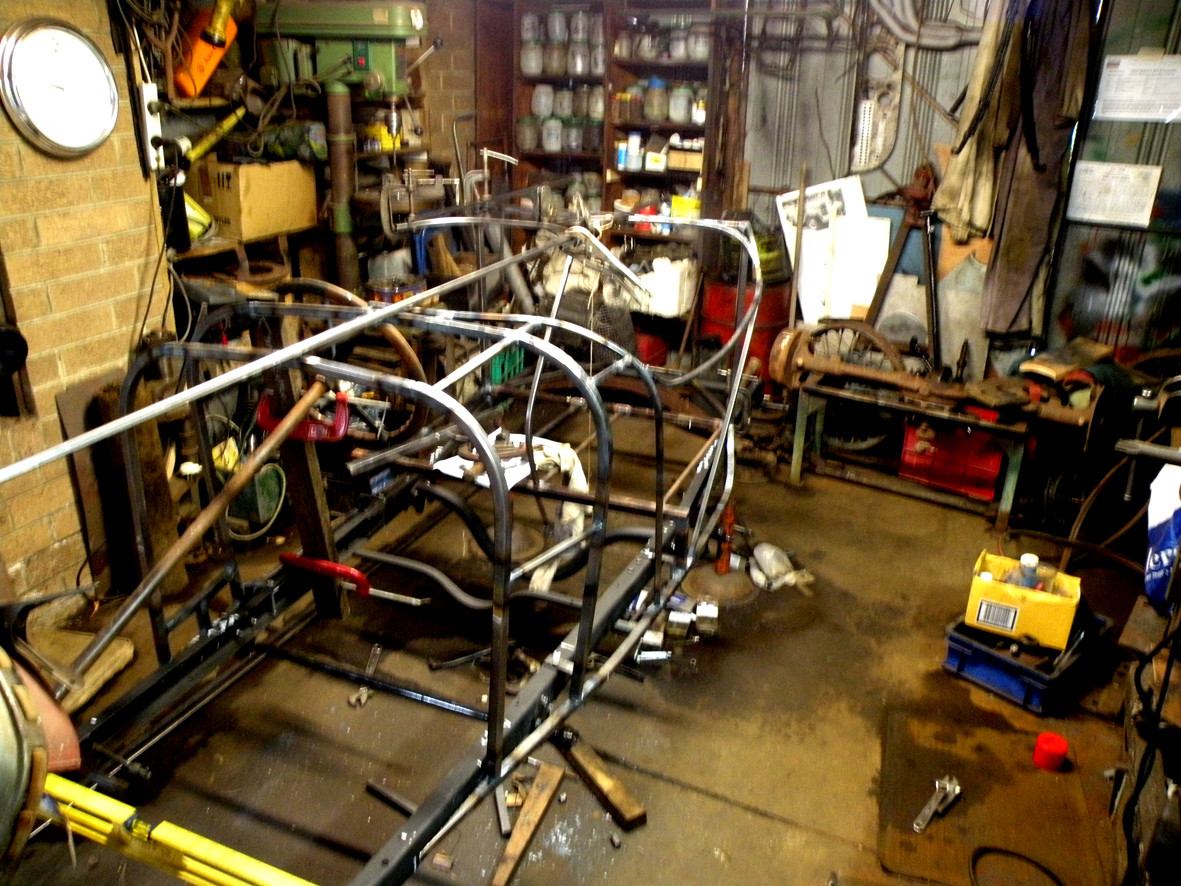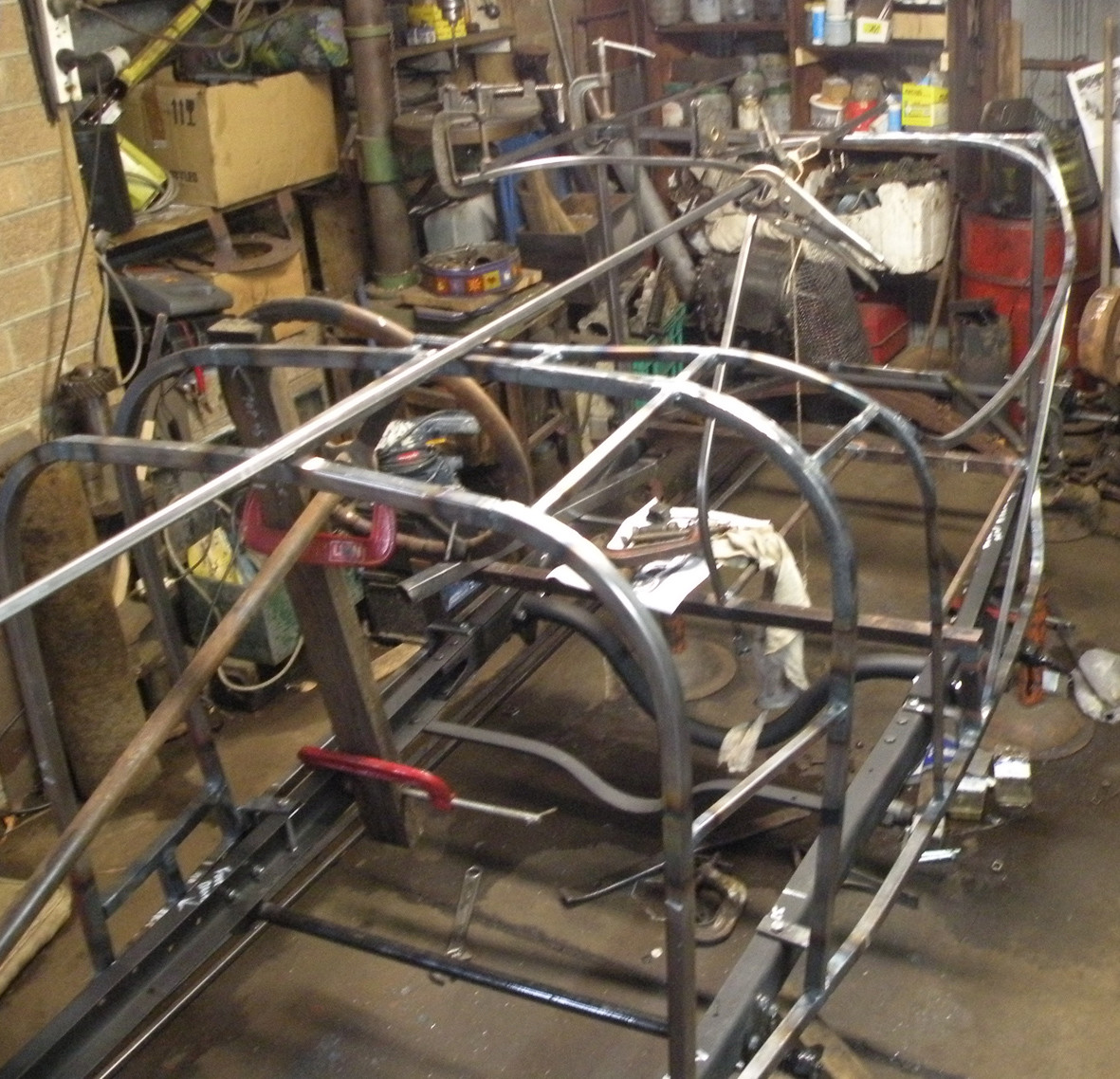 Really Pat
Can't a boy have any secrets?
As you are probably aware I have a vast state of the art workshop fully equipped with all the latest sophisticated machinery, most fully computer controlled. I also have fresh carefully laundered white overalls each day and I always wear my baseball cap with the peak at a jaunty angle over my left ear on Mondays, Wednesdays and Fridays and over my right ear on Tuesdays, Thursdays and Saturdays. On Sundays I wear my WW1 leather pilots "flying helmet" with the ear-flaps turned up and buckled over the top of my head. My built in stereophonic sound system plays Thelonious Monk in the mornings and Charlie Parker in the afternoons interspersed by selected early Gerry Mulligan, in particular "Bernie's Tune" which incidentally, very few people are aware, was perhaps written especially for me. My large staff of highly skilled professional assistants all have university degrees in advanced engineering. There is absolutely no chance of my getting my hands dirty as I always wear two layers of surgical gloves. This really is over-kill as everything is sterilised in a huge autoclave before entering the premises.
Among my collection of quaint antique hand tools, usually tastefully displayed in sealed glass cases, is this one piece of equipment of unknown and obviously obscure origin that I believe may in an earlier age have been used by primitive pioneer restorers in an attempt to obtain bends of a uniform nature in steel tube of varying dimensions. I have especially taken it out of the display case and carefully dusted it off in order to photograph it for you. I trust that you find this informative and somewhat amusing. I have to admit I constructed this some 30 or 40 years ago when I first started to build tubular steel body frames. About that time 13 inch was a popular size tyre used on the more common make automobiles made for the mass market. It has proved to be durable, easily transportable and can be stored out in the open for long periods without any discernible damage. Even the most ham-fisted operator can achieve a reasonably acceptable bend. The one handicap is that it will only create the desired bend in one direction and only at one end or the other of a length of tube requiring frequent cutting and welding.
Bj
1918-2007 Almost every make worth owning.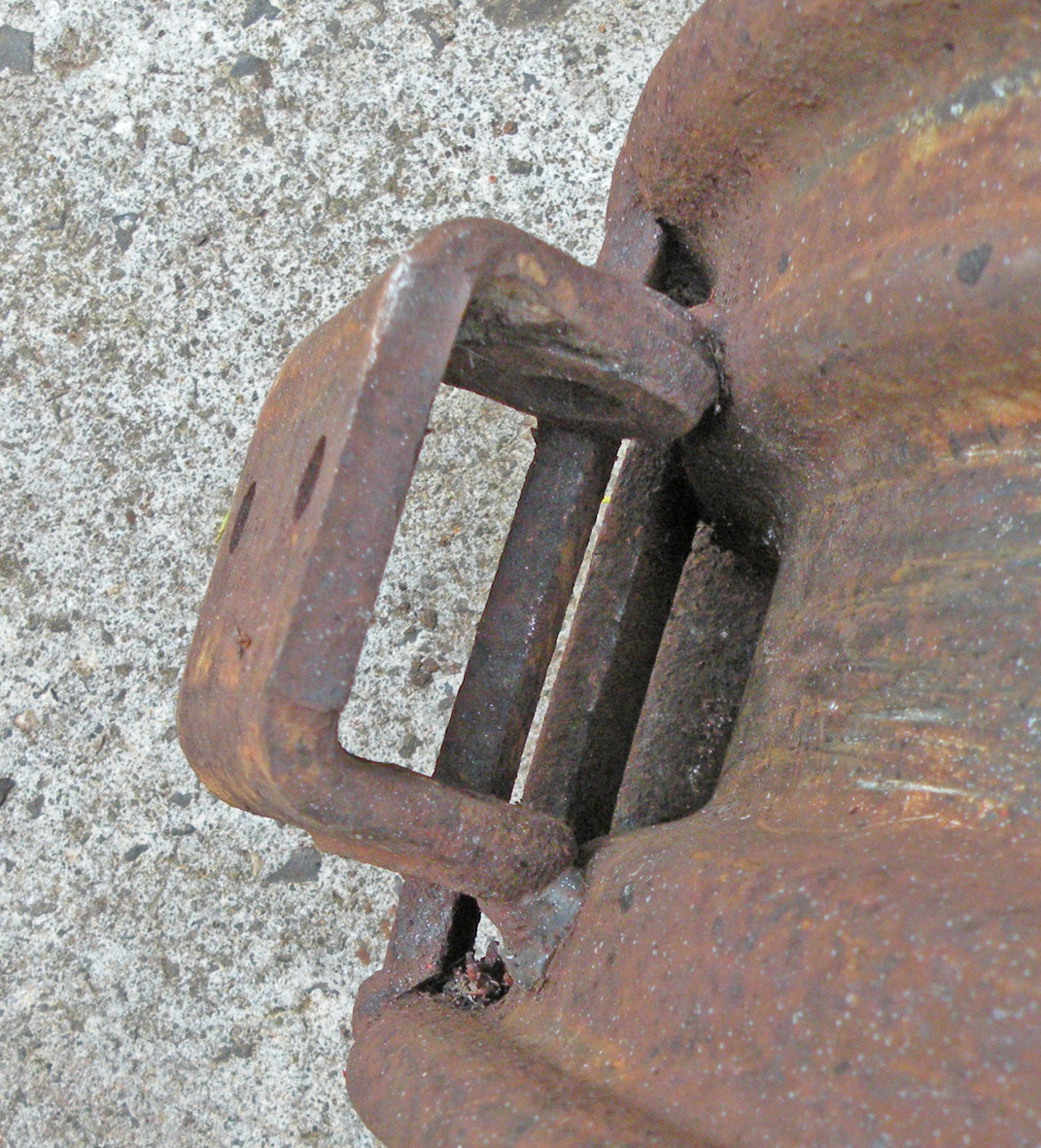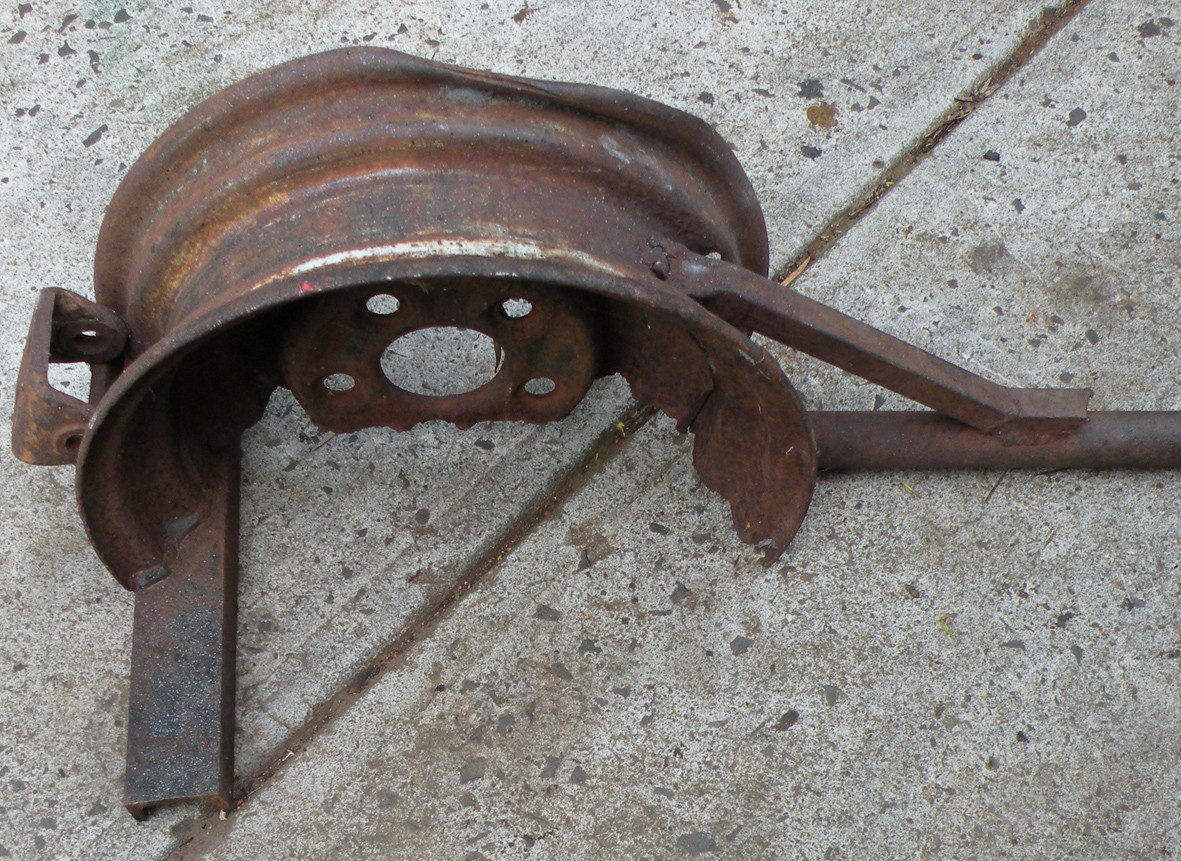 9-3-2013
More of the same again today, despite a couple of interruptions some progress was made on the drivers side of the body frame. Another day and I should be able to move on to the tail. I will not blame you if you have trouble in discerning where the progress has been made but there is a good five to six hours work gone into the Singer today.
Bj.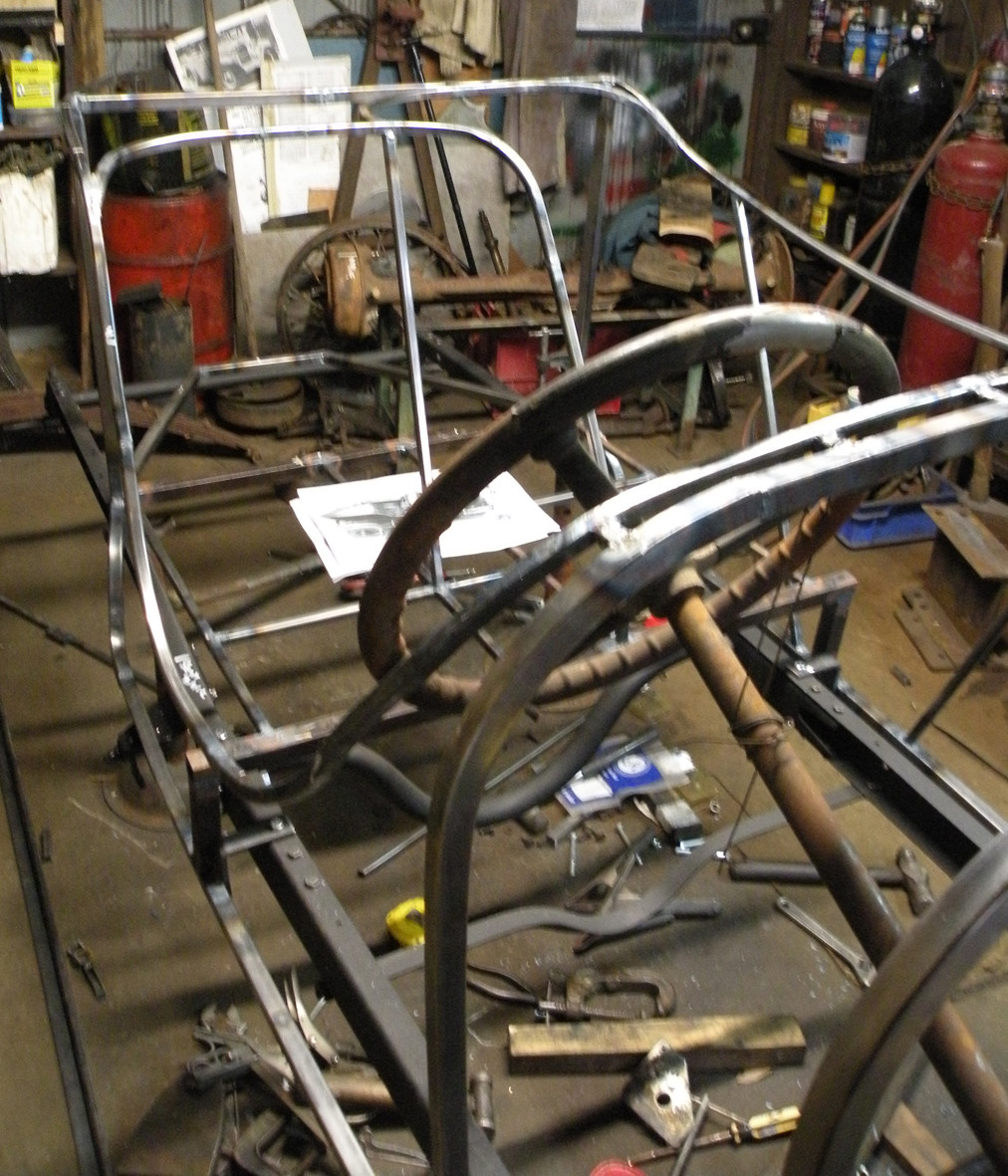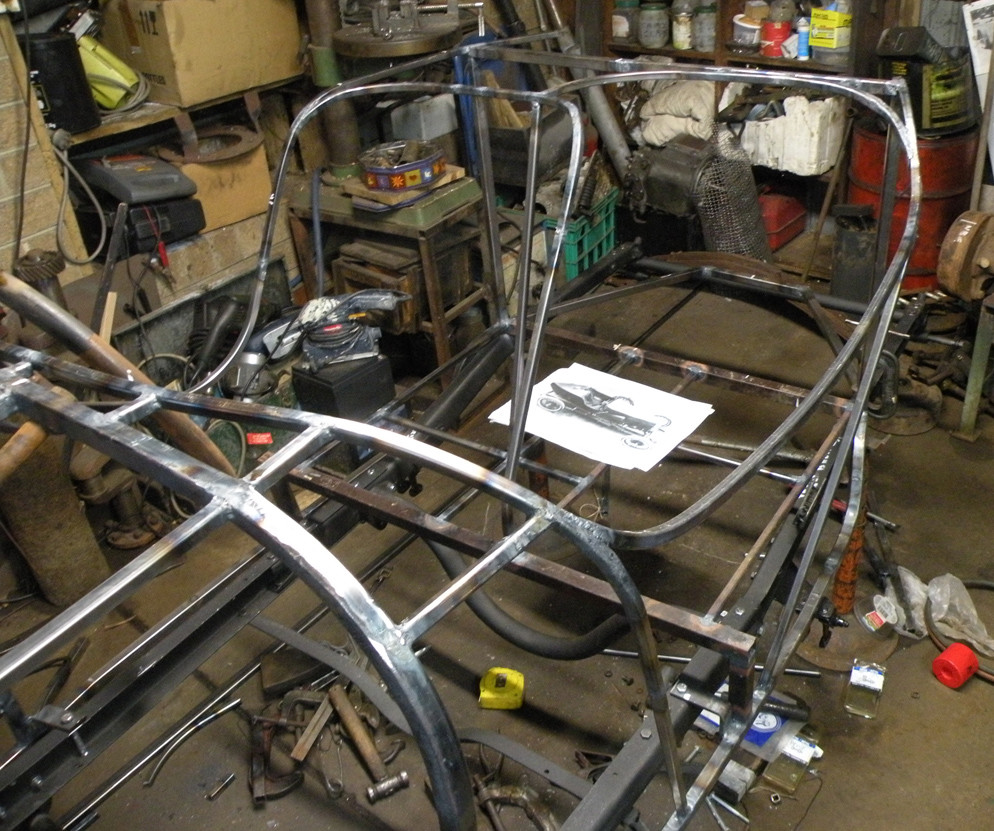 9-4-2013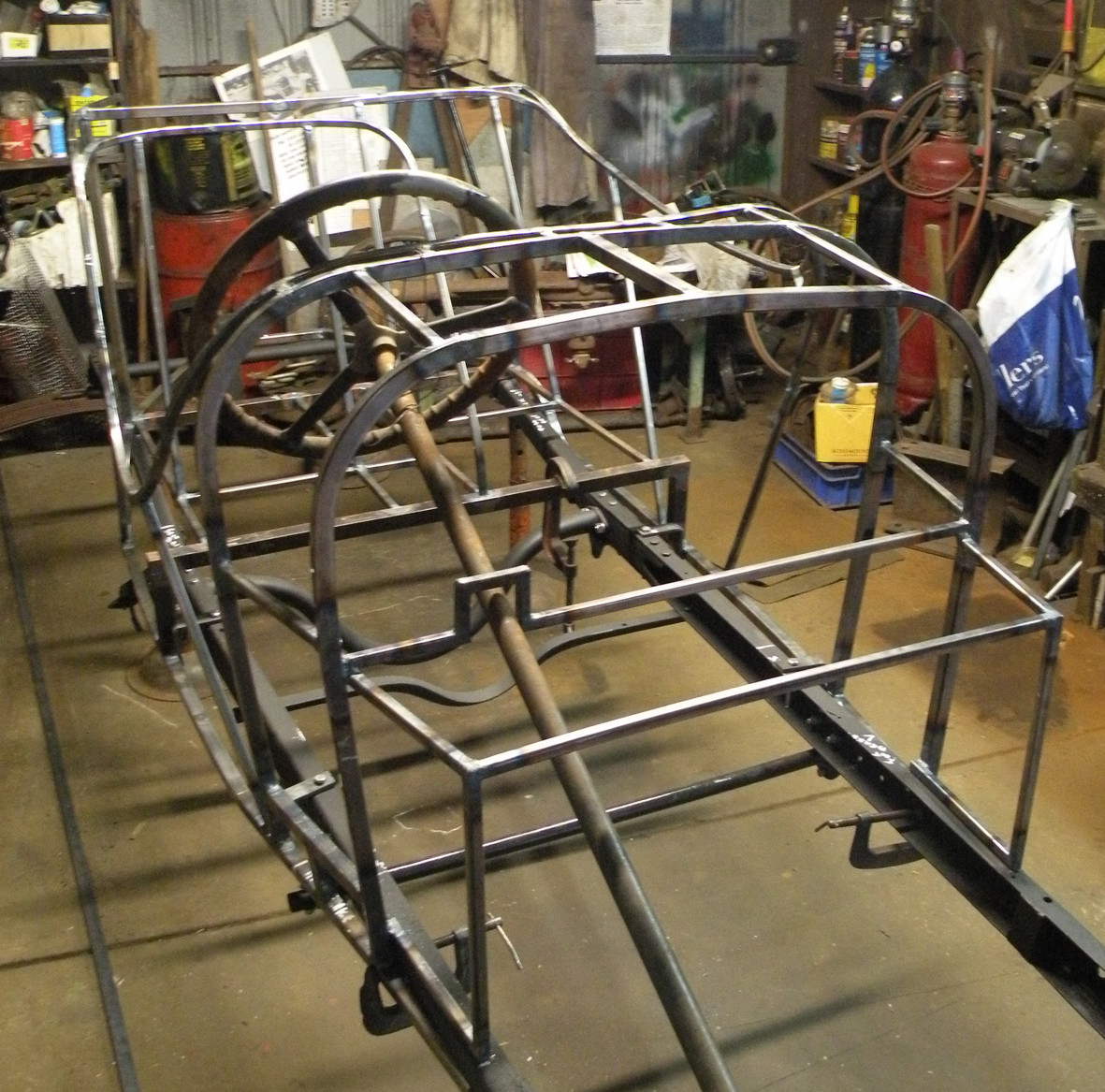 Another day and more photographs of bundles of twisted steel tube. I hope that you are not becoming too bored. At last the front section of the body frame is more or less completed. So far this has consumed no less than 26 metres of tube. Not that I have been throwing the stuff in the bin. In total to date there would not have been half a metre of waste. I now have to wait for the next delivery of two more 6 metre lengths of 12.7 X 12.7 (1/2 inch) tube so I can complete the tail section. Hopefully tomorrow.
Bj.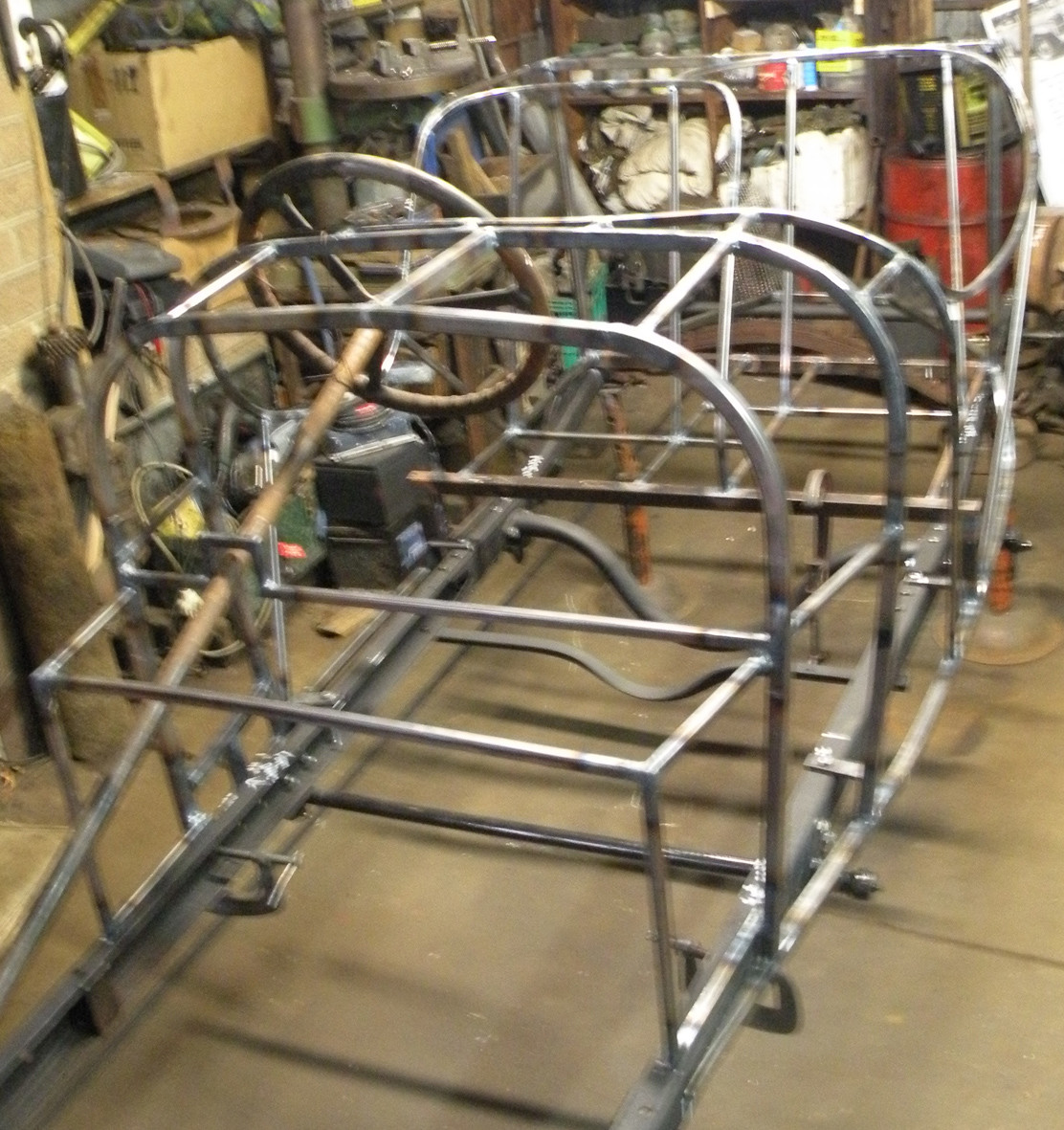 Thank you Dan
Once the body frame is completed it can be removed and I can return to the main restoration. My theory is that it is pointless to have a fully restored chassis and then start building the body frame on it. Some damage will always happen no matter how careful you may be.
Bj.
9-5-2013
Not a great deal to report today, the good news is that another 12 metres of 12.7 X 12.7mm (1/2 inch) square tube arrived this afternoon and I have just picked up an 2400 X 1200mm (8' X 4') sheet of 1.2mm steel which will be ideal for seat backs & etc. Amazing what you can fit into the rear seat of a 1996 Peugeot 405-SRi sedan if you put your mind to it.
Bj.
9-6-2013
It may seem hard to believe but some days you can put in several hours work and still have little or nothing to show for it. Yesterday was one of those days. With the Singer's "staggered" seating arrangement, just getting the seat frames right is taking up quite a bit of time. This is critical as the seats are actually part of the body frame.
Bj.
9-9-2013
While it is still Sunday in the USA it is Monday in Australia. This means Petanque followed by coffee on Monday morning. This leaves just the afternoon for more work on the Singer. Todays photographs tell the story. with the seat frames 85-90% finished and the tail well on the way.
Bj.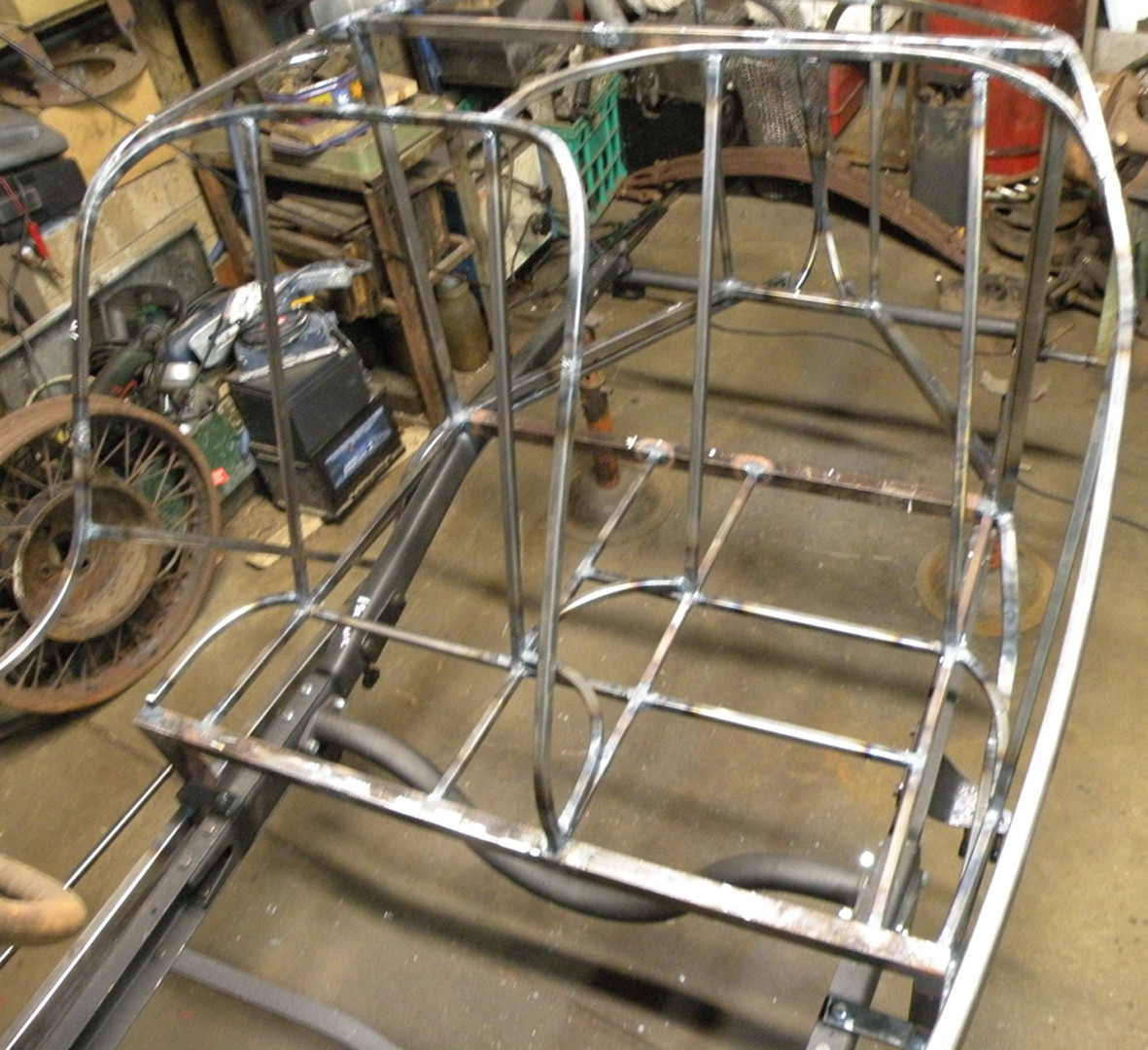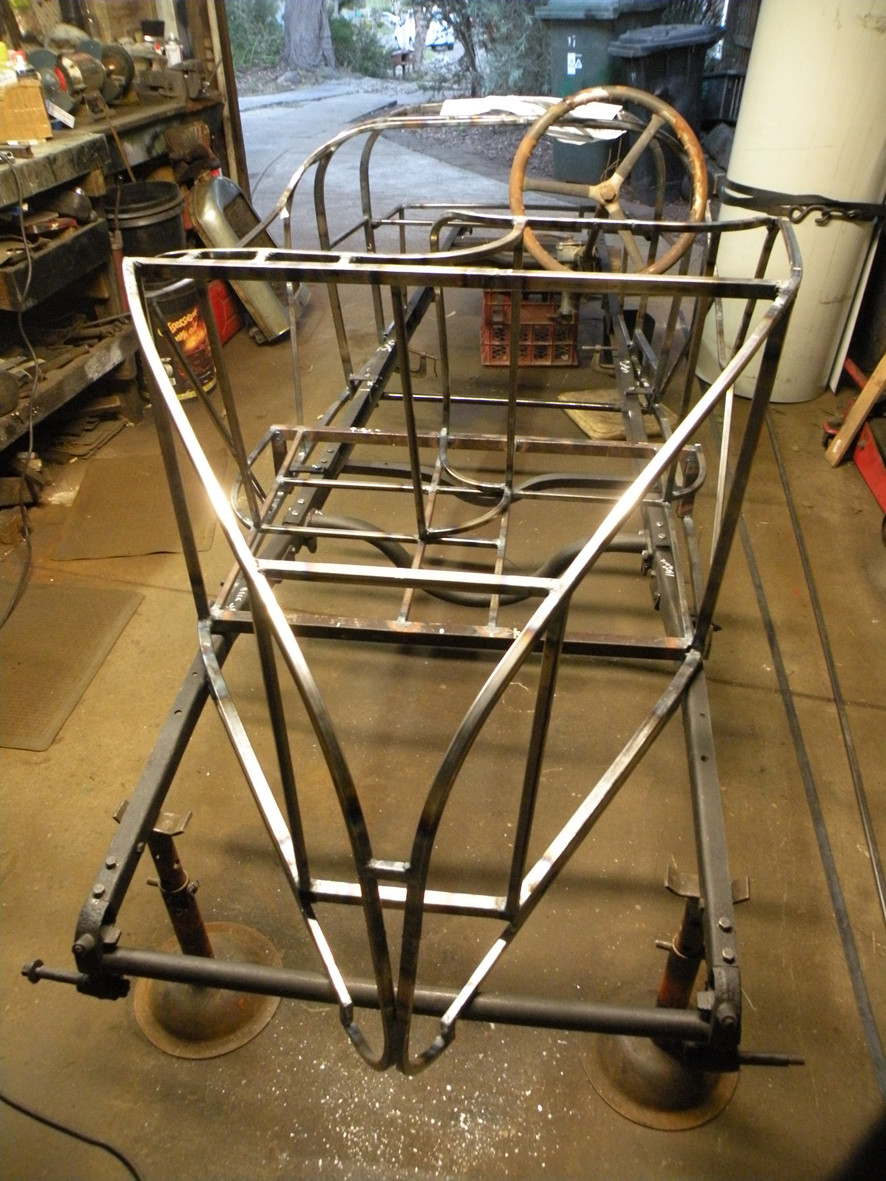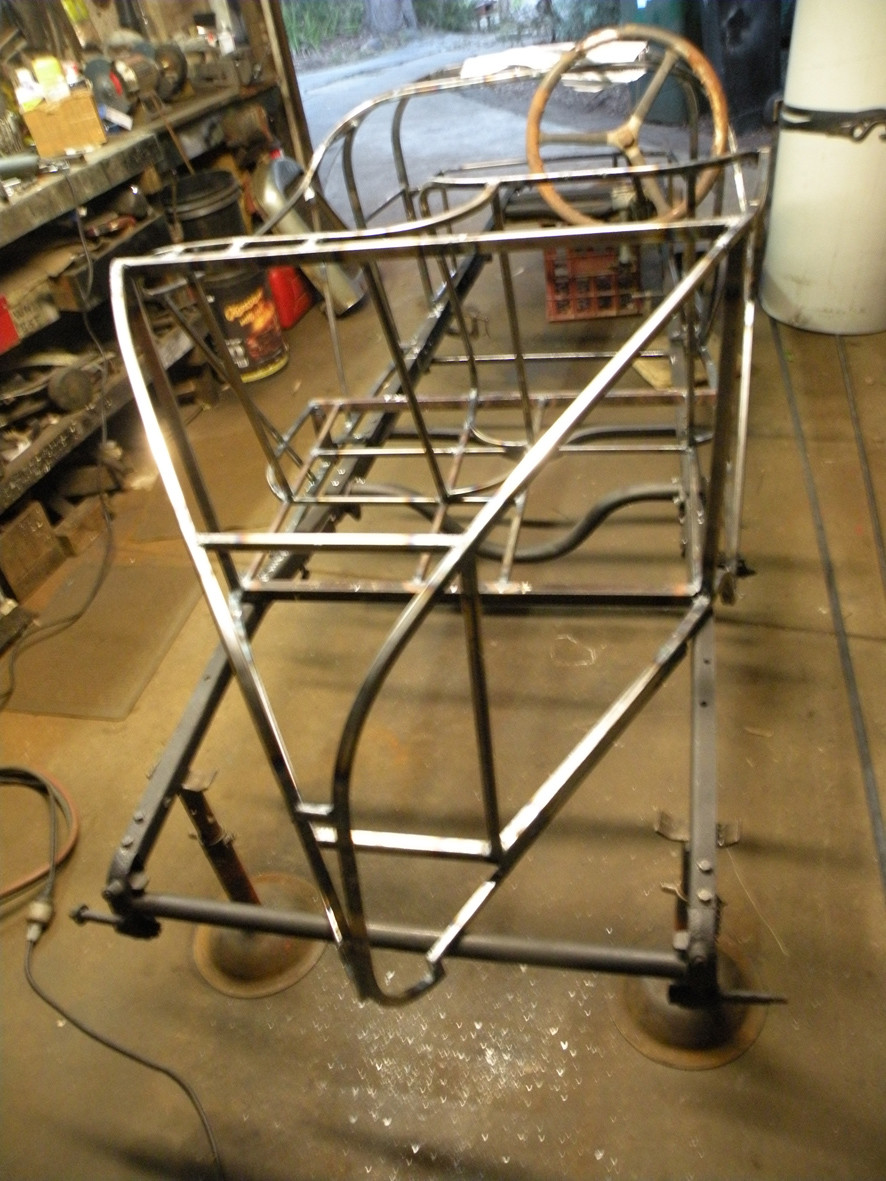 9-11-2013
Hello again
Another longish day but at least there is something to show for my efforts. The sheet metal for the seat backs is in place so hopefully these photographs will make some sense to some of you at least. I have used pop rivets to fix the sheet metal to the frames as these will all be well and truly out of sight once the upholstery goes in but do not let us rush too far ahead. Any of you who may be struggling with the concept of a 'staggered' seating arrangement hopefully these three photographs may help to explain how the seats fit in. The 'riding' mechanic was very much a second class citizen. If you look at period photographs of racing cars in action during the late 'teens and early twenties this will be apparent.
Bj.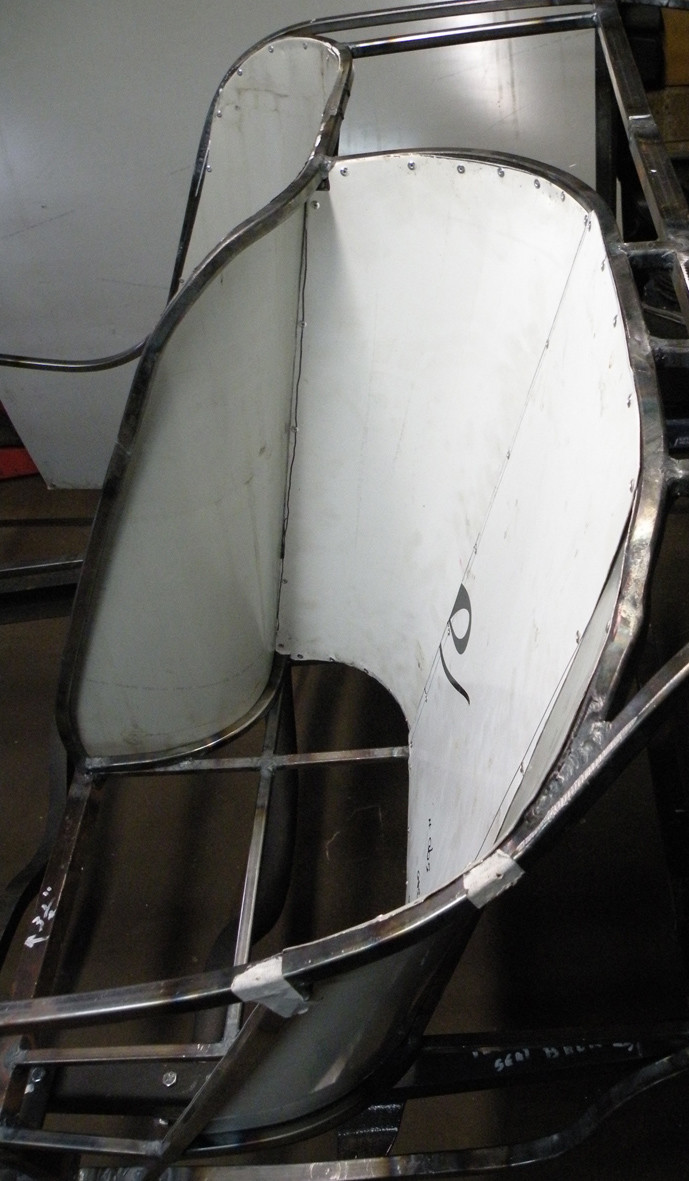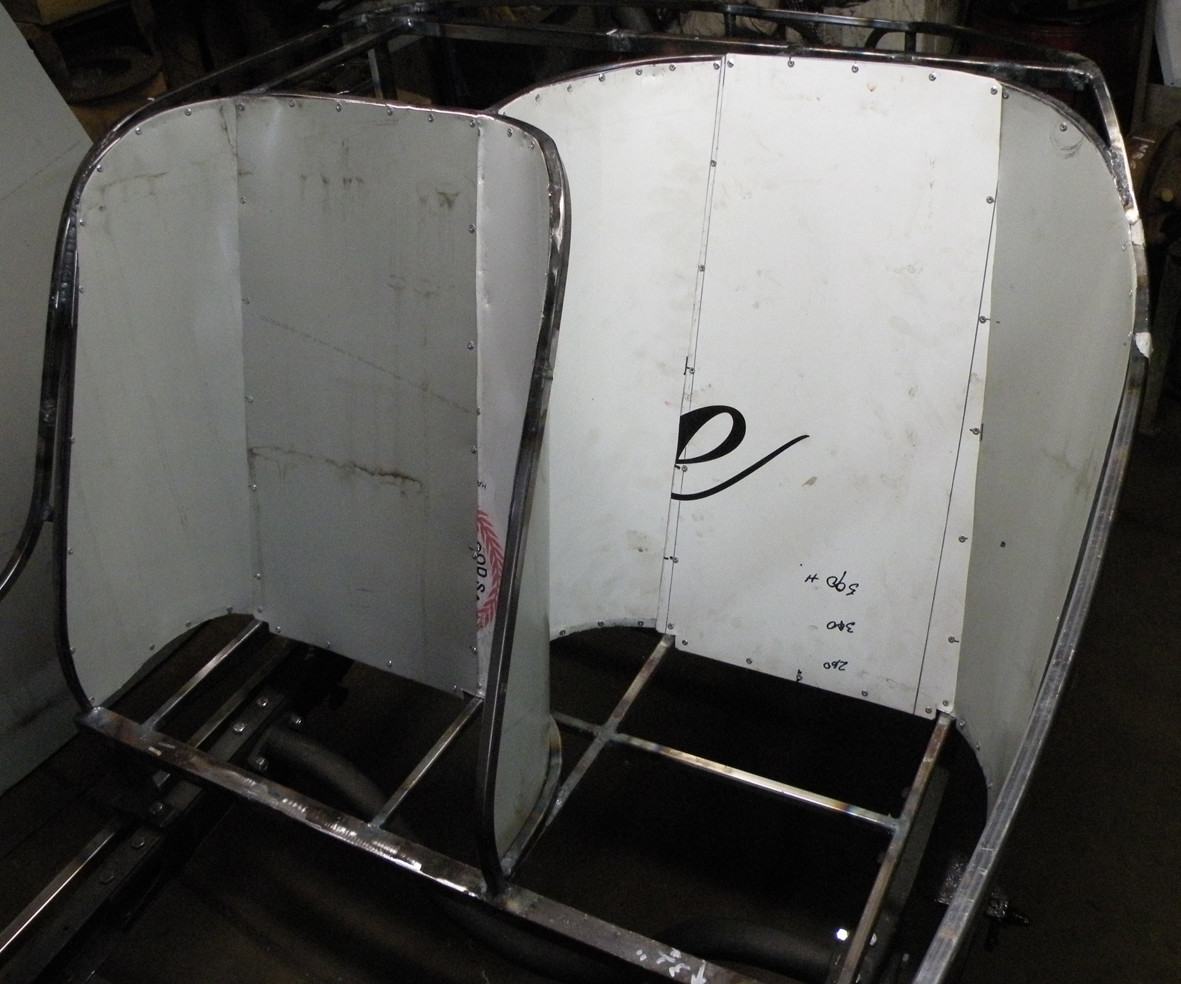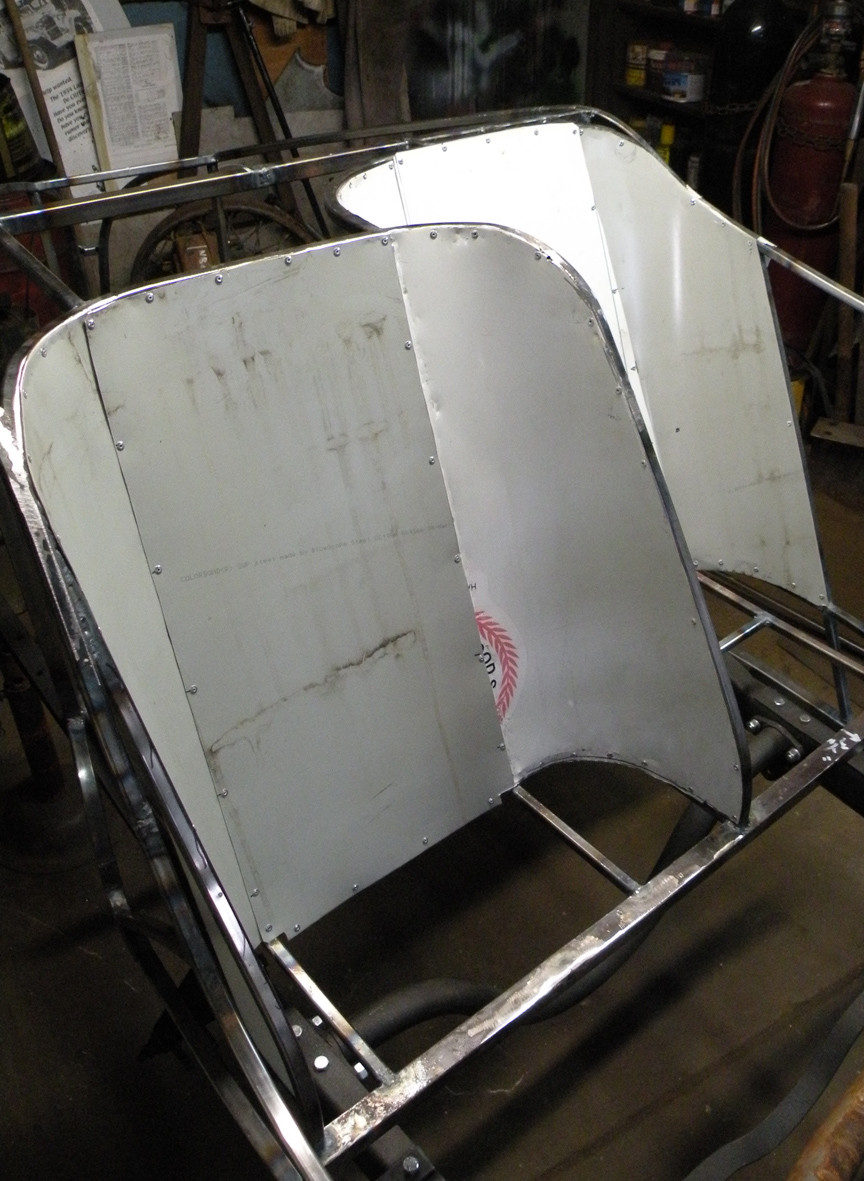 9-12-2013
Another day and another (tiny) step forward. Most of this morning was taken up with making and fitting the sheet metal to the bulk-head. It would certainly speed things up if I had all that state of the art equipment like a folder for instance but would I be having so much fun? Much of this afternoon was spent on what could be described as "Belt AND Braces" tasks. You will have to ask your grand-father to explain that one. That and simple little but necessary things like the lugs that will ultimately support the dash-board. My next task is to draw up the petrol tank so I can get a quote on having one fabricated in aluminium.
The rear view of the seats also gives you a better idea of the amount of "off-set"
Bj.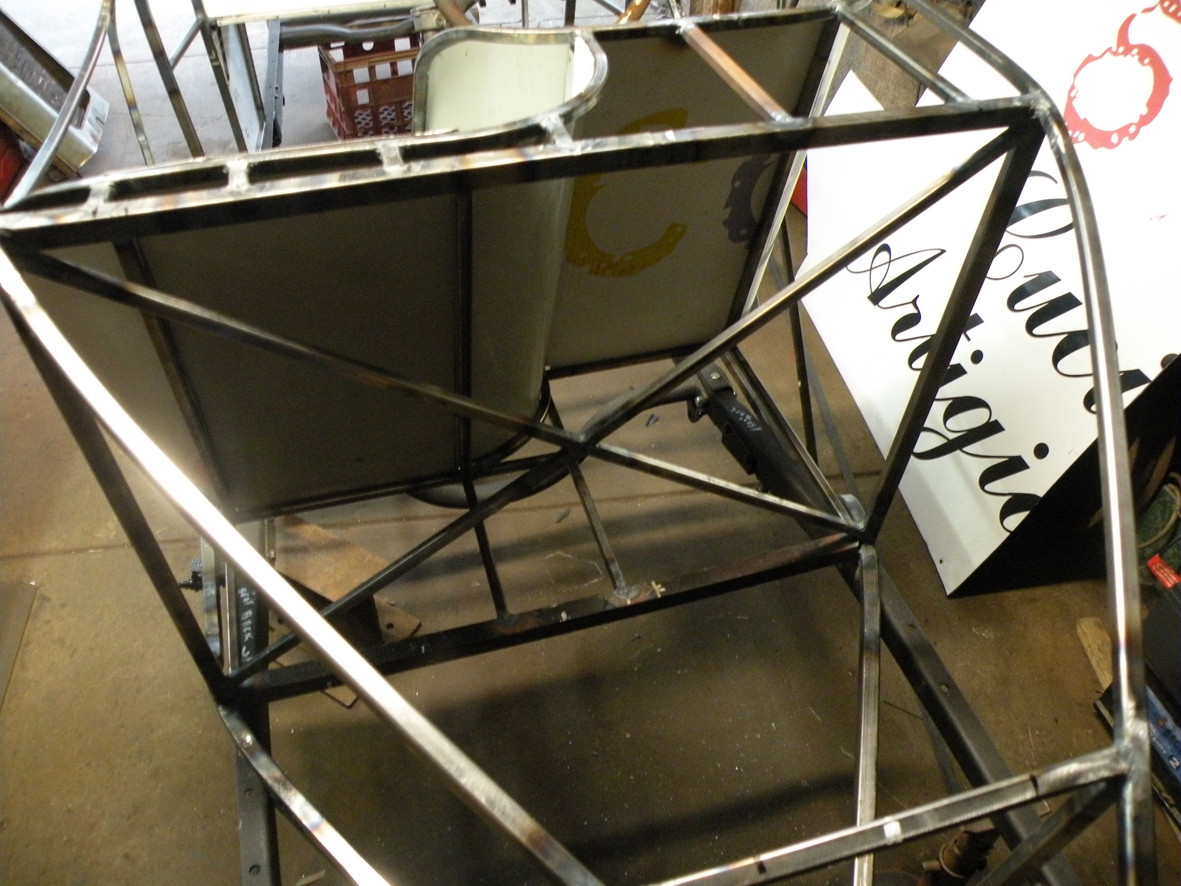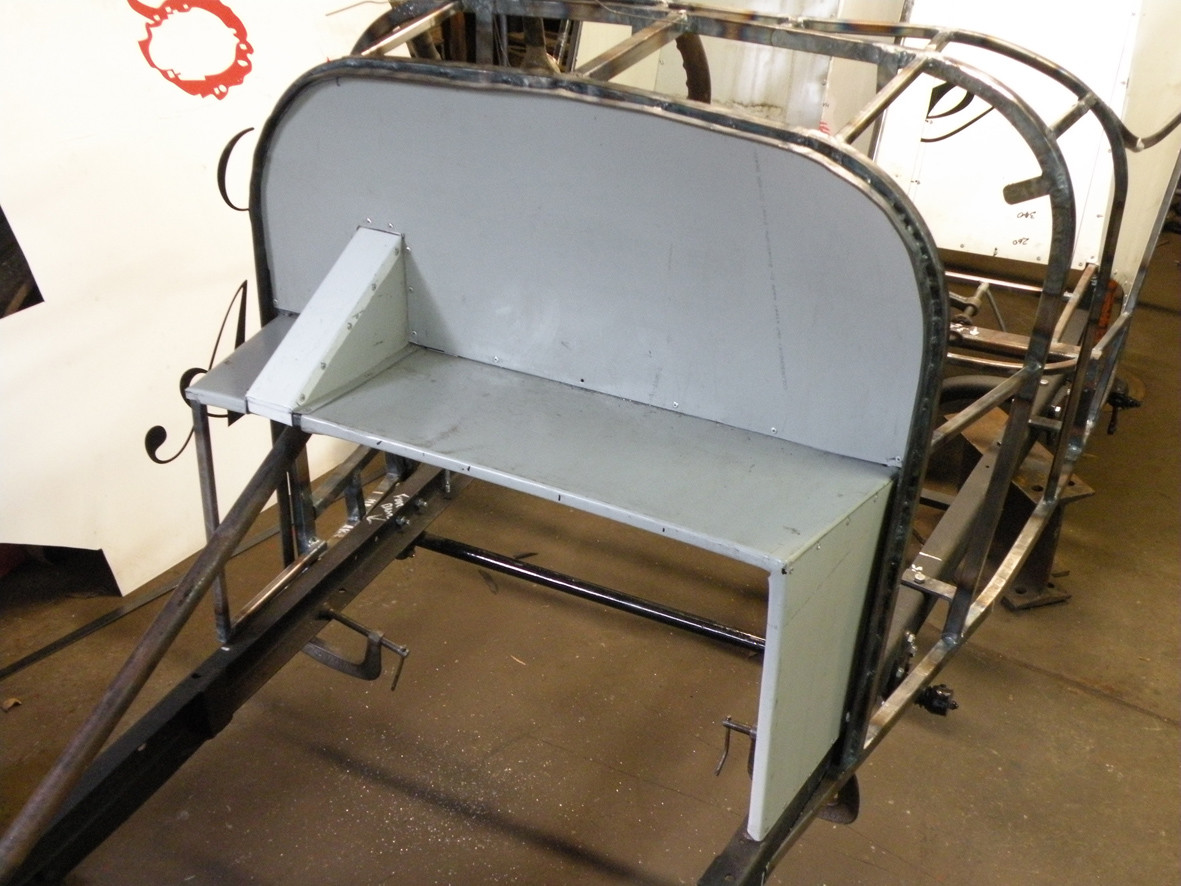 9-15-2013
Hello whtbaron
And all the people who are wondering if I have done a disappearing act, we have been away in the 1934 Lagonda for the weekend visiting Maryborough in the heart of the Central Goldfields of Northern Victoria. Checking the odometer since we have arrived home, we covered some 480 kilometres in two days driving there and back. The speed limit on main (divided) roads in Victoria (Australia) is either 100 or 110 kph. Being a law abiding citizen I usually drive to or near to the limit. I would hate to be accused of holding up the traffic because I am driving a 79 year old car......
Bj.
9-16-2013
Monday and more boring stuff, welding and adjusting the frame. This included extending the drivers seat extension another 2 two inches. This is hinged to allow access to the main floor when it finally comes up on the "to-do" list. I did a thumb nail drawing for the petrol tank and sent it off for a quotation to make it in aluminium.
Bj.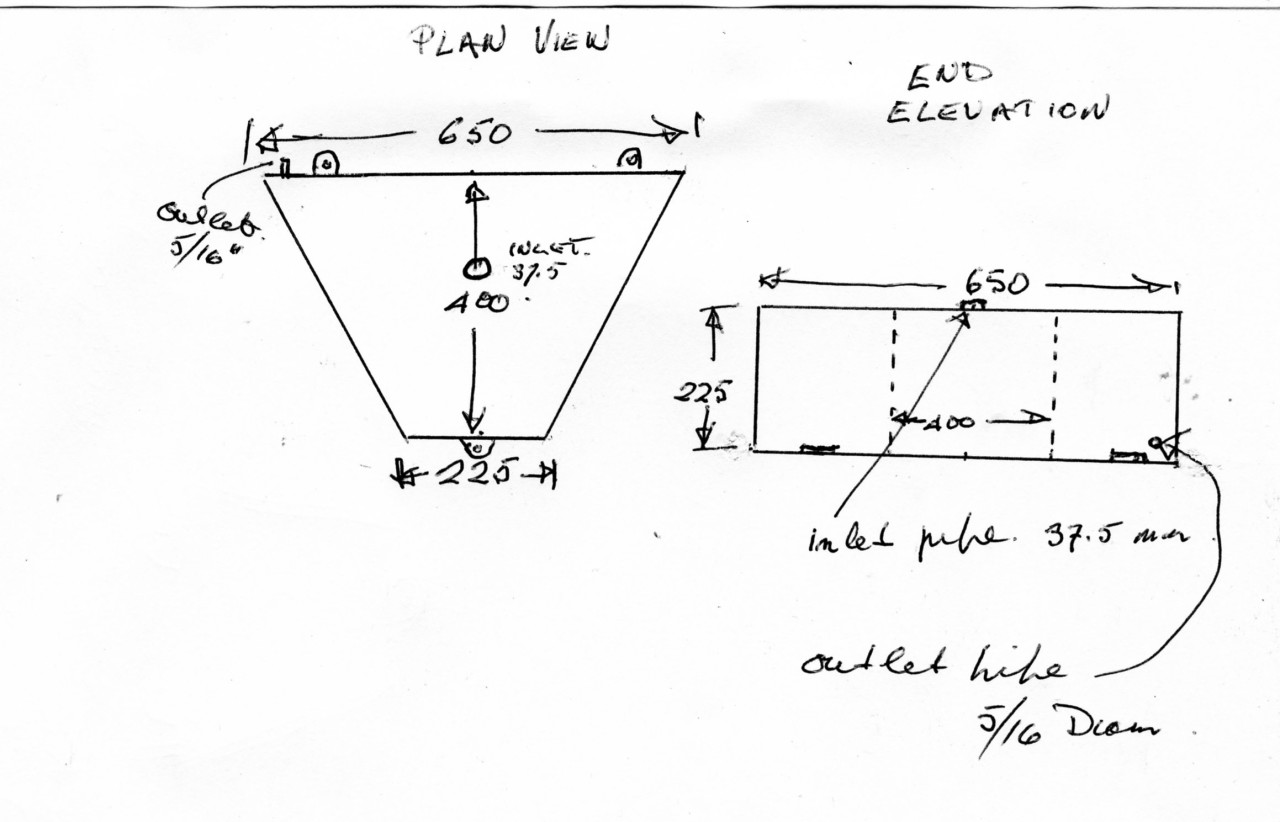 9-18-2013
Another day and another tiny step forward. Today I have ordered three 1200 X 2400mm sheets of 1.6mm aluminium sheet and paid a deposit on the fuel tank.
Bj.
9-19-2013
Time flies when you are having fun!
First thing this morning the truck arrived with my three sheets of aluminium and four lengths of cresent mould. So on the basis of that there is no time like the present the first side has been roughed out and is ready to start "knocking into shape!" Don't be put off by the lovely marine blue that is simply the protective coating that the mill applies to the sheet to protect the finish. The frame has been removed from the chassis and is lying on its side.
Bj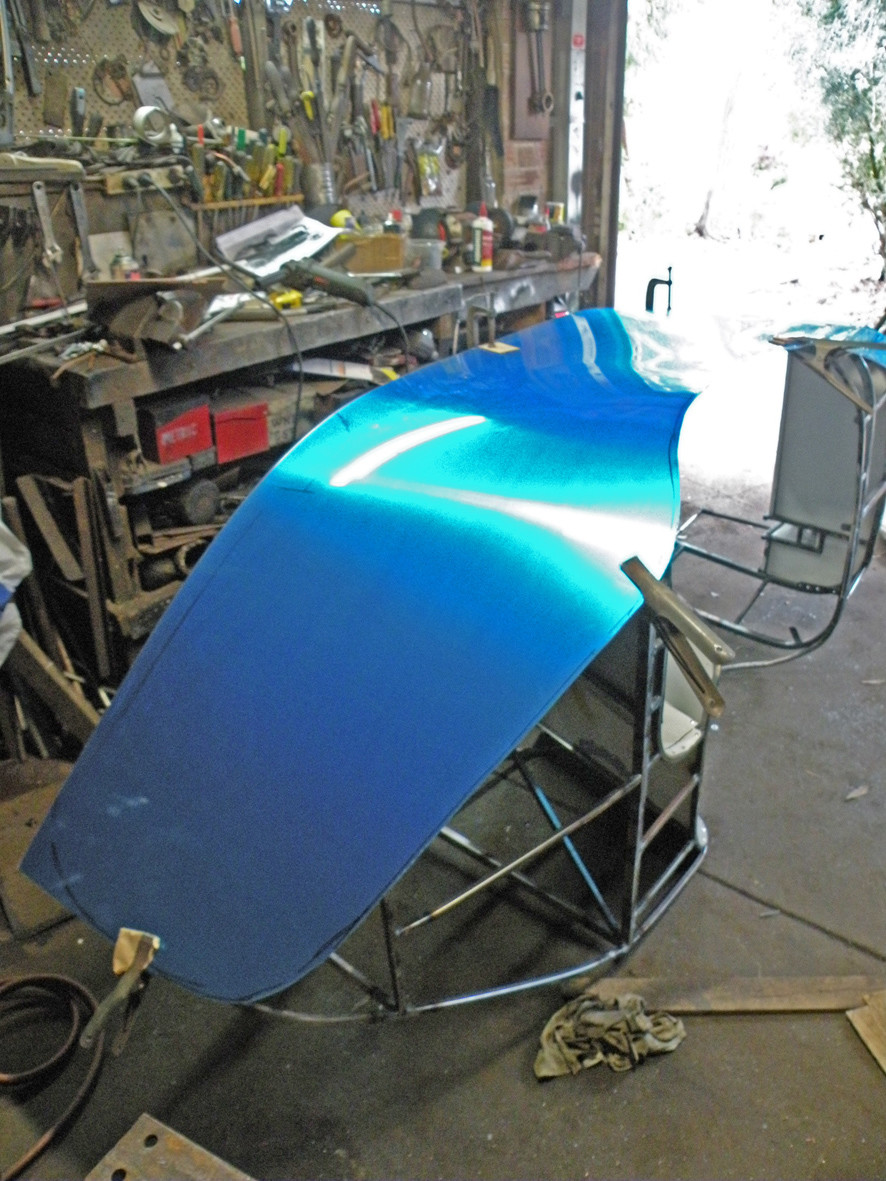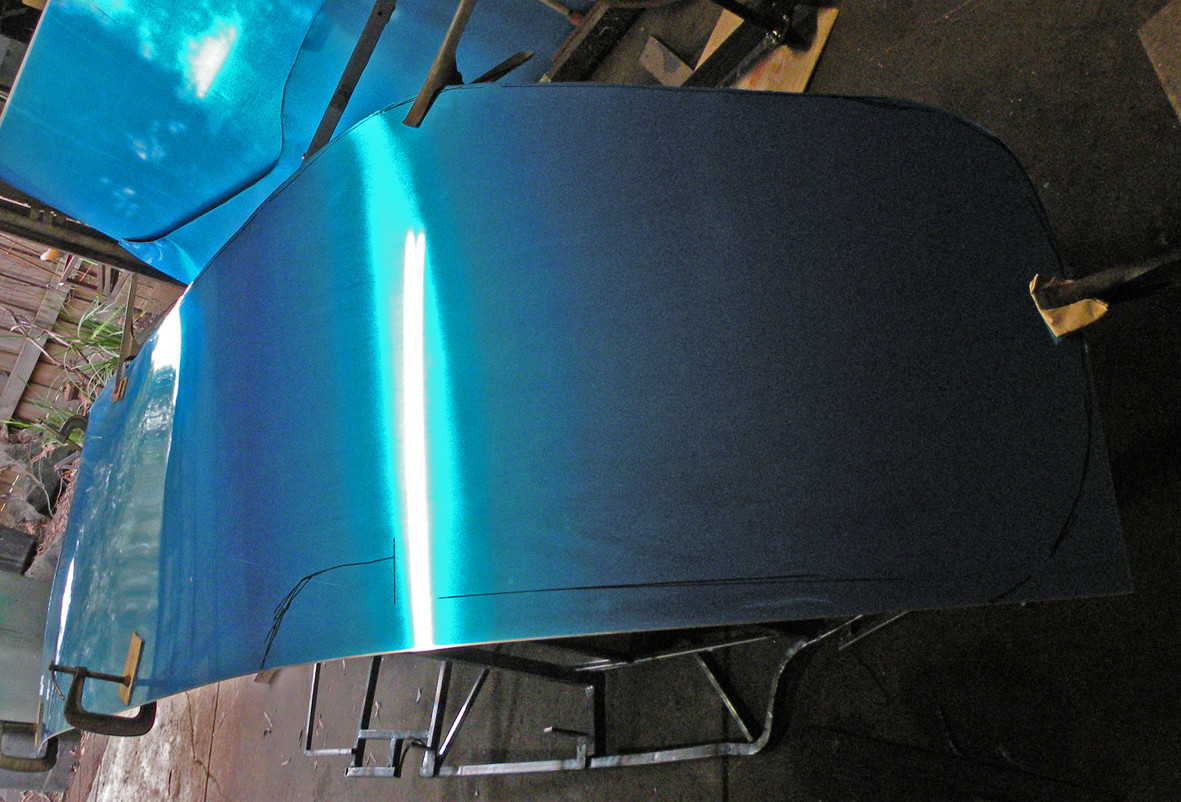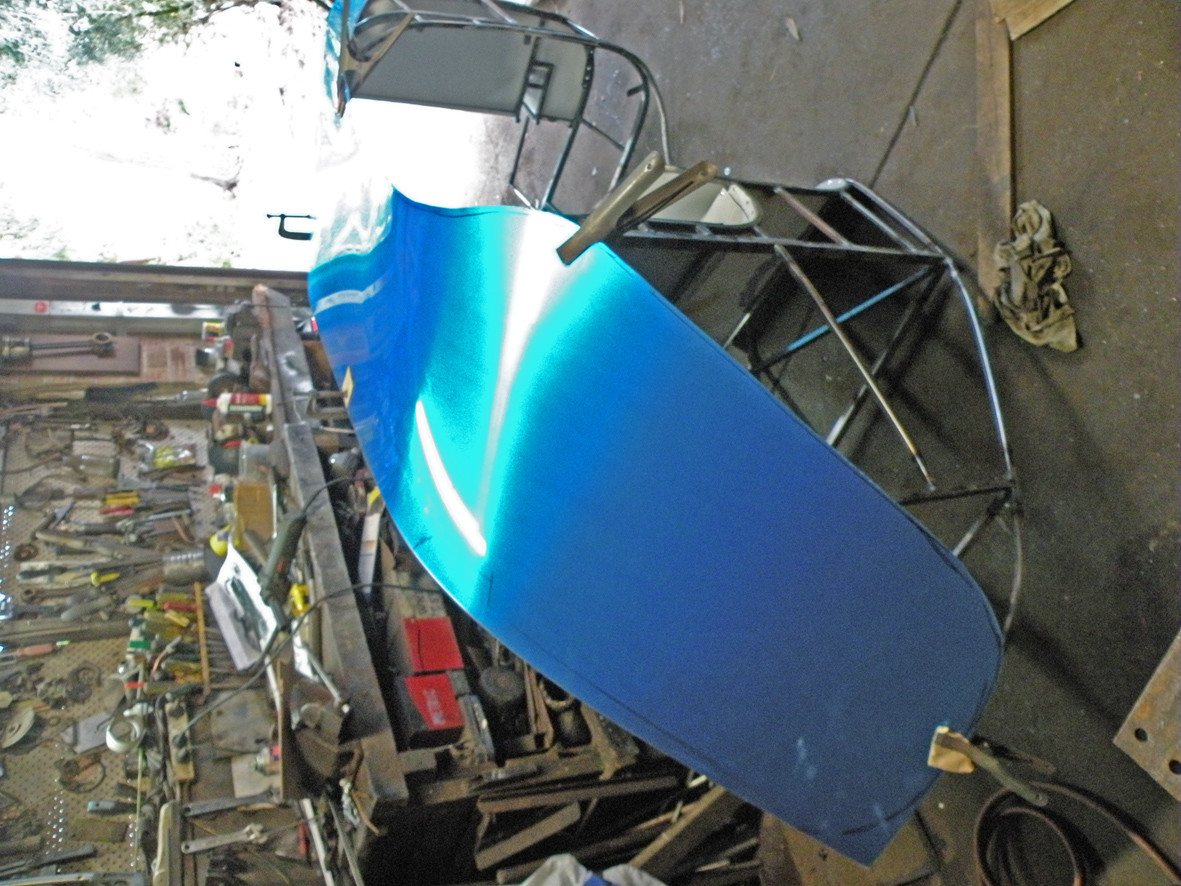 9-23-2013
No work on the Singer this weekend. We had the Vintage Sports Car Club "Two Day Rally" a competitive road navigation event over about 350 miles of secondary, mainly hill district, roads. Our trusty 1934 Lagonda Rapier performed well for the whole event effortlessly keeping up with the traffic on the freeway on our return home. (60-70mph)
Bj.
9-24-2013
Back to work and I have just discovered that my computer controlled lazer cutter is out of action! As a result I have had to resort to taking my antique "tin-smith's" snips out of the glass fronted display case and go back at least 150 years in time, to cut out the driver's side panel. Fortunately my long term memory is still functioning and I could recall how they functioned using nothing but hand power. First task was to cut out a brown paper pattern using nothing more complicated than a sheet of brown paper, a marking pen and a pair of hand operated scissors. For those unfamiliar with hand tools, the snips are shown in both photographs with two hand operated files and a two "G" clamps acting as temporary paper weights. The purpose of these is to hold the paper in place as there was quite a draft coming from my (open-)air-conditioner. In actual fact, as my entire staff of expert assistants were all absent, and in order to have sufficient room to manoeuvre the 2400mm X 1200mm (8' X 4') sheet of 1.6mm aluminium single handed, this had to be done outside. "G" clamps are again old fashioned implements using a thumb screw to tighten the clamping pad in order to hold secure the work in hand thus leaving both right and left hands free. These too along with the two "bastard" (correct terminology) hand files, have been temporarily removed from the normally locked, alarmed and hermetically sealed, display case holding my collection of antique hand tools.
Bj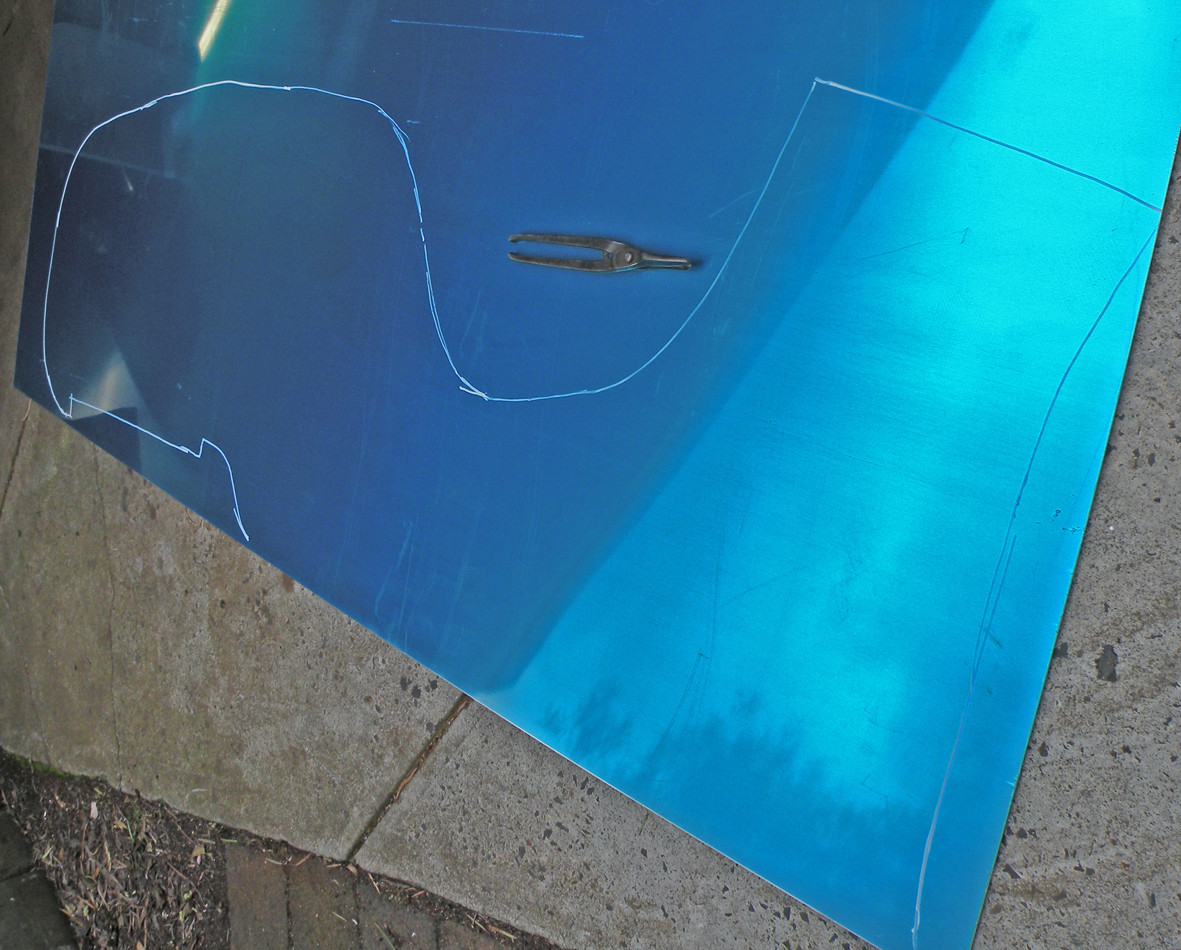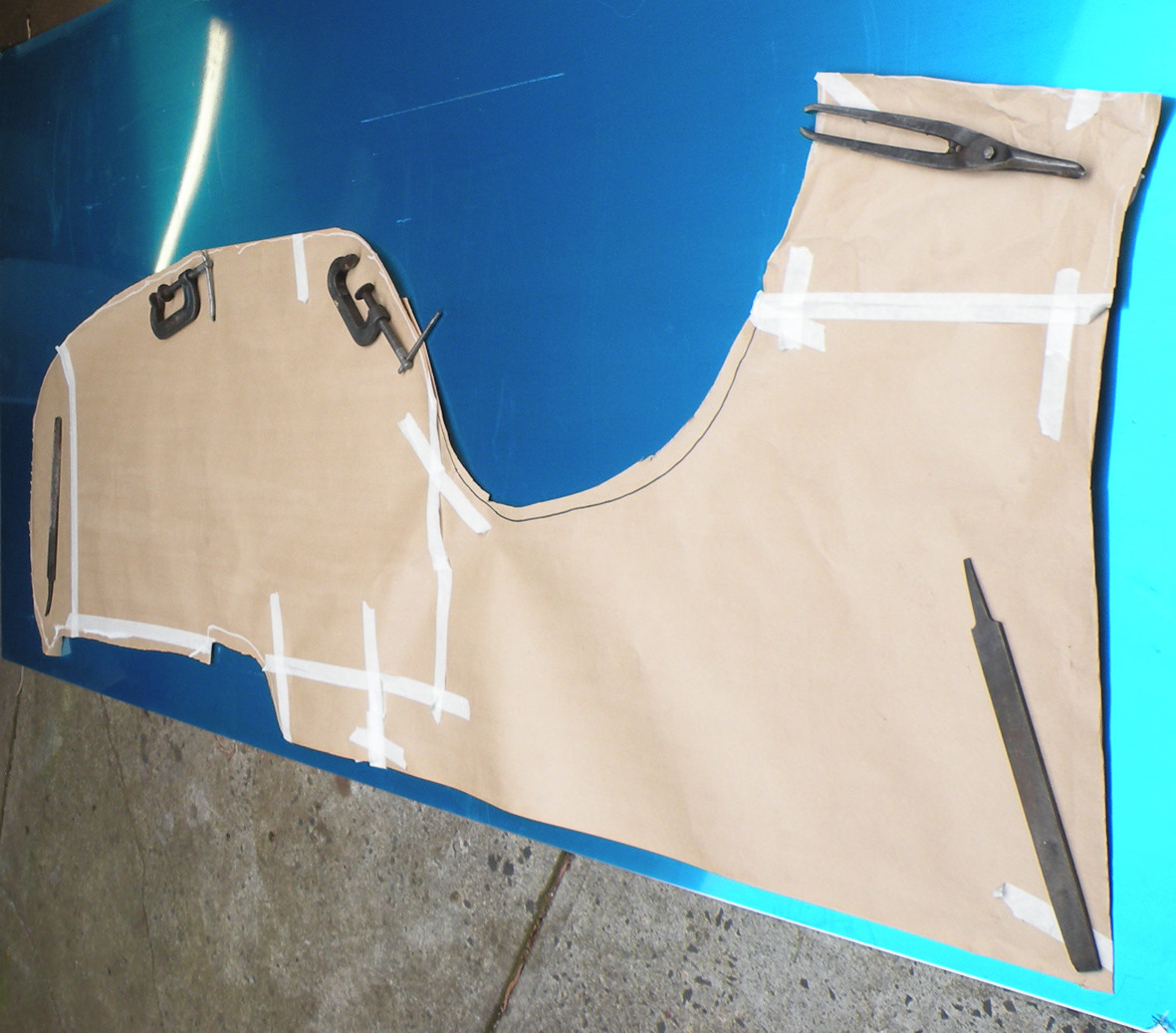 9-25-2013
Thank you Stude17 and Col
In a way you are both right. I get a lot of pleasure of working on my various projects, this despite working under conditions that most people would consider "impossible". It seems as though there are a great number of very "precious" people out there and no doubt some of them either do not understand my particular sense of humour or are themselves totally devoid of any sense of fun. I am always amused by the people who put great store in having the very latest equipment and what to me are palatial work shops but seem incapable of putting a spanner on a nut. One only has to look at the number of unfinished projects and ones that were started ten, fifteen or even twenty years ago and have not progressed passed the stage of buying all the specialist tools and air-conditioning the workshop.
Probably totally unknown outside Australia, we have a national sport called "Taking the Mickey!"
Bj.
Further to the above I completely fail to understand the mentality of people who have a fabulous vintage or classic car but get more enjoyment driving a huge truck towing a vast trailer than actually driving their treasured car. A properly restored car should be totally reliable, safe and pleasurable to drive under all conditions, there is nothing that I enjoy more than driving my cars in company of like minded people. Right now we are busy planing our next three month visit to Europe during the 2014 Northern Spring where we will be using the 1934 Lagonda as a daily driver. That is right, 1,000s of miles from home in a foreign country for three months, driving in a 79 year old two seater sports car, that I restored and maintain myself, every day. Wonderful!
Bj.
Alpine Passes Conquered.
in the French, Italian and Swiss Alps & the Pyrenees
During visits to Europe with the 1934 Lagonda Rapier CH1998
in 1994,6,9 & 2004& 9.
Col de l'Iseran2,769 metres. (Both directions.) (F)
Passo dello Stelvio2,758 metres.(I)
Col du Galibier2,645 metres. (Both directions) (F)
Passo di Gavia2,621 metres.(I)
Furka Pass2,431 metres.(CH)
Col d'Izoard2,361 metres. (Both directions) (F)
Albula Pass 2,312 metres.(CH)
Julier Pass2,284 metres.(CH)
Susten Pas2,224 metres.(CH)
Penser Joch2,214 metres(I)
Ofen Pass2,149 metres.(CH)
Col de Vars2,111 metres (Both directions) (F)
Jaufen Pass2,094 metres(I)
Col du Mt Cenis2,083 metres (Both directions) (F-I)
Col du Lautaret2,068 metres (Both directions) (F)
Oberalp Pass2,044 metres(CH)
Cormet de Roseland1.922 metres (Both directions) (F)
Mount Ventoux1,909 metres(F)
Passo Tonale1,883 metres(I)
l'Alpe d'Huez1,860 metres (Both directions) (F)
Col de Montgenevre1,850 metres (Both directions) (F-I)
Col du Somport1,632 metres (Pyrenees) (F-S)
Col du Telegraphe1,578 metres (Both directions) (F)
Lenzerhide1,547 metres (CH)
Monte Bondone1,537 metres (I)
Col de la Forclaz1,526 metres (CH)
Gampen Joch1,518 metres (I)
Col des Aravis1,486 metres(F)
Col des Montets1,461 metres (F)
CH) Switzerland. (F) France. (I) Italy. (S) Spain.
Other countries visited include Belgium, Germany, Holland & Luxemburg
In the UK, High Street in the Lakes District, 815 metres,
the Devils Staircase, Mid Wales, 481metres.
In Australia, Charlotte Pass, in the Kosciuszko National Park, 1.760 metres
Dead Horse Gap, near Threadbo Village, 1,580 metres.
9-26-2013
Roger Z will probably tell me that I have shown you this one before but I think that it is worth showing again. Don't look at the car or the happy lady but look at the scenery. To coin a phrase, the peak of motoring experience. The summit of the Stelvio Pass,in the Italian Tyrol, 2758 metres. A long, long way from South Eastern Australia. No back up car, no four wheel drive with enclosed trailer, no little men in white overalls and baseball caps......
Bj.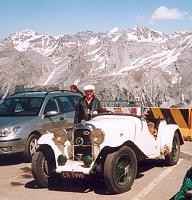 Hi Ben
Not really bragging, just trying to explain where I am coming from. I get the impression that the average person living in the USA and reading this has no real idea what drives me.
The thought of carting my 1934 Lagonda around in a trailer is a complete no brainer as far as I am concerned as is the idea of sitting around in a folding chair in the centre of a show field. A sure way to kill off the few grey cells I have left in my brain.
To me basket cases are for restoring and restored cars are for driving. I fully restored the Lagonda from the ground up when I first bought it in 1978. Since then it has had a couple of engine freshen ups and the paint was touched up in 1996. Last year I did some work on the gearbox. In 2004 I replaced the differential pinion bearings while on a Rally in Harrogate, England, in a leaking cattle shed. The car was off the road for slightly less than 24 hours, using the tools that I carry in the car. After all I was on the other side of the world, ????? miles from home.
I have said it before and no doubt I will say it again. God put wheels on cars so that we could drive them.
In just over six weeks time I turn 77. I had spinal surgery 12 years ago and major surgery for prostate, bladder & kidney cancer 11 years ago. I am not going to live forever so I might as well enjoy the years I have left.
The one thing that both my wife Helen and I really enjoy is driving in the Lagonda. The more challenging the drive the better. Funny thing is that the Lagonda loves being driven.
To get more enjoyment driving a truck towing a 25ft trailer with their car safely tucked up inside away from prying eyes than actually driving the car must say something about the car???
Bj.
9-29-2013
Hi All
Not a great deal to report on the Singer, just more of the same work, work, work with not a lot to show for it yet. Just lots of cutting, filing and hammering. So far most of two out of three sheets of aluminium have "disappeared". Probably another week of "more of the same". Amazing how and where the time goes when you are having fun.
Bj.
9-30-2013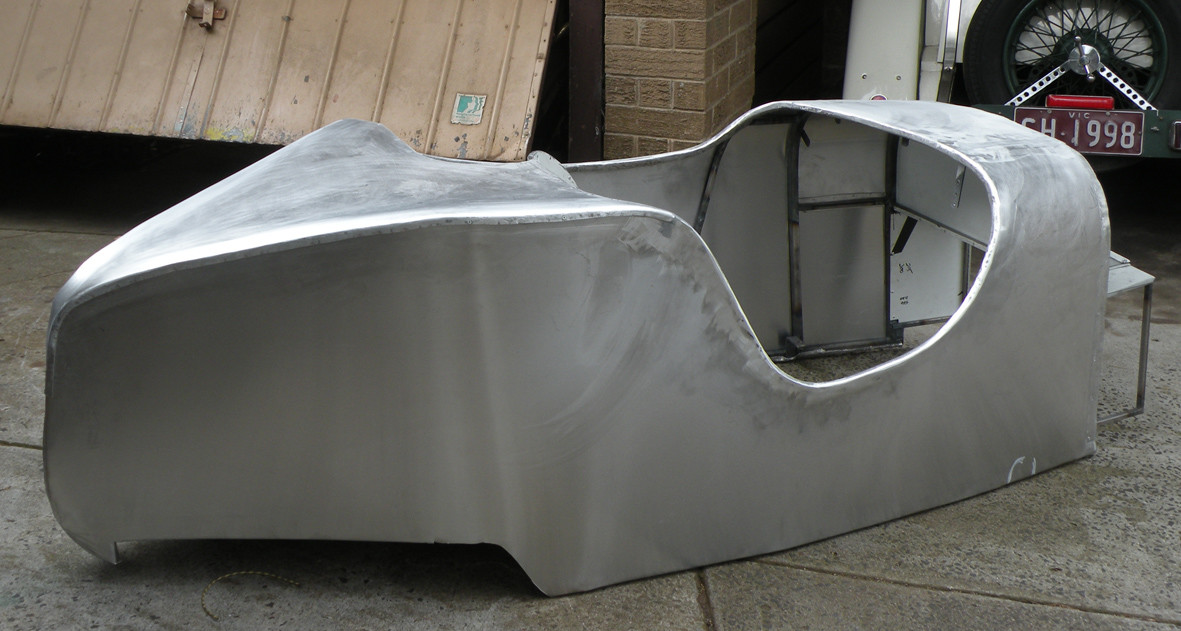 Just so you know that I have not been sitting inside watching TV.
Bj.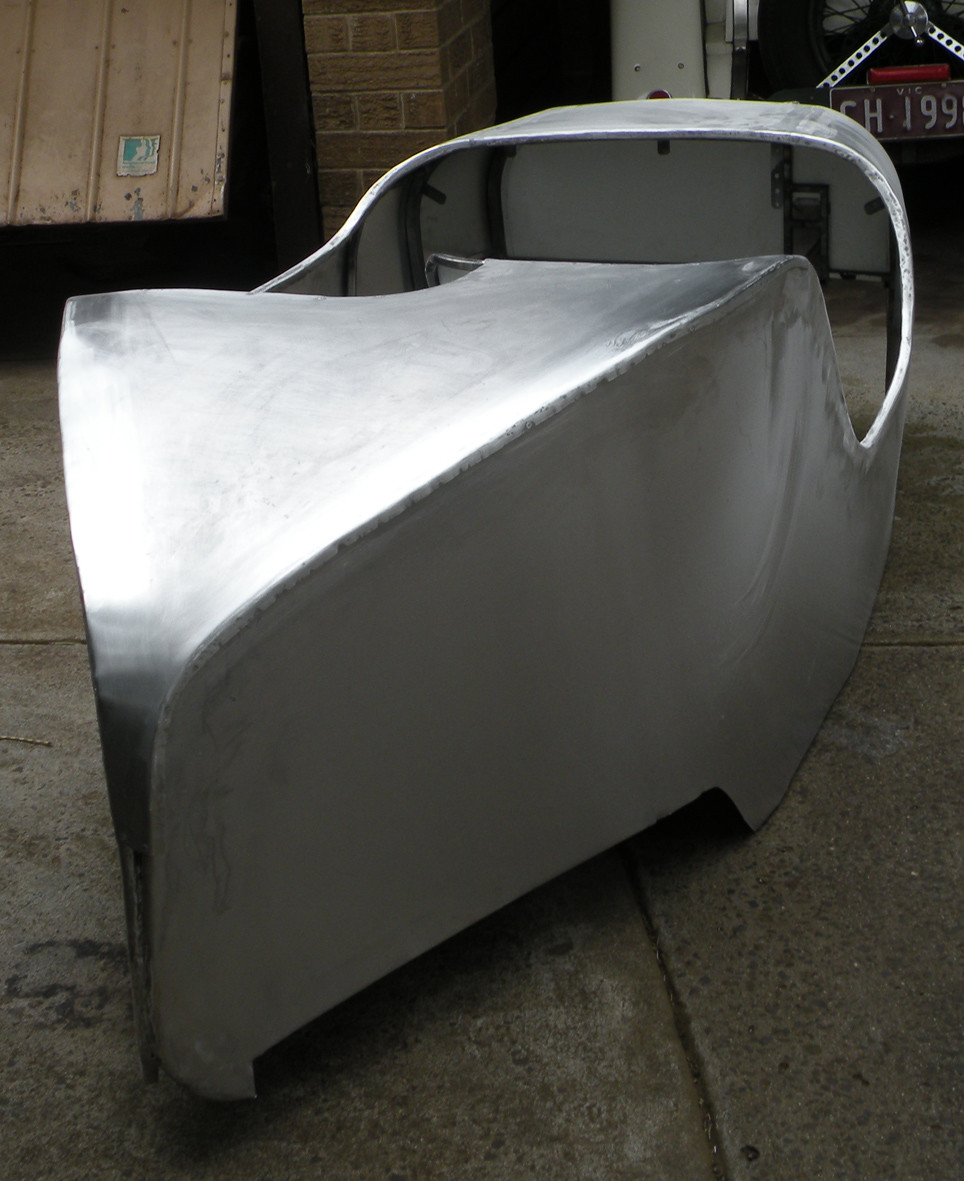 9-30-2013
Hello Roger
Other people can but it is something I have never learnt. I have to design my bodies with a minimum number of joins and by observing what many smaller English coachbuilders did in the 1915 to 1925 period I have learnt to disguise where panels meet. You will have to wait a little longer. This is one reason why this little body has consumed two full sheets of aluminium and why I have three lengths of cresent mould waiting to be used. Go back to the photograph of the 1922 Aston Martin on Page 1 #1 and see how they solved the problem. I used the same technique on the 1926 Singer you see there.
Bj.
To anyone wondering about my reply above. A full sheet of aluminium is 8'0" long and this body is only 7'9' long so a complete side comes out of the one sheet. This is only possible provided that there are no compound curves. The top of the tail and the top of the cowl come out of the third sheet along with the bonnet (hood) top and sides out of the off-cuts. You just have to plan the whole thing before you start cutting. I use four different pair of snips. My antique (bought when I was just 17 or 18) pair of long Gilbrows for long straight(ish) cuts and a right hand and left hand pair of "Aviation" snips for rounded corners etc and a small pair of Gilbrows for tight corners. I also have two other pair of really antique, curved snips, one small the other large but I only rarely use them. For long "roughing out" cuts I use a cutting disk in my angle grinder. I use three hammers and two or three "dollies including an antique flat iron. plus a variety of clamps and vice grip pliers. Nothing under 25 years old so by AACA standards all my tools are "Antique". In addition to the angle grinder I have two electric drills and two orbital sanders, everything else is "hand powered". I also use my brains which are almost 77 years old and are so definitely "Antique". I take Monday mornings to play "Petanque" and Friday mornings to go shopping with Helen, (I am allowed to push the supermarket trolley) and some weekends for VSCC events. I do all my own repairs and servicing on the 1934 Lagonda Rapier. After some 8 to 9 hour days in the shed I feel about 200 years old.
I could limit myself to just an hour or so perhaps one or possibly two days per week and sometimes do nothing for weeks on end but then nothing would ever be accomplished or finished. Sound familiar?
Bj.
10-2-2013
This morning I took the Lagonda Rapier over to Tony's to have the seats reupholstered. After more than 35 years of constant use the seats were becoming shabby. I have decided that it no good half doing the job, so while there I removed all the interior trim and most of the carpet. This afternoon I managed to fit the cresent mould around one side of the tail and across the cowl. This needs to be annealed where it goes around tight bends (on the flat). The way it is progressing it will be ready to go out to Daves for pre-paint preping any time now. While at Tony's he gave me sample cuttings of two hides that he has in stock either of which while not sufficient for a larger car should be more than enough for the Singer seats. Both are slightly off beat colours which will make the choice of a paint colour "interesting". Perhaps a reverse of the Packard with Biscuit coloured body and chocolate brown wheels. Antique brown hide for the seats etc.
Bj.
10-3-2013
Sorry! No work on La Petite Chantreuse today. Having stripped out all the interior trim panels in the Lagonda I decided that the only way to do a "proper" job was to replace all the old backing boards, so have spent the day with my jig saw (Another power-tool that I had forgotten about), cutting out new trim panels. I can taken them to Tony's tomorrow morning, check them for fit and make any adjustments that he thinks may be necessary.
Bj.
10-5-2013
Back on the Singer today. Finished fitting the cresent moulding around the tail. and had a tidy up which lasted all of an hour. I have discovered that there is sufficient hide left over from the Packard to do the Singer seats. This will dictate to some extent the colours that I can use. For a variety of reasons, including superstition, I will not be painting it Chocolate Brown. What ever It will be a dark shade, there is still a lot of water to flow under the bridge before I have to make any decisions.
Bj.
10-7-2013
There is always something else to do. Currently it is Spring here in the antipodes and the grass is growing at 100mph. Naturally the mowers, I have the choice of an antique Briggs & Stratton four stroke and an even older two stroke of doubtful parentage, are both in dire need of attention after "wintering" under a sheet of plastic in a "sheltered" corner of the garden. Oh well, it makes a change.....
The B & S has SAE size bolts while the "other" has Metric so I have both tool boxes out.
Bj.
Sorry no photographs.
10-9-2013
This morning I went and collected my new aluminium petrol tank custom made to fit into the Singer's tail. while it looks quite small it actually holds almost 59 litres which should be more than sufficient for any journeys that the Singer is likely to make.
Bj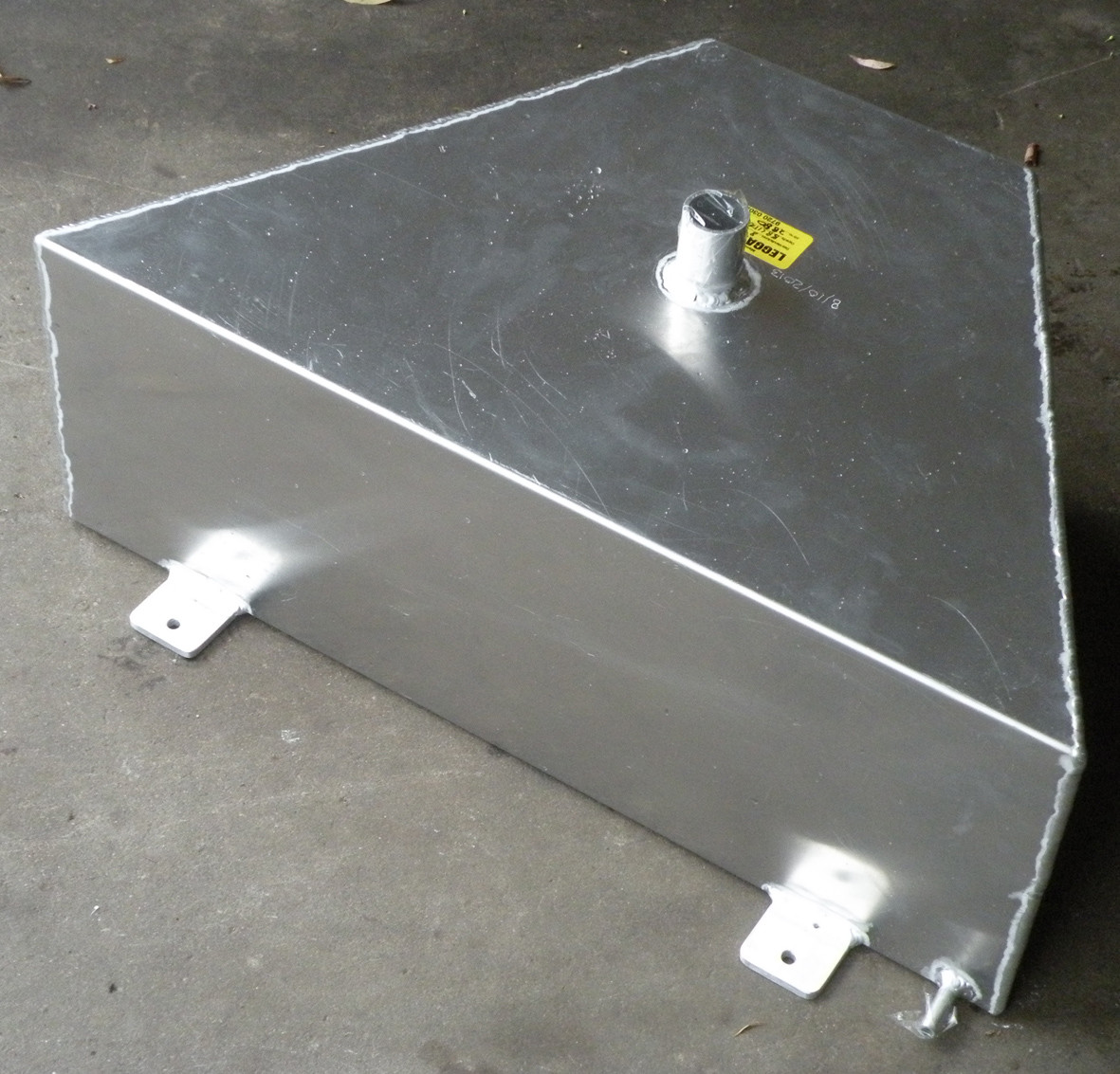 10-11-2013
Thank you Dan
I was introduced to the firm some years ago for the fuel tank in a Dodge Four speedster and at that time I was extremely pleased with the quality of their work. There are not all that many people who are prepared to do small one off jobs and to do them promptly, have pride in their work and yet do not charge over inflated prices. In some ways it seems a pity that it will be tucked away out of sight in the tail of the car.
Work on the Singer may have to slow somewhat over the coming months as I have to concentrate on preparing the 1934 Lagonda Rapier for our next (5 yearly, 3 months duration) visit to the UK and France. The car has to be ready to be shipped at the end of April.
Bj.
10-12-2013
Completely on another tack I am looking for a Michelin 4.50 - 5.00 X 17 Comfort S tire as a spare for the Lagonda.
I have also placed a post on Buy & Sell. These tires are something quite different, while they are NOT a radial they are designed to run at a low pressure (20 psi) and you should not mix conventional cross ply tires with them on the same axle. I have four on the Lagonda but desperately need a fifth for a spare. This needs to have legal or near legal tread.
10-13-2013
Not much to look at but still a productive Sunday morning's work.
Bj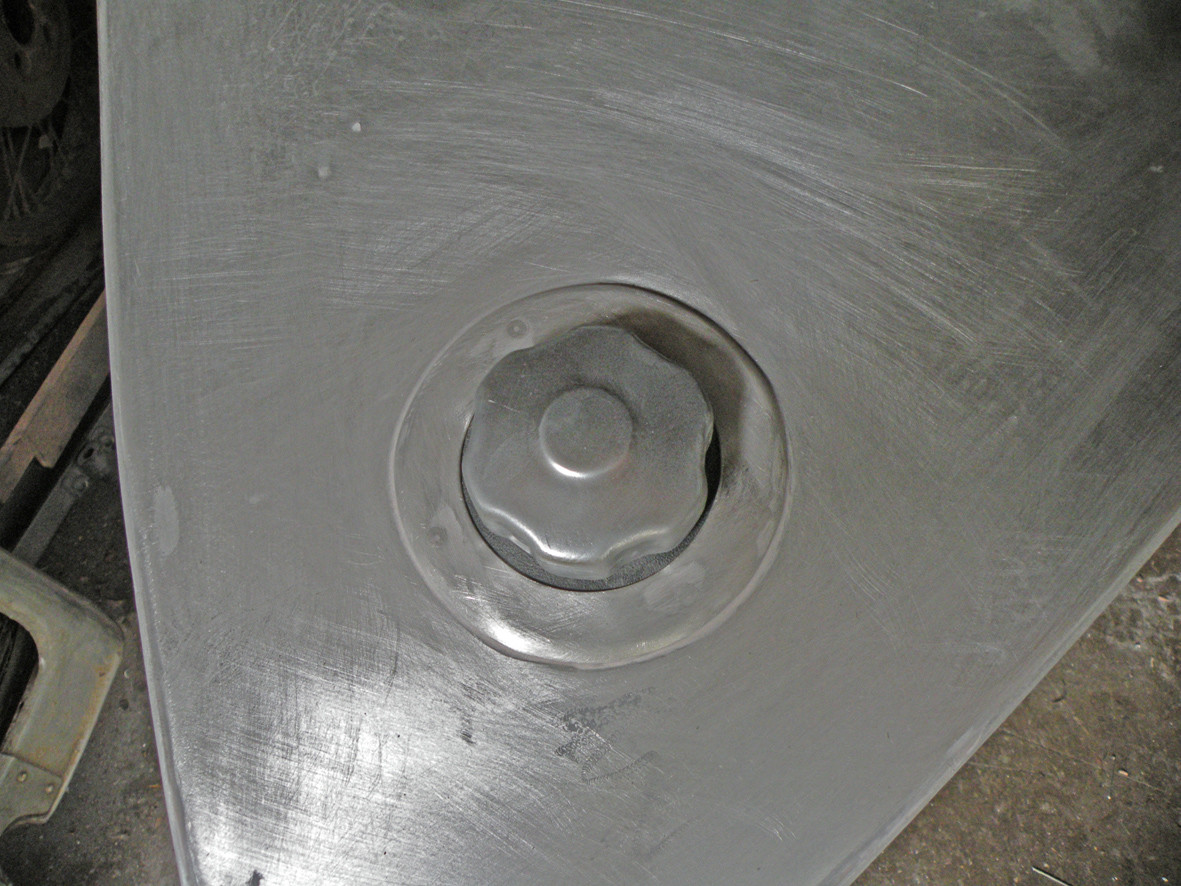 10-31-2013
Sorry but i have been devoting some time to other things.
The Singer is on the back burner for the time being. The Lagonda was restored in 1978 but it still scrubs up quite well for a car that is constantly in use.
Bj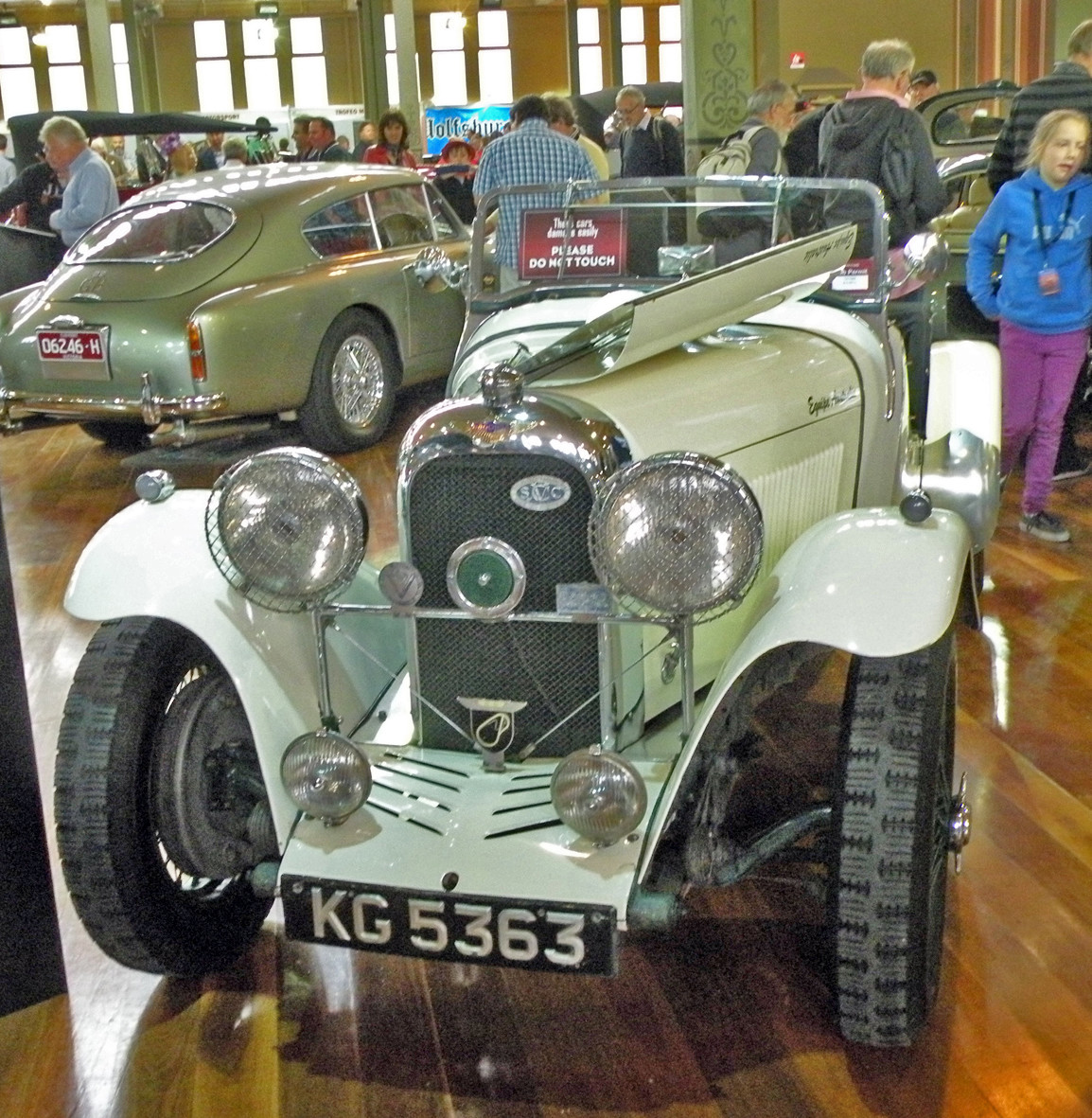 11-3-2013
Thank You David
You are quite correct. I am currently having a big re-think about a number of things. Right now my first priority is to prepare the Lagonda for our visit to the UK and France early next year. It will be the cars 7th (5 yearly) trip to Europe and could well be my last. Once again we will be asking it to perform like a two year old despite its 80 summers. It will be our only transport and expected to do everything we ask of it on a daily basis for 3 months albeit a long long way from home. If you dig deep enough you will find my other advert on the Pre-war Car web site under Wanted where I am looking for a fifth Michelin 450-500 X 17 Super Comfort tire. The same as those seen in the photograph above
Bj.
It is seen here at last weekends RACV Motorclassica International Concours at Melbourne's historic Royal Exhibition Building. It was being shown in lieu of the 1923 Packard which had been sold a month or two earlier.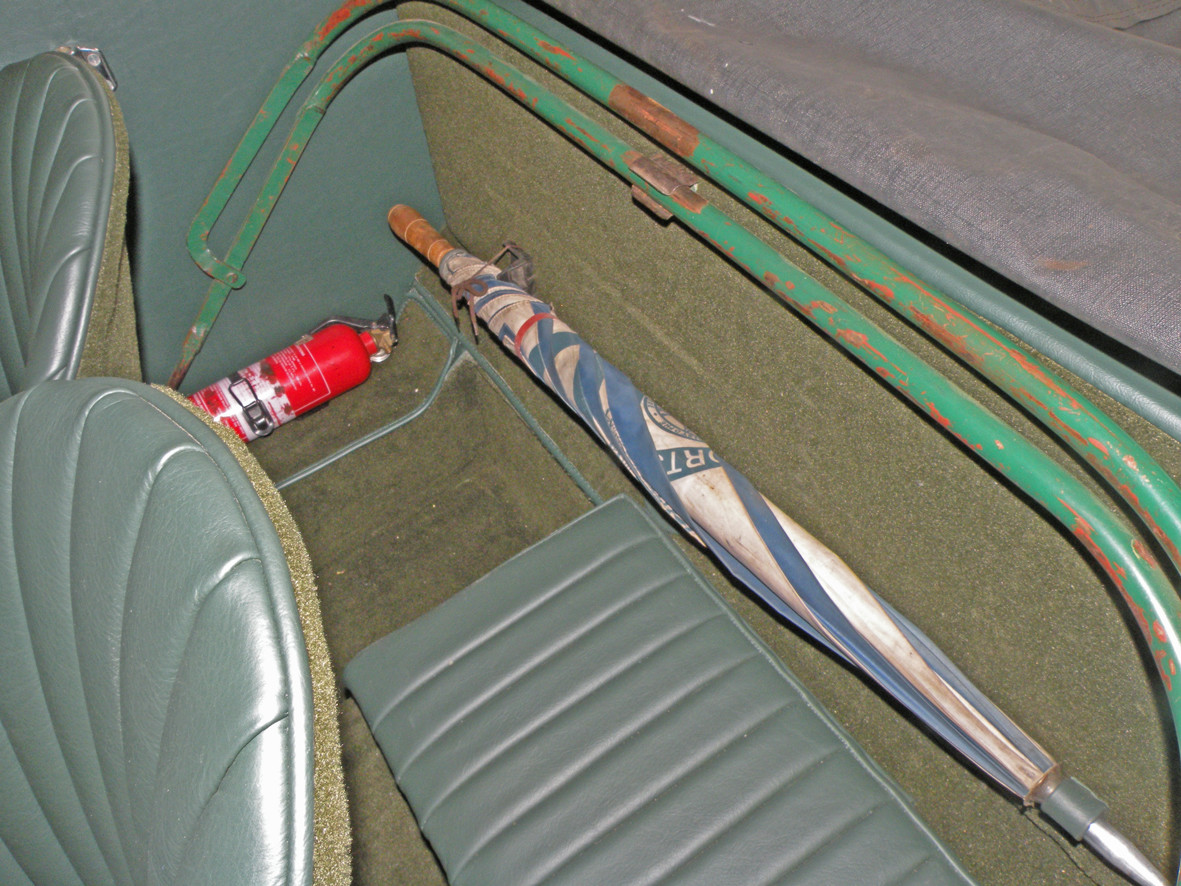 Thank you both David & John.
The Lagonda interior is finished and I think that it now looks even better than it did when the car was first restored in the 1970s. The little pleated "seat" in the rear is actually the lid of the battery box which can accommodate a small child sitting facing forward or an adult sitting sideways but only for very short journeys. I probably need to re-paint the Hood (top) bows and perhaps replace the umbrella but that dates from our first overseas trip with the car in 1984 for the car's 50th Birthday.
As you can see luggage space for three months holiday is strictly limited.
Bj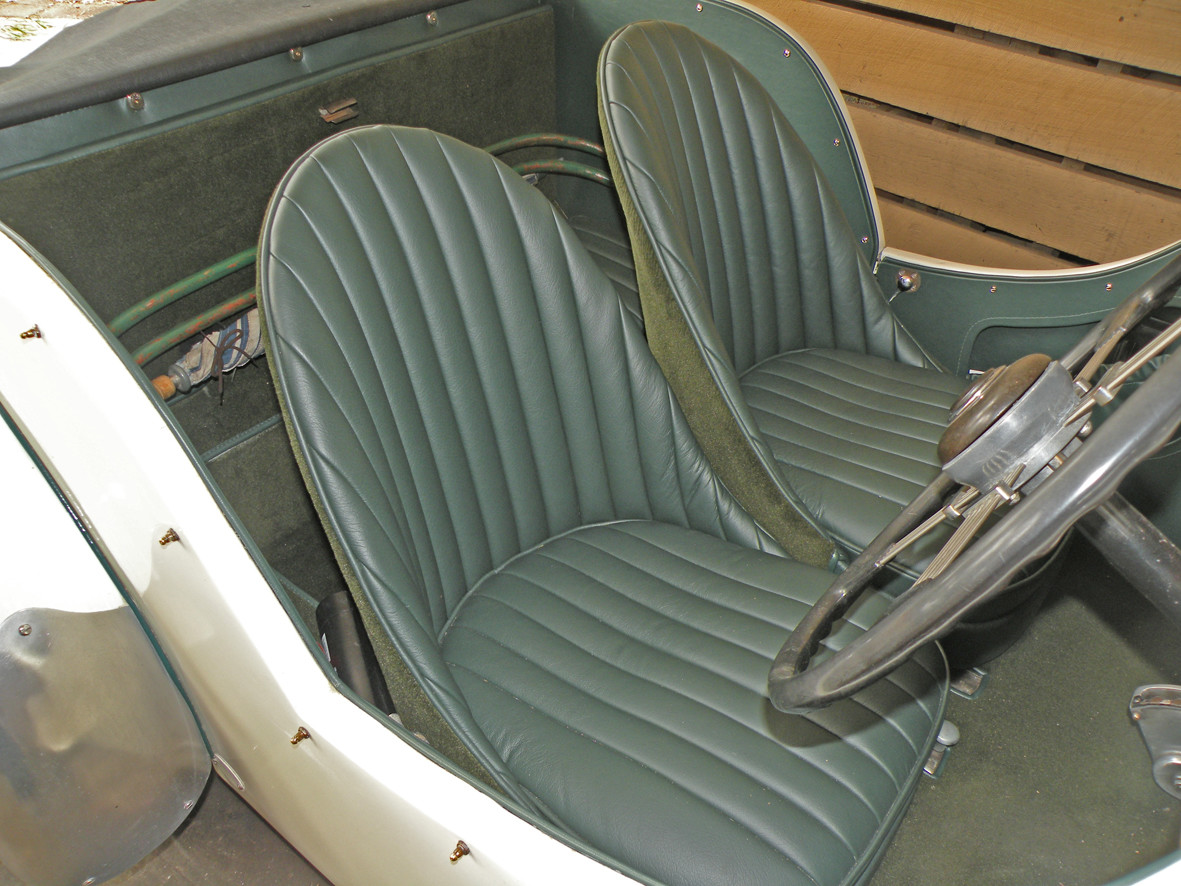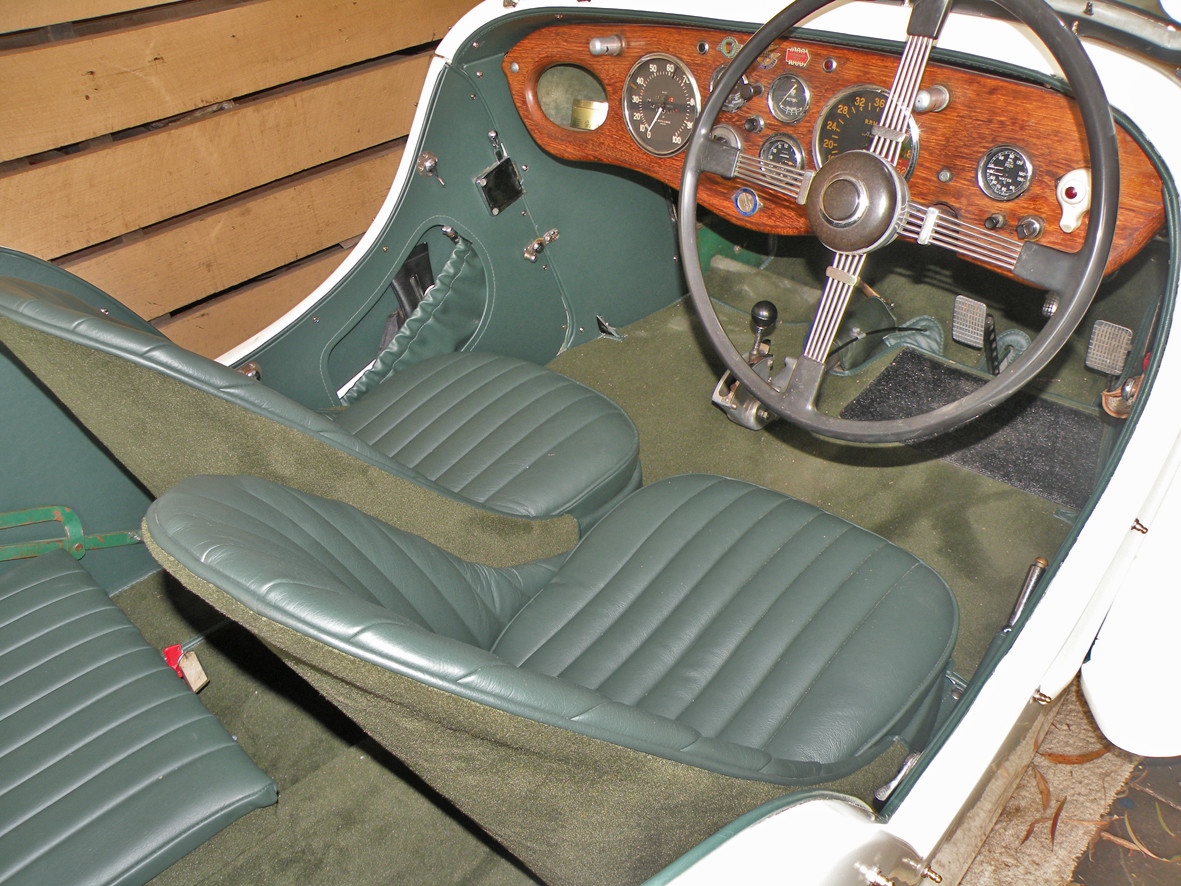 11-4-2013
Hi Pat
Tony at Classic & Sports Auto Interiors at Eltham has done quite a few cars for me over the years. I have yet to find a reason to complain. You may find another old friend on his web site. www.classicandsports.com.au Click on Vintage Cars
Bj.
11-6-2013
With our next European Holiday looming large on the horizon there are a multitude of little jobs to be done on the Lagonda. This one has been hiding in the background ever since I first restored the car in 1978. That is right it is something that I have been putting off for the last 35 years. Obviously nothing critical but one of those things that I have been gunnerdo.
To start this story from the beginning is going to take some time so make yourself comfortable.
Our Lagonda Rapier has had a very chequered life. It started out in 1934 as a fixed head (hardtop) coupe. Then in the late 1940s/early 50s it was rebuilt as a sports/racing car. I bought it in 1978 or there-abouts and set about a major ground up restoration which included fitting a new (replica) sports (Eagle) two-seater body imported from England. Since then the car has been variously used in Club level competition and touring. Over its life the engine too has gone through some serious development. Higher compression, at one time as high as 14 to 1 (it is now 9:1) and an increase of engine capacity from 1100cc to 1232cc and finally 1500cc. It has been fitted with larger SU carburettors originally 1 1/8 inch it now has 1 1/2 inch with the inlet valves progressively enlargened to the point that it is now physically impossible to fit any larger and finally the cams have been reground several times to give higher lift and longer overlap duration. i.e. earlier opening and later closing the valves. All fairly normal stuff. One outcome of all this development is that it requires a rather rich mixture to start from cold. One complication of fitting the larger carbs was that there was no room for the choke mechanism on the rear carb. Rather than risk the possible dangers associated with starting with one rich (choked) carb and one lean. Back-firing or worst burning a hole in a piston. The simple way to overcome this as anyone with an older British motorcycle will tell you is to flood the carbs. To do this with SUs is to depress the float, or in the vernacular, "Tickle" them. Mr SU was very clever in providing a Tickler for this expressed purpose. For one reason or another the Carbs on the Rapier had had their Ticklers removed. Todays task was to replace them. Our local SU parts provider had the necessary Tickler kits in stock and it took less time to fit them than it has taken to write this explanation.Previously this had been done using a short length of wheel spoke that was kept in the glove box. This temporary measure has been in use for almost 35 years.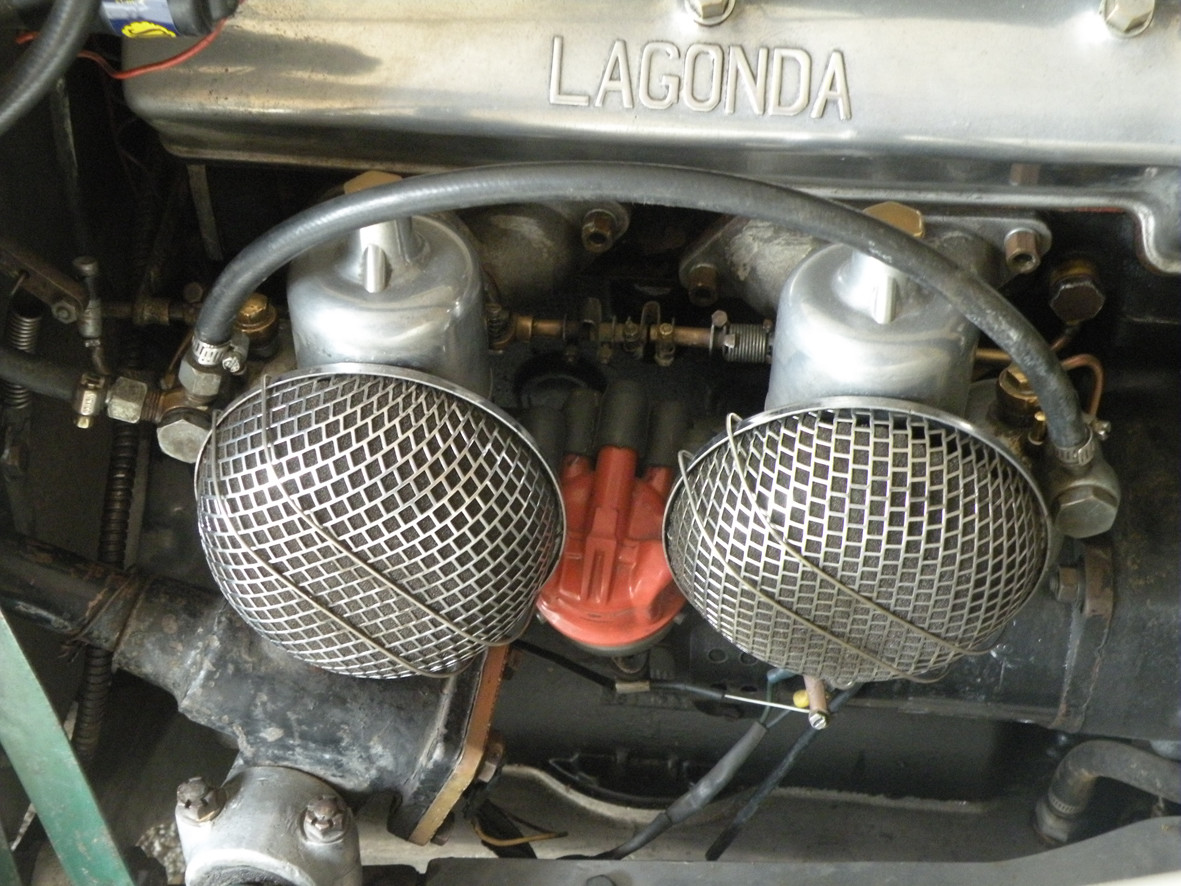 I hope that you are all keeping up.
Bj.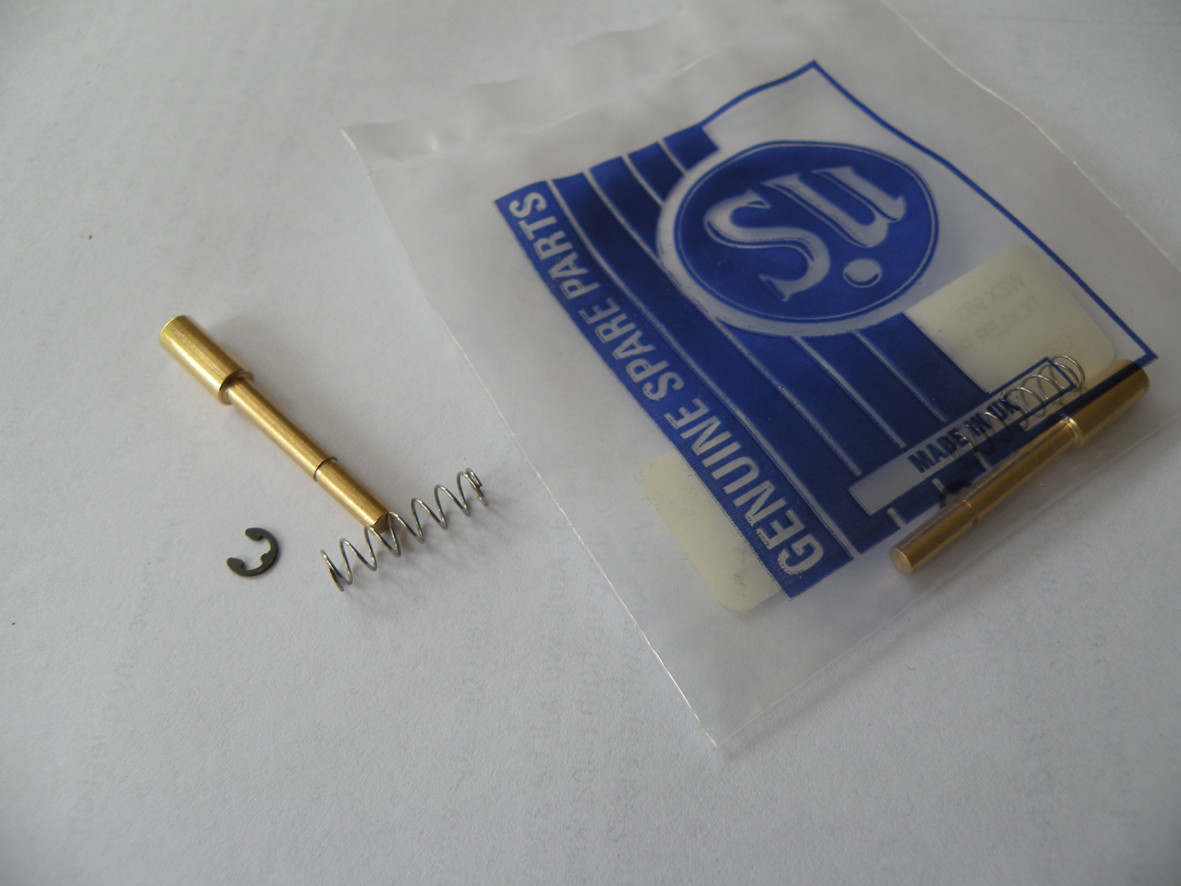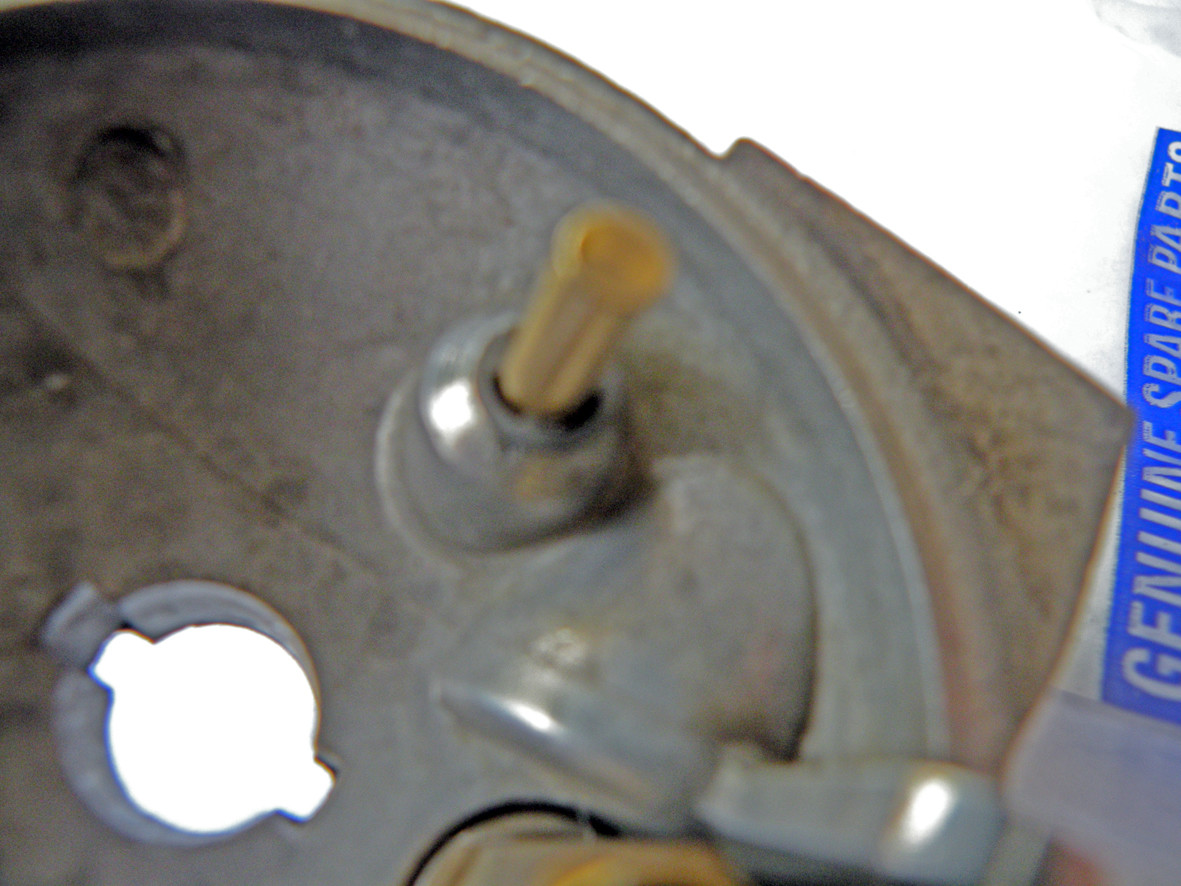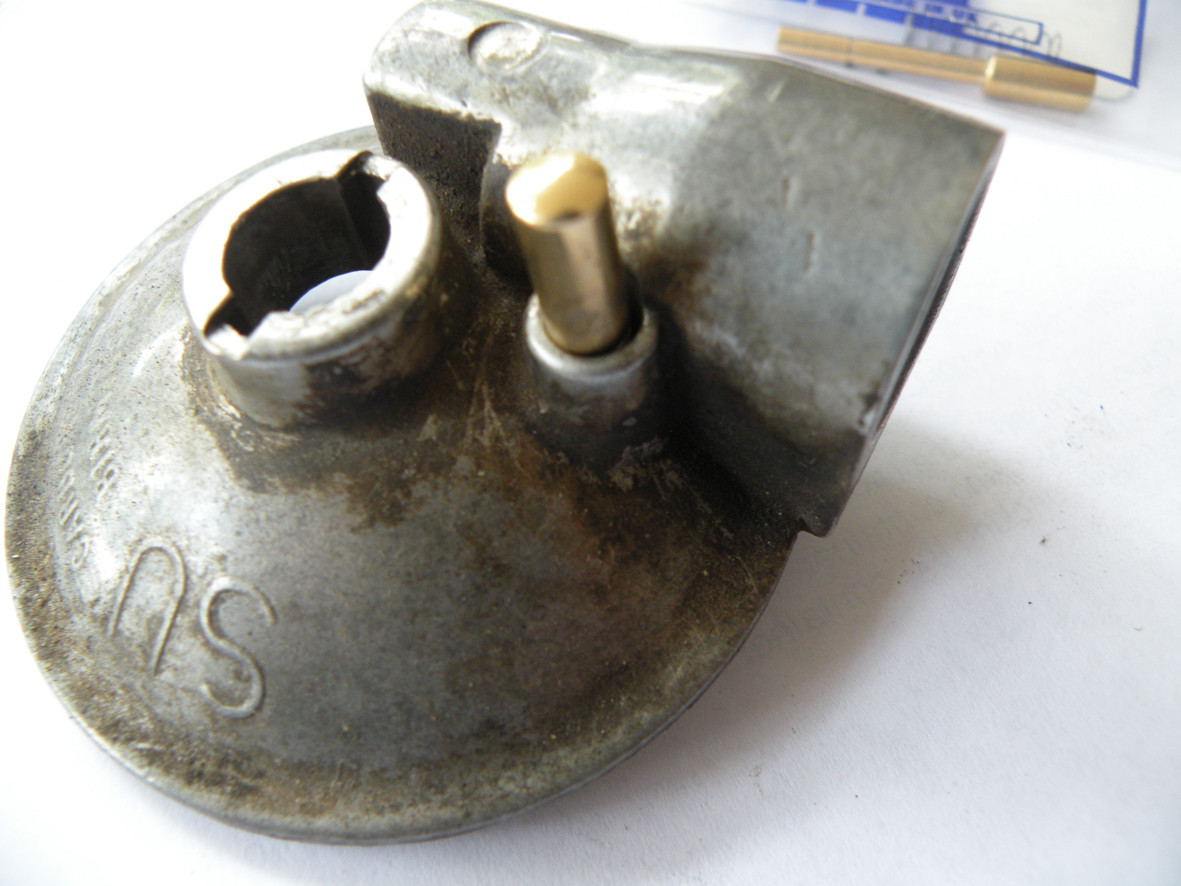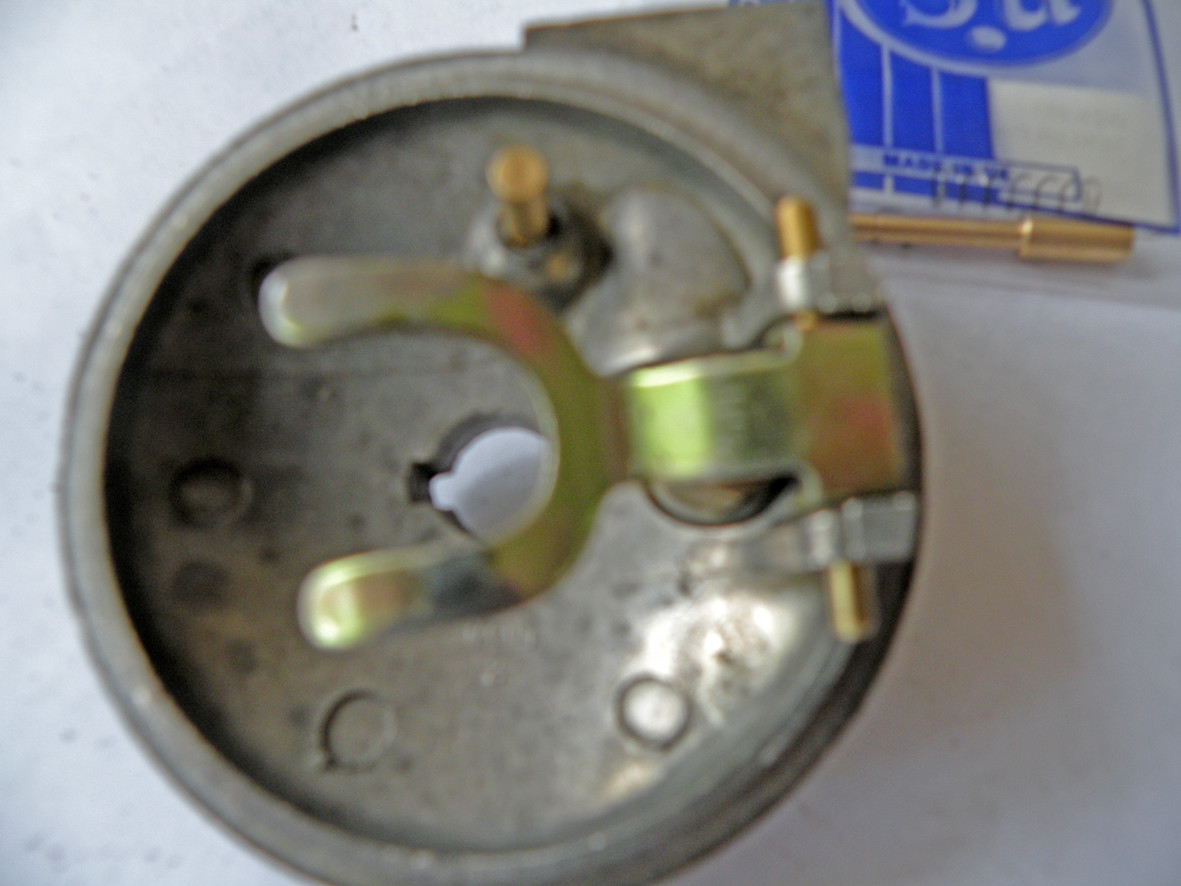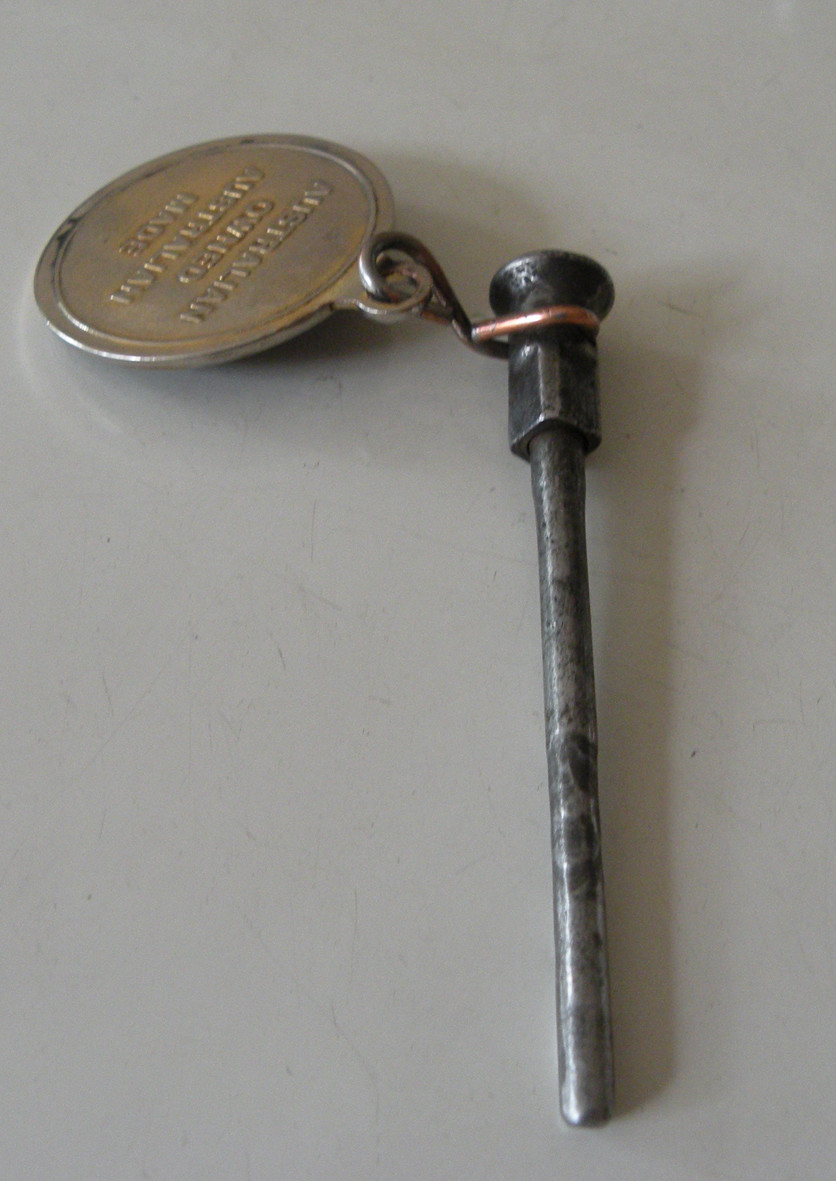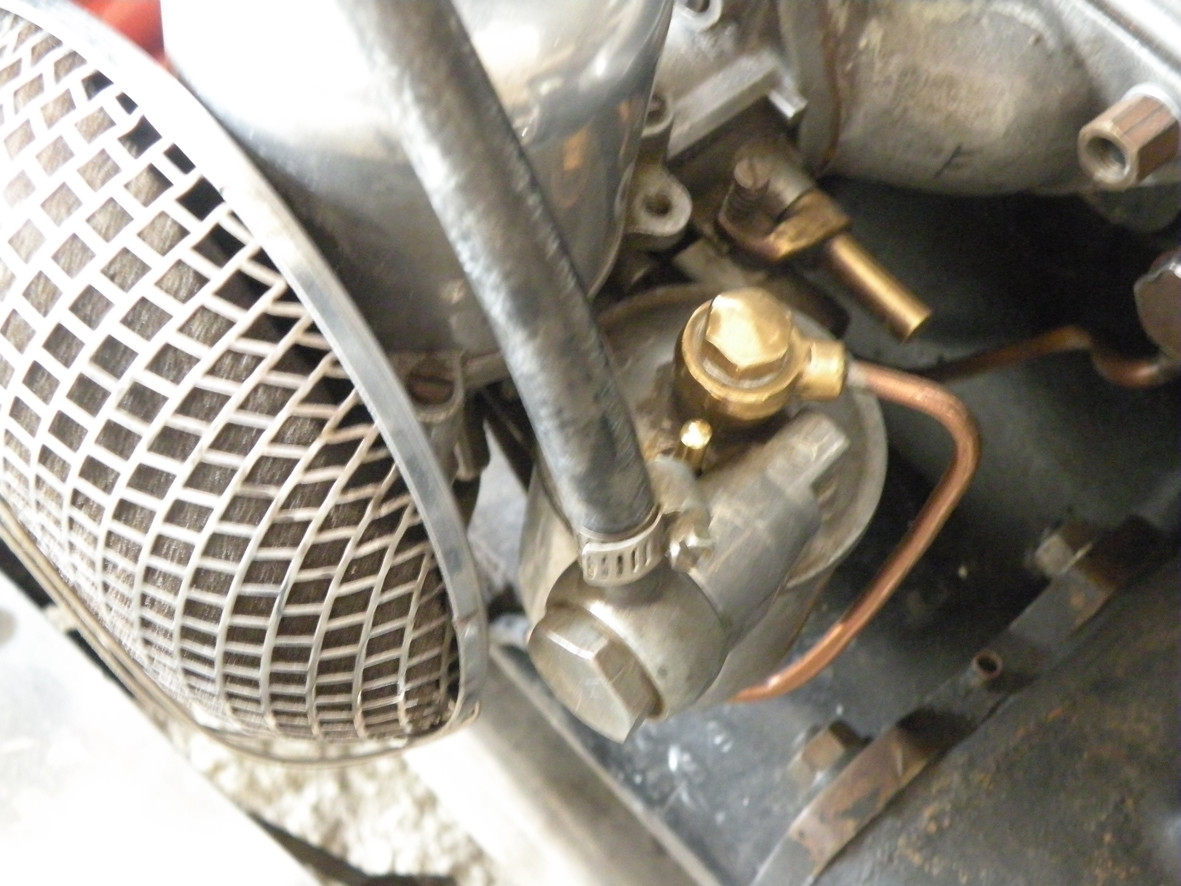 11-7-2013
Hi Ian
Sorry that you missed us at Motorclassica. For American readers this is Australia's premier car show. With the crowds attending I am not surprised that you did not find me. This photograph was taken early Sunday morning. The show is held in Melbourne's 1880s Exhibition Building which was painstakingly restored to its original colour scheme in the 1990s.
Bj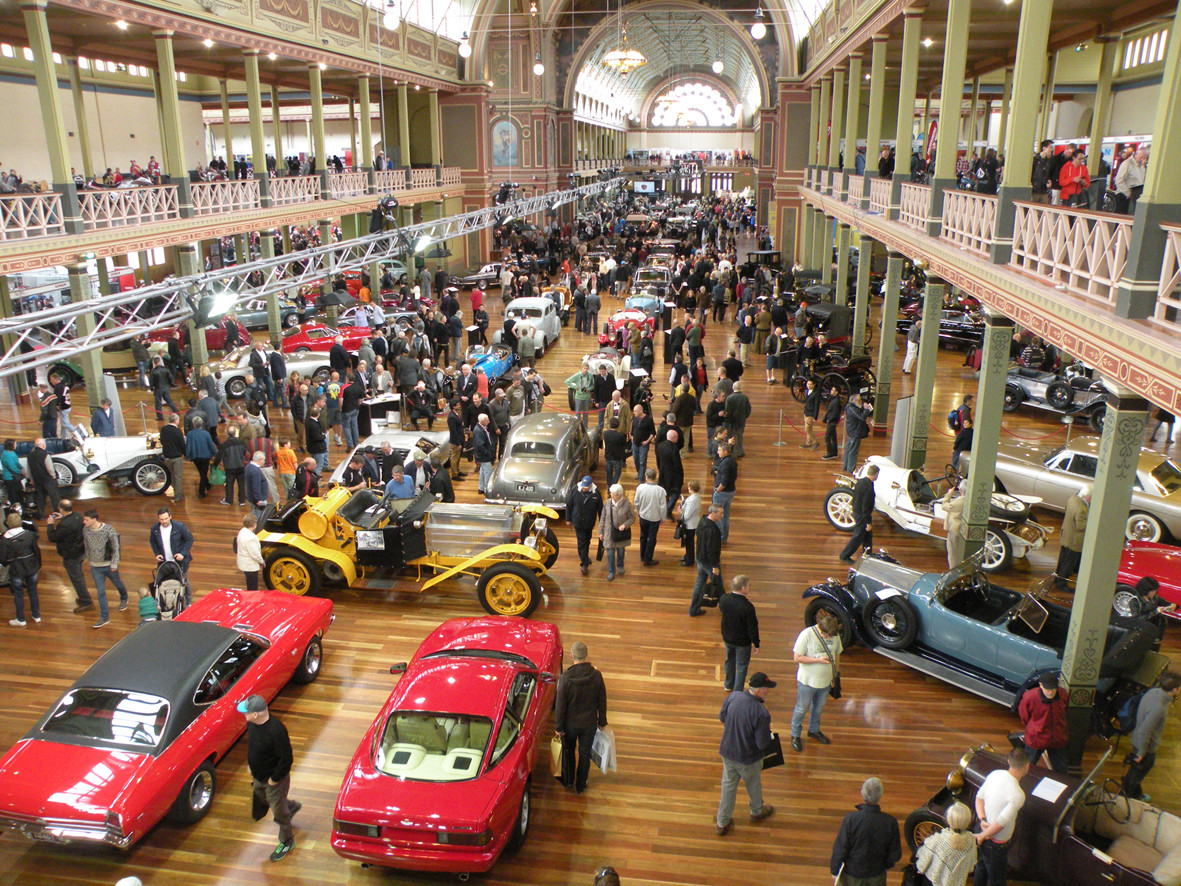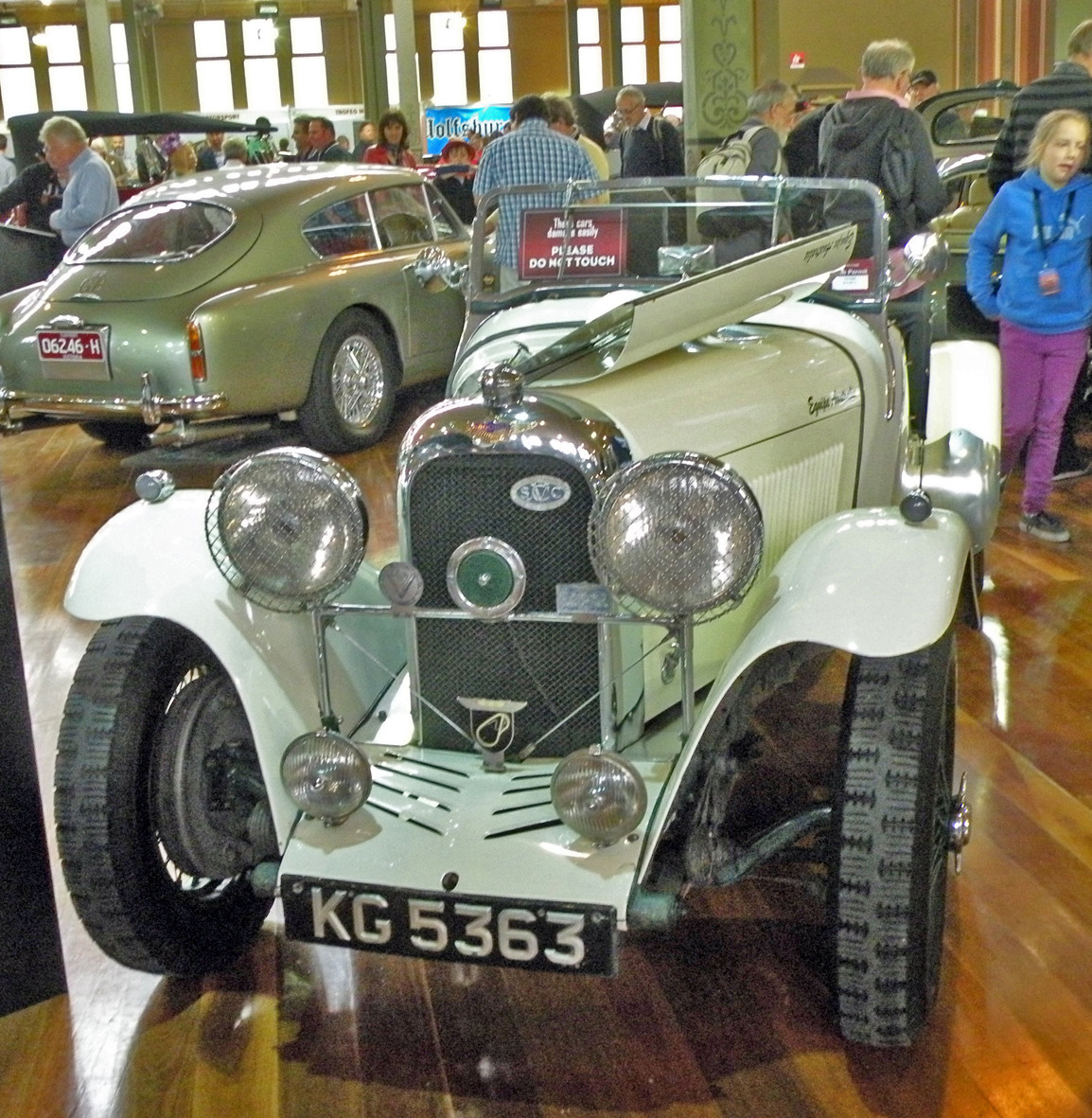 For people who may question the validity of those Michelin tires they were first introduced in 1935 and are still available but unfortunately only in Metric wheel sizes. They were the first LOW pressure tire (20 psi) and give both a very quiet and comfortable ride and fantastic grip.
Bj
11-8-2013
While digging through some old boxes of stuff I came across this 35mm Colour Transparency.
This was the first Lagonda Rapier I have owned and restored. It had been standing under a clump of pine (fir) trees for some years and had largely been trashed by children "playing" in it. This was probably taken 40 years ago. Somewhere I have some black & white prints of the as found photographs I will add if I can find them. My second attempt at scaning it was better. Perhaps one of the moderators can tell me how to erase the first (thumbnail).
Bj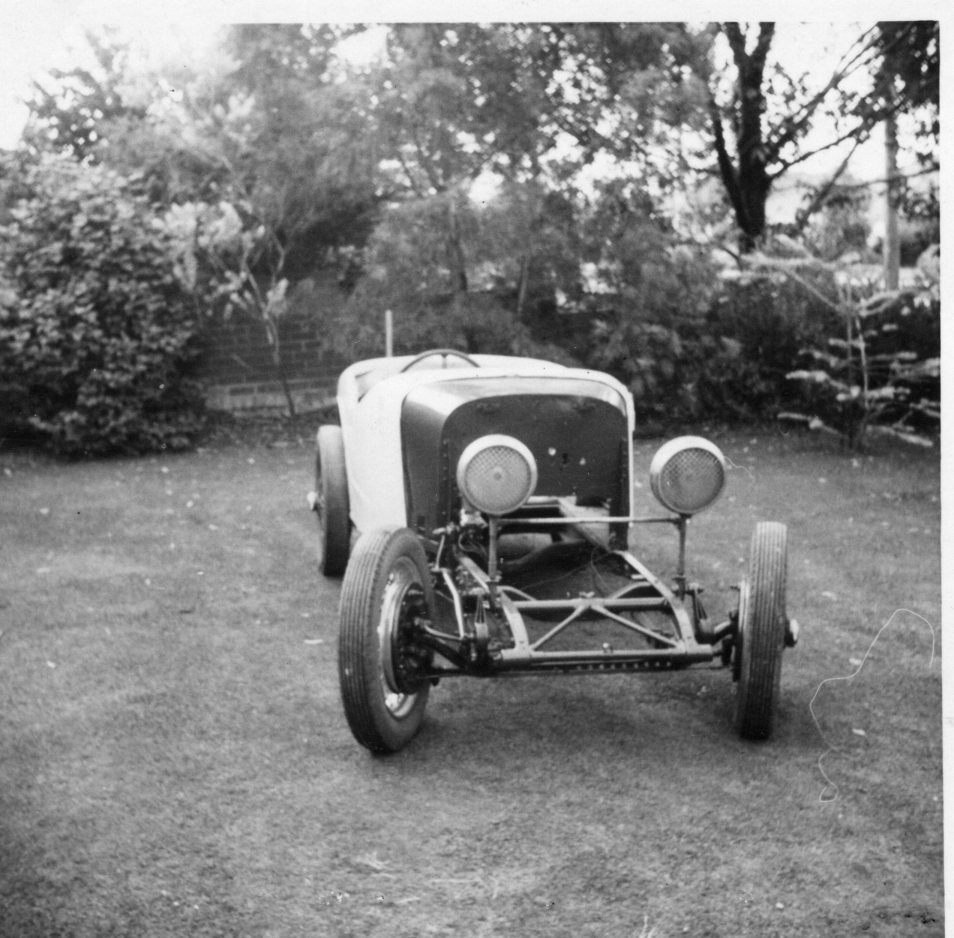 Not the one I was looking for but an old b&w showing the same car during restoration, probably in the late 1960s-early 1970s.
(Bernie, I don't know how you can delete it but I am able to delete it for you. I deleted the one that I think you wanted gone. - MCHinson)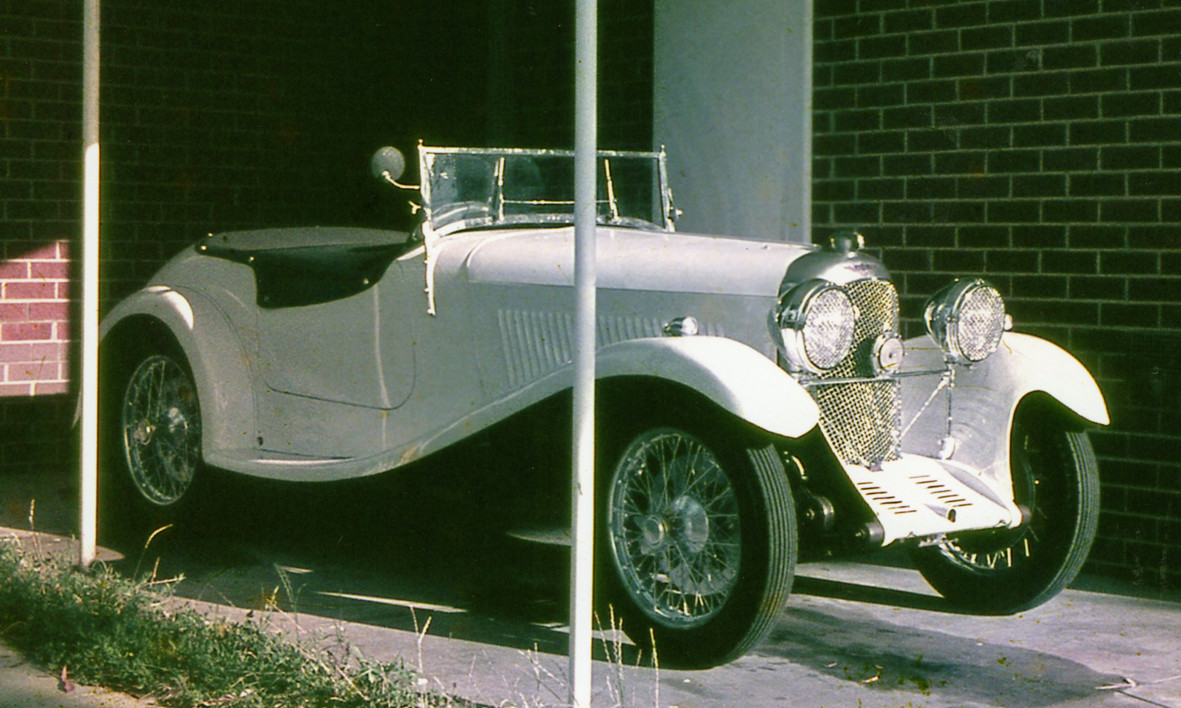 11-10-2013
Having had a couple of slack days Sunday morning seemed an ideal time to remove the brake drums on the Rapier to check the linings and adjust the brakes. The Lagonda Rapier was the first car to be fitted with the then (1934) new Girling wedge and roller brake expander units. Working in 13 inch drums they took the British motor industry by storm being accredited with being the first car to stop in less than 30 feet from 30 mph. You can compare the size of the brake drum seen here with the Rapier's 17 inch wheel rim. Non original holes in the drum serve two purposes, to assist with cooling and to reduce the unsprung weight.
Bj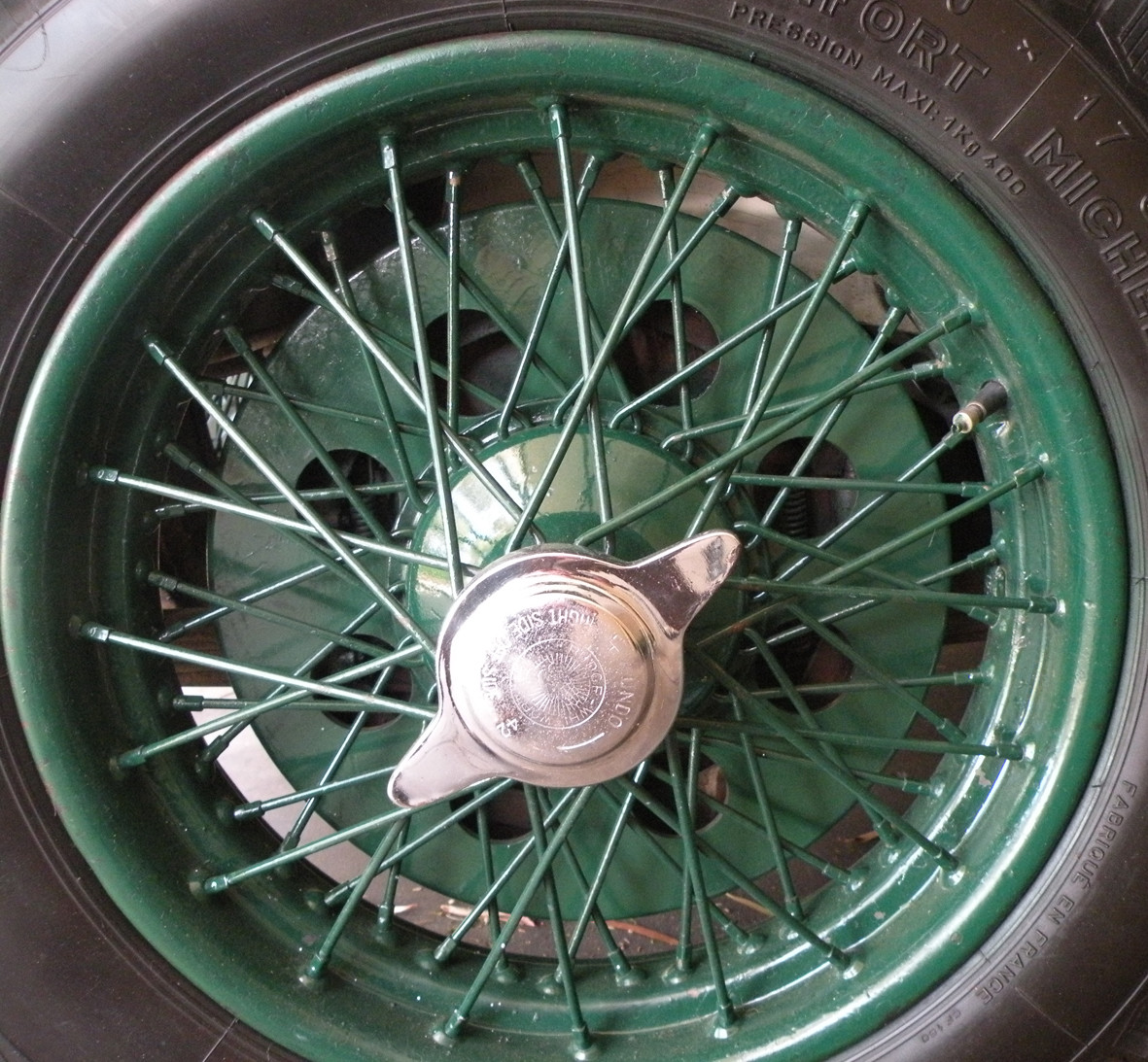 11-12-2013
Continuing on with my preparation for our next European trip I have just added another accessory to the Lagonda.
These are something that I have been repeatedly asked to attend to and have finally managed to comply with.
It is most important to keep the navigator happy and so now the car is fully equipped with a pair of handbag & hat hooks. These are tucked in under the dashboard on the passenger side. I am told that every long distance touring car should have them. How we have managed for over fifty years without them I can not say.
Bj.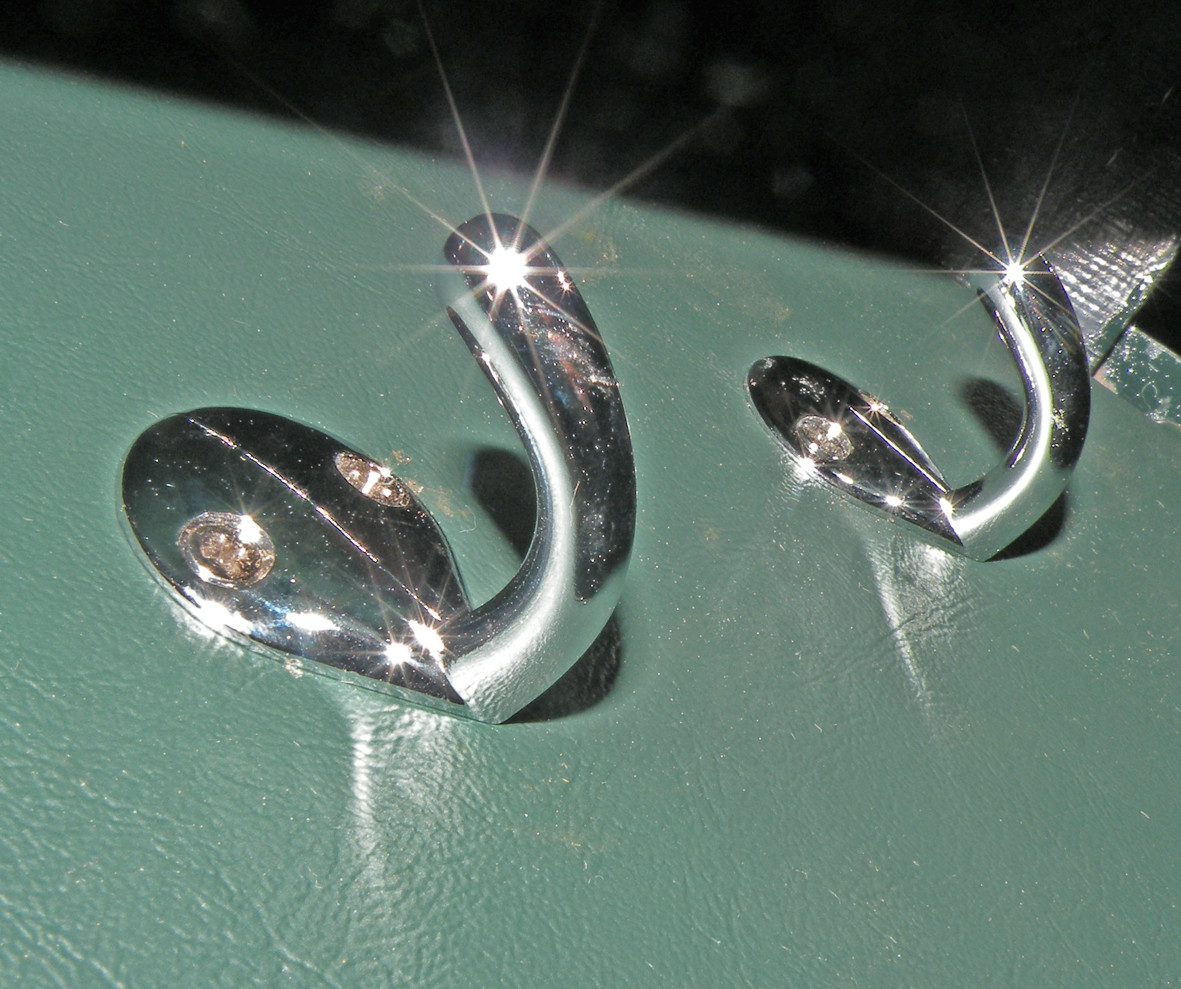 The second photograph is the view of the hooks as seen from the passenger footwell.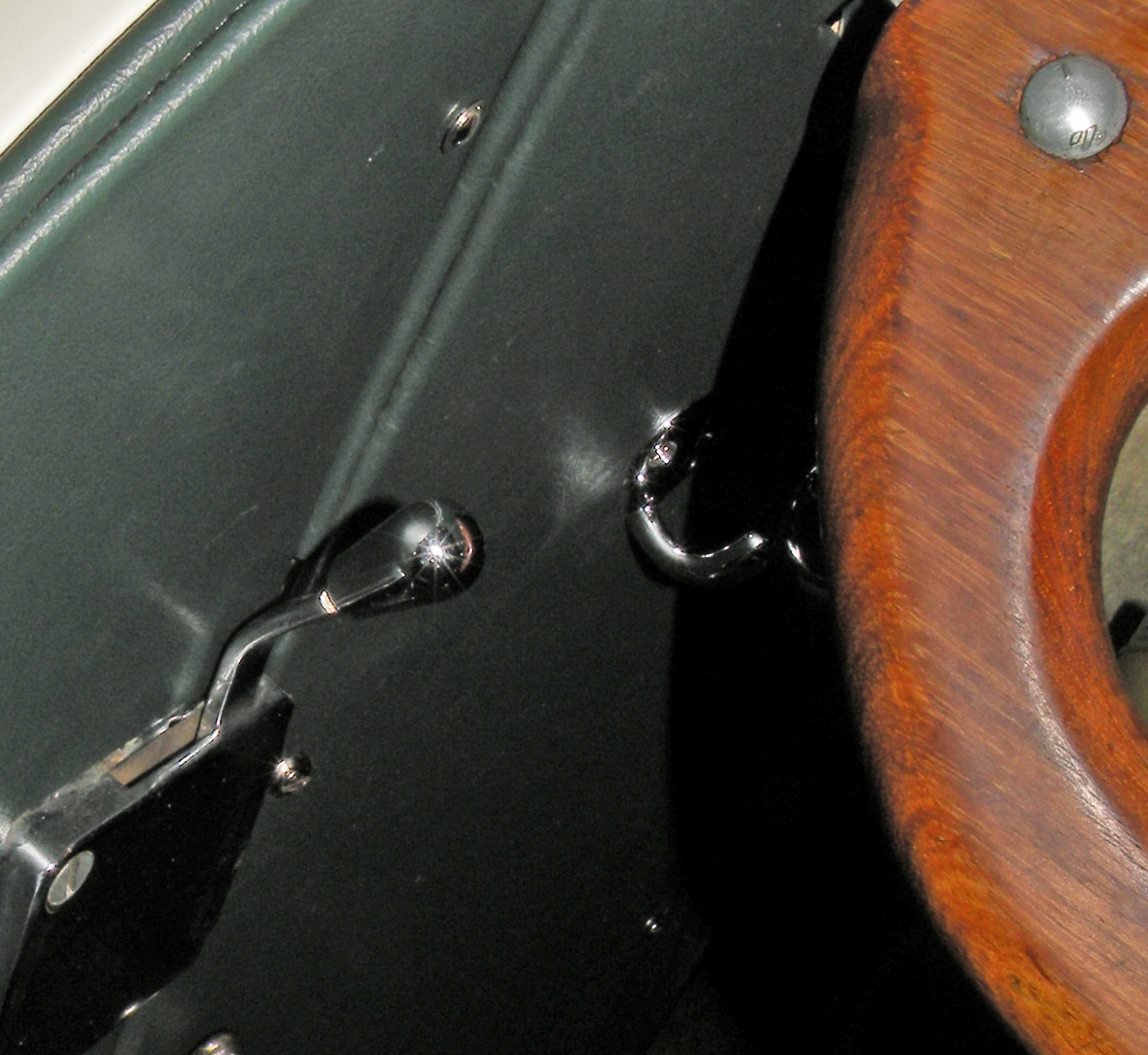 Hello Ben
We are planning to buy a new I-pad before we go so anything is possible. A lot of it may be boring drove from point A to Point B sort of stuff. In the past Helen has taken lots of what the passenger saw photographs.
Bj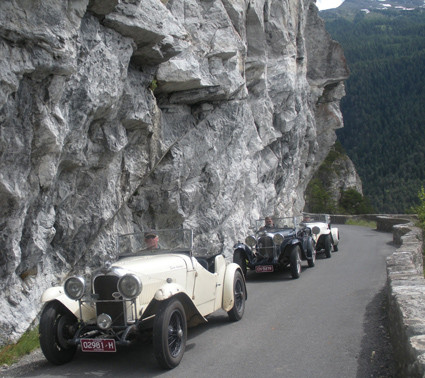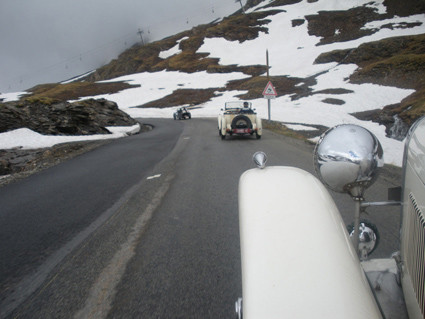 11-13-2013
Patience John
You cannot get rid of me that easily. The car has to be ready for shipment late March-early April. The ship takes six weeks so we leave on the 10th May. and our first event is the Rapier Register's Annual General Meeting on May 18th.
Todays task has been one of those mind numbing jobs. For some little time I have been concerned that every so often the hand brake would slip off while the car was parked. I should explain that like a number of English sporting cars the Rapier has a "racing style" fly off hand brake. You press the button at the end of the lever to lock the brake on and simply lift the lever slightly to release it. Very handy for doing "Handbrake turns" where you briefly apply the handbrake at the apex of the corner in order to promote a tail out slide, getting you around tight corners faster. Don't try this in your Caddy or Lincoln Town Car.
To make it easier to remove the pawl and ratchet plate the entire lever assembly is removed from the side of the chassis. This done, it is a moments work on the grinder to clean up the tip of the pawl and a few more minutes with a triangular file to sharpen up the ratchet plate. While re-assembling the lever I noticed that the spring under the button seemed excessively strong and may well have been the root of the trouble, so in typical "Belt & braces" style I nipped about 3/16 inch off one end before replacing it. It is all back together again and only time and parking the car on a steep hill will tell if it has all been worth while.
Bj.
Seen from above the hand brake lever is close to hand between the drivers seat and the side of the body. (RHDrive) In typical 1930s Lagonda fashion there is NO door on the driver's side of the car.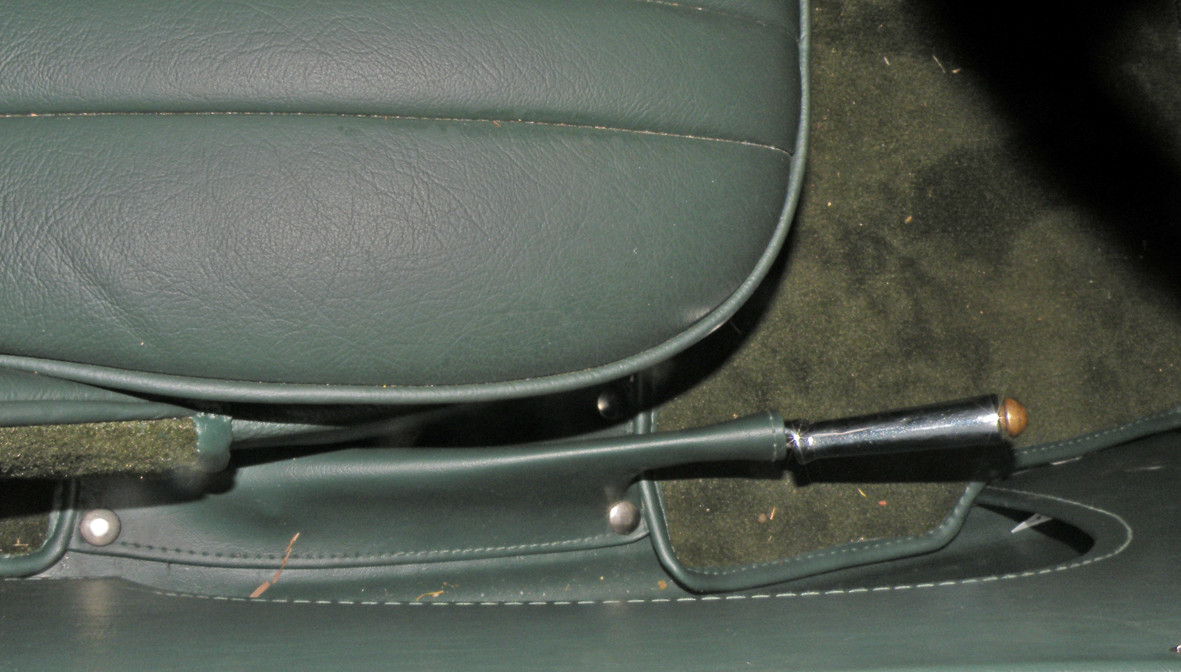 11-14-2013
As a complete change of pace today's project was changing/replacing the washers in the taps over the hand basin in our en-suite bathroom. I am sure that the Australian terminology will have many of you baffled but for once I am completely at a lost as far as translation goes. The nearest I can come up with is, the valves in the faucets.
Bj
11-18-2013
"I can only wish to be a fly on the wall [ windscreen??] while you are in Europe. Will you cover the tour with a dedicated thread?"
Ben.
Just to whet your appetite some more, another photograph from our 2009 visit.
Bj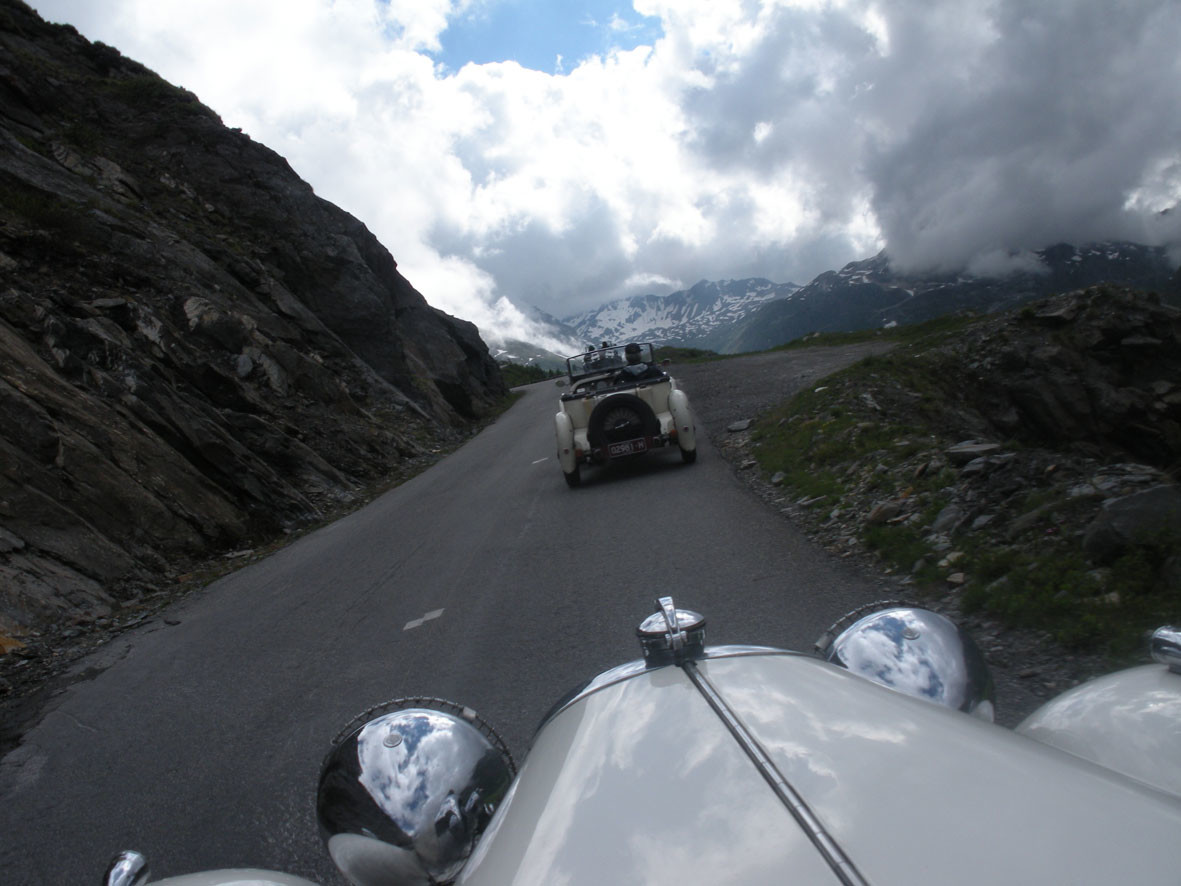 11-21-2013
Another day doing mindless little tasks that while important to me would go over the heads of many people.
Tony who does most of my trimming and I are from two different generations, while he is happy to use velcro to secure the carpet to the floor etc, this is not acceptable to me. Much of this afternoon was spent removing the velcro and replacing it with traditional carpet grippers and press studs. Who cares? well I do. I am sure that no one else will even notice. I then spent an hour or two removing the side trims in order to tidy up the interior of the drivers' side glove/map pocket and covered the previously painted gussets on the door pillar brackets with some off cuts of hide. In the words of the old song, "little things mean a lot". It is a bit like scratching about in old tin-cans and screw top containers to find the correct slotted head screws.
Bj.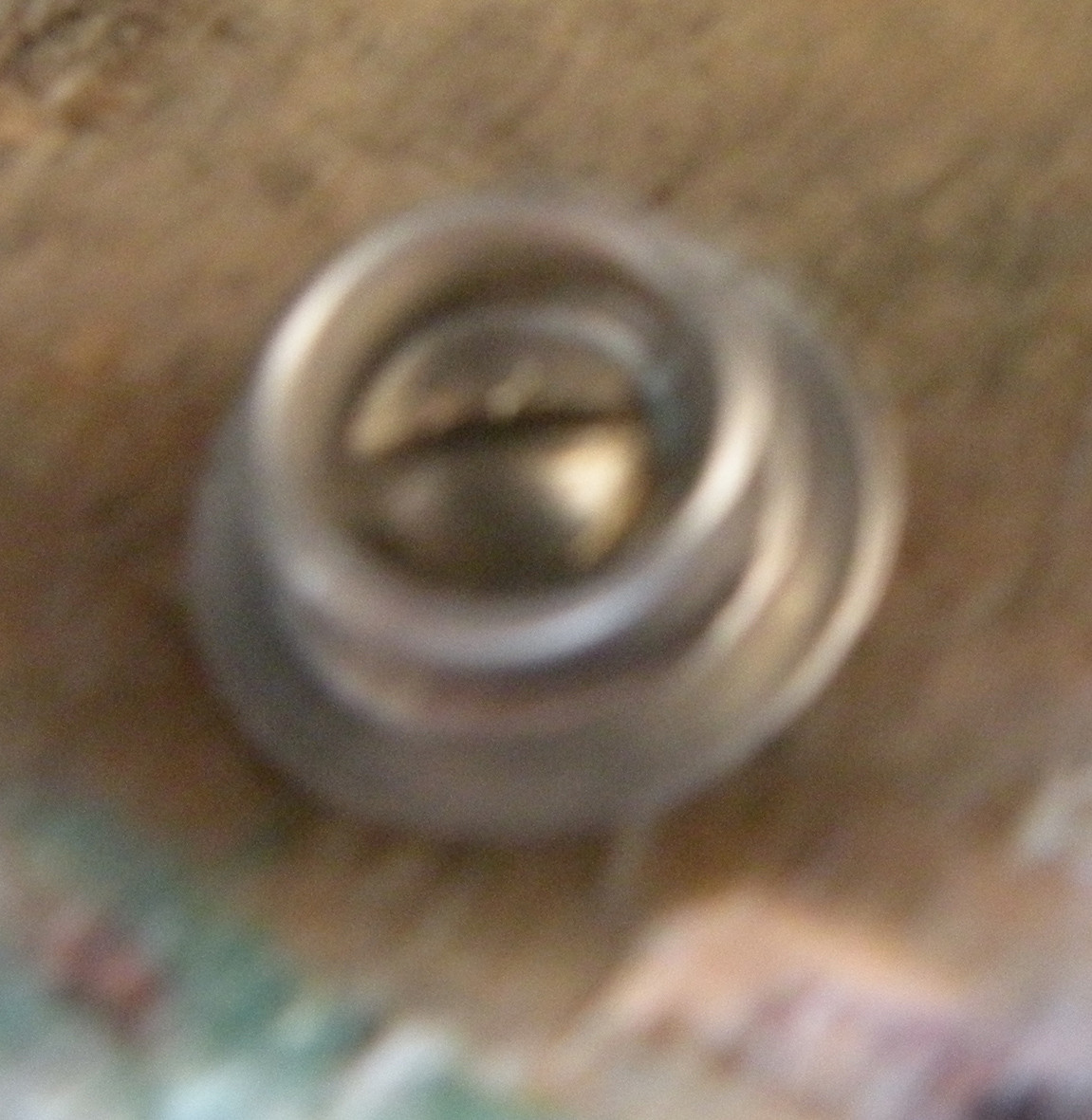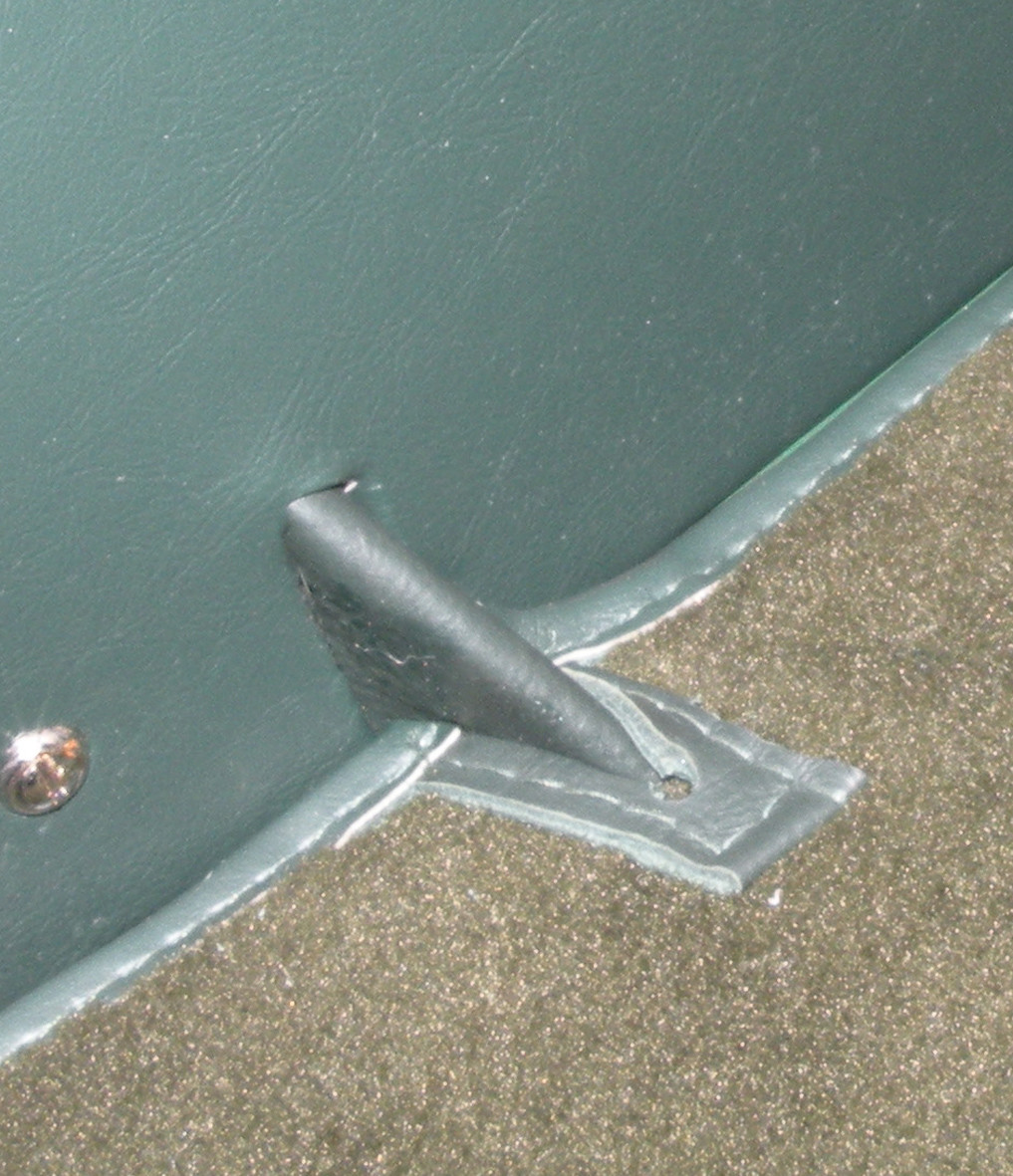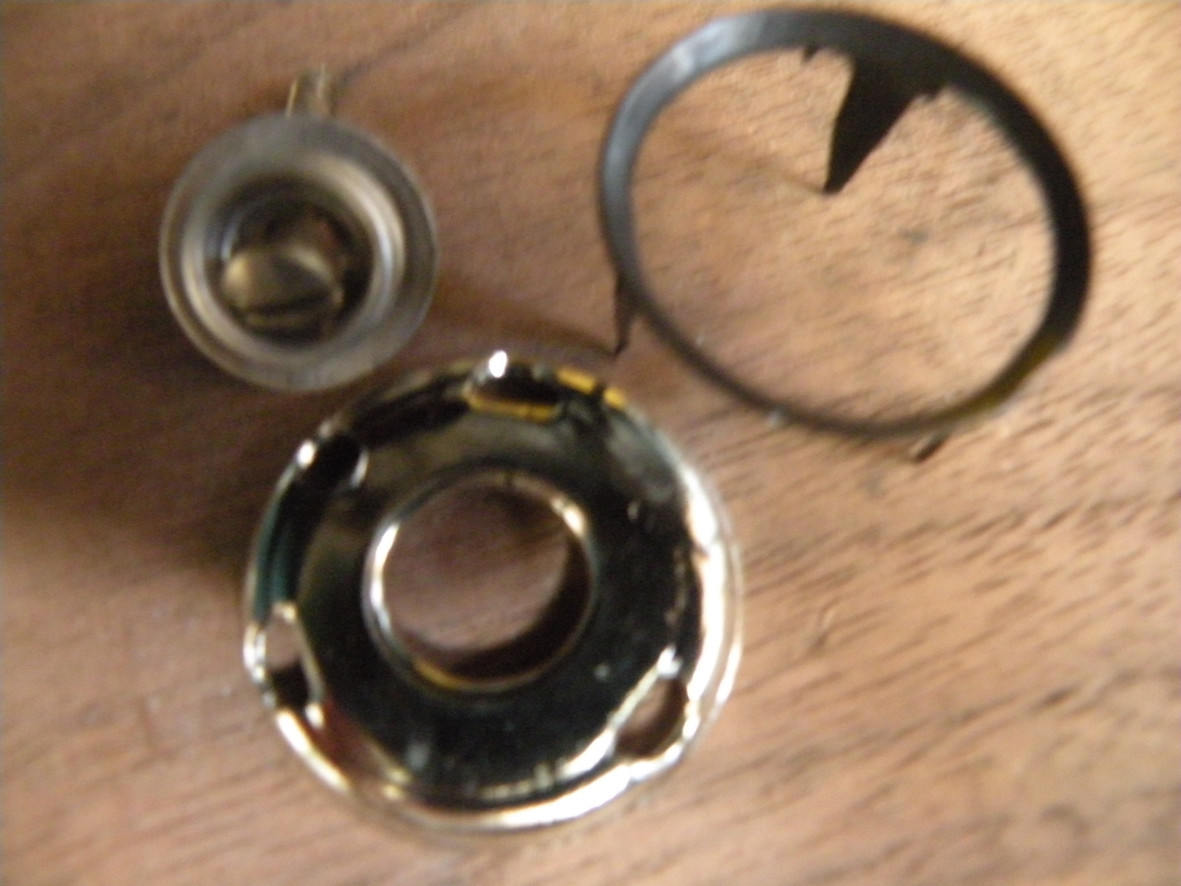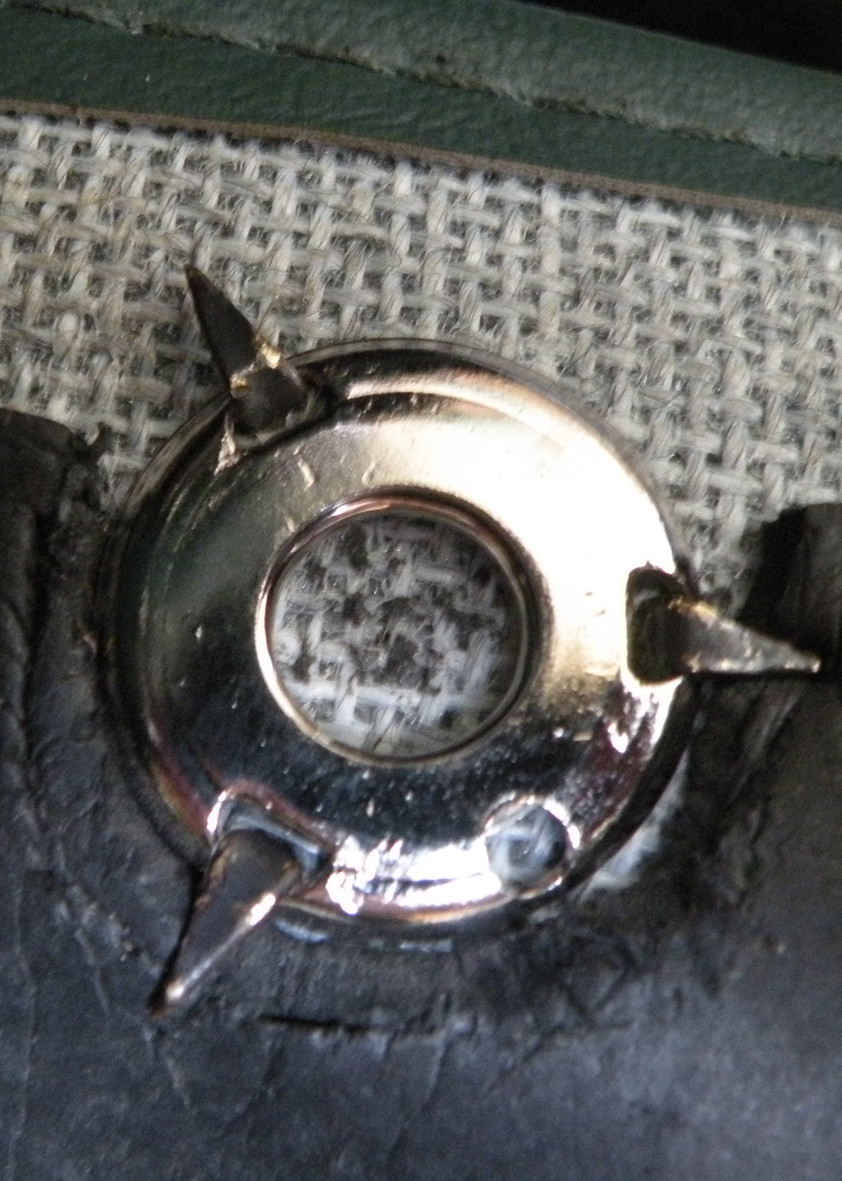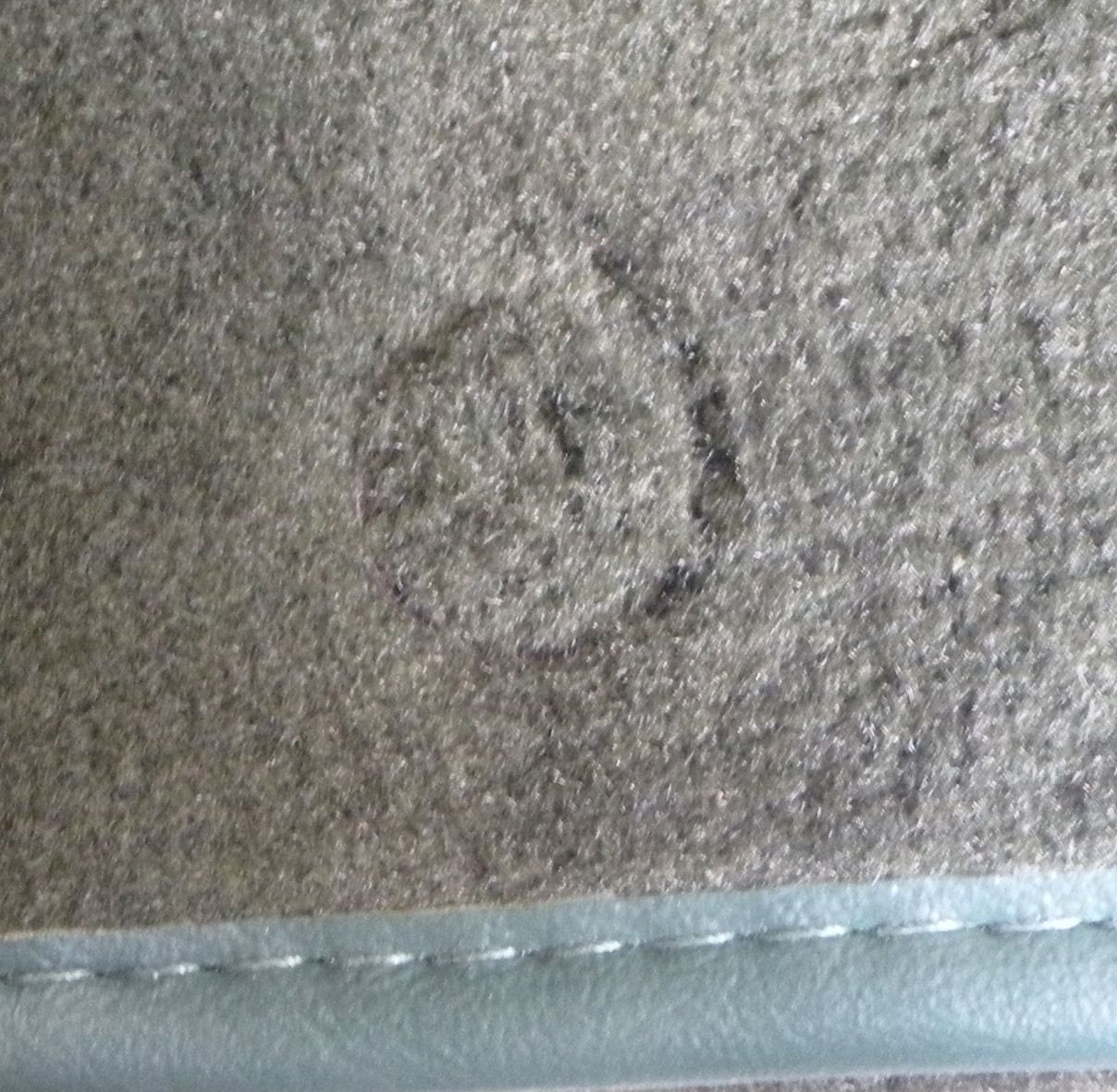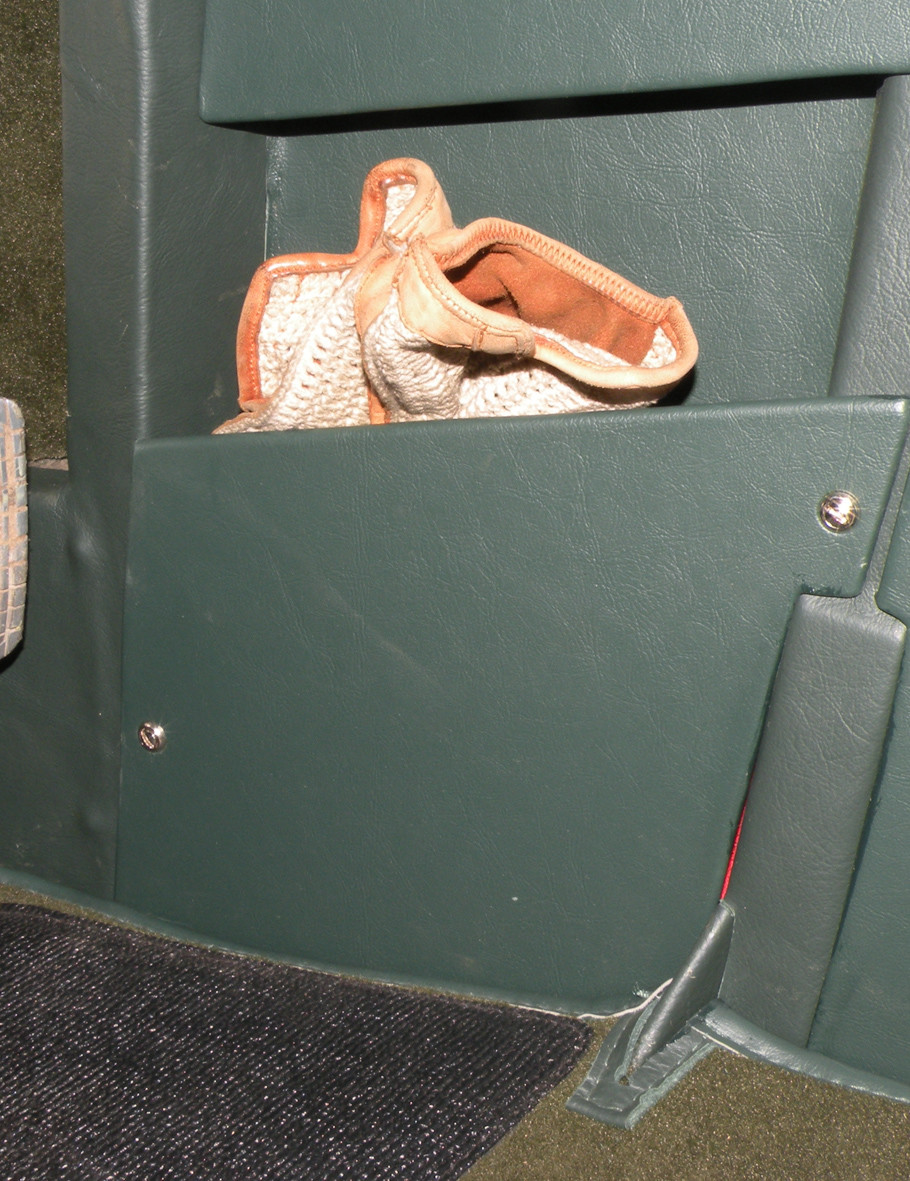 It is a bit like scratching about in old tin-cans and screw top containers to find the correct slotted head screws.
Here in Australia, as I suspect most places, slotted head screws are only available at the more specialised Fastening Suppliers (at a premium) or in out of the way hardware shops that have old stock due to slow turnover.
The latter are becoming increasingly difficult to find. I tend to buy them when I see them and hence the old tin cans and screw top containers. Those or cardboard boxes but they fall apart if they get wet. I have shelves full of containers of nuts and bolts and screws
Bj.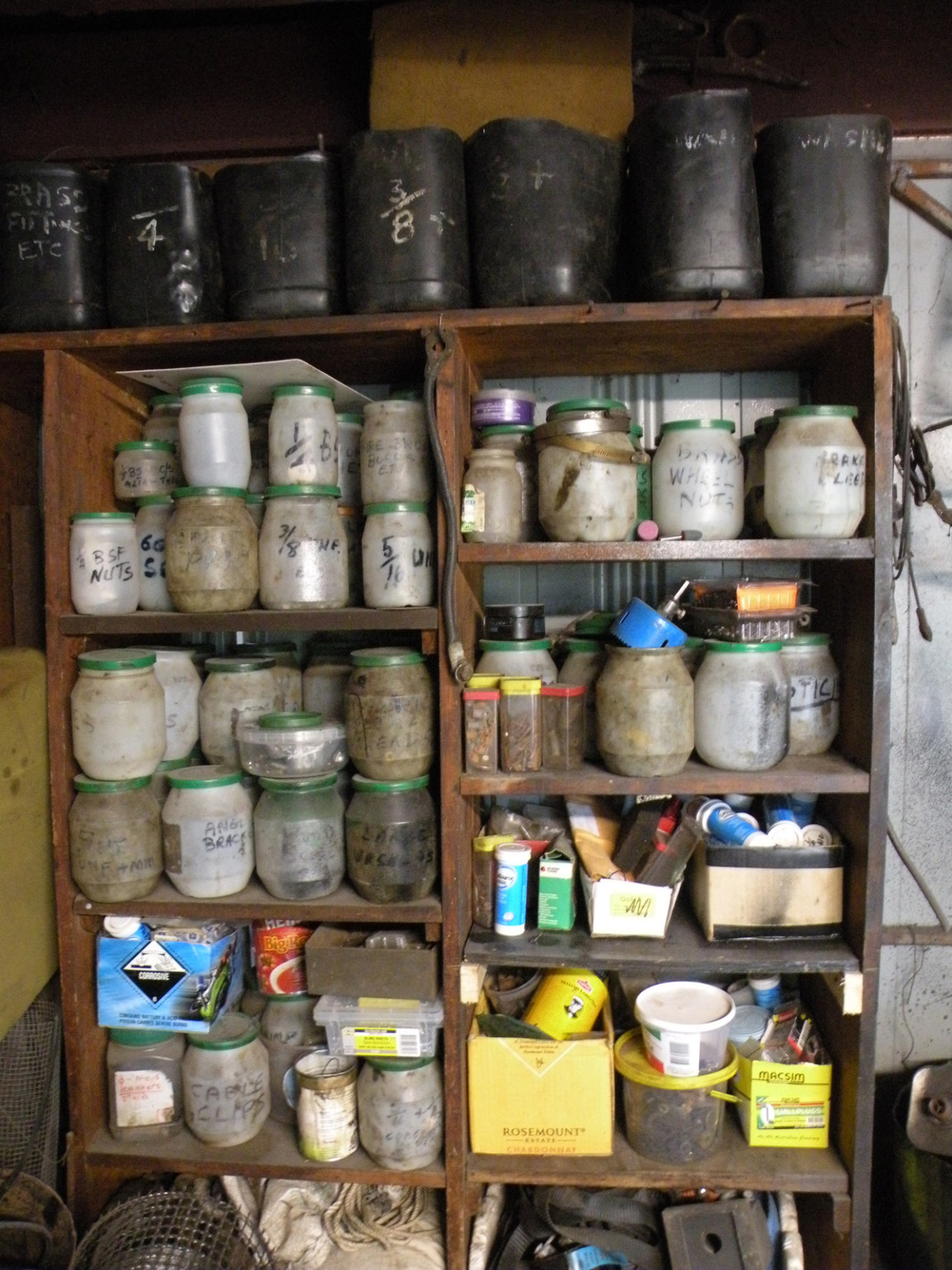 To give you some idea of scale, the black containers on the top shelf are/were 5 litre oil bottles. All are virtually full to the top with second hand nuts and bolts waiting to be sorted into thread types. This job is not considered urgent as I almost never use second hand nuts and bolts, unless absolutely necessary. At various times in the past I have given away 20 litre drums full of assorted nuts and bolts.
11-22-2013
According to Jim O'Clair "Tech 101" in today's Hemming's on line Motor News "We all have coffee cans or mayonnaise jars full of miscellaneous hardware in the garage that were extras or leftover from a previous project"
This being so, anything I have said above is "old news" for which I unreservedly apologise.
The new "News" is that the Singer project has been sold and is on its way north with an interstate enthusiast.
Bj.
11-26-2013
With the Singer gone and out of what remains of my hair I can concentrate on preparing the Lagonda Rapier for next years European trip. While hardly "vintage" todays task is to install a Mobile phone/i pad charger socket into the trim adjacent to the passenger side glove box. The charger has a 12V DC input and 5 V 2.1A output. To install it will entail removing the trim panel, cutting a 30mm hole in it and connecting the socket up to the fuse box, also conveniently on the passenger side inside the bulkhead. The other task is to replace the four flange gaskets on the exhaust headers but as I have just ordered 8 new brass 5/16 BSF manifold nuts that will have to wait for a day or two so more on them later.
Bj.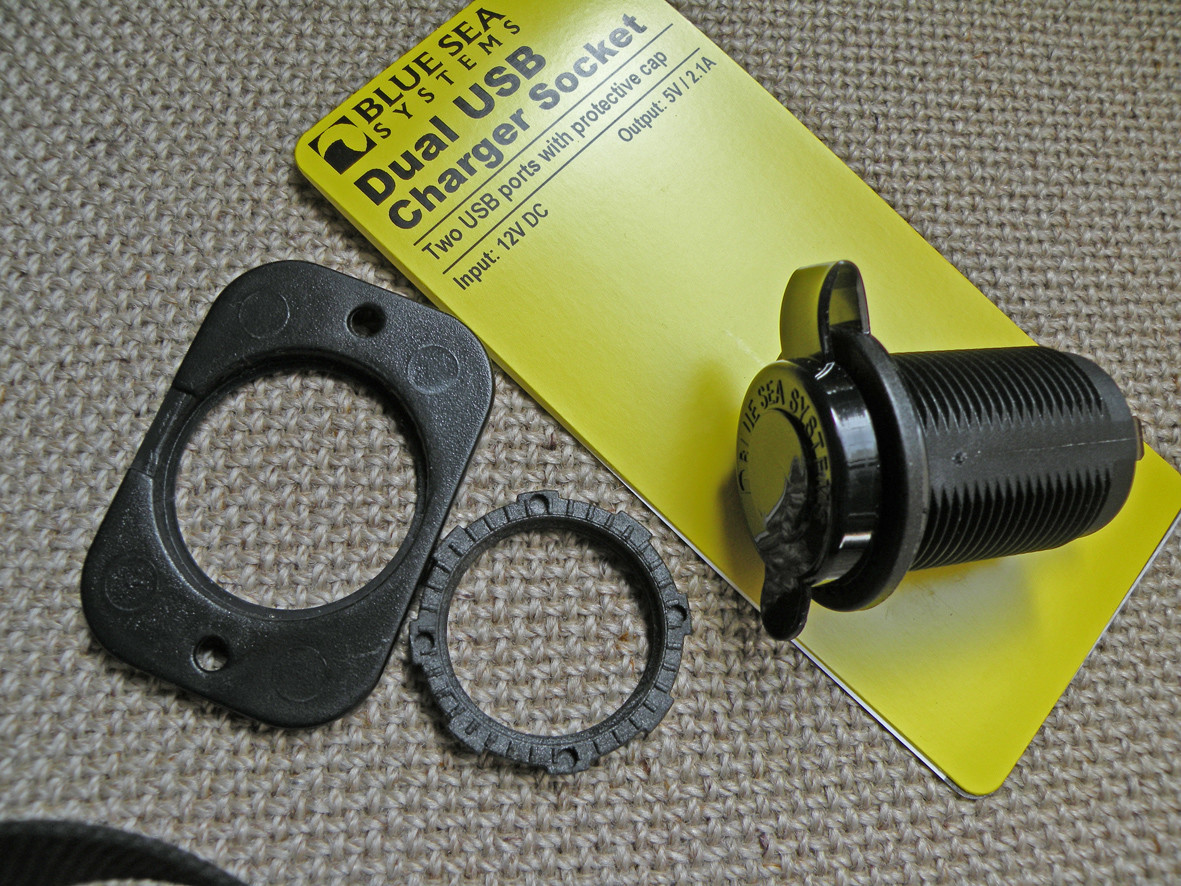 Further to the above some more photographs for you delectation.
The first two are of the phone charger socket in place. The next is inside the tool locker at the rear of the parcel/luggage space behind the seats. The first one is with this closed showing some of the essential touring kit including a fire extinguisher, the very British "Shooting Stick"/Umbrella, (the handle opens into a seat). The clip secures the hood/top bows when in their customary place, the square length of timber with the green painted "handle" is the dip stick for the petrol tank. (The gauge only shows the contents of the top half of the tank).
The pleated "seat"is in fact the top of the battery box which doubles as an occasional seat for a third passenger on very short journeys. Underneath this along side the battery is a space holding hand cleaner, spanners to fit the battery connections, a roll of toilet paper and a test lamp, a battery post wire brush, a "Swiss Army" pocket knife and a emergency Yellow plastic waterproof "poncho".
Finally inside the tool locker; the copper mallet is for undoing the "Knock-on' wheel nuts. The rolled up piece of green vinyl is the radiator "blind' to block off the bottom third of the radiator is excessively cold conditions, then there is the folding jack handle, a 12 volt trouble lamp, and in the white cloth bag is the compulsory red reflective emergency triangle. Along the bottom is l to r. A wheel chock, a funnel with a (yellow) extension for filling the rear axle, a packet containing a set of new distributor points, a condenser and a rotor button. The white plastic tube contains a stick of two pack malleable emergency repair putty. (Ideal both for temporary petrol tank and radiator repairs.) A tire pump and clipped down in the corner the screw jack. wrapped up in the plastic bag are the two Yellow safety vests required by law in the EU. Missing, awaiting re-stocking, is the box containing a spare bulb for every lamp on the car also required by law in the EU. At any time a policeman may stop you and demand to be shown all the above safety gear. Heavy penalties apply for non-compliance. Also missing is a black plastic bag containing a new spare inner tube.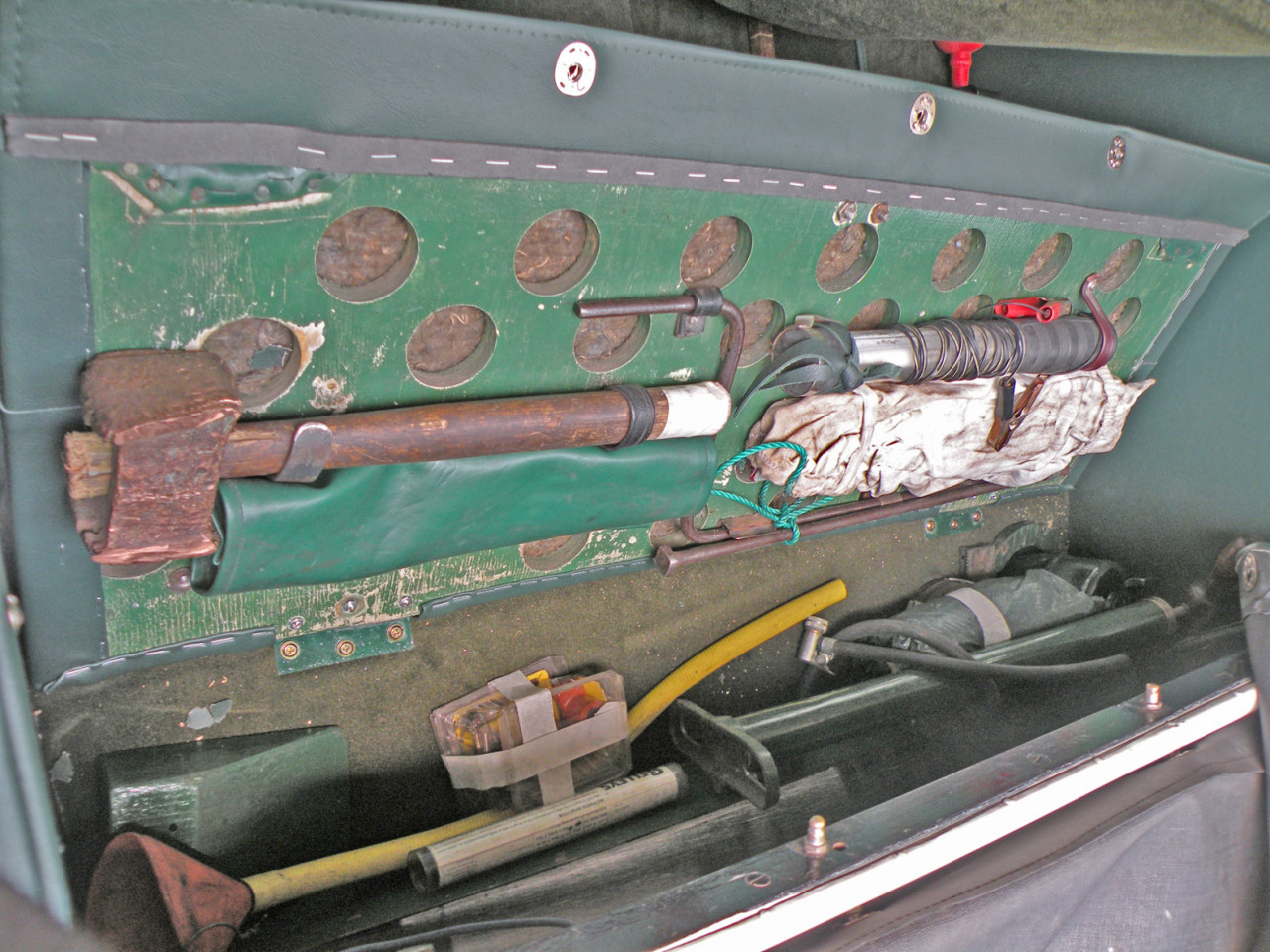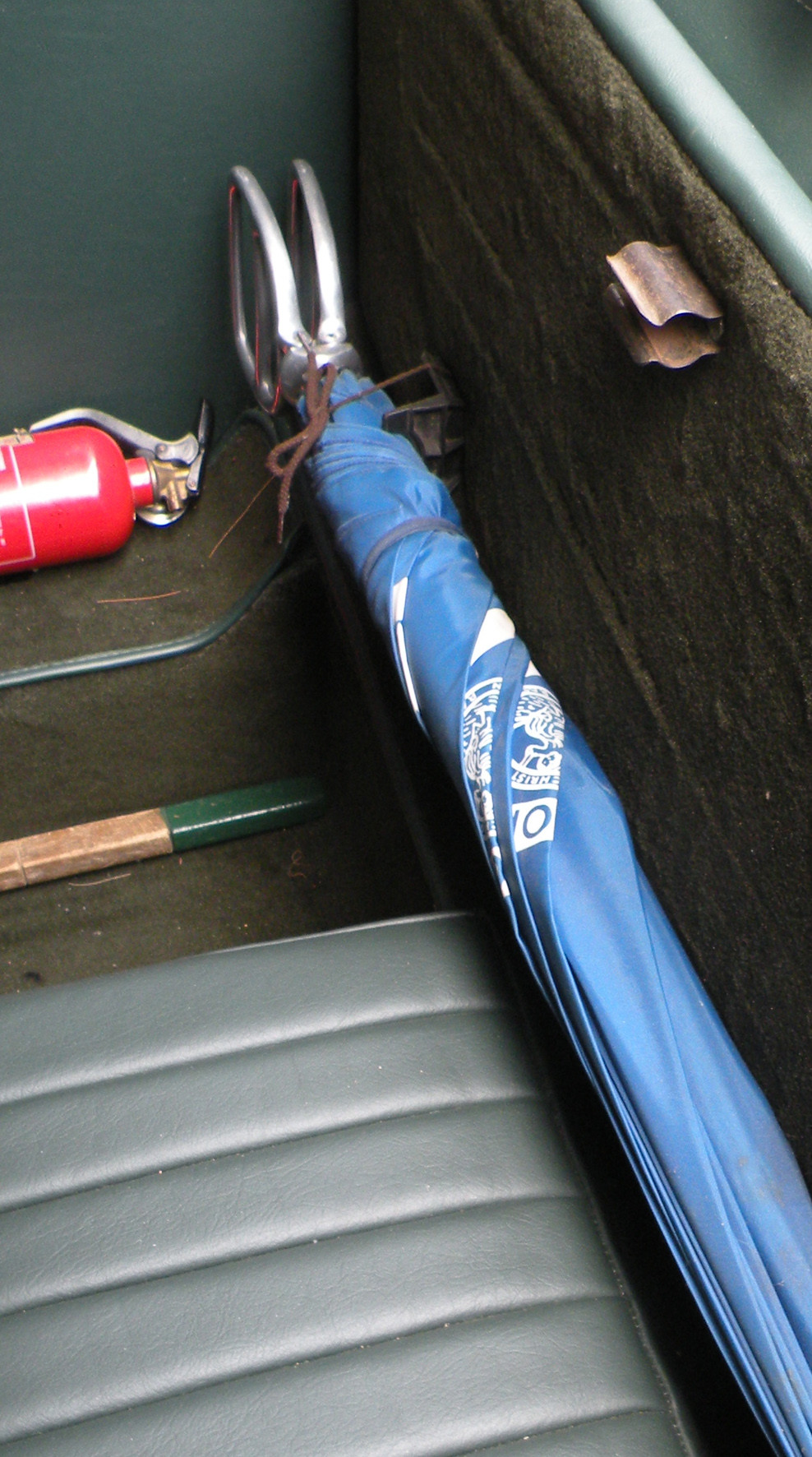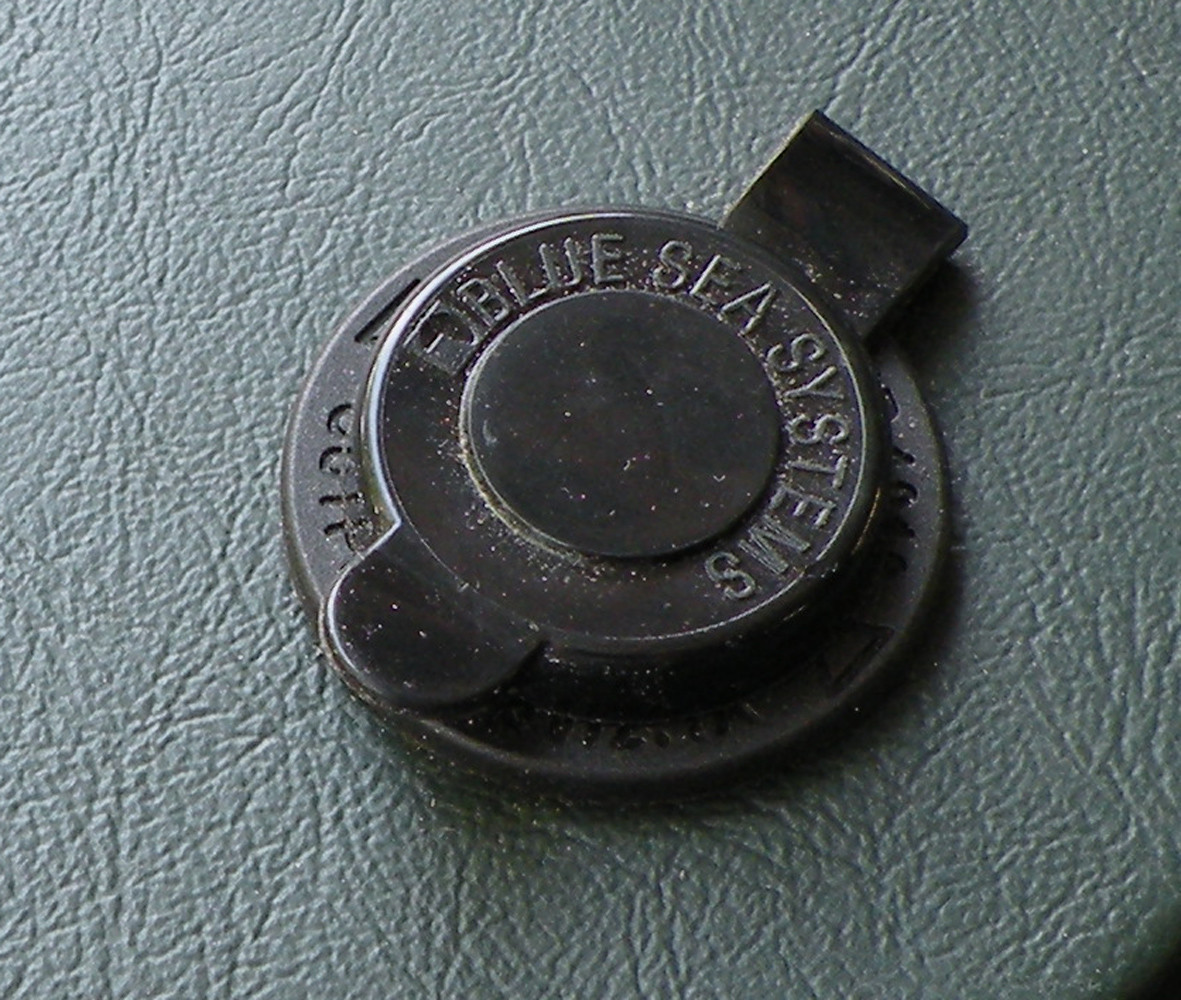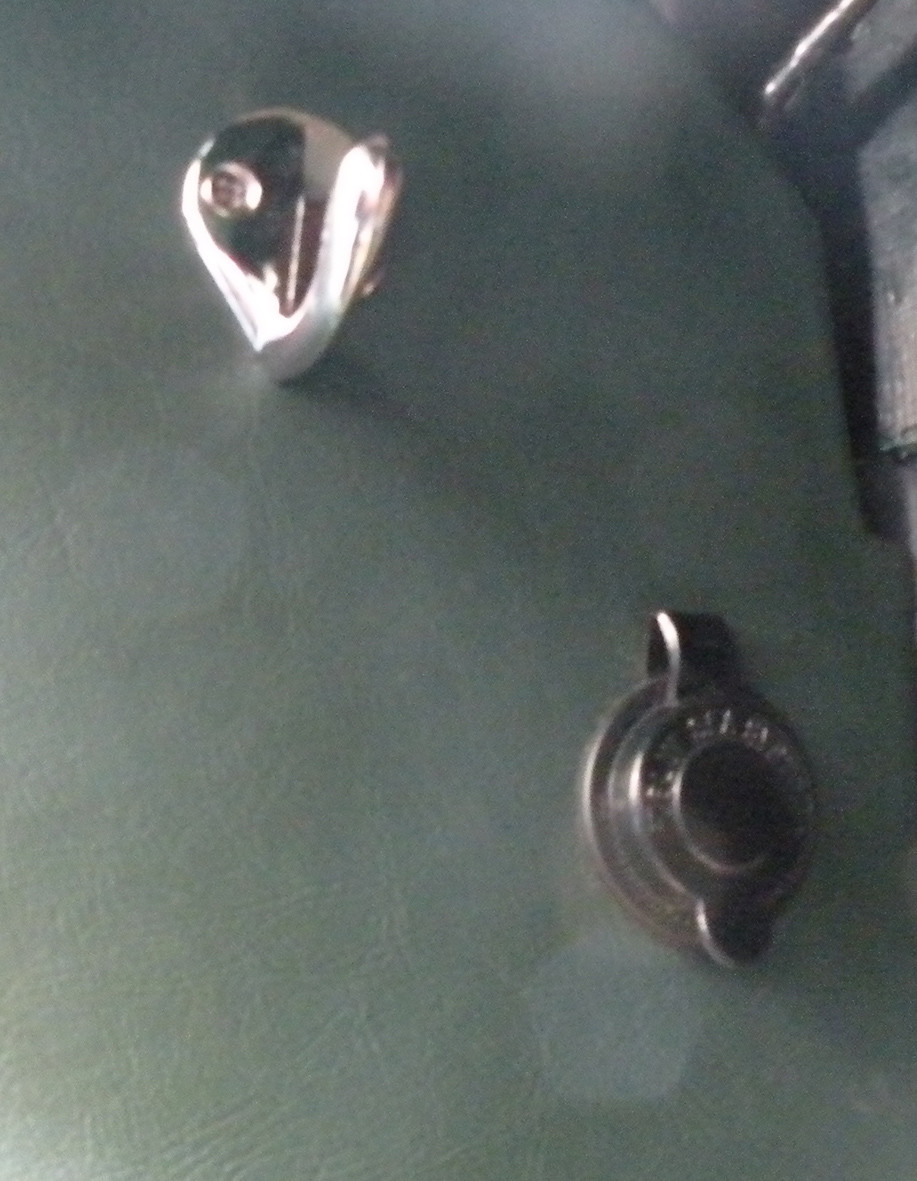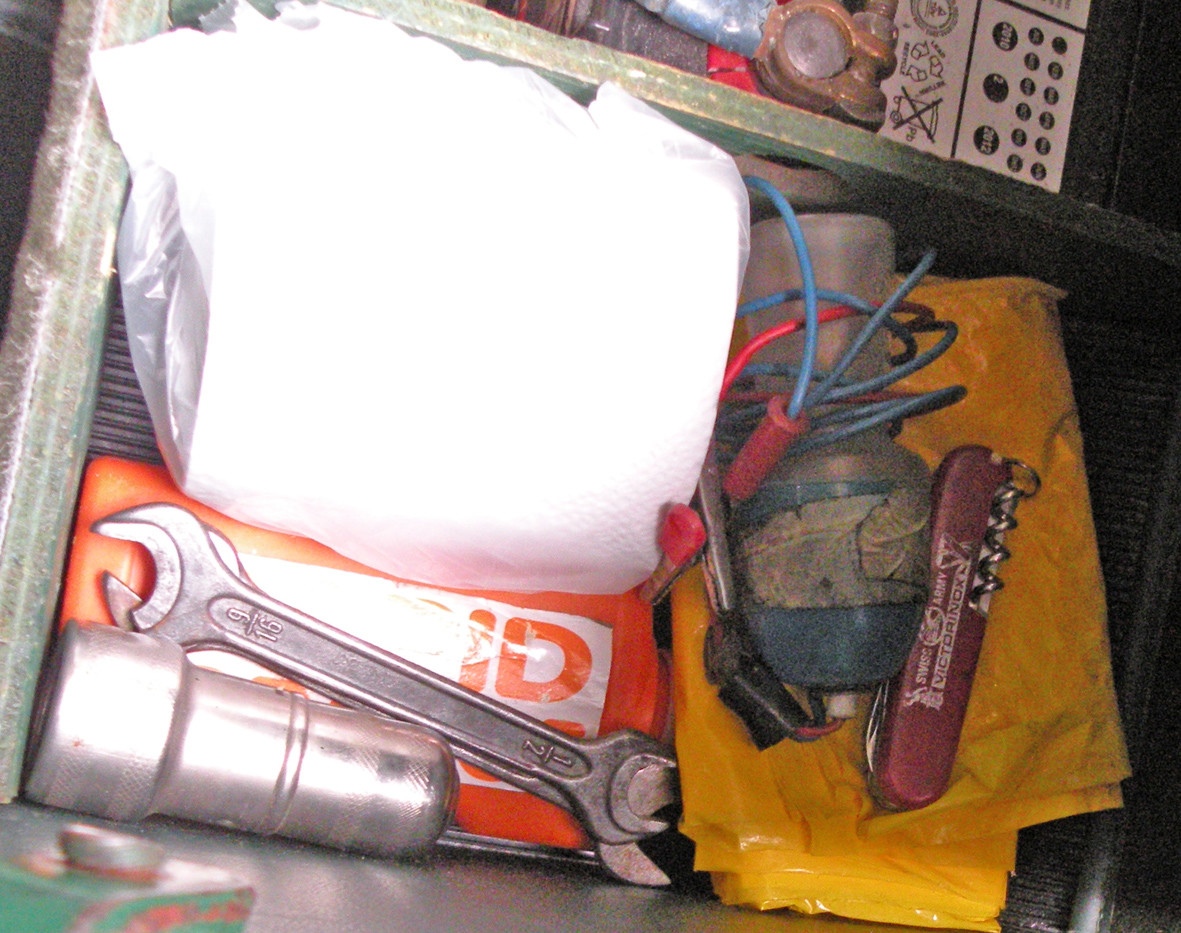 11-27-2013
Another day and another box ticked.
Less than three hours after the Post-man delivered the goods the Lagonda Rapier's exhaust headers are back in place with the new flange gaskets, BSF Studs and correct 5/16 BSF brass "manifold nuts"all in place. I will run the motor tomorrow to warm it all up then re torque the nuts. Hopefully this will put an end to the leaks from a couple of flanges.
Bj.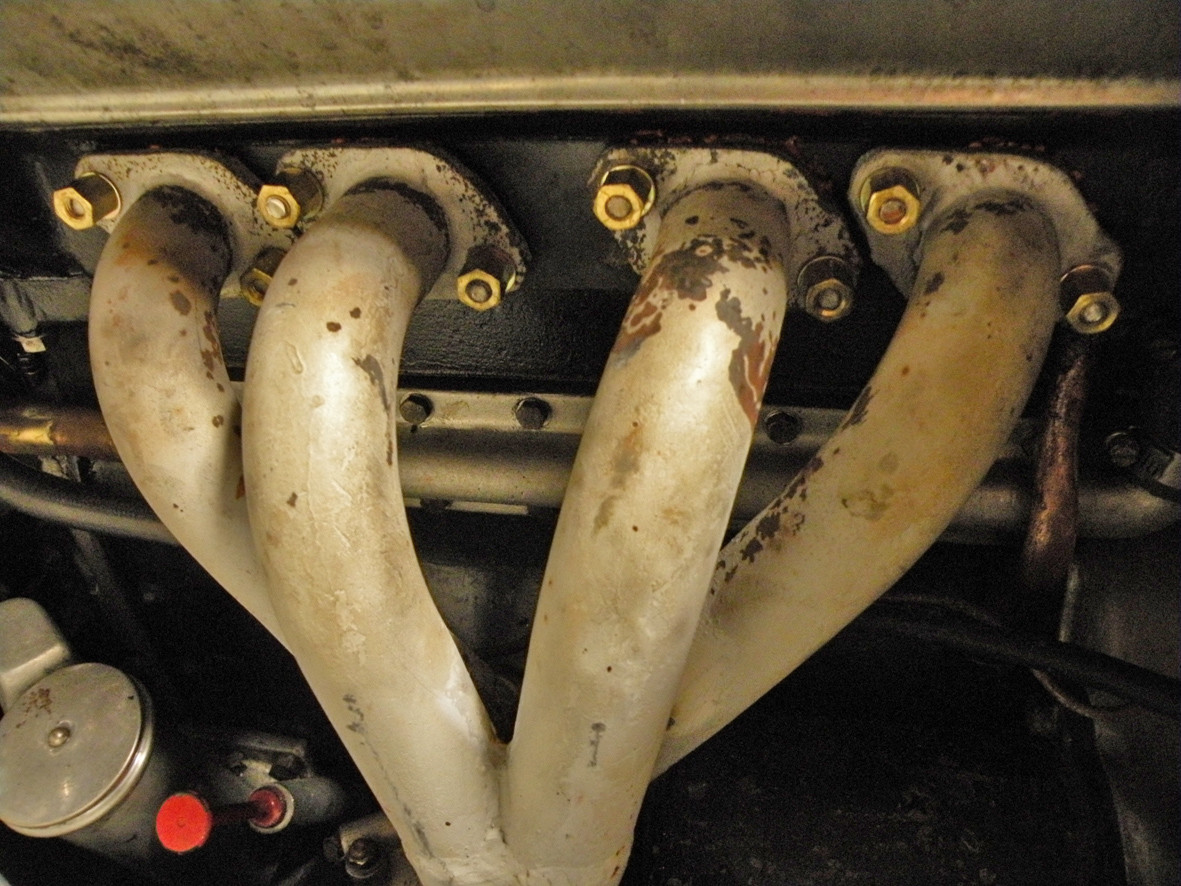 11-29-2013
BSF Studs and correct 5/16 BSF brass "manifold nuts"
Some of you may be questioning my sanity or wondering what is special or different about the nuts that are used to secure the exhaust manifold. Apart from being brass so that they will not "rust on" or become seized onto the thread due to the frequent heating and cooling, "manifold" nuts are approximately 50% longer than a standard nut. Again in the words of my favourite old song, "little things mean a lot". Being 5/16 diam, 22 tpi these are torqued up to 10-12 ft/lb.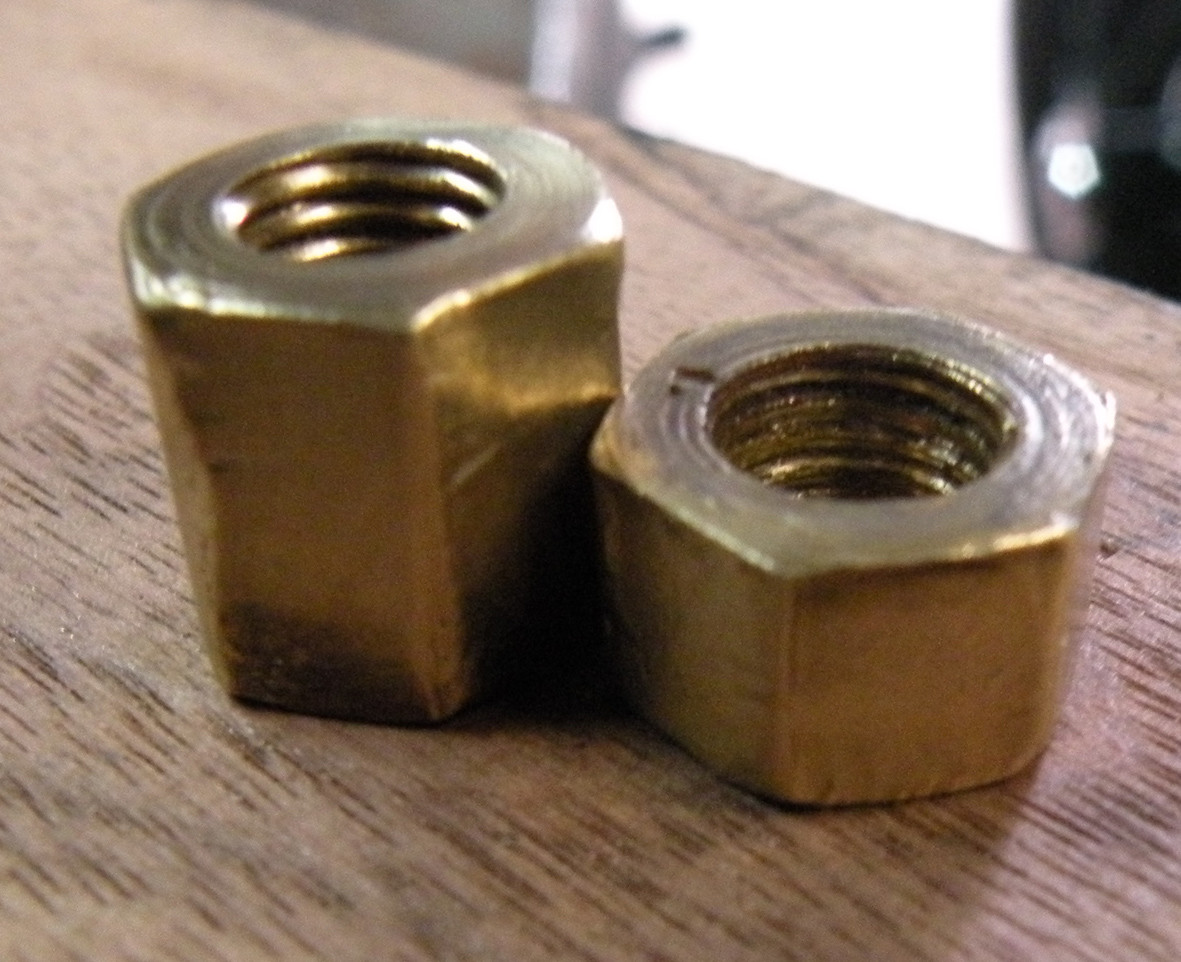 12-9-2013
A quick course in applied physics.
While I had the exhaust headers off the Lagonda I decided to give them a fresh coat of paint. The only 'high temp' paint I had handy was matt black so naturally I used this. On Sunday we were out in the car and got caught up in some heavy (stop-start) traffic. My wife Helen commented that the passenger (exhaust) side foot-well seemed much warmer than usual. So todays task is to remove the exhaust again and repaint it silver.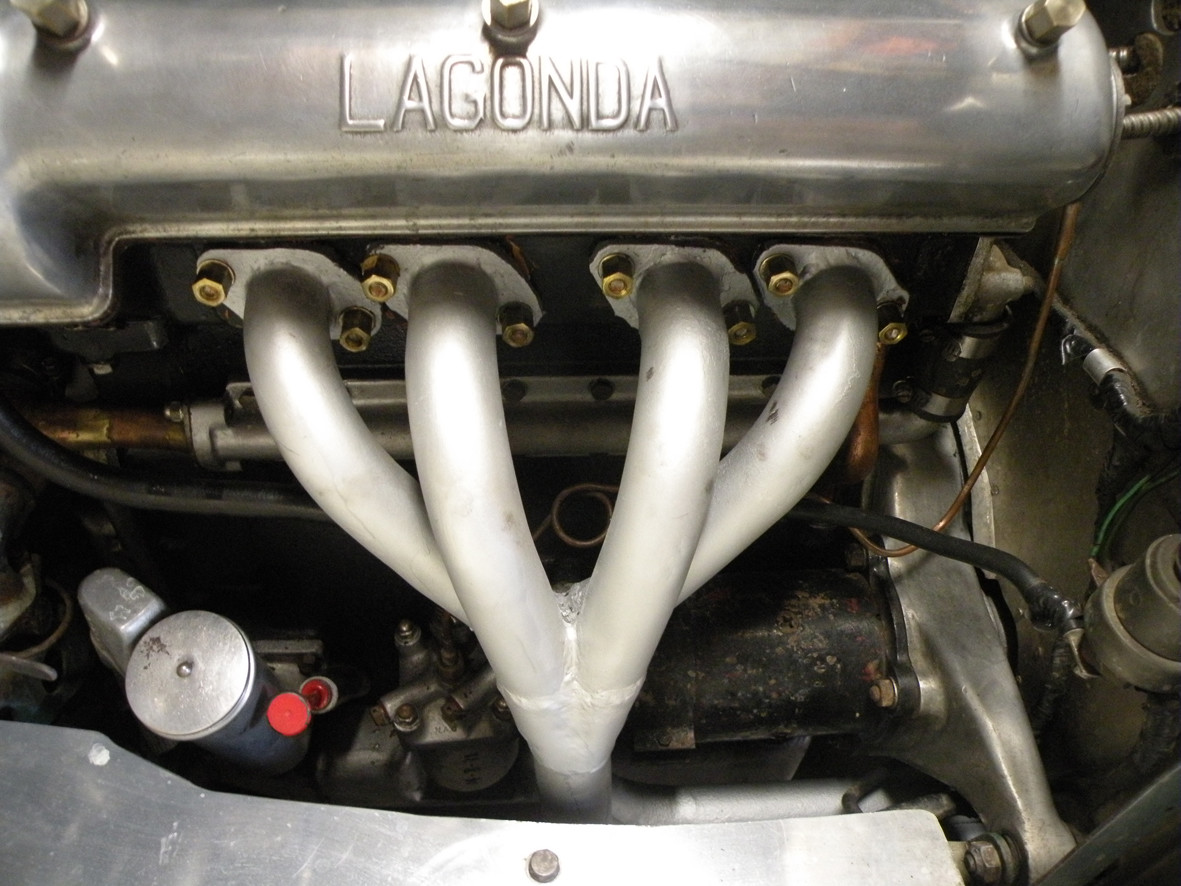 12-10-2013
For all those people who have not looked at my previous posts and not have seen a Lagonda Rapier before and I know how much many others enjoy looking at photographs, below is a photograph taken as recently as Sunday morning at the Start of the VSCC of Aust "Inner Urban" Sunday morning run. A good chance to check out the cooling system as this is predominantly run through busy "Pre-christmas" traffic with long delays experienced getting from Point A to Point B across one of the city's popular bayside centres. For comparison purposes it is seen here in company with a SS 100. The event starts from one of Melbourne's many extensive & beautiful parks
Bj.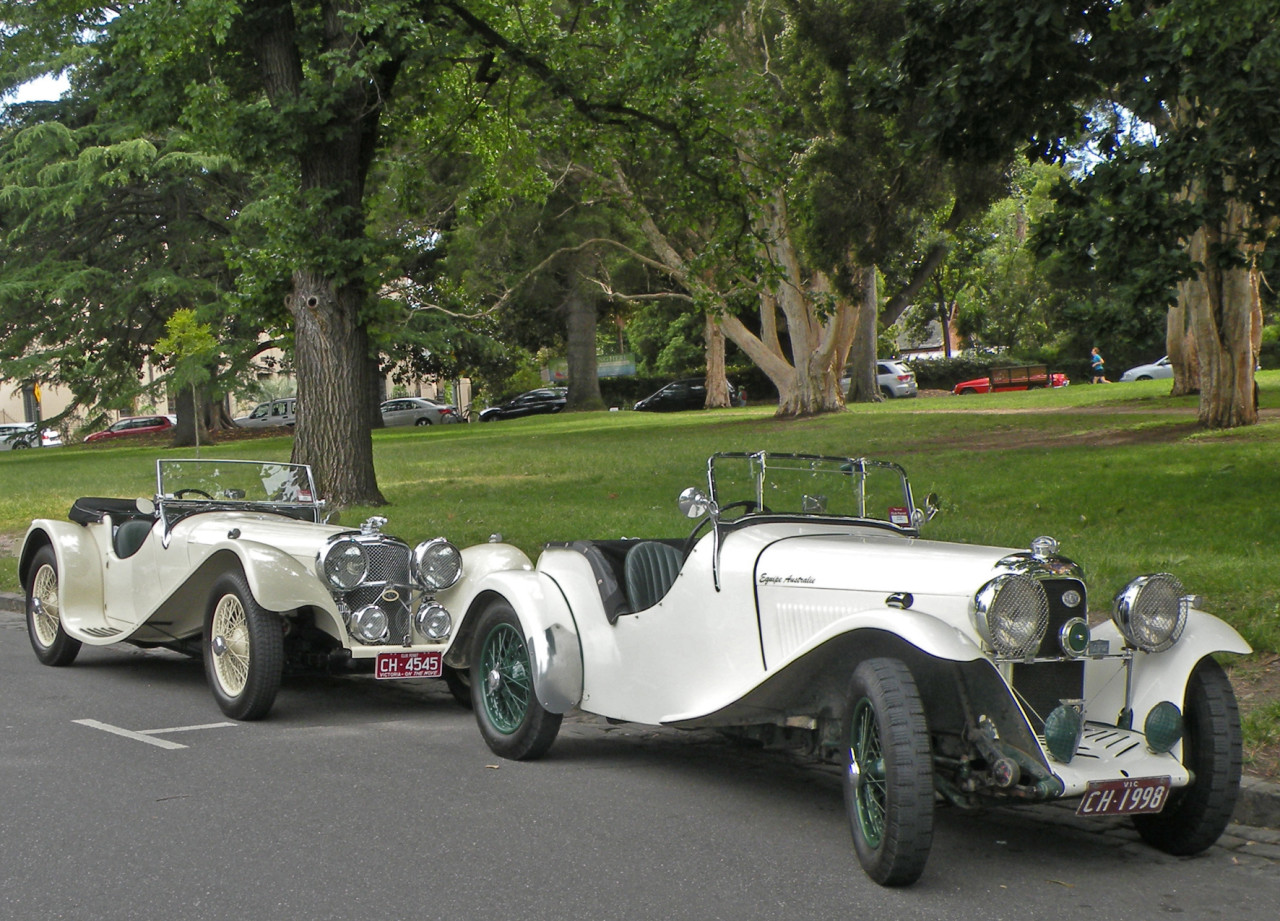 12-11-2013
Just a few of the other cars on Sunday morning's run.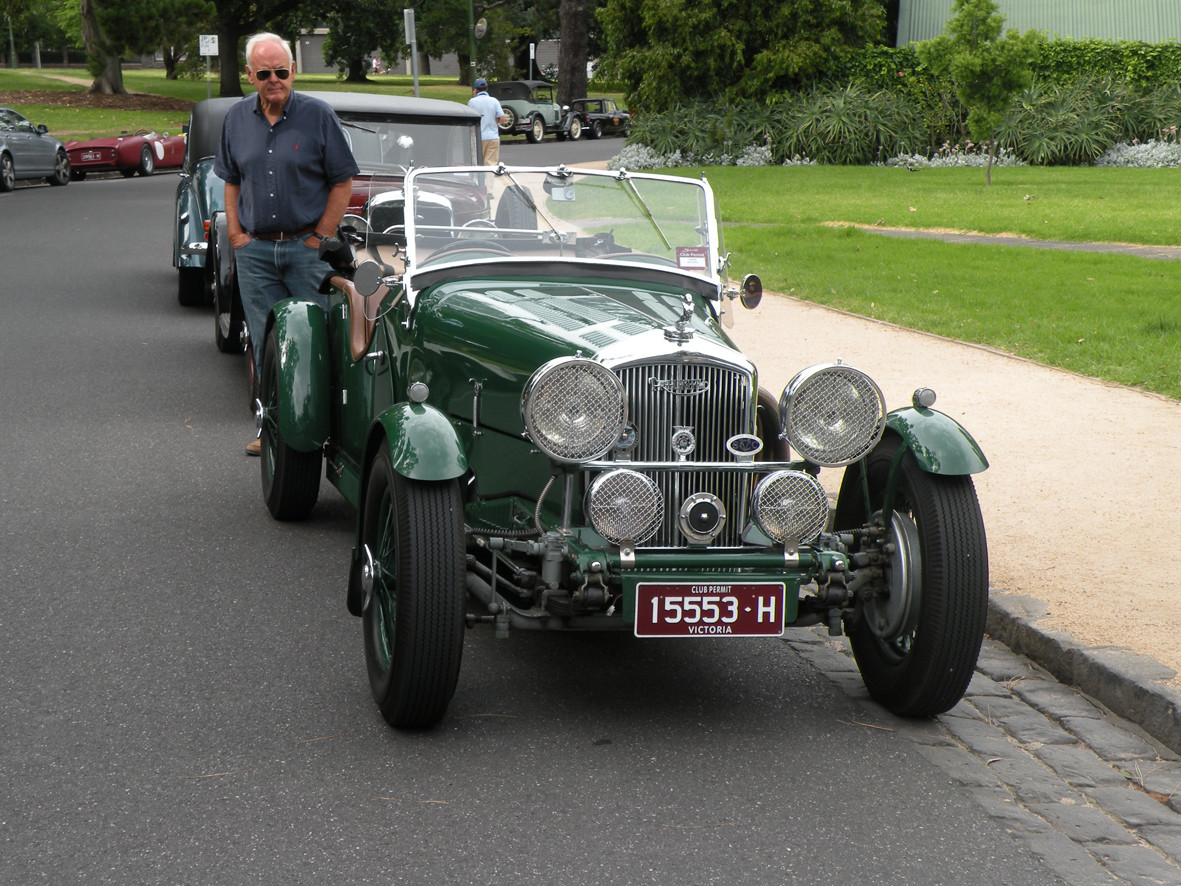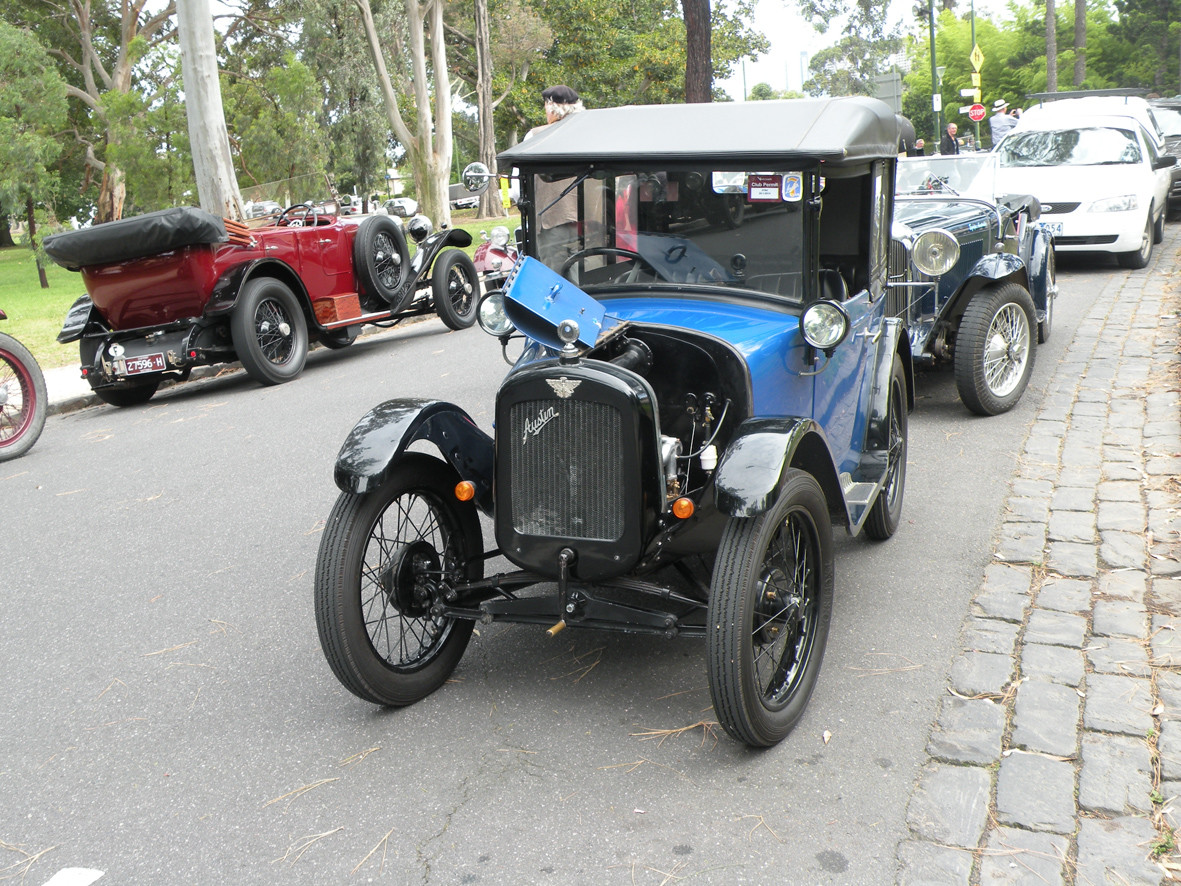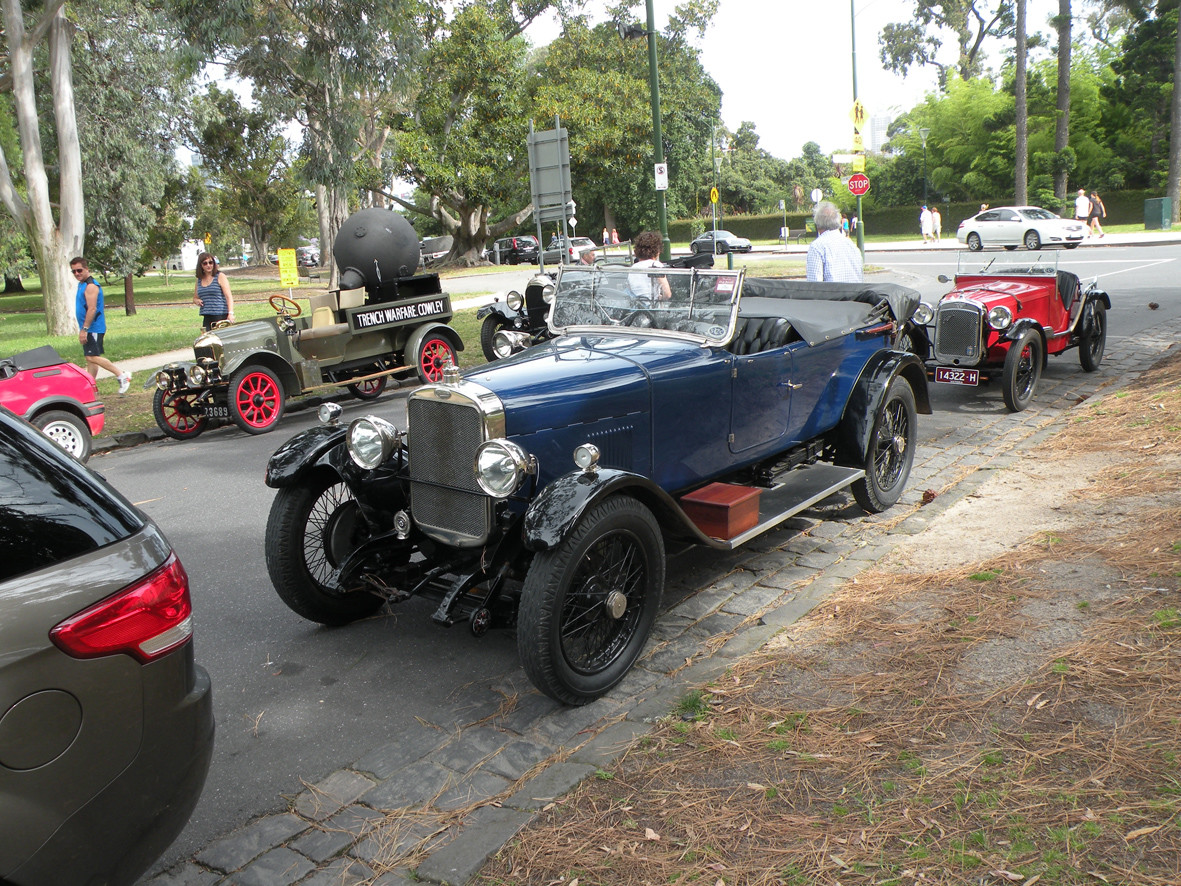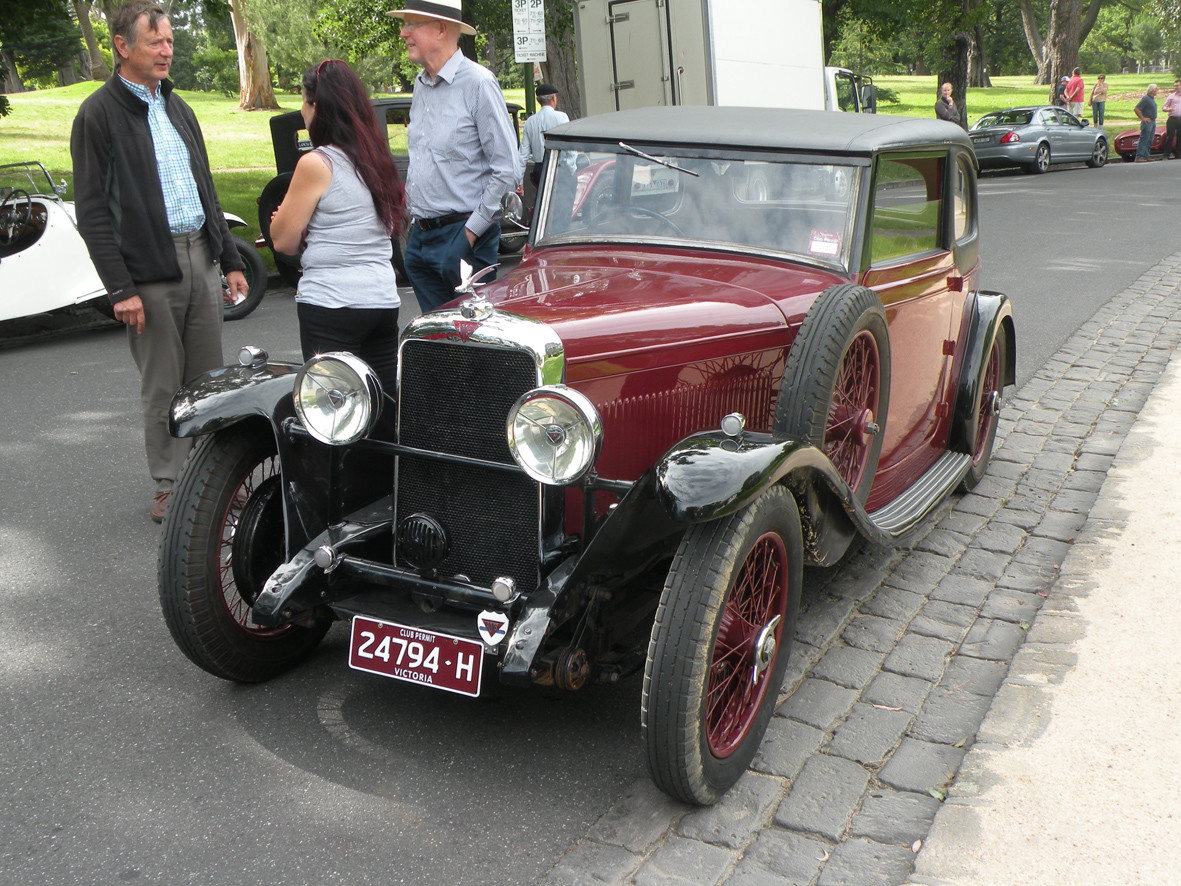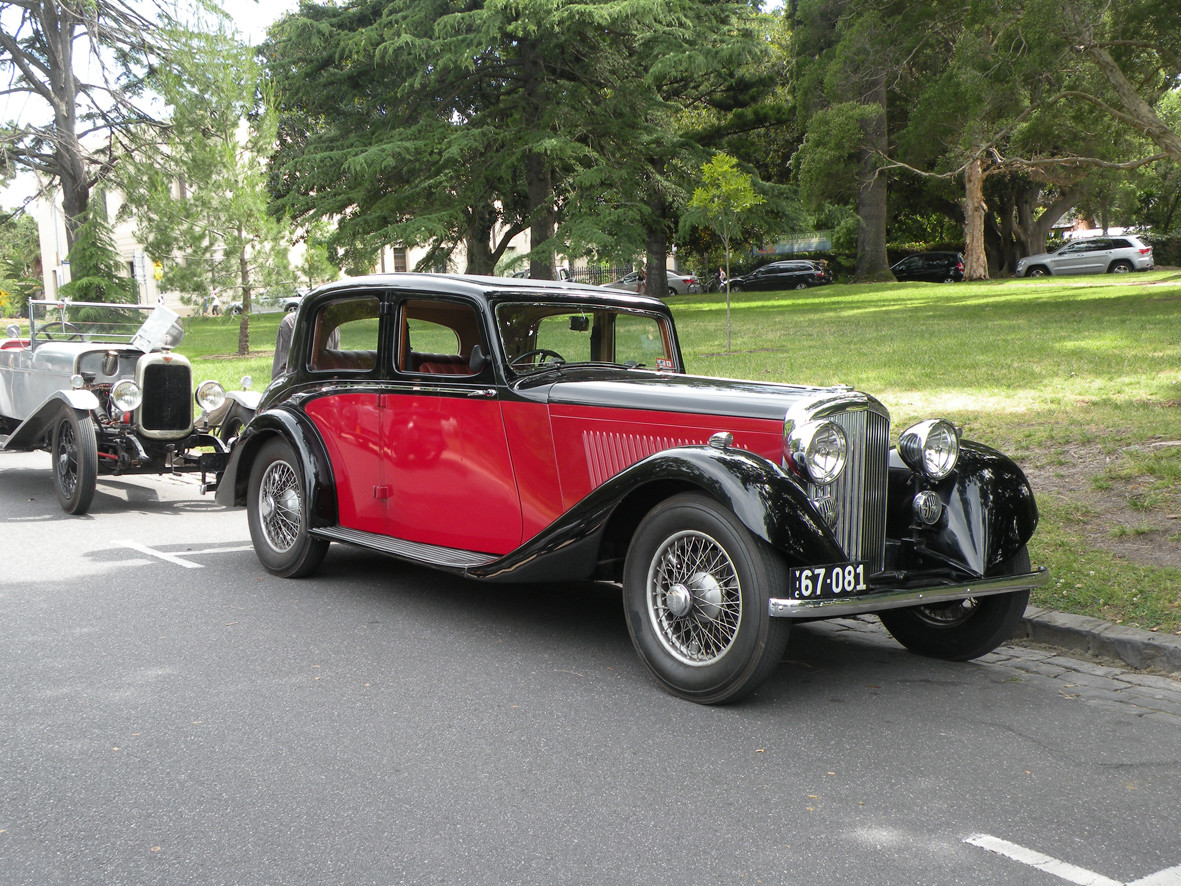 12-14-2013
Hello All
A question for anyone who cares to an answer.
How good an all-round car is a 1934 Lagonda Rapier with a 1.5 Litre, 4 cylinder 2-OHC engine?
We have just returned from a 181 mile drive almost equally divided into freeway and secondary roads. The first 89 miles being almost all freeway driving, except for the first and last 8-10 miles which were restricted to 35mph, for this we achieved an actual average speed of 50.85 mph. The second part of the journey was mainly on narrow secondary roads through 'hill country' under extremely unpleasant blustery conditions. The fuel consumption for the entire journey worked out at just a shade under 25 mpg running on 98 octane rated fuel. This with a driver and one passenger with luggage for an overnight stop. The combined ages of car, driver and passenger work out to a total of 231 years.
All of the above must say something?
Bj
At a time (1934) when car makers around the world were in all sorts of trouble, the British, Lagonda Company management's direction to Tim Ashcroft, the young engineer who had been engaged to design and oversea the production of the Rapier, was quite simple, direct and to the point. "It must be the BEST LIGHT CAR in the WORLD!" Remarkably, he achieved this at his first attempt.
Bj.
12-15-2013
We will be away for three months in total with six weeks in France and the rest in the UK. One of the main activities in England will be the Rapier Register's Tour of Northumberland so there should be plenty of photo-opportunities. Below are a couple of photographs taken on our last visit (2009). These were taken at the ritual re-enactment of the 1934 Press release day held by the Lagonda Company at 'Great Fosters', an Elizabethan manor house converted into a posh hotel prior to WW1. This event is held every 5 years.
Bj.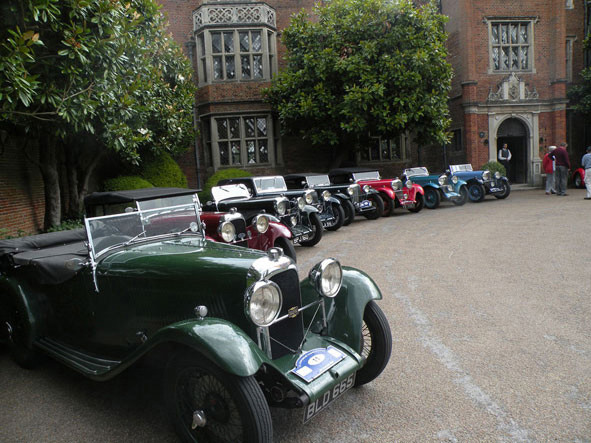 While all the cars seen above may look the similar when viewed from the front, walk around and look at them from the rear. Of the just under 400 (in total) cars built each one is individual. No two Lagonda Rapiers are exactly the same.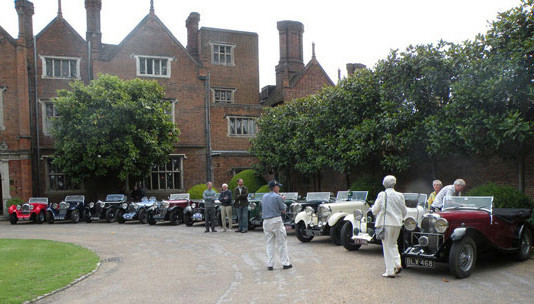 12-16-2013
Re Photographs above, taken in England in 2009: My car is the first white one nearest the camera in the left hand photograph. The lady in the cream slacks is partially obscuring it. My wife Helen is standing between it and the first (red) car (at rear)The man in the blue shirt standing in the driveway in front of our car is James Williams an AACA member from South Carolina. In case anyone is wondering/interested, the photograph below shows how my Lagonda looked in the 1960/70s before I bought it in 1978. Some people will tell you that I destroyed a historic car. Having said that I have owned it longer (since 1978) than any other owner from 1934 to the present date.
Bj.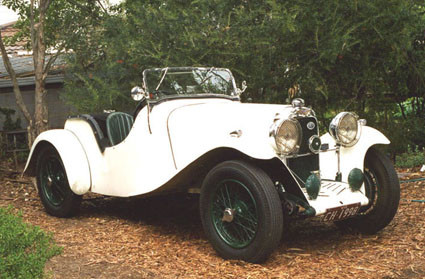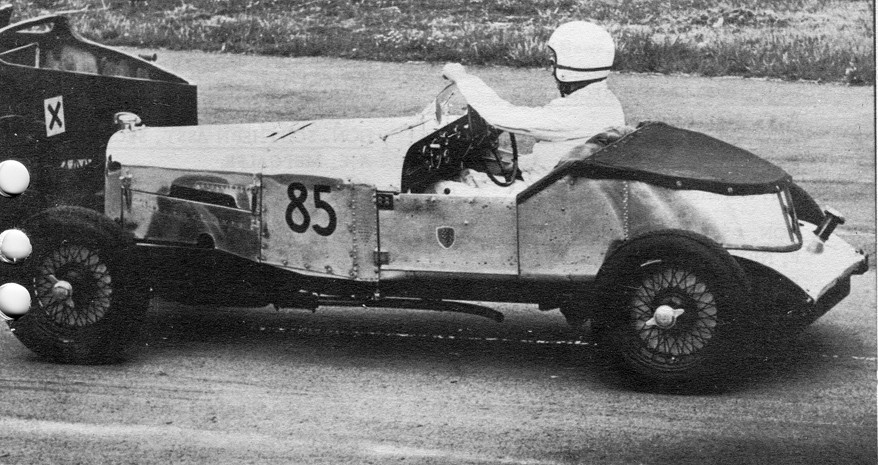 James Williams mentioned above is now in his 80s and is fully occupied restoring his Lagonda Rapier, a two seater similar to my car. He has owned it since 1969-70. Those AACA members who know him will agree, he is one remarkable man. In his spare time he is doing a major engine re-build on his 1930s Rolls Royce. He has only recently given up his position as "First Responder" with his local Volunteer Fire Service. If that is not enough he also has a huge collection of restored clocks and watches.
Bj.
12-19-2013
To all those people in the Northern States enjoying nice chilly weather and dreaming of a White Christmas, spare us a thought here Down Under. We went for a short (50 mile) drive in the Lagonda yesterday. It coped very well with the 42 degree C. temperature, the radiator Temperature gauge never went past 85 although at that temperature the electric fan did come on once or twice when we were stopped in the Traffic.
From new the Lagonda Company never fitted a fan. They could not contemplate anything as crude as drive belts, opting for gear driven water pump and generator etc. Leaving the front of the engine clear of obstruction. The electric fan on our car being a modern, after market, addition to assist in coping present day traffic, todays density would have been unimaginable in 1934.
Bj
12-21-2013
Hi whtbaron,
I can assure you that you really would not have enjoyed it, Melbourne's hot north wind days are just about as unpleasant as you can get. This wind comes straight out of the dry centre of Australia and will completely desiccate you after about 10 minutes exposure. Sun related skin cancer is one of the greatest health problems we have.
I cannot comment about snow as that is something that we almost never see. I am 77 years old and think that I may have seen snow in the suburbs of Melbourne once or twice, perhaps three times in my whole life. Even then it would melt virtually as it hit the ground. Freezing is something we just never see on the thermometer. I cannot remember when I last saw frost on the grass in our garden and have never seen ice on the surface of our pond. I would certainly not waste money putting anti-freeze in the Lagonda or any of our modern cars radiators. Rust inhibitor yes but anti-freeze never.
Bj
1-7-2014
Hello Again
Anyone wondering where I have gone, to re-discover the on going story of my activities simply "click" on the link provided. For some this may mean breaking new ground but you will not be leaving this, the AACA Forum. It may even expand your horizon. http://forums.aaca.org/f168/lagonda-rapiers-317552-4.html
Bernie J
oldcar.