Renault 1929 RY1 Monasix by oldcar
By diyauto
Renault 1929 RY1 Monasix
Compliments of oldcar @ http://forums.aaca.org
8-26-2014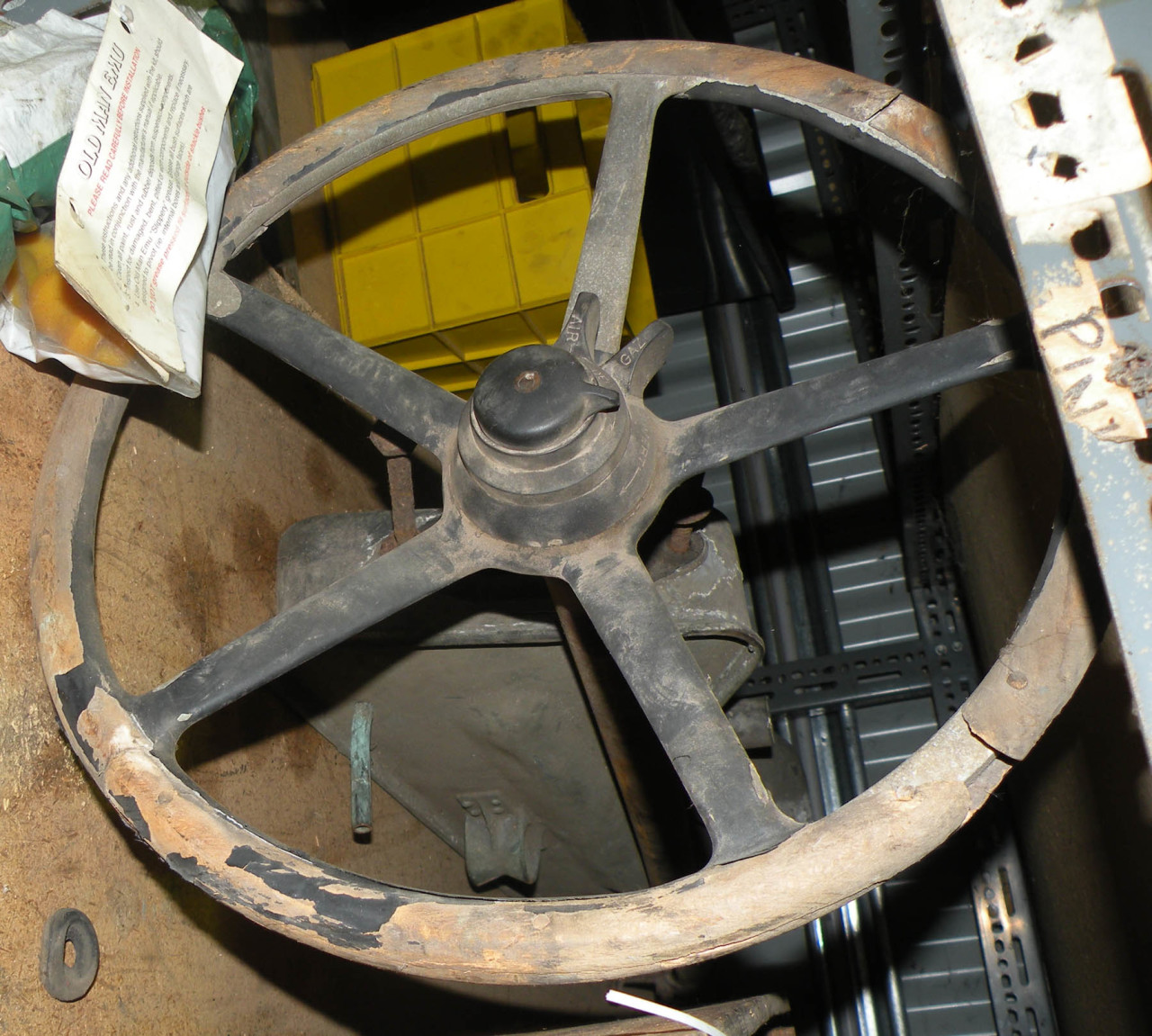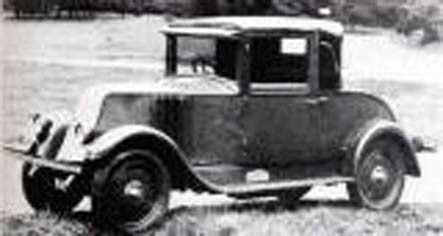 Where next?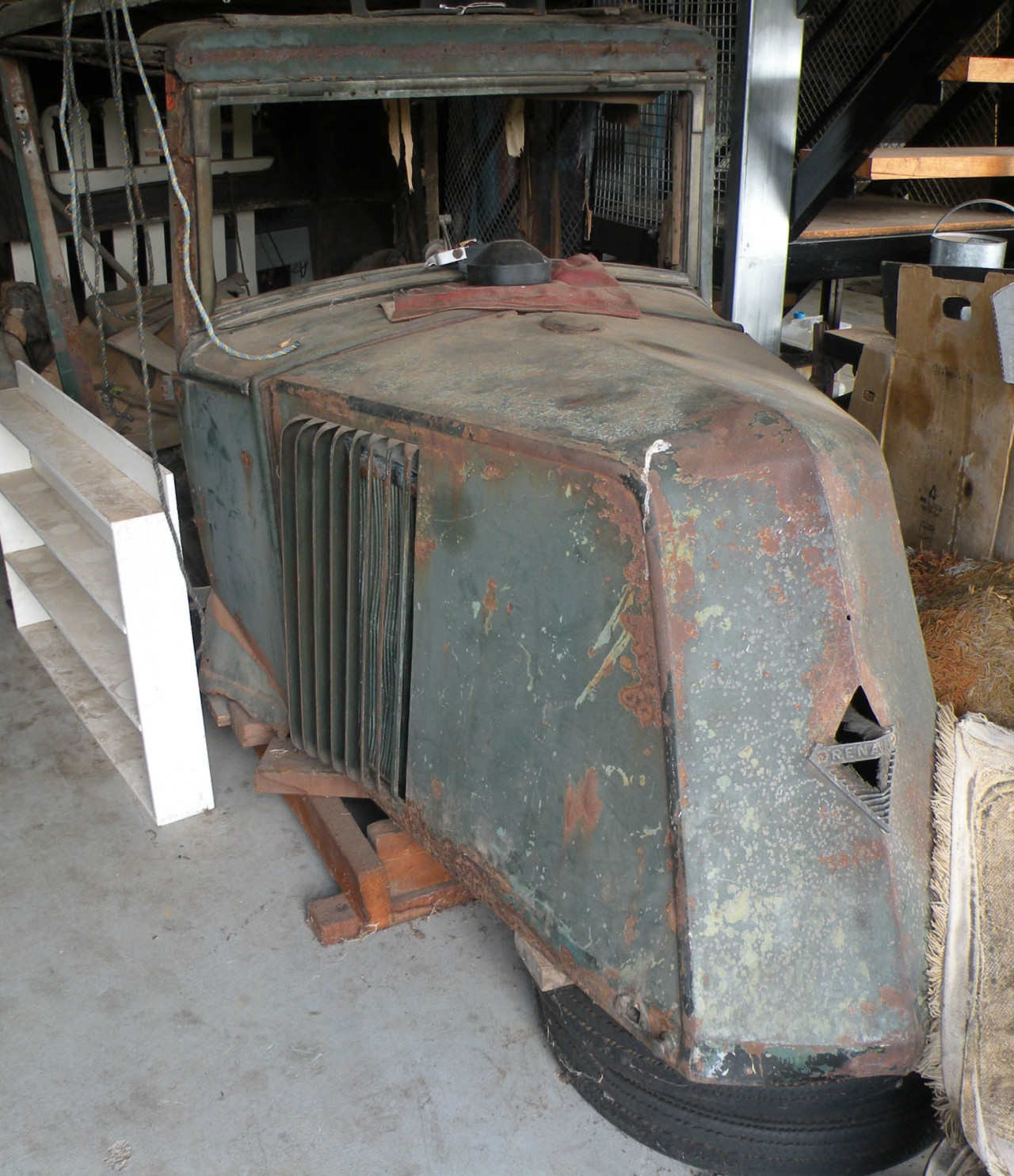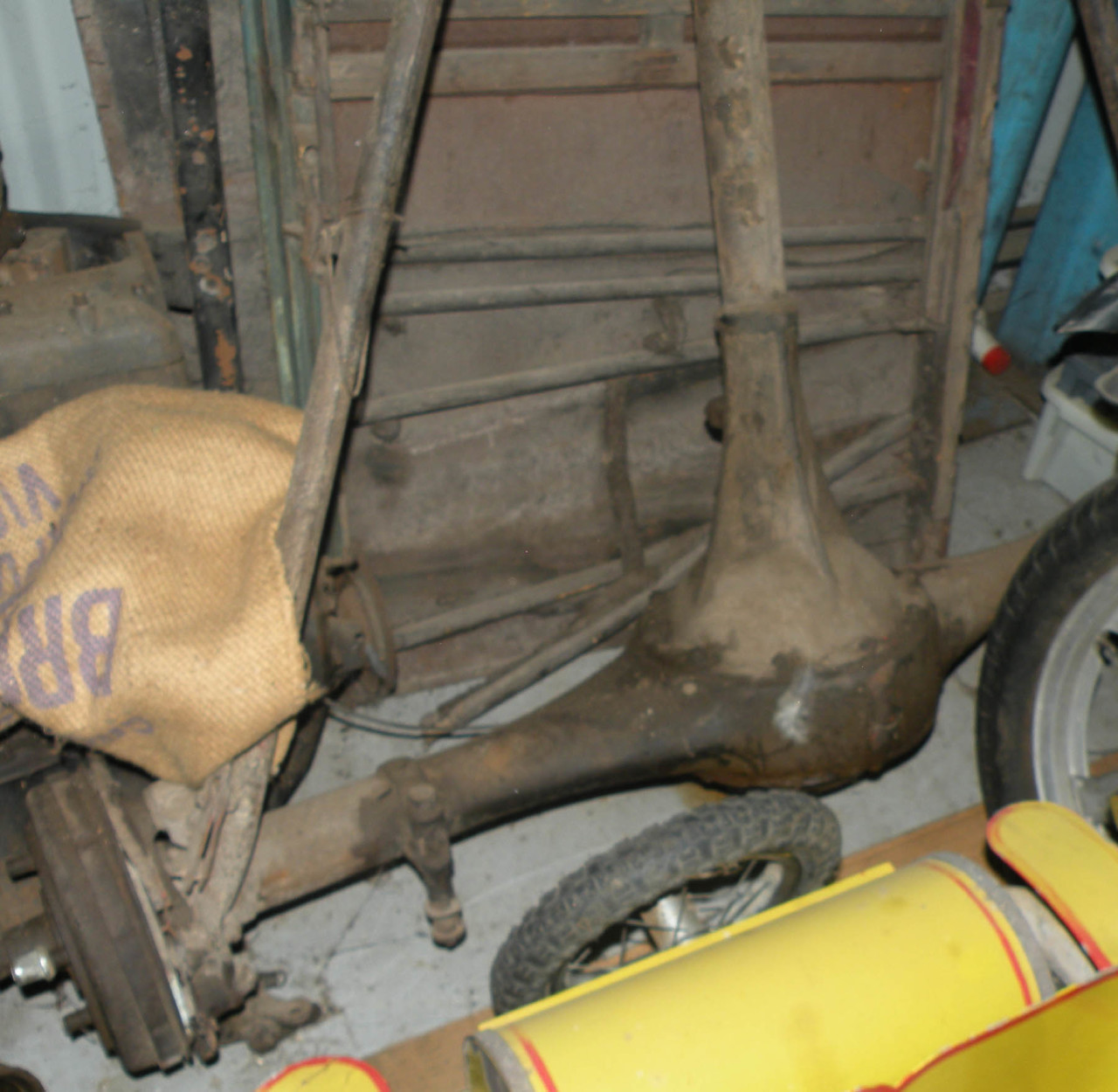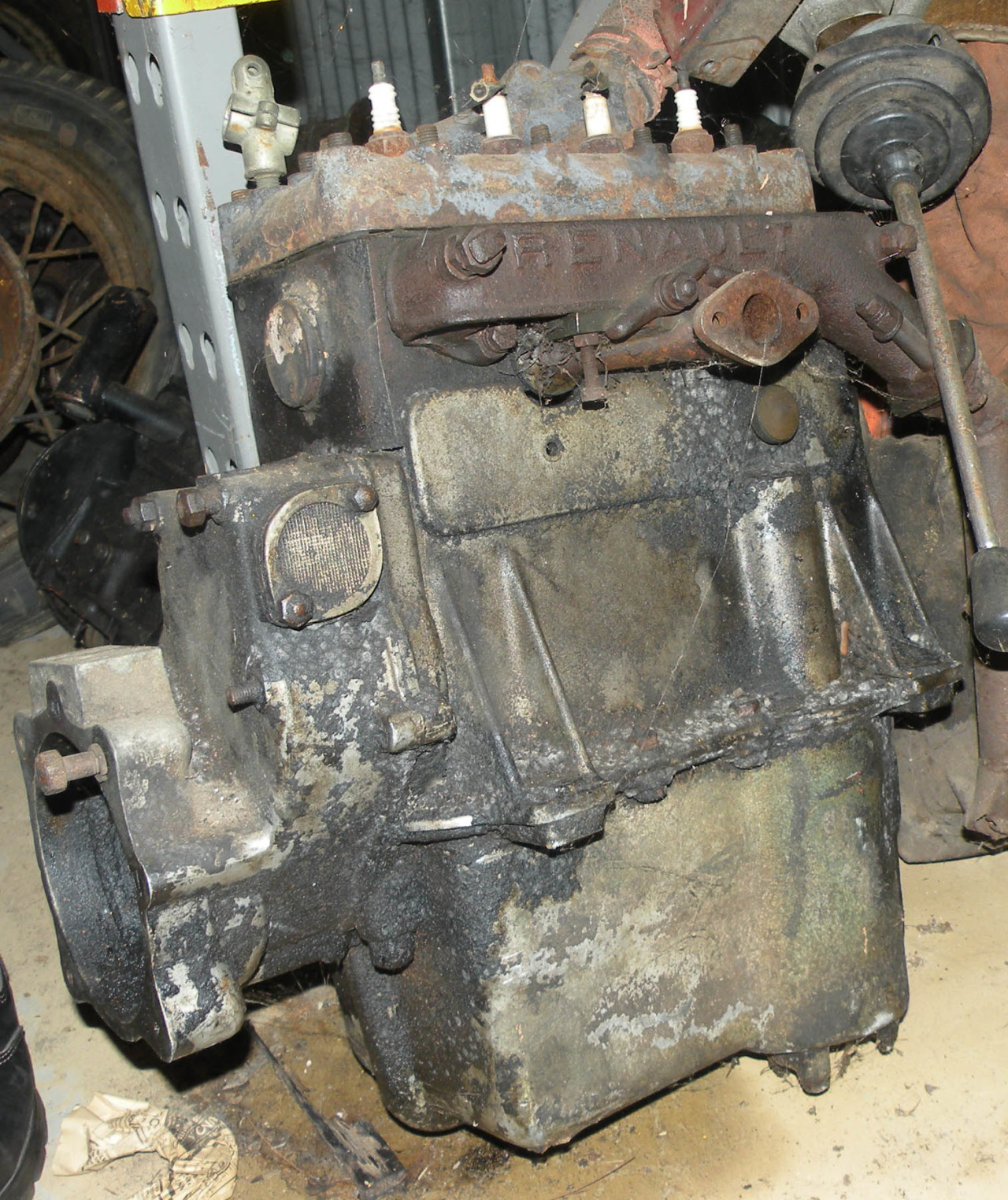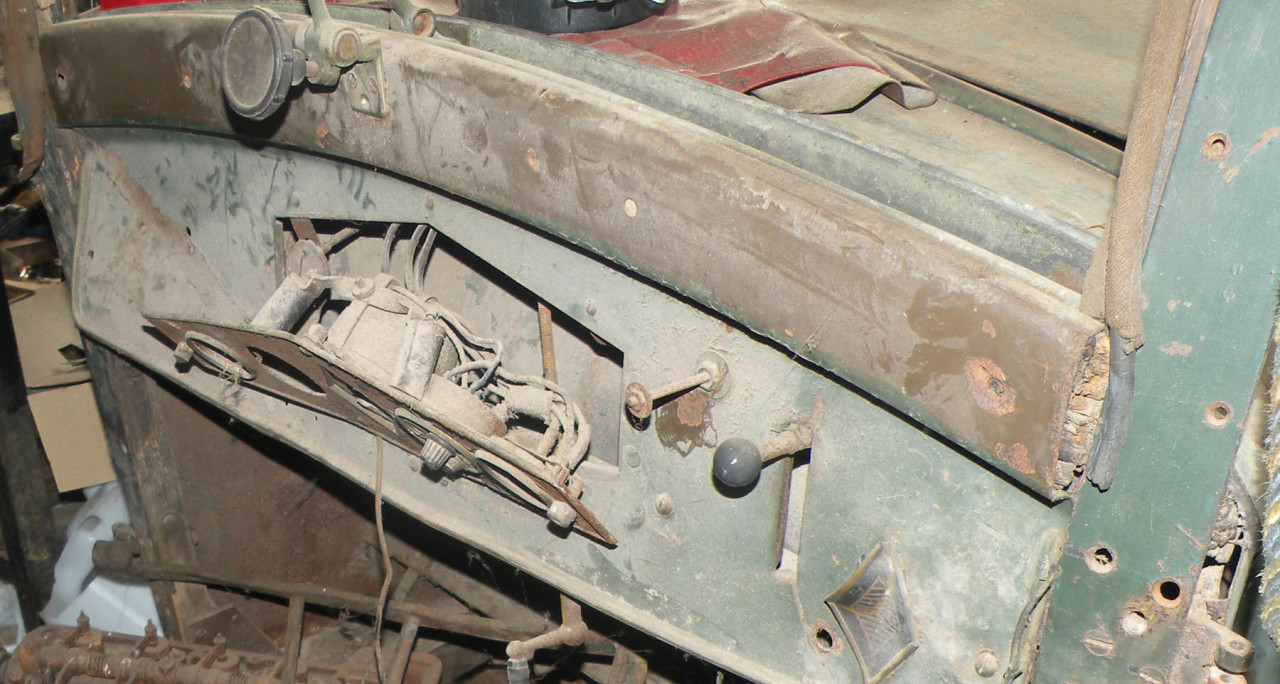 Hello Ben, John et al
Life is always busy, we returned just over a week ago from England, in all we spent three months away, basically six weeks in France and six weeks in England & Wales, two days in Belgium and two days in Holland. Our trusty 1934 Lagonda Rapier was on the road driving "somewhere" every day. The total distance covered 5,150 miles.
Right now I an desparately trying to decide whether to take on the Renault, a major restoration, requiring a complete new body and a full mechanical rebuild or to buy a 1924 Rover 9/20 that is more or less complete but never the less needing restoration. Both are relatively rare and are approximately the same size. While a side valve engine the Renault has a much more sophisticated chassis, servo assisted four wheel brakes etc. The Rover has an over head valve engine but an extremely simple chassis, rear wheel only brakes etc. It still has its original two seater body in relatively sound condition.
The Renault is French with a good spares availability (ex France) The Rover is English with a good Owners Club (in England) but no real spares organisation. As I said in my first post; Where to now? Just to complicate matters the Renault is missing ALL the gearbox internals. Spares are probably available but almost certainly only in France.
It is a bit like choosing between a bumpy road with spectacular scenery or a smooth highway with no scenery.
If I take on the Renault I can do everything, leaving the gearbox until last which would give us an excuse to go to France again at some time in the future. Against that I am now almost 78 and who knows how much future?
Bj.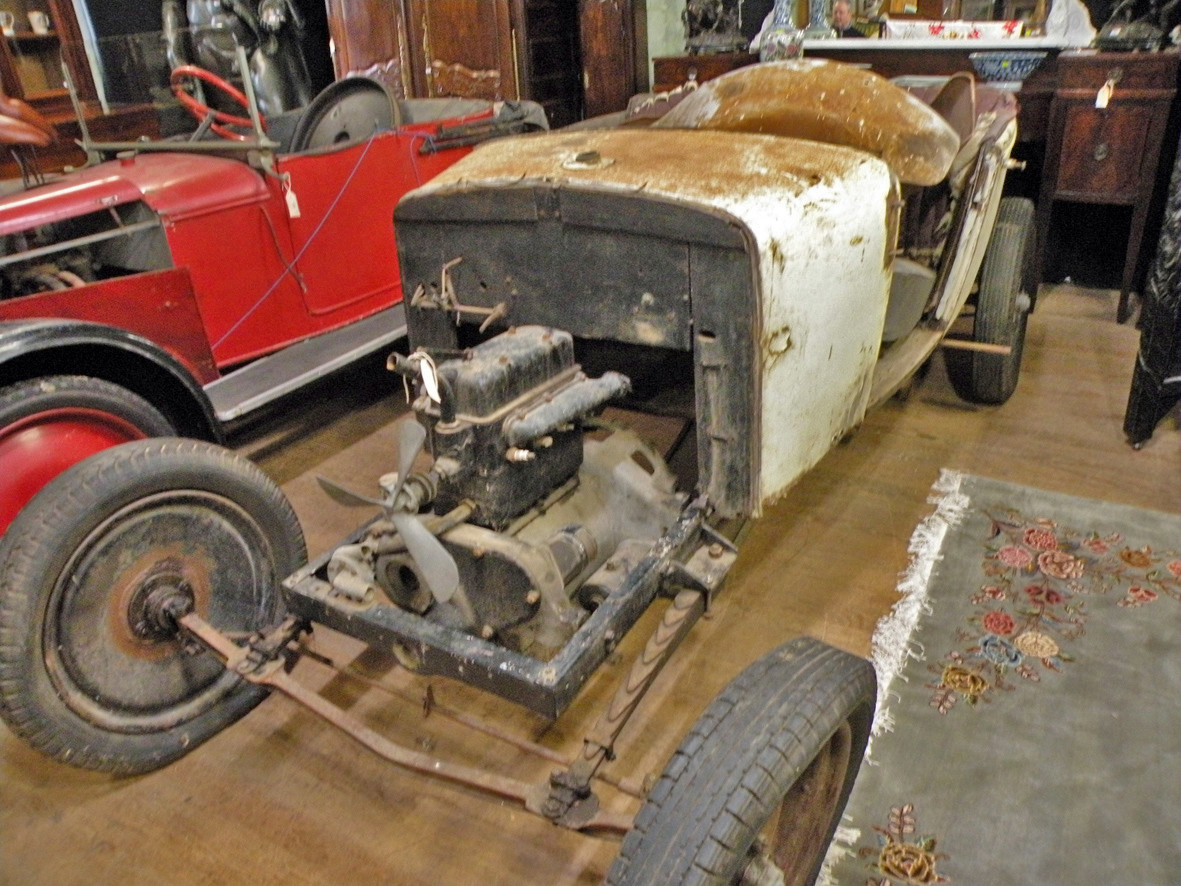 1924 Rover 9/20.
8-29-2014
You are all quite correct although it is a matter of personal preference. While my recent restorations may seem to point in a different direction, from an early age I have been a "light car" enthusiast. While the Rover has a more advanced engine and is marginally larger capacity, it is also much lighter weight and is essentially an open two seater while in its original form the Renault was a (heavy, 3,400 lbs) four door sedan. It has been pointed out to me that in the past I suffered a great deal of critism for changing the Packard from a fixed head coupe to a converible.
With the Renault, the original sedan body is so far gone that it would absolute (financial)madness to even think about restoring it. The timber body frame is entirely gone as has all the upholstery and interior trim.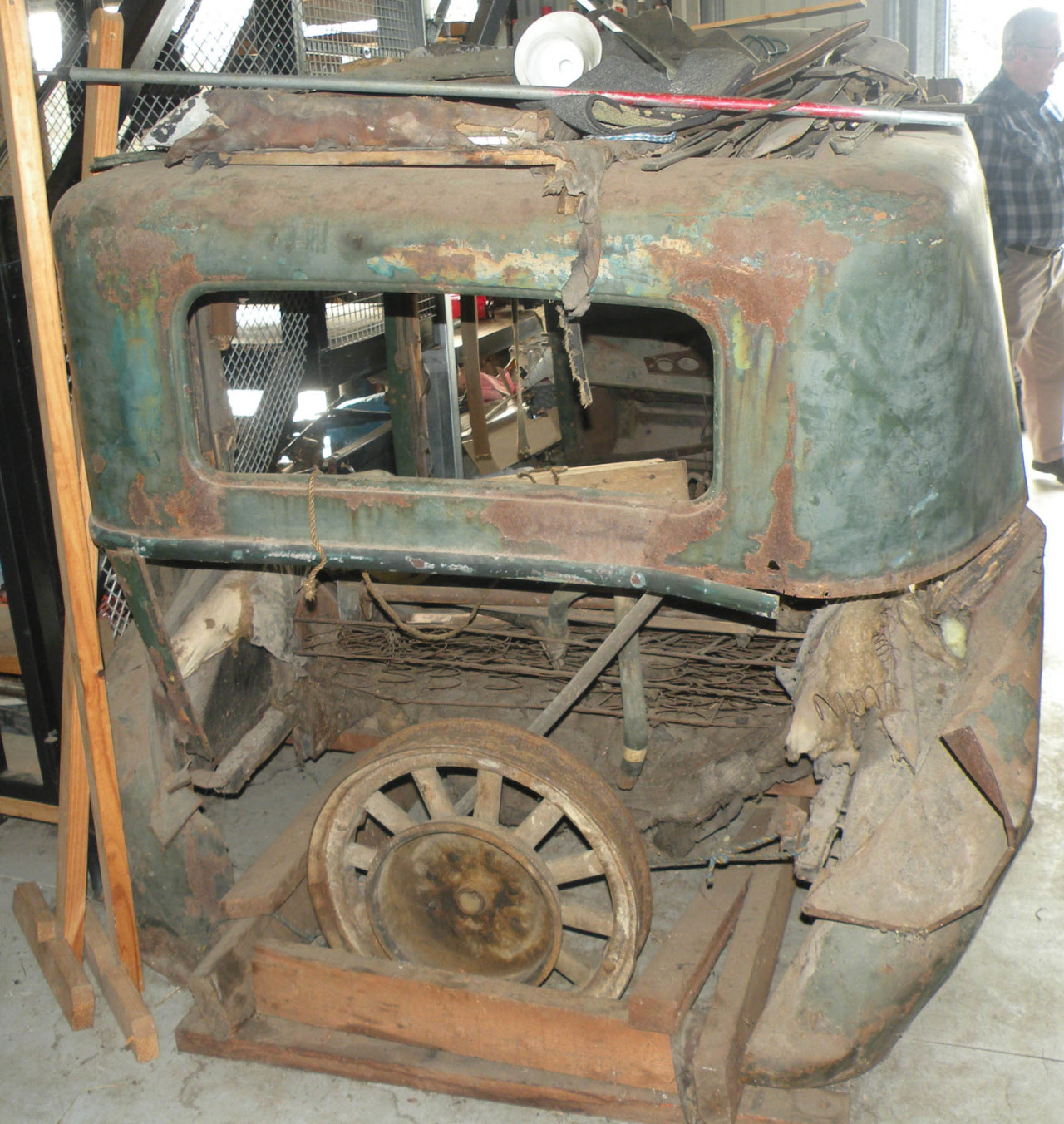 The only way I would comtemplate restoring it would be either as a replica Labourdette Skif tailed roadster or as a Drop Head Coupe.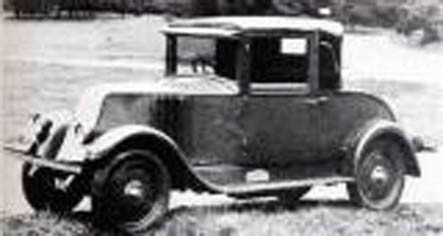 The Rover still has its original two seater roadster body, fenders etc and would be a straight forward restoration.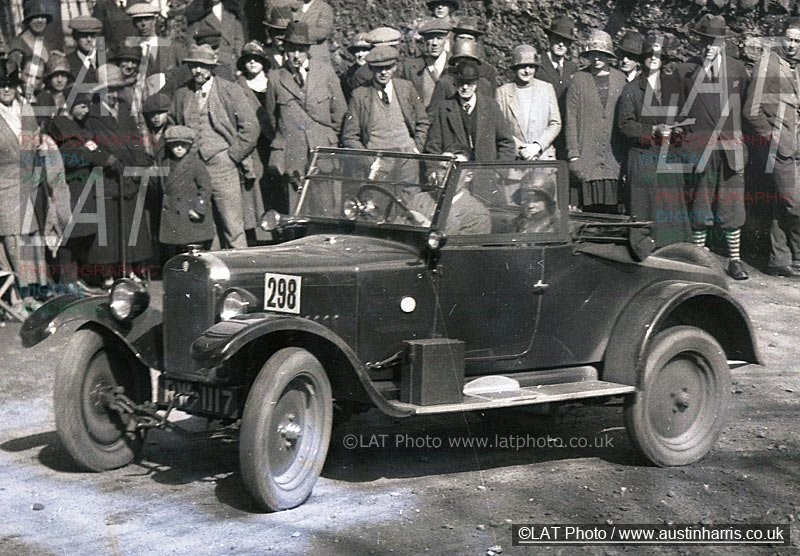 Added to all this while the Renault has a good spares availability (Depanoto), this is in France so there is both a language and distance problem.
Bj.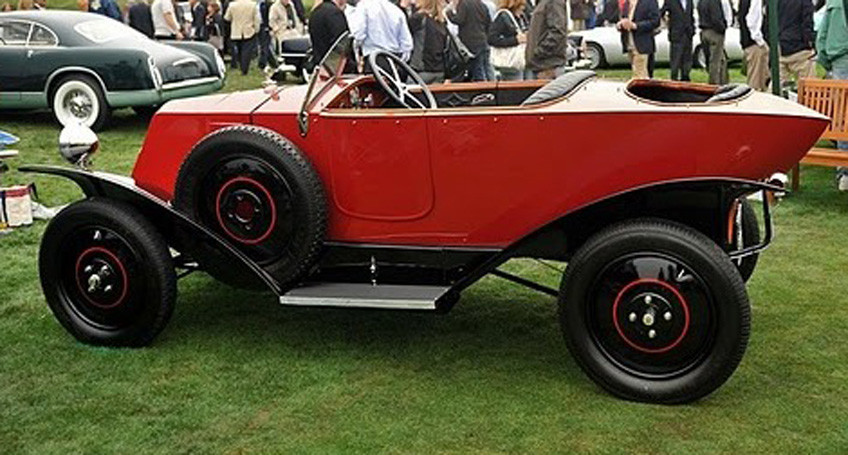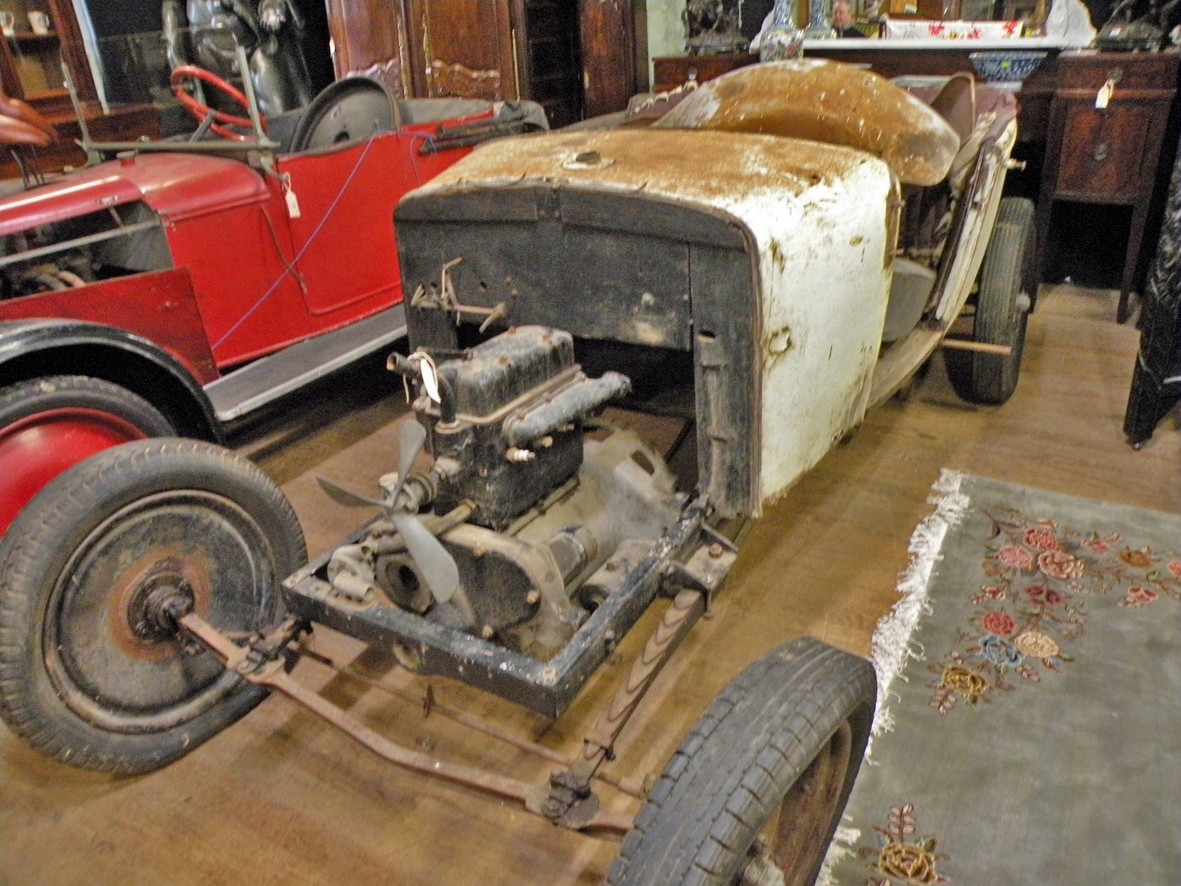 Rovers were populat during the early 1920s in England competing in most of the long distance reliabiliry trials.
There is an extensive collection of period photographs on the Austin Harris web-site : http://www.austinharris.co.uk/photo/1923-colmore-cup-trial/856.\
Go to the web page then select Rover from the table on the left side. There is a never ending supply of fascinating photographs from the late teens to the 1930s available. This is ofcourse if you happen to be interested in pre WW2 English cars.
Bj
9-5-2014
Hello
At last I have been forced to make a decision, the vendor of the Rover has decided for me. He now thinks that he should "store" the car himself.
Please note: I used the term "store" as apposed to "Restore" This means that he is going to leave it in his barn along with the remains of several dismantled 1920s cars and do nothing.
Oh well! I have now paid for the Renault and plan to collect the first load of parts over the weekend 13/14 September (in two weeks time).
I collected the bits of the Dynamoteur yesterday and can only hope that at least some of the rest of the car are in better condition. I have started a world wide search for a replacement. It is a Paris-Rhone 12 Volt Type D-2R. If you look closely at the third photograph you will see that it is the remains of a brush holder with the crucial part neatly broken off. Not a good start! With the weight of copper and brass in one of these I am sure that lots have found their way into the scrap mans bins. But there is sure to be at least one on a shelf somewhere. If only the French would reply to e-mails! Even just the ones sent in French!!
Bj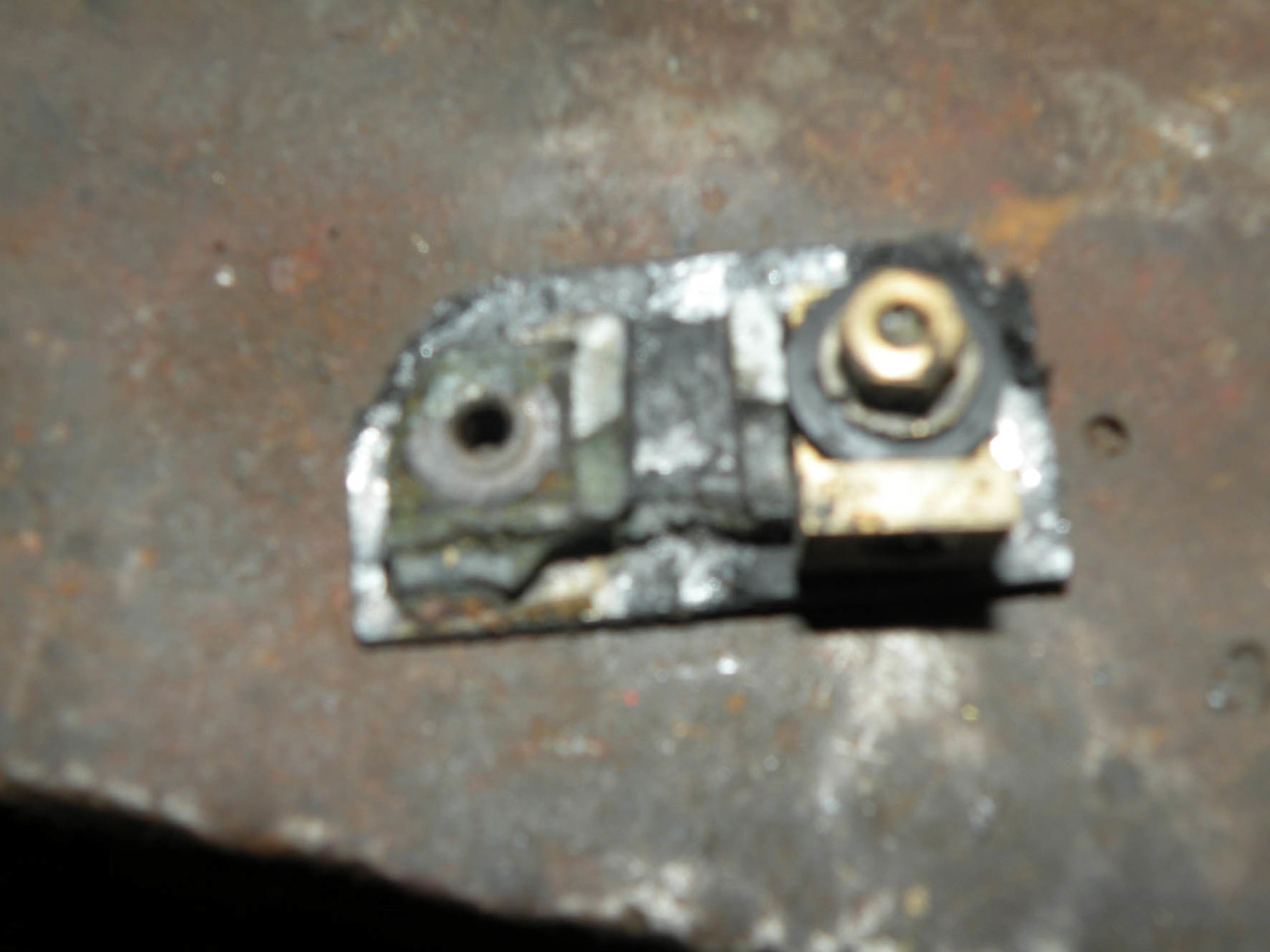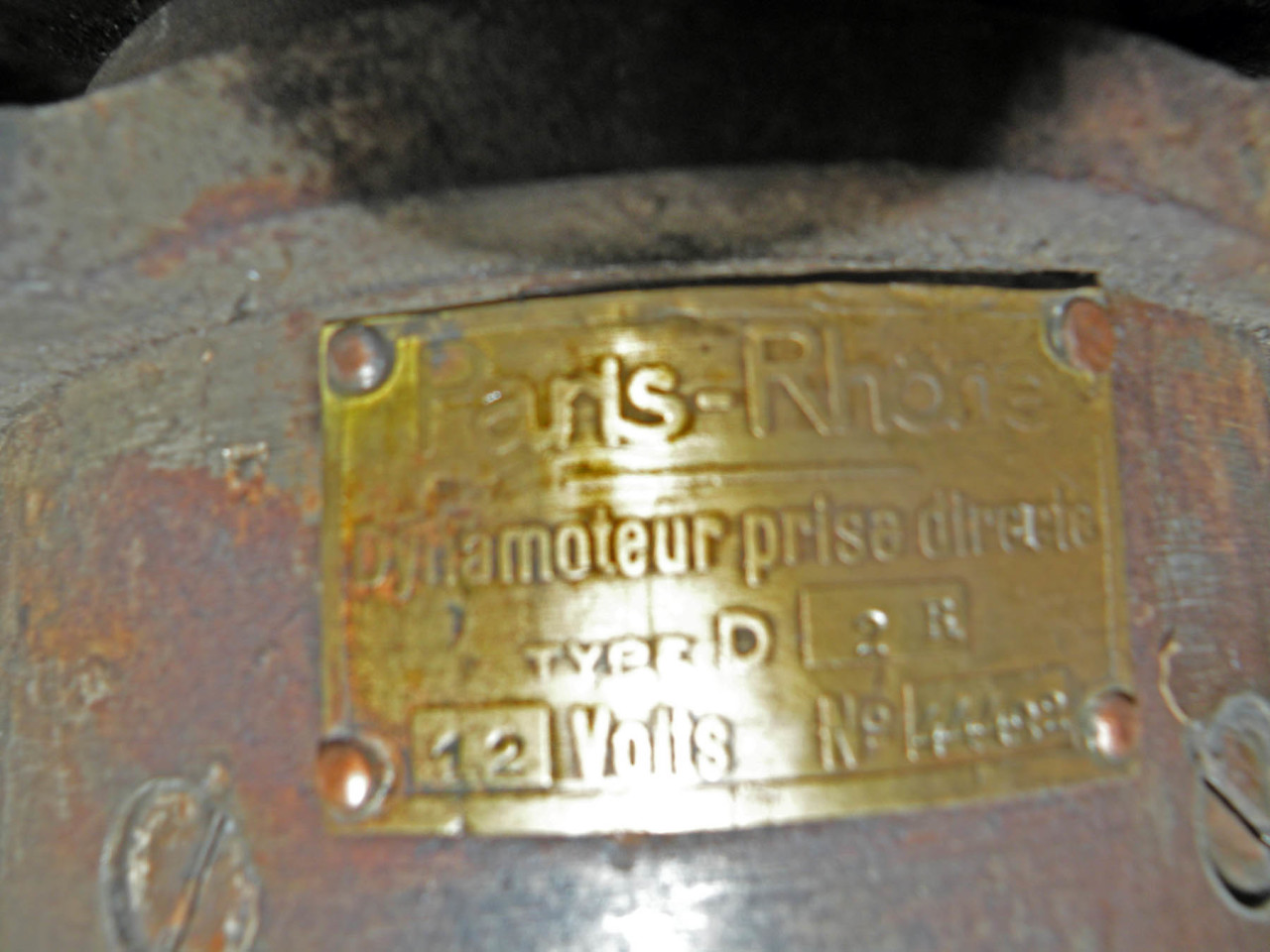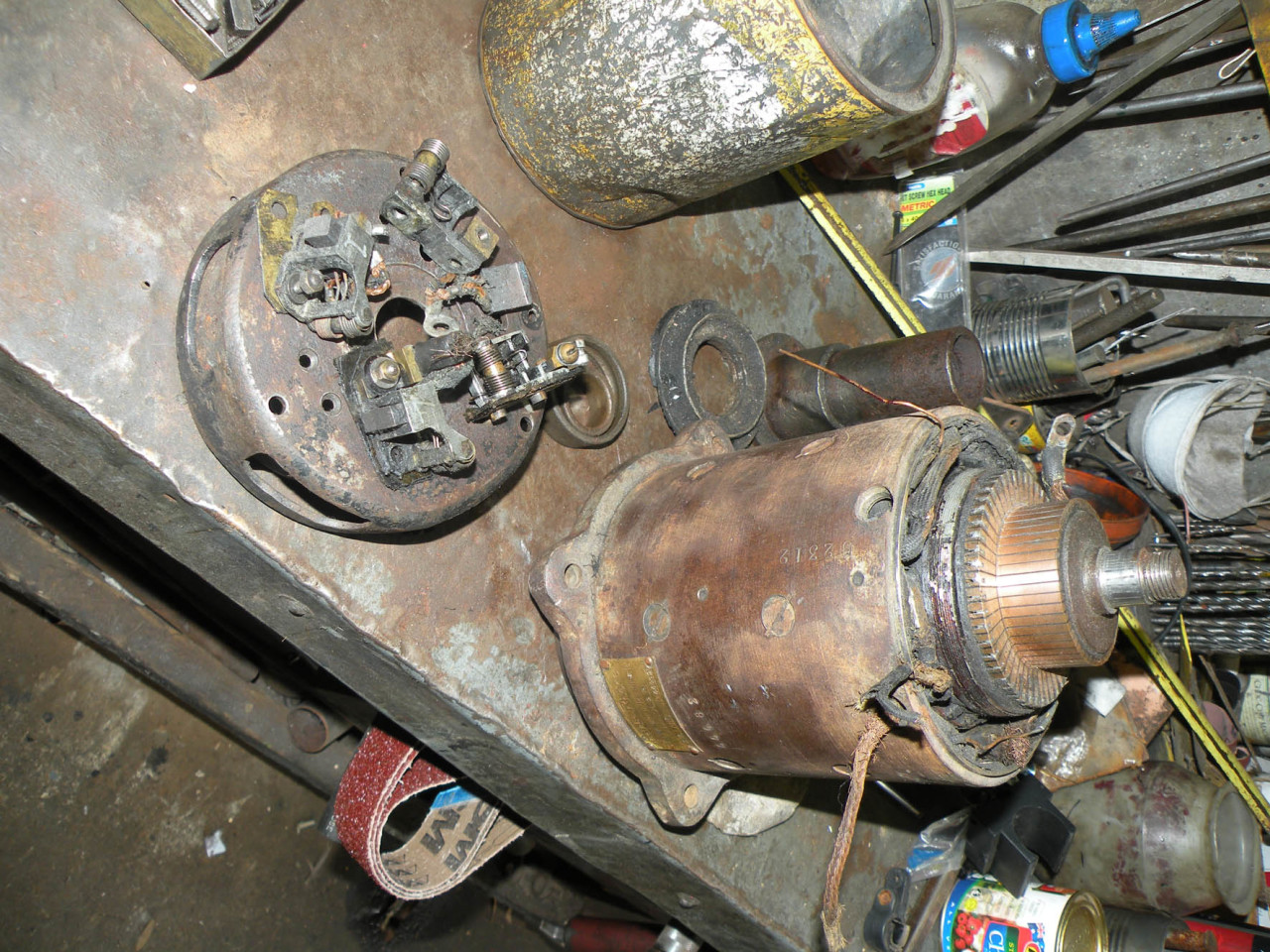 9-14-2014
If you get bored easily? Do not hang about because this is going to take quite some time. Looking at the last two photographs you will note that the gearbox mounts directly onto the front end of the torque tube. The aluminium box behind the gear box contains the "works" for the mechanical brake servo. (power-brakes in 1928.) The First problem is to find a complete set of ALL the internals for the gearbox. Sounds like fun, brush up on your first year French for a start.\
The "ball" end on the front of the gearbox is where it mounts onto a chassis cross member. It also contains the universal joint on the end of the short drive shaft from the clutch. Think that sounds "weird" it is only the beginning!.
Go to www.les-renault-d-avant-guerre.com Then look for, Le coin des 6ch à radiateur arriere.
Bj.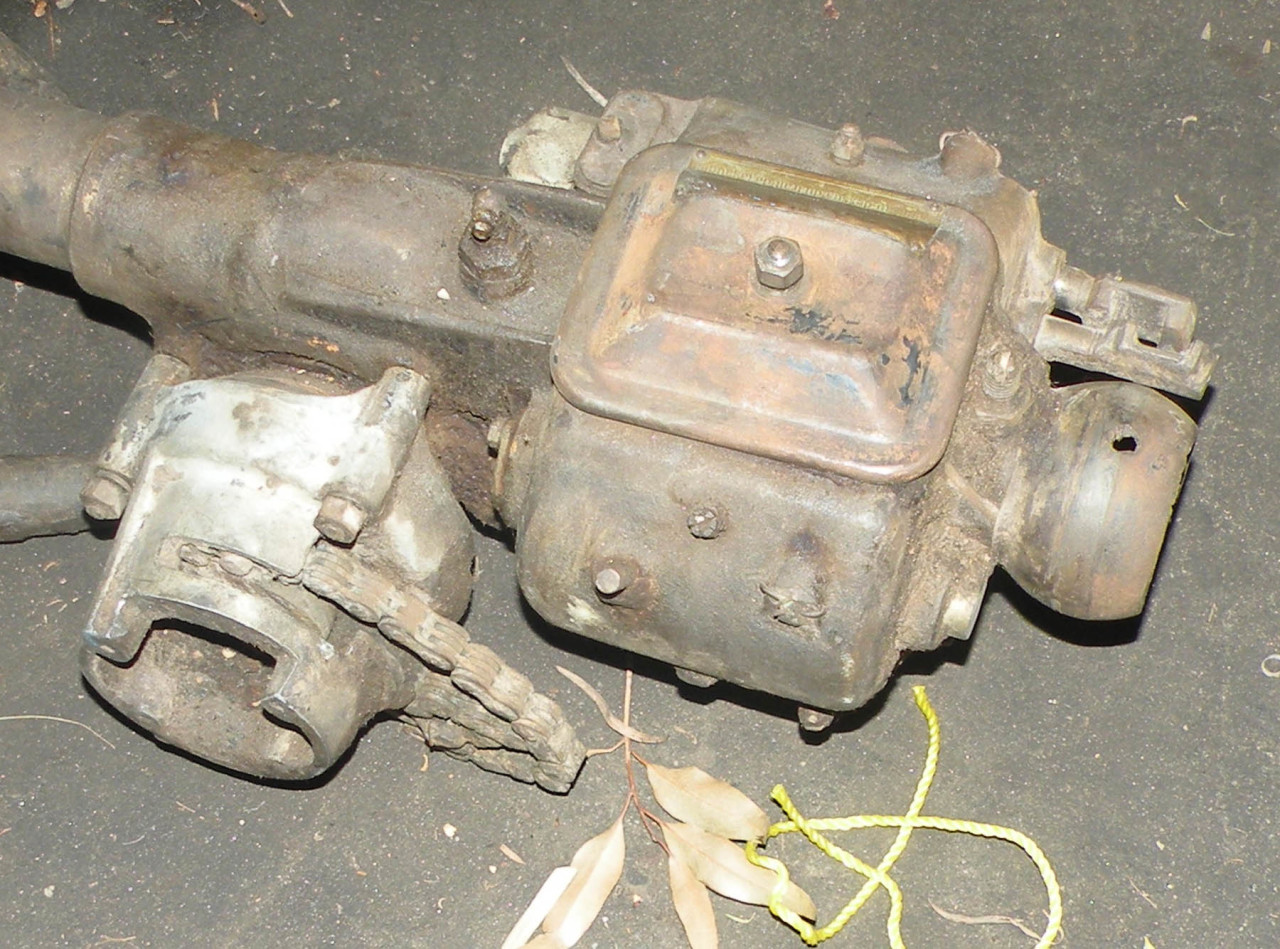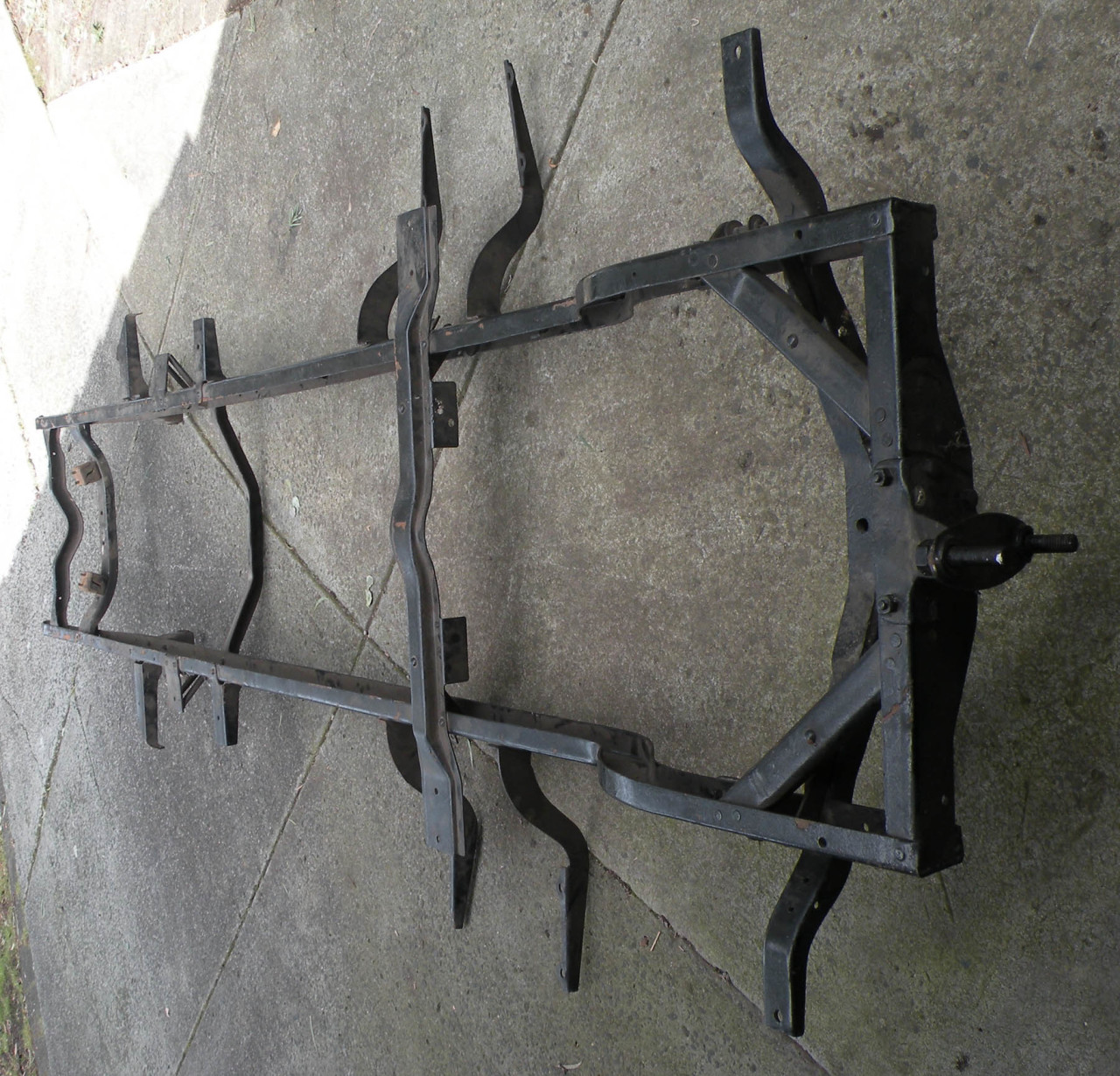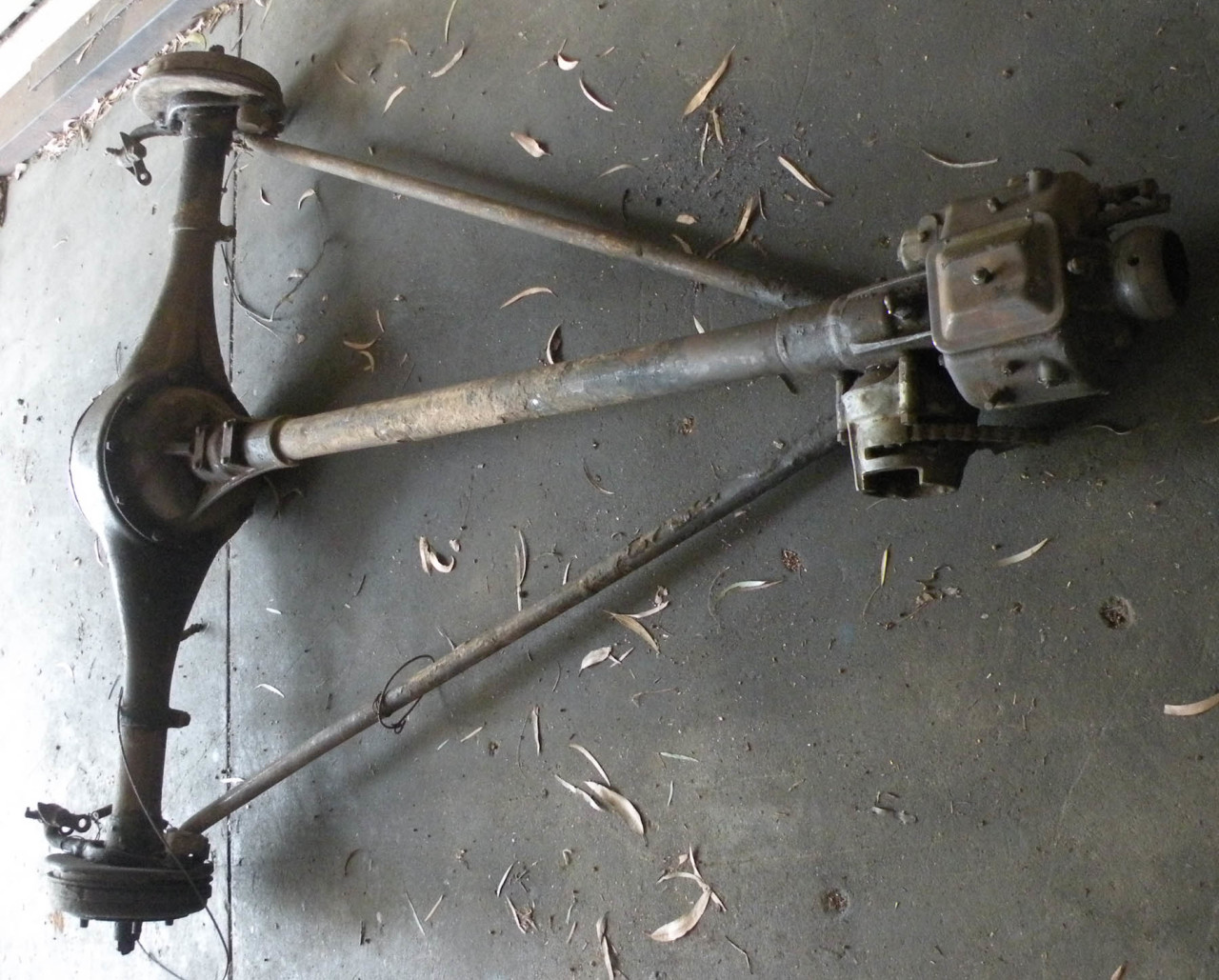 9-16-2014
I have now done a trial/dummy assembly in order to detirmine if I have sufficient of the essential parts to proceed. As a result I have sent off a long shopping list to Depanoto in France. Next task is to take it all apart again and start in earnest.
Bj.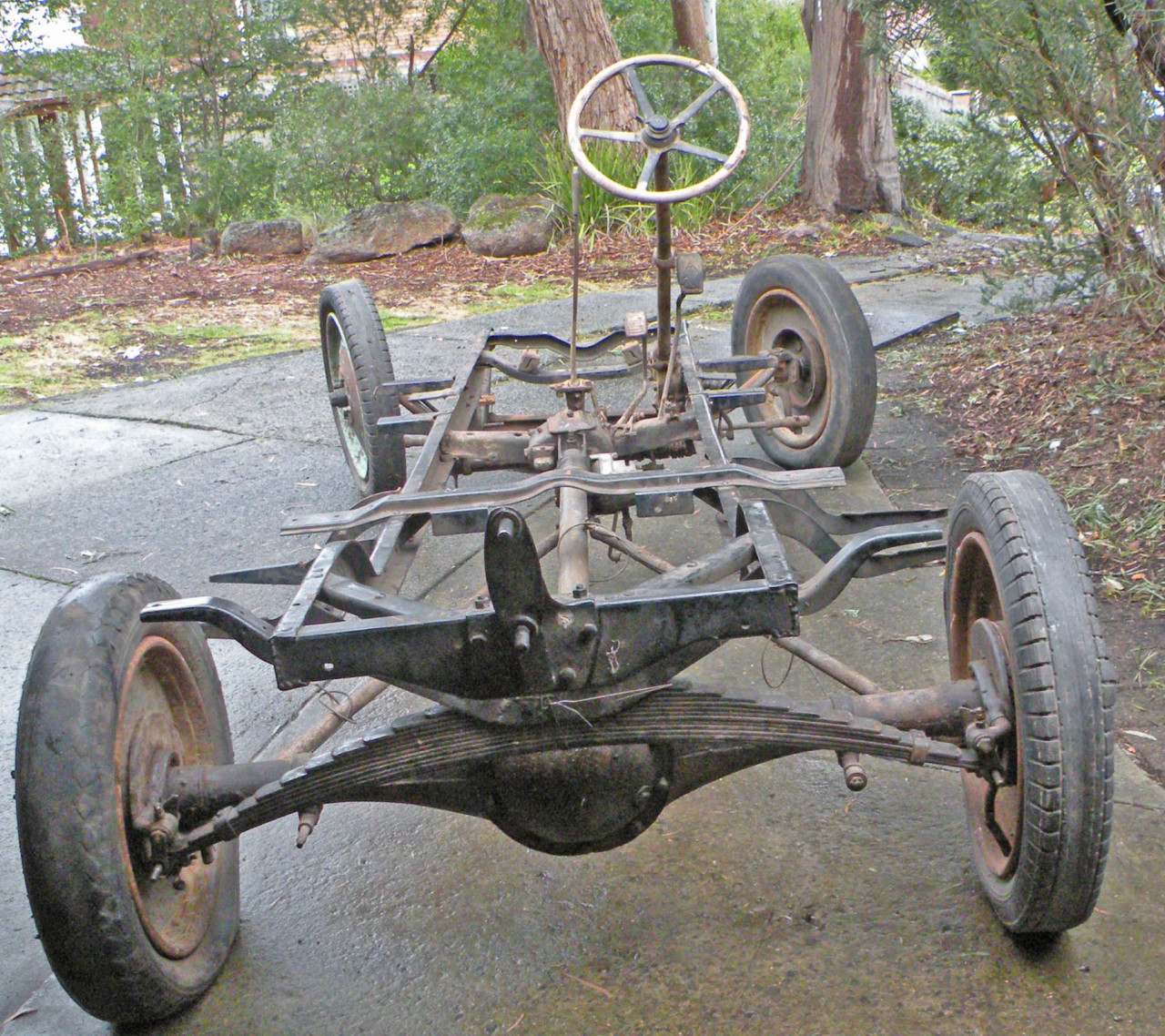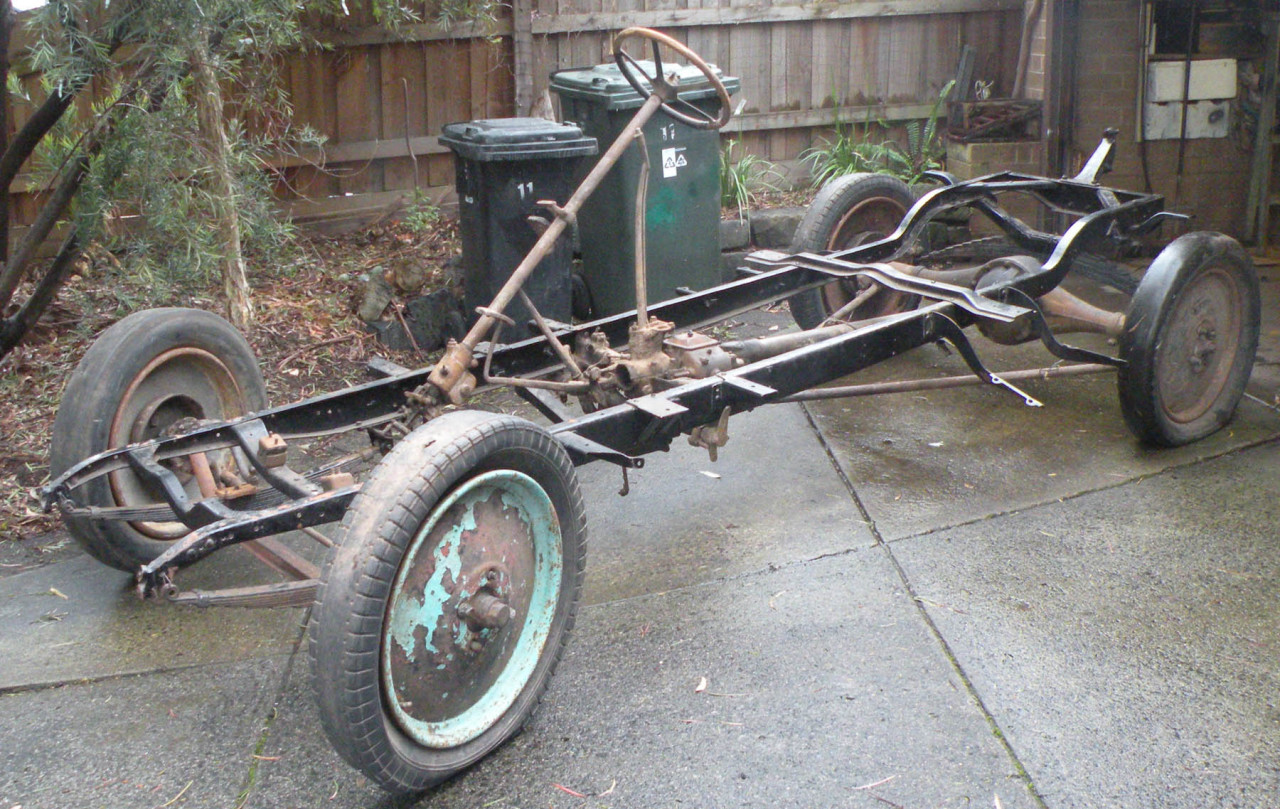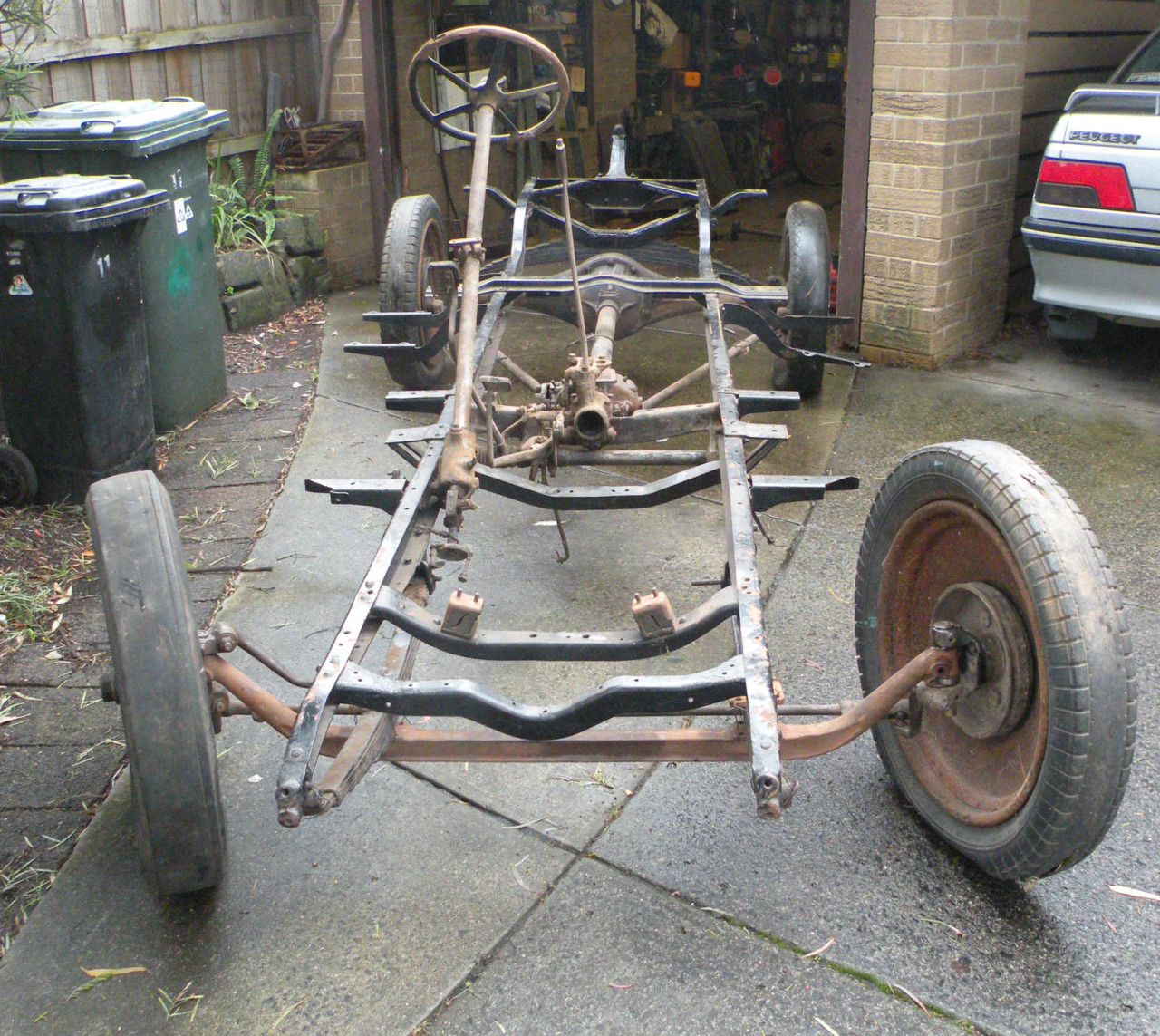 9-17-2014
Hello John et al.
Depanoto is a French firm of specialist car spares and dismantlers. It is now over 100 year old and into the fourth generation (I think) Unfortunately they are very slow in replying to requests for assistance from outside France. You can see them at www.depanoto.fr They have a huge range of 'stuff' for French cars of all ages.
Now there has been a further development. I have found a second 1920's Renault 6Cv that has been resting for quite a number of years. The owner who is just a little bit older than myself feels that he may never get around to fixing it so he may sell it.
Regarding those tyres they must be around 70 years old and rock hard. They would not have held air for the last 50 years.
Bj.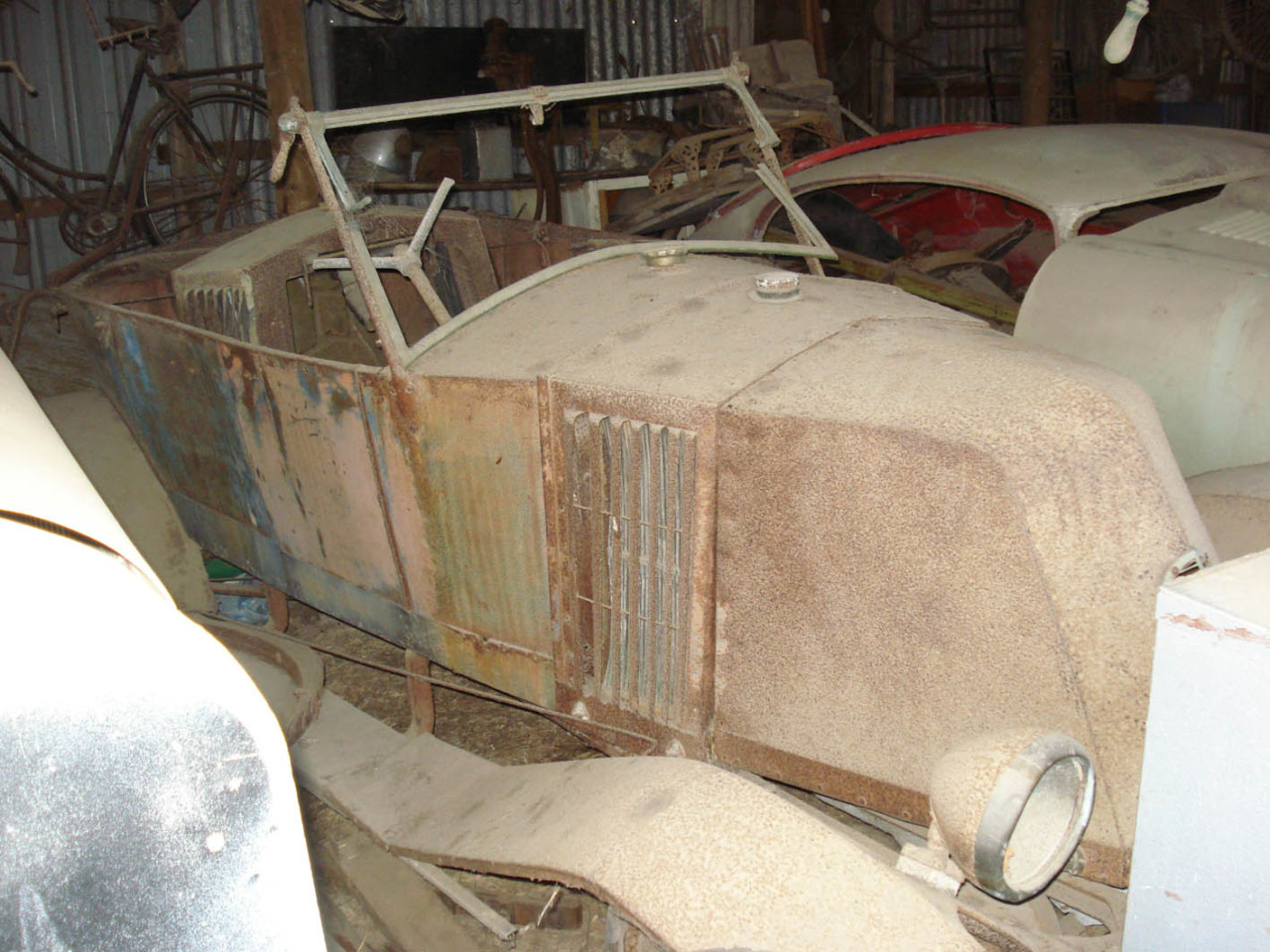 10-7-2014
I have now been to look at the 1923 Renault and hope to successfully negotiate its purchase over the next week or two. These things are sometimes more complicated than others. It is just one of a bewildering array of rare and exotic vintage cars, all in similar condition and all to a more or less extent dismantled. Quite unbelievable! None would have been moved or for that matter touched for many many years. Just getting the Renault out of the "shed" will be a huge task in itself. At least one other car will have to be moved before I can remove it. There is a post supporting the roof about 24 inched directly in front of the Renault. Either that or demolish part of the rear wall of the shed. This would also involve moving several items of household furniture.
Bj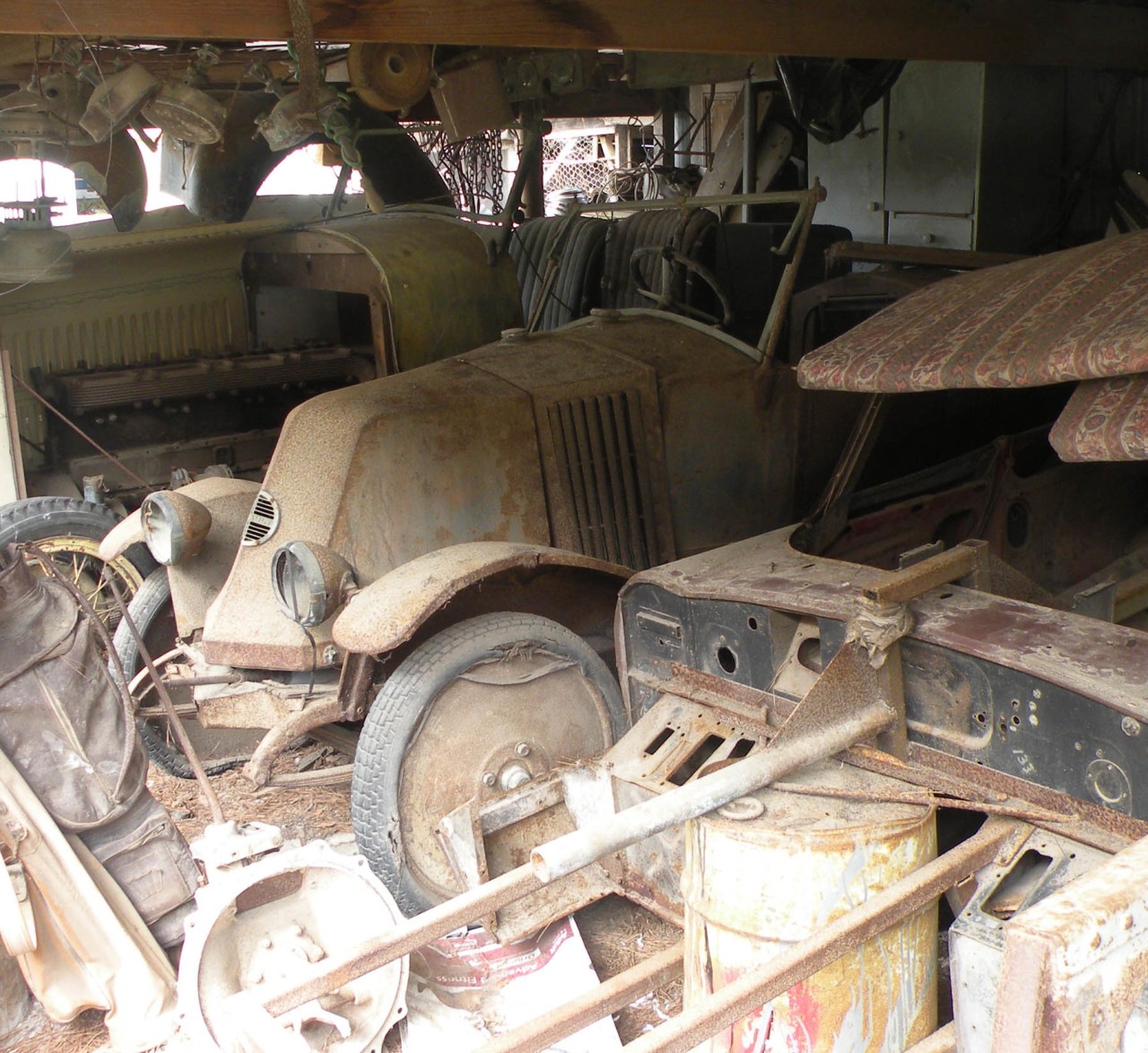 Regarding "Depanoto", being French they will only deal with French speaking customers and then only if you turn up at their door, cash (Euros) in hand. They do not even reply to e-mails that originate from outside France.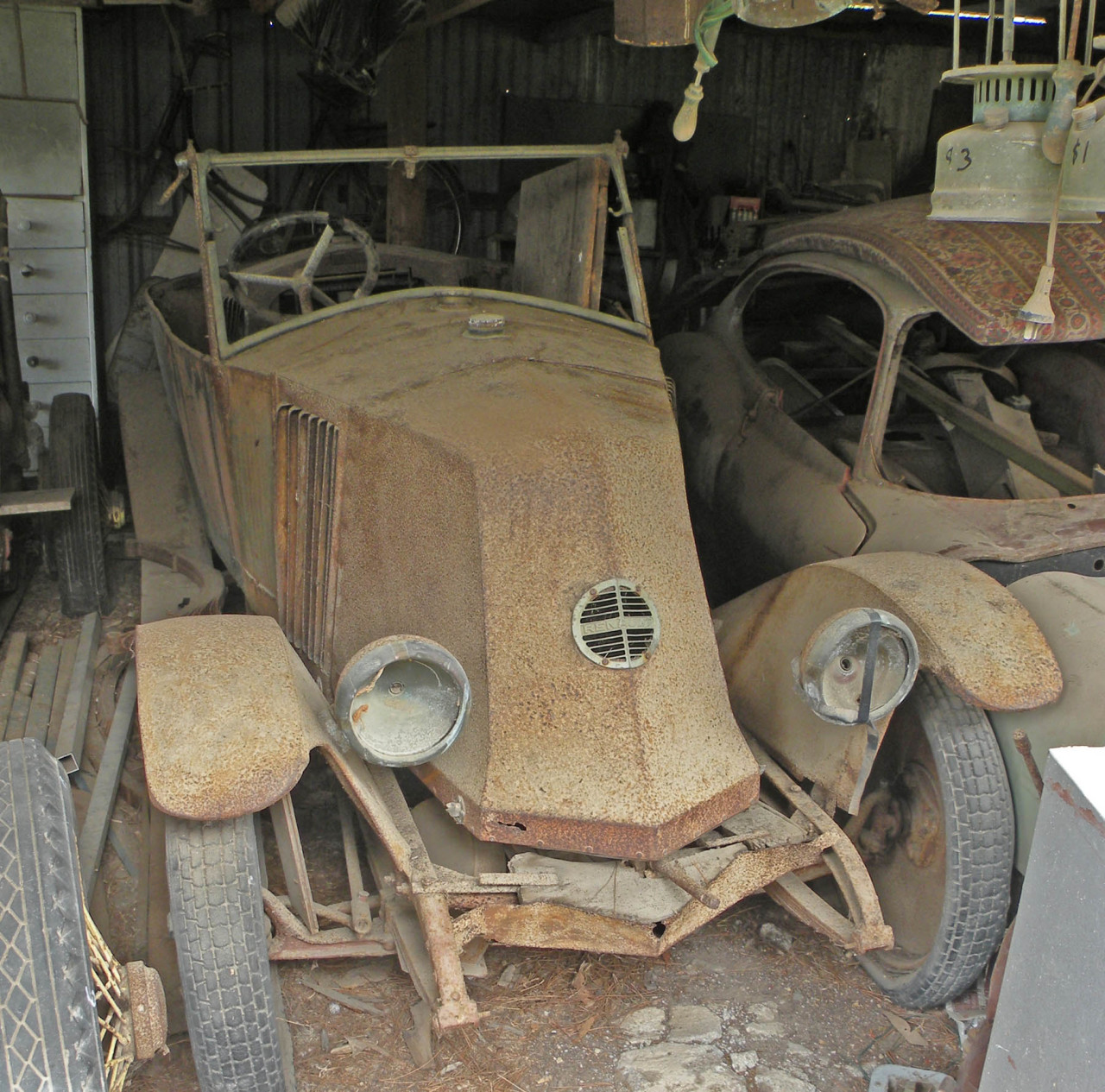 10-9-2014
Hello John
Part of my problem is trying to decypher the enormous range of vehicles that Renault built during the 1920s These ranged in engine size from under 1 litre up to over 8 litres. 2, 4, 6, and 8 cylinders. Amazing! It is worth spending some time attempting to navigate your way through the French website;- www.les-renault-d-avant-guerre.com
Bj
10-10-2014
Oh well! you know what they say about waiting for the fat lady to sing. It has happened again.... the vendor of the little 1923 Renault has decided that "his daughter really wants it" so all bets are off! This means that my efforts can now be concentrated on the 1929 Renault 1.5 Litre Monasix.
Bj.
10-12-2014
Well! as the well known Australian outlaw Ned Kelly said as he mounted the scafold "Such is life"....
I could be forgiven for muttering much the same. On saturday morning I returned to,as I believed, to finalise the purchase on the little 1923 Renault tourer, only to have my socks promptly ripped off. The vendor bless his little heart announced the the deal, if we ever had one, was off! His "daughter" had decided that she really wanted to restore the Renault. Given that the vendor is now in his 80th year, his daughter has to be in all probability between 40 and 60 years old, not normally an age when ladies start out on a carreer of Automobile restoration.
All this being so I am back to the original Renault "basket-case". The chassis has been stripped bare and the 60+ year old tires removed from all five wheels in preparation for going to the sand blasters. This has revealed that two of the wheels already have well base rims while the other three have beaded edge (clincher) rims. After sand blasting the next step will be to remove these rims and replace them with new 3 x 19 inch rims. The search for the correct 1927/9 six cylinder 1475cc engine will move up a gear.
Bj.
10-20-2014
Hello "On Safari"
Yes the NN was the final 1920s version of the 6CV . Renault made huge variety of cars, 2,4,6 and 8 cylinder versions between 1910 and 1939. Have a look at www.les-renault-d-avant-guerre.com/ and see for your self.
6CV is French for 6 horse power or to be more correct 6 horses of steam.(Cheval Vapeur) French horses are thought (by the French) to bigger and stronger than English speaking horses.
The NN 6CV was 951cc and by English RAC rating 9 HP.
Bj.
10-27-2014
How frustrating life can be when you play with antique automobiles? Just when I had decided to proceed with the Renault using the 951cc Four cylinder engine when I receive a phone call from a friend who tells me that an acquaintance of his in Switzerland has found a correct 1475cc Six cylinder engine. I guess it is now down to how much it is going to cost to have it shipped out to Australia. I really have to watch the budget on this one; as rare as they may be these little Renaults will never comand high prices. After the P*****D I simply cannot lose than much money on a car again!
For those scratching their heads, Renault used the same chassis for BOTH the six and the four. Both cars had almost identical performance probably mainly due to the extra weight of the all cast iron monoblock six cylinder engine, the four as well as being two cylinders shorter has a separate aluminium crankcase. The only difference is that to help stop the extra weight, the six was supplied with a mechanical servo driven from the rear of the gearbox to assist the cable operated brakes.
Decisions, decisions!
With some mild "tweaking" I can probably obtain very much the same power out of the four. Going on prior experience in all probability nobody is going to actually DRIVE the car once it leaves me. Thinking ahead, if it comes out as good as either the Dixie Flyer or the Packard, I would like to take it to France for the Paris - Deauville Rallye.
Bj.
10-28-2014
Last I heard the Packard had joined a Private "Collection" in Canberra so it is very much still in Australia. Or at least as far as I know.
On the subject of the Renault, I now have a gearbox waiting in France for a courier to collect it and send it to me. I have sent the Paris-Rhone Dynastart off for a very expensive rewind and rebuild. Right now I am busy sorting out one usuable Bronze SOLEX carburettor out of the two I have sitting on my work bench.
I plan to start on some serious work on the chassis frame next week. I have the five wheels in the rear of my Peugeot ready to go to be sand blasted. I still have to work out a time to hire a pick-up truck to go and collect the four cylinder engine and some other parts that I could not fit in on my earlier trip. I should explain that these are 150 Kms about 2 hours drive each way from home.
Now that it is back home, I still have a bit of work to do on the Lagonda Rapier, so I am not sitting around with nothing to do. I would like to have made a start on the Renault body frame within 2 or 3 weeks time.
Stand back..........
Bj.
11-8-2014
Another week gone by and not a huge amount to show for it. Our Australian Customs Quarantine Service decided that all our cars required pressure washing including under the hood. As a result virtually all six cars had drowned ignition and water in all sorts of places where water should not be. Just how it managed to even penetrate into the centre of the Lucas Altette horn completely baffles me.
A week later and the Lagonda is back to where it should be, starting "on the button". The good news is that have I managed to buy a set of four of the elusive 500 X 17 Michelin Comfort S tyres in England and they should arrive in Australia some time over the next week or two.
Meanwhile there are some small but necessary jobs being done on the Renault, exciting things like shackle plates for the front springs. The five wheels are being sand blasted and will be ready to collect early next week.
Meanwhile I am trying to establish the shades of the two tone green that the Renault Paris Taxis were painted in 1929, all 5,000 of them.
Bj.
11-12-2014
Thank goodness for e-mails and the internet. Gathering parts for the Renault would have been impossible even 25 years ago. I now have the gearbox securely stowed away in my garage, it having taken just over a week to come from the south of France. I paid for the clutch and the freight for it last night, again to another person living just south of Toulouse in south-eastern France. Hopefully it should take between one and two weeks to arrive at my front gate. I thought that the Dixie Flyer presented a challenge but it was nothing compared with the hoops I am jumping through with this Renault. At least I now have secured all the major mechanical components and I am making a start on sorting out the chassis and front suspension. My French vocabulary is improving too.
Those elusive Michelin 17 inch tyres arrived today too but they came from England.
It must be boring restoring a car that you can buy the parts from the corner store. It is amazing how you can send thousands of dollars across the world at the click of a button. I did manage to buy eight 10mm hi-tensile bolts and 16 nuts just a dozen miles from home.
Bj.
You have to remember in the time that my car was being built France was just recovering from WW1 and the World was heading into the Great Depression. That Renault was not only making such a wide variety of models but in for then huge numbers. To give you some idea look at the conditions the workers assembled the 6CV chassis at http://www.les-renault-d-avant-guerre.com/t1753-Chaine-de-montage-du-modele-6CV.htm
Bj.
11-16-2014
On Saturday I hired a pick-up truck for the day and made the 350 mile return journey to collect the final remains of the Renault. For those unfamiliar with 1920s Renaults attached is a photograph of the hood showing the generous sized louvres for cooling the rear mounted radiator. Considering the state of the the rest of the body-work this is in remarkably good condition with just a little rust along the botton edges. Remarkably the engine turns and appears to be in good condition but will still need to be stripped down and checked out throughly.
Bj.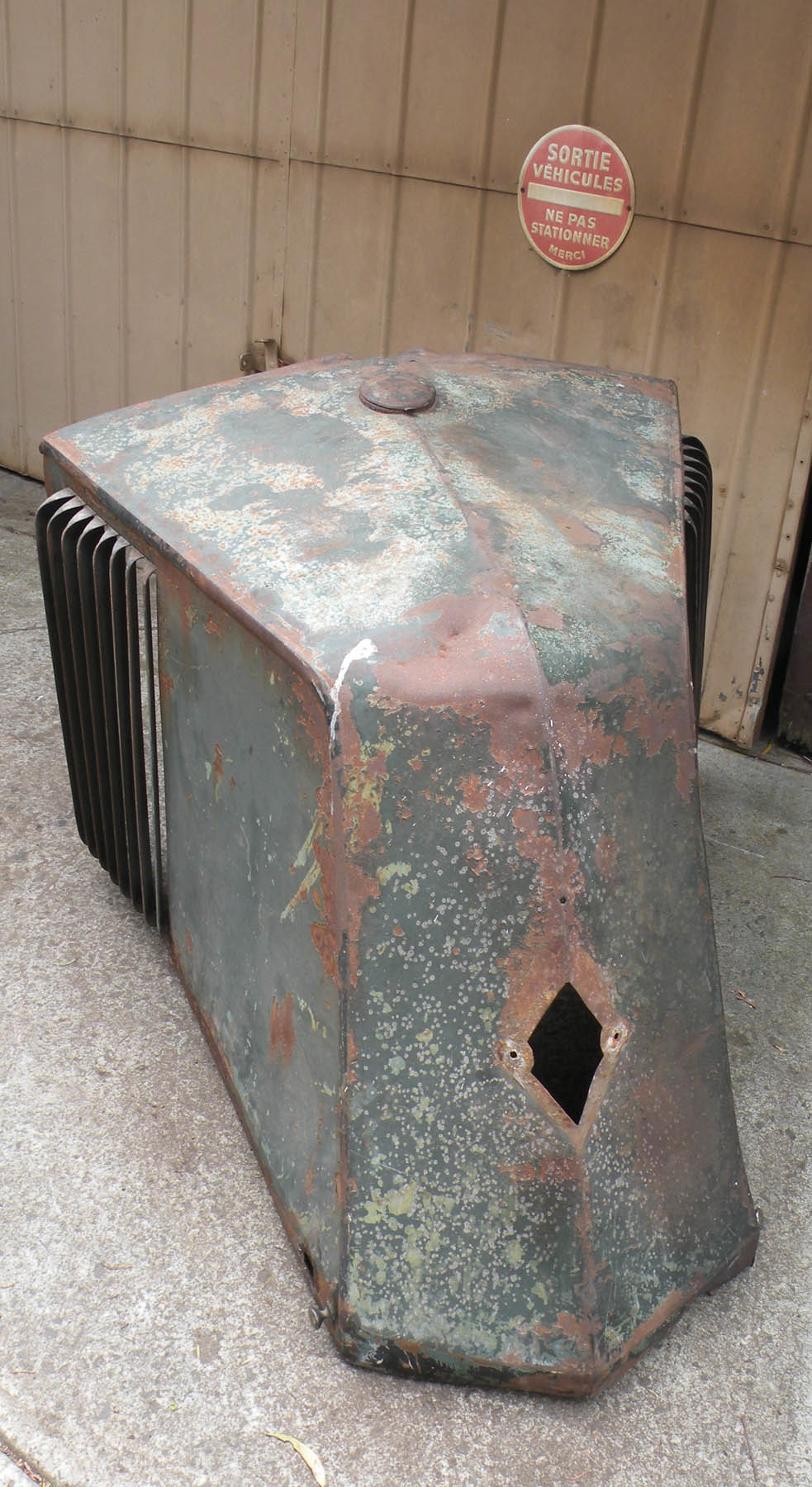 11-22-2014
Friday afternoon and a courrier's van pulled up into our drive way and the driver got out carring a cardboard carton. Inside some precious bits of metal, a 1926-9 Renault 6CV NN clutch consigned just on a week ago in South-Eastern France. Along with the clutch mechanism there was a SEV Magneto and two little front brake perrot shaft pivot points. A quick test showed the magneto was in fine form throwing a healthy spark. This afternoon has been spent repairing some of the sheet metal bits from the bulkhead and the associated throttle cross shaft and levers. It is amazing how far 90 year old dirt can penetrate into your hair, nose and ears.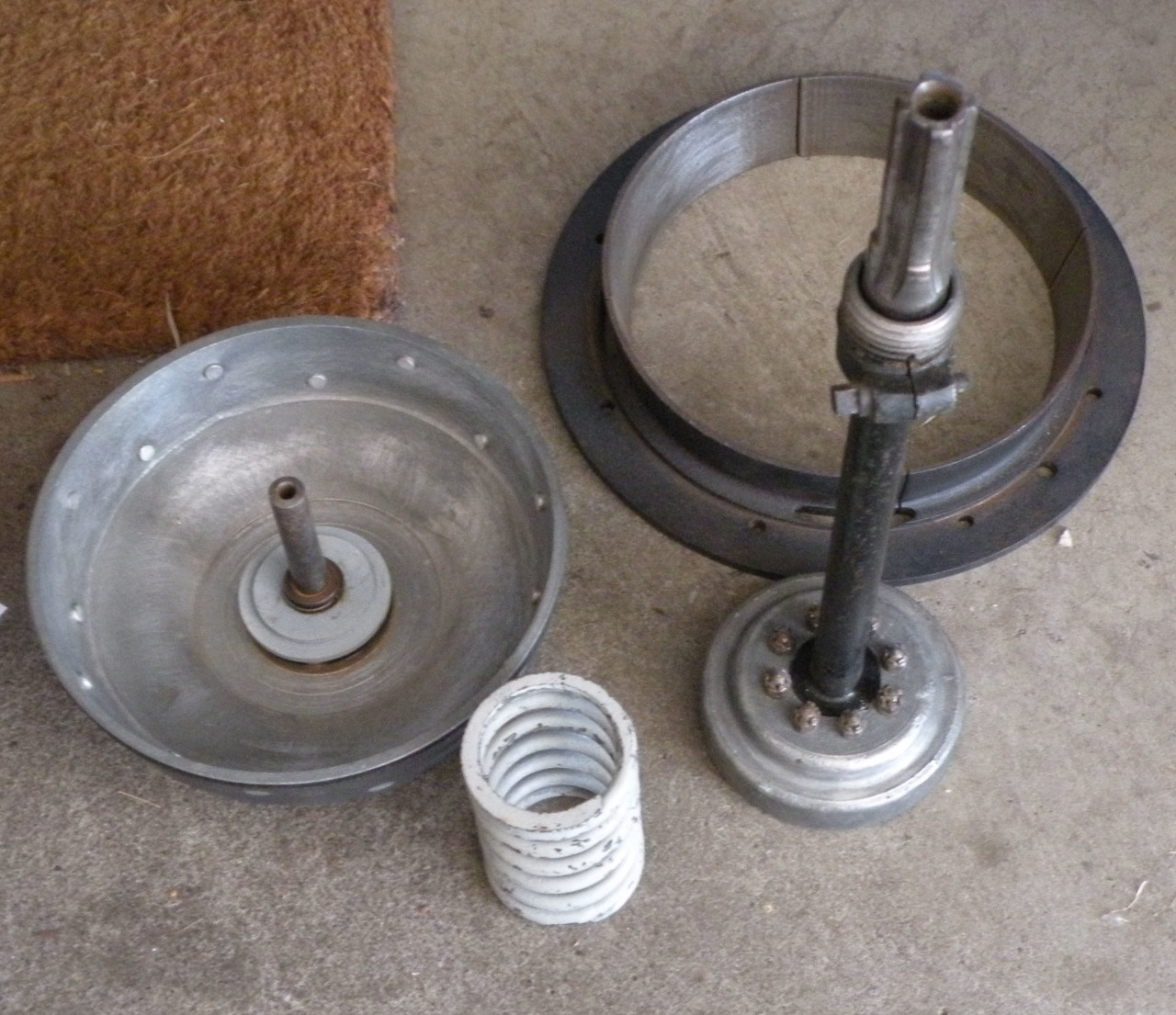 12-4-2014
It is amazing how much time can be spent cleaning little pieces and giving then a coat of paint Just to keep my mind on the job I have found this delightful little advertisement from the 1920s Hope you like it. As my "car" is a slightly longer wheelbase chassis it will be a slightly stretched 2/4 seater version.
Bj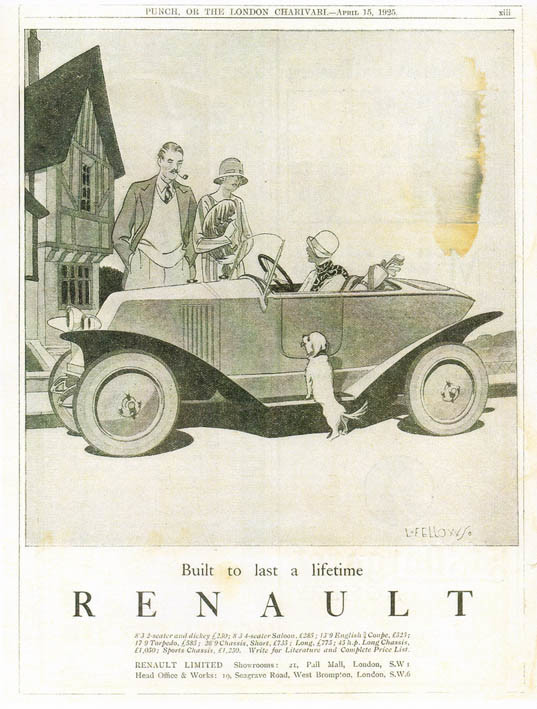 12-13-2014
This week has been devoted in working on the front axle and suspension. In doing so I made another discovery. It is impossible that the front axle and the two springs have ever been put together before! Meaning that they simply cannot have been originally fitted to the same car. Before I could bolt them together I had to enlargen the holes in the spring pads on the axle to accept the spring centre bolts.
Bj
12-27-2014
First things first. Starting at the front and working back, I now have the front axle mounted on the springs and have started to put the front brakes together. While my relationship with the Renault could at times be describes as a love-hate affair the further I go, the more my admiration for the engineers working with Louis Renault grows. For instance the contact between the ends of the brake shoes and the operating cam more often than not with 1920s cars is a sliding joint. Not so with the Renault, Louis' engineers knowing a little about these things mounted a generous sized roller or perhaps more correctly given its size, a wheel in the end of each shoe.These together with the cam are made from some incredably hard steel and despite their age (90/100 years) there is absolutely no sign of wear any where.
Bj.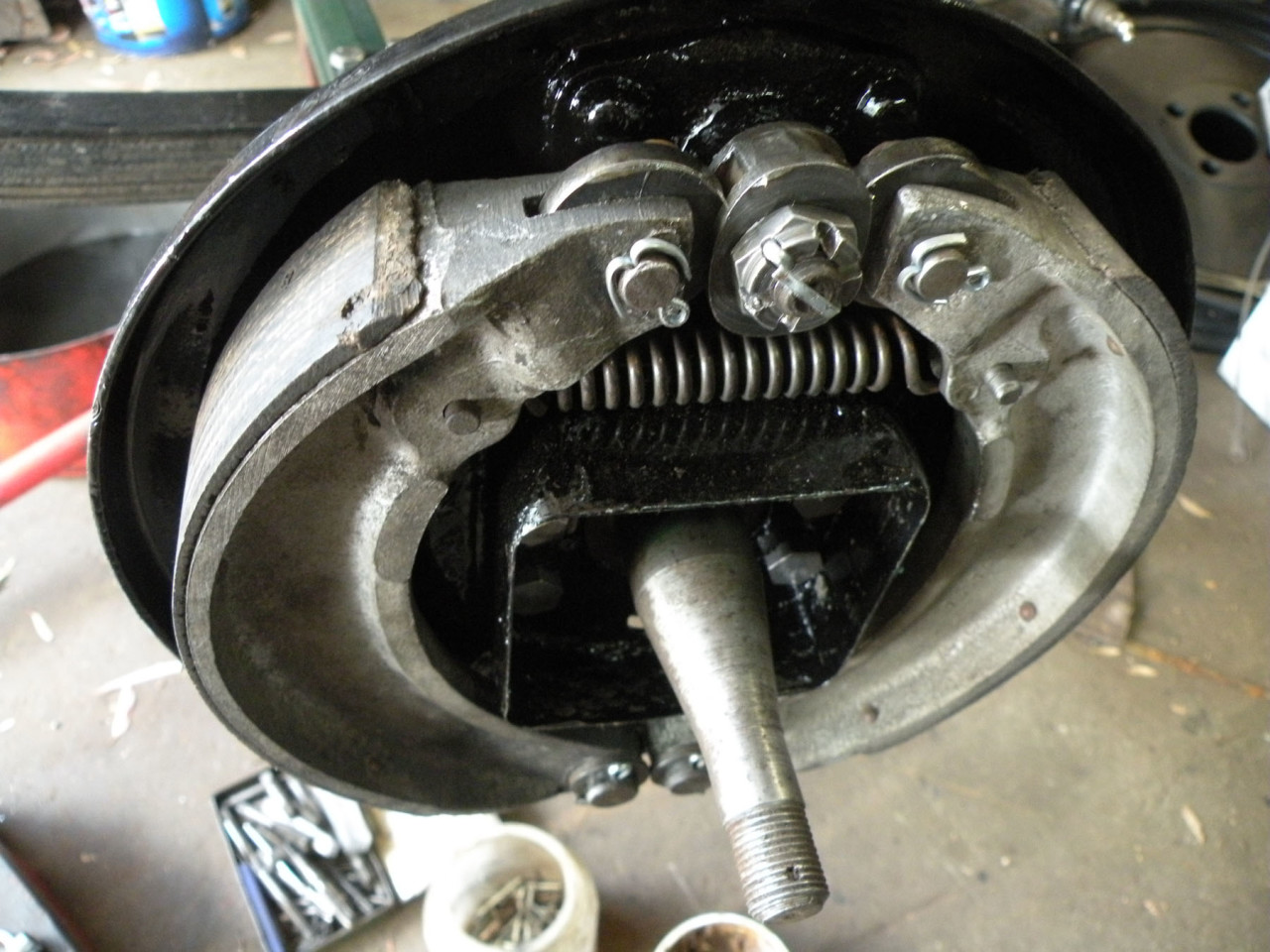 1-9-2015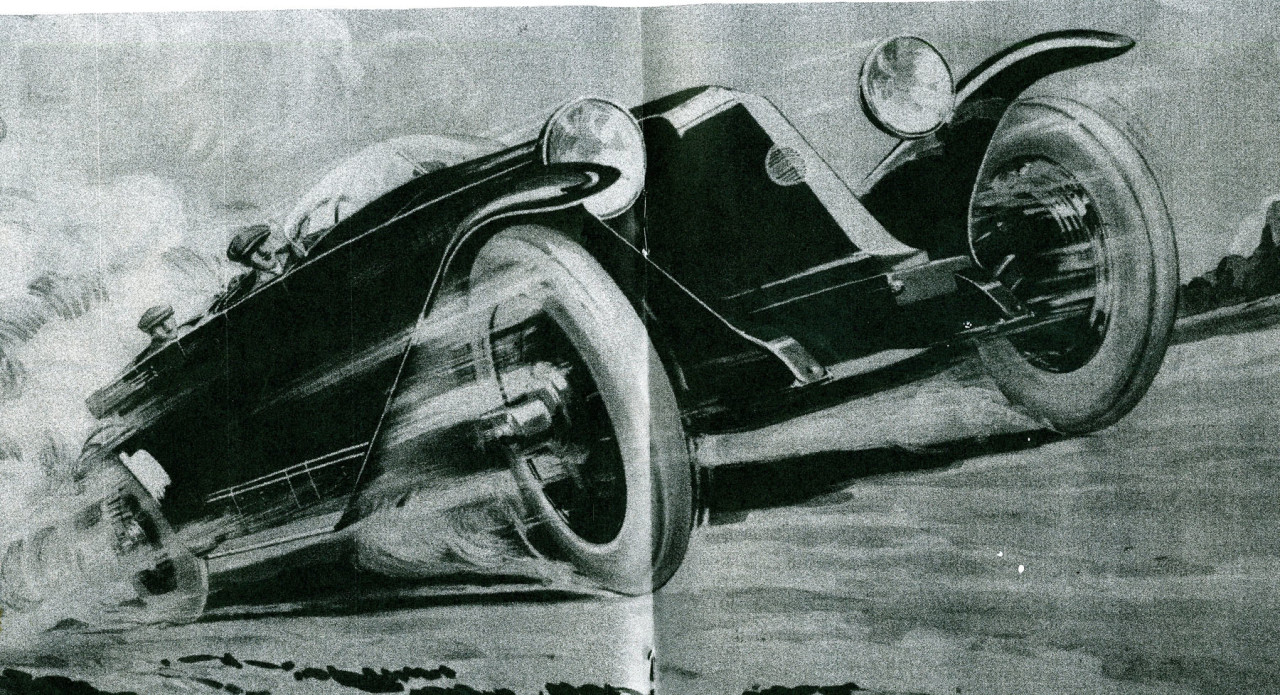 1-15-2015
It is not that I am not doing anything that I am not doing updates it is just that it is all boring stuff and there is enought of that already. I am also spending a great deal of time searching the French RAG forum looking for more information albeit all in French.
I have now been quoted between $2,500 and $3,000 to re-wind and rebuild the Paris Rhone Dynastart. I can probably buy a secondhand one in Europe for less but who is to say that it too is not going to require a rebuild even before it goes onto the car.
I can probably buy a complete car in France for not much more but I really do not want another Renault.
Bj.
1-26-2015
Finally I have been able to discover exactly what I have or at least what the remains of the saloon body came from. It is apparently a 1929 RY1 Monasix. Quite by chance I discovered the secret of the little diamond shaped Renault plate on the dash. This was the one remaining ID plate that the vandals who had done a very thorough job of removing anything of interest or value from the car had been unable to lever off. As you will readily appreciate this comes in two parts with the details cleaverly concealed until you slide the cover off. Because it had been damaged in the attempt to lever it off the dash it was virtually impossible to see the details until after I had undone the nuts from behind the dash and straighened it out again. The RY1 was the last of the Renaults with the twin radiators mounted on each side and at the rear of the engine. After 1930 all Renaults had their radiators in the conventional position at the front of the car. That is until the 1950s Rear engined cars. This too is the reason why the pre 1930 Renaults had the so called "coal scuttle" hoods with louvers towards the rear on each side. Cooling was aided by a large fan cast into the flywheel drawing the air in through the side mounded radiators and expelling it out under the car.
Bj.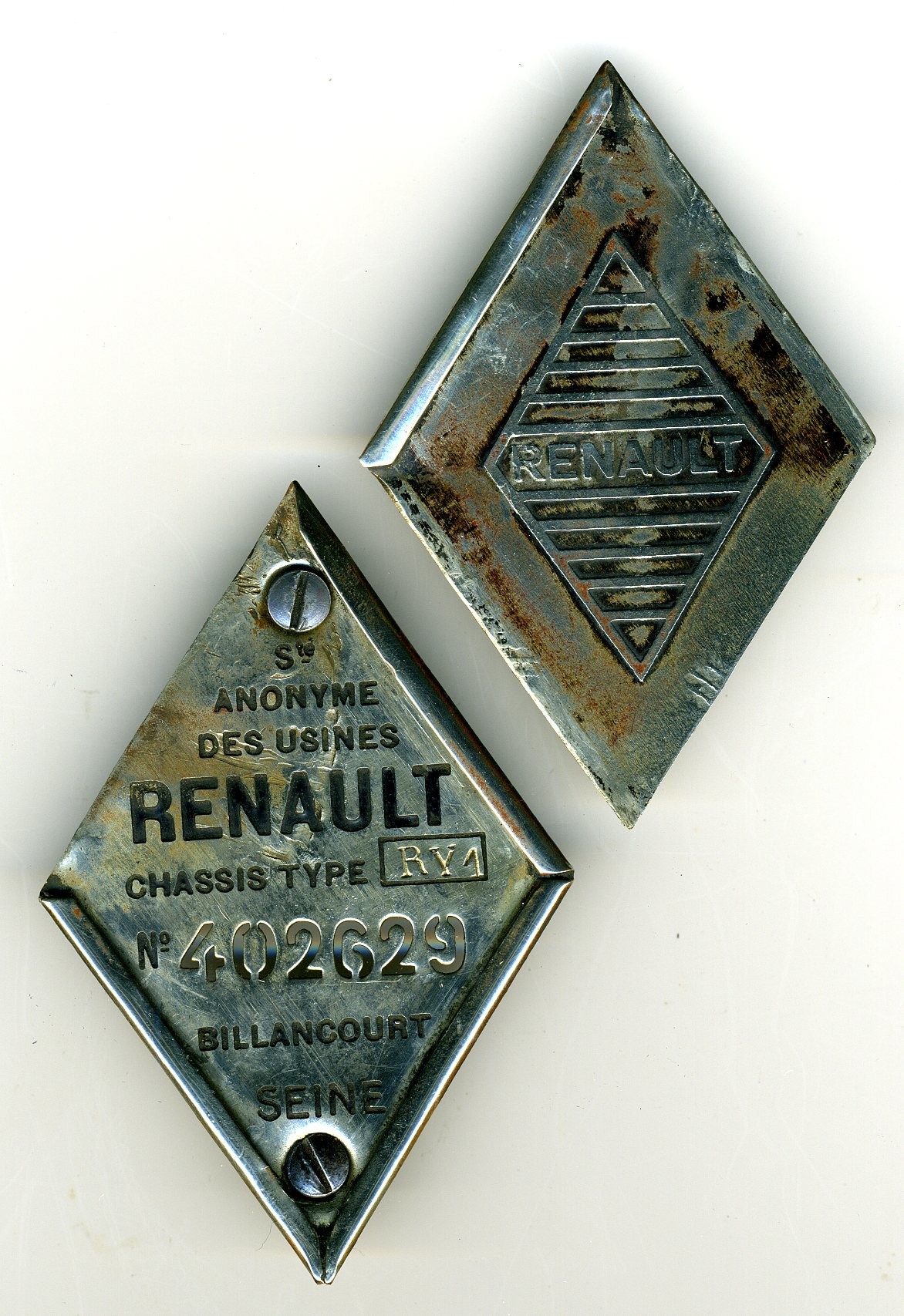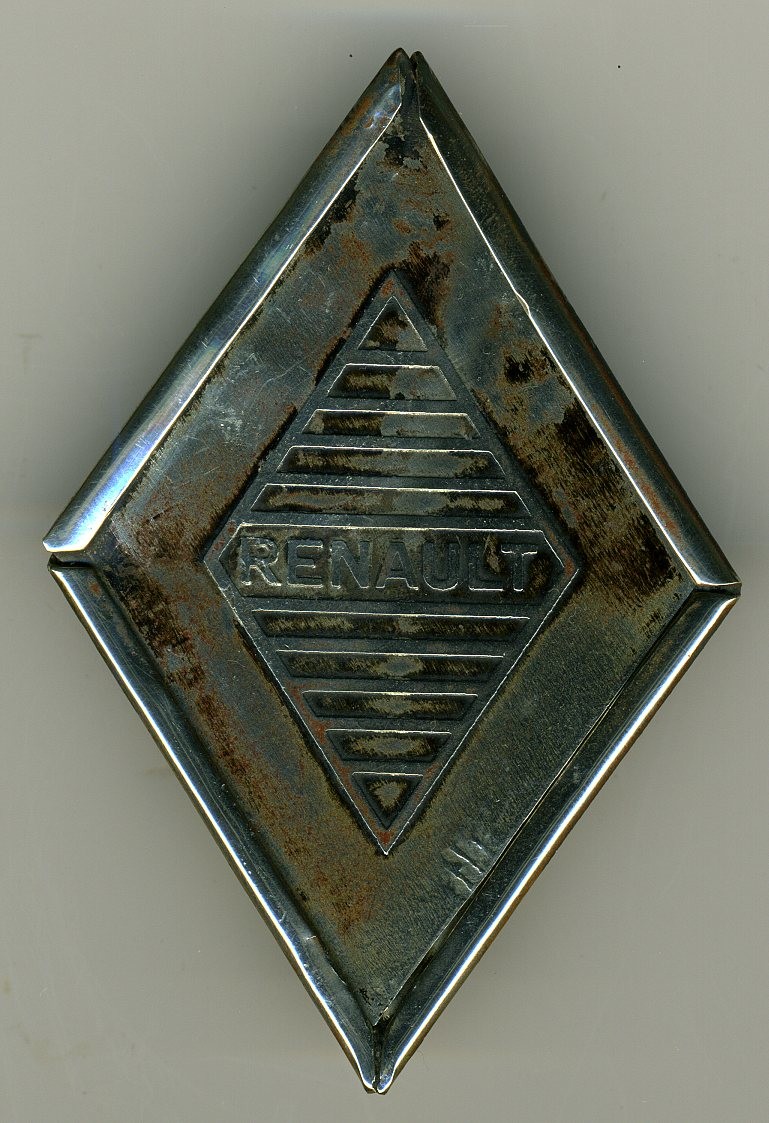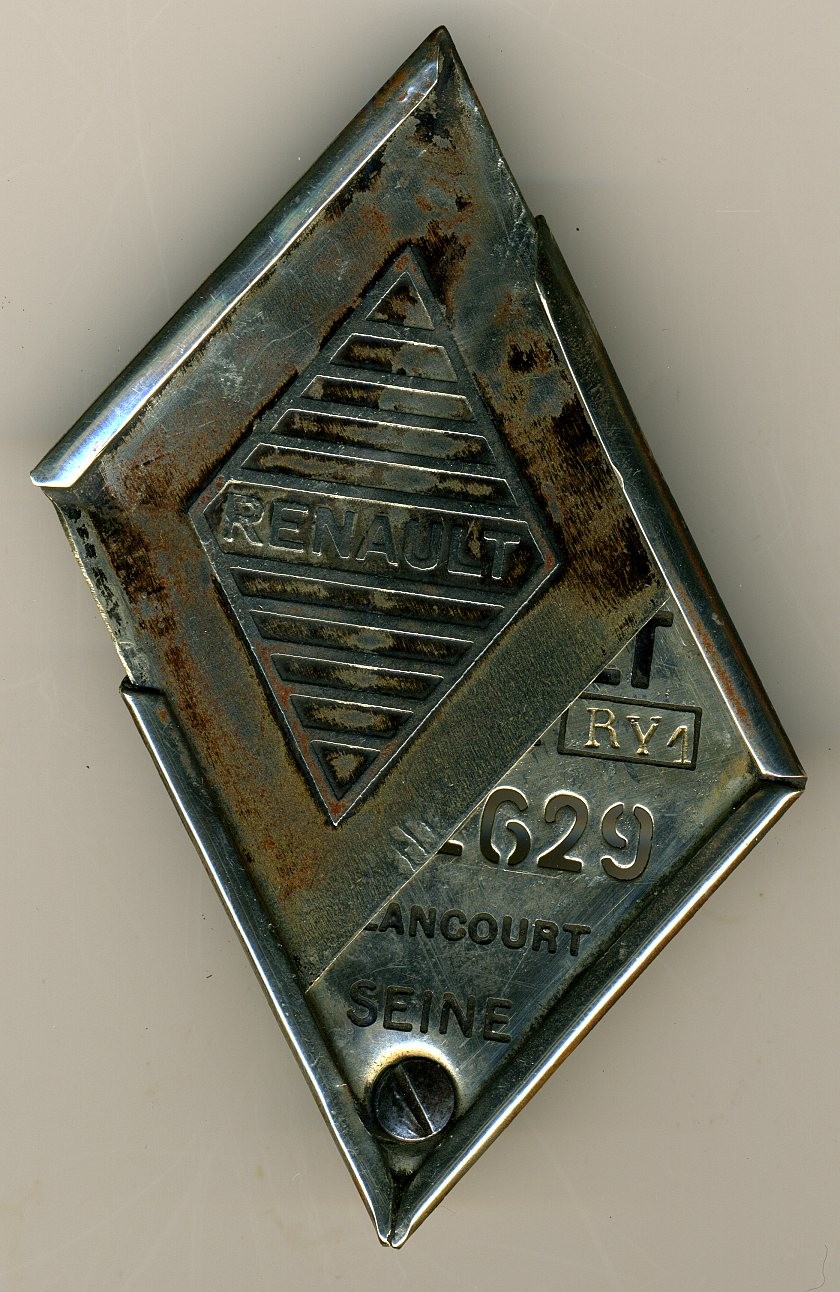 2-2-2015
Hello Roger
Good to hear from you.
Unfortunately Helen is usually too busy to help, I make do with my own meagre French and the help of "Google Translate". One step forward is the purchase of a dismantled Monasix engine (or most of one) from a Renault enthusiast in New Zealand.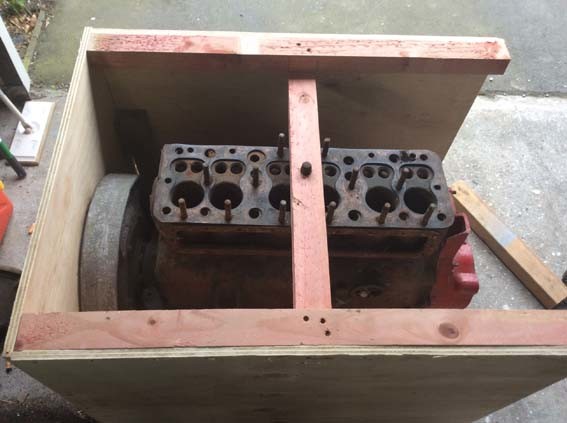 3-3-2015
Roger, You are quite correct about the Google translations. I usually try to run them back into English so I can correct some of the mistakes. As you are probably aware the French are not very forgiving and generally they do not approve people making mistakes in their language.
At least some appreciate that I at least try.
It makes restoring a total basket case difficult when they have most of the world's supply of Renault spares tied up. Slowly bit by bit I will get there.
Bernie j.
Hello Fossoyeur
What a pleasant surprise to see you here. A very different Forum from the R.A.G. As you can see I cast my net widely but unfortunate for me the fishing has been poor lately. As you must be aware I have not had a great deal of luck looking for parts for my little Renault. At times I do really do dispair. One of my problems is that I have always believed that in motorcars as in fish, the little ones are sweeter.
Bernie j.
2-4-2015
Looking at the Renault d'Avant Guerre (Renault before the War) Forum it tells me that out of some 14780 RY Monasix cars produced only 104 or 105 counting mine have survived. Slightly less than ONE PERCENT, surely one of the worst survilal rates of any volume produced pre-1930 car! No wonder I am having trouble finding parts, especially in Australia where the number of cars sold new could probably have been counted on the fingers of one hand. Strange and unconvential they may have been but that can only be part of the story. I wonder how they fared in the USA, is there anyone who owns a 1927-30 Renault RY Monasix reading this?
Bj.
2-6-2015
Don't worry Terry,
The slience in the US is only marginally less than that in the UK, Australia or even France. After almost six months of bombarding the airwaves I have got pretty much the same response almost everywhere I look. Perhaps I need to change the brand of toothpaste or de-odorant I use. Only in France I do manage to get some response as my friend "Fossoyeur" will confirm. If you are wondering about that name, all you need to do is to type it into Google Translate (French to English). I am not going to tell you, you will have to find out for yourselves.
Ssssh!
Bj.
Me again.
By contrast my other car, the 1934 Lagonda Rapier with a total production of less than 400 probably has the best survival rate of all single model cars made in the 1930s. Also by contrast it is a technically sophisticated 1100cc four cylinder twin overhead cam engine designed to rev to 6,000 rpm. Some time soon the Rapier's odometer will register 100,000 miles since I restored it in 1979.
Bj.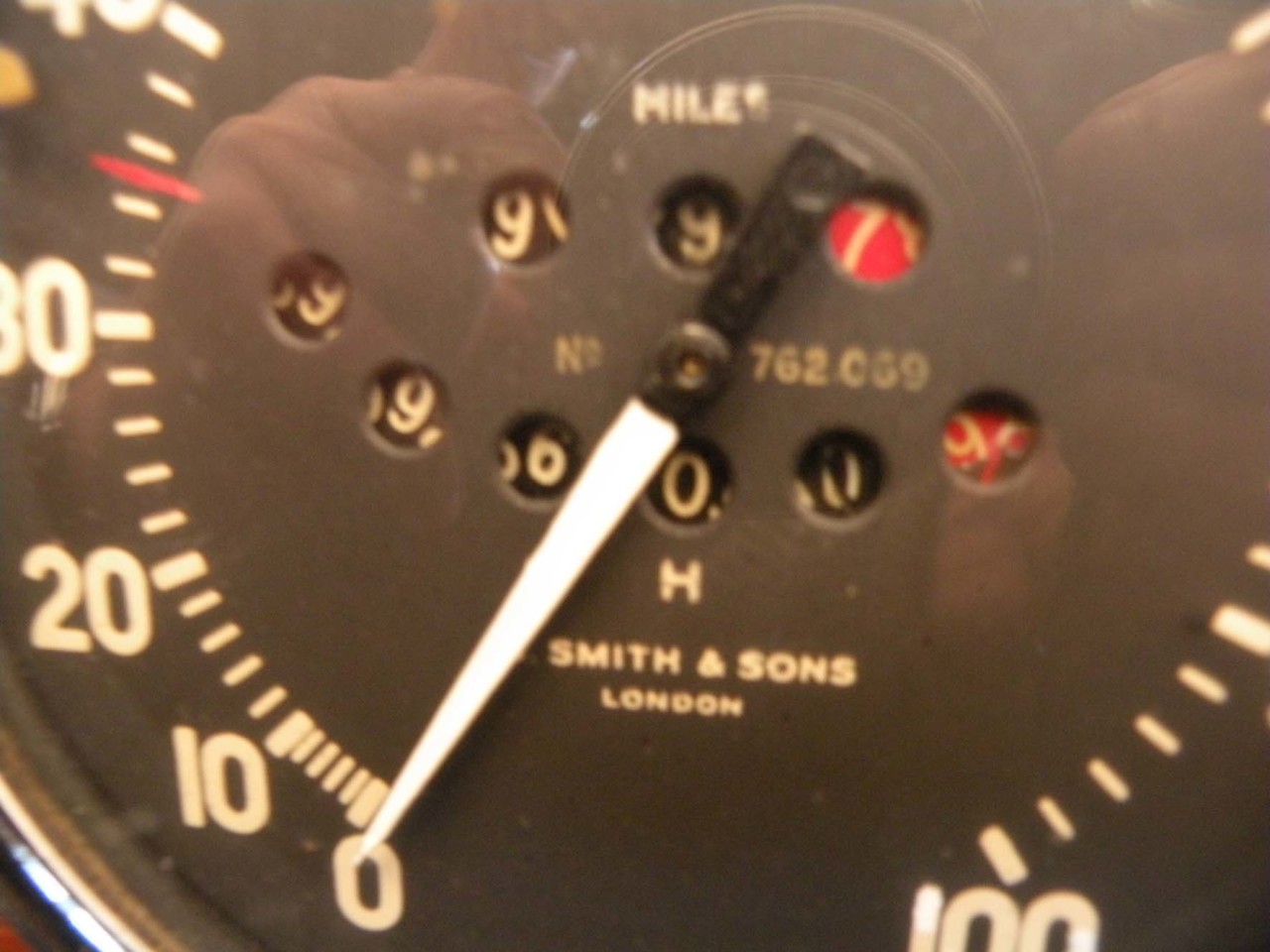 Now back to the Renault........
2-9-2015
Hello Terry
Here I stand to be corrected but during the late 1920s there was considerable interchange or sharing of components. Particularly between the two smaller Renault models NN1/2 and RY-RY1. The Chassis side rails, springs, front axle, brakes, gearbox, dynastart and much of the body work and hardware, lights, instruments & etc. In theory I could have just as easily restored my car as a four cylinder 950cc, 6CV NN2. This would have ended up as an even more underpowered and breathless little car. While I am interested to some degree in "originallity" I believe that the excessive weight imposed on these little cars was to no small degree responsible for their early demise. As an example; I have just weighed the single piece of steel pressing that makes up the bulkhead or fire wall. It weighs no less than 16 pounds! It will be replaced by a similar sized piece of Aluminium sheet weighing considerably less and once painted and largely covered, will be indistinguishable from the original. As in the past, not everyone will either like or even approve of my work. All I can say is that in my own way I am saving a piece of history! While I will not pretend for one moment that it is original, the mechanical components will be exactly as those that left the factory in 1929. The car will NOT be a "hot-rod" but it will be as it could well have been, if built by any one of a number of specialist coachworks in the period. Above all it will be DRIVABLE and FUN to drive. Finally as our Muslim friends are wont to say "God Willing" I will enjoy driving it. It will NOT be equipped with special tiedown loops for securing it in a trailer. On completion, it is my intention to take it back to France and to drive it in the same way that we drive the 1934 Lagonda; touring and visiting friends. Unless I am mistaken, that was one of the original purposes of our cars. I doubt that anyone buying a car new in 1929, bought it for the expressed purpose of placing it in a "collection" or towing it around the countryside in a trailer to exhibit in 'shows".
Good grief!
Bernie j.
Bonjour Fossoyeur
Je apprécierais vos commentaires re ci-dessus.
Bj.
2-15-2015
"It never rains but it pours" Is one of those old Australian expressions.
I have only just paid for the New Zealand motor and it has yet to arrive in Australia when I receive information of another, far more complete motor advertised on the French LeBoncoin website. A simple translation is "the Good Corner", ie where you are likely to find all sorts of treasure. The main problem is that it is very difficult for people living outside France to shine a light into the more dusty recesses of this corner but I am extremely fortunate in having a small group of French, Vintage Renault Enthusiasts (Renault d'Avant Guerre) who are prepared to make some enquiries for me. Anybody interested in the bewildering array of Veteran, Vintage and Classic Renaults it is worth looking at www.les-renault-d-avant-guerre.com/.
Bj.
2-16-2015
The more observant among you will have noticed that I have corrected the title to this thread. ( Thank you Peter G.) After groping about in the dark for some months I have finaly been able to establish the correct identy of my Renault. This has come just in time to save me from a very expensive mistake. Along with the two pick-up truck loads of "stuff" I got as the "makings" of the car I have two (four pieces each) radiators. Having just found the two little brass plates, one on each header tank, that fortunately the Brass plate collectors (vandals) did not find. I now know that the smaller one which I had thought of having rebuilt is dated 1925 the other slightly larger is dated 1927. Quite simply the 1925 is the wrong one as the six cylinder engine was not introduced until 1927. A lucky escape as the correct one is in relatively good order and should only require a good flushing while I was looking at replacing both cores (one each side) on the earlier 4 Cylinder Radiator.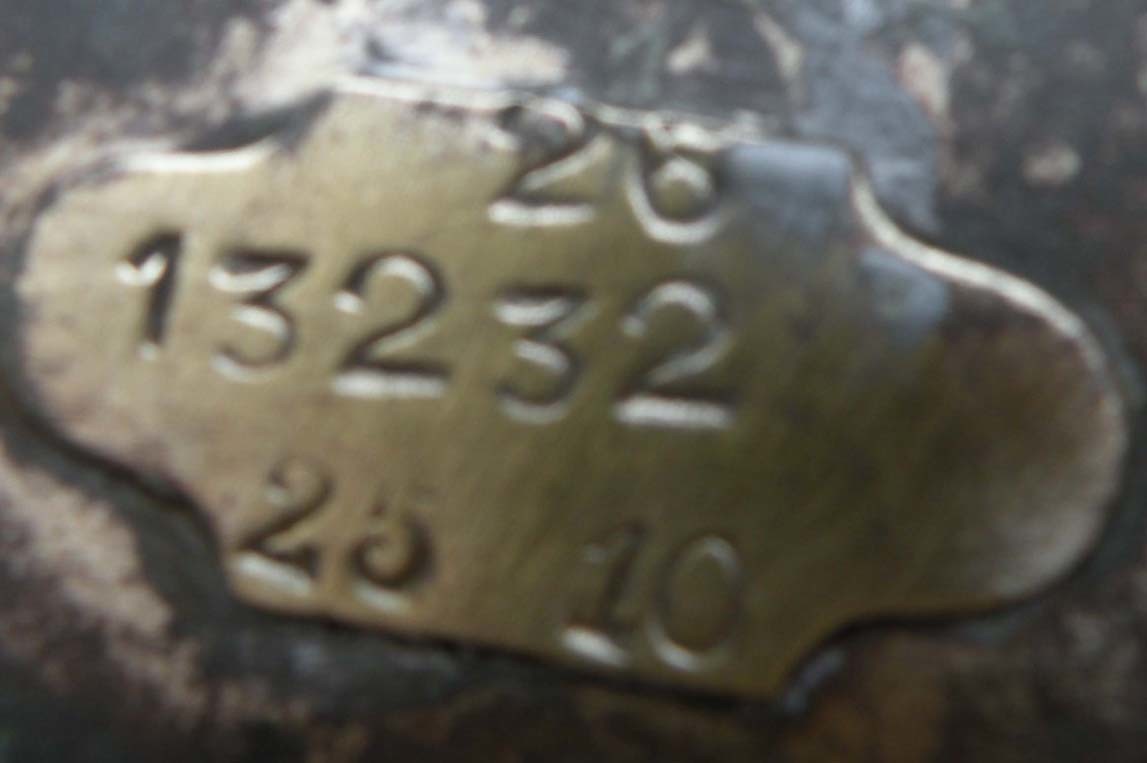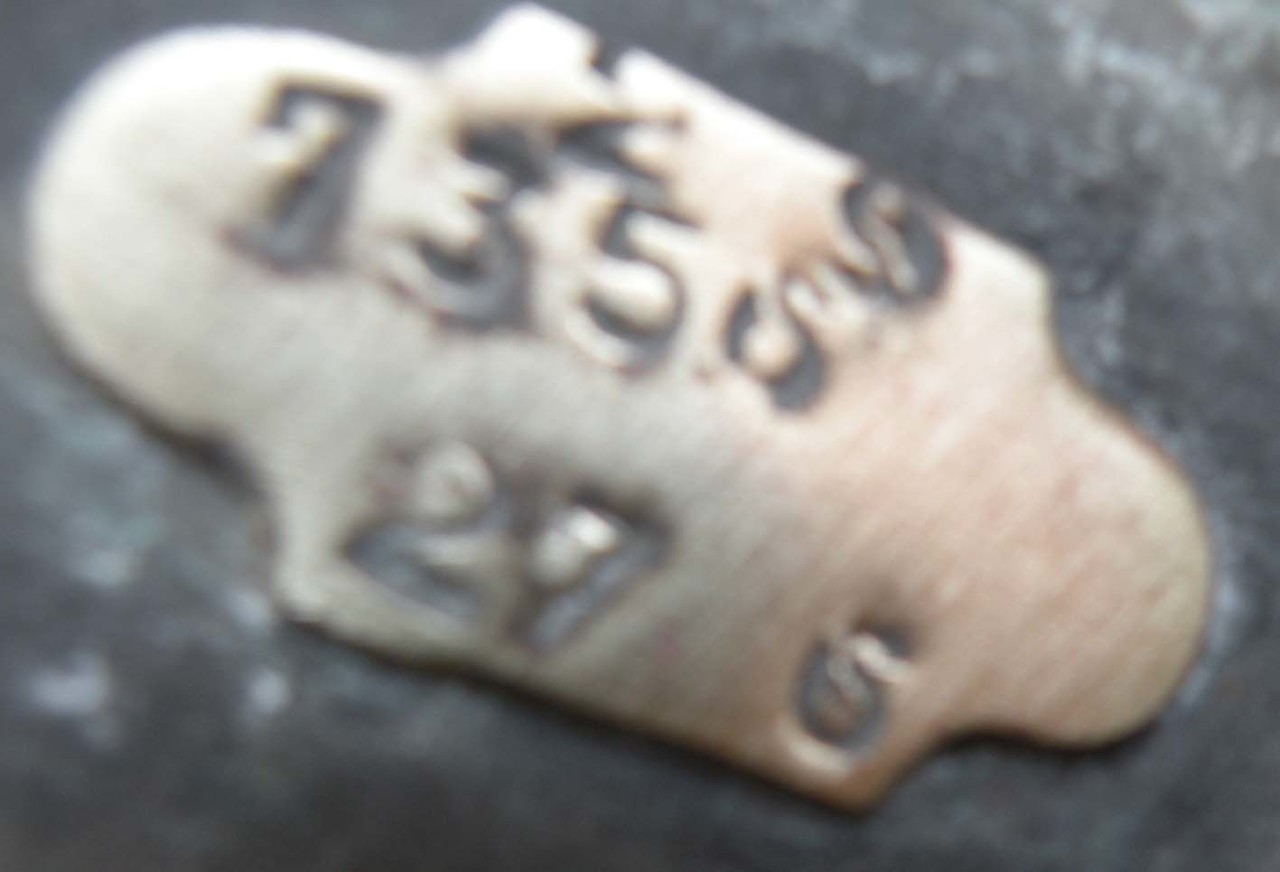 2-17-2015
Bonjour Fosoyeur
Thank you for your comment. I wil continue to post on Renault d'Avant Guerre. I really appreciate all the assistance and guidance you have shown.
I believe that without stressing the engine it can be persuaded to give a little more, along with some reduction in weight and perhaps a slightly taller back axle ratio it will make quite a pleasant touring car, perhaps not in the Alps but around Normandy, Brittany, the Atlantic Coast, the Medoc, Bordeaux, then on through much of Central France, Beaujolais, Burgundy and Champagne.
Merci beaucoup.
Bj.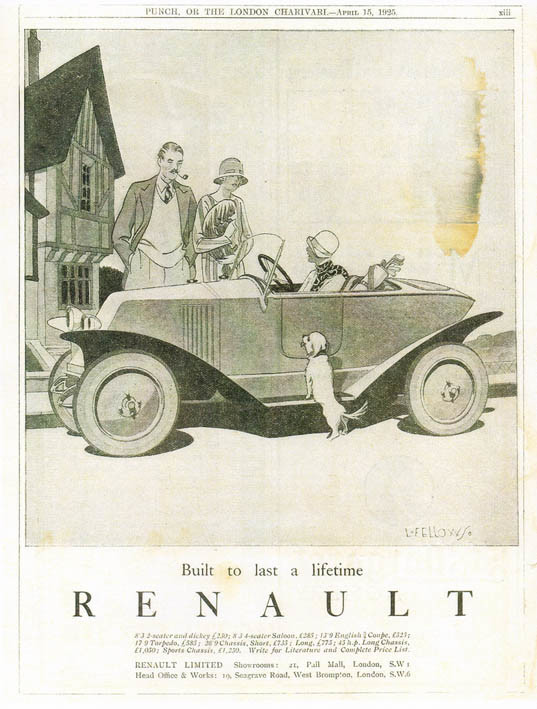 2-20-2015
After some confusion with the NZ Customs the Monasix engine should arrive on Monday, also due to arrive at the same time are the five new 18 inch rims to be fitted to the wheels. The engine is going to need some considerable work and I am aware that it is missing a couple of parts. Hopefuly Fossoyeur and his friends on the R.A.G.Forum will be able to assist me in finding these.
Bj.
2-23-2015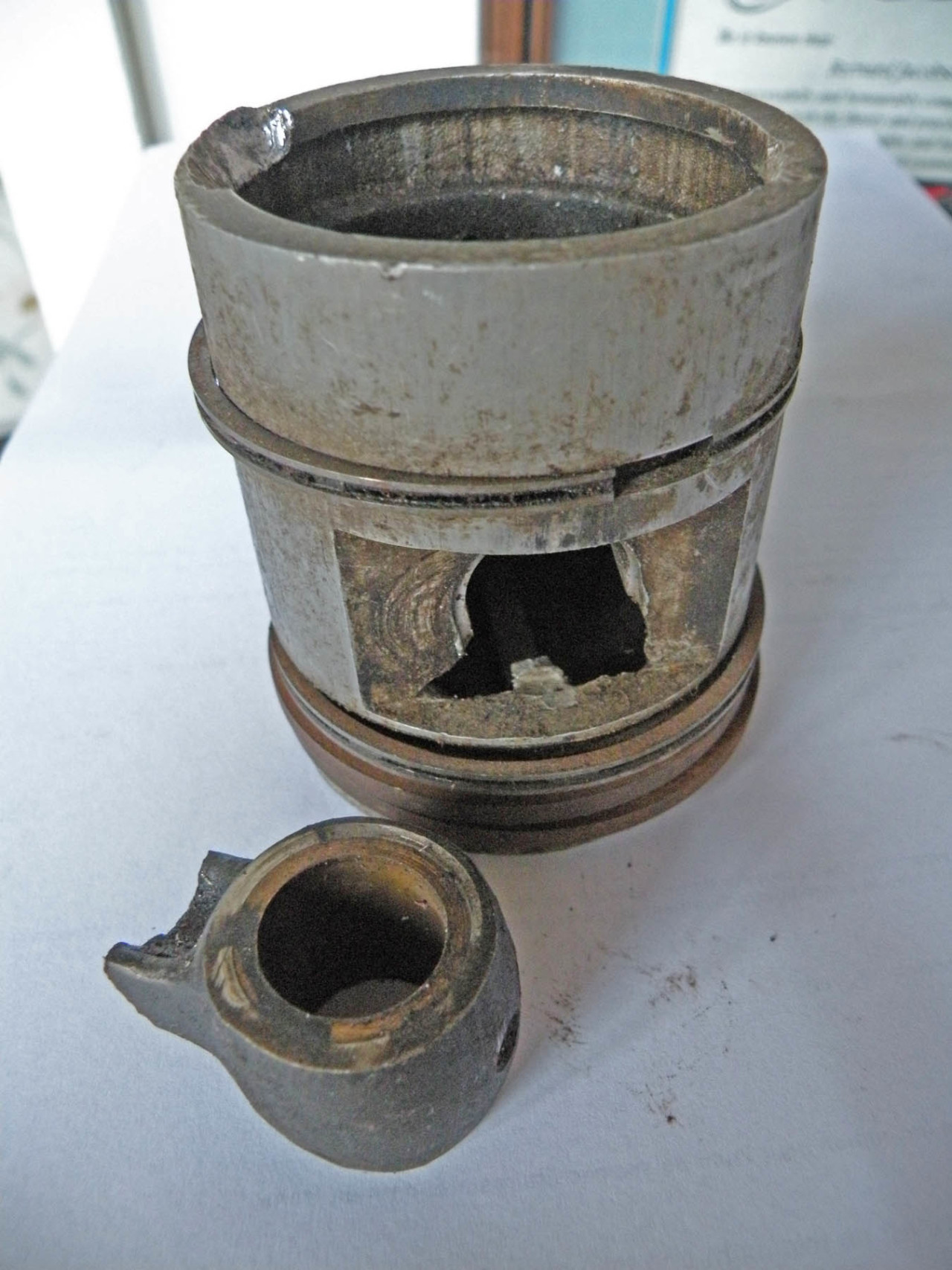 It finally arrived late yesterday afternoon and was quickly unpacked, What an understatement. First thing is to get a quote on a set of 6 new con-rods, then sort out some bigger inlet valves and a cam re-grind etc etc. With everything pulled apart I really will not know what is missing until I start to put it together.
All good fun!
Bj.
2-28-2015
Hello Ian and Rob
Ian, Thanks for the offer, I now have two very helpful friends in France. Perhaps I will get to see the Dodge are you taking it to Tony McConnell for the trim? We will be at the VDC Swapmeet next Sunday.
Ron, if you can manage to pass on his details I would be very interested, according to the French RAG Forum there are very few of my model, 1927-9 "Monasix RY-RY1" known to exist.
Cordialement
Bernie j.
3-1-2015
That is a common problem, at 78 I too wonder how much time I have. One reason why I only ever have one project car at a time and the Lagonda Rapier, which is almost up to 100,000 miles since I rebuilt it in 1979. I would hate to leave a pile of "stuff" for my family to get rid of. All to often next of kin give up and just send it all to the scrap metal man or the rubbish dump.
Bj.
3-2-2015
Hi Ian
Not with the Renault! It is the most frustrating car I have attempted. The only place it seems to find parts is France and the French move only at their own pace. Like the rest of the Northern Hemisphere it is winter and too cold to expect people to go fossicing about in what ever they call their barns or sheds. Officially it is the first week of Spring so "Hope springs eternal". The other problem is of course according to the experts the 1927-9 Monasix RY and RY1 are the rarest of all vintage Renaults but I am sure that would probably apply to whatever the model that I am looking for parts for is. Ok well! As one of my French friends keeps reminding me "Patience Bernie Patience..........
Meanwhile I am busy cleaning up obscure bits like door latches that I will not be needing for another 12 months if then.
Bj.
3-4-2015
With the help of two or three of my very good friends in France I have now arranged to buy a complete 1929 Monasix engine from the south of France. It has been inspected and is complete with manifolds, carburettor, dynastart etc. It will certainly be a far better start than the box full of rubbish I was sold from New Zealand.
You live and learn!
Bj.
3-8-2015
Hello Pat, Good to hear from you again.
At present all I can hope is that eventually I will have enough to actually start this restoration or perhaps more acurately "rebuild", having some hope that it can/will be finished. If you are not totally confused after that you are doing better than I am. To add insult to injury the wheel rims ordered from a supplier in (Yes, you guessed it) New Zealand last November still have no firm delivery date.
Bj.
3-11-2015
Miraculously the wheel rims from NZ have just arrived.
Bj.
3-12-2015
This restoration seems to have lots of surprises in store, like a true French Coquette it reveals just a little at a time. Having had the bonnet (hood) sandblasted and prime coated, trial fitting the diamond shaped badge to the front revealed an extra hole two or three inches above the badge. I had been aware that in addition to the standard model Mona-six there was a luxury version entitled the Mona-stella. These were designated by the inclusion of a 'star' above the badge. I will leave it to you to compare the two photographs and to draw your own conclusions. Unfortunately none of the original trim remains but I am sure that judging by his earlier work, my favourite trimmer, Tony McConnell, is more than capable of the required level of excellence when eventually the time comes.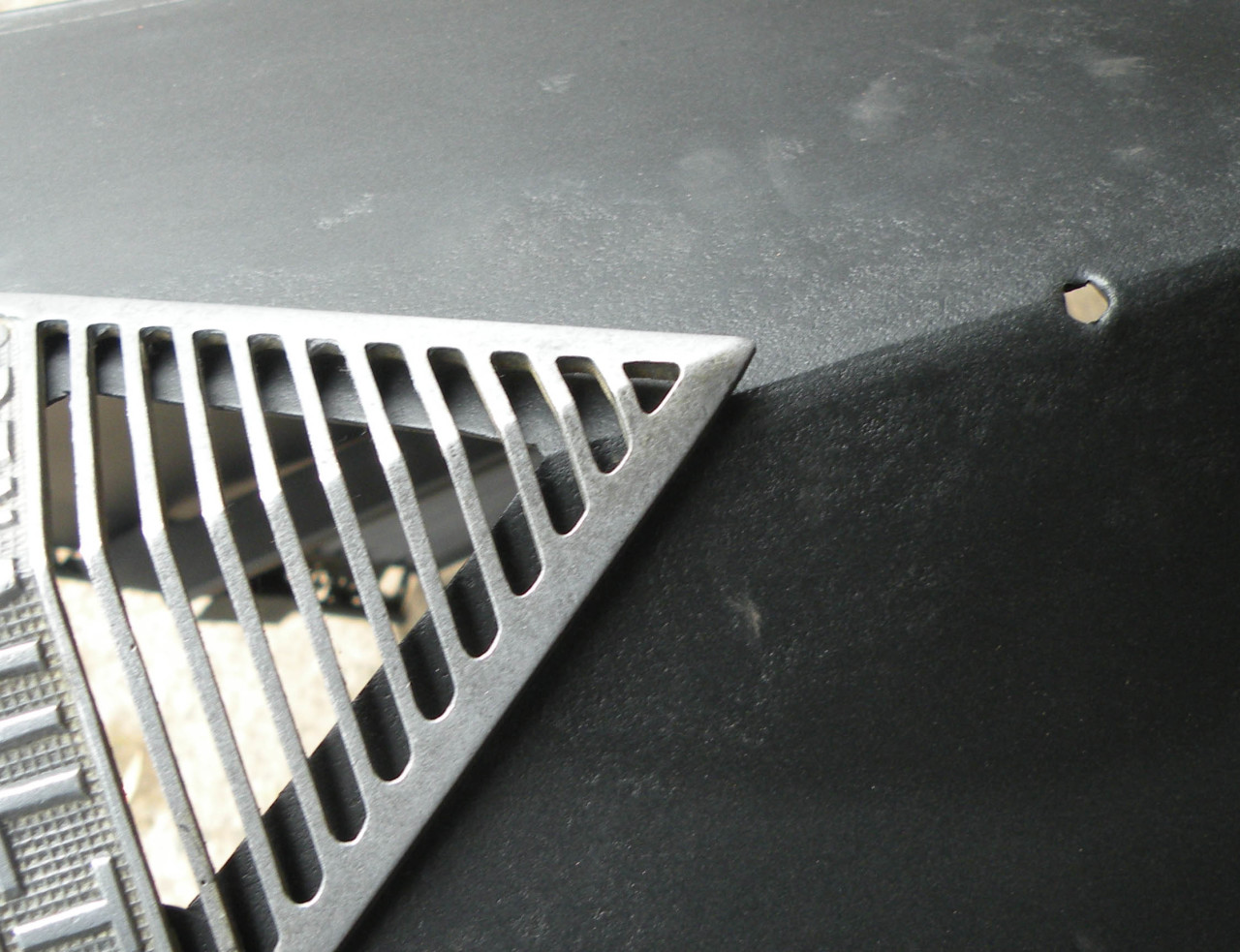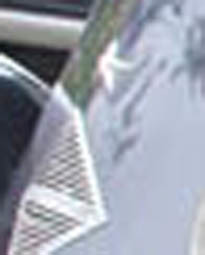 3-19-2015
Todays photograph comes as a subtle pictorial warning. The bearing has the correct number of balls but the "cage" has disappeared.
The most plausible theory is that the brass cage had, over a number of years, been 'disolved' by an extreme pressure (EP) additive in the grease or a heavy EP gear oil.
People with worm drive rear axles will be aware of the dangers of using this type of additive in relation to brass and bronze.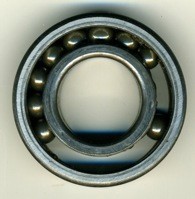 To be on the safe side do not use EP gear oils anywhere there is brass or bronze bushes. ie Gearboxes or Rear axles.
Bj.
3-20-2015
My bearing supplier is of the opinion that the bearing, despite the failure of the cage, is almost certainly original equipment making it over 80 years old. I have now replaced the bearings cleaned out all the old grease and packed the new ones with Penrite wheel bearing (high melting point) grease. Personally I am not worried if they do nor last another 80 years. I can now move on to the next task to be undertaken.
3-27-2015
At last the Air Freight Company is due to collect the next engine from south east France next Monday. As an added bonus there will be another dash board asembly with another Jaeger Speedo and Amp meter and an Oil Pressure gauge to add to the Petrol gauge and switch assembly I already have. Even better considering its French origin the Speedo will be calibrated in Kilometres. Australia changed to Metric measure quite a few years back.
At last the Air Freight Company is due to collect the next engine from south east France next Monday. As an added bonus there will be another dash board asembly with another Jaeger Speedo and Amp meter and an Oil Pressure gauge to add to the Petrol gauge and switch assembly I already have. Even better considering its French origin the Speedo will be calibrated in Kilometres. Australia changed to Metric measure in 1971.
3-28-2015
Progress! Jean-Paul has sent these photographs of the Mona-six engine being made ready for the long journey from the South-east of France to the South-east of Australia.You can clearly see the large flywheel cooling fan and the Dynastart lashed down beside the motor.This mounts onto the front of the timing case and is driven directly from the front of the crankshaft. Carburettor, distributor etc are packed carefully in the smaller boxes.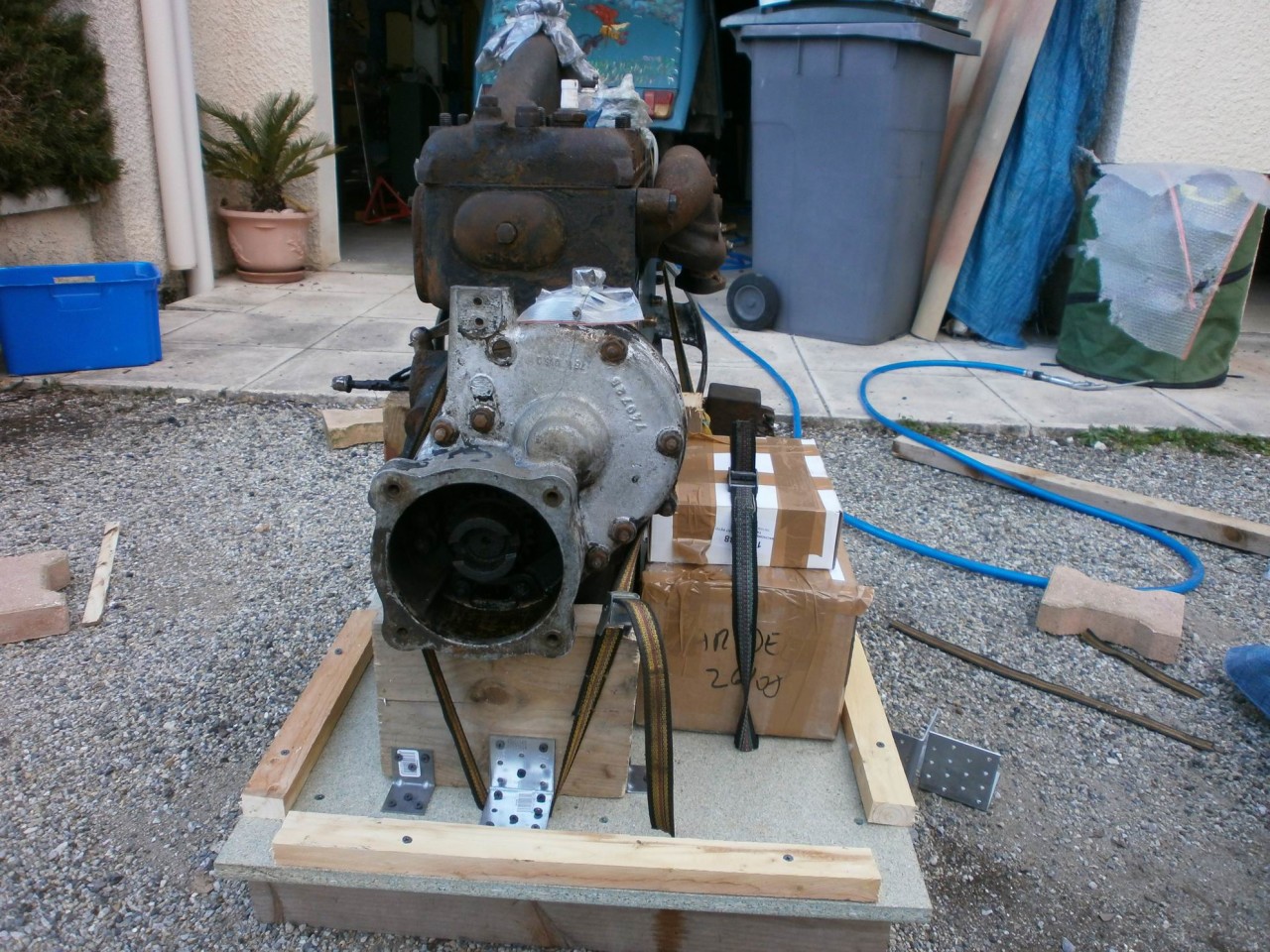 Merci beaucoup Jean-Paul.
Bernie j.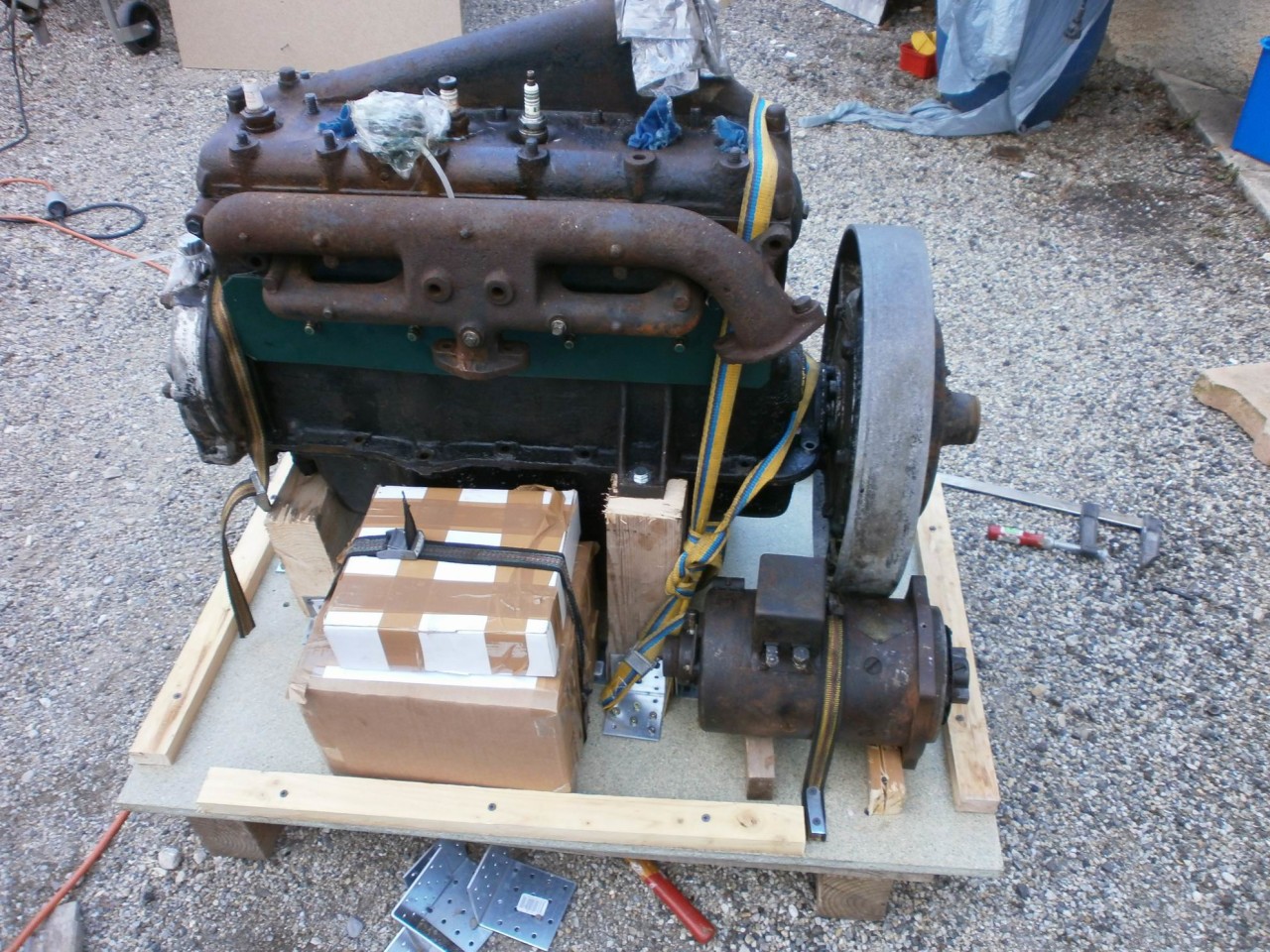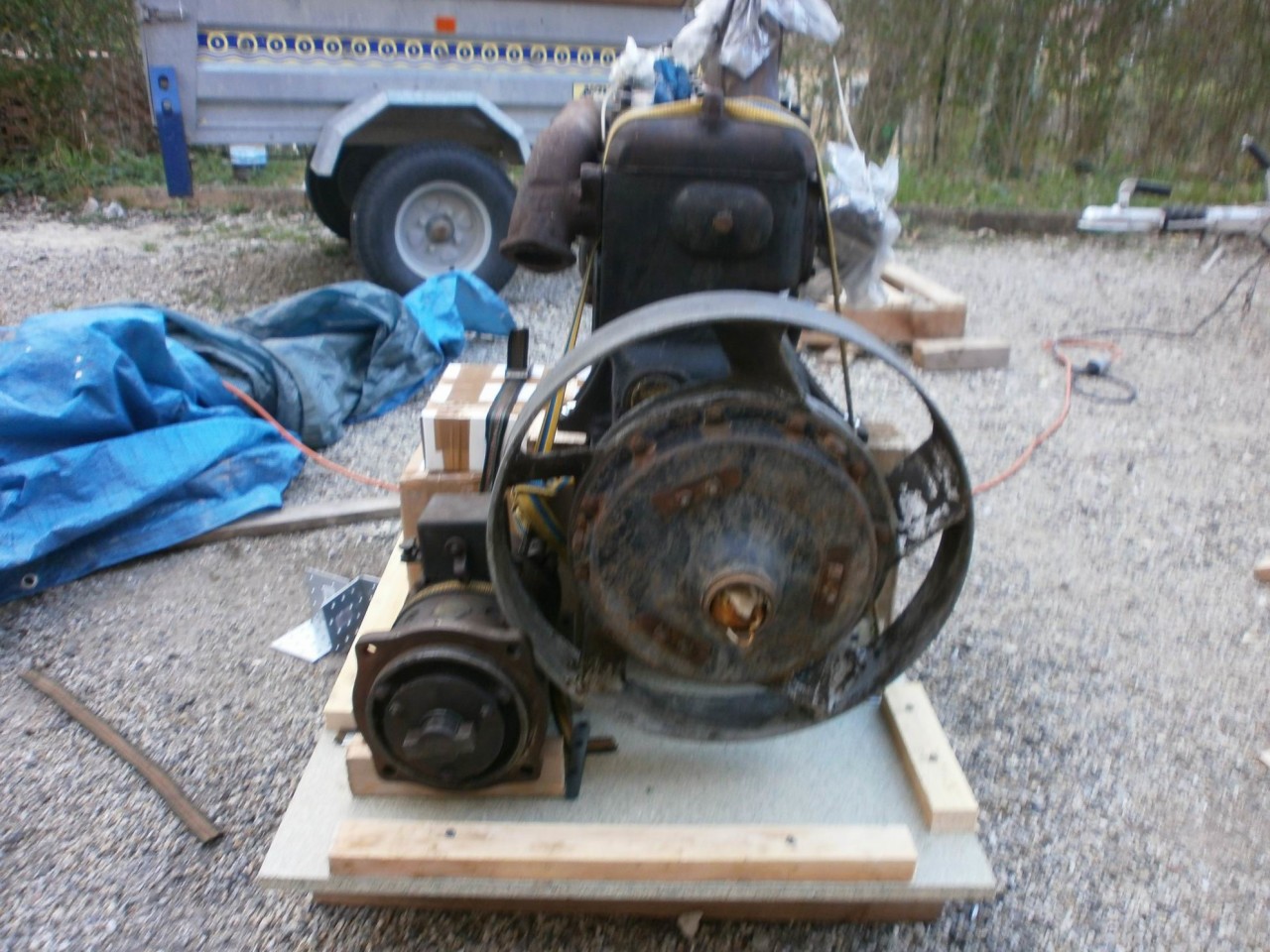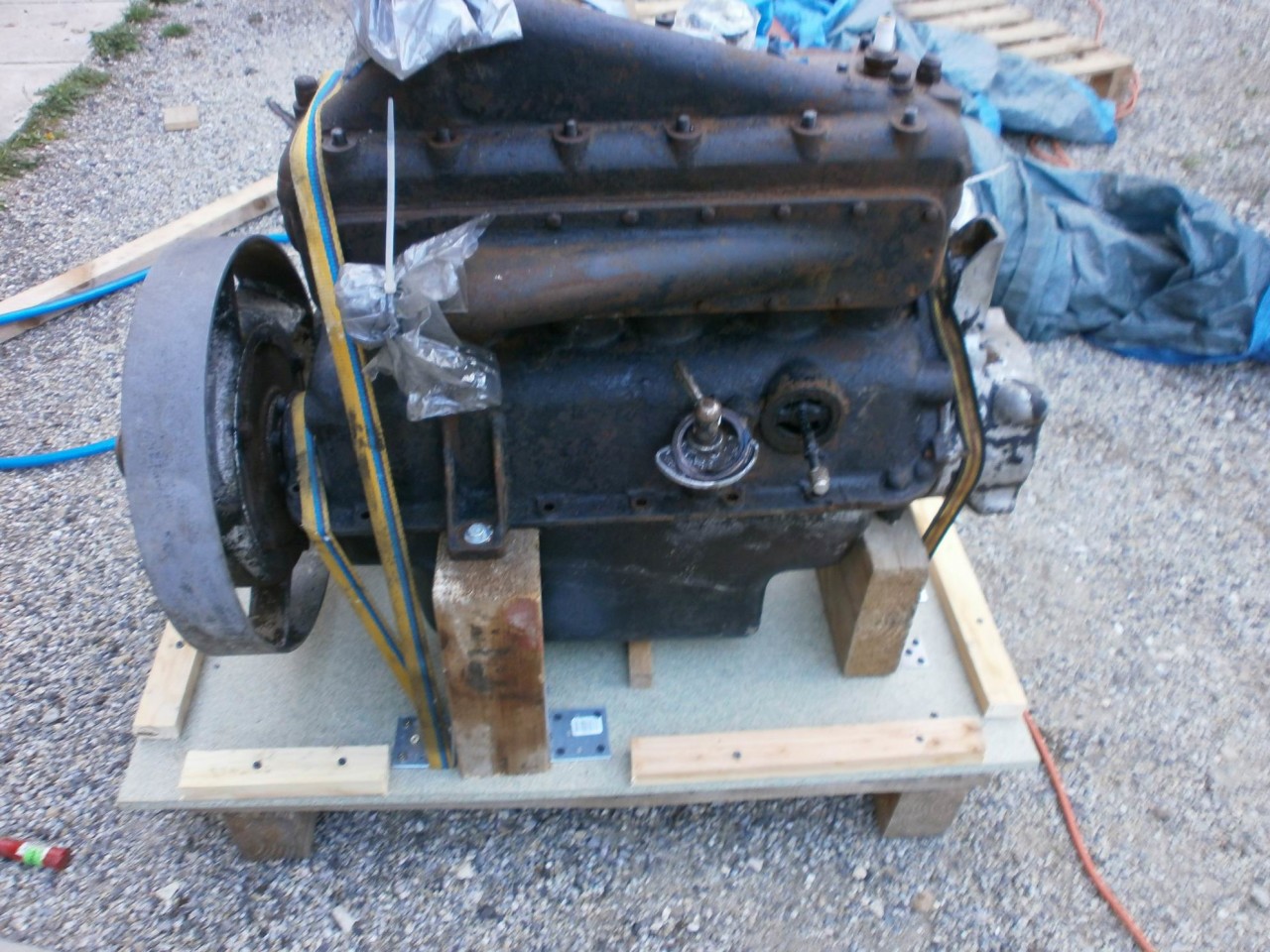 3-30-2015
Hello John
With the amount of money I have poured into this project so far with little or nothing to show for it, I am hoping that the engine will require little more than a freshen up. Valve grind, and new piston rings etc. Perhaps a cam grind and a modest raise in compression. It comes from a farm in the south east of France in the Drone Region. Knowing the reputation of French farmers it could be anything. At least it is complete and comes with the strange Renault designed carburettor and the Paris-Rhone Dyna-start. Jean-Paul who has been looking after the French end of the Transport, collecting the engine cleaning it and packing it has had a look at and has not found anything calamatis! Hopefully in complete contrast to the load of rusty rubbish from New Zealand it will be OK.
I will know a whole lot more in about two weeks time. Meanwhile I collected the five wheels with their new rims welded in place this afternoon. I should be able to give them their first coat of paint over the next two or three days. A lovely dark green is the colour.
As I have never seen one up close the carburettor looks like a "treat waiting discovery" one word that could describe it from the drawing is "complicated". Again all will be revealed in about two weeks time.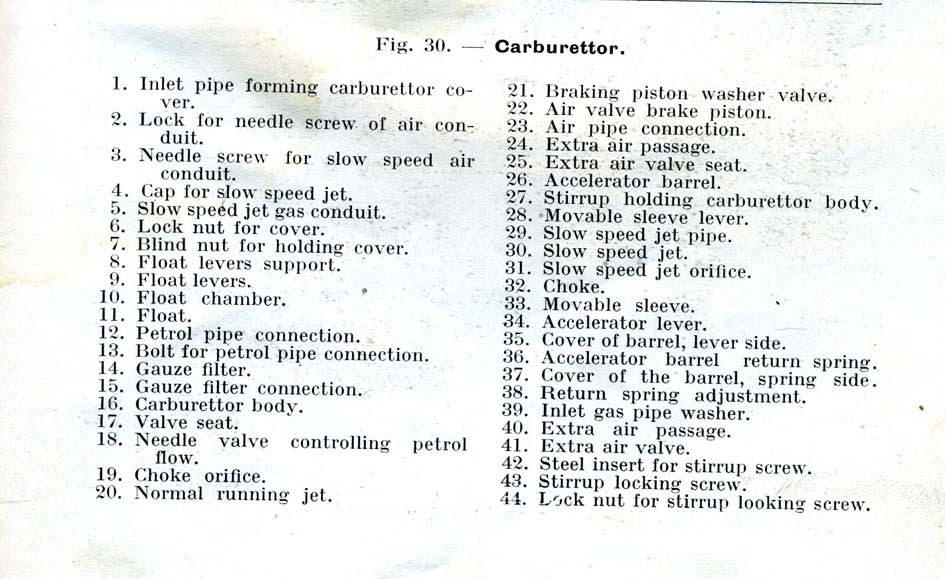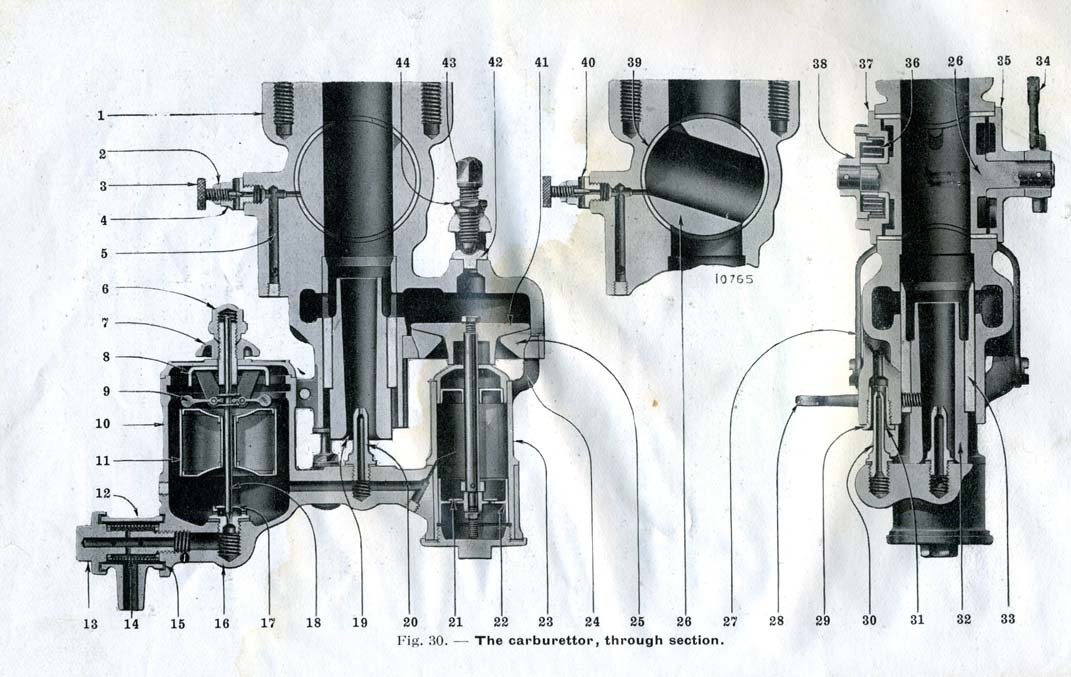 Having collected the 5 Michelin Disk wheels yesterday from the wheel works where they have all had new 18 inch rolled edge, well base rims fitted. I previously had a mixture of beaded edge (clincher) and well base rims. Now I have a set of matching wheels. Funny thing about the colour,but it seems that green is a re-occuring colour of choice for wheels on my cars. Renault supplied a huge number of cars to the principle Taxi operator in Paris during the 1920s. They were all painted two tone green. OK! Bugattis were painted blue but they came from Alcase in the Lorraine and Ettore Bugatti was born in Italy. I just happen to have a thing about green wheels. I promise that I will not paint the car white. No, not even Ivory, but that is still a little way off.
3-31-2015
How to fill in an hour? 90 year old sheet metal tends to be like 90 year old people. Less than perfect. This section of the Renault foot board had a hole that had been cut by an enthusiastic amateur, probably using his only power tool a 1/4 inch drill. I do not claim to be the worlds best welder especially of sheet metal but at around $100 per hour I could not really justify/afford to have it repaired professionally. I am old-fashioned enough to continue to use my oxy-acetylene torch for welding. After all when at some time in the future it is covered with carpet who is going to see it?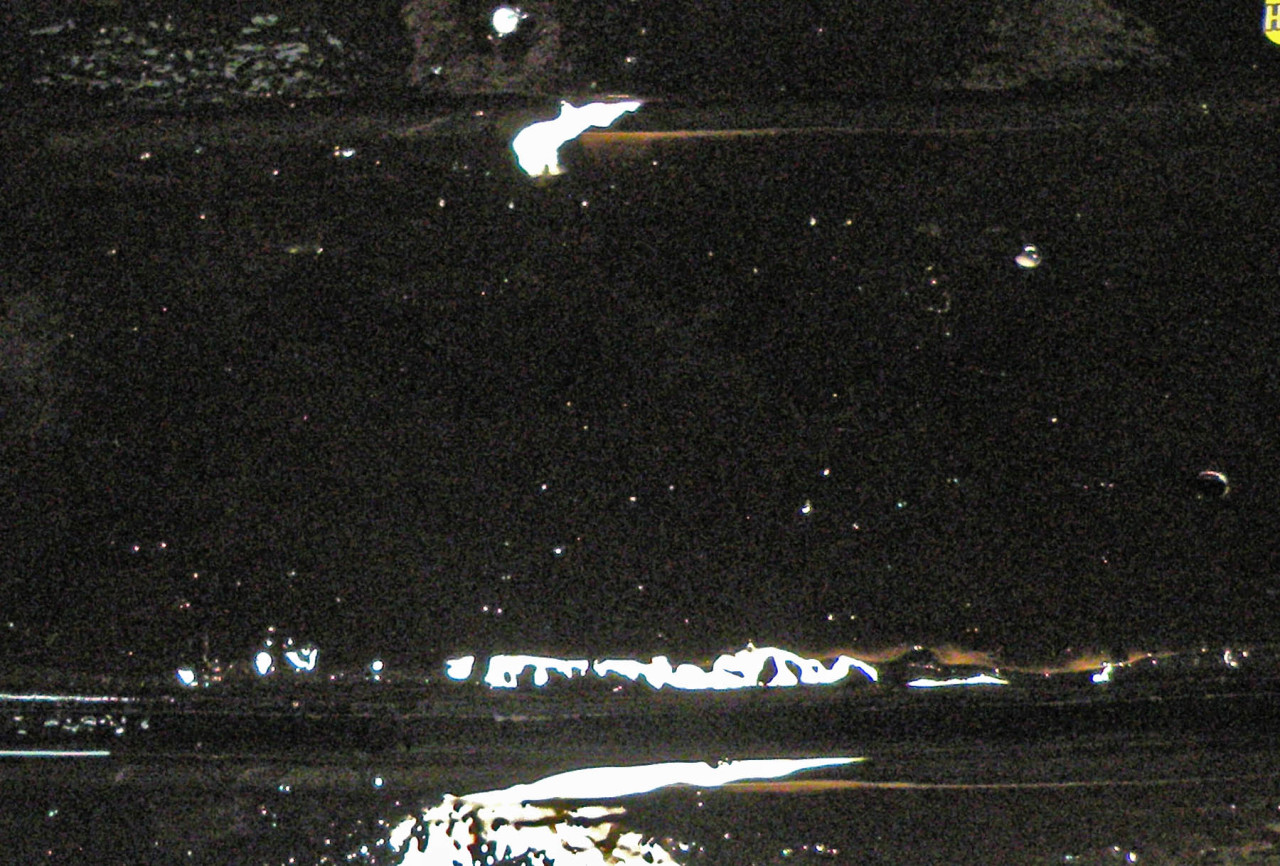 I could have cut the patch slightly oversize and riveted it into place but then Pop-rivets were not in general use 90 years ago.
If you are wondering, yes it is a 100 year old Dodge wheel spoke that you can see through the hole. Well seasoned hickory has all sorts of uses, a light mallet for example.
The super-observant will have noticed the original Renault (taxi) green paint on the patch. Not one to waste anything the supply of sheet metal comes from a pan originally under the rear seat of the derelict four door saloon body. The green for the wheel colour is remarkably close to this. Ultimately it is planed to use this green as the darker of the two tone green colour scheme for the body.
Bj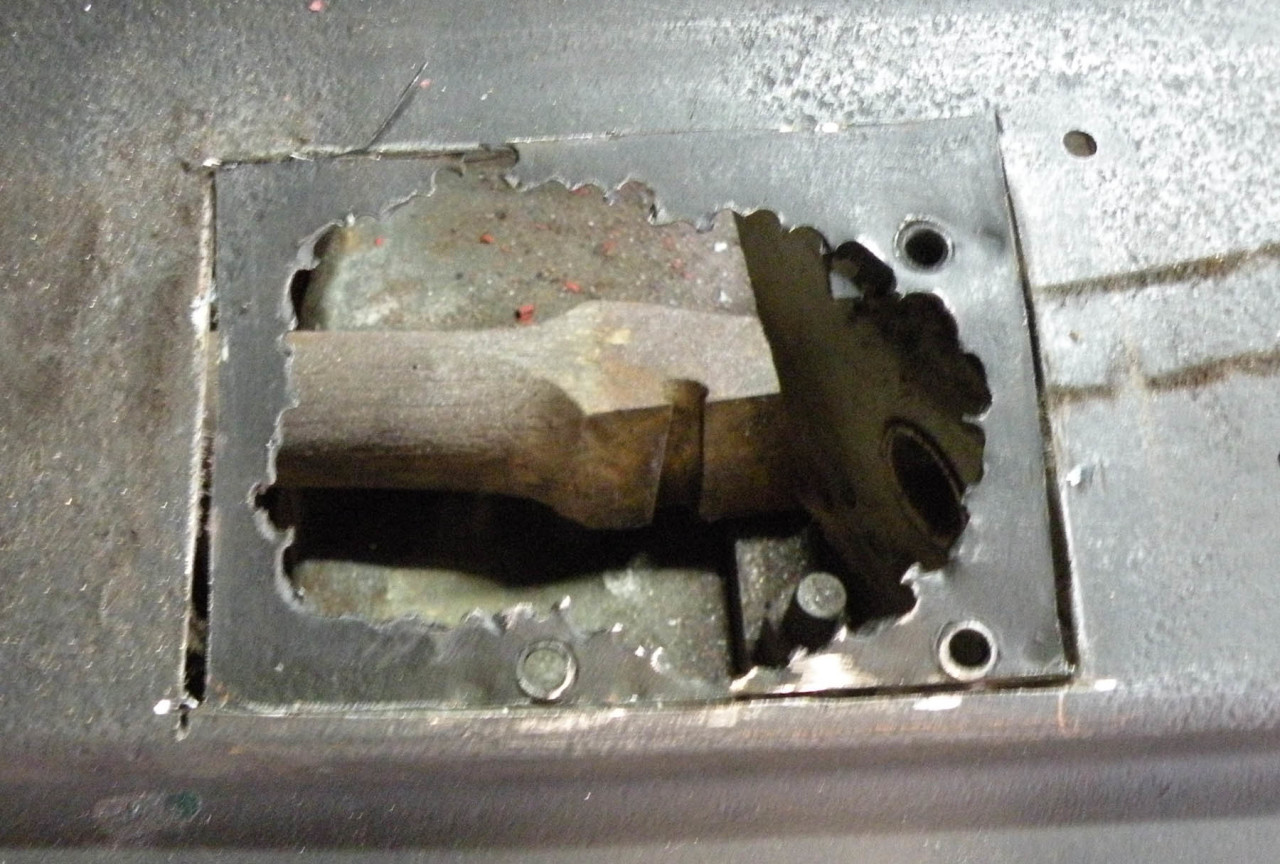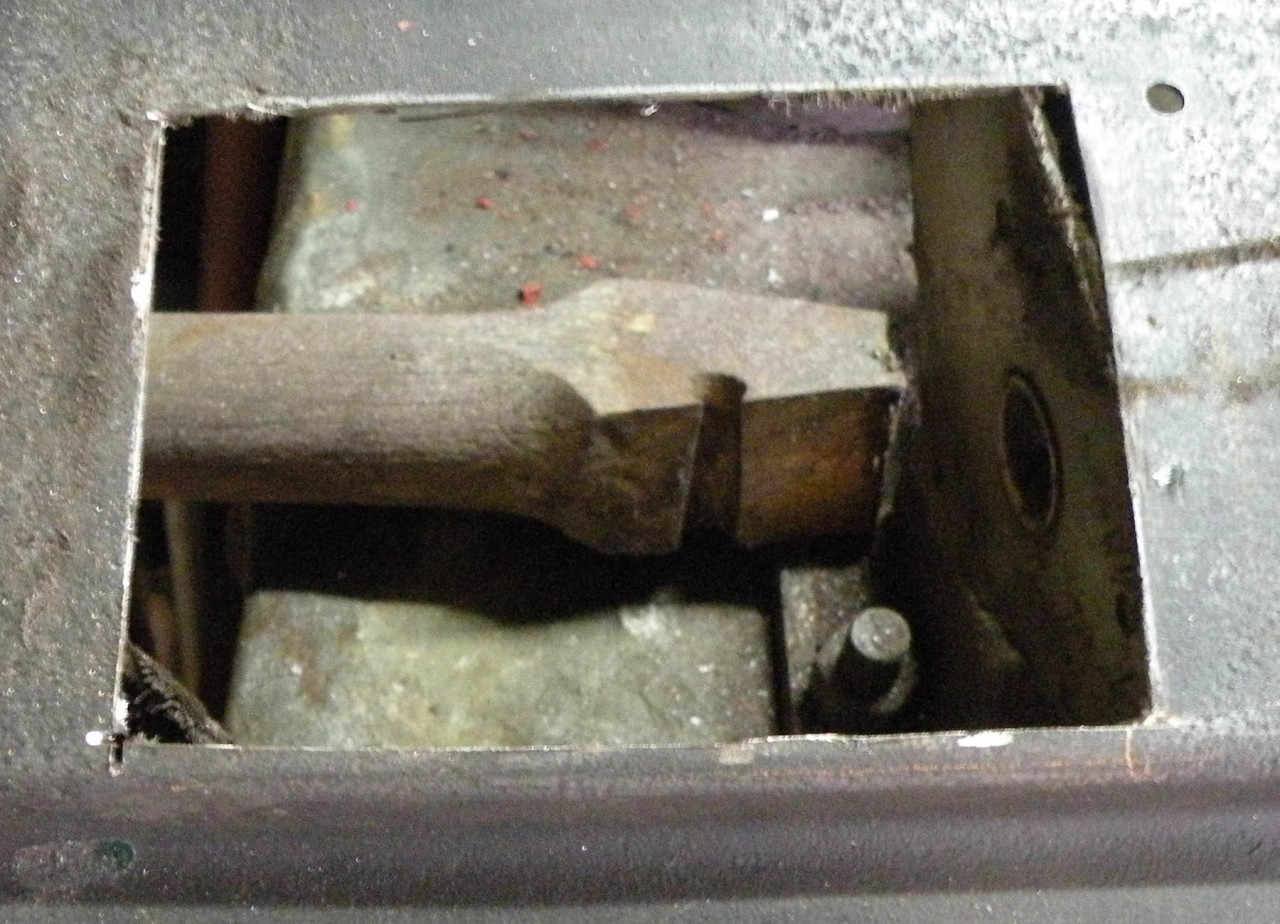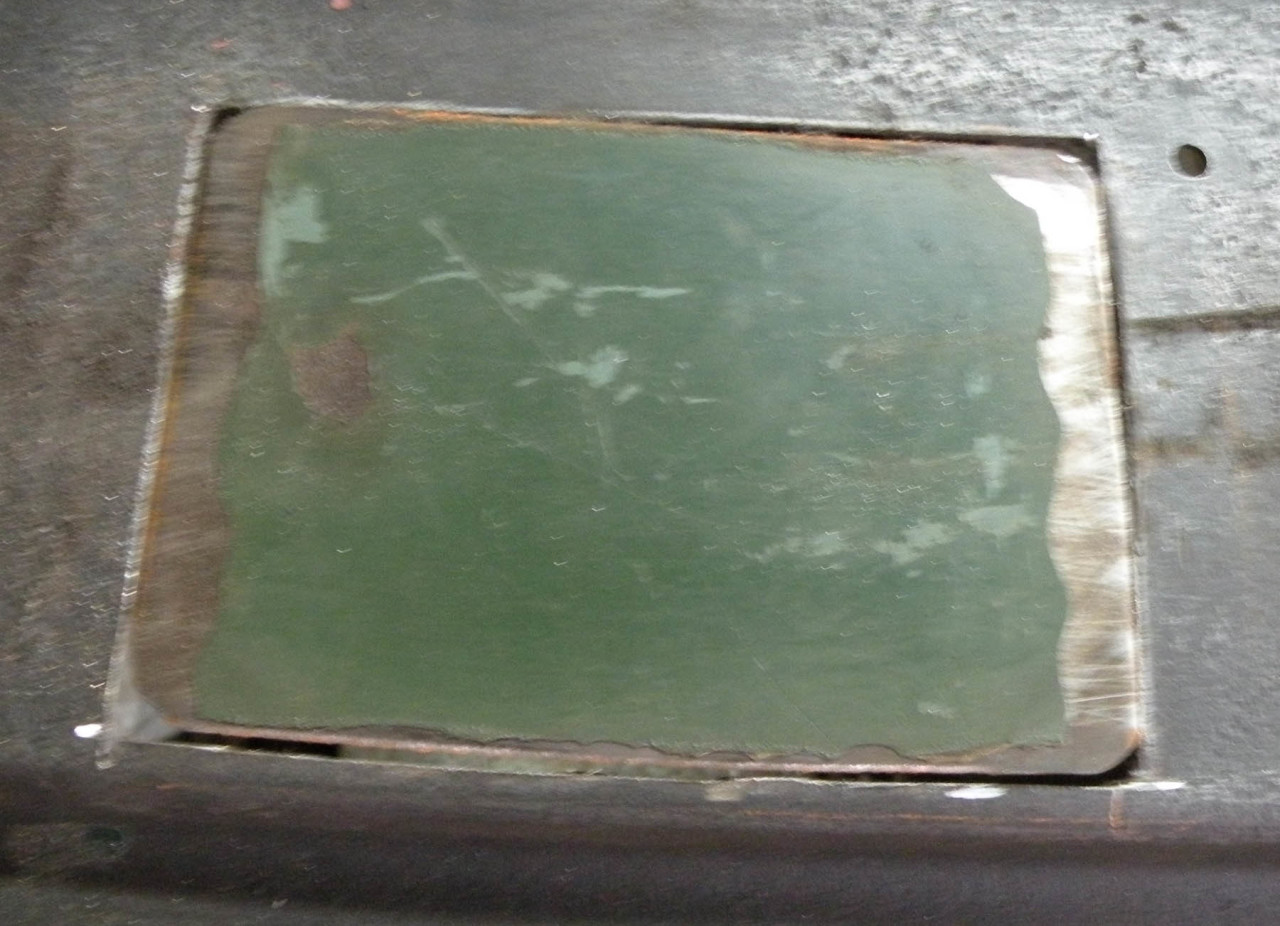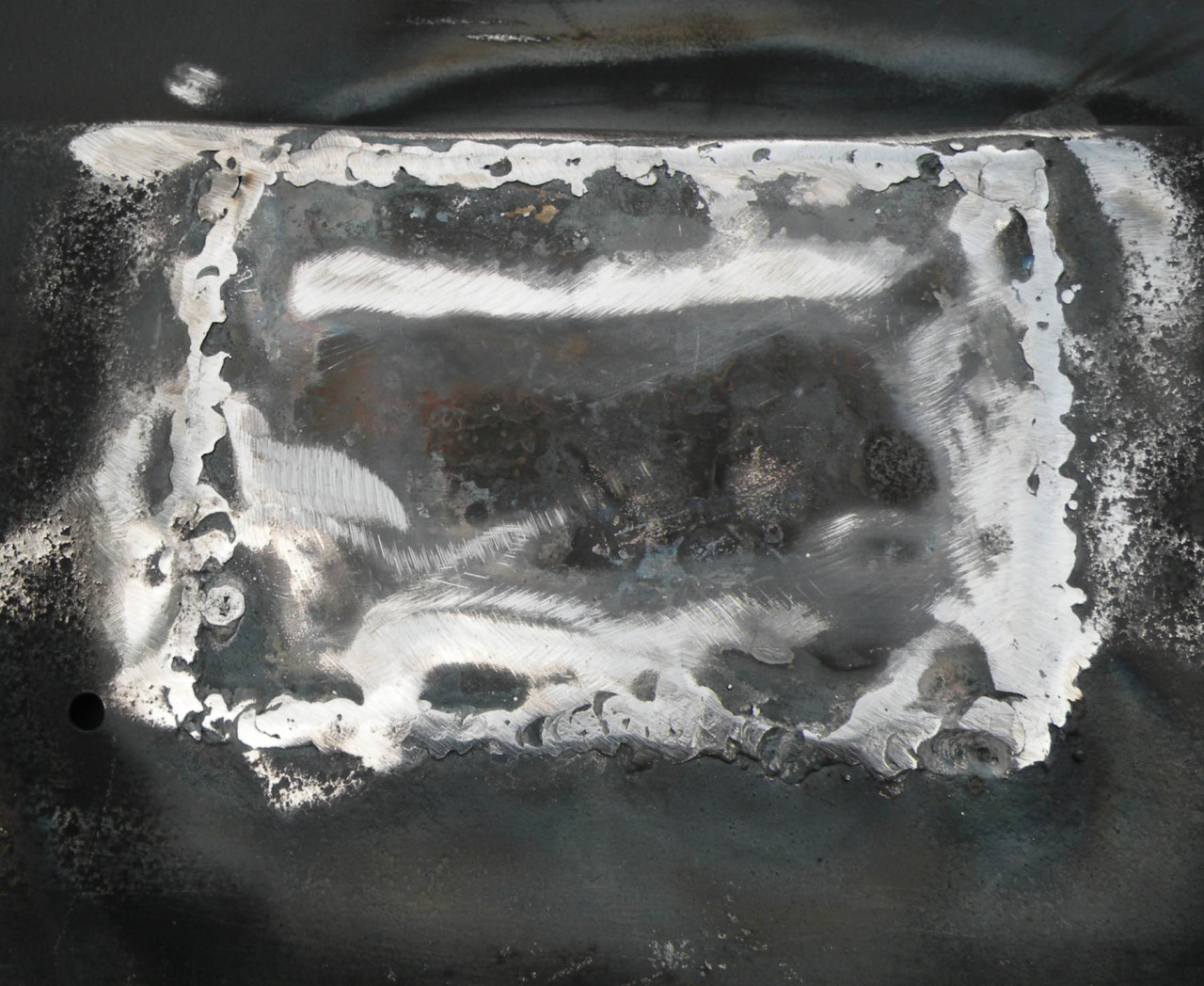 4-5-2015
It may seem that I am filling my days with mindless tasks but they are all things that must eventually be done and while I am waiting for the apparently endless paperwork to be completed so the engine that I bought what seems like lifetime ago can finally leave France I am taking the opportunity to tick a few boxes. My Renault is one of the last of the models produced with the radiator mounted in two sections one either side at the rear of the engine. The top tank acts as a bridge linking the two together and a collector pipe forms the link at the bottom. This requires no less that four water transfer ports each with quite a complex gasket to seal the joints. I have managed to make these laminated cork gaskets over the last two days. Being the Easter Holidays I have not worked full time but probably for a total of about four hours. i.e. and hour each which may seem excessive but not when you consider that each gasket is laminated out of three pieces of sheet cork using two layers of 3mm sheet and one layer of 2mm. Each piece of cork had to be individualy hand cut.Hopefully the photos may go some way in explaining.

If you look closely at the fifth photograph you will note that the gasket is in fact three layers with the bottom 2mm layer cut so that it forms the seal between the top tank and the radiator. The three pieces of cork will be bonded together using silicone to form the one gasket.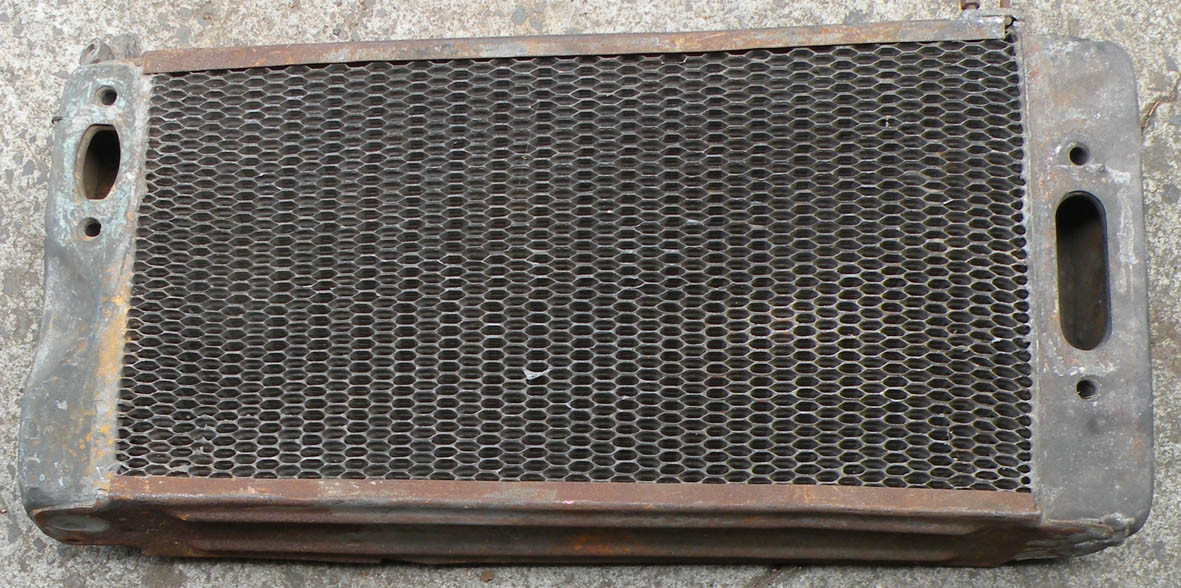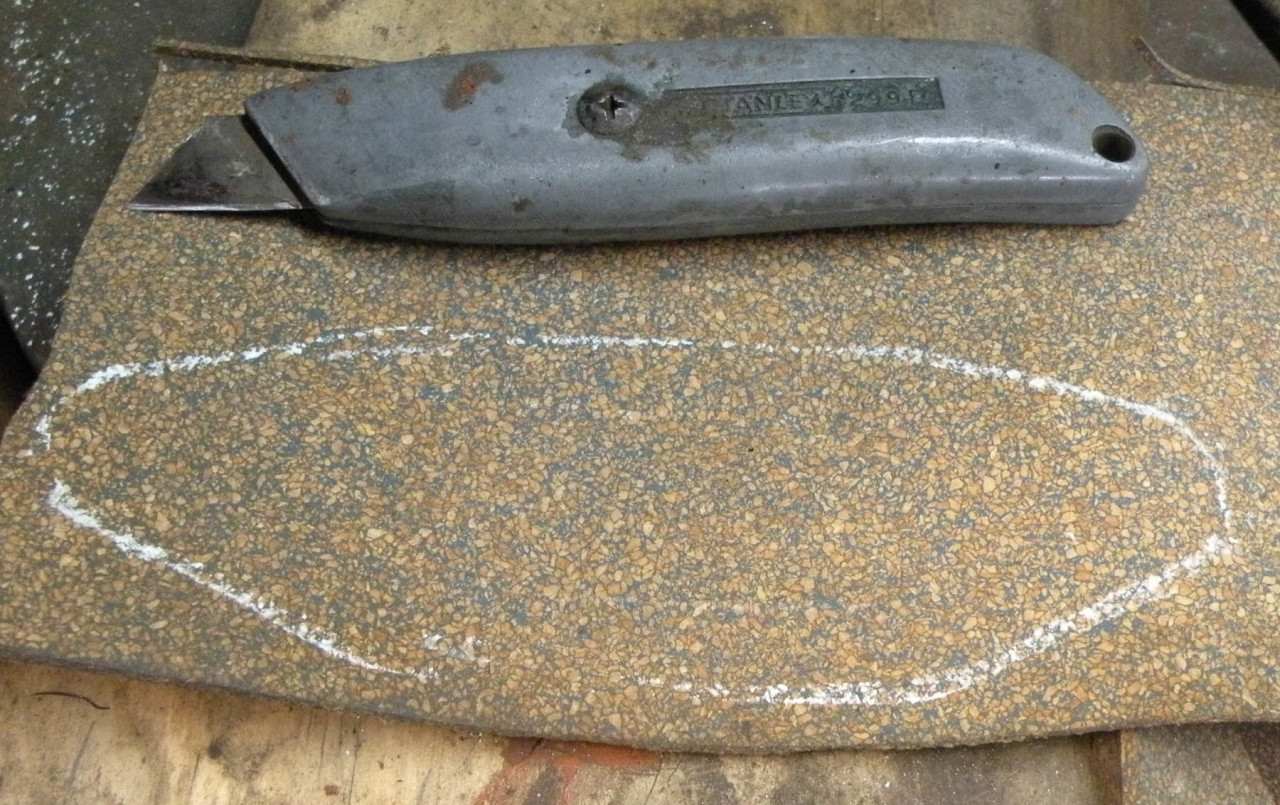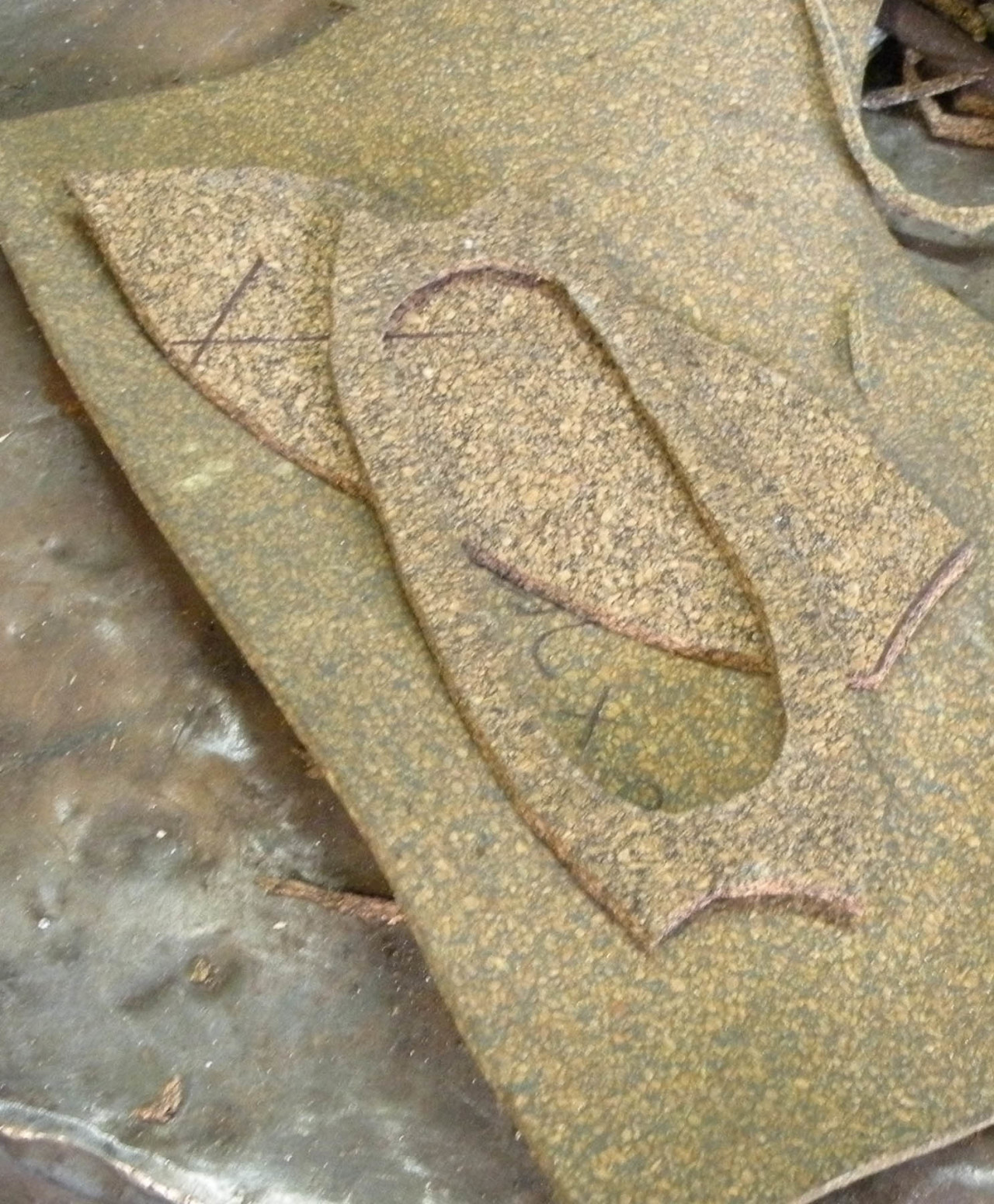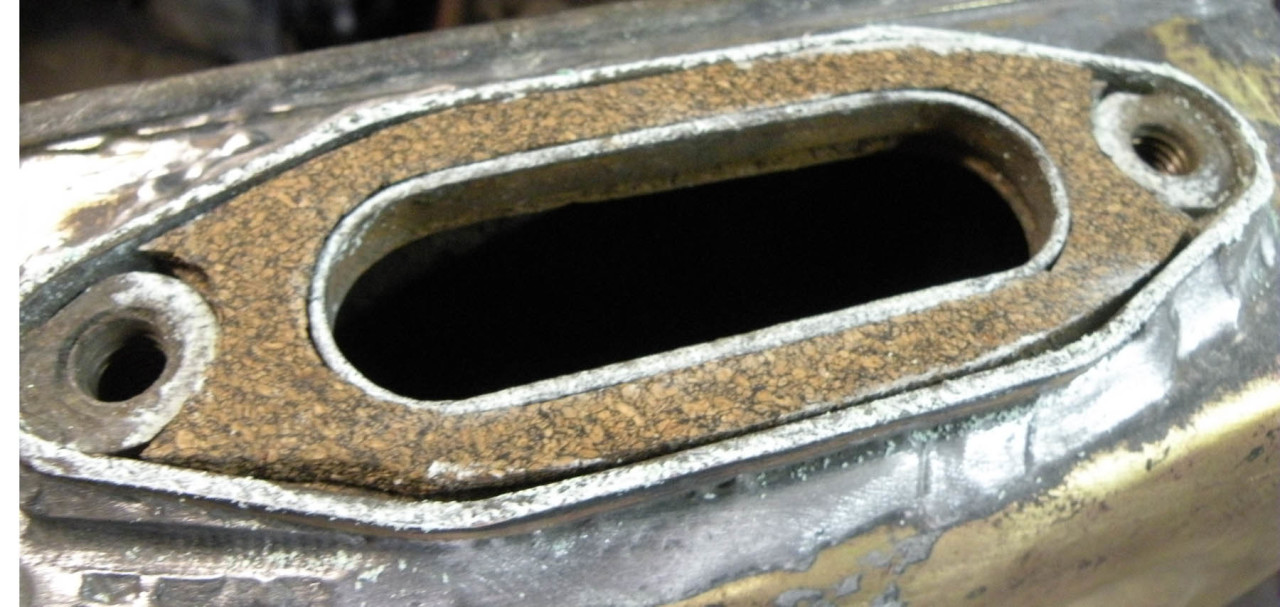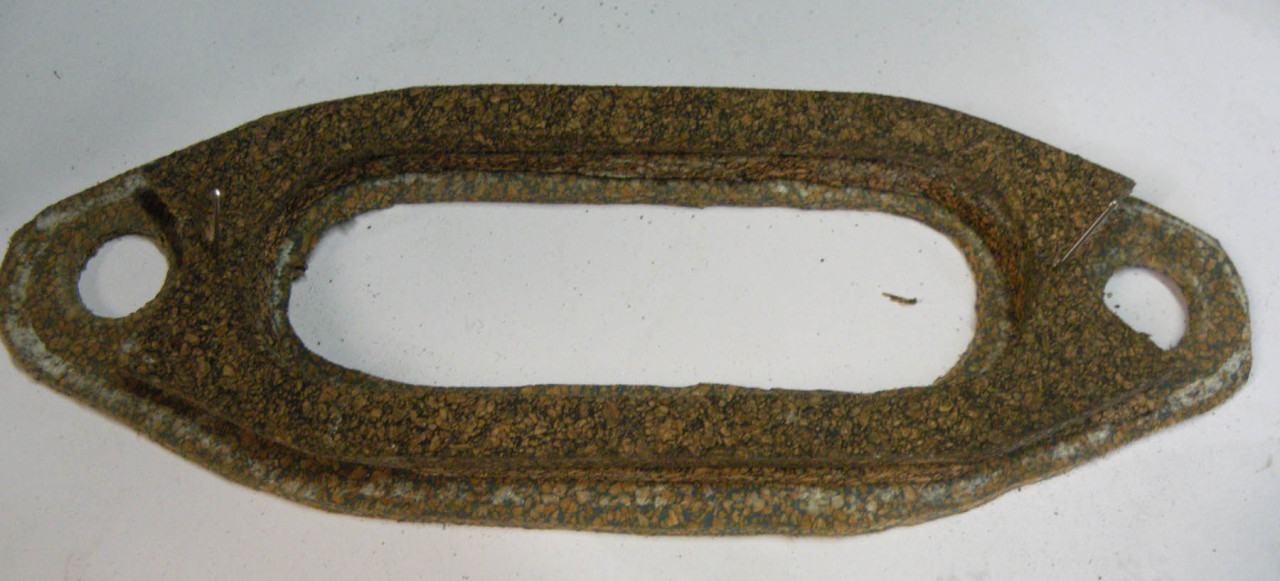 4-14-2015
Hi Richard
In theory I agree with you when I used the word silicone, it was as a generic term. I have used a variety of things over the years. The ones I am using at present is a Permatex Ultra Copper high temperature silicone and Loctite Number 4 Gasket cement. The Permatex is convenient to carry in the Lagonda Rapier's tool bag mainly for emergency use. The Loctite bottle has a nasty habit of leaking unless stored up-right. Having said that the little brush attached to the inside of the lid is very convenient to use in the workshop.
Meanwhile although the Renault re-build may seem to have slowed, I have just ordered a NOS Clutch shaft from Depanoto in Central France and I have finally organised the shipping of the motor coming from the south-east of France. I should have both these in about three weeks depending on the Australian Customs Service. They are both coming Budget Air Freight. I have found that Air Freight is ony slightly more expensive than surface shipping (by sea) and much more reliable. Anything less than a full container load (FCL) Sea Freight can take between four and six months. For smaller parcels the French Post Office Coloissimo service is fast and reliable and the parcel is delivered to my door.
Paul
I had put the collection of the Monasix Engine "on-hold". I felt that without the clutch shaft I could never be sure of completing this project. As the cost of shipping is about $2,000 I reasoned that it would be insane to pay that to import a motor that I may never have any use for. Added to that if I did have to re-sell the motor I would have a far better chance of selling it on in France than here in Australia where there are no other 1929 Renaults. While the clutch shaft that is coming from Depanoto is not exactly the correct one for a RY1, I am hopeful that I may be able to modify it to do the job.
My friends on the Renault d'Avant Guerre Forum have again prooved incredably helpful.
Bj
Perhaps I should explain, pre 1930 Renaults were almost unique in having their radiators mounted behind the engine or as in the case of the late 1920s cars two radiators, one mounted at each side of the flywheel, which incorporated a large fan. While the clutch was mounted on the rear of the flywheel there is a drive shaft, about 12 inches long, linking the clutch to the gearbox. An outer tube acts as the linkage between the clutch pedal and the actual clutch. The clutch adjustment is built into this tube.
If you polish your bi-focals and put on your thinking caps you may be able to follow the workings from the diagram, below, The outer tube is hi-lited in yellow. Anyone thinking that this is somewhat convoluted is excused. Number 18 is the locking clamp for the screwed adjustment while number 21 is the thrust bearing. Number 22 is a cross shaft carrying the clutch pedal at one end and the clutch withdrawl fork in the centre. Number 23 is the gearbox end of the shaft linked to the only universal joint in the transmission. The actual gearbox is rigidly mounted on the front end of the torque tube.
Confused? :- Join the club!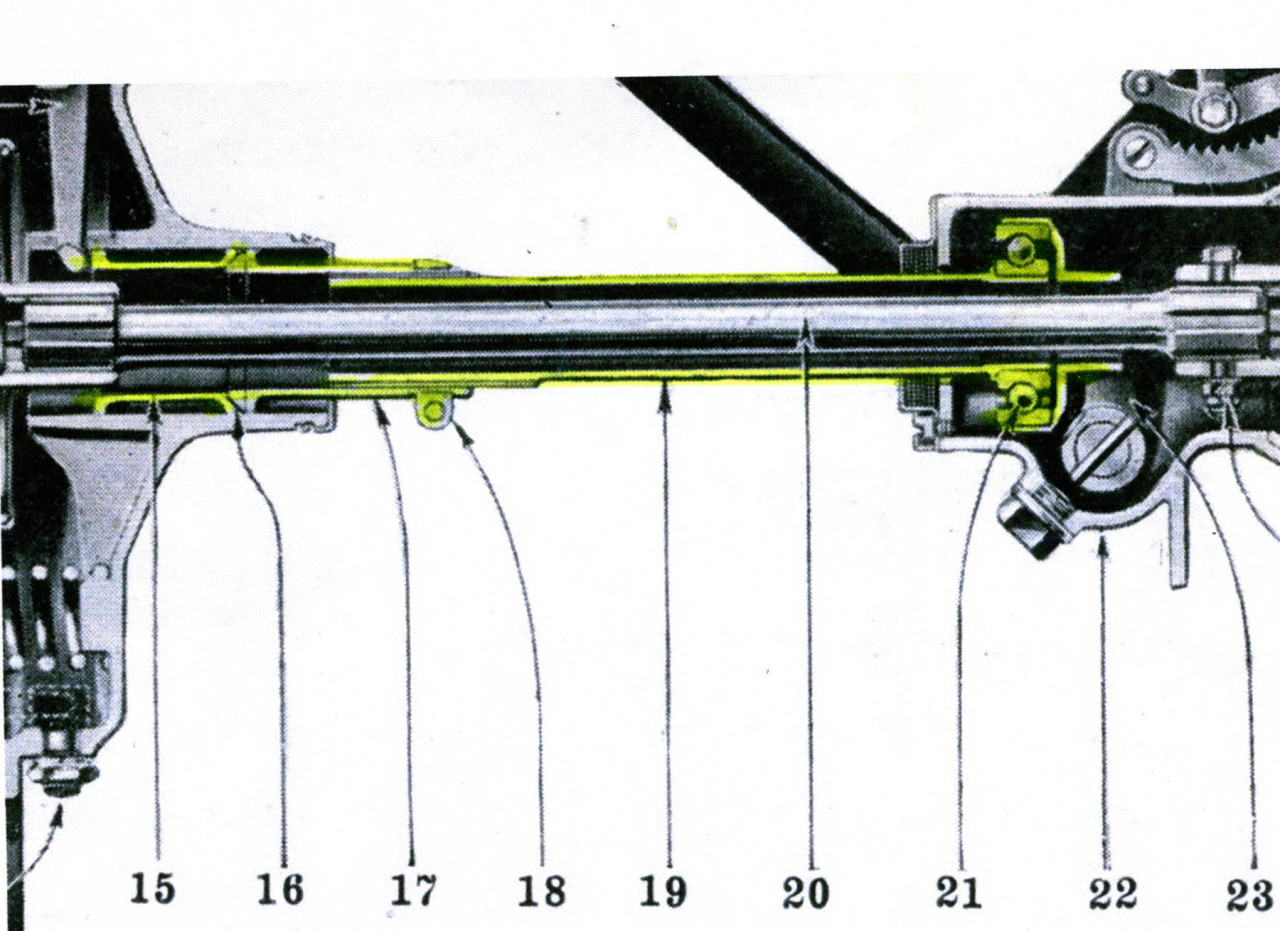 All this goes in some way to explain why there are so few Pre-1930 Renault left. That and the fact that most if not all Early Renault enthusiasts are deemed to be "Certifiable".....i.e. Totally insane.
Sadly, once infected there is no known cure.
Certain members of the RAG Forum will tell you "Louis" is a synonym for God.
Bj
4-15-2015
Certain members of the RAG Forum will tell you "Louis" is a synonym for God.
Bj
For those who have missed the point "Louis" is M.Renault's first name.
RAG is the innitial letters of Renault d'Avant Guerre:- Renault Before the War. (Pre-1939)
4-17-2015
He certainly had his own ideas and at best could be described as a non-conformist. This shows up all to plainly in his motorcars.
Love them or hate them they are certainly DIFFERENT. It is their very uniqueness that makes them so apealing.
Louis Renault died in jail, imprissoned as a Nazi colaborator in 1946. His claim was that by doing work for the Germans he was providing employment for his workers who otherwise would have been deported to work in German factories as slave labour. 70 years later there are still people who say he was right and just as many who say he was wrong. At least he is not forgotten and his name still lives on in cars that even today are considered by many people to be just that little bit too quirky. I do not know about the USA but here in Australia, after an absence from the market for many years, they are making quite an impression, selling in larger numbers than ever before!
Bj.
4-20-2015
Thank you Richard, quite a bit earlier than mine but can you tell me anything more about it. My friends at Renault Freres in the UK mainly have early cars and I am sure that they would be interested if they do not already know it. There are just a few early Renaults that are known in the USA.
My good news is that a clutch shaft and outer tube arrived from Depanoto yesterday. Not excatly the correct one but one that can be modified to suit.
Louis Renault must have had supreme confidence in his engineering staff. The drive shaft linking the clutch with the gearbox is 334 mm long and just 14mm diameter over its length. Obviously not expected to transmit 500 hp.
Bj.
4-24-2015
No problem Richard, it is easy to make mistakes with rare and unusual vehicles.
No mistaking the truck shown in this photograph. It belongs to the son of one of my correspondents Ian Hinks who lives in Mildrua on the Murray River in Northern Victoria, Australia. They have known of the truck's existence for almost 50 years but have only recently been able to purchase it. The engine has now been reconditioned and the truck is drivable. It could easily be the only known early 1920s Renault truck in the world. Anyone know of any in the USA etc.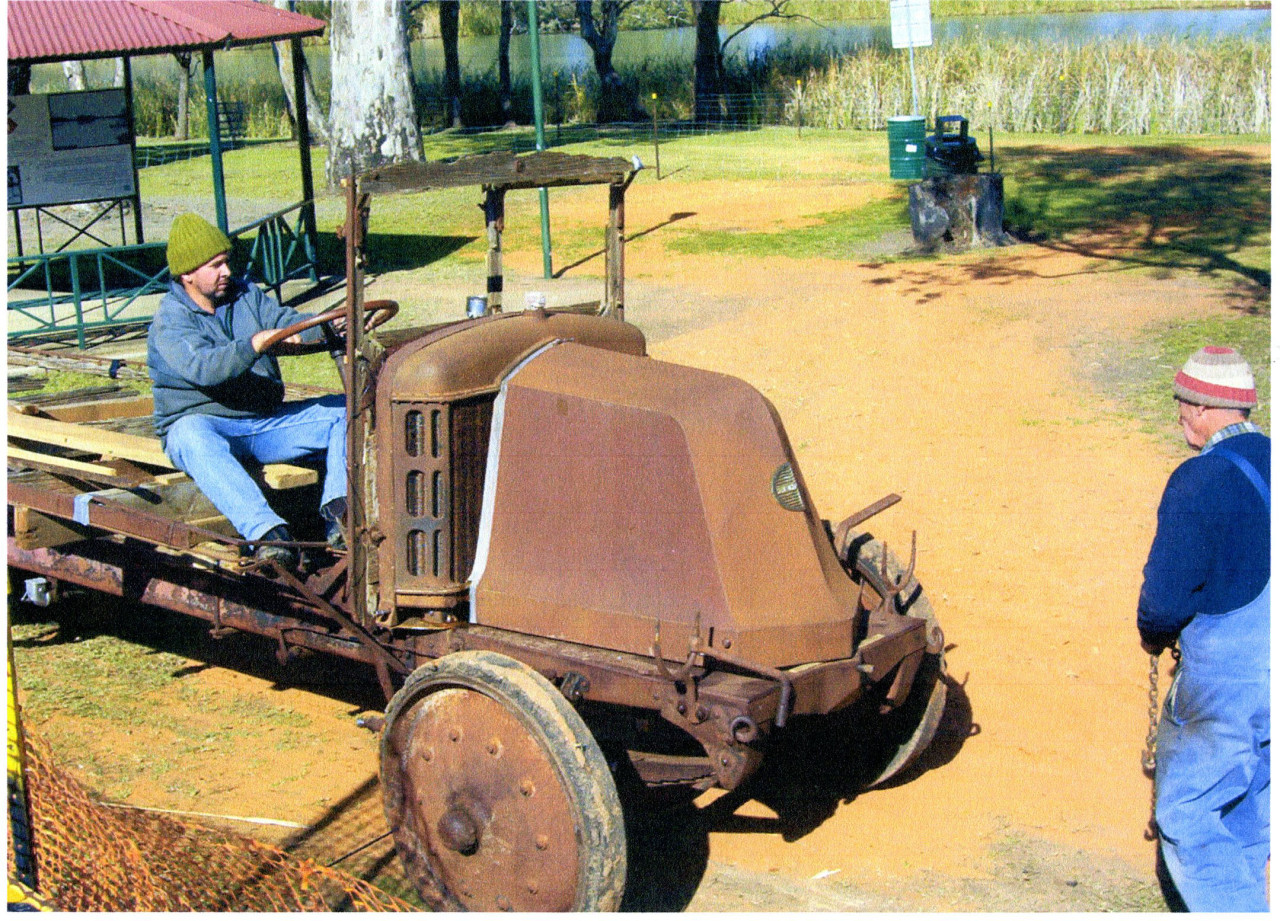 4-28-2015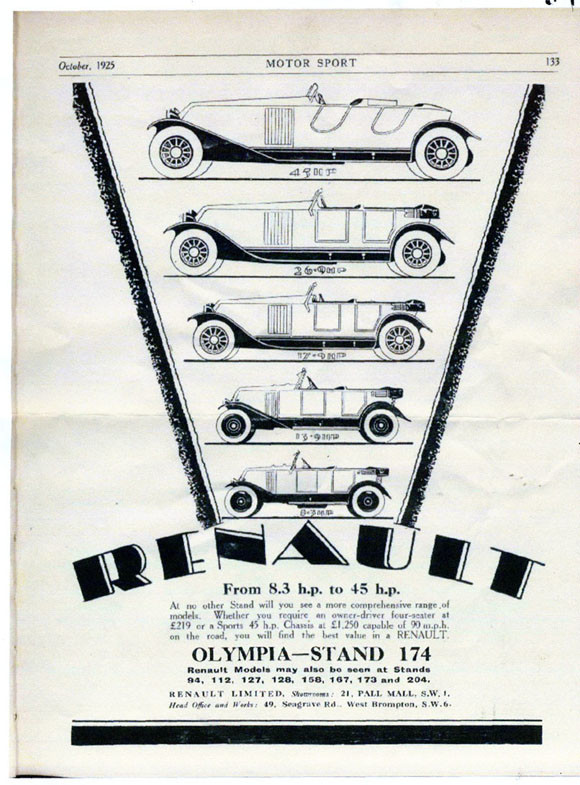 A good friend and fellow VSCC of Aust member Graeme Steinfort has just sent me a copy of this Renault advertisement from the English Motor Sports magazine of October 1925. It is a pity that it is two years too early to show the Monasix which would have fitted in between the two bottom rungs of the ladder.
Louis Renault would have never tolerated the present day "one size fits all" policy
Bj
5-3-2015
Hello Ivan
How nice to hear from you again.
If I was doing all this for profit I would have stopped even before I started 50 years ago. But the good news is that a very big van has just driven off having deposited an extremely heavy box on my drive. Less than a week ago it was sitting in my friend Jean-Paul's garden in South-eastern France. My reward is the number of new people I get to meet through each restoration. Like minded enthusiastic people from all around the world! That is worth far more to me than any profit I may gain could ever be.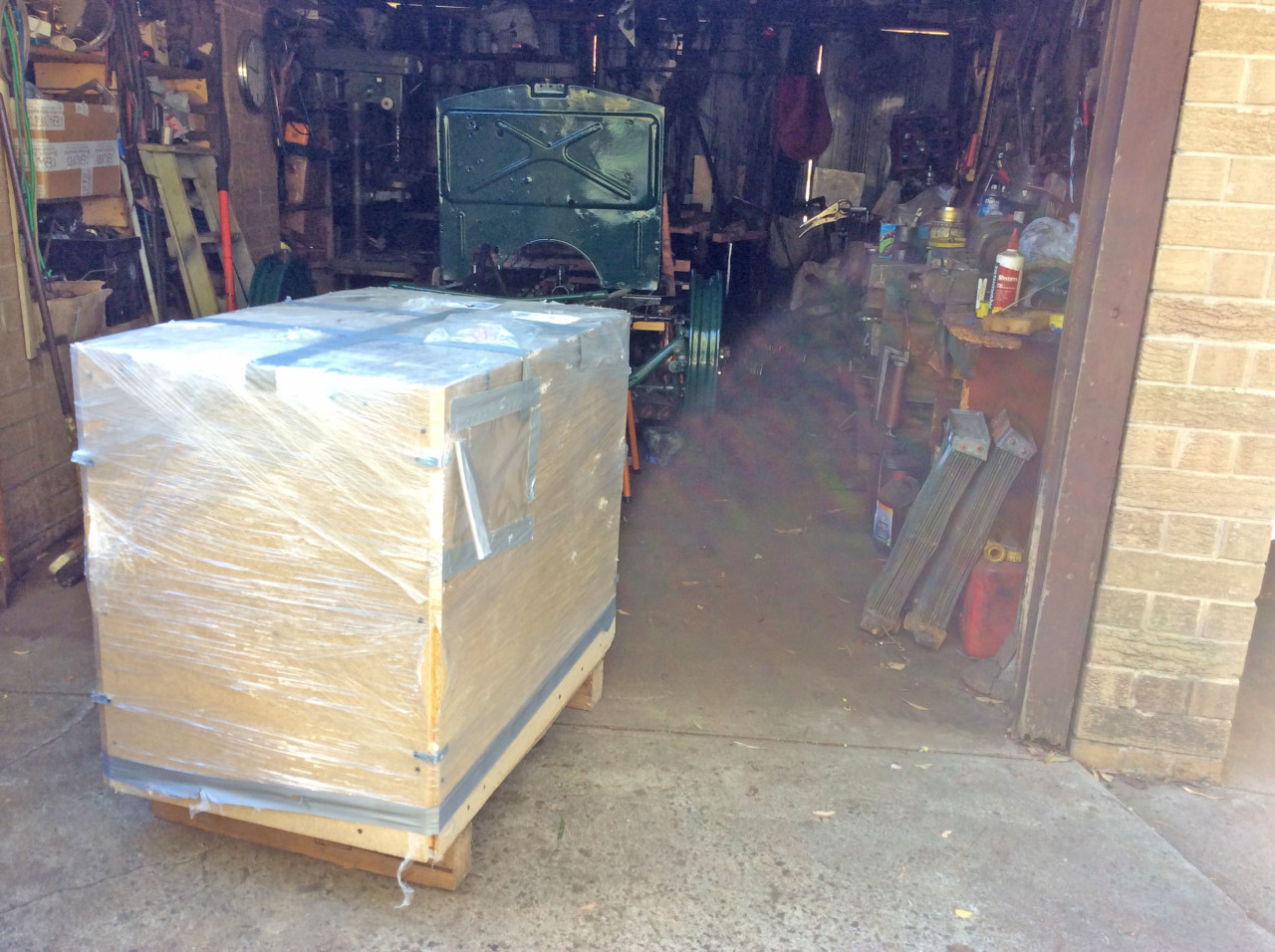 There are still just a few people around who do not count everything in terms of Dollars and Cents. I like to think that I am one of them. I may never have a lot of money but I sure have a lot of friends and even better I have a huge store of memories.
Bj.
5-4-2015
Hi Ian
In some ways you are right but I must be a supreme masochist. The excitement generated by the arrival of the delivery and the pleasure in unpacking the crate more than out weighs the pain. That and knowing that at last I can do something constructive on the Renault.
What did hurt was discovering the engine from NZ, which cost almost as much, was a total dud and basically only good for scrap. The cost of buying and shipping the engine from France was less than trying to make any sort of purse let alone a silk one out of that particular sow's ear. I guess the only satisfaction in that deal was knowing that I had made one rotten KIWI happy and helped him earn another 100 Bonus Points.
For those who do not know, there is a theory that Kiwis (People from New Zealand) earn 100 bonus points every time the manage to DUD an Aussie. For those who do not understand the term DUD it is a synonym for Cheat or Rob.
It is like them calling one brand of their Export Cheese "MAINLAND Cheese" implying that New Zealand is the "Main land" and Australia is the "Third Island".
Bj.
5-7-2015
Thank You John
The box opened up after removing about 100 screws. Everythingwas really well packed in and secured The Dynastart which weighs over 20 kgs was packed down at the bottom of the box well strapped down. Everything there including all the loose nuts etc tied into a plastic bag and then taped up in a cardboard box. I have still to finish unpacking the engine as I have been busy as co-organiser of a VSCC One Day Trial (Competitive Tour). Once that is out of the way I can finish unpacking the motor and start stripping it down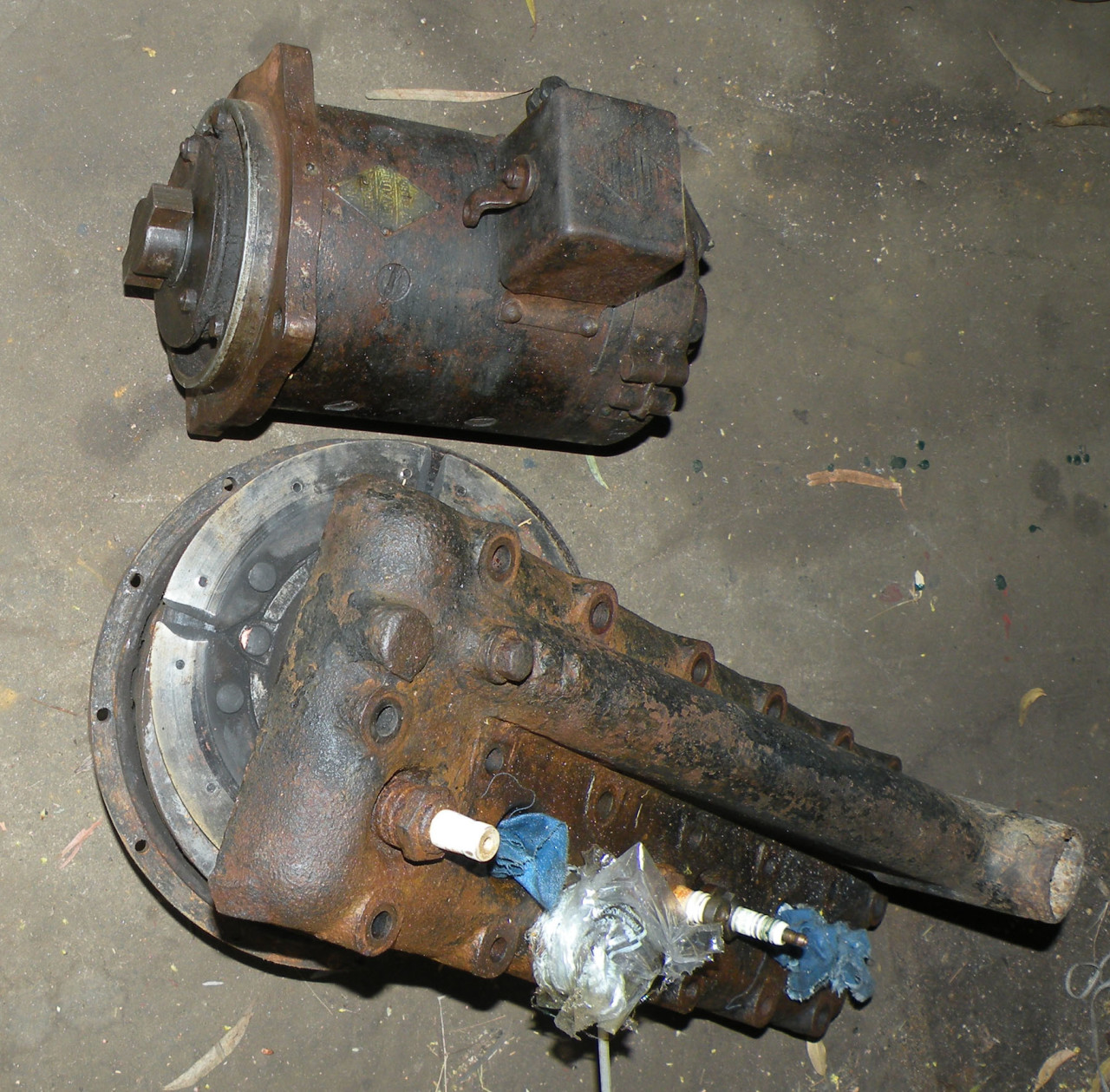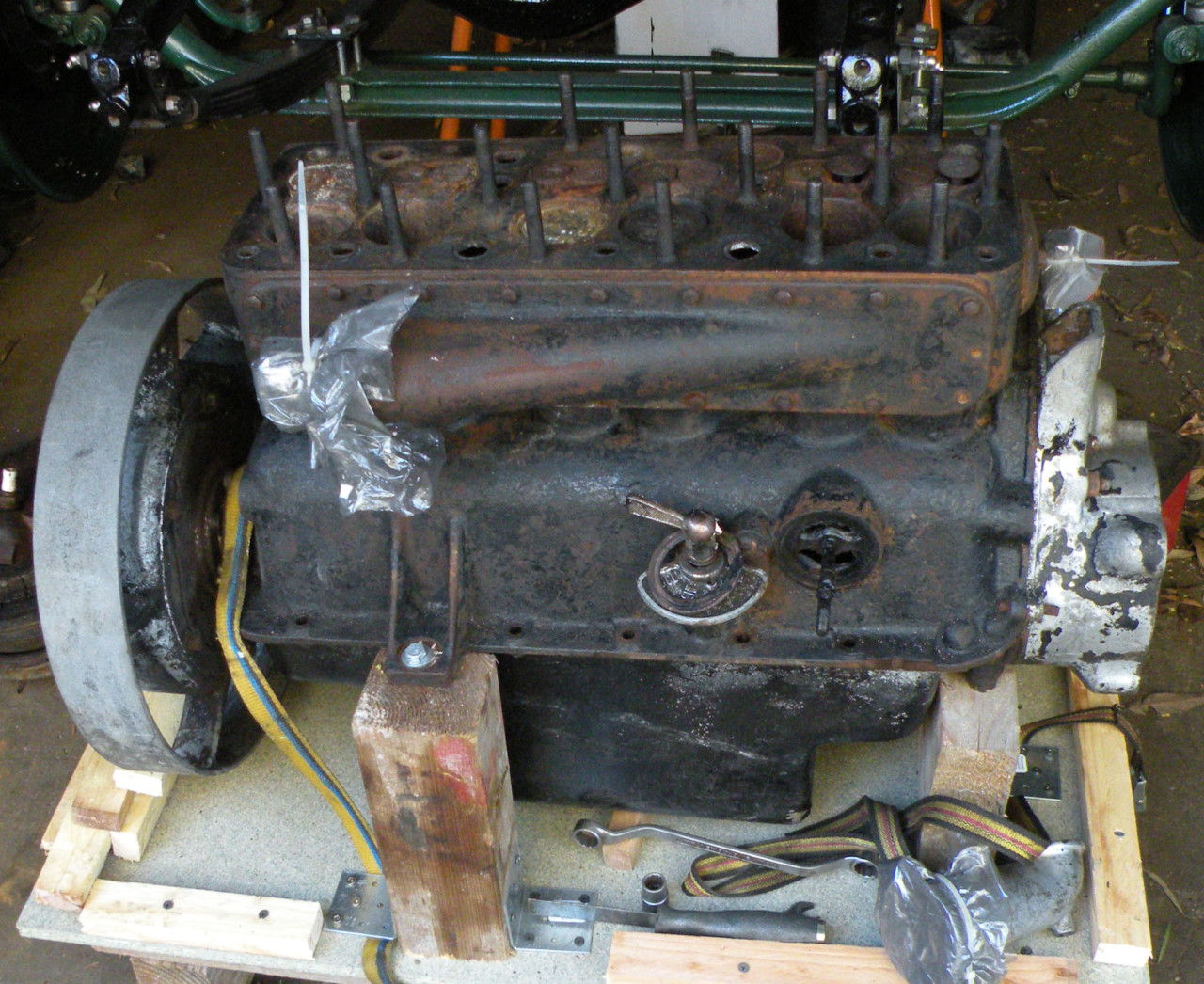 5-14-2015
I have now progressed to the point where I have the crank out and four of the six pistons. I may have to sacrifice the two remaining ones but I still have them soaking in a mixture of engine oil and mineral turpentine. The good thing is that as both motors are still standard bore and the pistons are all the same so I should end up with at least nine useable pistons. Even If the block does not clean up sufficiently by honeing the bores, I can bore them out and fit liners to bring it back to standard again and use six of the original pistons. The same goes with the valves I got a box full of secondhand valves with the NZ engine so should end up with 12 useable ones. The bottom end should clean up and just about go back as it is as there is no perceptable wear on the crank pins or bearings but will know more once it is all cleaned up. The first thing is to get the last two pistons out. My first impression is that the motor has not done a great deal of work so fingers crossed. It is just a pity that it had been left for so long out in the open with four of the six spark plugs removed. I suppose that if everything went smoothly I would just get bored with it all.
Bj
5-16-2015
Wow! Talk about old dogs trying to learn new tricks can some one using words no more that three sylables please explain how to up-load photographs. None of my grand children are around right now and none of the symbols mean anything to me except the dreaded Facebook which I have avoided like the plague Not being a bird I have never learnt to twitter. Could this be the end of oldcar and the AACA Forum?
Bj.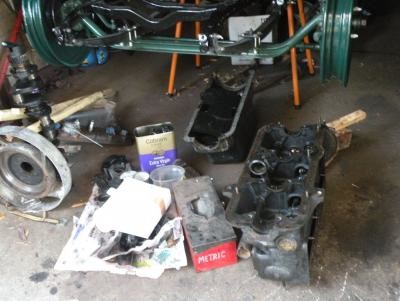 I really do not like it when people sneak up behind me. I really must be getting old.
I am giving away secrets too. I have four of those little tool boxes. one each for Metric. BSW/BSF and UN/SAE The fourth has things like the antique valve spring compressor that I use for side valves and small gear pullers etc. The Lagonda Rapier has its own tool bag that contains mainly BSF spanners plus special Rapier only tools, small spares and a selection of BFS nuts and bolts Mainly 5/16 inch.
5-17-2015
You could be right Rodger but there are always my critics who will tell you I have never learnt from all/any of my mistakes. Changing the subject I have added on important item to my garage.
No not a two way inter-com but a smoke detector.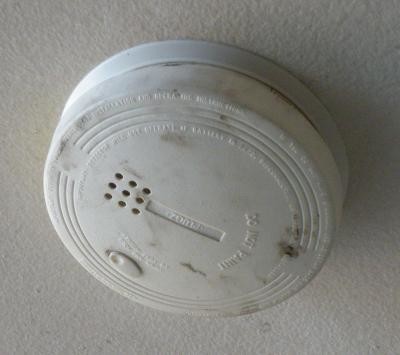 Even more importantly I have just received a parcel from my good friend and fellow VSCC (UK) member Mike Tebbett. Quite remarkably it has taken less than a week for the parcel to travel from England to Australia and the lamps have arrived in prefect condition, complete with their very rare original glasses.
Bj.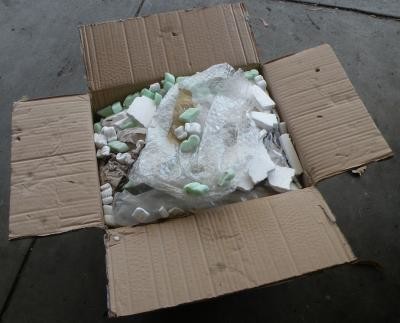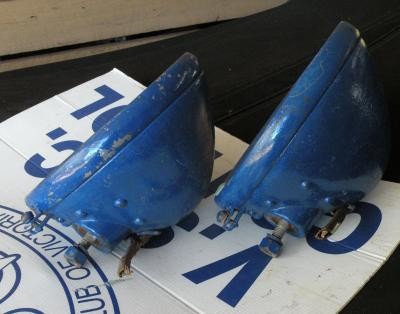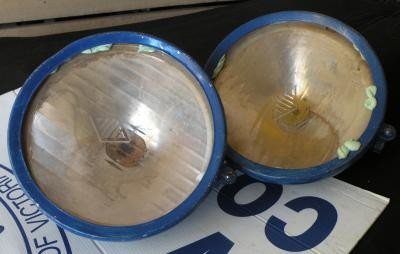 5-21-2015
At last the Renault engine can move forward. Having totally dismantled both the NZ and the French engines I have discovered that while the later 1929 RY1 engines had larger crankpin diameter, an increase of 4mm from 40 to 44mm, the mainbearings remained the same size. The two engines have the same cylinder bore and the same gudgeon pin size. All this means that I can use the 1929 RY1 crankshaft and conrods in the earlier 1927 RY motor and finally some real progress can happen. Provided that the cylinder bores clean up with a simple hone, I can use the same pistons albeit with new piston rings. From the 24 Valves out of the two engines I should be able to make up a useable set of 12.
5-23-2015
With the "French" motor now fully dismantled the crank shows the quality of Renault's 1920s engineering.
The fully machined and balanced the four main bearing crank has 48mm mains and 44 mm big-ends. Oiling is fully presure fed to the mains with an ingenious system of fixed collars to collect the oil emerging from the sides of the main bearings, using centrifugal force to transfer it to the big-ends. The large "dog" at the front provides a direct link to the Dynastart. Six 10mm bolts locate the flywheel which incorporates the aluminium cooling fan and clutch. All quite generous proportions for a 1.5 Litre engine of the period.
Bj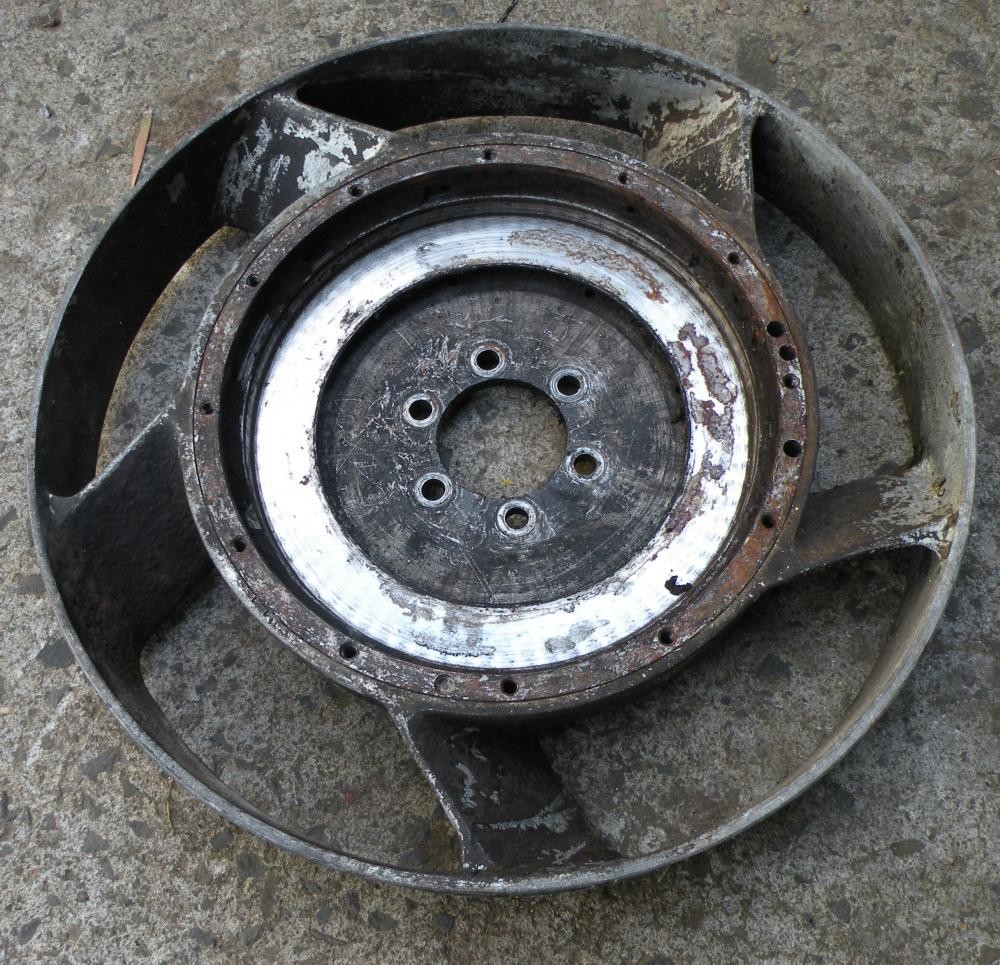 5-28-2015
As I commented to my wife, Helen, yesterday I really cannot take either of the two Renault engines apart any further which means that I must start to re-assemble them soon. However there has been a short interuption to work on the RY1 while I replaced a cracked Aluminium casting, part of the Lagonda Rapier's brakes. I started the Rapiers "restoration" in 1978 and still find the occassional work to do on it. Those who have not found my "thread" on the Lagonda can visit http://forums.aaca.org/topic/183184-lagonda-rapiers/page-14#entry1373936
bj
6-1-2015
You may enjoy the humour in this e-mail I have just received from the good ladies at Depanoto.
Pour les soupapes il faudra donner les dimensions
Pensez à être toujours précis dans vos demandes
Cela évite que nous perdions notre temps et cela facilitera le traitement de vos demandes
Rien n'est standard en Renault
As Frank Sinatra would have said "The KICKER is in the last line" "Nothing is standard in a Renault"
Bj.
6-10-2015
Hello Chuck
Thank you for your interest. I have just yesterday purchased 12 new Valves, 6 exhaust and 6 inlet from a local supplier of NOS parts. These came at a fraction of Depanoto' quoted price even before adding the cost of postage. Strangely the valves that I required were a "standard" item from Depanoto's Web-site catalogue. So it seems that even their catalogued spares are not made to any given standard? Perhaps it is just a breakdown in the translation or communication.
Bj.
6-12-2015
Hello PEHerman
Thanks for the tip. I now have all six pistons out of the block, unfortunately on closer inspection there are a number of other problems with this one and I have decided to go back to the NZ block but to use the French crankshaft and conecting rods etc. The NZ motor is 1927 and while the main bearings are the same size, the later 1929 (French) crank has 4 mm larger big ends. Both motors have the same cylinder bore so I can use parts from both engines to build a composite 27/29 unit. Perhaps not the best practice but on past experience it is a huge waste of money and effort restoring vintage engines to better than new when all the cars are going to do is stand in a museum or a "Private Collection" and are unlikely to ever be driven more that a mile or two if at all. In the past I have spent between $30,000 and $40,000 on "top shelf" rebuilds on engines that have never been started again. I have decided that as long as the car can be driven without obliterating the countryside in oil smoke it will be OK. Having only recently learnt the meaning of "Caveat Emptor" the hard way, I may as well employ this nice legal term too.
If I get to finish this restoration it will probably be a miracle and possibly the last thing I do in this life.
Already I have spent more on this car than it ever will be worth and I still have not got to the stage of having a "rolling chassis"!
To anyone disagreeing with this philosophy, I would be delighted to receive your offers to take over the project.
Bj.
On the subject of "oil smoke" looking at the pistons that came out of the "French" motor while the pistons have four rings there is no provision for an "oil control" ring. There are three rings above the gudgeon pin and one at the bottom of the skirt, there is a row of holes drilled just below the third ring.
Bj.
OOPS!
Having further cleaned out the ring groves I now have discovered that there is in fact provision for oil control rings it was just that the groves were completely caked with solidified gunk.
6-15-2015
It is not only the ring grooveds caked in gunk! I have finally managed to get the carburettor apart. It too shows all the signs of having led an out-door life. Possibly for some of the time under water. The sliding venturi which acts as the choke for cold starting is also caked solid with calcified aluminium and everything seems to be corroded. Whether it can be rescued or not is open to conjecture.........
Bj.
6-17-2015
My favourite among the various penetrating products is the Australian made INOX I have found it will work where others fail. Perhaps it is because of the one claim among the list of properties shown on the label that I have not seen on any of the similar products. No prizes but who can spot the extra benefit.
Bj.


Kosher or not Inox has helped considerably in dismantling the Renault Carburettor. I have not managed to take the lower brass section completely down to its component pieces. I am still working on the upper Aluminium half. The main problem is with the sliding venturi which acts to rechen the mixture to assist in cols starts. So far after two days alternative soaking and heating managed to move it about 1/8th of an inch so I guess that it is a case of just a little at a time. Due to the totally irreplacable nature of the carburretor I am having to work in virtual kid gloves.
Bj.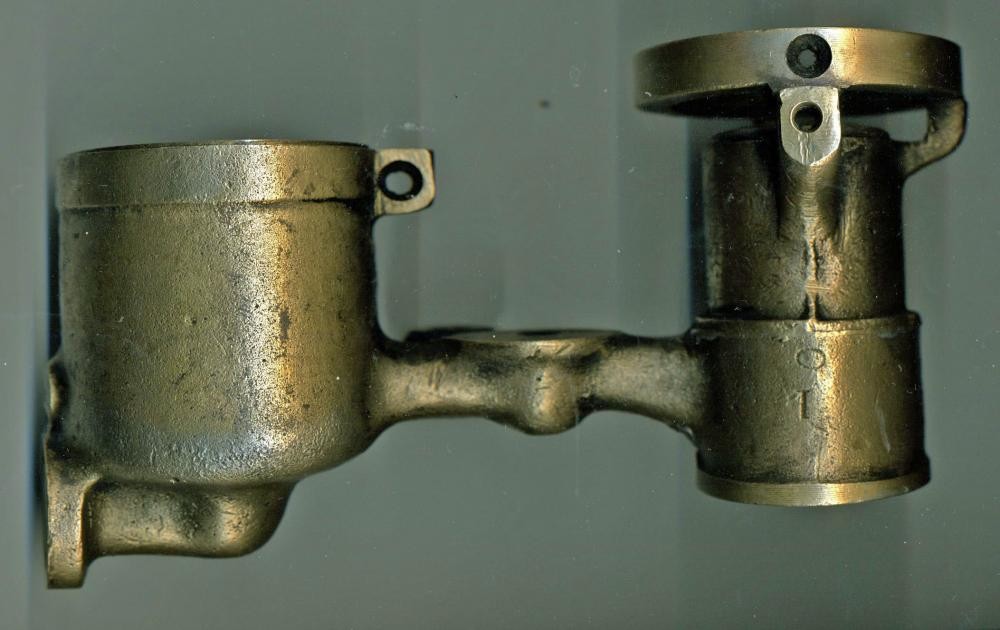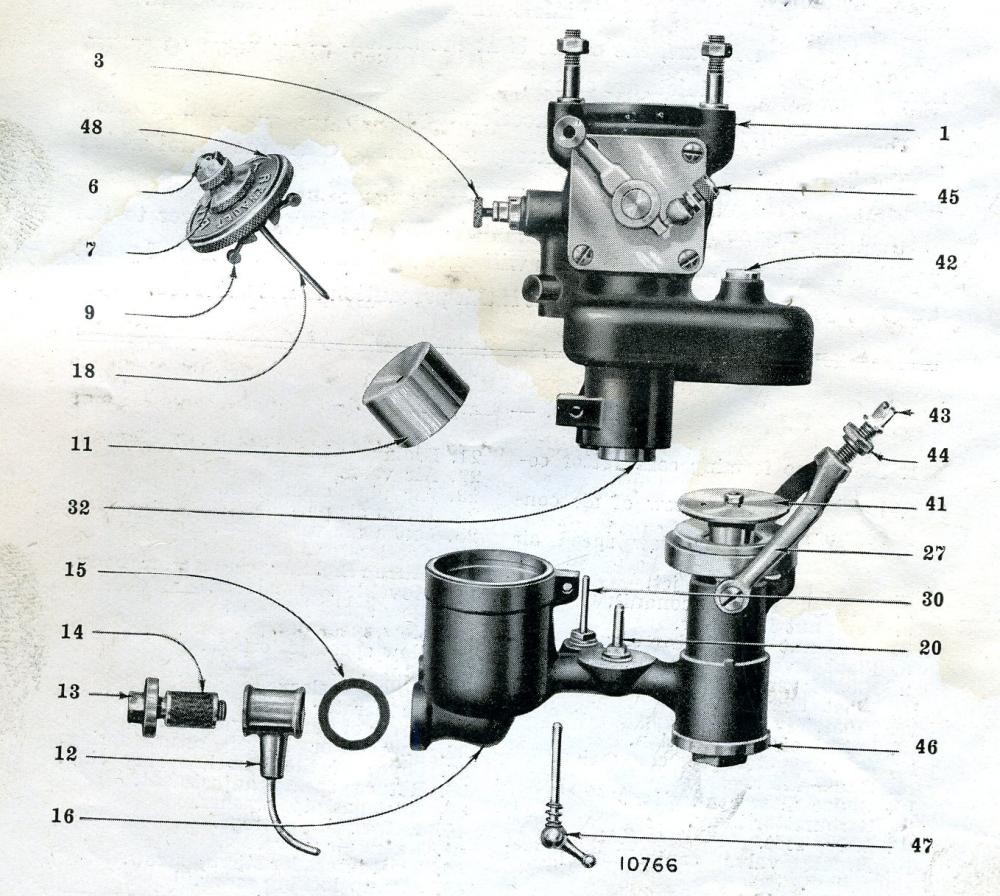 6-20-2015
Well! Now that I have finally managed to move the sliding section or perhaps I should have said the frozen section, I can now throw the lot in the bin!
I can now visulaise what has been going on over a number of years. The motor had been standing outside in the open with the spark-plugs removed. Every time it rained the cylinders filled with water then the water eventually overflowed through any valves that happened to be open. Where there was an inlet valve open the water drained down through the inlet mainfold and into the very convoluted, up-draft, carburettor welling up on top of the aluminium choke section. Left for several years like this the aluminium has corroded to a point where the internals or the carburettor had virtually welded themselves together. The internals are now at a stage where it is impossible to repair the damage done.
Back to square one! as the French would say, Merde!
Looking at the illustration; the section in the centre where the main jet protudes into the venturi was completely blocked with debris blocking the exit for any water so that over time it had welled up in the throat of the carb and presto corrosion started with disasterous results.
Bj.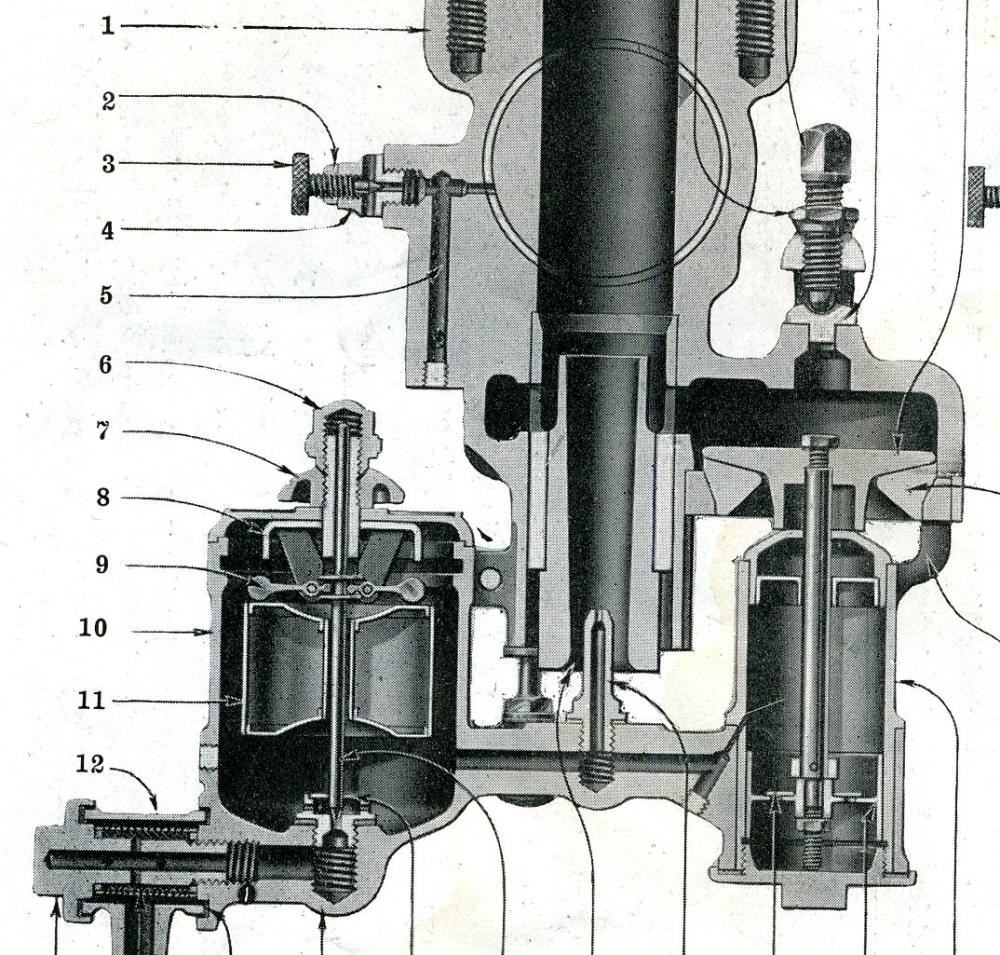 6-23-2015
From an almost completely different perspective, I have just learnt from a very reliable source that the majority of cars to leave the Renault factory prior to 1932 were delivered as Right Hand Drive.
Bj.
6-24-2015
Finally, after much hesitation, I have decided where and how the engine should be installed in the chassis. The exact location is dictated by only two requirements. Room for the Dynastart at the front while the rear of the engine must line up the front of the gearbox after leaving room for the fly wheel, clutch and short drive shaft (coupling). The replacement (second) front cross member is of doubtfull parentage and comes directly from the scrap pile. It is certainly "Vintage" and possibly French. After some very minor surgery it fits in nicely.
Bj
6-26-2015
Despite pleading with other Renault "enthusiasts" around the globe, no one has been able to come up with copies of factory drawings or even one mobile telephone photograph of what the original engine mounts for both front and rear of the Renault motor looked like.
By hanging the motor over the frame from my chain hoist, I could move it back and forth until it was somewhere near the best position for things like the clutch shaft etc to work. As you can see by going back a page or two you will understand that quite a few parts are/were missing and will have to be fabricated as the work progresses.
Drawings or no drawings I am slowly but surely using up my stock of scrap angle iron. They may not be exactly as Louis Renault would have done them but the rear engine mounts are gradually taking shape. I am quietly confident that the engine will not fall out onto the garage floor. The good thing is that once the splash pans/cooling ducts are in place no one will see them, except perhaps the victim of a traffic accident who may end up underneath the car.
My friends on the Renault d'Avant Guerre Forum do not like me drawing comparisons but the difference between the information, parts and support available for the Lagonda Rapier with slightly less than 400 cars total production and the Renault with production figures approaching 100,000 is quite remarkable. Given the choice I would restore a dozen Rapiers to just one Renault and probably finish the Rapiers first.
Not only that but the Rapier has a sophisticated 2 OHC engine and the Renault has a primitive (by comparison) side valve. If I had had any idea of what a pain in the Ass the Renault was to be I would have never started.
Bj.
6-27-2015
The right side rear engine mount takes shape.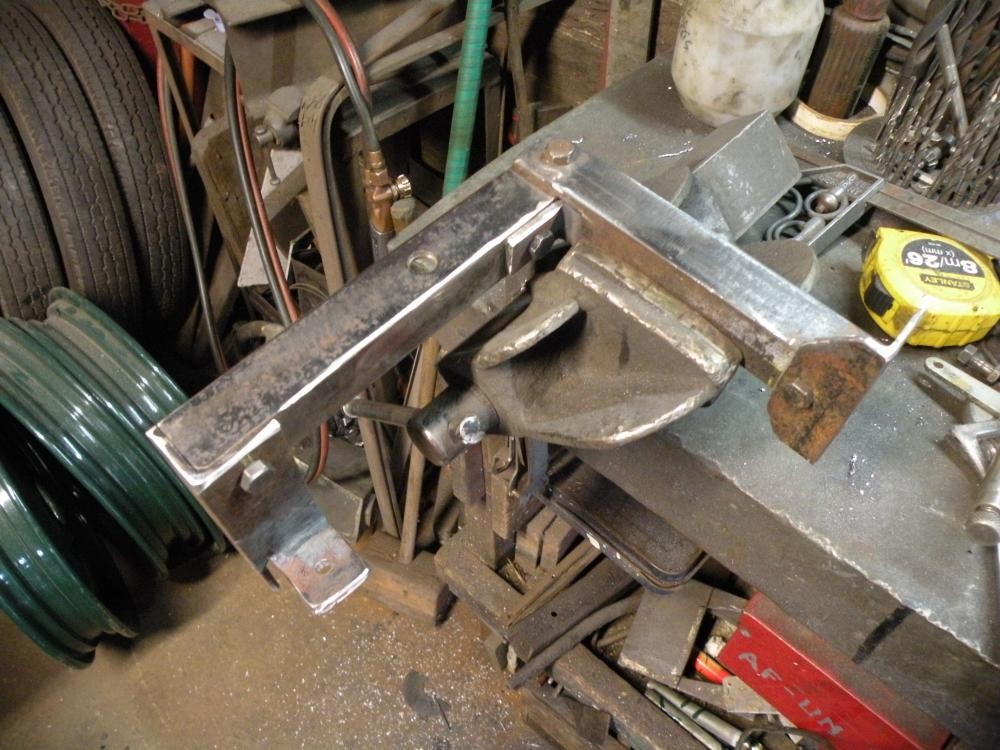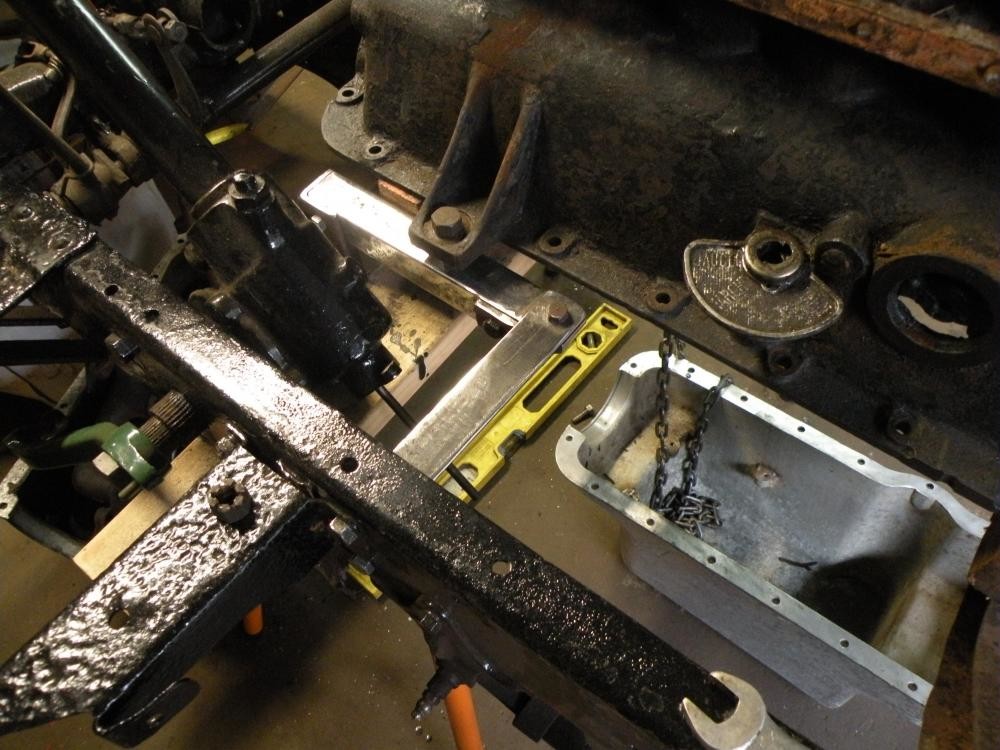 6-28-2015
Having almost completed the right side rear mount, today it was simply a matter of building a mirror image for the left side. Working completely on my own and without drawings or any pre-existing parts it was simply a matter of using my imagination virtually desiging the structure in my head. This is something I have done over probably 50 years of rebuilding cars from a collection of loosely related bits. Having said that I think that this Renault has been the greatest challenge yet. I would love to be able to walk away from it but something compells me to keep going.
If I make any mistakes I have no one to blame but myself. The one good thing about working in my miniscule "office" there is only room for one person and no one to tell me what I "should" be doing.
Bj.
7-3-2015
A tiny step forward with tires fitted to four wheels I will now be able to lower the chassis from the two saw-horses it has been sitting on for the last six months. I can also fit Depanoto's 'Enjoliveurs', French for hub caps but a much more descriptive word.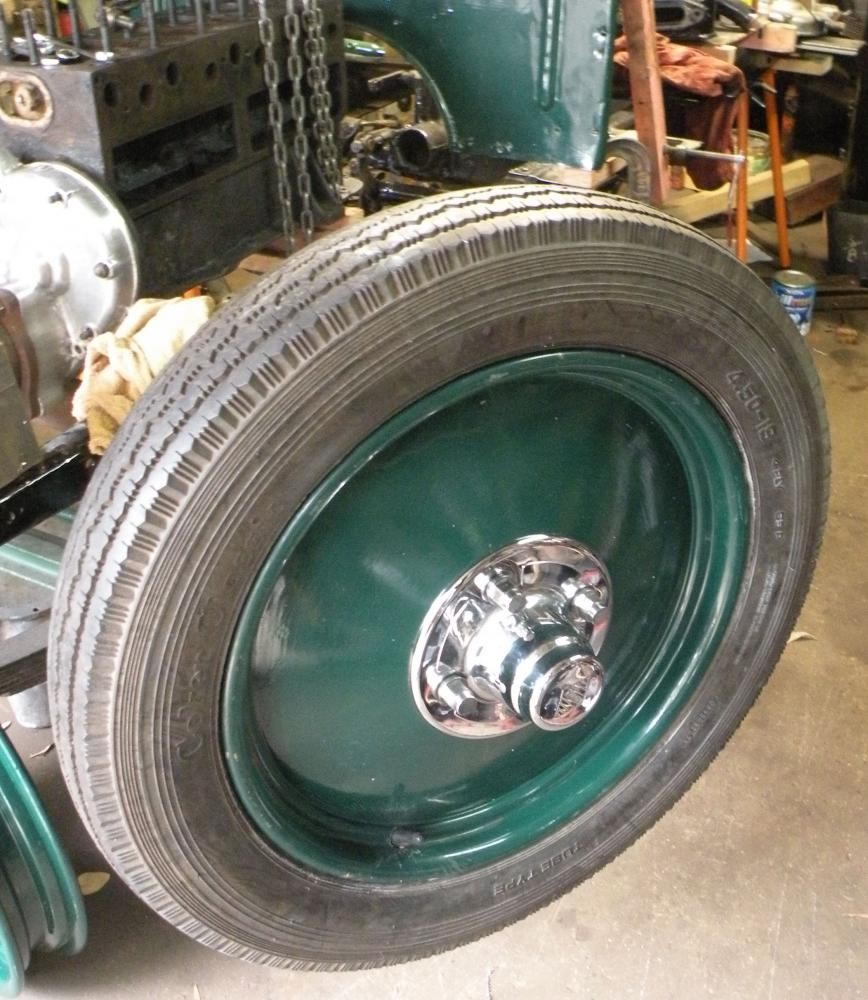 Hello Roger
Of course you are correct. The'Enjoliveurs' were simply fitted for the benefit of the photograph. The other recent discovery was a pair of head lamps found by a friend and fellow Light Car enthusiast in the UK. These come with the extremely rare original factory glasses complete with the Renault logo. It is highly unlikely that there would be any more than five or six pair of these almost 90 year old glasses surviving anywhere.
Once I have the chassis down on its wheels, I can move it making life/progress so much easier. With the engine with my friends at Crankshaft Rebuilders, I can think about making a start on the body frame.
Bj.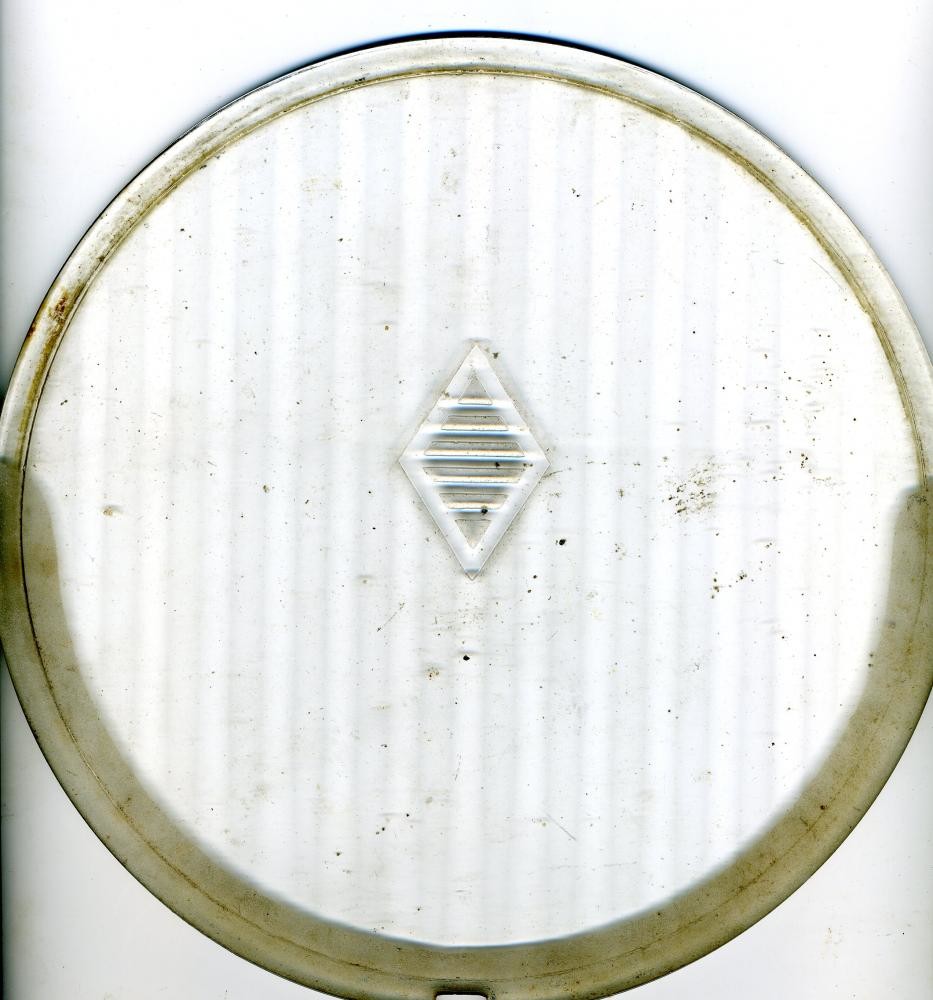 6-6-2015
Despite being painfully slow, progress is taking place. The spare cylinder block etc is actually being supported by my engine mounts. These were totally non existant at the start of the rebuild. Wheels have (as) new tyres fitted. Once I sort out the mounting points for the rear mounted radiator(s) and install the rear axle assembly, I can start to think about the body frame etc. While the engine is still some way off there is nothing I can do but be patient.
Bj.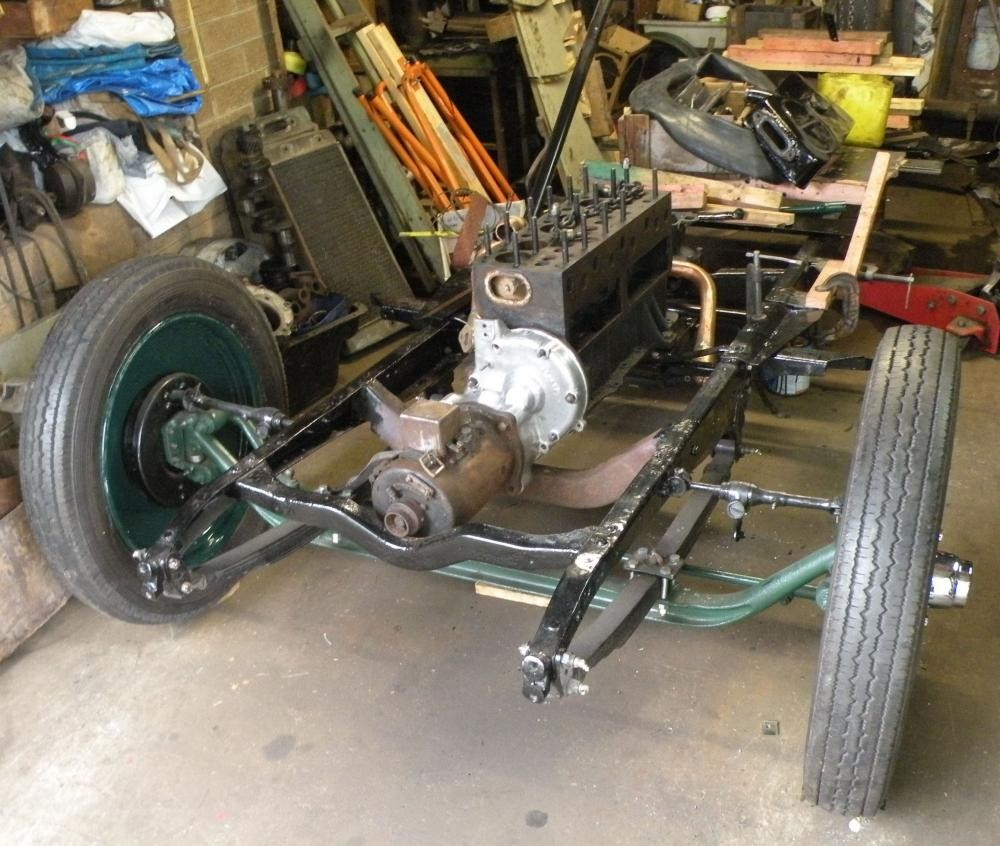 7-7-2015
Hello John
My aim is to have it standing on four wheels then I can make a start on the body frame but first a trial assembly of the two side mounted radiators and bulkhead. This is essential to establish the location of the bulkhead. One of my problems is that when I bought the Renault it was a collection of bits that had never before been together as a car. Something that the vendor ommitted to tell me and that I have been discovering the hard way.
Bj.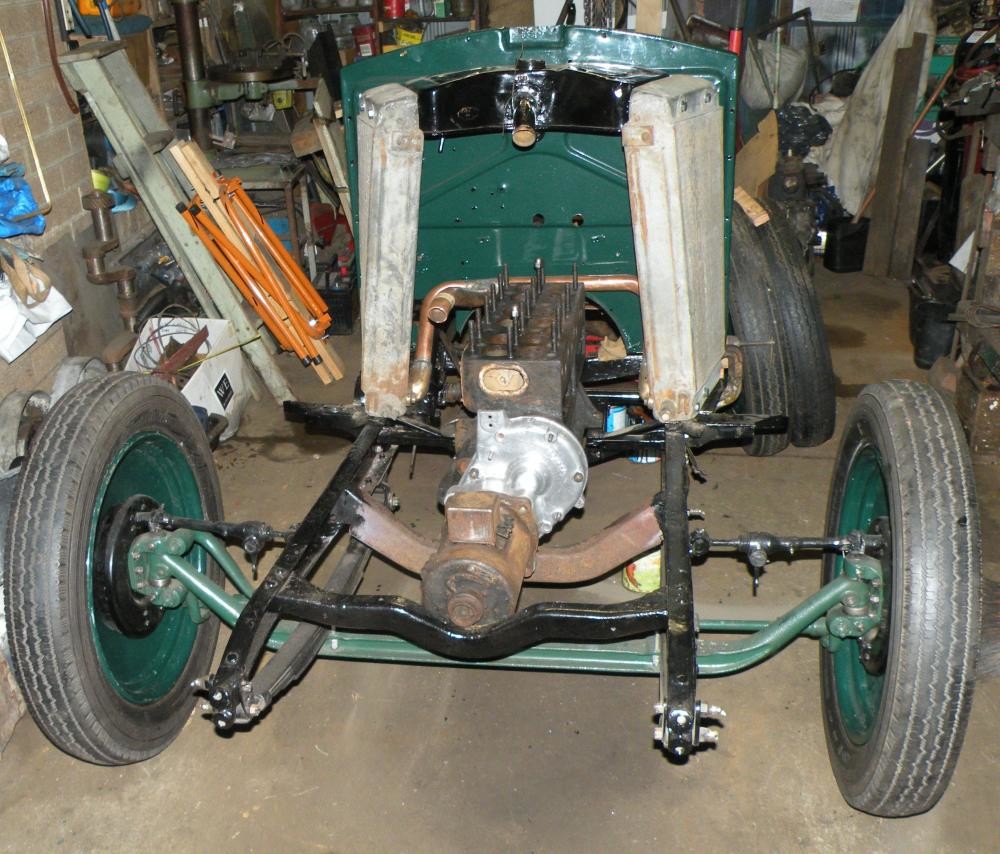 7-9-2015
Having gone so far only to strike problem after problem I have decided to put the mechanical re-build on hold to concentrate on building the body and the cosmetics (trim, chrome, paint etc.) Then I can come back and perhaps tackle the motor and gear box with re-newed vigour. I feel that I could easily become totaly bogged down and spend a couple of years chasing my tail and still be getting nowhere. A wise man once said;- A change is as good as a holiday. Or as somebody else said to Mary Mary of "little lamb fame" "Leave them alone and they will come home".
If you understand all that you are doing well!
Bj.
7-15-2015
Having left the little lambs to come home alone, draging their tails behind them, I have made a start on the body frame, no photographs just yet as so far I just have a pile of bits but progress is being made. The body is to be based on the Labourdette "skiff tail roadsters". As the chassis is 1927-9 Monasix it has a slightly longer wheelbase. The standard factory offering was usually either a four door saloon or four/five seater tourer, my version of the Labourdette body will be a 2-4 seater. I really do not like the "hole in the tail" Labourdette version but you will have to wait patiently until I have it all sorted out. I believe that my version will have a more balanced look. I think that this one is just a bit too "bob tailed".
One thing is certain, my car will not be Red and black as this one but the traditional Renault "Paris Taxi" two-tone, green over green with either dark green or "London Tan" trim.
Bj.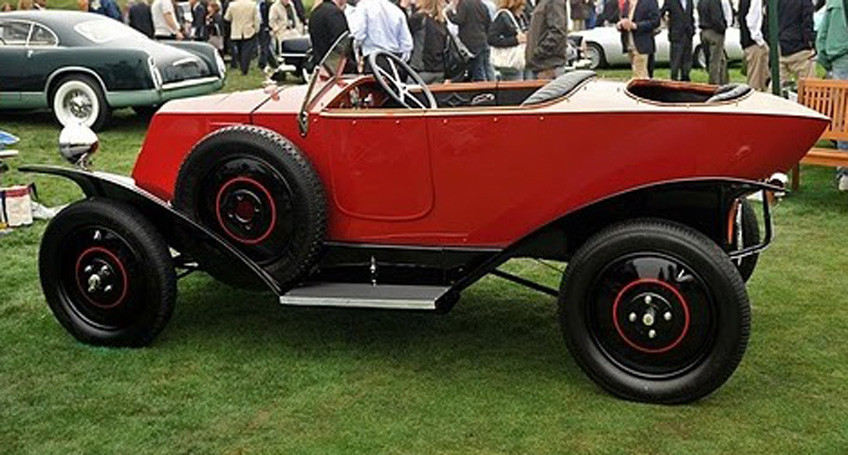 7-17-2015
Even thinking about paint and trim colours could be classified as the absolute in optimisim. With my 79th birthday looming ever closer the possibility of my ever living long enough to complete this restoration/rebuild seems to be disappearing faster than I can imagine.
Bj.
7-21-2015
Work on the body (frame) is progressing or perhaps more correctly the pile of off cuts in increasing. No photographs for the time being. There simply is not room in my "garage" to be able to take any meaningful photos. Rather than following a set of drawings I tend solely to rely on my creative ability and allow the design to progress as each obstacle is encounted and overcome. Each problem solved. Not a technique I would recomend to others but it suits both my situation and ability. Others have commented that my bodies are created rather like a sculptor chipping away at a block of stone.
Bj
7-24-2015
Hello John
Good to hear from you again.
I probably try to put in some work most days. In actual fact about four or five days per week depending on what else comes up. I am not good at socialising and enjoy my own company and would sooner put in a couple of hours working on either my current project or the Lagonda Rapier than making small talk and idle chat having "coffee and cakes" with people who have lost the keys to their workshop, very often years & years ago. Sadly for many they no longer care......
I find the best start for the day is to wake up each morning. Something I try to do on a regular basis! It is all very well to have a dream but if you do nothing to acheive it, it is simply not going to happen. You really do have to put some effort into getting out of bed before mid-day.
Apart from anything else I find it essential that I do the work on my project cars myself, my hand shakes too badly to be able to keep on signing cheques! Either way, why pay other people to have all the fun?
Some may say that I am an "obsessive compulsive", I prefer to think of myself as an "enthusiast".
Bernie j.
7-26-2015
While just one or two old friends feel compelled to post their comments, I continue to add little bits of information as much as anything because I find this a convenient way to keep a restoration diary. I just hope that I am not boring to many of you. As earlier indicated I have put the mechanical rebuild on the back burner but I am making some real progress with the body. I should have the frame ready to send to Aaron so he can make a start on the skin.
Bj.
7-28-2015
Thank you all for restoring my faith in the AACA Forum.
Dave
I know by American standards the Crosleys are tiny cars but have room to store a full "Baker's Dozen" is to me quite remarkable.
It is interesting to note that a friend of our second son has a 3/4 Midget powered by a Crosley engine. Sorry but I cannot tell you much more other that he has never driven it. Being quite a large person he cannot fit into it.
On the Renault front.
Work continues on the body frame, I have just yesterday afternoon actually managed to roll the chassis complete with frame and with the assistance of a trolley jack, out onto the drive so I could turn it around and put back into my "work-place" nose first. I can now finish off the rear section.
I now have to order some steel so I can make a start on the seat frames. These will be an adaption of my "usual" front seats. The passenger side one having provision for a folding back to allow access to the rear compartment. I have been using the same design principles for seats in my "specials" for as long as I can remember but having said that each pair require some variation to suit the particular application.
Back to work!
Bj.
7-29-2015
Hi John
The body frame is 99% completed but still under wraps. I can tell you it will be a two seater with a skiff (boat) tail. It will have a door on the passenger side and the spare wheel mounted under the drivers elbow. It will be painted traditional late 1920s Renault "Paris Taxi" two tone green. I have a more or less complete dash with French (metric) instruments. It will have a Vee windscreen "London Tan" upholstery unles I can find some suitably "French" period tapestry (Cloth) for the seats. Tonneau cover will be beige "Salt & Pepper" cloth.
Renault supplied virtually all the cars for Taxis in Paris making a purpose built variation on the Monasix chassis.
Bernie j.
8-1-2015
Funny how little things keep popping up to stymie my thoughts. I had more or less decided that a Vee windscreen would be "just right" when I remembered that the petrol filler cap lives under a pop-up vent in the center of the scuttle. So it is back to the drawing board. Looking for a solution for mounting a fold flat full width screen, the answer to this may have been under my nose all the time, in the form of the original ex saloon (top hinged) screen.
Only time will tell.
Bj.
8-3-2015
Strange things still happen.
I have just received an e-mail from a lady in the Czech Republic asking for information about "Tiny Tot" a 1929 Singer Junior that I restored in 1997.
Bj.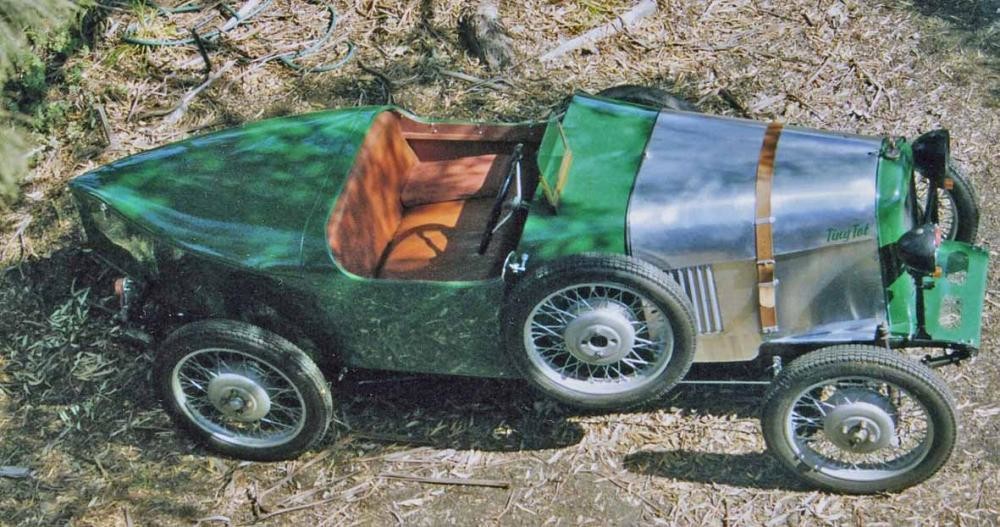 8-6-2015
The "professionals" working in spacious fully equipped workshops may find it hard to believe that I spent the best part of yesterday getting the (only) door in the Renaults new body fitting correctly with the gaps properly matching. Slowly but surely the frame is reaching completion with only things such as the spare wheel (side) mounting point to be completed. Next step will be to order the alunimiun sheet but I do not want to do that until I am ready to start on the panels. They are big sheets 1200mm X 3600 mm X 1.6mm and difficult to handle on my own and can easily be damaged. They will have to be stored in the carport standing on their edge next to the Lagonda so a certain amount of care is required.
Just spare a thought, it is now mid-winter in Australia and I am working for the most part in a single car garage with the door open or out in the open when more space is needed. When It rains too heavily I have water running in under the back door and out the front.
I could work in the carport but I would then have to move the Lagonda and Helen's VW out. My trusty Peugeot lives out in the open 24/7.
Bj.
8-7-2015
Further to the above I have just ordered another 2 lengths (12 metres, 38 ft) of steel tube to become the frames for the two seats. Like almost everything else in this car they will be constructed from the ground up without the aid of anything but imagination aided initially by my well used copy of the Lagonda Rapier Coach builder's Dimensions.
Bj.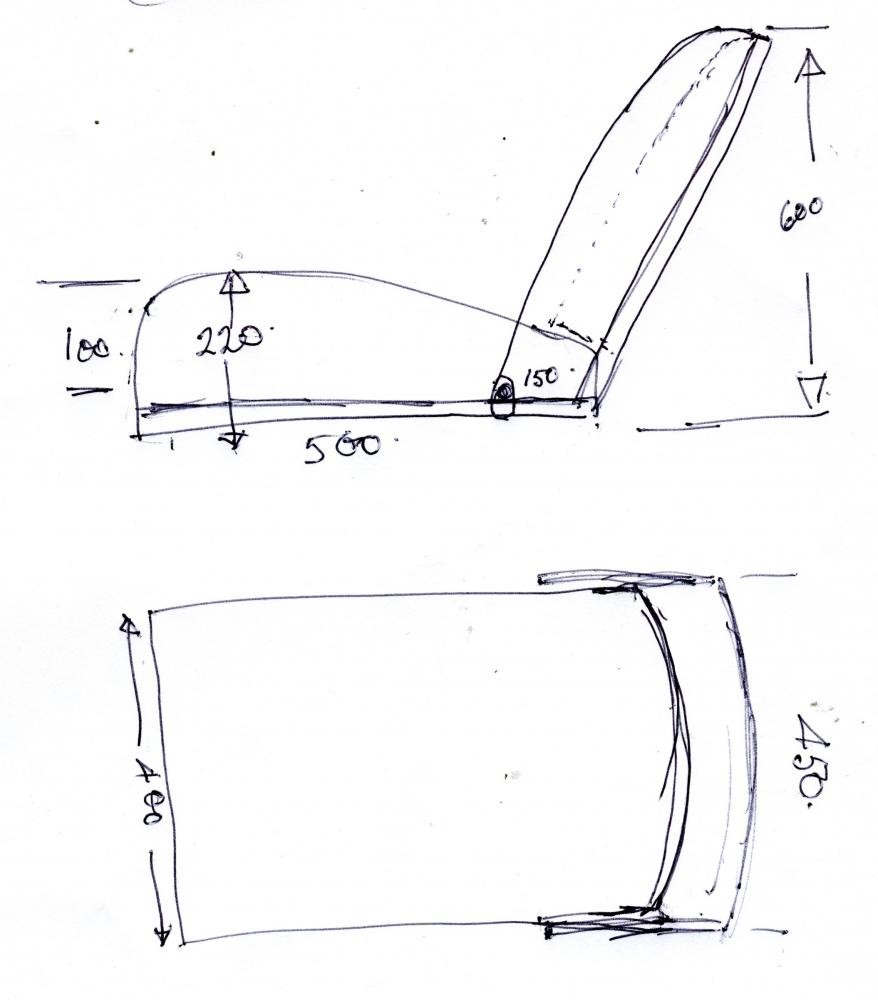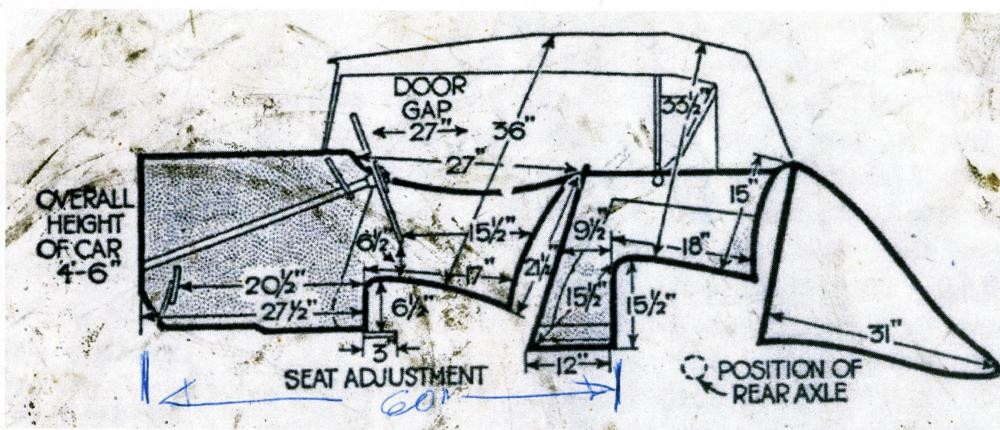 8-10-2015
Finally the penny has dropped. Up until now I had been miss-reading the statistics given on the Renault d'Avant Guerre forum site. I now understand that not only was 1929 the last year of production of Renaults with the Radiator "behind" the engine but of those made, the French "Club" can only identify 11 survivors of my RY1, 1929 model. If and when I complete my restoration this will increase that number by almost 10% to make an even dozen. I wonder if any made it to the USA and if any have survived. For some obscure reason the bulk of these cars, made in France for the "home" market were built as Right Hand Drive.
Bj.
8-11-2015
Many of the European prestige/sporting marques retained a RHD option well into the 1970-80s! In particular Lancia. Their justification was that it was safer for drivers to be near the edge where they could see the road particularly on Alpine Roads where there were no barriers (armco) to prevent them falling off. We have driven on some of these roads in the Italian Tyrol where the only edge marking was the tape for the "electric fence" to stop the cows and goats from straying onto the road. Even then in some places the goats would have needed to clamber up an almost sheer rock-face to reach the road. Exciting motoring especially in the 1934 Lagonda Rapier, I just hope that I can manage one more trip but I need to finish the Renault first. The steel tube for the seat frames arrived today another step in the right direction.
Bj.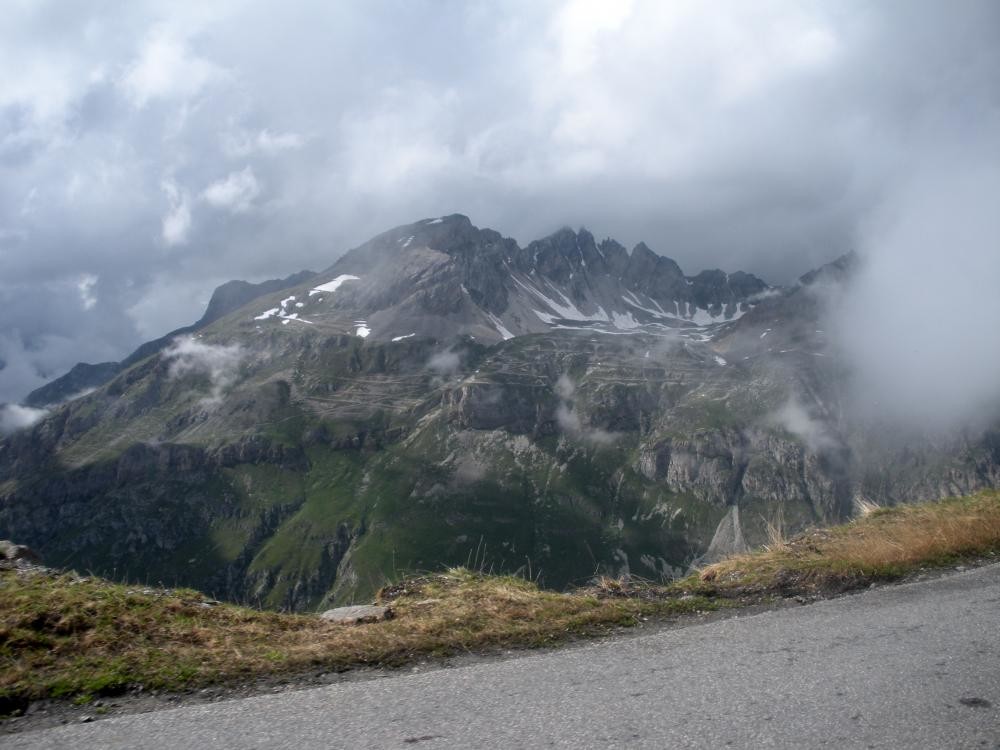 8-12-2015
The tube for the seat bases is now all cut up and the first one 85% welded up. With luck tomorrow should see both seat frames well on the way to completion. One thing in my favour, with cool days (under 10 degrees Centigrade) it is ideal for welding. Far more healthy than stuffy air conditioning or central heating. Anyway with the garage front door wide open all the heat would escape.
Bj.
8-16-2015
Tricky things these Renault individual folding front seats. The frames are progressing but far more slowly than I would like. Quite unbelievably the two seat frames have consumed 6 metres of 22 mmm square thube for the bases and another 6 metres of 16mm square tube for the back rests. Don't even ask how many 100mm cut-off blades for my angle grinder or how many lengths of welding wire. I am sufficiently stuck in the mud to still be using oxy- acetelyne for all my light gauge welding. One day I will start with a car that has absolutely everything, No impossible parts to find and all the body, trim etc, etc existing. But then how boring would that be? No fun at all!
All good things however must come to an end. I believe that I can see a faint glimmer of light at the end of the tunnel. That is the tunnel with the seat frames at the end. There are still months if not years of things that are not yet even on the horizon.
I have just placed the order for two huge (1200 X 3600 X 1.6mm) sheets of aluminium for the body panels. Don't go away, I may need your help!
Bj.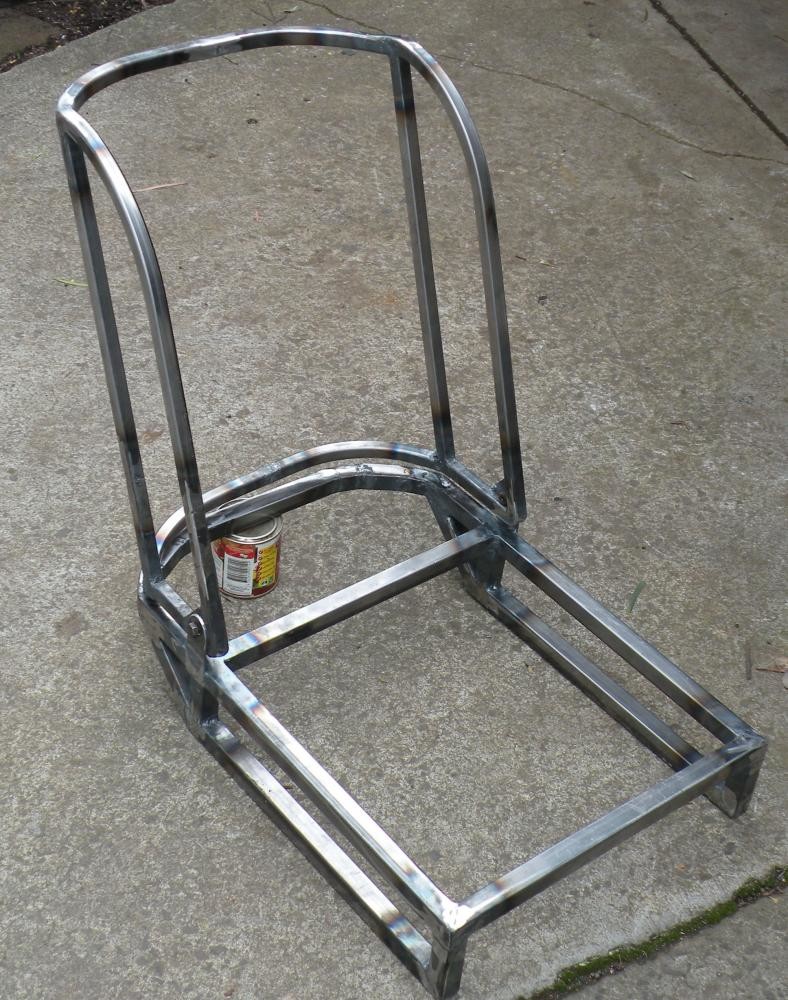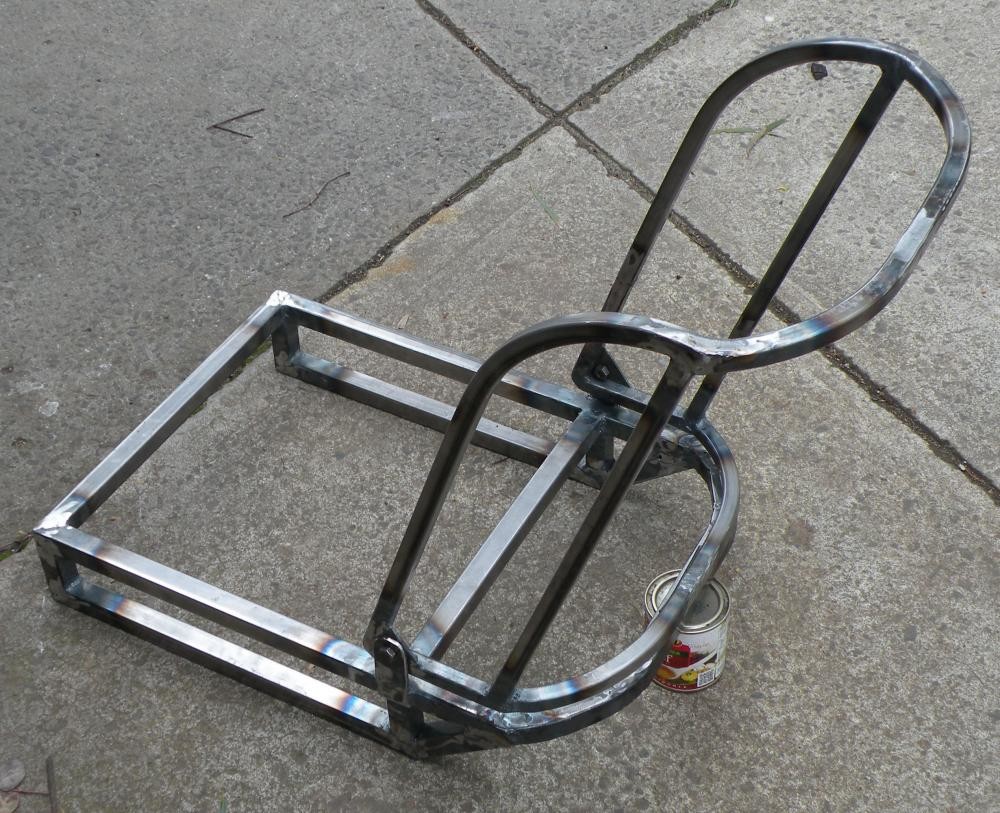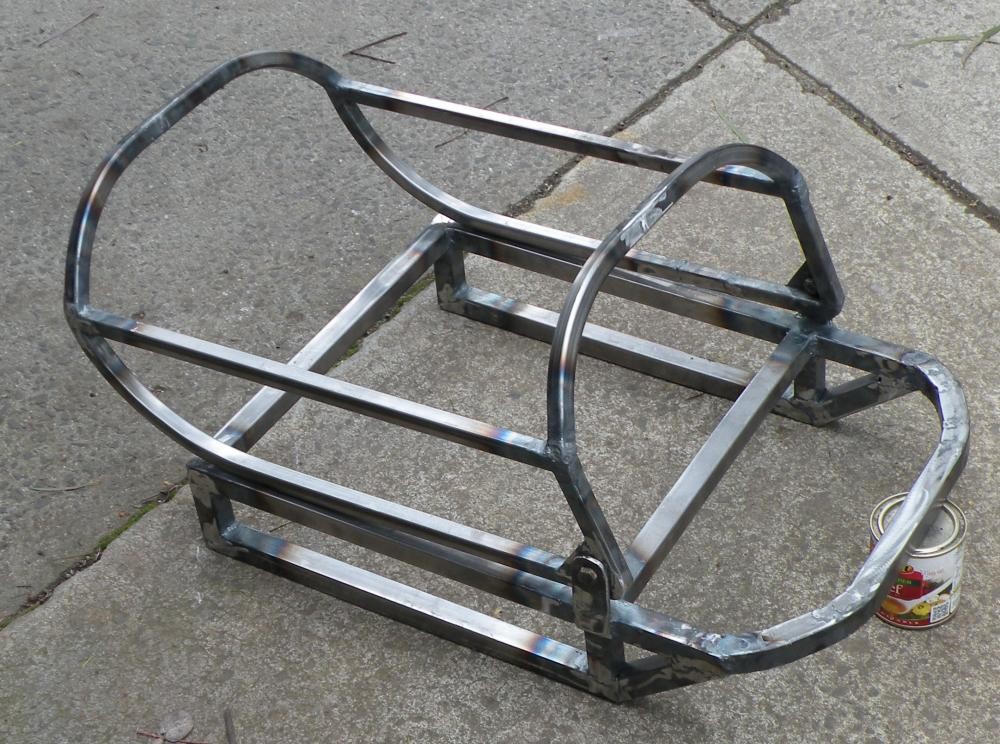 8-18-2015
Just to give you some idea of size the attached photograph shows the two sheets of aluminium standing against the carport wall next to the Lagonda Rapier. For the people who struggle with metric sizes the sheets are 4'0" ft X 11'10"ft. I am not sure of their weight but the combination of size and weight make them an awkward lift for one person so the sooner I can start to cut them up the better. Cutting them up by hand should give my hand and wrist muscles a work-out. First task is to make some heavy brown paper patterns to suit the frame. Temperature in the carport this morning is just under 5 degrees Centigrade. At least it is not raining.
Bj.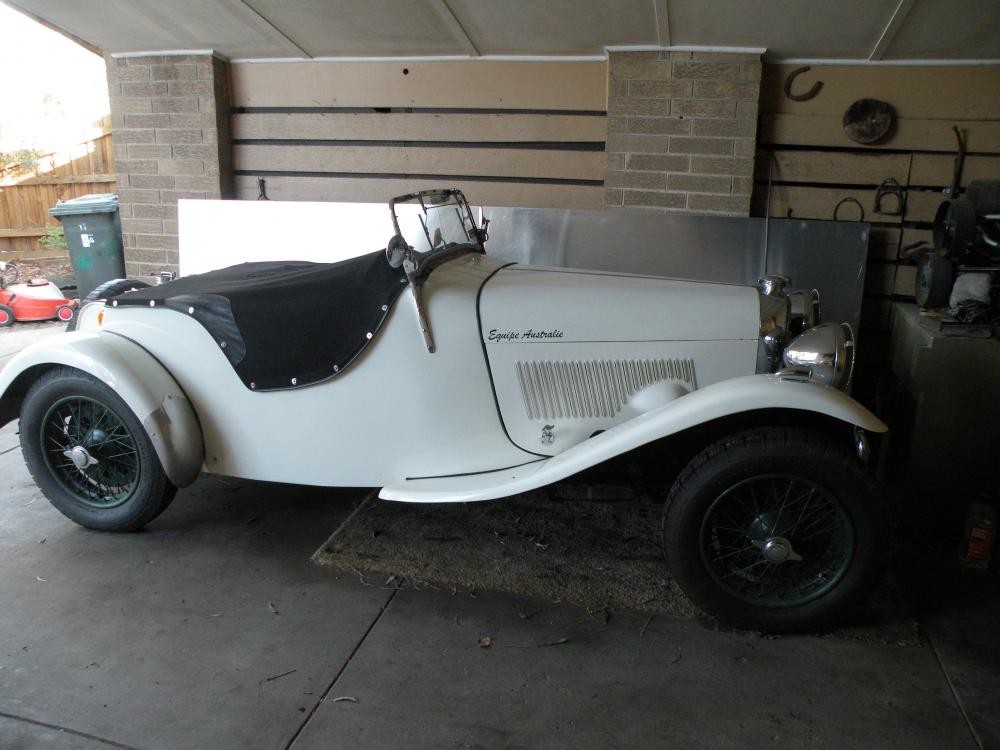 8-18-2015
Bill
There is no shame in not knowing about Lagonda Rapiers, The company built about 250 chassis from July 1934 until they went into receivership in July 1935. Three of the departing exceutives took over the unassembled Rapier parts and assembled another approx 90 chassis from 1936 to 38. These later cars were badged as Rapiers the Lagonda name being ground off the Cam covers and a new radiator badge fitted. They have a 1100cc 4 cylinder 2ohc engine that is built like a Swiss watch They used an ENV 4 speed Preselector gearbox. The "factory" never built bodies on Rapier chassis sending them out to independent coachbuilders for bodies to be built to order for the custoner. These days about 75% of the cars sold still survive thanks to the efforts of the UK based Rapier Register. Our car has a replica (coachbuilt) Eagle two seater body, over the years the engine has grown to 1500cc. The engines had an unheard of in 1934 fully machined counter-balanced crankshaft with 2 inch big end journals. As they left the factory the engines were safe to rev to 6,000 rpm and many still do this on a regular basis. Our car has a comfortable 90+mph top speed with two occupants and luggage for a weekend. I bought the car in 1978 as a broken down very scruffy racing car, Since I restored the car shortly after buying it, it has travelled over 100,000 miles both in Australia and on holidays in the UK and Europe. It has an impressive list of European Alpine Passes climbed during our various holidays. I have a dedicated thread "Lagonda Rapiers" under British cars in this forum. http://forums.aaca.org/topic/183184-lagonda-rapier
This is the fifth Lagonda Rapier I have owned, I have never owned any other car as long as this one so I guess that you could say that it is something special.
The photo below shows the car racing in 1977 in England shortly before I bought it. The two engine photographs show the engine as it is today.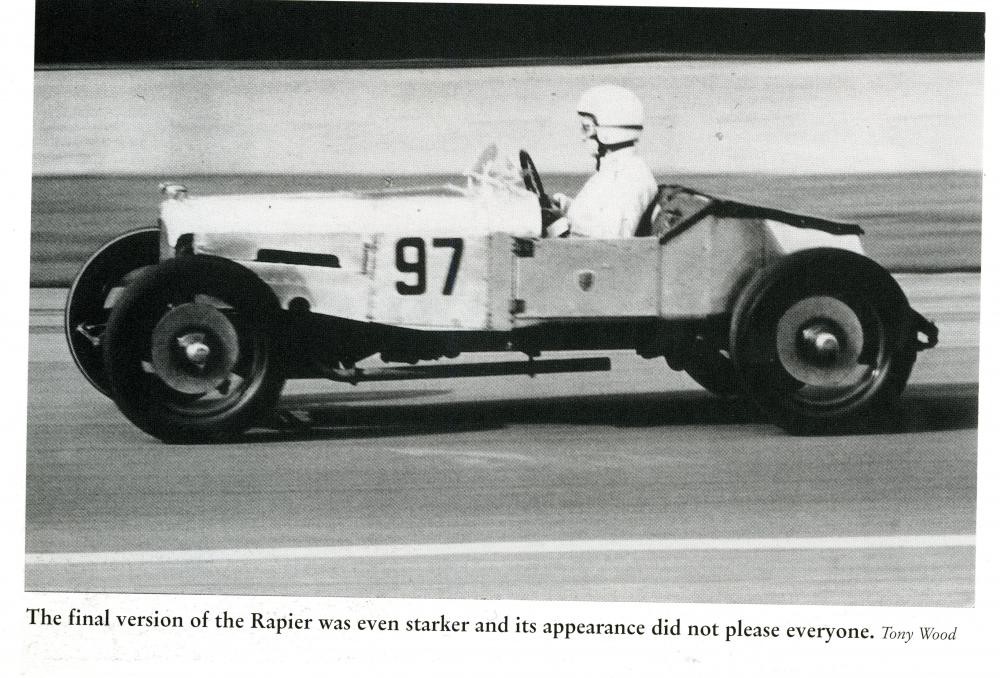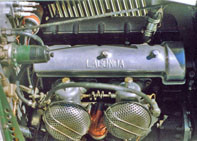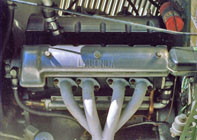 8-20-2015
Hello Terry
Thank you for your interest. Looking at your friends blogspot it would appear that his approach to steel tube body frames is very different to mine. I have been using the same basic approach for years but that does not mean that there are not alternatives. I have a very simple basic tube bended which will give me wrinkle free bends without applying heat in square tube with a wall thickness of 1.6mm and up to 22 X 22 mm square. I made a mistake and ordered some 1.2 wall thickness tube and found that it was impossible to bend without cutting "snipes" at about 3-5 mm centres. No doubt the purists will be horrified that I use steel tube instead of the time honoured "English Ash" but a very long time ago I discovered that I did not have the right temperament for wood working but I can do very satisfactory gas welding of thin wall tube.
The end result is at least as strong and much lighter. I can carry a completed body frame by myself which is important as I work solo 99.9% of the time.
Bj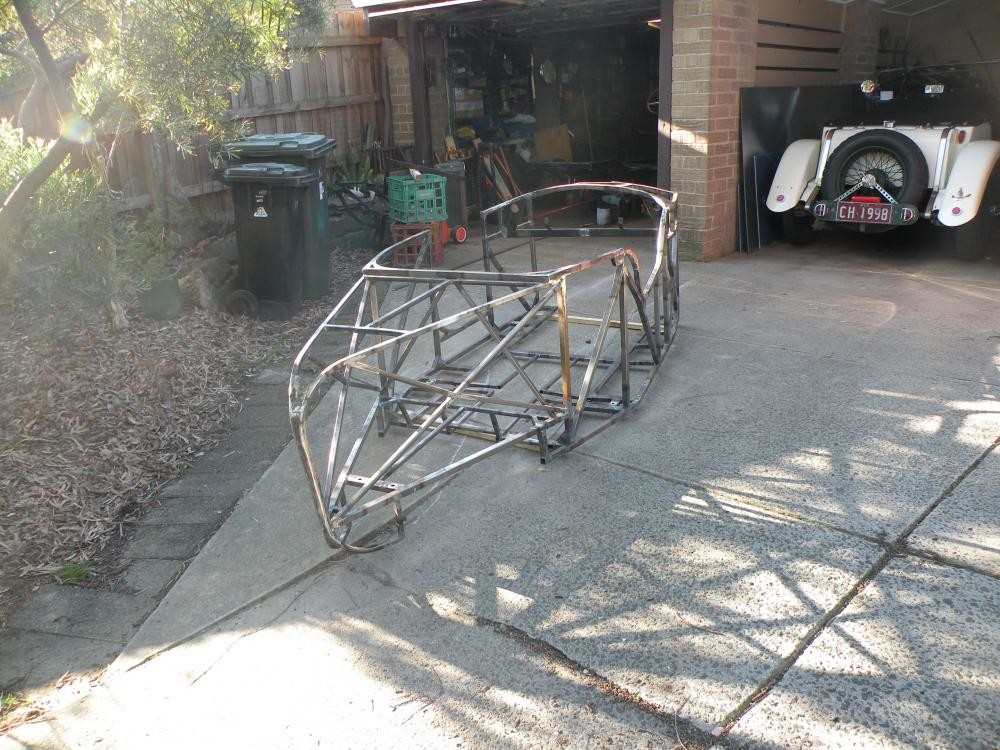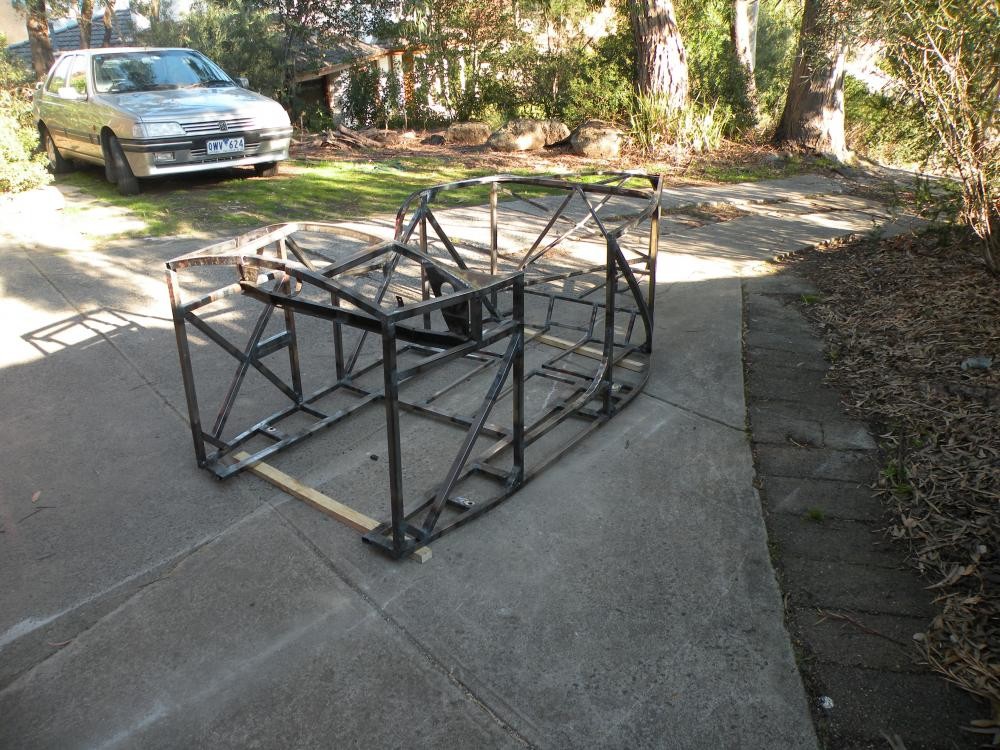 8-24-2015
It seem that everyone is too polite to ask about my trusty if aging Peugeot in the second photo. This is a 1996 405 SRi. As such it is among the first front wheel drive Peugeots. It has a 2 litre single overhead cam motor with fuel injection coupled to a very smooth five speed all synchro manual transmission. It has all the modern European features, cruise control, anti lock bakes and etc. It even checks the oil level in the sump without opening the bonnet (hood). Every time you start the engine from cold it shows the oil level in the sump on a little gauge on the dashboard. I cannot remember when I last found it necessary to add oil. The odometre shows 248,621kms. We bought it when it was 12 months old as an Dealer executive driven car. As such it was among the last of the model to be sold locally. I have only recently sealed up the electric sun-roof as it had started to leak and the cost of importing a new seal from France was prohibitive. It has a multi function am/fm radio with a tape player and a six stack cd player. It was originally bought for Helen to drive, it was then passed on to our eldest son who eventually decided that after being rescued two or three times from "out back" 4WD only tracks it was time to give it back to me albeit with a slipping clutch. He then bought a Land Rover Discovery.
The only real problem I have had was when it decided to eat its accessory belt and bent all the valves in the process. I decided that it is such a good car that it was worth repairing. I only drive it two or three times per week mostly local drives. It is such a pleasant car to drive in every way, its typicaly French velour seats have a huge range of adjustments including lumba support and are wonderfully supportive and comfortable, I can see no possible reason to replace it any time soon. I think that I will probably wear out long before it does. Prior to this one we had a 2 Litre 505 sedan that provided wonderful family transport. A very long time earlier I had a very rough 203 for a short while as a badly mistreated, teenaged boys hack.
Bj.
8-26-2015
As I mentioned at the end of my post a week ago, I work (on the Renault) solo 99.9% of the time. Thinking about this, it has nothing to do with my personal hygiene or that I live on some remote island, quite simply I am working on what must be the most ignored and or disparaged of all pre 1940s cars.
When working on what must have been one of the ten rarest cars in the world, The Dixie Flyer, I had regular visits from interested people and it created comment from people all around the world.
By contrast the Renault if we are to believe our French friends, is one of the greatest Marques anywhere and yet of the thousands of Monasix built, the Renault d'Avant Guerre forum can only identify less than 20 of this model surviving and of those the vast majority have never left France.
But the sad part is that it would seem that while my car is the sole surviving example of the RY1 model in Australia, no one here is really interested. As the English motoring magazine "Autocar" stated in a contemporary (1930) article; "Renault differs essentially to any other car."
To say that in their design and construction they are idiosyncratic is an understatement in the extreme and yet ask the majority of old car enthusiasts and they will tell you "Oh! Renaults, they are so boring!" Even the members of the English, Renault Freres club, while passionate about the pre WW1 models, they would not cross the road to look at a 1920s example. Worse still this attitude is contagious, at times, such as the present, I find myself thinking "Why am I doing this?" Can it be true, rareity in itself is not necessarily a virtue. And yet I find it difficult to think of any other car that has so many unconventional design elements. Perhaps rather than "boring" they should be described as "frightening!".
Bj
8-27-2015
Just thinking about the venue for next years RAG Forum Annual Meeting makes it worth carrying on.
Say Buddy, can you spare a dime?
http://www.les-renault-d-avant-guerre.com/t6648-Programme-de-la-Rencontre-2016.htm
Meanwhile work on the body IS progressing with the two large sheets of aluminium being cut up into ever smaller pieces.
It was a chilly 10-12 degrees C and raining yesterday with more of the same forecast for today. Being Friday it is our weekly shopping day so not too much time left for Renault activities, perhaps I will get the top of the tail section cut out this afternoon. I think that I will need to anneal the edges where some tight folds are required. Either that or the (one) door skin which is a fairly straight forward job and is more or less self contained.
Bj
8-31-2015
The work on the body continues to progress. Tomorrow's task is to cut the hole in the top of the scuttle to accommodate the combined cowl-vent/petrol filler cover. For anybody in the immediate vicinity, it may be advisable to wear earplugs and to look well away. I will probably hold my breath and to keep my eyes shut until this delicate operation is completed.
Bj.
As promised in yesterdays post, another tiny step forward is well on the way with the hole cut in the top of the scuttle and the original vent temporarily fitted. Time right now is exactly midday making this a good mornings work.
Bj.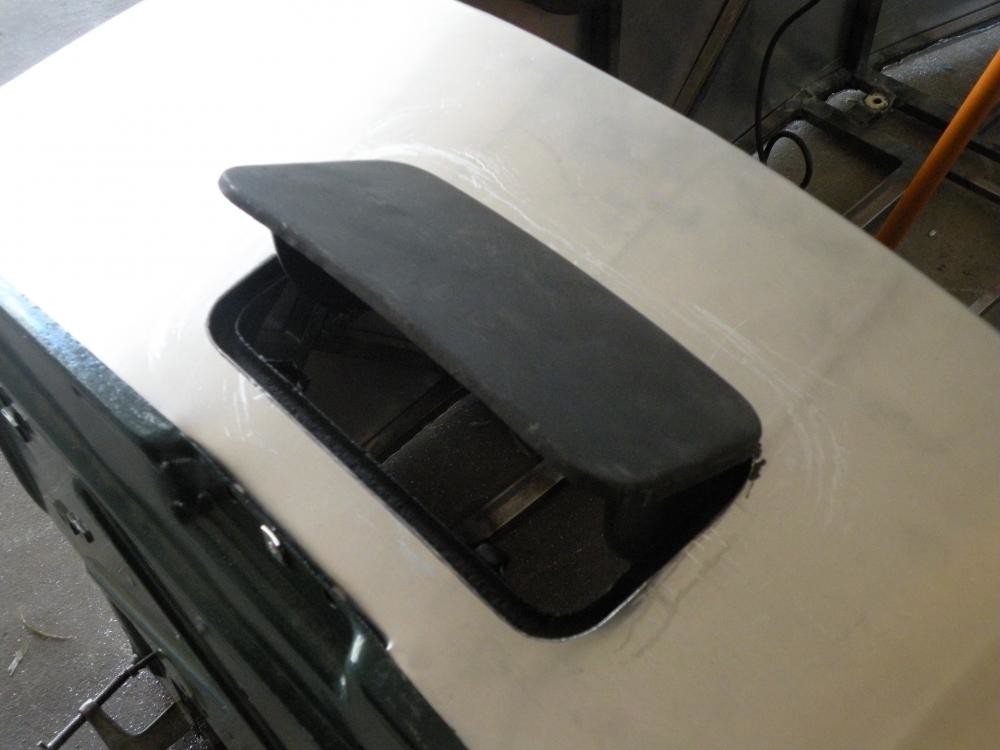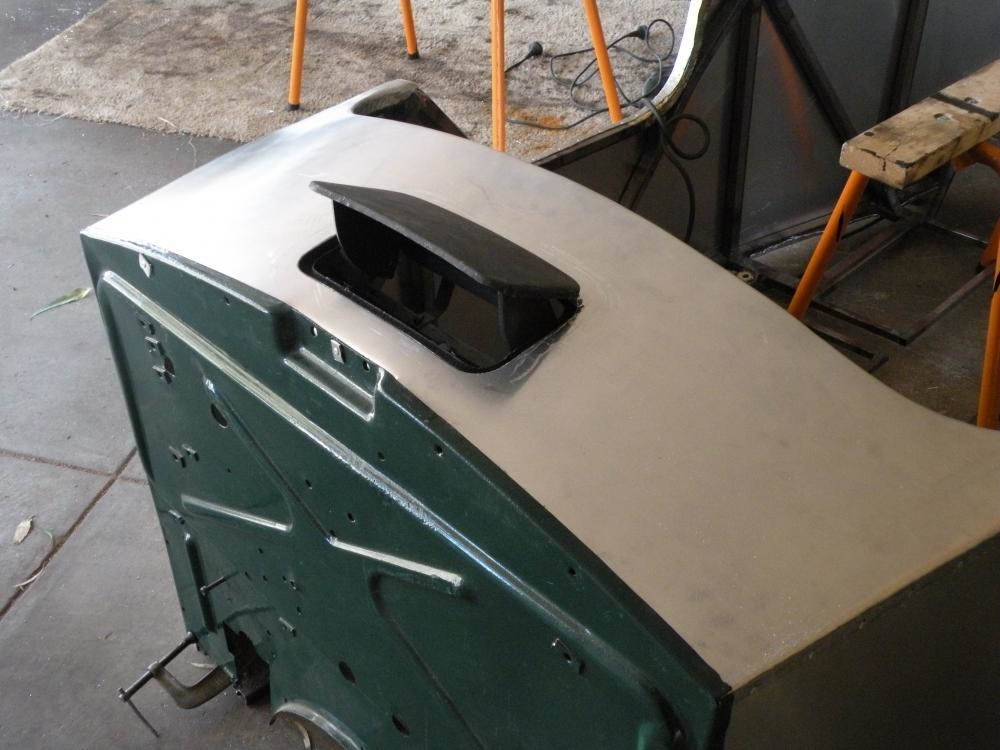 9-1-2015
Hello "Onsafari"
If I told you, you would not believe me! But as you are new to this thread I will briefly explain. I will be 79 years old in two months time, I work by myself 99.9% of the time. The only new tools I have bought in recent times is a couple of posi-drive screwdriver bits to go in one of my electric drills. I needed these to open up the crate that the Renault engine came in from France.
I have two electric drills, an angle grinder and a jig-saw. I have recently bought some new "metal" blades for this saw. I have a collection of ancient "G" clamps, three or four pair of vice-grip plyers, I have a thirty+ year old Oxy-acetelyne torch that is used for welding and heating. and most importantly a selection three of hammers. My favourite has a special handle made from a 1918 Dodge Four wheel spoke, really well seasoned Hickory. I have three pair of "snips" a Right and a Left hand pair of "Aviation" snips and a pair of long handled Gilbrows that I bought almost 60 years ago. Much of the time I work in an open "car-port" where the (natural) light is better. As officially we have just yesterday started 'Spring' here in Australia I should soon be able to put my 'thermal" underware away. Finally there are two or three lengths of 2X1 hardwood, salvaged from the afore mentioned French crate. Apart from these specialised tools, I have three metal tool boxes, one each for Metric, BSF, and SAE/UN spanners, a rack of worn out screw drivers and a tin of mainly worn out files. I have just one trolley jack and a chain lifting "block" and four jack stands and a selection of plyers. On the bench in my 'work space/single car garage' I have an 'off-set' vice at one end and a smaller vice at the outer. I have one bench grinder with coarse and fine wheels and another with a wire brush and a buff. Looking at the attached photograph, I note that I also have a small selection or "hole" saws and an "pop" rivet gun.
I notice that you have a couple of Minis. When our four children were younger (teenage and early twenties) at one time we had fourteen, my wife (Helen) drove a Cooper S and I had a Mini-moke as a run-about. I also built a small trailer based on a Mini rear sub-frame that I towed behind my MG Midget (1275). All the Minis were "modified", one son had a bored & stroked "1480" that would "torque-steer" in top gear on dry bitumen. We also had a Riley Elf. All that was many years ago, these days Helen drives a VW Jetta (diesel) and I have a Peugeot 405 SRi and have had the same 1934 Lagonda Rapier since 1979. I like to have a 'project' car to help keep me (in)sane.
Bernie j.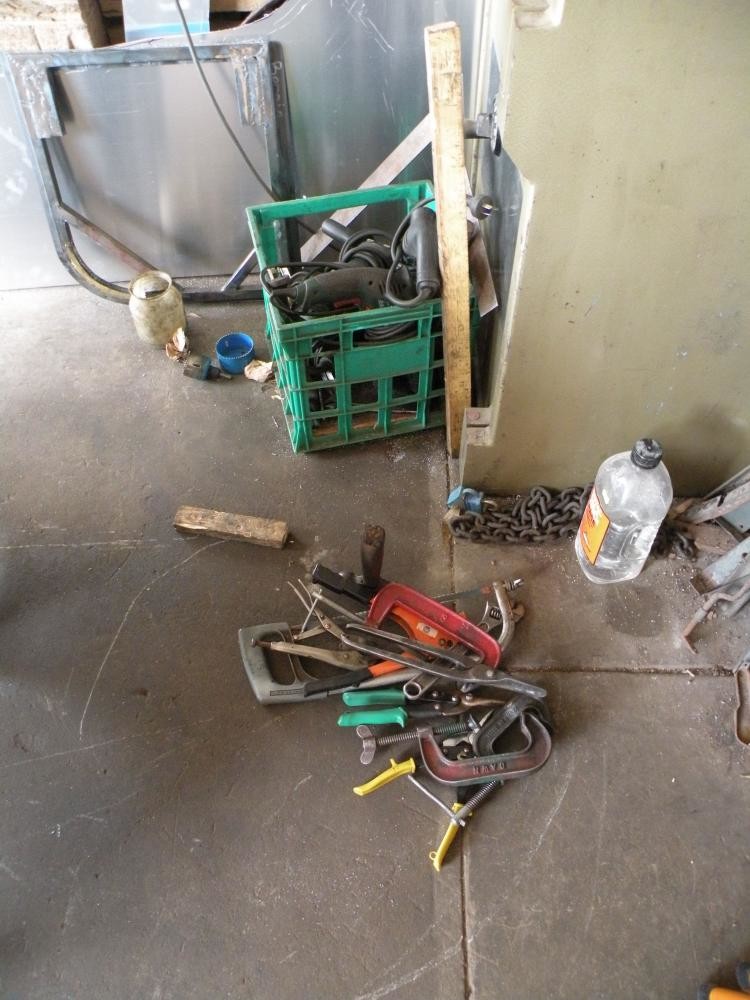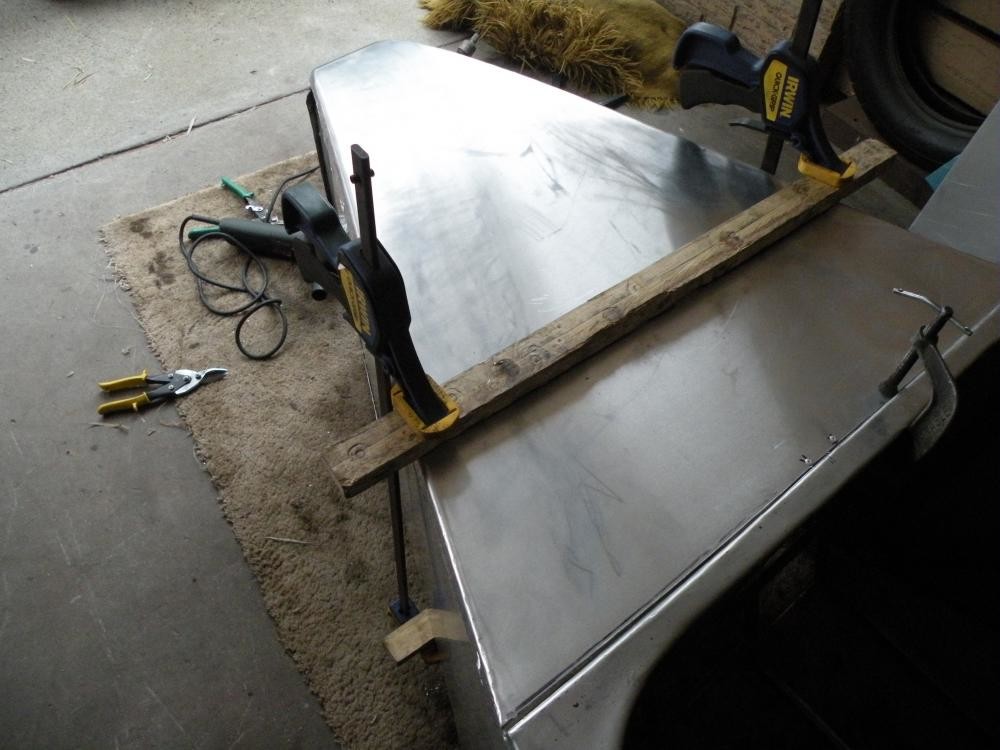 9-2-2015
Sadly I spoke too soon, I broke the handle of my favourite hammer yesterday rather than discard the historic handle it is now about an inch shorter. Still works fine but I have had a warning! Somewhere among my piles of things that may be useful someday there is one more hickory spoke. I had better start looking for it.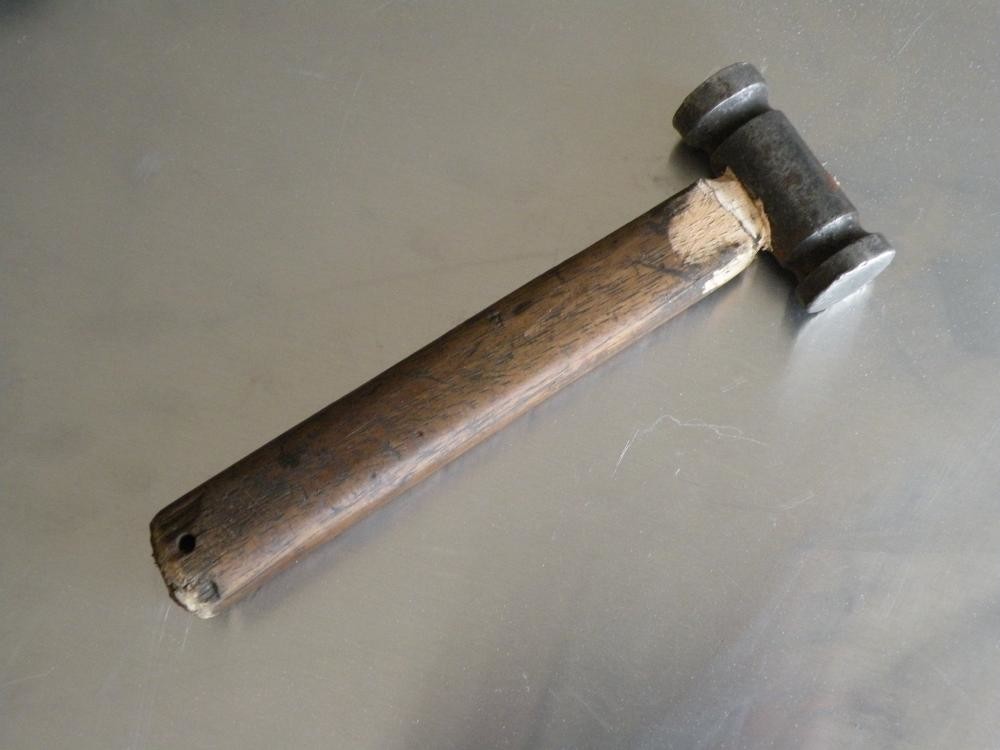 9-4-2015
The worst is over and now all the fiddly bits await.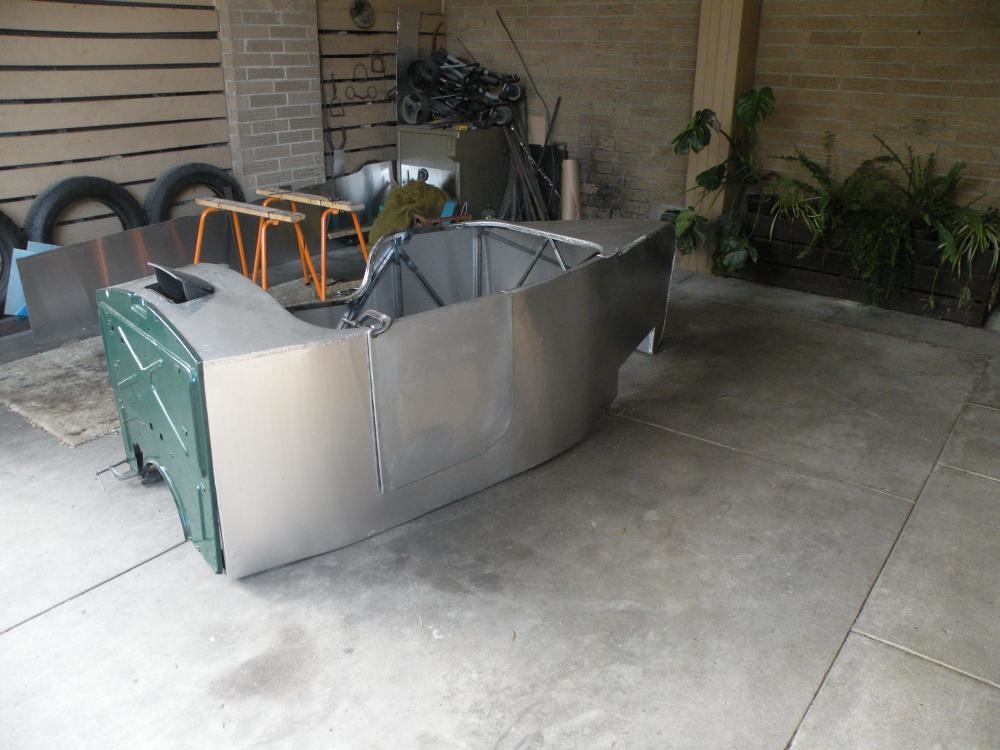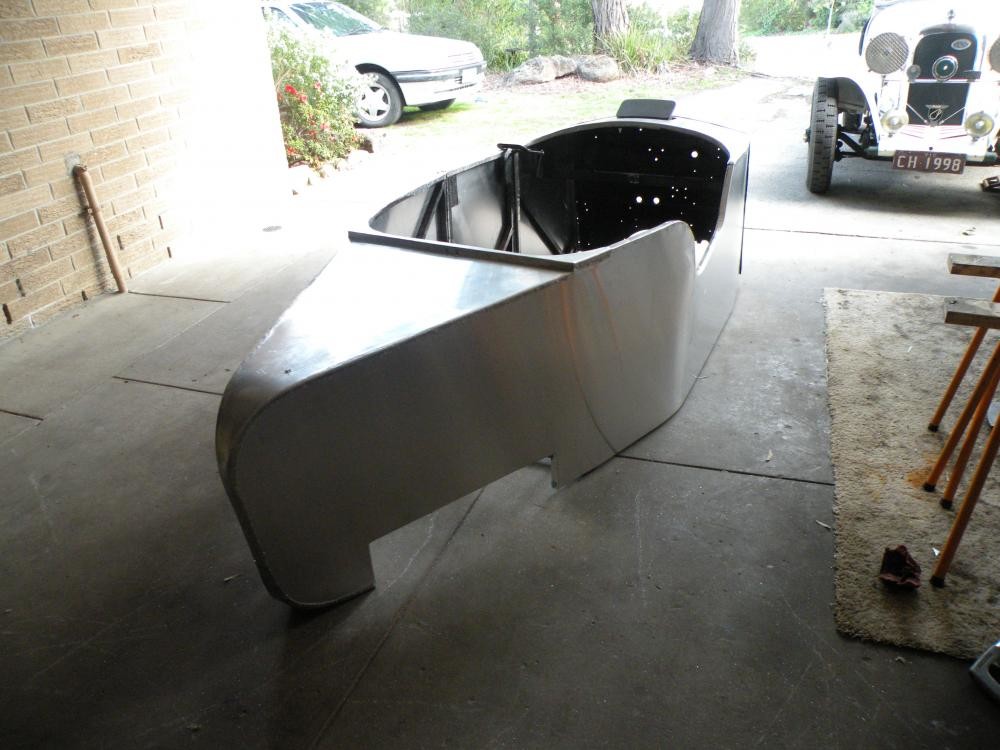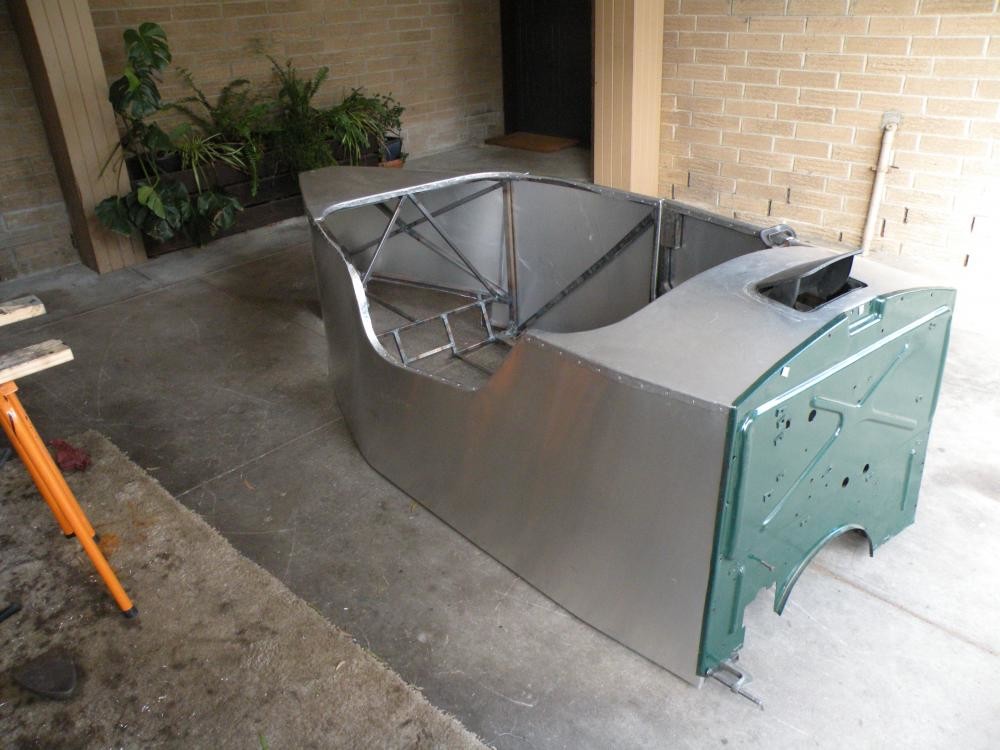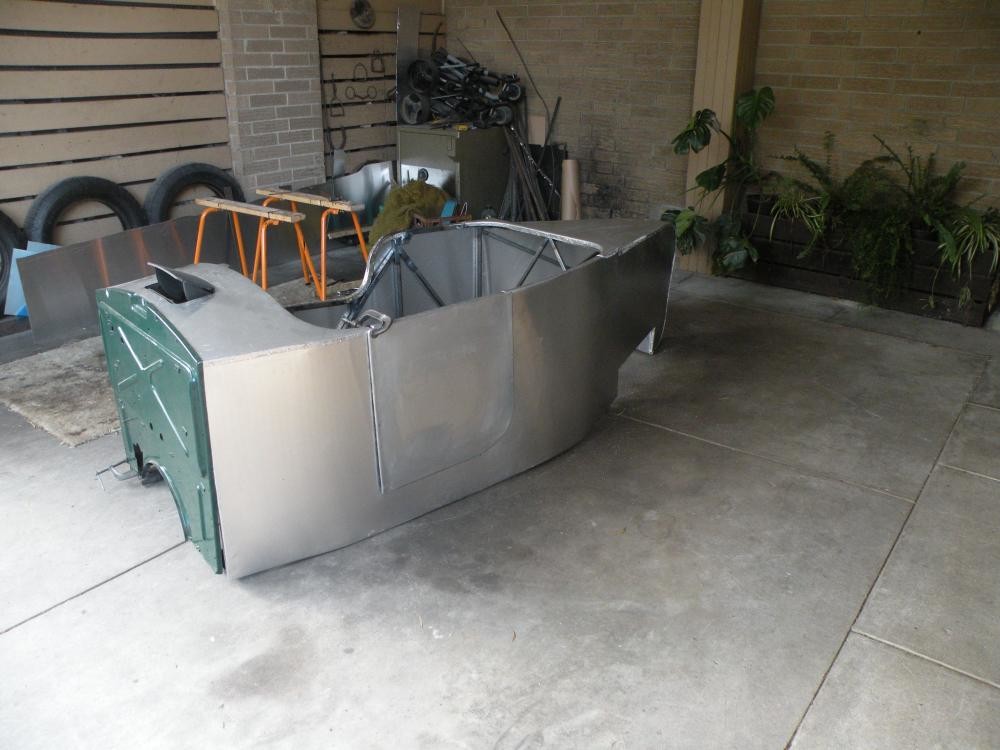 Hi John
The body went straight back onto the chassis, It is held by 8 bolts. The firewall is the original as is the cowl vent. The one problem with the firewall is that it weighs a ton but I have all the original control cross shafts and fittings including the mounts for the petrol tank that sits in brackets between the firewall and the original support for the dash. This can be seen in some of the photos (painted black). Access to the petrol filler cap is throught the Cowl vent as original. As the 1920's writer in the English "Autocar" magazine said "Renault differs essentially from any other car." With the body temporarily in place I can get on with some of the detailing work on it. Eventually it has to come off for painting. "Dave the Painter" who has done my last three or four cars will only paint the various components when dismantled and with the body off the chassis. First I have to trial assemble everything and have the bonnet (hood) etc fitting properly. The bonnet is a very bulky one piece affair that hinges upwards from the centre of the scuttle (top of the firewall). Being steel, it too weighs a ton and is very awkward to lift by myself.
Bernie j.
9-6-2015
I have just started reading Anthony Rhode's biography of Louis Renault. So far there have been no dramatic relevations other than he was the fourth child, out of six, of a Bourgeois button manufacturer based in Paris in the 1880s. Whether the tale is sufficiently "gripping" for me to complete reading the 220 pages remains to be seen. So far it has succeeded in sending me to sleep after two or three pages. As "bedtime reading" it has been successful in its required task.
Bj.
9-9-2015
Another day..... well, half a day in fact but some progress either way. While it does not look like it at present, one of the two pieces of steel strip on the floor is the spare wheel carrier but not just yet. If you look very closely you can just see the brass channel which is the start of the windscreen frame across the top of the cowl, this will ultimately be a shallow "v" windscreen. It is just that all these things take time and a little thought.
Bj.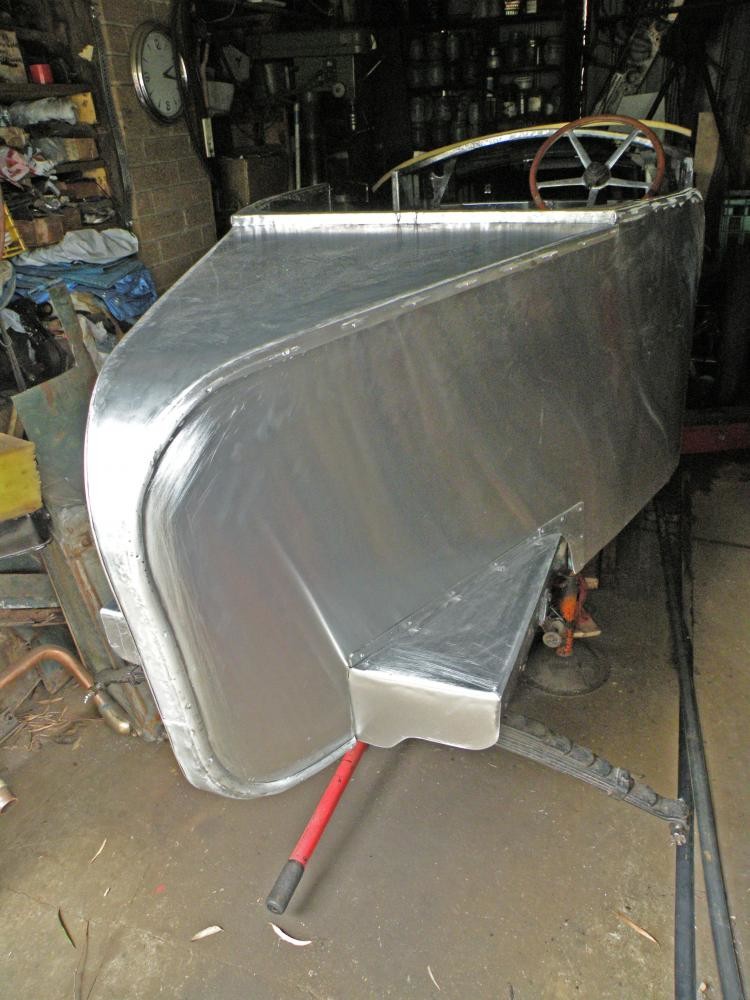 9-9-2015
Hello John
The approximate witdh is 4 ft 6inches and length 12 ft 6 inches. There will be space in the tail and behind the seats for luggage and provision for some light luggage on top of the tail.
On Safari
My present thoughts are "butterfly" type mudguards similar to those below.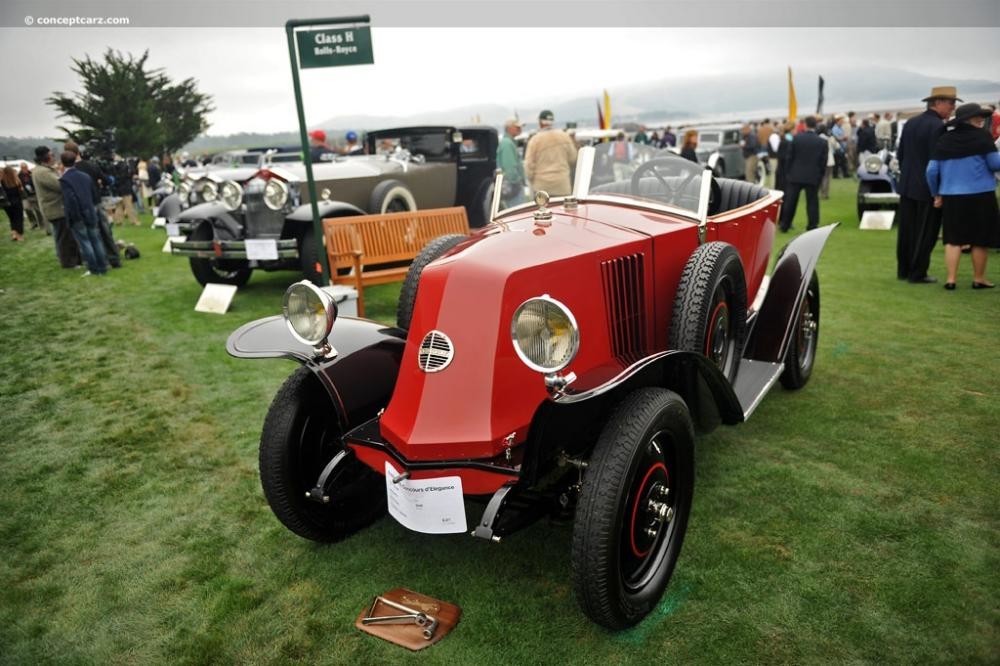 9-14-2015
"Little steps", having turned the car around I could make a start on the front. Todays task was to make the "board" that supports the front of the bonnet (hood). This is cut from marine 5 ply and clad in 1.6mm aluminium sheet.
Bernie j.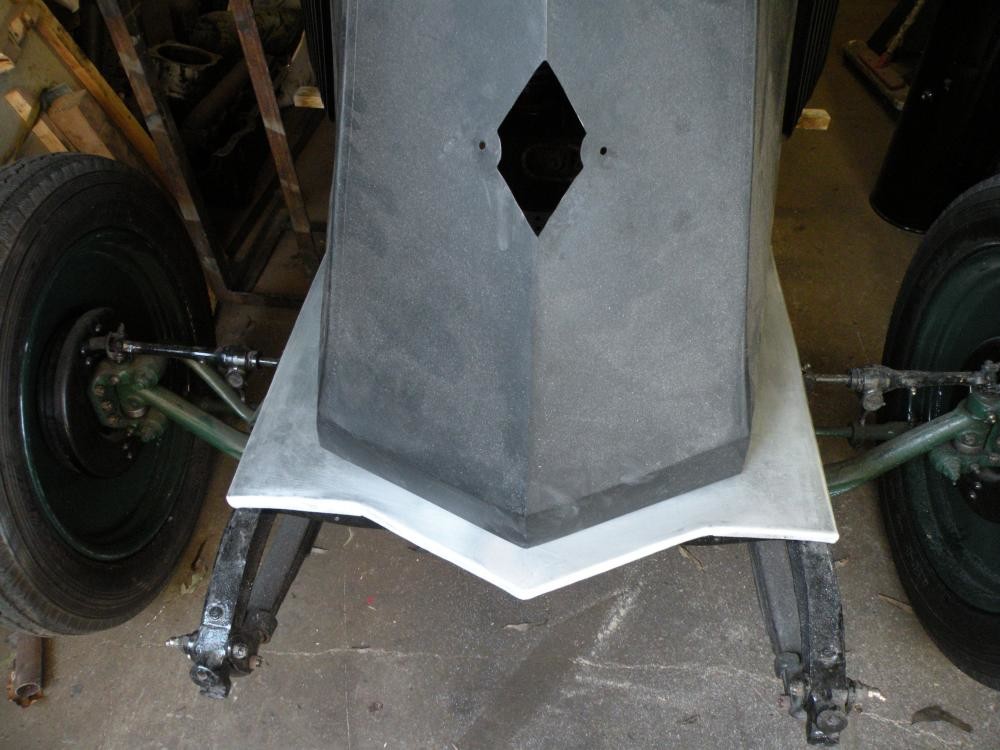 9-15-2015
Still more progress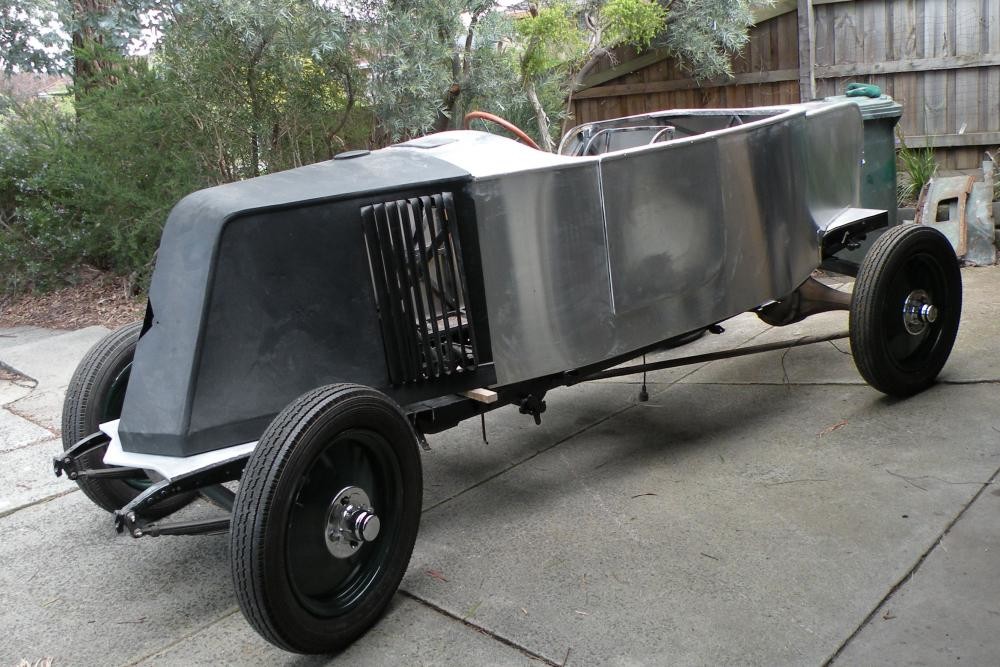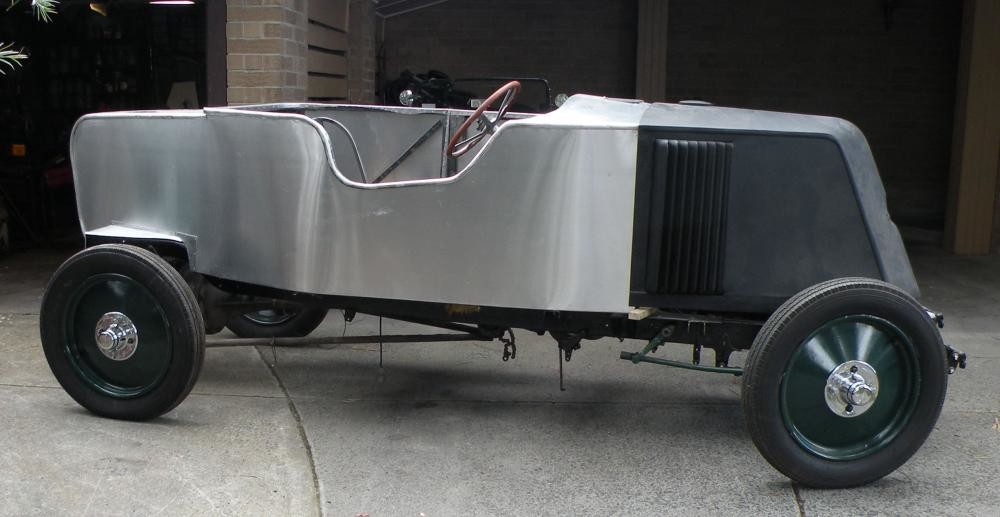 Thank you both, as I said in my earlier post "little steps". I still have a long way to go at least with it on four wheels I can move it around a little more easily. One thing that is apparent is that Depanoto's "Enjoliveurs" (hub caps) were a good investment. The addition of the runningboard tool boxes will make a big difference too.
Bj.
9-21-2015
Oh! Oh! It seems as though I am getting into a bad habit of never finishing things. Looking back, not all that long ago I abandoned the project I was working on http://forums.aaca.org/topic/219228-my-next-project-la-petite-chanteuse/page-8?hl=%20petite%20%20chanteuse. This little 1928 Singer Junior was at almost exactly the same stage as the Renault is right now. Some how I don't cope with frustrating situations very well and the Renault seems to be able to dish out frustration in spades. Having attended two clearing sales run by the widows of two gentlemen whom had died recently and having seen the mountains of "stuff' that both had left for their poor wives to clean up I promised myself that I would never leave such a task for my wife. After taking stock of my own situation I have decided rightly or wrongly that the Renault project would have to go. The way it is going I can see that I may never finish it. The body is the easy bit but I can see that the mechanical side is potentially both frustrating and expensive. If I had unlimited cash available it may be different but that is something I do not have. So that you are not hearing this second hand I can tell you that I have started to advertise it for sale. Aust $14,000 represents the money I have actually spent on the project to date. This is near enought to US$ 10,000.
Bernie j.
9-22-2015
Hello Dale and John
Of course you are quite correct John. It will probably take some time to find a buyer for the Renault in the meanwhile I finished the spare wheeel mounting and fitted it to the drivers side of the scuttle yesterday. I am now waiting for Depanoto in France to find the time to frais Fixes d'expedition (parcel up) the fifth enjoliveur (hubcap) and four ecrou de roue DROIT (right hand thread wheel nuts) and send them to me Colissimo Suivi International. The last item (Colissimo), the French budget air mail will probably be the most expensive item on the invoice.
Coping with the constant need for translation, into and out of French, and the cost of freight has been the two most difficult parts of the restoration of the Renault. The attached invoice for wheel nuts, hubcaps, two reproduction tail lamps and a second-hand clutch fork will give you some idea 605 euros translates into almost Aust $1.000.
Packing and postage is just on 70 euro (Aust $ 135.)
The fourchette d'occasion (clutch fork) was the wrong one but being d'occasion (second-hand) (and rusty) was ne sont ni reprises ni echangees (not returnable) 35 euros (Aust $ 50) down the drain. No wonder I become grumpy and depressed.
Bj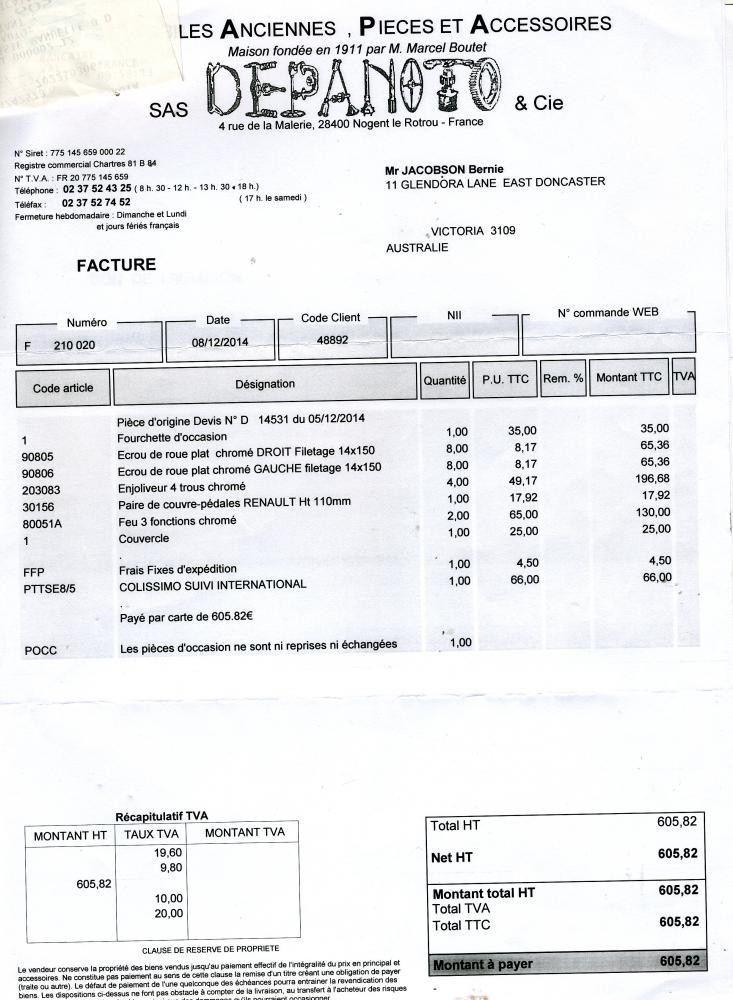 9-24-2015
As I told my French friends on the RAG Forum I will continue to do small jobs on the Renault up to the time it is sold.
Bj.
9-27-2015
Thank you Roger; I can understand what you are saying too but I imagine that parts for your Cadillacs are readily available and not available only from a strange secret society as Renault parts seem to be. As a direct contrast as I see it, the cars that you are "playing" with are of comparative recent (Post WW2) manuafcture and sold in numbers that would have made Louis Renault dizzy in 1929. Also I believe that American parts dealers are much more ready to converse with people from outside the USA. For example, in my own experience, the French people who put 1920s parts on LeBoncoin make absolutely no attempt to reply to any queries from ourside France. This too is a rash generalisation but I have found to my own cost that when they do reply, the description of the part is far from acurate and very often deliberately dishonest. ie. When someone tells you an engine has been "turned over" you automatically think that the crank has been rotated indicating that the engine is not seized or rusted solid. Not so! what was implied was that the engine had been rolled over to allow the rusty water to drain out and that in fact the engine was completely rusted solid. If I had been told that in the first place, there is no way I would have 1. Bought it and 2. Thrown good money after bad to the tune of more than 1,000 Euros having the pile of absolute junk air freighted from France to Australia.
QED
Bernie j.
Hi Roger
I must admit finding a buyer for the Renault comes fairly low on my list of priorities. We have just returned from two days of fairly rapid motoring in the Lagonda on a highly competitive Navigation Rally. About 400 miles on relatively unused country roads at times maintaining 75+mph to meet some very tight timed sections. Field of about forty Pre-1939 cars including nine Bentleys a couple of Bugattis, an Aero engined Hispano Suiza, two or three Delage, just one other Lagonda.
Bj.
9-28-2015
Last weekend Helen and I attended the VSCC Two Day Rally which was centred at the central Victorian city of Ballarat. We had left the finish mid afternoon for the drive back to Melbourne. Arriving home after a rapid run down the Western Highway and Ring Road, I noticed an unfamiliar noise coming from under the Rapiers bonnet as I drove into the carport. We had been sitting very comfortably on the "Legal Limit" 110 kph, 65-70 mph, between 3,200 and 3,600 rpm, for most of the two hour drive. Next morning I did not restart the engine but decided to have a look first, removing the inlet side cam cover. Straight away it was obvious that I had broken a timing chain tensioner. But where had the "other" half gone. First I drained the oil and removed the sump. Nothing there, so next step was to remove the radiator and place a jack under the engine. I could then remove the bolt from the front engine mounting and proceed to remove the timing case. Fortunately I had previously heeded the recommendation in the Register Technical Notes and replaced all the studs with bolts so it was a relatively simple matter to remove the timing case from the front of the engine without having to remove the engine. At first I could not see anything untoward but then looking more closely, there it was, the other half of the Weller blade sitting comfortably on top of the half time gear held in place by the dynamo drive gear. At this point for the benefit of those unfamiliar with the Lagonda Rapier engine. The timing chain tensioners are slightly curved strips of spring steel anchored at one end. This one had broken quite cleanly across its width about half way along its length. The "leg" had slipped down behind the half time gear and had not fortunately been drawn into the mesh between the two gears. There was no sign of damage or debris anywhere. Both the timing gears and the chains and sprockets were entirely undamaged and it will now be a simple task to replace the broken tensioner from my personal stock and replace the front cover and cam covers and refit the radiator. As a precaution I will refill the sump with fresh oil. Looking at the centre photograph you can see the "highlight"where the timing gear had been rubbing ever so lightly. I shudder to think what may have been.
Bernie J.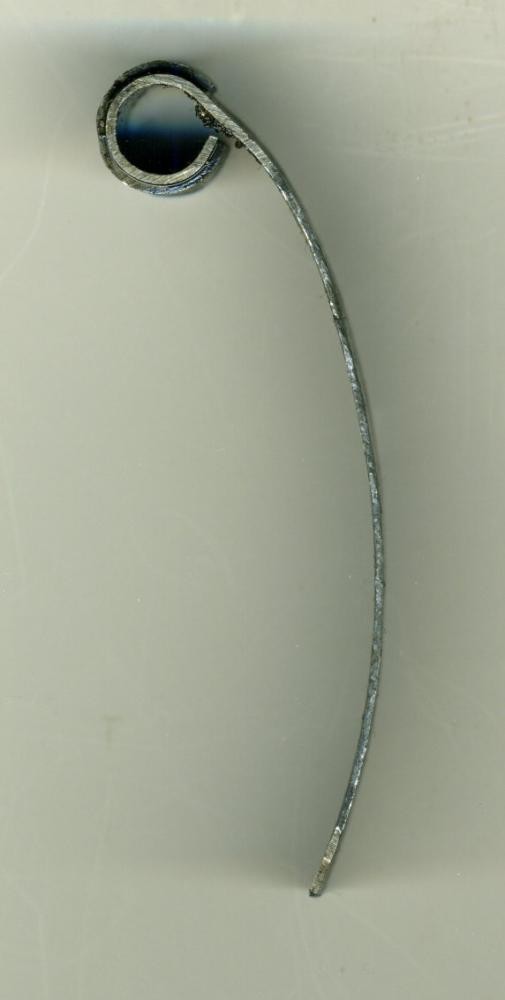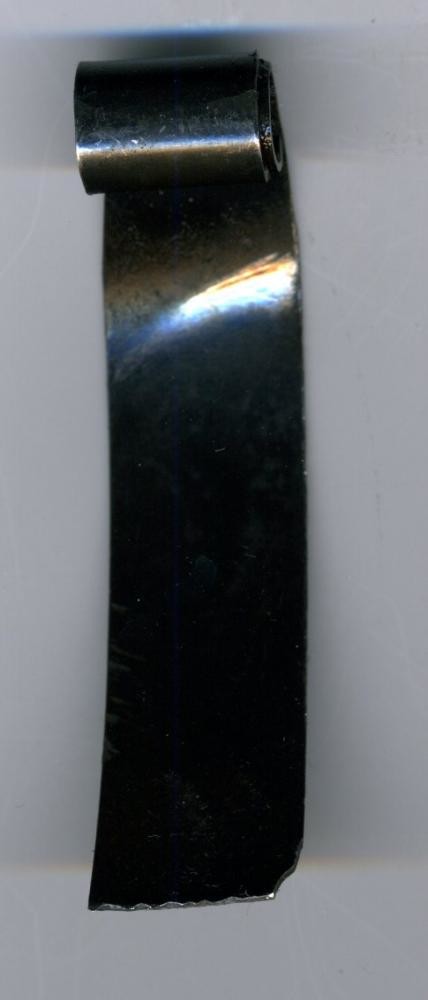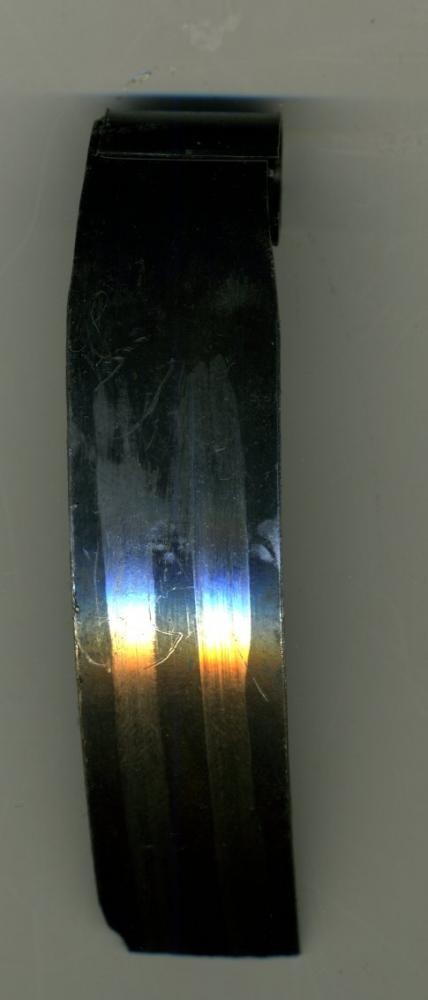 Below is the drawing of the Lagonda Rapier timing gear-chain arrangement. The tensioner I broke was the left hand (inlet cam chain)
The broken half fell down and was stitting on top of the main (half time) gear. I do not use the coil spring additional tensioner.
Bj.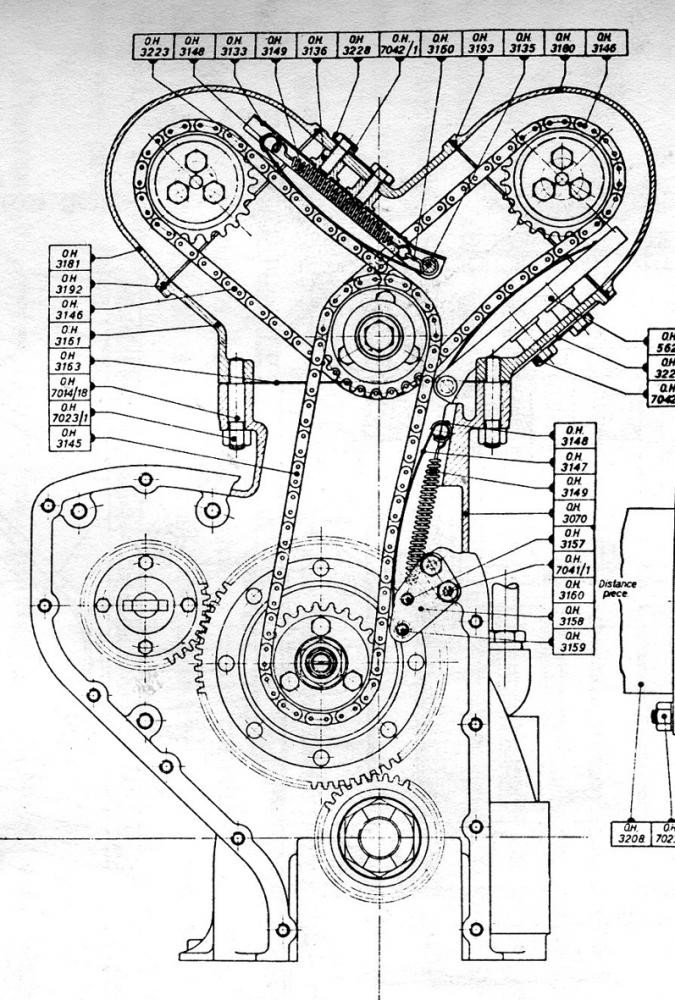 9-29-2015
Back to the Renault!
A little white van pulled into the drive yesterday. Out hopped the driver with a cardboard box with familiar printed tape to keep it firmly and safely together. The good ladies at Depanoto had recieved my last e-mail and acted promptly, inside the box were the fifth hubcap and four wheel nuts. Added to this my friend and fellow Rapier owner had called in on Friday en route to the start of the VSCC "Two-day Rally". He had with him another 4.50 x 18 tyre in almost unused condition. Once the Rapier is all back together, hopefully later today, I can think about finishing the Renault's spare wheel carrier that I had been working on last week. all that I need now is another three 14mm X 150 studs to go with the one I had already in my sundry Metric nuts and bolts bin.
And that dear friends is the way the money goes. 124.10 Euros equates to near enough to Aus$ 200.00 and Visa still have to add their % fee.
Bj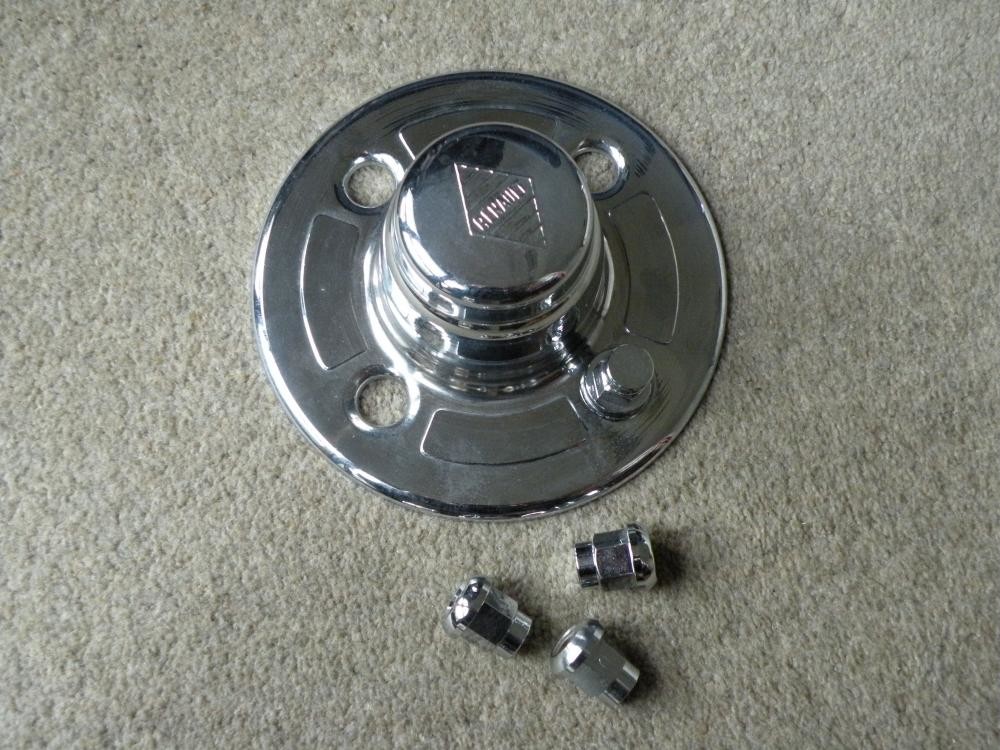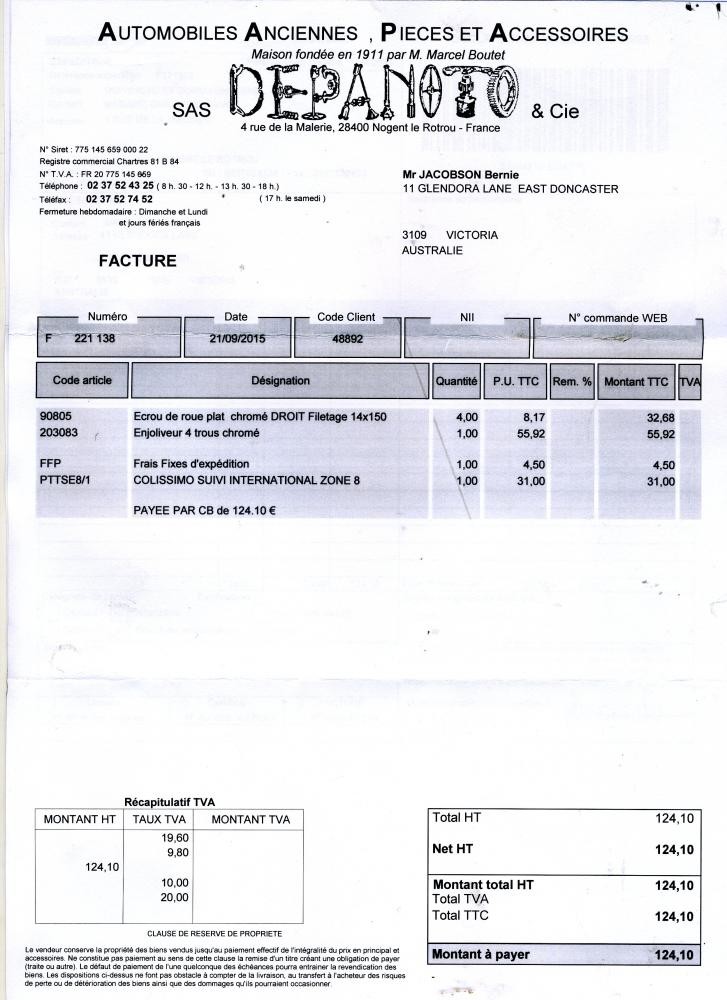 10-1-2015
As to date there has been no interest from any potential purchasers for the Renault, although it has not really been advertised for sale widely. I will get back to working on it over the weekend. Remember that we are 22 hours ahead of the USA and it is 9.24 am of Friday October 2nd as I write this. We start Summer time on this coming Sunday.
Re time difference 9.24 AM. Thursday E.A.S.T. = 11.24 PM. Wednesday AACA Forum time
Bj.
10-2-2015
Our weather forcasters tell us that we are due for our first warm days, over 30 degrees centigrade and we are not even half way through Spring.
10-3-2015
Changing the subject ever so slightly, having ejected the Possum* from our roof space I spent yesterday afternoon closing up any possible points of entry. Now today I am clearing out a lot of what is basically junk; Offcuts of trim material and carpet from "past restorations" with the exception of one or two cars that have stayed in Australia it is most unlikely that I will ever see them again or that their owners are in the event of some accidental damage be likely to come to me looking for repair material. This means that there is no point in my storing short lengths of carpet or off-cuts of hide or matching vinyl material, some for more than 20+years. Straight into the bin! Some time soon I am going to have to "get tough" with the 10 or 12 five litre containers full of second hand nuts and bolts and other (perhaps) useful stuff.
*Australian Possums are nocturnal creatures about the size of a small domestic cat. The are excellent climbers and regularly can be seen at dusk "tight rope walking" along power cables to reach the roof of houses. Although quite small they wear size 14 boots and clump around in the space above the ceiling and across the outside of the roof.
Being nocturnal they seek out dark spaces to sleep through the day emerging an hour or so after dark. As they are "protected" Native animals you are not permitted to poison them and can only capture (trap) them alive and they are supposed to be then released within a mile of their place of capture. They are known to be capable of easily beating the world record for covering a mile and often, on release, return to the scene of the crime long before the house-holder. The only way of combating these dear little friends (fiends) is to make sure that every possible point of access no matter how small is securely blocked off. This one had discovered that he/she could access our roof space via the garage roof eaves.
Bj.
On going through the various trim off cuts and left over pieces of hide I have discovered that I should have enough of the Biscuit coloured hide left over from the 1923 Packard seats to do the facings on the two slightly smaller seats for the Renault. This will mean re-thinking the colour scheme. Back to the Chocolate brown and Biscuit. This will mean repainting the wheels but they needed another coat of paint so nothing is lost. While I do not have sufficient of the Ocelot fake fur for another lap rug I have enough to make a very dashing scarf for a fashionable passenger. Those with sufficient imagination will be able to make a mental picture of the car using colours from the attached.
I believe that the Renault's shape really lends itself to two tone paint. The other plus is that I still have more than sufficient of the Fawn "Salt & Pepper" top material for a tonneau cover. Looking closely at the photograph of the Packard you can just see the Ocelot lap rug on the rug-bar behind the passenger seat. This went with the Packard to the new owner.
Bj.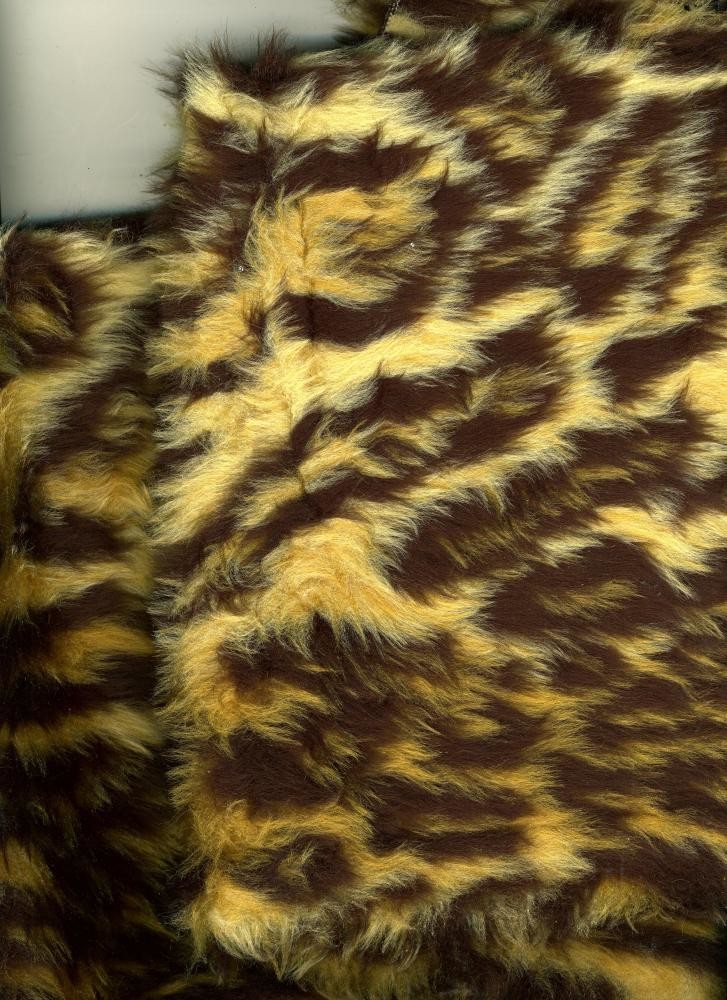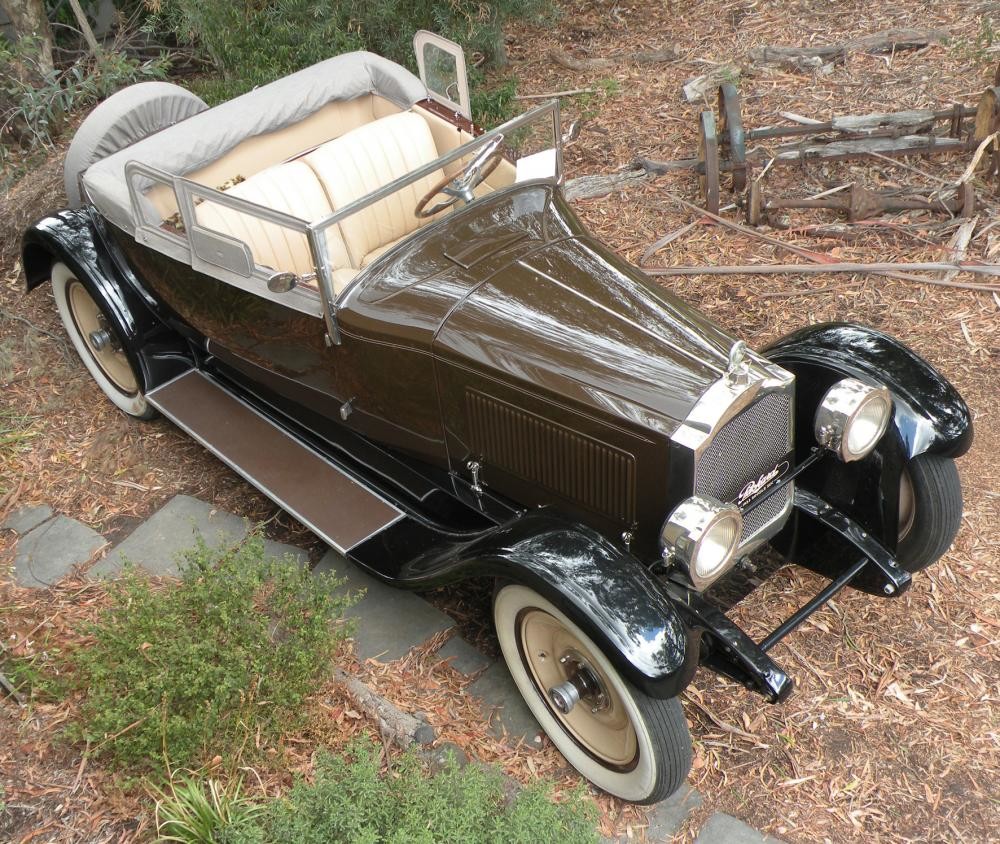 Before I take the seat frames over to the upholsterer I still have some work to do on them.
Perhaps it will be done today.
Bj.
Hello Ian
I am sorry but any interior that may have been originally with my Renault had long gone.
You may not know but what I purchased as a COMPLETE, STRAIGHT FORWARD RESTORATION PROJECT was in fact a collection of assorted Renault parts rescued some years earlier from a wrecking yard that was scheduled for re-development. What I received was a collection of parts from at least three different cars and at least two different models. One a 1926NN, one a 1927 RY and another a 1929 RY1. There are significant differences between the RY and RY1 and of course the RY and RY1 are both SIX cylinder 1500cc and the engine that came with the "straight forward restoration project" was from a 1926NN FOUR cylinder 950cc. When I looked more closely there were NO gears in the gearbox and so it goes on. You could say that my task has been anything but straight forward. The TWO six cylinder engines that I have subsequently purchased, one from New Zealand and the other from France are both contary to the vendors discriptions absolute rubbish! The Engine from New Zealand was totally dismantled complete with one BROKEN connecting Rod and a smashed piston. The engine from France was rusted solid having been left out in the open for some considerable time without any sparkplugs screwed into the cylinder-head, permitting the engine to fill with rusty water. I was told that this engine had been recently "turned over". In my innocence thought that was meant to indicate that the crankshaft had been rotated indicating that the engine was "Free"! What was actually meant was that the engine had been physically rolled onto its side to allow the rusty water to drain out. Silly me! The freight alone on the engine from France was almost $2,000. CAVEAT EMPTOR!
Oh boy! this restoration game is all good fun!!! The only way I can hope to recover even a fraction of the money I have outlaid is to build it all into a car, either that or to cut my losses and sell it all for scrap.
WHAT WOULD YOU DO?
Bj.
Ian, sorry about all that, what was your question?
10-4-2015
Digressing for just a moment, I came across this one while going through photographs of some of my earlier restorations. This one was my Daily Driver for a while in the late 1950s. "Le Mans" green with Sand coloured top and London Tan InteriorTrim. Can anyone recognise it? It was quite rare at the time especially Drop Head Coupes like this one. I have not seen it since the day I sold it and have never seen another one the same.
Bj.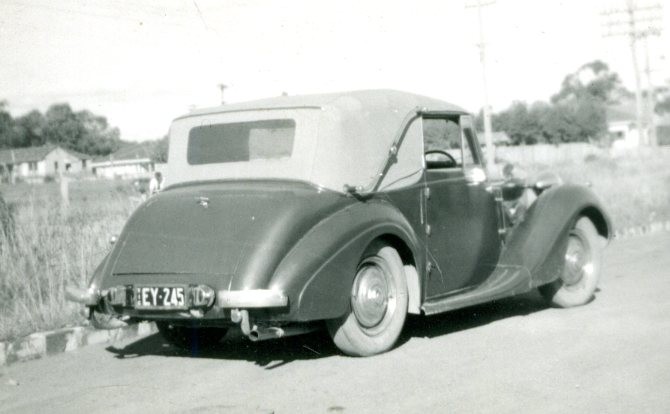 10-5-2015
Despite todays temperature reaching 35 Degrees Centigrade this afternoon I have "roughed out" the sheet metal for one seat back. As you may see I am currently working outside in the full sun not the most condusive for a lot of work but at least I am not welding.
Tomorrow morning my first task is to go and buy another pop rivet gun to replace the one I lent to someone. My second string "old one" has decided that it does not want to work any more. Obviously being thrown into the bottom of a box of other "old" tools has had a bad effect on it. Pulling it apart and re-assembling it has not worked this time, it may be just worn out after several thousand pop rivets.
Bj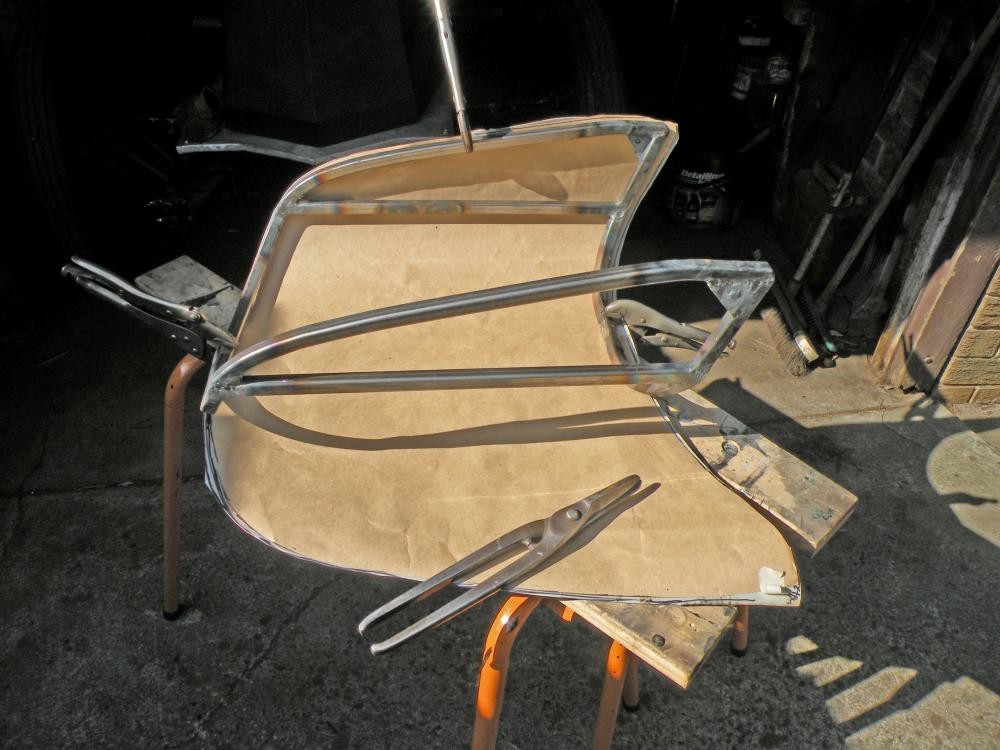 I think I know just how that poor old Pop Rivet gun feels, after so many restorations and rebuilds I could do with a rest at the bottom of a box. But somehow I don't think I am really ready. Not while I can still draw breath. While the Renault is sitting there, it at least deserves another chance. Having gone this far and if there is no one else prepared to take it on, having started I guess that I may as well keep going. The "purists" may hate it but then I have never let the thoughts or ideals of a "purist" prevent me from "doing my own thing".
Going back to #264 The car is/was a 1945 Sunbeam Talbot 10Hp. a glorified Hillman Minx but still a very pleasant little semi-sporting car. It had two problems, Dreadful Bendix mechanical brakes that did not work at all in reverse. I remember quite vividly, going backward down any sort of a a hill was extremely challenging. The other problem, It developed VALVE BOUNCE at about 65 mph in top gear. Perhaps it was never meant to be a "Highway Car"........ more suited to tottering gently around the English country side.
Bj
Sorry Craig
You are correct that it is British but in some ways much more humble in it's origions than Rileys. I certainly have owned between 15 and 20 Rileys during the earlier part of my motoring life. I also had a period when I was a great fan of Rootes Group cars and Sunbean-Talbots in particular. As mentioned above this one was basically an up-market Hillman Minx. Again as I said previously I have never seen it since I sold it and have only seen one other D H Coupe that one was the two Litre which used Humber Hawk engine gearbox etc. Every so often a saloon pops up but they do not have the appeal of the Drop Head.
Bj
10-6-2015
I must be a slow learner, it took me quite a while to work just how bad Riley's are. Most of my Rileys were late 1920s or early 1930s 9hp although I have also had a 1926 Side Valve 11 hp, a post WW2 1.5 Litre, a "Pathfinder" and a Mini based Riley Elf. You could say a reasonalbe sample.
Bj
Re: Petanque.
Andre, one of my French friends, has sent the attached. A picture saves a thousand words!
Bon sante!
Bj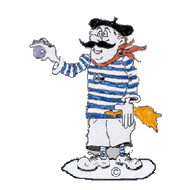 Petanque aside the Renault continues to dominate much of my time, most of today being devoted to the seat frames or more correctly the seat backs. While working on these I am having some serious rethinking about colours. The traditional 1920s Paris Taxi, two tone green really seems locked in with so much I have planned and talked about it is hard to get away from. The other alternative being my own "team colours", Old English Ivory and Mid-Brunswick Green does not sound quite geographically right on a French car. This is something that I will have to decide about before I take the seats to be upholstered, perhaps as early as next week. What ever colour goes onto the seats will tend to dictate the colours for the rest of the car.
Bj.
10-8-2015
Meanwhile I am conserving my meagre cash supply doing lots of little but necessary jobs. I am currently sorting out the rear floor which is fiddly and time consuming with not much to show at the end. I hope to have sufficient aluminium sheet "in stock" to do this.
Having just received the UK based "Renault Freres" membership list I now know that there are at least TWO 1927-9 Monasix in England along with one or possibly two in New Zealand, probably between 15 and 20 in France and my car all alone in Australia. The next question is how many, if any, are in the US and Canada or for that matter any other parts of the world?
Please do not all rush to answer.......
Bj.
10-9-2015
This forum is pretty much the same as home. I talk to myself for most of the time there too. At least that way I don't get into too many arguments.
Being Friday much of today was devoted to "domestic duties" so only a little progress on the Renault floor.
I think that from the messages left on the garage floor, my possum friend has been checking out it as a possible new home. NBL!
Bj.
Hello Ben
Our little creatures are simply possums not the irish variety of O'possums that you have.
Spinneyhill,
I could never understand why you imported our Possums into NZ. certainly not as a cuddly pet and there is not much meat on them but you seem to do OK selling possum fur hats and gloves to Aussie tourists. We are such softies that ALL our native aminals are protected by law. At present Kangaroos are in plague proportions ruining crops and taking over golf courses but here in Victoria it is an offence to shoot even one. Just ten miles from the CBD we have mobs of up to 50 Kangaroos in one of our parks. With Summer approaching, when the grass supply in the parks dries up they will move into private gardens eating everything.
We have in broad terms two variety of 'Urban Possums, Ring tail and Brush tail we also have minature "Gliders" that live mainly in our mountain bush.
10-10-2015
Thank you Spinneyhill
I do find it very frustrating at times but all these problems are sent to test us. I find that as I am growing older it takes longer to find a solution to many of these problems. I can not work in several directions at once in the same way that I could once
I simply have to concentrate on one thing and finish it before moving on to the next task. Today I have broken the back of the main floor and should be able to move onto the next task perhaps tomorrow or Monday afternoon. After Petanque!
I have almost finished the Louis Renault biography, It goes some way in explaining why his cars were so individual. It seems as though he was completely untrained he would never accept advice and would only do anything the one way. His way!
Certainly you can only say that his approach to problem solving was unique, you only need to look at his pre WW2 cars or more exactly his pre 1930 cars. It must have been a major leap in 1930 when he abandoned the rear mounted radiators. Not just the one model but right across the range, every model car and truck! Like shutting and locking the door into one room and opening another a without a second glance.
Bj
10-12-2015
At last I have some new photos to share with you. If nothing else you can see that while the Renault is being offered for sale I have not stopped working on it.
Today I have been able to trial fit the original toe board sheet metal and supports. The drivers side support also incorporates the accelerator pedal. I have also spent some time cutting out the first of the trim panels and as you can see the main part of the floor is in place. The two seats are almost ready to go to be upholstered. The passenger seat is fully folding. I still have to complete the anchorage on both seats. so this afternoon was not entirely wasted. Unfortunately today's Petanque was rained out.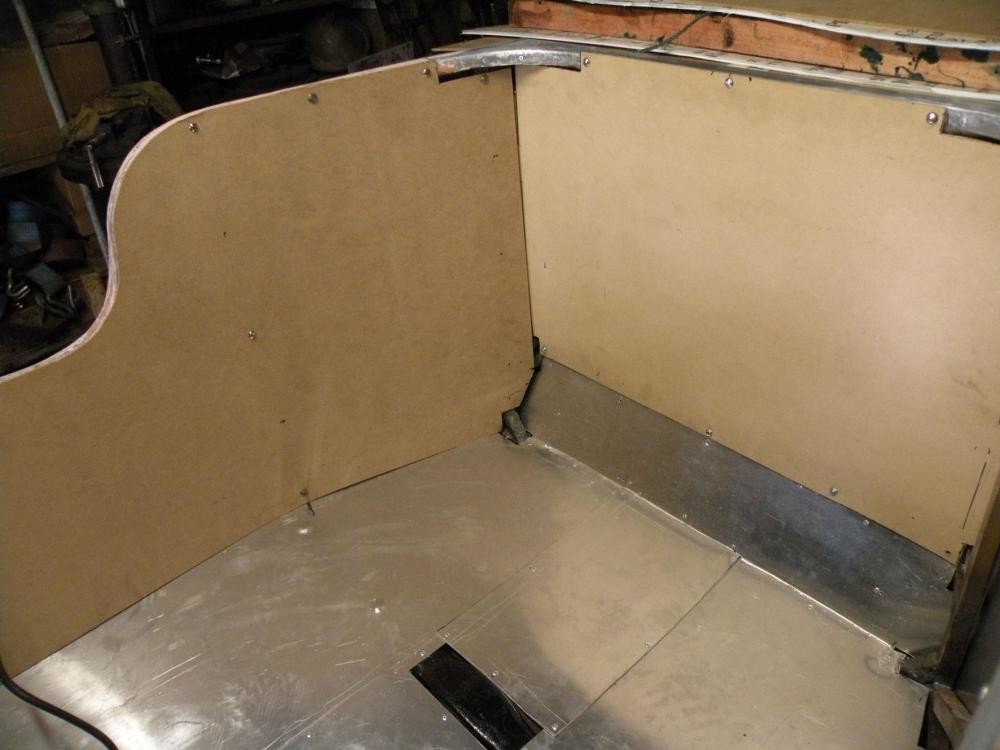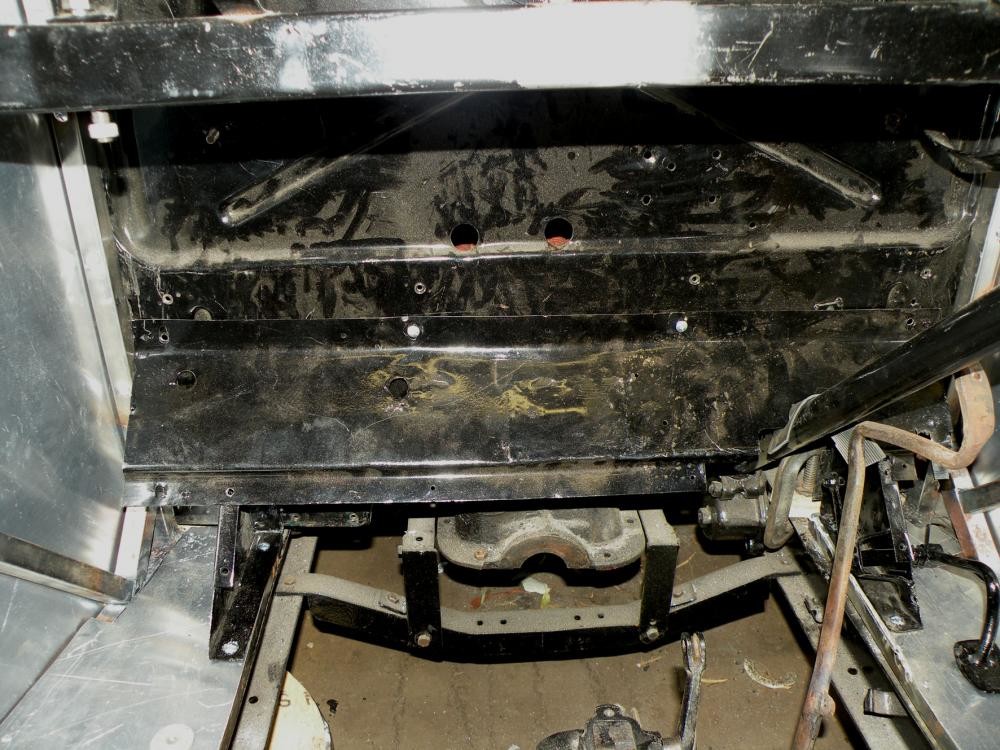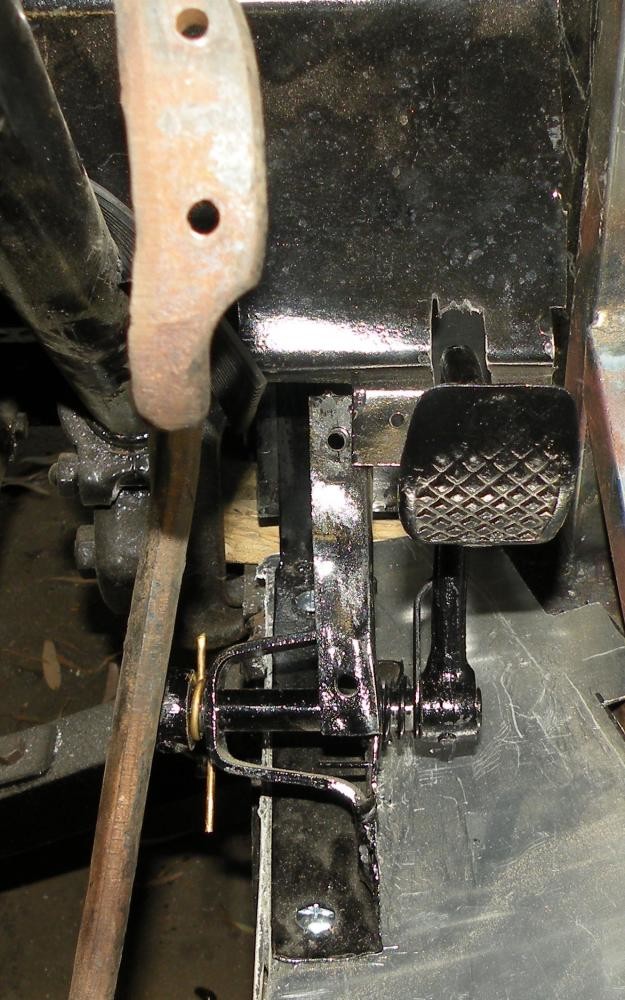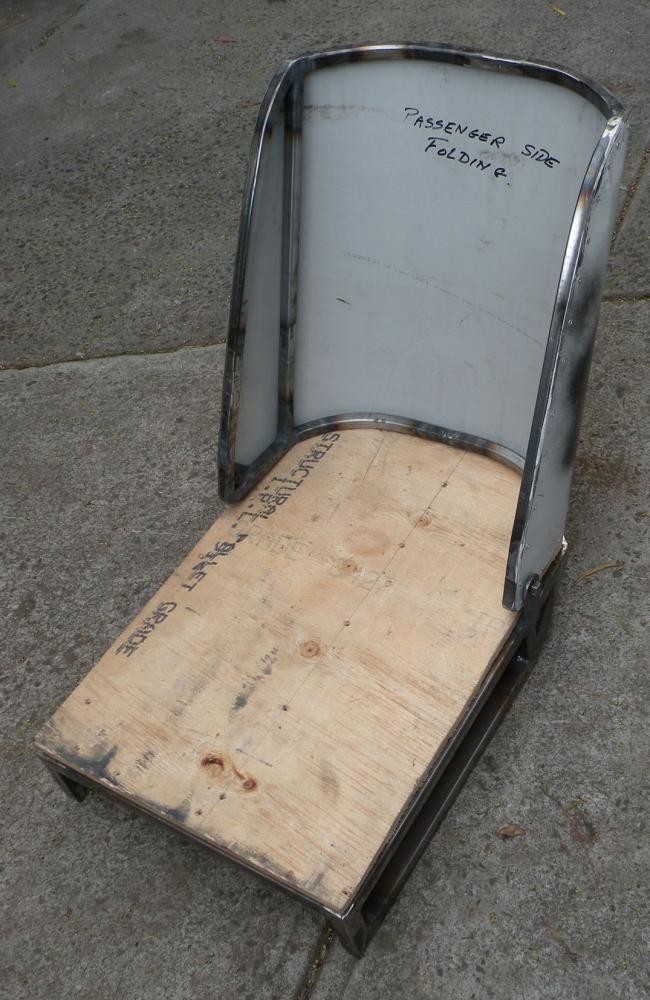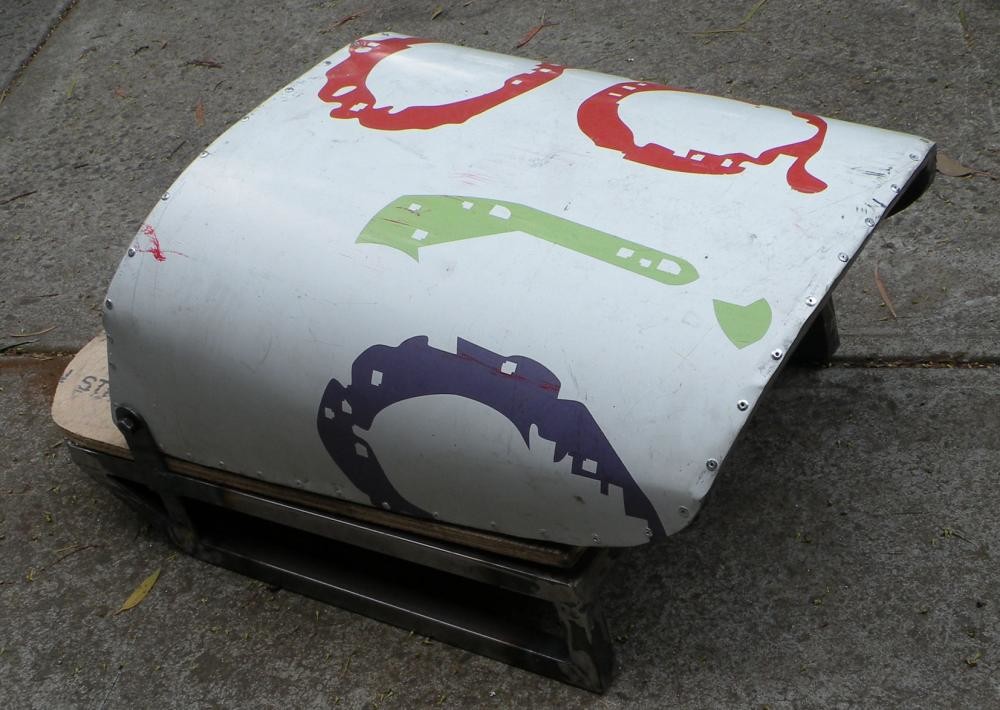 Hello John
First, I am sorry to leave off in the middle of up-loading the other photographs but I had an urgent request that needed my attention.
Now about the mechanical bit.
Some little time ago I made a concious decision to put the engine gearbox etc "on hold" and to concentrate on first the body and then the cosmetics (paint )trim, and jewellery,(lights instruments etc). I have 90% of the jewellery but it all needs work, plating etc.
In recent years I have discovered that there are a lot of people whose sole interest is in what I refer to as "Garage Furniture". Somewhere to take their male guests to enjoy their after-dinner coffee, port and or cigars while admiring their hosts impecable taste in motor cars, Power tools etc etc; all in mint condition. For instance I could have saved myself about $25,000 on the Dixie Flyer given that I am doubtful that it will ever be driven.
I know of at least one person who has bought a"Fully restored" Vintage car, having never driven it, and was not in the least concerned when told that the pistons and conrods were in the box in the luggage trunk!
Again, there was one "Concours Winning" MG here that was for some years "driven" on and off its trailer using the starter, again there were no pistons or conrods in the motor BUT it was a "show-stopper".
I believe that "Museun Standard Restoration" is the correct terminology.
For me to do the Renault to the same standard as has been my practice in the past would mean spending far more than the car could ever be worth. I simply cannot afford to continue to lose the same sort of money as I did for instance, on the 1923 Packard (over $20,000).
I guess that It is debatable whether I have become cynical or sensible. It is all too easy to become carried away.
Bj.
10-13-2015
Further to the above let me make it official.
The Renault is currently FOR SALE.
It is an unfinished project, an extremely rare, 1929 RY1 Monasix Chassis Number 402629. It includes the TWO complete (fully dismantled) 6 cylinder 1500cc engines, 1X 1927 RY, 1 X 1929 RY1, a Gearbox, Two clutches with new (depanoto) linings. 12 Volt Dynastart complete with original control box.
A full set of Jaeger Instruments with some duplicates (i.e. two speedos one MPH the other KPH), 12 New engine Valves, Mechanical (gearbox driven) Brake servo. All lights including two new (Depanoto) repro Tail lights & two original headlamps with ultra rare original Renault glasses. New Aluminium panelled Skiff tail two seater body, Five wheels all with NEW rims and four As New Tires and one brand new tire. Two original owners hand books one in French the other English. Two seats ready to be upholstered. Also available 1 x 1926 NN 4 cylinder 950 cc engine. A bulging file of receipts and associated Magazine cuttings/reprints etc
Price: WELL UNDER ACTUAL COST.
Aust $14,000. buyer to arrange collection.
Bernie j.
twooldlags@gmail.com
Basicaly the two engines are the same, the big end journals on the RY1 are 4 mm larger in diameter. The pistons are the same bore size but there is a slight difference in the gudgeon pin arrangement. Everything else is identical and interchangeable.
10-15-2015
Having got all excited about the photo a friend sent to me It turns out that It is perhaps even rarer than the Renault.
Taken at this years VSCC UK Loton Park Hillclimb it turned out to be a Tatra.
Bj.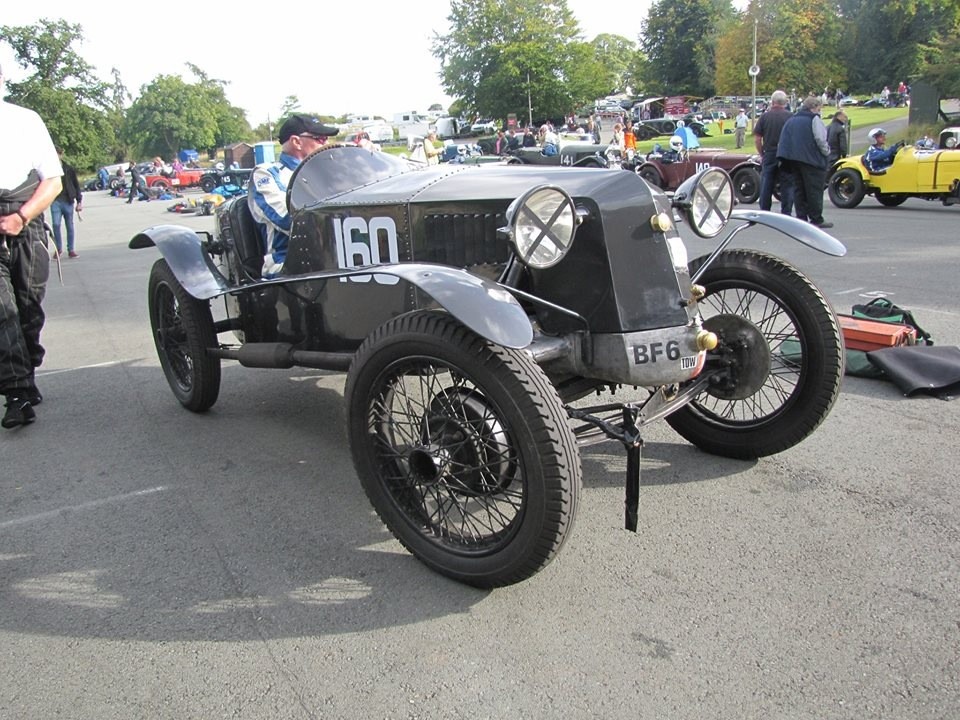 It is amazing how little things tend to grab your attention. I doubt that any/many of the people looking at this photograph of the Tartra realised the significance of this little strip of metal hanging off the front of the car. Having visited the UK and more specifically a number of VSCC events I know exactly the purpose of it. How many other would care to express an opinion.
Bj.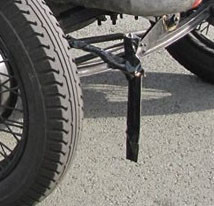 Keiser 31.
The metal "strap" on the front of the Tatra is a "timing strut" all cars competing in English VSCC (one at a time) Speed events, Hill-climbs and Sprints with electronic timing have these protruding silghtly in front of the cars most forward section. This then breaks the "beam" set across the track to record the time (accurate to 100th of a second).
John
I am still working at the same pace, almost every day. so if some one finally decides to take over the project they will get an even better bargain.
Bj
10-18-2015
Hi Keiser 31
No problem there is no charge for the lesson.
We have just spent a restful weekend visiting my sister who lives on the coast at Point Lonsdale, returning home to share our oldest son, Paul's 49th birthday this evening with he and his partner Nicole. Very pleasant evening with a "Butterflied" leg of lamb cooked on the BBQ, a bottle of "Fizz" and a very good bottle of 2006 Red and one of Helen's home baked Cheesecakes for desert. Excellent dinner for four. Now there is a lesson in relaxed fine dining Down Under style.
Bj
10-19-2015
Suddenly having taken a few days off I am finding it extremely difficult to whip up very much enthusiasm for the Renault. Yesterday I spent some time cleaning up some of the dashboard instruments.
Note the speedo shows a total distance covered as 3,909 Kilometres. It does not appear to have ever been opened up or otherwise fiddled with, so how can a car that has so little work be have been in such a poor state.
The "Renault Freres" is all my own work, originally this was a "Blind" to fill the hole where the optional clock could be fitted. It is a little like a "secret draw", that you can find hidden away in an antique bureau, with a small compartment behind the face. I think that I should leave a message in there for the next person to find. Originally there was a decal of the Renault "lozange" (Diamond shaped logo) but it had long gone. The Renault Freres is the badge of the UK based (Prewar) Renault Club. 35 Litres of petrol = 7 Imp Gallons = 9 US Gallons.
Bj.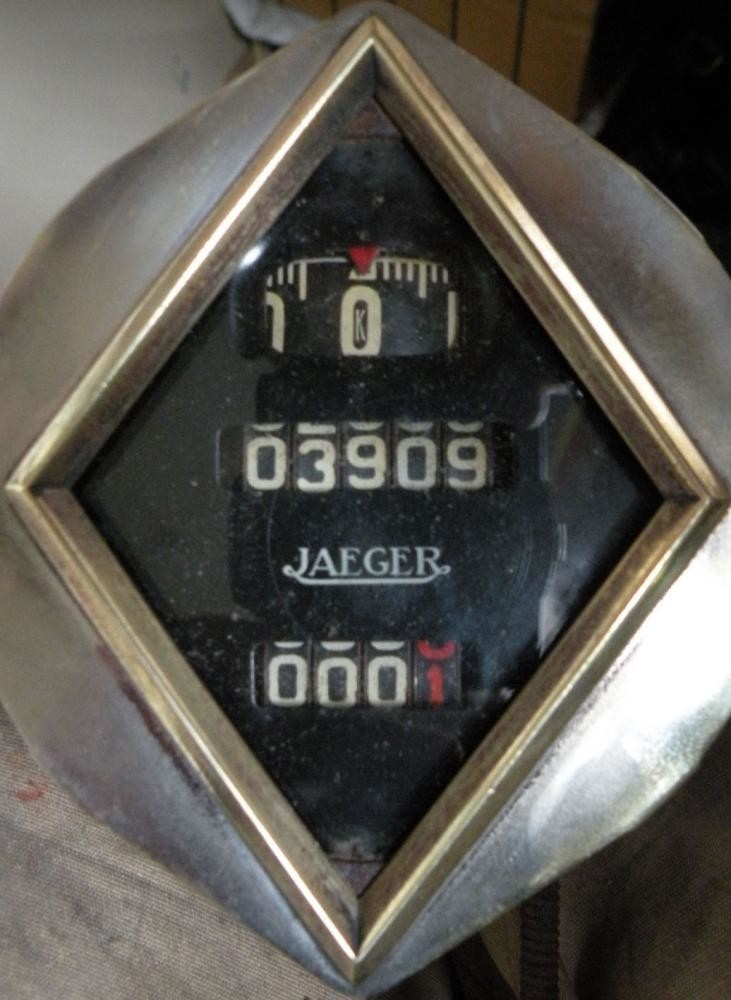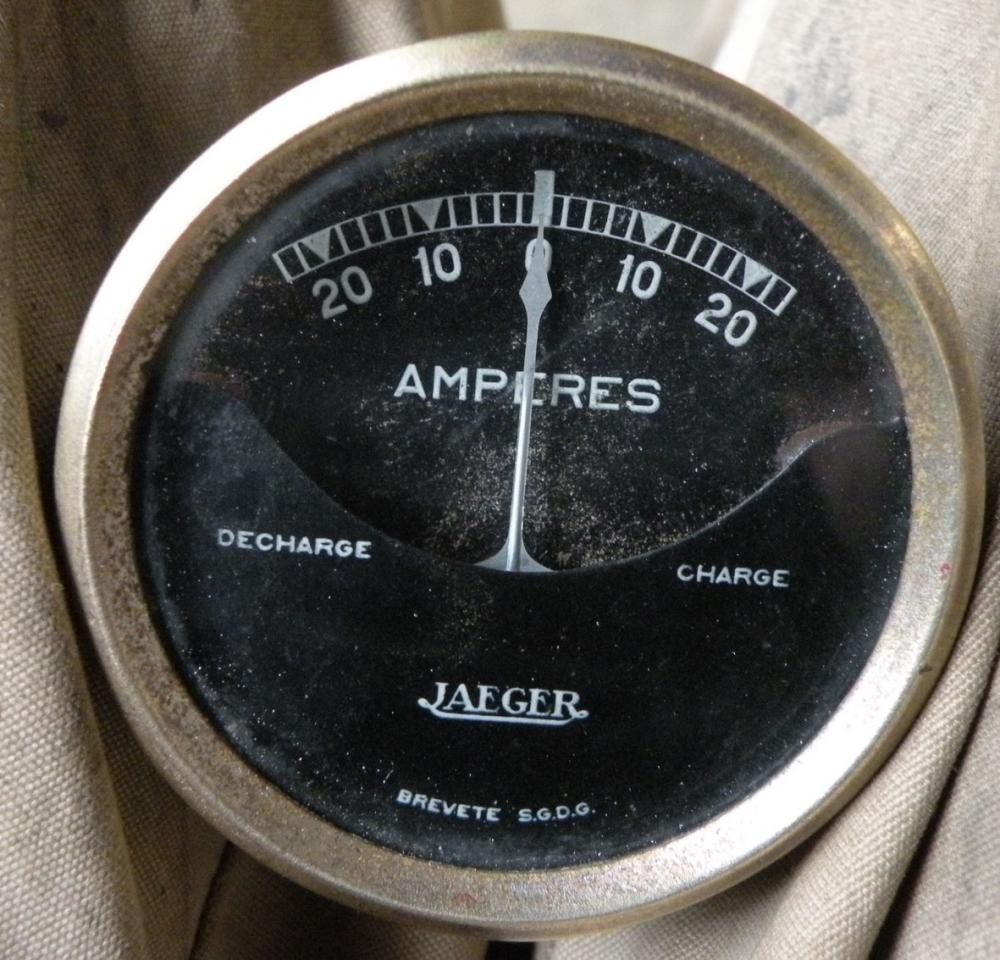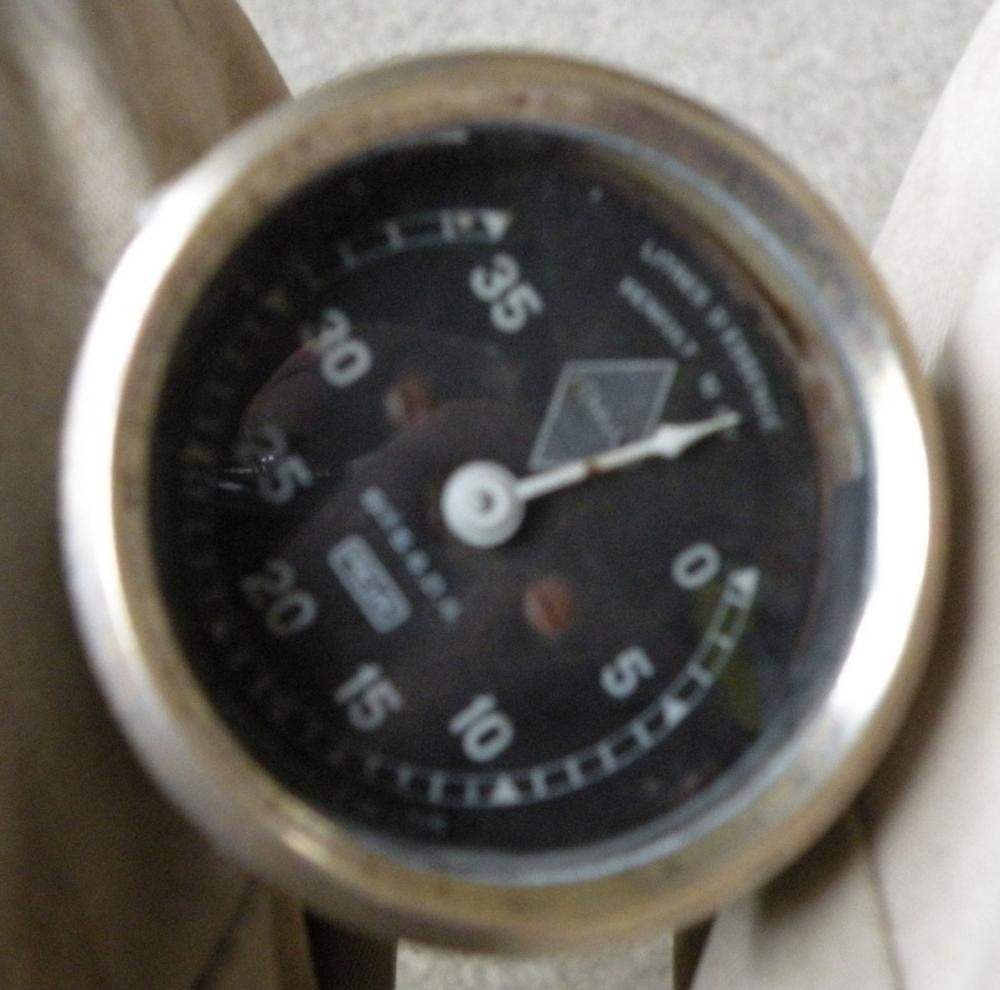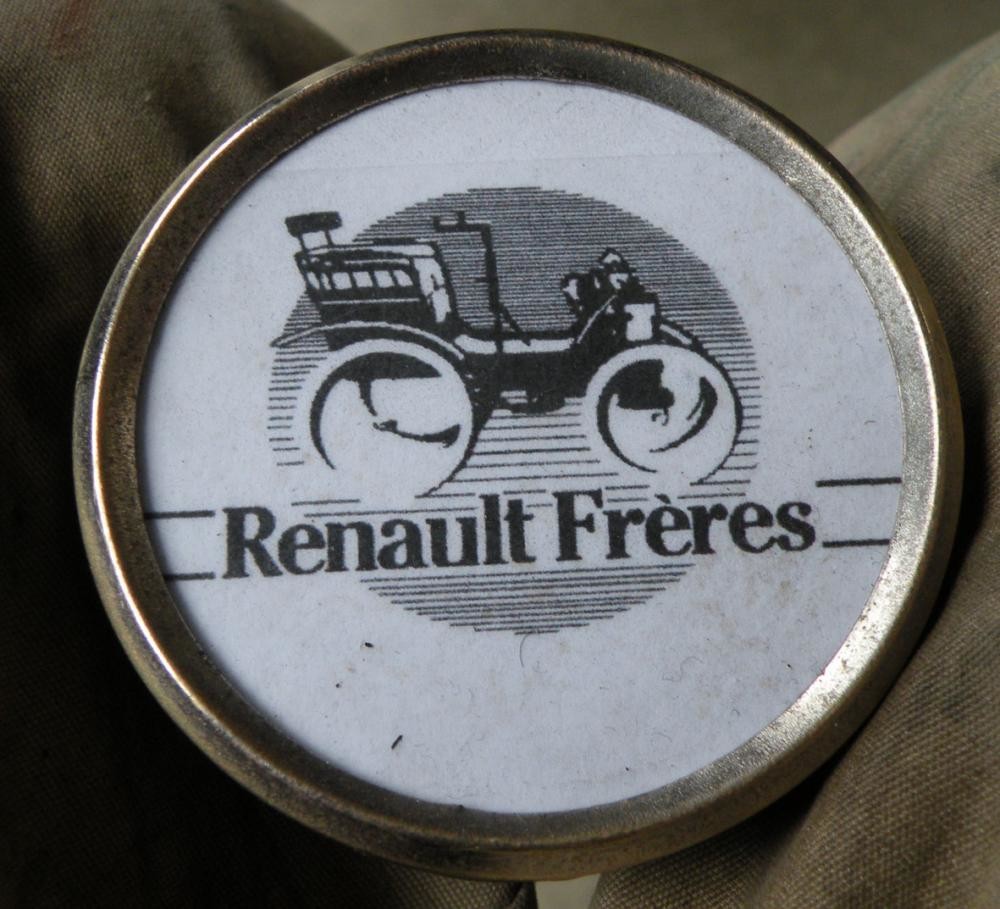 10-26-2015
Back at #199 I had a photograph od the recently completed seat frames, these have been "on the back burner" for a few weeks but now they are almost ready to go to be upholstered. All that still needs to be done is to cut out the ply-wood bases for the cushions. You will have noted the strange markings on the outer back, the answer is simply that I have reused some sheet steel that had previously been attached to an out-door sign rather than see it go to the garbage dump. The aluminium around the bases comes from off-cuts from the body panels.
As you can see they are designed for the backs to fold and the entire seat to pivot forward to give access to the rear of the car. Both the base and the outter back will be covered with matching colour carpet. I prefer th use carpet for covering the outer backs as it withstands normal usage better than either leather of vinyl fabric.
Bj
Back at #199 I had a photograph of the recently completed seat frames, these have been "on the back burner" for a few weeks but now they are almost ready to go to be upholstered. All that still needs to be done is to cut out the ply-wood bases for the cushions. You will have noted the strange markings on the outer back, the answer is simply that I have reused/recycled some sheet steel that had previously been attached to an out-door sign rather than see it go to the garbage dump. The aluminium around the bases comes from off-cuts from the body panels. I prefer to use carpet for the outer back and around the outside of the seat base. This wears and survives normal wear far better than either leather or vinyl fabric. Seat cushion and facing for the back-rest will be leather. It will probably be next year (2016) before they can go to be trimmed.
Bj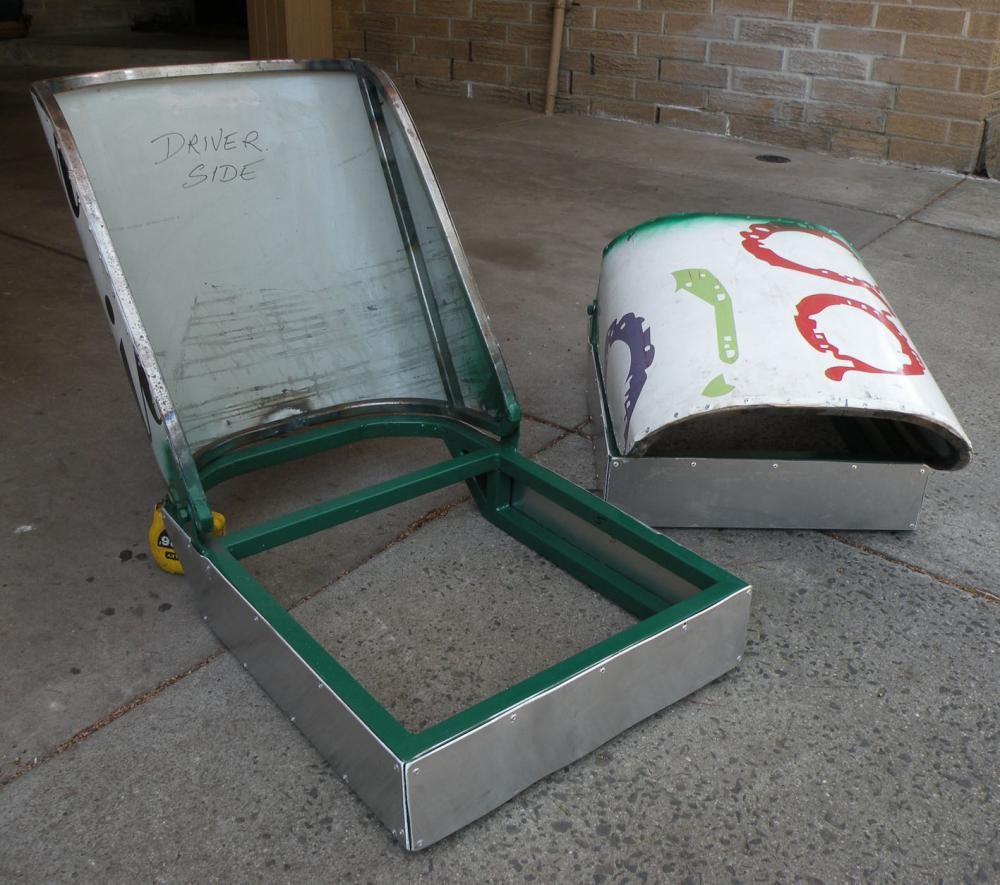 10-31-2015
Completely against my better judgement I am continuing to work on the Renault but as far as possible I am trying to avoid spending any more than is absolutely necessary. Today I have been cutting out the trim backing boards using 3mm MDF. Having said that, one of my helpful friends, while on holiday in Europe, has bought on my behalf a reconditioned Dynastart without asking me first. I now have to pay almost $2,000 for something that I did not need added to that I will not even know if it is the correct one for the Renault until it arrives here in Australia. I have not seen a photograph of it, nor has he even told me the model number,,,, Once again as the French would say MERDE!
Bj.
11-2-2015
Having completed the interior trim backing boards I have now moved onto the windscreen frame. Scratching around in my collection of bits and pieces brass windscreen channel section, left over from earlier projects, I have found sufficient pieces of suitable length to make a "Vee" windscreen frame. I have also found a little plastic bottle with "silver solder flux" hand written on the lid. Looking further I discovered the plastic tube containing two sticks of silver solder carefully put away along with a selection of "usefull things" resting on the floor at the end of my bench.
Work commenced late yesterday afternoon and with most of today available I should just about have the job finished by this evening. As with just about everything that I construct this is being done without reference to books, drawings, plans or photographs but directly out of my head. Measurements are calculated directly from the job. If it looks right it probably is right.
Today being the first Tuesday in November it is a public holiday the famous "Melbourne Cup Day" this to celebrate the horse race that "stops the Nation" and attracts entries from all around the world. This years race has 11 out of the total of 24 starters horses brought from Japan, HongKong, France, England and Singapore &etc.. It is a handicap race over two miles run on the Flemington race course which has a grass track. Again this race attracts people from all around the world and is televised and viewed internationally. Multi-millions of dollars are gambled on the outcome.
While I have little or no interest in horse racing or gambling I, along with the majority of the population of Australia, will probably stop work for half an hour to watch the race on TV. The Melbourne Cup has been run every year on the same "First Tuesday in November" for over 100 years.
Bj.
11-3-2015
Well for all you Horse racing fans history has been made with the first ever Lady Jockey winning the Melbourne Cup but not only the first lady jockey but she was riding a 100 to one winner for the first time in living memory.
No wonder with so much excitement my hands must have been shaking. As a result progress on the windscreen frame has been slow and extremely frustrating. What I would give to have been born the human equivilent to an octopus. even a second pair of hands would certainly make things easier. I have a fair collection of fifty year old clamps and vice grip pliers but still not the right ones. of course working with brass my magnetic "welders friends" are of no use. Like me you will just have to learn to be patient.
Bj.
Hello John
Thank you for your interest, as you said it was quite an exciting race to watch. Australians have a reputation as great sports enthusiasts and Horse Racing along with the various forms of Football, Tennis, Swimming, Cricket etc has historically captured our imagination, I did make one mistake I said the race had been run every year for over 100 years in fact it was first run in 1861 154 years ago. For as long as I can remember it has been celebrated with a Public Holiday and has captured the imagination of certainly the vast majority of the population of Victoria if not Australia. These days remarkable as it may seem it has become an international event.
Now that it has been run and won, I can go back to work on the windscreen frame.
Just so you can see I am actually making some progress I am including a couple of photographs.
Just one join still to be silver soldered but unfortunately the last is also the most difficult. Because of the Vee shape I cannot lay it flat on the bench and because of the total width I cannot hold it in the vice. It seems as though once again an old saying holds true.
These things are sent to try us!
Bj.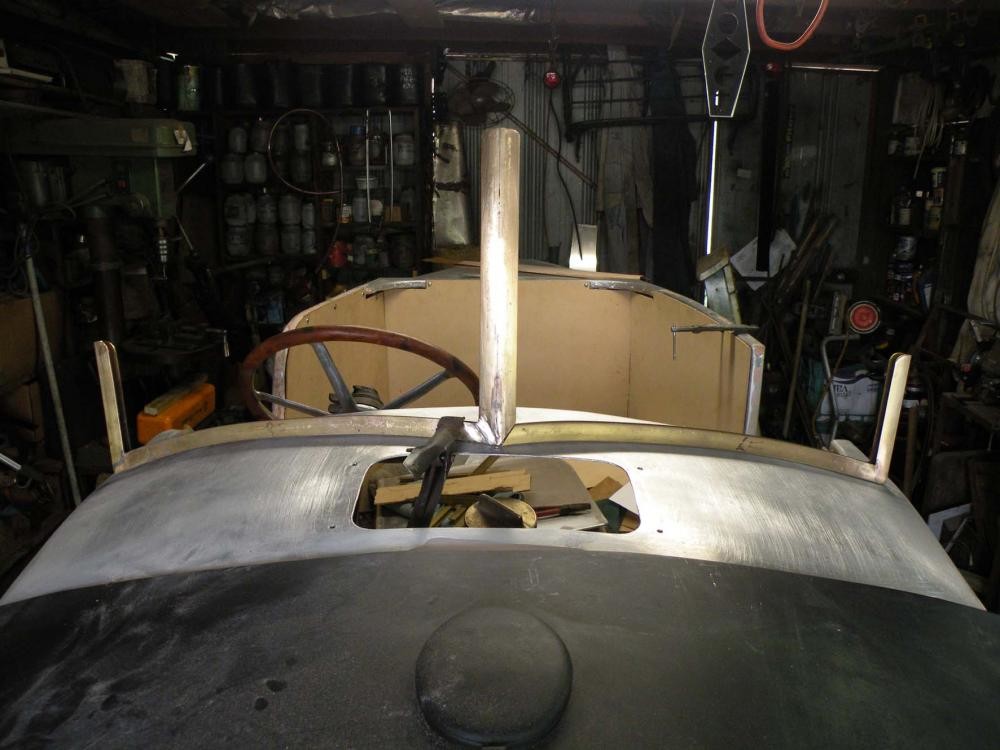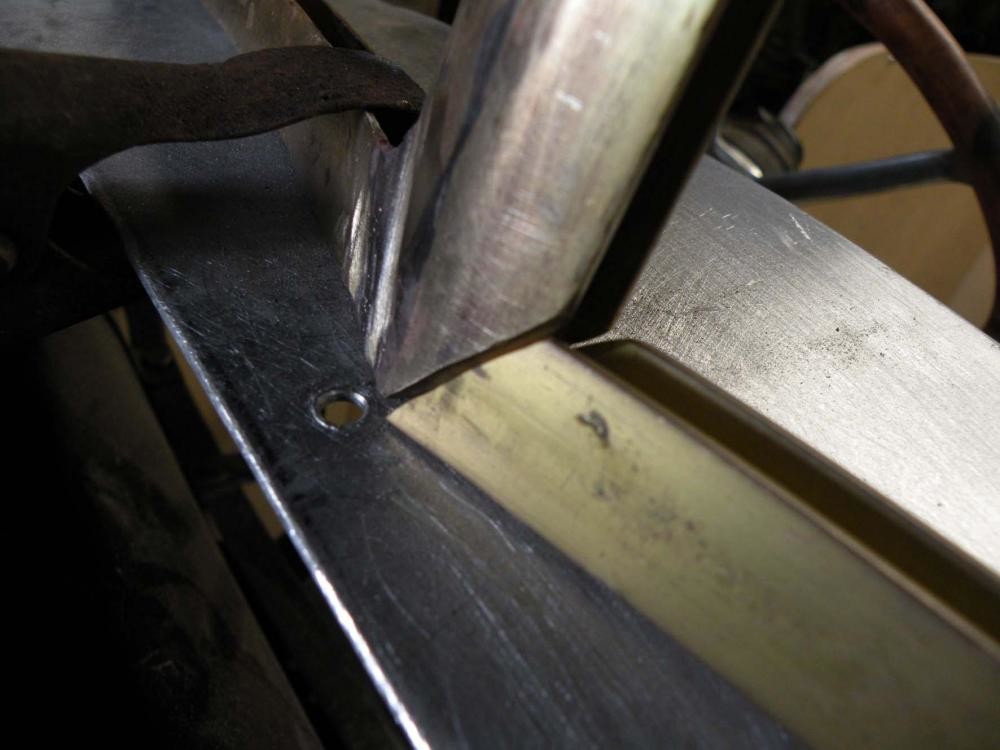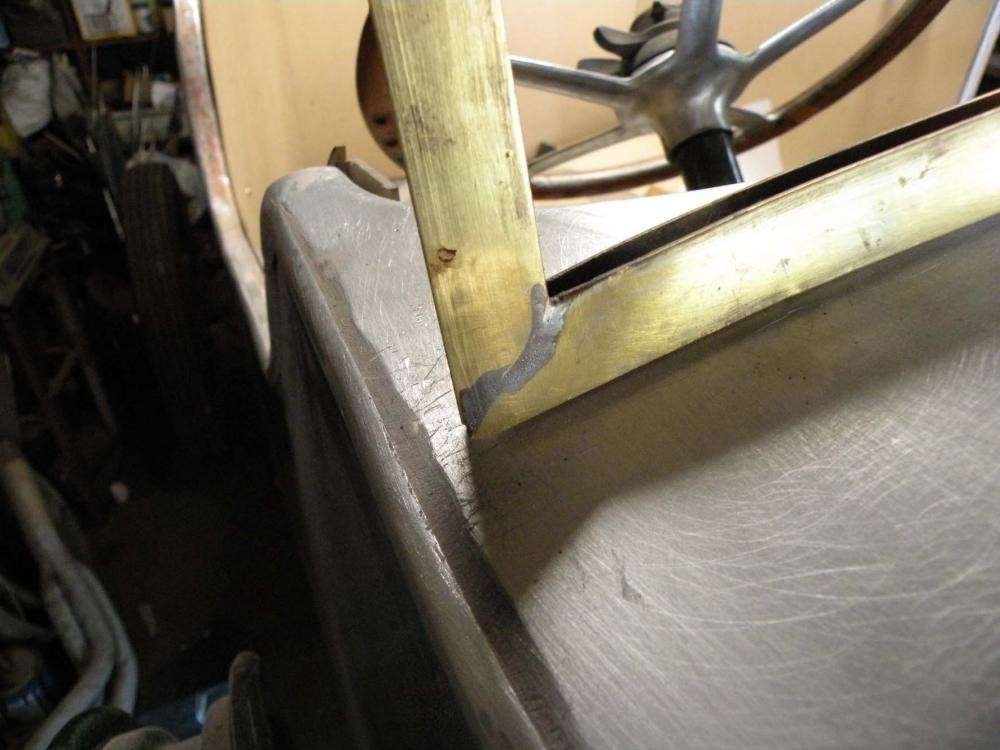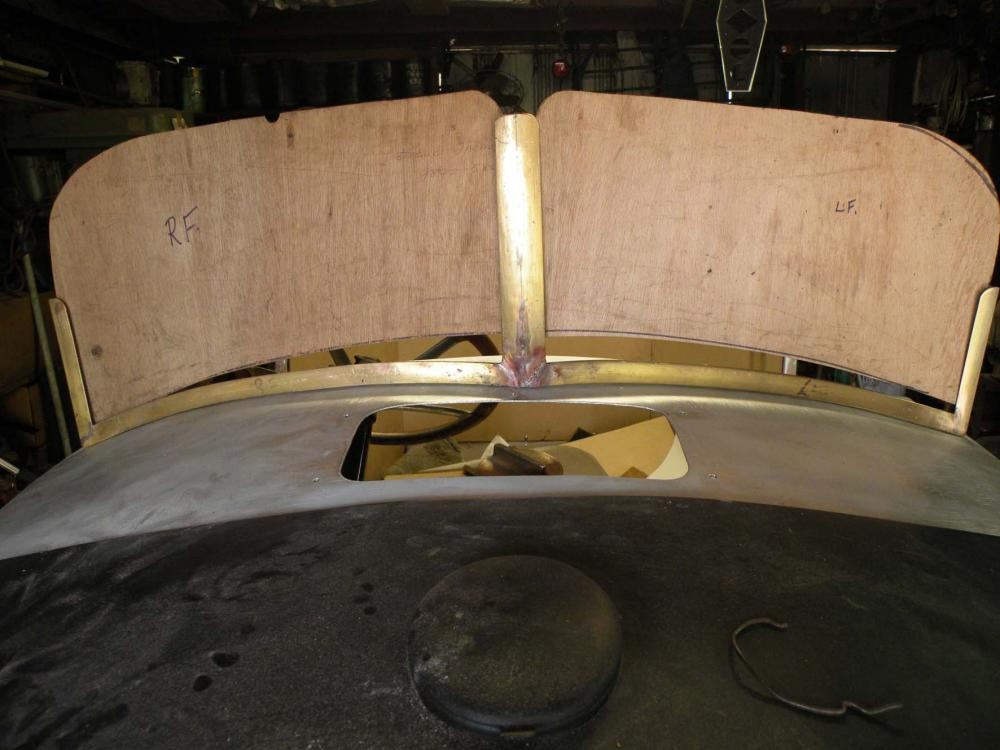 11-5-2015
With the windscreen frame more or less completed I will have to find somewhere safe to store it until I am ready (can afford) to take a batch of stuff to the platers. Now I have to decide what is the next item on the agenda.
Bj
11-6-2015
As a little light relief I have started to weld up a trolley for Helen's Webber BBQ. I have cut up one length (6.1Metres) of 19mm square tube but will have to cut into a second length. I have just bought out the local hardware shops entire stock (12) of ultra thin 1mmX100mm (4 inch) cuting discs. These are briliant to work with but do seem to disappear quite rapidly. I would be happy to have 10cents for every one I have used in the past 5 years.
Bj.
11-8-2015
Well the back of the BBQ Trolley has been broken after a day and a half of concentrated work. With some carefull planing and cutting I have less than 25mm (one inch) of waste but I am now waiting for the second 6.1 Metre length of square tube to be delivered. I will be pressing into service a pair of motor mower wheels salvaged from an old lawn mower that went to scrap two or three years ago. I have also taken from stock 1.2 metres of 3mm X 30mm steel strip. I have now welded up the frame for the top and the base. The top is the larger of the two frames as it has a handle at each end. Hopefully the extra length of tube will be delivered on Monday. Then I can cut the four vertical corner posts and a couple of diagonal braces and the job will be ready to be cleaned up and painted prior to fixing the top and the shelf at the base which will support the gas cylinder. All the welds are gas (oxy-acetylene) because that is what I do best, my antique electric (arc) welder is only used for heavy gauge steel and it now must be several years since I used it last. I enjoy gas welding and believe that I am reasonably compentent. I did go to a "Hobby Welding" class about 40 years ago.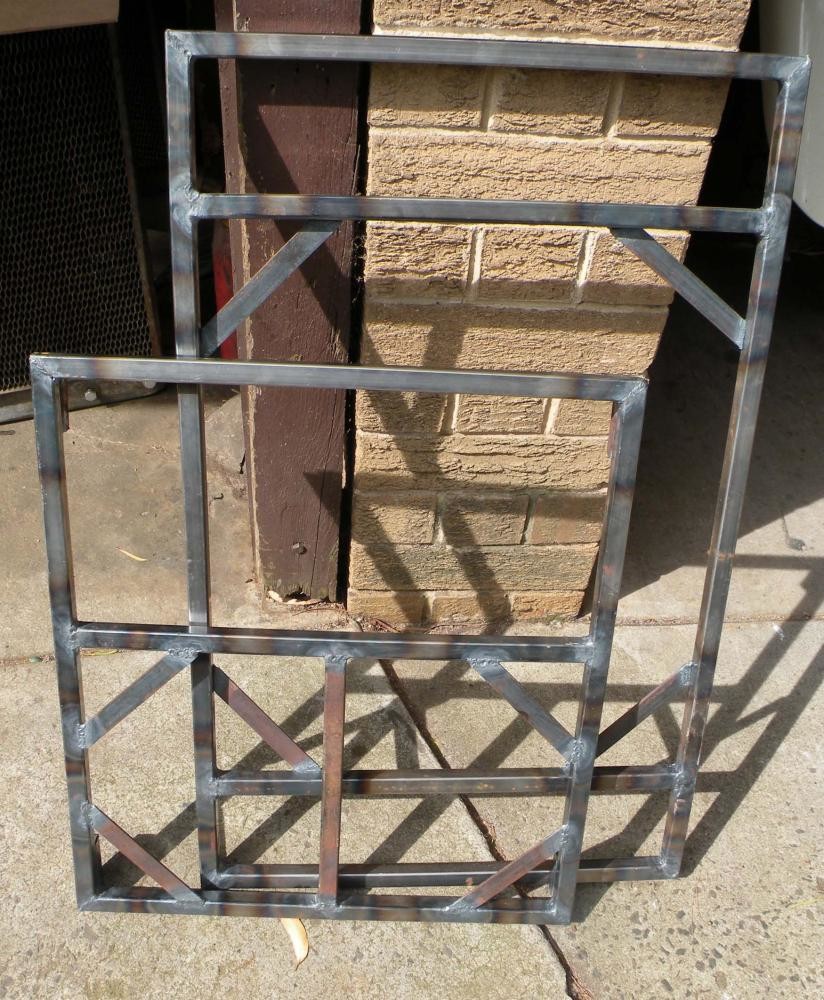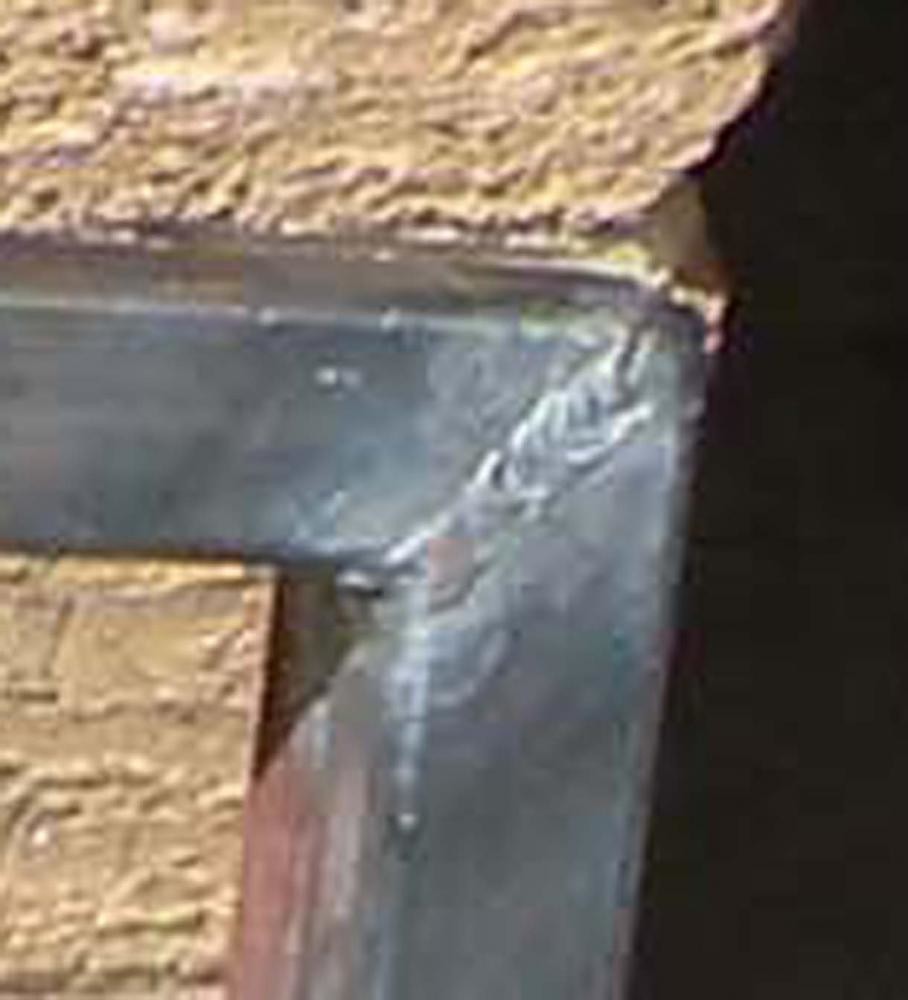 11-9-2015
With Petanque taking up all this morning I only had two or three hours to devote to the BBQ trolley, Unfortunately my Possum friend has found a new way into the garage so some time was spent closing up his latest point of access. What his fascination with my garage is I do not know or understand. Finally I could put some time into more welding square tube. This has seen it advance to the stage where it actually looks like something. Sorry no photos today.
Bj
I now have completed stage one of the BBQ Trolley. The next step will be to degrease the tube and start applying some exterior grade paint. As you tend to waste a great deal of paint spraying an open frame such as this one I have shall paint it the old fashioned way with a brush. It is quite amazing how such a simple thing can very quickly use up 12 metres of 19mm square tube. Those with plenty of time to spare can try counting the number of welds. Each joint is welded on all four sides. I used bronze to attach the two stub axles. It has taken two days (1 + 2 x 1/2 days + 2 Days) After painting I still will have to attach the timber top and lower shelf. All in all a good way to celebrate my 79th Birthday.
Bj.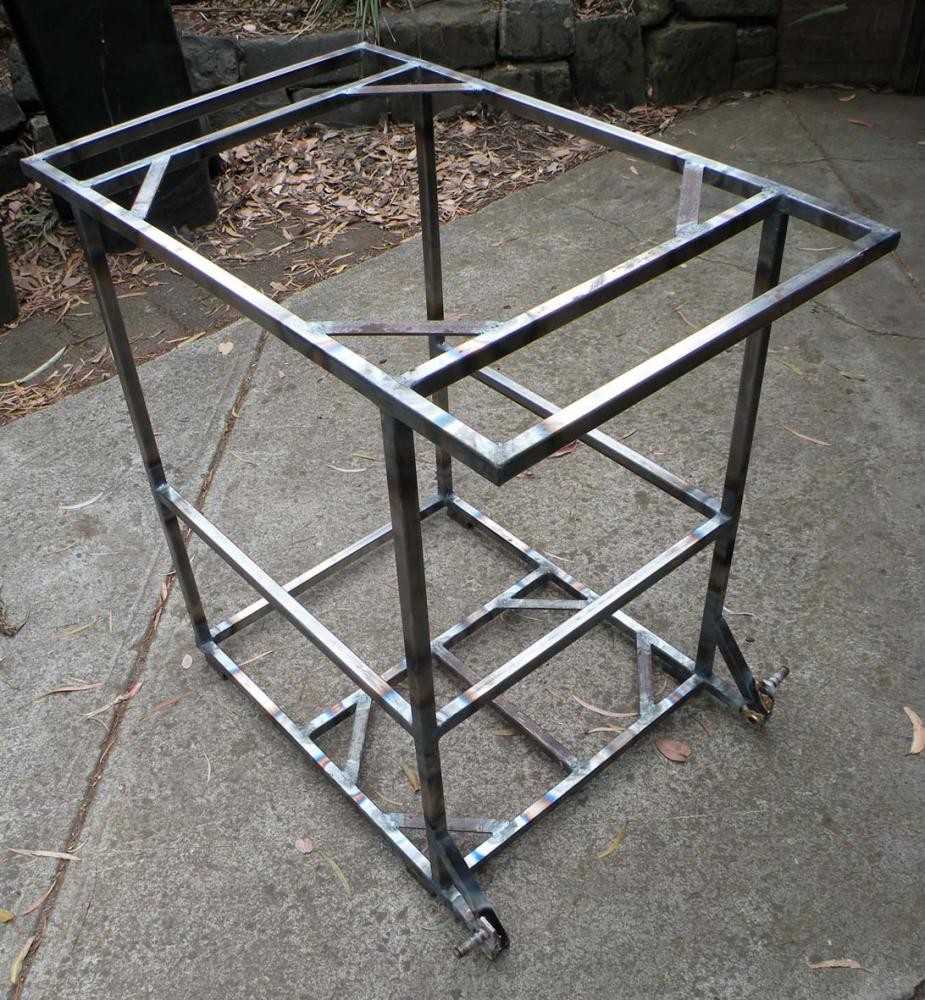 11-10-2015
Hello Ben
Perhaps you should wait until you see the finished product. You have to look at these things in perspective. 19mm is nominally 3/4 inch. 12,2 Metres is just about 40ft so it is not all that big. All it is intended to hold is a small (2 person) gas fired BBQ and its associated gas bottle. Our existing stand for the BBQ was constructed from a mix of Pine and particle (chip) board. As it had lived outside for something approaching 40 years the particle board has finally started to disintergrate. I am probably making this new trolley too late in my career. Having just celebrated my 79th Birthday I doubt that I will live long enough to get full value out of it. About the only things we cook on the BBQ are two small fillet steaks, this about once or perhaps twice per month. It has however provided a useful distraction from the Renault before it sent me totally mad..
Bj
11-12-2015
While I continue working on the Renault I have decided that it "has to go". I collected the second cylinder block and a load of bits from Crankshaft Rebuilders yesterday.
http://www.prewarcar.com/classifieds/ad187380.html
The photograph you have been waiting for.
Bj.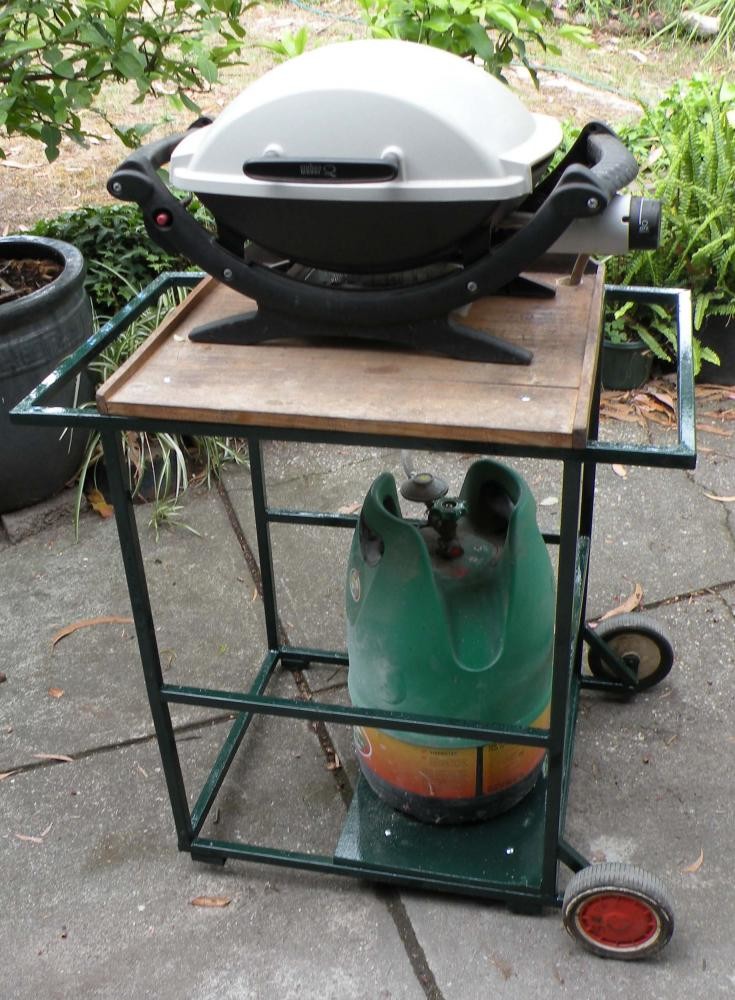 11-13-2015
Trolleys tend to run in our family. Below is one that our son Steve built for himself a couple of years ago. It carries not only the Pizza Oven but it's own water supply both boiling hot and cold for the double bowl stainless steel sink and wash basin with a gas fired water heater, To meet Australian health regulations it also carries the "grey water", behind the various doors in the trailer there is storage for fire wood and a load of other useful stuff. The VW van has its own cool room and transports a crew of five. Sides on the tralier swing up and are supported by gas struts. Somewhere there is still room for dough making & rolling equipment. They called in this morning on their way to cook for a private party of between 400 and 500 guests. They also cater at Music Festivals and Agriculture Shows etc etc. He has just bought an Espresso Coffee Machine to install in another smaller 4WD VW Van.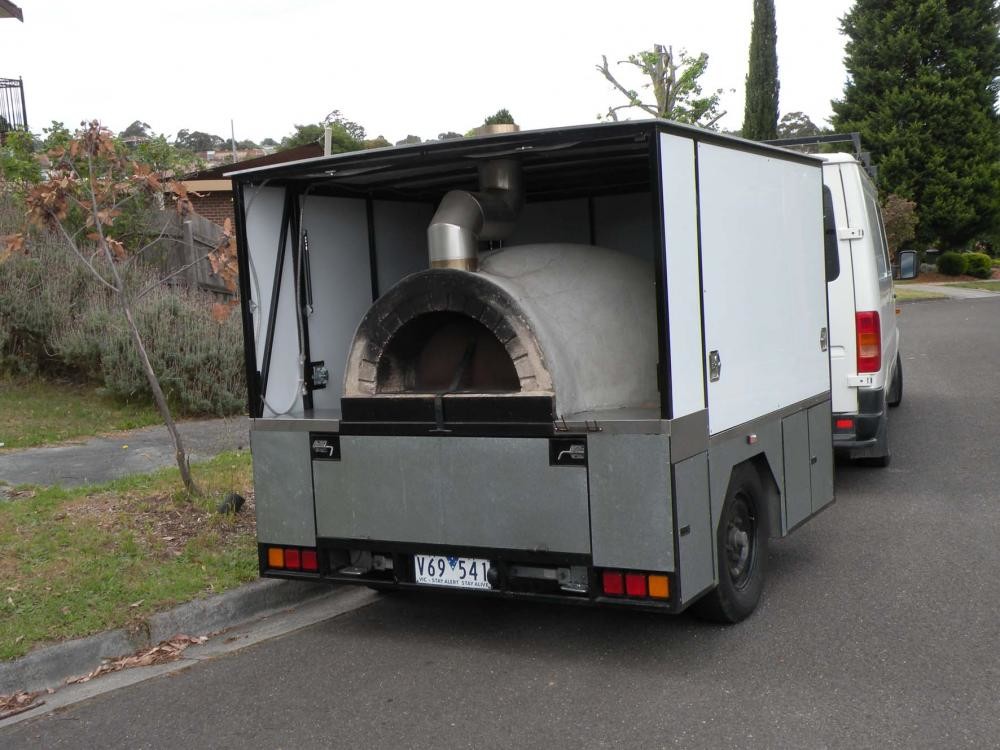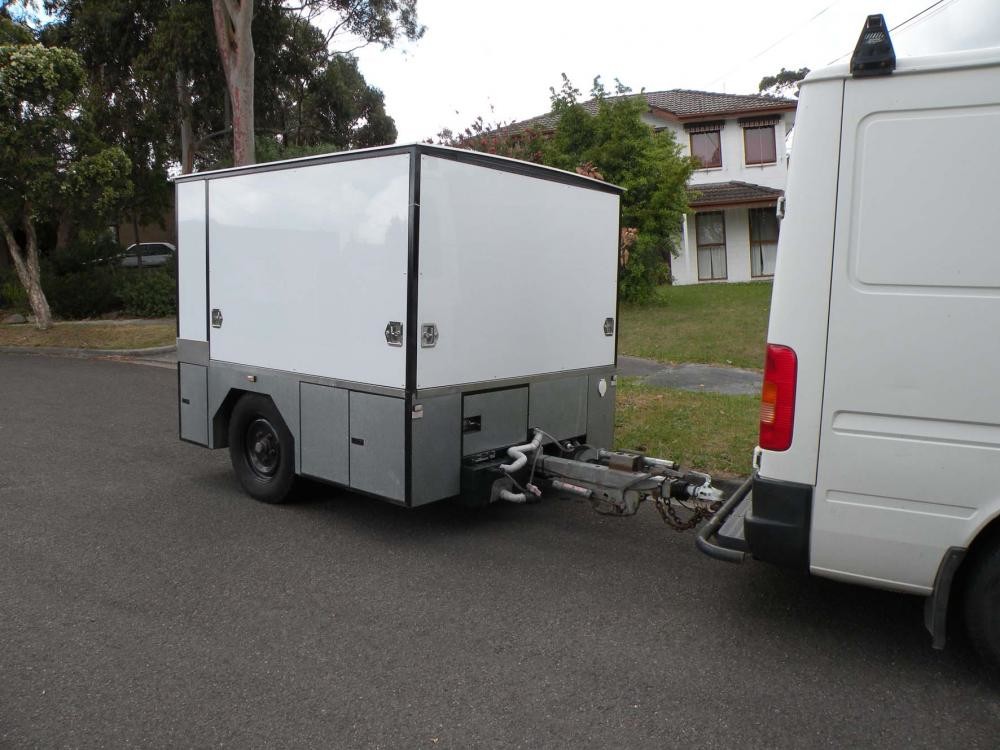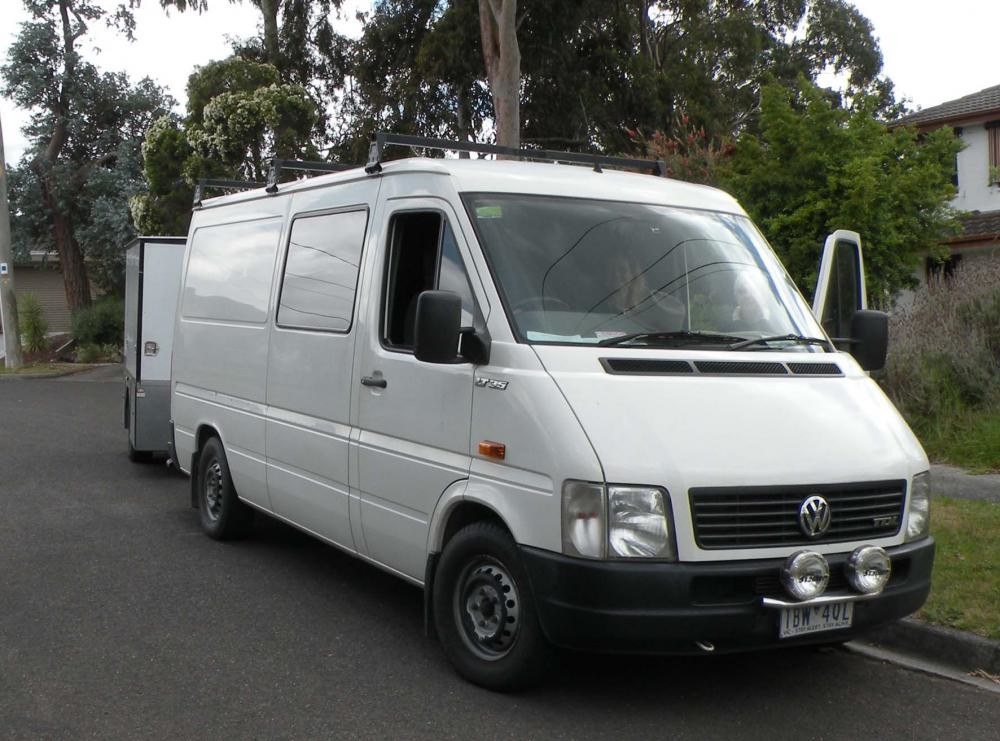 11-18-2015
The answer to that is that I am not progressing very well at all and the Renault is starting to have a bad effect on my nerves.
As some of you will be aware I have advertised the car for sale as an unfinished project. Just a day or two ago I changed the advert on the Prewar Car website to read. "Must be sold" "Best offer over UK£1." Apparently all the likely punters consider that my price is still too high! Should I offer to pay the shipping costs as part of the deal?
One very good friend suggested that I simply push it out into the garden, cover it up with a tarpaulin and forget about it.
Bj.
11-19-2015
None of the above is likely to happen. It does however go some way to prove a point. If I was completely honest with myself that slowly but surely I am learning that there are very few people outside France that consider any pre-ww2 Renault is worth saving.
It seems as though I am doomed to have this car for the rest of my life. Whether this will allow me sufficient time to finish it is entirely another question? Another 20 years will take me to ninety nine and I certainly doubt that I would be too interested in working on it then.
Bj.
11-22-2015
It is amazing what you find when you stop looking. While I was having a mini-tidy-up I have discovered the six gudgeon (wrist) pins that go with the six useable pistons along with a small container holding the correct style of circlips, so now these are all ready to go into the cylinder block but first I have to have the 12 new valve guides machined and fitted along with the 12 new valves. In another container I have found enough new piston rings to allow me to think about assembling a motor. With this in mind I have cleaned up the cylinder block and given it a coat of my favourite dark green engine paint. The good thing about all this is, with all the bits assembled into a motor there will be just one large thing to move around instead of a shelf full of little containers. Perhaps there is a Santa Claus after all.
People who look closely will have noticed some slight rusting at the top of the cylinder bores.
It is my belief that this is simply surface rust and will polish out after a gentle hone.
Prior experience tells me that once sold the amount of running the completely restored car is likely to do is almost negligible. Even so, IF defying all the odds it is actually driven it should be capable of anything a new owner is likely to ask.
Bj.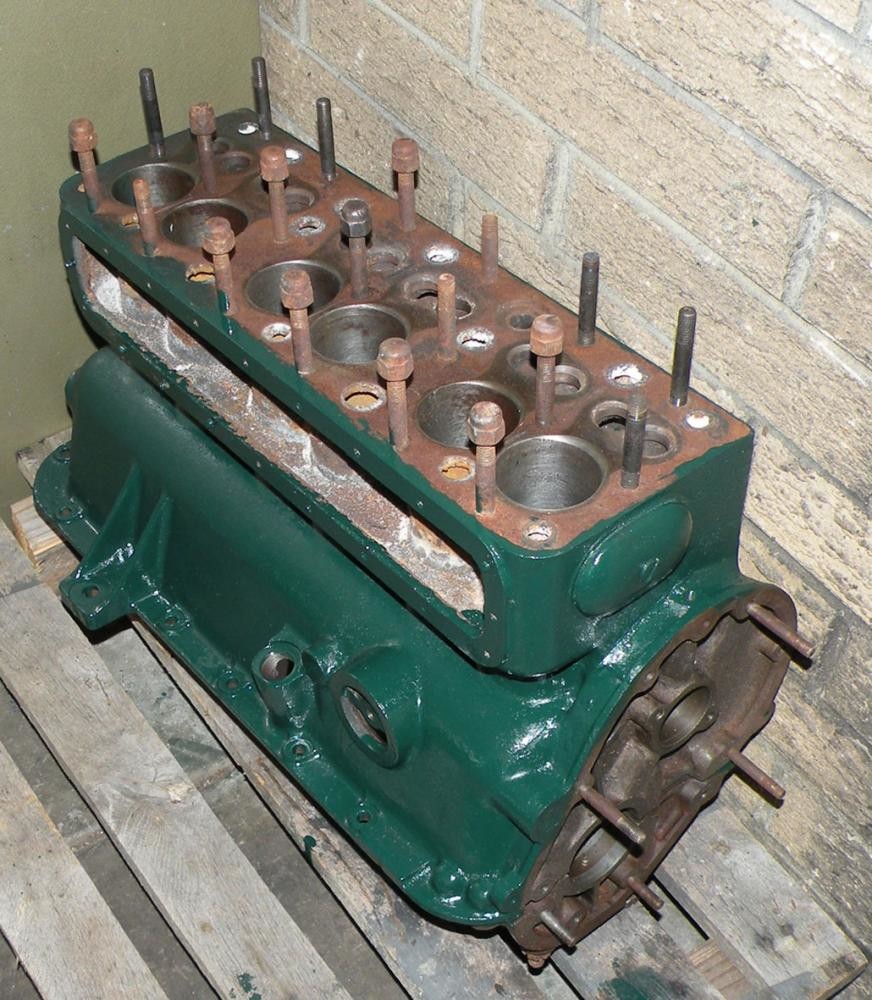 11-23-2015
I have just asked Tony the Trimmer who has done a lot of work for me in the past how much he would charge to upholster the two seats. I have enough leather left over from the Packard, provided the seat facings are left without any pleats. I think that I will be buying some Leather needles for Helen's sewing machine and doing them myself. From his quotation I get the impression that Tony no longer wants to do work for me. Watch this space.
Bj.
11-24-2015
Further to yesterdays photo of the cylinder block, this is NOT the one I am going to rebuild. This is the engine that I paid for and shipped out from France having been told that "it had been turned over". This is NOT just surface rust as the result of standing for a few weeks.
What I WILL be using is the cylinder block and pistons from New Zealand and the crankshaft and conecting rods from the French engine, the camshaft from the New Zealand engine along with 12 new valves and valve guides and new piston rings. I still have to decide if it is really worth the expense of having the camshaft reground to a somewhat more "sporting" profile. I have now had the cylinder head ground and re-surfaced to increase the compression ratio slightly.
Bj.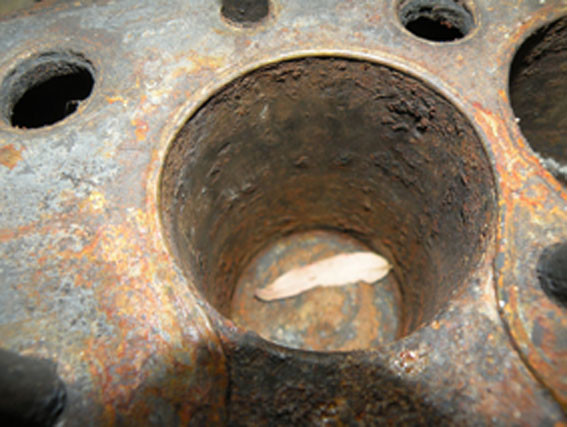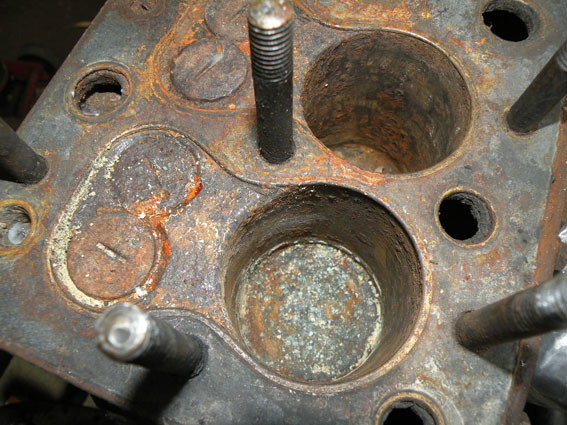 Hello Ian
Good to hear from you, I suspect that I caught Tony on a bad day; both for him and for me. I just felt that $1500 for two little bucket seats, with no pleats, when I am supplying the leather seemed rather a lot. perhaps I am living in the past. Some of my VSCC friends swear by Grant White and I know he does a lot of work on VDC members cars. I have never met him. I plan to take the seats etc over to Tony and have a talk with him about price. I will not need them for some time. If I damage Helen's sewing machine stitching four thicknesses of leather it will cost me a lot more.
11-25-2015
Hello John
As my attempts to virtually give the car away, ie. Best offer over GB £1; as advertised on the Prewar Car website has attracted only two enquiries & both have now departed without making an offer, it seems as though I am stuck with it. As I cannot help punishing myself I am continuing to do and have done work on the car. Where or when it will all end is anyones guess. My love/hate relationship with it continues its roller-coaster ride. What drives me is that I can see that one day it will be something really special. It is just a pity that very few people share this view. My only dread is that I may not live long enough to finish it. The rareity of this model Renault almost puts it on a par with the Dixie Flyer. That it will almost certainly be the last in the long line of "Bernie Jacobson Restorations" will make it unique.
Bj.
Hello Bleach
You may be right, the only things of value in this motor were the crank and con-rods. Being a 1929 RY1 means that it has the "heavy crank" with 44 mm b/e journals against the 40mm of the earlier RY motor along with stronger con-rods. The main bearings are the same size in both types which means I can use these in either cylinder block. So all is not completely lost. I still have to compare the camshafts, hopefully the later engine had slightly better valve timing. Fortunately the rust had not penetrated below the bottom of the cylinder bores. Certainly if I was working regardless of cost this block could be re-bored to a suitable over size also the valve seats would all need to have inserts fitted.
Unfortunately in this rebuild the budget is anything but bottomless.
Bj.
11-27-2015
The "spare" Paris-Rhone dynastart arrived this morning packed with typical Teutonic throughness virtually welded into a heavy gauge steel "box". This one while I have not tested it has all the appearance of having been worked on recently and came with the correct Renault control box. It can go on the shelf with the collection of other Renault bits and pieces. The other photographs show one of the pistons with the typical Louis Renault "do as I do, not as others may do" thinking with regard to the gudeon pin and circlip arrangement. I have never come across anything similar in all the years I have spent rebuilding old engines. It certainly simplifies fitting & removing the circlips.
Bj.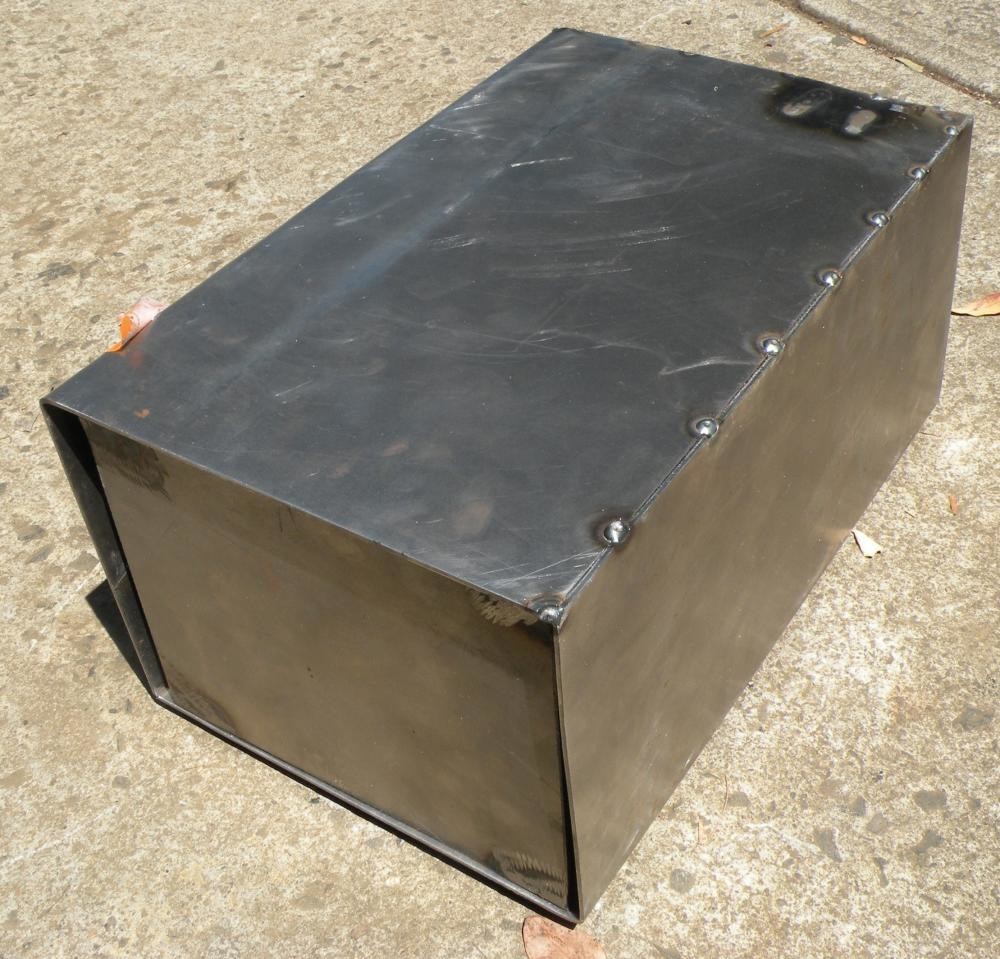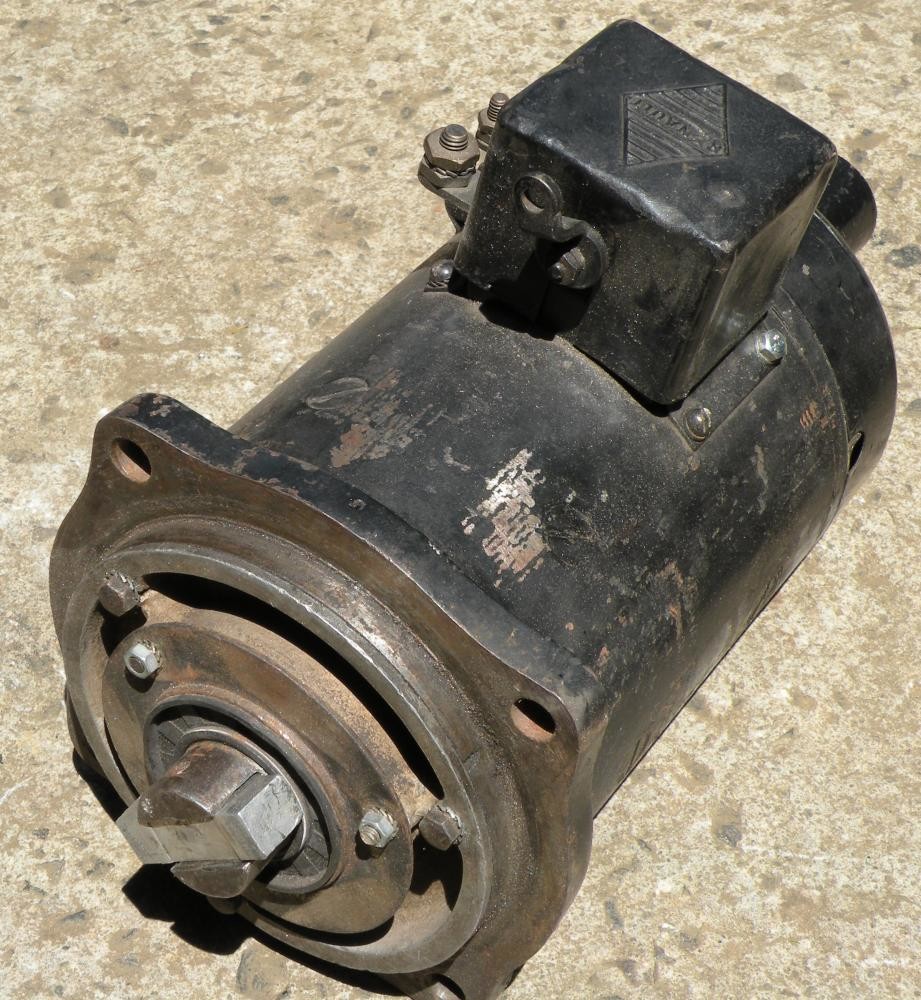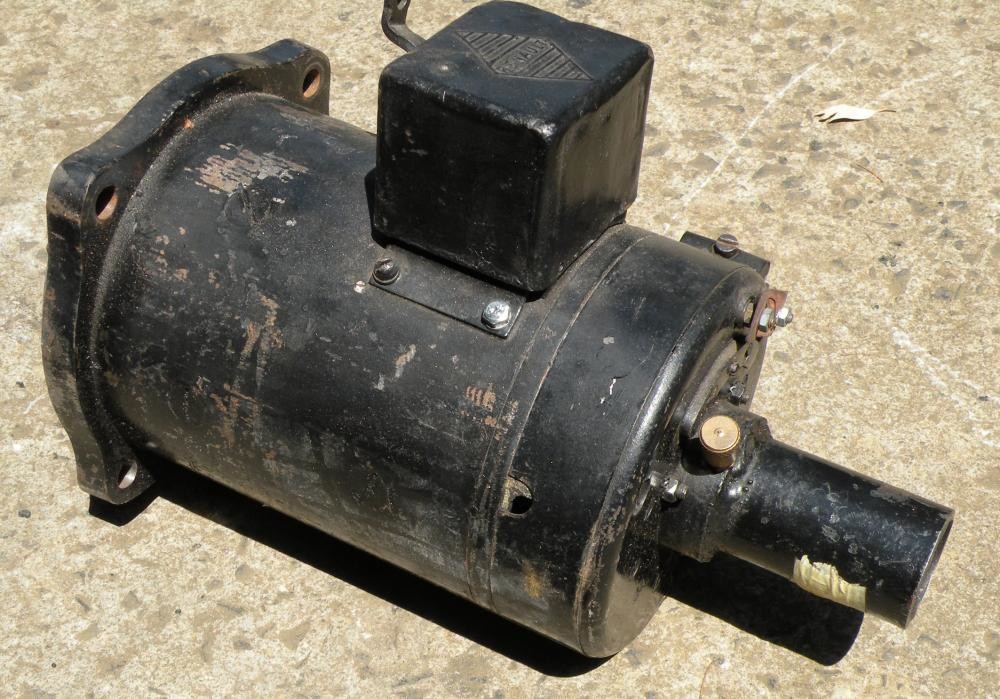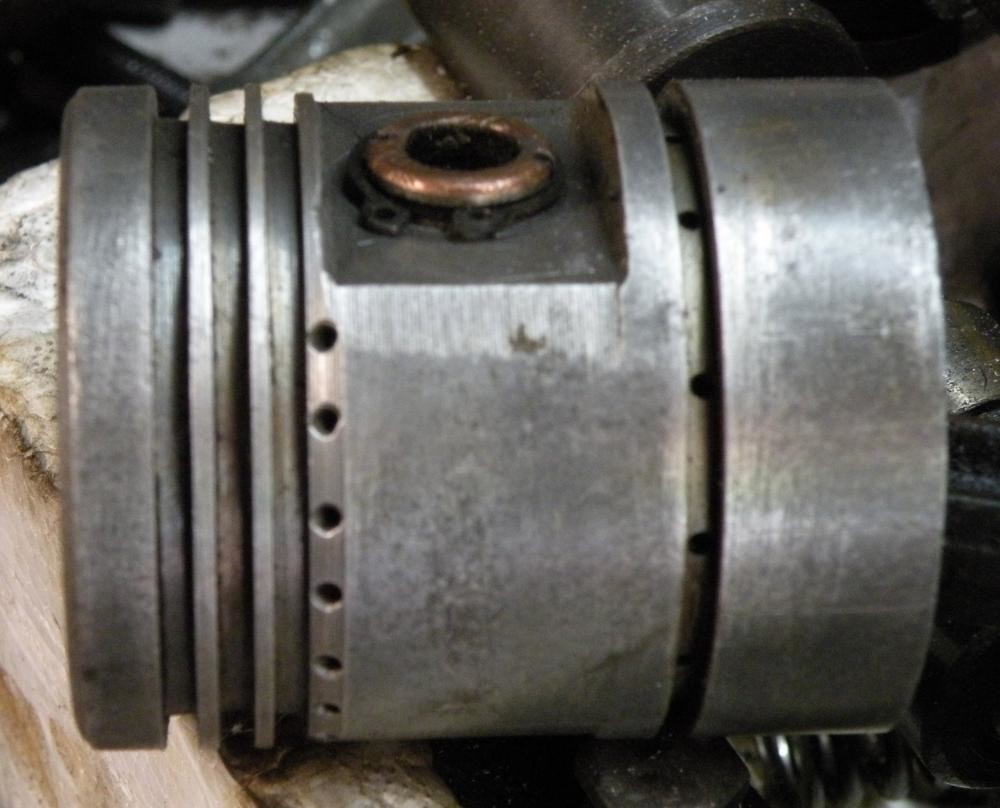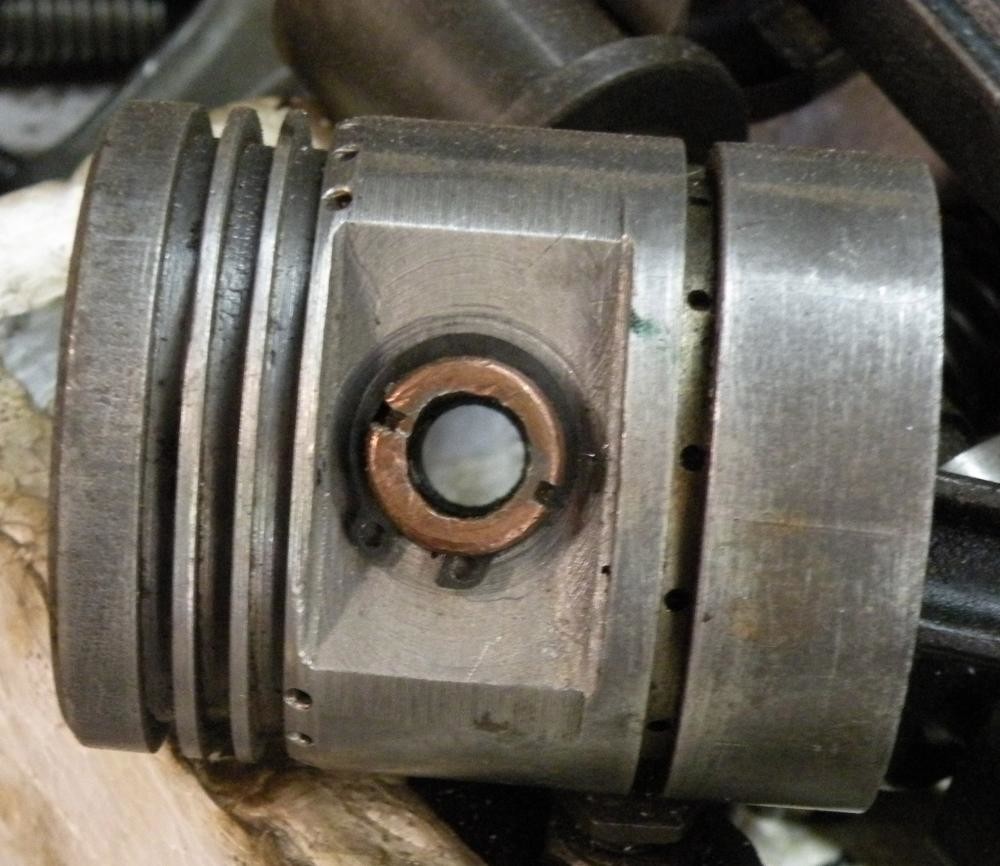 More Louis Renault independent thinking is shown in the valve timing diagram. In my humble opinion, the 25 degrees of valve overlap during the induction stroke is very forward thinking for the late 1920s & especially for a side valve motor. For example a side valve Dodge 6 cyl of the mid to late 1930s The inlet valve did not start to open until 6 degrees AFTER tdc. The nearest comparison is probably a 1930 Austin 12-Six being very much the same, 1500cc side valve six cylinder, the inlet valve is just starting to open at tdc.
Bj.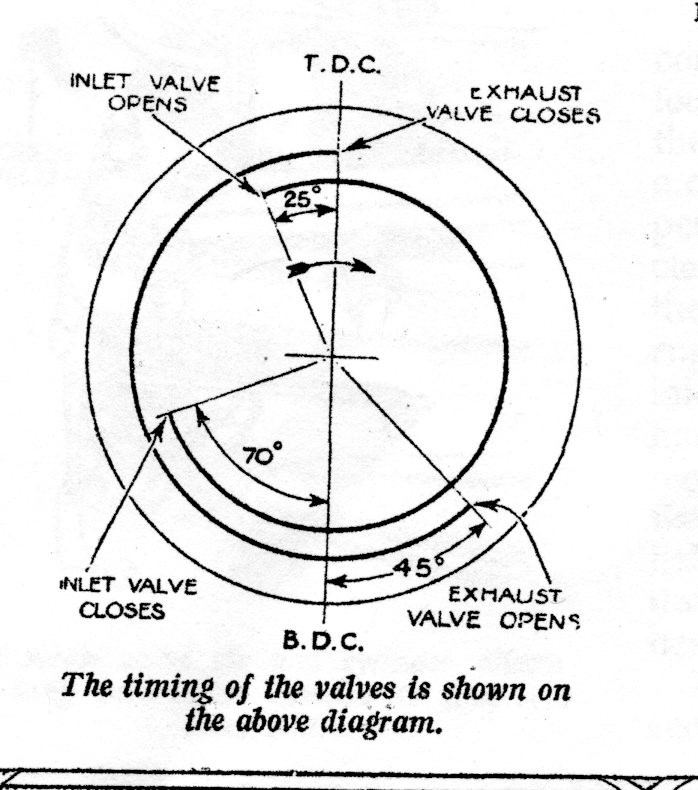 11-28-2015
I am sorry!
Perhaps all that was a bit too technical for all you "restorers" who's most difficult decision making is whether to sign the cheques with a ball point, or a felt tip pen?
Perhaps we could have a really meaningful discussion about the sociological implications surrounding the choice of either blue or black ink?
There again what is revealed about those complicated souls who choose to only use green ink?
Will your Bank accept cheques signed in RED ink?
Is it still possible to be "happy and gay" without being homosexual?
For the really deep thinkers, should we drink local "sparkling wine" or insist on only top shelf French Champagne?
I look forward to reading your answers to these most important questions......
Bj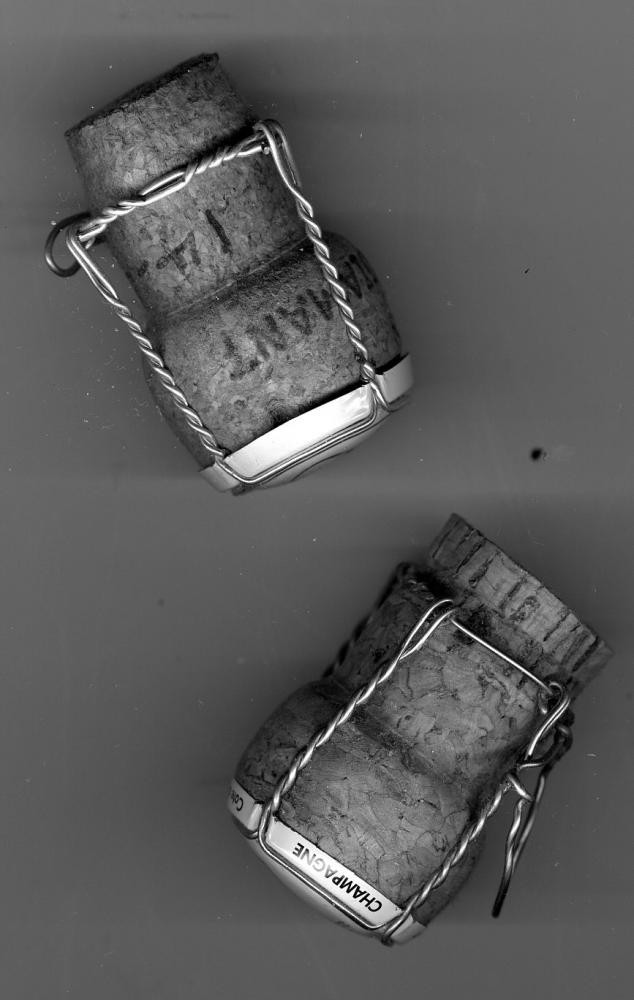 11-29-2015
Thank you all.
Perhaps Australian humour is a little too finely honed for most of you.
As Fossoyeur can tell you Mumm's is one of the top ten labels of French Champagne.
In English humour, to keep Mum, is to keep quiet or retain a secret.
Hello On Safari
I will run it past my Camshaft specialist and be guided by him.
To all the others, I do wish that you would "keep up". Australian Humour loses a lot in the "translation"- explanation!
ie. Australian humour is similar to the English but often more cutting and "closer to the bone". This is particularly true when associated with people of a "certain age" (Pre-ww 2.).
Again I am sorry, I would have thought that anyone with even the most basic mechanical knowledge would have understood a valve timing diagram. I must stop judging others by my own standards,
ie. "self-taught" at the School of Hard Knocks.
Bj.
To explain how a timing diagram works. imagine that you are looking at the camshaft from the front of the engine. The vertical line marked TDC and BDC relates to number one piston. tdc is 'top dead centre' meaning that No 1 piston is at the top of the cylinder, at the top end of its stroke. bdc is botton dead centre so the piston is at it's lowest point at the bottom of its stroke.
The two lines show the posion of the lobes of the camshaft for number one cylinder. The inner circle is marked Inlet Valve while the outer circle is marked Exhaust Valve. In this case it shows that the cam lobe for the inlet valve is just starting to lift the inlet valve at 25 degrees before TDC and at the other end of its travel is allowing the inlet valve to close at 70 degrees after BDC that is just as the piston is commencing its compression stroke. This indicates that the inlet valve is open for a total of 275 degrees. In a four stroke engine the spark plug fires every second rotation of the crankshaft. This may confuse some people, the term "four stroke" relates to the piston traveling the lenght of the cylinder bore four times (up-down-up-down) Because the cam shaft driving gears or chain wheels are "geared" 2:1, the camshaft rotates only once to two rotations of the crankshaft.
The exhaust lobe on the cam in this case opens 45 degrees before BDC and the valve closes at TDC. The exhause valve is open for 225 degrees.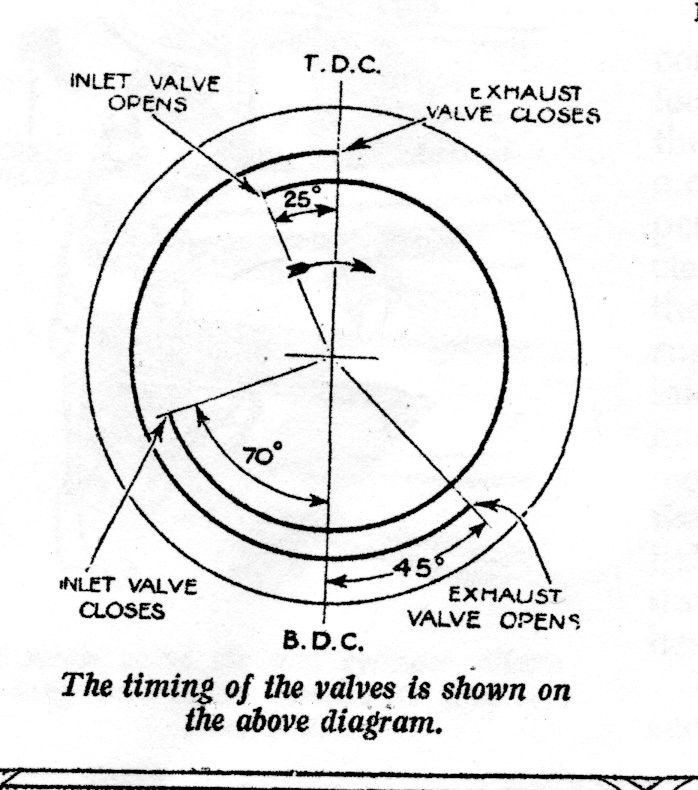 Hello Spinneyhill
Nice to have a friendly Kiwi. You actually jumped the gun a bit, I had to go and eat my lunch but I will add the other diagram here.
Louis Renault had been building cars from the "turn of the century" 1899-190 and was largely self taught. I am not sure if his valve timing was intentional or by accident. The pity is that he was still using very small valves and ports in 1929 (21mm=less than 1 inch) and there is no way that you can fit bigger valves. His (side valve) cylinder head design is obviously the result of much thought but not quite up to Riccardo. I suppose that he had reliability and economy in mind first and foremost. Anyone wanting a more detailed explanation of valve timing can send me a PM and I will scan some relevant material and send it to them,
In the meanwhile here is another diagram that may help.
Fossoyeur will no doubt agree the best place to drink French wine is in France although the (very) occasional bottle of Mumm on special occassions is most enjoyable anywhere.
This diagram is from my copy of Odham's Practical Automobile Engineering (revised edition) probably printed in the late 1940s or early 50s. It runs to 480 pages and covers most aspects of basic maintaince and repair. My copy was obtained second hand about 40 years ago and is still an informative reference for anyone working on cars of the period. 1920s to 1950s.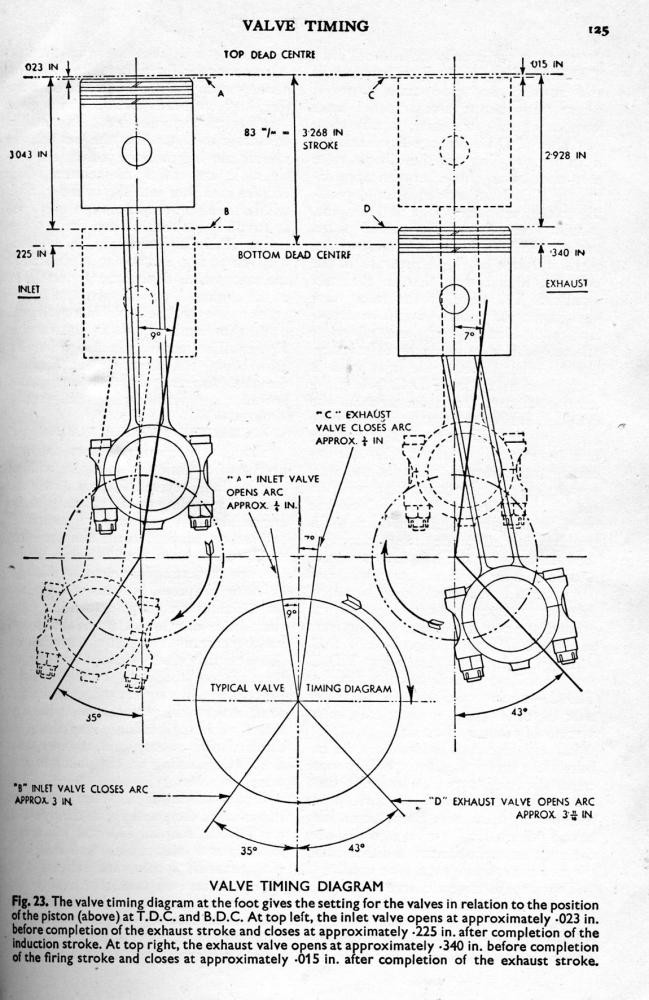 11-30-2015
The other theory is that by using "tuned length" individual exhaust pipes you gain an "extractor effect" where each pulse creates a partial vacuum behind it, sucking the inlet charge into the combustion chamber in the process giving a more effective filling. This is where the over lap ie; both valves open, is really benefitial. I guess it all depends what you are looking for in your car. Basically in order to gain the maximum power increase you need to have everything working together, within the most desireable rev range.
Prior to "de-tuning" our Lagonda Rapier the maximum power came in between 4,000 and 6,000 rpm which was fine for sprint races but did not make for pleasant long distance touring. It now has more than ample torque (pulling power) at low revs and will amble along at 2,000 rpm (30mph). Only thing is, it still complains on anything less than 98/100 octane fuel.
None of this matters, if all you do is push your car into a trailer, then park it all day on a Show-field.
I think that the Rapier would simply go berserk if I suggested that it travel in a trailer and then stand around all day. Mis-treated it can get really nasty and can give you a savage bite, especially in the hip-pocket. It needs regular exercise and prefers nice long runs over hilly terain. It alsolutely loves it when we take it to Europe and let it loose on some of the historic Alpine Passes. How do I know all this? It talks to me all the time when we are out driving. If your car does not talk to you, you are missing out on all the fun of driving an old car.
Bj.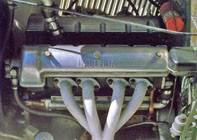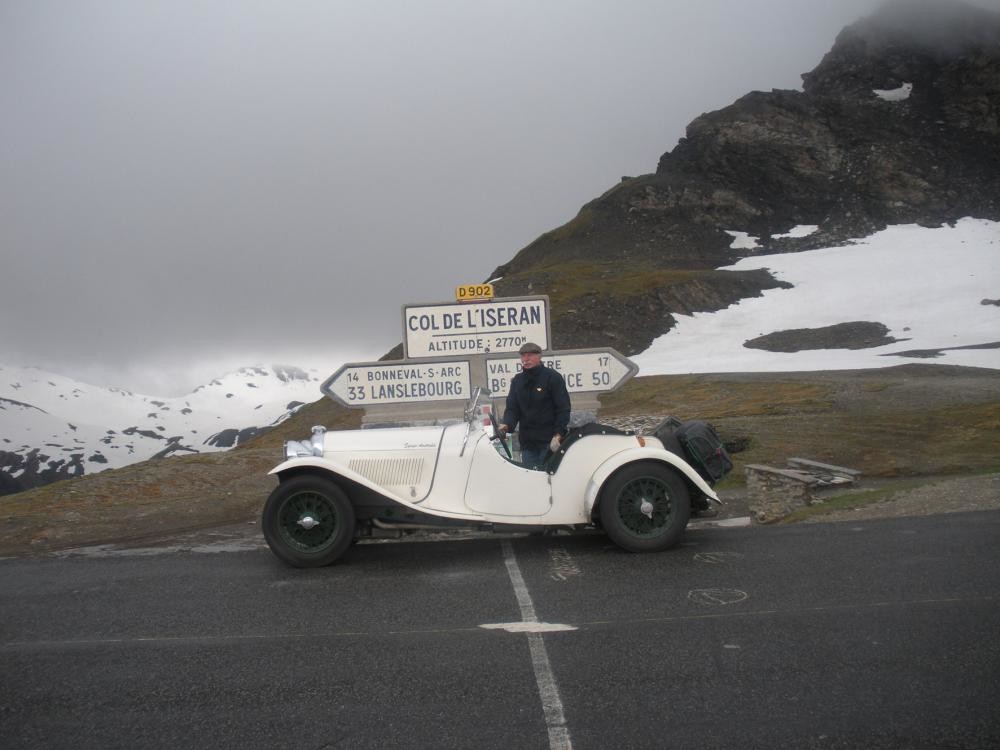 Thank you David
How nice to hear from you again. Re your question as to why were manufactures so conservative? There are a number of reasons.
The first being Engineers they would have been educated to always stay on the safe side. The fuel available was probably the most significant limiting factor.
The customer dictated that their vehicle was trouble free and long lived. Very often components were hand finished and possibly not to the fine tolerances we are familiar with today.
Mainly due to the type of road surfaces most frequently encountered speeds were extremely slow by todays standards.
The original owner of your Maxwell would not have dreamed of doing the distances or the speeds that you drive the Maxwell at or over today.
Cars were essentially utilitarian and not the playthings that they have becone.
Can you imagine using the Maxwell as a daily driver or how long it would last if you did. I am sure that you have read any number of accounts written by Early Motorists and their trials and tribulations.
Re: My aversion to Cheque Book Restorers. On my very first visit to the UK while at a VSCC event I was introduced to a well known"Titled" gentleman of "a certain age'. Before shaking my hand he grabbed my wrist and turned it over to inspect my fingers. On doing this he exclaimed "Ah! you have Nut undoing fingers, I will shake your hand and be happy to talk with you" This is something I still remember quite vividly almost 50 years later. How many people still have nut undoing fingers? I for one certainly still do! I have had them since Primary School age & hopefully will die with them.
Bj.
Now for something a little lighter..........
Bj.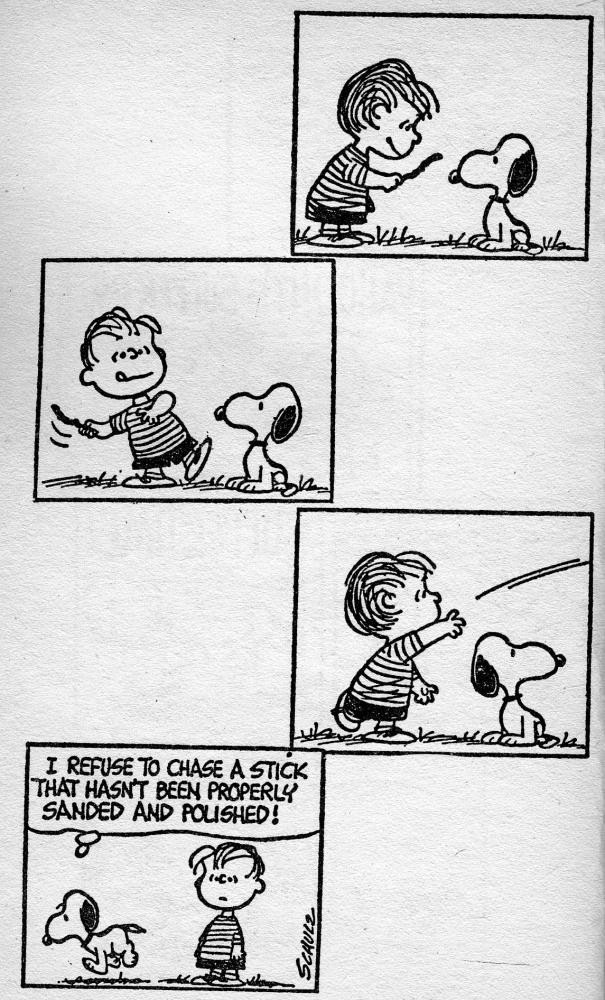 In case you missed this one as part of my earlier post #343 here it is again. Taken in the Alps during our 2009 visit. The Col de L/Iseran at 9,088 ft is the highest paved pass in France. Closed during the Winter this photo was taken during the Summer. Some fantastic motoring, although the altitude does do some funny things with SU carbs making the mixture somewhat richer. Fortunately Rapier engines seem to be happier on a rich mixture. The question is would the Renault with the same cubic capacity (1500cc) and two extra cylinders manage to climb it?
Bj.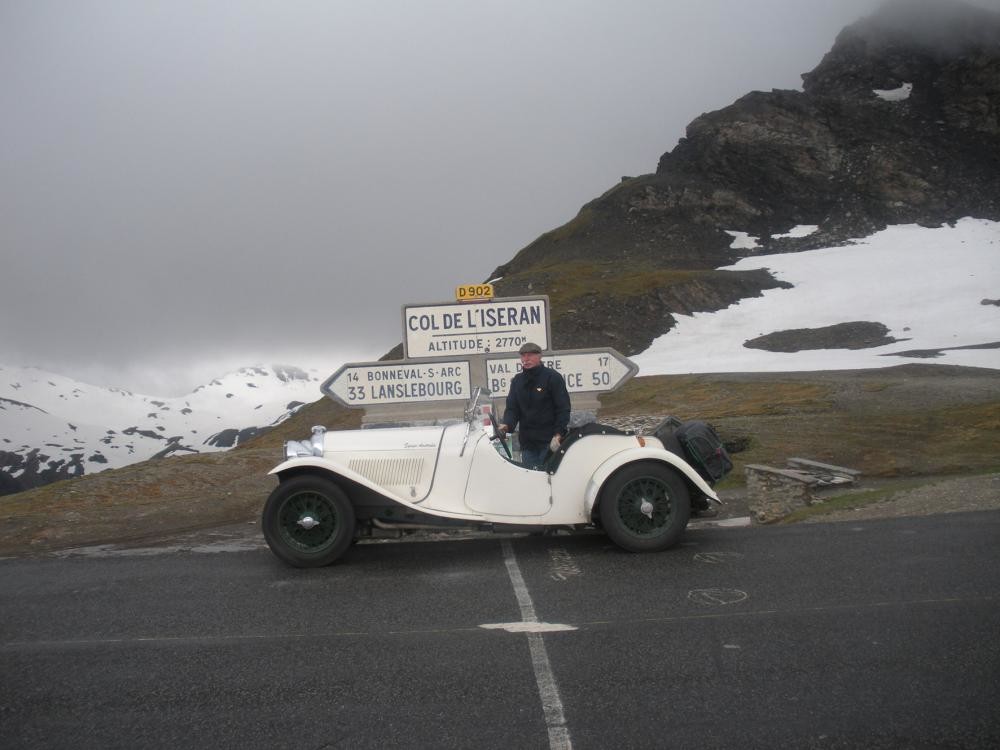 12-2-2015
Leaving the Renault for the moment I have started this morning on the job of replacing the Lagonda Rapier timing chains.
see:- http://forums.aaca.org/topic/183184-lagonda-rapiers/page-15?&p=1432162
12-7-2015
No car work today; more Grandfather duties.
Anyone interested there are lots of new photographs on my Lagonda Rapier thread.
This one from our 2009 visit to the French Alps
Bj.
12-12-2015
Unfortunately the Renault is still on the "wait list" as following some intensive pruning of a couple of trees in the garden, I am now rebuilding the garden shed. This has involved moving the shed about a metre away from one of the trees this has in turn required lifting the concret paving slab floor and re laying them and straightening out the roof and re-fixing it but before I can finish this I have to replenish my stock of "pop" rivets. It looks as if there will not be too much more work on the Renault until the New Year. I did manage to do some work on the running boards but this too has ground to a stop until I purchase some black ribbed rubber sheeting.
Bj
12-15-2015
Having an hour or so to spare yesterday I managed to buy the 1 metre length of ribbed rubber matting. It is already cut to size and glued to the top of the running boards. I have started cutting the aluminium edging, two or three weeks ago I purchased a box ot chrome plated-brass escutcheon pins so there should be no delay in completing the job.
Bj
12-16-2015
Whoa there! I can hear some of you saying, What the heck is an "escutcheon"? According to my biggest dictionary among other things it is the plate surrounding a key-hole or light switch. so an "escutcheon pin is a neat method of securing one of these. They also come in handy for securing the aluminium edging for the running boards. I the past I have used counter-sunk, raised head, sloted as opposed to Phillips head, screws but these are tiresome to fit, time consuming and never seem to look as good as they should. The one problem is that these days the local hardware store has gone up-market and only stock fast moving items. Having finally tracked down a supplier of Chrome plated, brass escutcheon pins I have found that they are strictly whole-sale only. This means buying a pack of 1,000. Oh well!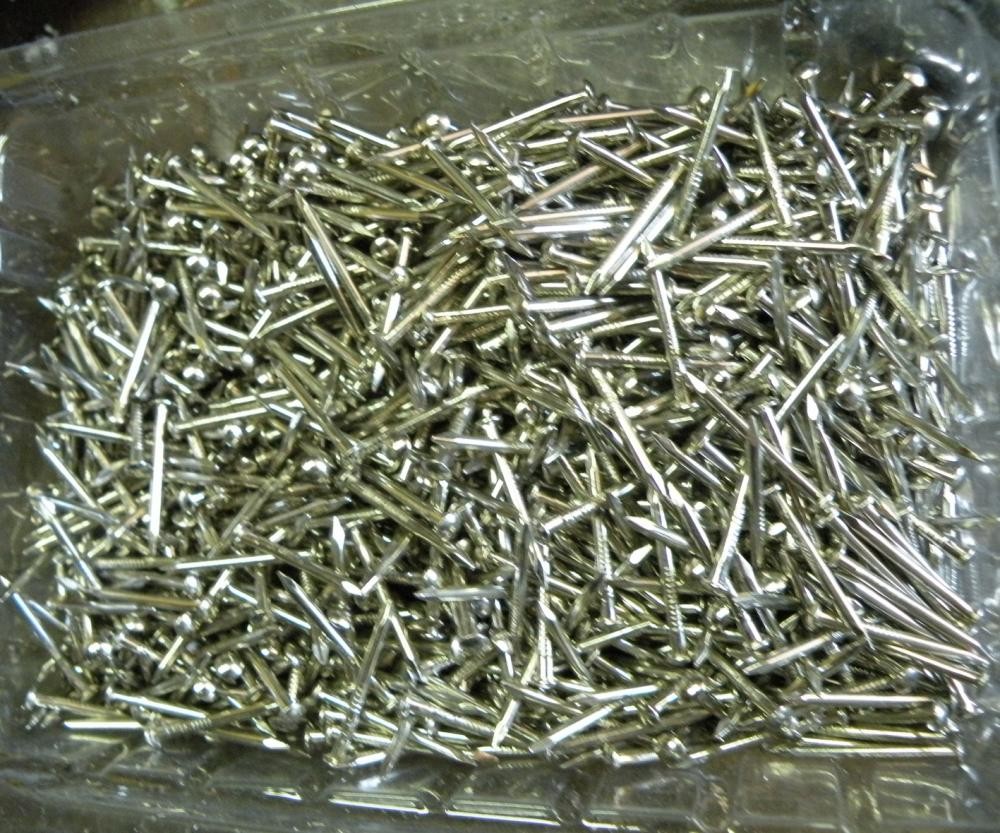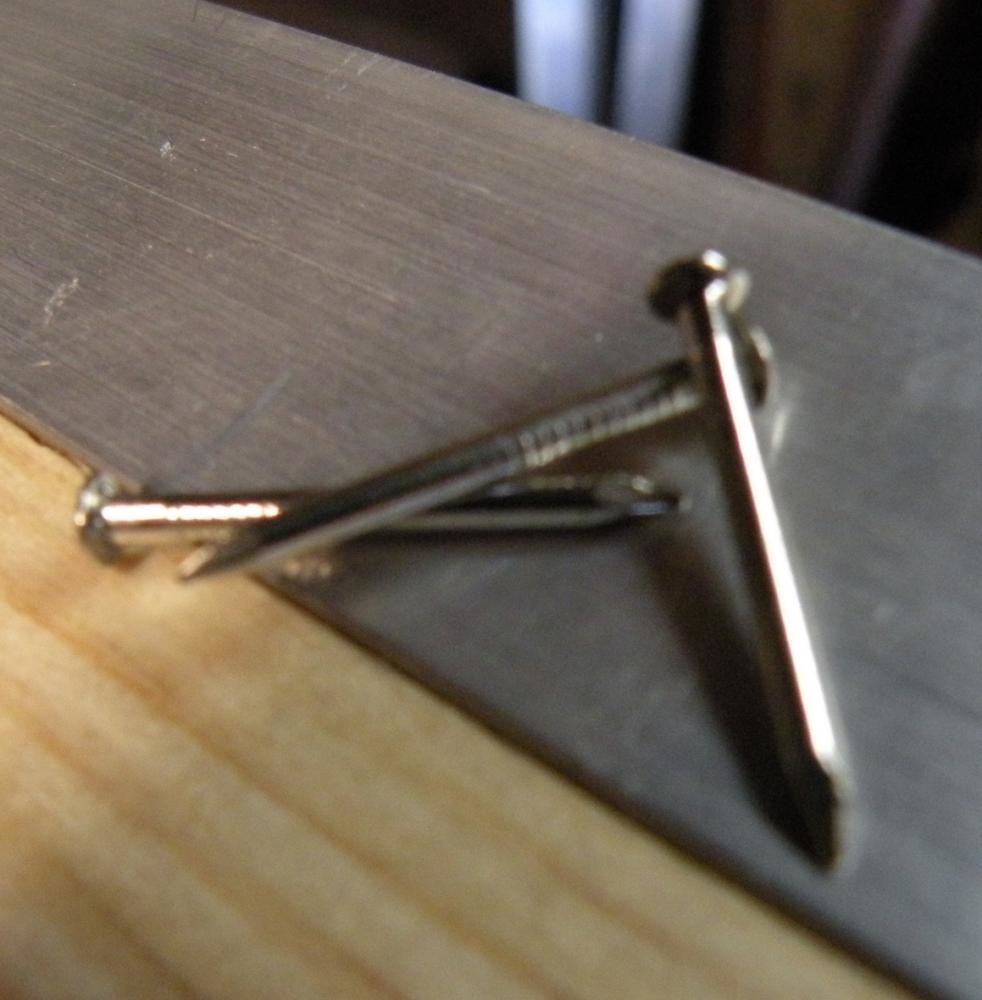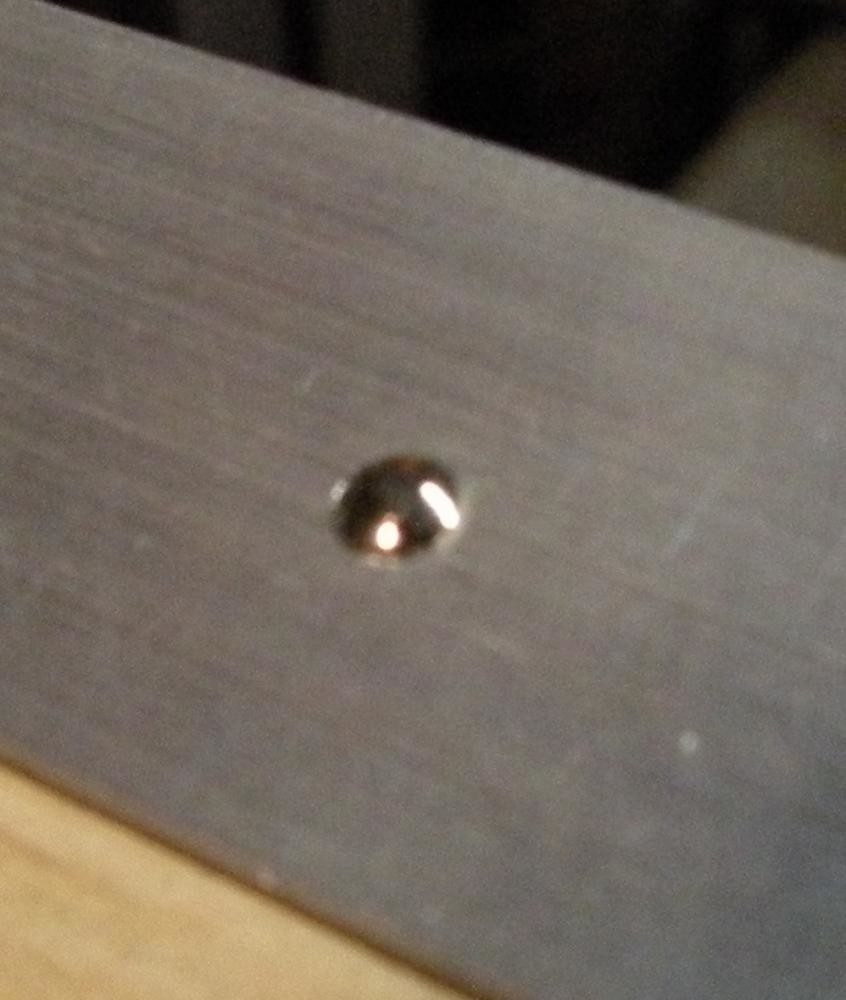 12-18-2015
For those interested in our activities in 2015 go to http://forums.aaca.org/topic/183184-lagonda-rapiers/page-16.
Bj.
12-24-2015
As Santa makes his first landing in Australia, due to our very advanced world timing arrangement, I will take this opportunity to wish all the "oldcar' enthusiasts who pop in here every so often "A very Merry Christmas and a Happy New Year.
Cheers
Bernie j.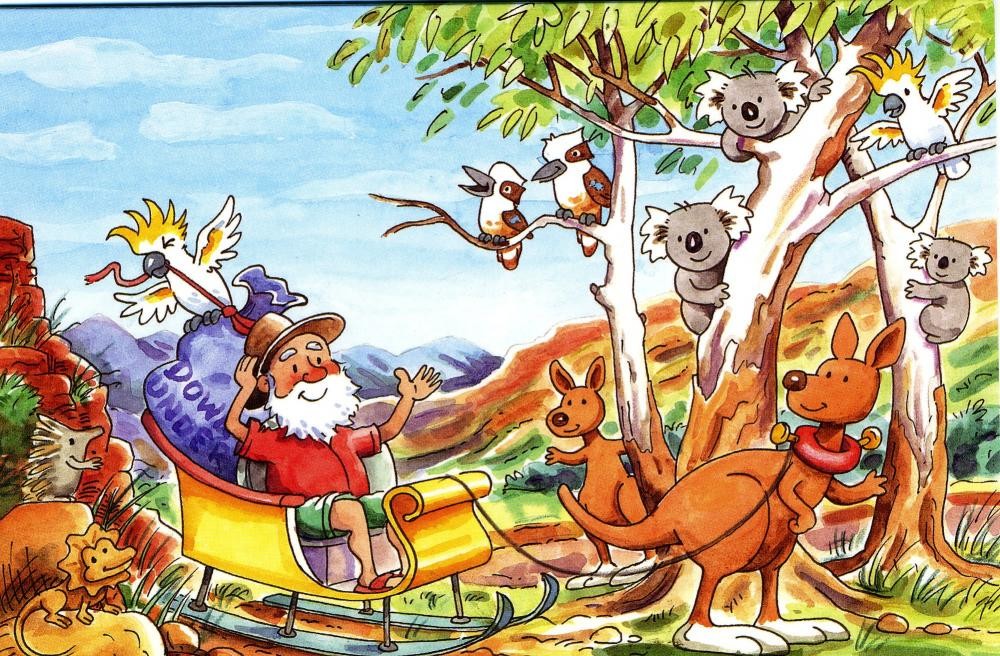 12-25-2015
Thank you Ben and Spinneyhill.
There really is a Santa after all!
Two or three days ago I placed a request on the VSCC UK Forum regarding Part 2 and 3 June/July 1930, Autocar magazine articles on the care and Maintenance of the Renault 12.5hp (Monasix RY 1 & 2) Less than 48hours later I have copies of both making my set complete. These were sent to me by Greg Wrapson who is the Chairman of the Alvis Register in the UK. I find it quite remarkable that someone whom I have never met and who has never owned a Renault could respond so promptly.
While I have been a Member of the VSCC (UK) since 1983 I have only attended one or two events every five years and have never met Greg and have never owned an Alvis. Perhaps even more remarkable here I am living in Australia posting this on an American Forum.
It is indeed a small world.
Bernie j.
12-26-2015
One interesting thing to have come out as a result of reading the Autocar article is that my Renault is not one the common or garden variety Mona-six but the far more exotic and rare Mona-stella. This is verified by the presence of the brake servo attached to the rear of the gearbox.
Bernie j.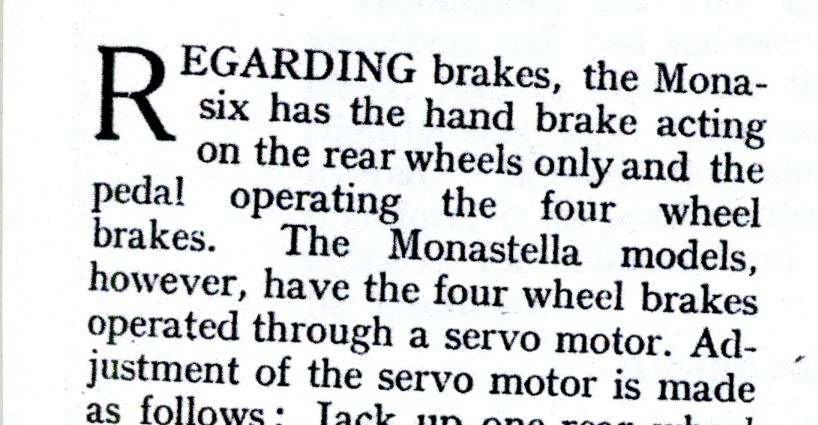 12-27-2015
While the humour of this little piece stolen from the Renault Freres UK magazine may go over the head of many looking at this, I will post it in the hope that it may appeal to some readers of a certain age.
I felt that it was worth sharing.
Bernie j.
You will need to "click" on the photo to bring it up to size.
When I showed it to my elder sister and suggested that she may like to share it some of her "facebook
friends" she replied with a completely straight face. "None of my friends own large dogs".
Another reason why I have never bothered with "facebook"!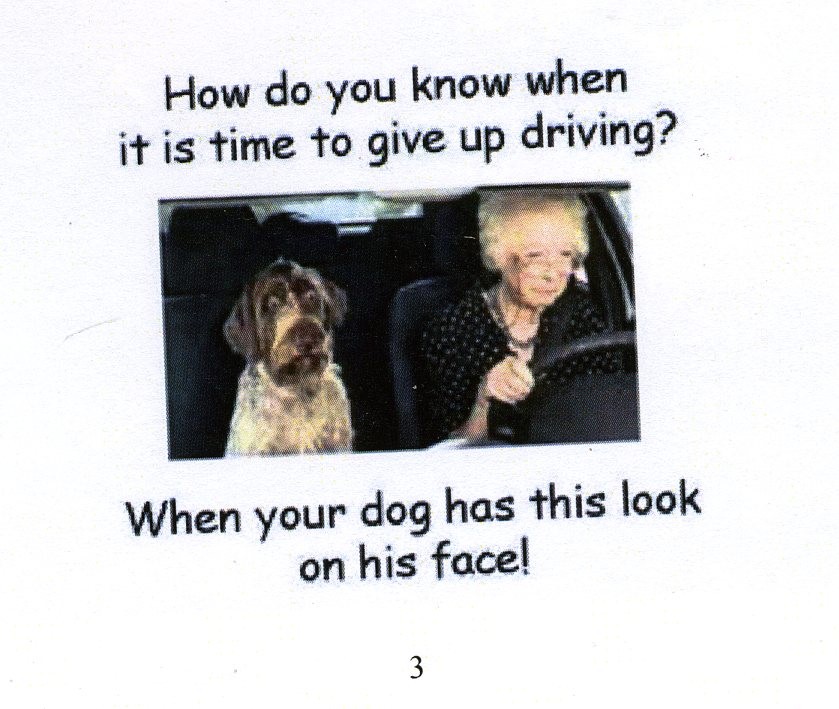 1-4-2016
The more you look the less you see! One small step at a time I am learning more and more about the Renault brake servo.....
It seems that the servo on the 1929 MonaSix/Stella is unique to that model. Due to the complete lack of parts or information the servo on my car has been modified to permit the brakes to work by by-passing the servo. I am collecting a pile of service sheets etc on every other model but almost nothing on the 1929 model. Hopefully at some time in the not too distant future something will turn up.
In the meantime I will now start work on the engine having the new valve guides and valves fitted as a starting point.
Bj.
1-5-2016
The attached photo shows cylinder block and the box containing 12 new valves and twelve new valve guides. The guides need to be machined to fit and the valves will require shortening slightly. Rather than split collets the valve stems need to be cross drilled to receive a hardened cross pin to retain the valve spring. First task is to remove all the head studs. There are three or four broken studs that attach the water gallery on the side of the block, these will have to be drilled out and the threads cleaned up.
Bj.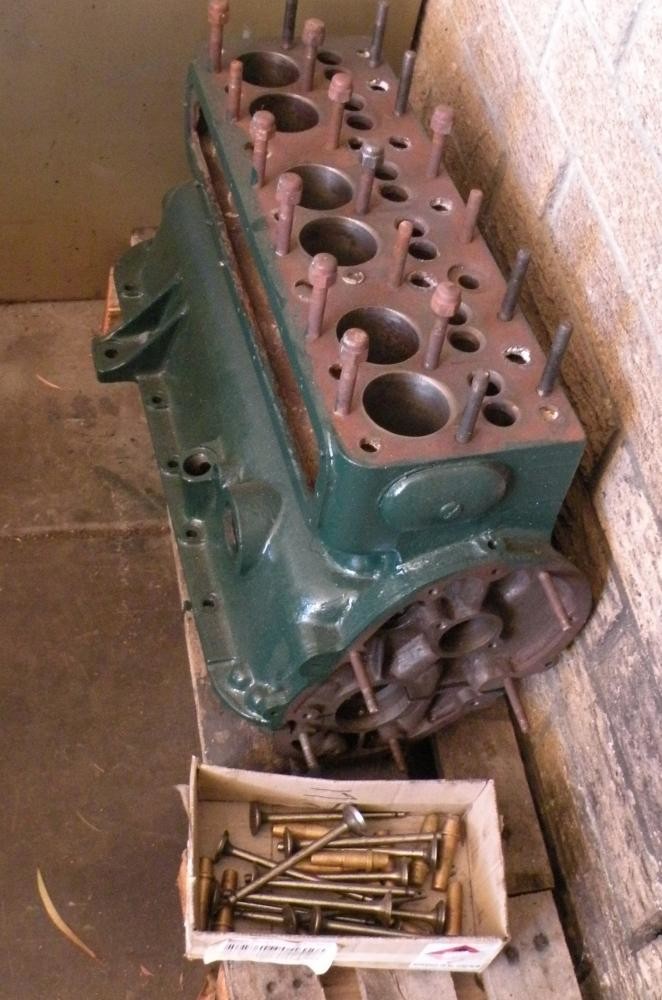 No sooner said than done! All the studs came out cleanly, after a dose of penetrating oil. There is always some concern that one will break but my stud remover used in conjunction with a torque wrench keeps this to a minimum. The studs wil now be wire brushed and coated with light oil prior to putting them away safely until needed. Once I have sorted out the original domed head nuts they can be put aside to go to the platers.
Bj.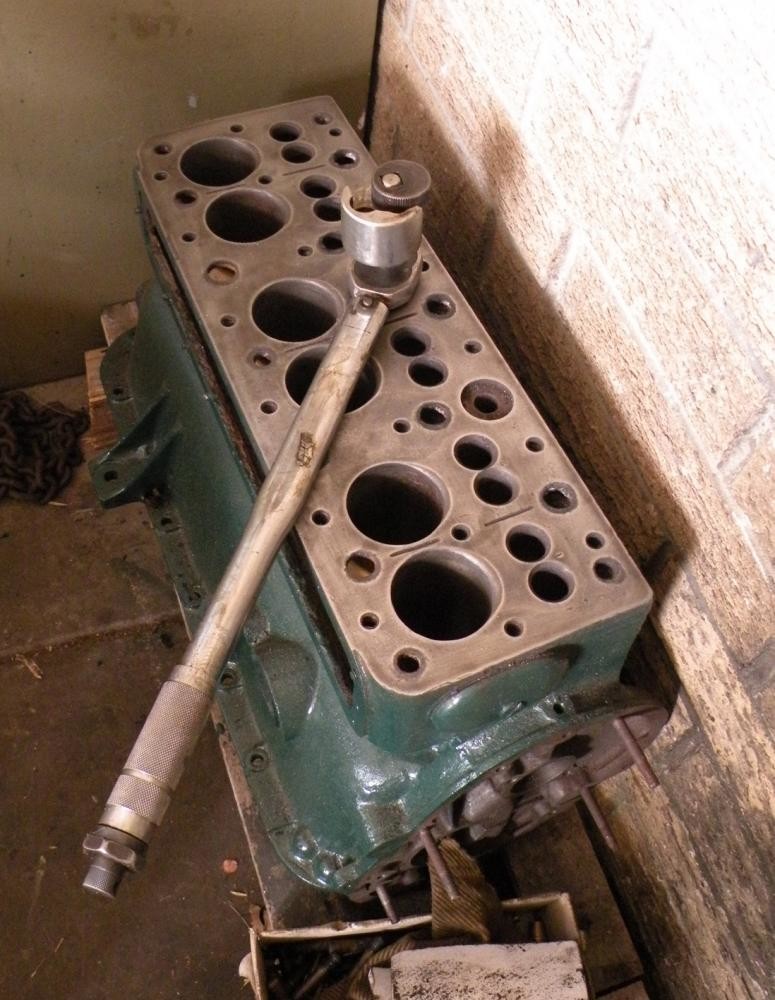 1-6-2016
Having made a New Year's resolution and the holidays officially over work has re-commenced on the Renault with the running board/tool lockers being next item on the agenda. These still need some detail work, latches fitted and some sort of prop for the lids worked out. Finally another coat of paint.
Bj.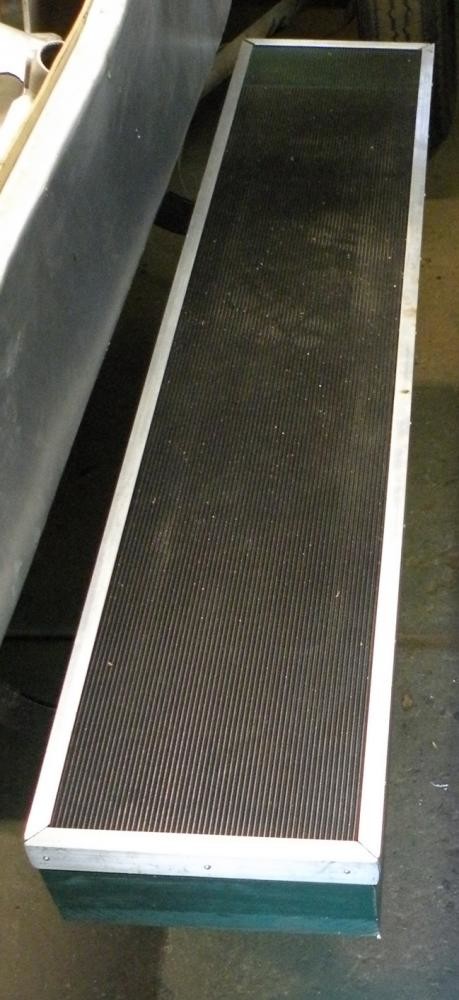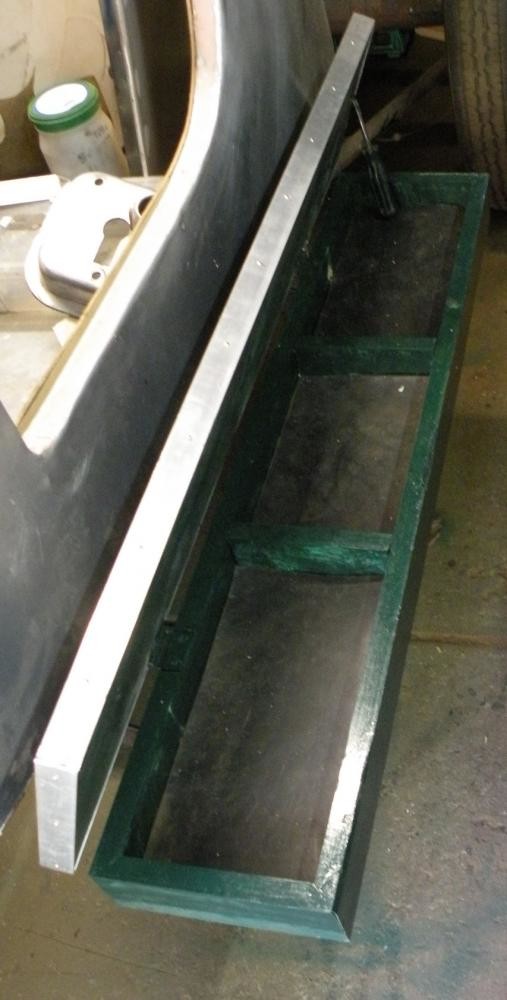 1-13-2016
Reluctant to be doing too much outside in 35-40 degree C heat I have been doing some more research on the RAG Forum. I have managed to prove (to myself) that my Renault was/is a Monastella the up-market version of the RY1 model. The brake servo being the main(mechanical)difference any other changes being cosmetic. Looking into the list of known surviving cars, these show just two other known surviving 1929 Monastella. The gallery of mainly pre-WW2 photographs show three or four other 1929 cars fitted with the tell-tale Stella (star) on the front of the bonnet(hood). It also confirms that 1929 was the final year of the rear mounted radiator and the Monastella of that year the only model to use the particular "servo" as fitted to my car. There must have been several of these cars broken up in France over the post war years but the chances of finding the servo parts that I require must be very slim. For anybody living outside France and unable to speak fluent French the possibility is even further reduced to very near nil. Right now, for me, the cost of a return air fare from Australia to France is totally prohibitive. The way the servo brake system is set up, to attempt to drive the car with the servo made in-operative would be similar to driving a modern car with power brakes/steering with the engine turned off!
Do I stop the project now and scrap the car or do I go on working, spending more time and money on it in the hope that something may turn up ?????????????
Looking at the attached illustration from the Renault 1929 Monastella hand book I am completely baffled as to how the servo could work. Pressing on the foot brake pedal exerts pull on the chain but as it is shown with equal pull applied to both ends of the chain. Oops, sorry pressing on the pedal allows the chain to go slack. The more you depress the pedal the slacker the chain becomes!
Can anyone offer an explanation?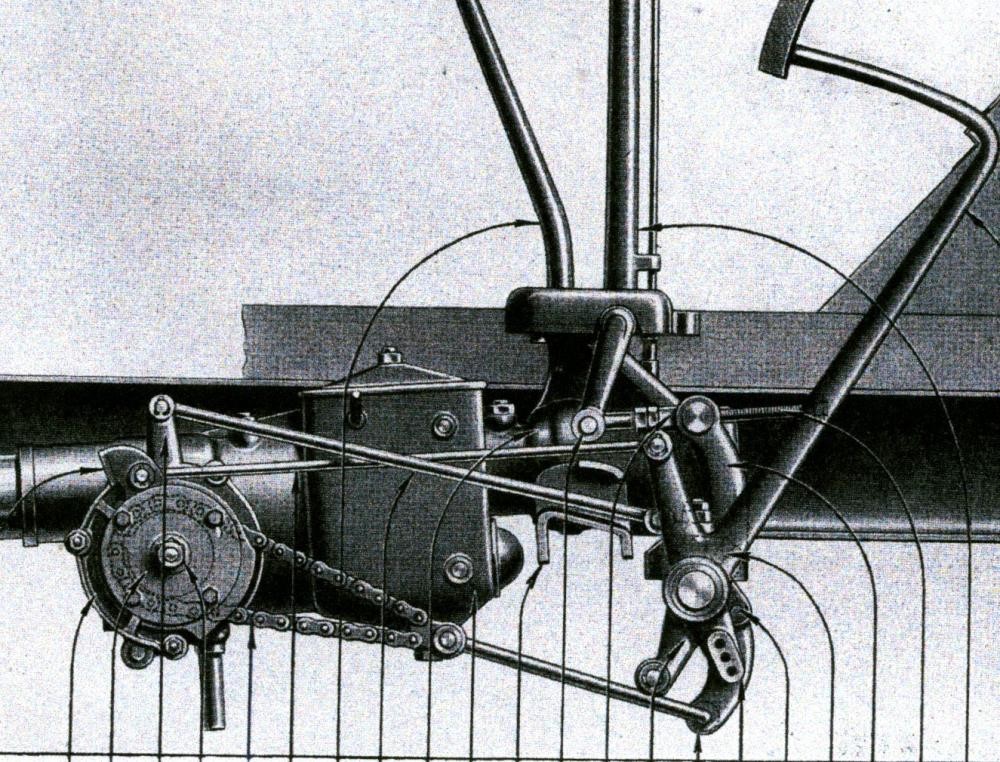 1-17-2016
Hello Joe
Good to hear from you and have your input. I am trying to find a drawing for the next years version. It has a small clutch engaged by a screw arrangement activated by one of the levers that are missing from my car.
I seem to offended the entire RAG Forum as I get absolutely no replies to any of my pleas for parts/information. I cannot believe this is just because of my bad French.
At least one looks in here from time to time. I had thought that he was a friend but even he simply ignores all my e-mails. Unfortunately the British Renault Freres Club (I am a member UK£20 per year)are mainly interested in the early pre 1920 cars and while they have sent me some useful(Handbook)material none of their members own a 1929 Monasix/stella. Unfortunately none of the drawings are sufficiently explicit to enable me to make the missing parts.
The other problem that has just raised its ugly head is that the holes in the cylinder block for the valve guides are different in as much that the exhaust valve guides have an o/d about 1mm larger diam that the inlet. Having bought 12 new valves and guides I can now throw half of the guides in the scrap bin and start making some new ones. The thought that they would be different had not even entered my head until I started to install the new ones.
I can understand why I did not have any takers when I offered to GIVE it (the Renault) to anyone who would take it away. I have probably spent well over $20,000 so far and I am silly enough not to be ready to scrap the whole project.
The way it is going I can see the cost of the finished "restoration" being around $150,000 and then still not being unable to sell it for even a tiny fraction of that.
Who said "You do not have to be mad" ?
Bj
The details of the schematics would be helpful.
Thank you Stude 17, There would not be a problem if I could only find some drawings even a little better than the rather confusing hand book illustrations I have. At least then I could discover what and how much is missing.
Bj
1-18-2016
Hello Spinneyhill
There are a number of 1920s Renaults in New Zealand do you happen to know any of the owners?
It is quite possible that Louis Renault took out patents on all his "inventions",
I have no idea how you would find your way through the French Patents office.
Bj
1-20-2016
Hello Joe
Thank you for your interest, The PDF File that Spinneyhill has sent me covers the 1924 Patent application for the Renault servo in America. It covers in some detail how the servo works but unfortunately it does not give any actual drawings of the component parts of the servo. At least I now have a very clear explanation as to how it works.
I will not add the 5 pages of written explanation but if anyone really wants it if they send me a PM with their email address I will send the PDF file to them. It is written in English. One feature of the Renault servo is that it works when travelling forward or backwards and it is possible to apply the foot brake when the car is standing still.
Bj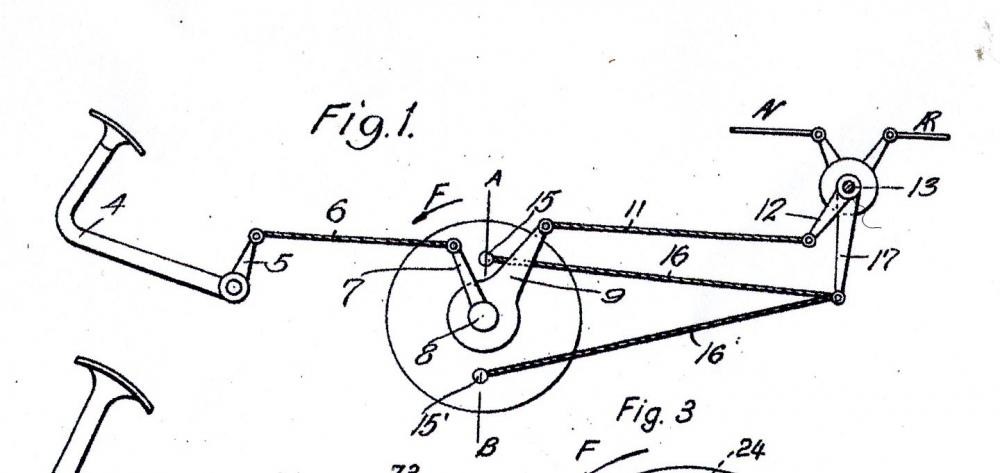 Hello Roger
Happy New Year if somewhat belated. While you are enjoying some nice crisp winter days we are melting in 35-40 degree C days.
The only problem with the internet is that you can spend too much time on line and not out working on your project. Having said that, without some of the detail that has turned up on line this project would have bogged down months ago. I now know far more about my Renault than would have been possible even a few years ago.
Bj.
This is pure guesswork but I Imagine that Leon Saives was Louis Renaults agent working on his behalf in the USA. I cannot imagine Renault ever admitting that anyone but himself designed every part for all his cars.
Perhaps I am being too harsh on the man but he comes across as the original Control Freak.
I cannot imagine any competent engineer wishing to have his name associated with many of the "features" incorporated in Renault cars or things like the WW1 light tank which was designed to be so low as to be a minimum target for the emeny. The only problem was that the crew of two operated the thing whilst lying prone (on their stomachs?)
Bj.
1-23-2016
One of my good friends on the RAG Forum has sent me this photograph. This is exactly the servo that I am looking for. Now all I need to know is where I can find another one. Thank you Lucky.
Bj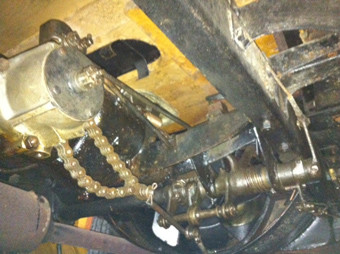 1-24-2016
I now have the servo unit off my car and have a greater appreciation of both how it works and what is missing. Unfortunately among the missing parts are the drive pinion and almost all the clutch components plus the main two levers that activate the mechanisn and transmitt the braking power to the side to side, front to back, balance/compensation arrangement. I know that all that sounds vague but without the actual parts on the bench it is impossible to fully describe them. Neither of the hand books I have or anything I can find on the internet give either photographs or drawings.Where do I go from here? I am waiting patiently to see if Depanoto will answer my e-mail. In the meantime my friends on the RAG Forum may still turn up something.
Bj.
1-25-2016
Progress at last even if only one small hesitant step. My good friend Fossoyeur on the RAG Forum has sent me another 152 page spare parts catalogue in a PDF File. This one has a four page section devoted to the brake servo. As it is now 10.00pm Eastern Australian Summer time, I will wait until the morning to print out the relevant pages.
Bernie J
I have now had time to down load the PDF file, print out the relevant pages and scan the attached illustration of the servo unit. I have the main body (215550) and input shaft (215648) and end cap/bearing (215638) but I am missing the clutch along with the levers M & L and the clutch engaging screw mechanism N. Also missing is the main drive gear R. Probably the best (and only?) option is if I can find a complete unit. According to the most recent information on the RAG forum the servo brakes were much more widely used than I had first understod.
1928 Monasix (RY type) = no servo at all
1929 Monasix and Monastella (RY1 type) = both have the servo
1930 Monasix and Monastella (RY2 type) = only the Monastella has the servo.
This must make the odds on finding one much better. I understand that it is now winter in France and not the best time to go searching for bits outside (in the snow).Having said that at least I now know that all 9090 1929 Monasix/stella and 2797 1930 Monastella, a total of 11,887 cars that left the Renault factory were supplied with this servo unit. Surely they have not all been melted down for the aluminium case (215550).
Bj.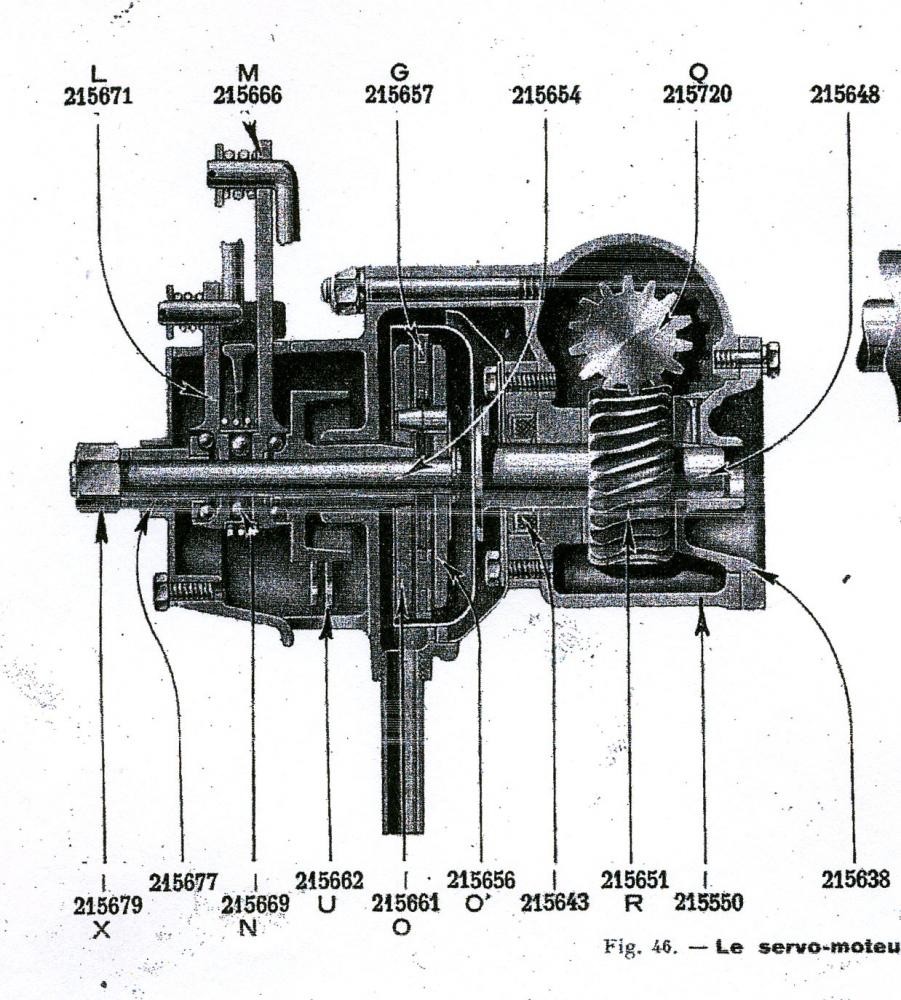 1-26-2016
With this number of cars produced between 1929 and 1931 even if the Germans had collected 75% of the then ten year old cars for scrap metal, there would still be about 300 left. OK the war ended in 1945, 71 years ago, but there should still be SOME bits left lying about in rural France. Just how I go about finding them is the question.
Probably a wanted advert in the l'Vie de la Auto and the Boncoin is the most likely to succeed the big problem is in placing adverts in either without being in France.
Bj.
1-29-2016
Well! I have had a relatively prompt reply from Depanoto and they are unable to assist in my search for a replacement for my incomplete brake servo. Certainly there are alternatives such as converting the brakes to hydraulic operation but that would be a major operation involving a major expense. Already I have spent far more than this car will ever be worth.
I don't expect anyone to tell me what I should do now.
I am disappointed that it has come to this but as far as I can see I may be able to sell the wheels and tyres for about a quarter of what they have cost me the rest may be worth a few dollars in scrap metal. In the one very expressive French word, MERDE!
Where to now?
Bj 198
1-30-2016
OK! OK! I have now finished cleaning the housing for the brake servo and cleaned and lubricated the two short pieces of (bicycle) chain. It is now all back together and re-attached to the side of the gearbox. All this has saved me an unknown number of dollars. Certainly hundreds; quite possibly thousands!
I have come up with a solution that even the Great, Louis Renault himself would be proud of.
The braking motion is taken from the pedal rearward via a short length of rod with a yoke at one end. One end of the chain is attached via the yoke and rod to an arm accached to the brake pedal cross-shaft from there the chain travels around a sprocket which is free to rotate on a short shaft within the servo housing. From there the chain travels through 180 degrees to energe from the servo housing directly below its other end but travelling in the opposite direction. From there the motion is taken via another short length of rod to the lever actuating the set of three bevel gears which act as a compensation arrangement betweeen the front and rear brakes the motion is then taken via a balance bar which acts to distribute the braking effort evenly between the right and left brakes. The braking effort is transmitted to the wheels via a series of cables running over pulleys to the front and rear of the car where the cables connect to the perrot shaft operating the brakes on each front wheel and a lever attached to the backing plates on each rear wheel.
Don't ask me if it works. With an advertised maximum speed of 59 kph (just over 30 mph) I doubt if that is all that important.
All together now. Three cheers of the late Lois Renault!
Bernie j.
2-21-2016
Please do not be alarmed. I am currently attempting to de-clutter not only from this thread but my life in general. I have started to remove as far as possible anything not related to the Renault project. This clear out is not restricted to just this thread.
The attached photograph shows several years of Car Club Newsletters that have been taking up shelf space for far too long. They are to go to the VSCC Library and those not required can go to be recycled as waste paper.
Bj.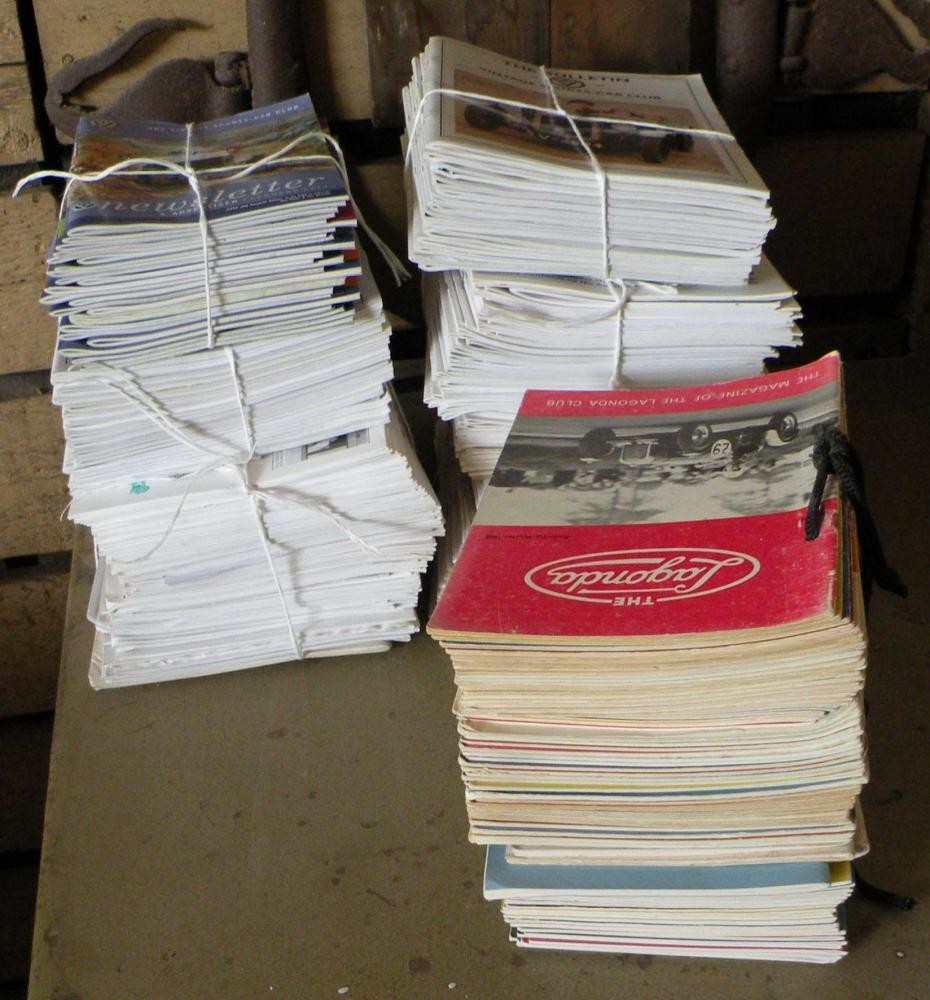 2-22-2016
One of the regular visitors to my thread on the RAG Forum wrote:-
Bernie on lit vos sujets. Mais ce qui n'est pas facile il me semble, c'est de suivre les restaurations de plusieurs parties différentes à la fois! This translates to something like :-
Bernie one reads your subjects. But what is not easy it seems to me, is to follow the restorations of several different parts at the same time!
I have sent the following reply; Translated of course into my best school boy French:-
While I can sympathise with you, please spare a thought for me. I am now approaching my 80th Birthday. I learnt French at school for one year about 65 years ago. Living in Australia, on the other side of the world, the opportunity to speak French is very limited. In recent times 4 to 6 weeks holiday every five years. And yet both my wife and I both love France and most things French. For instance I drive a 1996 Peugeot .
When I bought the Renault it was totally dismantled and in terrible condition with parts located in three separate sheds/barns. I was told by the person selling it, that it was a 1925 NN.This was because the only engine that came with it was a small 4 cylinder.(950cc) It was only after a great deal of research that I have been able to establish exactly what year and model my car is, even then it was not until I had managed to remove the vandal damaged "Lozenge"*(the Renault Diamond shaped logo) from the remains of the dashboard that I could positively say what exact model my car was. The remains of a RY1 Monasix.
Finding parts for any1929 RY1 Renault, as you may be aware, is extremely difficult. So far I have been unable to find any evidence to say that any others even came to Australia. It must be confusing for you as it is for me but rather than simply give up when I strike a problem with one thing i.e. the brake servo. I put that aside in the hope that the parts required will eventually turn-up and proceed to work on the next thing i.e. the engine.
As you are also probably aware I have attempted to sell my Renault, even to give it away, It seems that because Renaults are so badly regarded among Vintage Car Enthusiasts that no one wants it. Not even as a gift!
It has been suggested that I forget about trying to find the correct parts and simply install an Ford Model A engine and gearbox. This is something that I am not prepared to do.
So where do I find the parts I need to complete the car? Ideally I should take an aeroplane and fly to France then spend six to 12 Months driving around visiting all the members of the RAG Forum, Going to Depanoto and somehow find my way into their sheds, visit everyone who may possibly have an old Renault in their garage or barn. 12 months would probably not be long enough time.
It had seemed to me that my most likely source of parts or information leading me to likely sources would be the RAG Forum but quite apparently, this not so or at least not for "outsiders!"
*The details of year, model and chassis number are cleverly hidden at the back of this dashboard plate. The only thing that I am now absolutely sure of is that the car I am attempting to restore is or was a 1929 Renault RYI Monasix or Monastella.
N.B. The RY1 model was built for one year, 1929. Production:-9,090.
Yet once again I have to ask myself why am I doing it?
2-23-2016
Quote
"12 months would probably not be long enough time"
Much mor likely a lifetime, something that I simply do not have.
.............................................
I have now spent well over $20,000 and all I have is a pile of useless junk, five excellent wheels with new rims, five as new tires, five new reproduction hub caps and 20 new chrome wheel nuts and some sundry other parts brought a enormous expense from France. It may just be possible to transfer the new boat tail two seater body to something else but who would want it? I cannot even give it away!
As the French are prone to say in these situations:- MERDE!
2-25-2016
I think that my patience has finally run out with the Renault.
I have just placed an advertisement for it on Prewarcar
UK£4,500 that is about US$8,750.oo surely a bargain for someone with steady nerves.
I will even help with packing it up for shipping.
Bj
Going way back to day one I can only think that I have made a serious error of judgement. I can only think that IF I had gone down the Rover path it would almost be finished by now. I would have not had the language difficulties and I would not have had to deal with any of the almost insurmountable problens the Renault has brought along. I know that I have to be prepared to loose a bundle but that is something that only I can deal with. It has happened before and it is just one of the hazzards of playing with antique automobiles. Anyone thinking of buying the Renault can be assured I have solved virtually all the problems it is just that I have fallen out of love with it.
Bj
2-29-2016
If you could believe the advertising everybody should want one. This advert from 1926 a year before the Monasix was introduced.
Bj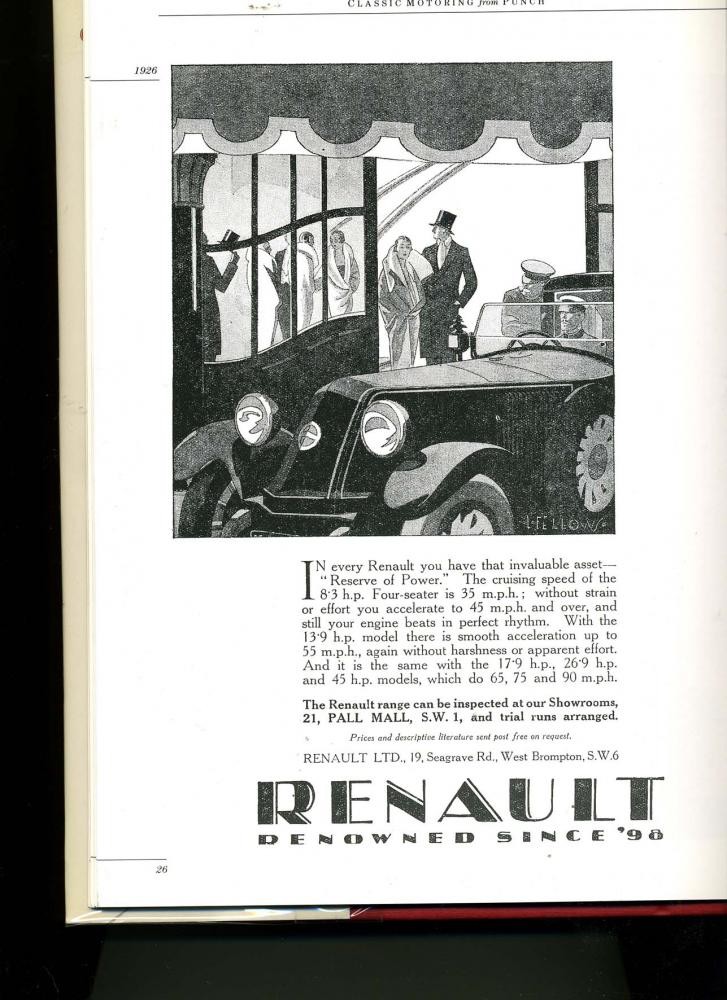 3-2-2016
Perhaps something more like this 1906 Renault.
Bj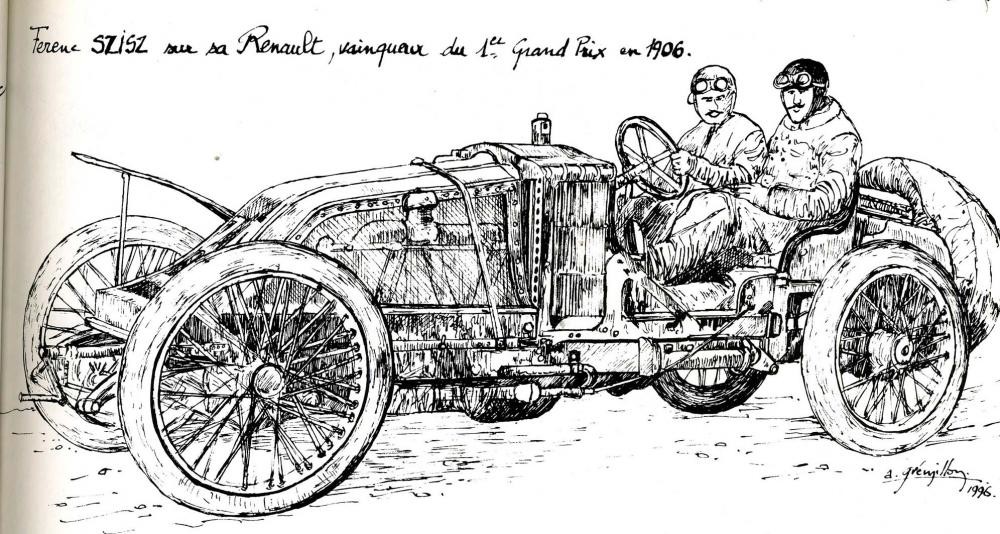 3-5-2016
Damm! I really cannot help myself.
While I am waiting impatiently for my friends a Crankshaft Rebuilders to organise some valve guides AND after looking at the remains of the original combined inlet and exhaust manifold I thought that I could build a tubular manifold that would do the job better. First thing was to go to my personal "steel store" and obtain a length of 6mm (1/4 inch) plate. With this on the bench the next task was to cut a heavy brown paper pattern from the spare block. This could then be stuck down on the strip of steel. After drilling 1/4 inch pilot holes the main 32mm (1 1/4 in) holes could be cut using a bi-metal hole saw in my drill press. Using some cutting oil to keep the cut cool and well lubricated.
The second photograph shows the almost finished (520mm X 80mm) plate.
OK some of the bright eyed among you will at once say "The silly bugger has messed it up. One end hole is out of line!" Not so that is exactly as Louis Renault intended. Why? I do not know but on both cylinder blocks the (exhaust) port nearest to the bulkhead is set lower than the other four. Now I have you really jumping. This a six cylinder engine but you can only count five exhaust ports. That is exactly as the good Louis intended. In the same way as he has only allowed four inlet ports to feed six cylinders.
Please do not ask me, I am just the worker and it is too late now, by about 71 years, to ask Louis Renault.
For all those people still puzzled by my steel supply. This one is a length of scrap 6" X 3" X 1/4" structural steel salvaged from a building demolition site. This I am gradually using up, cutting out the required pieces of 6mm (1/4") plate using a thin cut off blade in my angle grinder.
Bj.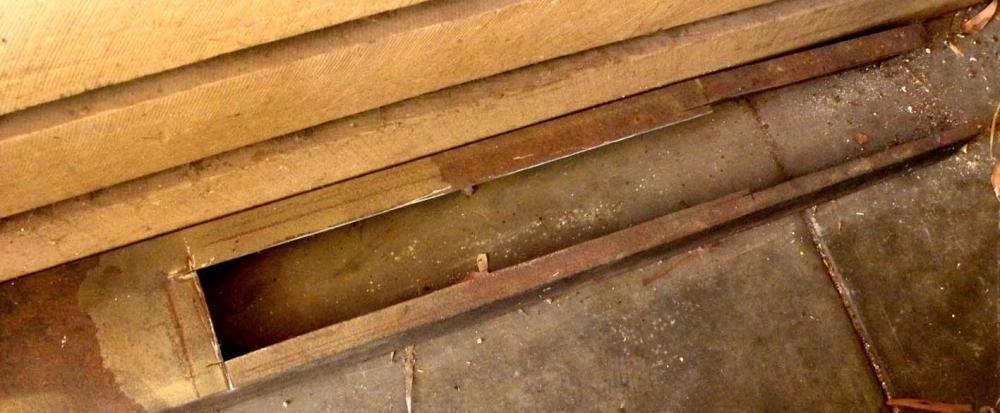 Now always assuming that you are wide awake here (below) is a photo of the porting arrangement from the 1929 Renault Monasix hand book,You will note that the end (Furthest from camera)exhaust port is on the same plane as the four inlet ports, the other four exhaust ports are higher.
Looking from left to right (front to rear) the porting arrangement is
1. Exhaust, serving #1 cylinder.
2. Inlet, serving # 1 & 2 cylinders.
3. Exhaust, serving #2 cylinder.
4. Inlet, serving #3 cylinder.
5. Exhaust, serving #3 & 4 cylinders.
6. Inlet, serving #4 cylinder.
7. Exhaust, serving #5 cylinder.
8. Inlet, serving #5 & 6 cylinders
9. Exhaust, serving #6 cylinder.
The owners handbook shows the order of valves as follows, EI IE IE EI EI IE. It then goes on to explain the order of adjusting the tappets as:-
"Turn the engine until the first valve is down, check clearance then turn the engine to the ninth valve then the sixth, twelth, fourth, seventh, changing to the inlet valves starting with the second valve then tenth, fifth, eleventh, third and finally eighth It
The firing order for anybody who is not totally confused by now is 1, 5, 3, 6, 2, 4.
Anybody who is not completely insane before buying a 1929 Renault Monasix need not worry. Even after a comparitively short period of ownership and they will definitely be certifiable!
Bj.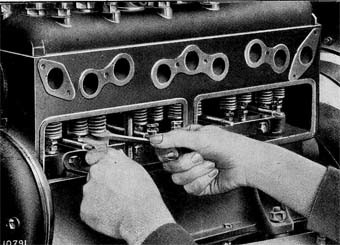 3-10-2016
Very reluctantly, as it has become abundantly clear that I can NEVER obtain the necessary parts to finish my Renault RY1, I will attempt to sell at least some of the parts. I have five wheels all with new (well-based) 18 inch rims and five as new 18 in tyres. A complete set of instruments including both MPH and KPH speedos, 5 new Depanoto chrome hub caps, 20 new chrome wheel nuts, 12 RH and 8 LH. 2 new Depanoto Tail lights, a pair of original (unrestored) headlamps including ORIGINAL glass ( with Renault Lozonge in centre). 2 x New Depanoto, brake and clutch rubber pedal covers. Five spoke steering wheel in fair/good condition, NN gearbox in "as bought from France" condition. 12 new valves and valve guides (require some machining) Brake drums and shoes, 2 x Clutch to suit RY including new Depanoto friction linings, NN Cone clutch needs re-lining) 2 X bonnet badges 1 Round Brass, 1 Diamond Aluminium, 2 Monasix motors (Dismantled) 1X RY1 with rare 44 mm BE Crank and conrods. 2 X camshafts and sets of valve lifters (Tappets) RY1 centre cross member with brake compensation/balance mechanism. 2 X sumps, 2 x timing case RY1 Rear axle assembly (heavy). I also have a 4 cylinder 950cc (NN) engine, 4 cylinder SEV Magneto, and a bronze Solex side draft, barrel throttle carburettor. There is a collection of hand books in both French and English, etc and a cd disc containing approximately 1000 photographs of Veteran & Vintage Renaults. Gear change and Hand brake levers. There is also a new steel tube frame, aluminium panelled Boat tail two seater body to suit a RY chassis and a brass Vee windscreen frame. There is a rust free RY Monasix steel front bonnet (very heavy) and a Monasix four piece radiator, chassis, springs etc. Lastly there are two X Dynastart, one fully re-wound/rebuilt at VAST expense by a Swiss specialist and in as NEW condition including NEW control-box/cut-out. The other in good working condition complete with control-box etc.
All parts are negotiable, anything not sold will be cut up and go to scrap metal.
Currently I stand to loose approximately UK£20,000. I have attempted for some months to sell the car as a stalled restoration project on the Pre-war-car web-site for as little as UK£3,500 . It was actually offered at one time for "Best offer over UK£1. without receiving a single genuine enquiry.
I doubt that there is even one person alive who will mourn the passing of what must be one of just a handful of 1929 RY1 Monasix Renaults left anywhere in the world.
Bernie Jacobson
Merde!
3-15-2016
The Renault has been sold.
Thank you for all your interest and support.
Bernie j.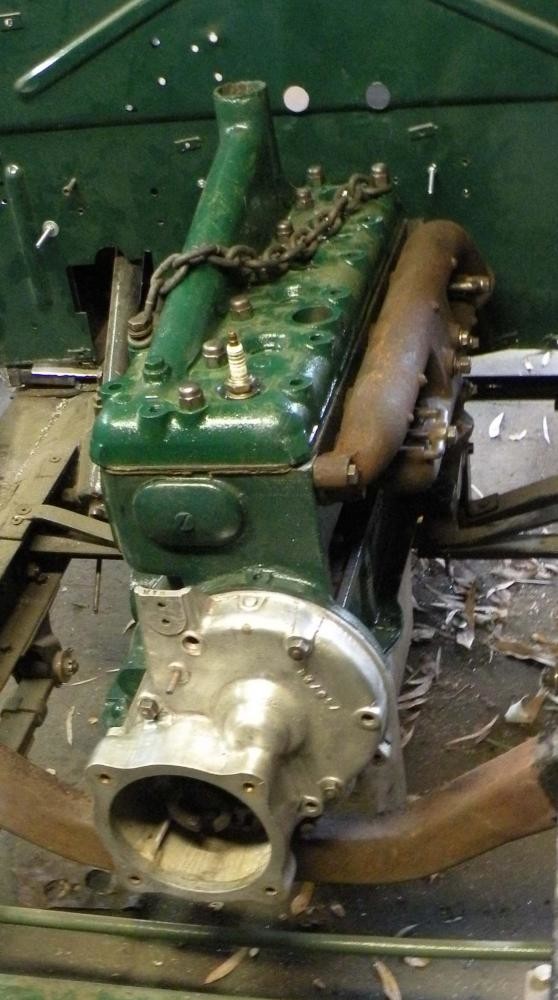 While I am still waiting to tick all the boxes and finish packing up all the Renault stuff IF you go all the way back to page one you will see some mention of early 1920s Rovers. Now you will just have to hold your breath. It would be nice to be able to rurn back the clock but unfortunately that is just not possible.
Meanwhile for those who occasionally look at my "other thread" I am slowly dismantling it at the request of an early Saxon man!
Bj.
3-16-2016
Thank you Roger
On that basis I must be a multi-millionaire, unfortunately that does not pay the bills but it is a comforting thought.
Bj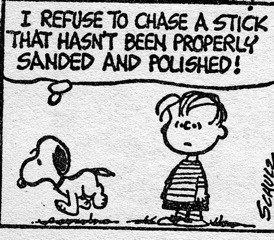 3-21-2016
Getting ready for shipping.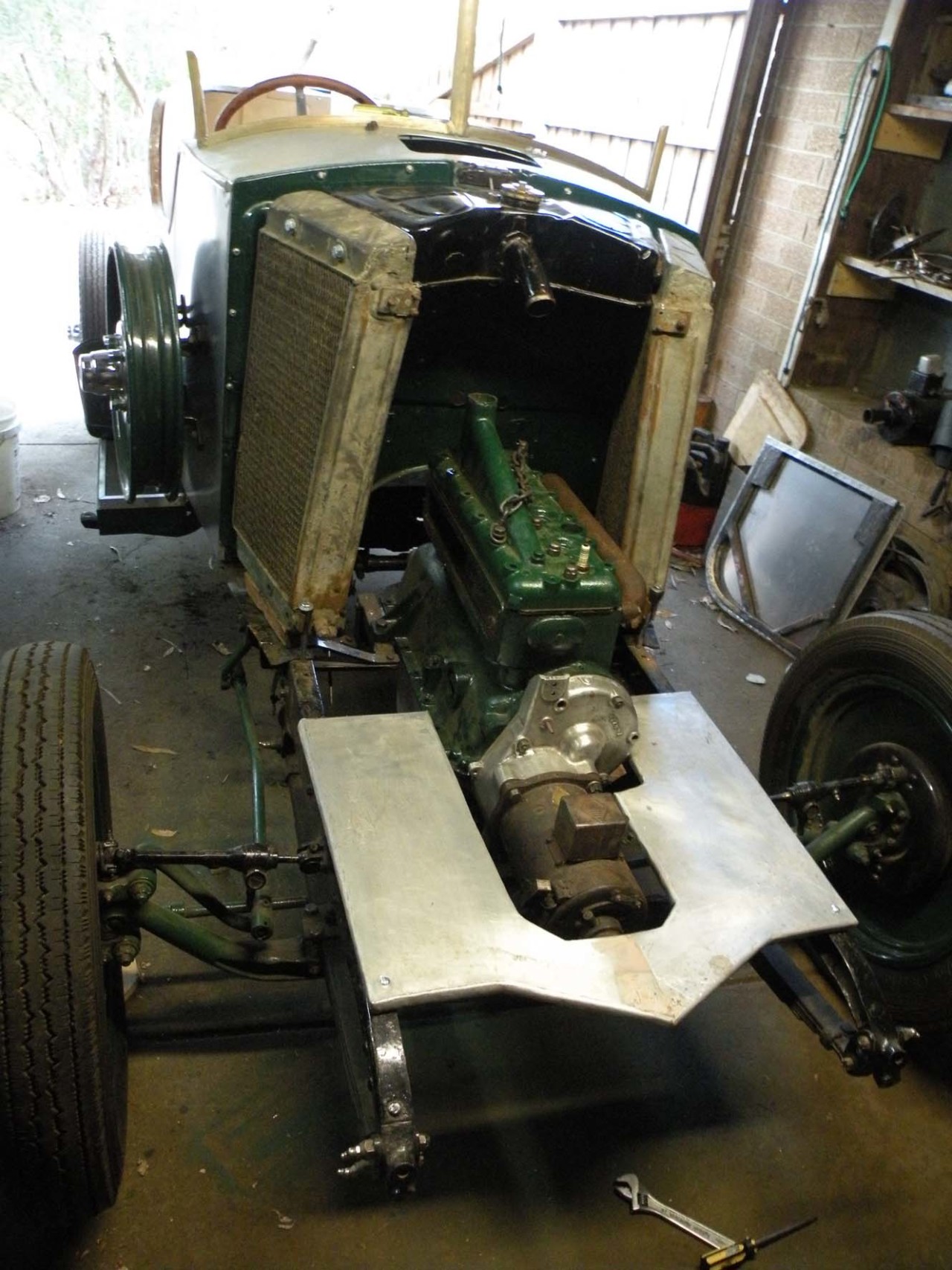 3-26-2016
Hello John
Below are the three most recent photographs.
Bj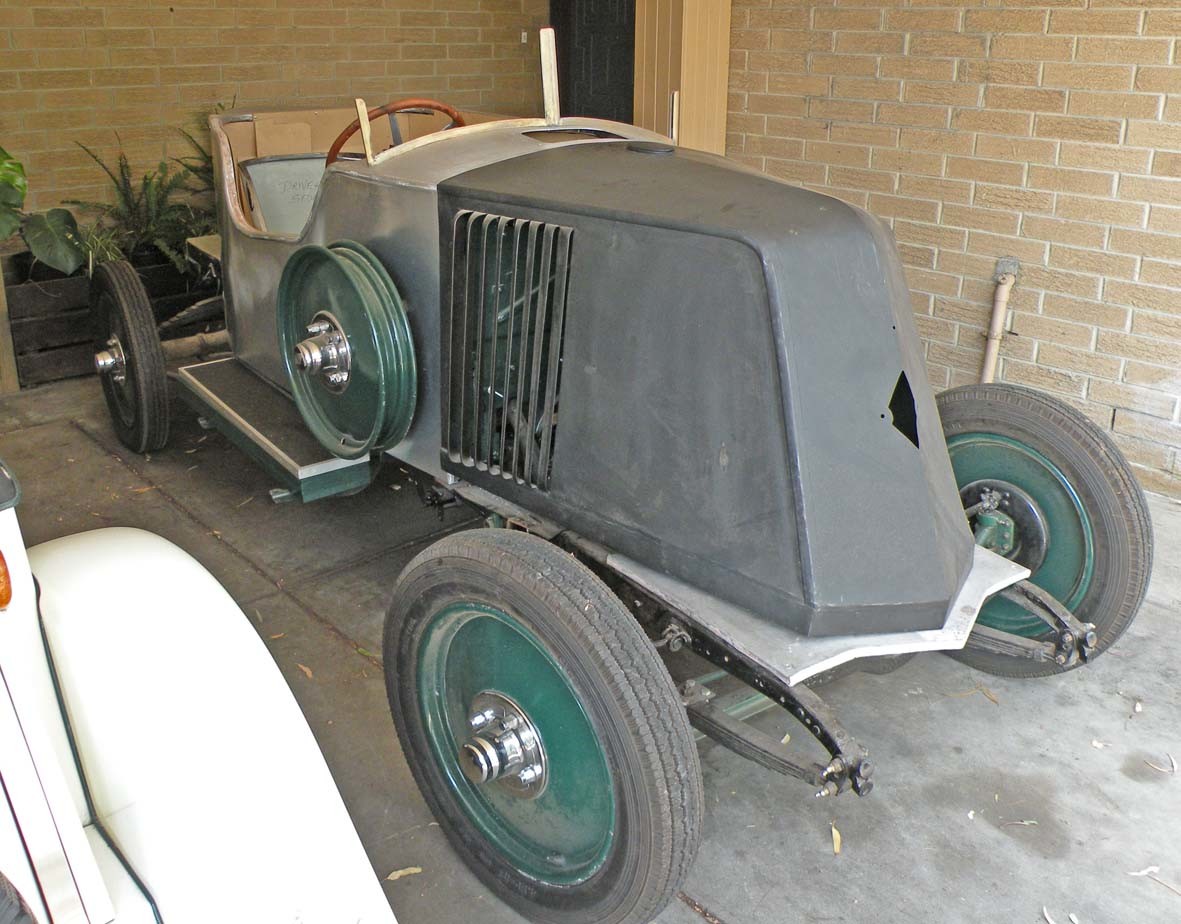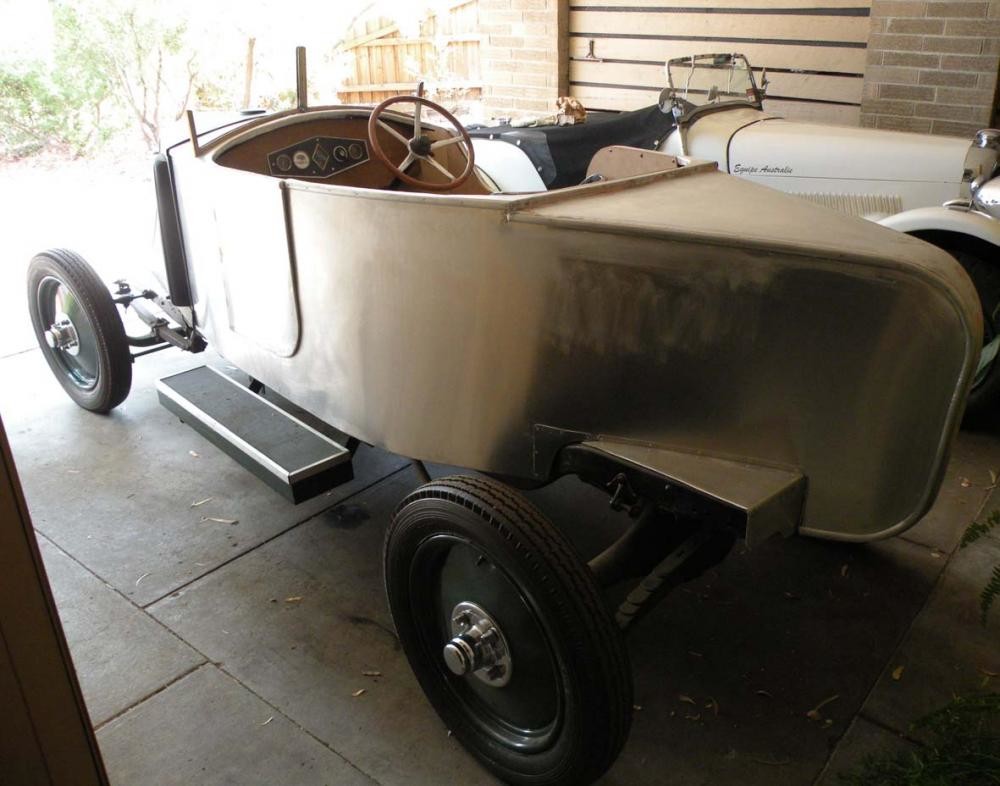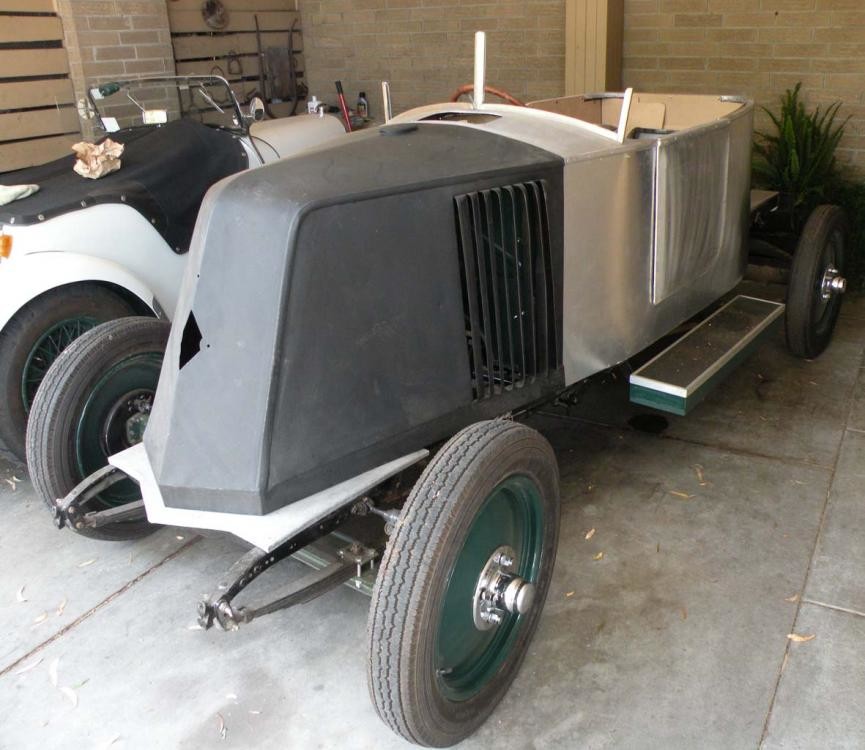 4-8-2016
Thank you to those who have expressed concern about my absence.
It is just that I have had nothing to report. I am sure that you would sooner hear about the incredable time wasters who have been leading me a merry dance when they quite apparently had no intention to buy the Renault. Perhaps someone would care to explain just what it is that motivates these people?
Perhaps they really think that given enough pain that I will really give it to them.
Bj.
Hello Restorer 32
The photographs two or three posts above were taken a week or two ago . I have just run out of enthusiasm for it and would like to sell it as is. Even I am not so generous as to sell a finished restoration for under $5,000. To get it to this stage, as I am sure you can appreciate, has cost me more than three times this! In case you have not followed the entire thread I am now 79 years old and while still quite active, just feel that I may not live long enough to finish it.
I would hate to leave it to my wife to clear up all my mess.
Just earlier this week, I had an internal examination, not something that you look forward to, as part of the annual series of tests I undergo, following MAJOR surgery for bladder cancer 9 years ago.
I now have just one kidney, a "neo-bladder"and no prostate. At the time I was told, if I disregarded the doctors advise, I was given 3 months to live and another five years if I had the surgery. I think that I am now on bonus time...
Bj
What is a Neo-bladder?
Not too many people have one..... During a 14 hour operation, having removed my bladder the surgeon then removed a length of small intestine. This is sliced lenghtways to open it out and when laid flat it is cut into four segments. These segments are then stitched together not unlike a football bladder. This is inserted in place of the original and connected to the original "plumbing". While all this was happening I also had my right kidney removed along with my prostrate and sundary other bits. While not perfect it is better than a couple of the alternatives.
I am sorry but I do not have any photographs. I do have a rather fancy scar about 15inches long that does an "s bend" around my navel.
However during my annual "internal examination" I am fully concious and can follow proceedings on a TV screen above my head. Modern medical science is quite remarkable!
Bj.
Back to The Renault!
There were at least two coach-building firms in France building sporting bodies of Renaults during the 1920s Probably LaBourdette was the best known. Lavocat et Marsaud was another. The illustration is from a Renault Advertisement from 1925.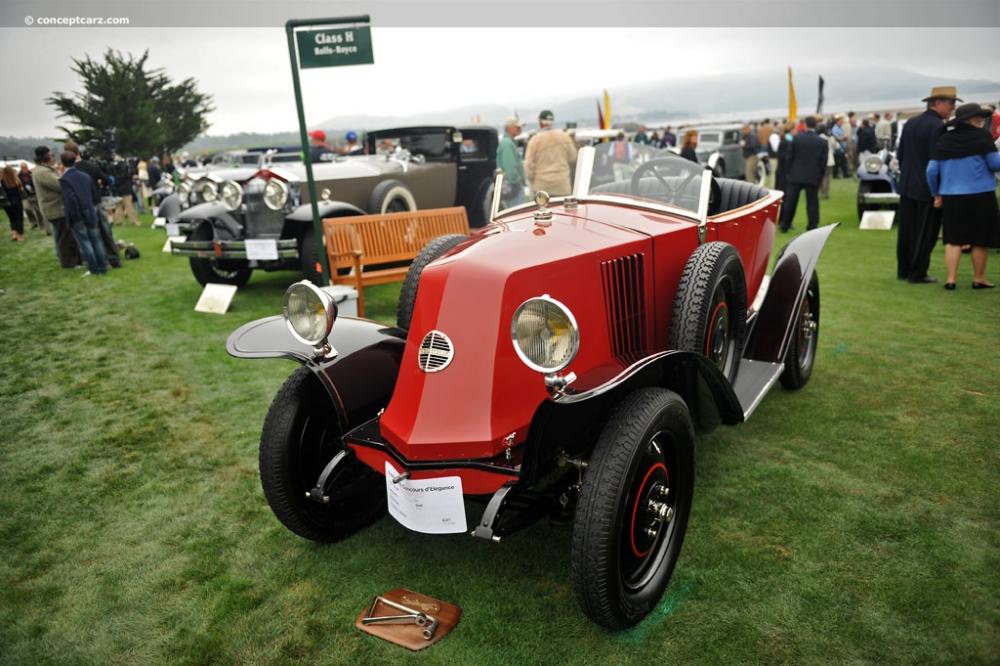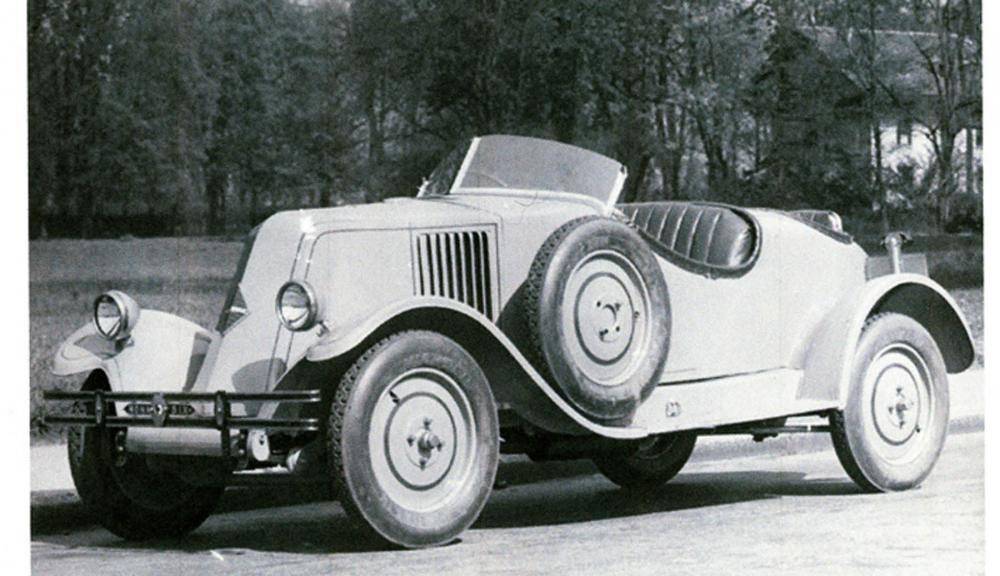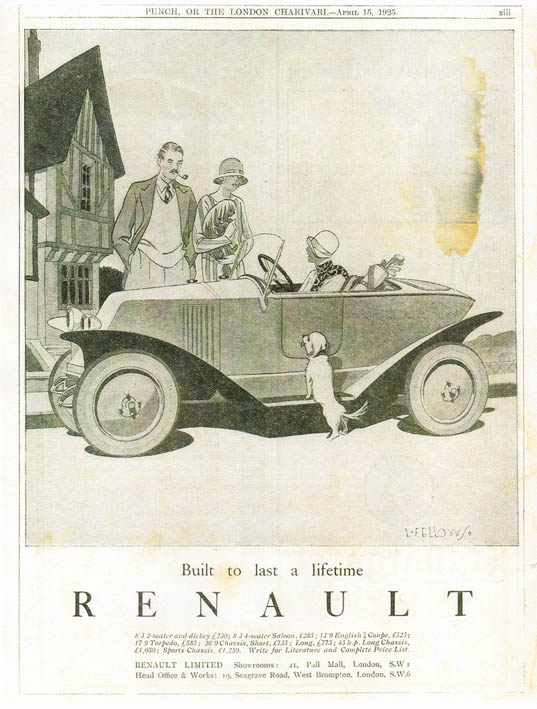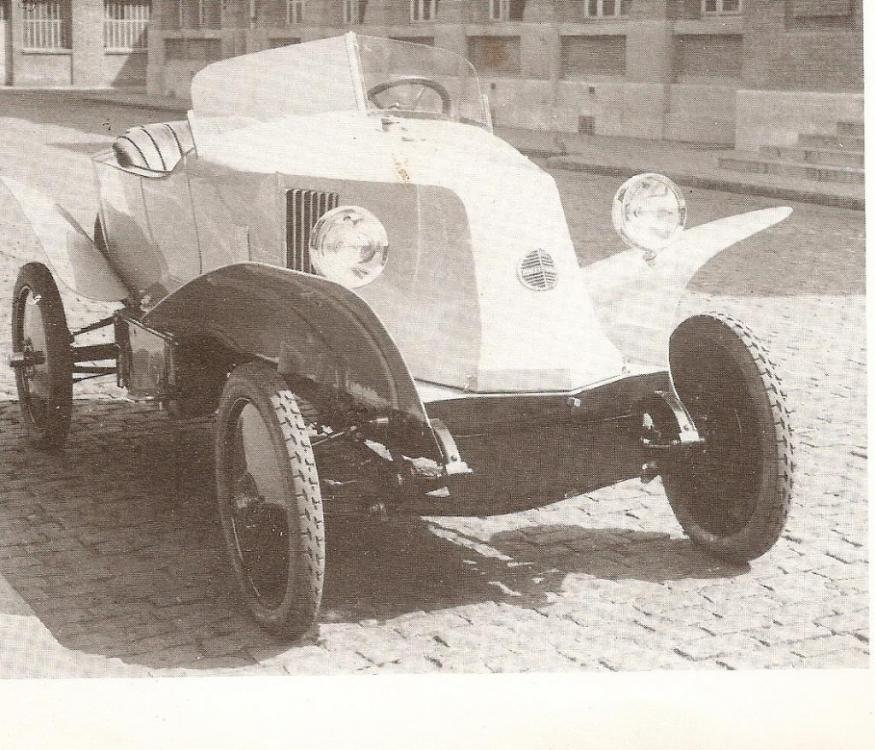 4-12-2016
Thank you Ben
Without that operation there would have been no Dixie Flyer, Packard Single Six , a Singer Junior or two or this Renault and a whole lot of other little things. I still cannot believe that in a few months time I will turn 80. The main thing is that our Lagonda Rapier is two years older than I am and it is going better than ever.
I just wish that someone would buy the Renault so that I can move on to something else that I have some hope of finishing. We still hope to have one more visit to Europe with the Rapier in 2019.
4-14-2016
Go to http://www.prewarcar.com/classifieds/ad196331.html
4-22-2016
Just as a matter of interest, I have added up what it has cost to put five new rims on the wheels and then fit five new tyres & tubes. Add to this the five new hubcaps and 24 wheel nuts and I am just about up to the Aust $5000 I am asking for the complete car.
Bj.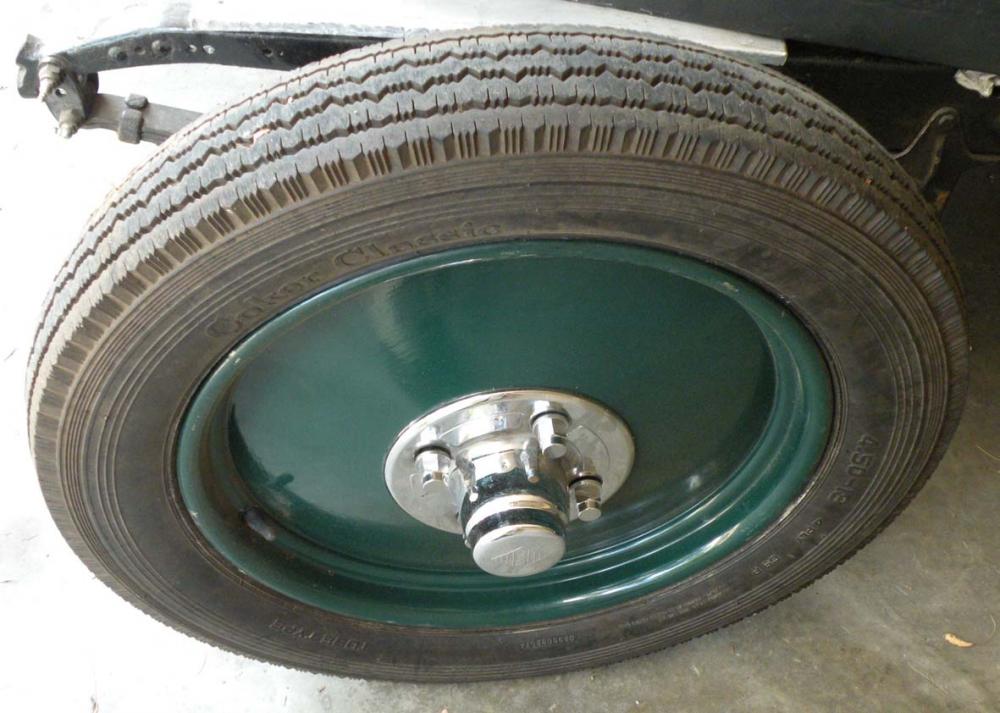 4-23-2016
N.B. I can now obtain documentary evidence that the car was Registered by the Victorian (Australia) Police Registration Branch in 1935.
Sale CLOSES in less than one week!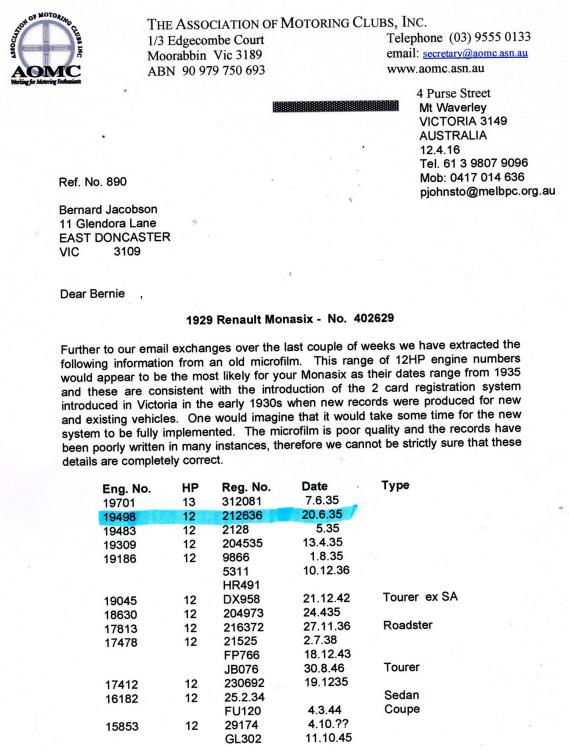 4-25-2016
At this stage I don't really care (any more than anyone else) if the Reanult is sold or not.
Having found a rather grotty (correct) Jaeger ignition switch complete with fuse I simply cannot help my self as the three attached photographs show. I am sorry I was so excited that I forgot to take the "before" photo. These switches in this condition must be on a par with "rocking-horse poo".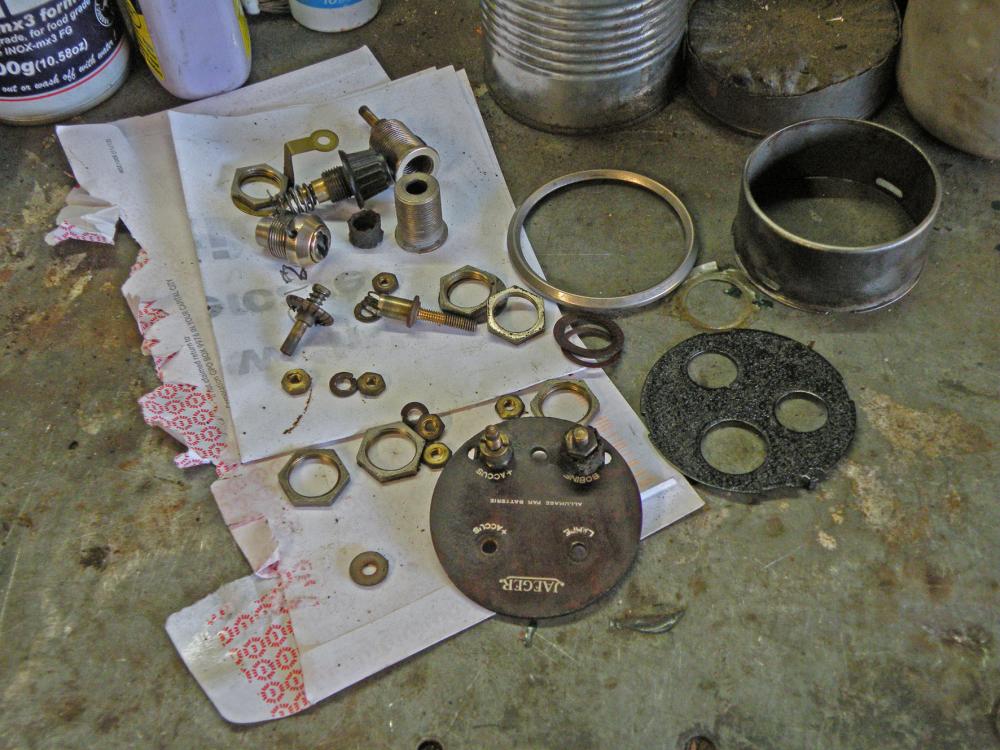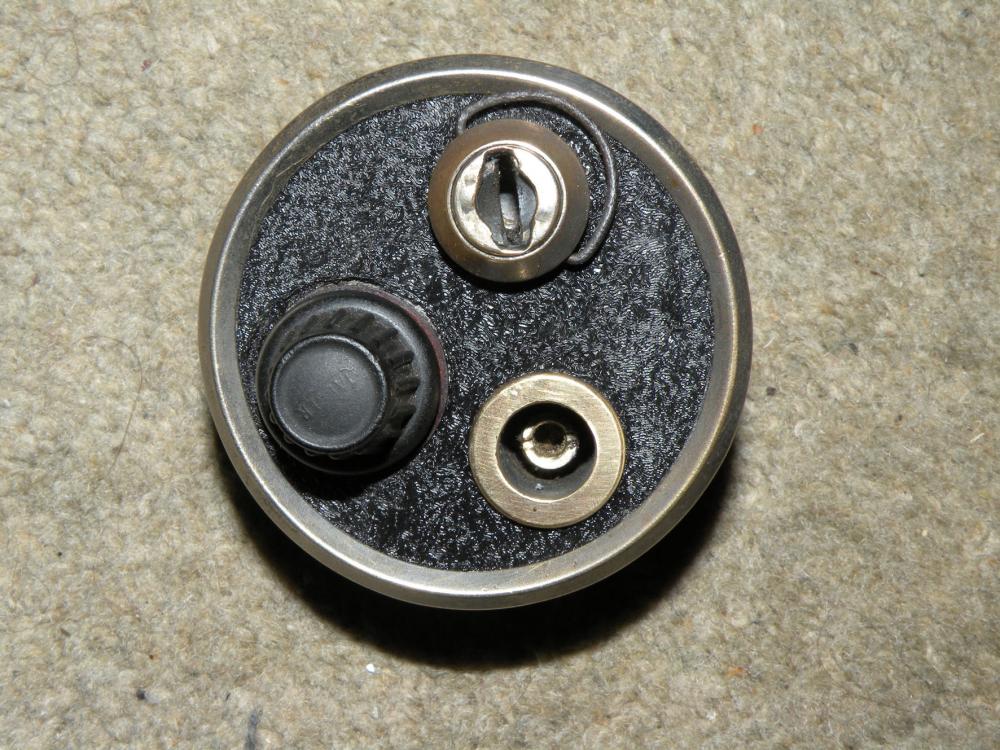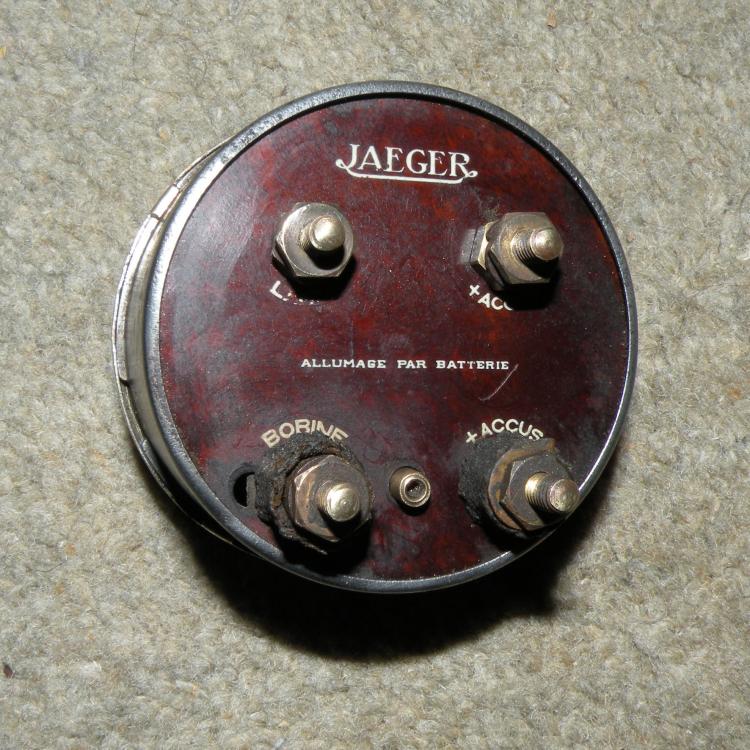 No! I do not have the "key" but I can imagine what it must look like. If anyone actually has a Jaeger "key" I would love to see a photograph of it if only to confirm that my imagination is still in working condition. I believe that rather than working as in a lock, it simply has to hold the internal (spring loaded) contacts together.
4-27-2016
Thank you both for your advice and words of wisdom. I have had the car advertised widely not just on the AACA Forum but world wide with the possible exceptions of China, South America and Russia. This over a considerable period of time. Having said that, I think that you both underestimate the reach of the AACA Forum.
Unfortunately I do let my frustration boil over from time to time. I have already grossly overspent on the Renault project and I am reluctant to spend any more money on it. I simply made a wrong choice when I first bought the car. I now stand to loose about $20,000, not including about two years of my own efforts. This in anyone's money is a significant loss!
Perhaps this may go some way in explaining my angst!
It may come as a surprise to you but not every old-car enthusiast is a multi-millionaire.
5-16-2016
Thank you for your interest Dale
Nothing has changed, I have not touched the Renault for some time now. I have decided that for me to spend any more time or money on it would be a complete waste. I am currently prepared to GIVE it to anybody who will reimburse me for the cost of fitting the new rims and tyres etc to the wheels and the cost of the rebuilt Dyna-start. This amounts to just over Aust $6,000, showing me a nett loss of about $15,000.
So far there have been no takers. I am reluctant to just cut the thing up and give it to the scrap man but it may come to that. I just want it out of my life.
We have also been on a weeks holiday to Tasmania. The little island state just south of mainland Australia.
Bj
5-18-2016
Thank you Paul.
The Tasmanian holiday was very relaxing. I did not sit behind a steering wheel all week. However we did do a lot of walking. Miraculously we did see a brand new (Aston Martin) Lagonda 4 door saloon. One of just 200 set for production. How it got to Tasmania I cannot imagine except that there are one or two multi millionaires live there. Unfortunately we were in the back seat of a friends car going in the opposite direction.
Right now I am removing several layers of very nasty blue (house) paint from the Renault head lights.
This had been applied by someone using a handfull of straw for a brush. Surprisingly there is just one small dent and a little surface rust underneath it all.
Bj.
5-19-2016
I know that this is riduclous but while I cannot even GIVE the Renault away I feel compelled to keep working on it. :- See above. With the shells now stripped back to bare metal they are in excellent condition.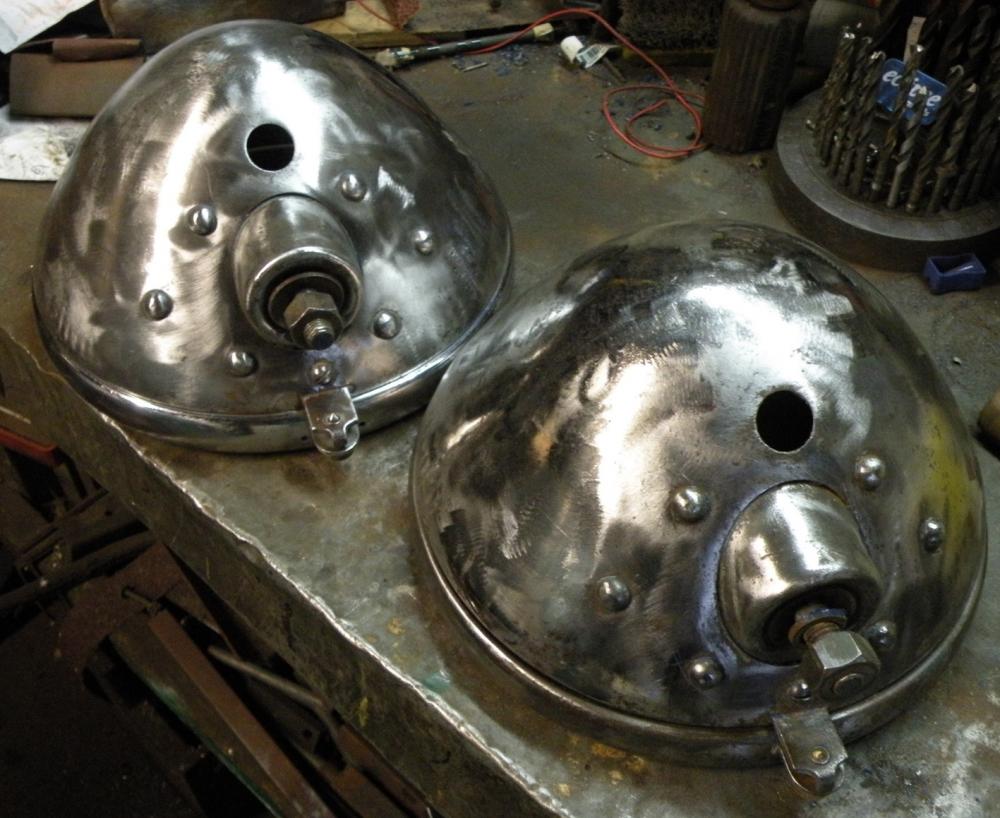 5-27-2016
At last the Renault has been sold albeit at a huge loss but at least it is out of my garage and out of my life. Time to take stock and think about which direction I want to take my life for the next few years,
Bj.
5-28-2016
Thank you all for your interest and specially your patience, it has been a rocky road at times. It may be not straight away but somehow if think I will be back. Hopefully it is not yet time to screw down the lid.
Bj
How many of you can remember 1955?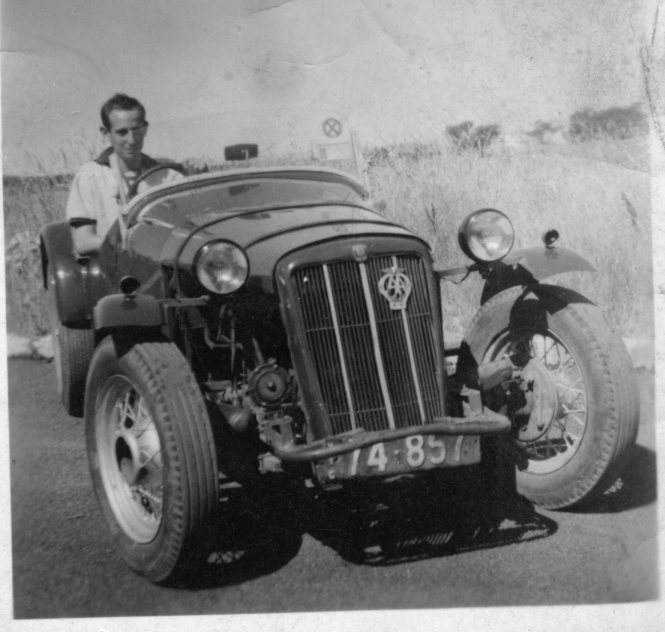 6-1-2016
No doubt many of you are wondering if and what will be my next project. A good friend has offered to sell me an mid 1920s Austin Seven chassis frame for a very reasonable $250. After giving this some thought I came up with the following. It is long time since my last Austin so I am uncertain about current values. Looking at one or two car sales web sites and e-bay it seems as though restored Austins sell for on average between $15 and 20,000.
My approximate costing of a very basic rebuild NOT including all the other parts required to build a rolling chassis works out to something between $20 and 25,0000 NOT including labour.
I seem to have been down that path before!
Bj.
6-10-2016
Far more interesting than either a Morris or an Austin, another little French mademoislle may have just attracted my attention. She is in need of some cosmetic attention along with some major work on the engine. Built in 1923 she is a little older than the R......t but she has the advantage of still wearing her original body etc. Those horrible tail lights will have to go!
Much the same size as an Austin Seven only French, what is she ???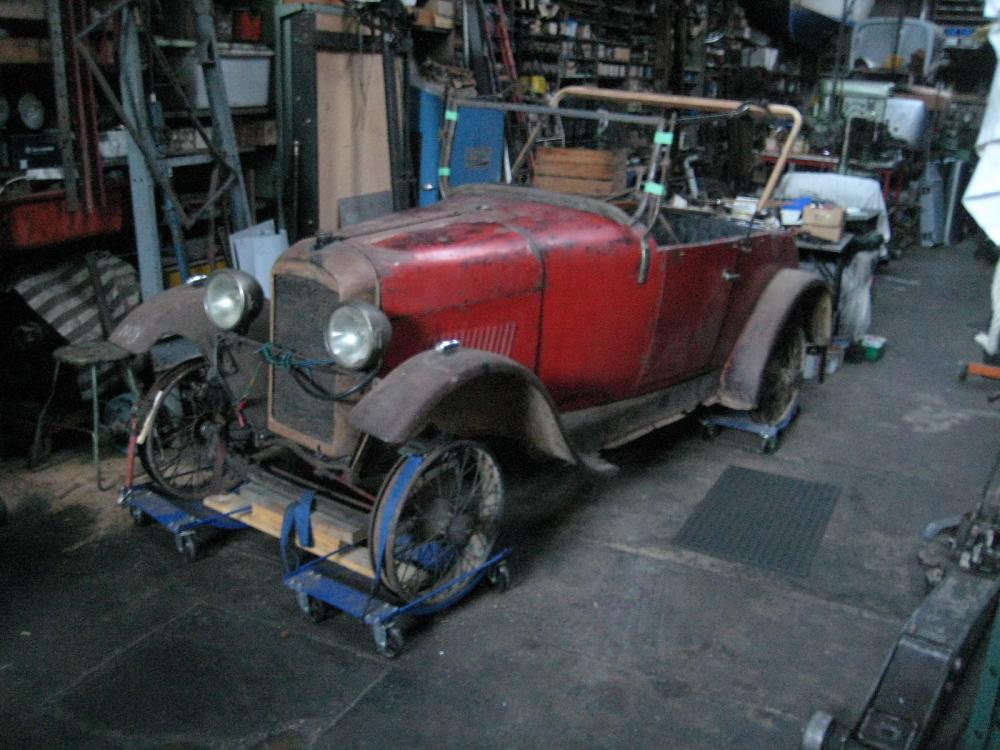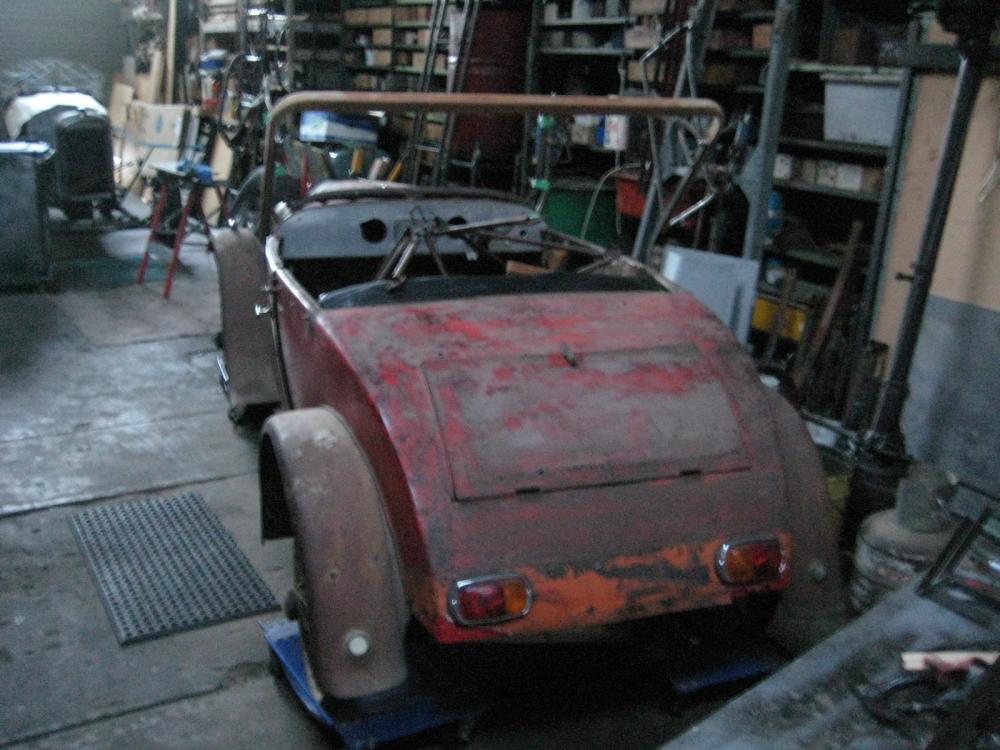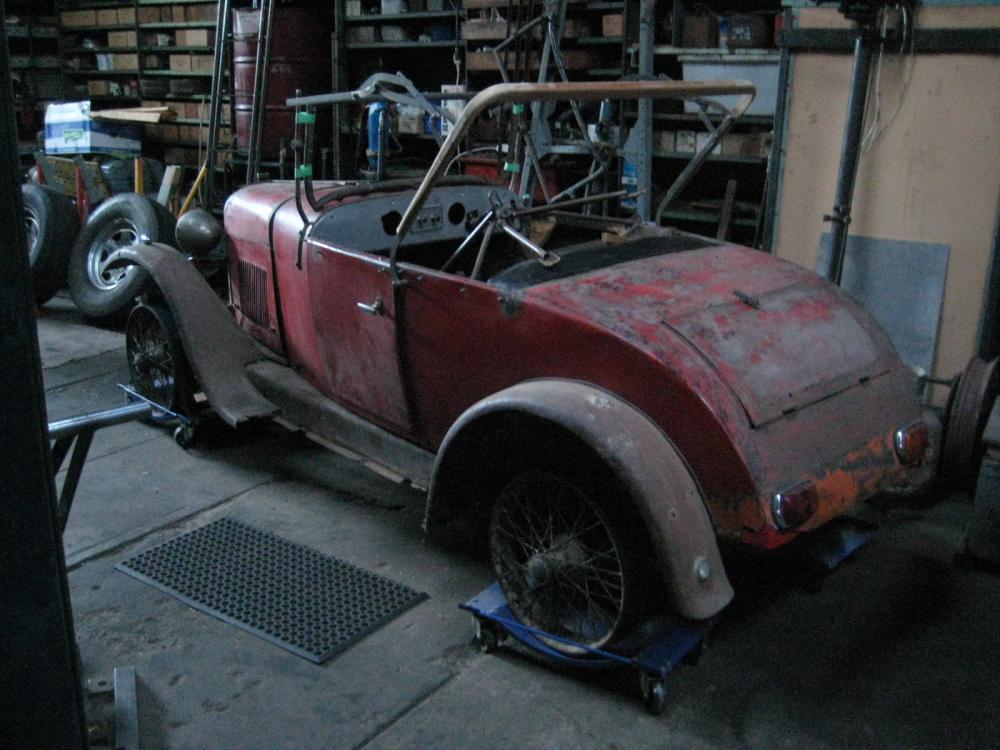 Sorry but no luck so far
Here are a couple of clues. It is a popular small (903cc) French sporting car.
The name is an amalgam of those of the two founders of the company. They continued to build cars up till the late 1930s. These included a 2ohc six cylinder of just 1100 cc and a 2 Litre Straight 8. But by far these little side valves firstly 903 and later 1100cc made up the bulk of their products. The body is built by South Australian coachbuilder TJ Richards and is a copy of the ones that French coachbuilders were making at the same time. Here are some photographs of the French version. IF you look closely you can (almost) read the name.
Bj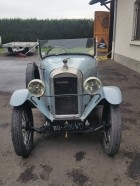 6-11-2016
Hello Stude17
You are absolutely correct right down to the type. The first CC did not have electric starting but had a reduction gear incorporated in with the crank handle. This one being 1923/4 has electric start. I think that it probably deserves a thread of its own rather than being tacked onto the end of the Renault. I am really looking forward to getting it home and making a start on it. After a long long time I finally have a proper Vintage Light Car again. Even better this one is complete and original. It has to be almost 40 years since I last owned an Amilcar it too was a CC.
Bj