TK's Yellow Krait LJK Buildup by tkfx
By diyauto
You must be logged in to rate content!
TK's Yellow Krait LJK Buildup
Compliments of tkfx @ jeepforum.com
4-18-2014
CURRENT PICS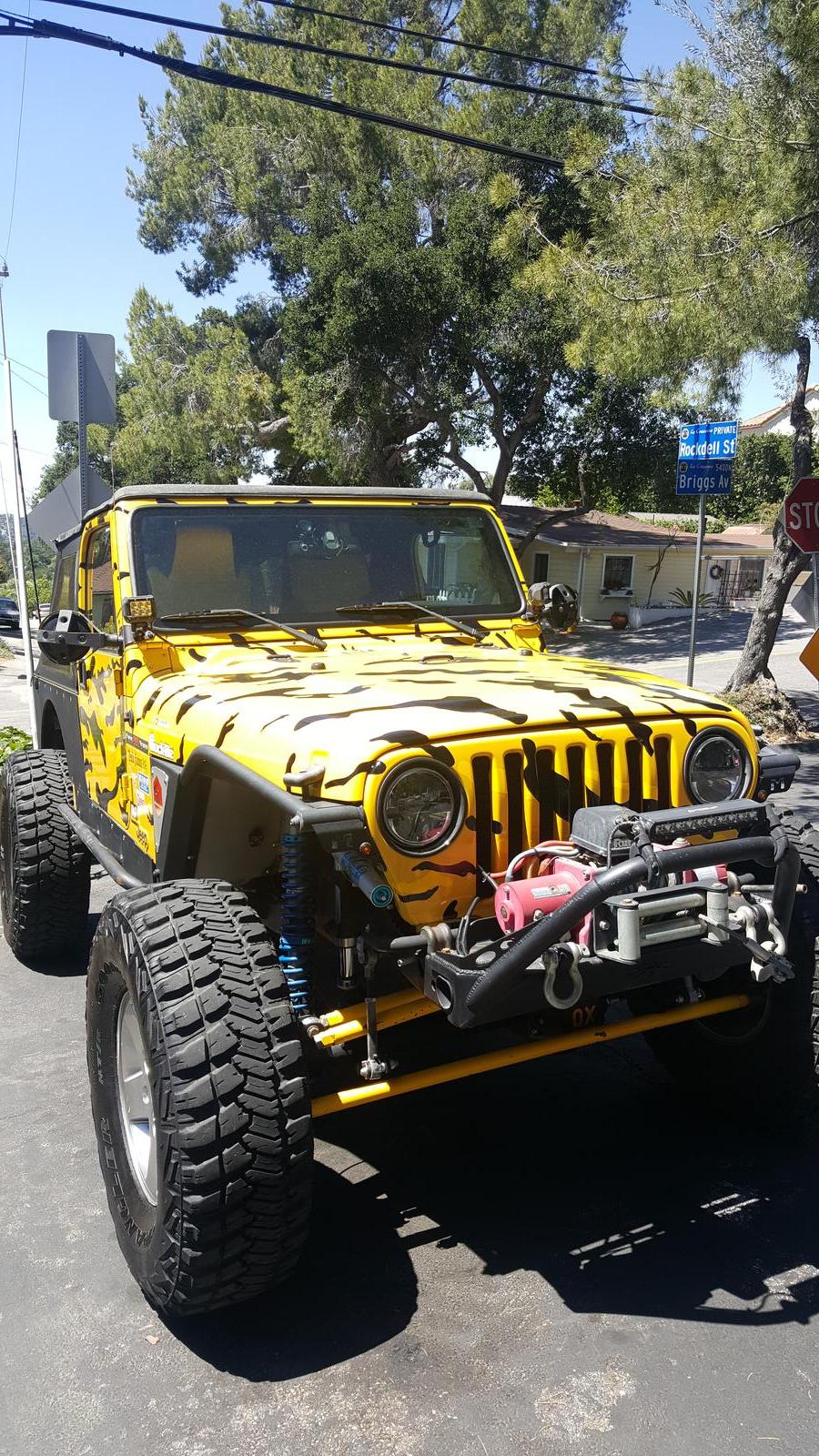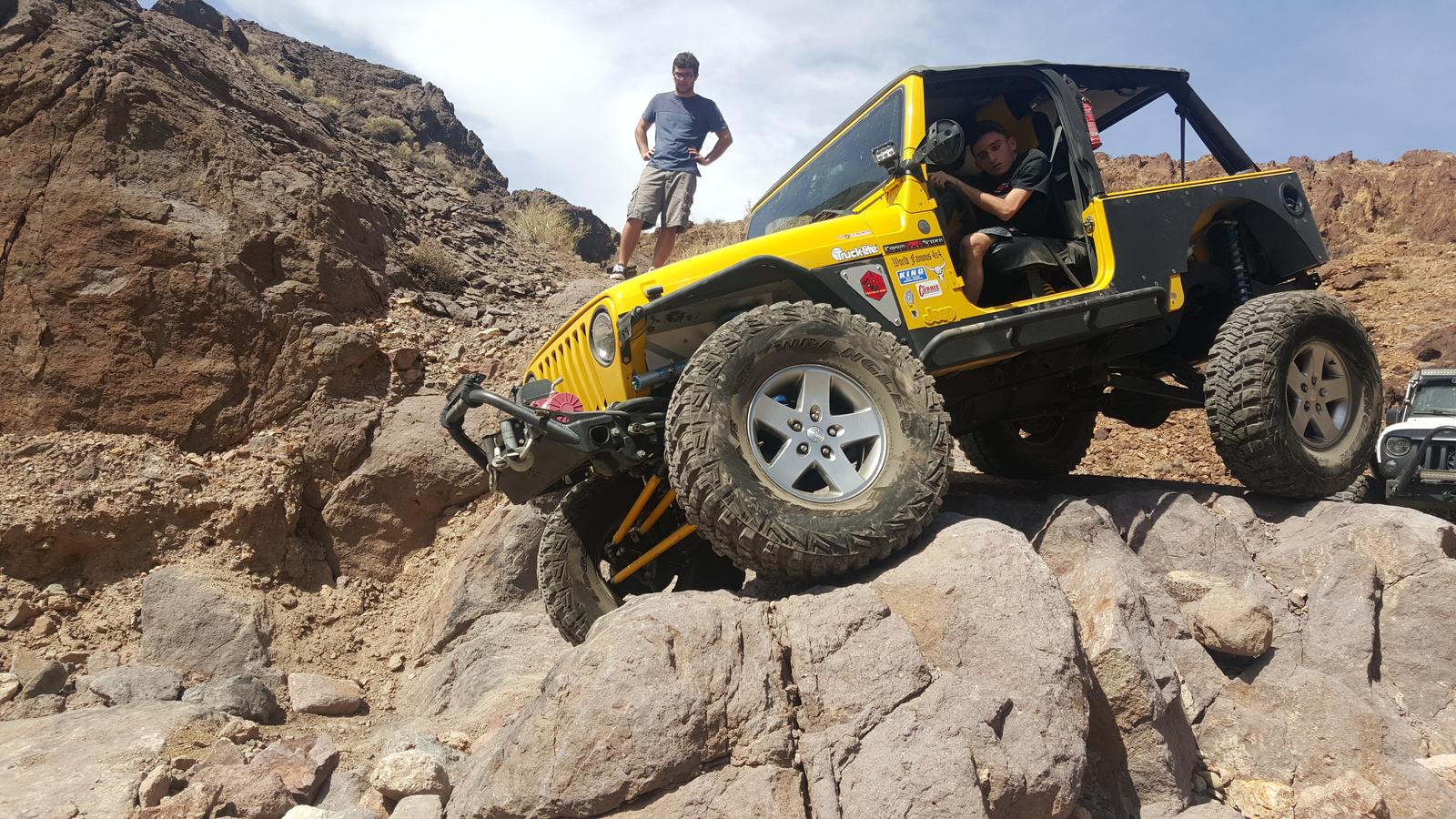 Hello Jeep forum! I have been a long time lurker and a long time user of wranglerforum and I have decided to participate more in this forum as well! So I will start my build thread on here... incoming dump of pictures from the start of this LJ's career with me! Here we go folks, please keep all hands and feet inside your chair at all times, and enjoy the ride!
I just turned 17 and got my license. My parents gave me their yellow jeep. This was little over three years ago.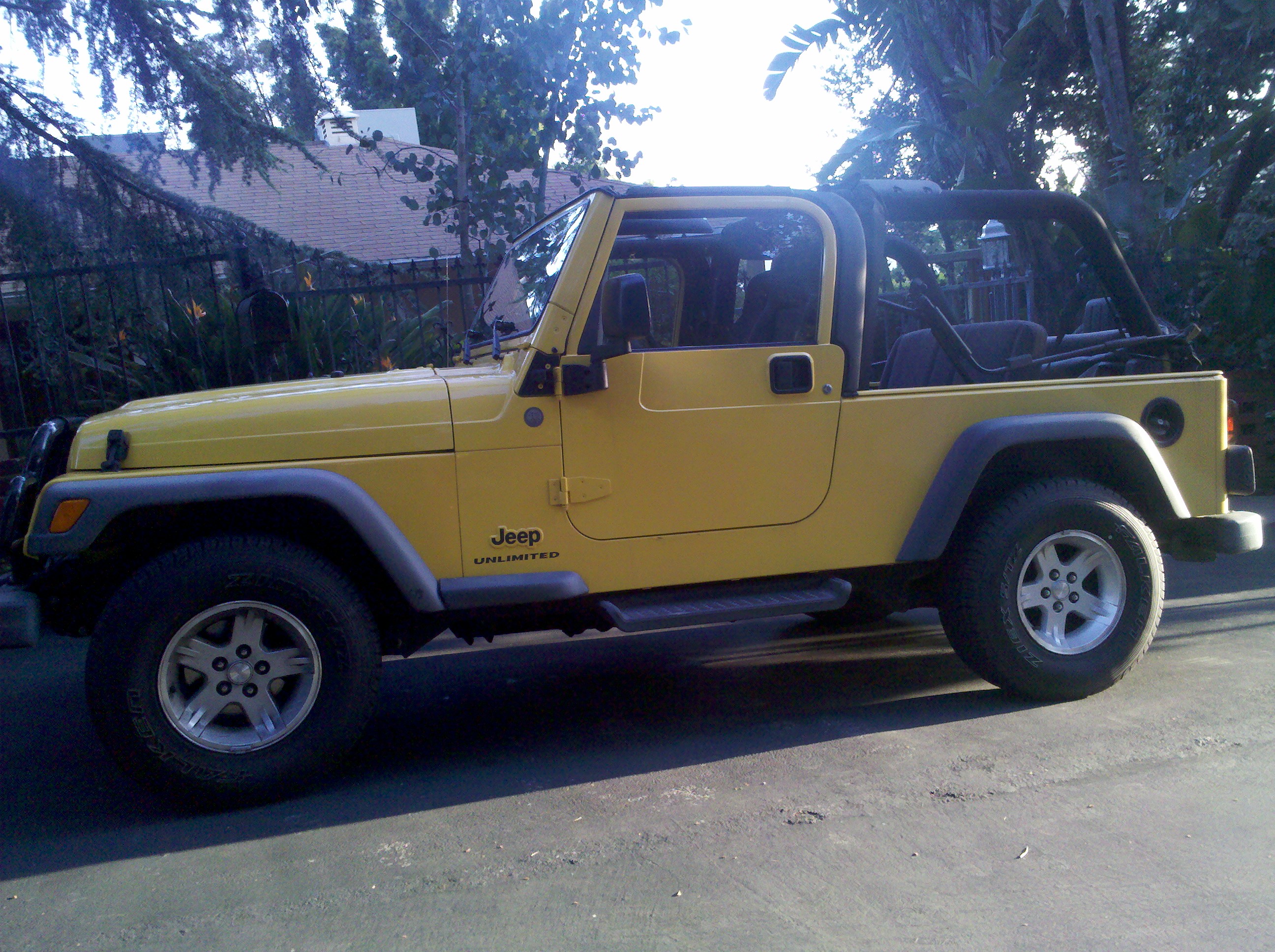 I really did not like the yellow, I felt like a girl driving this jeep. I was not familiar with the offroad world nor did I care at the time. I took care of my jeep keeping it clean and shiney.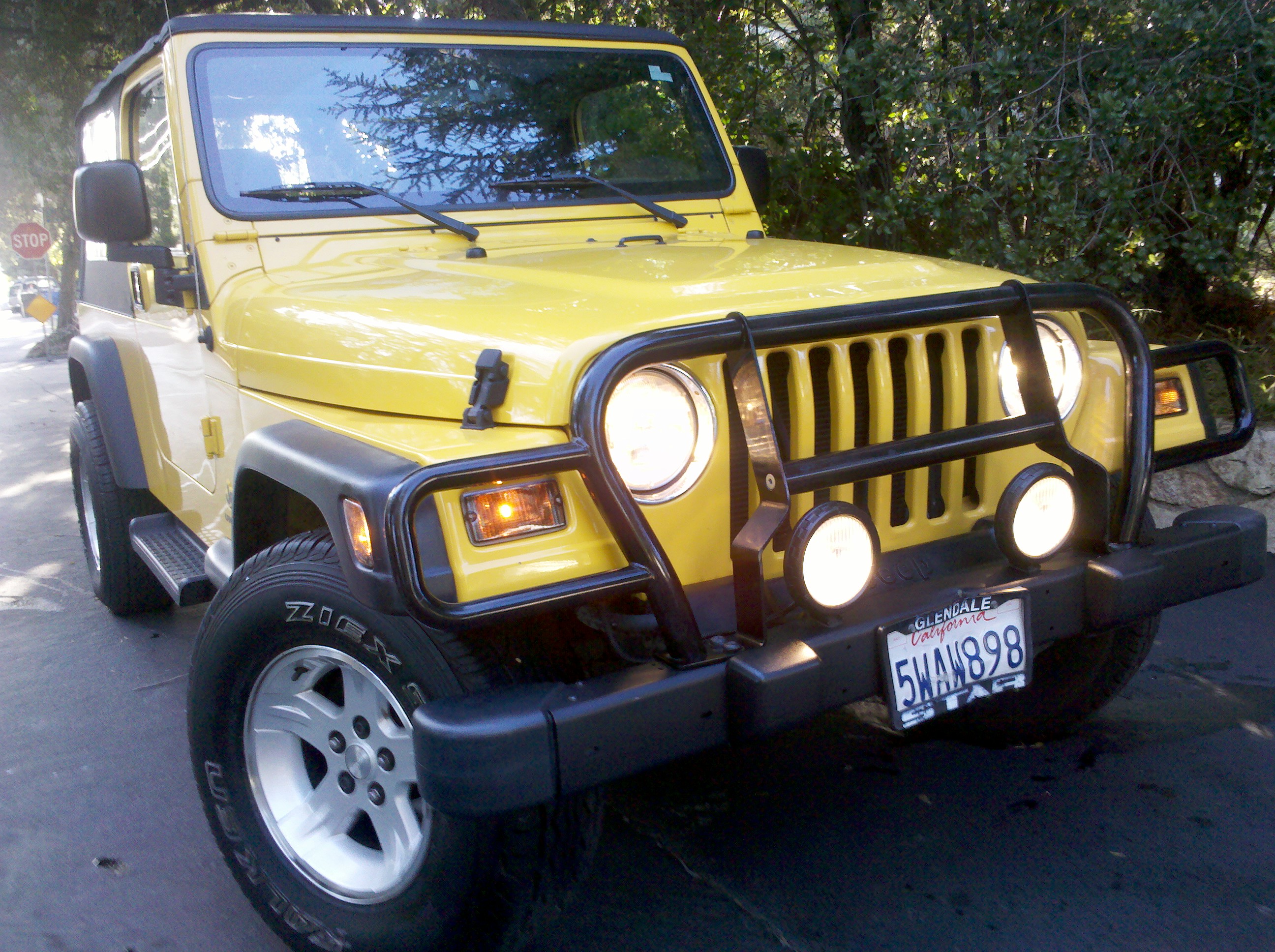 I decided to test its offroad capabilities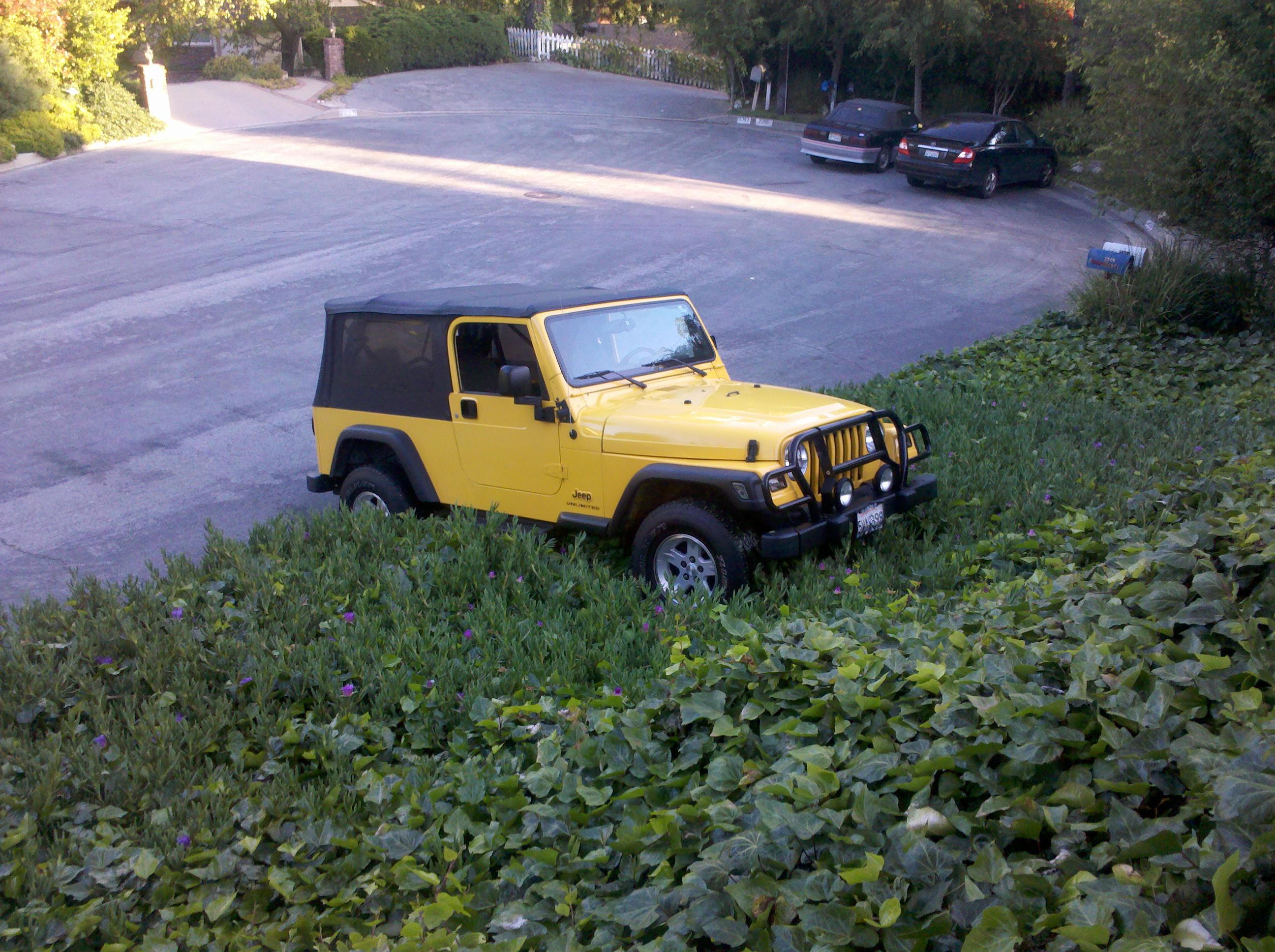 Then my Dad asked me if I want a lift kit. I figured why not, not realizing what I was about to get myself into. Here is a stock jeep lifted 4".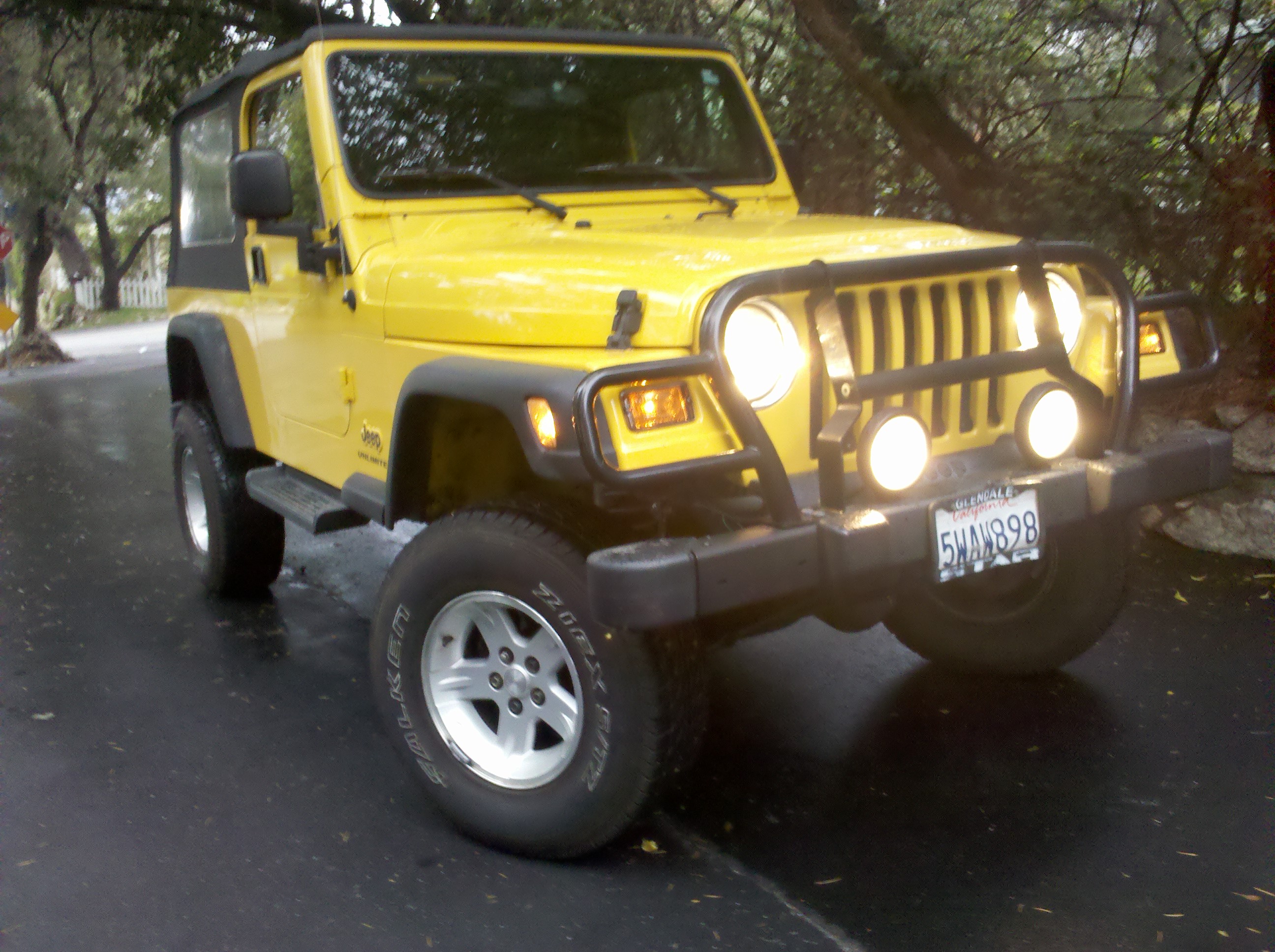 Then came the tires and wheels, 33" KM2 and some platidip.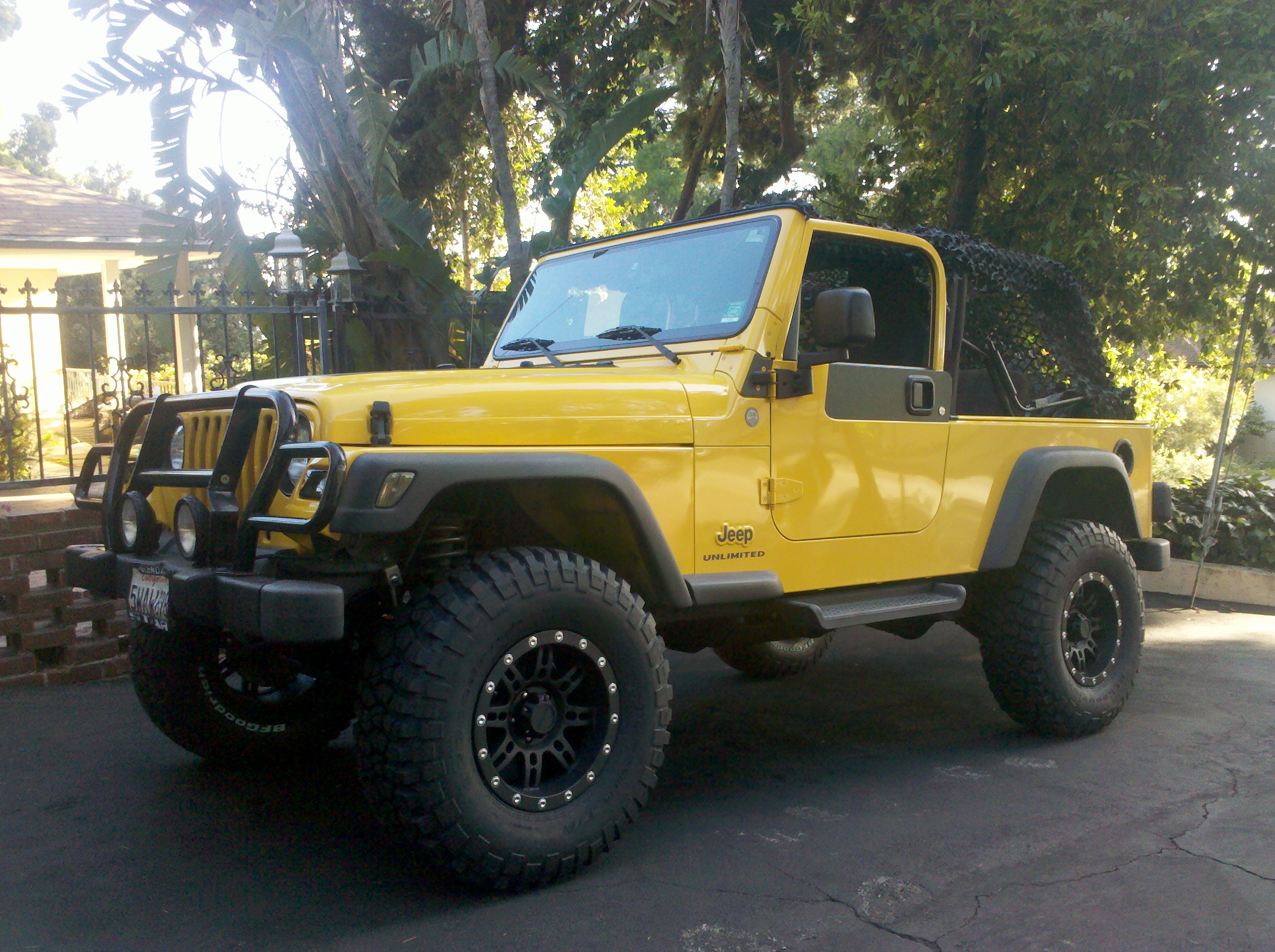 Then came the front bumber customized to my likeing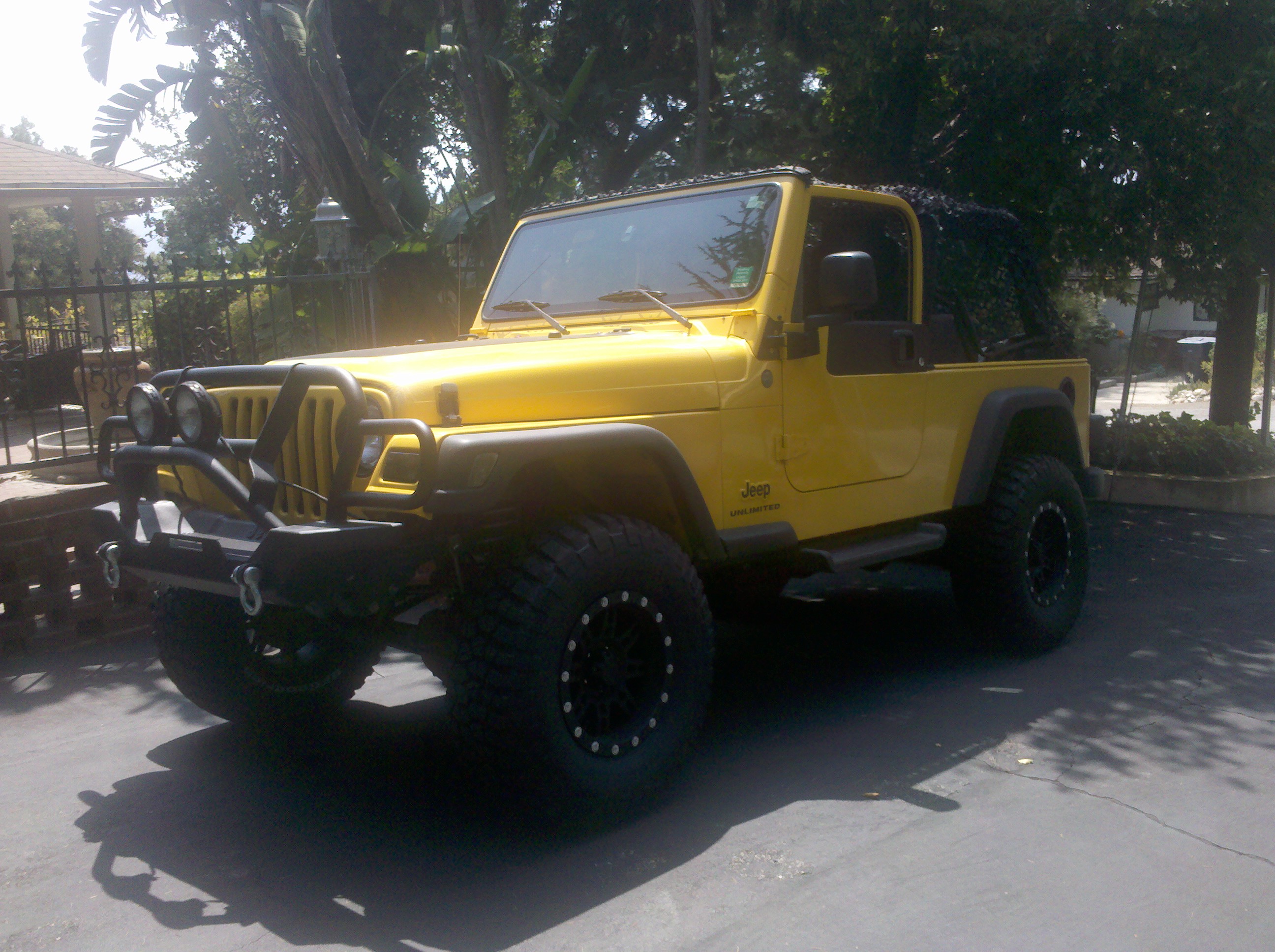 Then I went on my first wheeling trip with the guys over at wranglerforum. Went to Last Chance Canyon and had a blast. Figured I needed a OBA asap.
With the help from Jerry I was able to piece together a York and get it up and running on my jeep with air outlets in the front and back.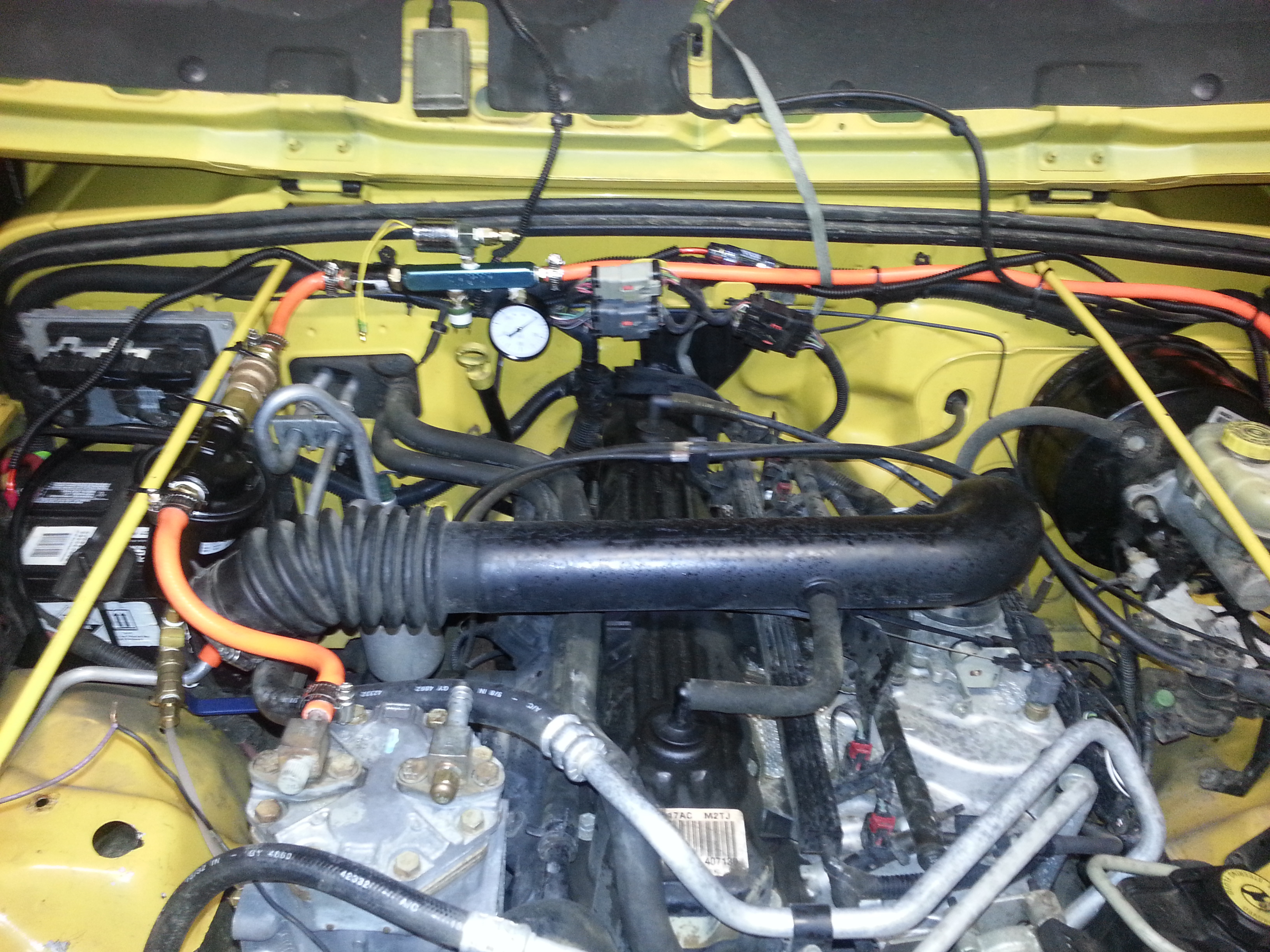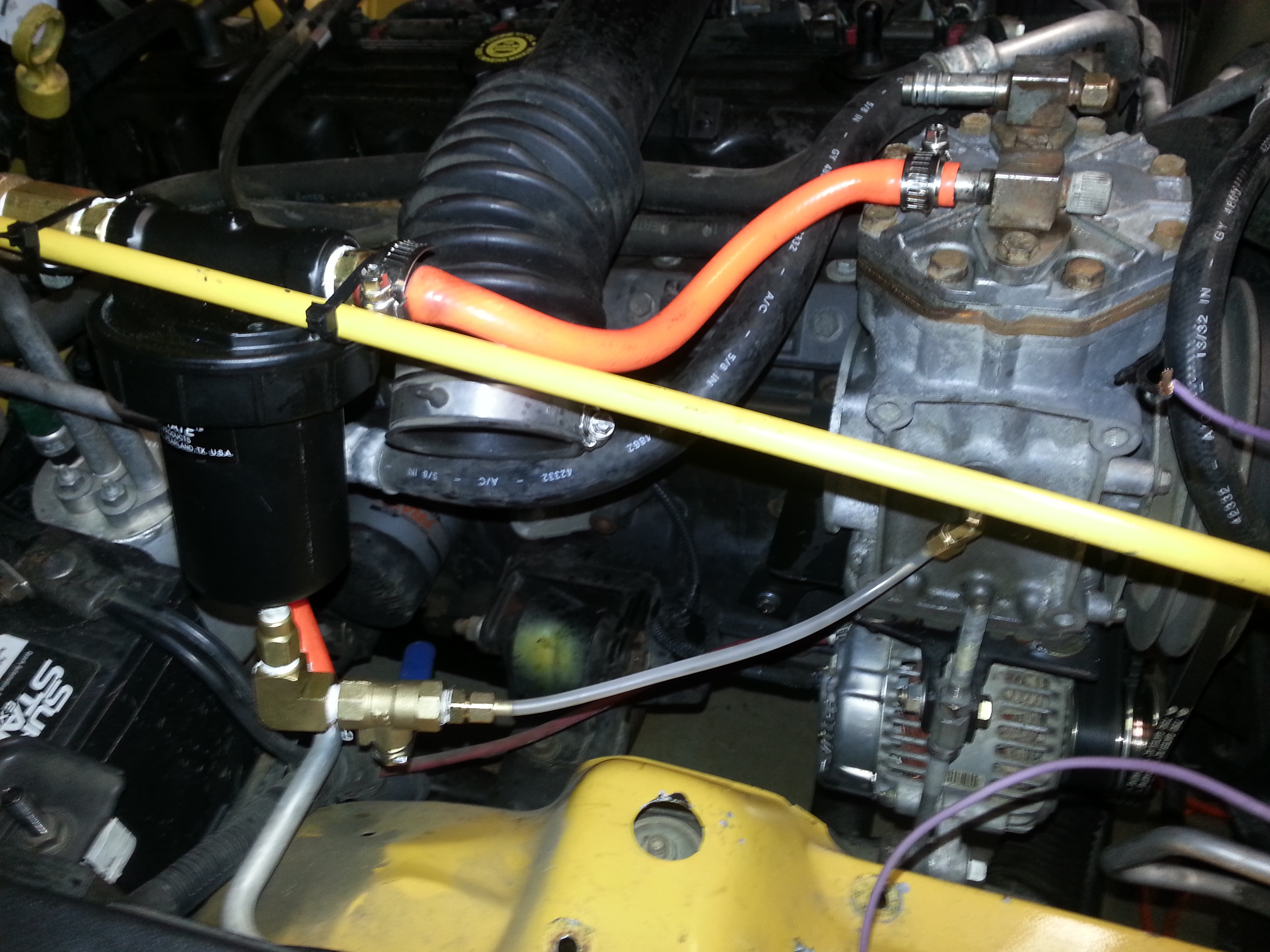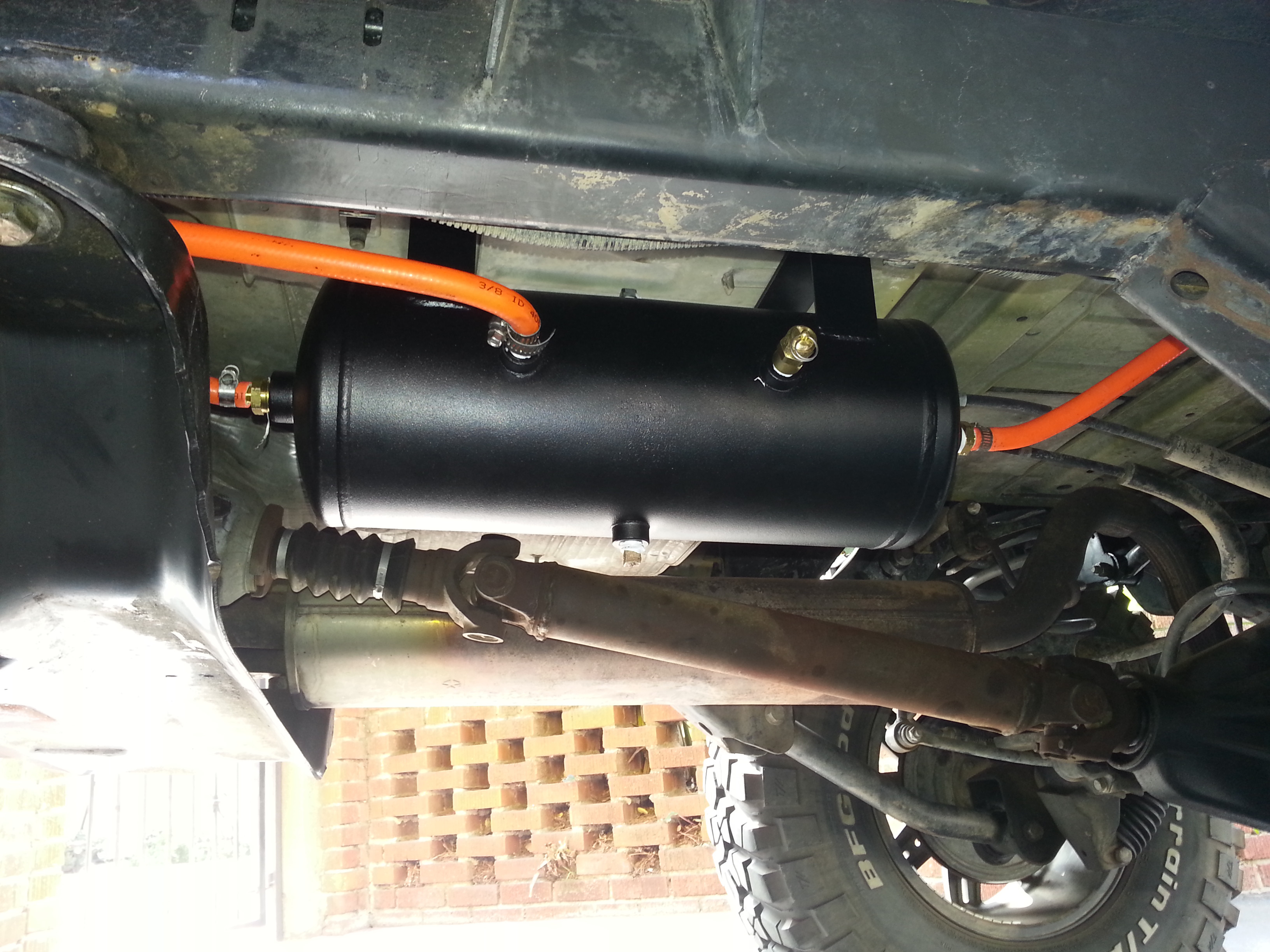 Of course how can you forget the big air horns?!?!?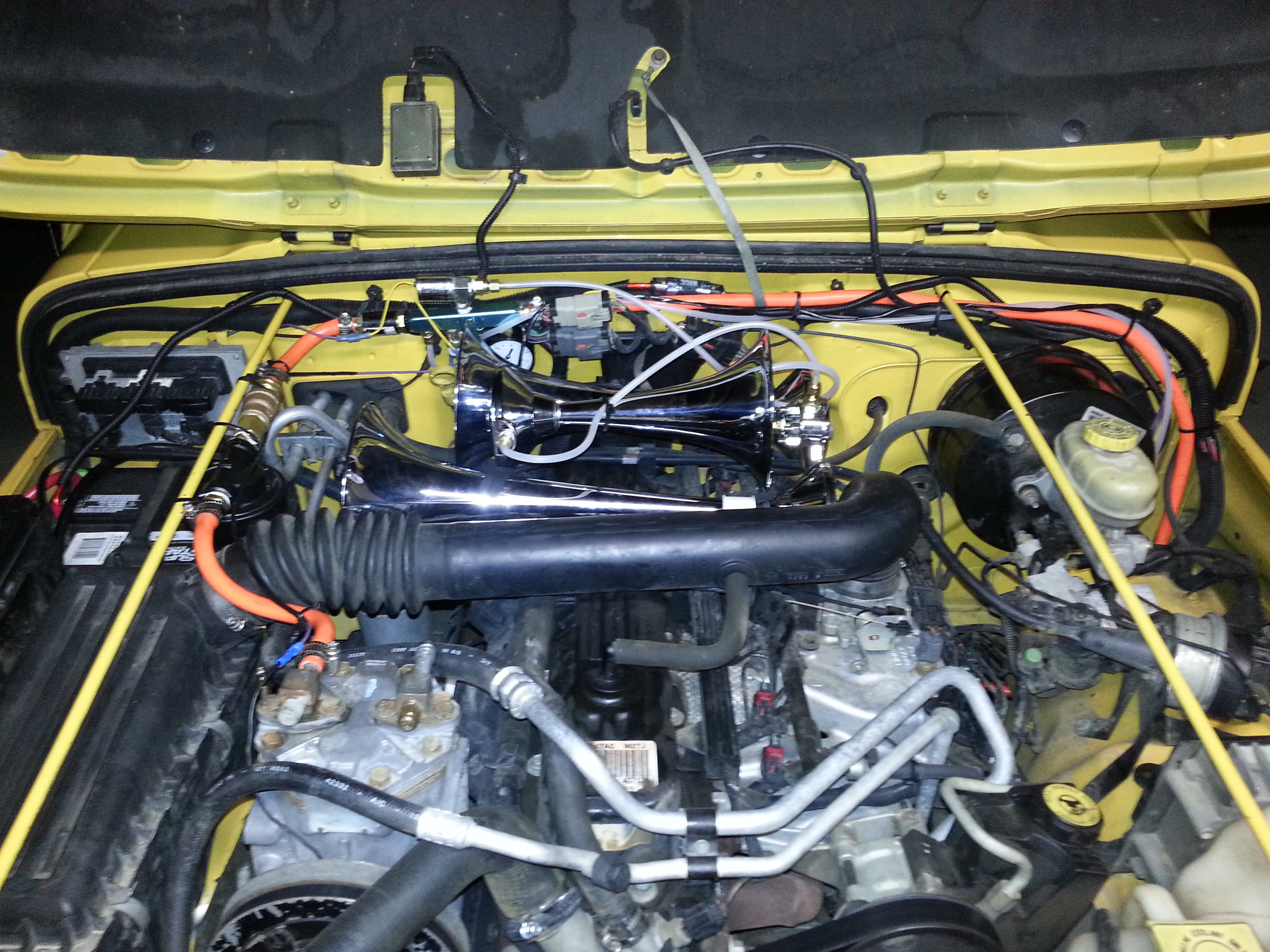 Then I got myself a smittybilt rear tire carrier and a winch up front, then went wheeling to Calico with wranglerforum.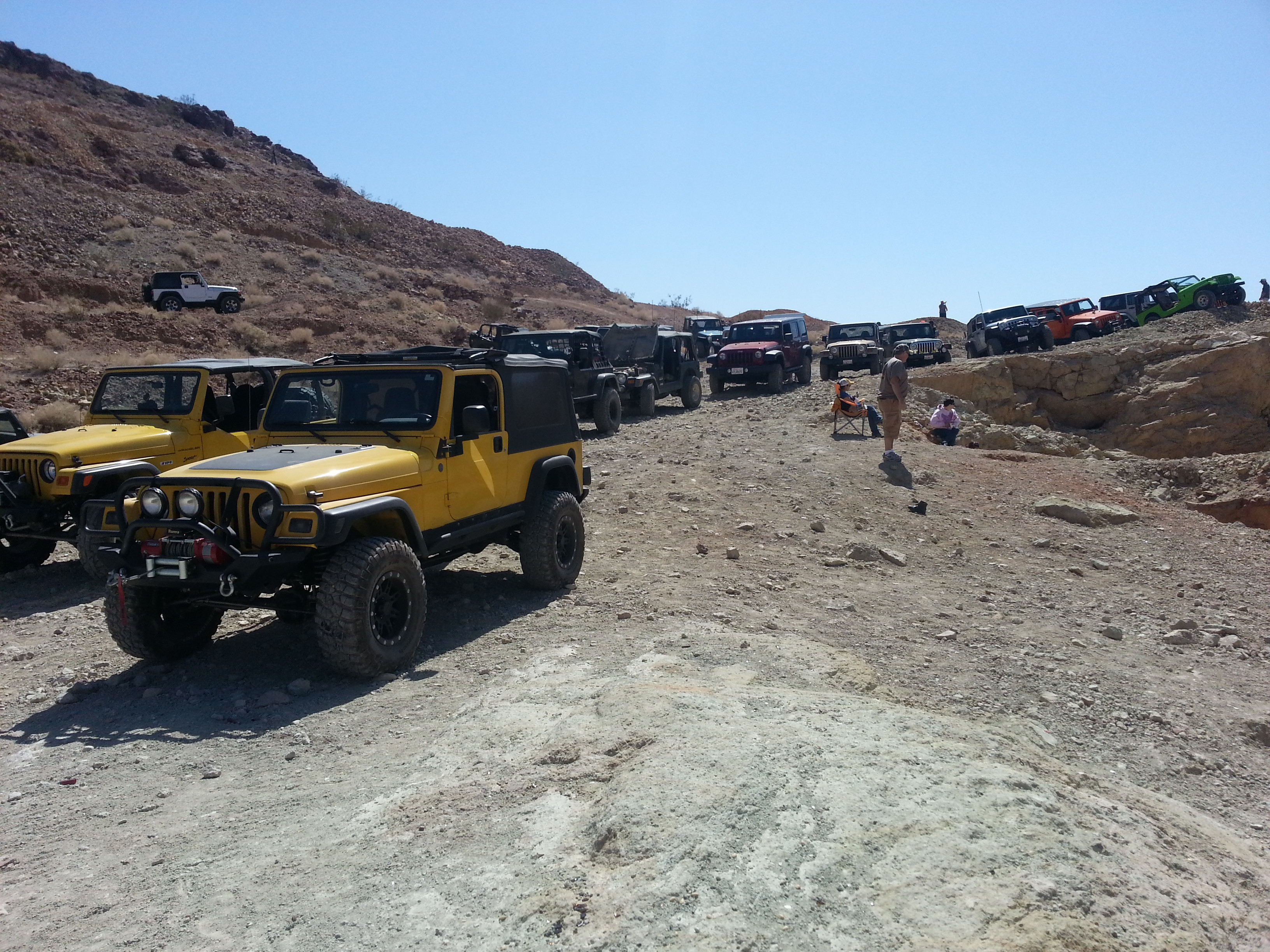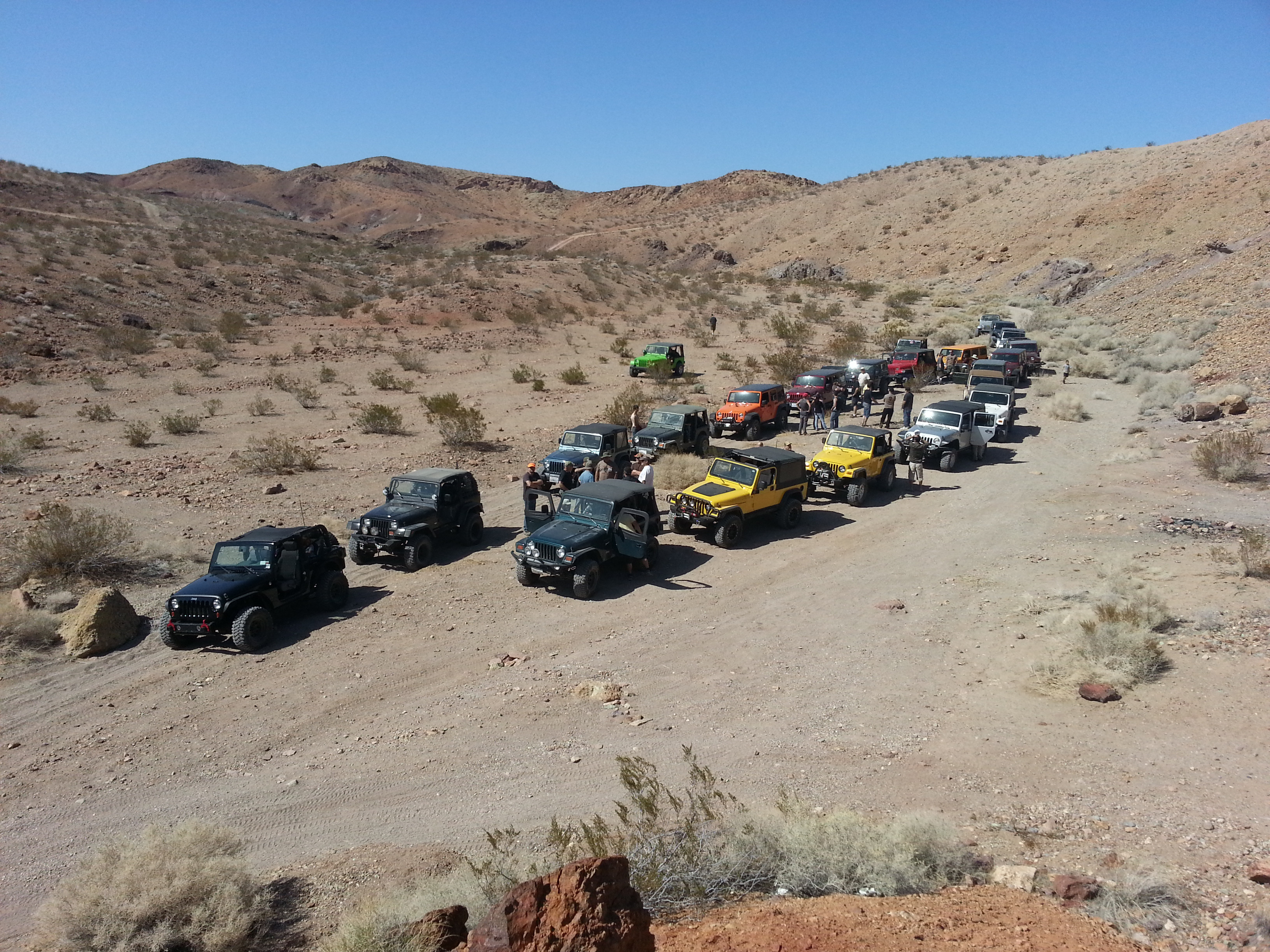 All of a sudden loss of power. WTF. Drop the cats and discover this.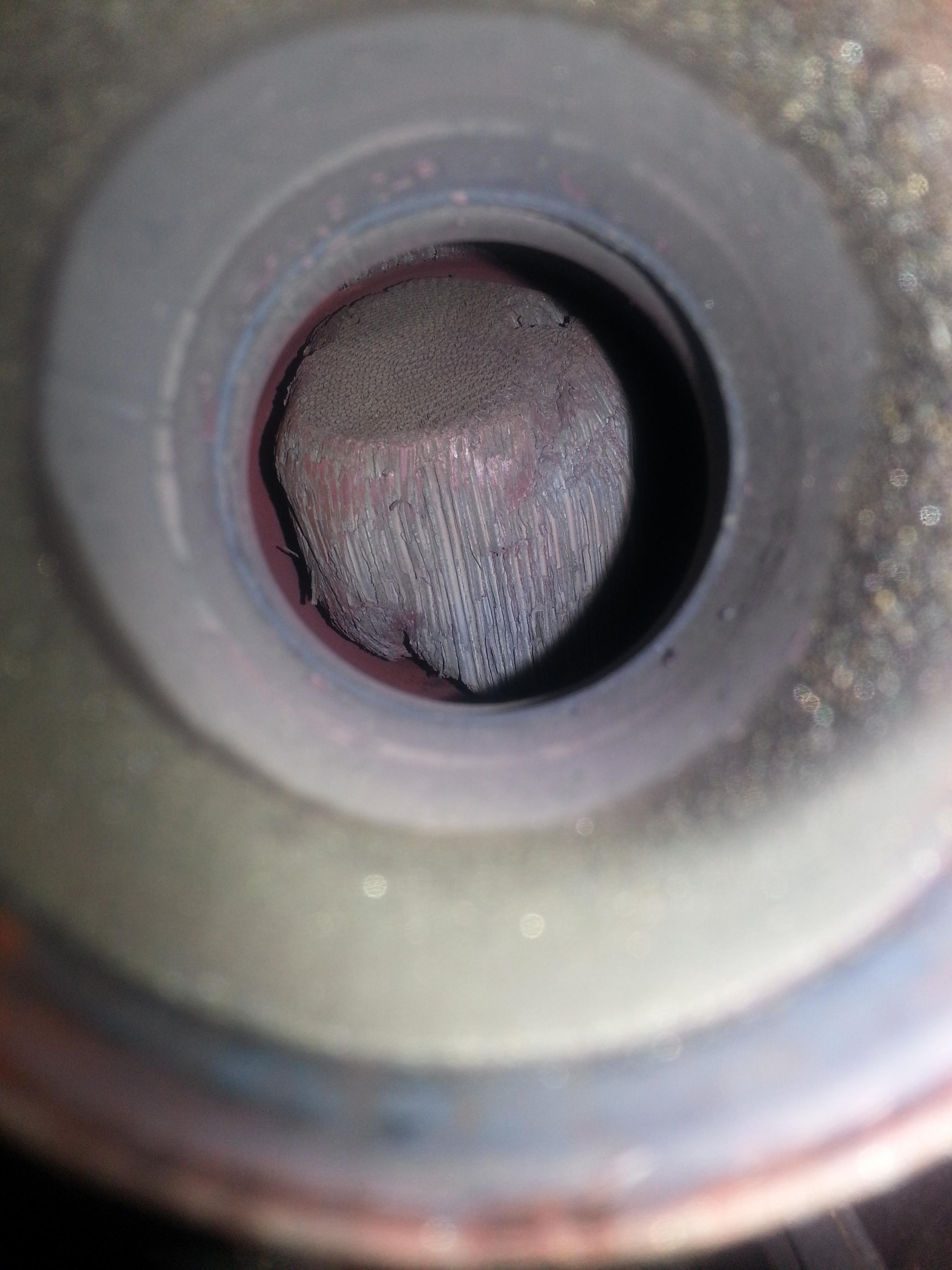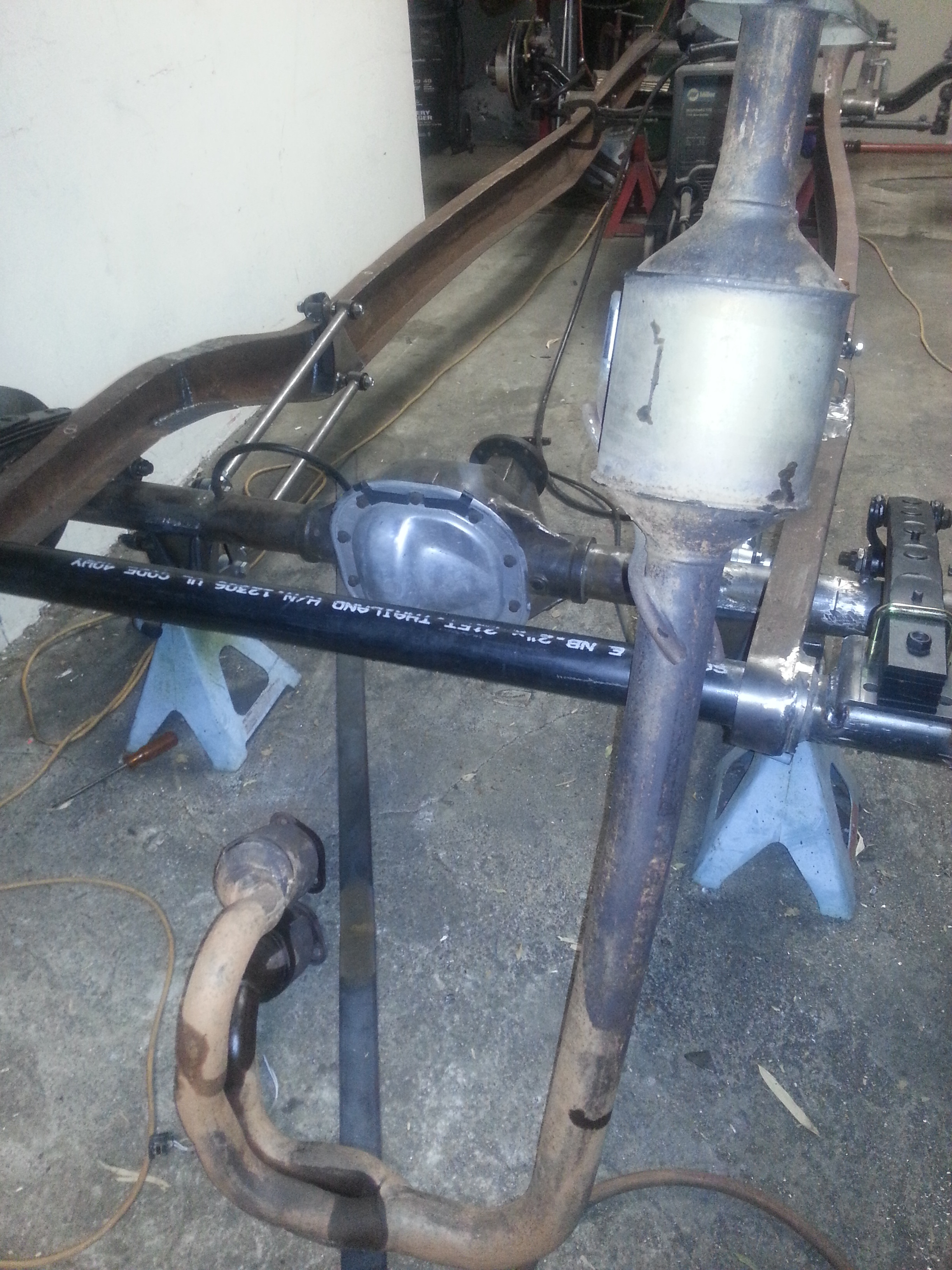 Went out wheeling with wranglerforum to Miller Trail starting in Frazier Park.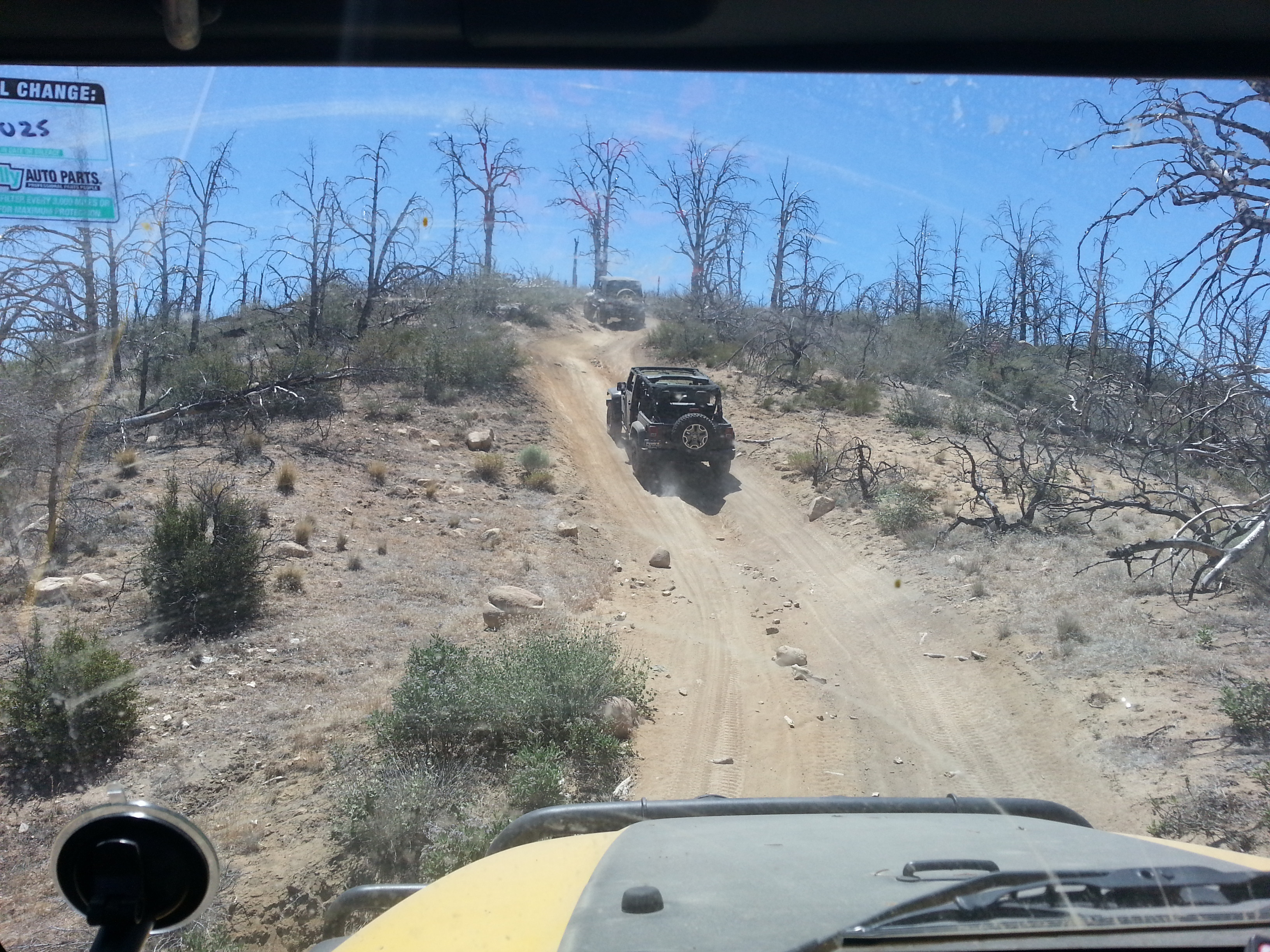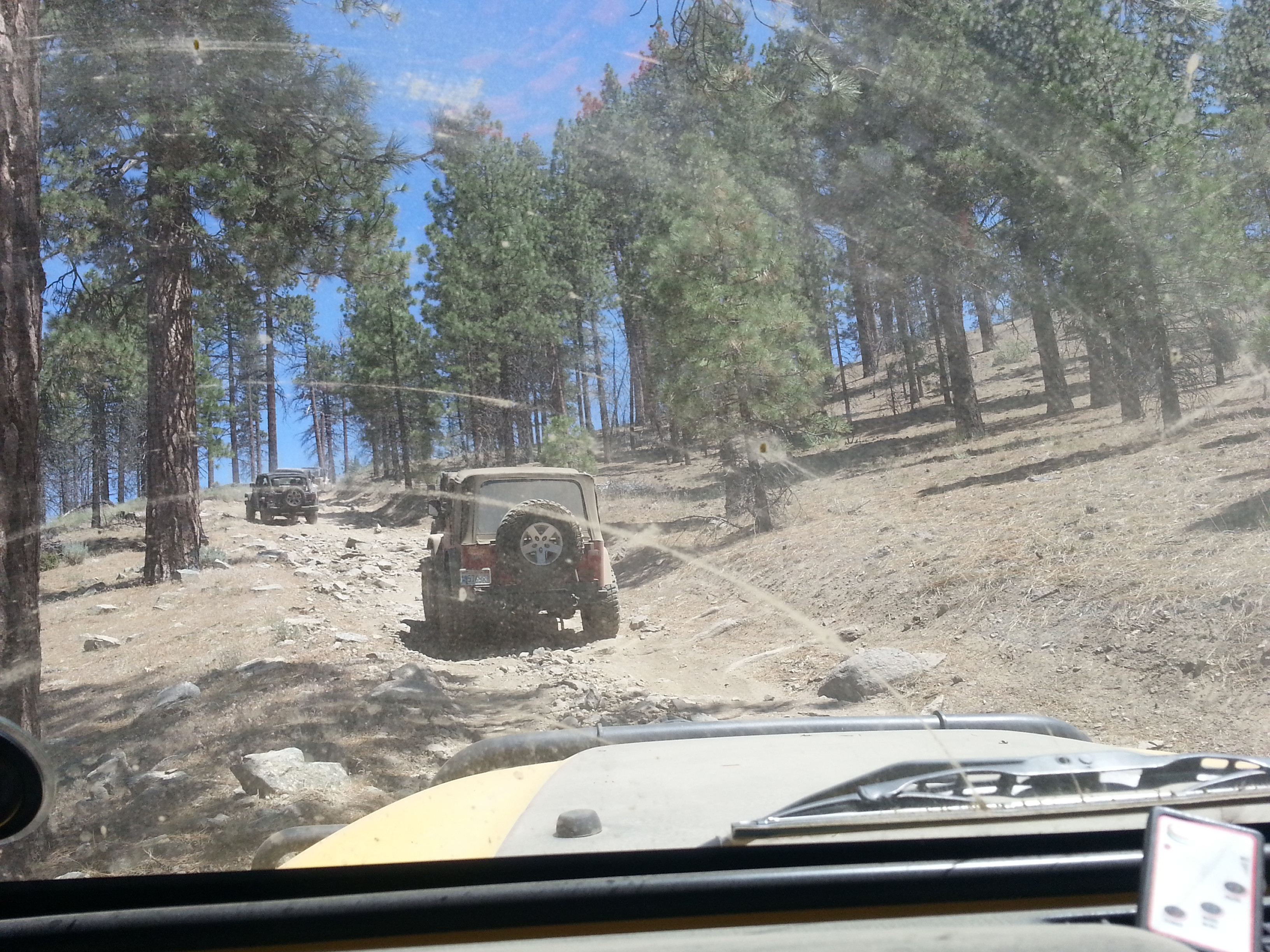 How she sat so far looking clean.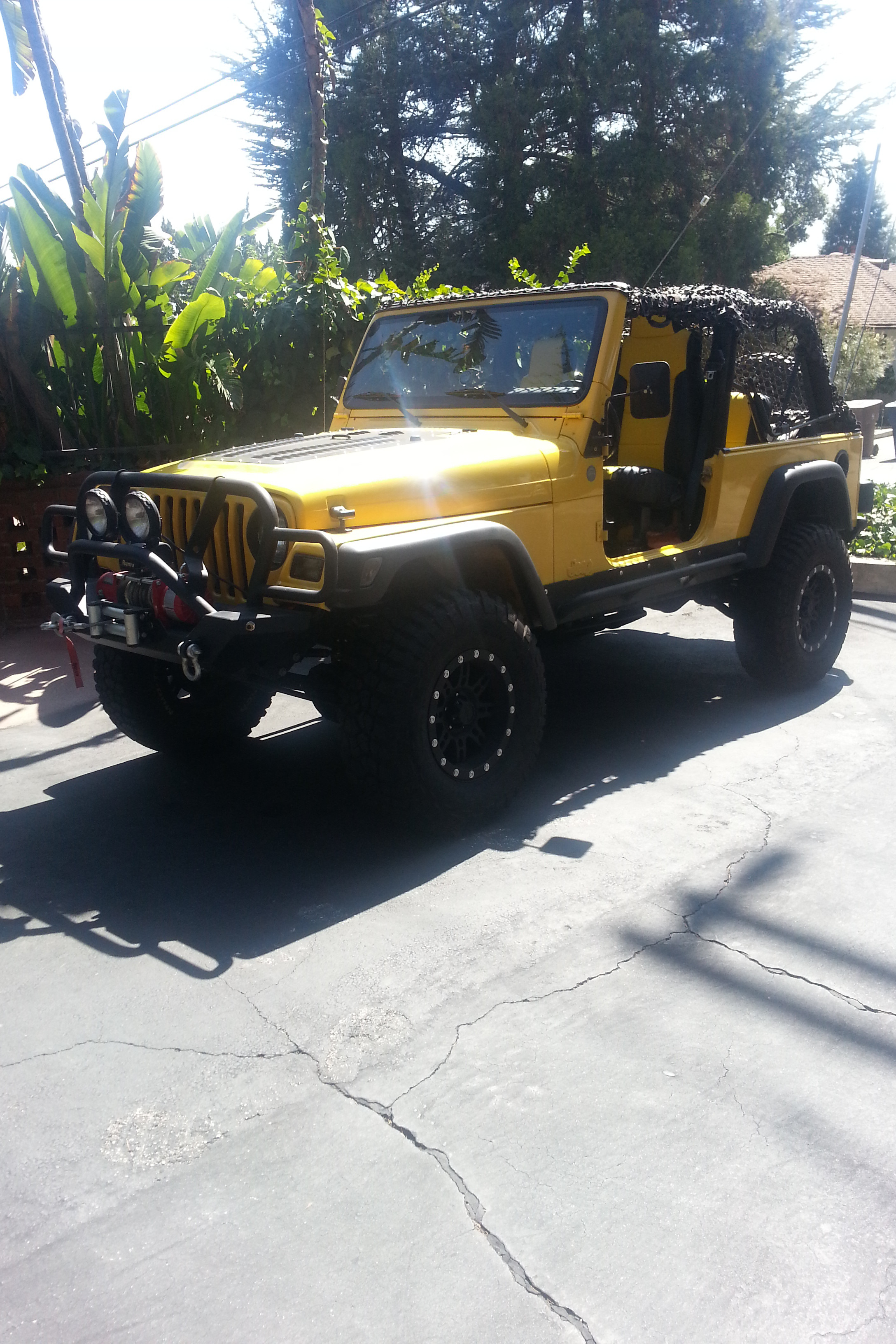 Summer shenanigans.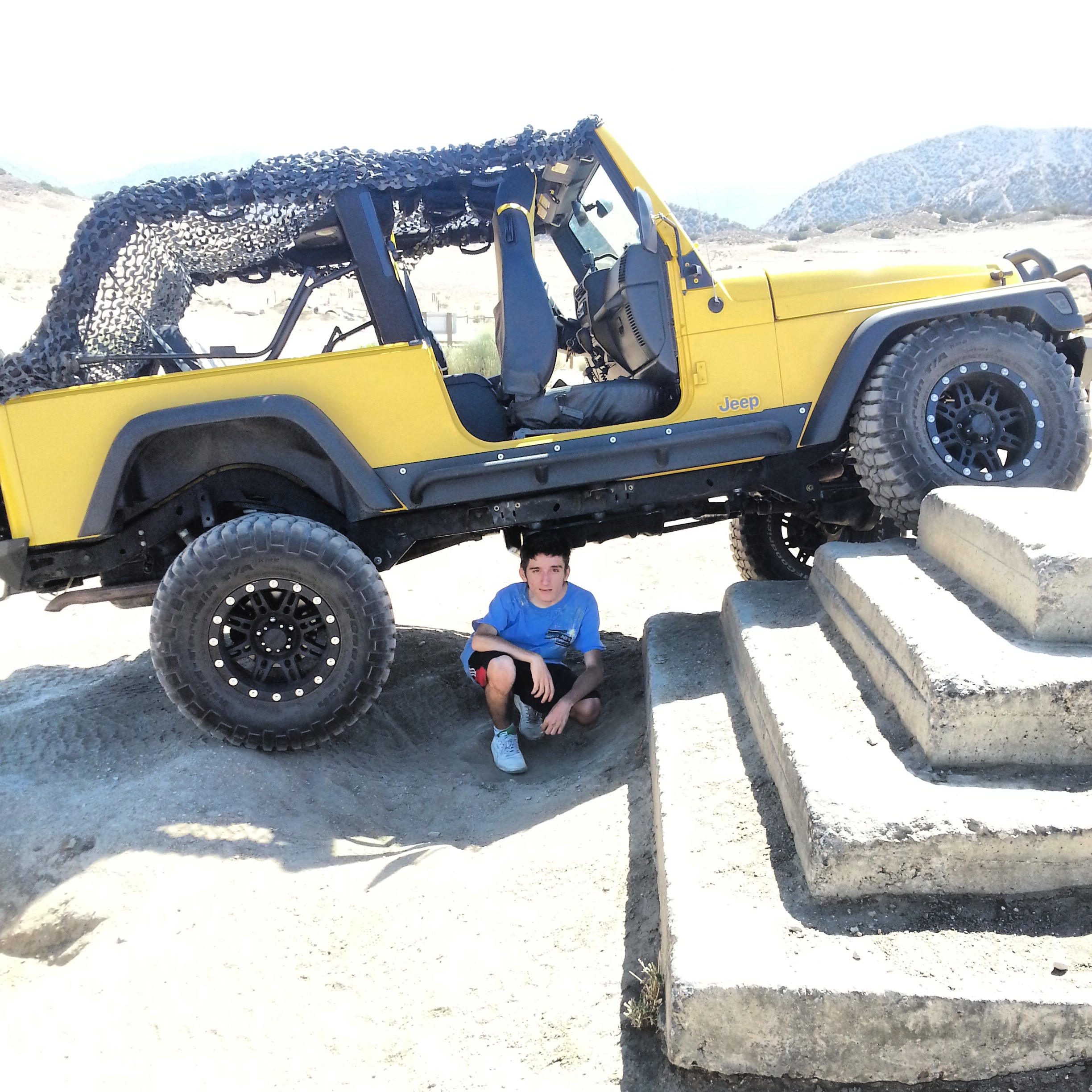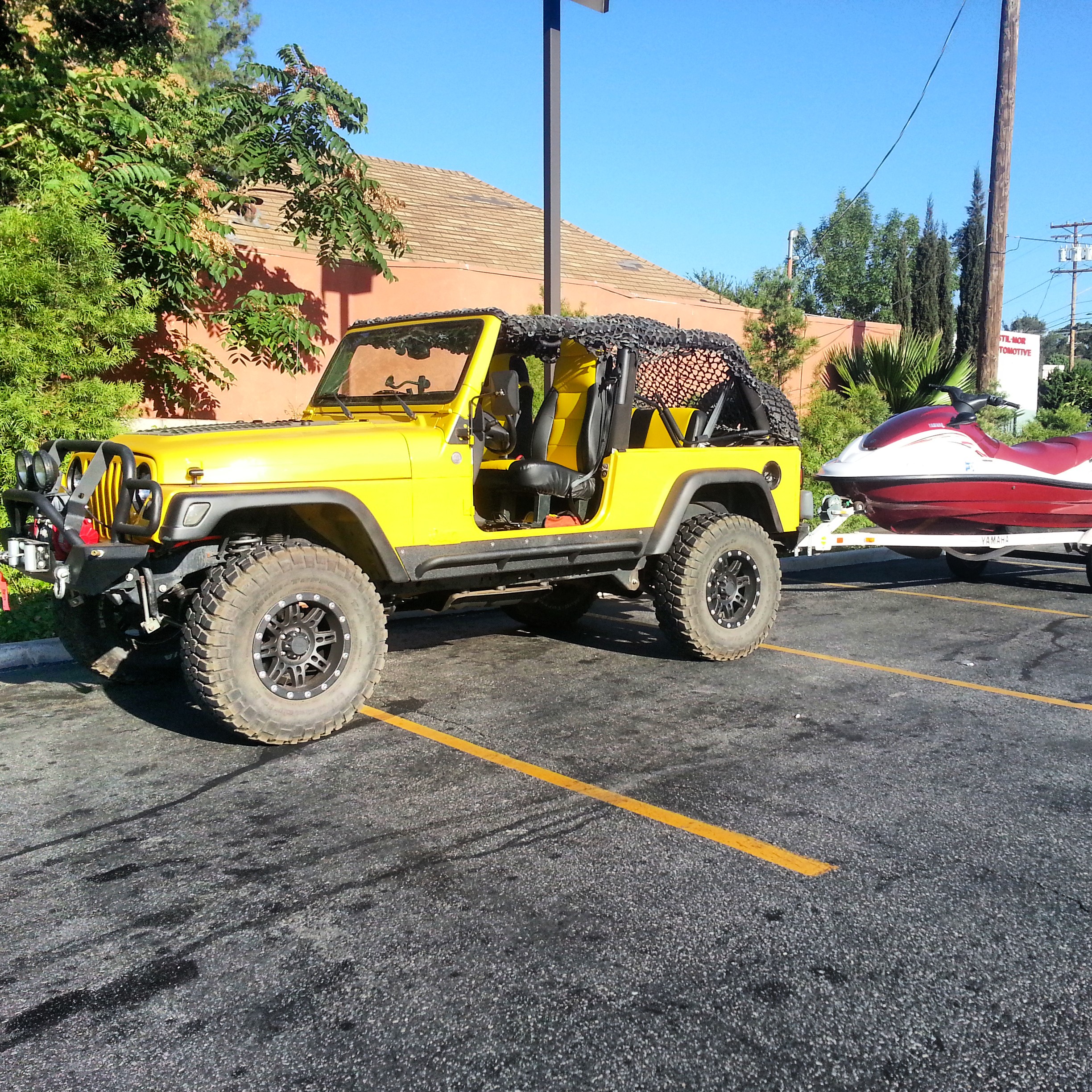 Then I ordered a set of Metalcloak Fenders because I was rubbing my fender wells in extreme flex. (I should have adjusted my bumpstops, oh well).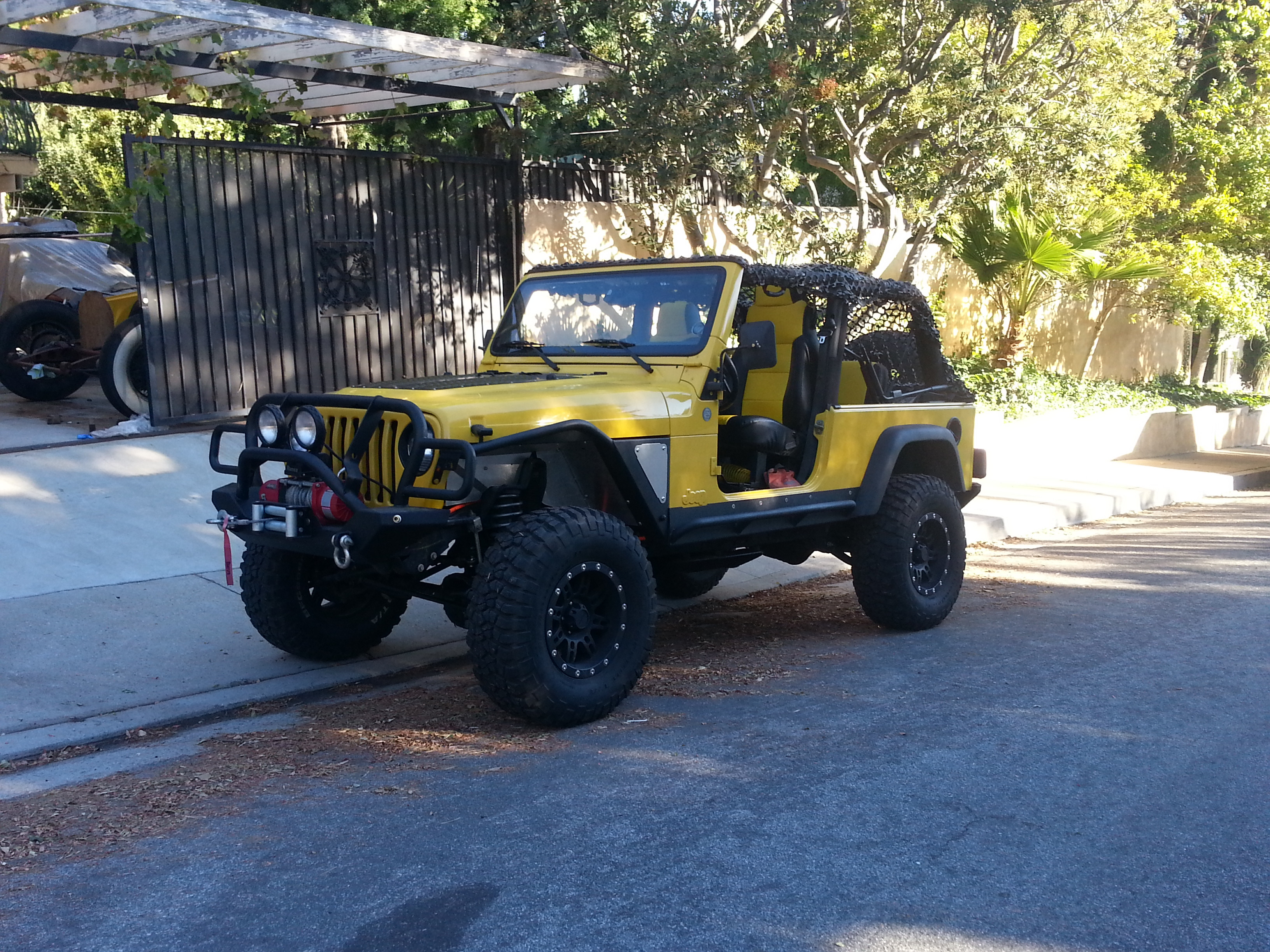 I did'nt like my custom smitty front bumper because of the ****ty approach angle and it being full size bumper, so I opted for a Poison Spyder Stubby.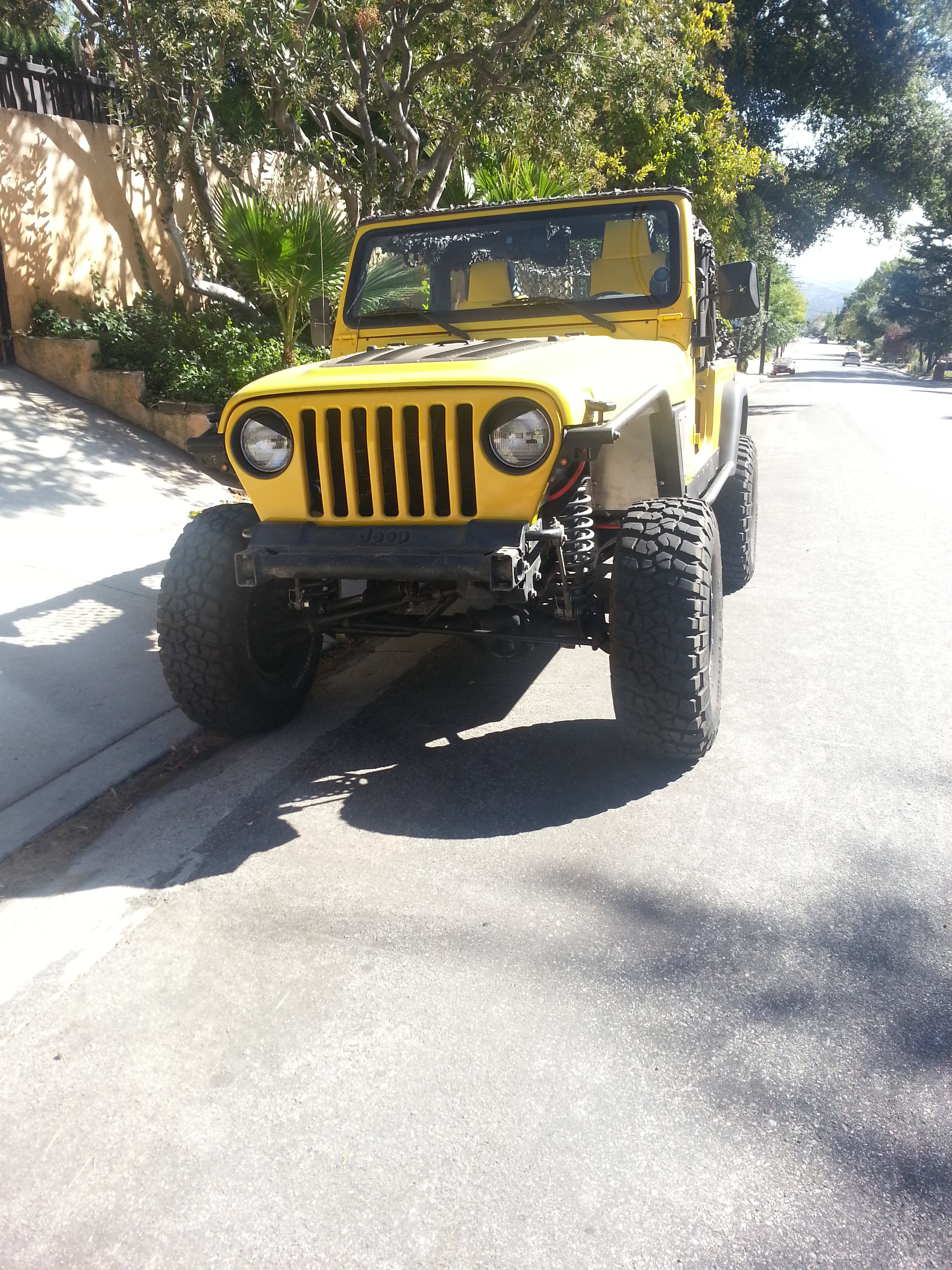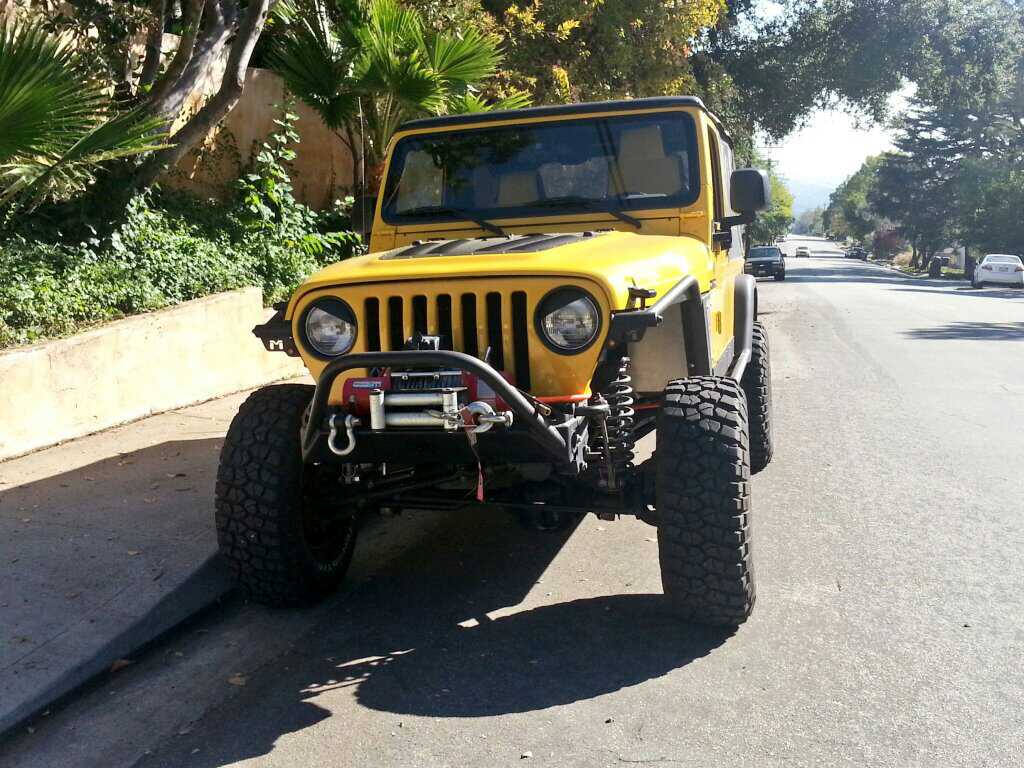 Went out wheeling again to Last Chance Canyon with wranglerforum. The V-Notch was filling in with a bunch of sand and was a cake walk. I took the bypass the first time I went and really wanted to do it the second time, but the second time you didnt even need a spotter.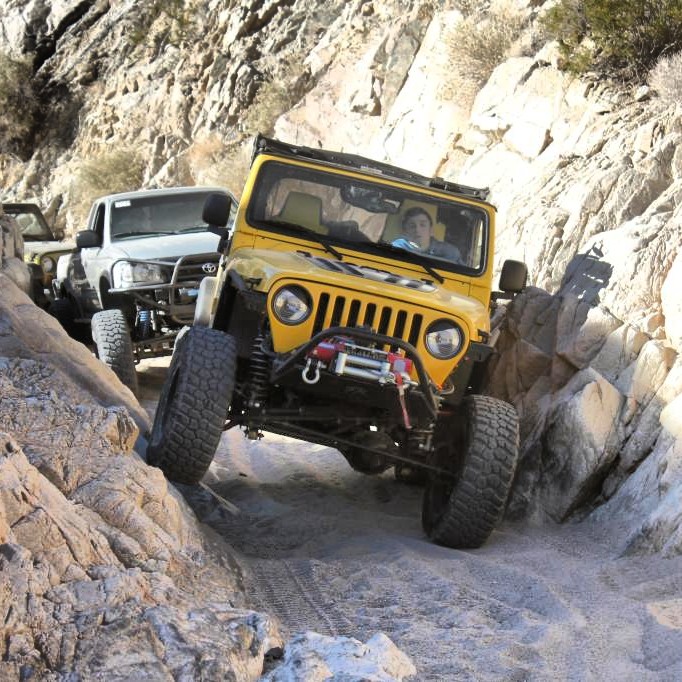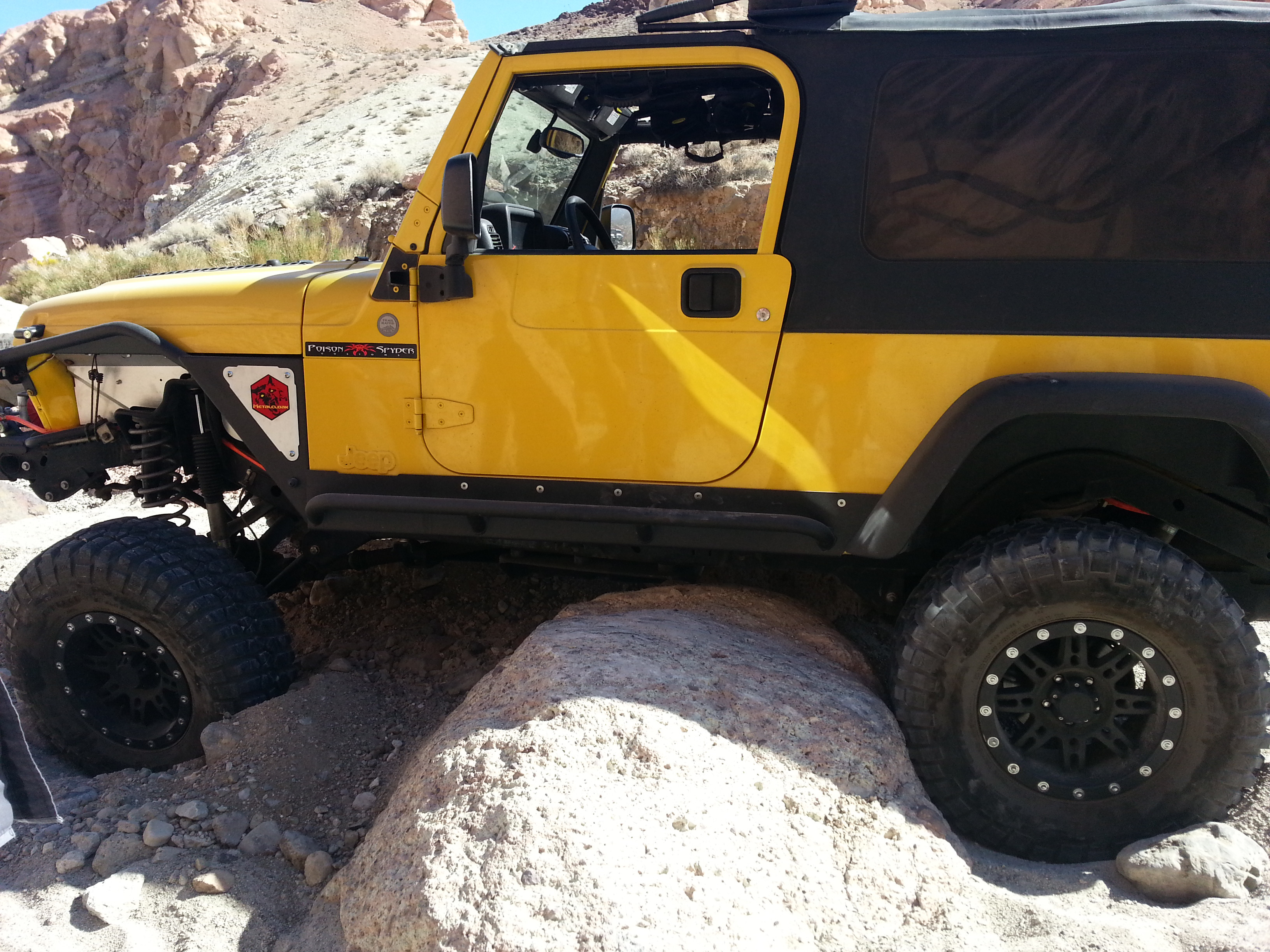 New addition to the family. Dad dropped a Mercedes diesel in the Willys along with a suzuki samurai transfer case, he is in the process of restoring it still.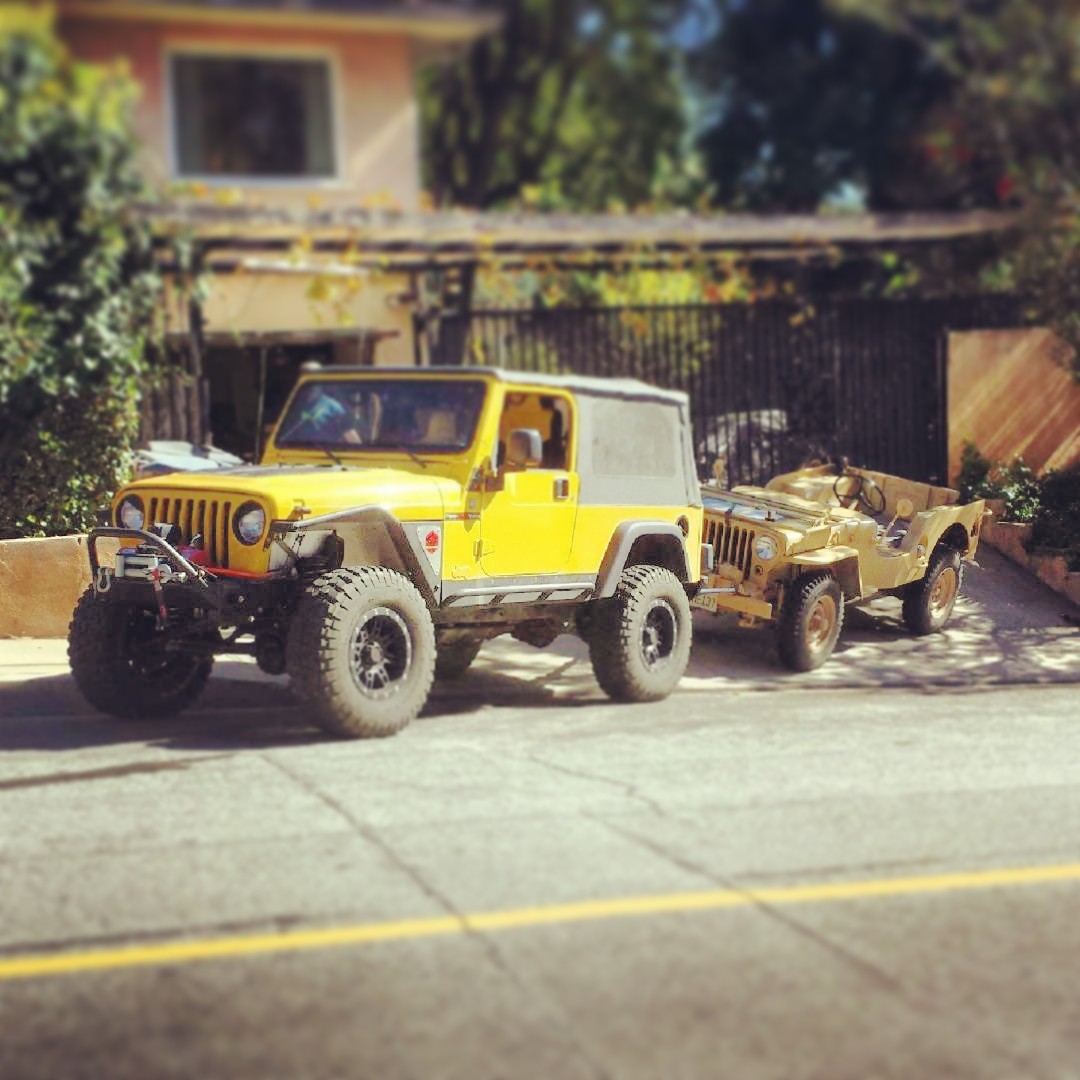 Went out to Gorman with some old High school friends who also has a Jeep and a Toyota 4x4. Testing flex on the staircase.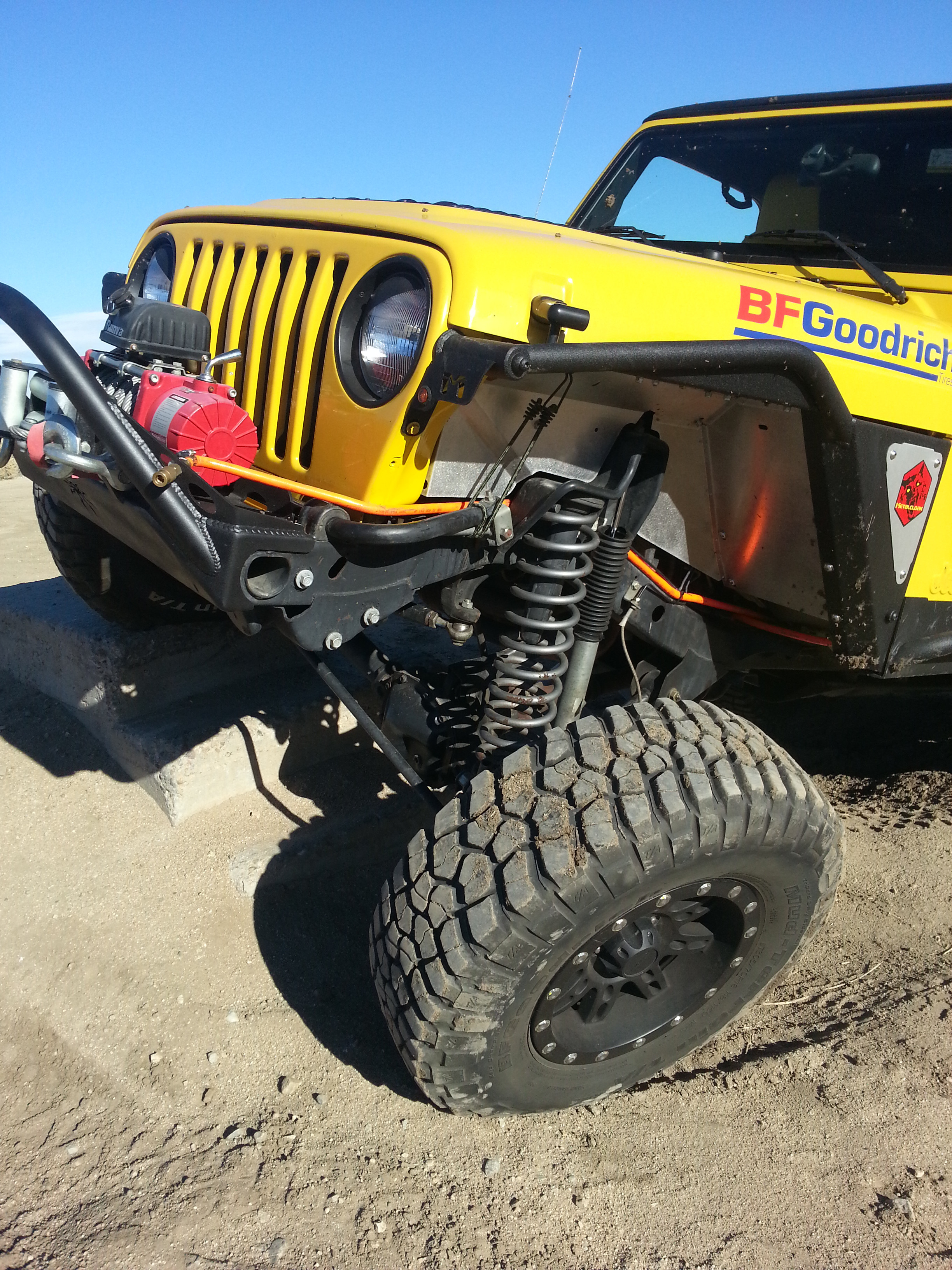 While we were out there, I was stupid and driving too fast on a sandy trail with aired down tires and disconnected swaybars and this happened. Not my favorite moment but a learning experience.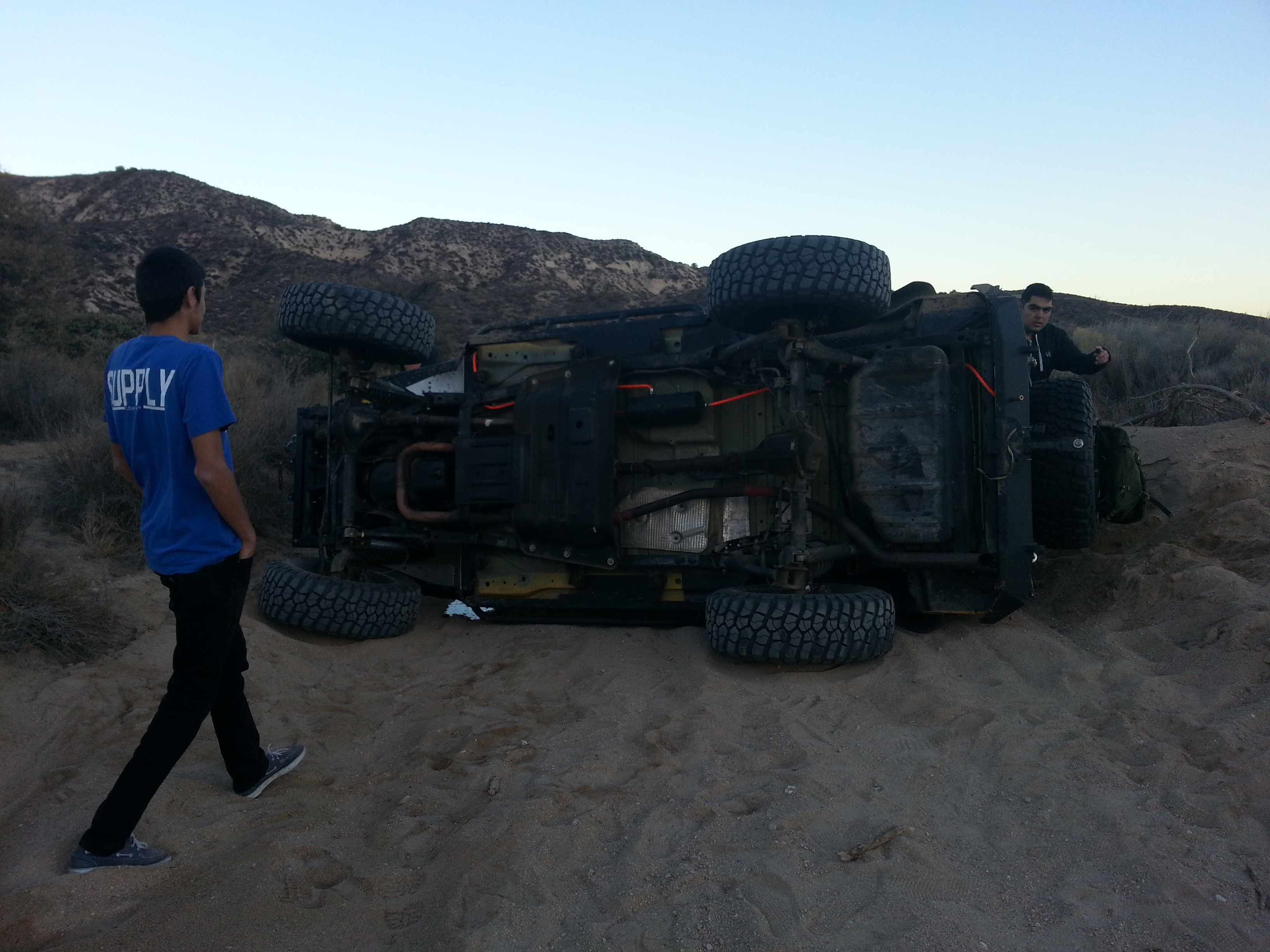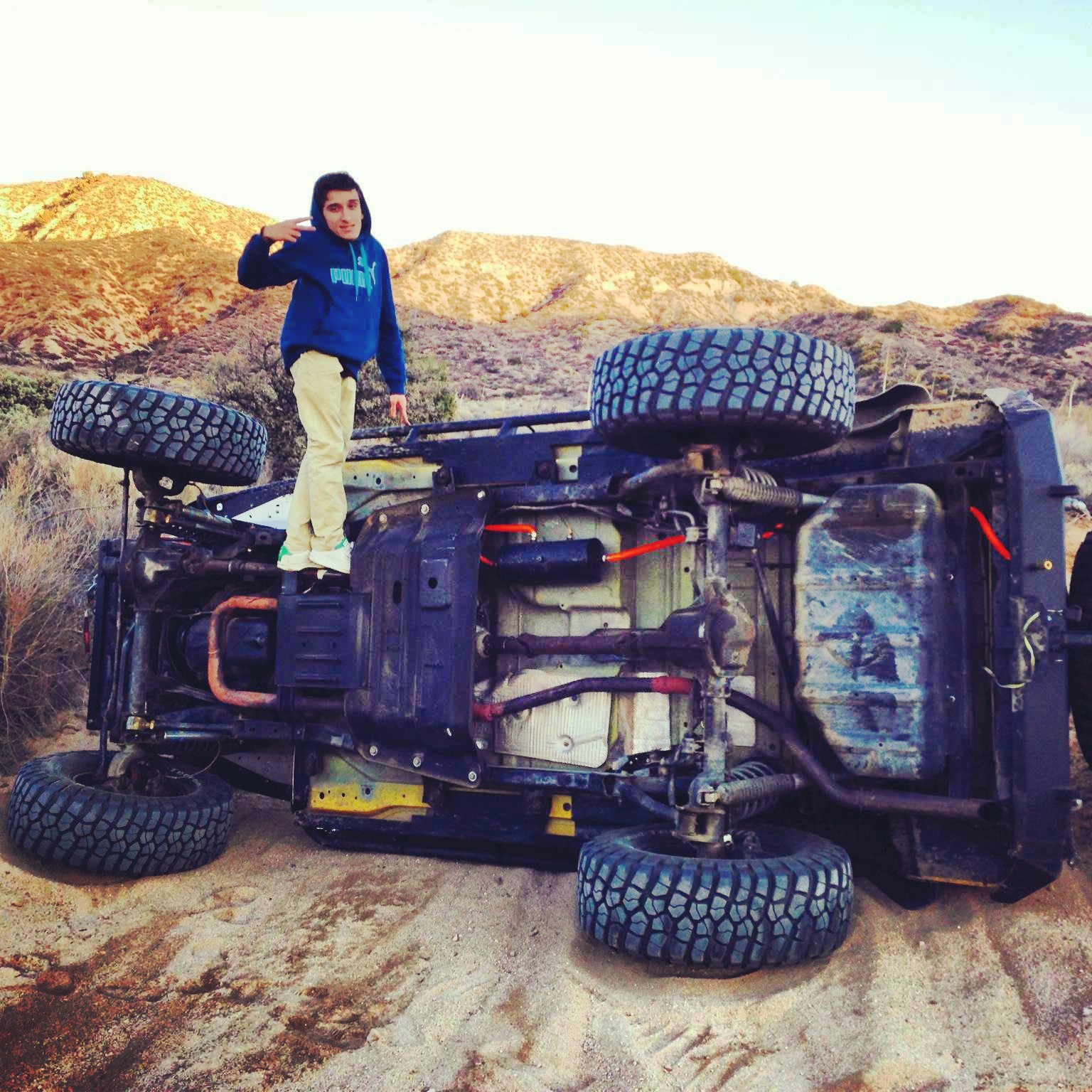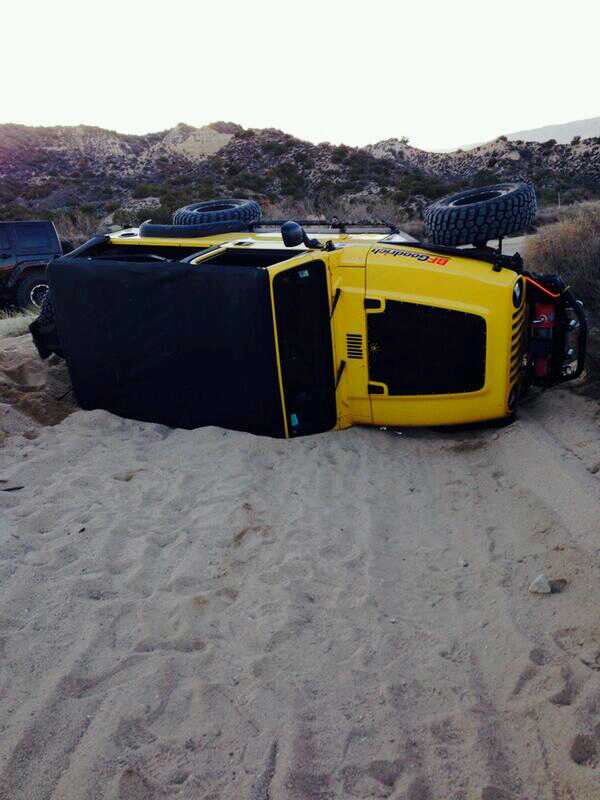 We had 10 people with us that day, so with 10 people we managed to flip over the jeep using just manpower. Only damage I had was my windshield frame got dented. Metalcloak fenders were spotless and the rear plastic fenders were dented. I did not roll, I meerly tipped over. Never doing that again.
Then I found a great deal on a HPD30 off CL. 4.88 gears, Alloy USA Chromo shafts, Alloy USA tube seals, Aussie Locker, Ruff Stuff Diff cover and Ruff Stuff steering kit. All for $500, the catch was that it was setup for coiloversso I had to weld on shock and coil buckets in order to mount everything up.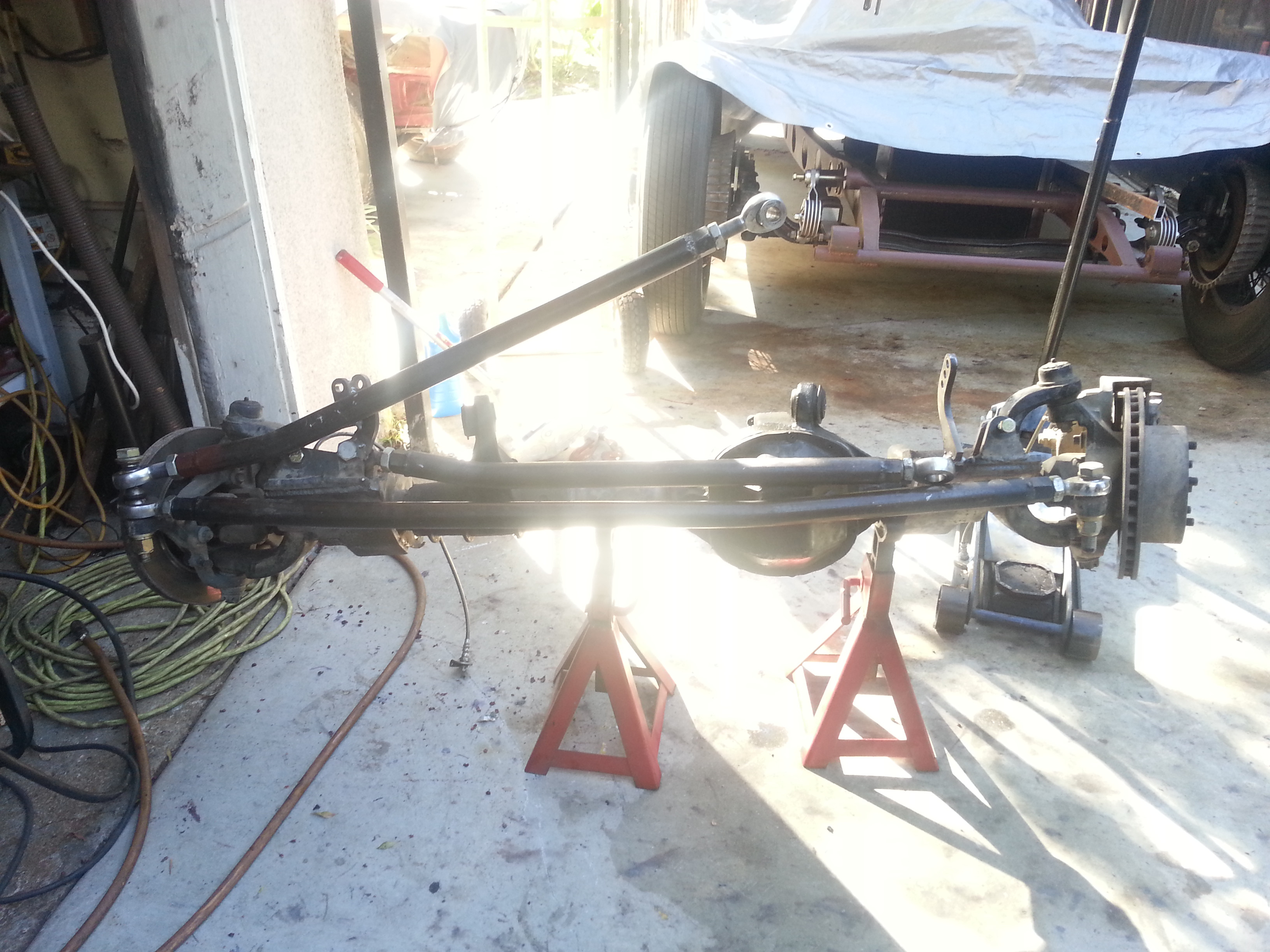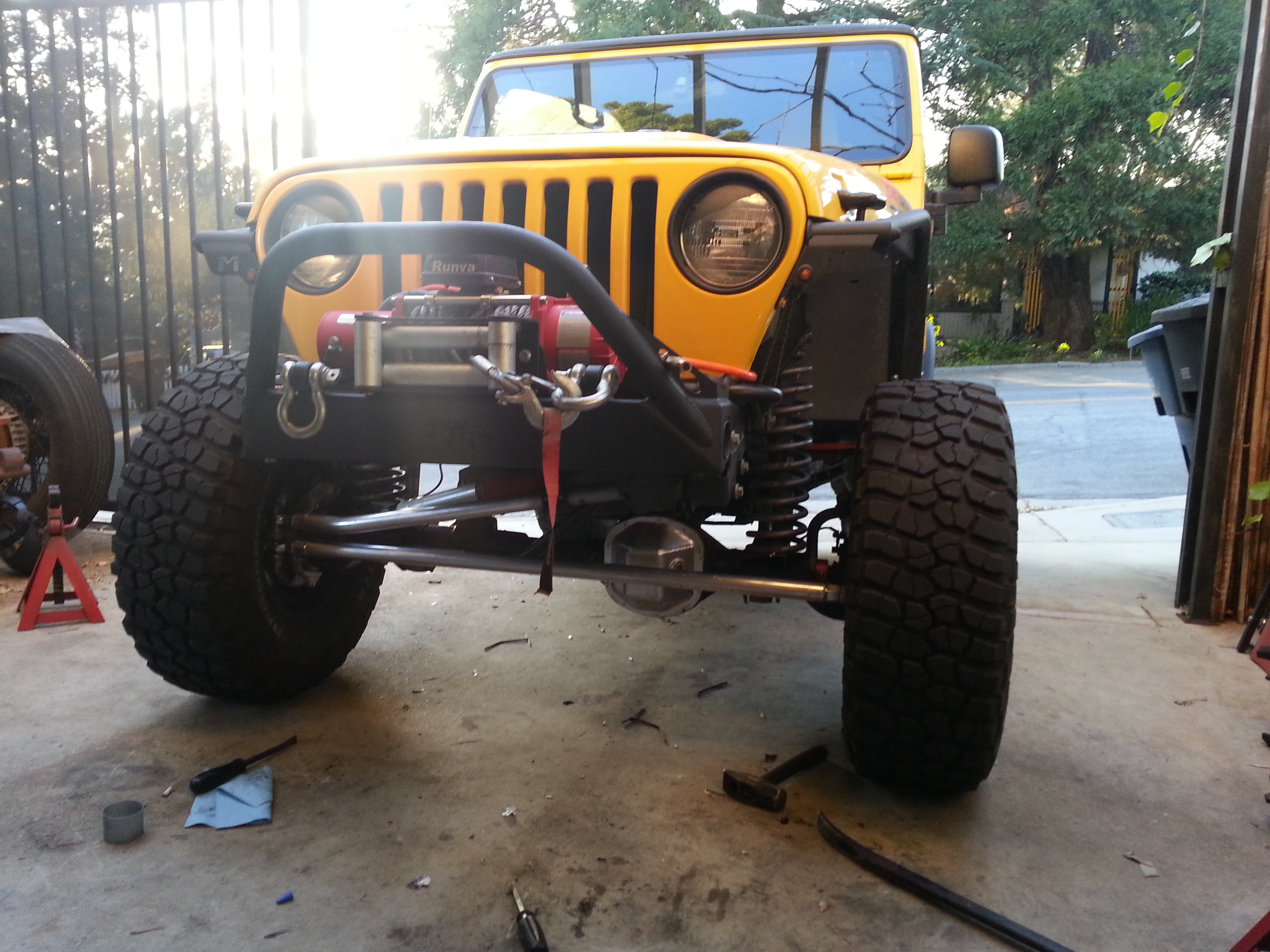 Well, when I flipped my Jeep, I had to drive it off the trail with a small amount of ATF in the tranny, since it all drained out the dip stick. Turns out a couple months later my tranny died because of my stupidty in trying to drive it off the trail with little ATF. Here is the new 4-speed tranny with only 60k miles on it and here it is being swapped out in the garage. Took me and my Dad 8 hours to get everything to swapped. Those axles on the side are for the willys.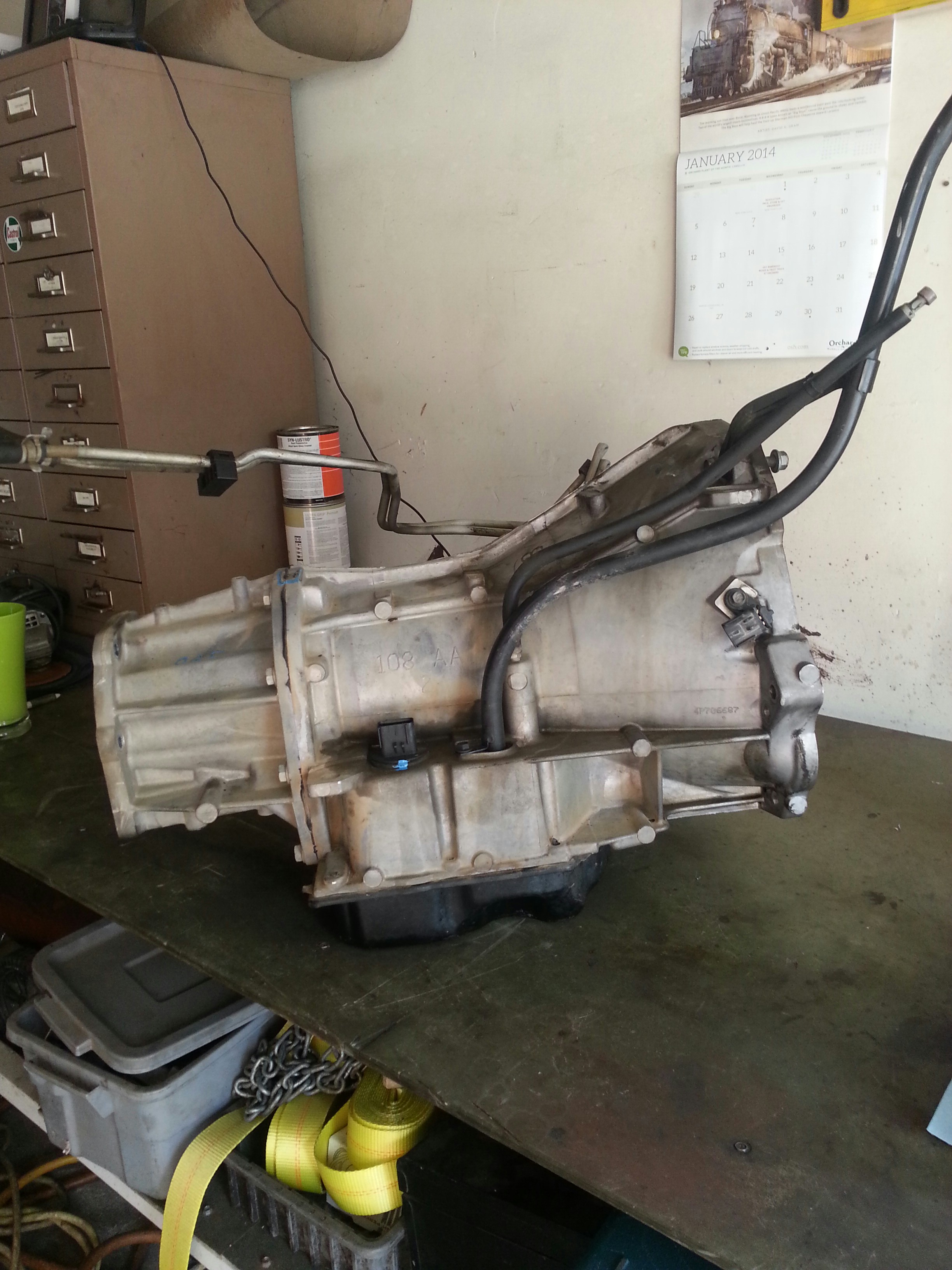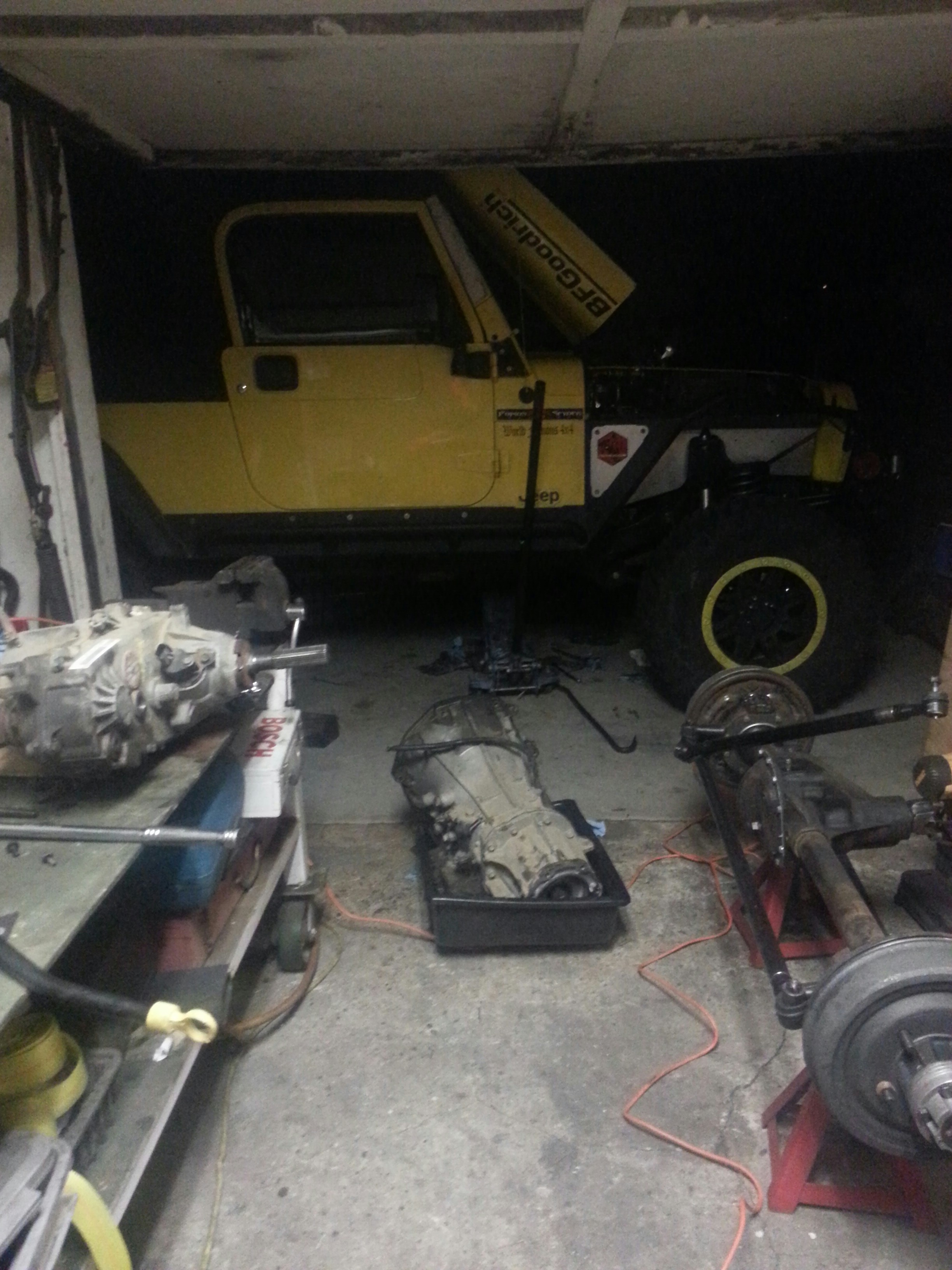 I have a lot of plans for electrical stuff and I didn't want to pay $500+ for a sPod even though I really liked their concept. So I made my own basic "sPod" I call the TKPod

I outfitted a box to have 14 fuse holders and 12 relays that will control 12 switches in the cab. All the wires will run as a bundle into the cab including all the power, ground and load wires for each switch. If I want to hook up an accessory to the box, all I do is connect the positive to the appropiate relay wire and connect the ground to the fuse holder ground spots, as well as adding the right fuse to the correct fuse spot and done. Really easy and really simple, it just took a **** load of time to wire everything.
In all I spend around $300 for everything + labor to set it up. In the end I have 12 switches that are independent of the Jeeps electrical system that so far has worked without any problems. Also if I ever get into an accident the switches will be imprinted in my passengers face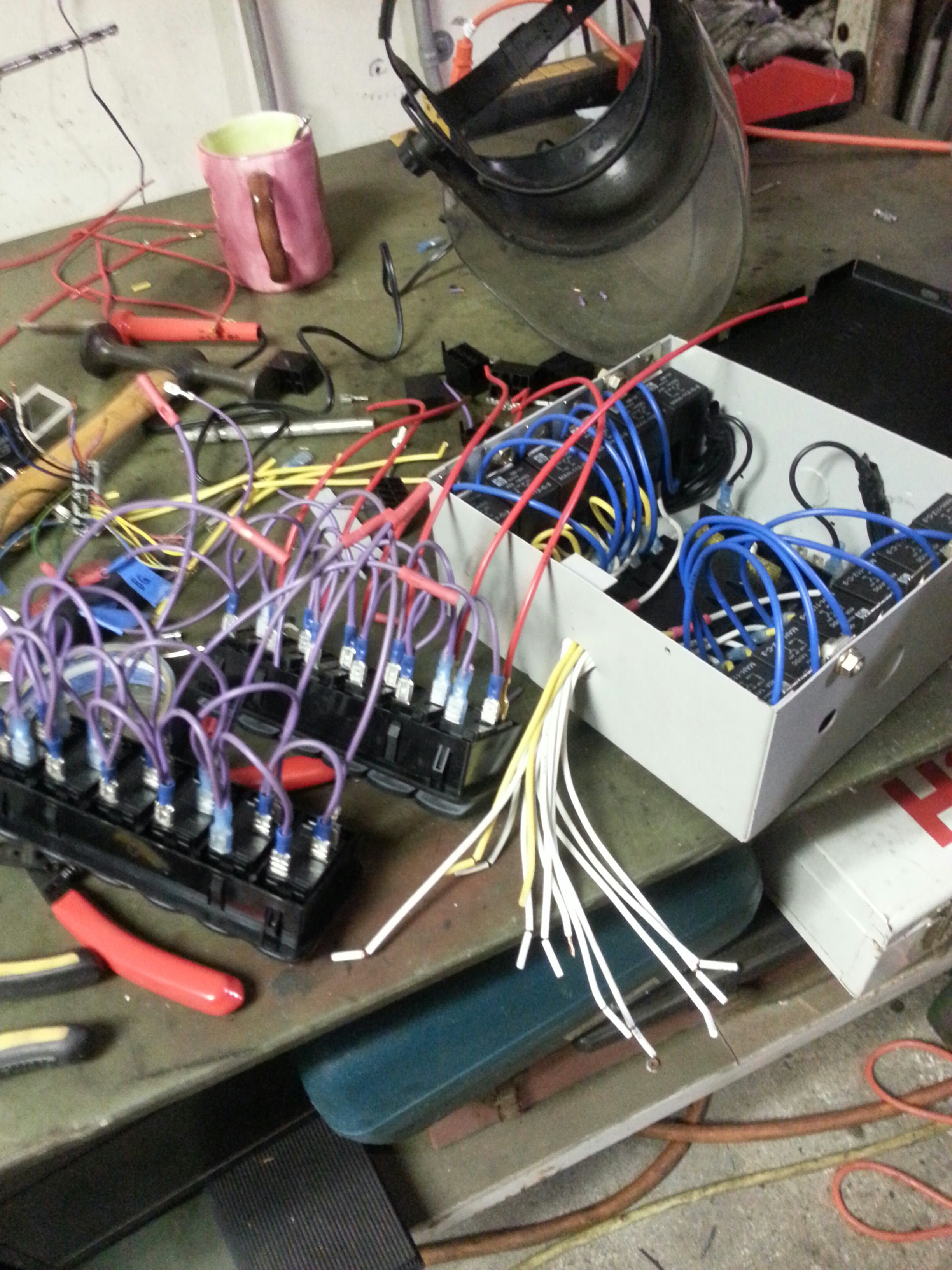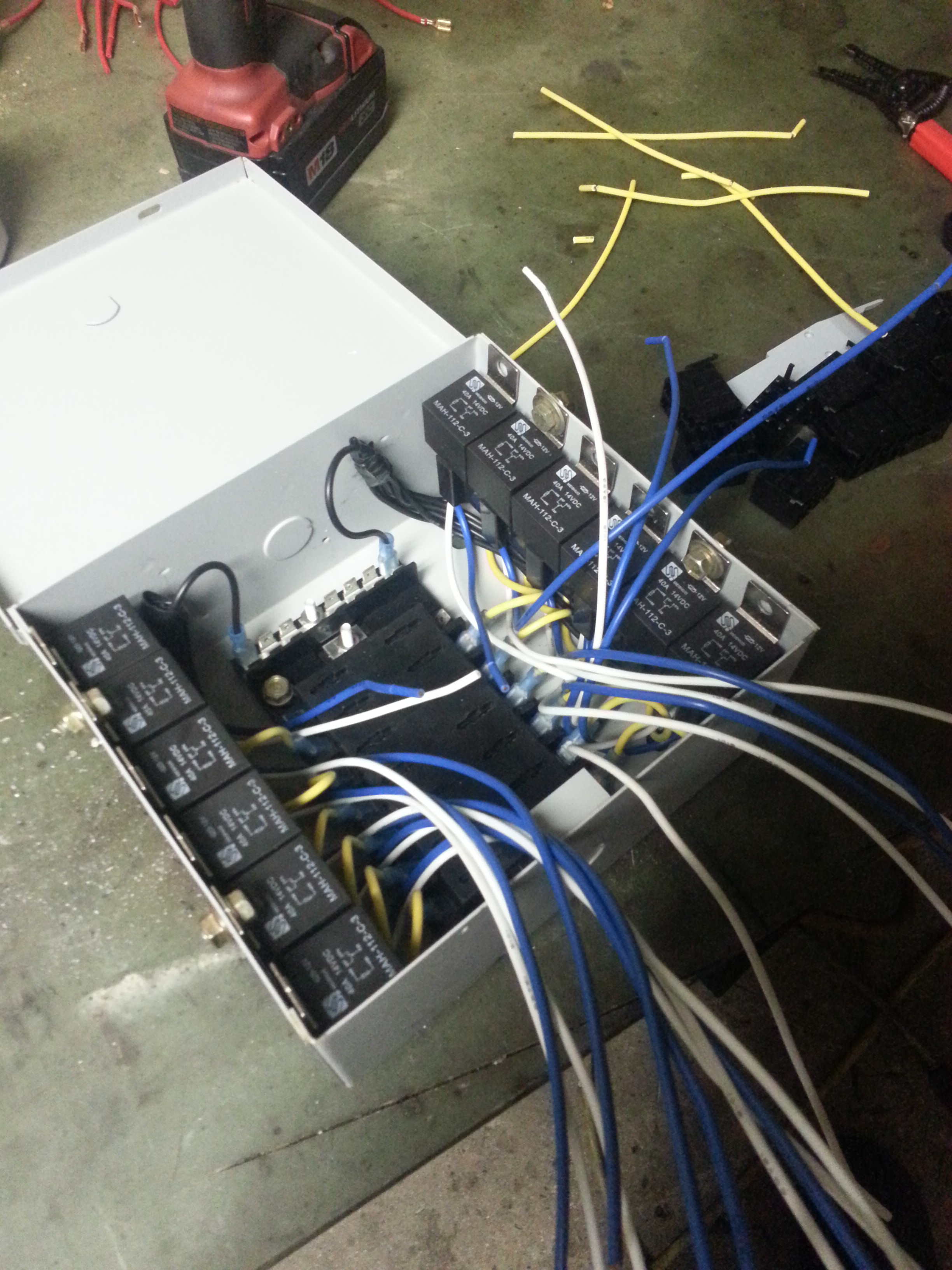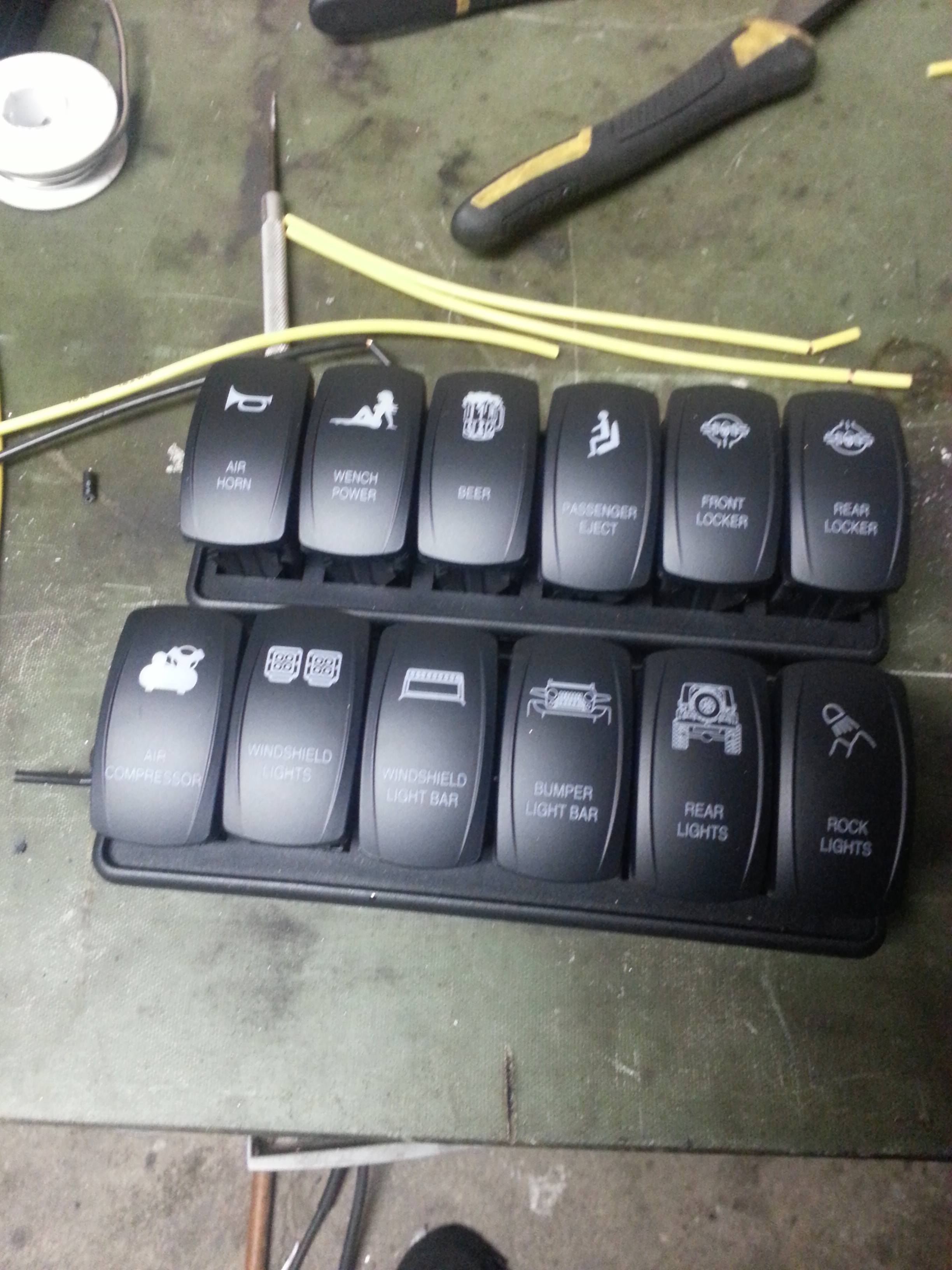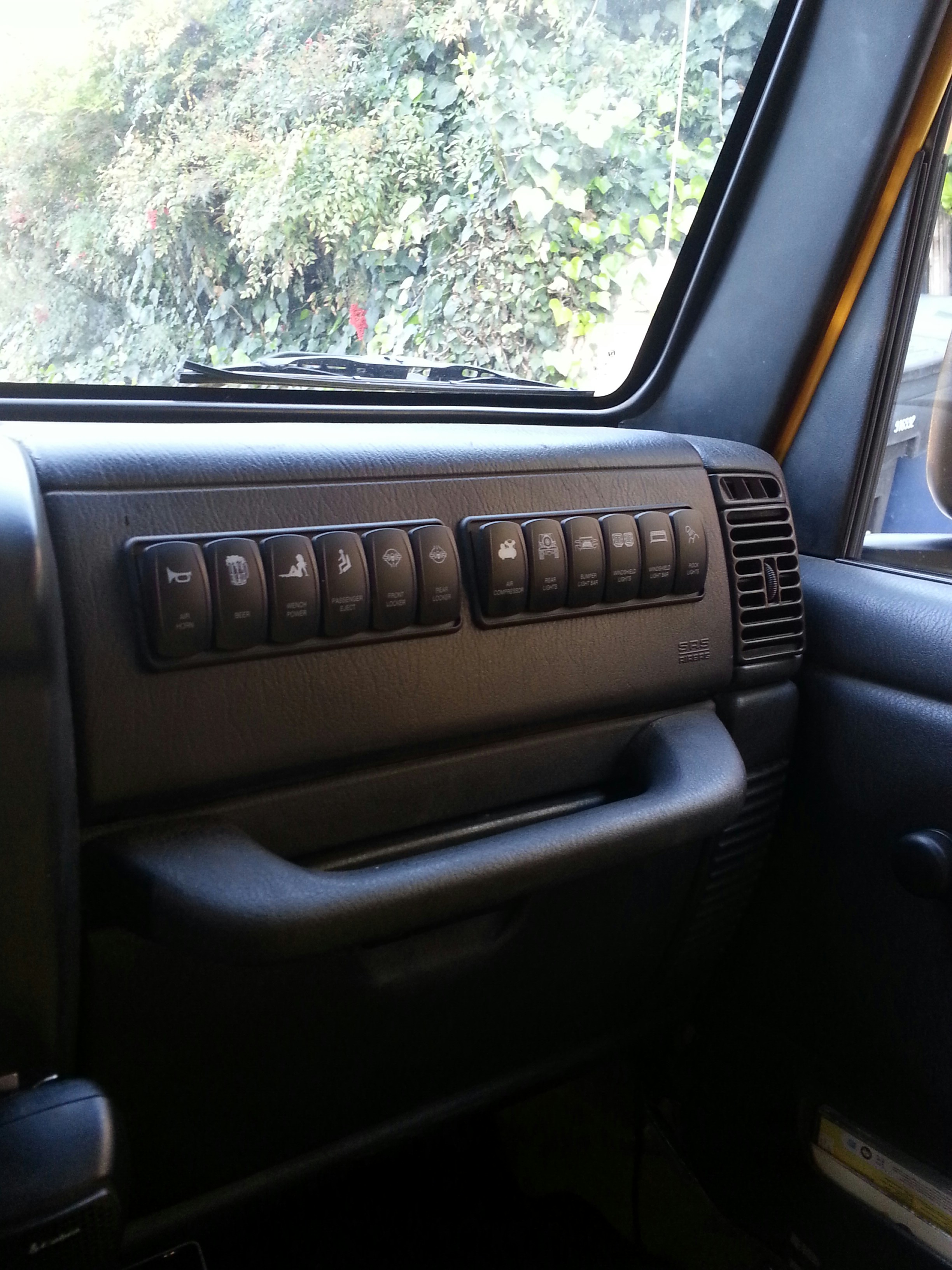 Bumpstop, locker and flex test to make sure its all working.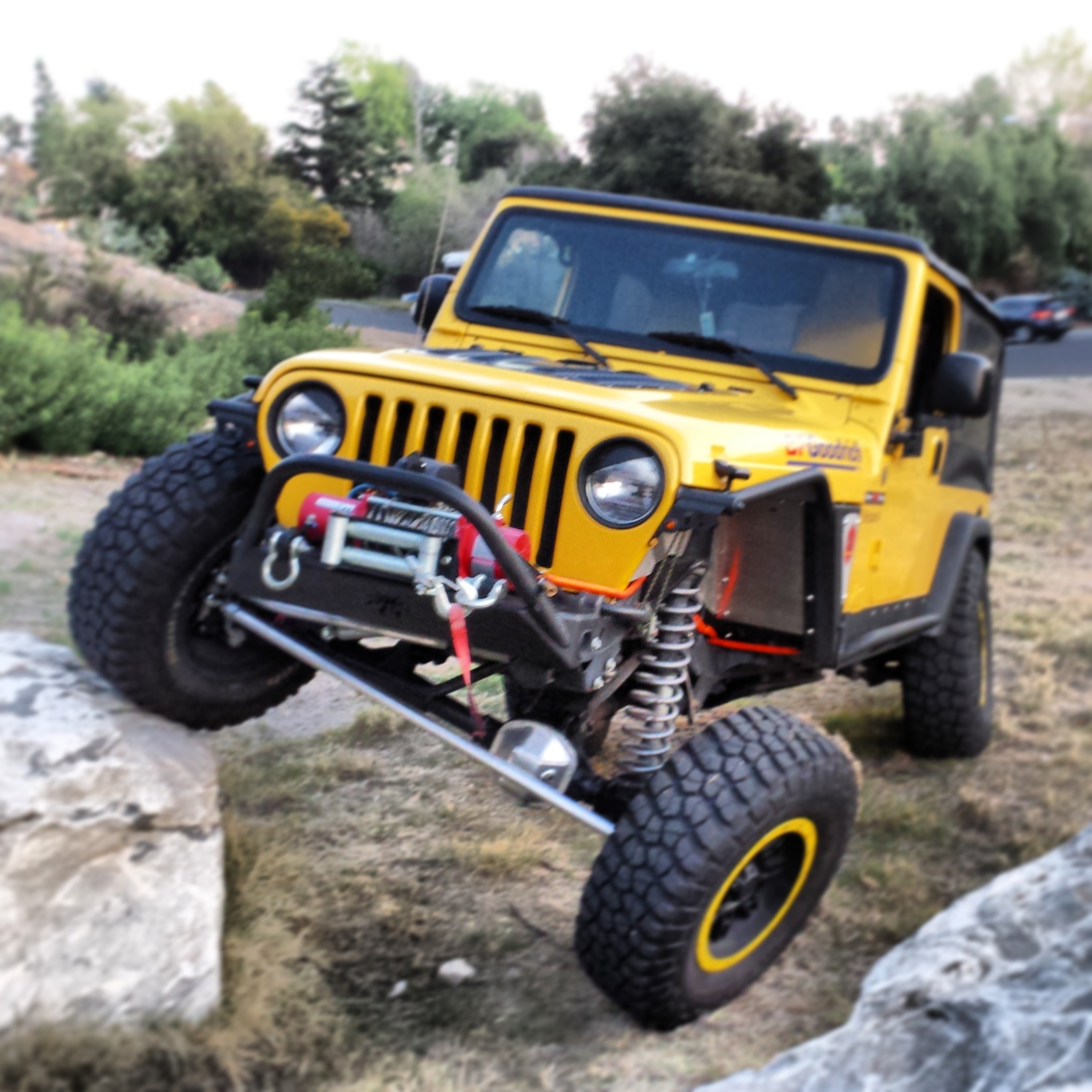 Picked up some rocklights that I found people at pirate raving about. Spend $40 and got 25 LED pods in the mail. Also ordered a 10" light bar from lifetimeleds.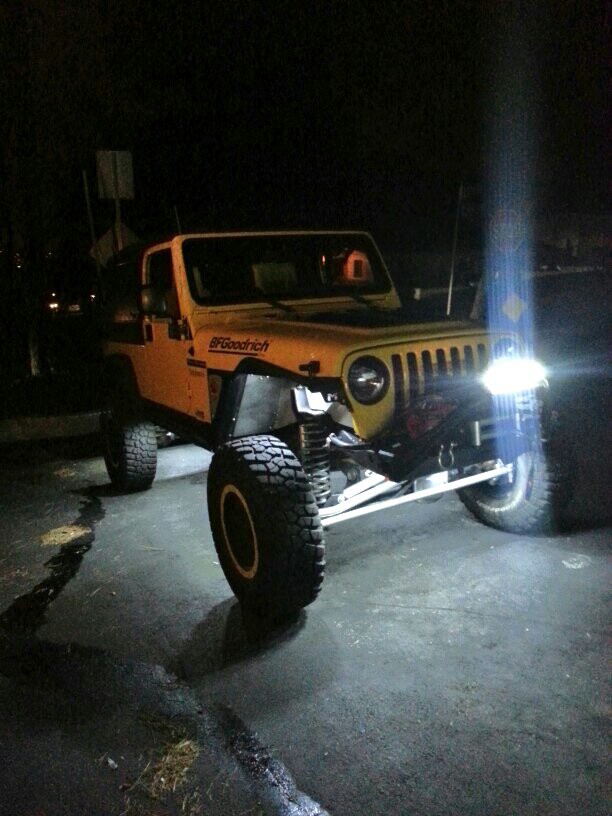 Went out to Calico again with the wranglerforum. It was a Meet N Greet so we had close to 80 jeeps at the meetup. We broke off into several groups and started hitting the trails. My passenger side coil kept falling off, so in the third picture I was going into the obstacle with a coil sitting in my passenger seat, and because of that I blew that shock out.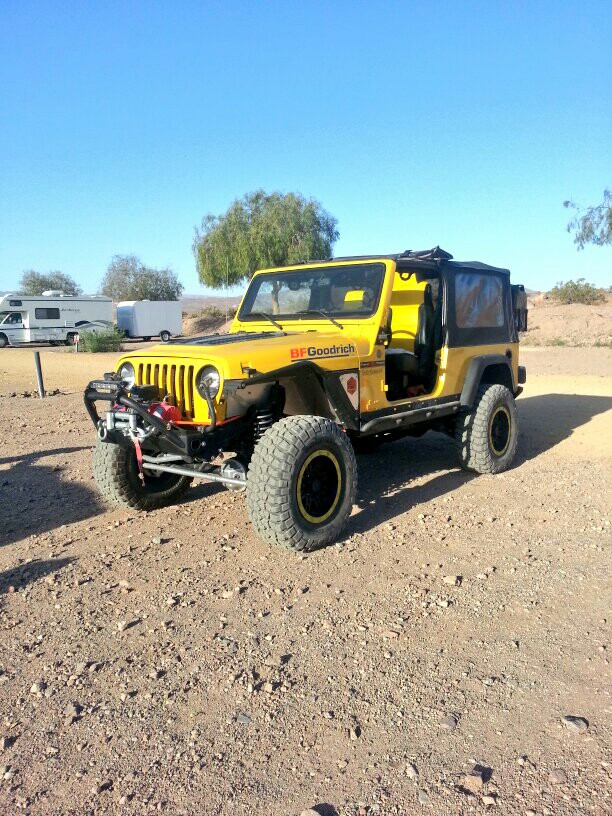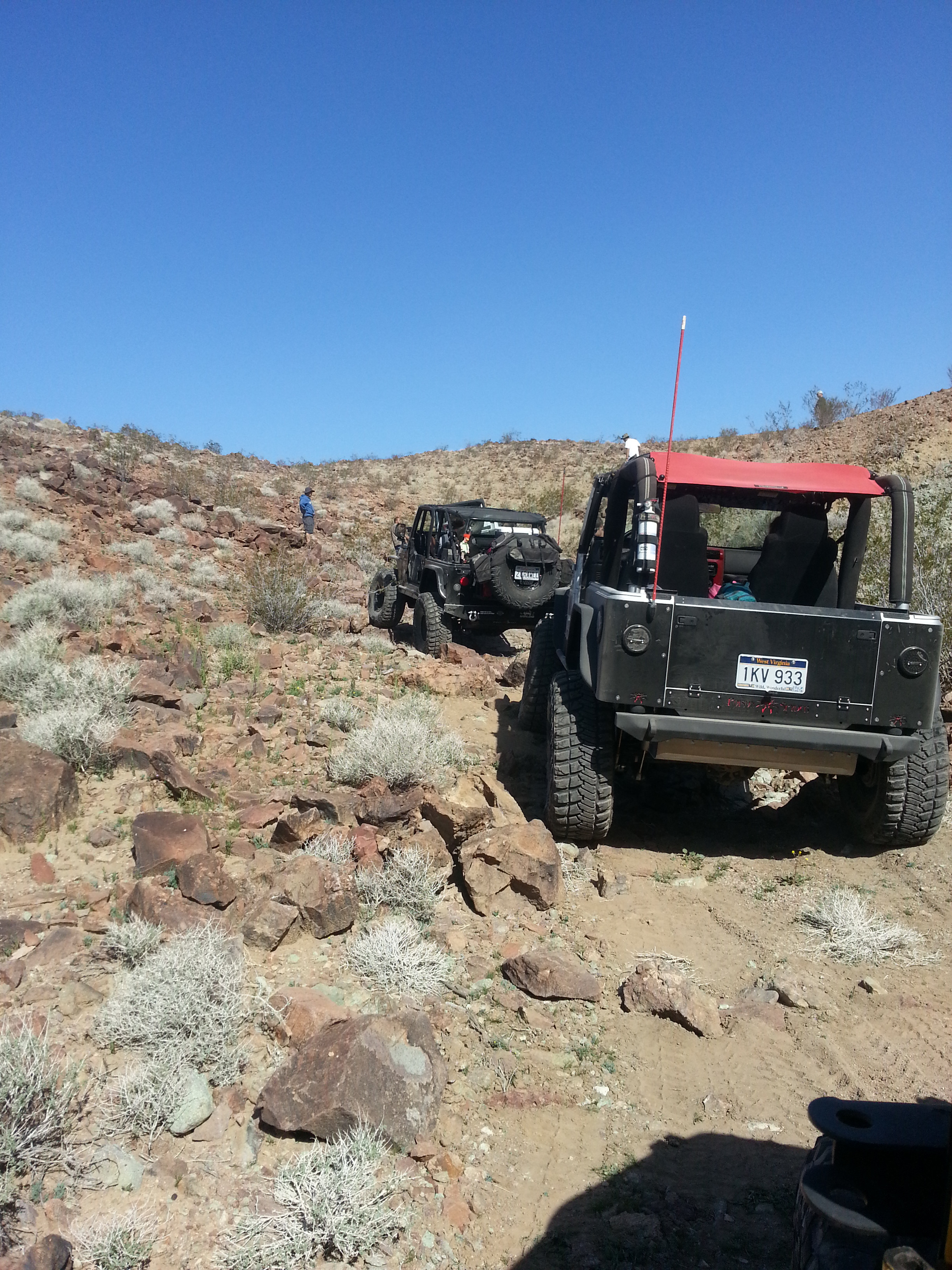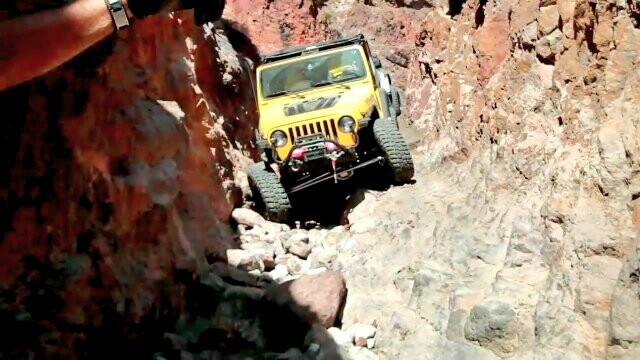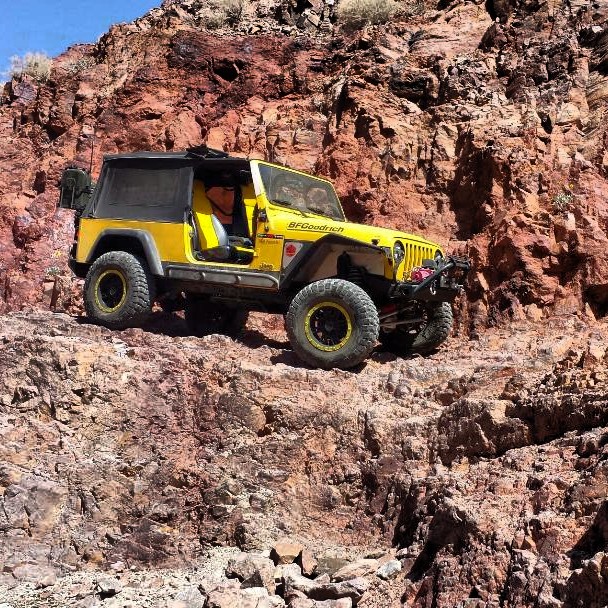 Got myself a new sound system along with a Sony headunit with bluetooth and Sirus radio.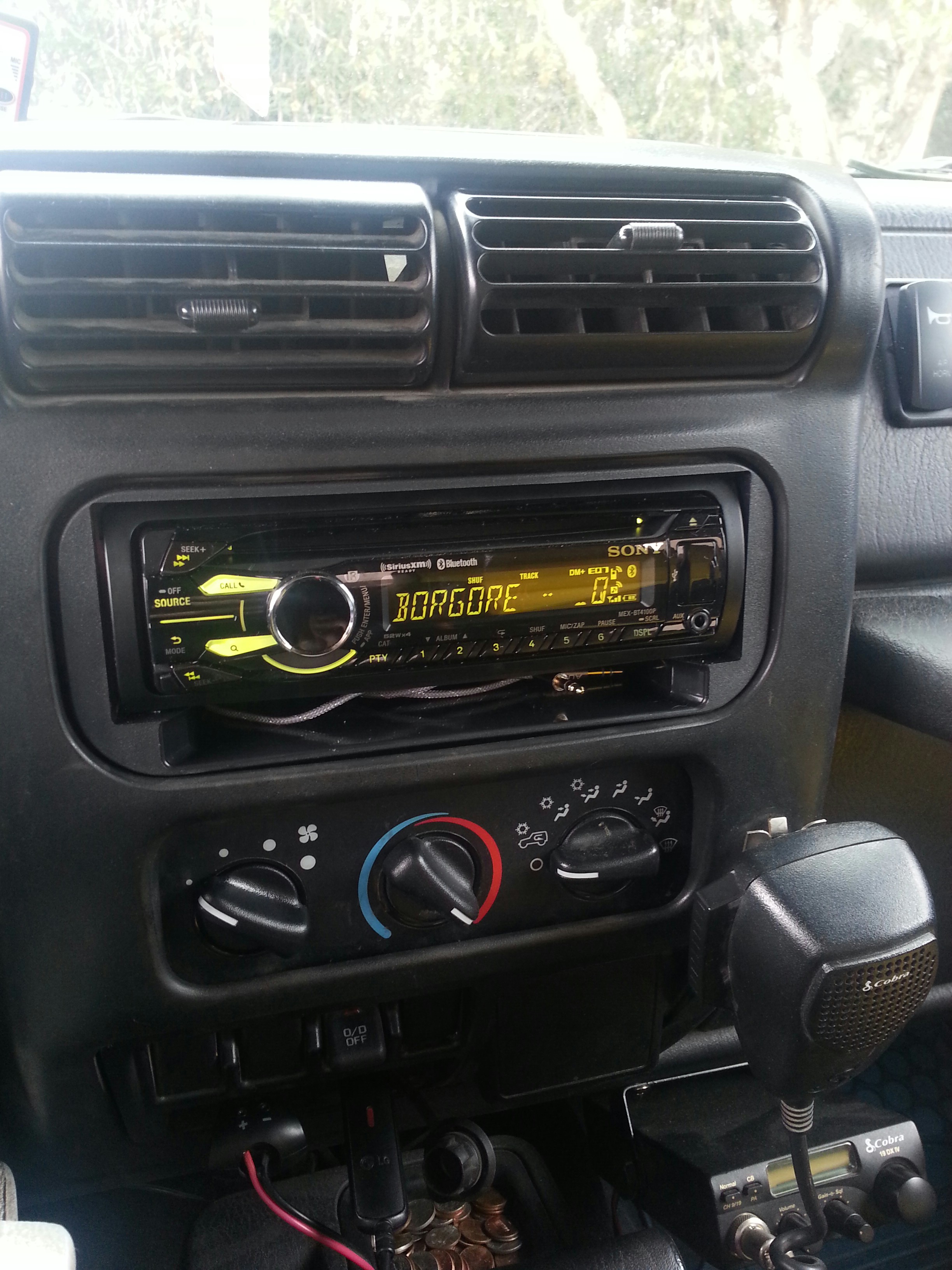 How she sits now.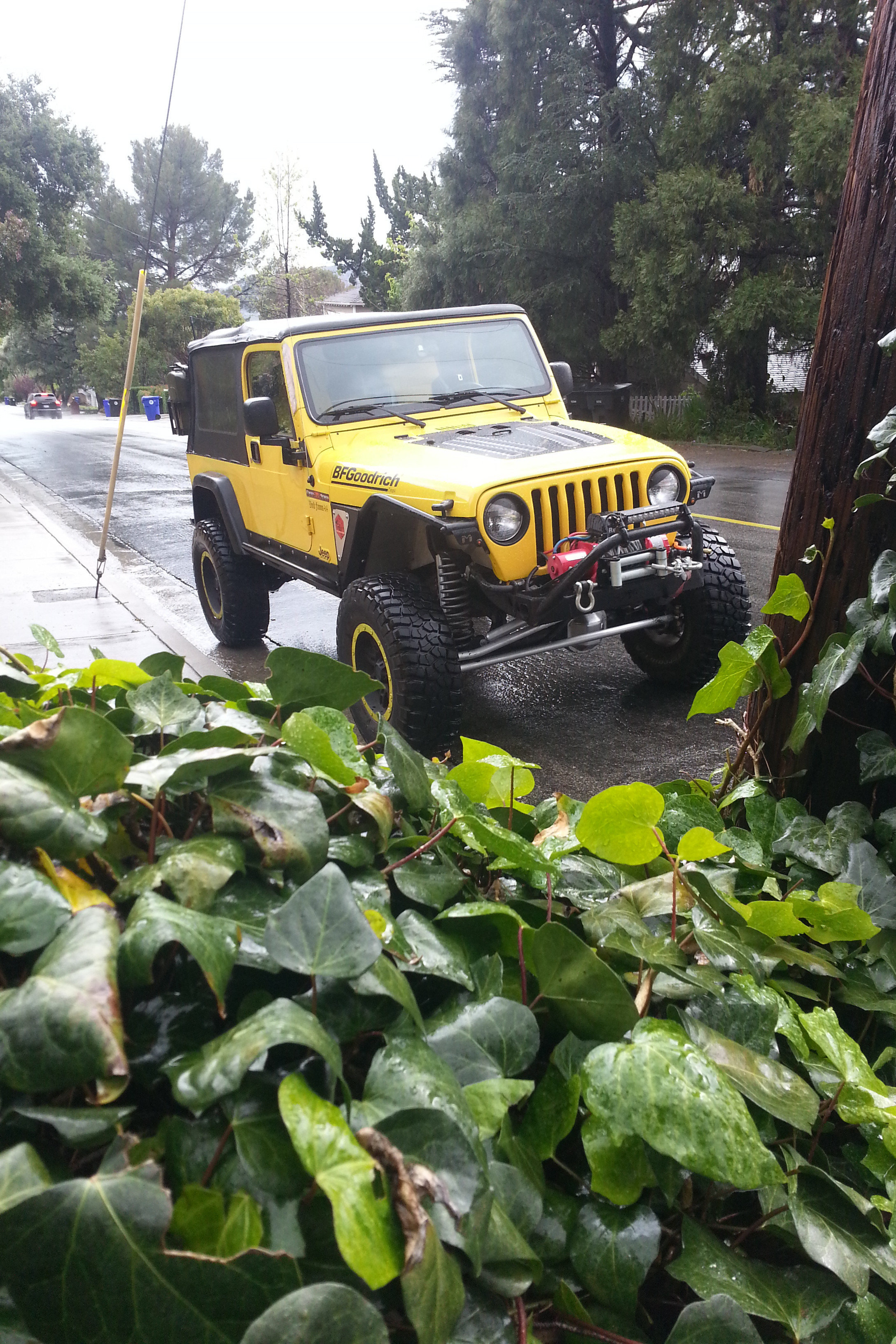 Hope you guys enjoyed reading the history of me and my Jeep. There were a couple mods that I did add but didnt have the pictures for and had no idea where it went in chronological order from oldest to newest. I will document my build jeep in this thread from here on out. Thank you for reading!
(Sorry if I spelled something wrong, I was trying to type all this out as fast as I could)
So I have big plans coming up this summer. I wanted to go to 37s and bigger in the future but I didn't really know when. So I finally decided that I will save up my money and do it all at once during the summer when I have no college. My jeep is my DD so I can't have the jeep sitting in the garage everyday.
Here are my plans for summer:
- JKRubi Dana 44 front and rear
- Front Axle Beef Kit (Gussets, Clamshell, Clayton Bridge)
- Ruffstuff Panhard Kit
- Ruffstuff 1 Ton Steering Kit
- Clayton Long arm 3 Link Front
- Clayton Long arm 4 Link Rear
- 1.5" stretch in the front
- 1" Stretch in the back
- 37" MTR/K
- Coilovers
- Currie AntiRocks
So as of now I have the Rubi JK axles being shipped to me now from a doner rubi that was burnt. That I picked up for so cheap that it might be considered stealing.
Couple days ago I picked up 4 remote resi 14" King Coilovers for $1500. Person I bought it from bought these brand new but never got a chance to use it on his YJ. He had a pretty neat YJ project going in his garage that he was parting out.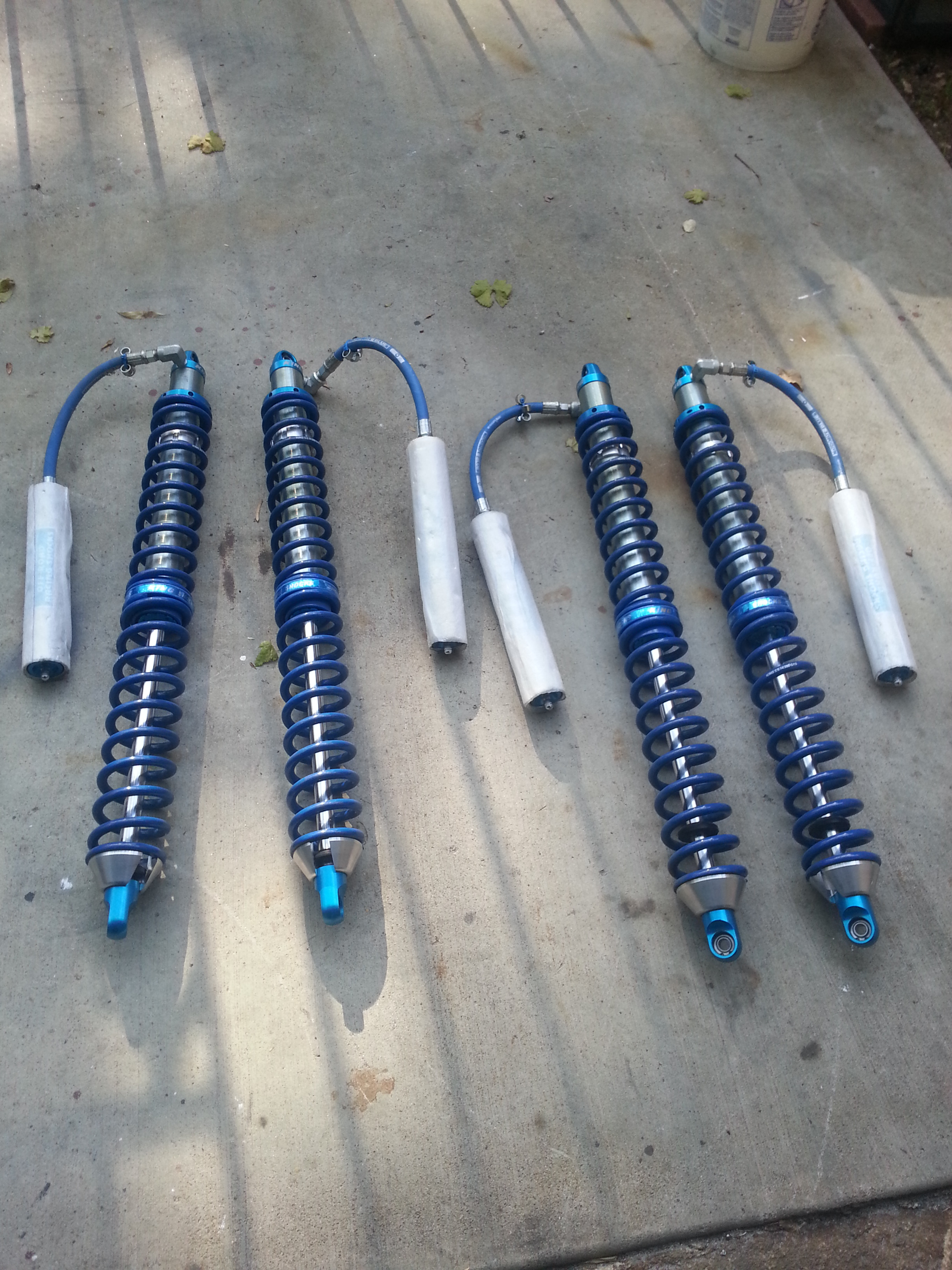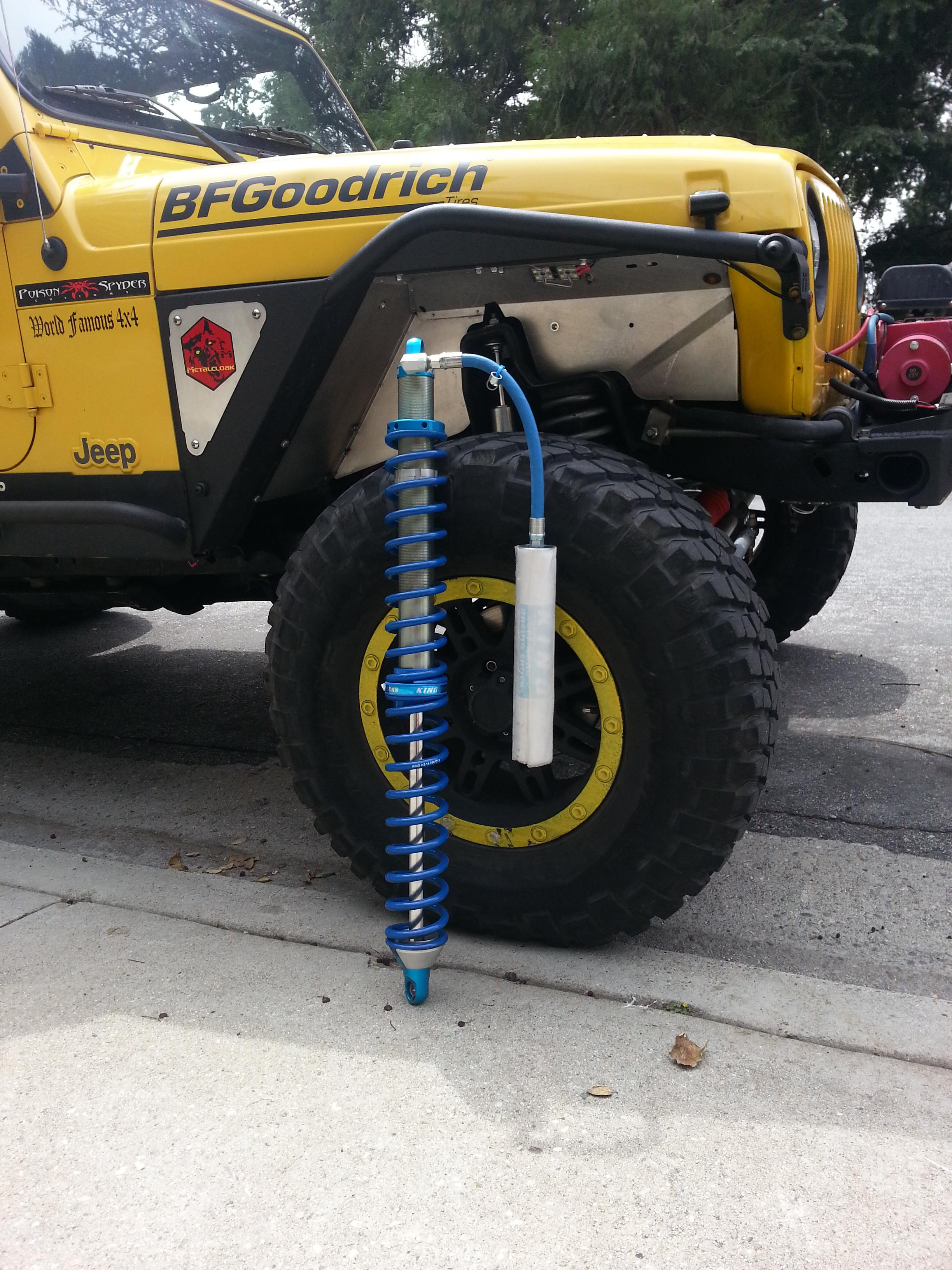 I plan to use the Ruffstuff coilover tower front and rear and outboard my coilovers at the same time in the rear. With the width of the JK axles I should have enough room to squeeze everything in.
I think Ill run out of funds by the time summer comes trying to pick everything up, I might have to roll with stock JK wheels/tires until I can pickup a set of 37 MTR/ks.
During the summer I'll have my front axle and rear dana 44 with limited slip up for sale. Great time to upgrade the front LP30 and D35 all at once!
4-22-2014
Today my windshield light mounts arrived in the mail. I purchased two 6 LED flood lights....made in china... from a local swap meet for $30 each a week prior.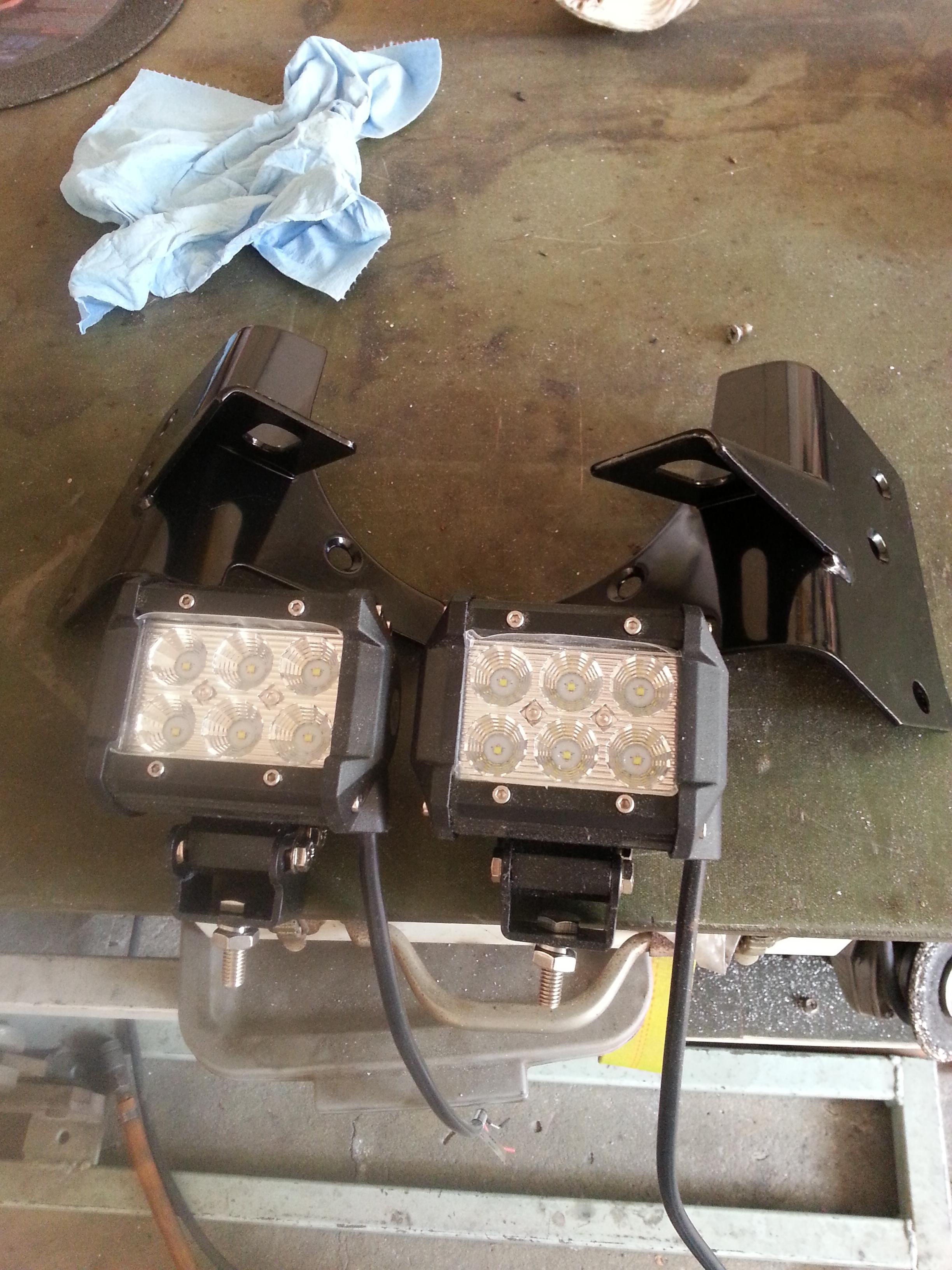 I ran into a little problem with fitment. The side bolts lined up just right. But the bolt in the front would not line up. The bolt kept going in at an angle and not catching any thread. So i had to wallow out the hole and repaint so it doesn't rust....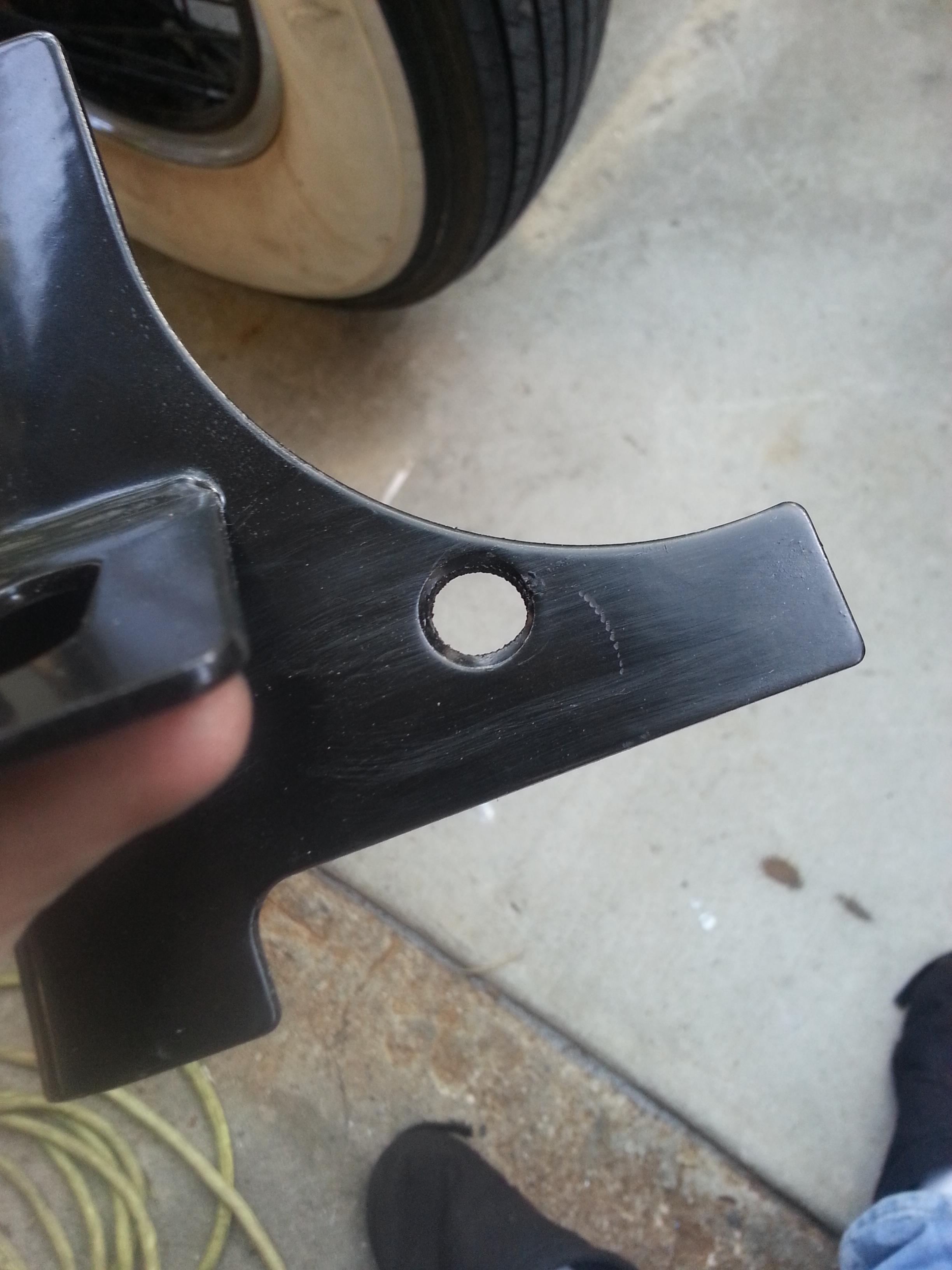 Got the light mounted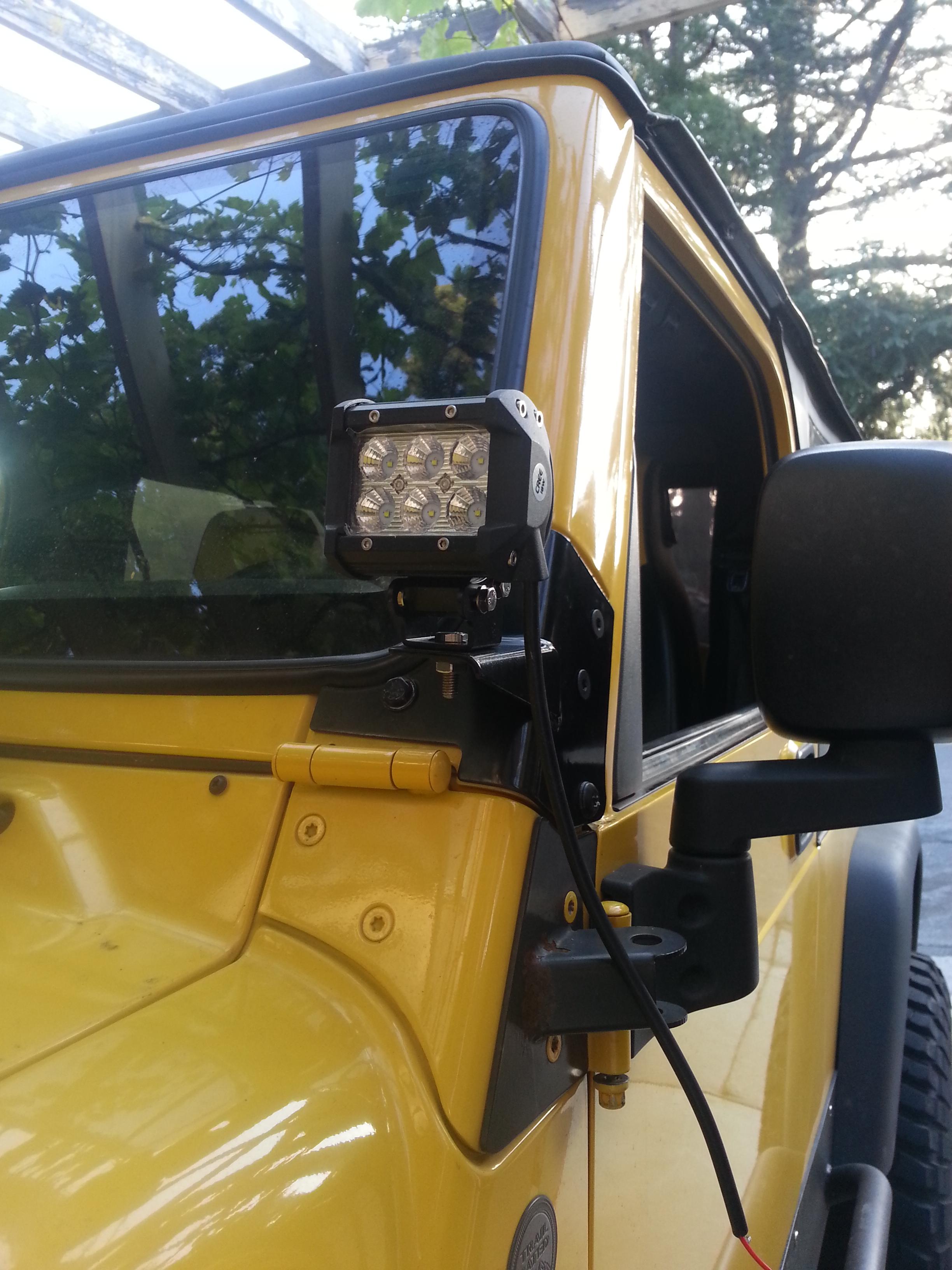 and some shots of my "TKpod" with 12 accessory spots. Look at the size of those horns...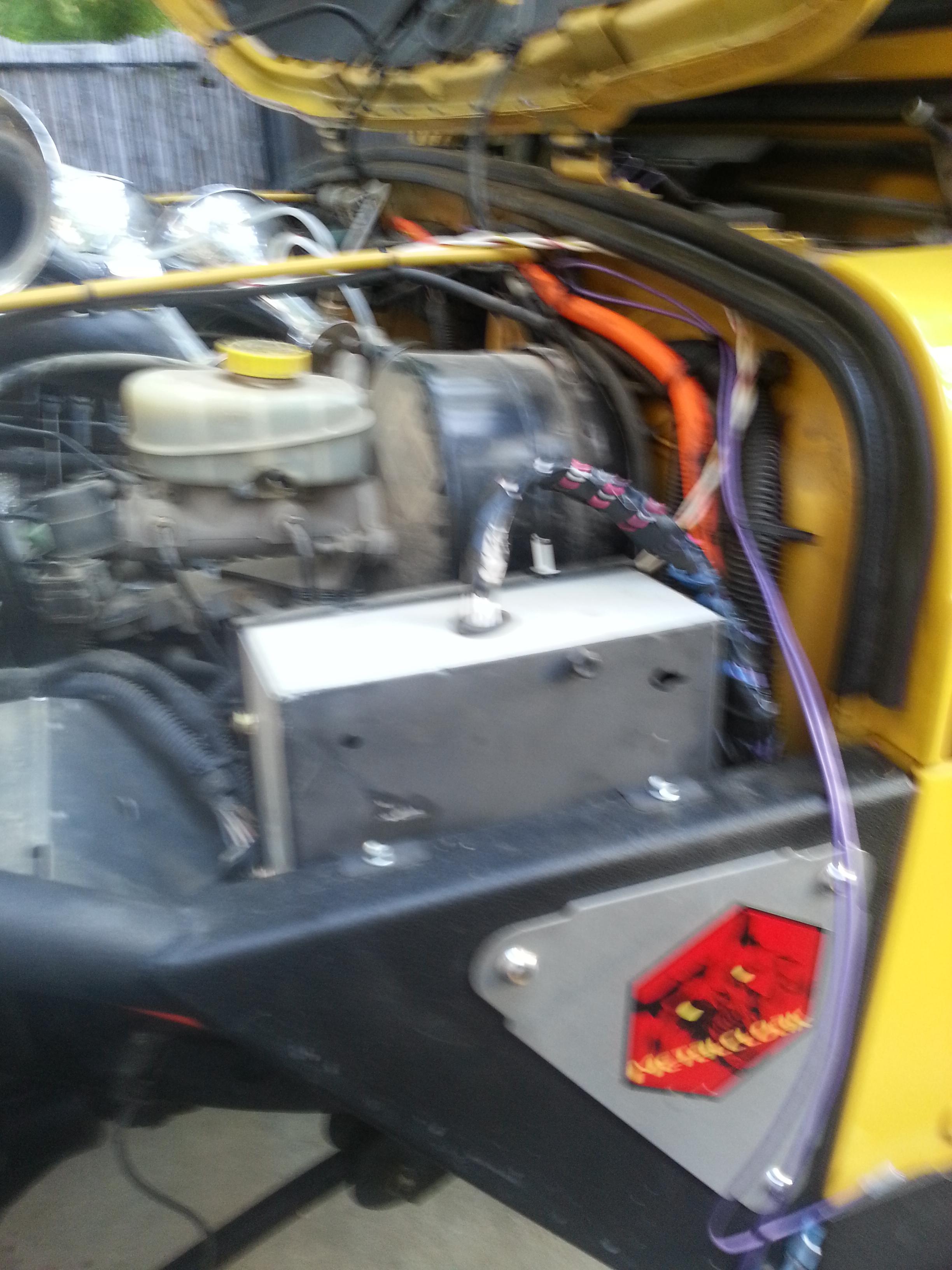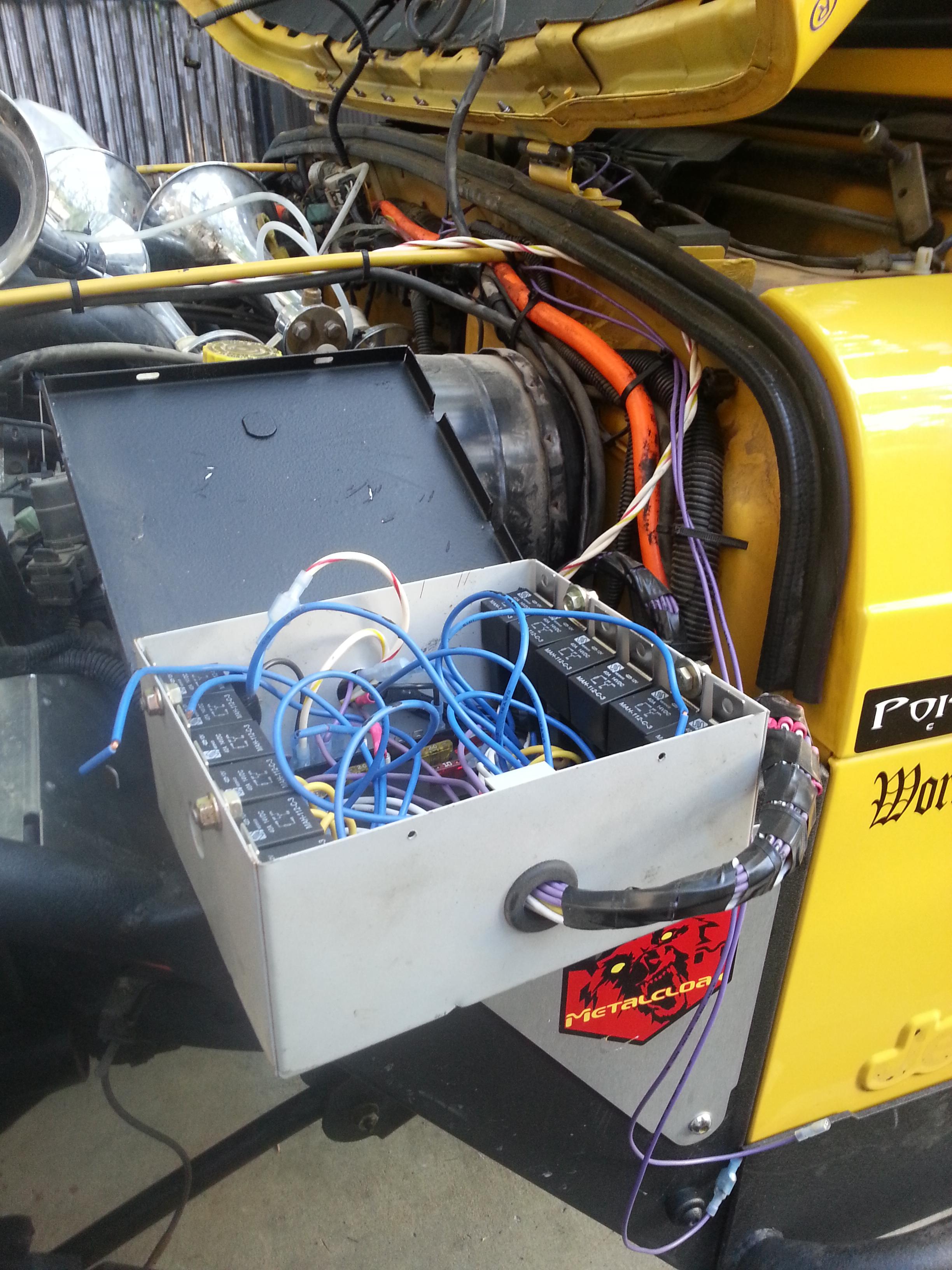 4-27-2014
So a very unfortunate turn of events... Unbolted the donor Rubi D44s and found out they were both bent. The rear axle has a nice smiley face and the front only has a bent long side tube. Also the axle shafts in the rear were bent a long with the front driver side shaft. All the ujoints, unit bearing, balljoints and calipers were toast.
Also, the stock lockers on the front and rear are toast. The solenoid on the rear locker has broken and the wires have vanished. The front locker still has its wires and solenoid but the locker will not lock or unlock when given power. Seems like a simple locker design, give the elctromagnet power and it pushes a ring that forces the locker to lock, turn it off and it pushes the ring away, however I don't seem to get any power to the locker magnet. Basically the rear axle is trash, and the front axle is rebuildable.
So today I went and picked up a JK Dana 44 rear with 5.13 gearing and a 1310 yoke installed already for $350. SO my rear axle is set, all I need are calipers.
For the front axle, I plan on retubing it in to get rid of the bent tube and to put in a much thicker tube. I will source a used OEM e locker for cheap and add that in along with 5.13 gearing. I will find or order a set of driver side axle shafts, and I plan on buying a used JK Dana 30 and taking all the balljoints, unit bearings, calipers and rotors and swamping them onto my housing. It will be cheaper for me to rebuild it that way then to purchase new everything. Then I will start replacing things that break with new parts as time goes on. And pictures:
So what do I gain and what do I lose from switching to a JK Dana 44 rear instead of a Rubi JK D44 rear? What I lose is the strength of a 8.8" ring gear and a pinion almost comparable to a D60, along with 32 spline axle shafts. What do I gain? I gain a axle that is a lot cheaper, stronger then a TJ D44, a wider selection of lockers, and an option to do a 35 spline upgrade like the Rubi44 in the future. I don't lose much except for strength, which quite frankly, I am not too worried with these axles under a LJ.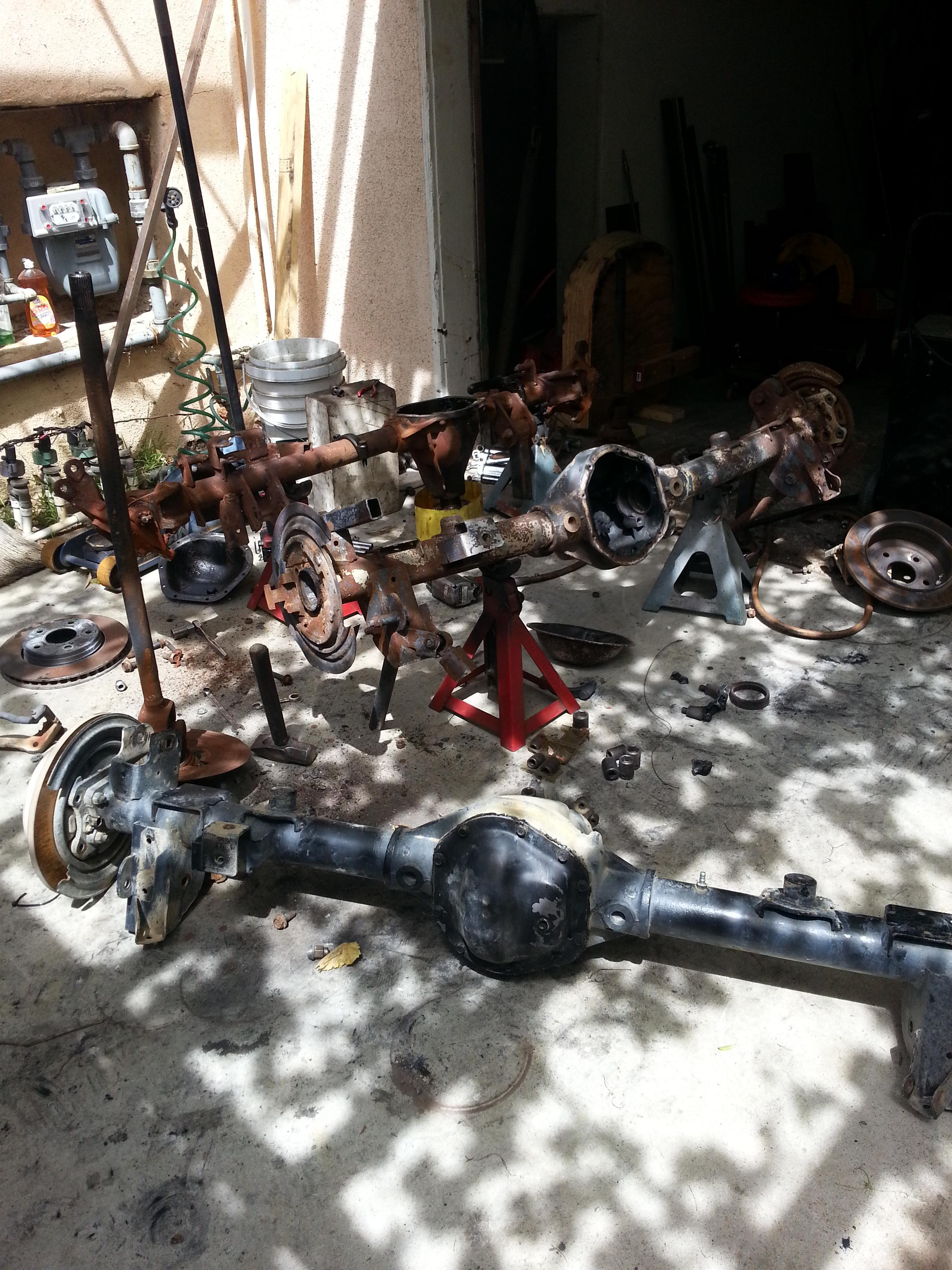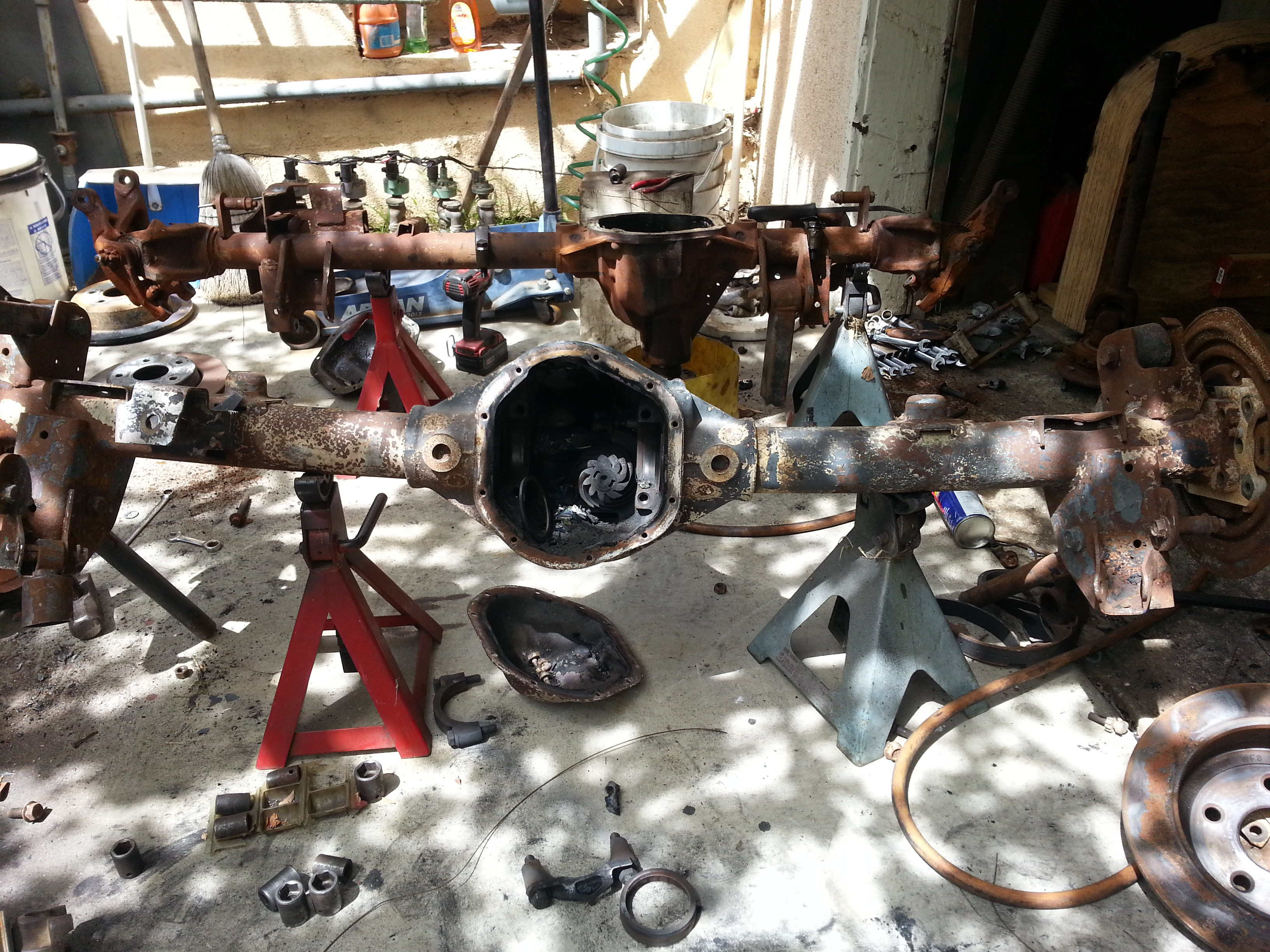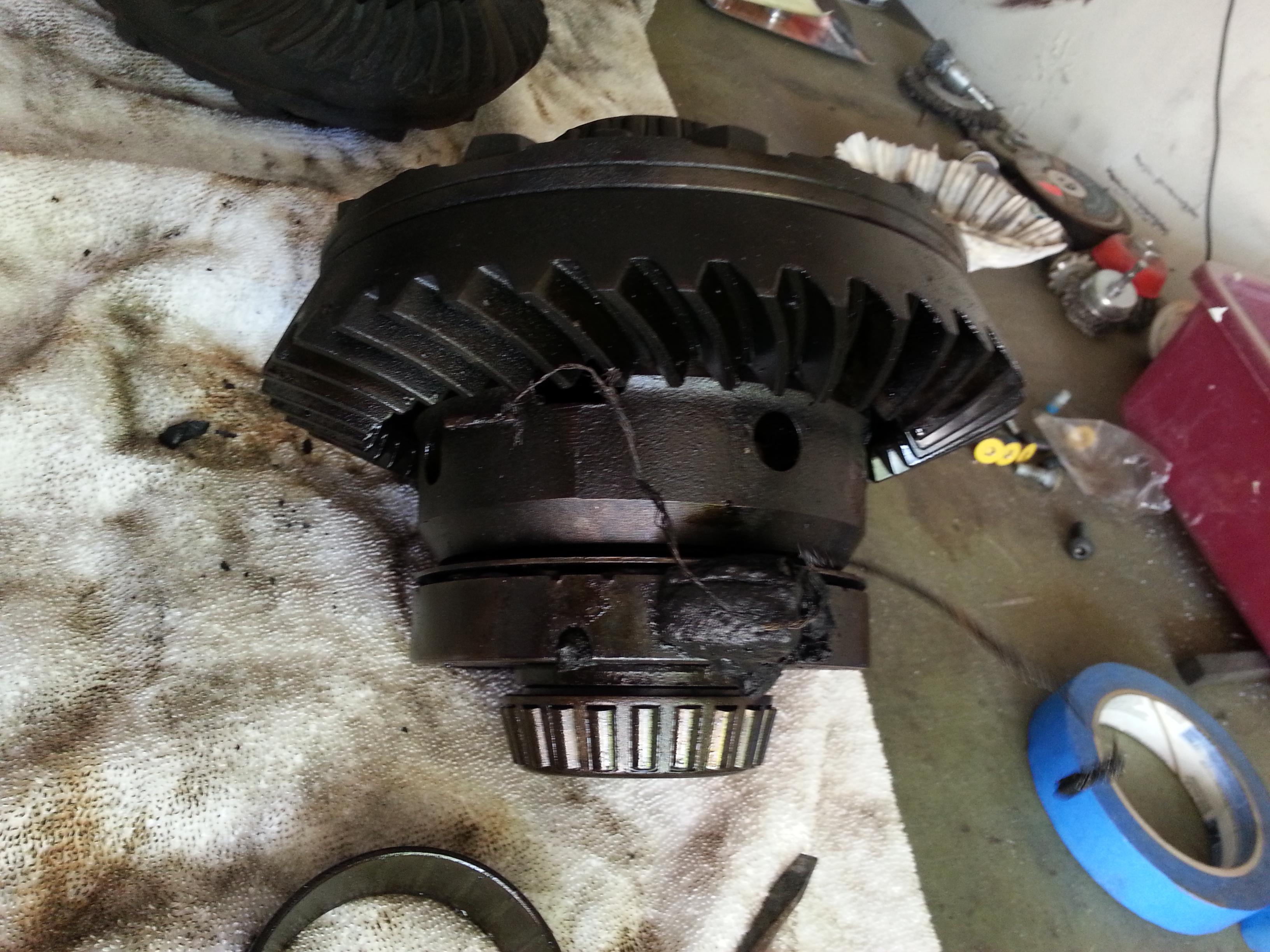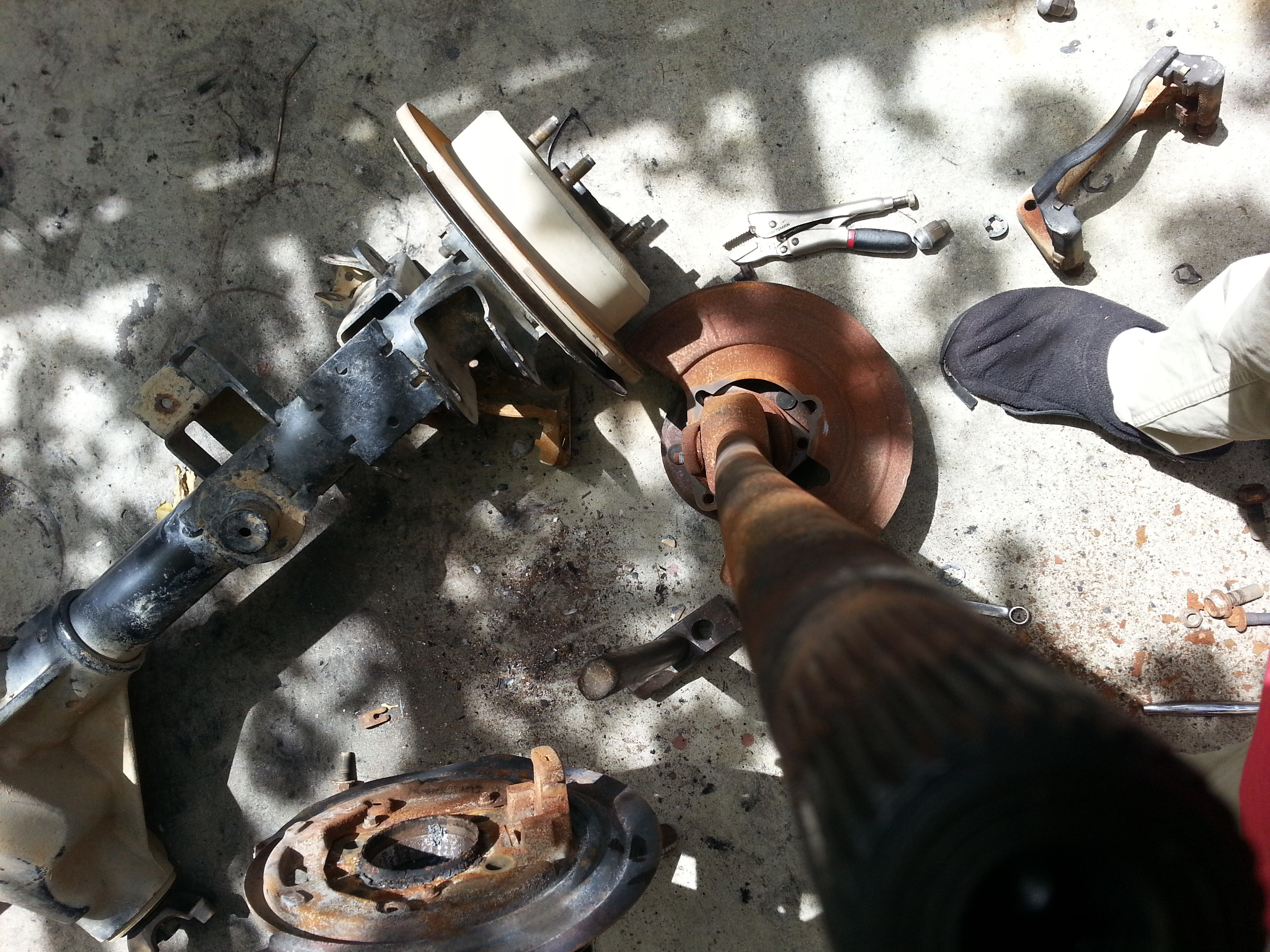 5-15-2014
Placed my order with Ruff Stuff on Monday using their Mothers Day sale code of 20% off. All my coilover brackets, steering, and panhard kits come tomorrow!
5-16-2014
Ruff Stuff package came in, 100 LB shipment! Thats a lot of metal! So I got my coilover towers, coilover axle side brackets, GM 1-tonsteering kit with the high angle draglink ends, and the panhard kit for the 3 link. Those TRE's and tubes are BEEF, I dont see much that will bend those!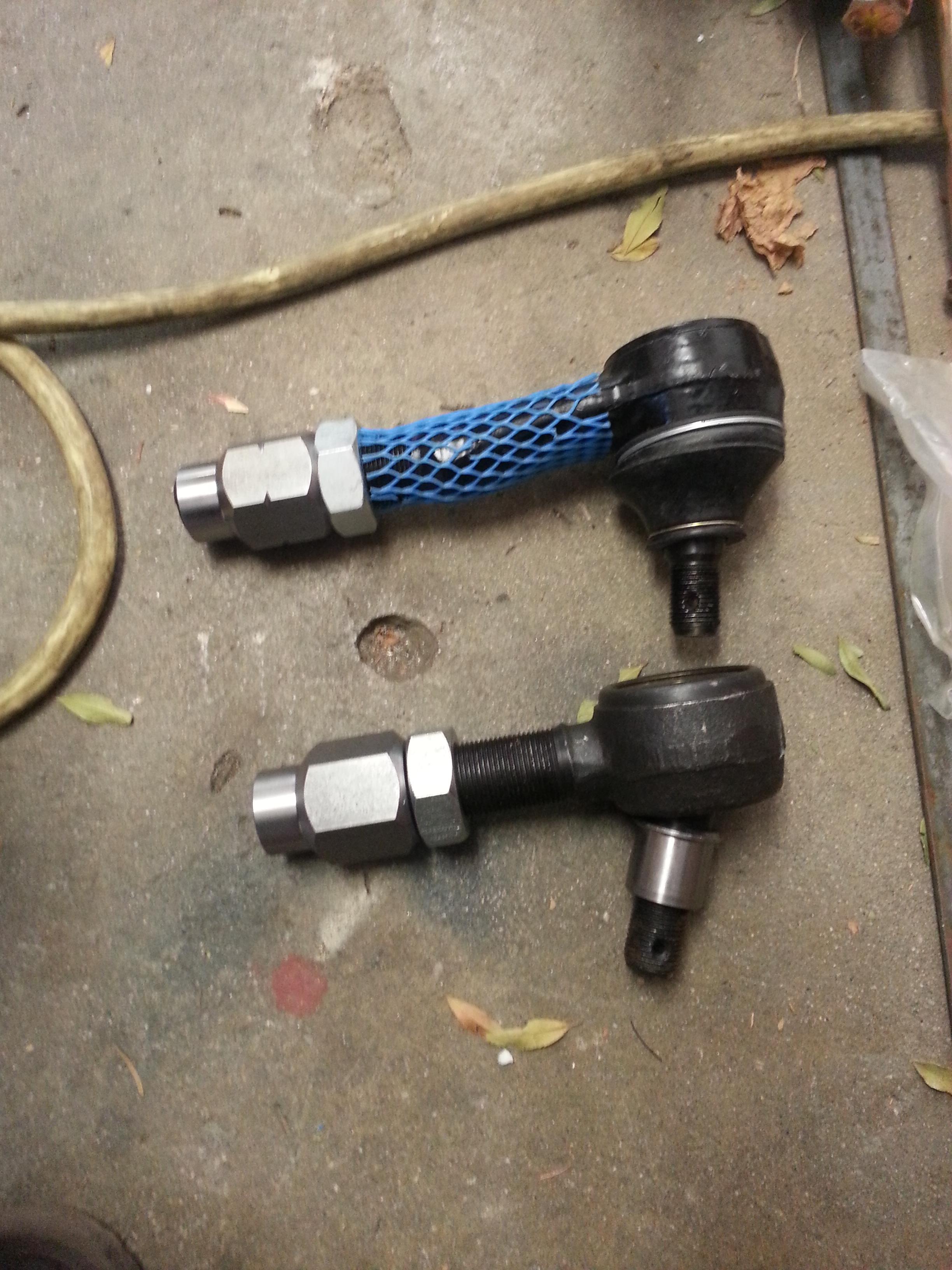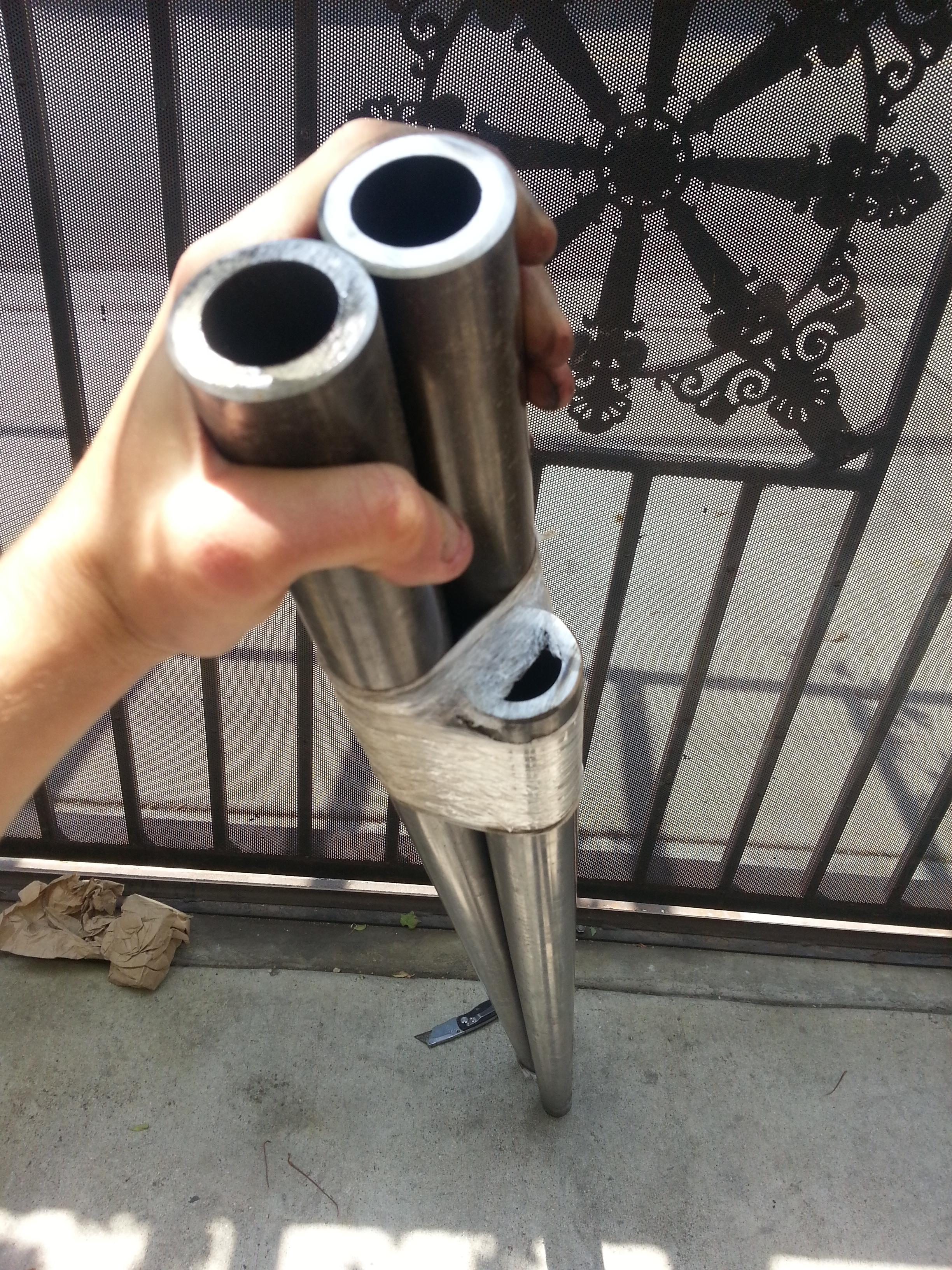 5-17-2014
Today, my Dad and I decided to try and straighten the bent long side tube on the D44. We went to our metal warehouse and bought 3"x.25" Steel tubing to retube the long side and create a clamshell for the shortside. Here are some pictures of the results and how straight it looks.
We cut the bent section off and left some tubes on the ends. Here is the bent section.. it was really crazy bent.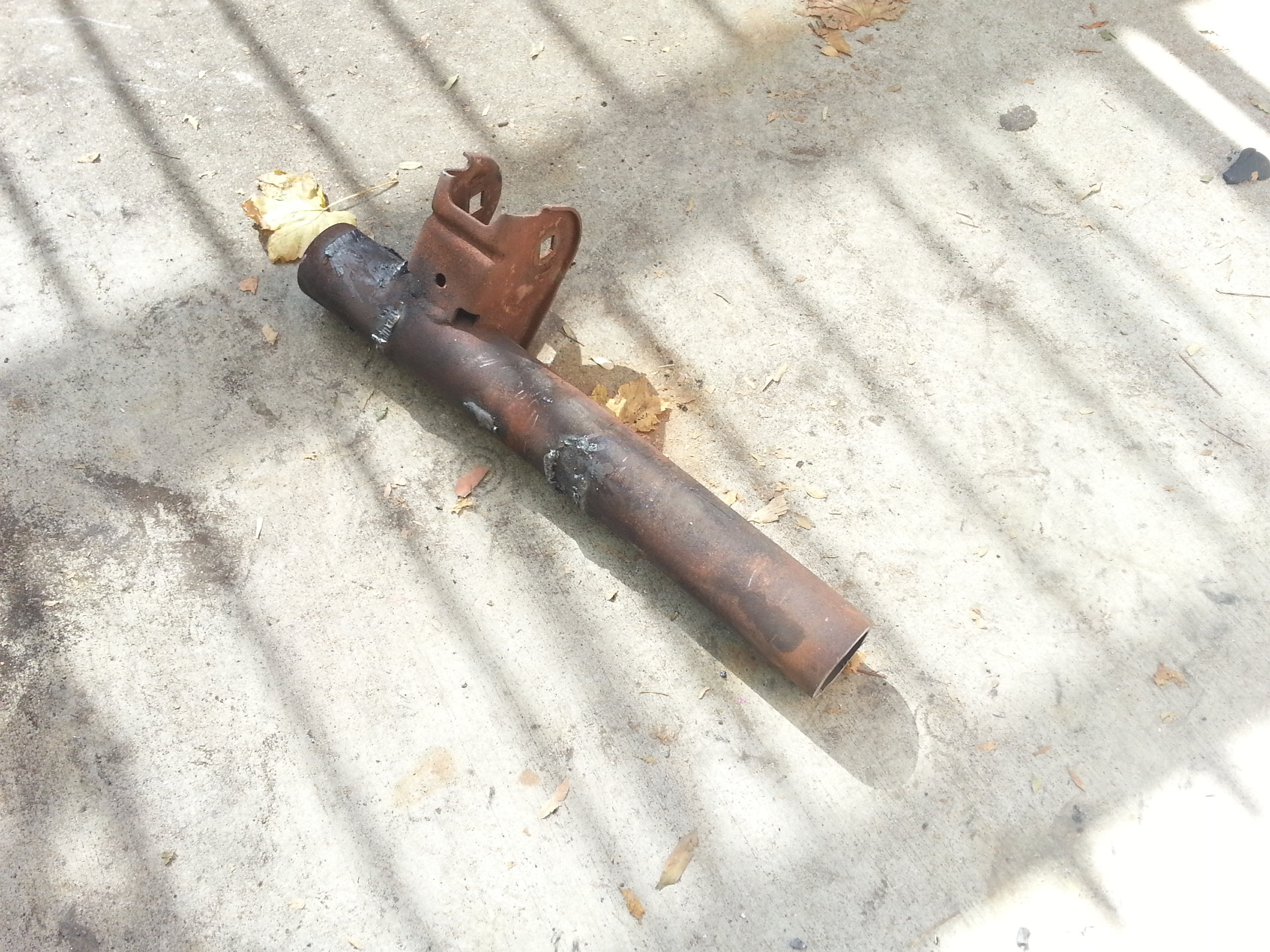 Axle tubes cut with around 3" of tube left and grinded down.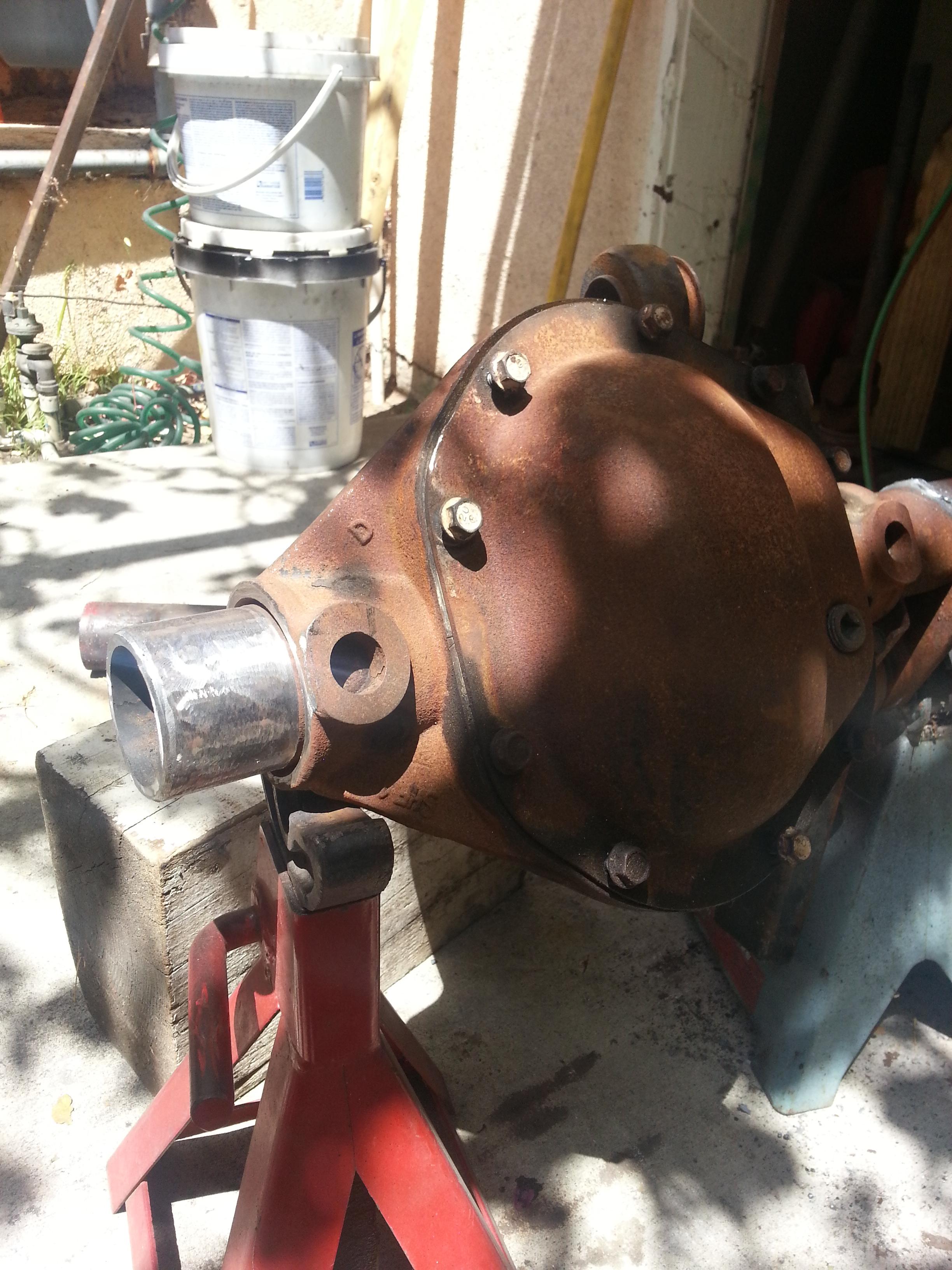 My Dad is in the process of grinding down the tube on the inner C.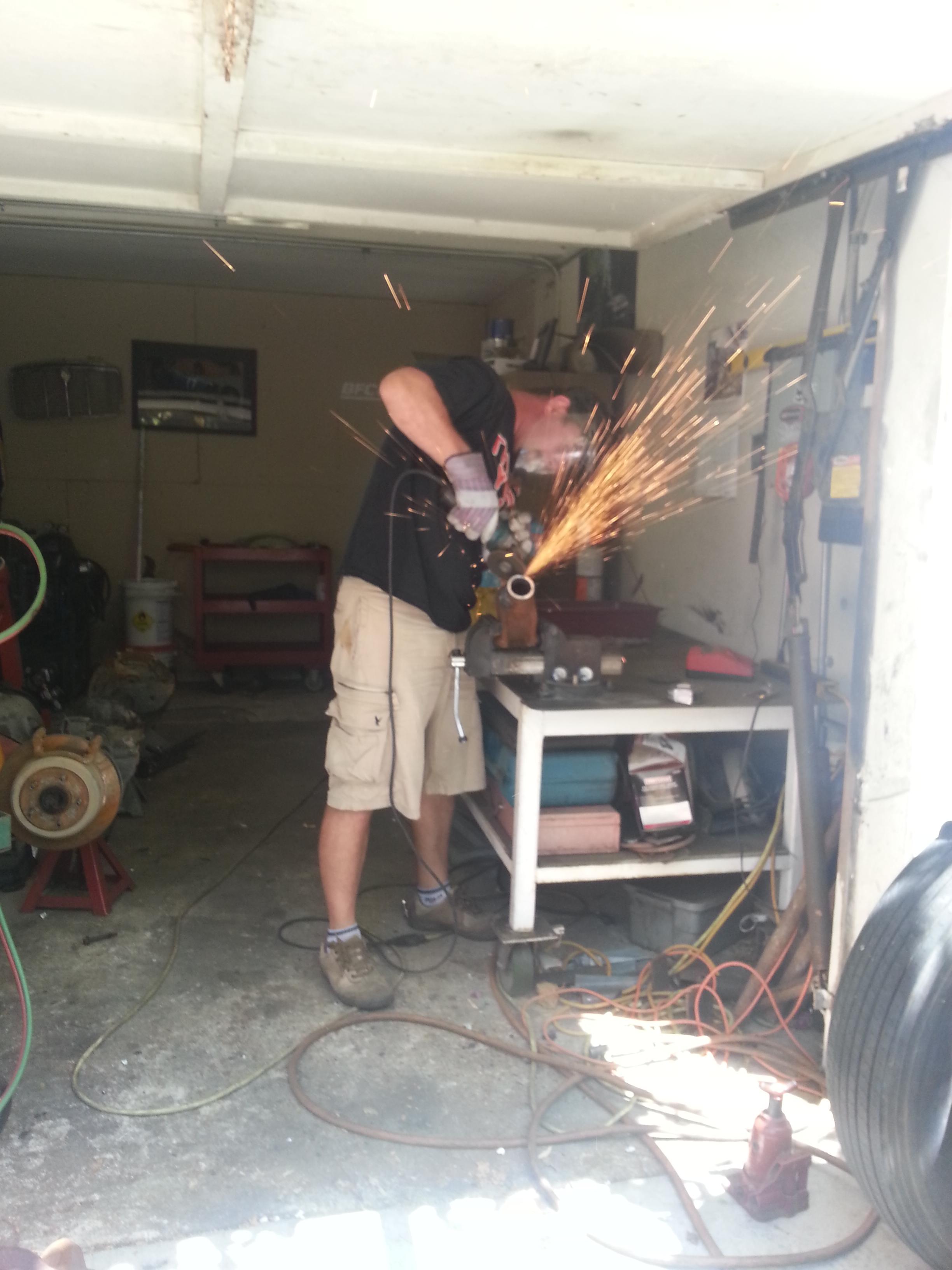 The DOM tubing we used.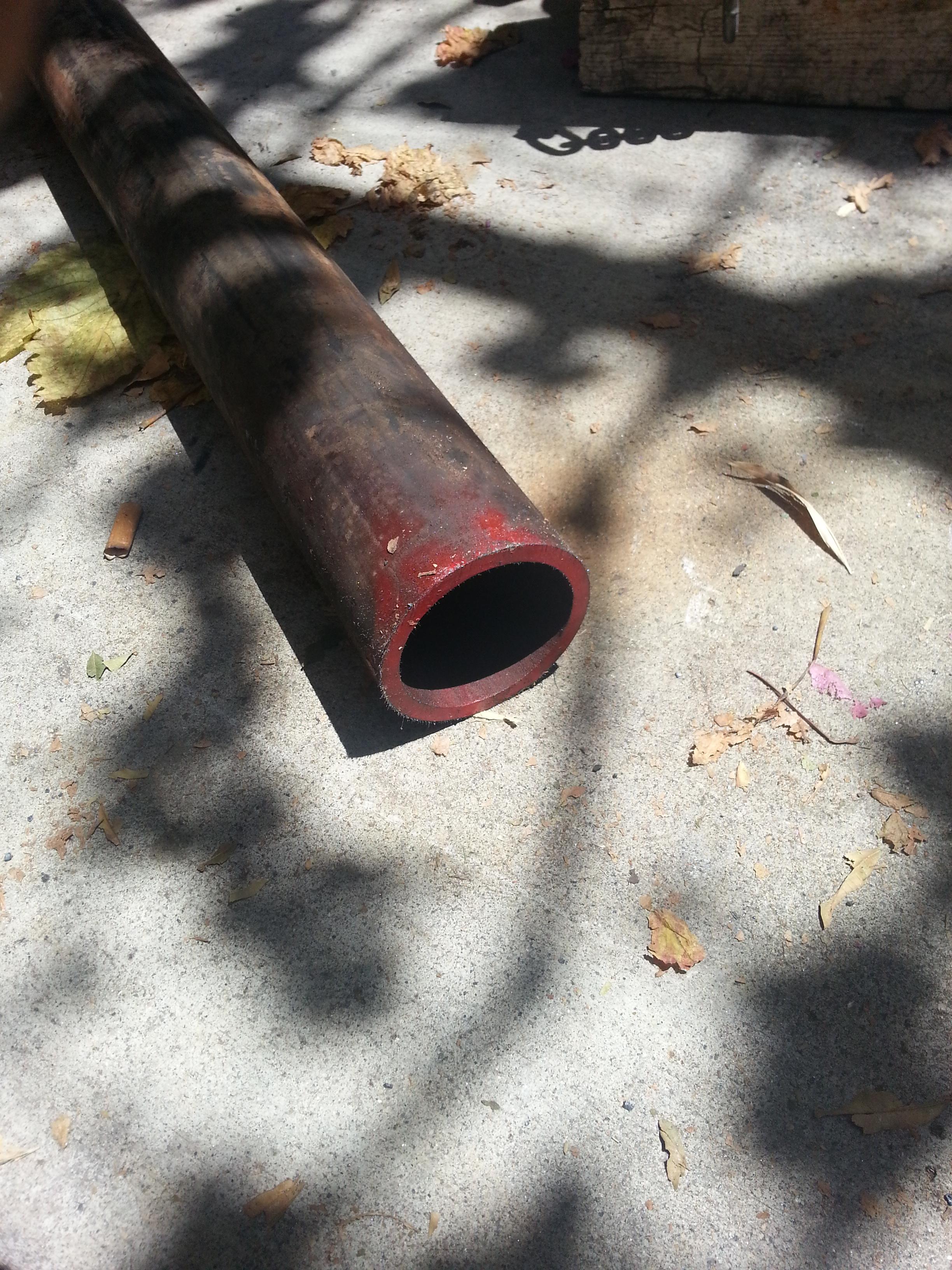 Using some heat and a BMFHammer we pressed the tube into the stub.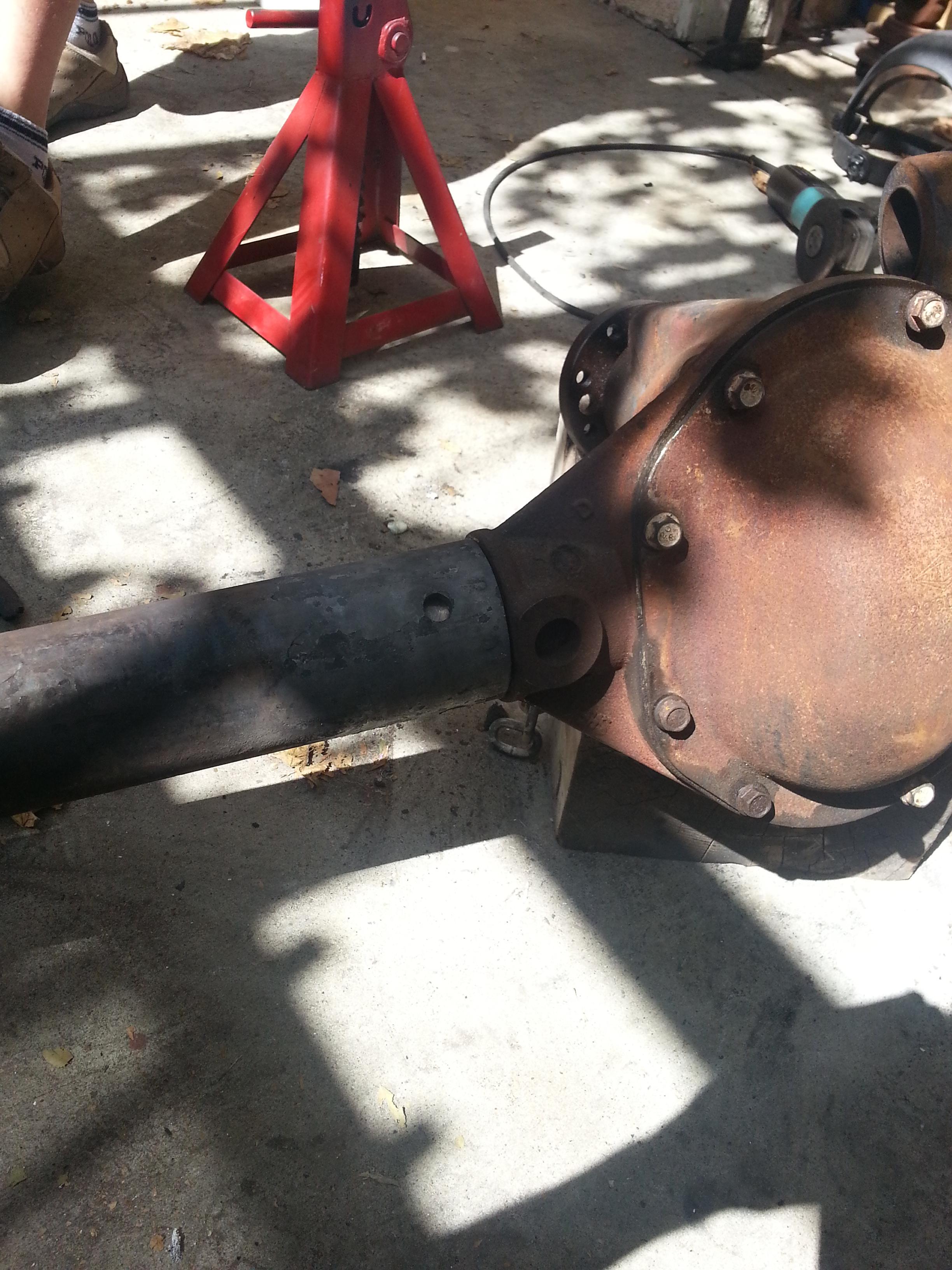 Same concept for the other side.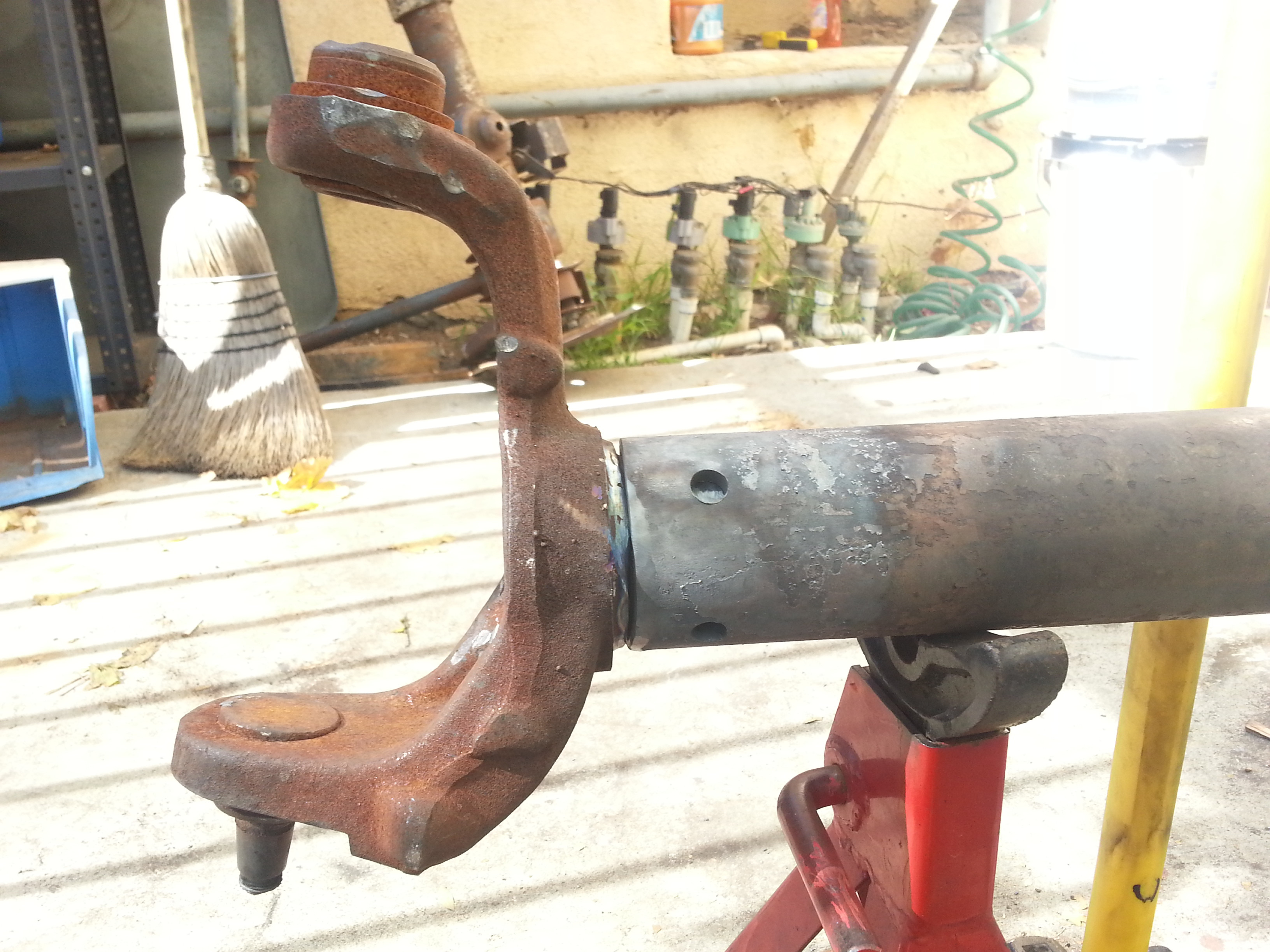 Made sure the inner C on the long side was at the same angle as the inner C on the short side. We only retubed the long side, the short side will get a clamshell.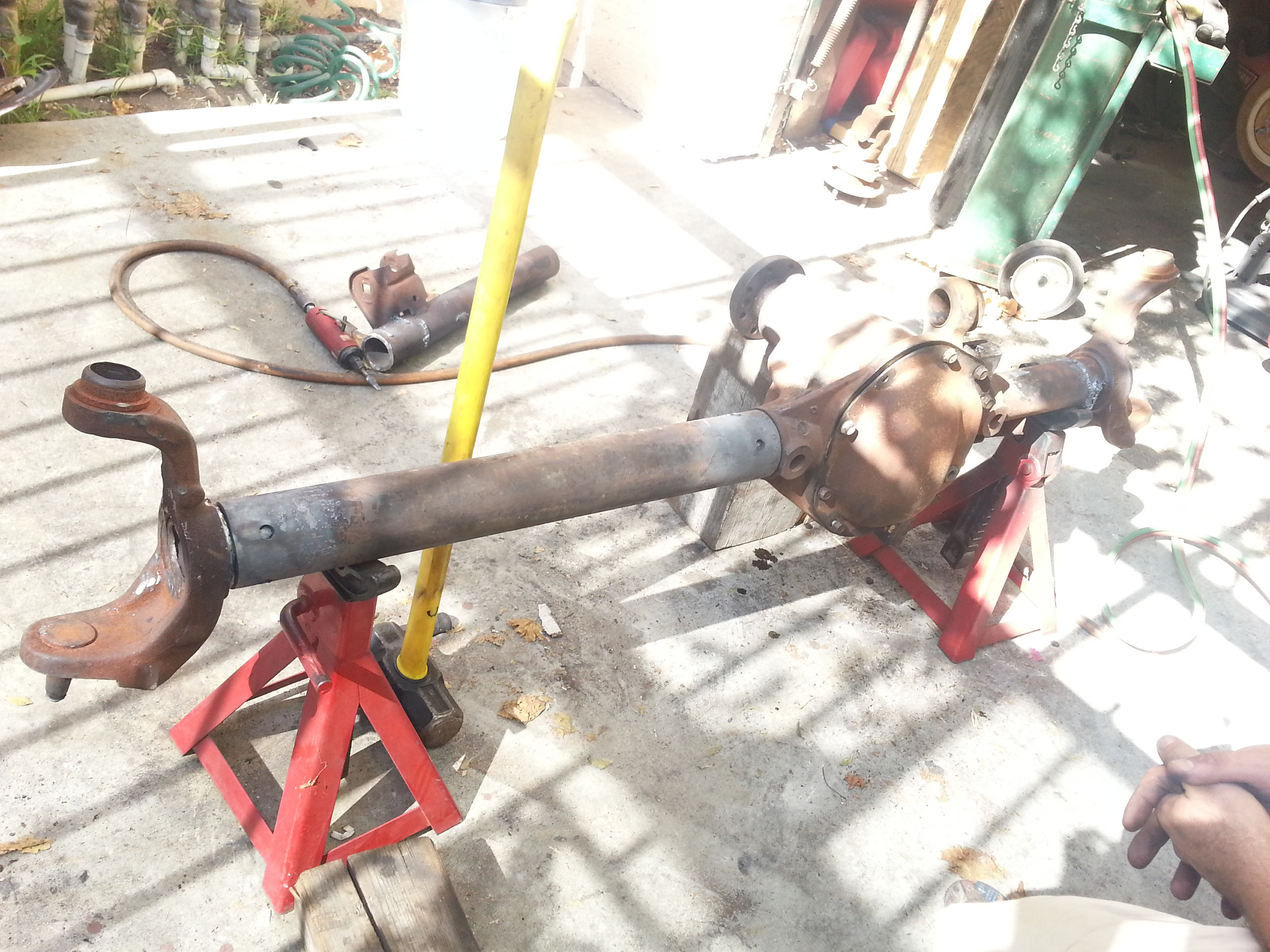 Visual check and it is straight.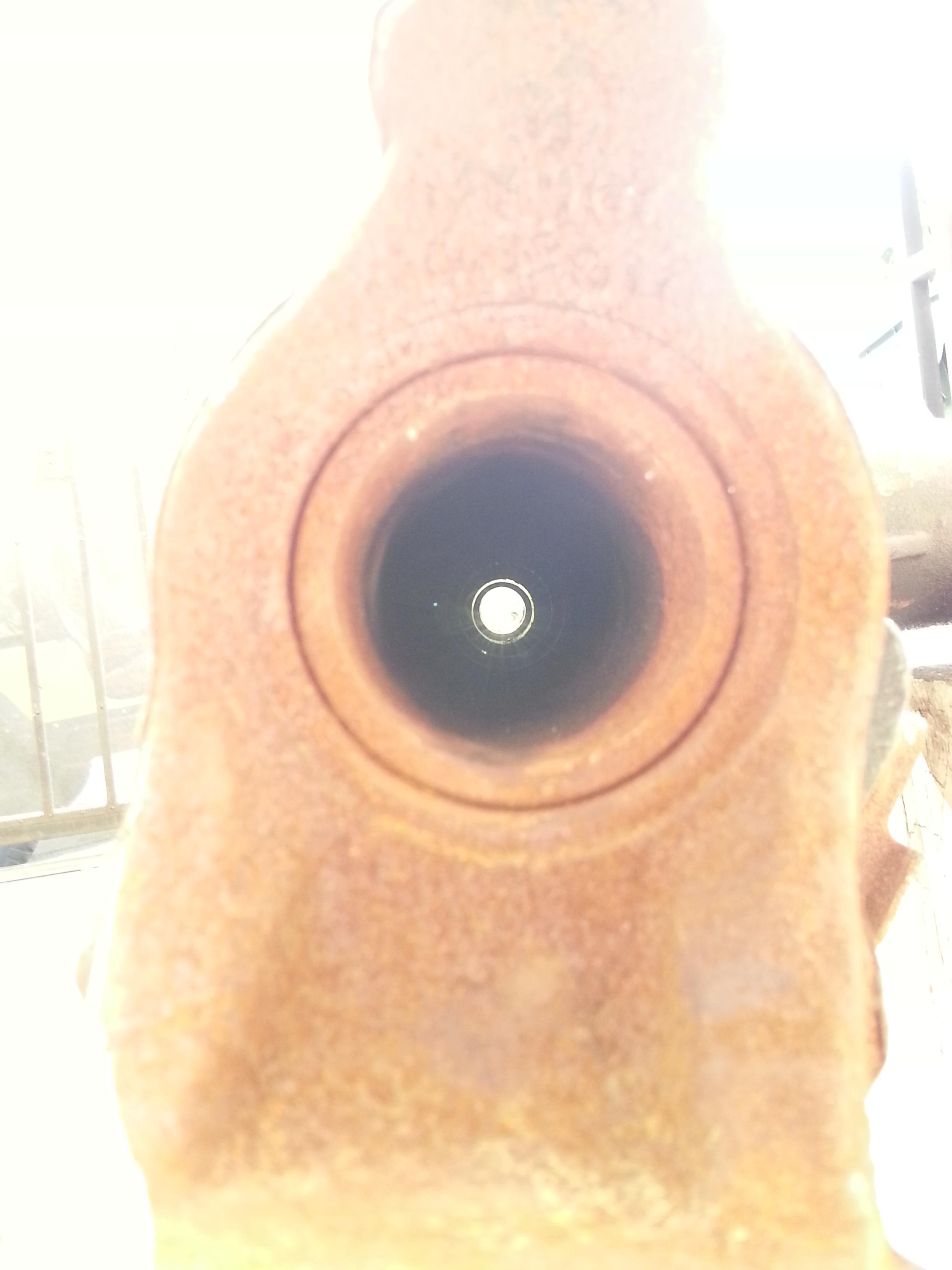 5-18-2014
Today we took off all the brackets from the JK D44 rear and welded the tubes on the front JK D44.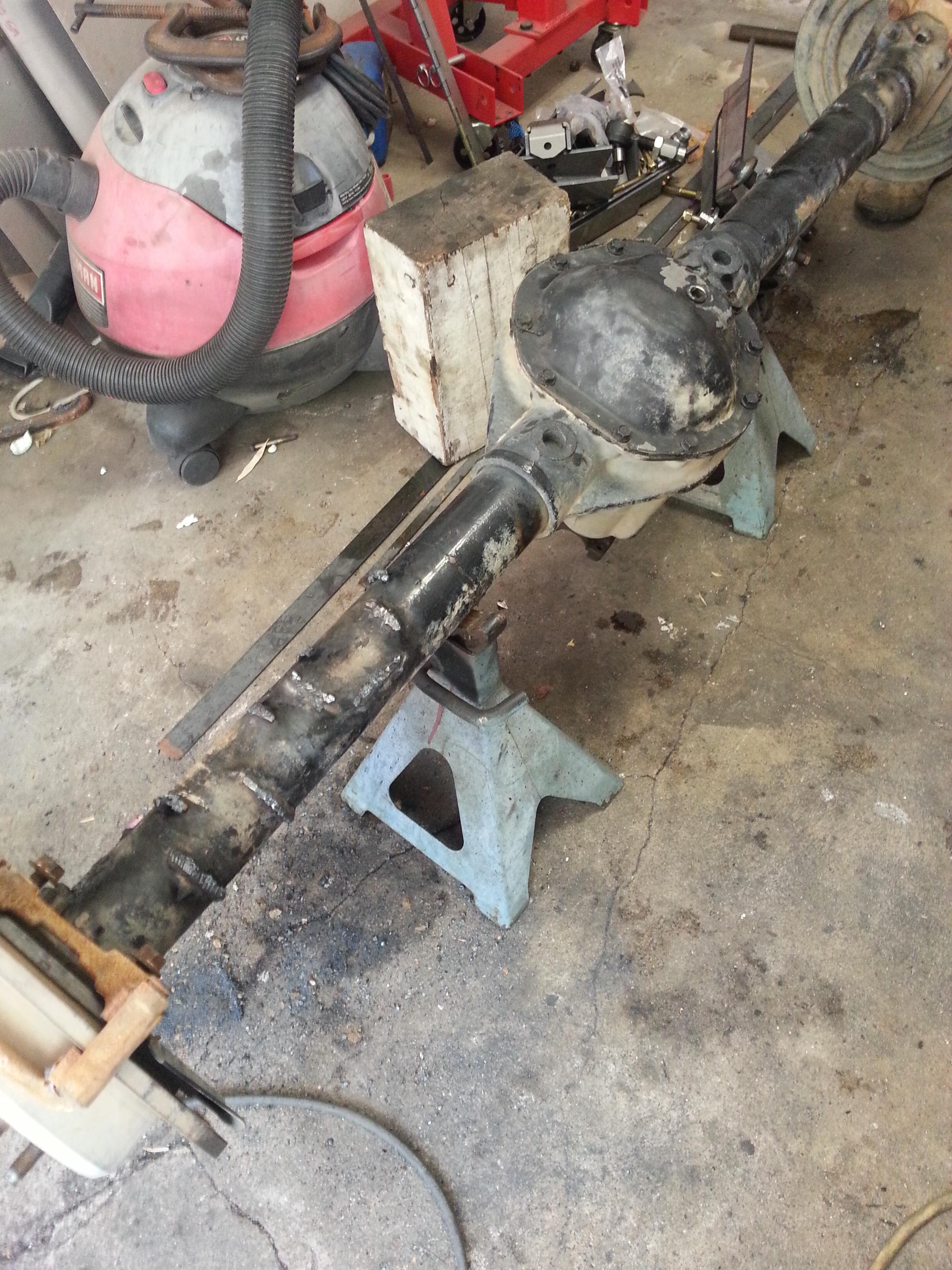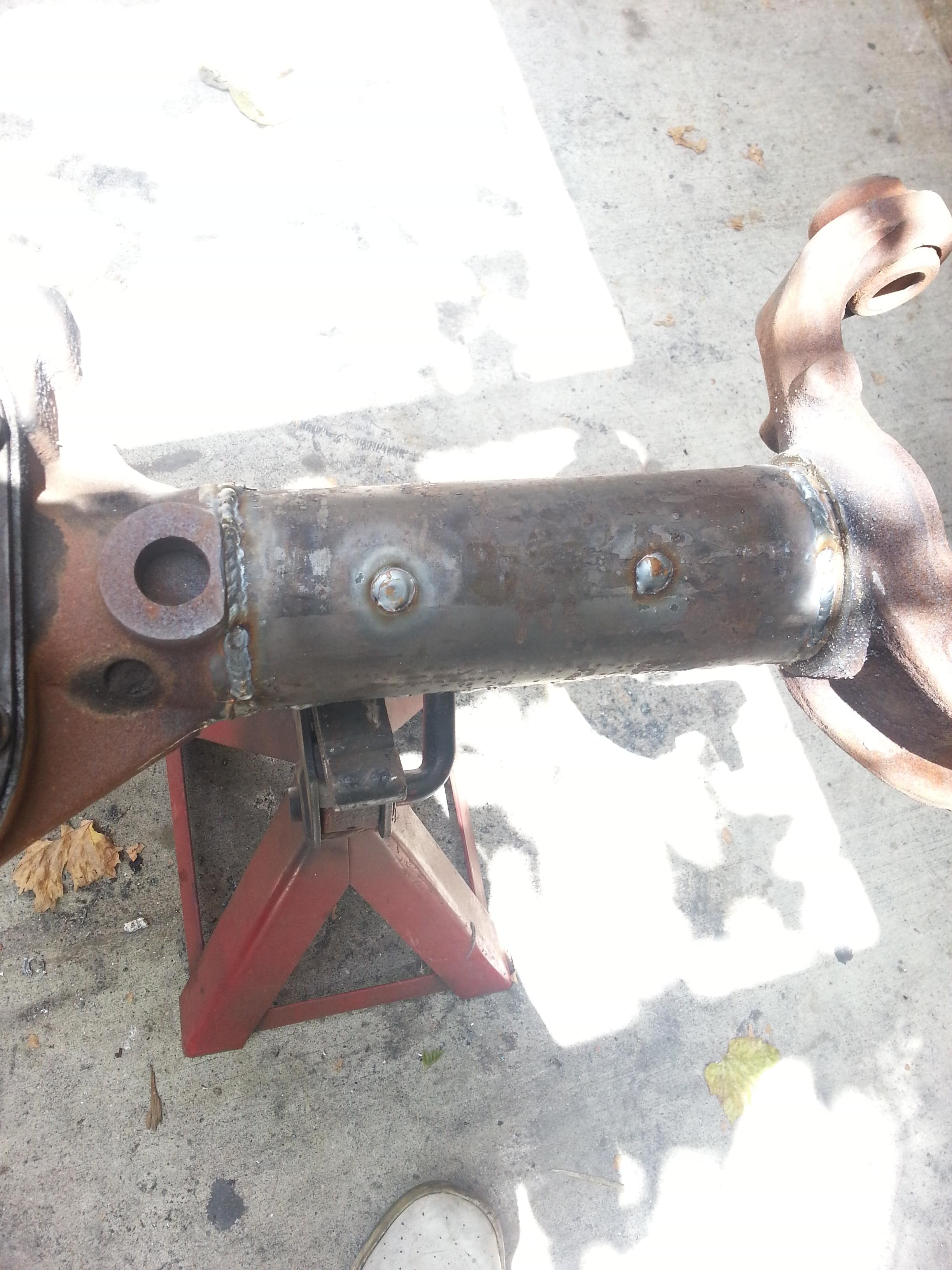 5-21-2014
Im having a hard time figuring out what locker to throw into the front JKD44. I can get the stock E-locker used for around $400 with low miles, or I can choose the other 30 spline alternative and spend around $1000 and grab an OX locker with the electric actuator. What do you guys think?
6-5-2014
So it seems like I wont have enough time to save up for beadlocks by time turdhurdler's event rolls by, so I will be buying some stock JK rims and mounting the 37" MTRs on them instead until I can get some beadlocks. I might also need to get some spacers because the stock JK rims have like 6" backspacing.

Also decided on going with the OX locker for sure. I will be buying the electric actuator for it so I can hook up the locker straight to my switch in the jeep and not have to find a mounting place for the mechanical switch.

As soon as my finals are over for college I will be taking my axles and tires/wheels off, selling them, and buying the remainder of my parts which include: clayton kit, 37" MTRs, and some JK rims off CL. Hopefully I can get this all done for Big Bear.
6-9-2014
Yesterday I picked up 4 JK rims w/ tires from a guy off JK forum for $75! Ill use the tires as rollers until I get the 37s mounted on. Its a shame that these rims have 6.5" BS because I like the look of them.
Also picked up front JK calipers w/ the frame and pads off a guy from JK Owners. My front axle was missing the brake components and my rear is missing the calipers w/ the frame. So I still need to find a set for the rear.
This build is almost ready to start, ive been collecting parts for 2 months now. The big stuff left to get are the clayton arms, 37 MTRs, and some small things here and there.
Soon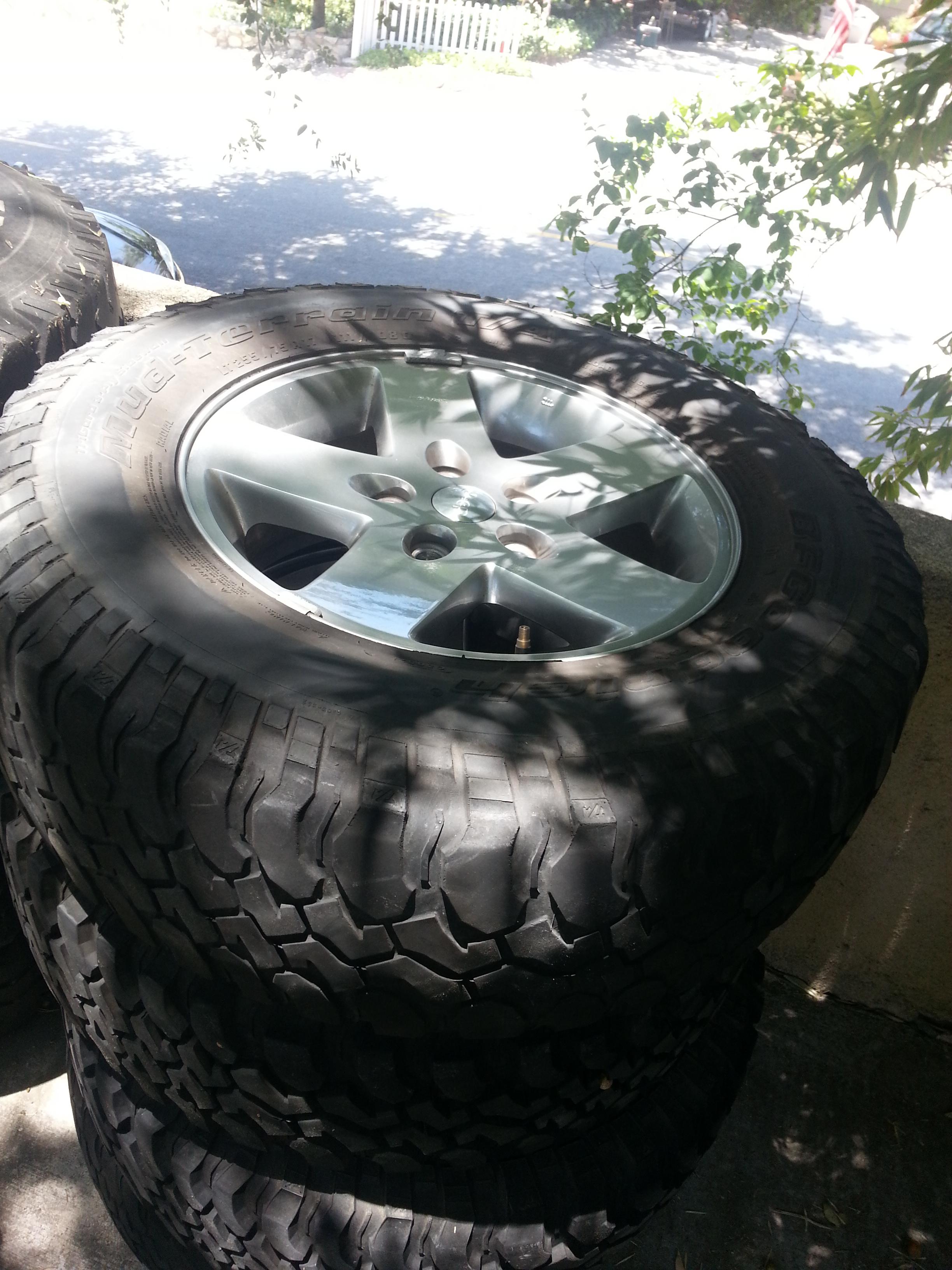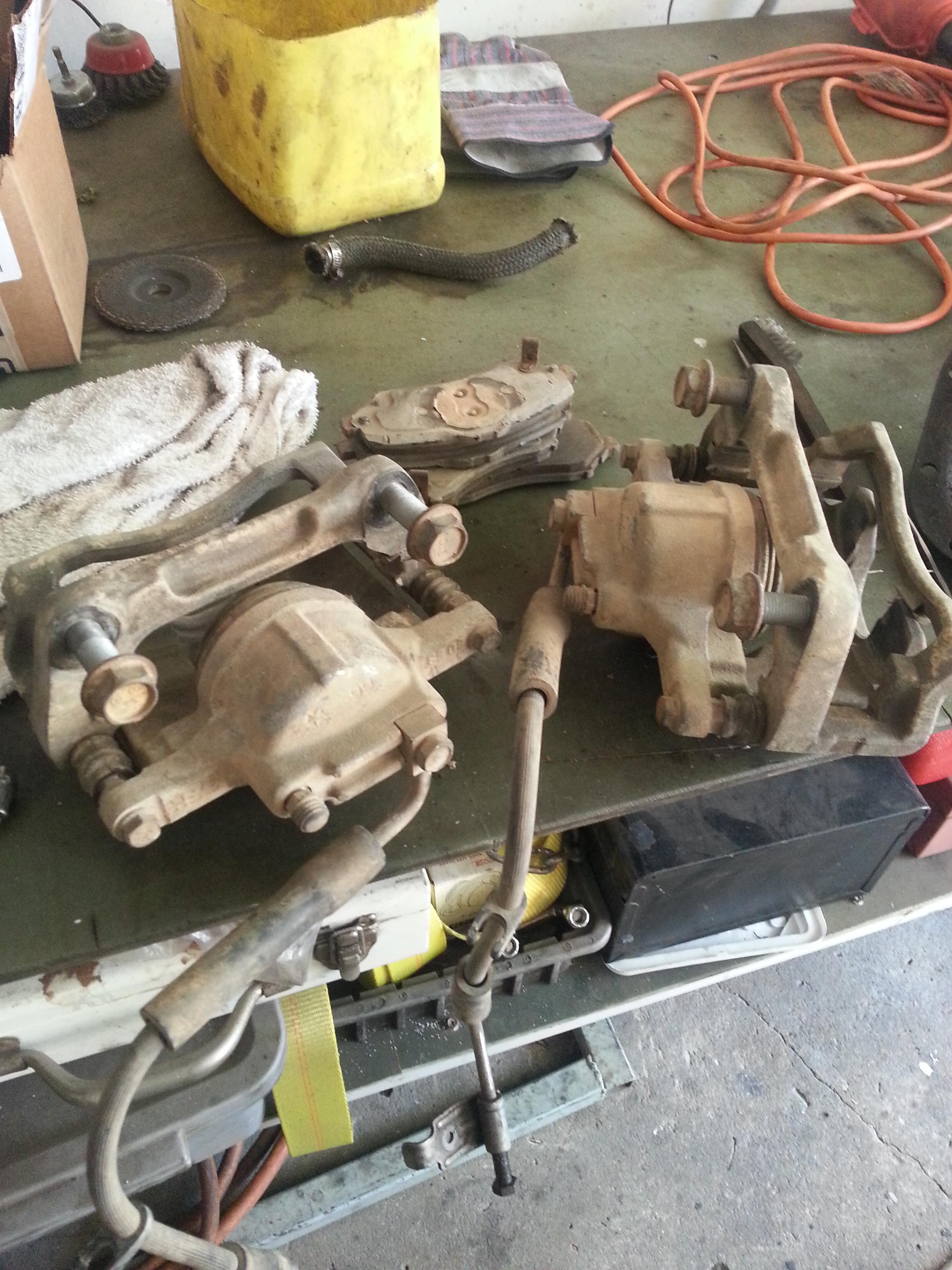 6-21-2014
Not much progress going on. I can't tear into my jeep until my dads JKU is done being rebuilt. The goal is to get my dads JK driveable by August 1st so we have an extra vehicle so I can drive around my sister for whatever she needs

Yesterday I dropped by King Shocks to drop off one of my dads coilovers which has a bent shaft, in the process I got my coilovers charged because the nitrogen had escaped after sitting in storage for over a year.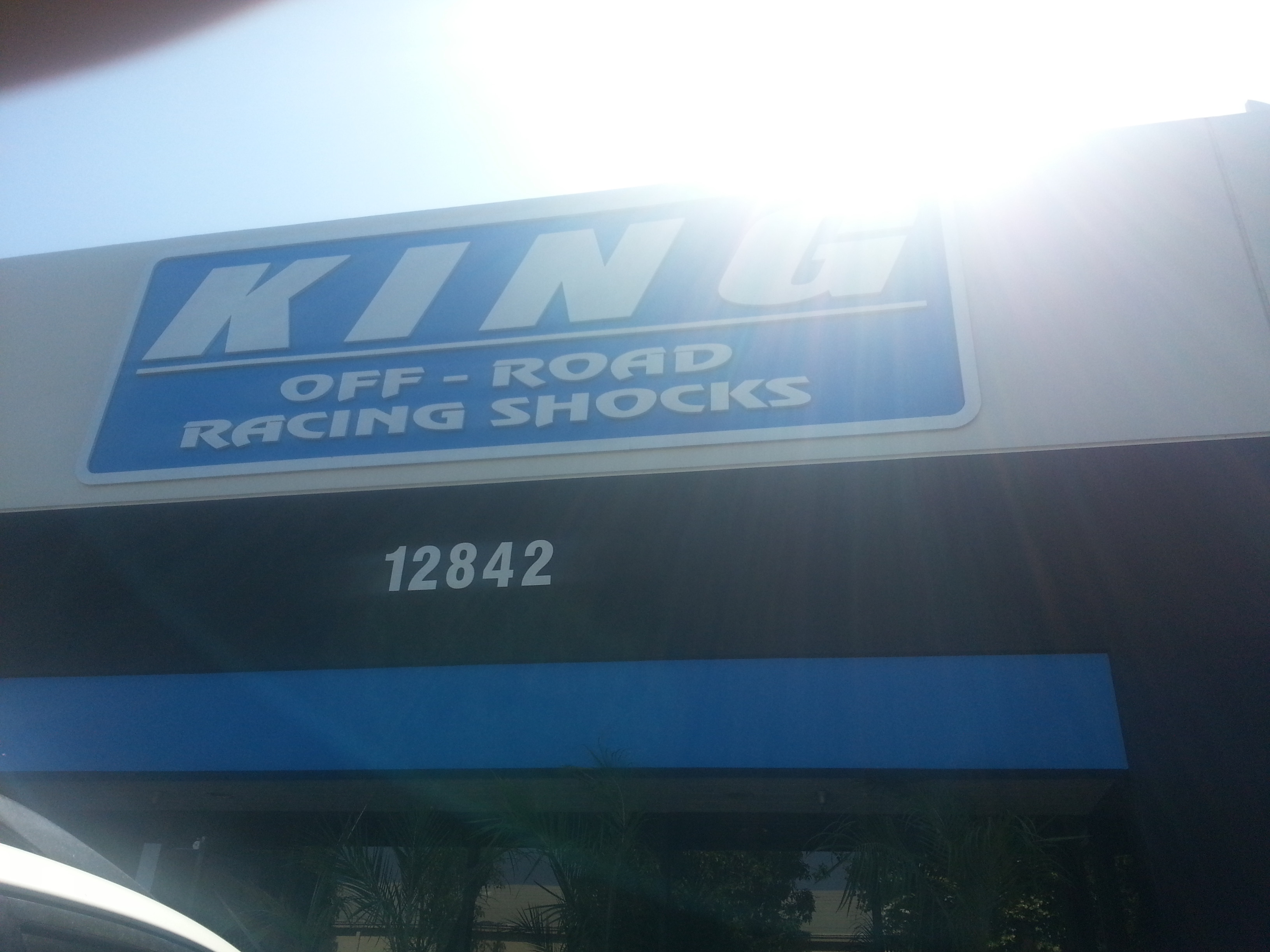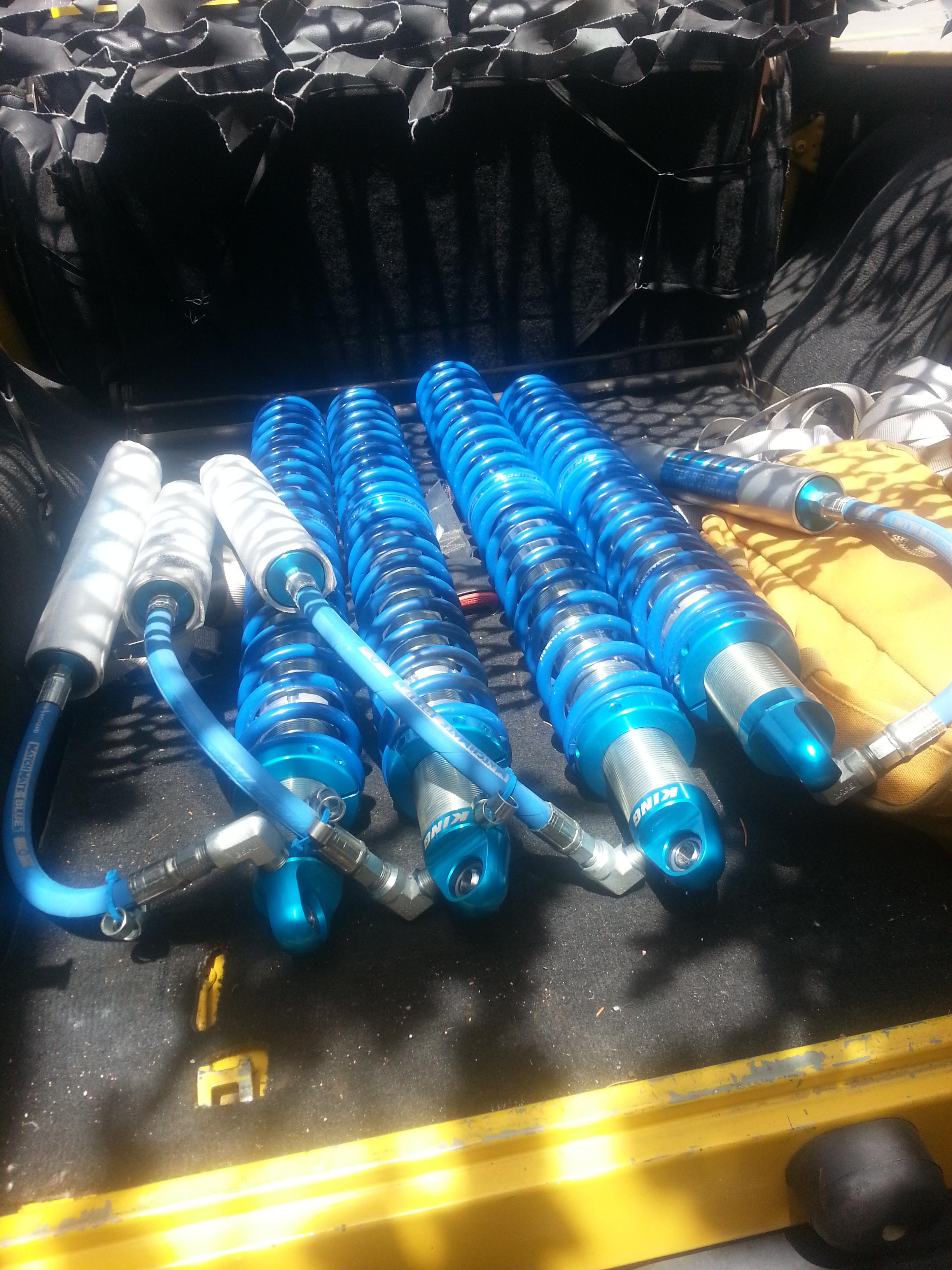 7-2-2014
Yesterday I placed an order on 4WP for the rest of the parts needed for my front axle, along with front and rear Currie HD lower control arm brackets. I went with the OX locker for the front with the electronic shift since I have button already setup in the cab.

Also bought some extra things from RuffStuff like the offset tire rod ends to clear the OX diff cover and a offset panhard bracket.
7-7-2014
Came back today from my vacation to Mexico and I find that my 4WheelParts shipment arrived while I was away. 4WP emailed me saying the remainder of my parts have been sent out, meaning I should have everything I ordered. However half of my parts are still missing. UPS dropped off the package on Wednesday, and it is now Sunday. UPS tracker says that the shipment was 16lb which is what I got, however 4WP email says I should have recieved everything.

I will have to give them a call in the morning and see what is up.
7-8-2014
Talked to 4WP and they told me my parts are coming from all over so it won't be long. The last thing to arrive will be the OX Locker which hopefully will get here by friday. During my downtime today I cleaned up the rusty looking old axle shaft and put on the new U joint, now it sits nicely next to the new axle replacement axle shaft. I have a a lot of parts collecting on the garage table that will need to be added to the front axle soon.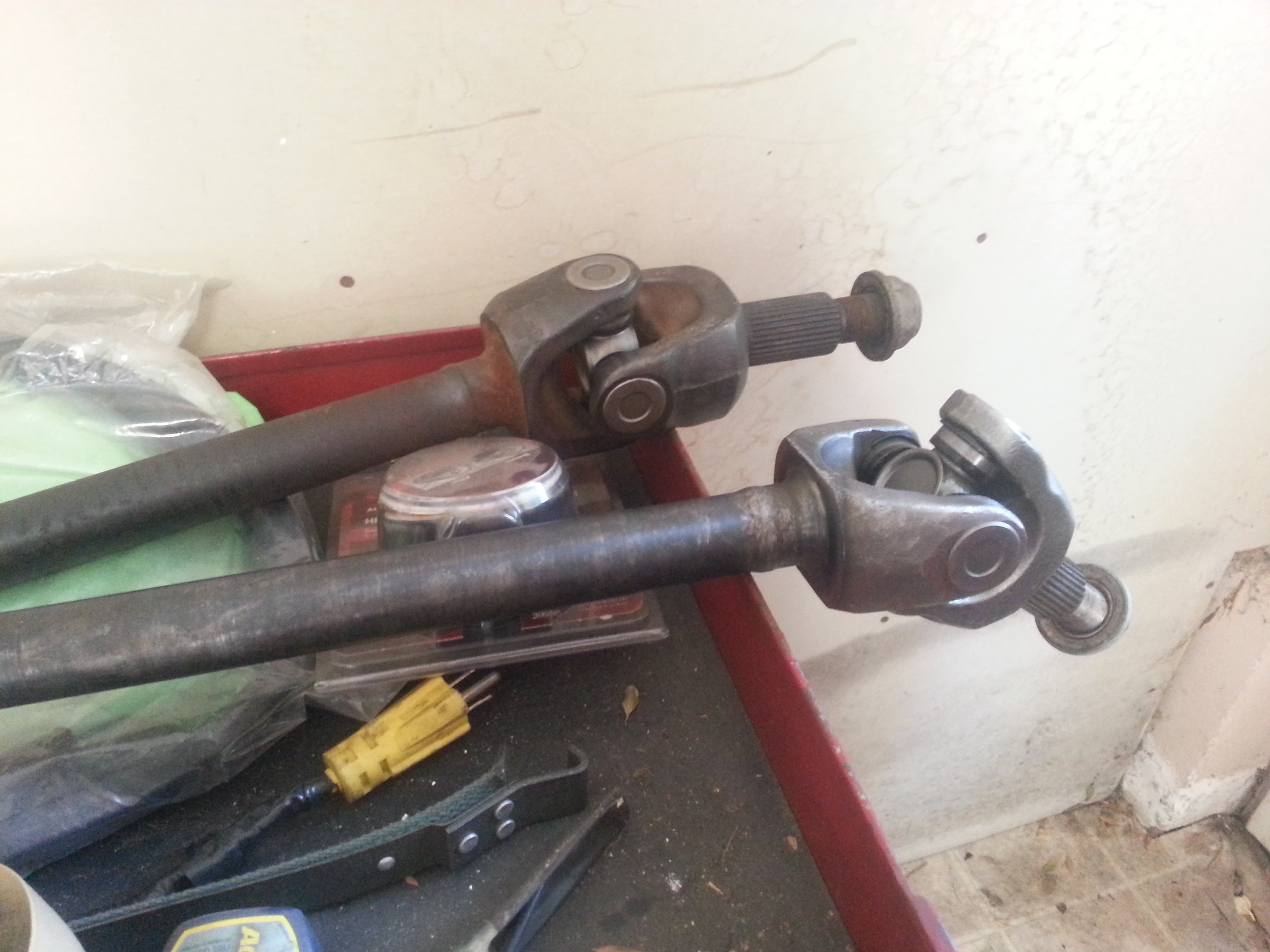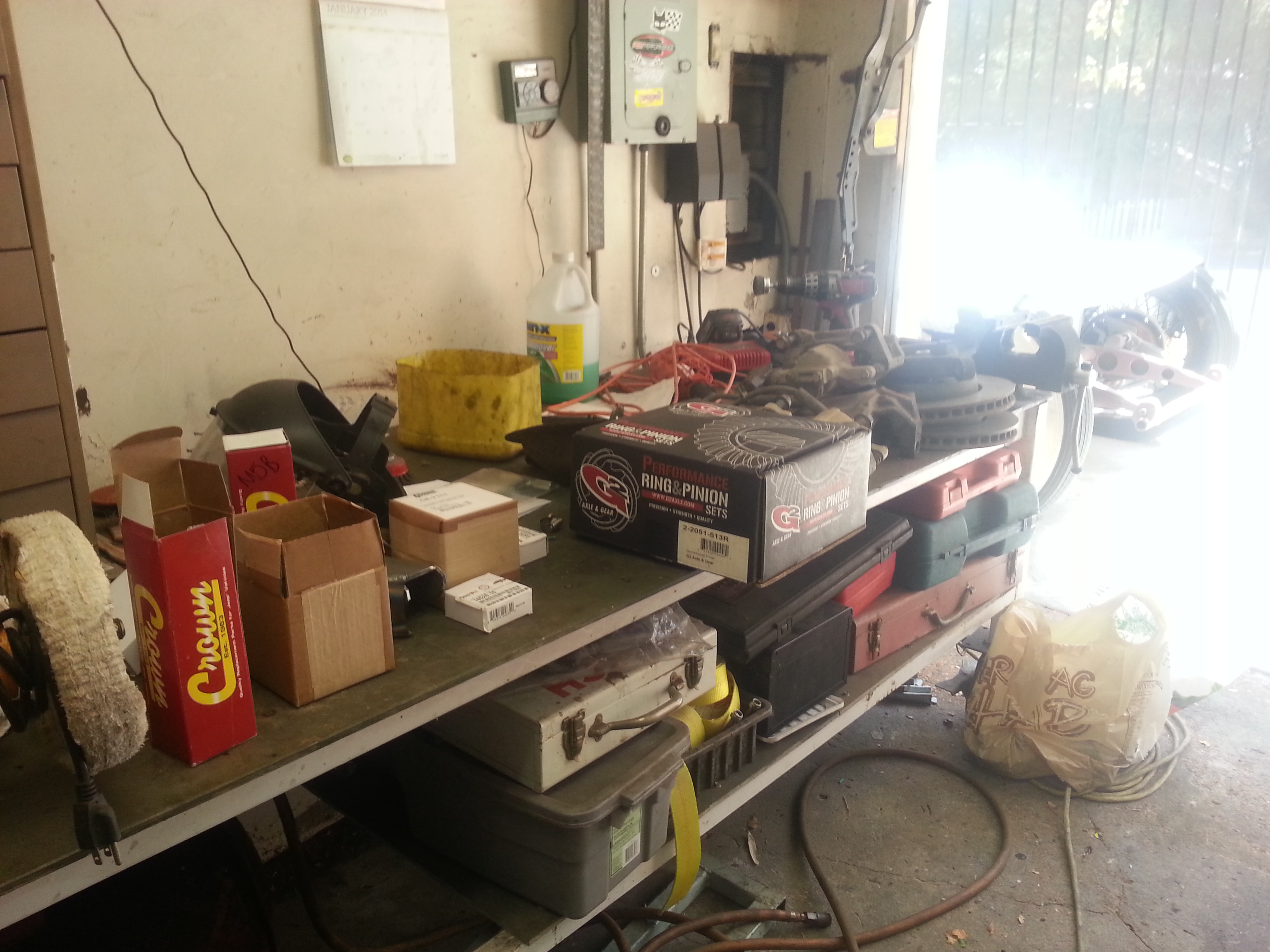 7-14-2014
New tires came in! Can't wait to put them on!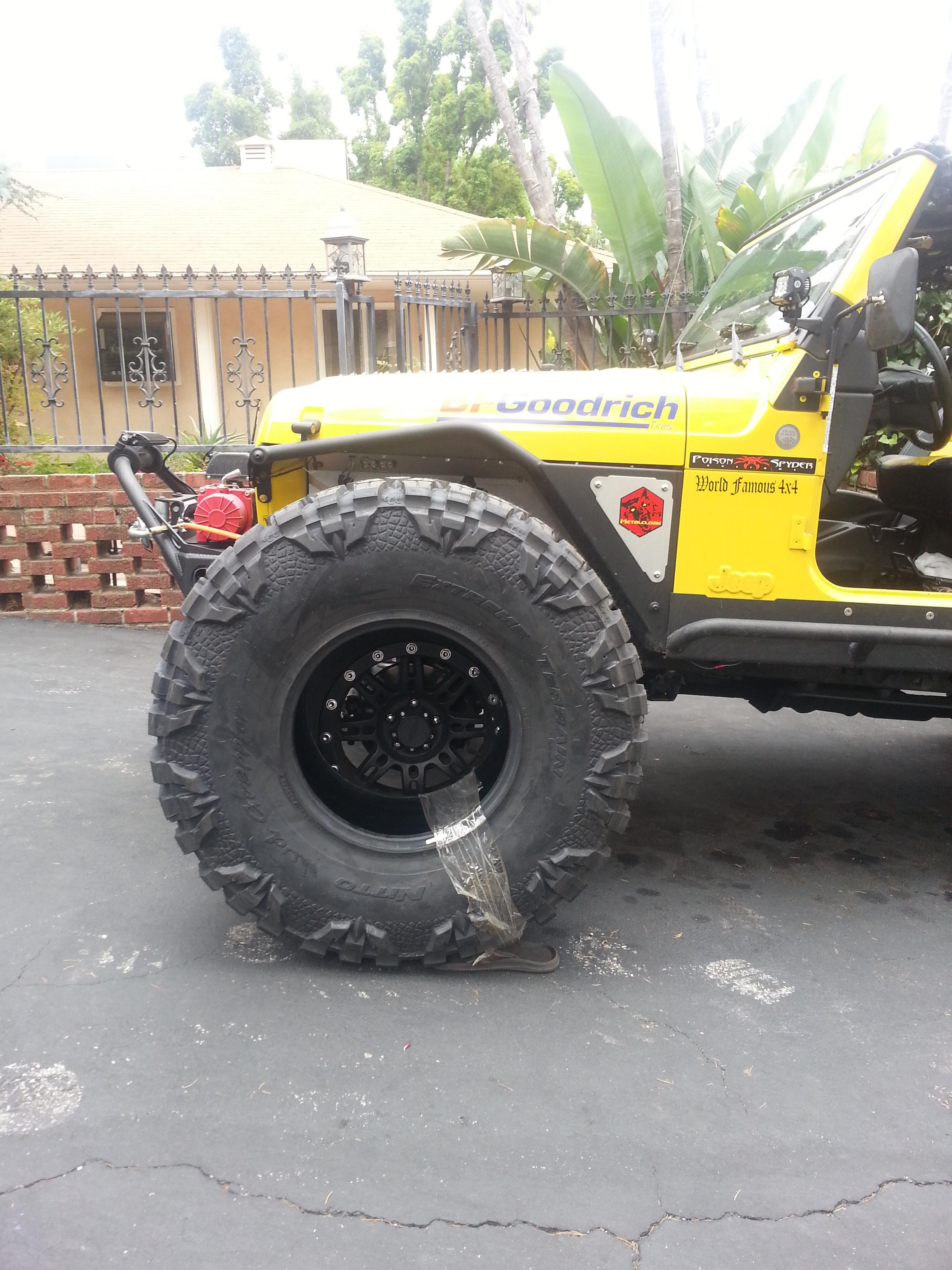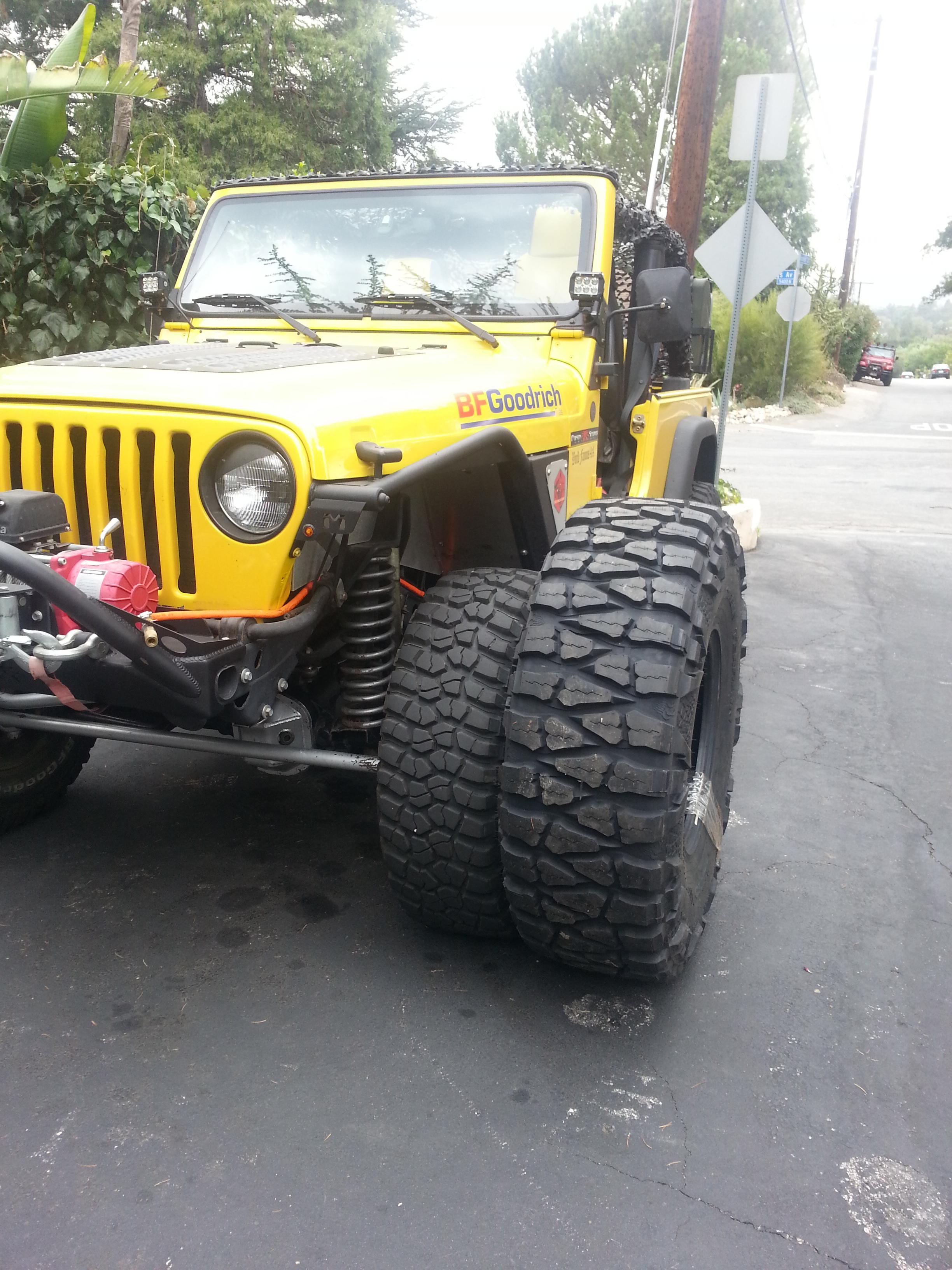 Just kidding! This spare tire came for my dads JKU, its a 40x13.5x17, looks so big compared to my tiny 33s. I wish I can throw that on mine, but my JK axles aren't built enough for them yet!
7-23-2013
Got all my front axle hardware in today and I dropped off my axle at a buddy's shop to do the gear work. Gotta say that OX diff cover is BEEFY.
These past couple weeks we have been waiting for parts to arrive for my dads jeep and we have been working on my dads jeep to get it drivable. Now my dad decided to give it to a body shop to finish that way it can get done faster. In about 2-3 weeks his jeep should be on the road, meaning I can start tearing into my jeep. Here are some pics of his jeep that we have been working on.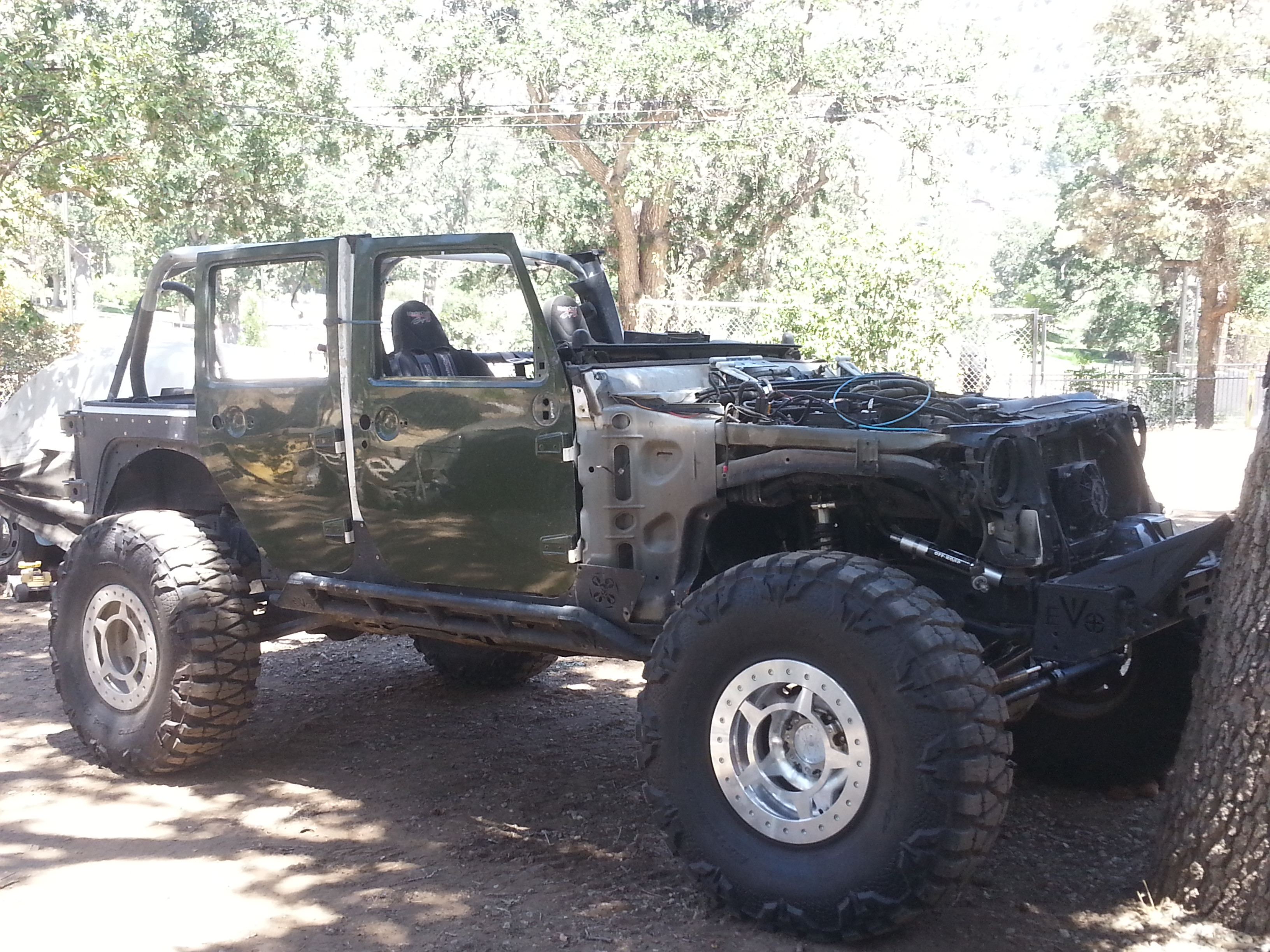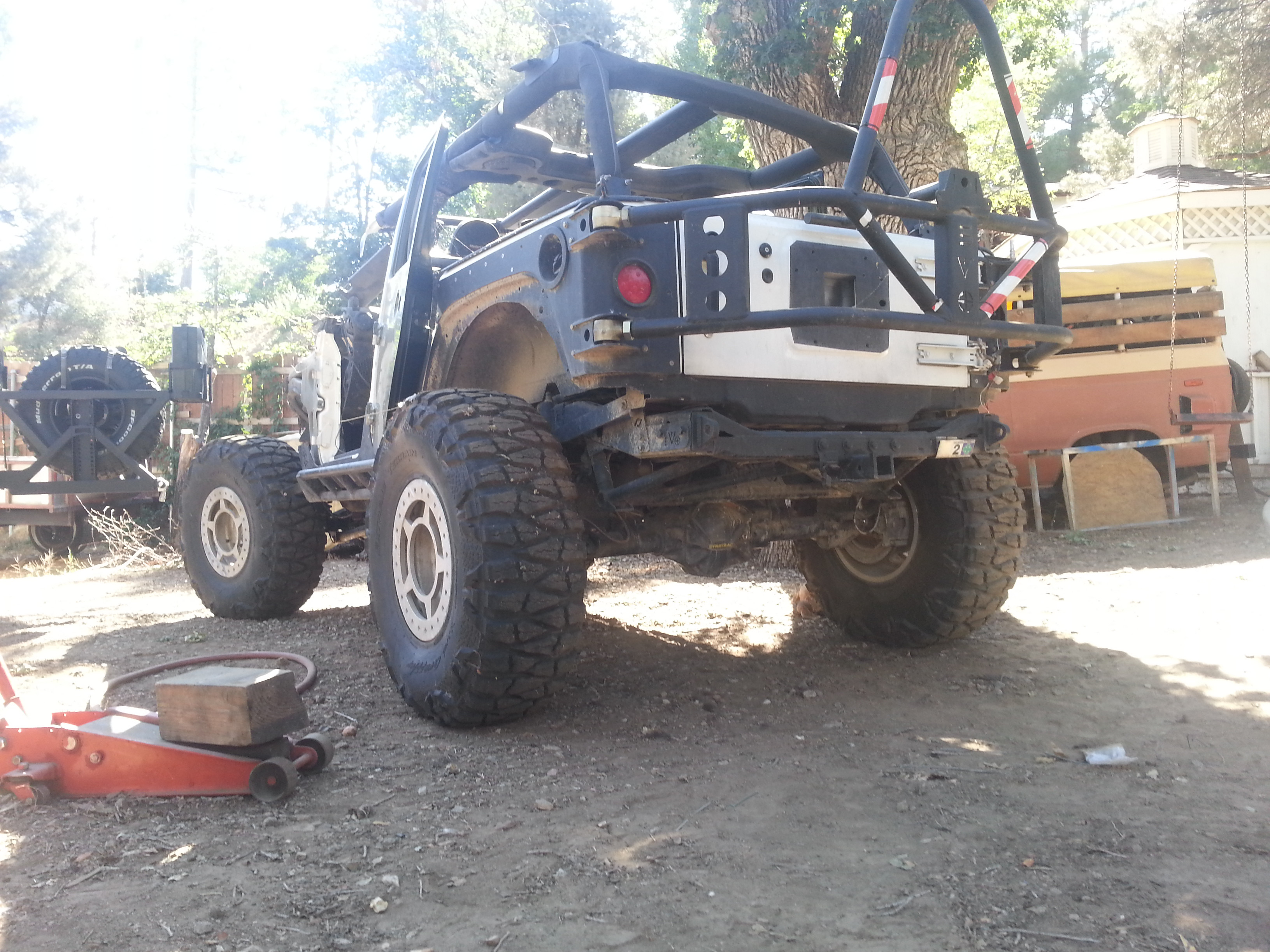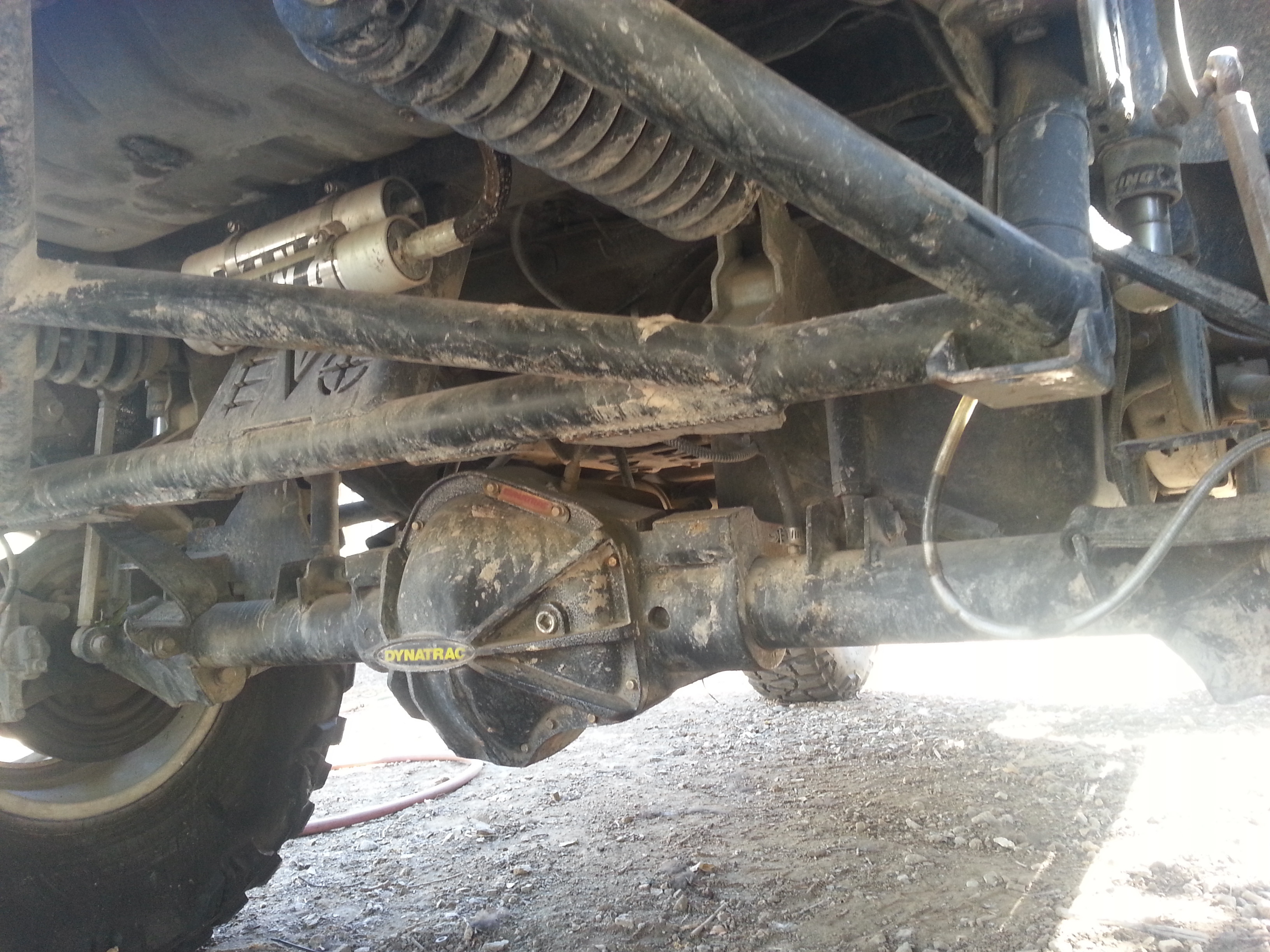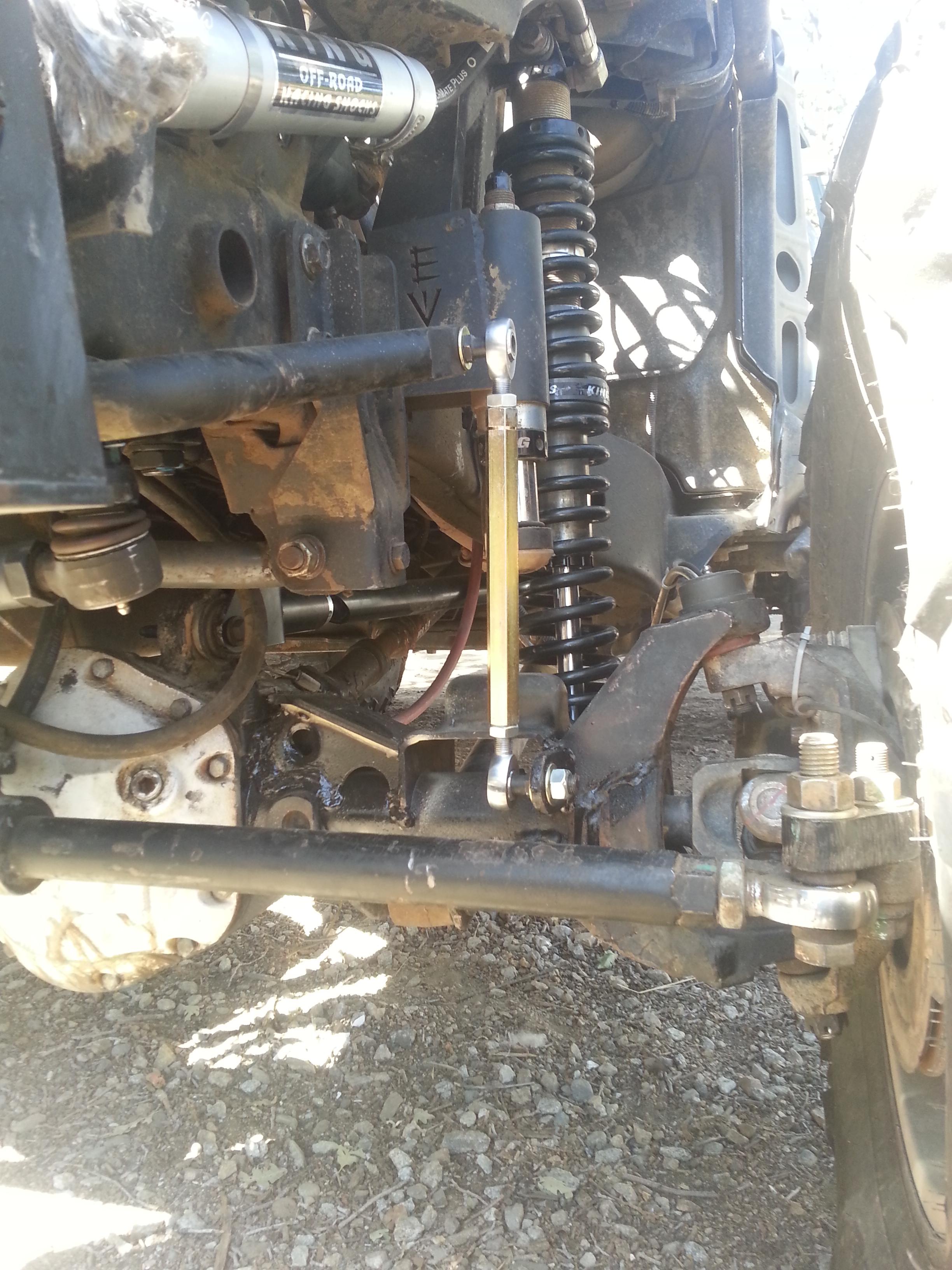 7-24-2014
Pics came out a little blurry, but got the OX locker and gears setup. Started putting together the axle. All that is left for the front is for me to weld on the gussets and all the brackets and to setup the steering, then paint it all.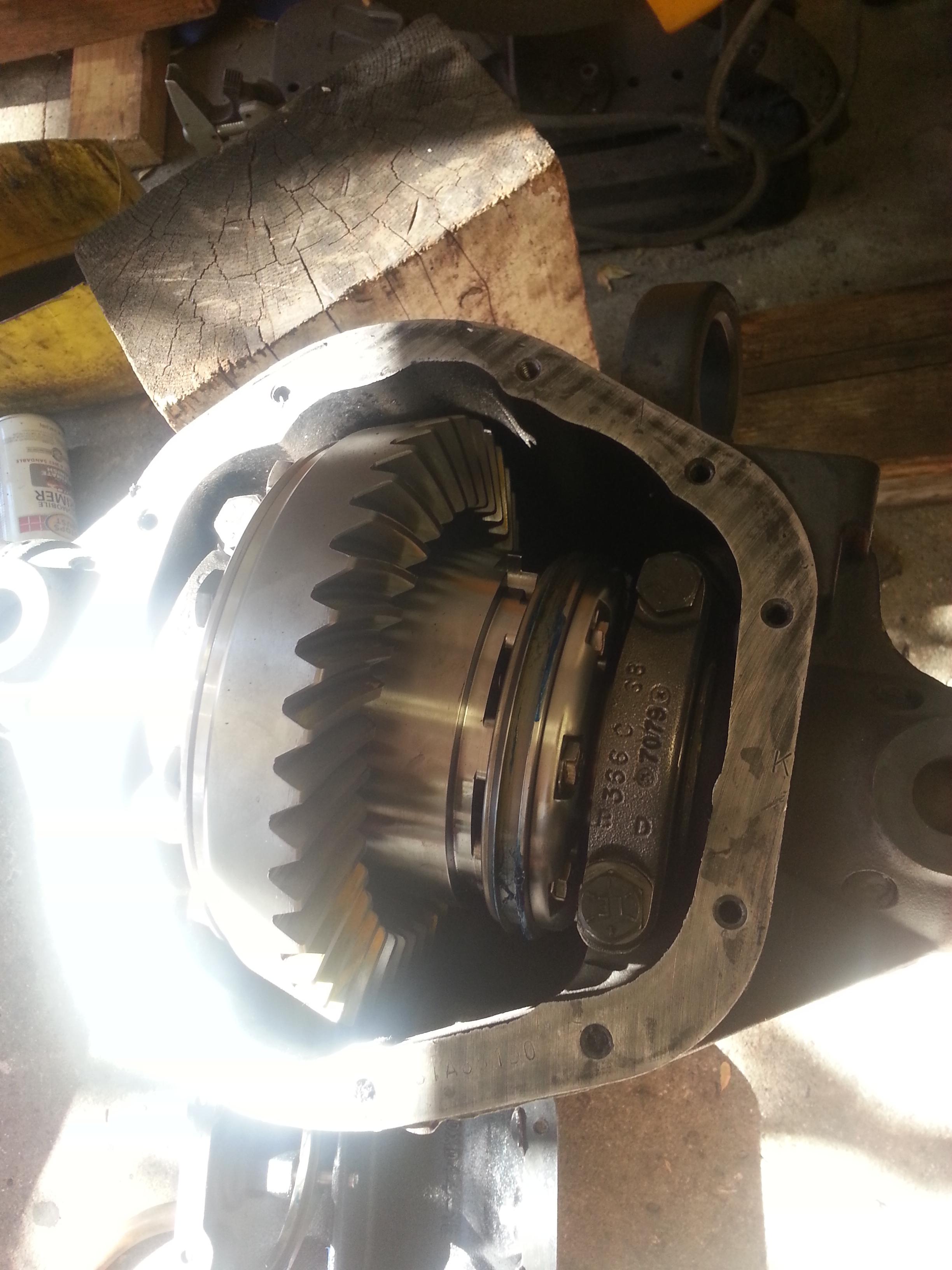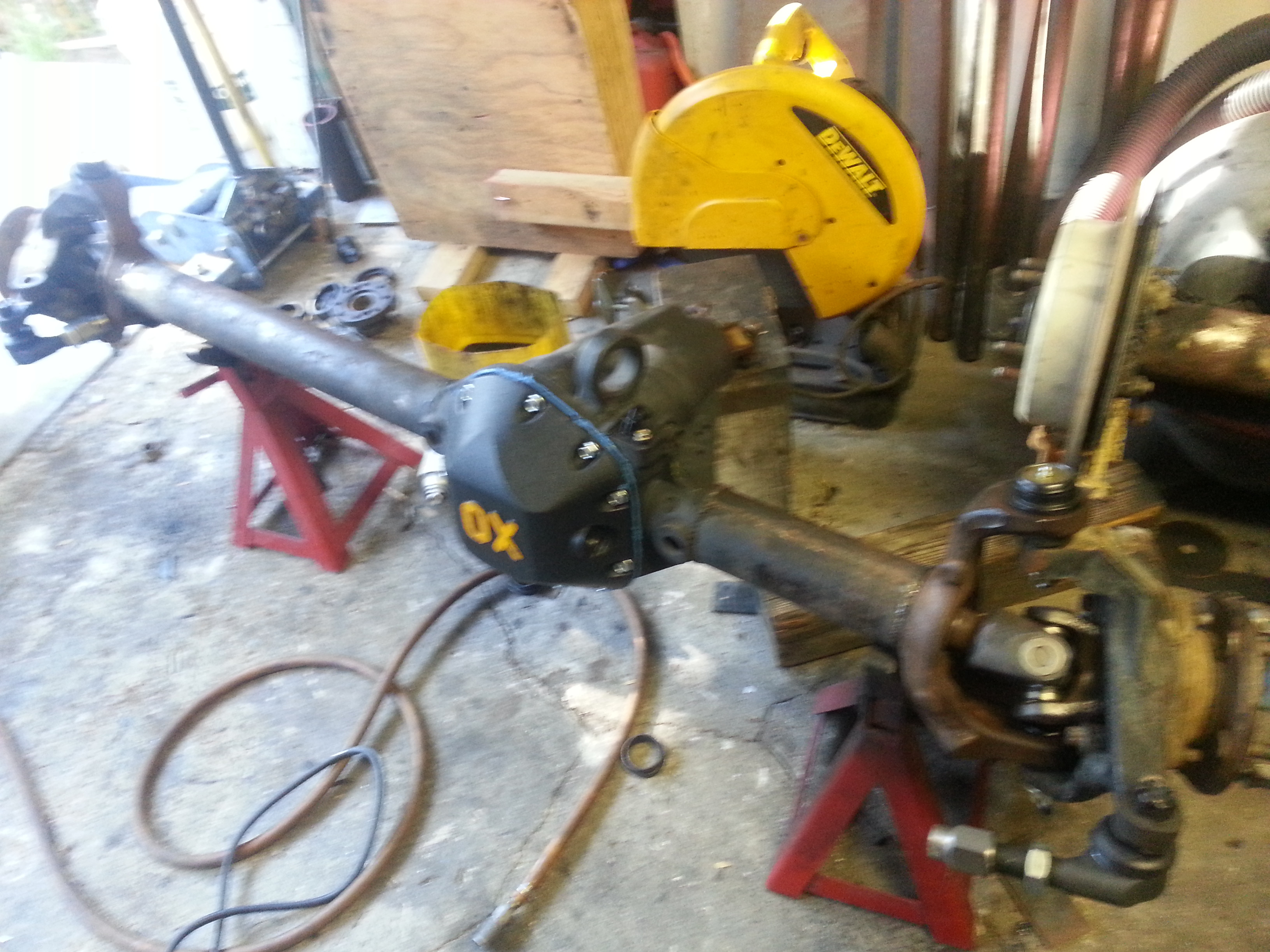 8-3-2014
Finally finished grinding down everything on the rear axle. I ordered the rear poison spyder frame coilover mount. Been a week and they haven't shipped it out yet

.
I decided that I will be pushing my rear axle back 4" and push my front axle forward by 1". In order to push the rear axle back, I need to push the rear gas tank back as well. Luckily, LJs have an extra cross member behind the gas tank, so pushing the axle back is much easier then on a TJ. I figured since i'm doing weld on long arm brackets, then I might as well just push it back a little just like the Poison Spyder's Daddy Longleg LJ.
Got a cool shot while I was grinding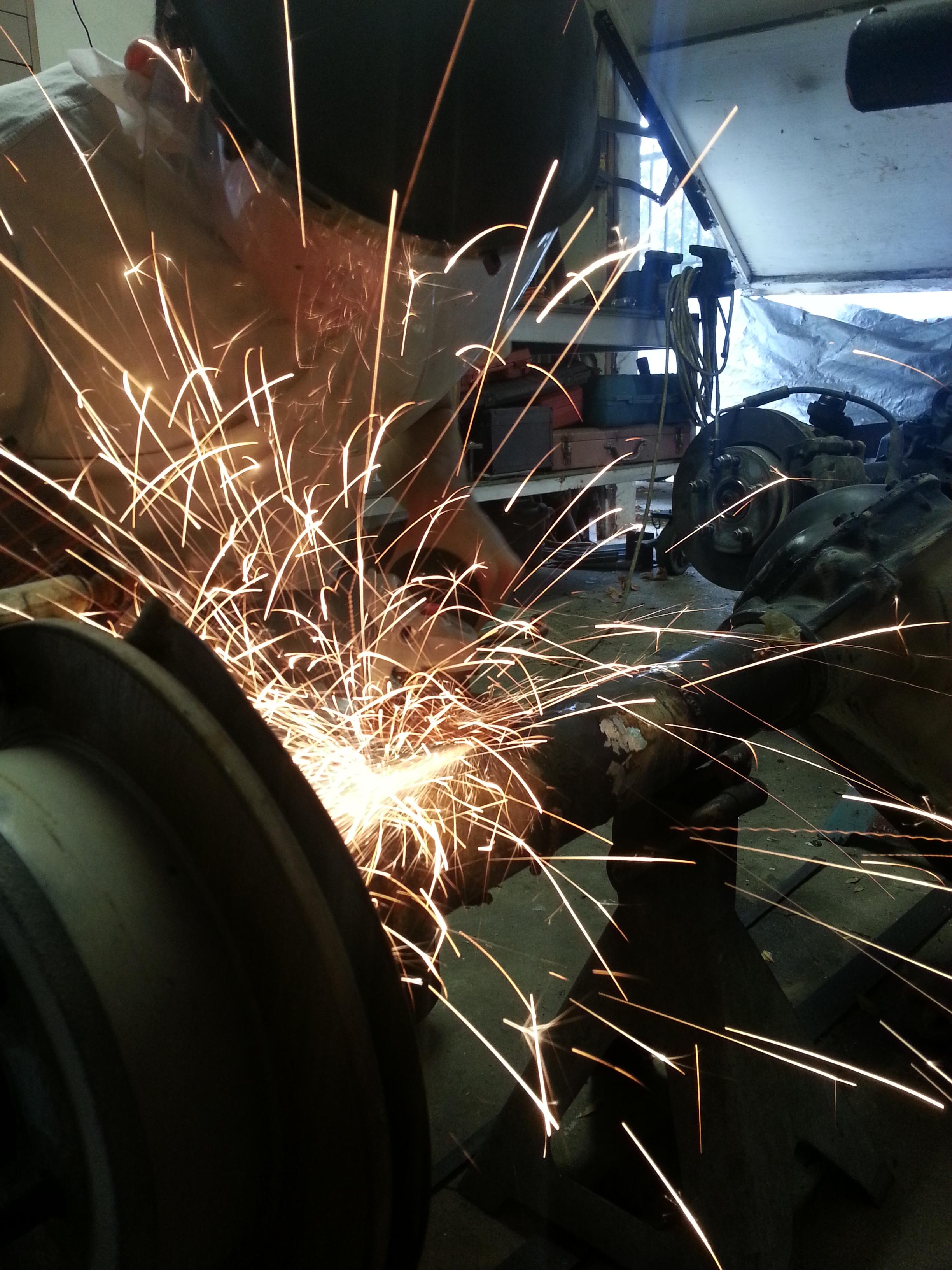 8-5-2014
After looking at your jeep I can't wait.

One of the rear axle studs on the JK44 was screwed up by the last owner so I swapped it out for a new stud. Also picked up new brake hardware for the rear.
Both axles are all ready to have brackets welded on and thrown under the LJ. All I need to do now is order the clayton arms and wait for the poison spyder rear coilover mounts to come. Still been a week and a half and they have yet to ship them out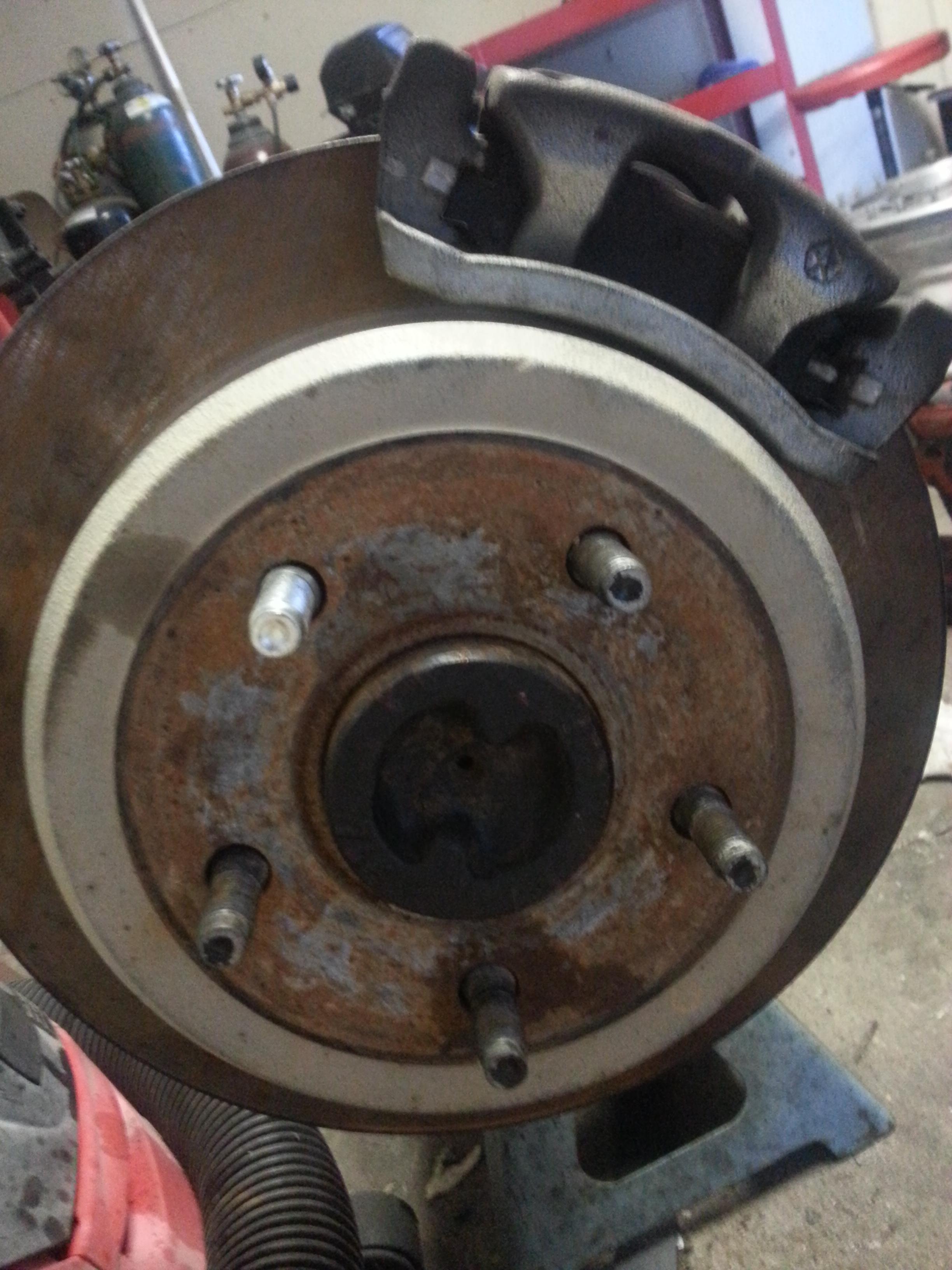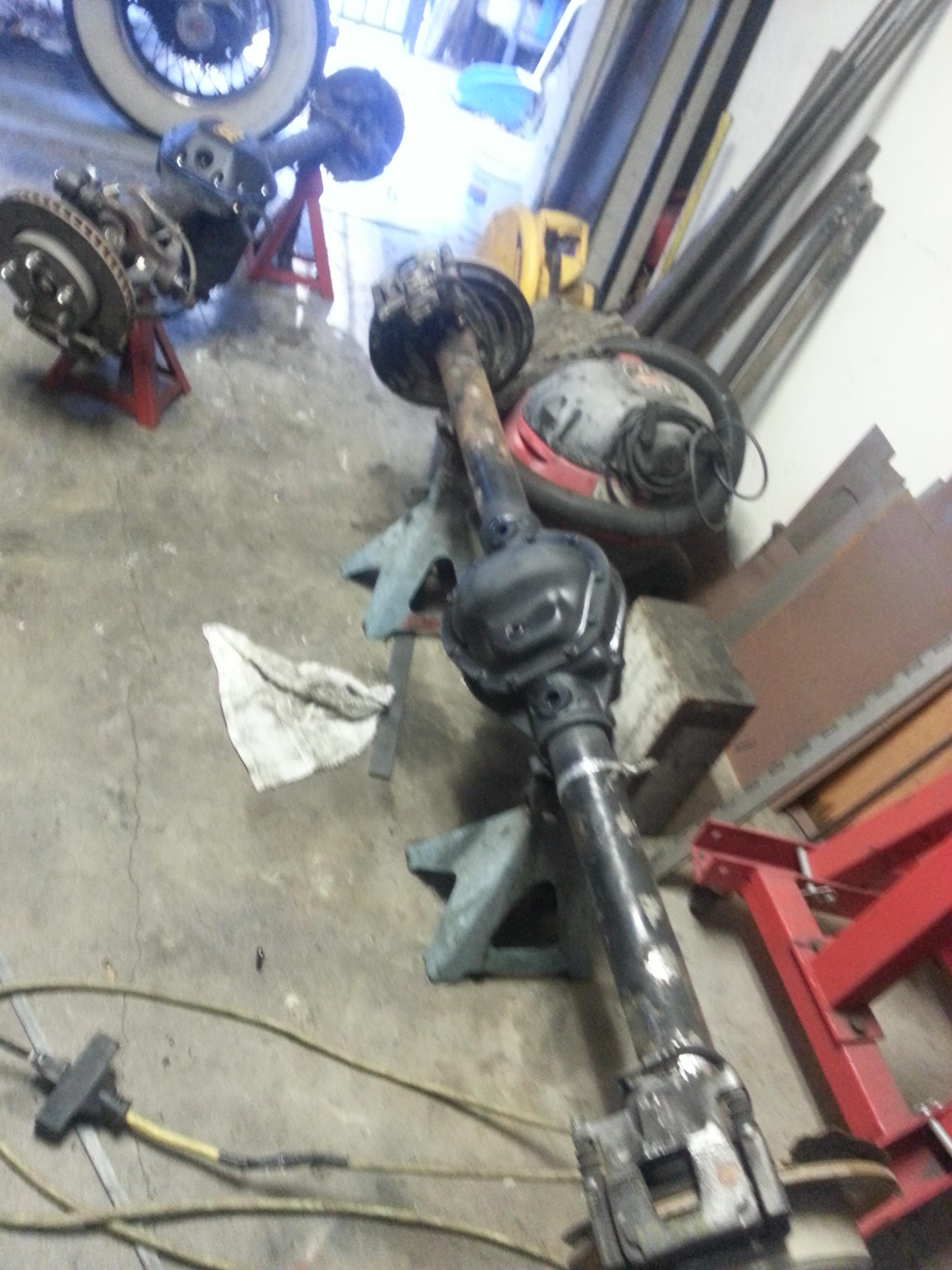 8-11-2014
Alright, Clayton kit has been ordered. Expected delivery time is Thursday of this week. Also picked up two pairs of 1.25" spacers in order to clear the rear for the coilovers. Its been two weeks and Poison Spyder has yet to ship my rear coilover mounts. I keep calling asking for a status but they keep pushing the days back. Hopefully they get here soon because I want to tear into this before school starts.
8-13-2014
FINALLY! The Poison Spyder rear coilover mounts arrived. These are the type that cut into the frame for better clearance. Also went to a local U-Pull and picked up the rear axle brake lines off a cherokee with a D35. Im going to modify the brake line to work for the JK rear axle as JK's brake lines are completely different then the way TJ brake lines route. Next Thursday (Not this week) I will hopefully be able to start tearing into it, Ill start with the front and work my way to the back throughout the weekend all day, because my college classes start the Monday after the weekend.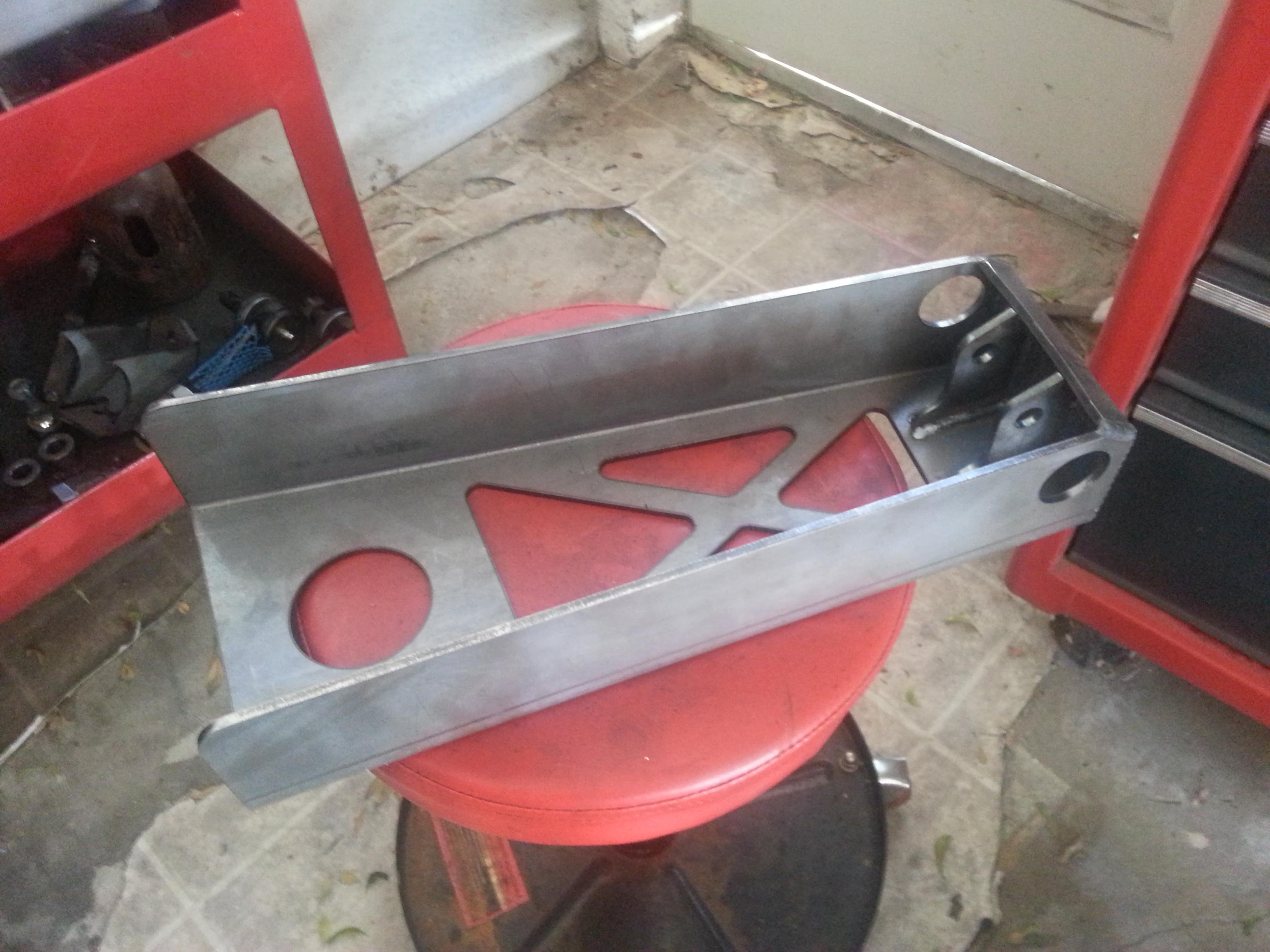 8-16-2014
Just checked out the explorer lines that ECGS sells and it looks like its the same brake line as the brake line I picked up, only difference is that the D35 line is a tad longer.



Ordered a 26" Universal 3 AN braided brake line to extend the rear brake because of the stretch and longer arms, they should be here Tuesday.

Called Clayton on Thursday because they didn't ship out my package and I was told they were out of one of the frame side brackets. Person I talked to said if I was in a hurry to build my jeep then he can send me the brackets they have on display instead of waiting till next week for the new batch. Shipment shipped out of friday, and it should be here Thursday. +1 to Clayton for some awesome customer service!

8-21-2014
Let the build finally begin!
Ill only be able to do the front this weekend, then take care of the rear probably the next weekend. Ill be driving to school with miss matched rims and tires sizes because I am so limited on time

!
With the help of my cousin we got the whole front end dismantled! As we were taking everything apart, the good old UPS truck arrived and brought in some nice packages. These Clayton arms are HUGE, I doubt Ill ever bend these, but in case I do, Clayton has a lifetime warrenty that will replace them!
So today I managed to take apart the front end, knock off the lower control arm mounts, and take out the driver side upper mount.
Tomorrow Im going to take a stab at taking off the huge shock/coil mount. Luckily it has no welds behind the tower so it should be easier to take out.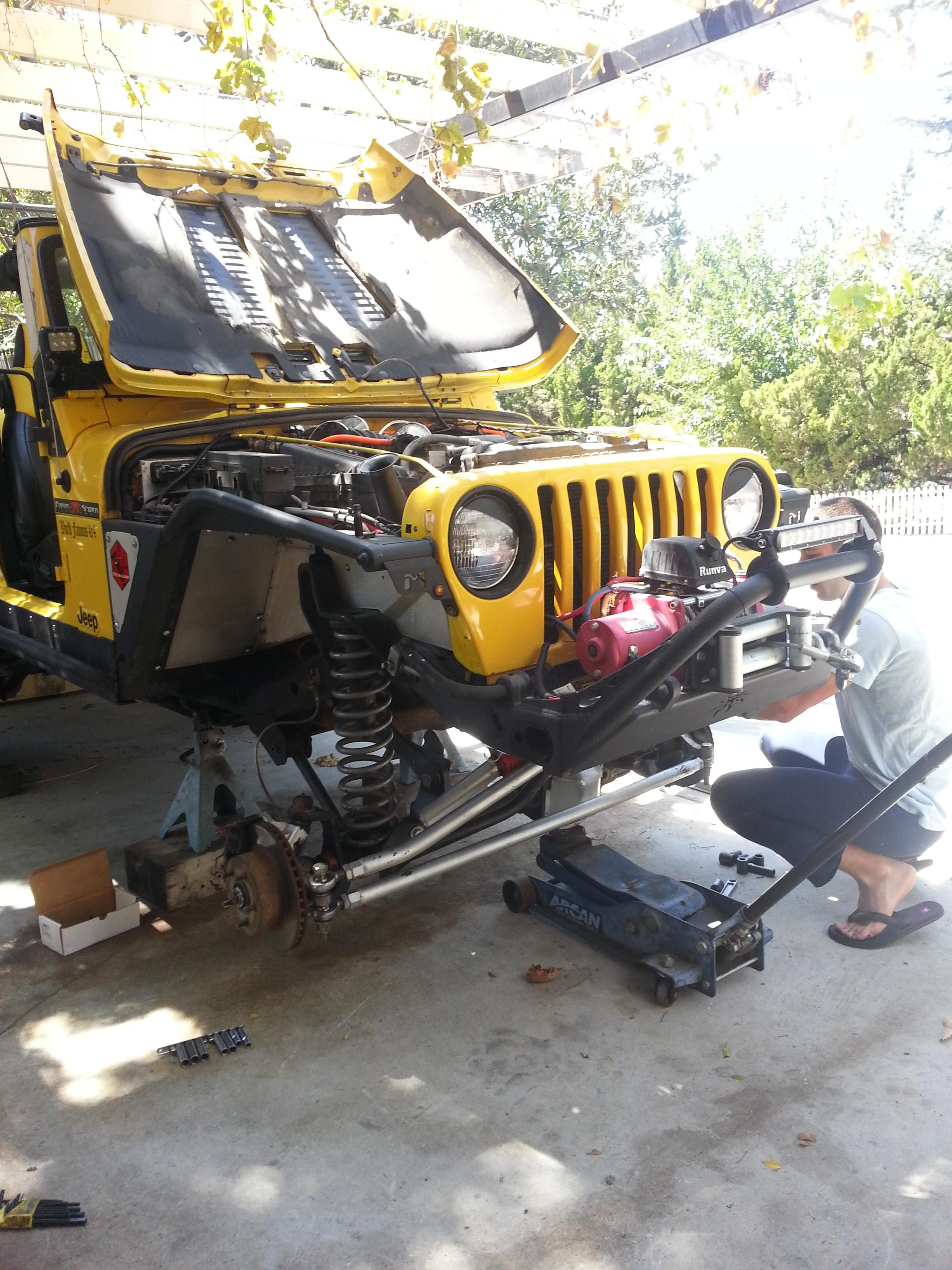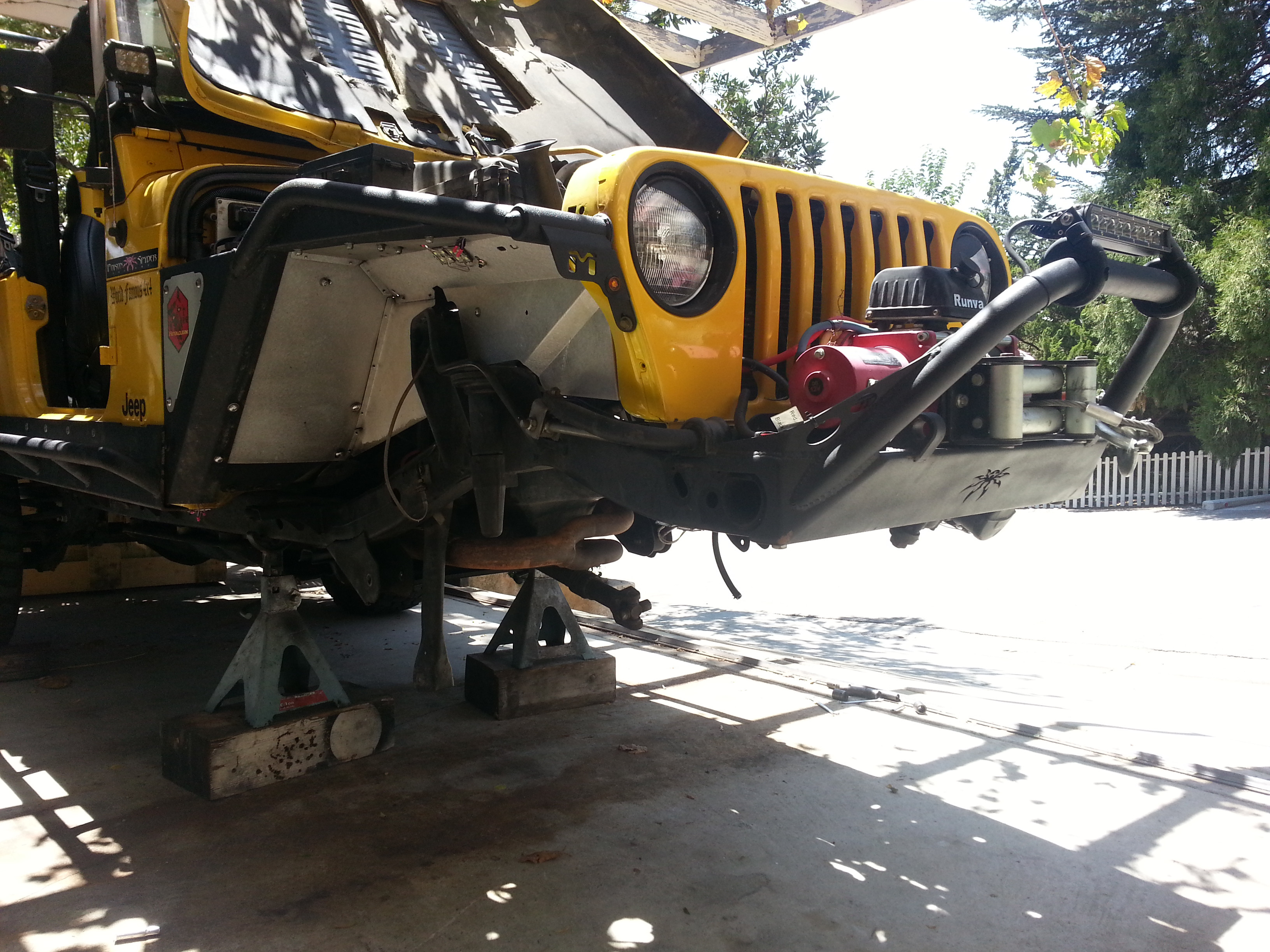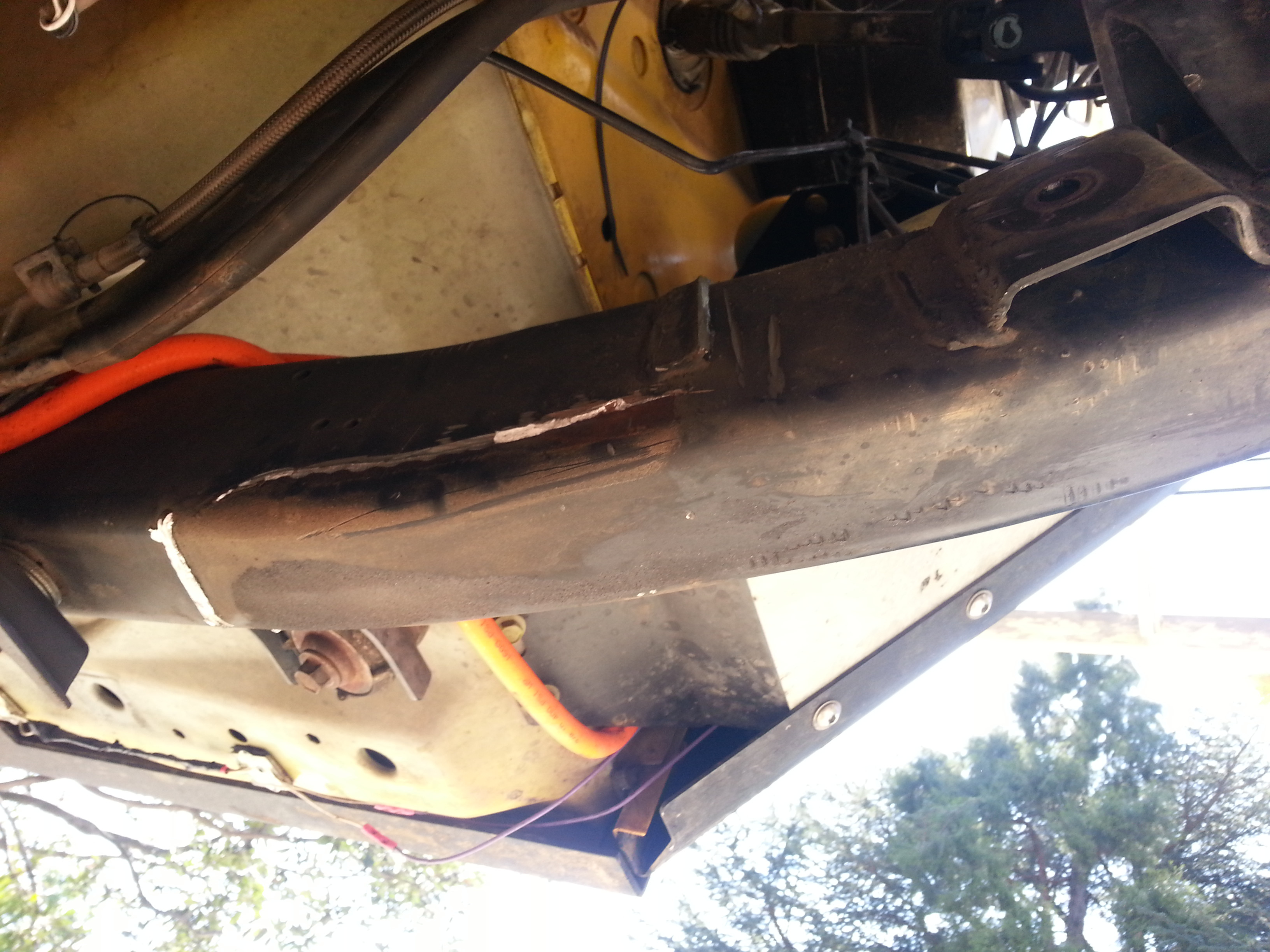 8-22-2014
Today we knocked out the gigantic coil/spring mounts and all the control arm brackets along with the trackbar frame mount and finished the day by grinding down all the leftover meat on the frame.
Tomorrrow I still have a little bit of grinding left, then I start setting up the front axle and frame with brackets and making sure my steering geometry works. Long day tomorrow!
Picture when we knocked out the first coil/spring tower: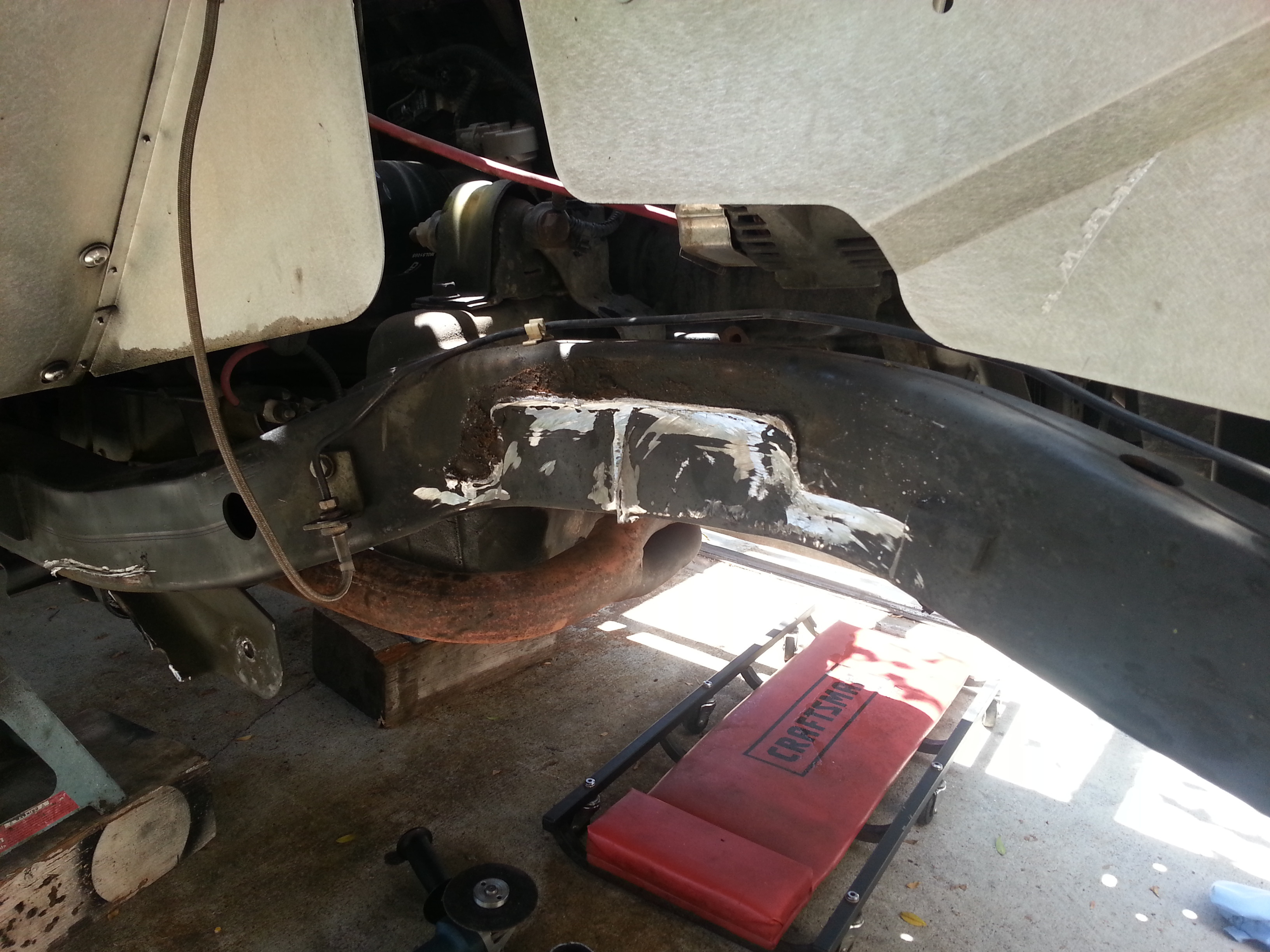 8-23-2014
Got the axle under the jeep today! Set up the tie rod, drag link and track bar. Made sure that my track bar and drag link were parallel and that they are the same length in order to eliminate bump steer. Got the control arm brackets on the axle tacked in and tomorrow Ill do the frame side. I raised the axle side lower control arm mounts a tad to get a much more level lower control arm angle. Also tomorrow the coilover tower will need to be fit onto the frame rail and get all that set up! 1 Day left, hopefully Ill be able to finish the front as school starts monday! Overall ill have a 2" stretch in the front.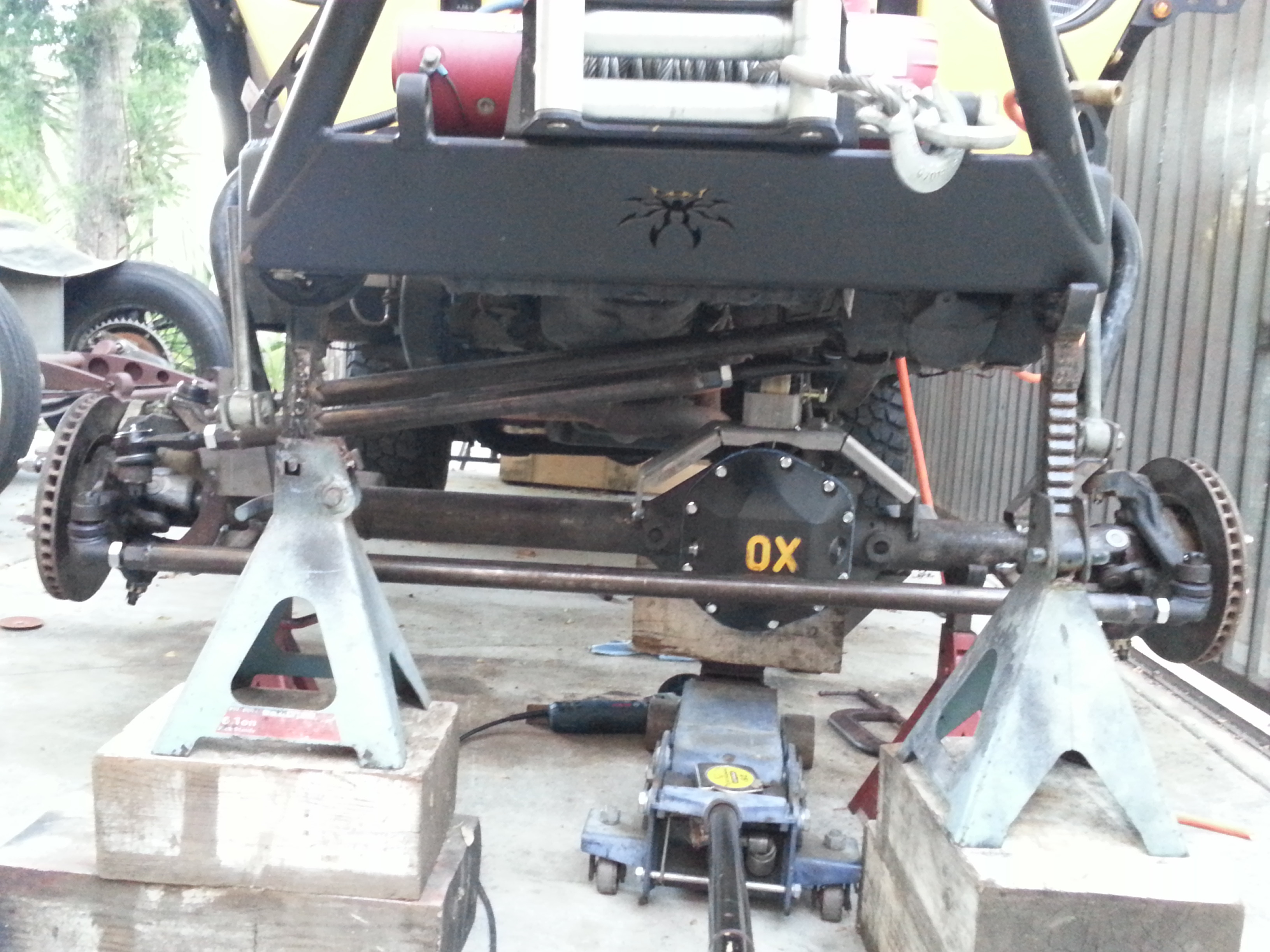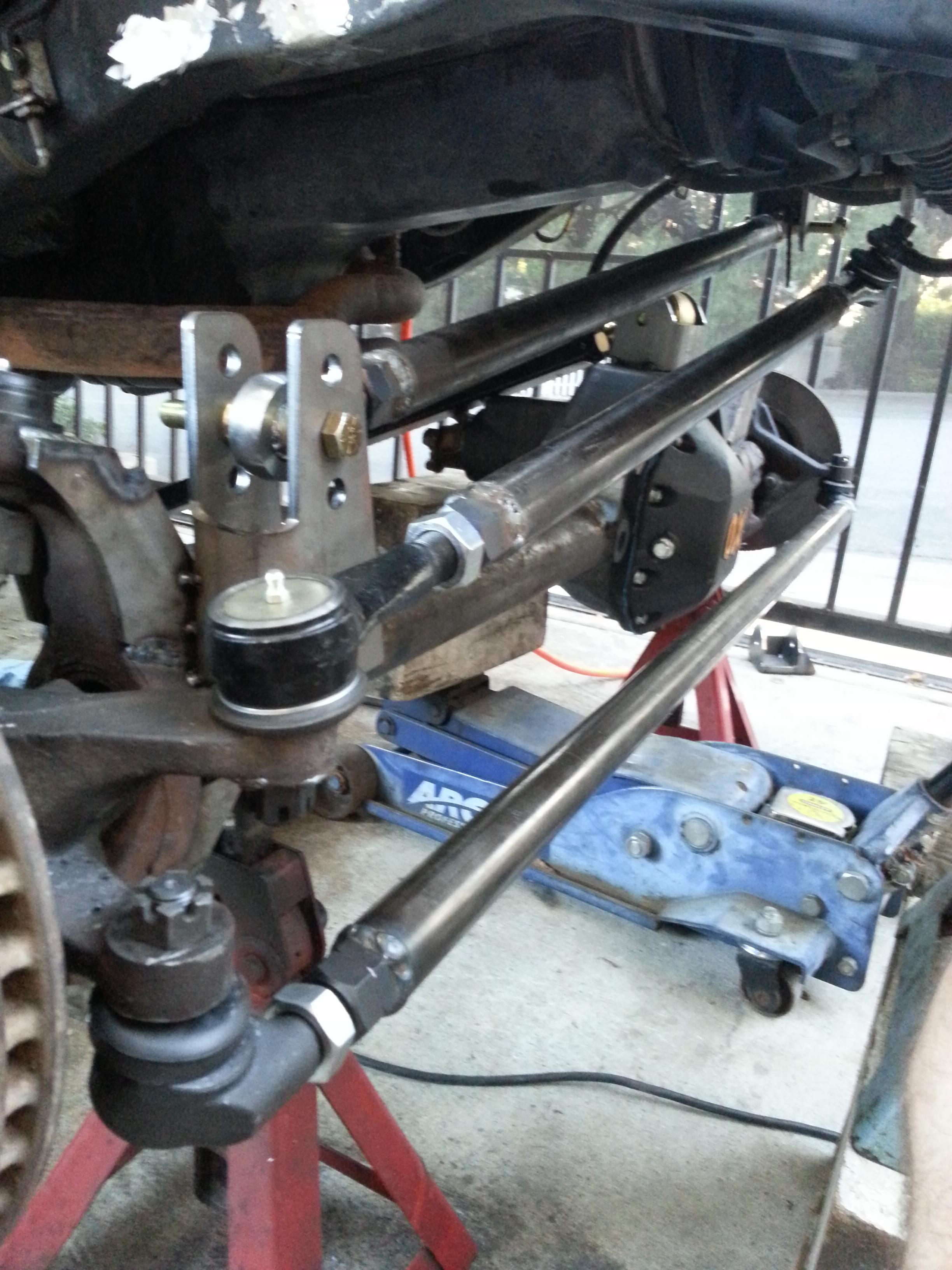 Finally after working so hard from morning to night with my dad we managed to finish the front end for schoolthe next day! Here are some pics of todays work.
Track bar clearance check: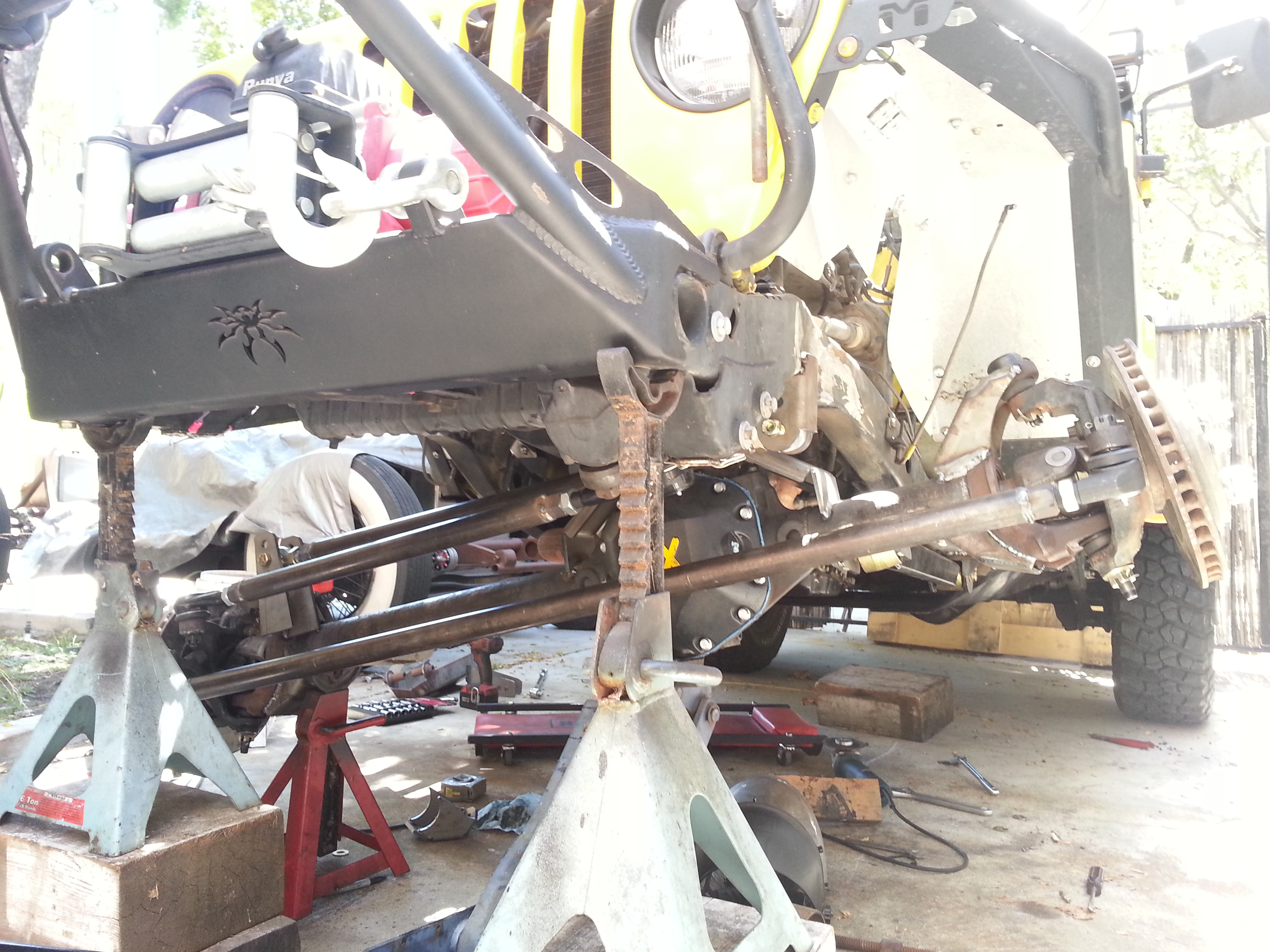 Axle at full bump(no bumpstops yet but in spot where they are going to be):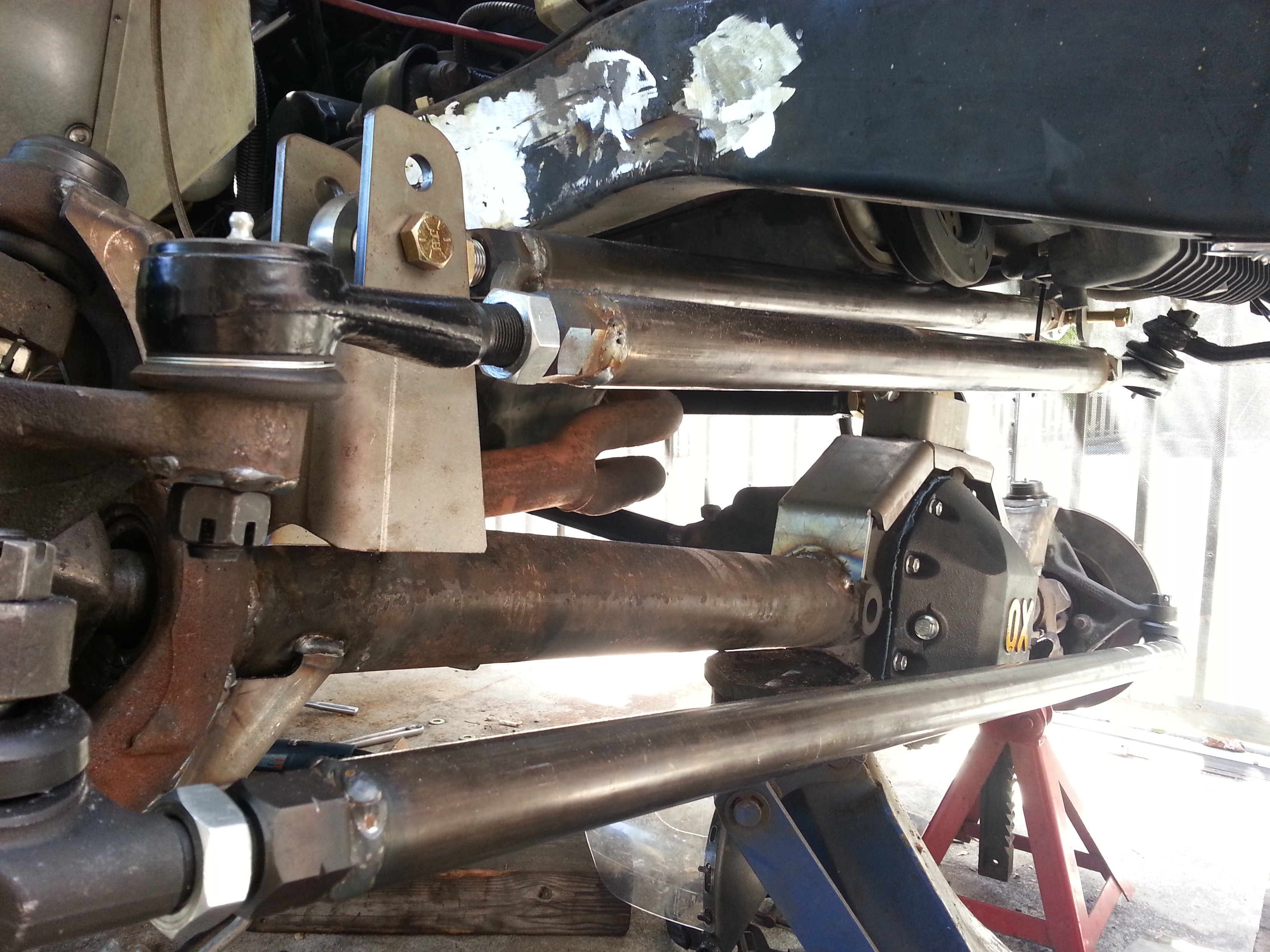 Cutting it close: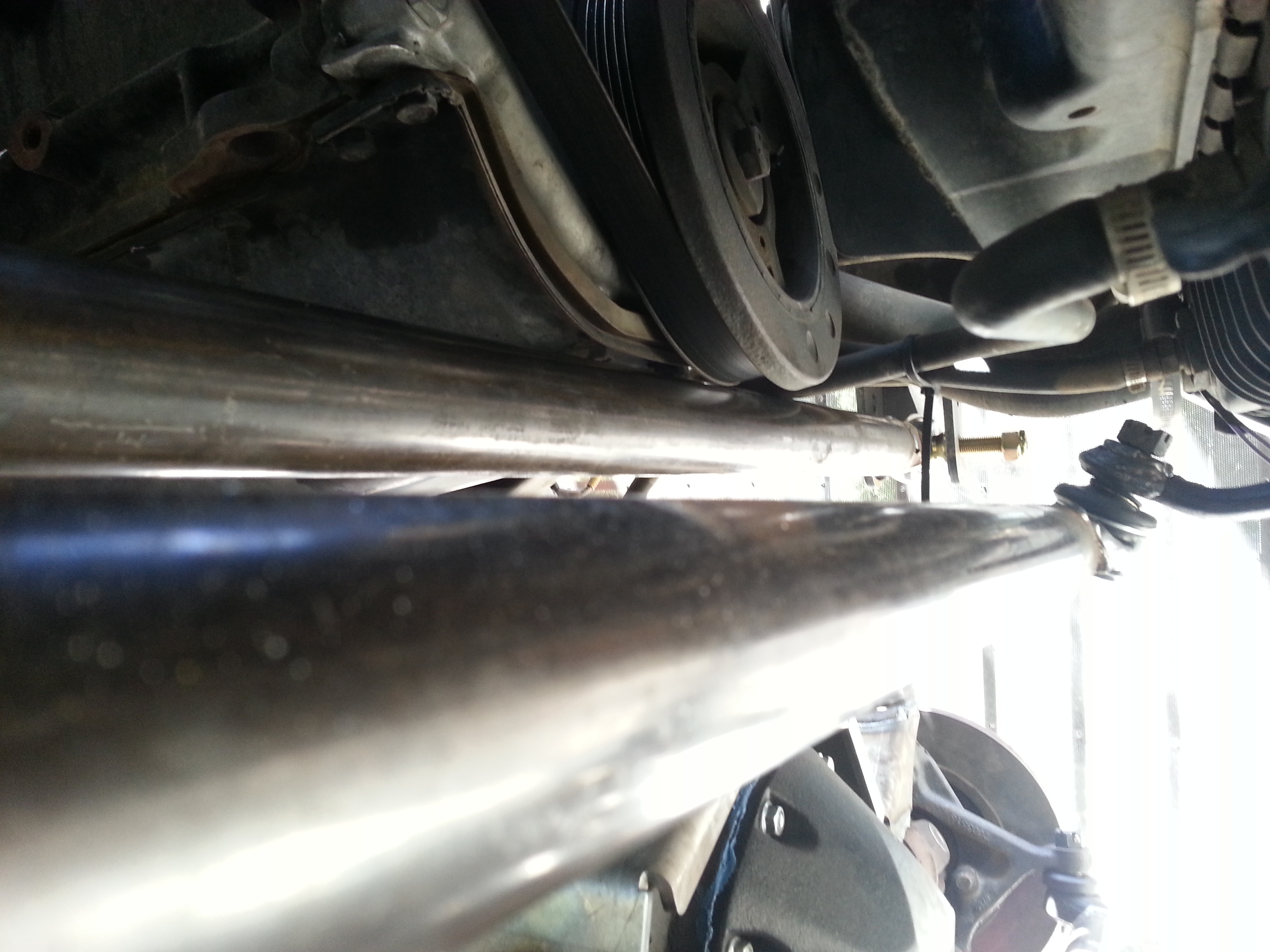 Coilovers in!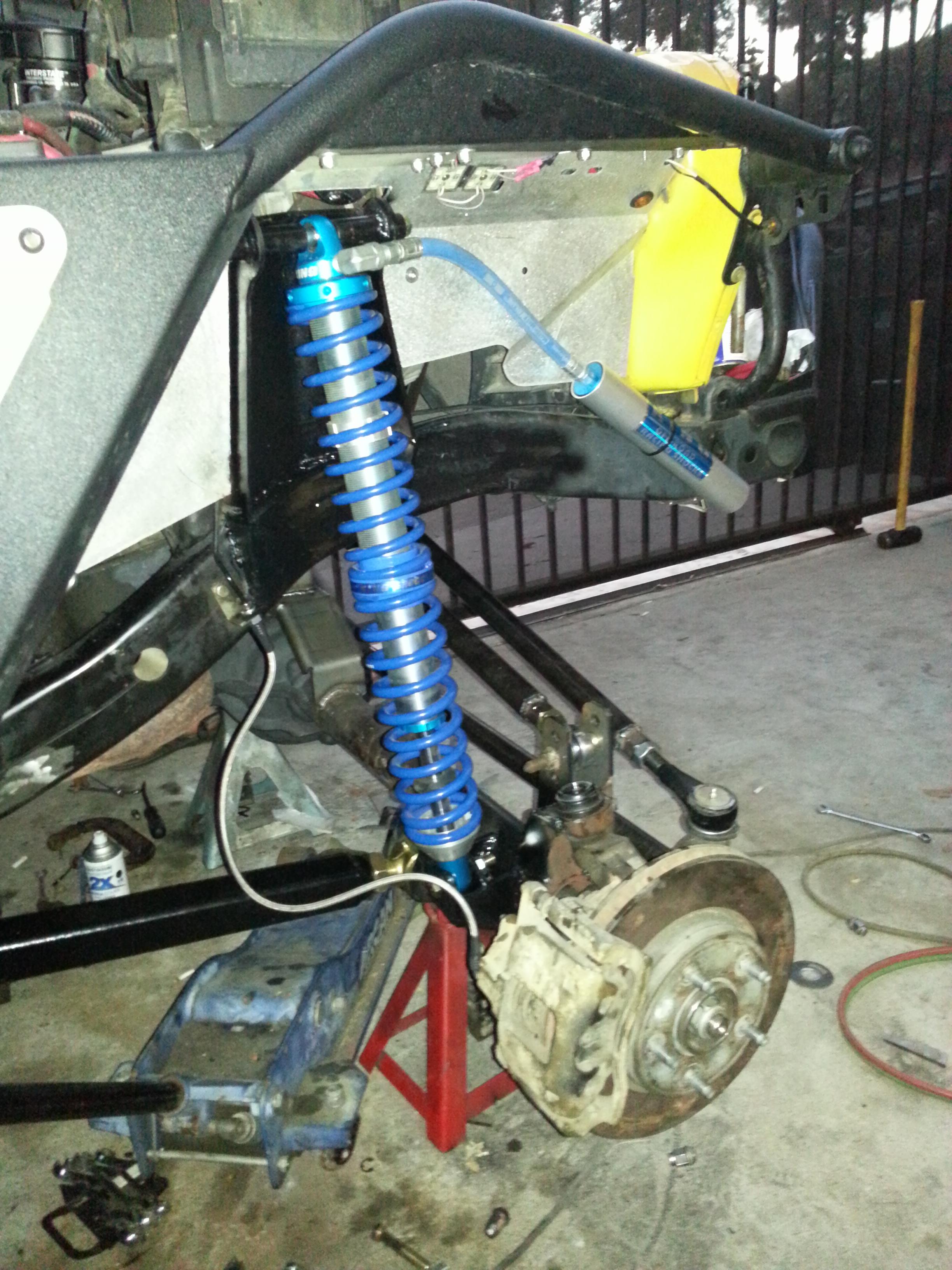 Couldn't get a final shot of how it stands as it turned dark really quick. When I get a chance Ill post up some pics of it with the stock JK tires. We finished so late that I couldnt get a chance to paint much of the axle, Ill have to leave that for next weekend.
I took a test ride and had a little wandering, now im not sure what it could be because of, but if I were to take a guess then I would say it is because my front end has rised higher then with my previous 4" lift springs, so that extra height is causing my body to sway more (no front sway bar yet) which is causing me to go side to side.
My track bar and draglink are the same length, at the same angle, and on the same plane so that means that they shouldn't affect my wandering.
8-25-2014
Here are the pics of the jeep at ride height in the front with the setup. The front sits higher then the rear by about 2". Front axle is also sitting 2" forward.
Have to recheck all my measurments when I get home today.
Edit: now that I think about it. I wonder if the absence of a steering stabalizer has anything to do with the wander, because everytime I gas it the front end rises and the jeep starts to pull to the left. When I let go of the gas it wants to go back straight.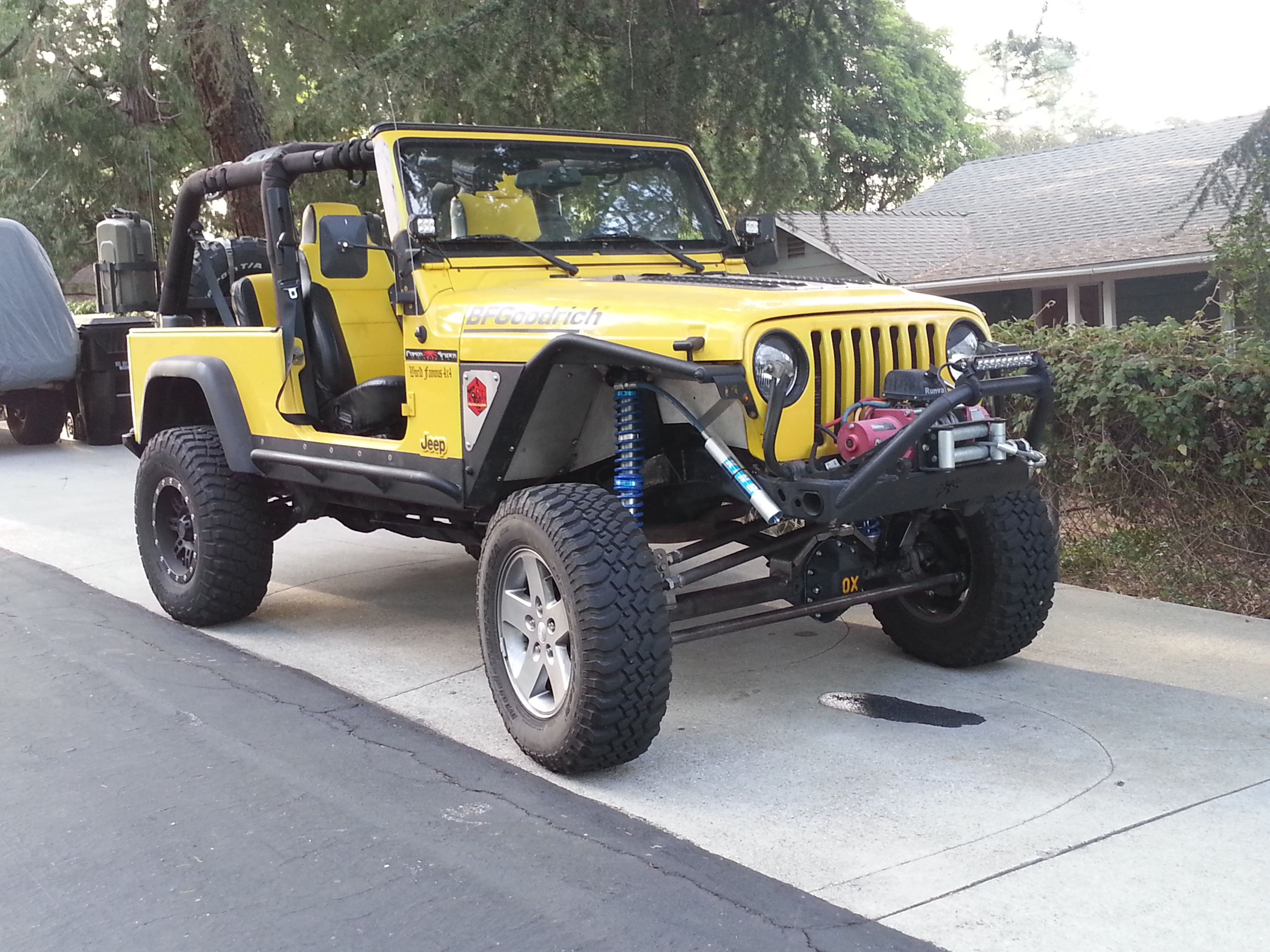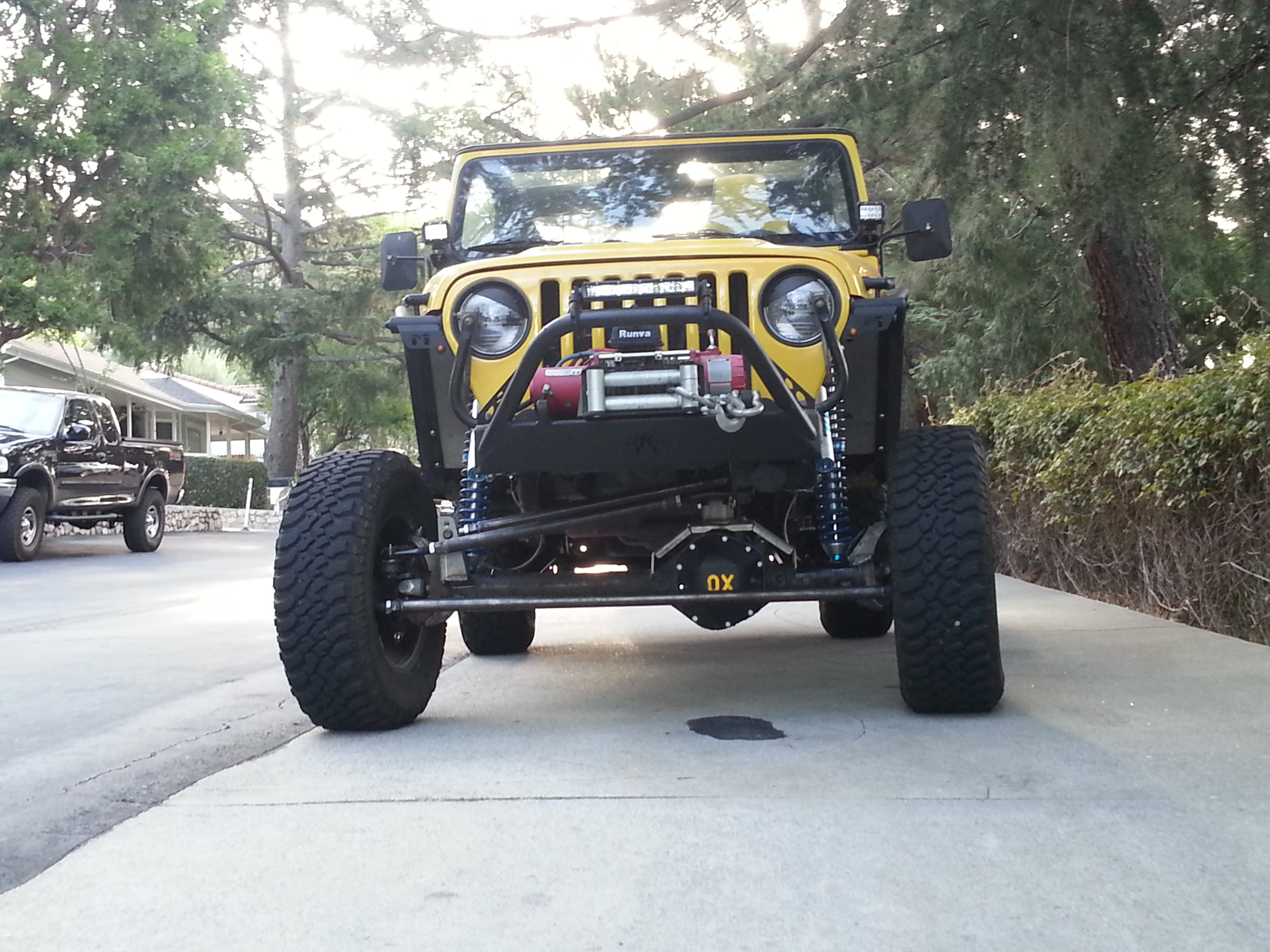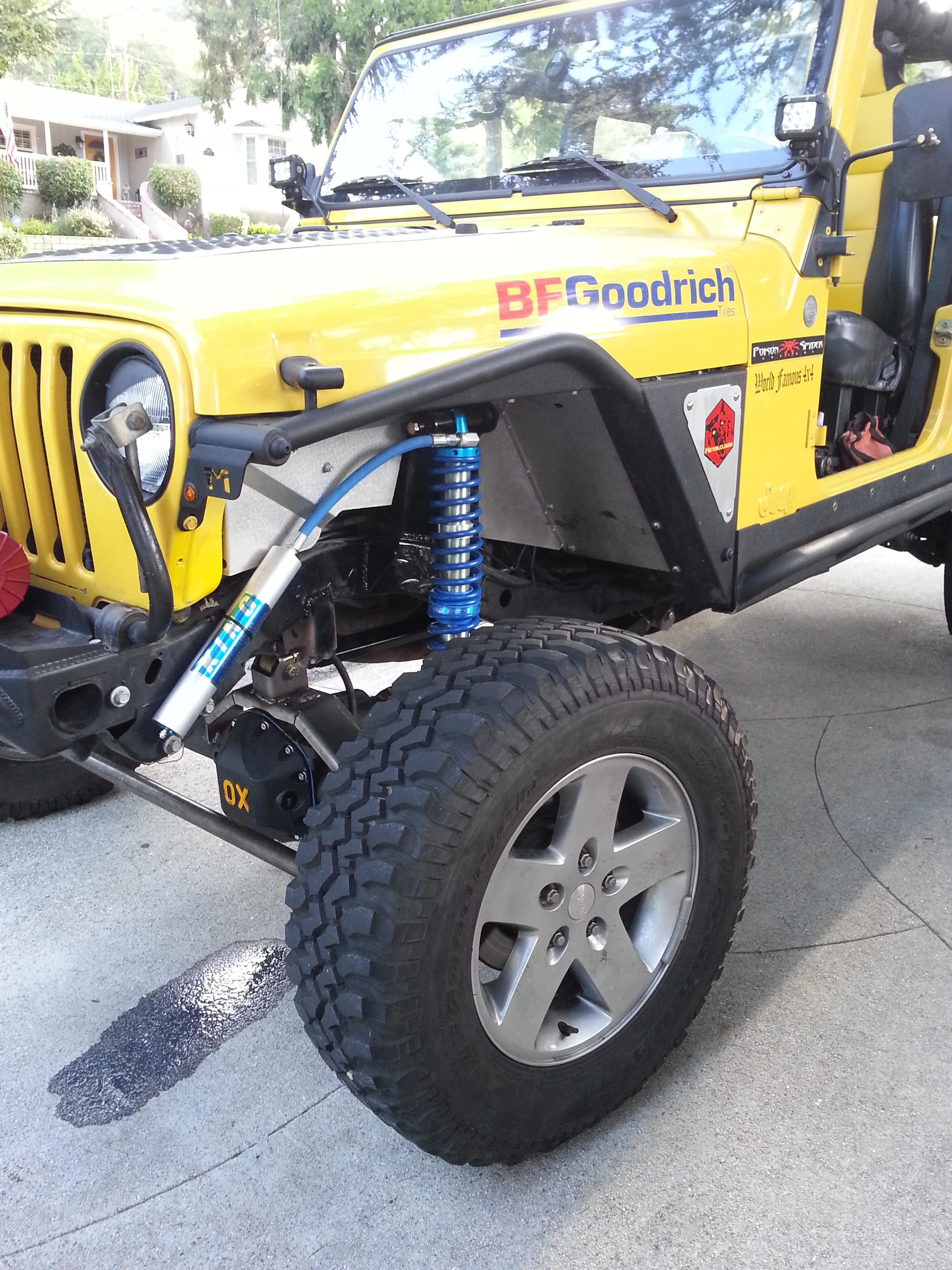 8-26-2014
After a little more driving ive narrowed down why my jeep wanders. When I give it gas the front end rises, in turn pulling the jeep to the left, when I let go of the gas it drops back down and returns back straight. Now most of my weight is transfered to the rear because my front is sitting higher then the rear. This would make it much easier for the front end to rise then normal. So I am going to wait until the rear coilovers are in before I make any big changes. But ultimatly I will swap my front springs out. Right now I the CO's are set up with 14" 200/250 lb springs. Ill swap out the 200 lb spring for a 12" 150lb, this will lower my jeep and hopefully stop the front end from rising so much.
8-27-2014
All 4 of my COs are 200/250. 250 being the main spring. I feel like i need to swap out the 200 lb spring in the front for a 150 because its not compressed enough at ride height, feels too stiff. Then again all my weight is transfered to the rear because my front end is so much higher then the rear. When I get my rear converted to the CO and long arm setup then ill be able to see what I need exactly. Until then its all guess work.

Just food for thought, the Poison spyder daddy long legs LJ runs 12" x 200, 14" x 250 in the front and 12"x 100, 14" x 250 spring rates in the rear.
No problem. Also your 5.7l hemi shouldn't weigh much more then the 4.0 I6 engine. 5.7L has a weight of 450-500lb depending on accesories and the 4.0 is 480lb.

Also it looks like you might have gotten your spring rates mixed up. You should have the 150/300 in the rear and the 200/350 in the front. The rear is much lighter then the front which needs the heavier springs in the front. The Poison spyder LJ has no tire carrier in the rear and has no back seats which allows him to run the 100lb spring in the back, not much weight to keep up.

Based on the accessories you have told me, I feel like if you switched the springs from the rear and front you will see better results. With the extra weight you are running I feel like the 200/350 in the front would be perfect, and the 150/300 in the rear would be good too. I would make those spring changes then see how it rides before purchasing new springs to swap out. If you have King coilovers, I know for a fact (called them today) that they will swap your springs with any of their springs if you pay for shipping.

As for my sway, after doing some flexing and going fast over some bumps, I feel like the jeep is stable in its current spring rates. I think the only reason it sways right now is because the rear is still on standard coils and is sitting a good 2-3 inches lower then the front which causes my front end to rise a lot when I accelerate, which in turn causes my wander. Once my rear is sitting at the same level as my front on stiffer CO springs with proper suspension geometry then I will have less squat in the back and will have less wander. I also plan on lowering it a bit by swapping my top 14" springs with the same spring rate 12" springs.
8-31-2014
Painted up the front axle brackets and steering arms.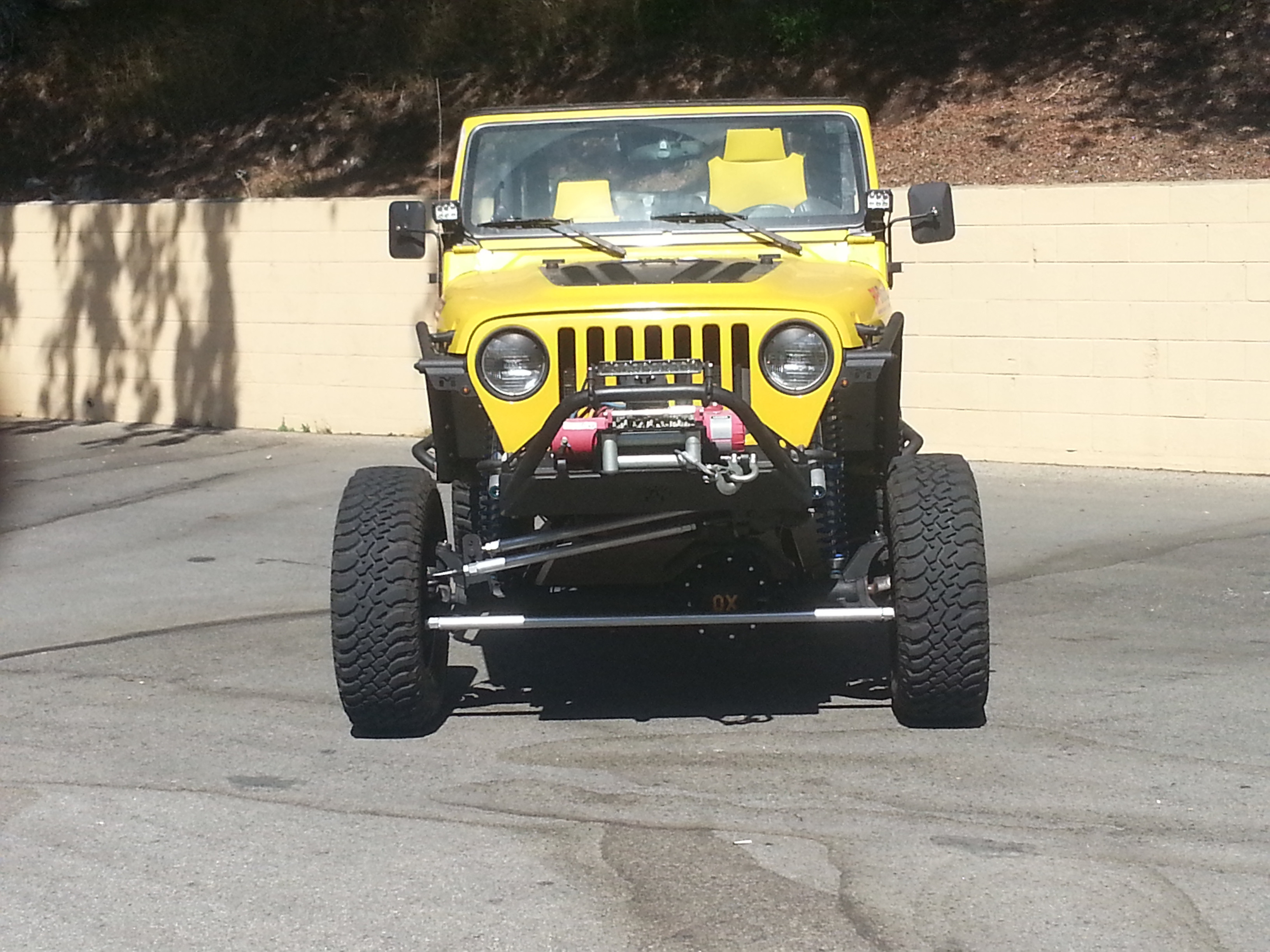 9-3-2014
Well looks like I have a local buyer for my front and rear axles. If local falls through ima open it up to shipping.

Also did some calling around and everywhere I called, 37" MTRs are all on backorder

. I don't want another set of KM2 because they chunk quite a bit and arent true to size as other brands.

Ive been looking at Yokohama brand tires which are made in Japan, the Geolandar M/T Plus. Ive heard good things about them being good on the rocks, snow, rain but suck for mud. I got a quote from my American TireDepo for $380 each for 40x13.5x17 which is a pretty darn good deal for a 40". This is where the problem comes in.

I want 37 MTRs, but can't find them anywhere, but I can also get a set of Yokohama 40s for the same price as the 37s.

I have no doubt that these axles can handle 40s under a TJ/LJ.

MTR WHY YOU SO BACKORDER!

9-4-2014
The rear swap start tomorrow. Ill be using the Poison Spyder Coilover Towers to cut into the frame and outboard the rear coilovers and then ill be moving the gas tank back one cross member and then stretching the rear by 4".
9-6-2014
Todays progress so far, we have taken out all the brackets, dropped the gas tank, taken off the extra LJ crossmember, and now working on grinding the frame clean and making the brake lines on the rear axle.
Exhaust has been cut and that air tank will need to go.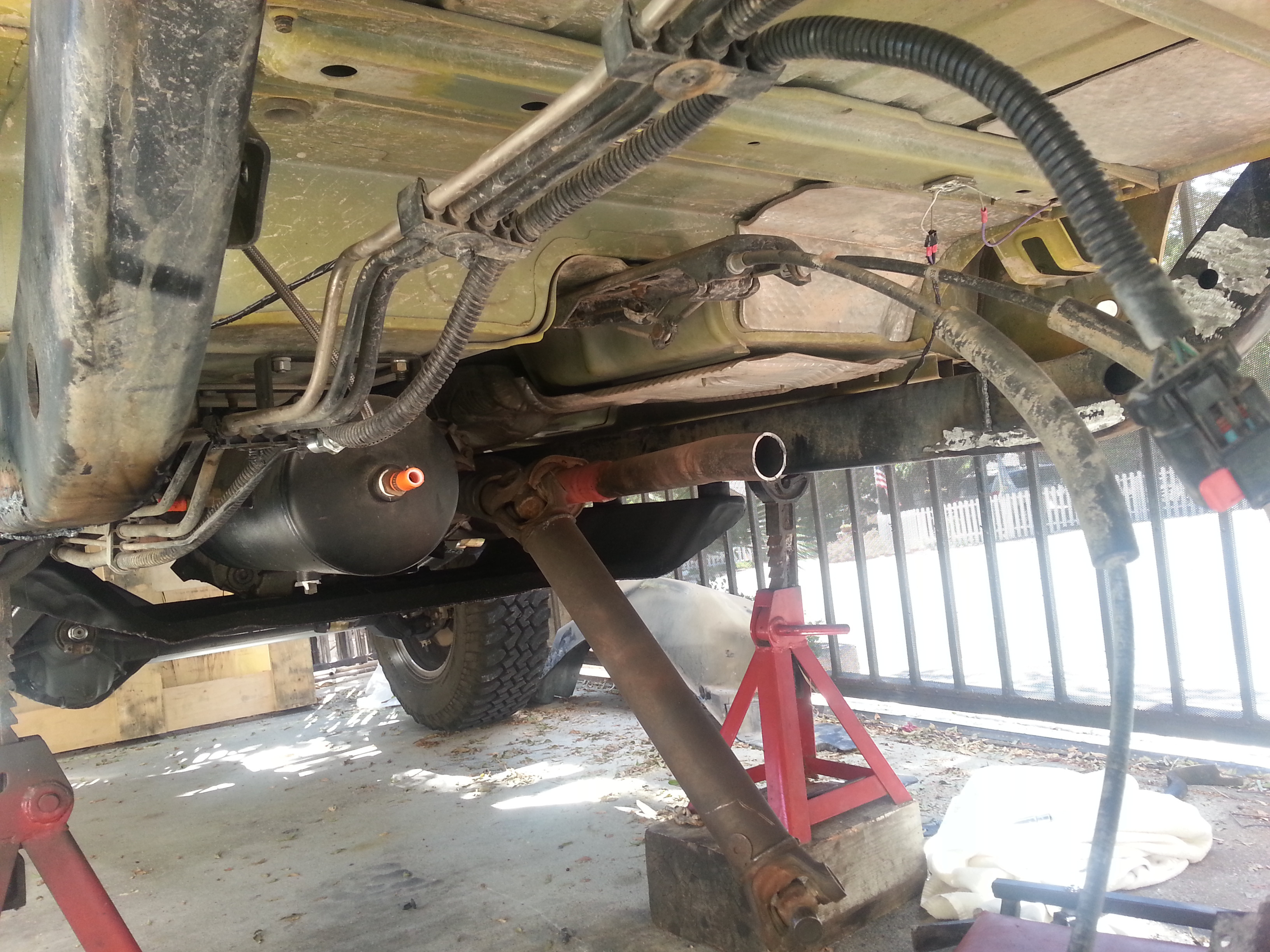 Extra crossmember taken off and gas tank dropped in order to relocate the gas tank couple inches back.
So roomy back here!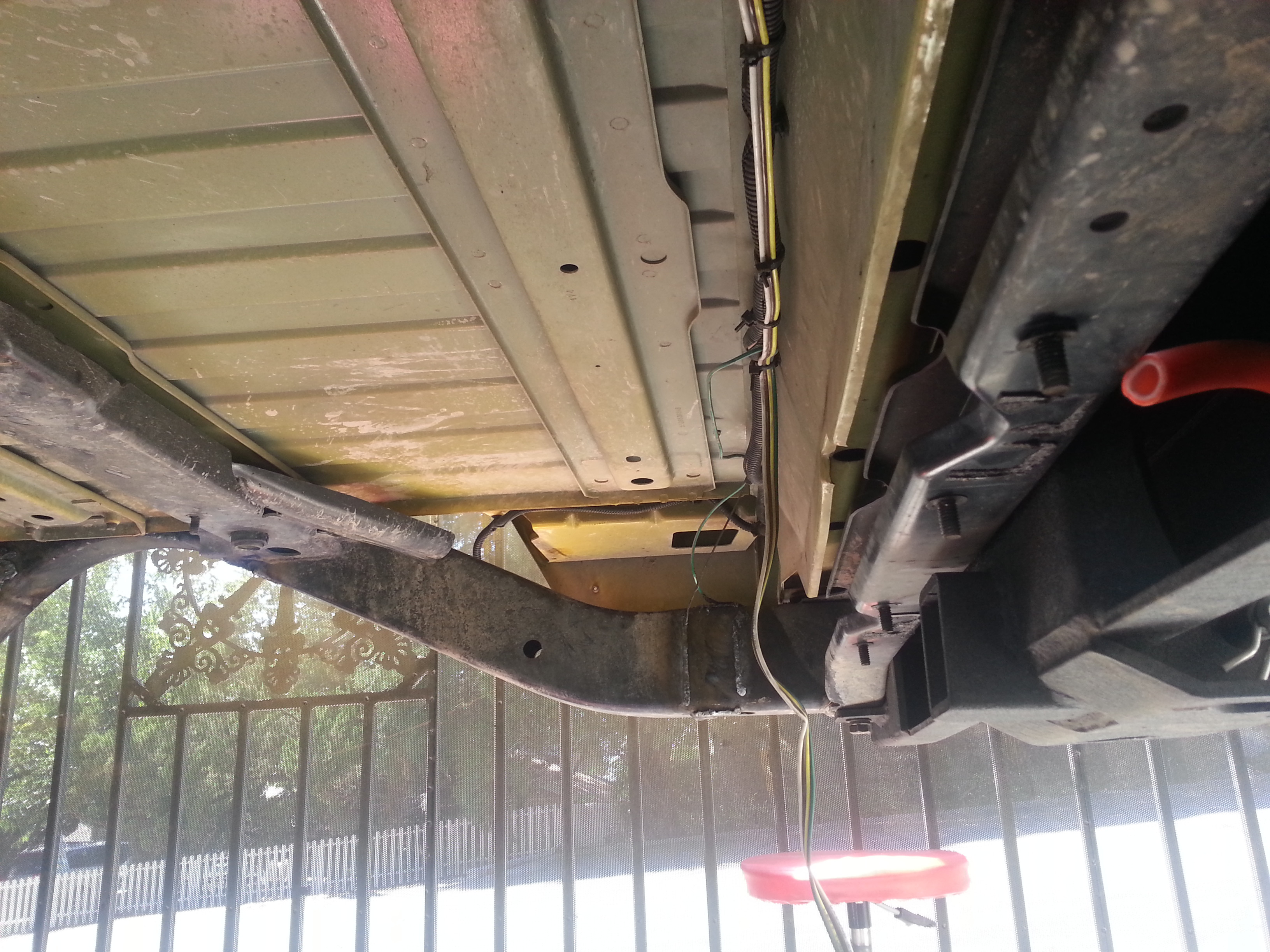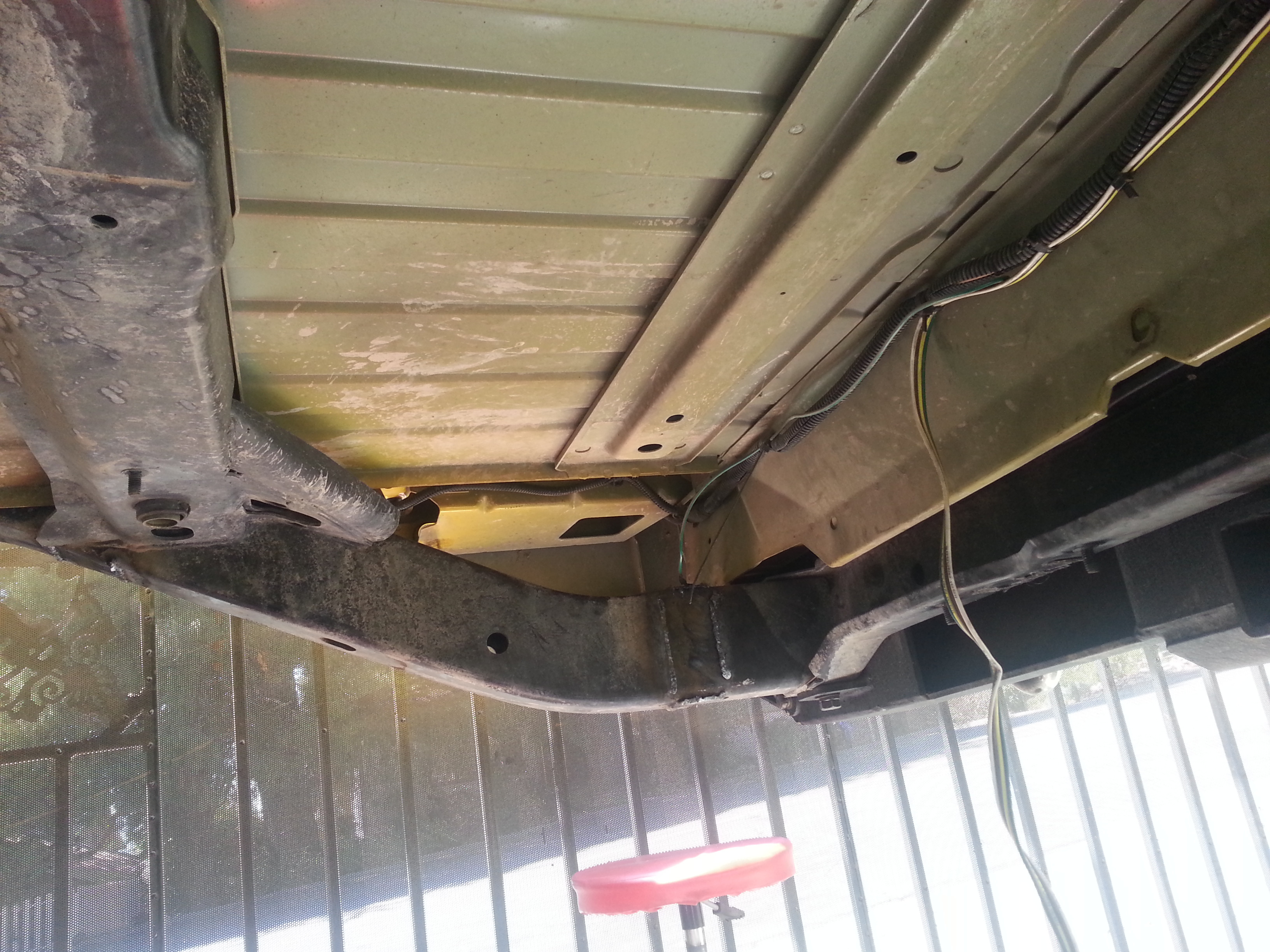 9-7-2014
Well I managed to finish the conversion all of today and managed to take off my rear HEAVY AS **** ****tybuilt tire carrier which I will be selling now. Here is a picture dump and for you g-rocc I took some pictures so you can get an idea of what sits where and how we tackled the different areas. First set of pics will be of the overall conversion, then the last set will be of the gas tank relocation.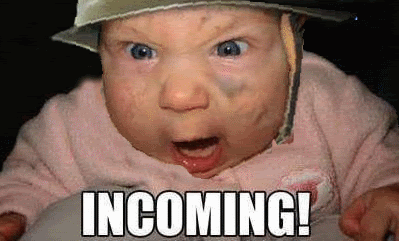 Today morning we decided to get the axle under the jeep and center everything out.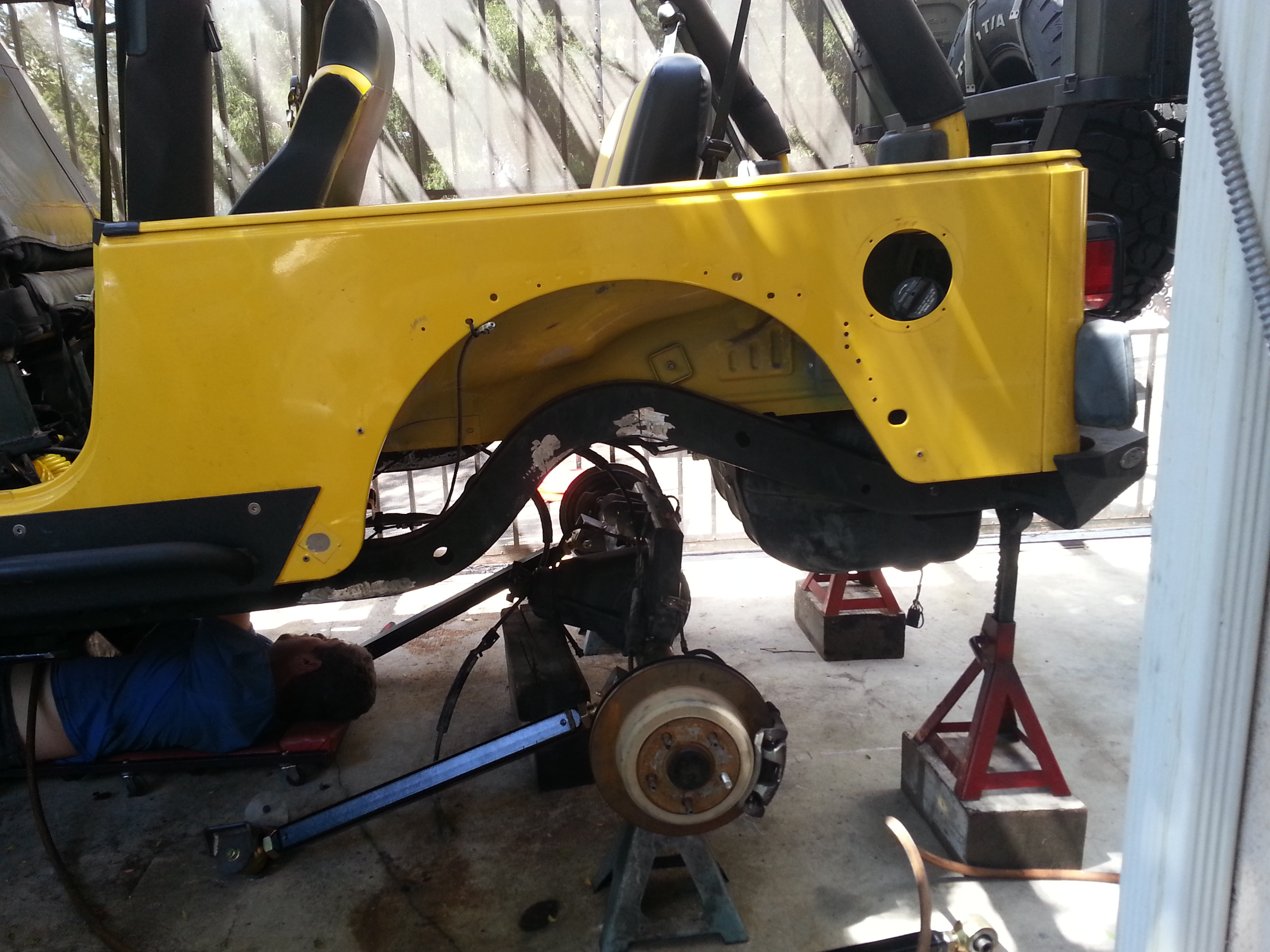 After the axle was centered, all control arm mounts welded and truss welded, we started with the coilover towers. Everything fit in so snug and didnt come into contact with the body with no body lift.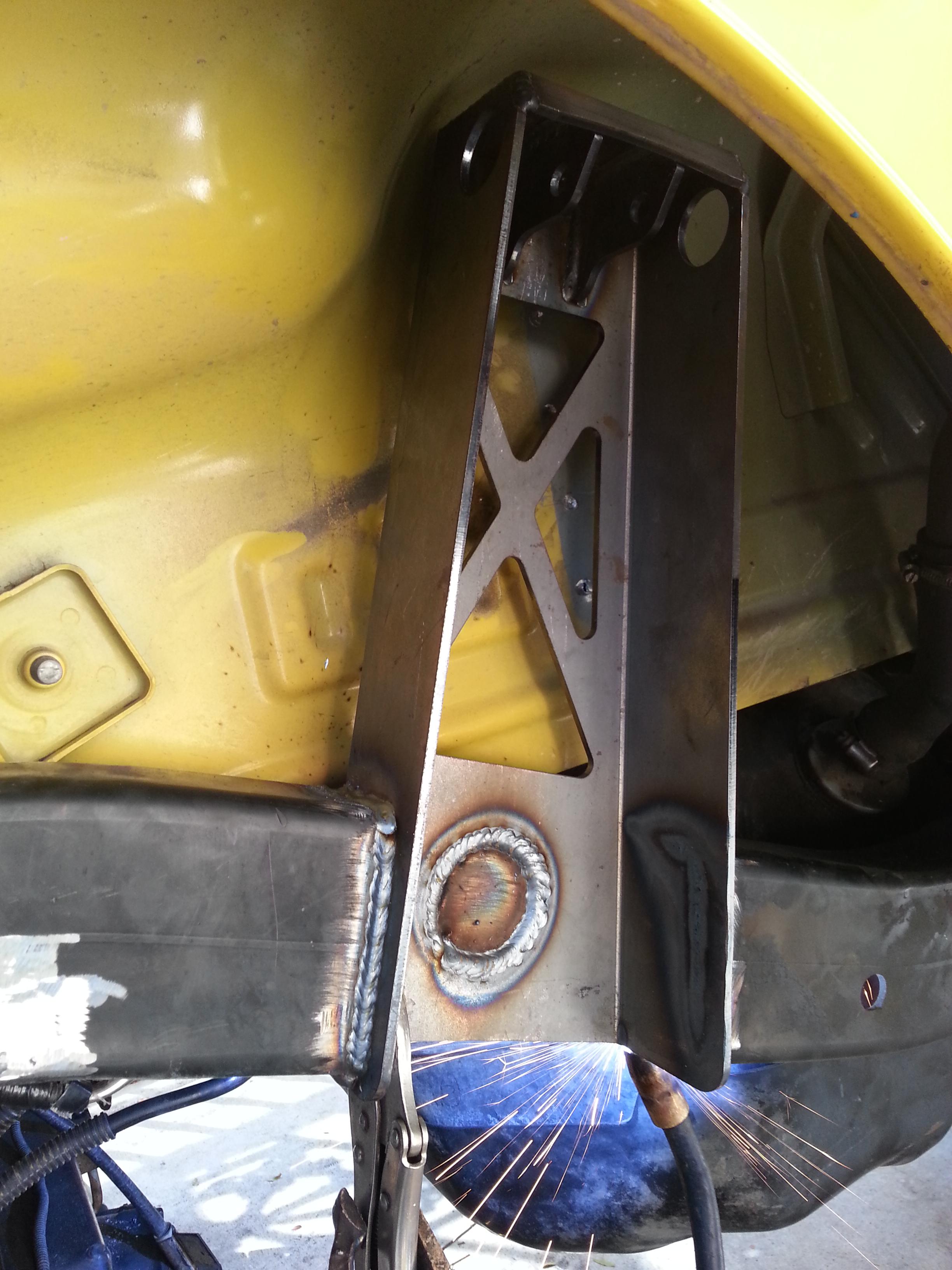 After it was welded I blasted it it some flat black paint.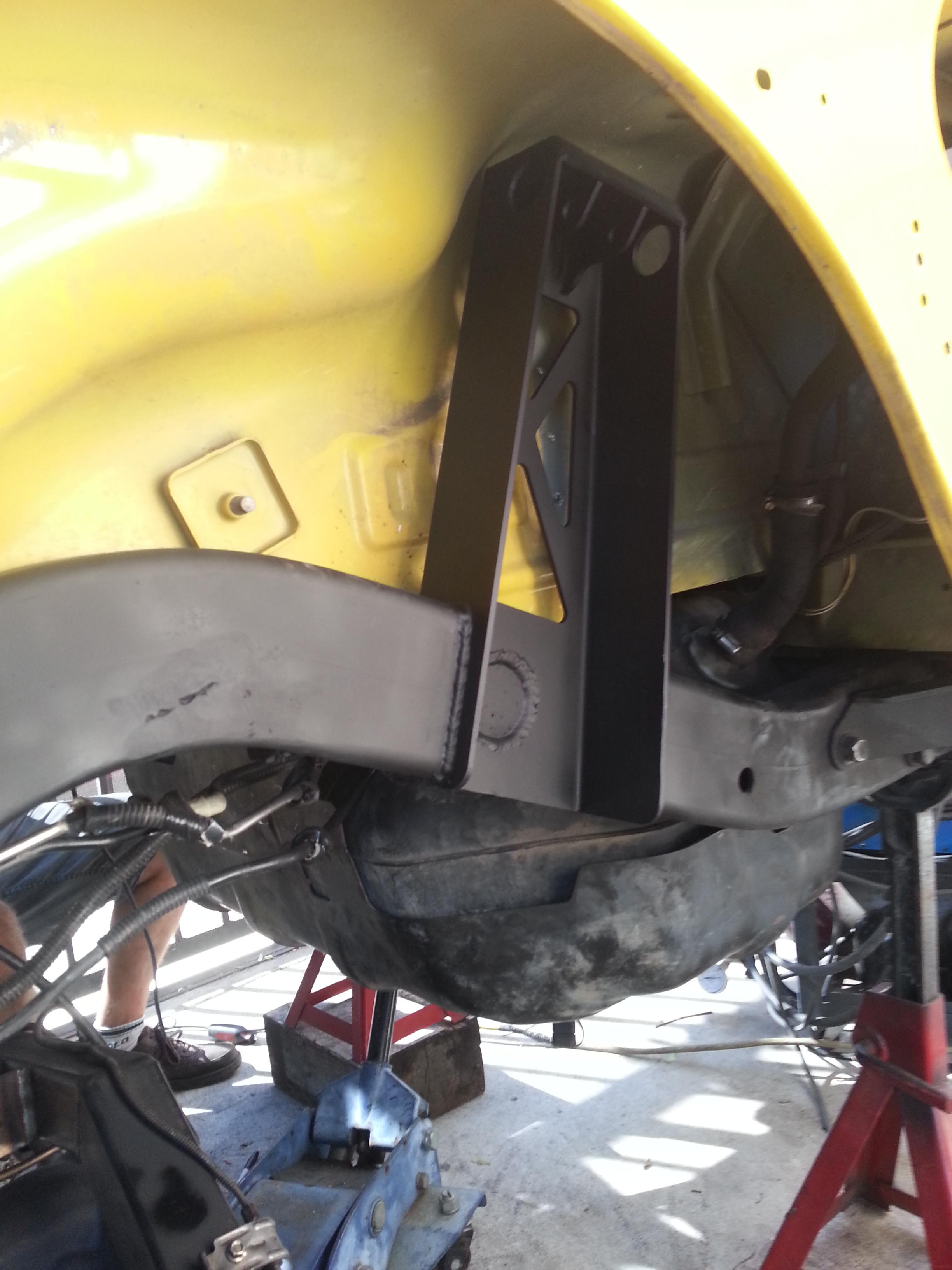 On goes the coilovers to tack in the axle brackets.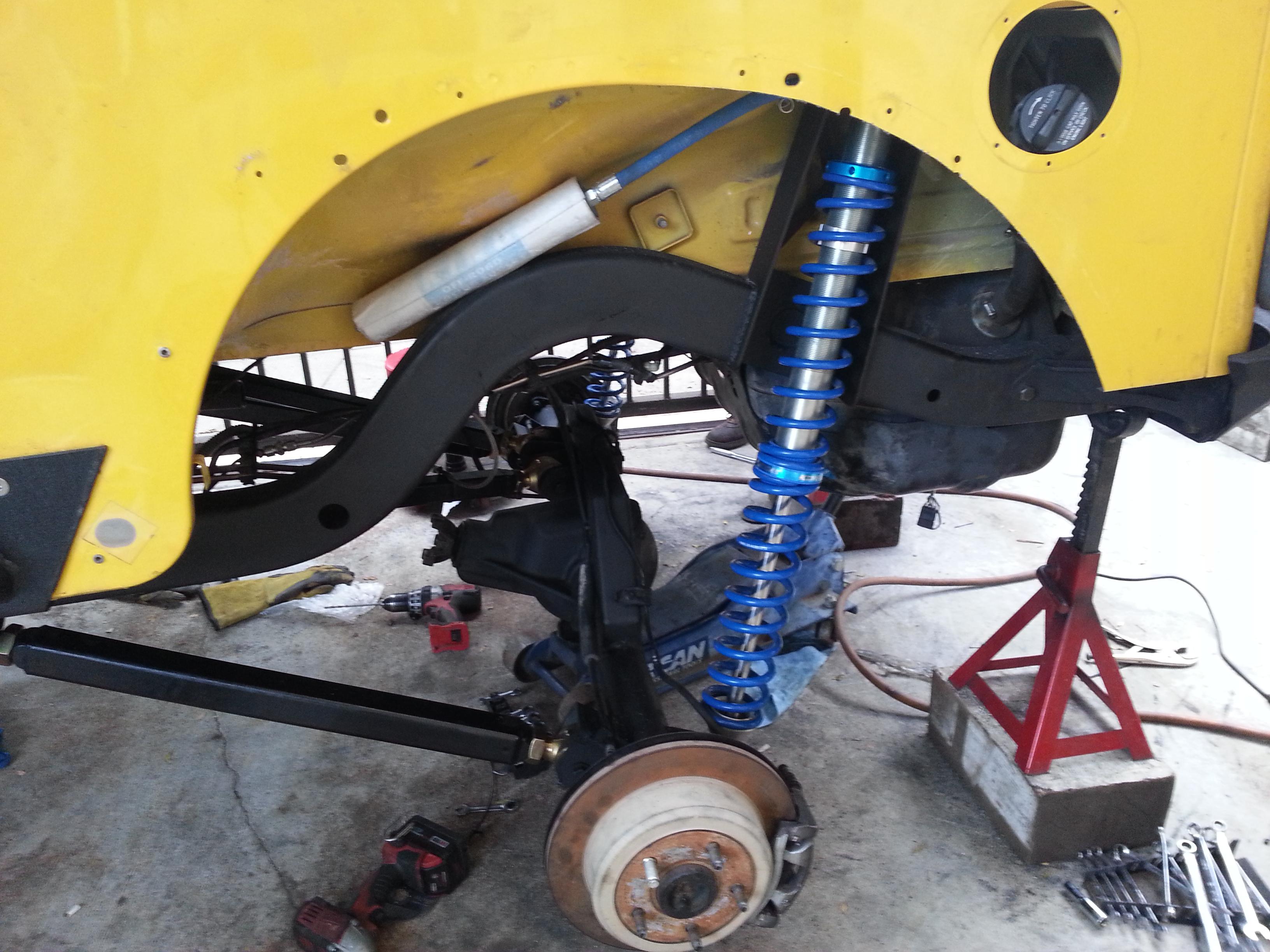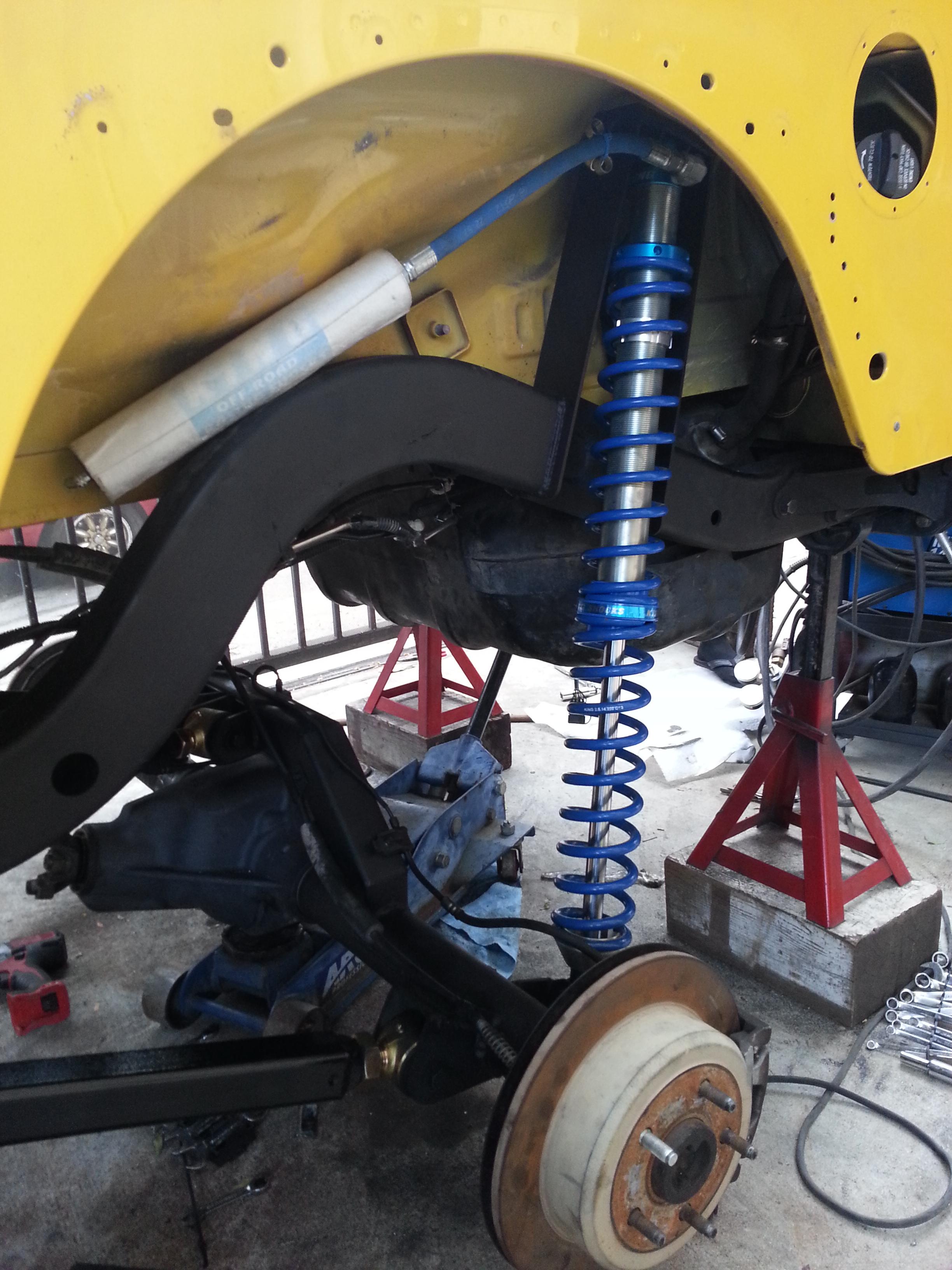 Got both sides in and this is one side at full droop. Pretty close to hitting but it didn't.
Everything was buttoned up and taken for a test drive to find a flat place for pics. Got a little dark so some pics came out blurry, ill take better detailed shots later when I have time.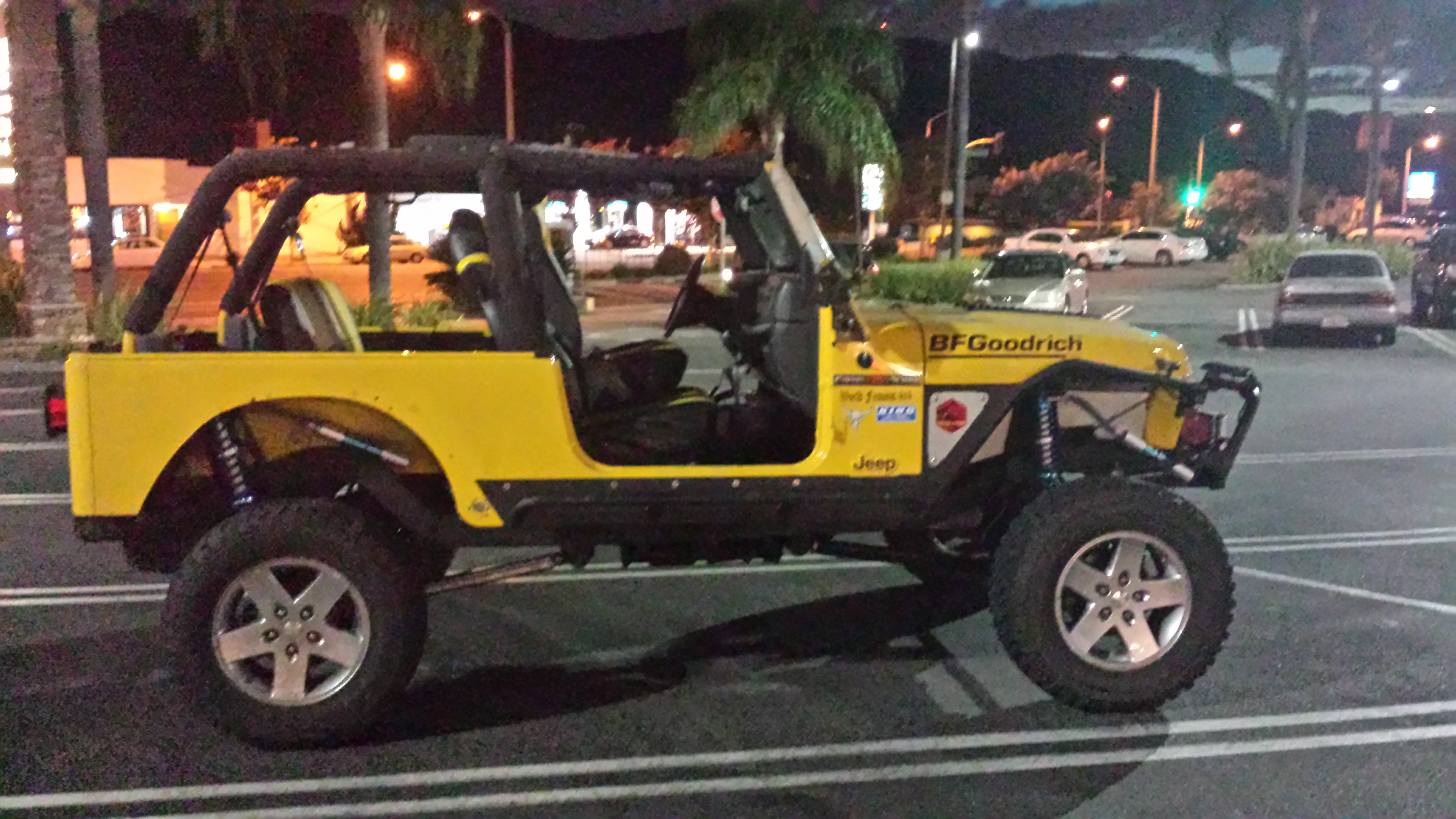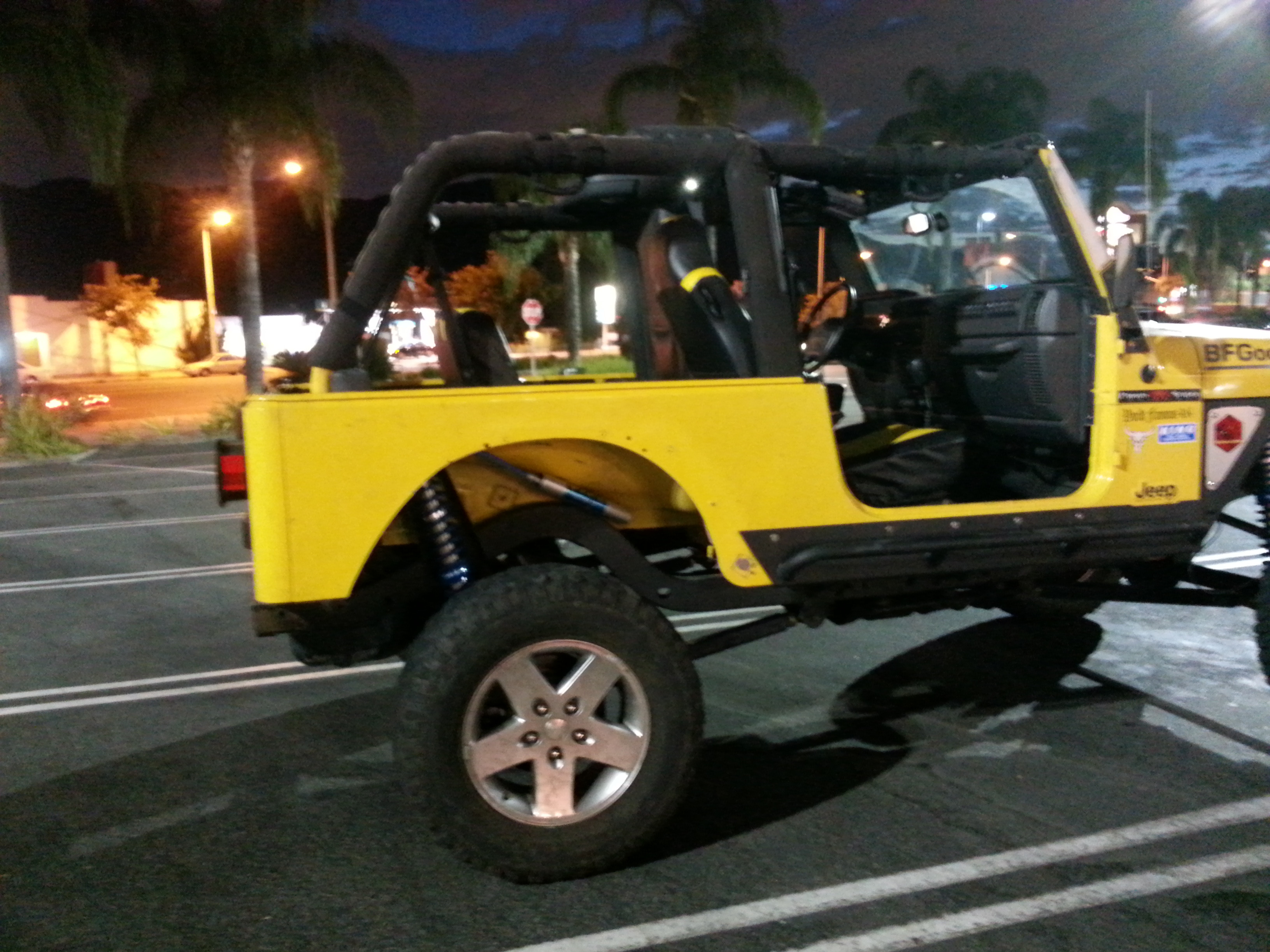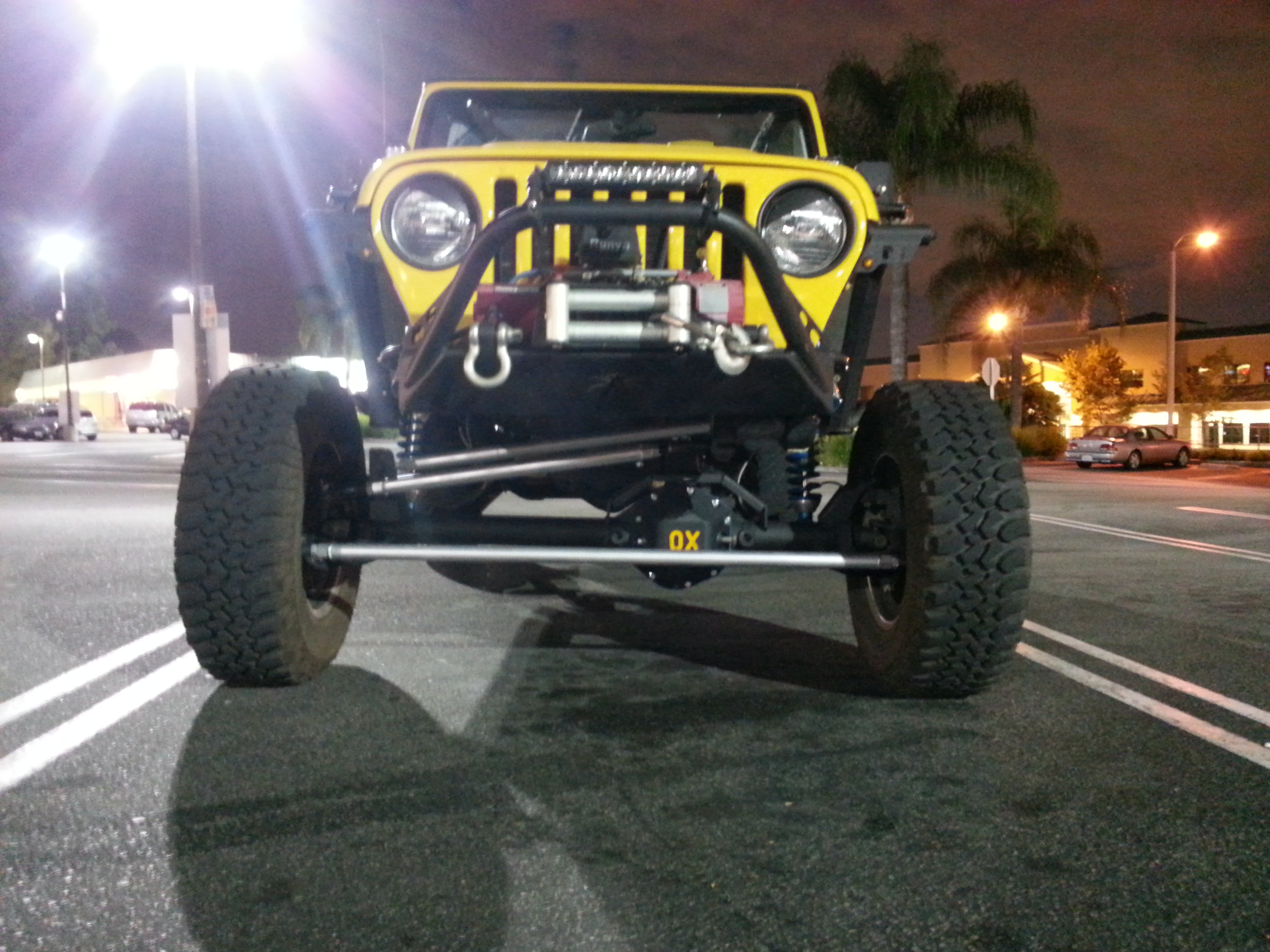 With the rear coilovers on, I have less body roll response when I give it gas and it doesn't pull to any side anymore. Also with the rear coilovers on and no bumper it felt very stiff going down the street. Now im not sure if it was my rear WORN out tires causing the stiffness feel, or if it is the 200/250 spring rates in the rear with no bumper and spare. My bet is on the spring rate so ill probably swap that out at a later time. Also I do not have any swaybars connected, front or rear at the moment. I need to purchase front and rear anti rocks and roll with that.
Now for the pics for the gas tank relocation.

Here is a pic of the most rear crossmember that the gas tank will now be bolting on to. This X-member is the same one as the one I cut off, so all I did was transfer over the bolts from the cut one. The holes are square so the bolts dont need anything to keep them from spinning.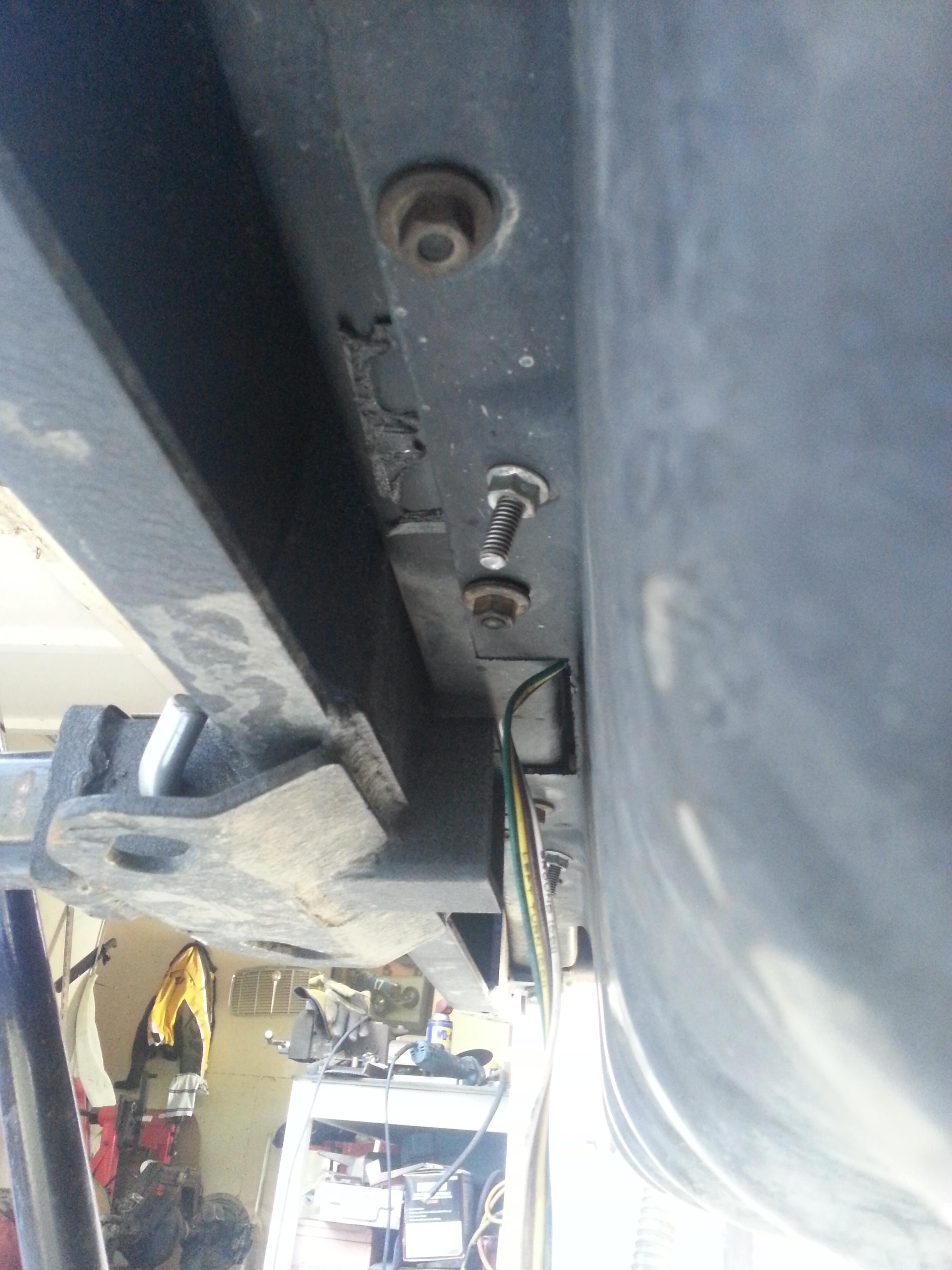 This side is the cross member on the opposite side of the top picture. You can see the old bolts from where it used to be mounted. This side is a little trickier because you need something to hold the bolt on the inside of the X-member.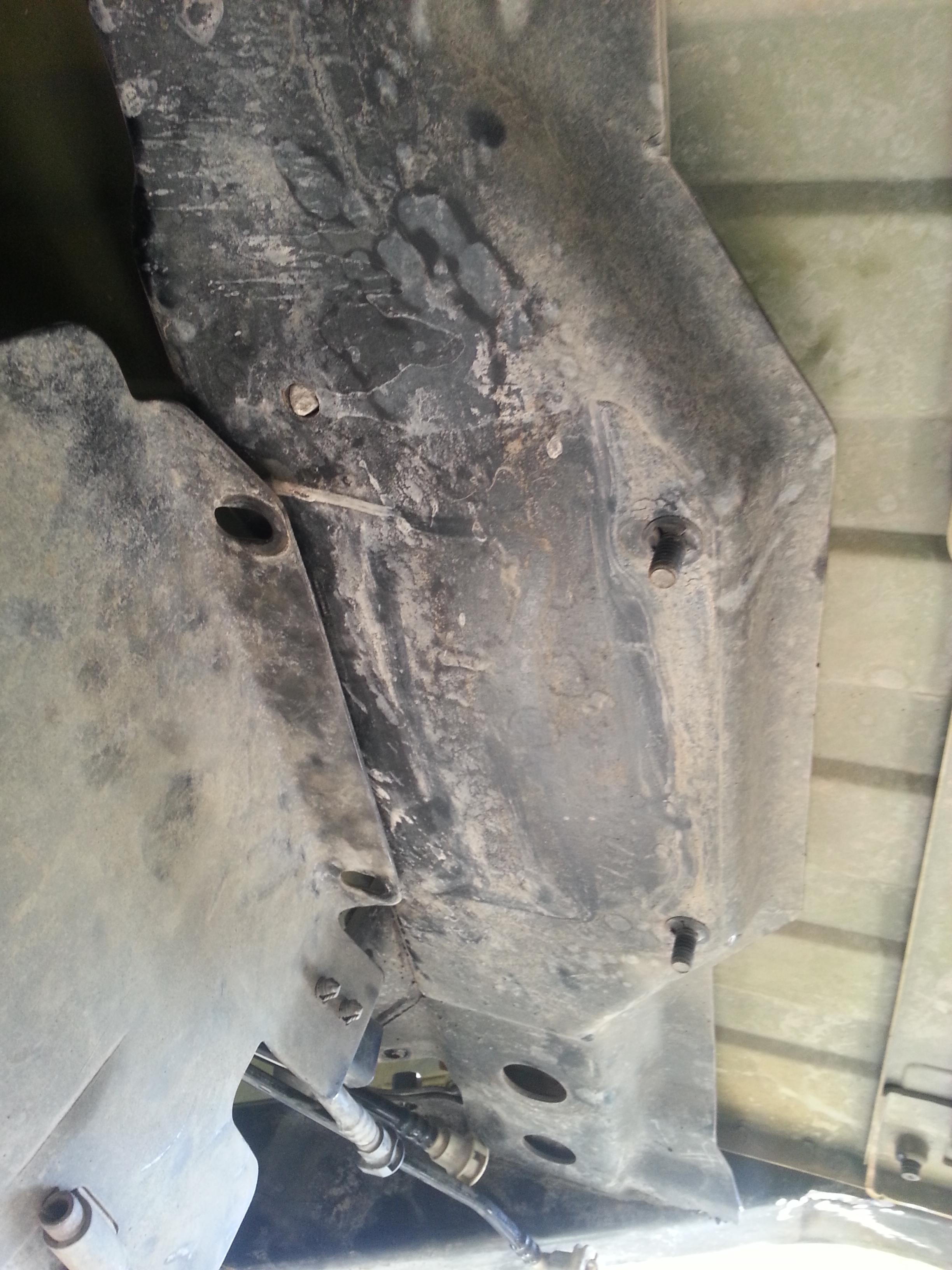 So what we did was cut the section that was suppose to have the new mount holes.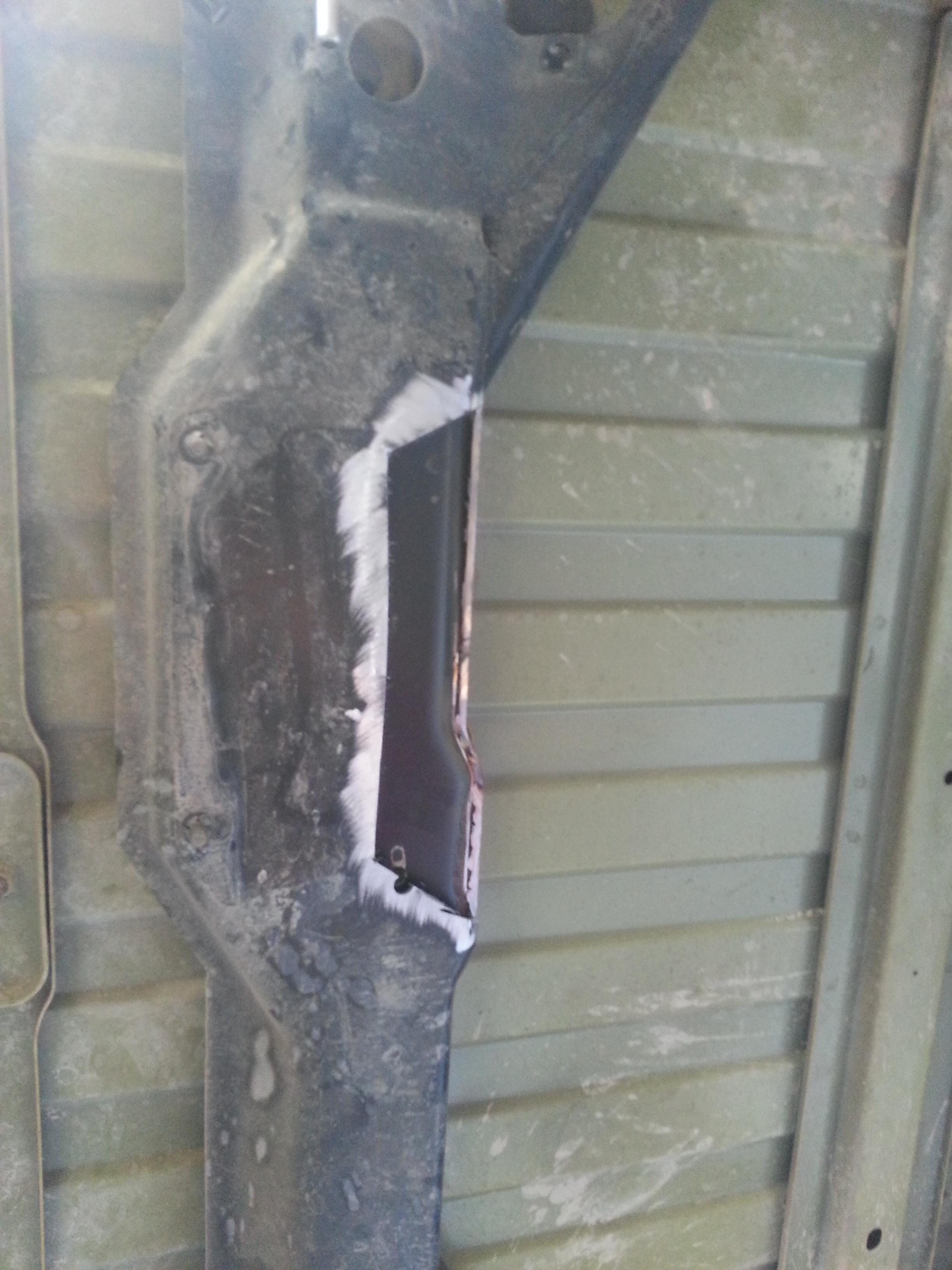 We then welded in bolts so they won't spin.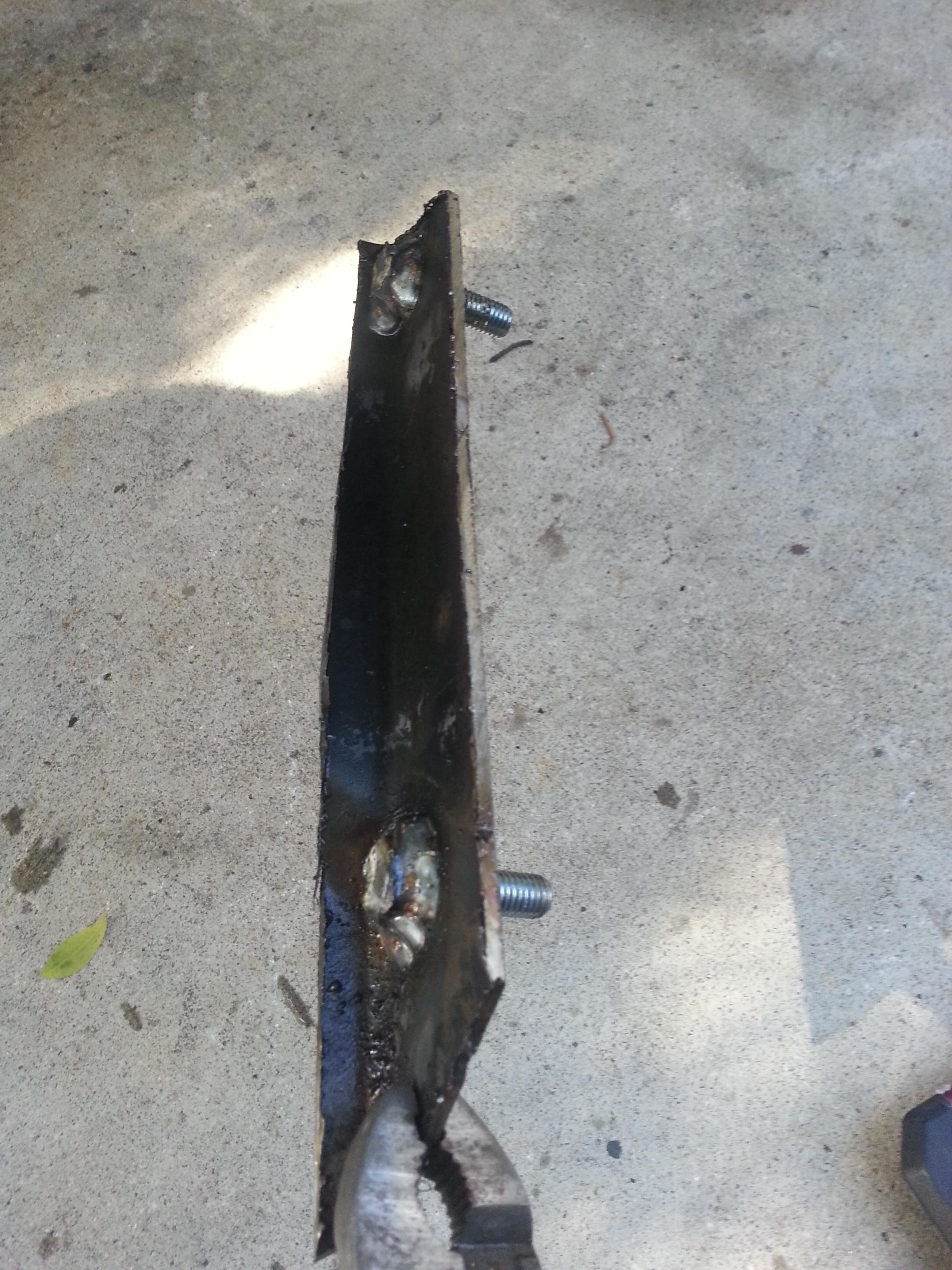 Then welded the plate back to its spot.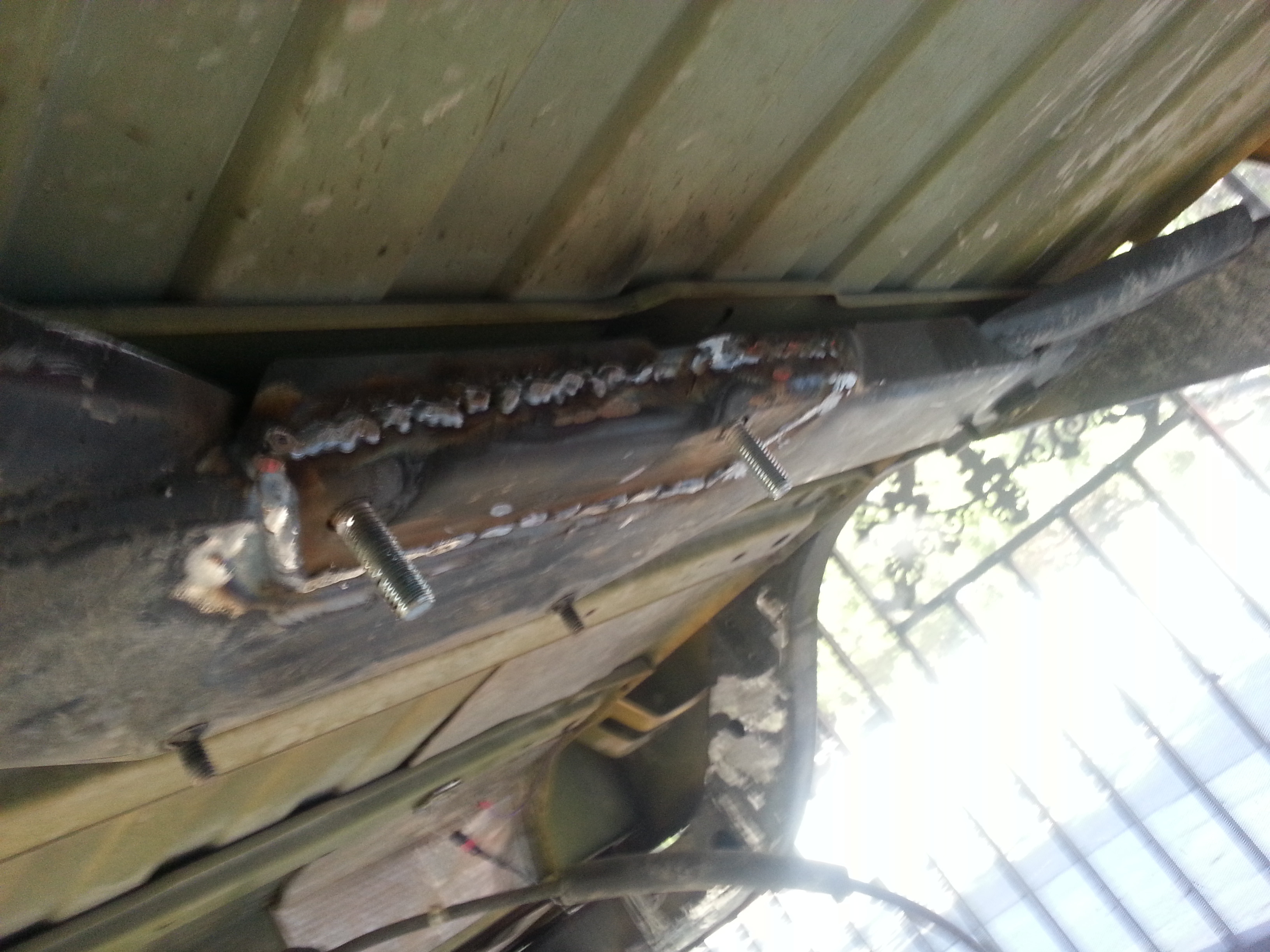 Add a dash of paint and BOOM, you have a mounted gas tank.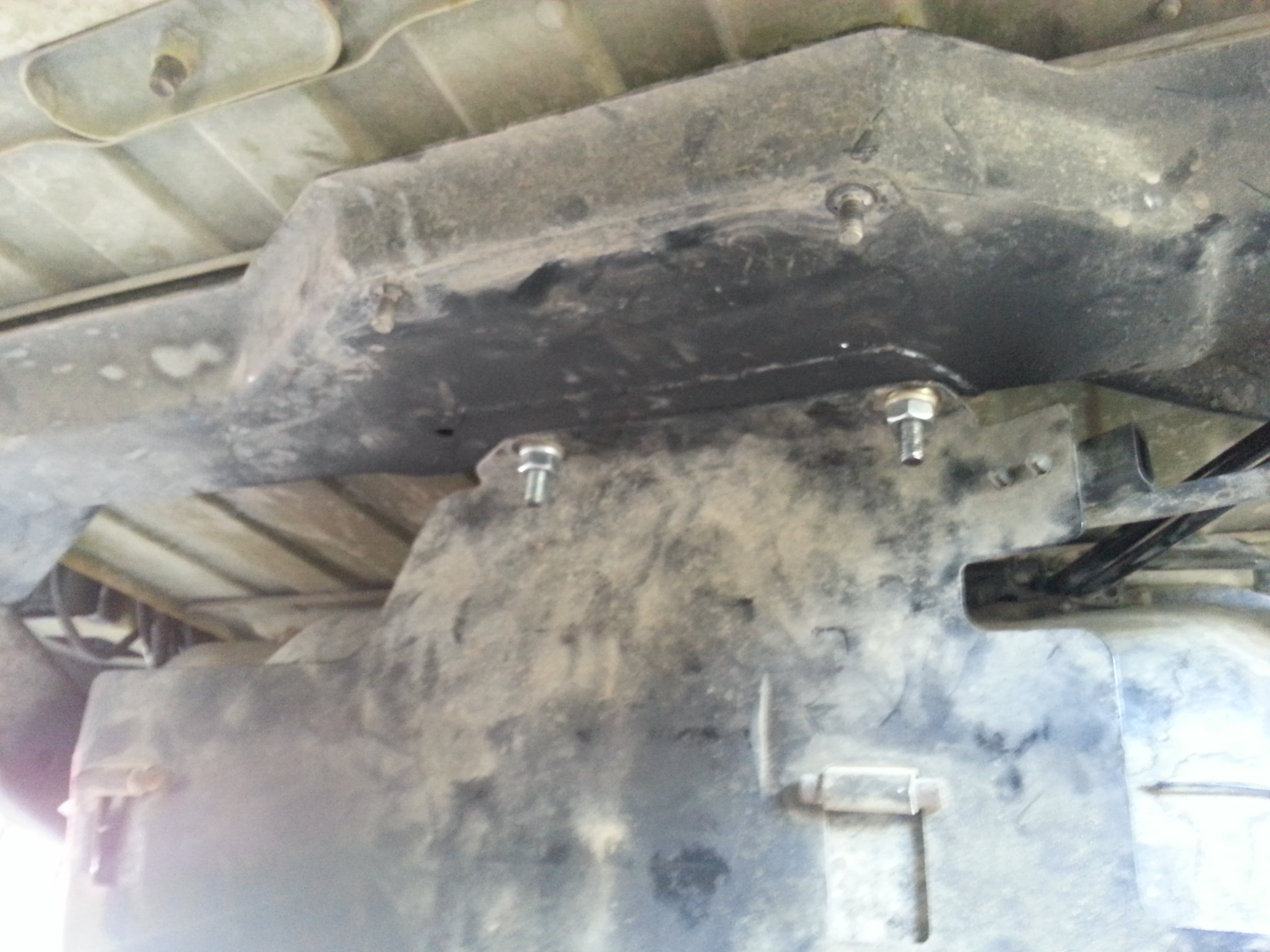 After the install this is where the gas filler neck reached. Youd need to relocate the gas hole to use the stock hardware, or else you need a little longer hose to connect to the gas tank holse and the filler neck.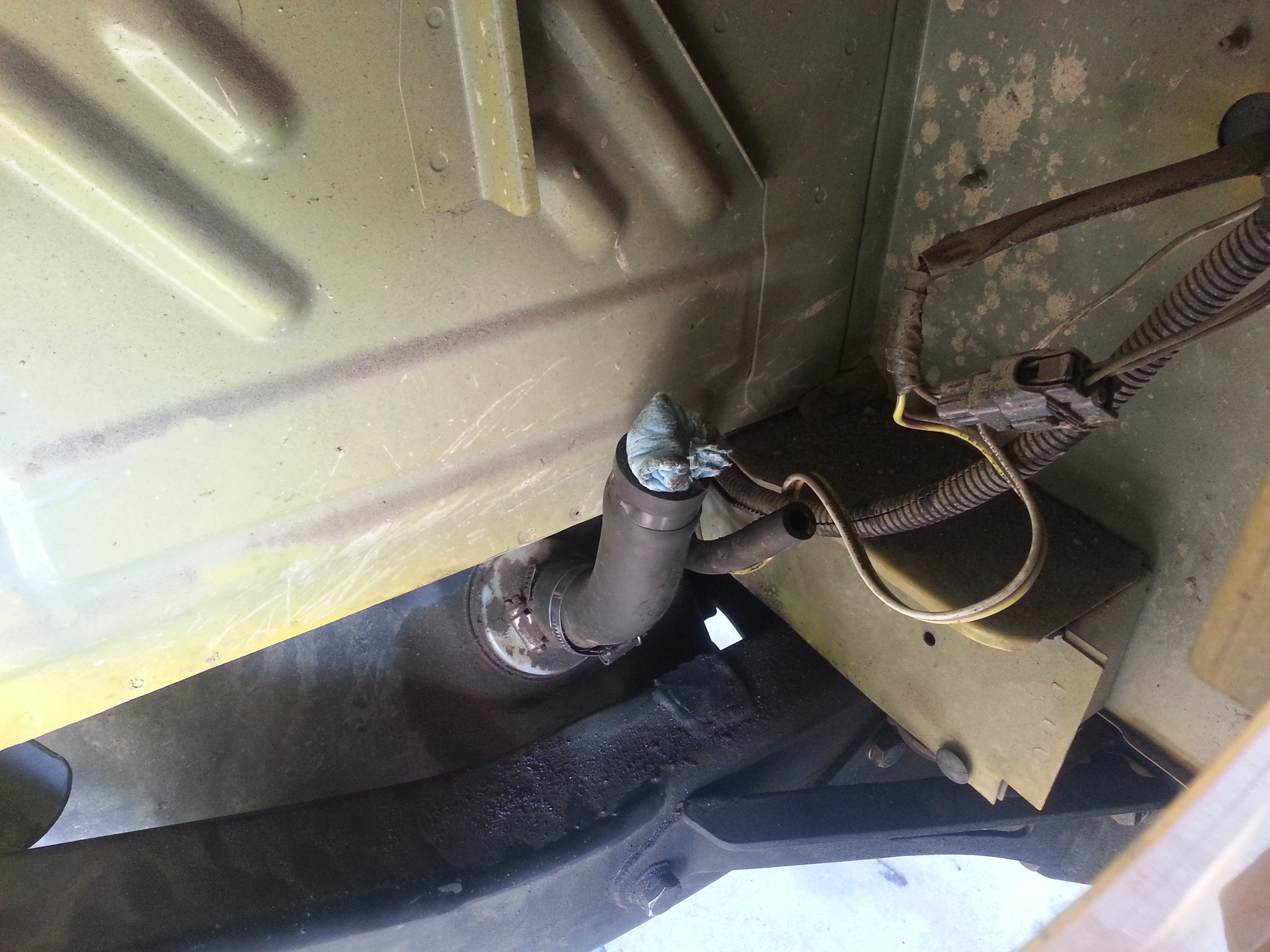 And the hardest part of them all. The god dam evap canister

. The jist of this is, you need to cut off the mounting point that is on the lower right facing forward. Then you need to cut the whole bracket that the evap canister sits on in half. You can see in the pic up to where the canister bracket was cut from.
Also at the top you can see a bolt facing forward, that is where it used to be mounted, you need to take a bolt and mount it to the rear most support member to push the canister back. Then again hack away that the bracket that canister sits on so you have maximum clearance.
You can see where the gas hoses come up to, luckly the evap hoses stretch far enough to connect all of them.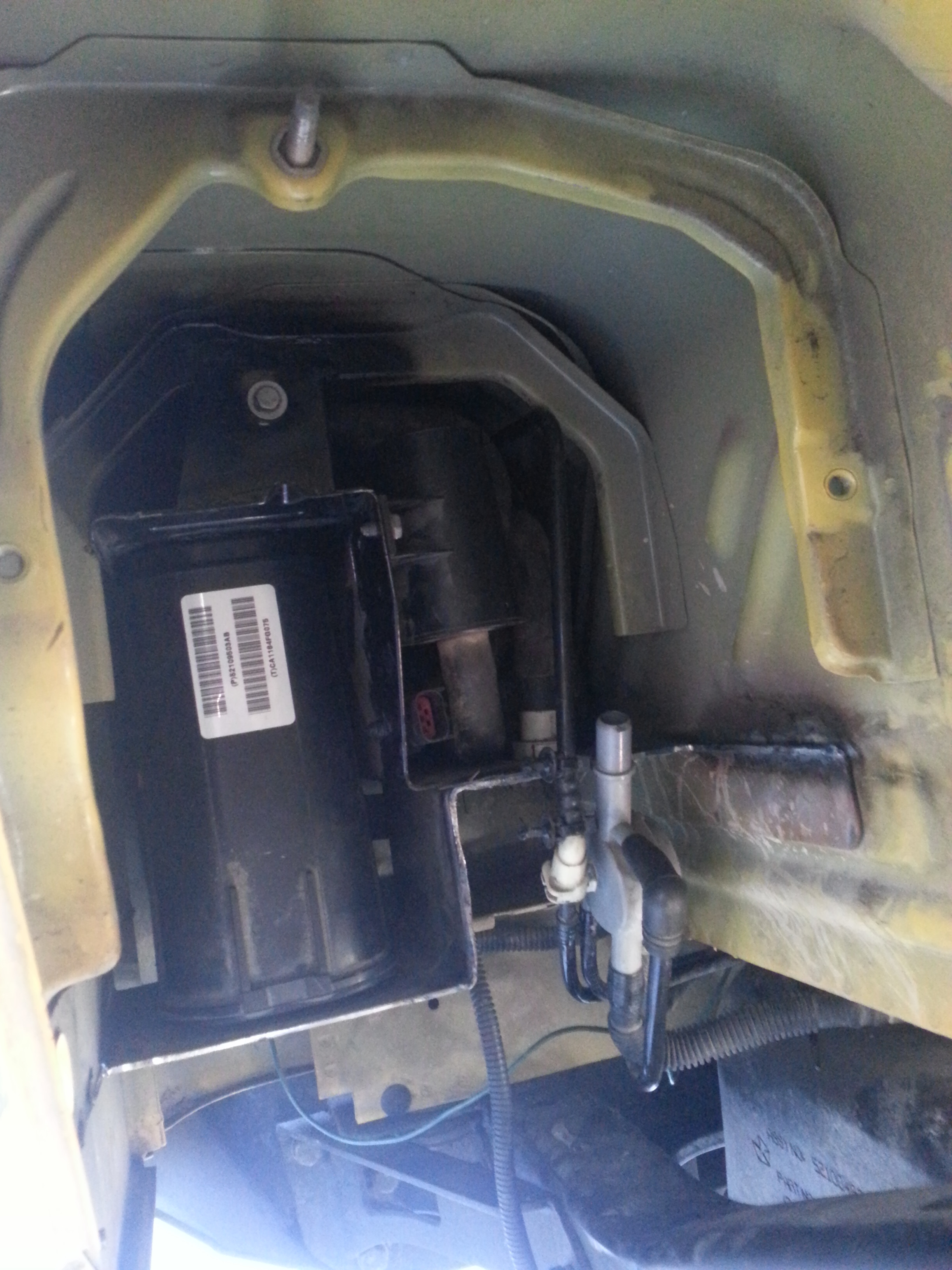 One part I did not take a picture of was the 3 hoses that connect to the gas tank via driveside rail. That part was a little tricky because there was barely enough slack on the lines to connect them. We had to bend one of the steel hoses to reach out far enough to connect.
Hope that helps with anyone else that wishes to do the gas tank relocation on the LJ, quite simple using no extra parts.

9-8-2014
Did some more driving today to and from school. No more wander and I have a lot less body roll then before with no swaybars :lmao:. The rear is a bit stiff however. I will have to definatly swap out some springs back there. Snapped a picture of the rear and a picture of the clearance of the rear axle to the gas tank at ride height.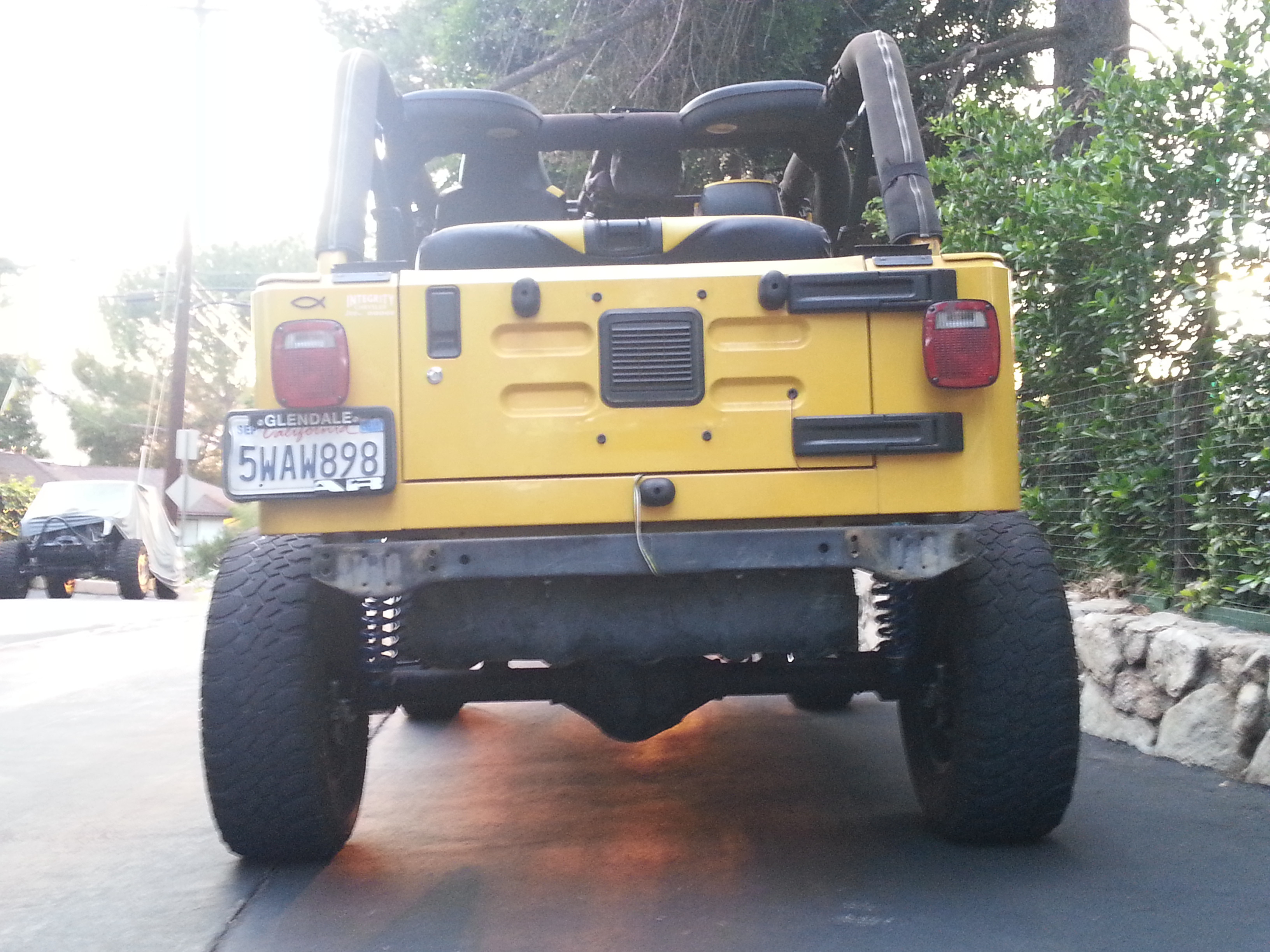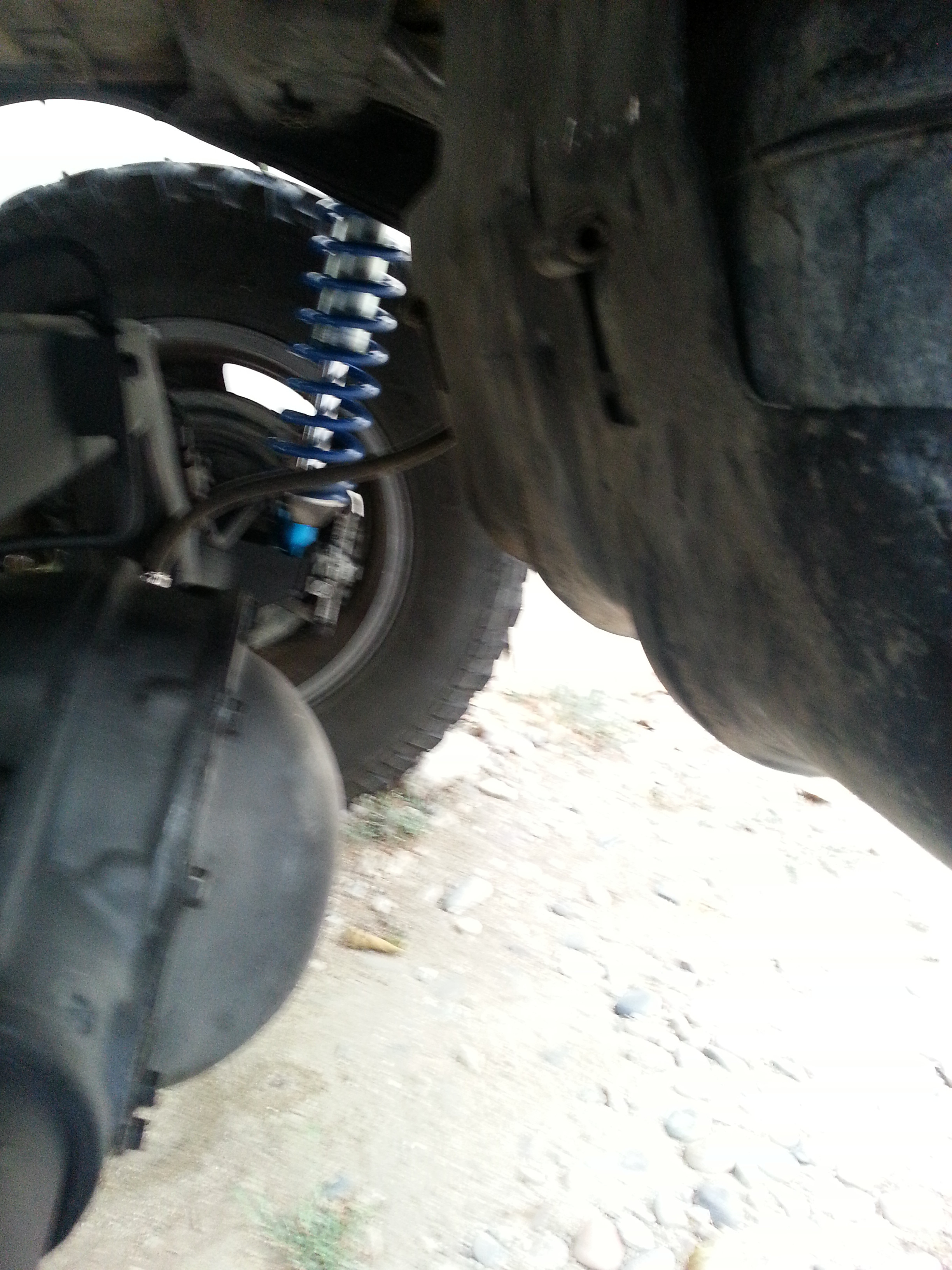 9-9-2014
Thanks!


Did some measuring today. My wheelbase is at 108-109" at ride height and my rear axle is about 1/8" off center.

My next step for this build:

PSC stretch corner
Genright tranny crossmember kit
Custom belly skid
Custom engine/tranny skid
Tom Wood SYE/Driveshaft kit
Anti-Rock Front
37" (Maybe 40"?) Tires
Drop Down Tailgate Mod

Still more work to do!


9-11-2014
I hate California smog laws...... I had to take out my stock air box because it had no room with the front coilover towers. I went to go get my smog done today and the tech was saying that the intake was not carb legal. The only thing I changed was the filter, nothing else. You have to be kidding me. I bought a k&n cone filter and stuck it to the end of the stock tubing that the stock airbox was on, nothing was modified.

Next problem is that my jeep is currently only front wheel drive and the smog shops need my jeep in rear wheel drive.

Tomorrow after class im going to head to my local pick a part, get a front driveshaft off a 91-96 XJ then take it to a driveshaft shop to have it sleeved/shortened so it will fit in the rear. I also ordered a SYE from 4WP so that should be here next week.

Other big news, 37's come tomrrow!
9-12-2014
Pretty excited! 37s finally came!
Also went to my local pick a part and got a front XJ CV driveshaft. Ima take it to a driveshaft shop to be made the right length and to be sleeved for the rear. After that I need my SYE to be installed and boom, ill be good to go. Ill 1-2" in DS length to accomidate the custom raised tranny mount ill do later on.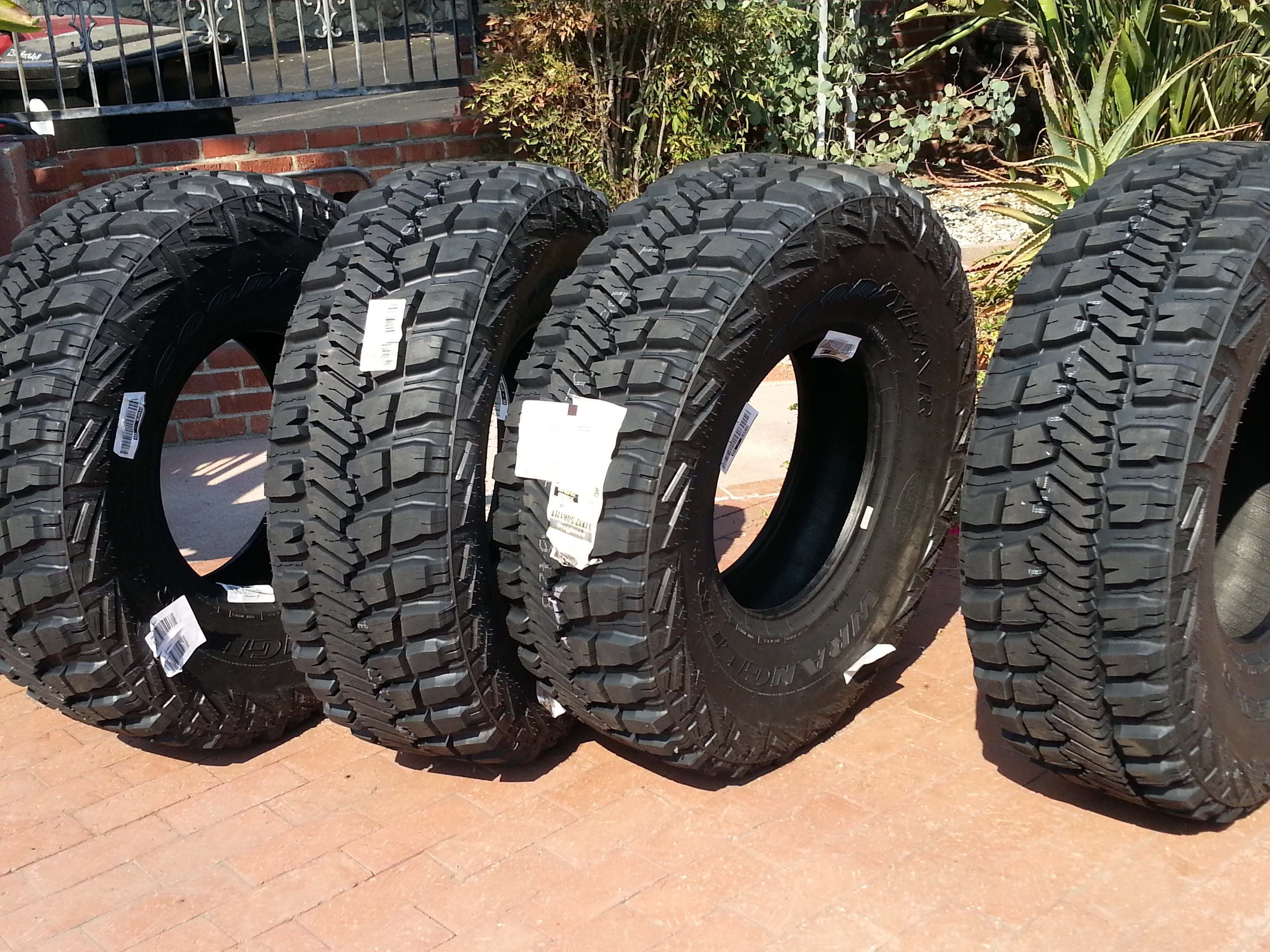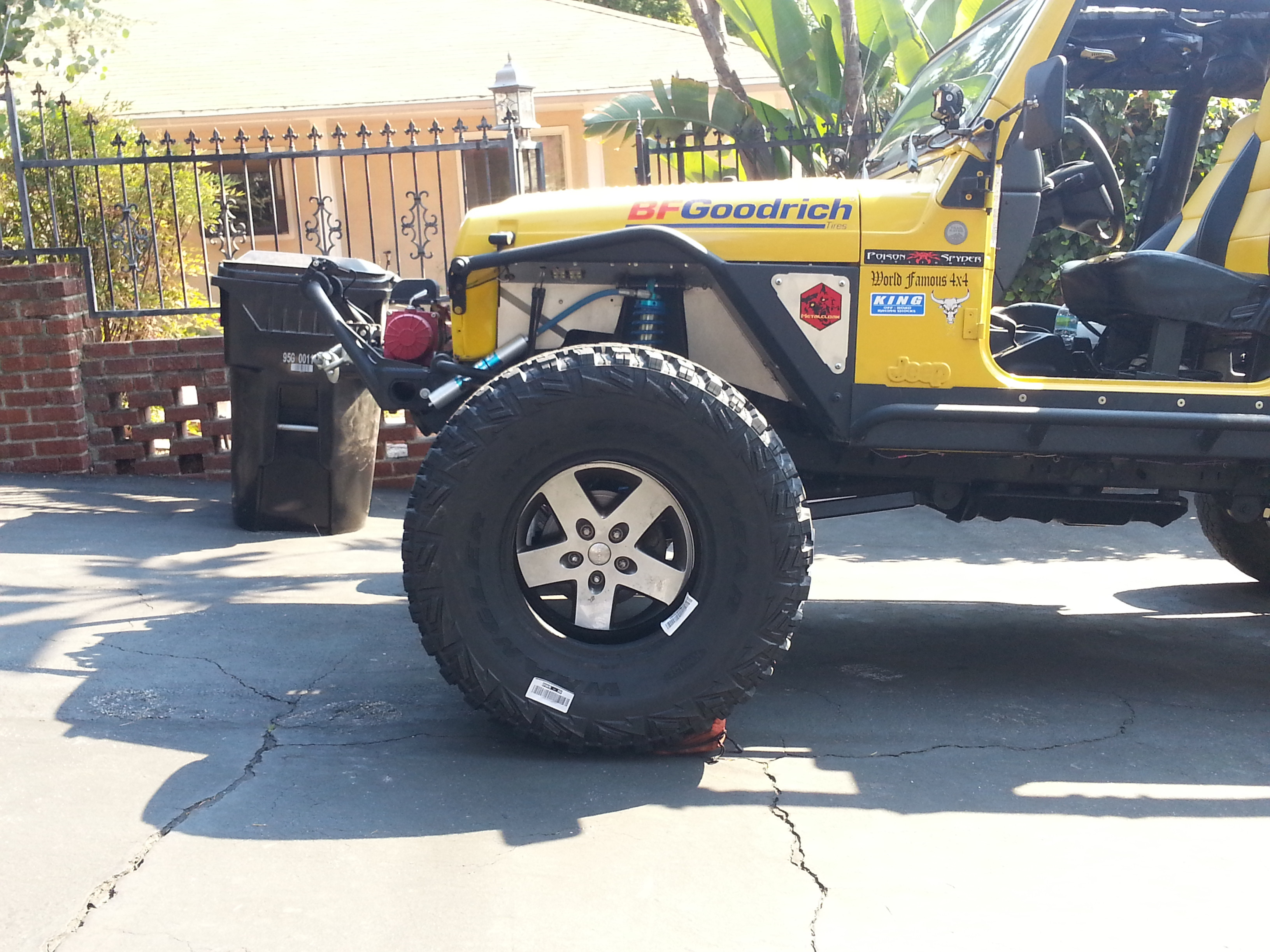 9-13-2014
37s are finally in baby!
All that is left is to get rid of that drop skid plate, get the SYE in and the CV driveshaft made then I can finally test everything out! Also need 2" spacers instead of the 1.25" that is in now.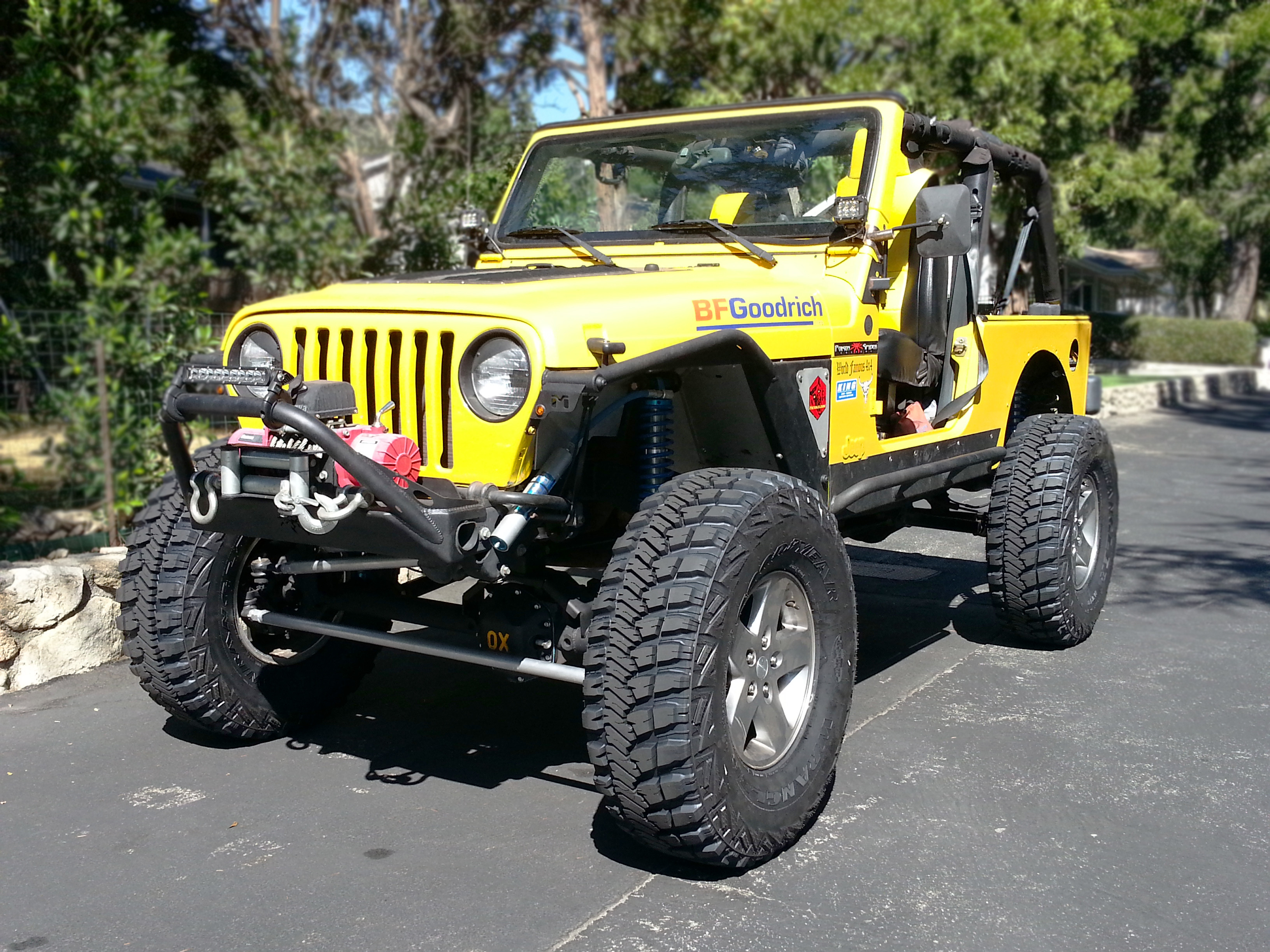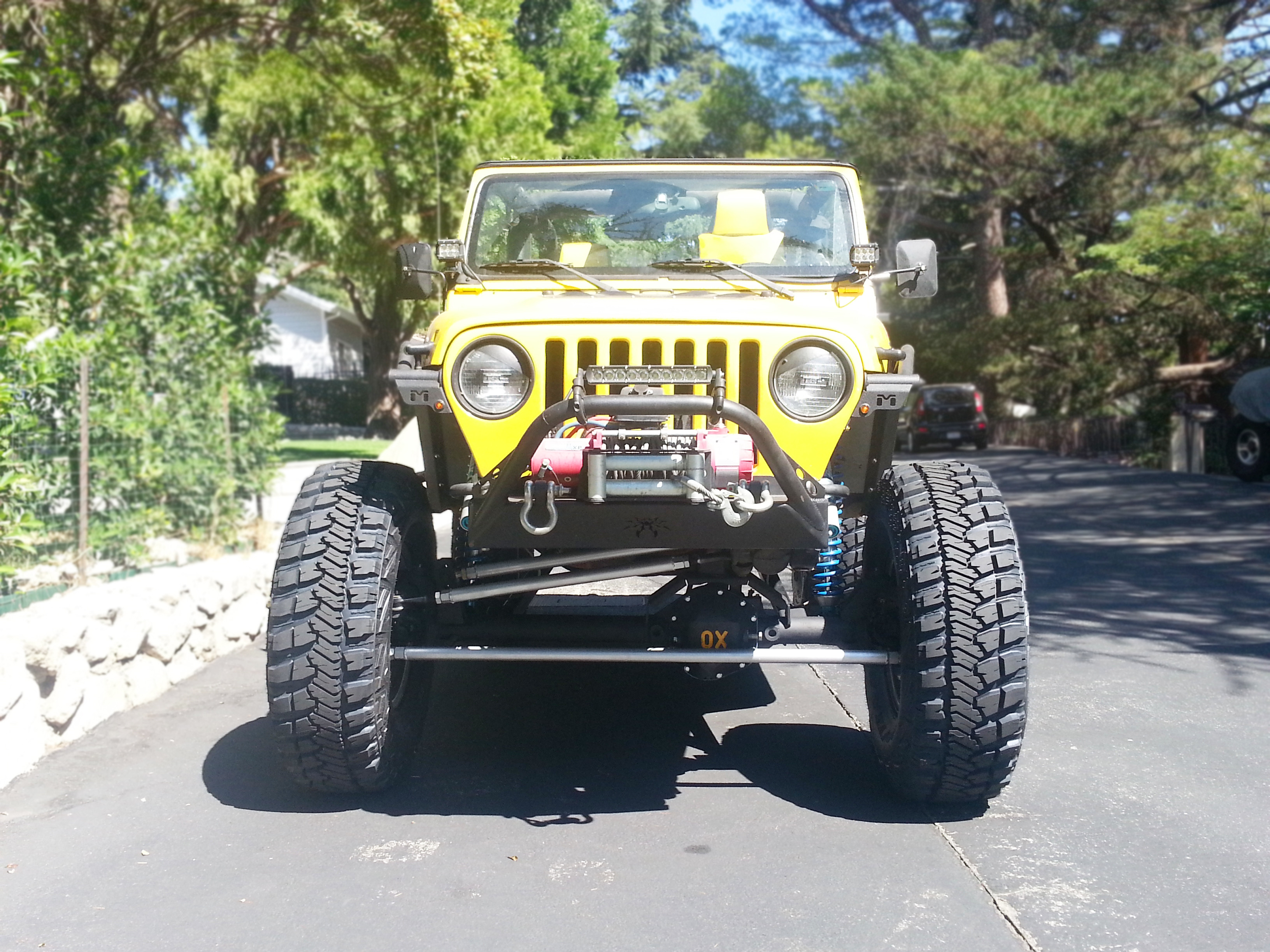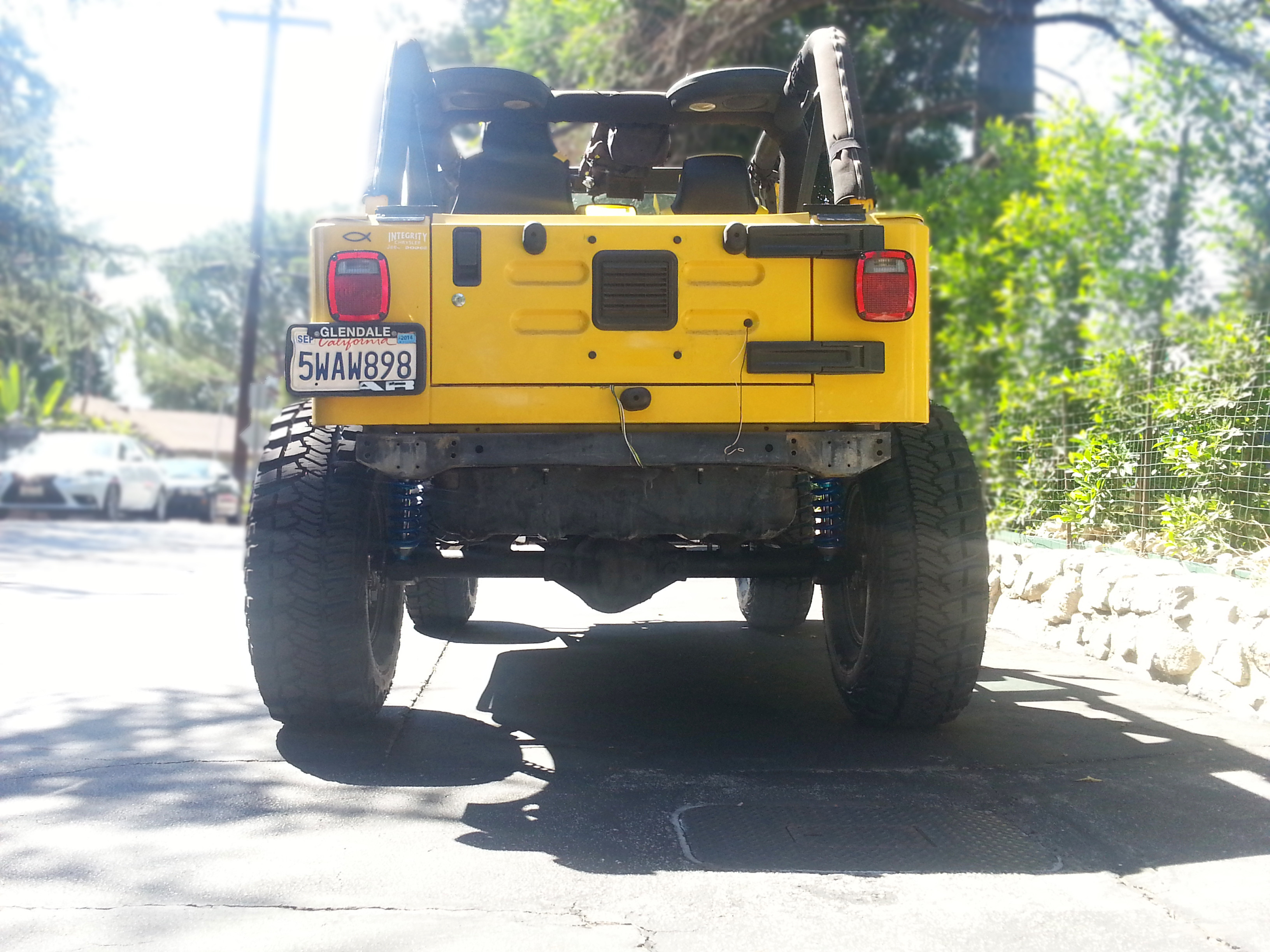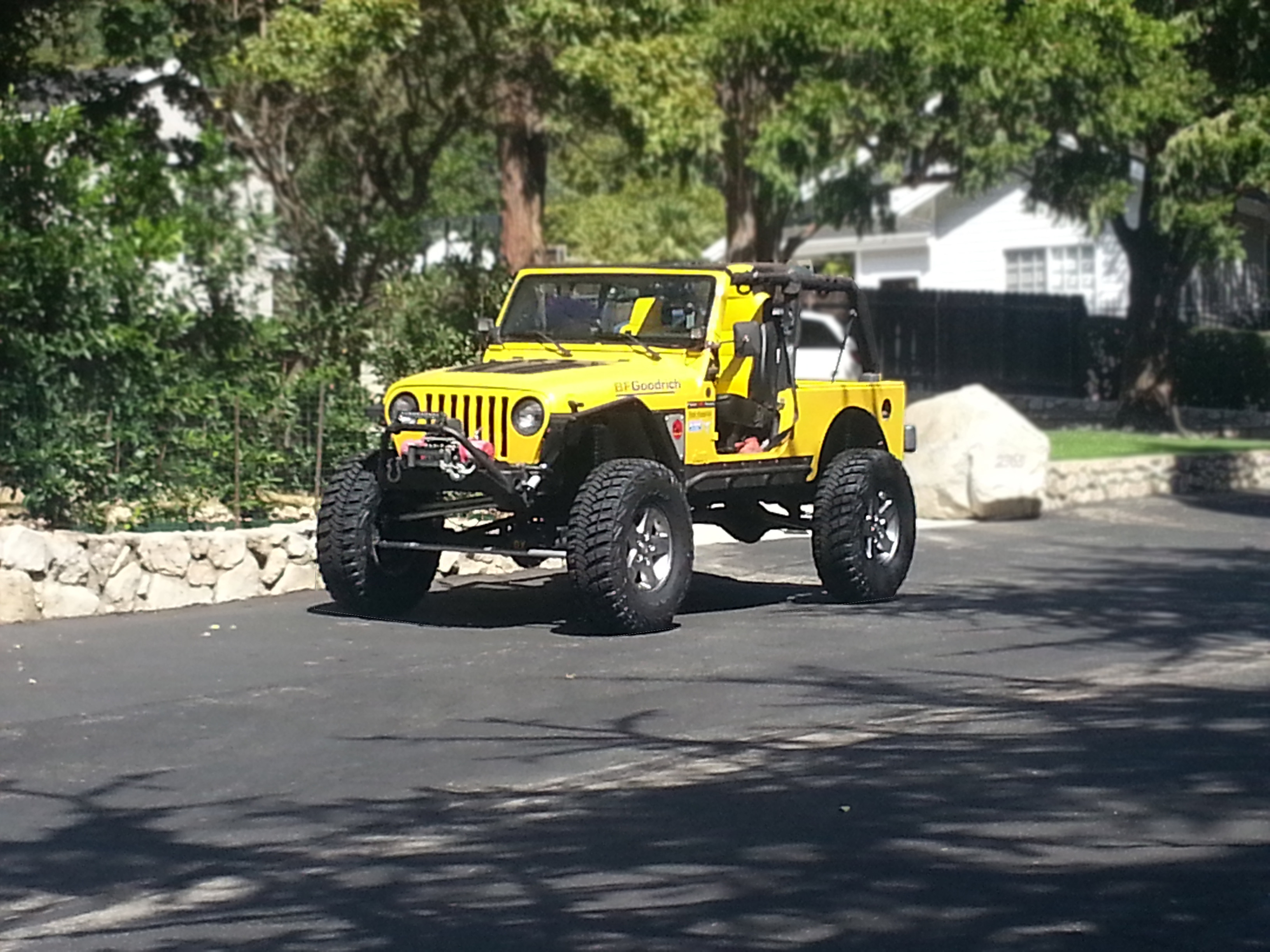 9-14-2014
Are you talking about the distance from between the tire and tub on the inside of the tire or from wheel well to tire?
Here is a picture of the rear well at ride height, still needs a bit of trimming to do before it can be stuffed. I won't be doing much trimming until I have the PSC stretch corners.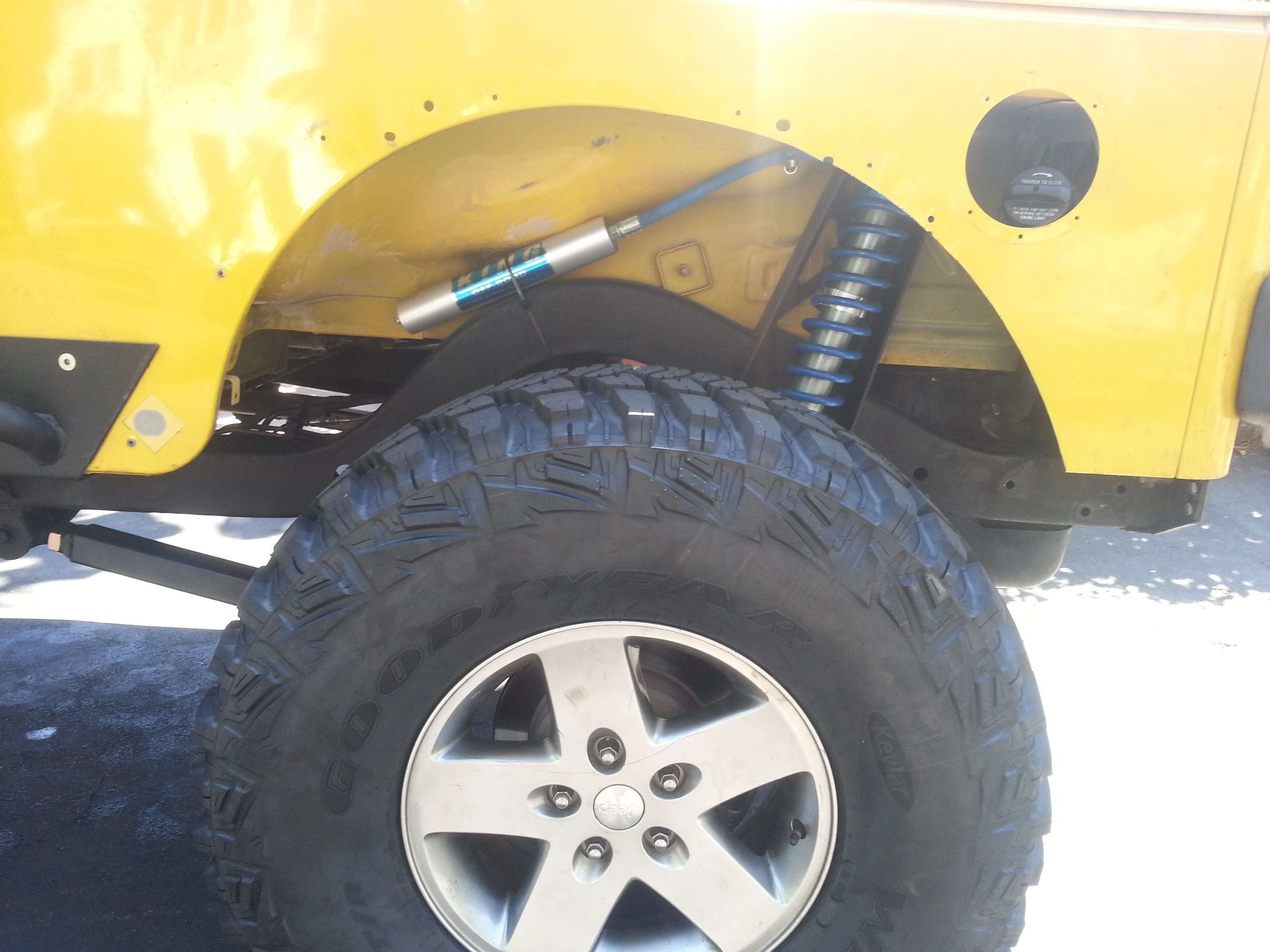 EDIT: Another side shot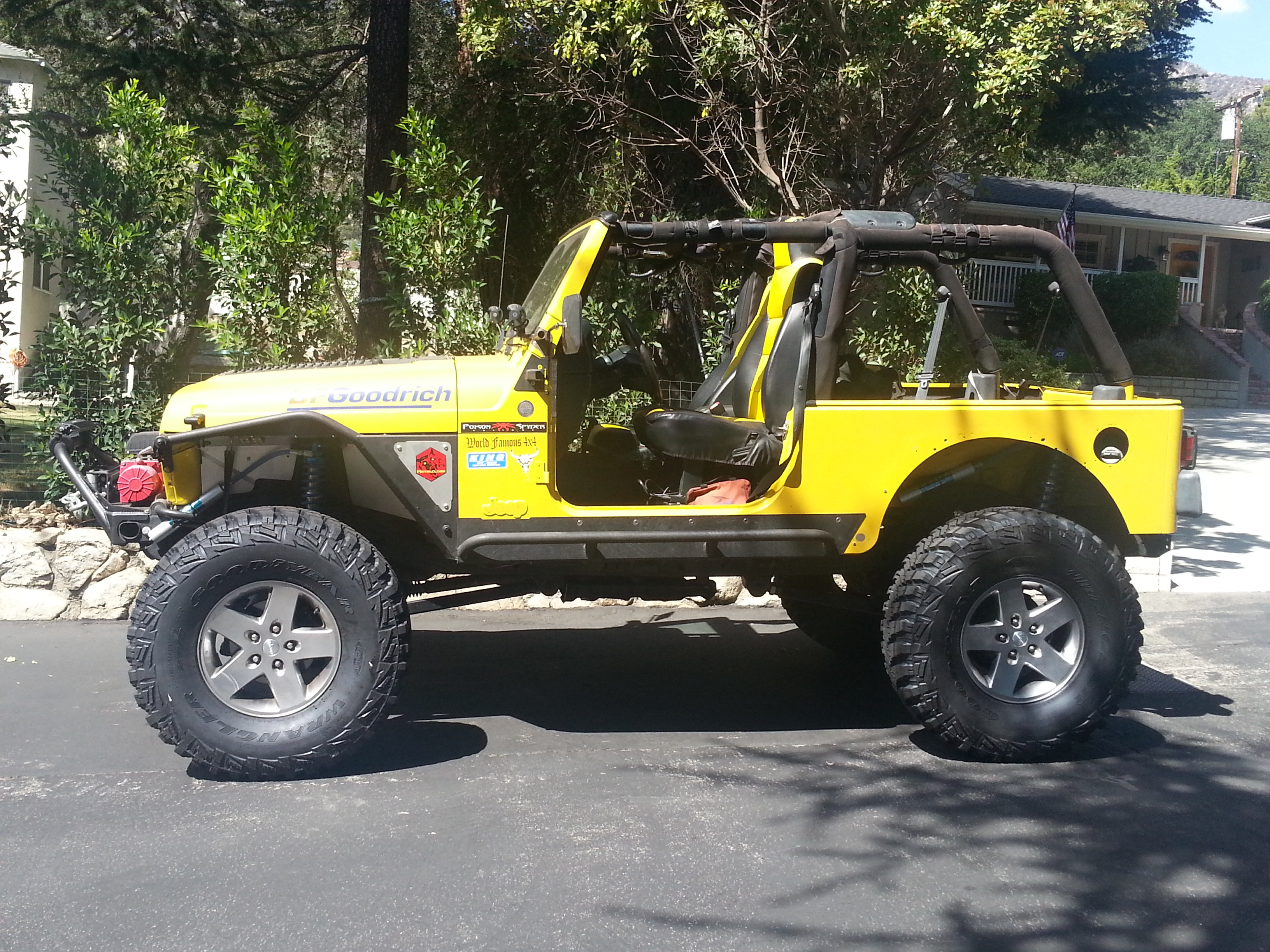 9-22-2014
Dads jeep is almost done! Hpefully both my jeep and my dads will be rock ready at the same time! Took some beauty shots of it today after putting it all back together.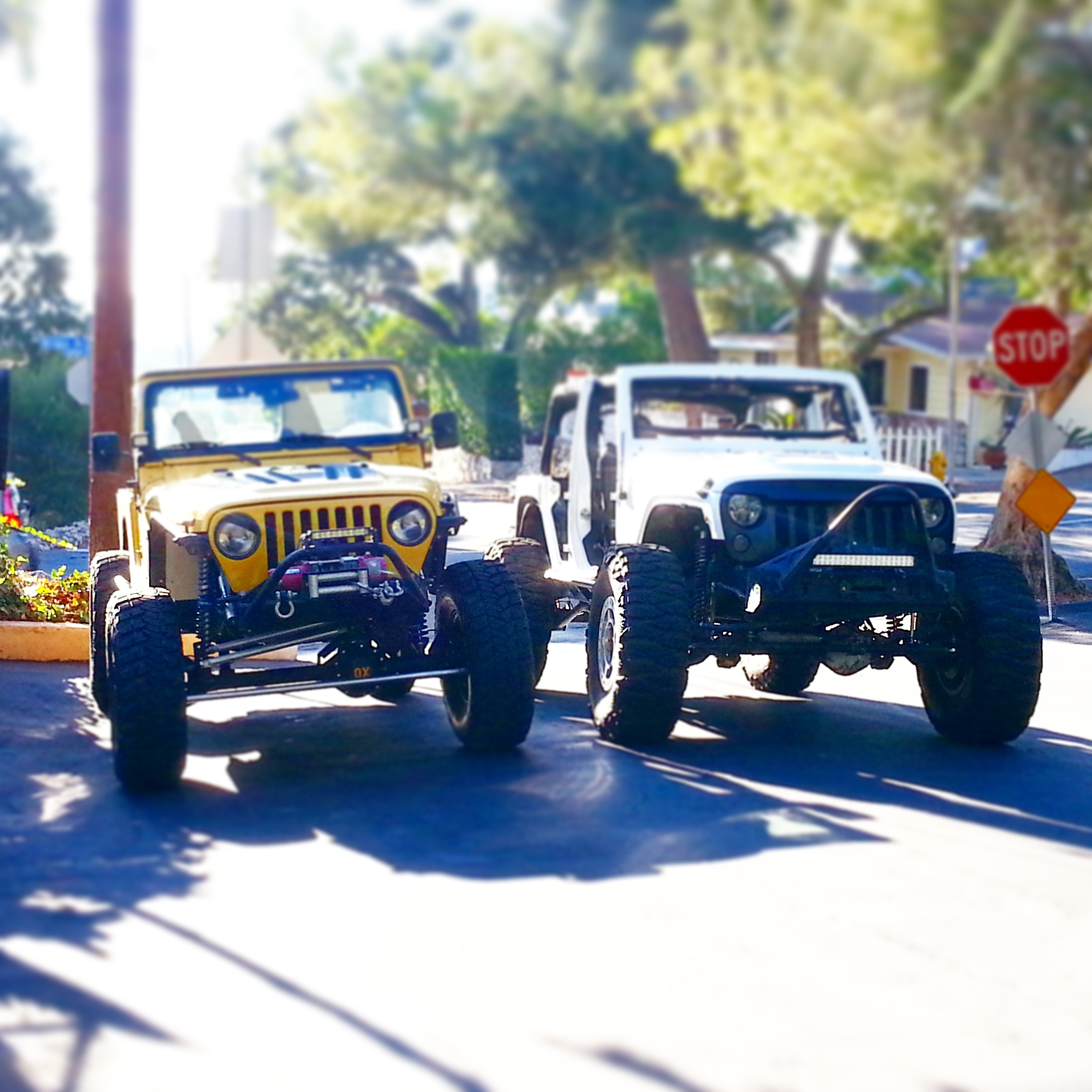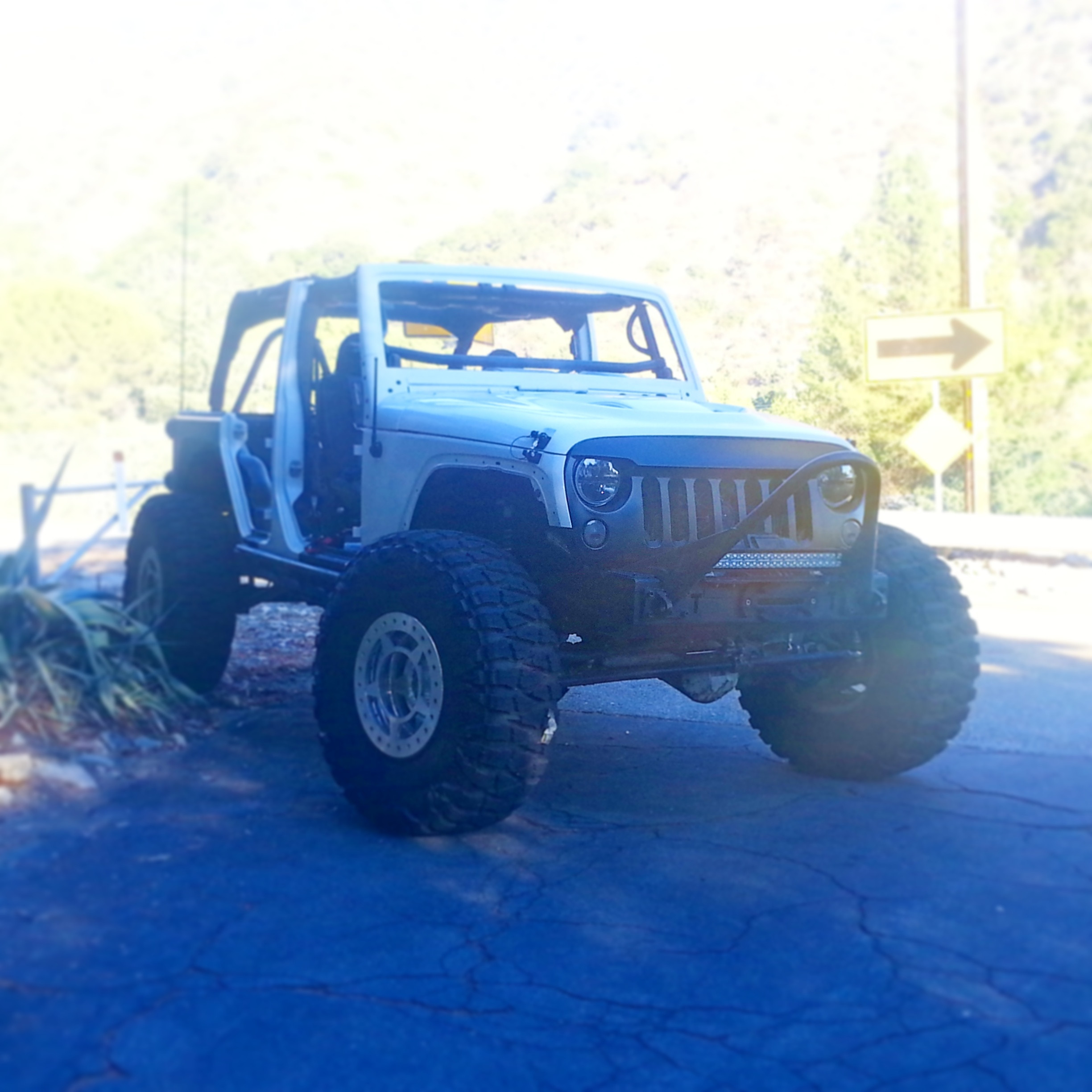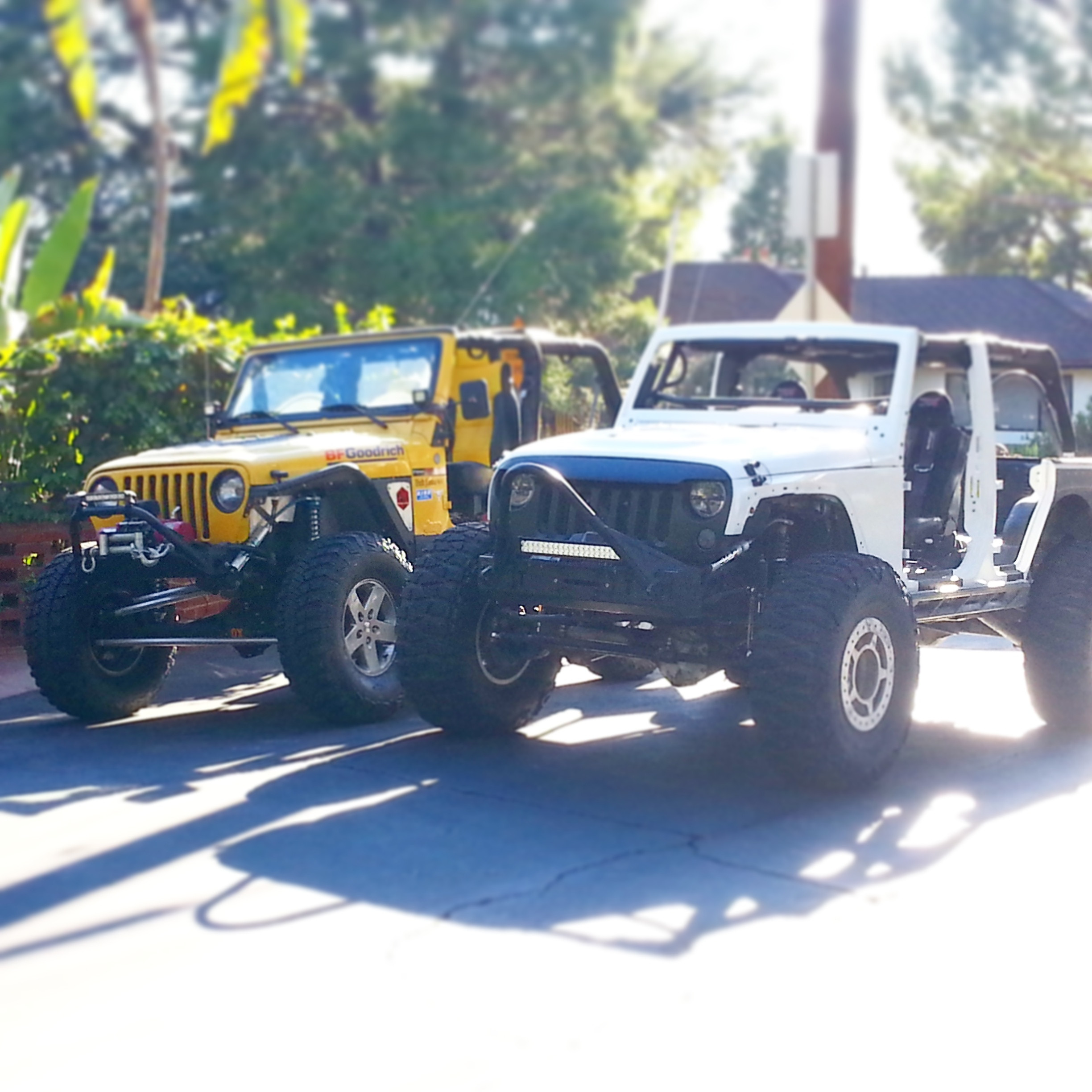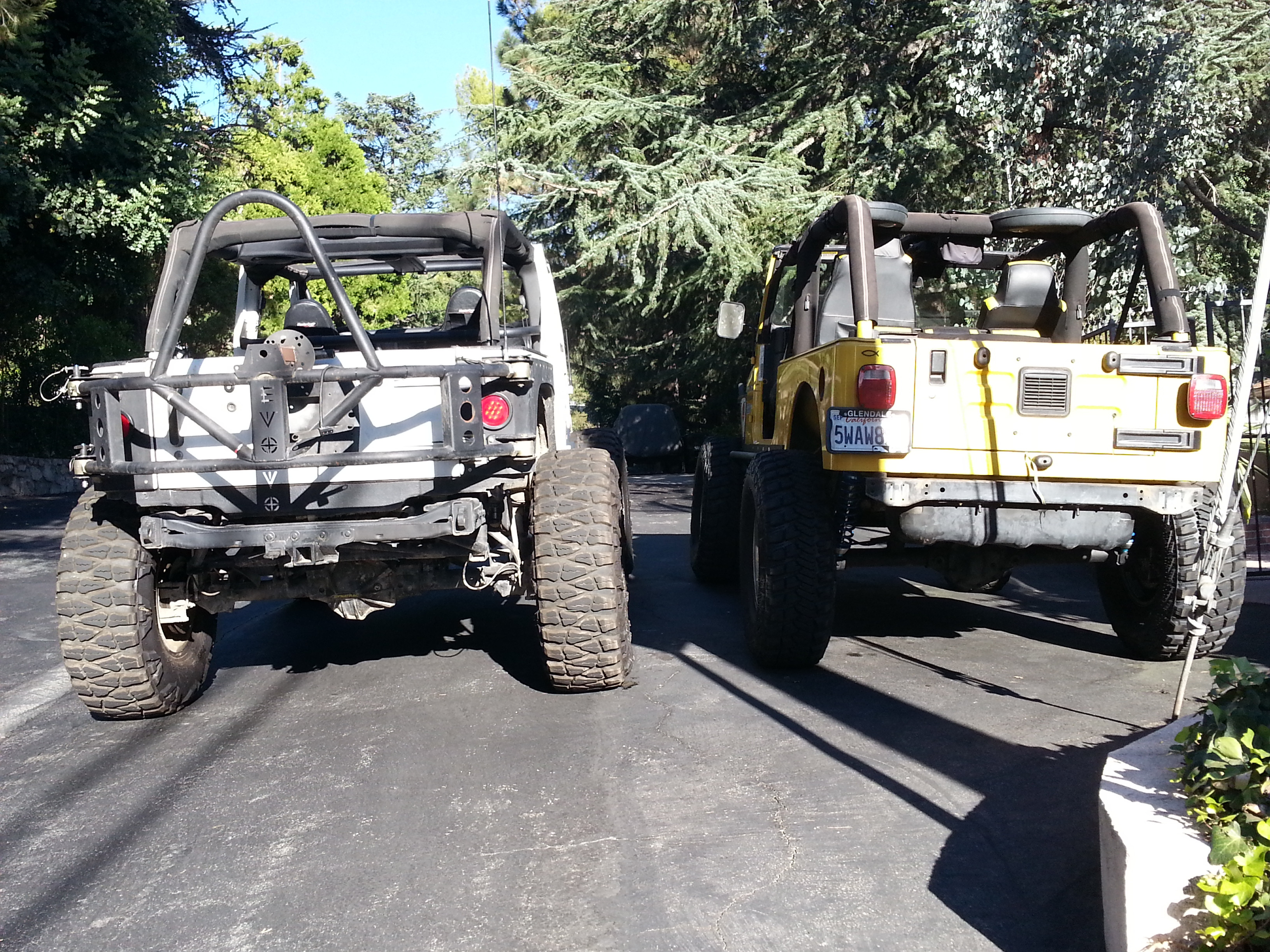 9-27-2014
Today got the SYE in, now I need to take the driveshaft to the DS shop to get it retubed and cut to length. My new DS length is 29.5"
9-28-2014
WHAT A DAY! All I can say is that was one ***** of a SYE install. Spent the whole day today trying to diagnose why my transfer case would not shift into 2HI and into 4LO after the RR SYE. Turns out that I had to chop like 2mm off the fork shaft because the end was rubbing against the new RR tailhousing and not letting the fork connect the gears properly. Why can't things work out the first time...
10-4-2014
Finally got the rear driveshaft in and the 4WD hooked up so I went out to the this dirt patch in my town to get some poser shots and test out the suspension. Couldn't find a rock bigger then that so I couldn't get my coilover all the way collapsed. Also my rear tire rubs my coilover so Im going to need 2" spacers until I can get some beadlocks. Also stopped by 4wheelparts and picked up a set of RE quick discos that I will be hooking up to my stock swaybar up front so I can drive on the freeway without feeling like im about to die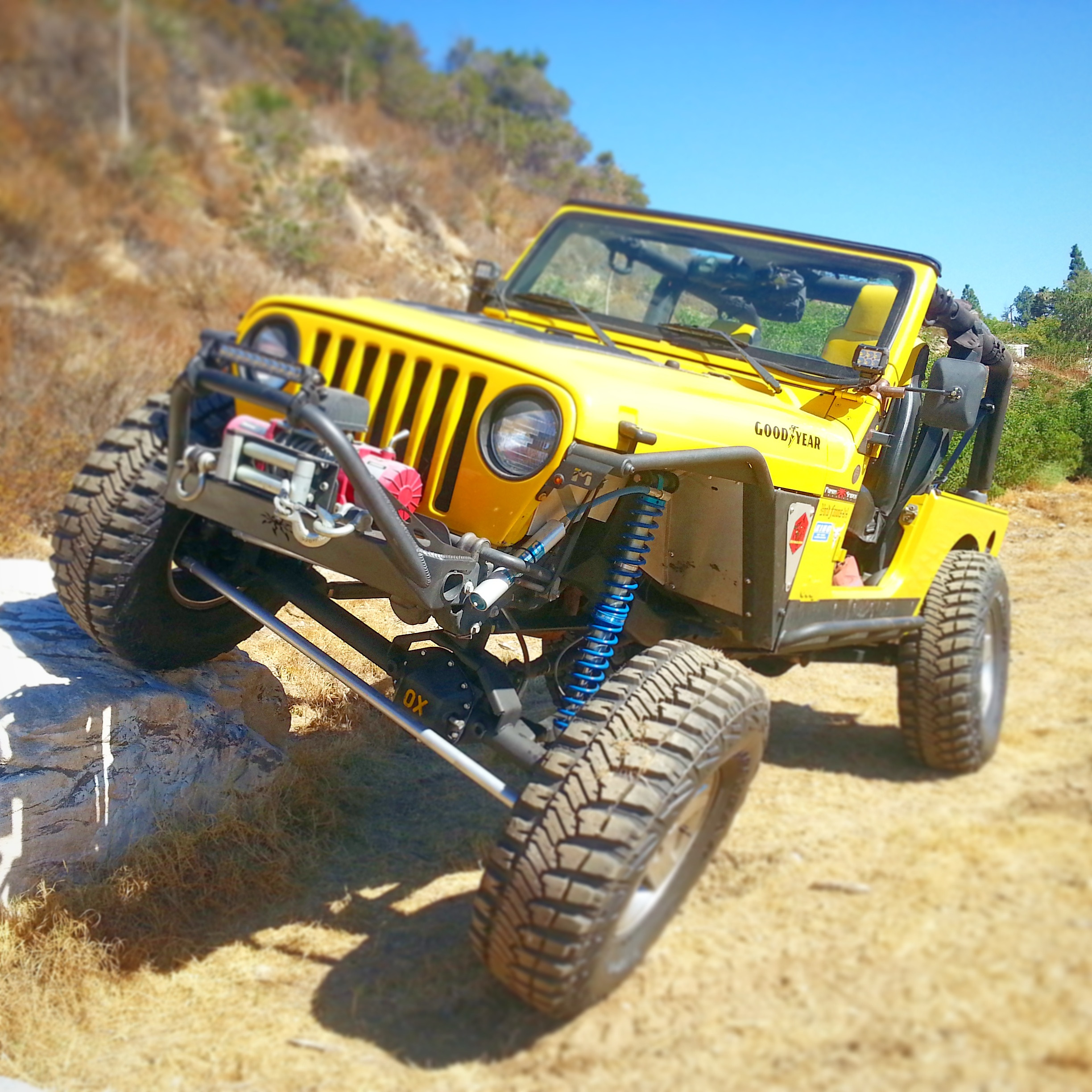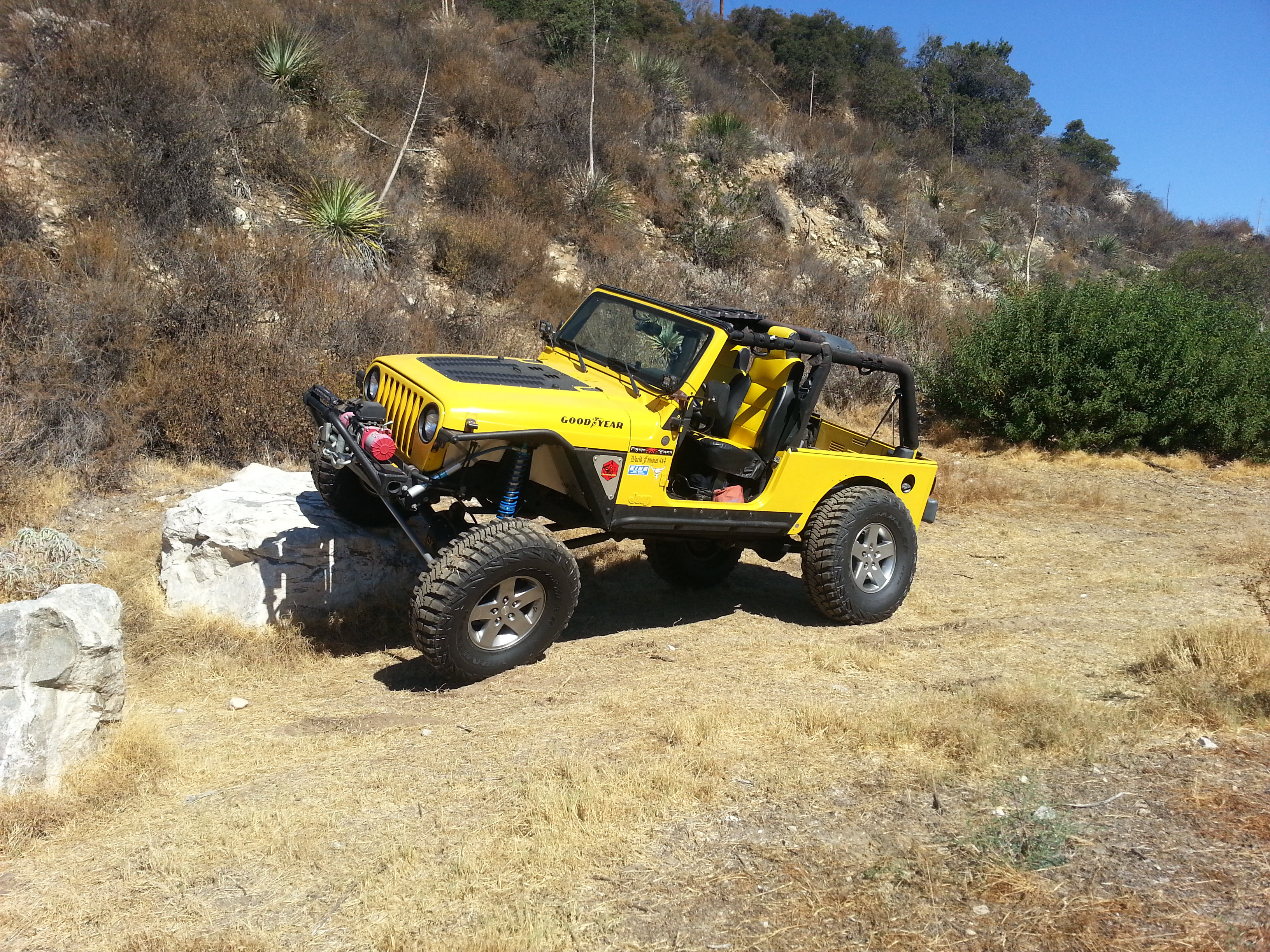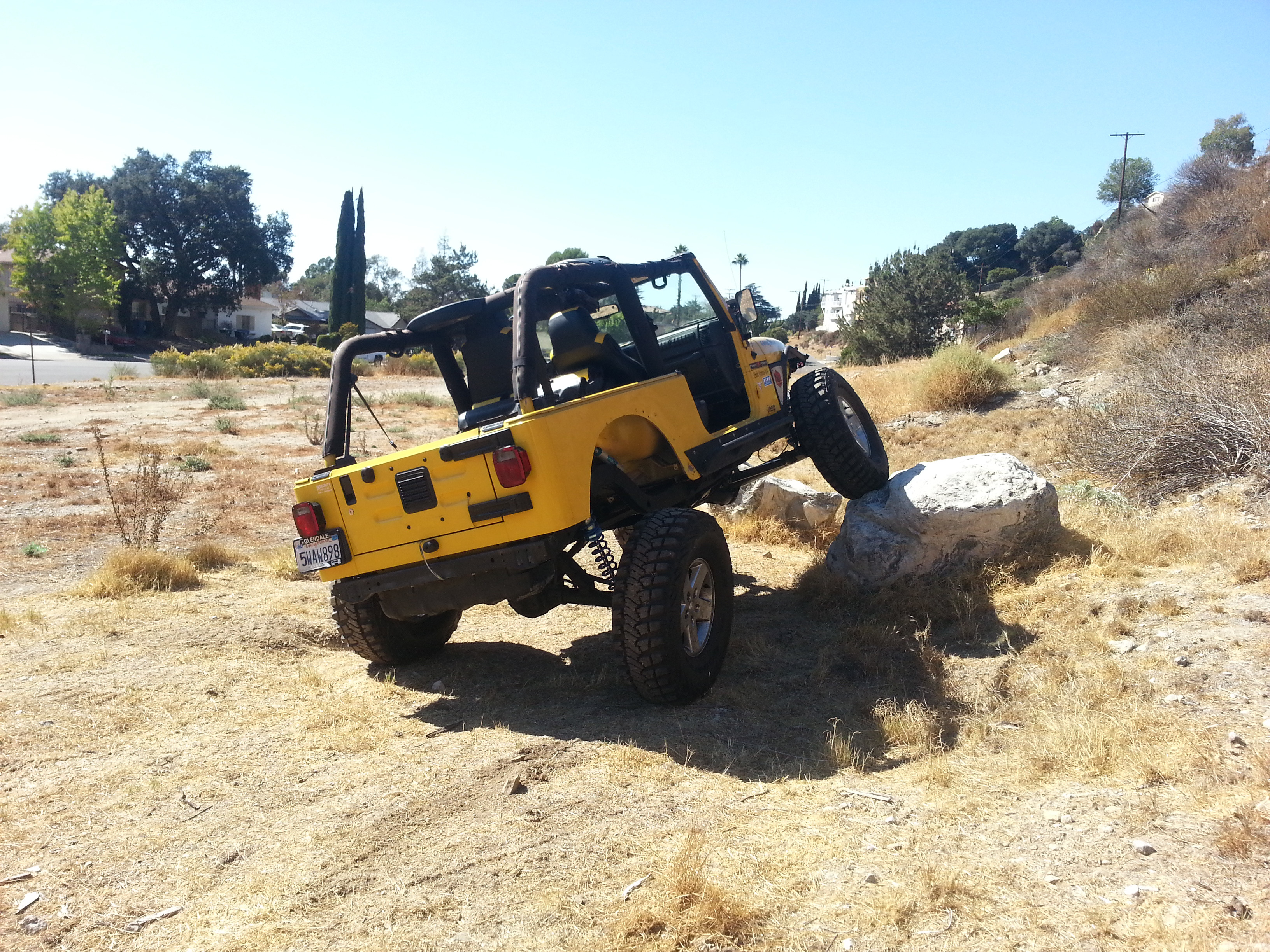 10-10-2014
Some more poser shots because why not! Also found a small issue with the front coilovers. In the first picture you can see that there is still room in between the tire and the fender, however my coilover on that side is bottomed out. Im going to have to raise up the the tower by about 2" to gain more up travel. Also I need to redo my frame side trackbar mount to lower it down a bit so it is on the same plane as my drag link, once I do that my steering geometry should be perfect.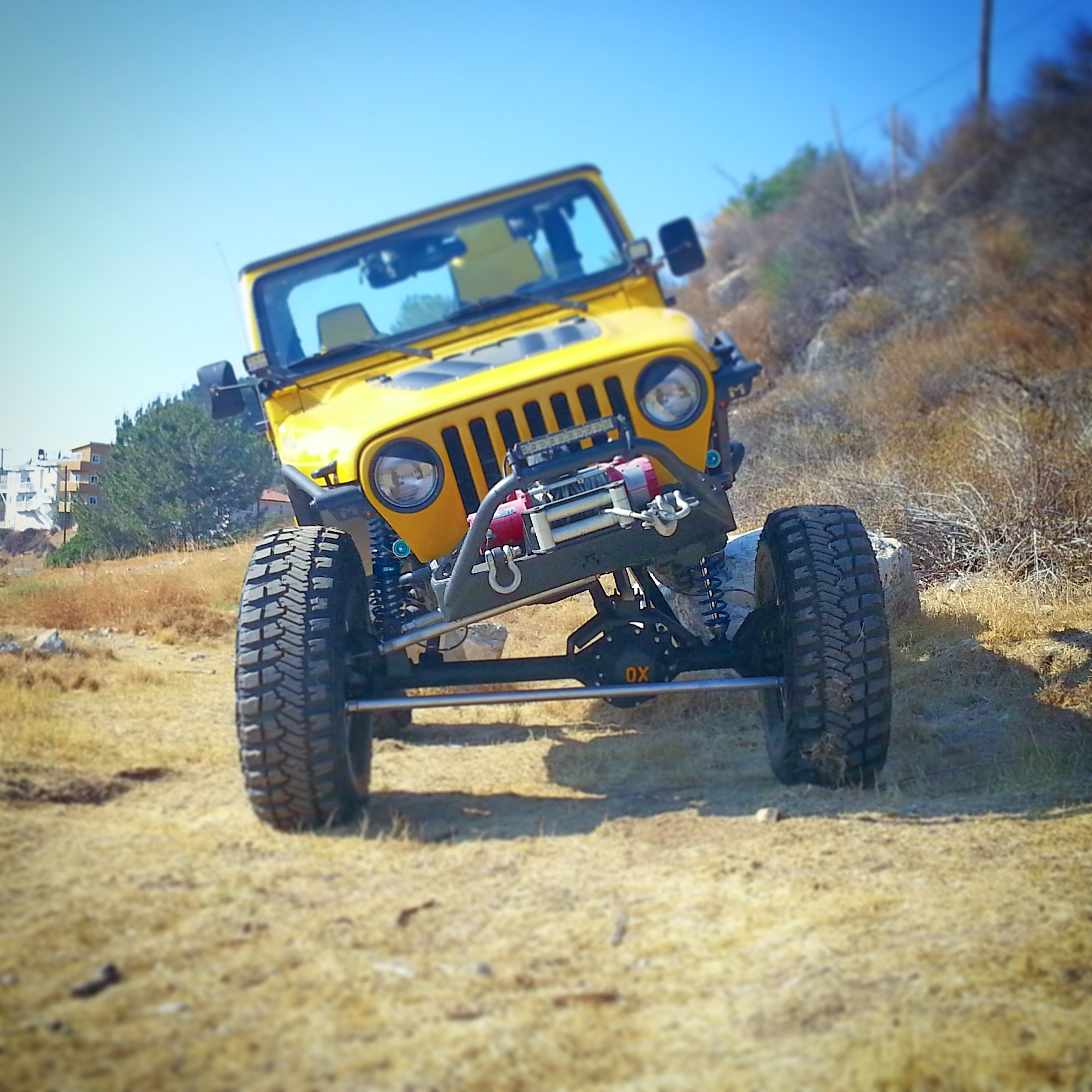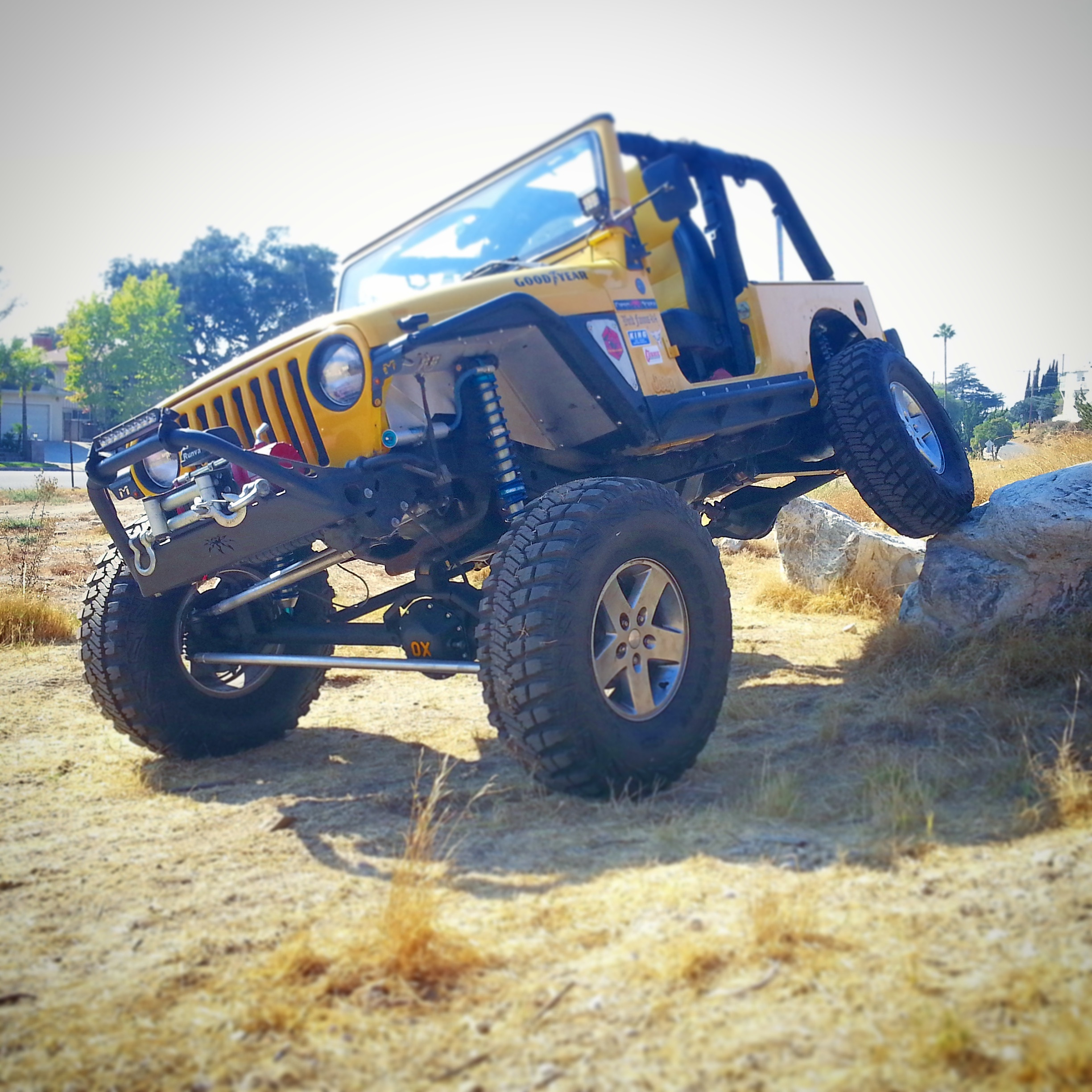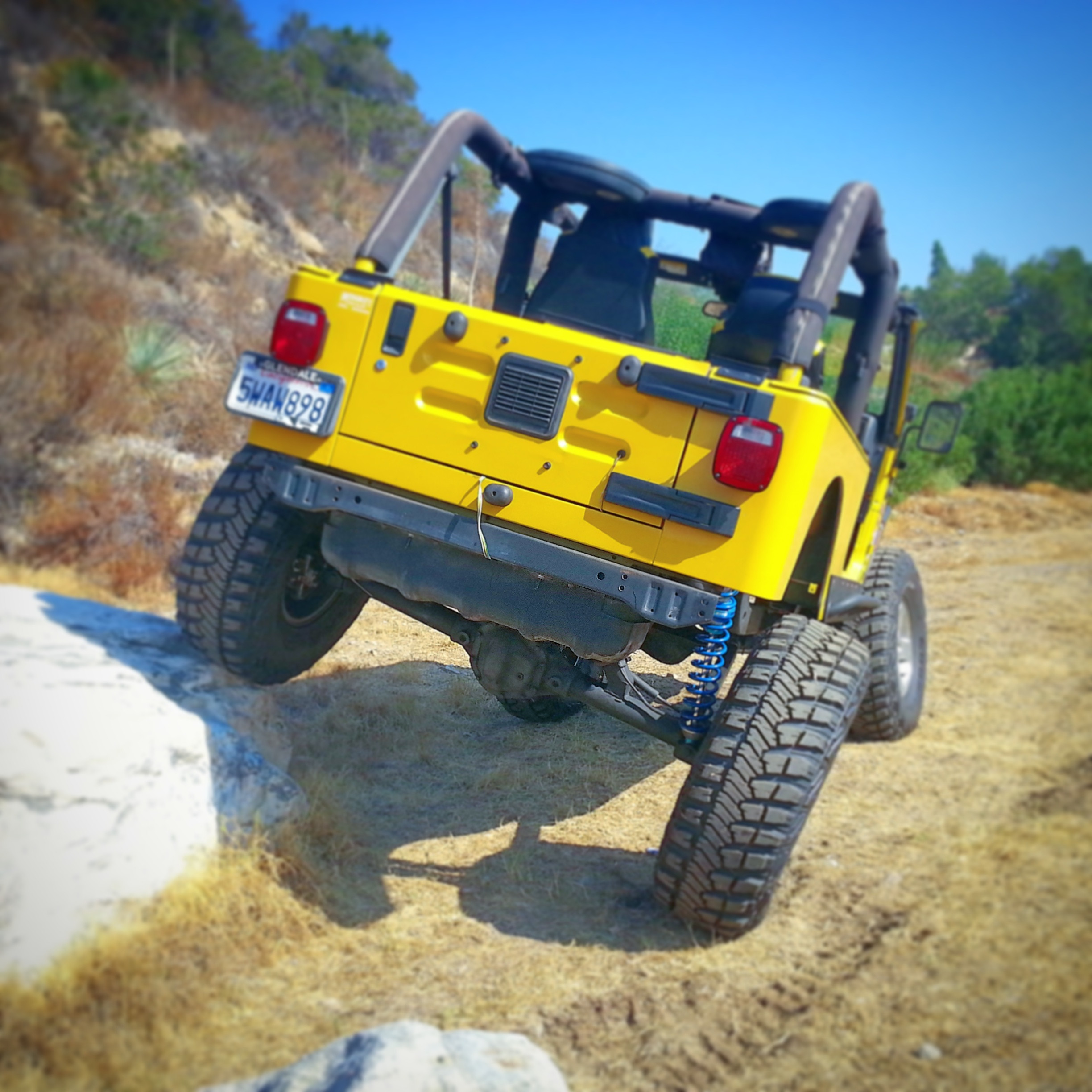 10-31-2014
Its been getting cold lately and since my old top that was 10 years old finally broke, I decided to order a new one from Bestop. I put the doors back on and installed the top and all I can say is im impressed. It is a tight fit and there is almost no sound issues while driving, nice quality top. Also on another note, I stopped by Poison Spyder Customs today to pick up my daddy long leg crusher corners that have the 4" stretch and bigger wheel well opening. They had quite a lot of products ready to be loaded up and shipped.
So here is my list of essential things that needs to be finished before I can go wheeling:
Front coilover tower needs to be raised 3-4" (Not enough shaft showing)
Front sway bar axle-side brackets need to be made (Highway driving is scary)
Frame side track bar bracket needs to be lowered 1-2" (Slight bumpsteer)
Front Locker engager needs to be installed
Order 2" wheel spacers to clear my offset tie rod (Tie rod scraping rim on turns)
Some non-essential things that I need to do soon:
Install crusher corners
Convert my rear tailgate to a swing down
4" Rear LED lights
Budget bumpstop cans (Convert to hydro later)
Swap out coilover springs (stiff ride atm)
Go wheeling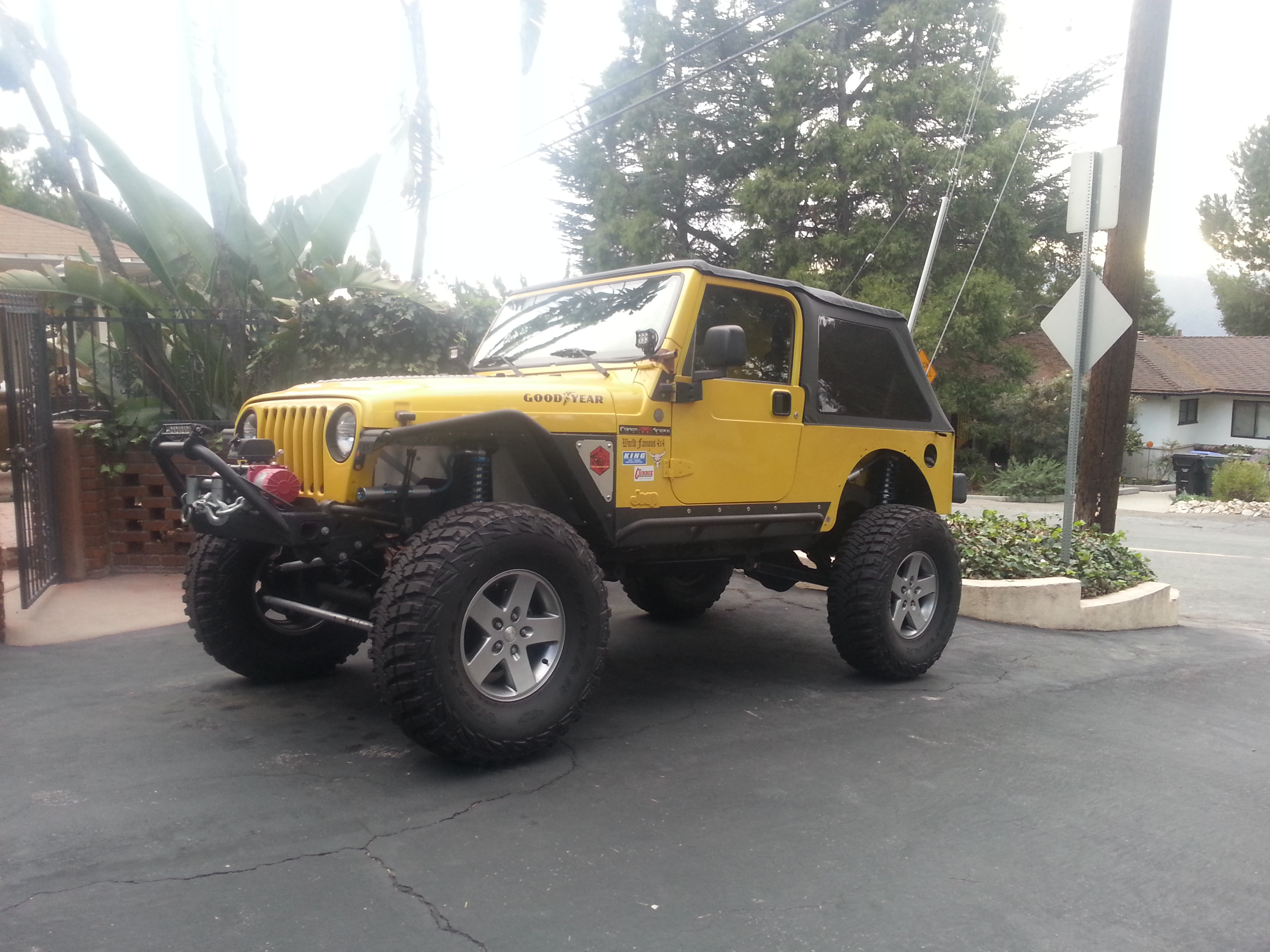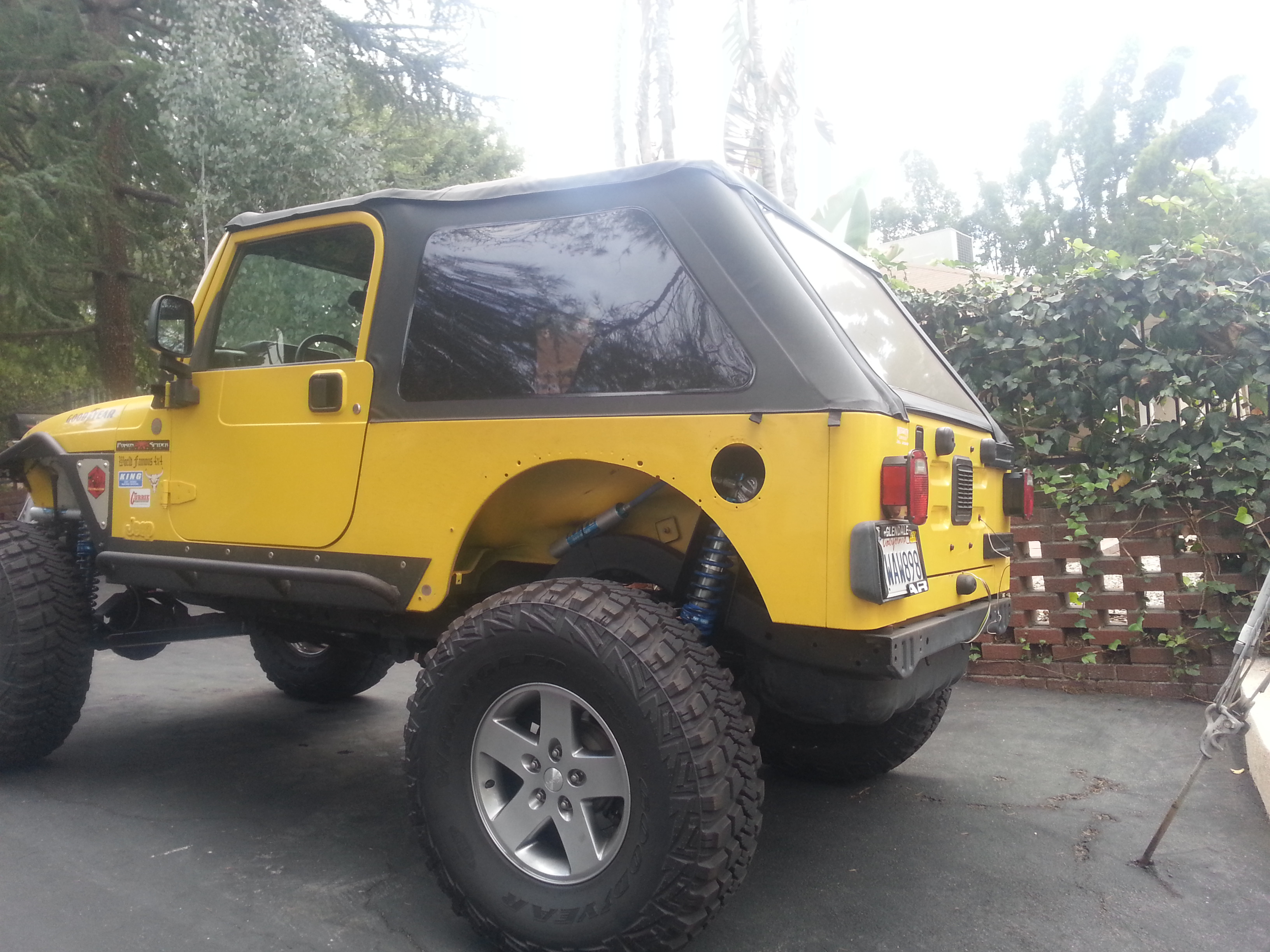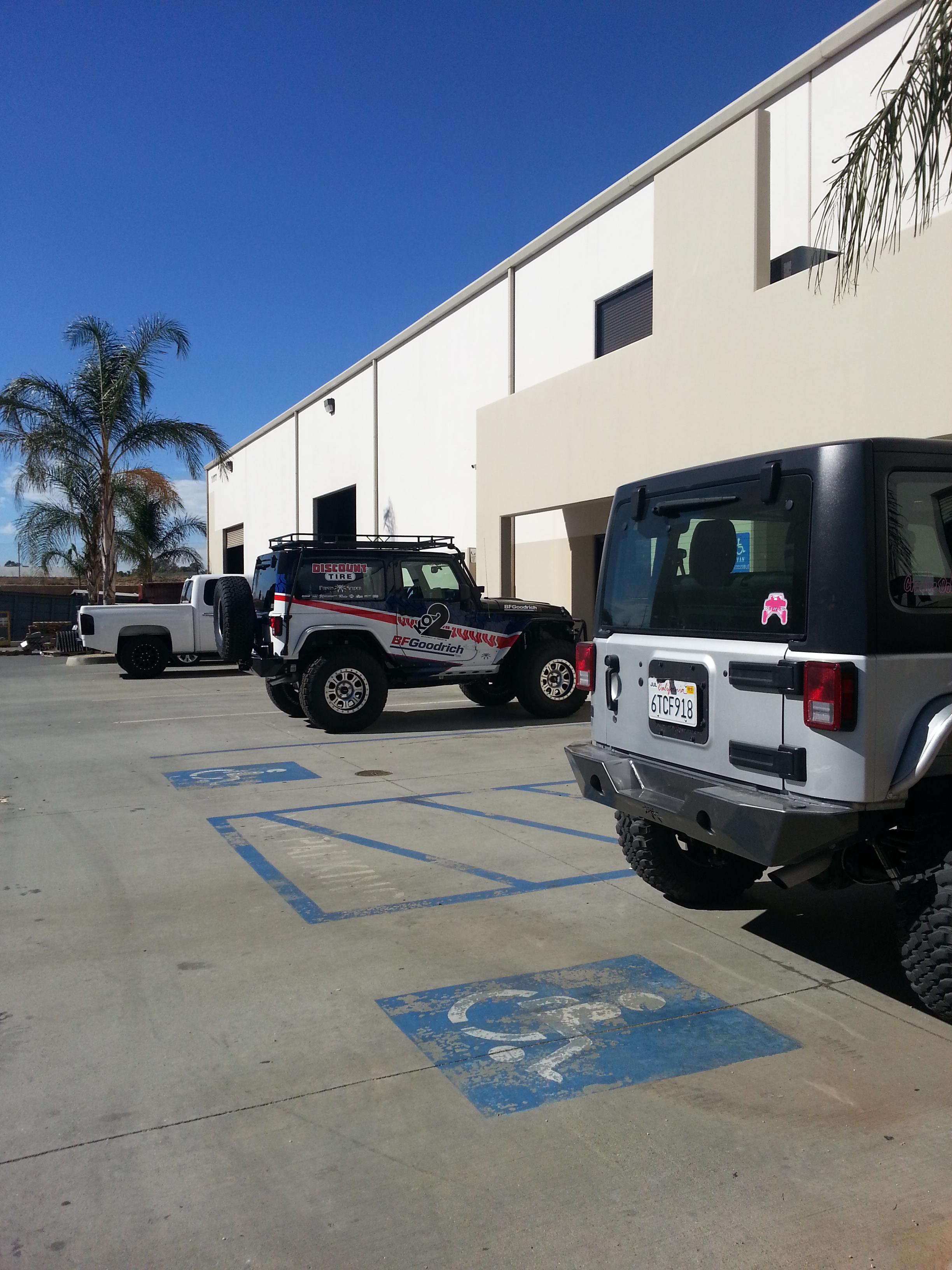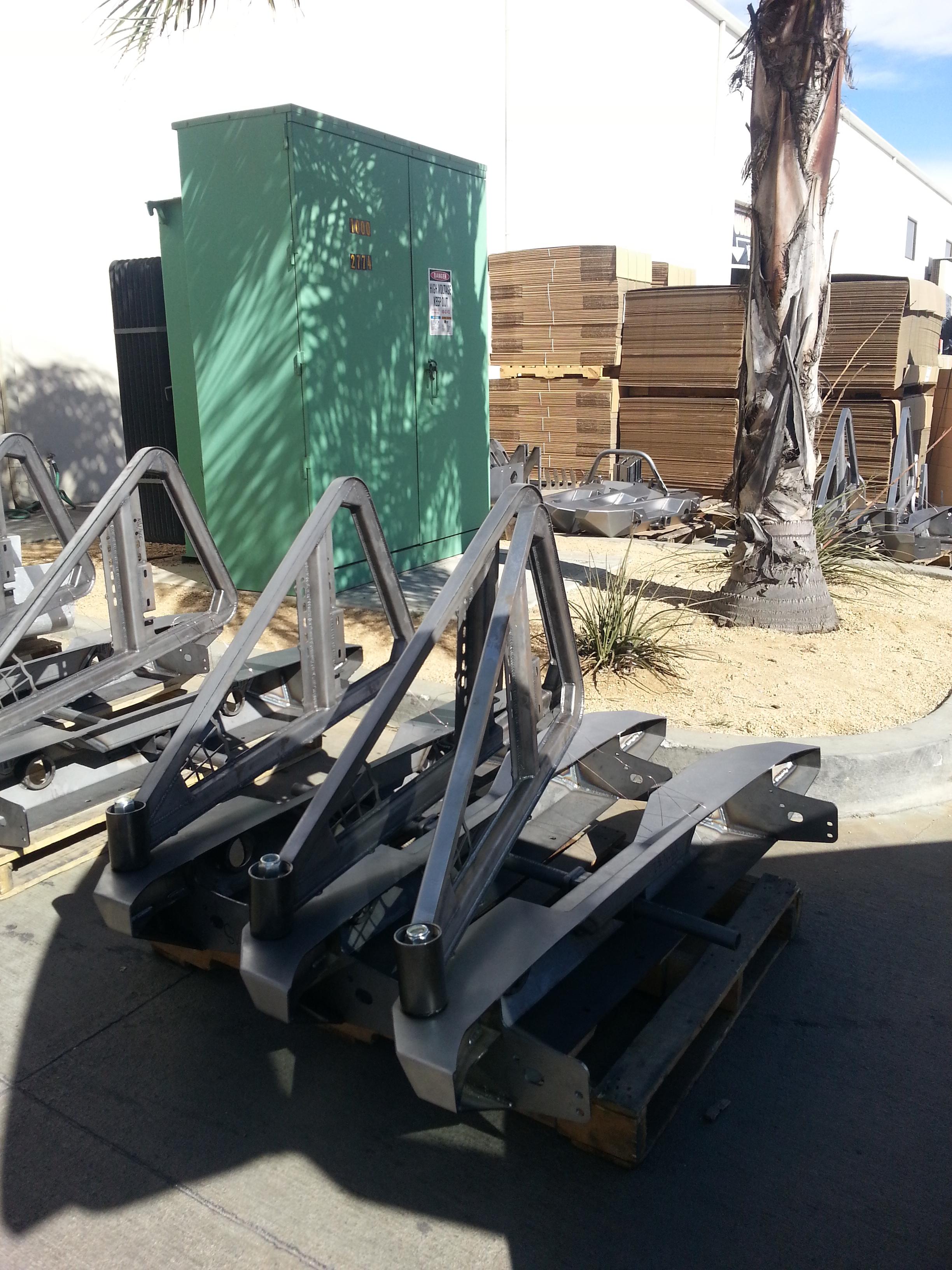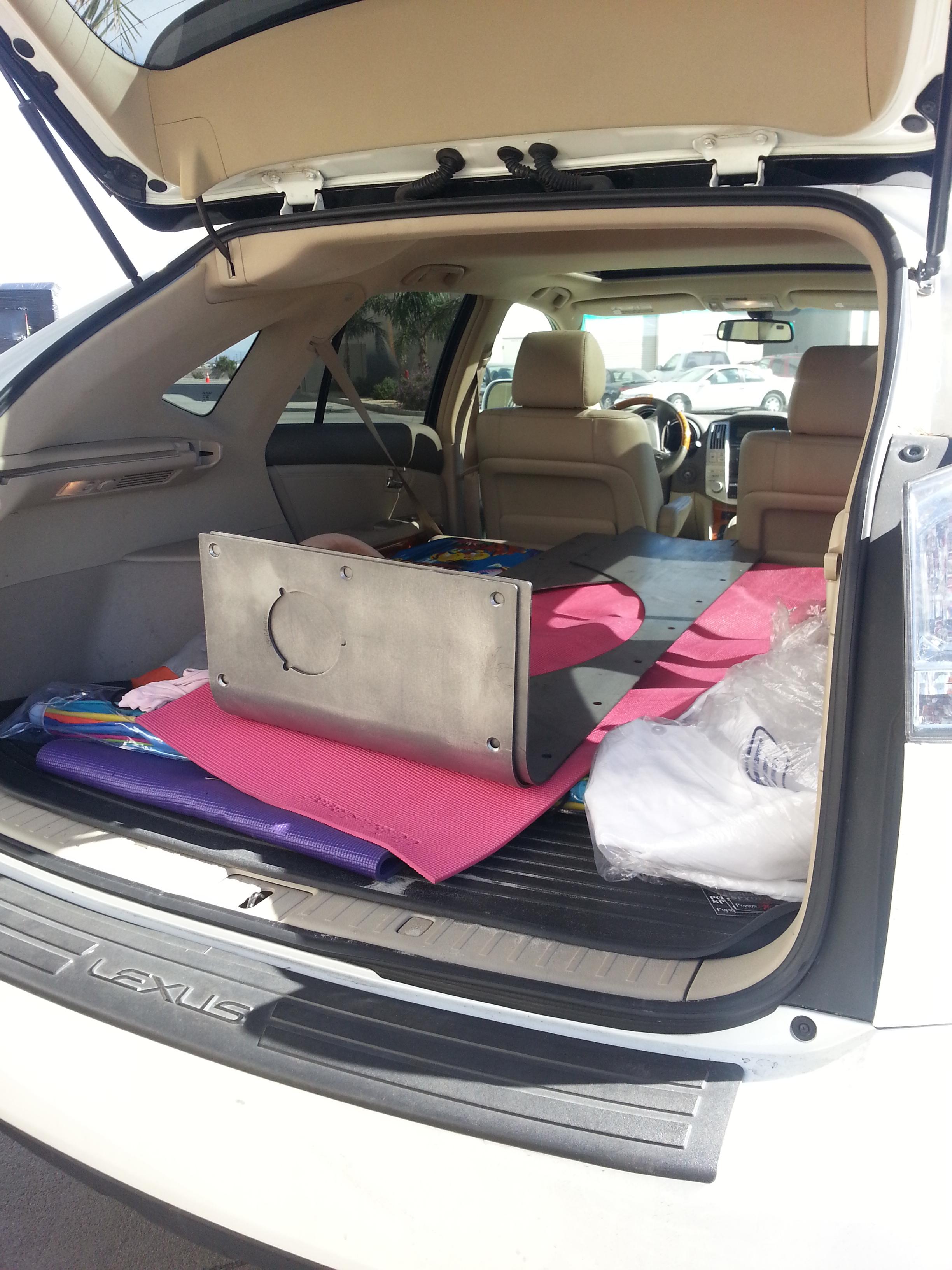 11-16-2014
This last week I got a delivery from Poly Performance and Ruffstuff. I ordered the poly performance sway barbrackets and ordered some shock tabs off Ruff Stuff. Im going to have to cut up the poly brackets a little to make it work for my setup; my passenger side sway bar link is going to go in between the drag link and tie rod, VERY tight fit. Also im going to have to cut off the old shock brackets on the axle and put in these new tabs so the shock sits about 3" lower on the axle tube. This way I will be able to have more usable up travel as my coil over was limiting my up travel severely.
Also started putting in the PS stretch corners and the CJ tailgate.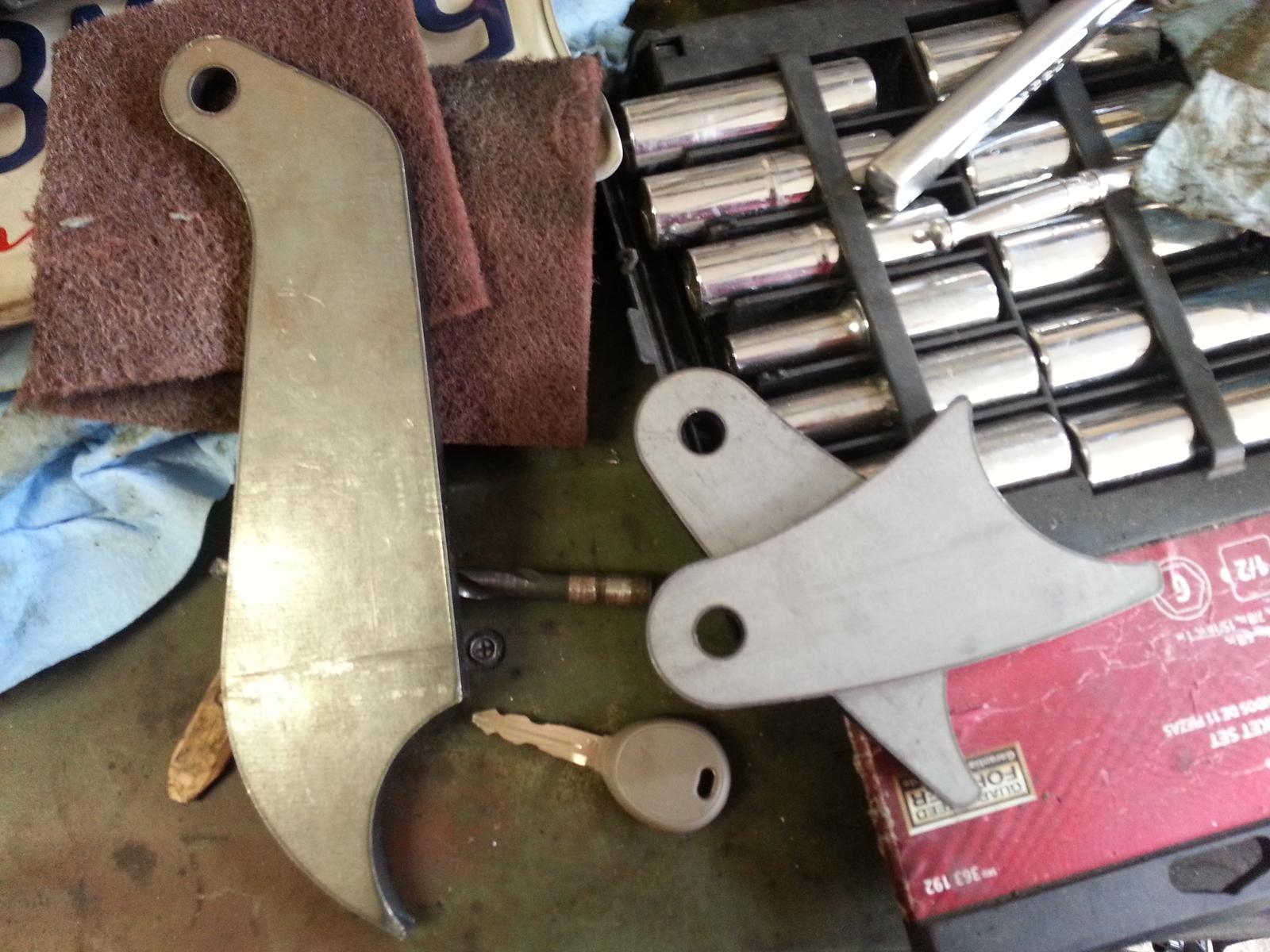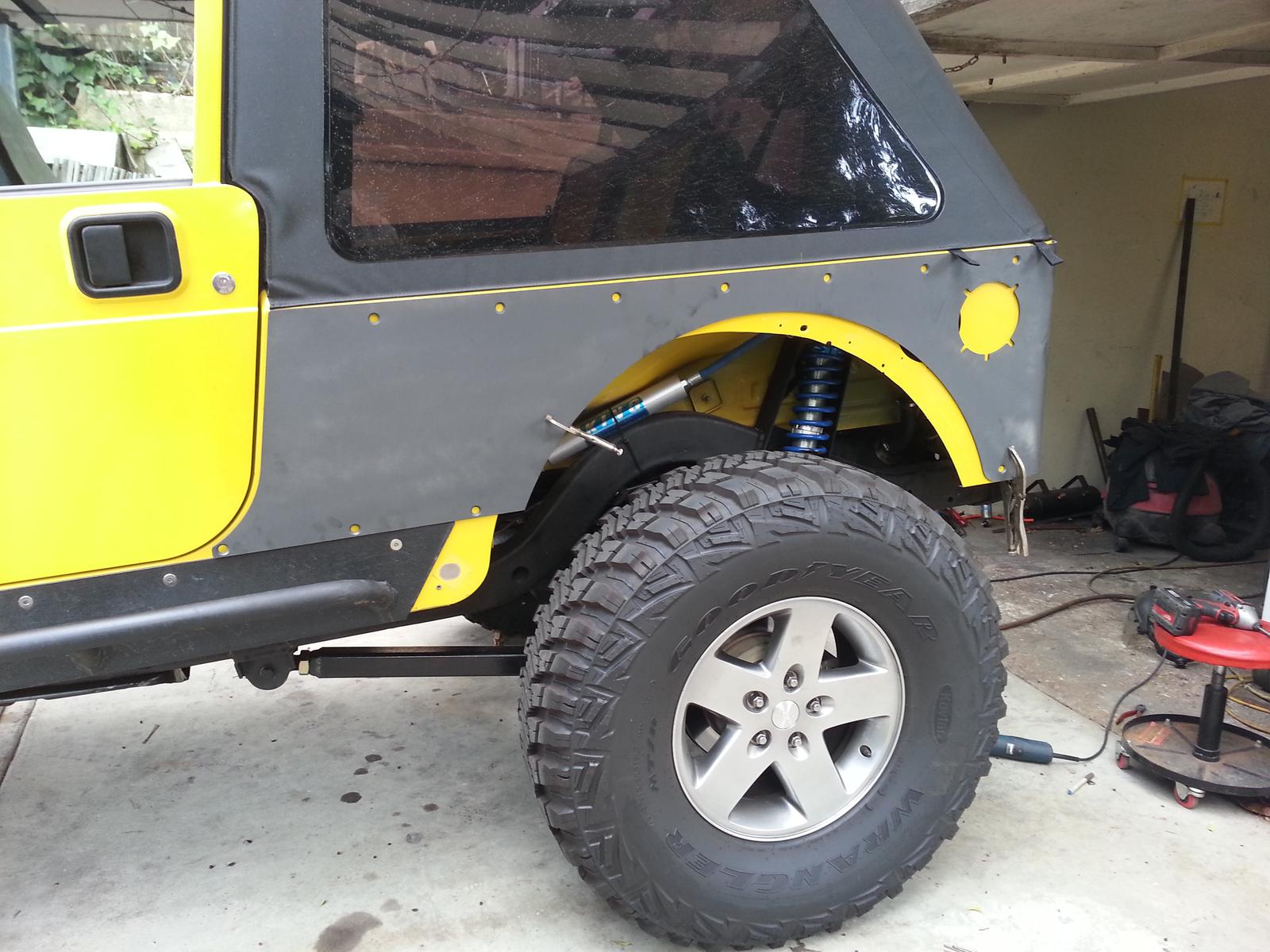 11-16-2014
Got the stretch corners on, got the CJ tailgate on, and got in the LED tail lights. The corners lined up perfectly with the ****tybuilt sliders which was a surprise. Picked up a CJ tailgate from a jeep junkyard with all the hardware for FREE! The owner of the junkyard gave it to me because I had been going to his place for all my replacement parts. Once I get my PS tramp stamp that goes under the tailgate, Ill take the tail gate off, blast it with a fresh coat of paint and the rear will be set. Now I just need to wait until my grandpa doesnt need his 220v welder so I can weld up my new coilover brackets and swaybar brackets.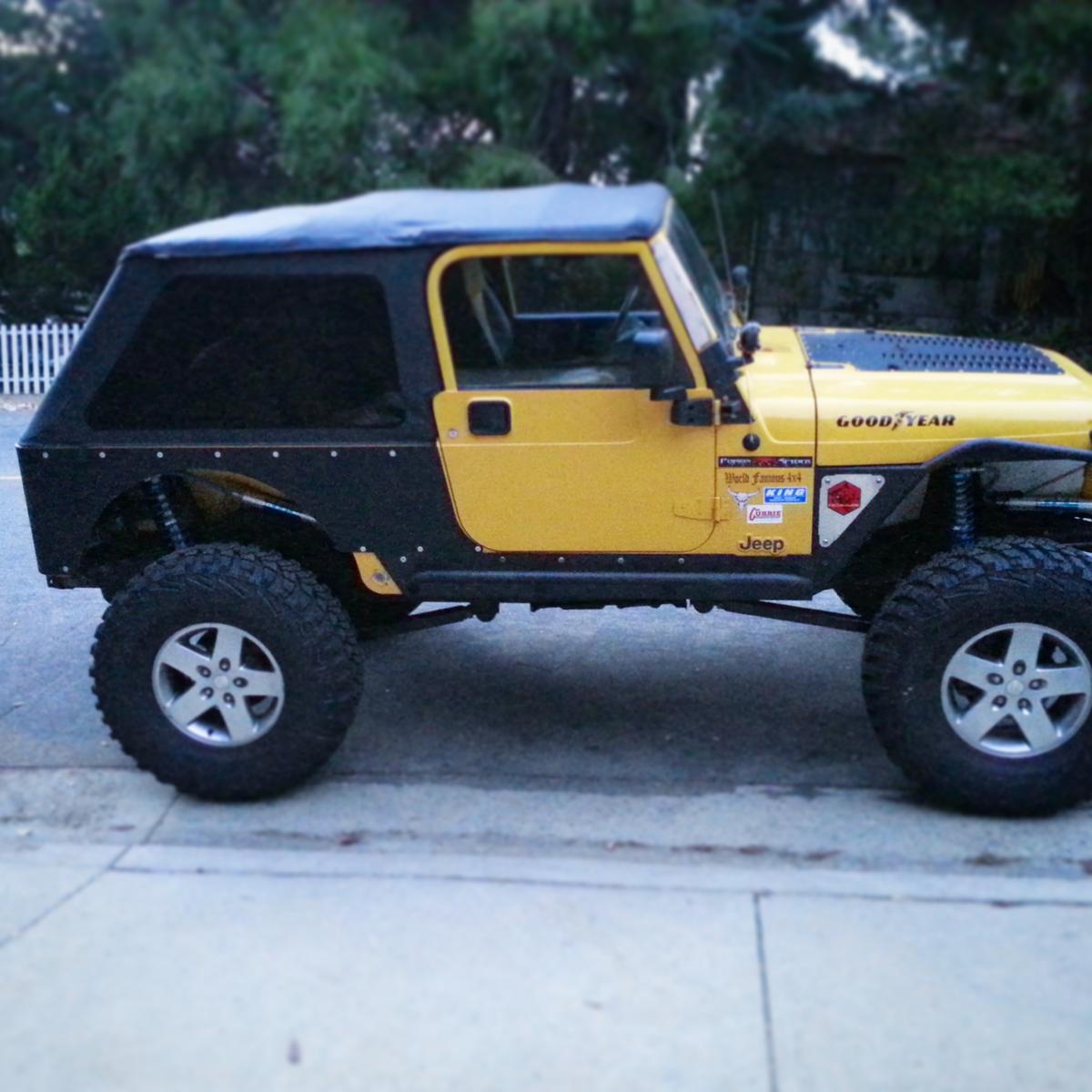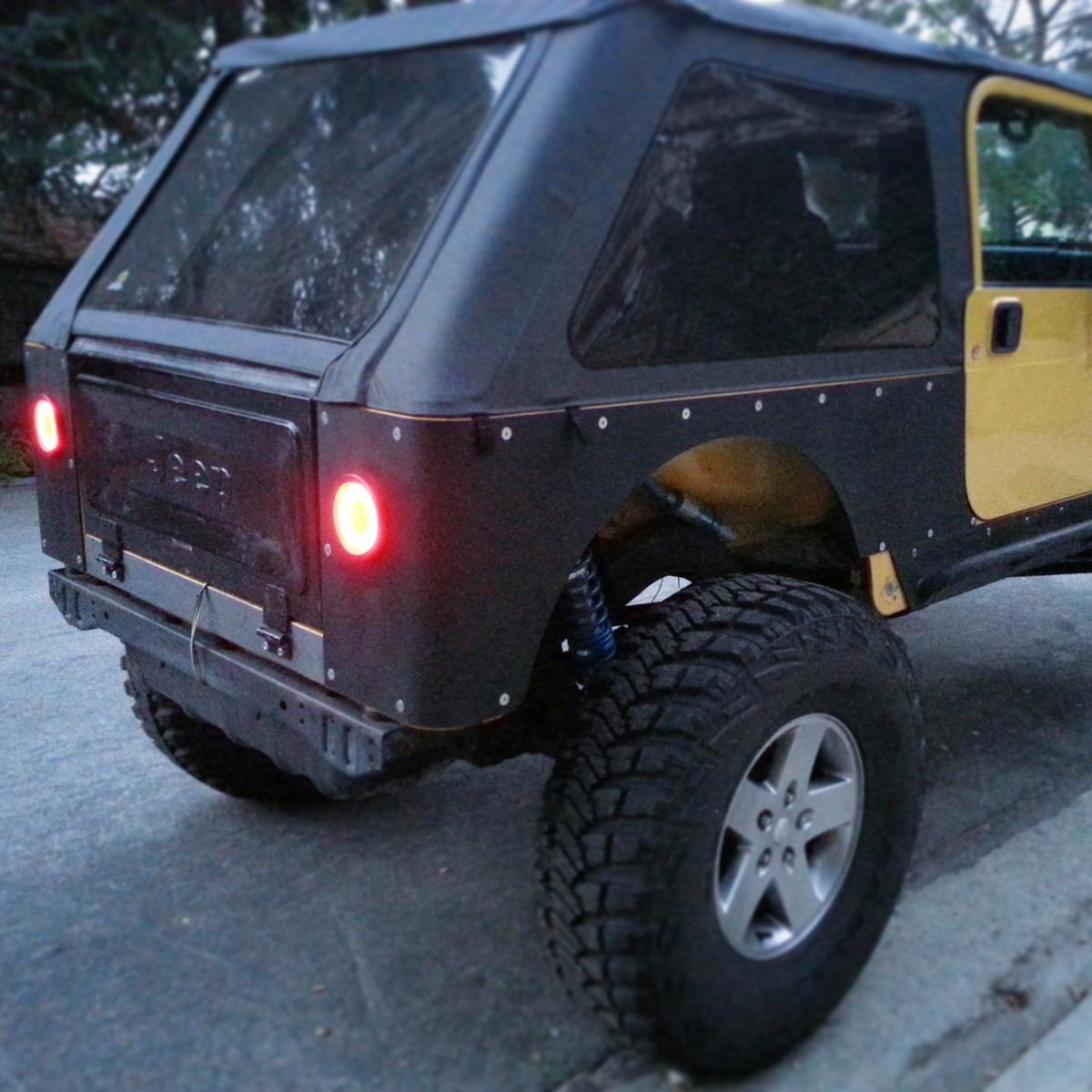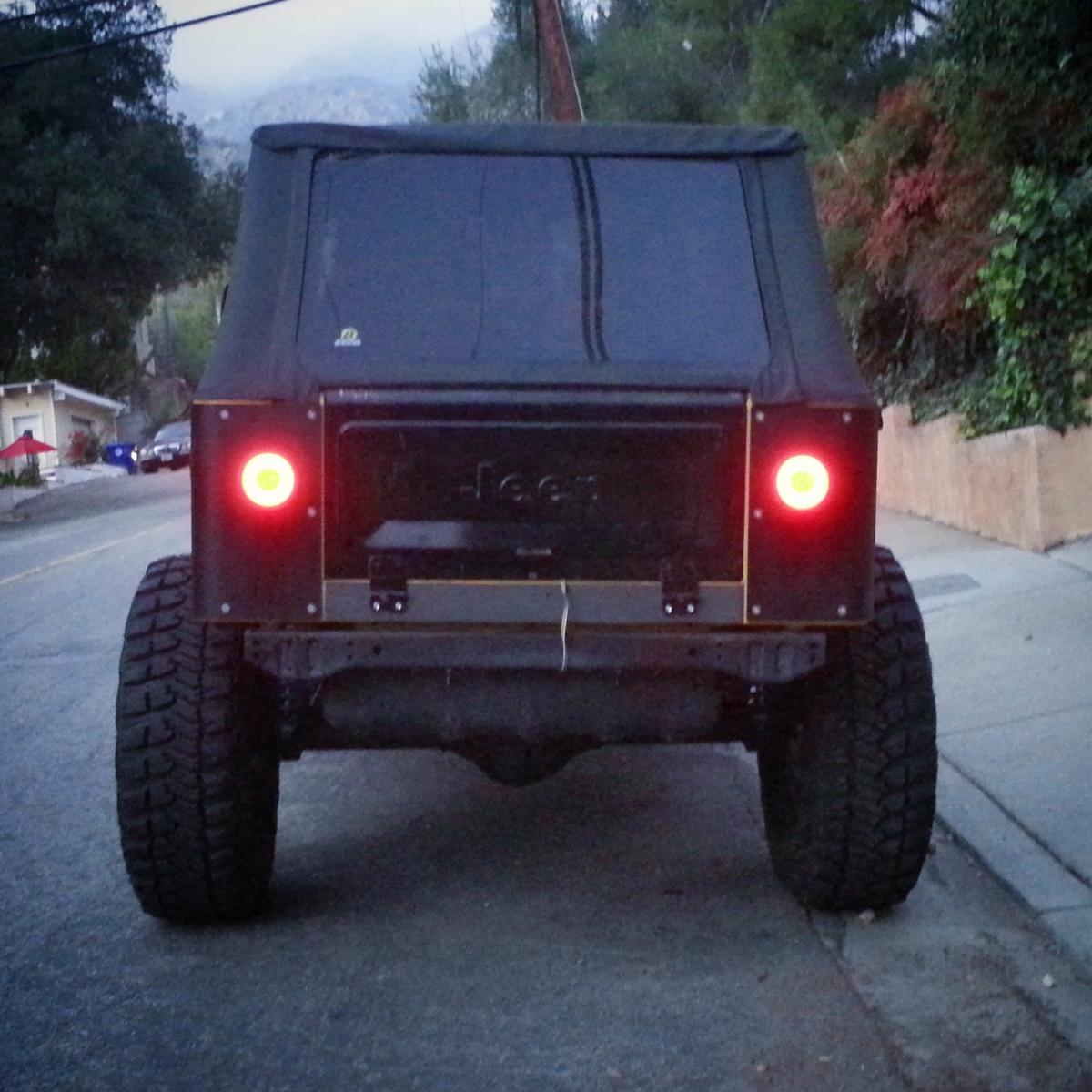 11-21-2014
Today the 2" spacers I ordered came in. Decided to put them on and go flex out the jeep at the "rock" in my neighborhood to check the rear corner armor clearance and the rear CO clearance.
It looks like my rear axle needs to go back a hair more so its lined up in the wheel well. As it is the only thing that still rubs under full flex is the rear CO, and only by a very small amount.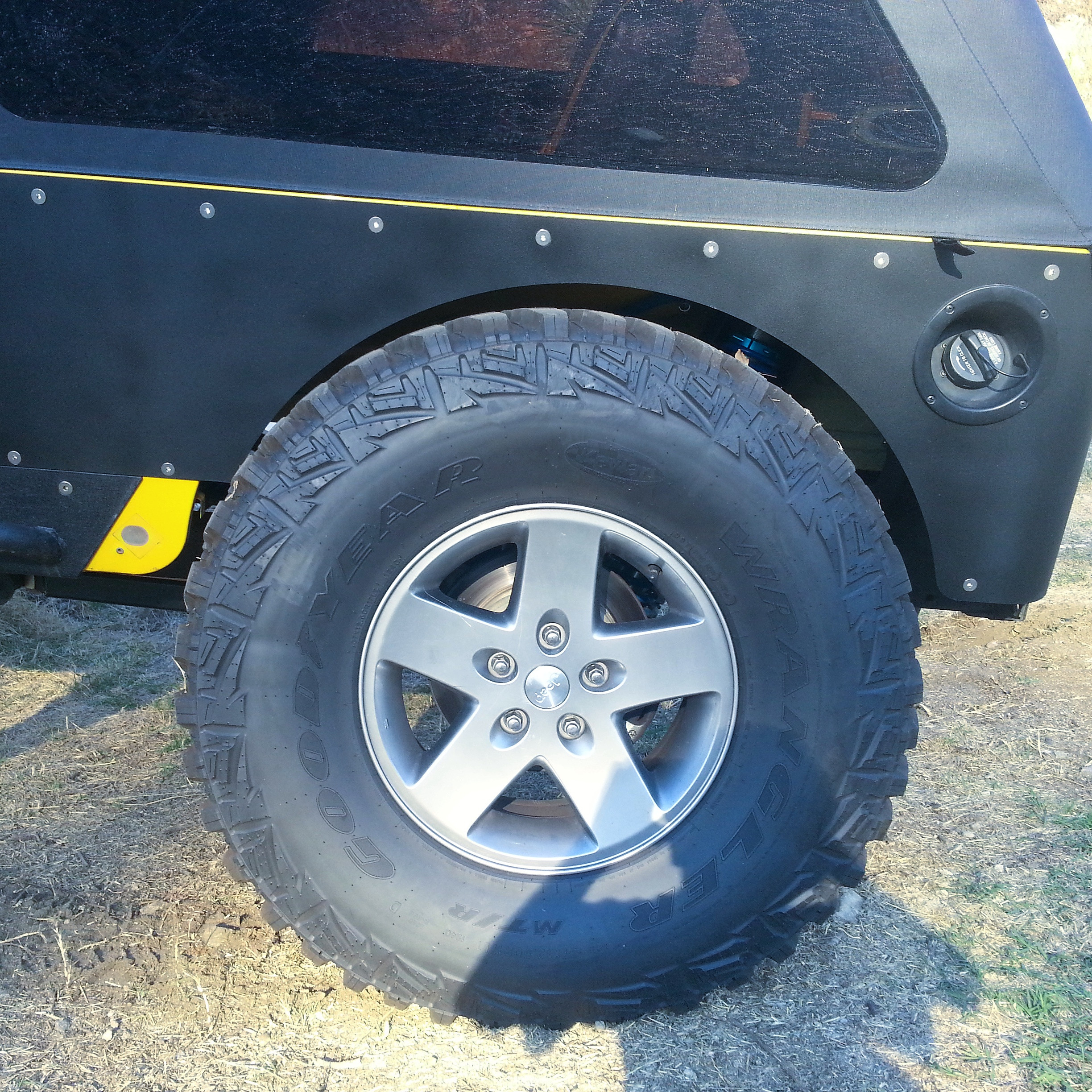 11-22-2014
So my driver side front axle seal has been leaking gear oil for a while. I took a look at the axle when I had the tires off and noticed the driver side axle was bent. That mall crawling really put stress on that axle

11-24-2014
Today I got a nice find off CL. Purchased a set of front JK rubi shafts with only 50 miles on the u joints. Ill switch out the bent short side with the new OEM one and keep the long side and slightly bent short side as spares for me and my dads JK.
11-26-2014
Spent the past two days working on the jeep. I lowered the coilover mounts to get more uptravel, I reworked the track bar, and added in front sway bar mounts.
I reworked the track bar so now I have 0 bumpsteer. Before my steering geometry was out of whack so I had torque steer and bumpsteer. Really happy with how it came out. Also since I reworked the front coilover mounts, I have full 14" travel with nothing that binds.
I can finally drive fast on the freeway. All that is left to do is swap out some CO springs and the suspensionshould be perfect.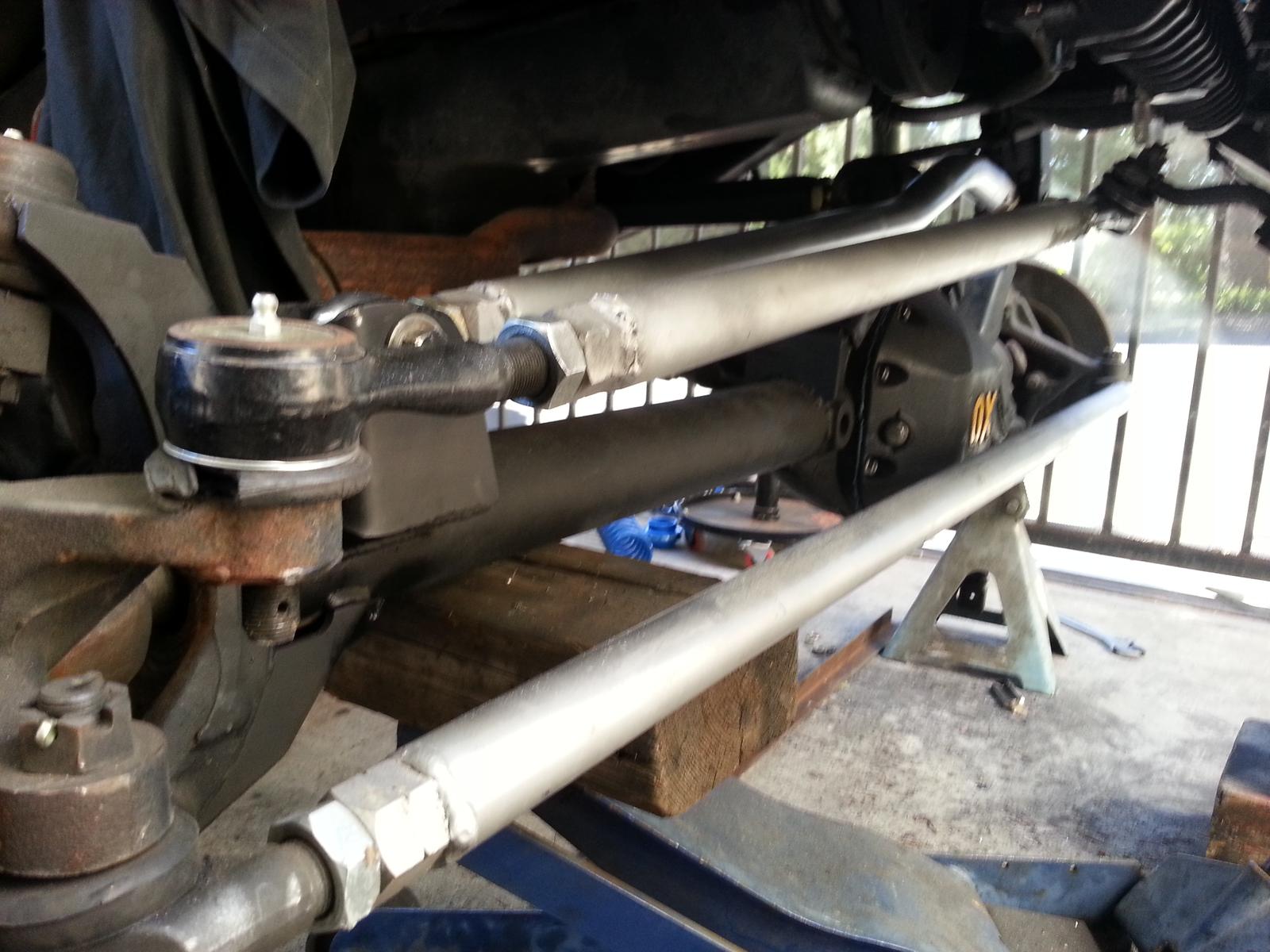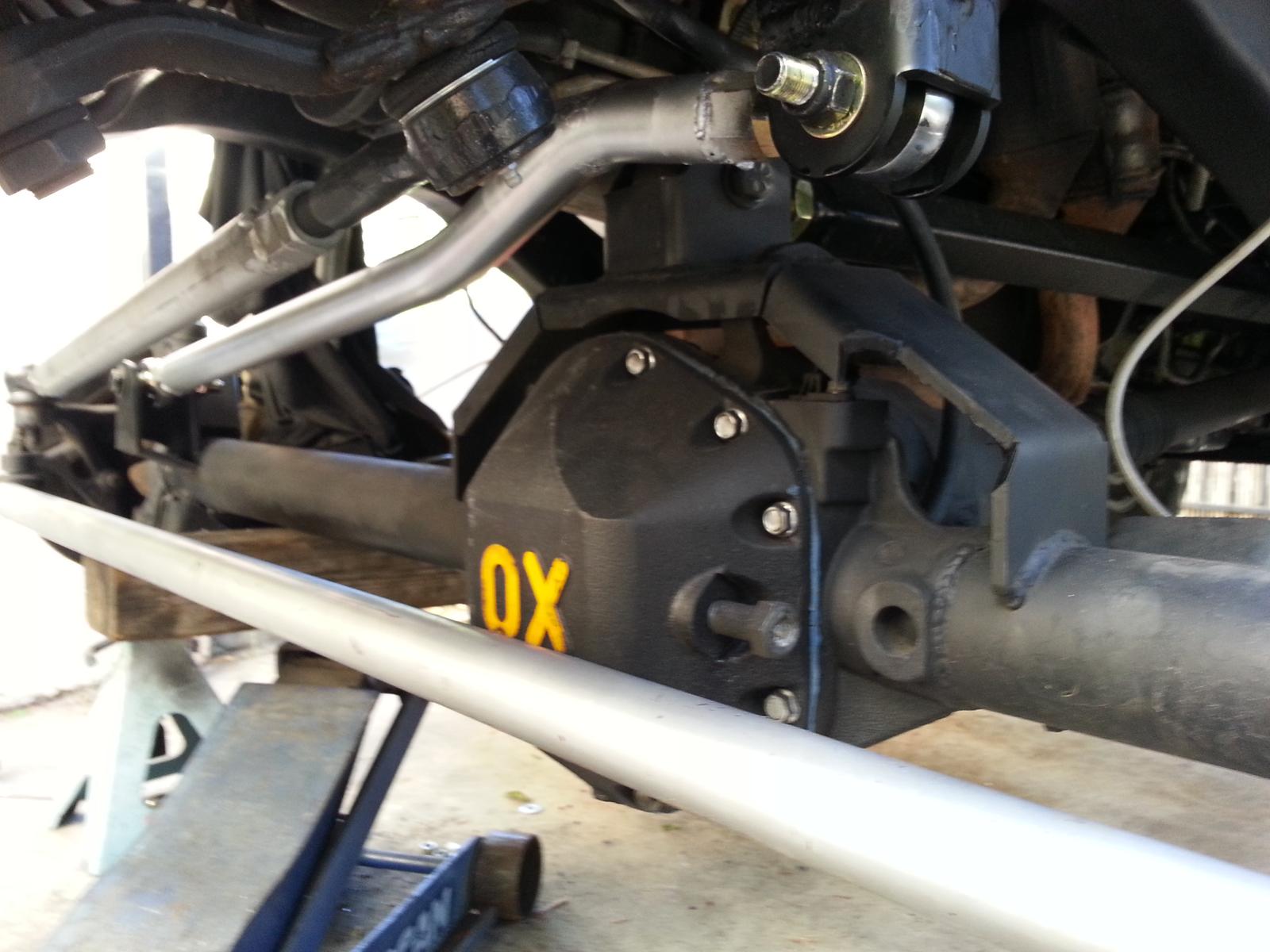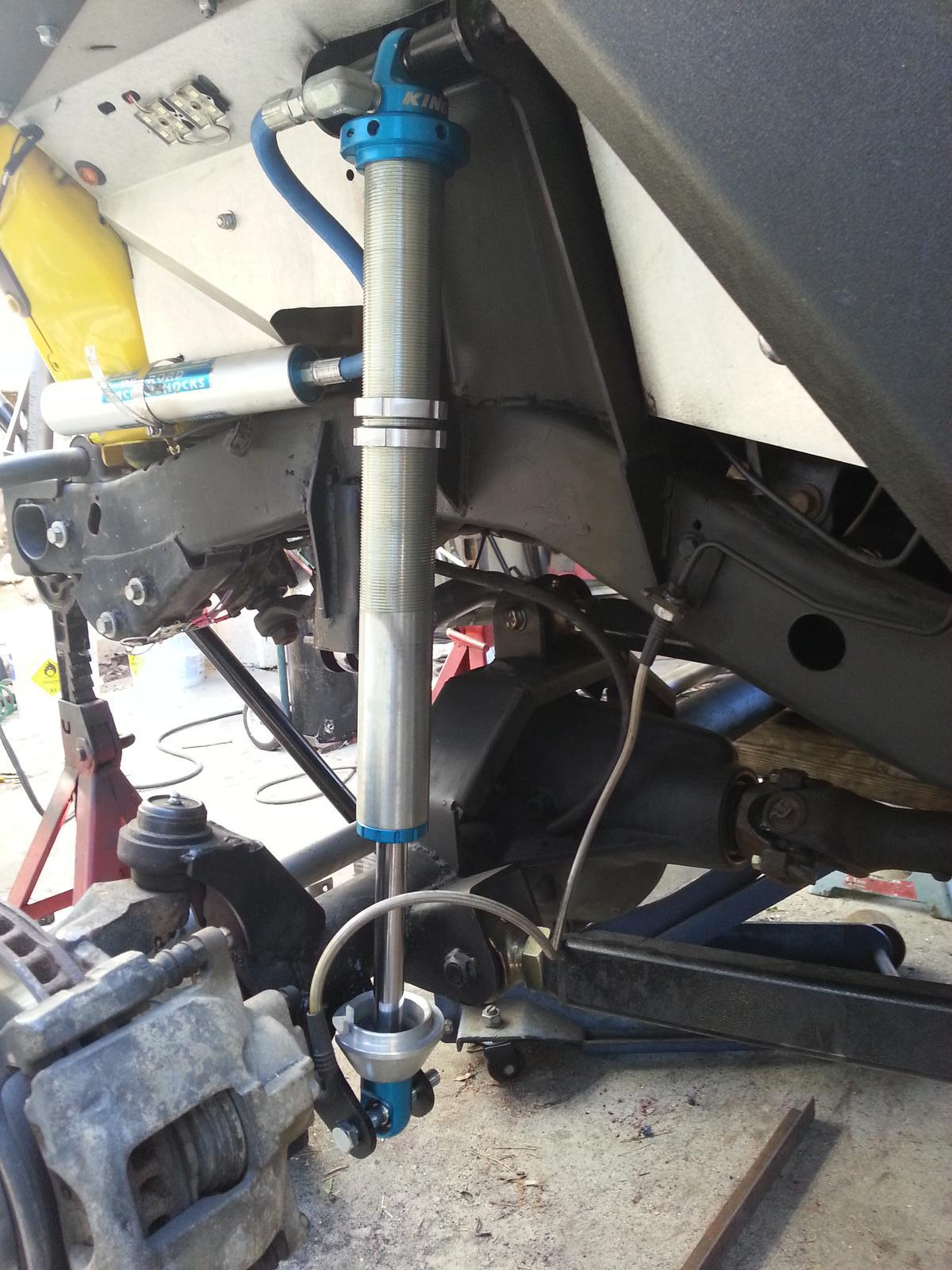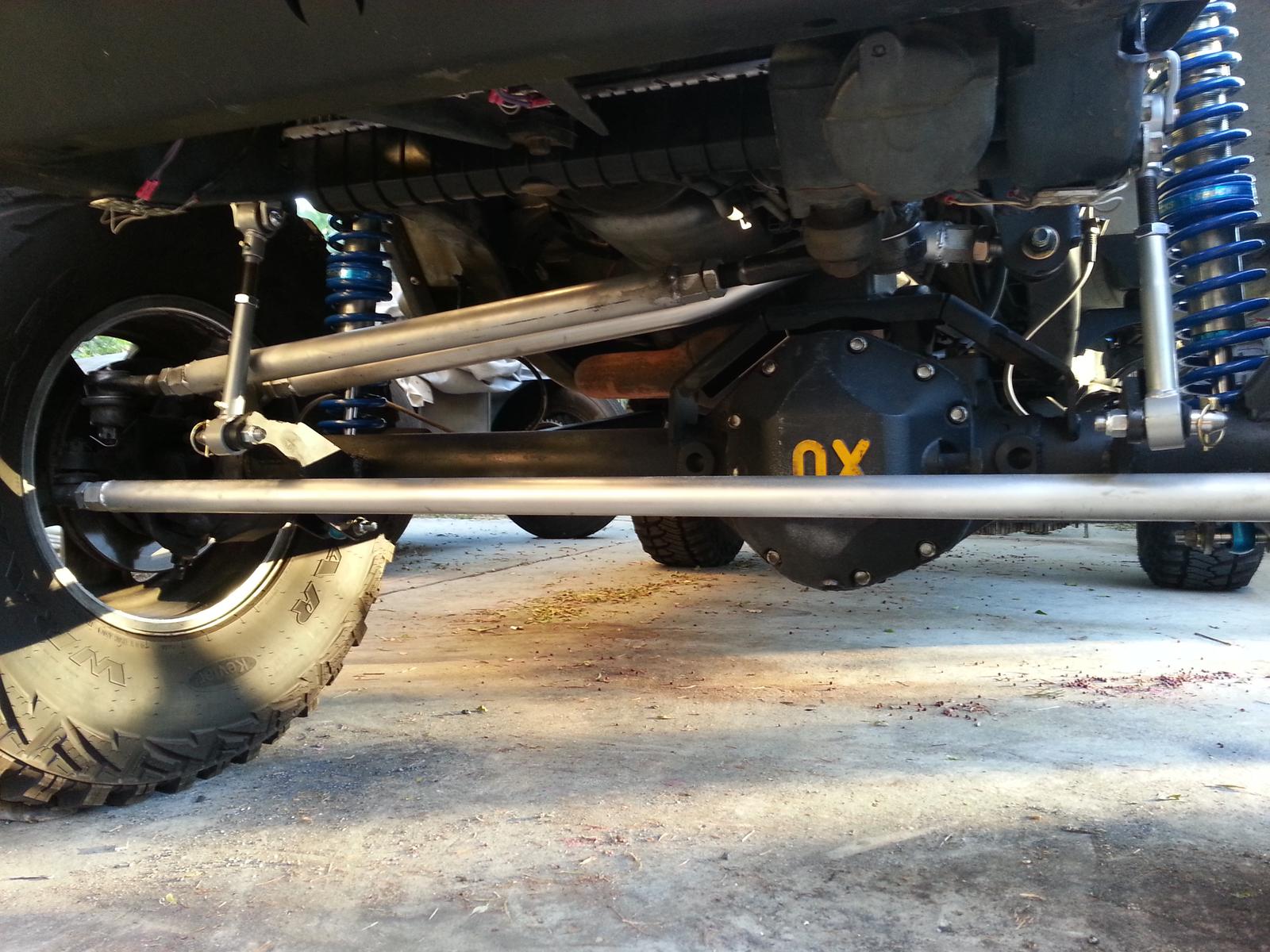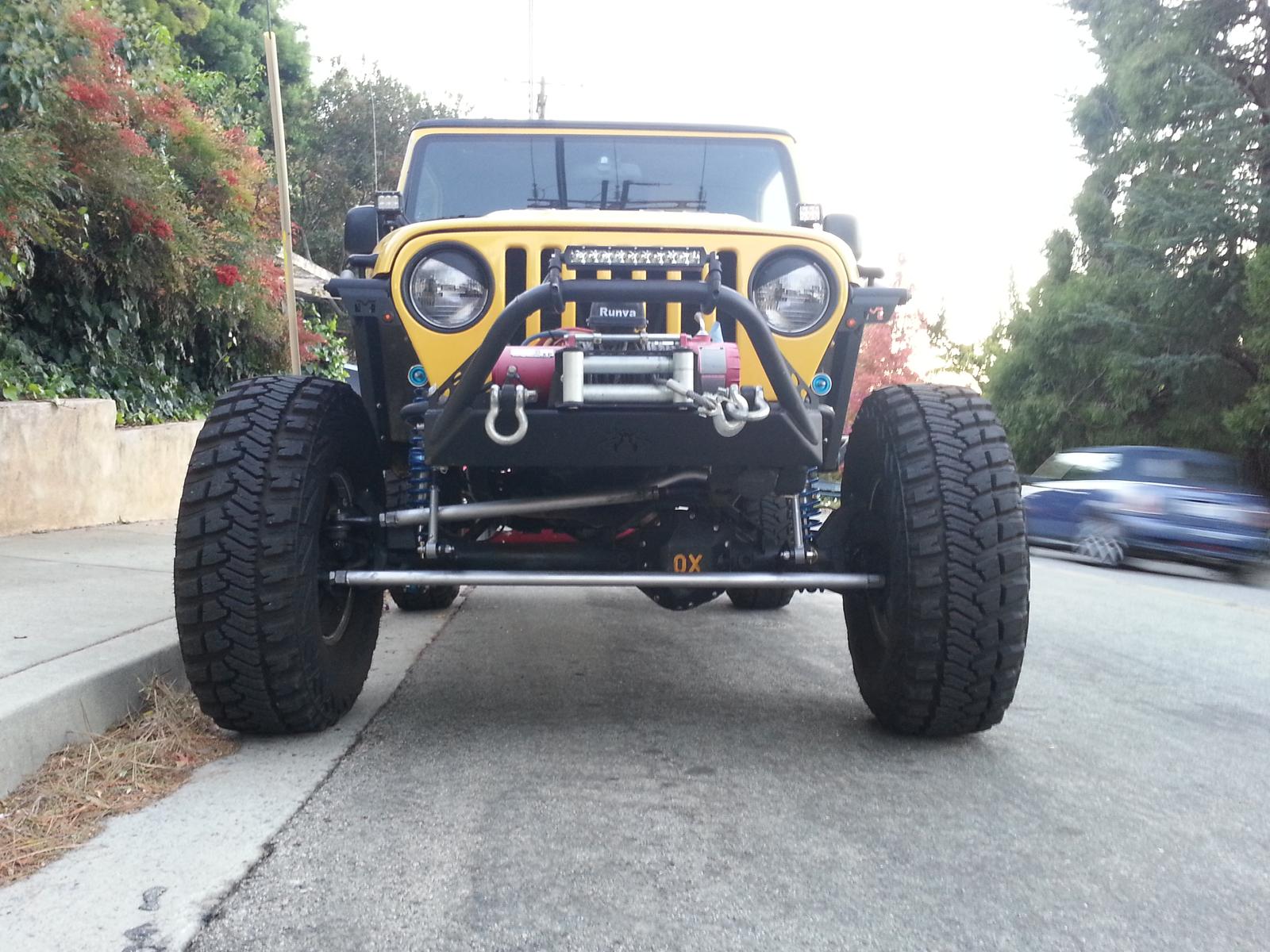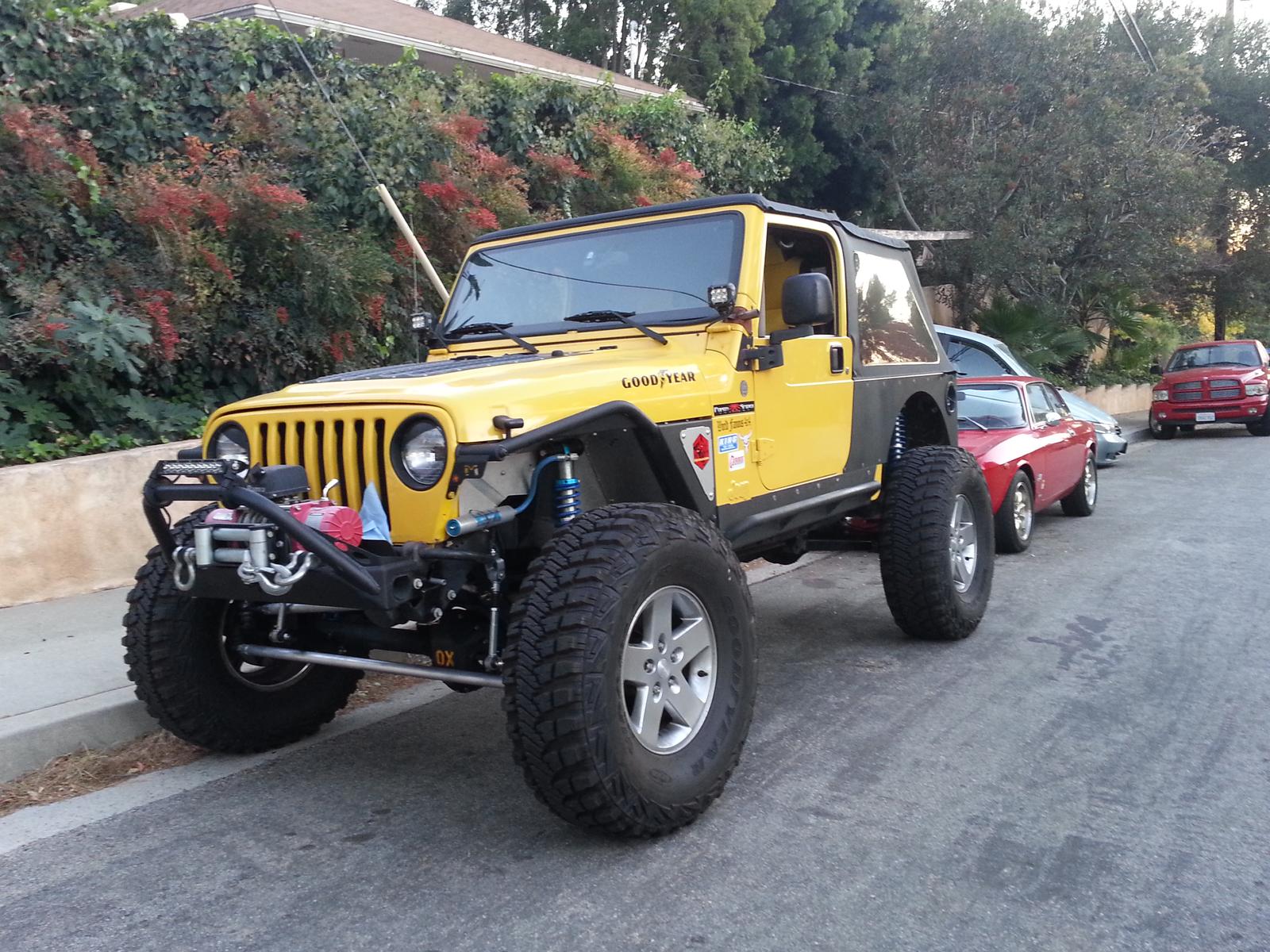 11-27-2014
Went out today to flex out the jeep to test the new mounts. With the new mounts, my tires are now able to be stuffed into the fender at the same time as the coilover bottoms out. Also been driving for the past two days and I am really happy with how the jeep drives now that I finally have swaybars on. I had not been using sway barsfor over a year on my DD and all I can say is wow it makes a huge difference on how it handles. Also I feel like the rig is so stable with it being so wide. Next step is some wheeling, swapping coilover springs and bumpstops.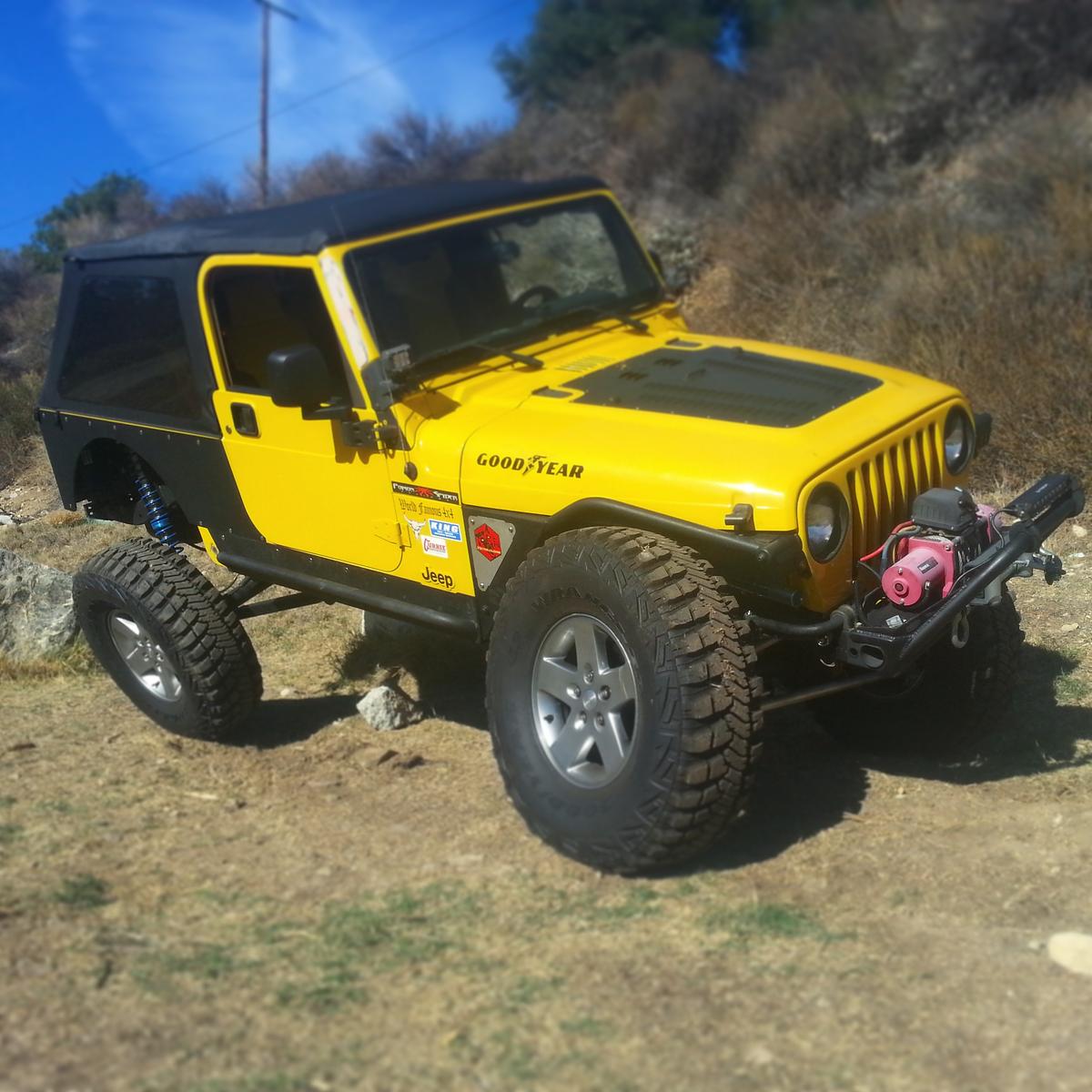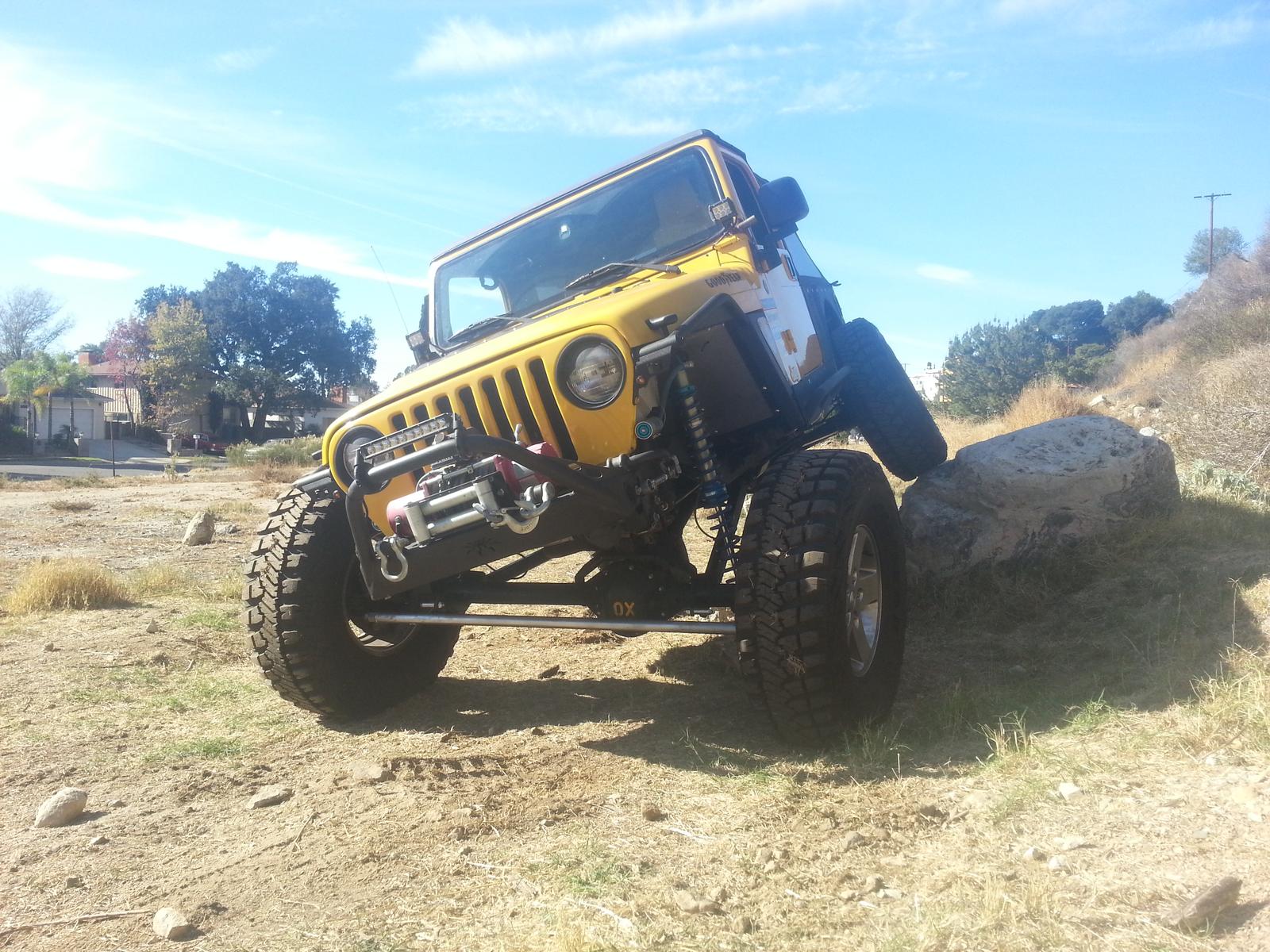 12-7-2014
Here is a picture of what it looks like now back there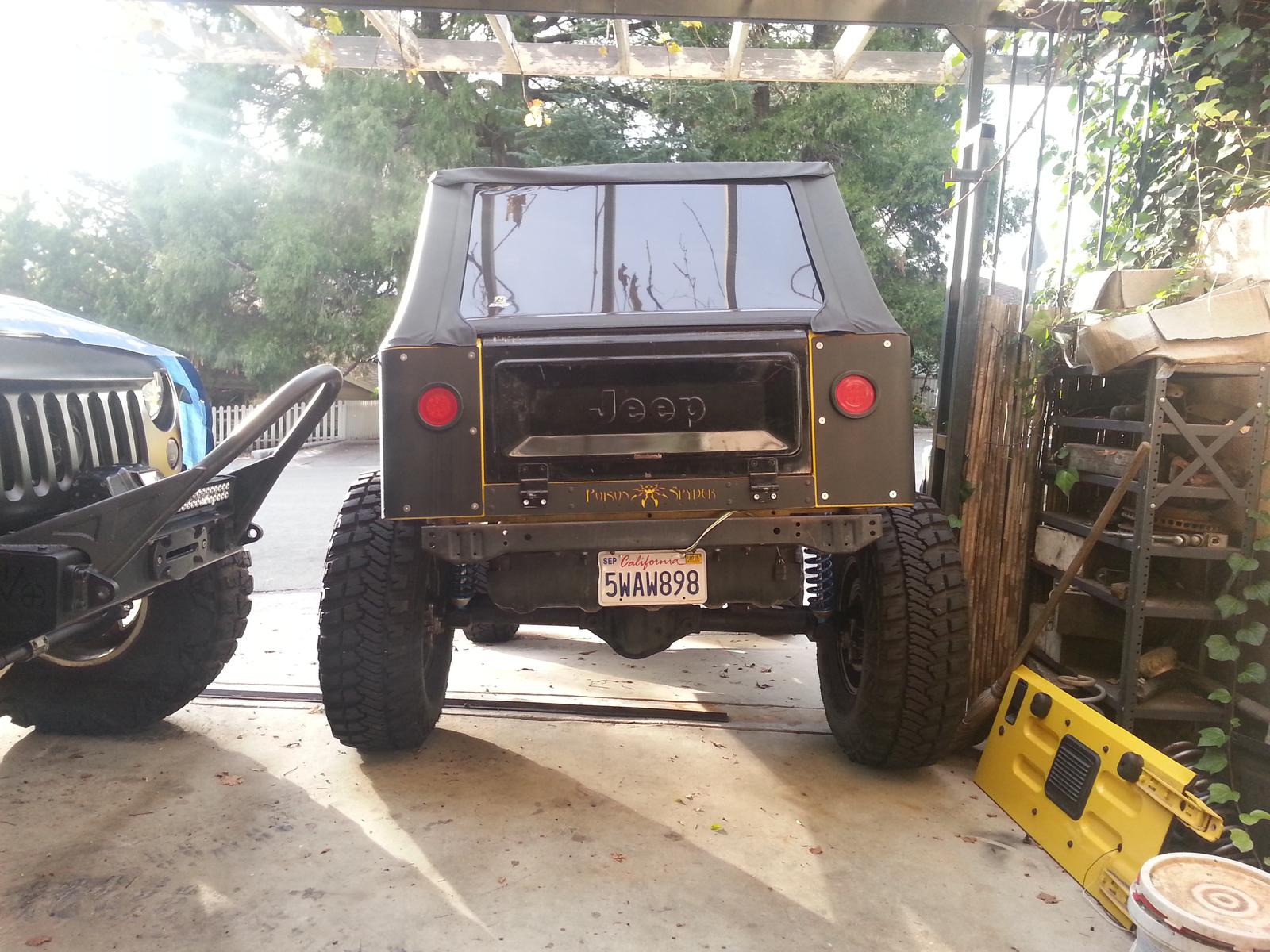 12-11-2014
Just picked up a pair of TruckLites for $260 total from NAPA! My Dad paid over $400 for his pair awhile ago!!! Also called King Shock to order some new springs and start swapping them out. Here is what my spring rate changes will be:

Front: 200/250 ---> 200/200
Rear: 200/250 ---> 150/200 OR 150/150
12-12-2014
Well after studying the Pirate4x4 coilover bible, I decided that I will use their calculator to figure out my corner weights (using my current spring deflection at ride height). After that I will use the calculator again to determine the right springs for the front and rear so I have the right suspension frequency for DD and rock crawling. This is a much better plan then blindly buying springs and hoping I got the right combination.
12-16-2014
The brown santa came today and had my new Trucklites are in! Can't wait to get them installed!

Also I am really excited to show you guys this new mirror that has been in the making by John Reynolds (JR on pirate4x4). He approached me asking if he can use my LJ to grab measurments for a bracket. After that I got really interested in what he was doing and helped him grind, press, and machine some parts for the mirrors. Pictures will be up once they are on my LJ!

Here is a link to the mirror on the campbell racing team's buggy:

https://www.facebook.com/permalink.p...d=328491514020
12-18-2014
Say goodbye to the stock "angry eye" headlights and say hello to the trucklites! I adjusted these bad boys and it is amazing how much light they dish out. The light cutoff is great and the high beams feels like I have a 50" lightbar mounted on my Jeep. Well worth the $300!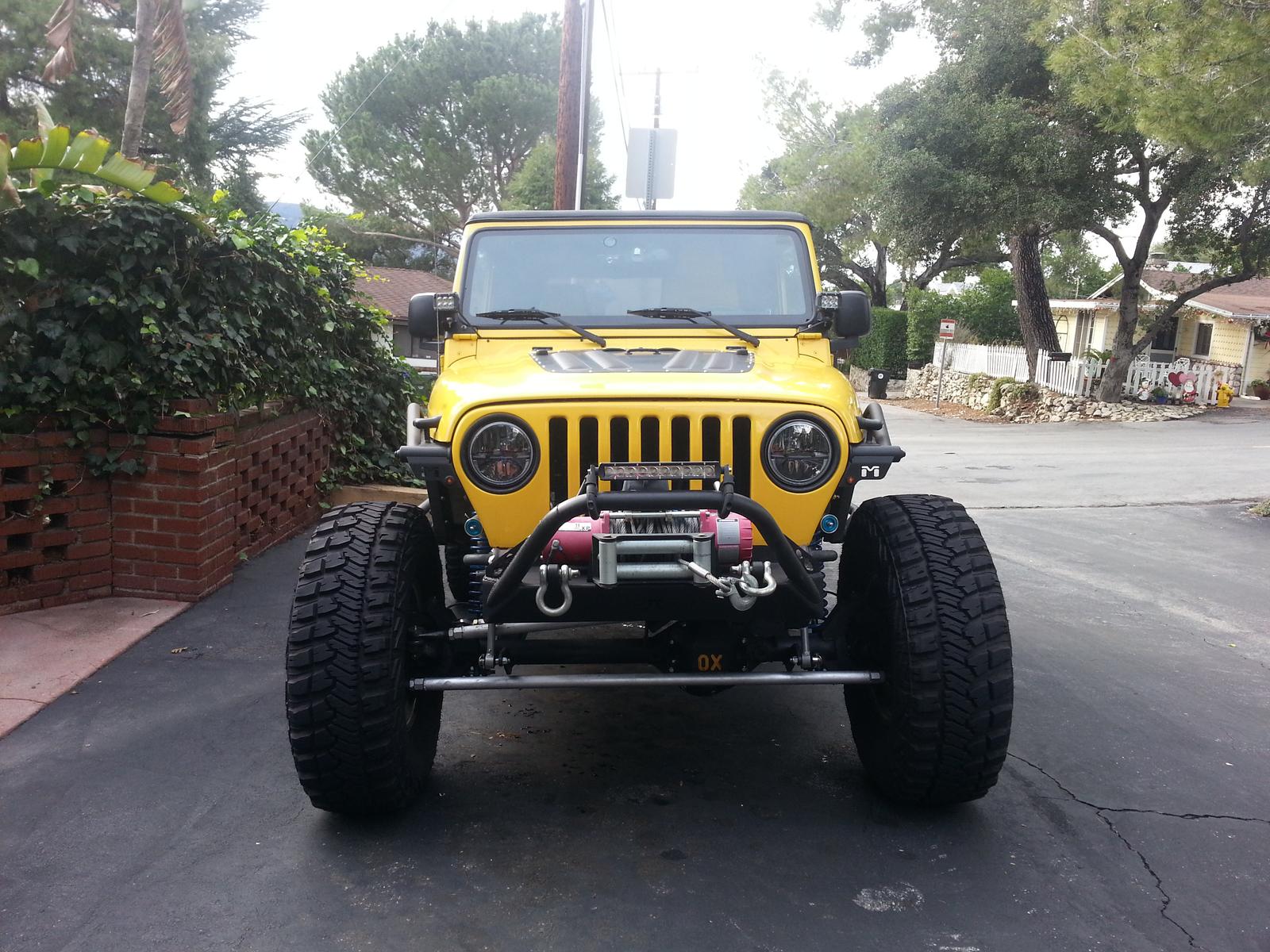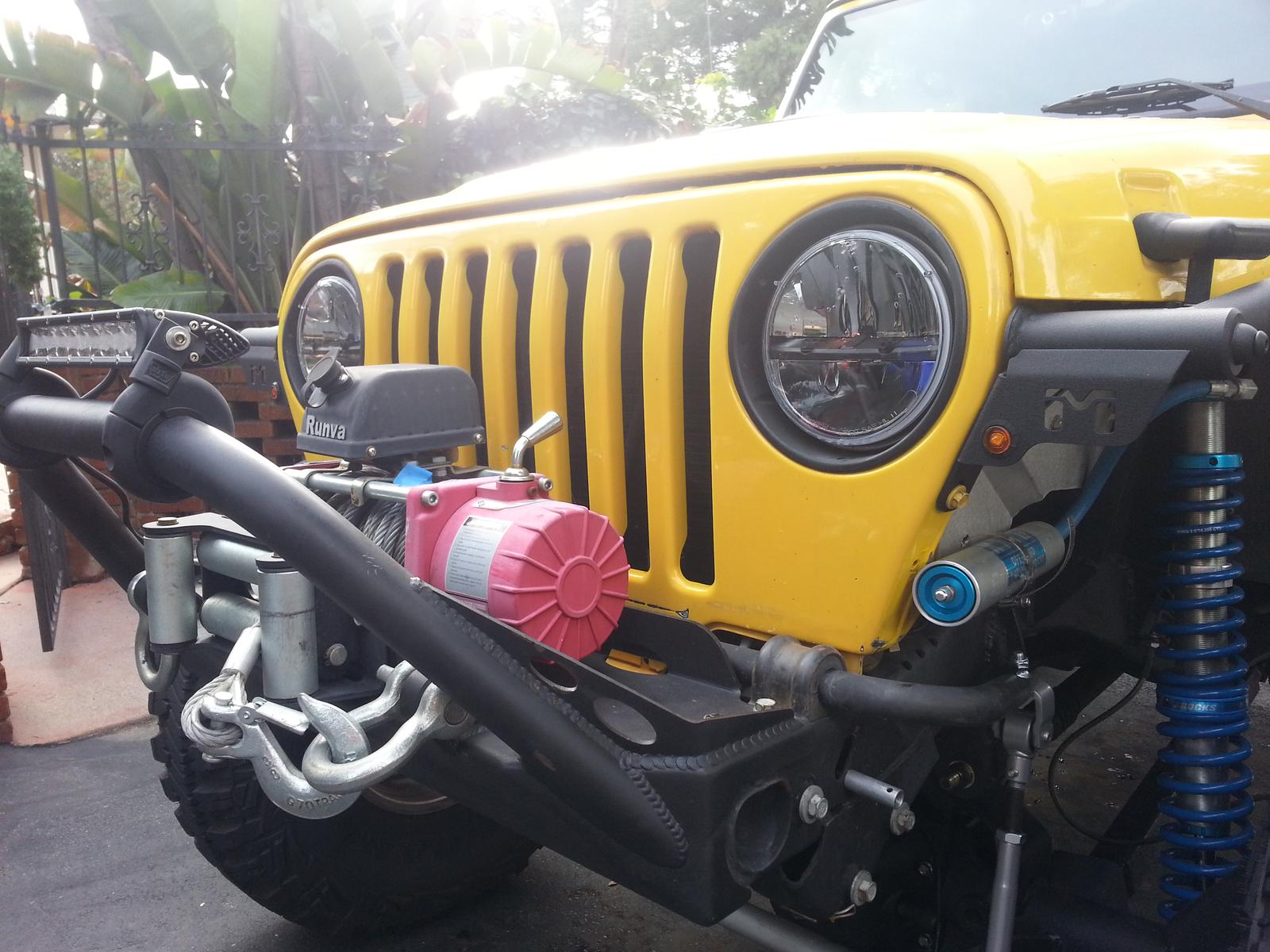 12-22-2014
Did some work on the Krait today. I added a 80a fuse and relay to my "TK" box. This will turn off/on all the accessories connected to the box every time I turn on or off the jeep. This is better because I used to drain the battery from forgetting to turn off a switch in the cab. Also wired up a USB that hooks up to the dash cam so that I have a extra 12v cig lighter spot.

Tomorrow I plan to my pull out my whole OBA system and replace the hose with a much better Goodyear hose that can handle the heat in the engine area. Also I need to find a spot to put the OX locker electric actuator so after I can order the right length cable and finally have a operational front locker.
12-24-2014
New mirrors are on! They are spring loaded so when they hit something, they deform then snap back into place! The mirrors were made by a guy known as JR on pirate4x4 or John Reynolds. He lives right up the street from me and since I helped him out with making these I got the first pair on my jeep! I wish I can get a link for anyone else interested but he doesn't have one up yet. He will be at KOH with a booth set up so people can check him out there! One of a kind mirror, nothing like this has been made. The best part is, all hand made!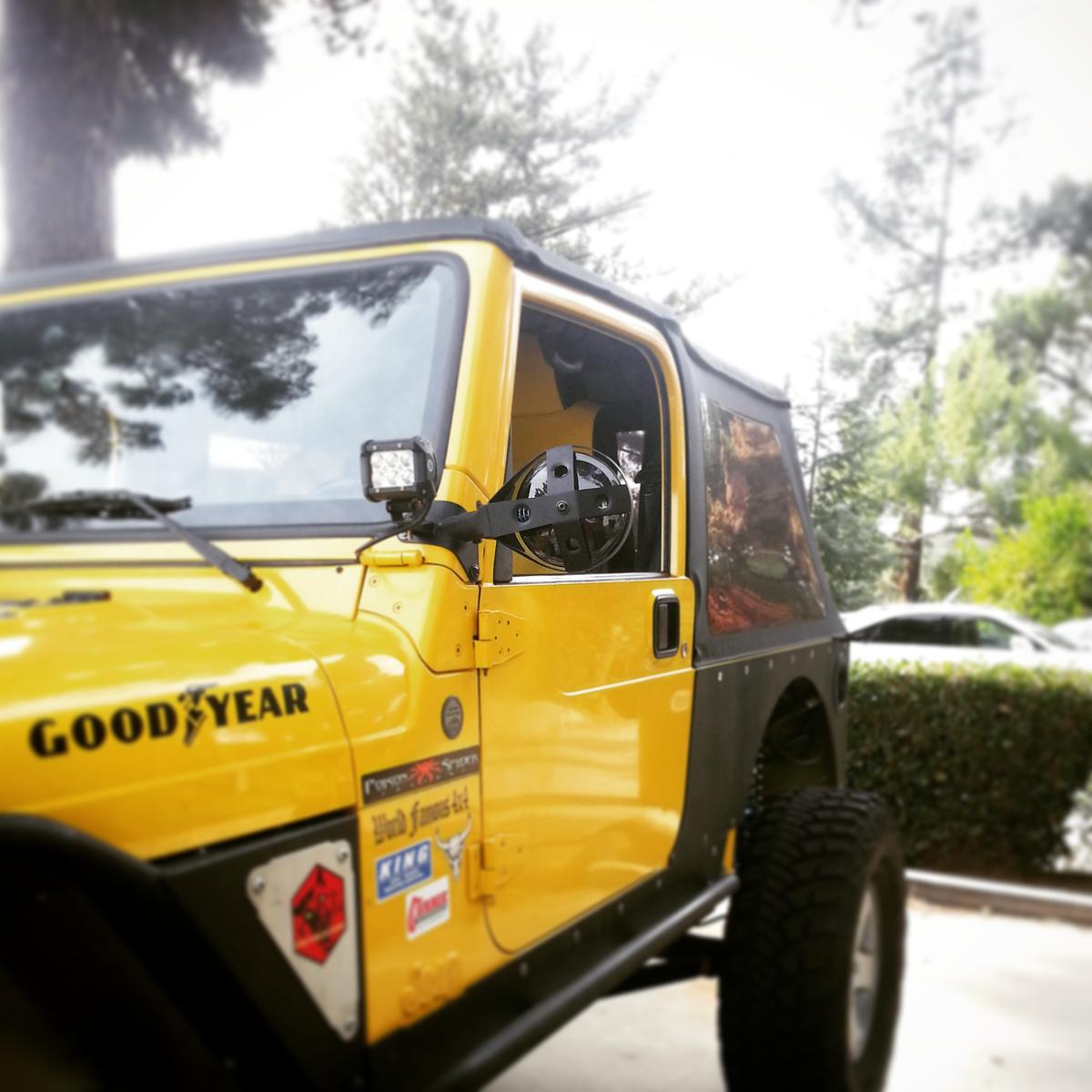 12-28-2014
Went out to Hungry Valley this weekend to do a trial run. The only hardest thing at this park was probably the rock garden going up the hill. Last time I was here when I was on 33s, there were big jeeps on 40s doing the garden and I was too scared to try myself. Took a jab at it yesterday with no lockers and managed to get up! Too bad the sun was in the camera the whole time. Time for some serious trails!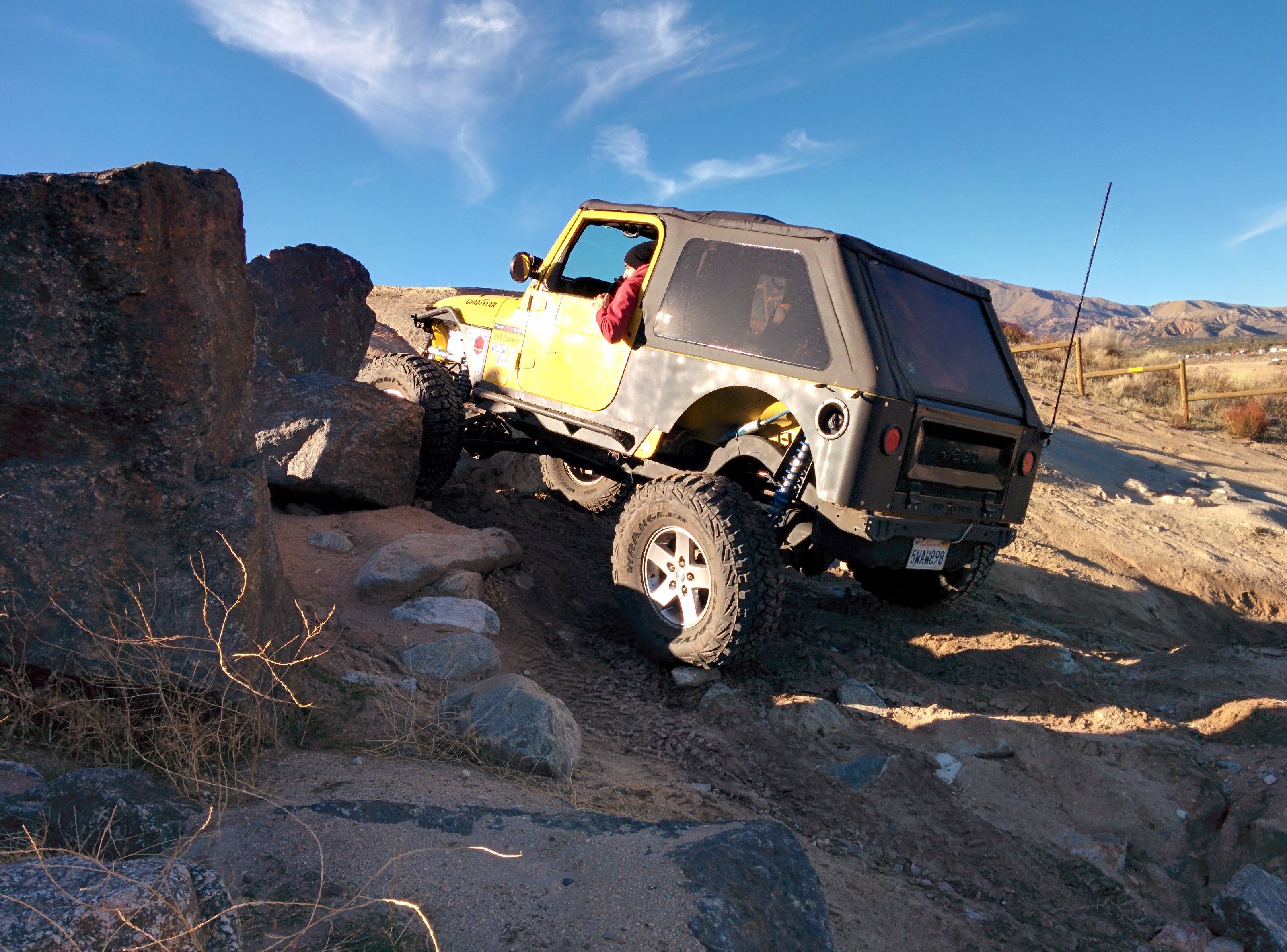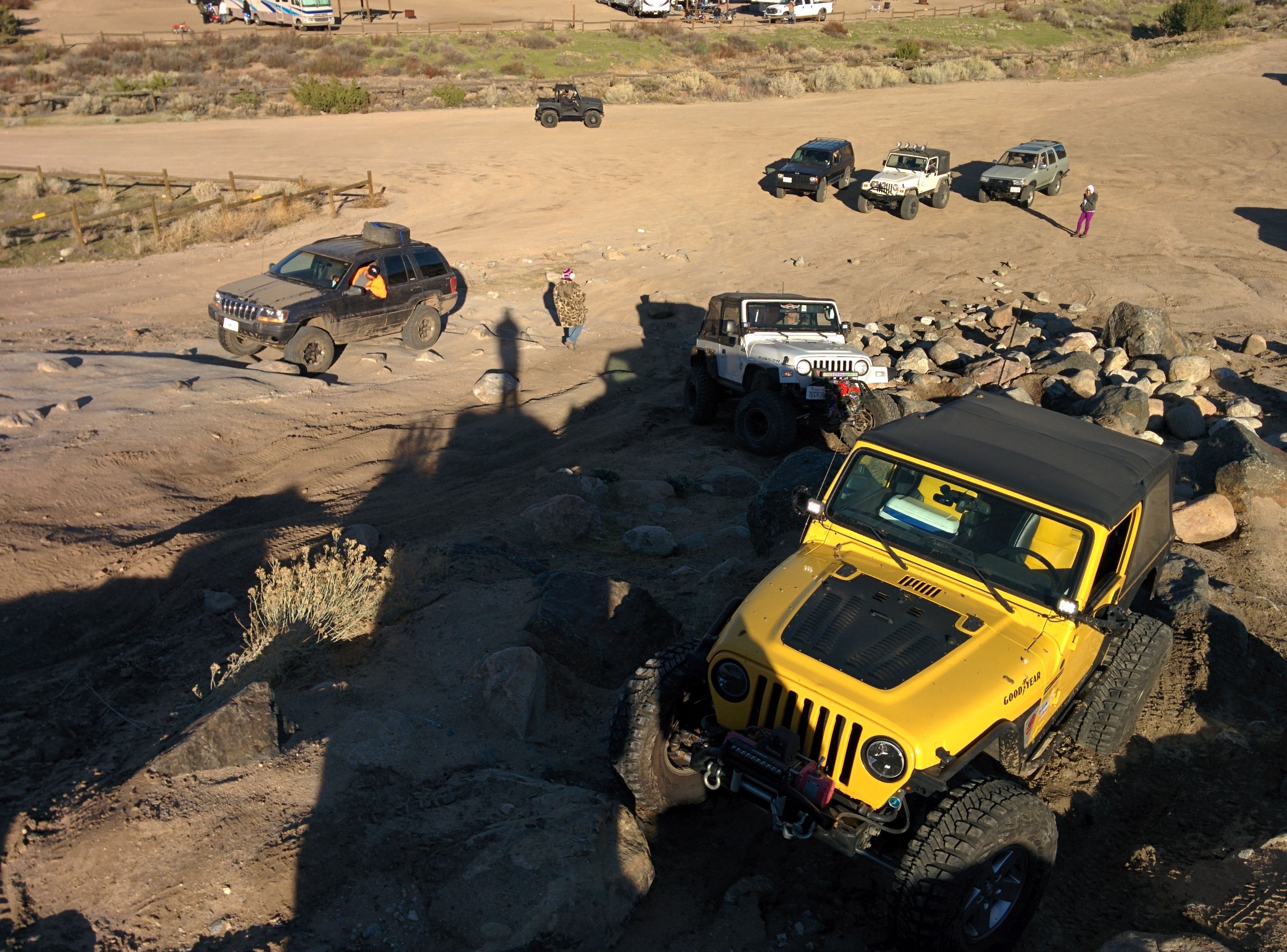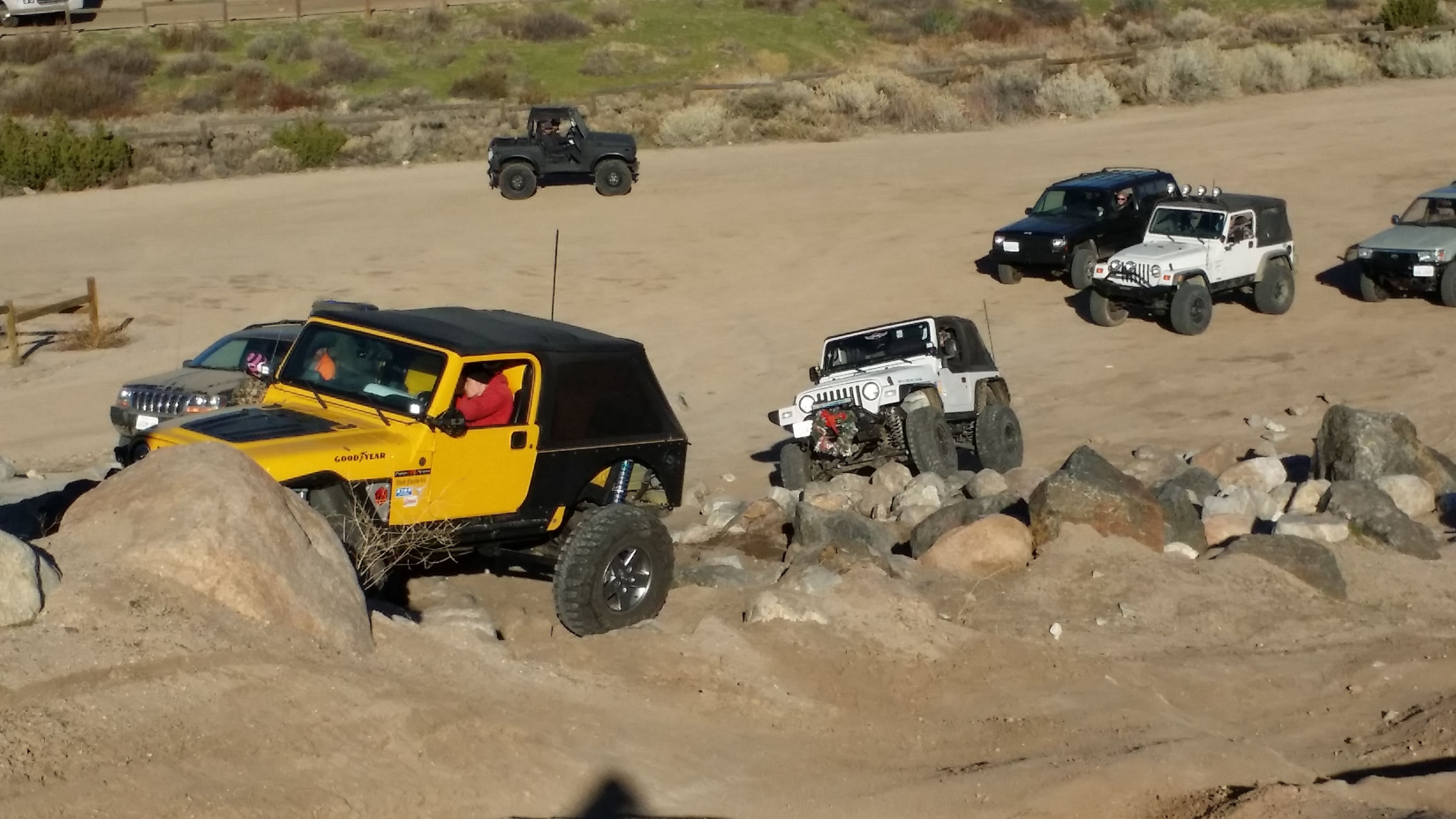 1-1-2015
Thanks!

Found another pic of the rock garden!
Photo Creds: IH8RDS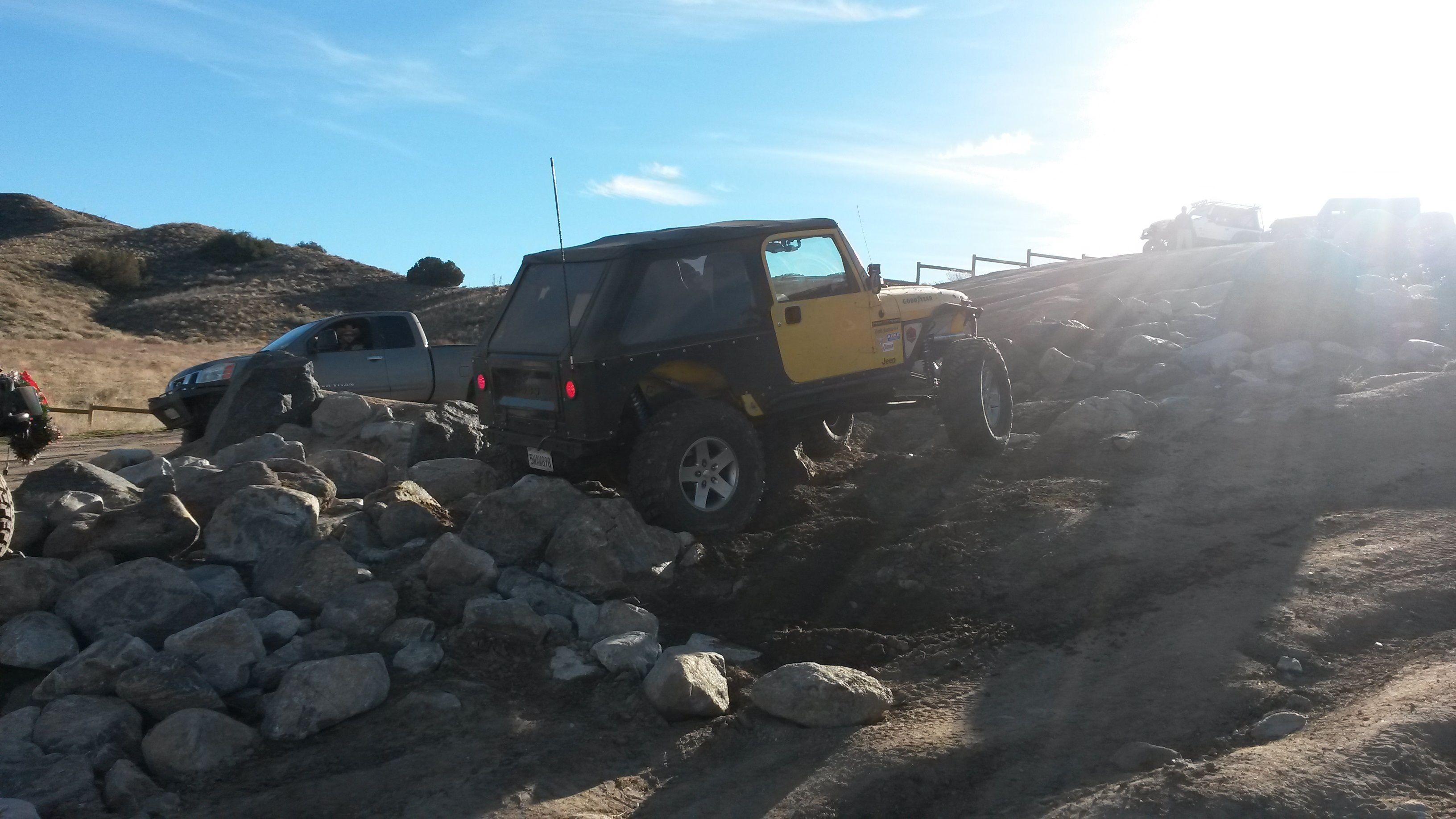 1-12-2015
Well such a **** storm this past couple days. My 5 year old battery decided its time to quit. I charged it up with my garage charger and it wouldn't hold a charge over night. I had to start the jeep with some gas which slowly unearthed a new problem!

! Now I have loss of power when putting the engine under any load. Going up a hill? No problem max speed is 30mph! Well this problem is all too common for me because it happened before. Tomorrow I plan on dropping the downpipe and cutting open the last mini cat and cleaning that sucker dry. At the same time im going to cut off the bigger cat near the tranny and put in a straight pipe. I knew my jeep was acting weird lately when I tried to pick up speed on the highway. I guess since I used so much gas to start the jeep up a couple times it managed to finally let the last mini cat loose and clog it up. Long day ahead of me tomorrow

1-13-2015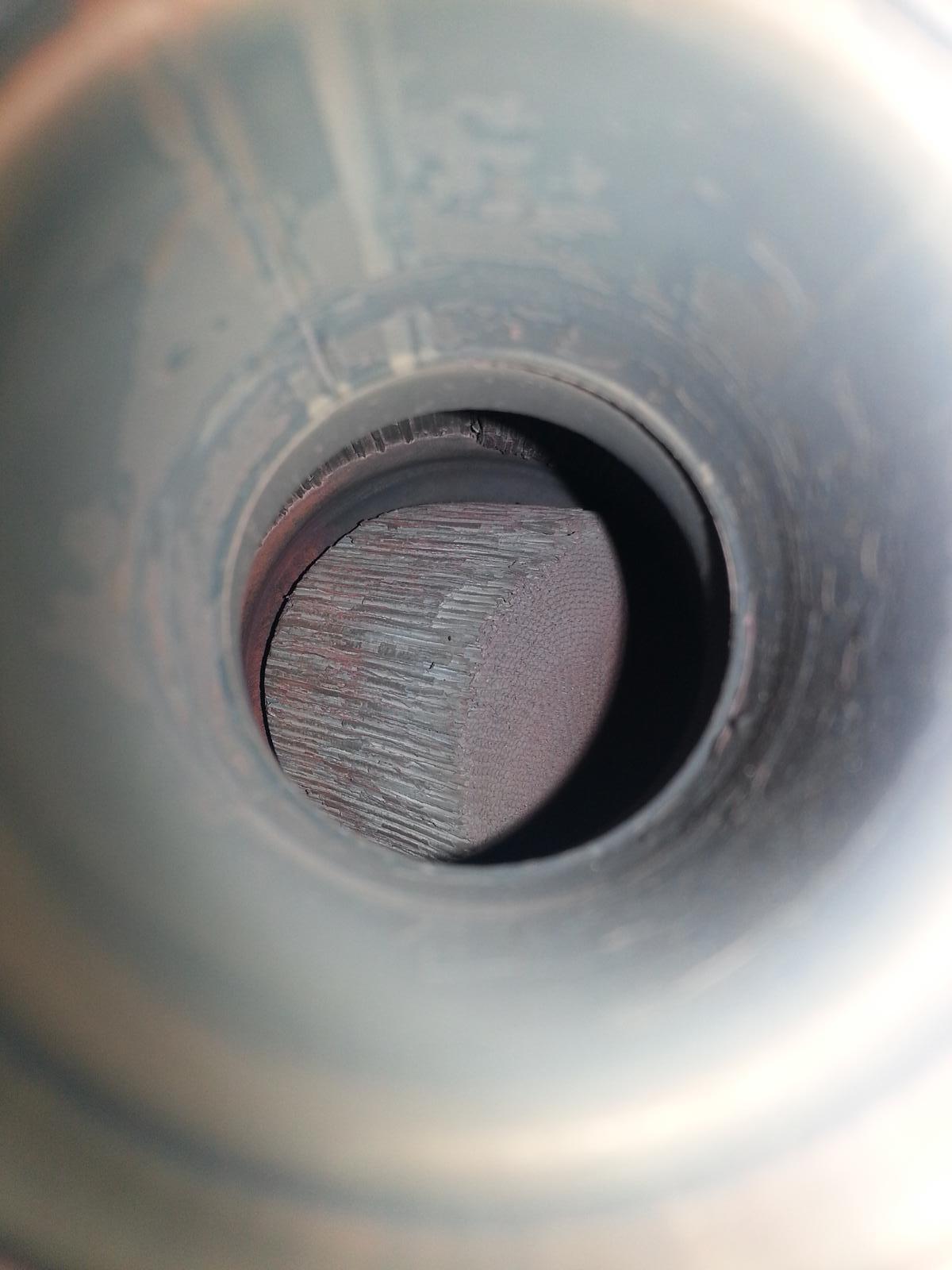 Spent a good 5 hours today working on the jeep. Turns out I was right that the mini cat had broken up and blocked the hole. I now have two empty mini cats and no more "big" cat as I chopped that off and replaced it with a straight pipe. The "big" cat was also half clogged from the bits of the other two mini cats so that had to go. Now a new problem! Yay! The jeep is TOOOOOO loud. I actual like the tone, kinda sounds like a old muscle car. The only problem is it is TOOO loud, actually it is scary loud. SOOOO now I have to wait for my magnaflow muffler, flowmaster high flow cat, and a O2 sensor fouler so I can put the jeep back on the street. Currently Im too scared to drive on the street without a muffler because of how loud it is...
1-28-2015
Just finished grabbing measurments from the Heep. My sprung weights seem to be 785# in the front and 630# in the rear. I did some more maths and figured that I need 150/200 spring rate in the front and 100/150 in the rear. This will give me 3.1" of uptravel in the front and 4.3" in the rear. I will give the front 2.5" of preload and the rear will get 2.2" of preload. After all that is said an done, my jeep should keep the same ride height as now. The final up travel for the front will be ~5.6" and ~6.5" in the rear.
1-29-2015
Just did some thinking about the chosen spring rates and remembered that I don't have a bumper out back OR a spare. SO that will add a good 200# after its all added. Also I didnt factor in the drivers weight, gear such. After playing around with the calculator some more I think I will end up with this:

Front: 150/200 (Not Changed)
Rear 150/150 (100/150 Before)

The slight increase in spring rate will allow me to add more weight to the back without making the rear feel too light. Ill have to lower my spring stoppers down a bunch to help fight any body roll that I may get because of the new spring rates as this is also a DD. I actually can't wait to swap them out for the a better ride!
3-8-2015
So I haven't updated in a while. Not much has gone on, I have been waiting for my OX locker cable to come in for two weeks, and I went wheeling last weekend to Cleghorn.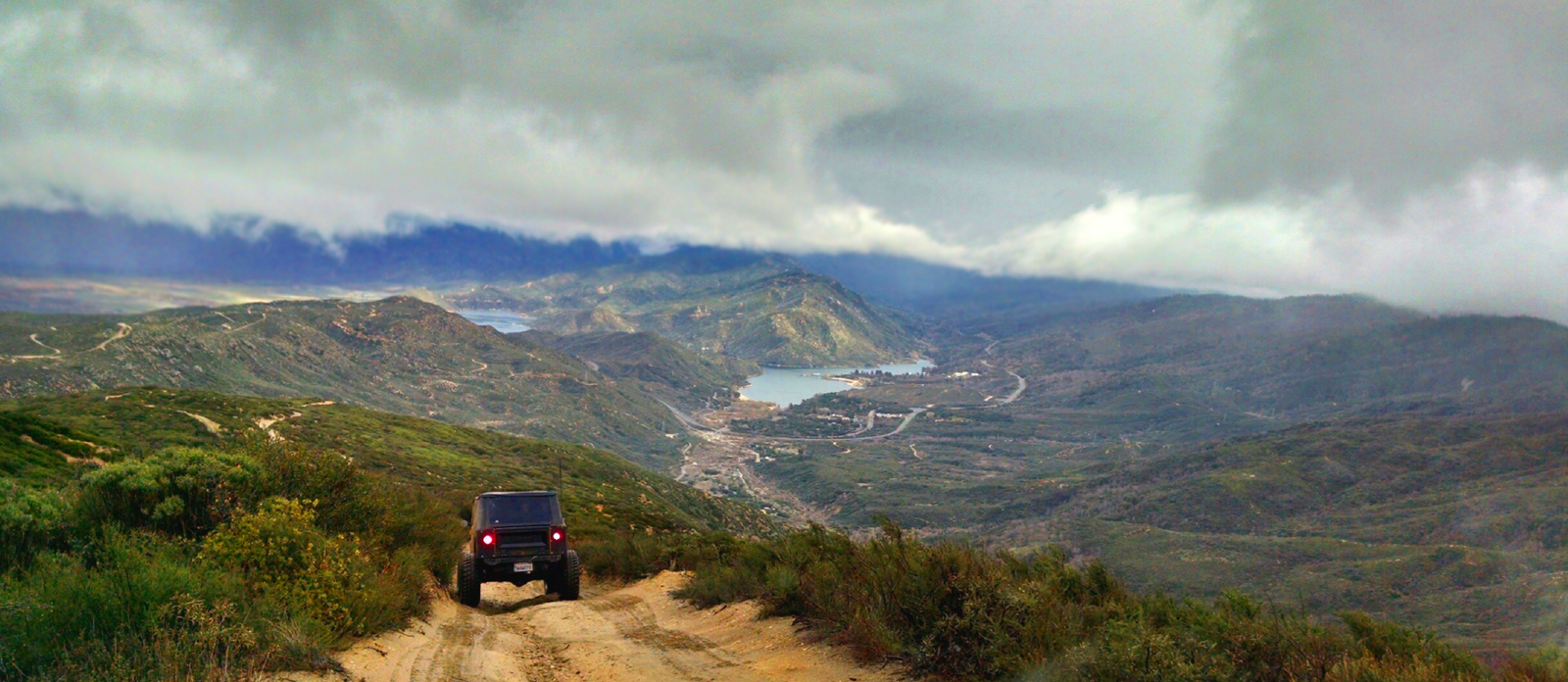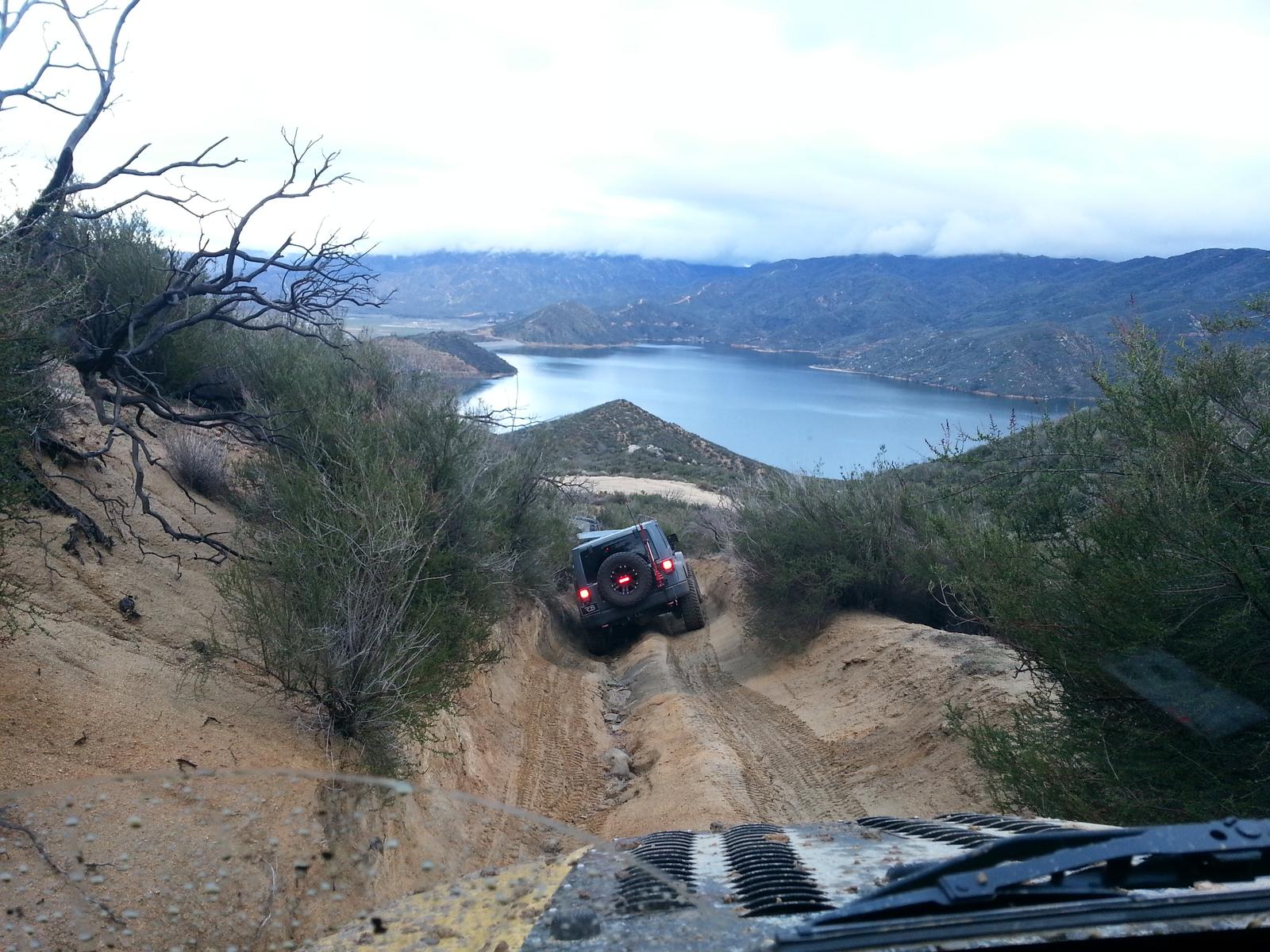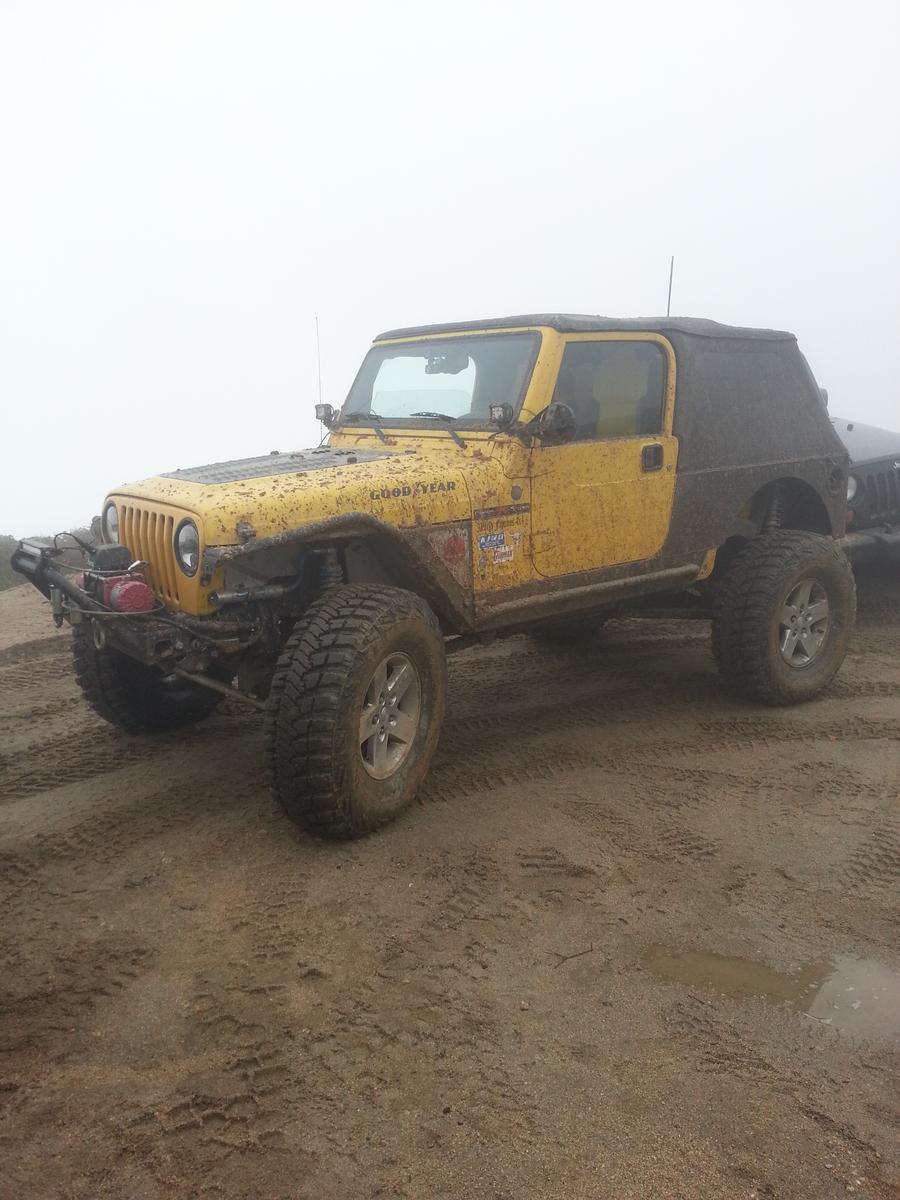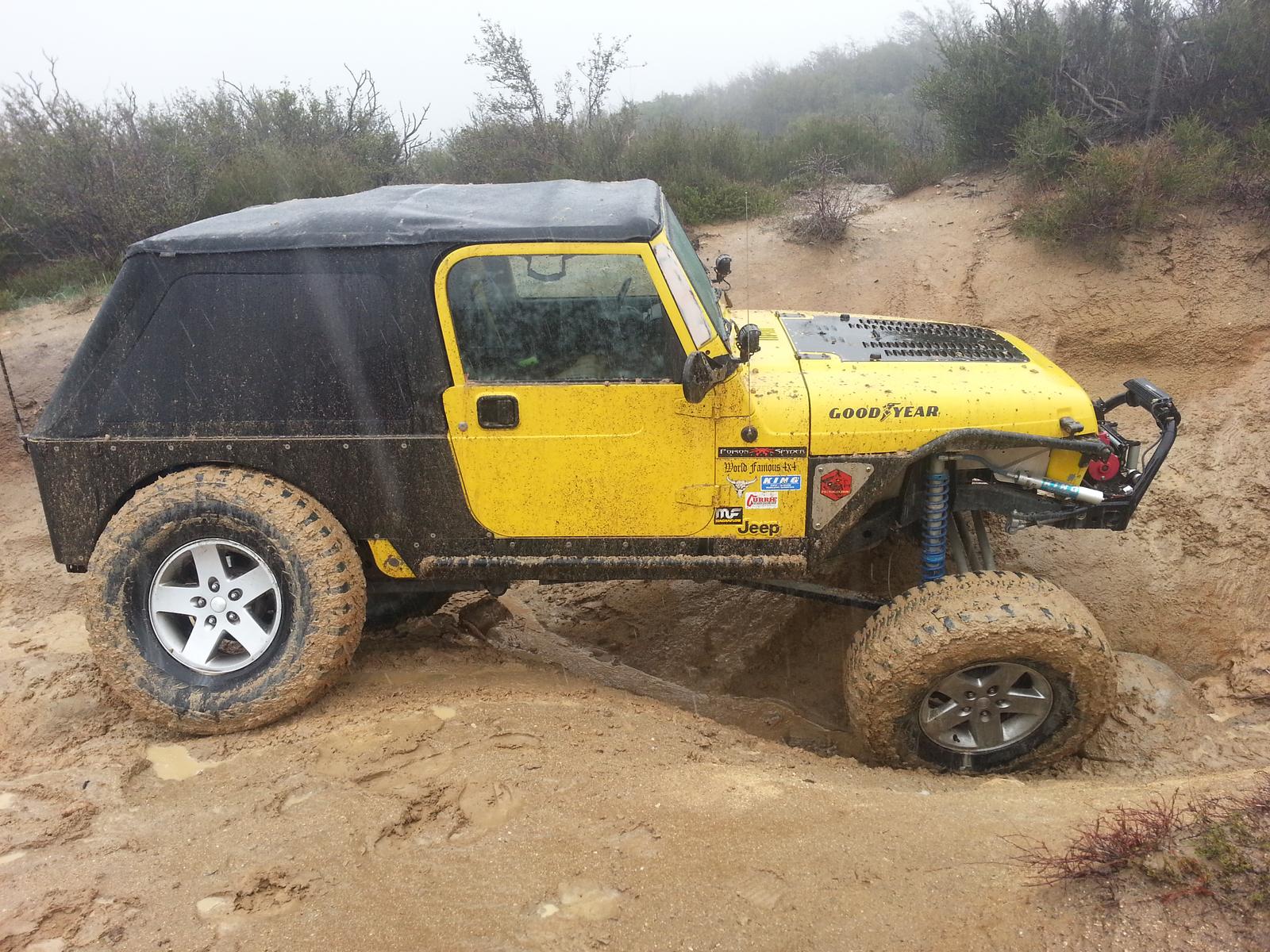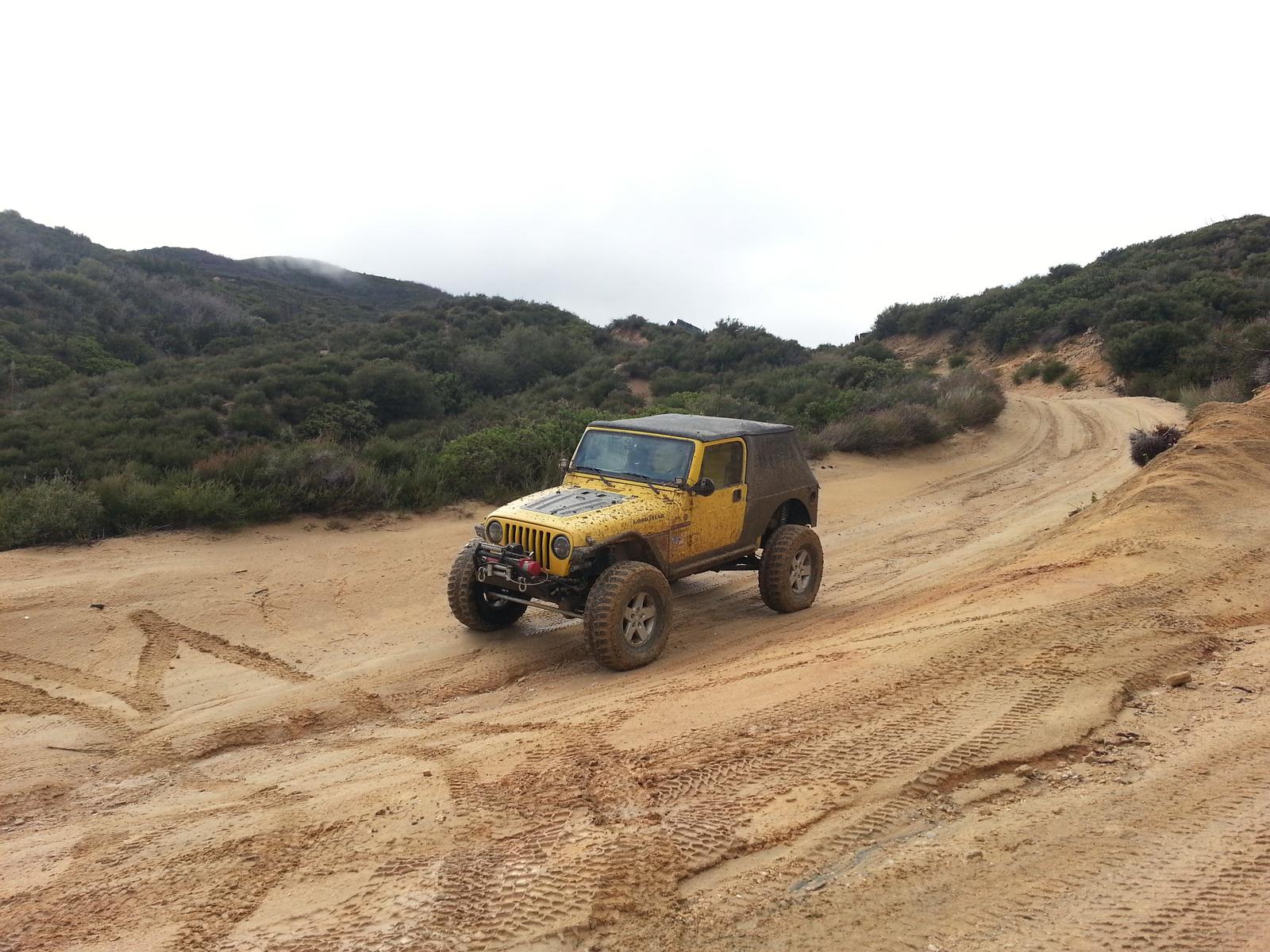 Also right after wheeling, my OX locker cable came in. Got that hooked up and found a nice spot for the actuator.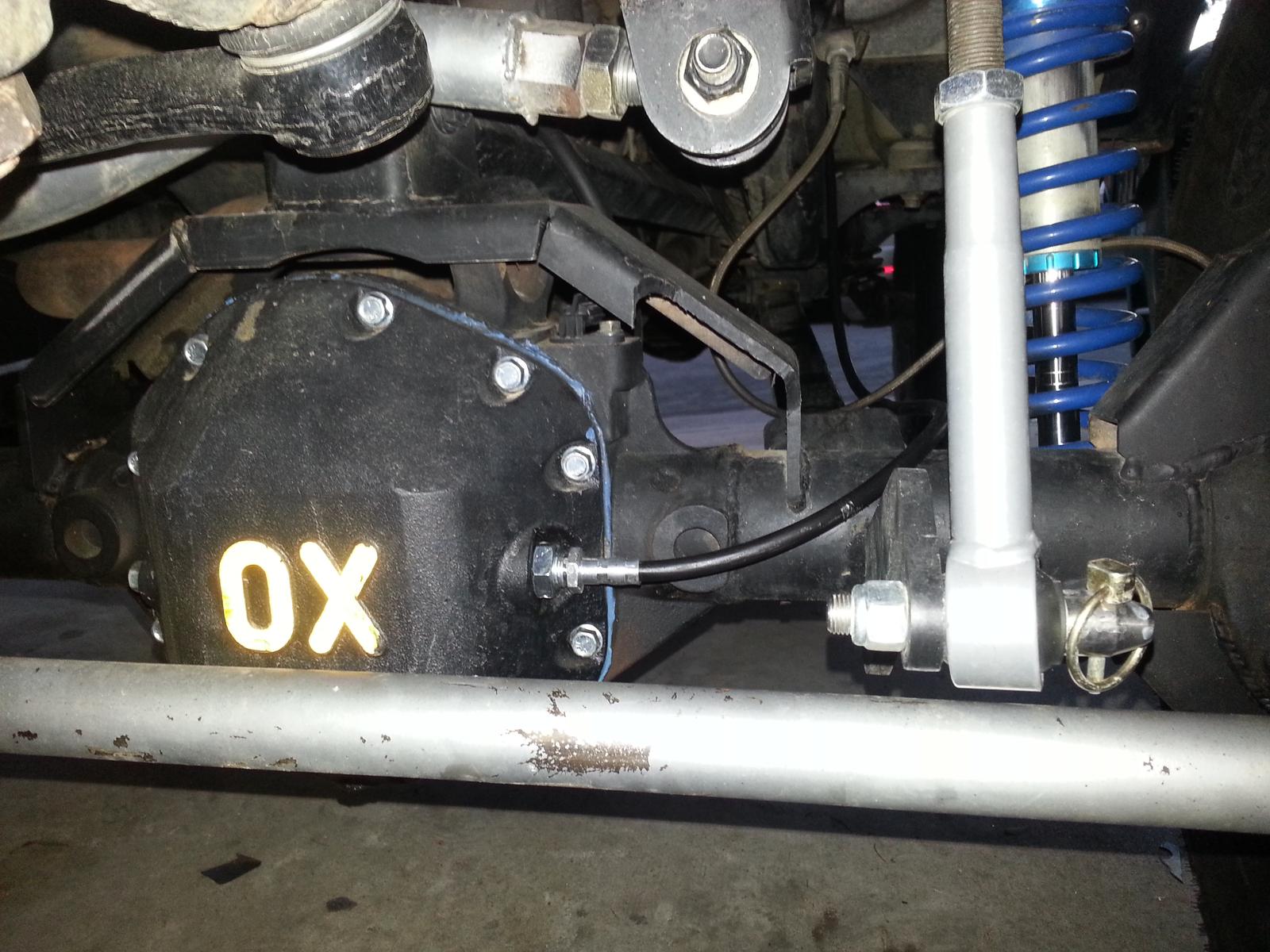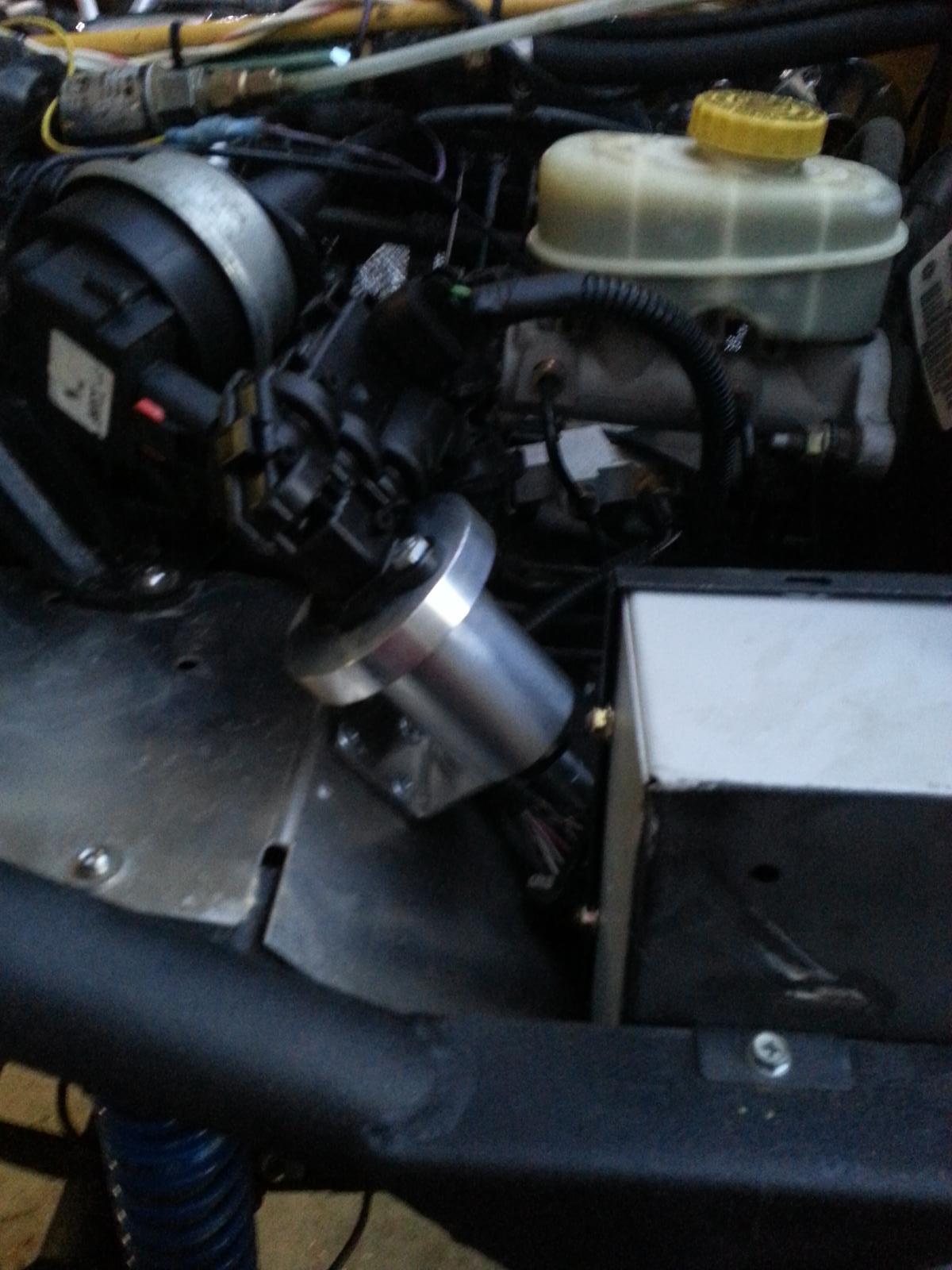 3-29-2015
Went out wheeling this weekend. I only have one picture of my Jeep on the friday night run and I didn't manage to get any pics on the saturday run. Ill post more pictures if I find more from others.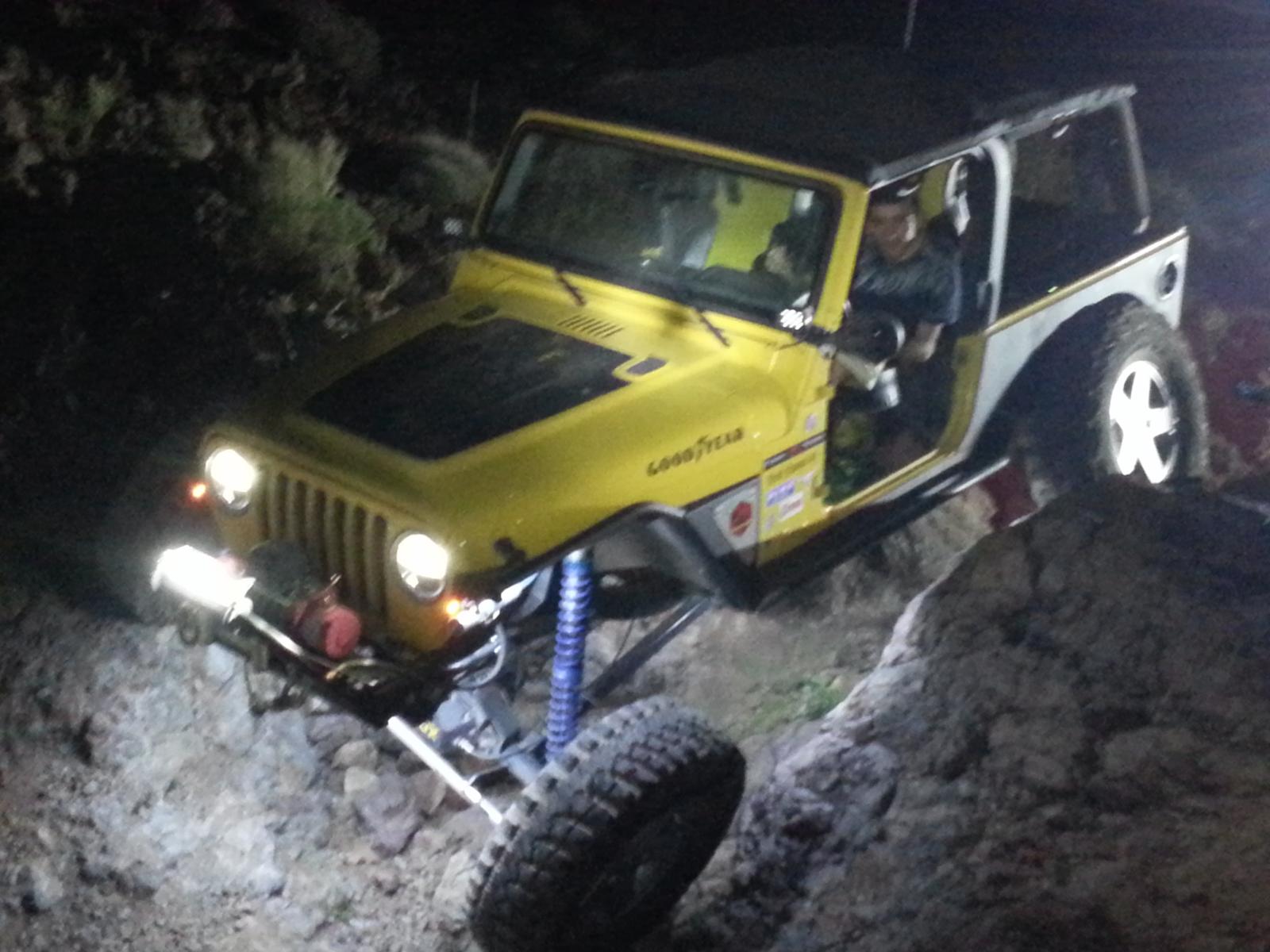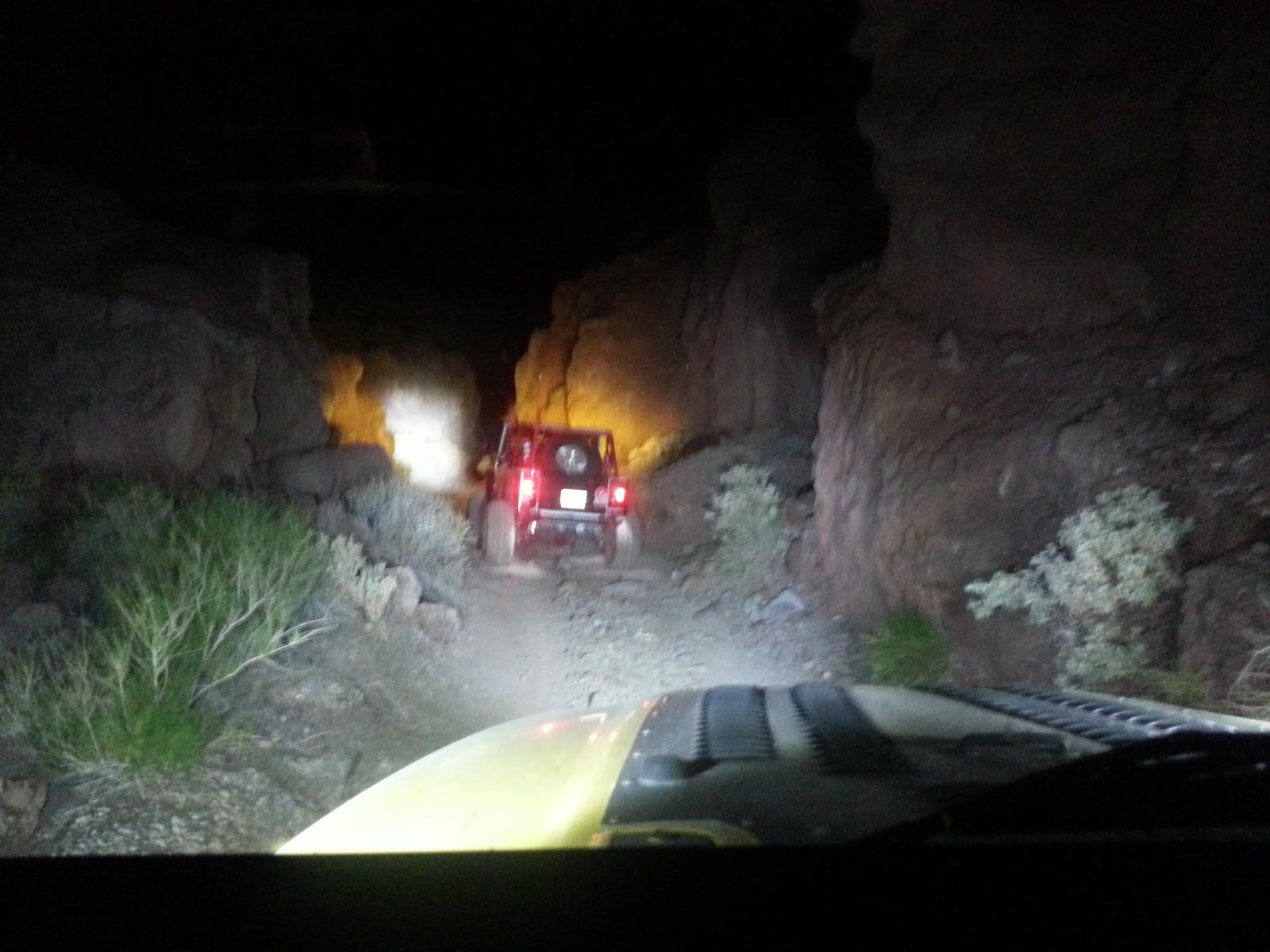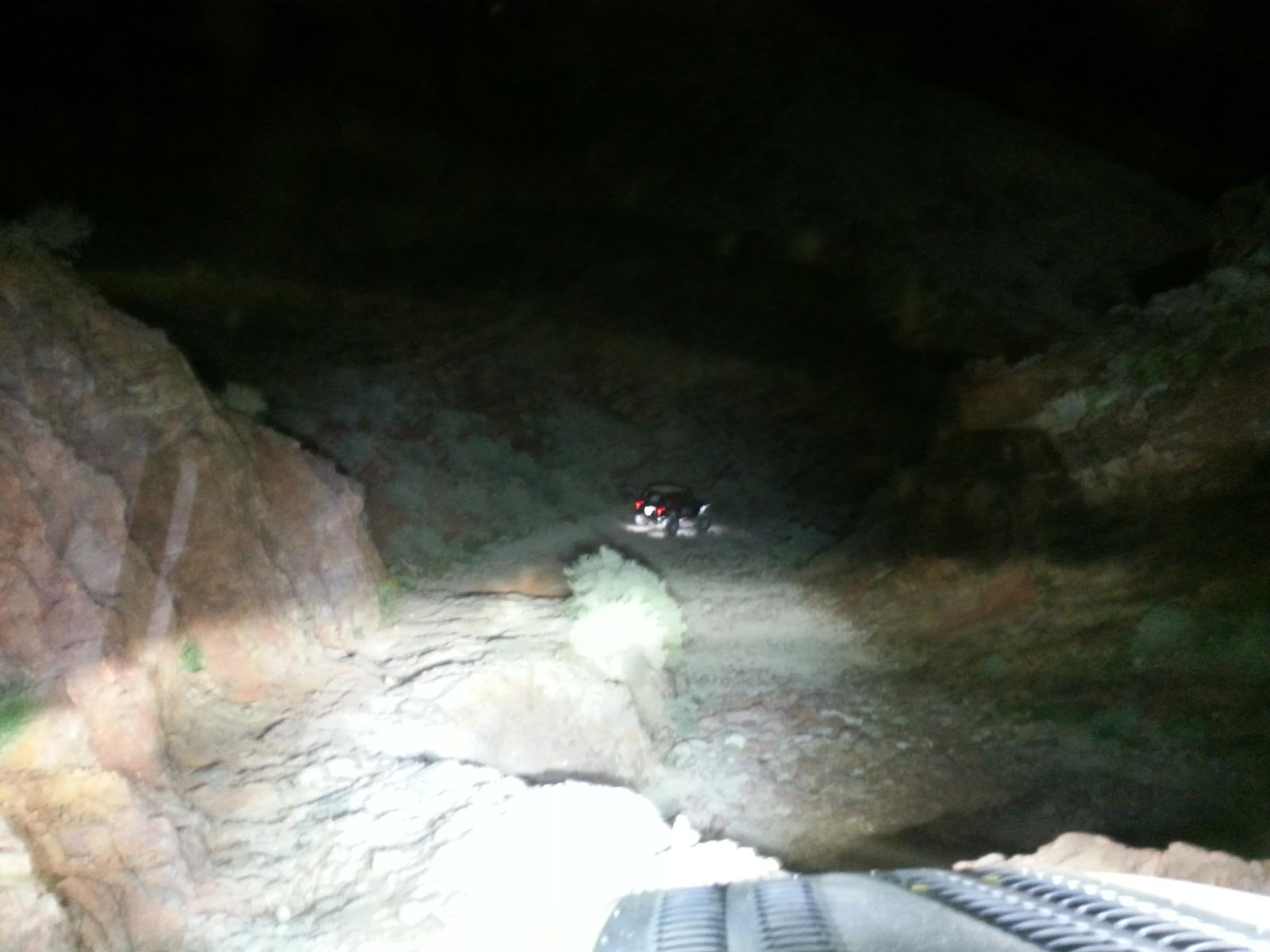 Also my mirrors got some action.
5-17-2015
So since my last post, I had a little screw up... I was working on my jeep before school and when I got on the on ramp to head to school, my hood flies open and hits my windshield. Turns out I forgot to lock my hood and since I had no hood safety latch, it resulted in a bent hood: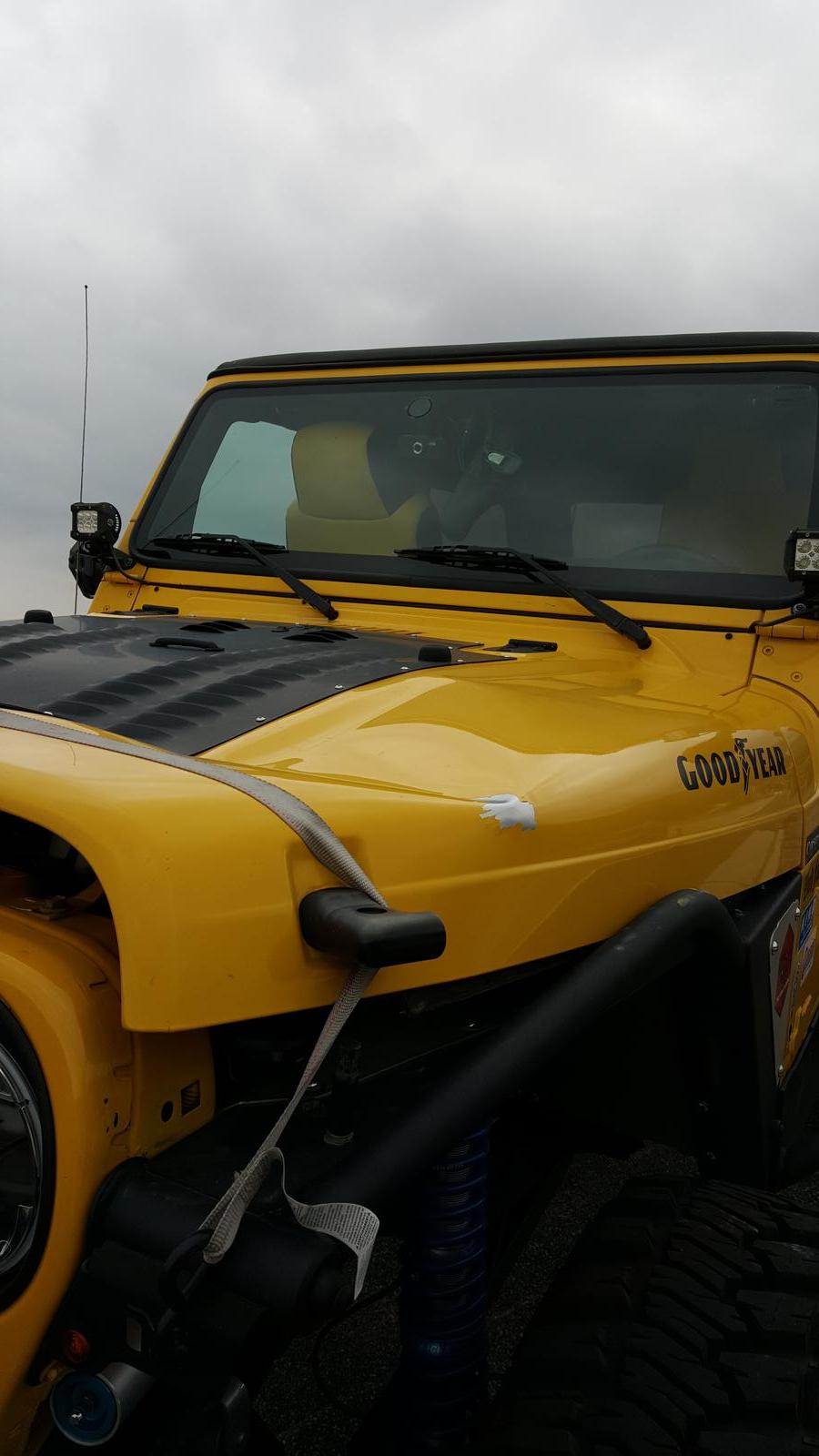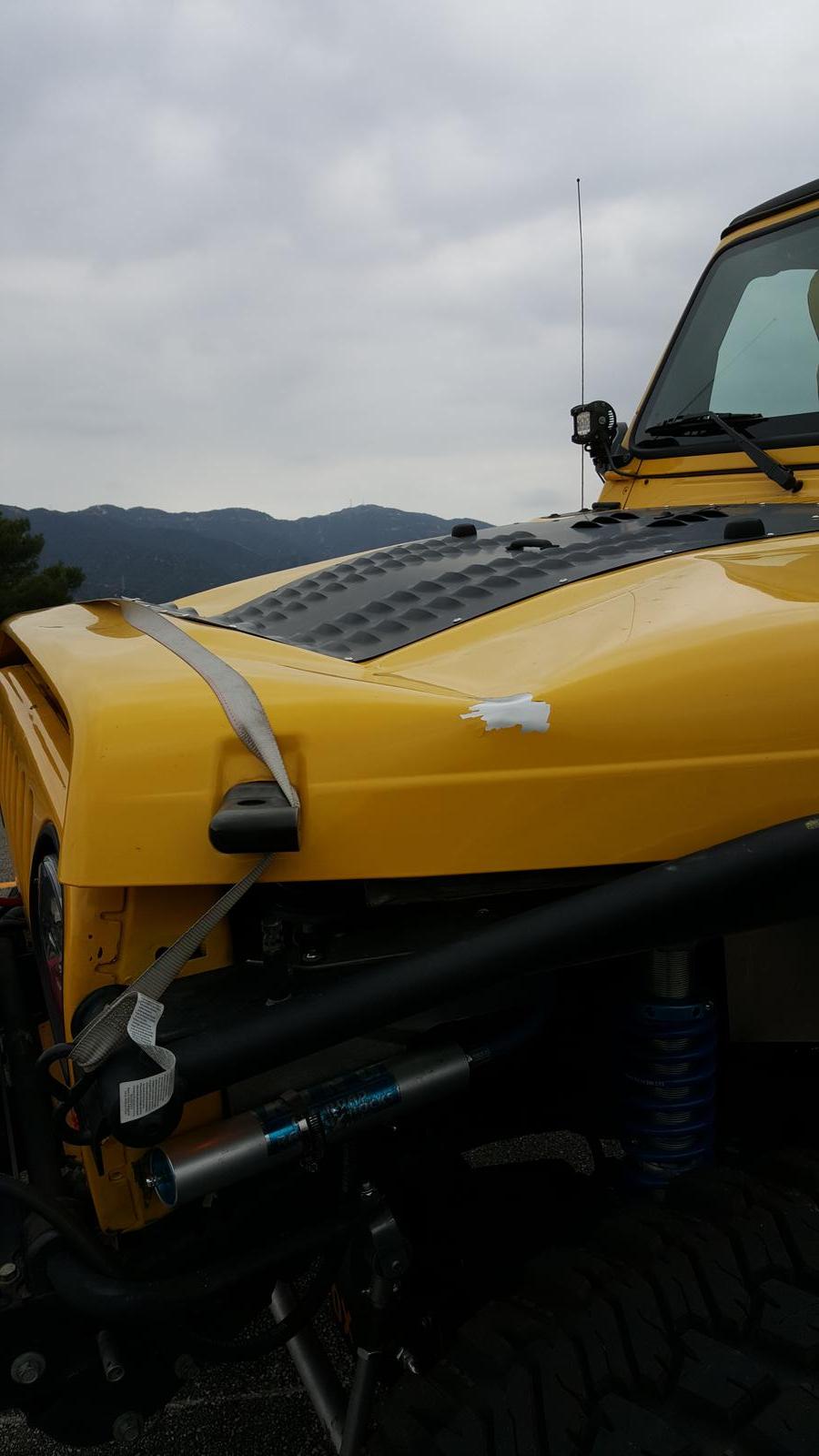 Found a nice hood for sale on CL for $200 that was dent-free, so I got that and sent the jeep in to get painted. I had the passenger windshield frame be painted for the damage from the flop 1 year ago, the rear CJ tailgate be painted yellow, grill be touched up because the paint was cracking and finally the new hood be painted yellow. Got it back from the shop yesterday and can't be happier.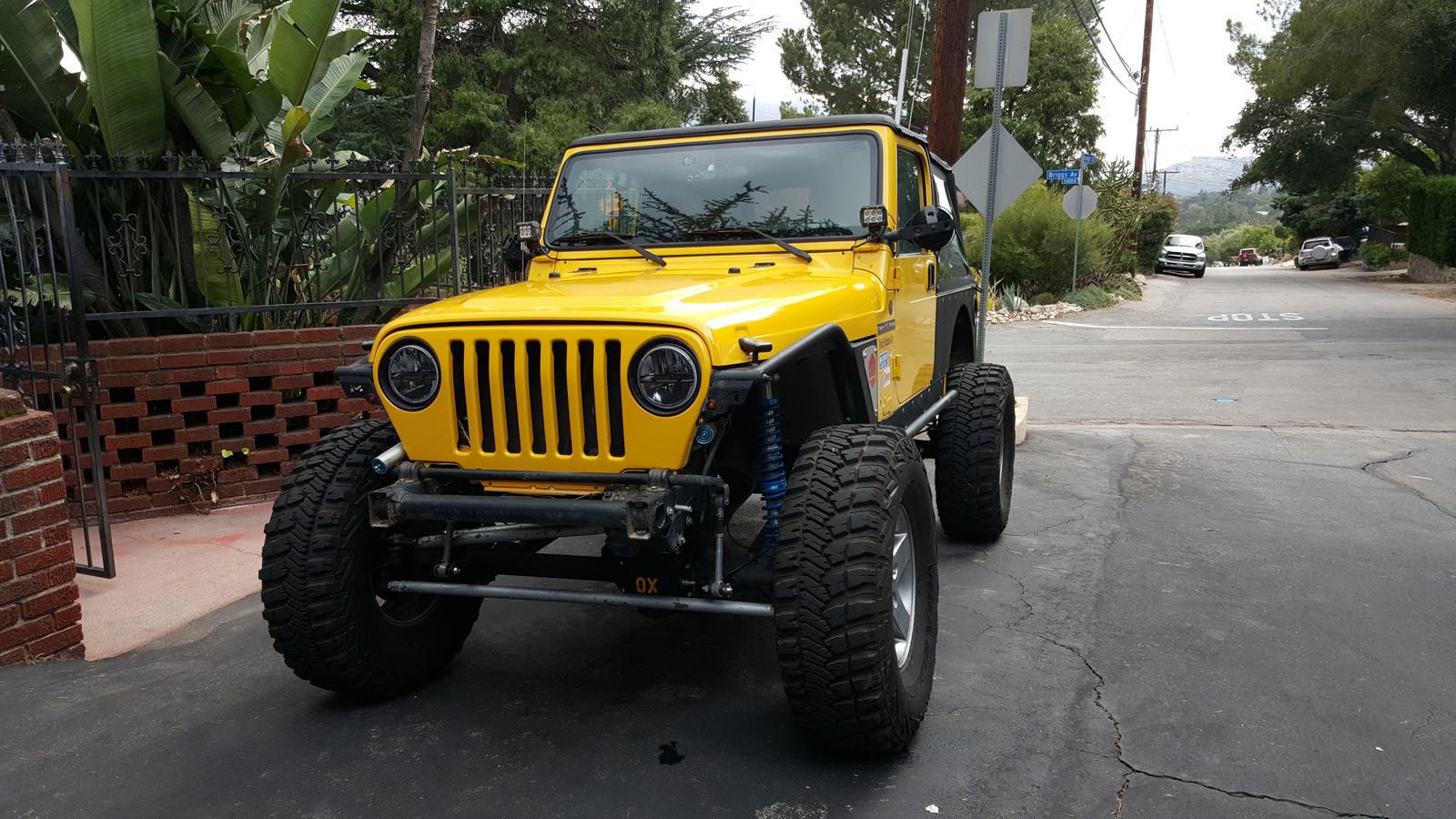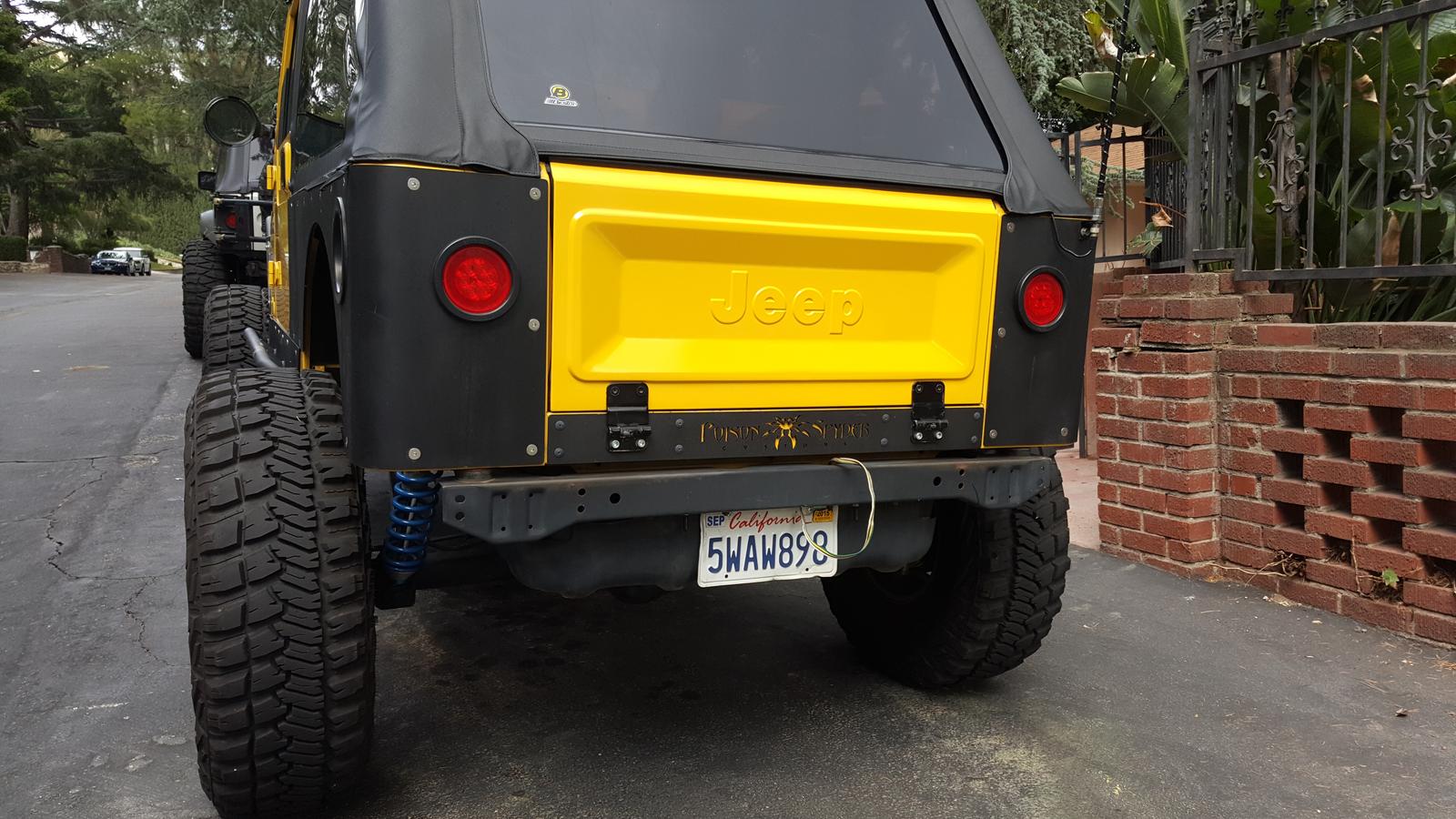 5-29-2015
Yay more stickers! This made the whole tailgate pop out!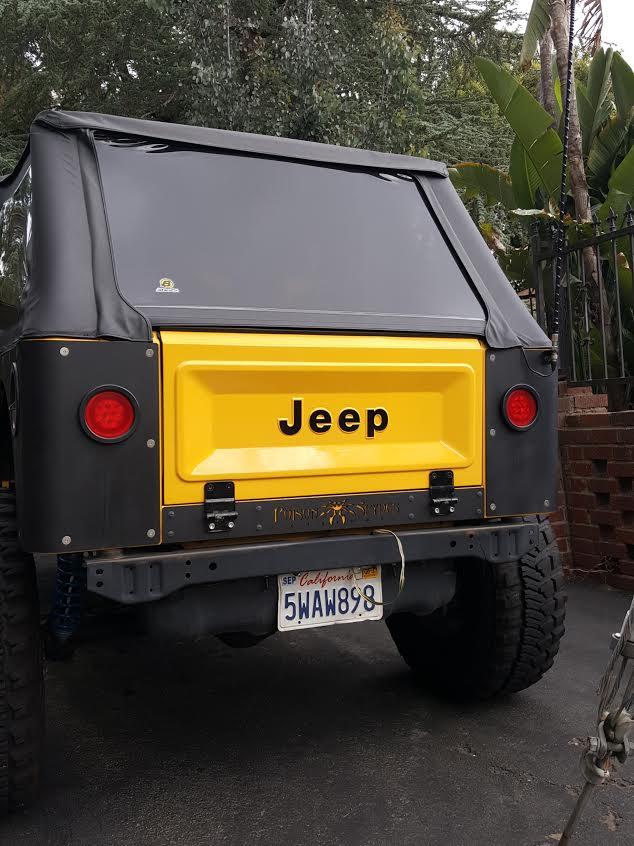 5-31-2015
My friend who owns a helicopter maintenance shop gave me 5lb Halon fire extinguisher that came off of a helicopter to put on my jeep. The extinguisher was last inspected 10 years ago (reason why its decomissioned), but I read that halon extinguishers are good as long as the seals are intact and the dial is still in the green and this one happens to be good. Also mocked up some tabs for the rear tailgate's latches so they won't open up from vibrations while driving. Summer is finally around the corner so its safe to say its time: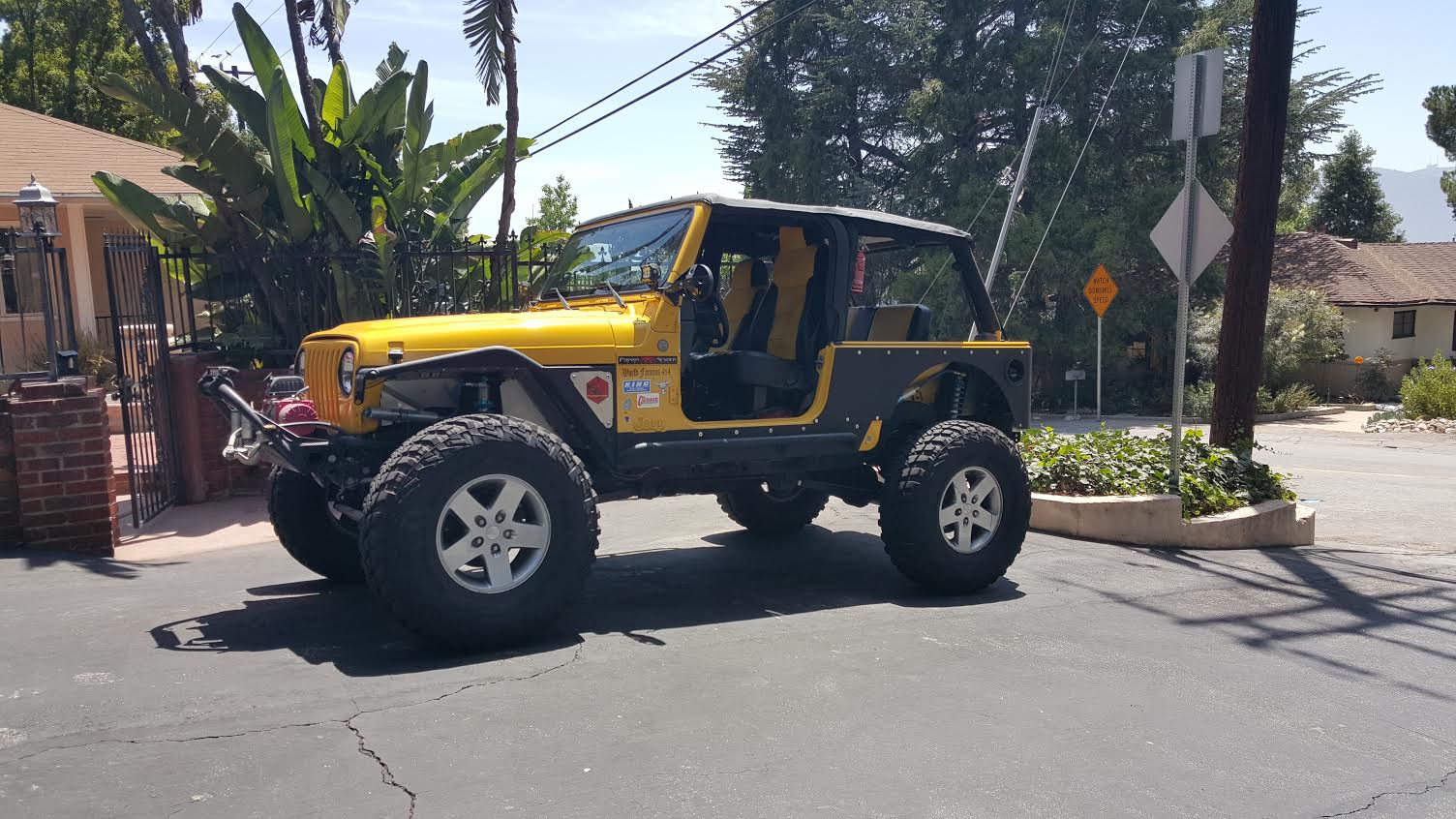 6-15-2015
Some goodies came in the mail today,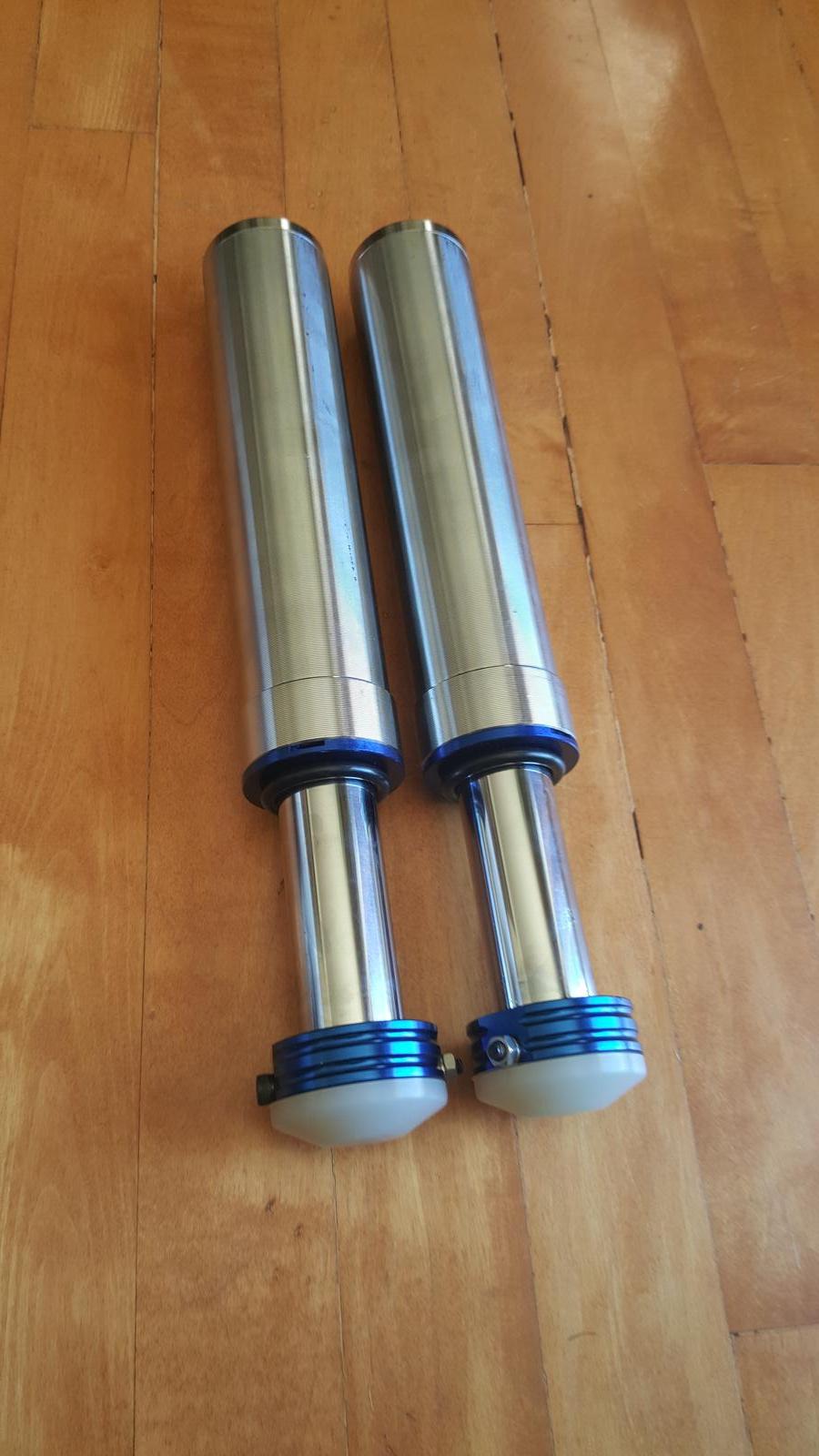 7-27-2015
Picture dump from my phone during the weekend wheeling trip in Big Bear. I wish I had a co-pilot for some awesome action shots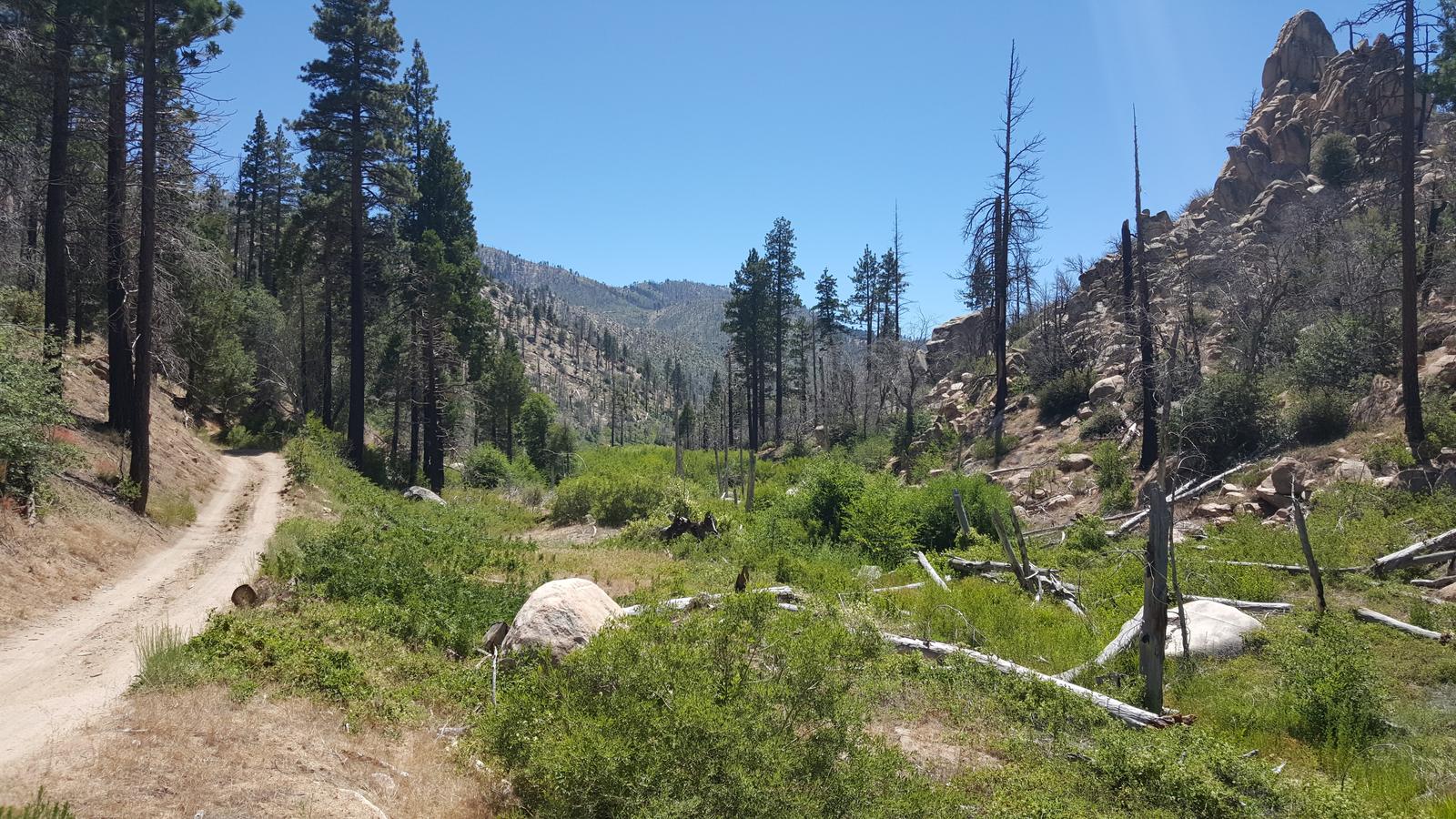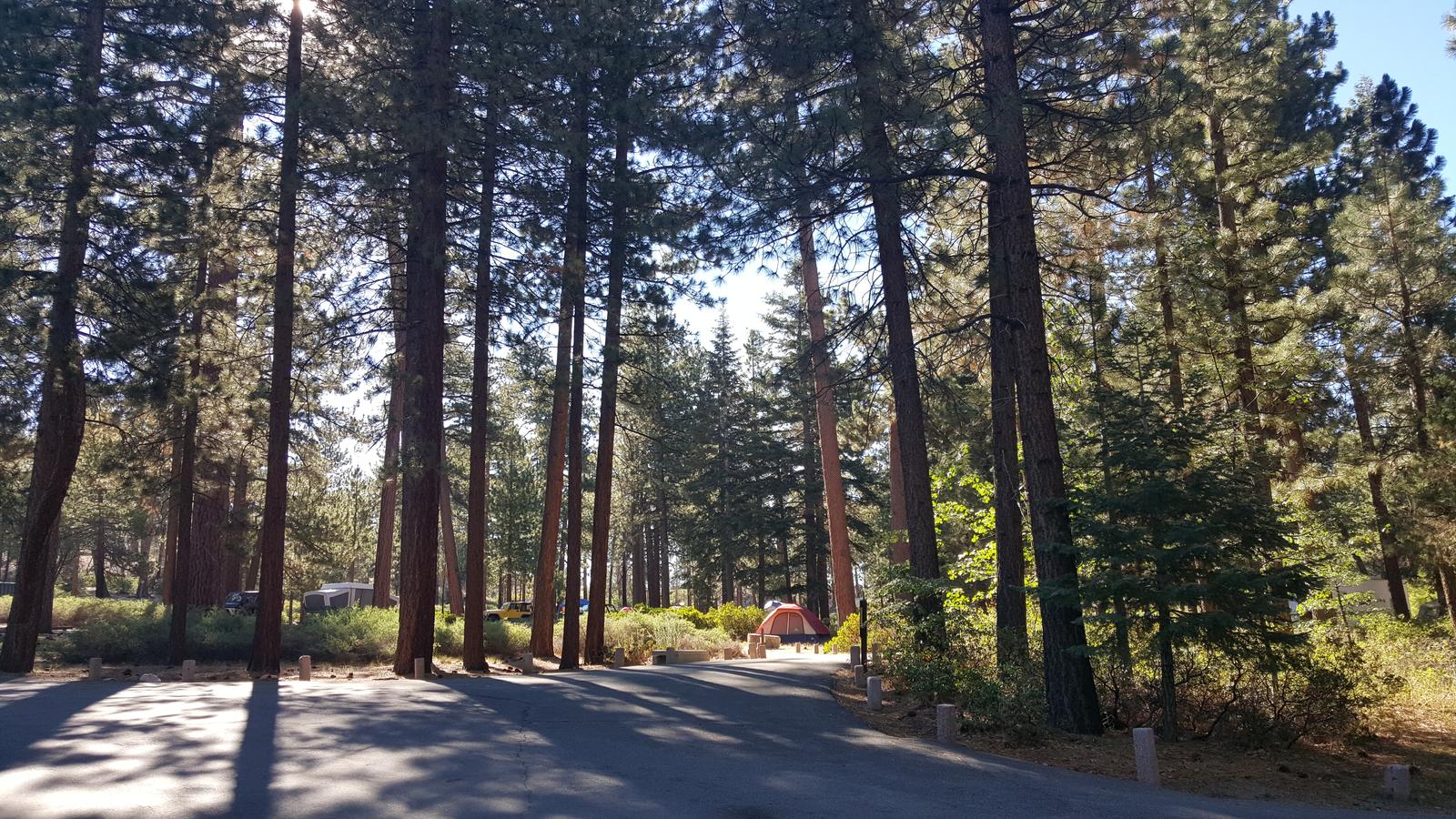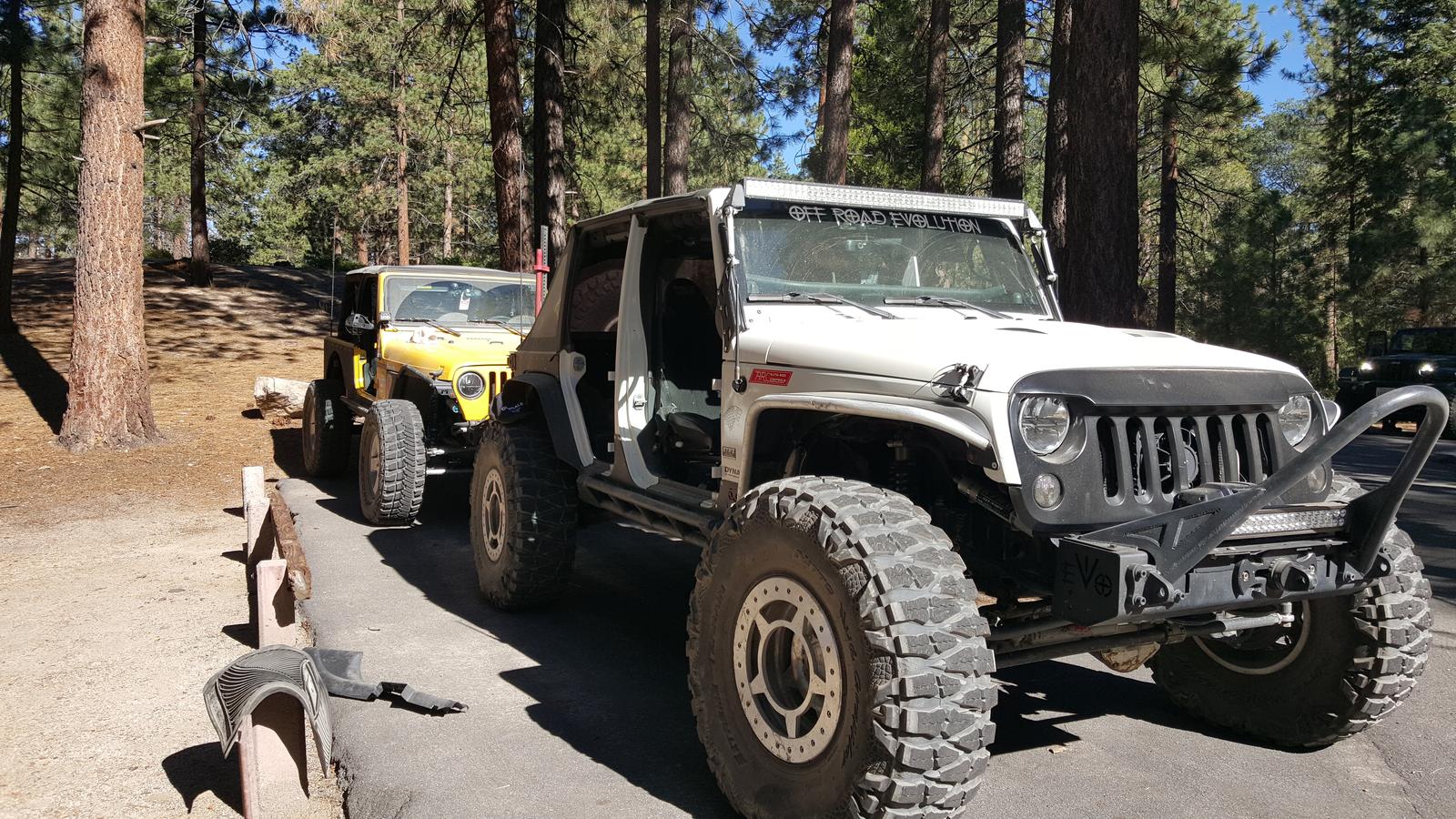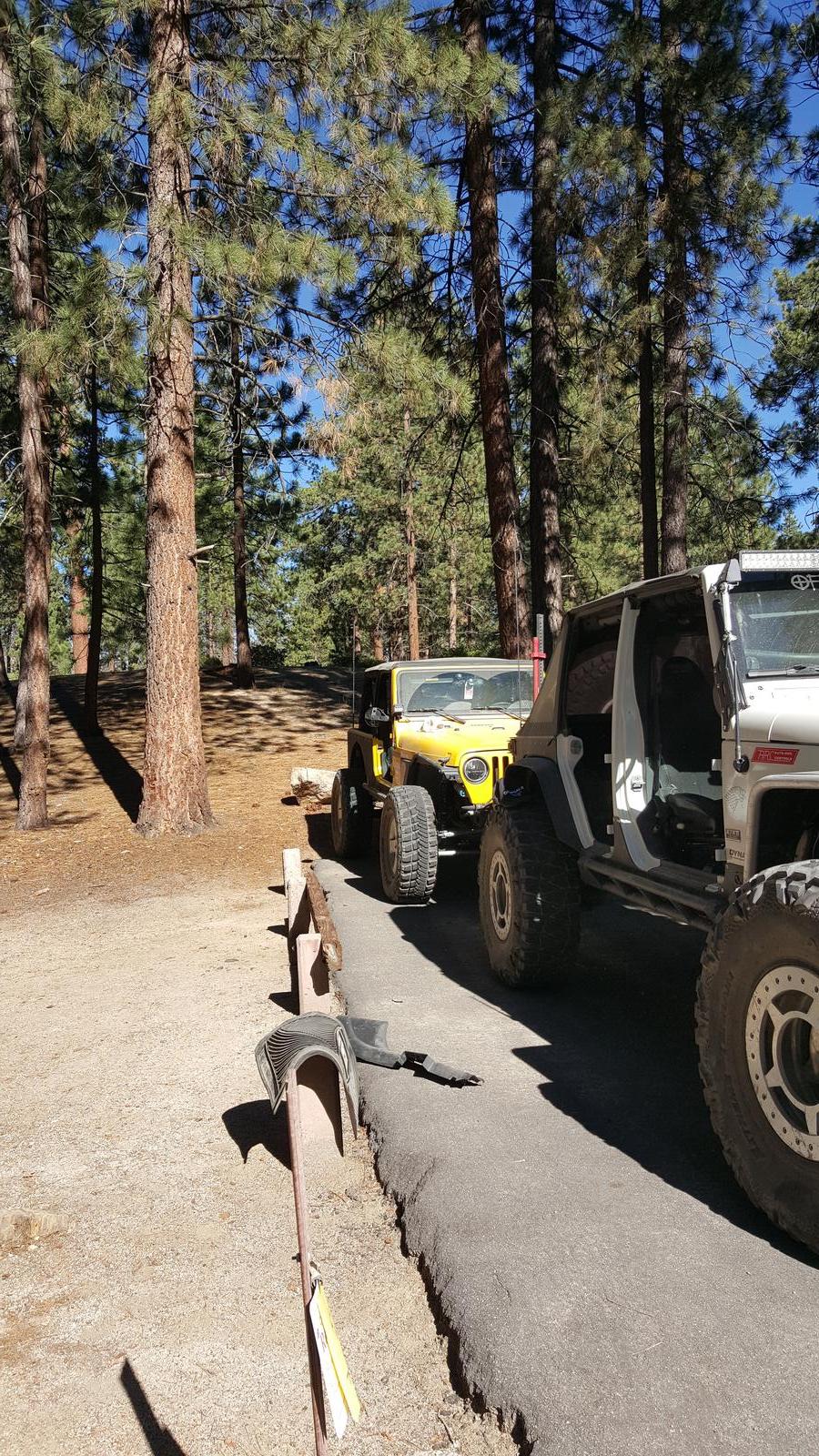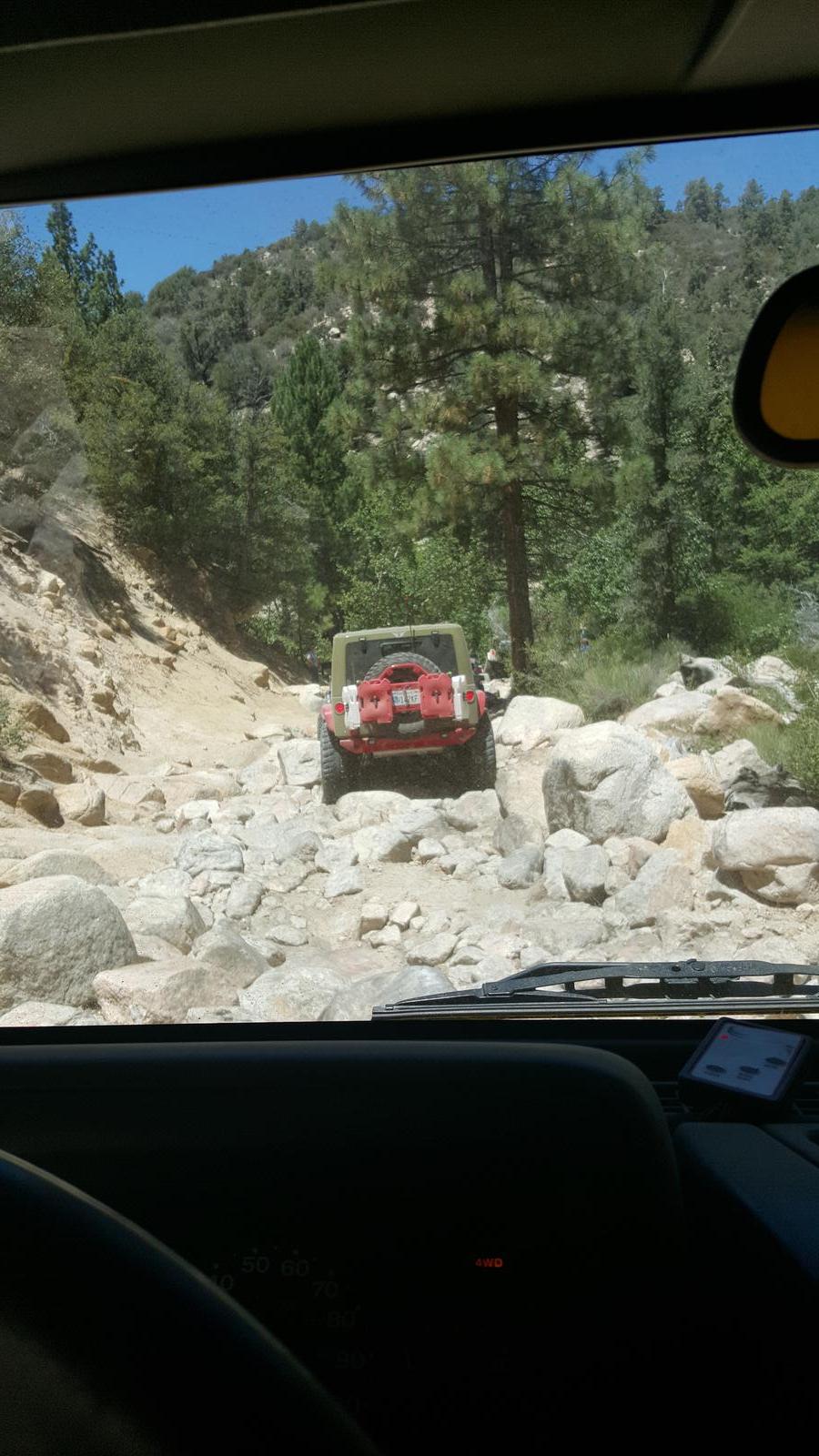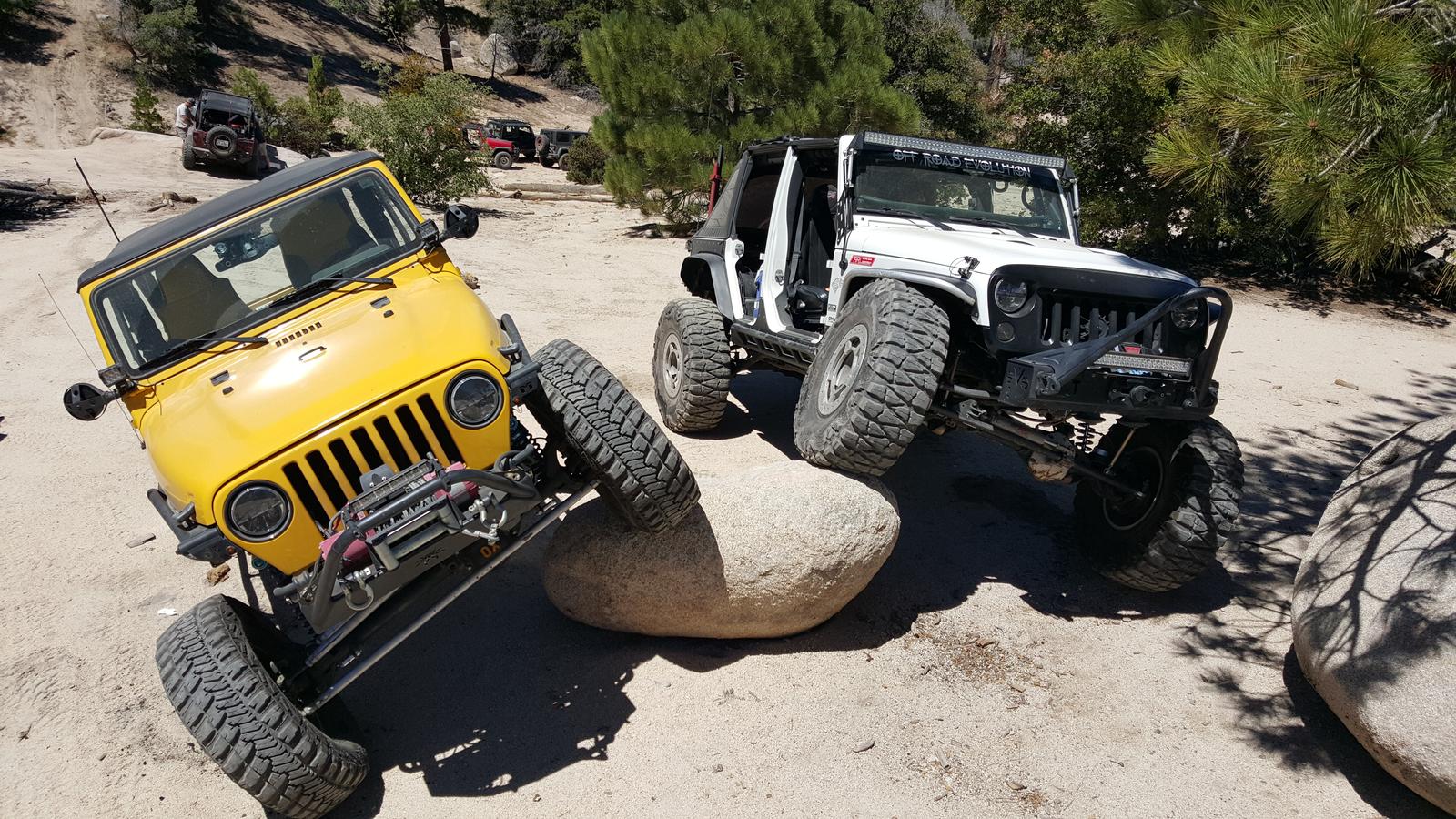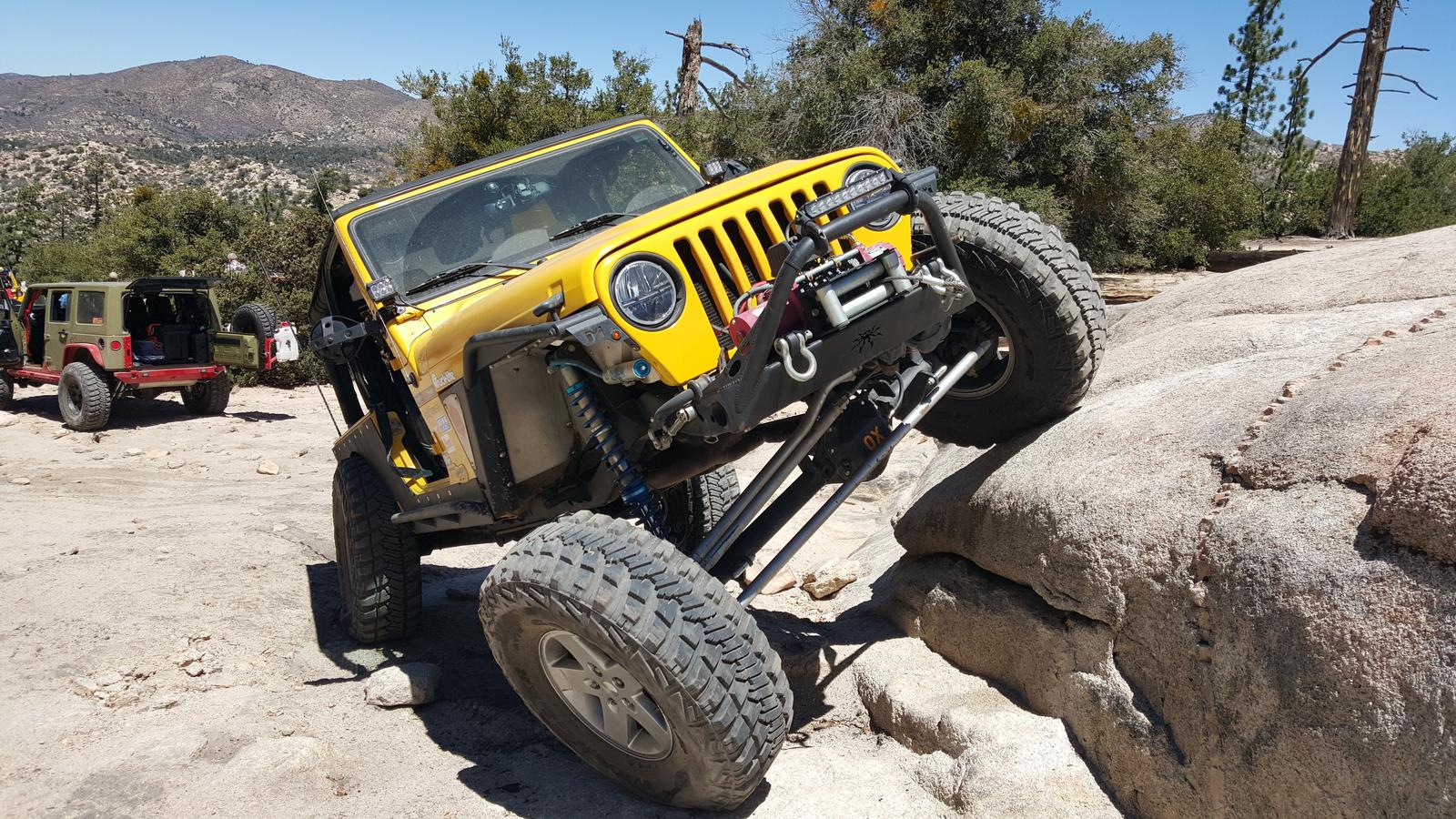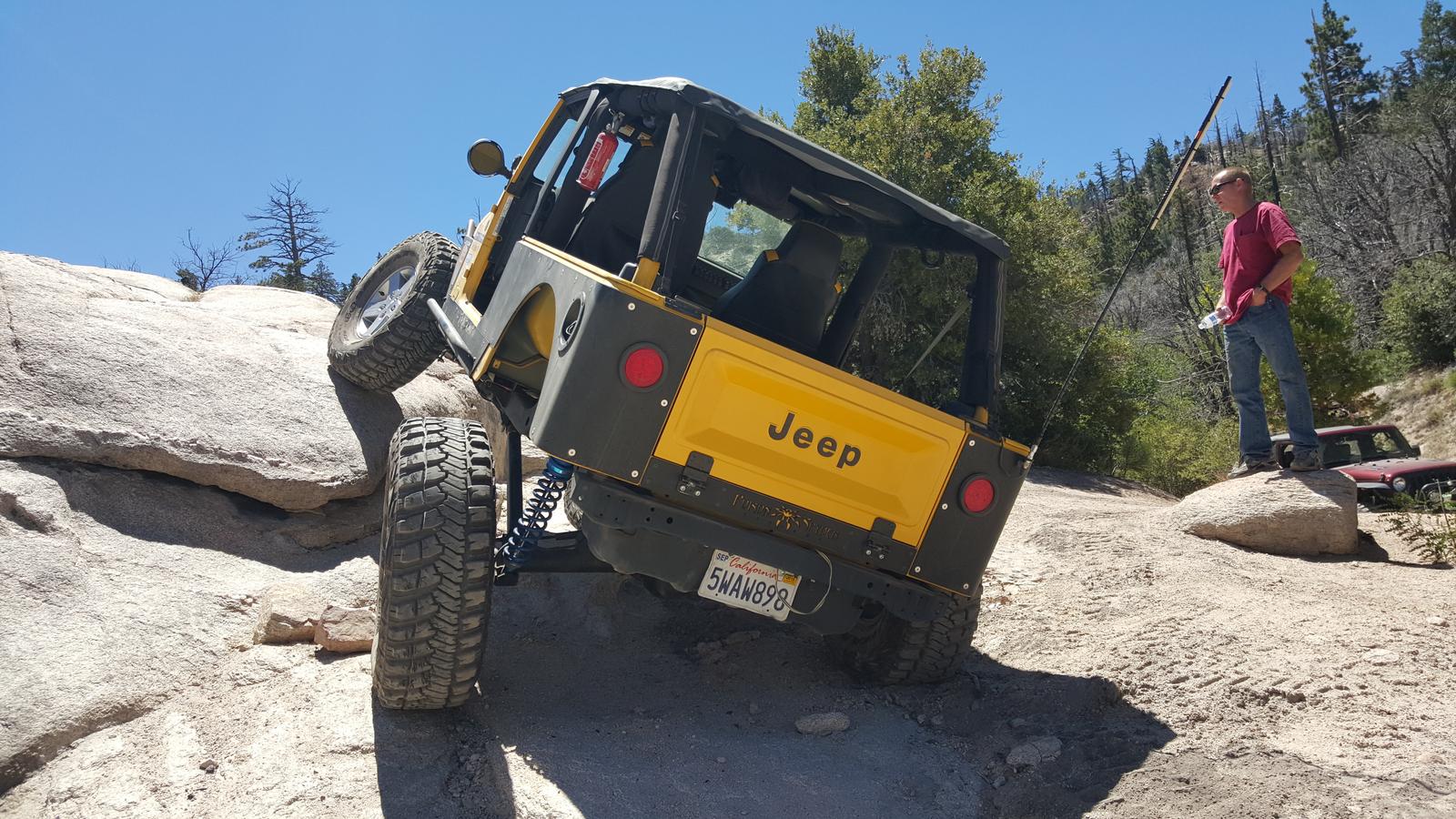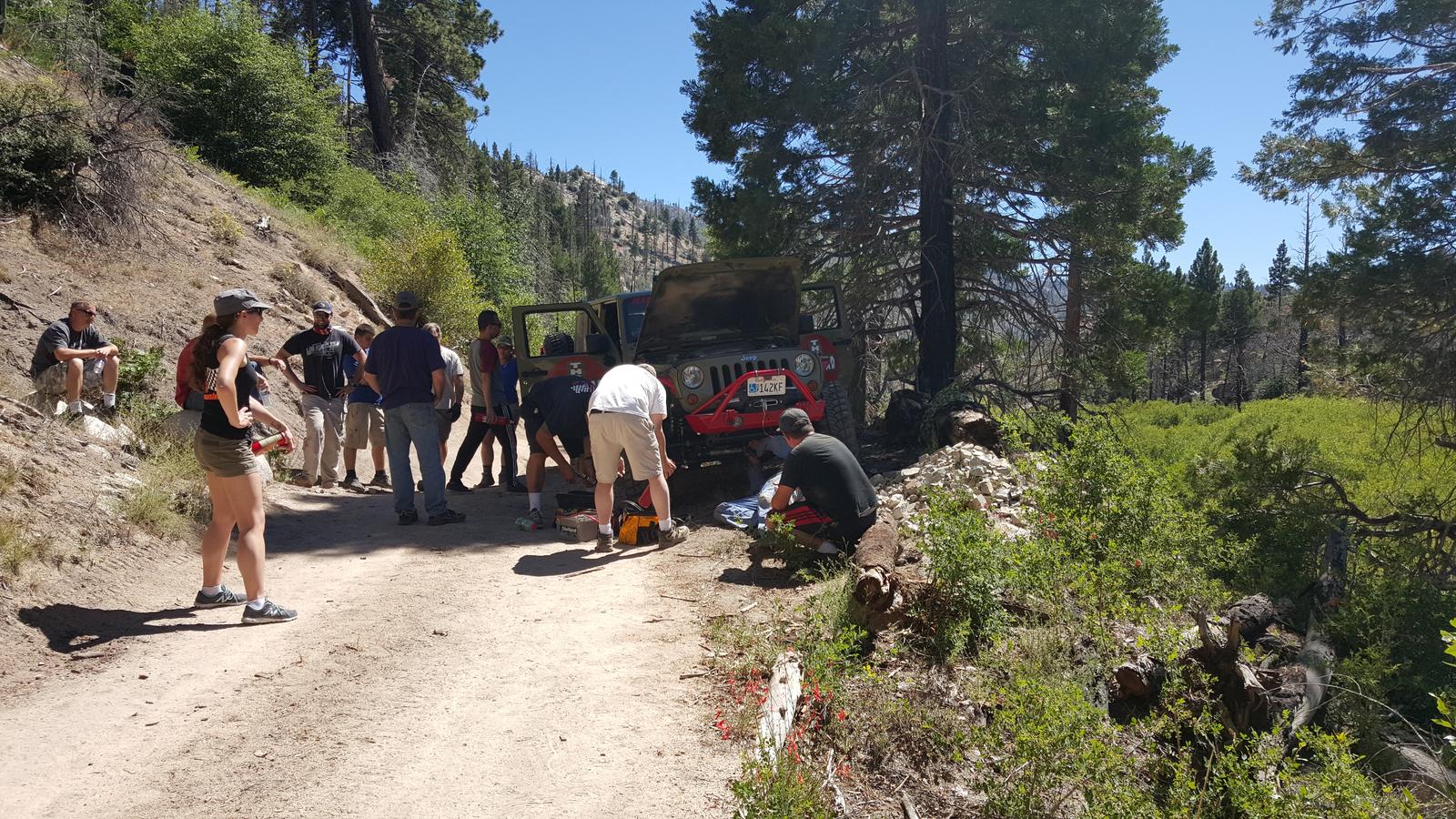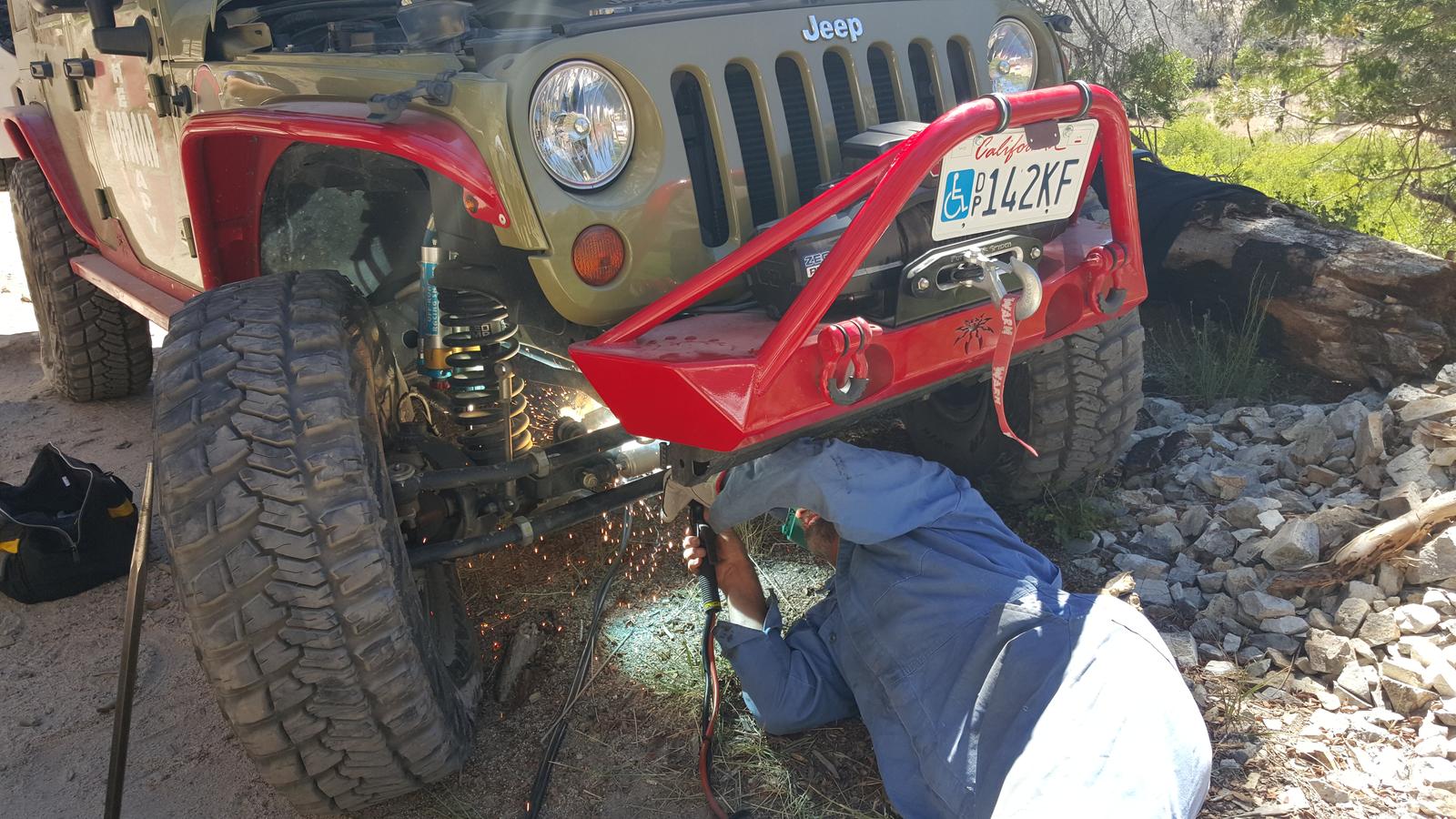 10-16-2015
Started up the front yesterday! First thing was first, the coilover springs had to come out. Put the jeep on full compression and took a look at things that made contact. I found that the trackbar would make contact with the diff cover at full compression and the upper axle mount on the 3 link would get within a hair width from the A/C compressor on the engine. Next step was to mock up the mounting locations for the bumps. After I found a suitable spot, I burned them in.
Next step was to make the landing pads on the axle. I had to sacrifice some uptravel because of how I mounted my bumps more inboard then the coilovers. This throws the bumps and shocks off the same plane so they see different numbers when you compress and extend each side of the axle. So today I got the landing pads welded up and ready to go on the axle and I was able to make some new bends on my trackbar so it cleared the diff cover properly. On top of all that I took off my tierod, draglink, and trackbar and gave it a new paint job. Tomorrow I should be done with the front, and hopefully next weekend I can finish the rear.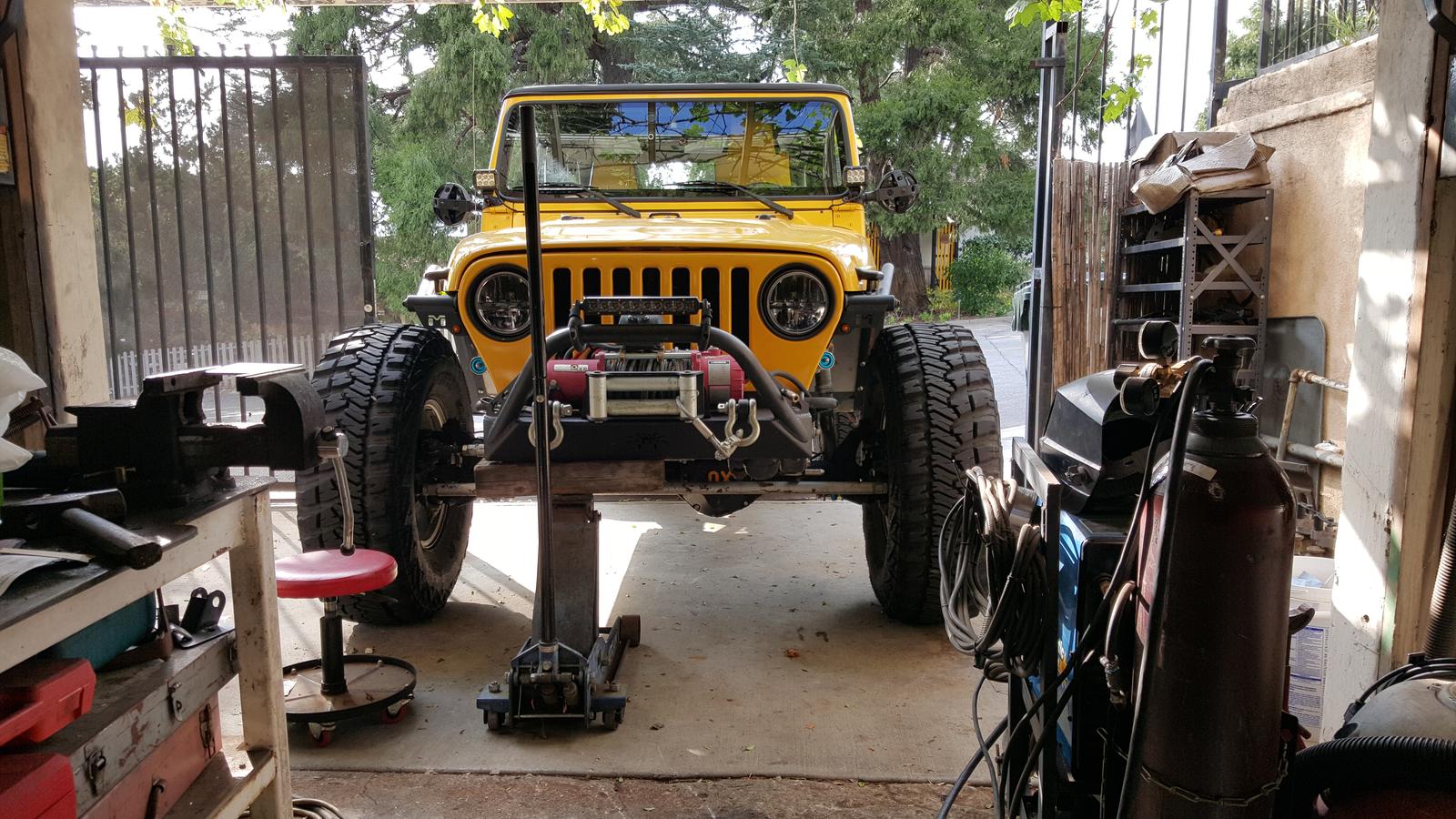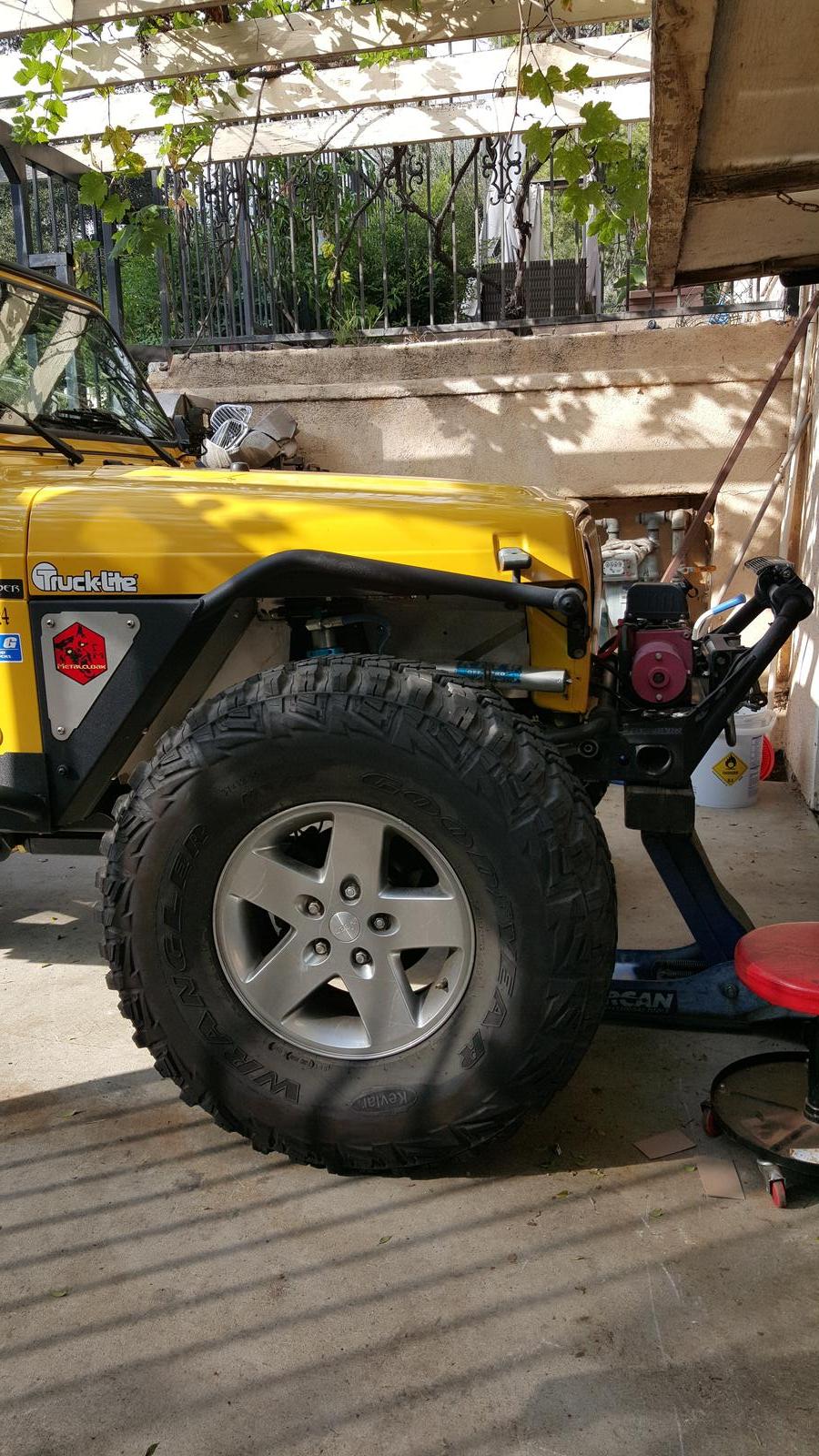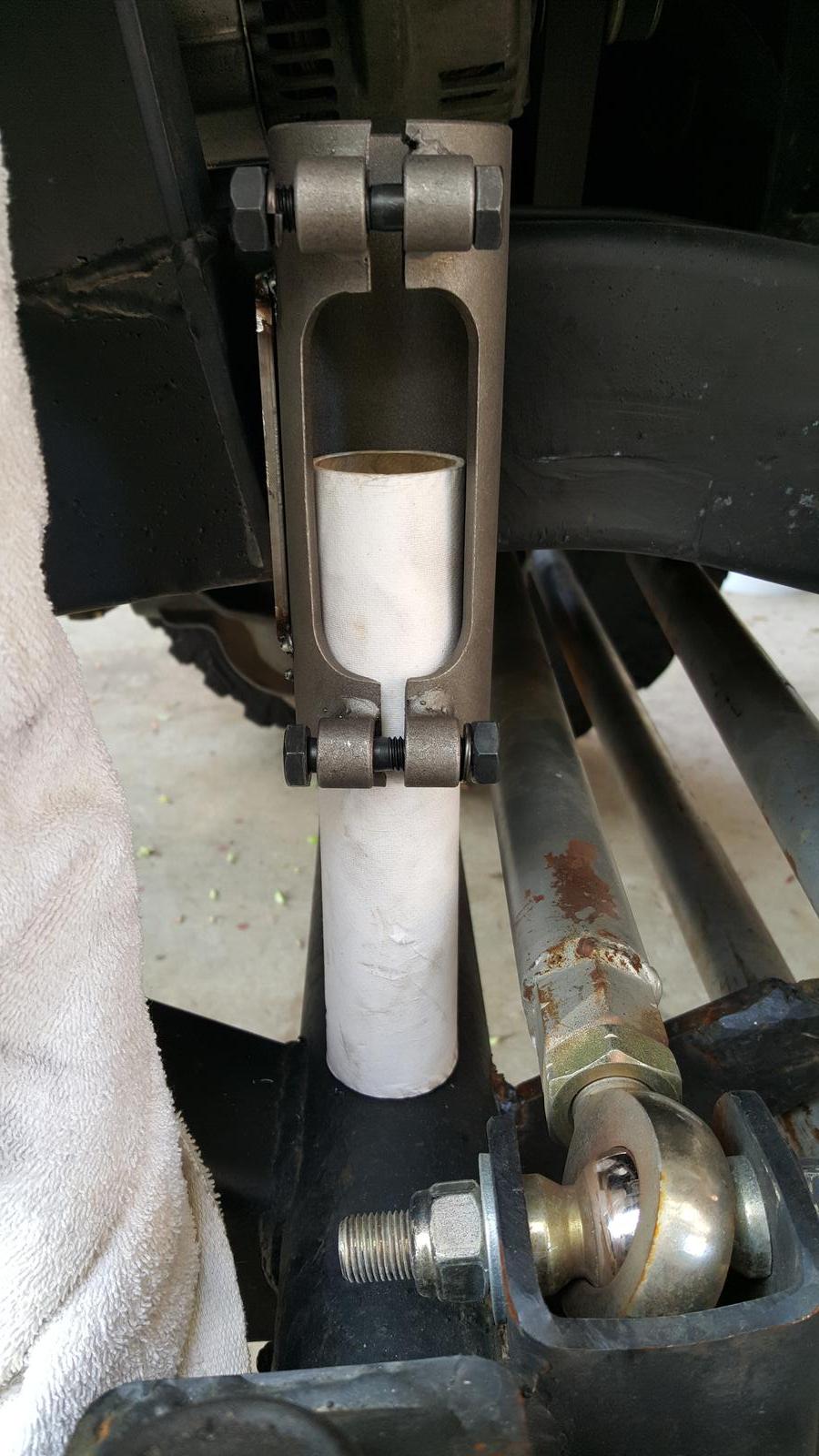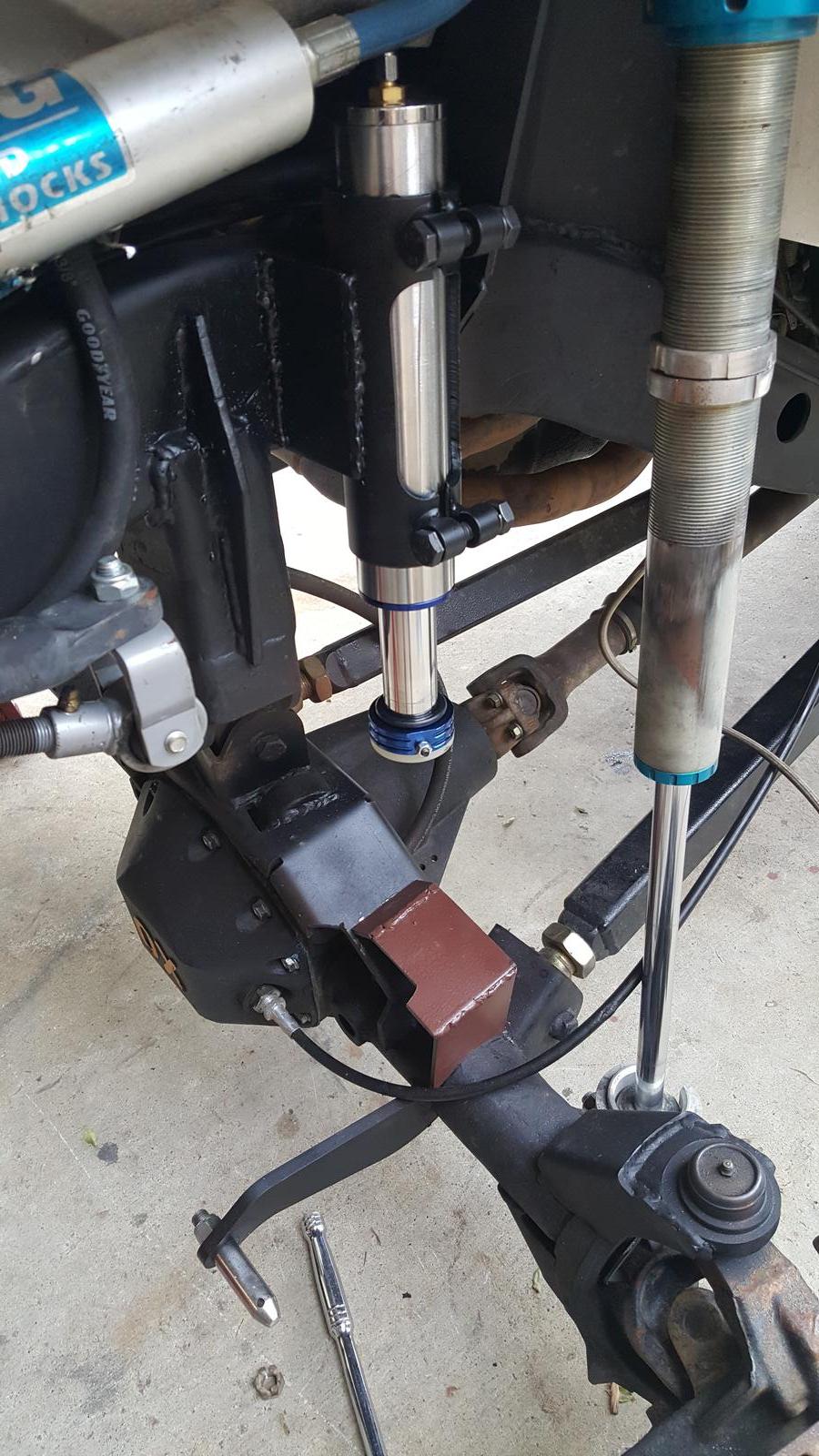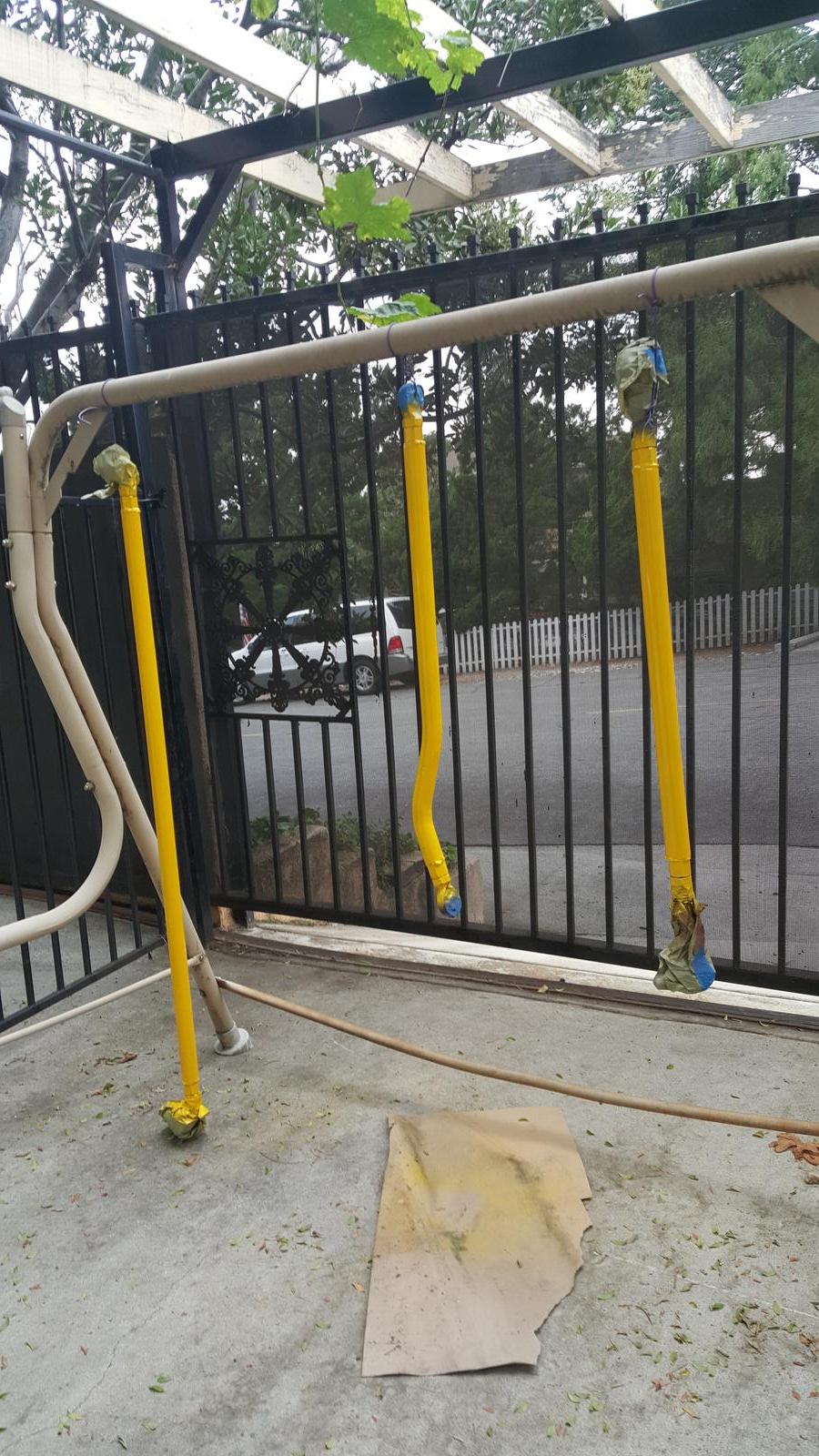 10-17-2015
Just buttoned everything up! Got the steering back in place, and took some pics at ride height. I have about 2" of uptravel until it starts to hit the bumps. Not as much as I would like but as a daily driver and a rock crawler it will have to do.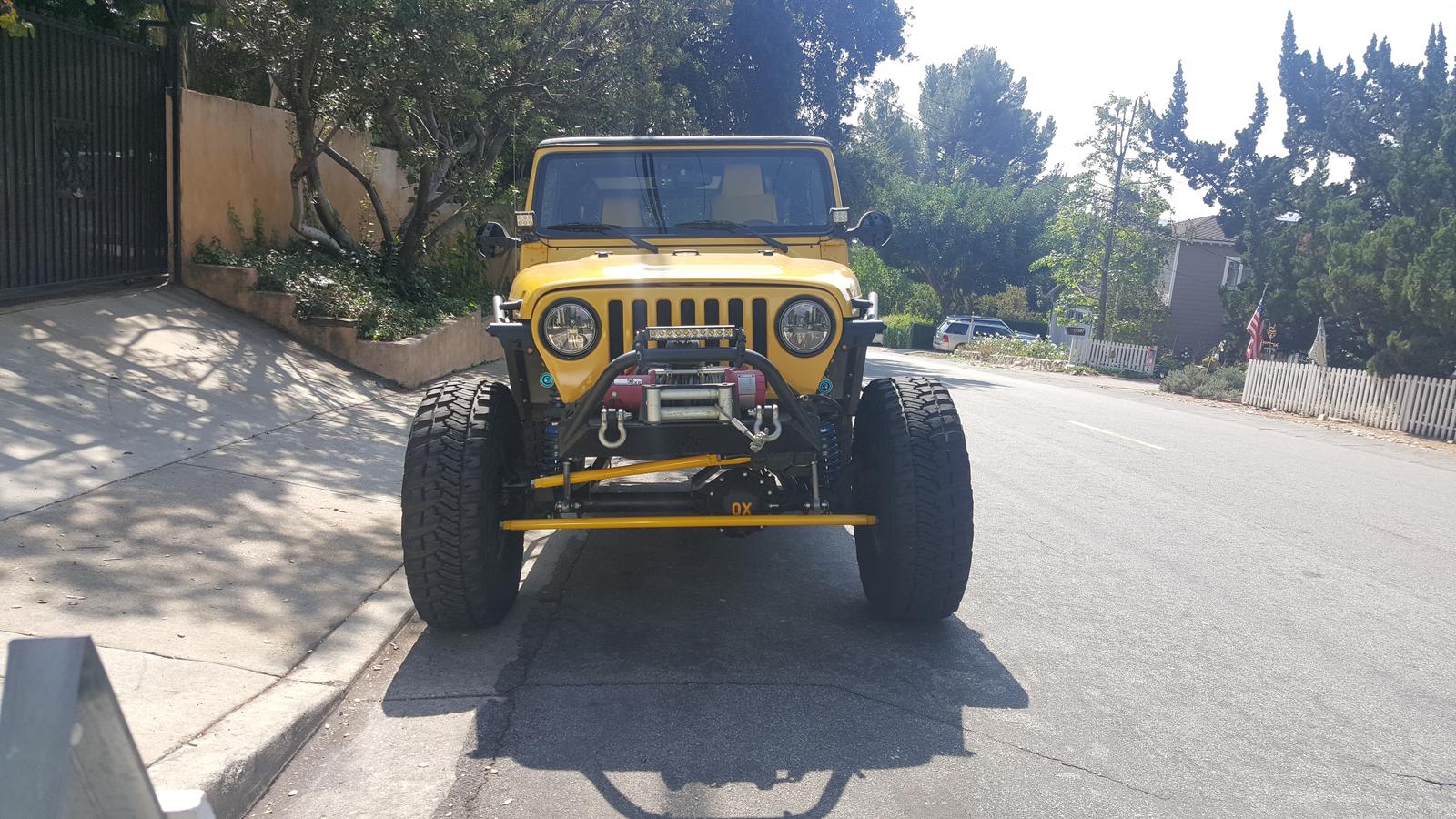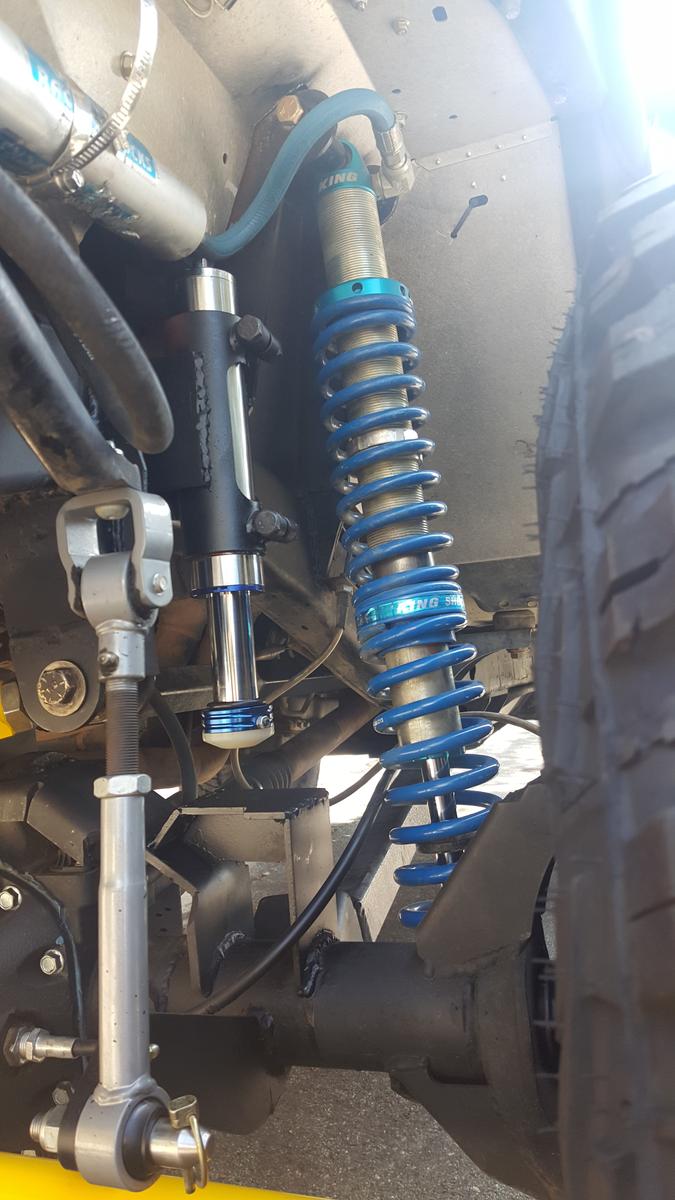 11-24-2015
So an update. Added some new LED rock lights from Online-LED-Store. They needed a rig to put it on for pics so I volunteered. I put the lights on a couple weeks ago and last weekend we decided to head to Johnson Valley to take some pictures, specifically I chose the beginning rock garden of Chocolate Thunder. Since I was alone in a single Jeep, I did not go further up the trail.
Unfortunately when we got there the wiring on my lights decided to pose a problem and started to throw the rock light fuse every time I turned it on. Turned out I screwed up my wiring and something was grounded. Anyways, took some pictures while I was there and called it a night.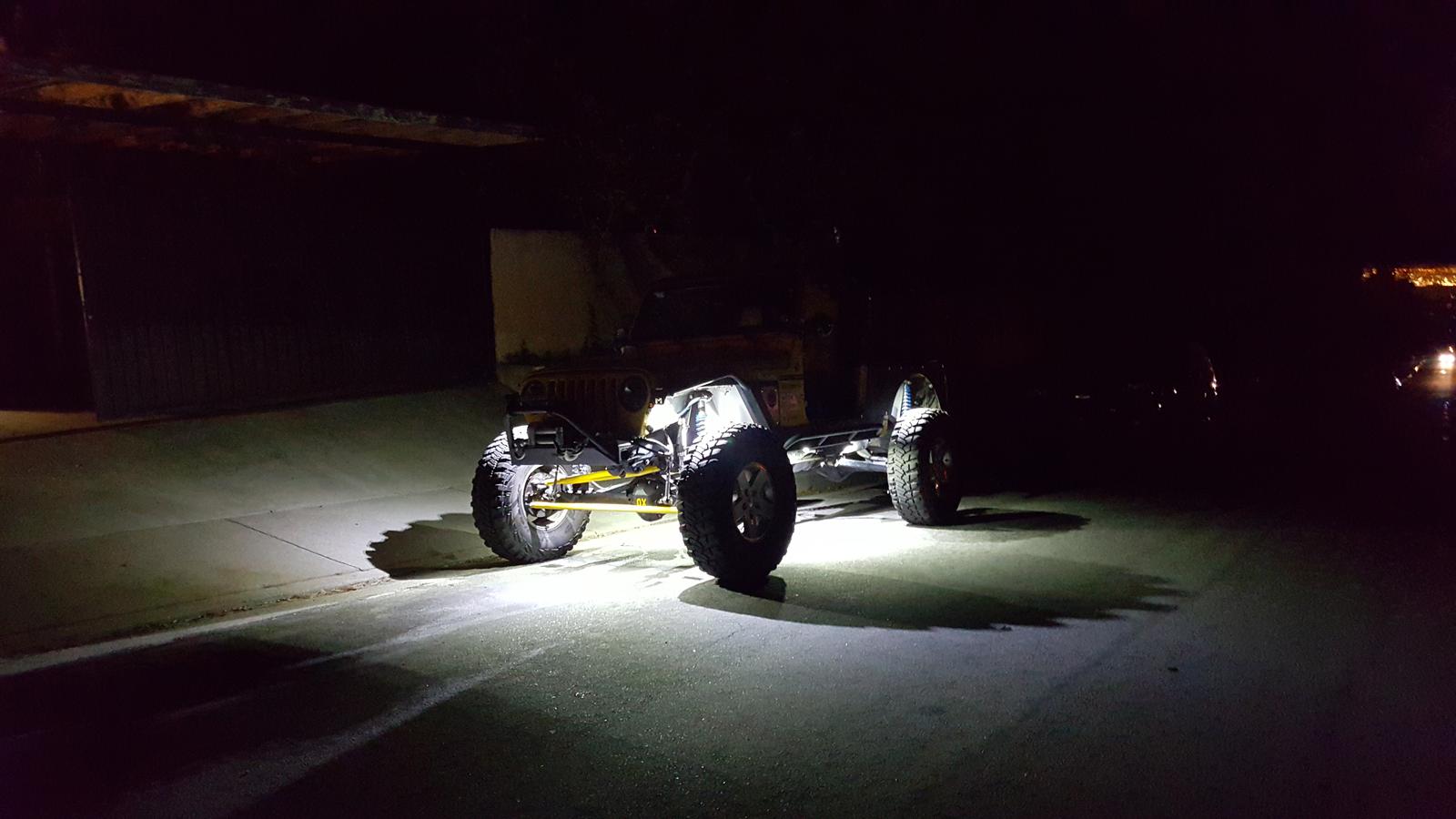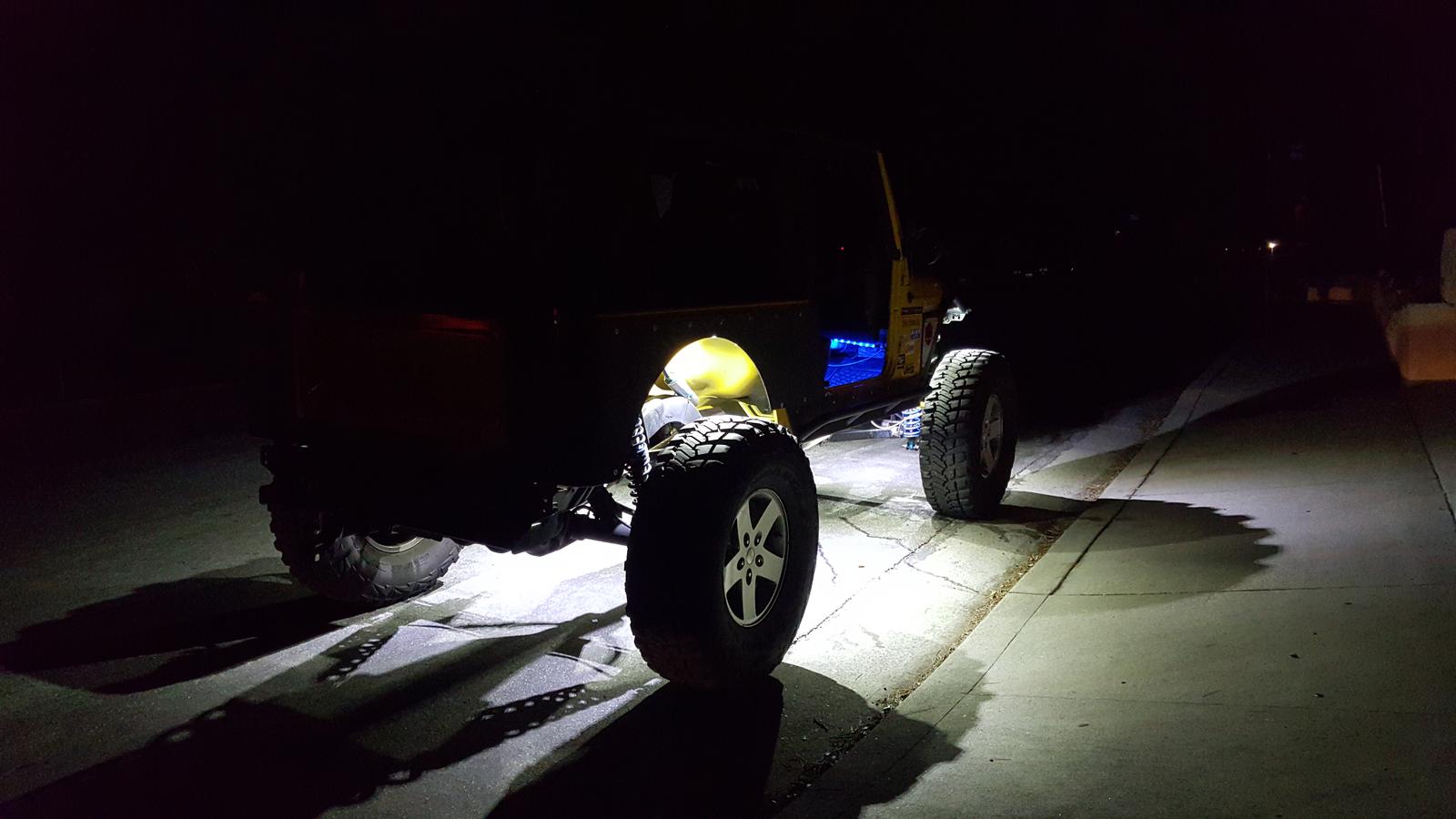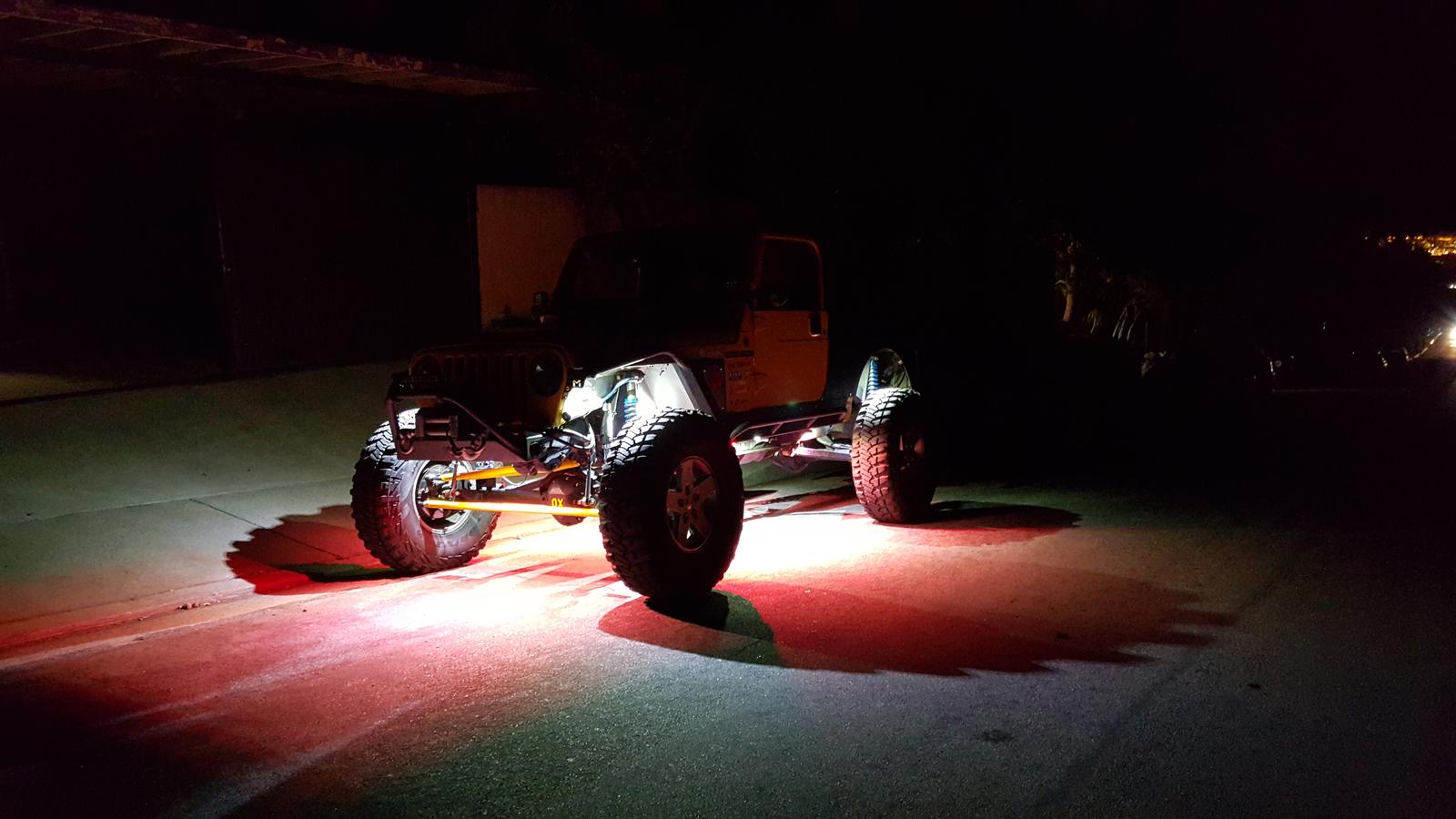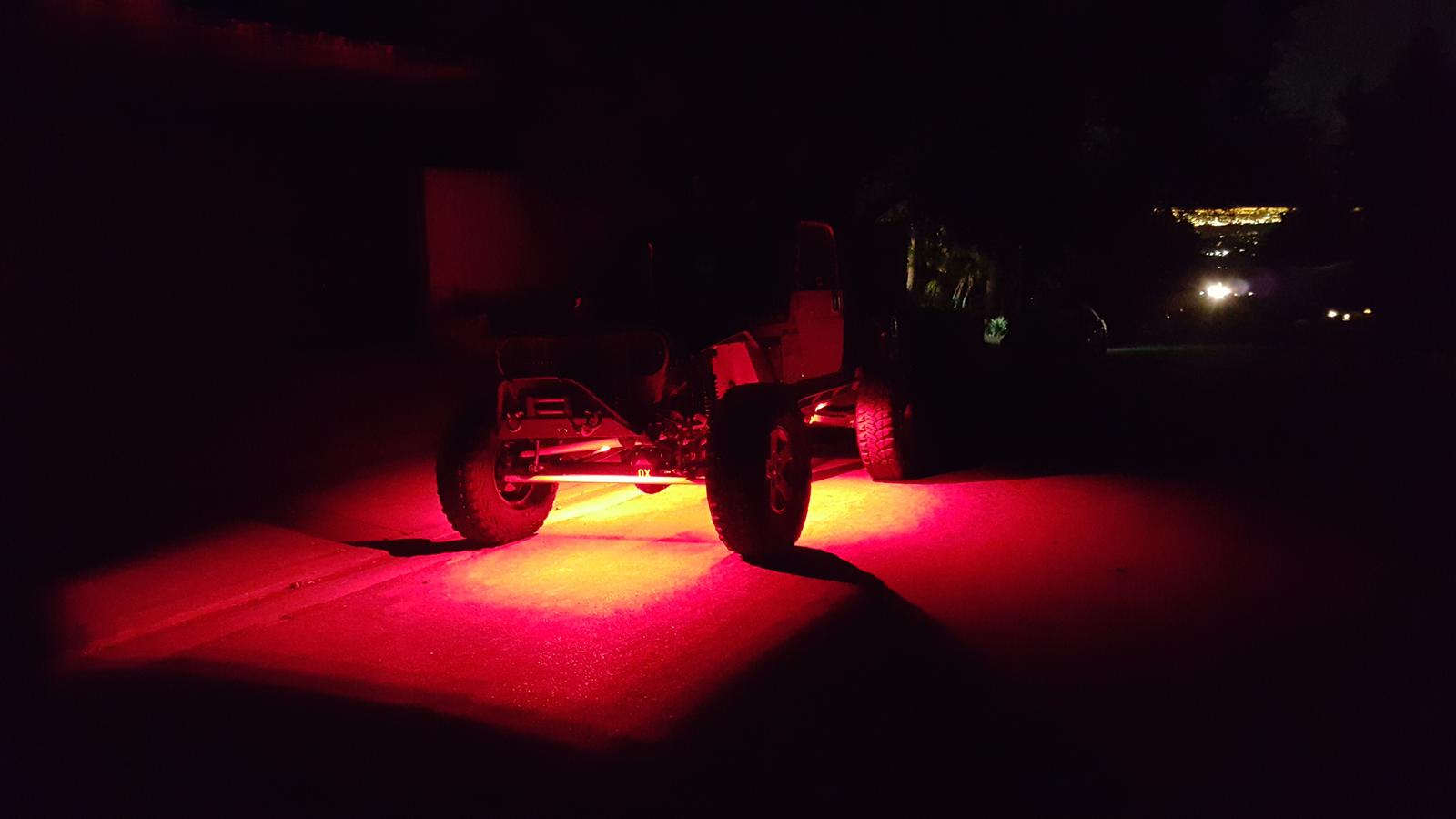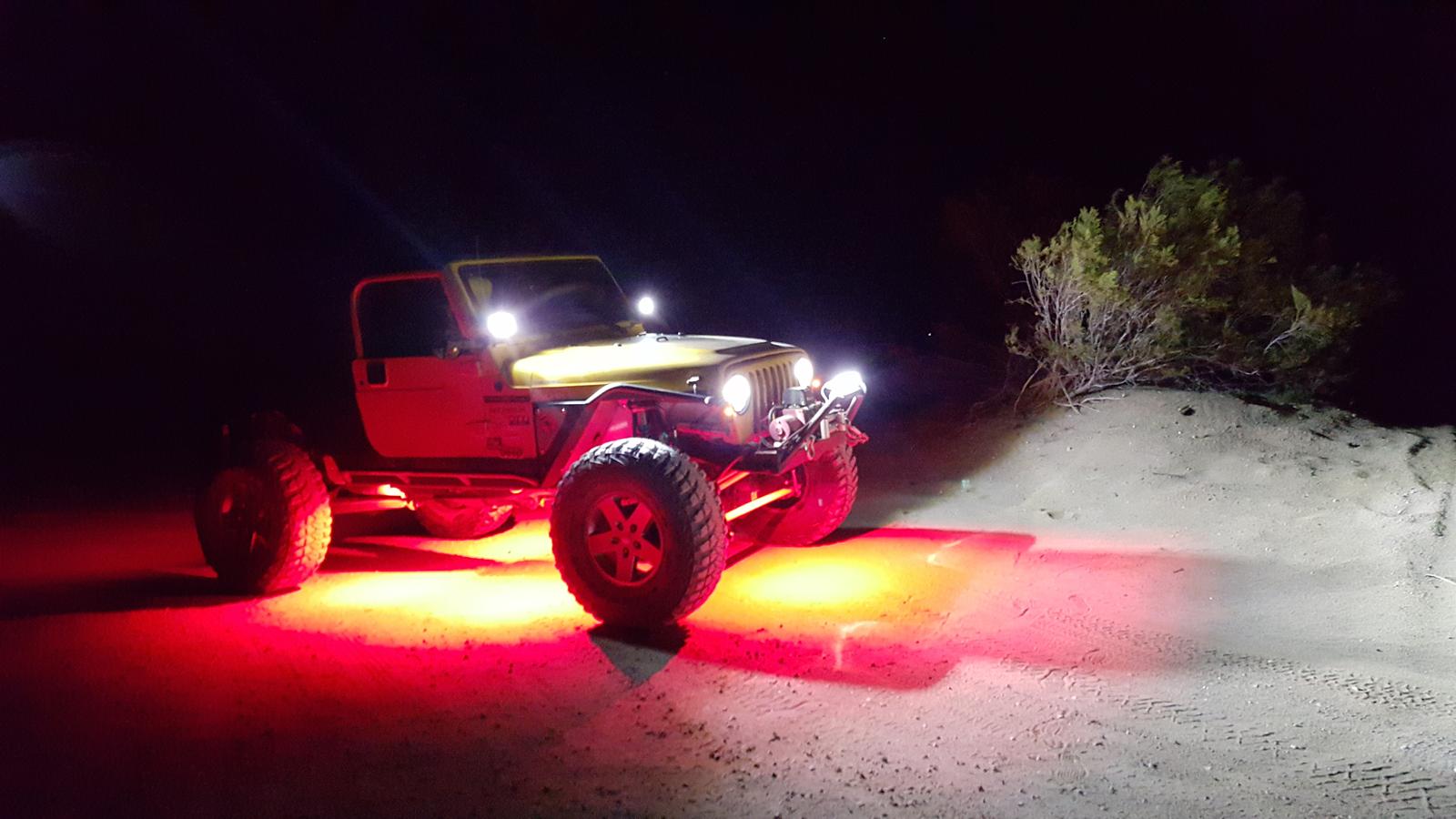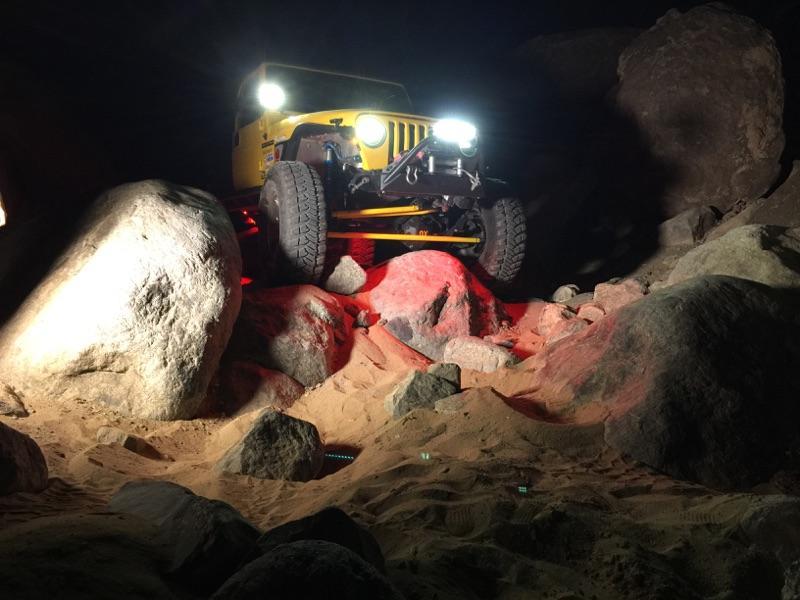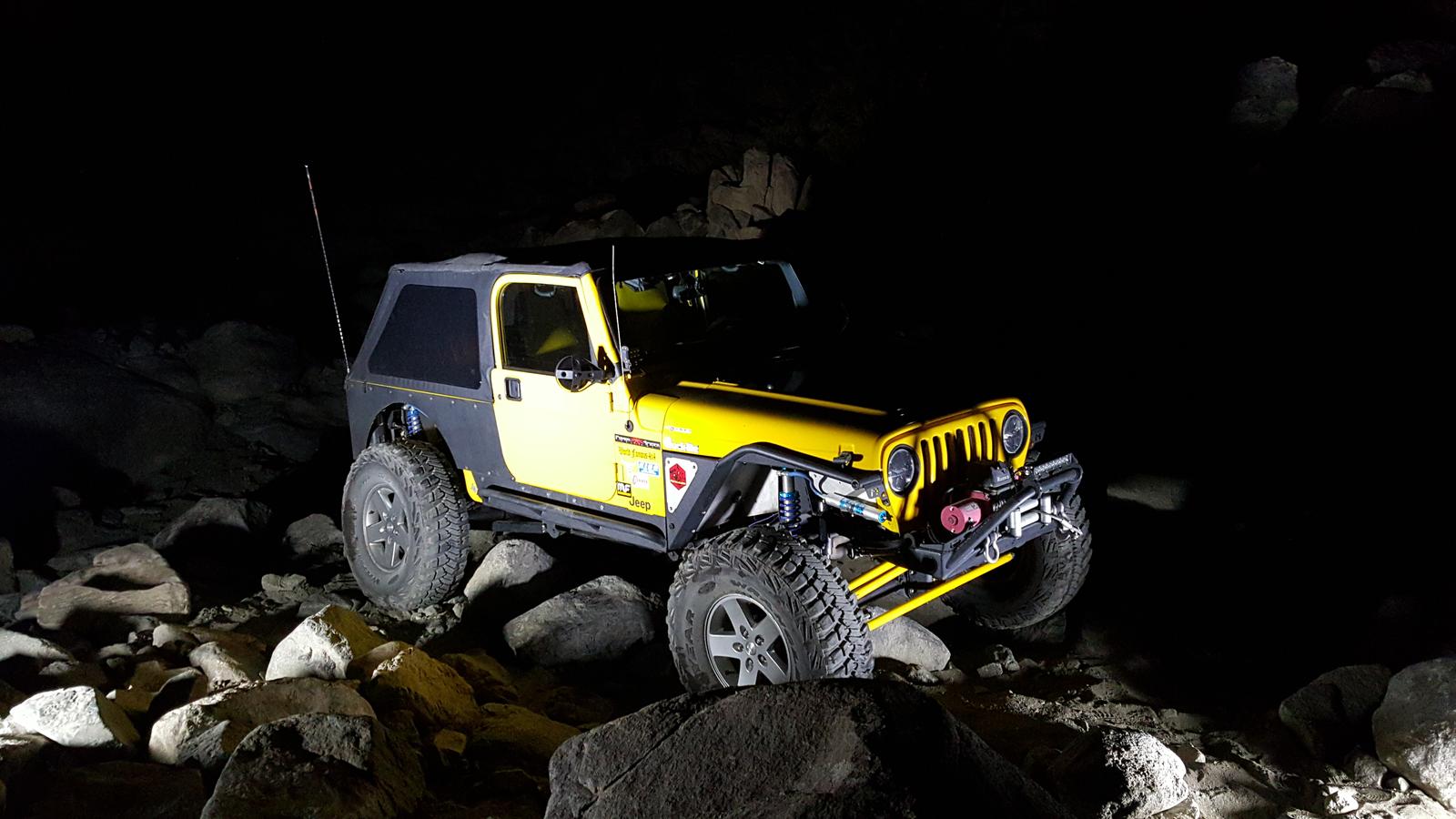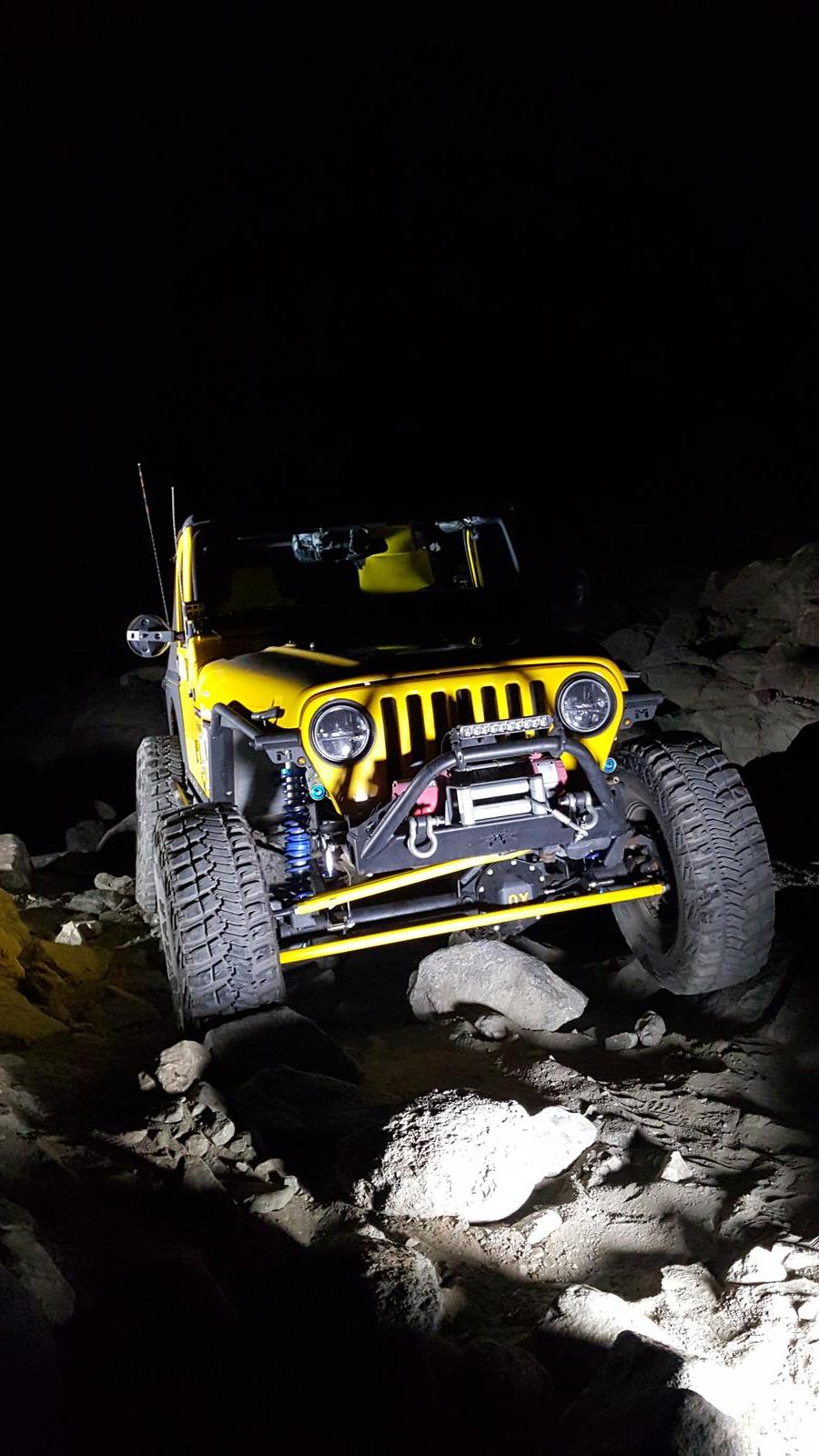 4-16-2016
Time for an update! Since the last time I posted I went to Gorman, Calico and Silverwood Lake. Here are a few pictures from each.
Gorman: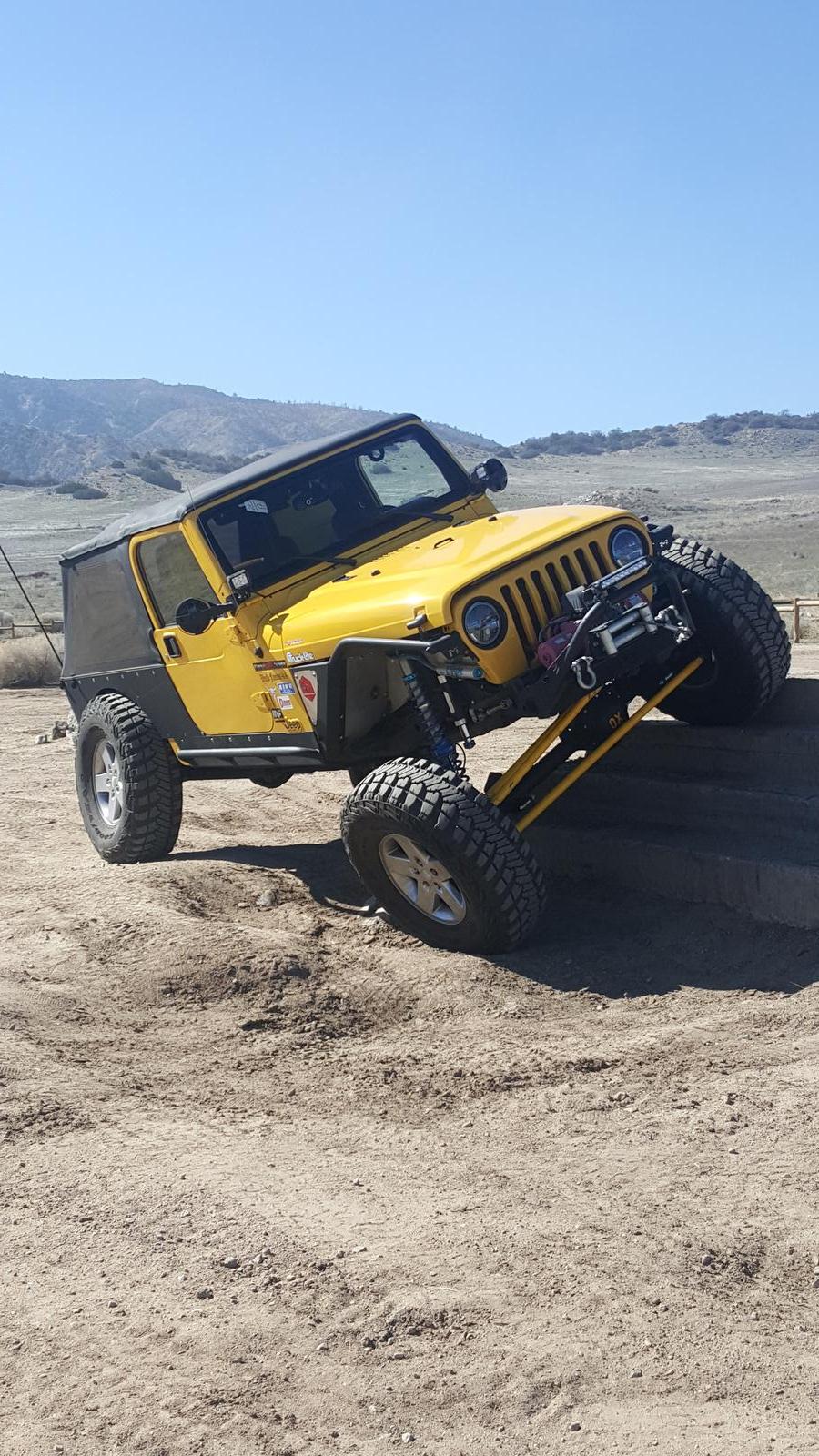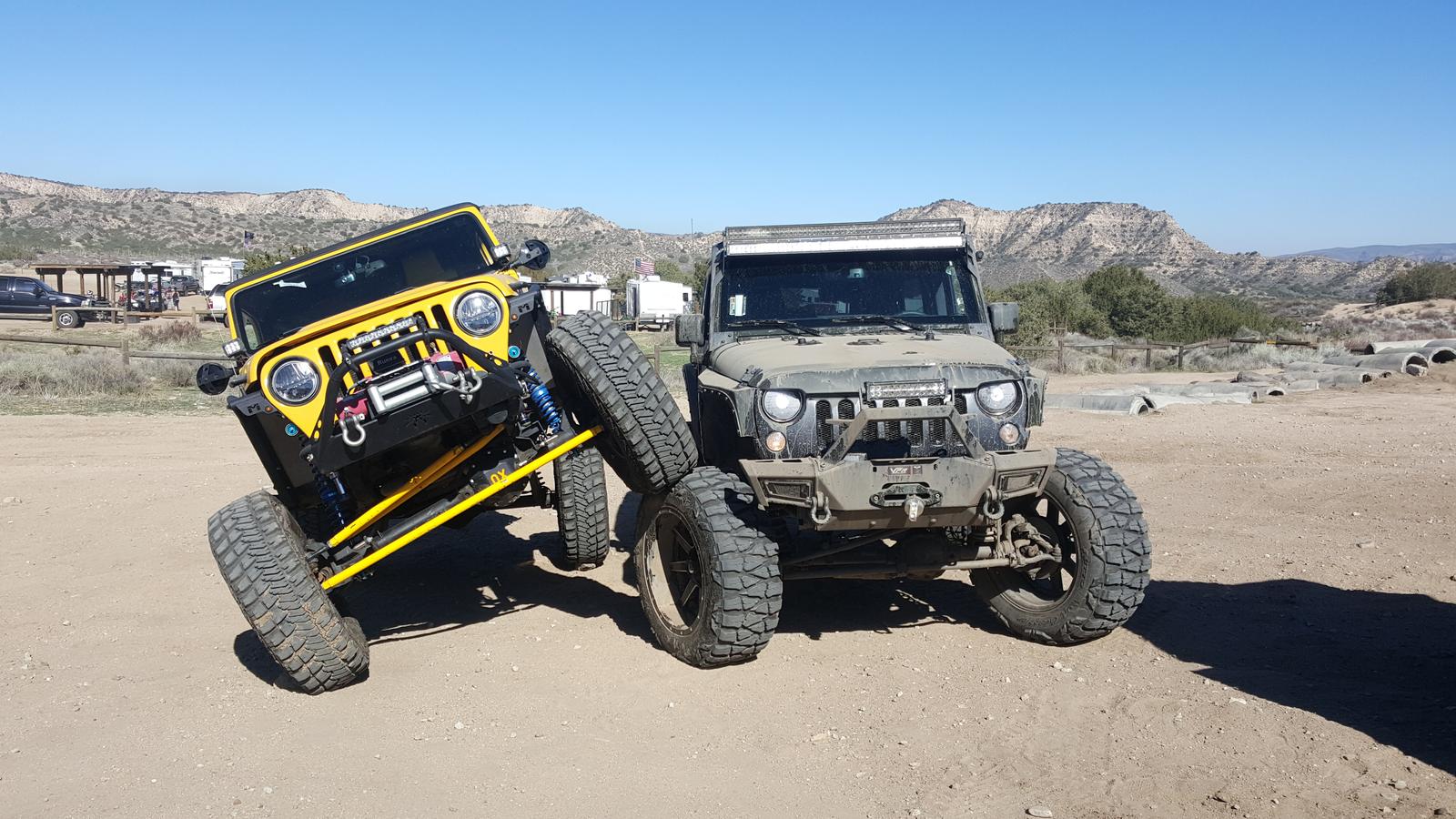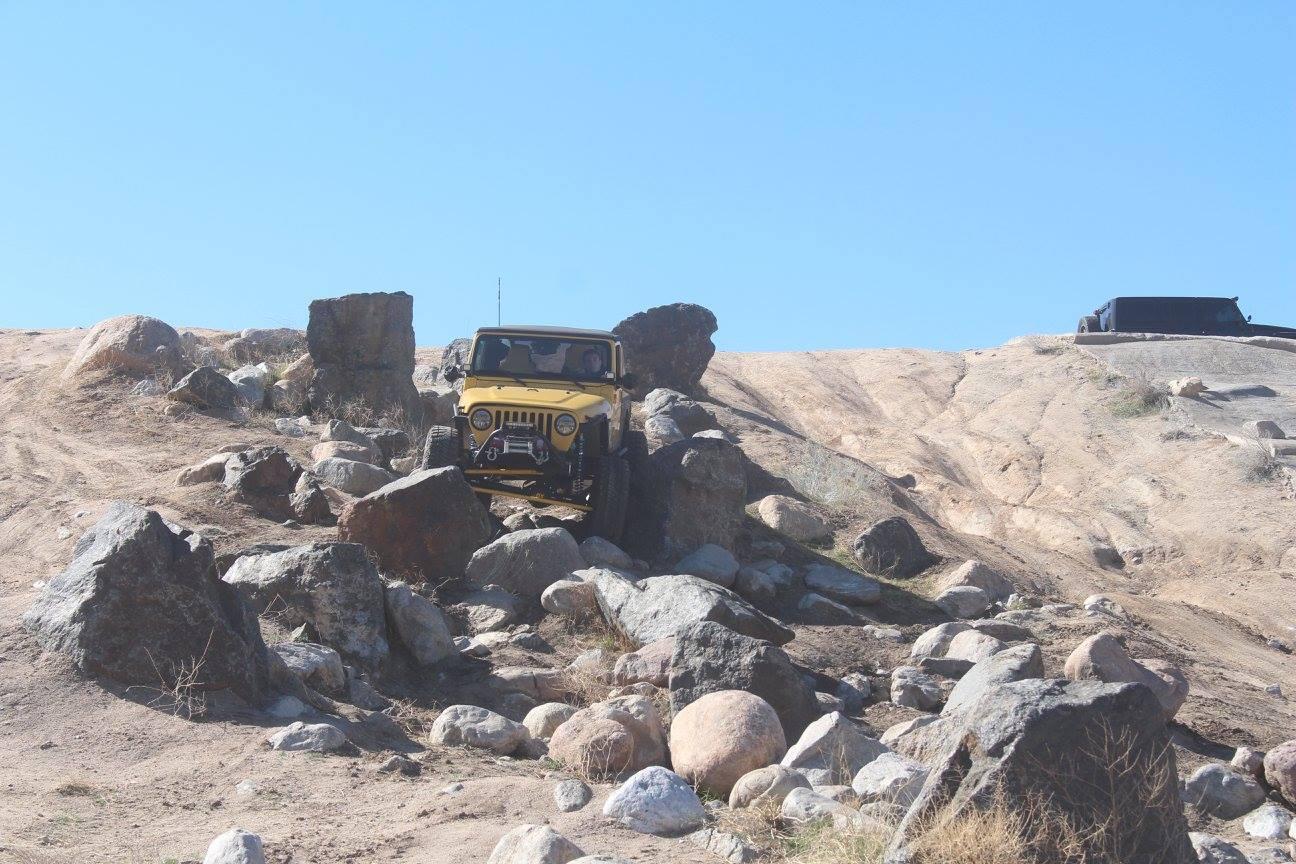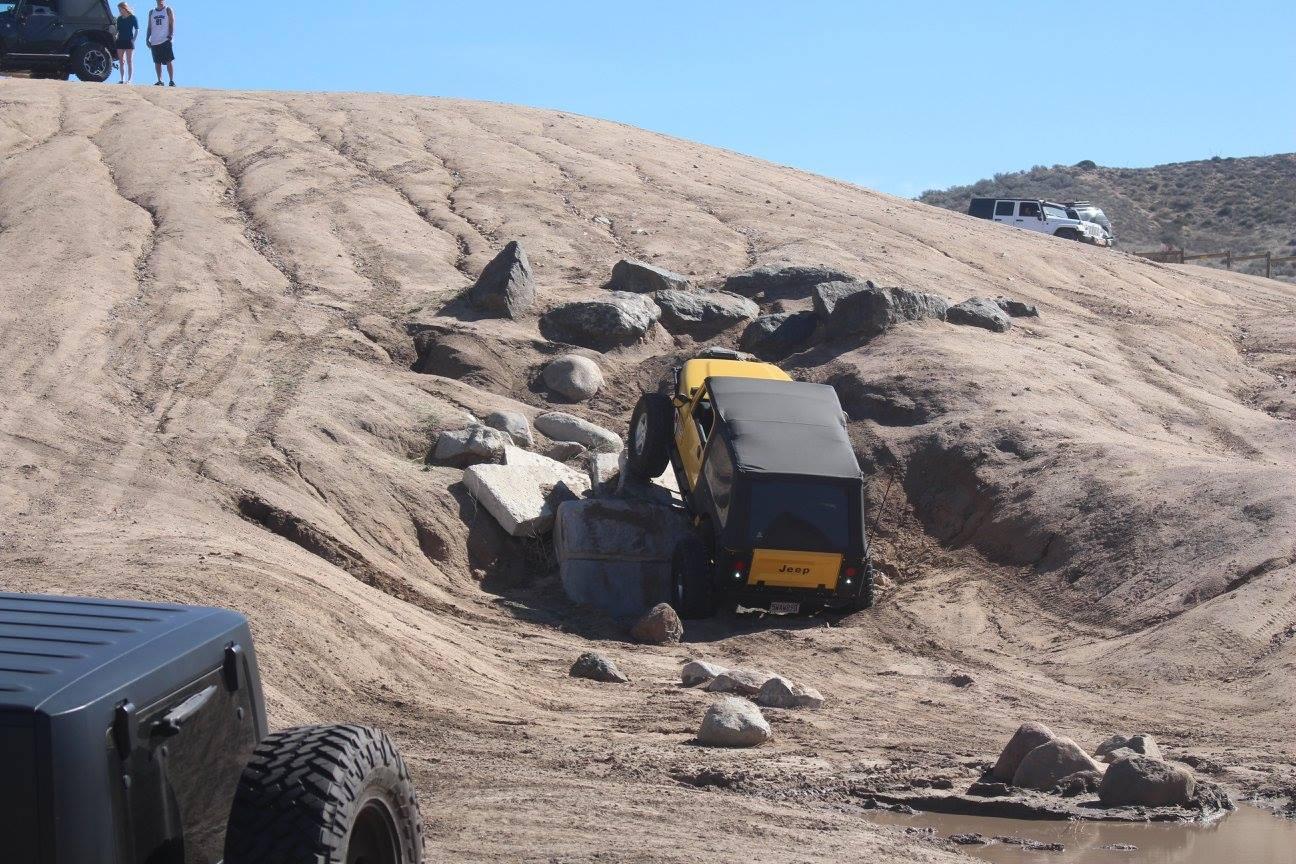 Calico: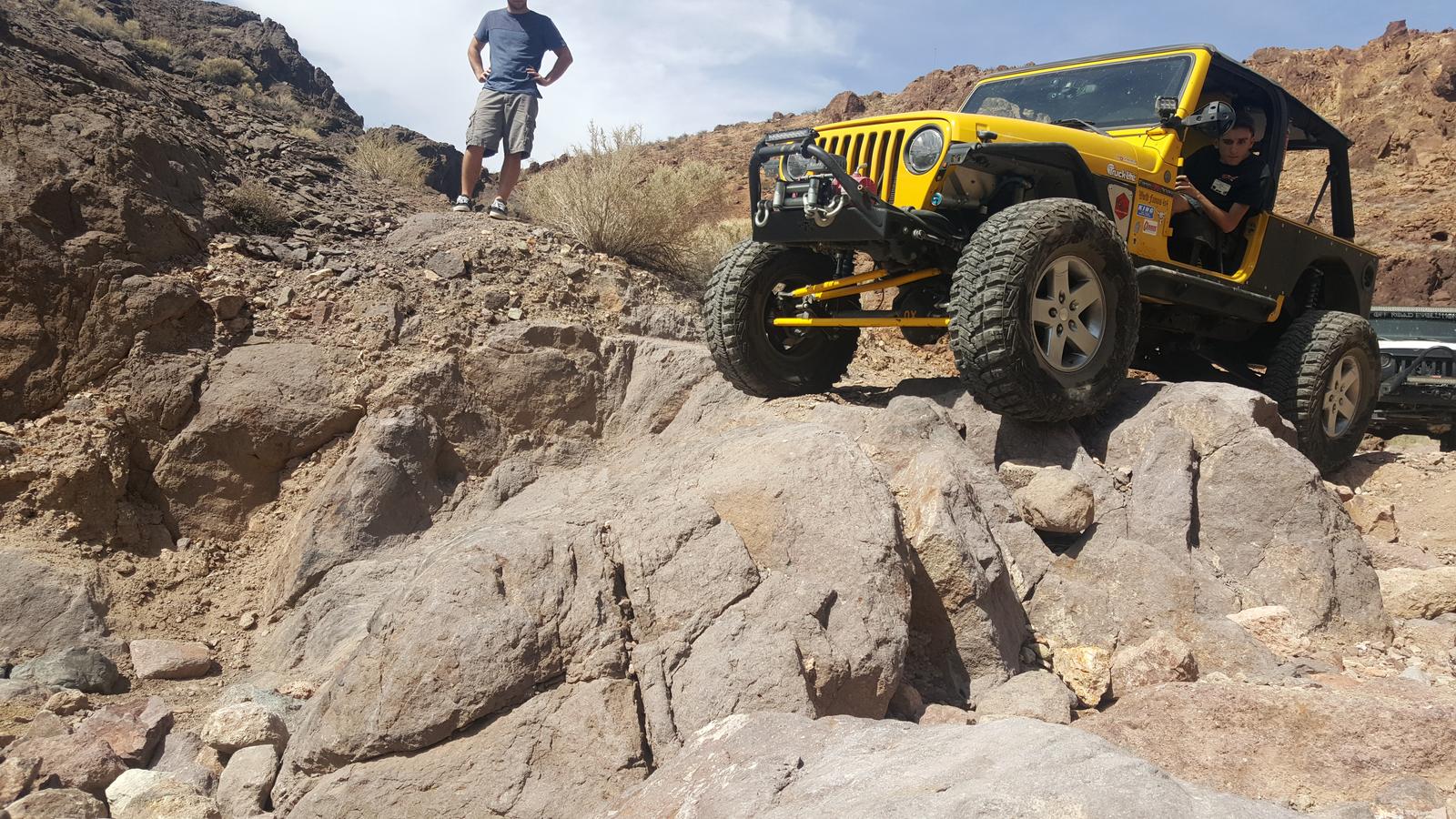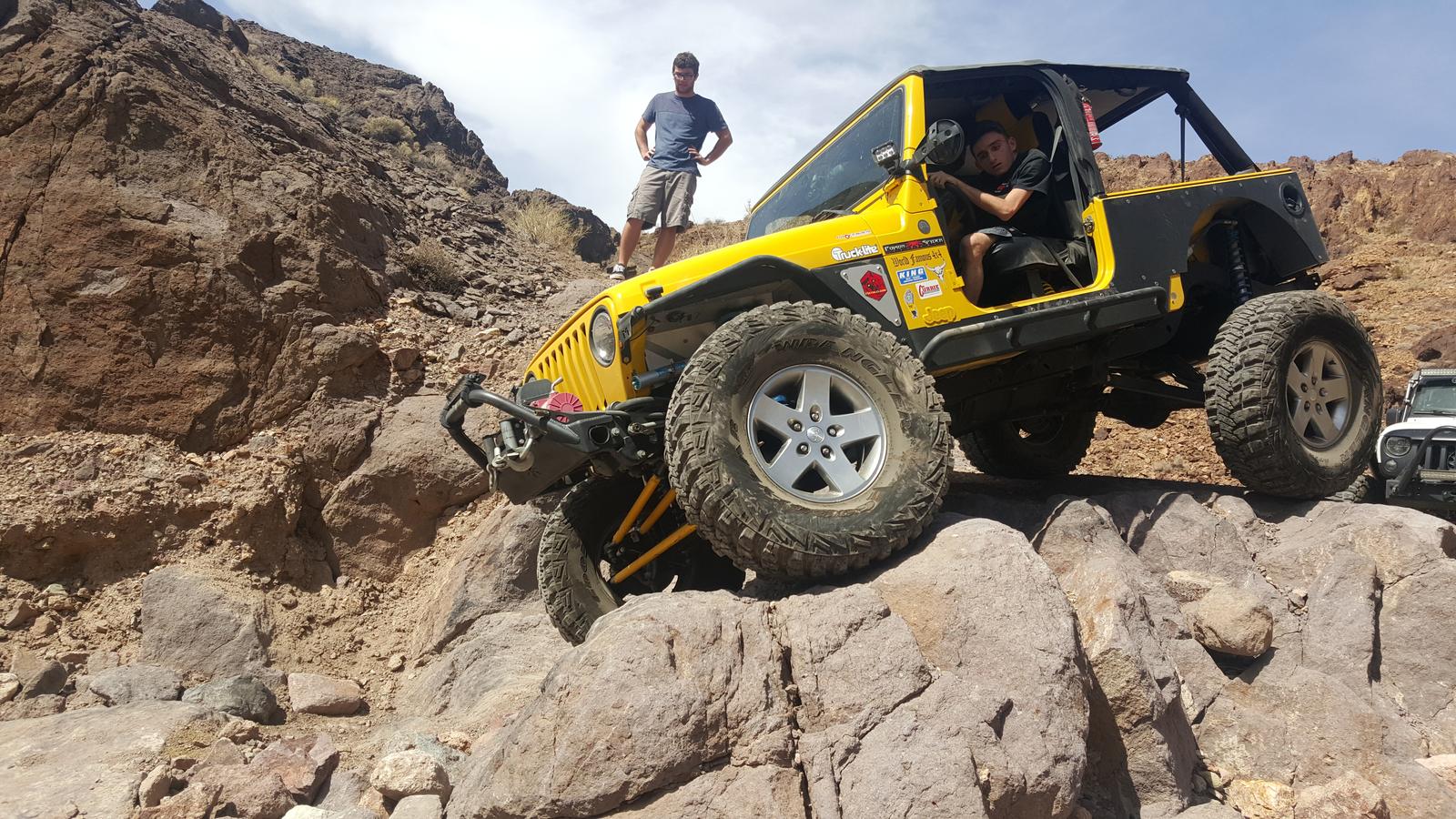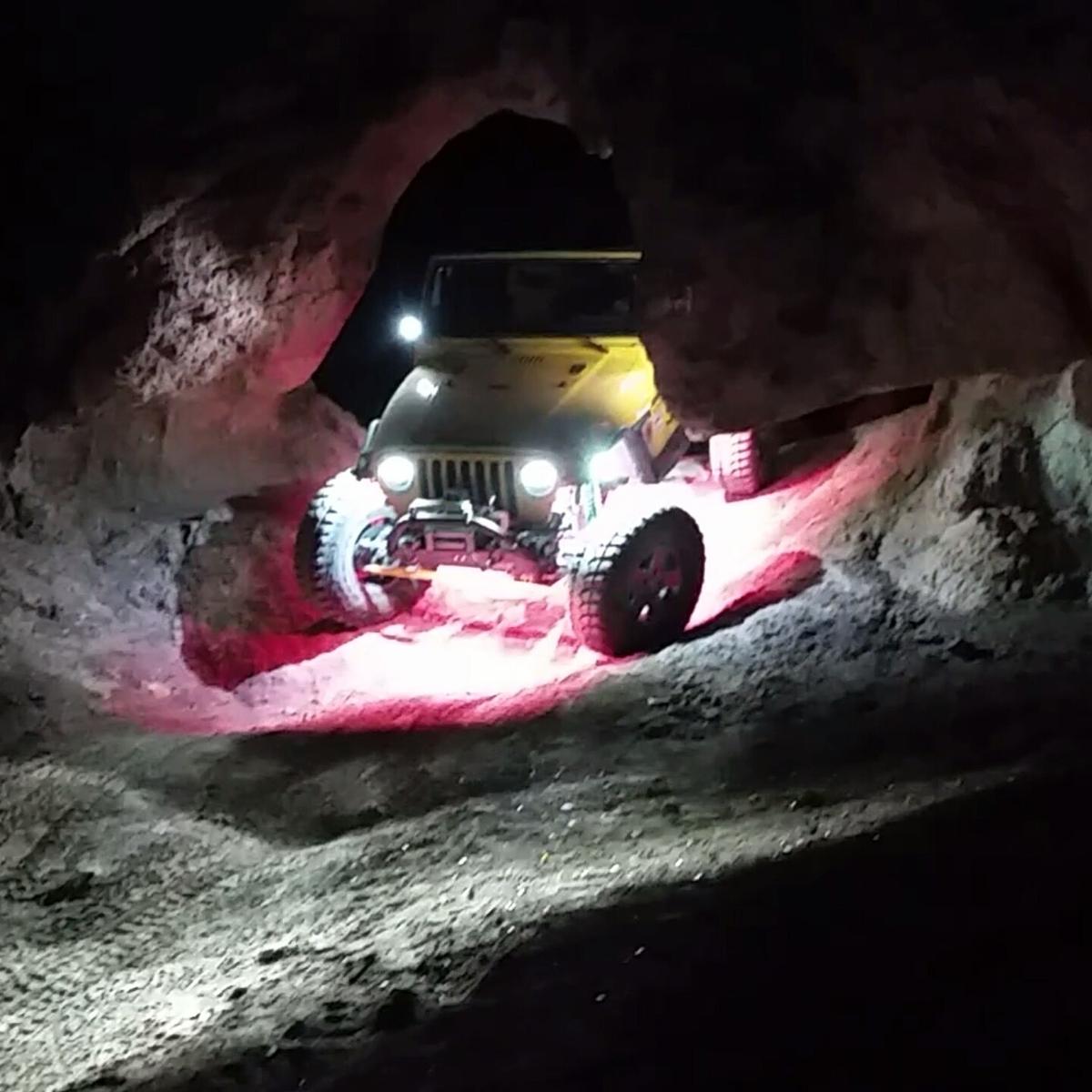 Silverwood Lake: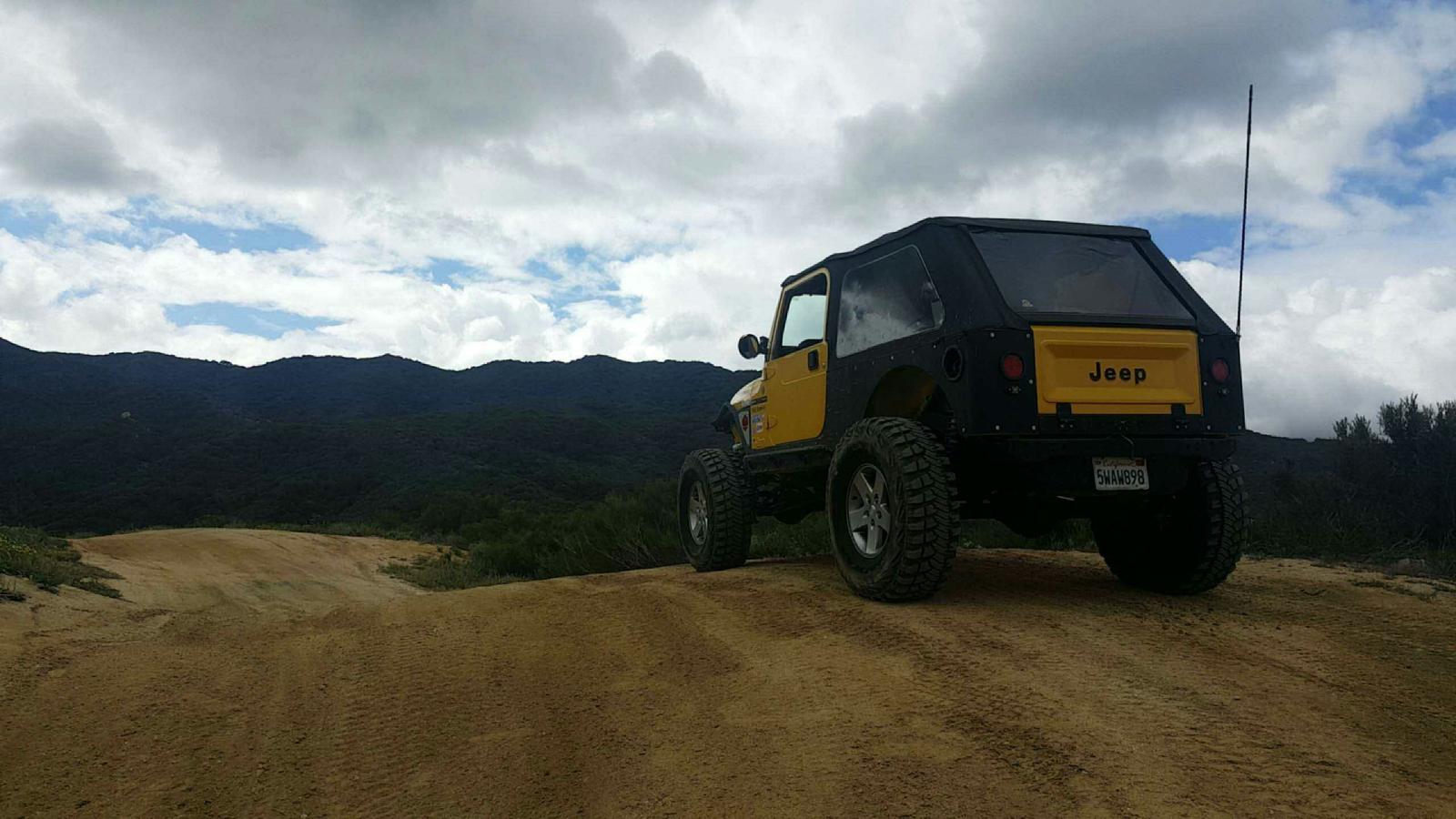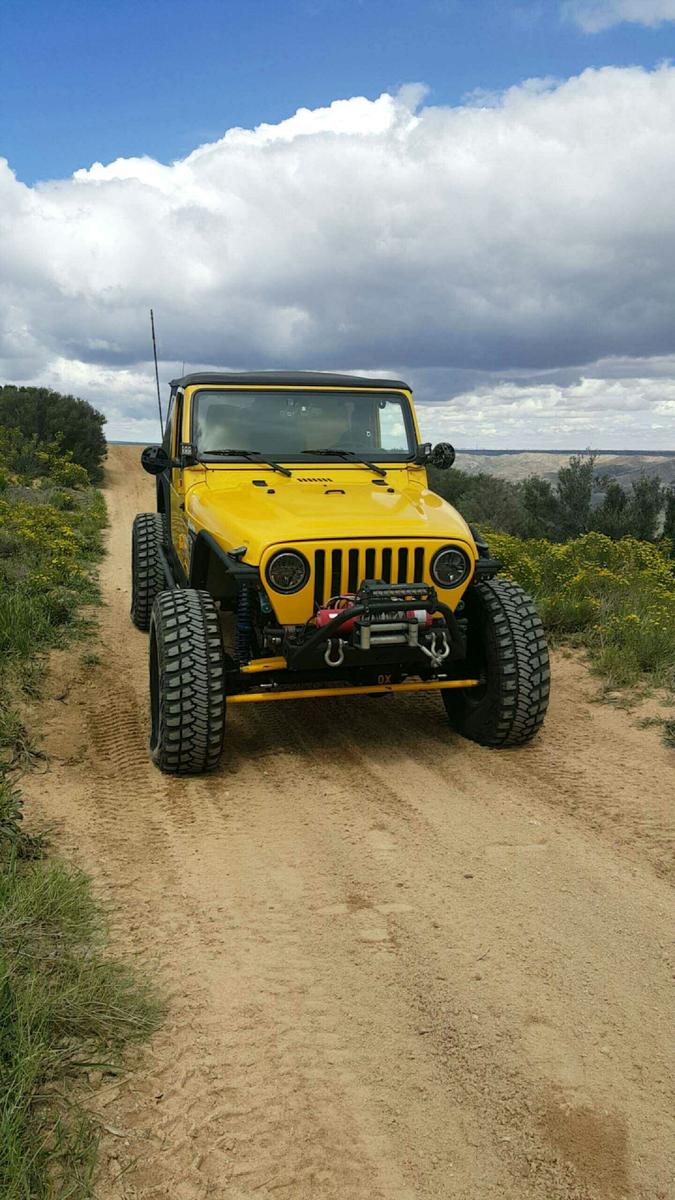 Also couple days ago I wanted to do some visual mods and did this: