Ariel's Story - A tale of a Utah Corolla by ariel_86
By diyauto
You must be logged in to rate content!
Ariel's Story - A tale of a Utah Corolla
Compliments of ariel_86 @ club4ag.com
1-14-2013
So sad that Club4AG went down, but with it's rising from the ashes, I guess it's time I posted an up-to-date version of my build thread.
I've had my Corolla for almost 8 years now, so our story is a long one. Lots of pictures below, so get ready, cause it's a long tale. I hope you enjoy it.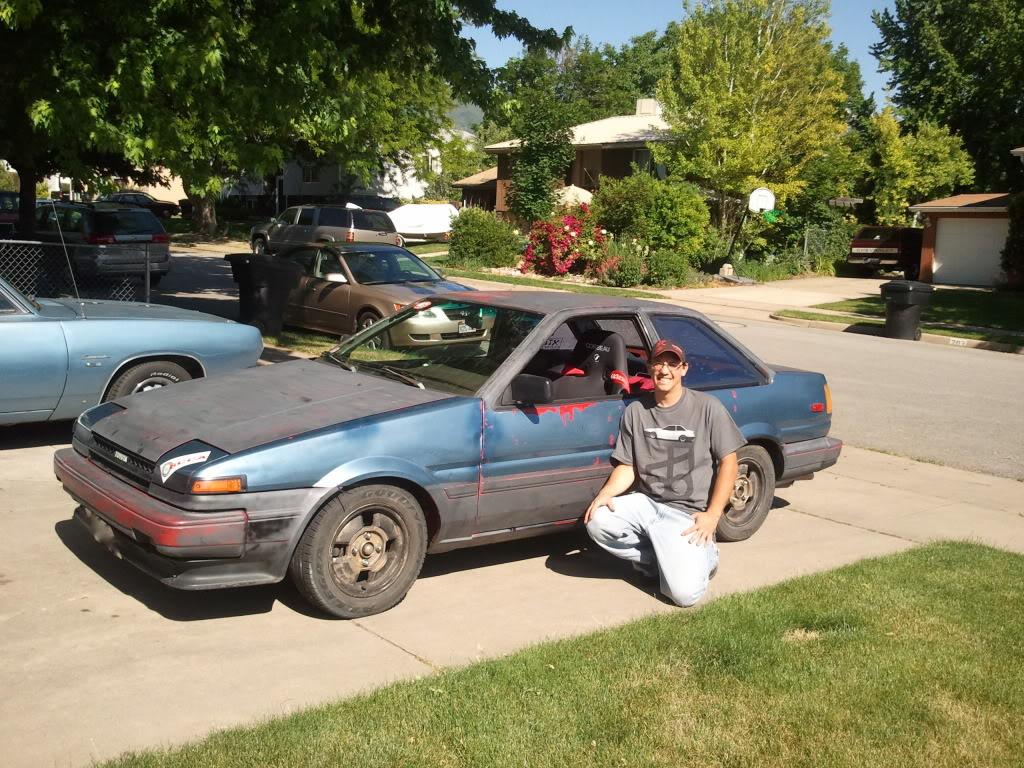 May 2005 – Origins
I was 22, bumming around in school without a clue what I wanted to really do, working at the local Target store, and just picked up a second job working at a gas station. I was driving my first car I had bought, a 1992 Nissan 240SX SE (coupe) that my brother Brad & I swapped to a manual transmission.
I bought it because I was interested in trying drifting, something I had barely seen on the internet and read in magazines, but decided that I wanted a Corolla after seeing Initial D earlier that year. I did some searching online before I found a 1985 coupe not too far away. The kid was asking $1500 for it, but it had some problems.
He had swapped in a smallport/redtop engine from a FWD AE92 Corolla and cut the stock springs, but the car wouldn't start and his parents where getting on his case about it. It needed new tires on all four corners, the original seats had been replaced with some cheap Summit Racing plastic buckets, and the backseats had been removed. Also, the exhaust looked more like a piece of fence tubing had been welded on as a tip.
I talked him down to $1300, went to the bank to get the title transferred and finalize the loan, and scheduled a time to trailer it home. I got a small box of parts and the original largeport motor with it too. It turns out that the kid had overheated the motor somehow and actually popped a plug in the head, at least that's what it looked like upon inspection.
I got it home, plugged in both igniters, the new one and the old one, and put in the battery from my Nissan. It started up with the old igniter. I went and got a temporary tag and drove it for a week or two. The car didn't idle right; it had a bouncy idle, probably because most of the vacuum lines weren't plugged or hooked up. Also, there were no emissions equipment (CA-car FTL), the exhaust was rusted in several places so that it leaked badly, and I hated the seats. I decided to make this a project and do things right, which involved sorting out the motor.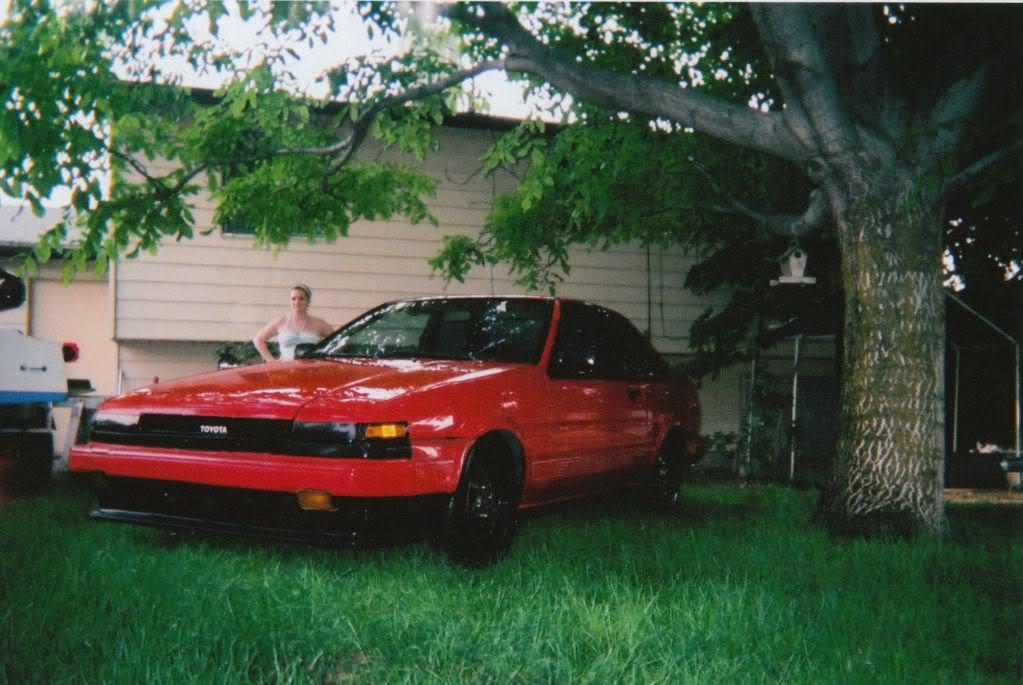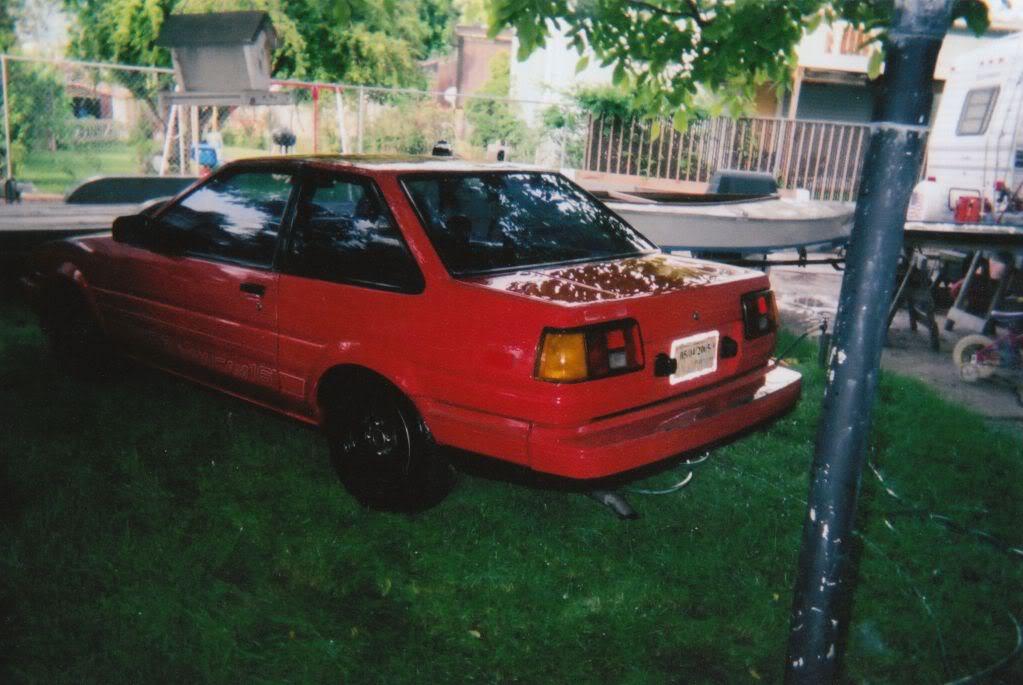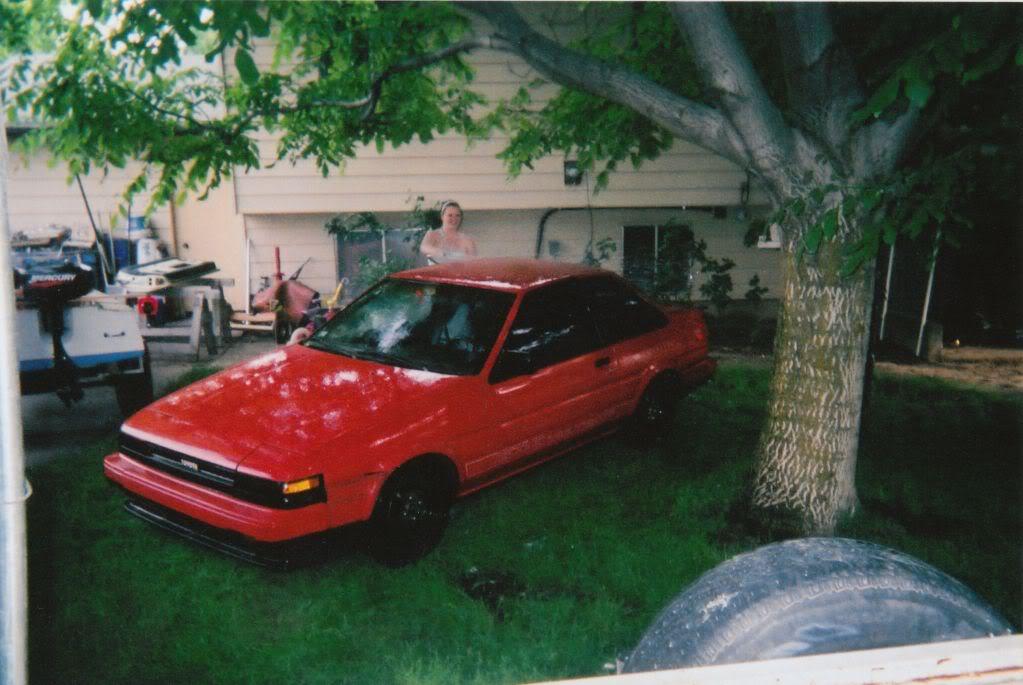 I started doing more research about what the car might need, what I wanted to do, how much it would cost and so on and so forth, and decided that I needed to save up some money before I could really do anything with it. Since I wasn't driving it, the car got parked in the backyard. Dad said he wanted more room, and since I didn't have any immediate plans for the Corolla, it was moved to a pasture that my grandpa owned, to wait for me to do something with it.
1-14-2013
July 2007 – The build begins
In the spring of 2007, Target Financial Services decided to up my credit limit and give me a proper credit card instead of their crummy store-only credit card. I now had a fresh Visa card and a $4000 limit. I was finishing up my first year as Physics major, finally having some direction in my life, and had just bought a 2000 Toyota Camry. I was paying the bills working campus jobs as a math tutor and lab aide, and being paid to go to school by the VA because my dad is disabled (prostate cancer from Agent Orange exposure = dependent benefits for going to school even though I was 25). In one my wiser (read stupider) moments, I decided that I could rebuild the Corolla and get her racing with a $4000 budget and could handle a credit card along with my car payment for the Camry. Ariel (as I had named her before putting out to the pasture) was brought back home.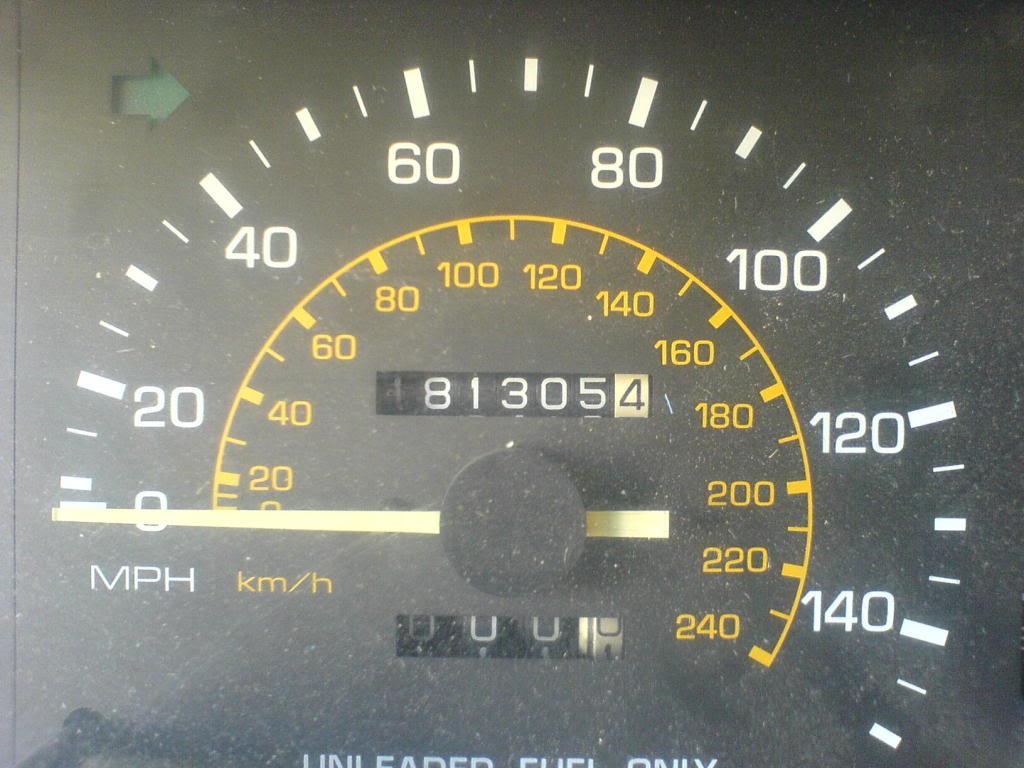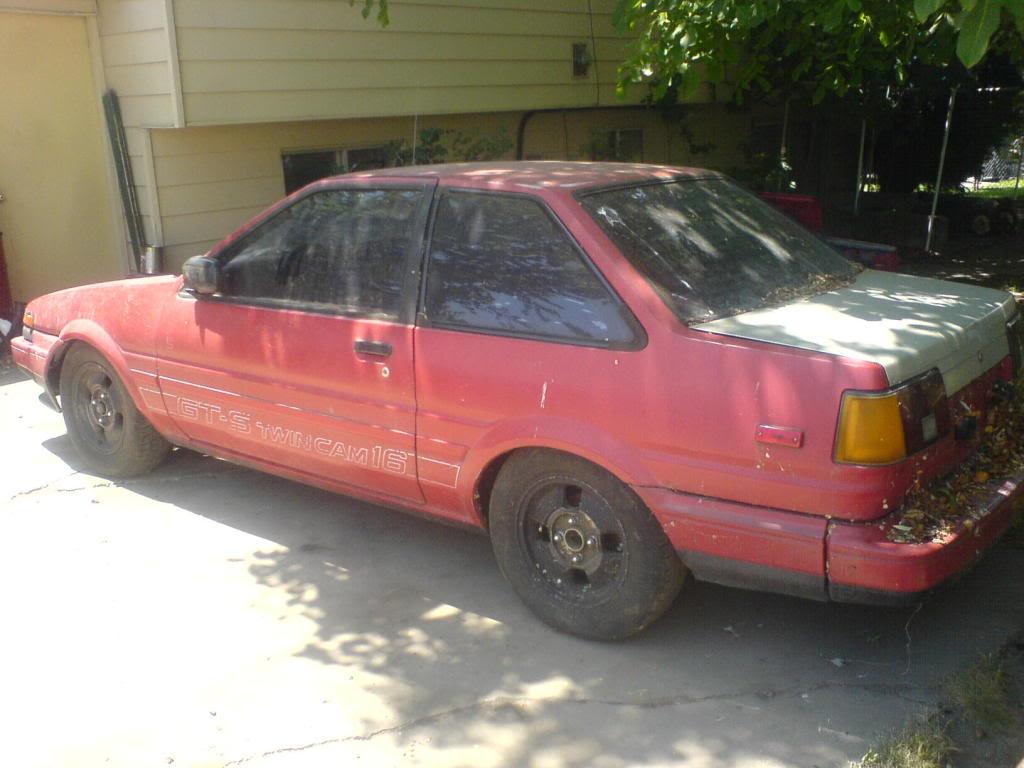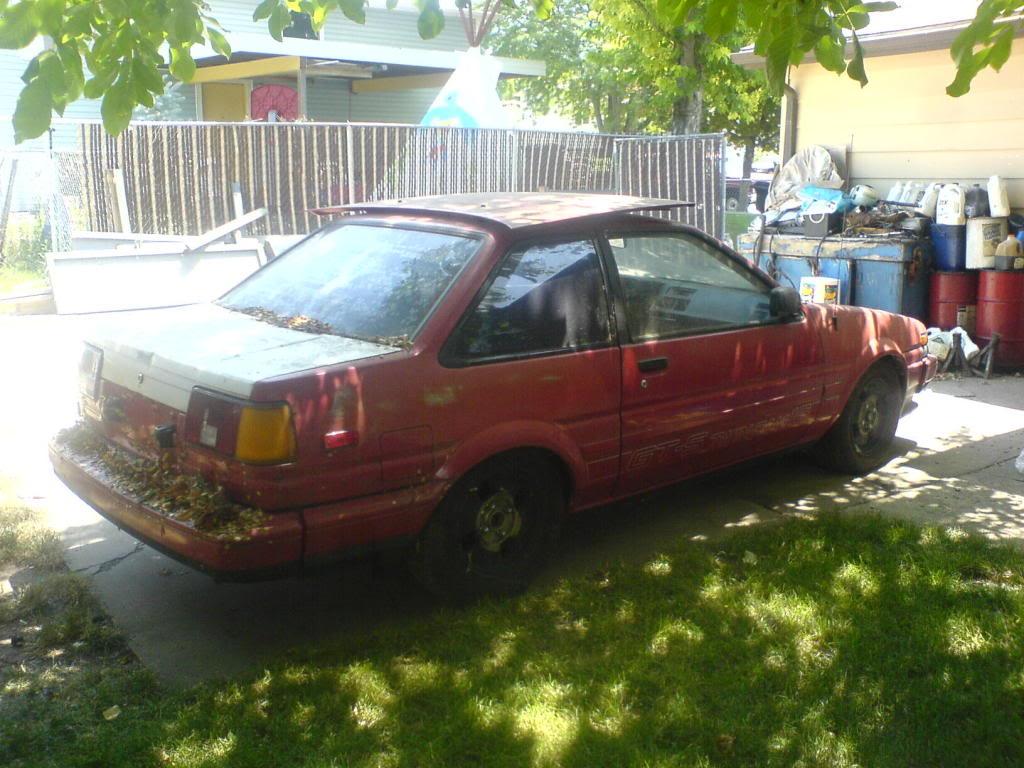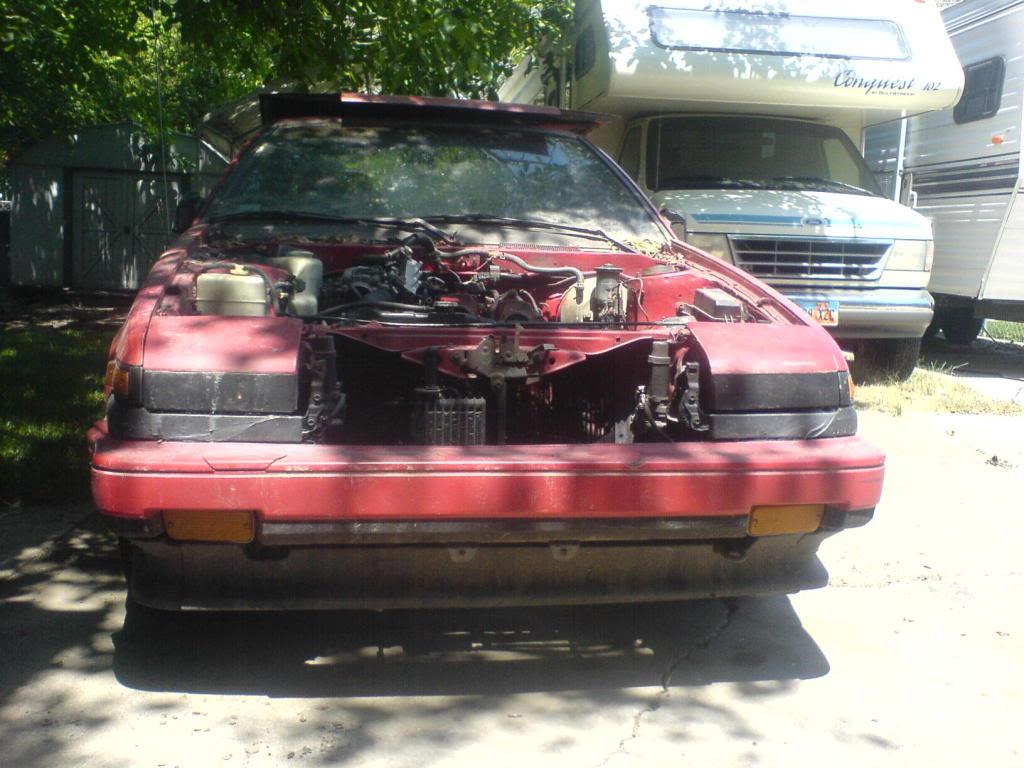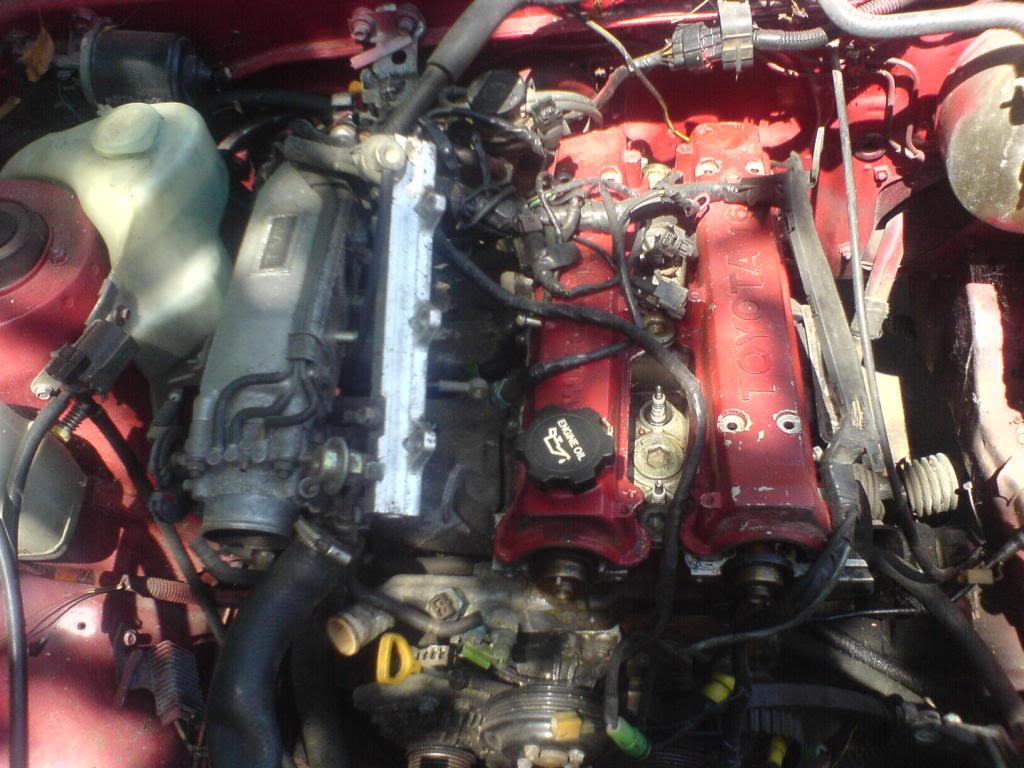 While she was parked, I met an AF guy through a friend that also had an 86, and had a wrecked 1985 coupe that his MSgt was hassling him about getting off base. I was able to pull the front seats and a few other odds & ends from it before we junked it (I should have pulled more from it, now that I think back about it). Home from the pasture, I cleaned the dirt and cobwebs off of her, pulled the engine to get it rebuilt, and sourced a new seat, harness, steering wheel, gauges, and a few other things.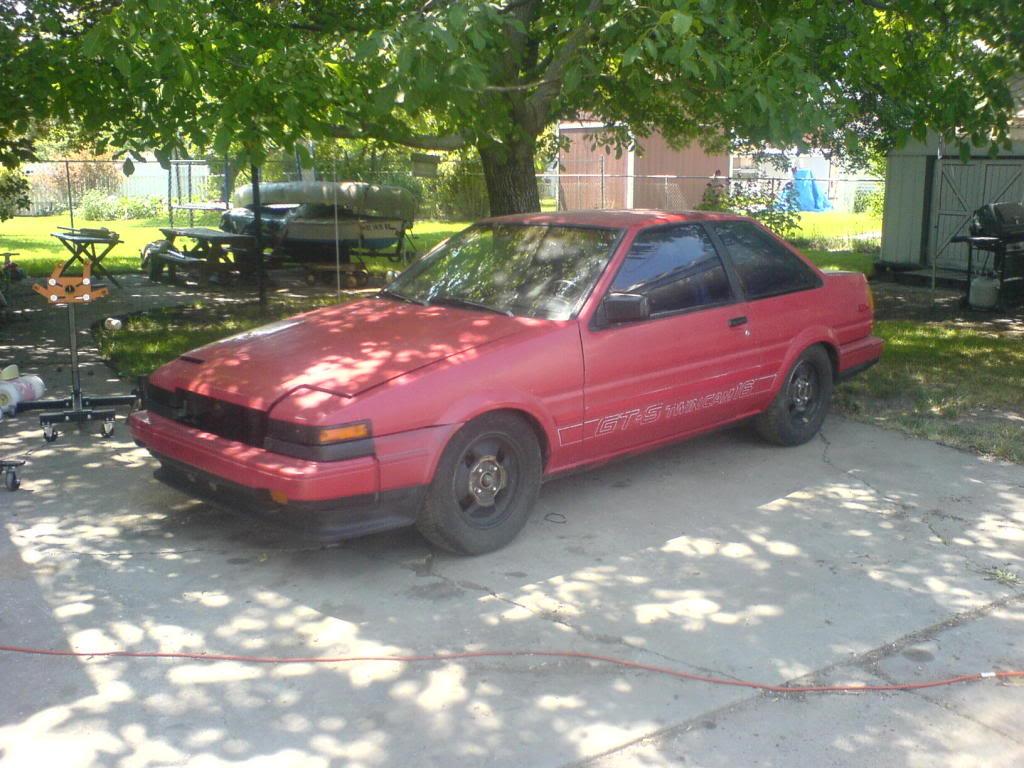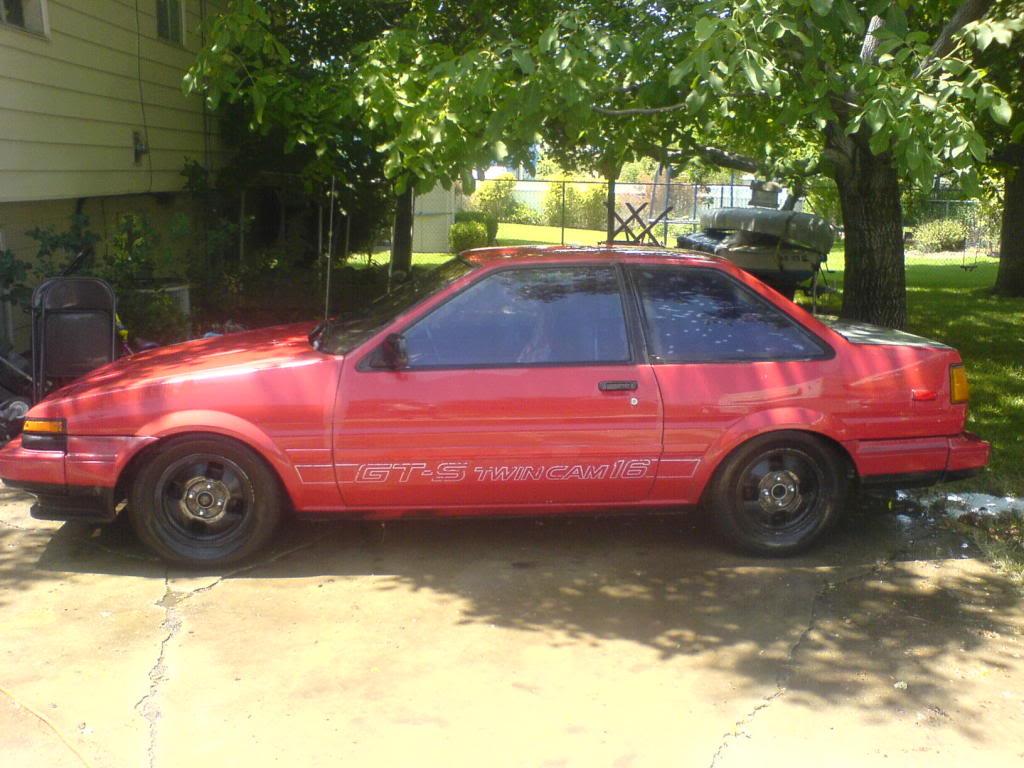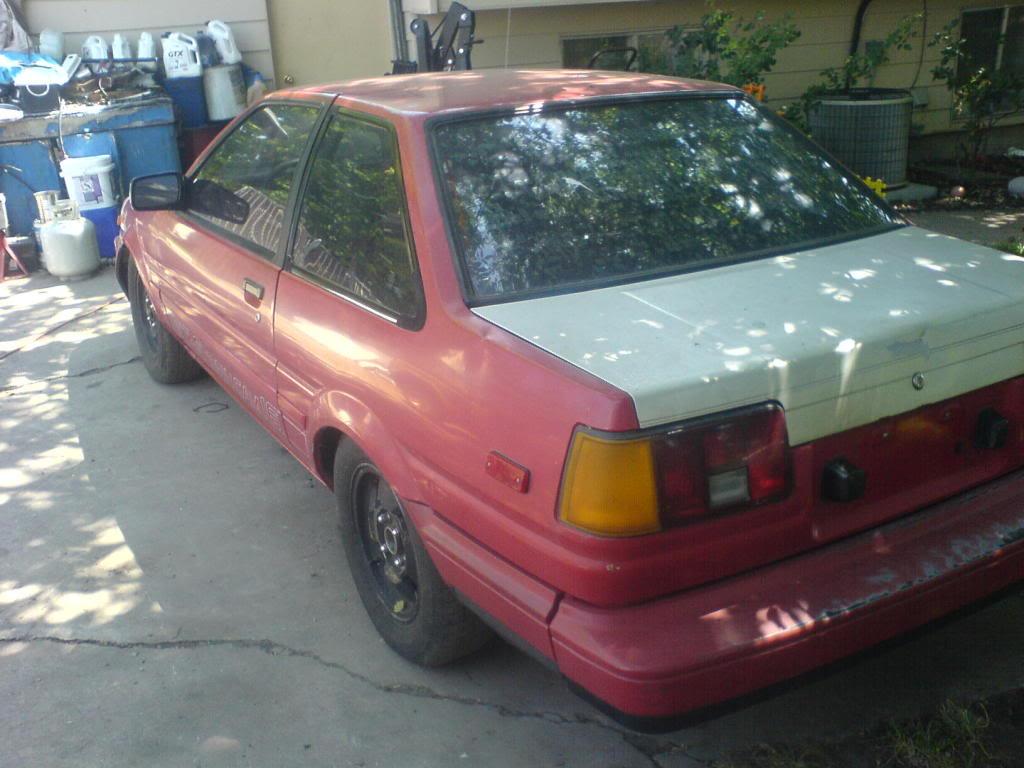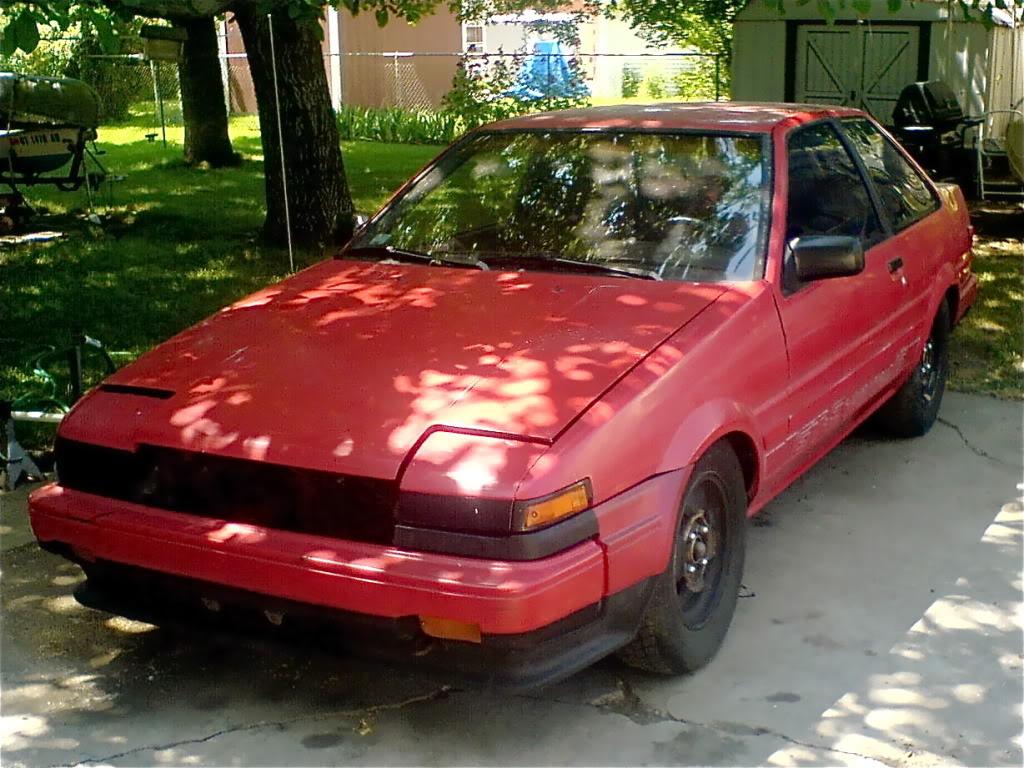 I rebuilt the engine back to stock, but added a TRD .8mm head gasket, HKS valve springs and cam gears (stayed with stock cams because I couldn't justify spending for those along with everything else I was getting), ARP head studs, and bought a TRD header and short shift kit for her as well. I put an Exedy OEM replacement clutch in and resurfaced the flywheel when I assembled it all.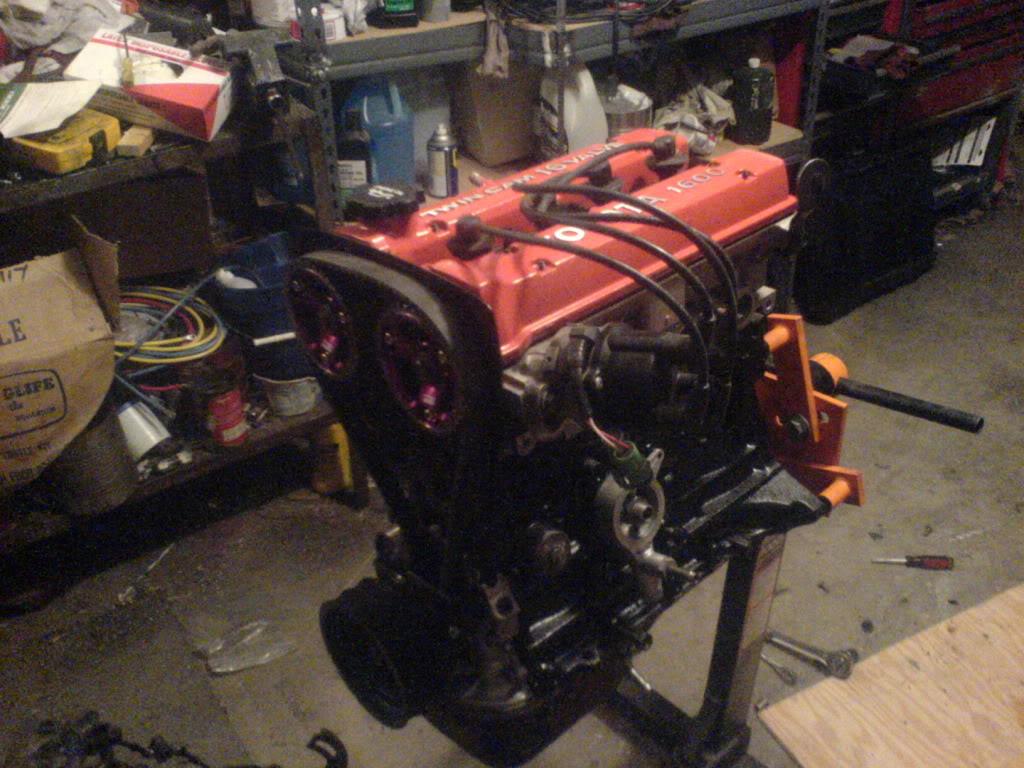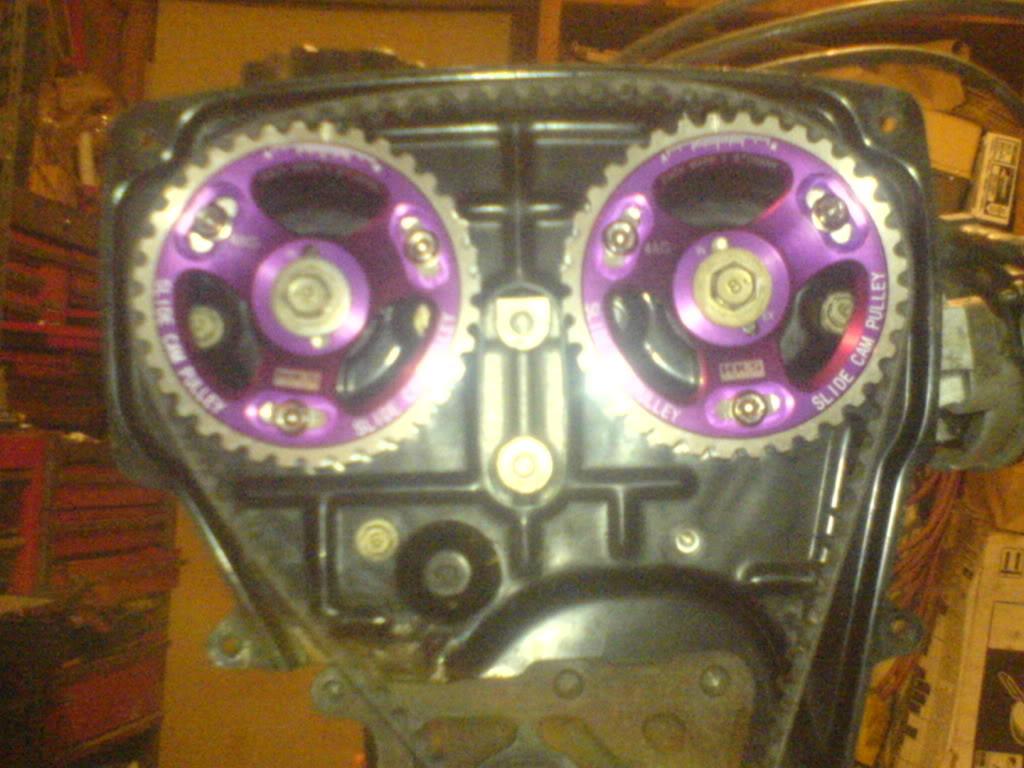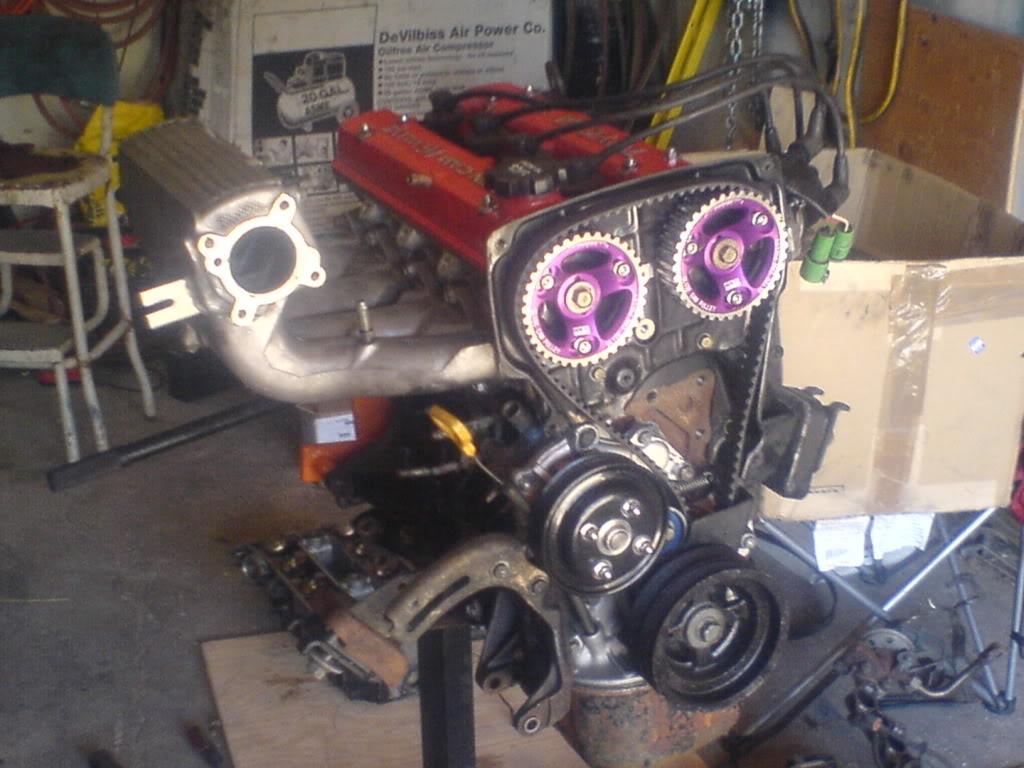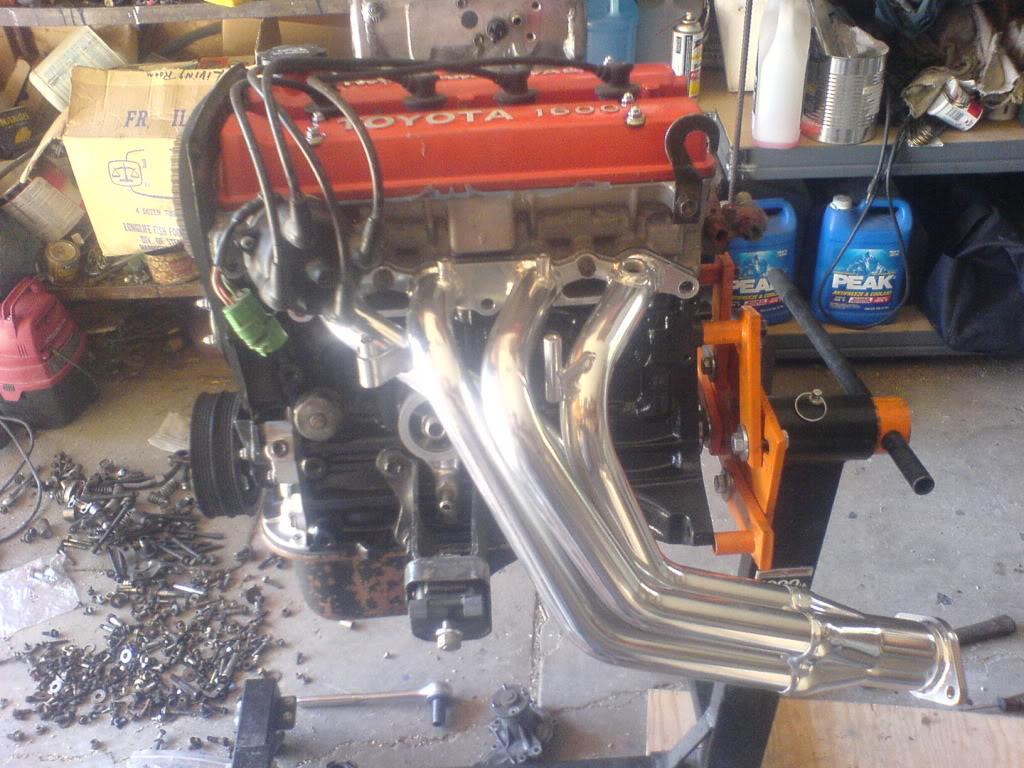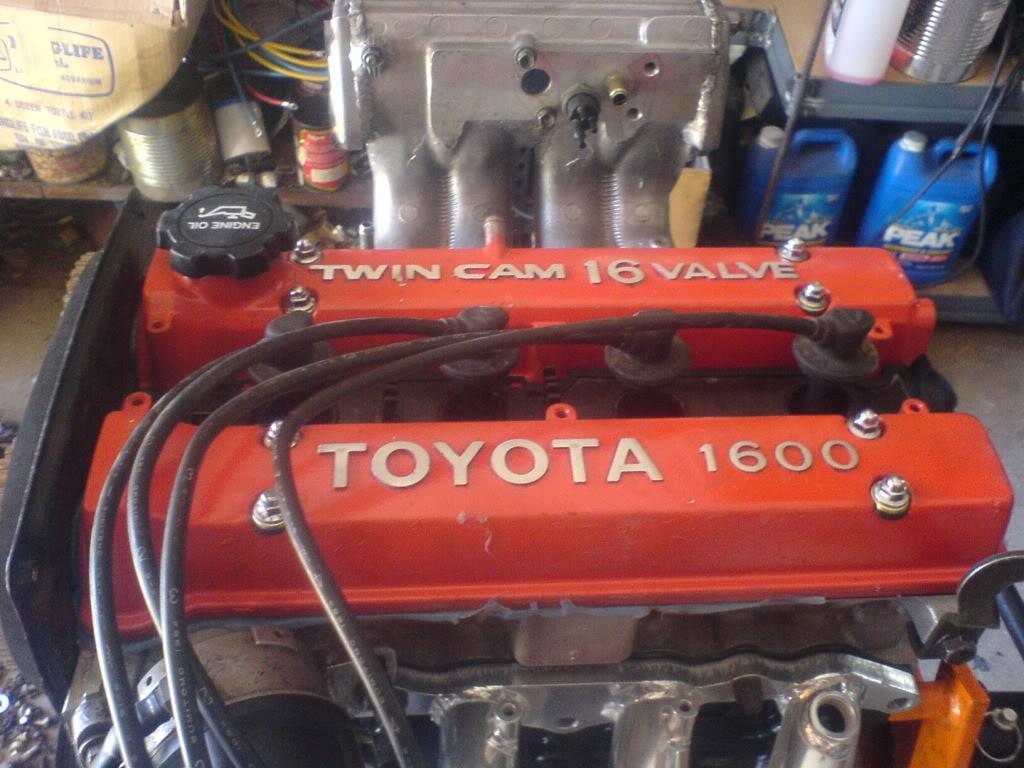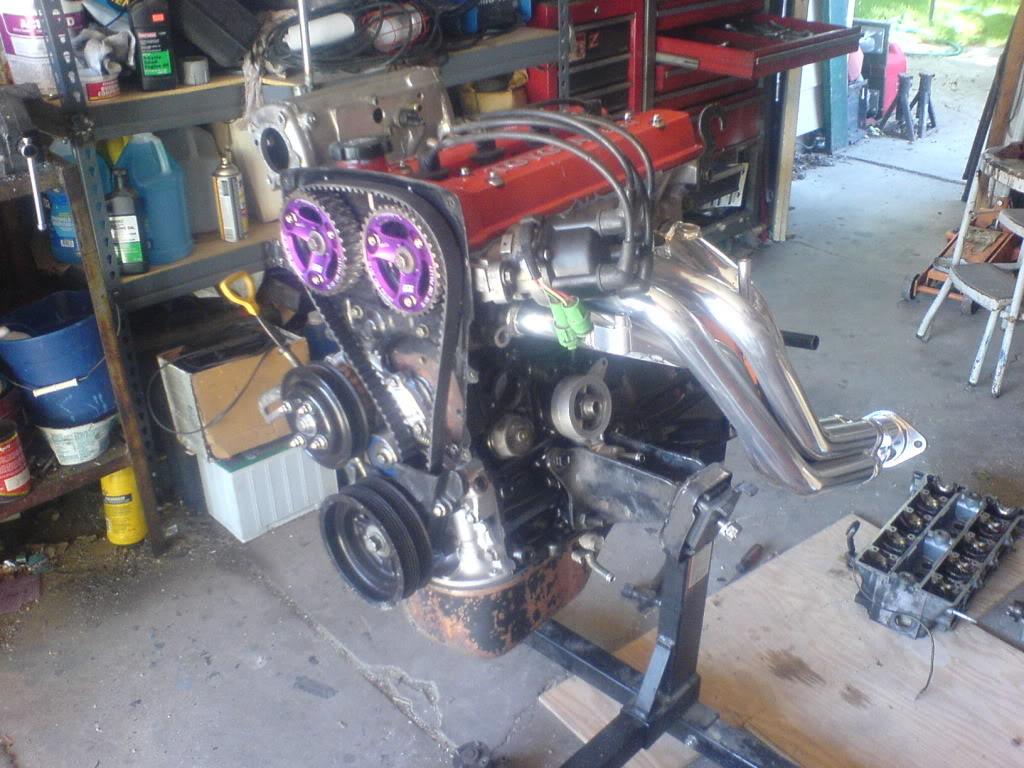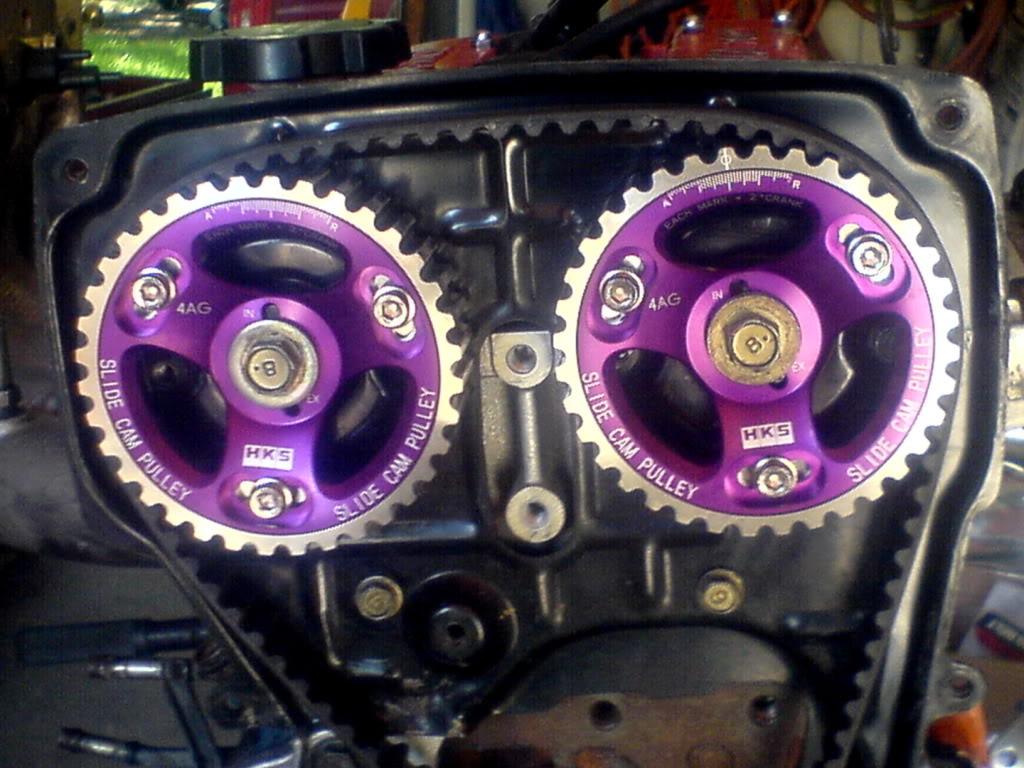 From Rally Sport Direct, a local Subaru/Evo performance shop, I bought a Corbeau Forza II seat and 5-point harness. I found a harness bar on eBay that would fit my Corolla, as well as a TRD steering wheel and boss. I got a NRG quick-release, too.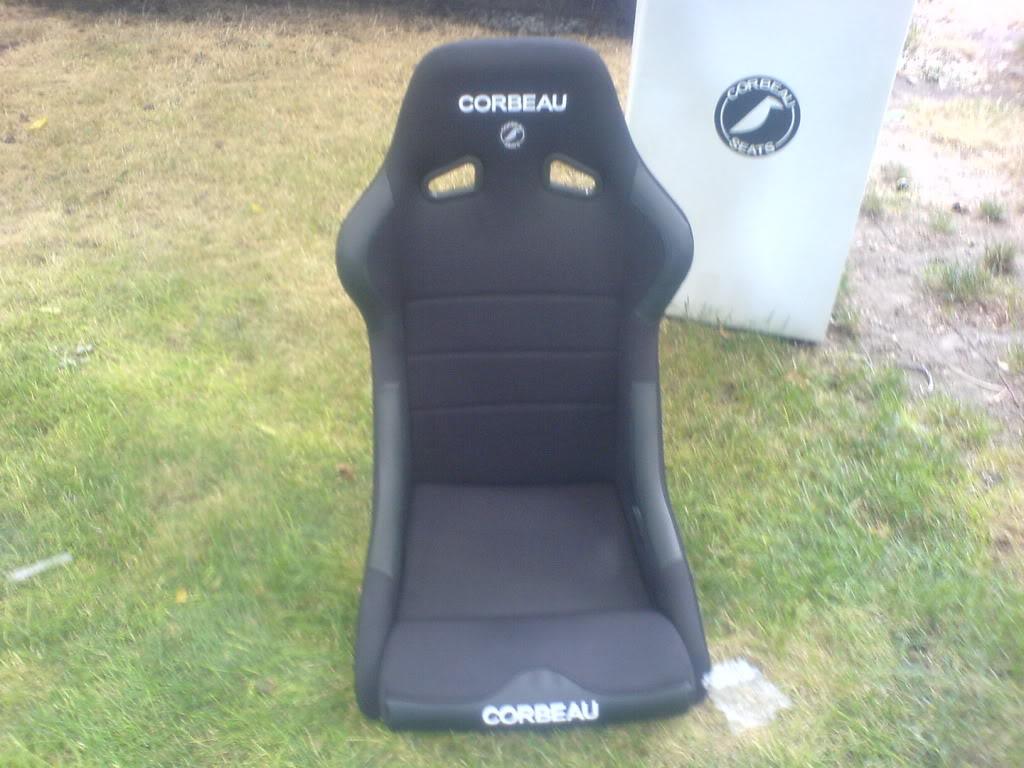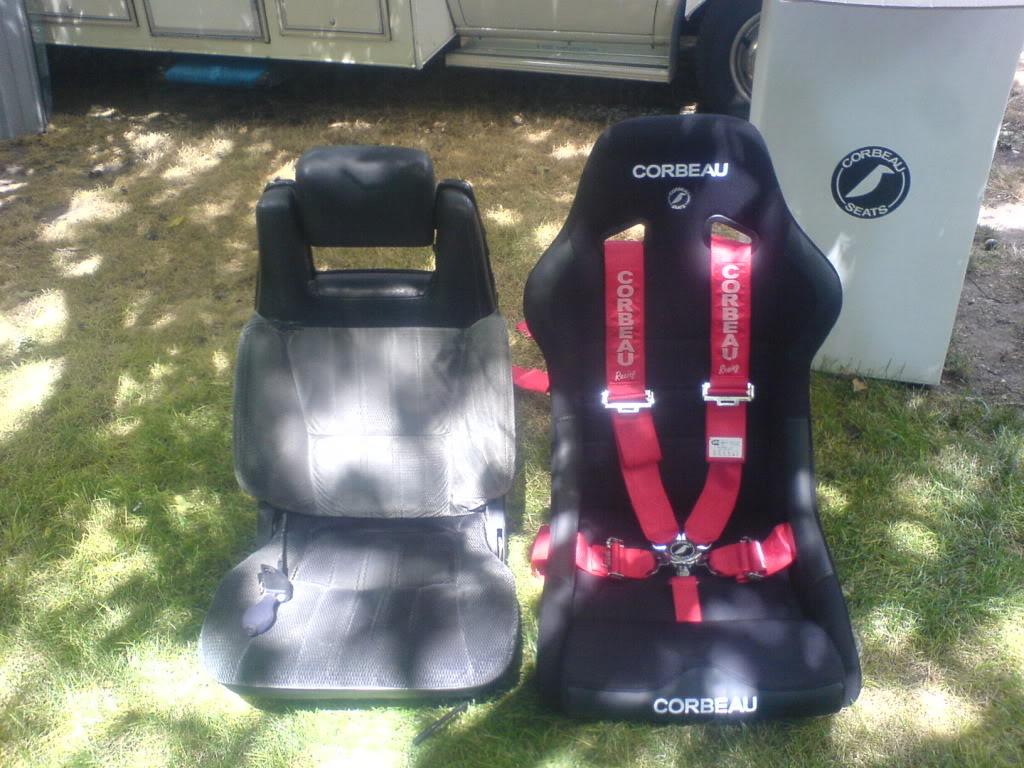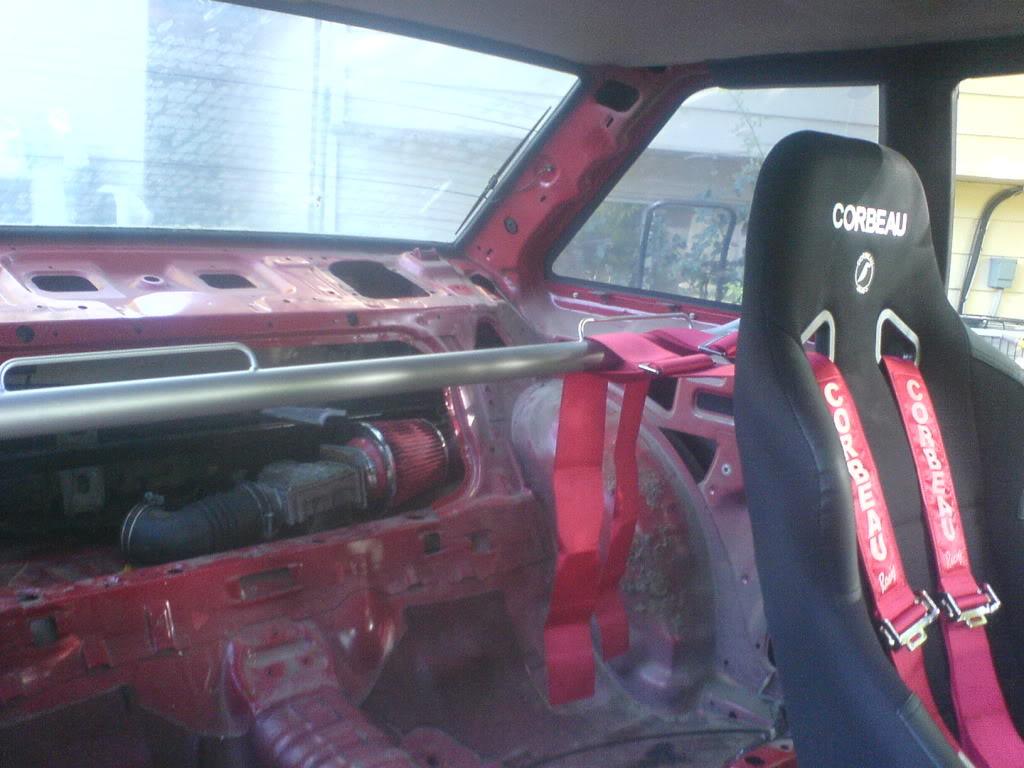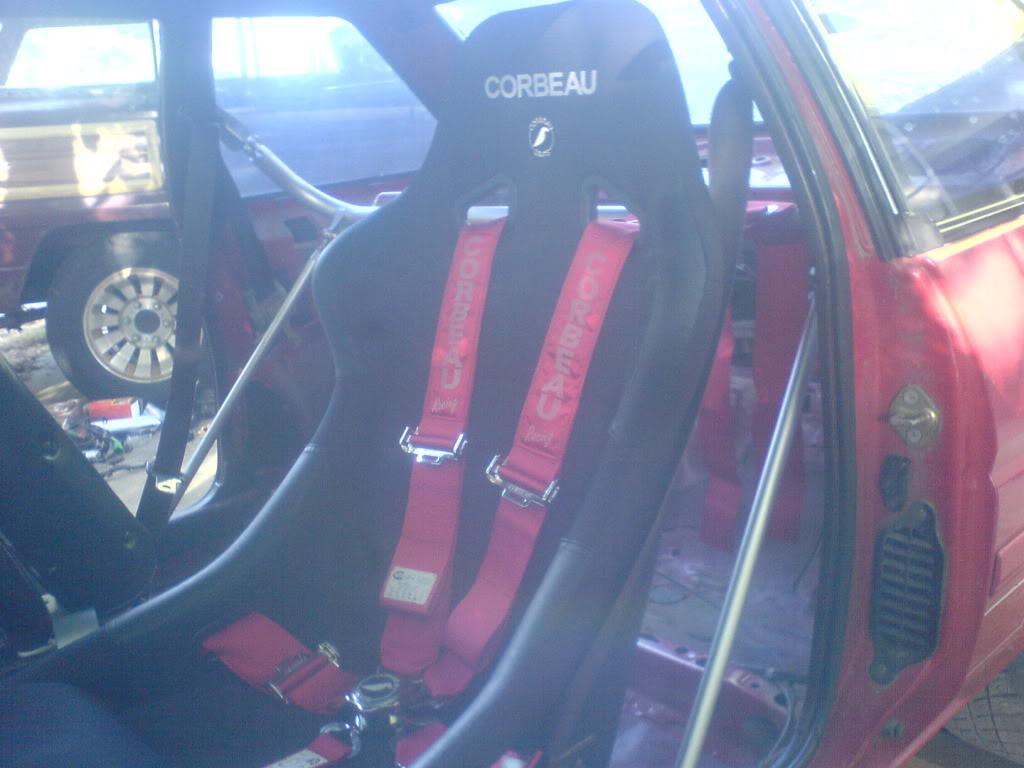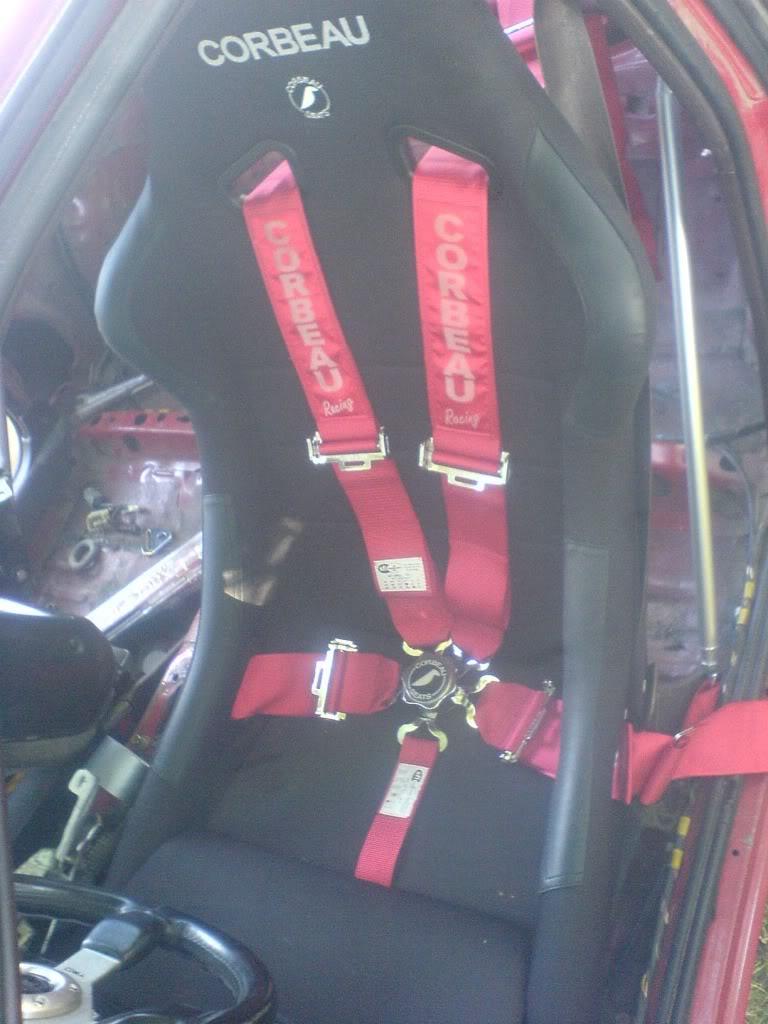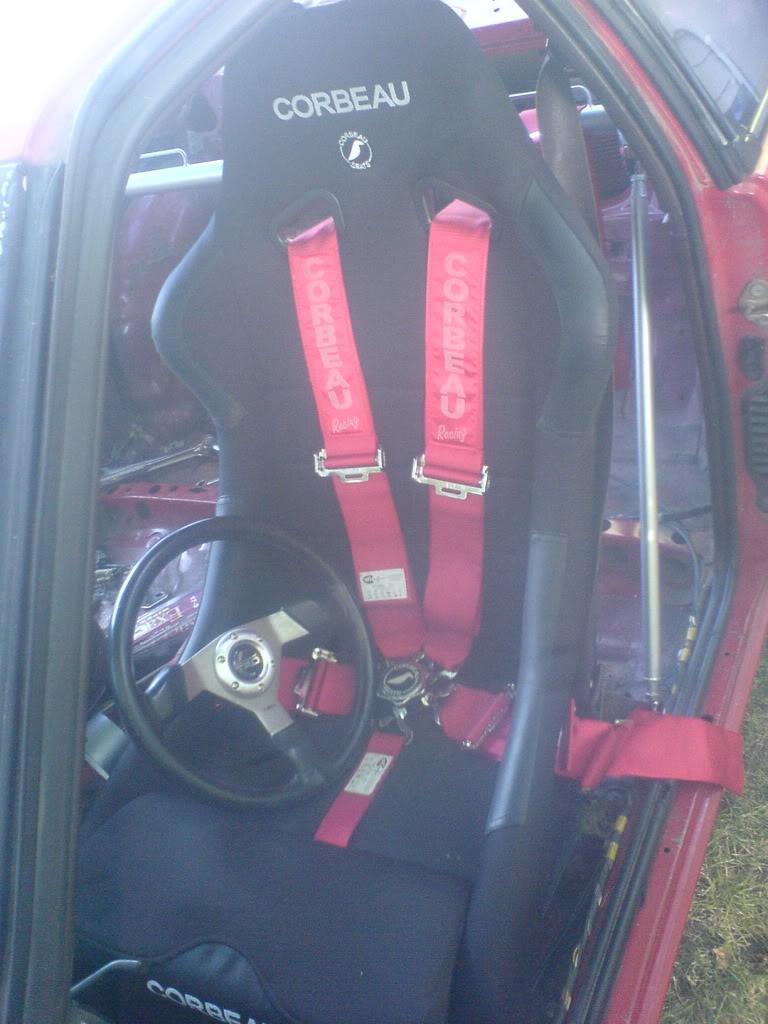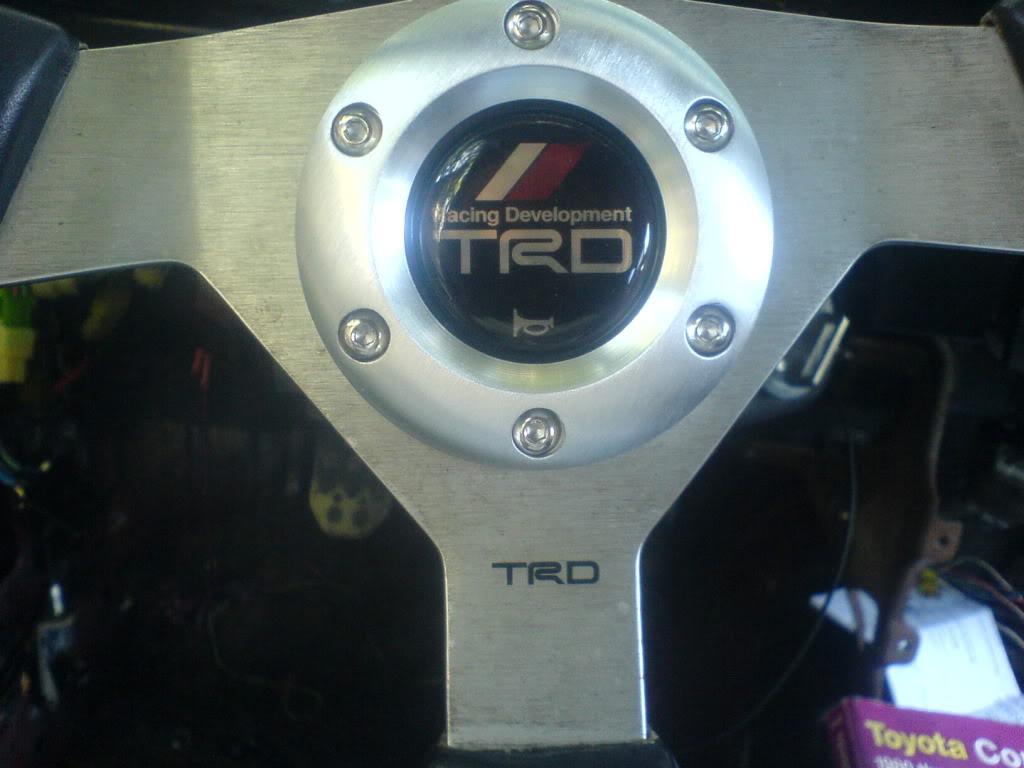 I also picked up some AutoMeter Sport-Comp gauges so I could keep an eye on the vitals.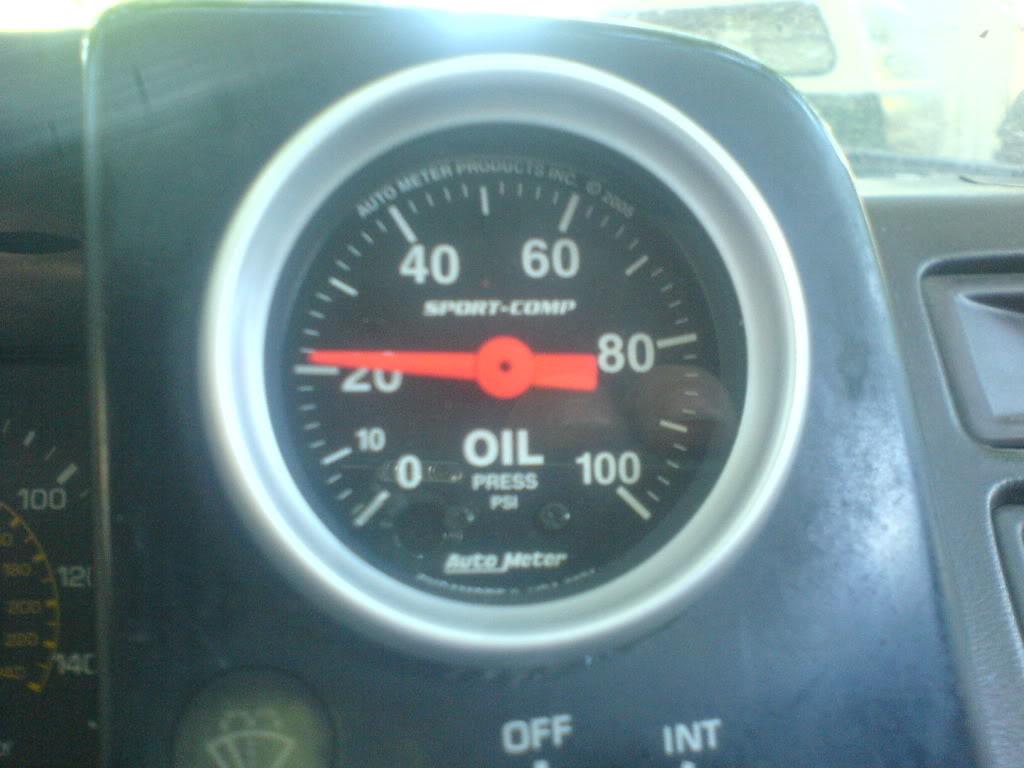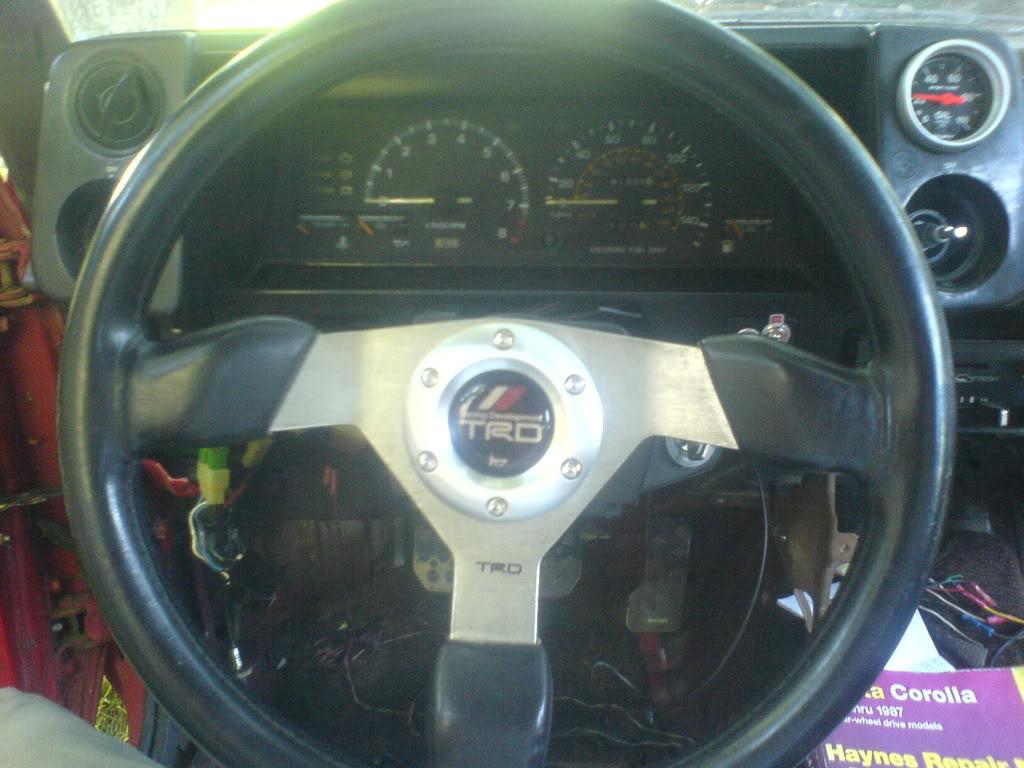 September 2007 – Putting it together
In September, after getting everything together on the engine after picking it up from the machine shop, I had a problem with the distributor and exhaust cam. Without the distributor in the head, I could freely rotate the engine assembly. With the distributor in, I couldn't. In fact, it binned so much that I stripped the teeth off the exhaust cam and bent the teeth on the distributor. Oops.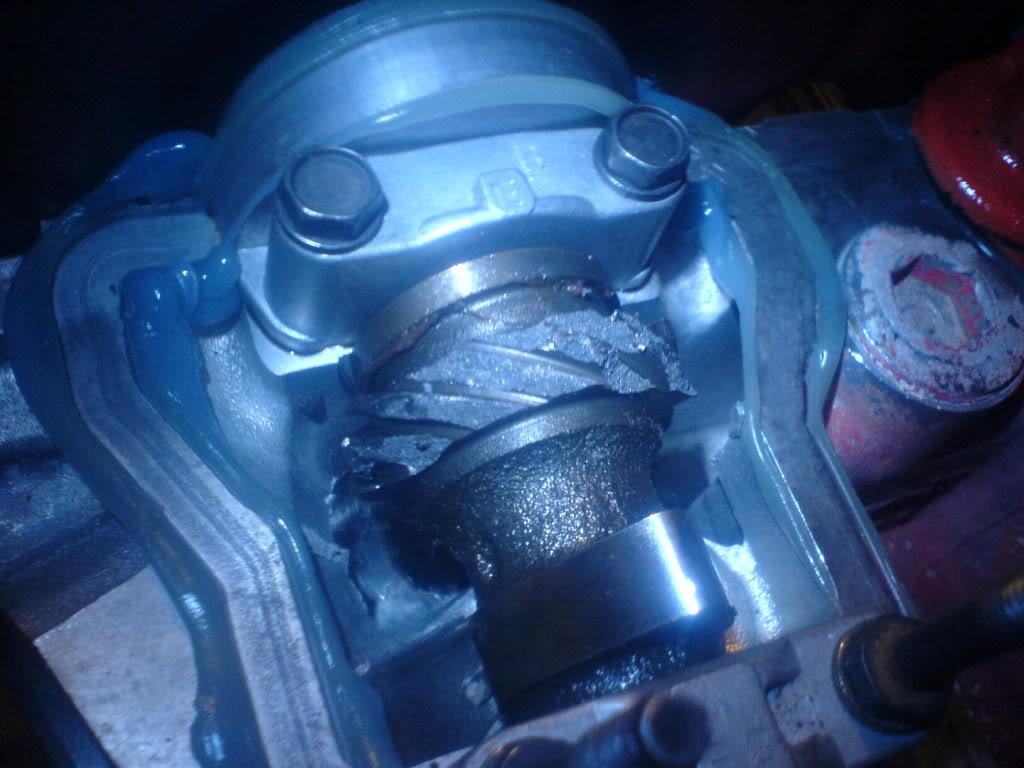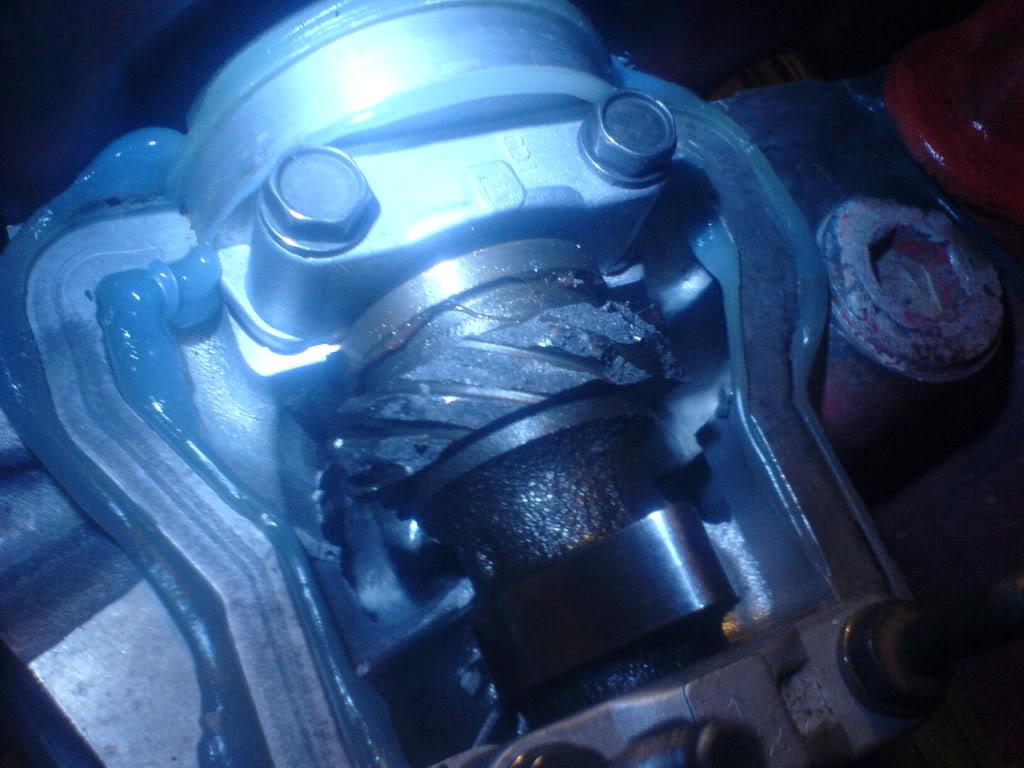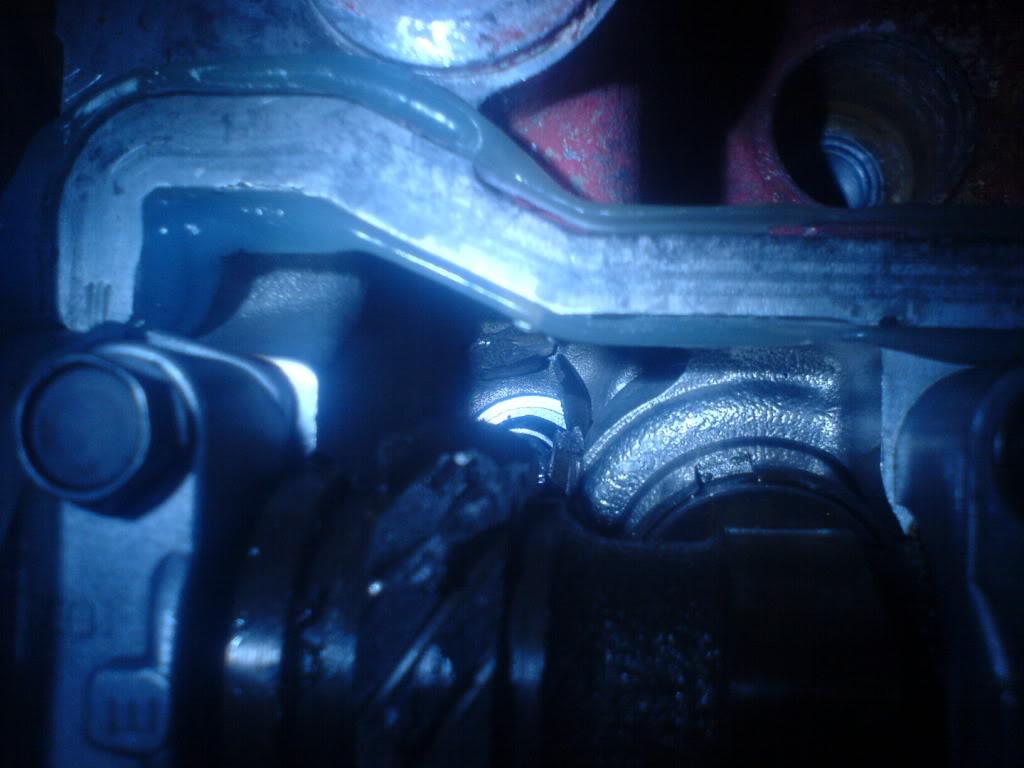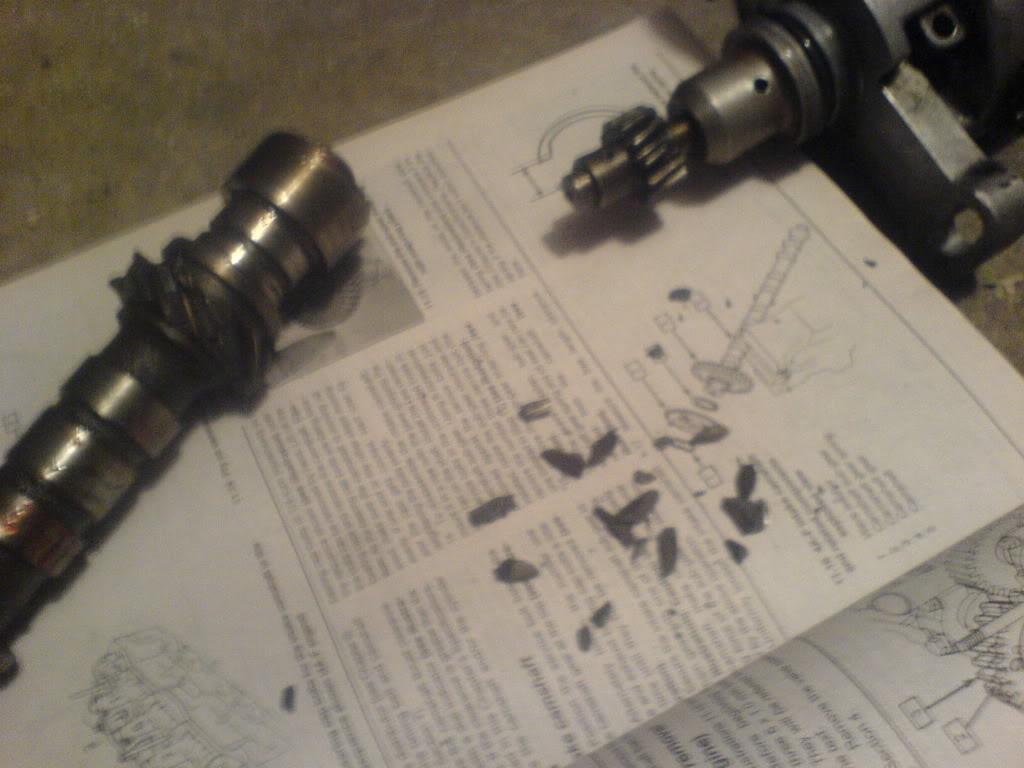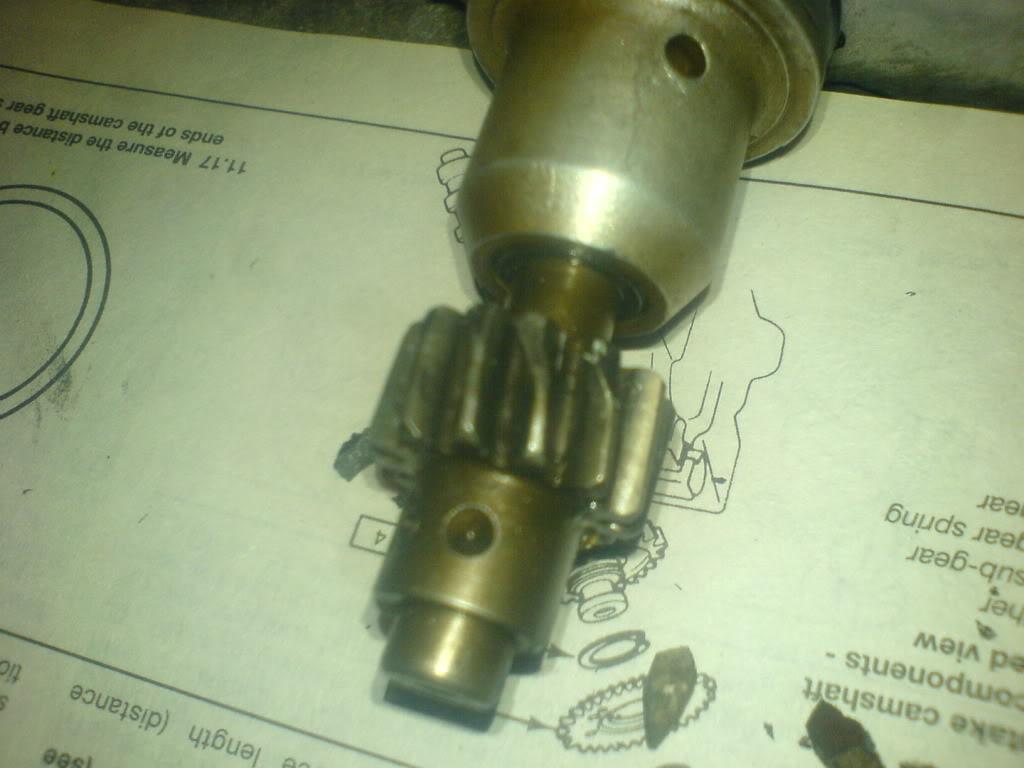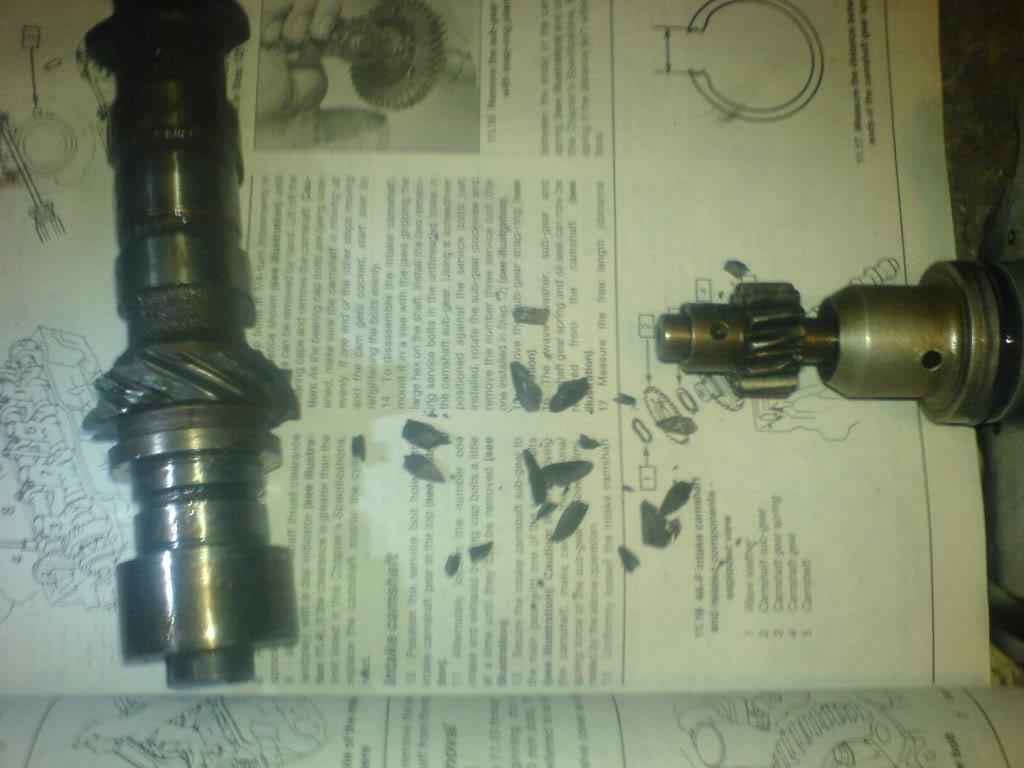 Since school had stated and homework was always an issue, and since I didn't have a clue as to why **** had broken Ariel sat alone and powerless in the backyard for another winter.
June 2008 – The build continues
This summer I was determined to get the car running and driving. I also wanted to make sure that it would stop, so I picked up the brake kit from 88Rotors via eBay. New slotted and cross-drilled rotors and new pads were tossed onto Ariel, along with new stainless steel brake lines on all four corners and from the chassis to the rear axle.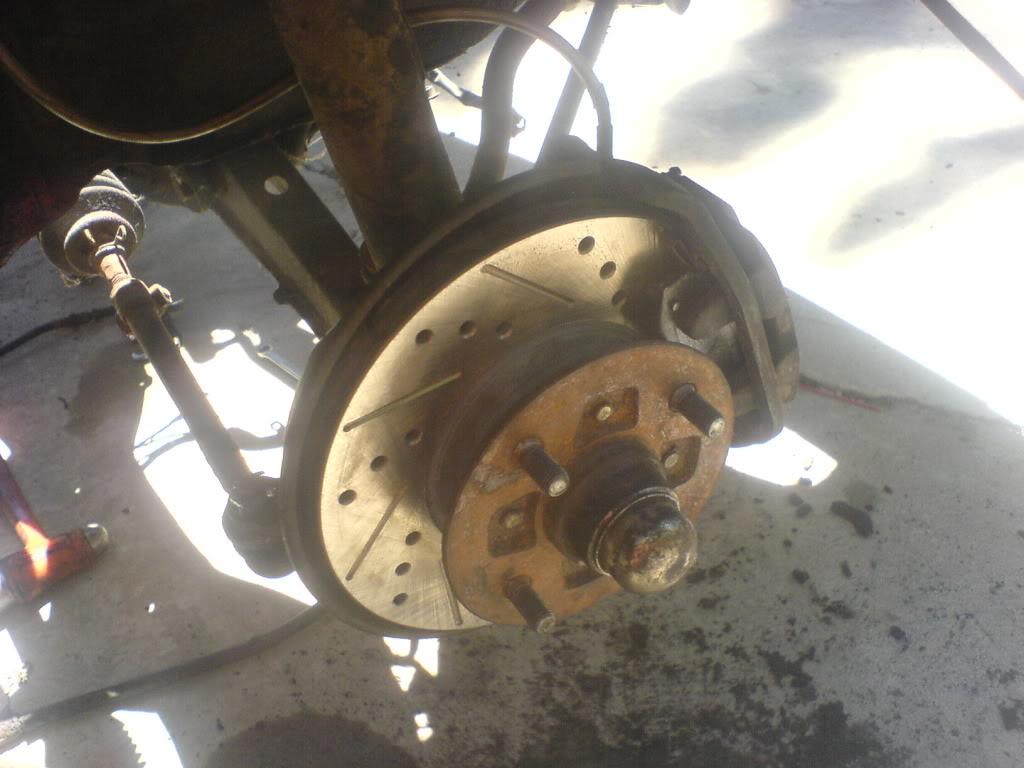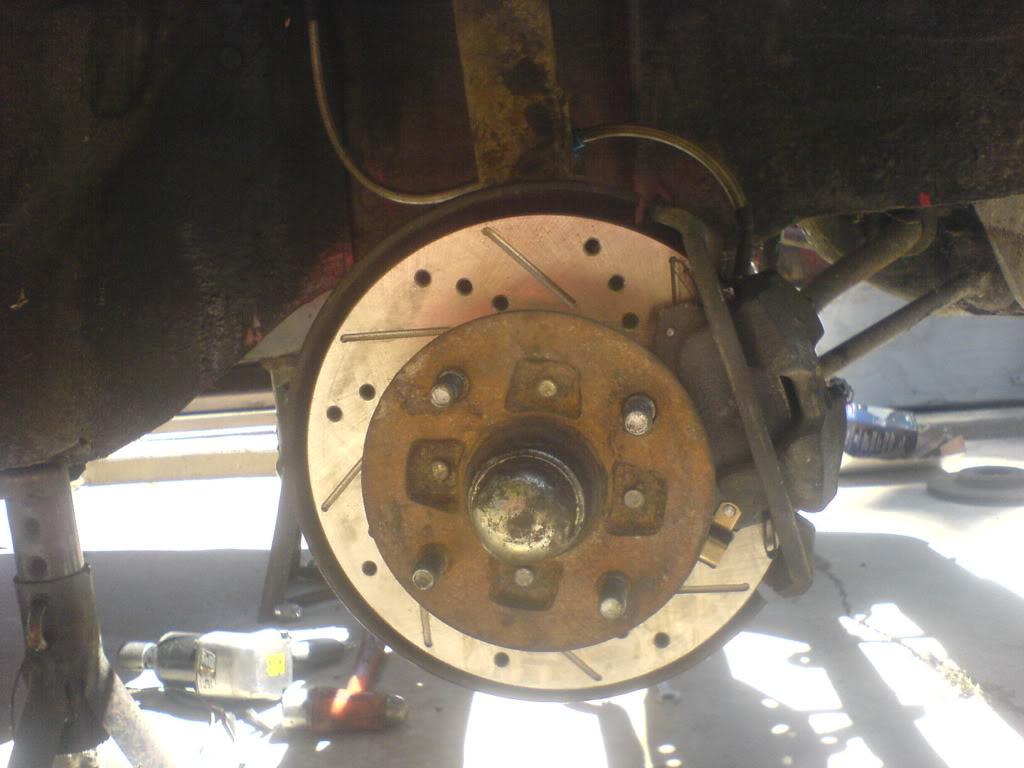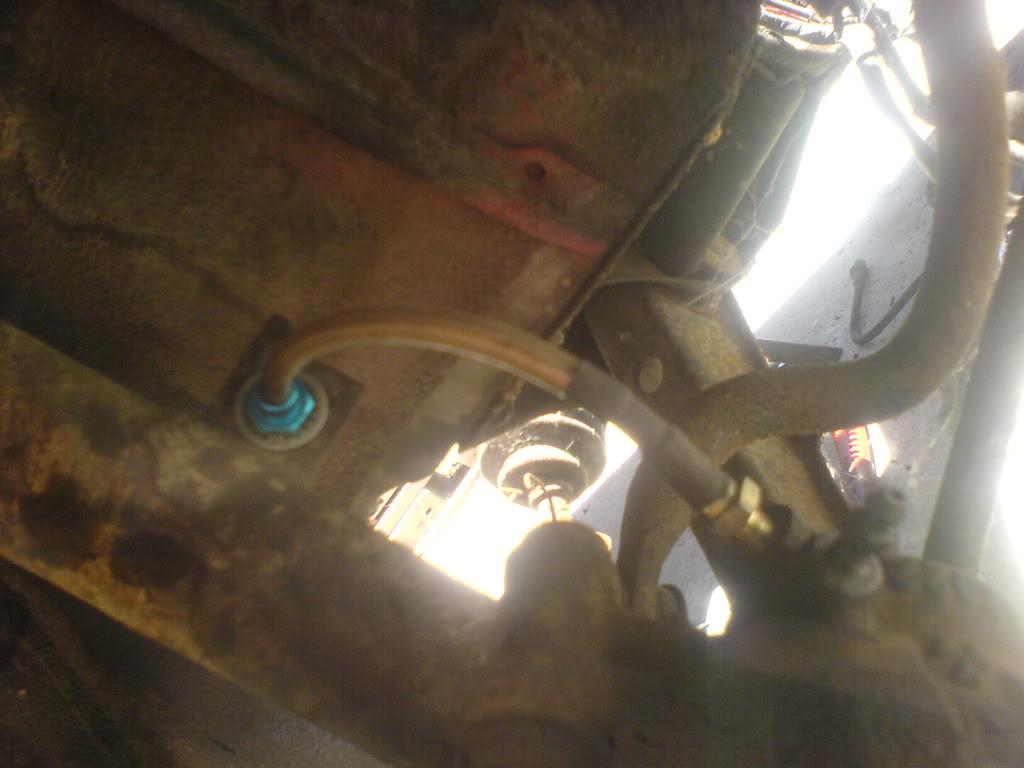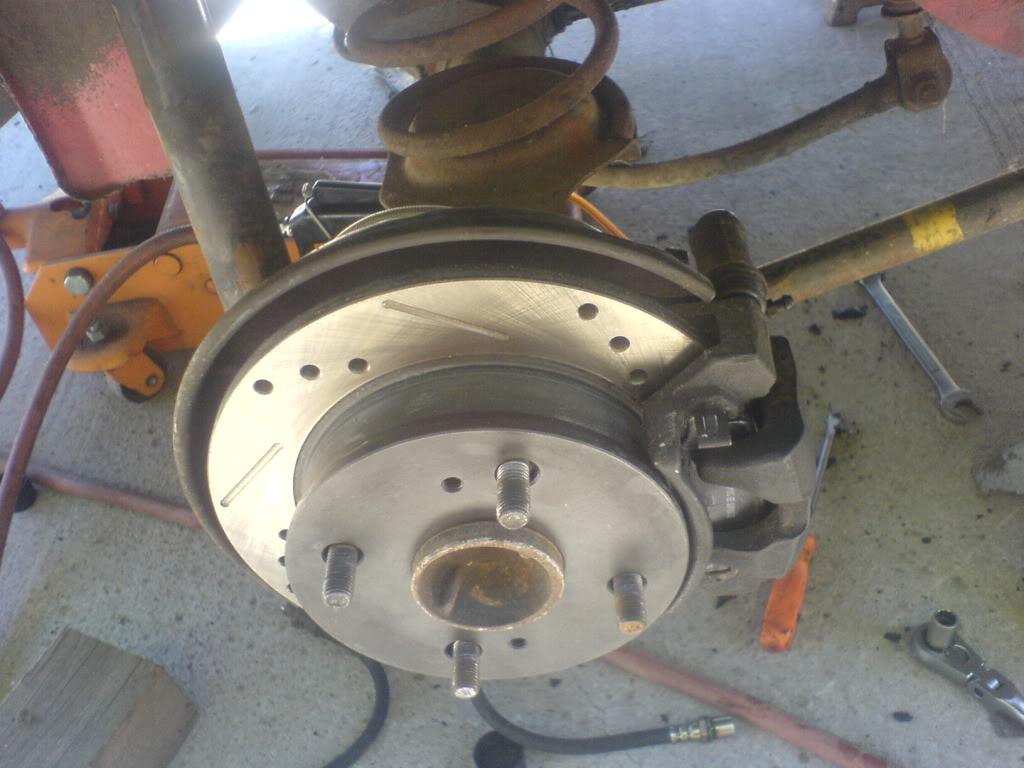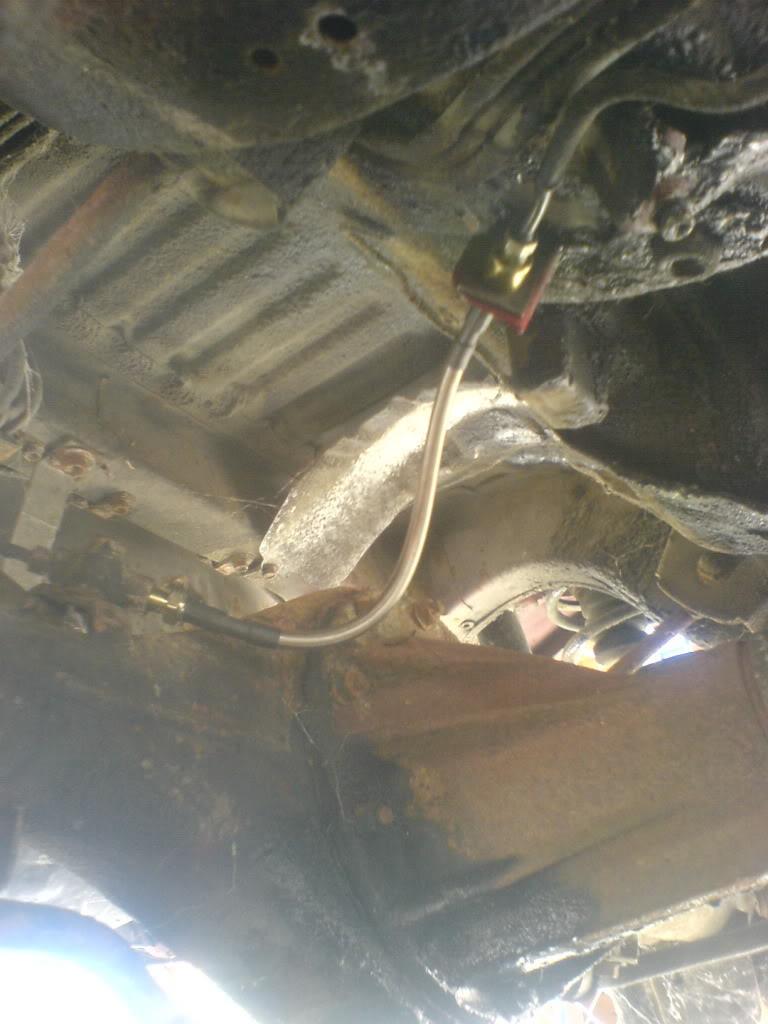 I also got bored and livened up the car with some paint.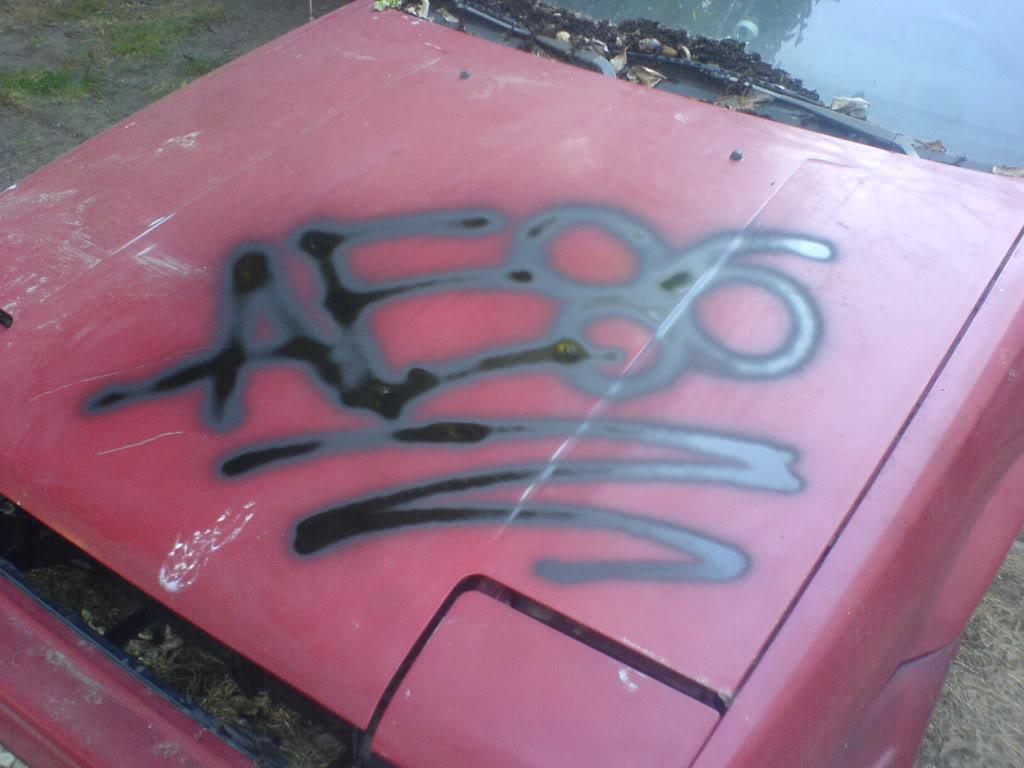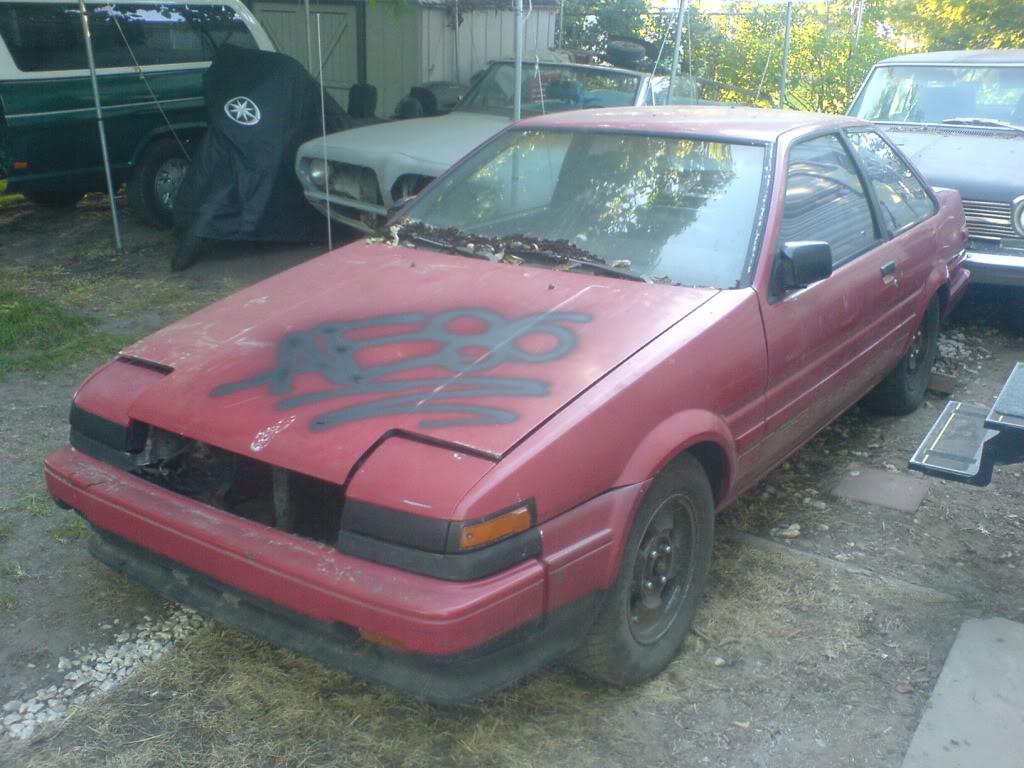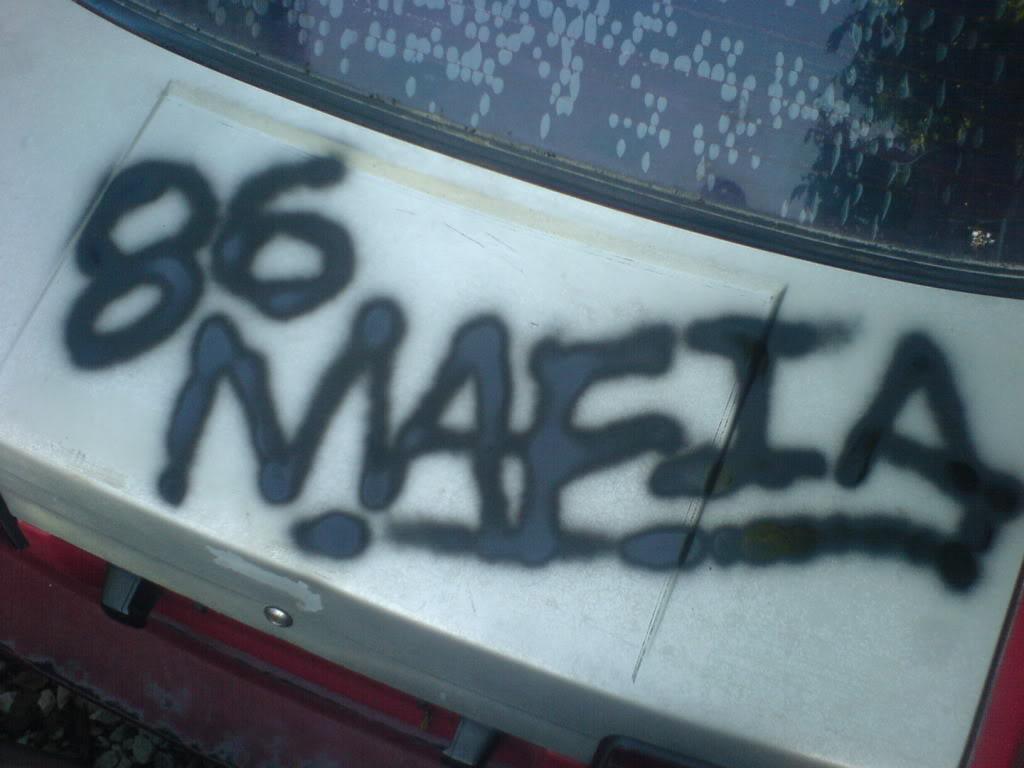 86 Mafia was a "team" of Corolla owners out here.
July 2008 – Putting it together v2
I ordered an HKS timing belt, think that might be the problem, and put in another largeport exhaust cam and distributor in the head. There didn't seem to be an issue until I tried starting her, when my dad said he saw the timing belt jumping over the exhaust cam gear. Clearly I hadn't fixed my previous issue. This time I couldn't get the distributor out, so I broke it.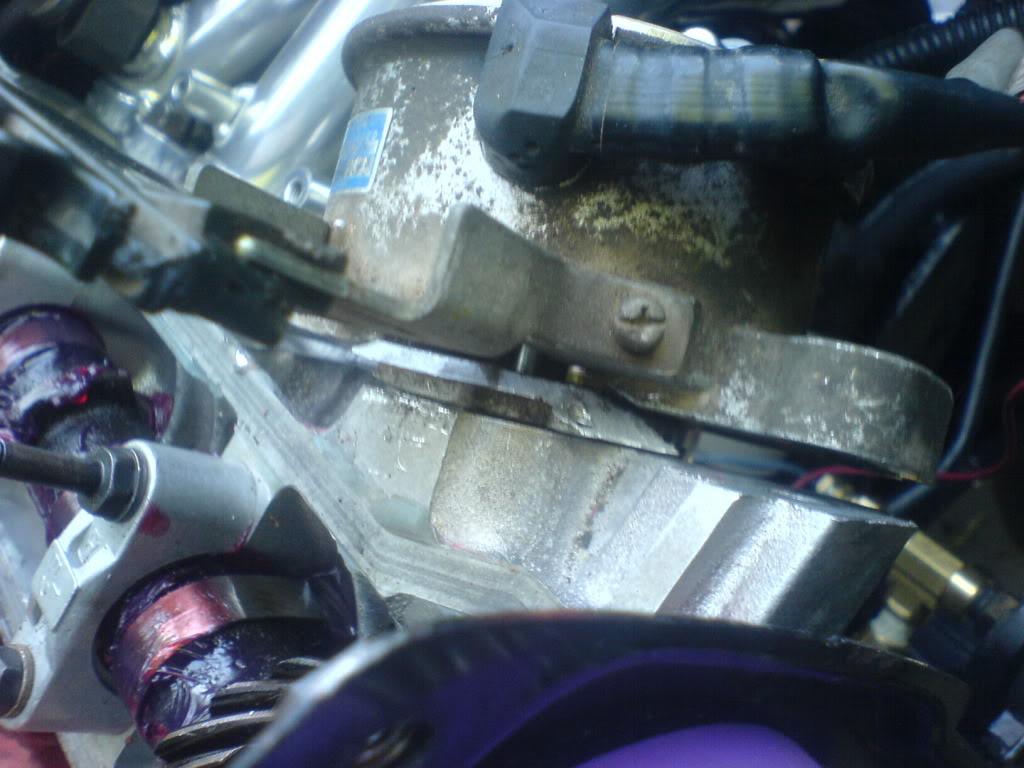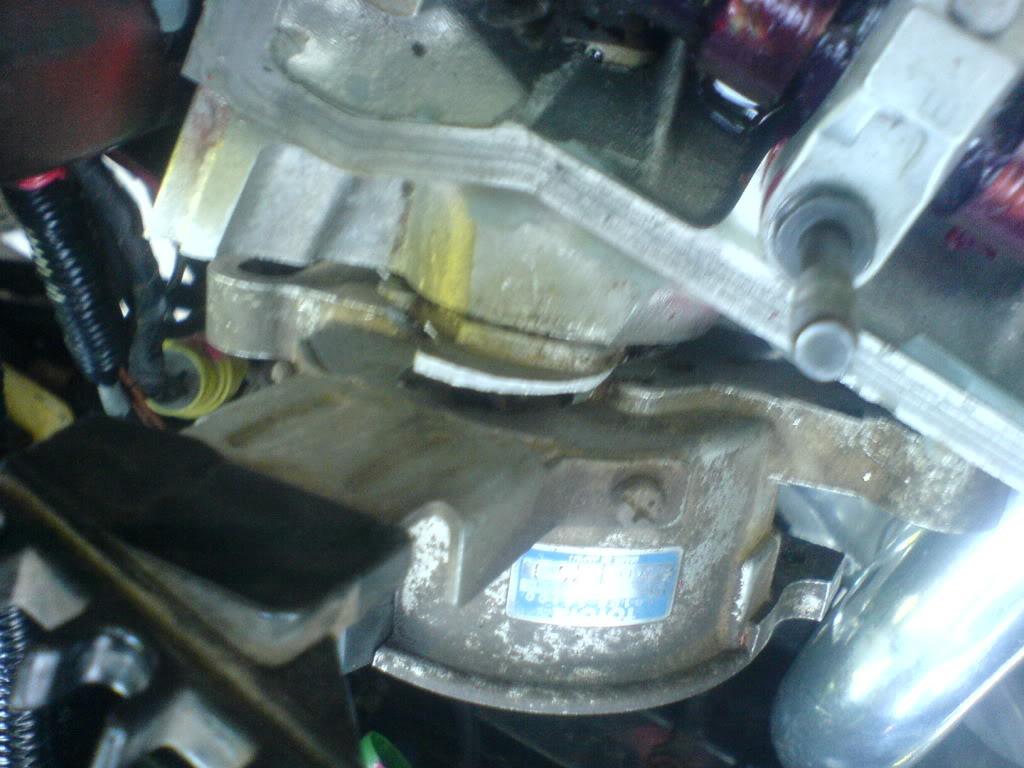 Note to self-don't pry on an aluminum housing if you don't want to break it.
It turns out the ARP head studs are taller than the OEM head bolts. The cams themselves clear the studs, but the distributor shaft catches on one. Since it catches, the hardened steel of the head studs digs into the softer steel of the distributor shaft, preventing it from turning. I sourced a second distributor and grinded some material off the end of the shaft, before the gear, so that it would clear the head stud. I installed it and the original smallport exhaust cam. I had been using the largeport cams because their profile is more aggressive than the smallport cams. Unfortunately, none of my friends would sell me just the exhaust cam they had lying around since they didn't want loose a matching set, so I was forced to run a miss-matched set (I can't remember where the smallport intake cam ended up).
With the cam and distributor sorted, I asked my dad and a brother to help with an exhaust for a drift event that I desperately wanted to drive the car in. I had gotten a summer job working at a tire shop, so I really wanted to work though my growing stack of tires. Some pieces from various cars and trucks and a Magnaflow from a 70's truck were welded together to produce a side-exit exhaust for the car.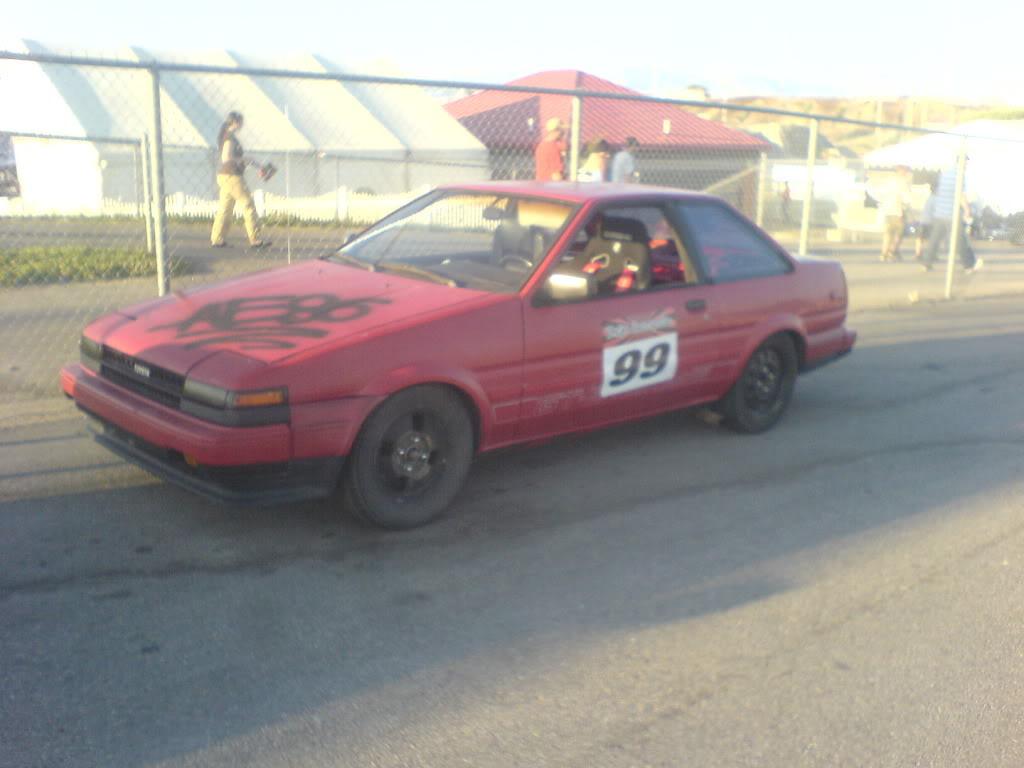 At least it was quieter than running with an open header, but it really didn't matter because by the end of the night, the welds and coat hangers failed and I dropped the muffler. Oh well.
August 2008 – Exhaust v2
After the drift event, I set out to get the car running right and to give it a fighting chance to pass emissions legally, even in Utah. I figured out a way to route the vacuum lines and hook up all the emissions equipment, including the EGR (which the TRD header has a provision for, just like the stock heat shields bolt onto it).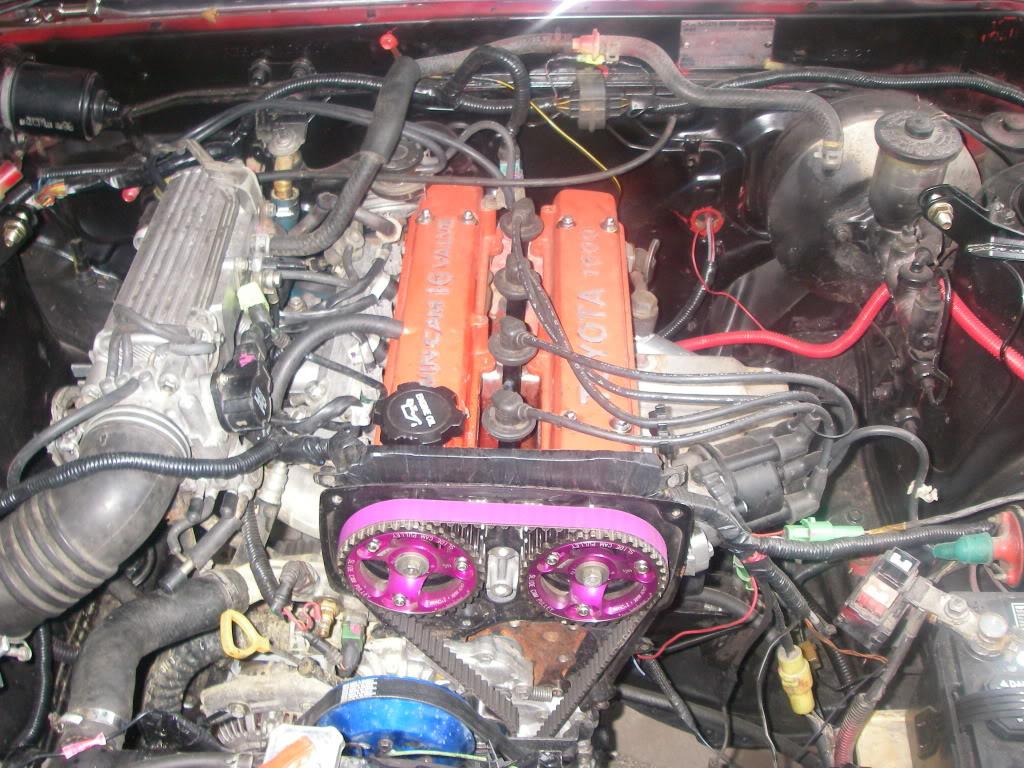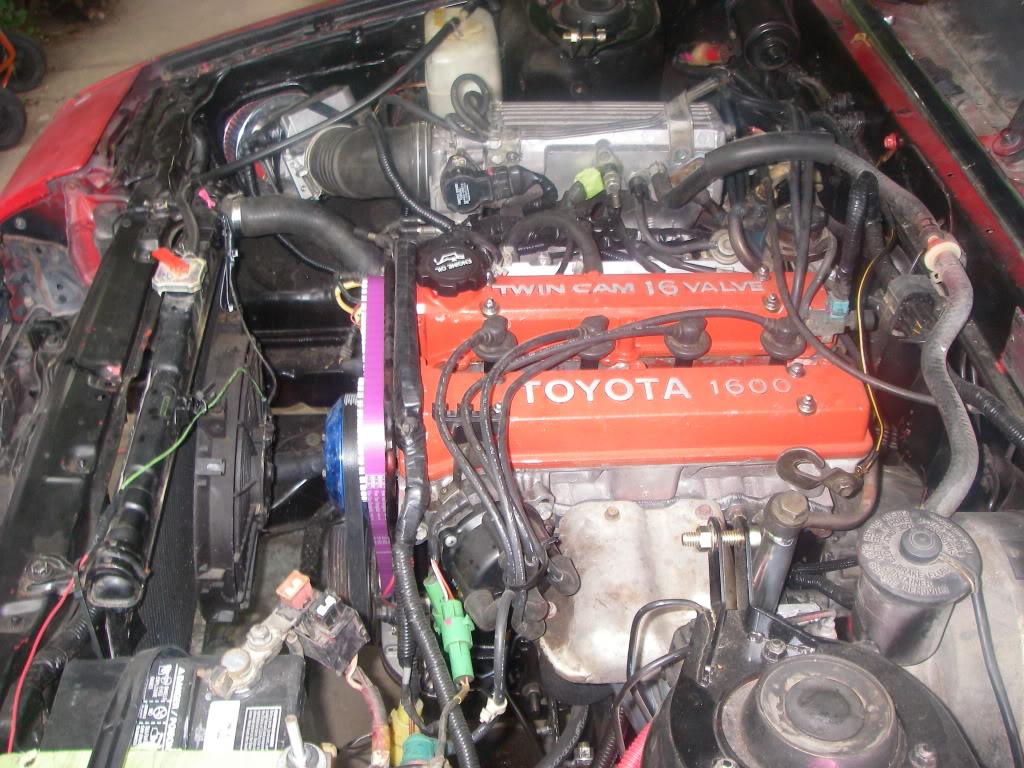 I painted the silver rim of my Autometer gauges black, because I could.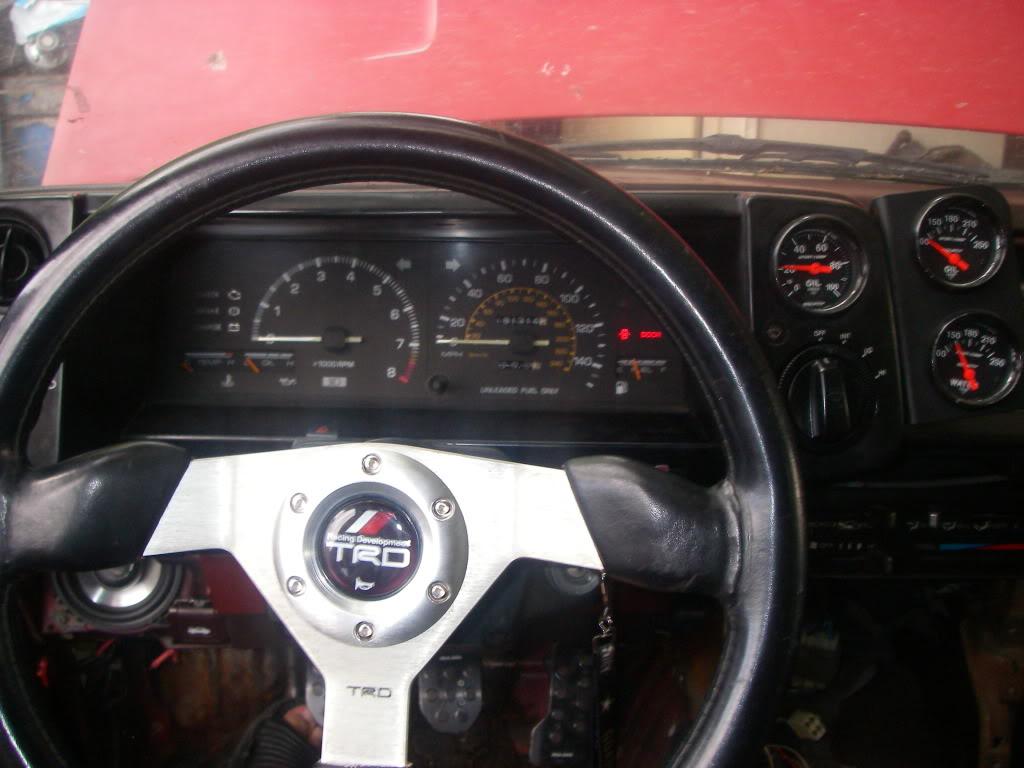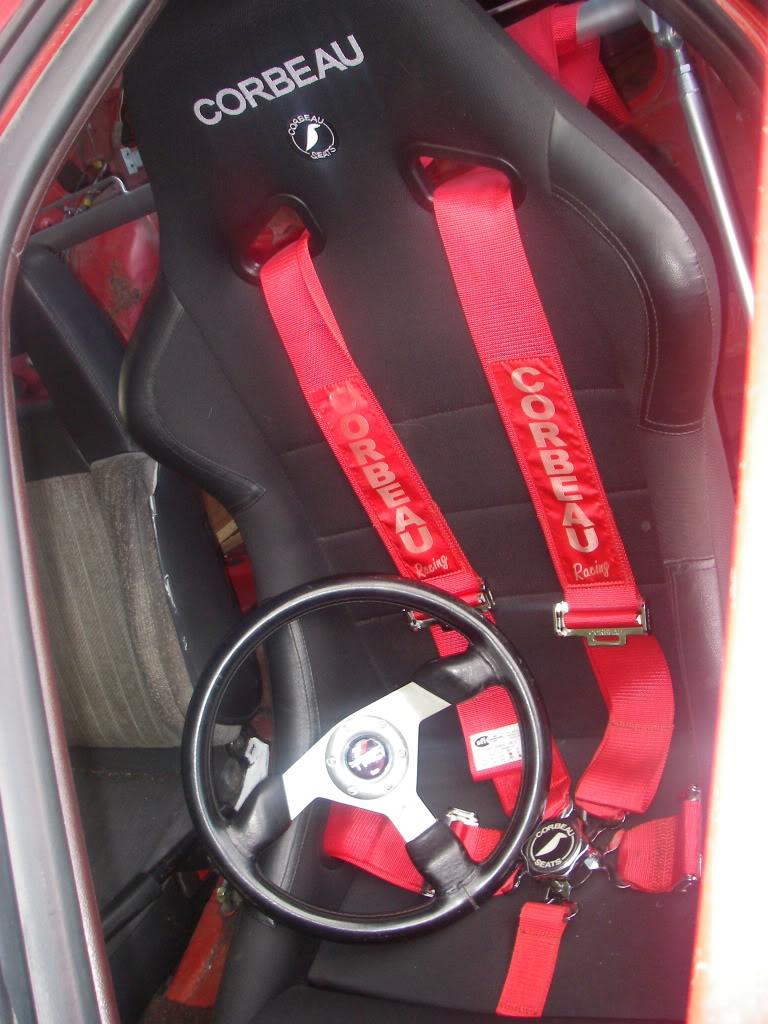 Obligatory drift charm.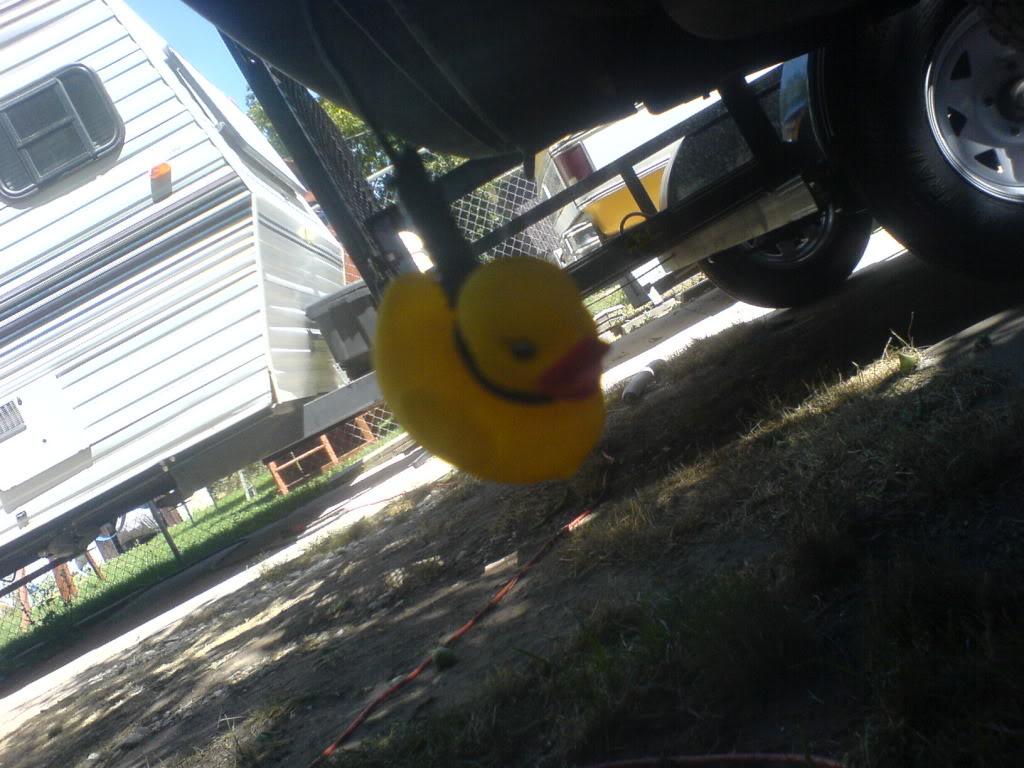 Somewhere in that time frame I pulled the differential out and had my buddy Dan weld the diff. He was working on building a rotisserie to pull the body off the frame for his '67 Chevelle, so I figured if he could weld well enough to do that, he could weld my diff. Also, a new exhaust was also welded together, one that exited out the back of the car.
September 2008 - Paint v1
Just before my birthday (and because my dad was painting a few other cars at the time), my dad offered to paint Ariel. I had previously thought about a blue/black scheme for the car, so I told him what I wanted. Here are my shitty PS'd schemes for the car for my dad to reference.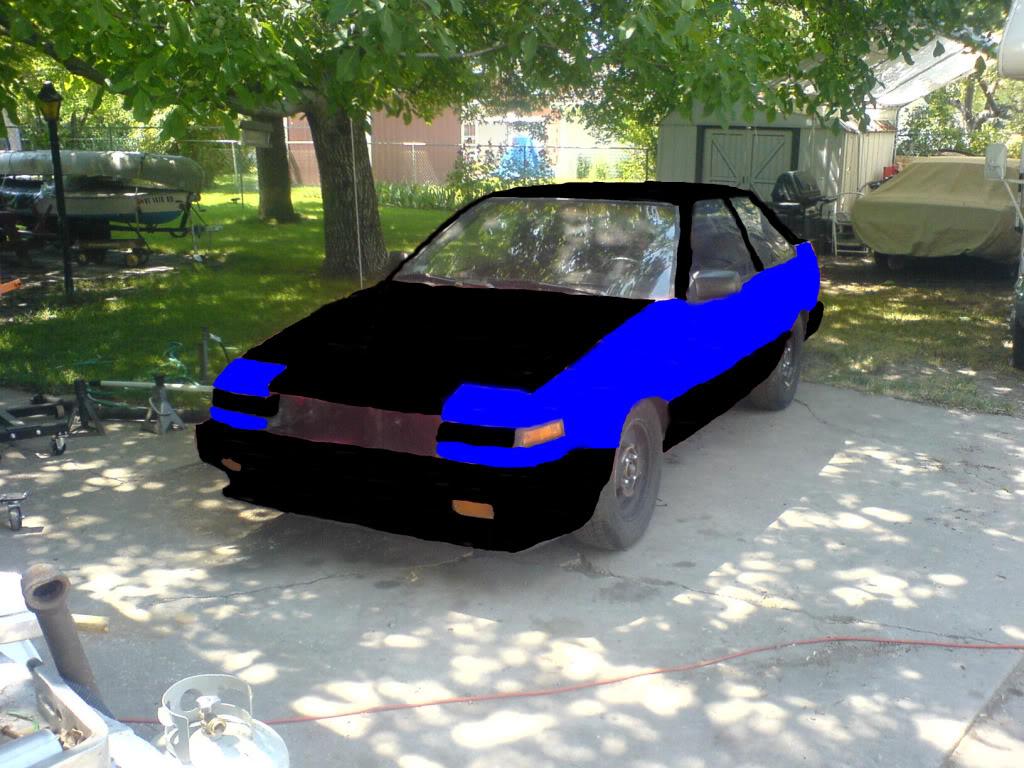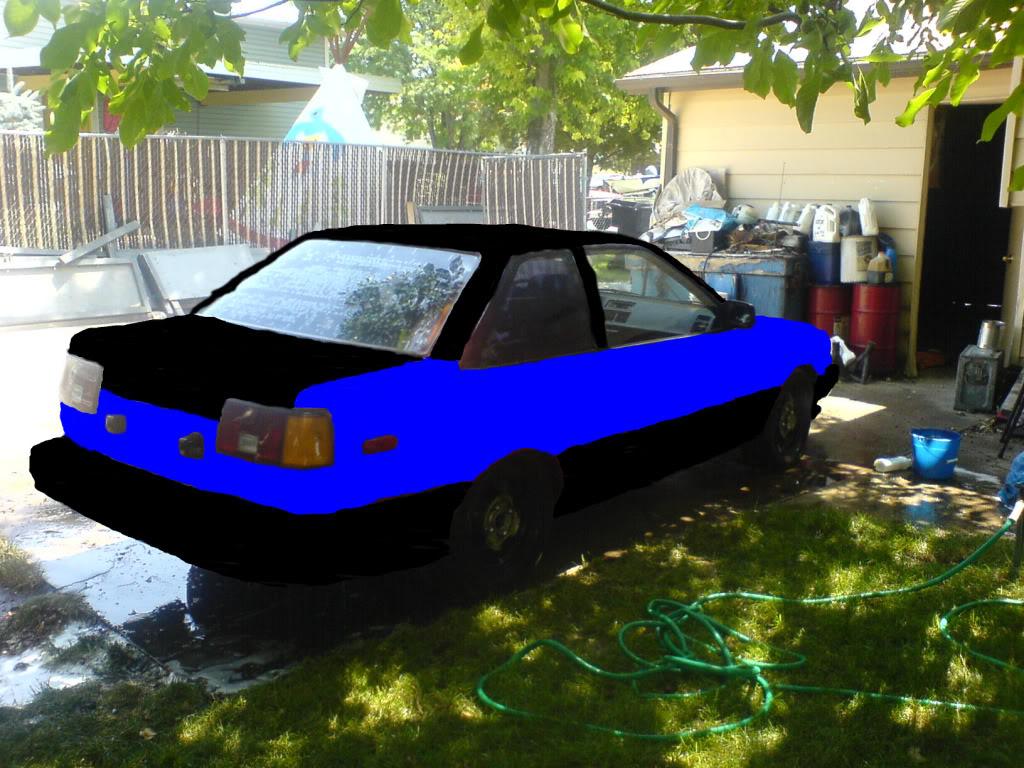 It was a damn fine 20ft job that I didn't have to pay for.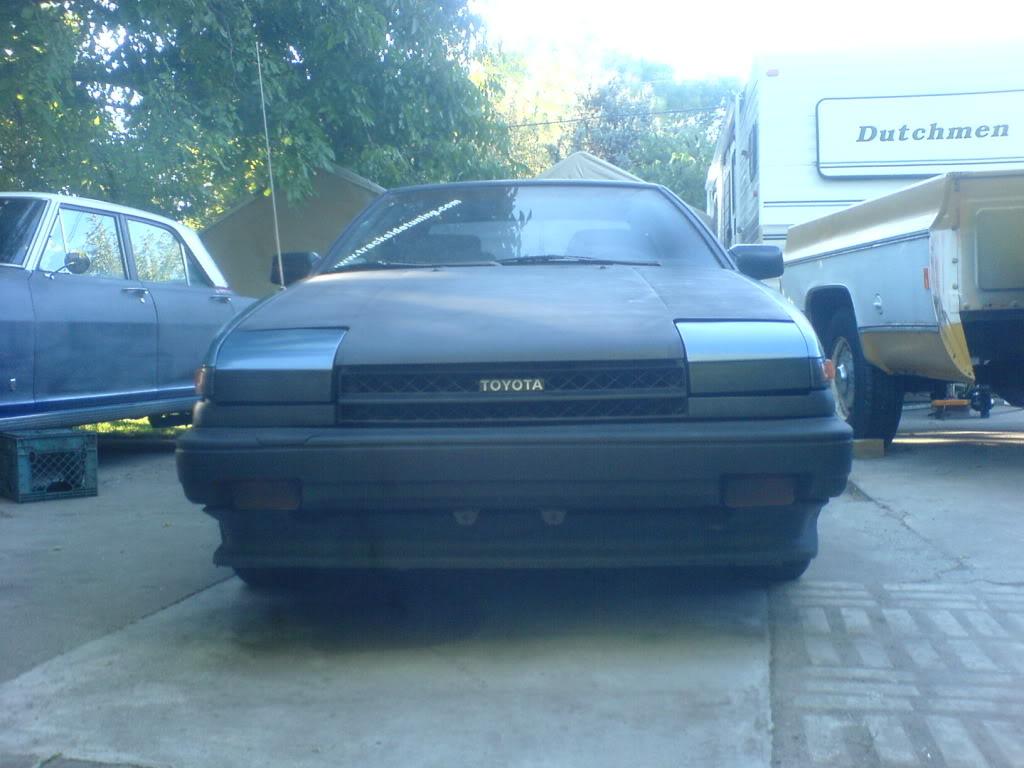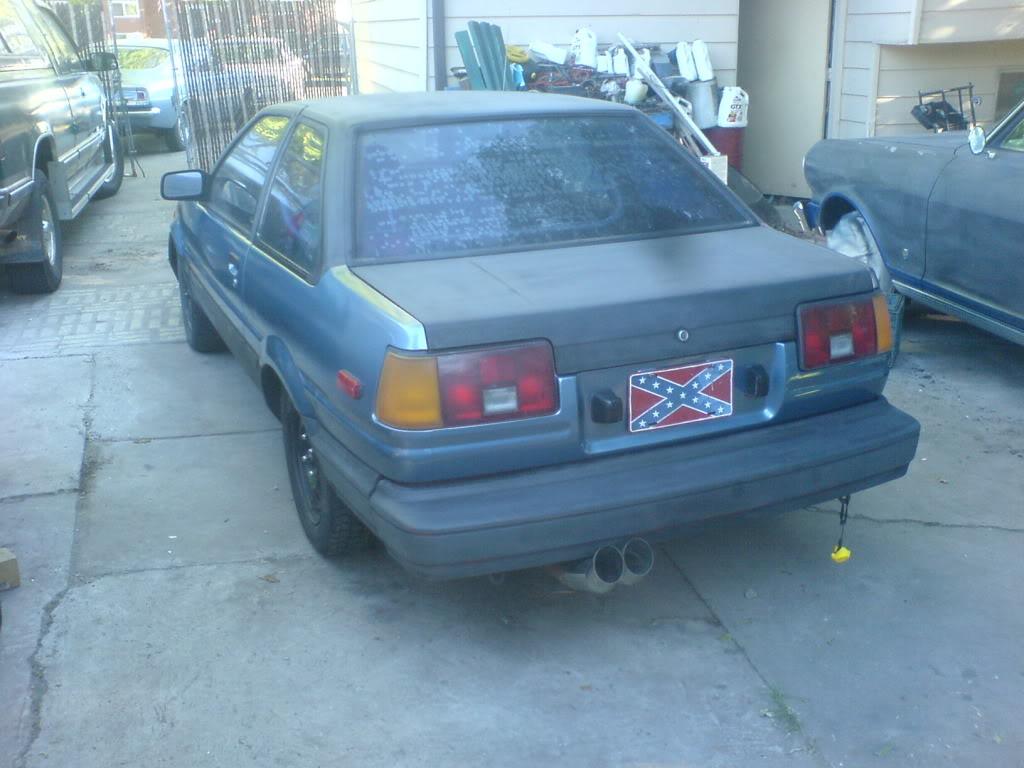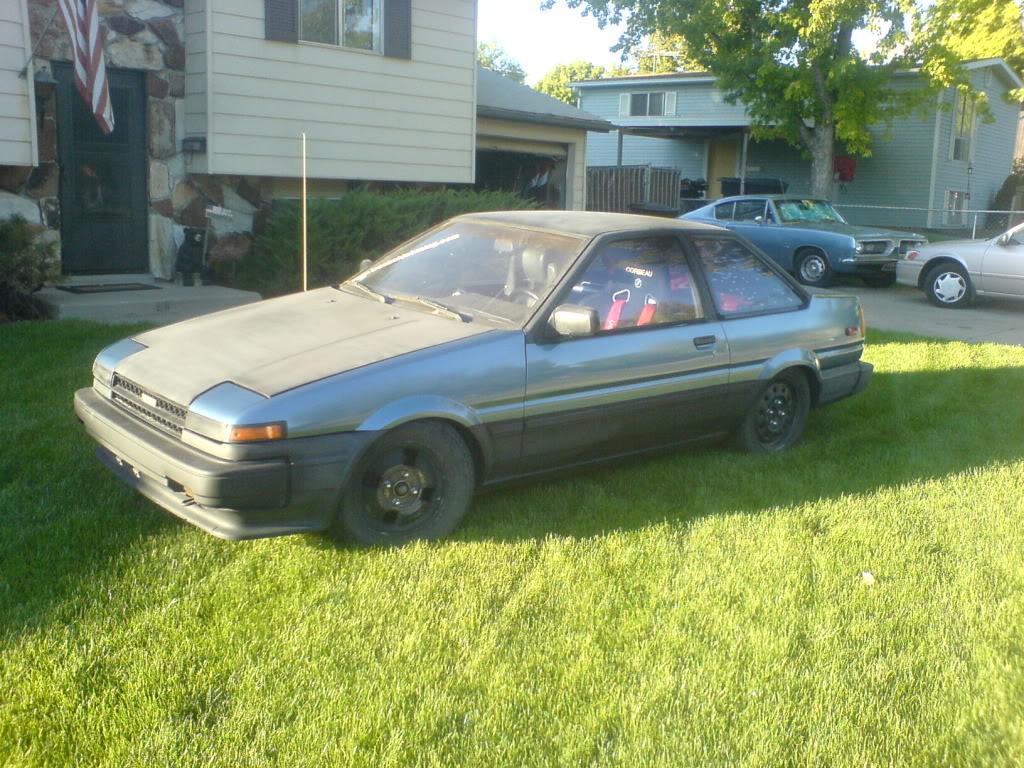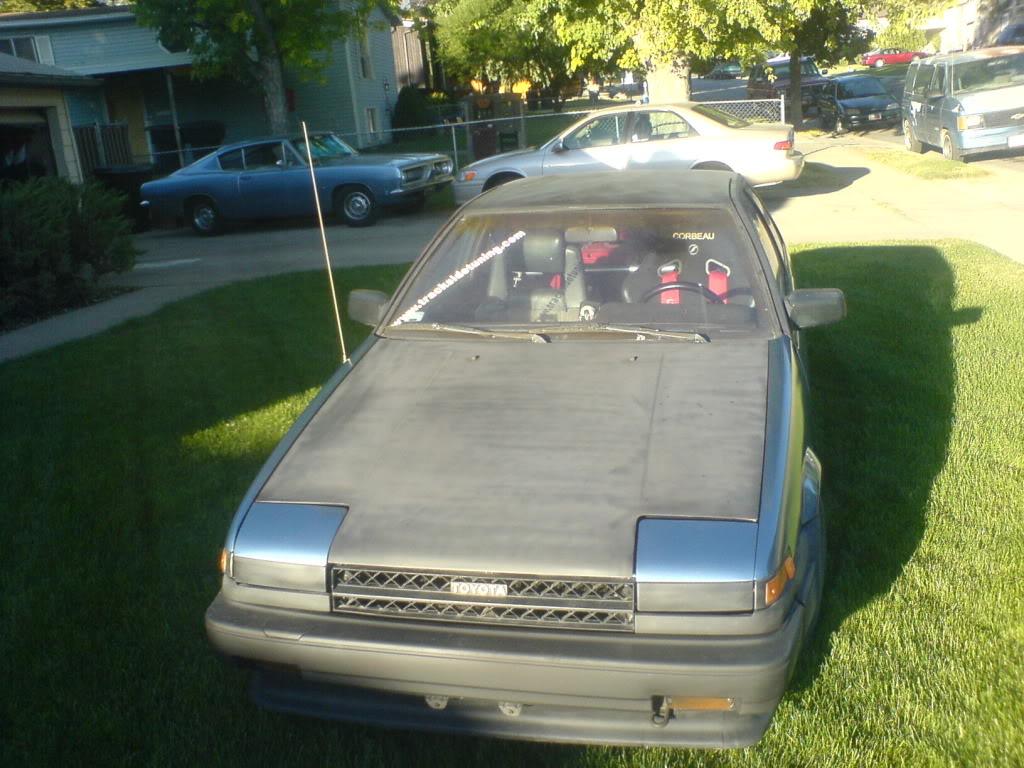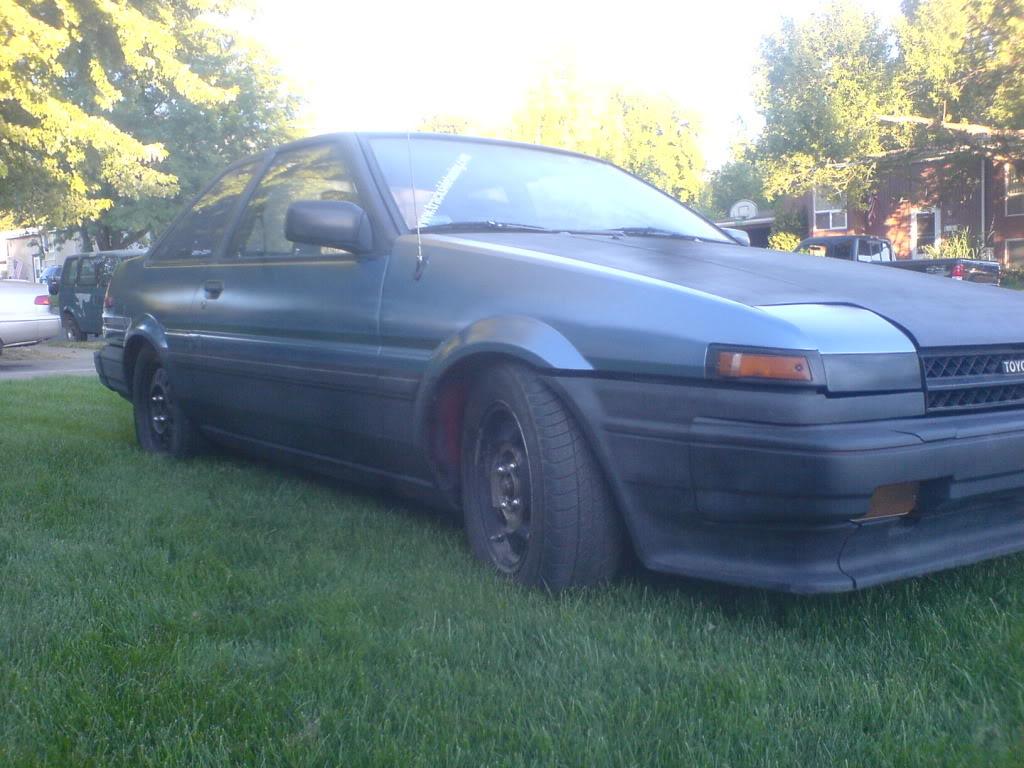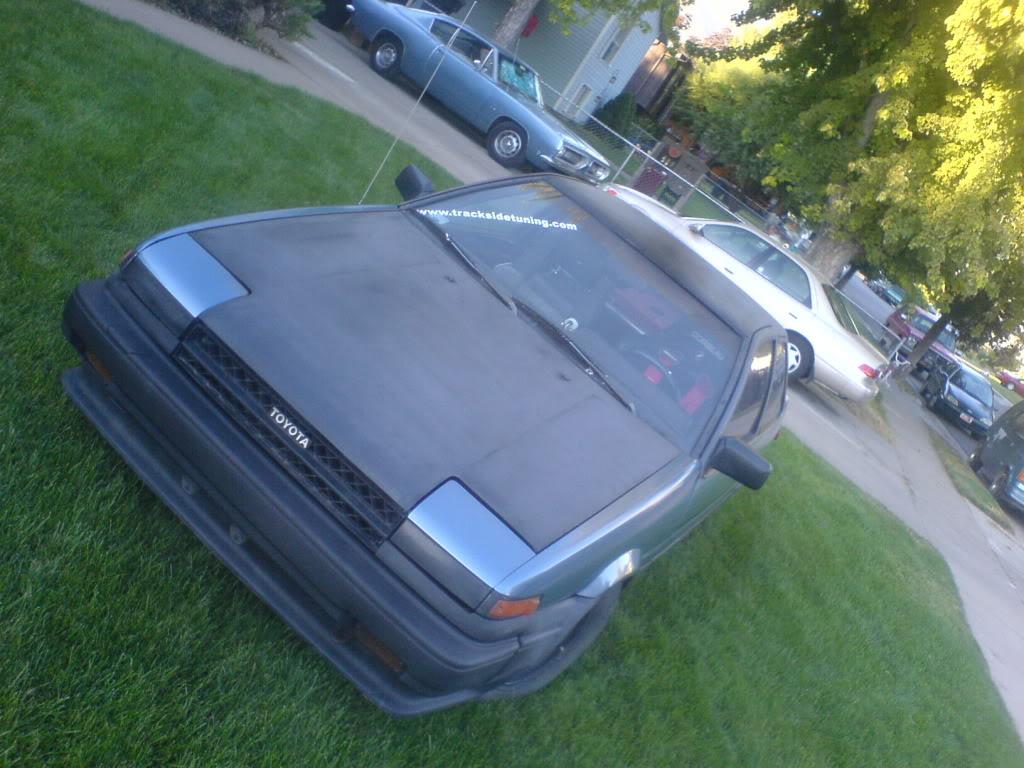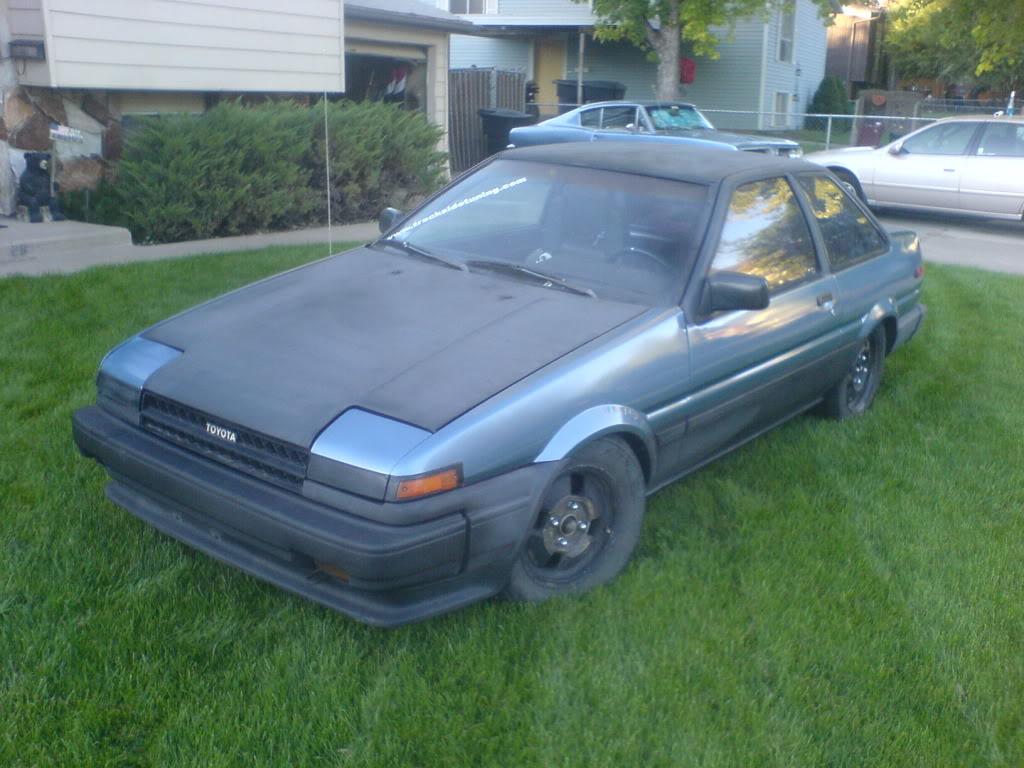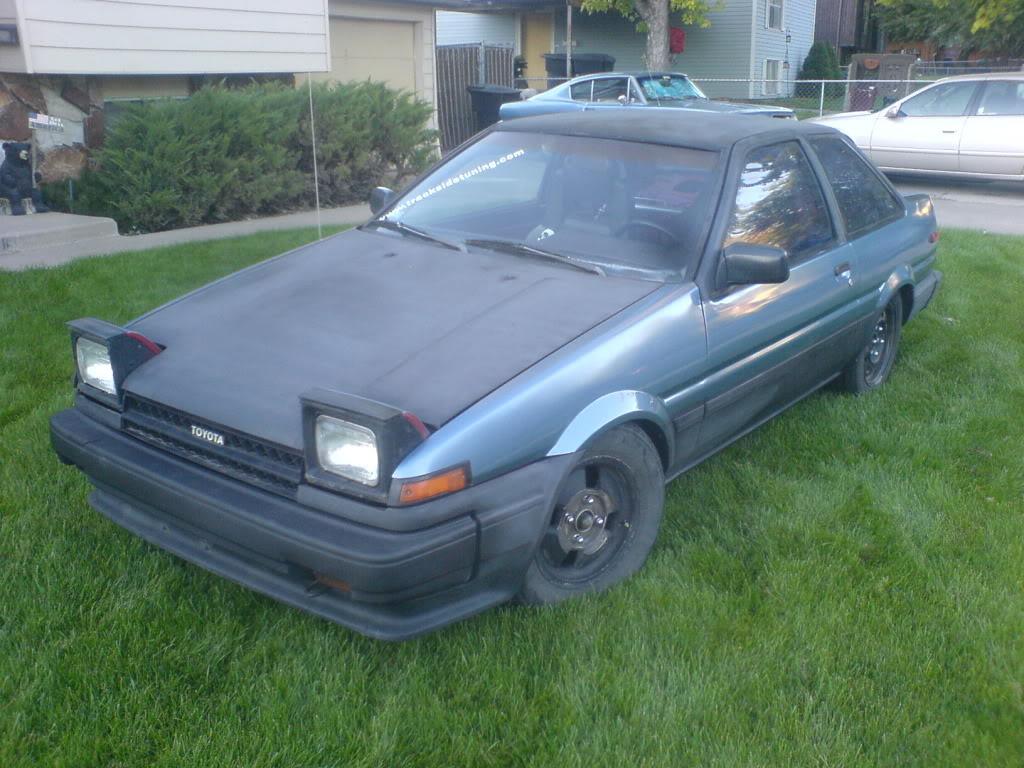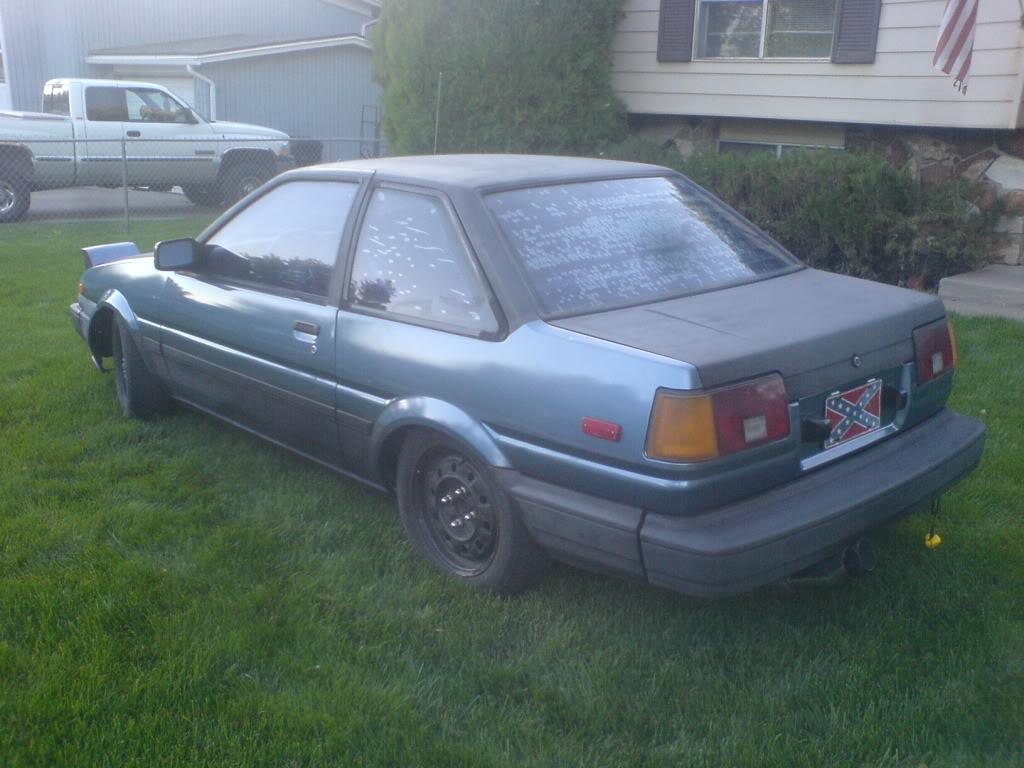 I went to the next drift event and nobody could believe it was the same car.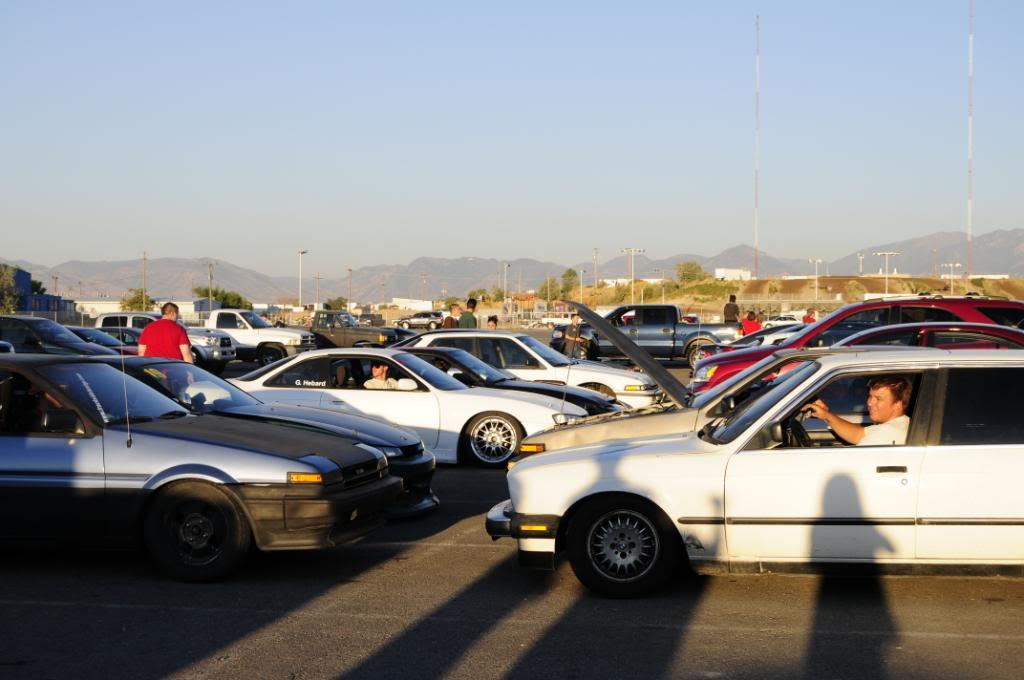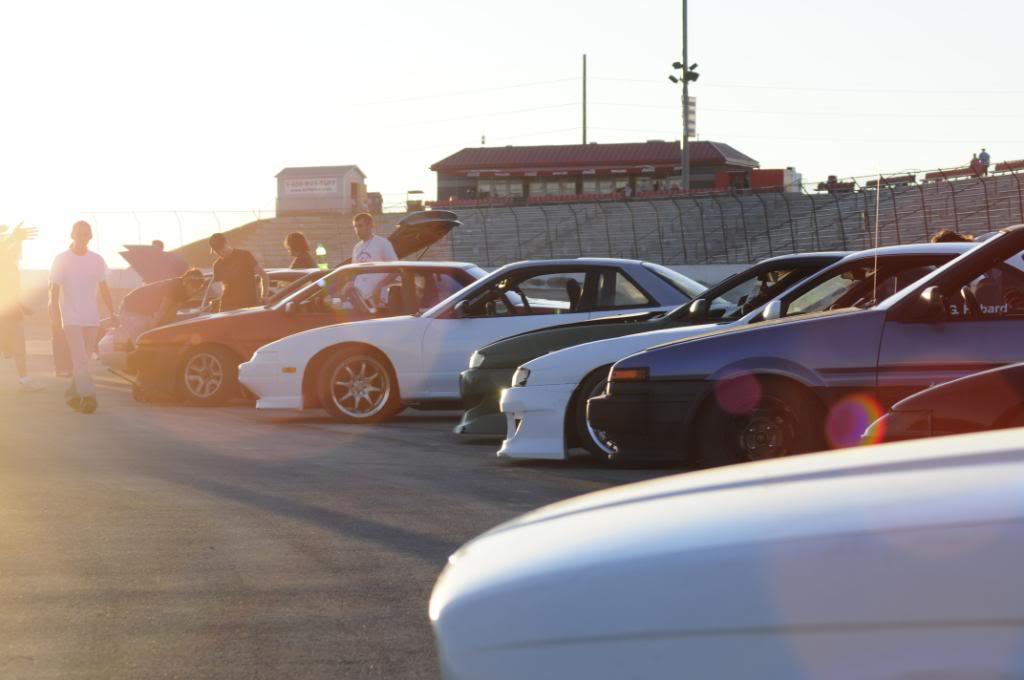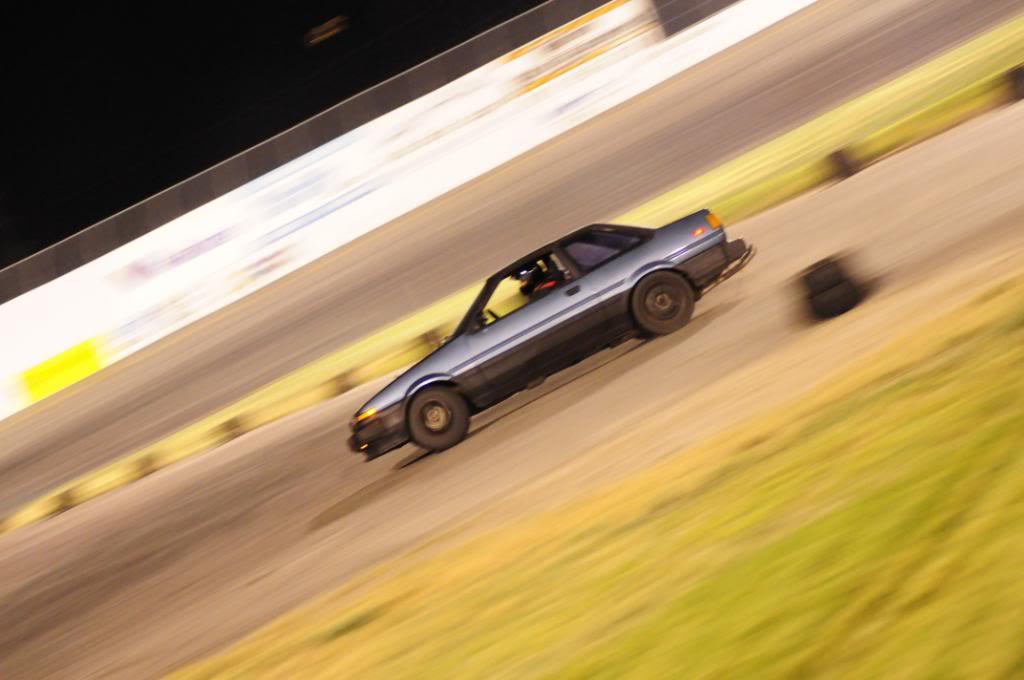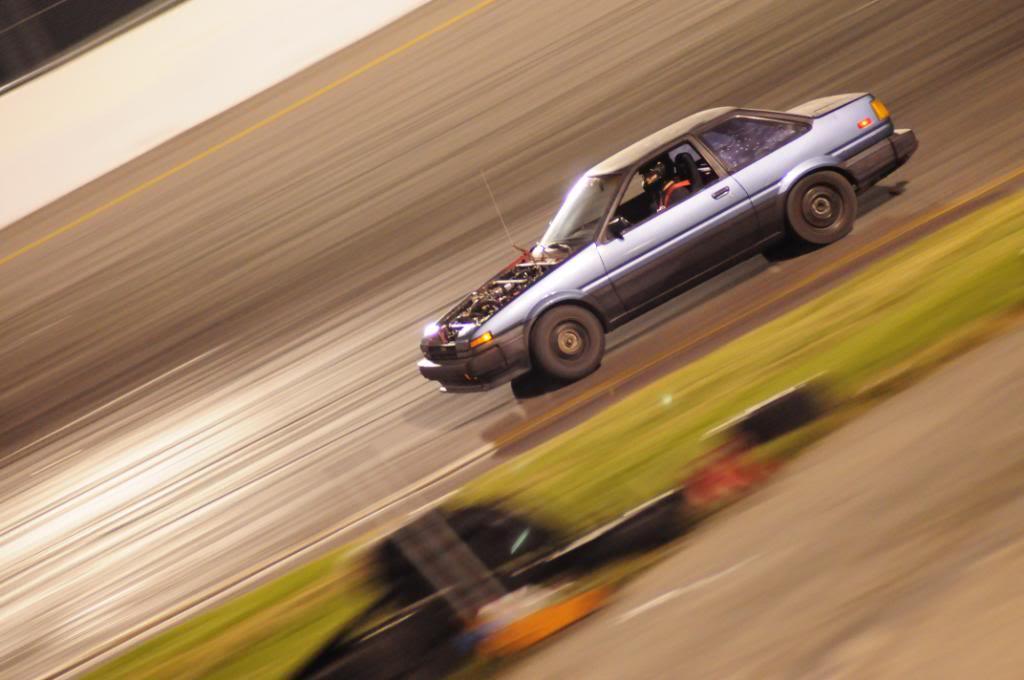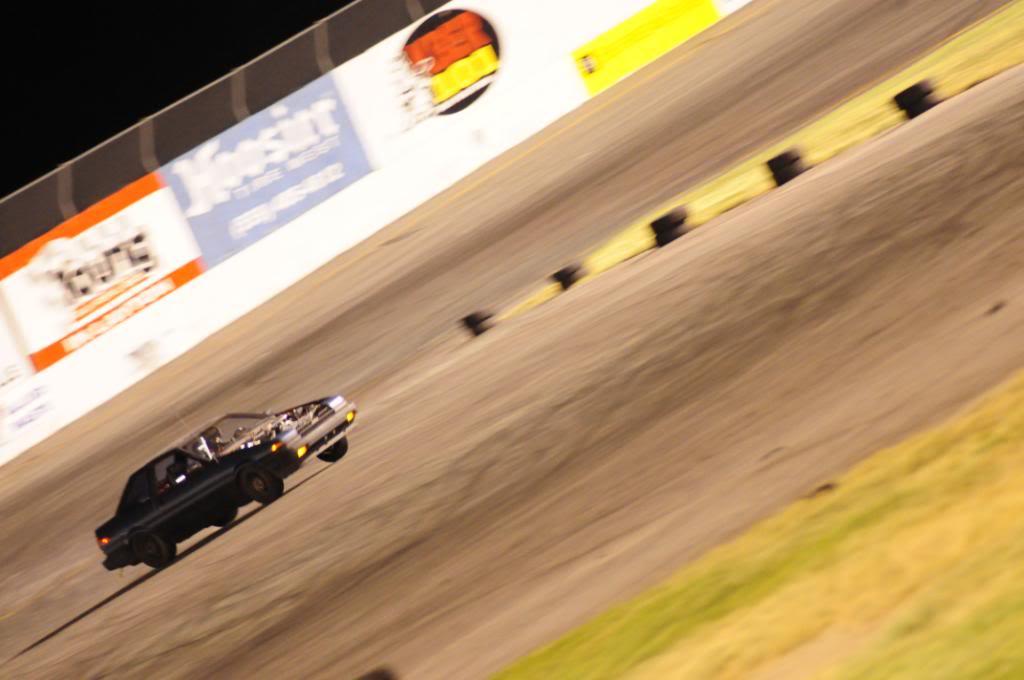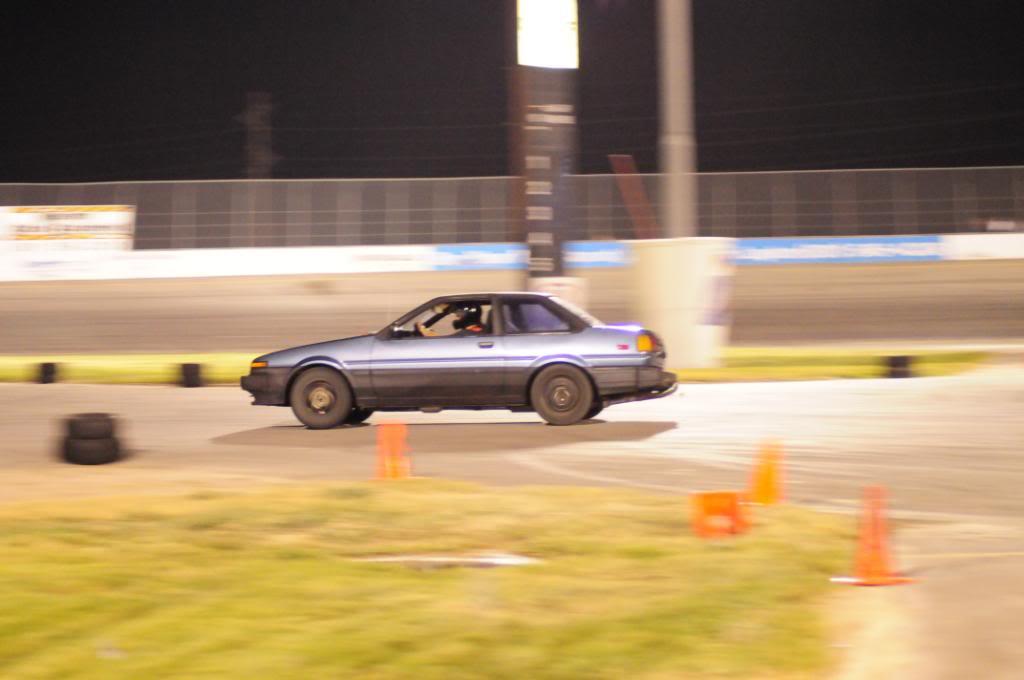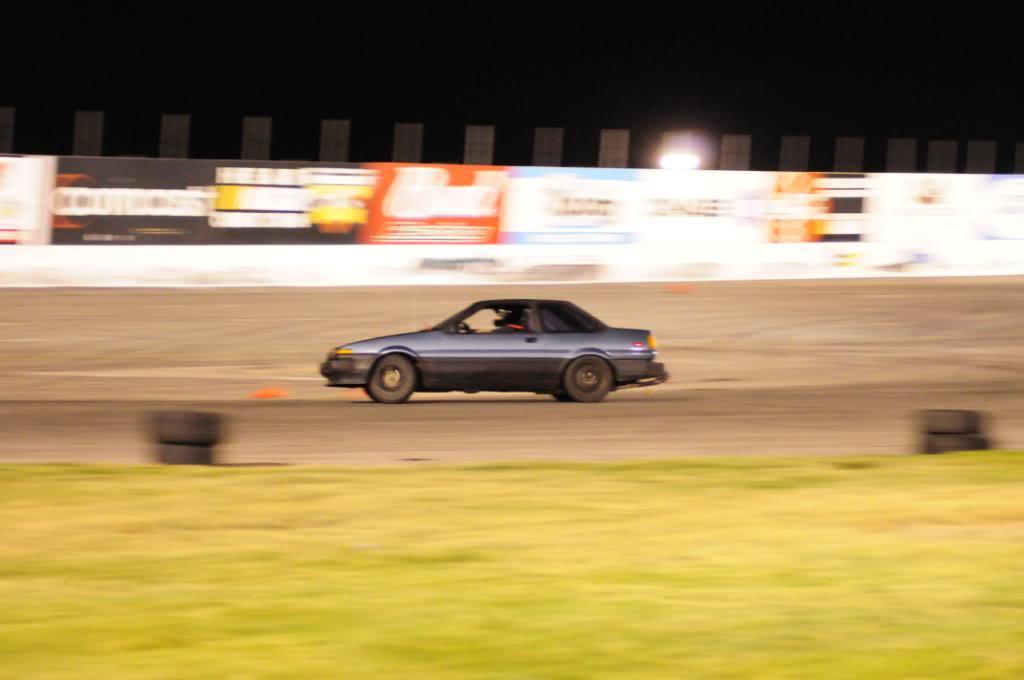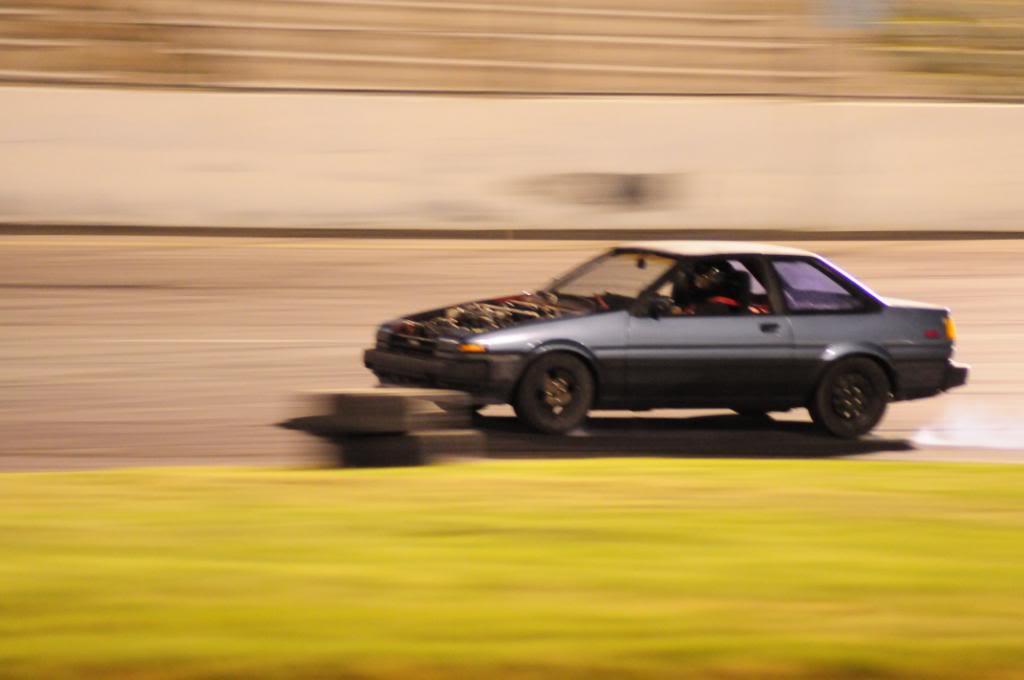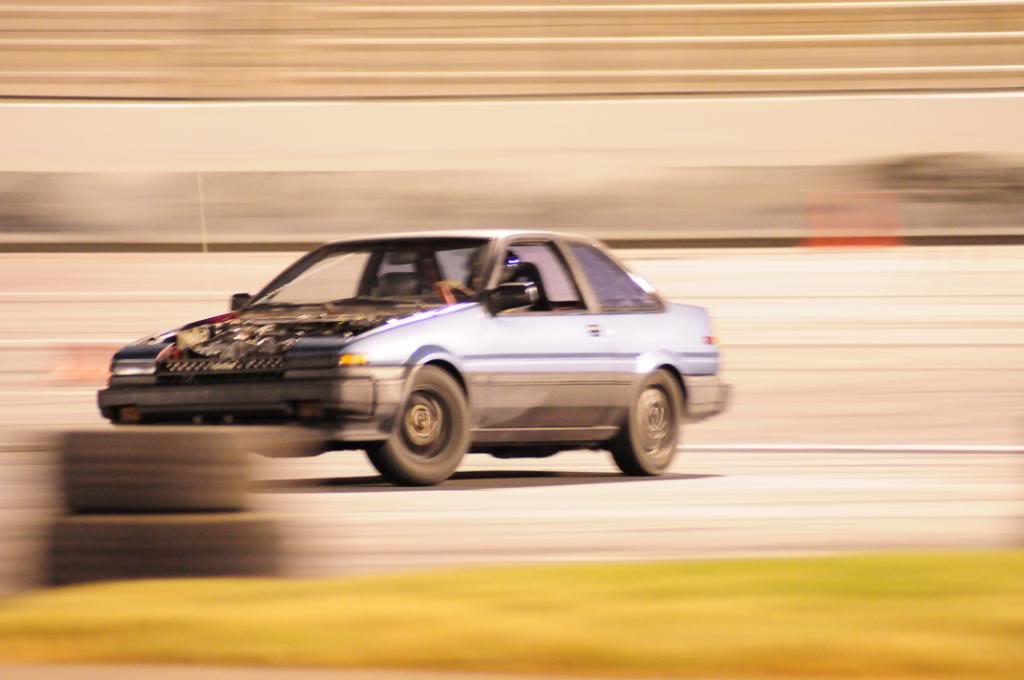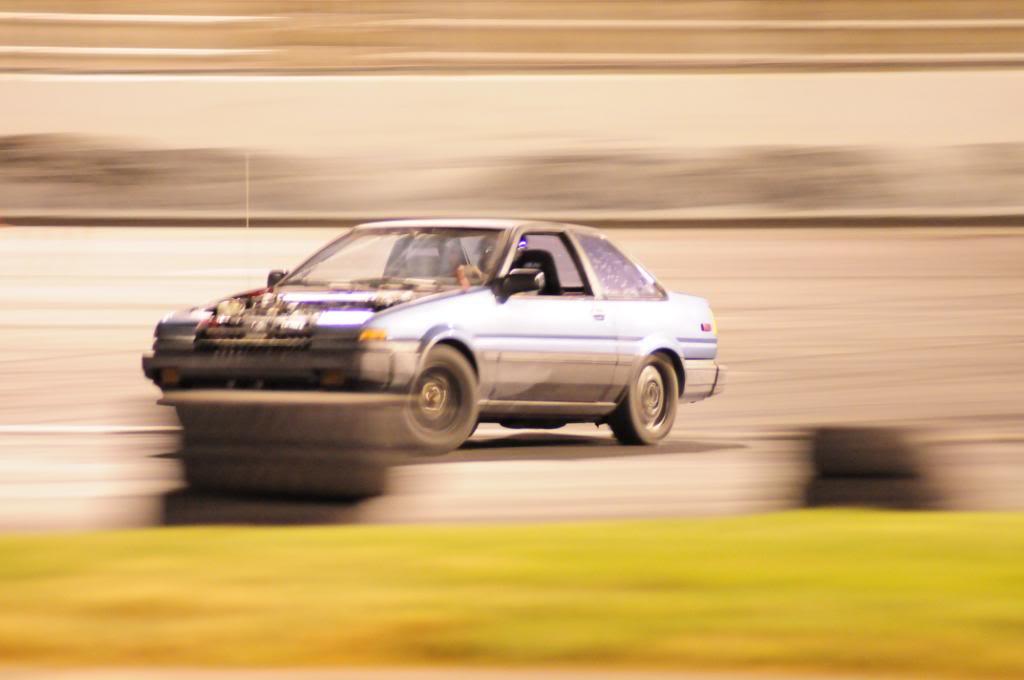 And then the following weekend, I went to another drift event.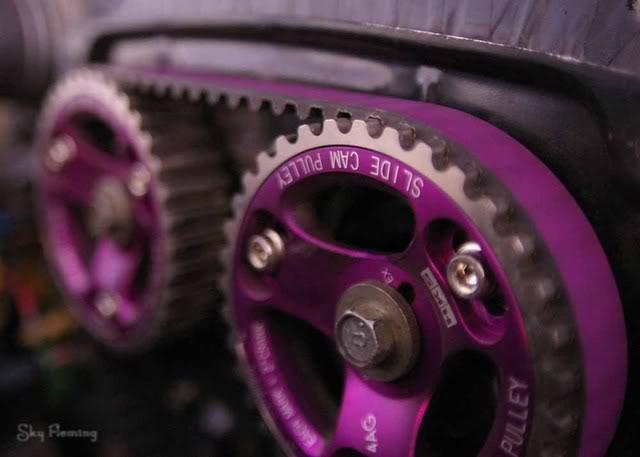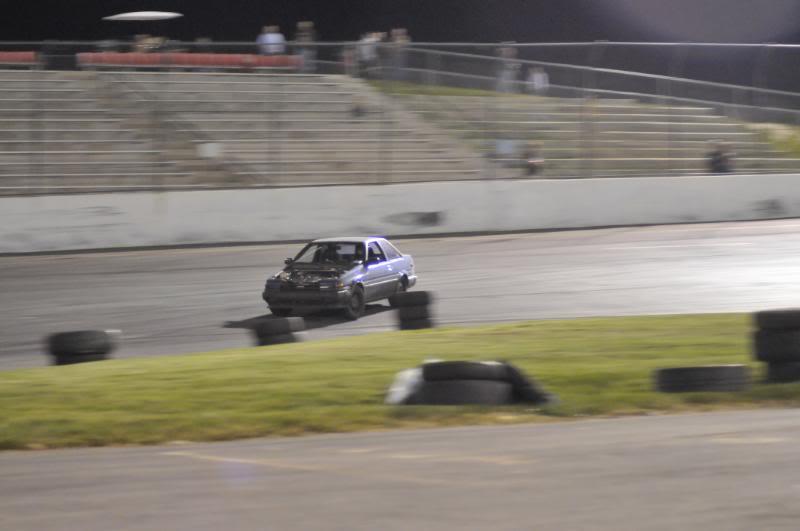 Video my oldest brother shot and that I edited.
And at that event, I managed to spin into a stack of tires marking the course, denting my fender. I was very disappointed I hadn't hit the door, because I have a spare set of doors, but not a spare fender.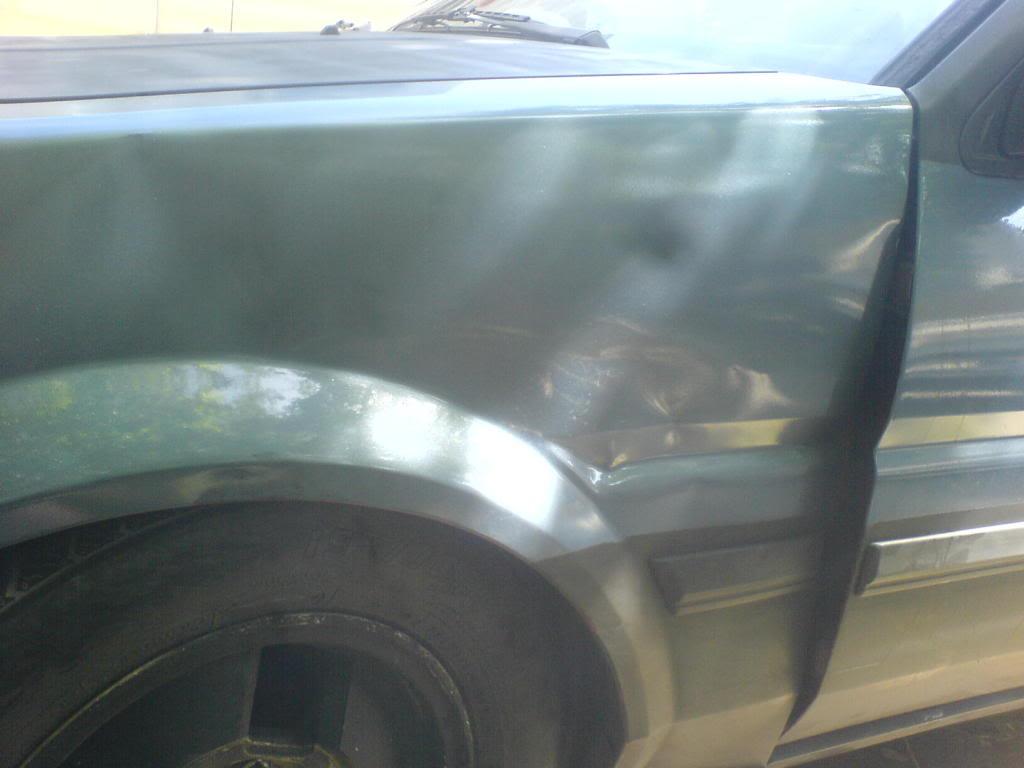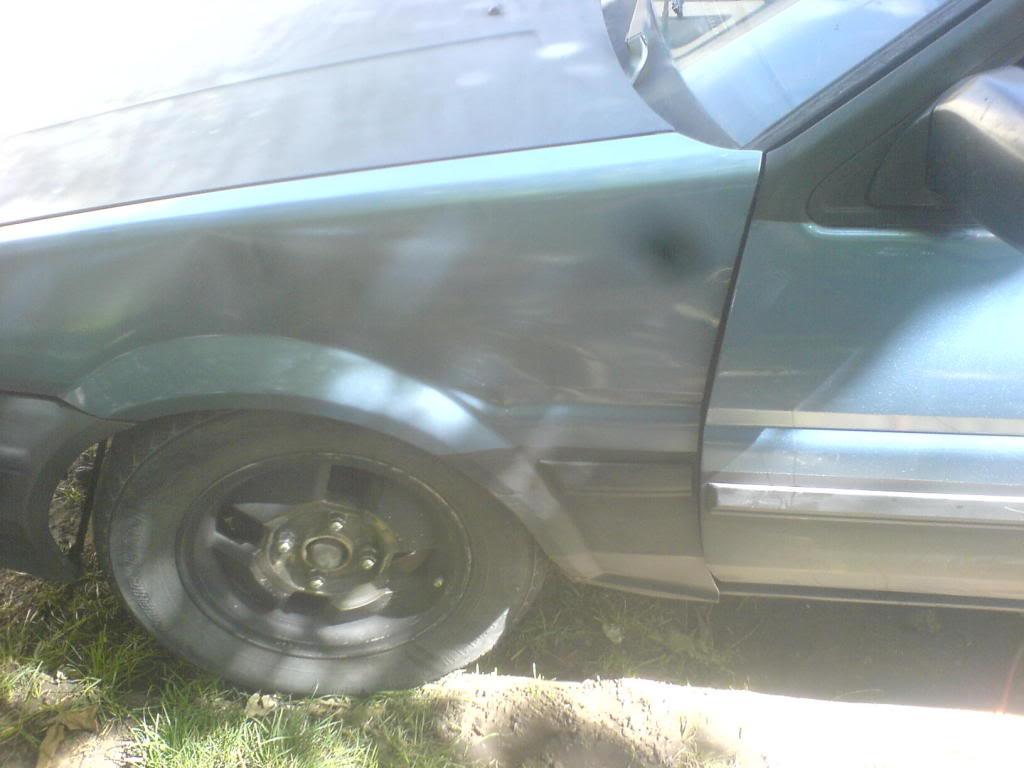 One of my brothers gave me set of wheels as a late birthday present. He had picked them up for cheap, and the wife didn't want them on her car, so he gave them to me.
16x7" +40 8-spoke knock-offs. They were drilled both 4x100mm and 4x114.3mm. The clear coat was pealing, but I had some "nice" wheels for my Corolla finally. Too bad they didn't really fit, and I needed new shank-type lug nuts even if I wanted to run them on the rear.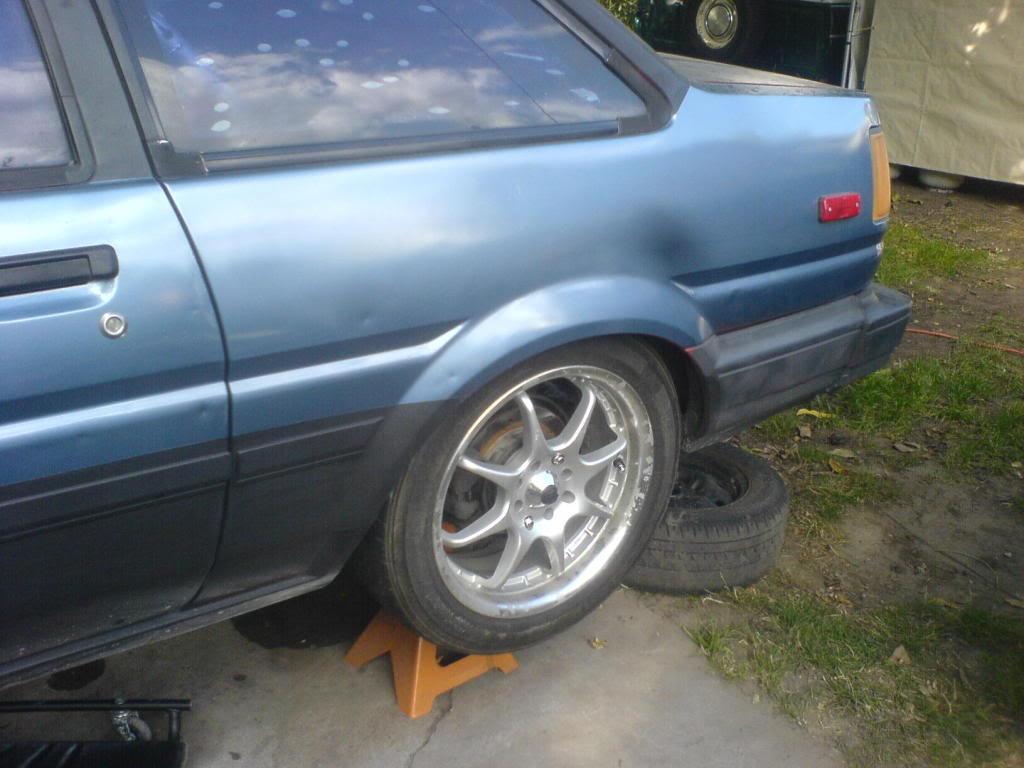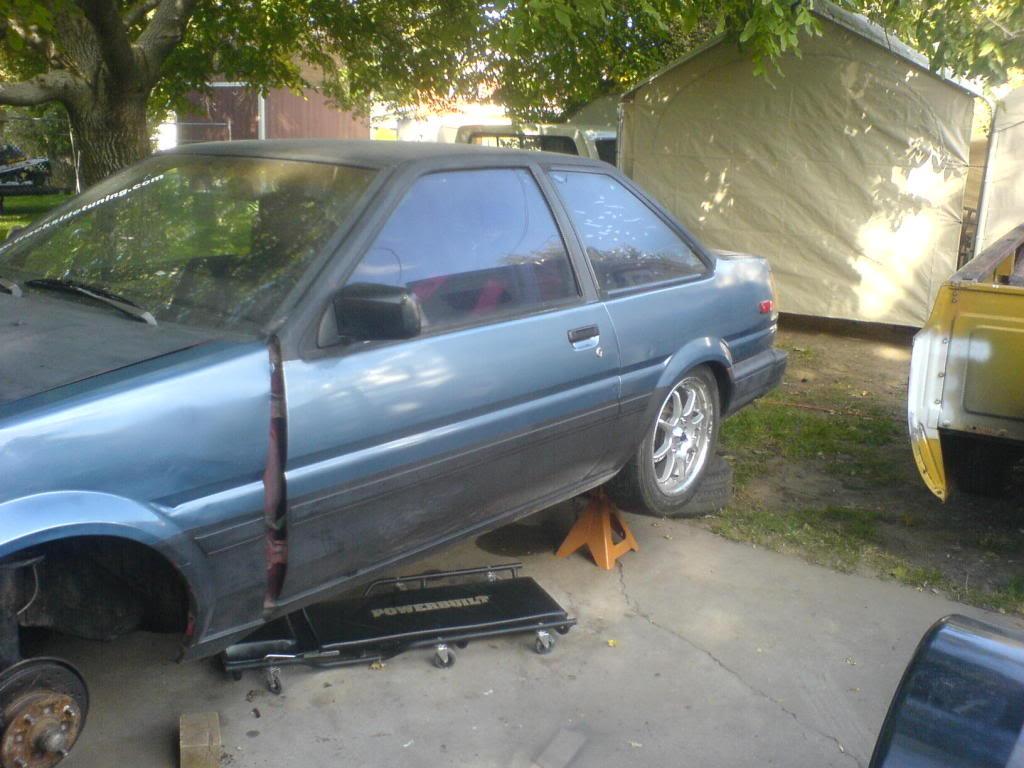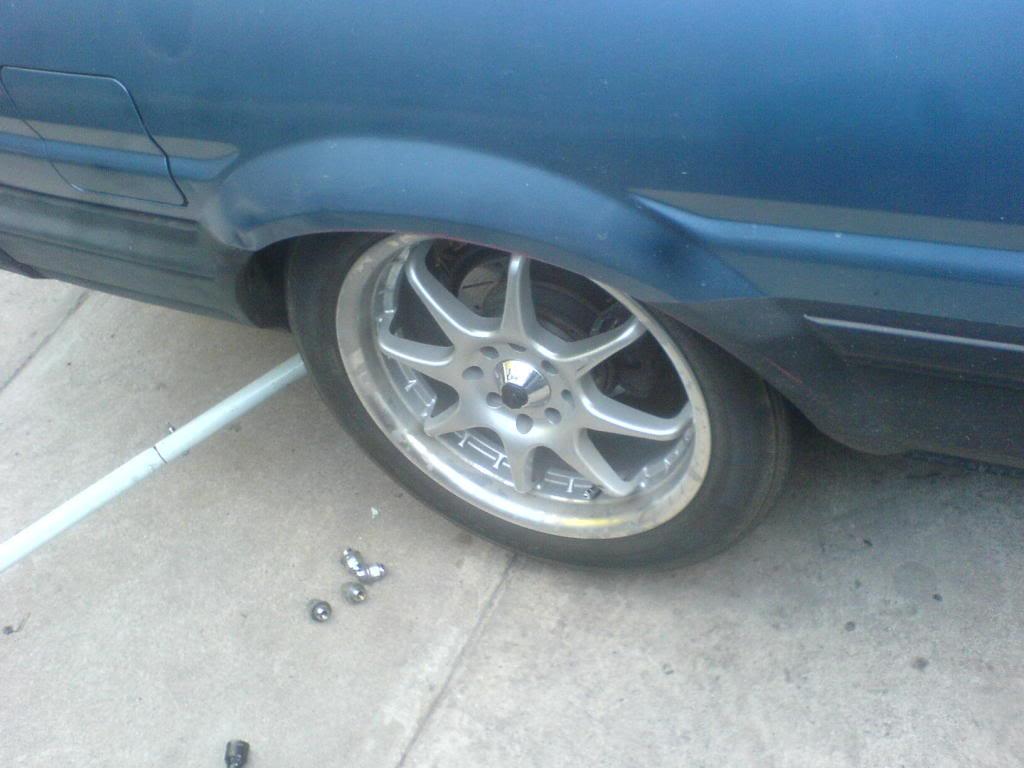 September meant that school was back in session, so I parked Ariel for the winter on the back patio. Sometimes during the winter I'd stare out the window at her, or go sit in here and pretend I was delivering tofu or battling an EG6, EK9, BNR32 GT-R, FC, FD, or Lan Evo on a mountain pass. It was a long winter.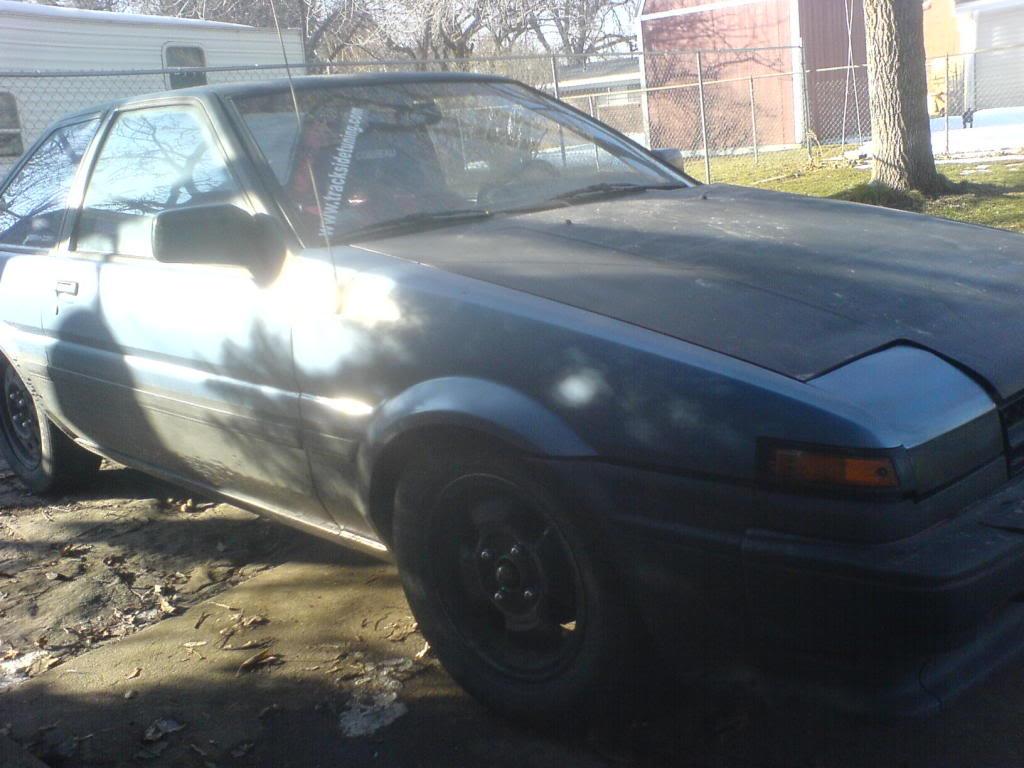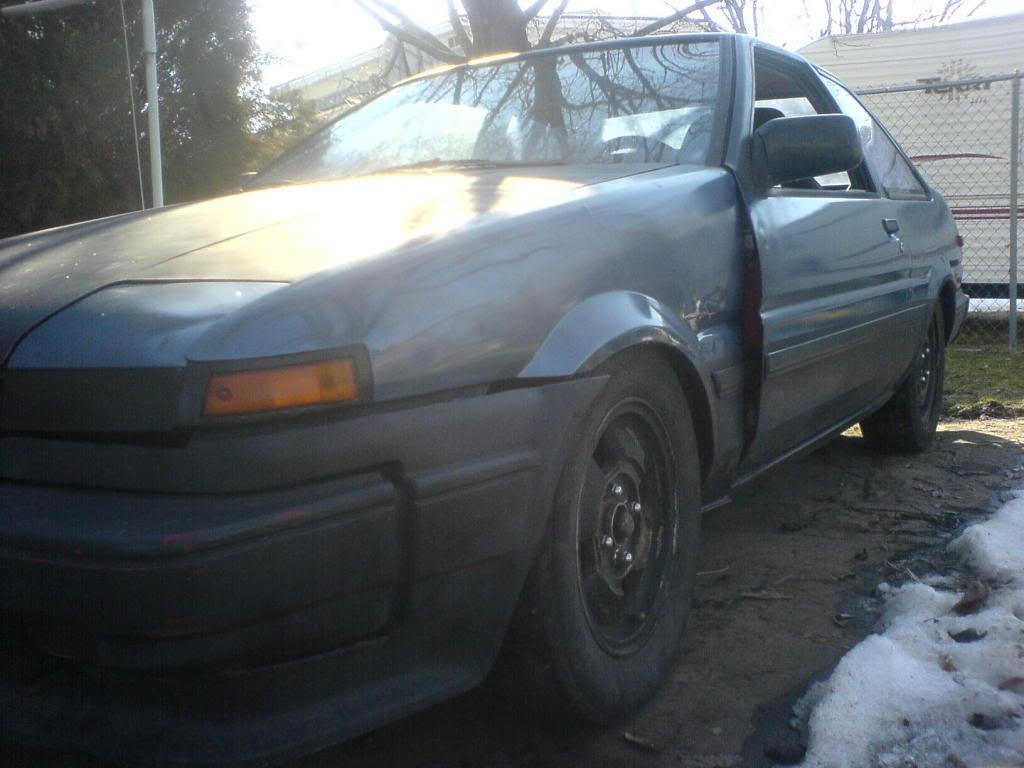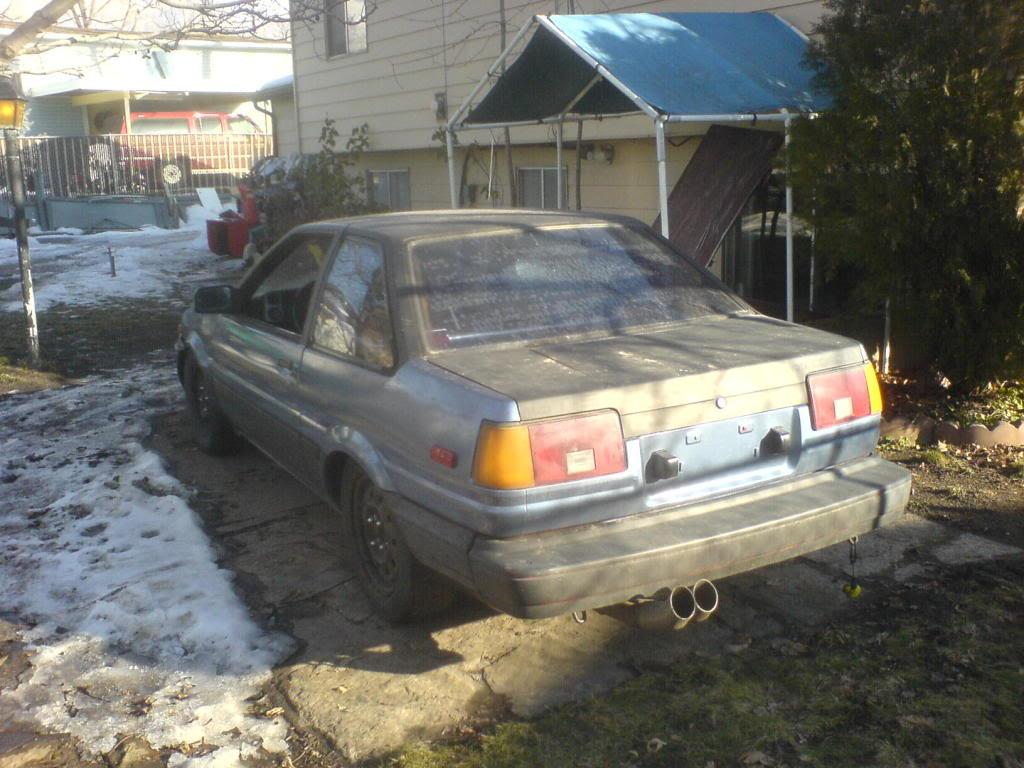 February 2009 – Lip kit
I was bored and a brother was cleaning some things out of a shed since his family was moving, so I took some garden edging and made a "lip" for the car, screwing it to the front bumper.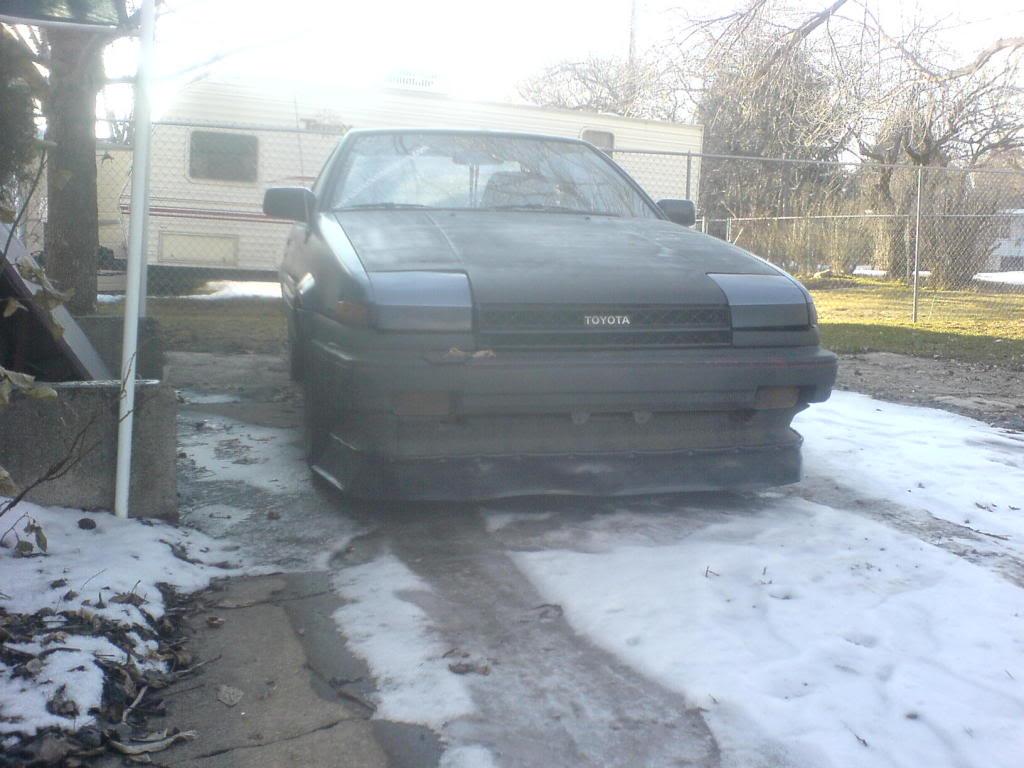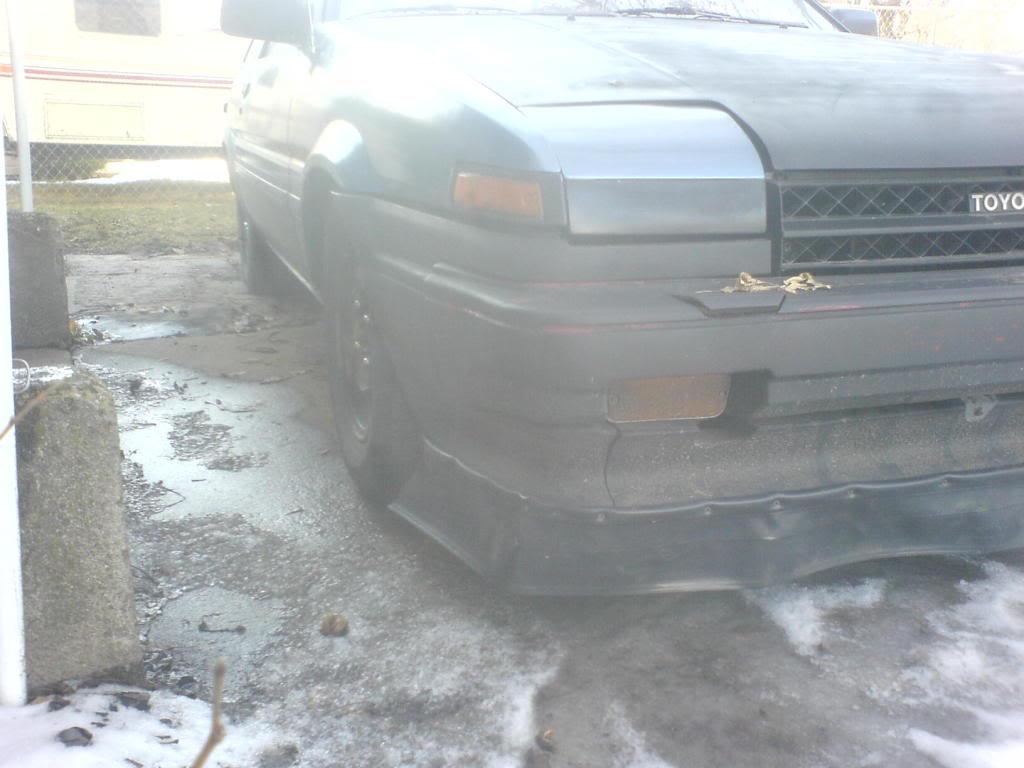 April 2009 – Driving
Mom & Dad went out of town for a weekend to go camping, leaving me with the house to myself. Instead of throwing a huge party (did that last year instead), I took the Corolla out for a drive. (Mom & Dad didn't approve of any illegal shenanigans, especially car-related ones after I had been caught drifting my Nissan and was arrested for a speeding ticket I let lapse). I picked up a good buddy from his house and we cruised around a bit.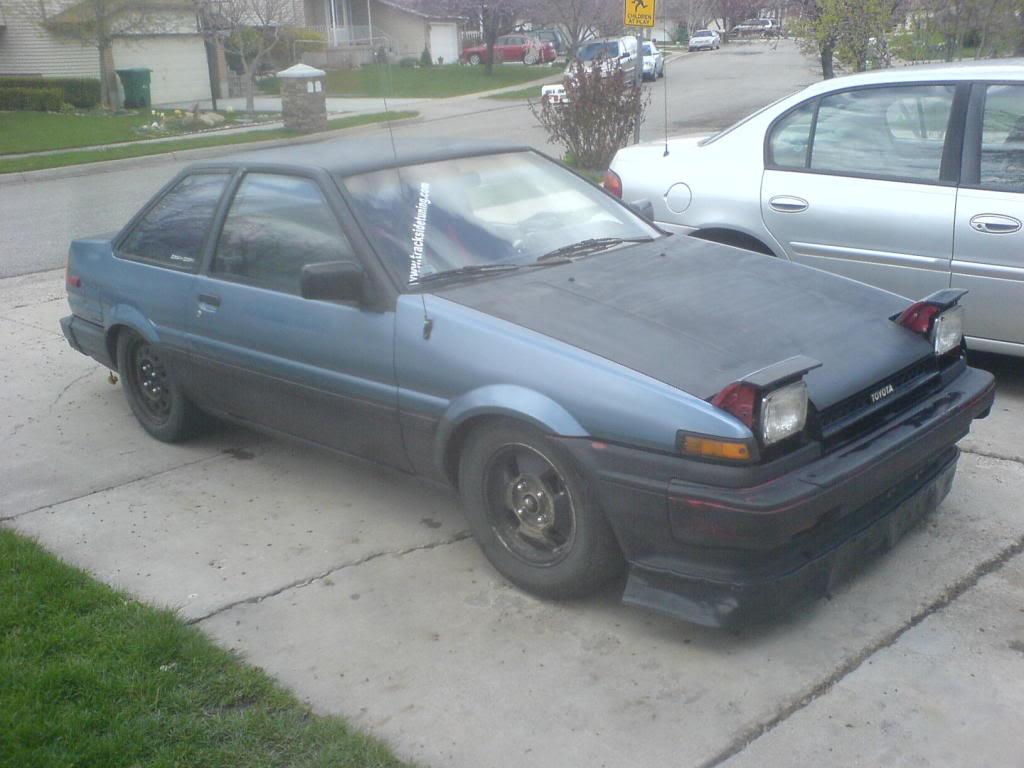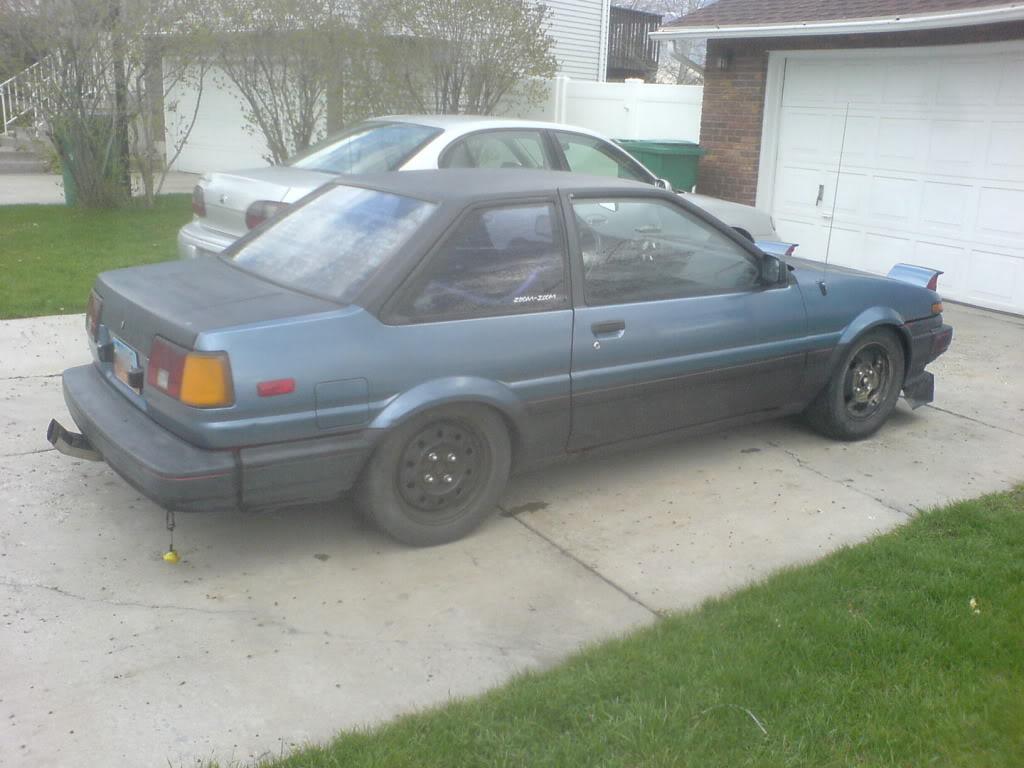 My first photo opportunity with both cars together.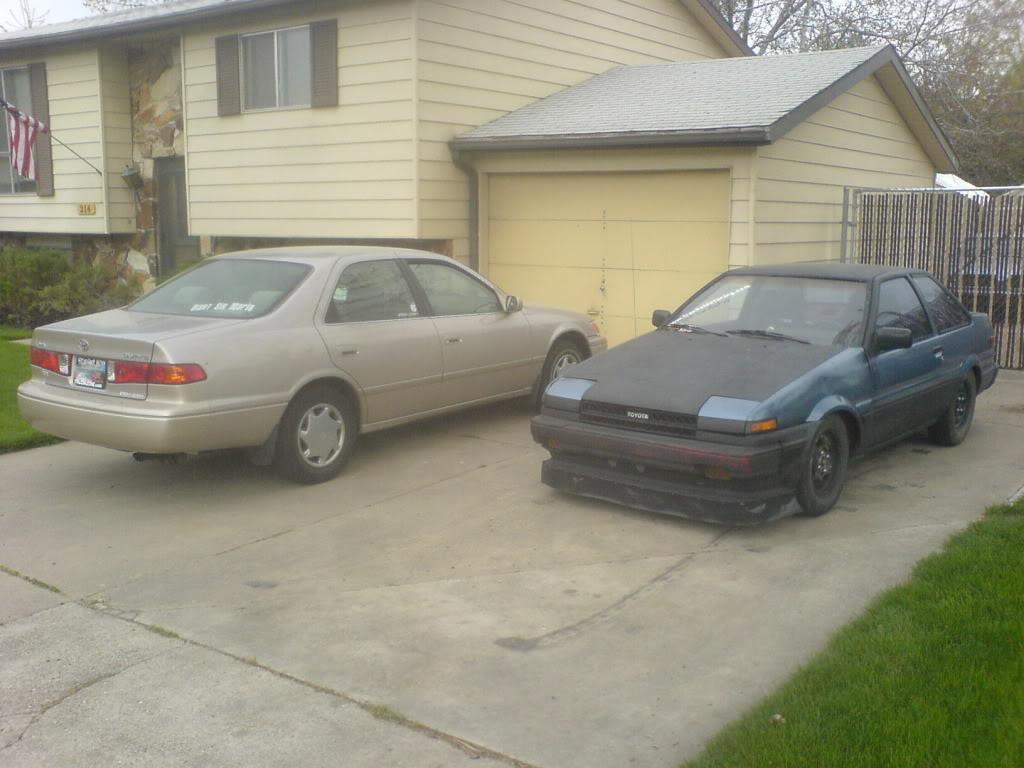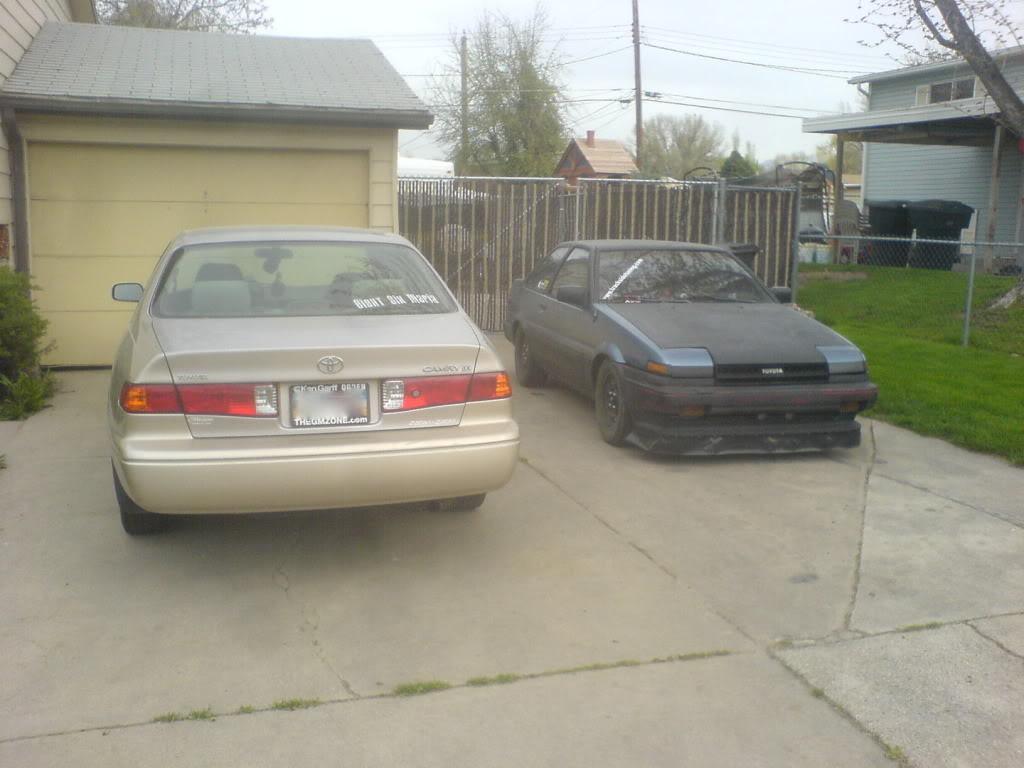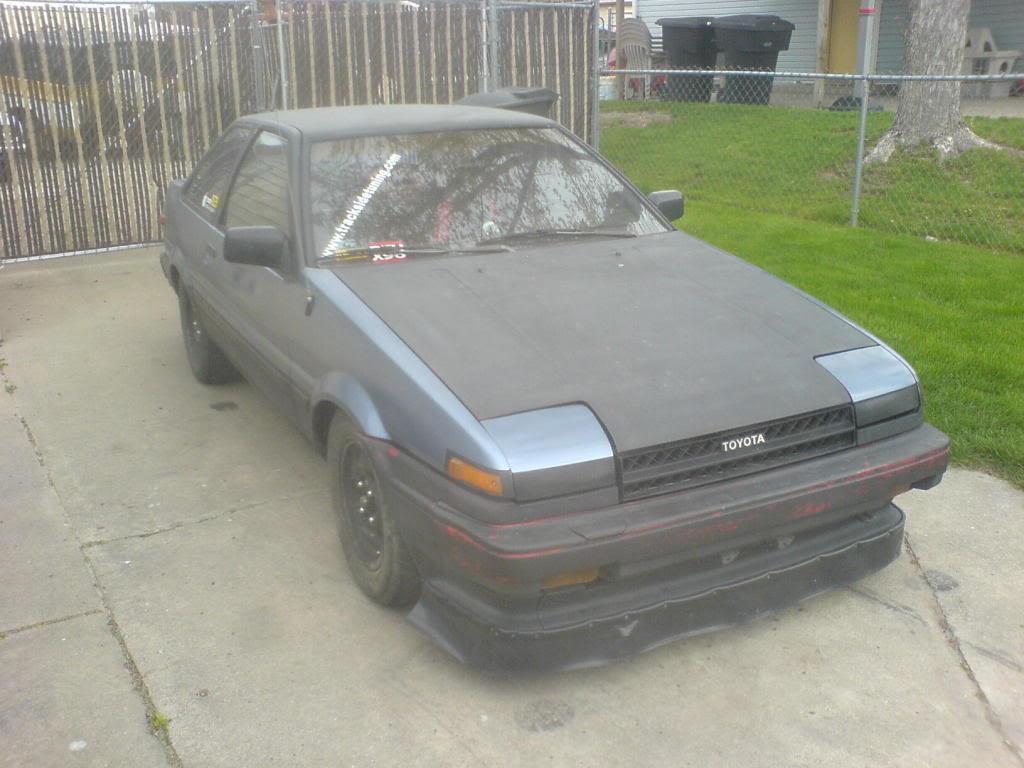 May 2009 – My first drift of the season
Another drift event.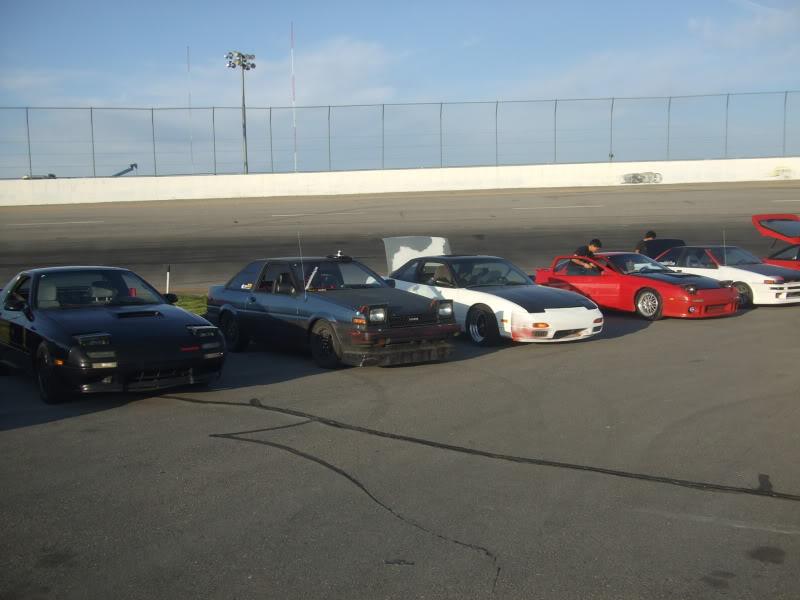 All of the drift events I have driven at have been at Rocky Mountain Raceways in their 1/8th mi oval. RMR is the houses the local ¼ mi drag strip, and all of our drift events coincided with their "run what you brung/grudge match" Midnight drag series. My skills as a drifter were slowly improving because I only drove Ariel at drift events because she wasn't registered and I was nervous about taking her out on the street. Regardless, I had lots of fun spinning out and trying things like clutch-kicking and e-braking.
July 2009 – Without a trailer
Time and money allowed me to make another drift event at RMR in July of 2009, but this time, dad's flat bed trailer & truck were being used so I had to figure out a different way to get my car their. Luckily, we had a hold tow-bar hitch so with a little work (read=taking off the front bumper) we got the car ready to for the 30ish mile journey to the track. To pull it, my brother came to the rescue with his 1990 Toyota 4x4. The 22R-E did an amazing job pulling the car and a few tires and tools down to the track and back.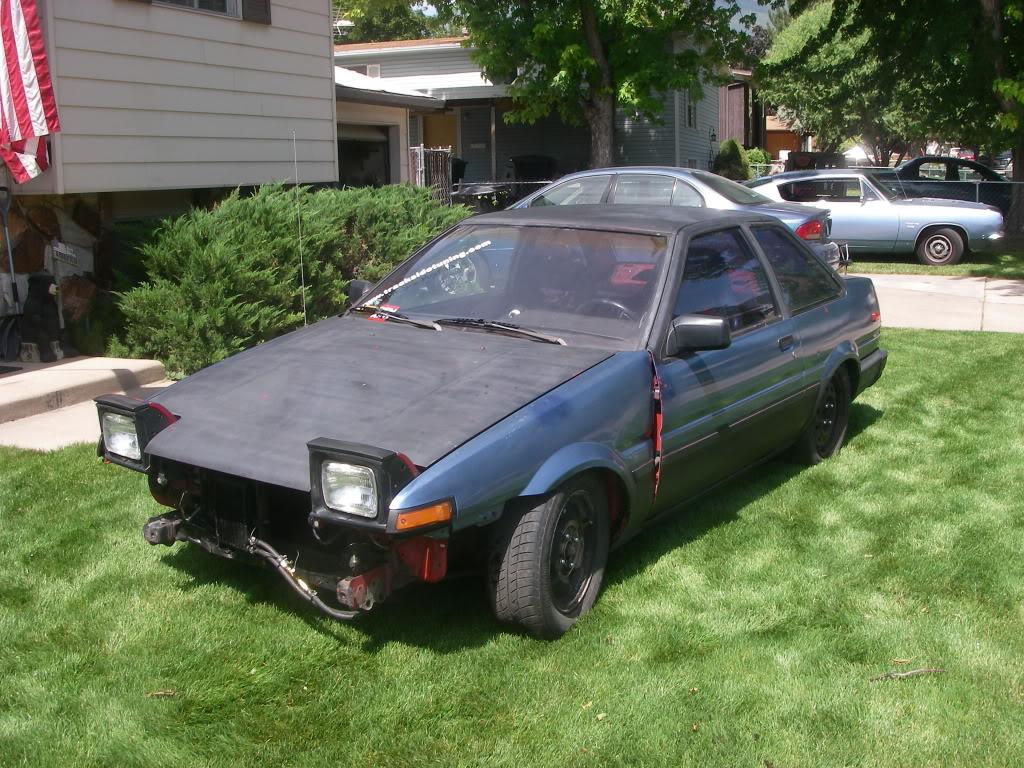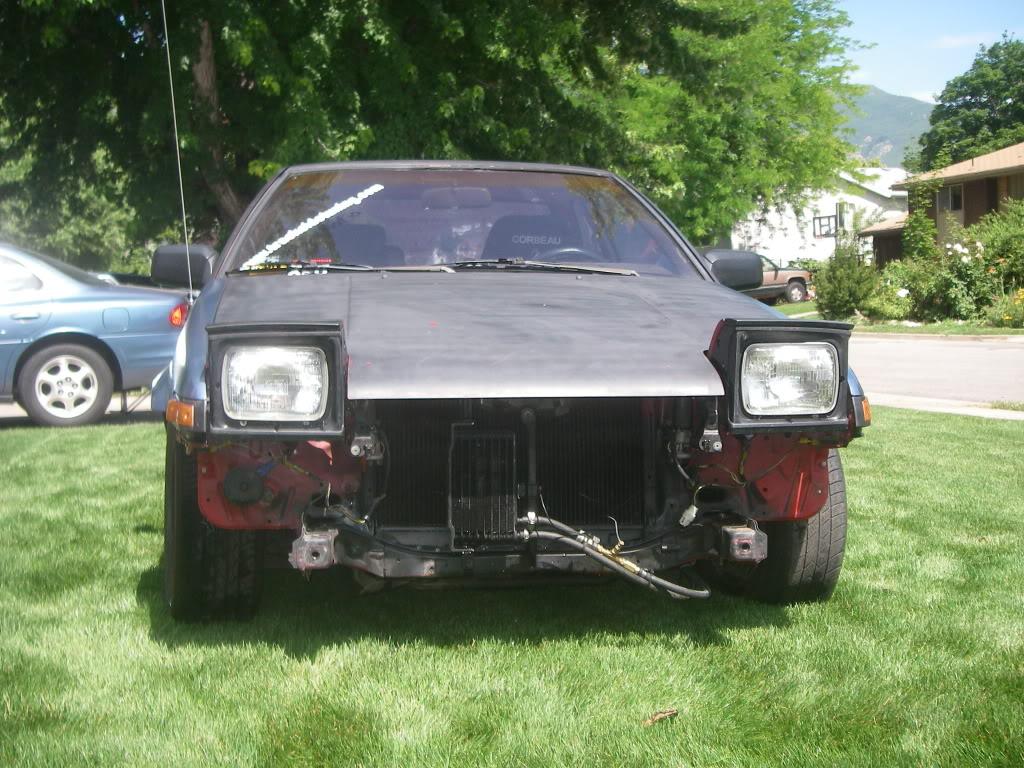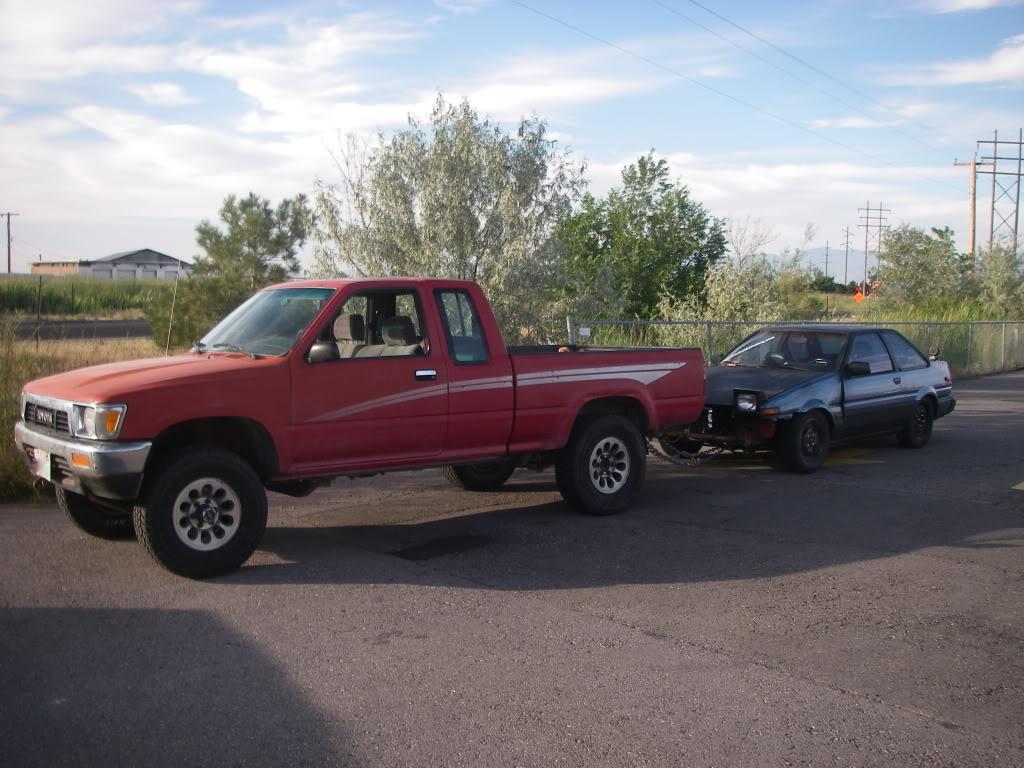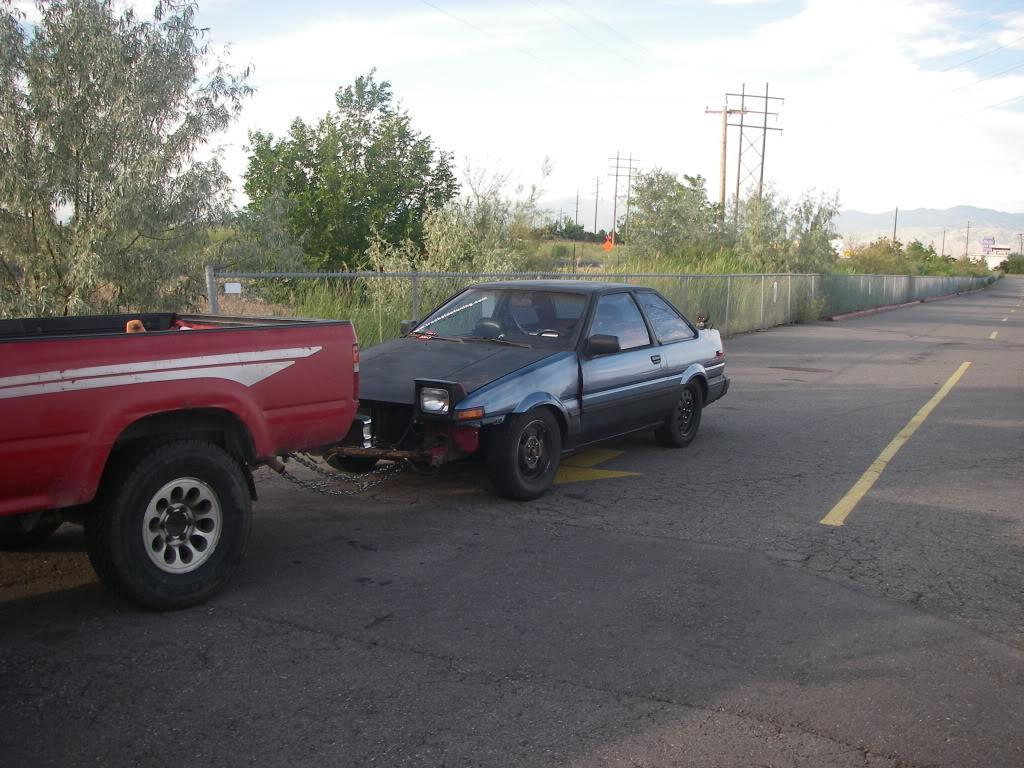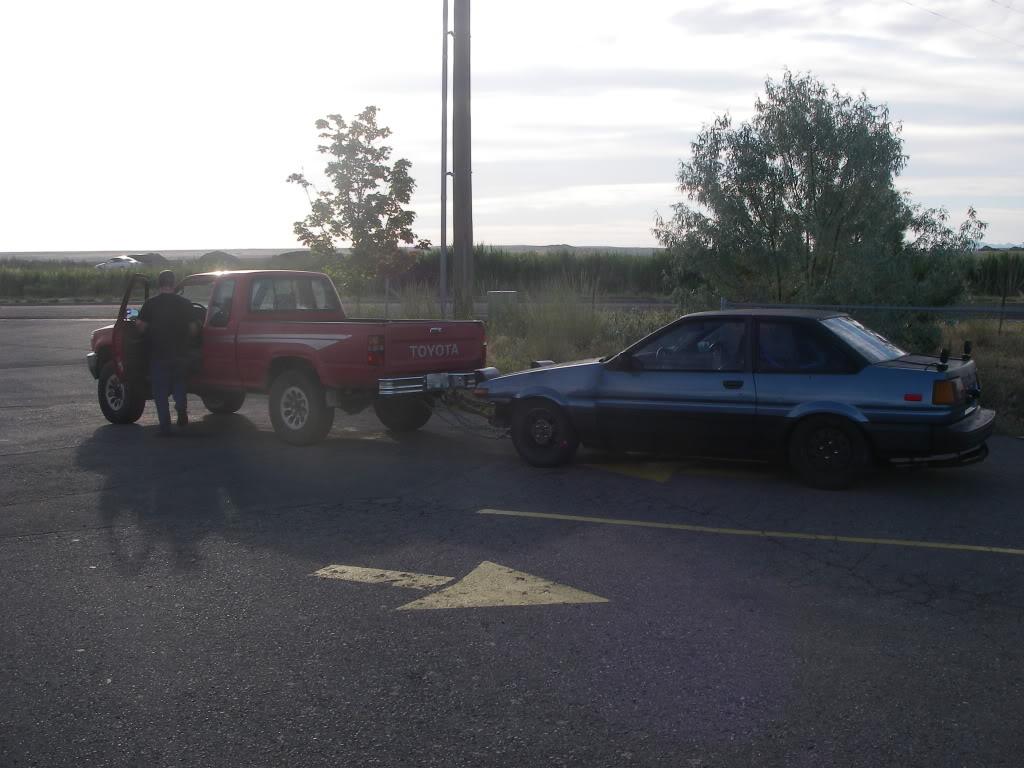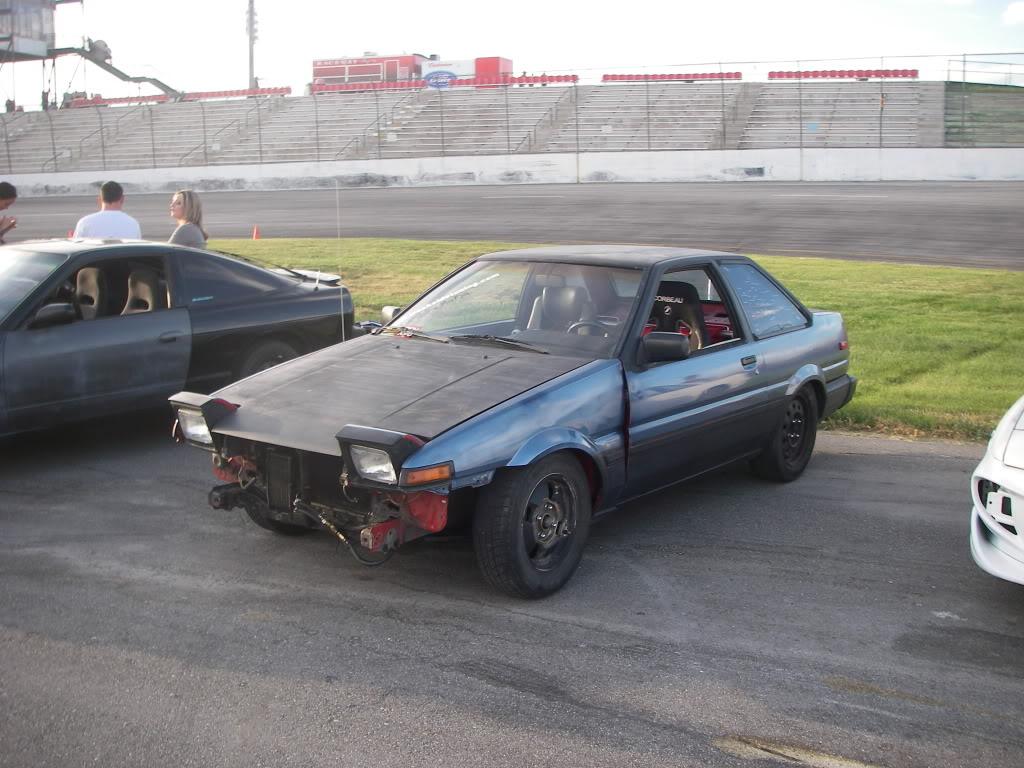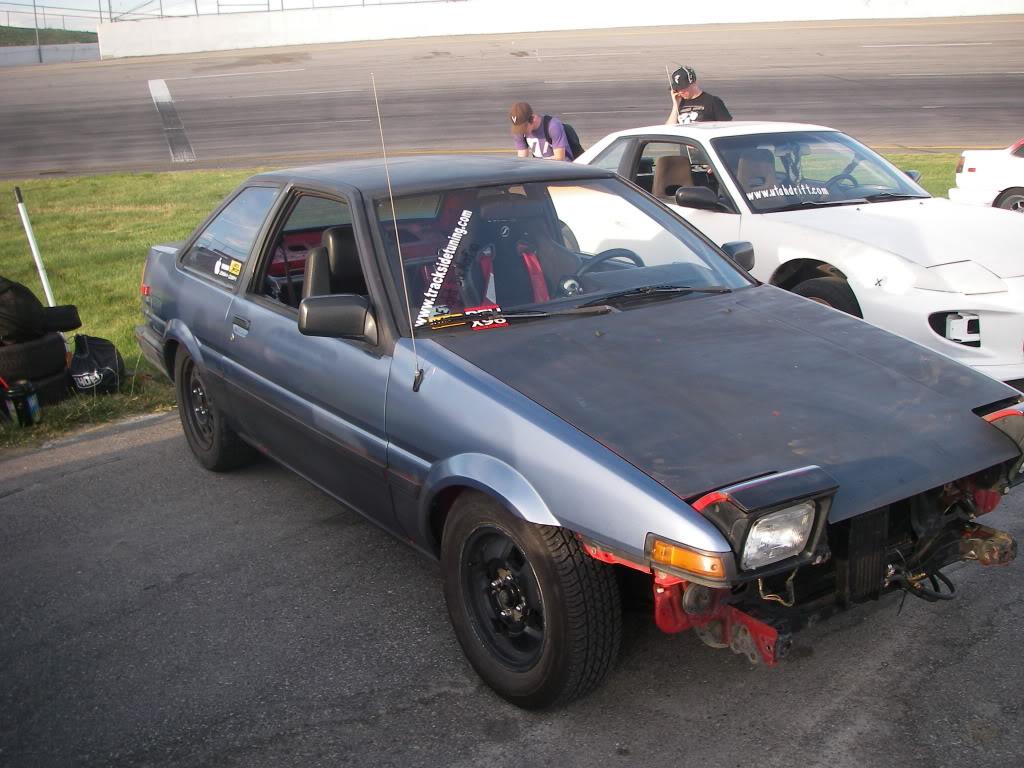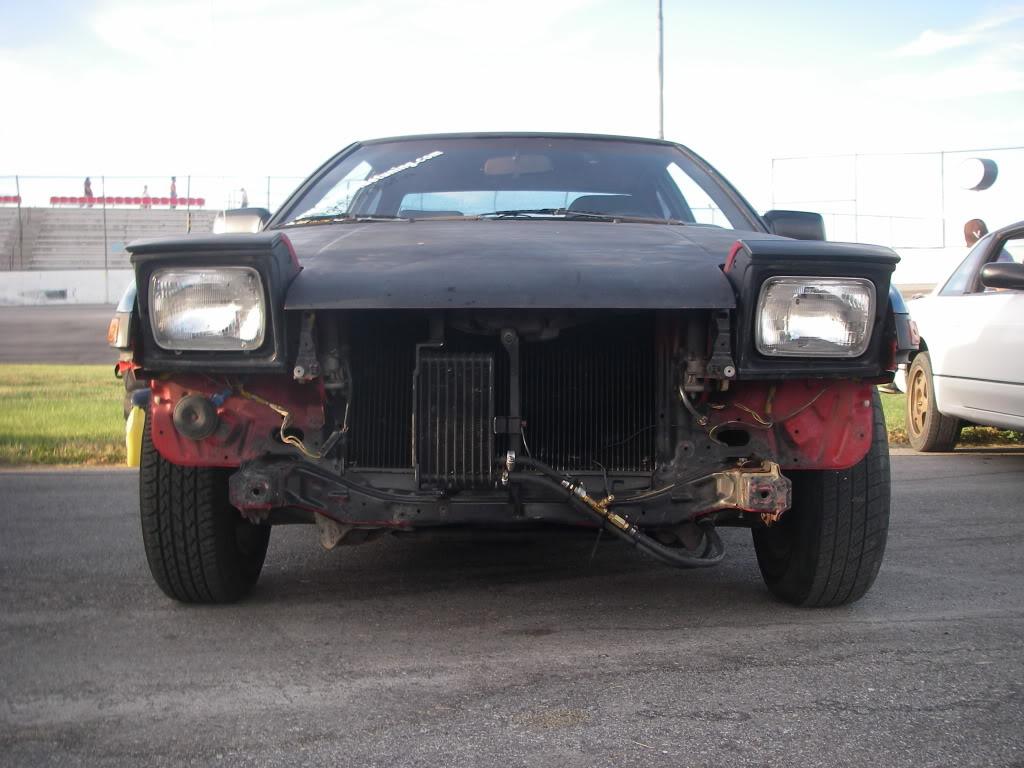 Unfortunately, just as the event was getting started, I blew the welds in my differential. I did such a good job breaking it, that it didn't matter what gear or what the engine speed was, my axles wouldn't get any torque from the differential. Let's see what a stock Corolla can do to a differential.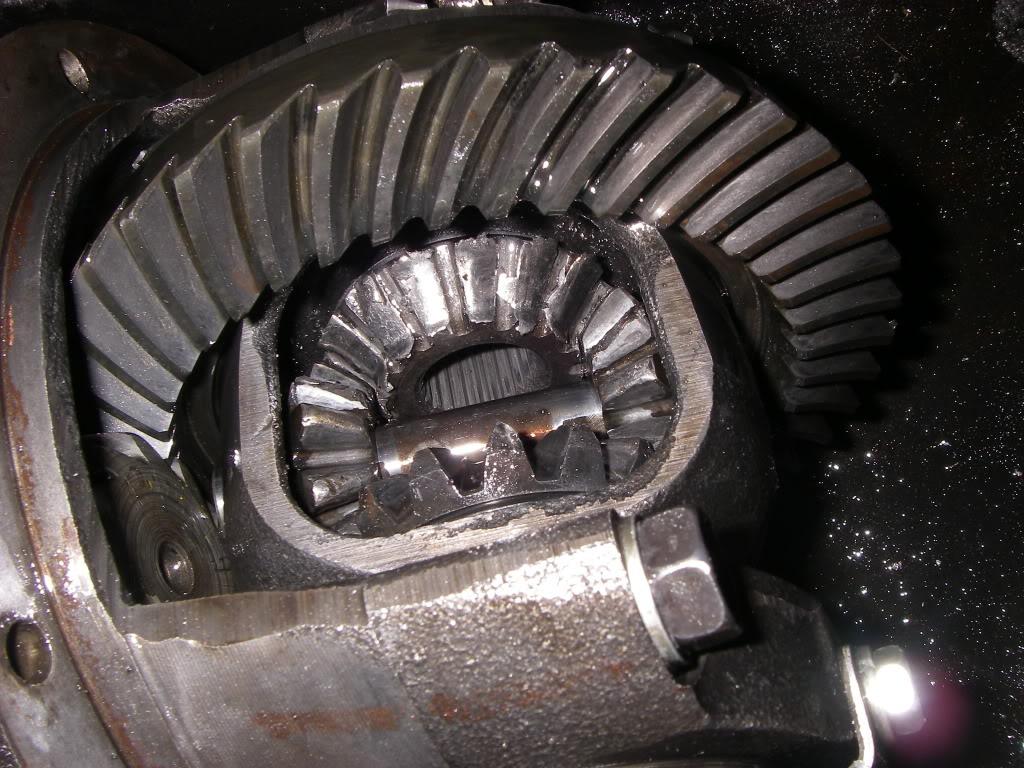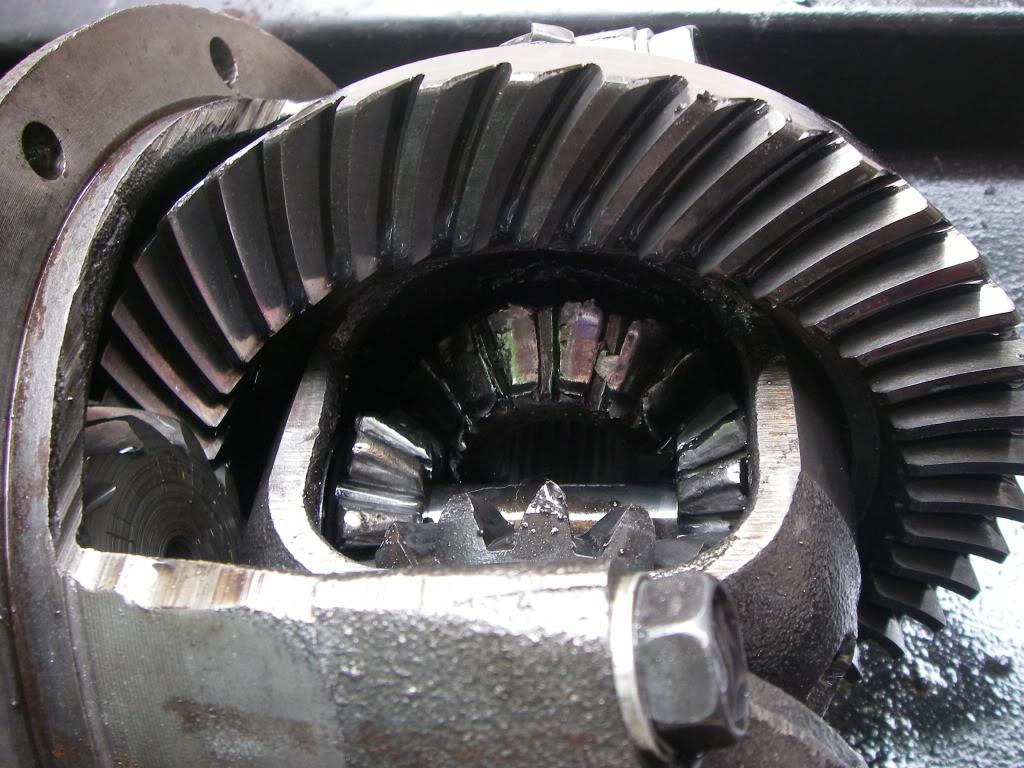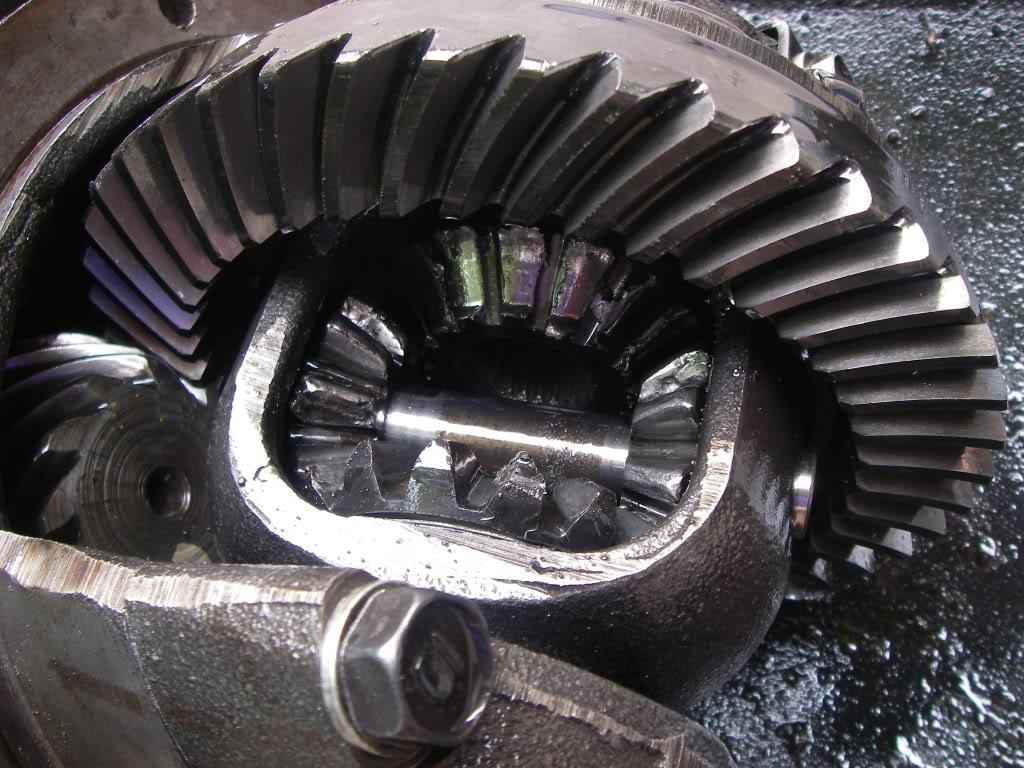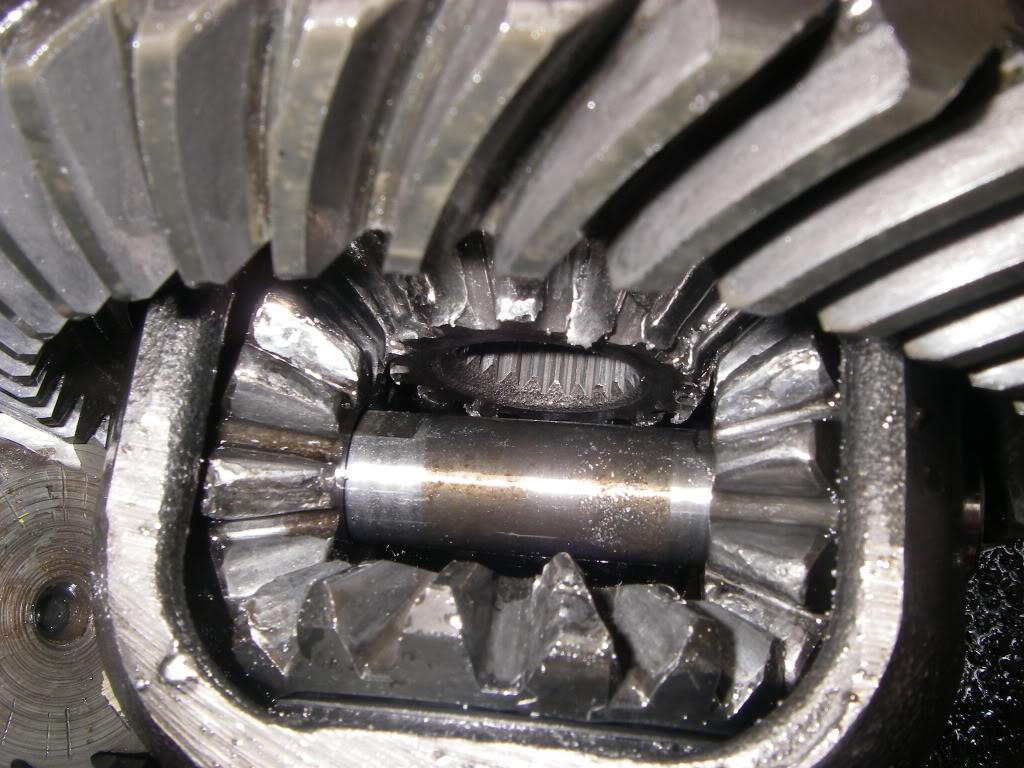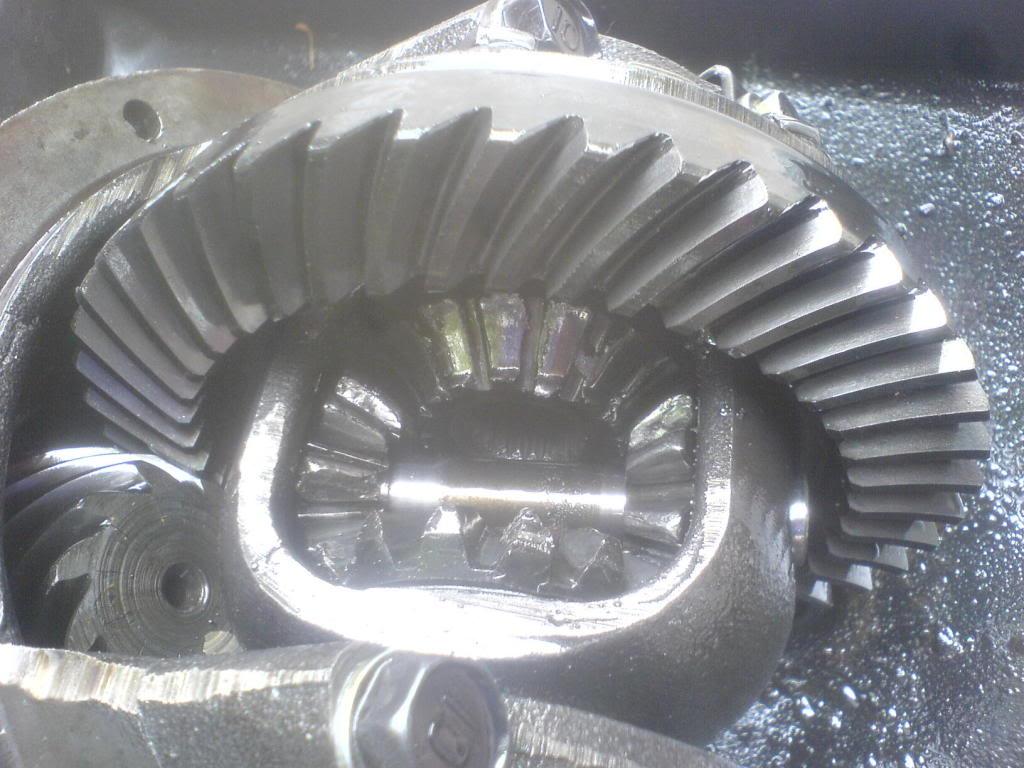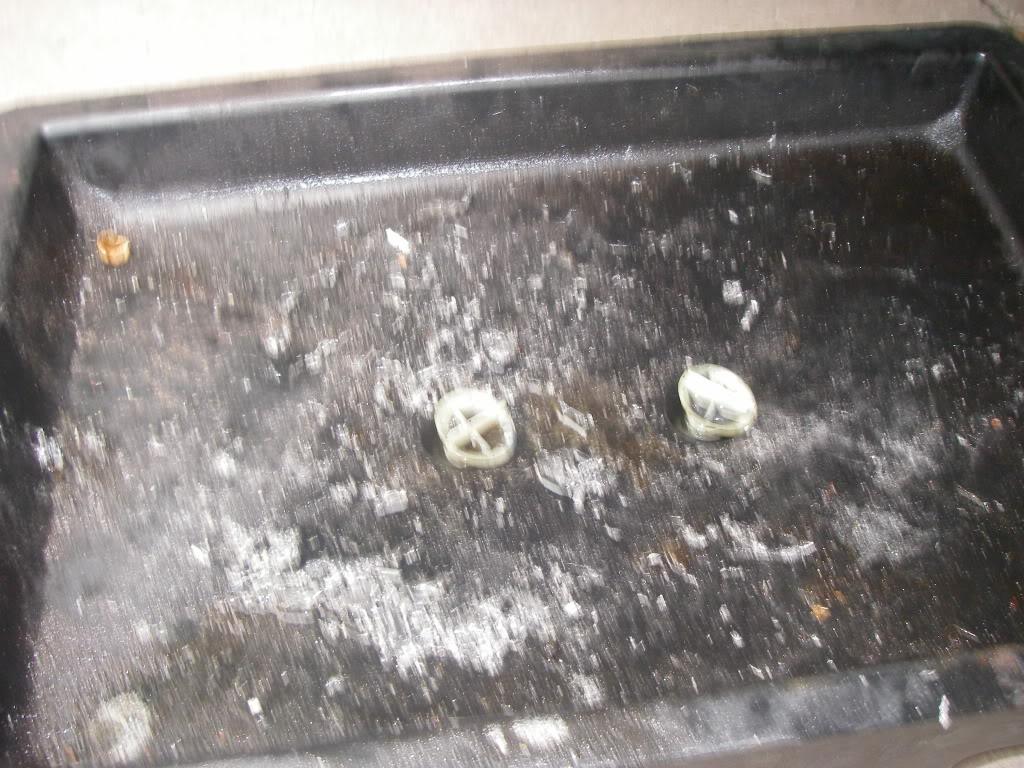 August 2009 – Lessons learned
I guess my buddy Dan was right that he didn't know what he was doing. But it held for a decent amount of time/abuse. Now I was faced with a dilemma: save up and get a proper LSD, or cheap out and see if I can weld the diff again? Guess which option I choose.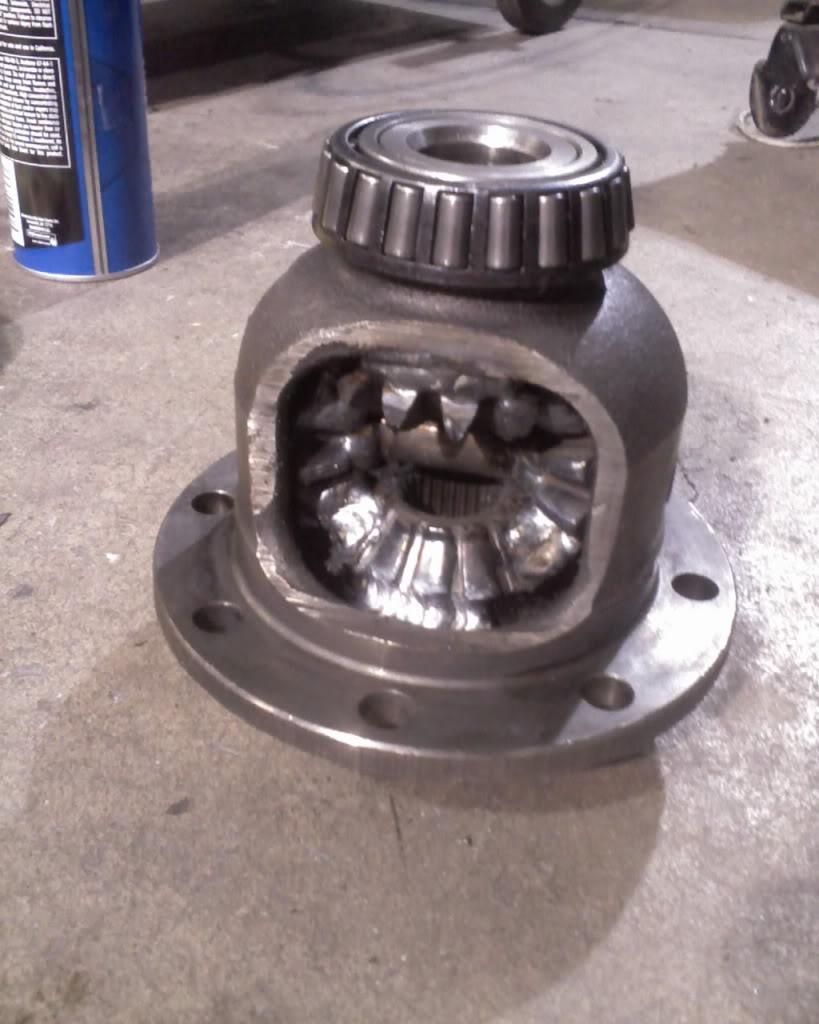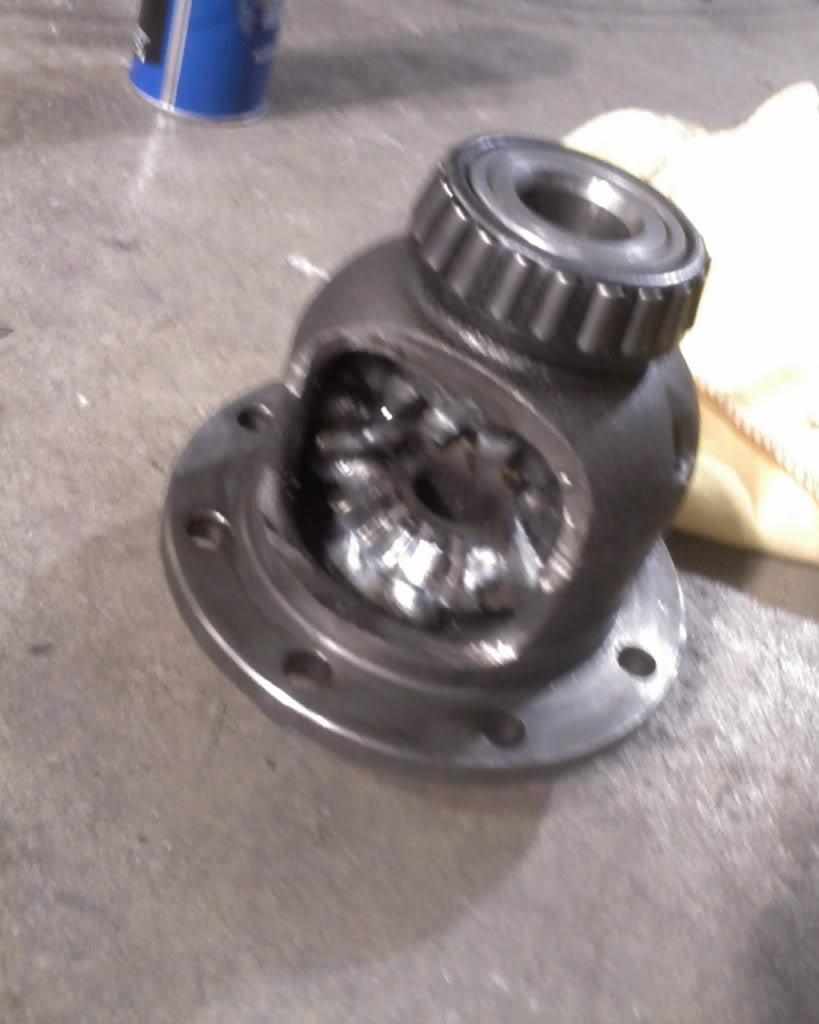 I also picked up a set of Celica Supra wheels, complete with center caps and Celica-sized tires.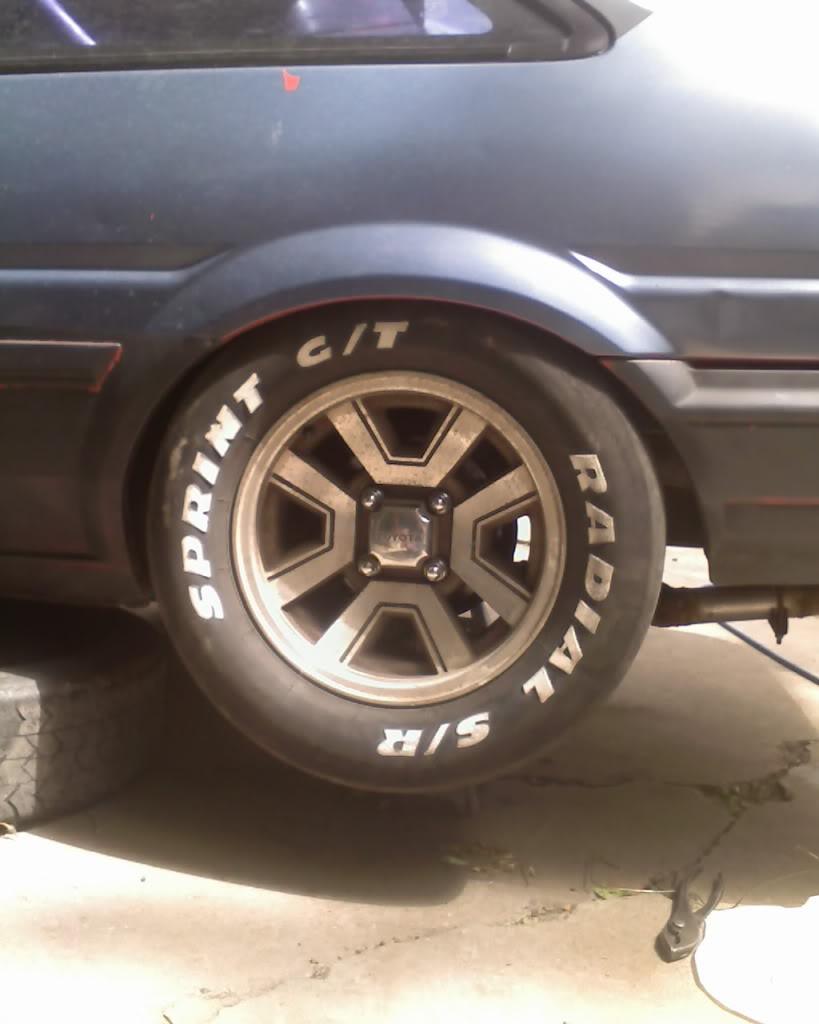 With the diff welded back together, I prepared the car for another drift event.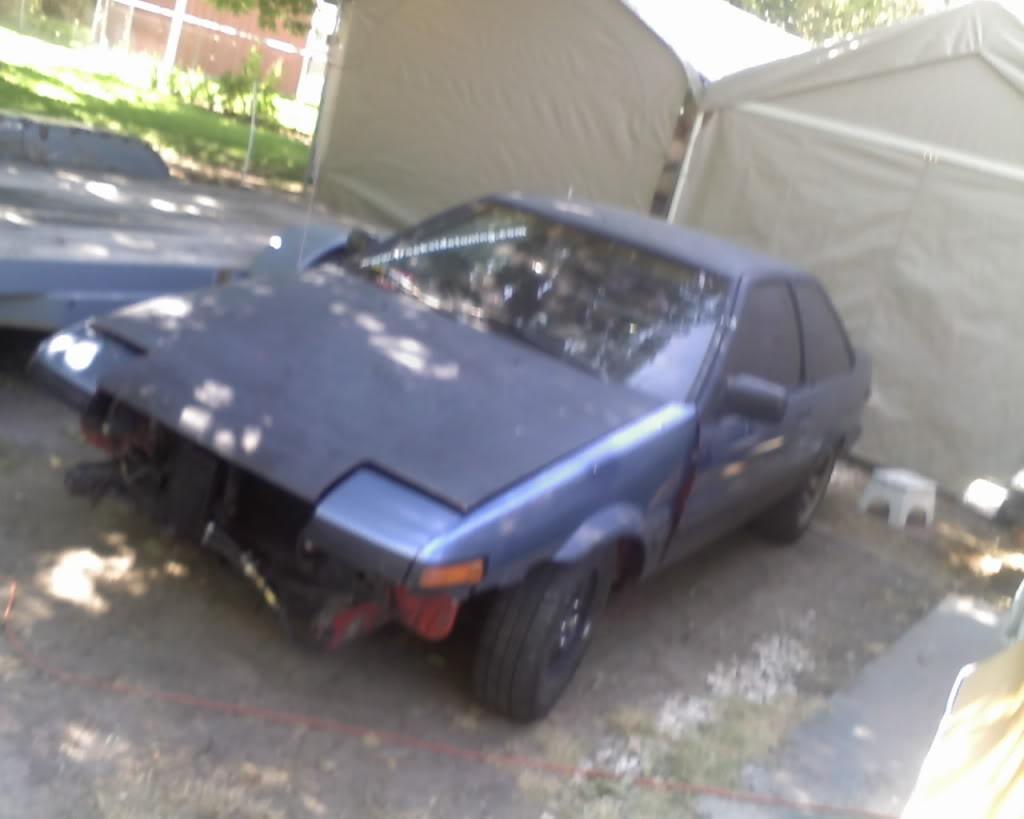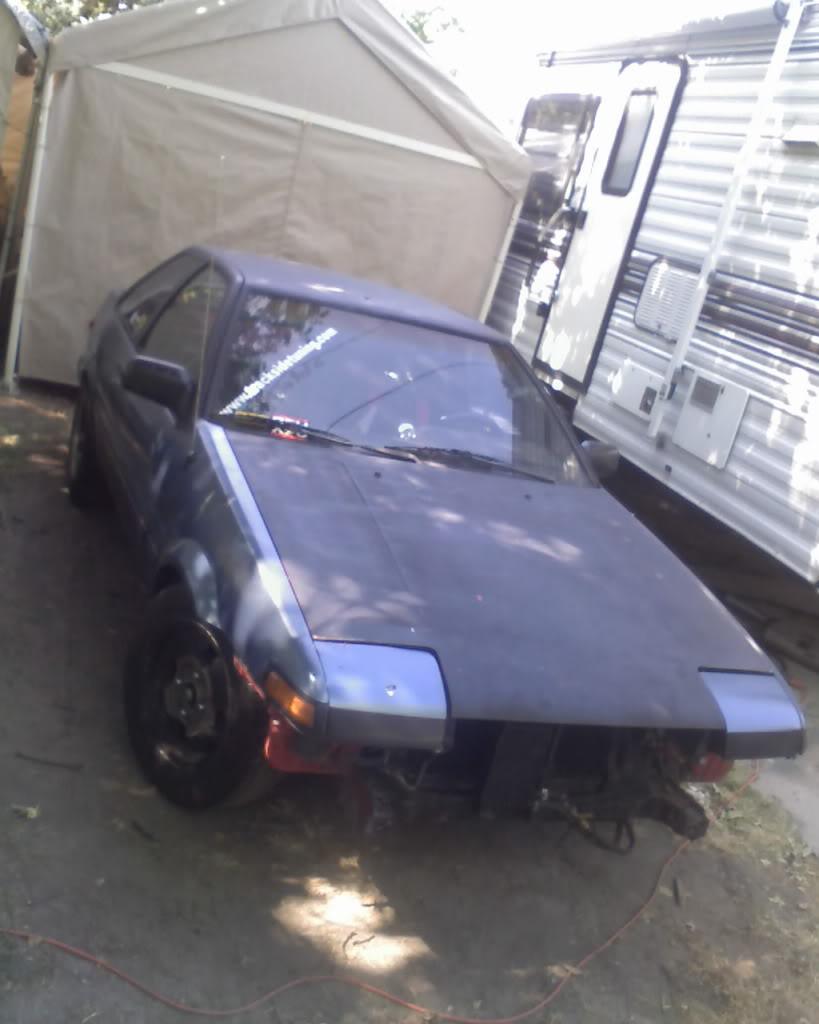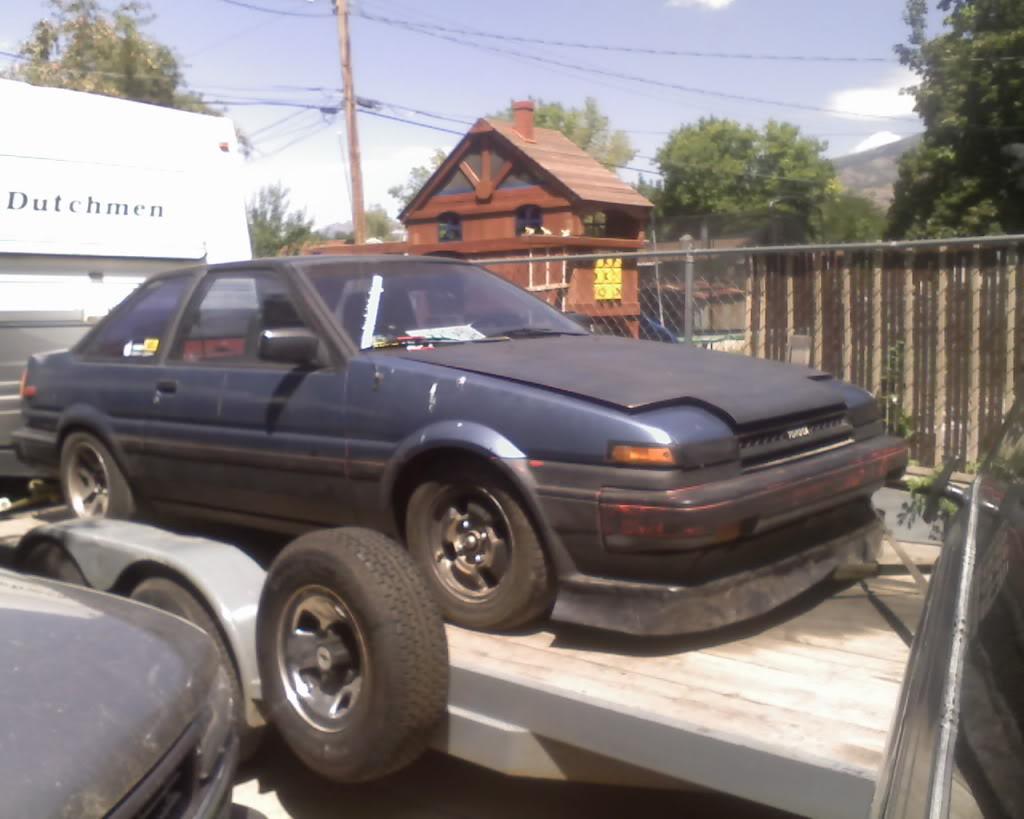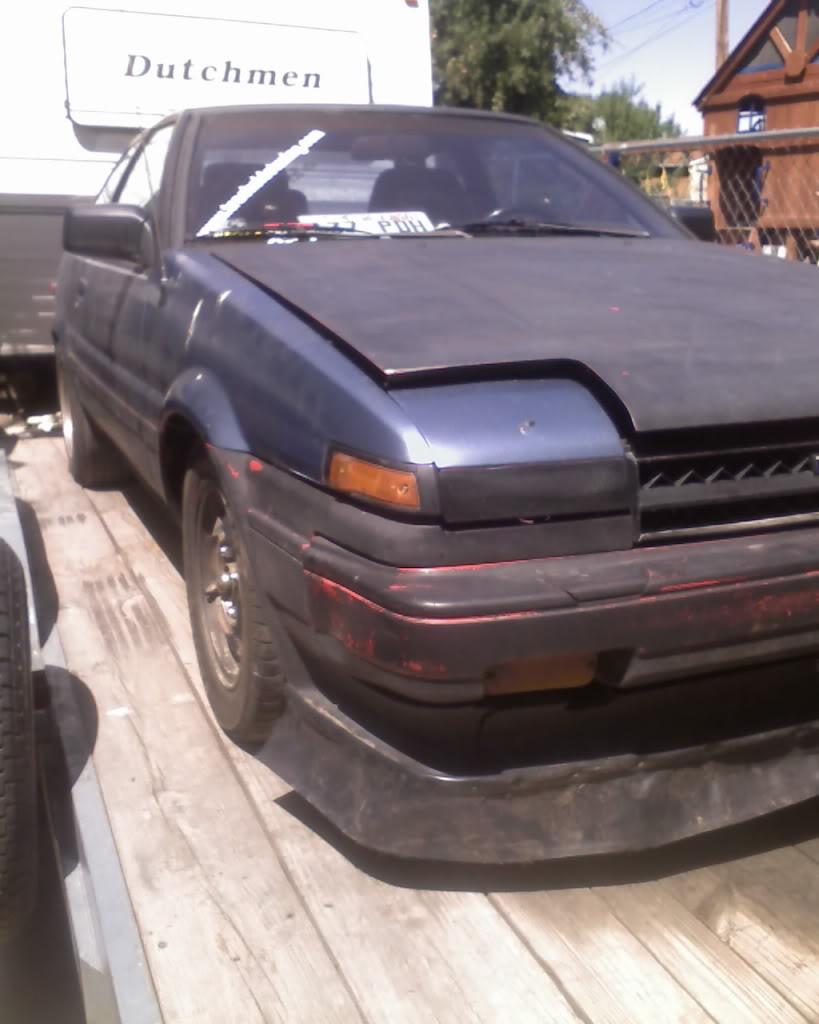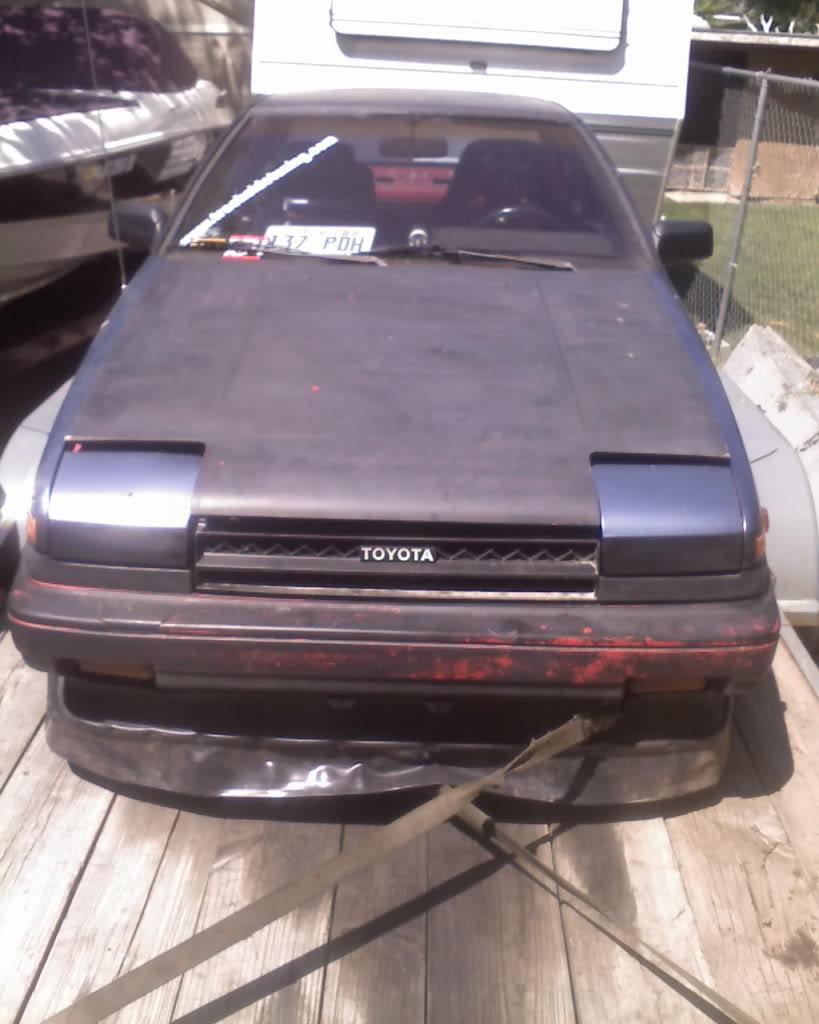 October 2009 – Trying new things
The local SCCA has their end of season autocross event as a two-day event at Miller Motorsports Park in Tooele in the middle/end of October. They also have a bbq on of the days. There was going to be a drift event the same Saturday, at night, so I thought it would be a great idea to try autocross in my car before drifting later that night. My previous experience autocrossing was back at the same event back in 2007 in a buddy's 20V swapped Corolla (without heat), in the rain. Fearing the worst, I prepared for the eventual rain showers.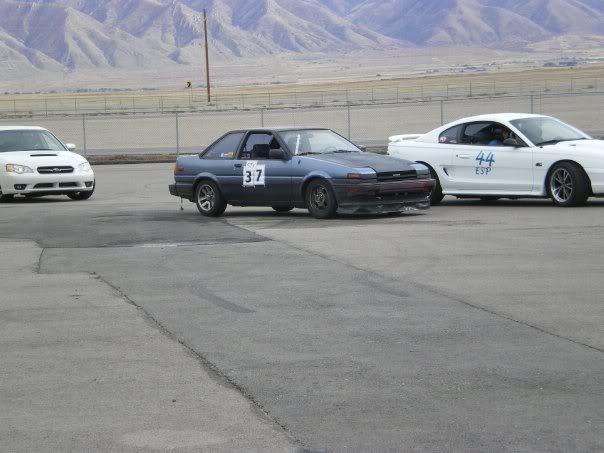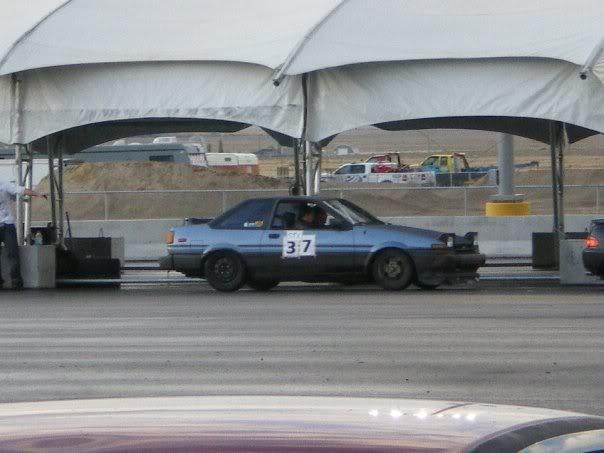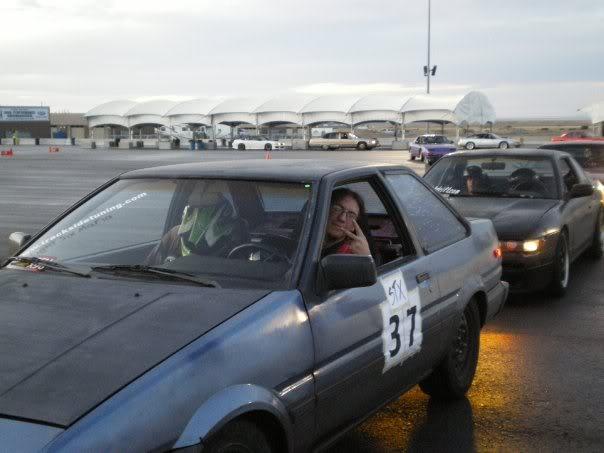 I was so proud that I spent all morning at the autocross, that I didn't even take my paper numbers off the car while I was drifting.
I decided after that day that I should try to autocross more and improve my driving by trying new things. Autocross also happen much more frequently than drifting, and was a little bit cheaper because I didn't have to keep changing tires, so I decided that for 2010, I would autocross as much as possible, and drift when I time and money allowed. I also decided that something had to be done about the cut springs and stock struts, but coilovers were just too much money to consider at the moment.
March 2010 – Transformation
Throughout 2009, I had noticed my clutch slipping more and more at each drift event. After the autocross/drift event in October, I knew I would be parking her for the winter, so I finished off Ariel's clutch by doing some burnouts in the driveway. Not only did I finish a set of tires, but also I finished the clutch to the point that I could change gears WITHOUT rev-matching or clutching in, and stay stopped. It wasn't until I pulled the transmission did I realize just how good of a job I did killing that clutch.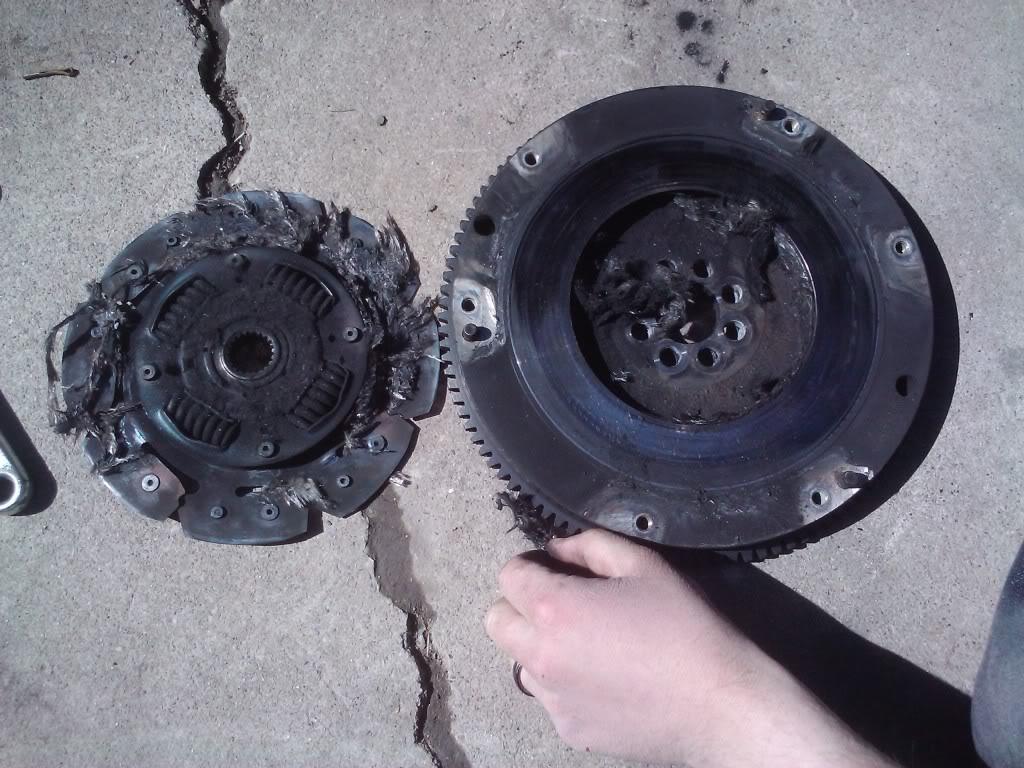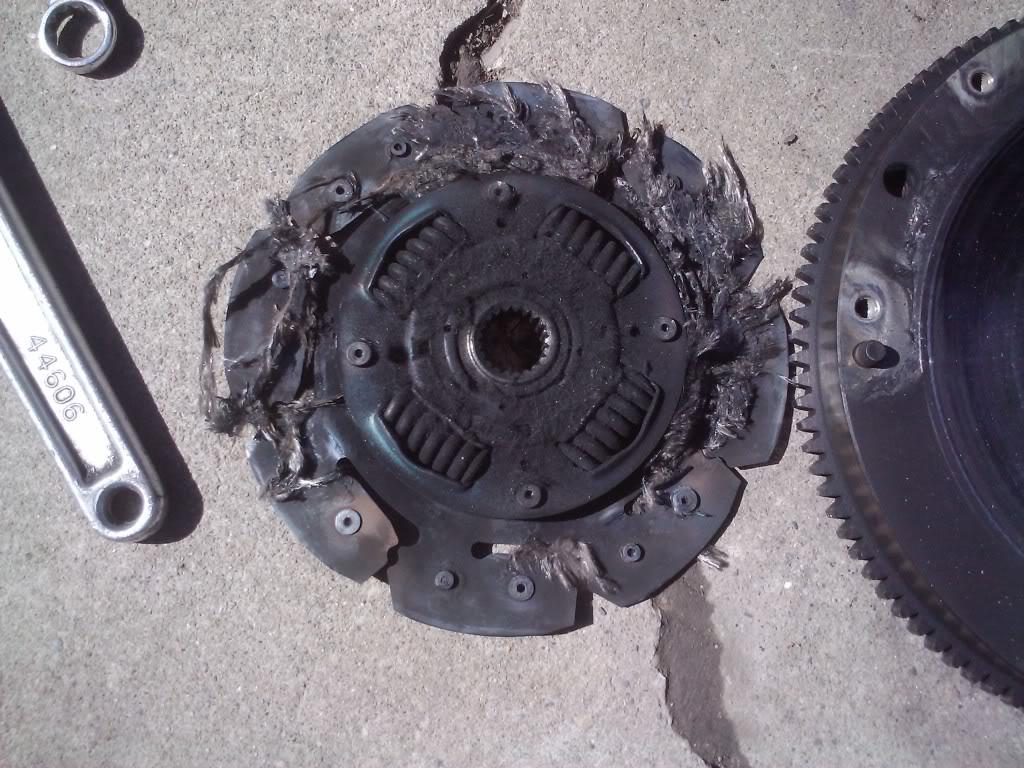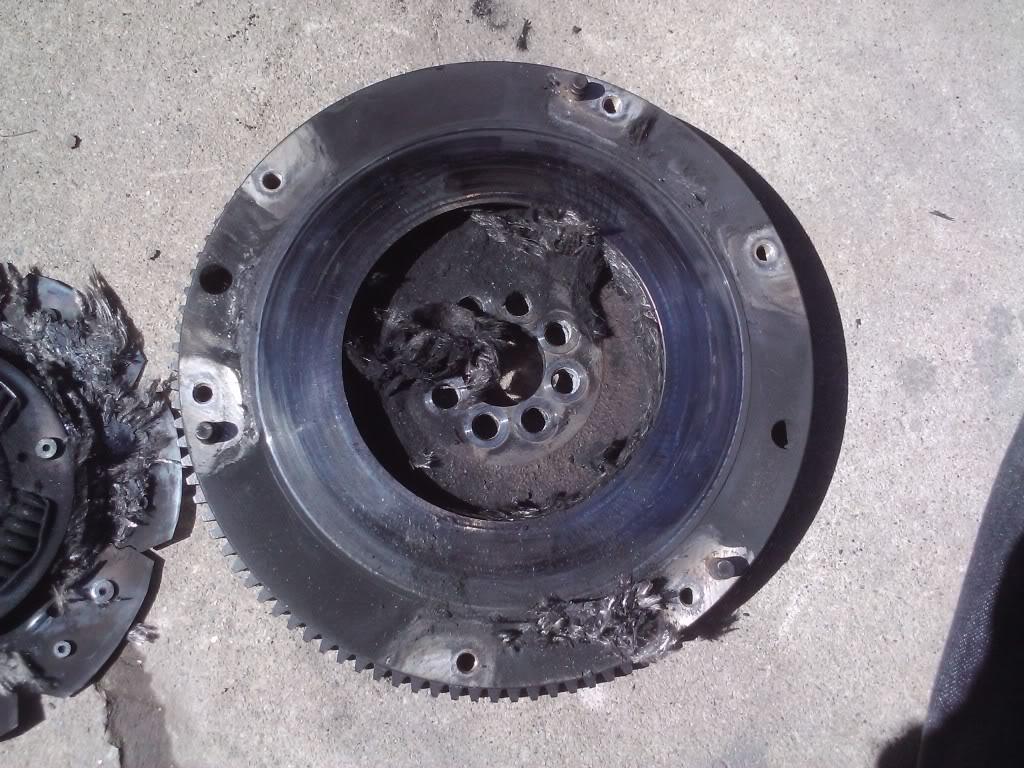 I had the flywheel checked, cleaned/machined, and they said it was no worse for wear and still usable. I put in an XTD Stage 1 6-puck clutch and it's been holding nicely so far.
I also picked up a set of proper springs, Tanabe GF210s. Well they are more proper than my cut springs were. I tossed those on while I was changing the clutch and tie rods.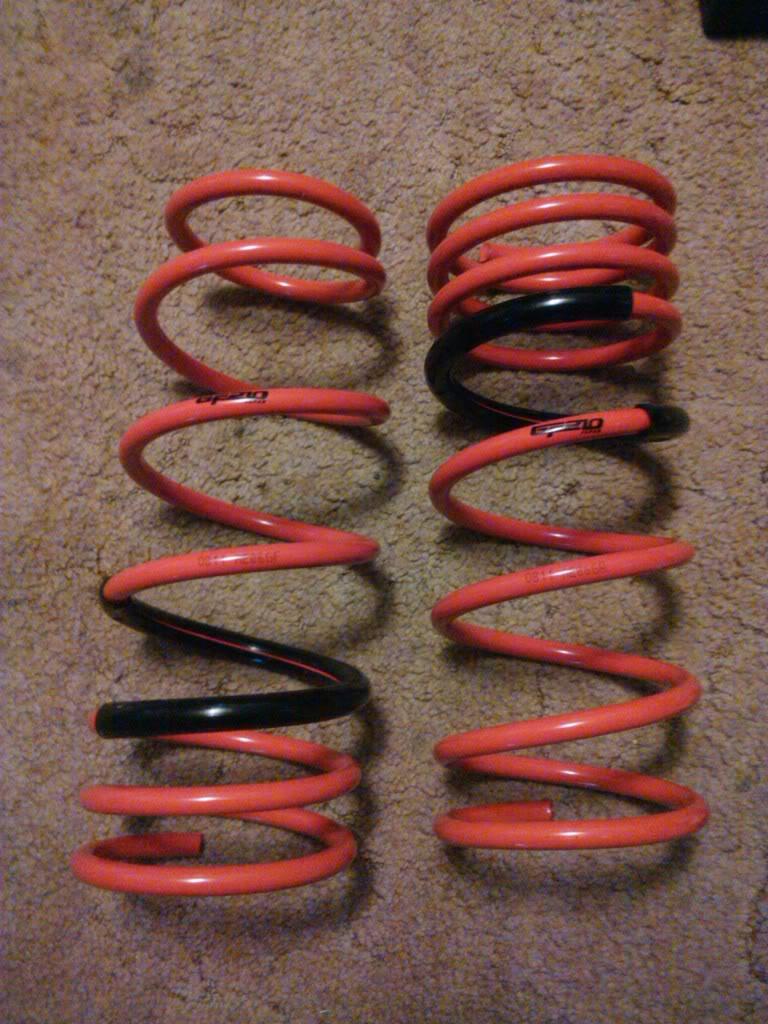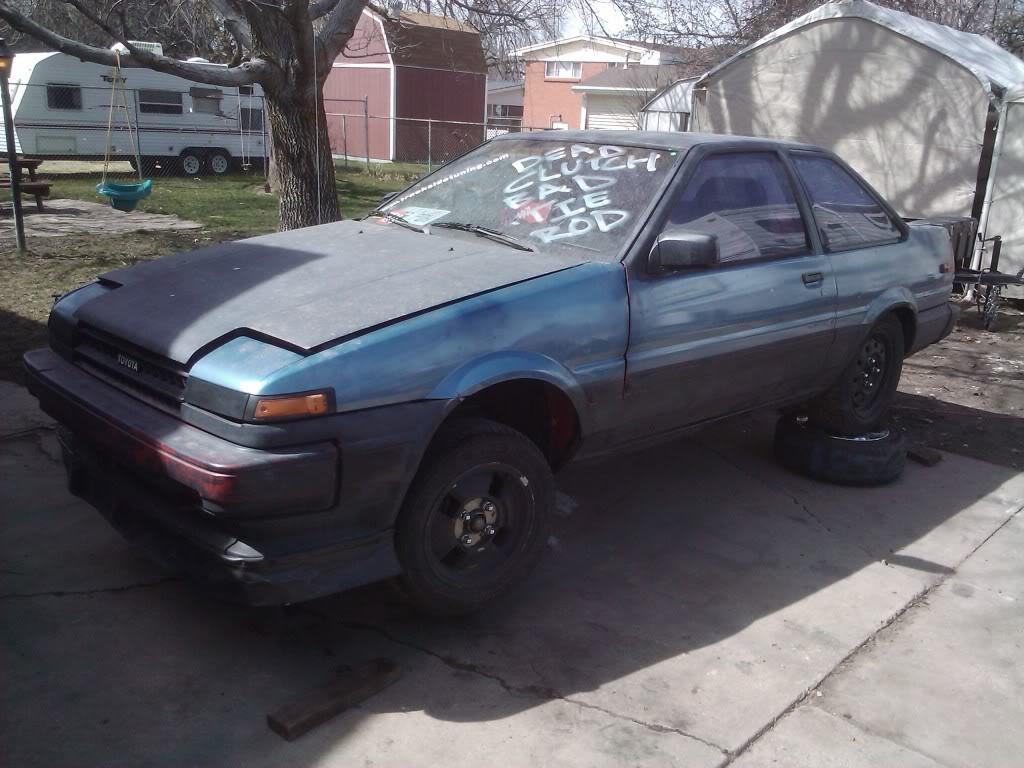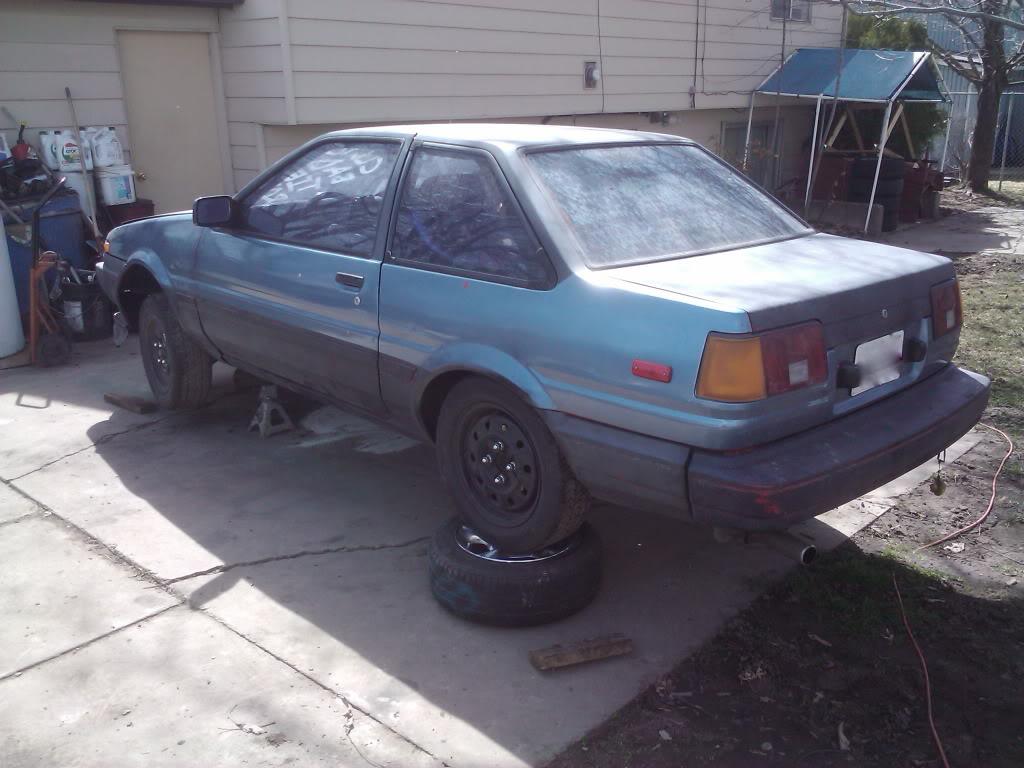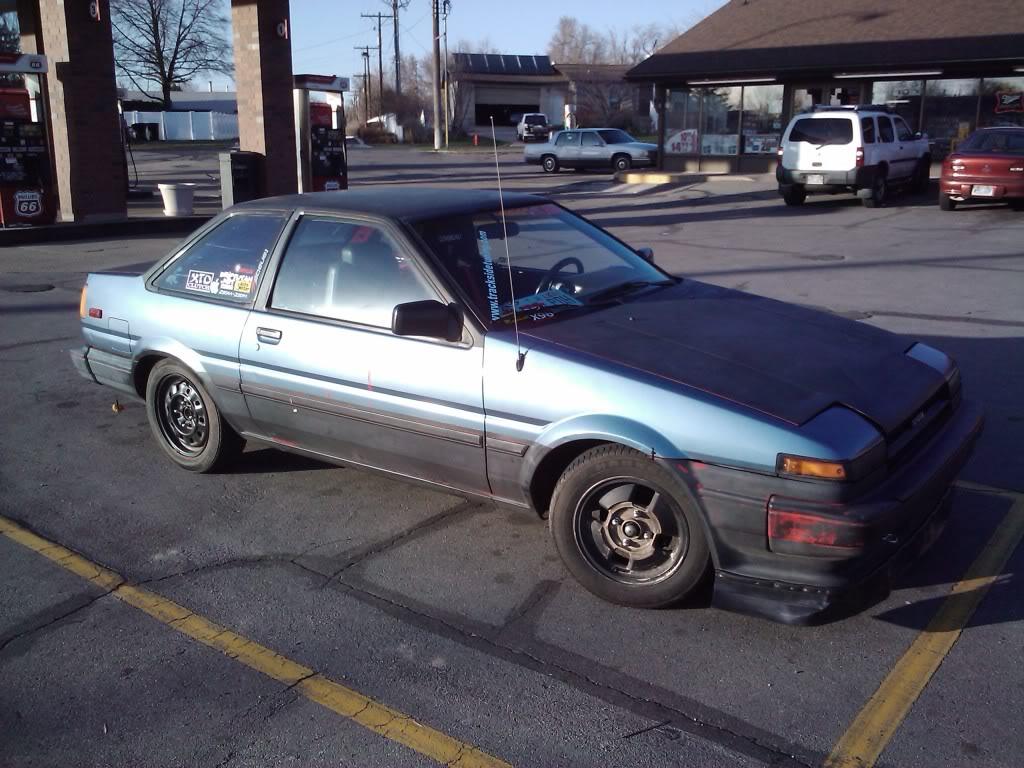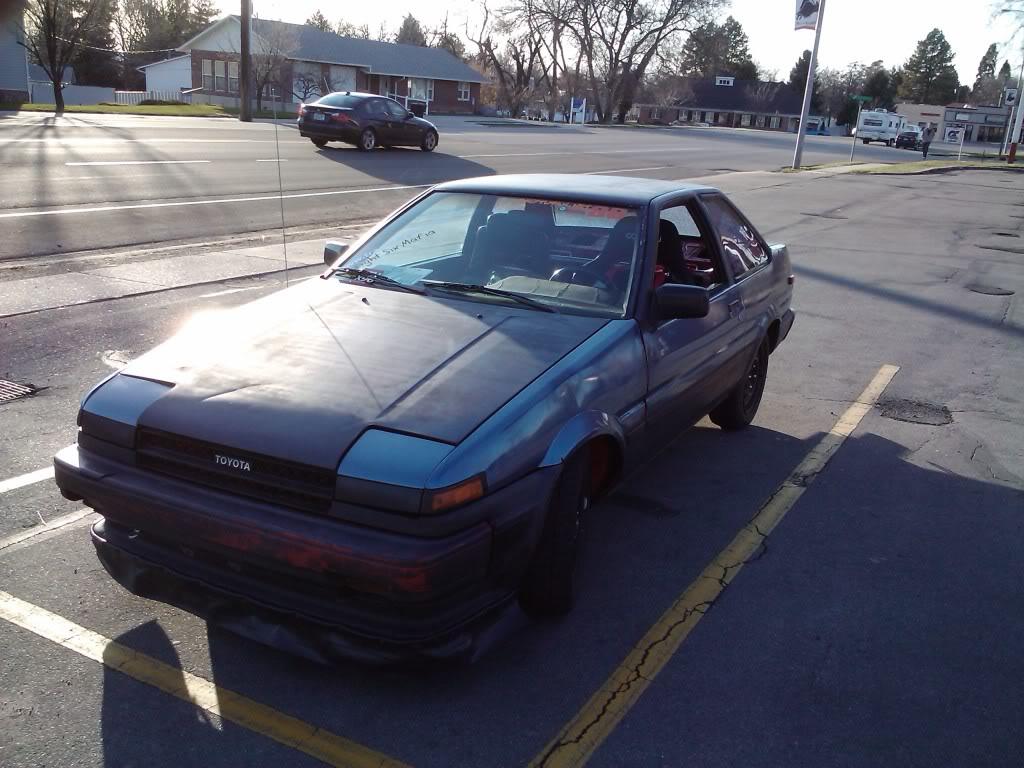 You can see the note to myself about what I needed to fix before I could race it again. Once all of that was taken care of, I took Ariel up the street for a self-serve carwash and to put some air in the tires before her first autocross of the 2010.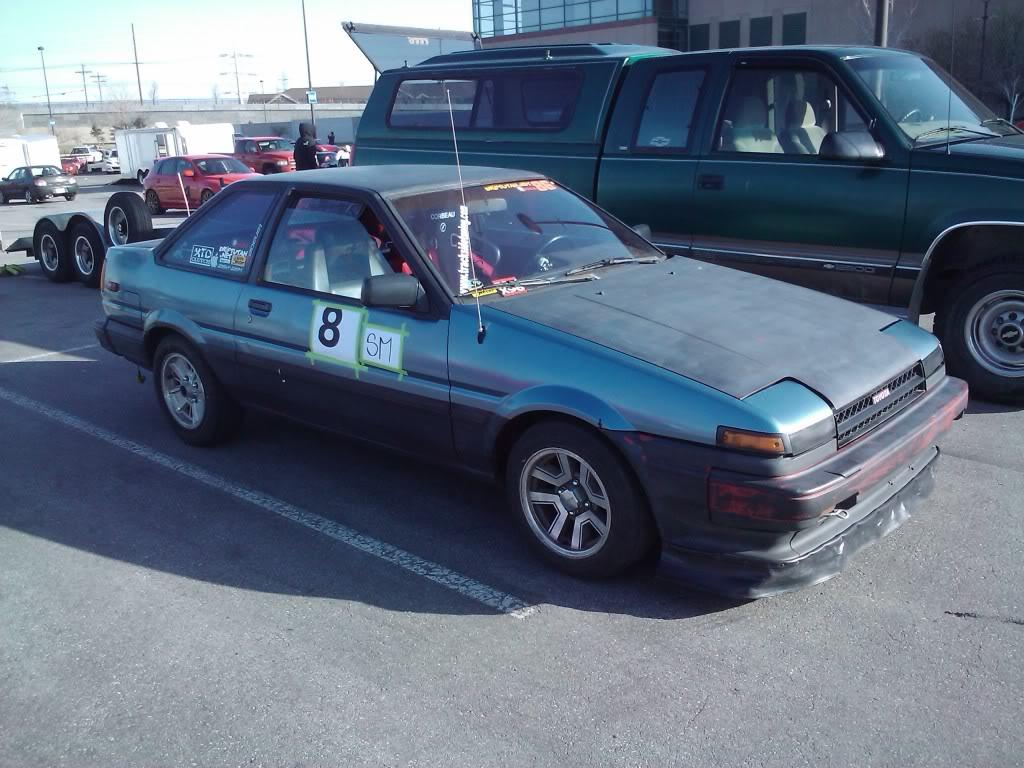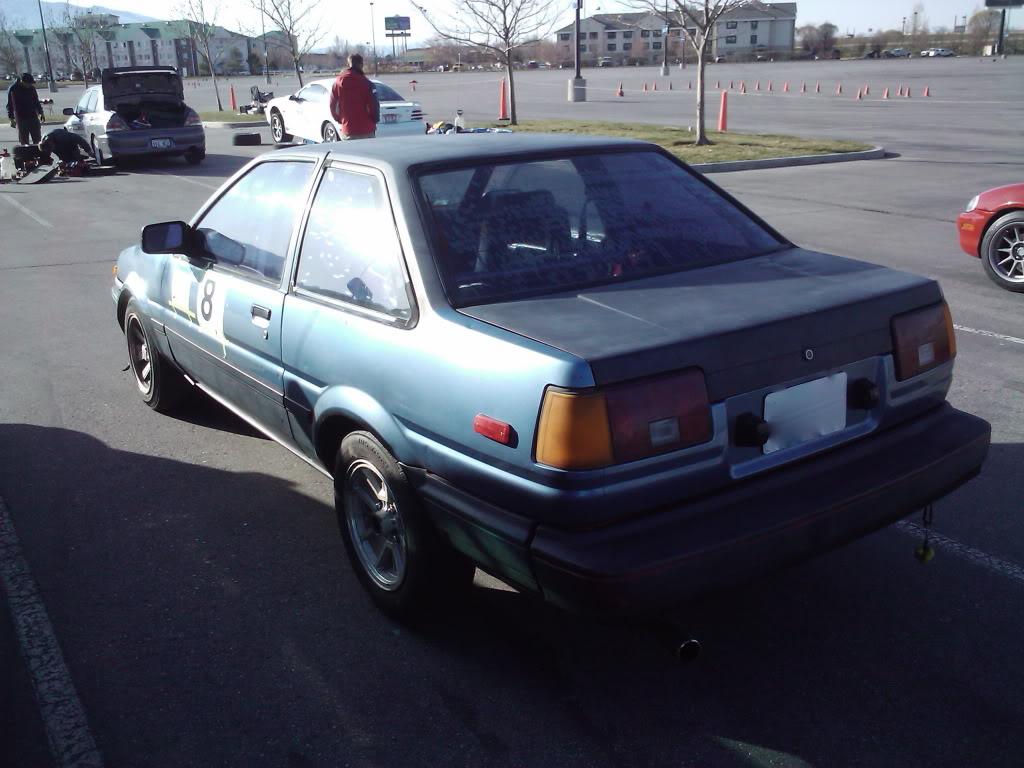 And at the autocross, next to my dad's truck. I invited a friend from school to come out and race my car with me at the autocross. It was a good time, but he end up beating me in my own car. To make it an even more disappointing day, I ended up melting a hole in my oil nylon oil pressure line to my gauge in the middle of one of my runs. Here's the damage from that.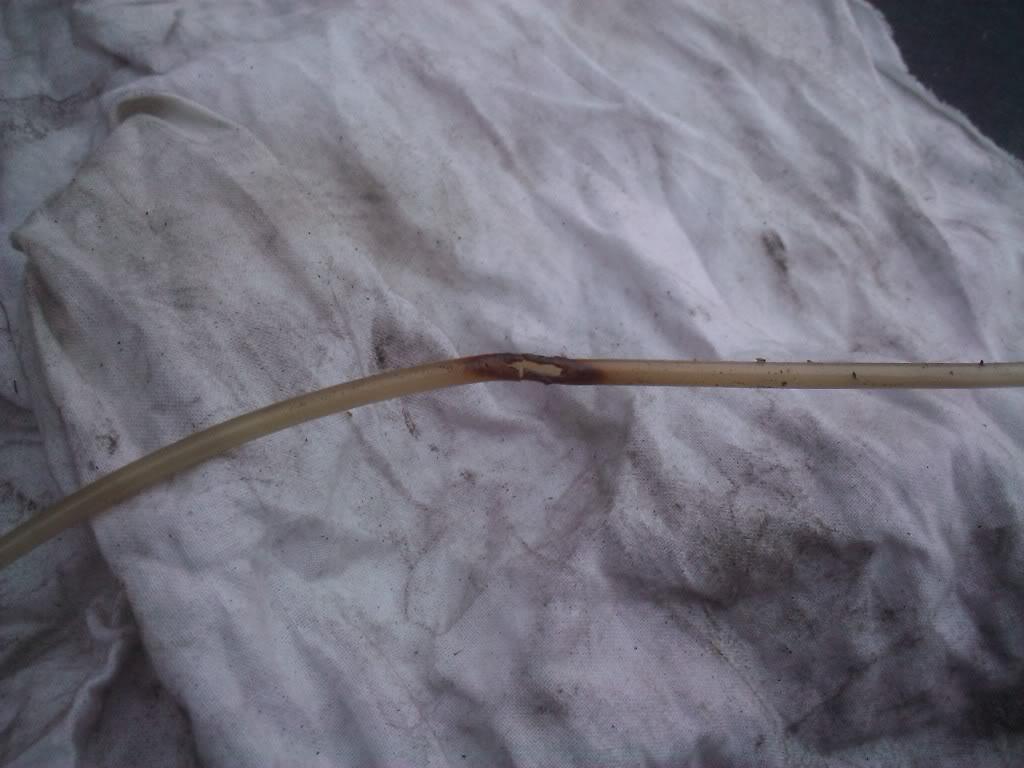 Luckily, it was a small enough leak that nothing caught on fire, even though I was leaking oil right onto the header. I think the ugly wire sleeve I had tucked it into and taped with electrical tape saved the car.
June 2010 – Second Co-driver
June saw me autocross and drift some more. This time I got my buddy Dan (who tried welding my differential the first time) to co-drive at an autocross event with me.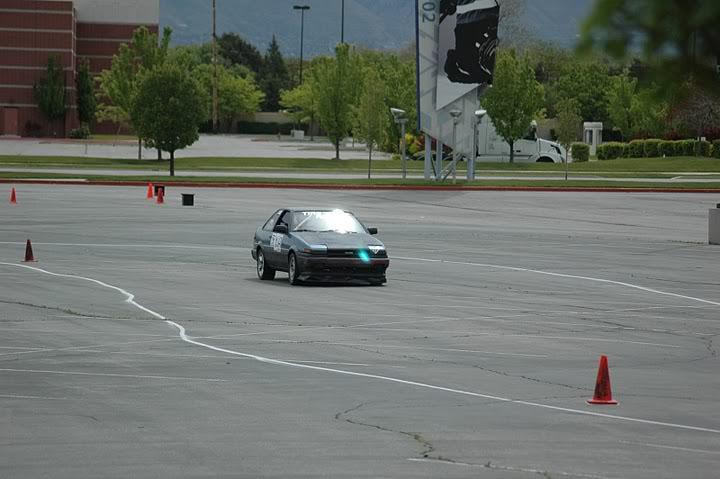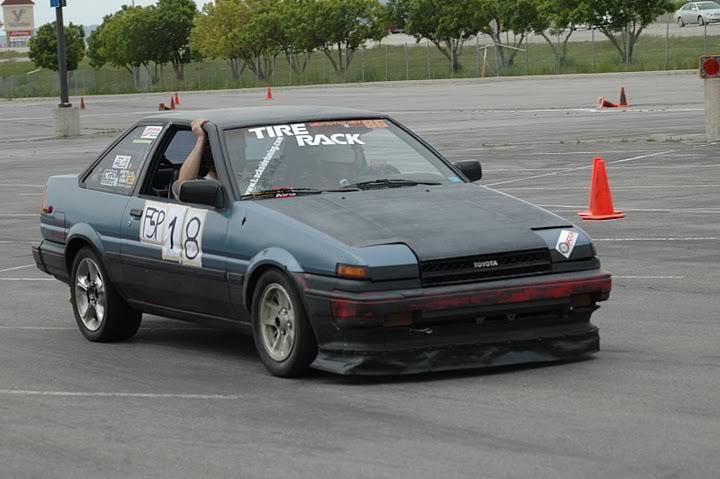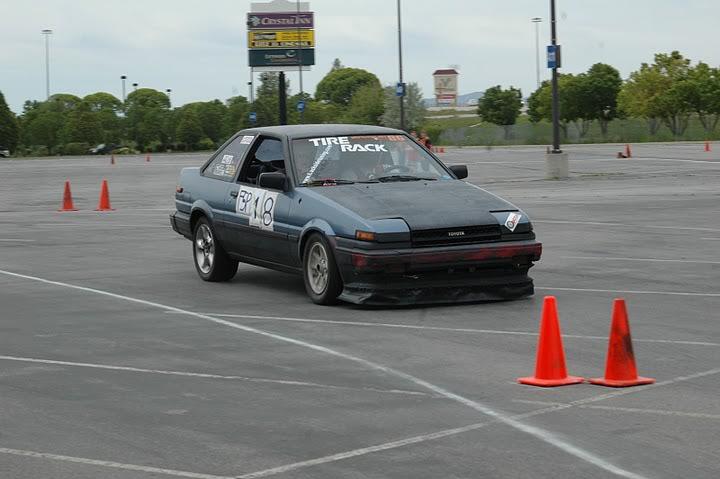 Dan managed to spin my car coming through the timing lights. I thought it was funny as hell.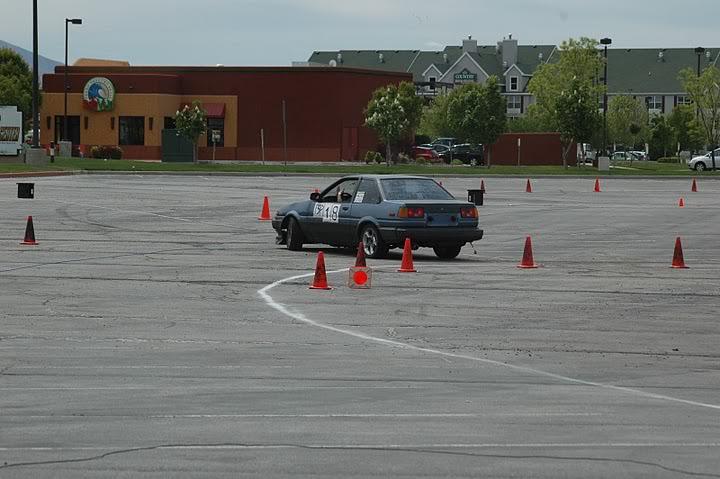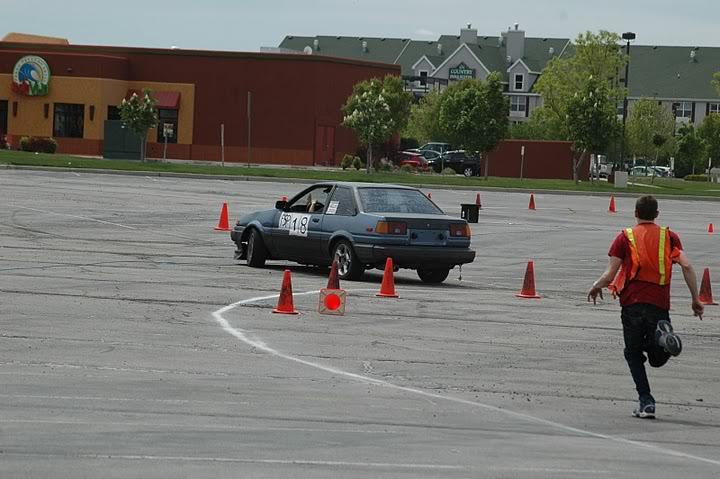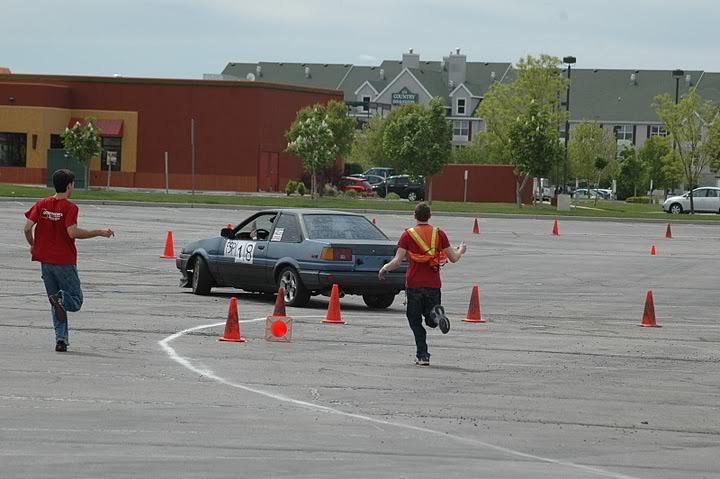 4th of July Family BBQ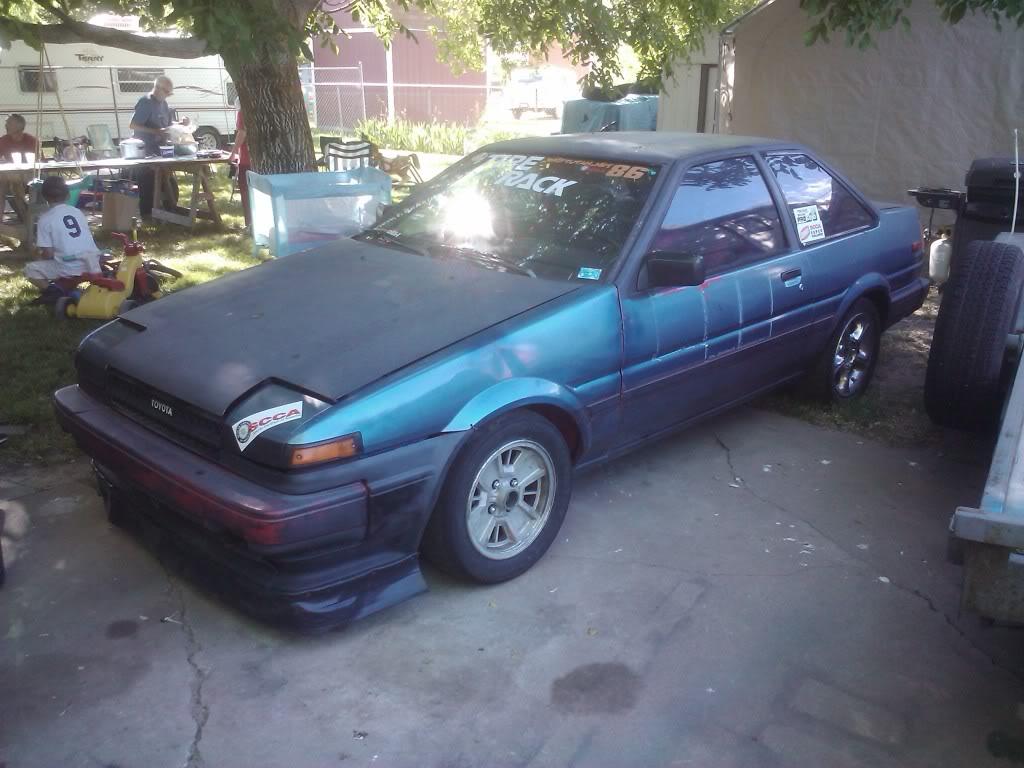 September 2010 – AutoX & Final drift
Not much racing happened during July and August as money was tight and summer school was kicking my ass. However, when summer ends and fall begins, not only do classes start, but Labor Day weekend hits which means one more weekend of racing before school kicks my ass again!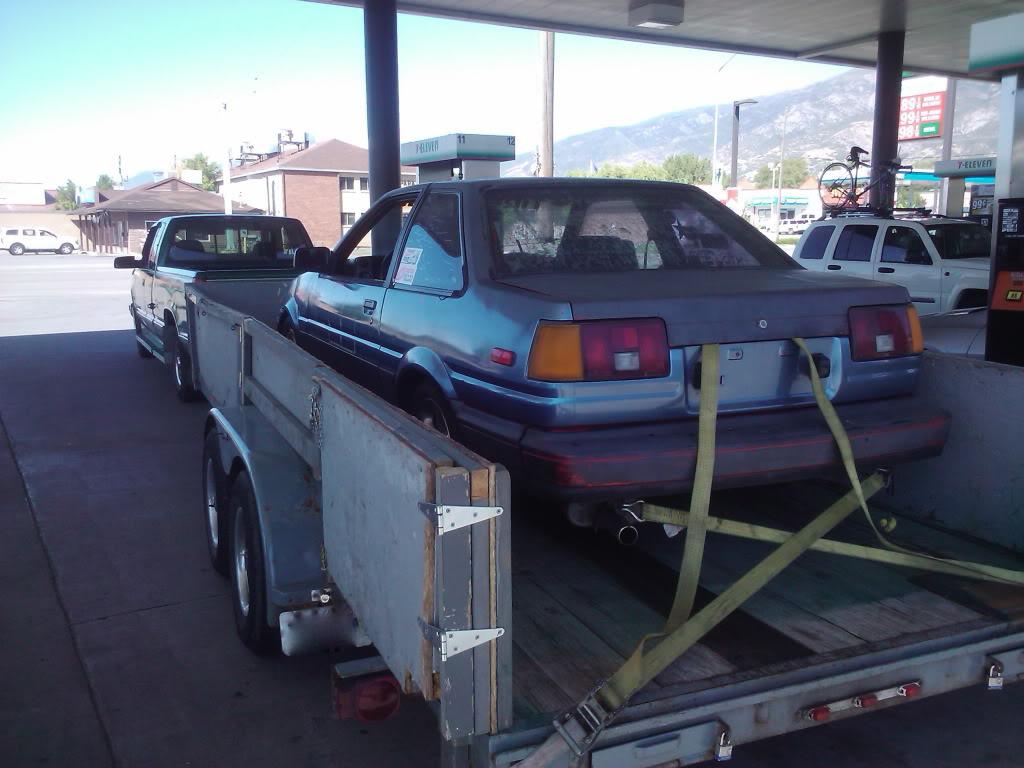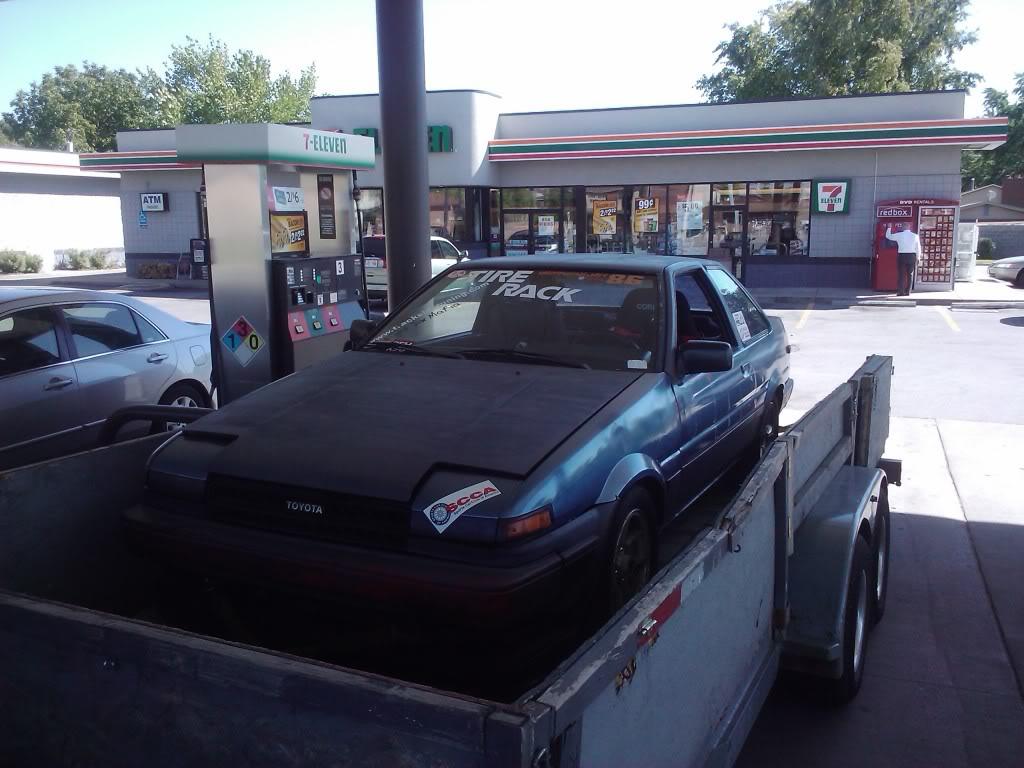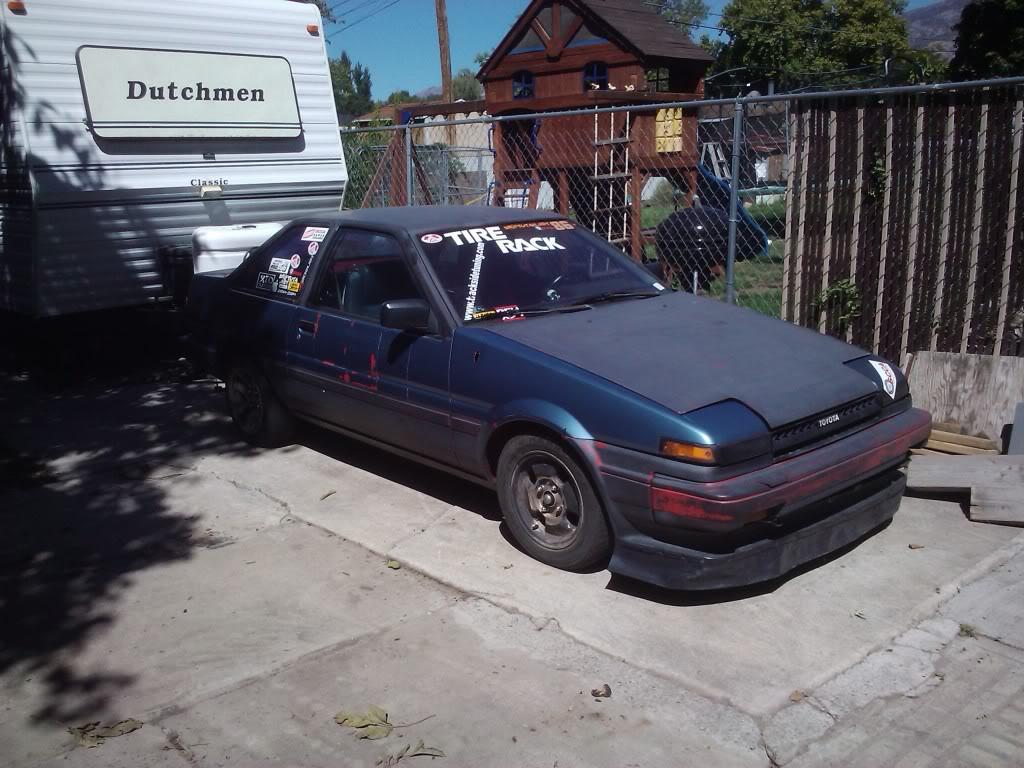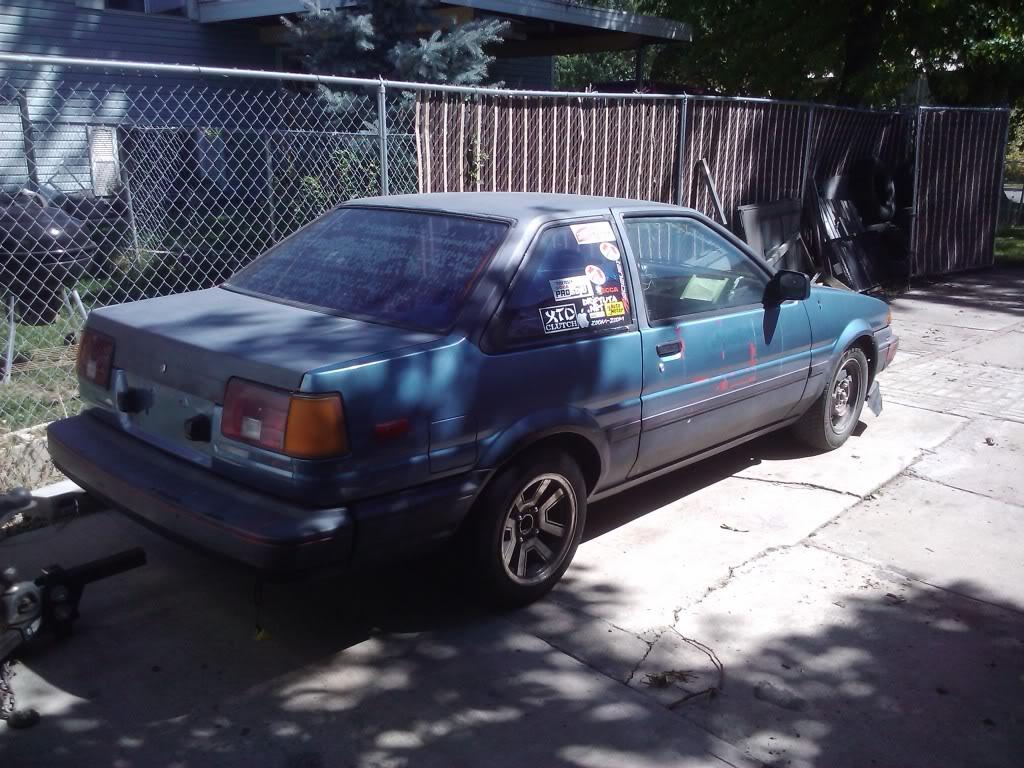 There was also the final drift event at RMR. I liked RMR, but not everyone else did. People complained about the transition from the banked oval to the infield, how the course was always the same, the lack of tandem, but really, I think the people in Utah just got lazy and wanted something new/different without having to work for it. Anyway, here are some pics from the "closing celebrations." See if you can't spot any friends you know.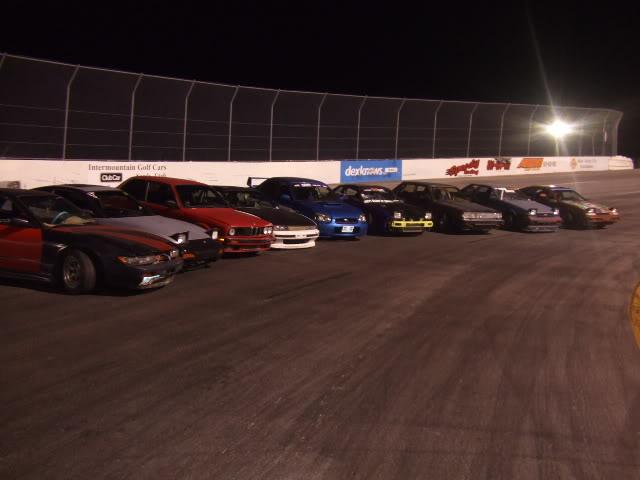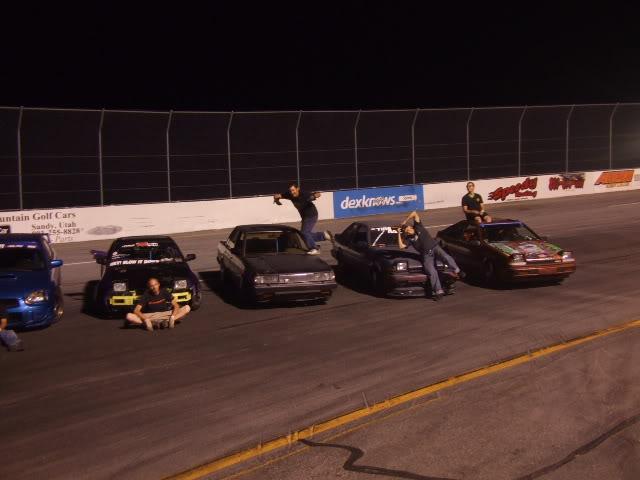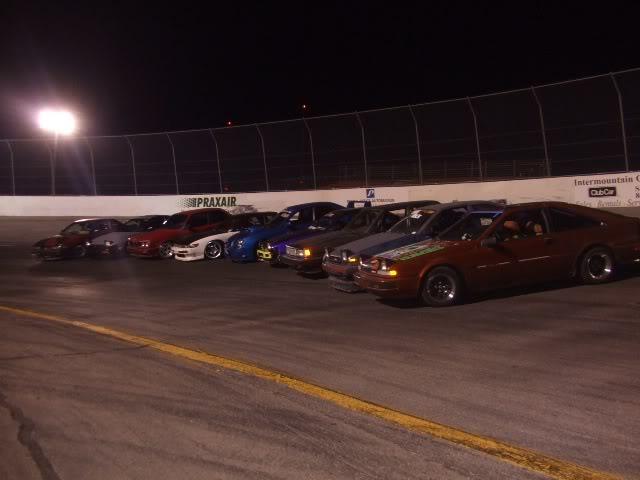 December 2010 – Waiting for spring
This is how Ariel usually sits during the winter. Utah had an odd winter for 2010-2011, with most of the snow/rain coming during Jan, Feb, March, and even into Apr and May in the mountains. The valleys didn't see nearly as much snow, but some rain.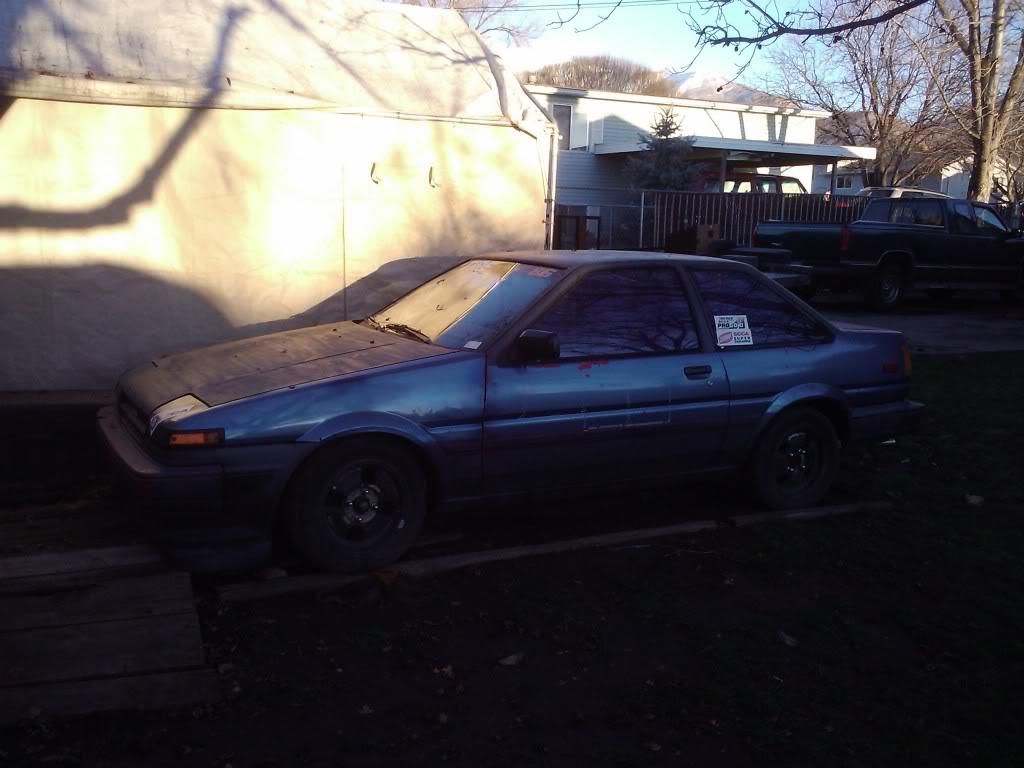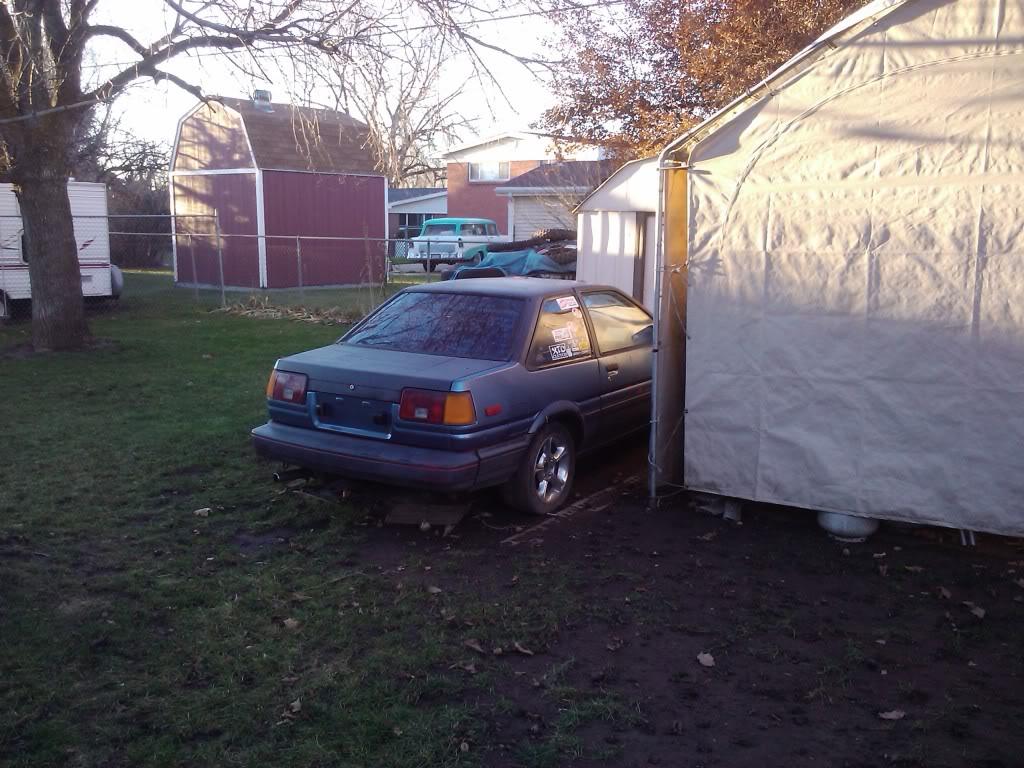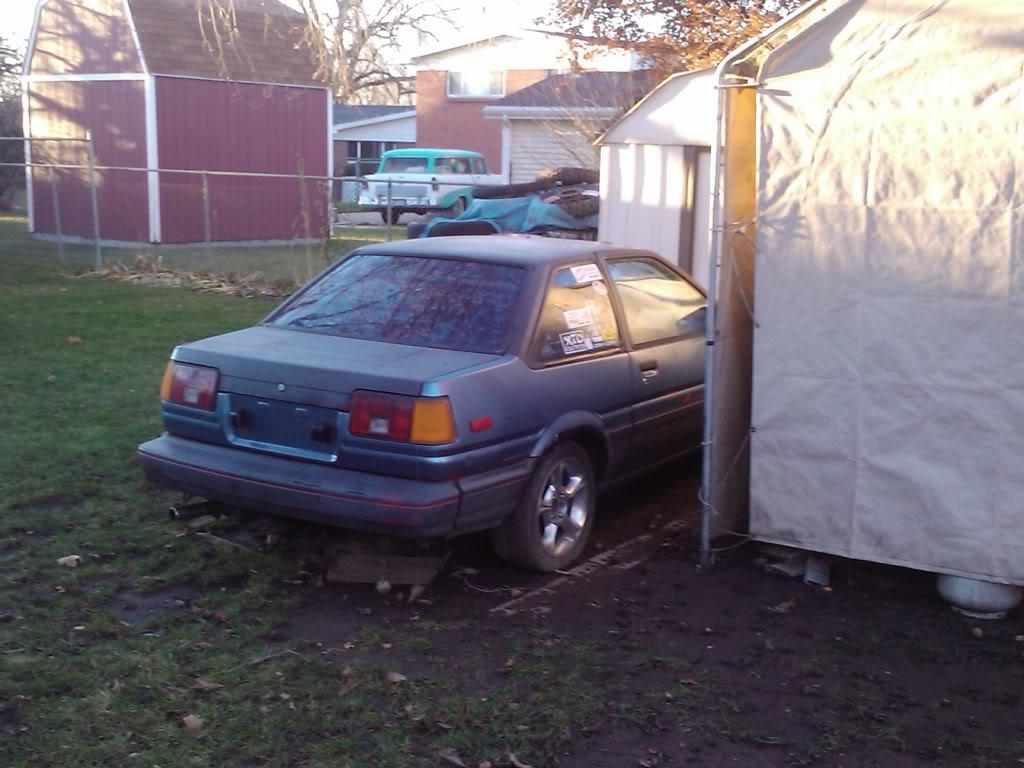 April 2011 – UtahHondas.net Spring 2011 Meet
I joined a local Honda forum to keep entertained online, and when they threw their spring meet, I went took Ariel the 1.2 miles to park near my house they held it at. Two different people took pics of it.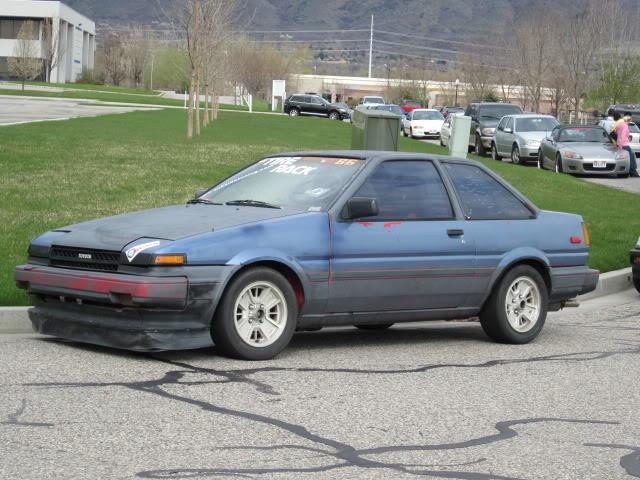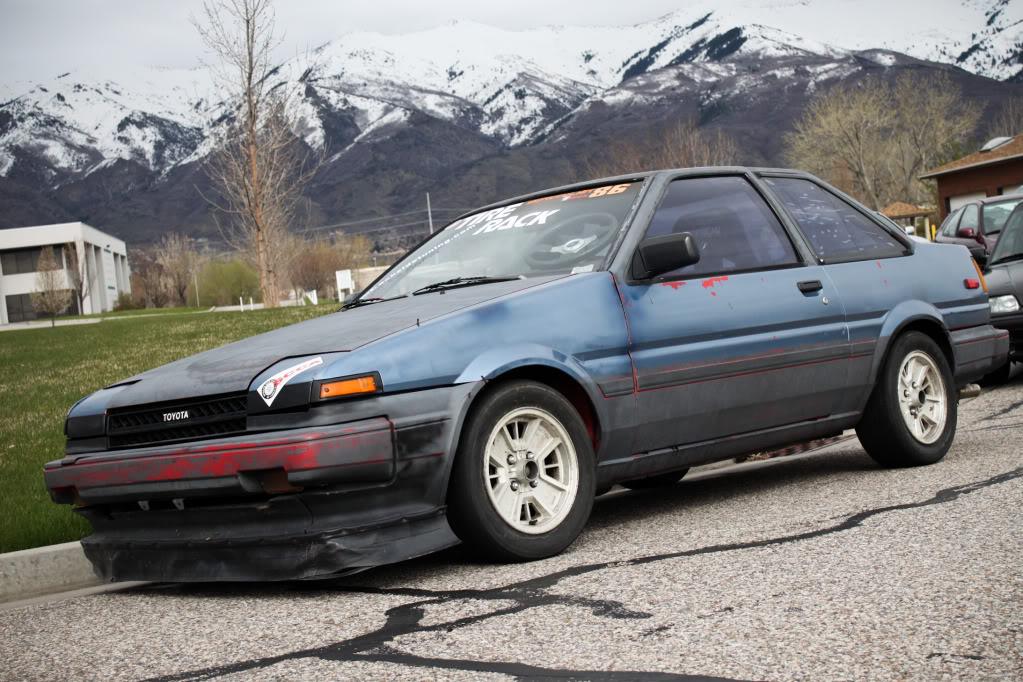 May 2011 – Getting ready for summer
I had just graduated from college with my Bachelor's of Science in Applied Physics and had a summer job with the Air Force at Hill AFB and just knew that being graduated and employed meant that I could afford to race every weekend! That means I needed to freshen up the car for the new season, so a fluid change was in order.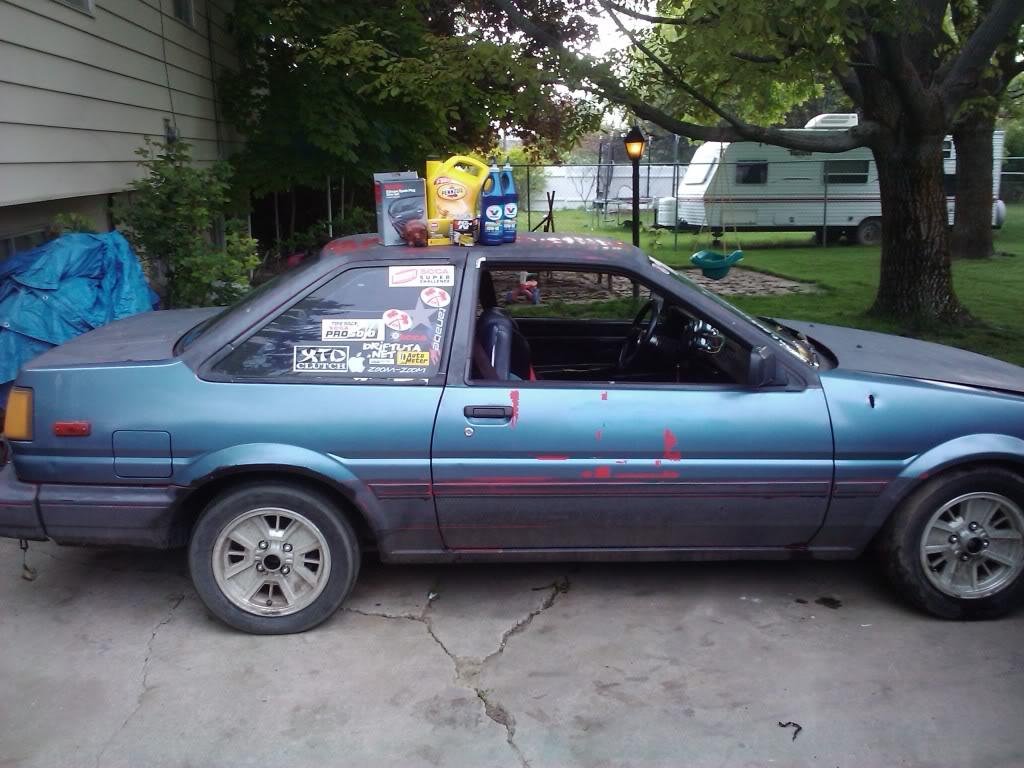 Ready for the first autocross I could make that season, Memorial Day.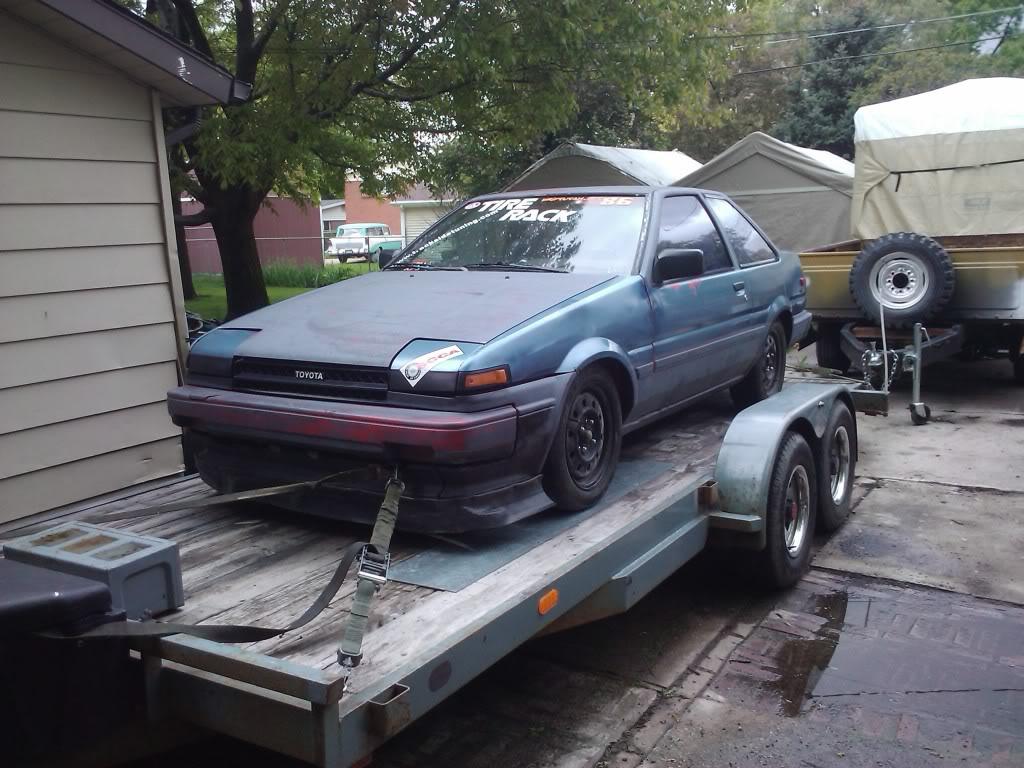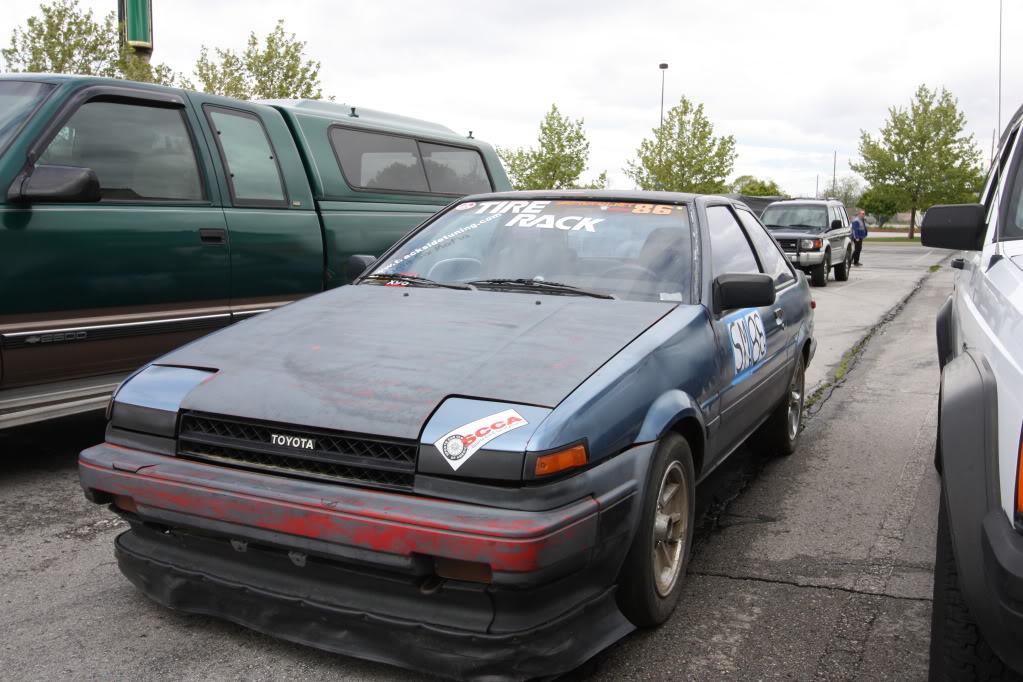 June 2011 – Drifting again!
June saw drifting return to MMP's west paddock area. This time, I put my dad's worn out Cocker Classics "Red Line" tires on to finish them up. 205/75R14 tires on a 14x7" wheel are enormous on a Corolla!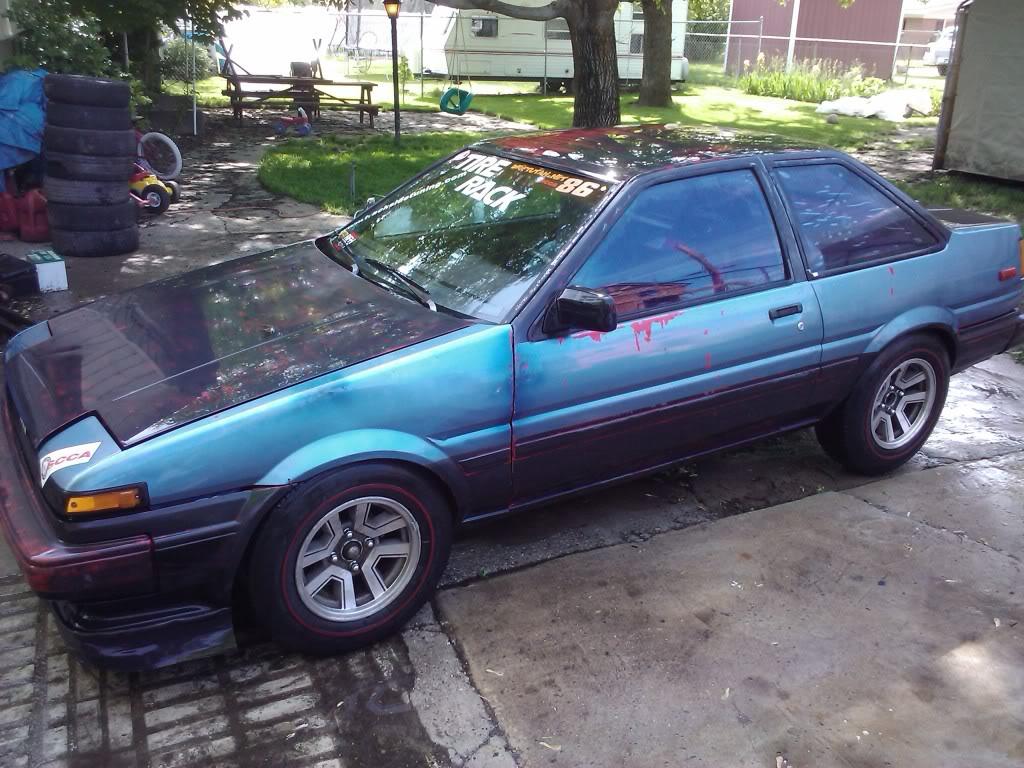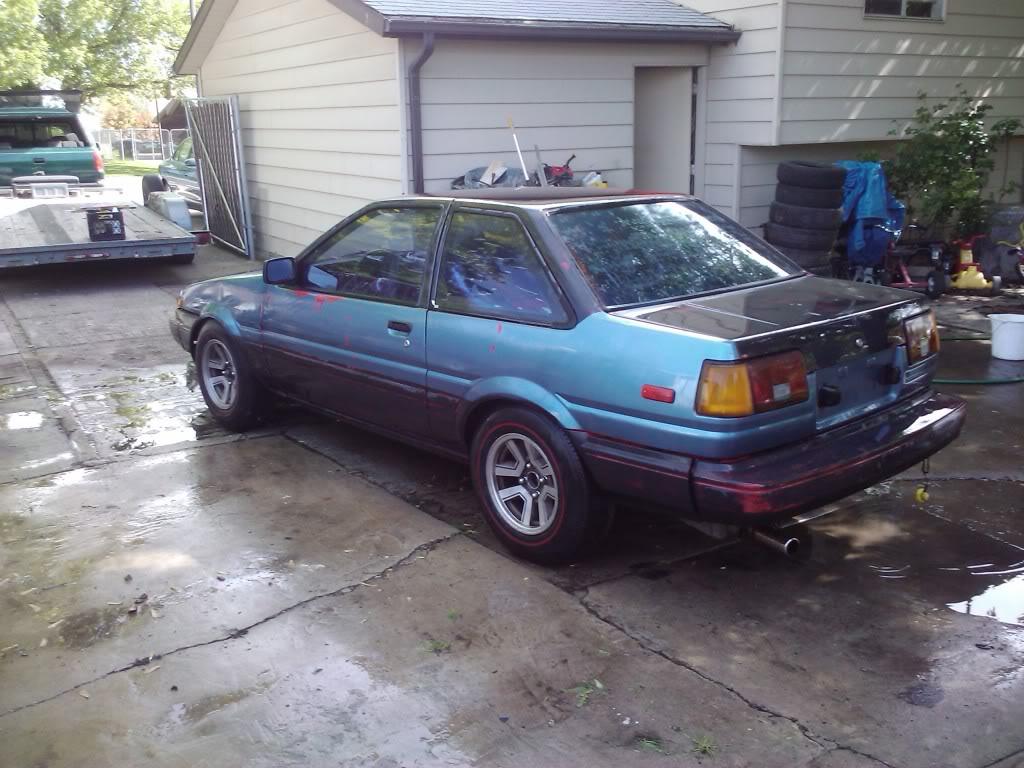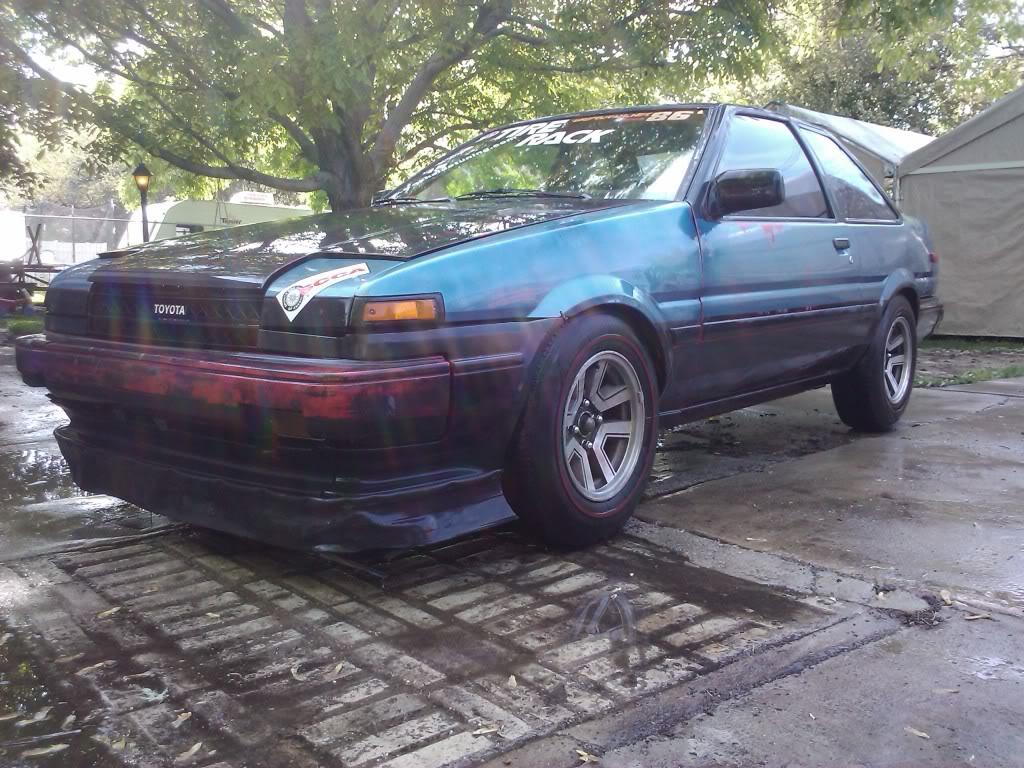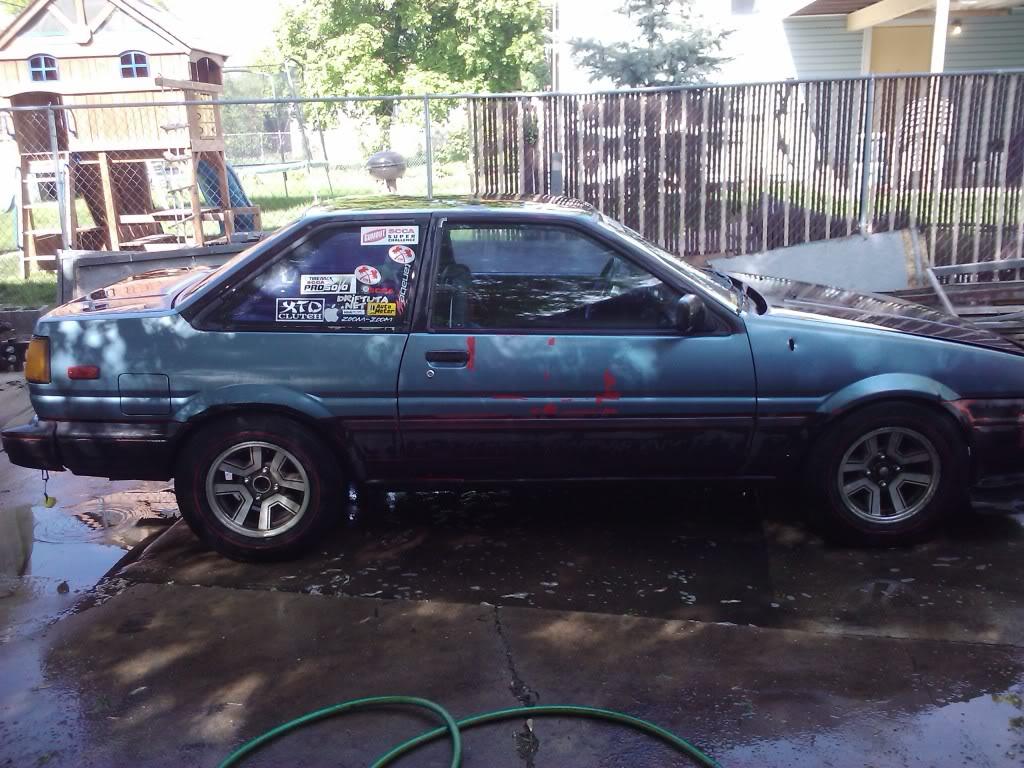 The tires were so big that I could hardly turn the wheel before they scrapped against the fenders up front. While tall, they fit fine in the back.
At MMP, trying to slide. BTW, those Red Line tires have a lot of grip compared to most of the junk I drifted on.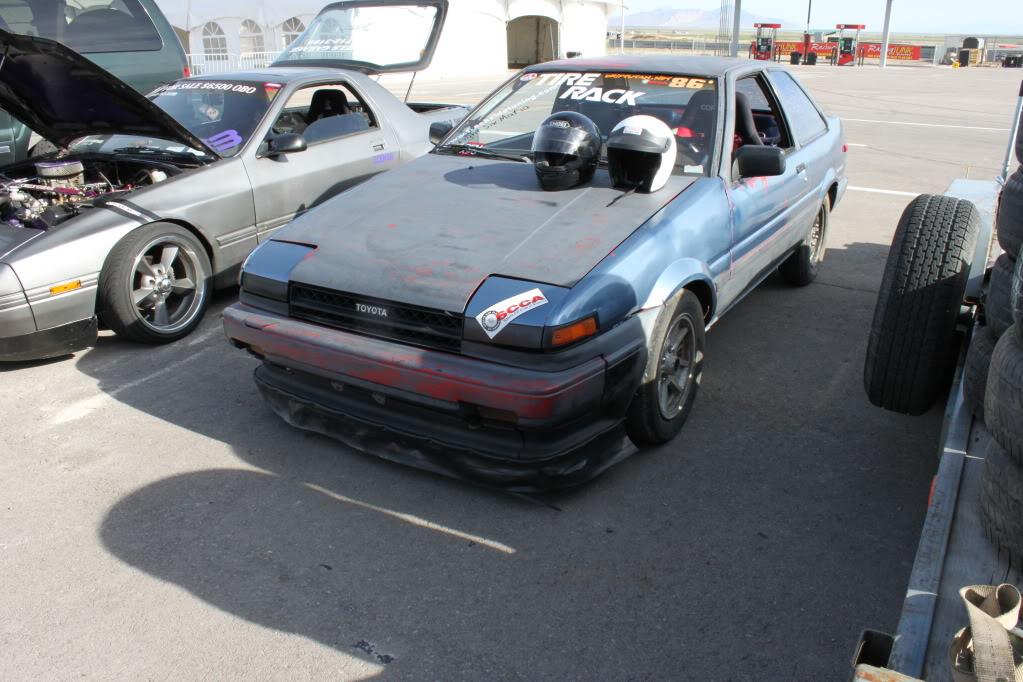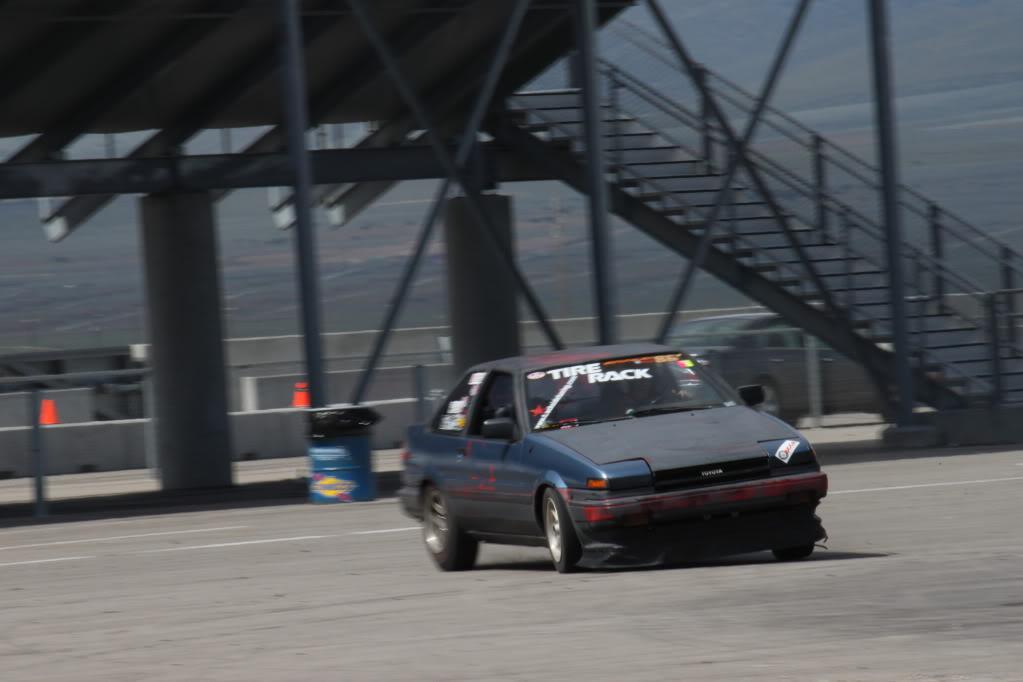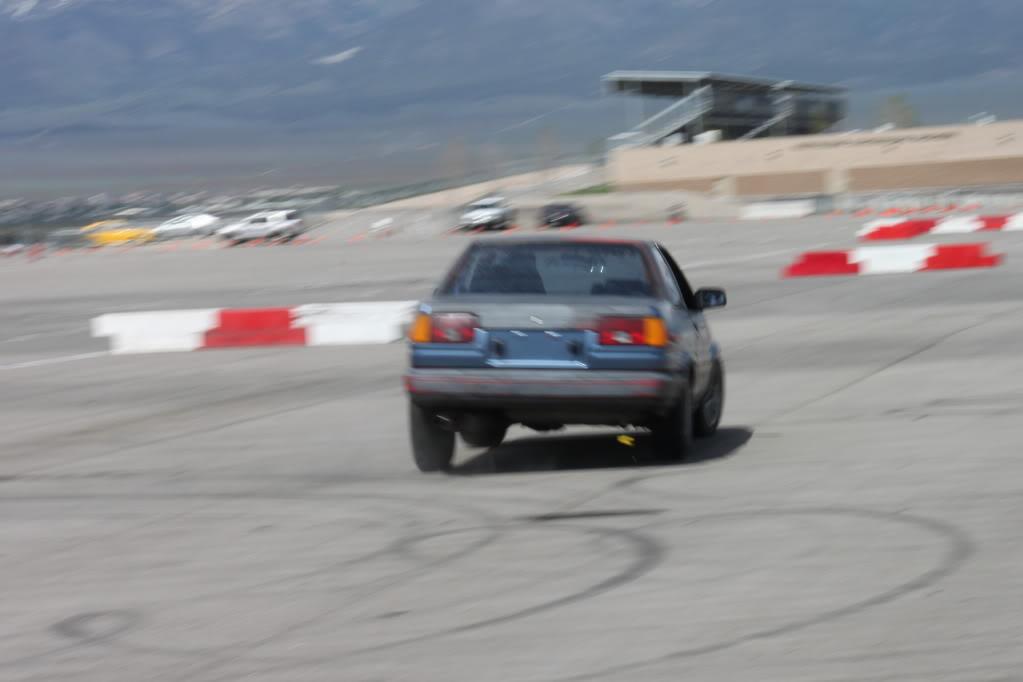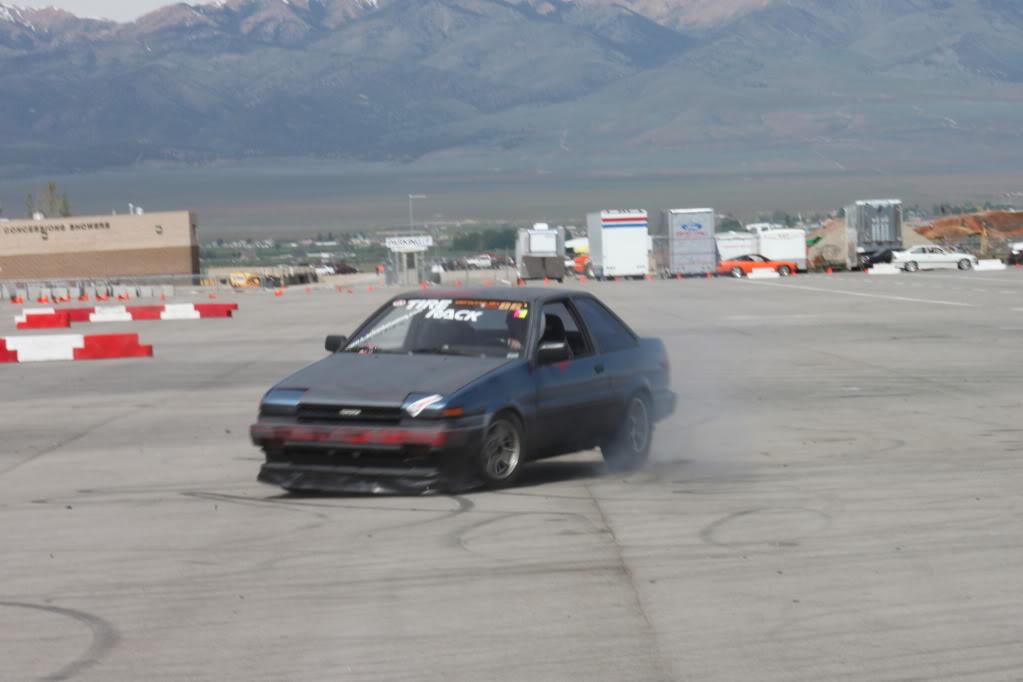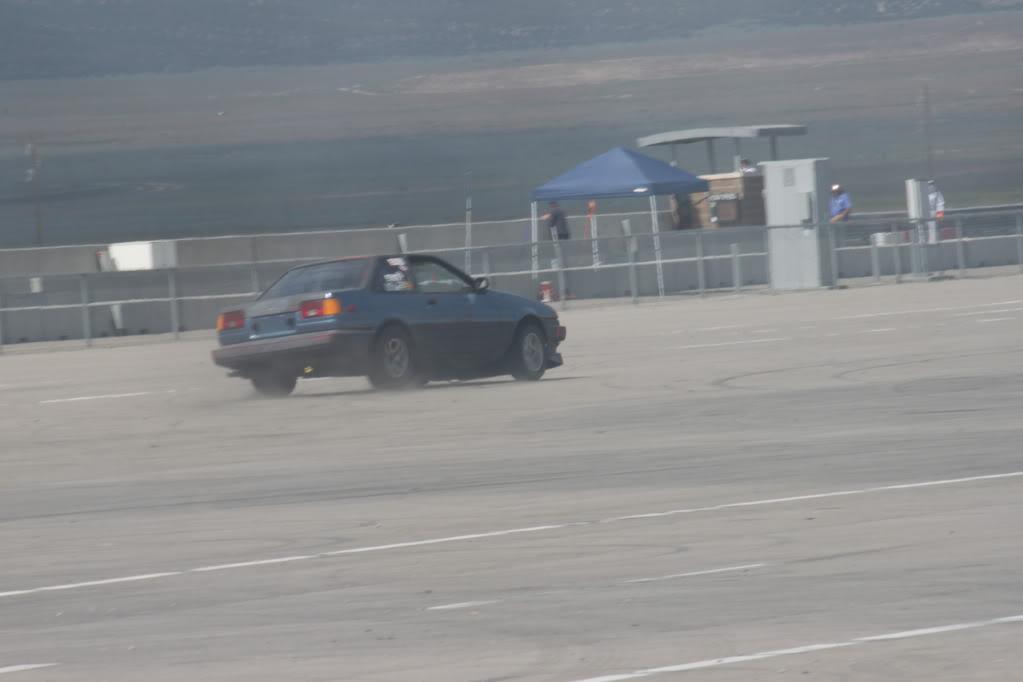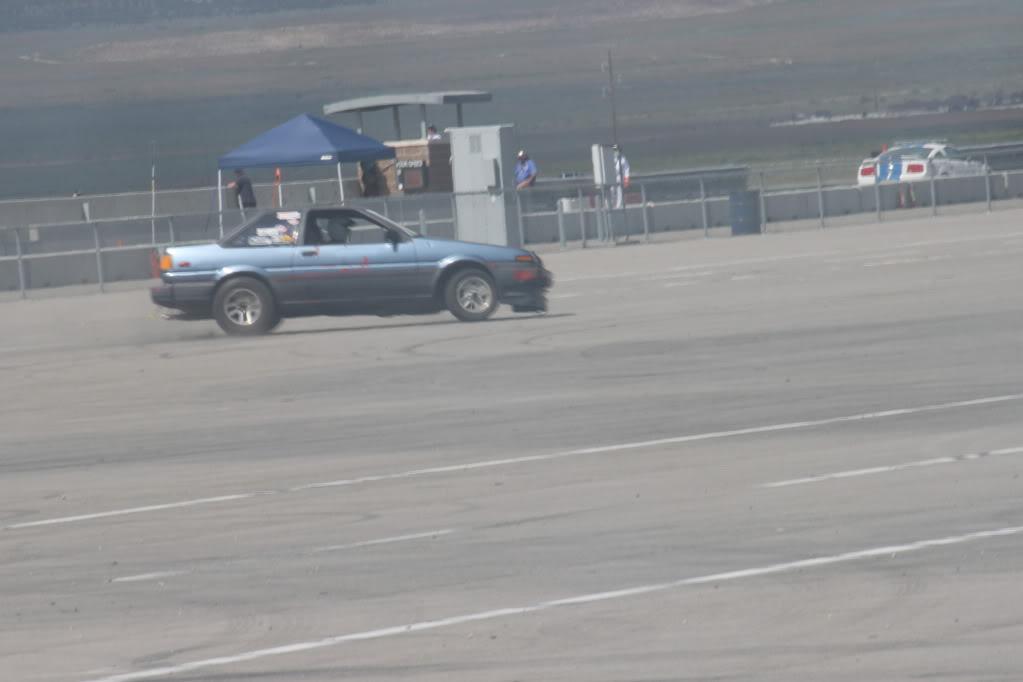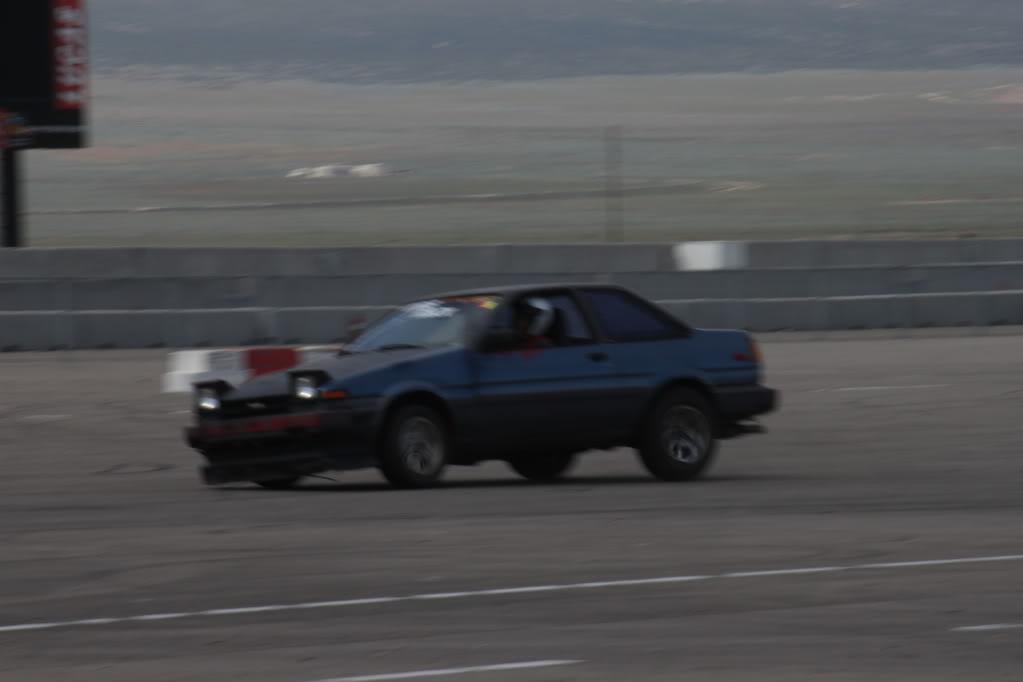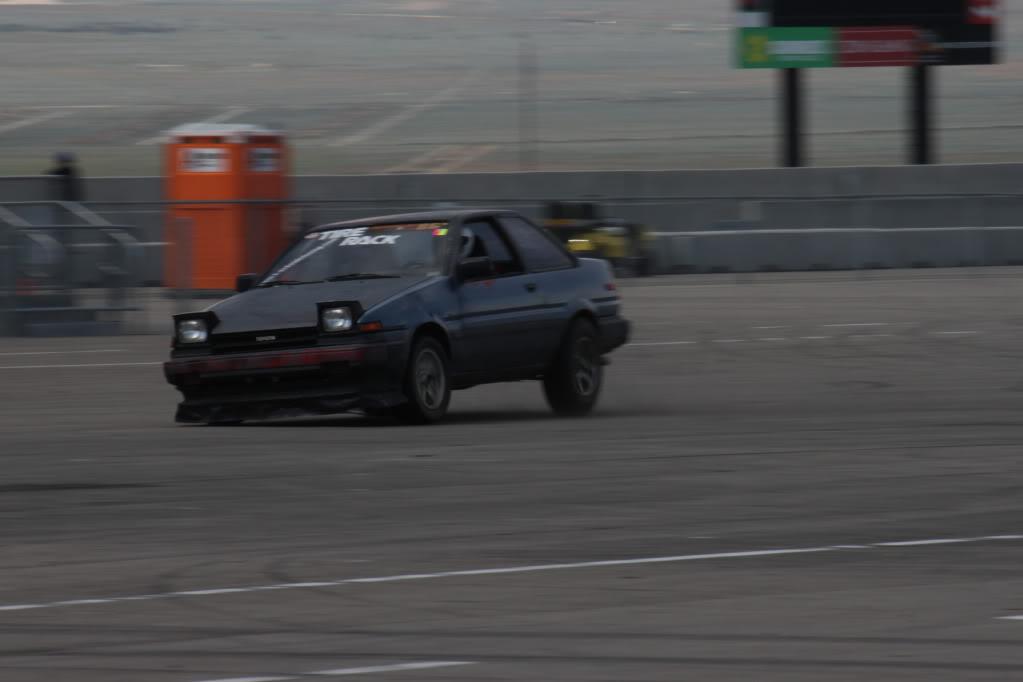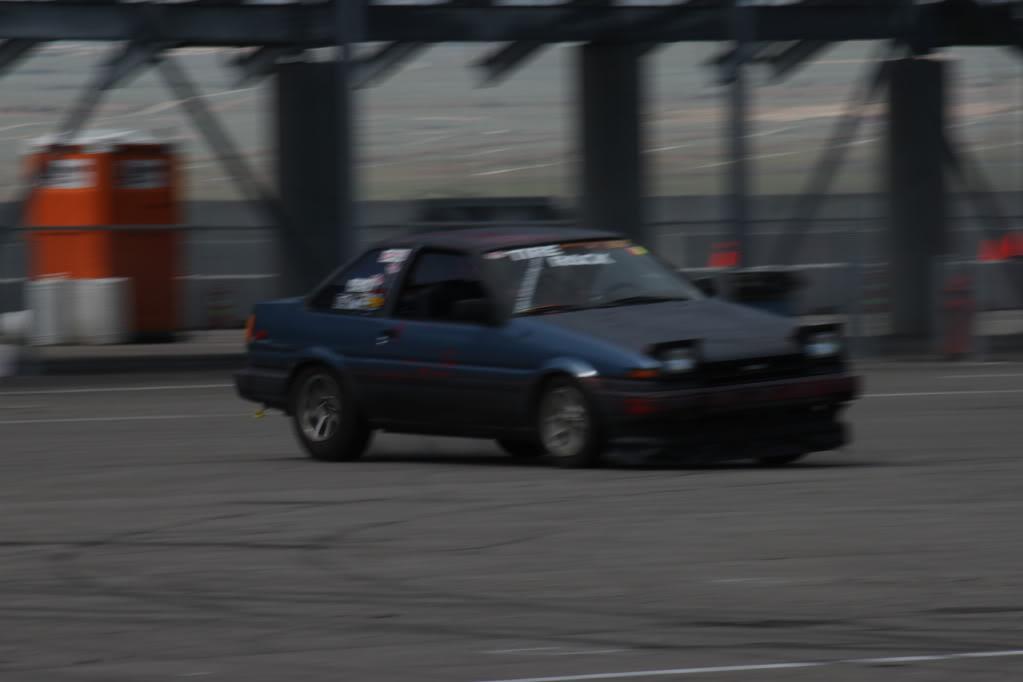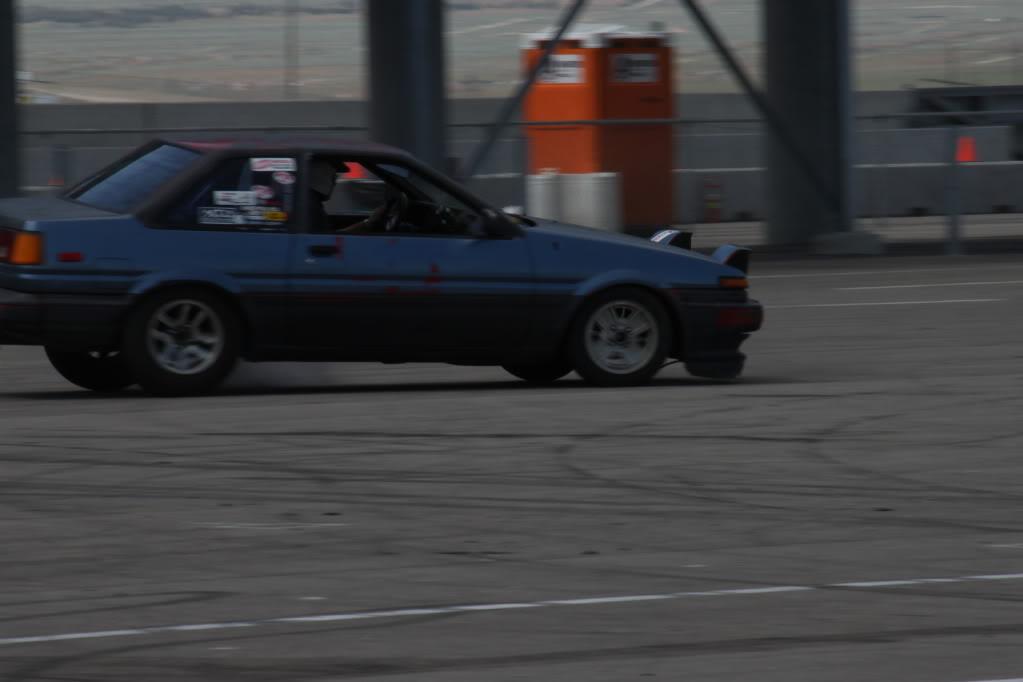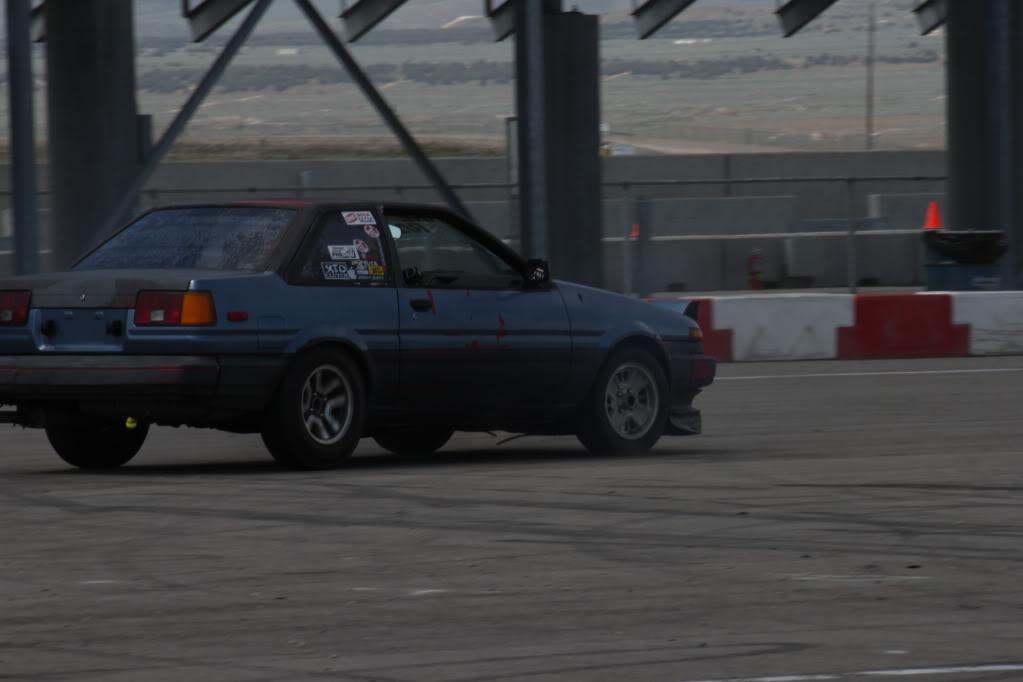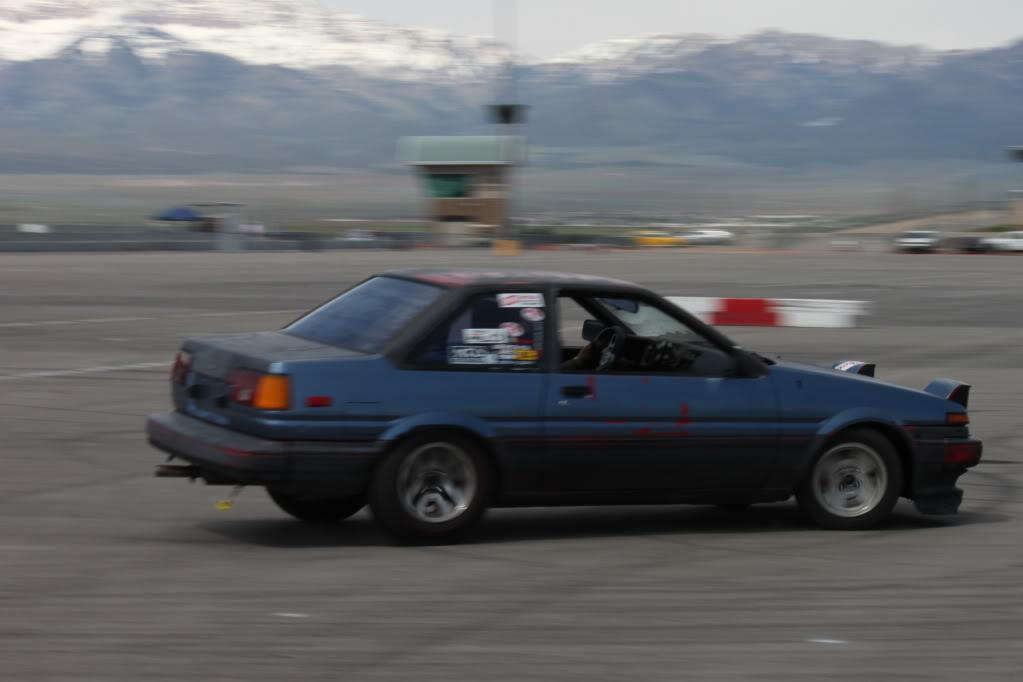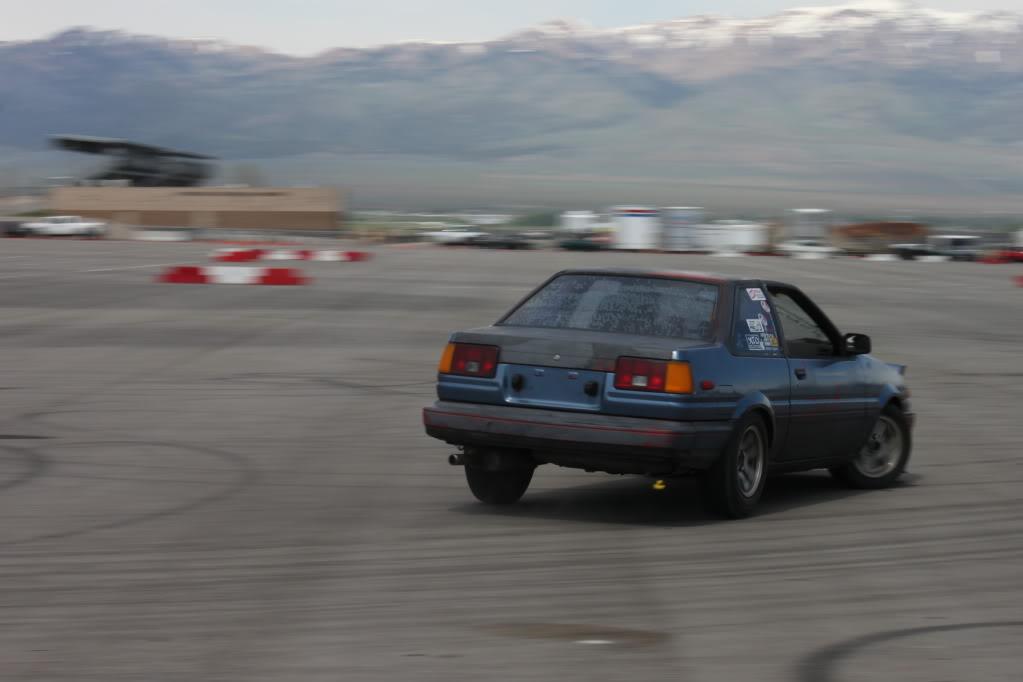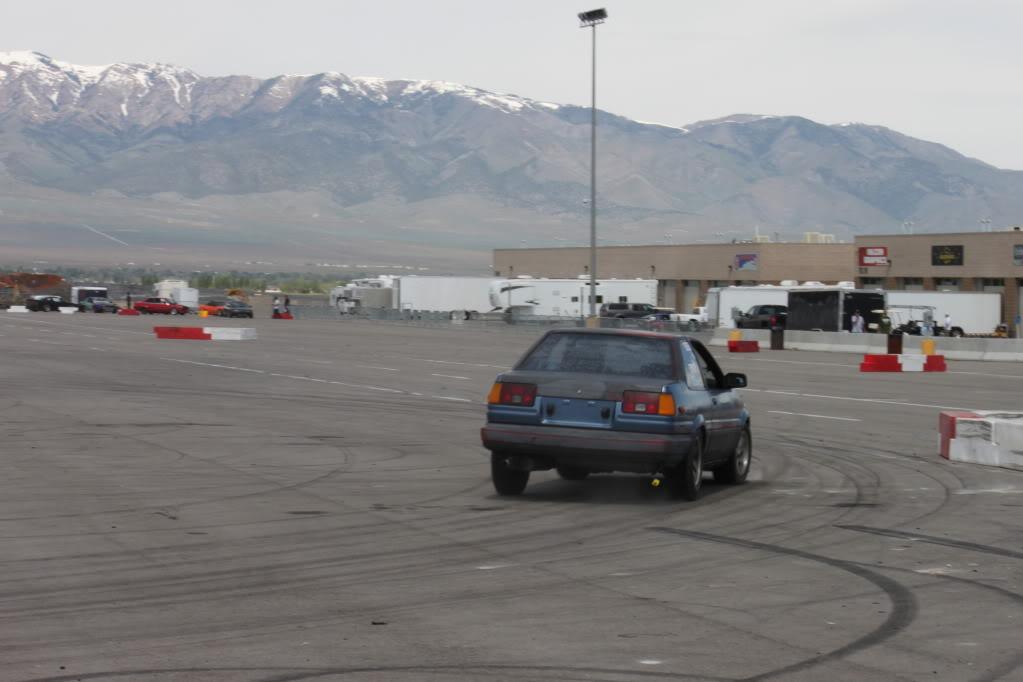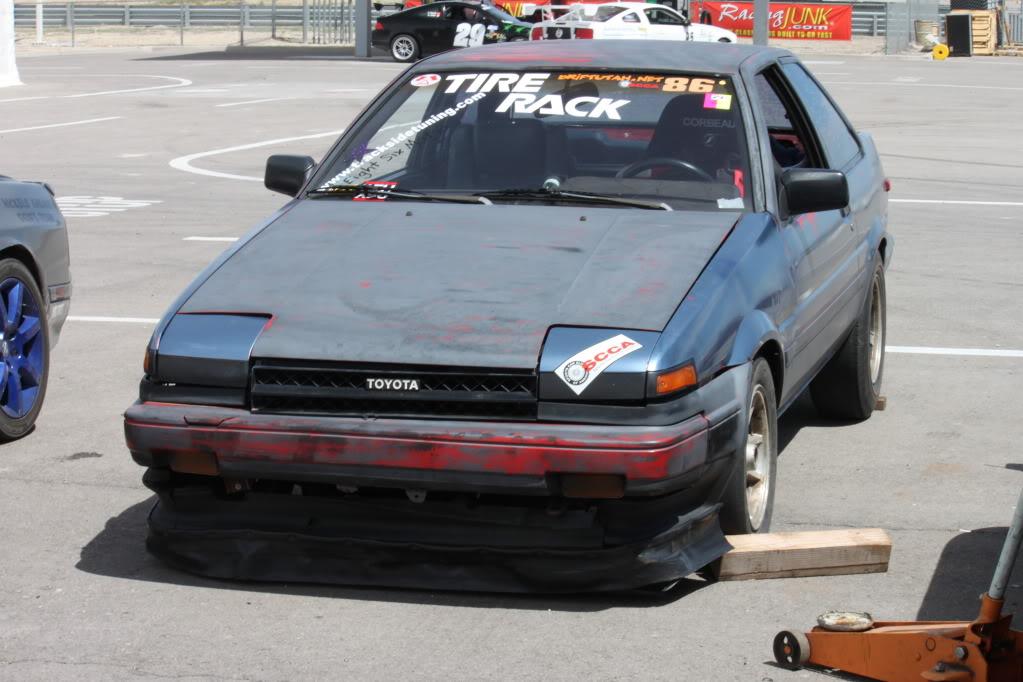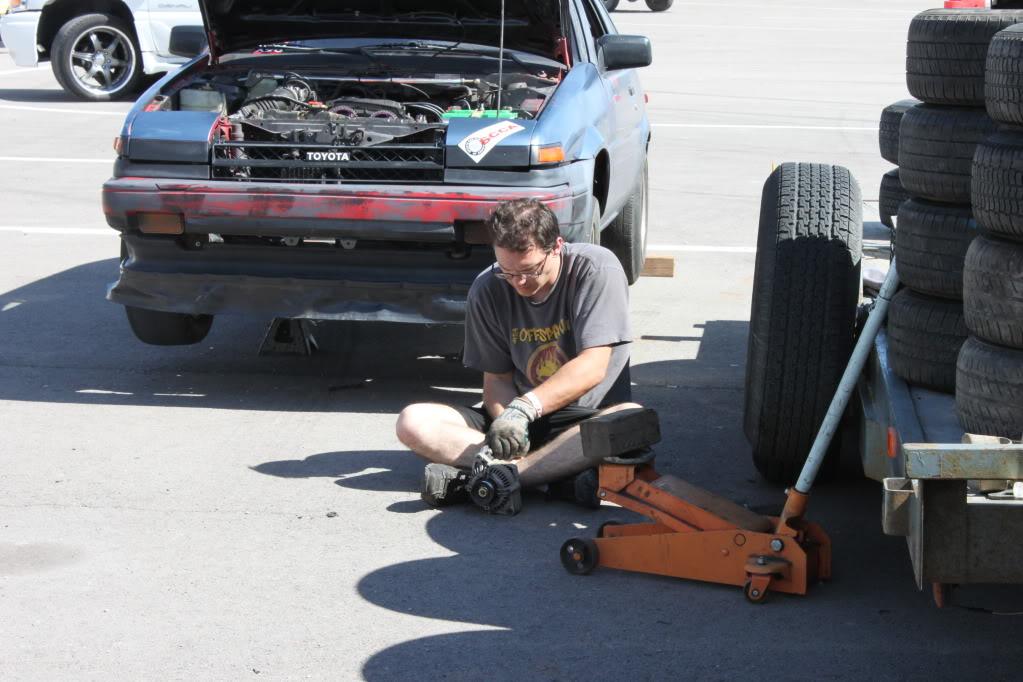 Always have to fiddle with things while at the track…
At the drift event, I managed to run into one of the plastic barriers and bend the bracket that hold on the lower trim below the bumper. I left it off for the autocross the following weekend and managed to catch a cone hard enough that it pushed the edge of the bumper into the fender.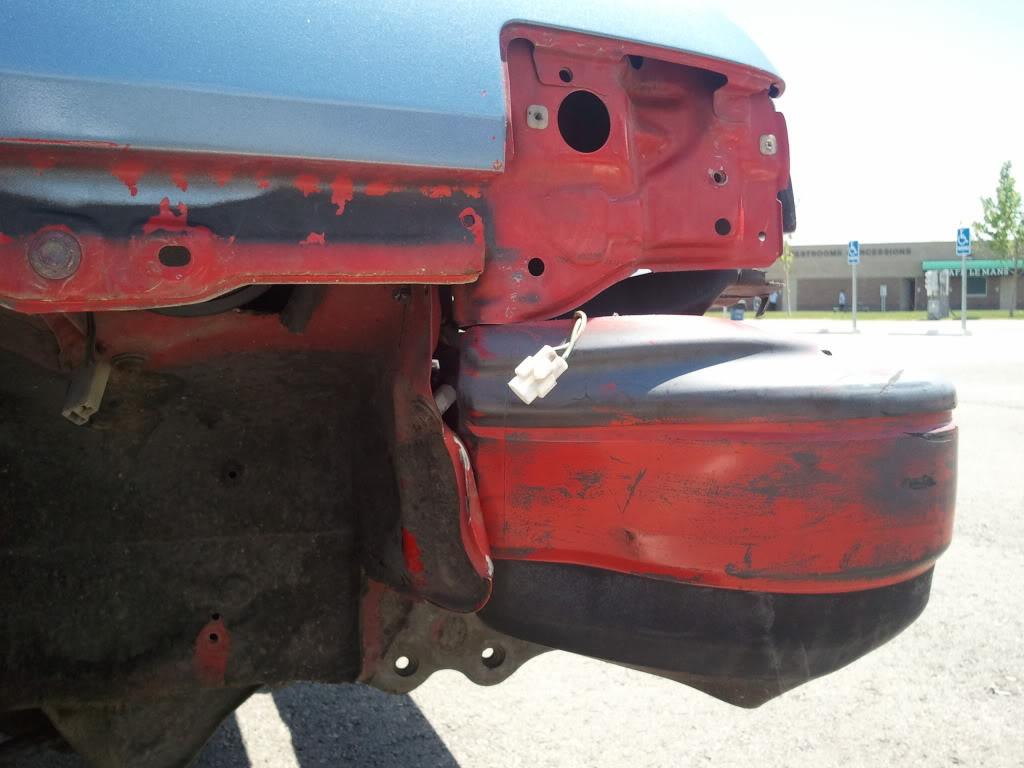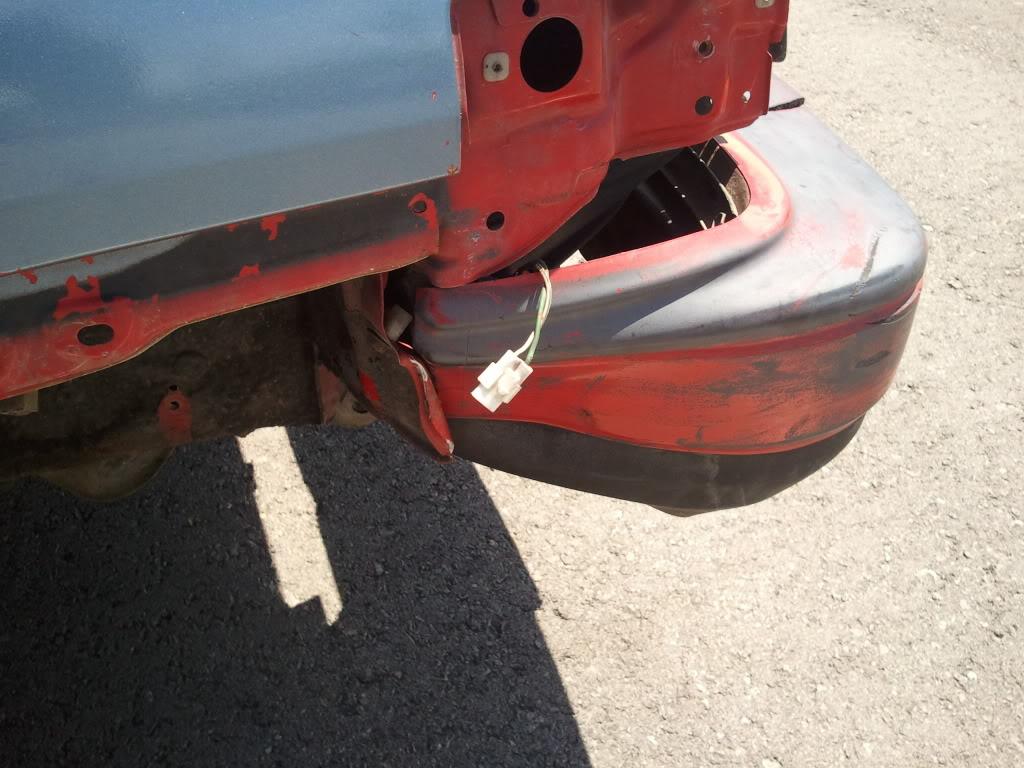 Then a week later, my Camry spun a bearing and it was no longer drivable. I resorted to daily driving the Corolla, which meant that for the second time in 6 years, I would legally be able to drive her on the street.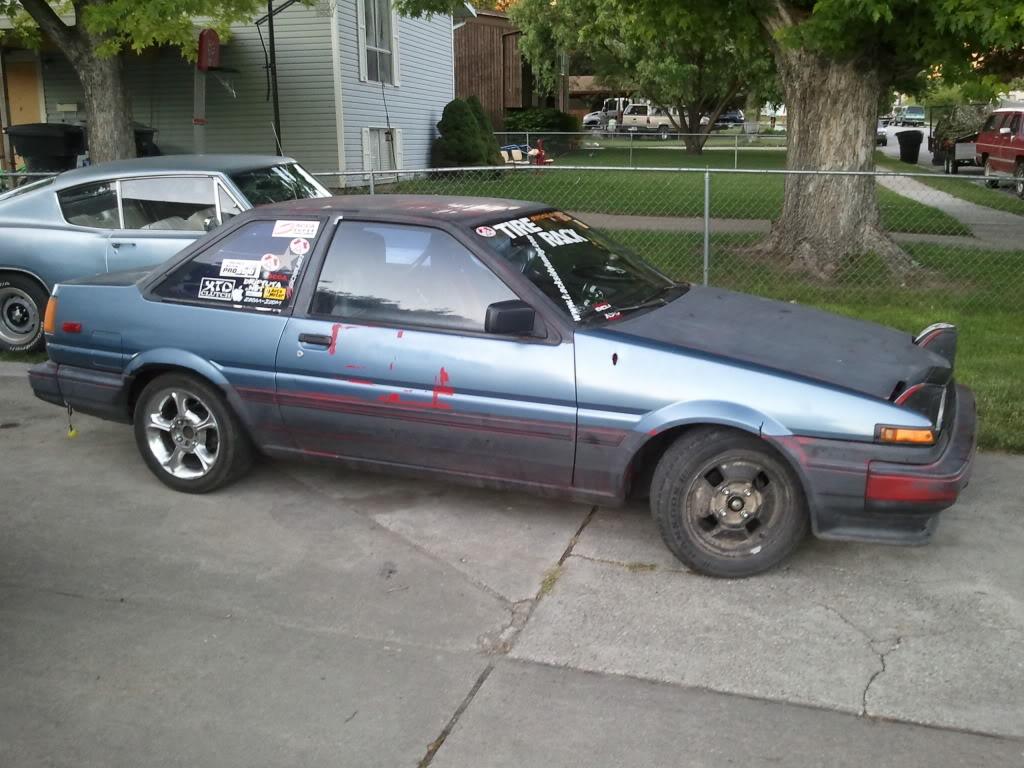 Gearhead Shirts made a AE86 Coupe shirt that I had to have. This is me showing off my pride and joy and my spiffy shirt.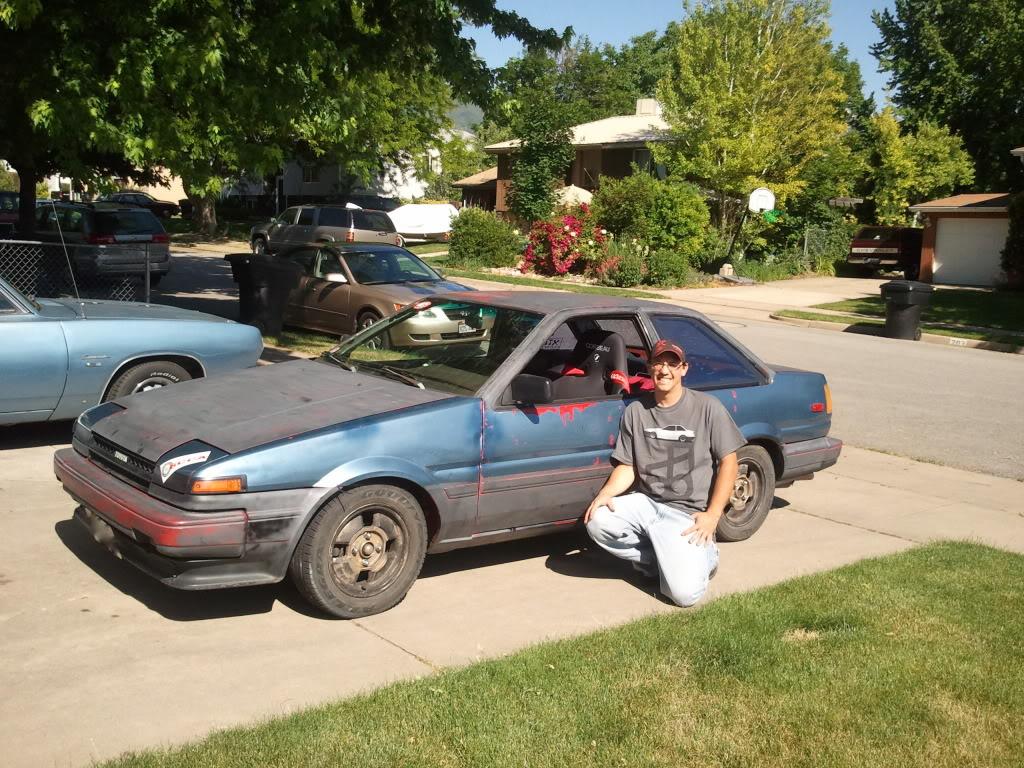 September 2011 – Two cars are better than one
10 weeks after the Camry spun a bearing, and 6 weeks longer than it should have taken, I got her running again, after a full rebuild that included shaving the head after the piston slapped it after the bearing disappeared. That meant that I had two running, legal cars that I could drive whenever I pleased. I like this feeling.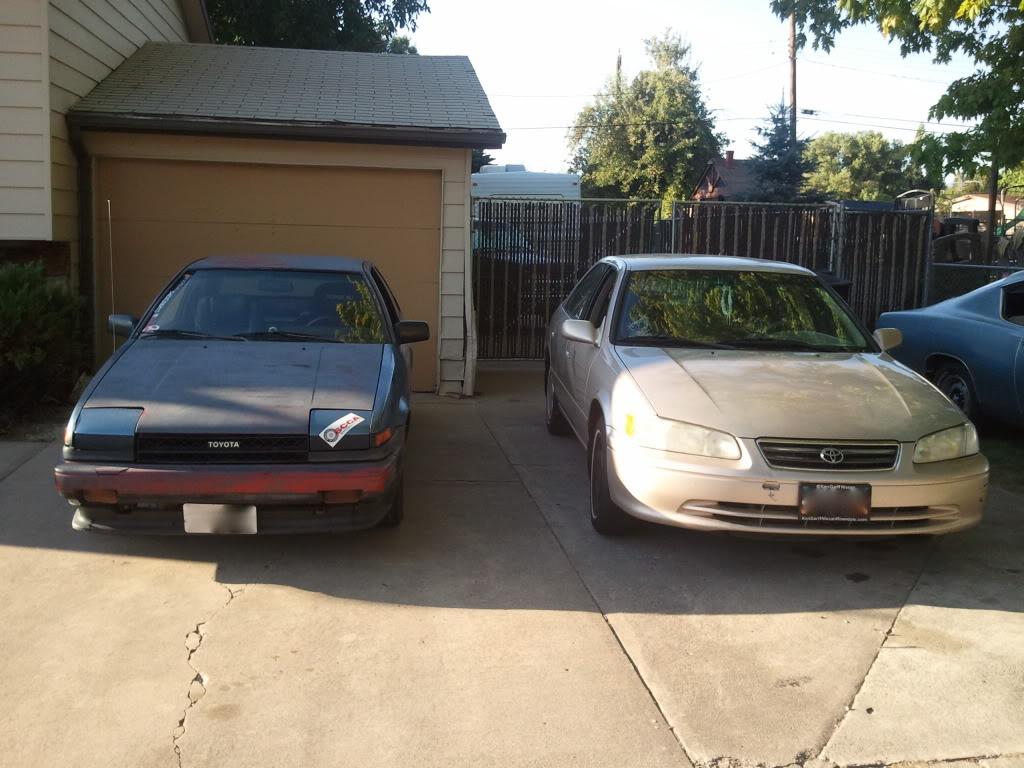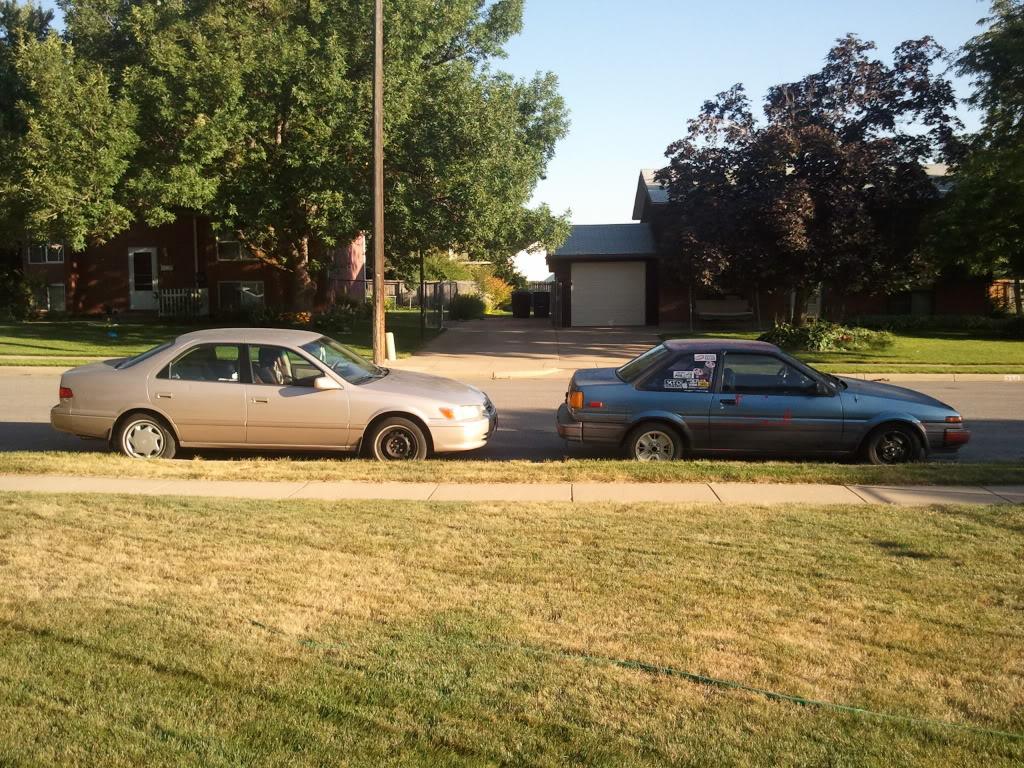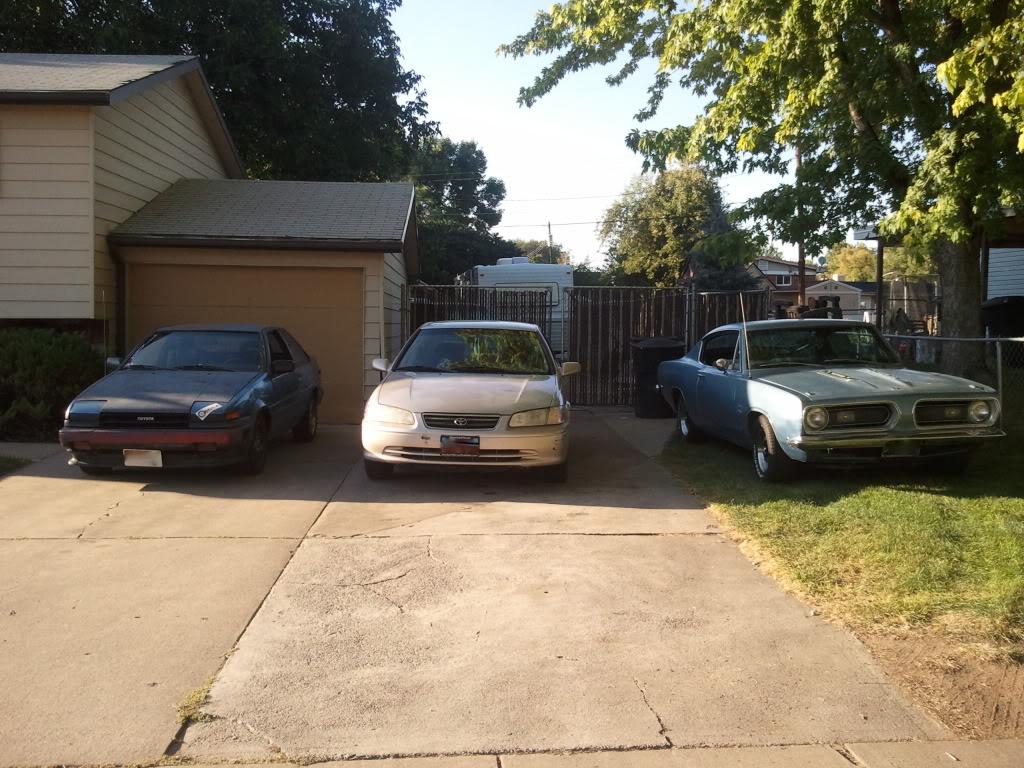 My dad's 1968 Plymouth Barracuda, fastback with a 318, 4bbl, auto, next to my cars.
September also brought another return of drifting to MMP, this time at the east Midway. There had been a lot of controversy about people making a mess, not cleaning it up or telling anyone about it, running into the fences and not telling anyone about it, and other stupid and reckless behavior that had threatened to ruin organized drift events in Utah. Thankfully, a few people stepped up to the plate to set some rules to make things run smoother, and we had another drift event to prove we can act responsibly.
It was fun spinning out again.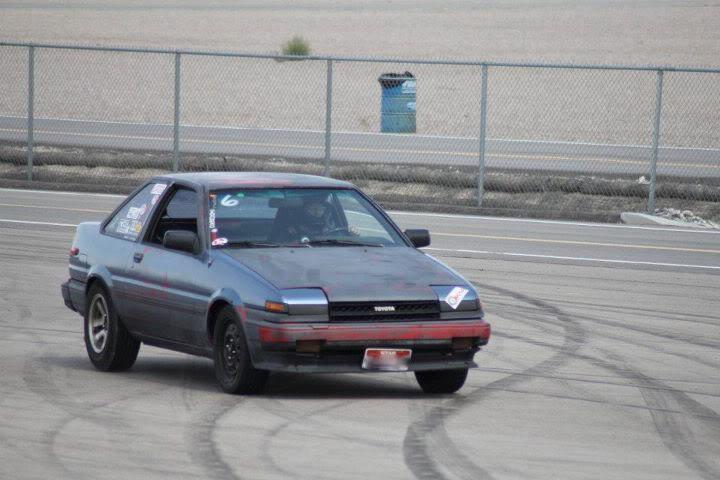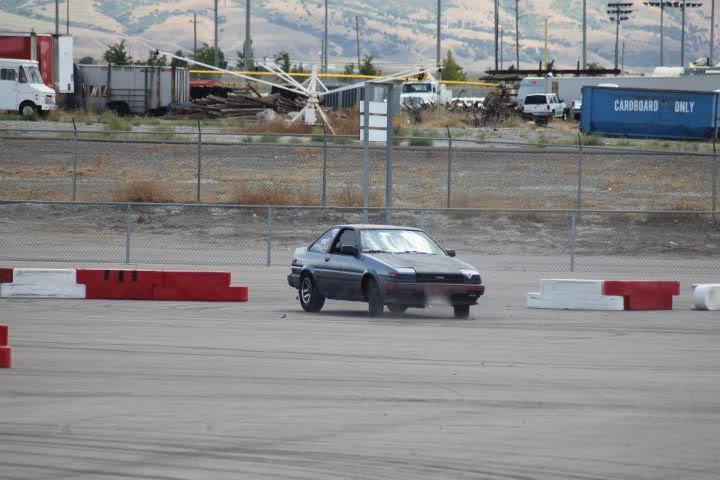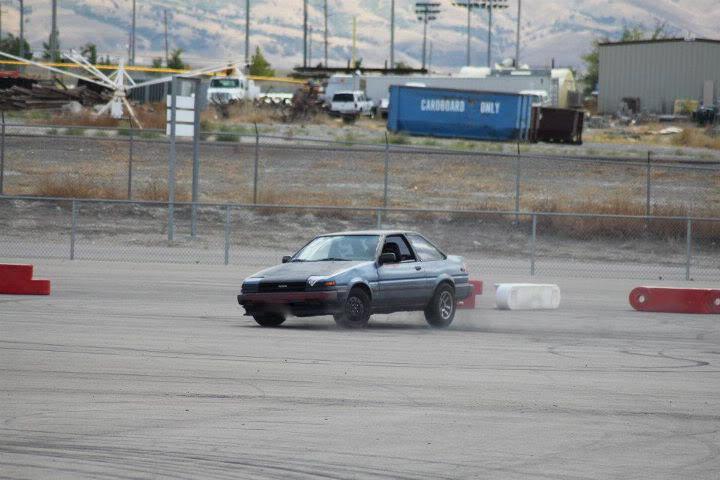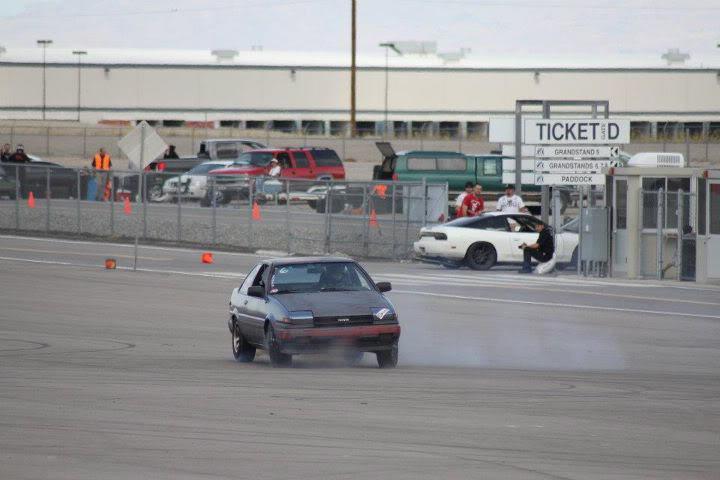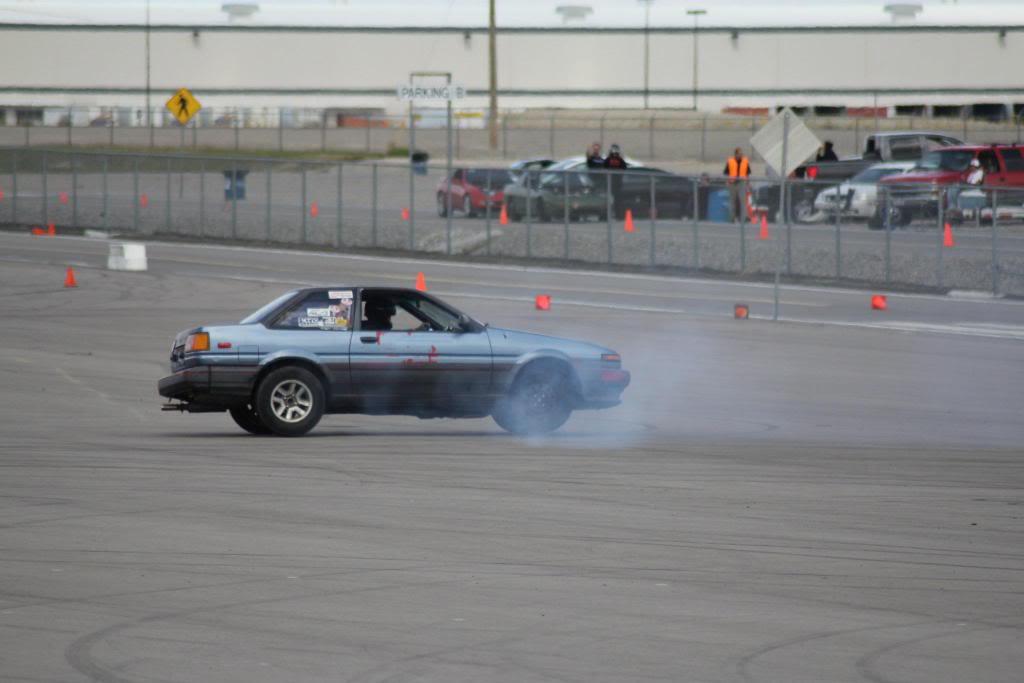 Winter 2011 - Future plans/goals
Ariel needs some coilovers. Desperately. That should be my first focus.
Then a new set of wheels and tires, probably in the 15x8" +0 range with some 195/55R15 high-grip street tires for autocross.
And I'd also like to rebuild the motor. I'm thinking a high compression ITB motor revving to 9k rpm and running off a Honda ECU, but that might wait until this engine goes or next winter, hopefully that latter.
May 2012 – Some maintenance required
Since the summer, I've taken the Corolla out to drive whenever I feel like it. It's nice to be able to drive it as long as I'm willing to fetch it out of the backyard. This winter I've discovered that while the climate control blower motor works, I have no heater. I think the heater core is clogged, but I haven't done anything about it yet. I'll get around to flushing it some.
I've also noticed a leak from my passenger front wheel bearing, and the clutch fluid disappearing, so I ordered in some new parts from RockAuto.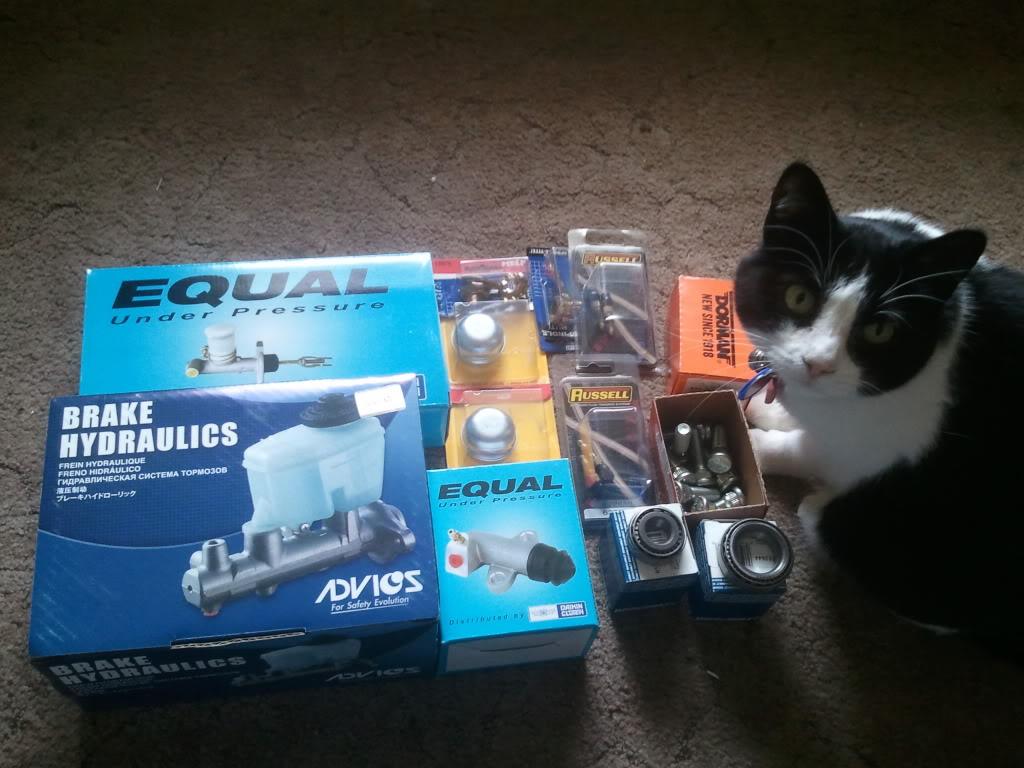 My cat investigating my new items. I bought a new BMC, CMC, CSC, front wheel bearings, nut, and dust cap, and wheel studs off a Lexus. I also plan on installing the Russell Speedbleeders when I replace everything, and flushing my clutch and brake fluid and replacing them both with some DOT 4 or Motul fluid. I'm also going to invest in a stainless steel braided clutch line from the body to the slave cylinder.
I'll try to remember to take some pics when I do things.
June 30, 2012
Well, the Corolla is sitting pretty in the backyard again. Registration expires today and I don't have the money to renew it. Also, I need to figure out why my headlights don't work (brights work, but not the low beams :/ ) and figure out if it's the salve cylinder or something else with the transmission leaking around bellhousing and clutch release fork.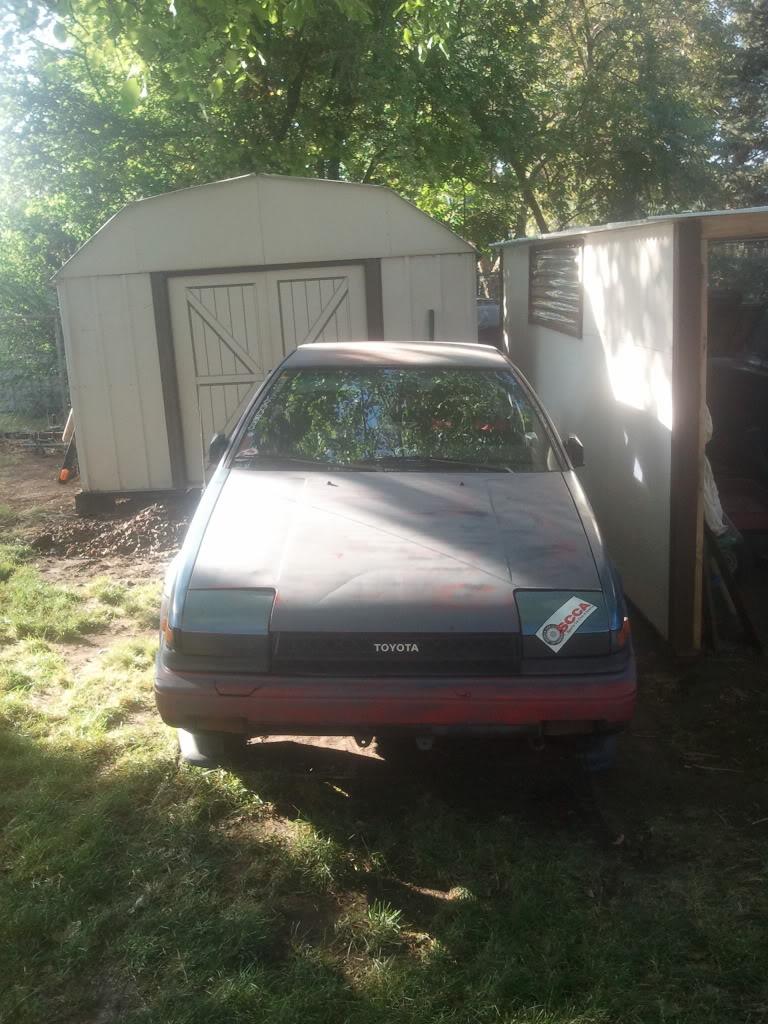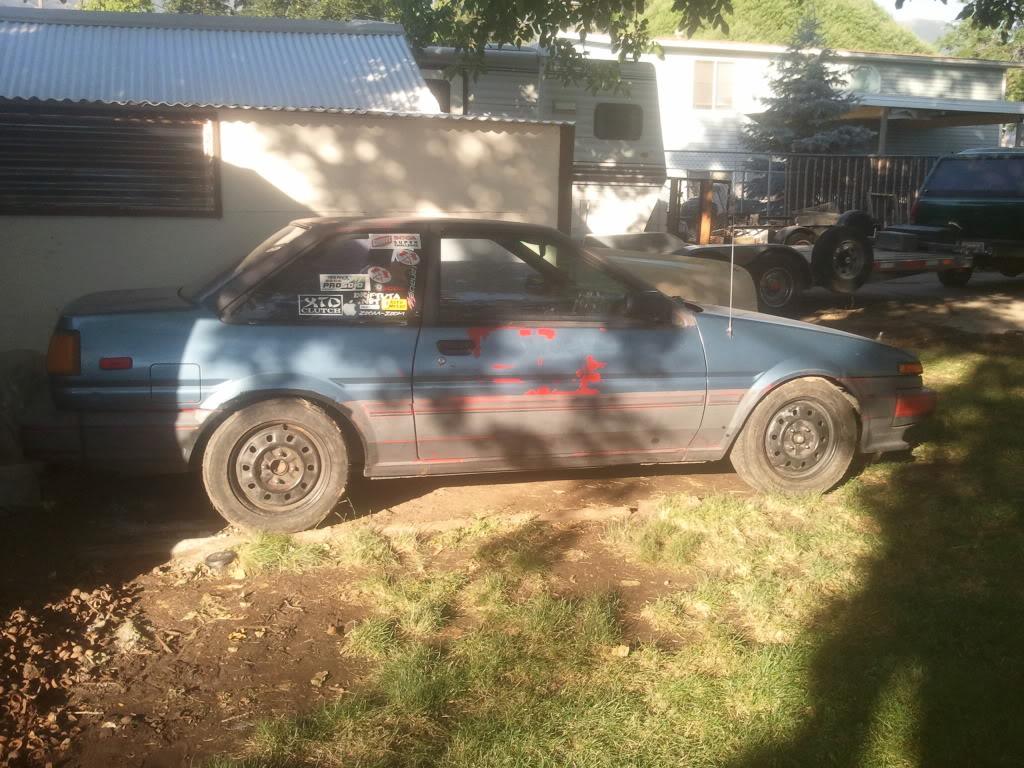 November 4, 2012
So I sold my Camry a little while back. I needed the money to pay for bills. I've been working at getting my Corolla ready for DD status. I replaced the leaking clutch slave cylinder, put in a new SS braided line for the clutch slave, a new clutch master cylinder, and a new brake master cylinder as well, while I was in there. New DOT3 fluid in both systems as well. Both the brake and clutch feel nice and strong.
I also flushed out the heater and coolant lines. Turns out nothing was clogged, but it feels better knowing I've checked it all. The heater works beautifully now.
Replaced the throttle body because I had lost the nut that kept the cable on it and had stripped the threads.
Now I'm trying to sort out the headlights. And horn. Once that is taken care of, I should be ready to get her re-registered and start driving her.
November 6, 2012
Yay! I figured out my headlight problem! It was something in the turn signal/high beam switch itself. I'm borrowing one from Will right now, but I plan on trying one from an AW11 MR2 to see if that will work too.
November 8, 2012
Painted my 280Z wheels. These will be my winter wheels. Getting snow tires put on them tomorrow.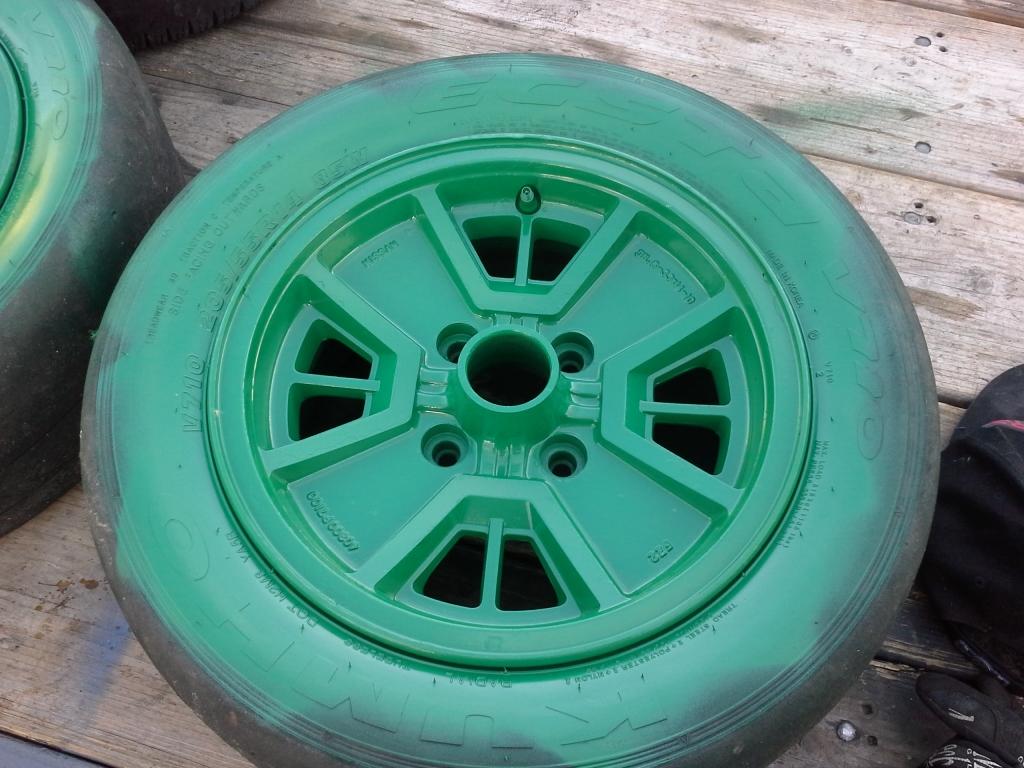 November 9, 2012
Winter wheels and snow tires mounted.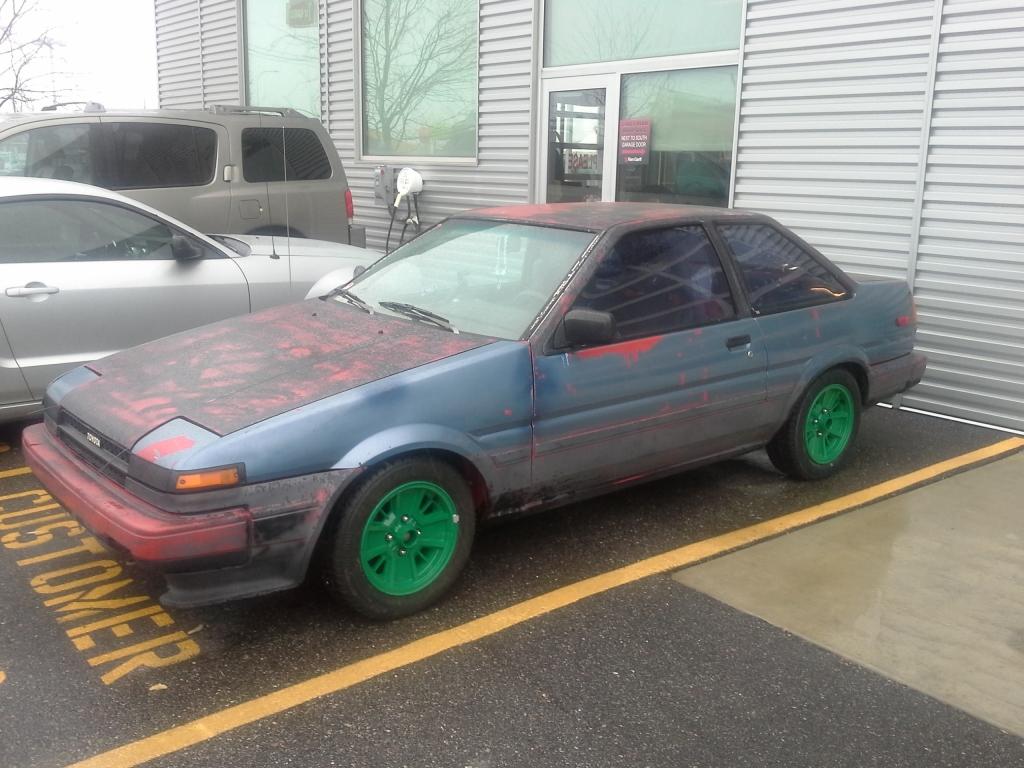 November 21, 2012
I picked up a 90ish Honda Accord front lip at the junkyard a few weeks ago. Finally mounted it up. I had to trim about 8 inches out from the center of it as it was too wide. I also had to fight with it a little because it isn't the same shape as the Corolla, but all said and done, it doesn't look too bad.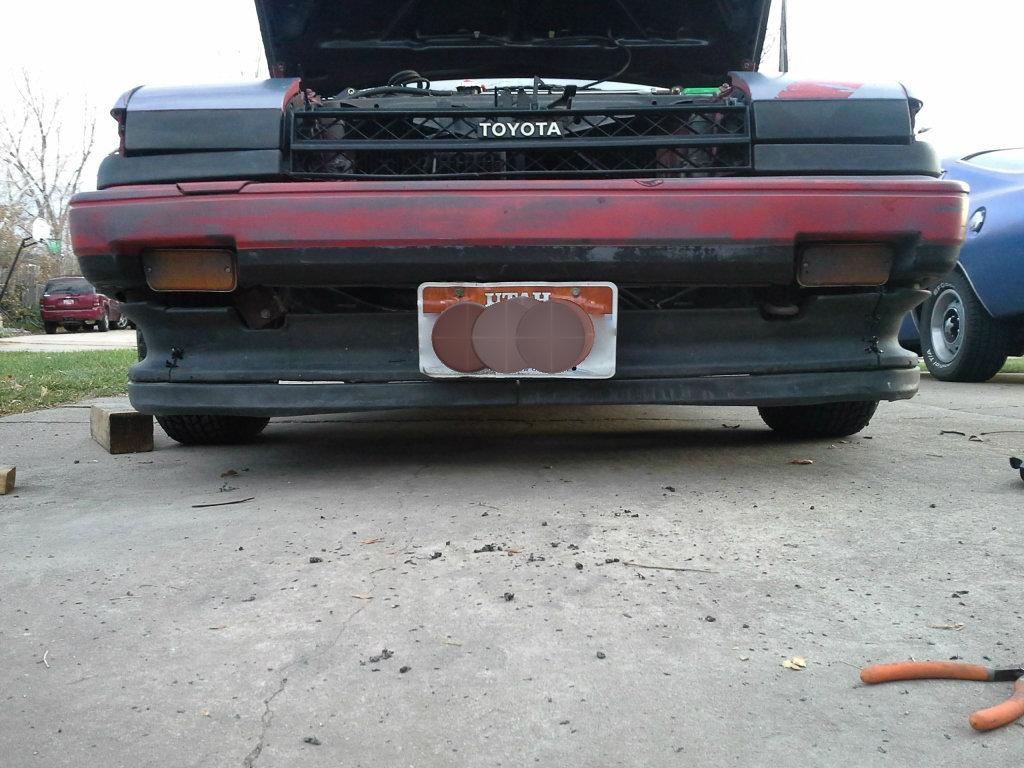 Also went out for a drive on No. Ogden Divide to take some pics.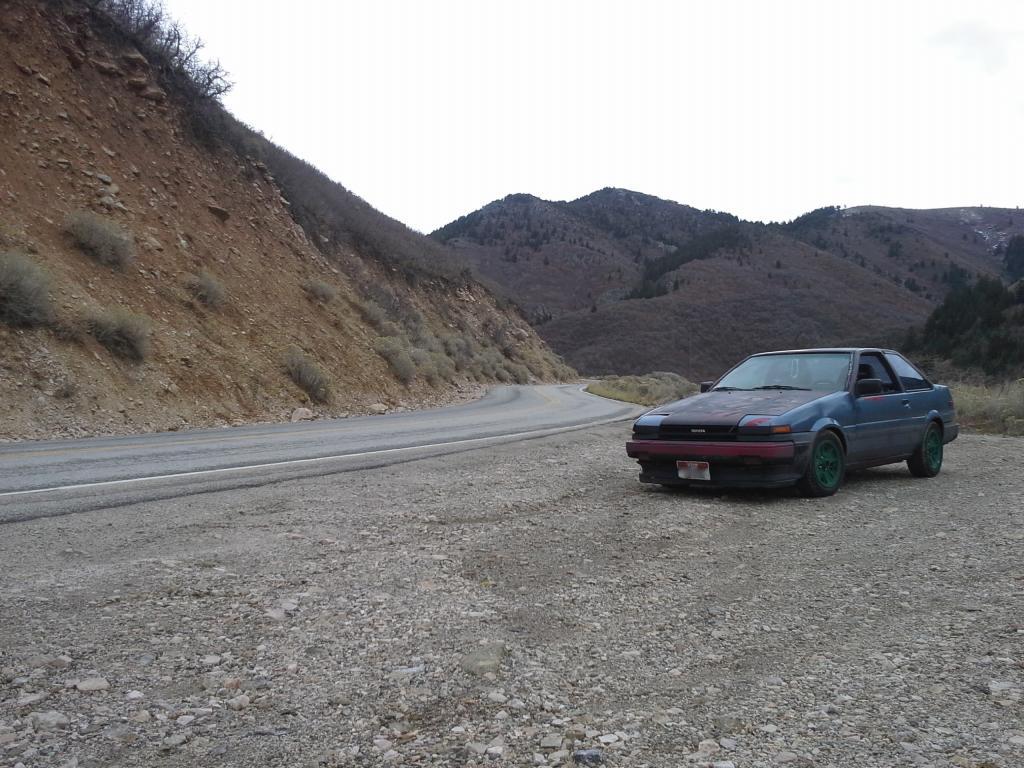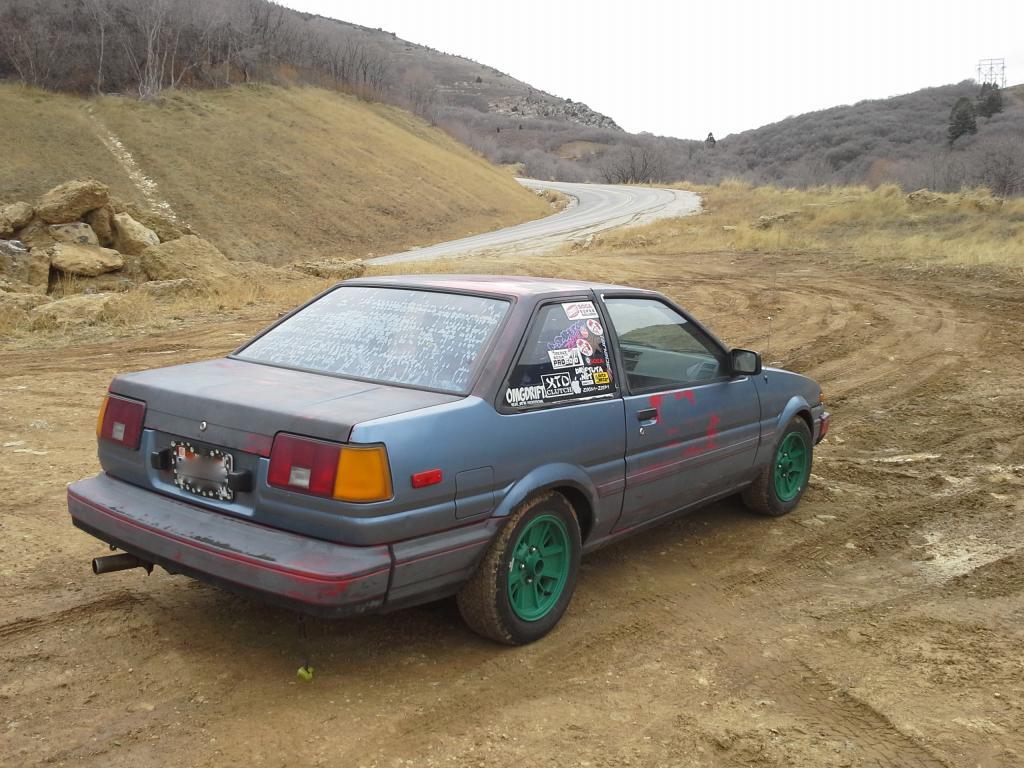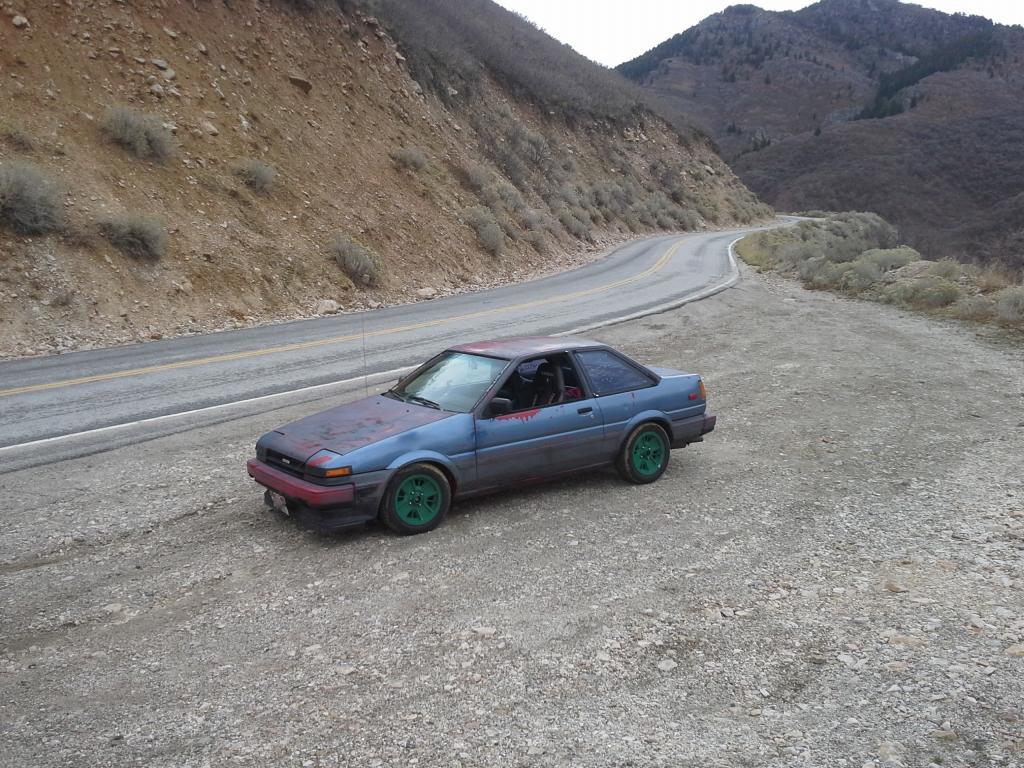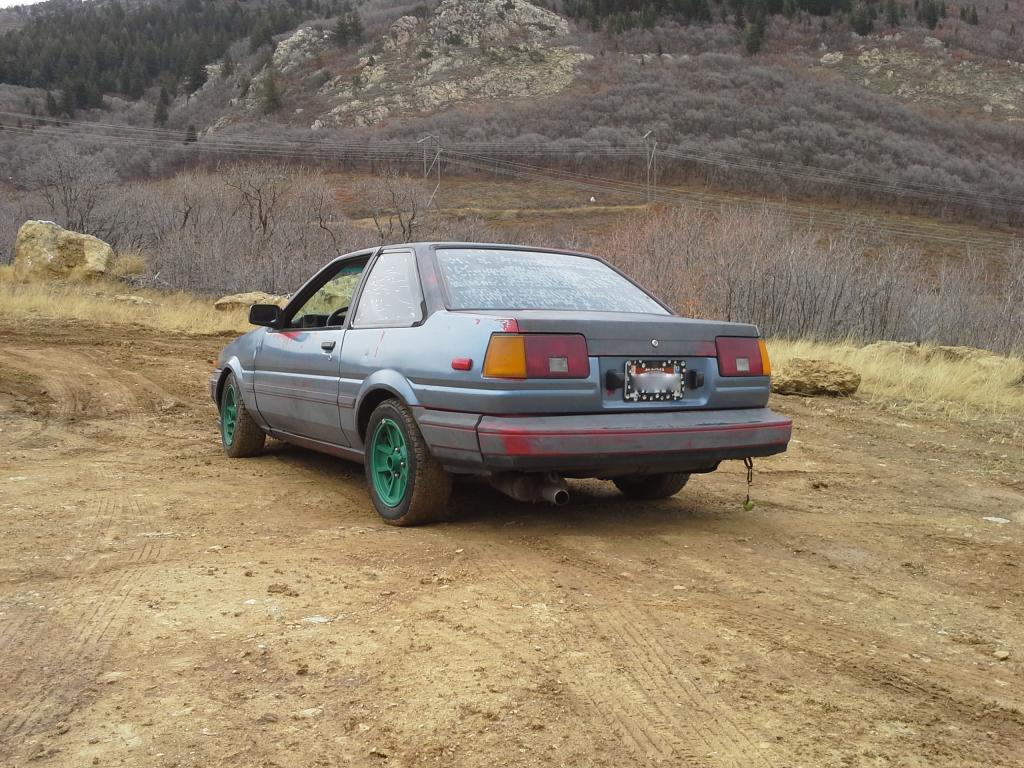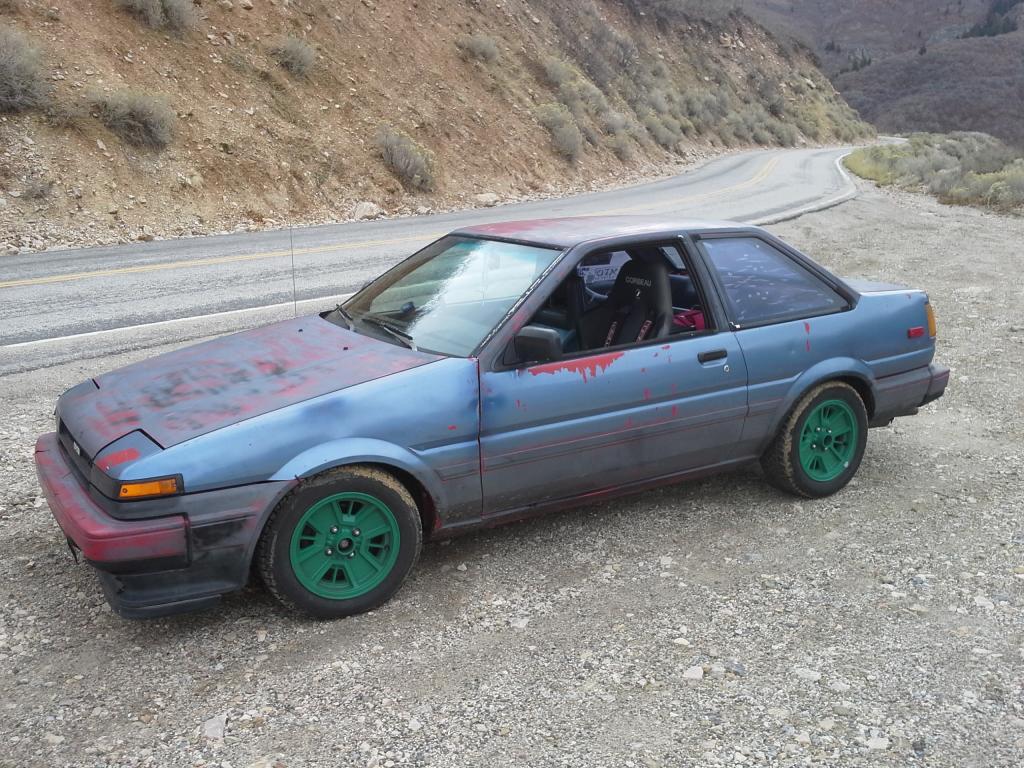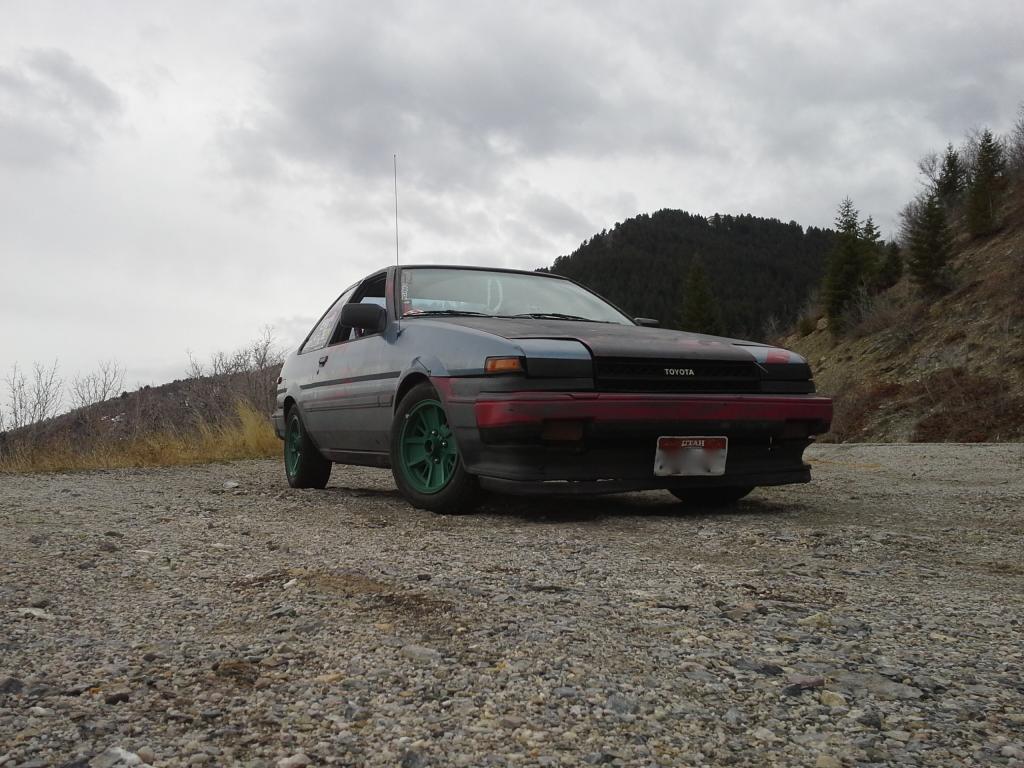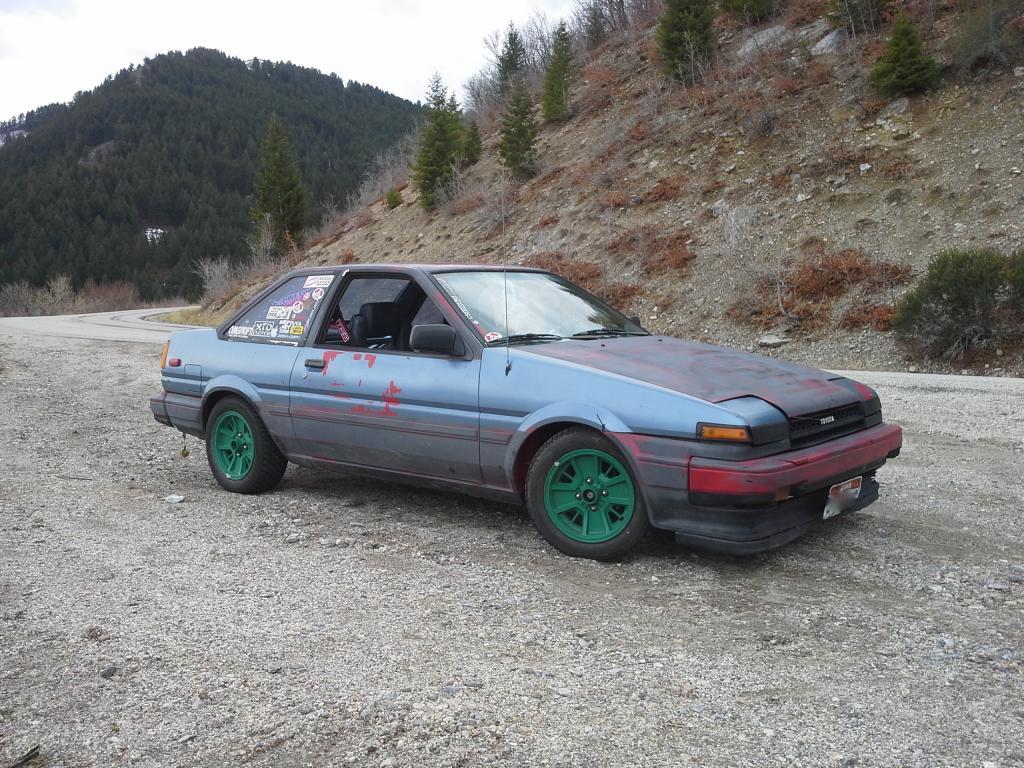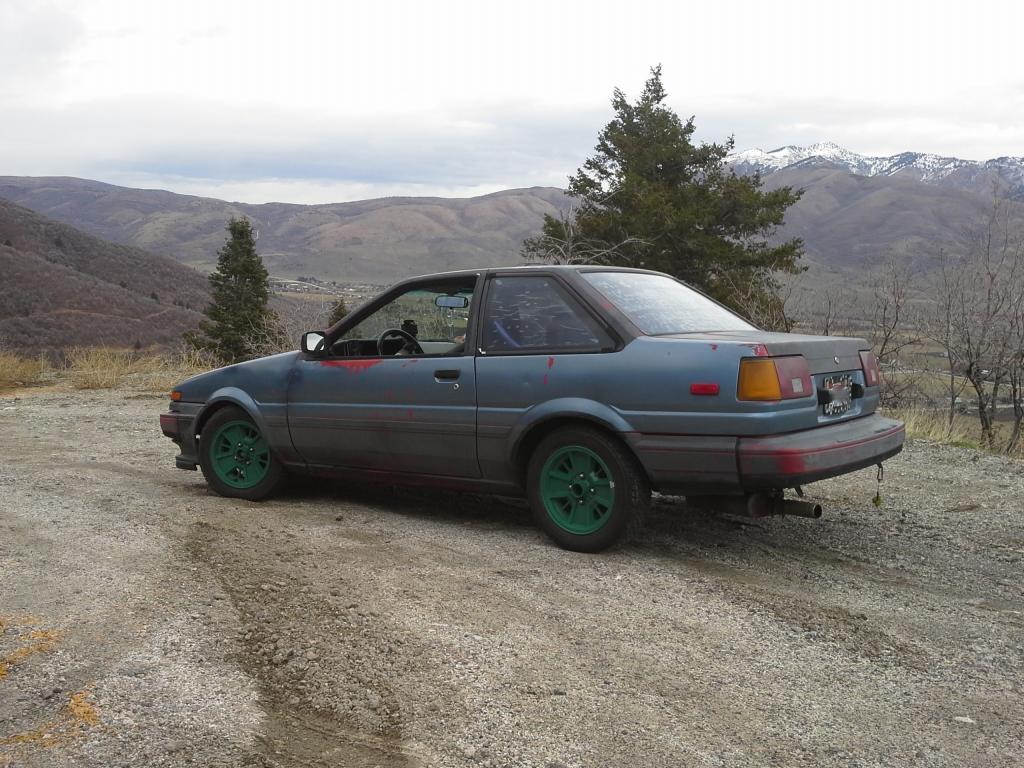 December 23, 2012
Got some fog lights from a friend for a steal and installed them this weekend. I rather have square or rectangle lights, but these were too good of a deal to pass up. I might switch the bulbs to some yellows instead of whites though.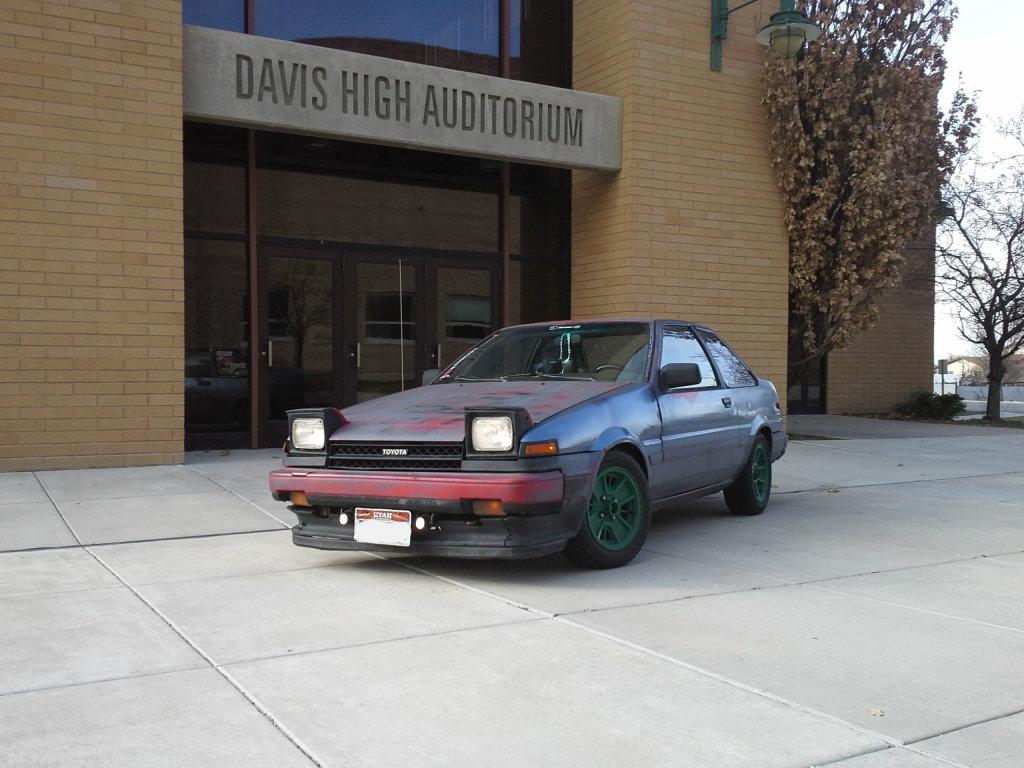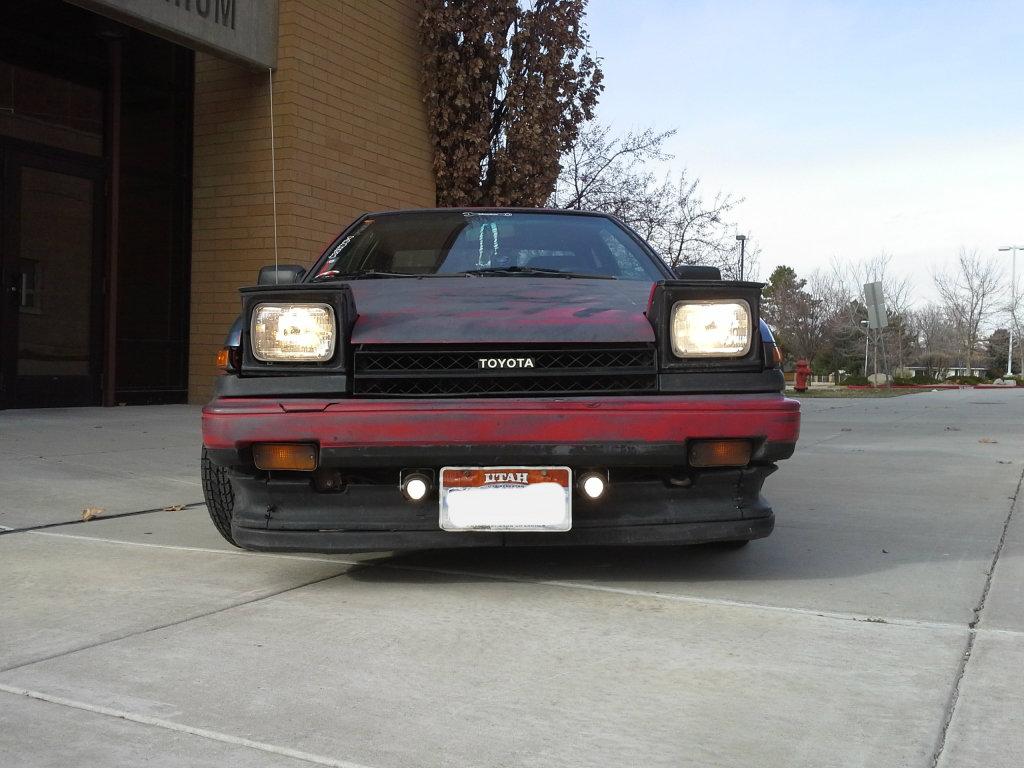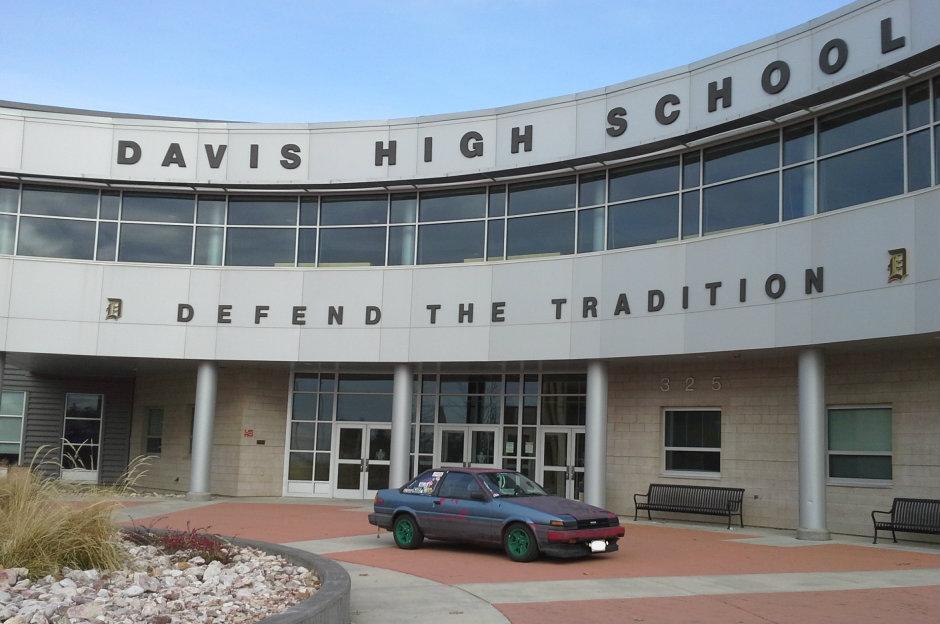 December 29, 2012
Went for a drive today. I don't think my Corolla really should have been able to get a few of the places it did.
Out by Farmington Bay, west of Legacy in Clearfield. Yes, I drove through that (on the left side of the picture are my tracks.)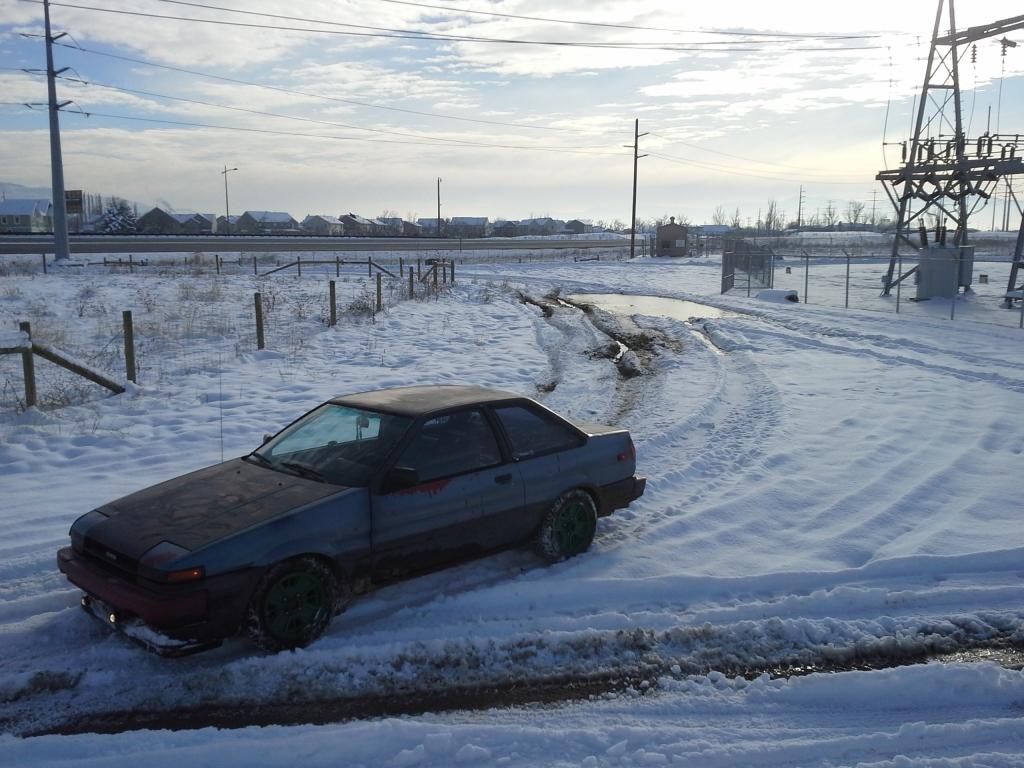 Up along the firebreak road in Clearfield.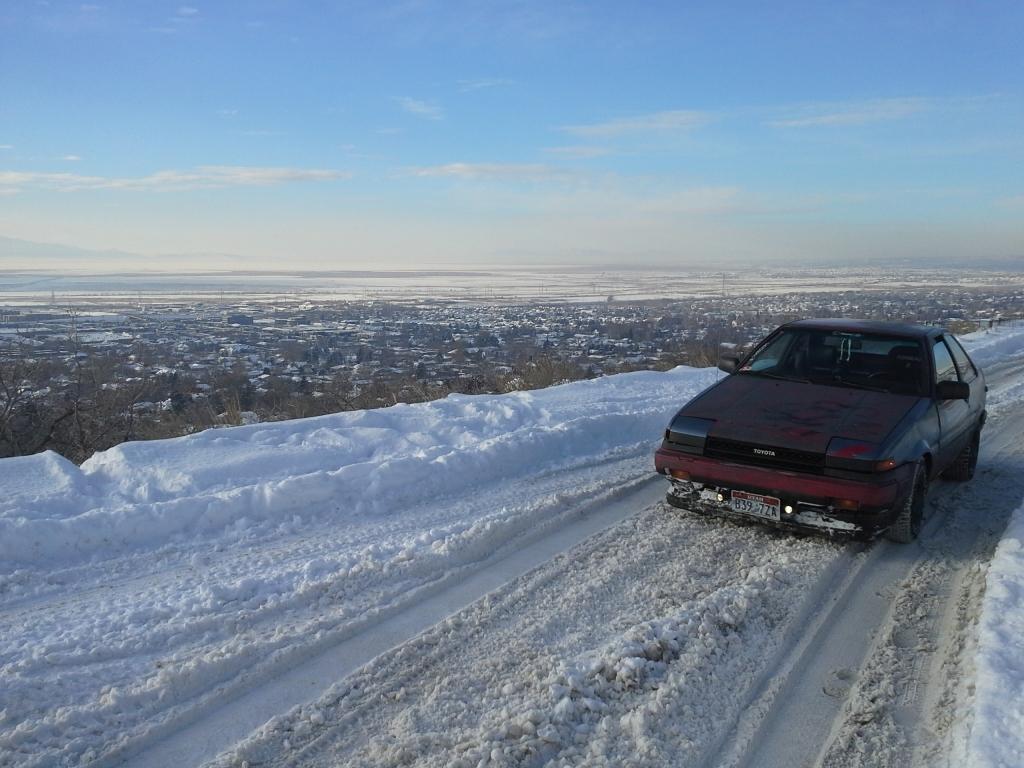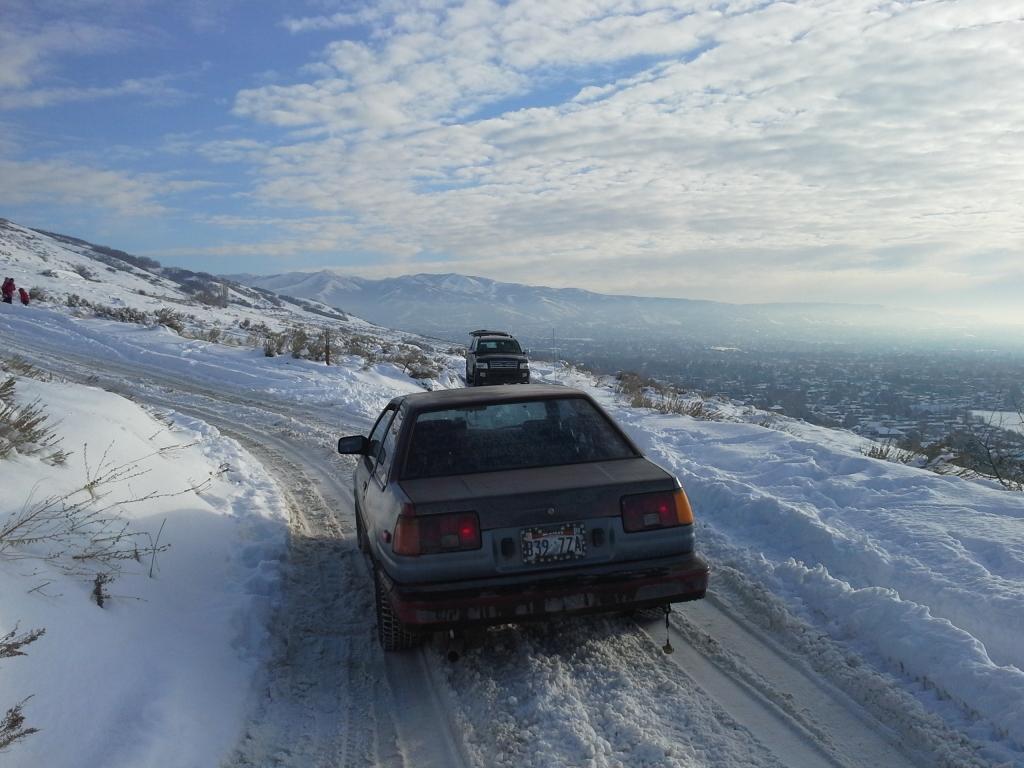 The road up to the spot above.
Looking over the valley from the Bountiful Lion's Club shooting range.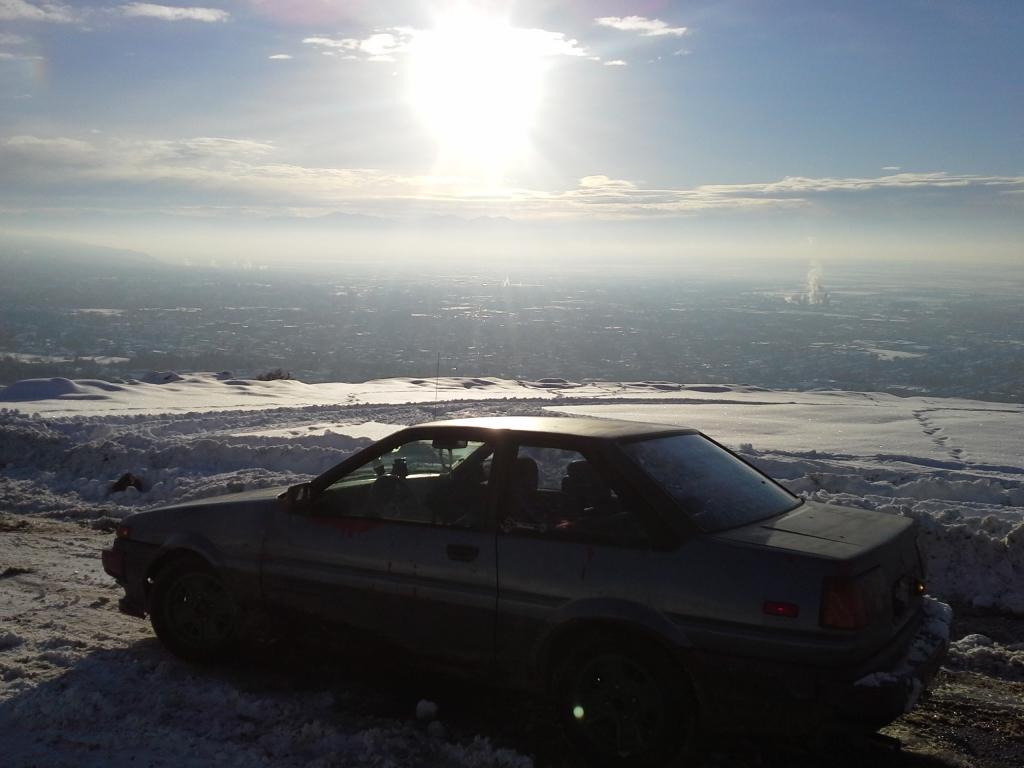 Getting stuck in the snow at the range.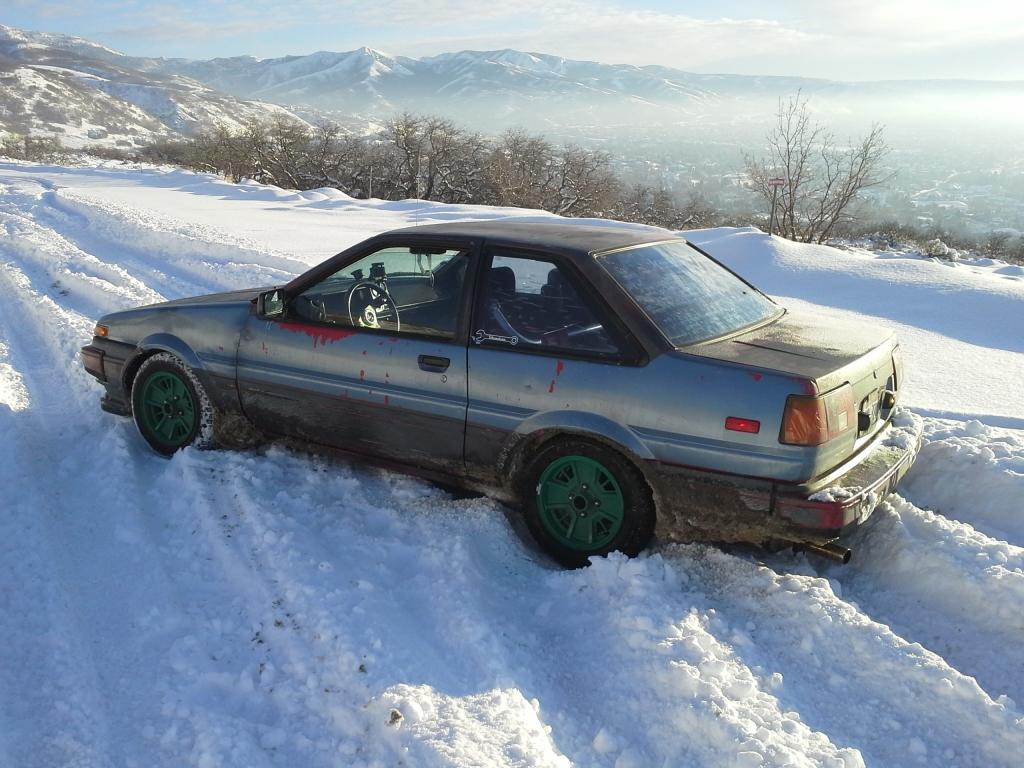 Getting pulled out by some very friendly people.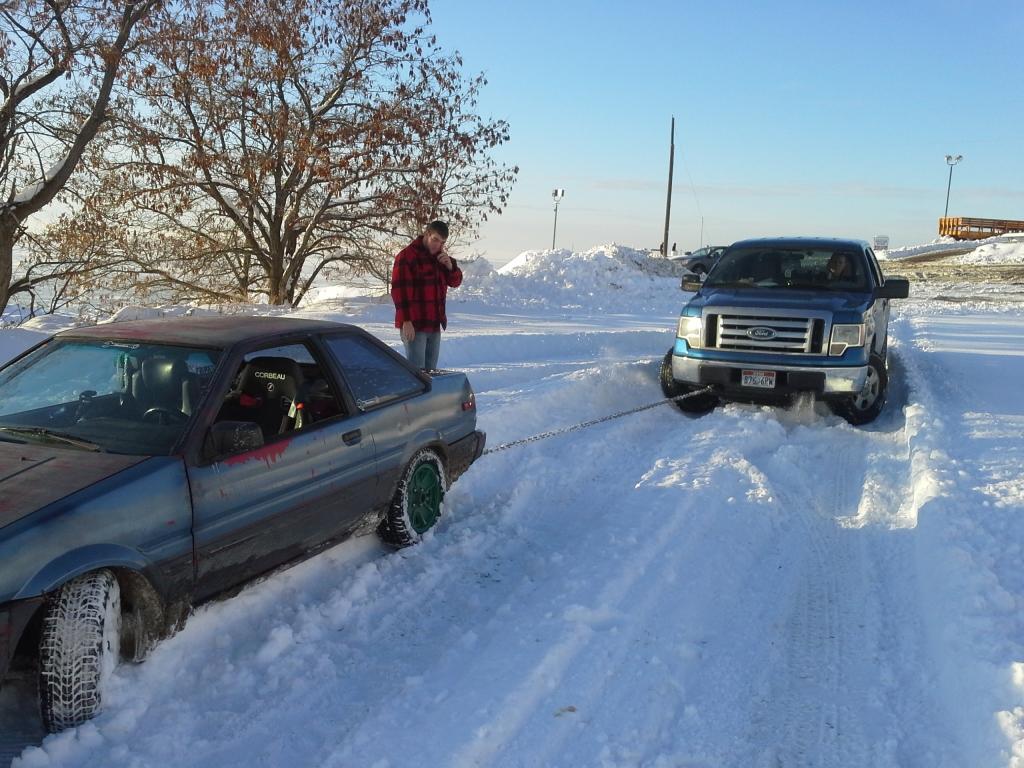 How dirty she ended up before a carwash.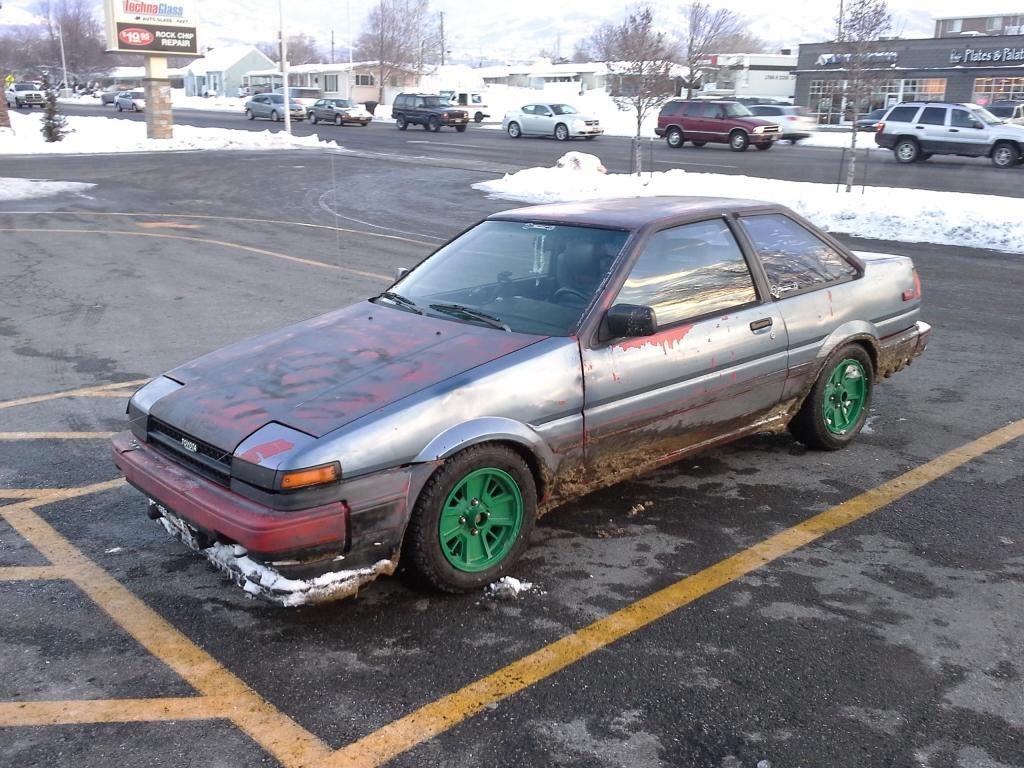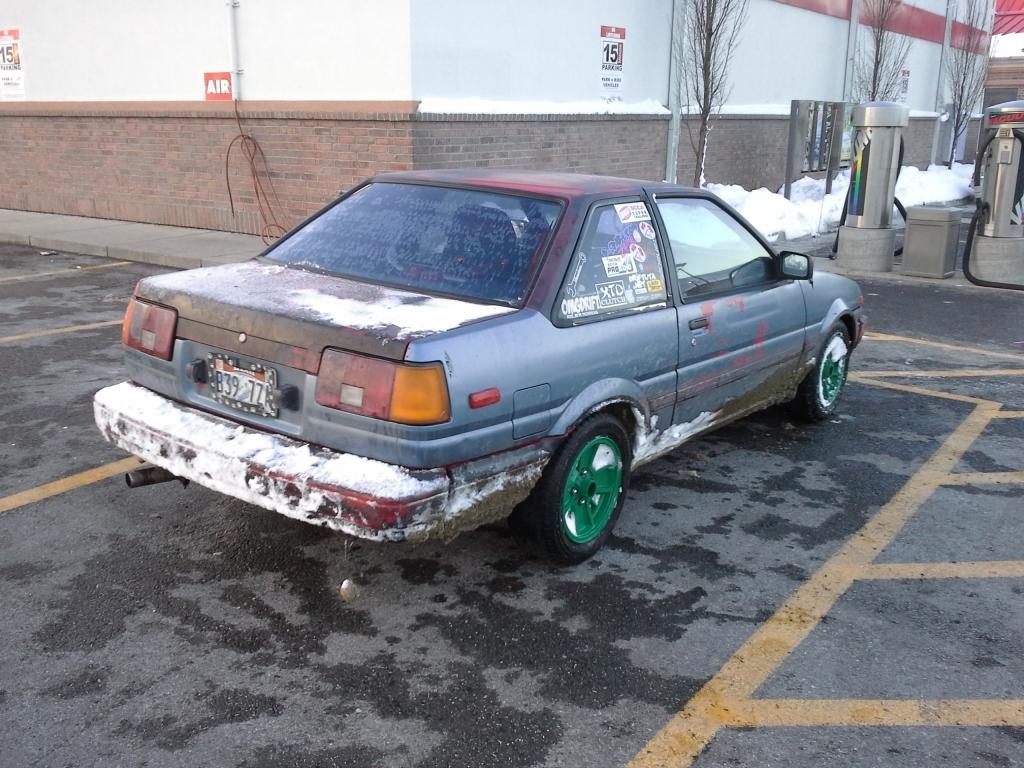 January 12, 2013
Well, this was from Saturday, but it was a lot of fun.
Playing around in the snow with my brother riding along.
Letting my brother try out my car.
Thanks!
I've never "properly" fixed the fender. I just took it off and tried to bend it back into shape. Every now and again, I have to pull/pry on it to keep it from catching on the door. Ideally, I'll replace it in the future, but it's just not a priority right now.
My autocross setup was the 280Z wheels up front and some 15x7" +40 chrome 5-spokes in the back. I ended up selling the chrome wheels to a buddy a while ago. Then I painted the 280Z wheels green for winter use.
1-24-2013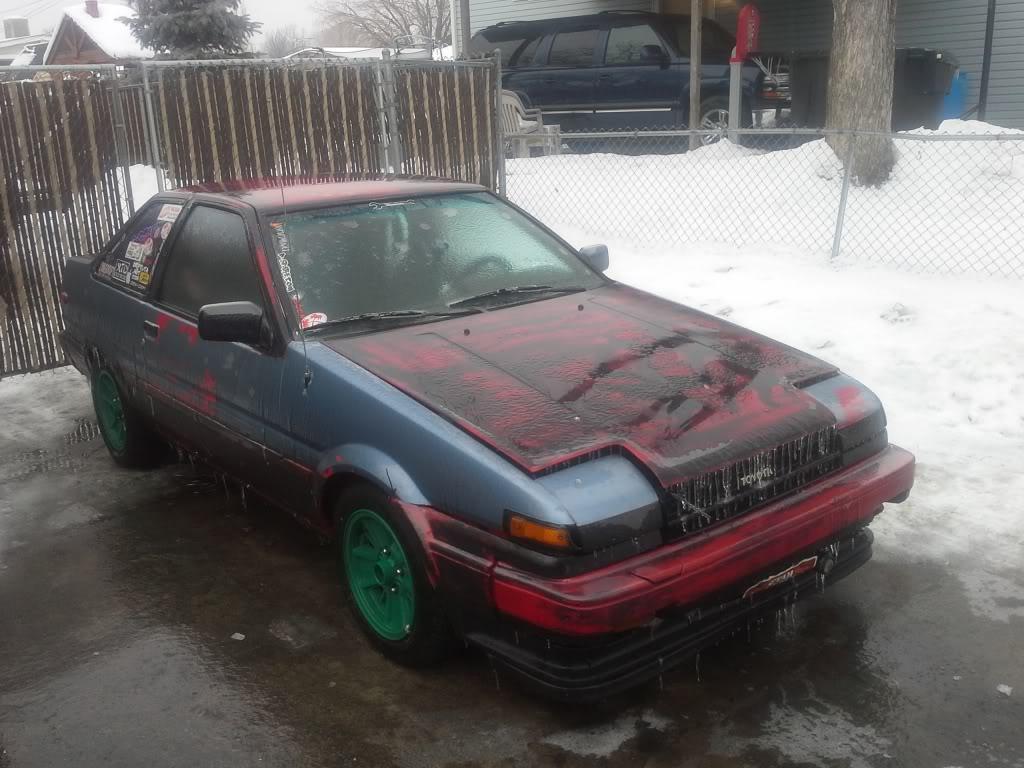 Um, yeah. Screw going anywhere today.
3-3-2013
Nothing to update about my car but I do have an update to my life.
I finally have a job! I'm working at a local O'Reilly Auto Parts store. It's only part time right now, but it's better then sitting around doing nothing. Once I get more settled into this job, I might look for another part time job before going back to school.
Also, I've been doing a lot of thinking about the Corolla and the direction I'd like to take it. I hope to one day make it a pure track car, maybe door-to-door NASA racing or time attack, but the current drivetrain won't really take much more abuse then the daily driving and spirited driving I've been subjecting it too. I'm starting to think about moving from a 4AG power plant to the Honda S2000 swap. I'm also considering a custom built Chevy 10-bolt like a friend has, but both the rear & the S2000 swap are a long ways off. I definitely need more seat time & coilovers on the car. A fresh set of wheels & tires would be nice too.
To get the Corolla off of DD-duties and back to being the often neglected project that it normally is, I've been looking around for a suitable DD. I'm torn between something FWD & fuel efficient but fun (Civic, Integra, Sentra, G20), or RWD, sorta fuel efficient & fun (S13, mkIII Supra, Z31, FB or FC RX7), or getting a 2WD 70's-95 Toyota xtra cab pickup and making it into something of a shakotan DD and eventually doing a 1UZ and airbag setup on it.
Whatever I end up going with, I hope to get it for $3K or less by June. The sooner, the better, but that kinda depends on me getting my finances back in order and whether or not I can find a second job soon.
3-20-2013
poorutron wrote:
inspiring story of a "little engine that could" but hum I'd said civic since they're dime a dozen in most places so maintenance aint too bad
I've thought about a Civic too, but I'm a little particular about what kind of Civic I'd want. Right now it looks like I'll be getting a cheap Hyundai Excel that needs some work from a friend, so I'll do that so I can take it easy on the Corolla.
March 20, 2013 – Employed & IDrift
So at the end of February I finally got a job at an O'Reilly's Auto Parts store in Syracuse. It's nice to be working again and I'm really enjoying it! Now I can afford gas to drive and hang out with friends!
First I fixed my fog light mounting. One of the lights wasn't mounted very securely, so I re-drilled the hole in my bumper support and used longer bolts. Now the lights stay in place.
March 16 was going to be the first drift event of the season put on by Innovative Garage and D-Spare Drift Team at Miller Motorsports Park. I volunteered to help run the event because I didn't have the money to drift, but Jason of Innovative said he'd let me take a few runs in my car if I wanted to. I couldn't say no.
First, I prepped my car the best I know how.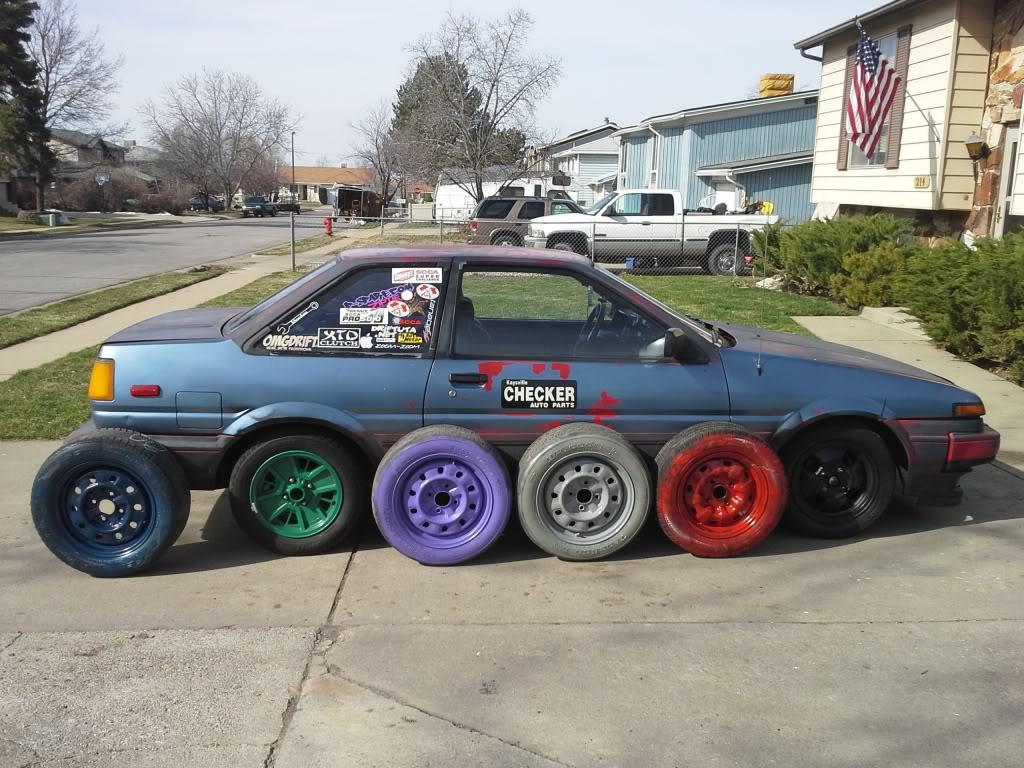 more colors.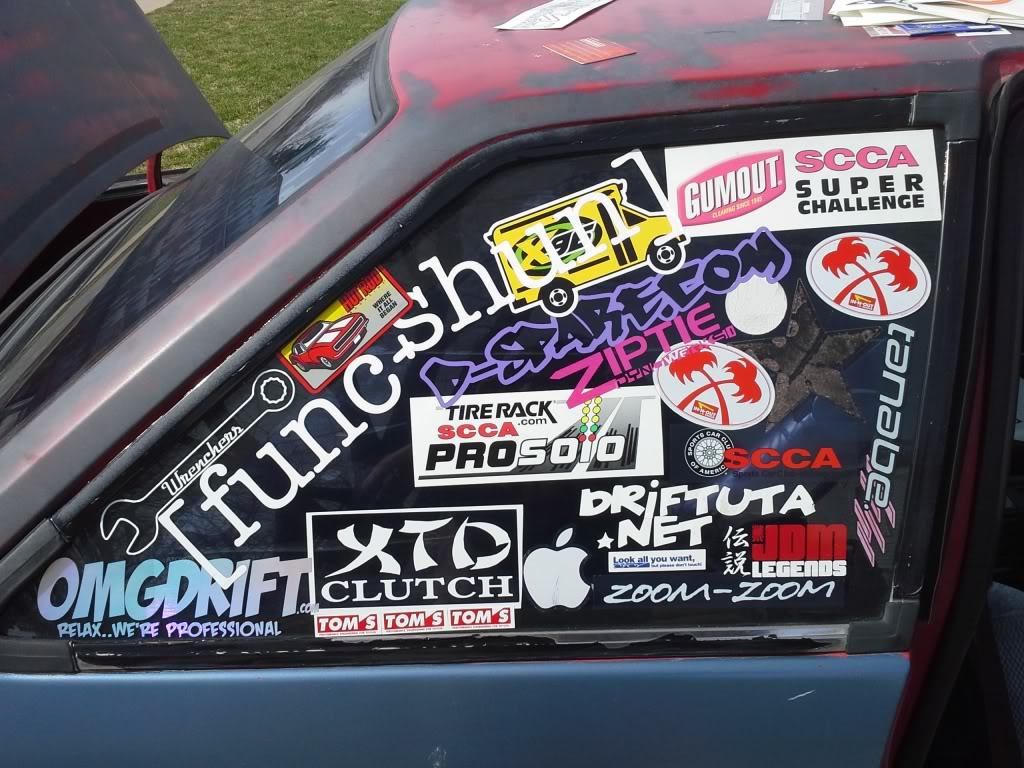 more stickers.
I worked the course during the morning, fixing cones and barriers, etc. Also, a Mustang there broke the U-joints on his drive shaft while drifting.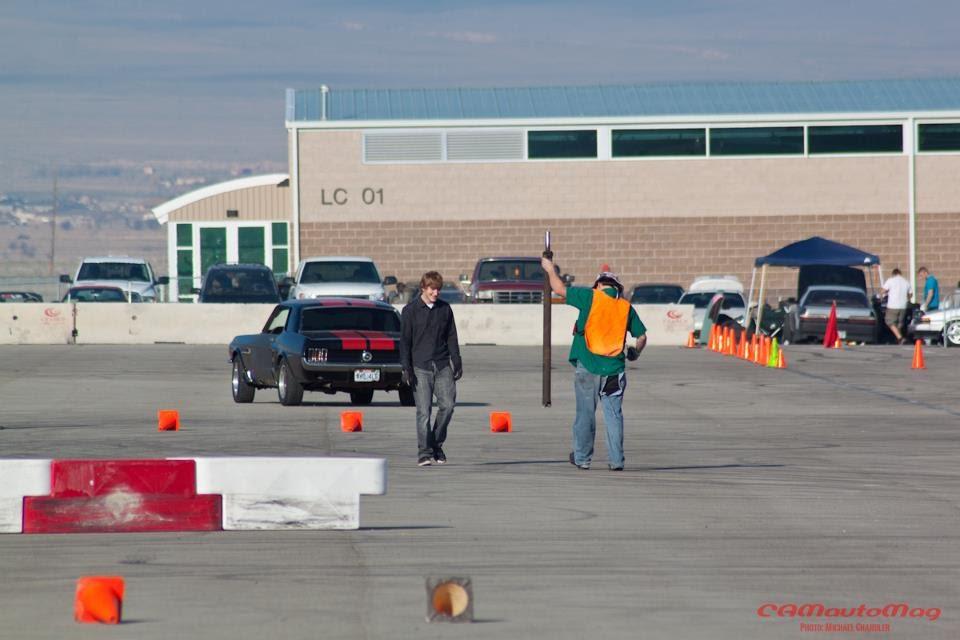 The afternoon was my turn to drive. I didn't do very well, but considering I haven't really drifted in about 1.5-2 years, I don't feel too bad about it. Here I am in the staging line with Derrick Lopez riding shotgun as an instructor. He drifts a 2004 STi that he's converted to RWD himself. He's a fantastic fabricator and driver.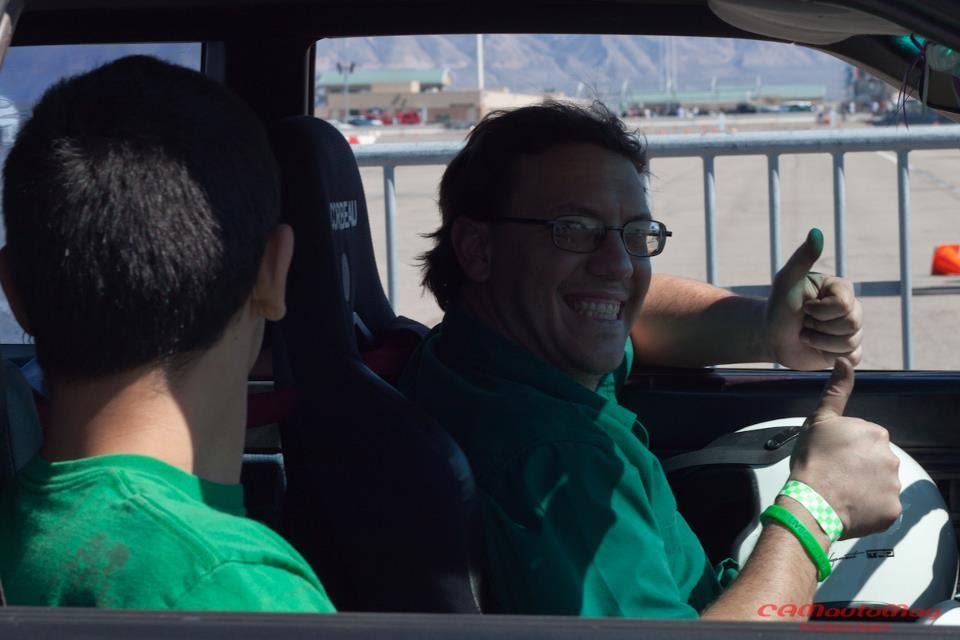 I had a great time drifting and hanging out with friends. It was so fun to get back behind the wheel and kill some tires without worrying about cops or wrecking. I really need some coilovers though, the body roll is terrible. I do have some video footage that I will try to edit and post later today.
Also, during my free time, I've been helping a buddy tear into a 98 GTI and try to get that running. The original motor in the car disintegrated a rod, so we're hoping a simple engine swap will get the car running again. As I dismantled the old engine, I took rod & piston no.3 as a trophy since I lost my rubber ducky sometime last week.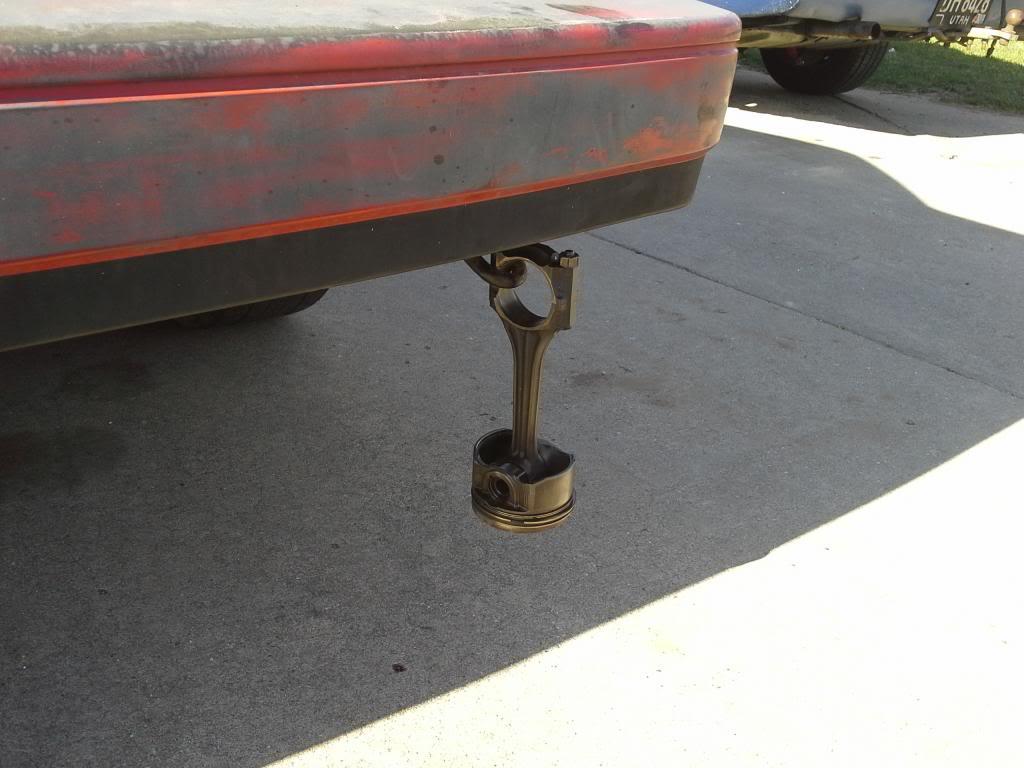 GTI piston
4-13-2013
April 13, 2013 – Freshening Up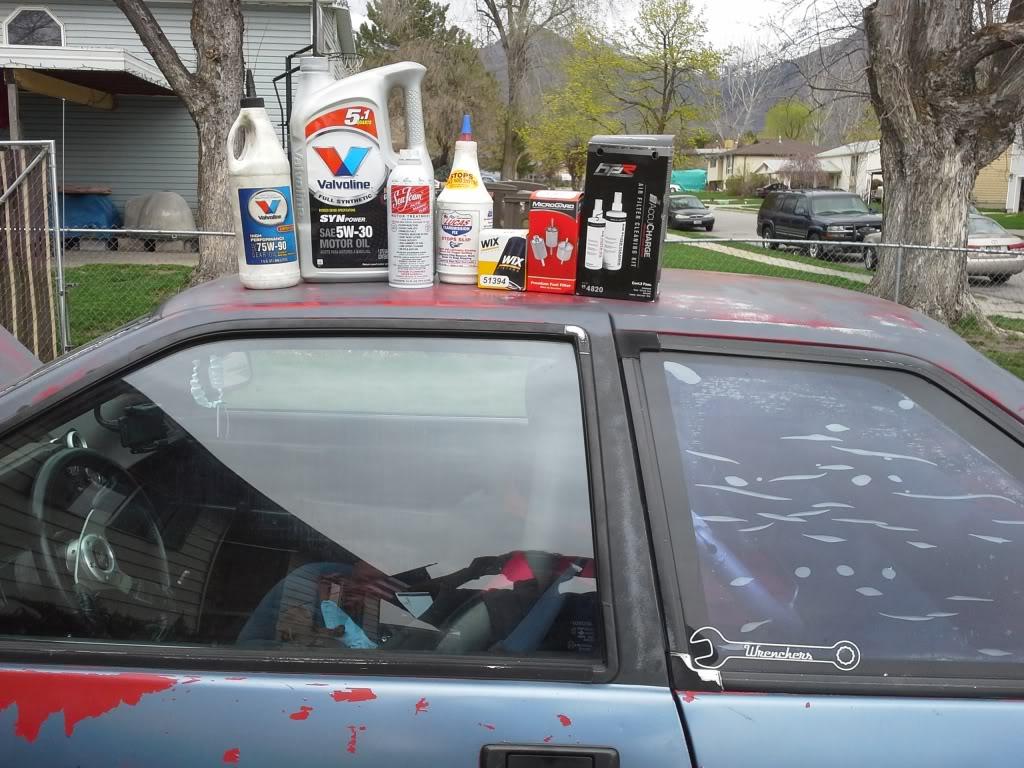 Today I did some maintenance on Ariel. Changed the engine oil, transmission oil, and differential oil. I also cleaned the air filter and replaced the fuel filter. I seem to be leaking a bit from the input shaft of the transmission, so I added some Lucas Stop Leak to try and help that. I also threw a can of Sea Foam into the car to see if that helps.
April 14, 2013 – UMCA Dyno Day!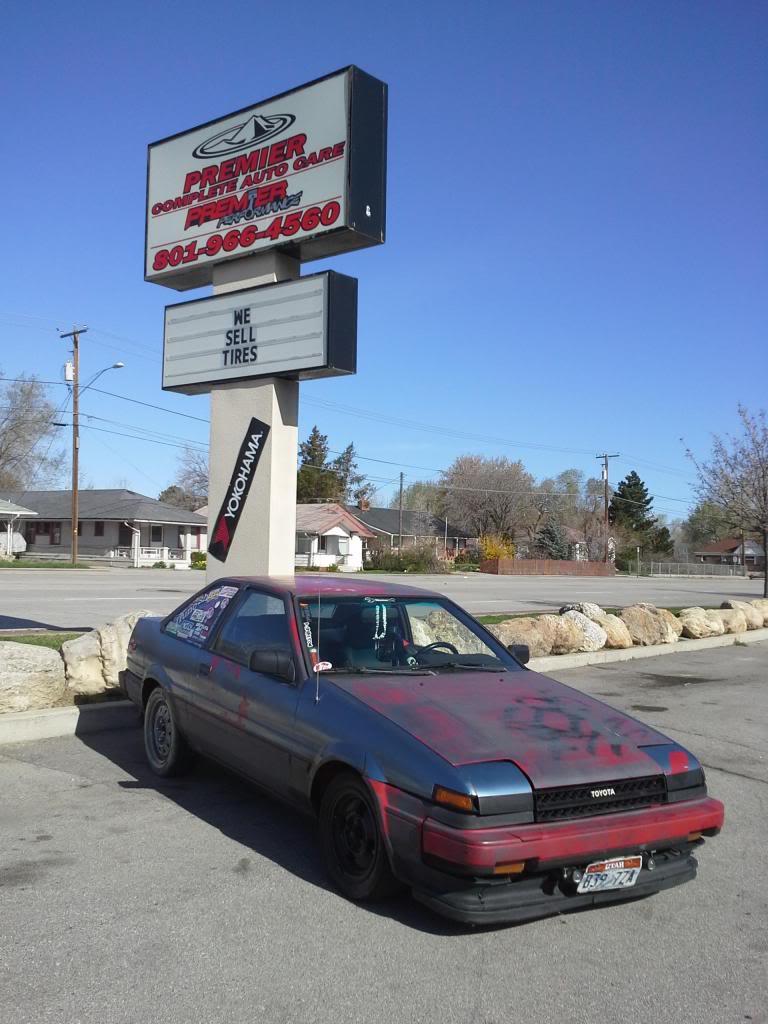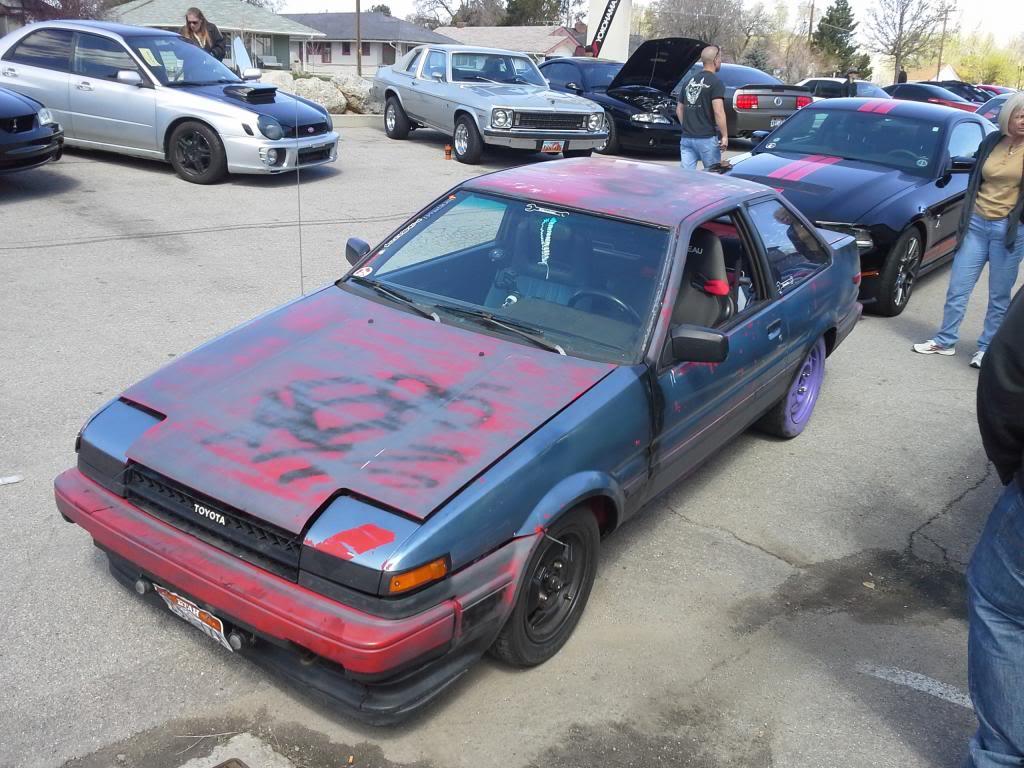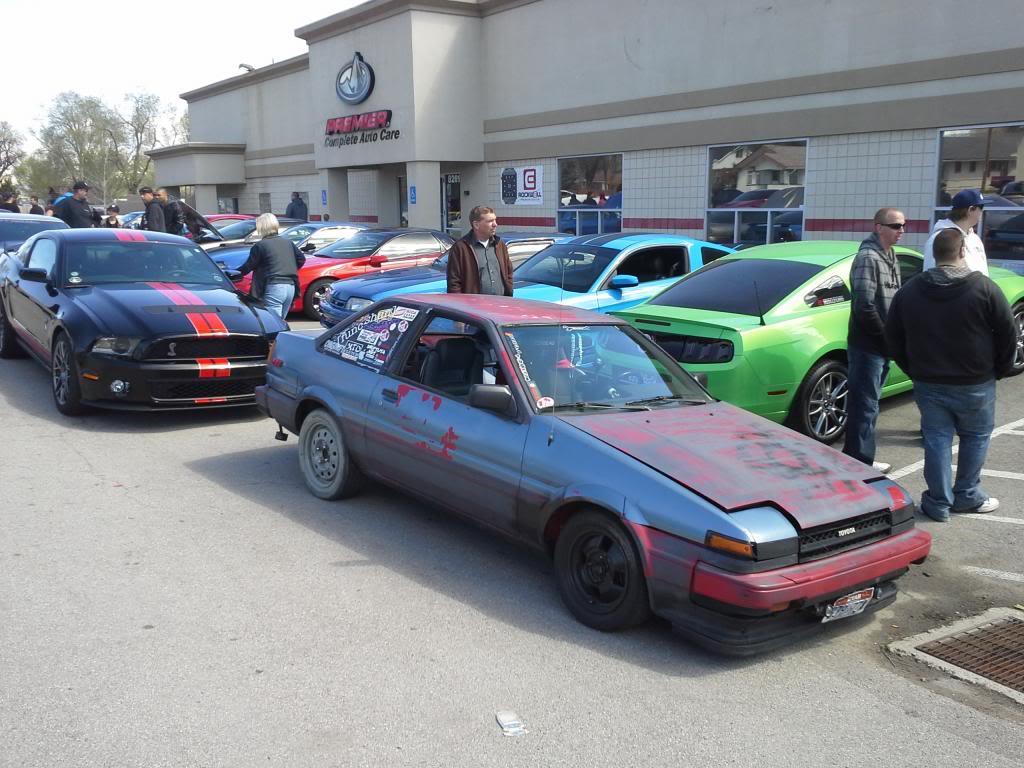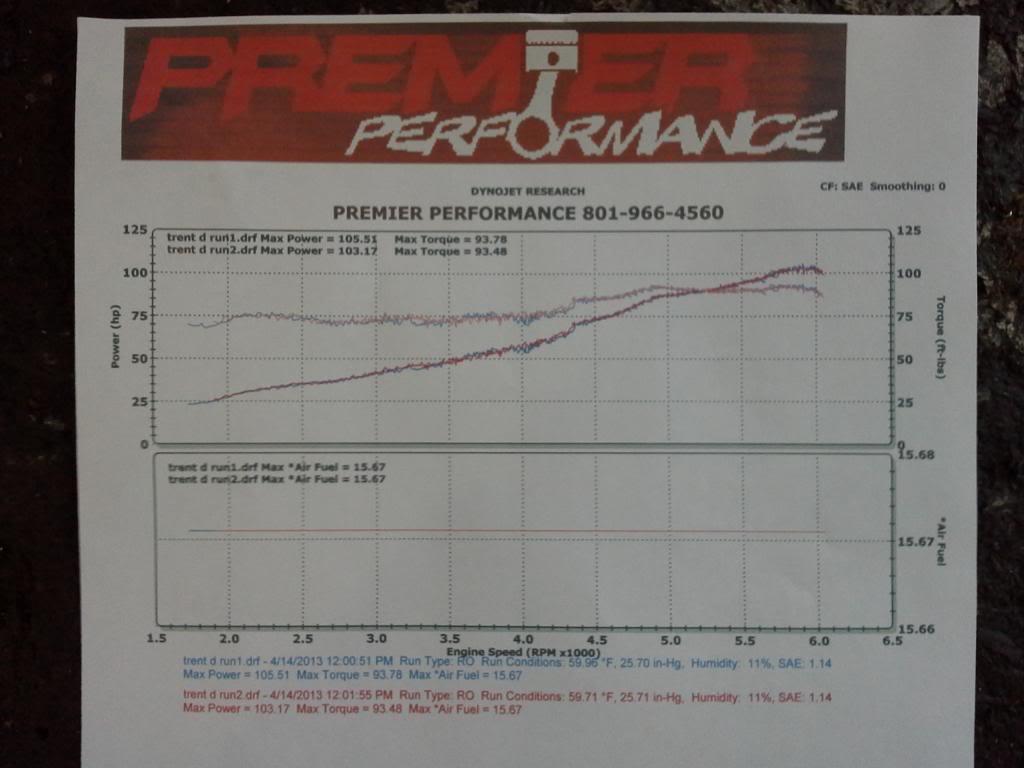 The Utah Muscle Car Association and Premier Performance hosted a Dyno Day today. I decided to throw the Corolla on the rollers to see how she'd do. She put down 105.5 whp and 93.8 ft-lbs of torque! That's a bit better then I expected! She started to overheat on her second run, so they pulled her off before she puked her guts. Turns out I forgot to turn on the electric fans before they pulled her in. Oops.
Car Specs:
1985 Corolla GTS
4AGE 1.6L smallport/hi-comp from FWD GTS (90-91)
bigport intake cam (240* duration, 7.56mm lift)
smallport exhaust cam (232* duration, 7.1mm lift)
TRD .8mm head gasket
HKS valve springs
HKS adjustable cam gears
HKS timing belt
T3 underdrive water pump pulley
TRD racing header
2.25" mk III Supra Turbo catalytic converter
2.25" over differential exhaust with MagnaFlow muffler
Spectre 3" cone filter
XTD Stage 1 pressure plate & 6-puck clutch
TRD short throw shifter
Welded differential
Tokico Blues shocks/struts
Tanabe GF210 lowering springs
2-19-2014
Man, it has been a long, long time since I updated this.
The last update was back in April of 2013. I dyno'd the car and put down a (respectable for a mostly stock Corolla) 105.5 rwhp & 93.8 ft-lbs of torque. After that, I continued to daily drive Ariel with very little fuss (lolz, yeah right!).
May 10, 2013
I was out driving, thinking about scoping out some "free" tires at a local tire shop that puts their old ones in an outside collection area, when I heard a terrifying noise from the rear end.
It was a great big clunk. And not just one clunk. A few weeks earlier the bolts holding the driveshaft to the pinion cam loose and I lost two of the 4 bolts. It made a terrible noise as the driveshaft wobbled around, working the rest of the bolts loose. The noise this evening was different though. It wasn't the driveshaft. I pulled over and looked at that first. Everything was still snug there.
There wasn't any fluids leaking and the engine ran the same was ever. I could rev it in gear (clutch in) and not get the noise, but if I drove, it would clunk occasionally. It was worse the faster I went, so it could be the transmission because it didn't matter what gear I was in. Something had let go in the rear end, but power was still going to both rear wheels. Couldn't be an axle then, right?
I slowly and carefully drove the 1.5miles back home with my heart sinking every time I heard a "clunk" from the rear end. I get home around 11pm and decide to tear the car apart right there and then to find out what was wrong. I couldn't sleep because I had no idea what was wrong. I decided to try taking the rear end apart. I've done it a few times, so I could handle it in the dark, right?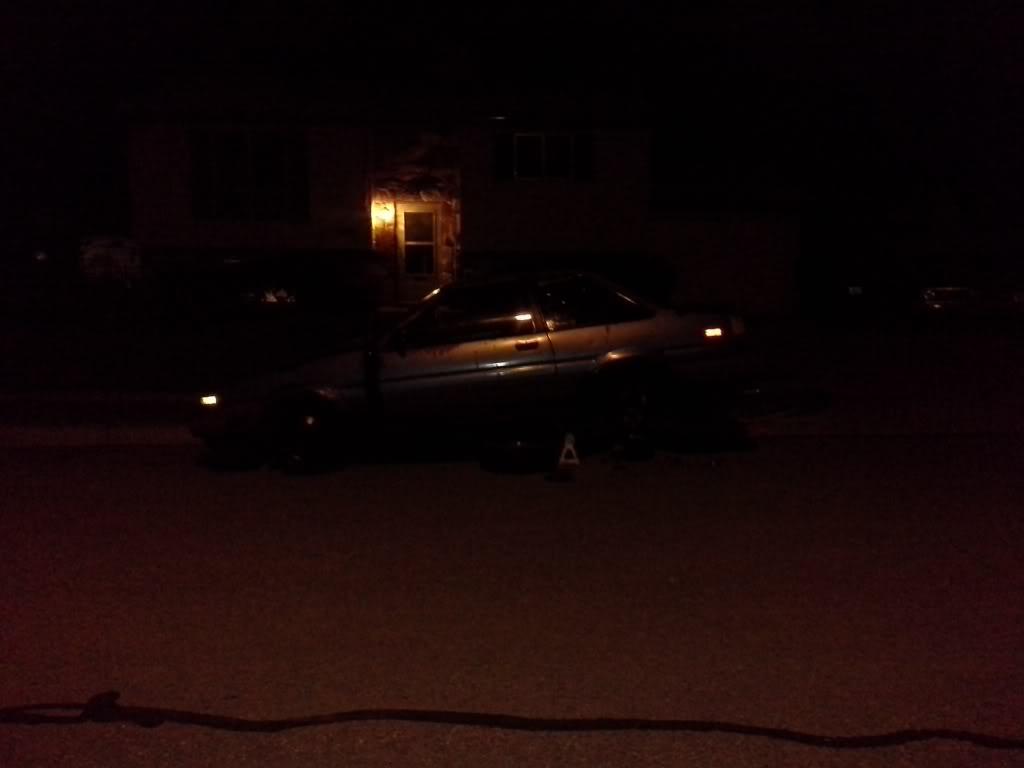 Ariel on jack-stands on the street in the middle of the night.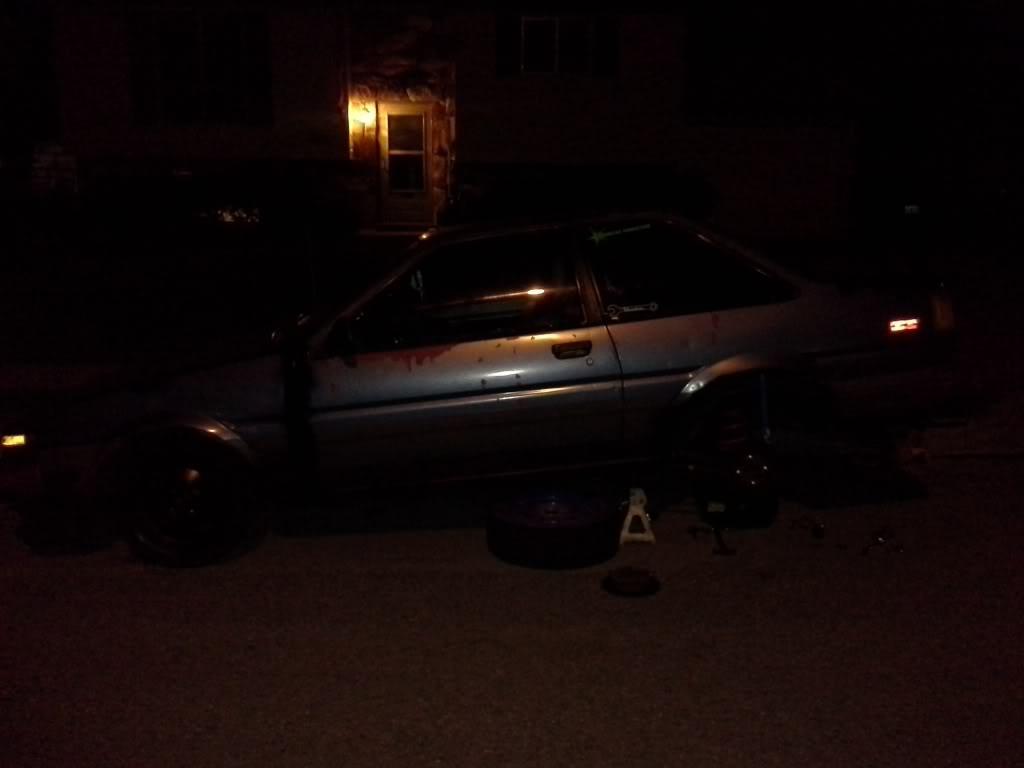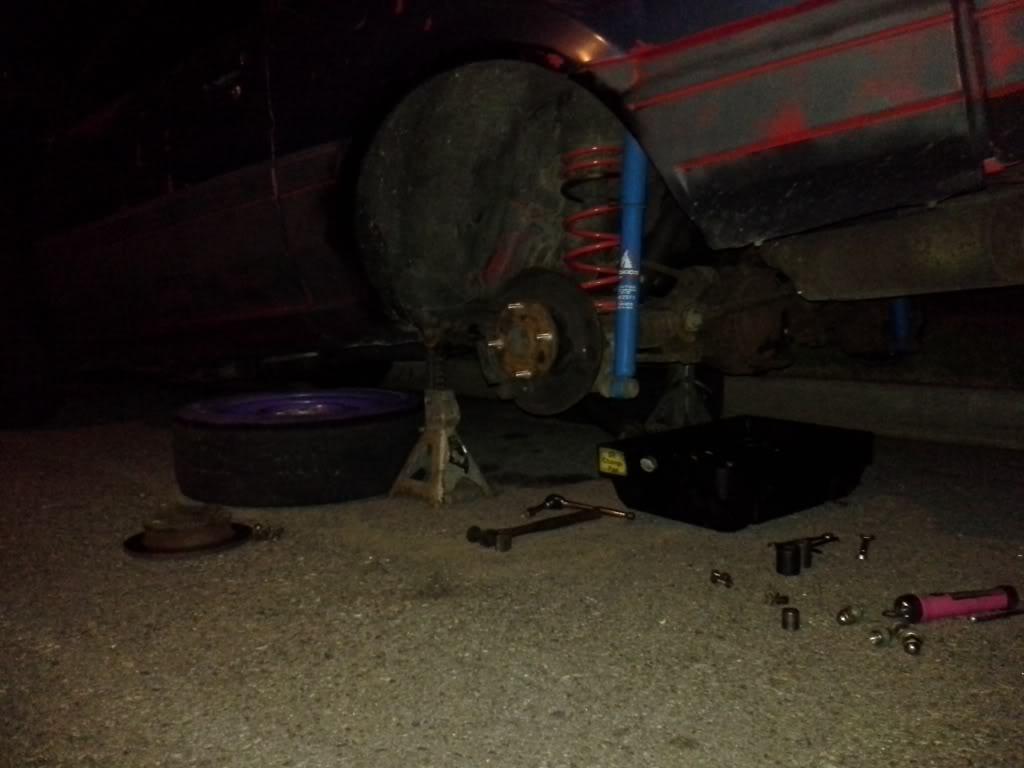 Well the axles proved to be too stubborn to pull out at midnight without lots of noise and angry neighbors, so I patched her back together and put her on the ground until I had time to take her apart during the day.
After working that morning (and a lousy night's sleep), I pulled her into the backyard and proceeded to pull the axles and diff out. It went much easier when I wasn't worried about the noise. What I found confused and terrified me.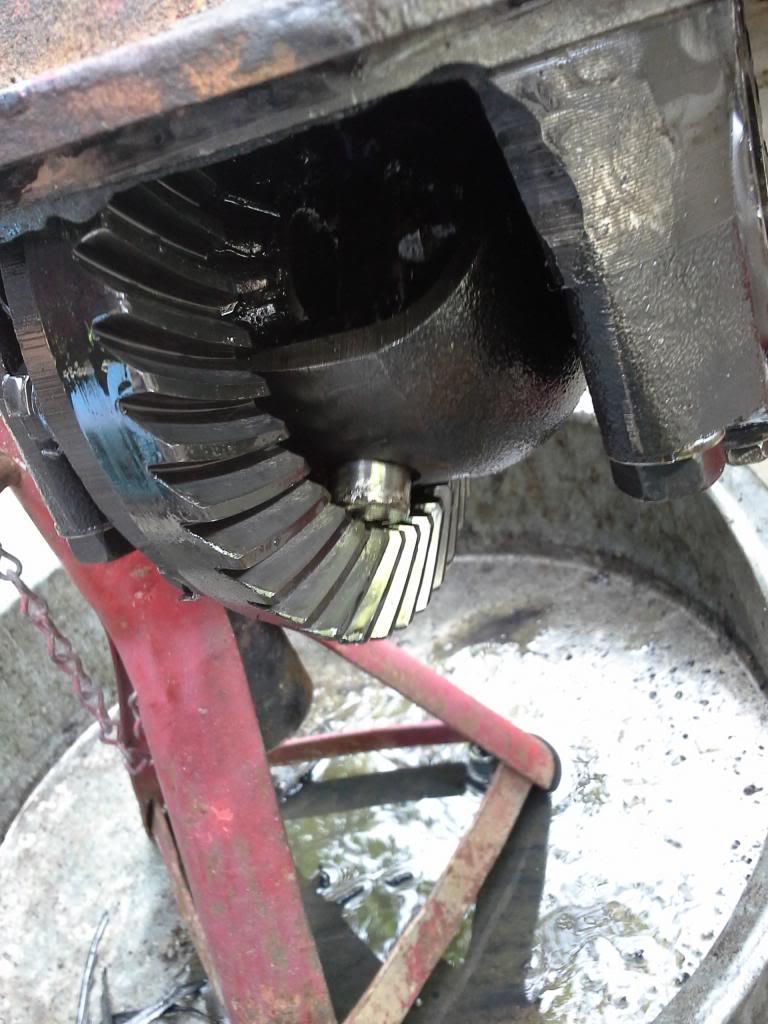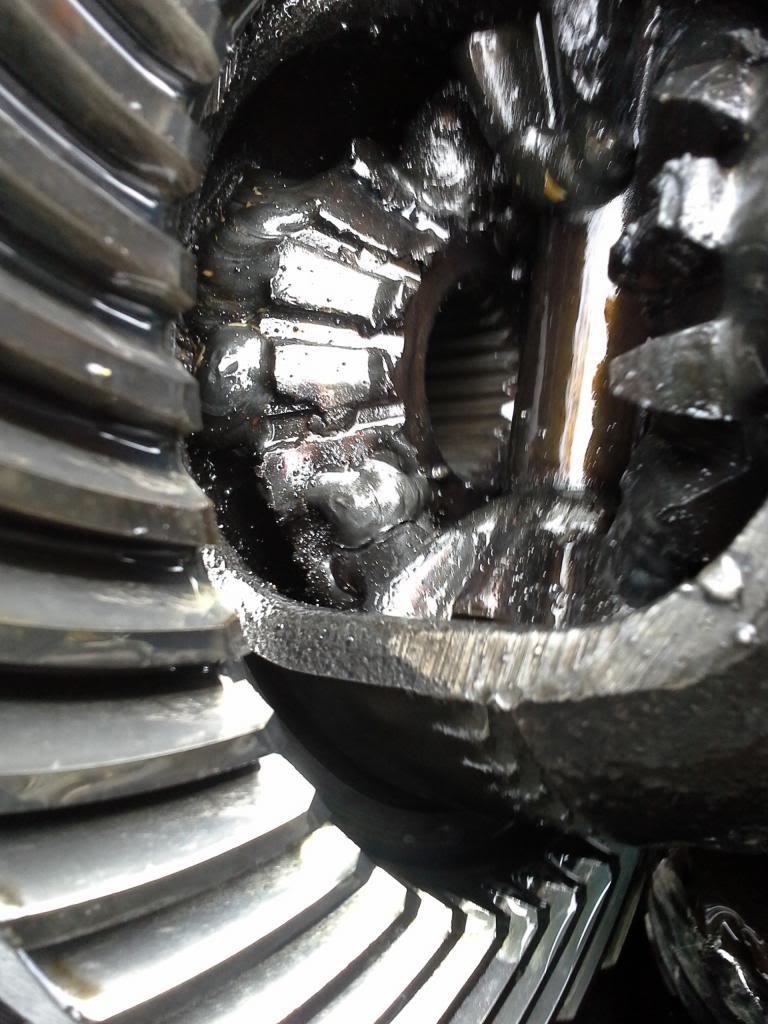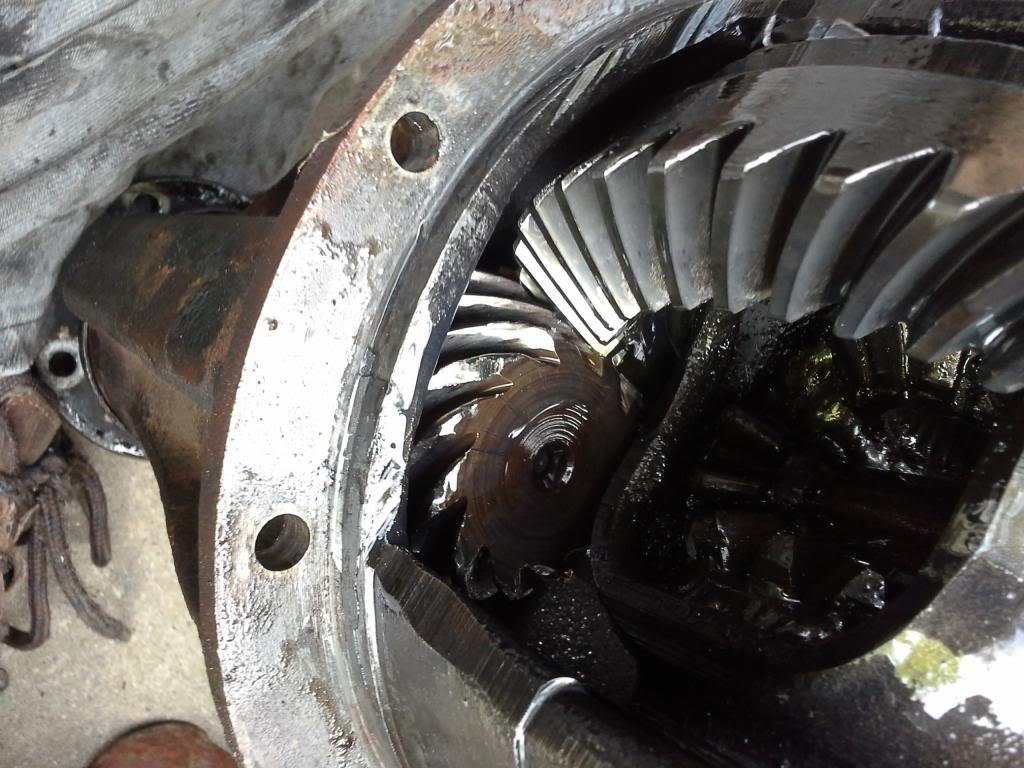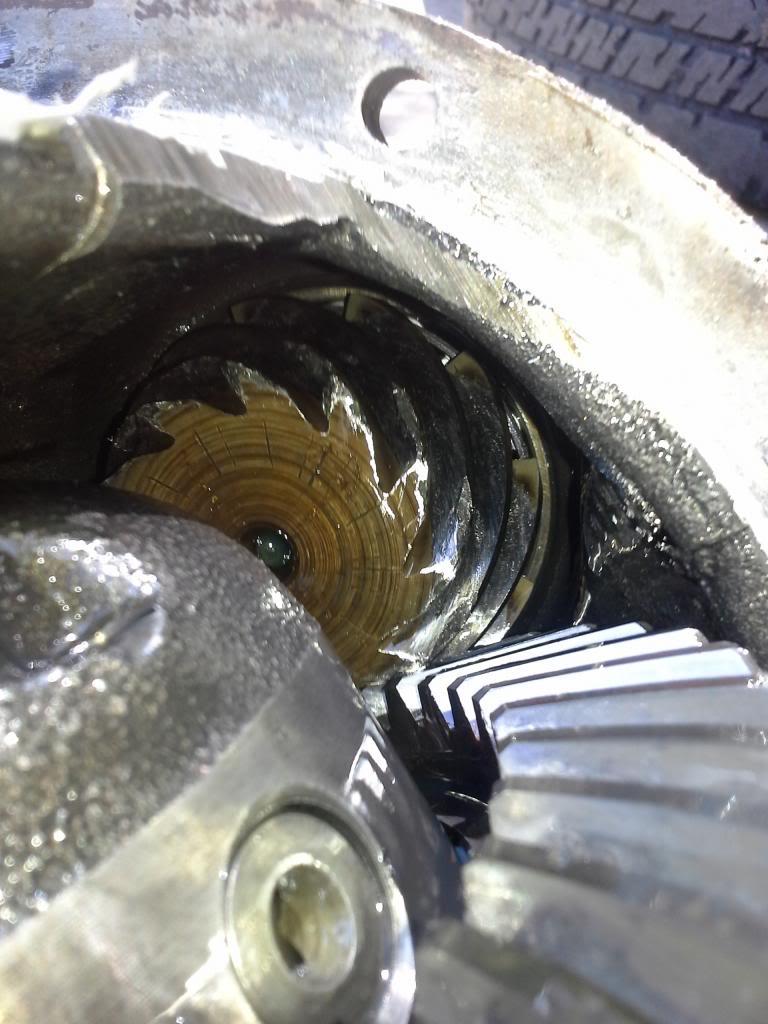 That carnage you're seeing? It's one of the shafts that holds one of the spider gears in place. That shaft sheared and would slide out until it hit the ring gear. When that shaft, resting against the ring gear, encountered the pinion, terrible noises were made and the shaft would get knocked back into place.
It turns out that when I had my diff re-welded, my buddy neglected to weld each spider gear to the housing. That allowed one spider gear to shift under load & pressure, which eventually sheared the shaft it rode on. Even with this happening, I wasn't upset about the job my buddy did when he re-welded the diff. It held up remarkably well for a long time through a lot of abuse. But it still sucked that it happened to fail.
So after cleaning out all the metal shavings, I had another friend weld that shaft to the housing. I figured if it didn't slide out anymore, it couldn't cause anymore problems, right?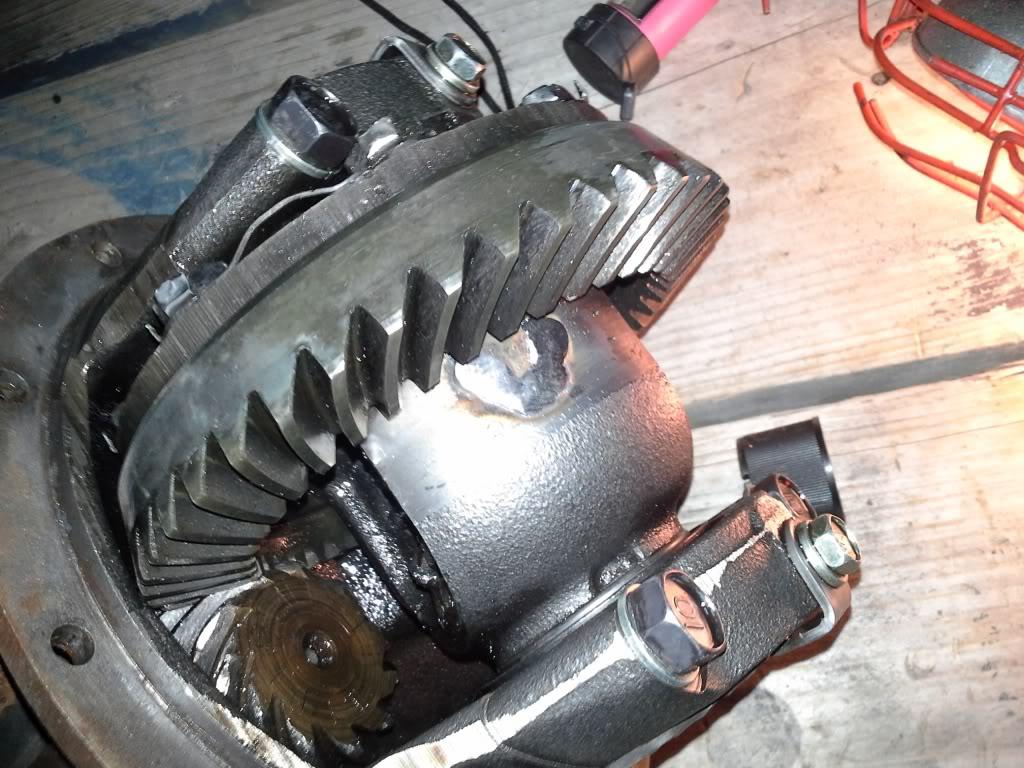 Remember folks, use plenty of heat on hardened steel. The weld held for about 3 hours of city/suburbia driving.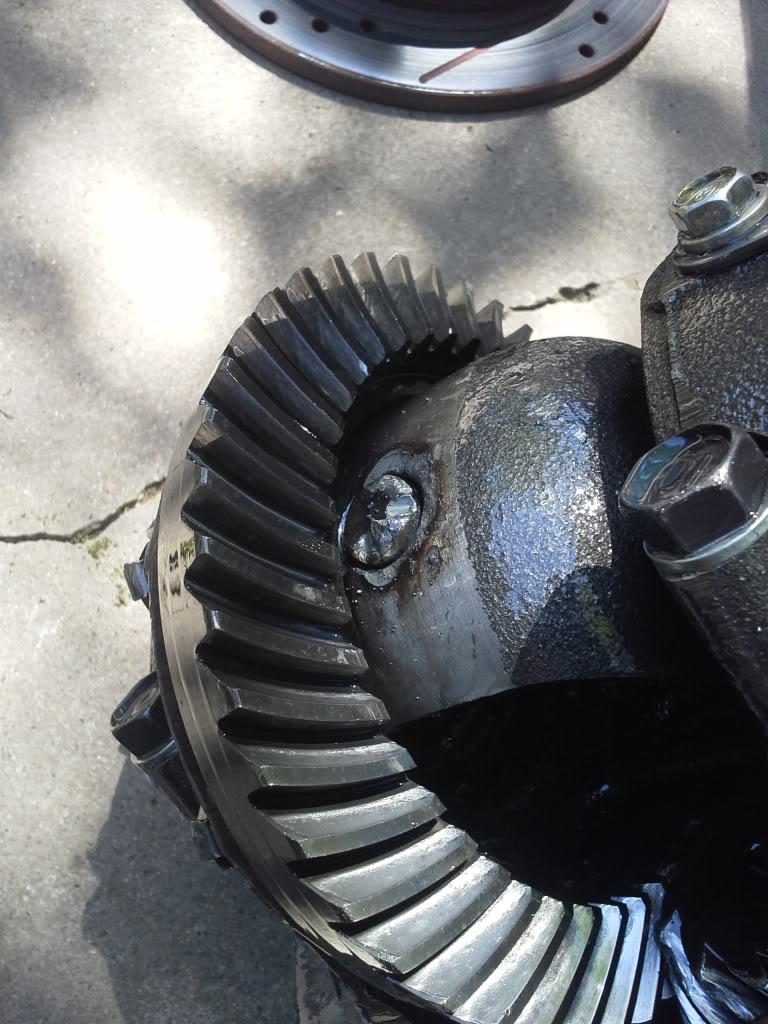 This time my dad just burned out the shaft to eliminate it completely.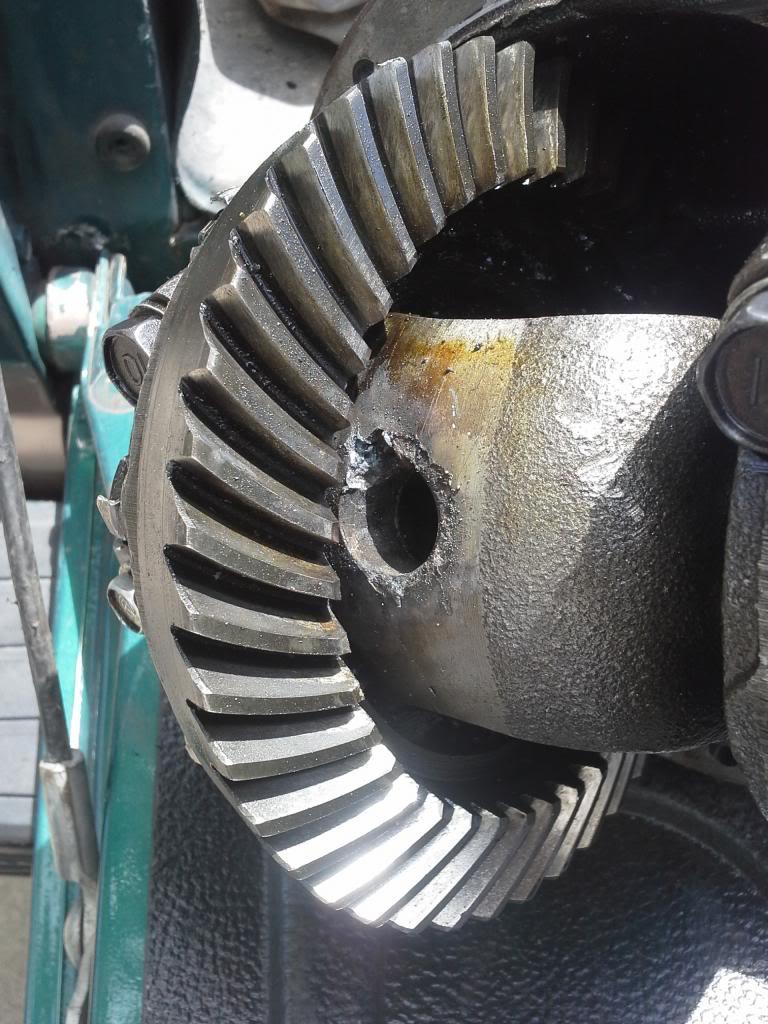 Then I had someone else re-weld where the cracks had formed, weld the gear to the housing, weld inside the hole to gear & housing, and just add a lot more filler just about everywhere else. (Sorry, no pics). So far, everything is holding together, even my partially chewed up pinion.
I hope this is the last time I have to park Ariel like this until I do something about replacing the rear end.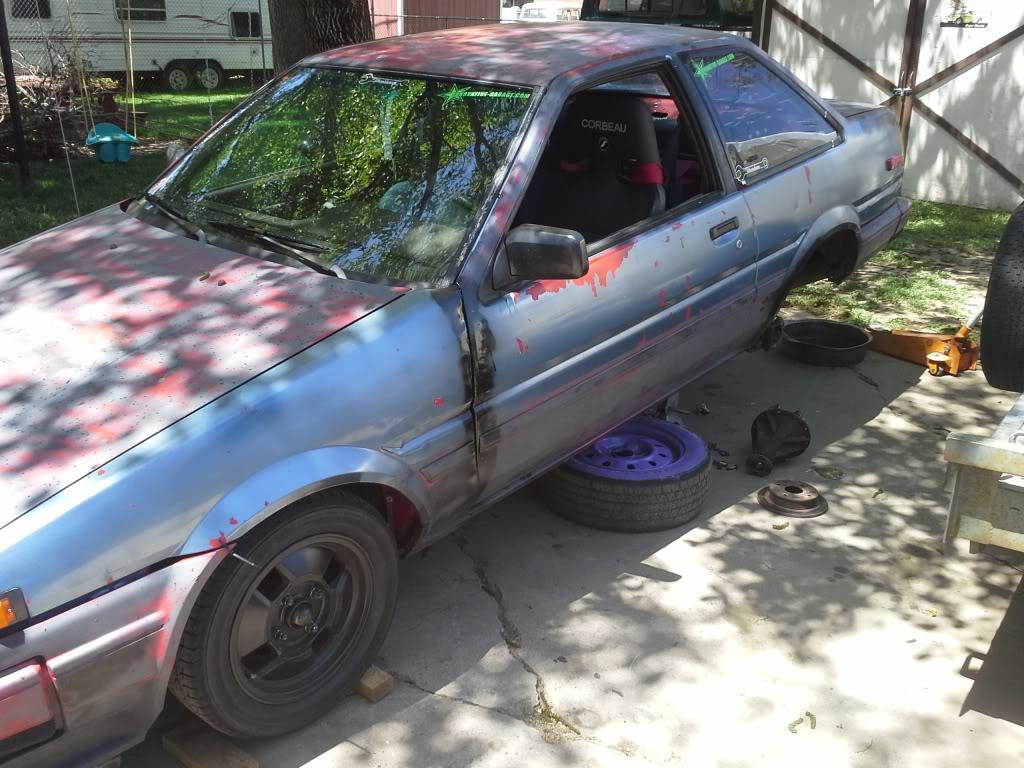 June 5, 2013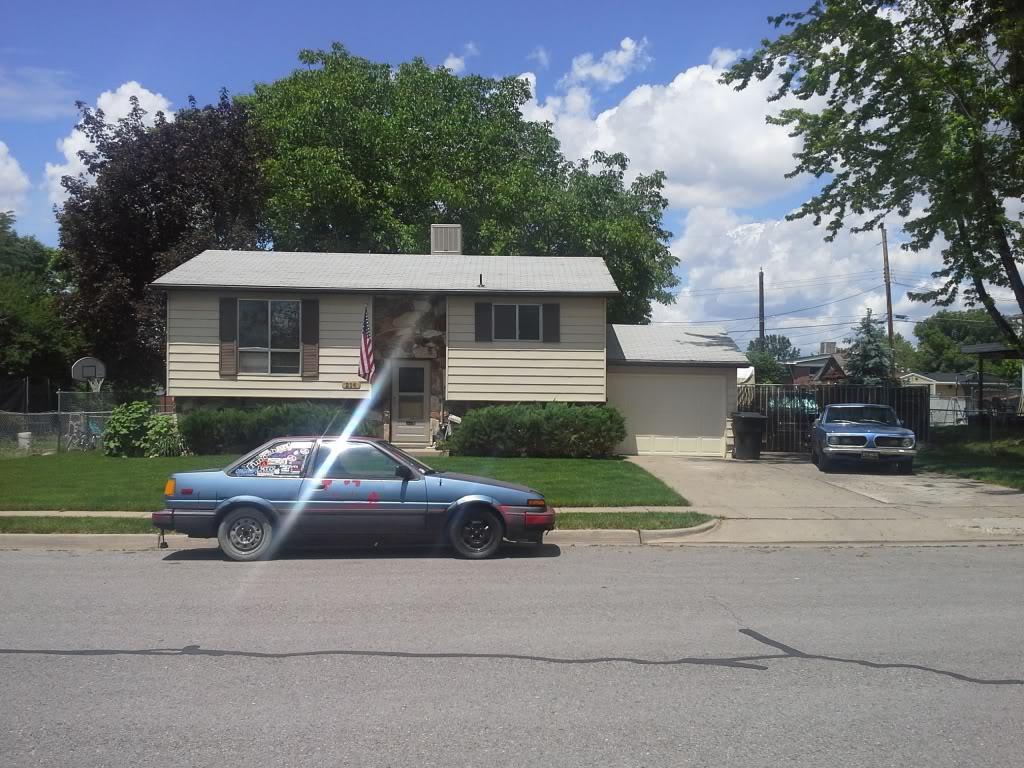 I had a day off with some nice weather and an itch to drive, so Ariel and I made a trip up to the canyon for some spirited driving. Before I got to the "really fun parts," I hit a k-rail.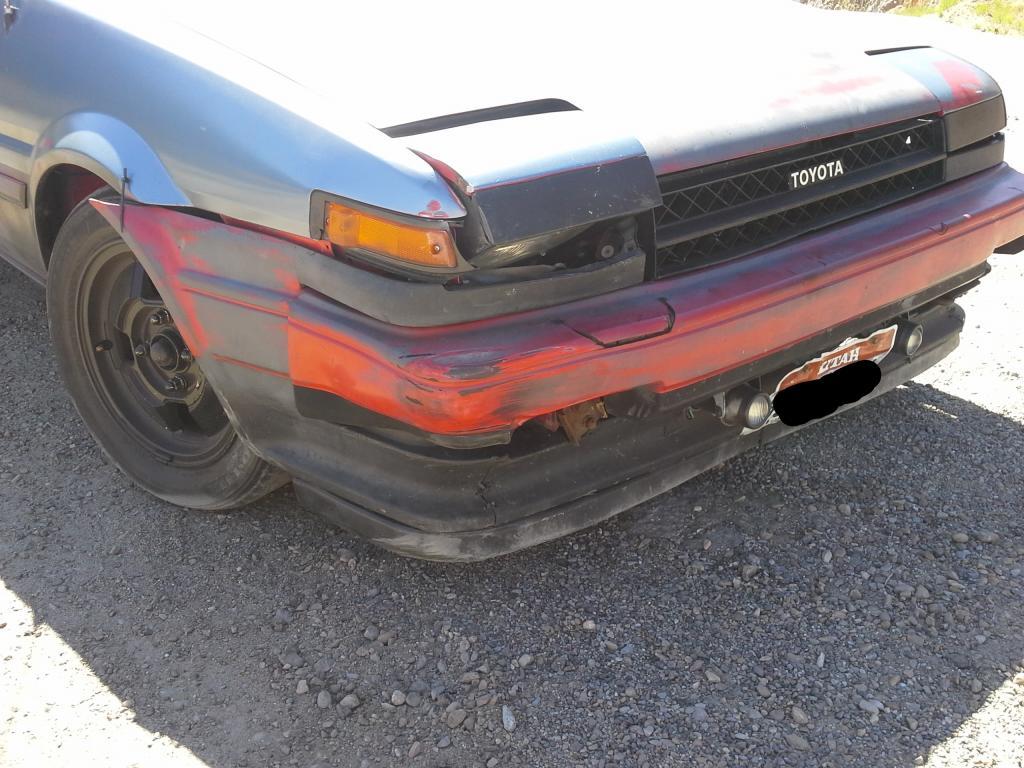 Understeering on dirt sucks.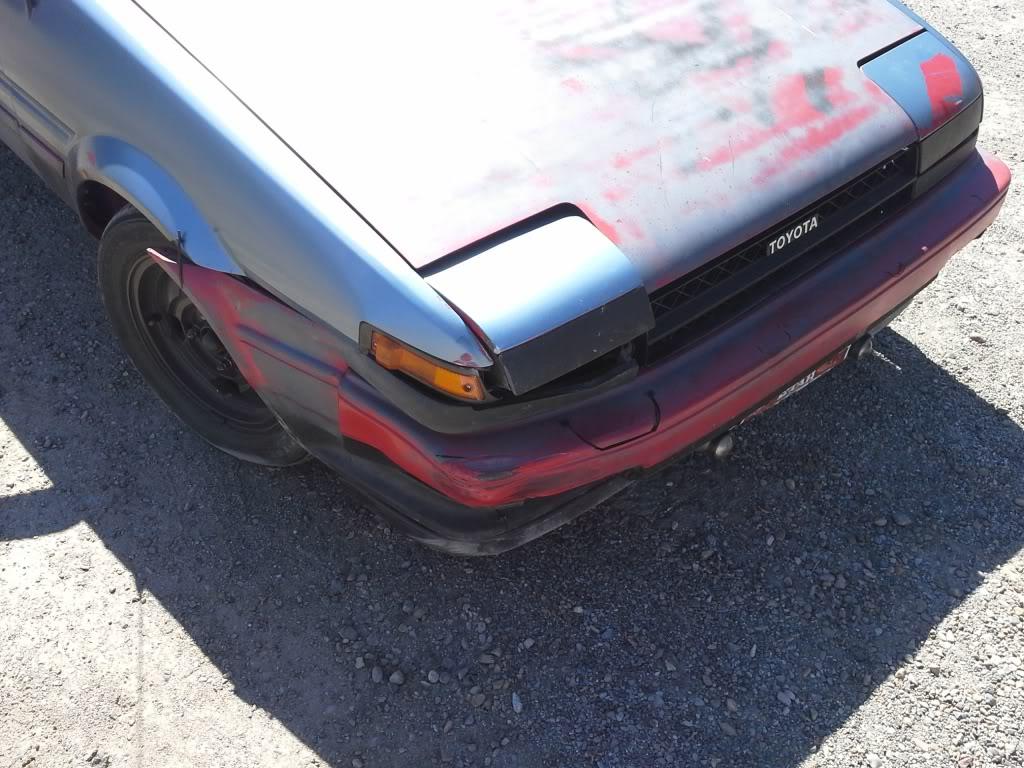 The damage was mostly cosmetic and I managed to create more carnage trying to use my tow chain to "pull" the bumper bad out. I totally destroyed the passenger front marker/turn signal in the lower bumper.
Ariel now looked even worse with that bent bumper, pushed-in fender cap, and broken marker light. I decided she'd probably look "less" terrible if I pulled most of that off. Oh, and I used some Subaru turn signals to replace my busted one.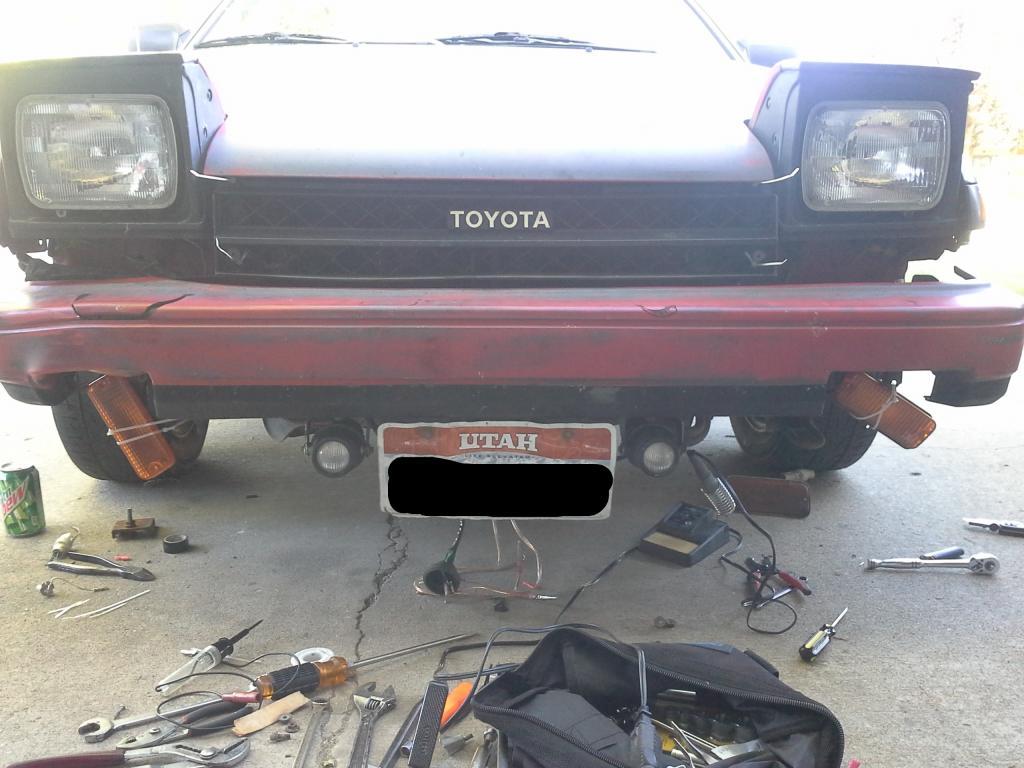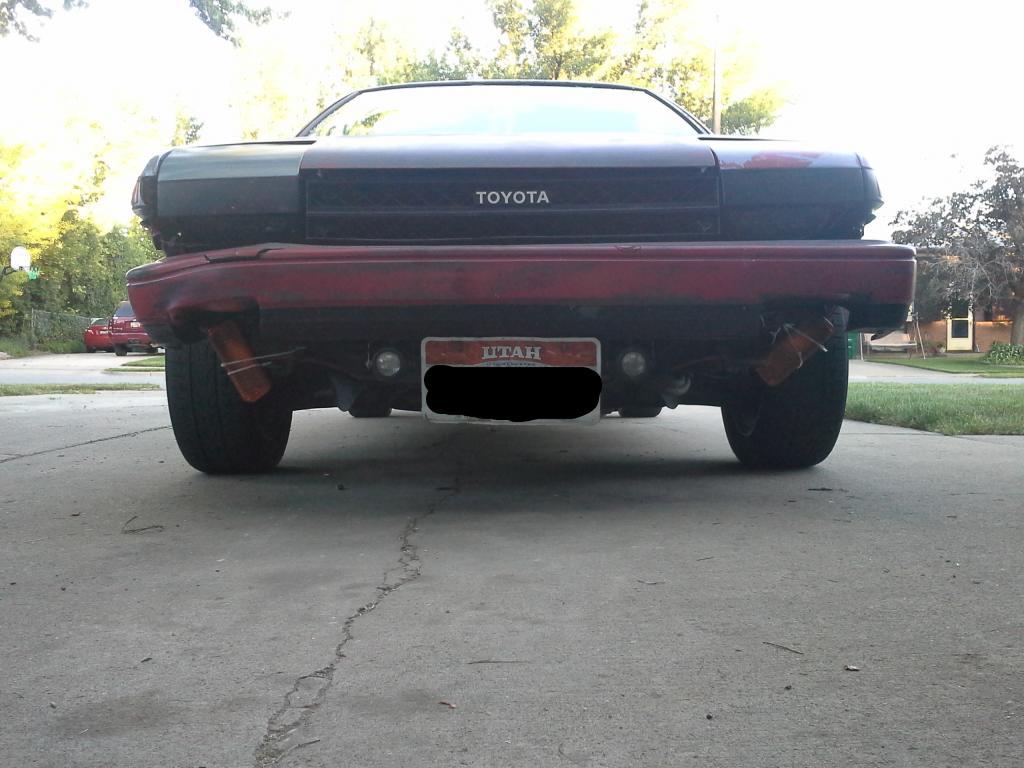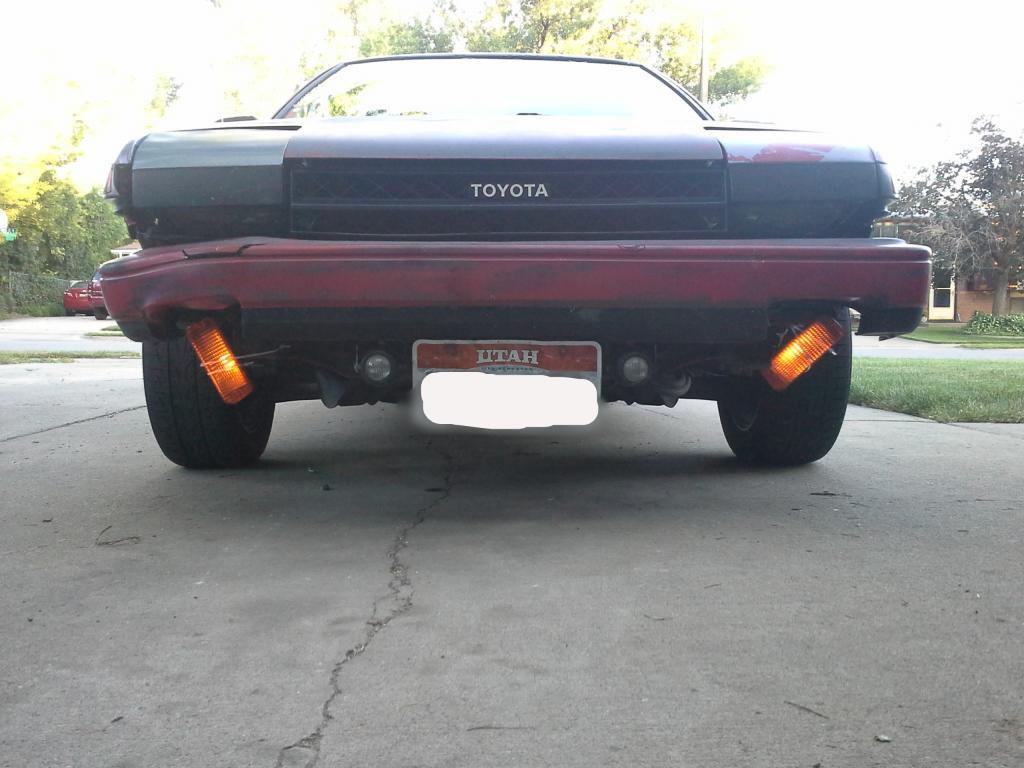 ProTip: Check the wiring on your car and the donor car when you pick up "replacement" parts at a junkyard to ensure you have the correct amount of wires necessary to have OEM-like functionality. My Corolla has three wires for the front marker/turn signal indicator. The Subaru lights I picked up at the junkyard only had two wires for either turn signal or marker light. I wired them in as turn signals.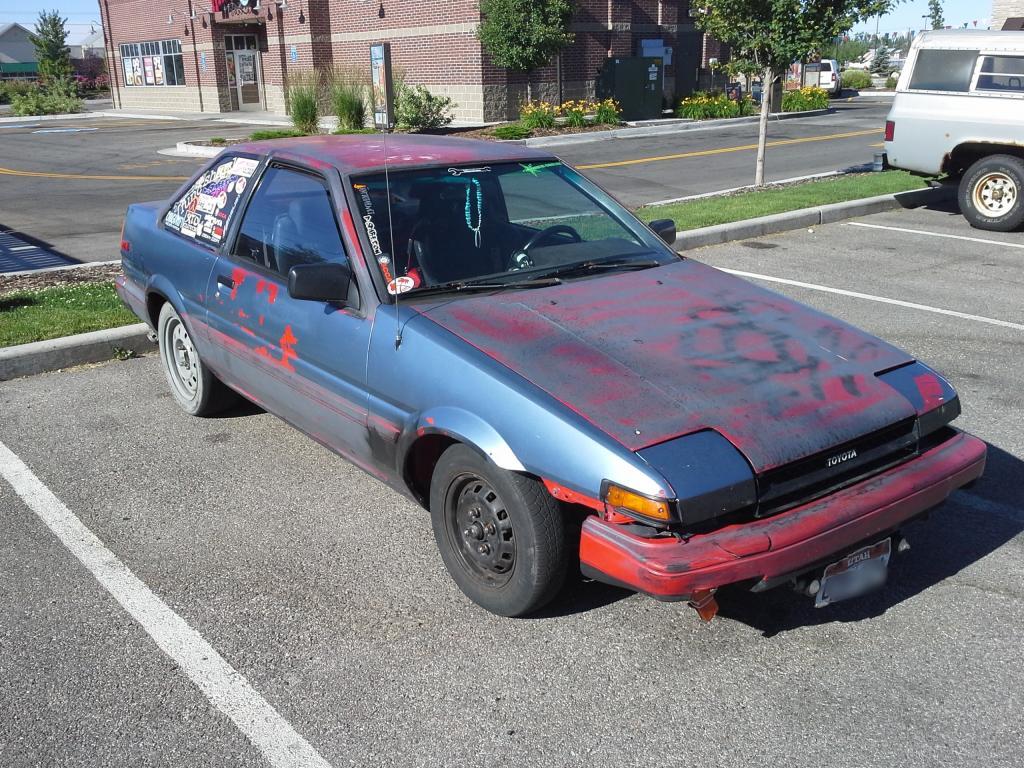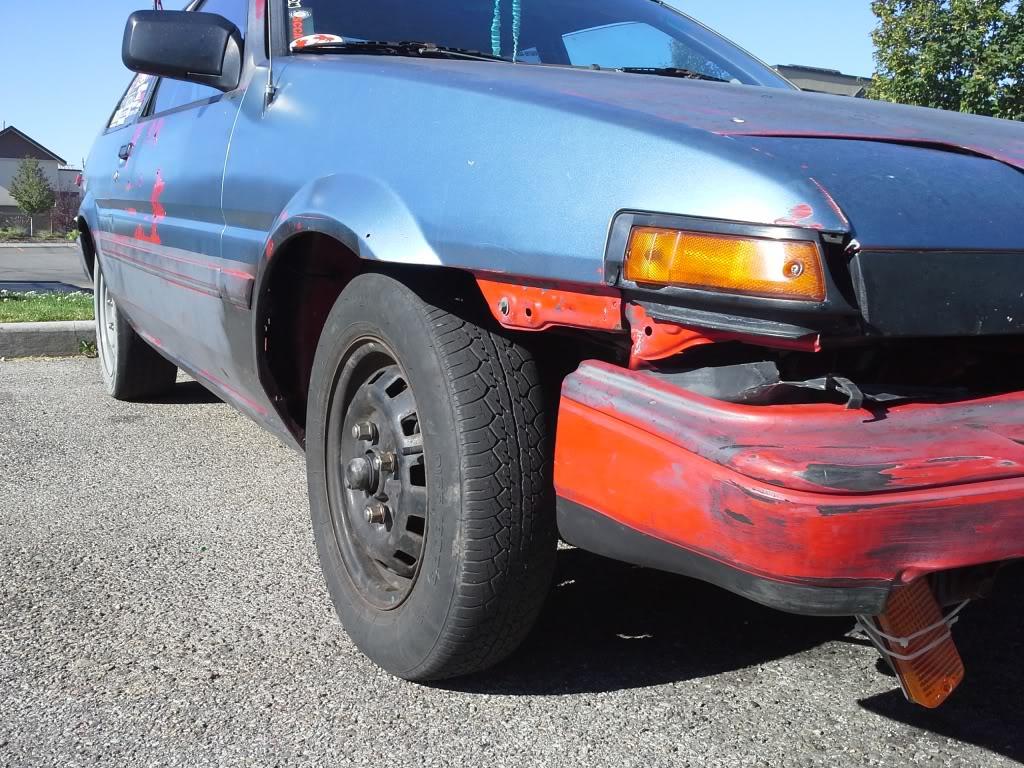 She looks so pitiful all banged up like this. The 13" wheels & tires don't help much, either.
July 2013
The tags on the Corolla expired at the end of June, so I had sought out other transportation as devoting time & money to Ariel seemed like a bad idea. I ended up picking up two very different, crappy cars as potential DDs: A 1993 Hyundai Excel, and a 2001 Chrysler Sebring Convertible.
My crappy collection.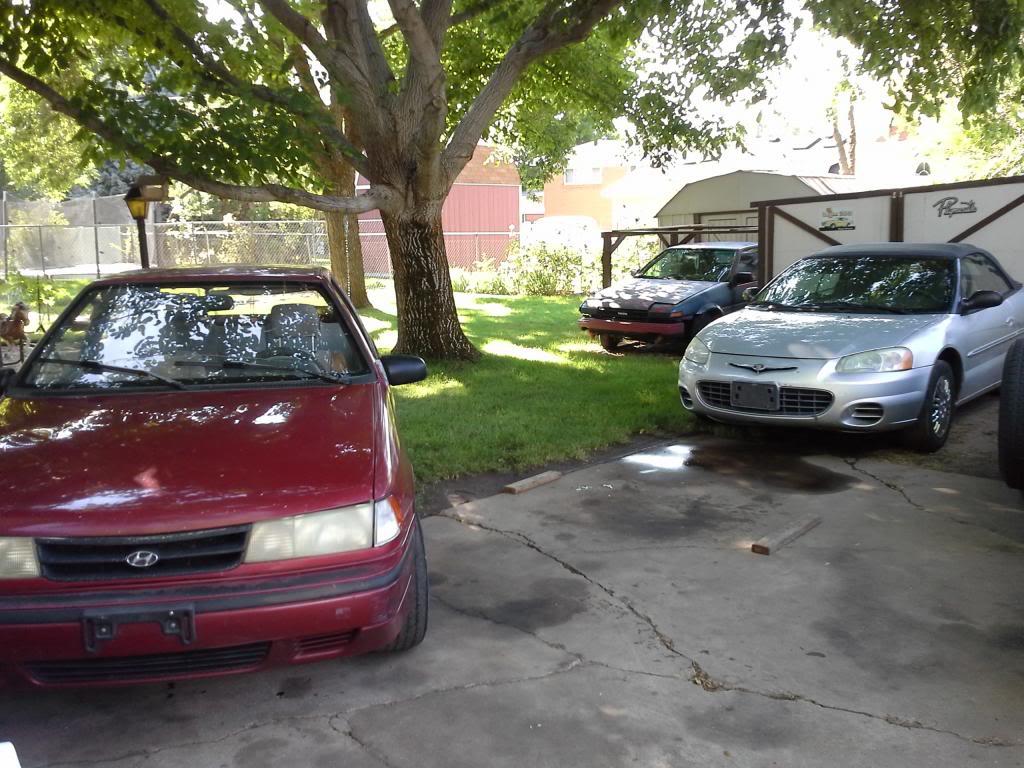 I paid $200 for the Excel and put another $200 into it before I decided I didn't want to die in a Korean shit-box commuter. I paid $10 for the Chrysler, put $40 into it, and had a reliable, working, boring daily driver that didn't try to kill me on the freeway like the Hyundai had tried a few times. The Chrysler just required some somewhat religious checking and topping off of the oil that it would either consume or leak (depending on how tight the oil pan plug was). I ended up selling the Hyundai to a junkyard in September and selling the Chrysler in December so I could drive the Corolla again.
I had forgotten how much work the Corolla needed. It needs a lot.
Yeah, she's been in a kind of downhill slump. The last 2.5 months have been full of ups & downs but I need to take a break from obsessing over her.
9-7-2014
Taking the money from the sell of Sebring, I intended to get the Corolla back into DD status. First order of business was a tune up and ripping off the useless emissions crap.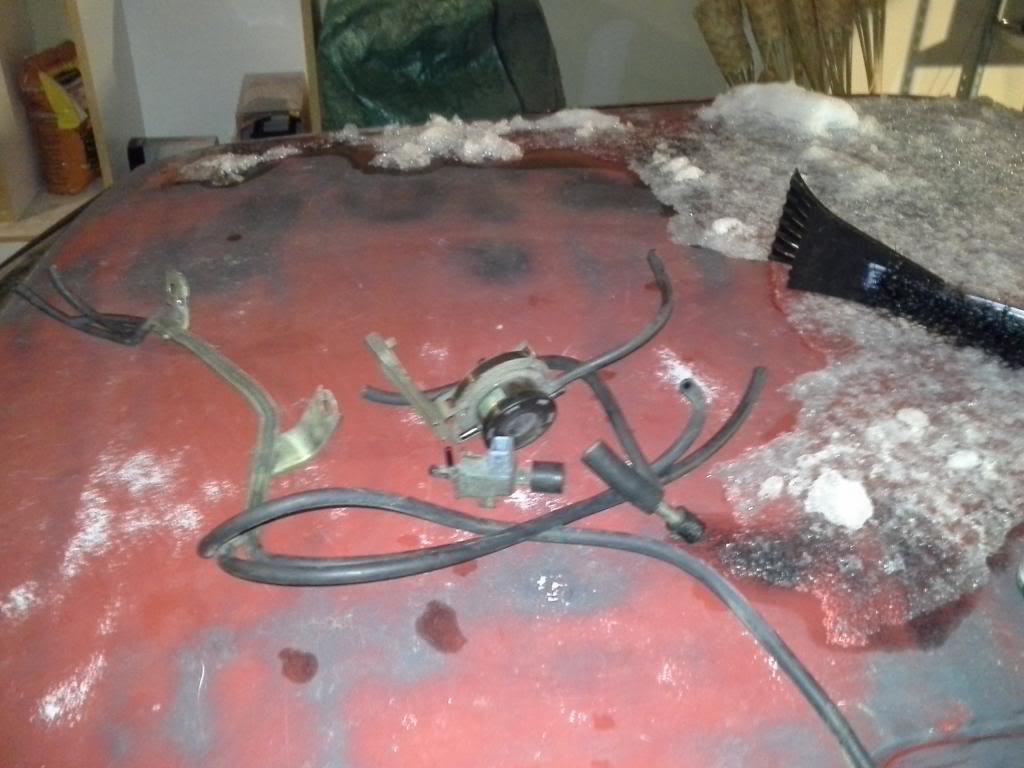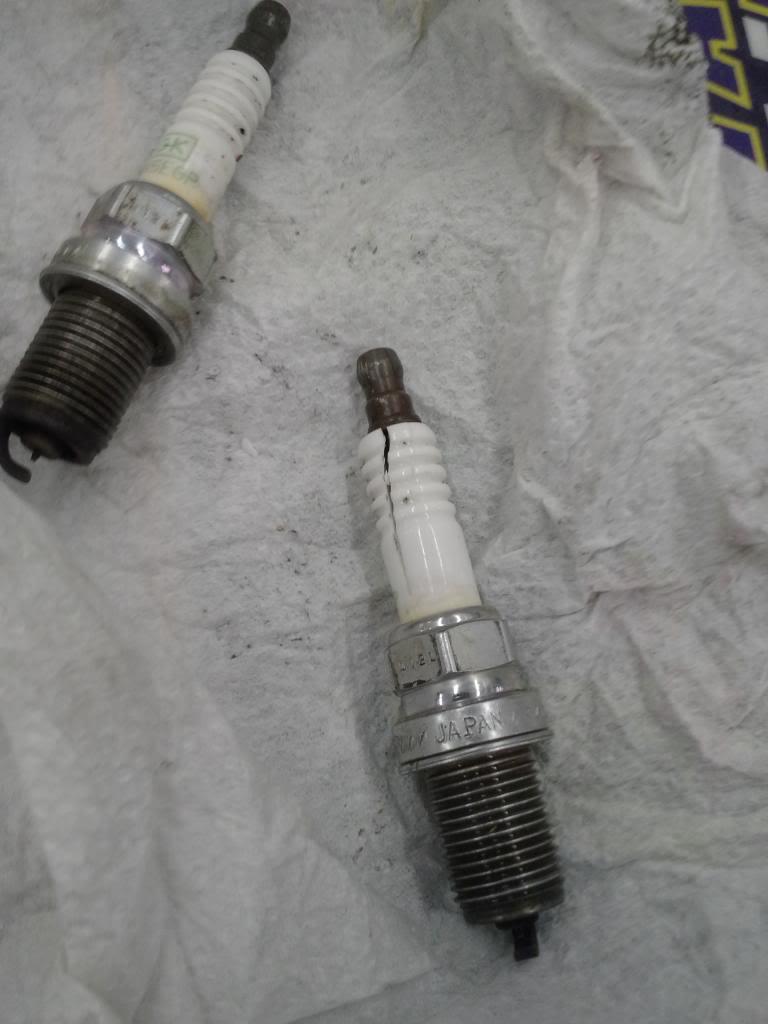 Yeah, I needed new plugs.
I also relocated the air filter outside of the engine bay, giving it more fresh, cool air.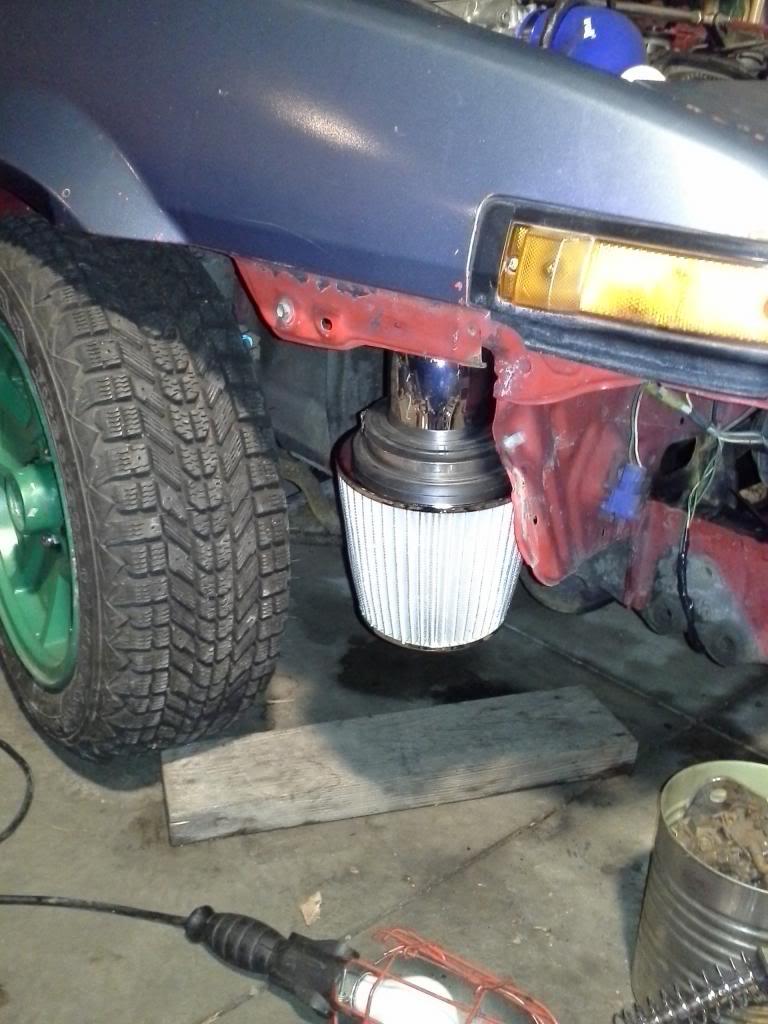 I still had the stock fender liners for up front, so I reinstalled them to help prevent sucking up rain.
I found someone selling a complete front bumper set, so I paid for that and waited for it to ship from Reno. How the car sat in the meantime.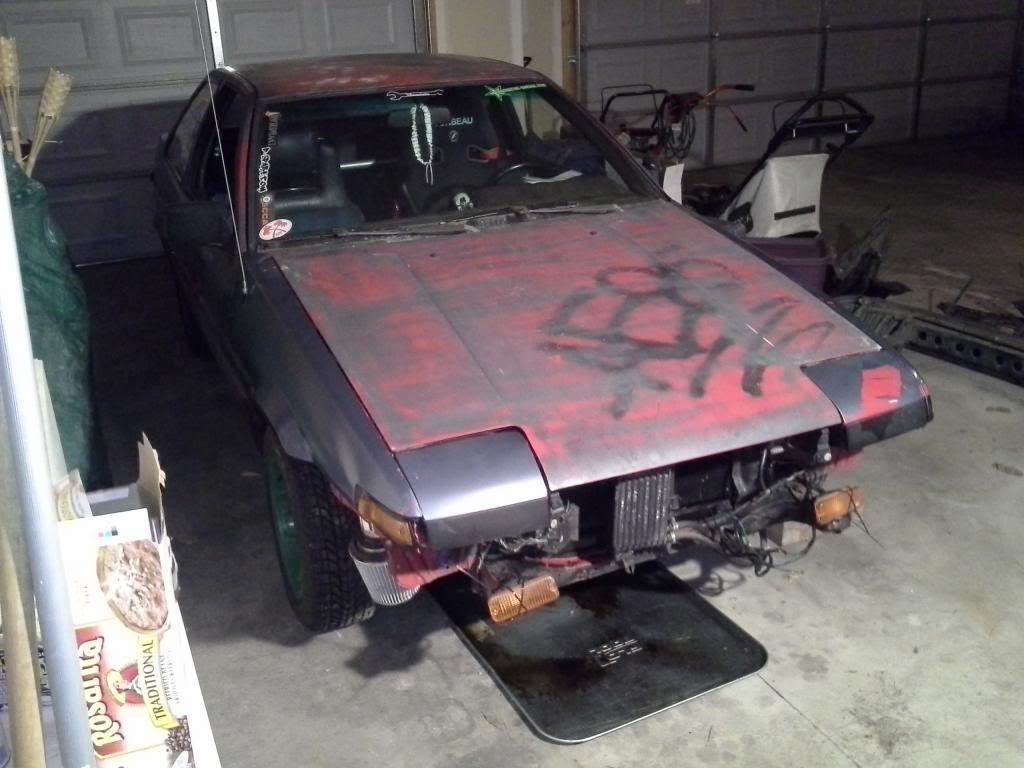 I moved from Davis County down to Kearns at the beginning of the year. It was closer to school and I was able to transfer to an O'Reilly down there so everything was close by. Living with a friend that's into cars and drifting is also a nice perk.
I finally got the bumper set from Reno after some snafu with shipping it via Greyhound. Great price, but kinda lacking on the customer service front. Ariel looked a lot better without a beat up front bumper.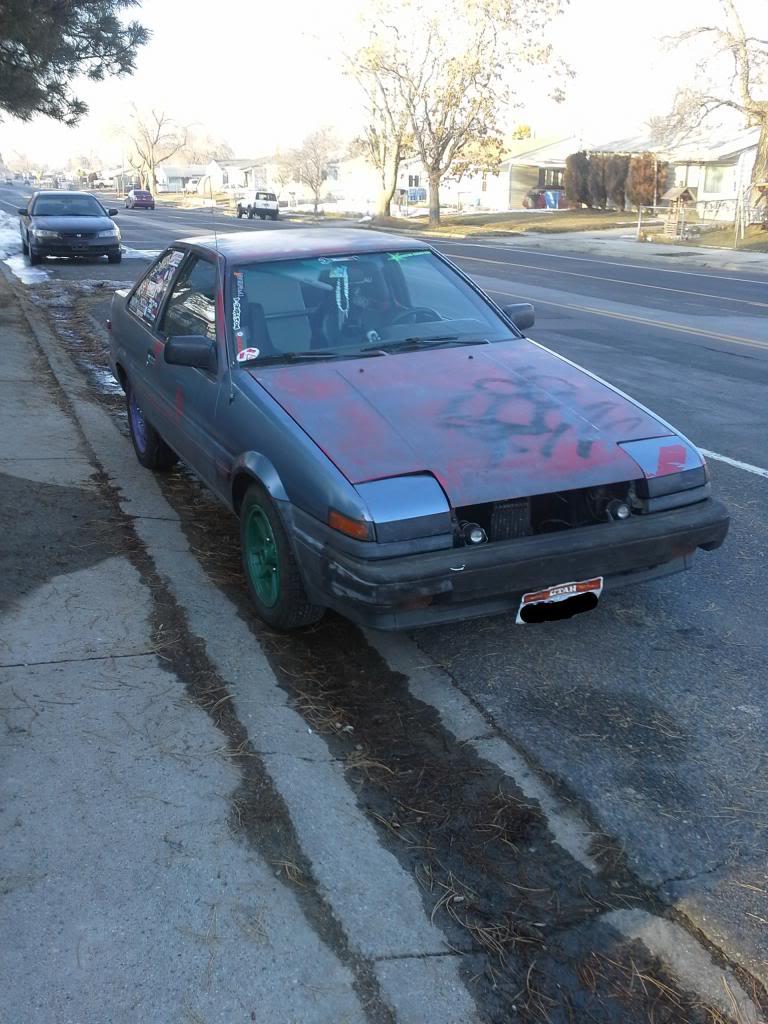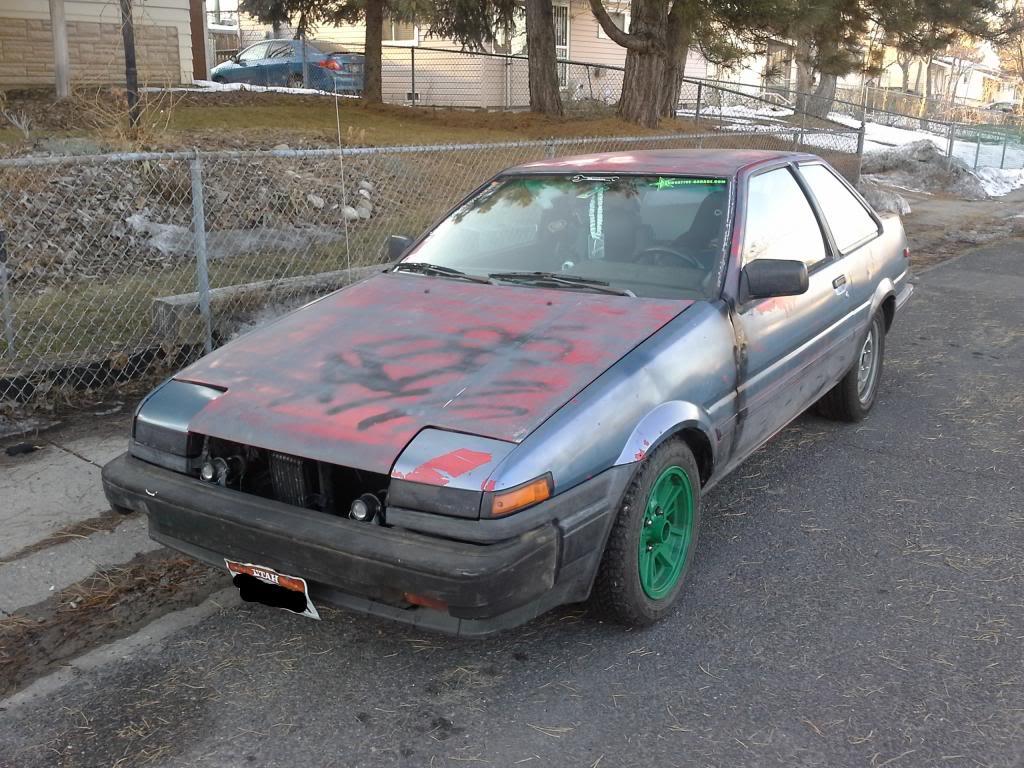 All was not well with Ariel though. While she did run, she was gutless below 4000 rpm (more so than usual), didn't idle correctly, and killed both the battery and the alternator. I put in a voltmeter to try to get an idea what was going on with the charging system.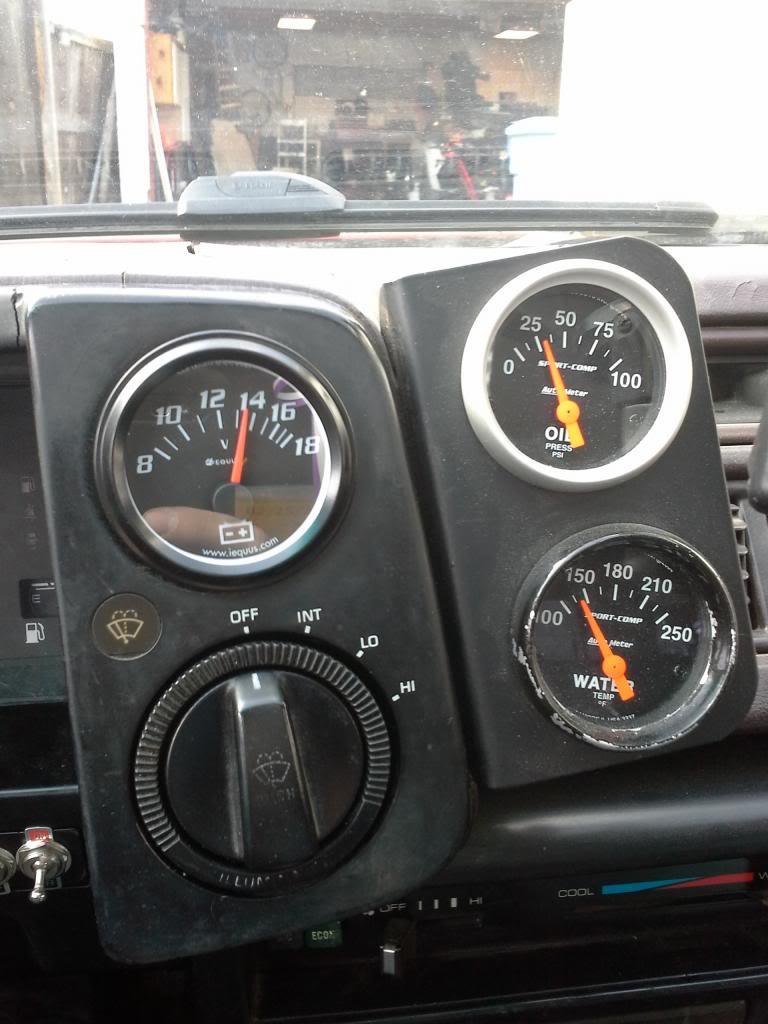 I also went ahead and installed my shinny new ebay radiator and electric fans w/shroud.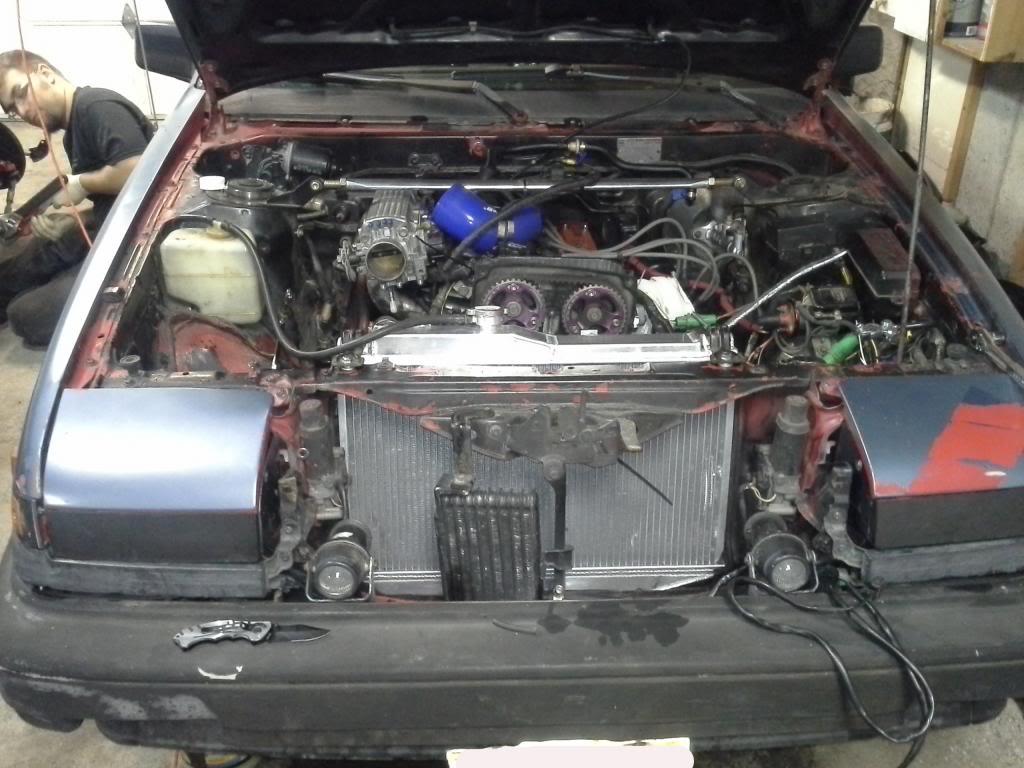 A little bit of trimming was required to make it fit.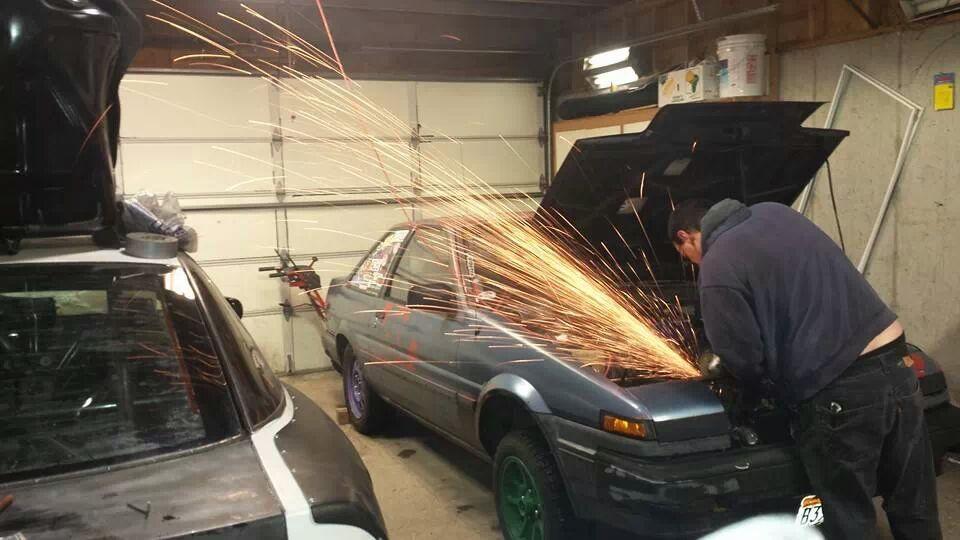 By the end of the month, Ariel just did not want to cooperate. She died on me again while driving and wouldn't start. Battery checked out, alternator checked out, starter checked out, but I was fed up. I parked her and called my dad for a favor. A little bit of talking and looking, I soon had myself another reliable DD.
1998 Honda Accord LX 2.3L F23A3 SOHC VTEC 5Spd with 259,000+ miles. Paid less than $2000 for her from Ken Garff Orem. She has a few rough spots and ain't pretty, but she's a solid car. Most of her miles seem to be commuter miles from Utah County to Salt Lake.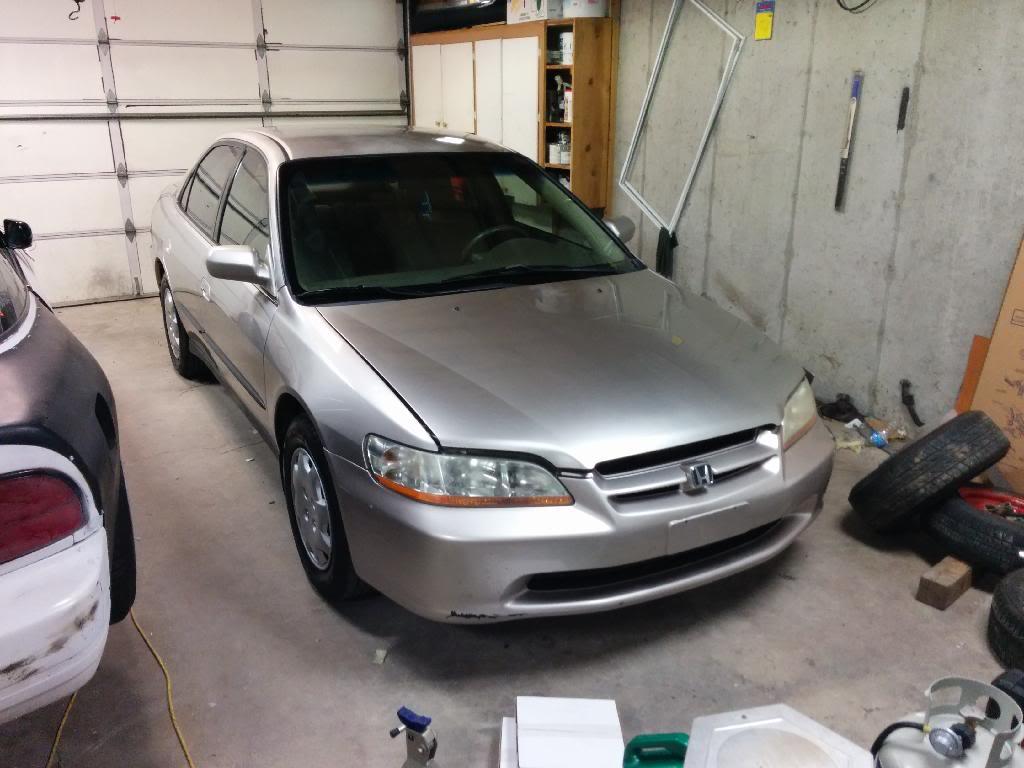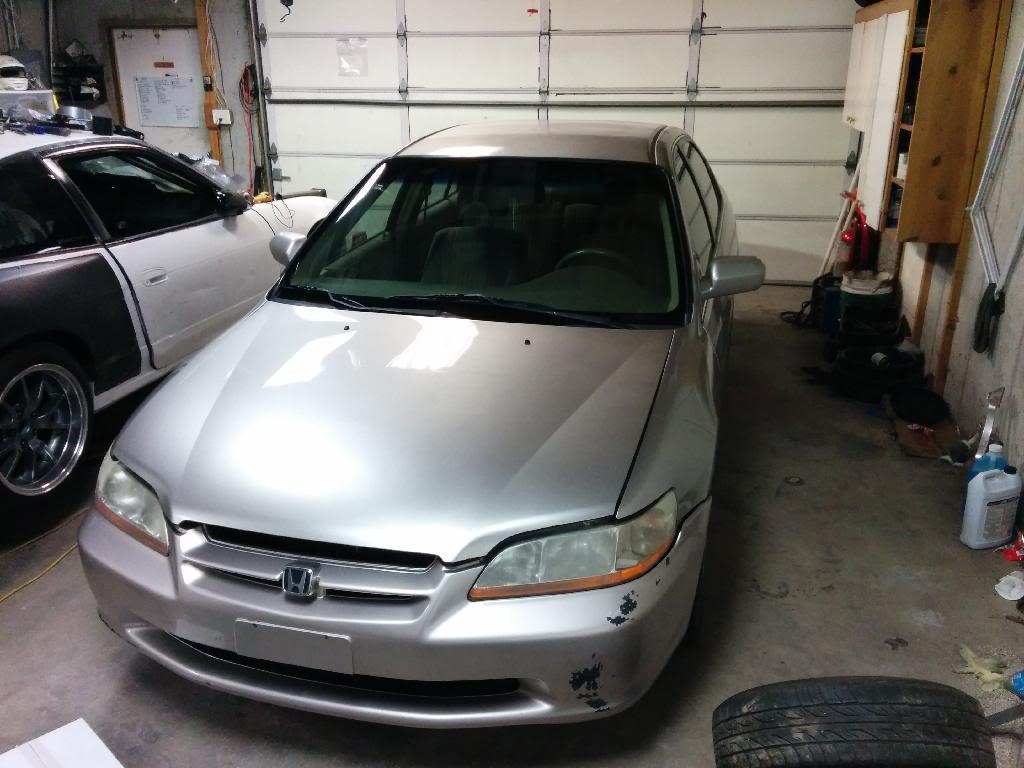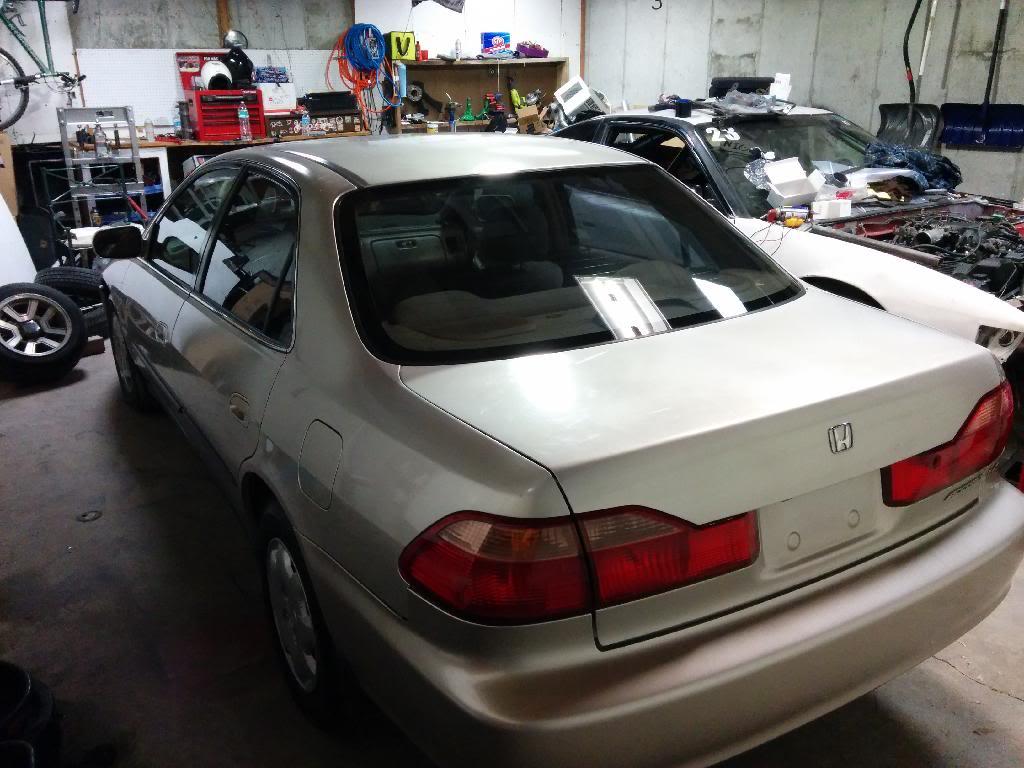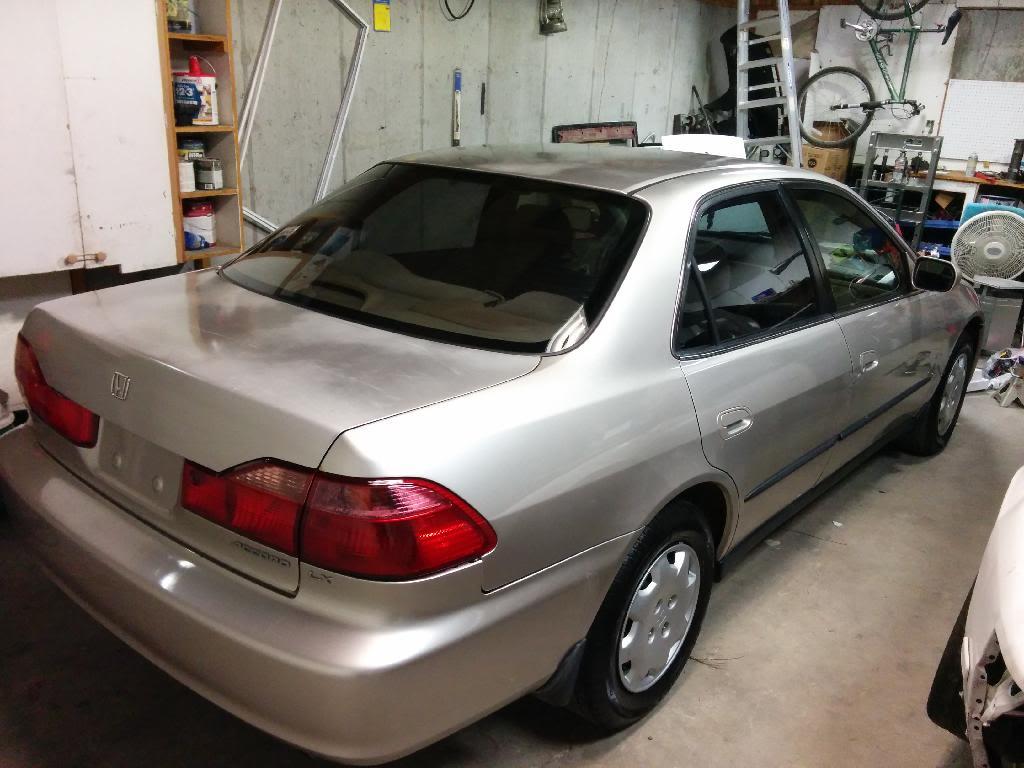 With a little bit of maintenance and some cleaning, she is working flawlessly. With a new car to drive, I put Ariel on the back burner. We needed some time apart.
Enough time had passed and the weather was much better, so I decided to give Ariel some loving again. I hoped that I'd be able to get her running again, maybe even reliably.
After bouncing some ideas off my roommate and some other friends, I decided to take a look at my injectors. The engine in the car is not the original, but I was using the original ECU. Maybe I'm using the wrong injectors for the engine or ECU? It was worth a shot.
Turns out I did have some high impedance injectors, 250 cc/min, that are correct for the engine. The ECU and harness was wired up to use low impedance, 190 cc/min injectors with a resistor box. I was running the resistor box with the high impedance injectors. This may be part of the problem.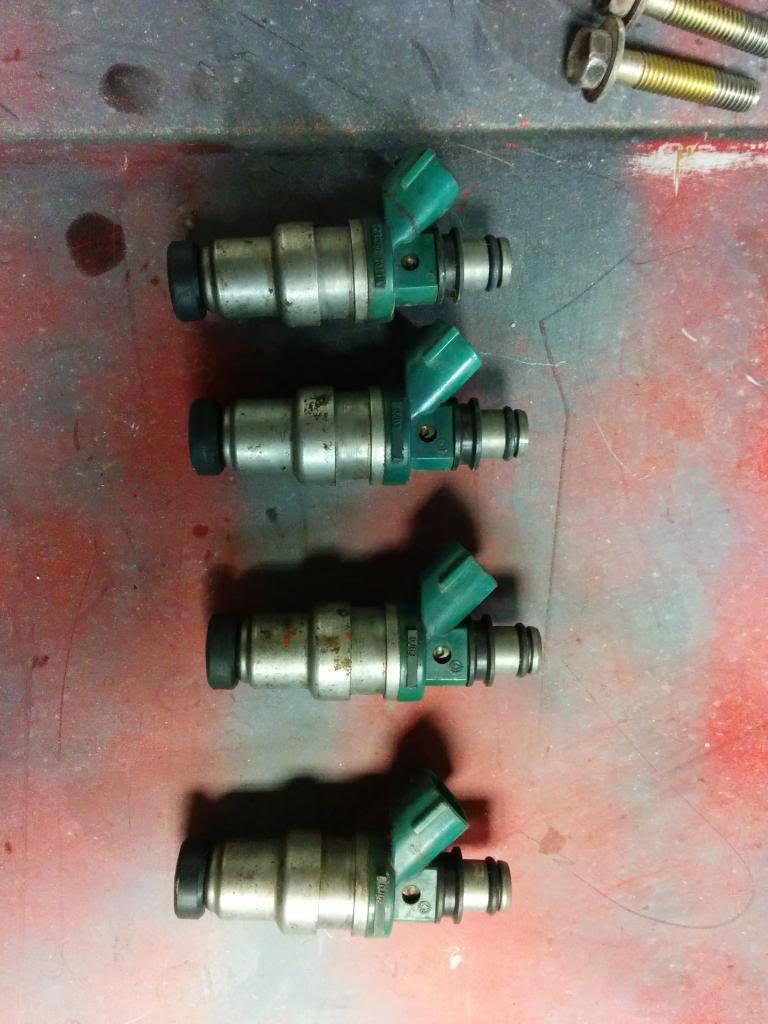 These green 250cc injectors use a different connector than anything else on the engine wiring harness. If I was going to replace the injectors, I'd have to also replace the connectors. After some research, I got lucky at the junkyard and pulled two sets of injectors from a 1985 and 1986 Camry. These beige injectors are low impedance and rated at 185 cc/min, close enough to 190 for my car.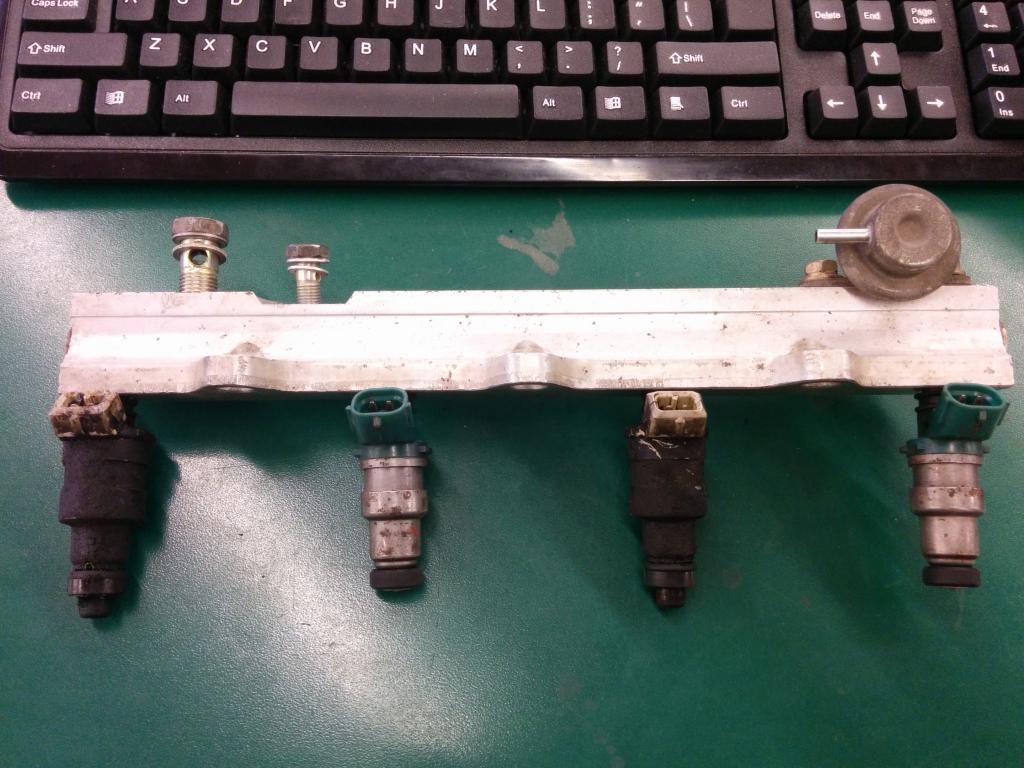 They even fit in the fuel rail!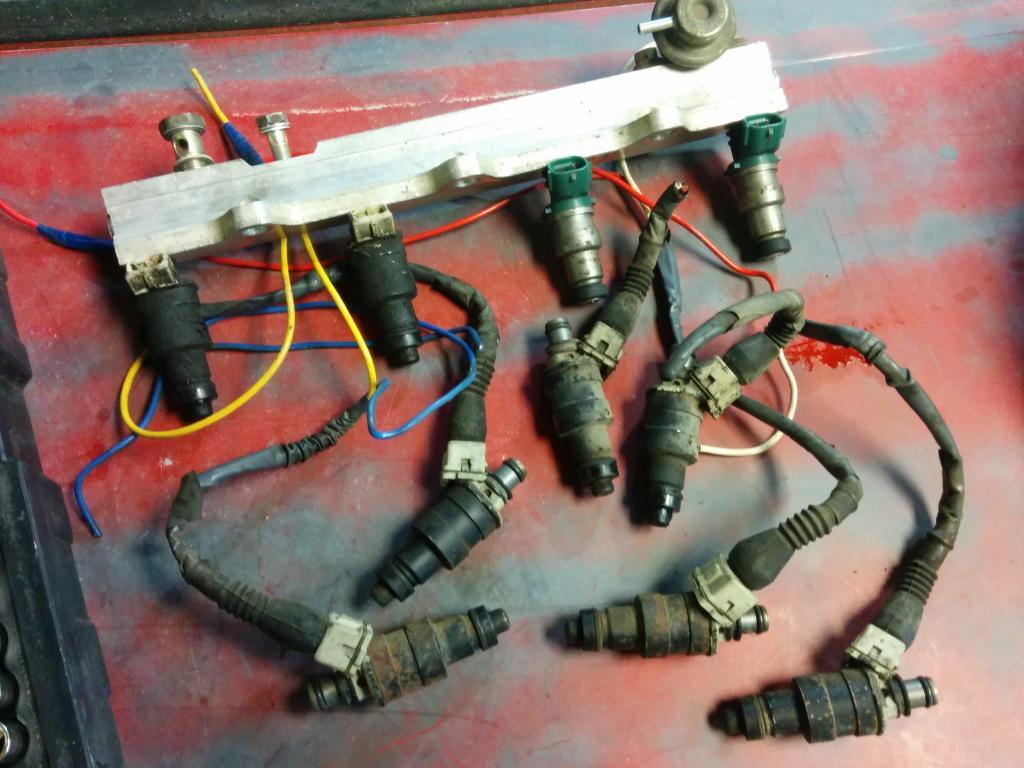 I remembered to get the connectors, too.
With some "fresh, new" injectors that would require some re-wiring, I decided to get ambitious.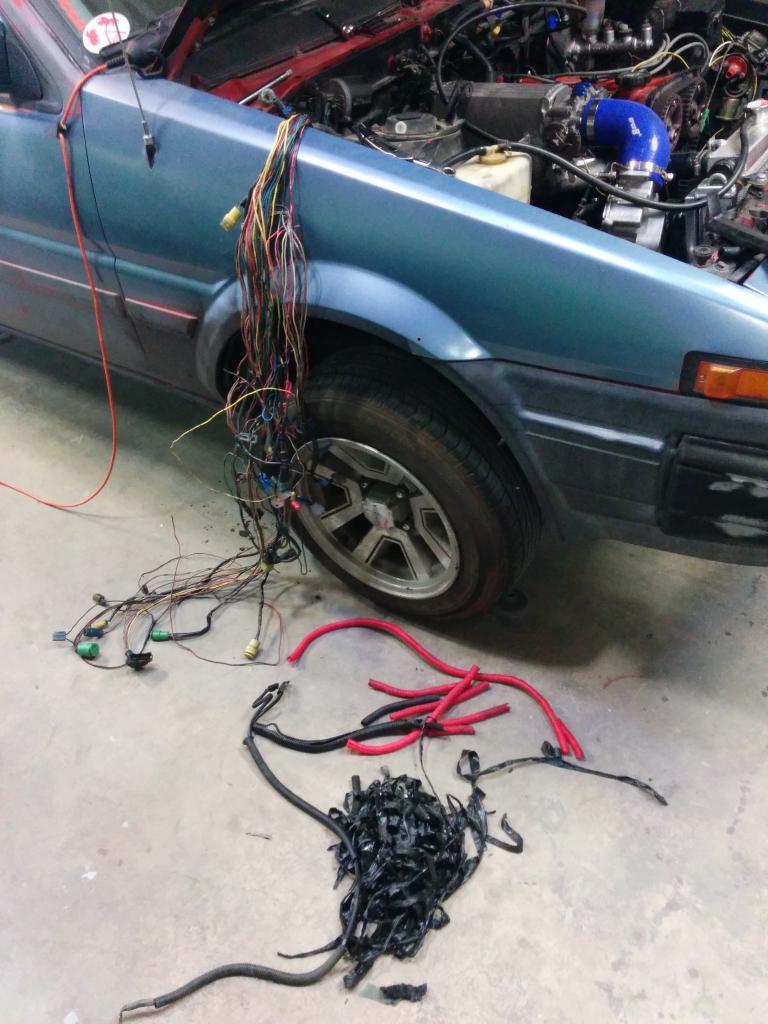 What have I done?!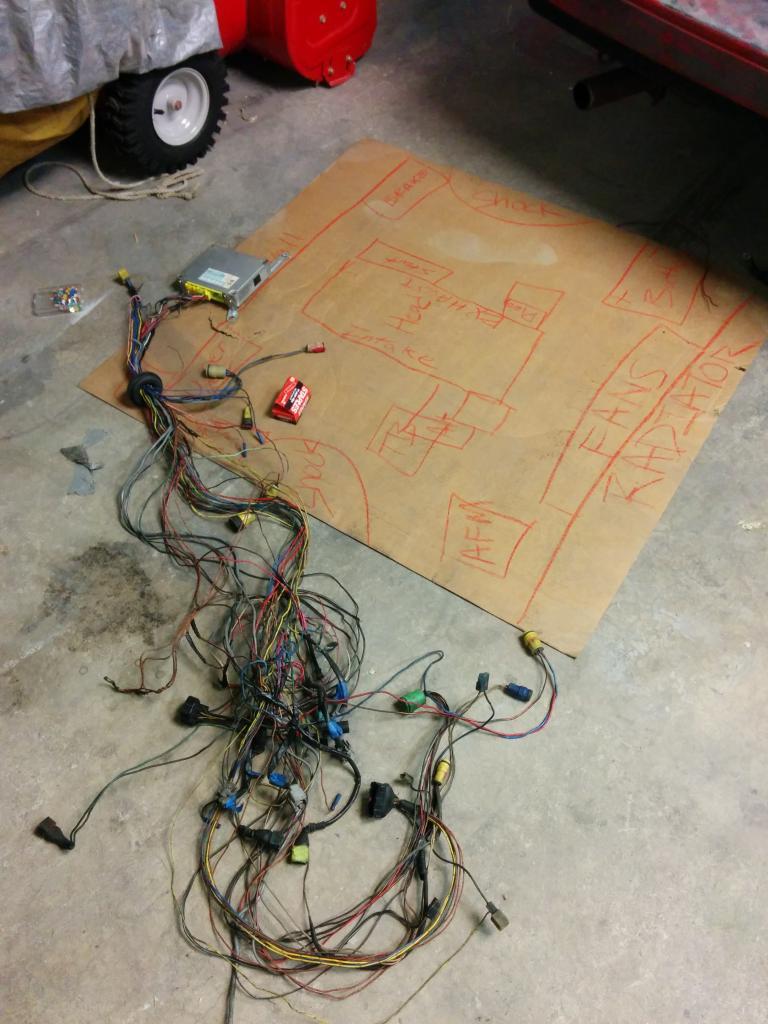 This will be easy, right?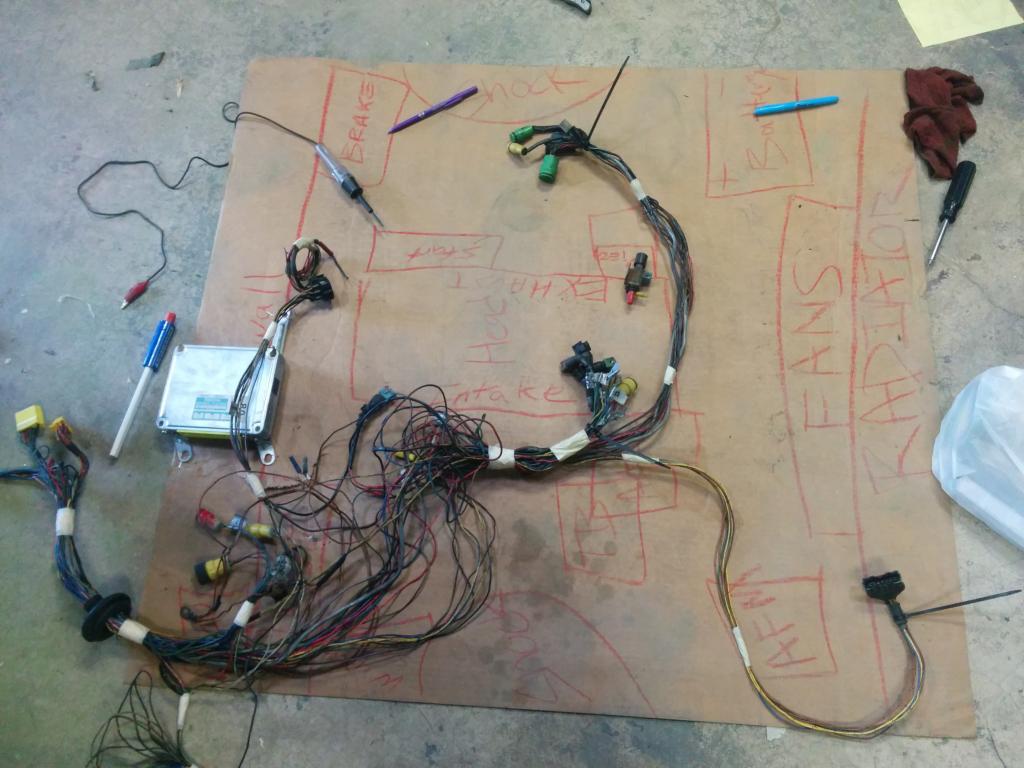 Trying to lay the wires where they need to go.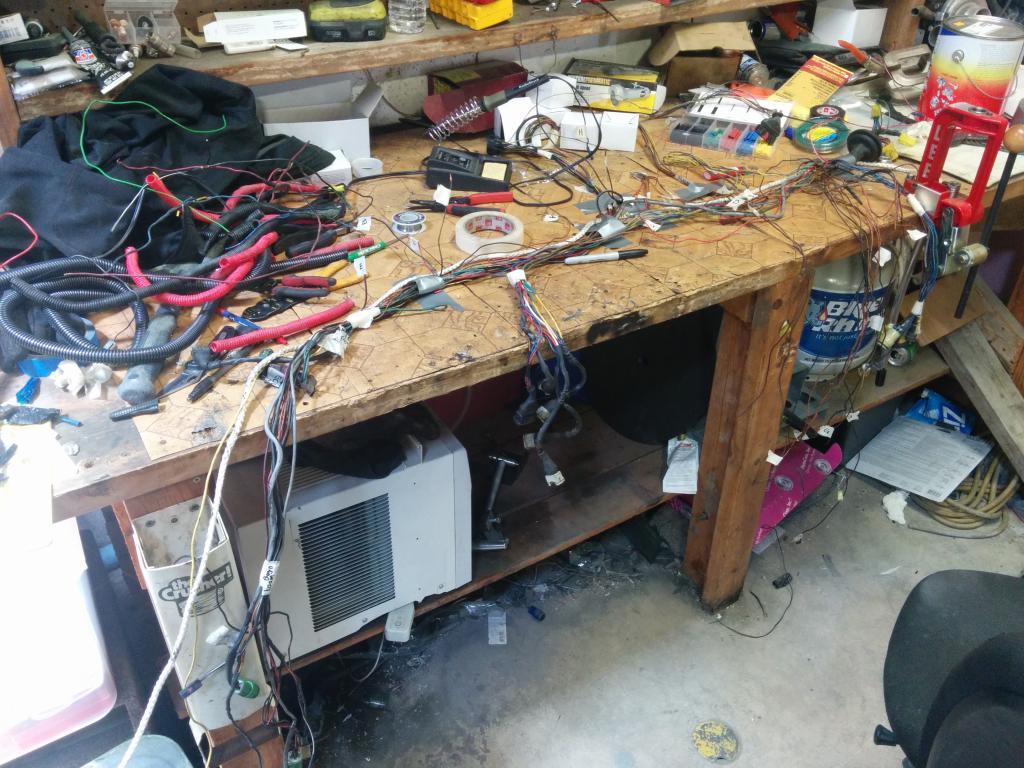 Time for tape and loom!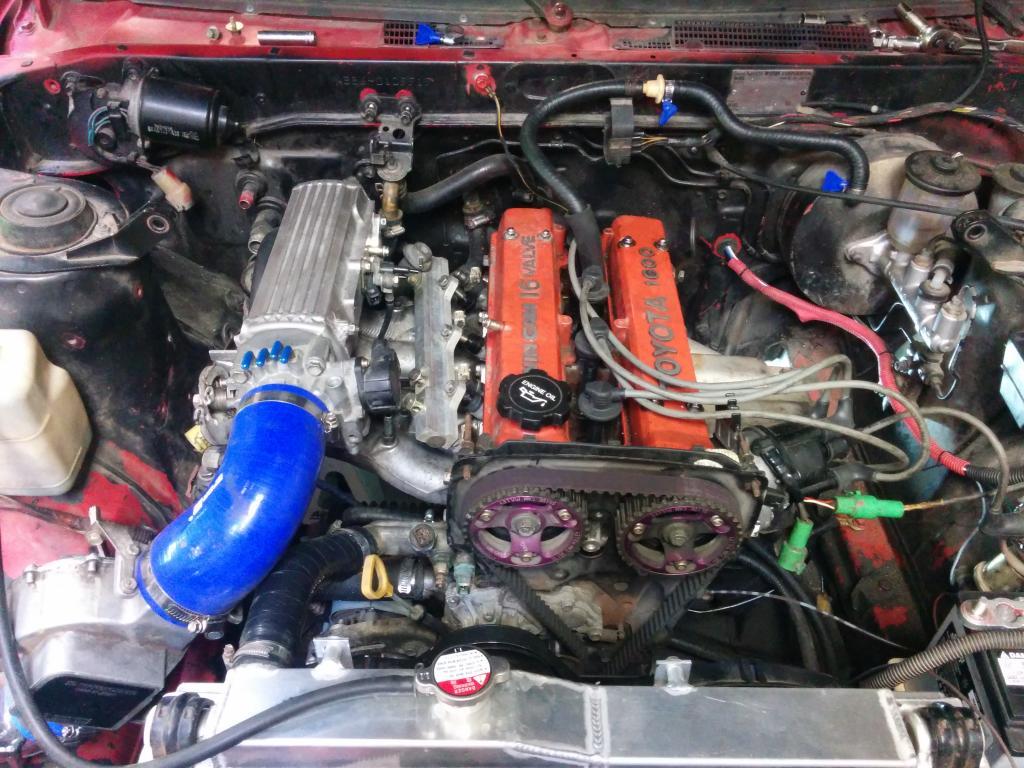 The ultimate wire tuck…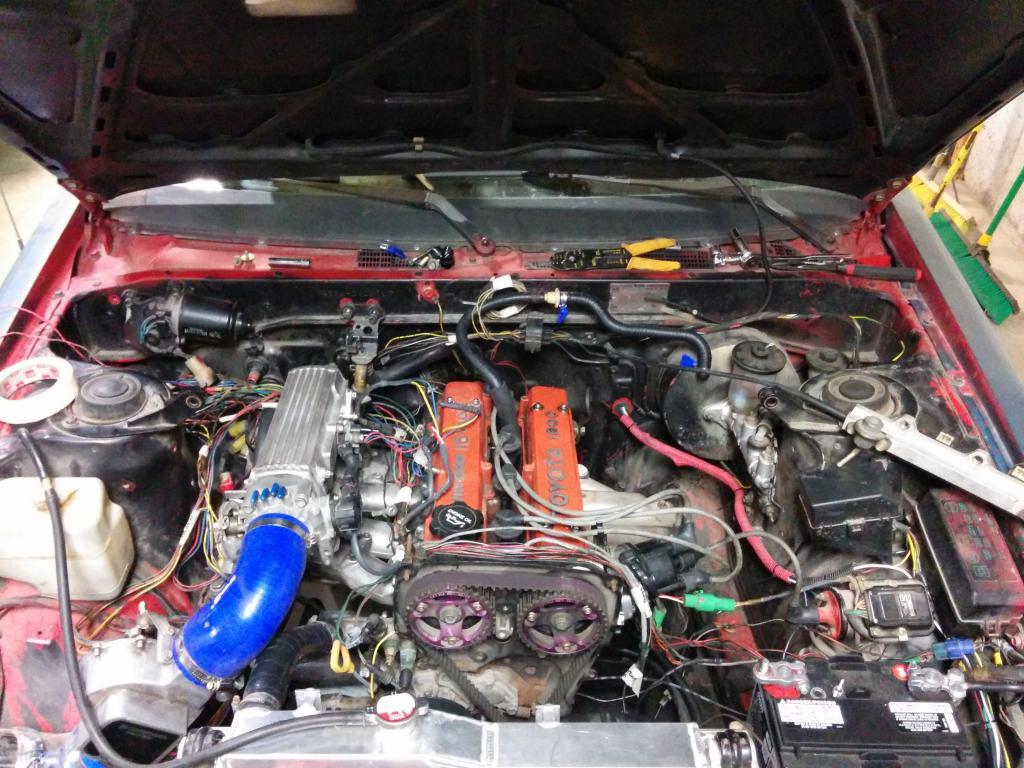 Test fit twice, tape & loom once!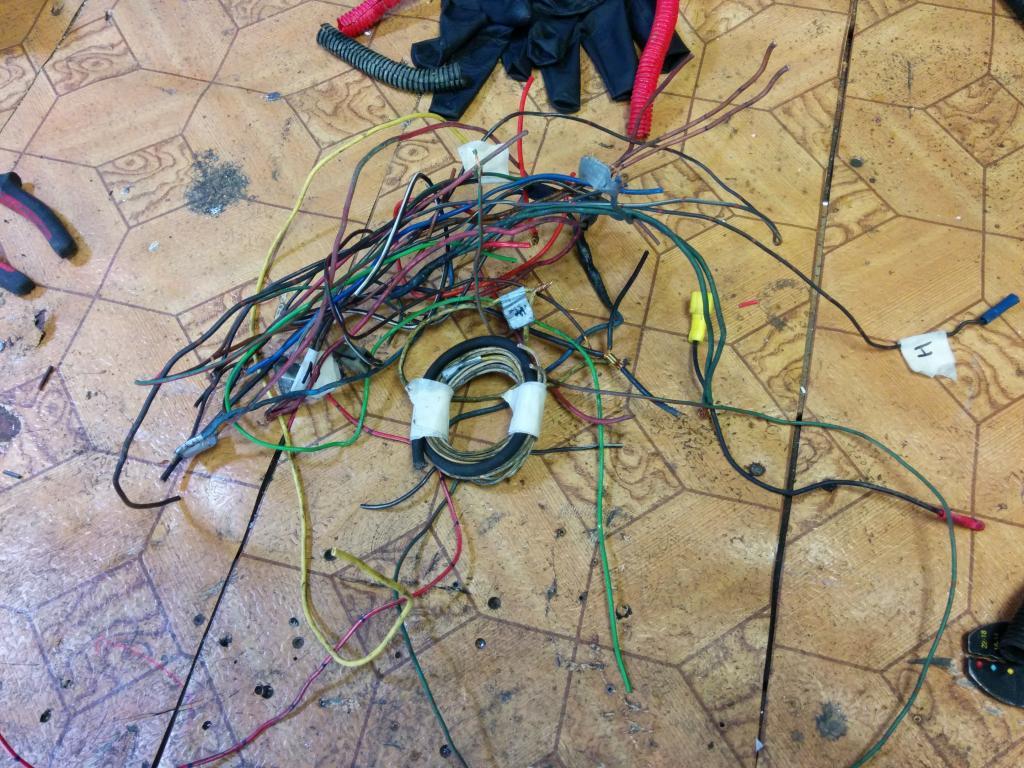 I won't need these anymore.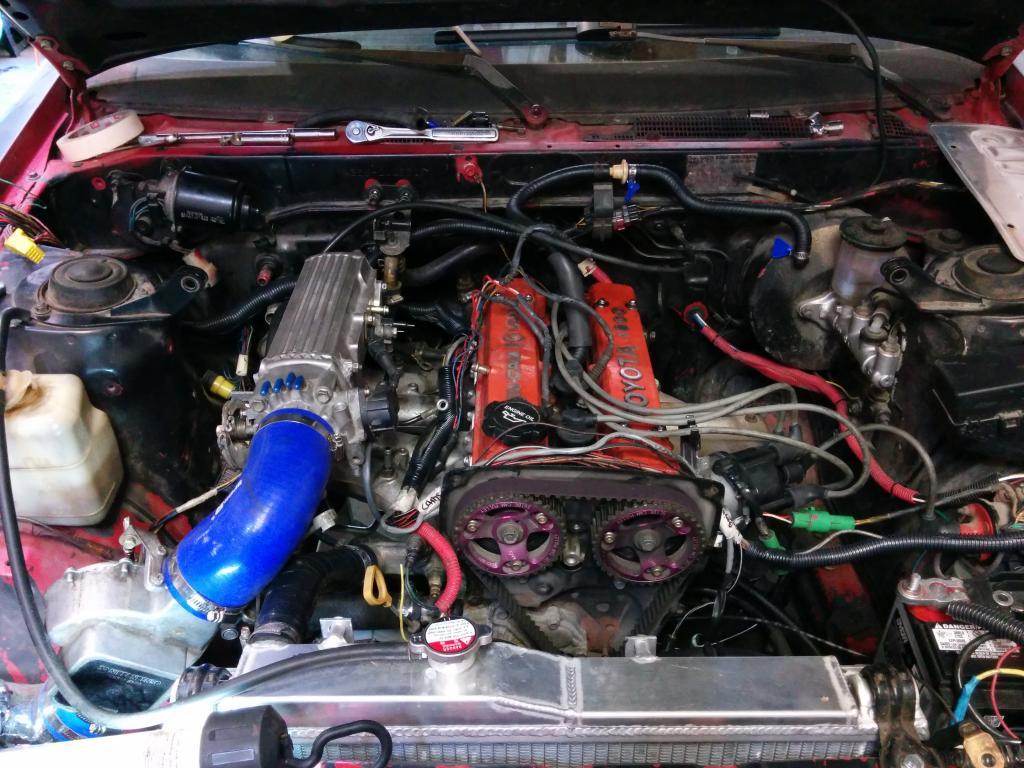 Almost done!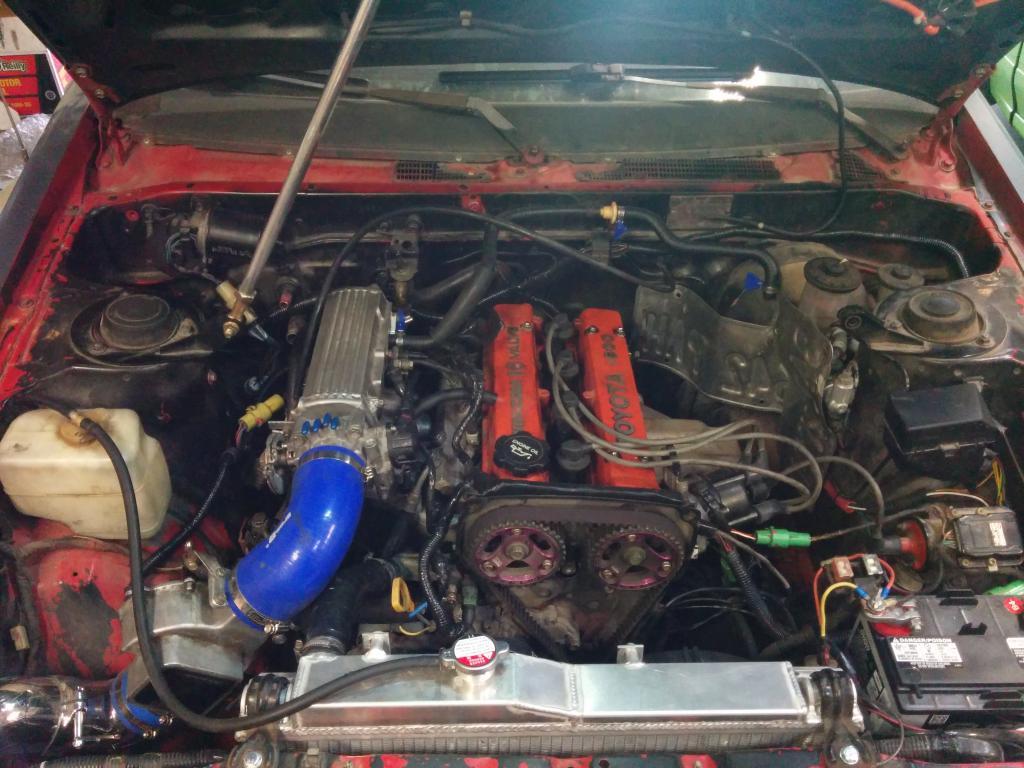 At least the wiring looks a little more proper. Also added in some license plates for heat shields around the brake master cylinder and the wiring for my gauges going through the firewall (note the slightly melted loom from the picture above).
She seemed to appreciate the love and care and wouldn't die out on me like before. The TPS needed adjustment, but she ran as long as I jumpstarted her. The battery still seemed to be draining and the alternator didn't seem to charge the battery very well. Oh well. She ran and there was a drift event coming up that I was going to drive in.
In the whirlwind to get my car and my roommate's car ready for the drift event, I hurriedly reassembled the corolla to give Jordan more room to work on his car. I also had to work out the logistics of helping a friend get his car to the event for Friday, July 11, and my car to the event on Saturday, July 12. Friday went smoothly for almost everyone, so late Friday night, I unloaded my friends car and loaded mine onto the trailer.
Saturday morning at the track, my car was running weird. To be honest, it sounded like a Subaru. It lacked any sort of power or throttle response. I had to keep slipping the clutch because it didn't want to drive in gear with a load on the engine. I could not drift the car like I wanted. I was stumped and getting very frustrated with Ariel again.
With the lunch break approaching, someone else offered to look at it with me/for me. I welcomed a set of fresh eyes and we approached the car. As he listened to it idle, he said it sounded like it was missing in at least one, maybe two cylinders. He told me to pull the wires off, one at a time, and see if we could tell where it was missing.
I pulled number one and the car almost died. That wasn't the problem.
I pulled number two and the car actually sounded a little better than before.
Then I realized what was wrong; I messed up the firing order. I had the wires for 2 and 4 switched. I can't be sure when I had switched them, but I know I had took off and put back on the wires half a dozen times at the track that morning. And twice that many times as I worked to clean up the wiring and swap the injectors. I felt like an idiot; just plain stupid and mad at myself. I was grateful for the help but was deeply embarrassed about my mistake and inability to see it.
I went karting with a couple of friends to work off the embarrassment and frustration. I'm kinda surprised I didn't get black flagged with how often I cut corners, dropped into the dirt, and bumped a few people.
Feeling less emotional and ready to have some fun, I took the Corolla to the donut box to warm her up. There, a new problem arose. As I bounced off the rev limiter and smoked some tires, I noticed the charge light come one and the voltmeter pegged at 18+ volts. If I let the rpms drop back to idle, the light turned off and the voltmeter read 13-14 volts. Odd.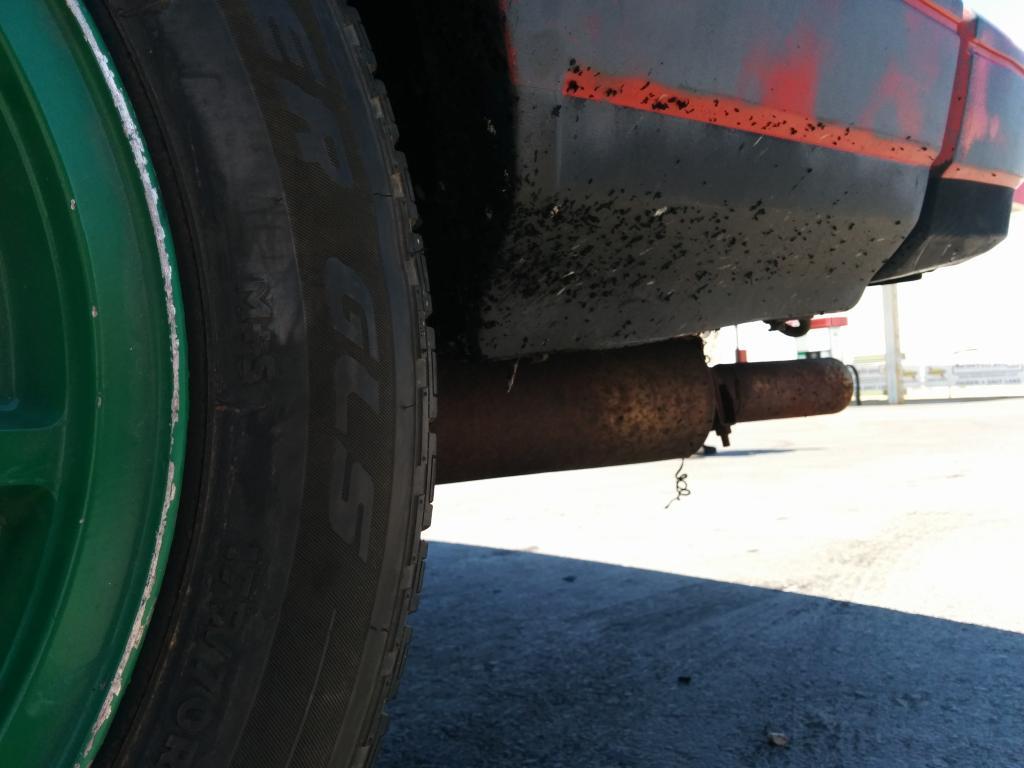 Those tires don't stand a chance!
I told myself to keep an eye on it and decided to try a run on course to see if it was a weird fluke or not. Sure enough, when the rpms were high (greater than 4000 rpm), the charge light would come on and the voltmeter would read 18+ volts. I exited the course and parked the car. I looked over all the connections for the battery and alternator, but nothing looked out of place. I told a few friends what was happening, but they weren't sure why it was acting like I was overdriving the alternator. I had stock pulleys on the crank, water pump, and alternator and no one had an underdrive pulley I could use. We were all stumped. Instead of sitting around confused, I decided I would try to enjoy my car out on track, while keeping an eye on things to see if I could determine what was wrong.
Halfway into my third run in the car, second run on the course, the charge light came one an stayed on. The voltmeter was no longer pegged at 18+ volts at high rpms. I cut the run short and coasted into the pits. Jumping out of the car, I looked over the wiring to the alternator again. Nothing looked burned or smelled funny. Nothing looked out of the ordinary at all. I started the car again and the charge light stayed on the voltmeter read 12.5 V and draining. Crap, the voltage regulator must've died in the alternator. That's the end of the day for me.
Hopefully anyone that passed behind me on the trek home appreciated my bouncy Jesus and hula girl on the trunk of the Corolla. They sure made me giggle everytime they danced.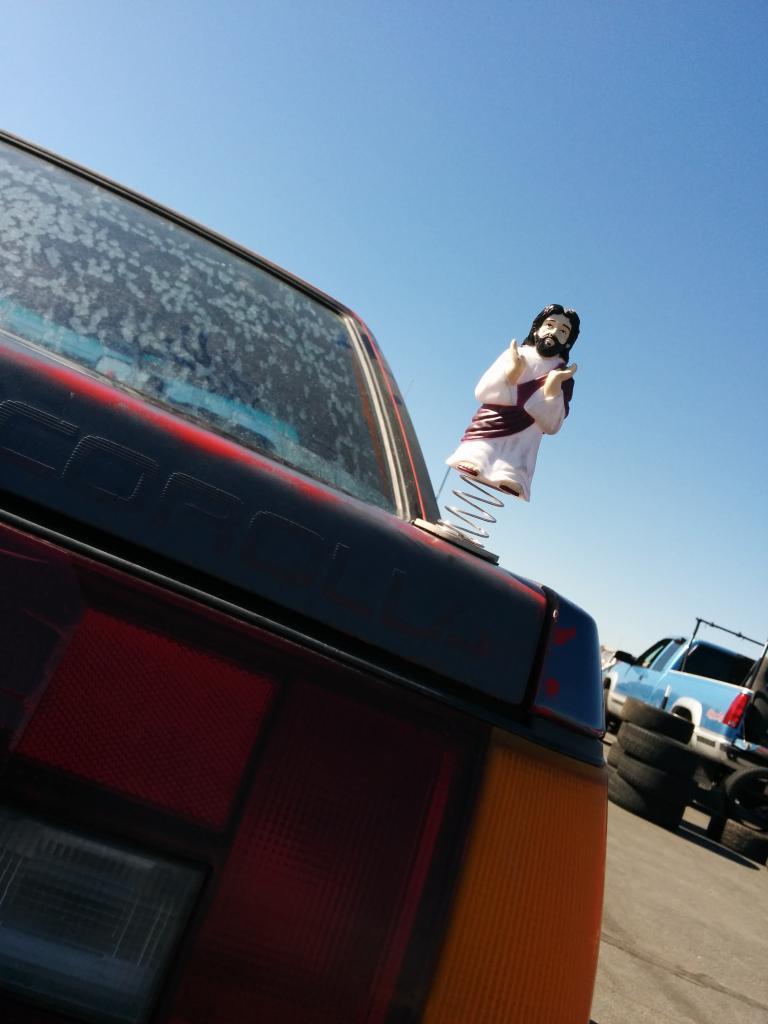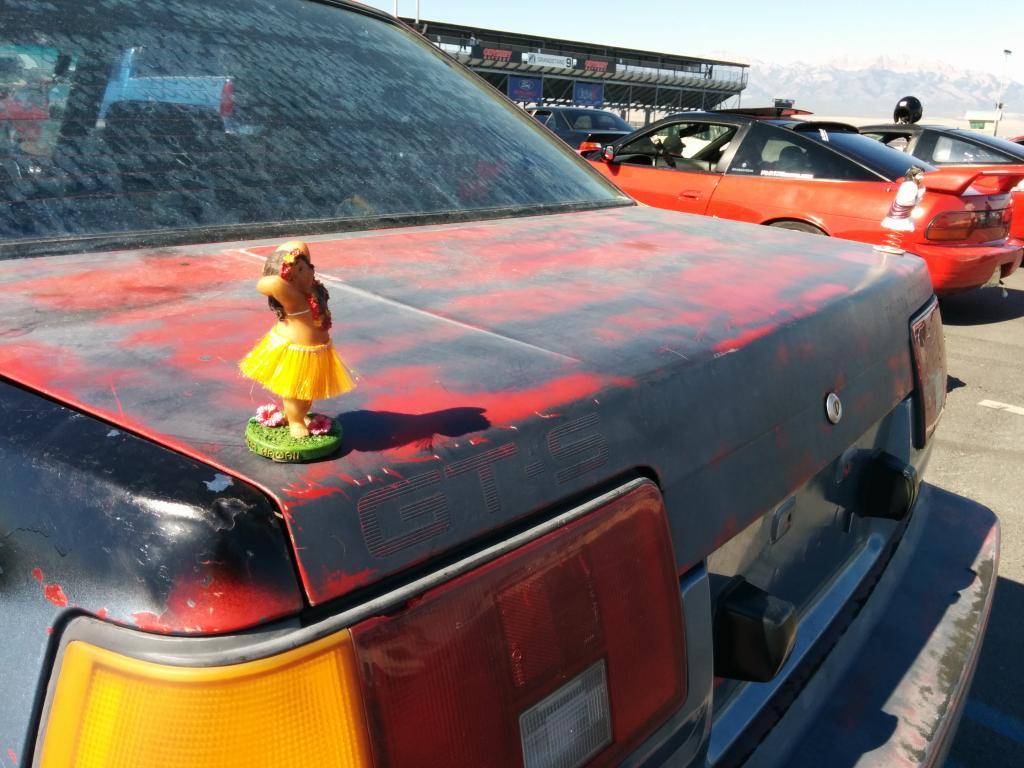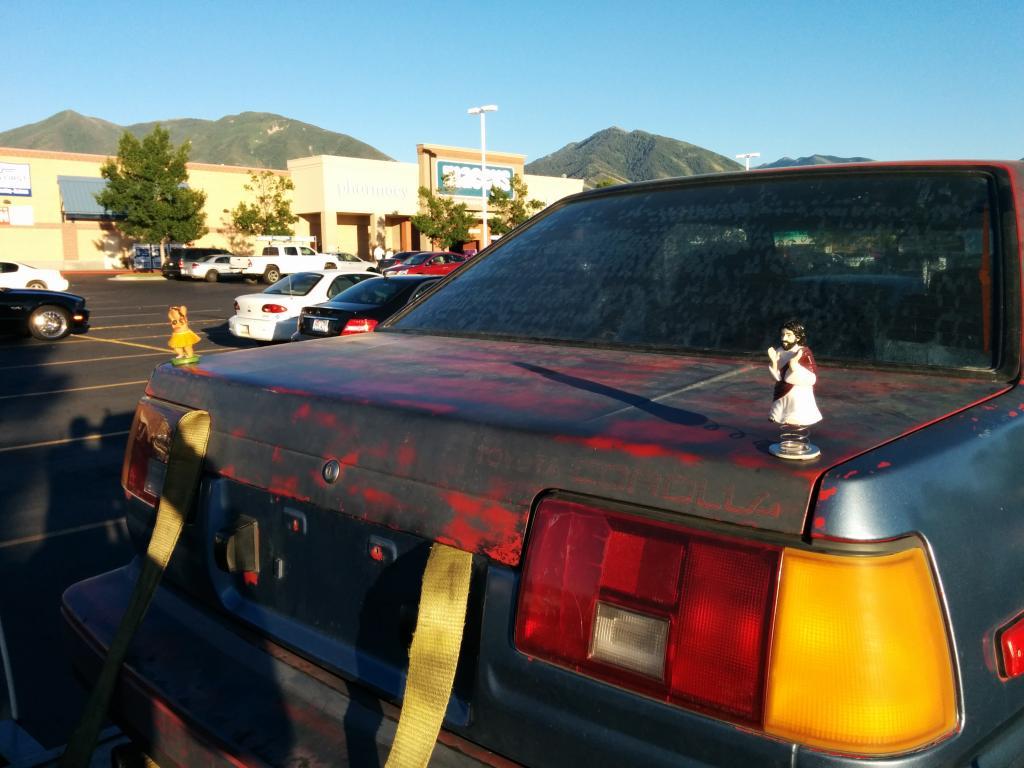 9-11-2014
I like it too. I think I'll put Jesus and the hula girl in my dd Honda Accord. There just isn't a good place to put them inside the Corolla :/
As you can see from the pictures, Ariel was in desperate need of a makeover. Some fresh paint and a little bit of bodywork would change the look and feel of the car. I'm not one to typically get hung up about how a car looks, but I was tired of how crappy Ariel looked and the teasing and joking from everyone about how crappy it looks. My birthday was coming up and so is a local J-tin carshow a friend is hosting, so I put together a plan for a makeover.
First things first, the car had to be prepped. That meant sanding, something that wasn't done when my dad painted it for me back in 2008. I felt confident that I could handle sanding the car, so I borrowed an orbital sander, bought a bunch of sand paper, and went to town. I did remove a lot of exterior bits first.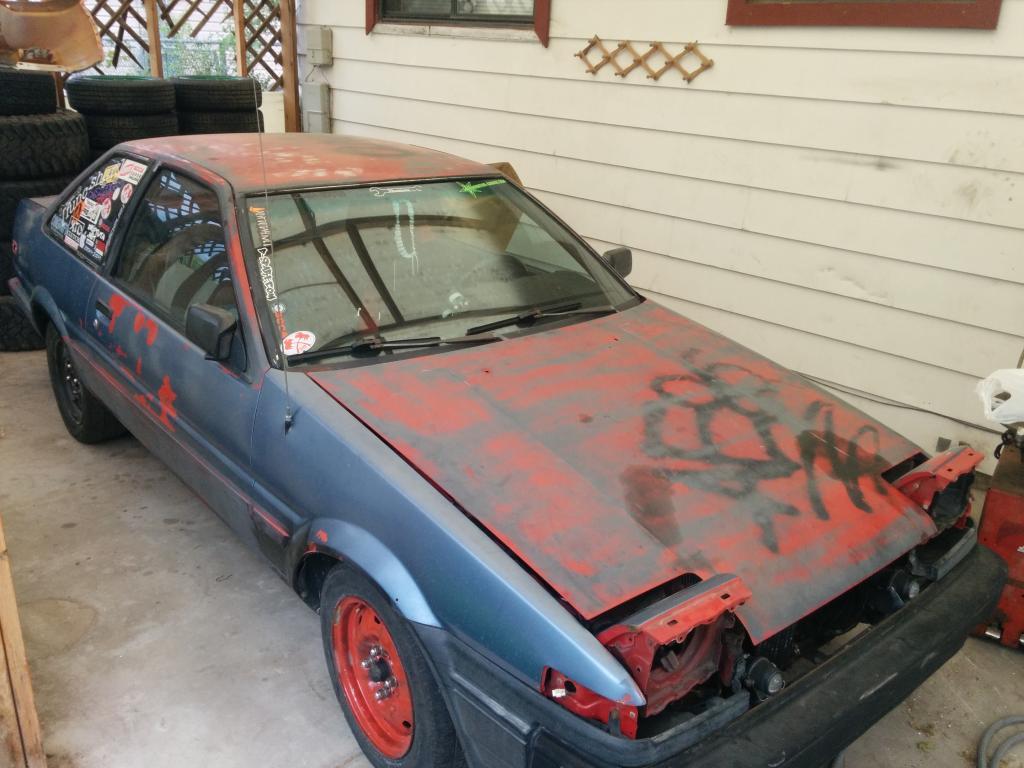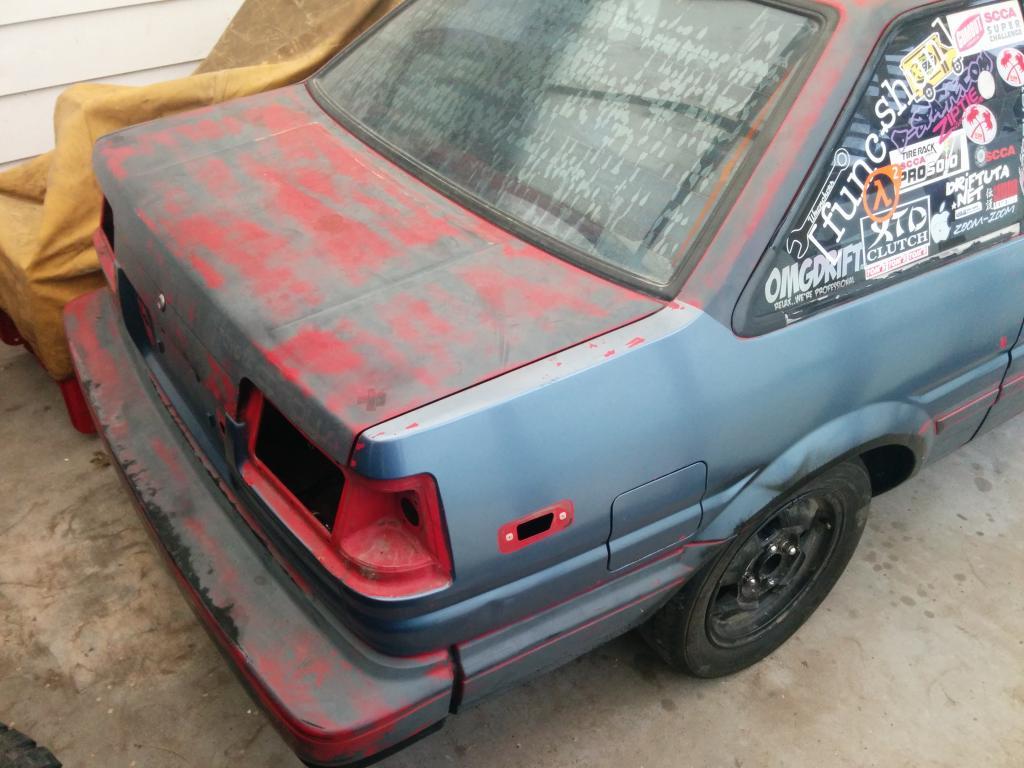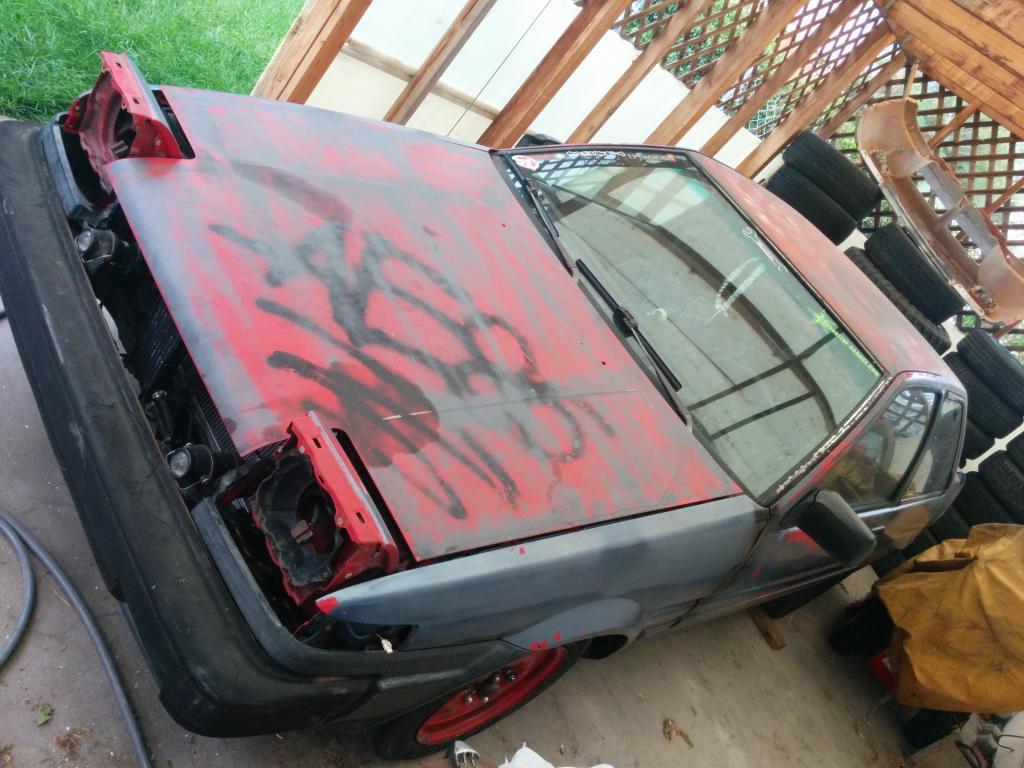 First night of sanding using some 100 grit paper.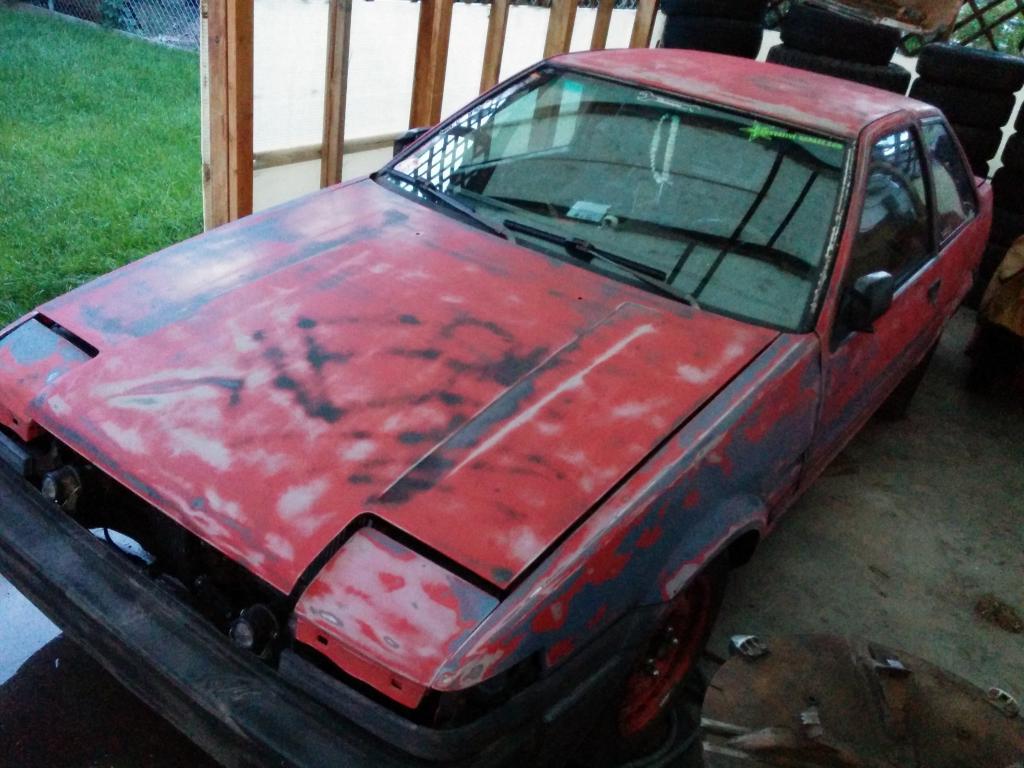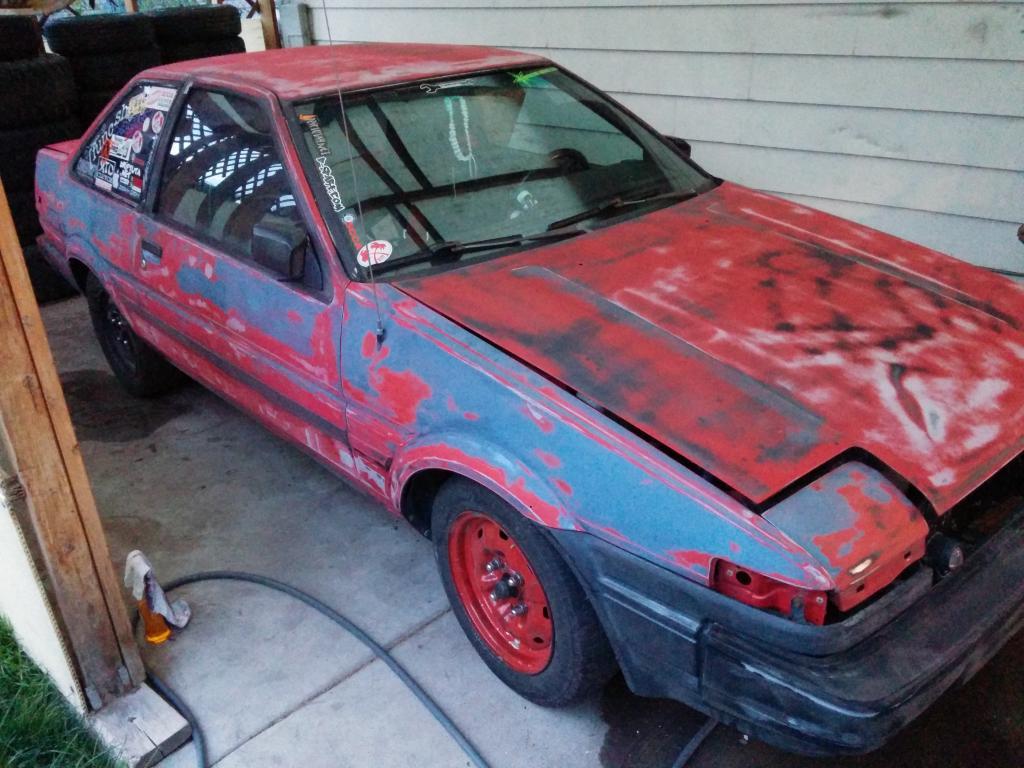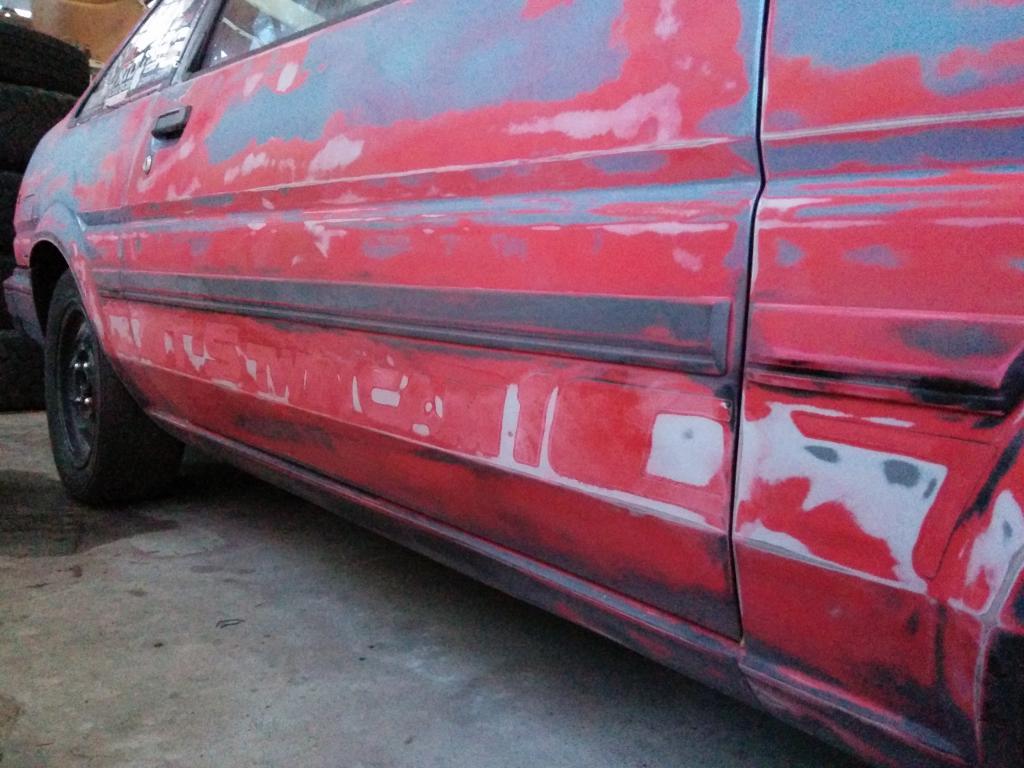 Getting the OEM "GTS TwinCam 16" stickers off the door was very difficult.
Took off the front bumper and did some more sanding the next night.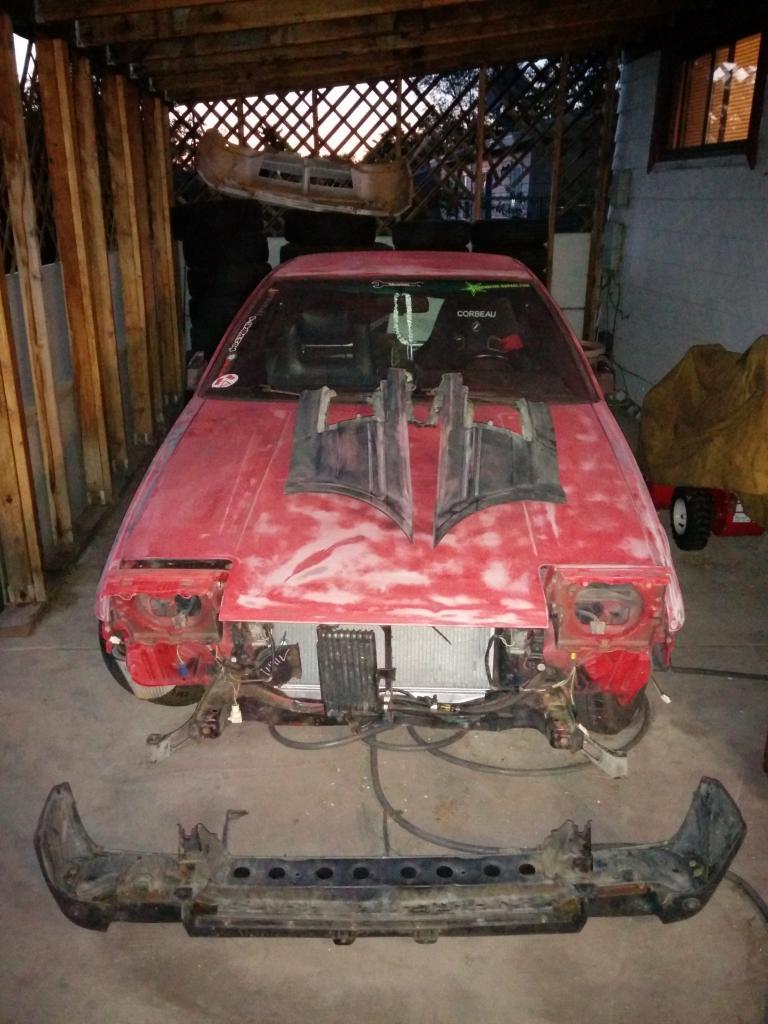 Took off the rear bumper and decided to tackle some rust spots in the trunk as well.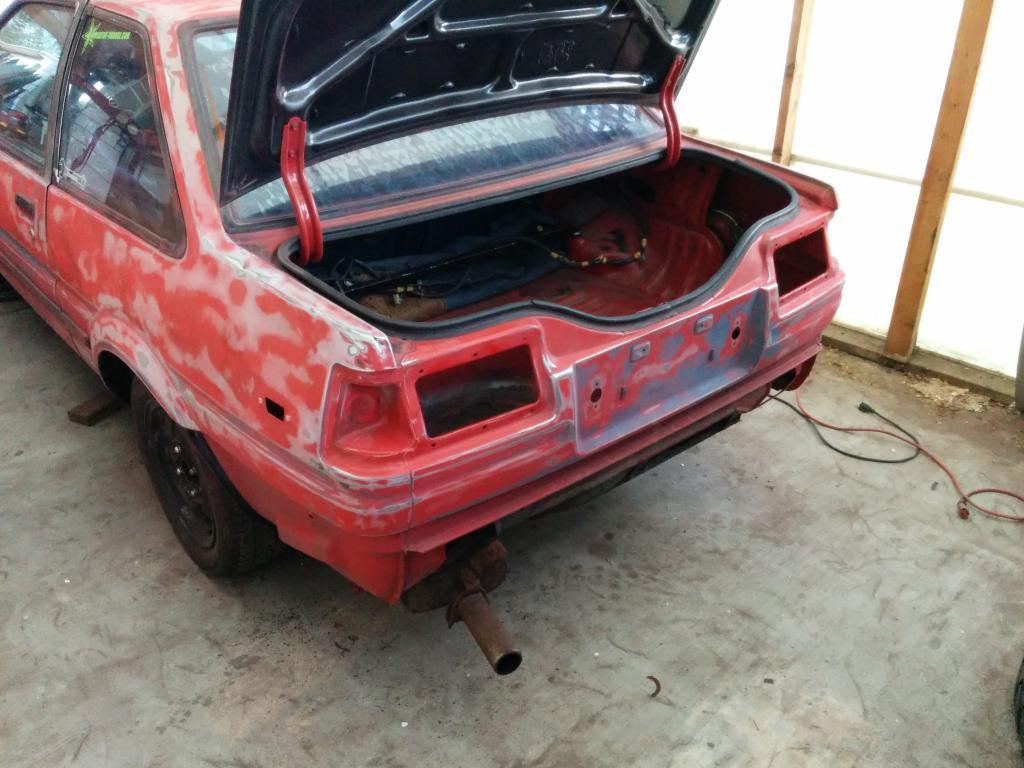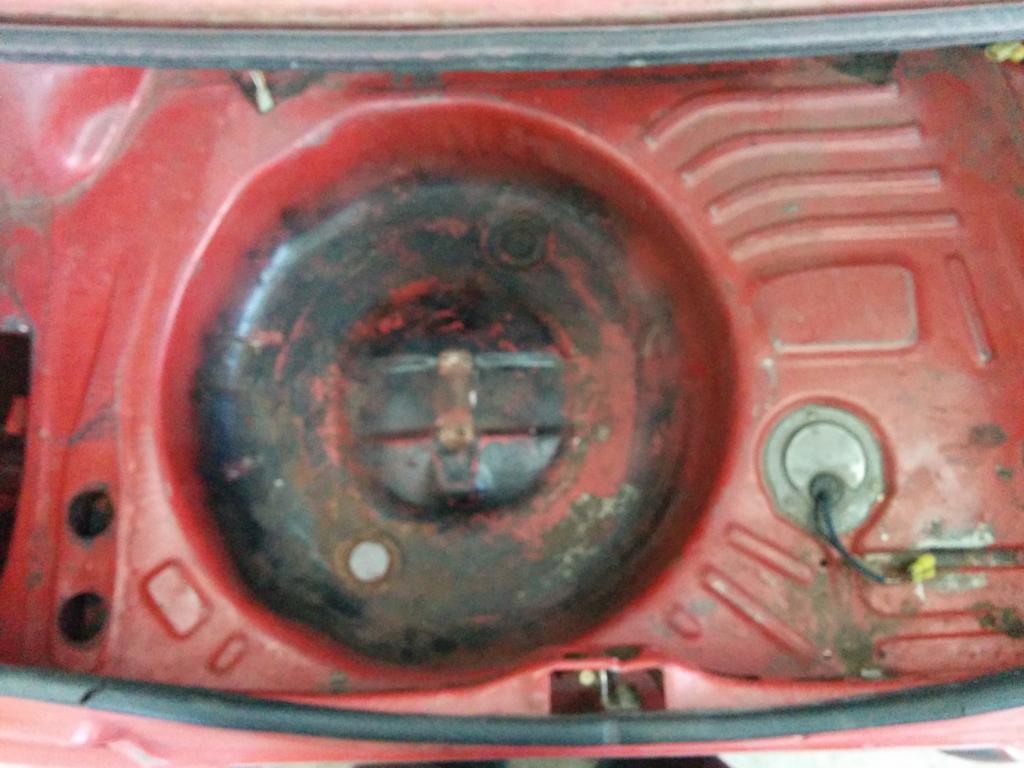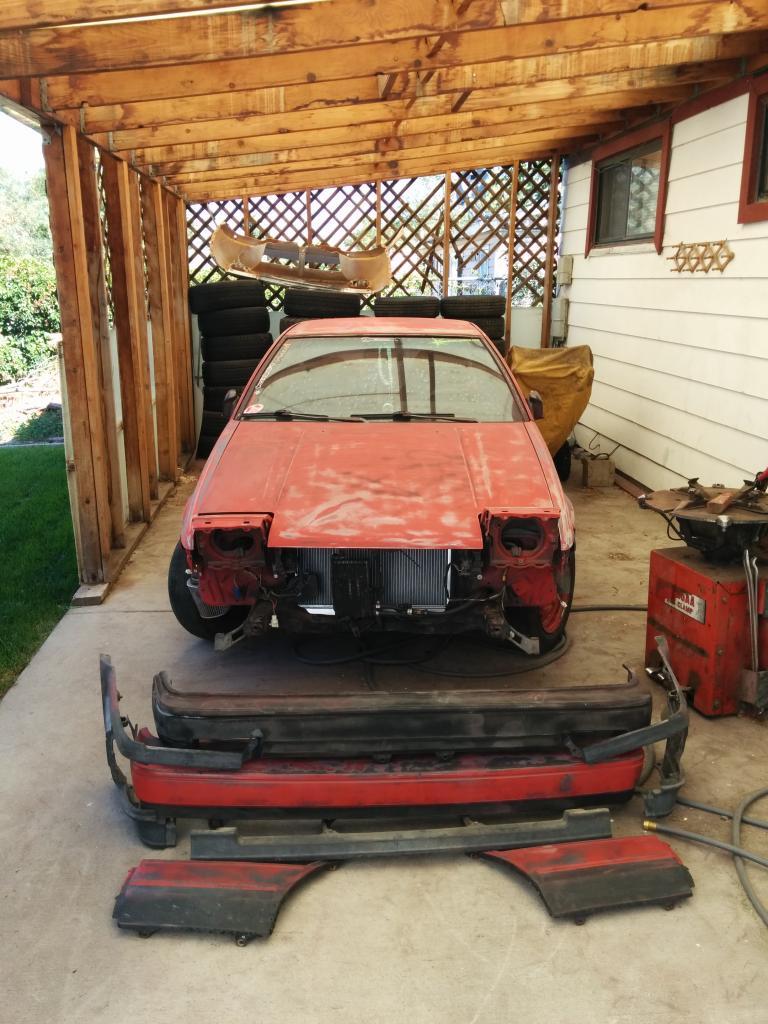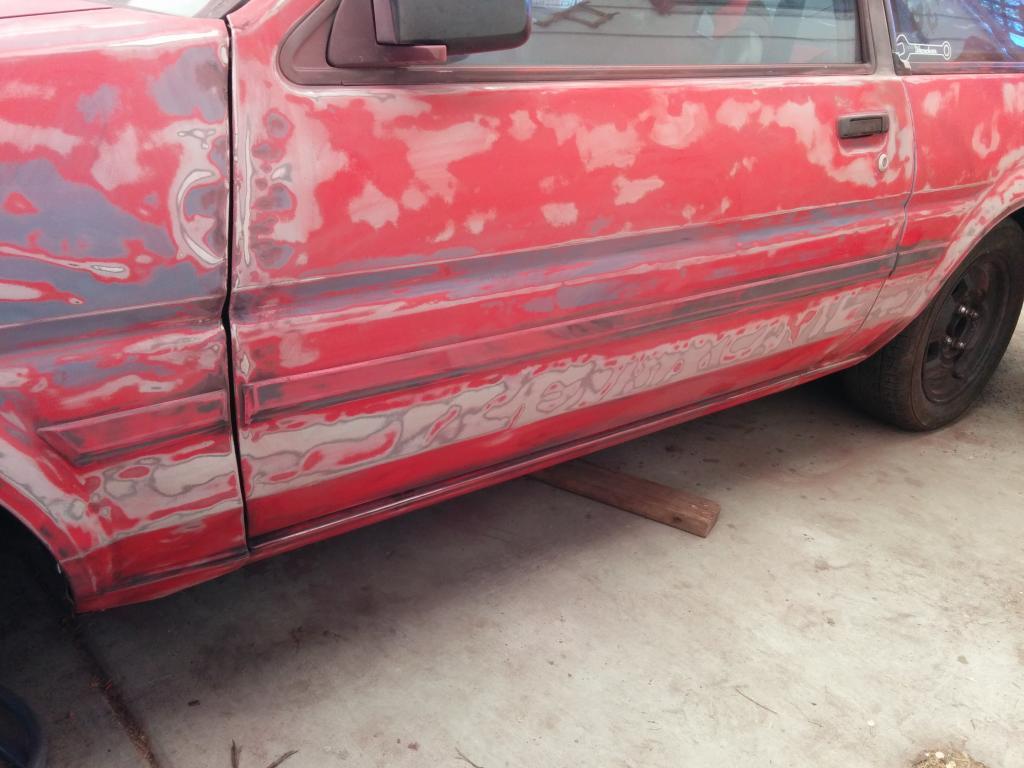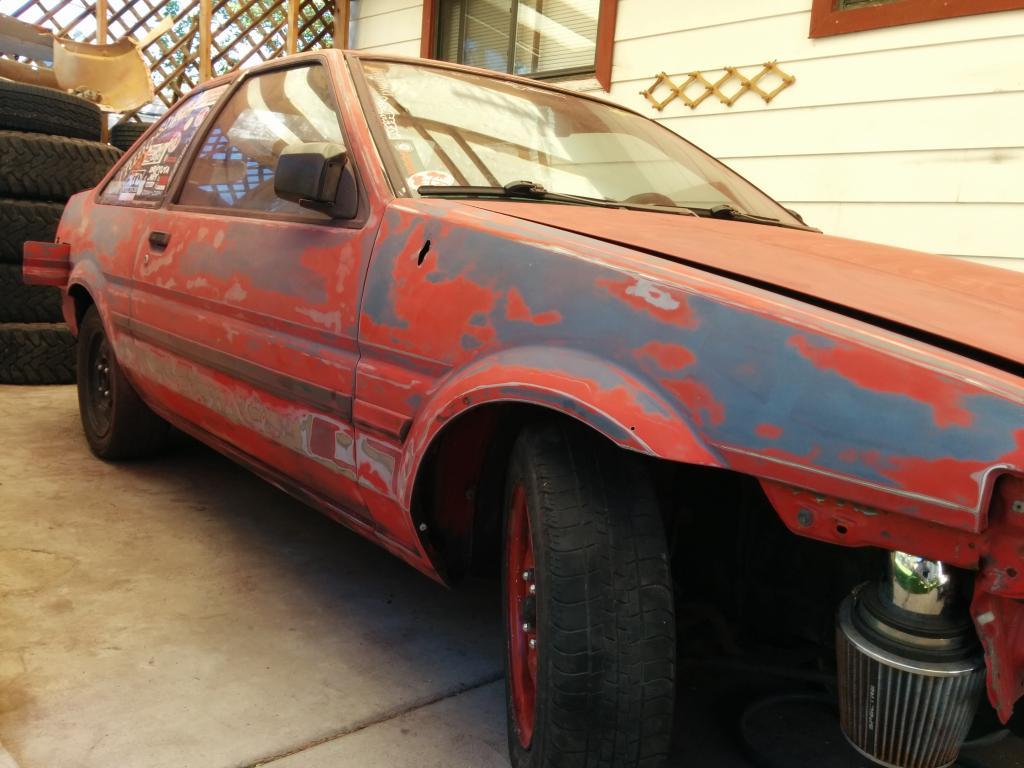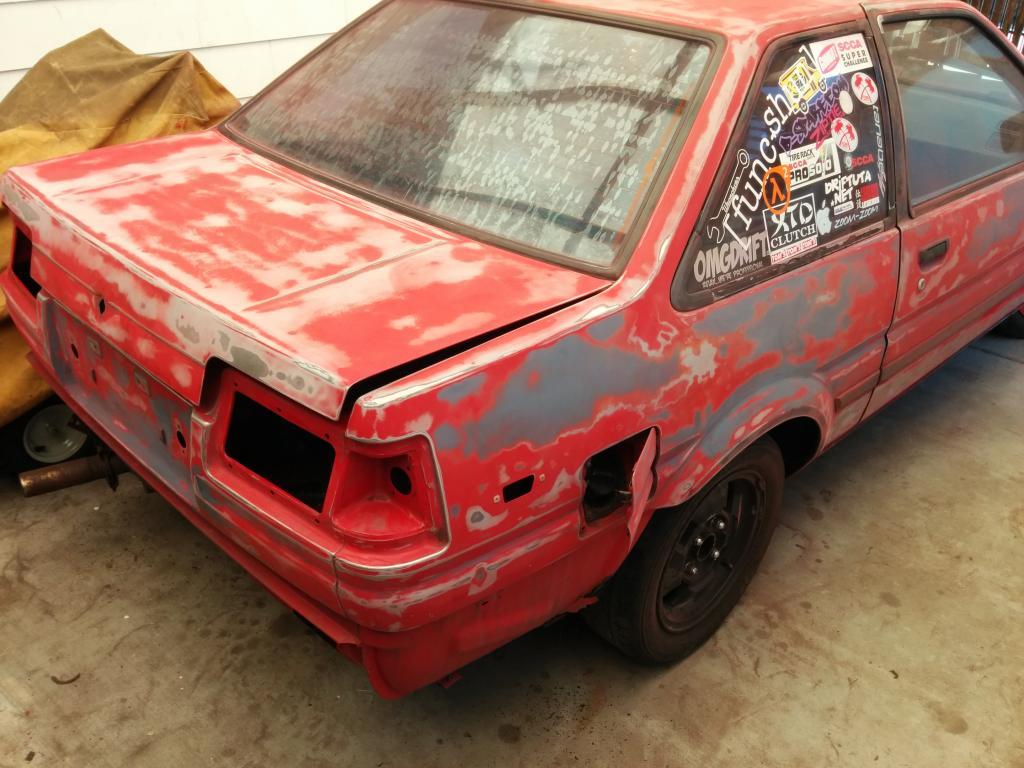 I didn't notice it immediately when I took off the rear bumper, but I did have a hole to deal with behind the rear bumper.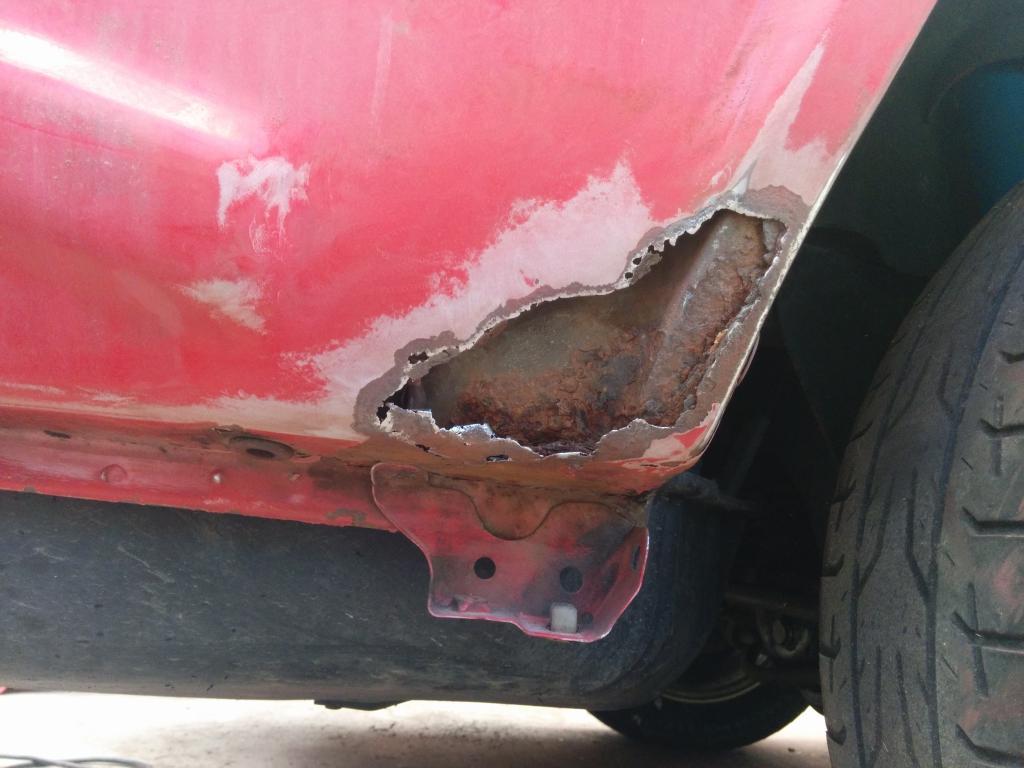 At least it isn't anyplace important, structurally, and is well hidden behind the bumper. And that is the worst area of rust on the whole car, surprisingly. Not too shabby, imho.
After spending a week or two sanding the car, it was ready to be delivered to my dad to finish the prep work and paint it. Since I had done a large amount of the prep work I wasn't worried about letting my dad paint it again. Plus, he agreed to buy the paint as a birthday present for me. My dad's pretty awesome.
Bit of wet sanding after being masked.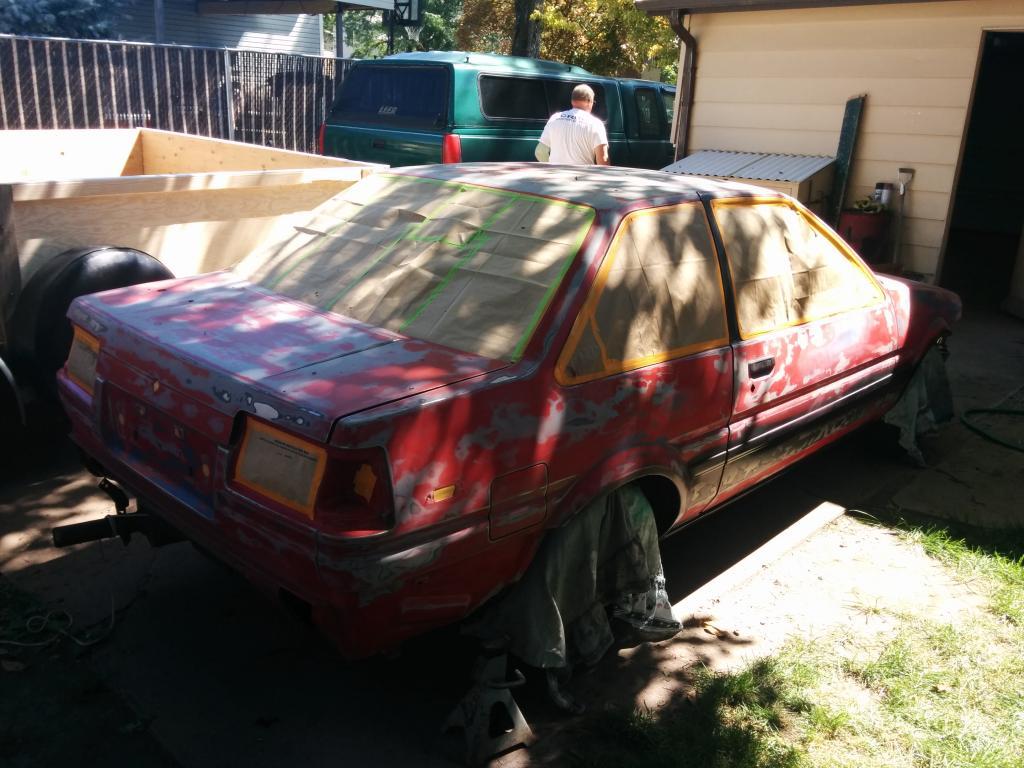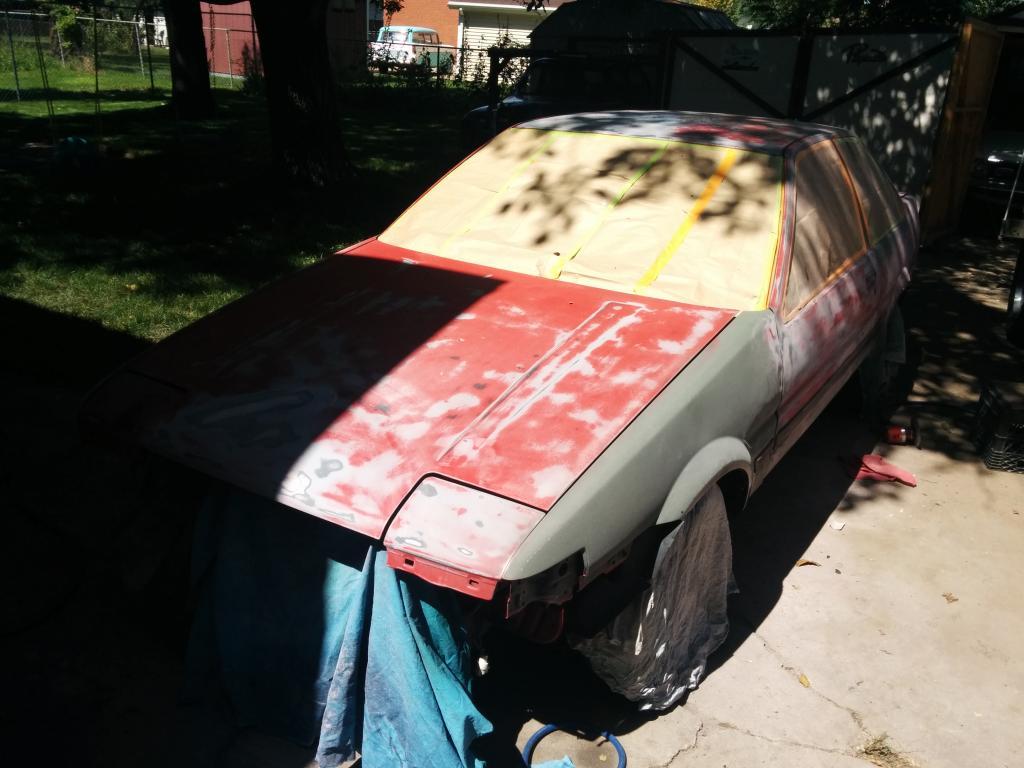 Primer sprayed and first shots of black for the door trim and bumper pieces!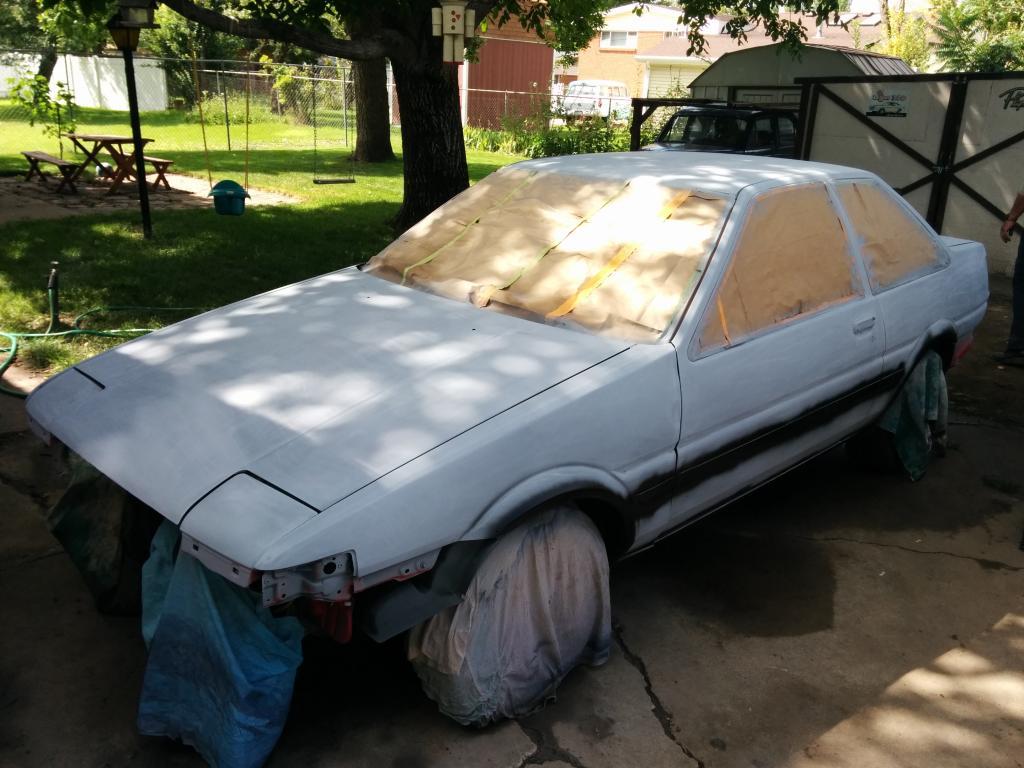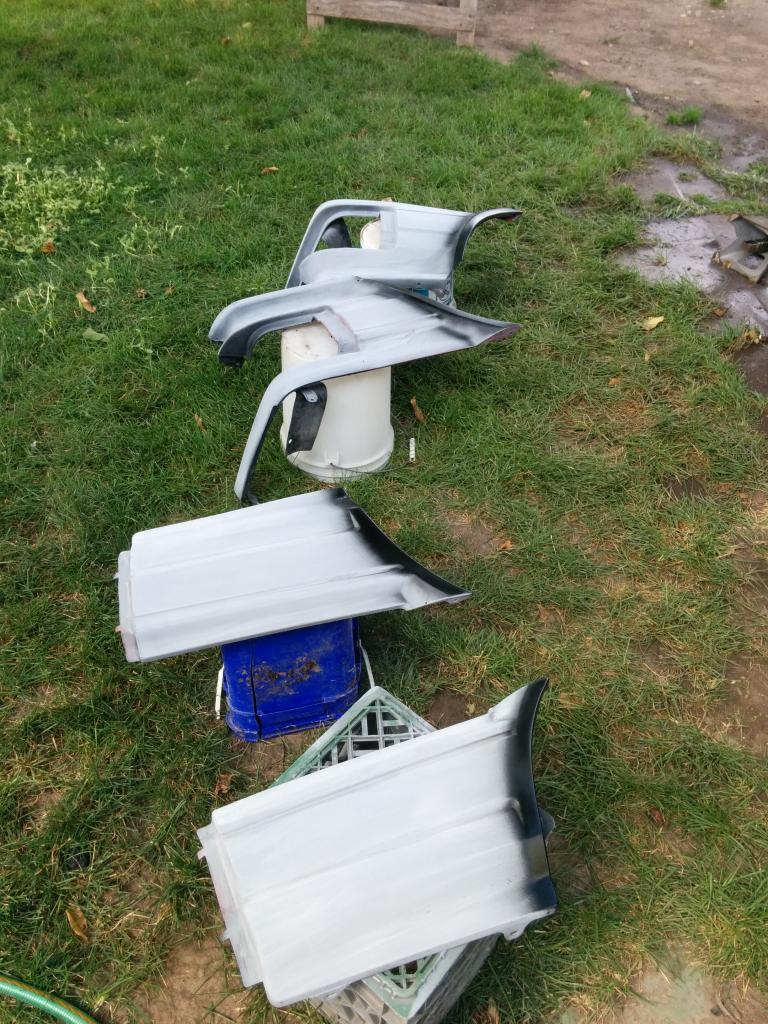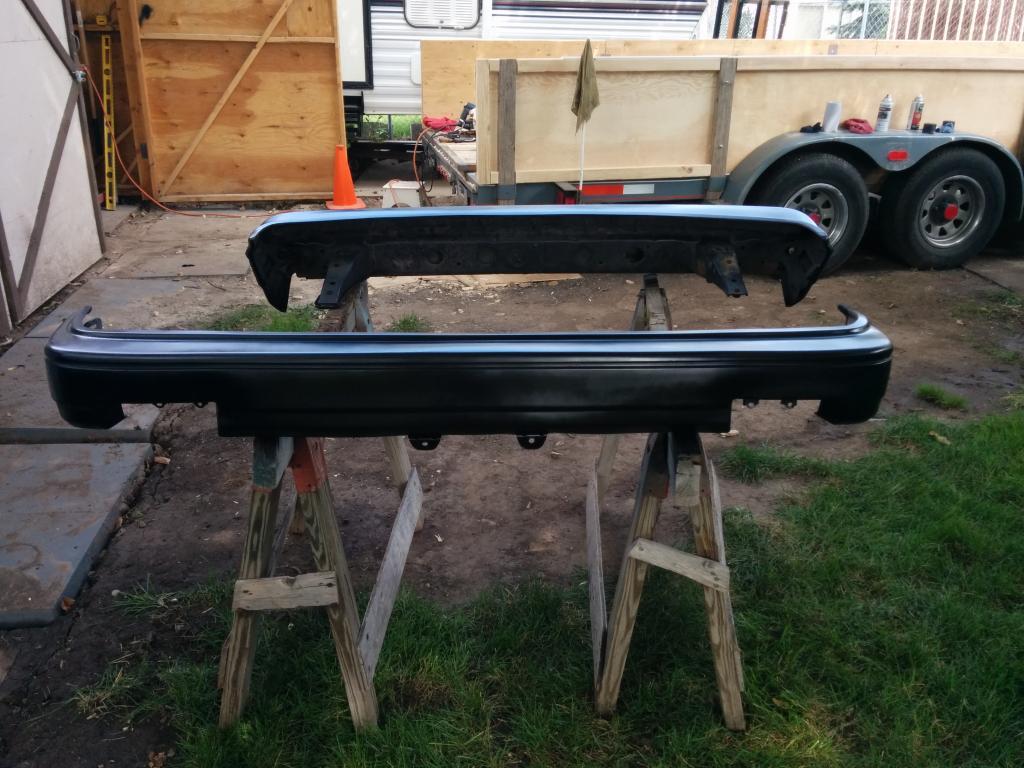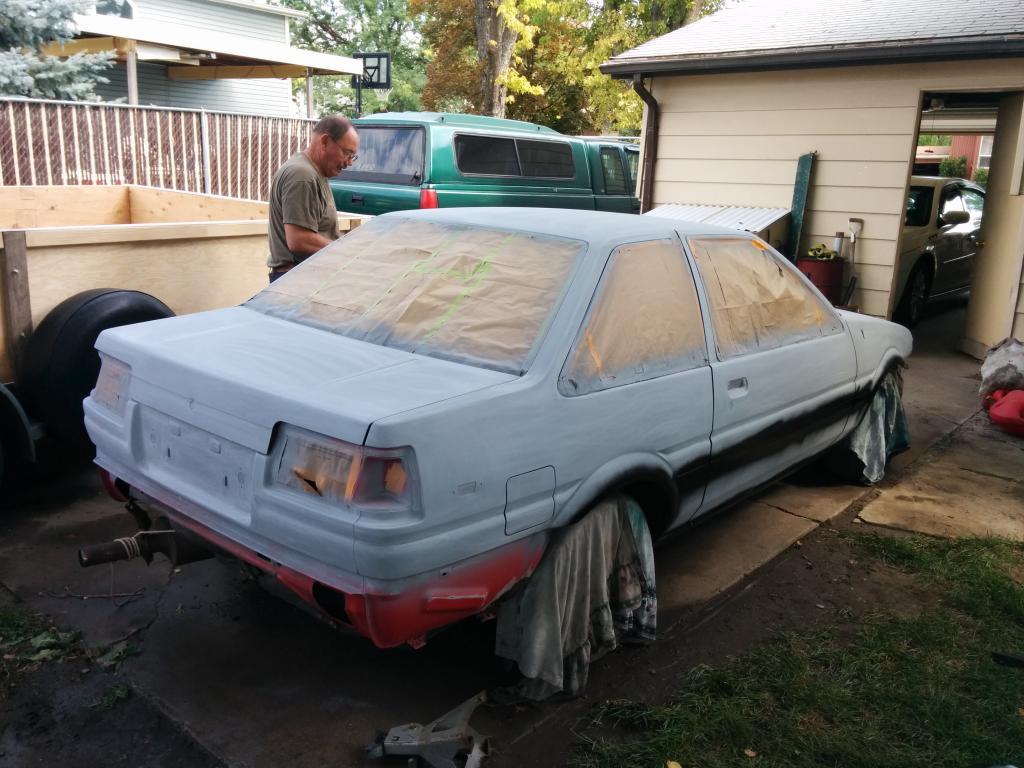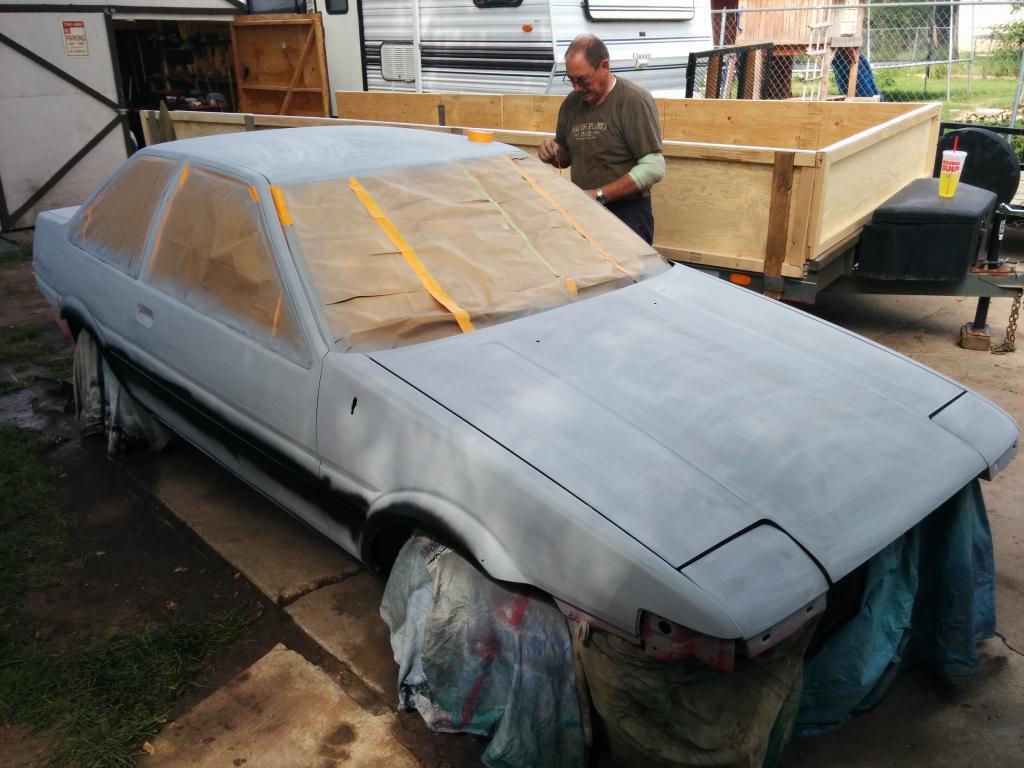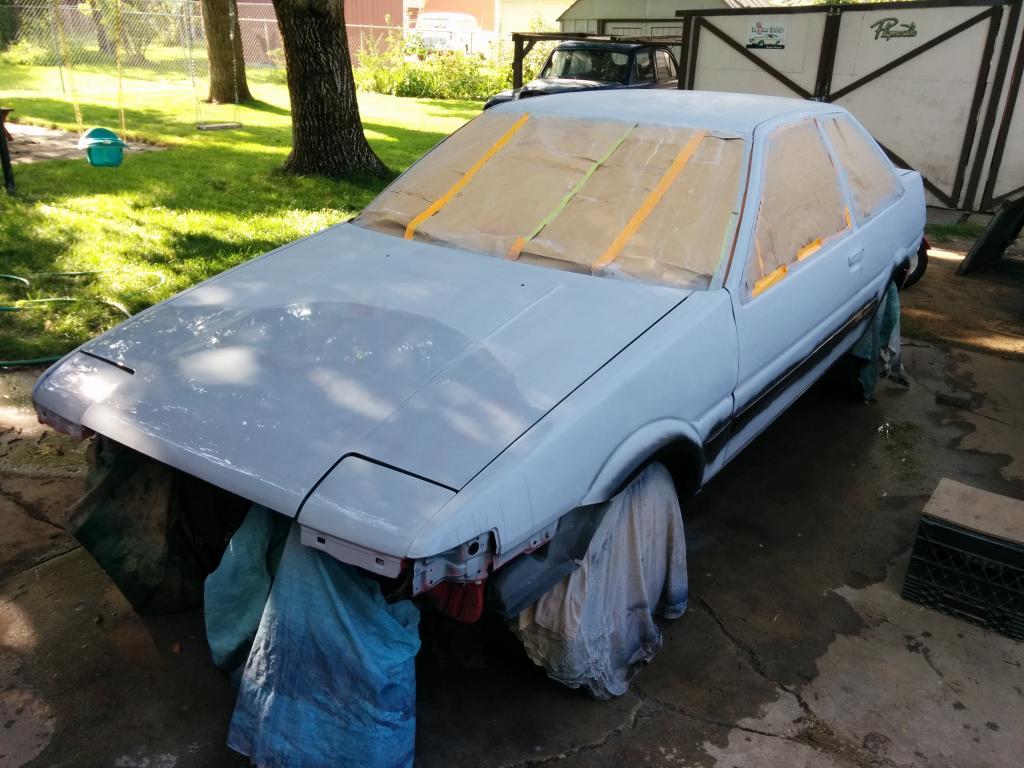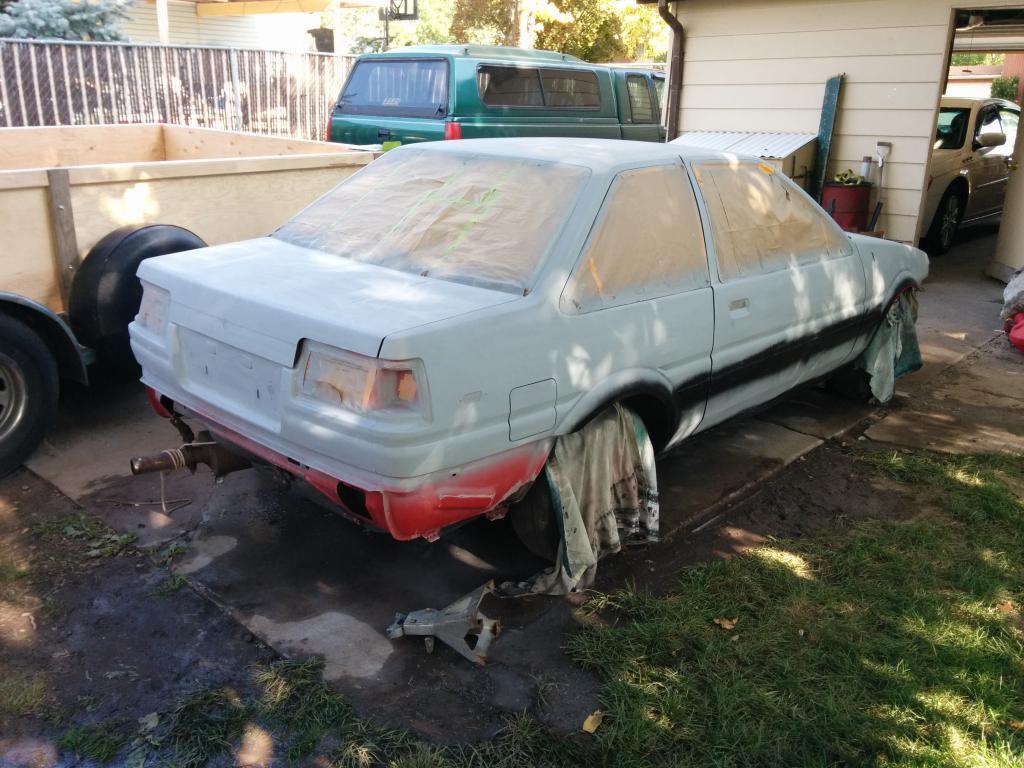 I wet sanded the whole car that evening and left my dad in charge of painting the car over the weekend. I was anxious to see how it would turn out but wouldn't know for sure since I had to work all that weekend.
Even though I had committed to painting the car back in August, I hadn't fully decided on a color scheme until I delivered the car to my dad. I went back and forth on a few ideas, but finally decided on Satin Black for the plastic pieces (front & rear bumpers and door moldings) and the original Bright Red the car was painted in 1985 (color code 3E6). Dad purchased a single-stage paint from a local supplier that was able to replicate the original color. Spray paint was used for the plastics and they turned out well.
Anyway, here are shots of the car. She's so shiny!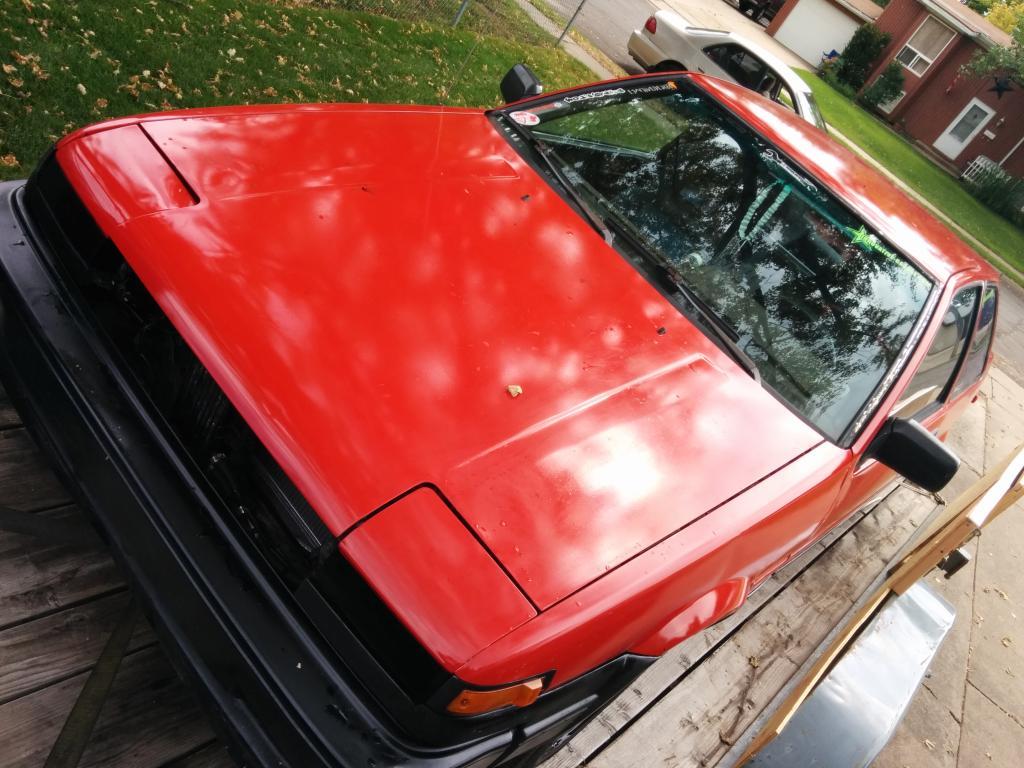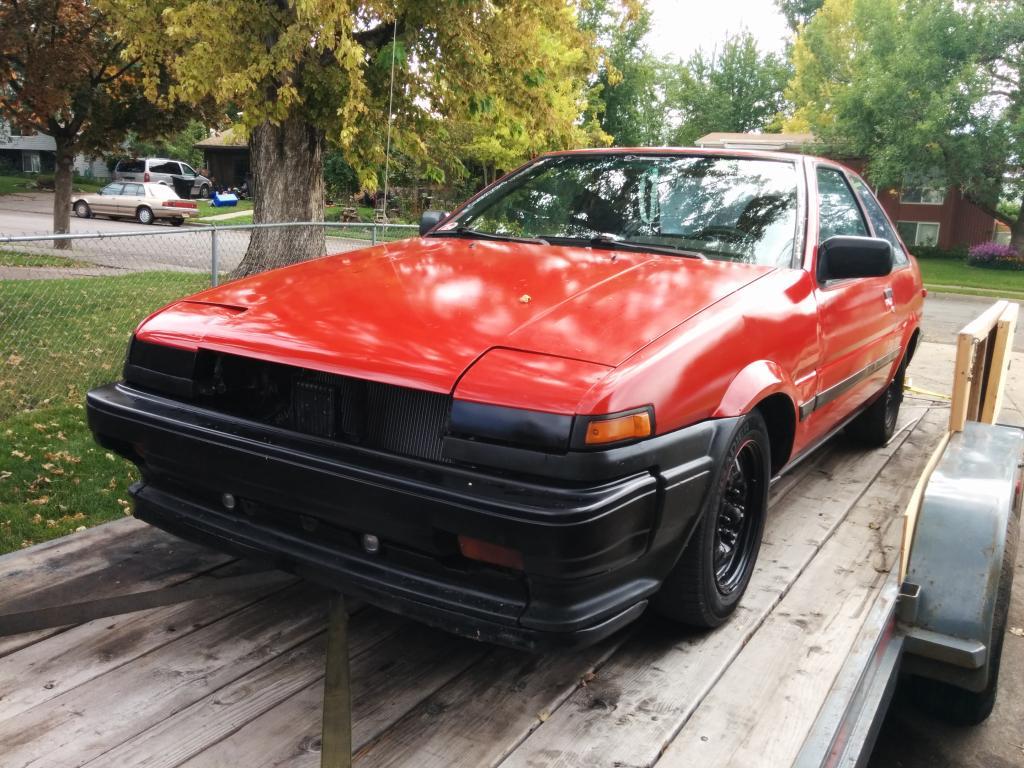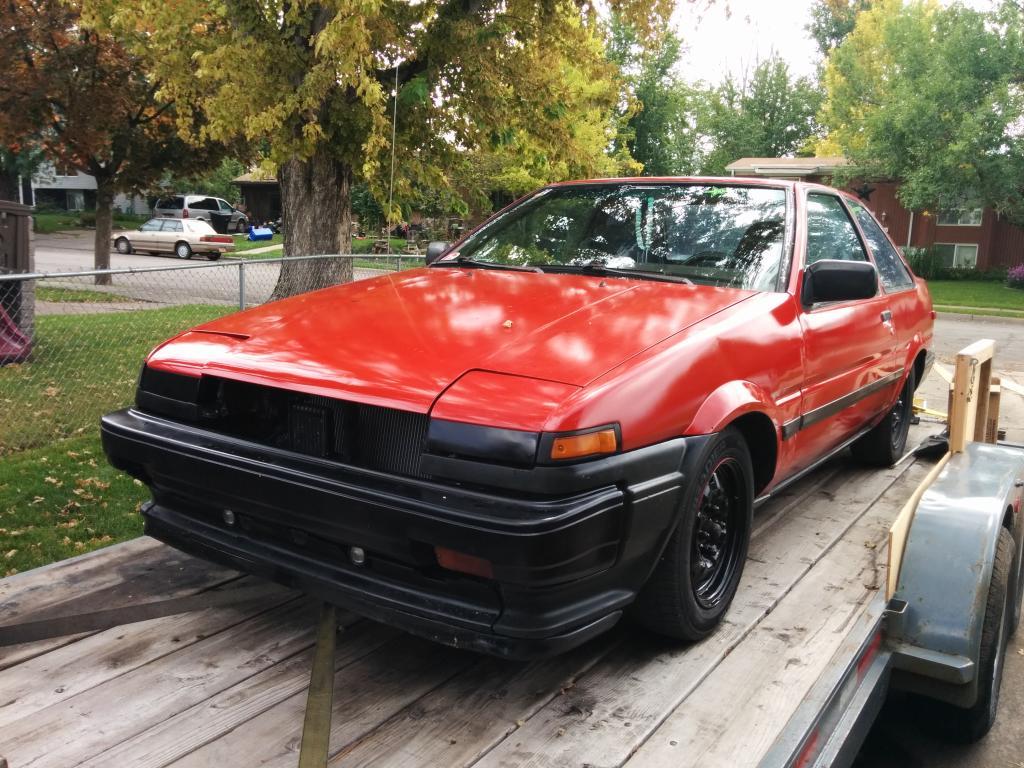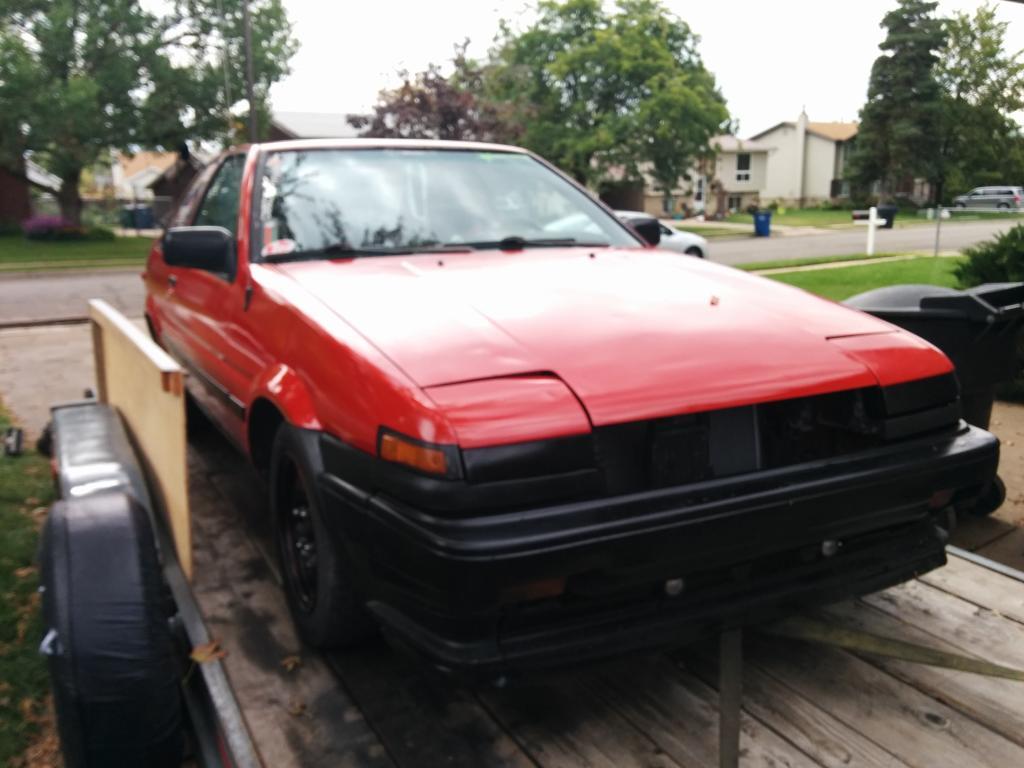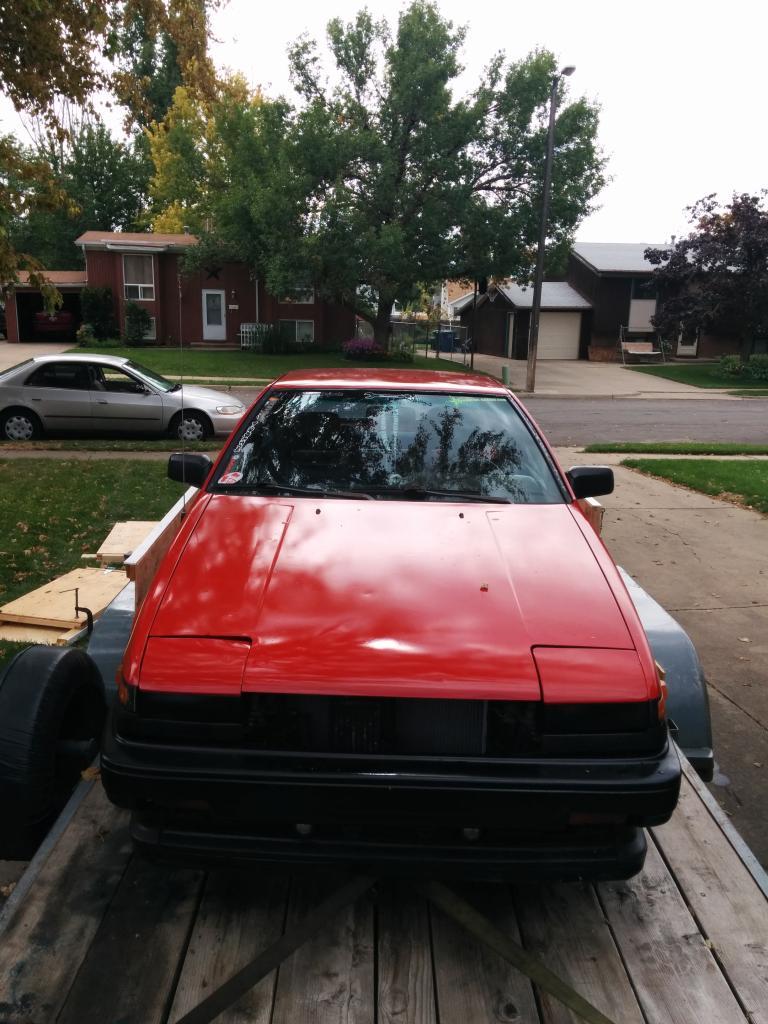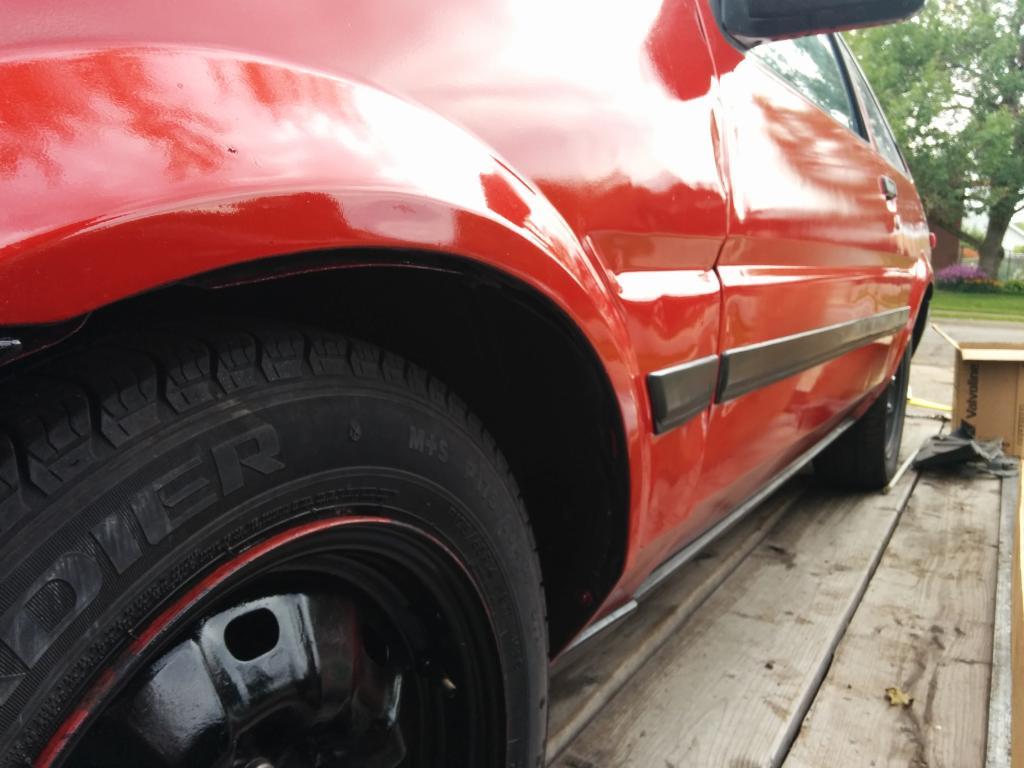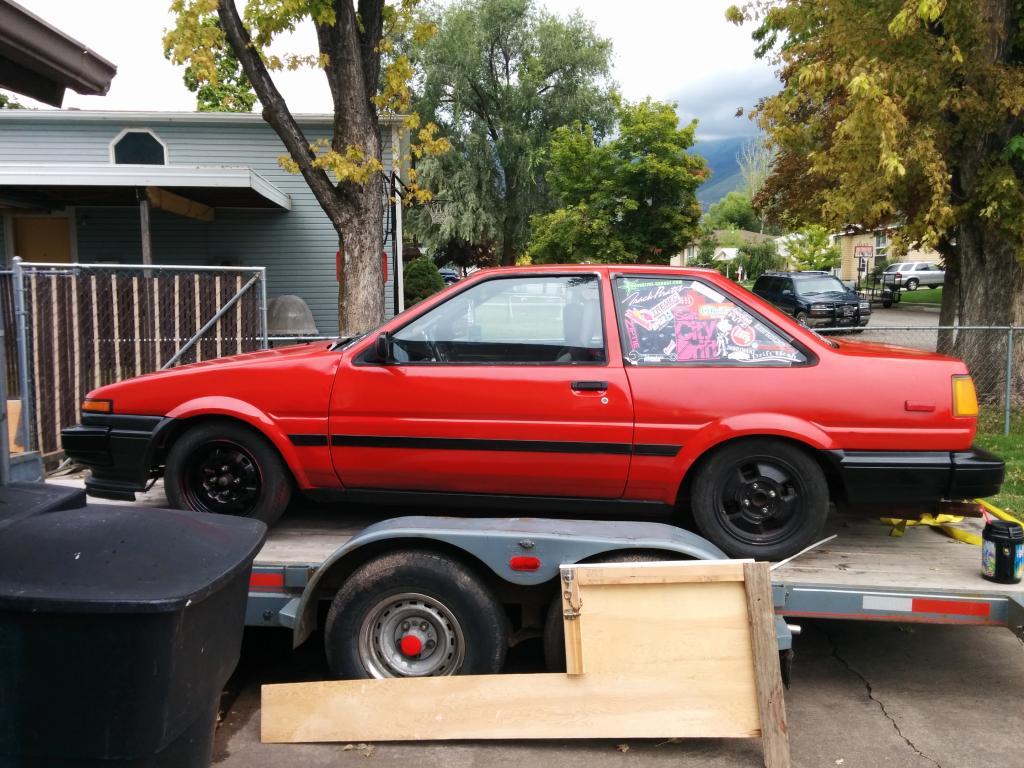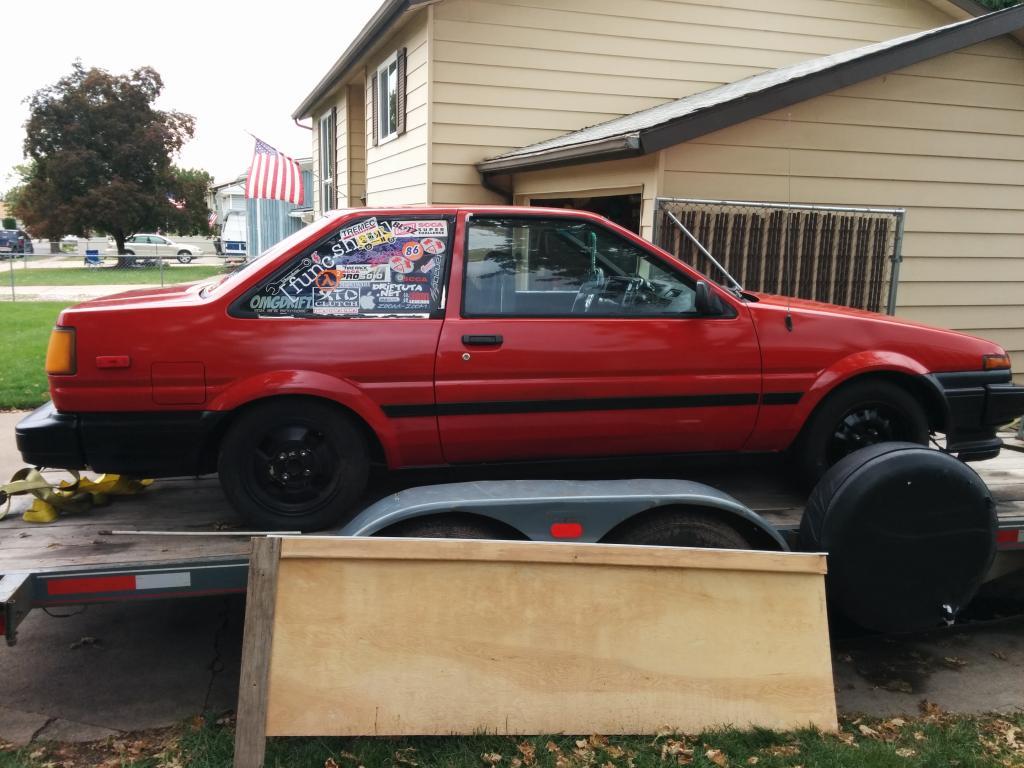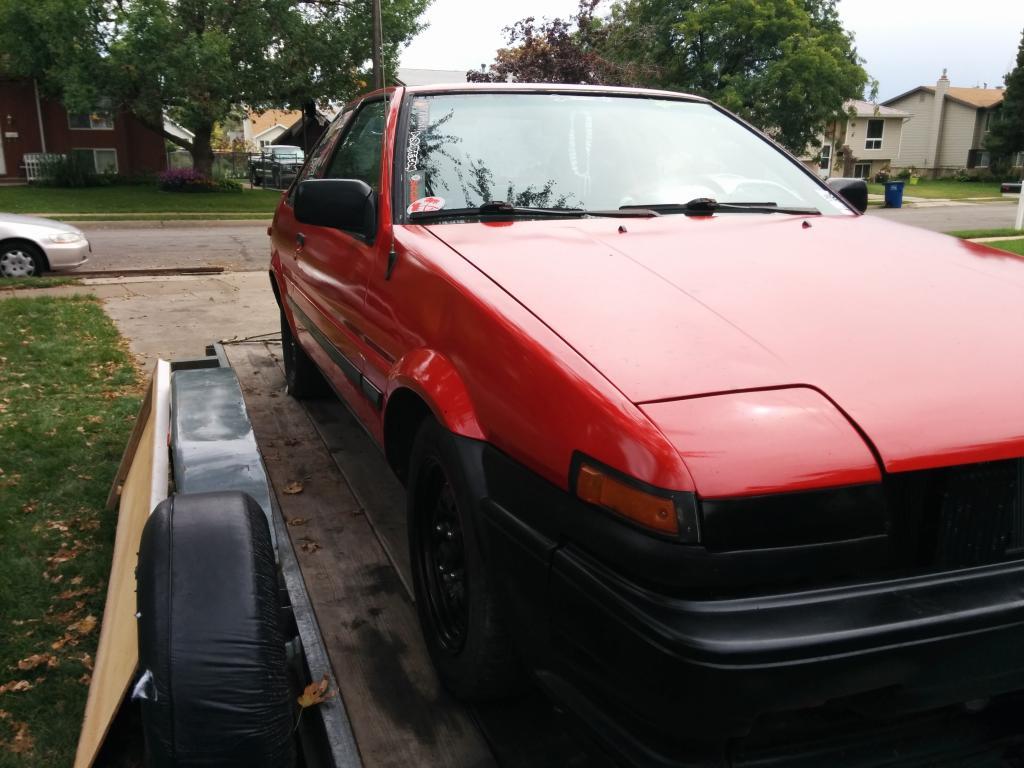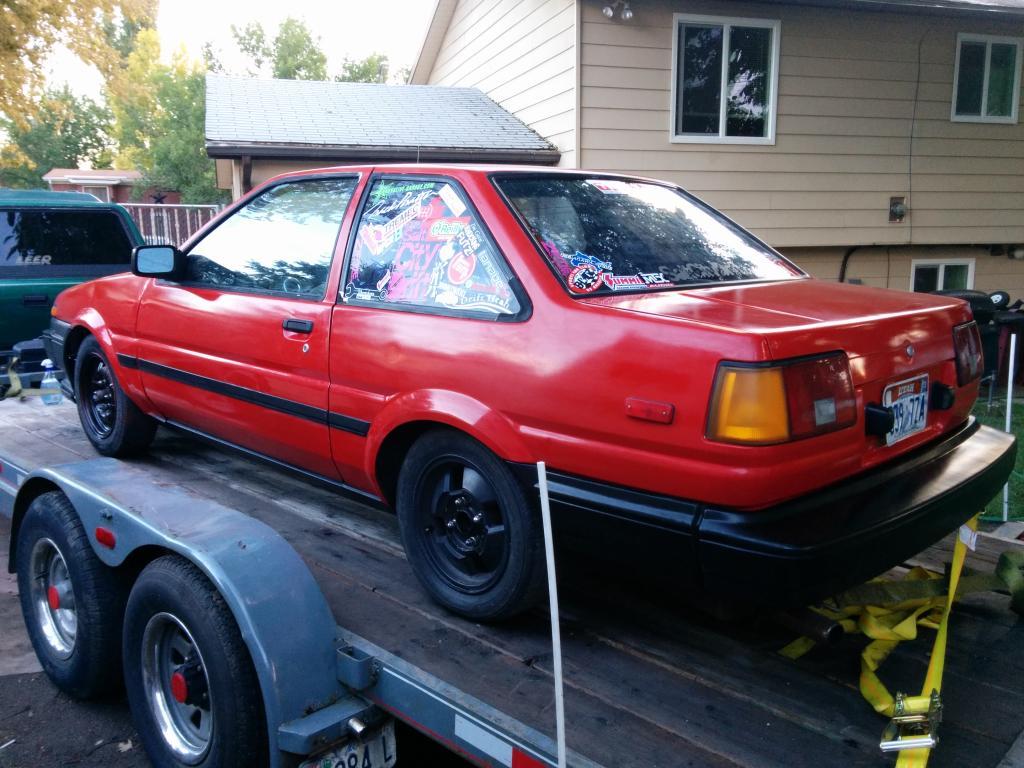 I am very pleased with this paint job! It isn't perfect, far from it, but this is the best Ariel has looked the whole time we've been together. I'm so excited for the Salt City Tinner's Meet & Car Show Saturday! I can't wait to show it off! I've fallen in love with her all over again now that she's shiny & pretty (gosh, that sounds so superficial!)! I'll try to get pics of the other cars at the Tinner's show.
I love how she looks on those Celica Supra wheels!!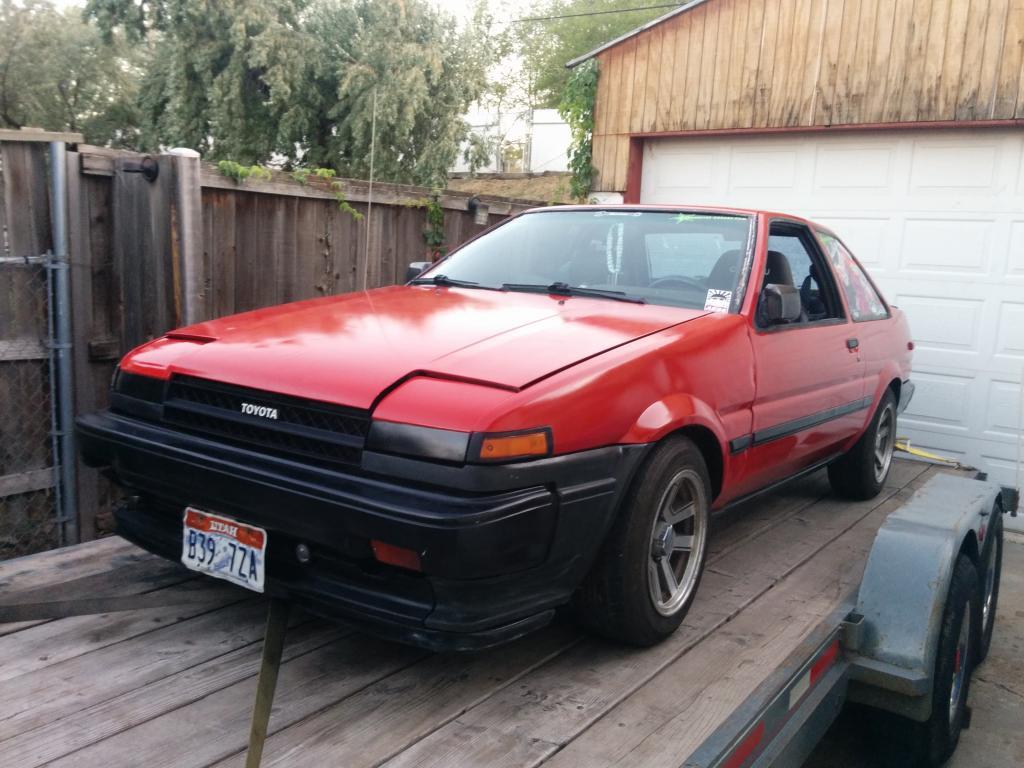 9-15-2014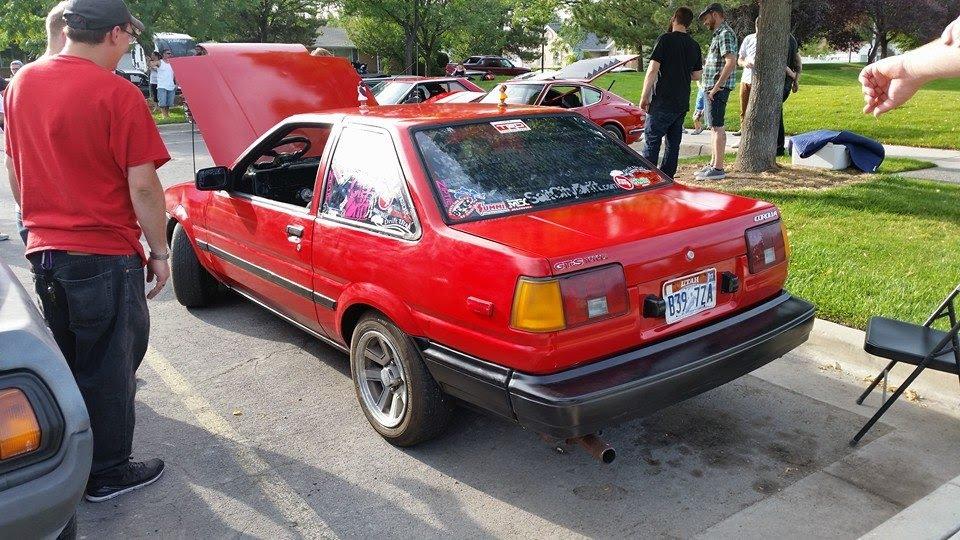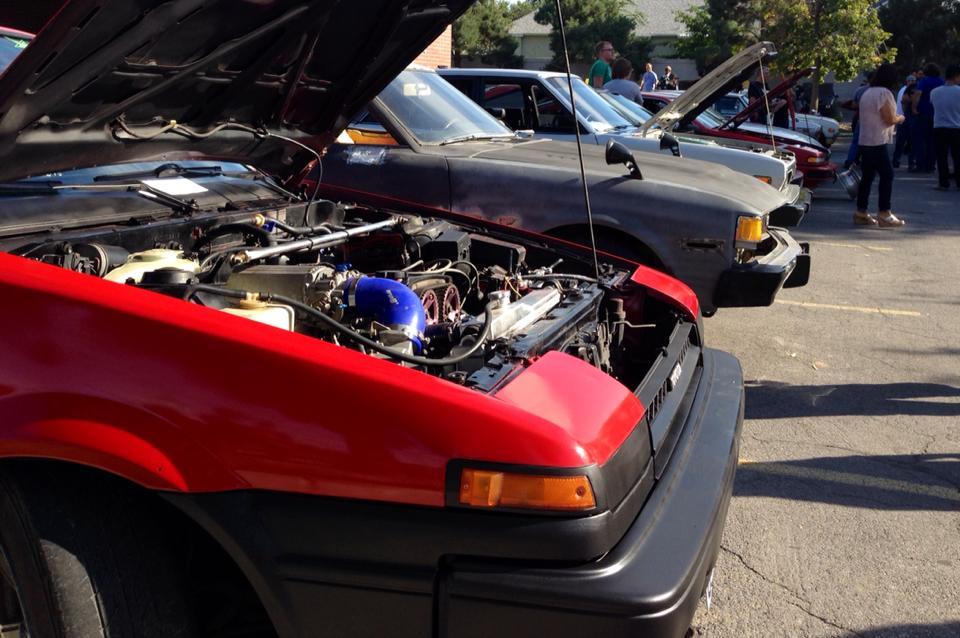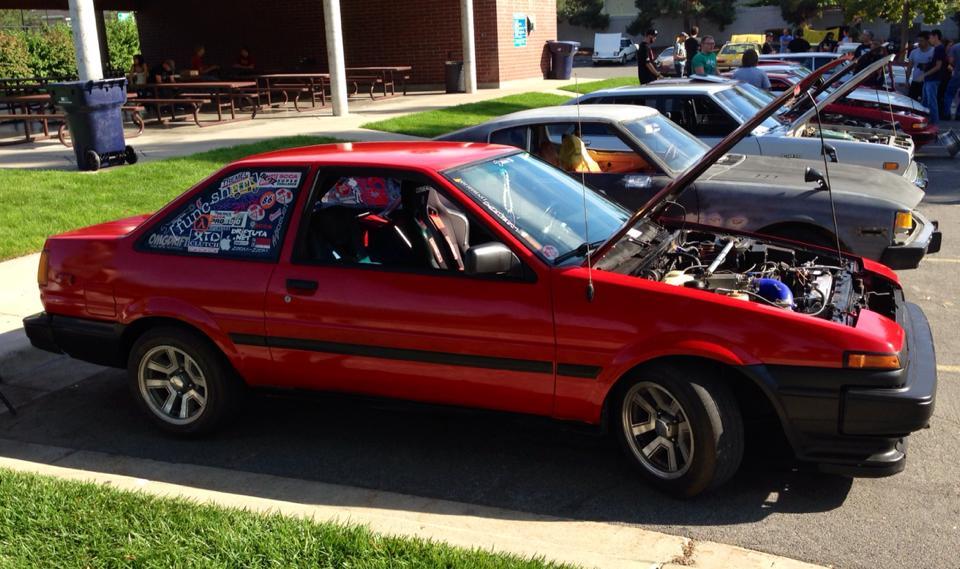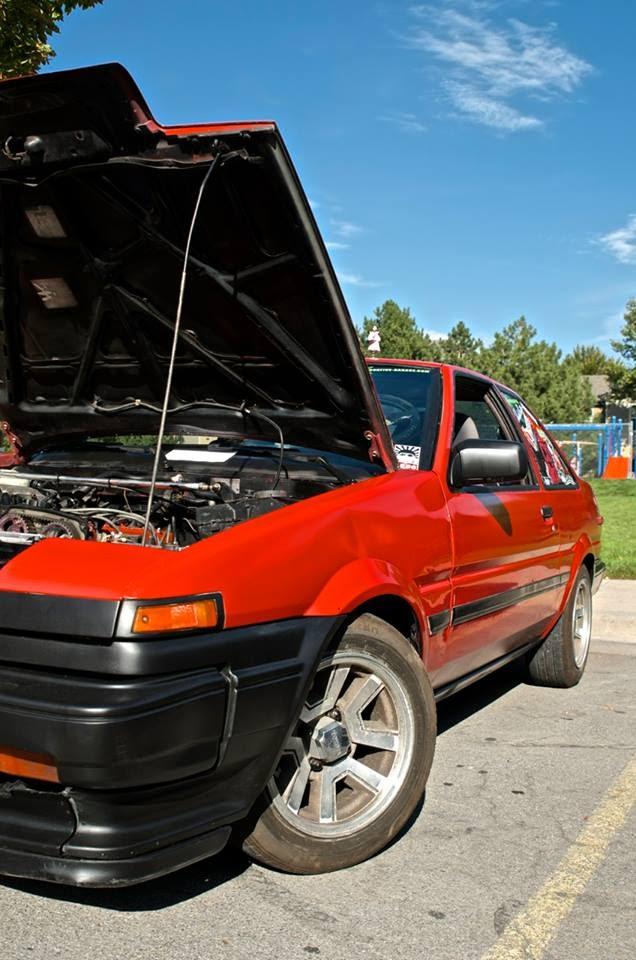 2-1-2015
September 23, 2014 – Sitting pretty
A few days after the show and gathering dust, I can't help but take a minute to stare at my car every time I pass by her. It's like I've fallen in love with her all over again.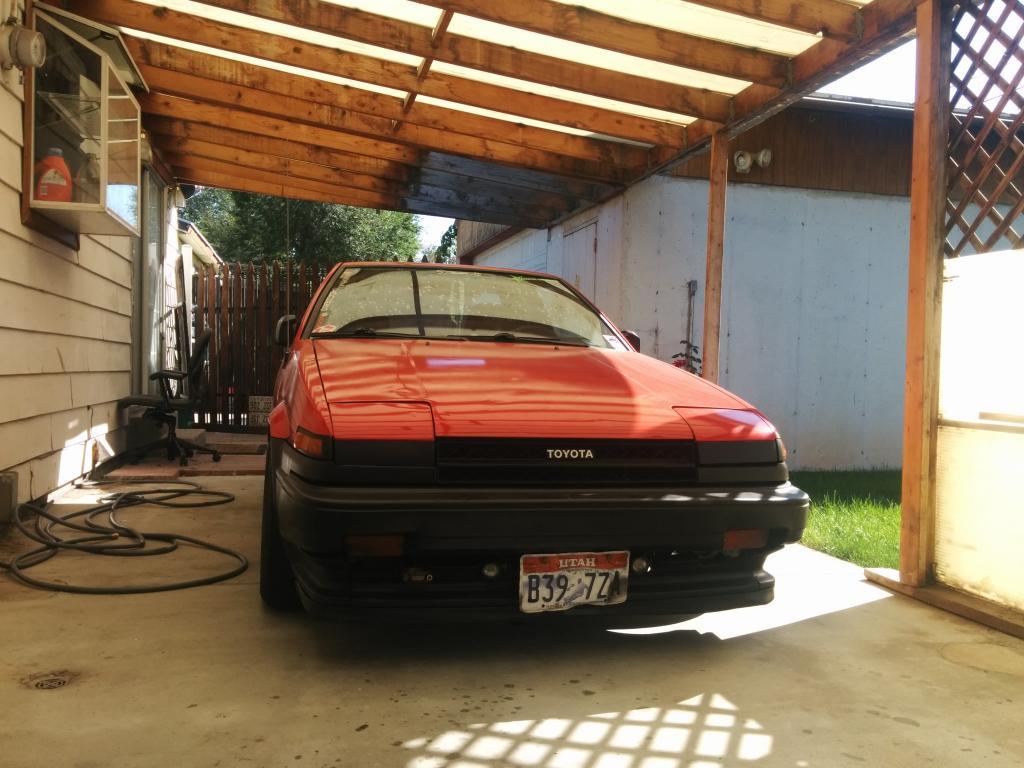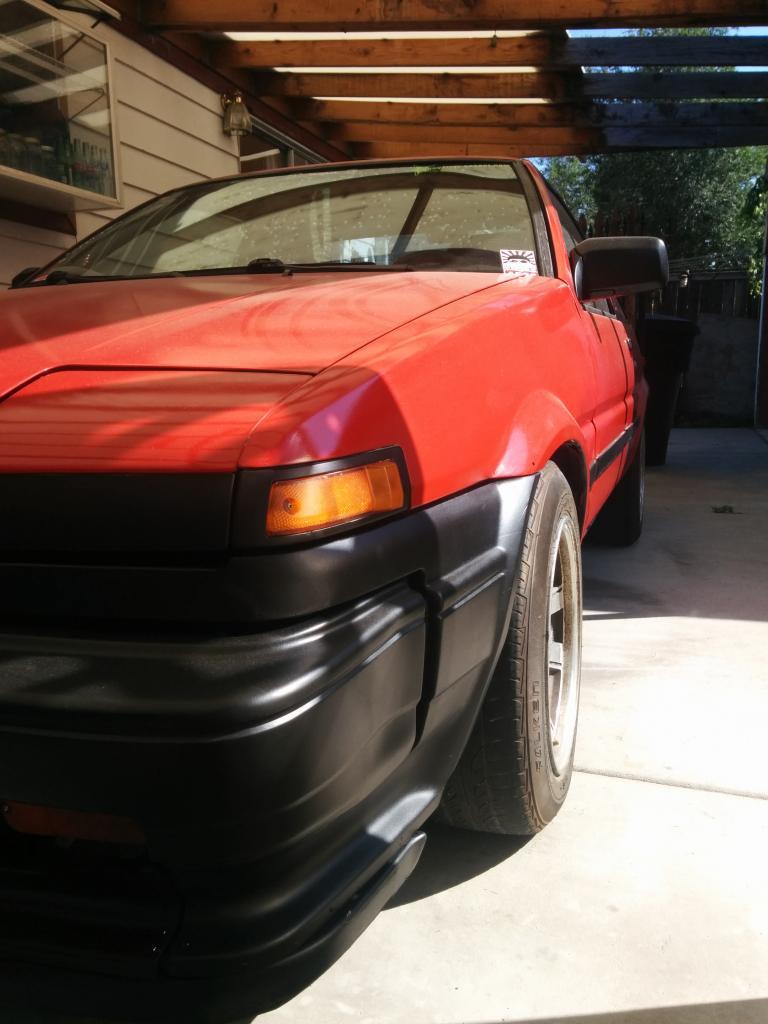 December 25, 2014 – Christmas after moving
So in December I moved from Kearns to Taylorsville. I lost my covered backyard parking but still had a spot on the side of the house for Ariel. With the light dusting of snow we received over Christmas, I couldn't resist a quick pic.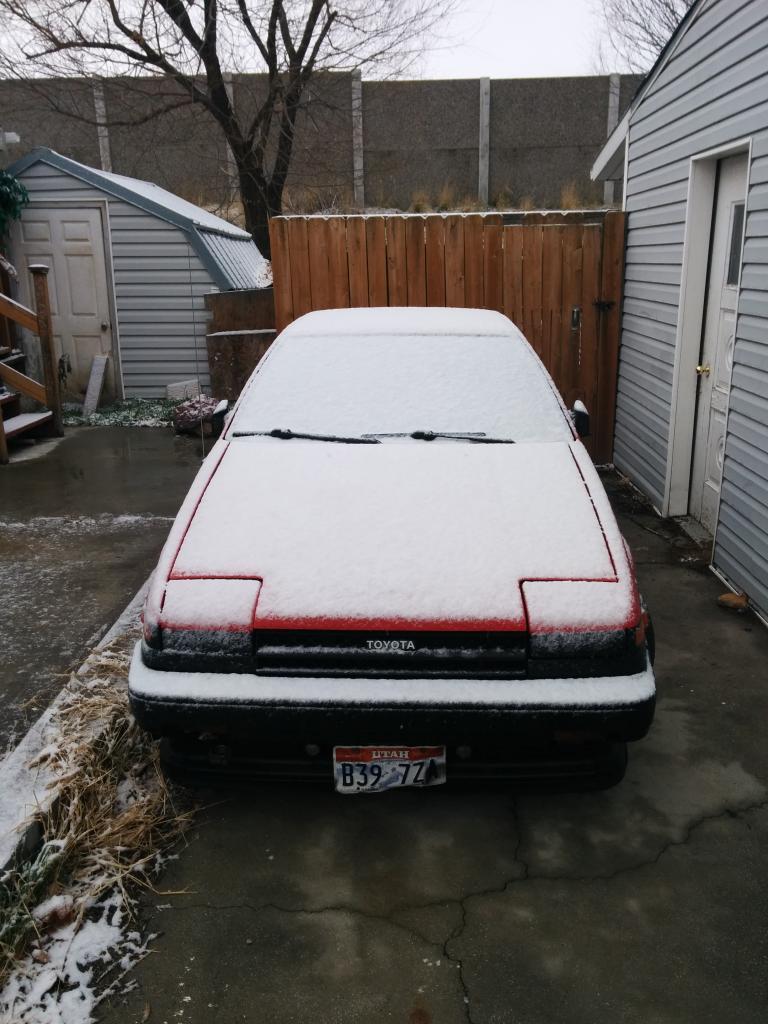 January 26, 2015 – Plans for ISS
A few days ago, UtahHondas.net announced the return of their Import Spring Showoff in April, their annual car show & BBQ. What started as a Honda/Acura only meet 6 years ago had bloomed into the premier sport compact/import car show for Utah, welcoming all makes, models, and car enthusiasts.
With my fresh coat of paint and renewed love of the car, I decided to enter Ariel into the car show portion of ISS. If I wanted a chance at even getting noticed, I knew I needed to do something about the interior of the car. My racing seat & harness are a bit faded and well used, but I can't afford a new seat and harness yet. The blue and maroon interior, cracked dash, and mismatched panels are something I can deal with. Since I want to turn this into a track car anyway, I figured I would finally strip it out for the show.
So almost everything came out.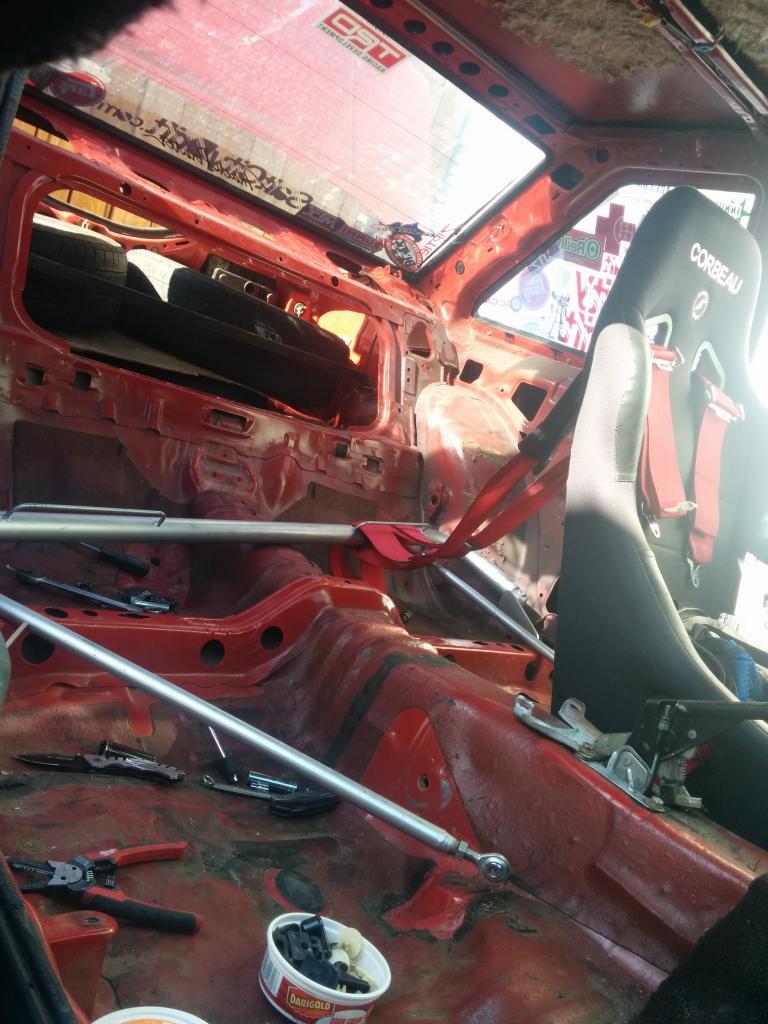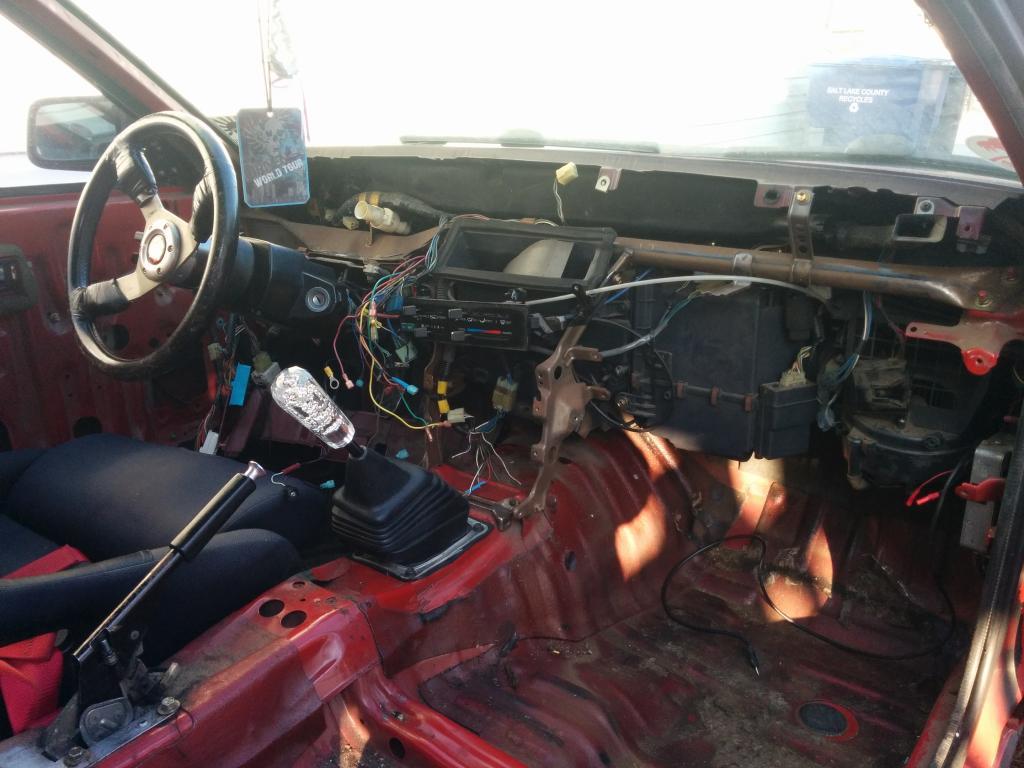 I will strip out the sound deadening, touch up some of the interior paint, redo some wiring, make up some new door panels, and refinish the dash. The dash will be the biggest job. It's so cracked and ugly!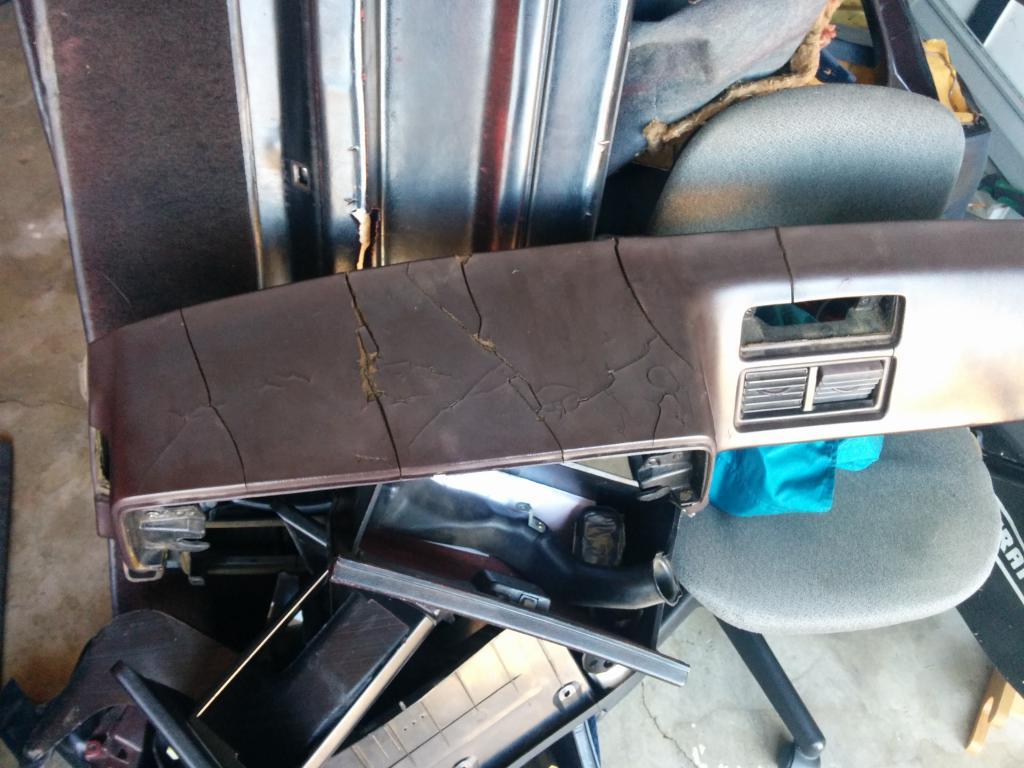 I feel confident I can get it all done in the 2.5 months I have before the show, but it's going to be a lot of work. The results will be worth it, though, no matter the outcome of the show.
2-13-2015
February 13, 2015 - Interior Progress!
With most everything pulled out of the car, I first wanted to get an idea about how the original door panels looked and how they went together.
It wasn't hard to pull them apart.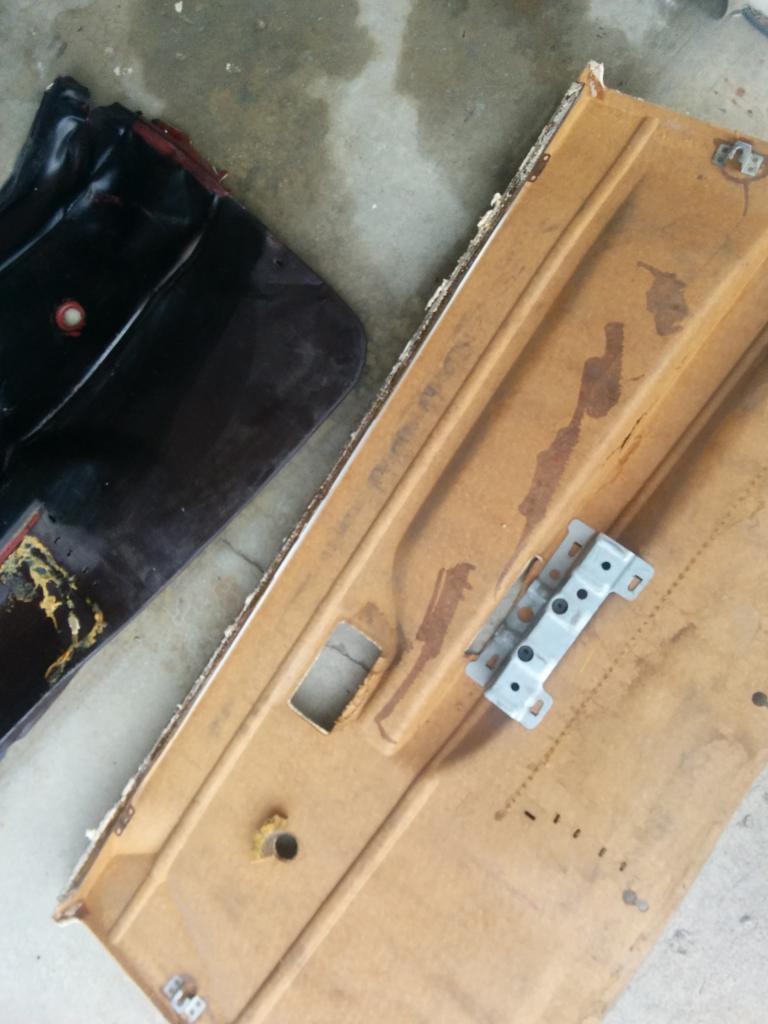 One door done.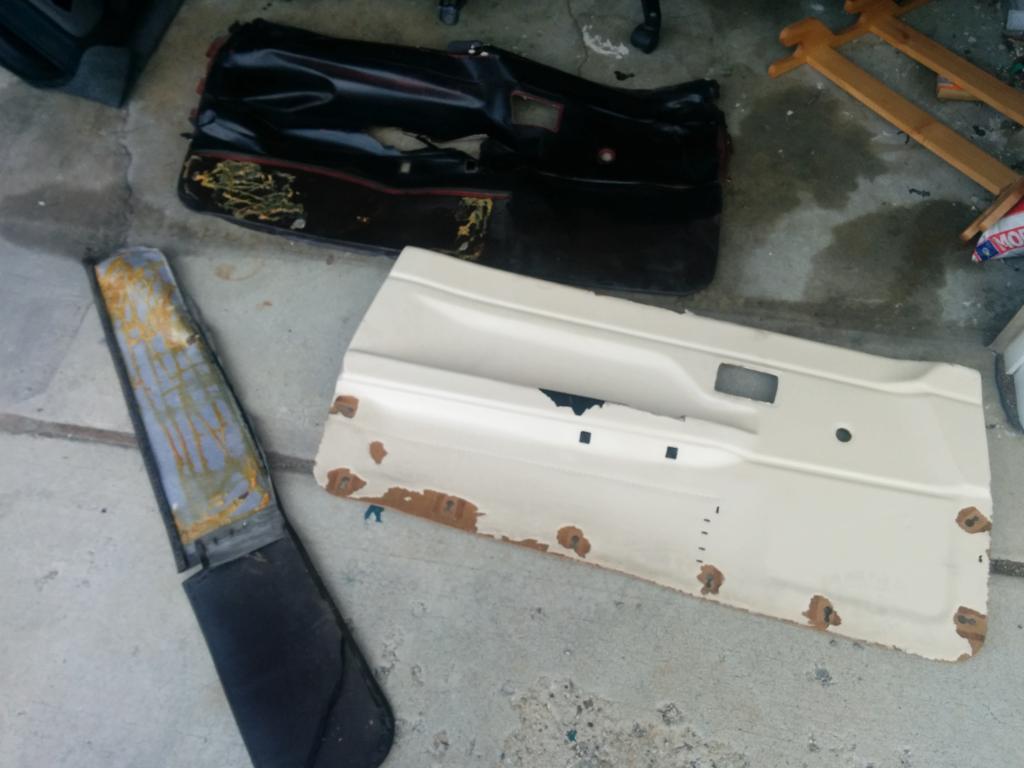 Both door cards apart.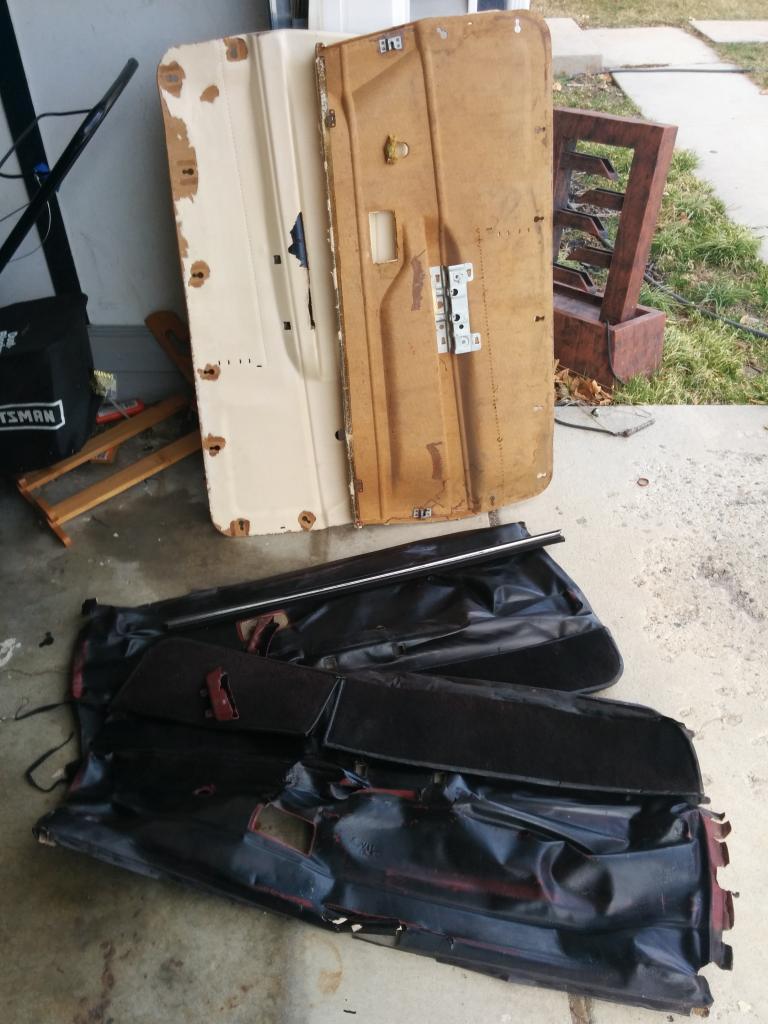 I will use these as a template for the new door cards I plan on making. They won't be contoured or have armrests like the factory ones. Just something simple.
Glad to be rid of these ugly, cracking plastic trays from the armrests.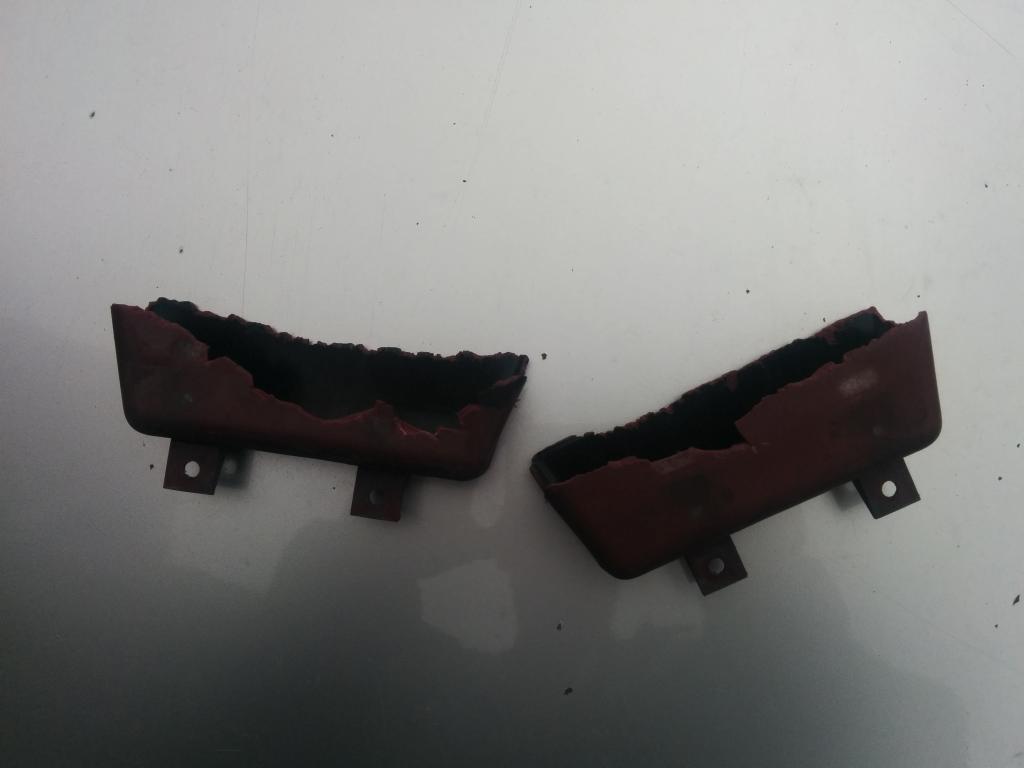 I also cleaned off the rest of the foam matting from the roof.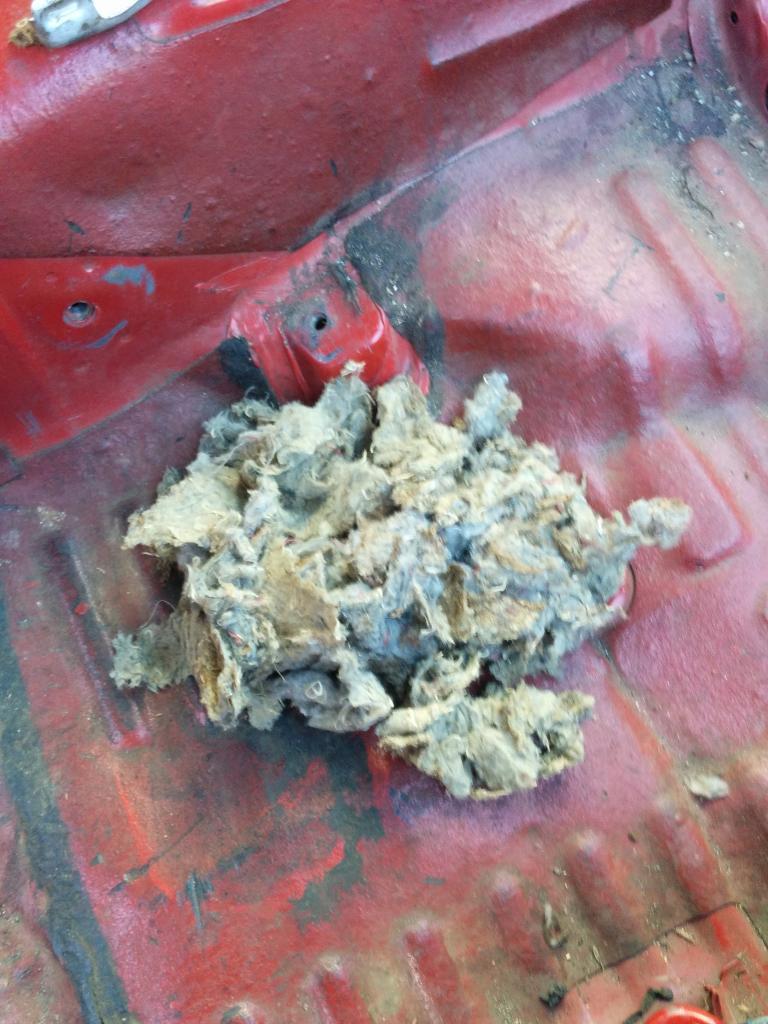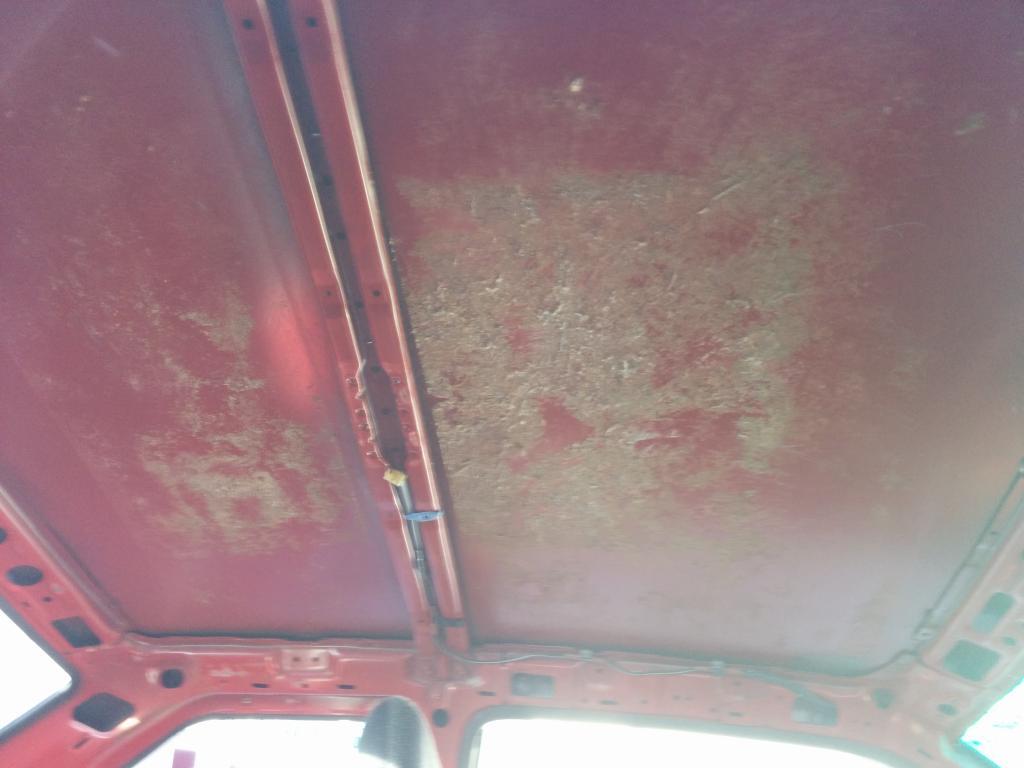 Should be about ready to wipe it down with some goo gone or wax & grease remover.
I also started chipping out the sound deadening. I started on the passenger side. No dry ice, no hammer, no chisel, just a couple of flat head screwdrivers and 30 year old sound material.
After posting that progress on FB, a friend has graciously loaned me some hammers and chisels to finish the job. The right tools make the job so much easier.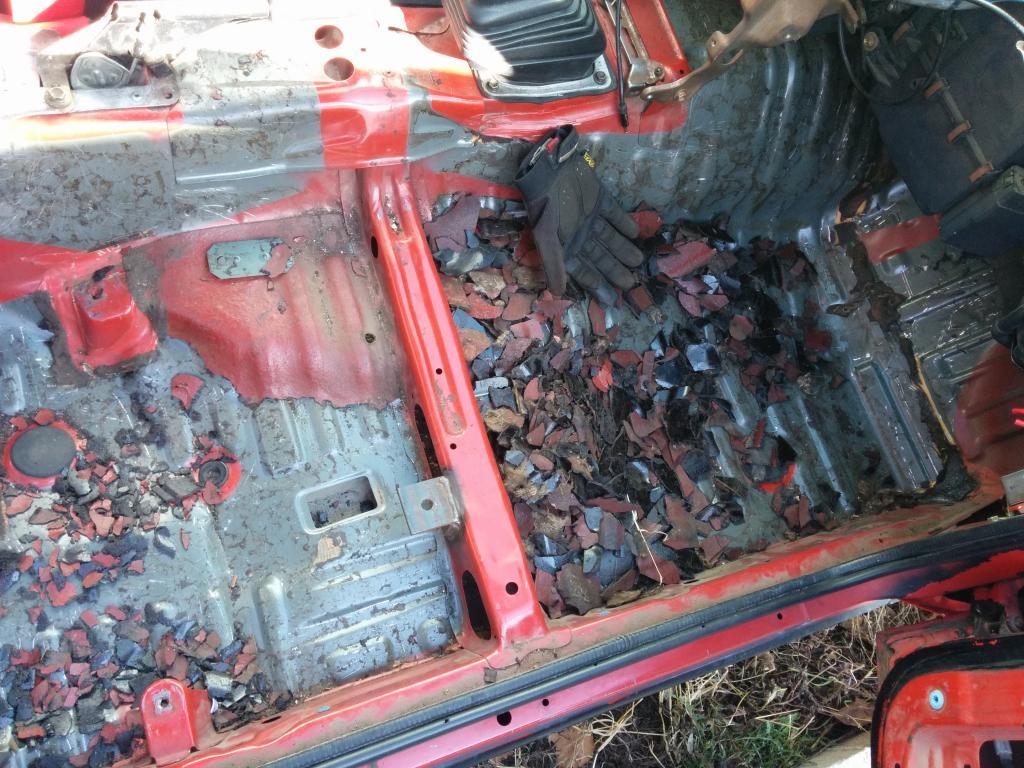 After getting most of the passenger side done, I pulled out the driver seat to get to work on that side. This is the first time since I mounted the seat in the car that I've removed it. Kinda crazy.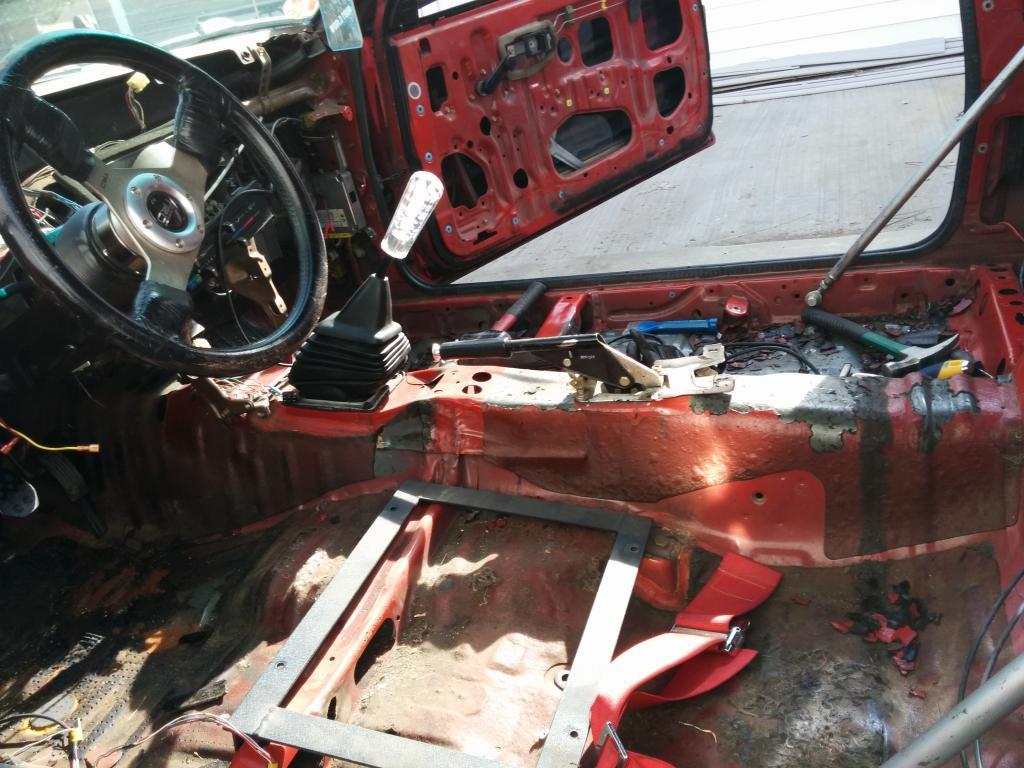 So much room for activities!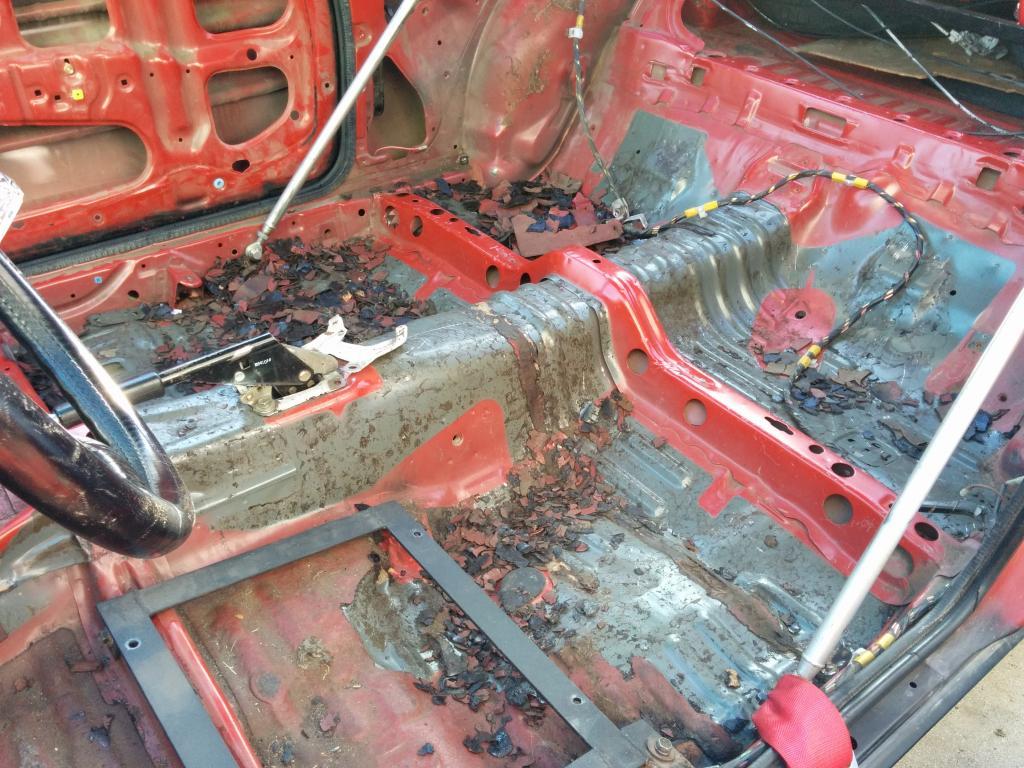 I hope to finish chipping out the sound deadening within a week, then I will try to weigh all the pieces I can to see approximately how much weight I removed.
2-18-2015
Another day off, another day spent with a chisel in hand!
This was the part I was most worried about. How much rust would I find in the floor or firewall? Luckily, it looks like most of it is surface rust that can be taken out with a wire wheel.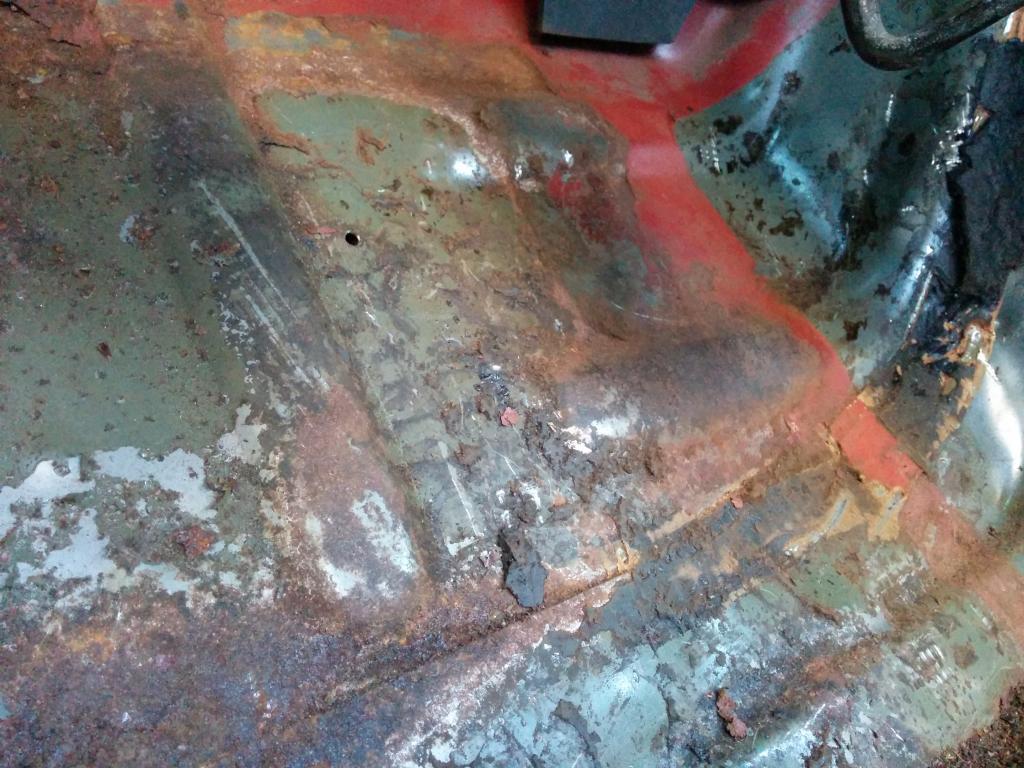 Also, anyone have a clue about what that little rectangle hole is in the floor? It has a cover and there are identical ones on the passenger side and beneath the front seats. It's like they are a pocket for the frame rails? I dunno.
This area has me worried though...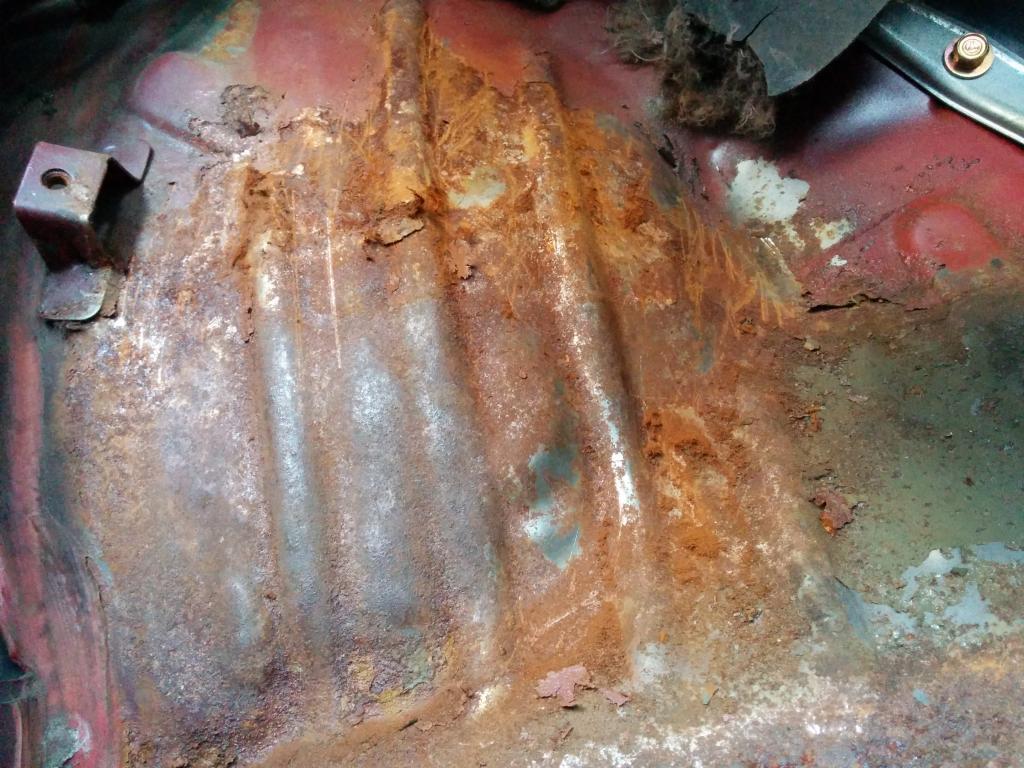 I also tried to weigh the interior I removed from the car, but my parents digital bathroom scale didn't want to cooperate, so I have no numbers at the moment. Honestly, I am guessing that I only removed 40 or 45 pounds by taking out all the trim, backseats, carpet, headliner, etc. I still want to weigh the chipped off sound deadening. I'll try to collect it all into a bag or bucket and weigh that sometime soon.
3-29-2015
Its been a while since I've updated this, but I'm making progress on the dash. I might put together a proper update soon.

Here's a little before/after teaser.