Builds
One Year With My E30 by B3passatBMX
By stevegolf
You must be logged in to rate content!
11 minute(s) of a 11 minute read
One Year With My E30
Compliments of B3passatBMX @ www.fourtitude.com
Bought this car almost exactly a year ago. Figured you guys like E30's so I thought I'd share my experience
Got the bug to start looking for one these because of TCL. Browsed Craigslist for about a month and nothing came up worthwhile or was over priced or too far away. Then checking one day a 91 318is pops up for sale local to me, decently priced but had some issues so I went to look at it. A friend of mine conveniently had been bugging me to buy my Cherokee for some time so I gave him a ring. Sold it, took the money from that and went and picked the E30.
It's a 91 318is, had some light front end damage and somehow I still don't understand, the bumper had fallen off and was pretty badly damaged. Odometer didn't work The paint was badly faded but the interior was in pretty good shape and the engine ran great and there was ZERO rust on the car, a hard thing to find in these. Also had Bilstein sport shocks, H&R springs and a UUC short shifter which was a bonus.
Here's the day I picked it up: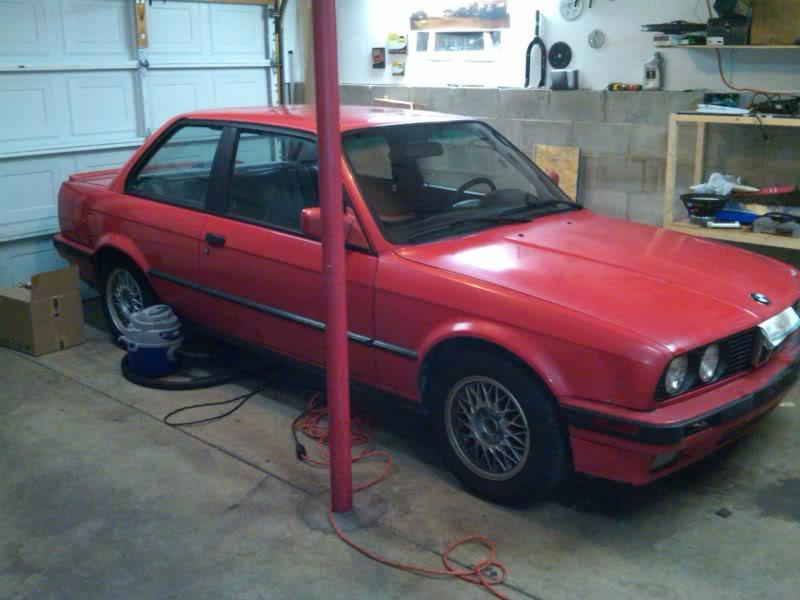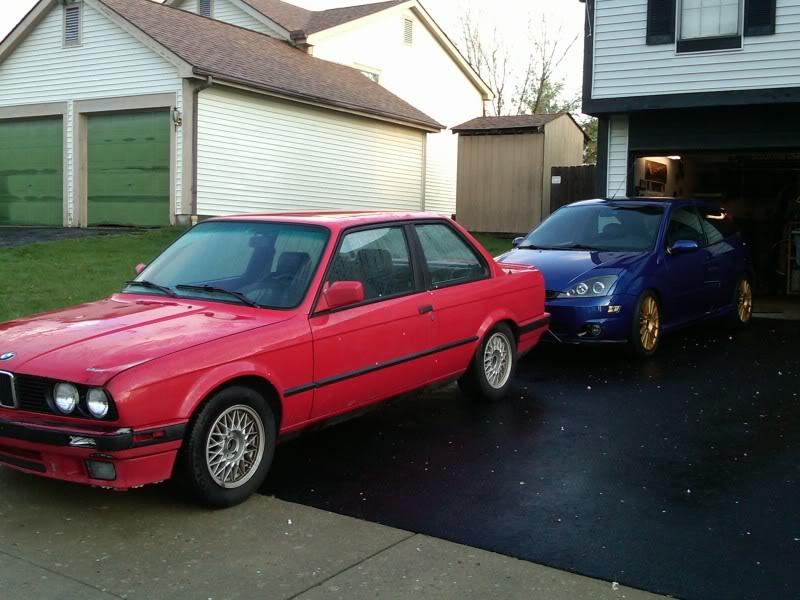 Front end was in bad shape: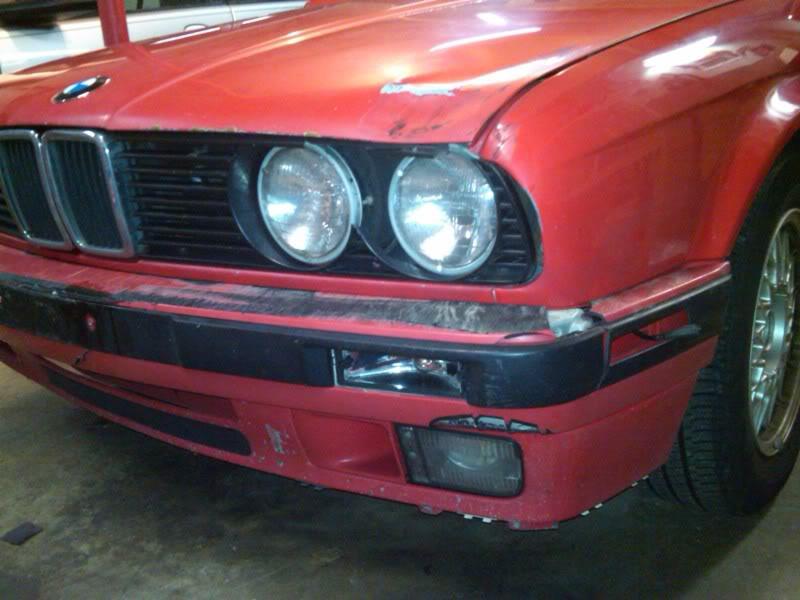 Looking a bit tired. First order of business was getting a new muffler welded up so I picked up a Dynamax turbo muffler and had a local shop weld it up. With the exhaust quieted down I could now immediately hear the droning humming of two bad front wheel bearings I couldn't hear before I started to wonder what I got myself into but had it towed to a friends shop and replaced them. With that sorted I could finally get to what I do best...making a crappy car look nice again.
First up was paint, it was bad so the whole car go a thorough cut and polish, multiple passes per panel and some were wet sanded.
That's looking better: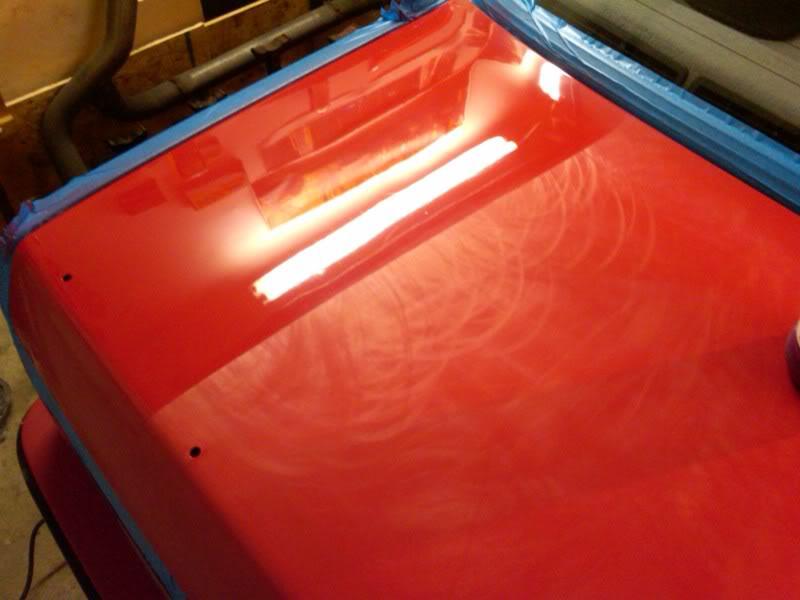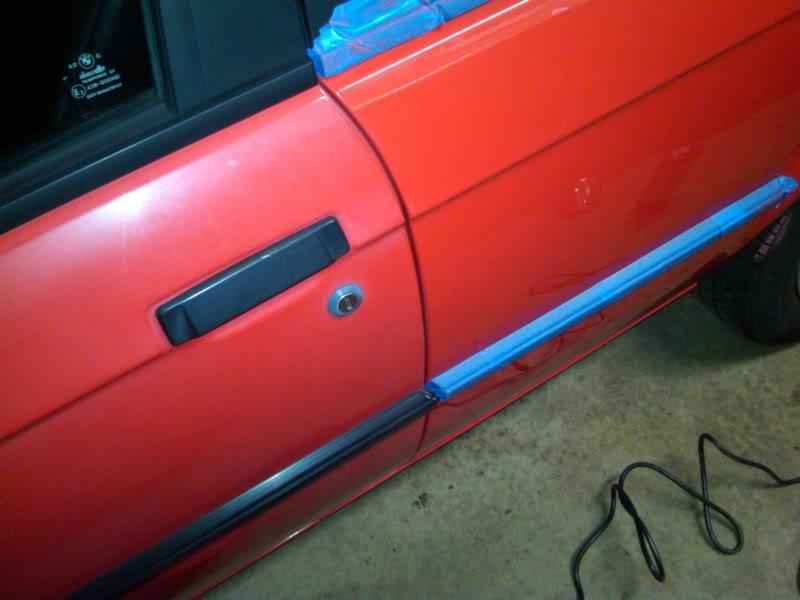 Interior was removed to clean. Seats came out great and only the drivers side has a small crack in the vinyl.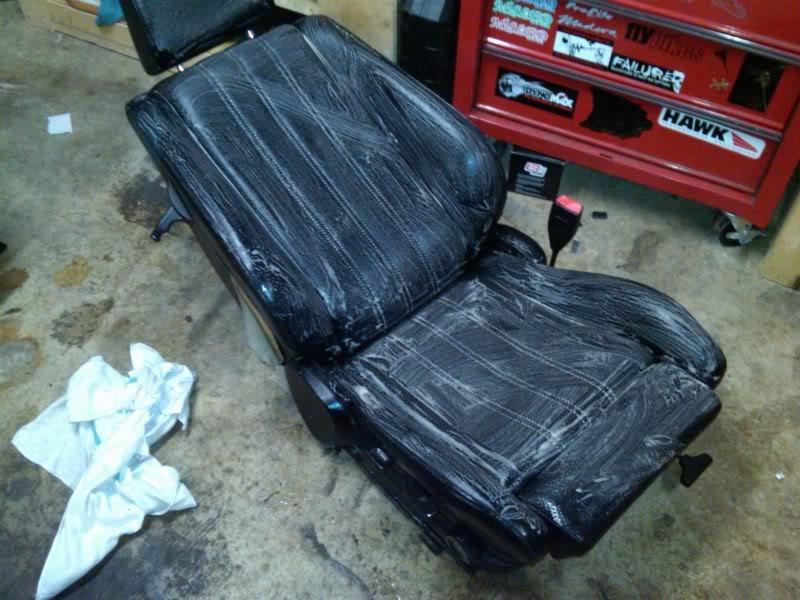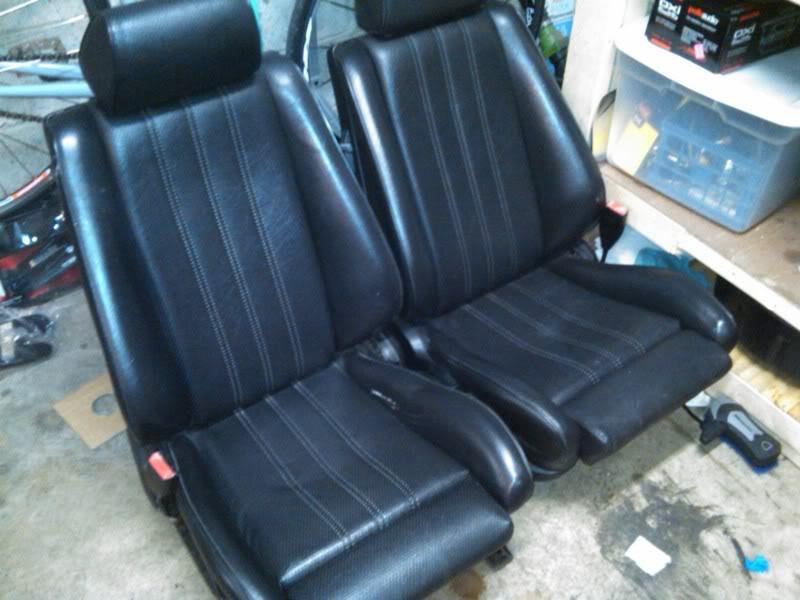 I started going through the owners manual while cleaning and found then that car was originally purchased in Germany and was over there till sometime in mid 96. Had service records for routine maintenance up through 2002 where it appears to have been sold. Other documents showed the car was in the south the whole time it had been in the states till about 2 years before I bought it when it came to Ohio...likely explaining why it had no rust.
Even found a German coin under the console.
Interior all cleaned up: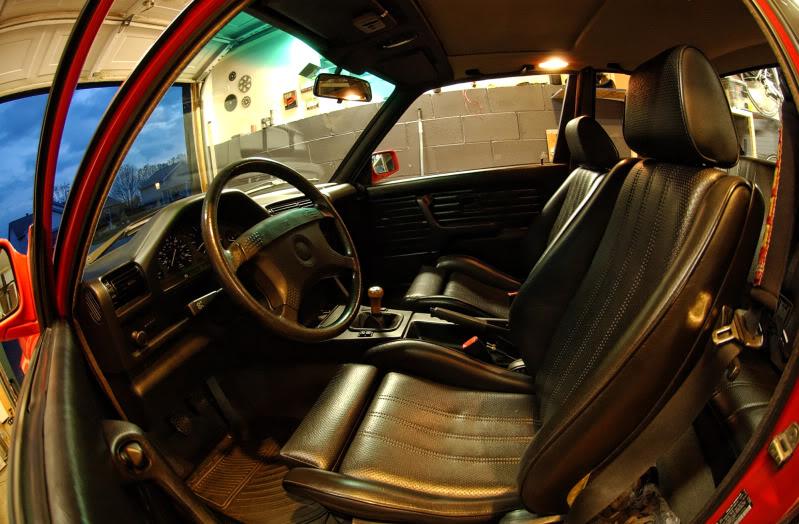 At this point I started gathering parts to get this car looking decent and running better. A good tune up was done all fluids changed. I picked up a bumper off a forum member over on R3vlimited as well as some trim bits I had been needing. Found Rustoleum Sunrise Red is a very close match and sprayed the bumper, dupli-color trim paint for the trim. Pulled the front end dents out a bit so they're barely noticeable. Also sprayed the lower valance while I was at it.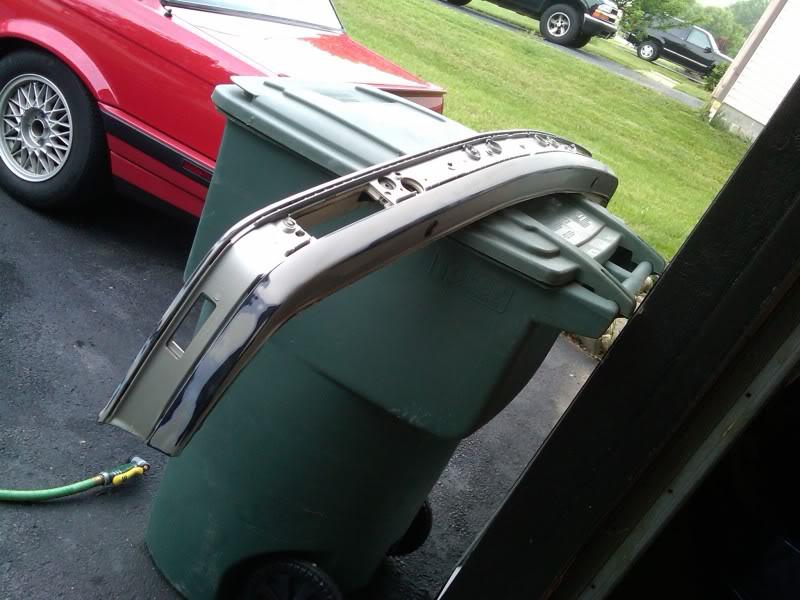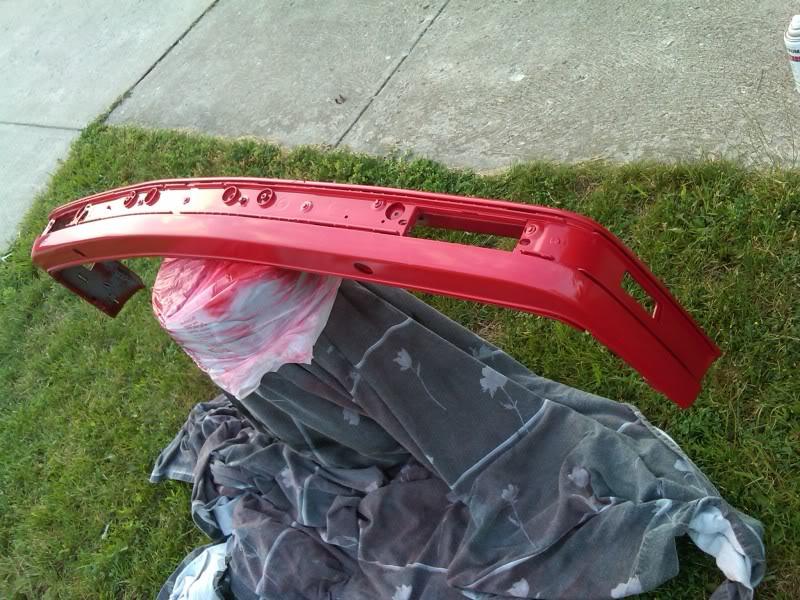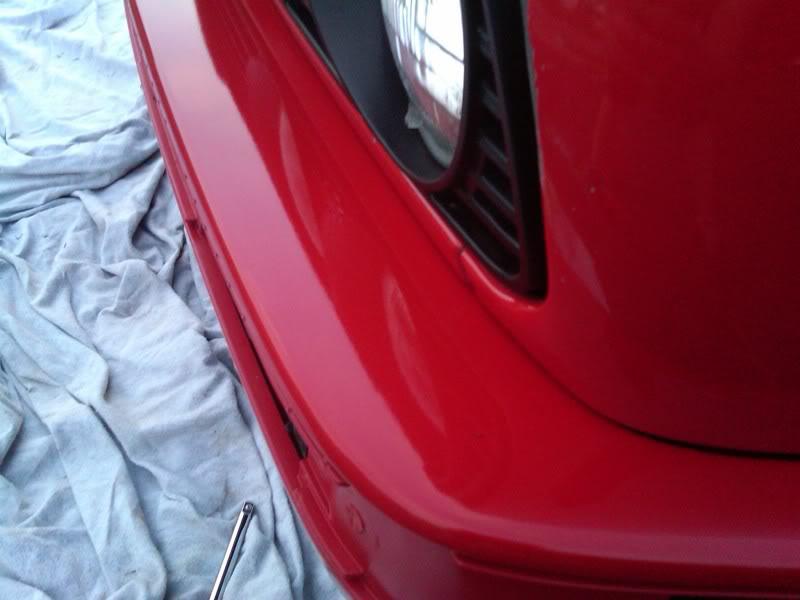 Not bad for rattle can!
Picked up a working foglight off the forums but they were in bad shape. After reading some write I decided I could bring these back to life despite being glass. Hit them with 80 grit -> 120-> 180-> 220-> and then some rattle can clear, wet sanded that, another hit off 220->320-> more clear ->400->600 then finally wet sanded with 800 and buffed. Came out pretty decent.
This: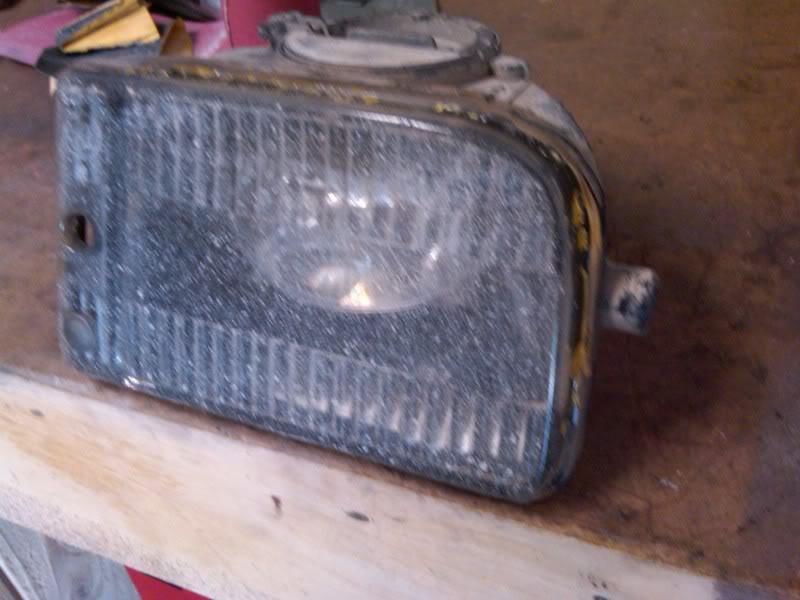 To this: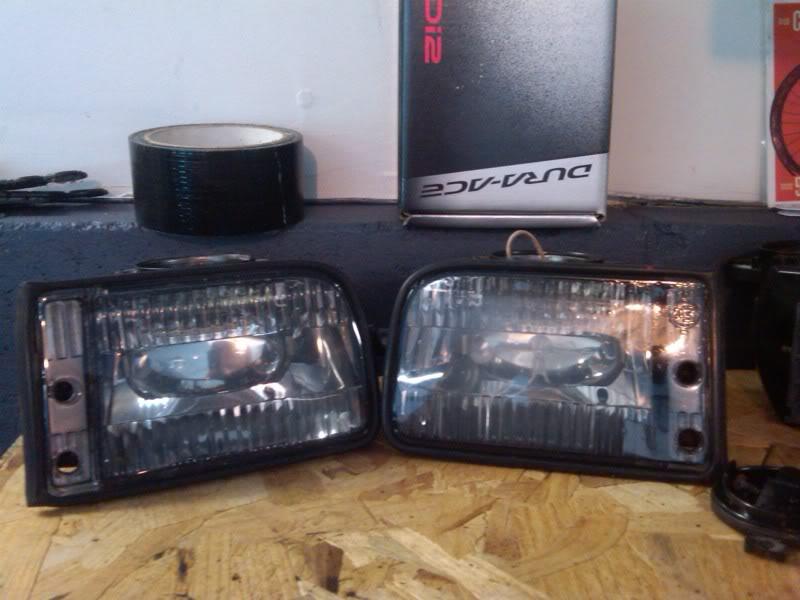 Then Lamin-x: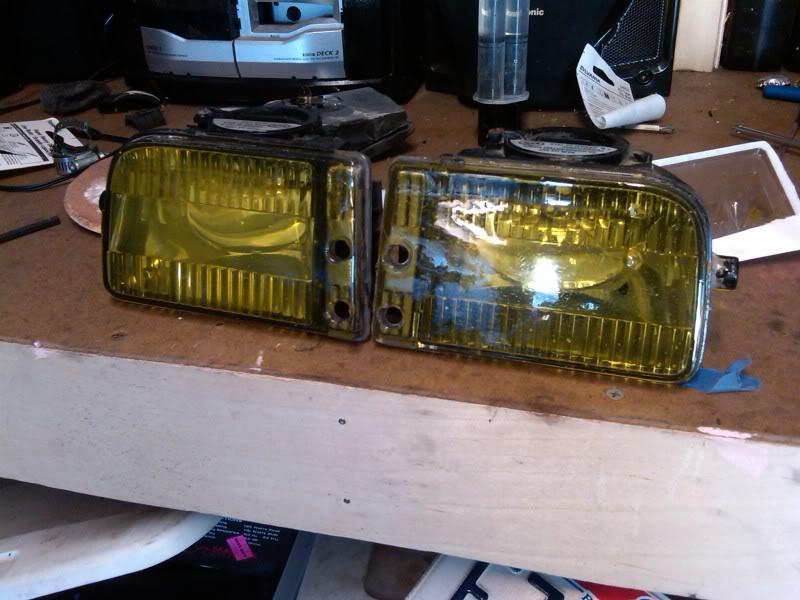 Finally starting to look like a decent car. And at some point I spray bombed my hood black to hide the damage a bit. Had also picked up a roof rack off a friend.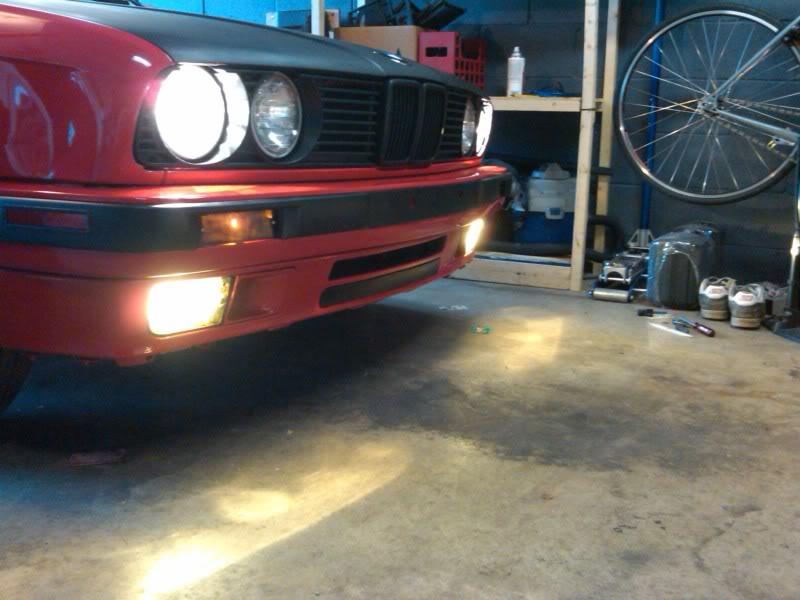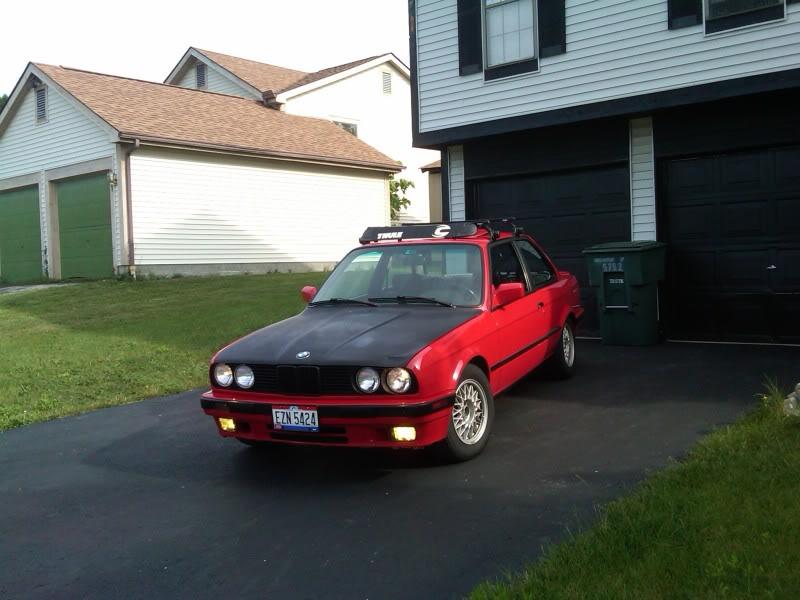 Another forum member who was local hit me asking if I wanted a hood for free so I jumped at the chance. It was badly faded but I managed to get it looking decent. It still has some bad imperfections but you don't see them at 10ft.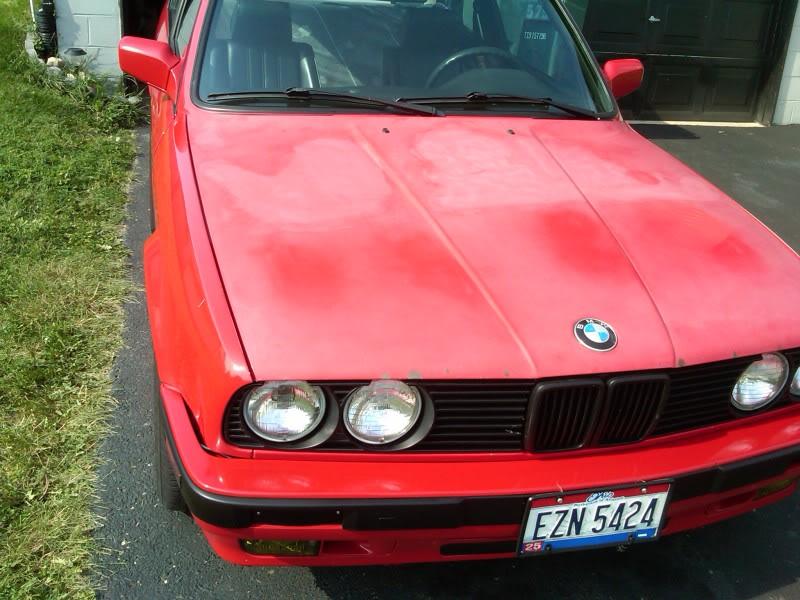 Not bad!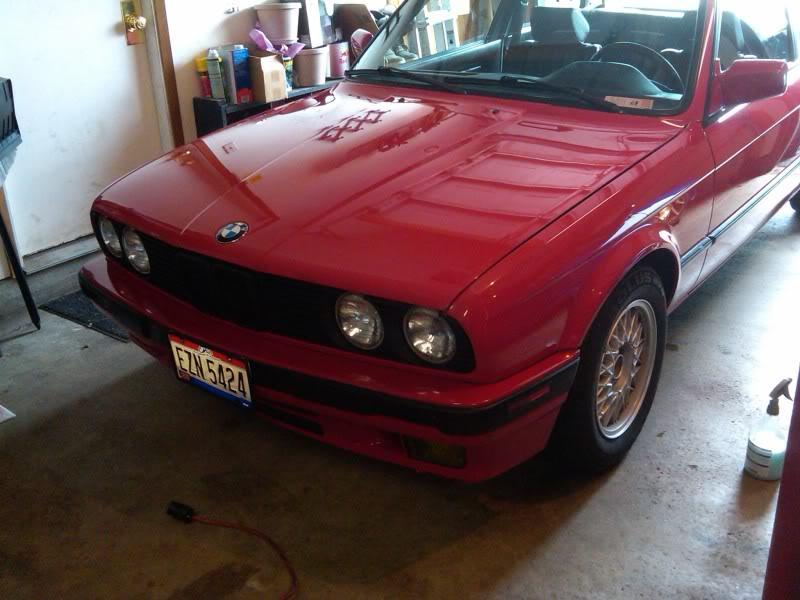 Quite the change from this: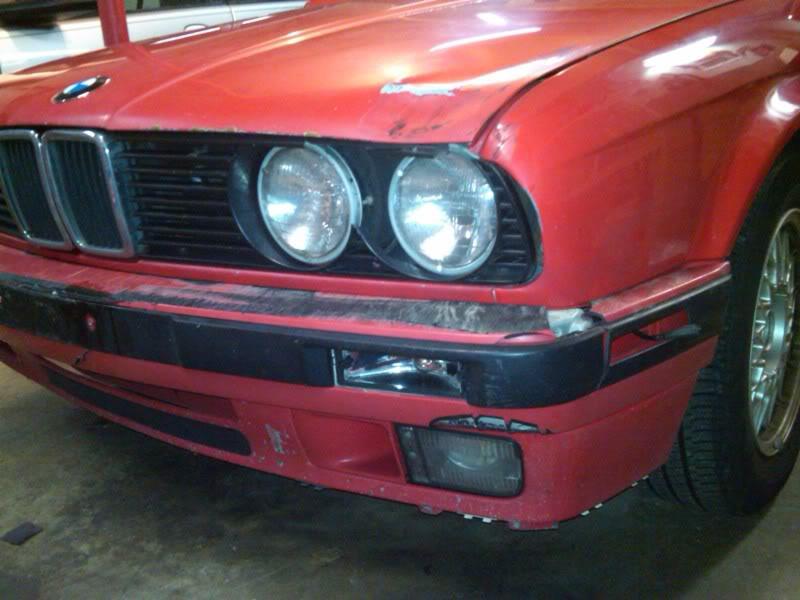 To this...all while only spending around $150.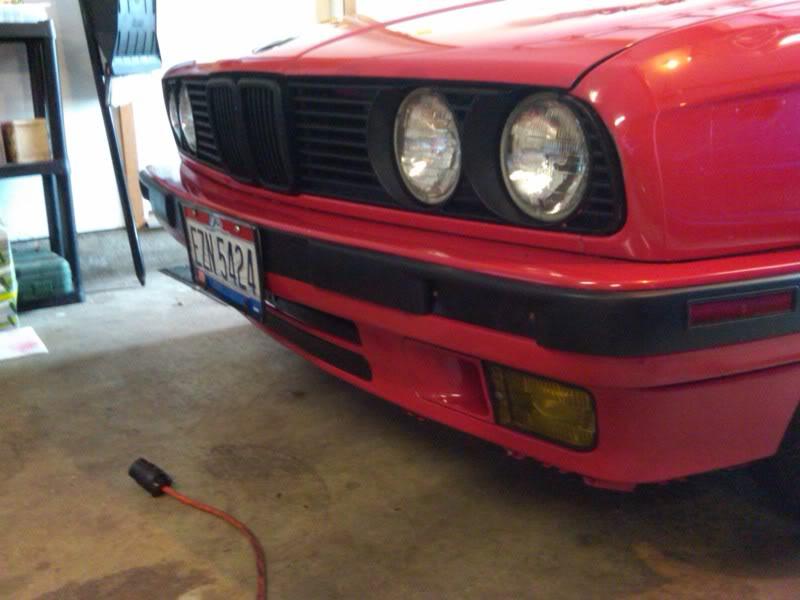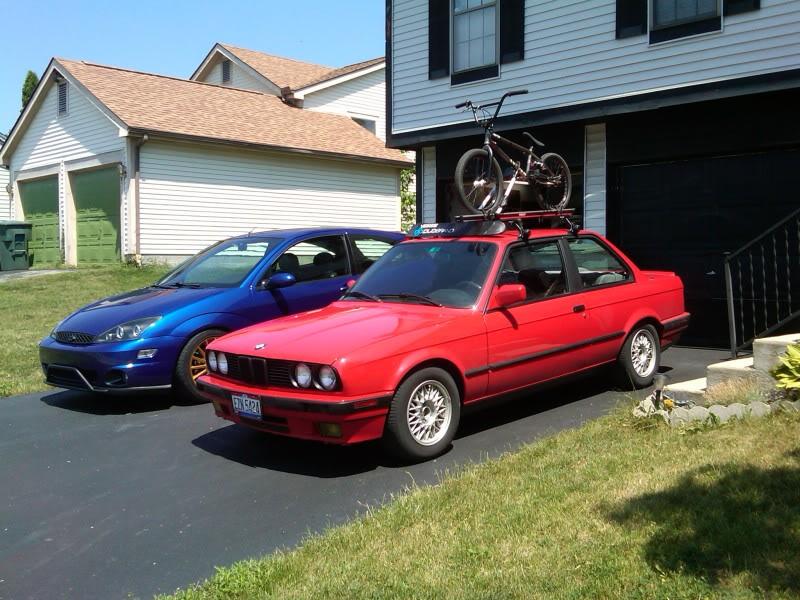 At this point I had to move to a small place closer to the city and decided it was time to sell my beloved supercharged SVT Focus. It was sold and I paid off my credit card and decided to buy new wheels for the E30. Picked up a set of Tire Rack's house brand TRM C1 wheels specifically designed for E30's. Went with 15X8 with 205/50/15's. In hindsight I reallllly should have bought 225's, oh well always next time. Also picked up a front lip and a few other bits. Full brakes were done at all corners aswell as a Turner Motorsports chip.
Now that's finally looking how I wanted it to.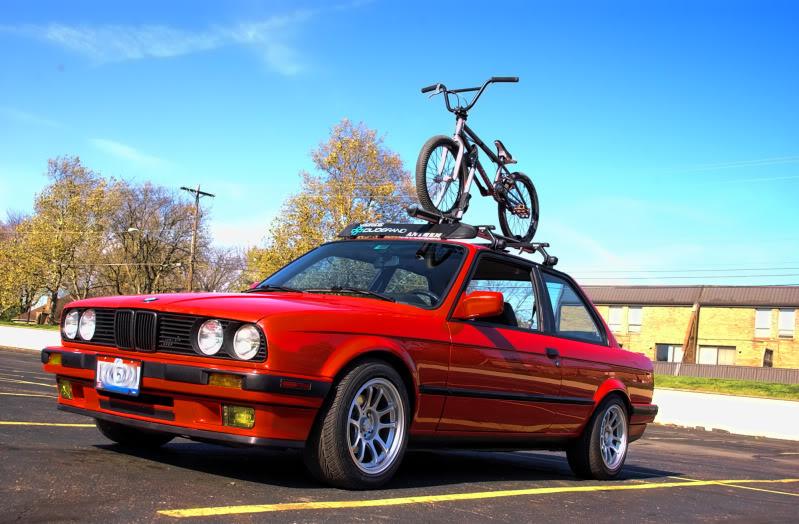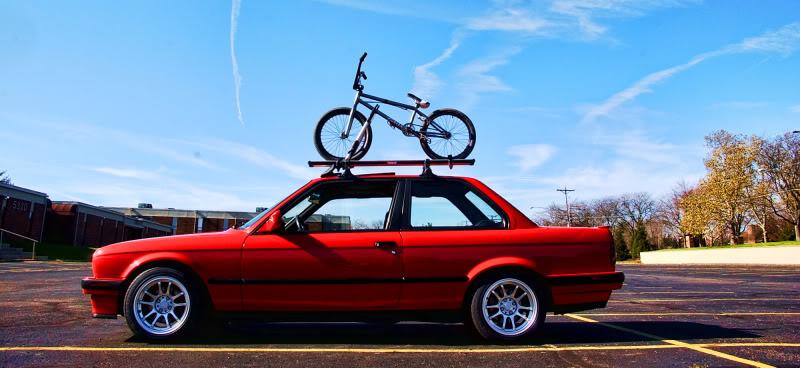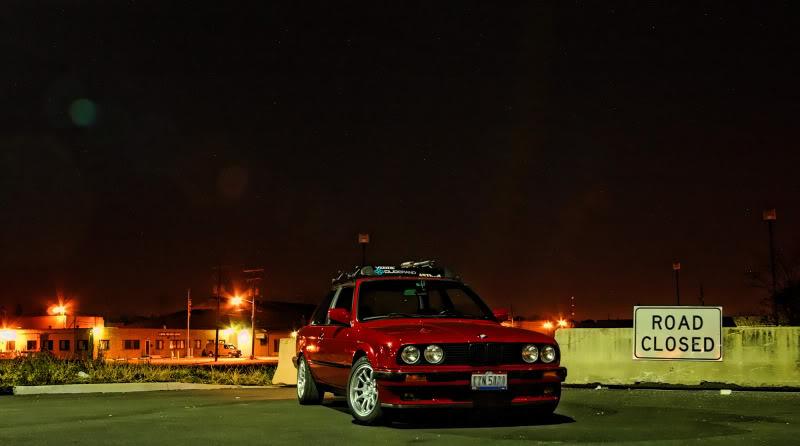 That was last fall. Since then I picked up some snow tires I barely got to use over winter and have just driven the thing. Over the winter and up until last month I drove it to Cleveland every single weekend, 130 miles each way without issue. It's been a much better car than I anticipated it to be, especially considering the neglected condition it was in when I bought it. Just last week though the Throw out bearing on the clutch went out. Had it towed back to my buddy's shop and had a new TOB, OE Sach's clutch, news transmission mounts and a new flex disc on the drive shaft installed as some preventive maintenance. Have another parts order coming in with new tie rod assemblies, end links and a hand full of gaskets since it does leak a bit of oil. No crazy plans other than drive it and enjoy it. In total I've probably spent around $4k or so as it sits including purchase price, maintenance and mods. The mythical $1500 E30 that needs nothing is pretty impossible to come across. Clean example are selling for pretty good numbers these days. I've never owned a car that draws as much attention as this car does. I get compliments everywhere I go. Probably twice a month I'll have people approach me to buy it and I usually throw some wild number out like $7k and they don't normally bat an eye at the price . I'm not ready to sell it yet, it's too fun.
Here's a handful of photo's I took this week of it in it's current state. I'm no photographer and make no claims so please don't bash the photo's.
Just last week also got a set of the OE Hella elips headlights. I can actually see at night now!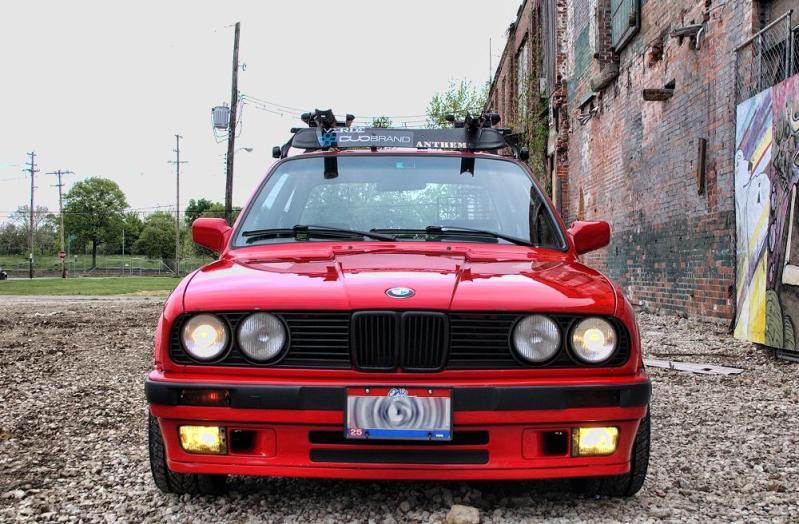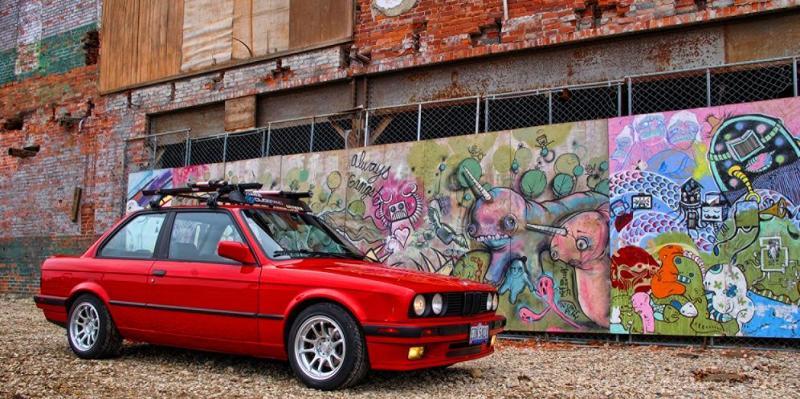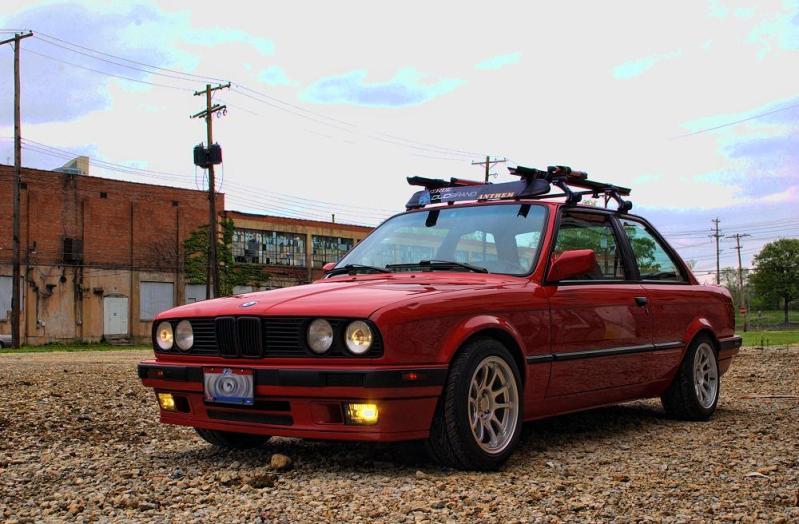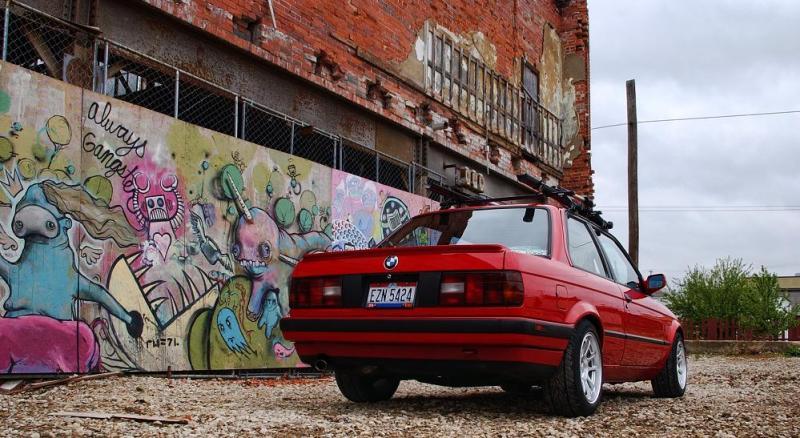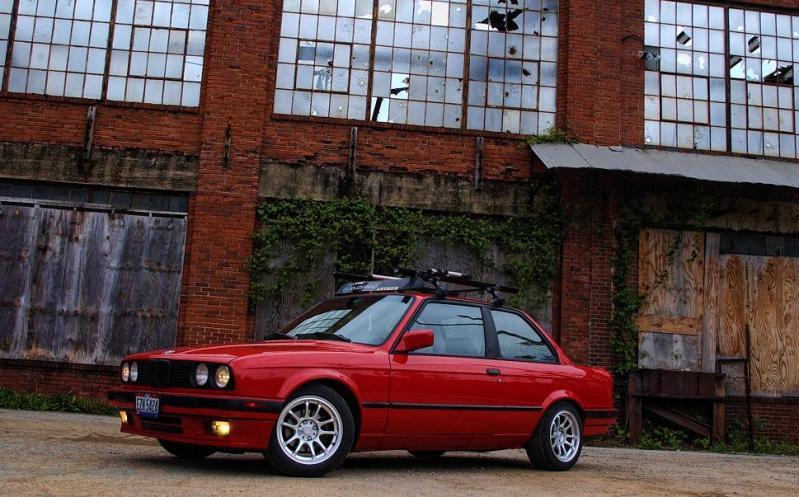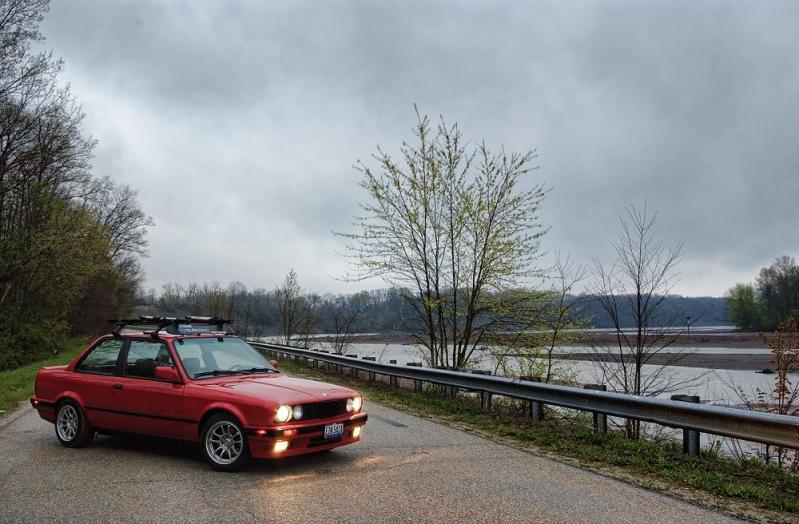 DERP!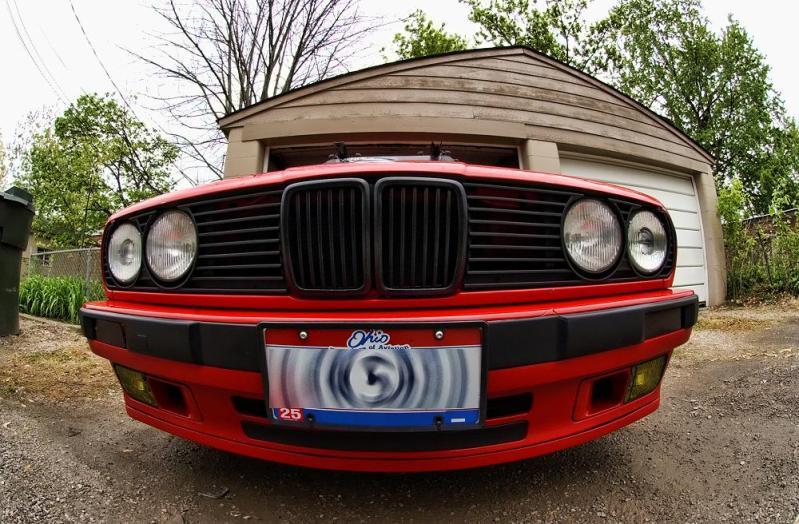 Also picked up a Momo tuner wheel awhile back.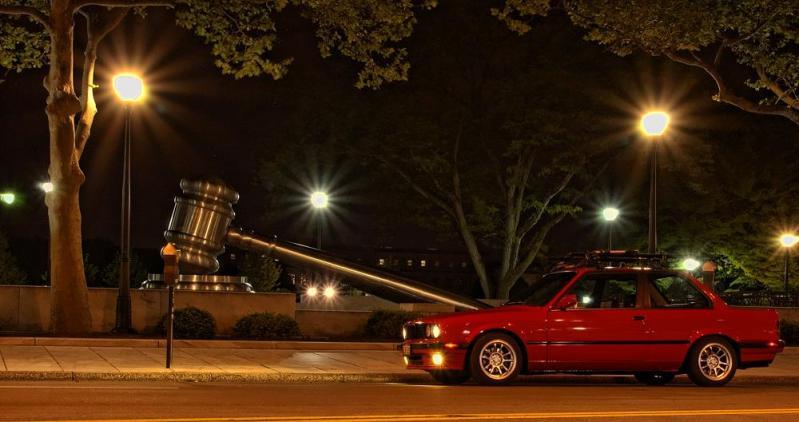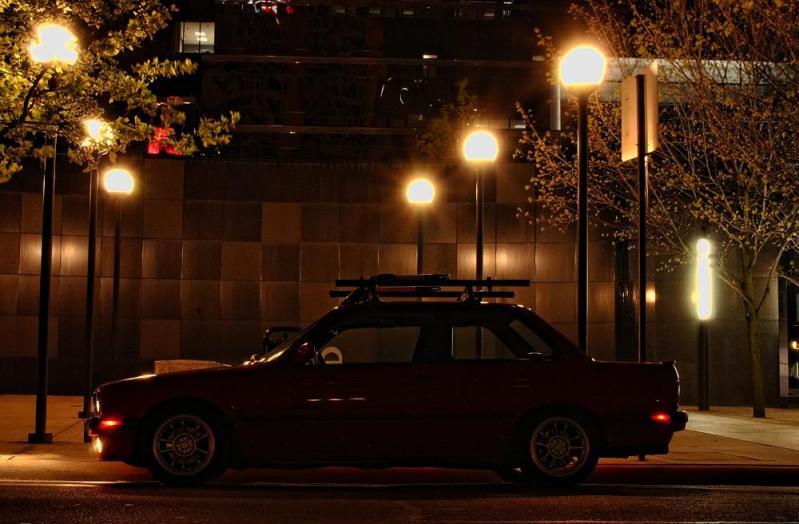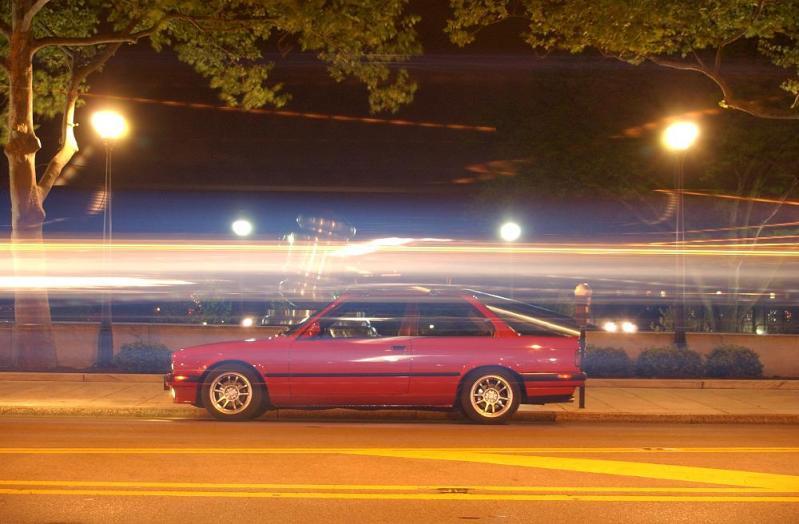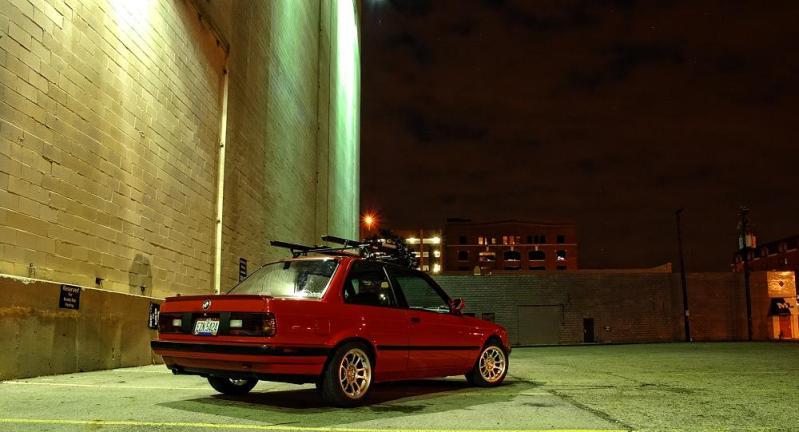 140ish hp of pure fury.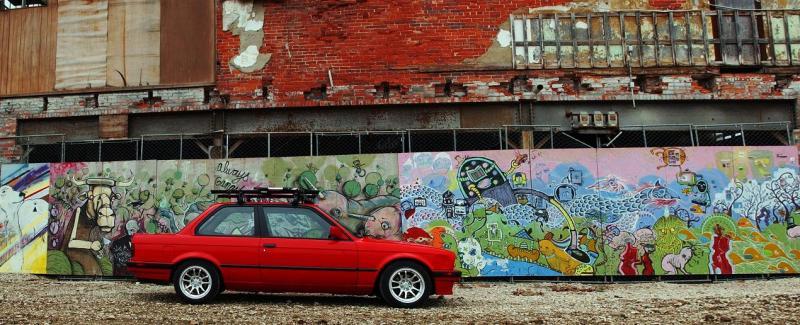 Thanks for looking.