Reviews
Go Fast--A rookie's day at a BMW CCA Boston Chapter Driving School at NHMS by ProfessorCook
By stevegolf
You must be logged in to rate content!
14 minute read
Go Fast--A rookie's day at a BMW CCA Boston Chapter Driving School at NHMS
Compliments of ProfessorCook @ www.bimmerfest.com


Well there's a thread title for you.
Before I get started, I pieced together some Google images and added some notes that may be of use in getting you oriented and for further discussion.
The New Hampshire Motor Speedway (NHMS) is in central NH. It can be set up for a NASCAR oval or for a road course. I've outlined the road course here and added curve numbers and feature names.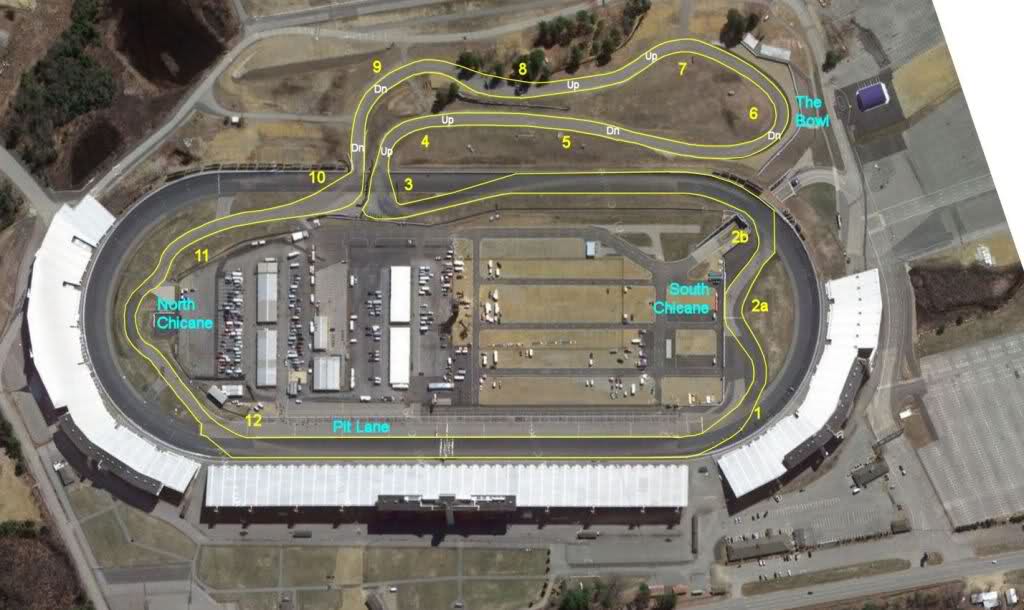 On this image, I've added photo numbers and directions. The photo numbers match the sequence presented in this thread.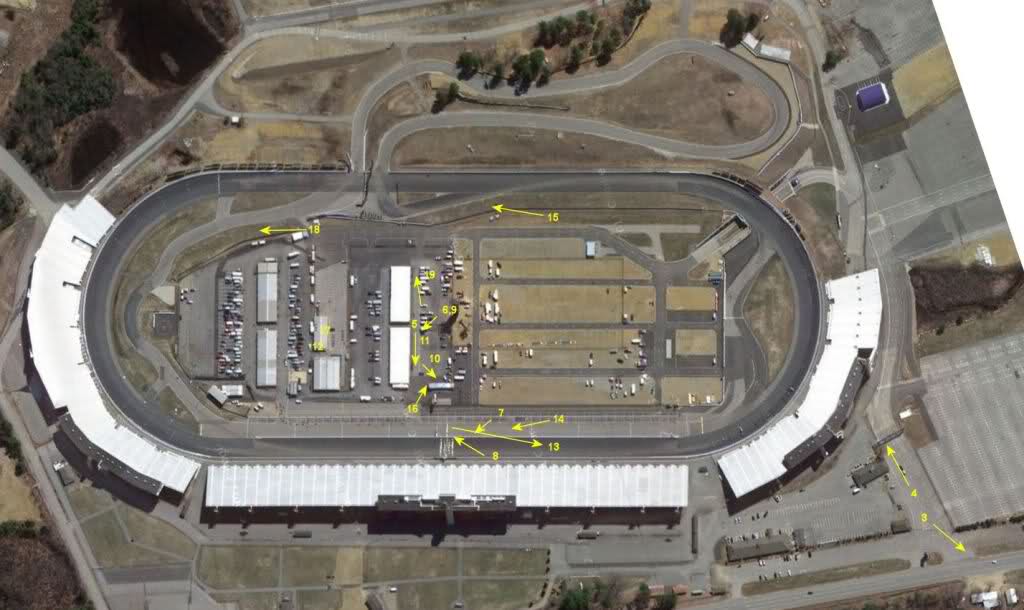 Ok... So I live in MA, so I had to get off to an early start in the morning. I was a bit concerned about driving on summer rubber on a wet metal deck bridge. I also felt a bit silly, figuring I'd arrive way too early.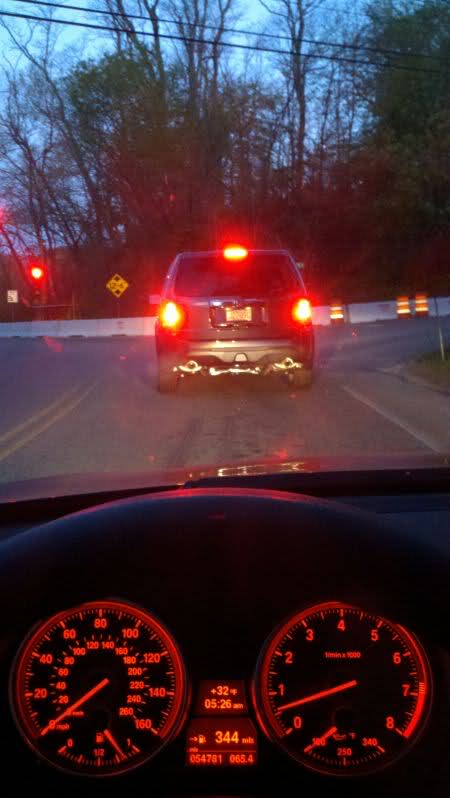 To say the NHMS is located in the sticks is a bit of an understatement. Monday morning traffic was light, though the closer I got, the more cars I saw wondering if they were headed up to the track as well. Including a very nice Porsche 911 Carrera GTS with a wing.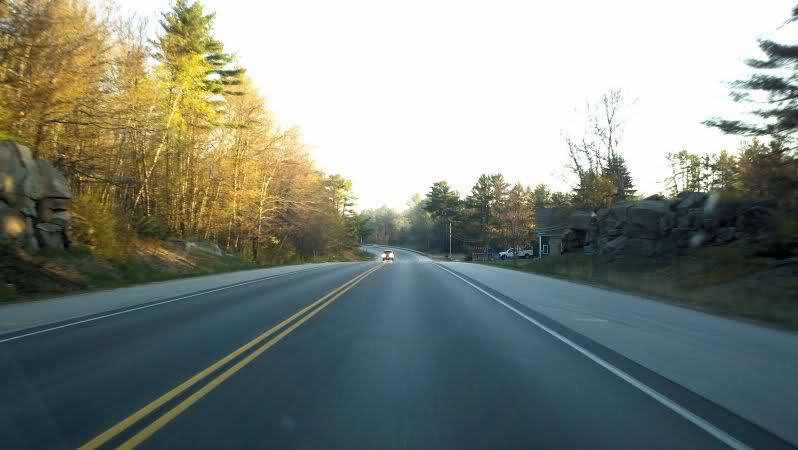 'Turns out, I wasn't all that early. We lined up in about three columns, I checked in signing a waiver, and we waited for about 45 minutes. A lot of cars arrived on and in trailers and they weren't all BMWs. It was a nice variety, though the M3 owners dominated the numbers.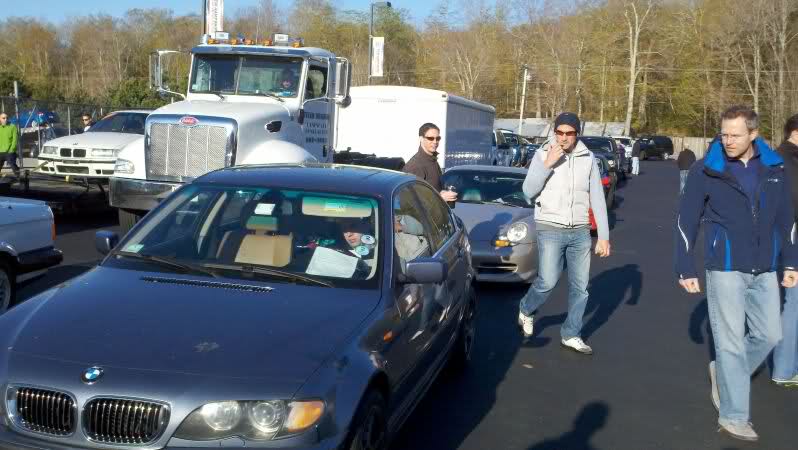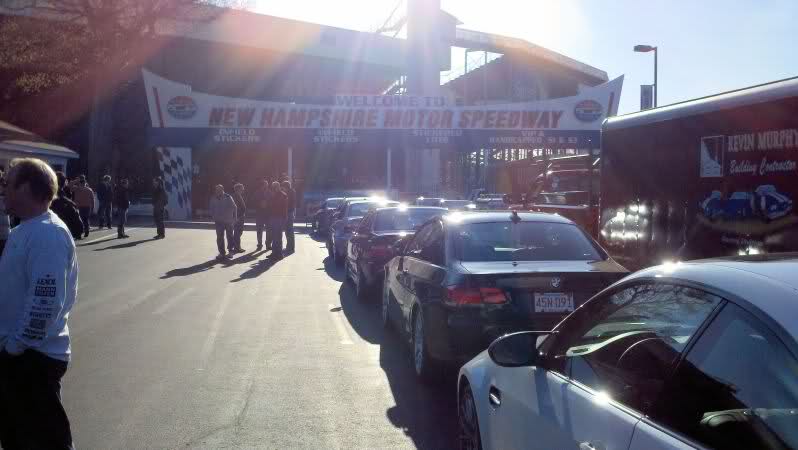 The gates opened and we filed in taking a sweeping road around the end of the oval, then down under the track through tunnels, inside the track and then along some garage buildings. If you're there early enough, you can open a garage, back into a bay, and it's yours.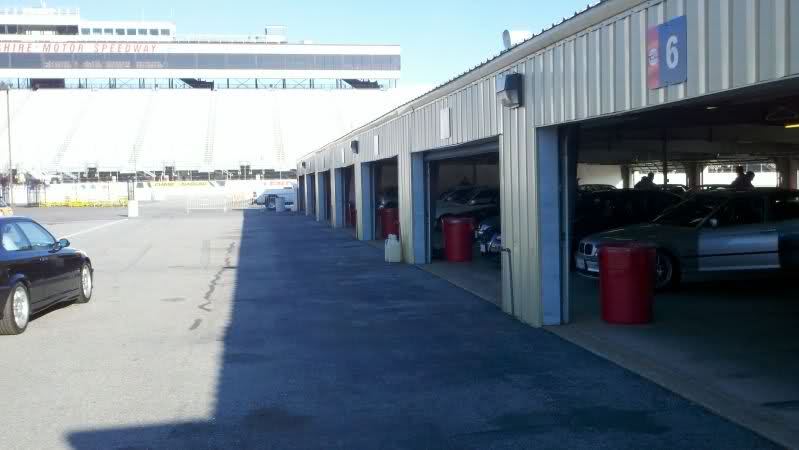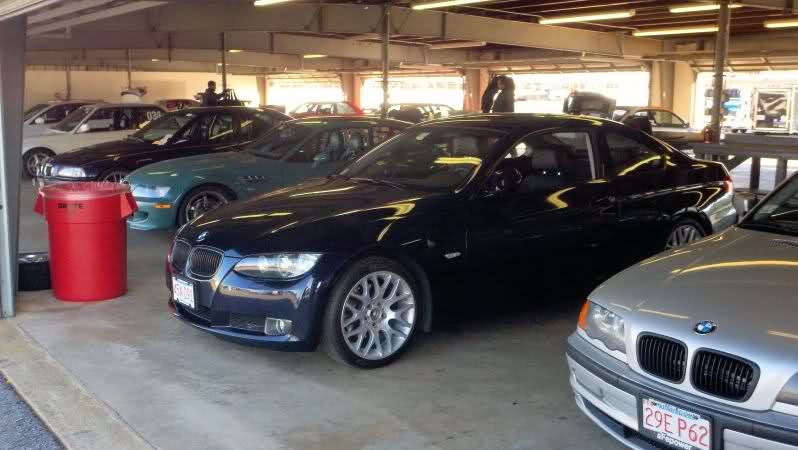 Once in the bay, I headed off for registration and got a packet with a schedule and my car numbers, a lanyard, a schedule, and a table with run groups and instructors. It's then time to go about preparing cars. The experienced guys show up with an array of tools, lawn chairs, lunch buckets, sets of wheels, jacks, battery operated impact drivers, etc... While guys were swapping wheels, I emptied my car of everything that I could, which took about 1 minute. I had already emptied my car of most things at home. I just emptied the glovebox etc... into my backpack, took out the trunk floor, and checked my tire pressures. I should have brought my torque wrench, but I was able to borrow one easily (folks are very friendly) and I checked the lug bolts.
Once prepped, you head off for inspection. The cars line up, and the inspectors have you pull up and open up. They check to make sure your car is empty, they check your brake fluid to make sure it's fresh, they look at the battery terminals, and they grab each wheel and pull and shove it to make sure the linkages are tight. I had been a bit worried about the brake fluid check and a drip getting on the paint, but throughout the day, people were careful with everybody's cars and the brake fluid guy was no exception.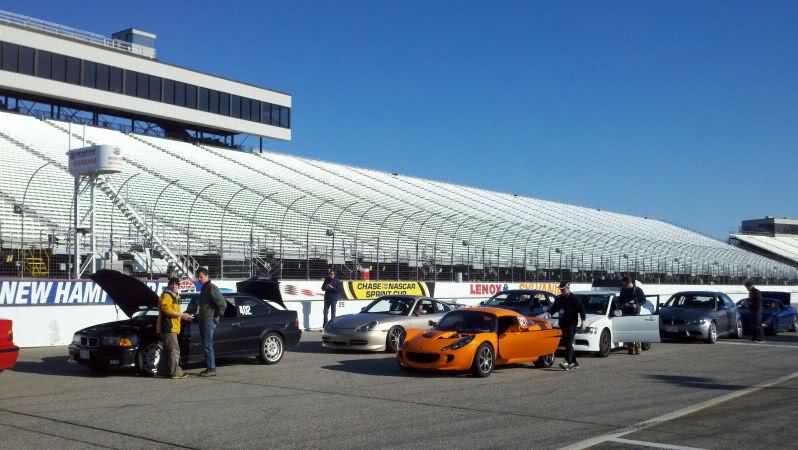 This is Ryan. He is living proof that there are guys with white M3s who are friendly and polite. I also noticed there were no indications of a goat ever being close to his car.
Inspected, tagged, numbered, and ready to go. Number 404 means I was in the fourth run group (the noobs) and my instructor was number 04... a calm, capable guy by the name of Michael Barton.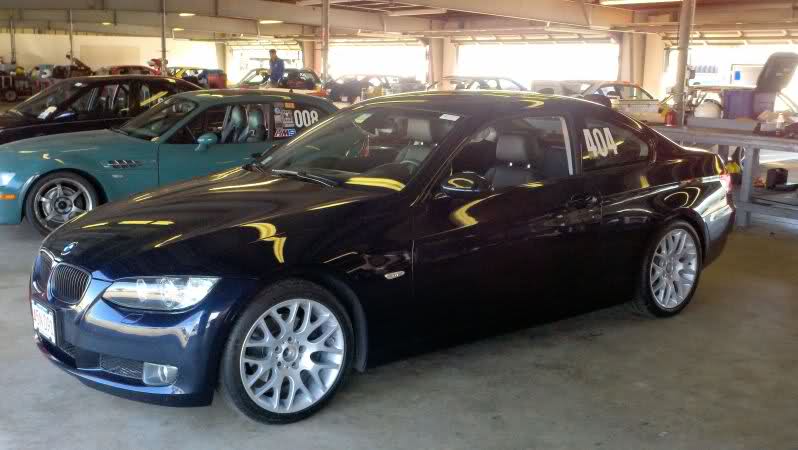 I should point out that there are cars there where worrying about swirlies is low on the priority list. You realize, of course, that these humble cars are no doubt incredible on the track and driven by guys that know what the hell they're doing out there.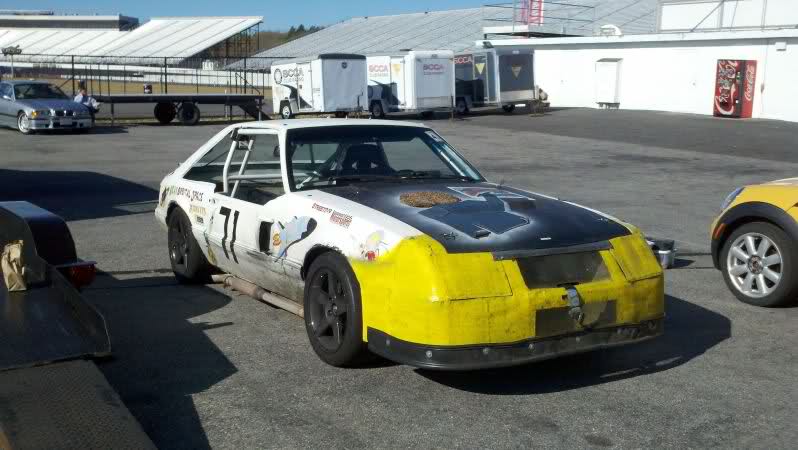 Inspection closed down and there was a driver's meeting. The veterans are welcoming of the first timers and you immediately pick up on a sense of prevailing camaraderie. I also continued to be impressed by the organization. It's all reassuring.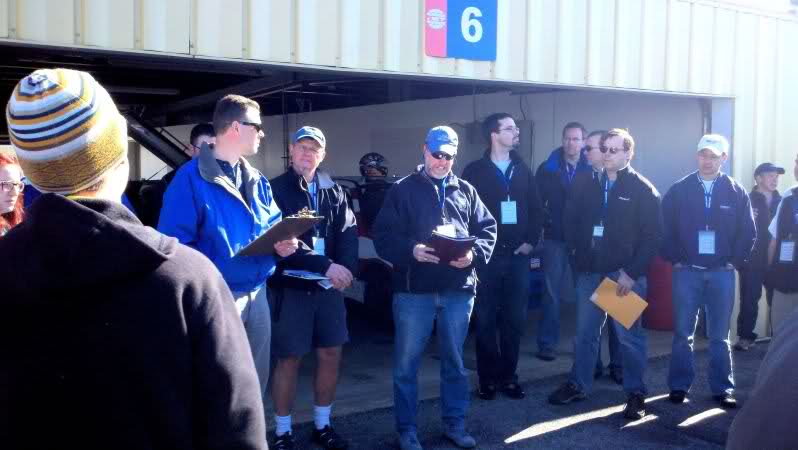 The next thing on the schedule was the first, mandatory classroom session. Don't be fooled by the picture, there were 17 of us in Run Group 4 present for the chalk talk. Track etiquette was covered, the flags, what to do in a variety of circumstances, familiarization with the track, and an overview of the day. It was well presented and very worthwhile.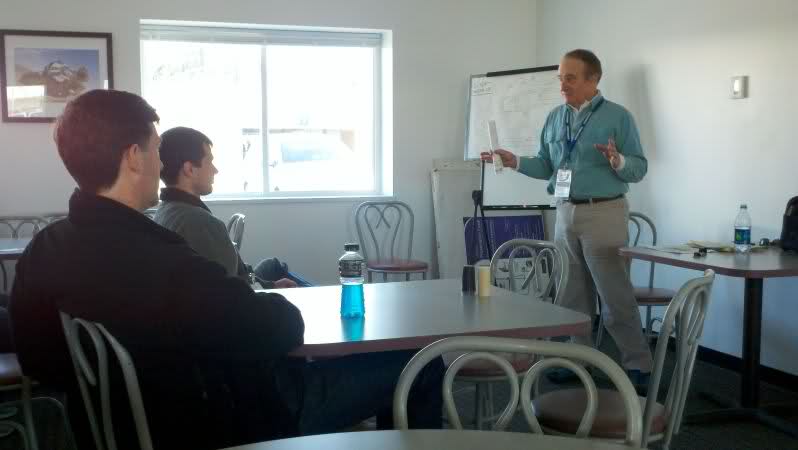 Finally, it was time to line up for the first run. The scale of the place is incredible. They can seat very nearly 100,000 people in the stands.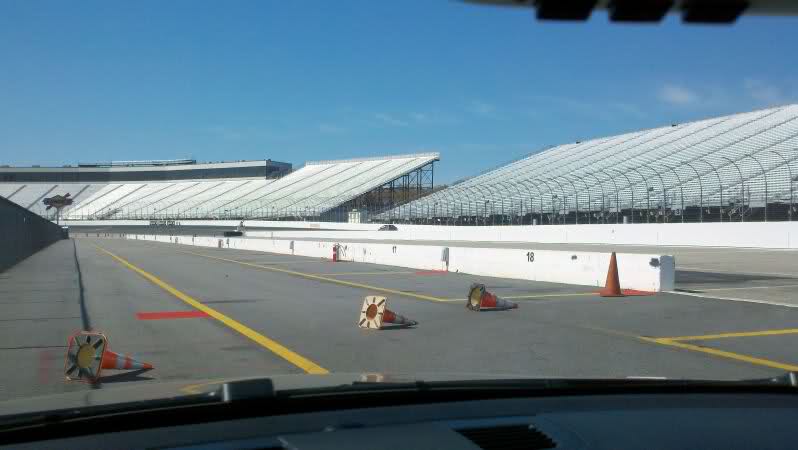 Helmets on, we all stayed by the cars as the instructors walked down the line looking at car numbers to identify the drivers.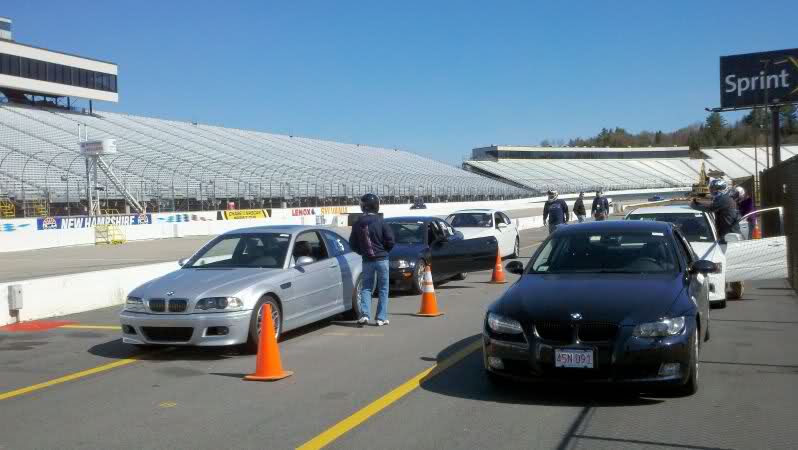 Nearly all of us let the instructor take the first few laps. I have to be honest with you, it's unsettling to be in the passenger seat as a stranger takes your car through the turns at good speed and harrowingly close to walls, tires, cones... I don't have pictures of this, of course. After a few laps, you change places, and off you go. I felt a lot better being in the driver's seat again.
The course is great fun and it's awfully challenging, especially for a rookie. You put an earpiece in your helmet, and as you drive, the instructor is telling you what to do. "Brake... brake... brake... harder... turn, turn more, give it power, unwind, go wide, closer to the wall, keep on it, keep on it..." It's a constant stream of instruction as you try to look ahead down the track and hit the line. It's great fun. It's very difficult to do well. My car was incredible. I was... uhm... well... learning.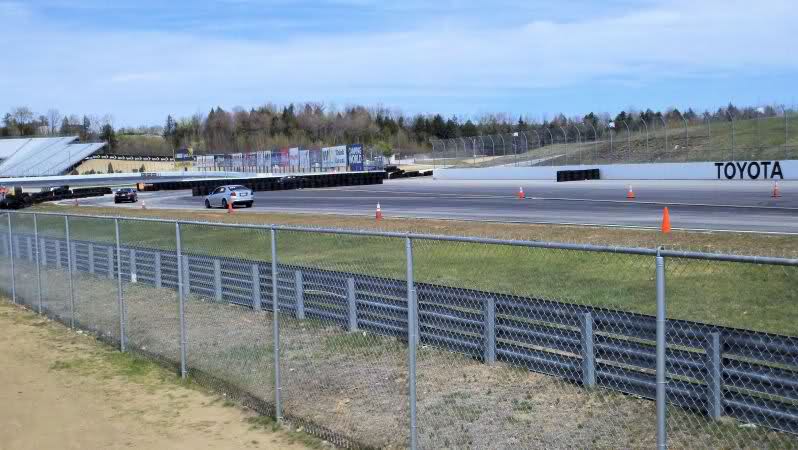 20 minutes passes in what seems like three. The checkered flag comes out, and you take a cool down lap and your instructor goes over how you did. You then head back to the garage and take a break.
Staging changed places for subsequent runs. As soon as your instructor joins you, you head out again.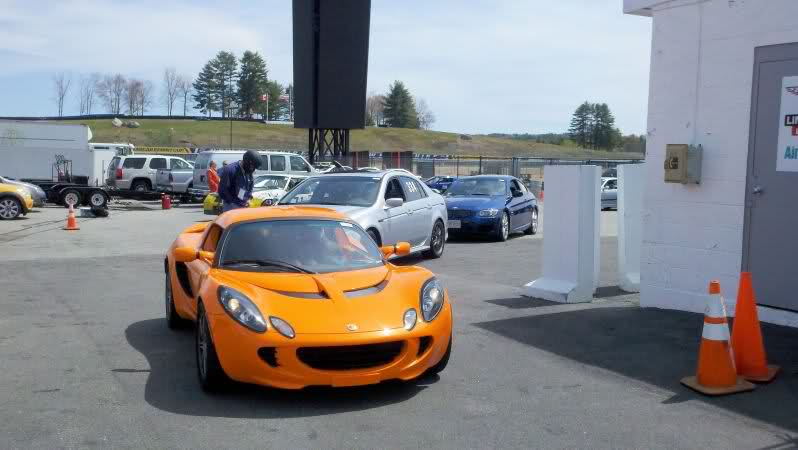 It's not a race. If somebody catches up to you, you reach out of your window and point to the side of your car where you expect your follower to pass you. It's then up to you to make sure you get passed safely. If you have to ease off some, you do. Similarly, if you get behind somebody, you have to wait for permission to pass. Things were friendly throughout the day. I didn't see anybody being a jerk out there.
There was only one incident of which I'm aware. On my second run, I let a white 335i pass me on the main straightaway. He passed easily and headed into Turn 1. By the time I was working through the South Chicane, though, I saw him lose some control between Turn 2a and Turn 2b and he spun out harmlessly digging up turf off to the right. I had plenty of time to react, ease off some, and go past. On the next time around, Michael warned me that there might be debris on the track, but there wasn't. I don't think any harm came to the car that spun out and I'm certain there was no injury to the driver other than, perhaps, to his pride.
This may be the most dangerous place in the joint, though I gave myself permission to enjoy the food there. Hey... it's track day, right? How much can your cholesterol rise from one meal?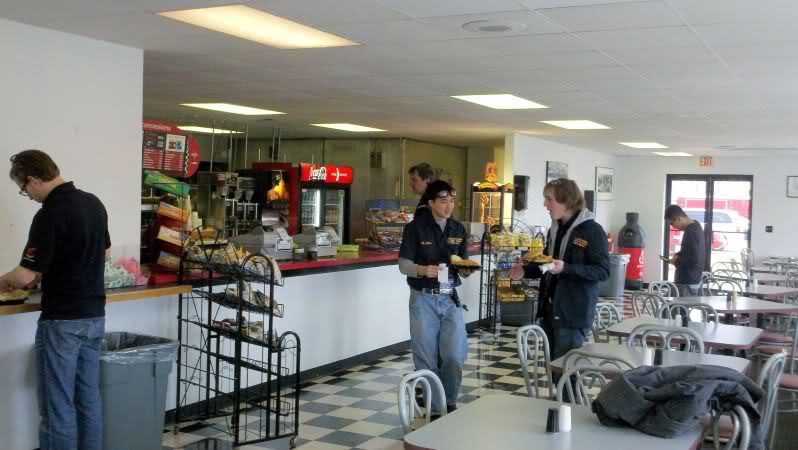 As the day wore on, I got better and pushed the car harder. I left the computer nannies in place, and they started kicking in more and more often. I confess I did all my laps in third gear... it wasn't quite enough on the main straight where I pushed the revs damned close to the 7000 rpm limit and 3rd was too tall for the hill climbs at Turns 3-5 and 7-8. I was concentrating on my line and trying to do what Michael was telling me to do. I figure I'll add shifting the next time out.
It's amazing what the car can do. It's amazing how you can throw it into turns, brake hard, hit the rumble strips, accelerate into the high rpms... and the whole time the car feels completely stable and wanting more. The new Michelin sports felt fantastic, though I'm sure I scrubbed a few hundred miles of wear off them. I'll also have to check my brake pads again soon.
Judging from the times I let people by and the times I passed people, my speed was just fine... not bad for a guy who wasn't shifting and who was out on the course with five M3s, a 135, two 335s, a 330, three other 328s, Mazdaspeed 3, a Lancer Evo, a Mini, and an M6. The track never felt crowded. The longest train I was in was three cars. I sure don't think I caused any trains behind me.
This, by the way, is Ryan again. He'd been to the track before and was in Run Group 3. Those M3s really seem at home in this environment. The sound is wonderful and mixes well with the smell of burning brakes.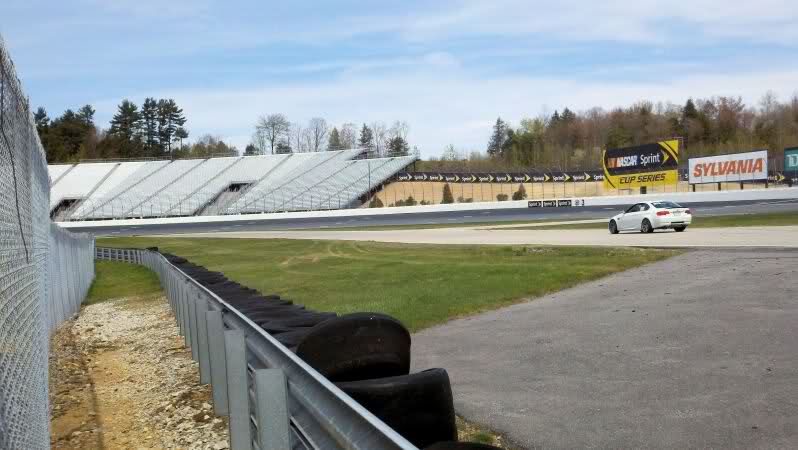 At the end of the day, you take off the numbers, load the car back up, and get ready to head home. I was exhausted after only about 70 minutes total of driving.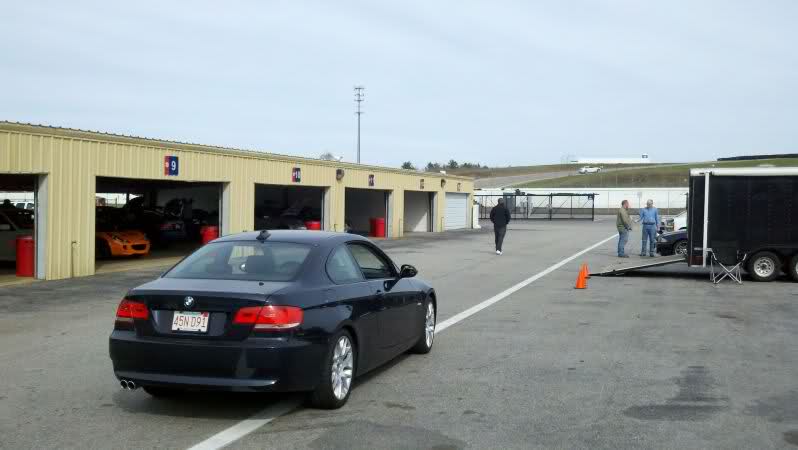 BTW, I don't think this activity would be sanctioned by too many environmentalists. We can get into that discussion if you like. One example, though, is my mileage for the day. Normally, I get in the upper 20s. This day, I spent money to buy gasoline to wear down my brake pads and tires and put some age on my suspension, drive train, and bearings. Money very well spent.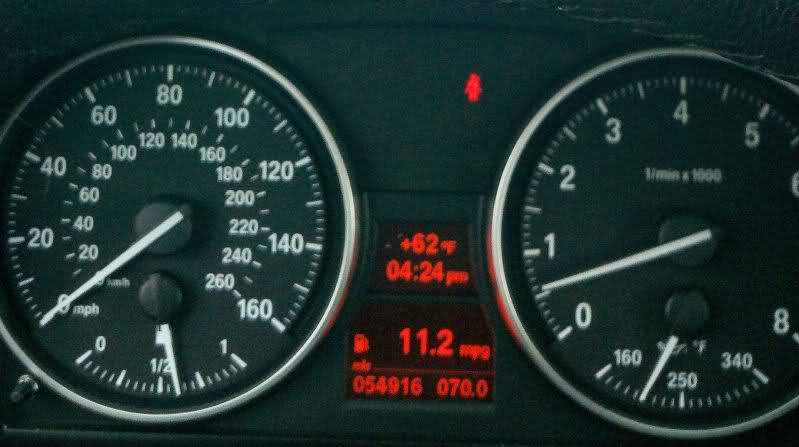 Participation Requirements - Convertibles
Convertibles are not allowed to participate in sessions driven at speed unless the car is equipped with the following
minimum requirements:
• An approved roll bar or roll cage. Both driver and instructor sitting up right with helmets are below the top of
the roll bar.
• Five (5) or Six(6) point harnesses for both driver and instructor where belts are properly routed.
• Arm Restraints Day of Event Information 4
Participation Requirements - Removable Roof Sections
Cars with removable roof sections are allowed provided that both driver and instructor sitting up right with helmets are below
the top of the roll bar or roof line.
Exclusions - Cars equipped only with factory pop-up posts or similarly activated rollover protection are not allowed.
Please contact the registrar before the event to discuss your vehicle or equipment configuration. If the vehicle does not pass
the on-site Tech Inspection with regard to the rules above, you will not be allowed to participate and no refund will be given.
If you have an approved convertible and we can't find an instructor who is willing to accompany you on the track, your entry
fee will be refunded.
It's kind of between a track thing and a BMW CCA thing. No BMW CCA events will allow convertibles (unless they meet the requirements you quoted), even the retractible tops with rollover protection. The Porche club does allow retractable tops to run at some tracks/events. You have to run with the top up, obviously. There are other "independent" events that also will allow retractable tops (MVP Tracktime is one I'm checking out), but again there is final word from the track itself.
I understand the risk being there and them wanting the statistics, but BMW IIRC claims the retractible hardtop is structural, along with the front a-pillar and windsheild frame, and on top of that the pop-up protection is in place (although I do NOT know if it would triggle if the top is up - anyone?).
One of the members of my local chapter is a BMW CCA instructor, he said they are building up the stats on the convertibles and will, eventually, decide whether or not to allow the retractible tops. FWIW, he looked at me like I was crazy when I said I was considering Road Atlanta (MVP has an event there, and I've confirmed I could run with the top up). He told me to also remember which run groups have the most incidents (of course it's the novices, and since all of them have instructors in teh car, he said the instructors then have the highest incident rate).
So I'm being pretty cautious, and right now only doing car control clinics or events where I drive someone else's car