Builds
E39 Wagon Build - Practical Daily
By stevegolf
You must be logged in to rate content!
14 minute(s) of a 43 minute read
Hello boys and girls
We are proud to unveil the first official DIYauto.com project car. These project cars will undergo a transformation which will be documented thru DIYs and an official build thread. We intend to feature a variety of types of vehicles in the project car stable, from cheap daily drivers to hot rods or cruisers to race cars. We hope we can educate and inspire with these project cars, like DIYauto.com users do to us everyday with their builds.
For our first project car we looked for something every enthusiast needs, a daily driver. An enthusiast's daily needs to be practical, somewhat reliable, cheap, efficient, and fun. Since this is a vehicle you will use everyday, choosing a daily driver involves compromise. Some people pick vehicles that are extremely reliable or cheap, but aren't fun. They have the puritan belief that enlightenment comes through self punishment or denial. Others go in the complete opposite direction, finding a car that is a lot of fun but impractical. This can put you in situations where you don't have a vehicle to handle all of your needs. With some research and know how you can find a car that checks most of your boxes for a good price.
We've done the research, poured over charts and graphs, spoke with village elders and found the ultimate enthusiast daily, an E39 BMW 528i 5-speed wagon. Some of you knew this answer before we even asked the question, others are probably puzzled by our choice. Let us explain.
First the basics. We have a RWD, manual, wagon. The words RWD and manual need no enthusiast justification, you might as well ask someone to explain their need for air and water. The enthusiast's love for wagons has become a meme because it gives you the most practicality in a car platform. With a wagon you can seat 5 comfortably and have copious amounts of room in the back for everyone's stuff. You can fold the rear seats to create a cavernous area in the back that could only be matched by a van or truck. When purchased, the car came with an extra set of wheels and a set of snow tires, all of which fit easily in the back with room to spare. A much tougher feat in other vehicles.
The E39 platform is praised by wise curmudgeons as the last true BMW, when they took their "Ultimate Driving Machine" motto seriously. This generation of M5 is seen as the best ever. Renowned for its steering feel, this gen uses an actual rack and pinion system.
This particular car is equipped with BMWs more pedestrian inline 6, 5 sp manual combo. The smoothness of the engine combined with the linear powerband matches the transmission perfectly. And that buttery combination was a BMW signature in the not to distant past. The I6 is cheaper on gas and insurance compared to the V8 equipped models. The MPGs are in the mid 20's which is as good as you can get in car from the 90's.
Of course a car with this price and mileage will need some work, at least we'd hope so, we aren't trying to make the shortest build thread ever. The first phase of work will be maintenance related, refreshing areas that are showing signs of age and use. As we progress we will do more modifications that improve performance and the overall driving experience. Here is a list of work you will see us doing shortly.
1. Sagging hatch - The spring/shock that holds the hatch up is going, and we have a couple minor head wounds to prove it.
2. Headlight replacement - The current pre-refresh headlights look dated, have taken in moisture, and point to the ground due to broken adjusters. Some new style headlights will update the look and help us see better.
3. Dipping idle - During cold weather the idle dips every few seconds. There is also an occasional thunk sound that can be heard and felt through the pedal. There are over a dozen suggested fixes for this issue so it will take some investigating. Our first steps will be changing the CCV valve and hoses, the crank position sensor, and testing the coils.
4. Vague shifting - besides the issue with the 5th gear shift pin, the shifting feel could be improved due to 200,000 miles of rowing the gears. We sourced a shifter rebuild kit and a weighted zhp shift knob to improve shift quality.
5. Spark plugs - the previous owner suspects the plugs have never been changed! He was kind enough to include 6 new plugs to replace the old, worn out ones.
6. Oil change - A good thing to do to any new to you car.
This BMW has covered a lot of miles but has plenty of life left in it. Thanks for tuning in!
11/7/2014
Once again, it became time to get a new daily driver. This year's excuse is cutting costs and increasing practicality. I can see myself driving the Mustang to 100k miles and beyond due to its exhaust note alone. It's also possible to transport a lawn mower and other ill-advised industrial auction wins in a Mustang, just like it's possible to transport a mini-fridge in the back of an E28 M5, or the same mini-fridge in the passenger seat of a NA Miata. Possible but its not recommended. I occasionally have to haul stuff and the small trunk opening and small size make runs to the hardware store difficult. I also just moved and will probably have to move again soon which made the problem more apparent. Insurance has been high and will skyrocket with a possible move to Detroit. When I bought the car I knew all this and could afford it but was sure I'd end up selling it in a couple years due to cost or practicality (or high legal fees). I said YOLO and I'm glad I did, the year with the Mustang has been great. It was surprisingly good in the snow and I took it on a Route 66 roadtrip from Chicago to California and it was a blast. It drives and handles really well and is a great DD. I'm glad I had a chance to own this car and its awesome 420hp V8, but it was time to part ways. /end overly long rationalization paragraph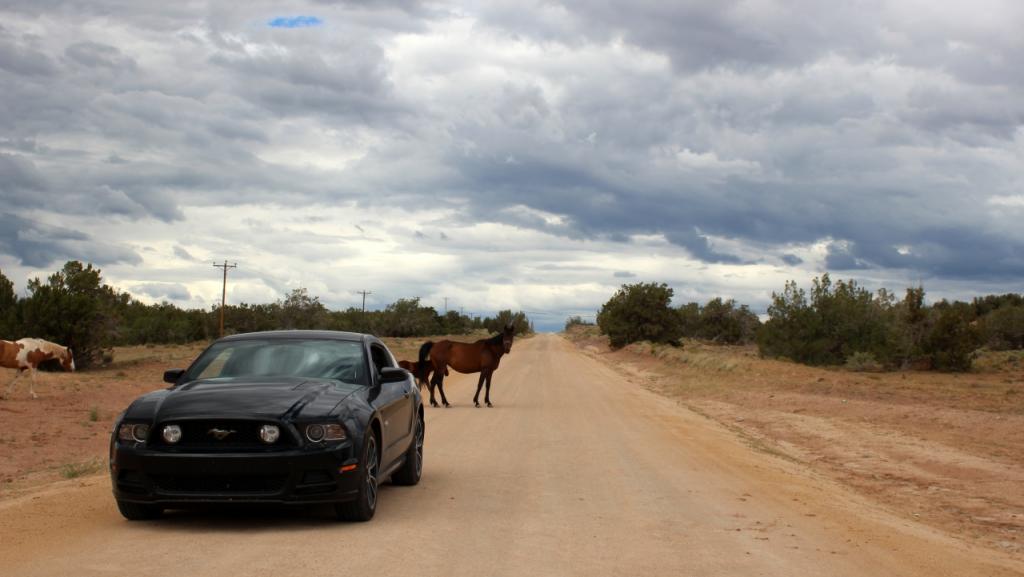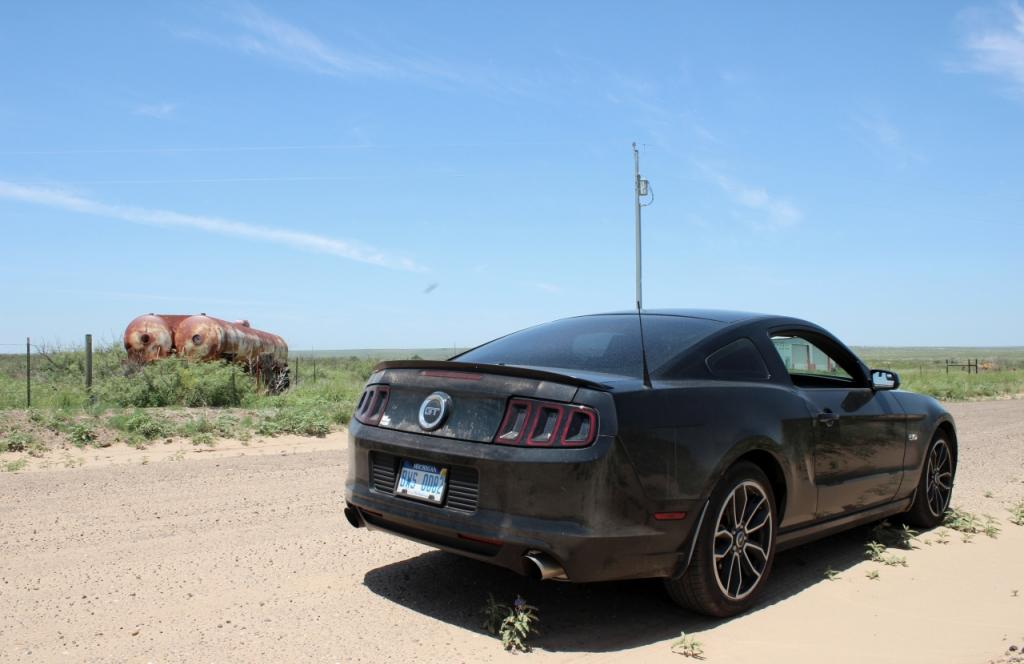 When moving I got to borrow my neighbor's late 80's Grand Marquis wagon, complete with wood veneer. It was actually fun to drive in its own way and could haul a ton of stuff with the seats folded down. This gave me a few ideas.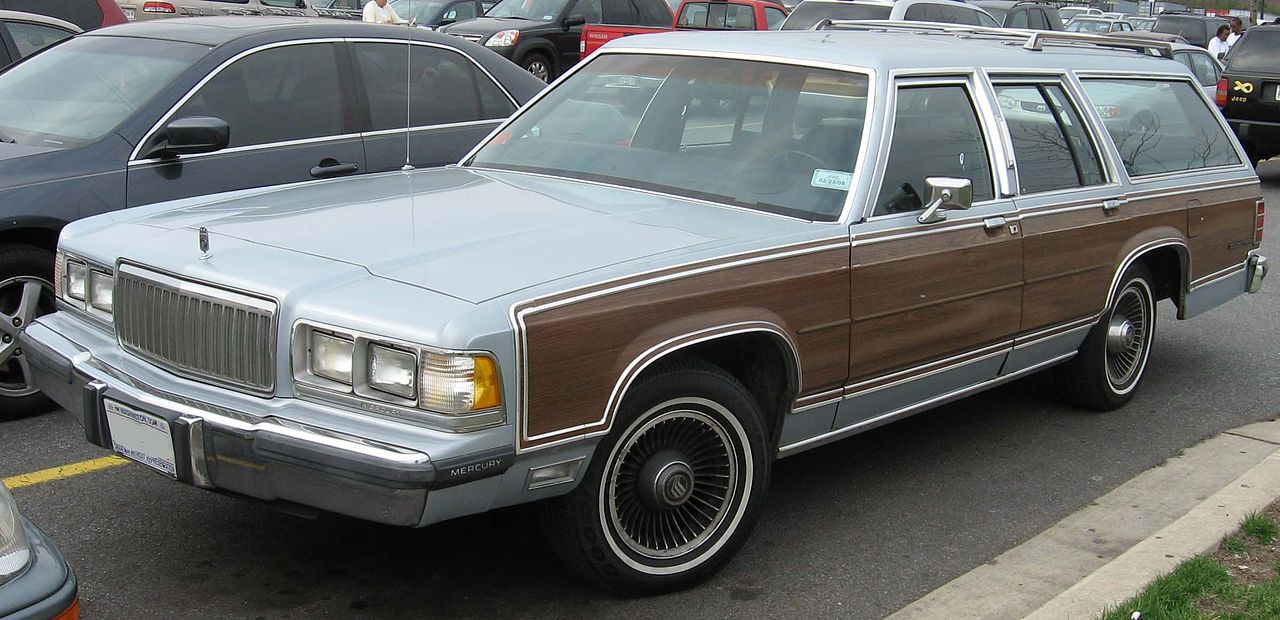 I always wanted an E39 and was looking mostly at the V8 versions. The E39 generation includes BMWs best looking wagon and I saw some cool ones online so I shifted my search. I wanted a manual but they are hard to find, especially the V8 versions which are usually swapped and go for a lot of money. Luckily a 528it showed up on craigslist a few hours away. It is a 2 owner car and the current owner did a ton of maintenance to it practically restoring the suspension and drive-train. The ad is below.
1999 BMW 528iT Wagon Touring Manual - $5500 (Chelsea)

condition: excellent
1999 BMW 528iT odometer: 198000 paint color : silver type : wagon drive : rwd fuel : gas transmission : manual title status : clean cylinders : 6 cylinders
Up for sale is a fairly rare combination. This is a wagon with a manual transmission. The body is in great shape. there are some rock chips on the hood, but have been filled in and no rust present where the rock chips were. The rest of the body is almost completely rust free. When I say almost, I really mean that. The tiny spots it does have aren't something you can pick out unless you are 6 inches from the paint. I am being very picky.
The car does have quite a few miles, but doesn't drive like it. The car has a nice firm ride and handles very well. The steering is fantastic.
When I bought the car it was clearly not up to snuff, so a fairly extensive list of parts were replaced:
1. Front shocks
2. Rear Shocks
3. Bump stops
4. Bellows
5. Air Filter
6. Idler Pulley
7. Tensioner pulley
8. Intake boot
9. Air filter
10. Both cabin filters
11. Thrust arms
12. Front rear trailing arms
13. Front brakes (pads and rotors)
14. Rear Brakes (pads and rotors) and reconditioning the rear brake shoe hardware
15. Driveshaft
16. Guibo
17. Both CV axles
18. Rear hubs
19. Rear bearings
20. Front and rear brake lines (replaced with stainless lines from Bav. Auto)
21. Added style 66 17" wheels with new Kumho tires
22. Front springs from Bav. Auto (lowered approx 1.5")
23. Alignment
24. All new lug bolts (old ones rusted and worn)
25. All new rear subframe bushings (big job, good for another 100k miles)
26. New battery
27. Flushed all brake fluid with Motul RBF 600 (high temp/performance fluid)
As you can see I have put quite a bit of money and time into the car.
It still isn't perfect, but is close. Parts I have that haven't been installed yet:
1. Spark Plugs (NGK iridiums)
2. Headlight adjusters
3. Oil pan gasket
Other areas I still need to look at:
1. Warning light for right rear bulb out. I know it is the wiring for the tailgate hatch, but have not had a chance to dive into it.
2. Car leaks a very small amount of oil. It does not burn oil at all. Thus the reason for an oil pan gasket. I'm being picky here. It is a VERY small amount of oil and usually does not drip on the ground. Mostly seepage.
3. Seat switch. Very common for these to be broken. I just haven't ordered a new switch and seat plastic.
4. Shift pin for 5'th gear needs to be replaced. Sometimes in the morning it is stiff to get the shifter over to the 5'th gear area. It does not grind and there are no issues with the synchros. This is also a common problem with BMW manual transmissions. Yes, it means the transmission needs to come out to replace a $5 part. I had planned to do this over the winter and also replace the clutch. No the clutch does not need to be replaced, but if I am going to take the transmission out, I might as well.
5. Windshield. I believe it to be the original. It has a lot of wear. It isn't cracked, just pitted.
That is about all I can pick apart on this car. I don't hear any vanos issues and it has good low end torque. The cooling system appears to have been replaced in 2012. I don't have a receipt, but when I was under the car removing the thrust arms I noticed the radiator had a sticker that had a build date of late 2011. There aren't any check engine lights, or any other lights aside from the check bulb warning. The light does work, so I know it is a wiring issue.
The interior is in great condition for its age. Everything works, and there are no missing dash pixels. A/C and heat are great. The car has a built in radar detector that works pretty well. The rear facing sensor needs a new suction cup. I have cleaned and conditioned the leather a couple times with Lexol. It does have the original CD changer and it does work. Interior carpet and mats are in great shape with very little wear. No sagging headliner, no weird door panels. Factory BMW audio systems were terrible and this car is no different, but it does work just fine.
I drive the car almost every day and put about 65 miles a day on it. It obviously drives well and handles well. I plan to keep updating the car until it sells. If you see another E39 touring for sale for less money with more or equivalent maintenance I'm happy to negotiate. I still have the original window sticker. The car came with the HID headlights and leather package. It does have a working moonroof.
The car drives and handles like new and the interior is mint. I got to drive away with 4 wheels and a spare set of tires in the back and there was room to put more stuff. My Dad had an E38 740i and the classic BMW interior smell brought me back. I've had good luck with well maintained, high mileage BMWs. My E28 had 220k and my $500 E30 had over 300k miles and neither one left me stranded or killed my wallet with any outrageous needs. This car has some small areas needing improvement but is extremely solid. I had to drive to Honda's HQ in Ohio earlier this week (3.5 hour trip) and it devoured the miles. The combination of BMW's manual transmission and their smooth straight 6's is something every car guy should experience. The light clutch, light shifter, and heavy throttle pedal reminded me of how the E30 drove. It was also nice to have steering feedback again.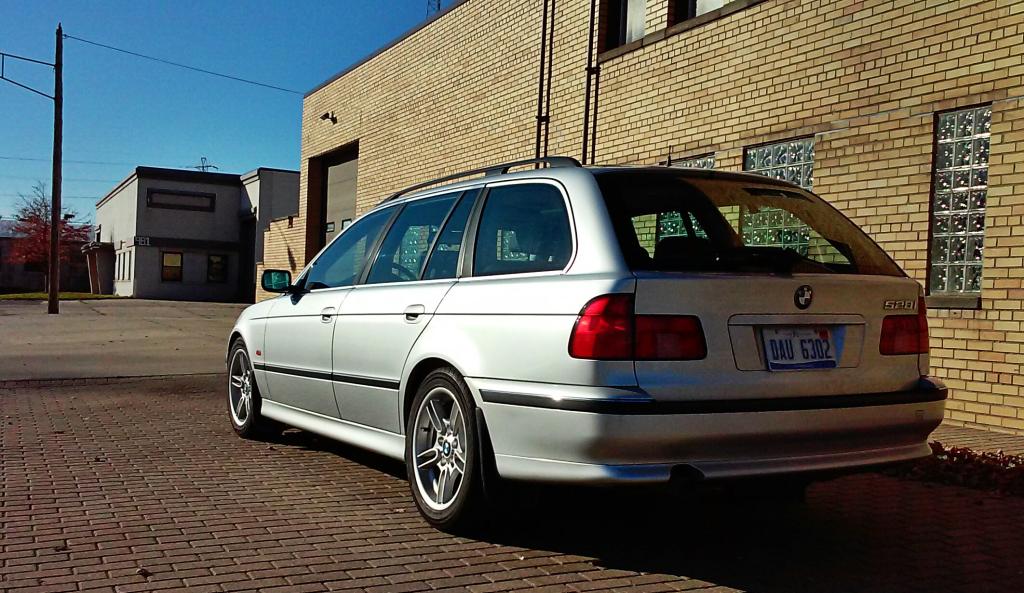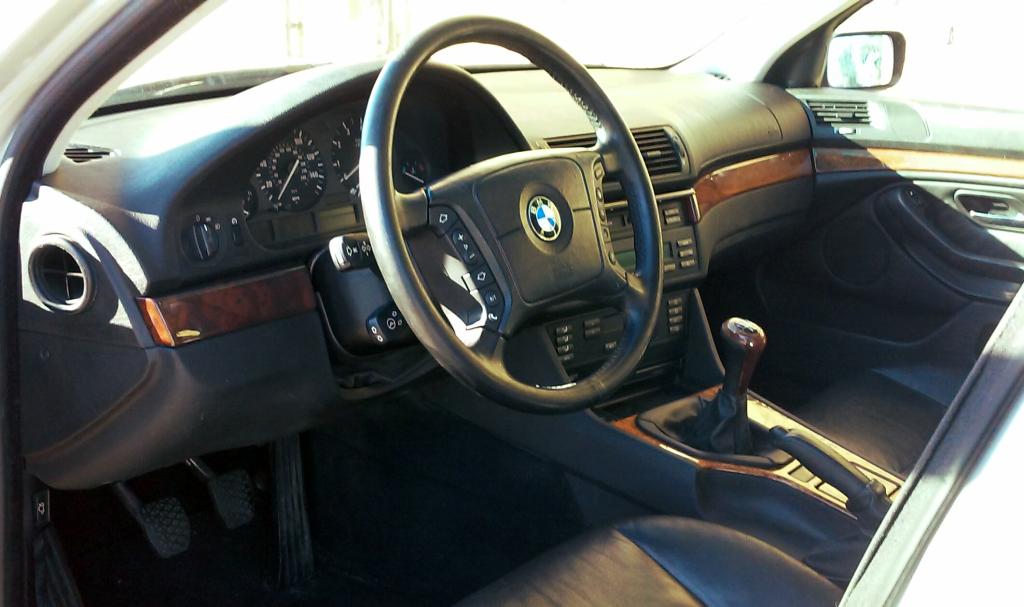 The shift pin issue is noticeable but not annoying, it's easy to shift from 2nd to 5th the first time you drive it but you figure it out quickly. I bought a shifter rebuild kit and the weighted ZHP shift knob which should tighten things up and improve the feel.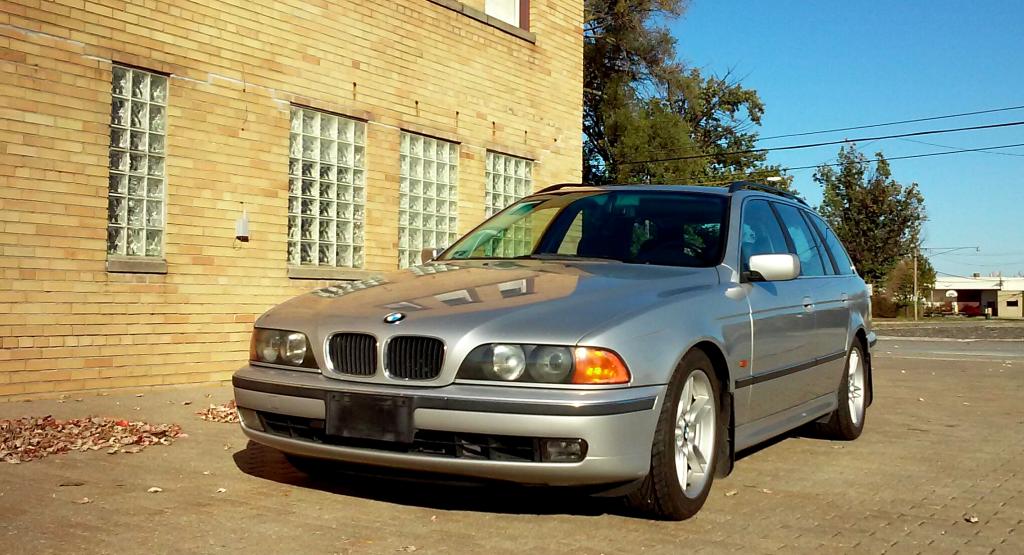 The headlights point too far downward because of the broken adjusters. I could fix them but decided to replace the headlights with the post-refresh version. The current ones have moisture inside and look dated. E39s really require the trademark angel eyes which this car didn't have. The parts should be coming in pretty soon.
Obligatory car wash shot.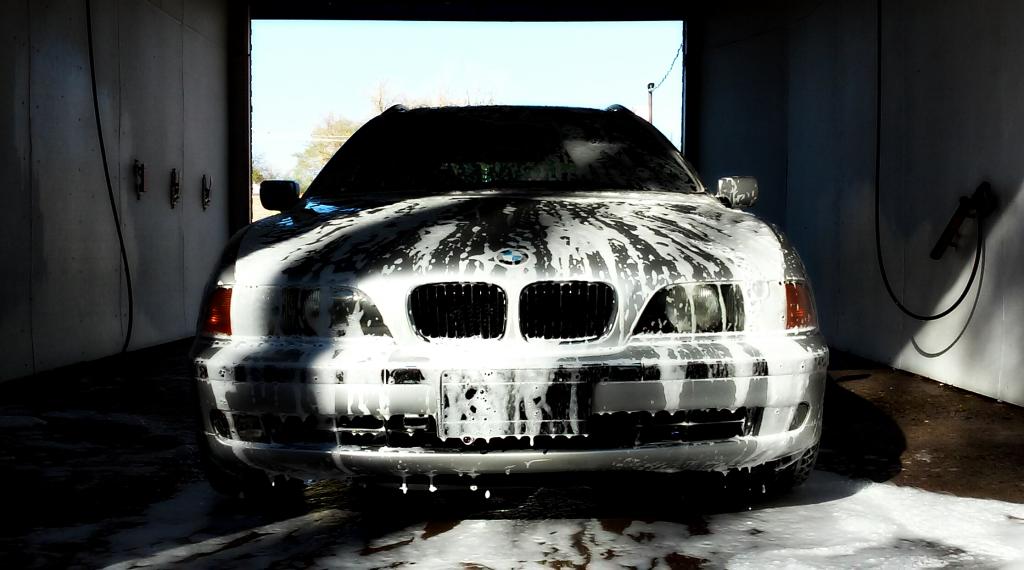 So far I'm very satisfied with this car. I have some plans for it later on like an exhaust or M-sport front bumper but for now I'll just keep maintaining it and doing little improvements here and there. Things that could be fixed are an occasional dip in idle speed while warming up, replacing the hatch hinge spring which just barely holds it open, and that's really it.