DIYs
06+ 750Li HID Fog Install by 6spdg37s
By stevegolf
You must be logged in to rate content!
3 minute read

06+ 750Li HID Fog Install
Courtesy of 6spdg37s @ bimmerfest.com
I did this over the weekend as it was kinda warm in NJ.
WARNING: Im not responsible if you fk anything up. This is for informational purposes only.
tools: paint can key, allen key set, electrical tape.
Step 1: took paint can key and popped off plastic fog light cover
Step 2: take allen key and unscrew the one bolt holding the fog light housing in
Step 3: fog light housing should now slip free from hold
Note: without dropping the bumper you will not be able to remove the housing from the bumper. I did not drop the bumper.
Step 4: Drivers side: Is more complicated as there is a resiovar directly behind the fog light in the bumper. Simply push the housing down and to the left ( towards the passenger side) now you are able to remove the 9006 bulb (Simply twist counterclockwise to undue)
Step 5: insert the 9006 HID bulb turn clockwise to secure in housing
Step 6: make all connections (HID KITS are plug and play therefore you should be able to figure this out plus instructions included with most kits)
Step 7: tape all connections
Step 8: mount ballast (due to the tight area on the drivers side i pushed it to the left you can see this thru the grille a little bit and 3m double sided taped it down.
step 9: follow reverse directions and install again
Passenger side:
follow step 1-3 again
step 4: it is much much easier to do on the passenger side. There is so much room to work. follow the same steps up to step 8:
Step 8: mounted the ballast along the solid piece down and to the right (towards the driverside with 3m double sided tape)
step 9: follow reverse directions step 1-3 and finally check the lights
YOU MIGHT WANT TO CHECK THEM PREVIOUS TO REINSTALLING that is up to you depending on how you do your work
Final product!!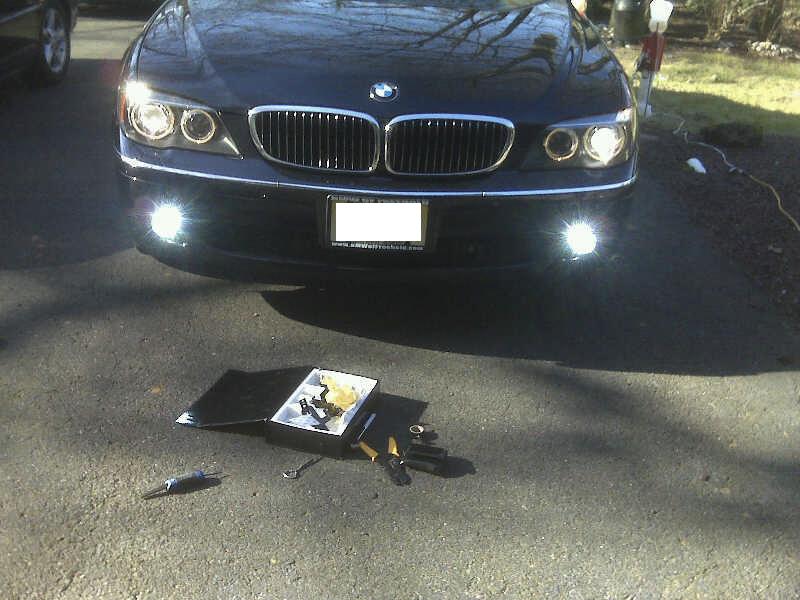 sorry there are no pics during the process however, if i have some free time i will go back and snap a few pics