DIYs
Dual intank write up by Blown383
By stevegolf
You must be logged in to rate content!
3 minute read
Dual intank write up
Compliments of Blown383 @ www.ls1tech.com


Here is a schematic of the dual walbro intank set up with parts list, and summit prices. Someone let me know if I'm missing something. Looks like its going to cost about $757.00 + $240.00 for walbro pumps + $20 for the Pure Motorsports adaptor fitting, $20.00 for a fuel pressure gauge. So a total of $1037.00

I also didn't include the cost of additional heavy duty gauge wiring, the EFI clamps and hoses so your cost maybe a little higher.
The other option that we have is the Speed Inc. setup with an external pump for $1000.00, or Lonnie's PnP set up for $599.99.
-B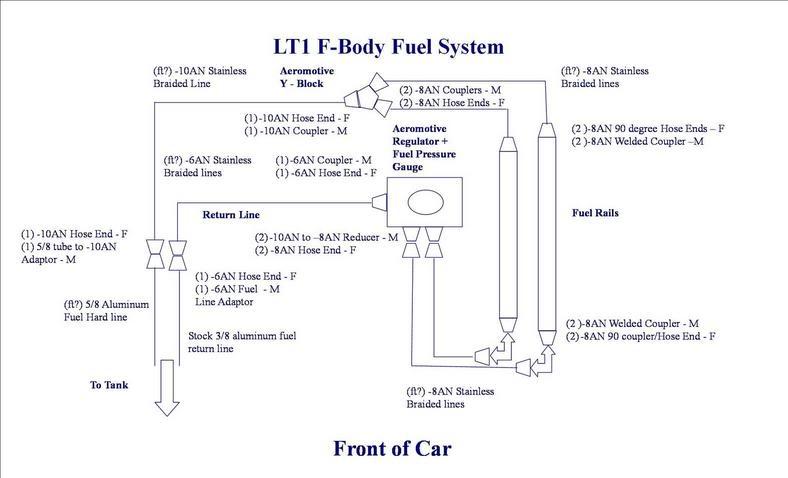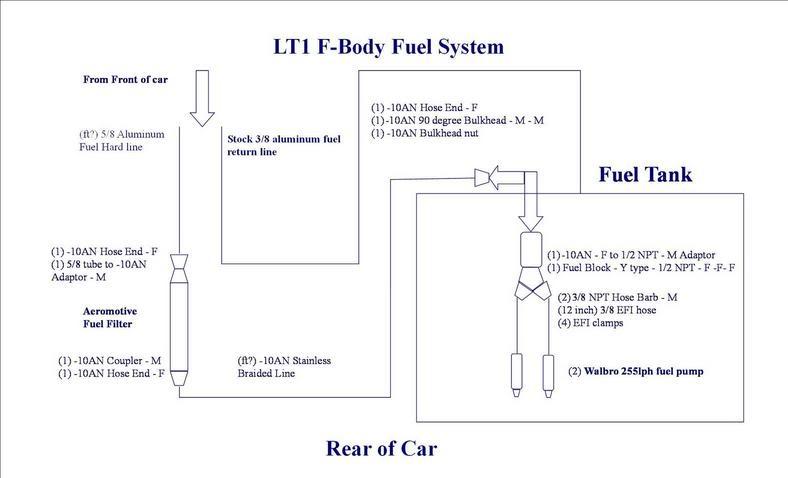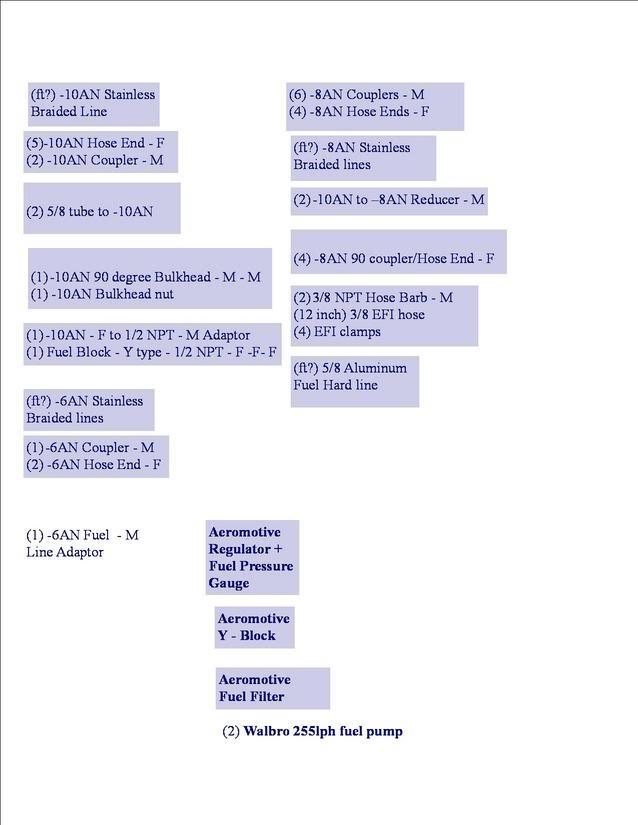 Here is a the price list from Summit Racing with part numbers.
AEI-12304 Fuel Filter, Inline Mount, Aluminum, 100 micron, Red, -10 AN Female Inlet/Outlet, Each $89.88 $89.88
AEI-13101 Fuel Pressure Regulator, 30-70 psi, Red and Black Anodized, Universal, Each $137.95 $137.95
·This part is temporarily out of stock, but you can order it now. Tentative ship date: 2/21/2006, if your order is placed today.
AEI-15620 Fuel Block, Y-Type, Billet Aluminum, Black Anodized, -10 AN Female Inlet, -8 AN Female Outlets, Each $71.88 $71.88
AER-FBM2179 Fuel Block, Y-Type, Aluminum, Blue Anodized, 1/2 in. NPT Female Inlet, 3/8 in. NPT Female Outlets, Each $23.95 $23.95
EAR-165010ERL Fitting, -10 AN Male to 5/8 in. Tube, Aluminum, Red/Blue, Each $14.69 $29.38
EAR-916110ERL Fitting, Straight, -10 AN Female to 1/2 in. NPT Male, Aluminum, Blue, Each $11.25 $11.25
EAR-981508ERL Fitting, Coupler, Straight, Male -8 AN to Male -8 AN, Aluminum, Blue, Each $3.95 $23.70
EAR-981510ERL Fitting, Coupler, Straight, Male -10 AN to Male -10 AN, Aluminum, Blue, Each $4.95 $9.90
SUM-220032 Fitting, Coupler, Straight, Male -10 AN to Male -10 AN, Aluminum, Blue, Each $4.88 $24.40
SUM-220035 Fitting, 90 Degree, Bulkhead Union, -10 AN, Aluminum, Blue, Each $11.95 $11.95
SUM-220039 Fitting, Bulkhead Nut, -10 AN, Aluminum, Blue Anodized, Each $2.88 $2.88
SUM-220045 Fitting, Union Reducer, Male -10 AN to Male -8 AN, Aluminum, Blue, Each $6.88 $13.76
SUM-220090 Fitting, Hose End, Straight, -10 AN Hose to Female -10 AN, Aluminum, Red/Blue, Each $7.88 $39.40
SUM-220632 Fitting, Coupler, Straight, Male -6 AN to Male -6 AN, Aluminum, Blue, Each $3.88 $3.88
SUM-220690 Fitting, Hose End, Straight, -6 AN Hose to Female -6 AN, Aluminum, Red/Blue, Each $4.88 $9.76
SUM-220887 Fitting, Hose End, 90 Degree, -8 AN Hose to Female -8 AN, Aluminum, Red/Blue, Each $13.88 $55.52
SUM-220890 Fitting, Hose End, Straight, -8 AN Hose to Female -8 AN, Aluminum, Red/Blue, Each $5.88 $23.52
SUM-230003 Hose, Braided Stainless Steel, -10 AN, 3 ft. Length, Each $15.95 $15.95
SUM-230610 Hose, Braided Stainless Steel, -6 AN, 10 ft. Length, Each $34.95 $34.95
SUM-230820 Hose, Braided Stainless Steel, -8 AN, 20 ft. Length, Each $89.95 $89.95
SUM-G2558 Tubing, Aluminum, Natural, 5/8 in. x 25 ft., Each $24.95 $24.95
TRD-2269 Fitting, Straight, 3/8 in. Hose Barb to 3/8 in. Male NPT, Brass, Each $2.99 $5.98
Hope that helps! I spent a lot of time to map this out. =(
-B