1966 Mk1 cortina GT She Drives!
By Jim_builds
116 minute read
You must be logged in to rate content!
1-24-2012
Firstly I should apologise because I have been on here for a long time now and I used to have a thread on the cortina but I got lazy! I do however still like to come on here and look at what people are you to.

I have had my cortina for 6 years now it was the first proper working car I bought after passing my test, I used it as my daily for 18 months then unfortunately the engine seized not long before I left for uni so I decided to restore it properly and let it live at my mum and dads house.

Now that I have graduated and I have a steady job I am trying to crack on and get the cortina finished as soon as possible but its going to take time as the Cortina lives in Mansfield and I work in Leeds.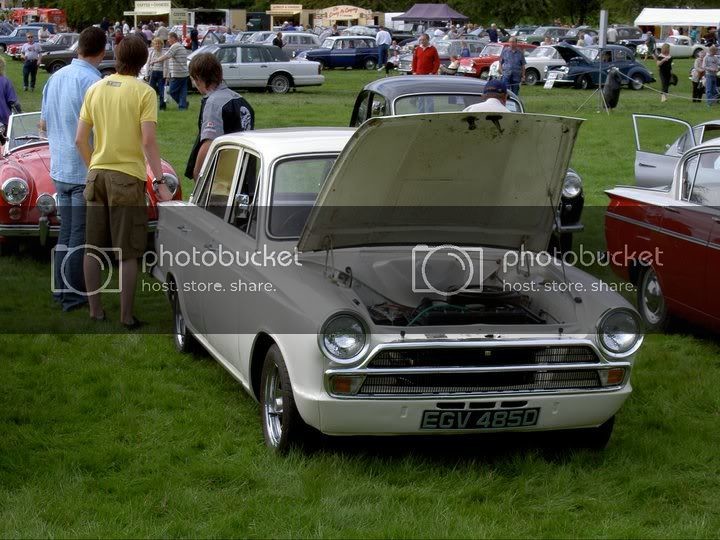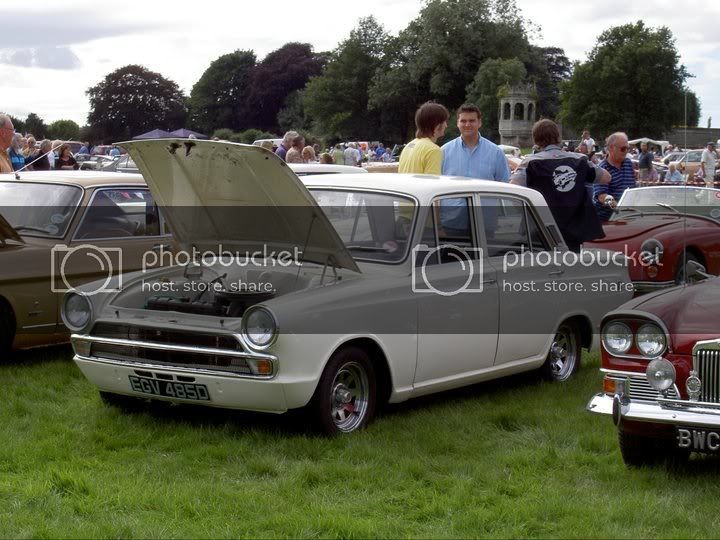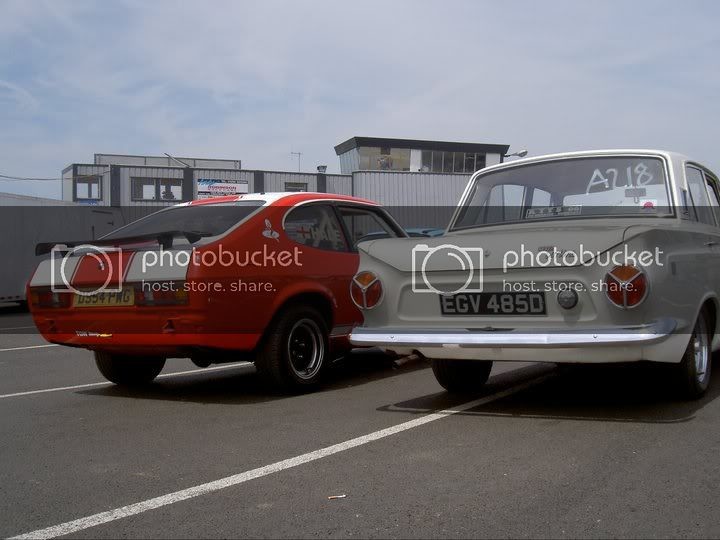 the last 2 were from the classic ford show in 2006 about a month before the engine died. it looked good on the outside but from poking around and removing the underseal I have seen that the car had been bodged and was very rusty in areas

The cortina will be an everyday car but I want it built to a high standard, using things I learnt at uni and calling in as many favours as I possibly can!
to make this easier to catch up on I will break it down into areas!

Suspension

whilst on placement I thought I would spend what money I had buying bigger bits for the car so that I would be able to get some stuff done so I sent some struts off to Gaz for coilovers and new internals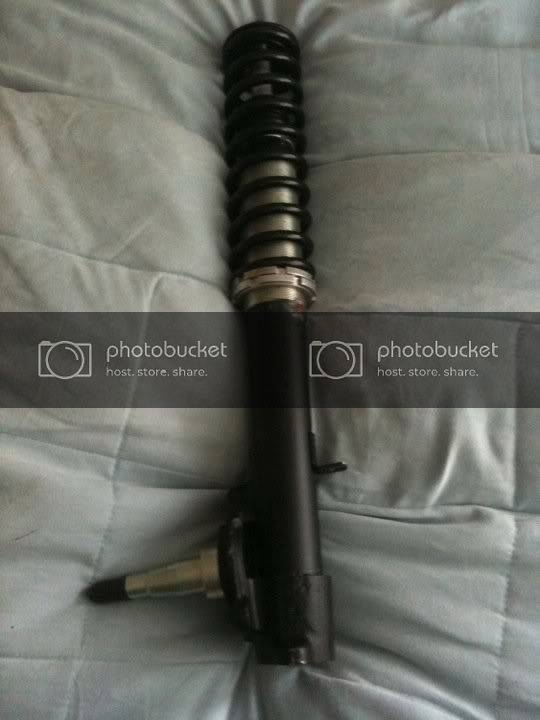 The bushes have all been replaced by poly bushes and the arms have been de rusted and painted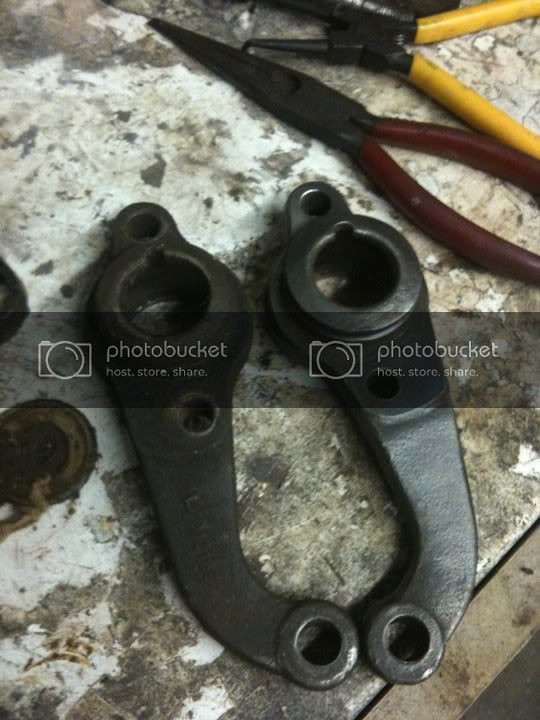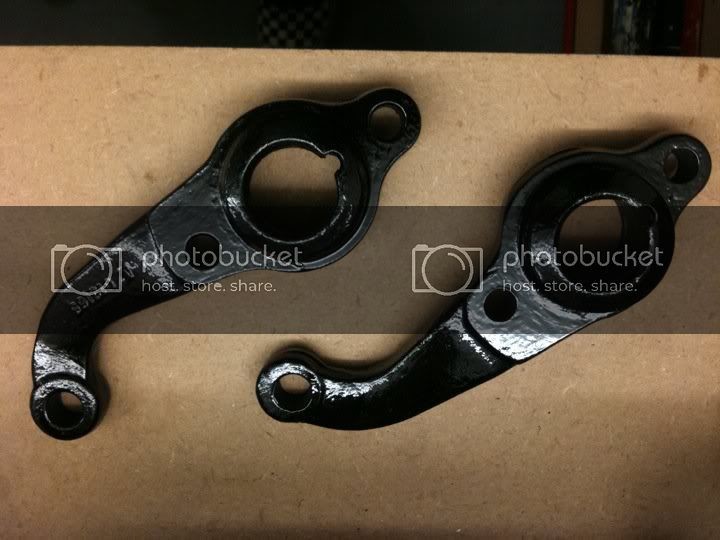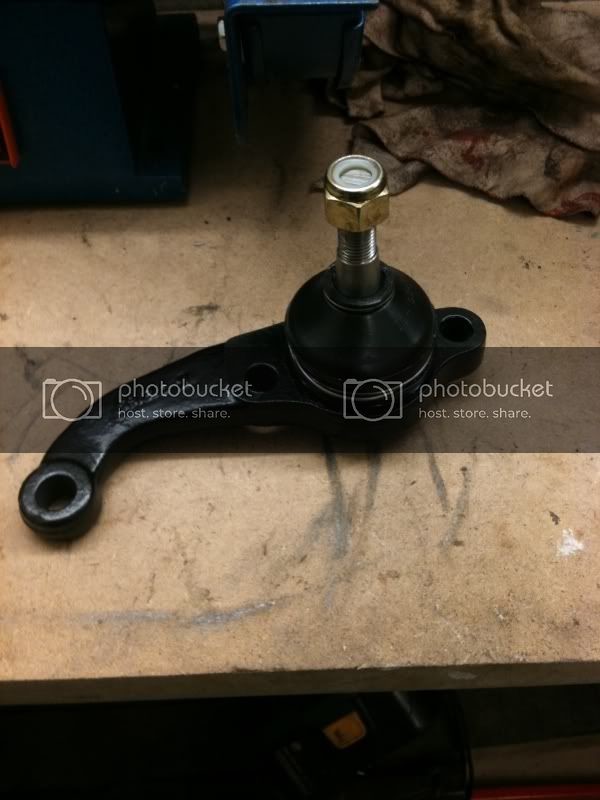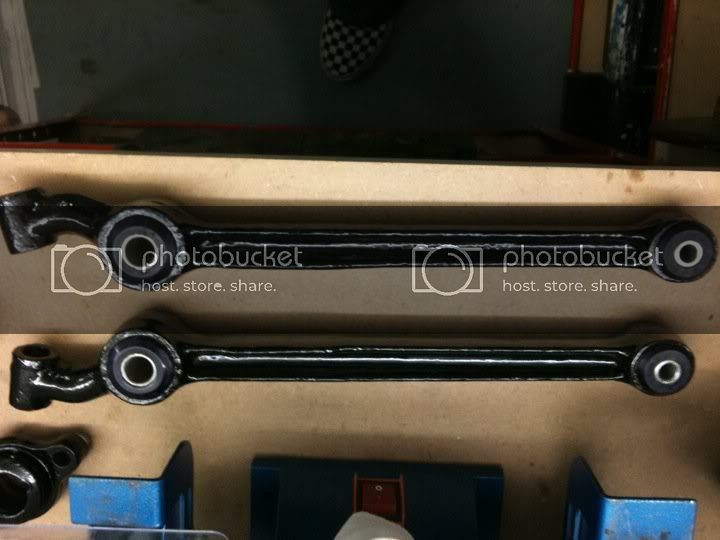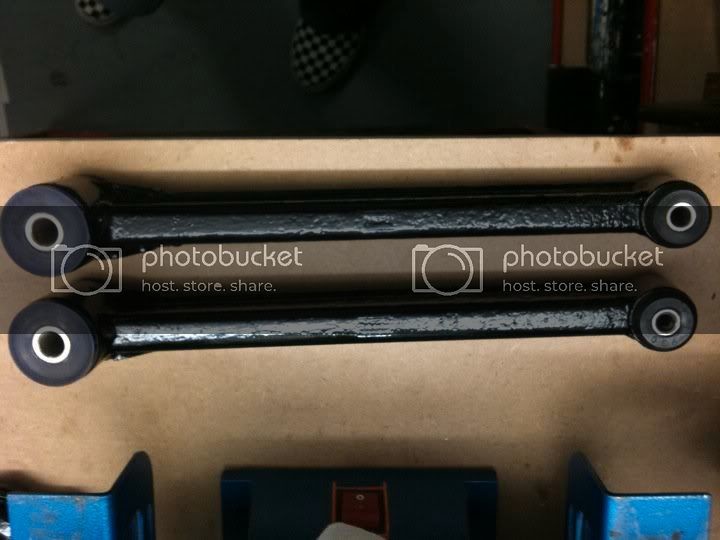 and fitted back on (there was a massive gap between it all coming off and going back on)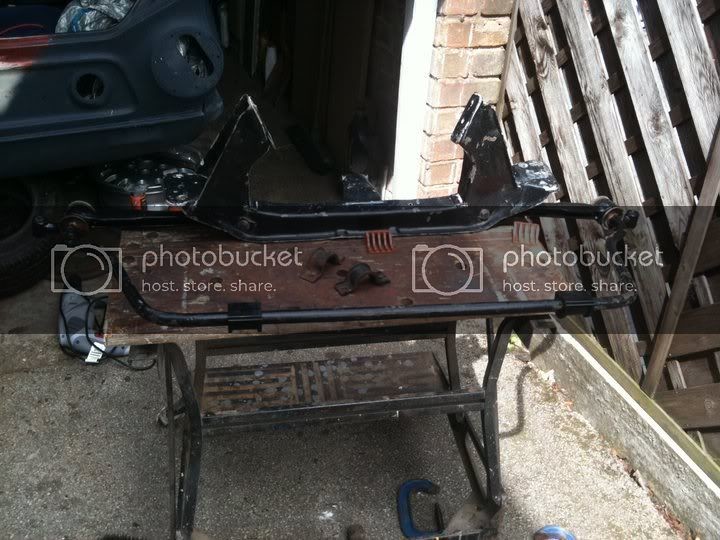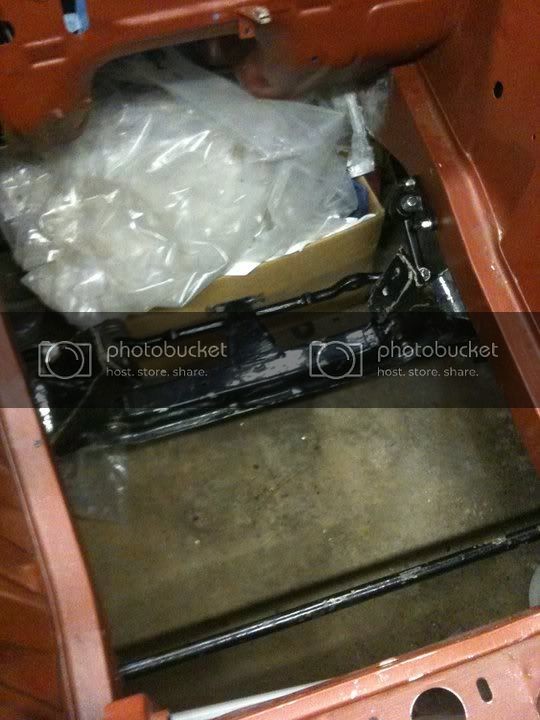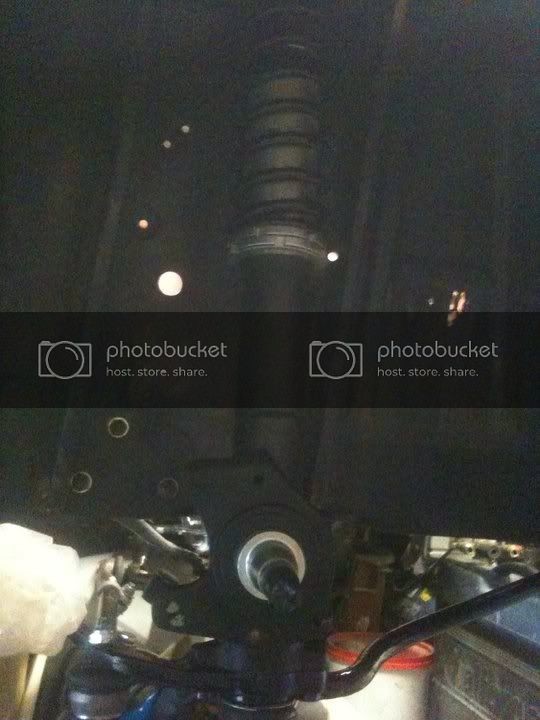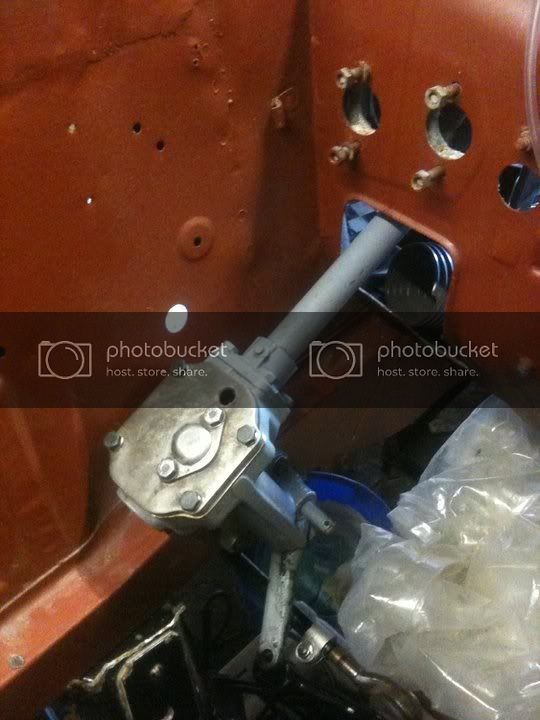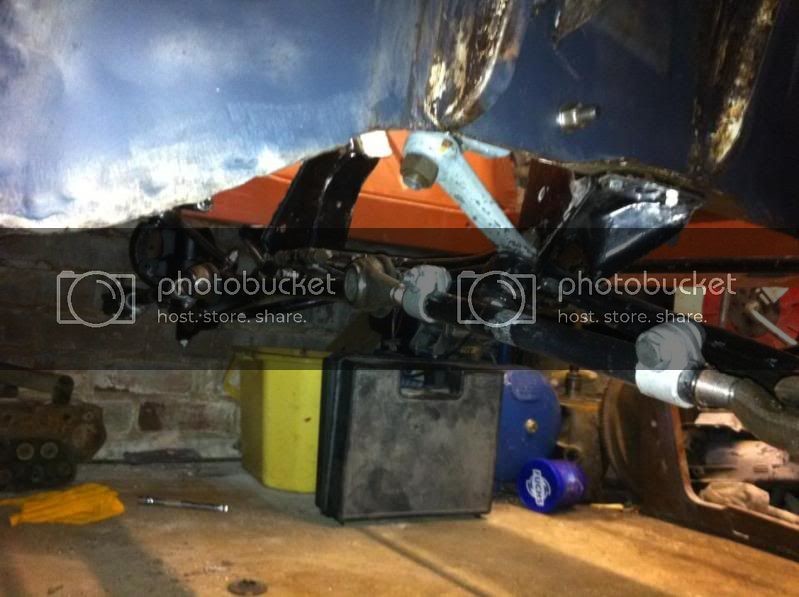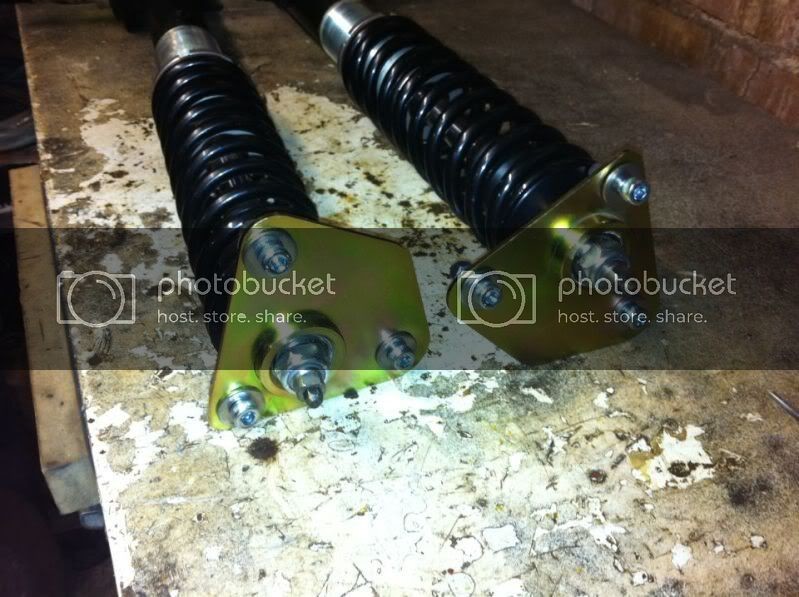 The top mounts will give me a little bit of negative camber (it was a tiny bit positive as standard I think it was 0.5 degrees)

the big bus steering wheel has gone on!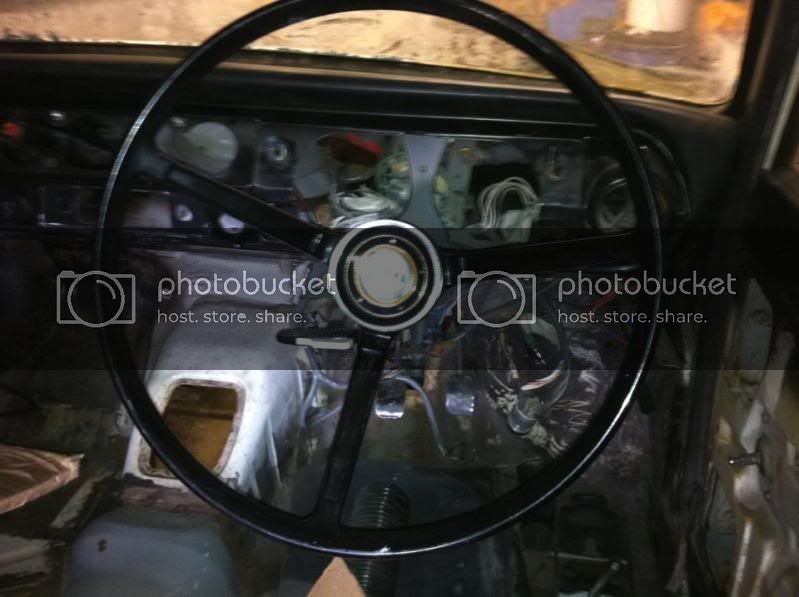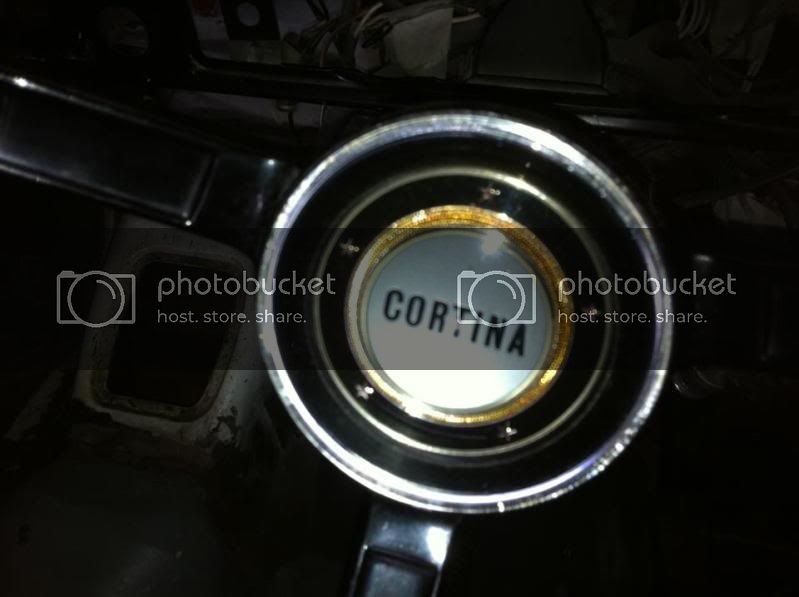 the rear axle needed some work under one of the damper mounts but it seemed to have gone well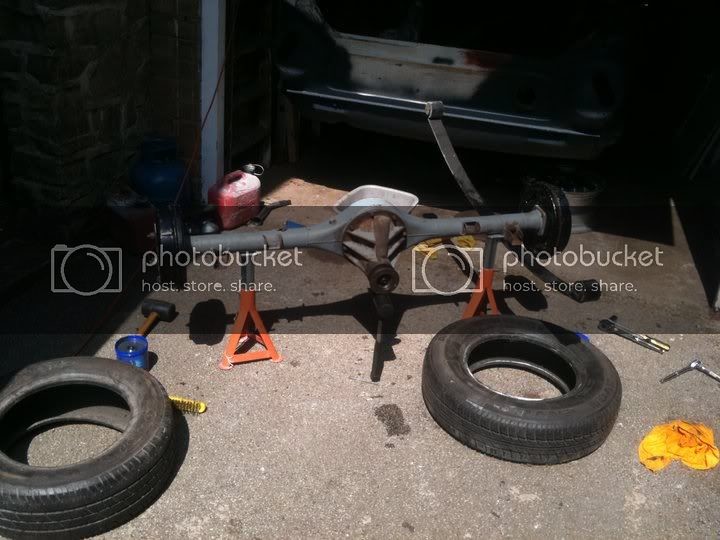 I have more of the back axle but I just need to dig them out
1-26-2012
I'll sort the rest of those suspension photos later but I'll crack on with the thing that's causing me the most grief - Body work!

Being a Ford you tend to learn about rust and how to repair it! I have been learning to weld by working on the cortina and now it is starting to work and look good. I have bought quite a few panels and everytime I think I have done buying panels I find something rusty!

The underside has been completely de undersealed a few inches above my face! I'd prefer to have built a spit but the garage is marginally larger than the car! There aren't many pics of this process as I cannot describe how painful it was to do it on my back so I didn't record much of it.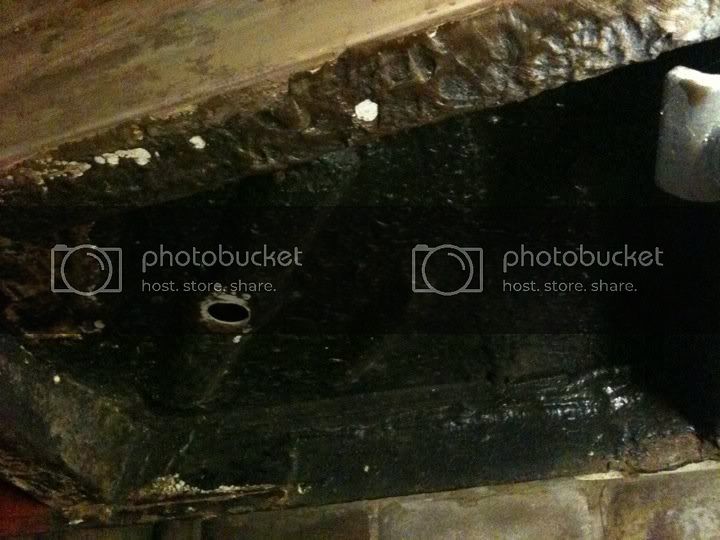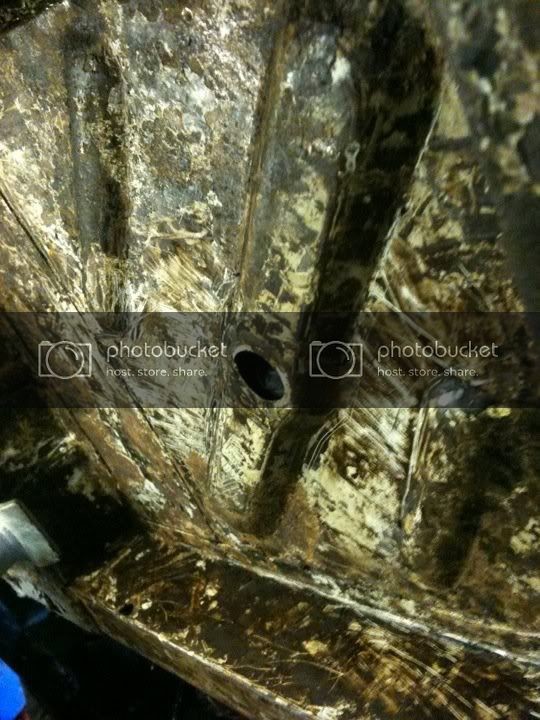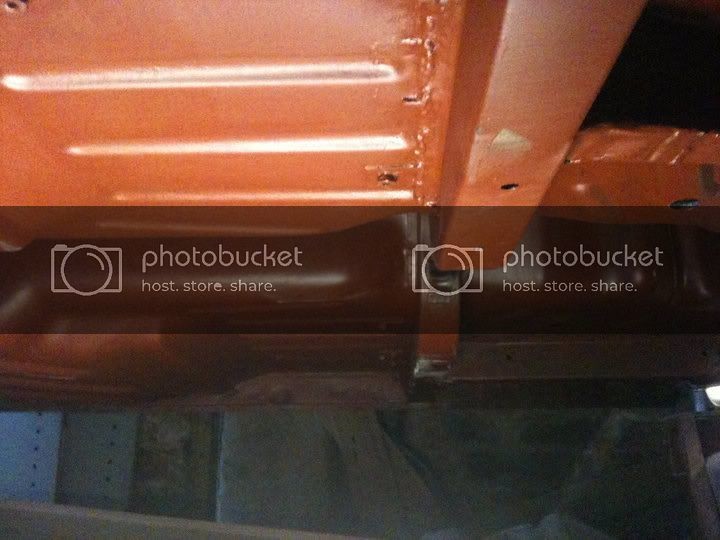 the engine bay was bare metaled with all the filler removed which I didn't realise how much there was in that so I am considering having the strut tops changed again and tidied but I will be sending the car away for that but I will go into that later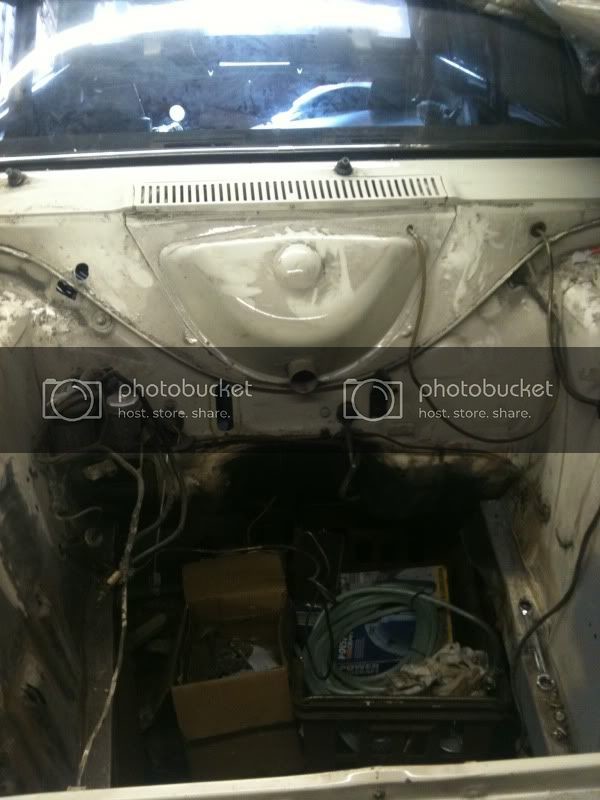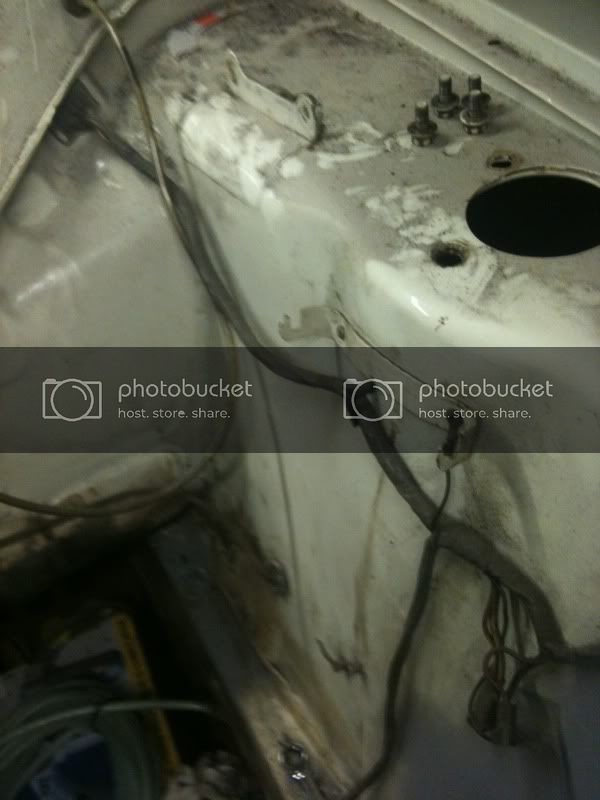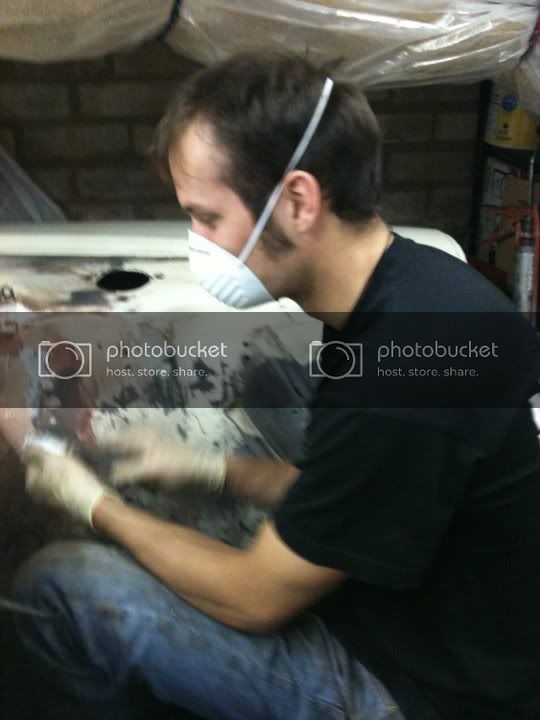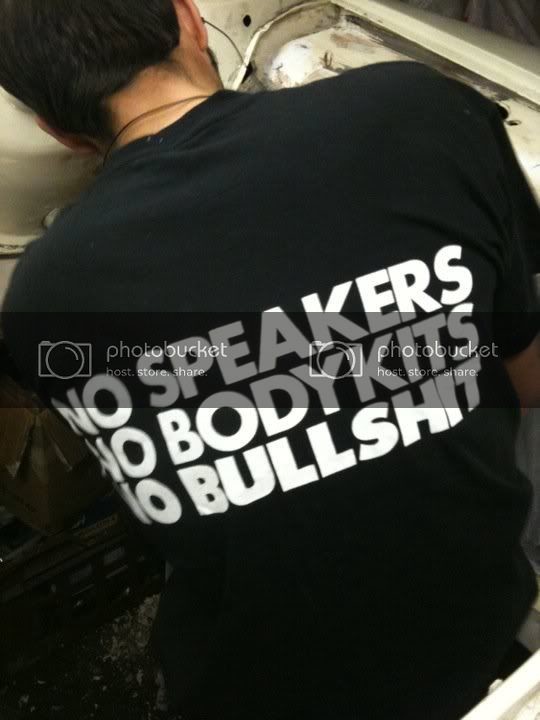 enough said!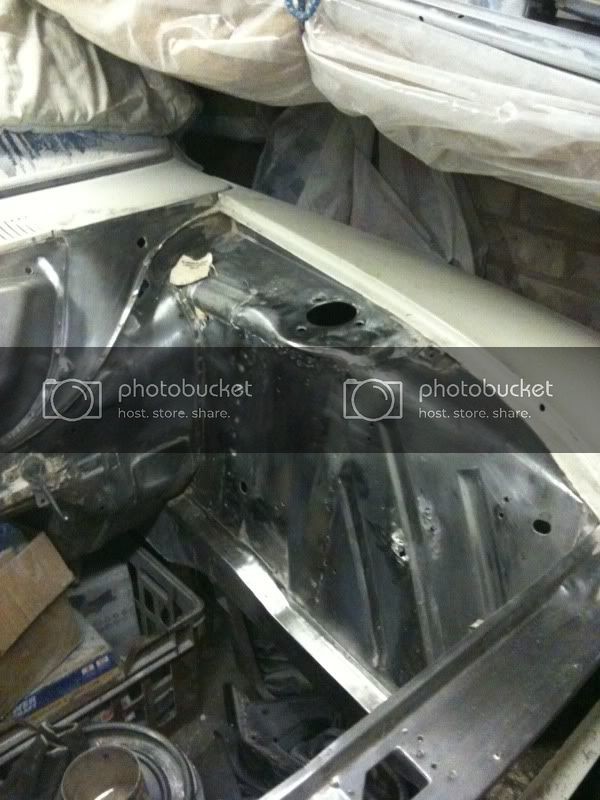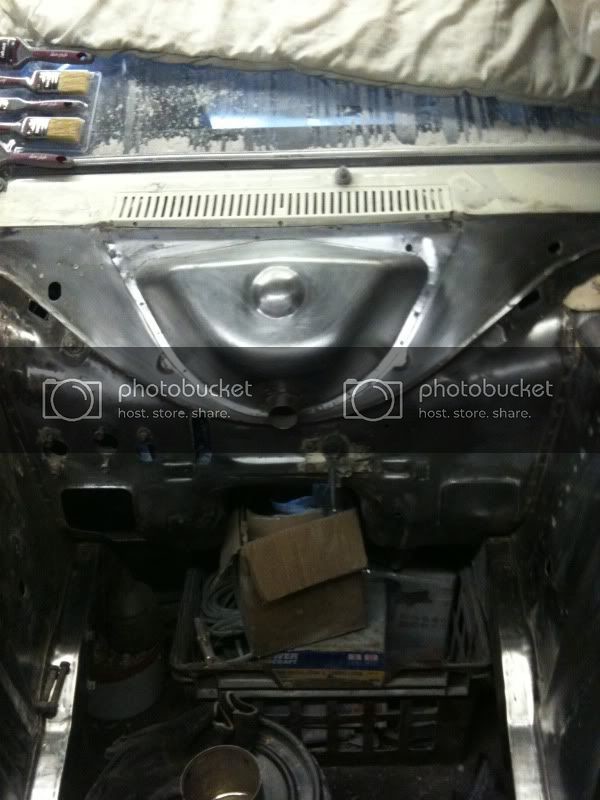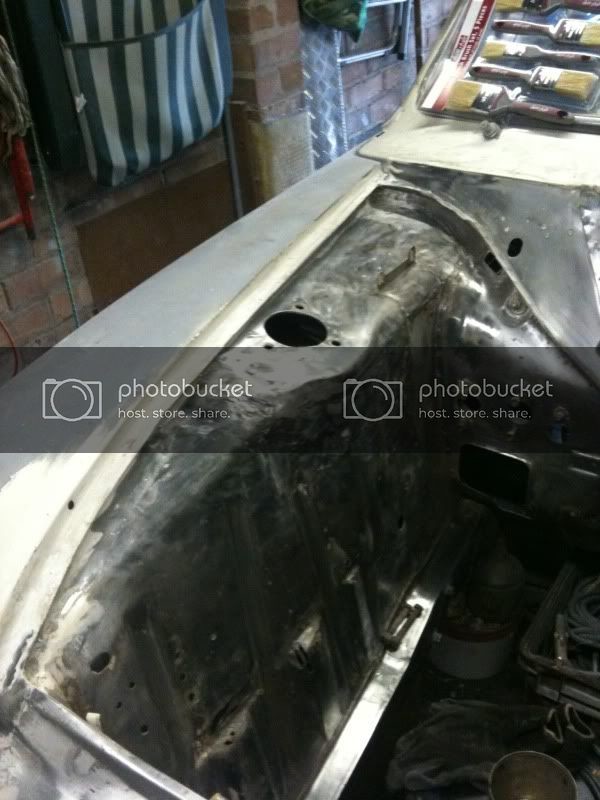 there was some complicatins when removing the battery tray as it was the first time I had used a spot weld drill bit and thin metal so the results were bad, but I was planning on putting the tray in the boot and going for a smoothed look in the engine bay so this suits me fine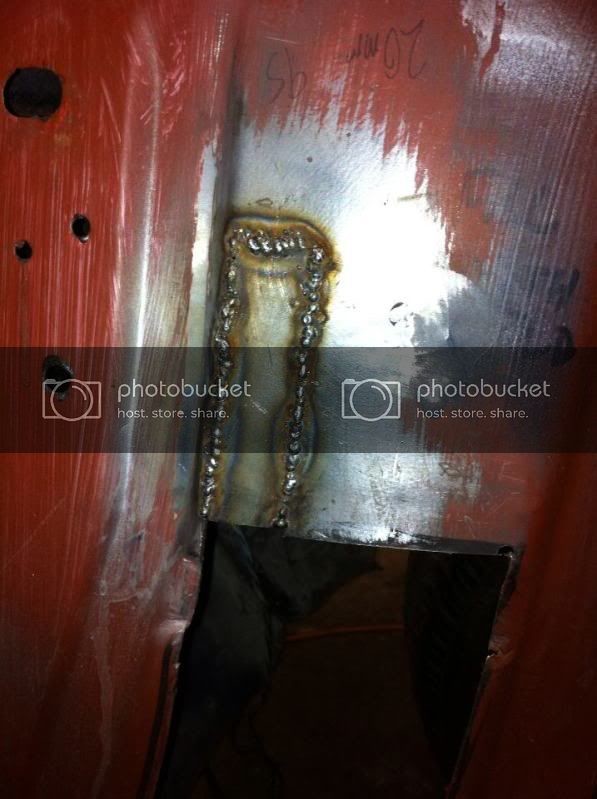 the larger sections will be done next but I have to do a little bit of work to the ribbed sections as the battery tray almost ran flush to it which you can just about make out on the larger pic so I need to bend some small strips so that the lager sections will fit

I also messed up removing the horn mounts which again will be relocated to give a smoothed look as I really like it and its not that hard to do as I did similar when working on my uni placement at VW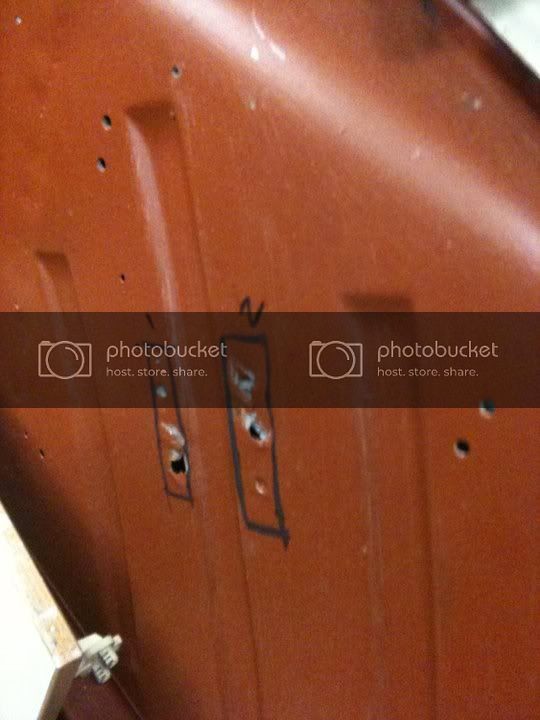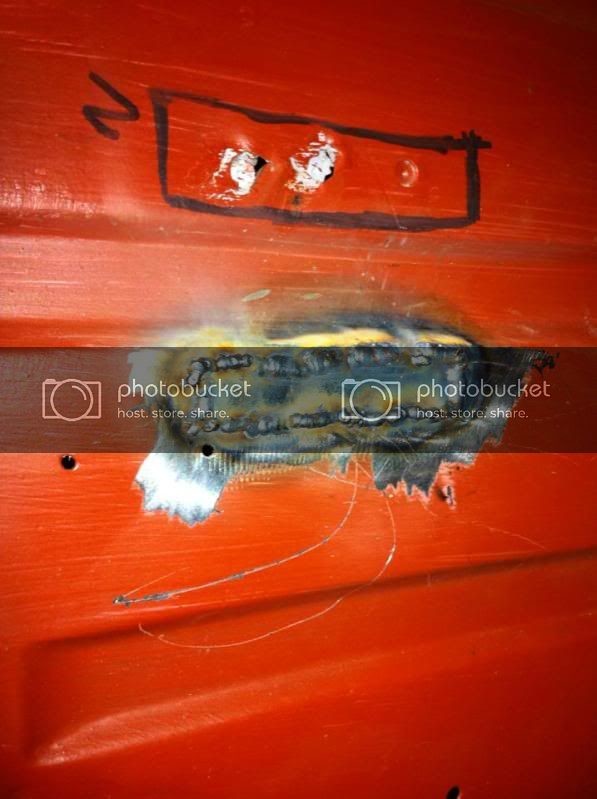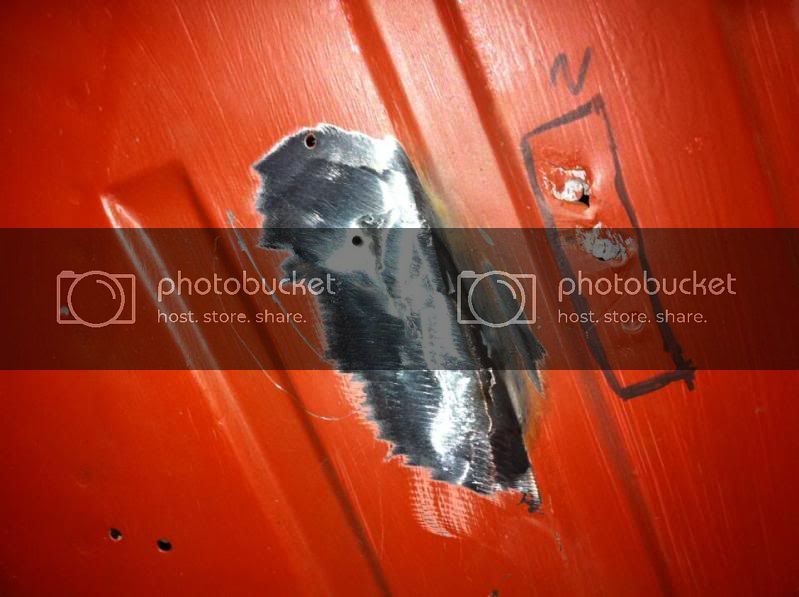 this one blew through so I am had another go at it and it was a lot better but I need to fill in a bit with weld so I am going to try and do that from the inside of the wheel arch with my dad holding onto some aluminium block I bought (he will have grips and a hand held mask)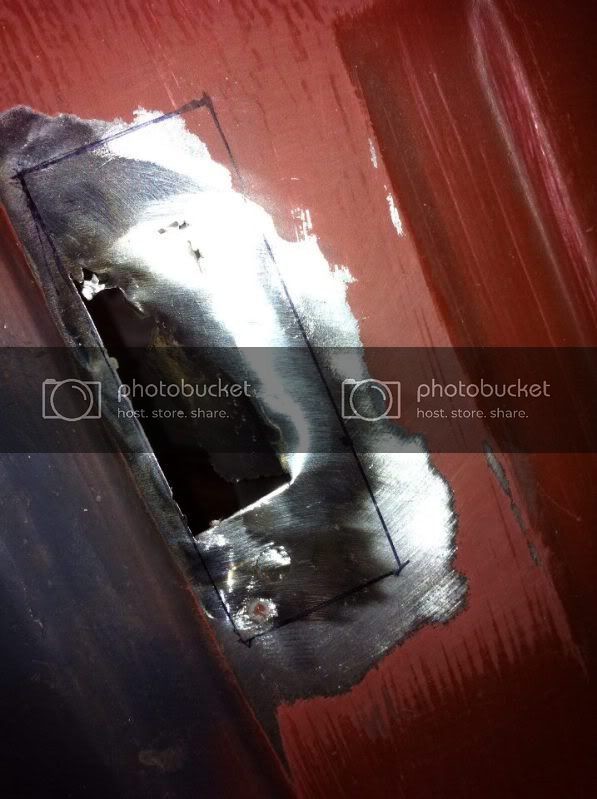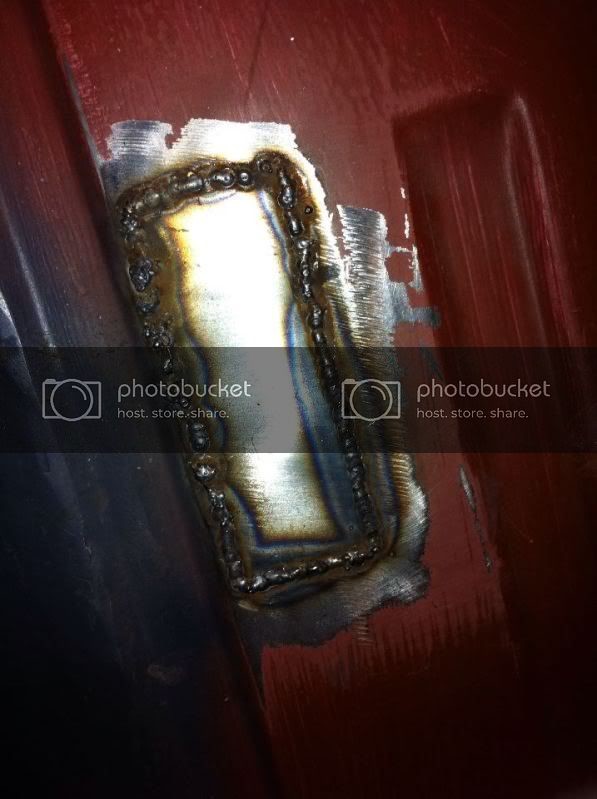 I was quite proud of this weld considering its the 4th bit of welding I have done.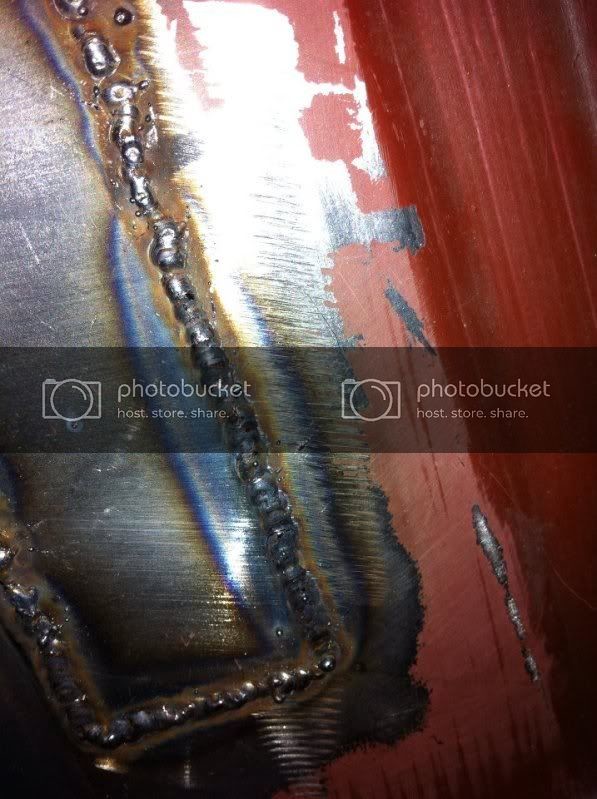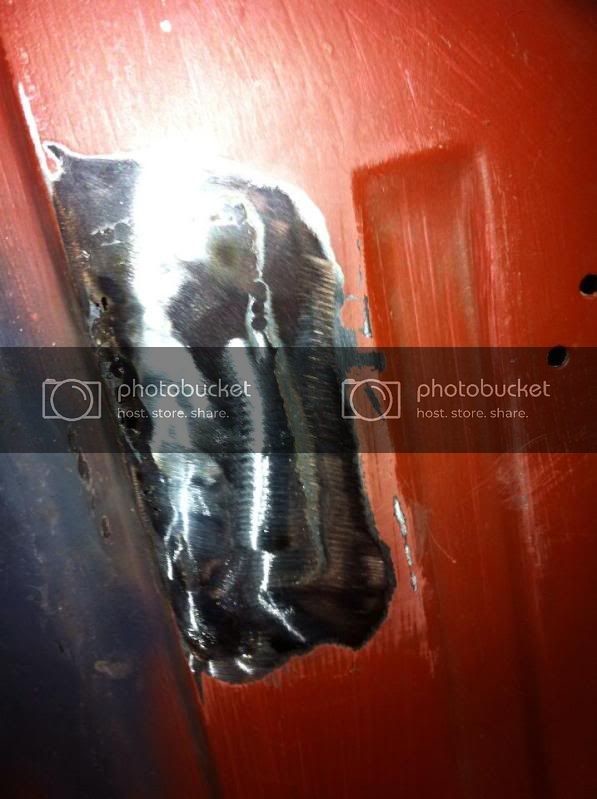 with a little bit of filler you won't even know its been done which is what I want
1-28-2012
Before I continue moaning about rust and body work I will add a quick update of what I did this morning

I mentioned in the body work before i do the larger sections of the battery tray delete I had to make up a few small sections that will blend the swage lines into a flat section where the battery tray used to live.

So today as I had a few hours to kill at my parents so I had a try at bending the metal to see if I could get it right - turns out it seemed to work

I tacked up the sections and but I will drop a seam weldin from the back so that it will be easier to clean up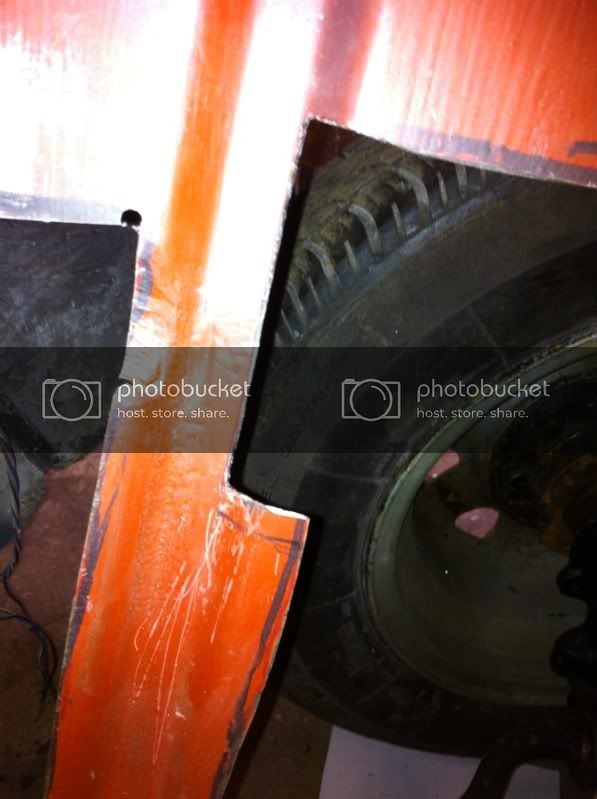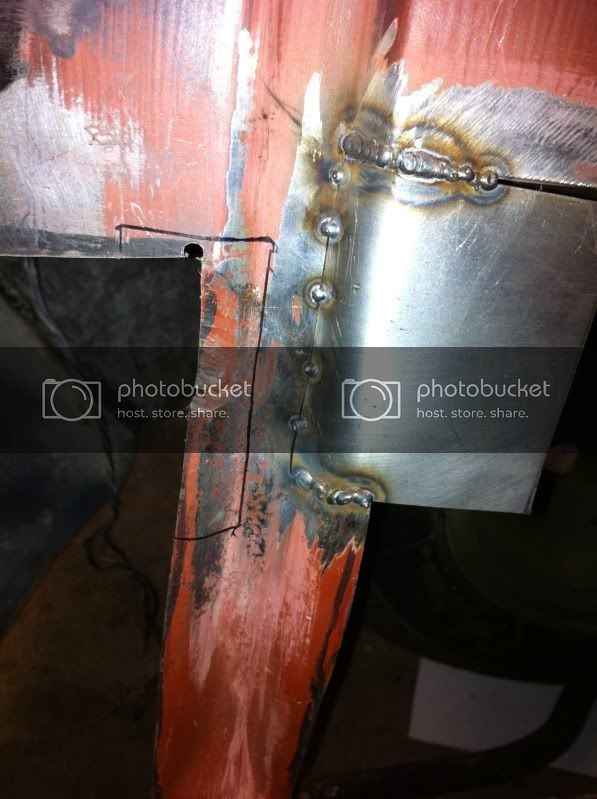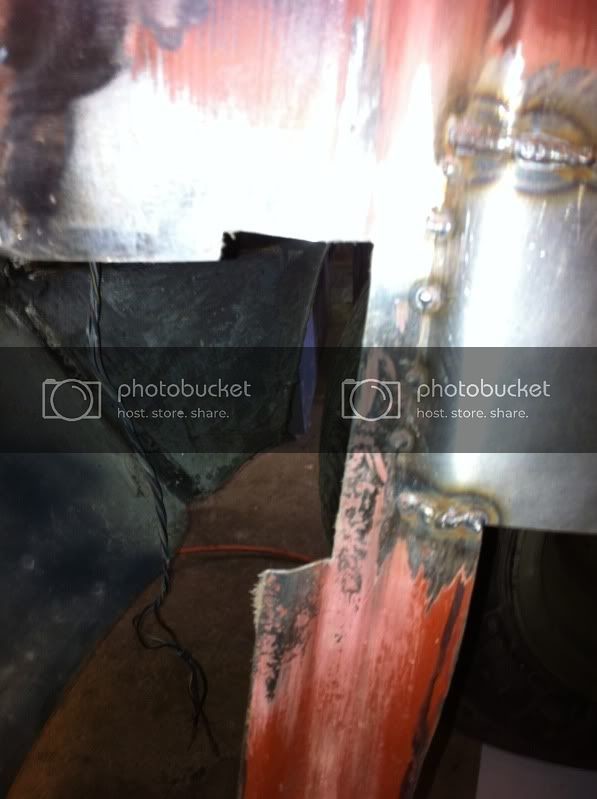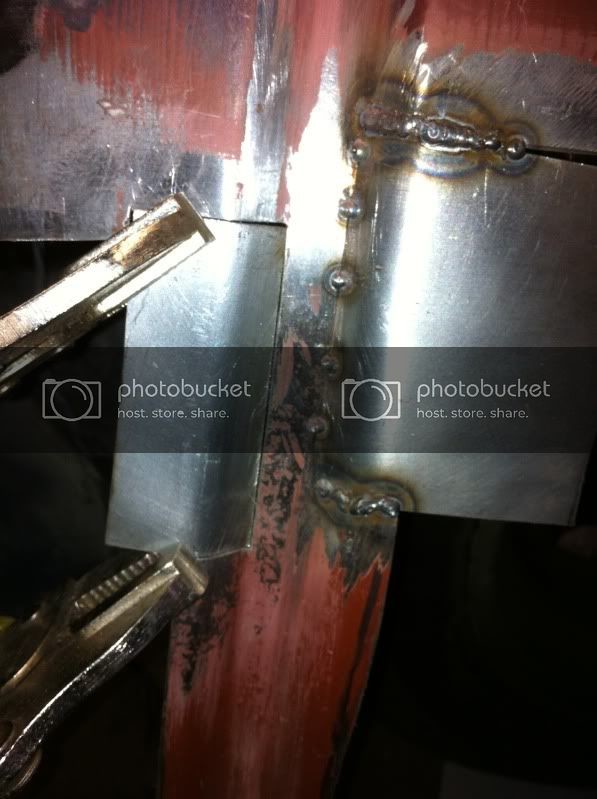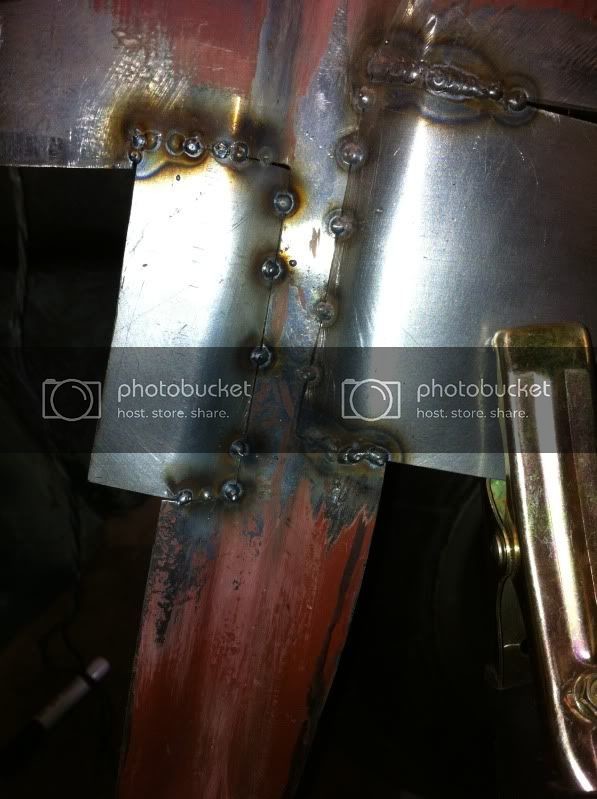 I have 1 more to do but it is very shallow and also has a bend in it - easy

3-2-2012
I forgot to mention the engine:

I stupidly sold the original 1500 as I decided I wanted a zetec so I bought an ST170 engine and loom, I had it sat on my engine stand with an angle grinder in one hand and the subframe on the bench. I had a thought about how it would look in the car and I thought that it would be a bit disappointing to look at so I had a re-think.

I wanted an engine that would be useable everyday that didn't leak oil and would fire on the button and looks as though it should be in there,

Thats when I decided to inject a precrossflow as it ticks all the boxes - So for my uni dissertation I chose to develop my engine using a piece of software thats used for engine design and development called ricardo wave.

The test went like this:

built a standard version of the engine

Exhaust manifold lengths and diameters (6 differnt versions in total) picking the one that produced the best power and torque curves rather than going for big bhp numbers,

Cams (again 6 in total using a mix of current and 60's spec grinds),

Larger valves were added to the head along with ports to suit which had a lower drag coefficient to suit (calculated not specific),

Twin Webbers (the fueling was still set as a carburettor and the manifold was the same as an off the shelf number)

ITB's (based on the webber model but fueling changed to injectors and fueling suited to equations I made),

A single throttle body and plenum using equations I found (this made more torque than the ITB's with a better curve!)

Supercharged - this was using an Eaton M45 as it has the same output of air as a shorrock C75B which was fitted to some precrossflows using a draw through carb

Supercharged 2 using the single throttle body model and an intercooler.

SO the plan is to inject the standard engine with a cam and a few other bits and pieces and have a crack at making my own exhaust manifold/system

then when it works and this are going well I would like to try the supercharger route which will mean swapping out my 1500 and going for a later 1600 crossflow and modifying to suit the 1500 head and give it a go - I would use a 1500 but the 4 bolt flywheel maybe a weak link and the 1600's have 6 bolts and better oil seals

After all that have some pics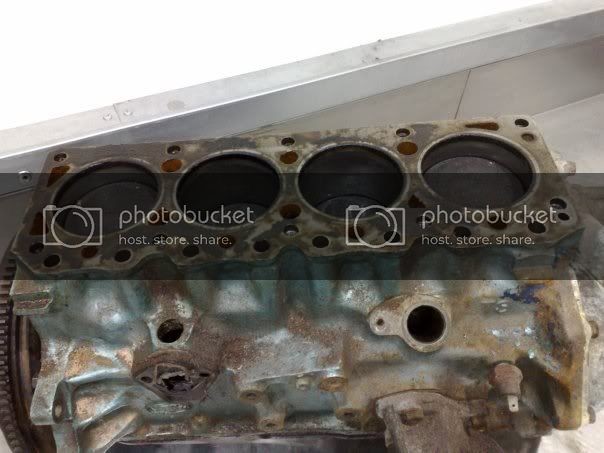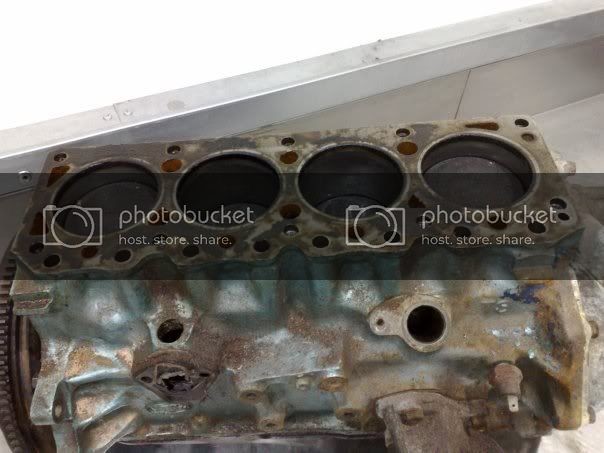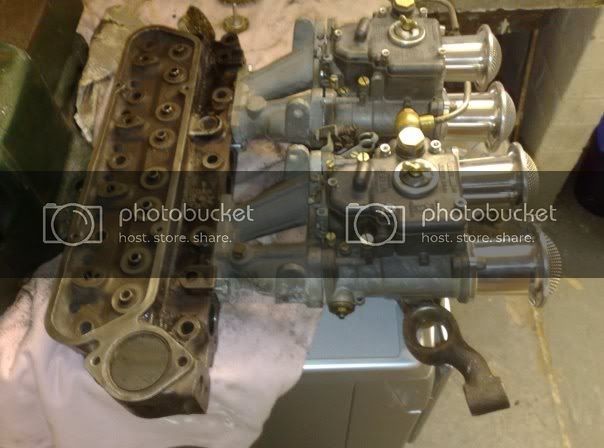 (I sold the carbs not long after this)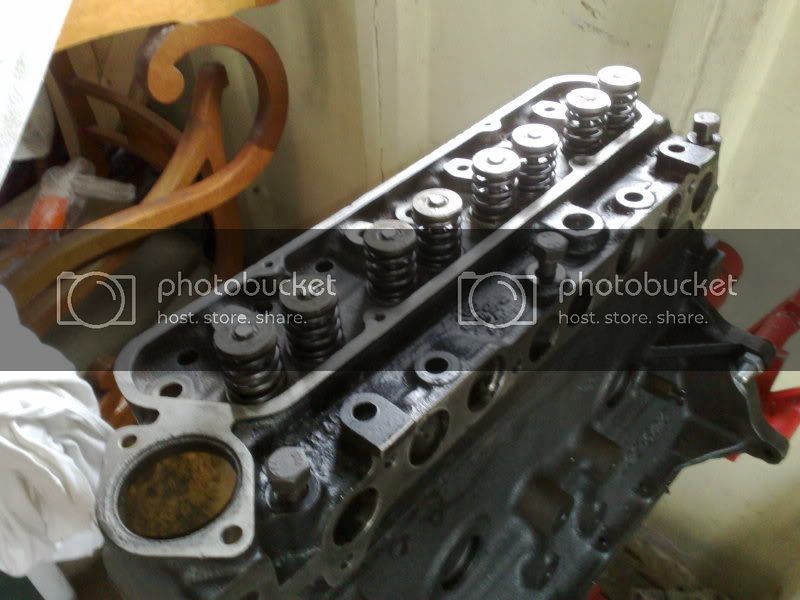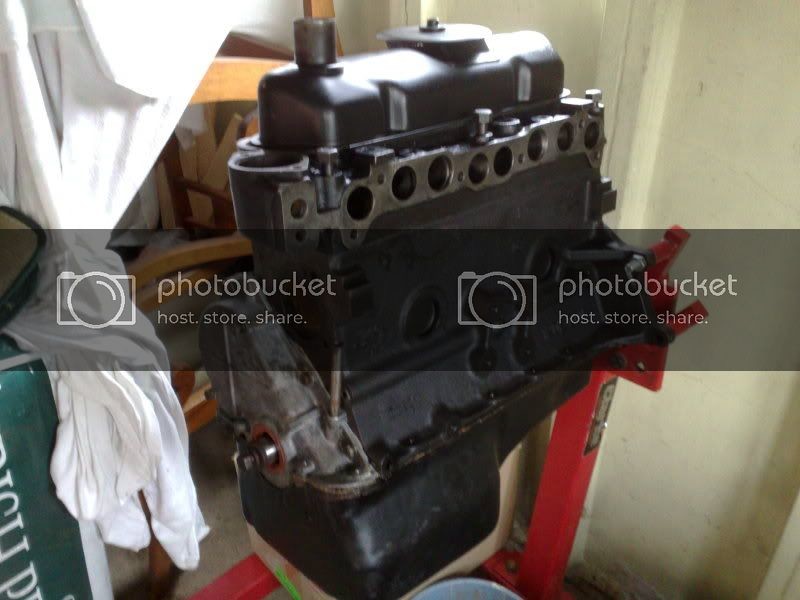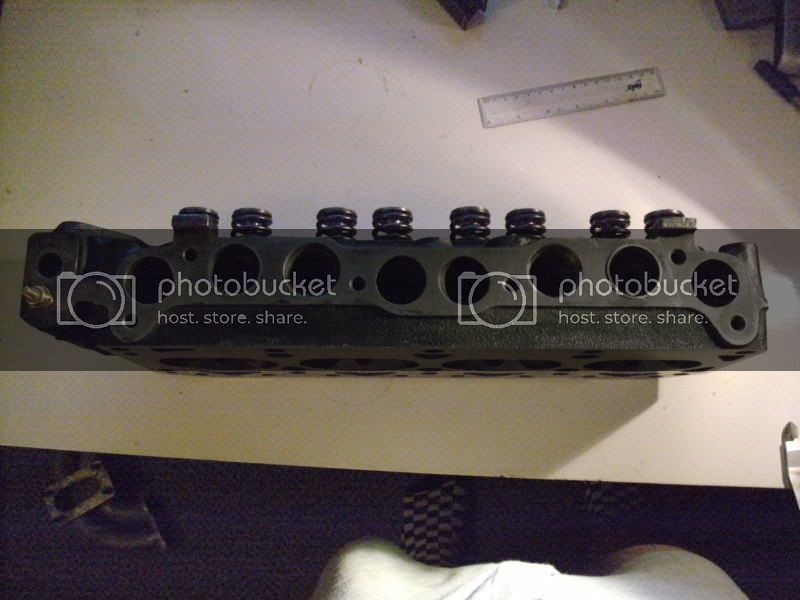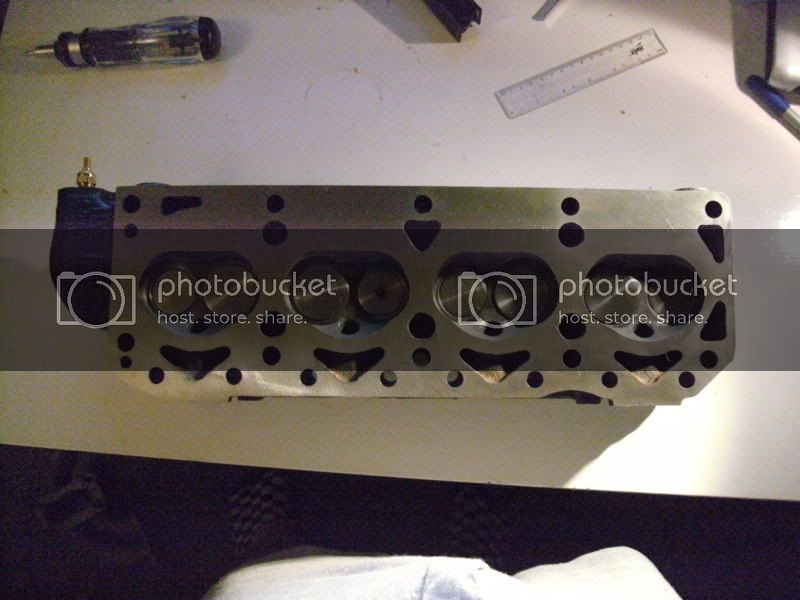 the block came from a local college that was used to for teaching purposes it was on Ebay with low miles and had been dry stored for years but was looking a bit rough! The block was overbored to 1590cc which is a fair whack but the other block had oversized bearings on the cam which were obselete which is hard to fix hence why I ended up with 2 engines and 3 heads! and 12 pistons!

this is an example of the ricardo model it shows the inlet maifold and injectors on the righ hand side, the intercooler is in the centre and the supercharger is on the left with the cloud represting the air thats about to enter the engine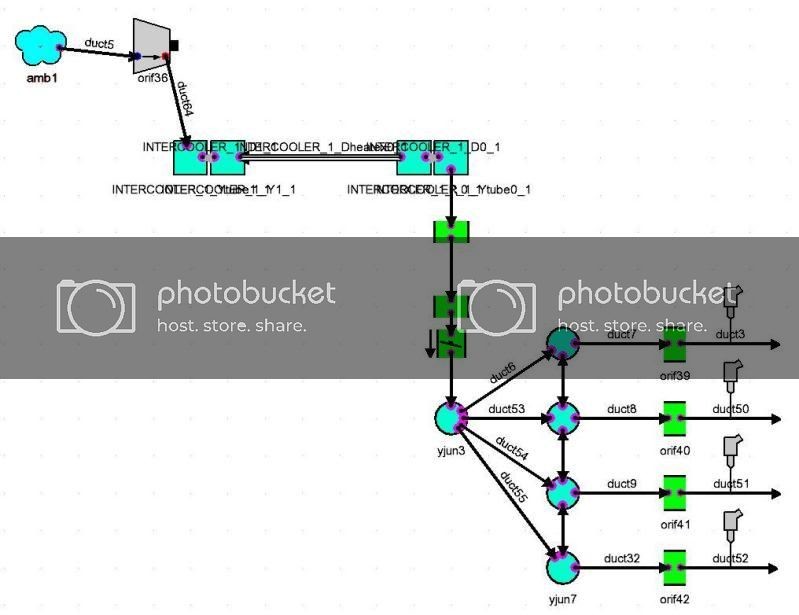 3-3-2012
I have had a good days welding today, I stated on the larger inner wing section which went smoothly - I made the hole slightly larger (The opposite of what I wanted!)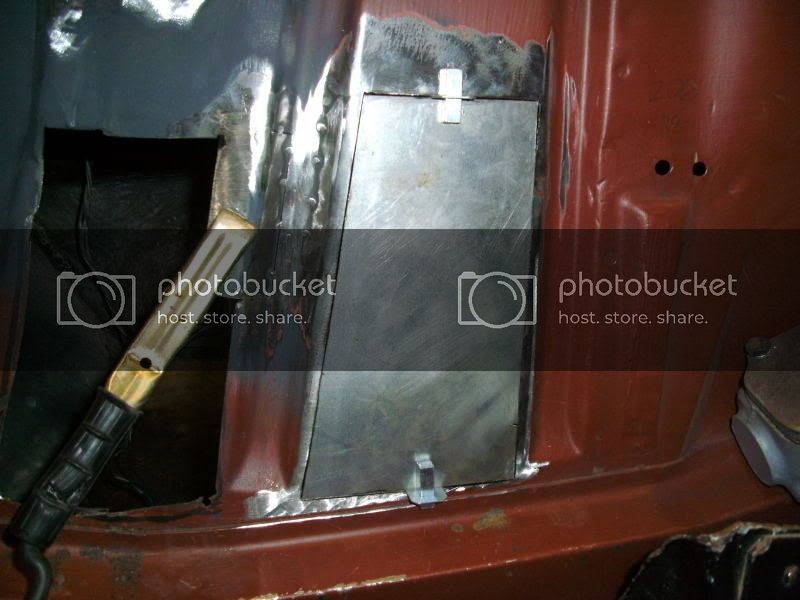 I had a play with my camera too as I wanted to get some action shots of me welding which came out quite well I though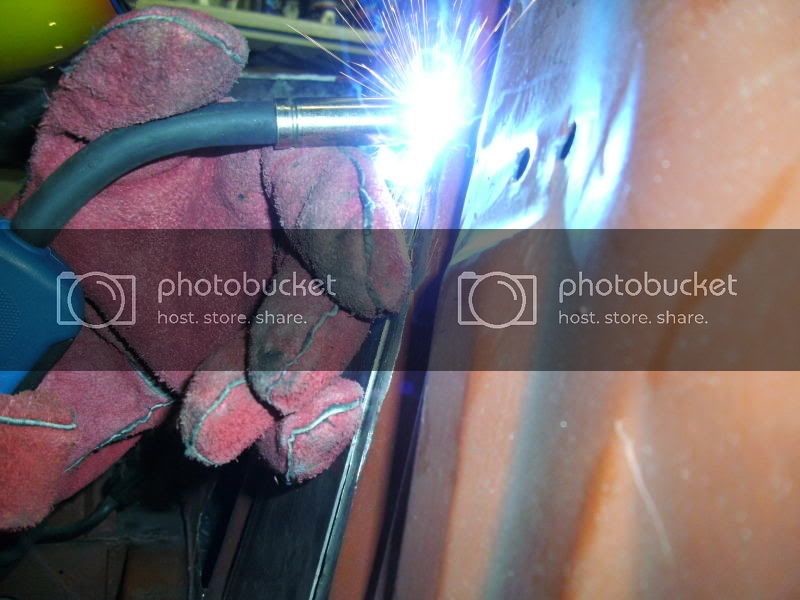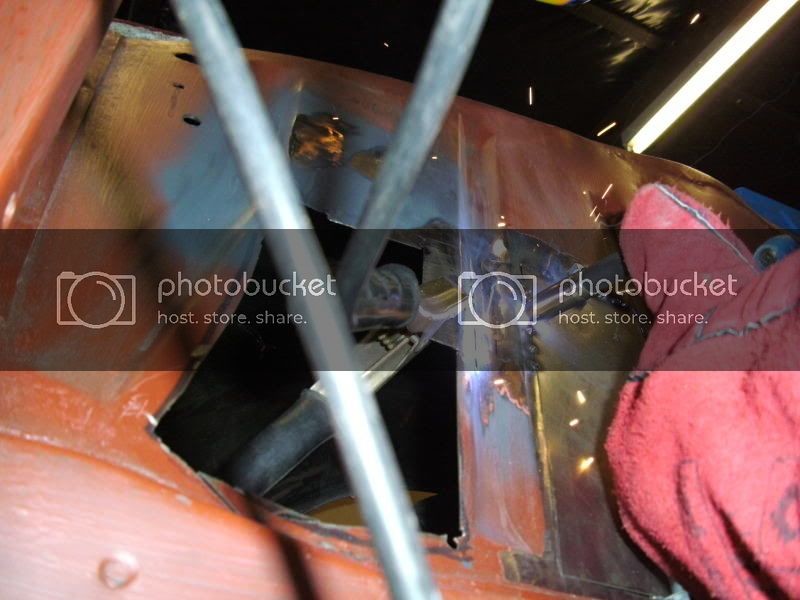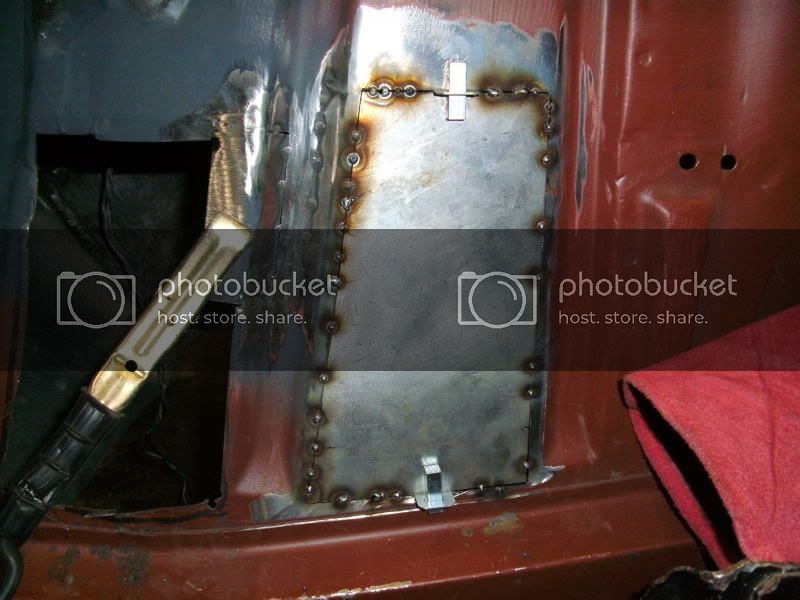 I have tacked it quite a bit because I didnt want it to move but I found doing the other repairs have gone ok but I get carried away which has rippled them slightly

Whilst letting the inner wing cool I thought I'd have a crack at the rear damper tower which was a little harder becuase of the curve which was not as straight forward as I first thought but I managed to work it out by using some hammers and dollies I have been meaning to play with for a while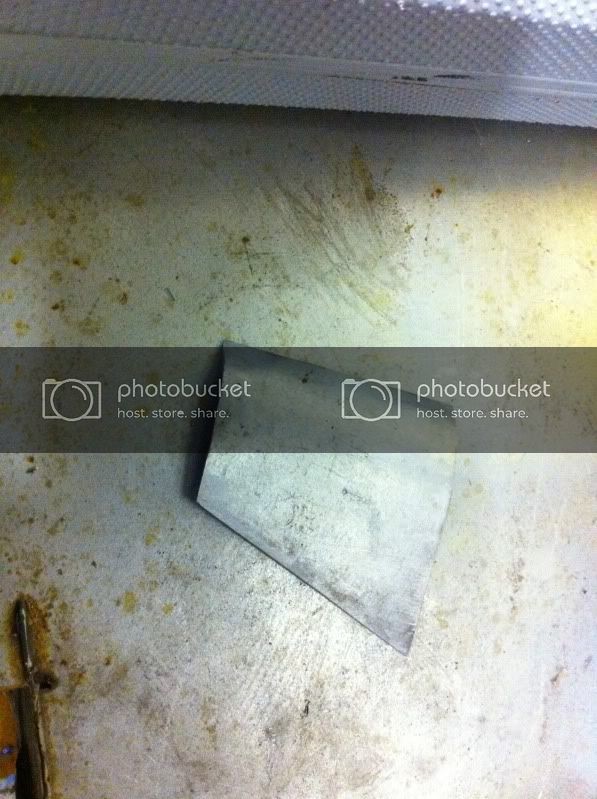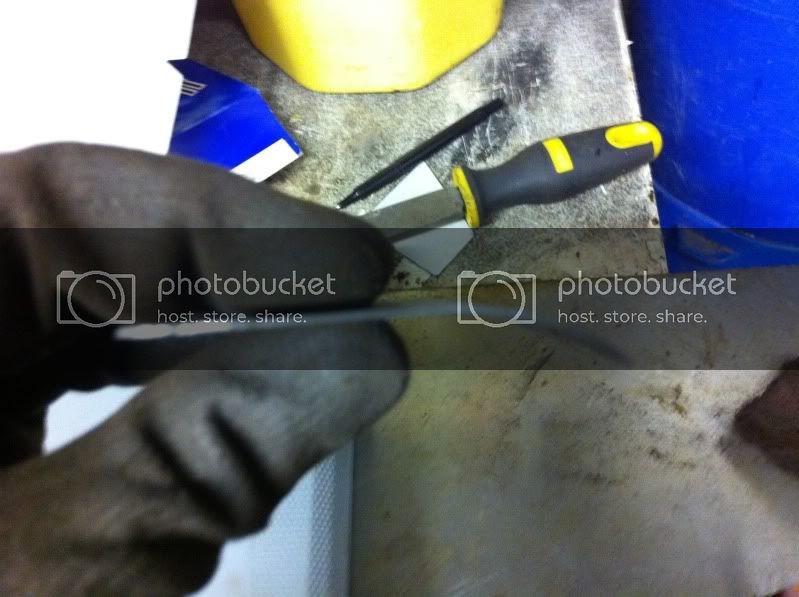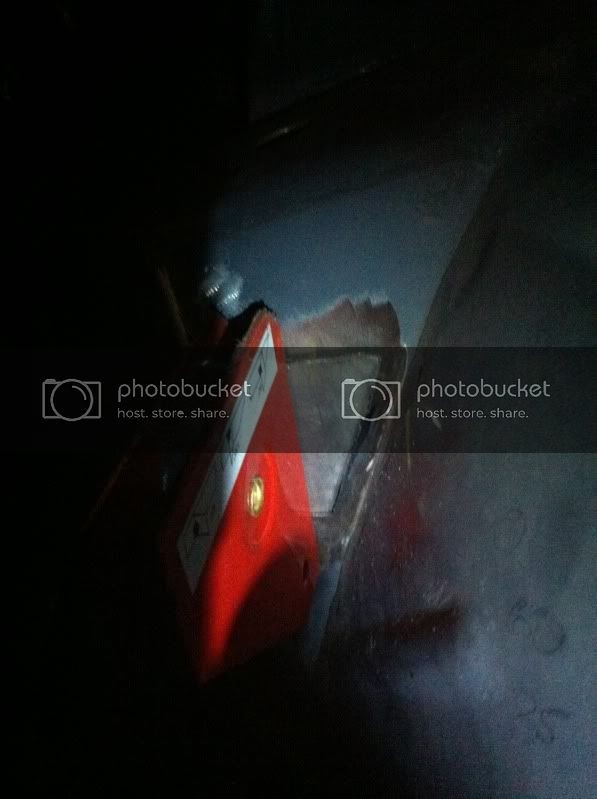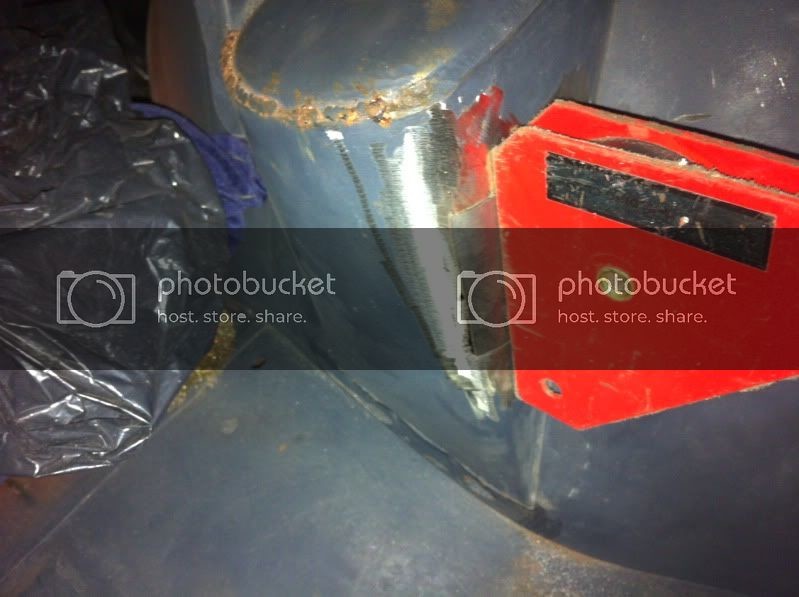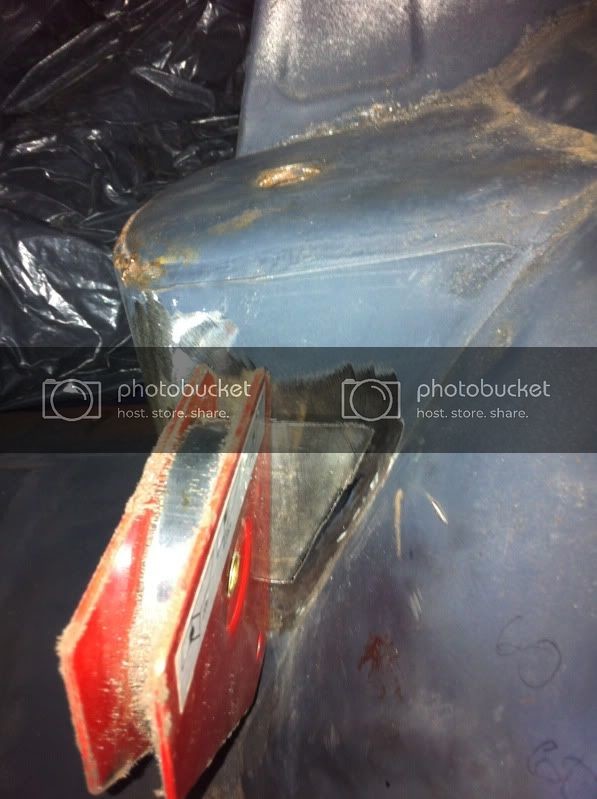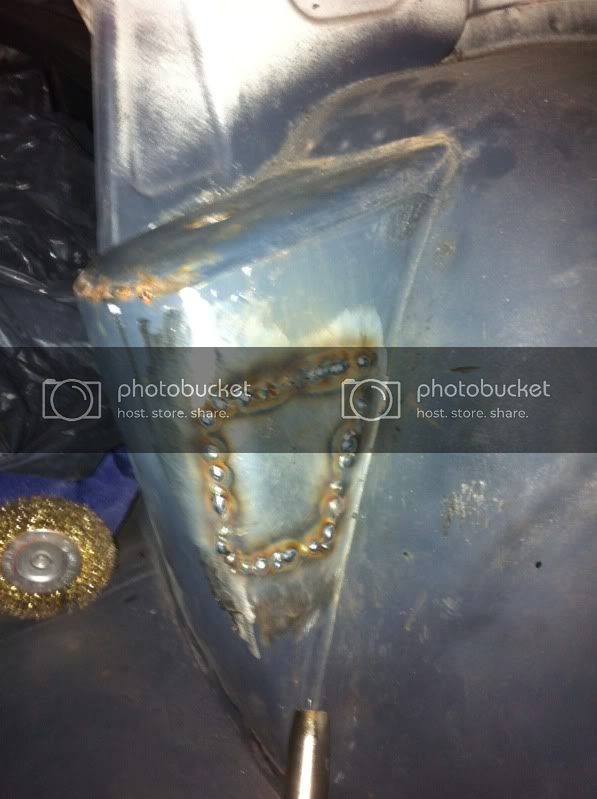 3-4-2012
Just a quick update from yesterday - I finished the seam on the inner wing and ground it down and its gone quite well which is good I also got some atsy grinding shots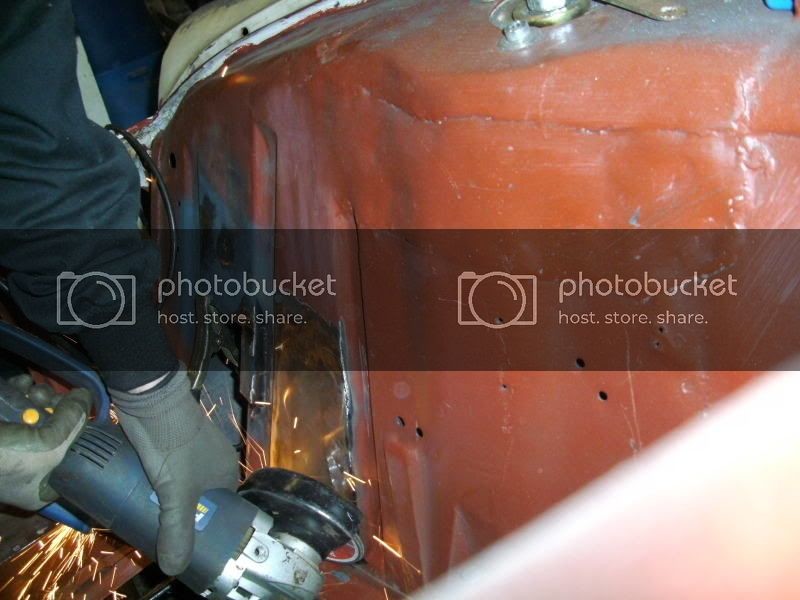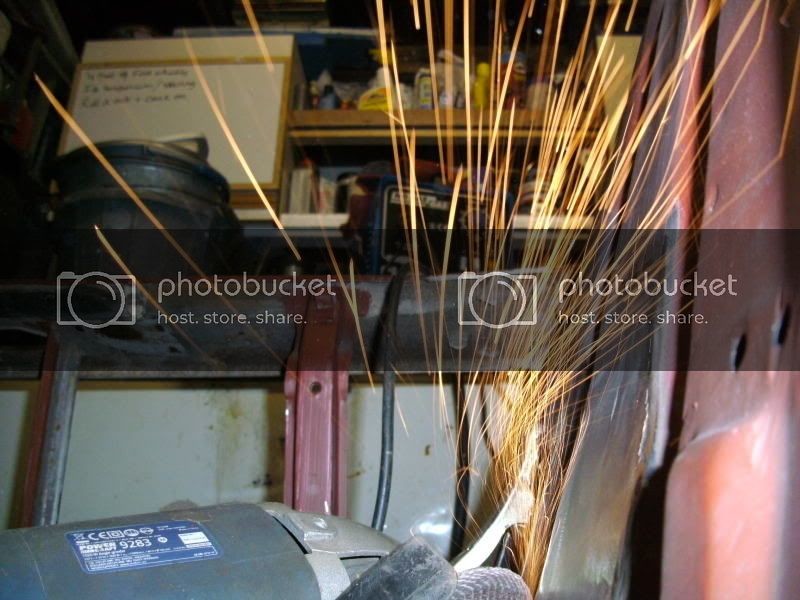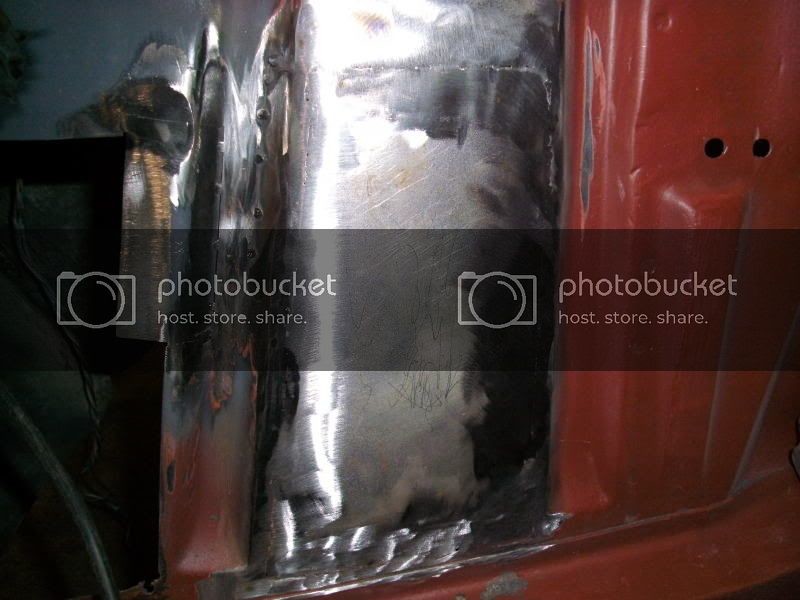 3-20-2012
I have decided to have the week off to spend some time on tina particularly the rear end near the spring hangers

its not looking great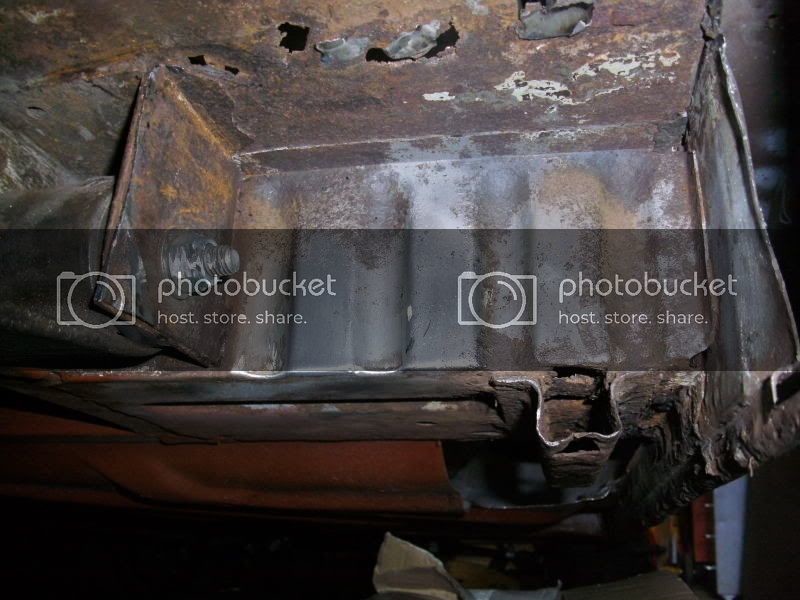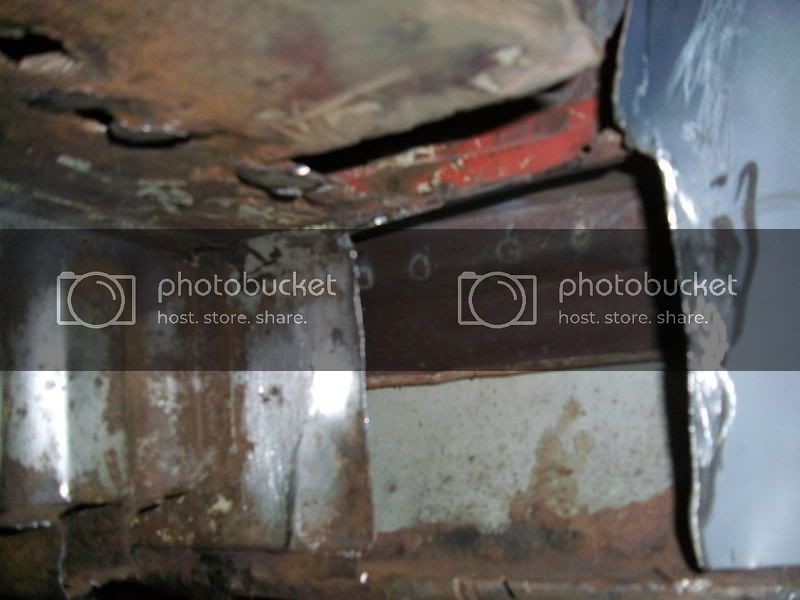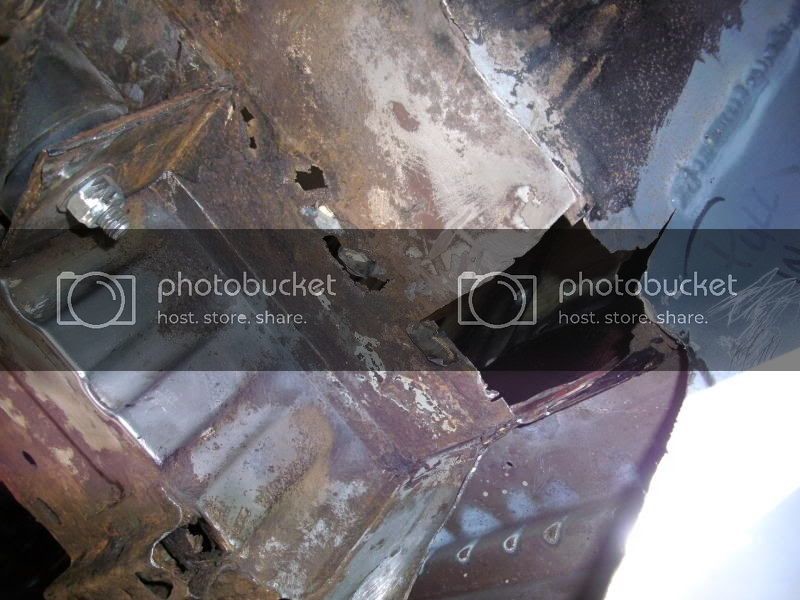 I've made a start on the repair sections that I am going to put in - especially after reading what Tonybmw has been doing on here!

Whilst I was waiting for the postman to bring me the sheet metal folder I'd ordered I thought I'd have a look at the spare wheel well which I knew would be messy but Jesus!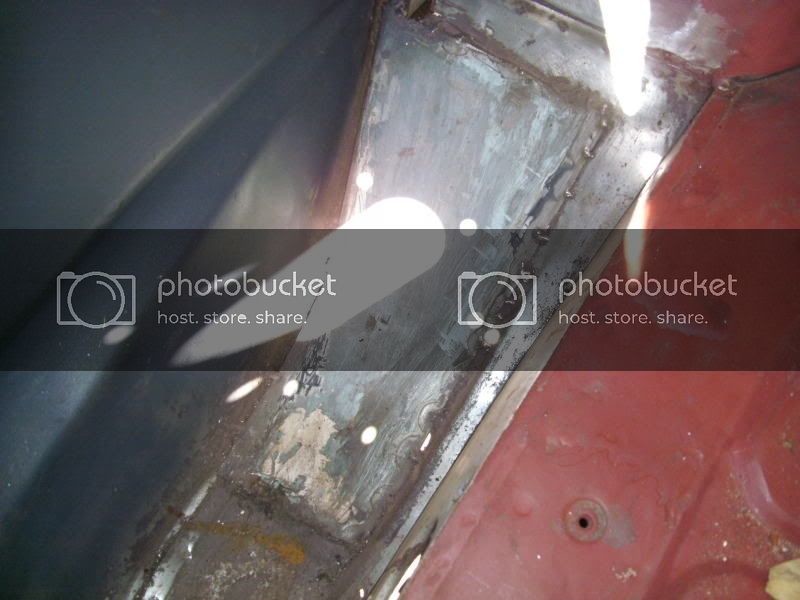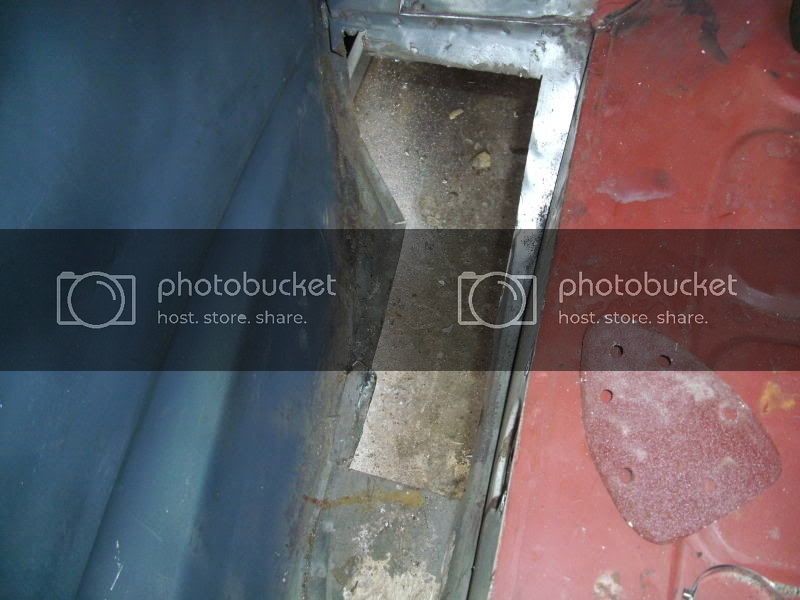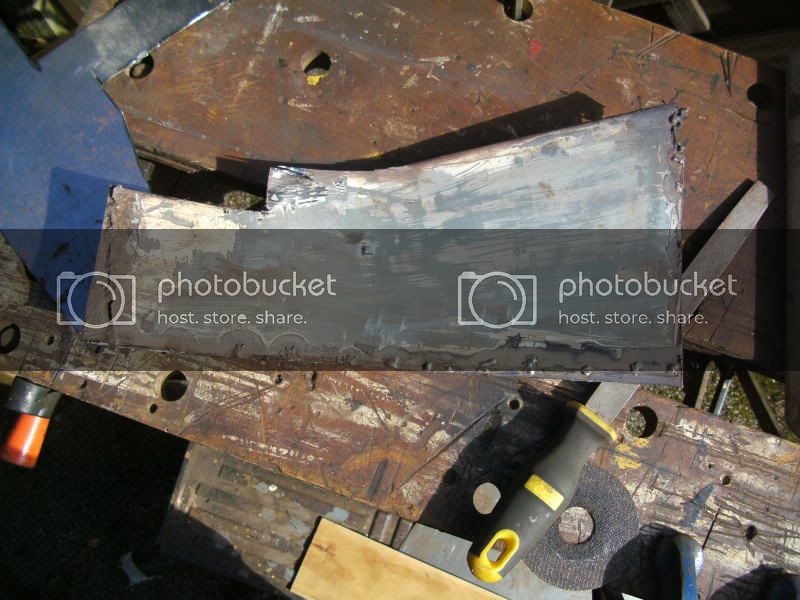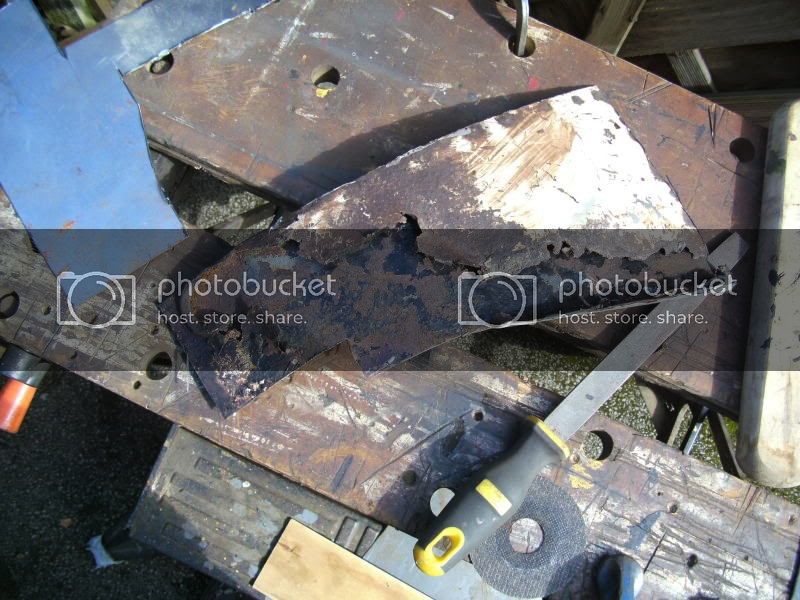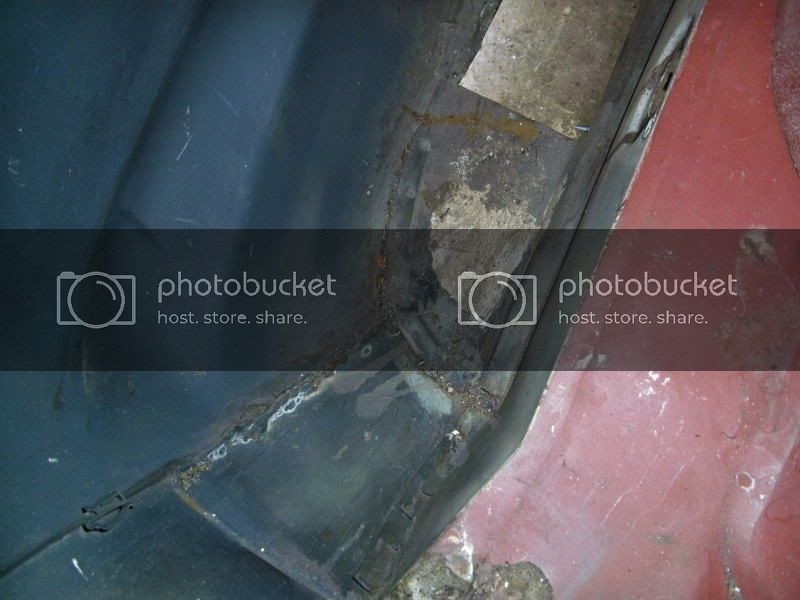 I have some more to remove but its all spot welds as it was an original panel rather than something someone stuck on!

I have been playing with making some rear jacking points and I can't seem to find off the shelf ones but they don't look too bad to reproduce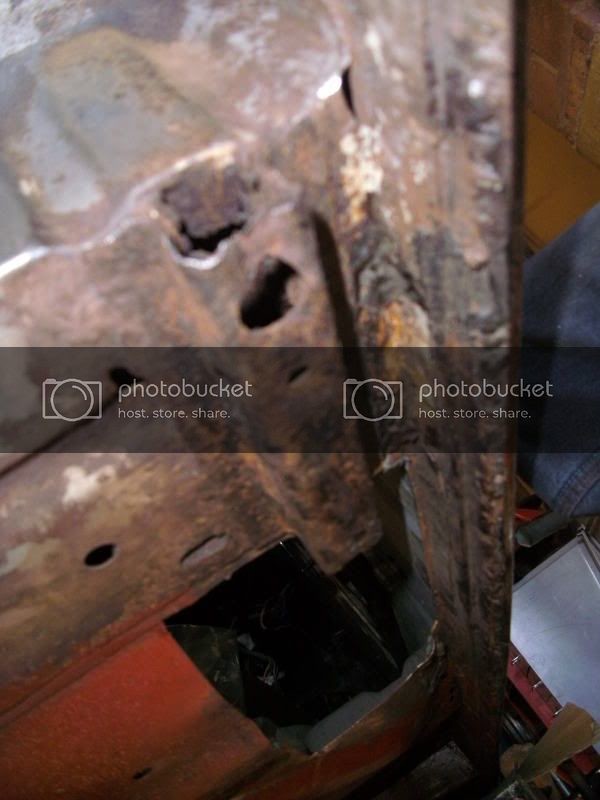 the hole is where the original jack locks into the leg, the hole above is rust

after lunch the postie came to drop my metal folder! it has become my new favourite toy!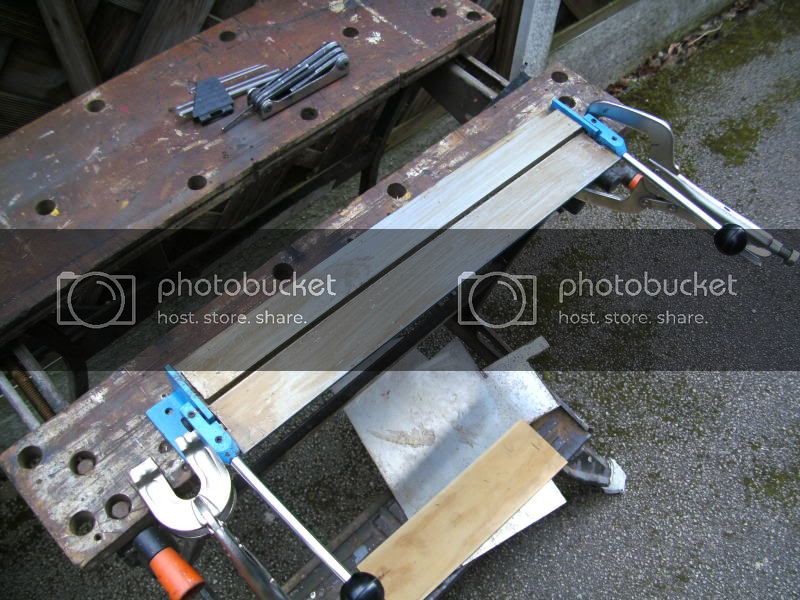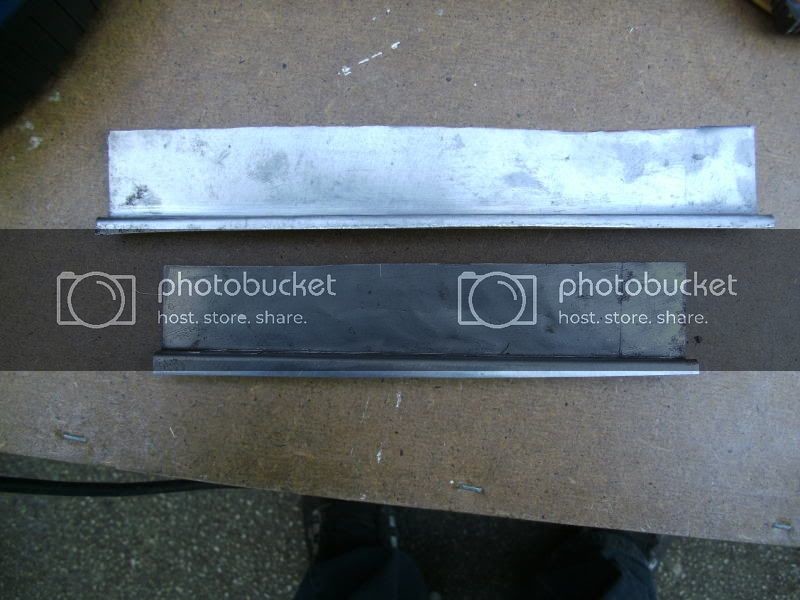 the bottom one is one I did in the vice which is a bit lumpy from where I was hammering/chiseling

now that the folded sections I needed had been made the next thing was to cut some of the bad metal out of the floor section , the floor meets the inner sill and the wheel tub too, the lip where the floor meets the tub was mostly gone I wanted to recreate it so it looked as it should be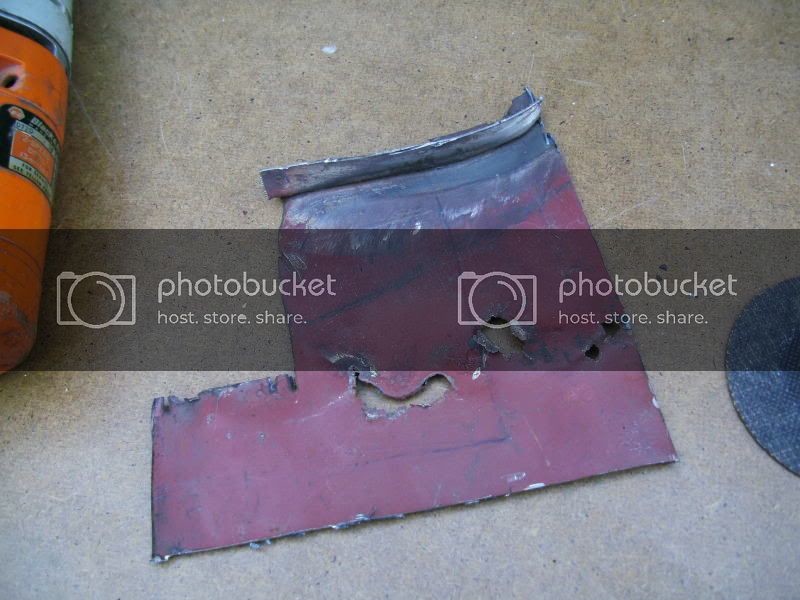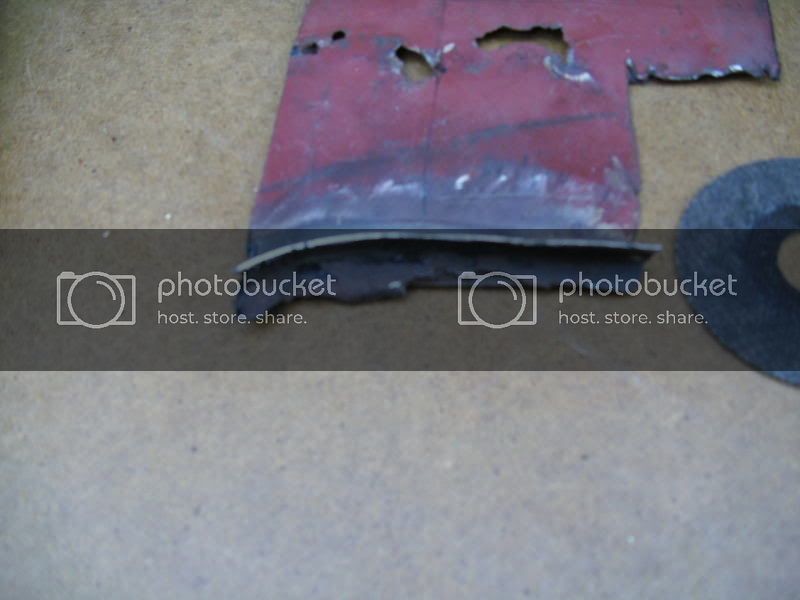 I took the longer folded section i did on the folder and cut into it so it was easier to bend - I would have given shrinking/ stretching but not only is it curved but it goes up too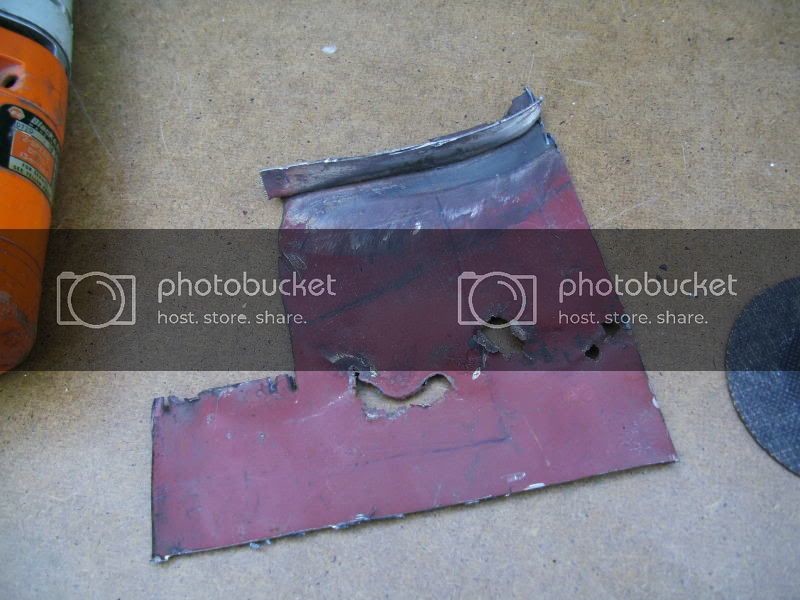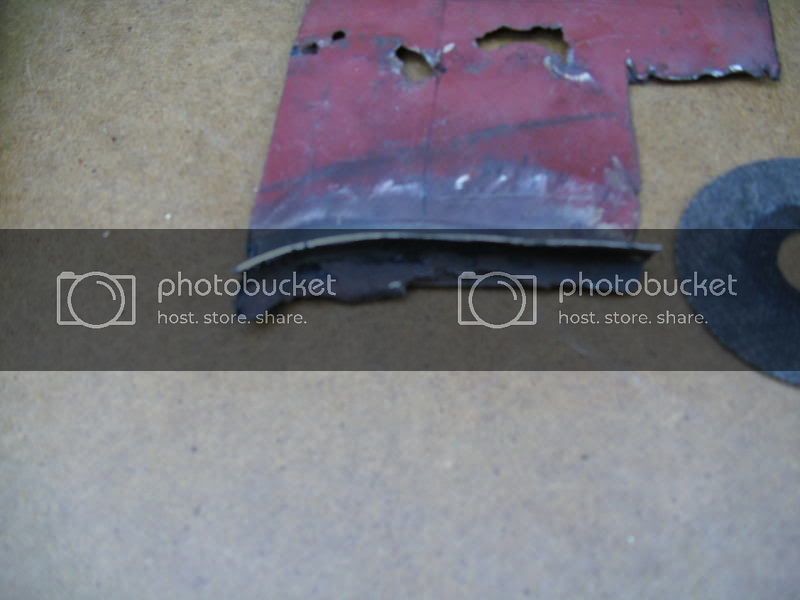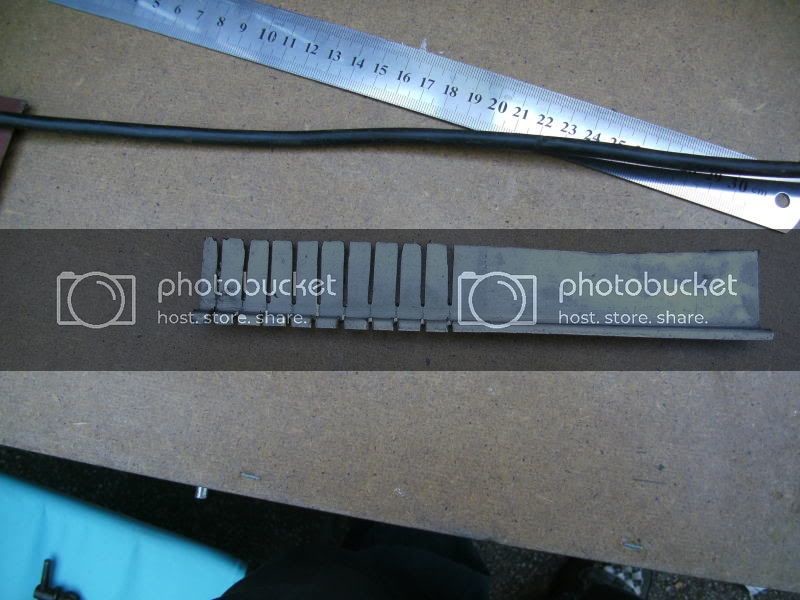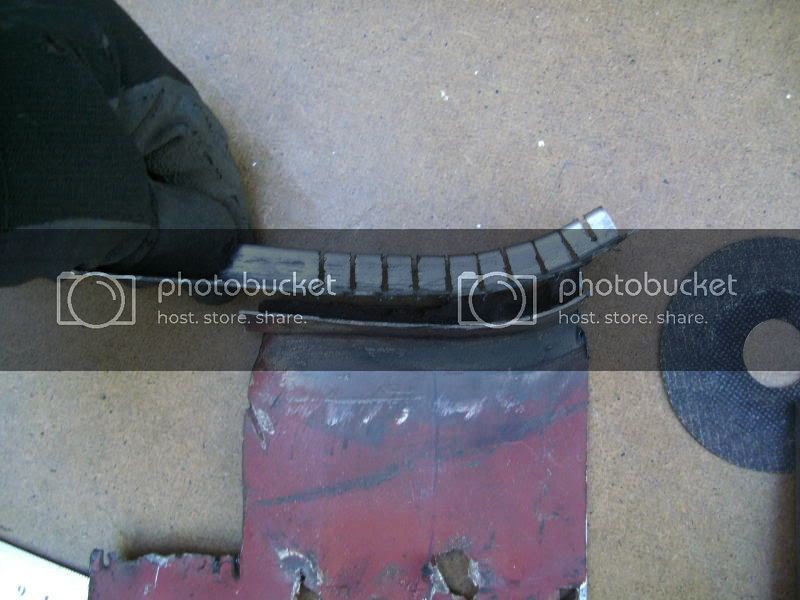 and welded!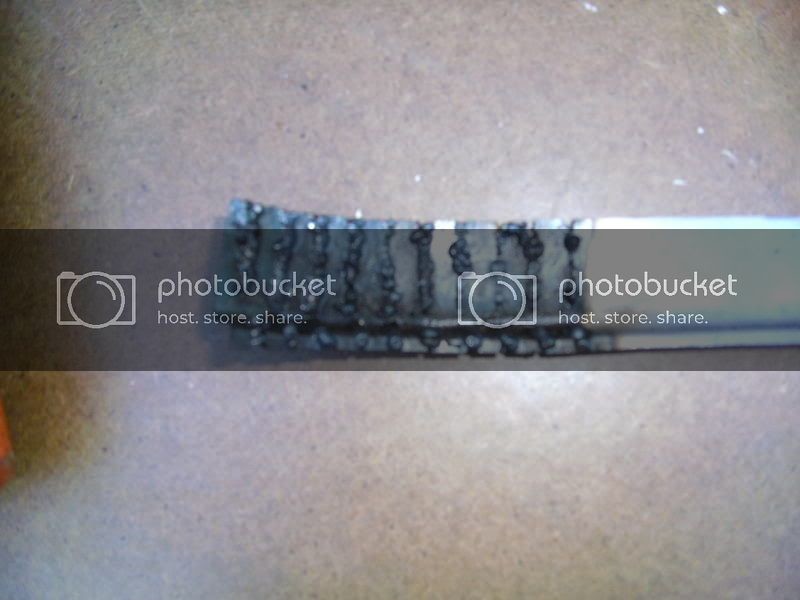 I just need to grind the welds down so it looks right
3-31-2012
I had forgotten to add a few photos before I finished last week, I thought I would tackle the left wheel arch which is not going to be a fun job!

I was working on the panel below and realised that they are rippled which will catch the light when its painted (some time from now) so i filed a bit of it and it seems to be smoother. I did cut the section out and it is now tacked but I need to run a seam down and then its done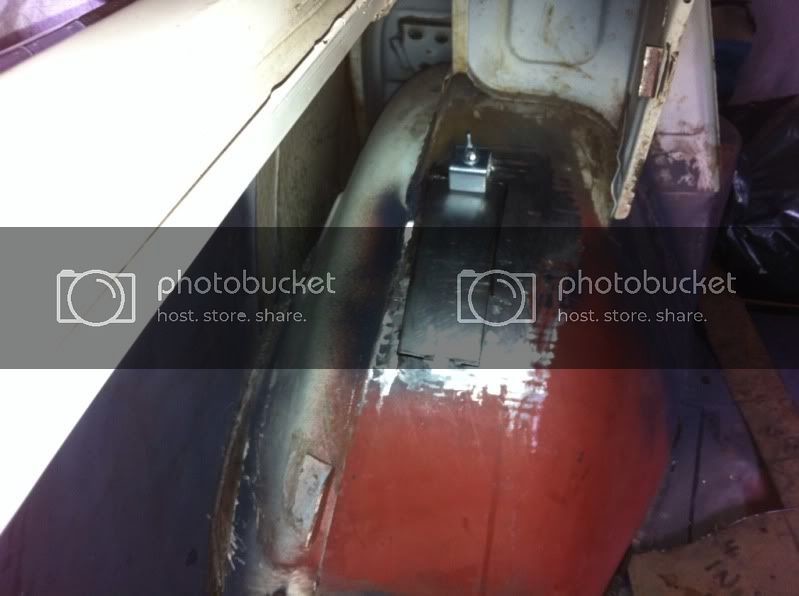 I also managed to make one of the jacking points for a first attempt it went well but for the second go I will attempt to put the ribs in after I have done the first bend and see how it looks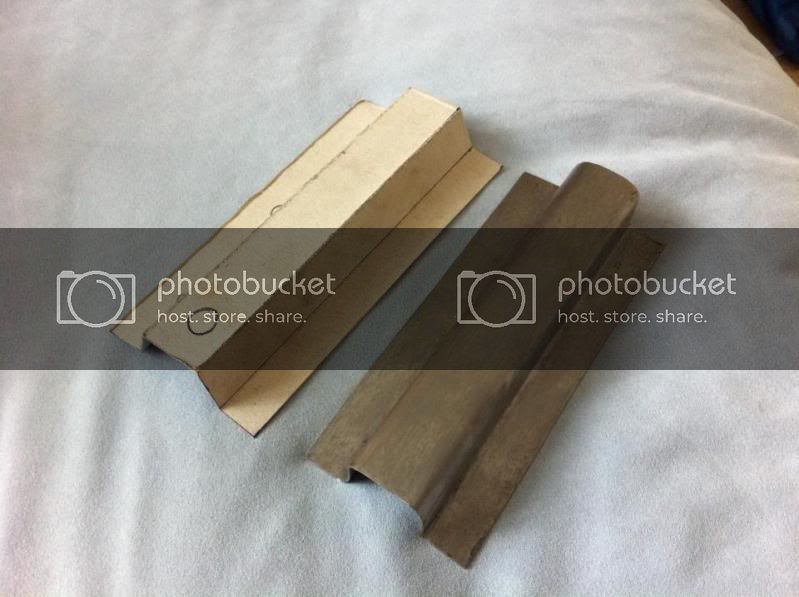 4-3-2012
that looks awesome! its actually the look she wants too!

I found this on my phone - I wondered why tina looked a bit low on the passengers side turns out tyres need air in them!!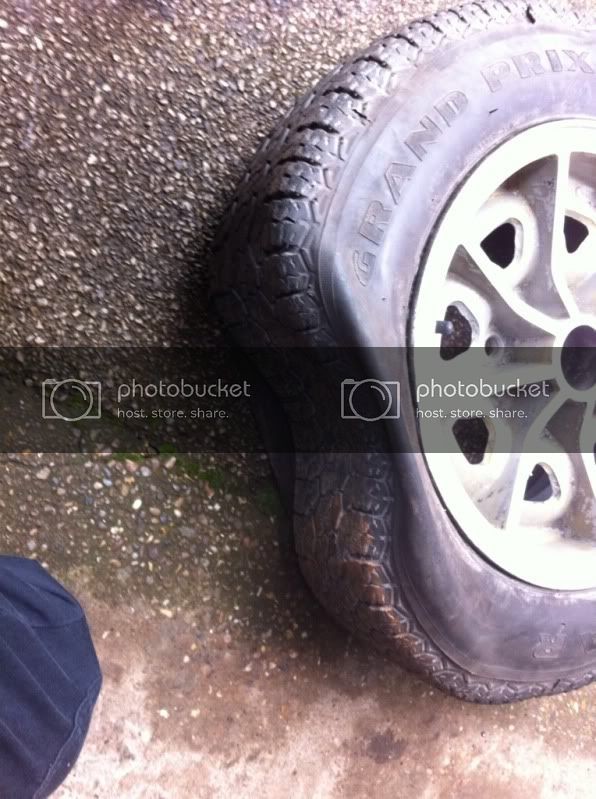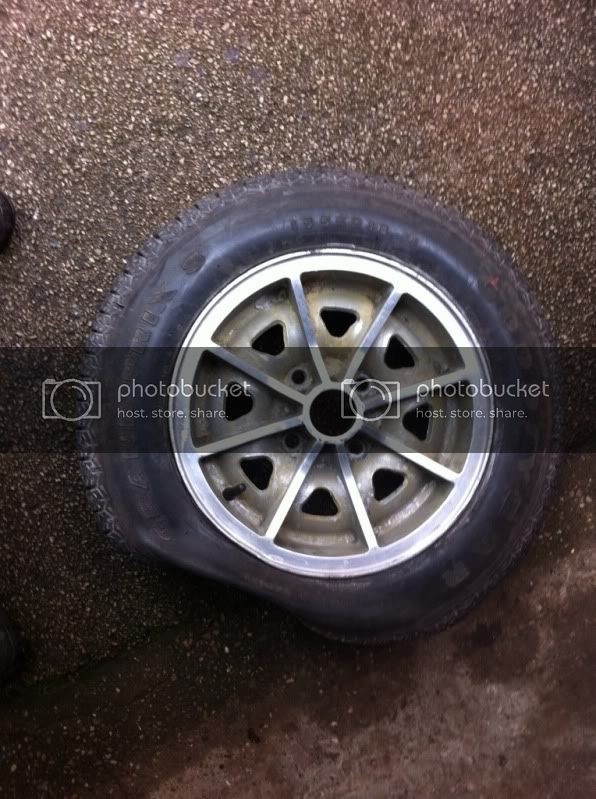 7-19-2012
Right. Starting with the RH side indicator as I had already removed it as I had access to it, the clear lense is cracked etc but for the time being it will be ok unless another better one turns up then I'll keep that one for a spare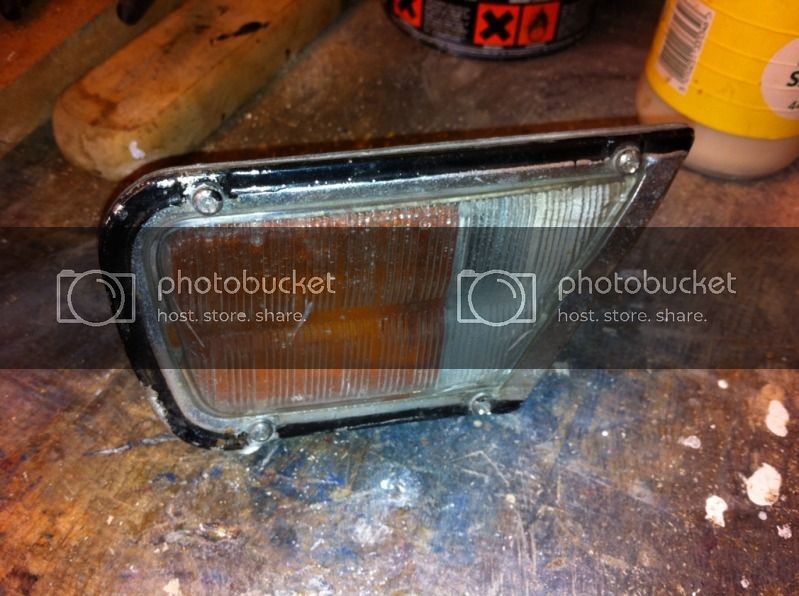 it was covered in dirt/underseal which was a curse word to remove!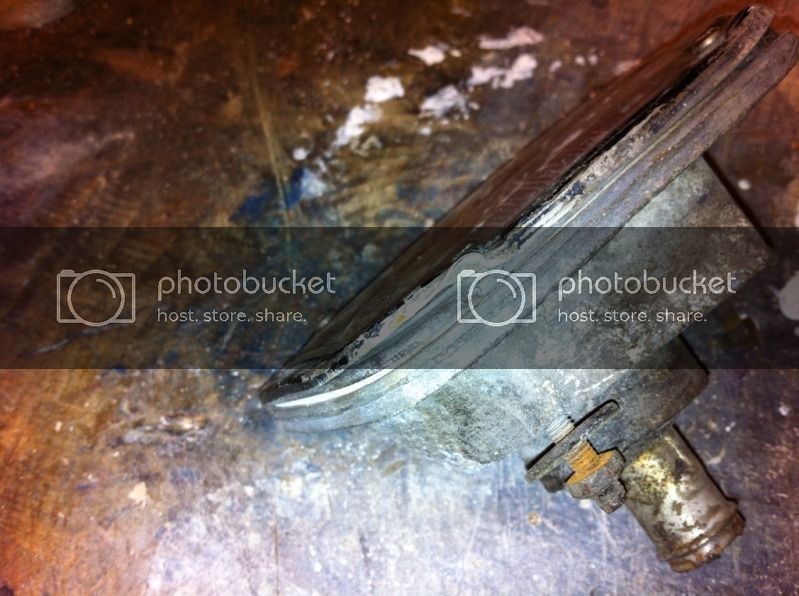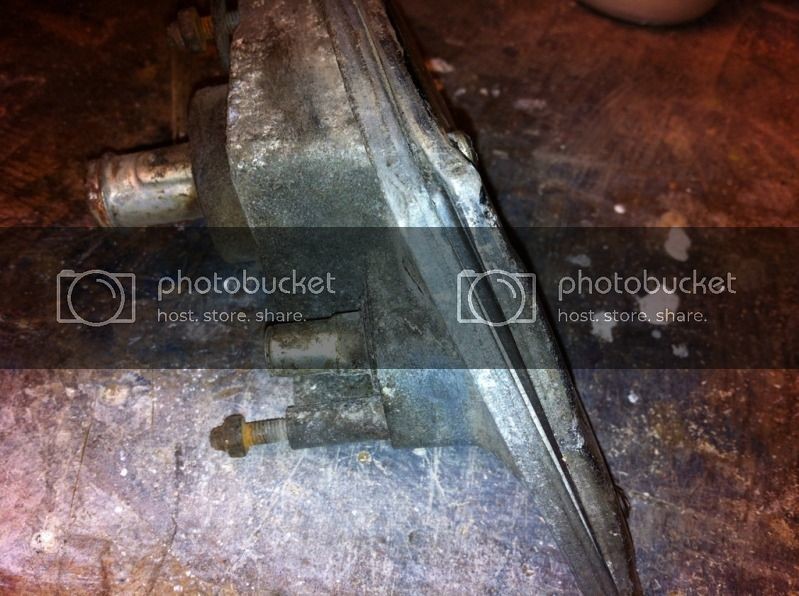 the trim has been knocked about but I think I have a spare one somewhere but I will have a go at straightening this one out - at the end of the day it couldn't be much worse!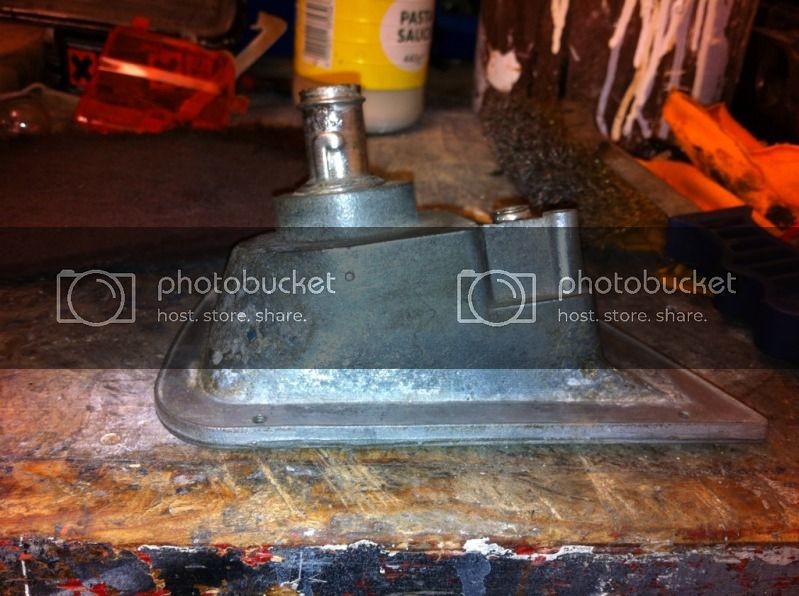 Cleaned up a bit and its starting to look ok till you see the corner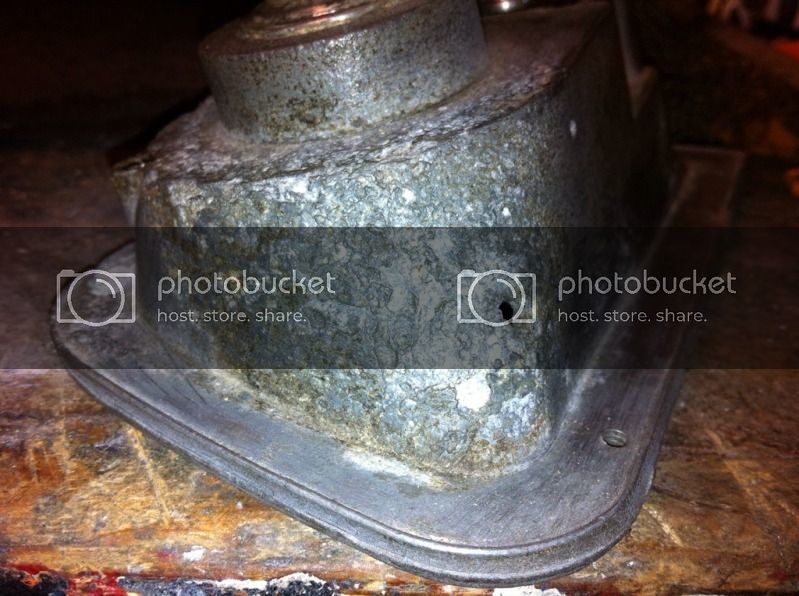 curse word! this is wasn't meant to happen! but I think I can sort it out using some metal filler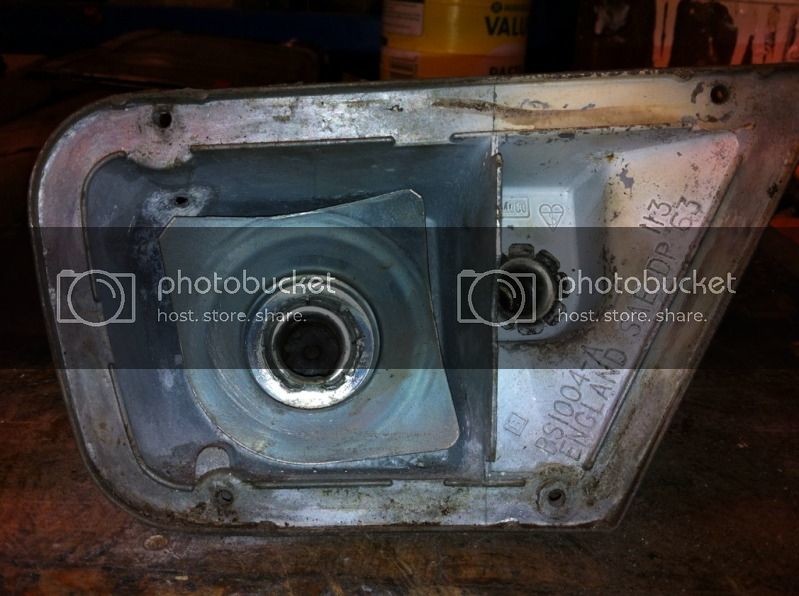 it is cleaner though!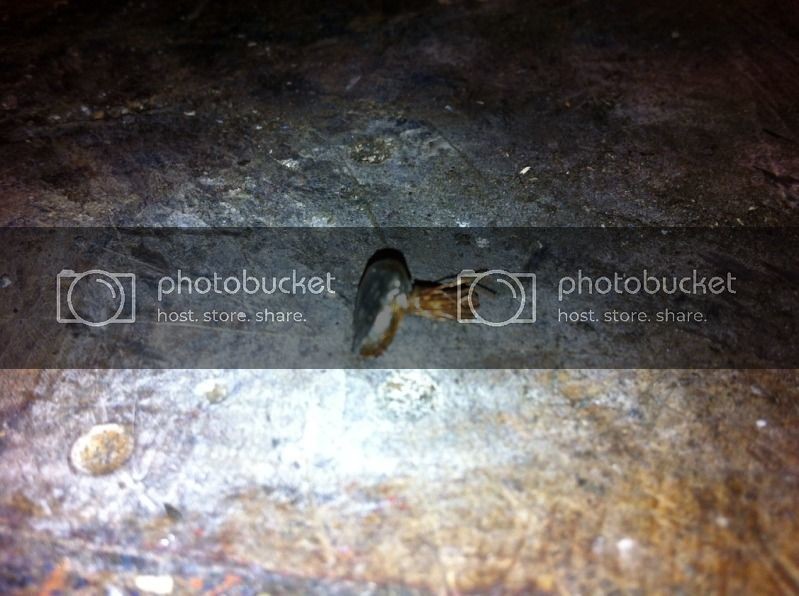 this explains why the indicator was a bit temperamental

I will get the body tidied then start re wiring it with a better connection for the bulbs etc
7-25-2012
Right I applied the chemical metal Monday night after getting back from work and let it over night toharden as it stil felt a bit tacky after being sat for an hour - so I carried on with them last night which was better because I sat outside in the garden with a cup of tea!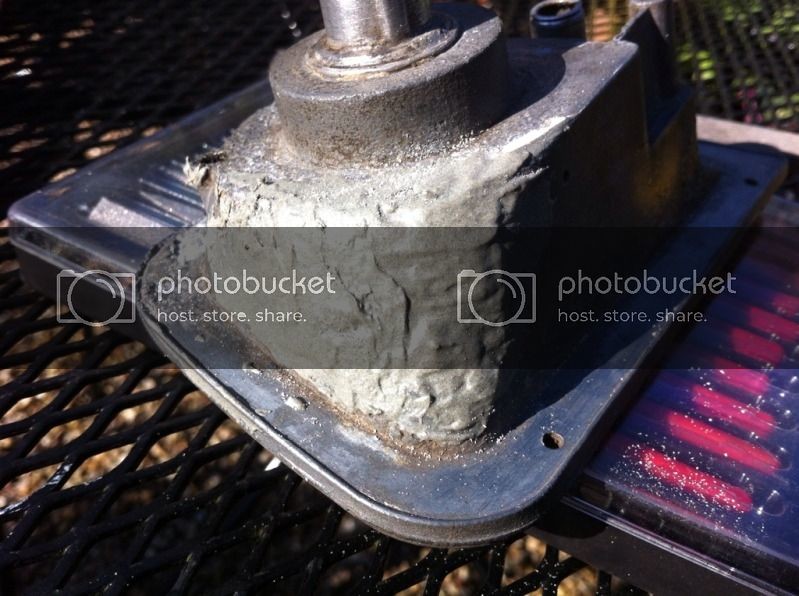 looking all gammy from applying filler!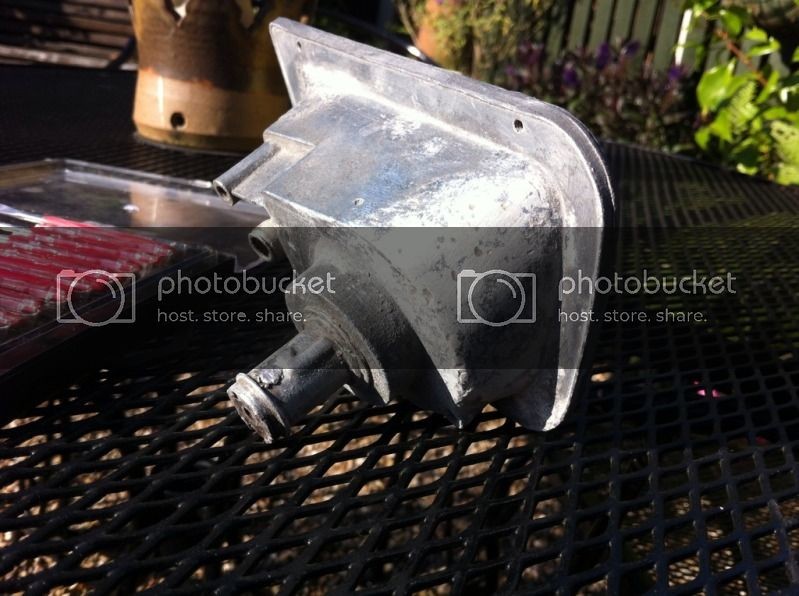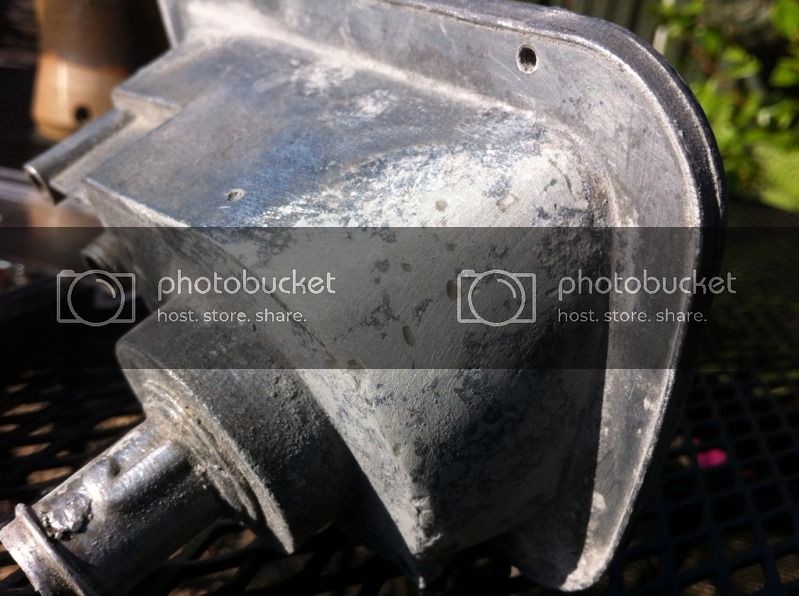 A lot smoother if I was really anal I'd sort the bits that aren't smooth enough but at the end of the day its sealed and it looks a lot better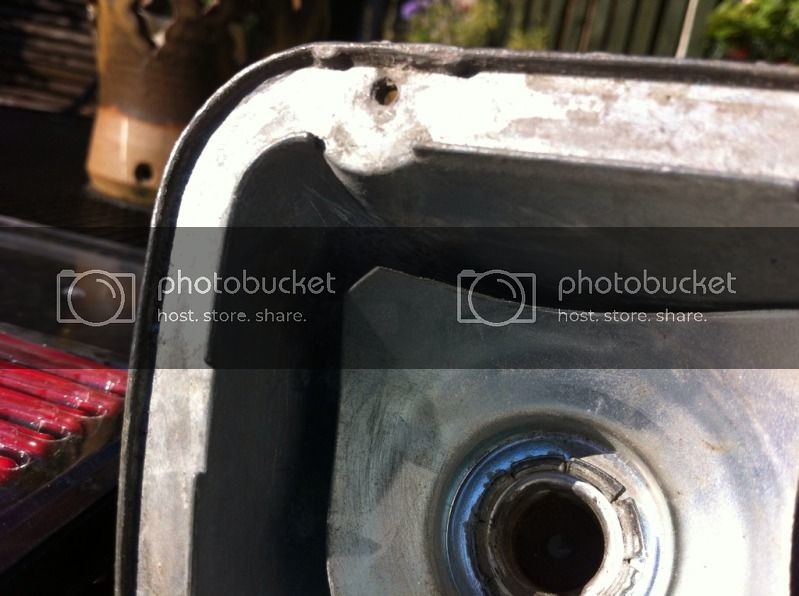 Just to prove its sealed!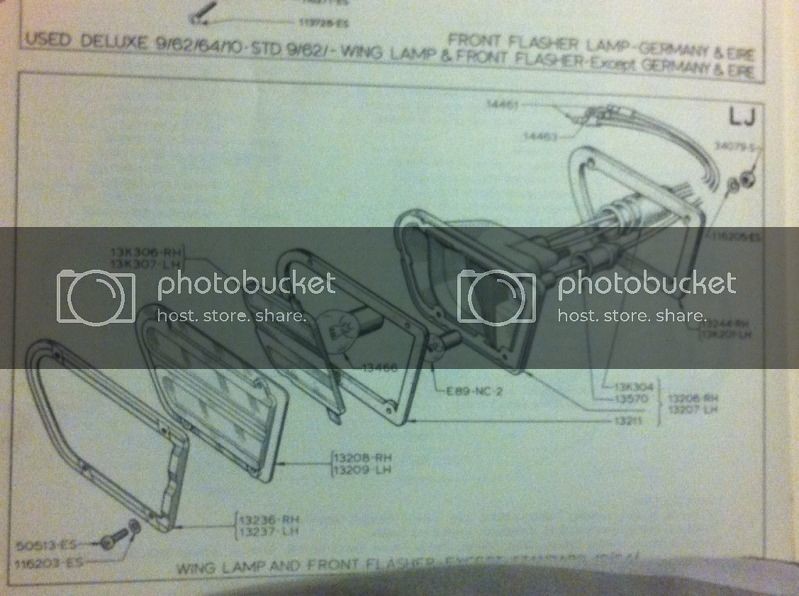 I have been looking in one of my Ford books (parts list for the Cortina - if anyone needs part numbers or nut and bolt details let me know!)

I need to find some of the rubber covers as mine are spent - I know that the owners club don't do them but does anyone out there know where I could get a replacement?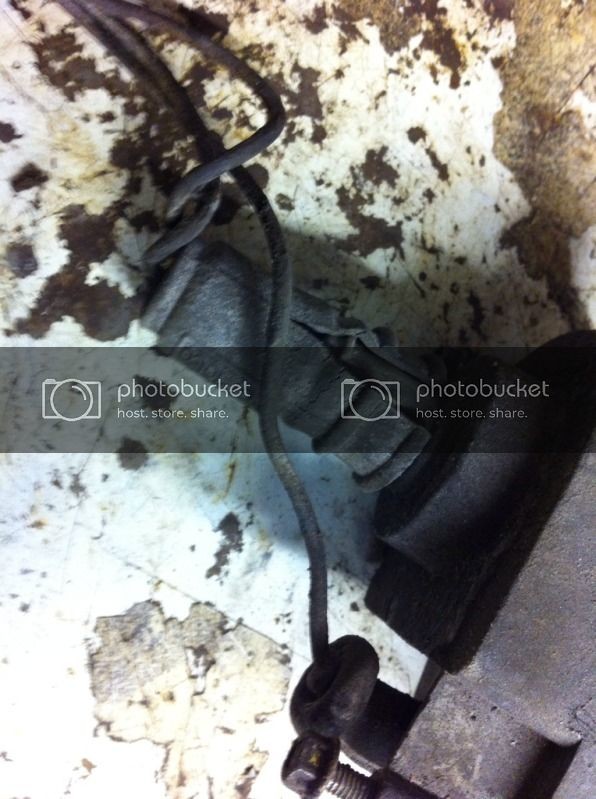 and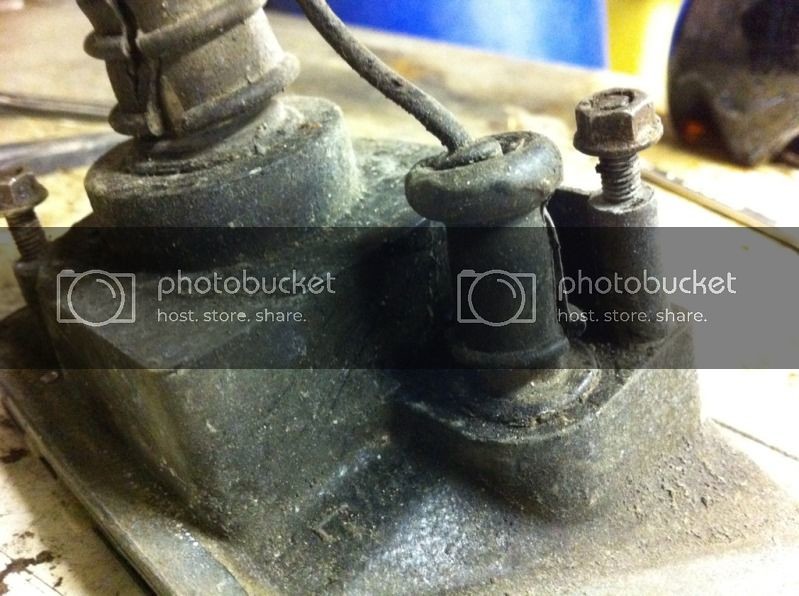 I have taken these from the passengers side light which is where I found this problem: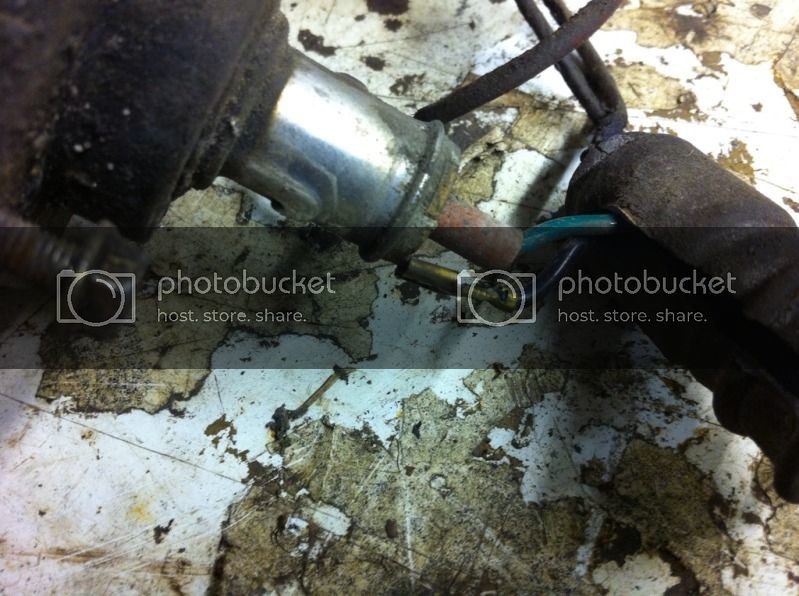 The spade connection for the earth cable has come off on the drivers side light - would soldering on a new one work? would it be too fragile?
9-4-2012
I have been finishing off a few bits under the drivers side inner wing and not its all shiny but its getting there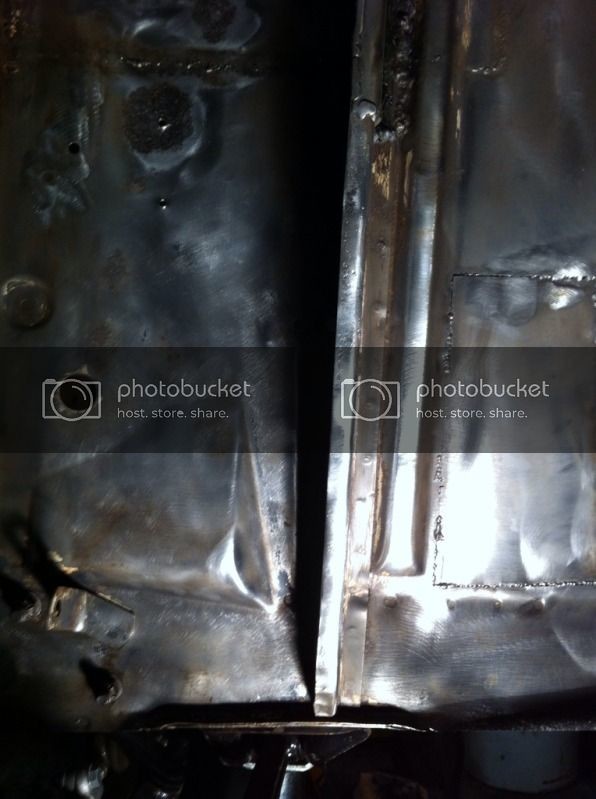 it appears that when the strut tops were changed the person forgot to take the original metal out... as you do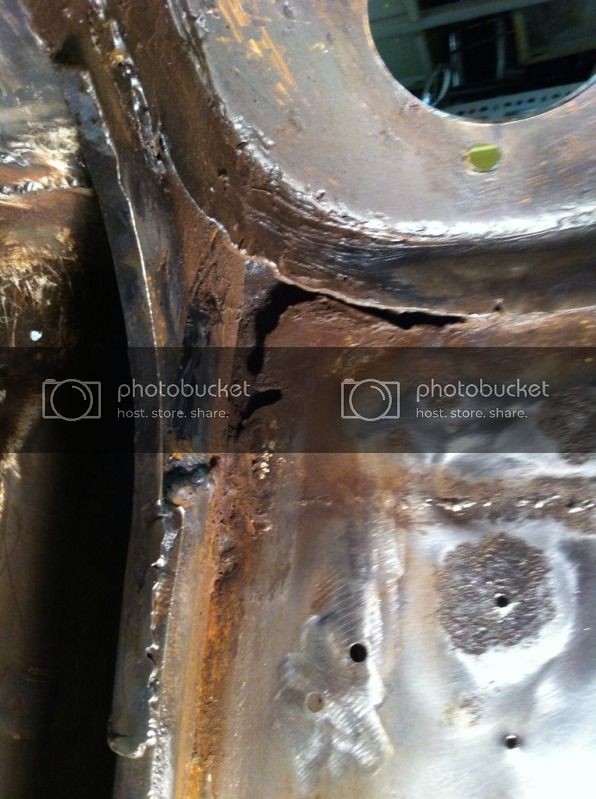 and found this small hole which isnt so bad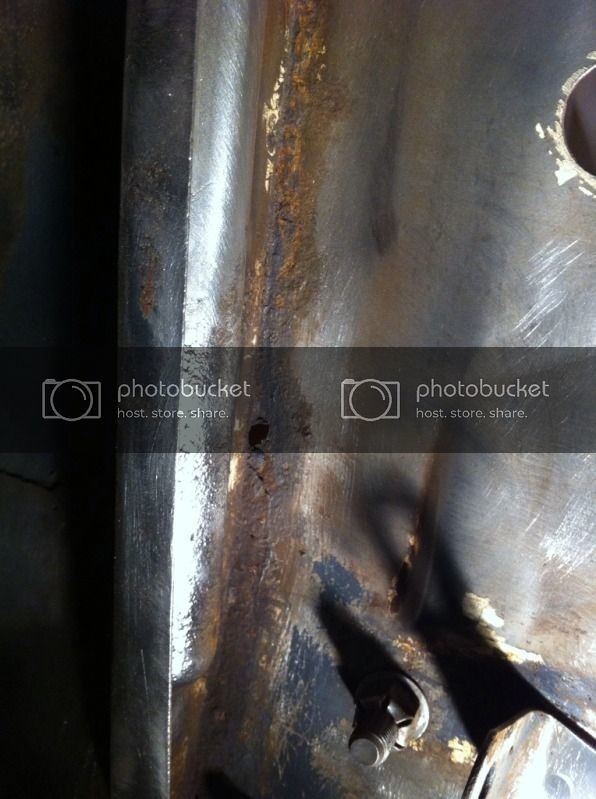 tonight i thought id take the paint off the sill and see what state that was in so I know what panels I need to get as I am going to get the big/hard welding done by someone who knows what they are doing

the sill looks to be good but it does have a dent in what should be ok to just pull out and tidy up rather than replace which is good...

the problem is that i caught the door with the wire bush and some body filler dust flew out which was worrying - it turns out that i had caught the bottom of the drivers door which looked to be in good condition - I was wrong it was fill of filler

it looks as though it was knocked down a bit then skimmed over with filler - not the first time this was done on the car! this is also the same story for the drivers side rear door too! Upset is an understatement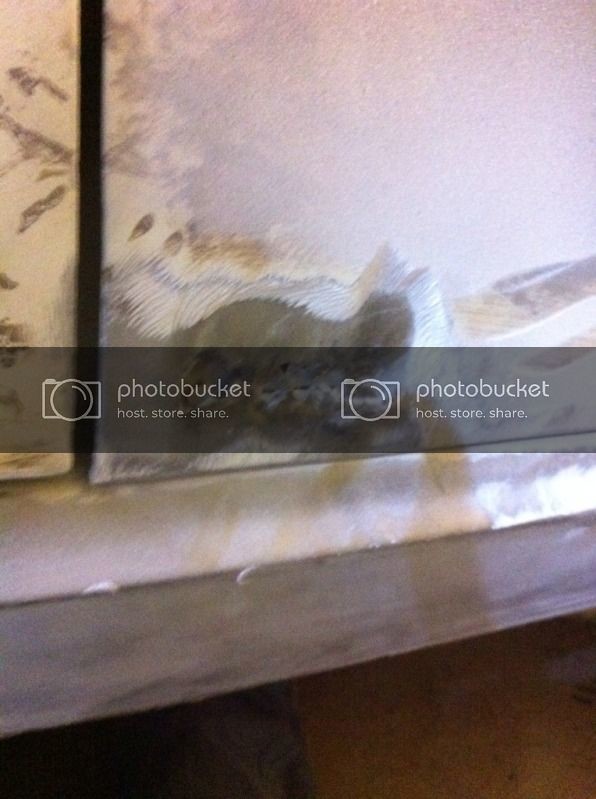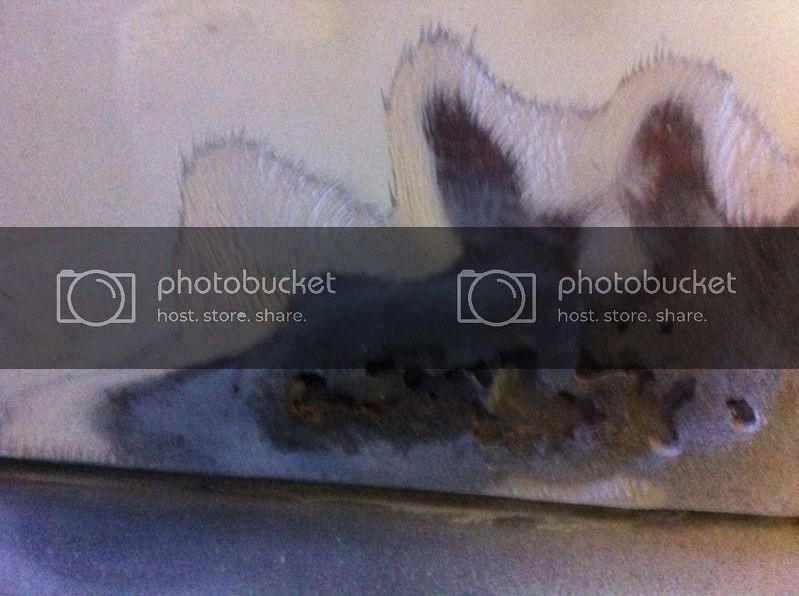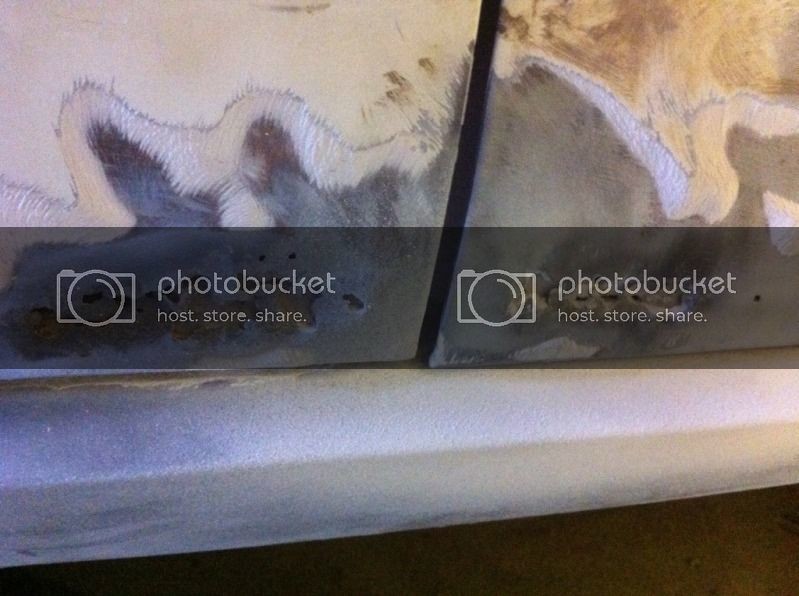 11-1-2012
A little update as it has been a while, I have managed to rewire one if the undicatirs and it wired first time which was a but unexpected as I've never tried anything like that before, I have a few phitis but I'll put them up when they are all complete and shiny.

In the meantime I have managed to space out thefront damoers as I found that the top mounts were moving because the are much shorter than the original ones and it was simething I had not taken into consideration but the bearing cup was the perfect height and diameter for the job so the car can go back on the ground which is great

I did however find that the welding that I had done hasn't penetrated well enough so that will need to be addressed - I have gone back to the drawing board to start again as I'm not happy with the quality of my welding I'll get it sorted I just need some help

And to finish on a positive note I have been making a pin board for my tools as I was getting tired of them getting muddled up in my tool chest the boxes in the left will have cutting discs, welding clamps and glasses etc in and I will add my screw drivers and hammers afterni have got some spring clamp things (technical I know!)
11-12-2012
For a bit of a challenge and a mojo boost I had a go at making my own gearknob I've never used a wood lathe before and I enjoyed it but as I haven't fully decided what style knob i want I'd make a few and see how I get on

starting with an offcut from dad's wood stash (the lathe is his toy) I got it centred and set up in and ready to whittle down to something that looks like a gearknob.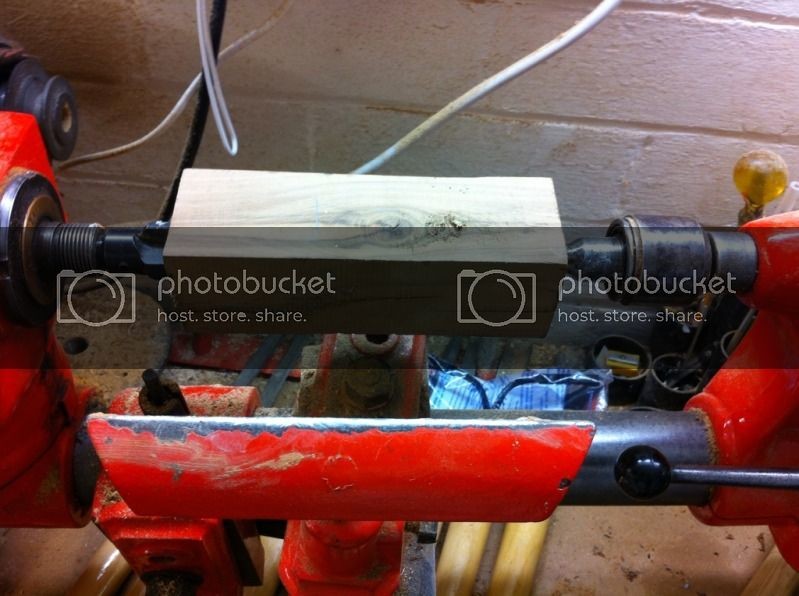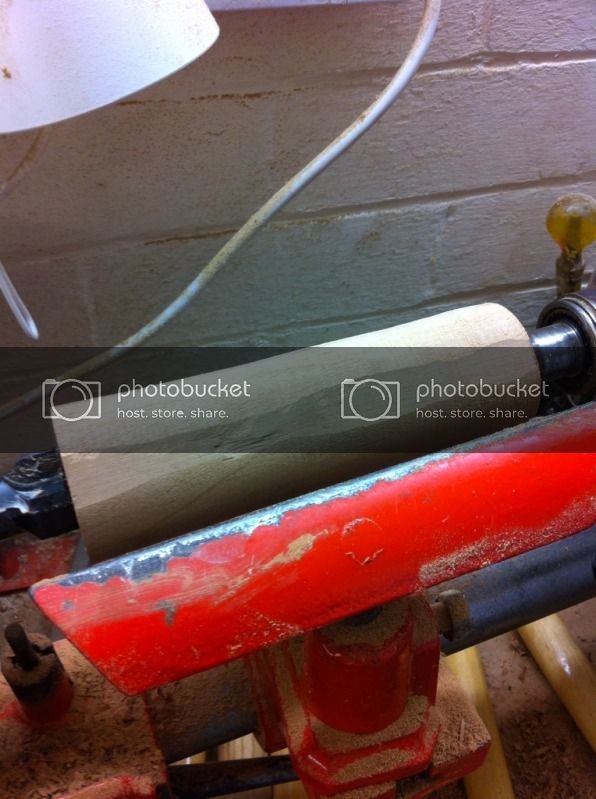 after a few mins I had made a square peg into a round(ish) one!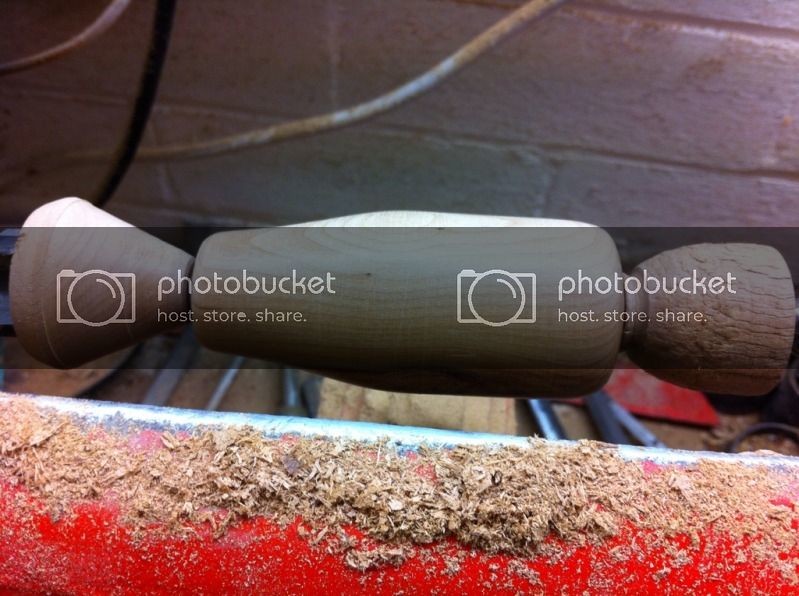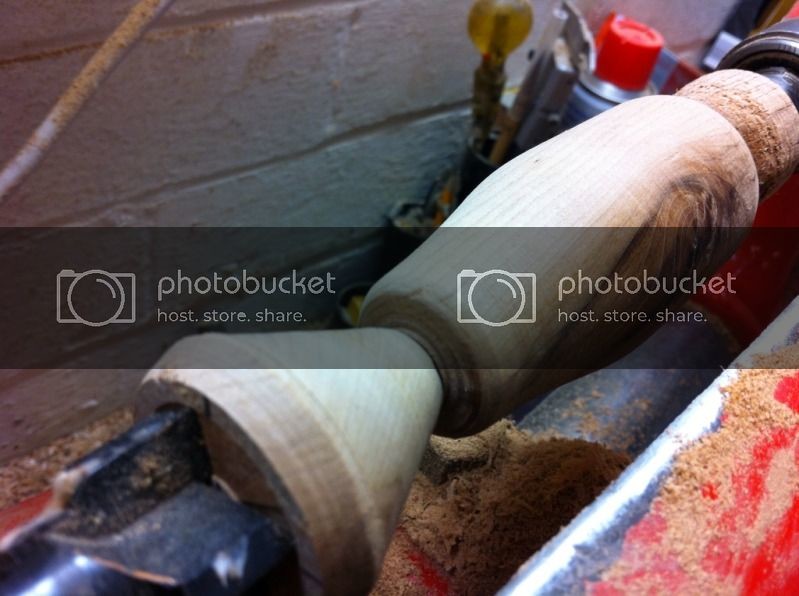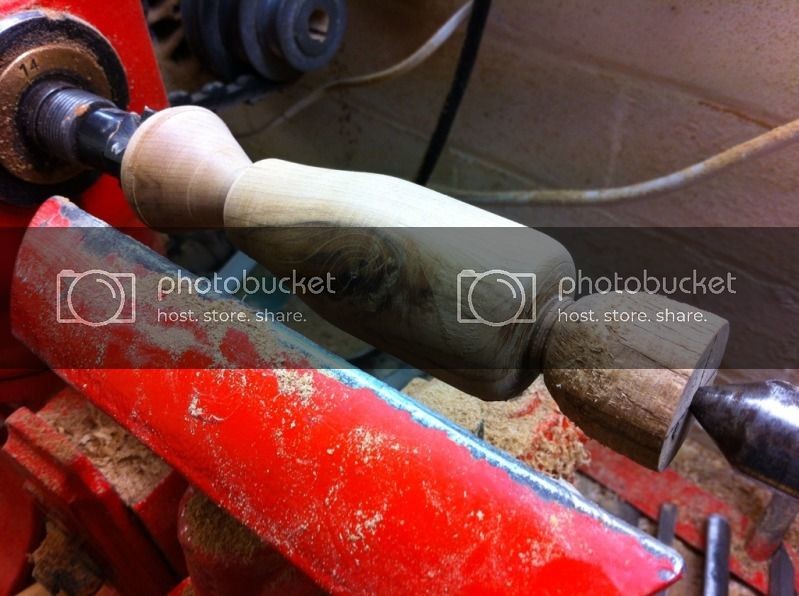 I had a rough idea of the shape and size I wanted and this is only 0.5mm dia thicker which is good

It does have a knot/ crack but it doesnt feel as bad as it looks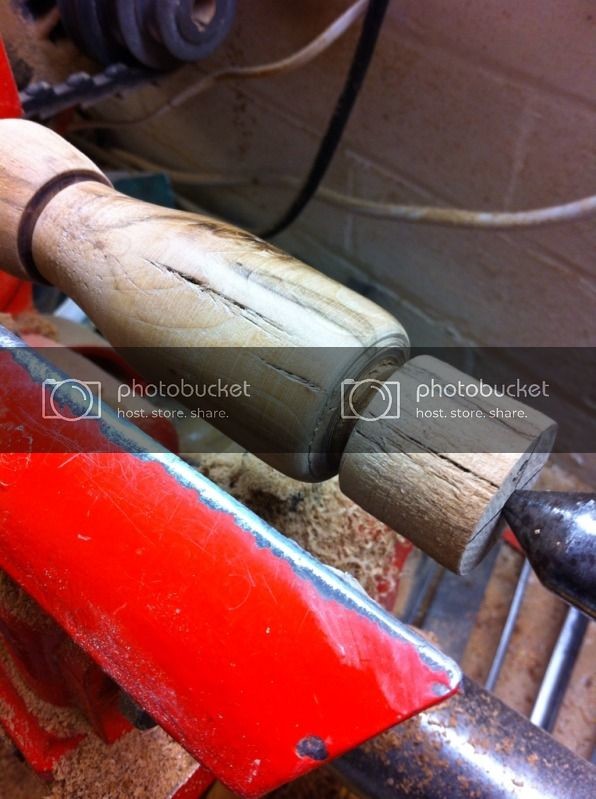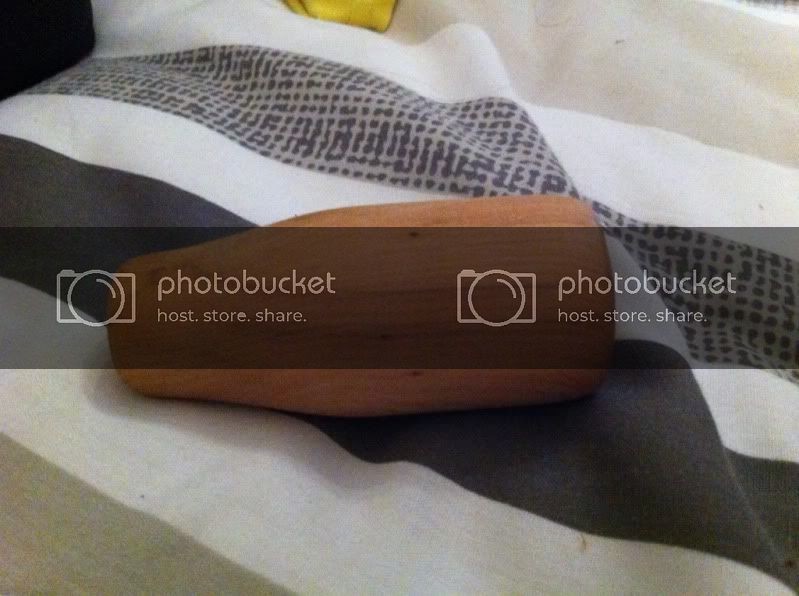 all cut off now

it needs a bit of finishing and drilling but I think I'll use some nylon piping for the thread insert bit I may need to use a die on the gearstick too
12-18-2012
it's been a while since i updated this as I have beenmoving in with the mrs and christmas stuff

since the gearknob I have stripped, cleaned and painted the pedal box which is now sat in a box till I need to refit it,

I have also got the welder working on the proper gas bottles so I have been practicing to get the right setup which seems to have worked an I have started to work on a tricky area which i will post pics of later but it has been fun hitting metal with hammers!
1-4-2013
I fancied spending a few hours after I got home from work on the car to try and boost some inspiration and motivation for tomorrow when I try to do some more body repairs and welding

So I thought I would look at the front bumper as I had not replaced the original one when the front valence was replaced a few years ago. I had bought one off ebay but it has been sat for ages and I figured I'd try to get it to sit a bit closer to the body and give the front end a smoother look as at the moment it looks like the body and the bumper have fallen out!

first off was to cut out the bumper bracket holes, I will shape these properly at a later date.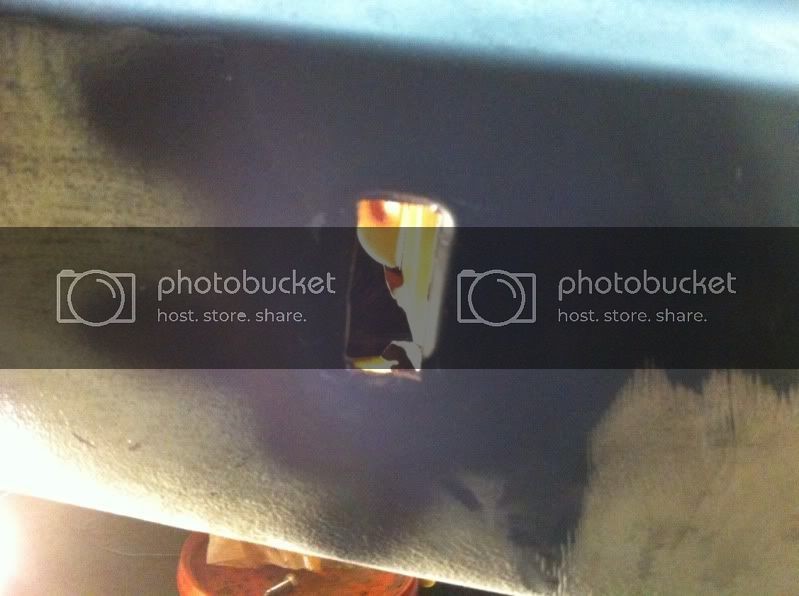 I got these brackets a while ago! I don't mid playing with them a bit as they have seen better days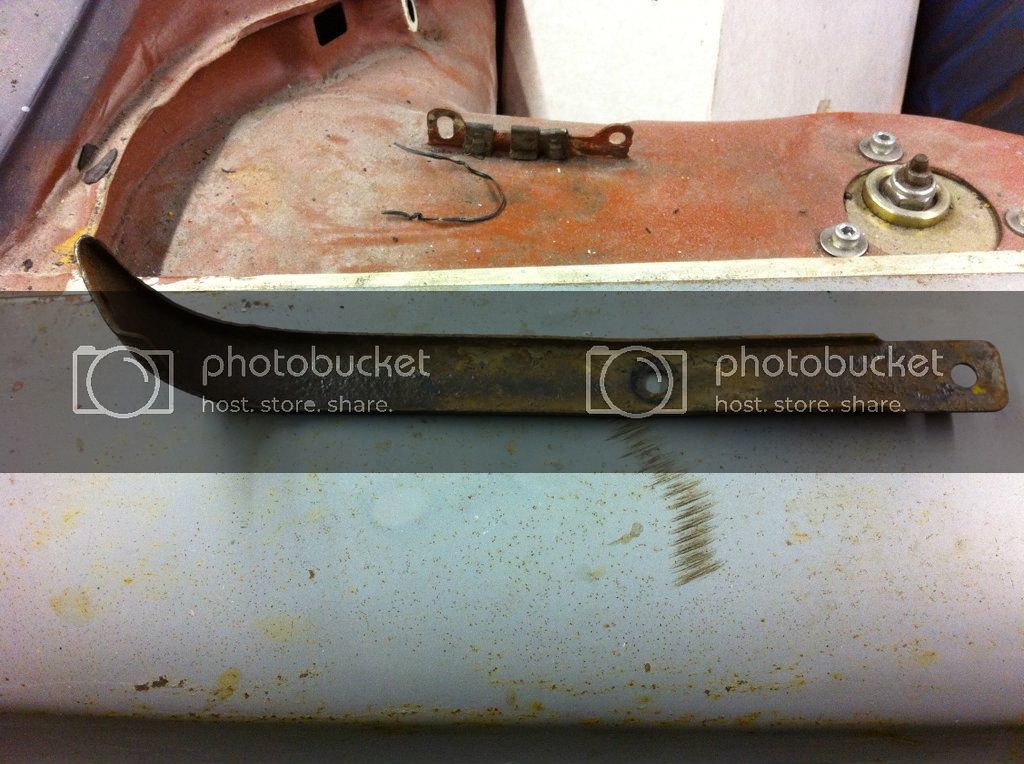 when I went to fit the bumper however I thought something was odd as it was over to one side and was at an odd angle - fortunatly I have some other brackets somewhere so I should be able to make up a set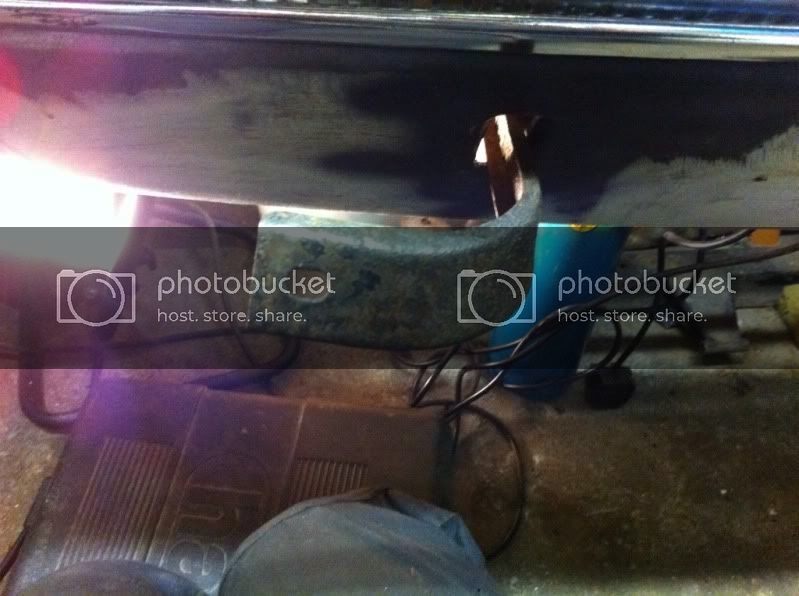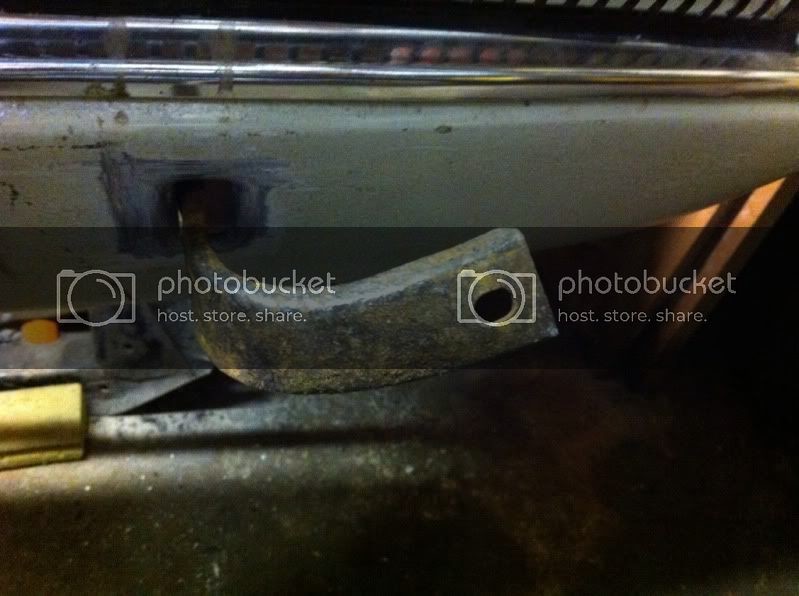 I found my stash of rear bumpers - one has really good chrome but has a small dent in it - is it easy to pull something like this out?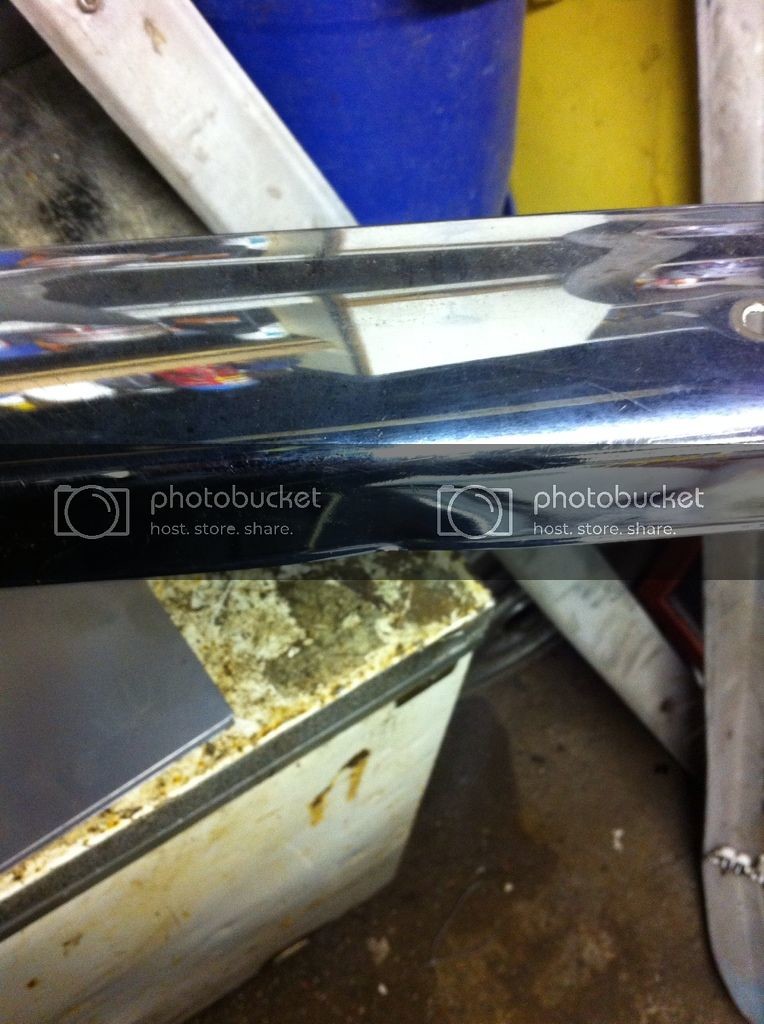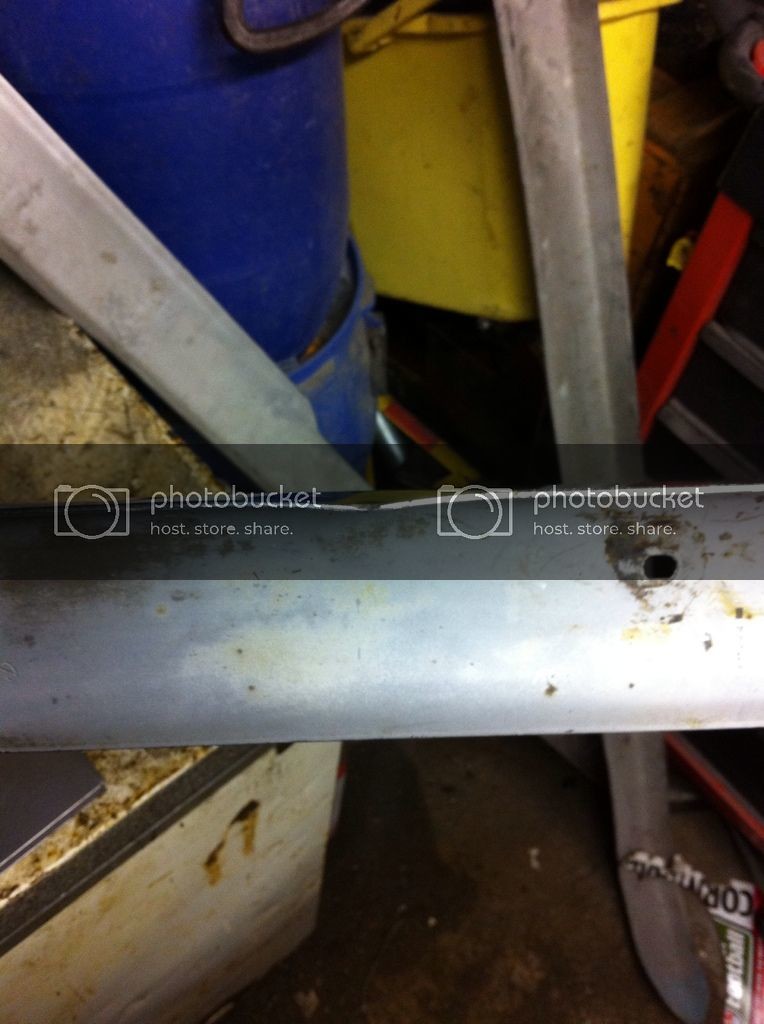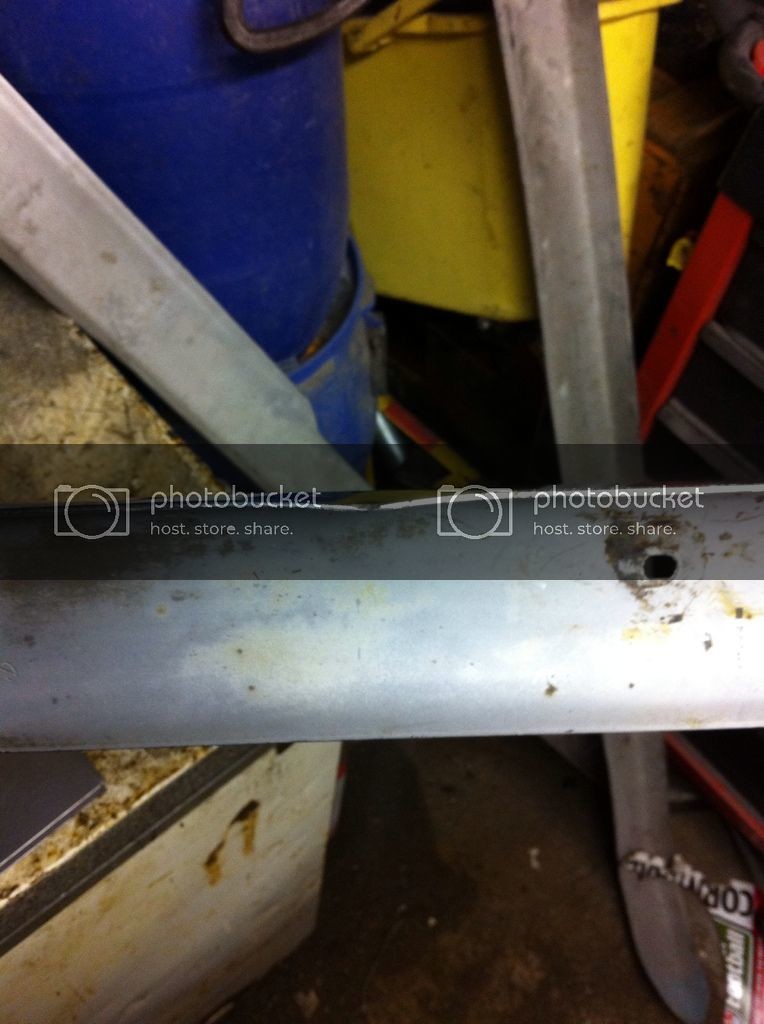 on the plus side after last weeks trouble I felt like I got somewhere today
1-6-2013
that would be autocorrect for chroming lol - where are you in the world?

I got some more welding work done yesterday which was good - its not a massive piece but its a part of a jigsaw of repairs in this area but progress is progress!

the larger section was the one I did before christmas - most of the welds have been ground back and a few more were put on to finish filling the plug weld I put in where the inner sill meets the outer and the little section was the one I did yesterday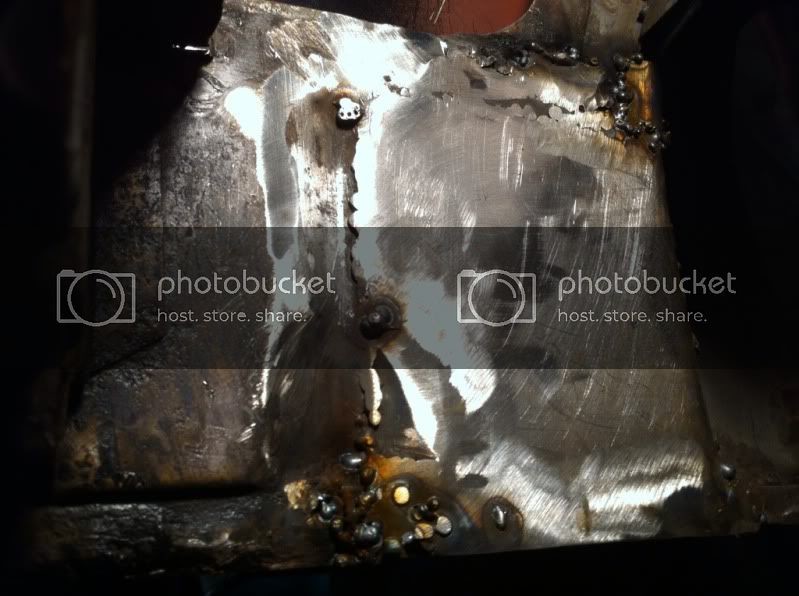 I have been trying to make the wheel tub repair where it meets the floor but its a complex shape - I can get the shape right but its the bend that I mess up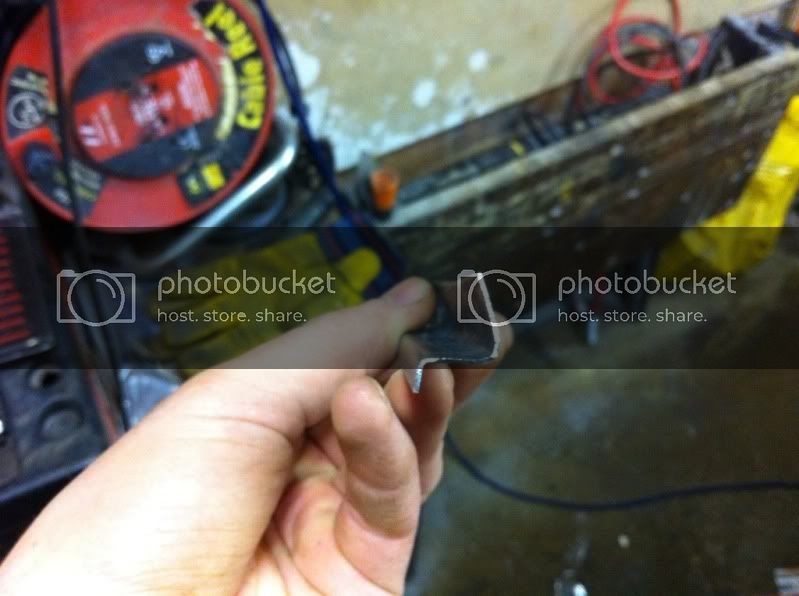 I have tried putting little cuts in to allow it to be bent to the right shape then fill the gaps with weld but it isnt the prettiest thing in the world - does anyone have any suggestions??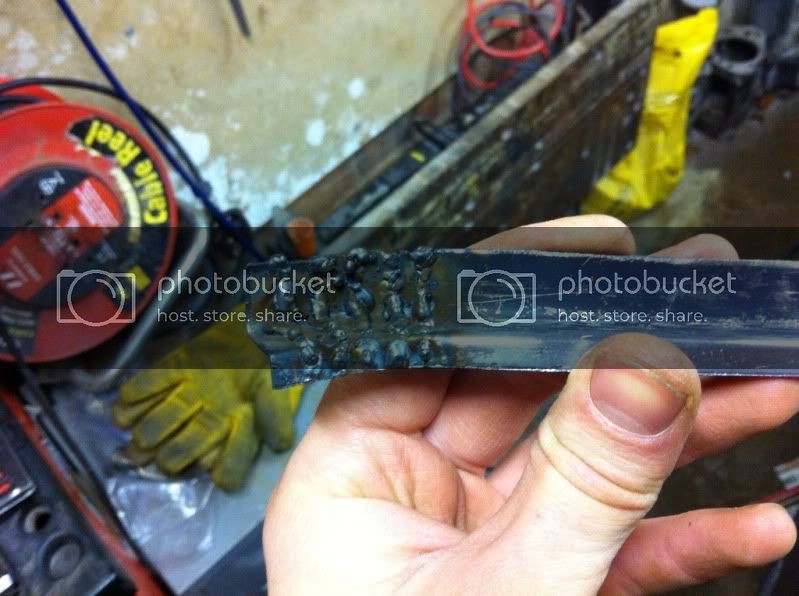 and the original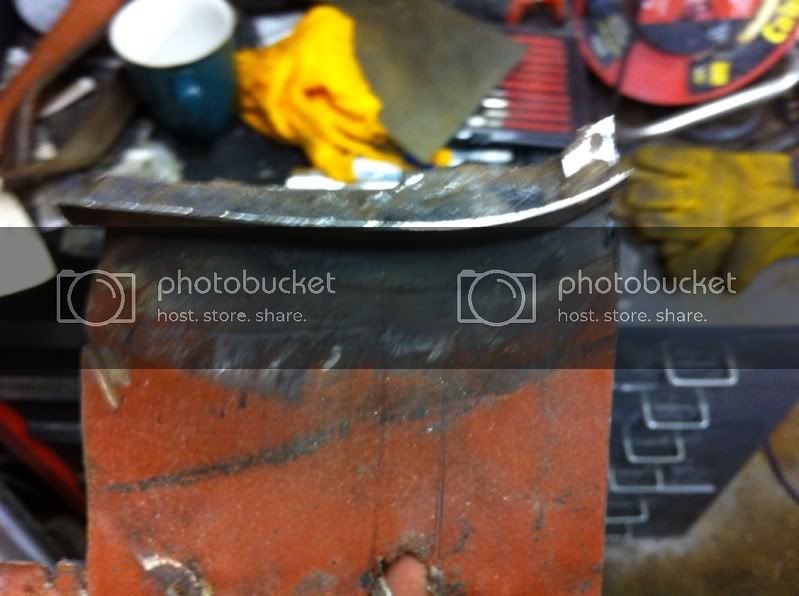 and the wheel tub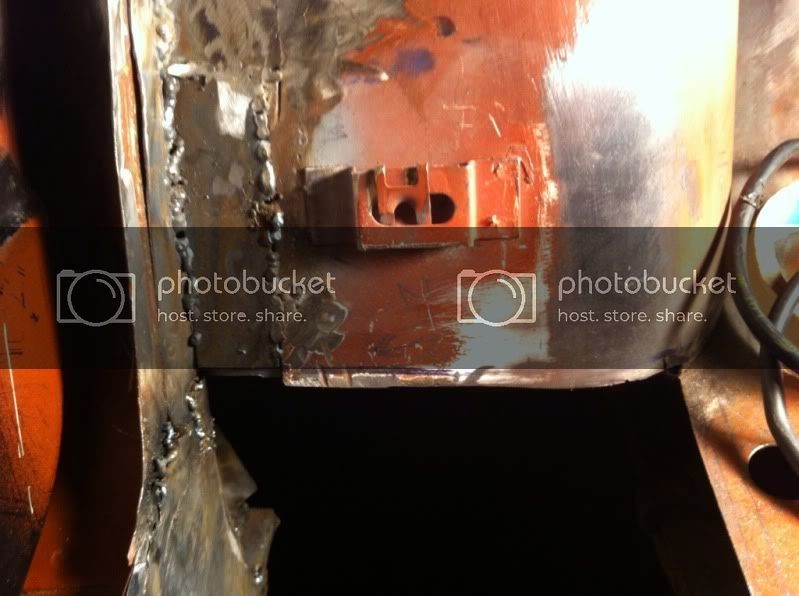 1-8-2013
you need a shrinker stretcher to do such curves, you stretch the outside and shrink the inside, you can stretch the outside easy enough using a hammer, it's the inside that's the difficult bit, it's much more difficult to shrink than stretch!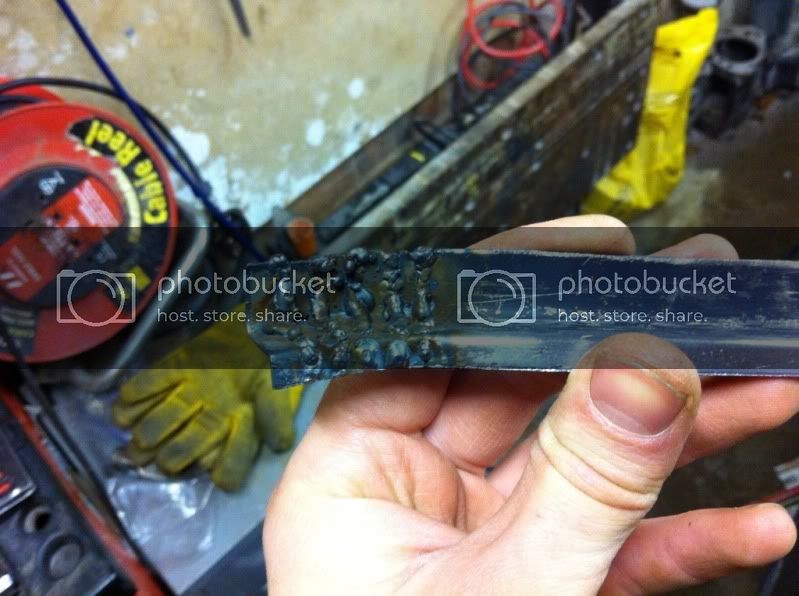 1-9-2013
I spent an hour on the grinding, there is a little more to do but its looking better than i'd though and with a bit more work itll be very useable

it even fits!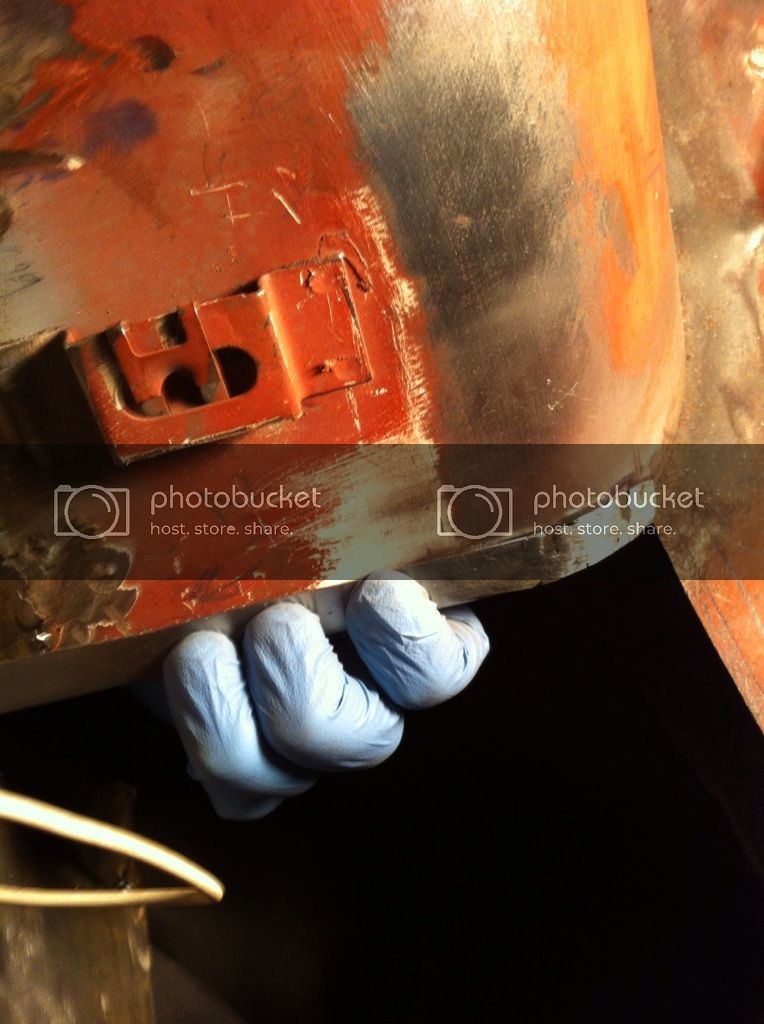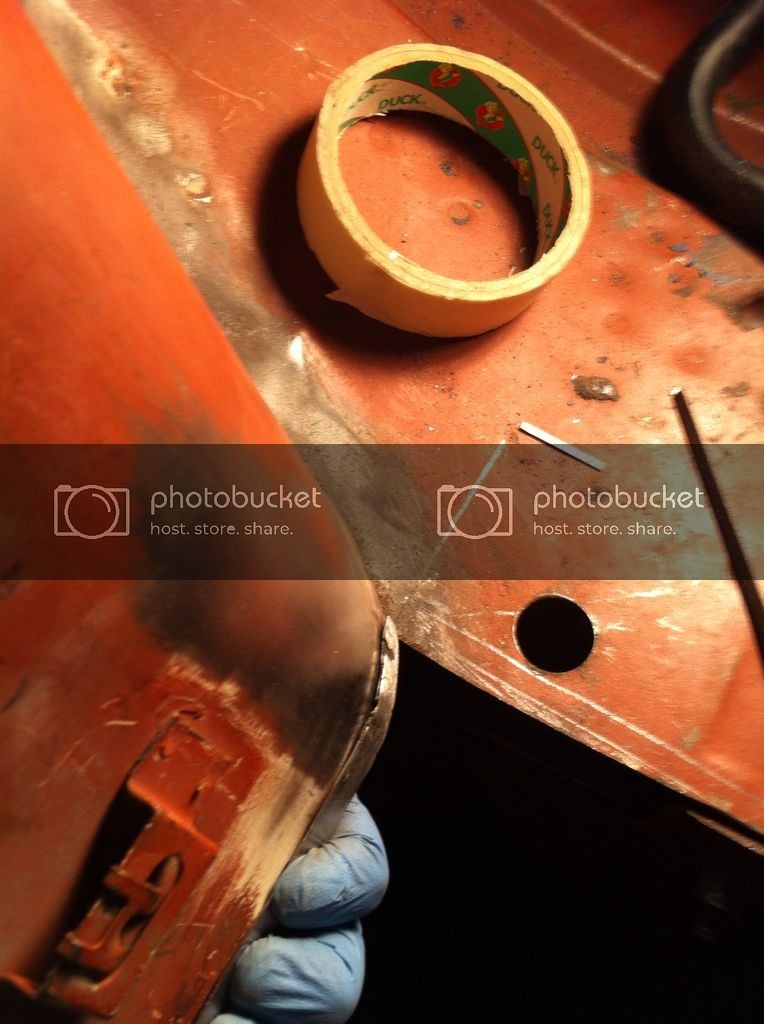 4-24-2013
its been a while! I replaced the floor pan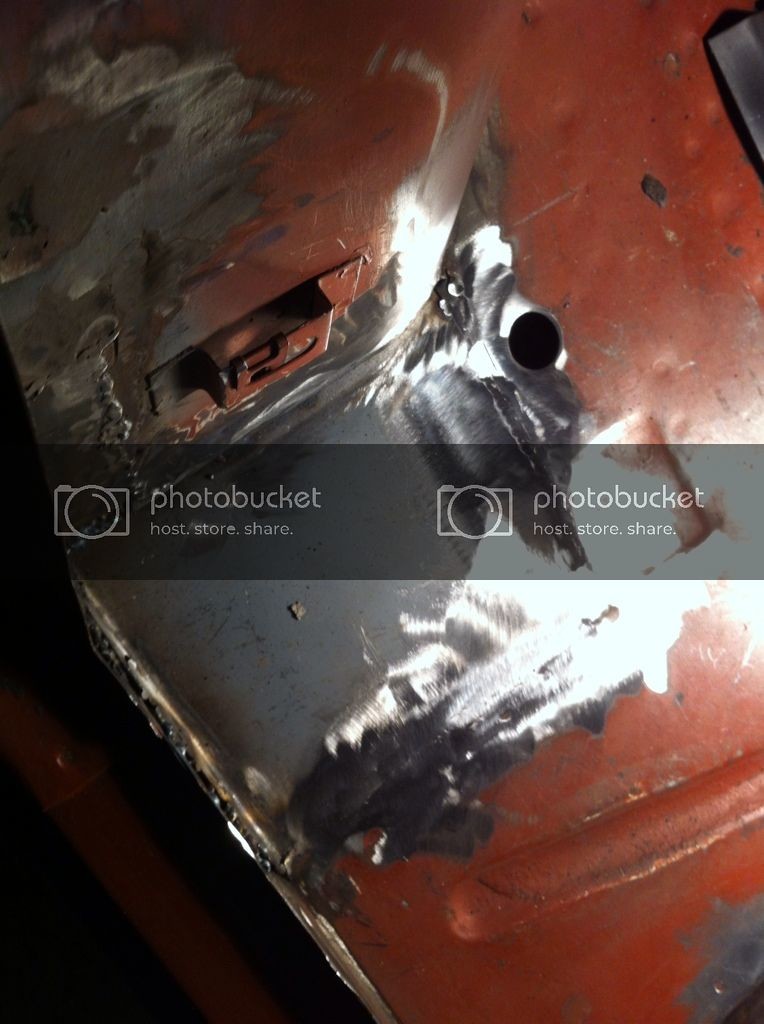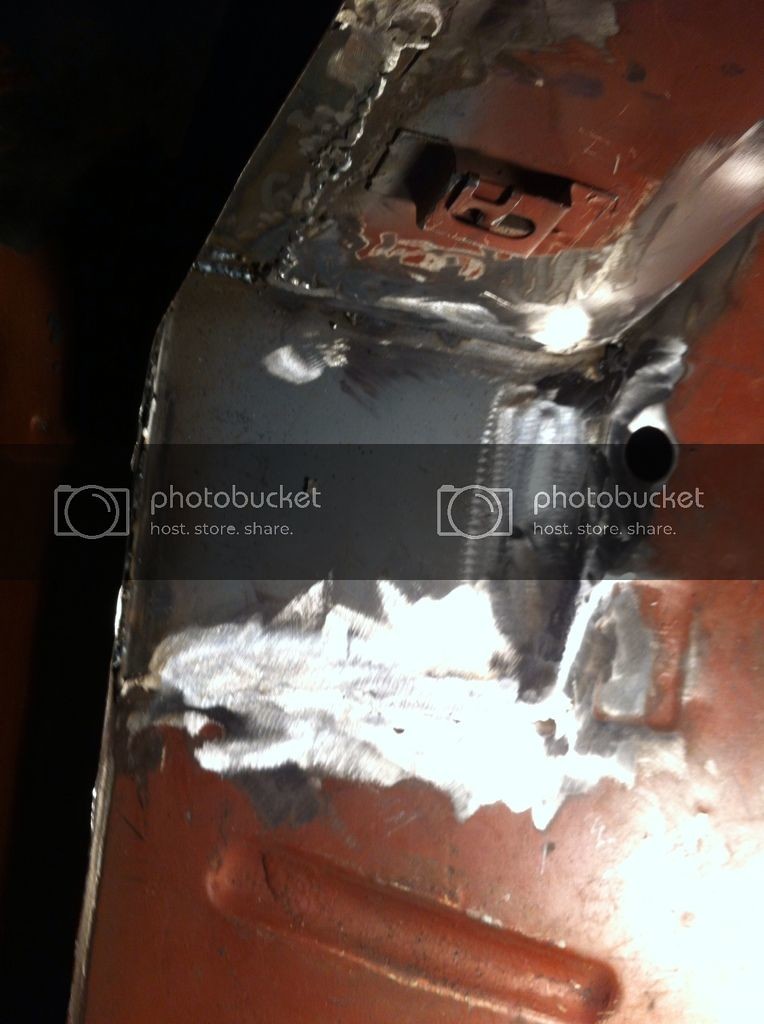 but I have been stressed about some of the other repairs that need to be done so I have found someone who can do the big bits for me such as the floor pan and the rear outer panels so I have got all my panels ordered and she will be going away for work in a few weeks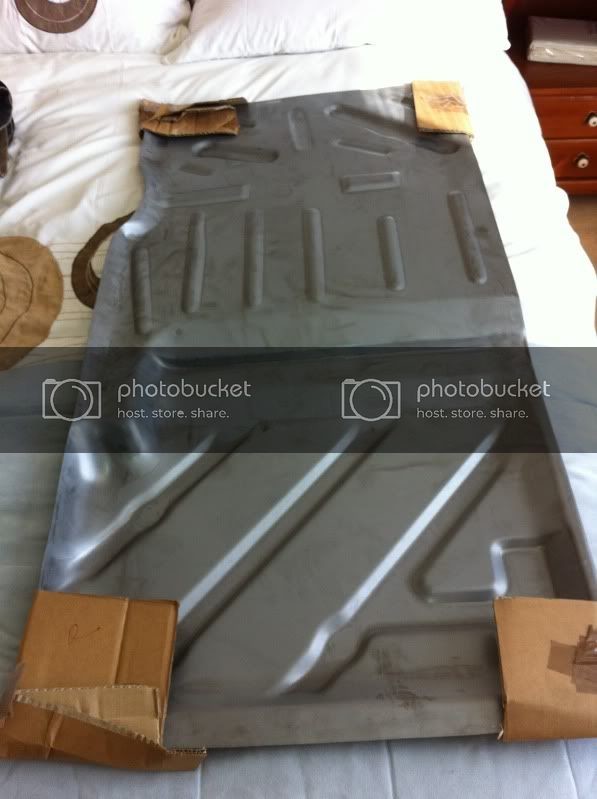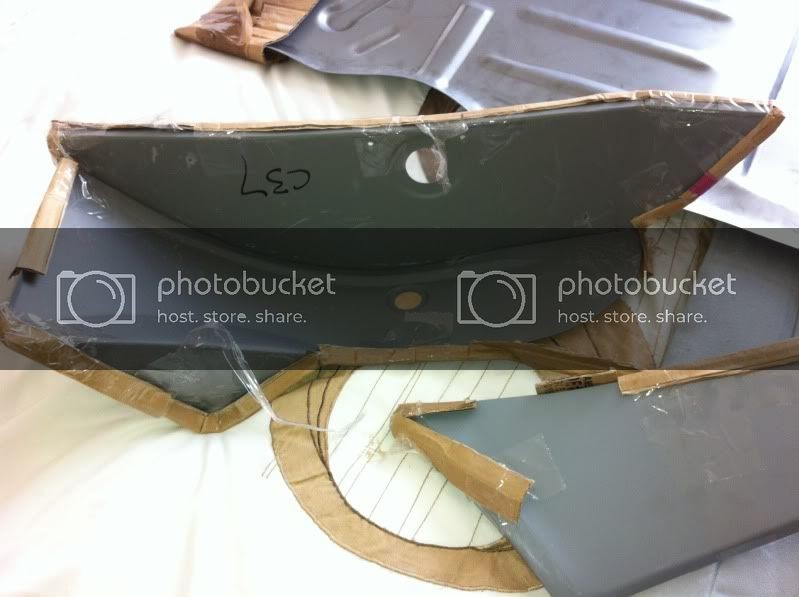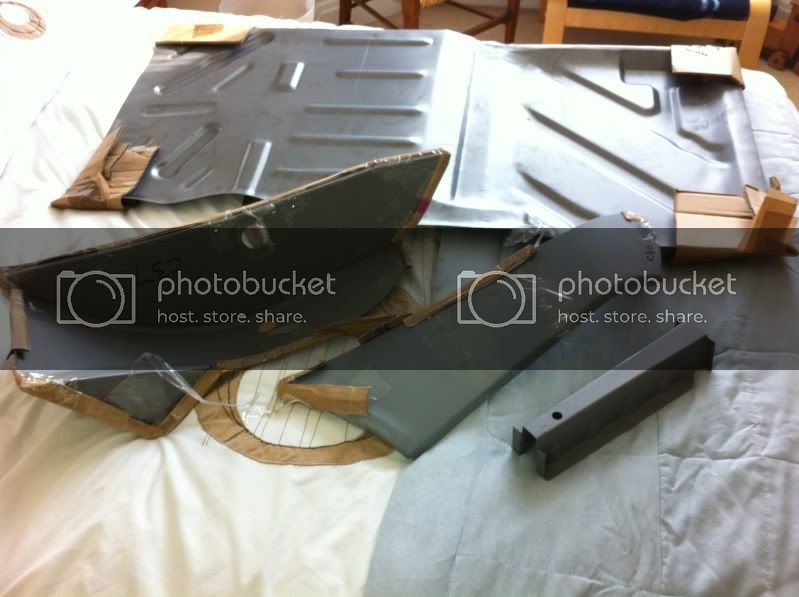 whilst selling body parts to raise funds for panels I have been looking for other things to be getting on with so I decided to play with the engine - I wanted to make my own exhaust and one of the manifolds I have is too far gone to be repaired so I thought I would borrow the flanges from the manifold to get me started
sorry for what comes next....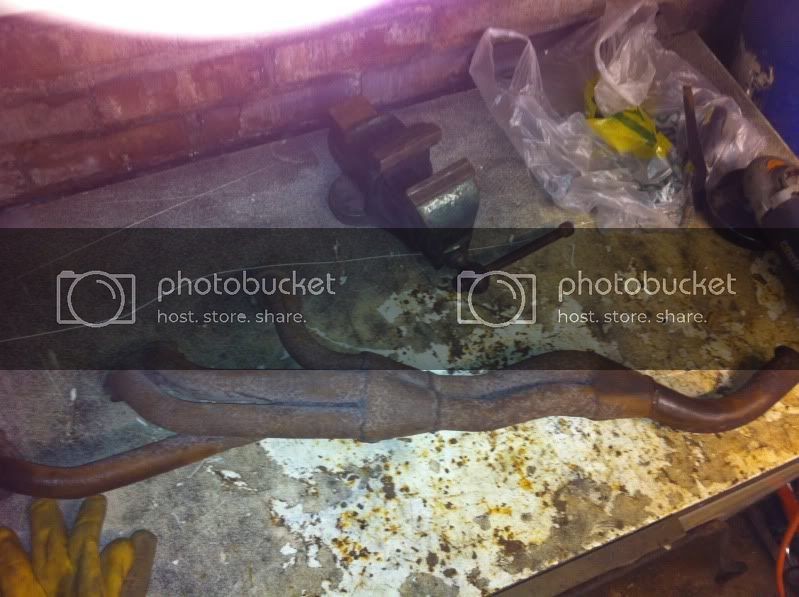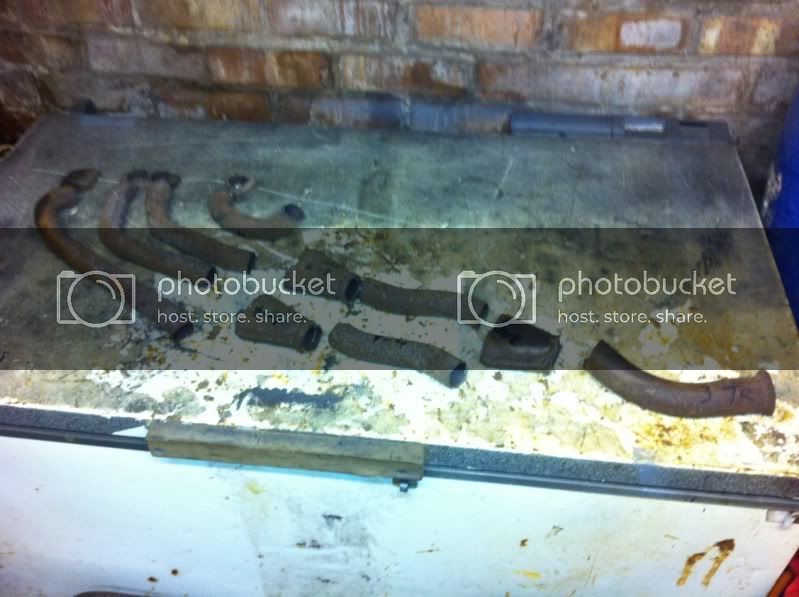 I have tried the flanges on the head to see how they measured up with the ports on the head and considering that the head and manifold came from different parts of the country and haven't been match ported before they line up much better than I thought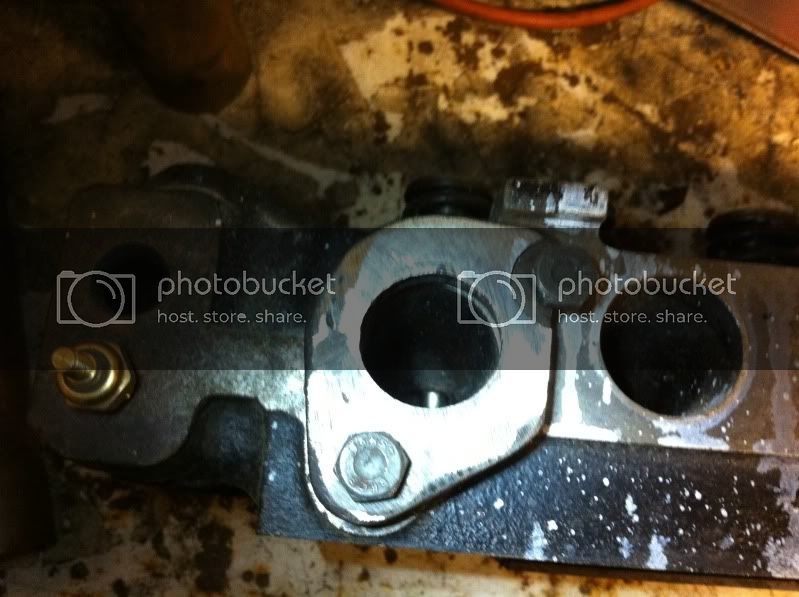 the metal in this is where the runners were taken off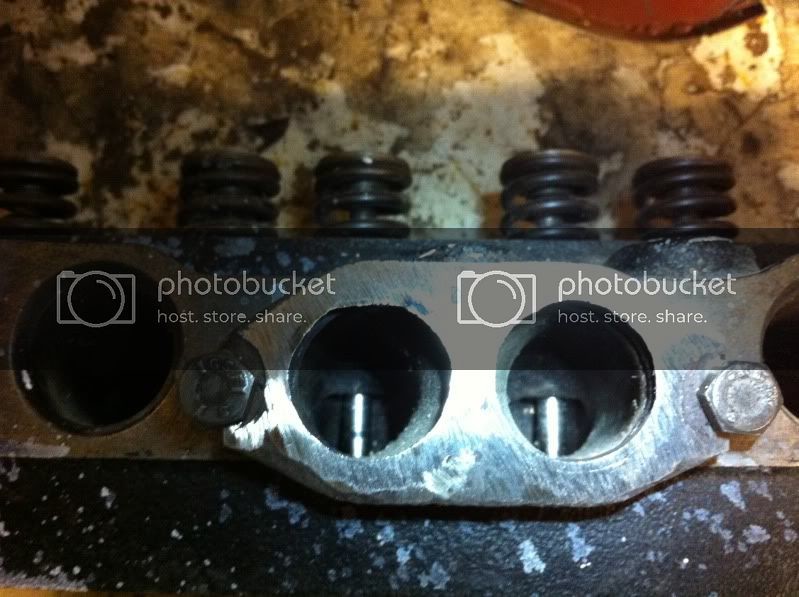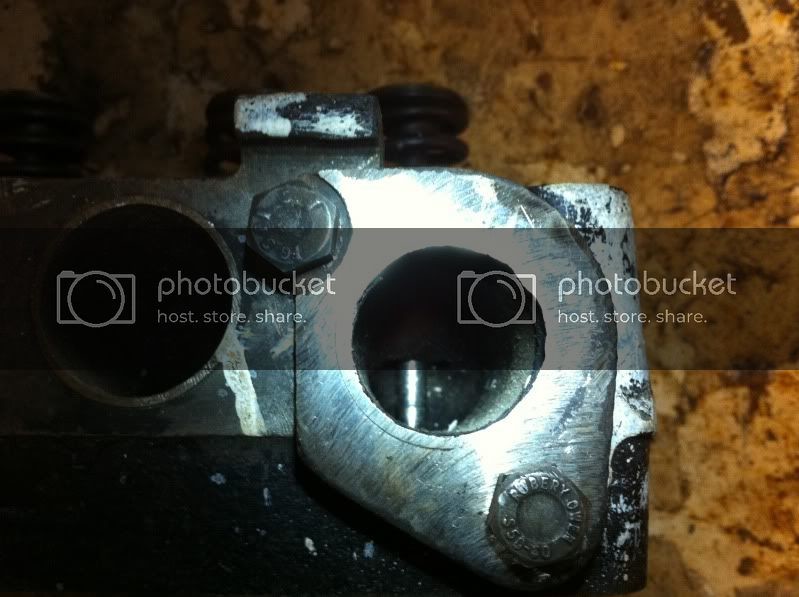 5-2-2013
I have a few questions to ask - the first one relates to my daily which is a mk4 golf which is standard ride height but I managed to catch the sump on a pothole in derbyshire, the cortina is going to be lower than the golf and the sump does sit low within the car which is a concern on speed bumps as this pothole thing is just a one off so what are my options?

a winged sump with the same capacity or do i consider a sump guard but I want the car to have a clean look
I don't want a repeat of this!

Before all that though I was at the Donington museum which was great fun and whilst I was there I picked this up for some retro wall art!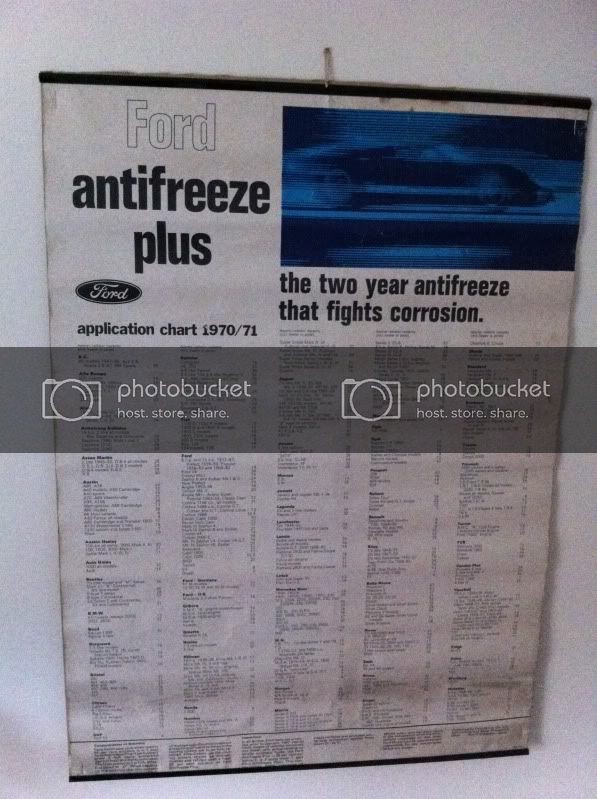 to keep myself busy I have started to look at a few other jobs, I bought this radio a few years ago it was untested but told that it is working but I figured I'm not too fused about the radio side but I could get an ipod or something to run through it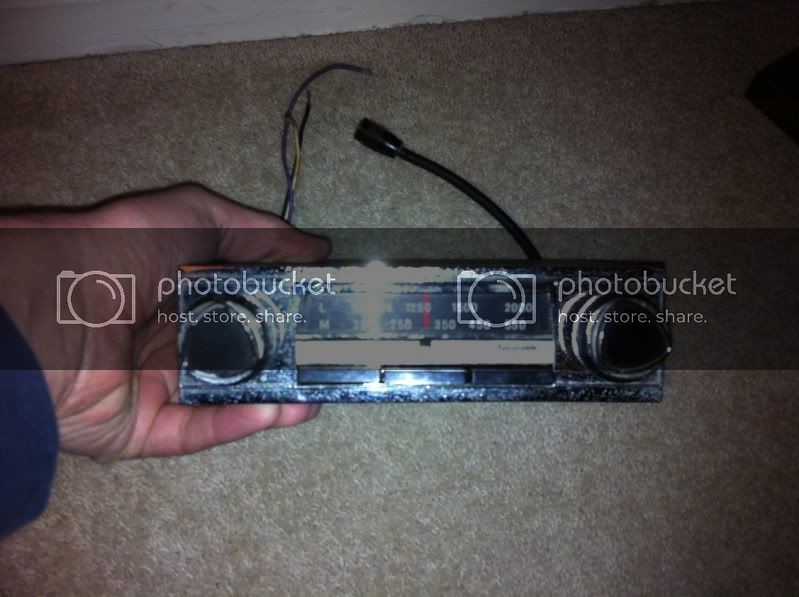 the next question is I have 3 wires coming out of it a black, white and purple but I have no idea which is for what?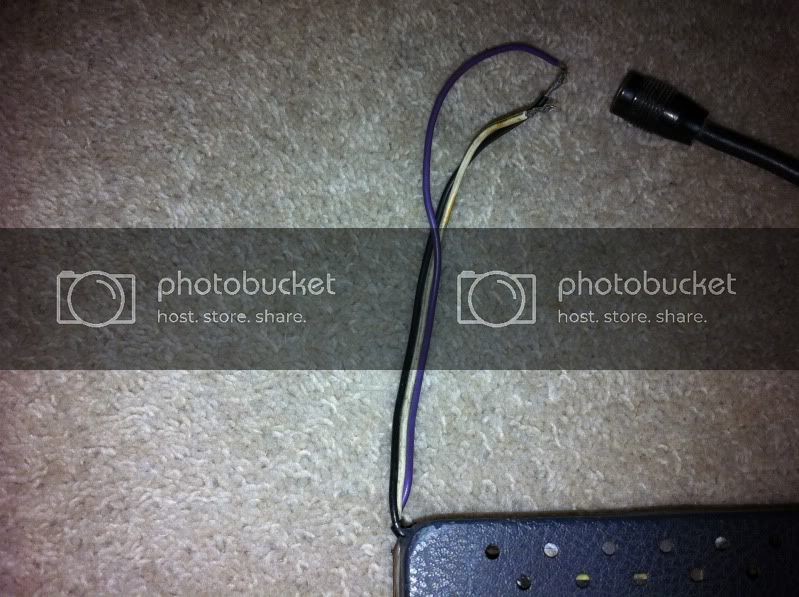 as far as I understand it to get a phono jack wired to the radio I need to add some wiring to the volume knob is that right? has anyone done this?
5-8-2013
It turns out I was wrong after putting my google fu skills to the test and as it turns out the body is earthed and the purple is the live!

now this leaves me with a dilema in the future because as far as I understand these things (which isnt that well) this radio is Mono - could it be wired so that 2 speakers are used or will 2 drain the system too much and it will be quiet?

well I did a ghetto lash up and with a screwdriver ariel I got some crackles when turned on but I figured that there is little going on MW and LW but as long as it gets power its onto the Ipod conversion!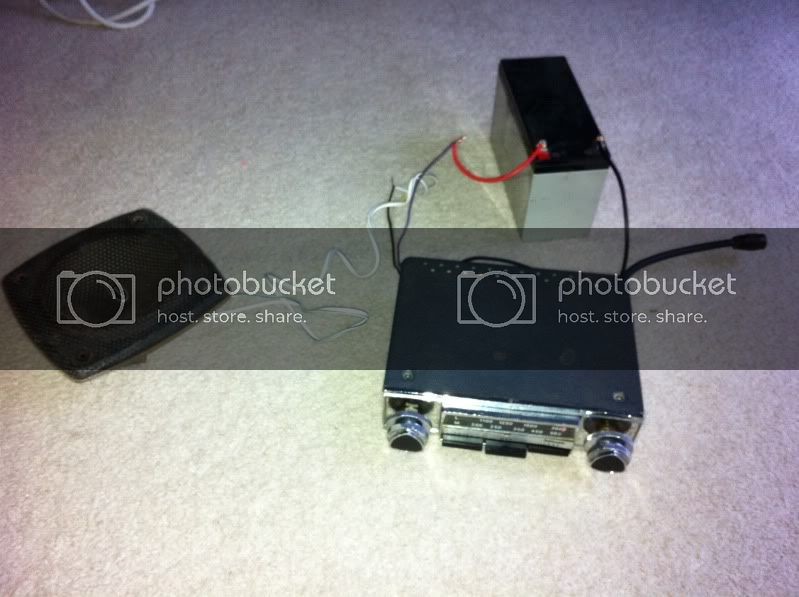 5-14-2013
thanks Dam, I got the bellhousing by the way.

Well the big day came yesterday - Tina has gone to spend sometime with the welder who will get all the big jobs done so she was dragged out and I took a few before photos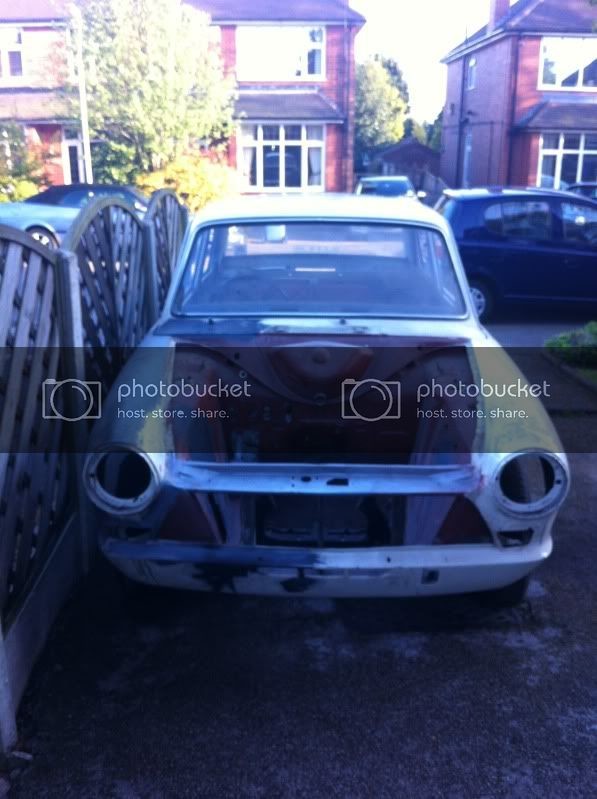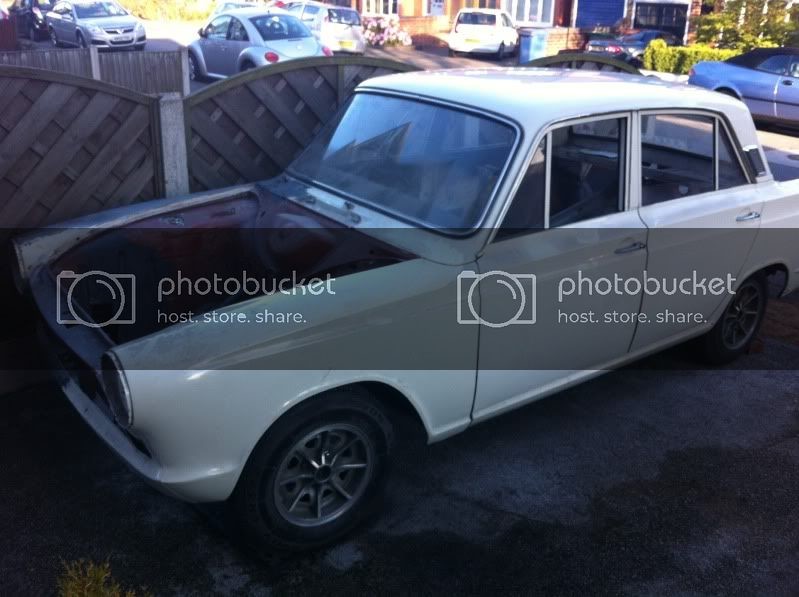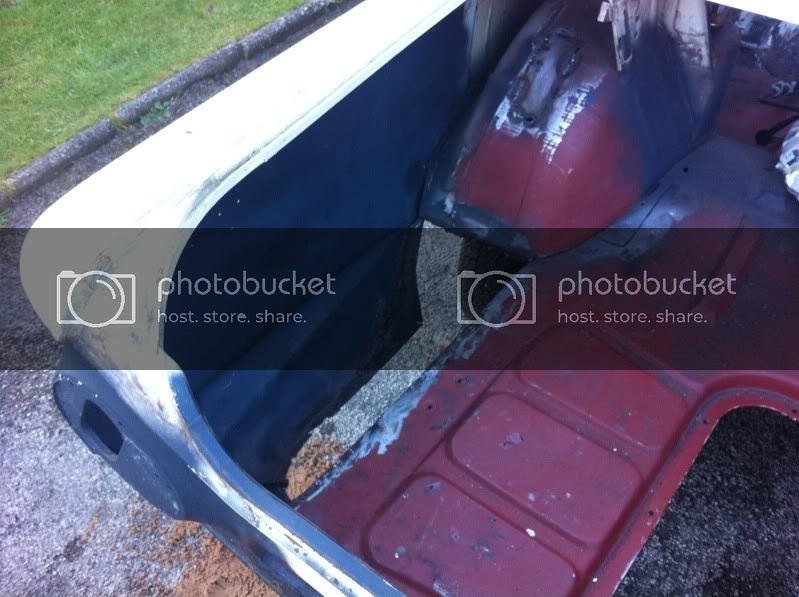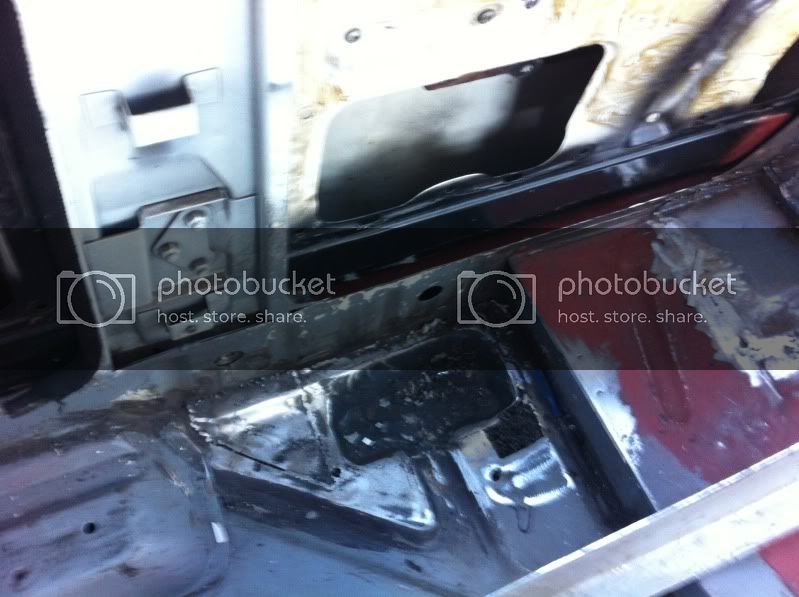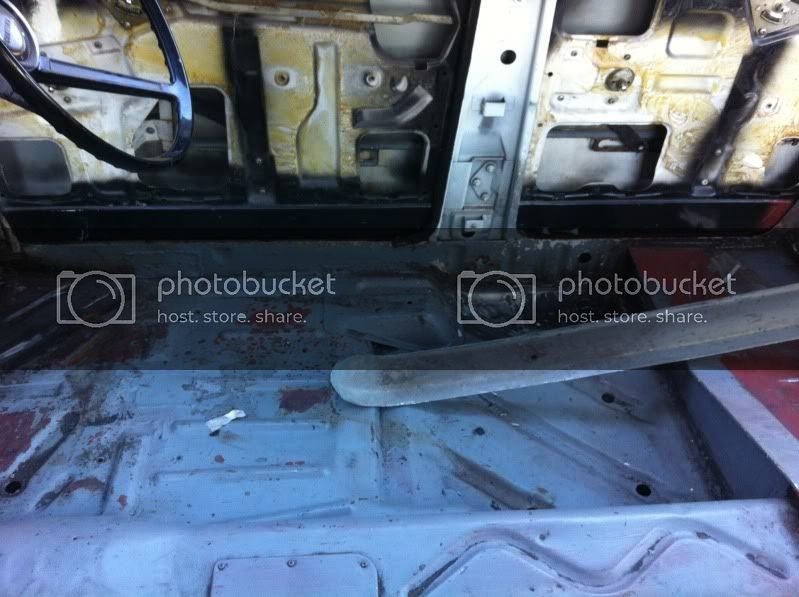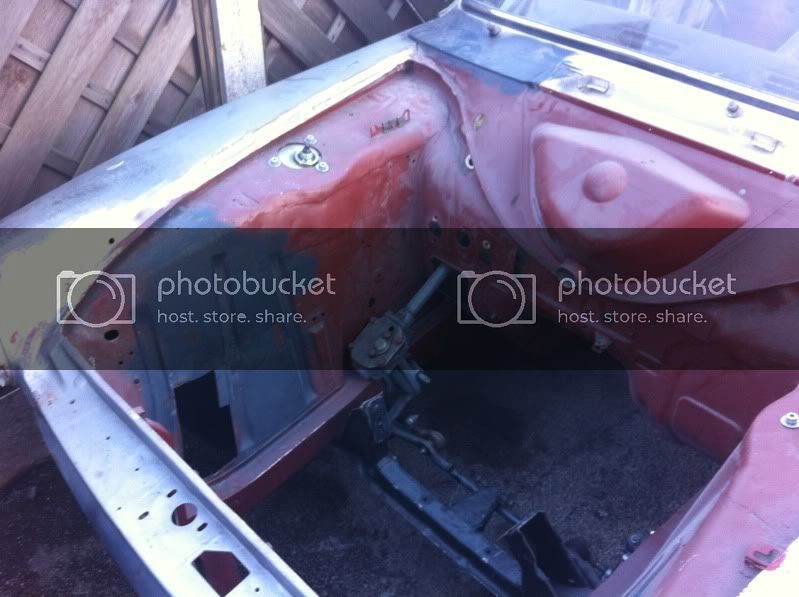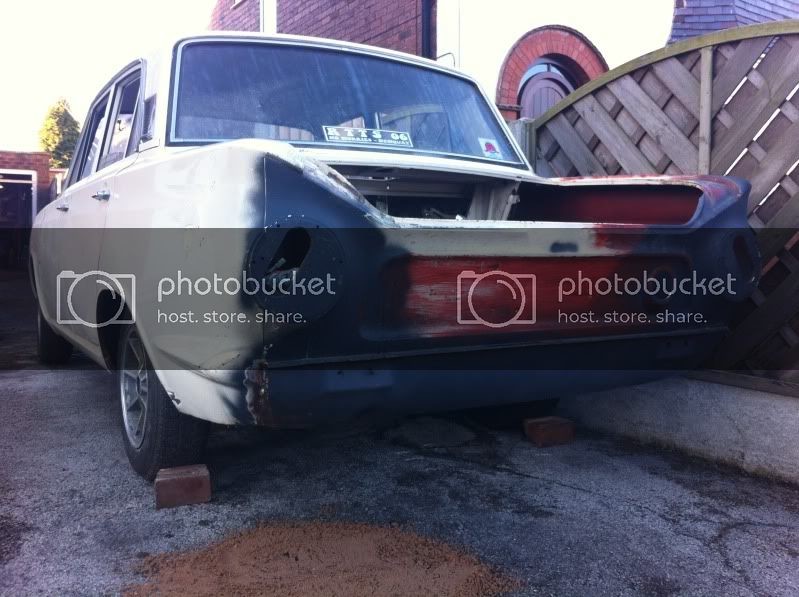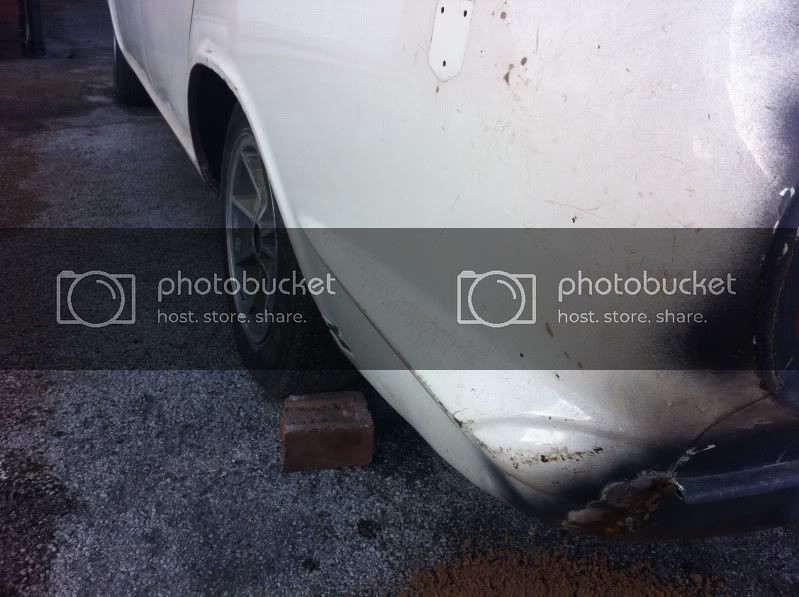 it was nice to have her outside and i feel like we are really getting somewhere now

she will be away for a few weeks so I am planning on clearing out the garage and getting the floor painted etc so the garage is a nicer place to work in
6-4-2013
A quick update - basically she is still away on holiday but on the plus side I haven't had any expensive phone calls!

In the meantime I am looking into what changes I need to make to go fuel injection but I need a few questions answering;

Has anyone used megasquirt? an opinions and advice would be great and has anyone built their own?

Would a pump and swirl pot be ok or do I need to baffle etc the fuel tank?

Any tips for making a bike throttle body inlet manifold?
6-25-2013
Its just a little update but shes still at the bodyshop as they haven't had anyone to work on her but its ok I did take a few snaps after we'd talked over what the plan was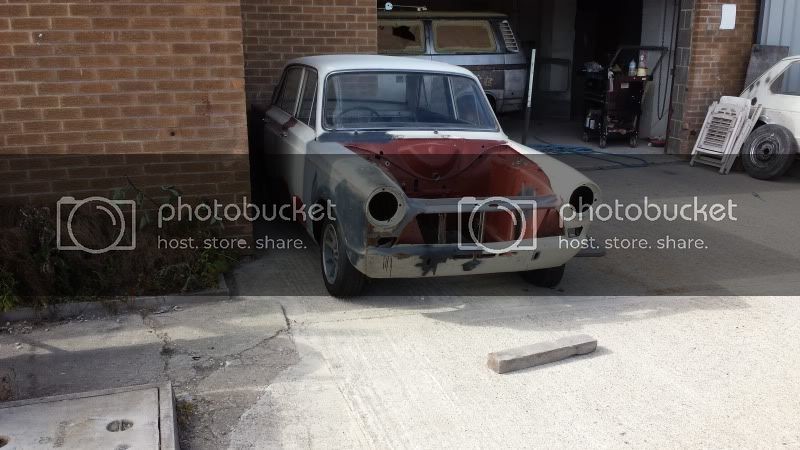 She's made a friend though!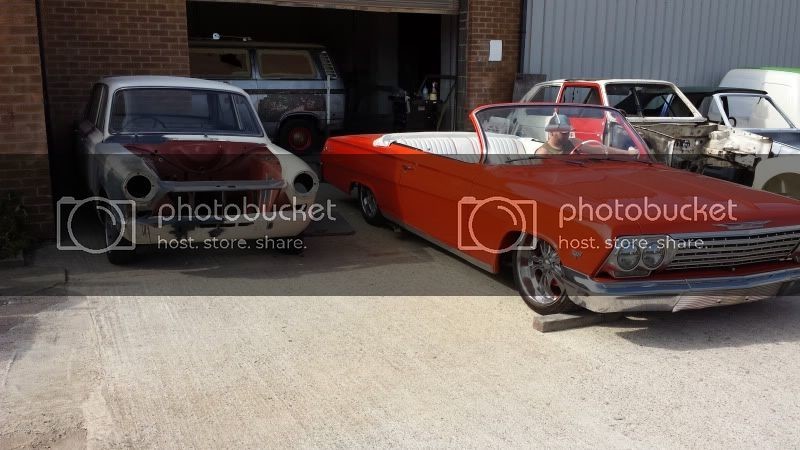 7-23-2013
I went to see how the car was getting on and it is nearly done with a few pieces to finish before I can have her back!

the drivers floor has been sorted after I made a mess of it and looks like its been there the whole time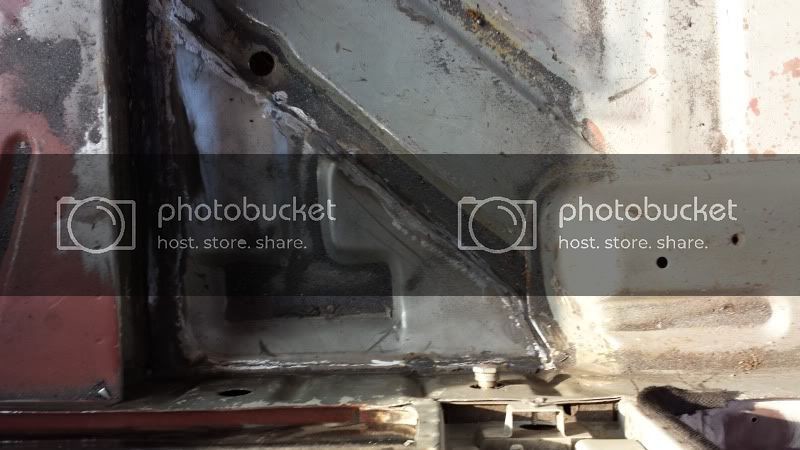 the inner wing has been plated and is looking the way I wanted it to minus the surface rust mind!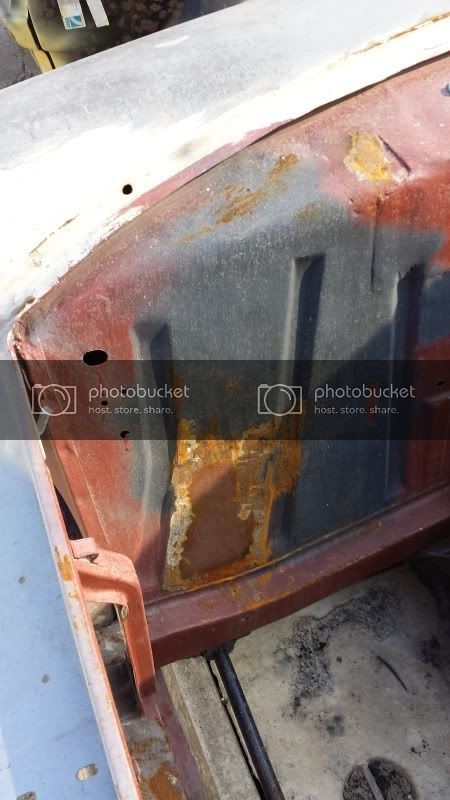 there has a been a problem with the NS jacking point and the front chassis leg where the repair had been done as it had been bodged in the past which was to be replaced but the repair was done in a way that it has let water and other stuff in so its rusted from the inside out

not the best pic by the way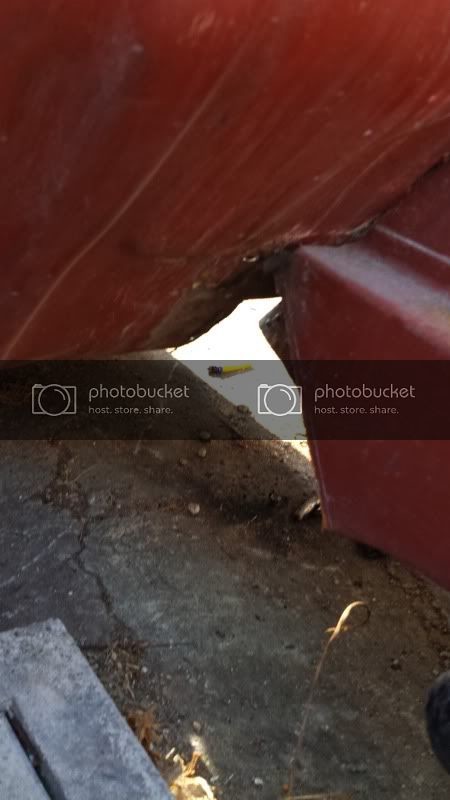 old vs new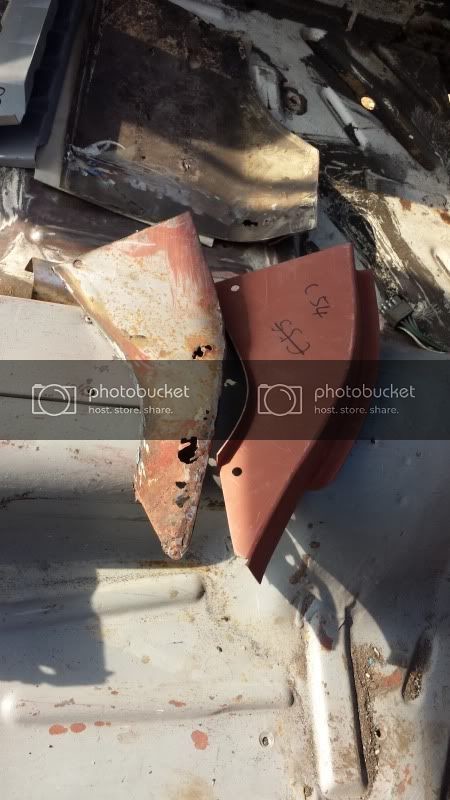 the old jacking point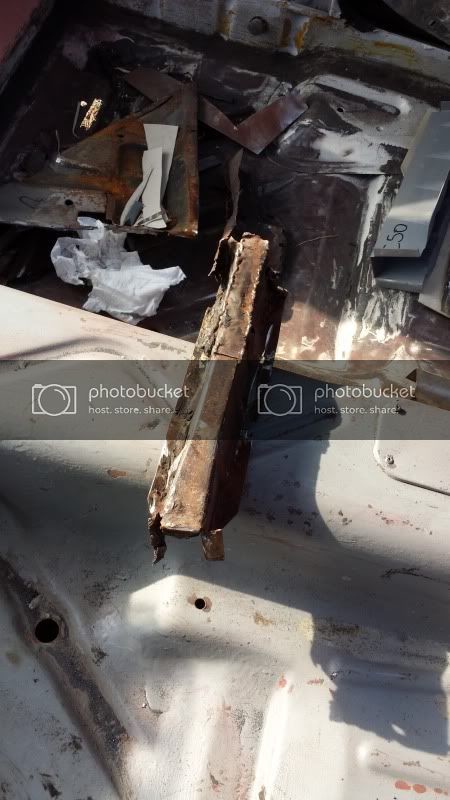 the other major problem has been that the shape of the spare wheel well panel doesn't quite fit as well as it should leaving a big ish hole where water and other stuff from the road could enter the car so the panel will need to be modified to suit the car better but it should'nt be an issue
7-29-2013
Having spent the weekend at the Silverstone classic I did get some mojo for the pre crossflow especially after seeing the lotus F2 I think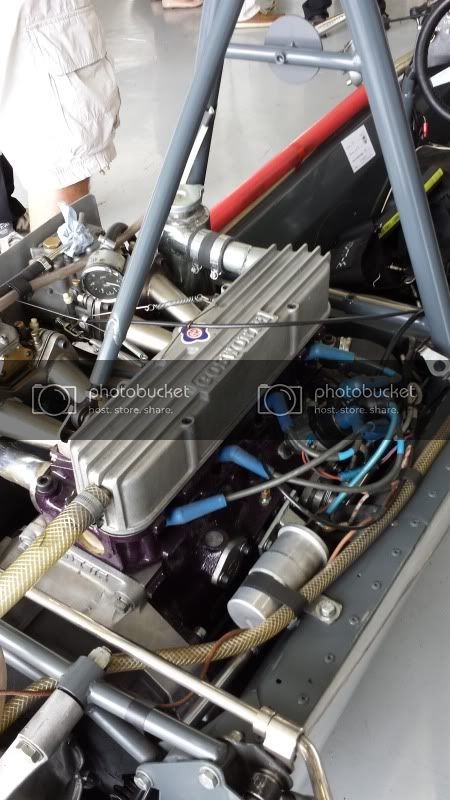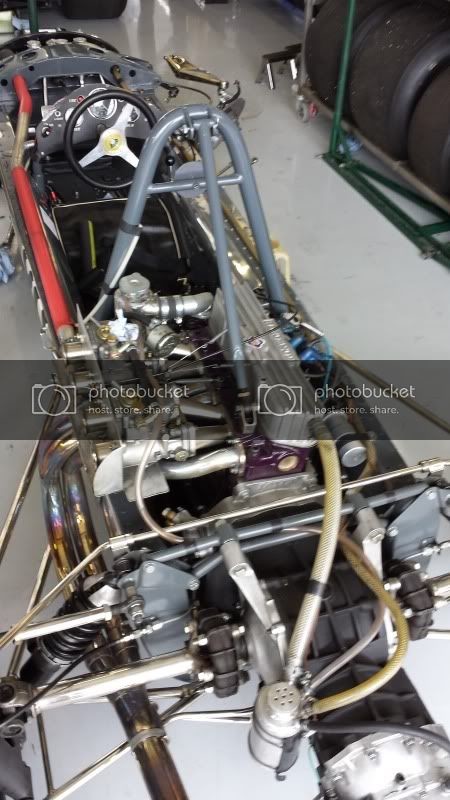 8-15-2013
After several weeks and a wedge of cash the Cortina's welding has been finished which is great as I can start trial fitting stuff before paint which is odd becasue I haven't seen it with parts attached to her for years!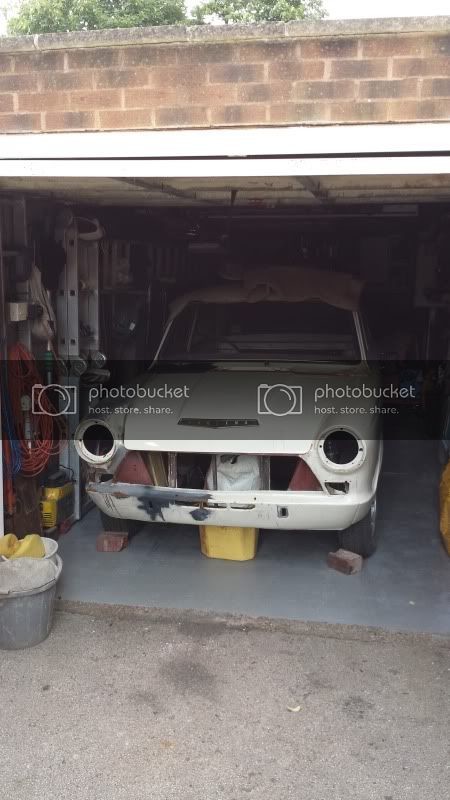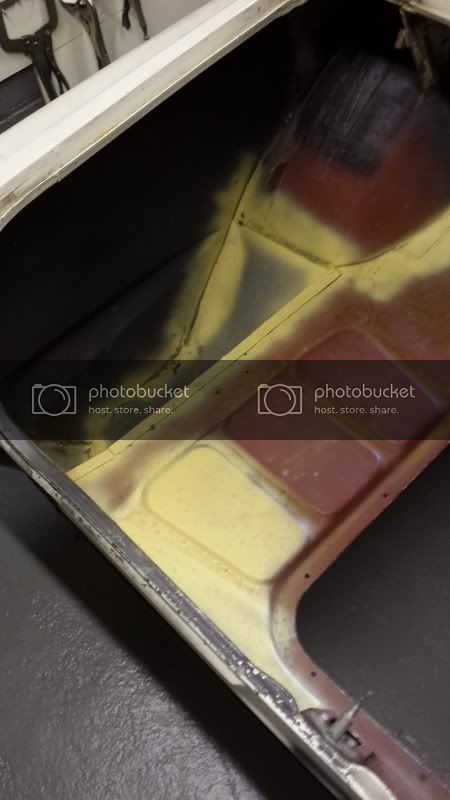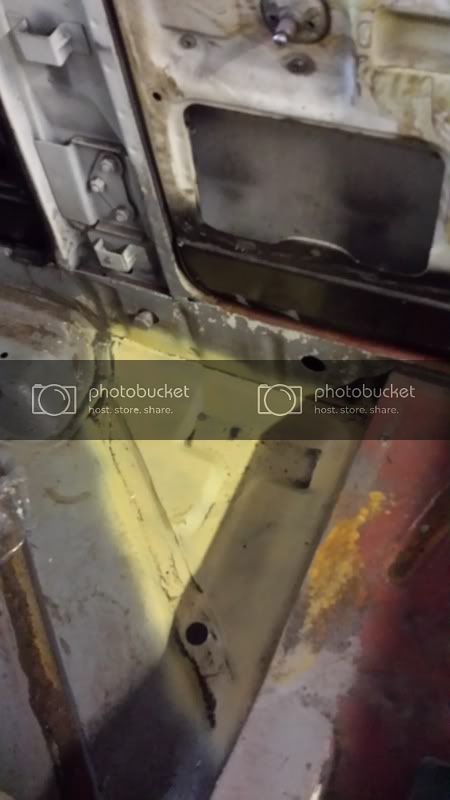 I'll get a few more photos later, I will fit teh bonnet at boot lid properly too so that she looks a bit more like a car
8-19-2013
Thanks Clement, it was nice to get some parts on in preparation for tweaking the loom etc

I started with some basic bits like the rear lights - this is my fave photo at the moment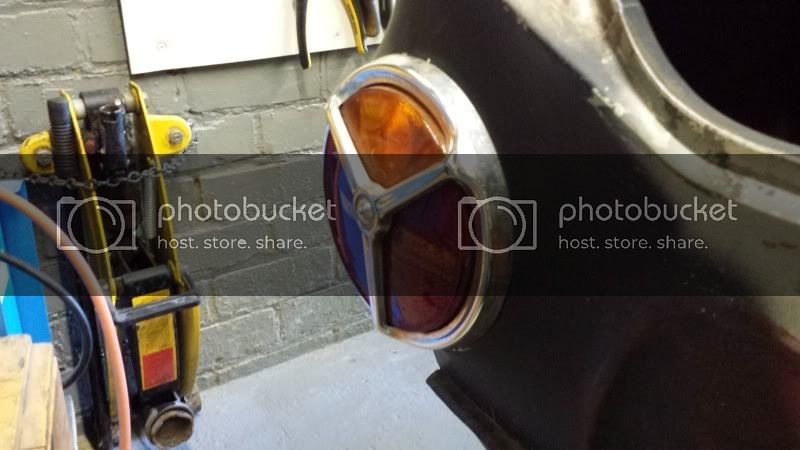 the heater dropped in but it weighs a ton!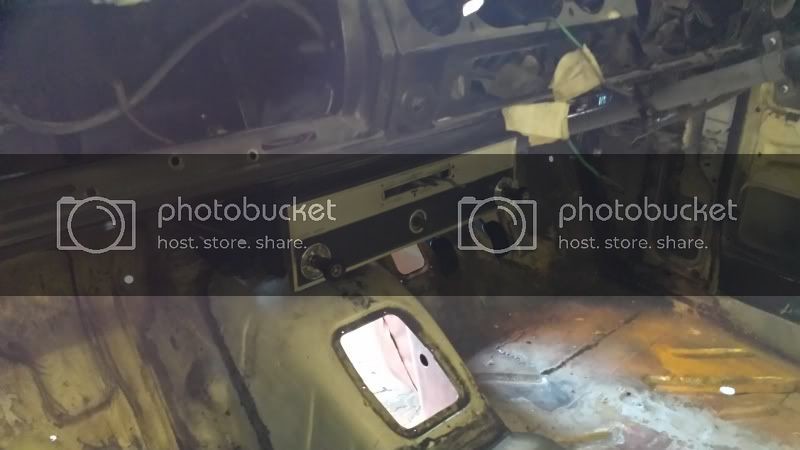 Smoothed inner wing with the battery tray no longer up front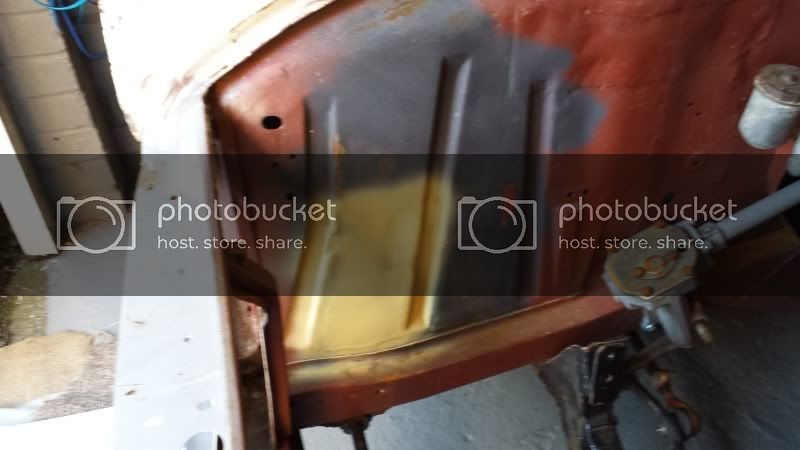 the pedal box has gone in and the old master cylinders are there to check for clearnce, I would like to keep the throttle linkage in place but somehow blend it with the twins I'd like to fit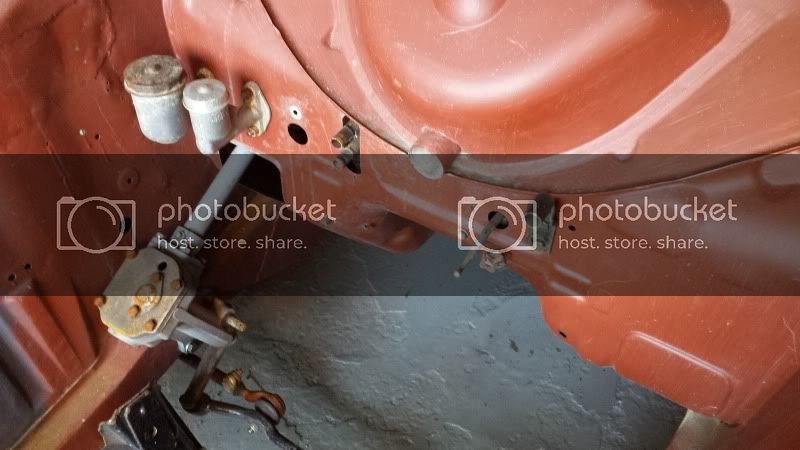 I would like the battery tray in this area I think I may pick up a scrap yard battery for the time being as I just need something that will power the lighting etc while I check that everything works and the fuse box I will be fitting works too!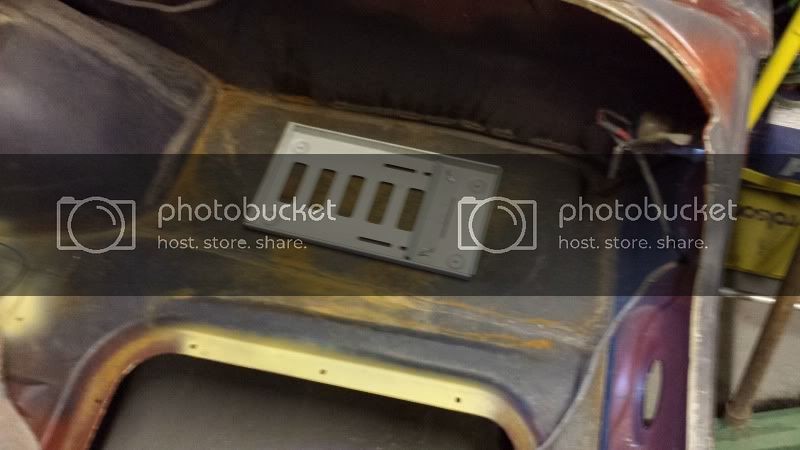 11-22-2013
Its been a while but I have been getting jobs done but its nothing worth posting.

I have had a crack at wiring the radio to recieve an aux in but I'm not sure where I am going wrong does anyone know what I'm doing wrong?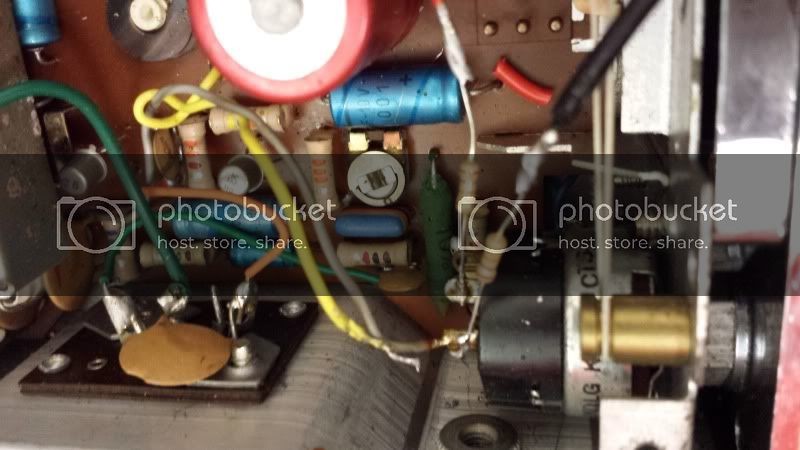 I have used 2500 Ohm resistors but I get nothing coming through the speakers

My next problem is that I have light surface corrosion on the head and block where they meet - I was hoping that I could use a little bit of vinegar and lightly rub with wire wool to clean the surface as it shouldn't affect the level of the head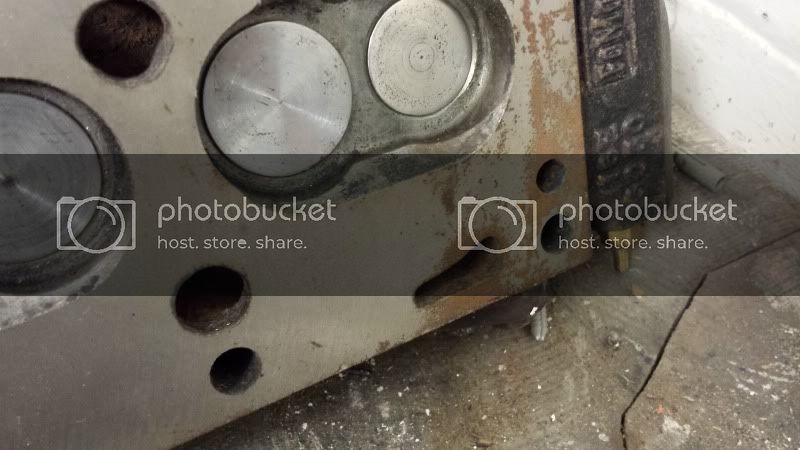 1-11-2014
Its been a while with christmas and new year etc but I have managed to sort the head using white vinegar and autosol!

My daily golfs battery was starting to give up on life so I had to replace which means tina has a battery I can use, with a bit of a recharge and using a jump cable for an earth I have managed to start trying out the loom so for the 1st time in 7 years I have lights!!!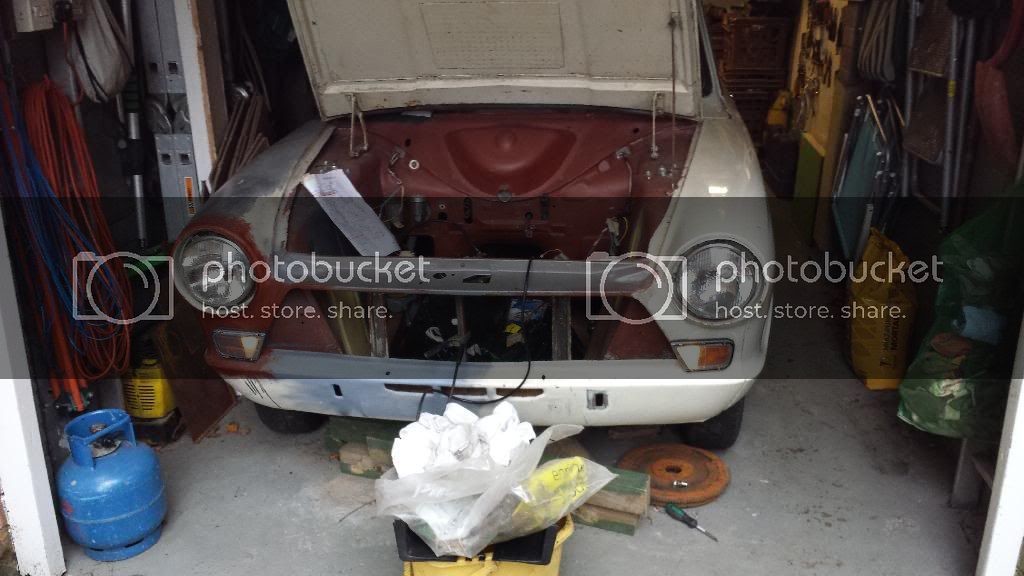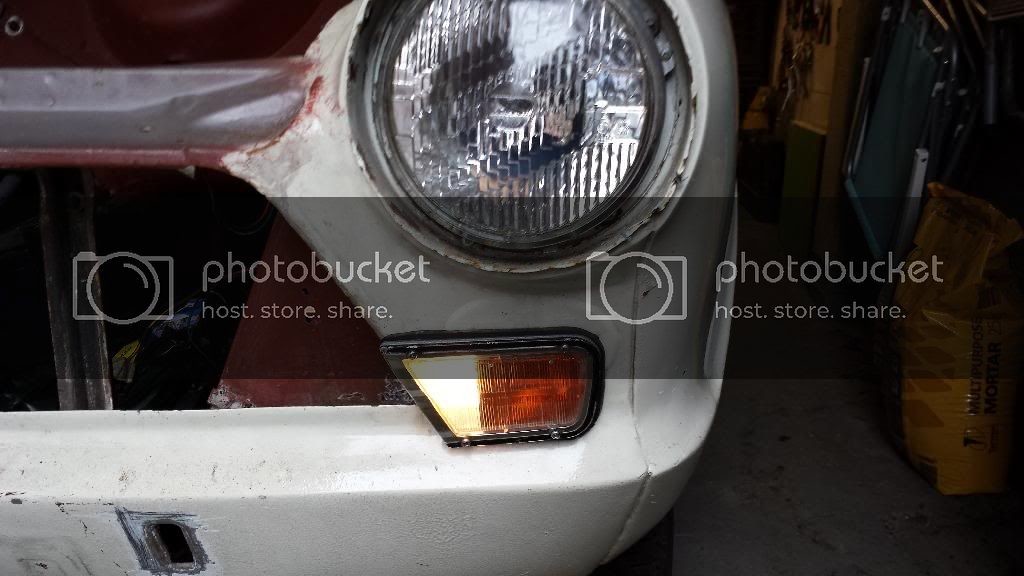 the side lights work as to the headlights but I can't figure out why I can't get full beam, I don't get dash lights and the tail light isn't wired up right!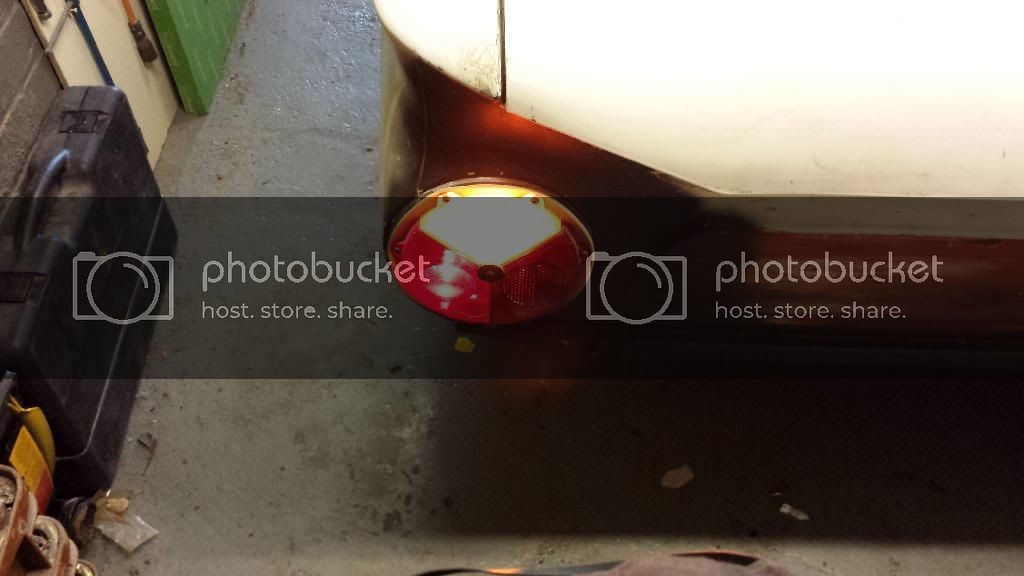 the indicator isn't on by the way!

I'm not an electrician so this is all pretty hard but if anyone knows any tips or things to try to fix it please tell me!
1-14-2014
Jpsmit thanks for the tip, it wasn't till I read that I noticed how dirty the connections were so I have started to clean up the connections and it is making an improvement.

79Cord it turns out that I am a clot and confused the green/yellow wire (tail light) with the green/red wire (indicator)which is why it wouldn't work!

in the last few days I made a few copies of the wiring loom and with my bestest tastiest crayons I have and coloured in the lighting loom to make it easier to read, I have one for the engine, charging circuit and extras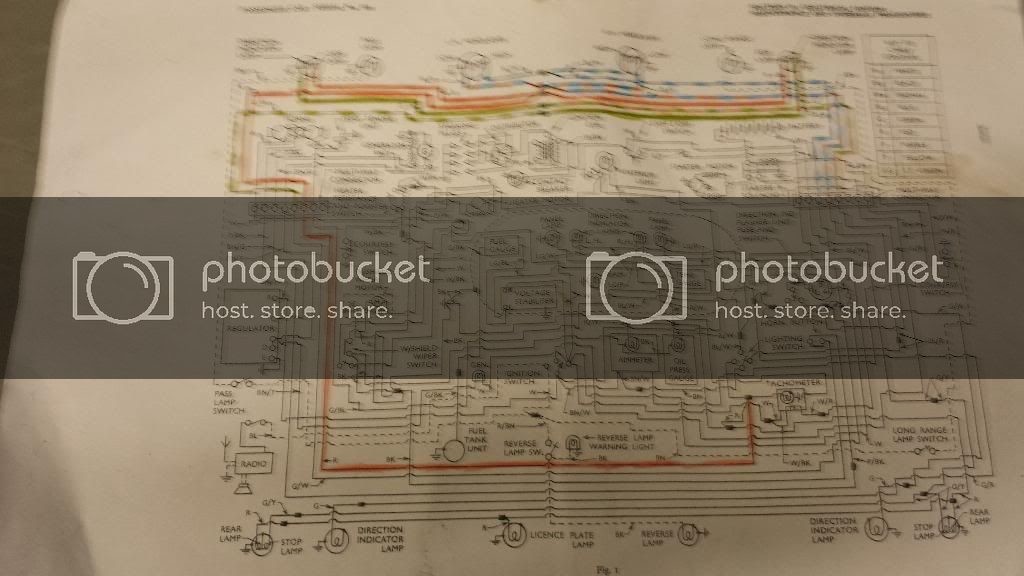 Tonight I have had a little play after work despite the cold the dusk helped me see the lights working properly which has been useful and after 5 mins of cleaning terminals I got this result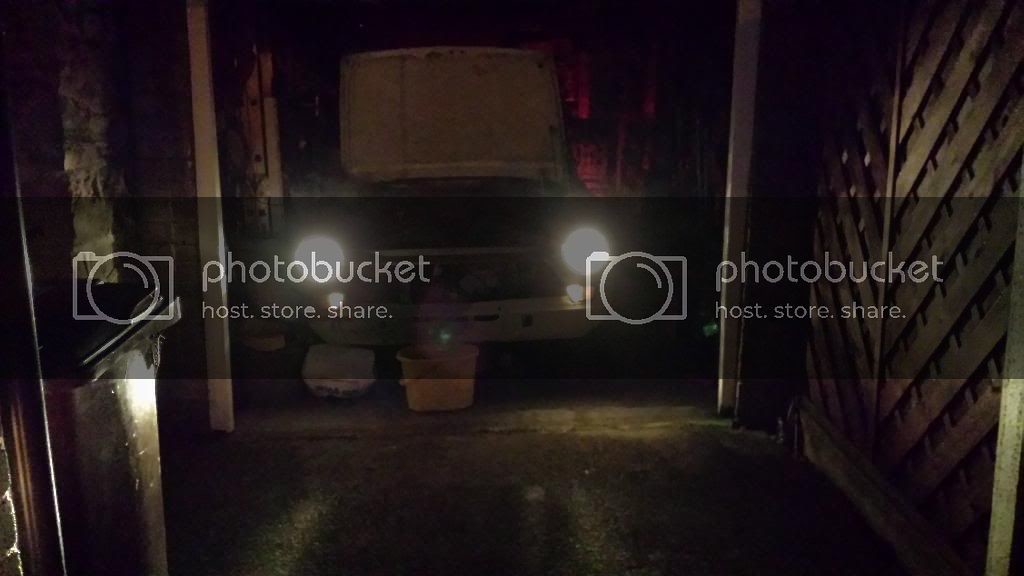 Full beam works too all I need to do is fit the numberplate lamp. From there I got cracking with the gauge lights which have been bugging me for days then I remembered the first day I drove it in the dark - I had spent the day learning how to drive the car when I found a random switch under the dash which as it turns out allowed me to turn the dash lights off but I didn't see the point really!

The switch was pretty knackered and a few years ago I made 2 bridge using a piece of wire and 2 male connectors and it stayed that way for 2 years... then I found tonight that the wire wasn't that well done so it was my fault but I have fixed it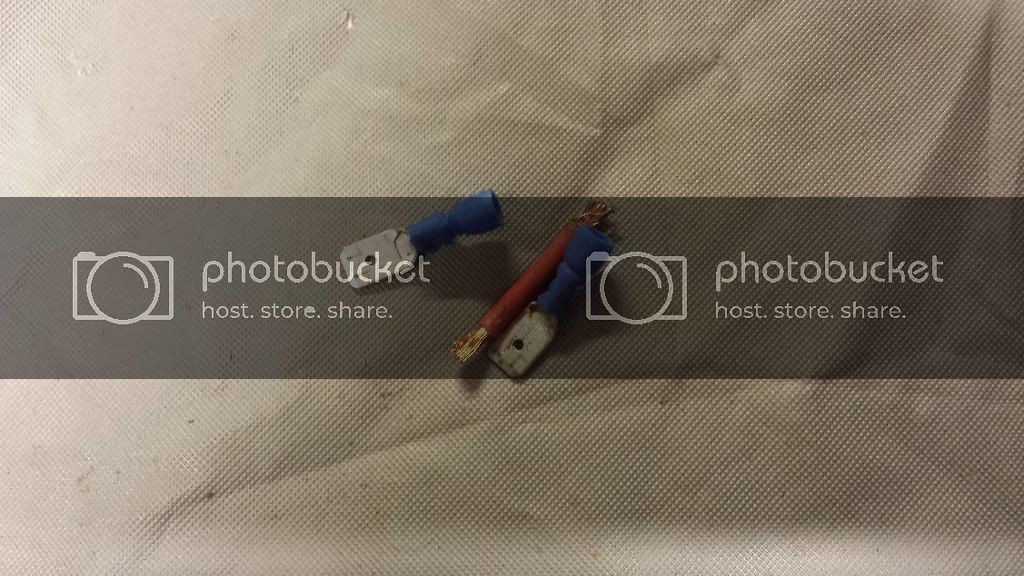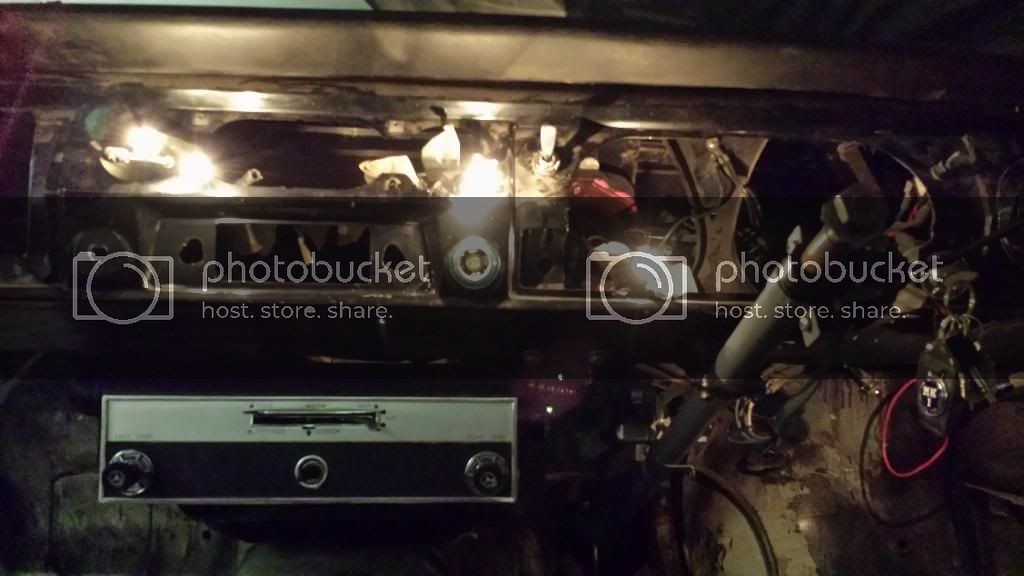 I was very happy with that and I got more sorted

after finding the missing earth point under the dash and as soon as that was sorted the wipers were moving albeit slowly but I was ecstatic at this point. I need to sort the heater blower but it will get sorted soon

I have a video of the right indicators but I can't get the video to upload, the front rear and dash light work but the rear left works - the only thing I have changed is the front indicator so I will go over that again as it is most likely to be the problem


all in all its another big hurdle!
1-19-2014
I had a good read about your cars.

I think I have tracked the heater problem to the switch it is the same switch as the head lights I plugged it in an only the dash lights and side lights worked which in my mind means the switch is damaged internally

I sorted the indicators it was a chafed wire that had broken a quick cut and solder soon had it all working and back up to a passable speed

I found my klaxxon horn which meant I could wire in a horn to check the wiring was ok and it worked first time but I think I will put the original 2 tone back on at a later date but I did forget how loud this thing was!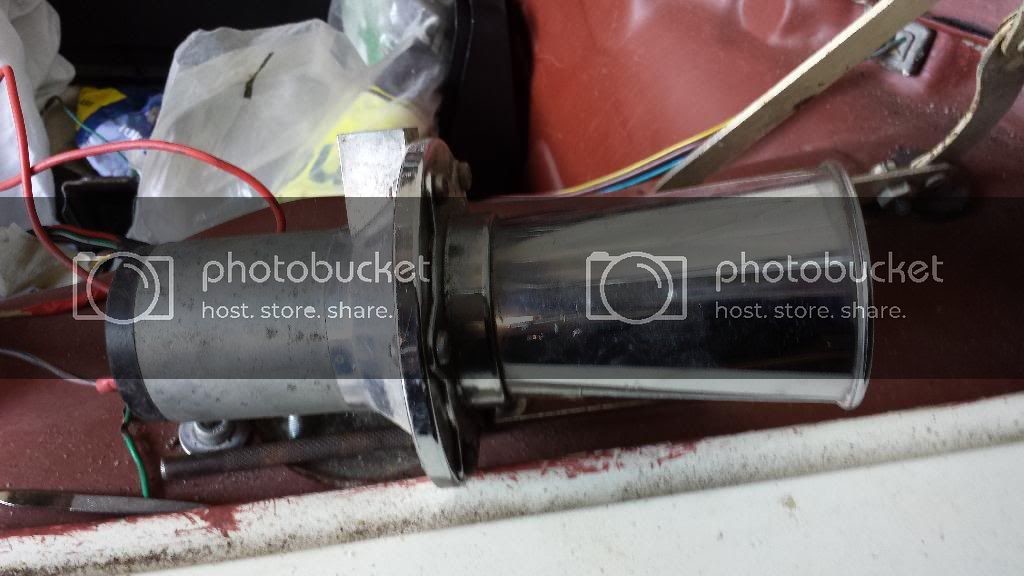 When I thought I was onto a winner I accidentally broke the handle of the switch for the headlights so instead of needin to buy 1 switch I have to buy 2! - curse word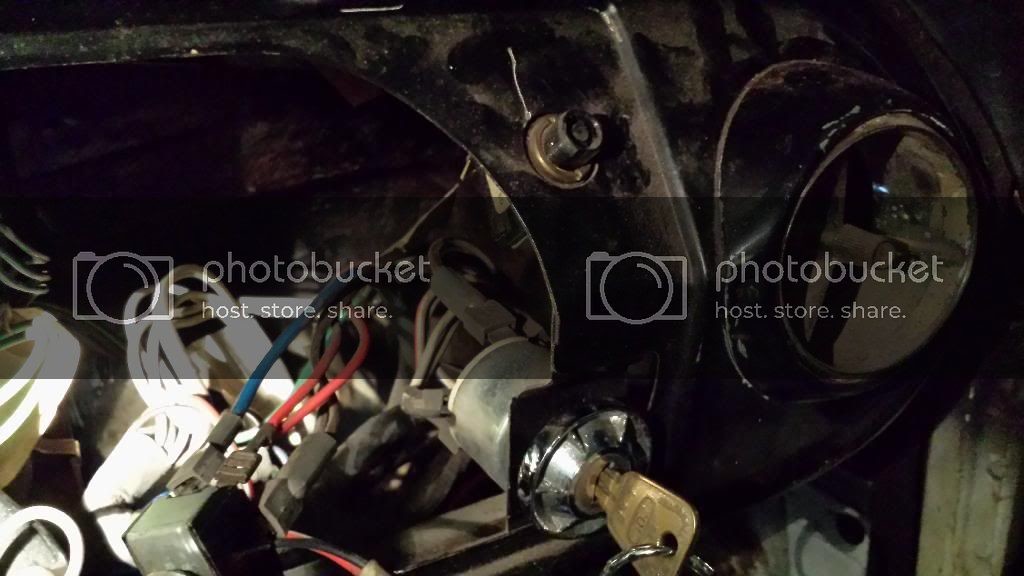 1-26-2014
I had a bit of a productive day yesterday, I have ordered my fuse box and relay holders so I should get those early next week so in preparation of them coming I removed the dash wiring and cleaned up a few spots under the dash so I could see where I wanted to put my fuse box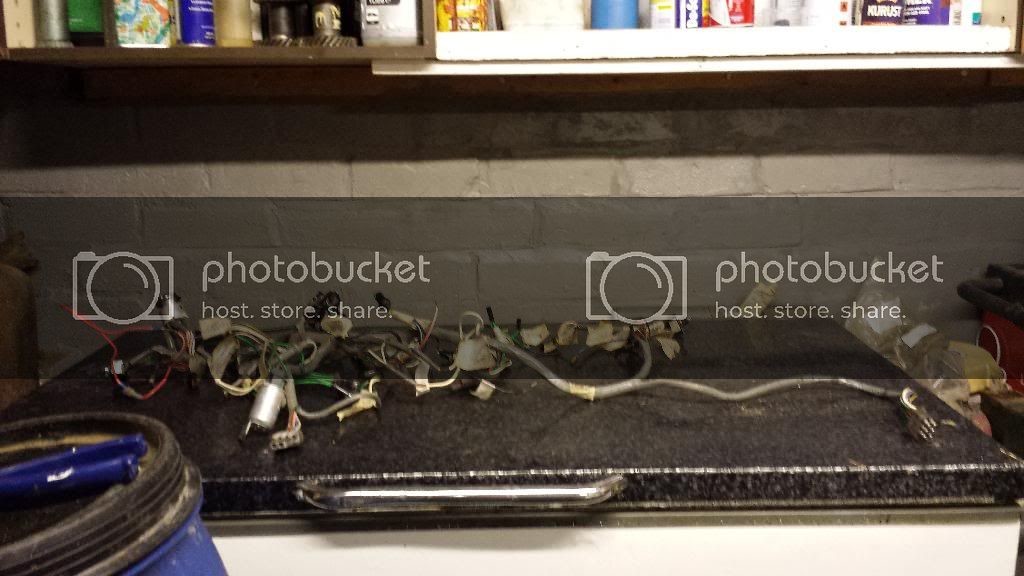 I don't think this has ever been out as it still has the original tag fitted and the part number which I will be putting back on when I put it back in for the final time, I took the loom tape off but taped a few parts so that it would keep its original shape whilst giving me access to the wires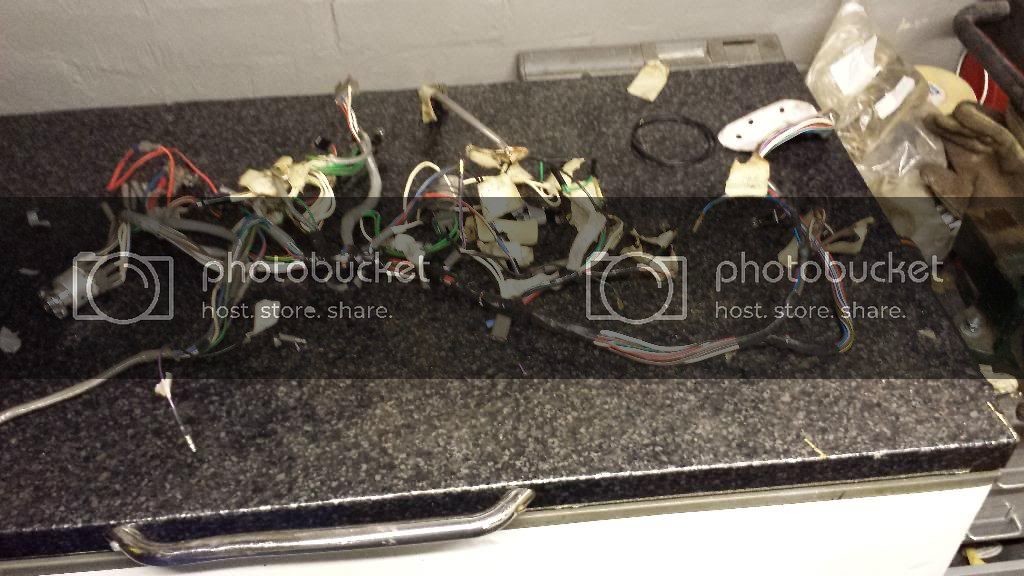 with that all done I have made a start on the cigar lighter which the car has never had not that I smoke I just want to charge stuff like phones or mini fridges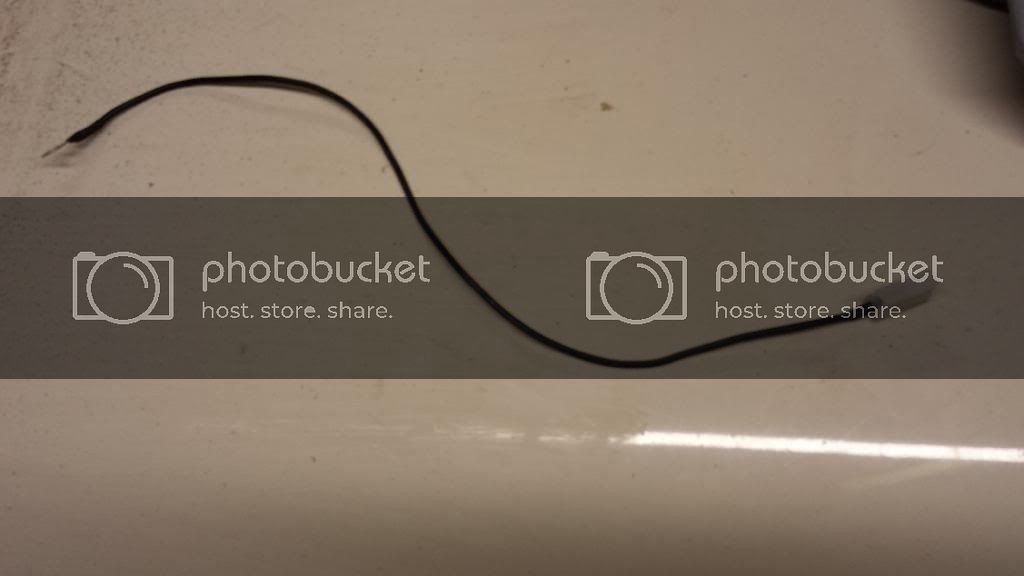 and before I started to put the loom back in the car I thought I would take the wiper motor out and give the linkages a clean as Jpsmit recommended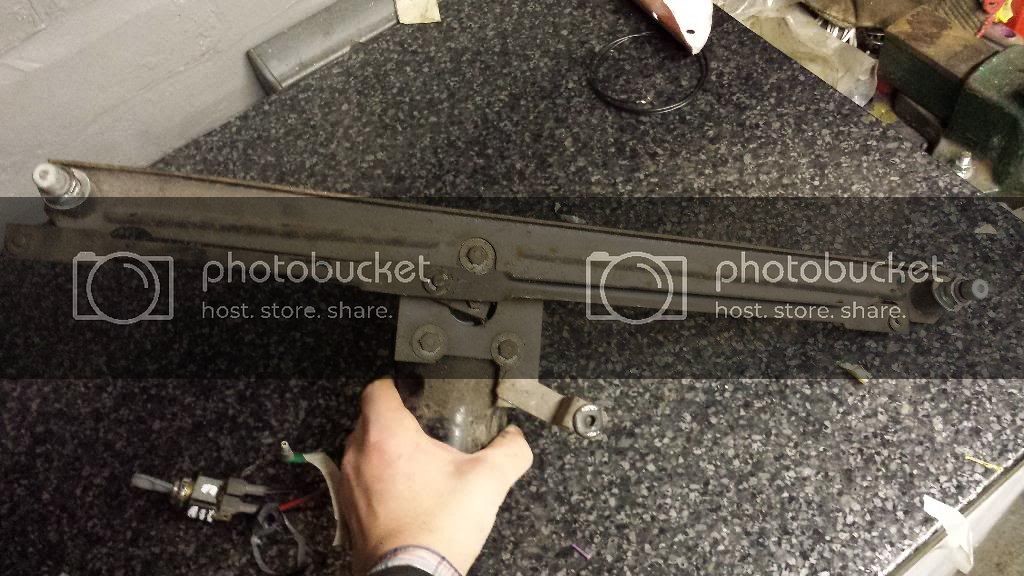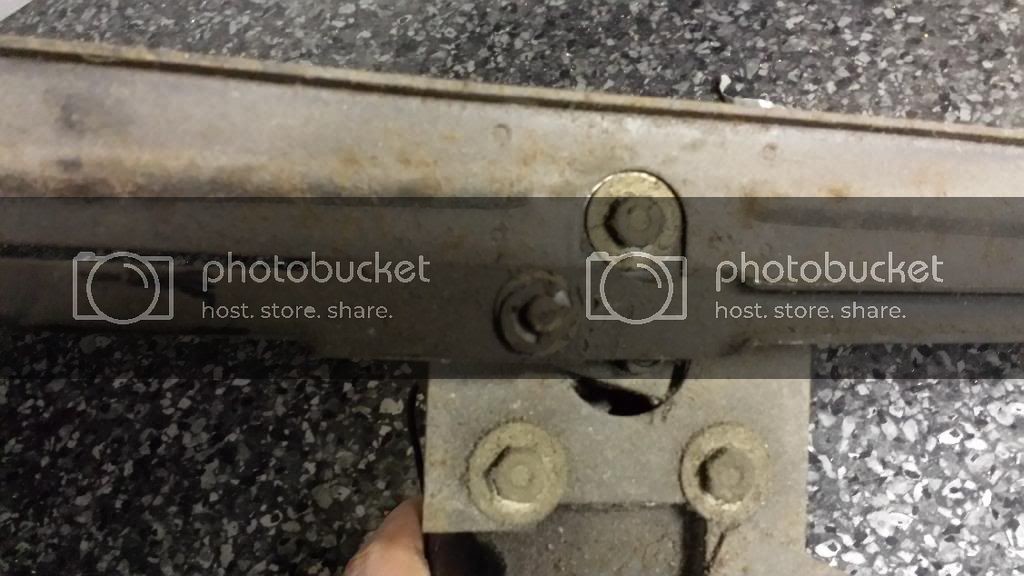 its pretty manky!

I managed to get the loom back in place and everything worked first time which is good to know, just waiting on that fuse box now...
1-30-2014
My fusebox and relay holders came and I will be fitting it to the car tomorrow, I can do a few bits but I need to get more spade connectors and some matching wiring which i can get in Notts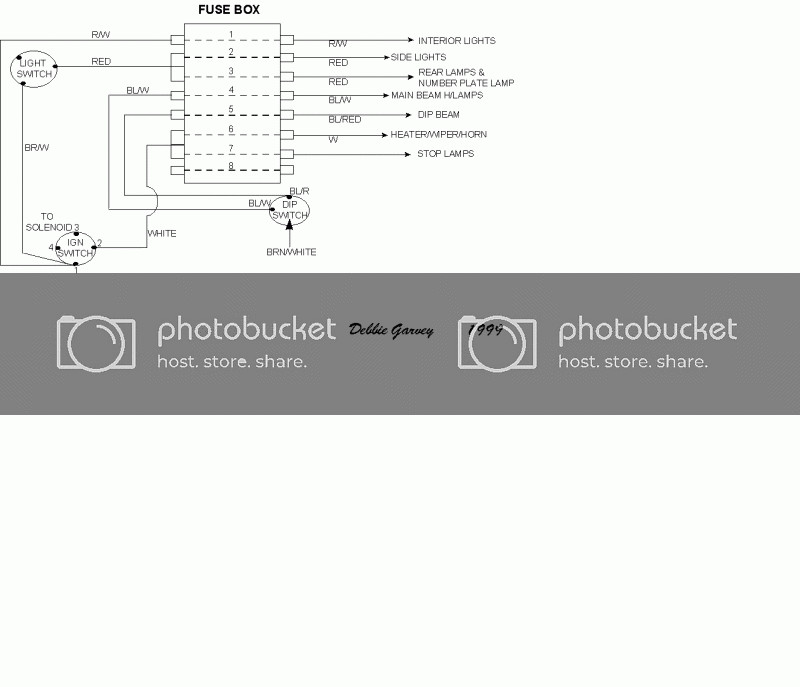 I got this from a mk1 website which has loads of useful information

I habe been looking at the relay wiring for the lights, the only thing I am not quite sure of is what ti wire to terminal 87 would a switched live from the ignition ok?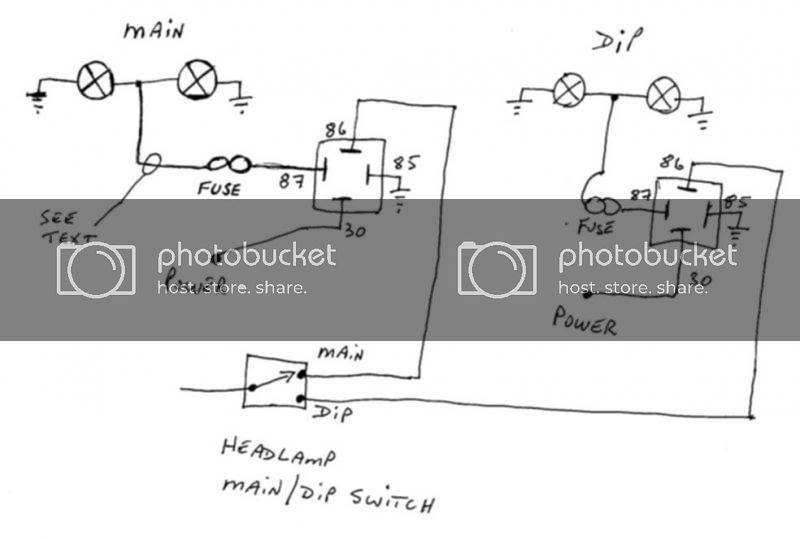 2-23-2014
I got the fuse box mounted along with the relay holders which was good to see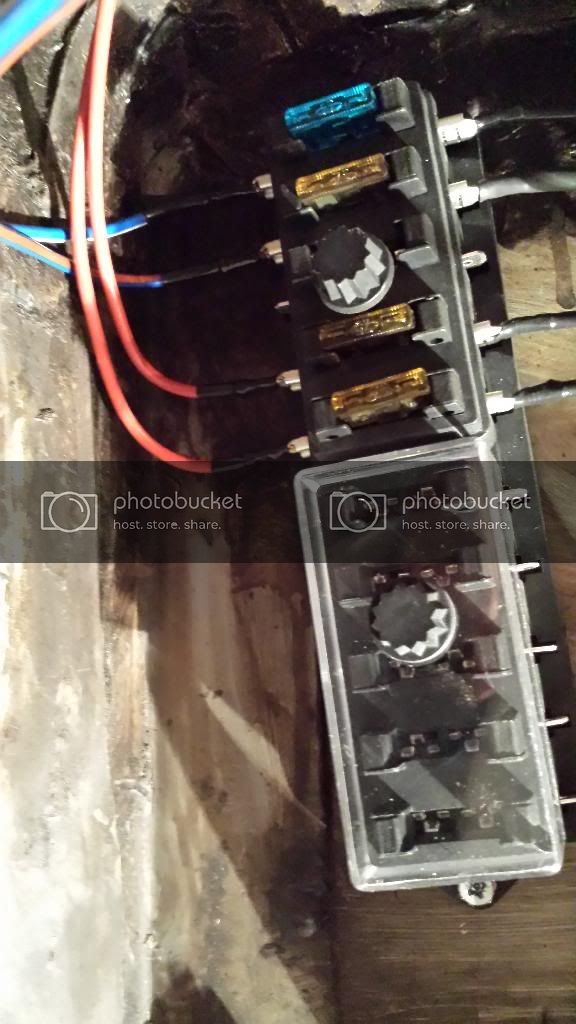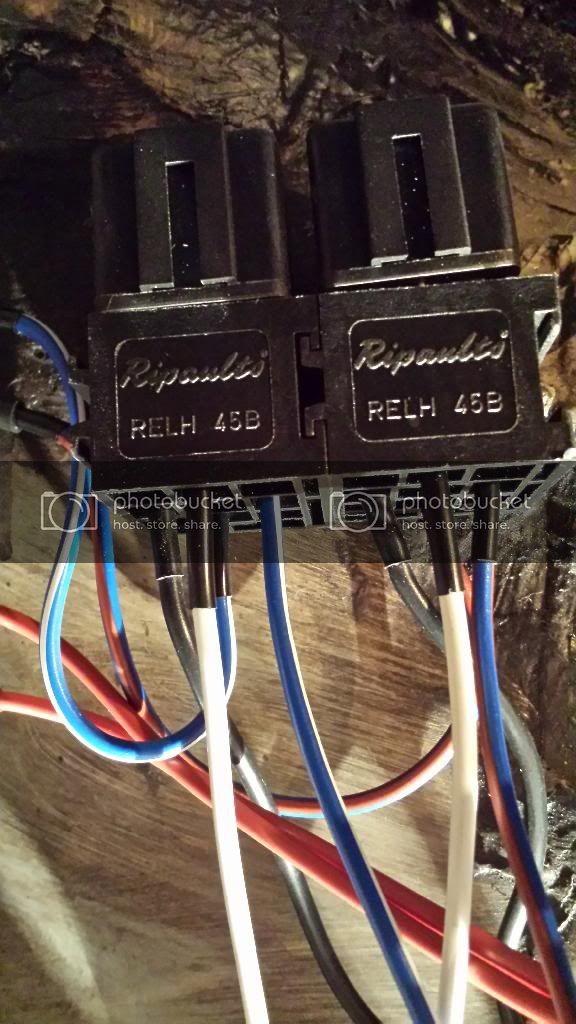 the first fuses I fitted were for the tail lights and brake lights which was easy and less brain melting than the headlight relays!

on the plus side I got it all wired and they worked first time which really surprised me if I was honest! they seem much brighter than before as they looked a little bit yellow but I now need to work out why the sidelight isnt working again....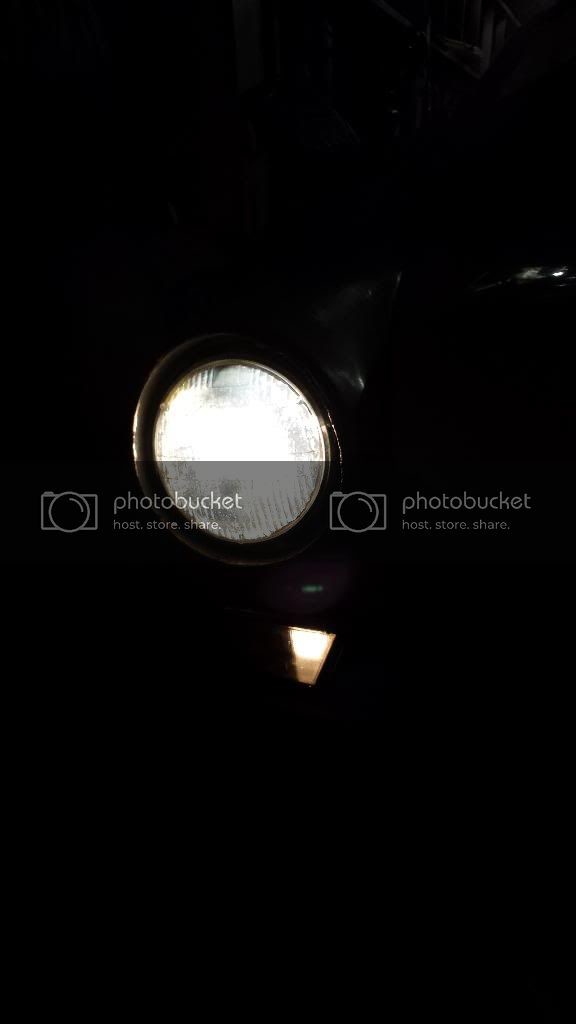 3-20-2014
Wow its been a while!

I haven't done a great deal on the cortina recently but I have had a big dose of mojo as I got engaged whilst in New York last week so in celebration I made a trial inlet flange for when I buy another set of bike carbs (the first had to go back as one was D shaped)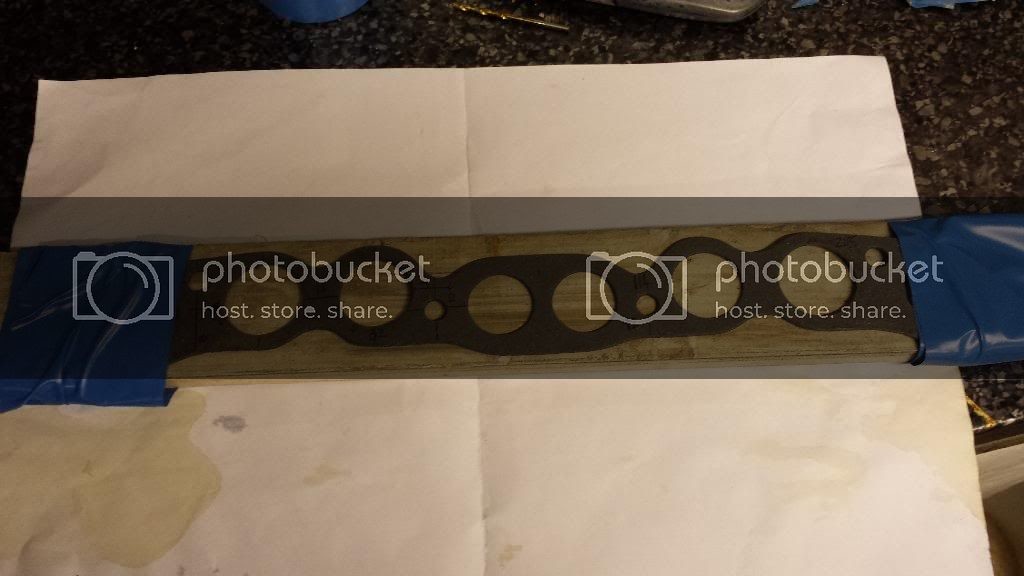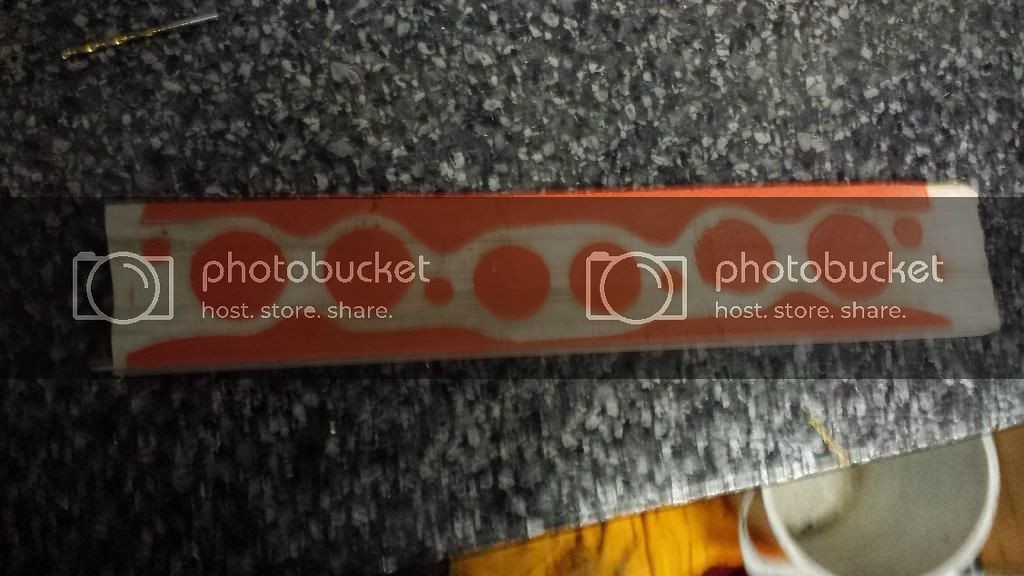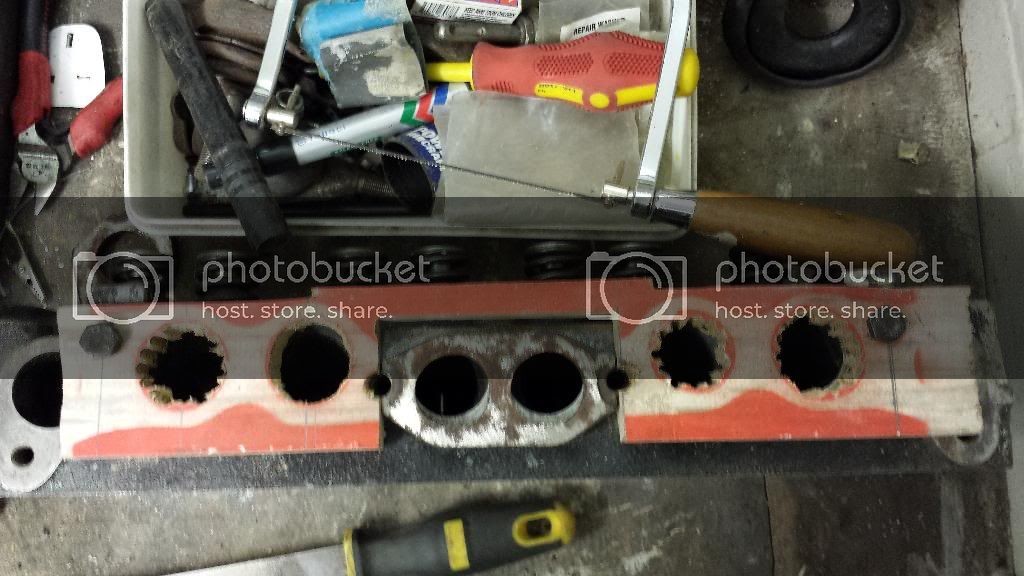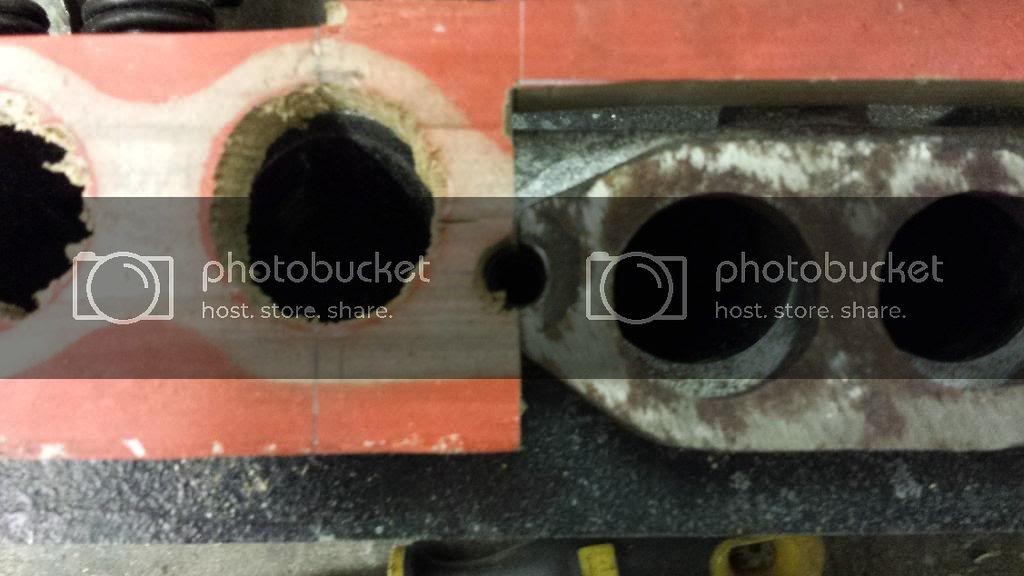 the plan is to keep it 1 piece as the 2 piece webber 40 manifolds can be a pain to setup as they can sit higher on one side to another
4-6-2014
The manifold flange is off to a friends who has all the necessary toys to recreate it in steel which will buy me some time for getting the carbs sorted

Yesterday I had a big trip to south london (I got up at an unnatural time to get there for 9!) to buy some seats for the Cortina. The reason I bought these seats is because these are the one from my Cortina - I stupidly sold the front a few years back to a guy named Steve and when I saw them in his cortina 6 months later I knew I made a mistake....

6 years down the line Steve is breaking his Mk1 as no one wanted to buy it whole and I had to get them back - I even got a back seat which will be turned into a sofa for a friends motorbike shop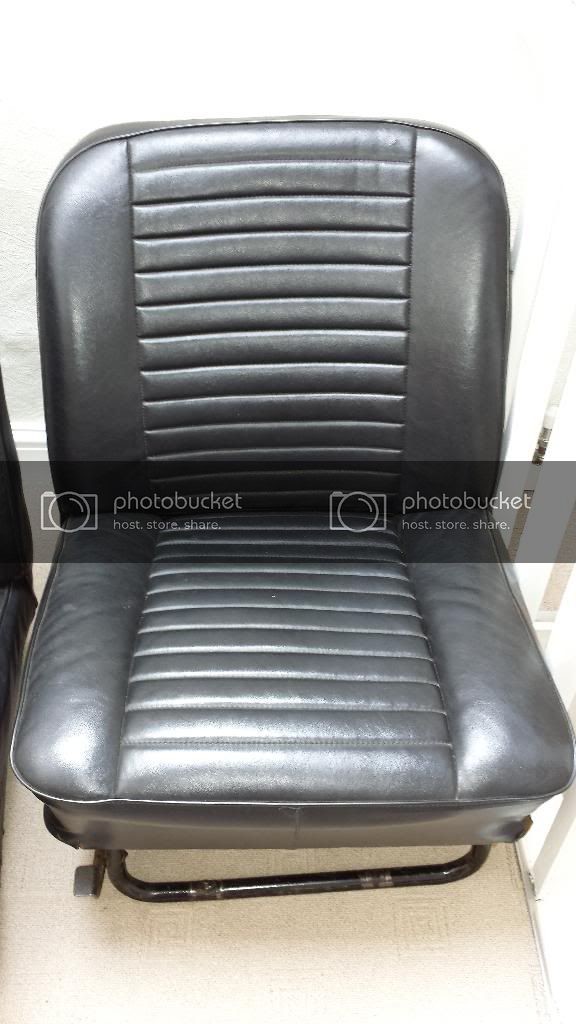 When Steve had them he bought some period clip on head rests which is what these seats are missing so I bought those too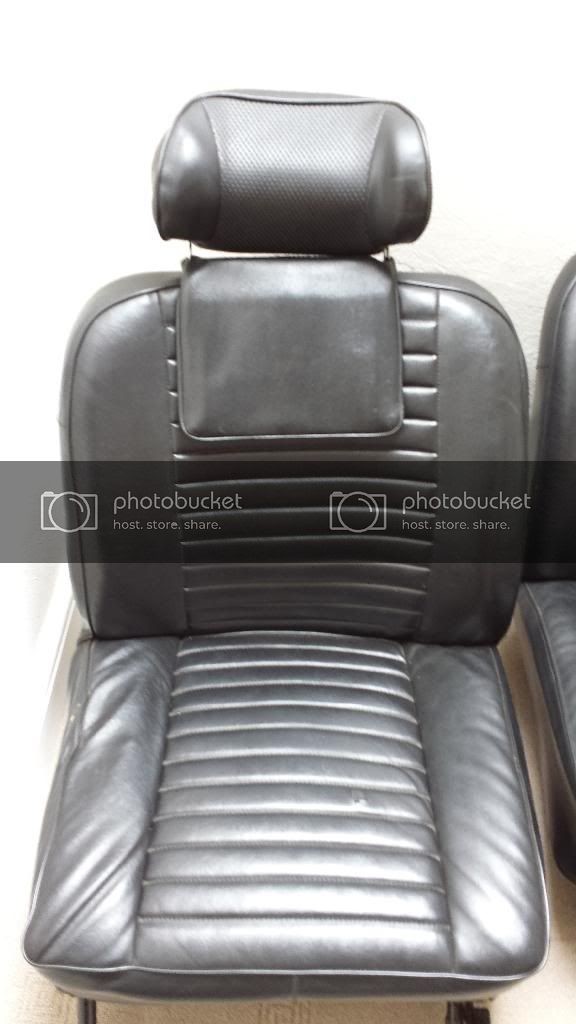 As another mojo boost I thought I'd drop the spare rear seat in the car and just sit for a bit and have a cup of tea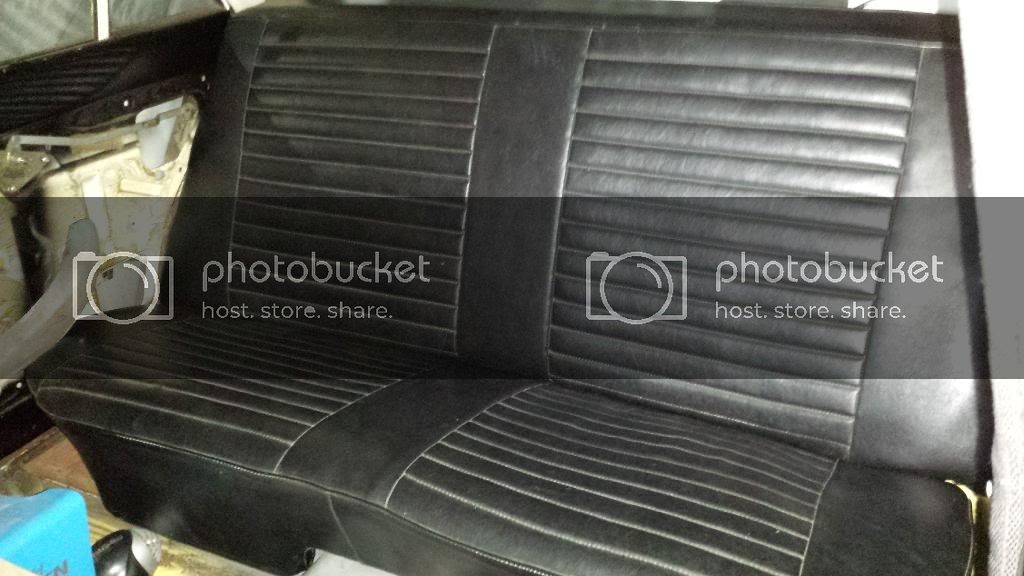 6-30-2014
I didn't realise the last update was April, since then I have been working out what is needed to get the carbs to fit the head, the carb spacings is wider than the ports so making them fit the head using straight runners won't work so it'll need more work to do it but I have a guy on that!

I did give them a strip clean and inspect and they seem ok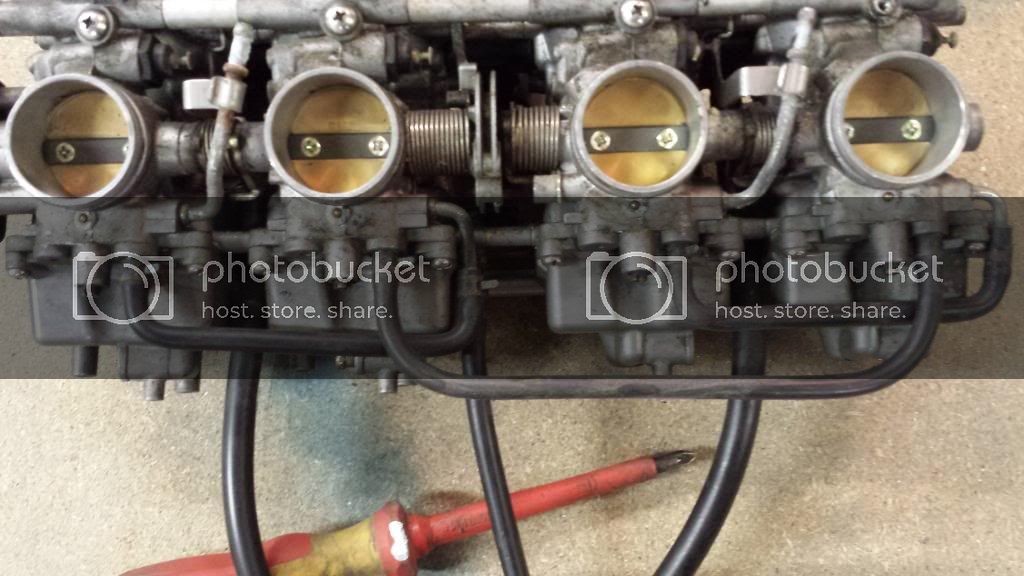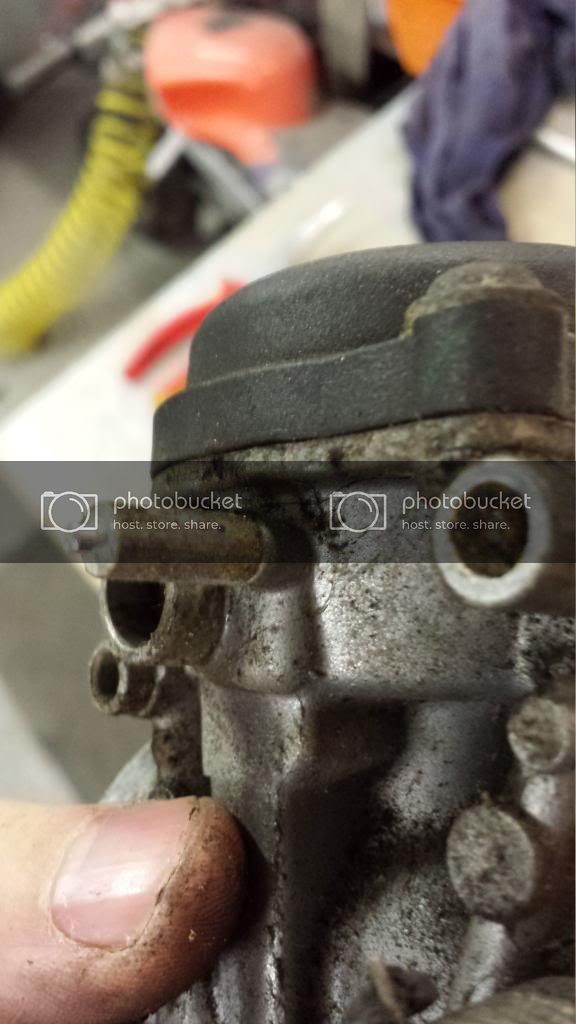 And whilst all that is going on I have started to seam seal the underside, I have to do the rear axle/suspension areas but to do that I need to drop the back axle which is what's holding me back as she maybe moving to a unit much closer to me where we will start the engine fitting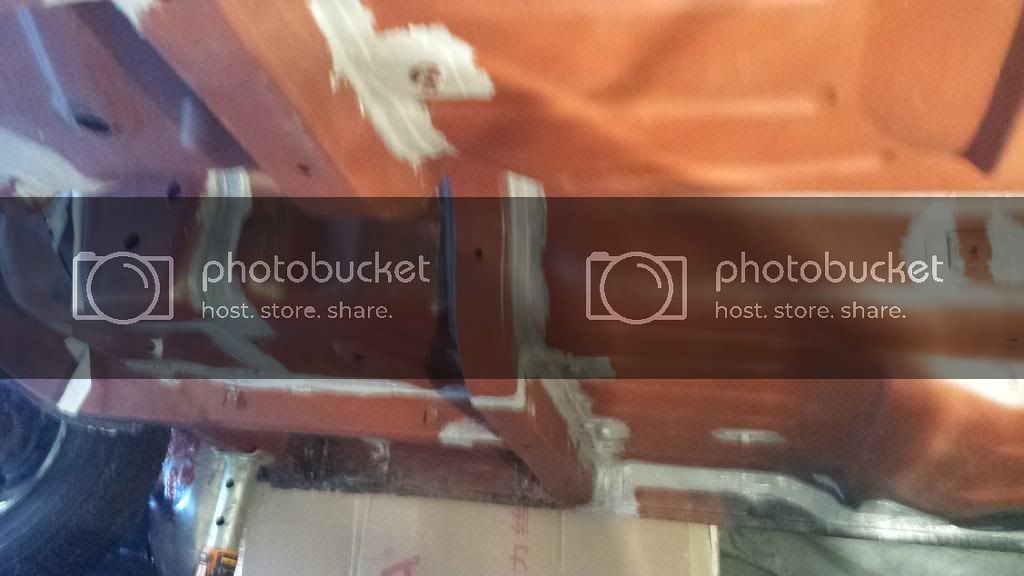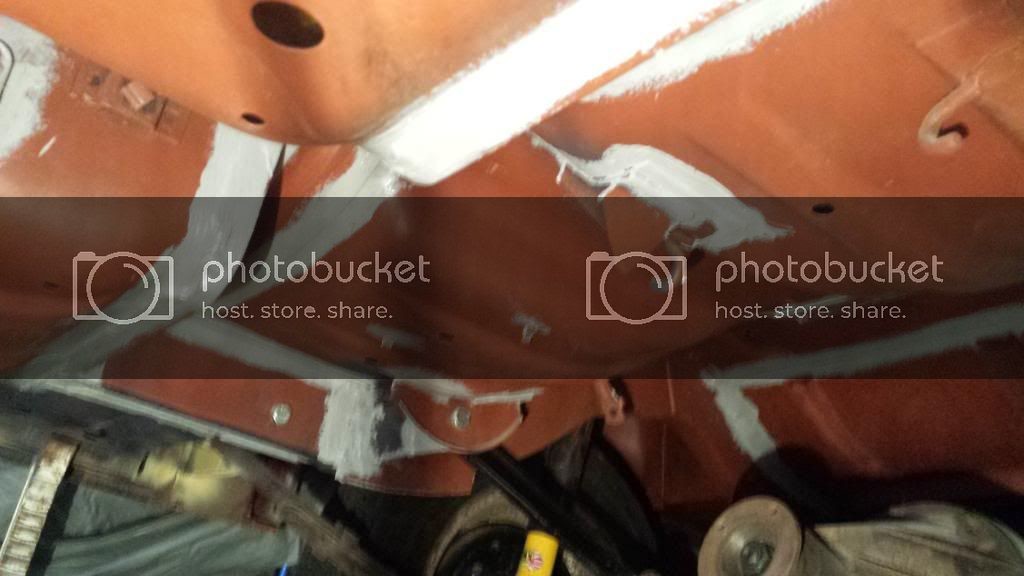 Then I got bored and thought I would try to rub the panels down and see what dings and things needed to be sorted and filled etc, I've started at the back and I'm working my way forward including the inside so I can get that red oxided and seam sealed too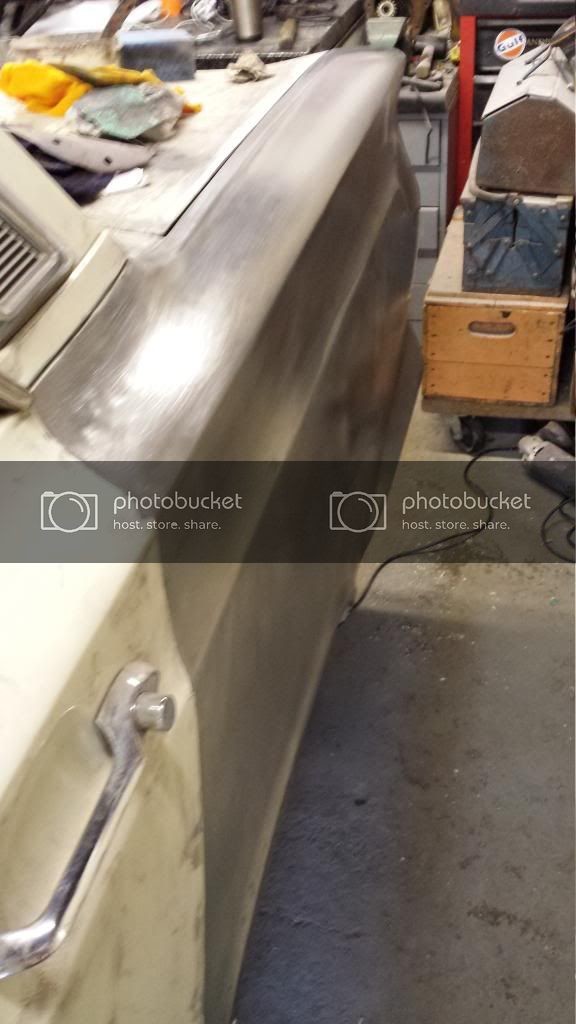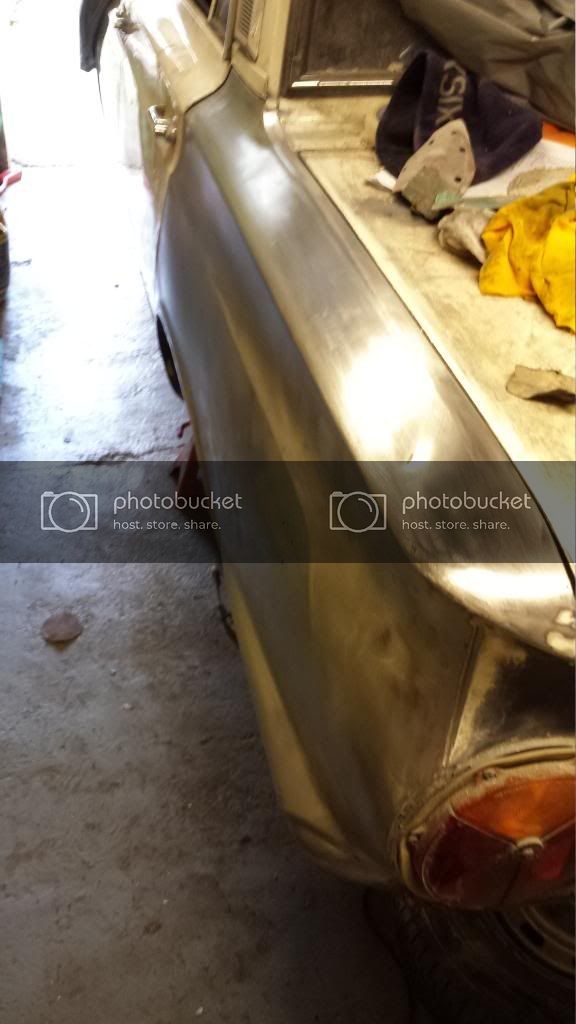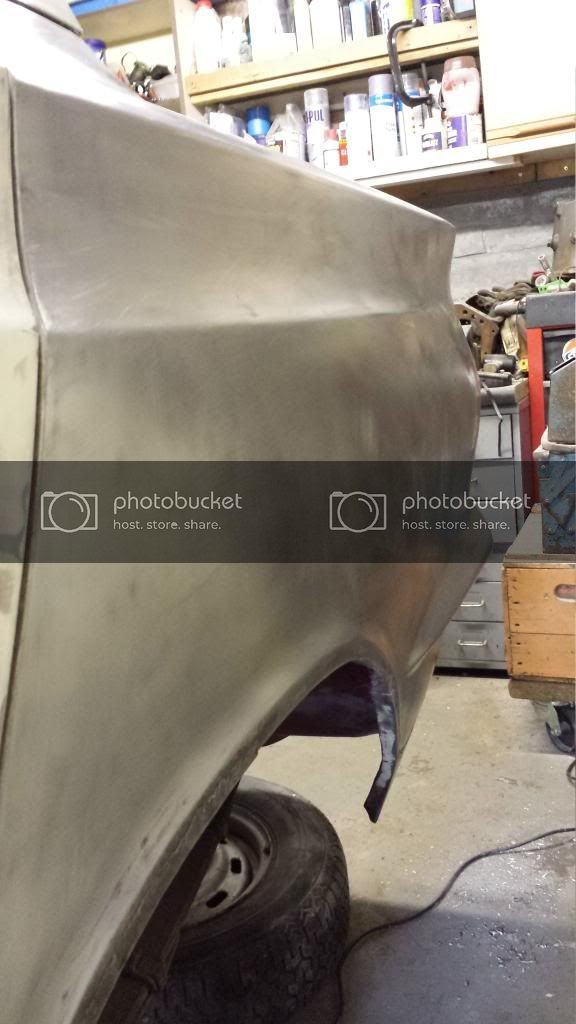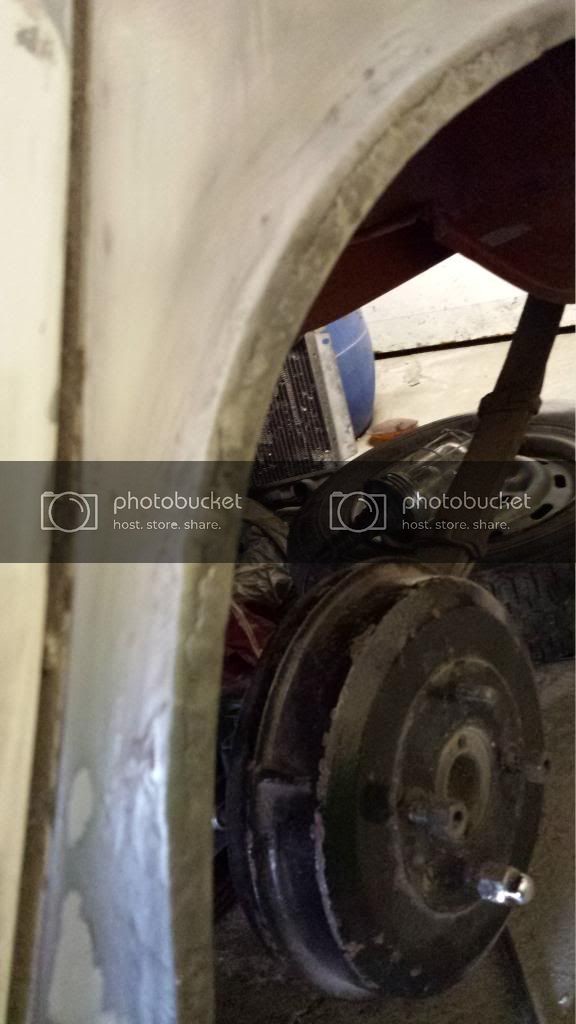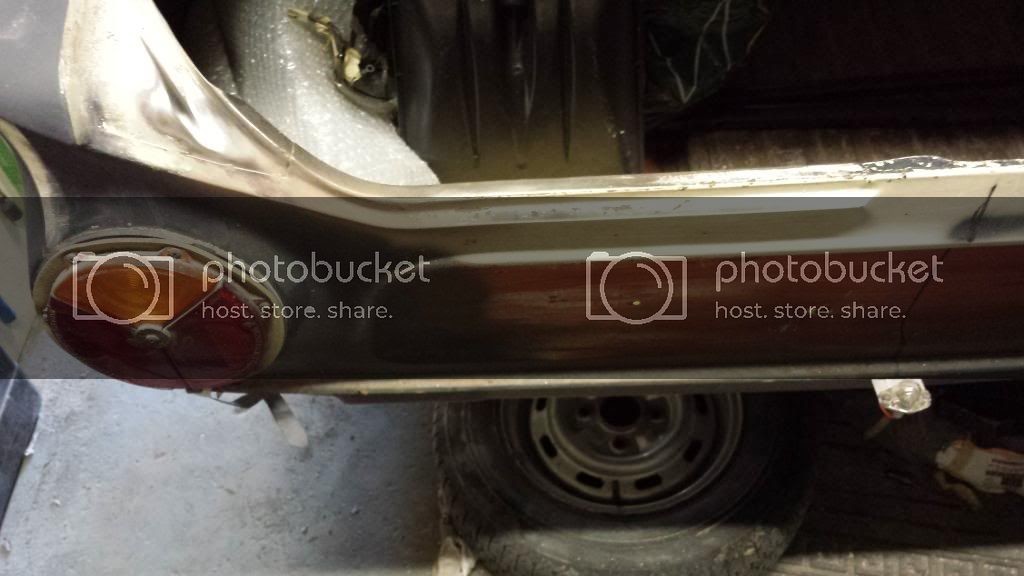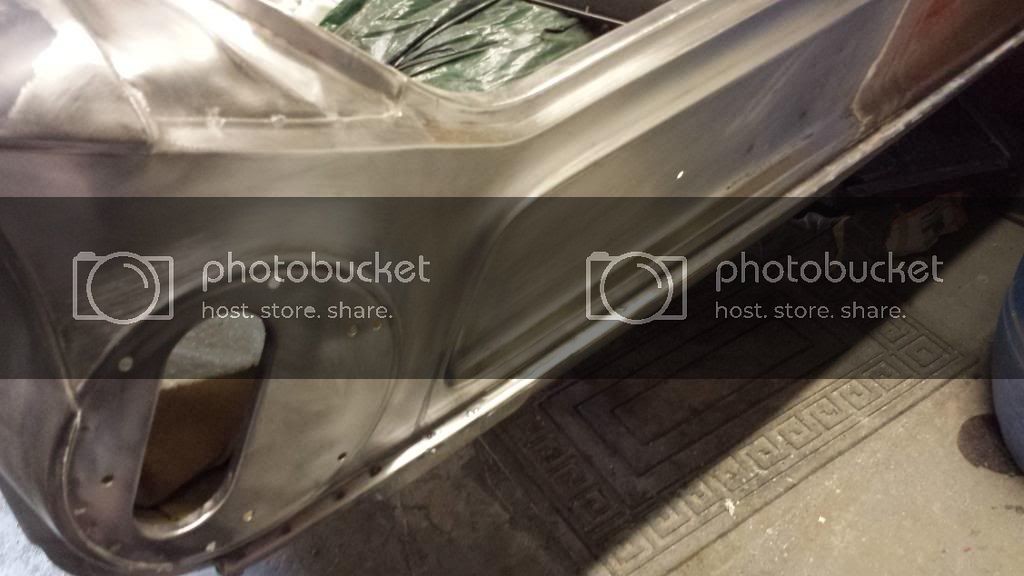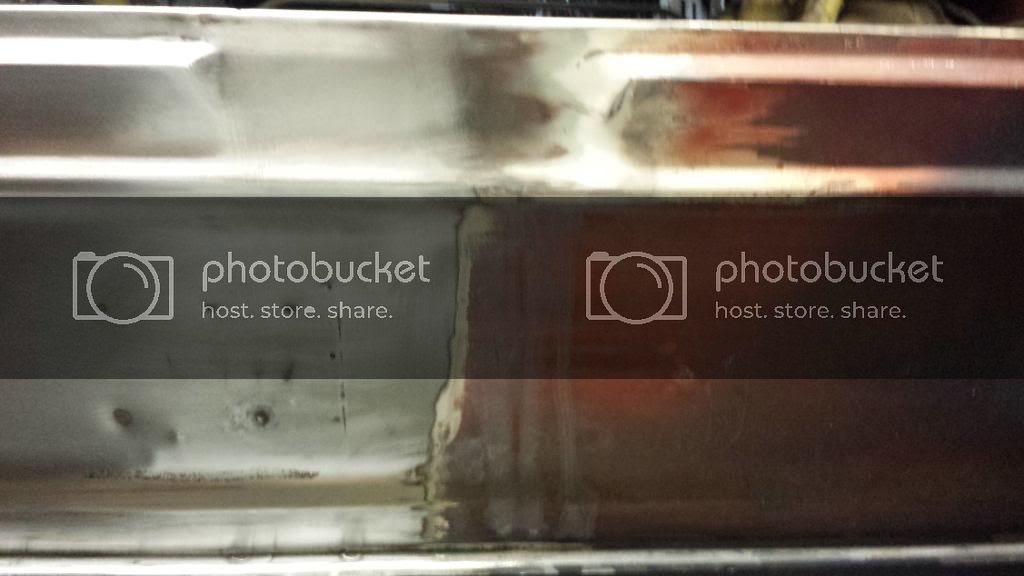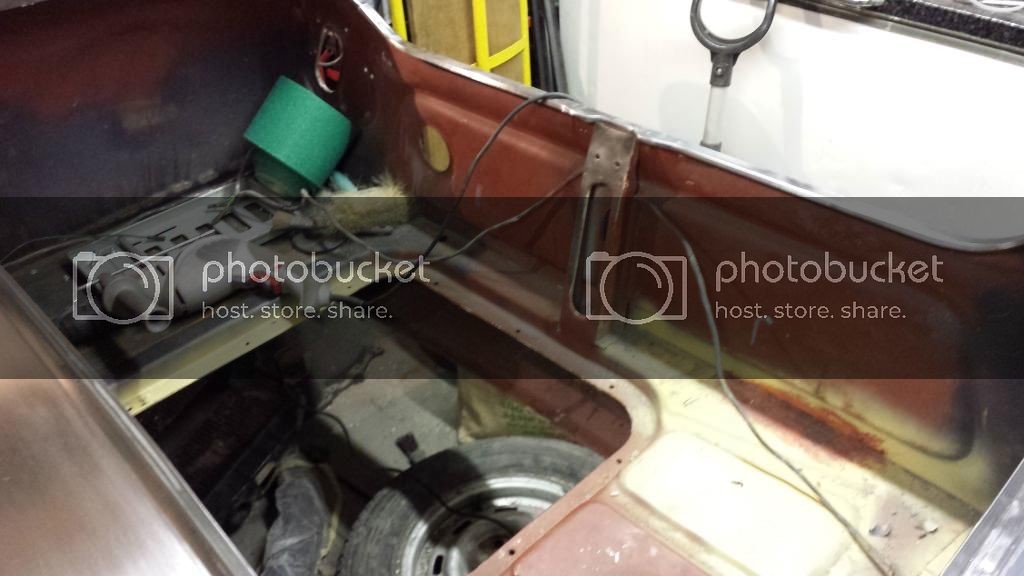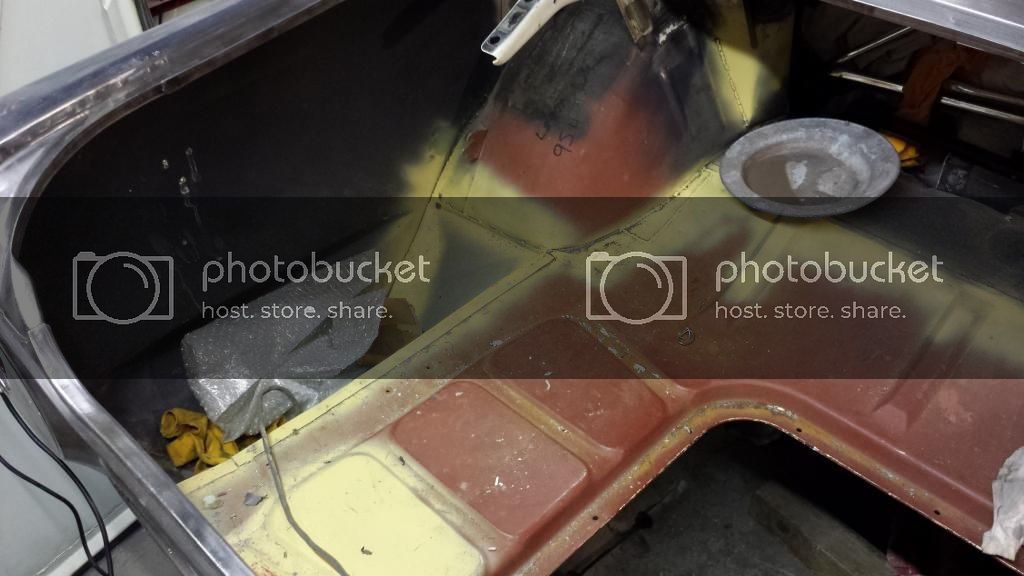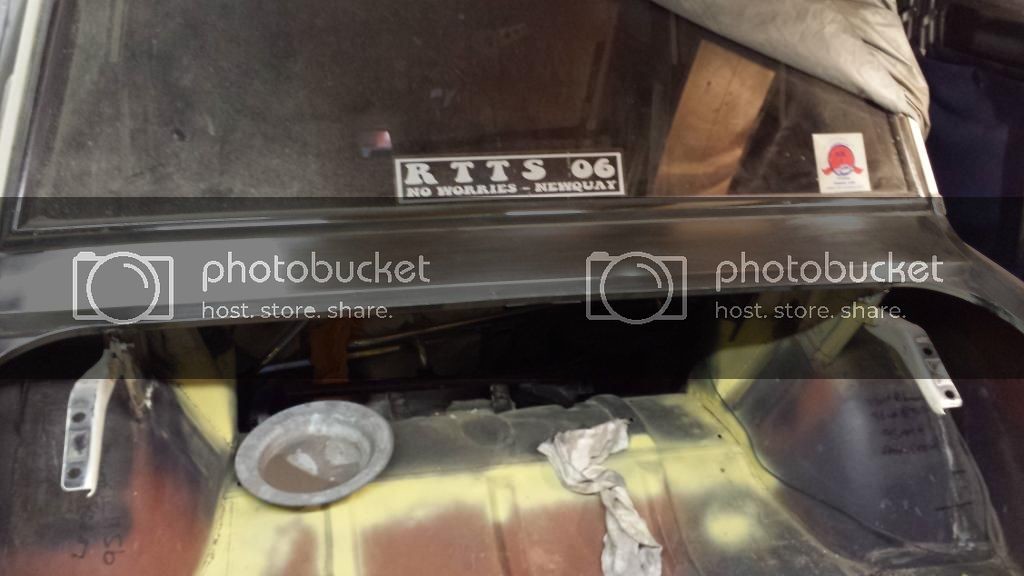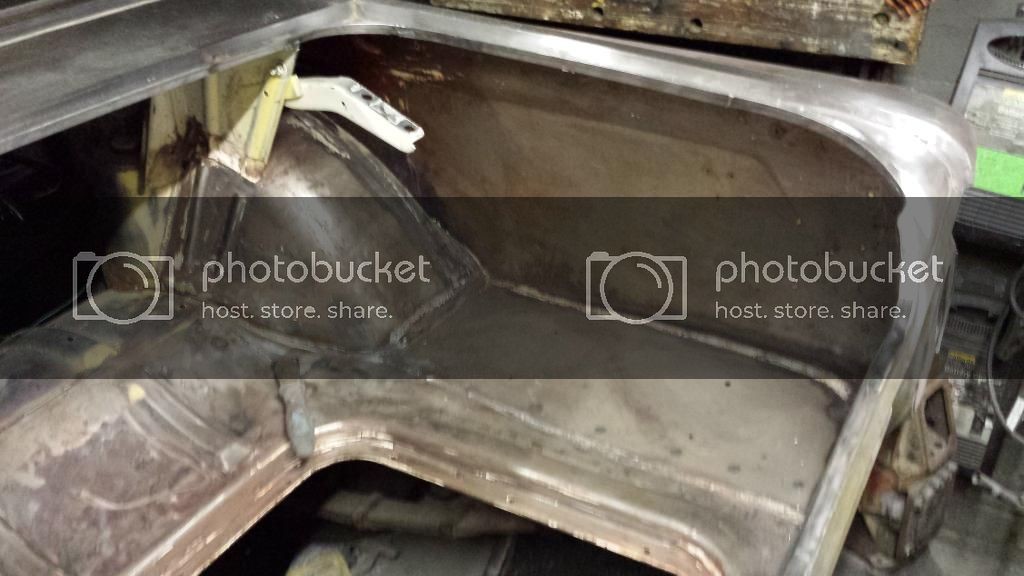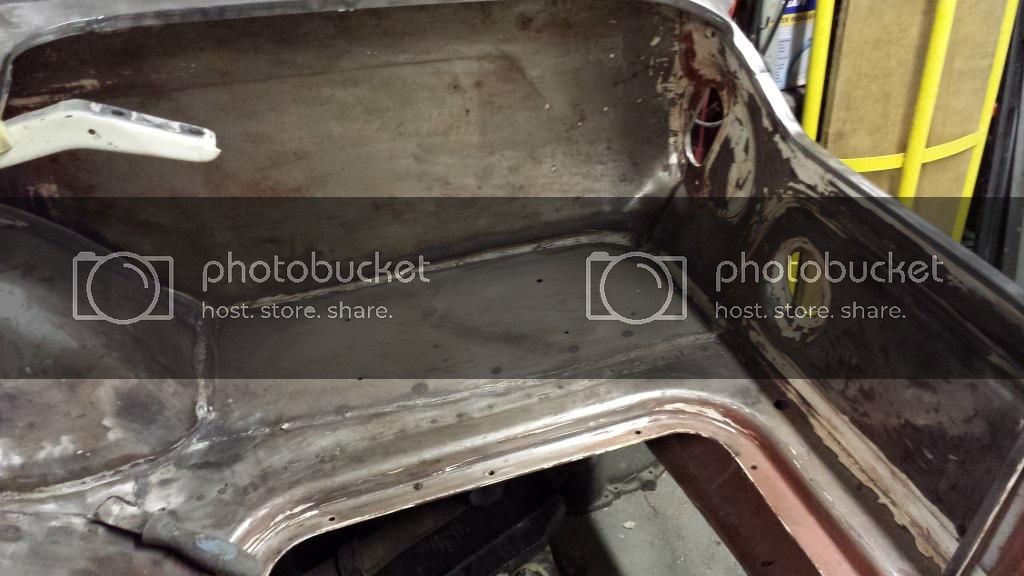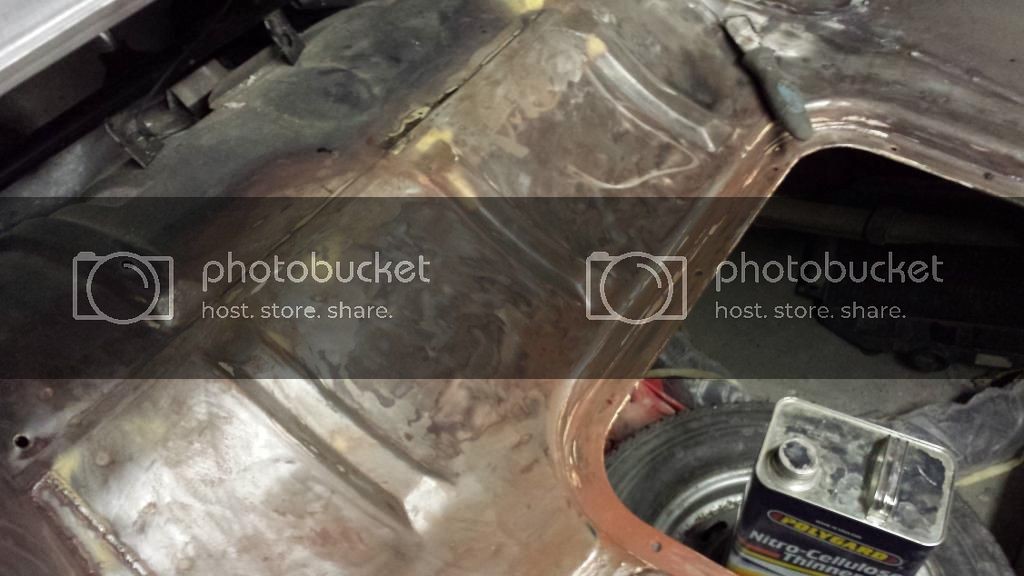 I think I can get the boot floor finished in a few hours and the rear seat too if I have enough tea!
11-6-2014
I have plugging away at the cortina but getting time after work has been tough, I got bored of rubbing stuff down so I painted the engine and dropped the short block in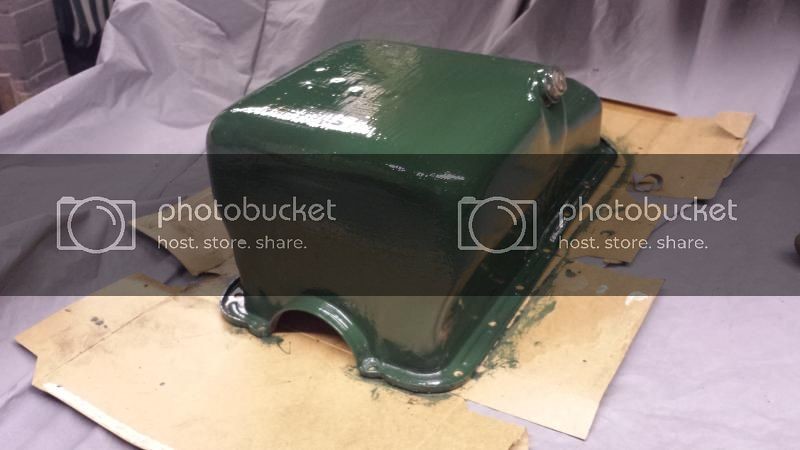 I bought some british racing green enamel as its the closest to factory as I could get. I switched the cam from a standard GT to an A1 which is a bit lumpier but driveable.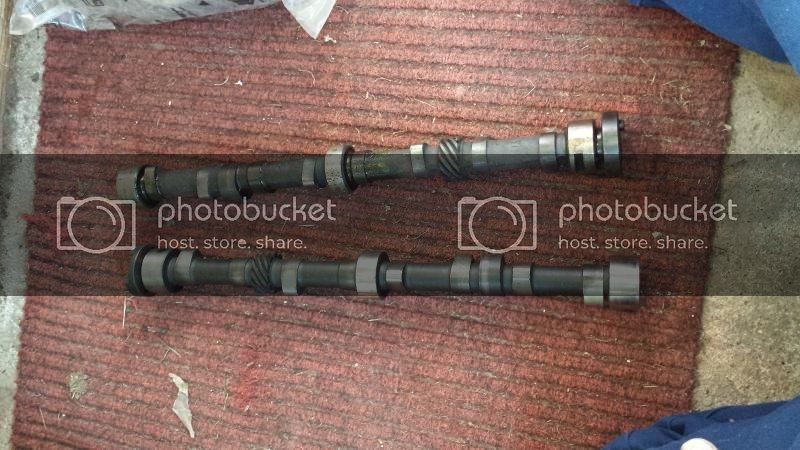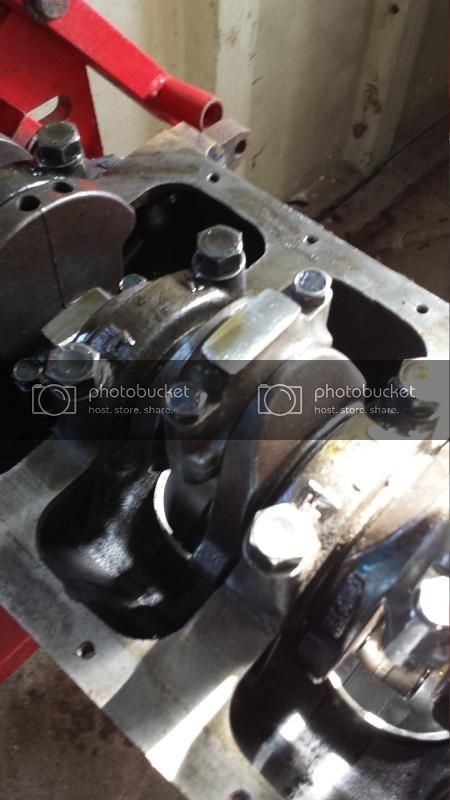 With a shiny clean block I thought I'd sort the water pump as it looked shabby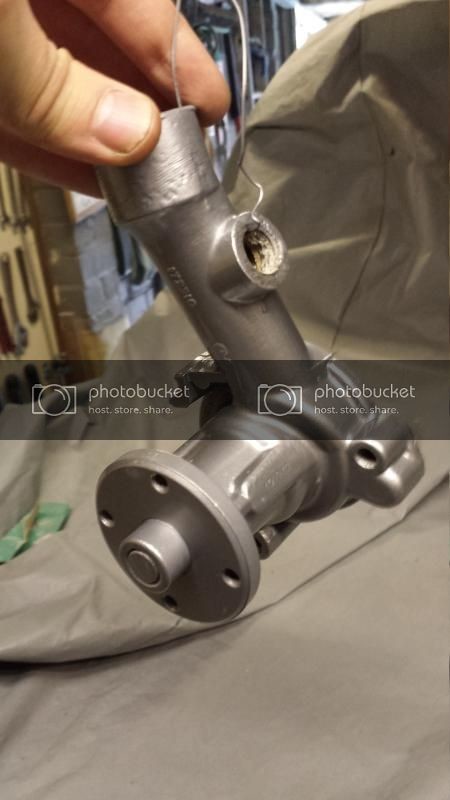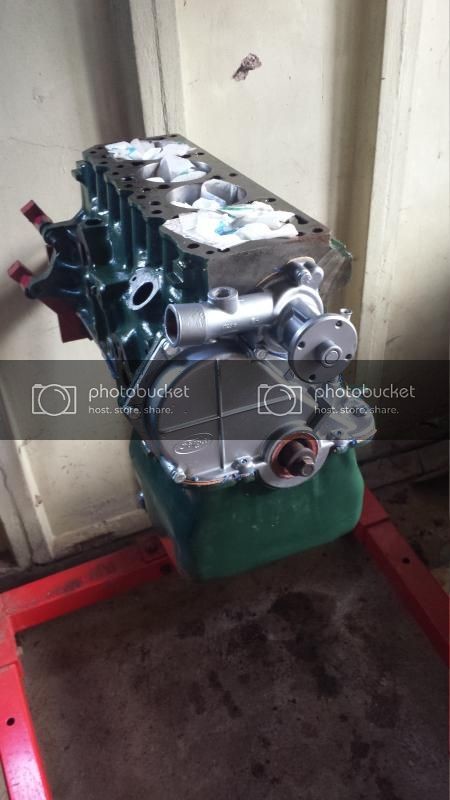 The big day came - this is the closest the engine has been to the car since 2007!!!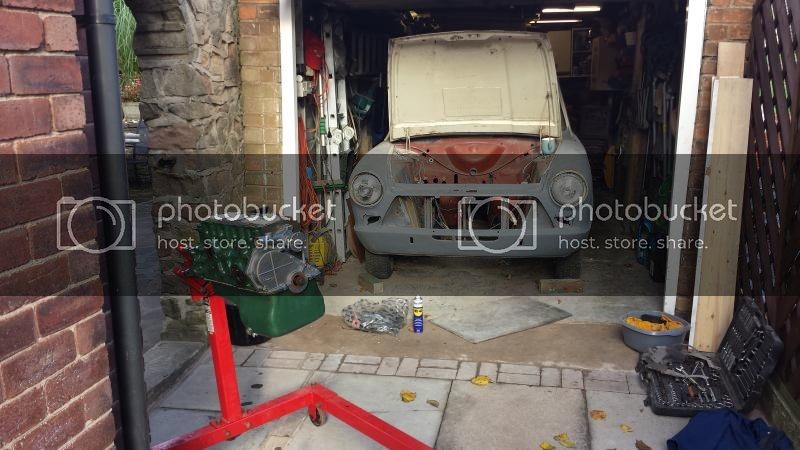 the gearbox is empty but itll let me get the engine bed in and rewired etc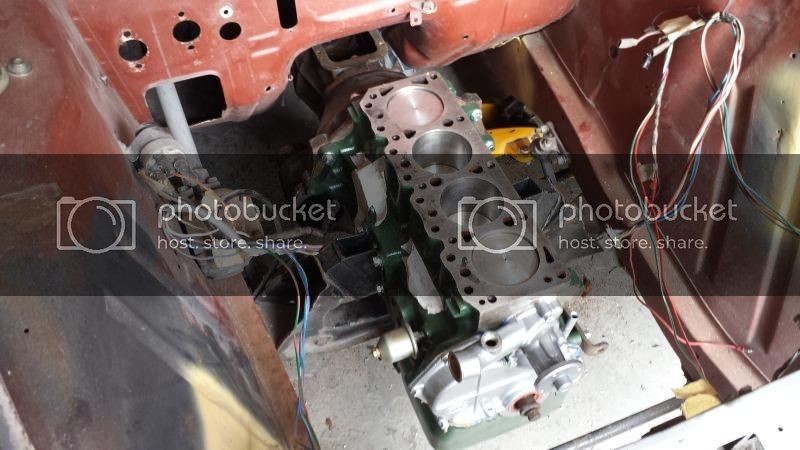 the cat helped by not sitting under the car for a change plus the internet is run by cats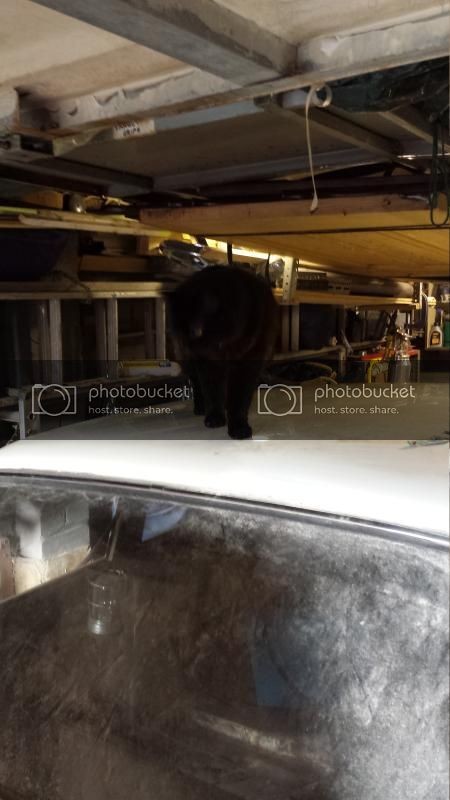 I've put a stunt head on to protect the bottom end from stuff, It has been cleaned underneath btw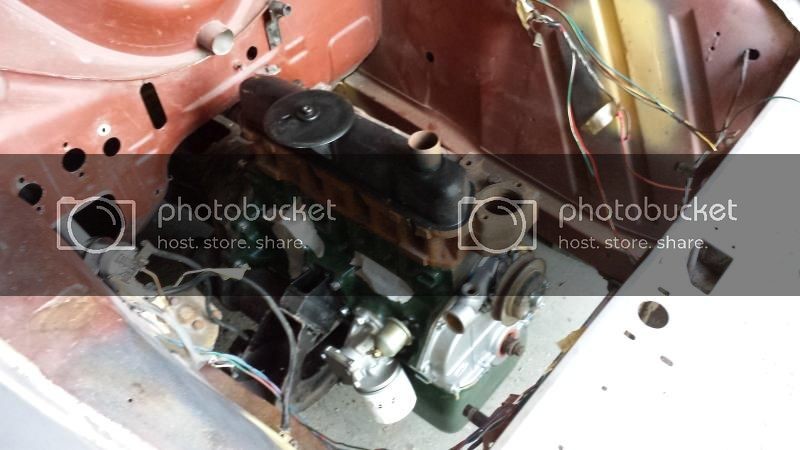 more to come......
11-17-2014
As I said before there was more to come, mainly painting and seam sealing the interior as it would only start to rust if I didn't do it.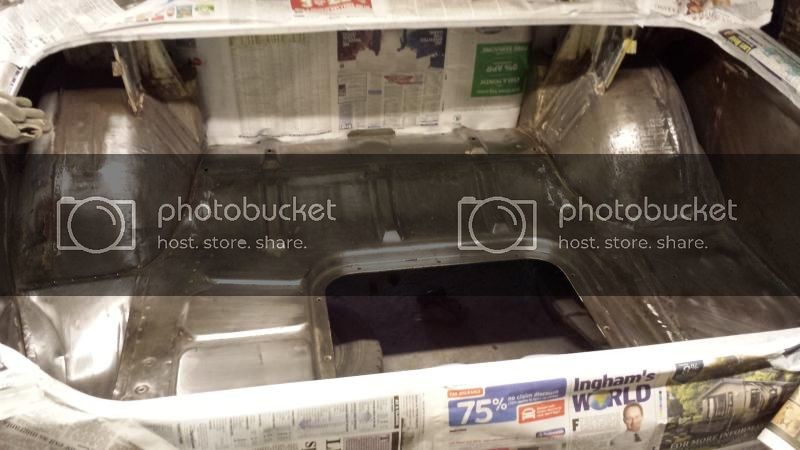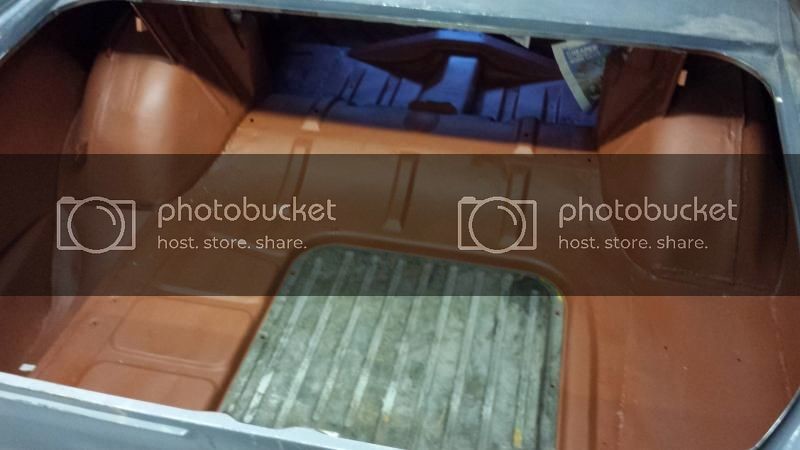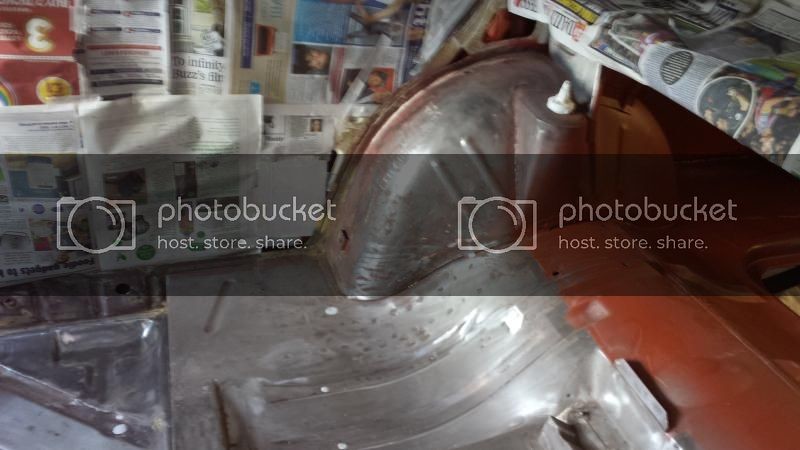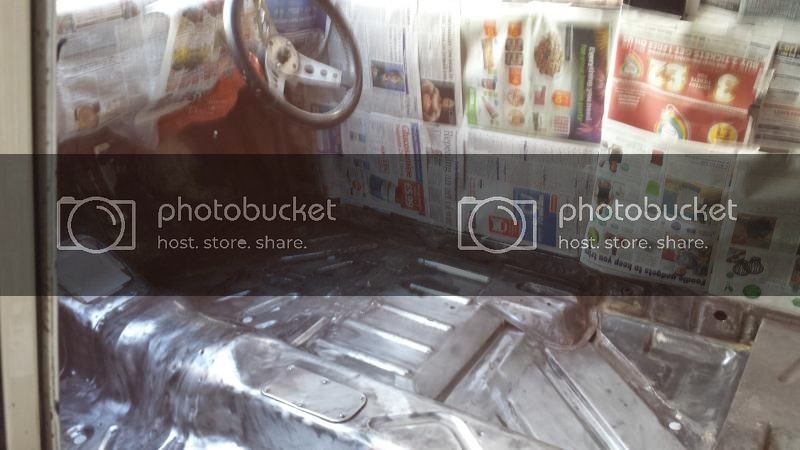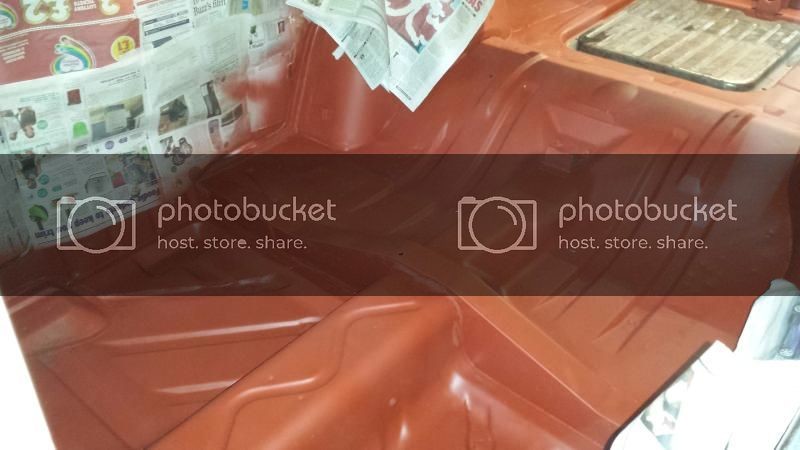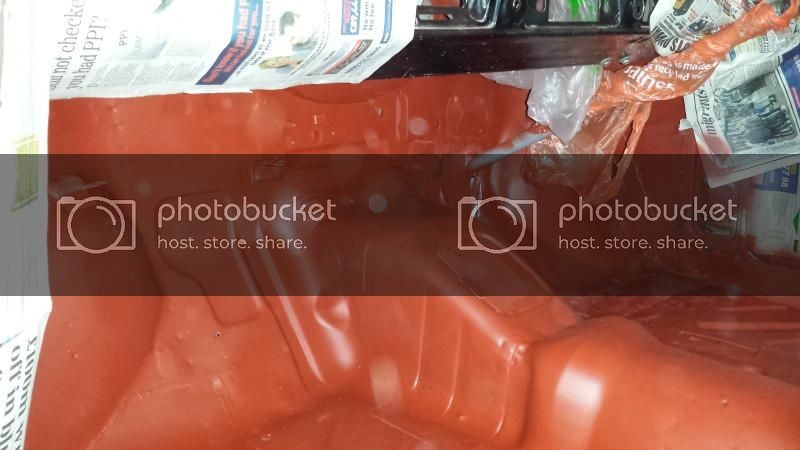 I even started to refurb my BP Fuel can - I would have like a patina'd one but this had been hammerited badly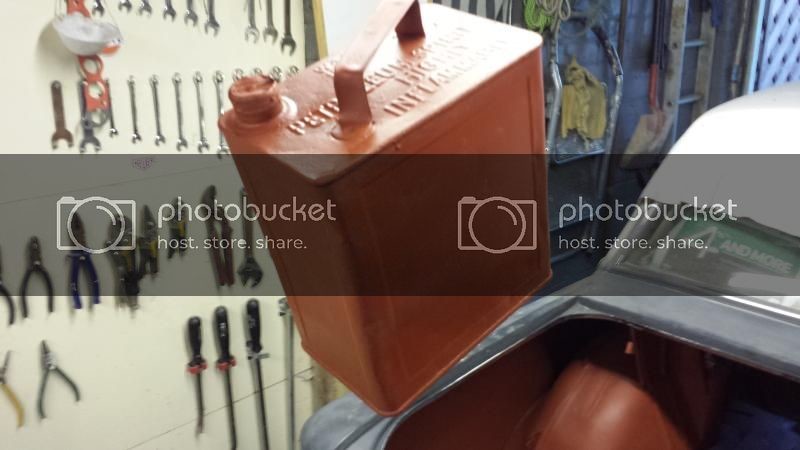 After a few days of drying and curing I seam sealed and put the wiring loom back in and the bits you can see here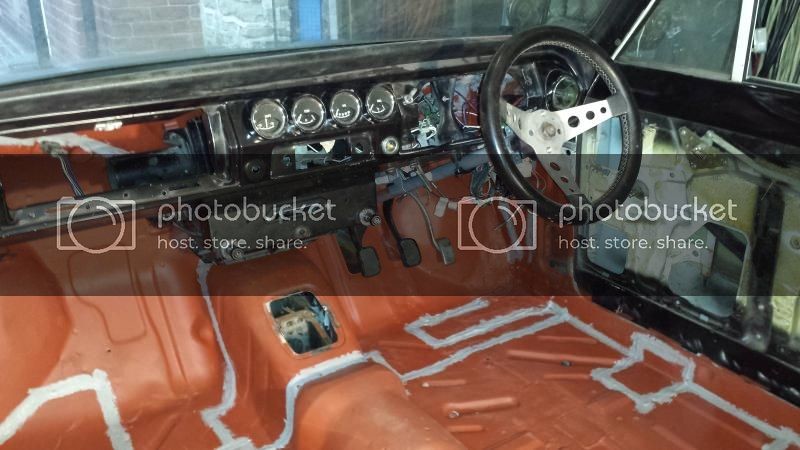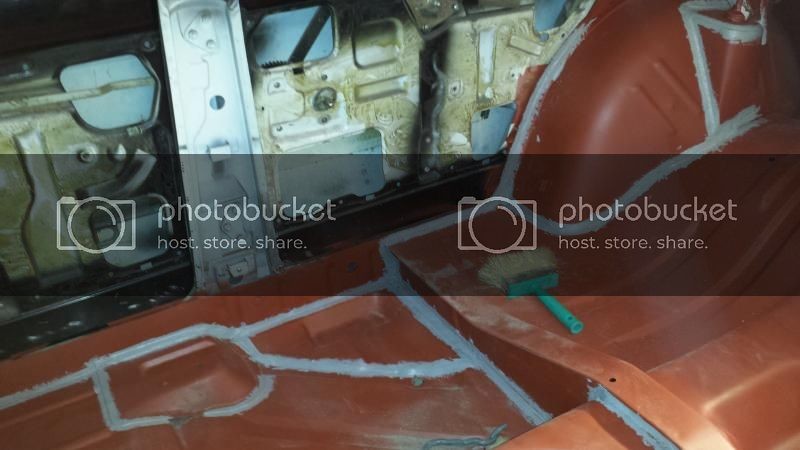 I have the boot to seal but I am going to spend a bit of time masking off etc and I have the cable to start wiring the battery into the boot
8-23-2015
its been a while! I lost mojo not long after the last updates with 2 bereavements and knowing that the cortina wont be ready for the wedding it just took a backseat.

After a bit of an arsekicking from the wife to be I figured I better pull my finger out! The inlet manifold is nearly finished - instead of the rubber mounts people use we are trying a pinch bolt collar which fits very snuggly on the carbs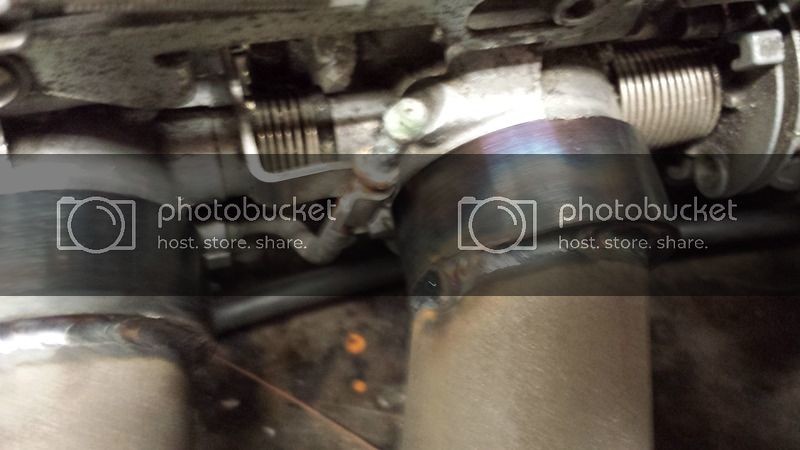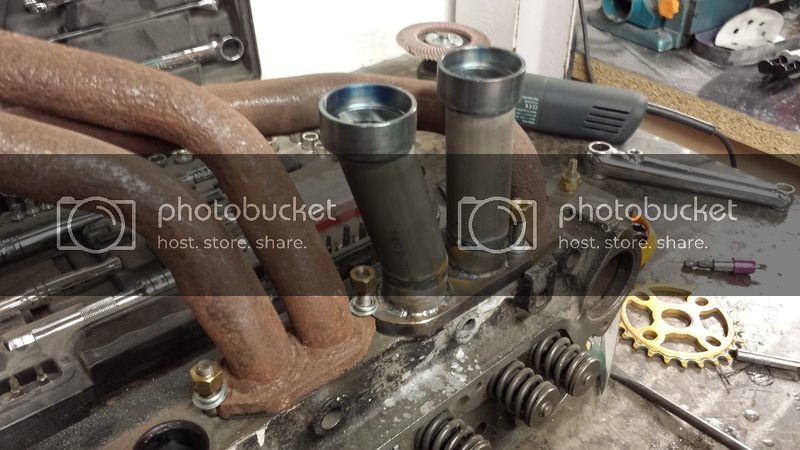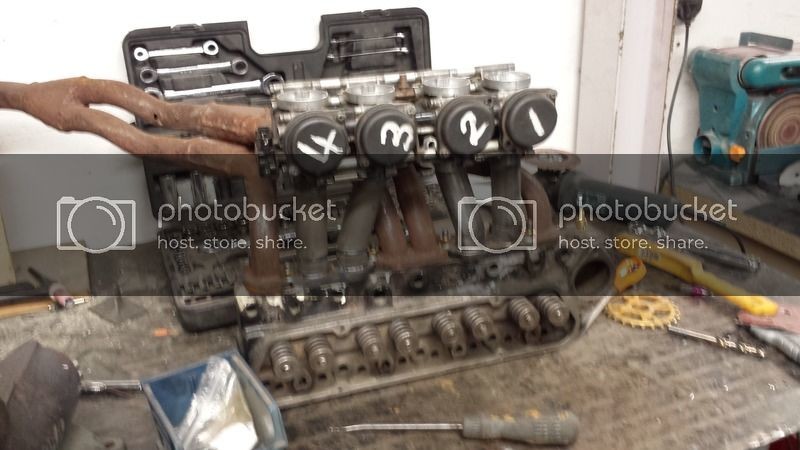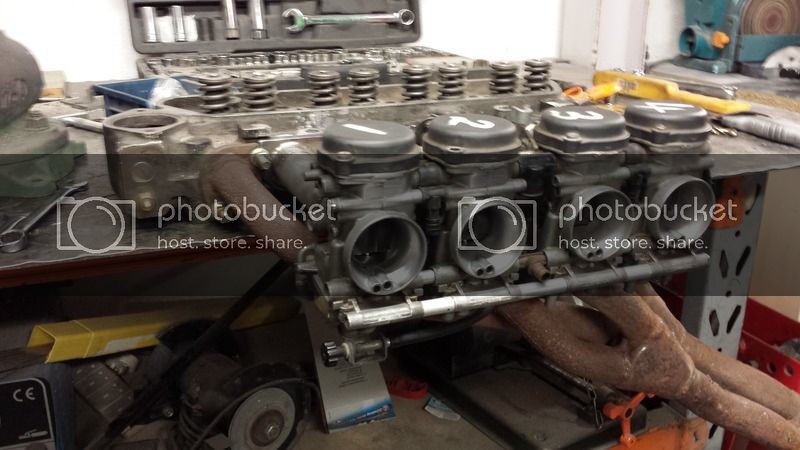 With the manifold almost finished I cleaned the head up and gave it a coat of paint before fitting it to the bottom end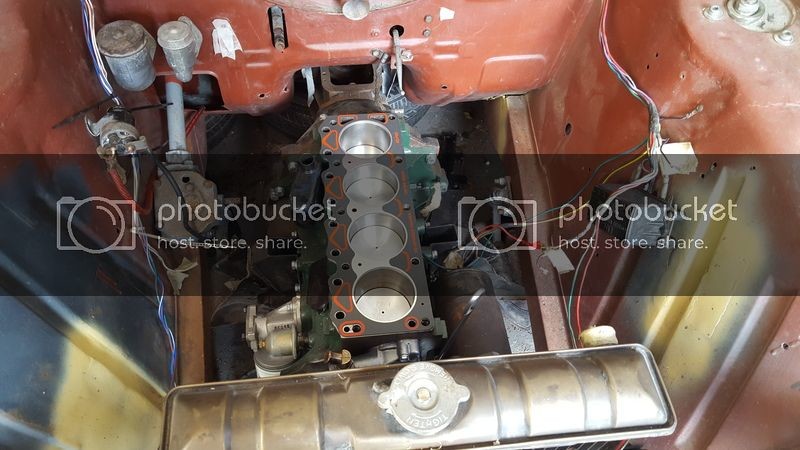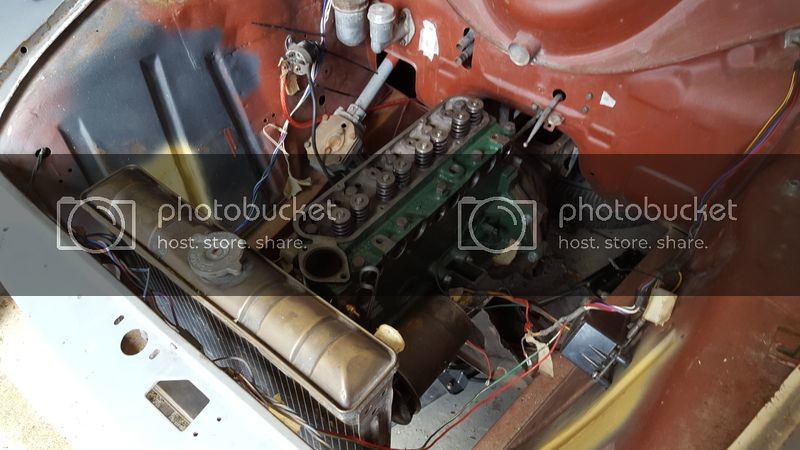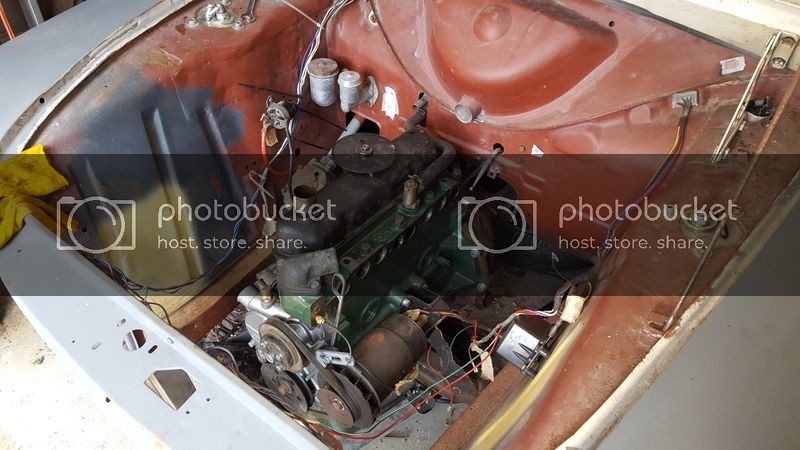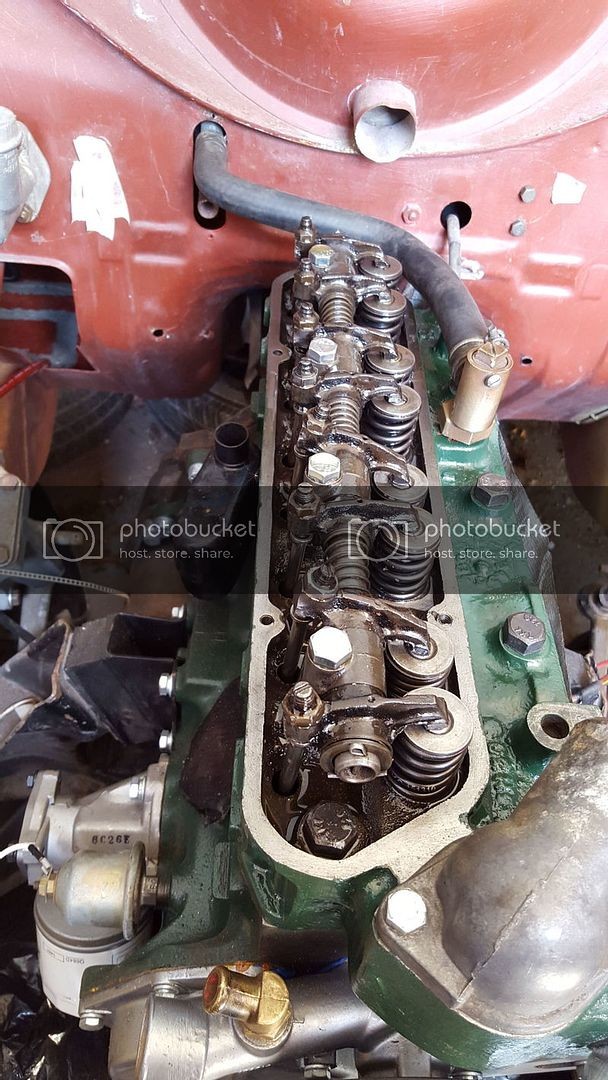 I liked the idea of a hard line running to the heater after seeing it on a morris oxford on here - so I made a temporary pipe out of some copper I had lying around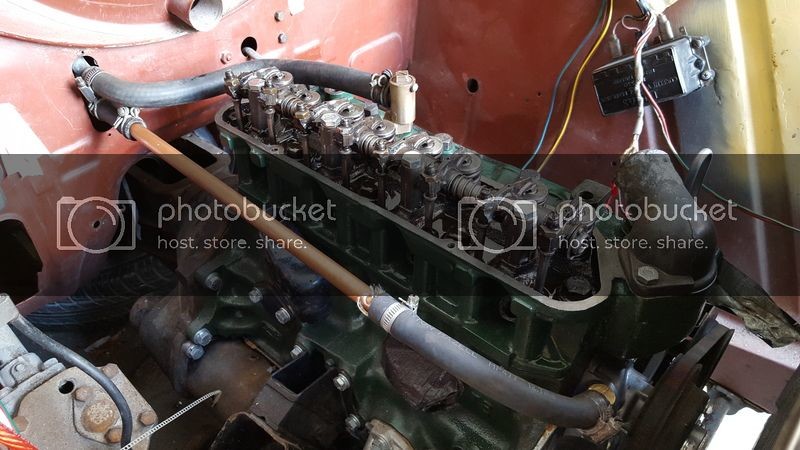 Whilst attatching the loom I found a few damaged wires - I have soldered them up but these will be replaced up - like I have done with the headlight wiring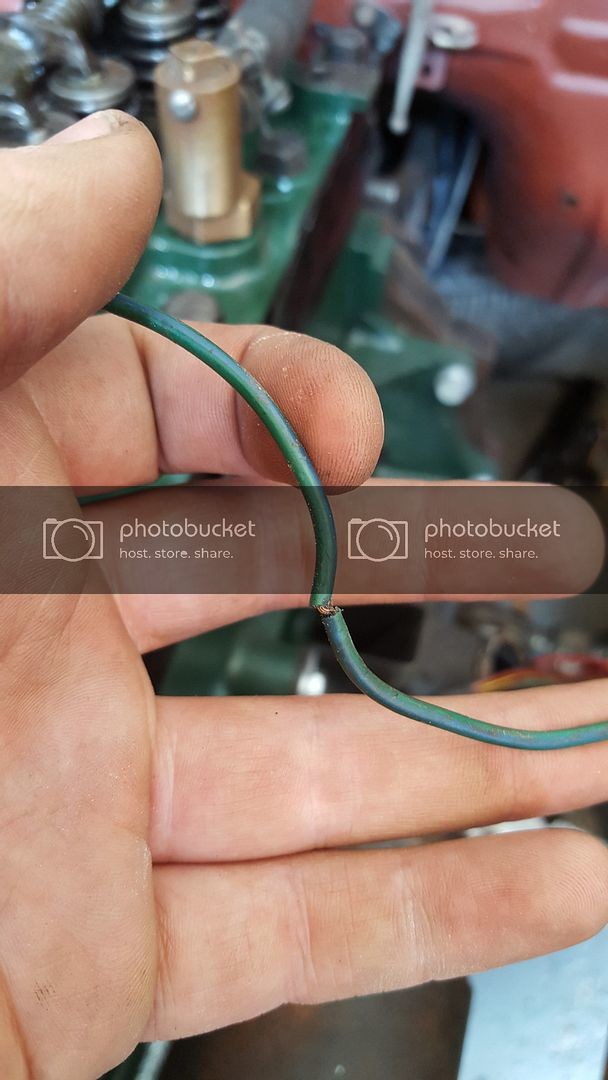 I bought some lowering blocks a while ago and would like to try them out but the axle has a bolt that goes down through the leaf spring to hold them together - so I am struggling to get these to fit - do I cut/remove the original bolt then the stud on the block locates into that hole?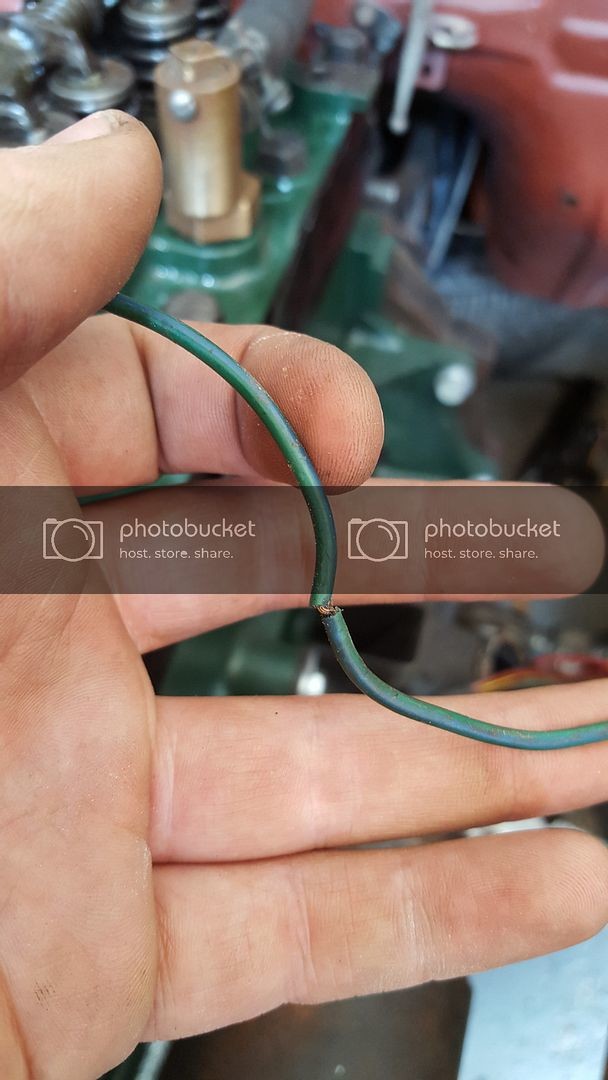 Any help would be great!

I'll finish with this!
8-31-2015
I managed to get the bolt out of the axle, it didnt take a lot of effort which was a nice surprise, I have fitted the lowering blocks but they need a fettle to get them 100% but at least I know what they fit etc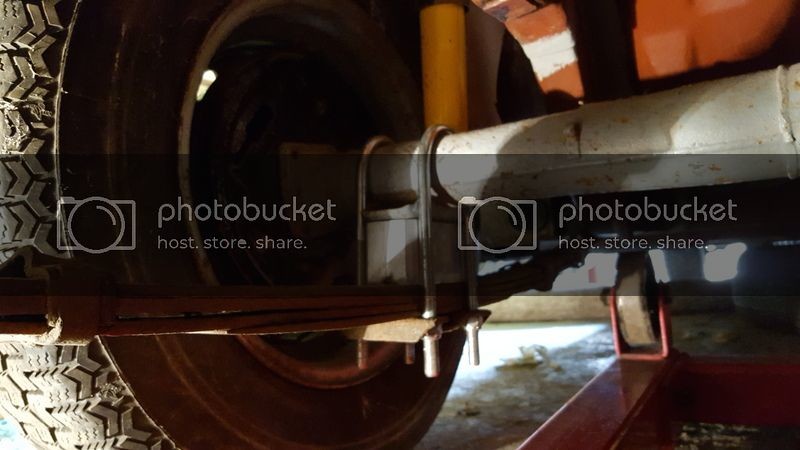 I think I'll need to add a spacer to the wheels when they go on as they look a little bit lost in the arches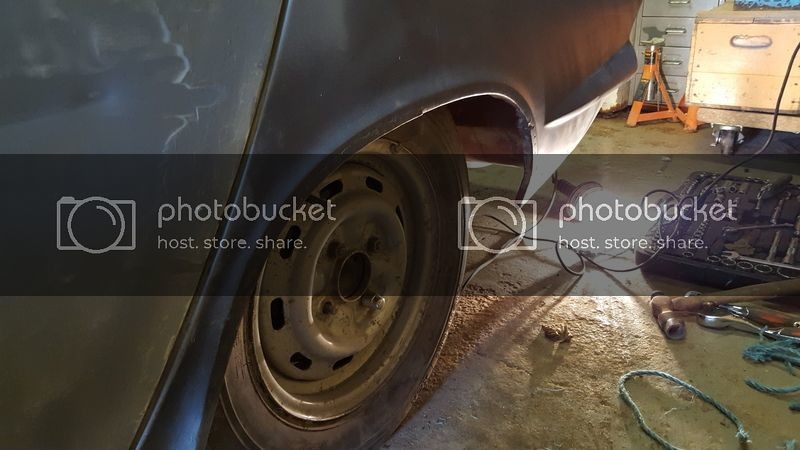 I decided to try multitasking as it seems to work out well for the Mrs! so whilst lowering blocks were being fitted and I dropped the centre console and passenger seat into the car (no where to store them till we've moved house) I thought I'd try electrolysis!

The exhaust manifold has some extra holes in it that need to be addressed and it looks pretty ropey, it needs to have clean metal so that I can weld it up and paint it - usually I would wire wheel parts as its quick and easy but the problem with that is that there won't be much manifold let afterwards!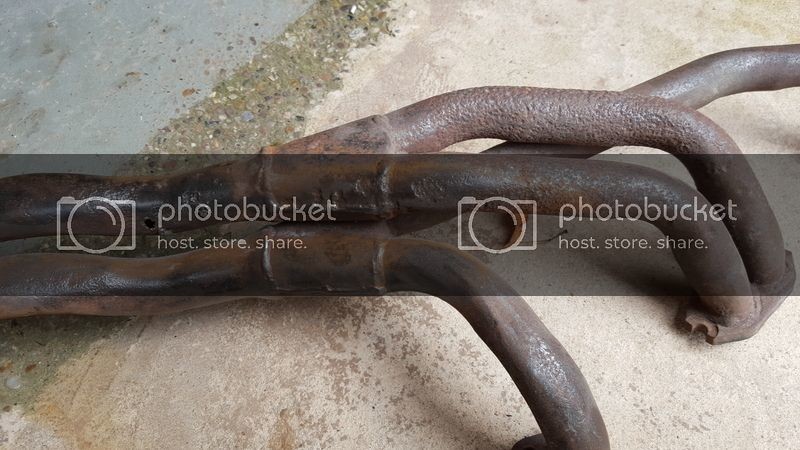 The setup is pretty easy, I had the plastic drum in the garage - It is usually used for storing rags and doubles as a seat for when I am polishing stuff! and the washing soda was £1 for a KG (it should be enough to do this for everything on the car!) and a battery charger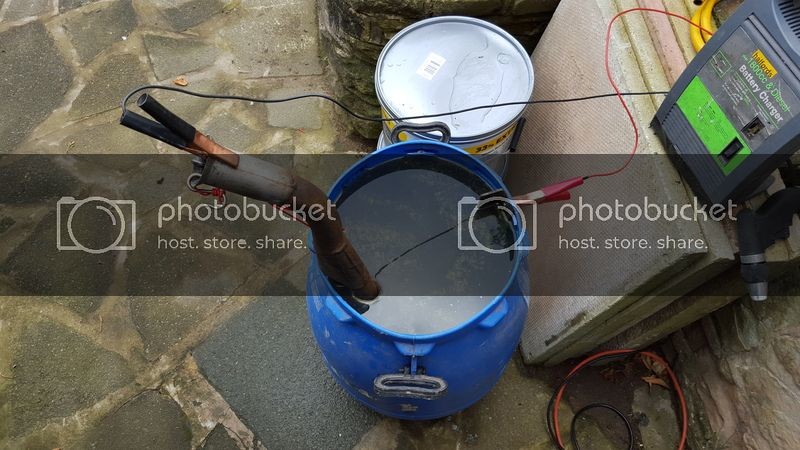 After an hour - I wasn't sure if it was going to work!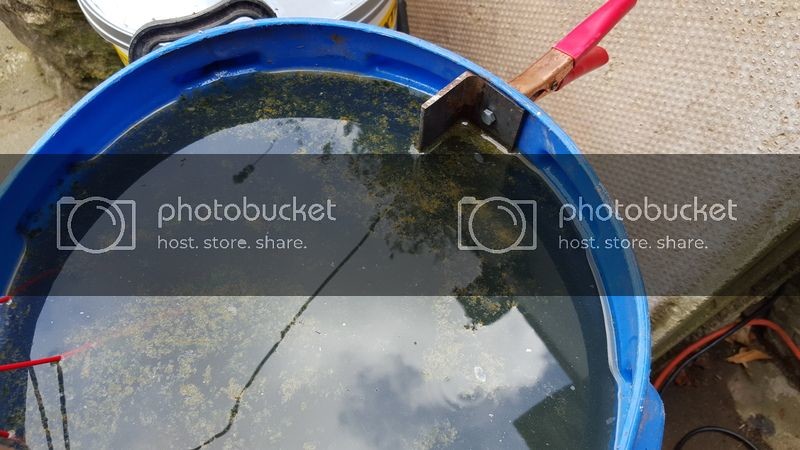 after 4 hours - rusty soup!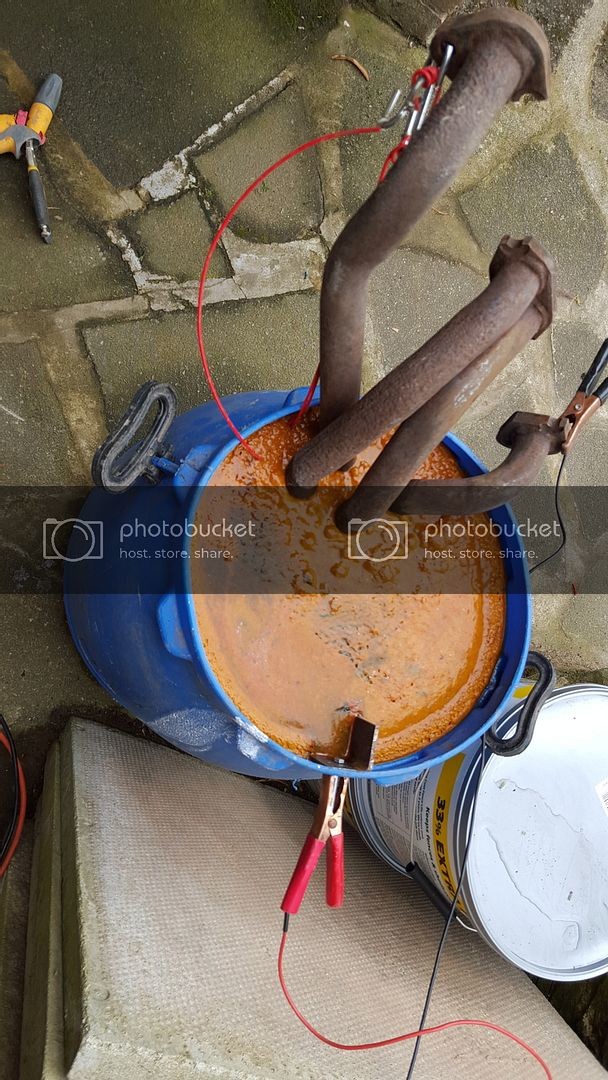 I pulled it out and rinsed it off - it looks much better than I thought it would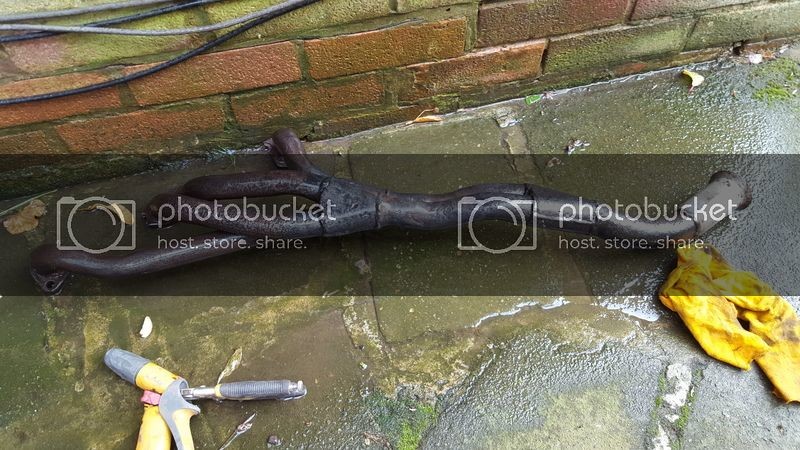 I would recommend this as its something you can do whilst working on other jobs - I think I have an old sieve which would work for doing bolts etc at the same time
9-18-2015
Thanks Quickrack! It was worth a go as its so cheap!

So I'm currently on gardening leave which means I am technically getting paid to work on my car - Living the Dream!!!!

I thought that the engine was slow at turning over so I stripped it down and found that only 3 of the brushes were working as a sring had broken - so I borrowed one from the dynamo as it is going to be changed for an alternator and to celebrate I made it look like I wanted to keep it!
I have taken on board what guys have said about the carbs and as a precaution I managed to acquire and original weber 28/36 DCD and manifold but there's a catch!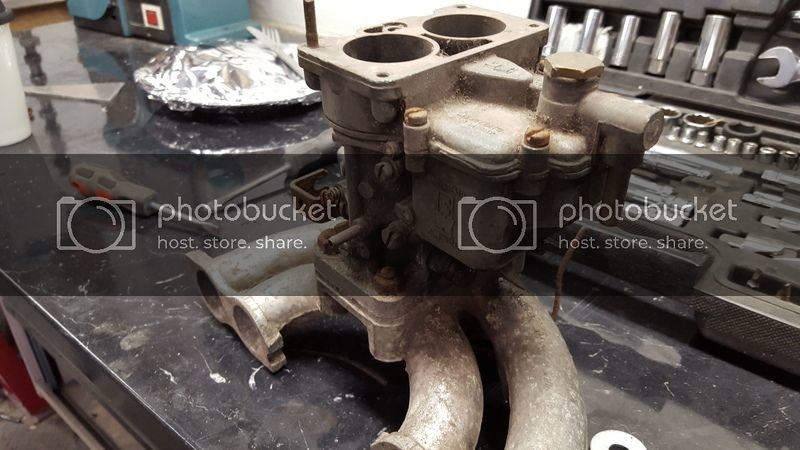 It looks was buried in a very deep hole for 50 years and because of that the throttle shaft was siezed which turned out to be twisted - so I needed to order another simple!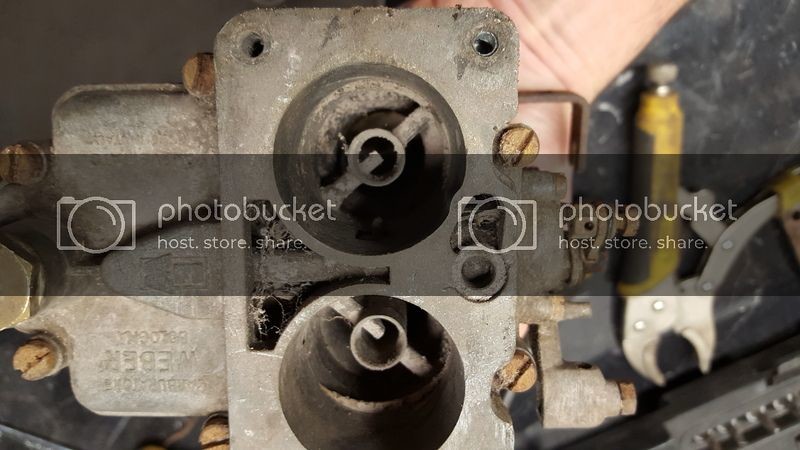 The problem was no-one in the UK has any - even weber! So I'm currently waiting for some to come from the USA! in the meantime I figured I'd pull my finger out and clean up the manifold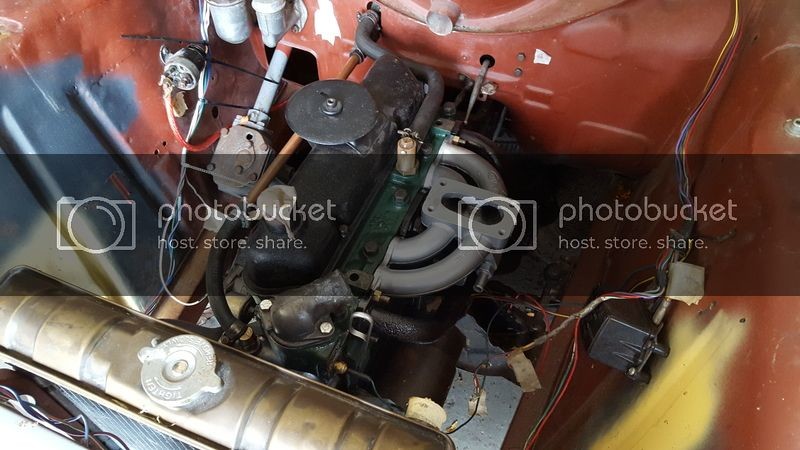 I painted the exhaust with High temp black paint and it looks pretty good and dropped it on and it got my motivated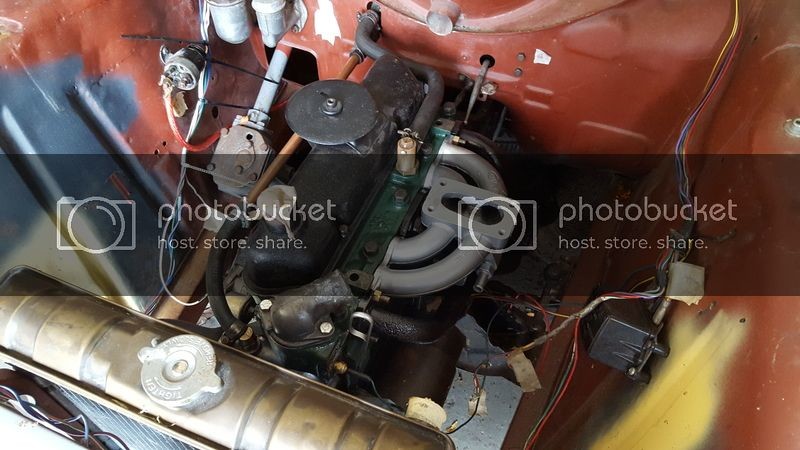 I ordered a distributor that is non vacuum advance which will work with both carbs, and to celebrate I put the bike carbs on!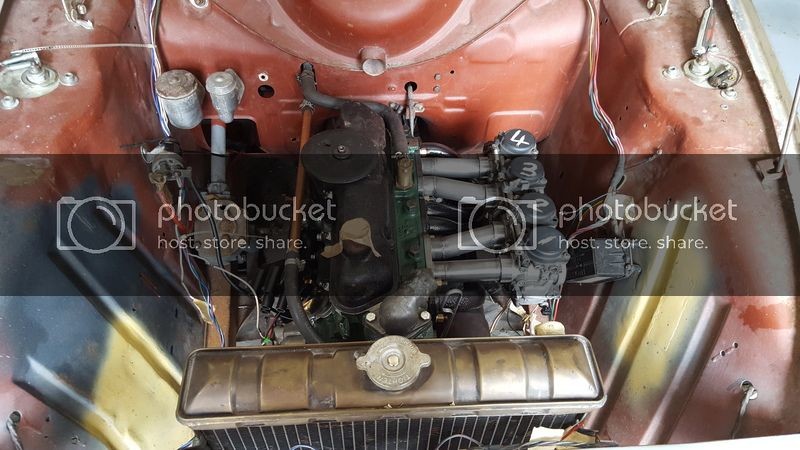 I need some HT leads, a top hose and some fuel I think to get it running now!
4-16-2016
I was wrong! Very very wrong! The bike carbs leaked terribly, the 28/36 throttle shaft was the wrong diameter so I eventually got lucky by finding another carb in much better condition but the main reason for being so quiet is because I have been rather busy!

last October I got married! It was a brilliant day I managed to sneak the cortina into my vows - as did my wife!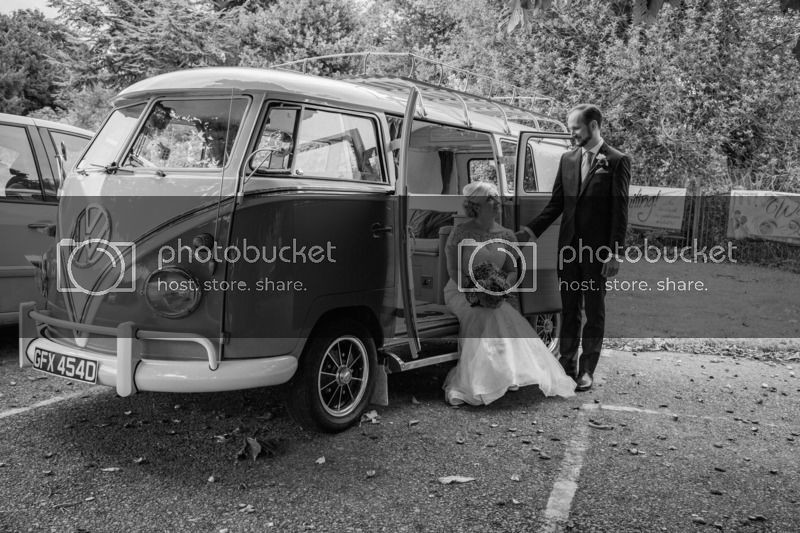 2 days after we were married we completed on our house so we now have our own home! Complete with a home for Tina but other DIY projects got in the way before I could mover her in! The garage got a full makeover prior to this but I cant find the photos but it's bigger than the one tina used to live in which is making life much easier - I even have room for my Lathe.

I had another thread on here trying to work out the problems of not getting spark but thankfully that's been resolved and Tina now runs - but the mixutre is very lean as it wont run unless there is some throttle down so I have an air leak - possibly from the vacuum advance as I tried to block it off using a self tapping screw - perhaps something like resin might help???
4-26-2016
As I've mentioned in recent posts I'm getting some electrical problems which I'd thought I'd address today as I was off work...

I managed to sort the sidelights and was onto sorting the indicators as the left was on all the time when all of a sudden everything got very hot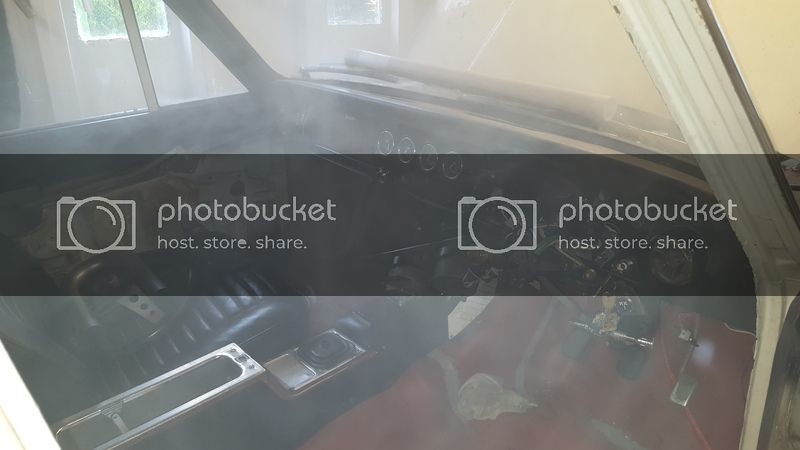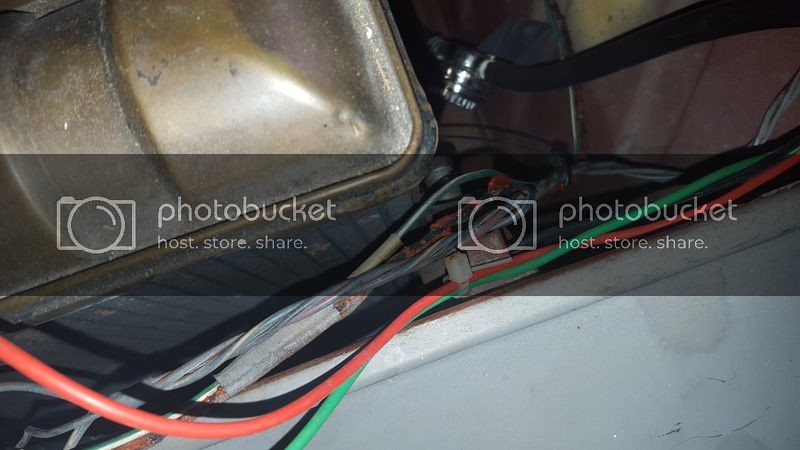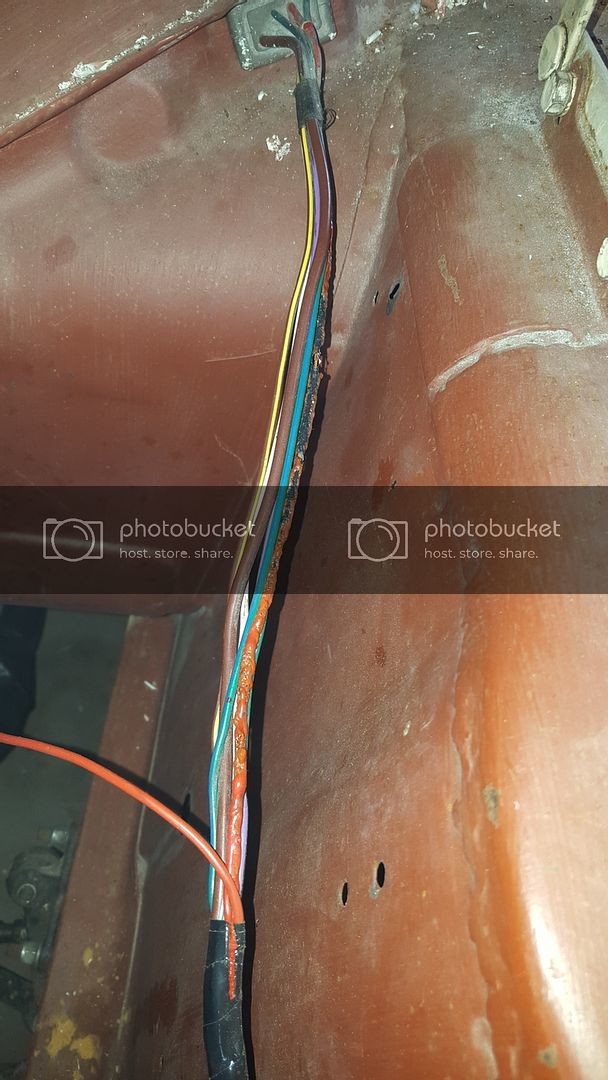 I don't know what happened or why I'm just throughly disappointed in myself and now I need to start again pulling the loom out and figuring out what needs replacing but being unsure whether it what I am doing is right

I like the car but I feel like everything is a fight with it and I'm definitely not wining
12-4-2016
So in the last few months since I last posted. The loom was a time consuming process - ultimately rewarding because it's now in and working as you'll beneath;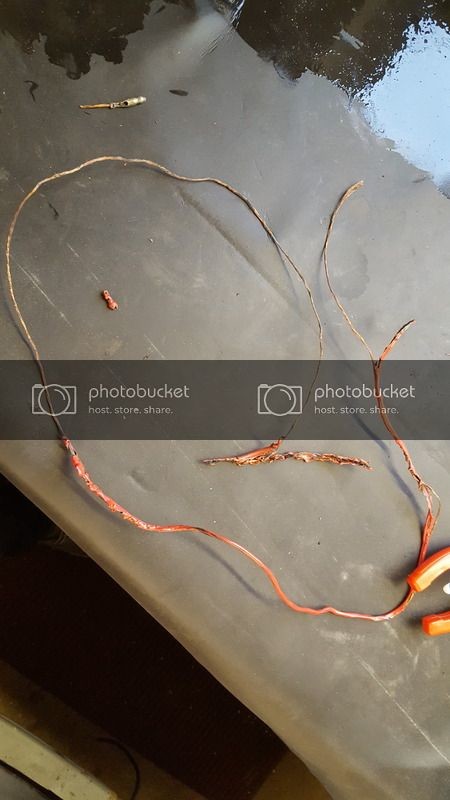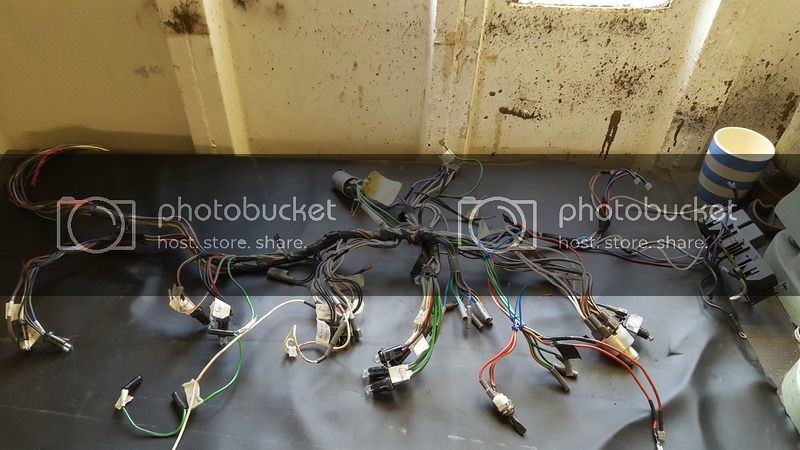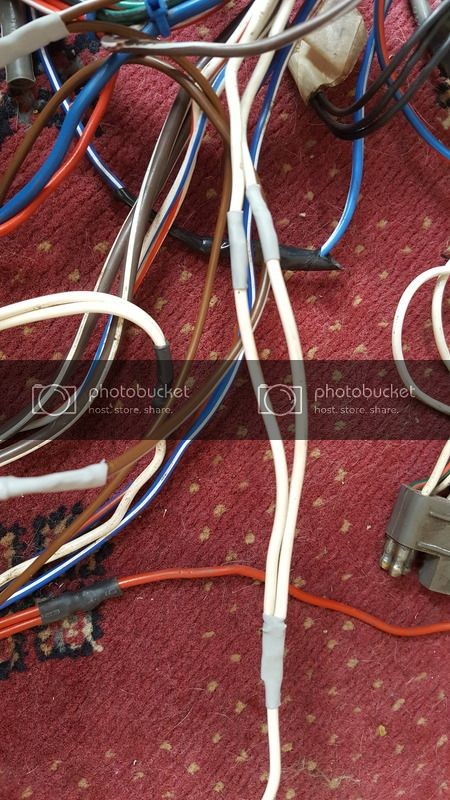 I've tried to keep it all looking as it was using the same colour wires and uninsulated terminals which I've then used grey heatshrink as ford did.

I did however have a lot of crap to remove!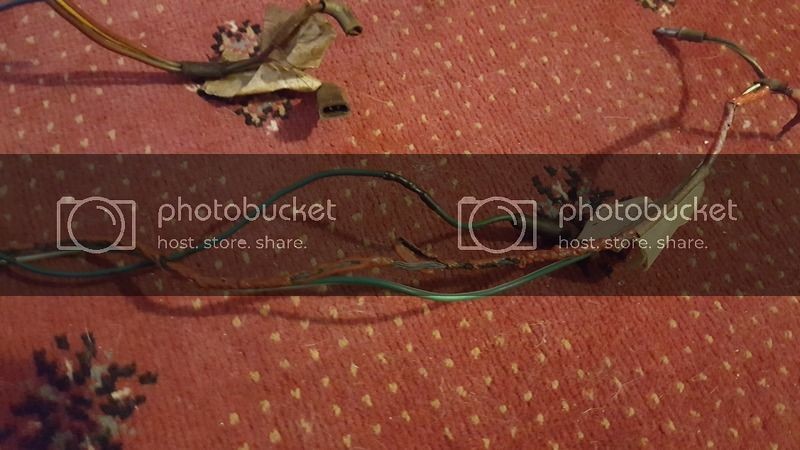 I've also took it upon myself to move the only fuse fitted to the car to the fuse box with the others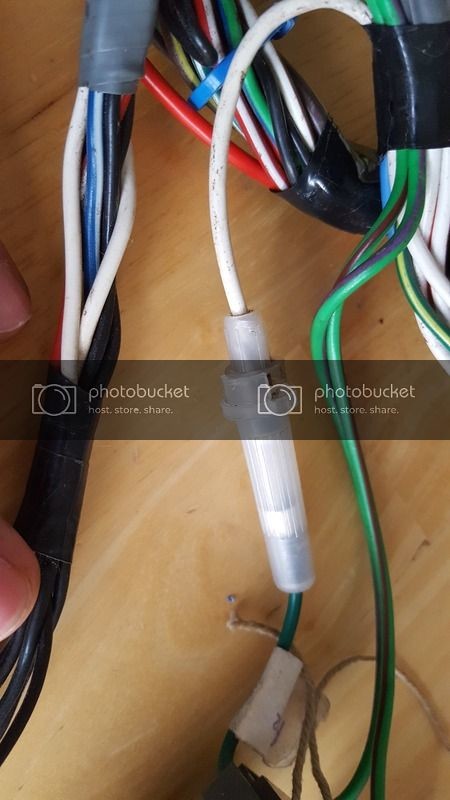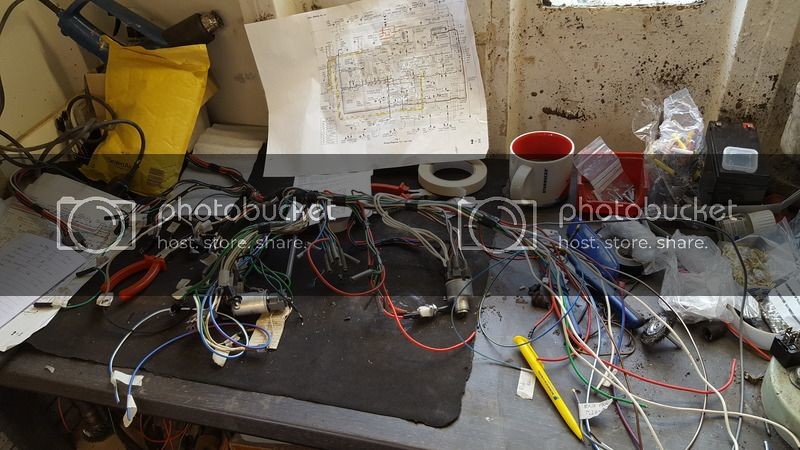 With the loom finished i wanted to check it before I put it back in the car so I knocked up a loom board with some scrap wood and old shelving brackets to act as the earthing points - a quick fettle here and there and it seemed to work!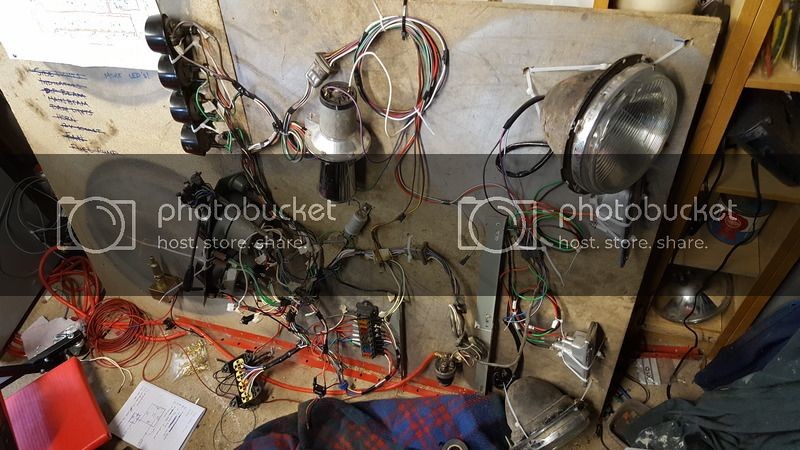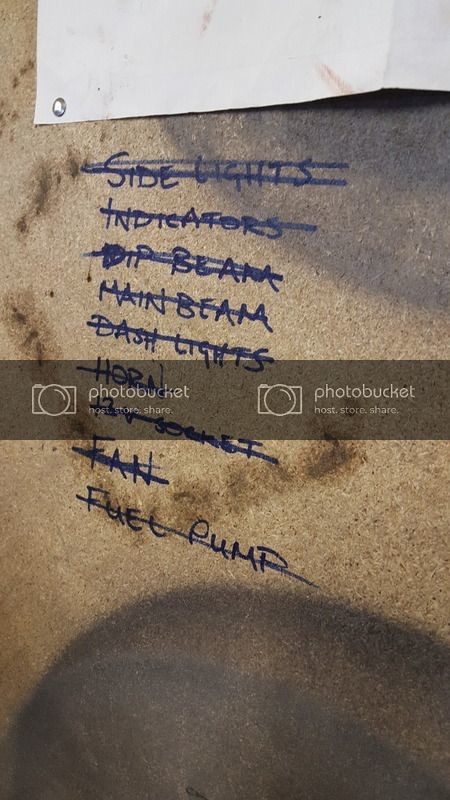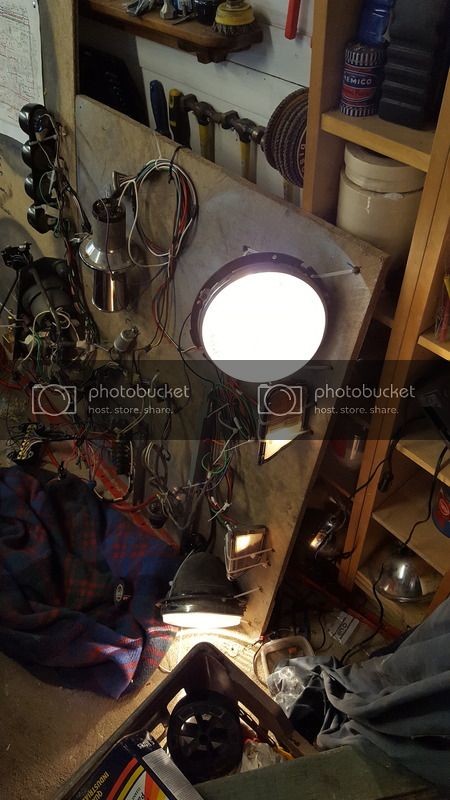 And after many cups of tea and language that'll mean I need to go apologise to the neighbours it's back in and...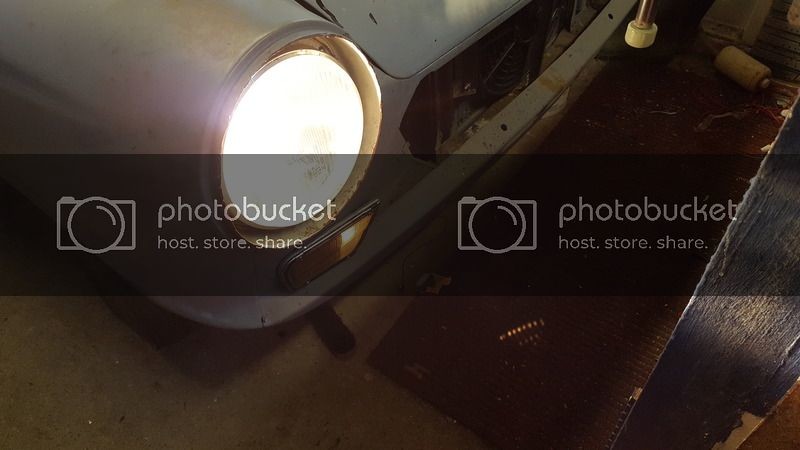 12-4-2016
In the middle of the loom rebuild I found a replacement fuel tank that needed some work - it even came with a refurbish kit!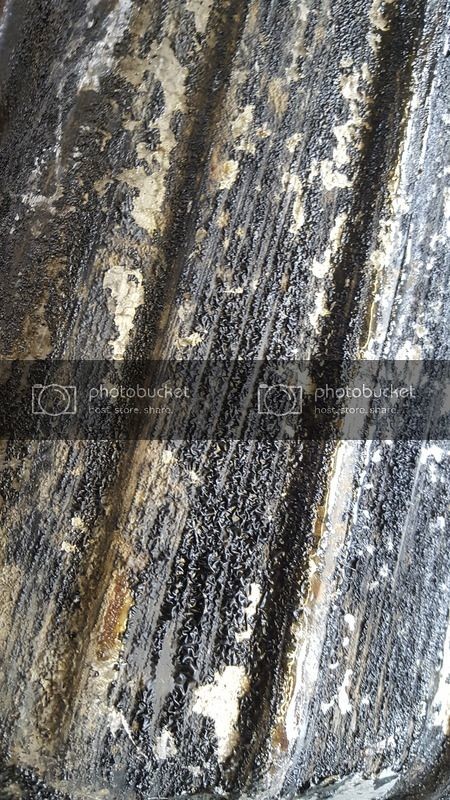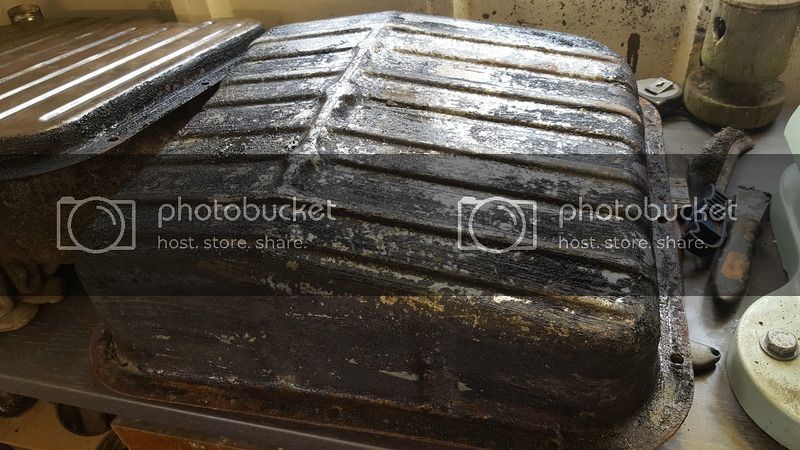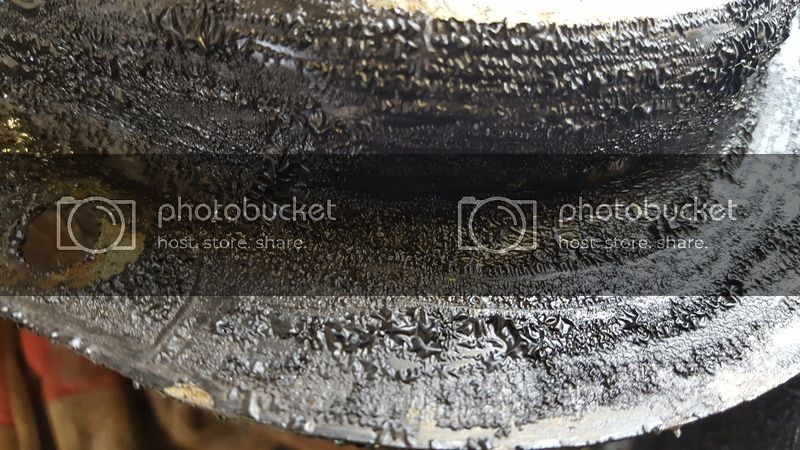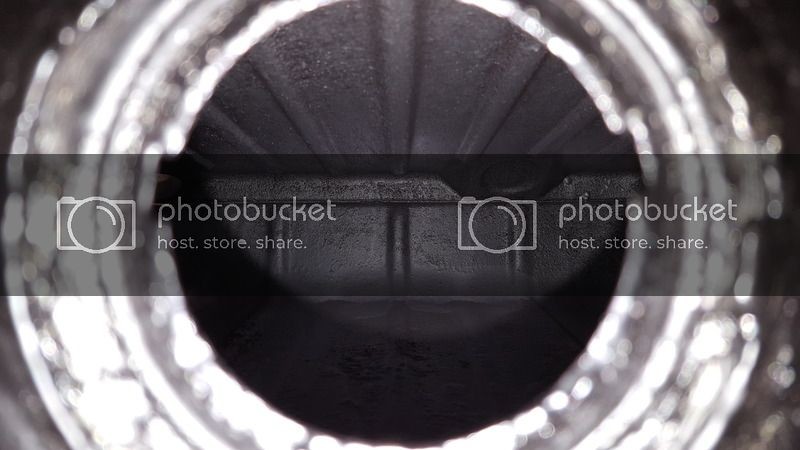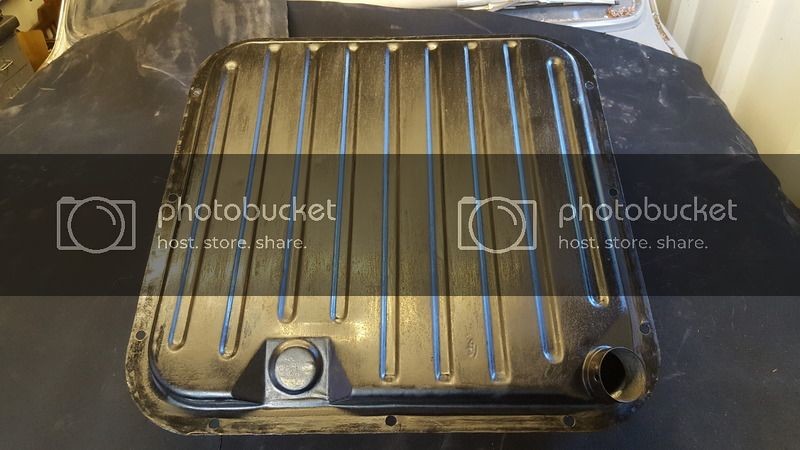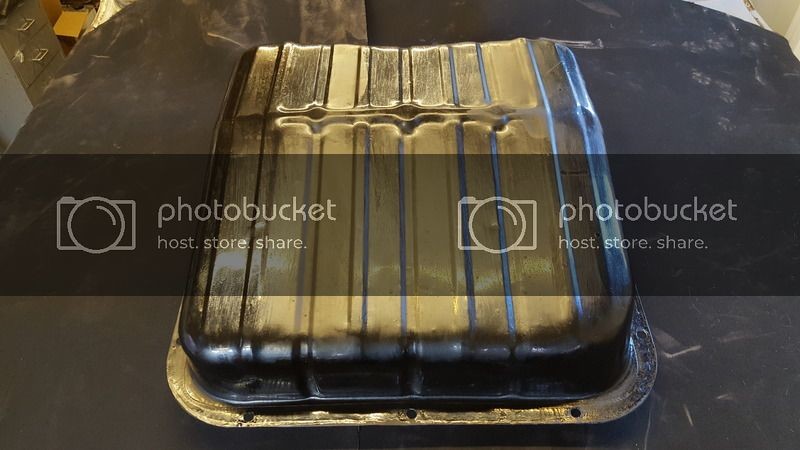 I'll gloss paint it properly when it's going back in for the last time!

I've just come back in from fabricating the new fuel pump bracket - it's welded underneath as I didn't want any bolts going through the boot floor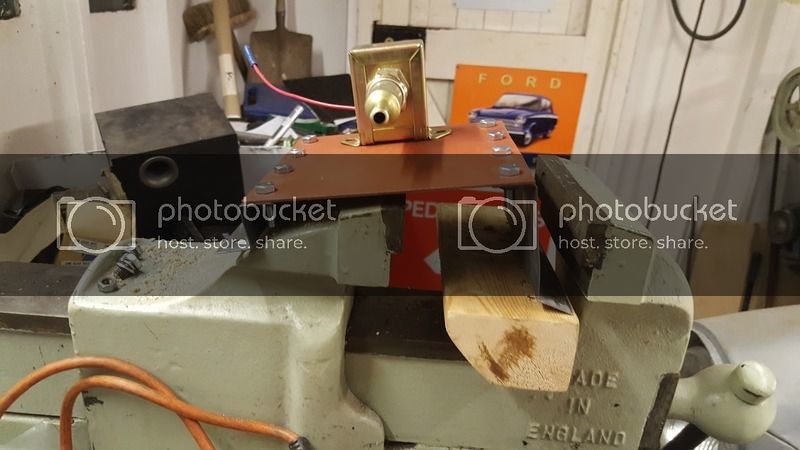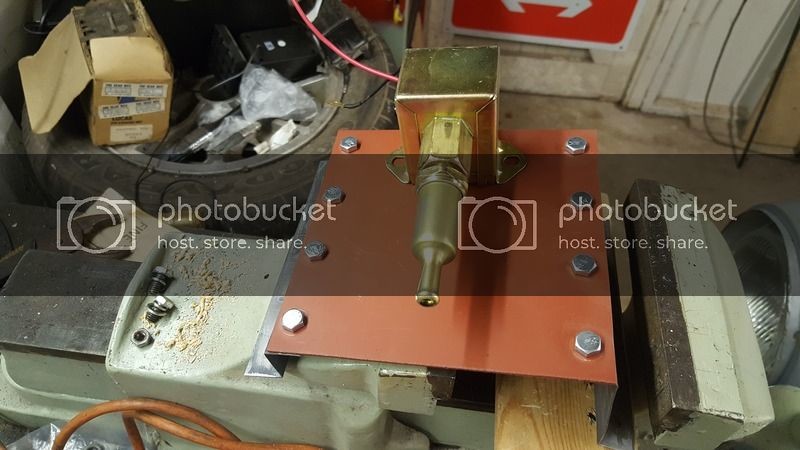 It's 3 pieces the centre is removable because I'd like to go fuel injection in the future so I don't want a panel that's going to be drilled and redrilled so now I can just make a new centre which is a flat piece of steel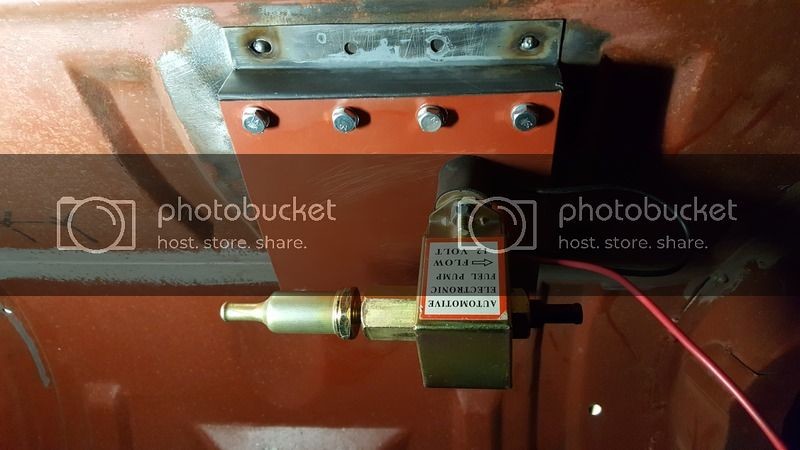 I'd forgotten to add that I've also made some brackets for an electric cooling fan which now bolts in front of the radiator because there isn't enough space between the radiator and the water pump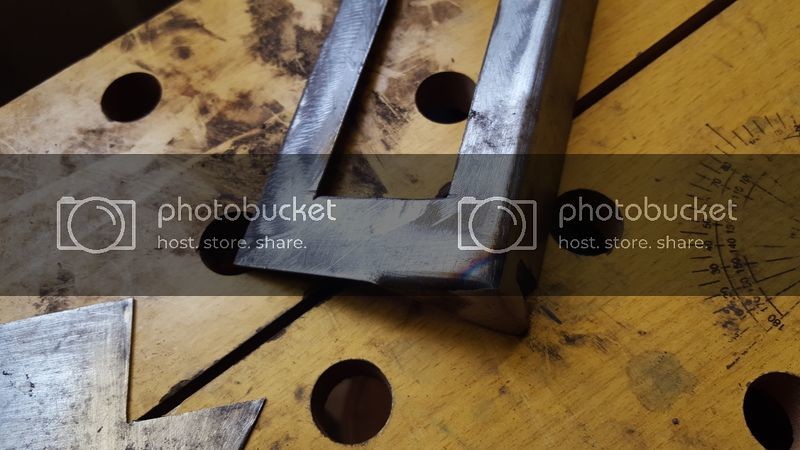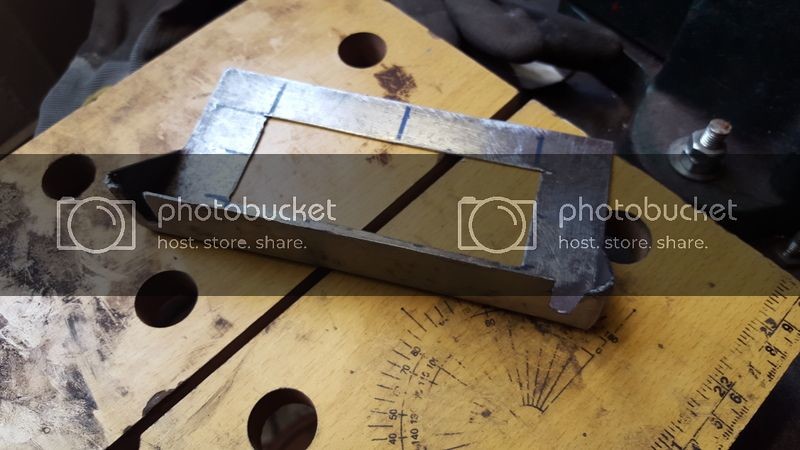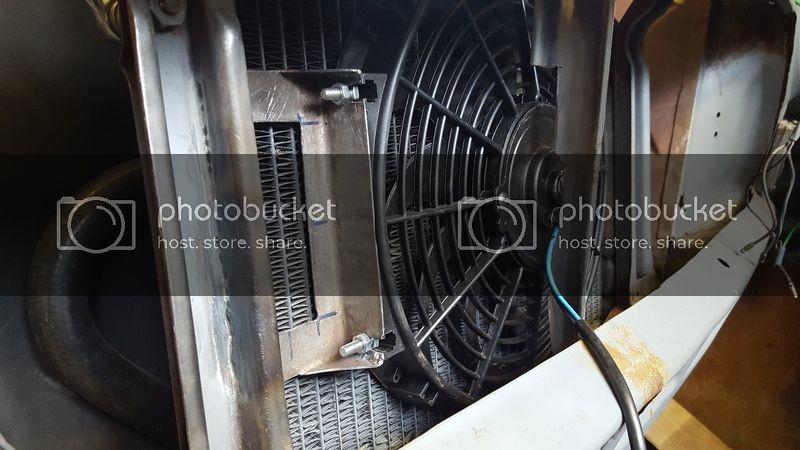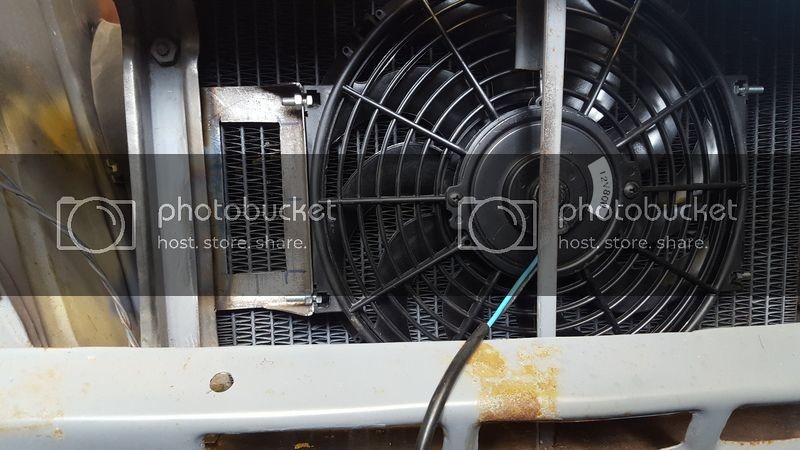 With all that done I'm currently working on a stainless steel exhaust which I've nearly finished but I've run out of bends so the main fabrication is done!

My aim is to have the car running with fuel from the tank, a proper exhaust and charging from an alternator (more to come) then it's teardown for paint prep!
12-10-2016
Thanks! I was looking up pin boards and thought I could throw something together - I was even allowed to work on the loom in the house! Despite me vowing to not fill our house with car stuff!

I've been working on an alternator conversion which uses most of the buts you'd use on a crossflow engine but I wanted to do away with the adjuster bracket as they were expensive 2nd hand and they're a bit of a curse word to adjust tension

So I've made this 1 lh thread the other rh using my new 75yr old lathe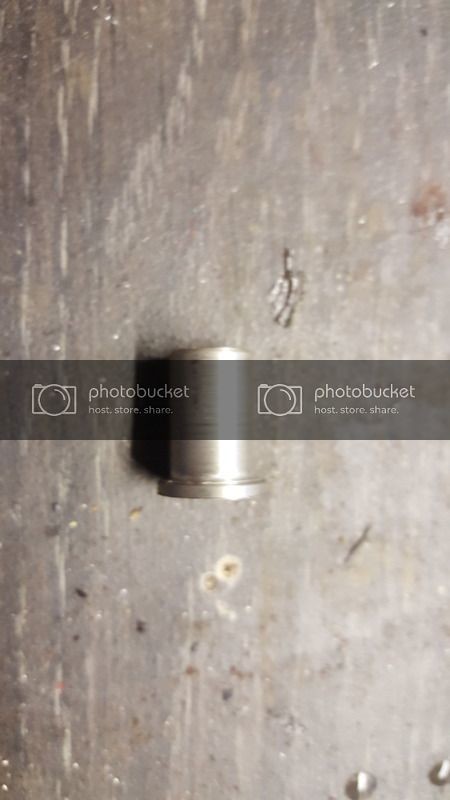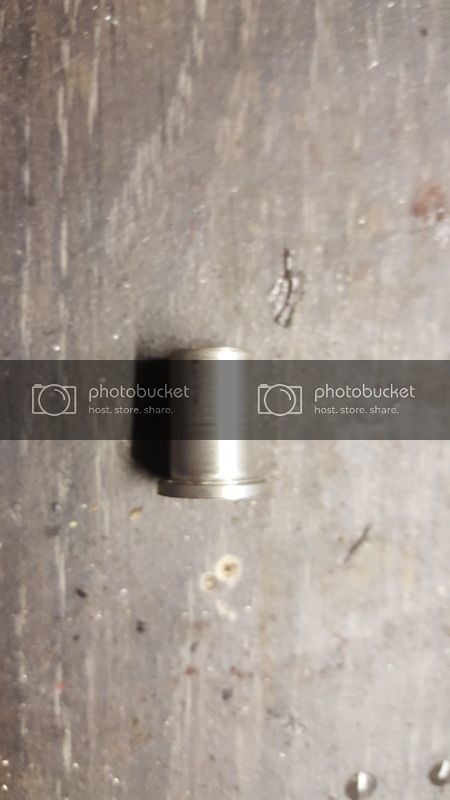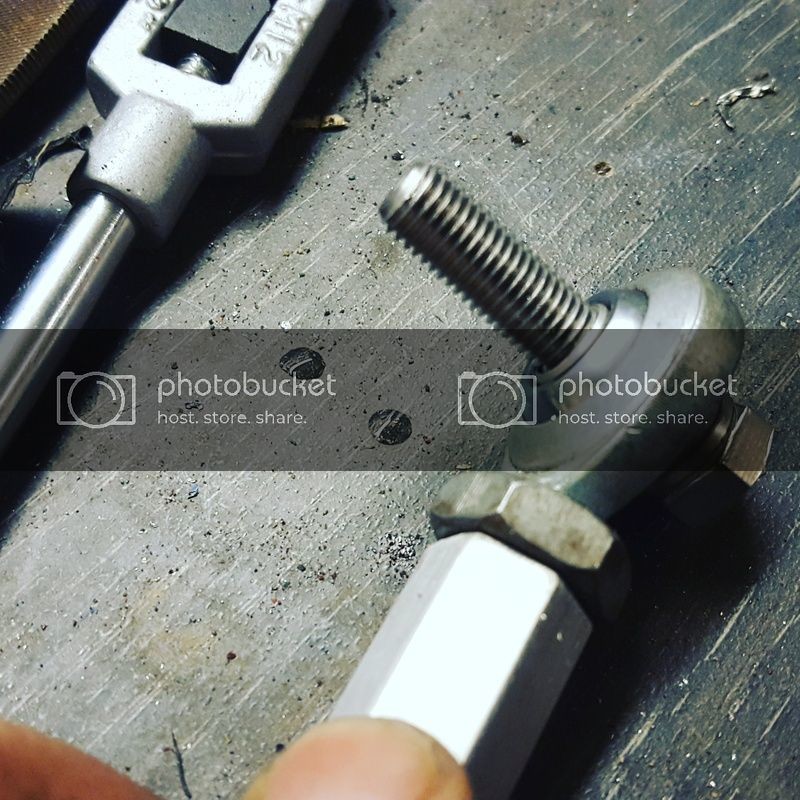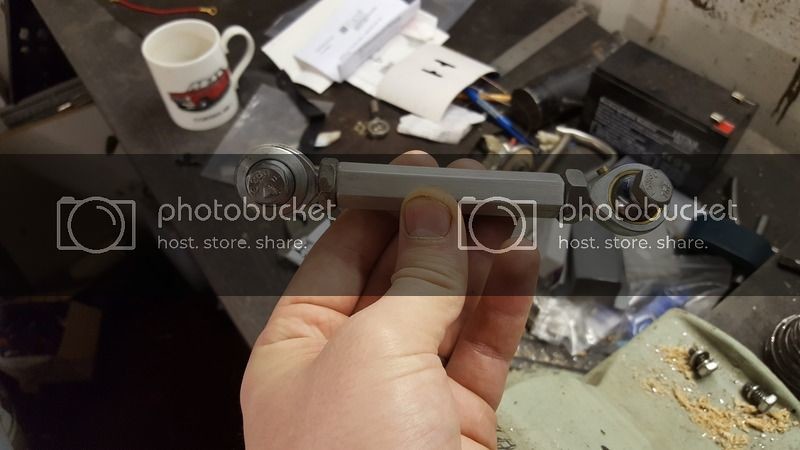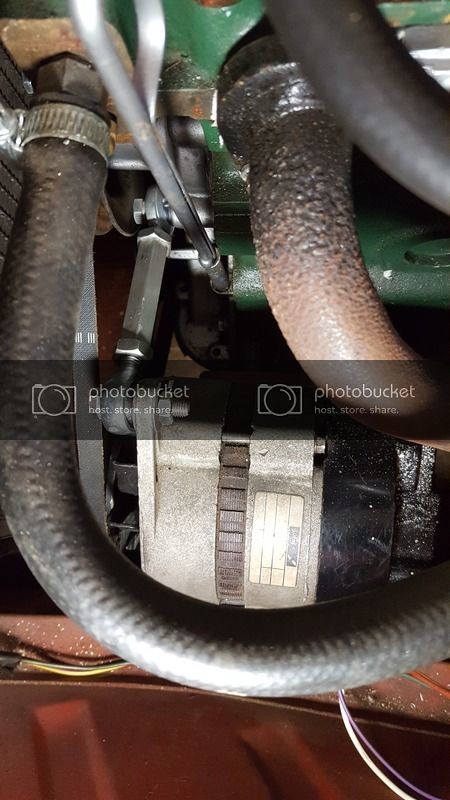 5-9-2017
I didn't realise how long it had been since the last update, happy new year to everyone who reads this!

The exhaust is tacked up but functional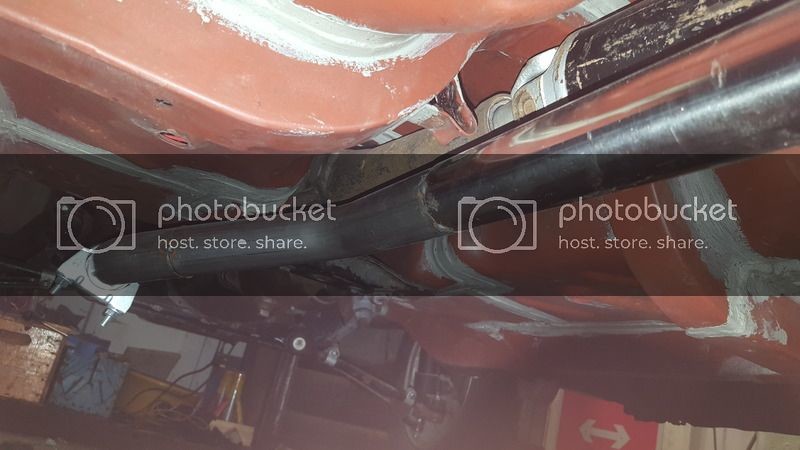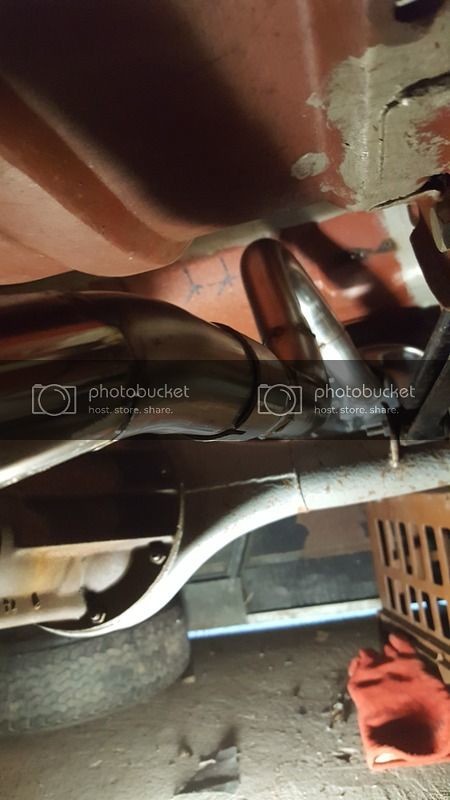 The fuel tank is in and plumbed in temporarily as I need to get a flaring tool etc and fab some brackets so it looks more factory and is better supported than the 2 clips that ford fitted!

I'm doing some research into it but are rivnuts ok with people clips?



It runs as close to a proper running car which is an amazing feeling for me!

The next job whilst I'm getting other ideas sorted so I figured I'd try to repair a door - I've been avoiding it for years and now I can't avoid it anymore!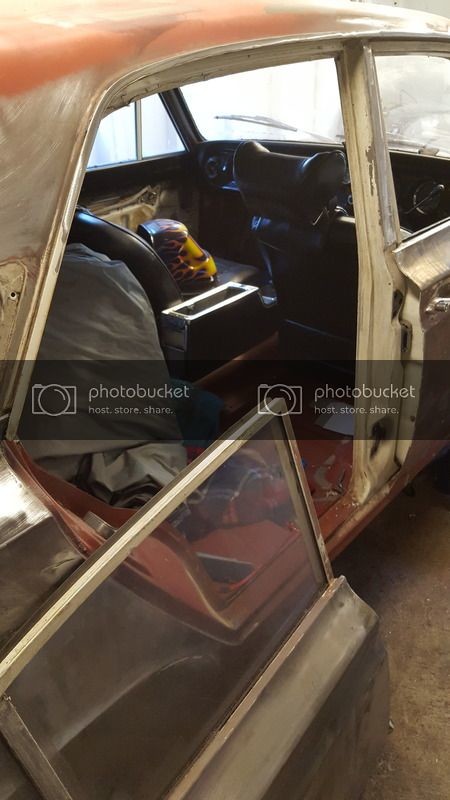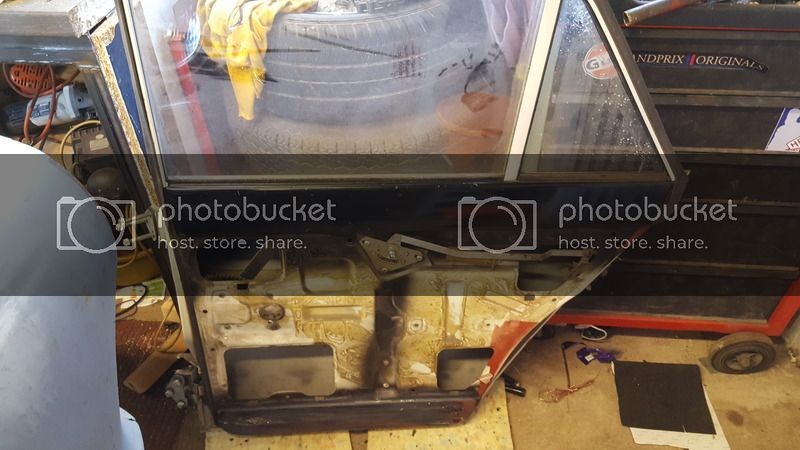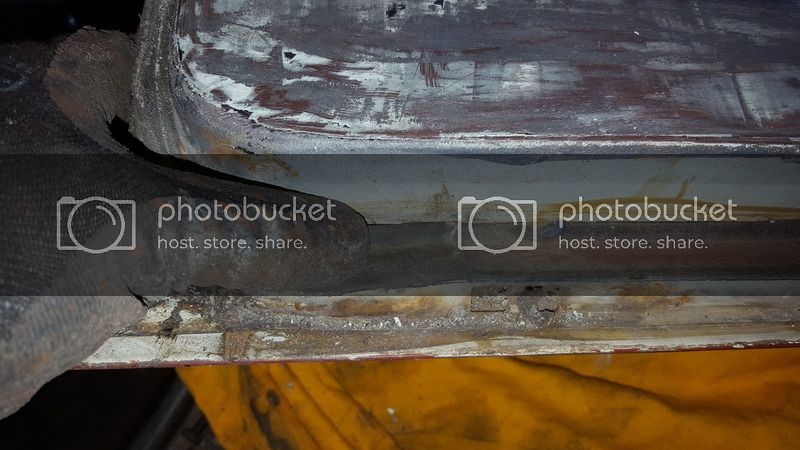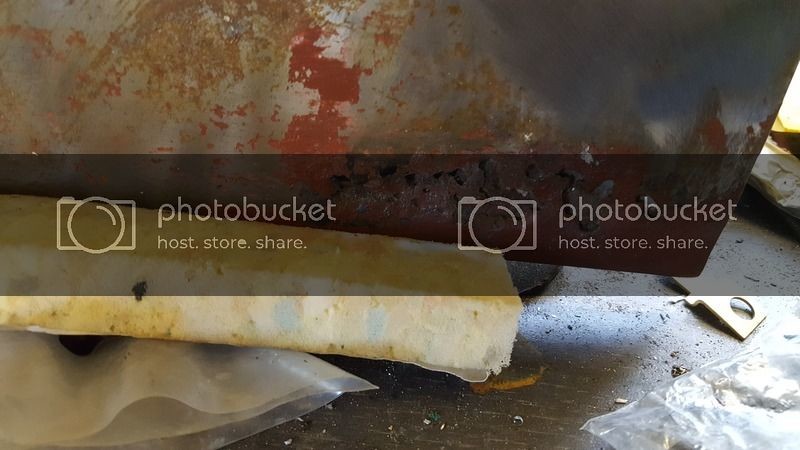 After many chemicals and sanding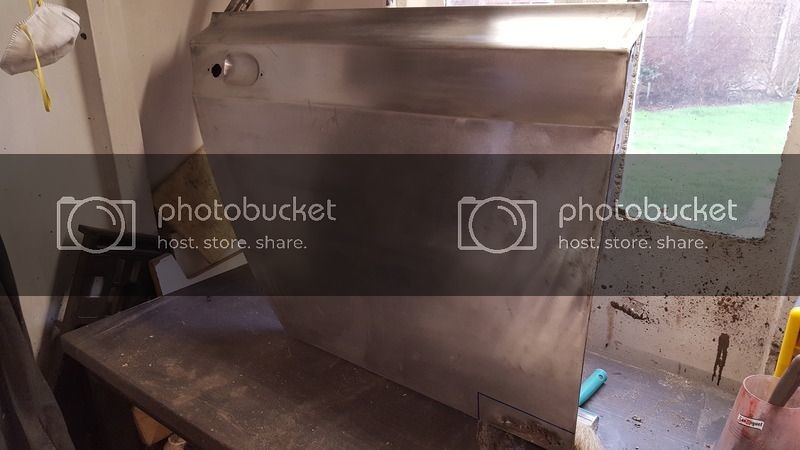 Time to cut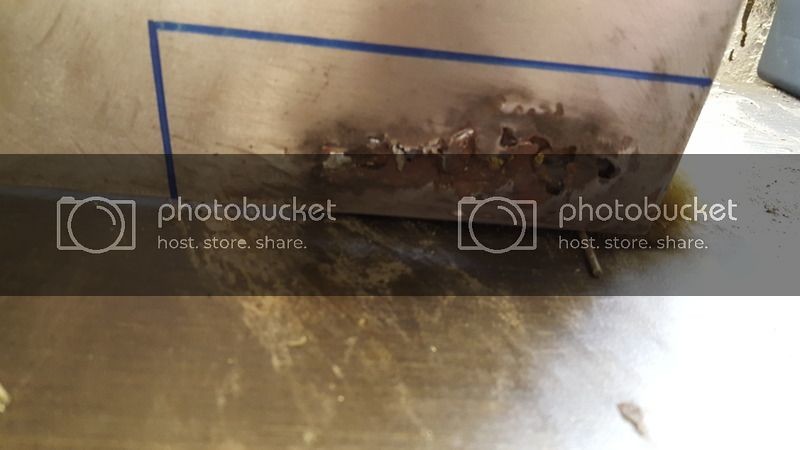 Trial fitted (4th version!)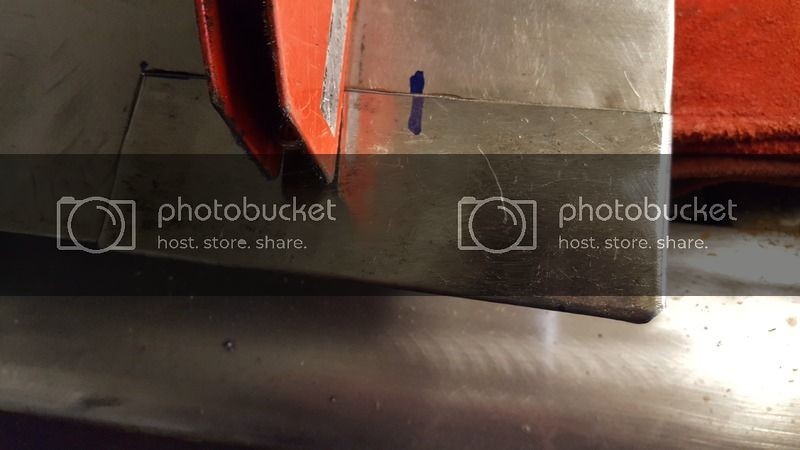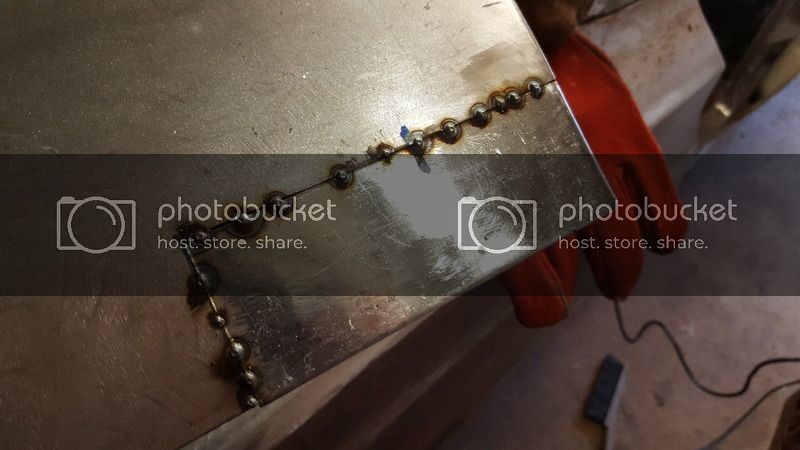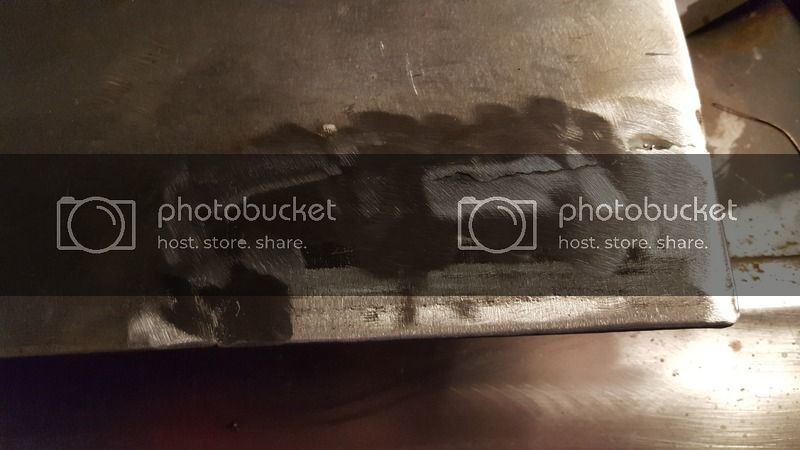 All in all its gone much better than I expected it'll need a bit of filler but I'll look at lead then a tiny blob of sandable stuff!

Today I've red oxided it and put it together then fitted it'll just need a fettle to be perfect!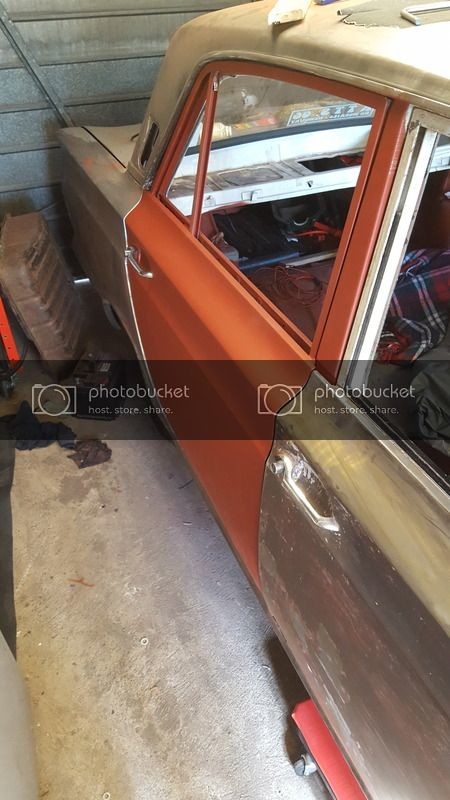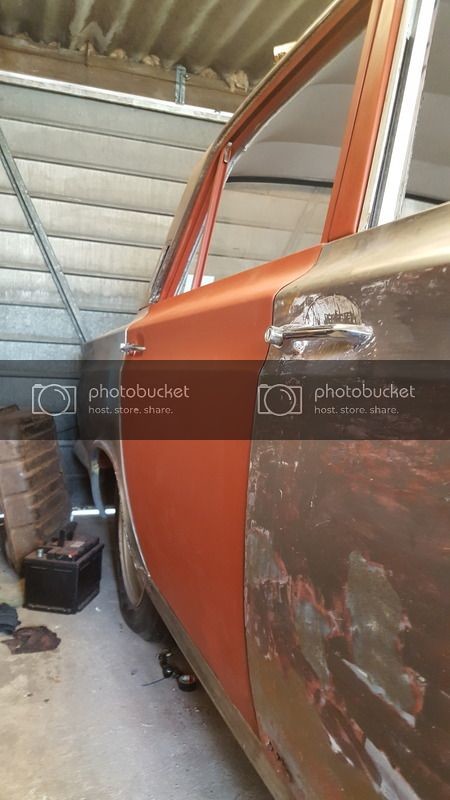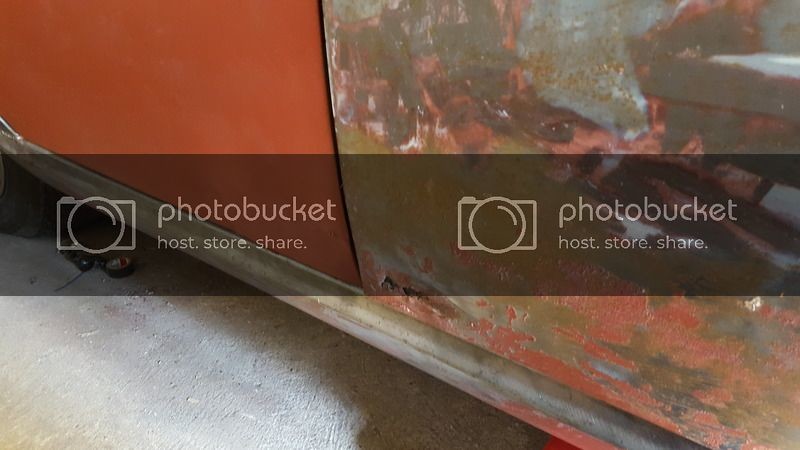 And I'm now working on the front one which is worse!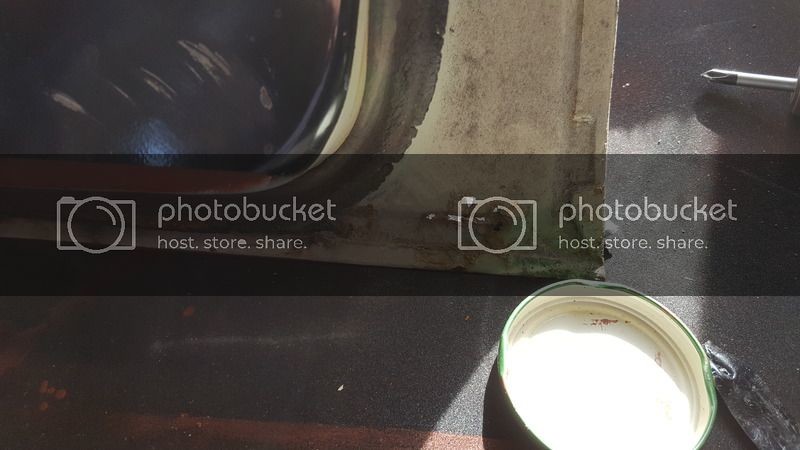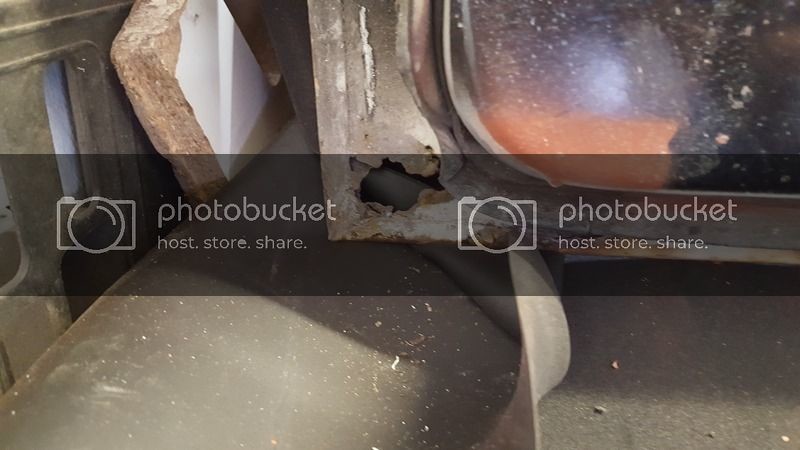 3-31-2017
So as we left off with the front door we'll be carrying on from there getting slightly further but not by much!

So are bare metalled the holes were far worse than anticipated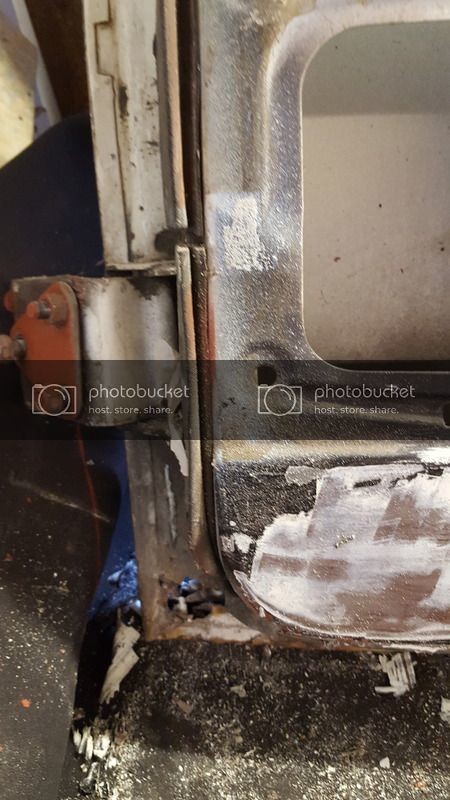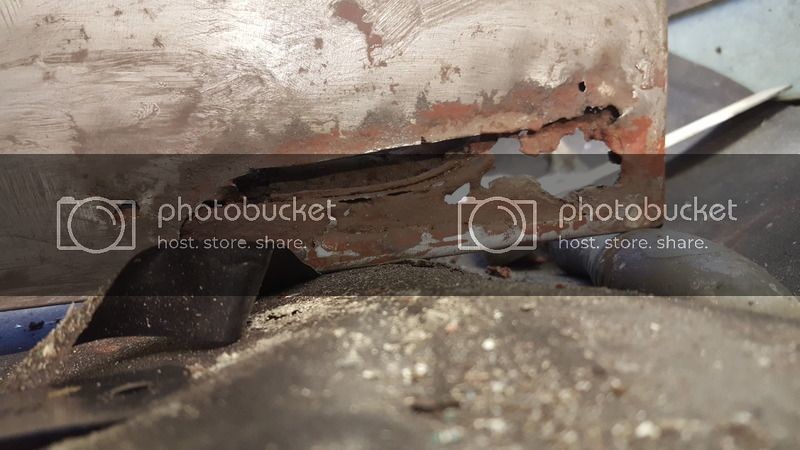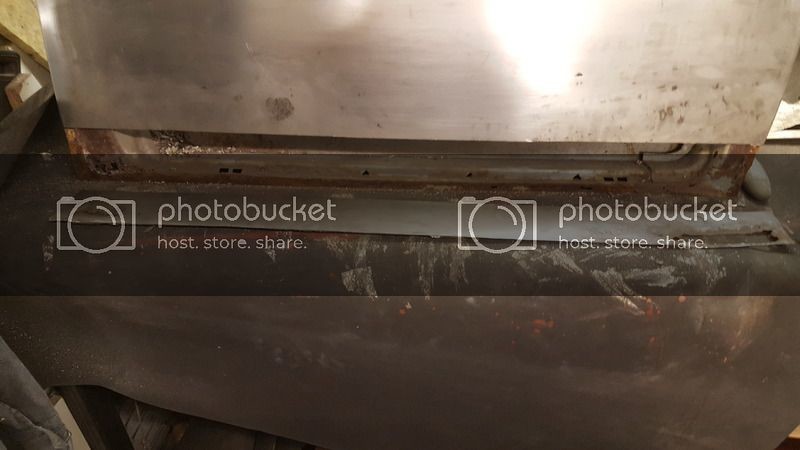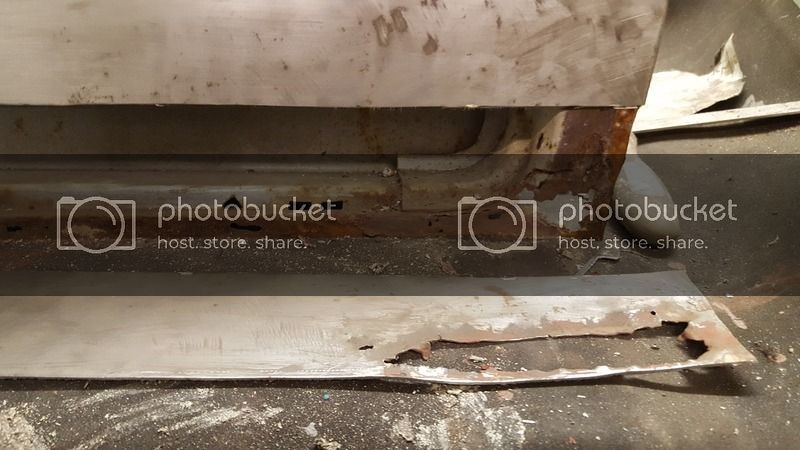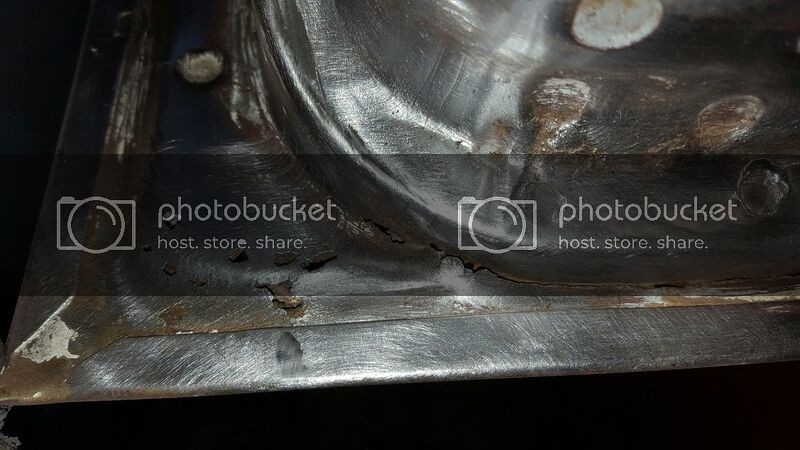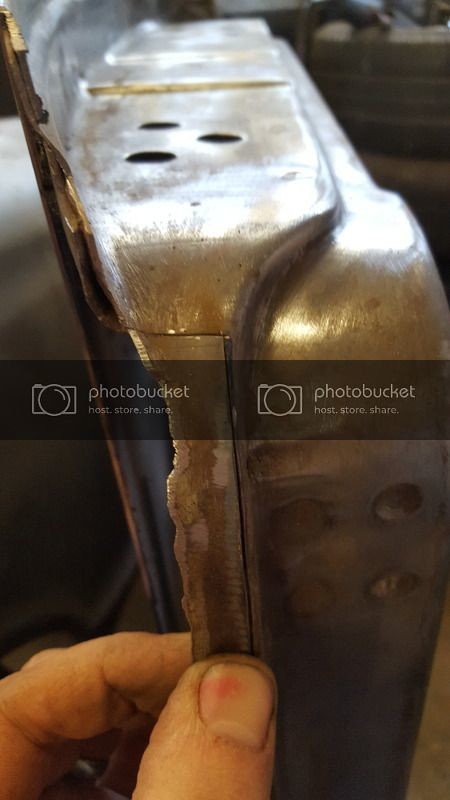 But I slowly managed to piece this corner back together again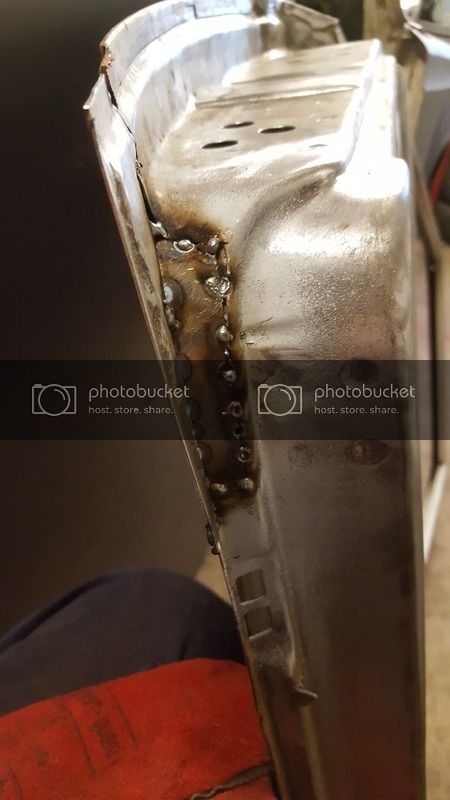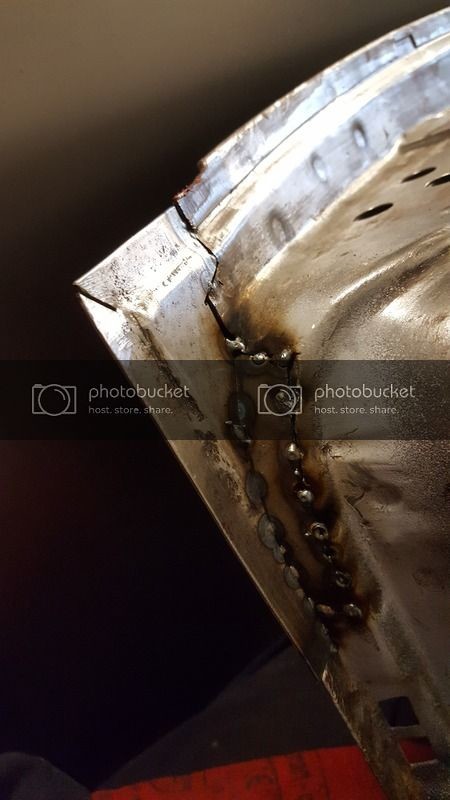 The other side was much worse - it's taken all sorts of trial pieces etc to replace this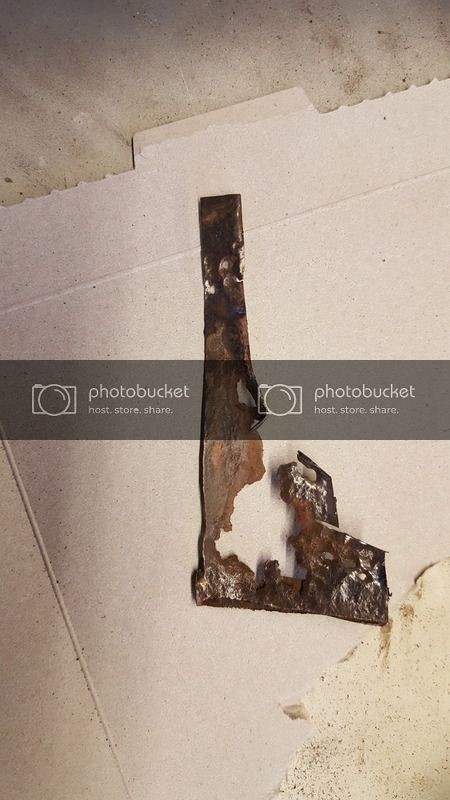 With this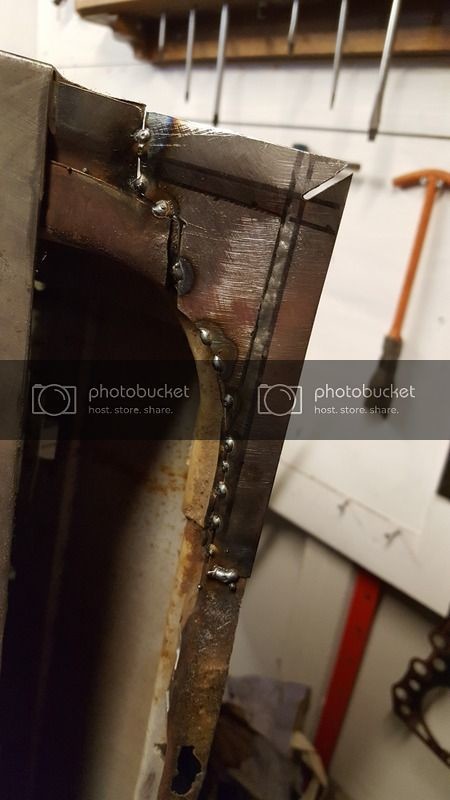 I'm happy with the result - the final piece was the centre part which was too big and too thin to fill with weld!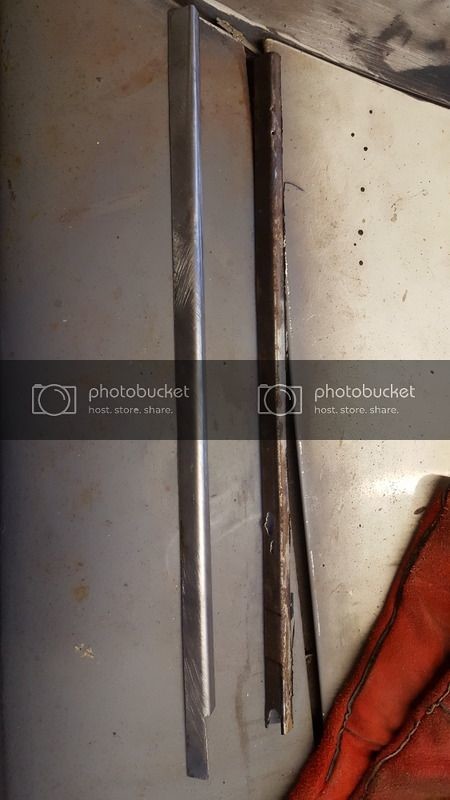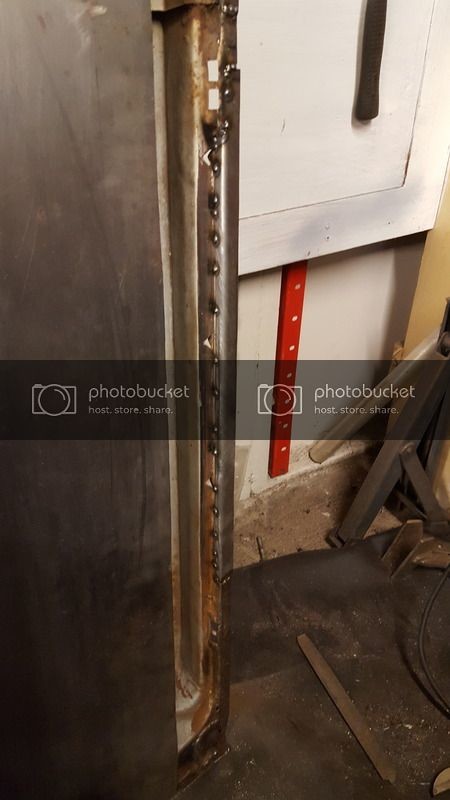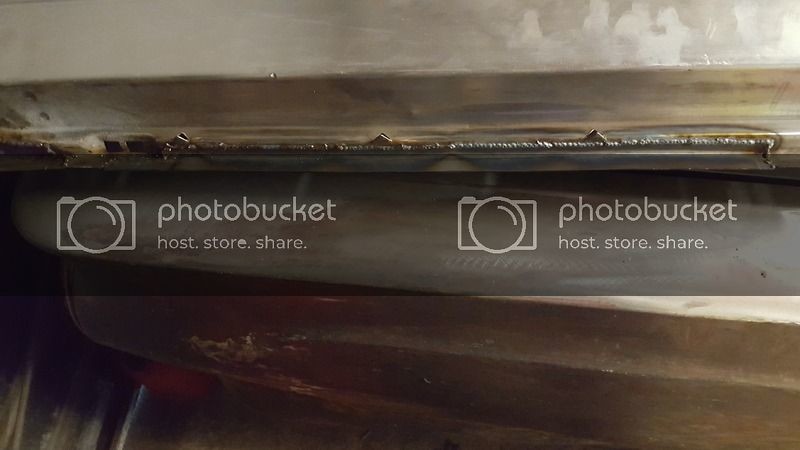 I've have tried to start making the outer skin today but made a mess of the bend so it's pulled the part down 2mm so the gap is too wide which is a shame but I'll use some of that steel else where!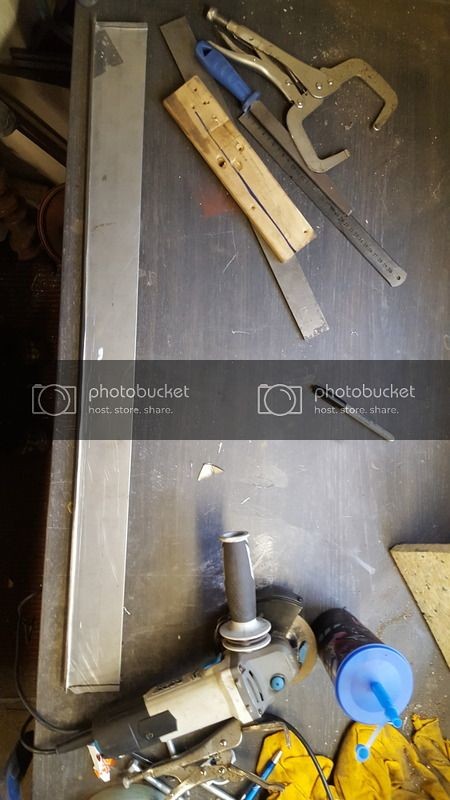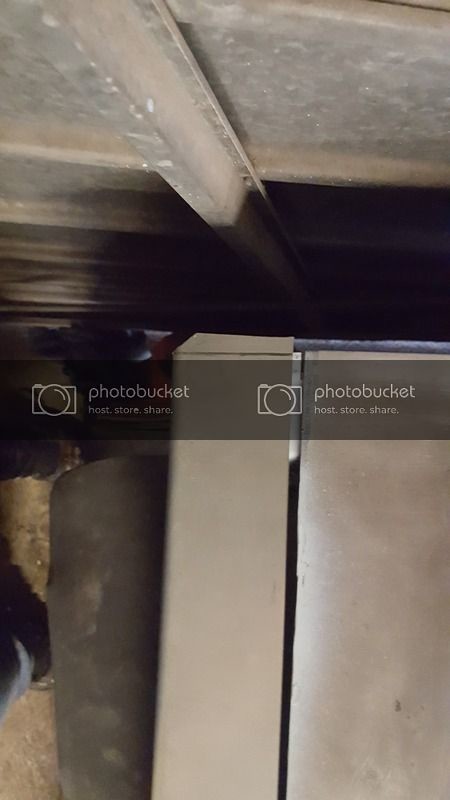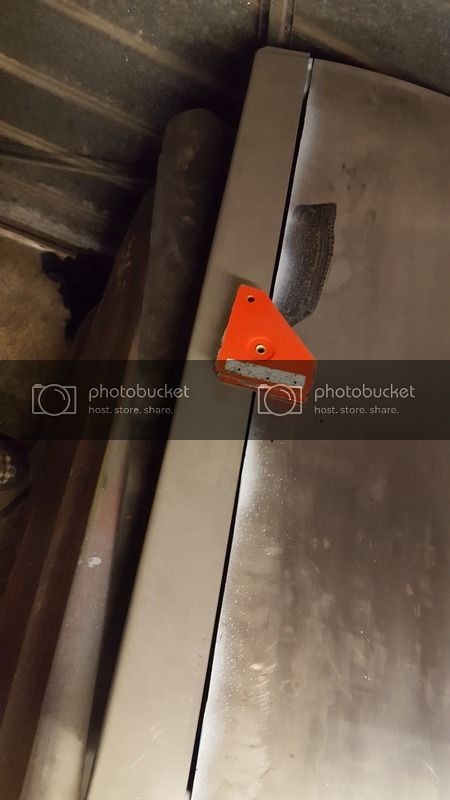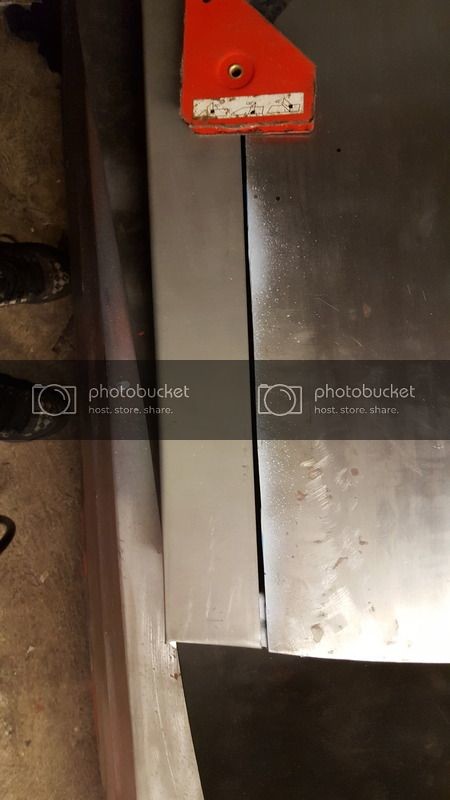 I'Ll hopefully have this done soon but I'm not sure how it'll look and if it's going to be correct
4-9-2017
So after a few hours over the last few days I managed to make a new lower panel and got the fitment just about where I needed it to be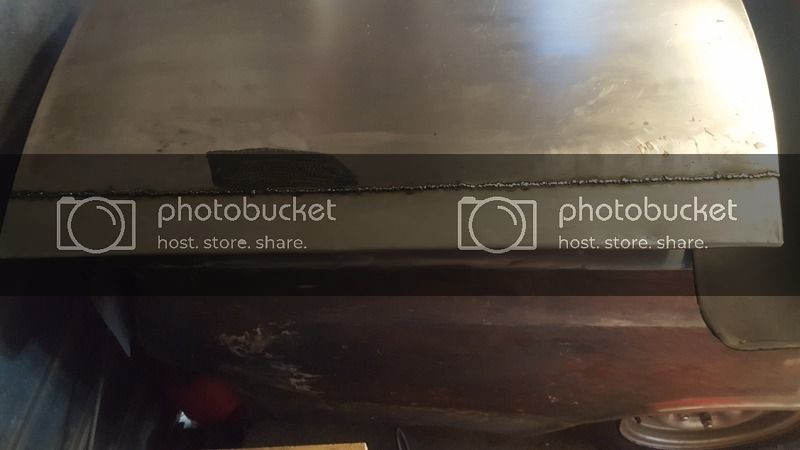 It's tacked in place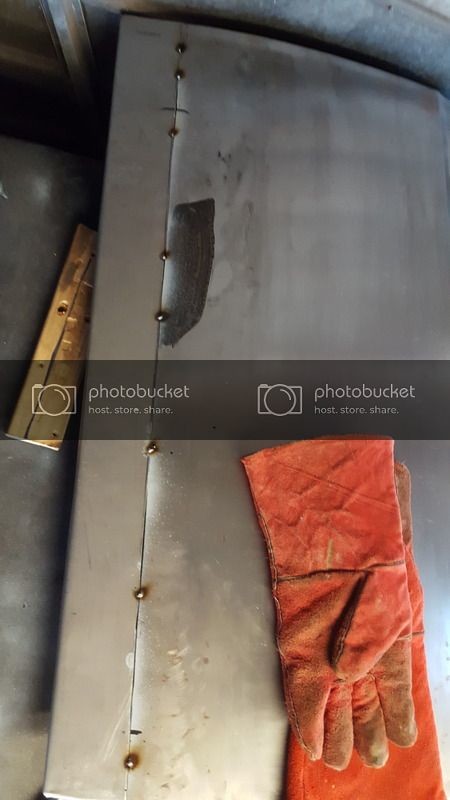 Over the next few hours today I dropped more and more tacks on which was ideal in 20 degree heat in the garage and wearing overalls!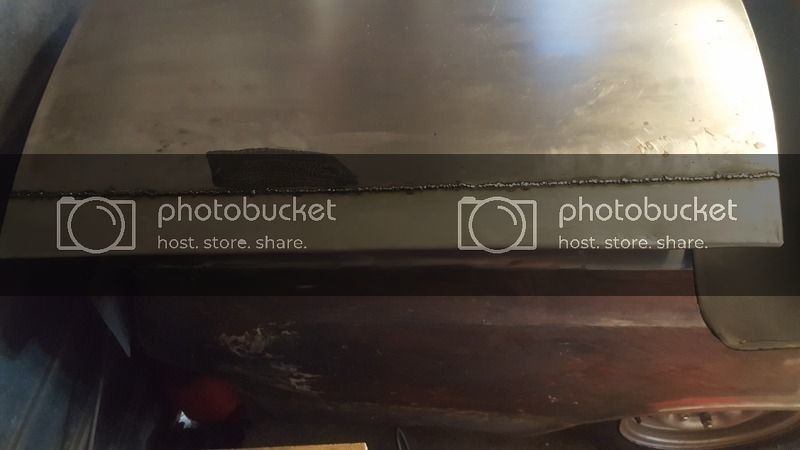 Whilst crimping the panel I put a few small dents in which can be skimmed and it'll never be seen again!

I love started to grind back the welds and hopefully I should get it back on this week!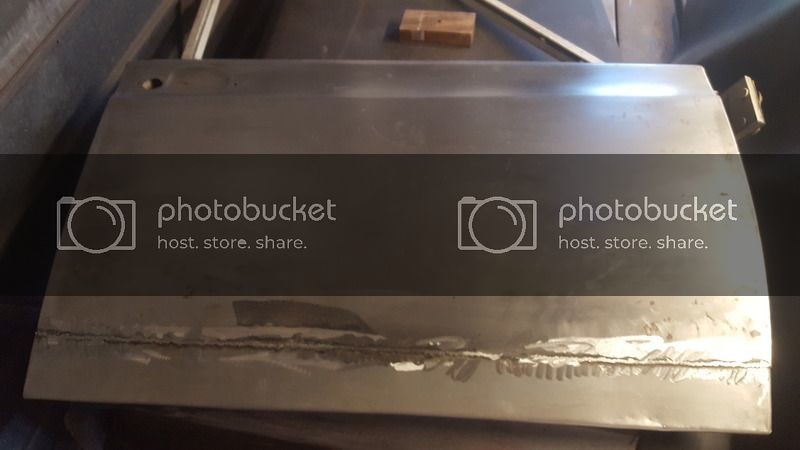 4-17-2017
I've not ground the welds back totally - I thought I'd check the gaps etc, I think it looks ok but I need to do some further checks and panel fitting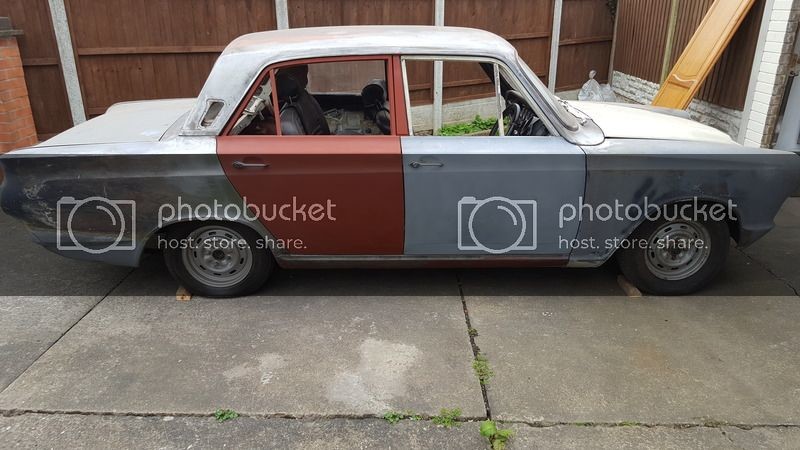 I then had the problem of cleaning up all sorts of chap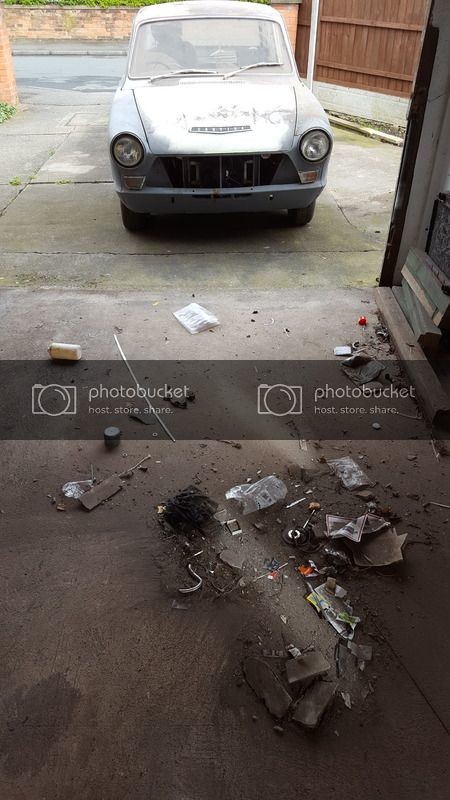 Onwards....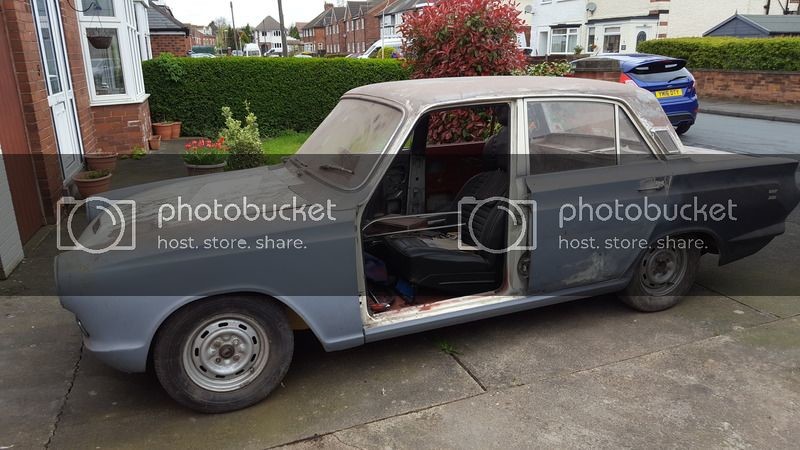 3 door conversions are easy!

Back on with the grind, cut, weld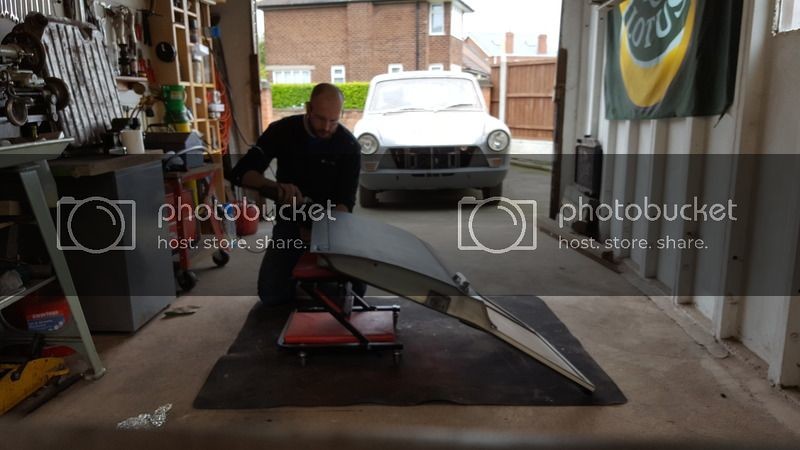 Then I was reminded that i married the right woman! I got this with no promoting too!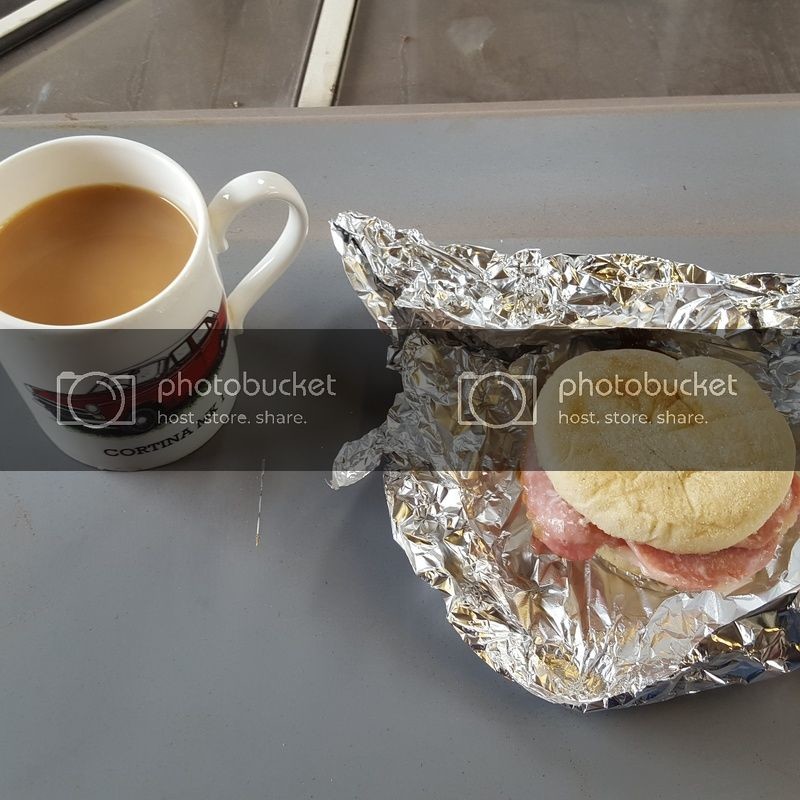 The damage is interesting in this as one side is invisible and the other was but had been filled with weld which was a huge pain in the

to get off as both the skin and inner we're sort of glued together!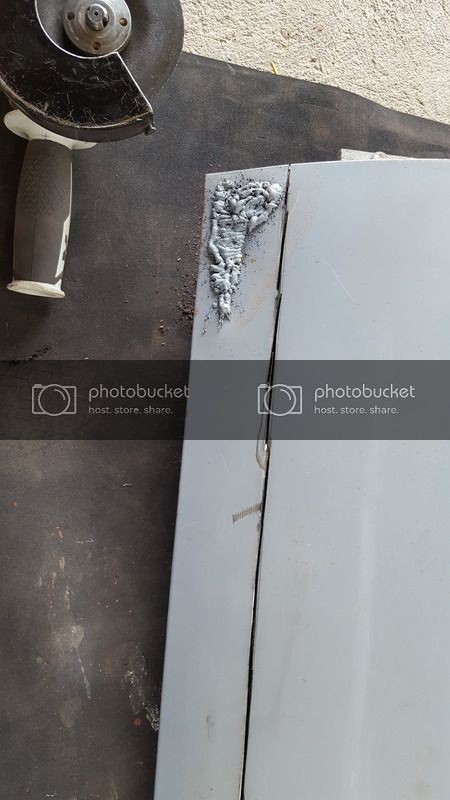 Inside looked even worse!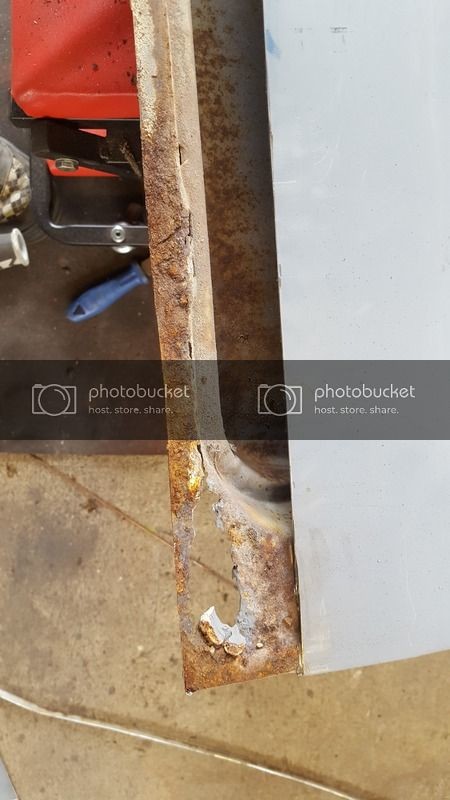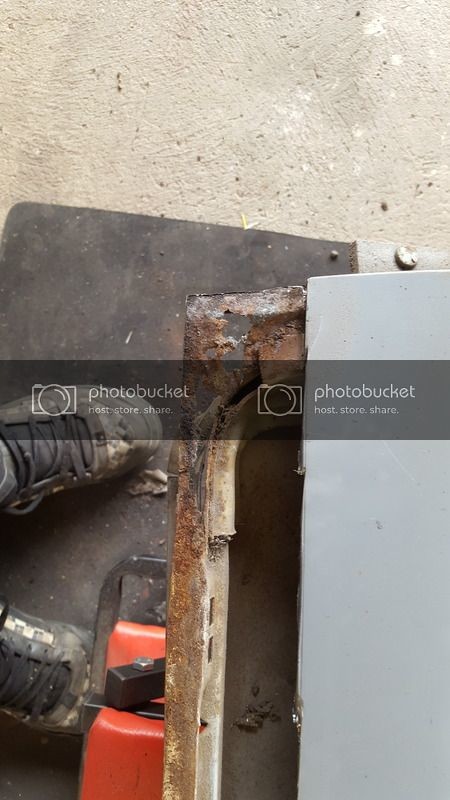 5-24-2017
Moving on from the door I started chop the old jacking point out as it looks to pay and the floor has gone underneath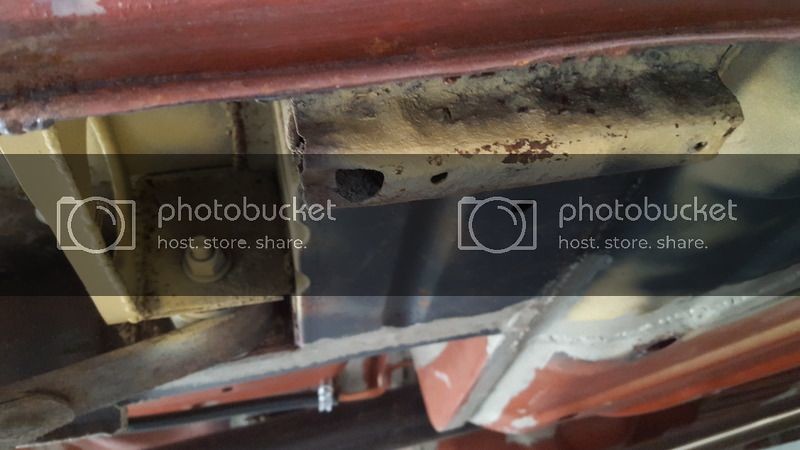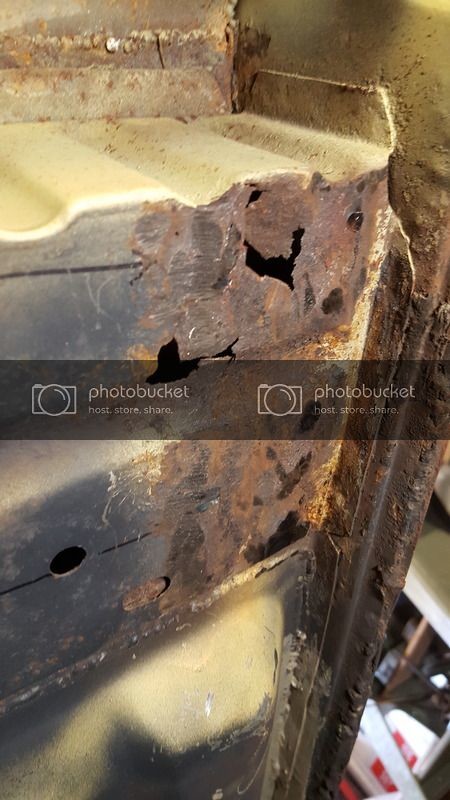 It looks like I chewed it out!

To make the swage I needed to make a former which I did using some old chip board I had laying about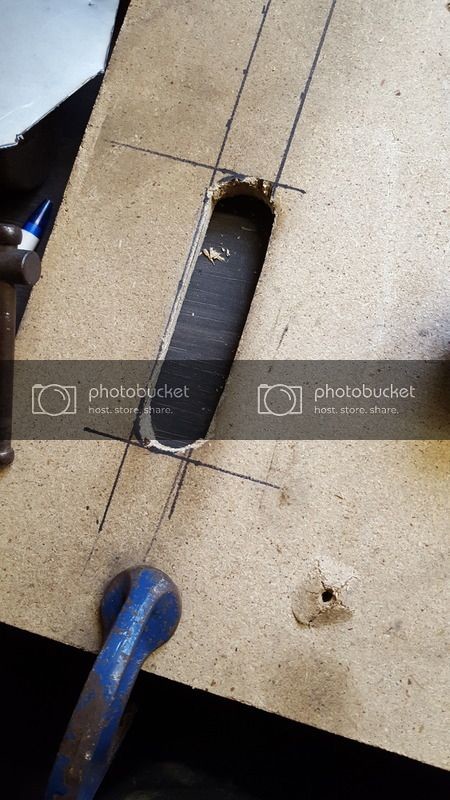 I'd say to make this 5mm narrower than you're after but that might be my technique! It's 25mm wide - is also suggest a stronger wood than chipboard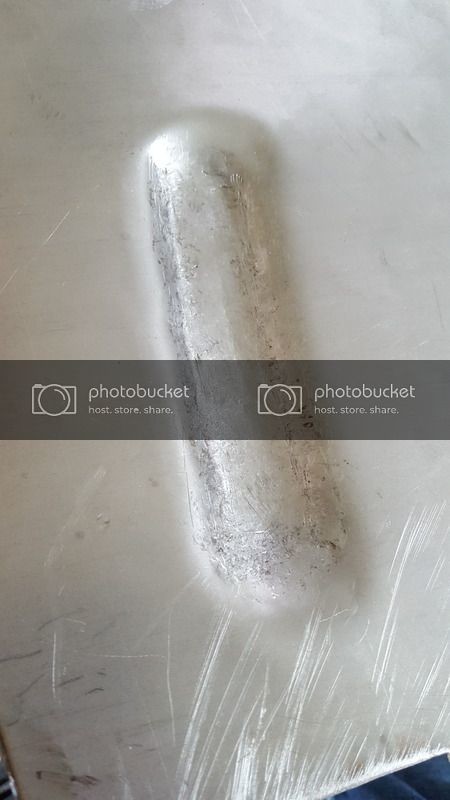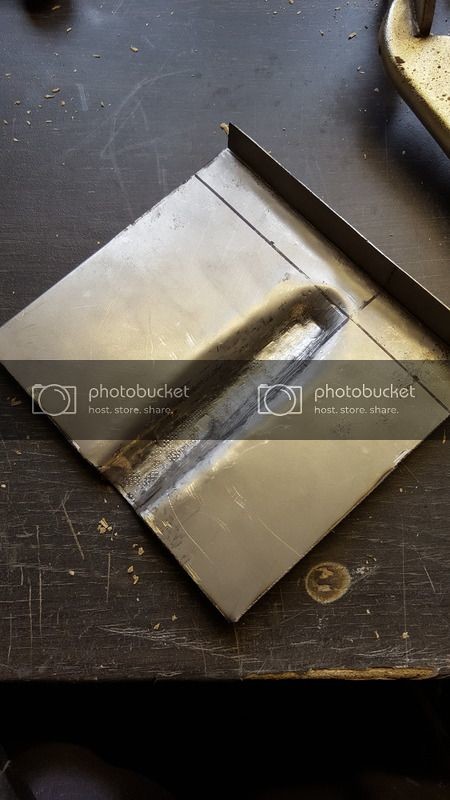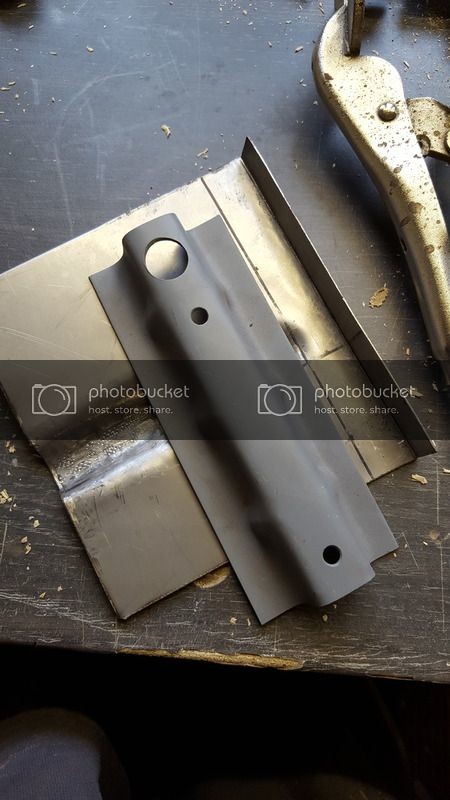 I had a week off due to getting metal in my eye which was not where I usually keep metal and wouldn't recommend it!

Feeling better I thought I'd glue it together
I didn't grind it back too aggressively it's not the prettiest welding but it's strong enough
I lined the jacking point back where it should be and held it in place for welding
And it's done!

1 more to do!
6-30-2017
I carried on with the arch lip, firstly cutting the bad stuff out.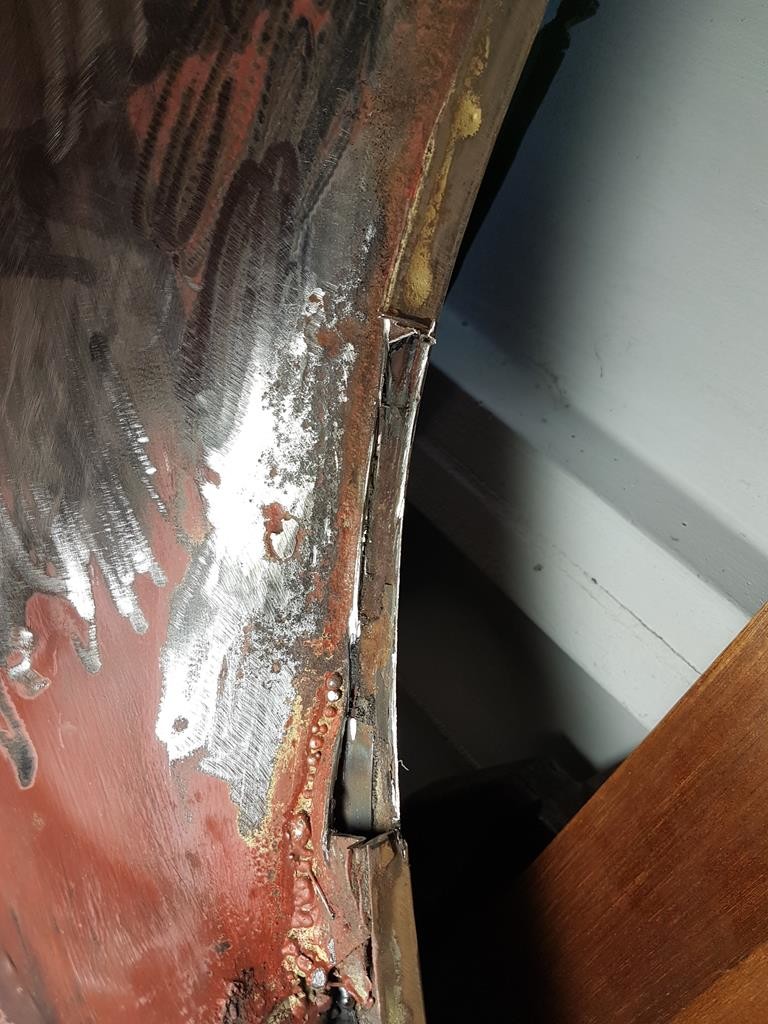 I made a strip and folded it like I did a few years ago and then cut it so I could create the curve for the inner piece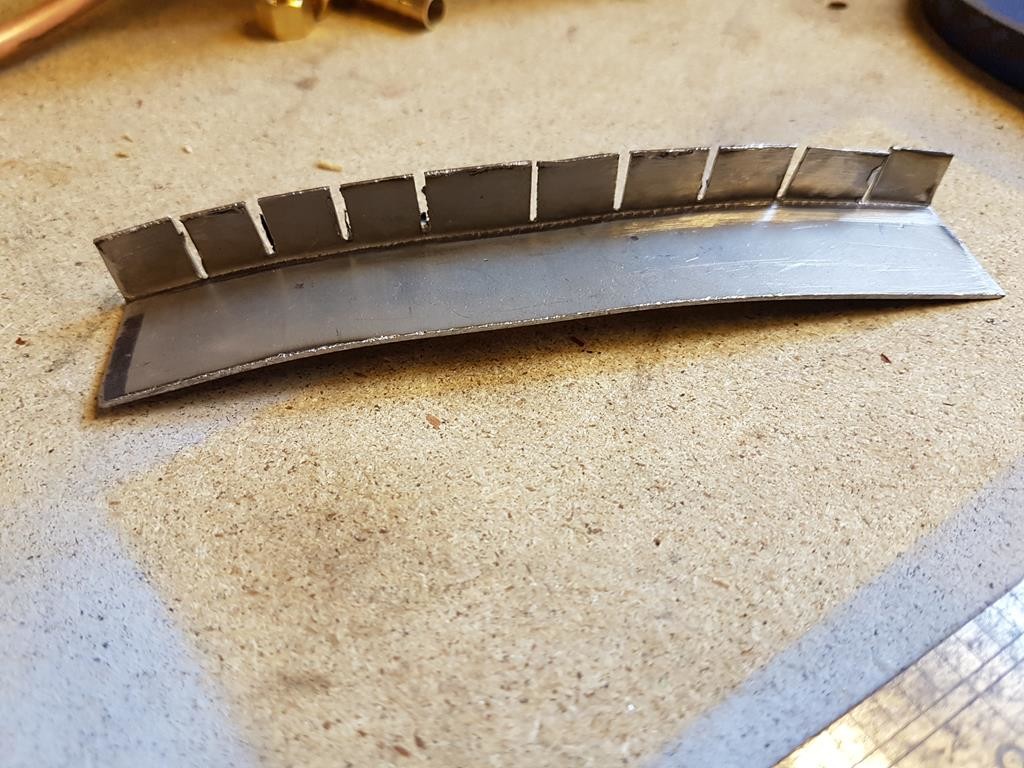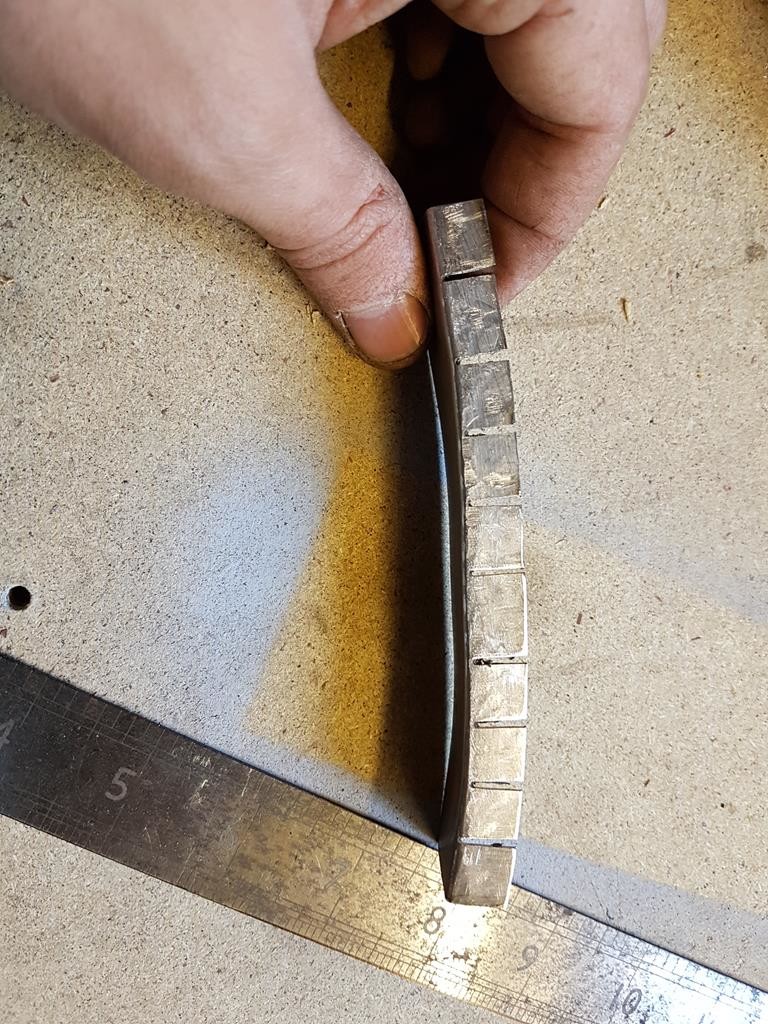 It then got welded on to the the car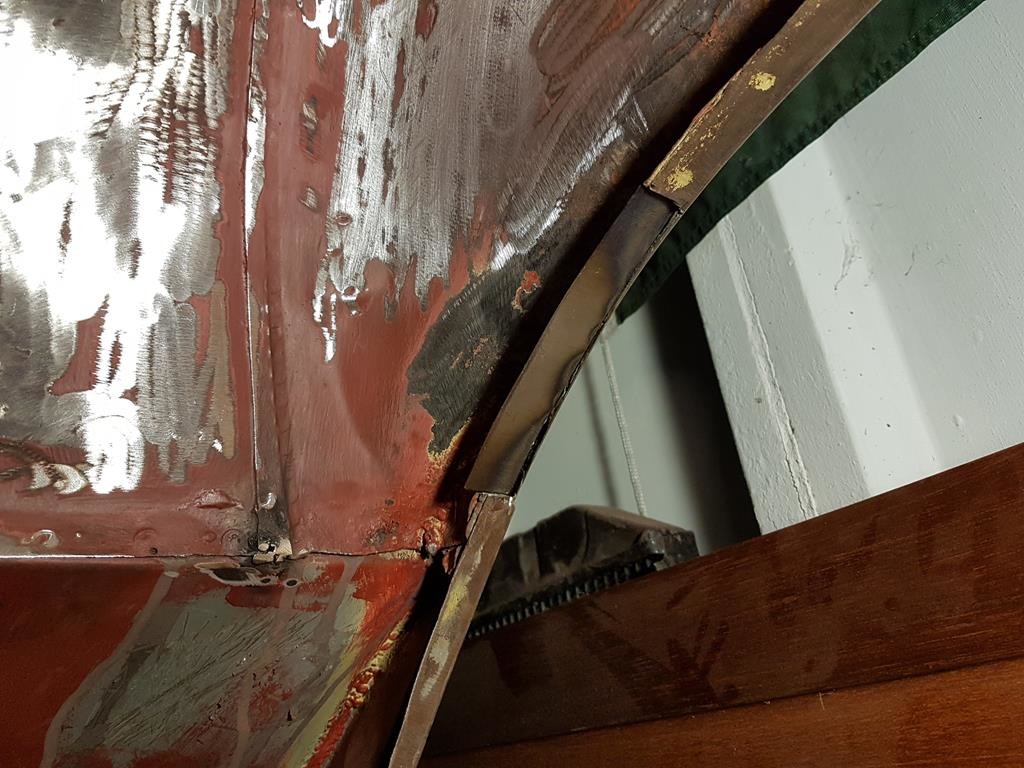 Once happy I put the finishing strip on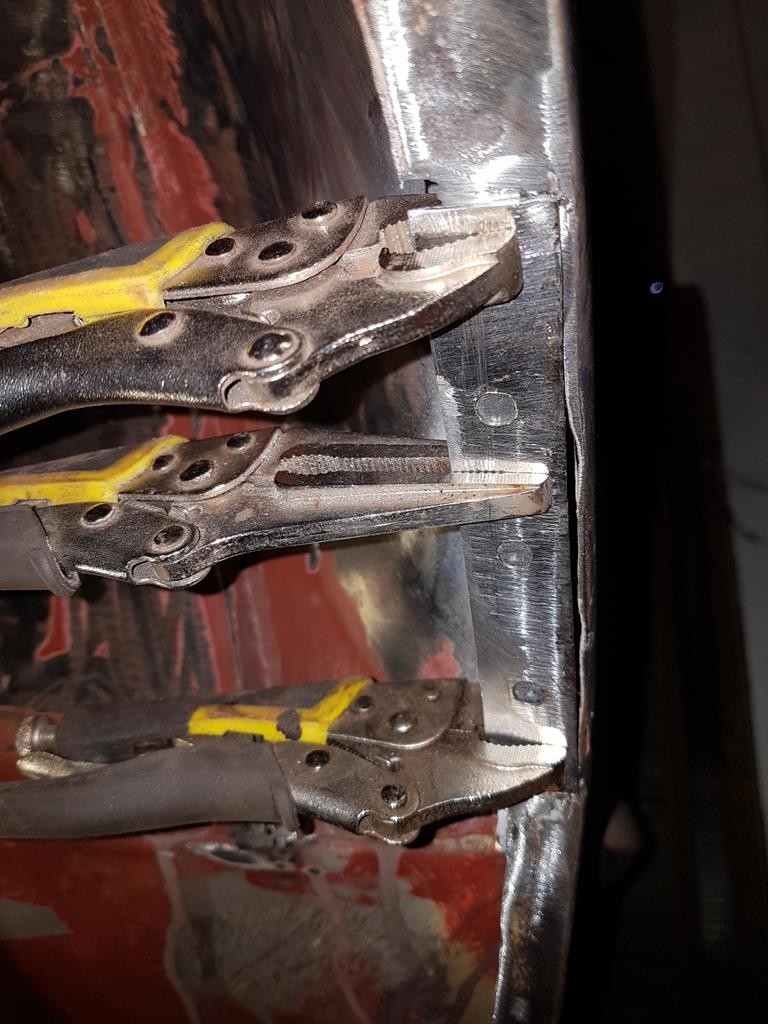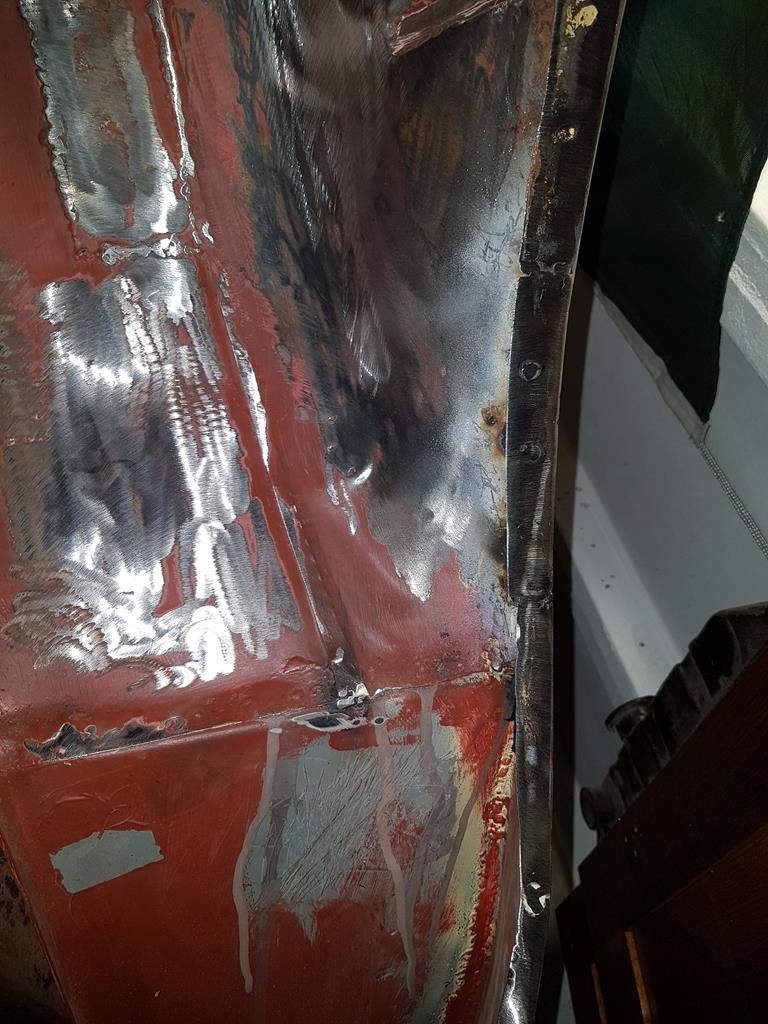 I had a problem with getting into the garage - the door handle fell off mid opening which was awkward!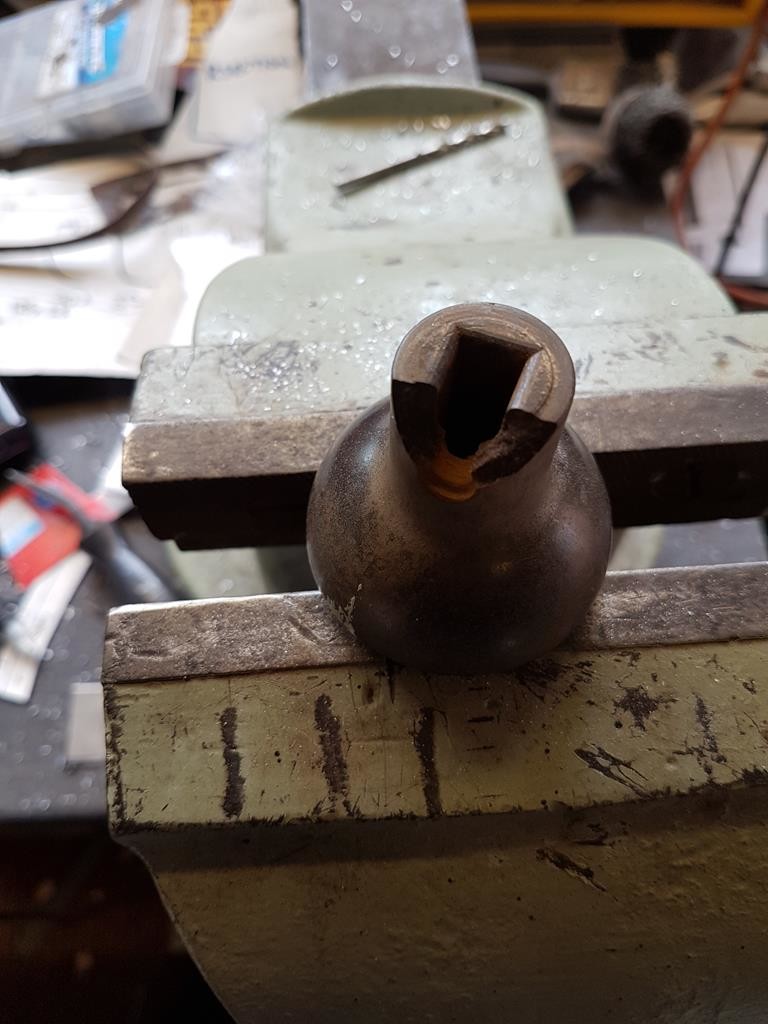 I had a rummage around and found a gearknob I machined at uni so I drilled it out and drilled it to take the grub screw - it's worked Plus it looks awesome!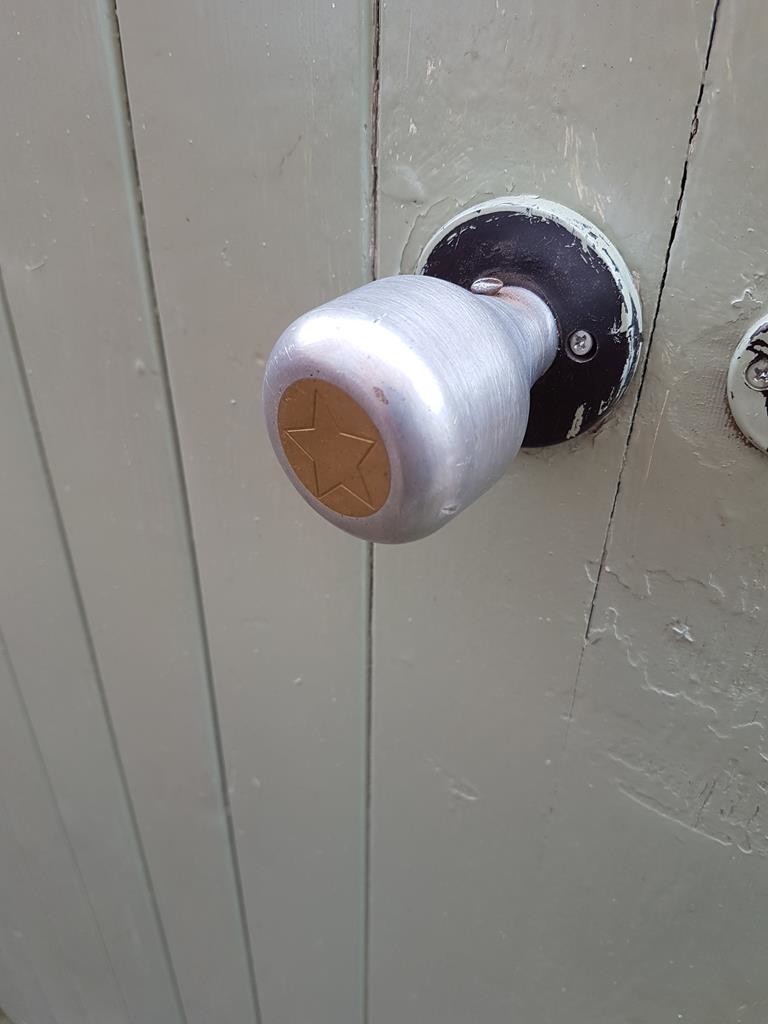 As promised the fuel line holders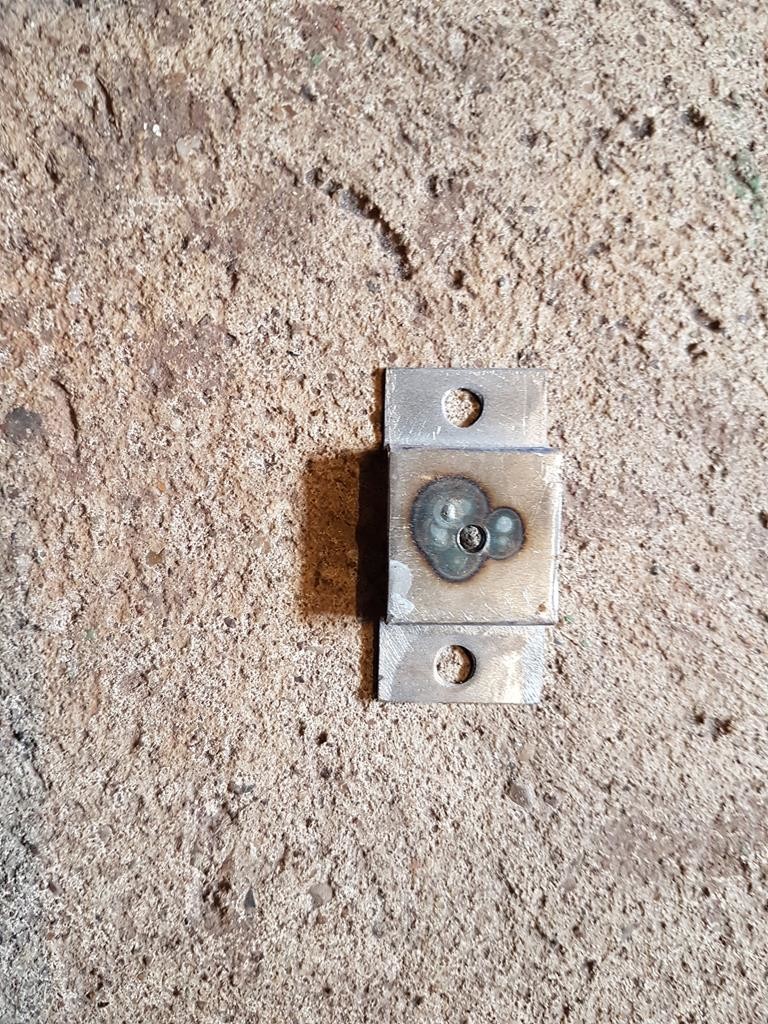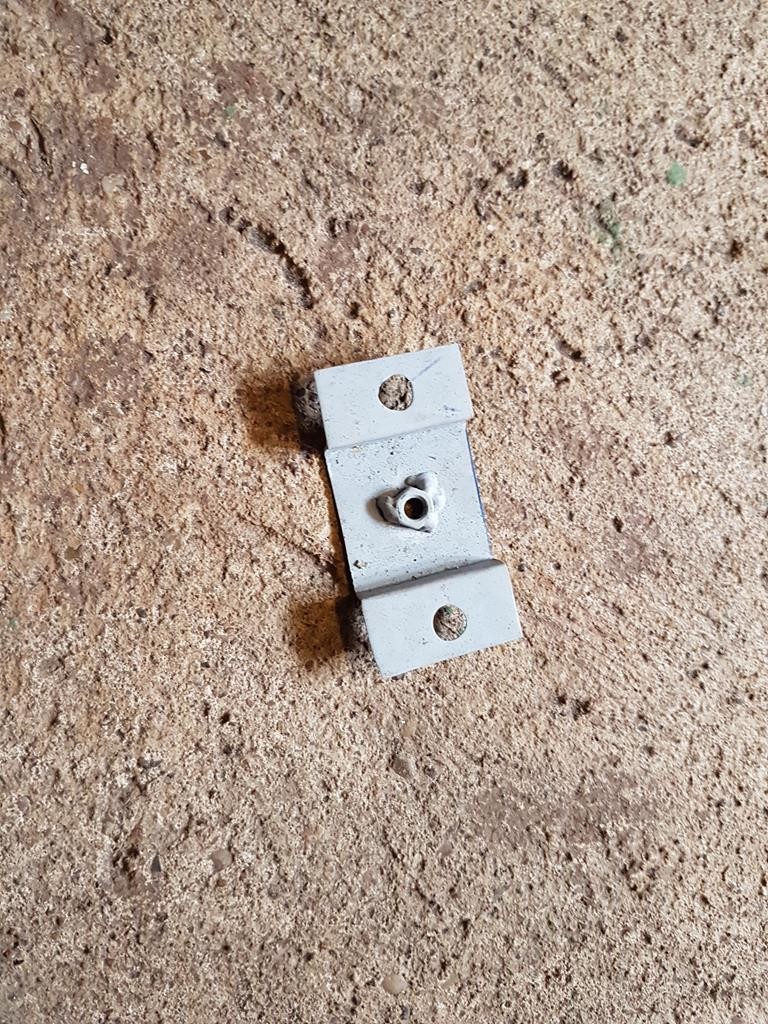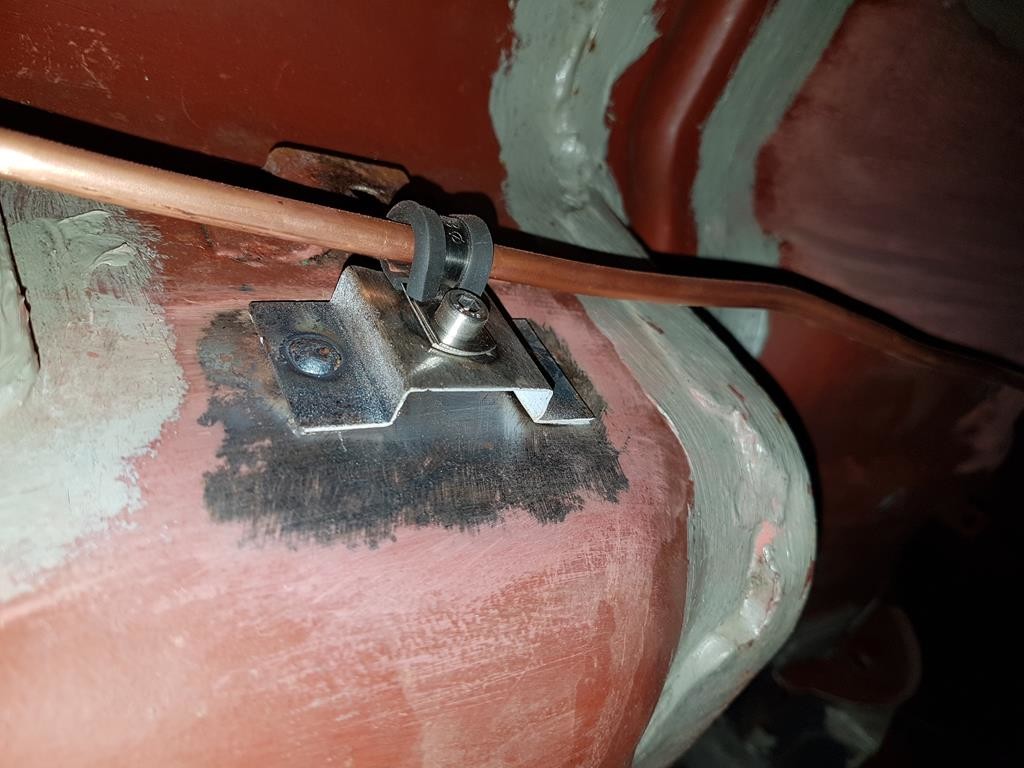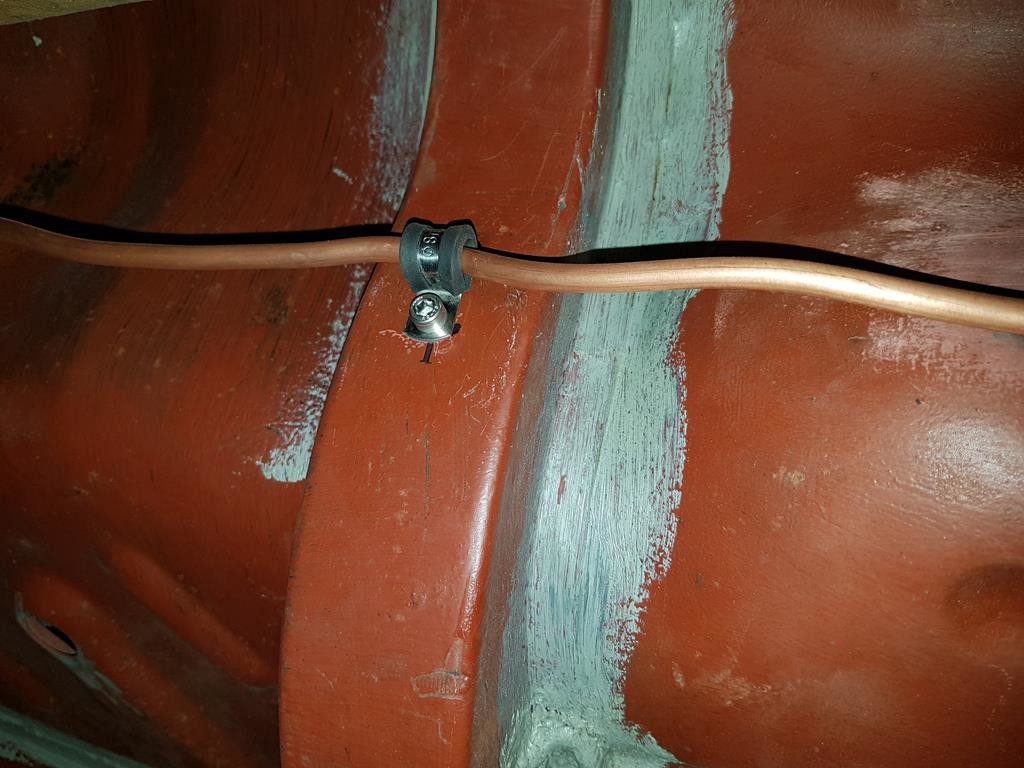 After the wheel tub was changed a few years ago I had to weld the boot support bracket back on but I wasn't confident enough to do it at the time as I'd only laid basic welds so I gave it a go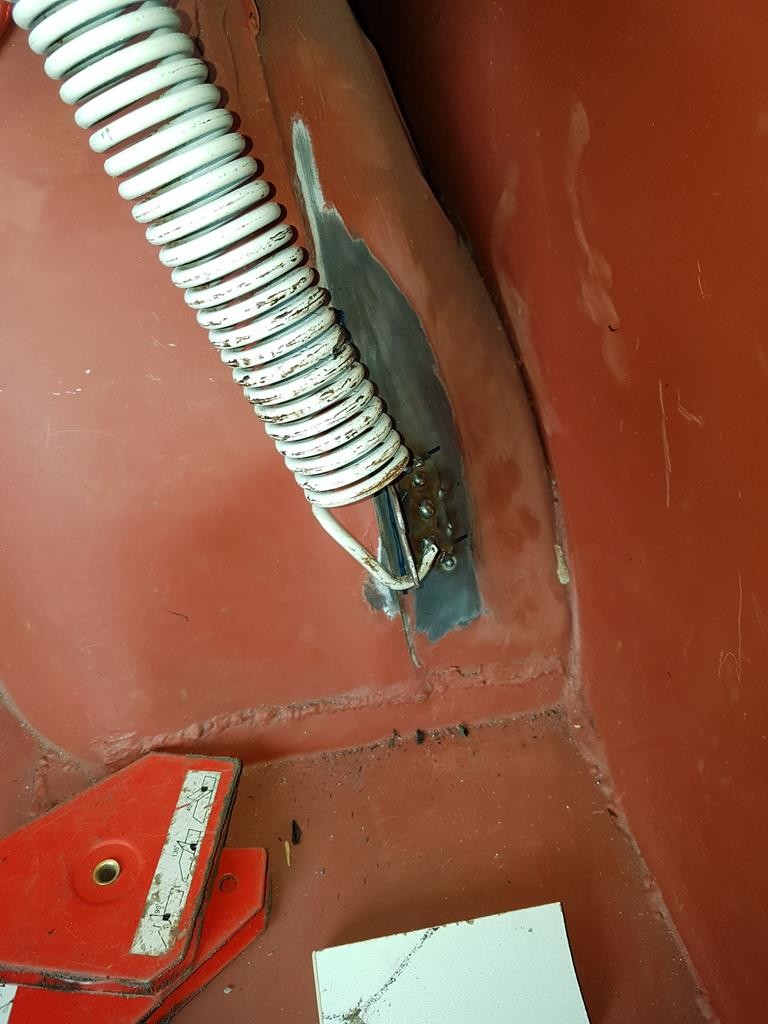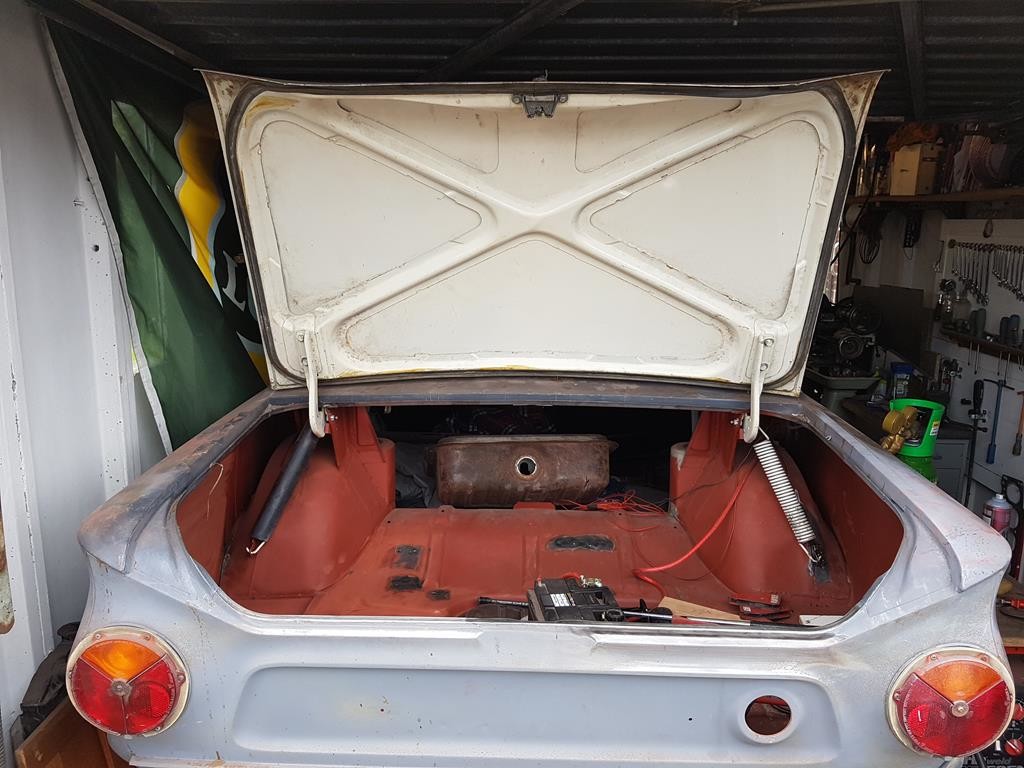 Whilst in the boot I tidied up some holes I made when making temp exhaust mounts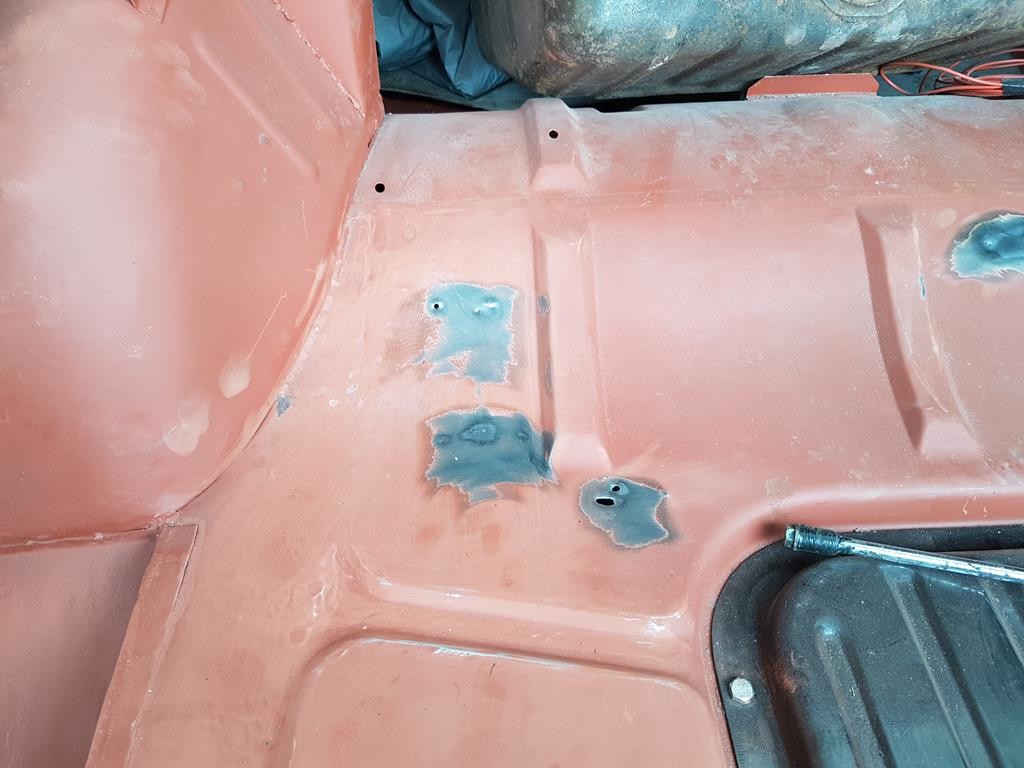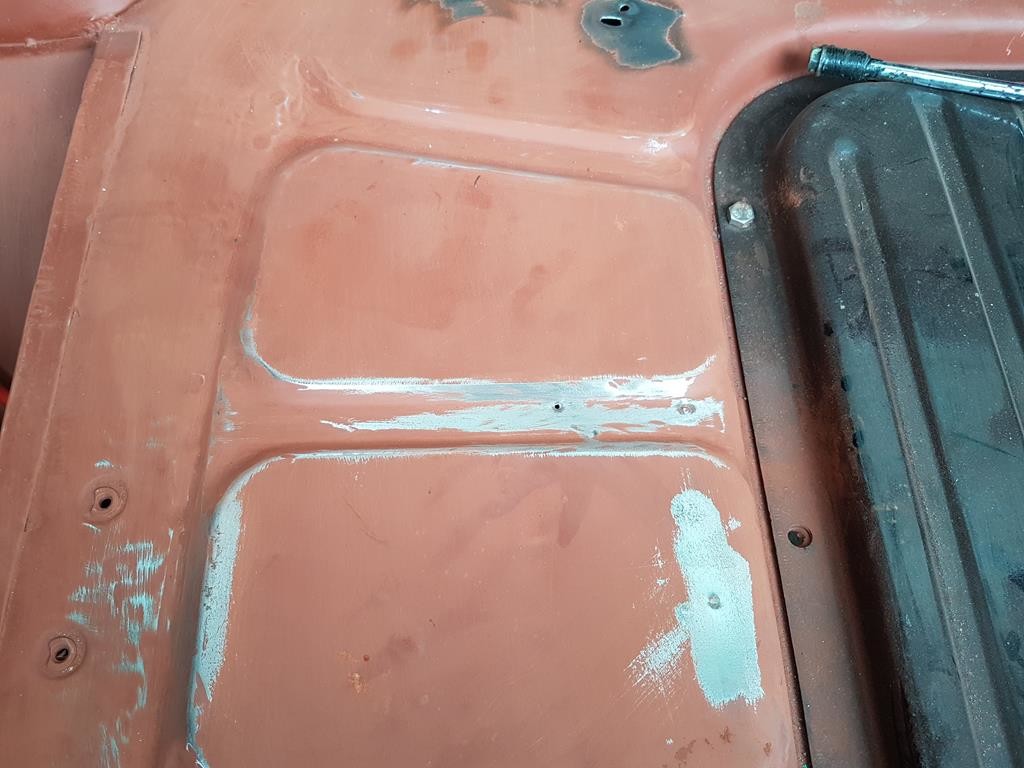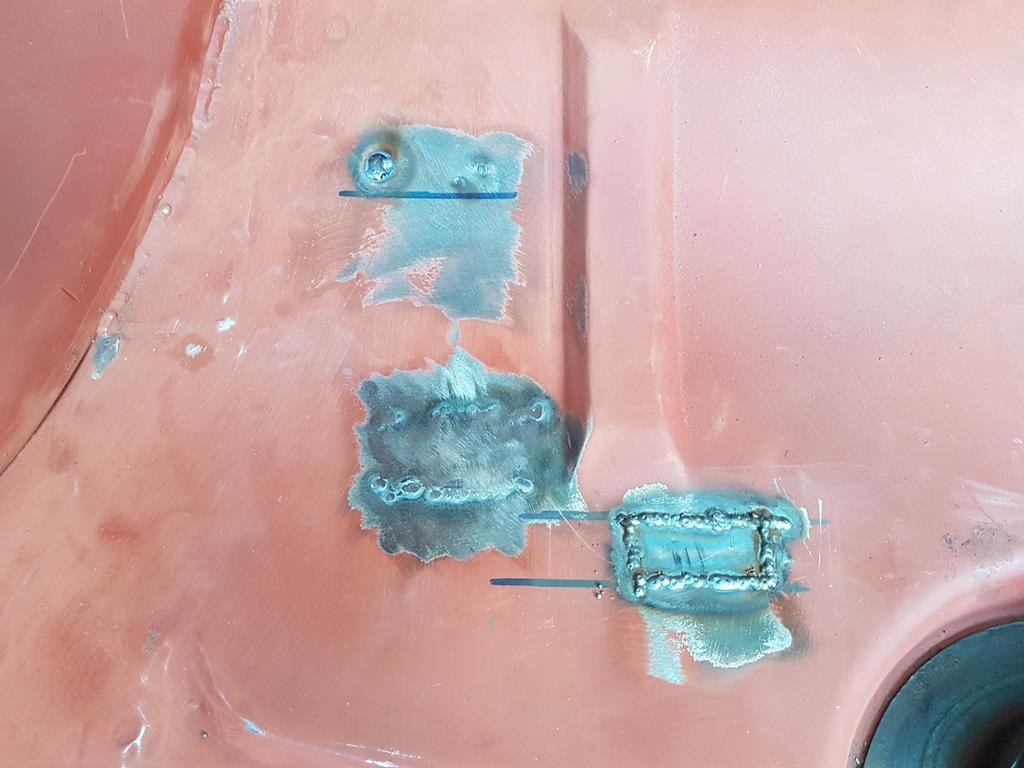 In between all this I tidied up the exhaust as I wanted to run the car without being told off by the wife for making too much noise!

This was the worst offender!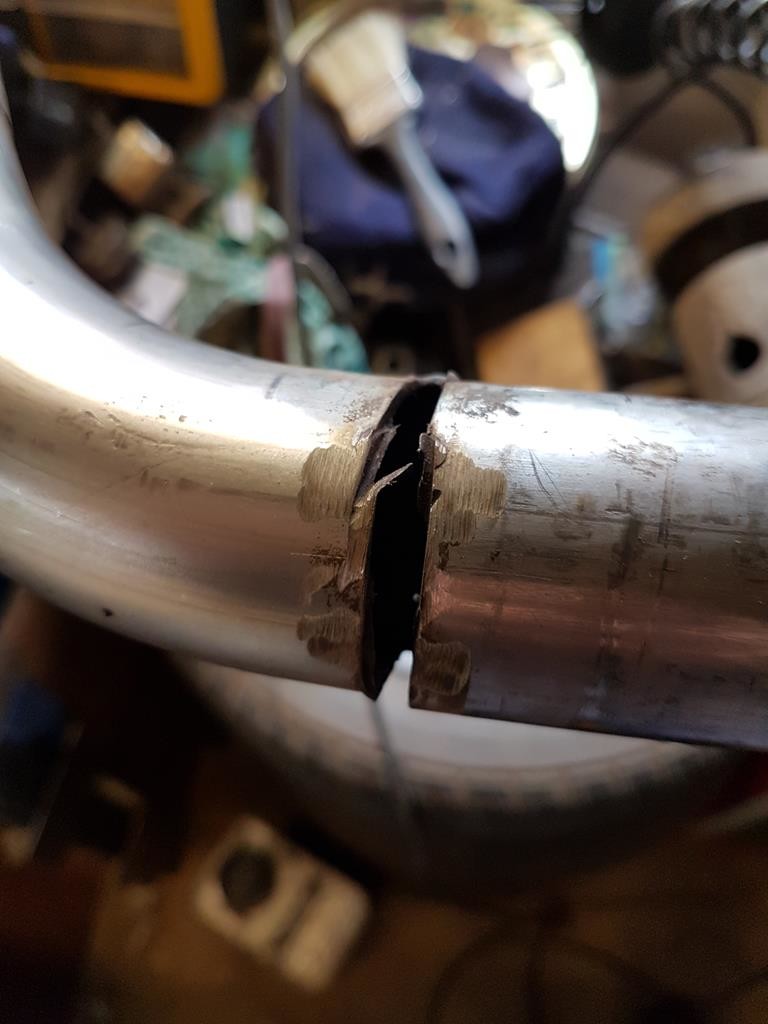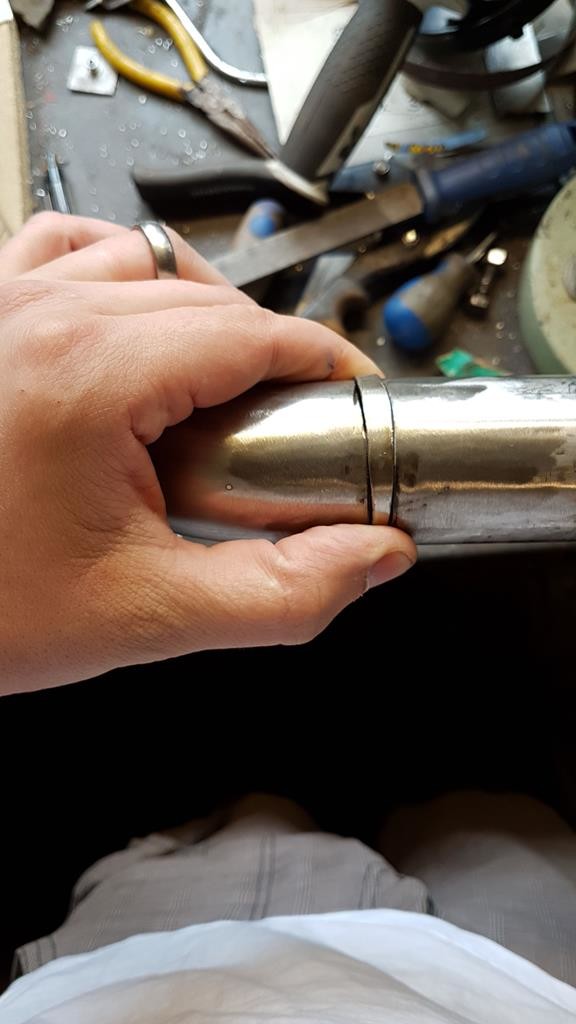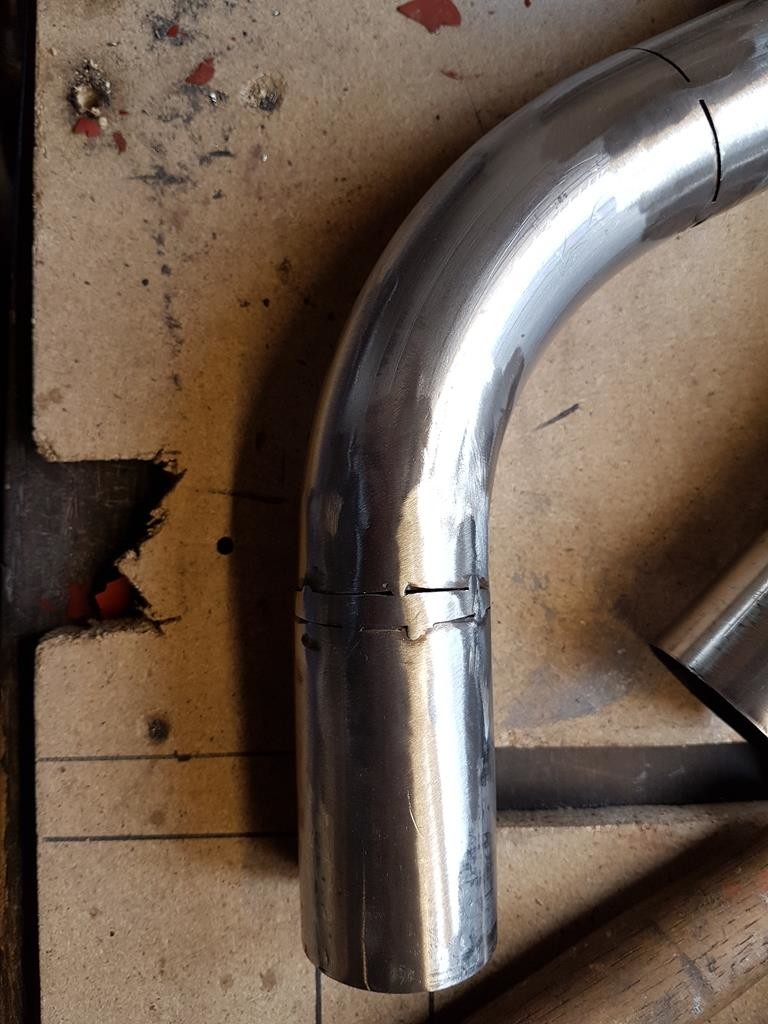 I then passed it over to my friend Pete who tiged it up for me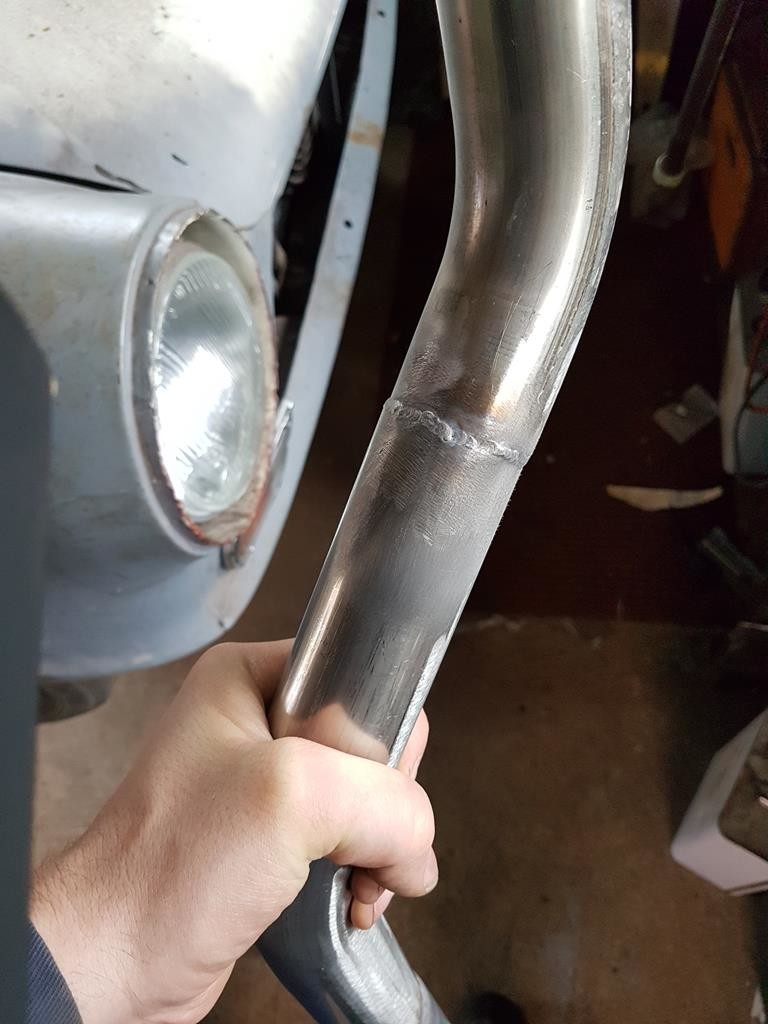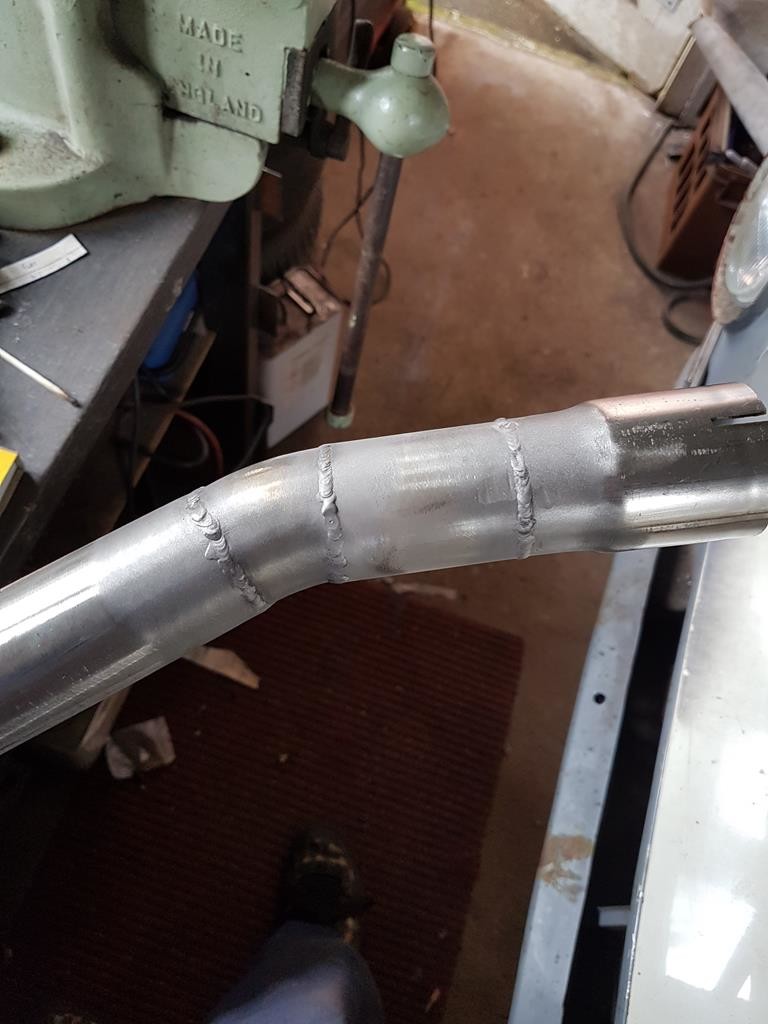 I filmed it but I need to get it uploaded somehow???

As a bonus I have given the bike carb idea a 2nd go because why not! I had to bend it so they actually work!

It's going to be bent up a bit more then welded up and clean the carbs up/ balance them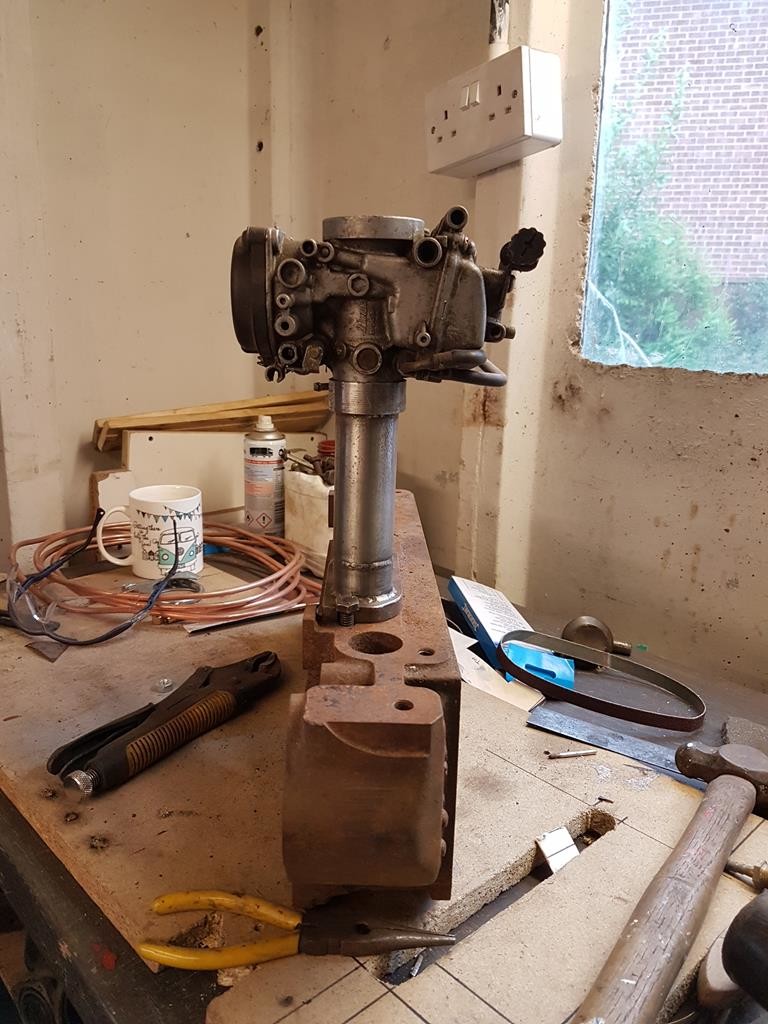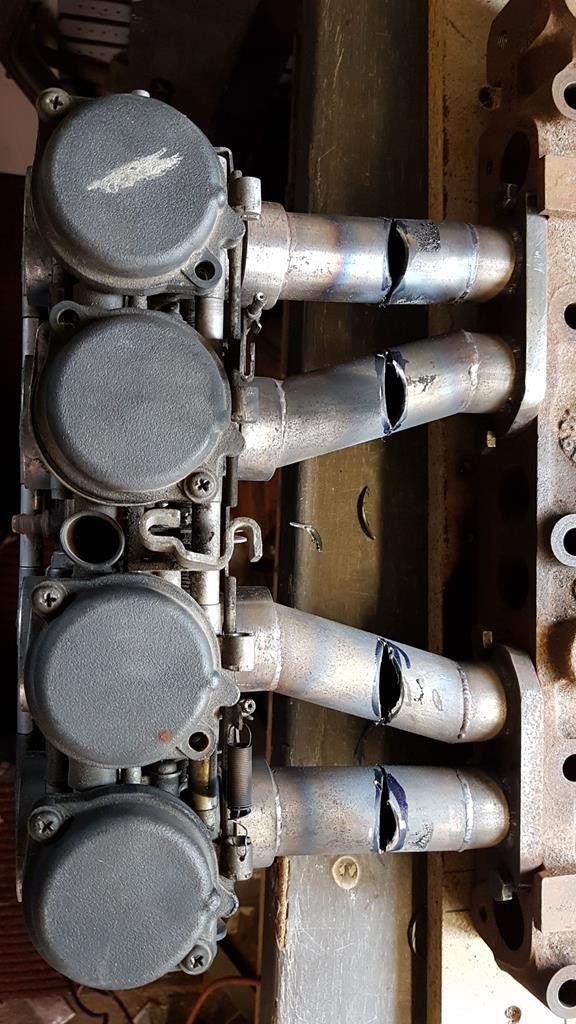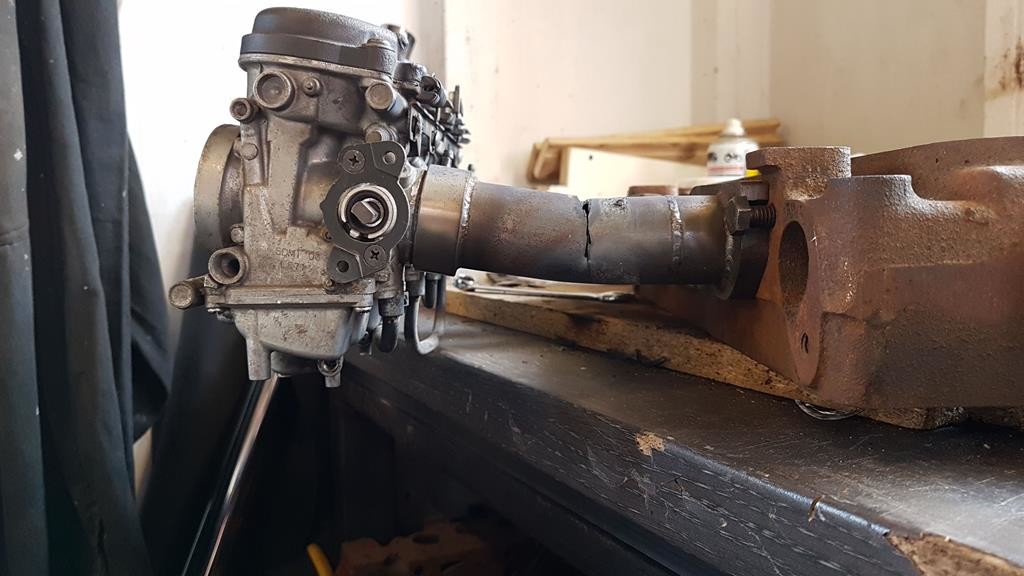 7-31-2017
I've been working on some electrical gremlins, the alternator isn't charging I've checked the wiring and that's giving the right volts so at least that's correct - it's look like the alternator...

I've found this picture - I've not eat that the alternator at the moment, is this something I should Do? I thought it would be earthed via the mounting?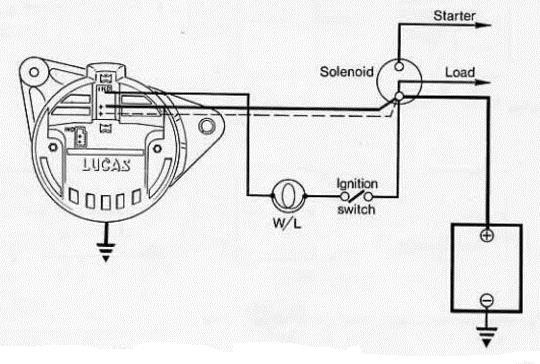 I'm trying to get the fuel gauge to work - the wire that goes to the tank is giving 8v on ignition so it's getting power. I found this in a manual but how do I check earthings?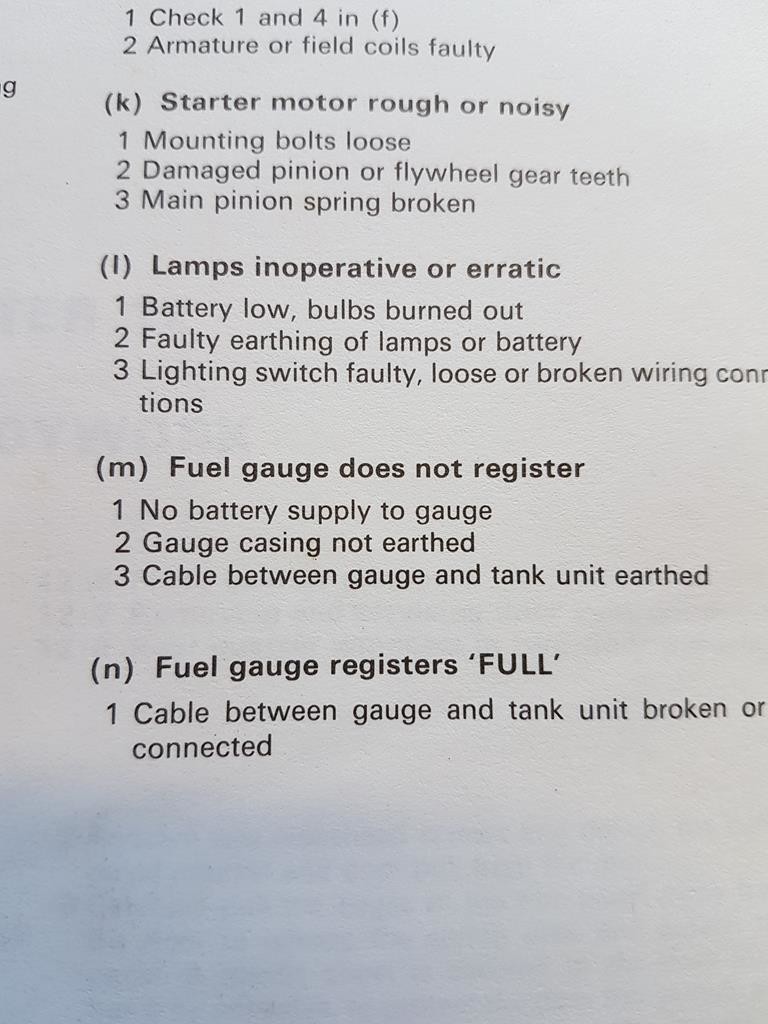 8-1-2017
That sounds well done, I've applied red oxide to mine but I'm not sure if that's the right way to go - there's so many different ways of painting a car but I want it to last.

I could do with a rotisserie! I'm doing everything on my back!

So I had a play with the fuel gauge - thanks for the pointer Jonesy it did register full when earthed.

I removed the sender and found that the body and the lock ring have a lot of surface rust which I've cleaned up and it's sprung into life!

With just over 5l in it's about right!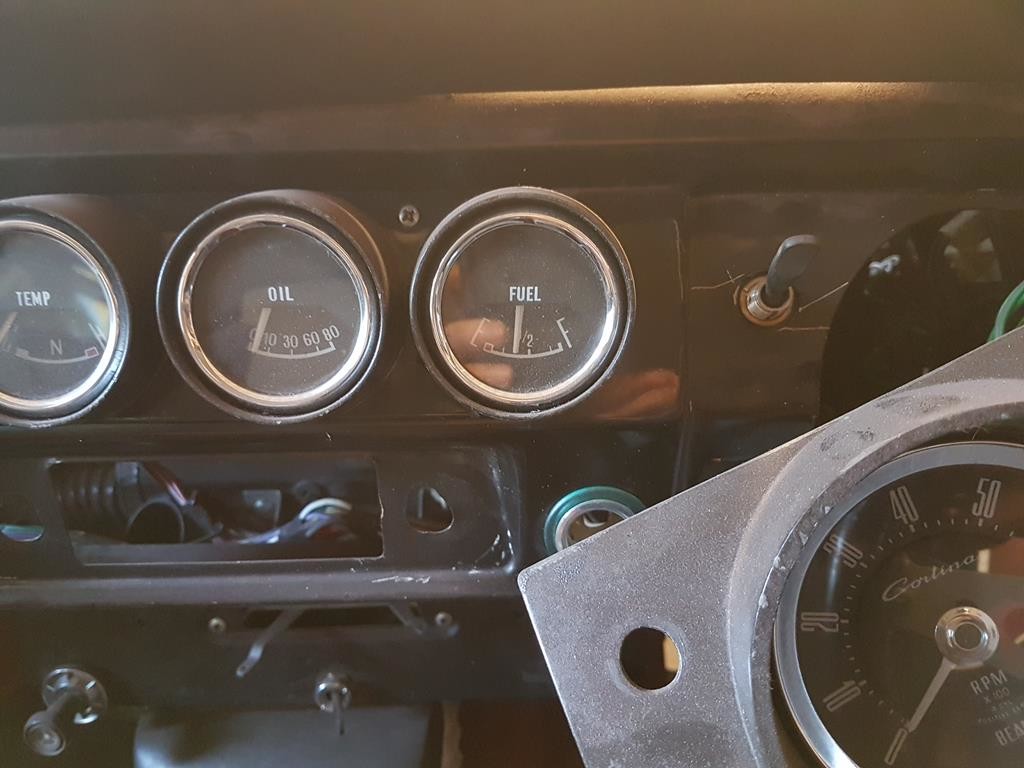 I've also been given an alternator from a Lipo 1.4 - it's 75amp and I'm a bit worried it'll melt some wires? Any ideas? The one I've got I'd a lucas acr 17amp they do a 48amp which should be ok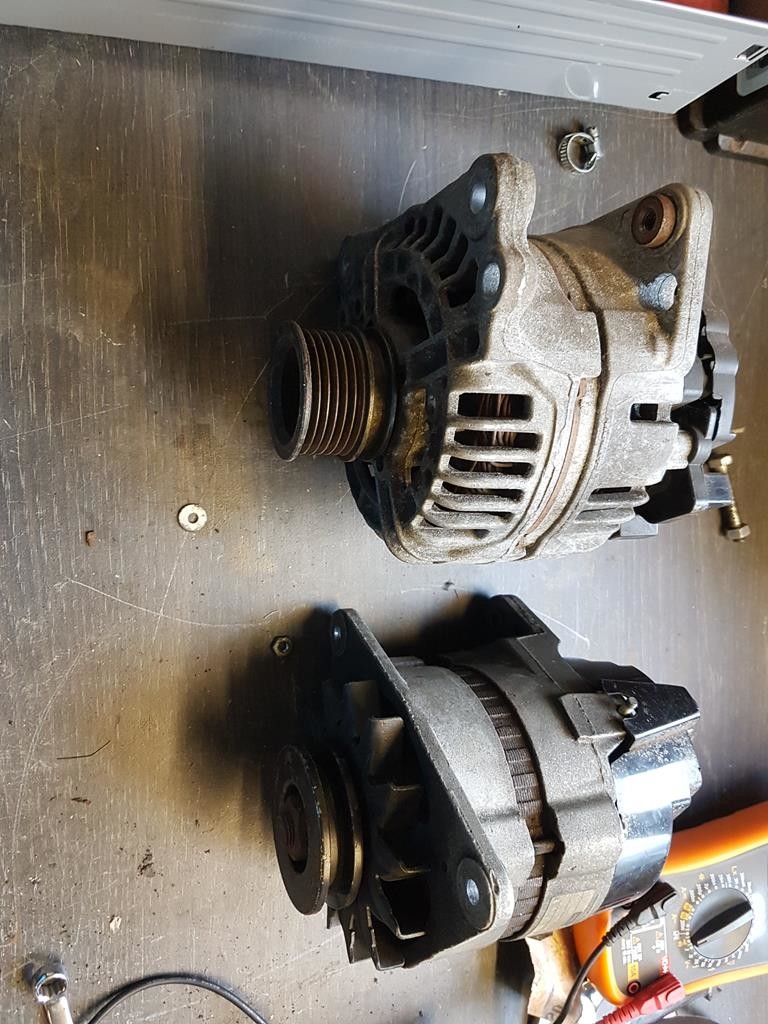 10-25-2017
So the lupo alternator was a bust as it wouldn't fit between the engine and the chassis so I managed to get a reconditioned unit which worked but the battery is toasted so I've started to strip it down for painting (if I ever see the day!)

Grumpy northerner gave me some advice about epoxy primer and it's much better than the red oxide I used so it's strip it back and start again time!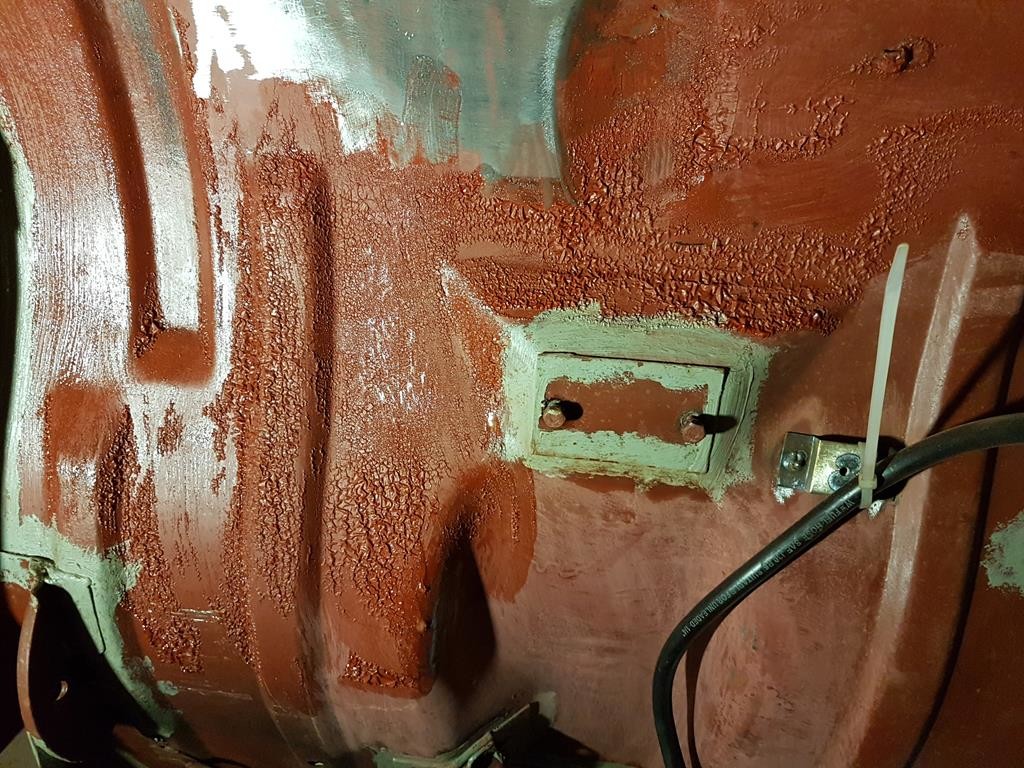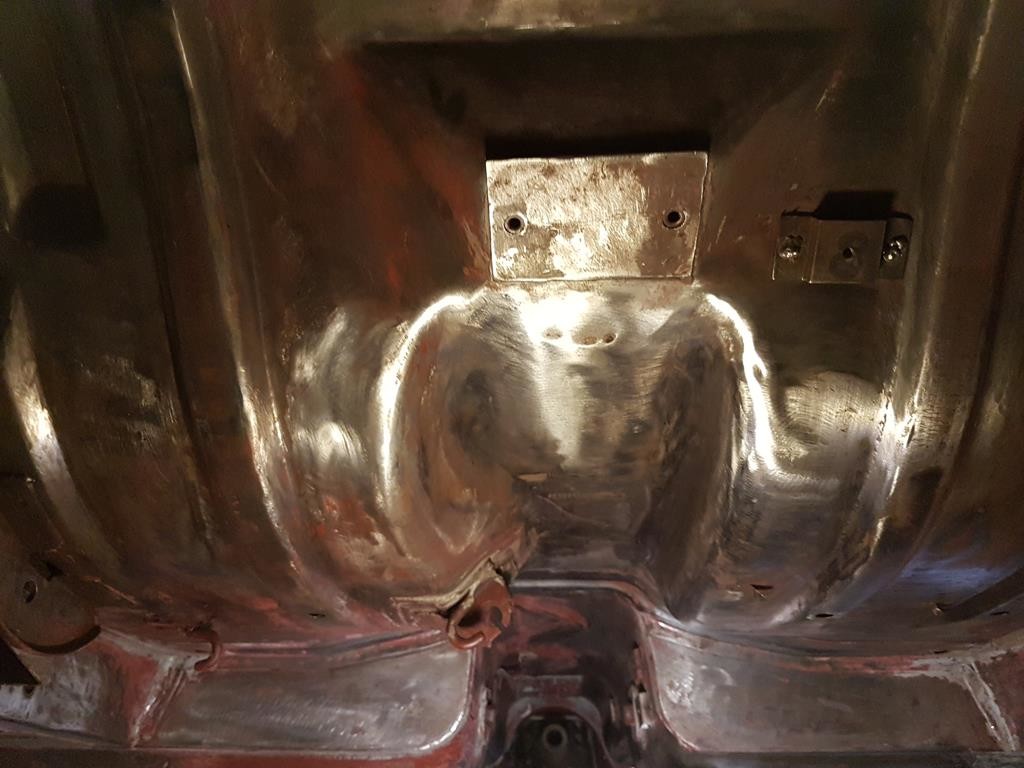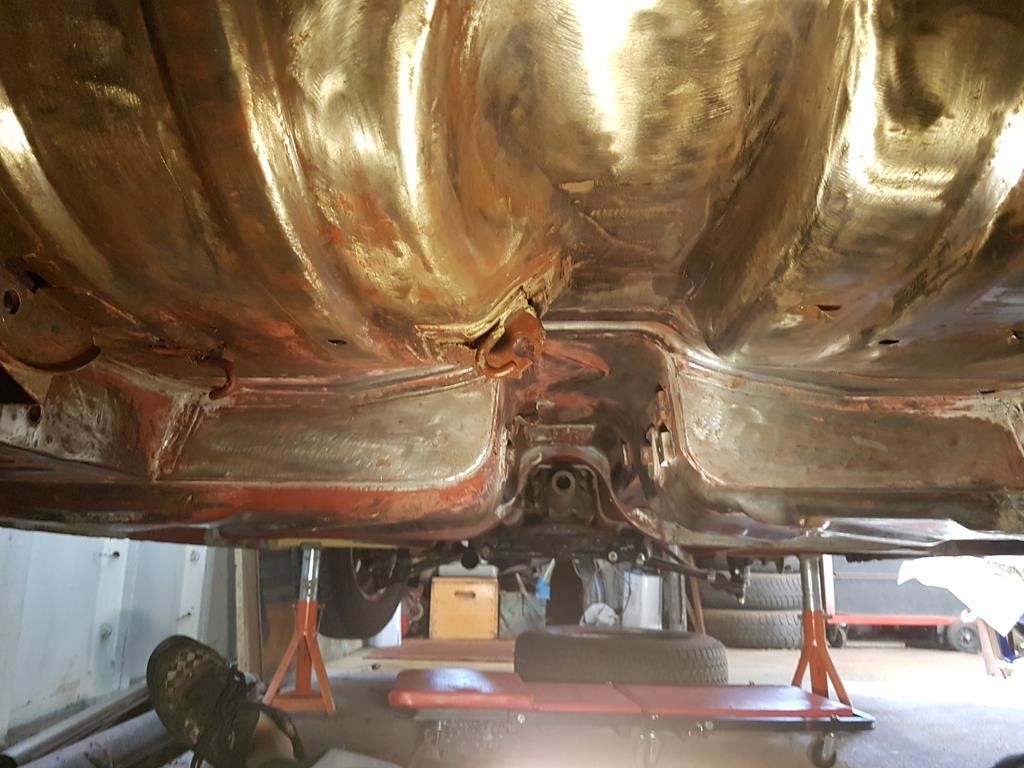 The plan is to try and get it cleaner than clean as I think I didn't do as good of a job as I should have so after dissolving the paint I wire brushed and sanded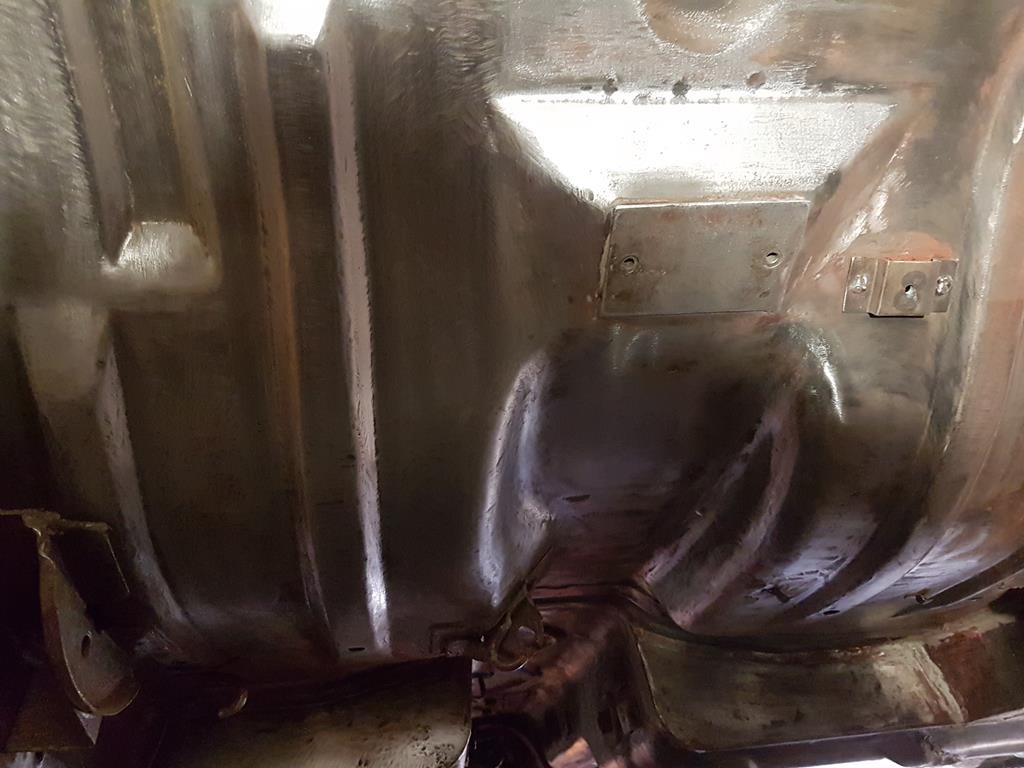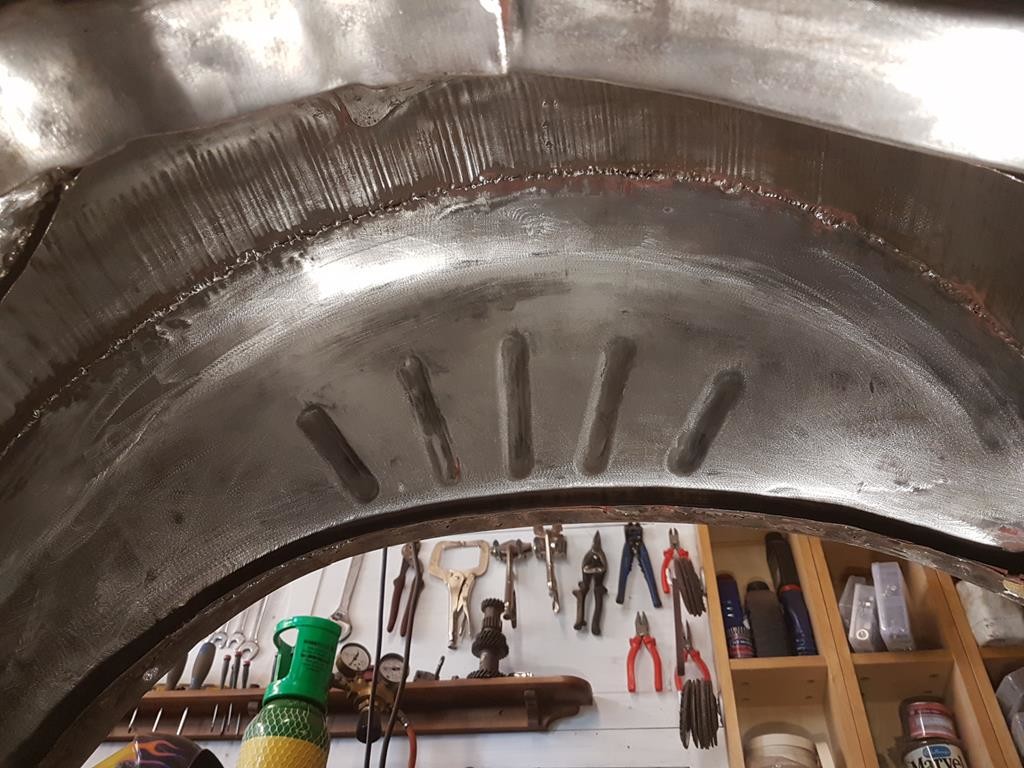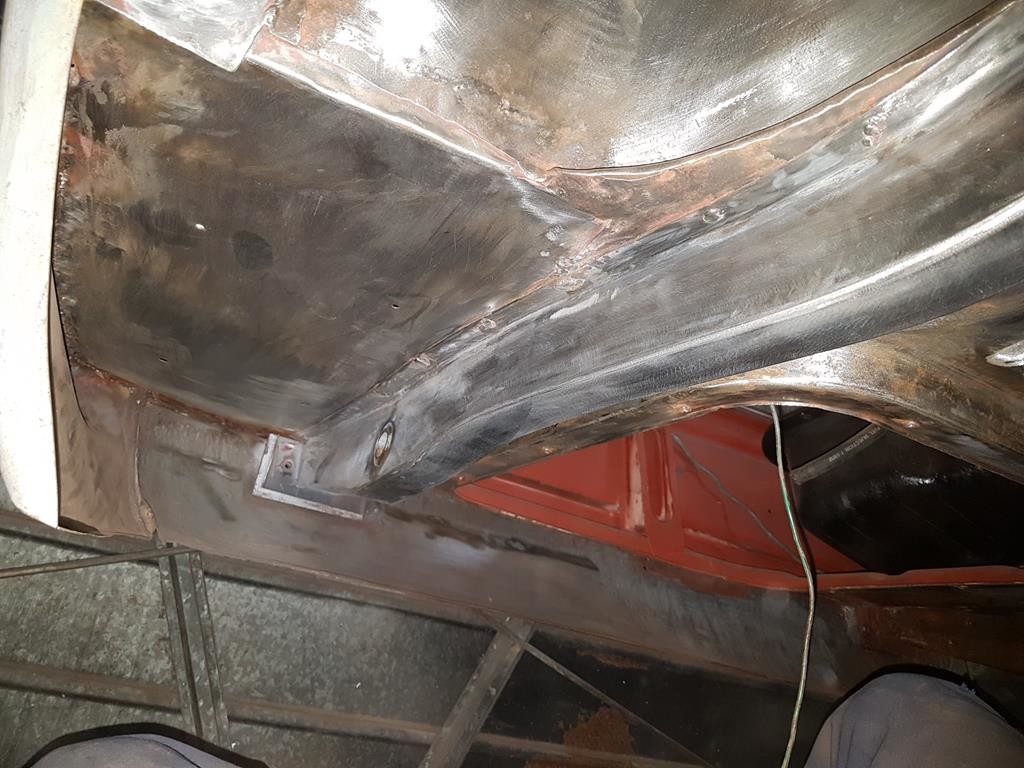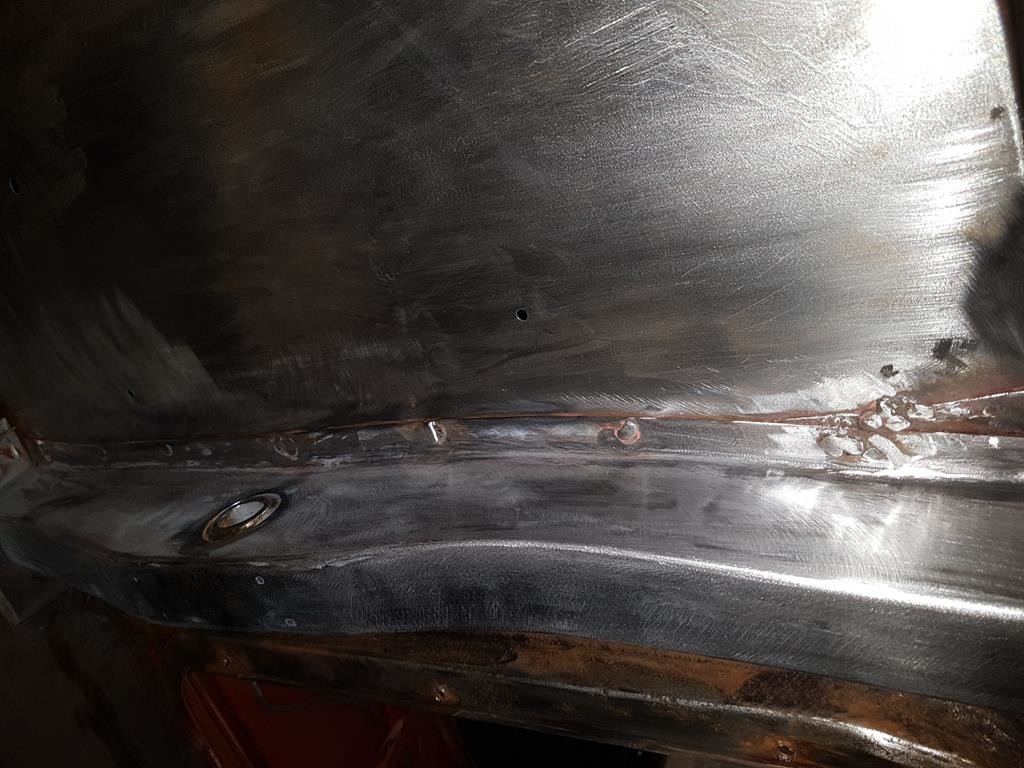 I turned older and was given some mirrors so as a mojo boost from being covered in dust and acid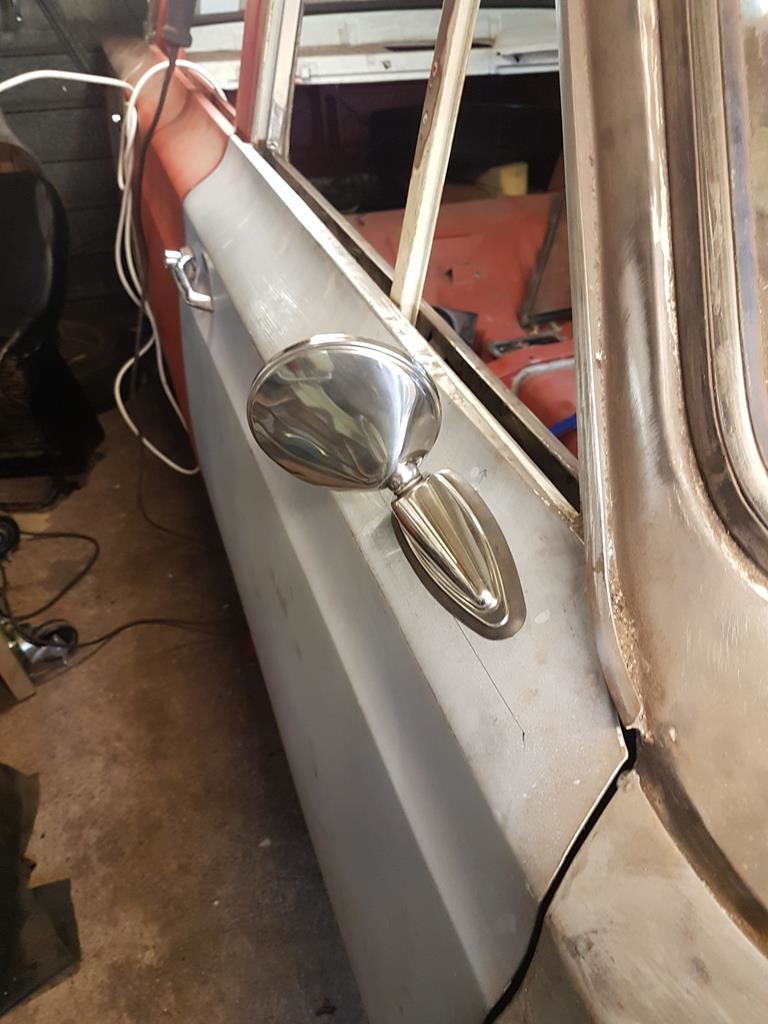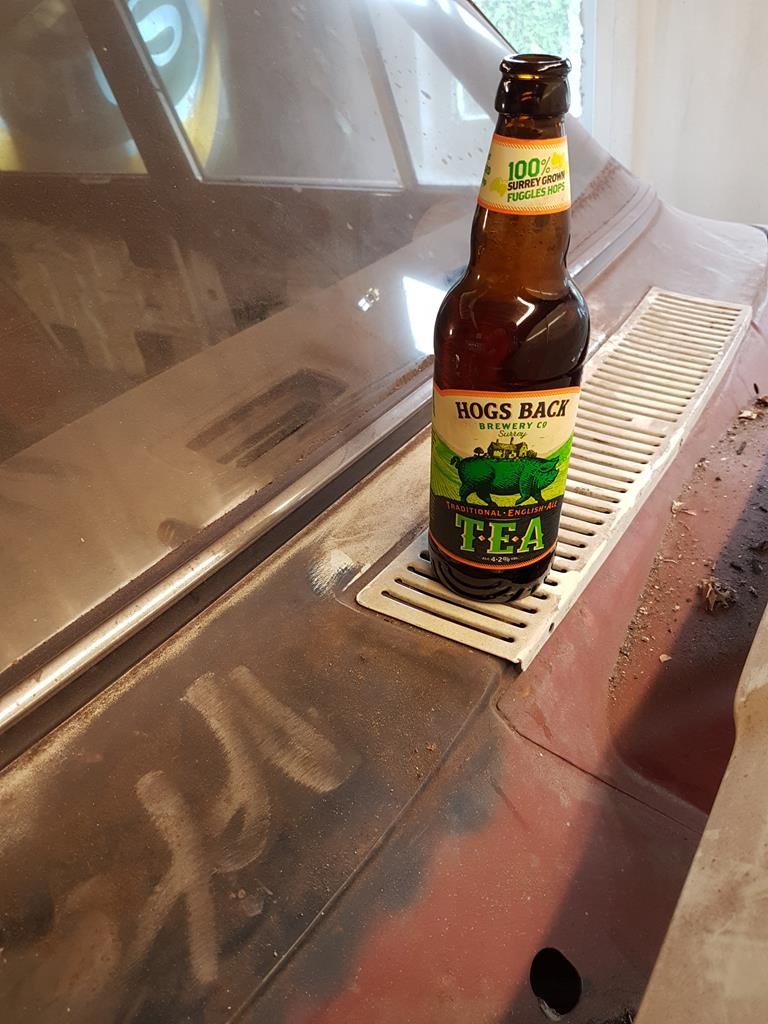 I've found a few pinholes and pieces I want to tidy but the bare metal has been coated in hammerite kurust as a safety precaution.

I'm up to the front seat and now ice removed the gearbox i can go a bit further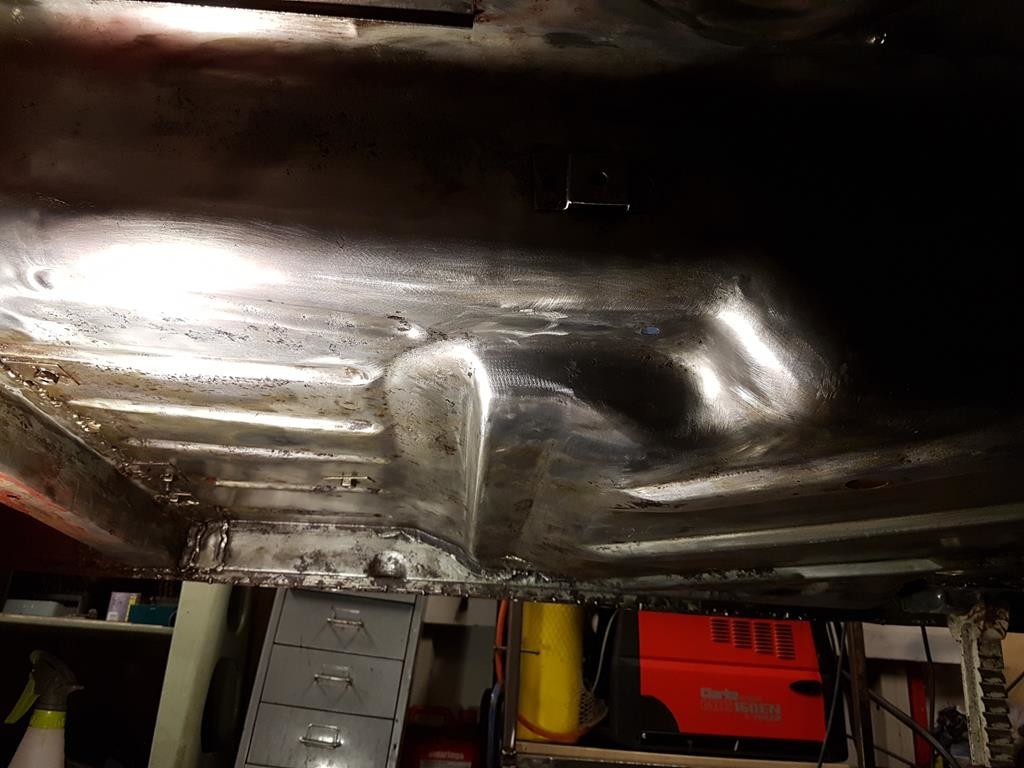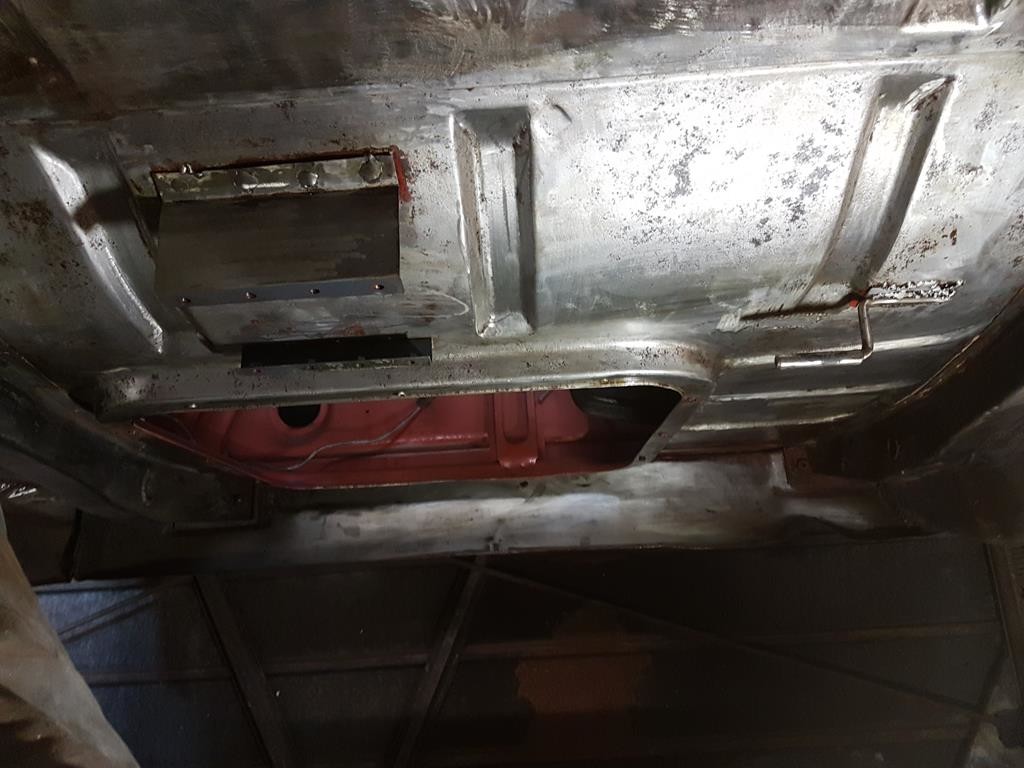 12-17-2017
Thanks for the comments guys - it keeps the motivation up! Since last time I've been working on the rear seat belts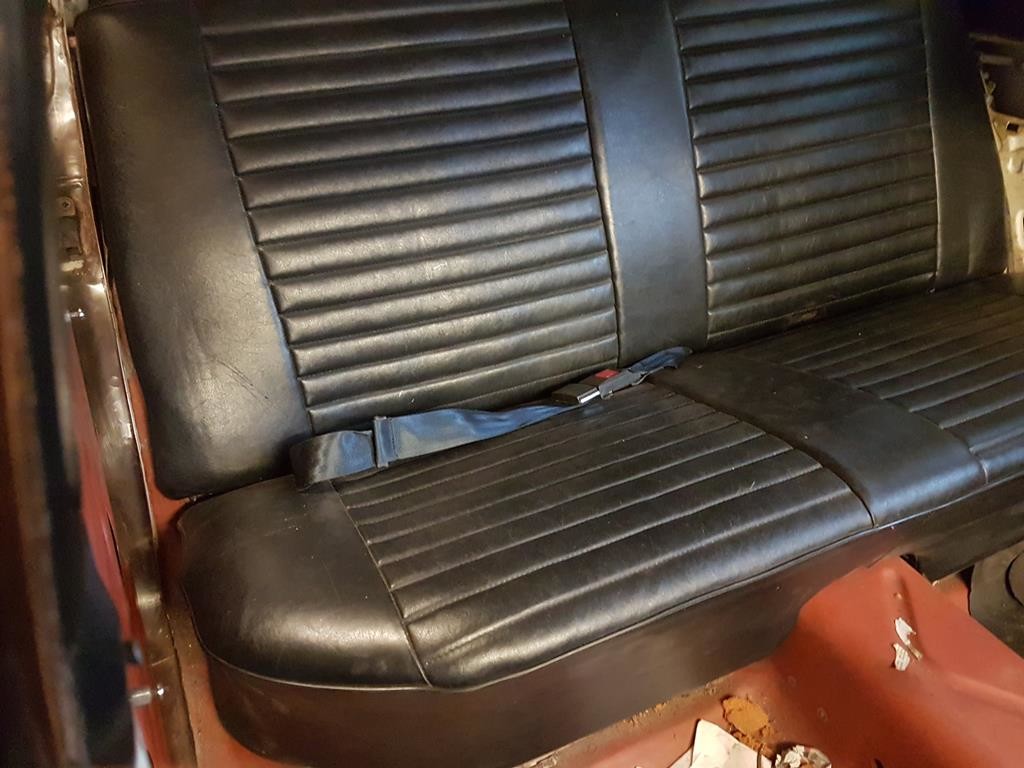 I've welded the plates on underneath it was one of the last jobs to do before paint.

I tried to sort the underside of the seat but in my haste I blew through the "steel" and made a right mess so I had to go bigger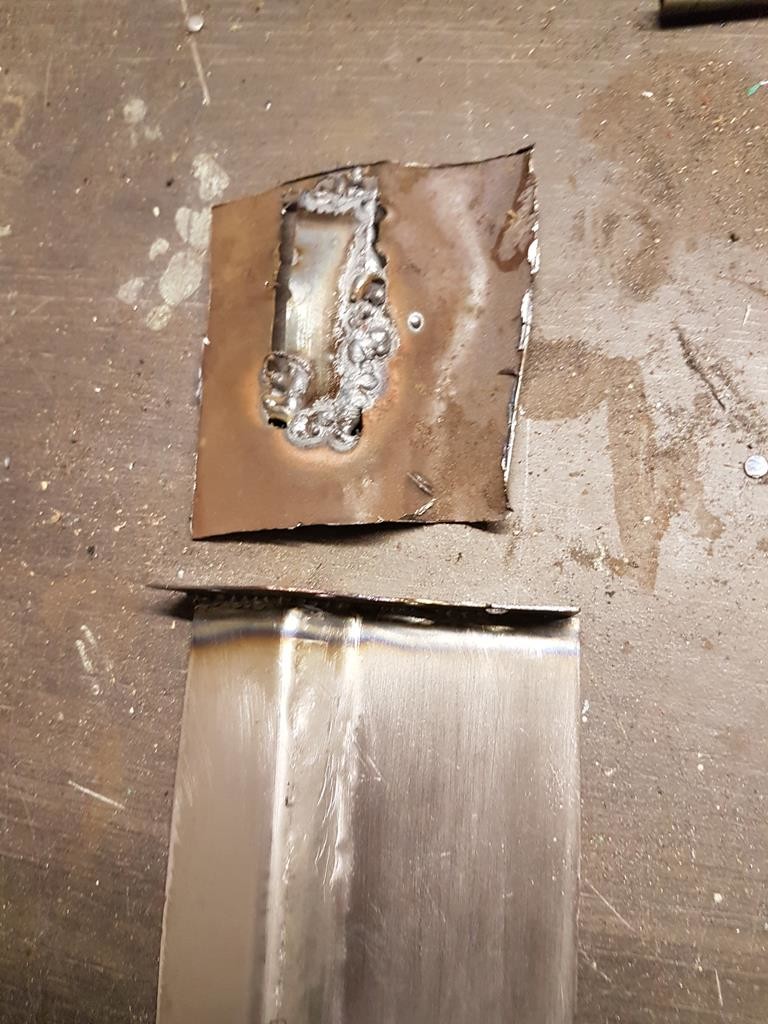 The 1st version had a folded edge but it looked shocking so I cut it off and made the profile which I drilled for plug welding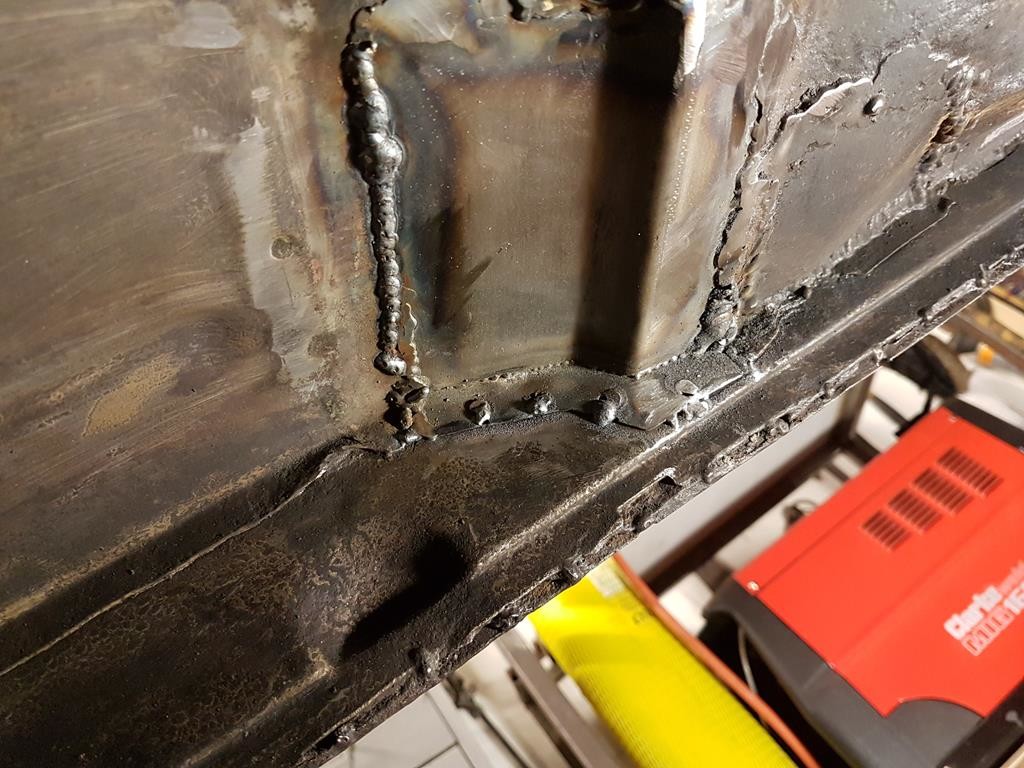 I have ground it back since but forgot to take a picture, my bare metal work had now bought me to the front footwells but I got quite angry as I paid for work to be done a few years ago to do the jacking point on the passenger side - this is their handy work!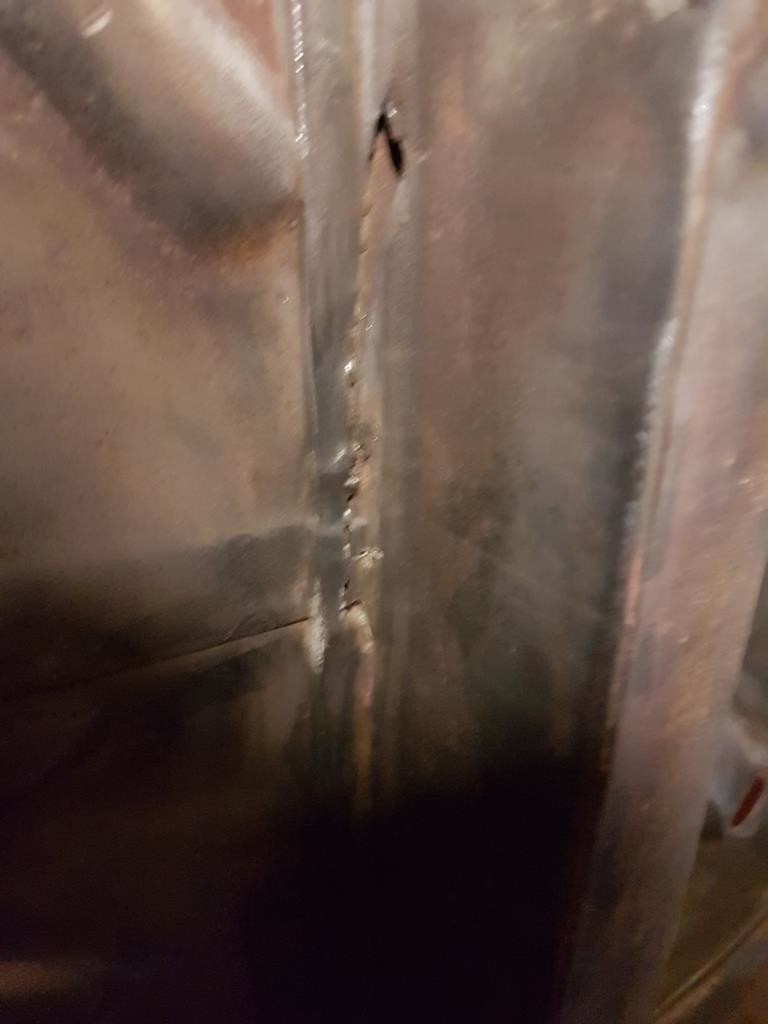 Just chopped it and left it! And there's 2 holes in a leg next to where they worked - I'd name and shame but it's not worth it as I should have checked all their work and they no longer exist so I'll sort it as best as I can
12-28-2017
Merry in between Christmas and New year!

Finishing off from last time - the repair piece in the chassis leg has been cleaned up.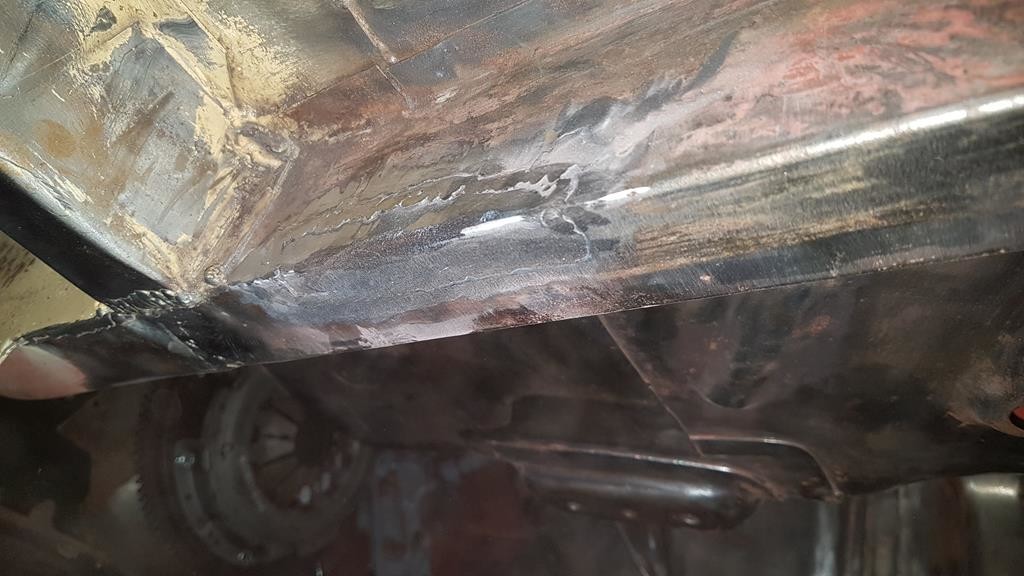 I bought myself a few bits for tina that arrived just before Christmas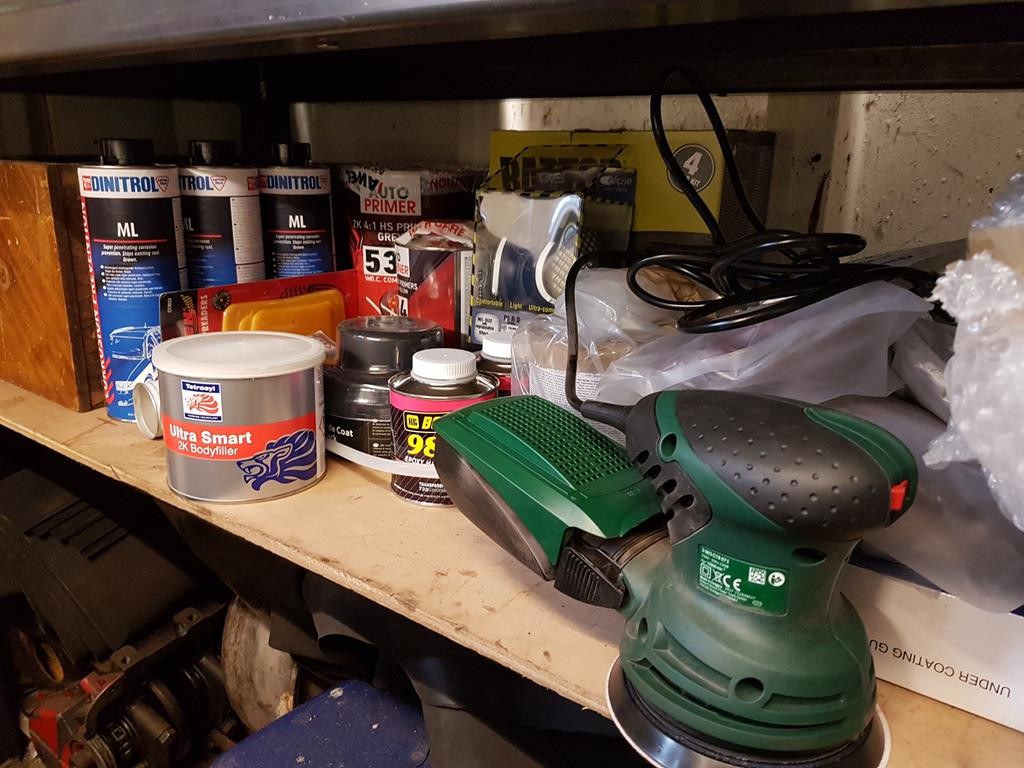 I've got enough bits to get the car epoxy primed, filled and high build primered and stone chipped.

One of the toys I bought was a 5m endoscope that can be used through my phone- today I shoved it up the chassis legs to see what the condition is like before cavity wax goes in. I can use the photos for reference.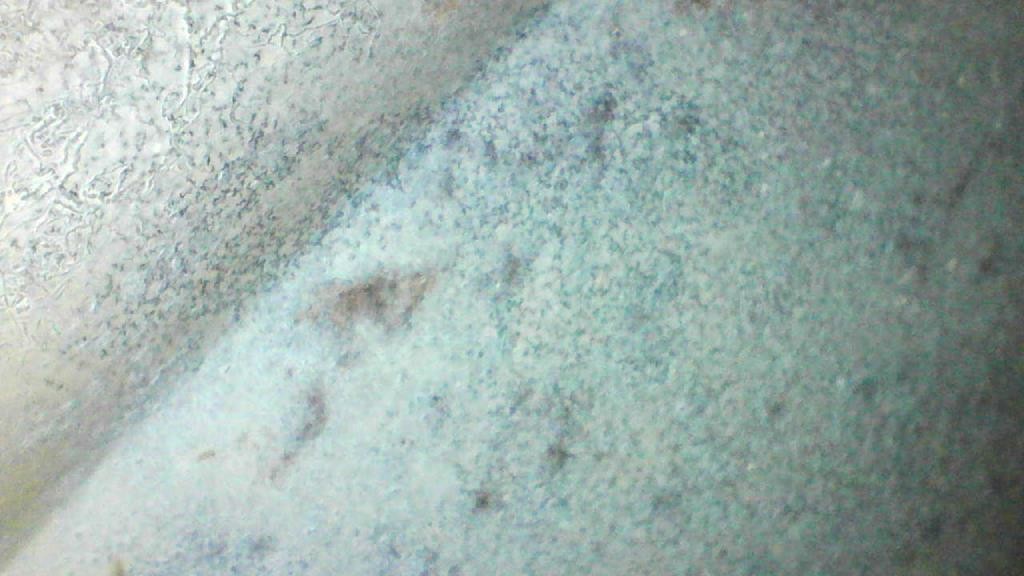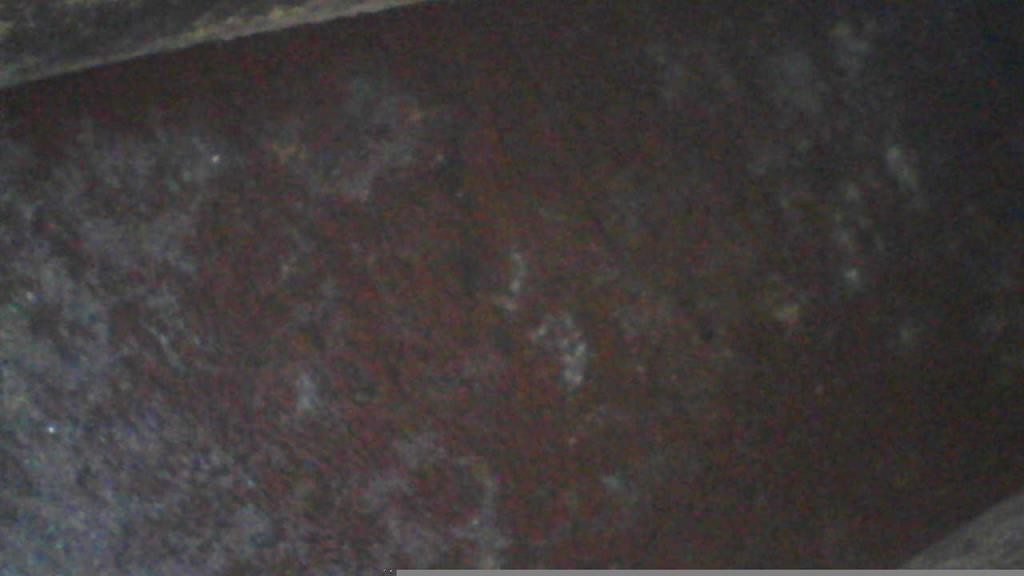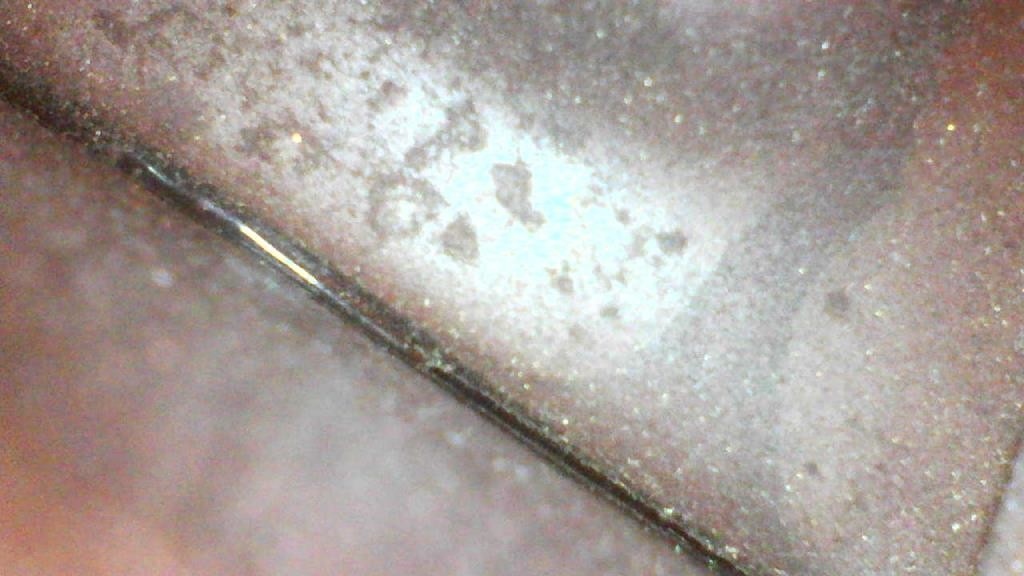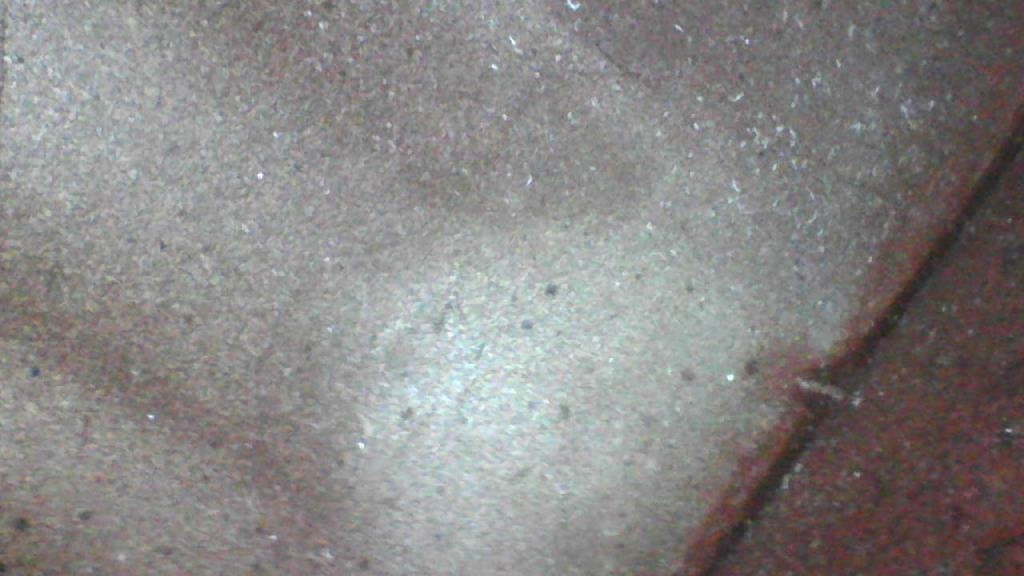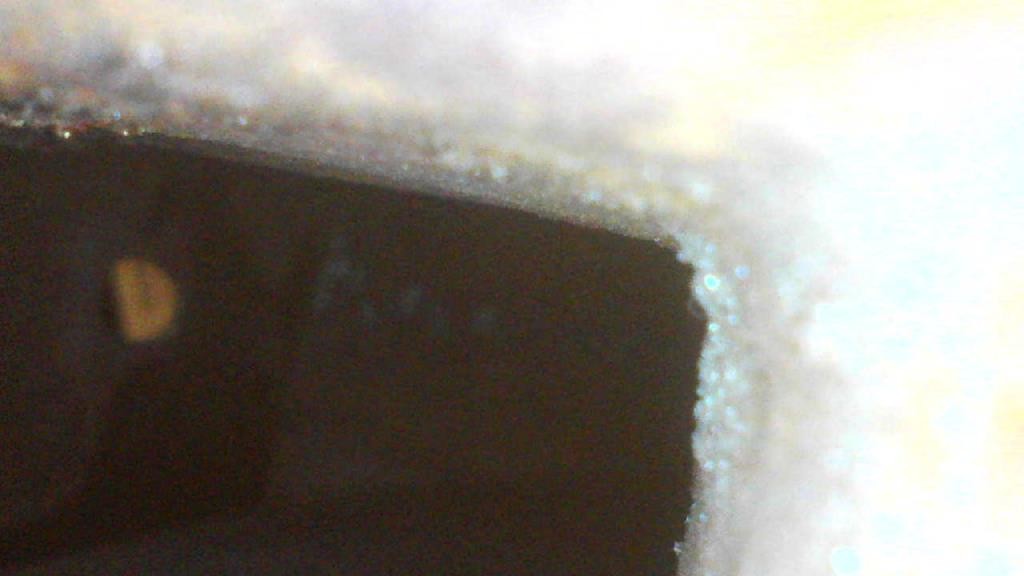 Seems to be good for a 50 year old! Is it best to prime the underside before injecting the dinitrol?

So the plan tomorrow is to tidy some welds up on the inside and check for pinholes in the welds before spraying epoxy.

I'll also get the interior ready for epoxy too as I'd like get this going asap!
12-29-2017
Today has been quite productive considering I was only in the garage for a few hours!

I've been working on getting rid on the red oxide inside the car so I can spray epoxy in here. I will start the outside but I'm considering lead loading so it would mean leaving it bare for longer.

The new da sander is cutting through nicely I just have the channels to do by hand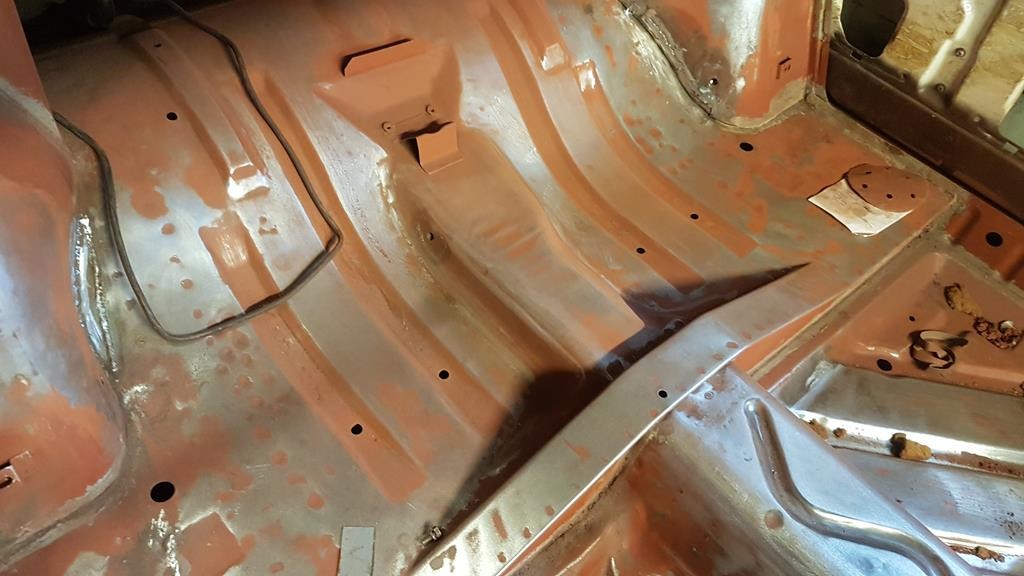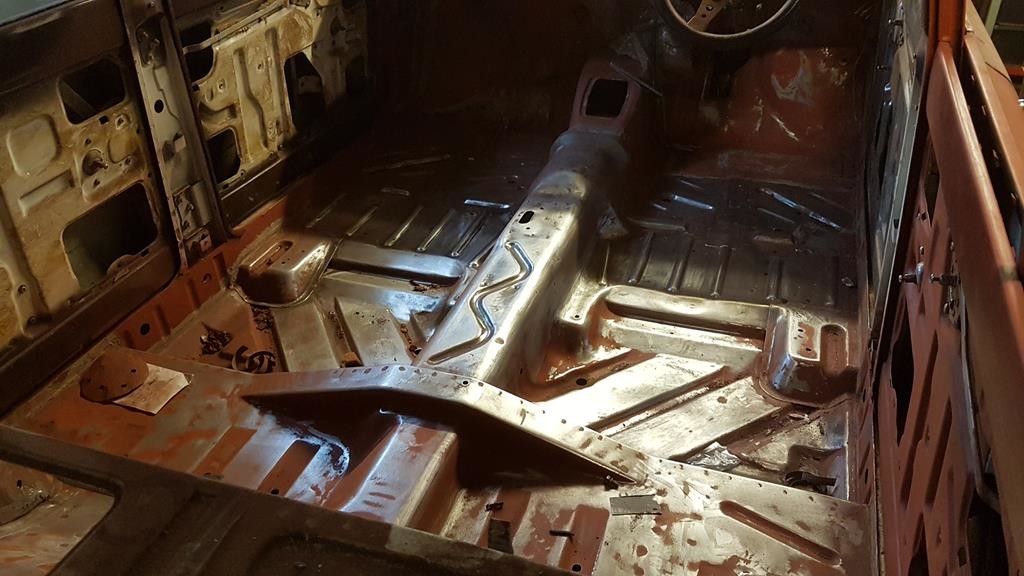 I removed the dash top and found it to be quite crusty so god knows what's happened as the a pillar is fine where it's rusted as was the floor?!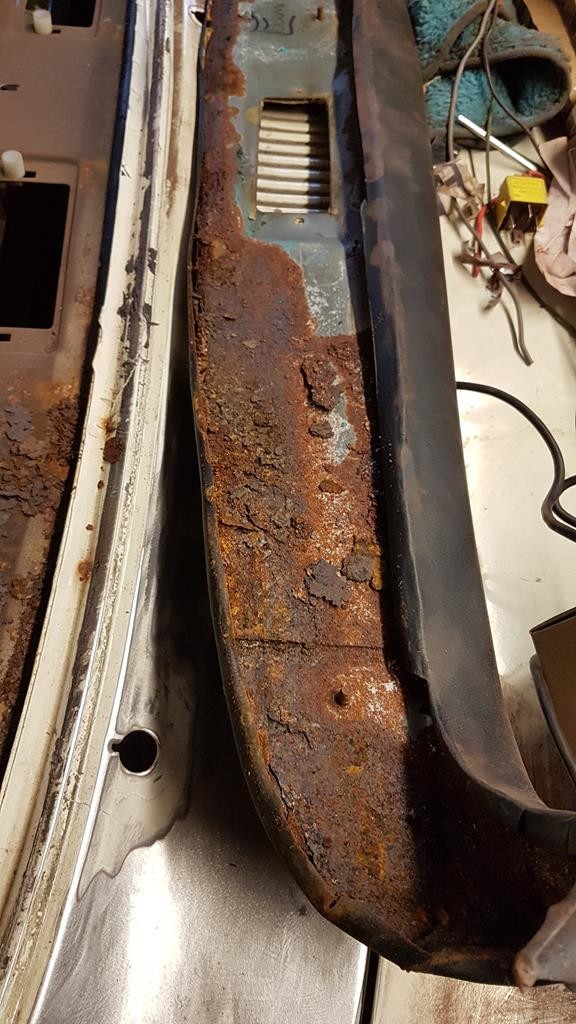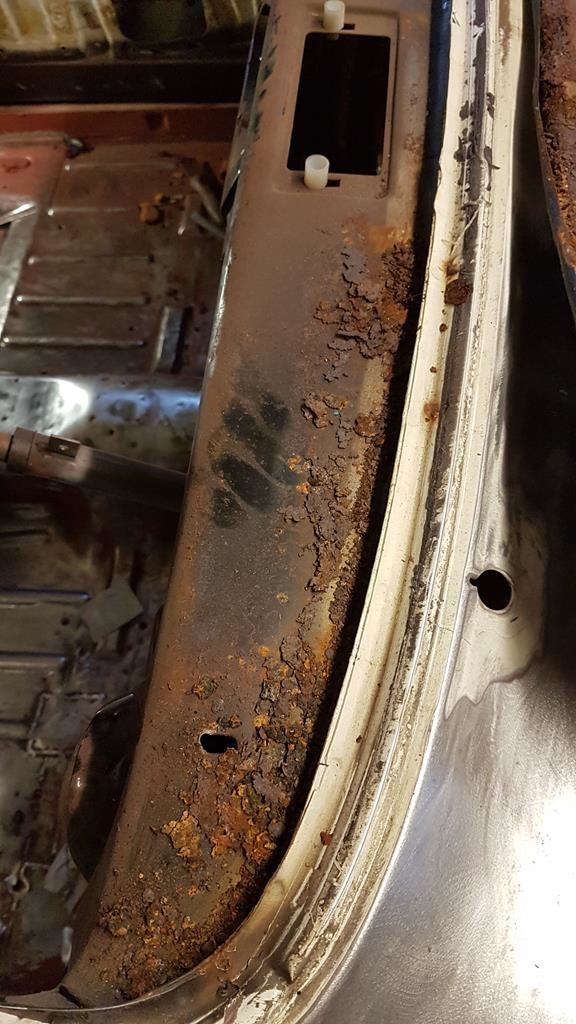 I pulled the front and rear screens too - I'm quite excited to start the bodywork as it's not something I've done before plus it's a hint of light at the end of a very long tunnel.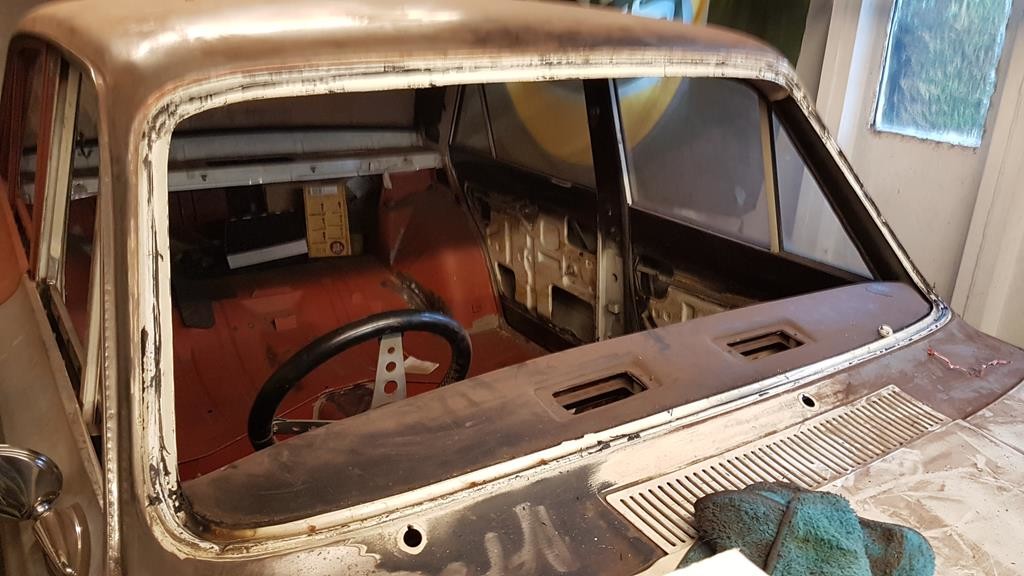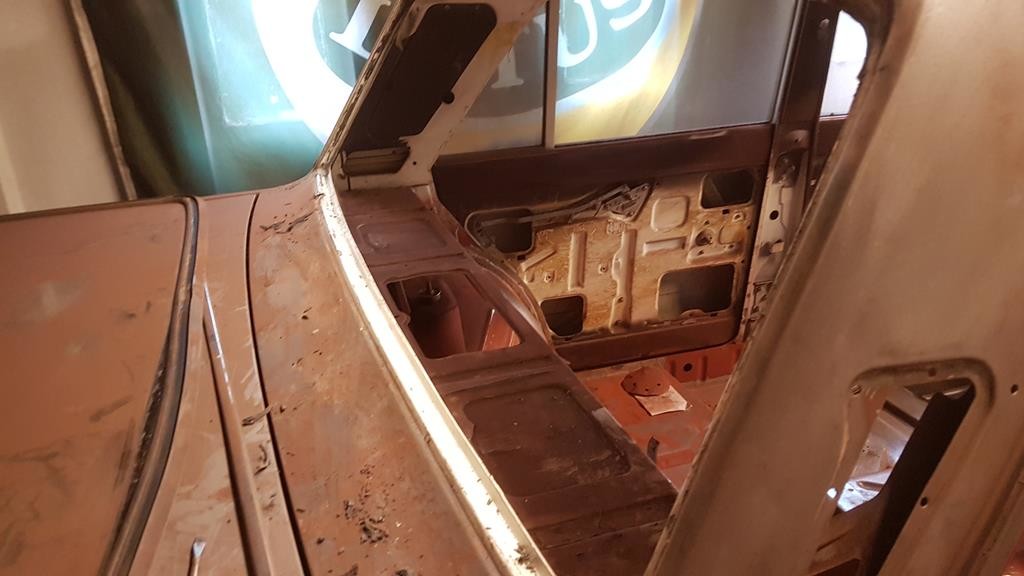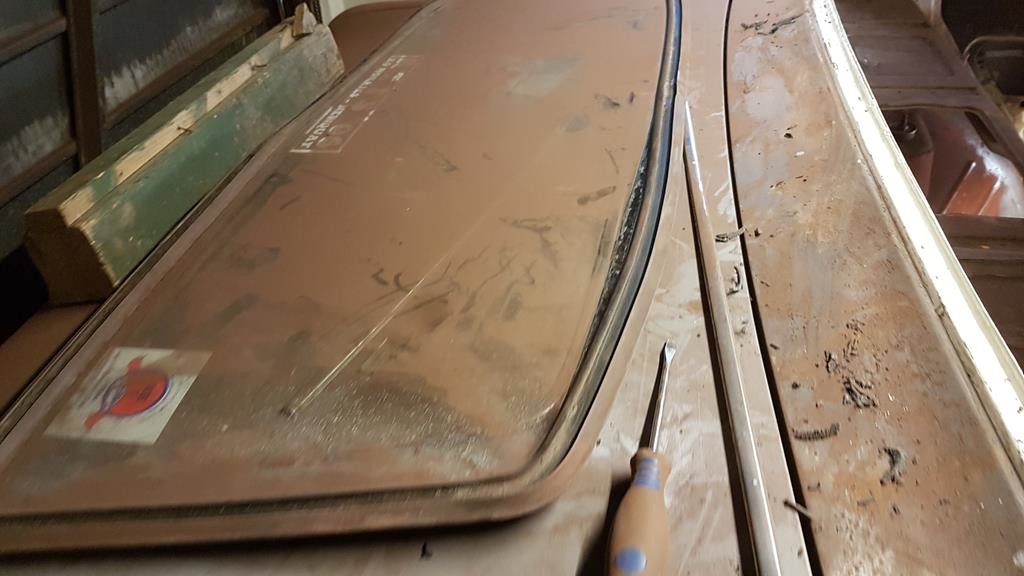 Dusty!

I'm going to try and get in the garage more as I've been slack over the last few weeks so hopefully I can get more updates in
1-14-2018
Thanks for the information Grumpy at least I can do something about it now, also thanks for your kind words - it's a boost knowing that it looks to be in a good condition.

So carrying on the theme of getting ready for epoxy I've been on the constant mission of destroying red oxide.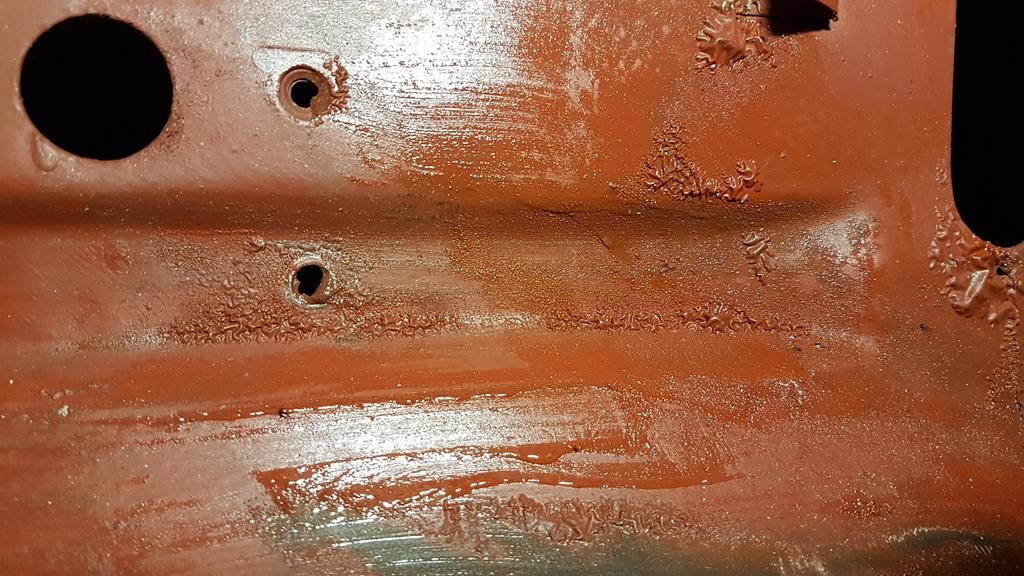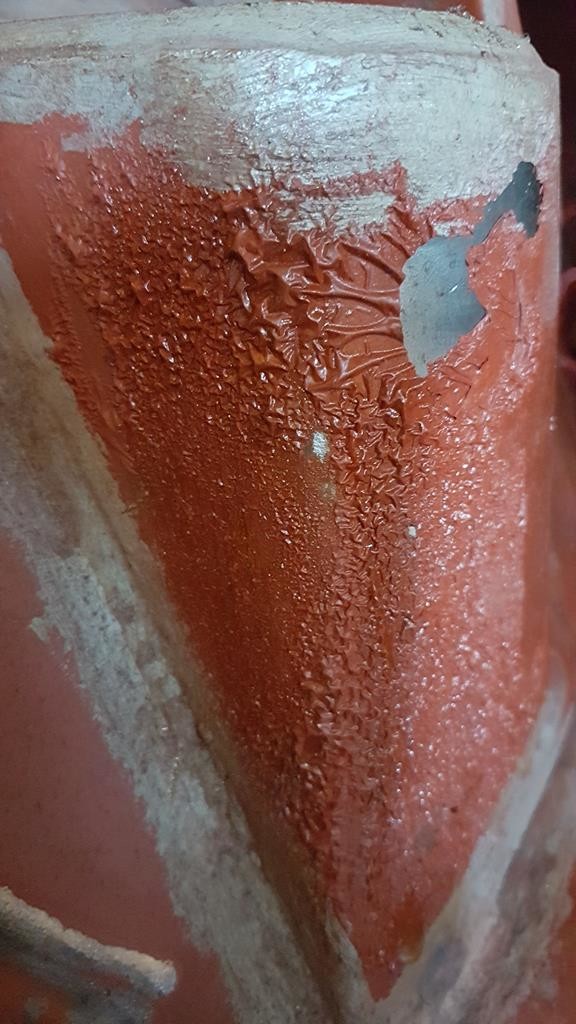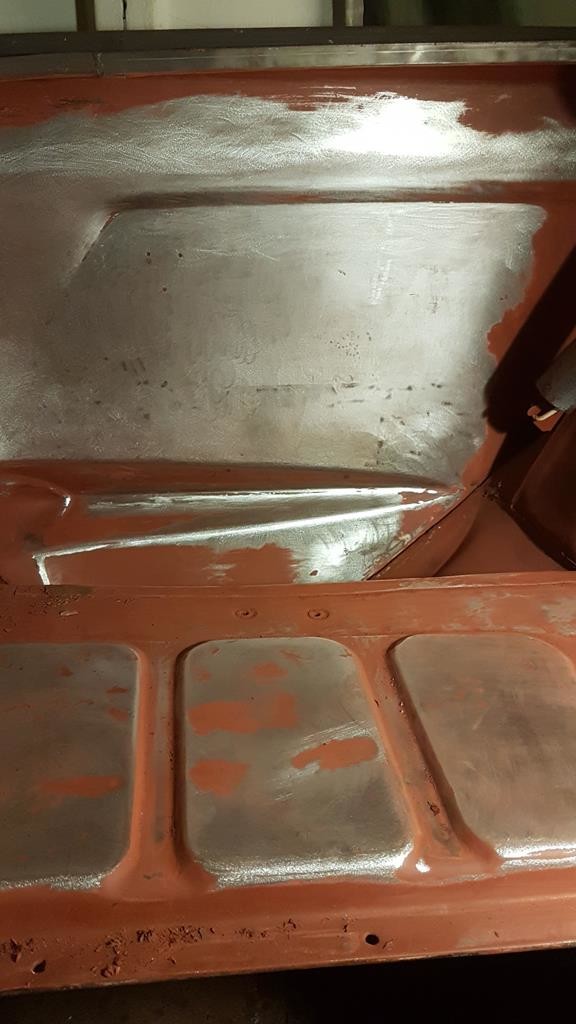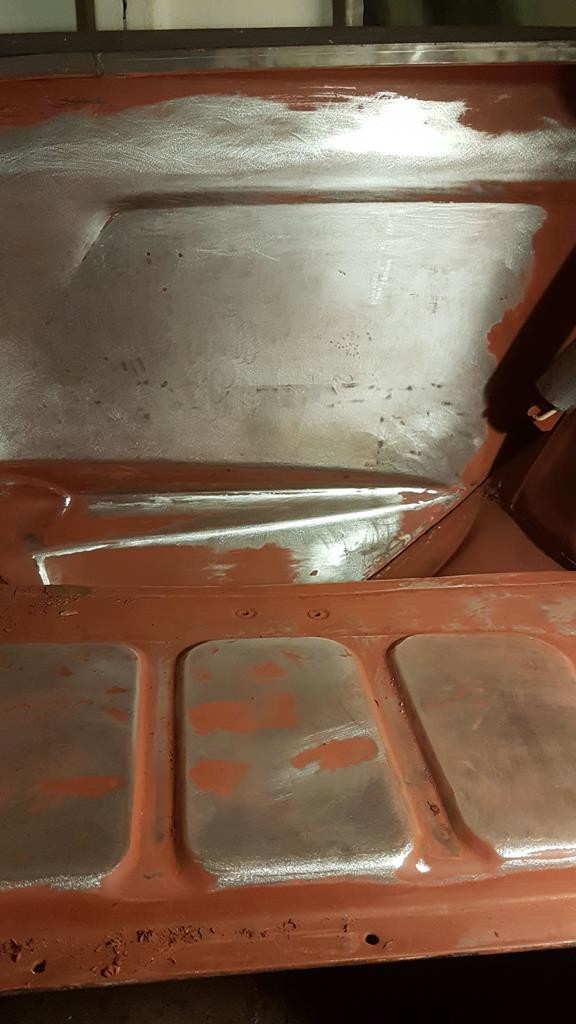 There are a few low spots so I'll use some filler in here as the boot will be visible and is like it to look right when it's all painted.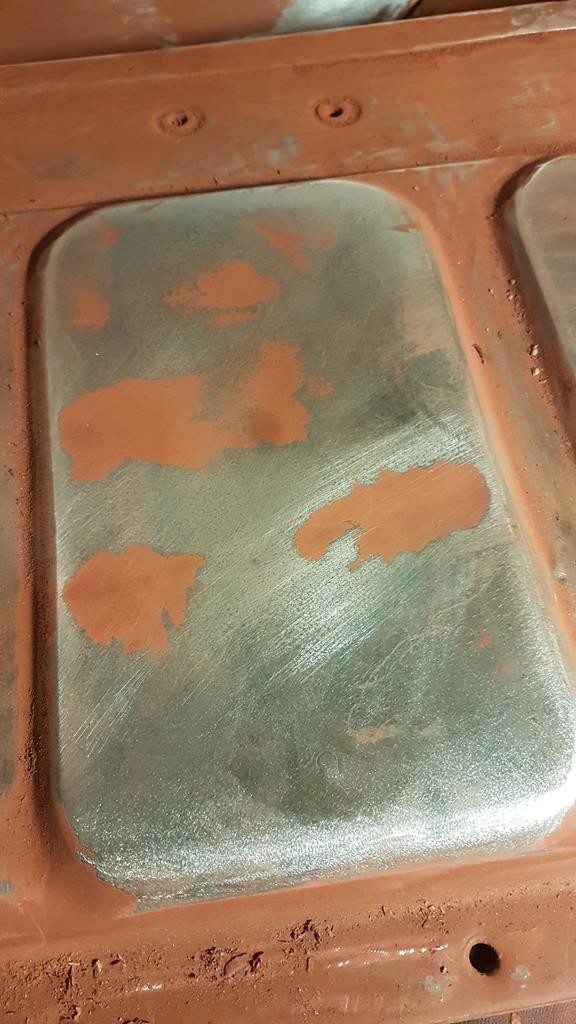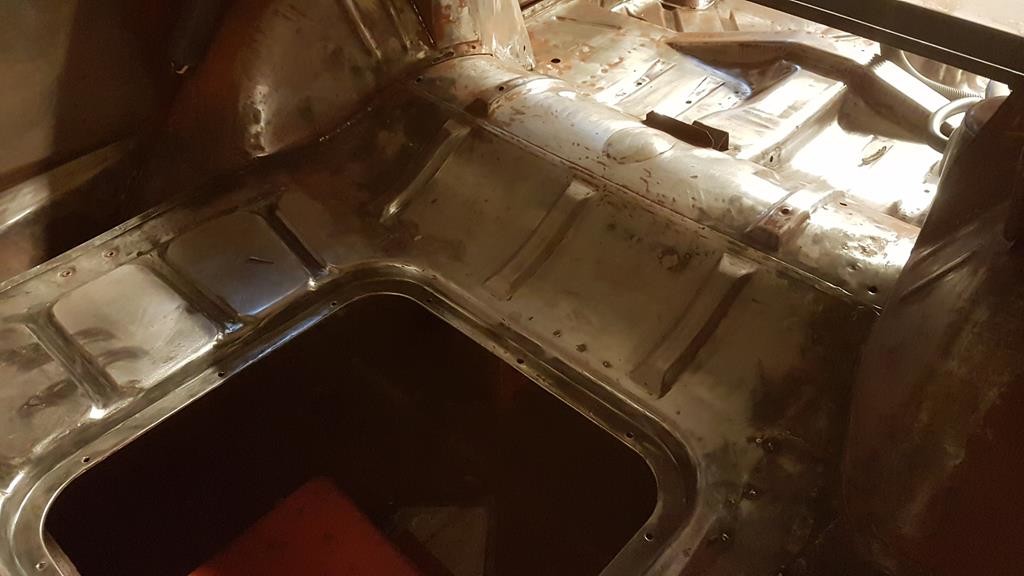 Dusty mid job selfie because why not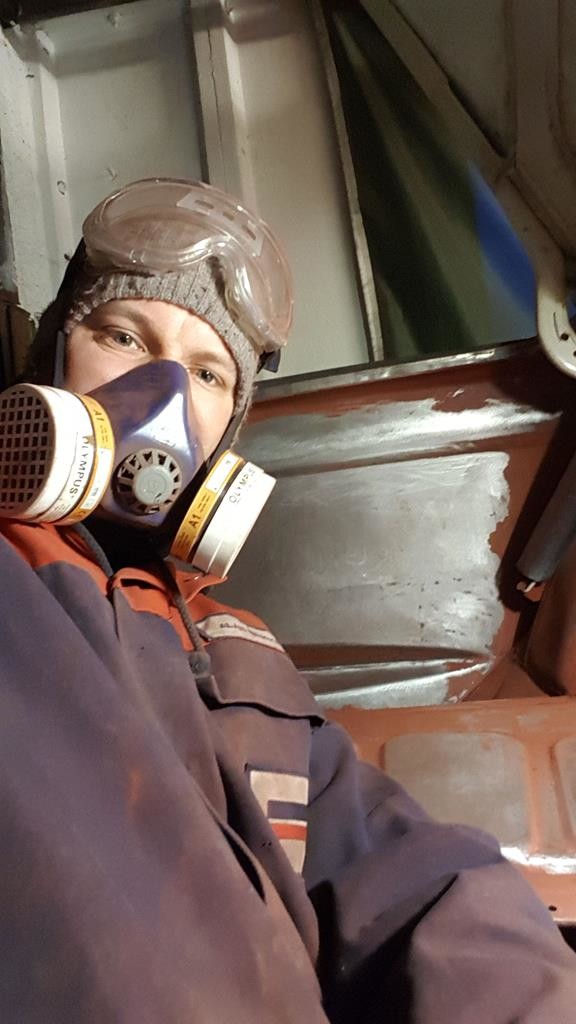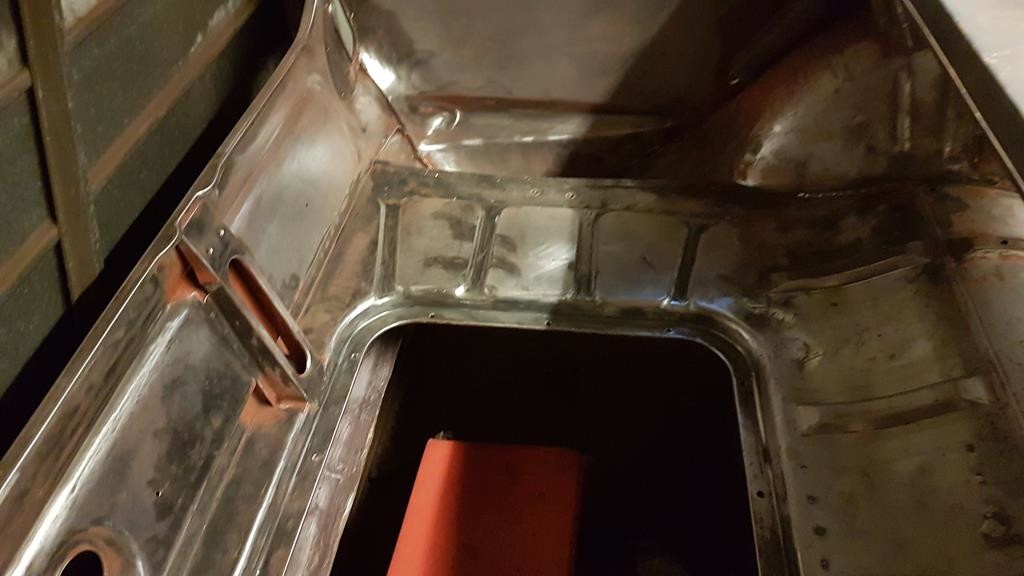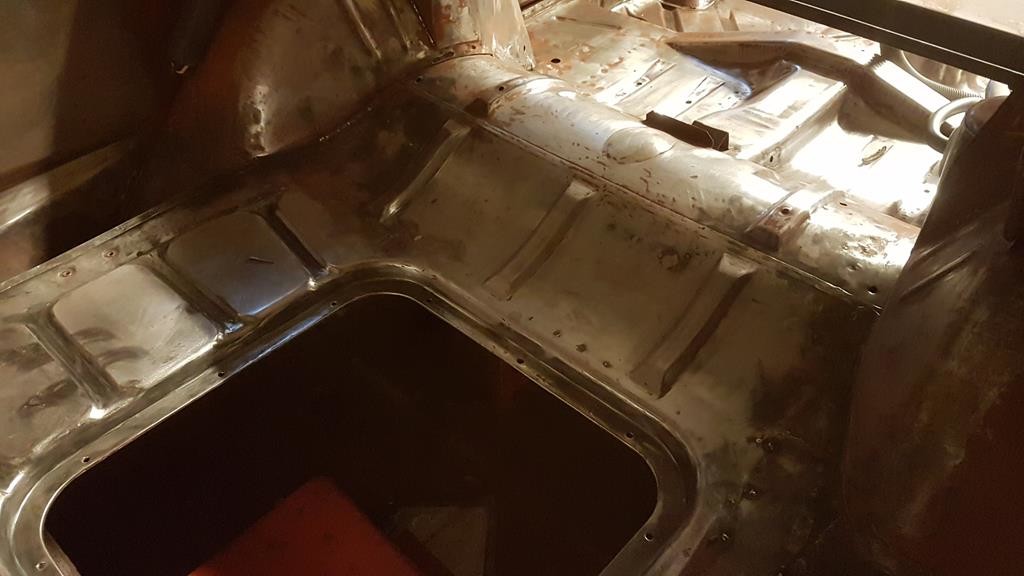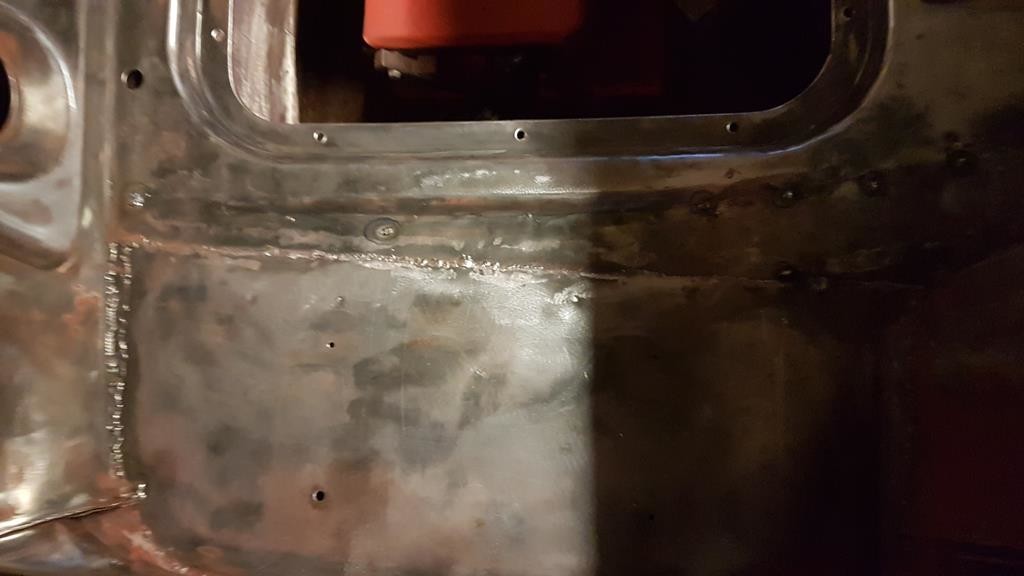 I've started a list for what I need to get done so I can start painting rather than stripping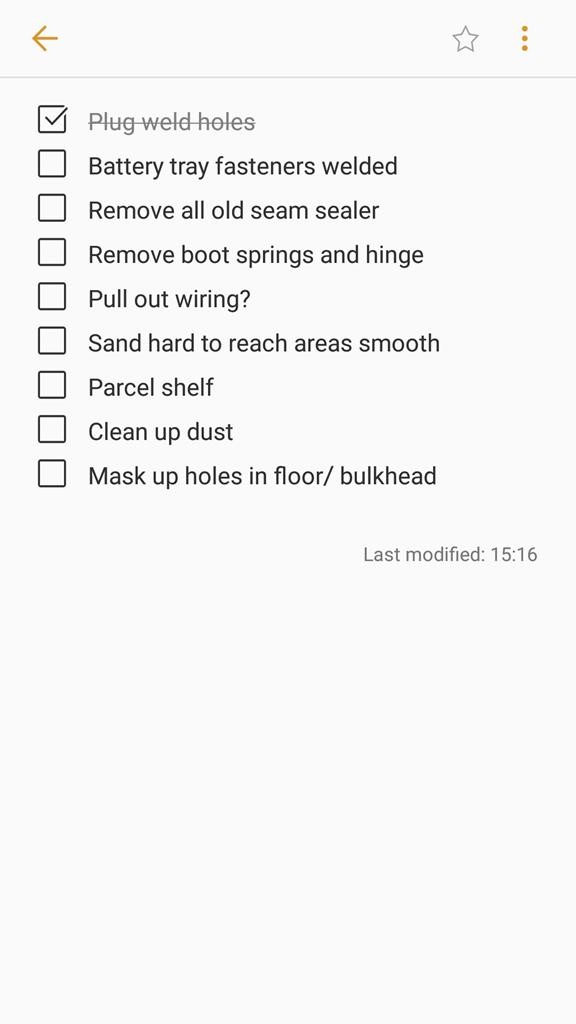 Also I need to tidy this mess up!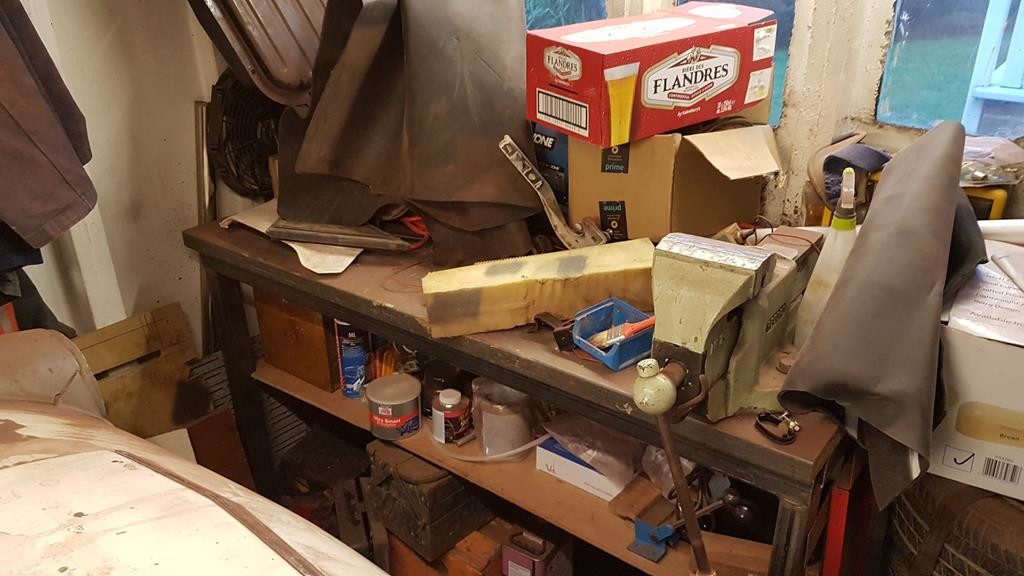 This is the filler I've bought - do you reckon before epoxy or after so I can "seal" the shell?
1-15-2018
That makes sense - I've started the inside as my plan around the car is;

Inside epoxy
Underneath epoxy
Inner wings epoxy
Seam seal
Outside epoxy
Then follow suit for high build primer apart from the underside.
Upol raptor the underside
Paint inside
Paint engine bay.

The doors will be off and primed and painted separately if I'm off somewhere I'm all ears as I've only painted airfix models up to get! Ill try and do tge prep myself and see what the result is before paint as I don't think I'll be able to lay colour at home.

The garage is pretty dry but I have a small dehumidifier that can sit in the car and run between filling and epoxy I suppose.
1-21-2018
I've had sanded the areas I couldn't reach with the DA, I found a few pin holes where repairs had been made but no photos as it's nothing amazing.

After clearing up the dust and crap inside the car i made up a first batch of filler I used the plastic lid - it's been a long time since I did filler repairs so I don't think I out enough hardener in so it felt soft after a few hours so I hope it sets!

I found a bigger plastic lid to use I used more hardener and that's set fine- I've started to sand it after an hour of cleaning and fighting spiders!

PHOTOS!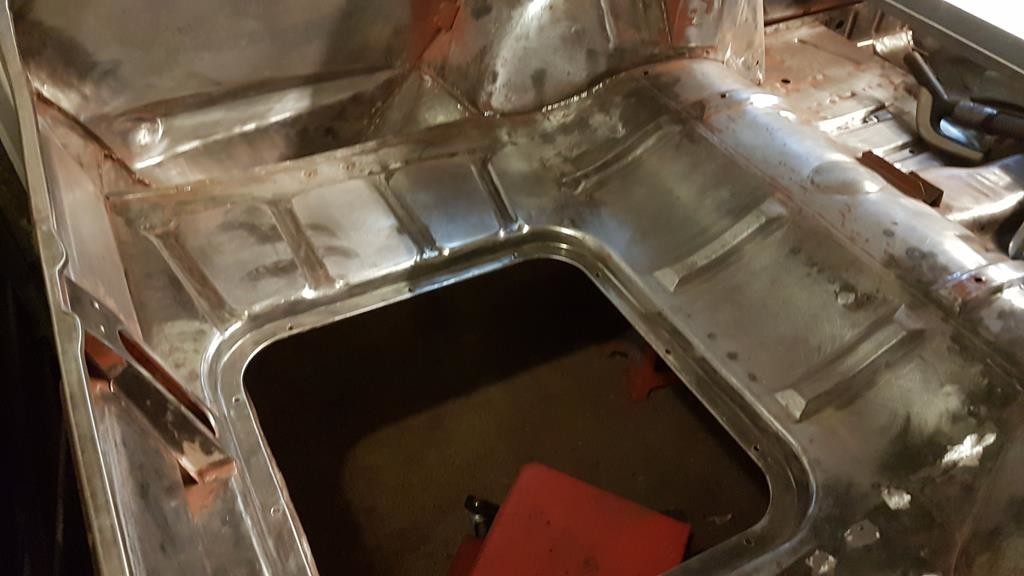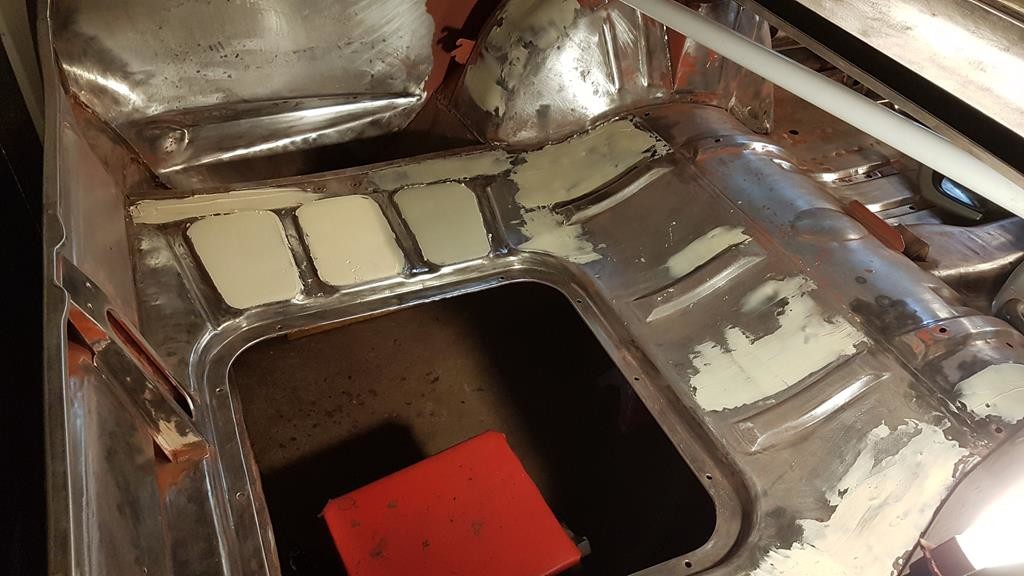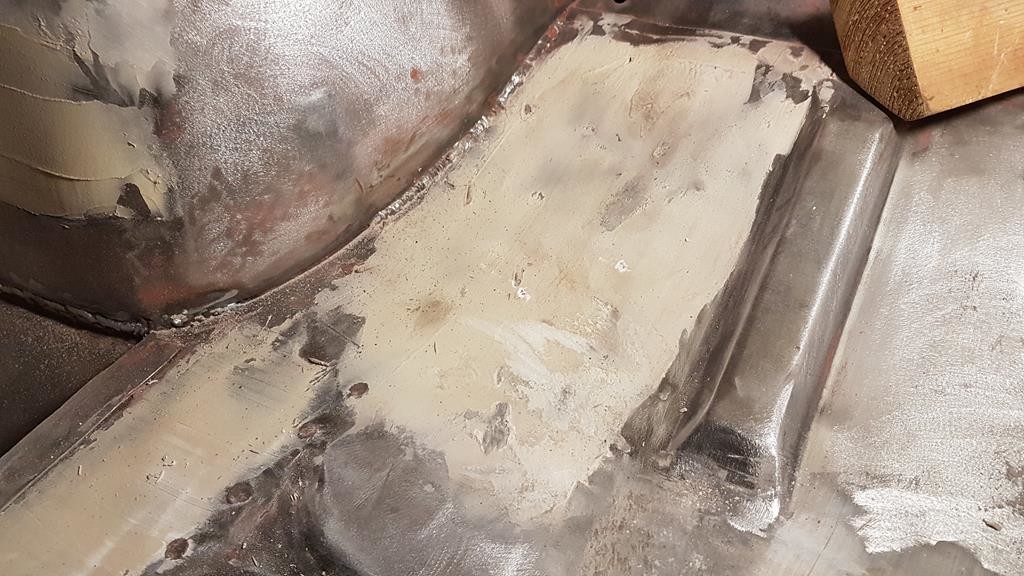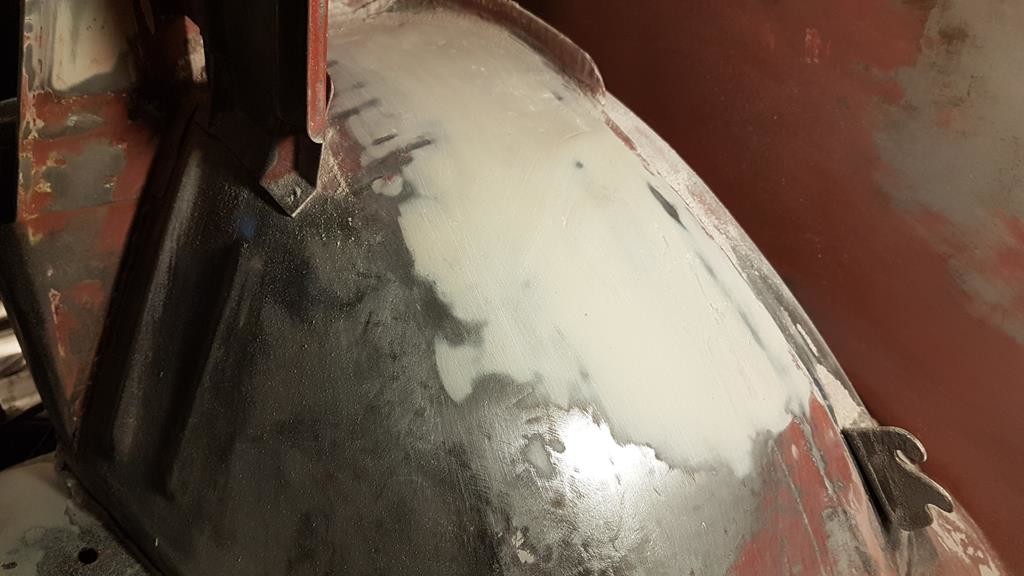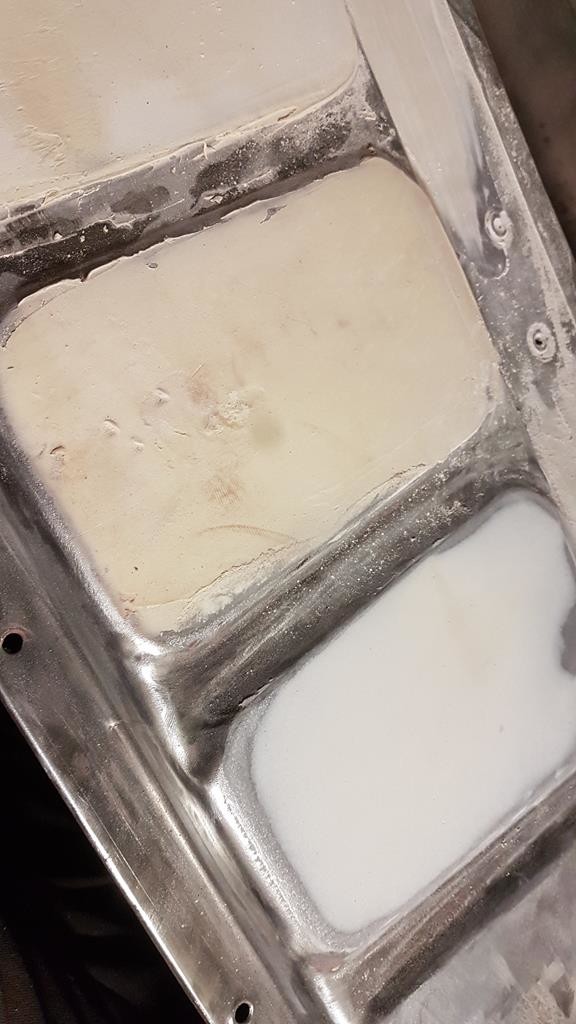 1-23-2018
I'll grab some Matt black paint then Chris, I bought the powder as I'd got some Amazon vouchers from work for Christmas so they've not cost me anything!

That filler is still gummy so that will be coming off which has negged me out but toys arrived!

I NOW HAVE LEAD!!!!

I've wanted to try this for ages!!!!

I messed the before shot up but here it goes...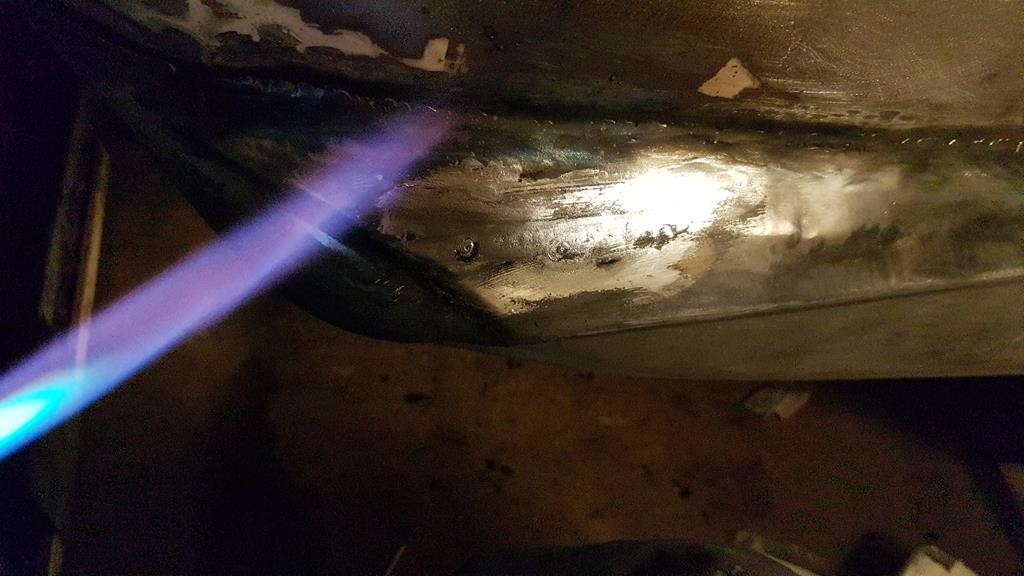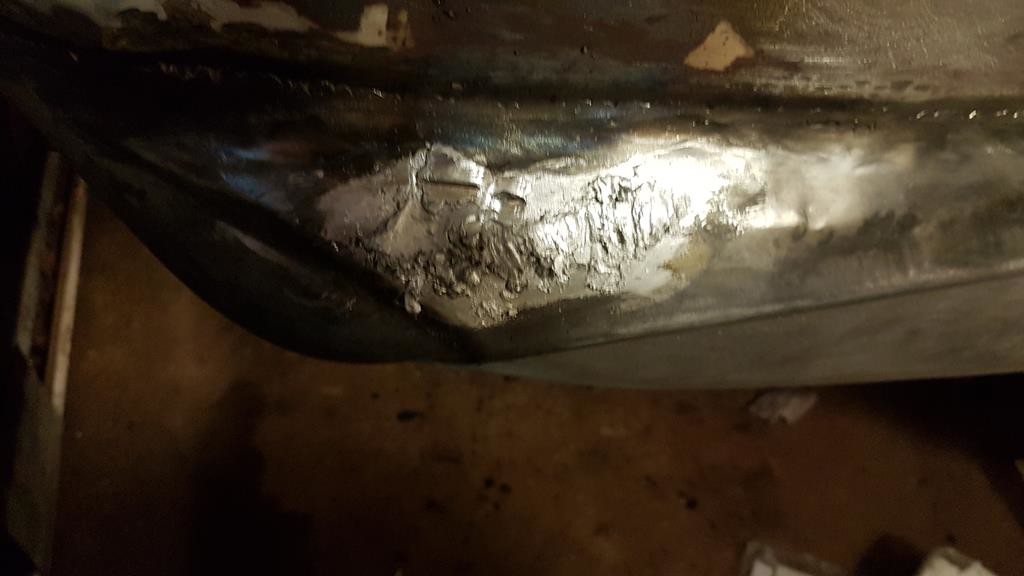 It needs a little bit of filing and finishing but I'm very pleased with the 1st attempt but mainly because of all the FIRE!!!!!!!
1-27-2018
I'm on the case Chris, I used your pencil line thing on filler it helped a lot plus it showed how bad the low spots are!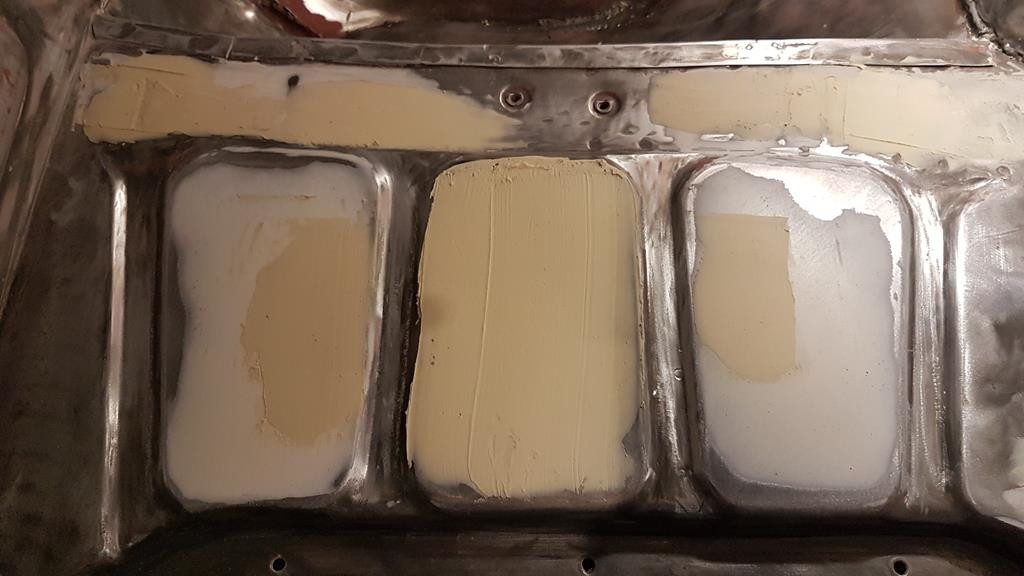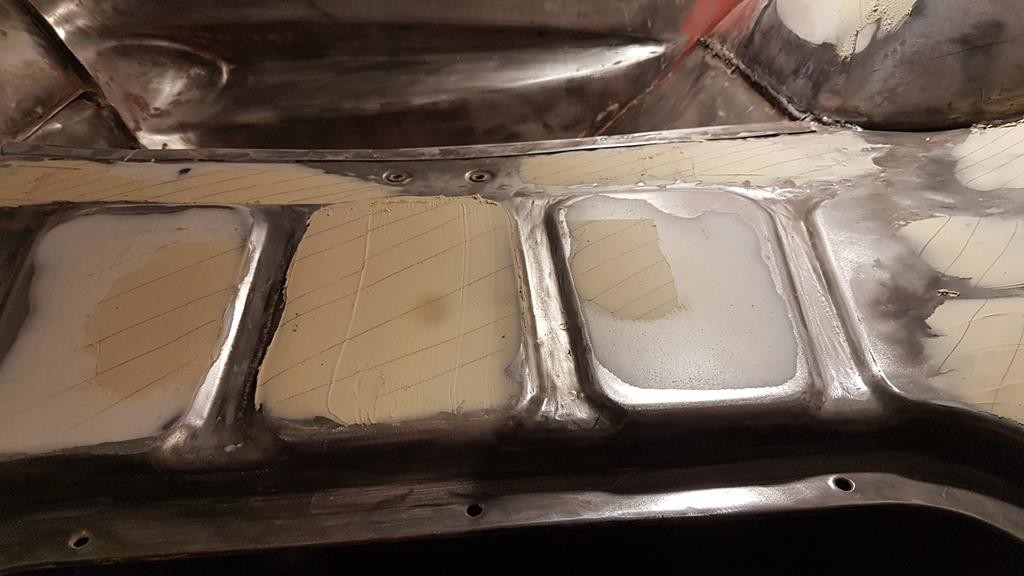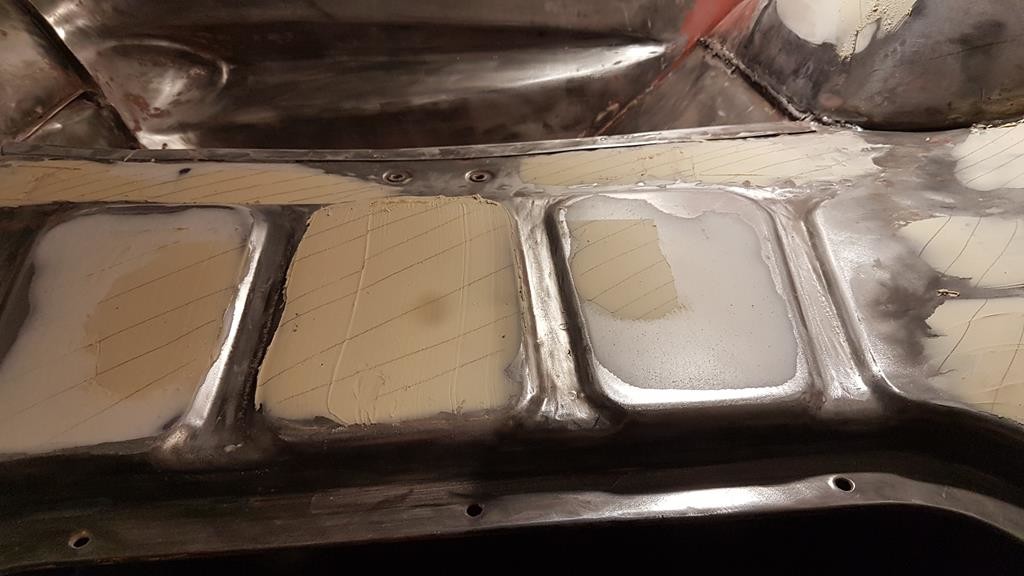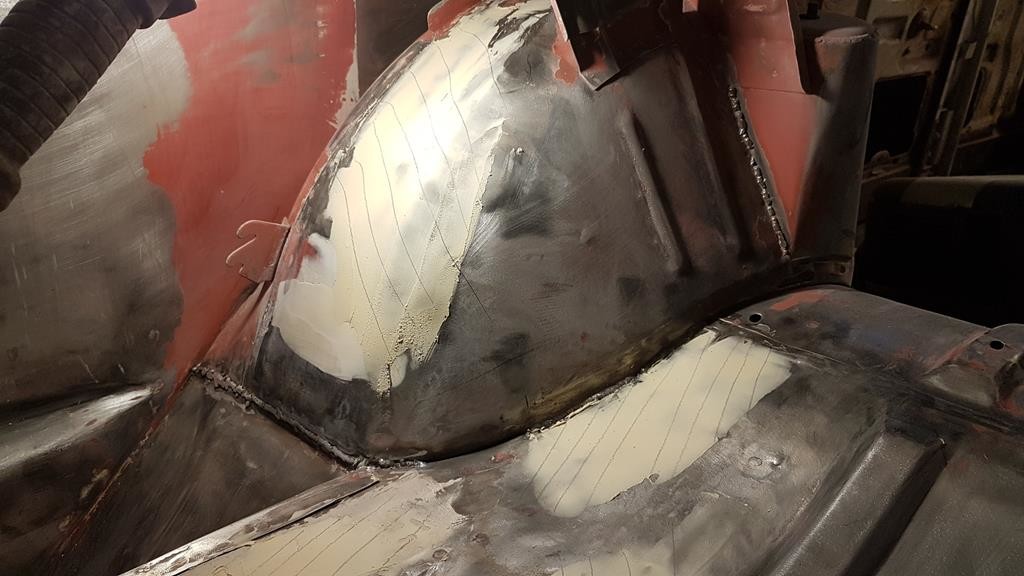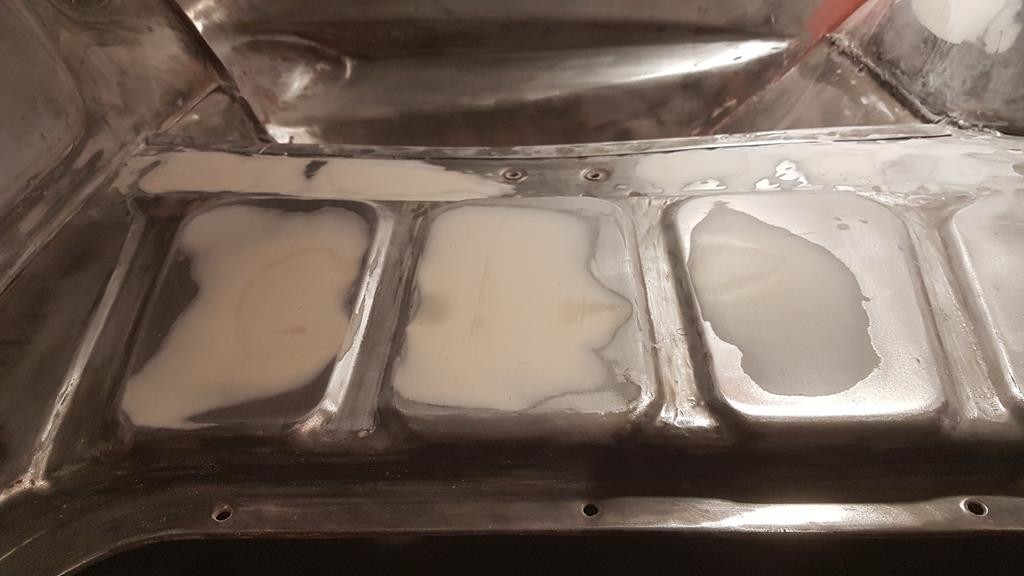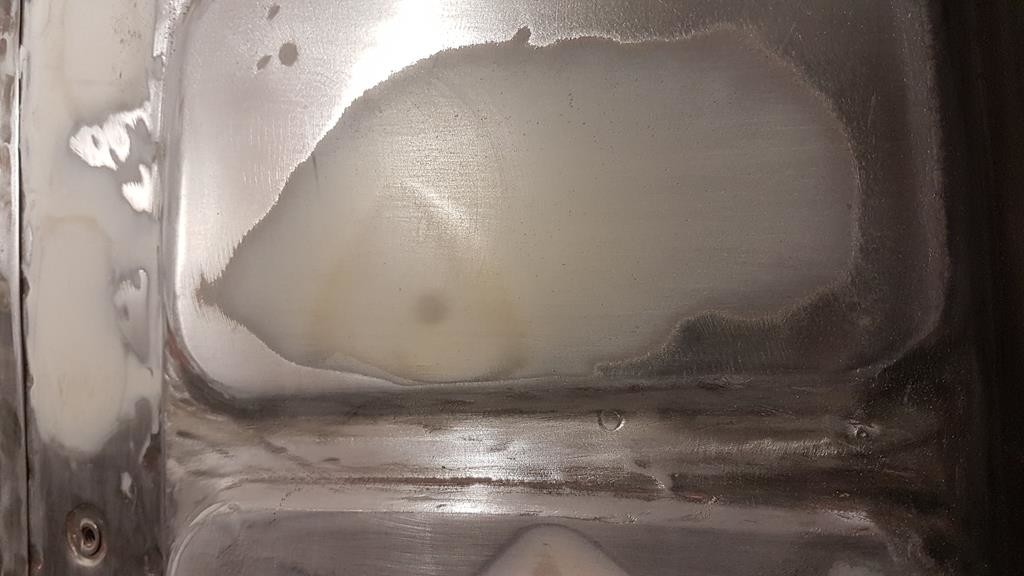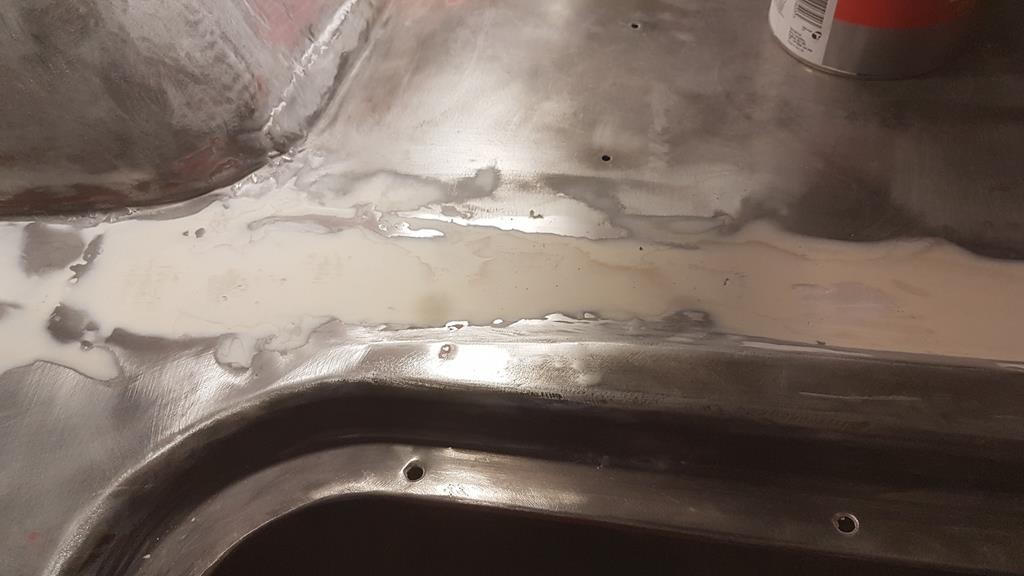 I found these small holes but I'm not sure how I can sort them? I've done another skim of filler that needs sanding back so we'll see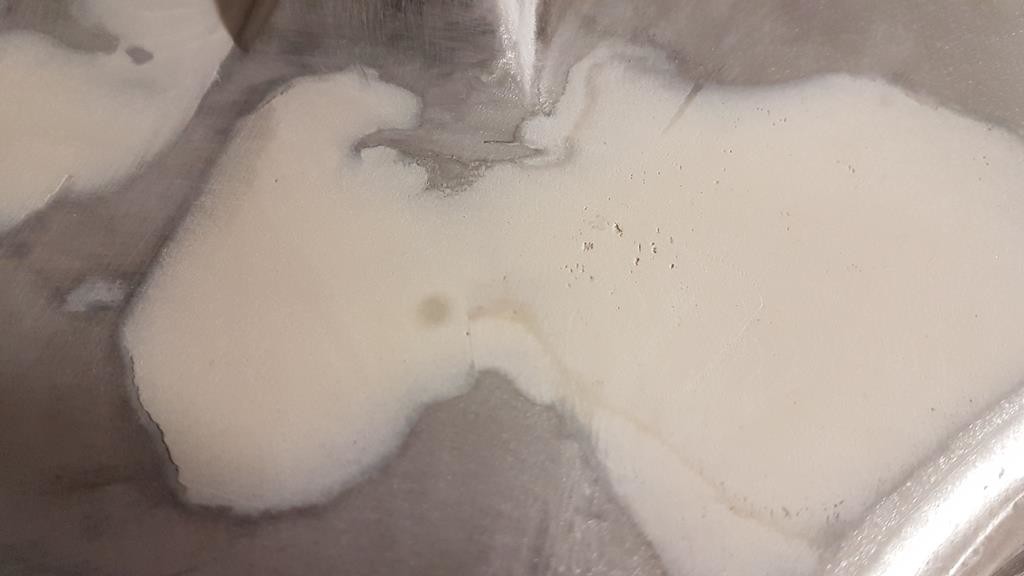 I've managed to tidy the lead up too.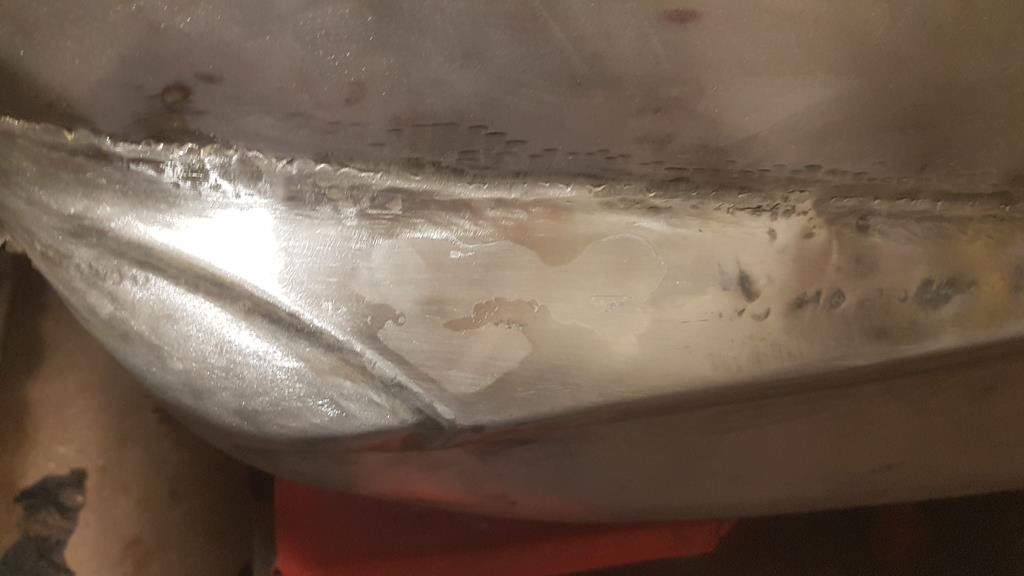 I've started leading up a seam for the lower panel near the patch I've finished, I'll get more photos but I broke my camera on the phone which us awkward.
2-25-2018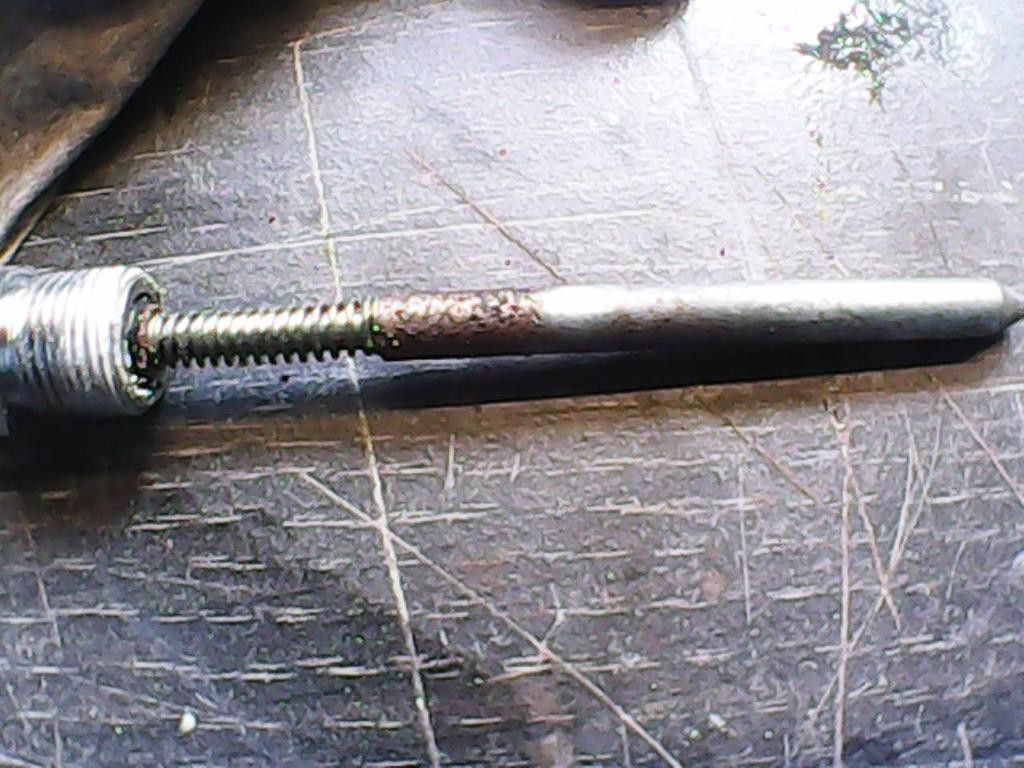 This was the shaft that controls the airflow through the spray gun - it's now fixed but at the time I was in a bind as the paint was going to dry and I'd have nothing to show for it. A foam roller was to hand which is a lesser evil than wasting paint.

As I've mentioned this was like super orange peel!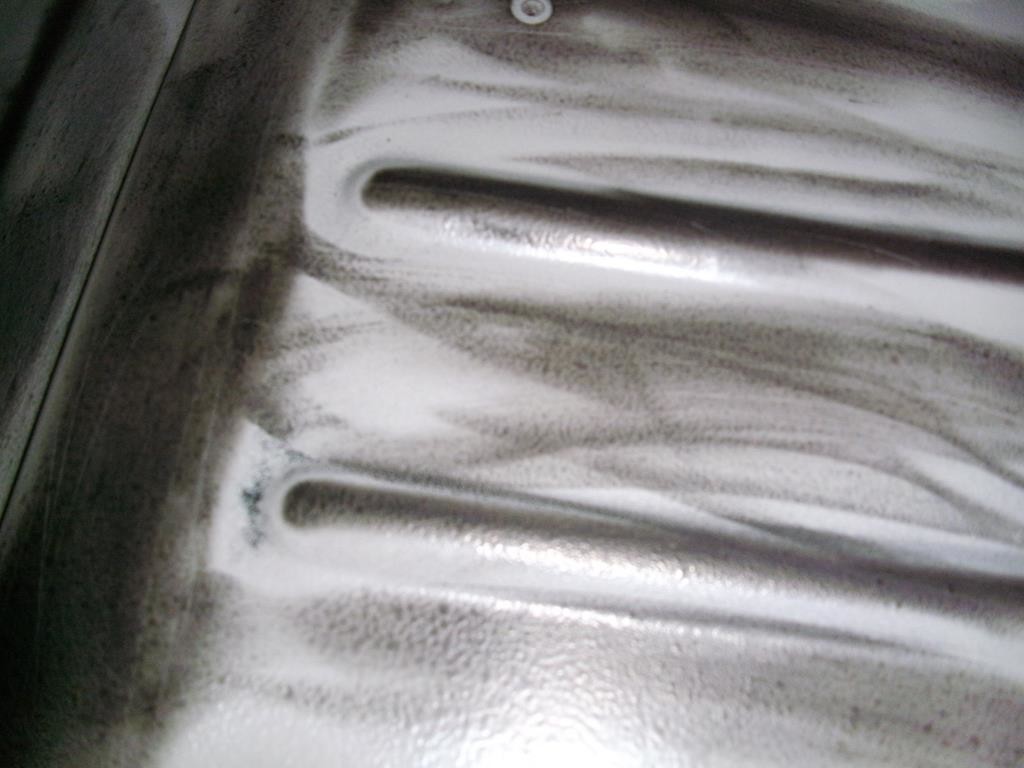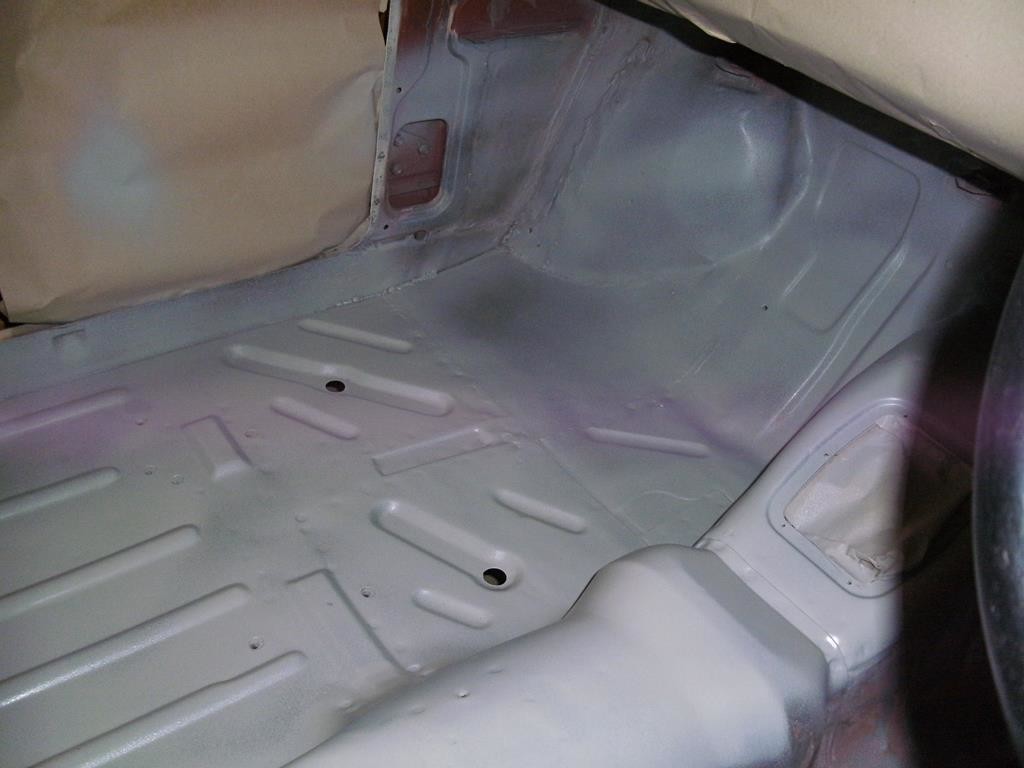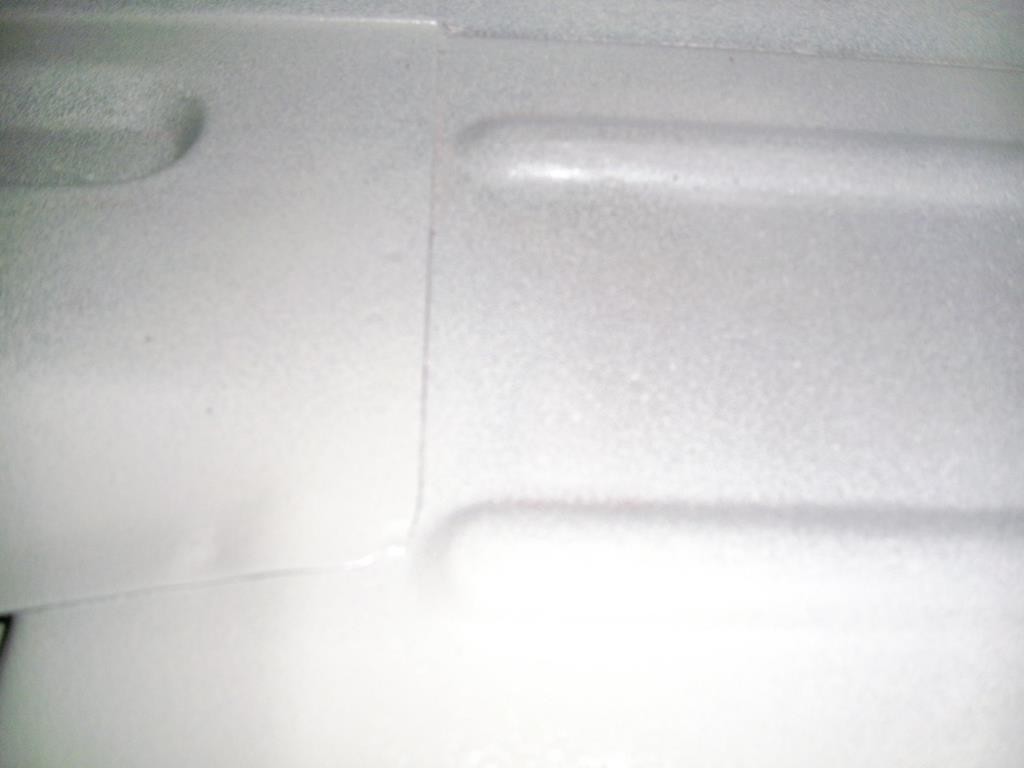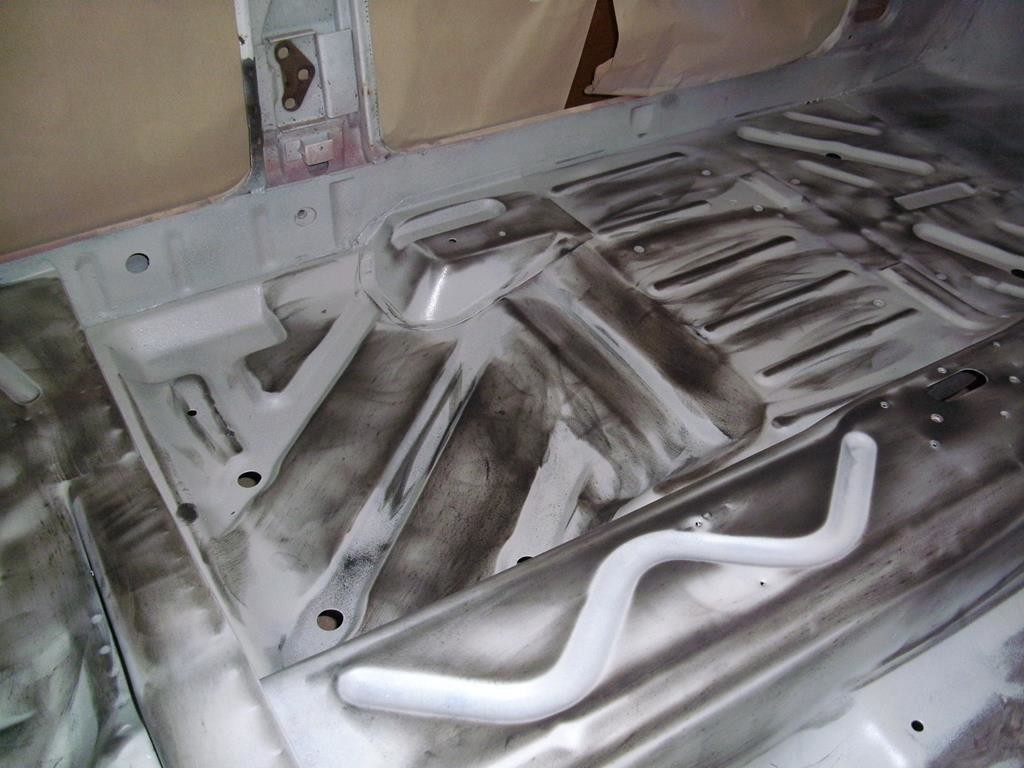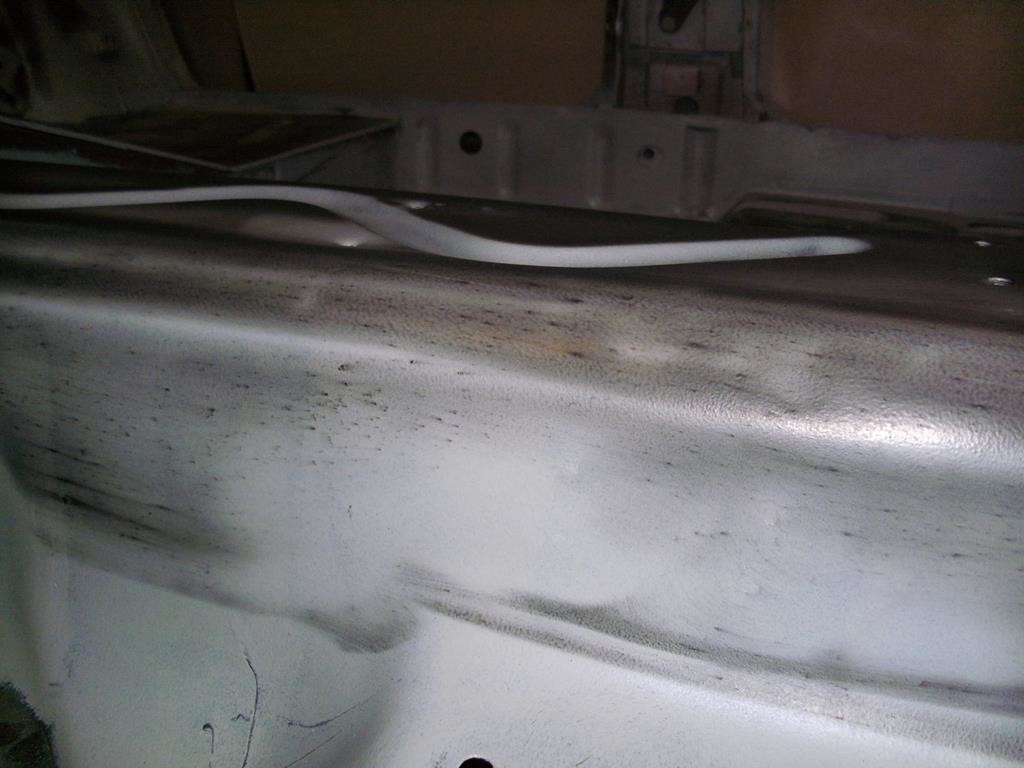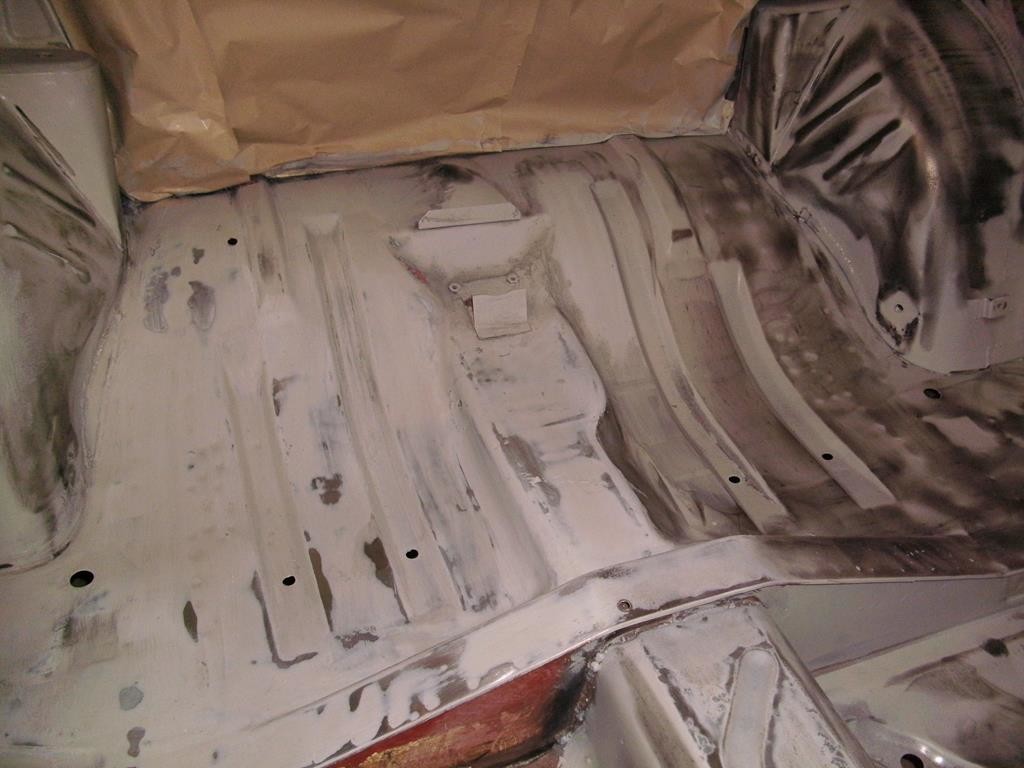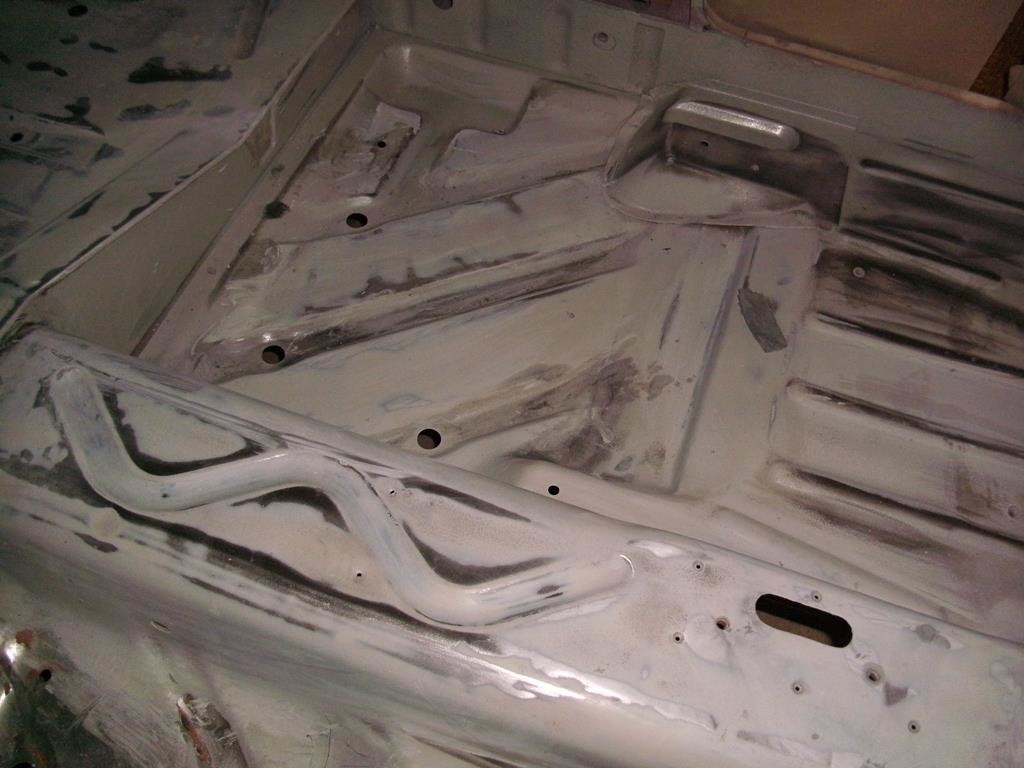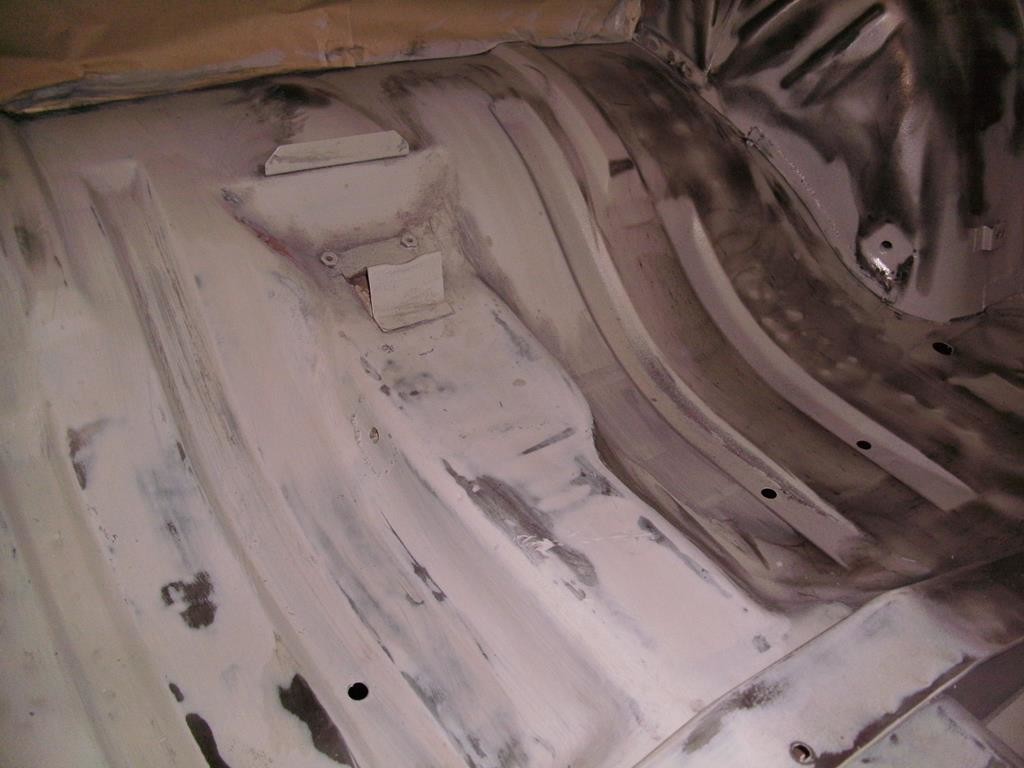 I think I'm getting there with the rear panel - I managed to reduce the depth by giving it some light panel beating which after a skim I think it'll be ok

I'm going to have a go at sorting the massive dent on the rear passengers door it runs practically the full width and before now I have thought of it as being a new door skin but I think if I try and it looks terrible then it'll be a new panel.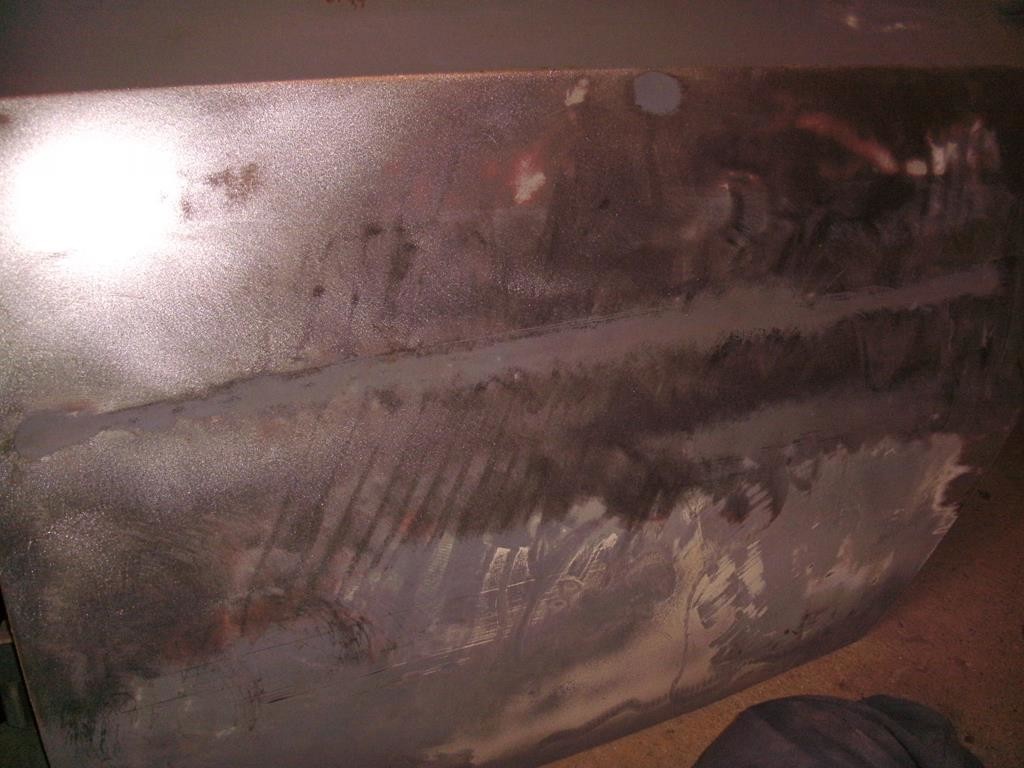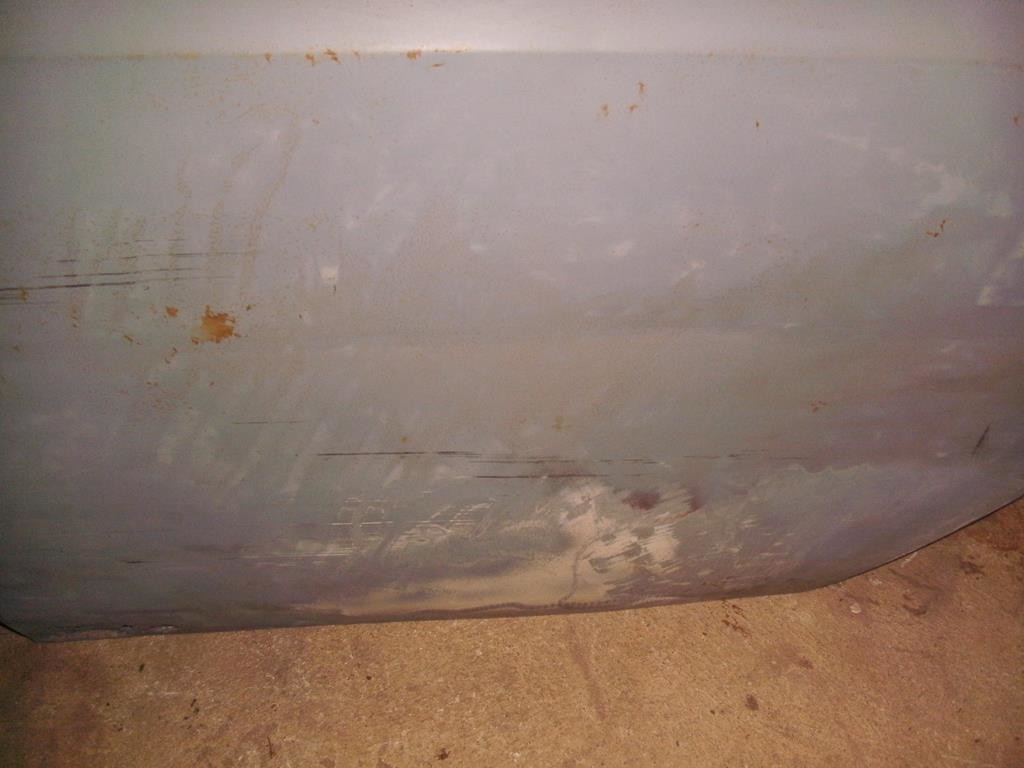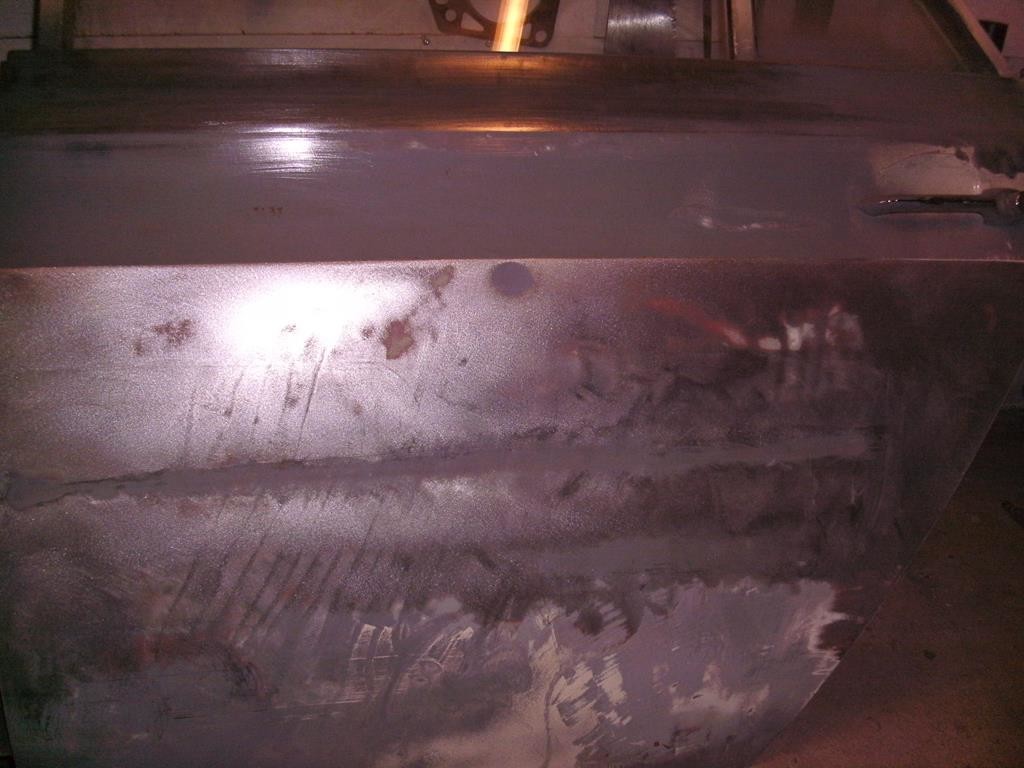 I had a few photos of flatting the boot filler down I've just applied the knifing putty which should be set and ready for flatting when I get back of holiday next Sunday.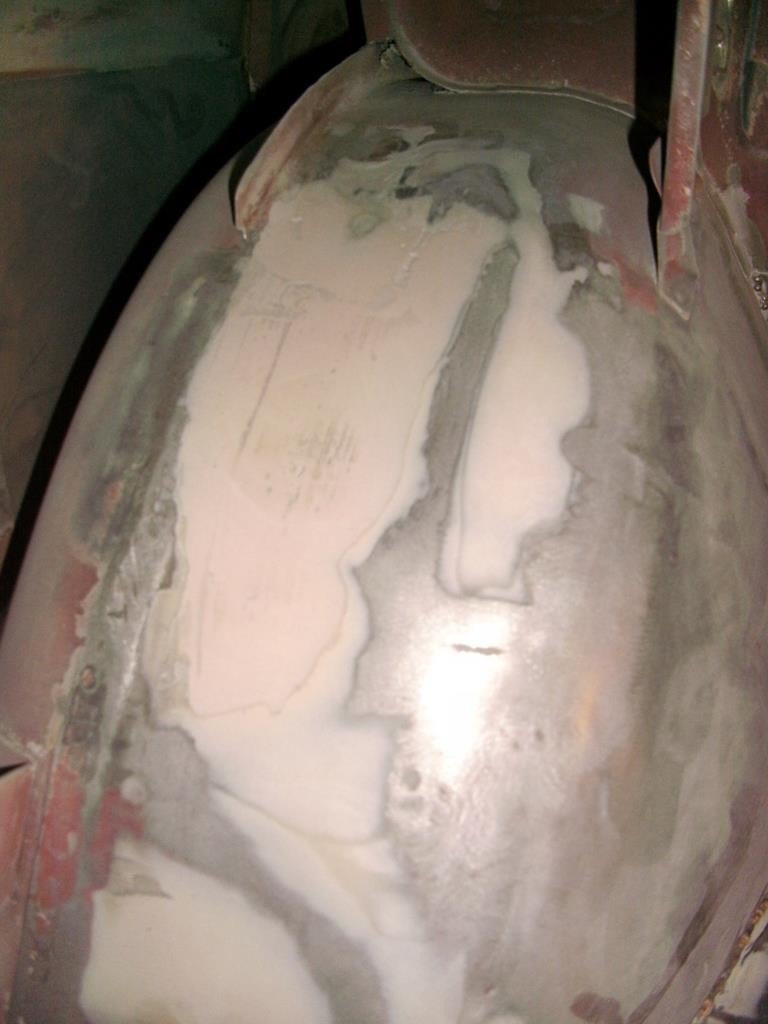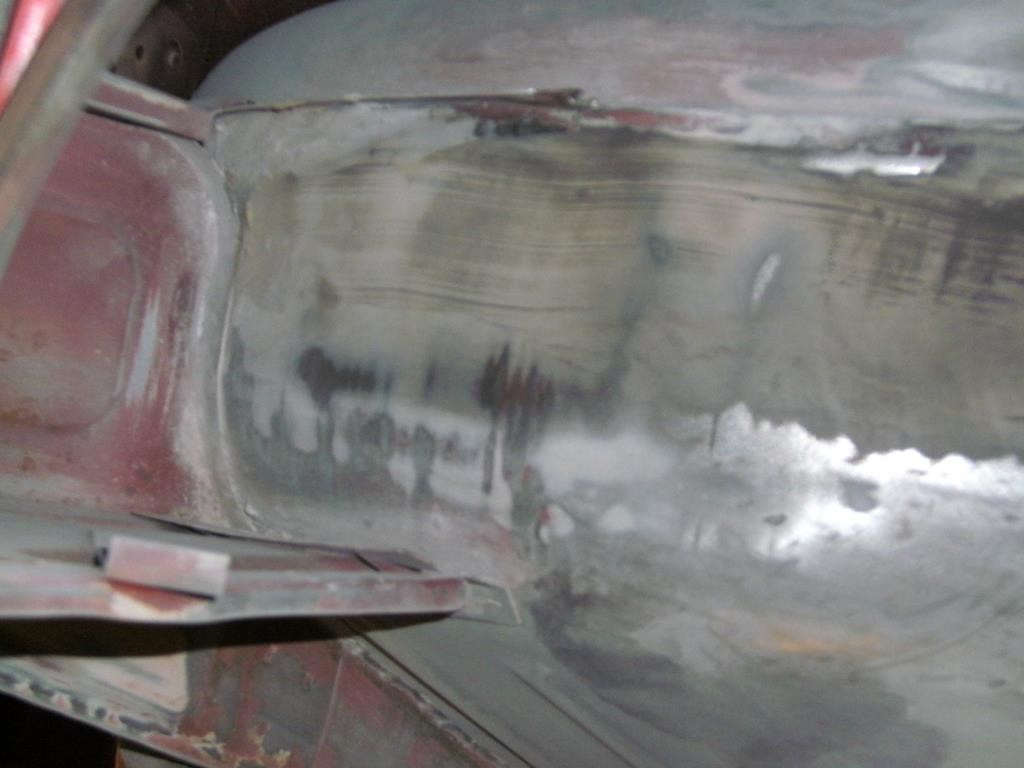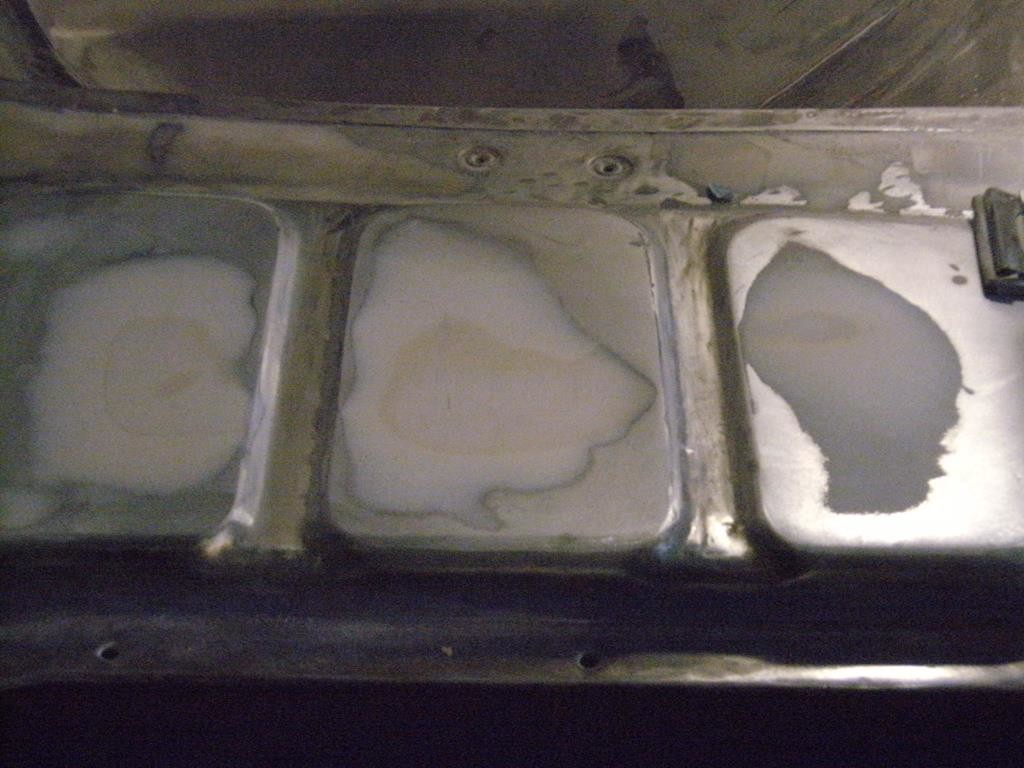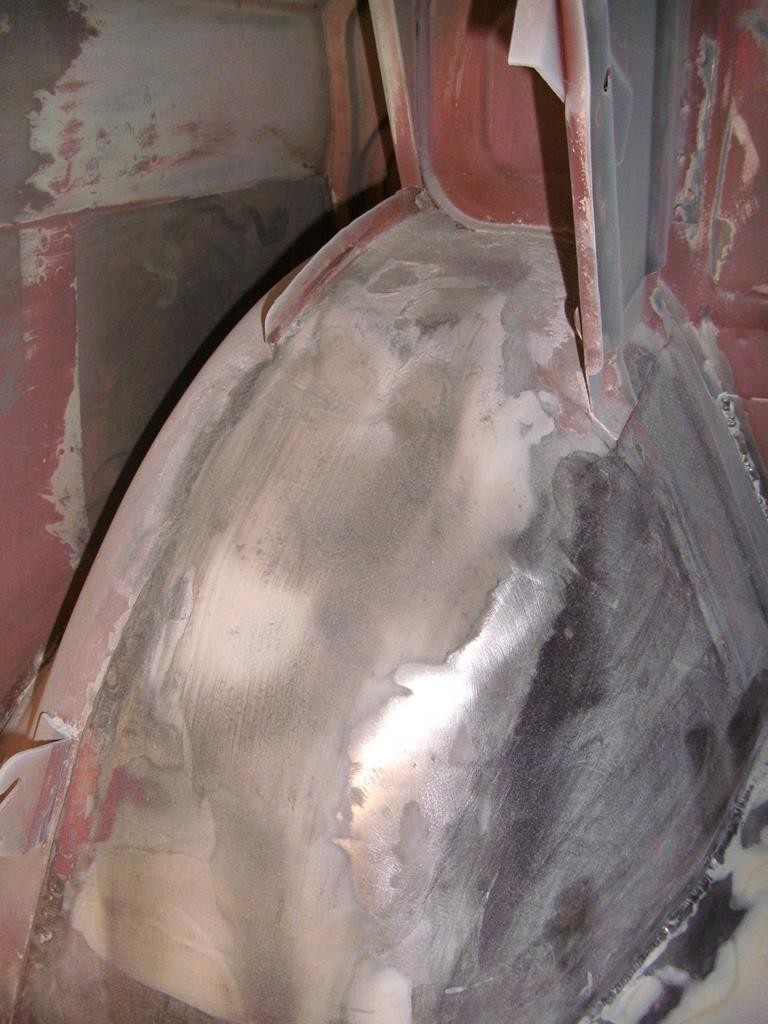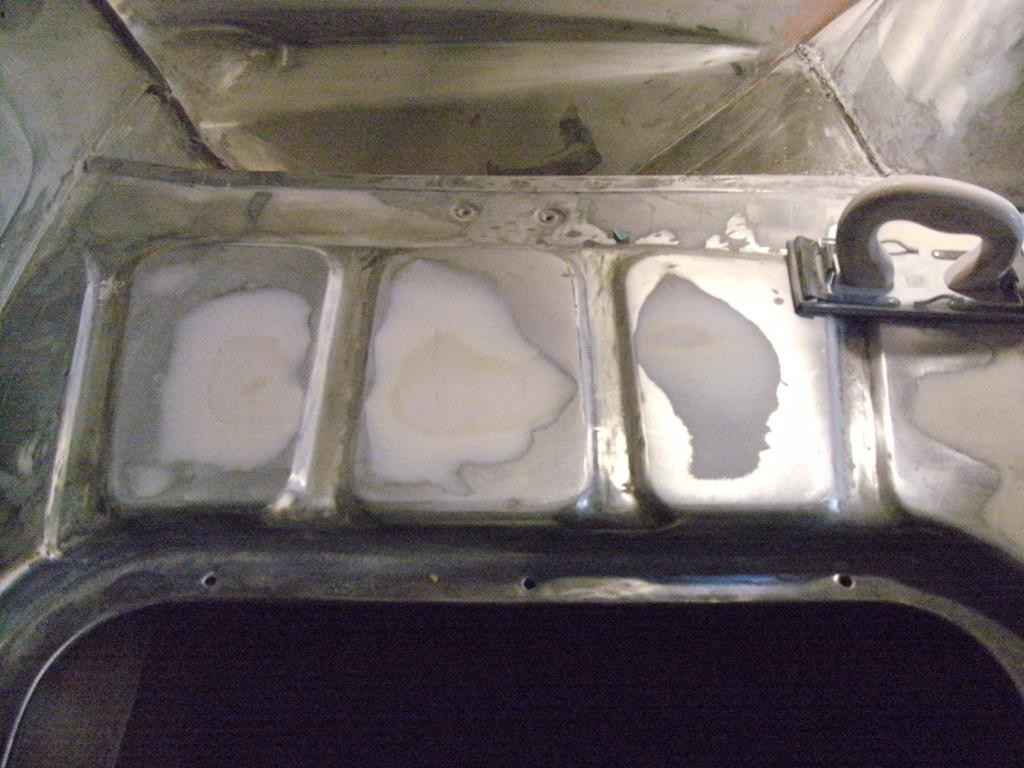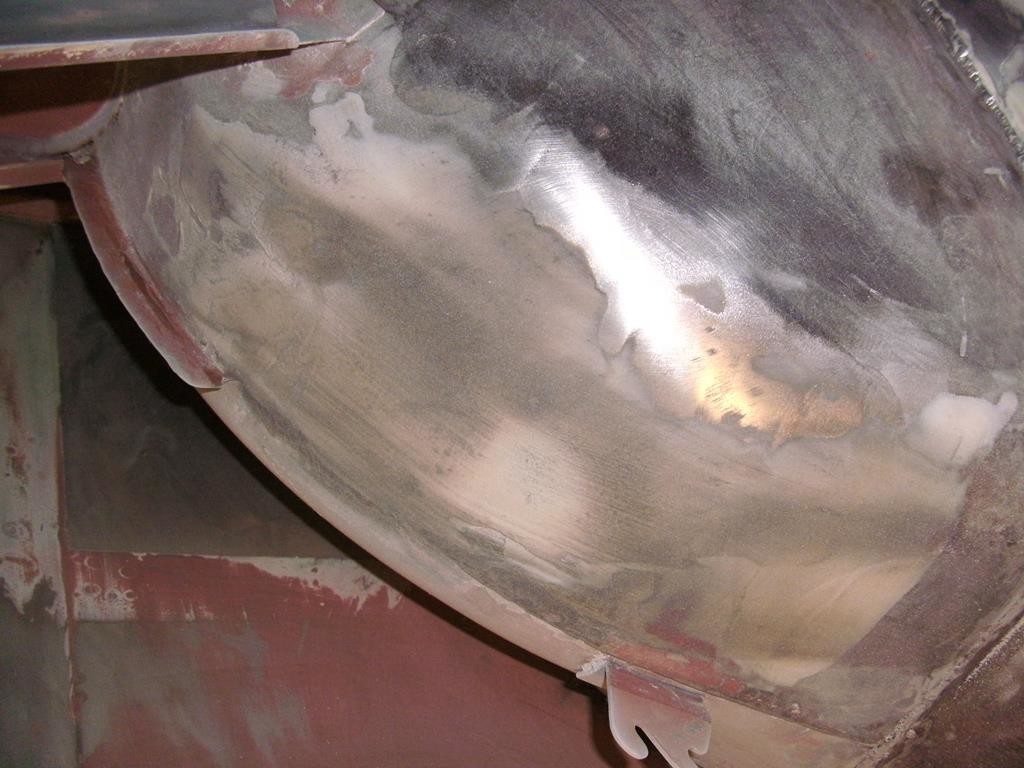 whilst waiting for filler to set etc I have been working my way forward to sand the panels down, I've noticed a dent on the sill and the height difference between the front of the sill and the front wing - I don't want to cut and re weld the wing as the curvature is good with the door.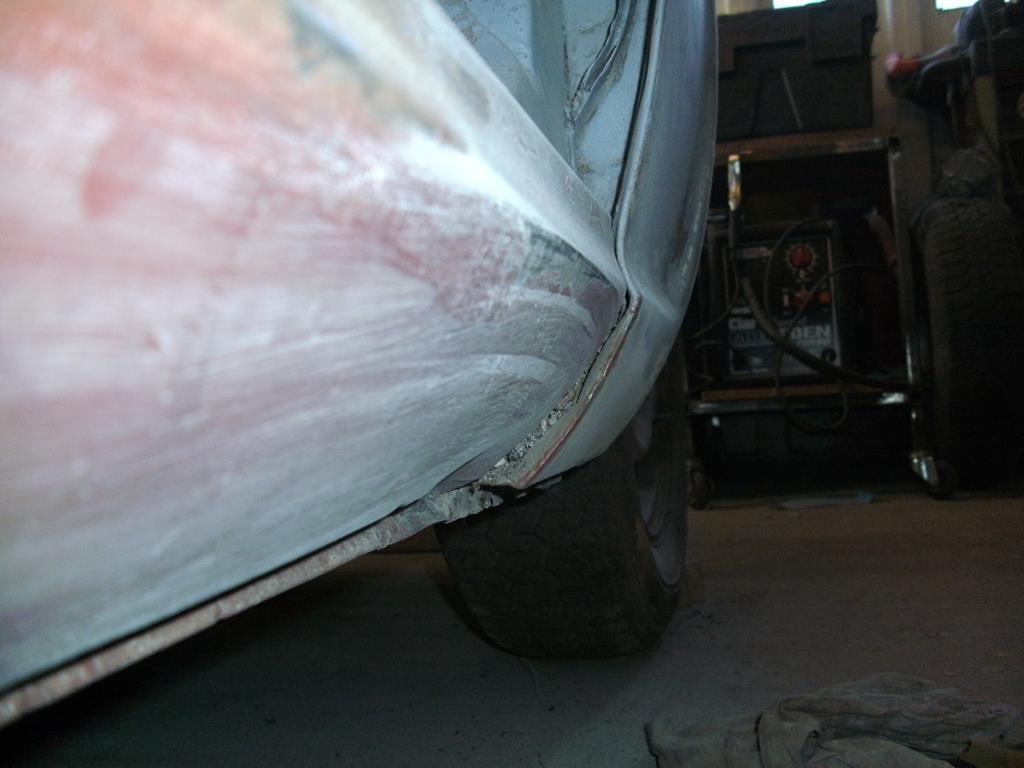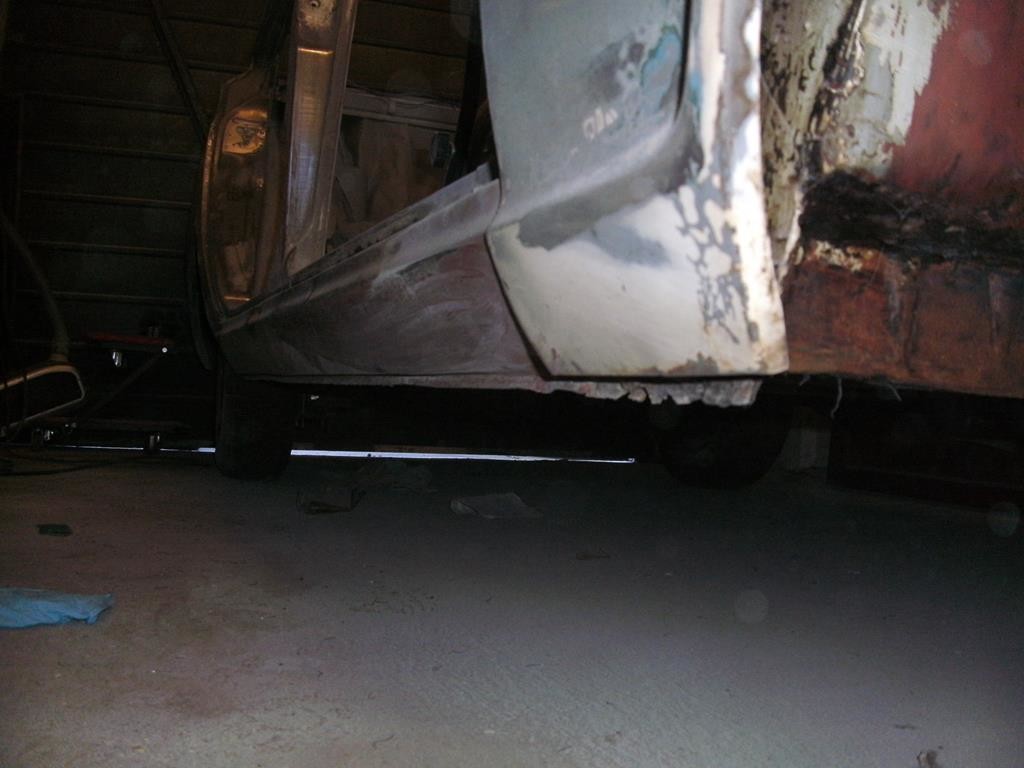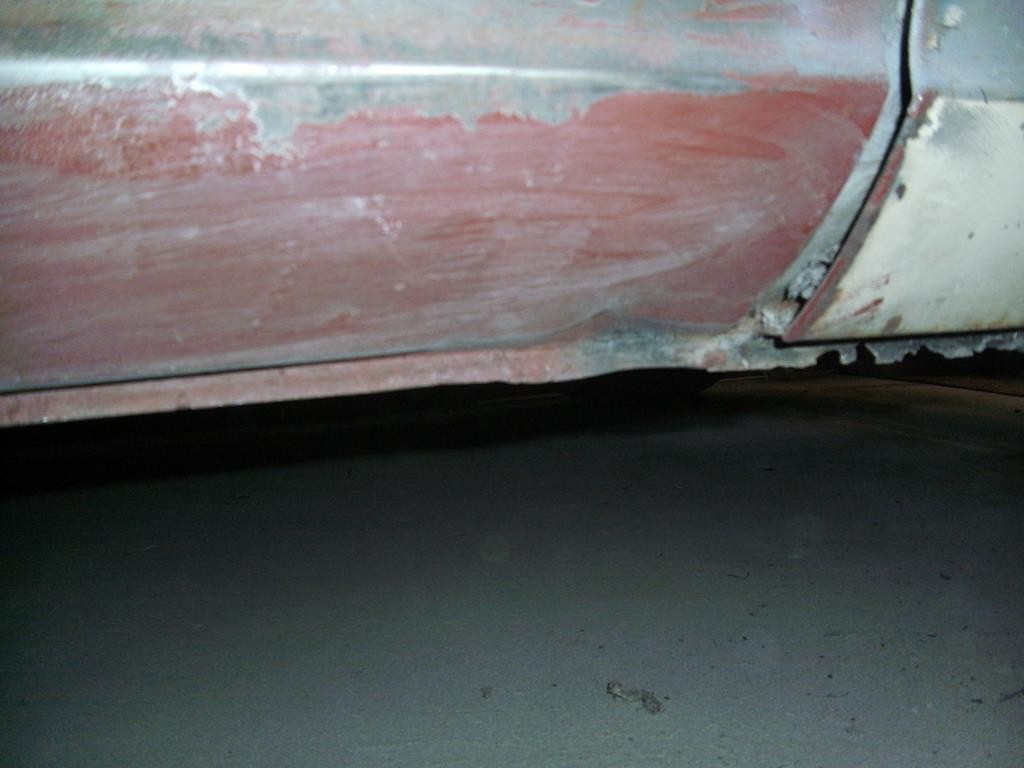 What can I do?
3-18-2018
Thanks for the advice Chris, I started with the sill which I've pulled the dent out on the side but there's one underneath which I think I'll leave as it isn't visible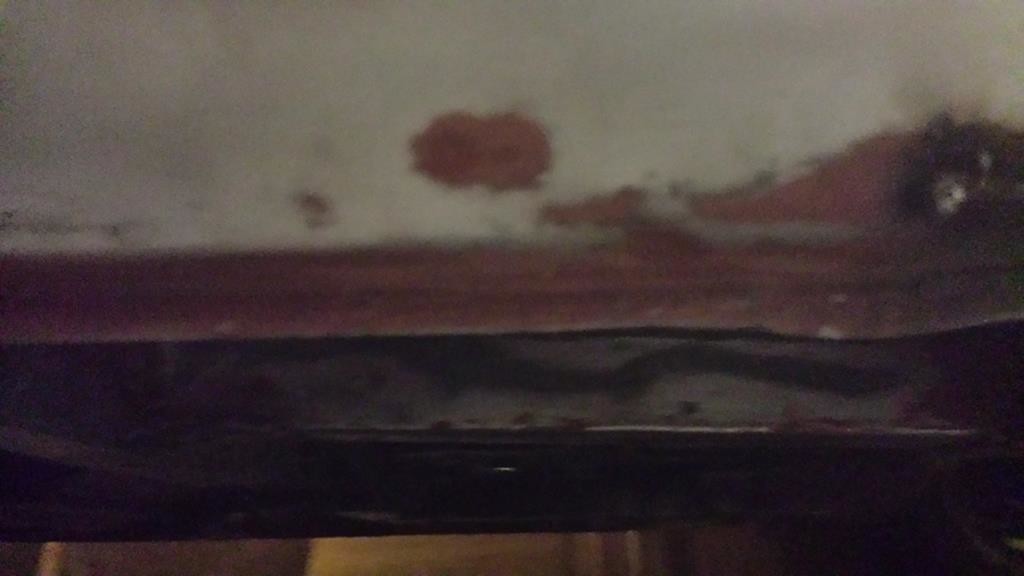 I started to remove the layers of paint from my front wings and I though I'd share this - they've seen some shades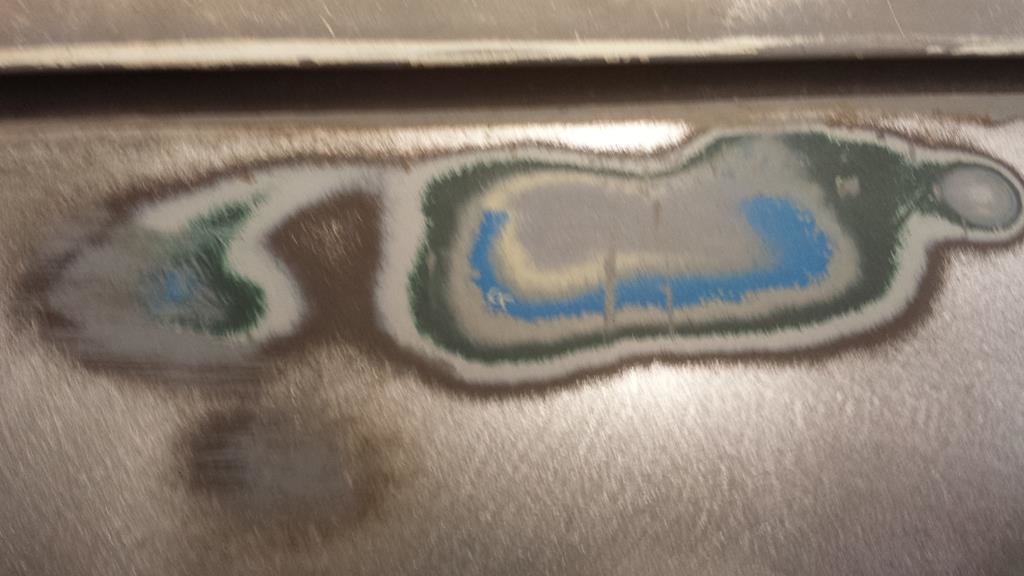 I've sprayed the boot successfully but I think I need a gun that has the paint above rather than a can beneath as I fund it struggles to pick up sometimes which made spraying the inner wings tricky.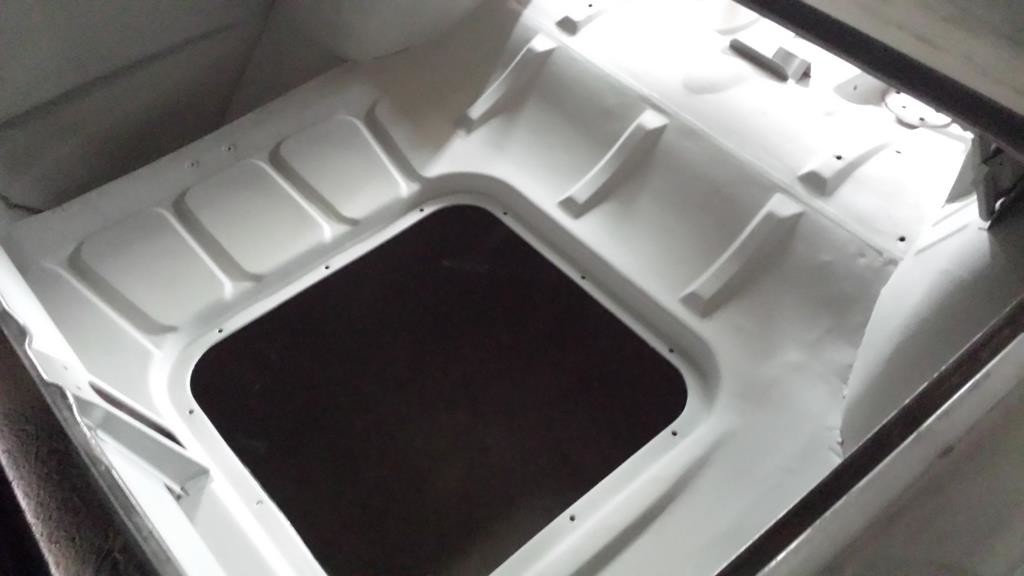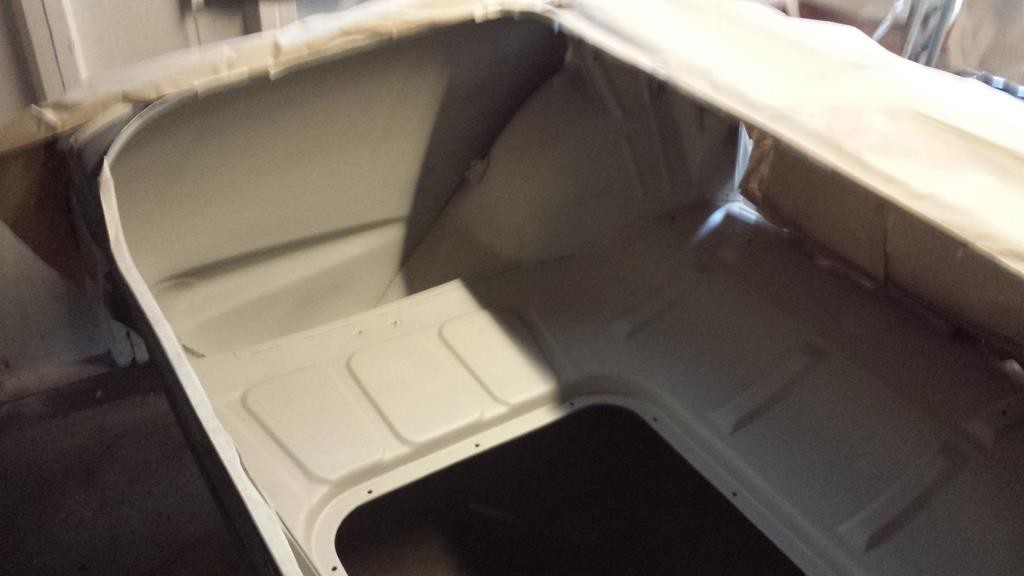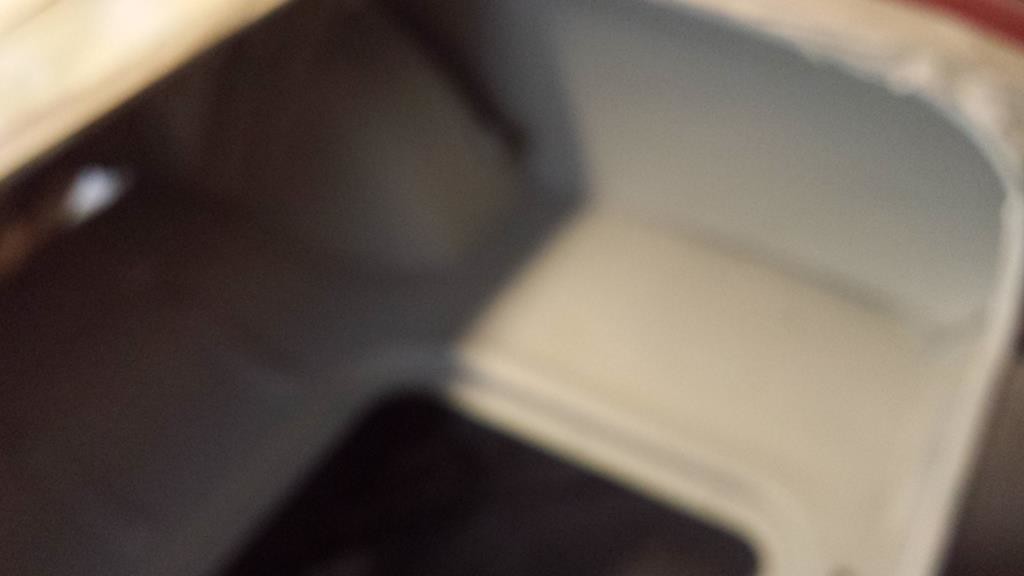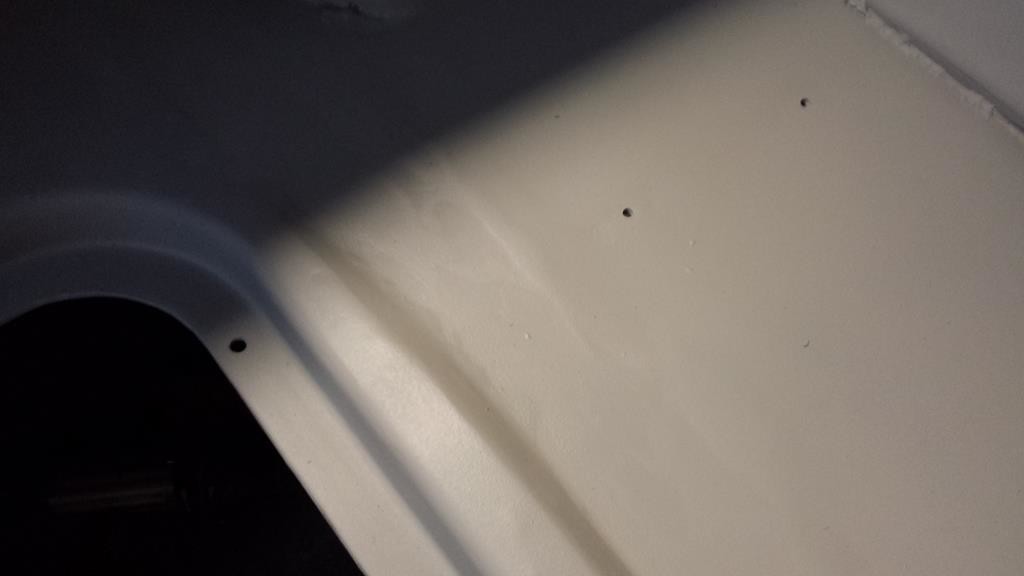 As I had the last bit of primer and hardener so I thought I'd make a start on the seams underneath as I don't have the room to spray I brushed the seams ensuring primer gets in before I roller the whole lot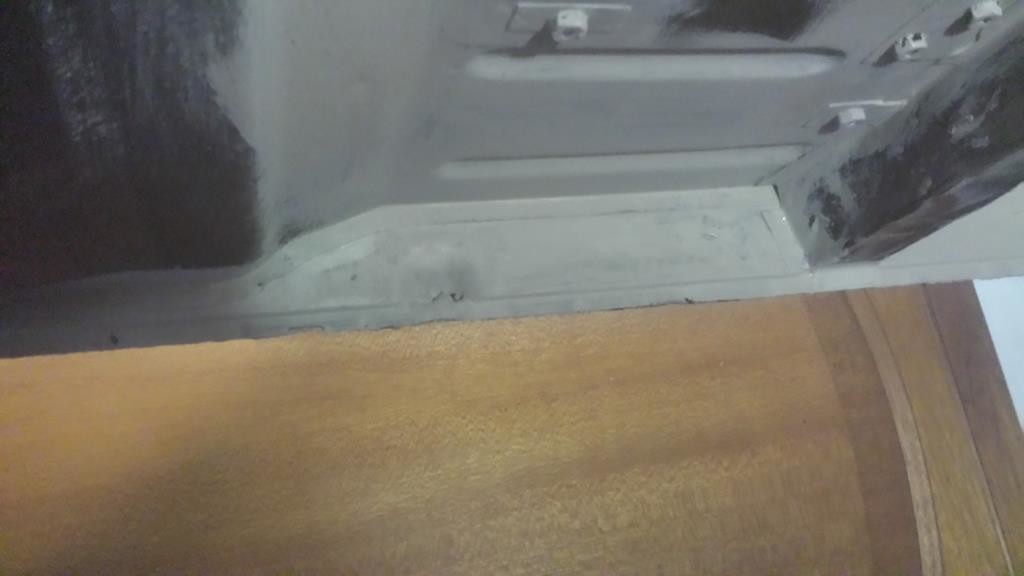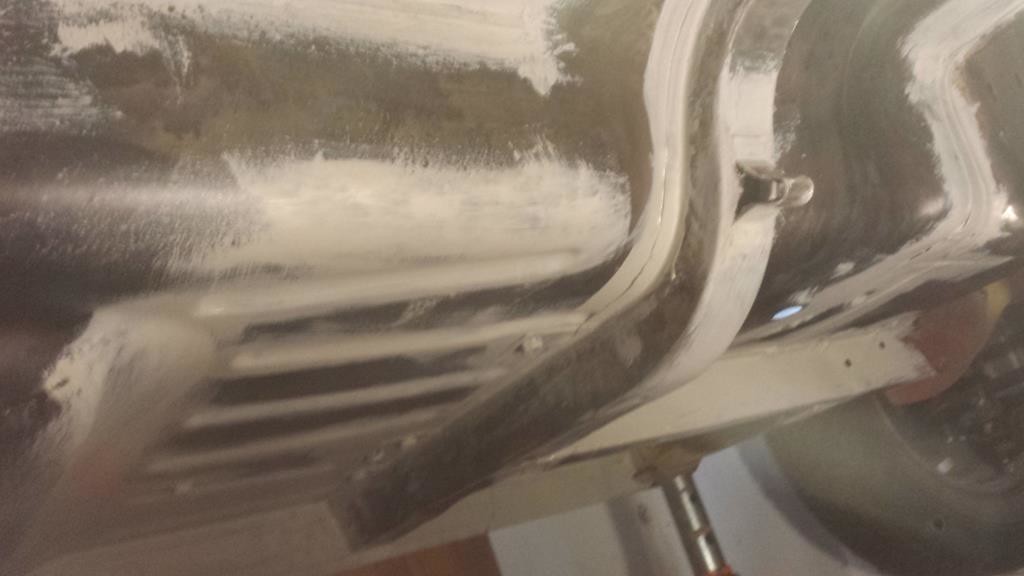 Hopefully I'll get this finished as best as I can with the axle on this week but I did wimp out after being greater by this when I got up today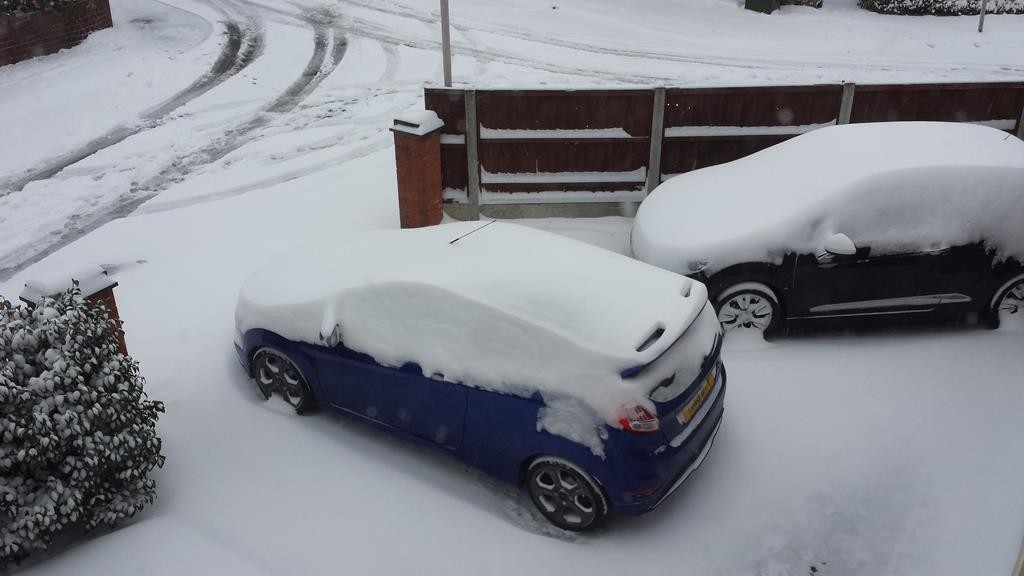 Before I sign off a post on the general board got me thinking, this isn't a hardcore build or something concourse or particularly interested but it makes me happy and I appreciate the view counter going up at least!

So with that said I've been looking at superchargers as I still think the precrossflow would respond well to one! I'm looking at the eaton m45 preferably a mini unit but the Mercedes ones have potential but I'm trying to find out more.

I think low boost draw through to start and then if it goes well I'll wind it up!
3-24-2018
I've primed the floor as best as I can with the axle in - I'll flat it down soon and I think it's pretty good.

I've just cut the front wing but the a pillar seems to make it pivot rather than tuck in.

I can manipulate the lower section so it almost meets the sill but the upper part near where we get the lip just stats where it is.

I took a few crappy pics but it's hard to explain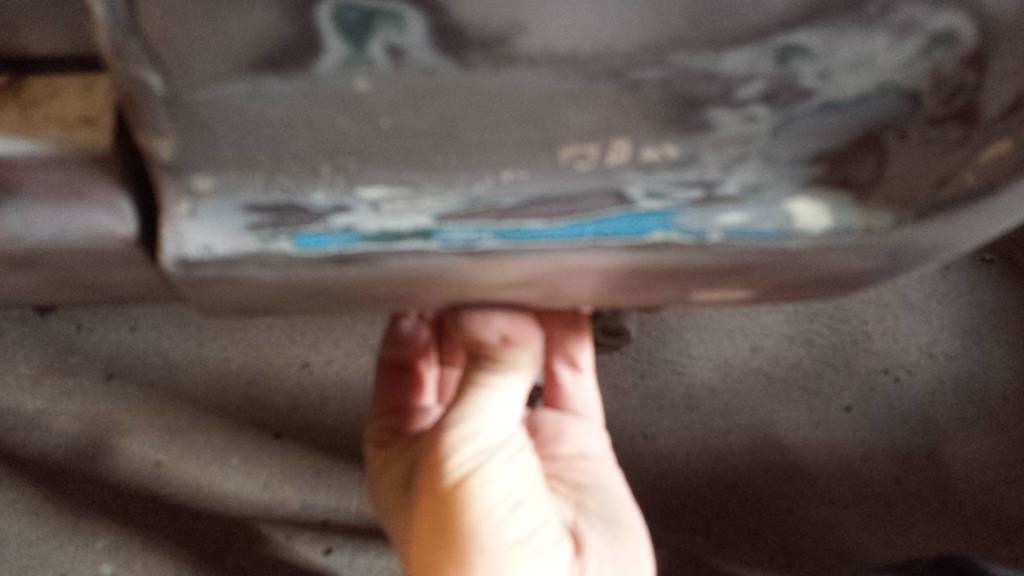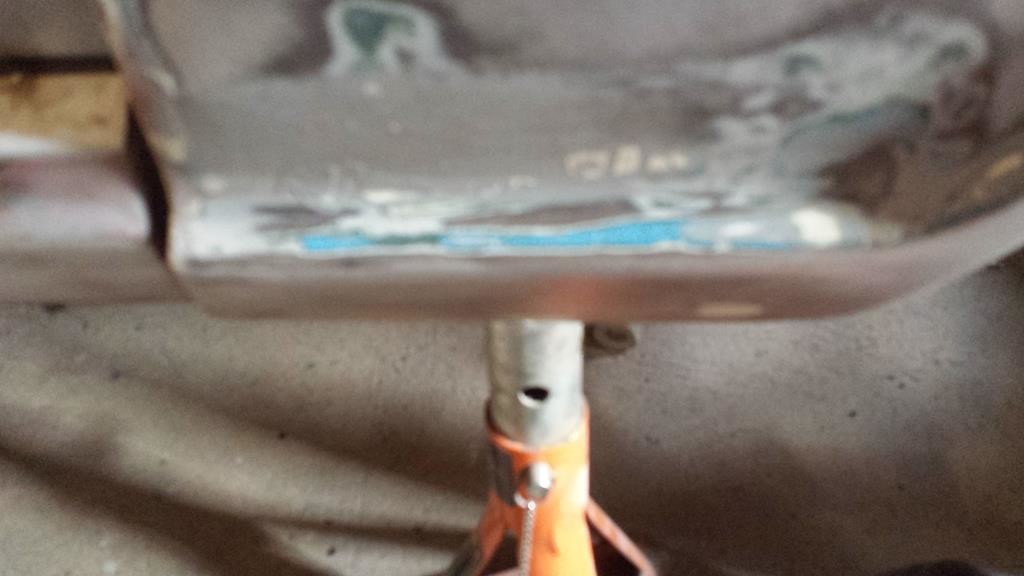 3-25-2018
10 points to you Jonesy!

After a Google session didn't turn up anything eBay cane to the rescue!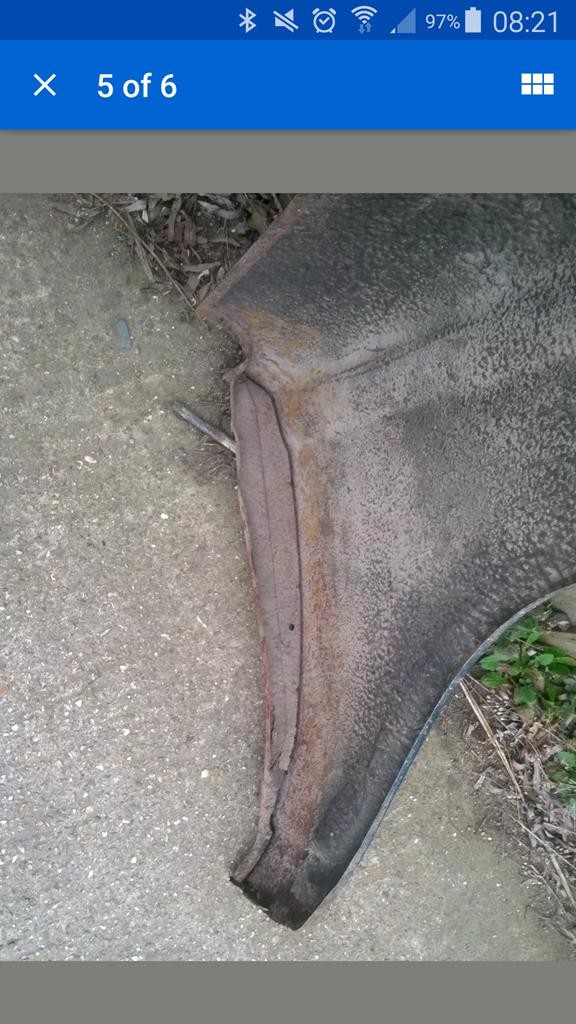 The rib I thought was the issue was the A pillar so good job I didn't hack it up.

Although this is a lh side the pivot appears to be where the rib runs I think - so I'm stumped which doesn't help
Option C - badly fitted originals!

I bought second hand ones not long after I had her but I wasn't the one doing the work - up to this point i never really noticed!

So I tried to work the wing in situ which led me to make a prison shank.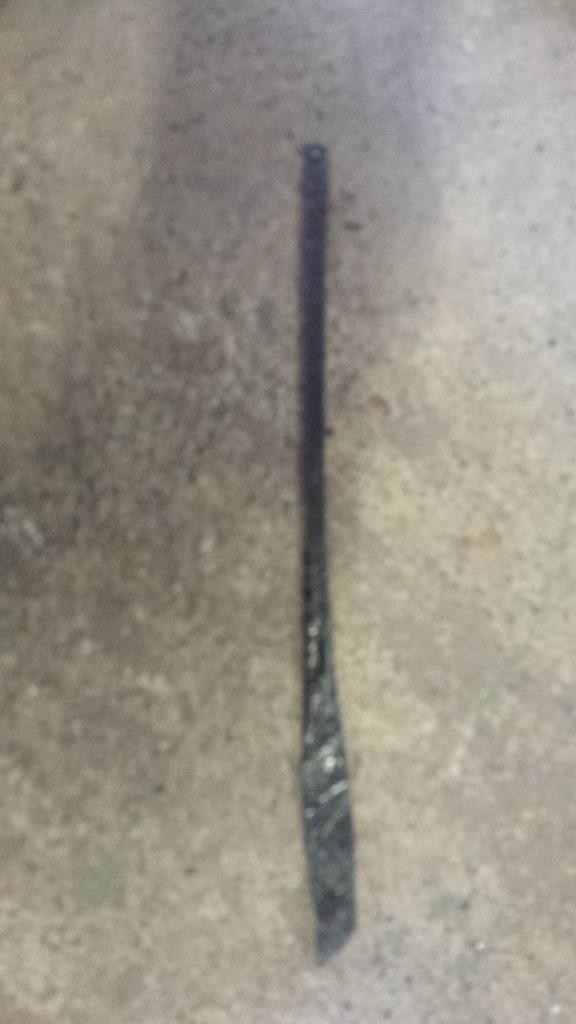 I drilled the inner section and carefully tried to saw down - I got about 2 inches in 45 mind and chalked it down as a bad job! I can get in with the welder and a piece of aluminium so nobody will find out!

I needed a backup plan - these are available from the club.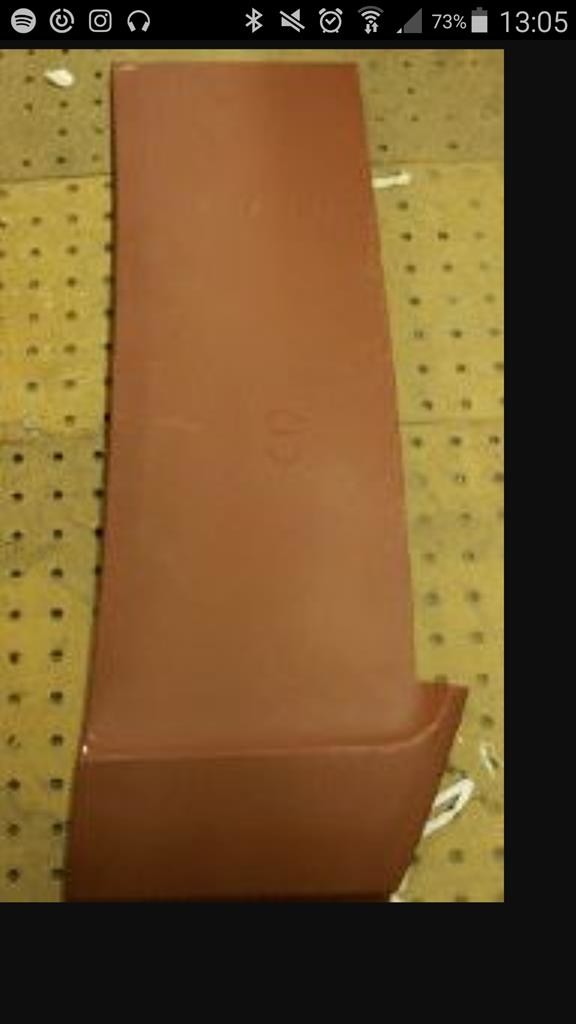 Then I decidecided to be brave and cut it off - I did freak out a bit I won't lie!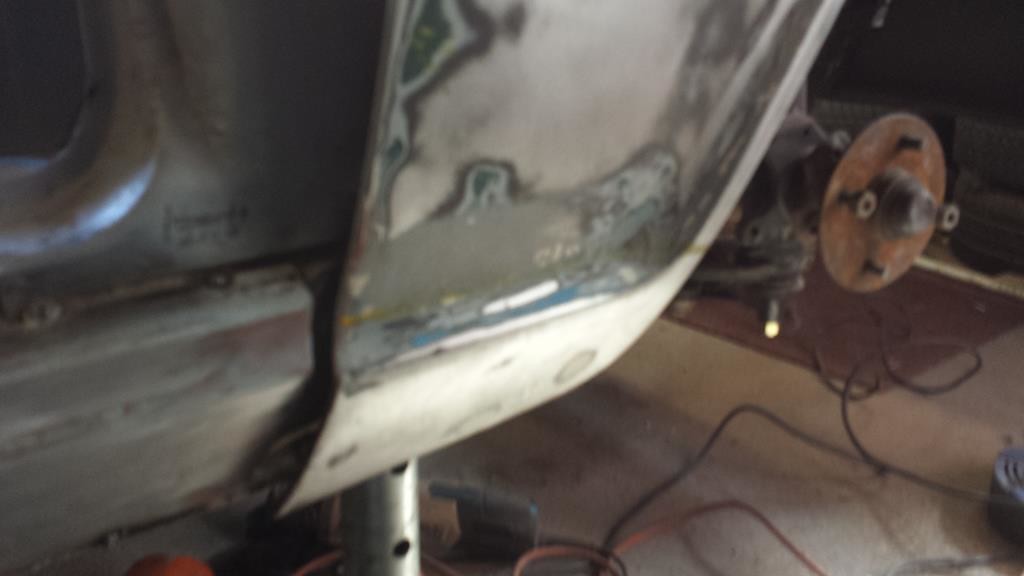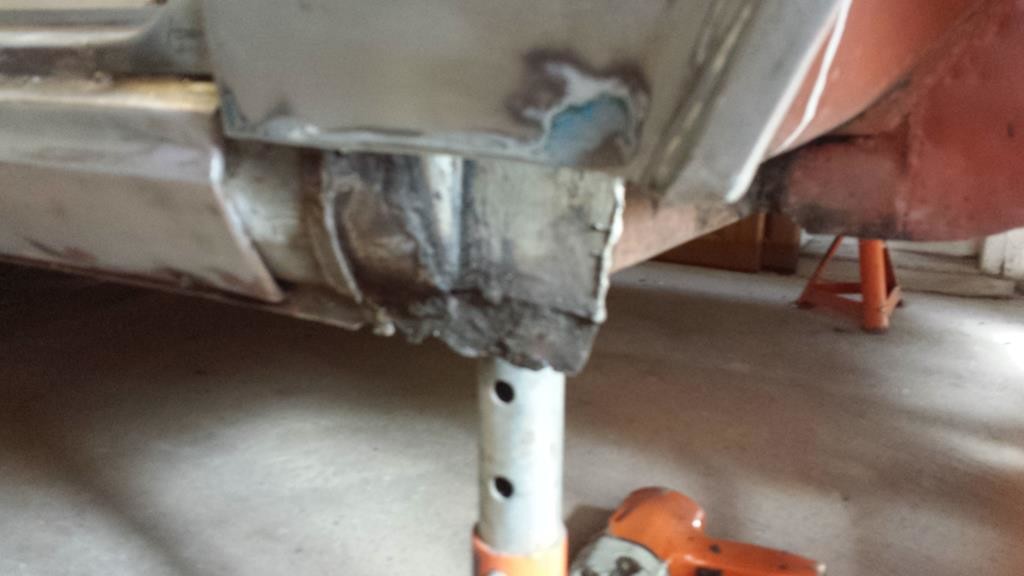 I cut the support piece back and by hand I can get the panel, there's a few bits to clean back to metal and weld up a few bits.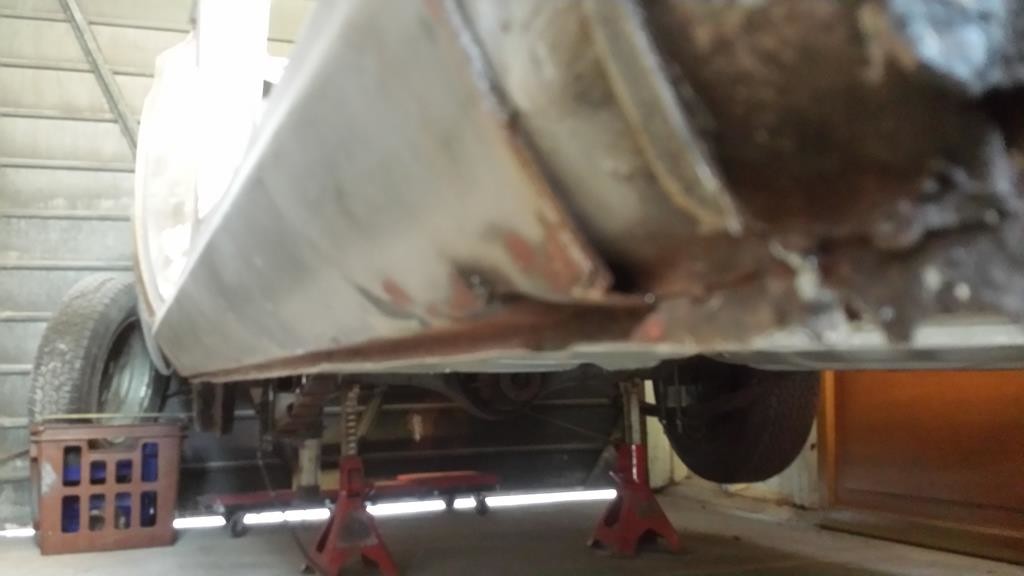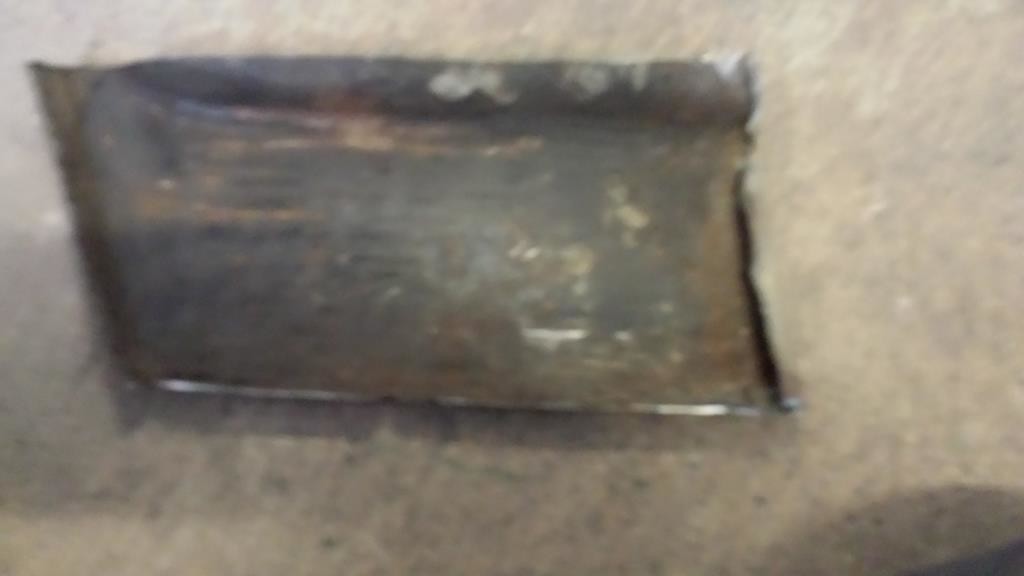 The plan is to clean up both areas and refit the lower section and measure up the new support piece along with a 90 fold that ties the sill into the wing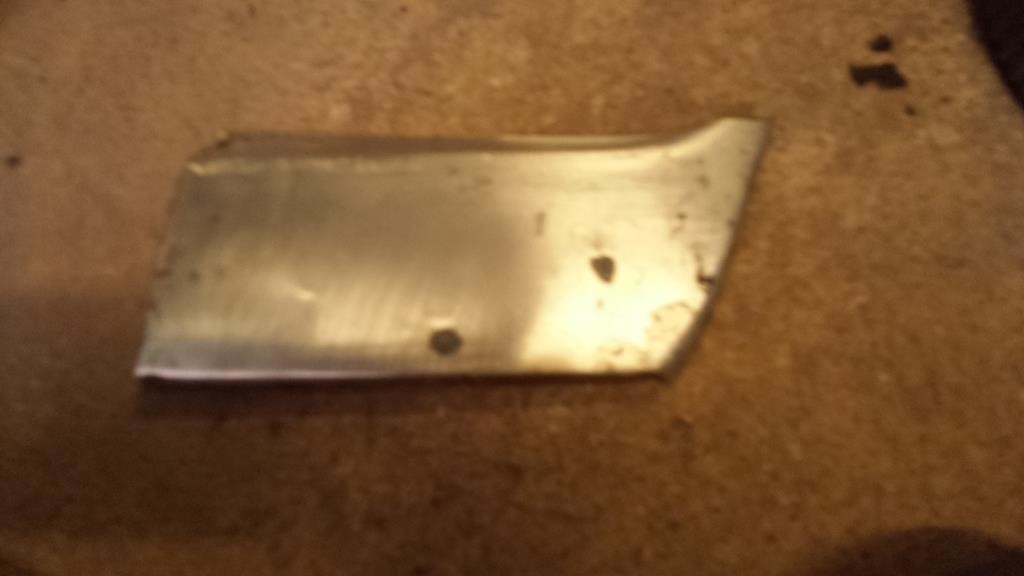 3-30-2018
Not much to say but I've had a fettle and I think I've got it sorted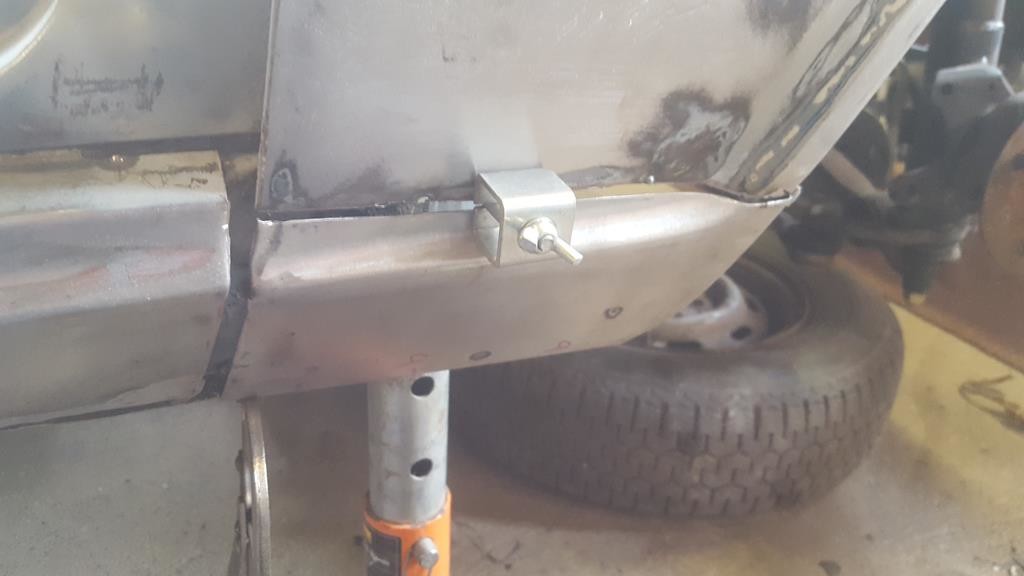 I'd cut the the section behind and then knocked a few dents out too as they weren't helping - I had to tack it in place as all my clamps werent helping as I'd cut the piece off too close to the curve but you live and learn!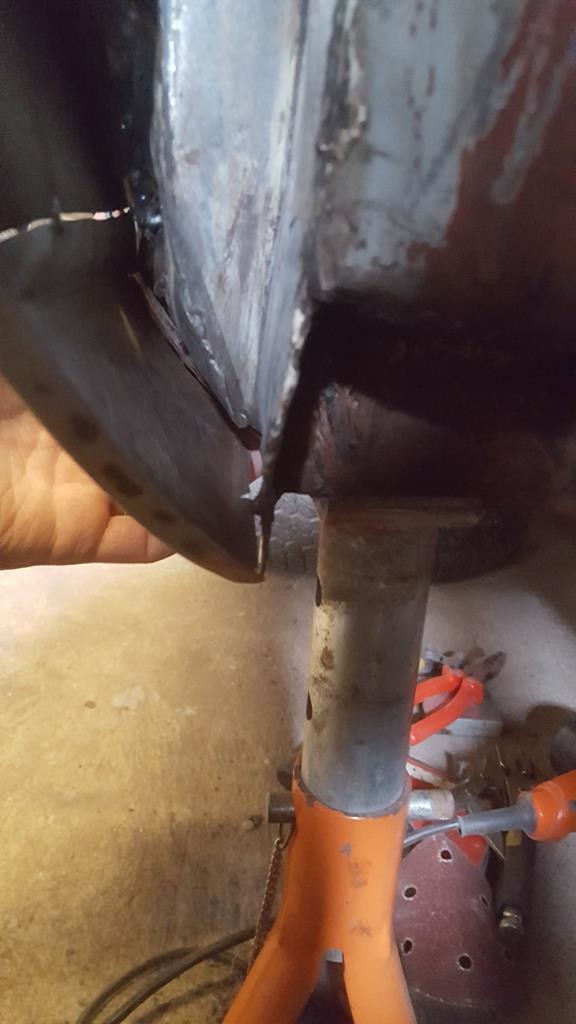 I'll fill this section in and put a closing piece on the sill that missing too.

The other point was to get a check on the finish and measure the replacement 90 piece to weld into the sill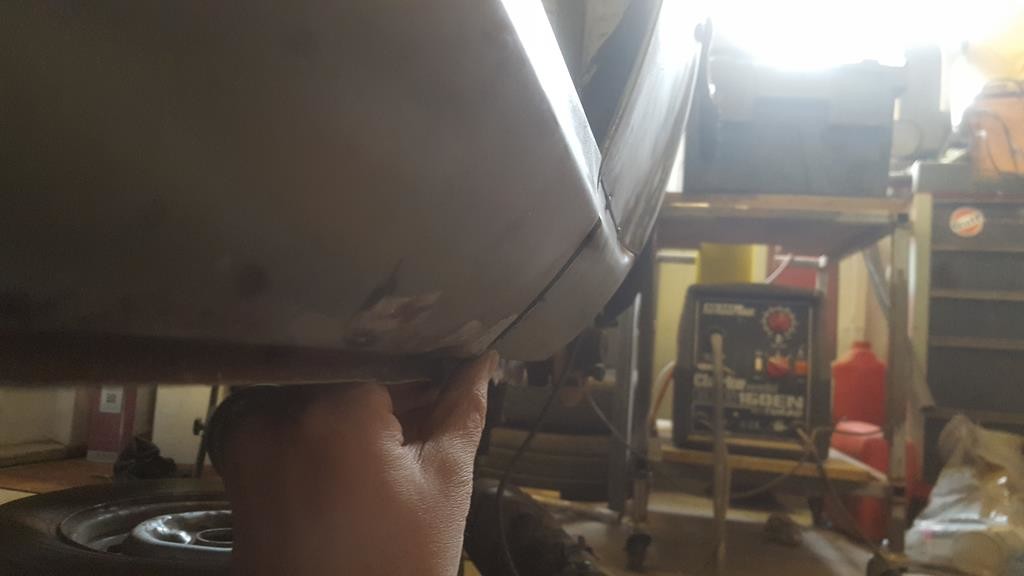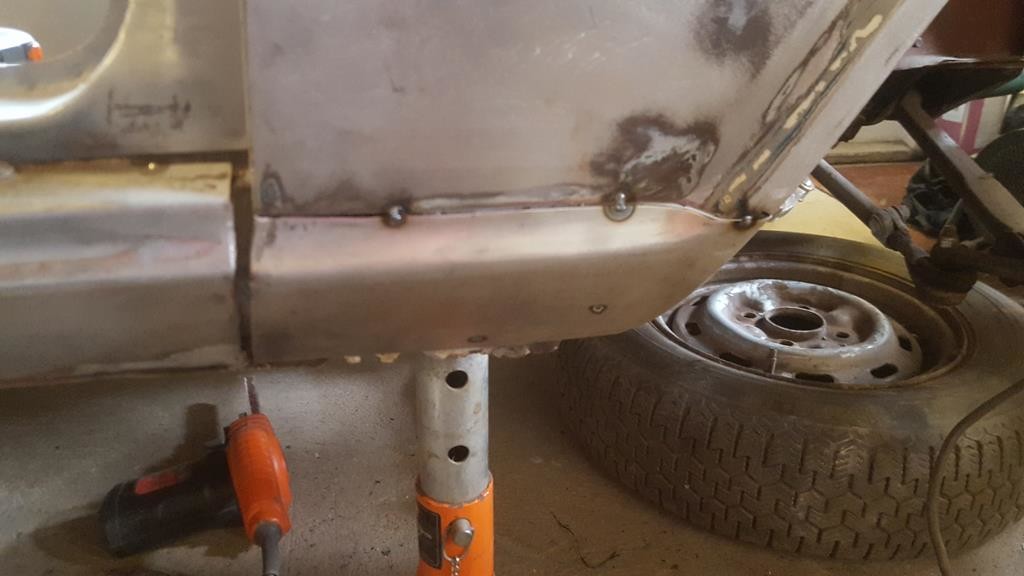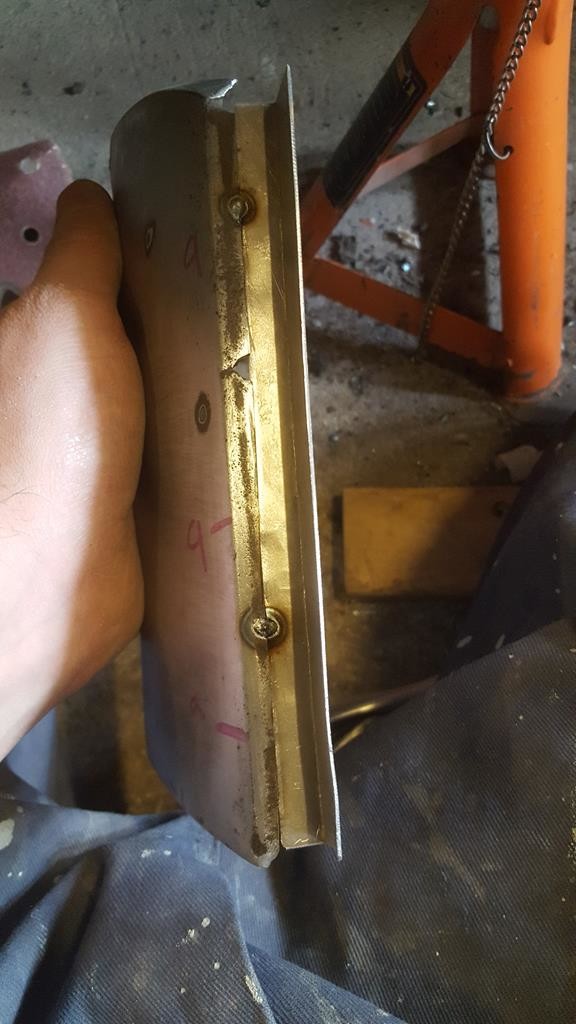 So that's where I am currently but I think I'll be able to use what I have which is awesome
4-6-2018
I managed to get out of work a bit early today so I put myself to use.

The sill was capped off yesterday and bare metalled around the whole area. I ground
the welds on the outside and tidied the inside ones but I didn't go to in-depth on them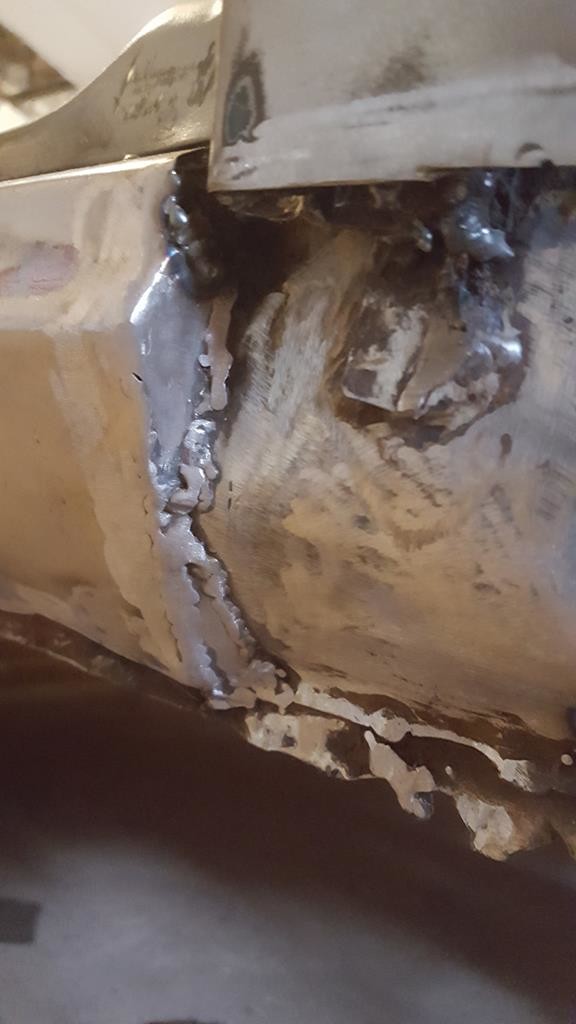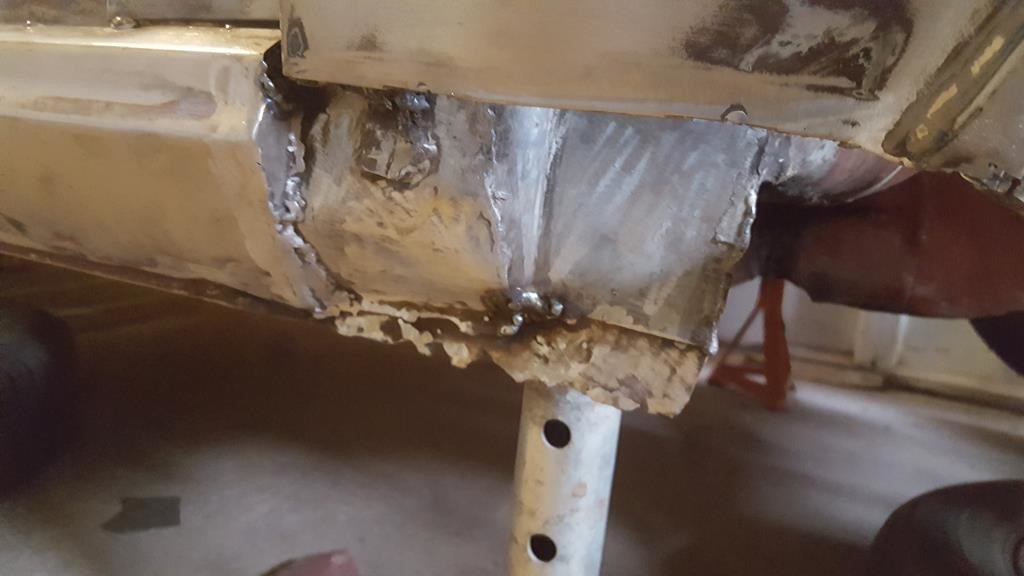 It took a while to finish the wing piece as I kept trial fitting then removing the tack welds for the new 90 section and carefully trimming the edge then tack and try again!
It sounds tedious but I was getting into it - the results look great in my opinion.

I got it all clamped and tacked but I've created a gap between the wing pieces so I put some aluminium behind to help with the welds.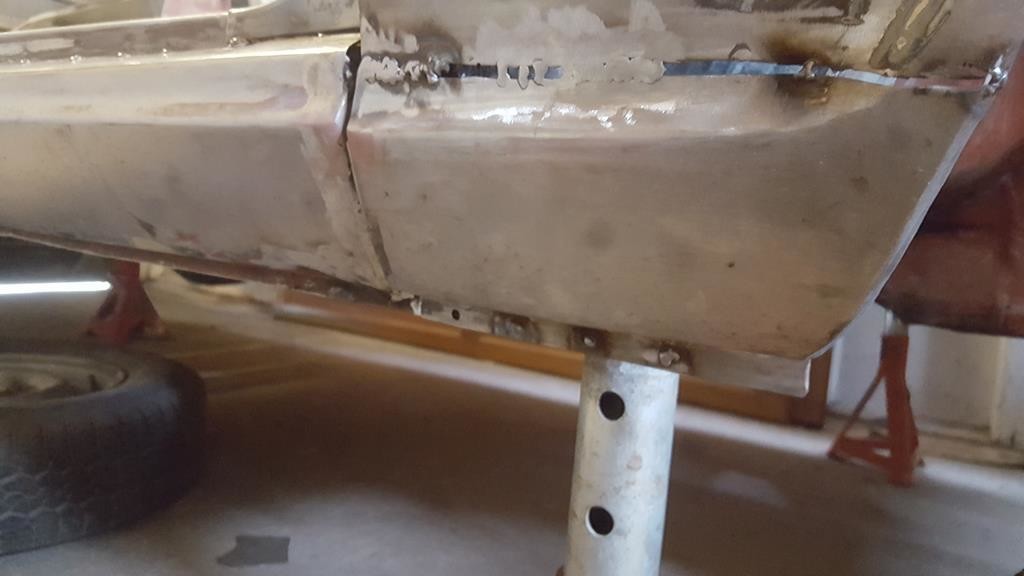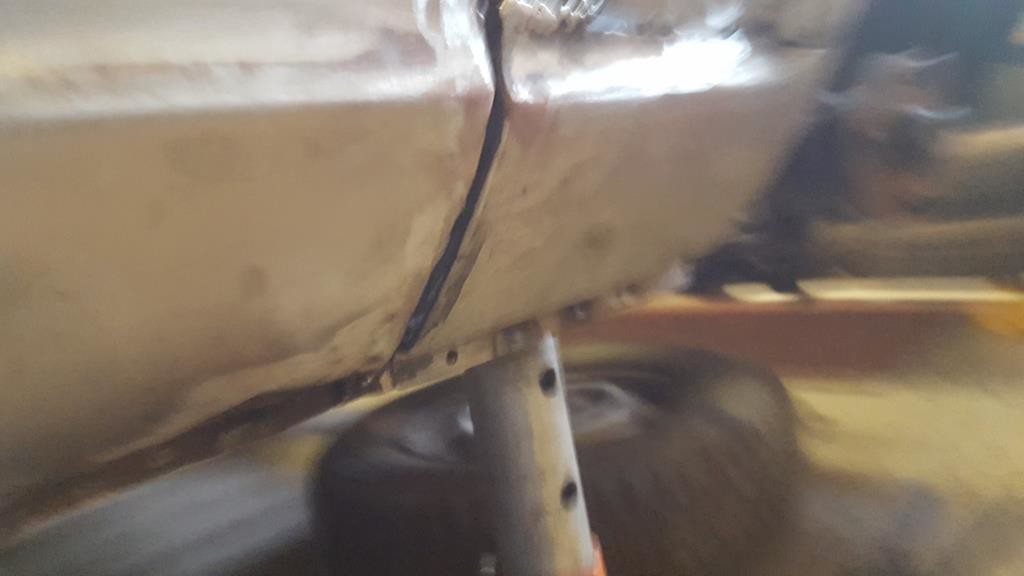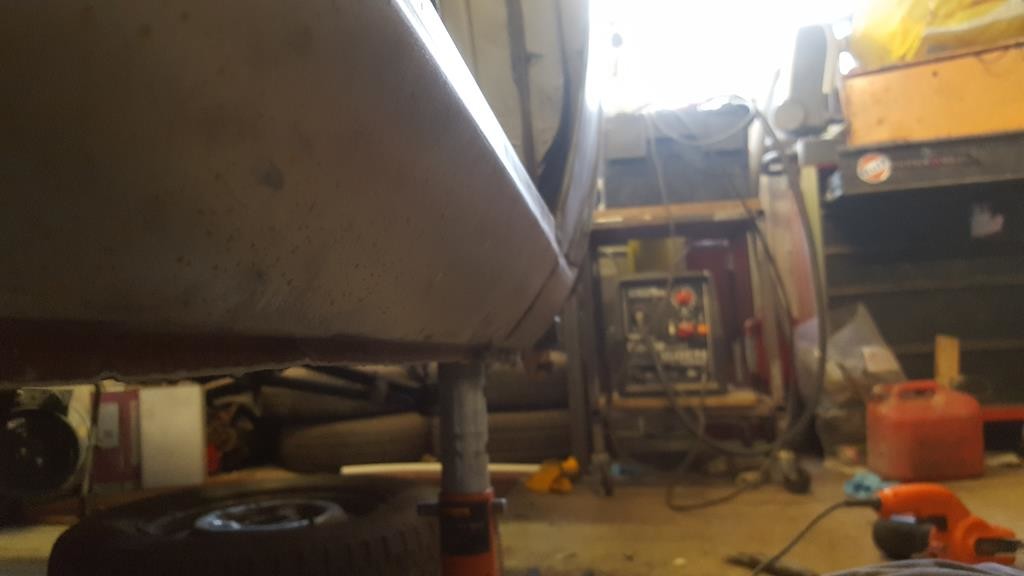 After a failed attempt at mowing the lawn I got to go play in the garage.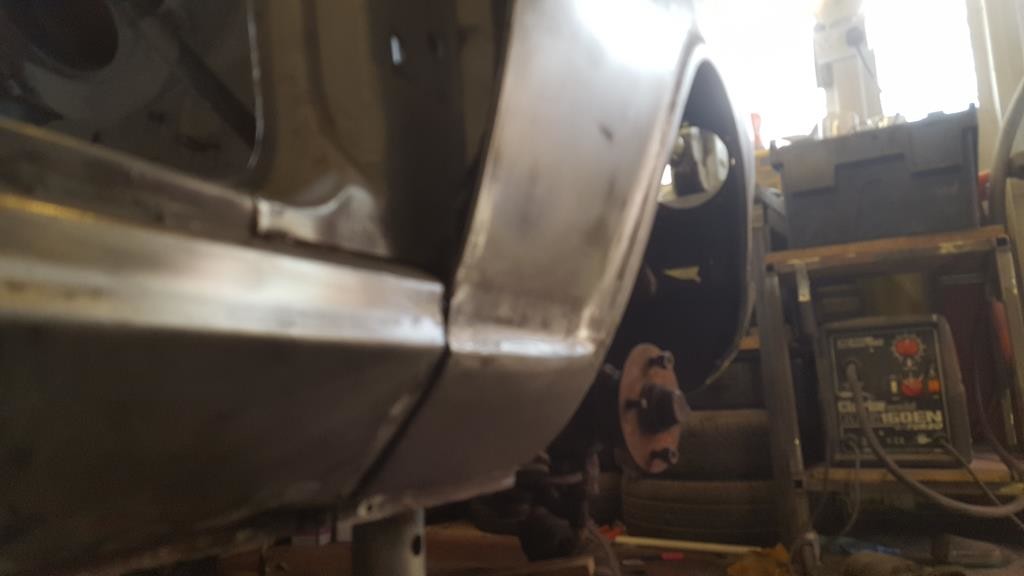 After welding and dressing i saw some pinholes which were difficult to weld so I used lead which will help seal and allow me to tidy it all up.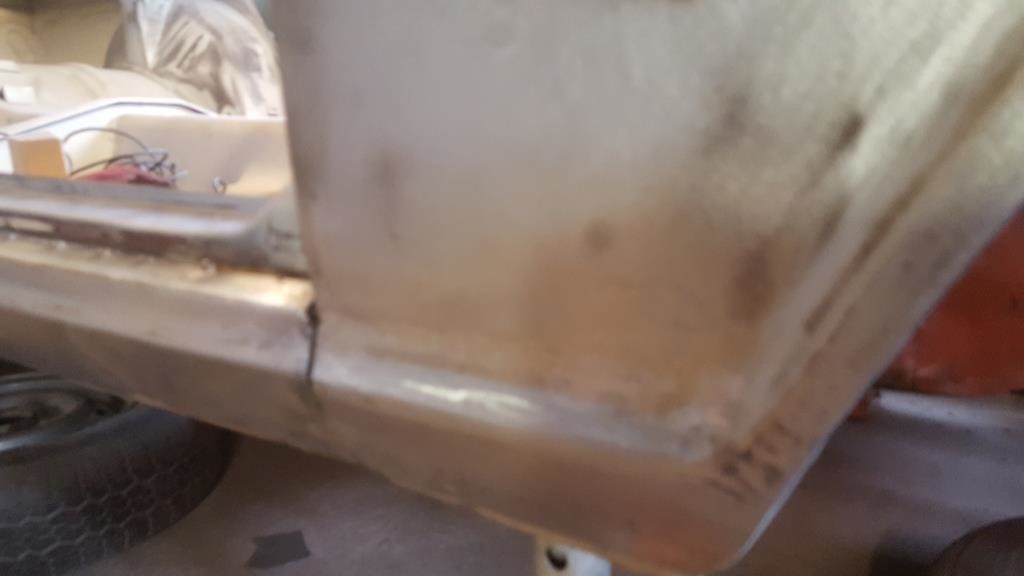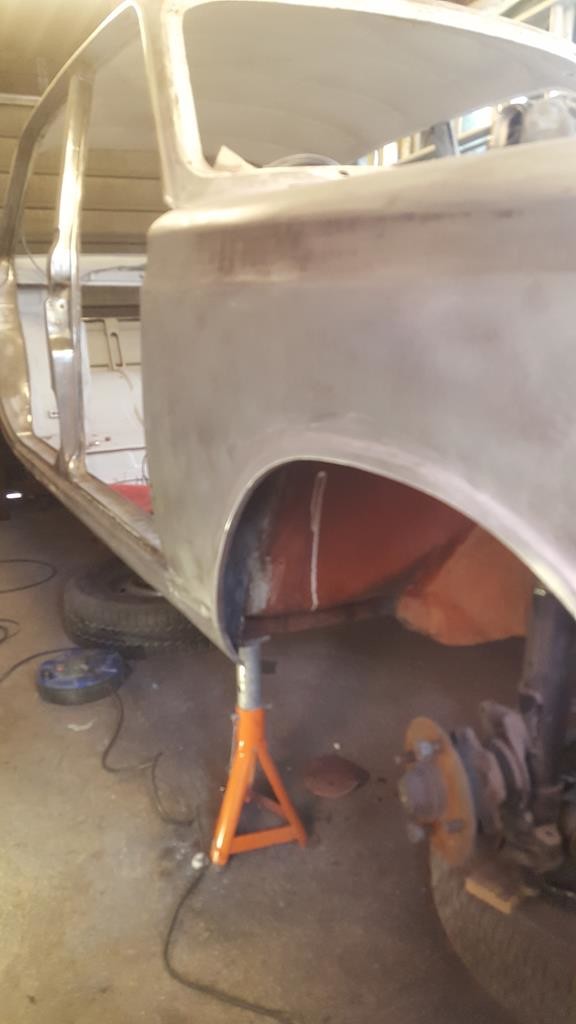 A package arrive from Czech - they were going cheap and the plan is to replace the bulb holders with modern ones with the intention of improving the wiring as I'm not 100% that the originals are correct. They need work but ones that aren't fully complete are few and far between.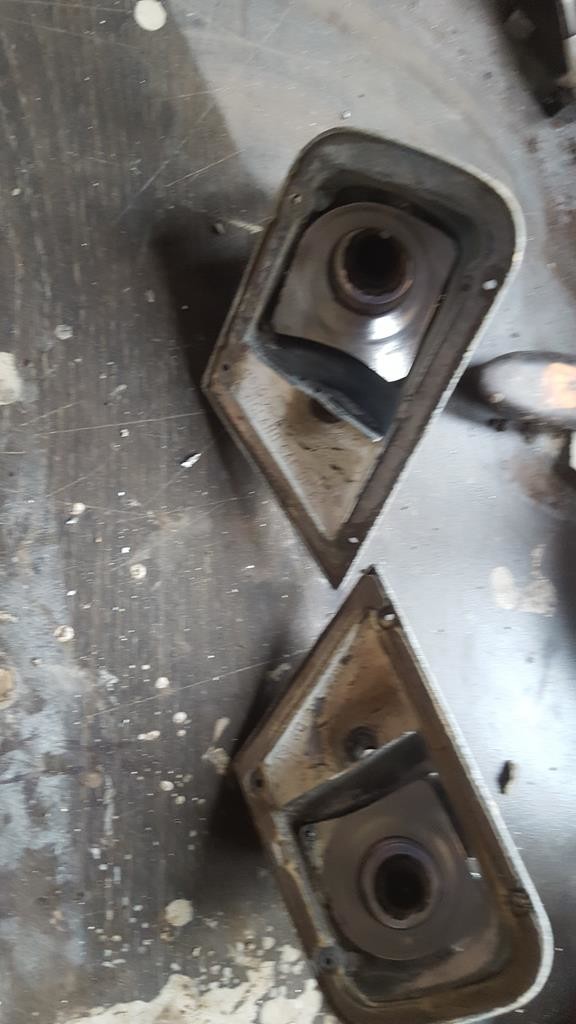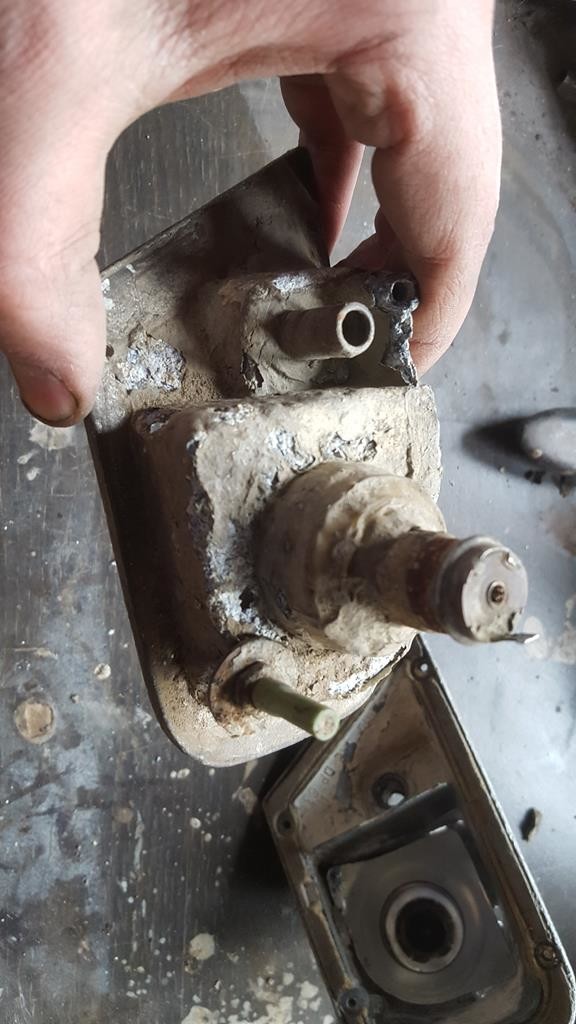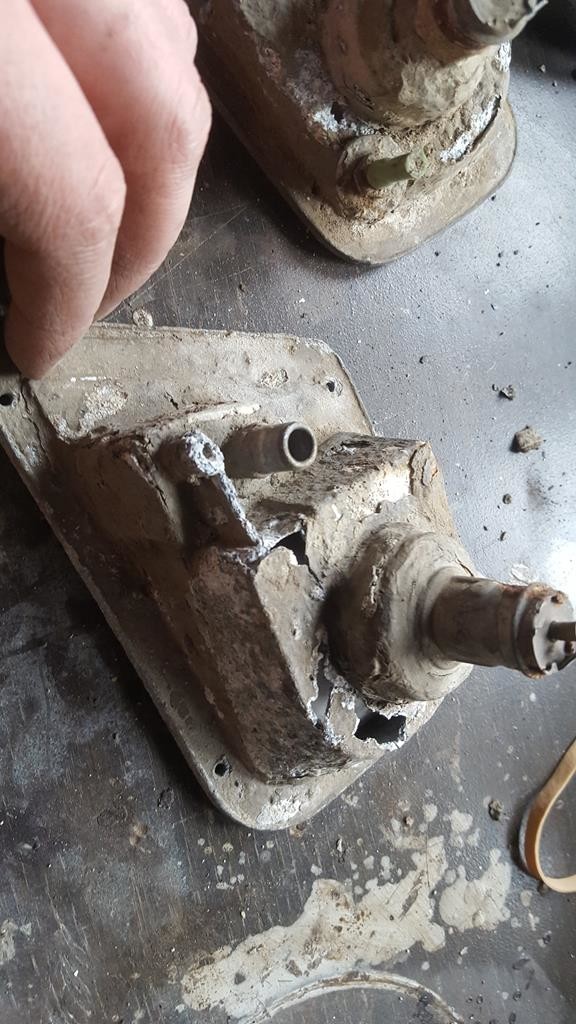 4-15-2018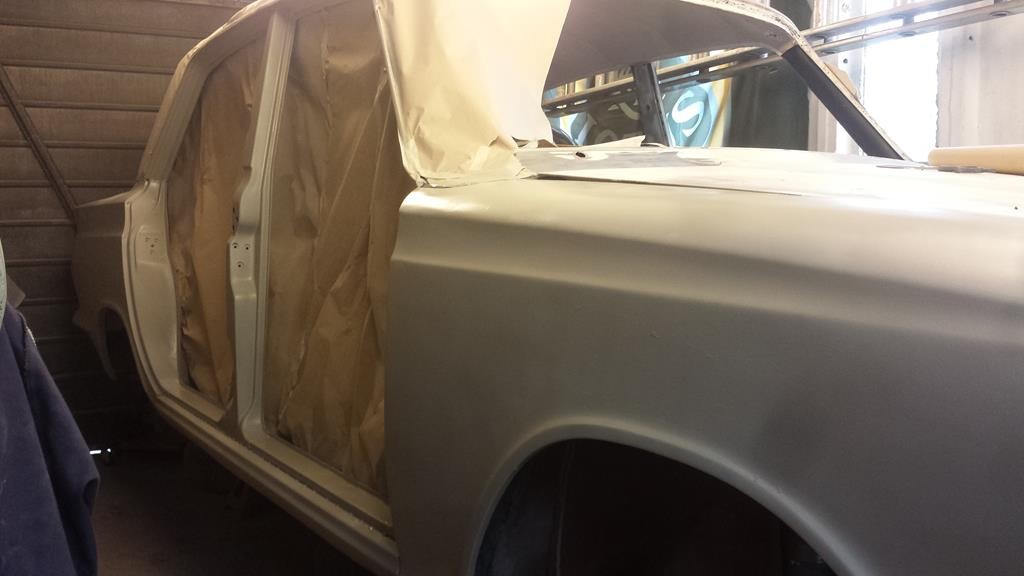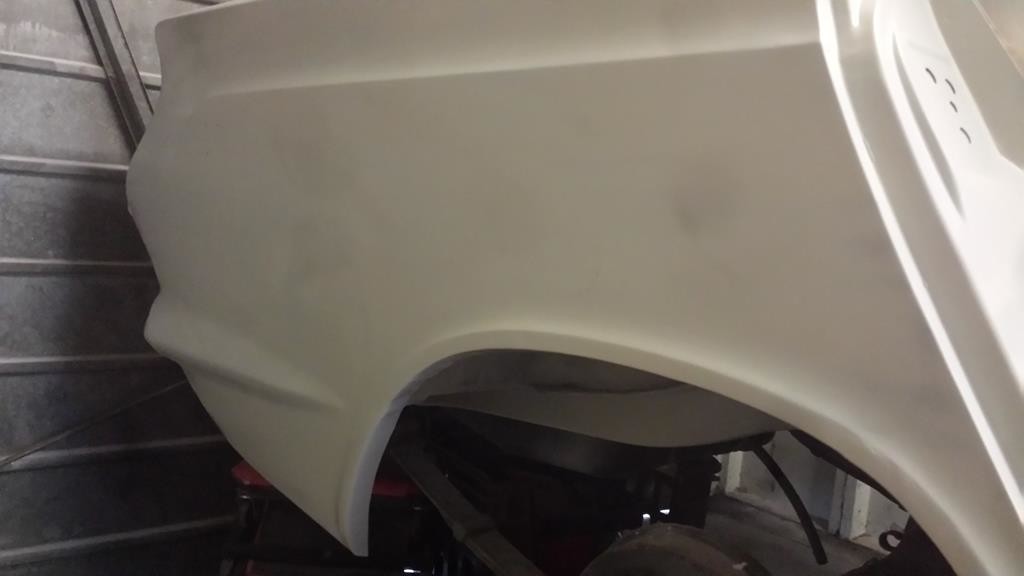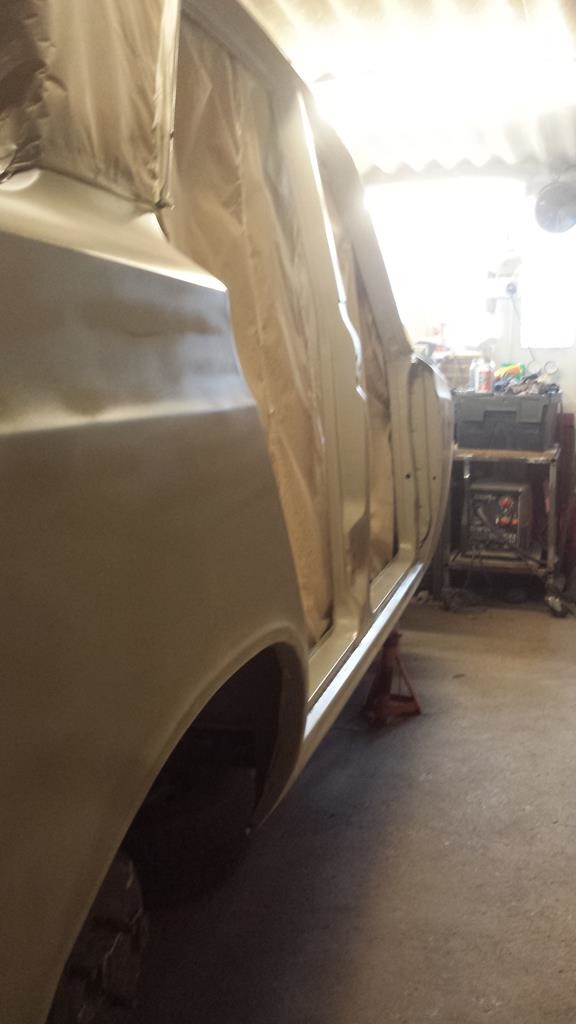 I've primed the wings, b pillar and sill as I noticed the rear wing had some light surface rust with it being bare for so long so I decided to clean the steel and spray epoxy.

I think having the body in primer will help me find the high and low spots easier than bare steel but I'll hold off on flatting till it's all in epoxy.

I did struggle doing under the drip rails as the gun I have takes the primer from underneath, there's a pick up pipe that constantly needed the primer tin removing and going again. I'm still learning so I'll chalk this down to experience but a habit fed gun that's smaller in size will help out no end especially when doing the sills.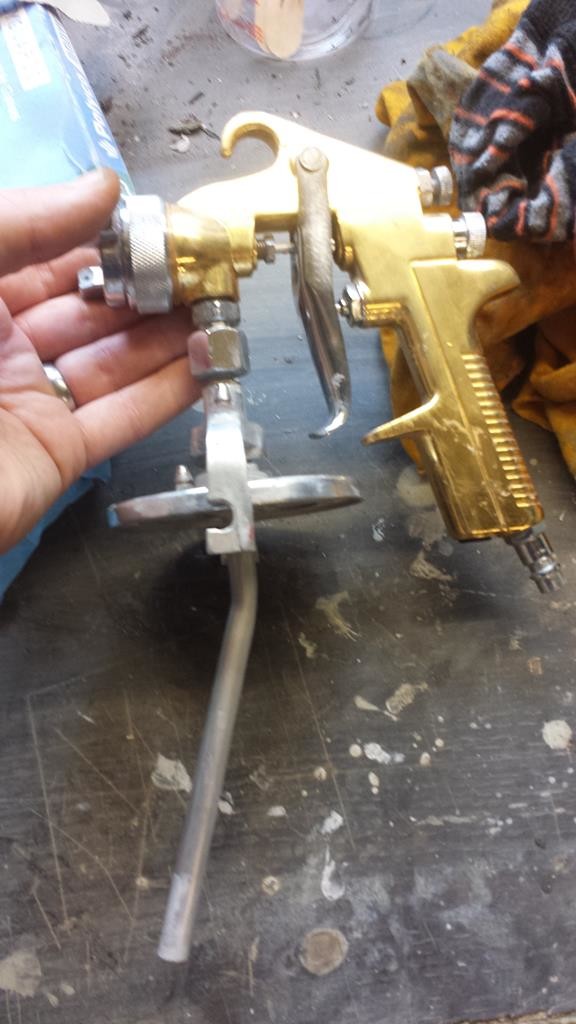 A few other notes being I had what appears to be a reaction on the wing where I did some kurust last night but I can resolve that easily enough!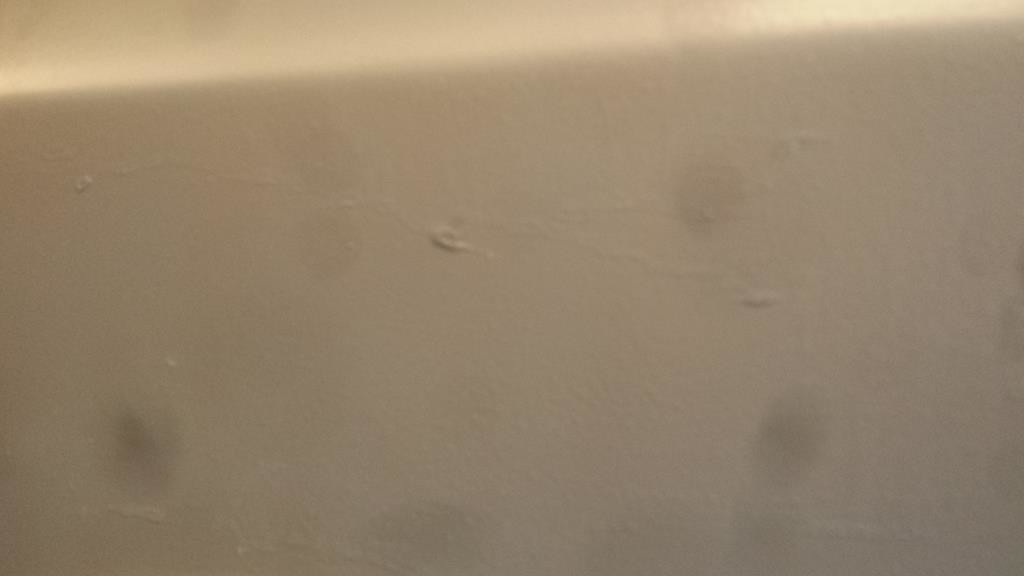 There's a couple of runs which again is again my learning curve - tidying it up will teach me a lesson!

I caught the primer with the pipe as I was moving around - space is a killer so I'll have a shuffle around and move stuff out. I'm going to try attaching a gazebo to the front of the garage on spray days so I can extend my work area for more full on spraying. Obviously I'll cover the floor and walls beforehand but it's worth a go!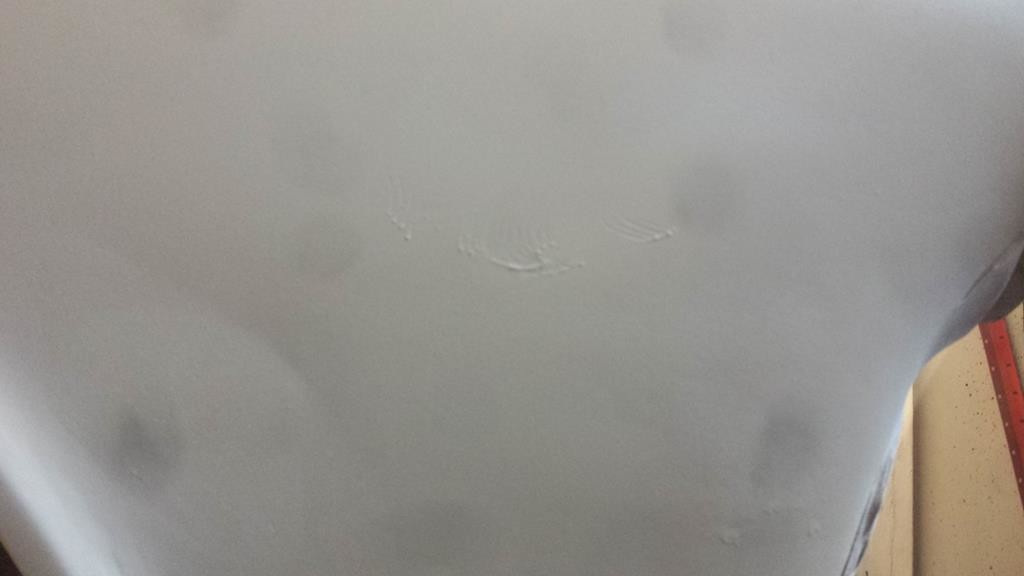 Later I'll drop her on the floor and hopefully get her on the drive and turned around so I can do the other side!

Luckily I came in from the garage to find Mrs. Jim has baked cake!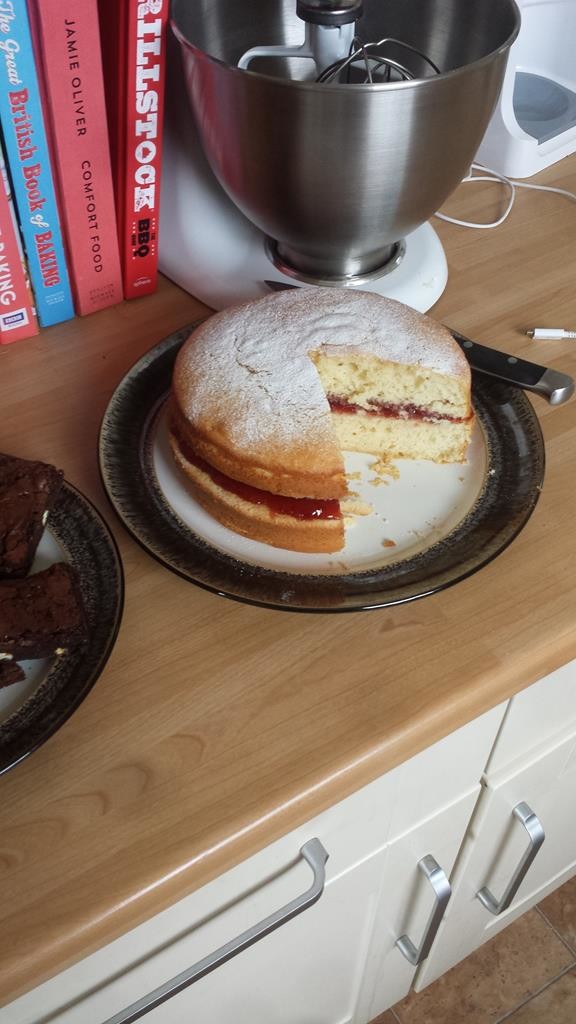 4-22-2018
Thanks Pete - how's the corsair going?

After getting the drivers side in epoxy I pulled her out of the garage and surprisingly managed to turn it around in what felt like 1 million turns!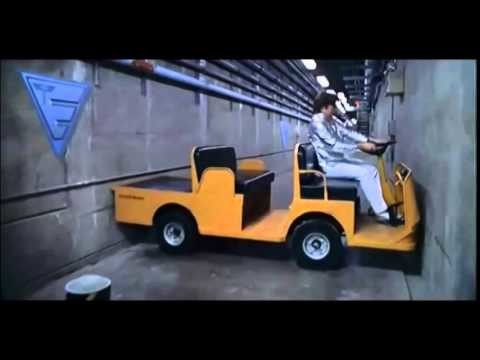 I've started from the back moving forward doing welding repairs and bare metal work.

I found these bits at the sill to arch under where the door is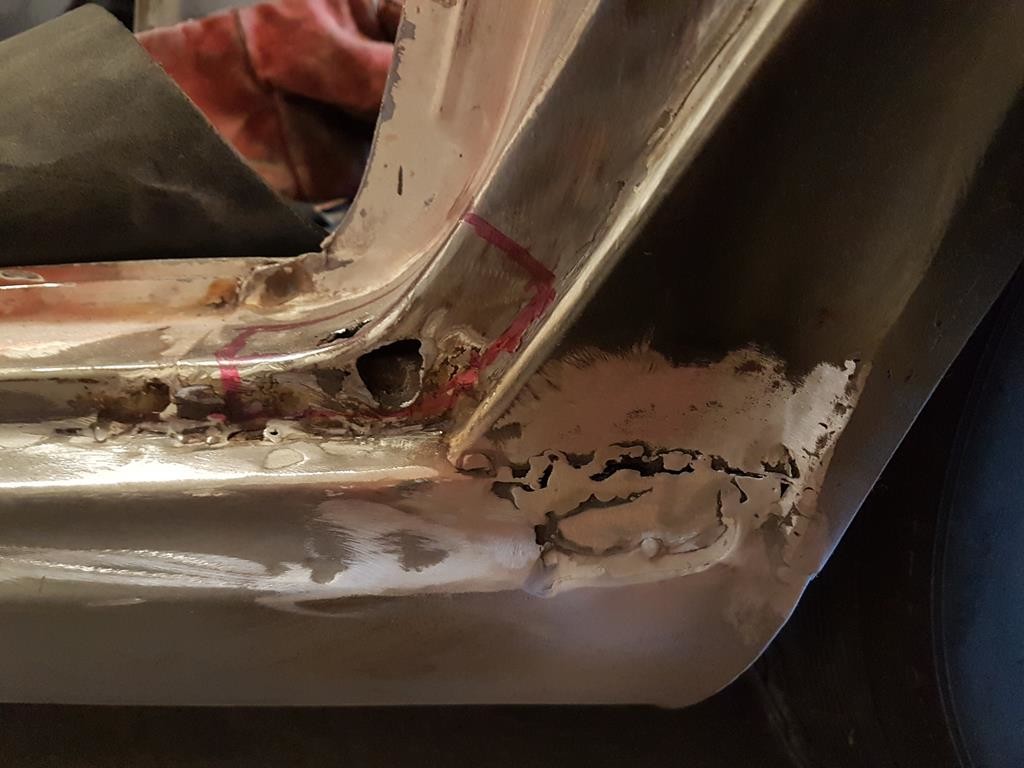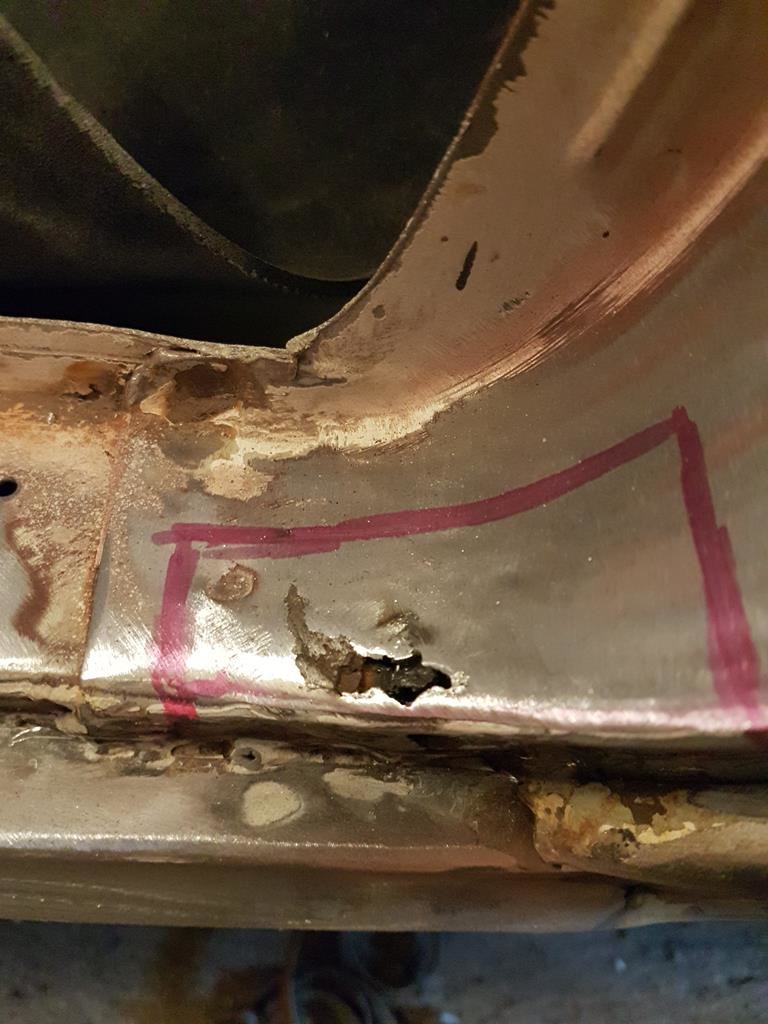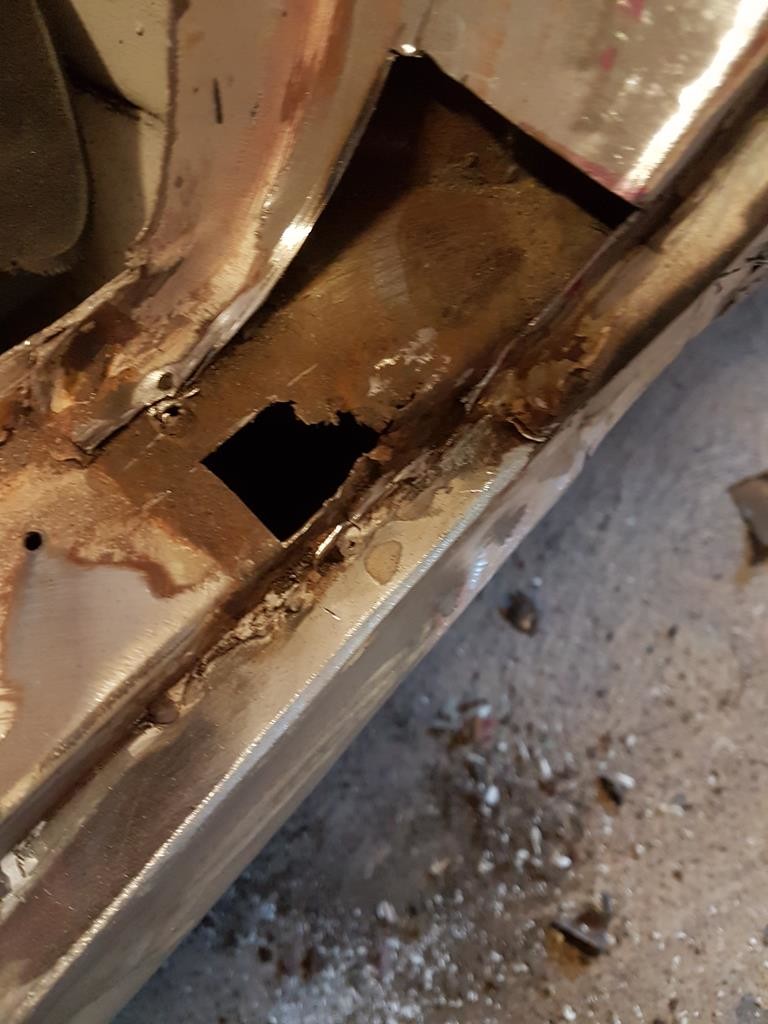 curse word! More chopping!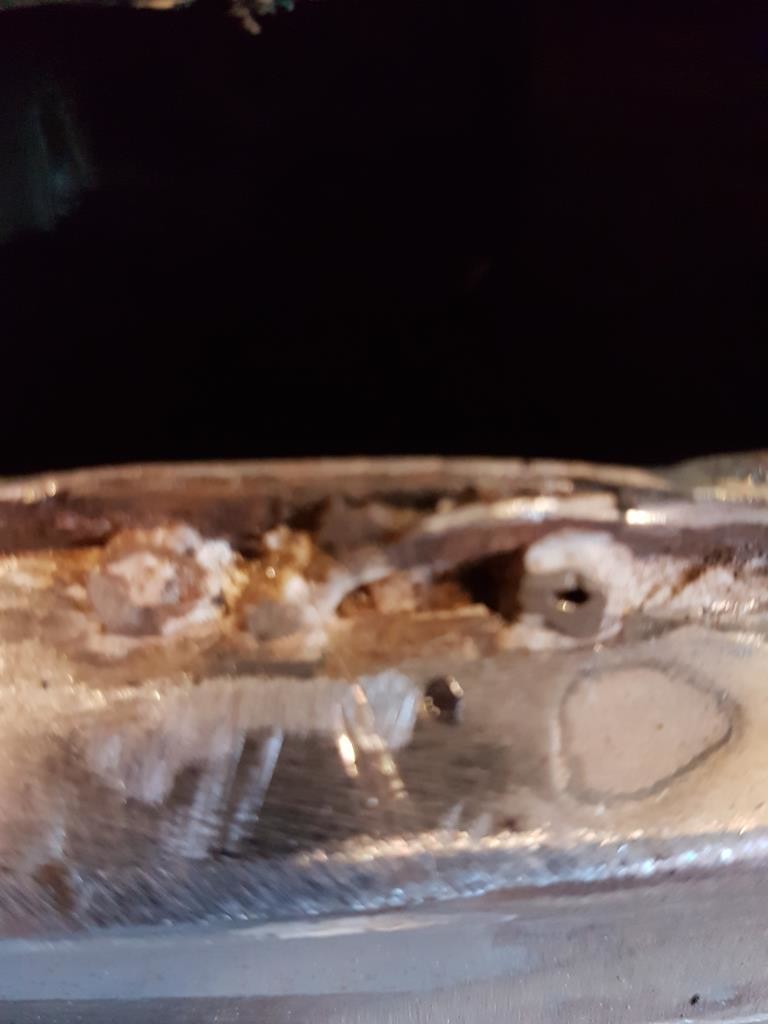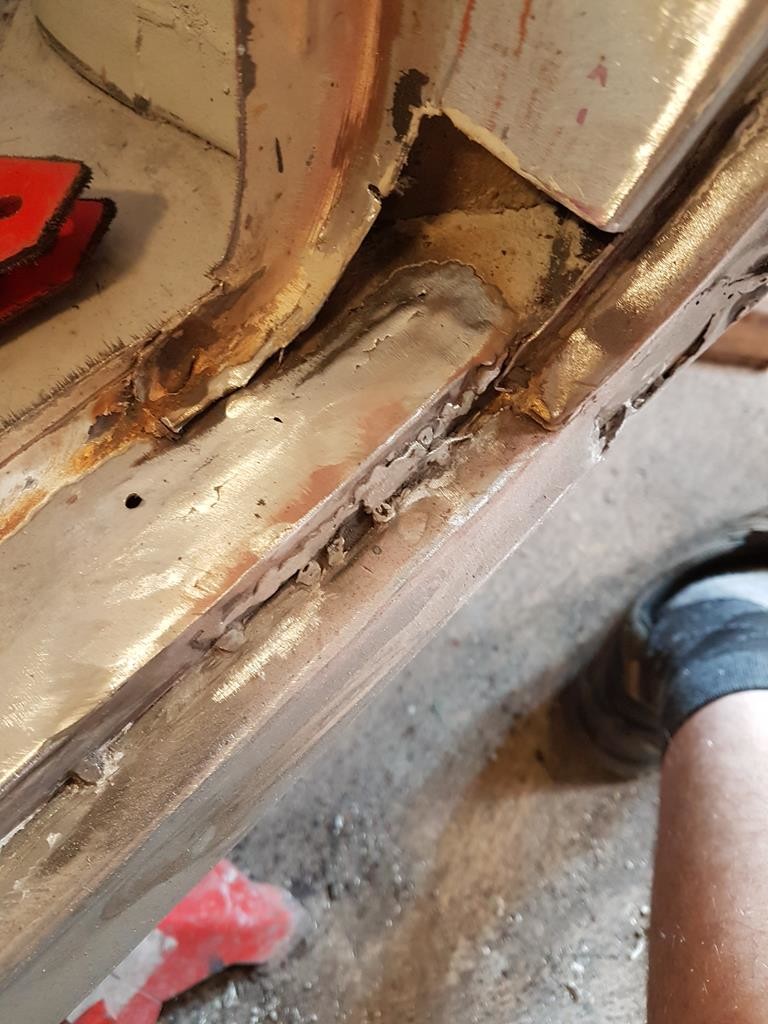 This was the epoxy primed then I made the top piece in 2 parts that I didn't photograph but who cares when it looks like this!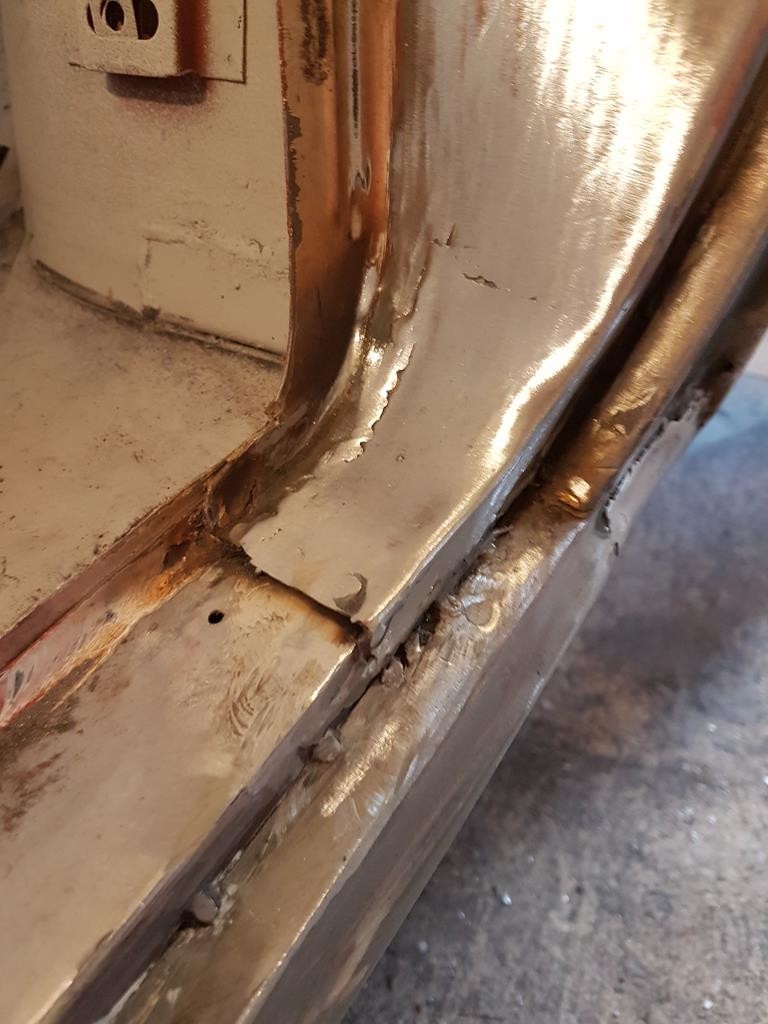 Whilst I was there I found a large nugget of filler where the original sill met the replacement and I think they couldn't quite patch it so I thought I'd put a patch on there and reduce the need for filler.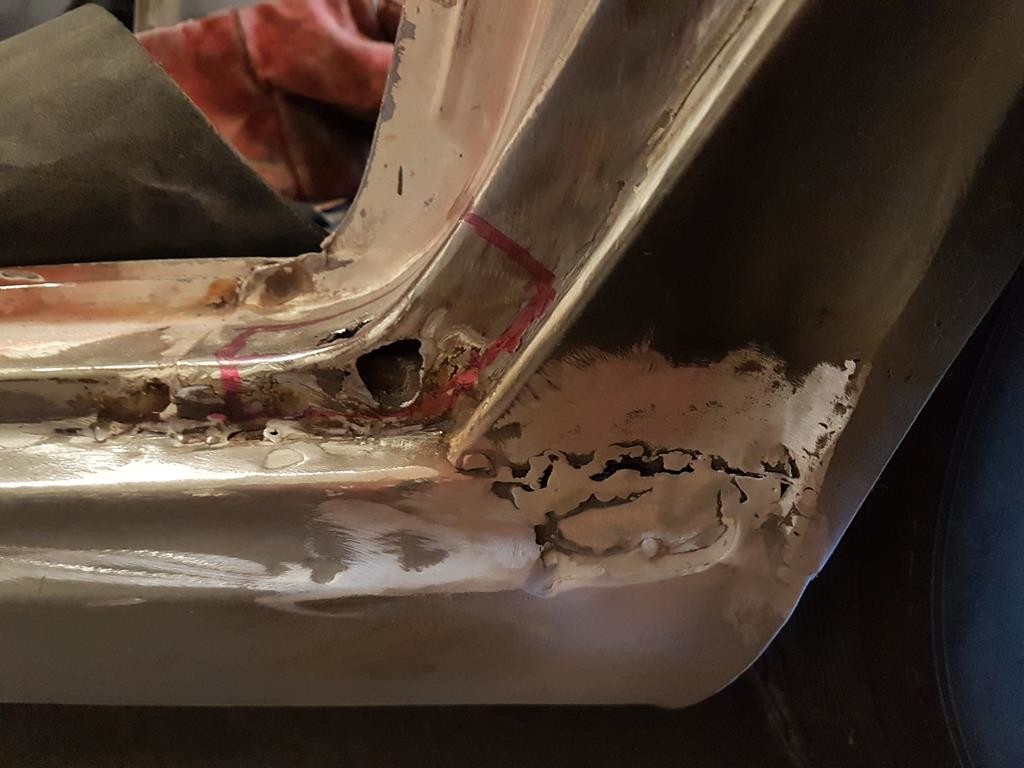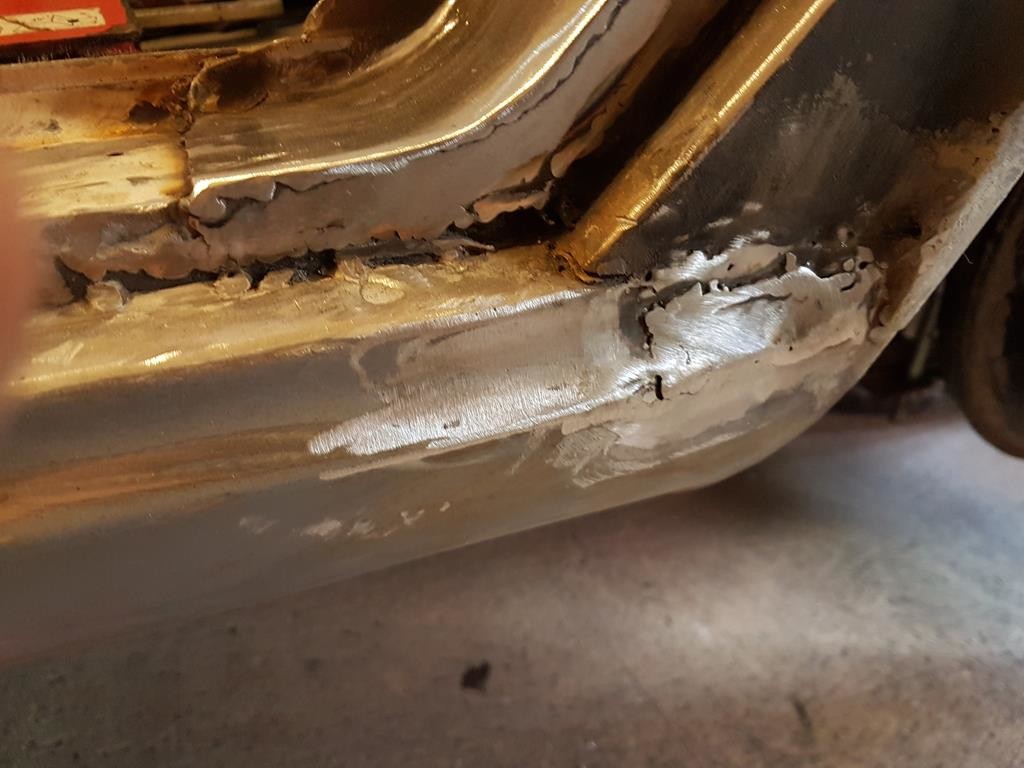 It'll get a bit more grinding back and then I'll try leading it.

The head lines is nearly out - it's been worked in whilst stuff dried off or cooled down! I'll get some photos when it's out
4-29-2018
I've been doing a few bits on the evenings but I wanted to get some opinions of the other front wing.

It's an original ford item with some pitting that's generally good for 50year old tin.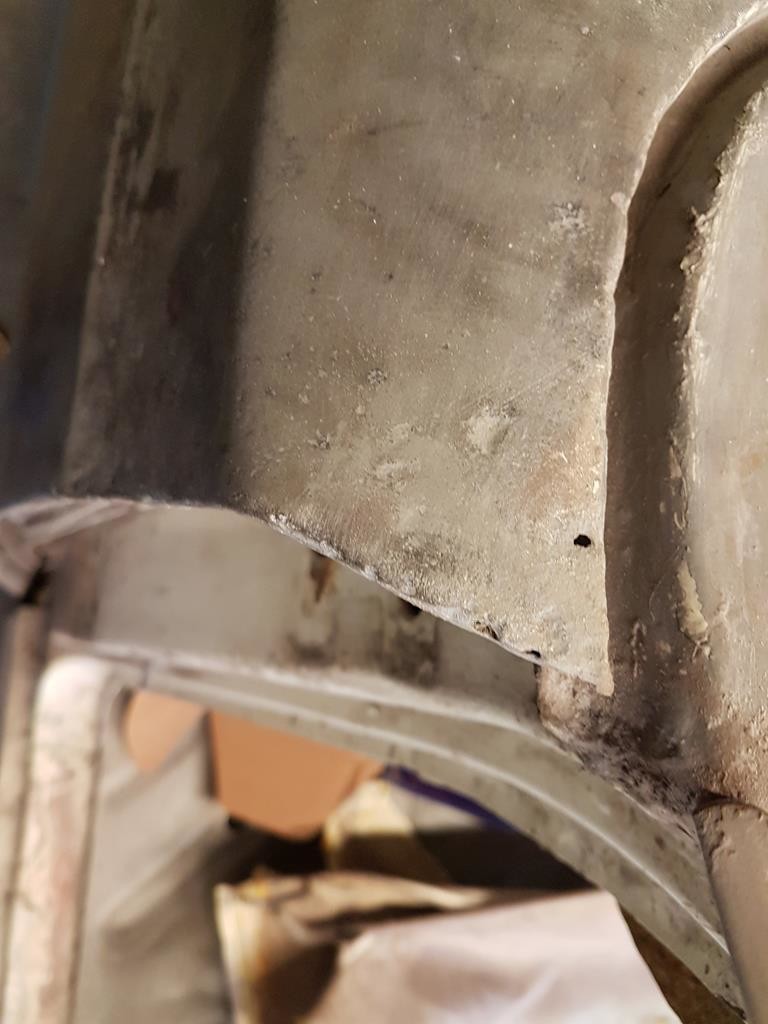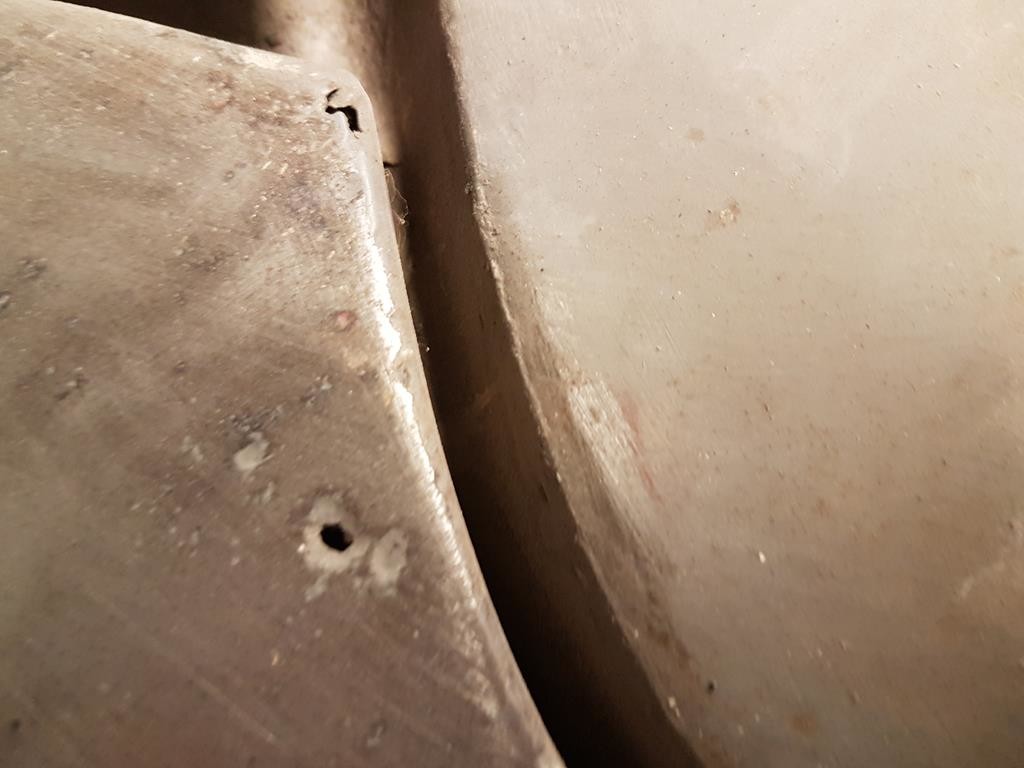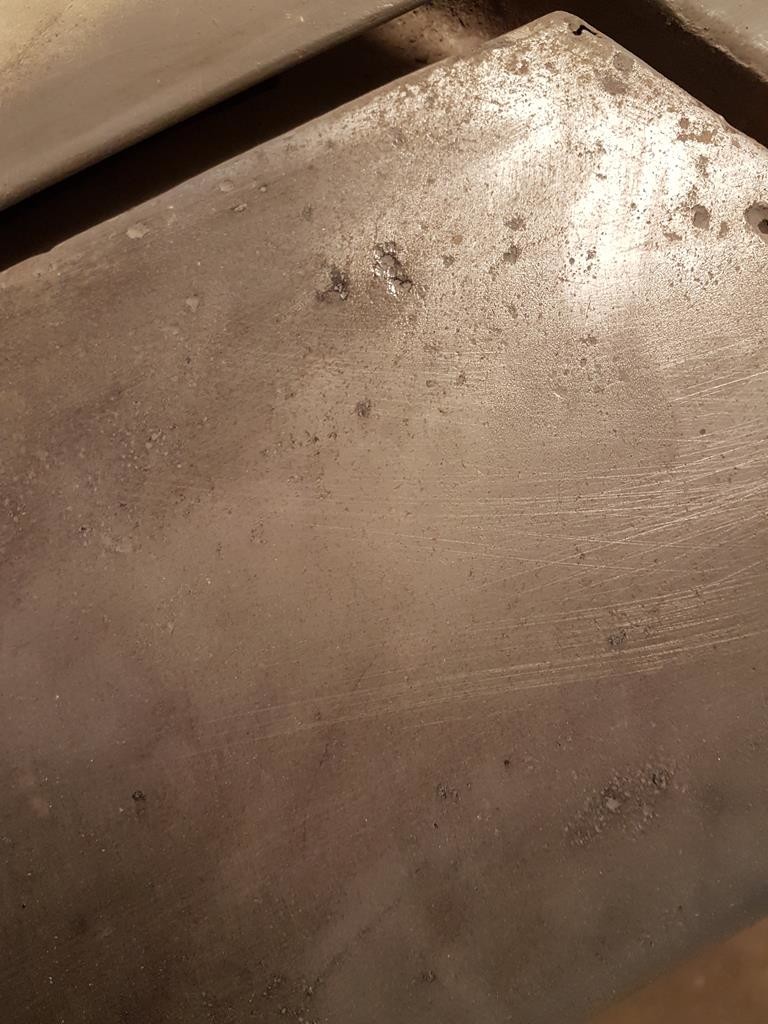 I'm not sure if I can clean these pits out carefully them lead load as I'm afraid that welding will blow them out and the complexity of the repair sections won't work either.

I can't remove the wing without damaging it beyond repair as it's welded on. I'm wanting to avoid replacement at £350 It's beyond what I can spend currently given I need to consider body work for the whole car.

Some opinions would be much appreciated
5-7-2018
I've been plugging away at the wing and I'd say I'm about halfway. The lower section is fixed a d will need a skim to put a little more shape into it.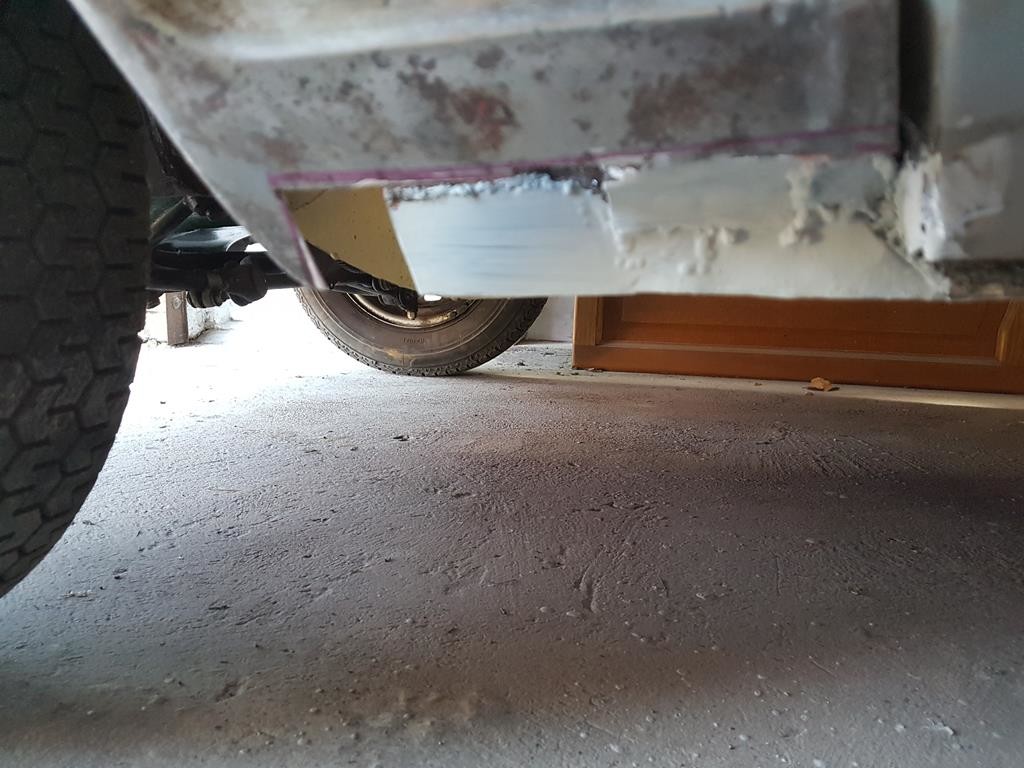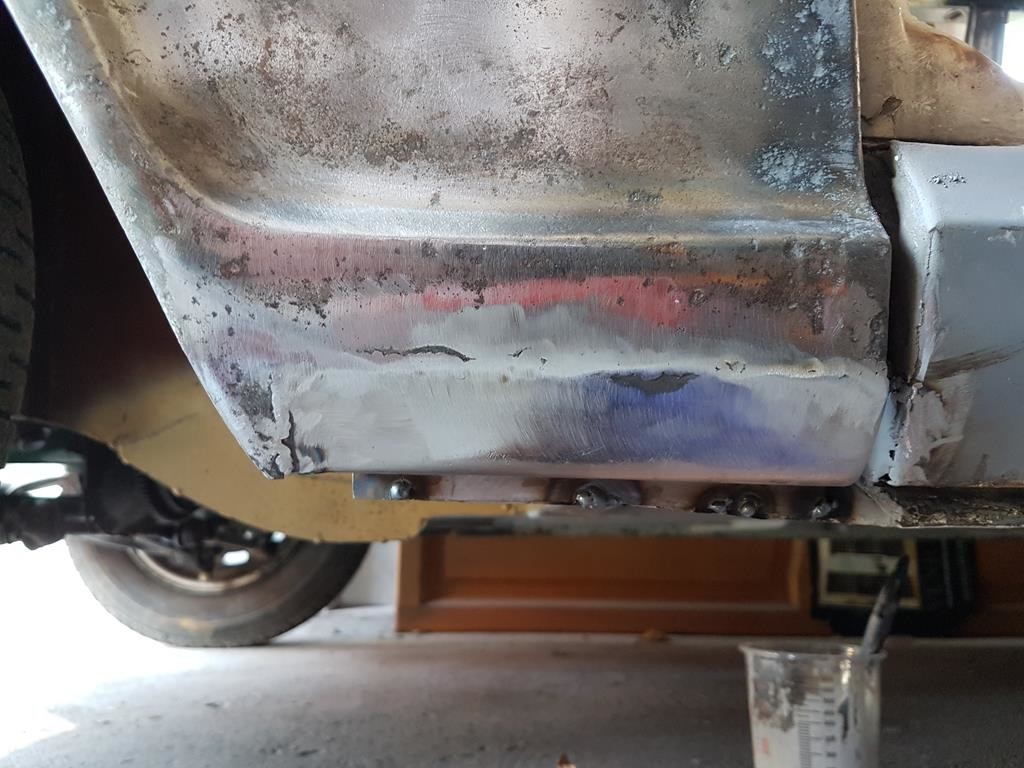 I've managed to get the rust out of the pits and started working on welding and leading. There's more to do but I was running low so I've recast the left overs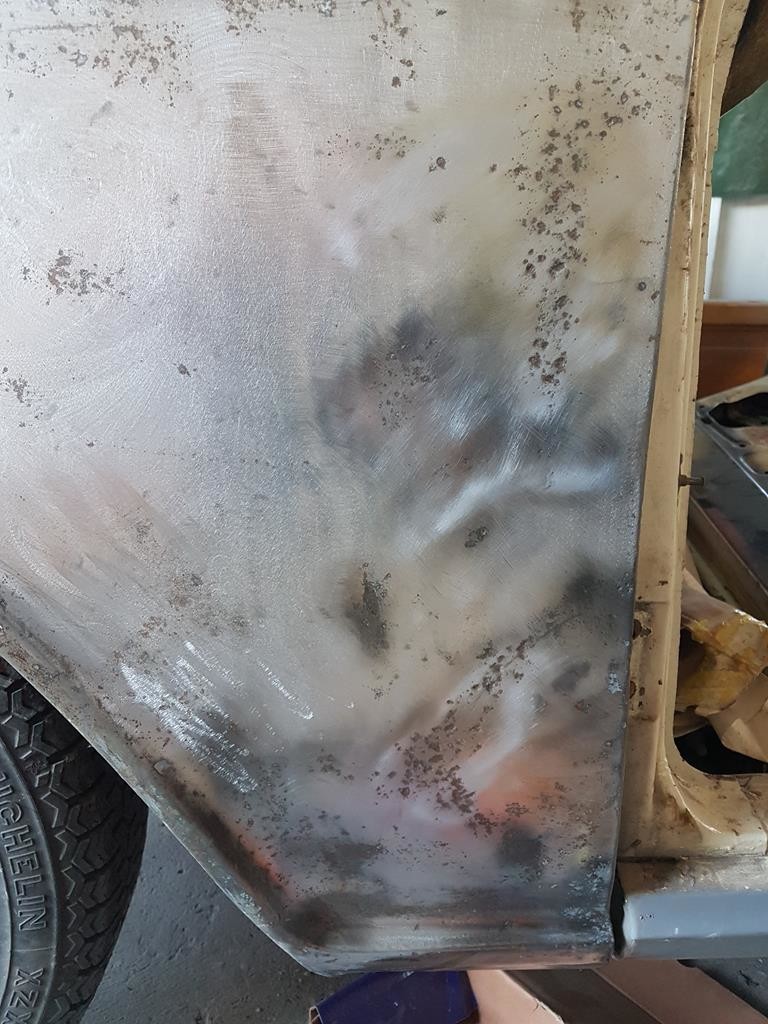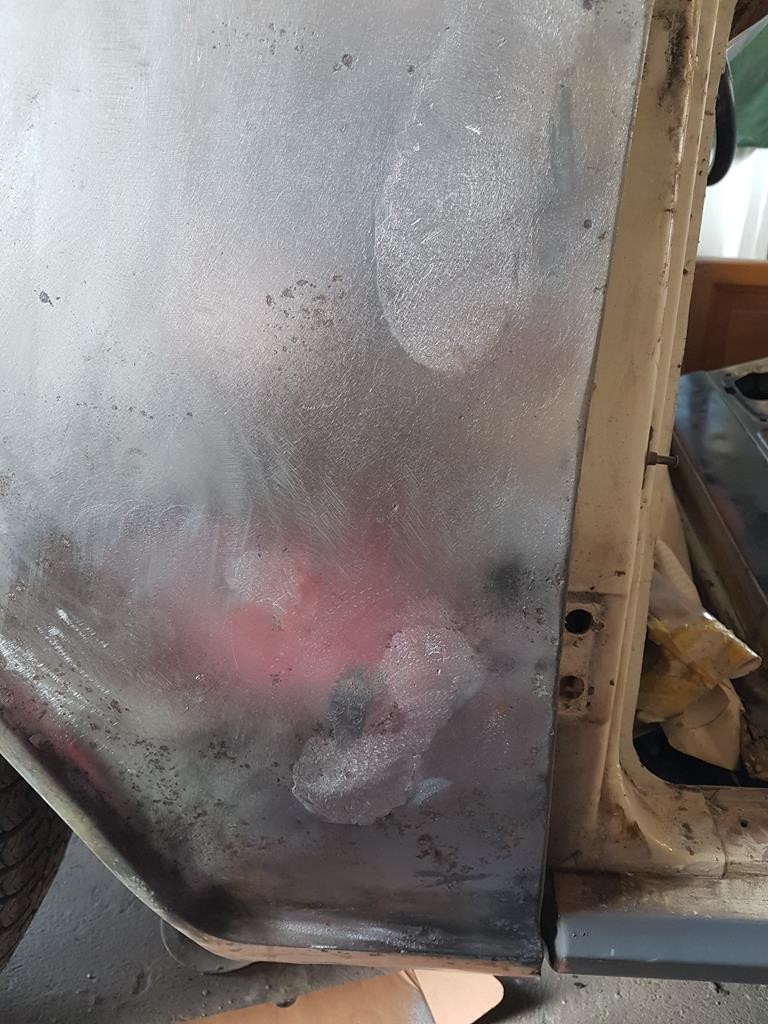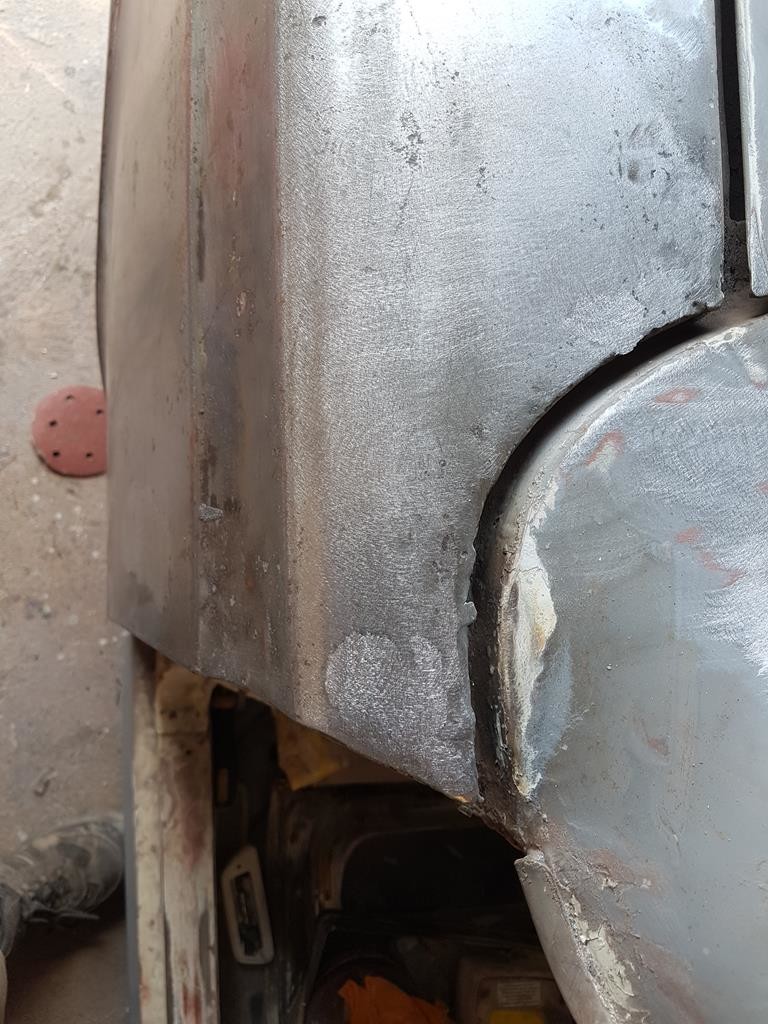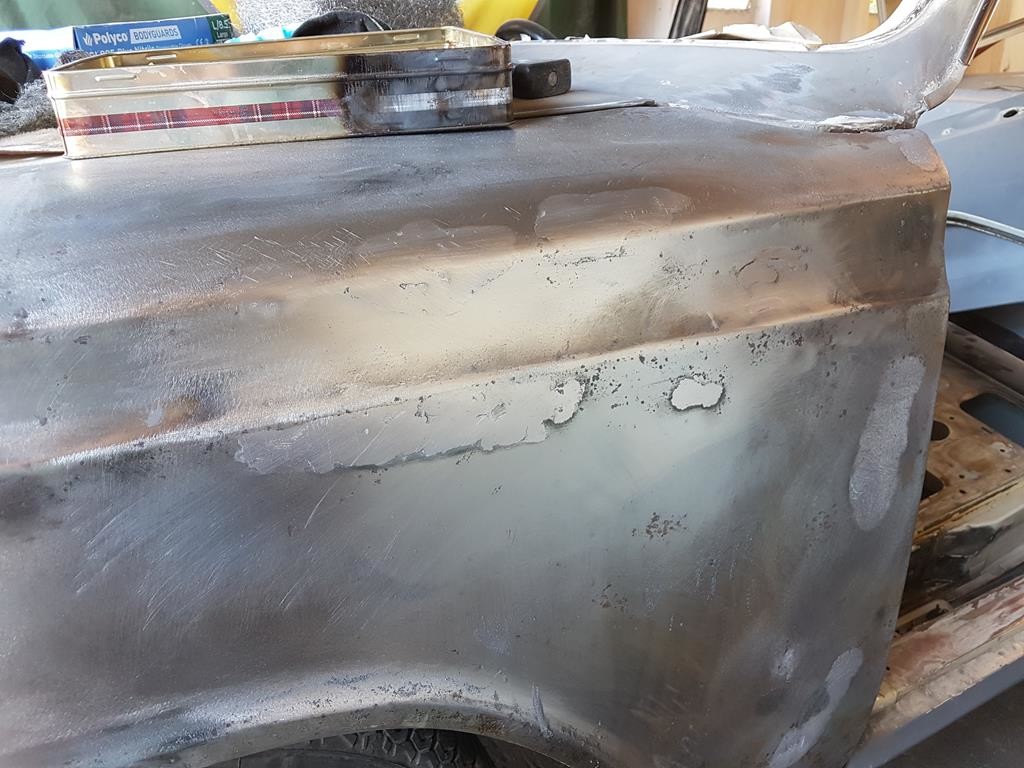 I'll get the rest finished but I was hot and wanted a break!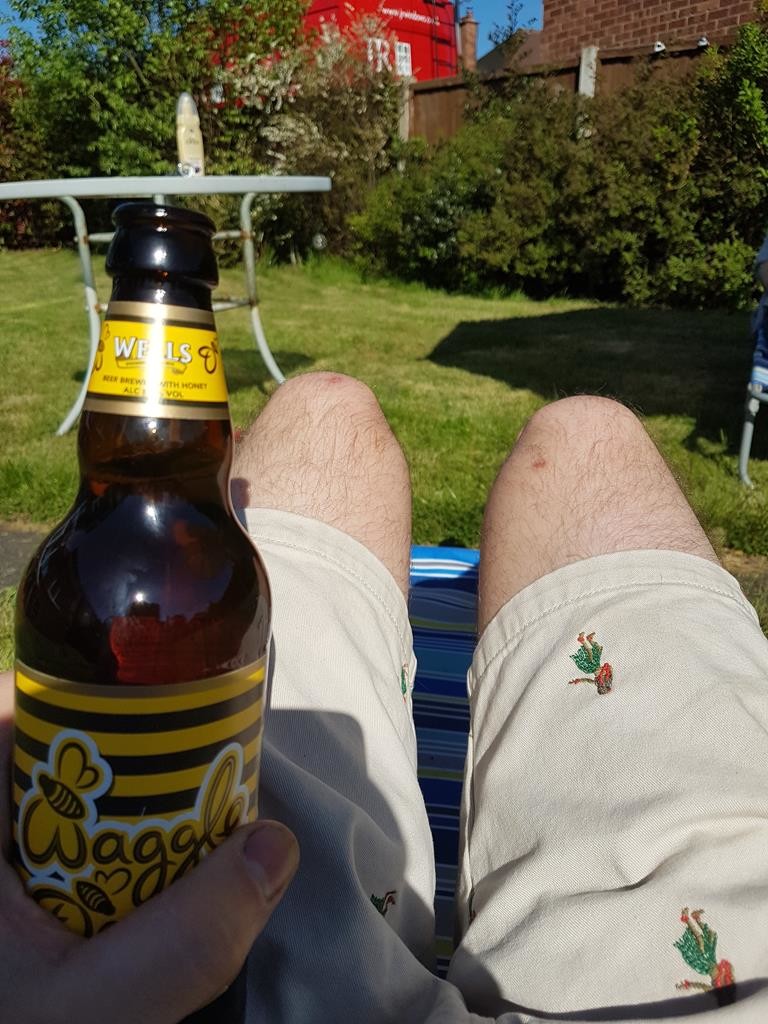 5-28-2018
Recently I've been working on the roof and passenger side.

I sprayed the roof Friday which was a curse word because of the gun w
Plus my technique but it'll flatten out well looking at the patch I've done.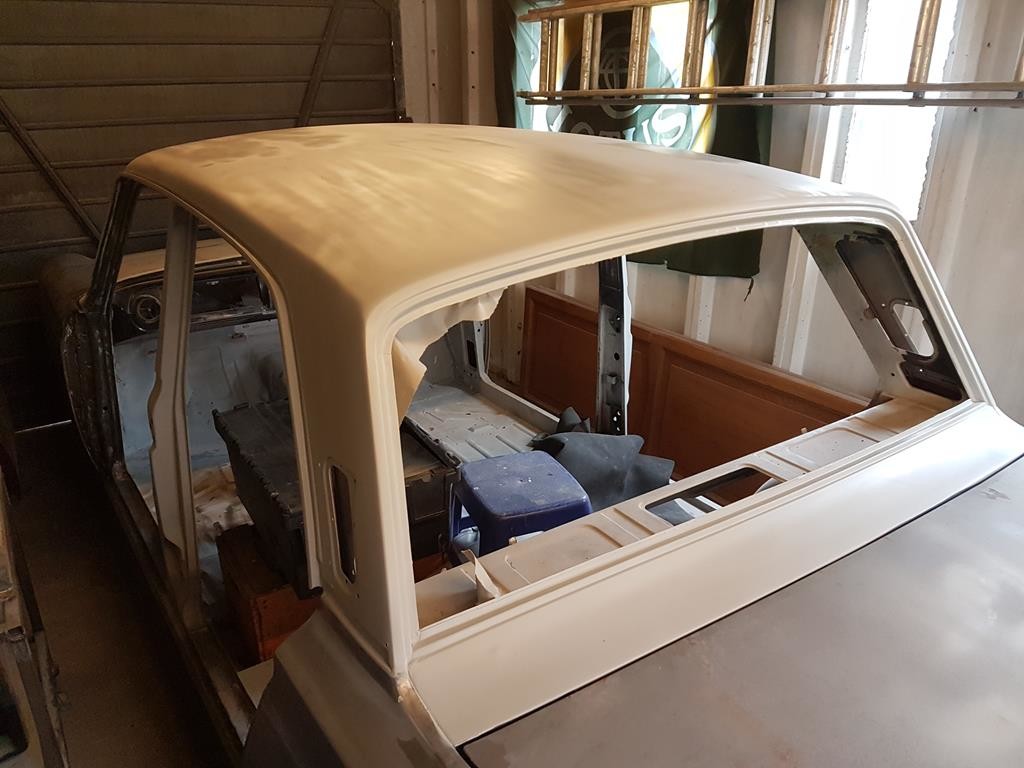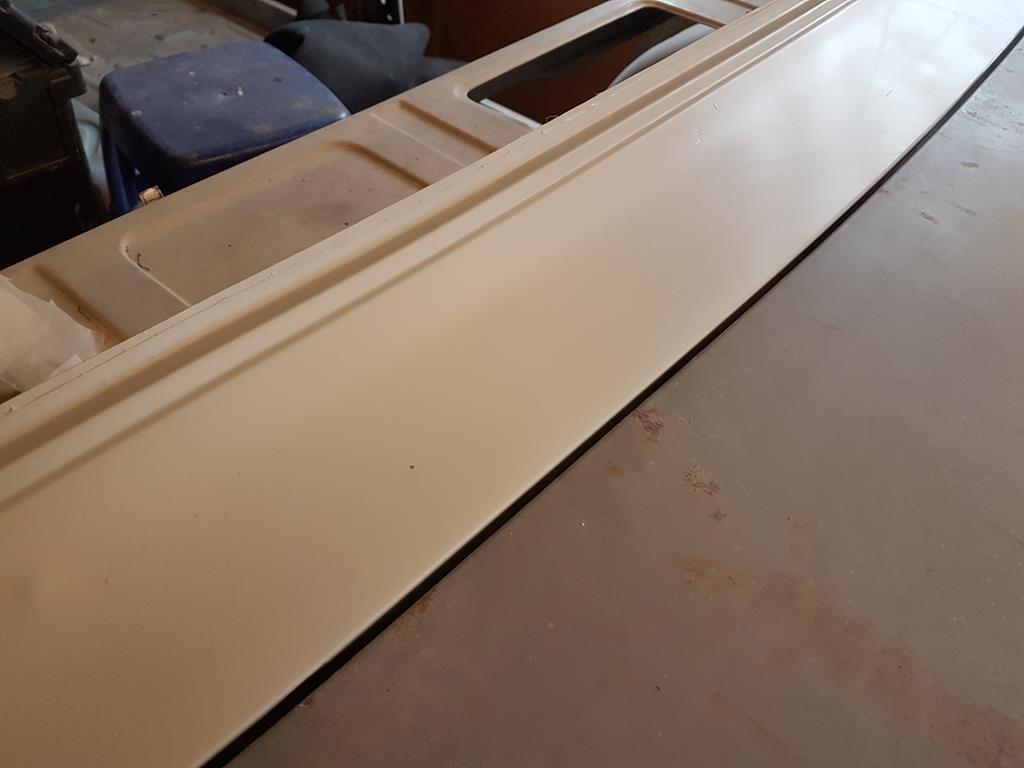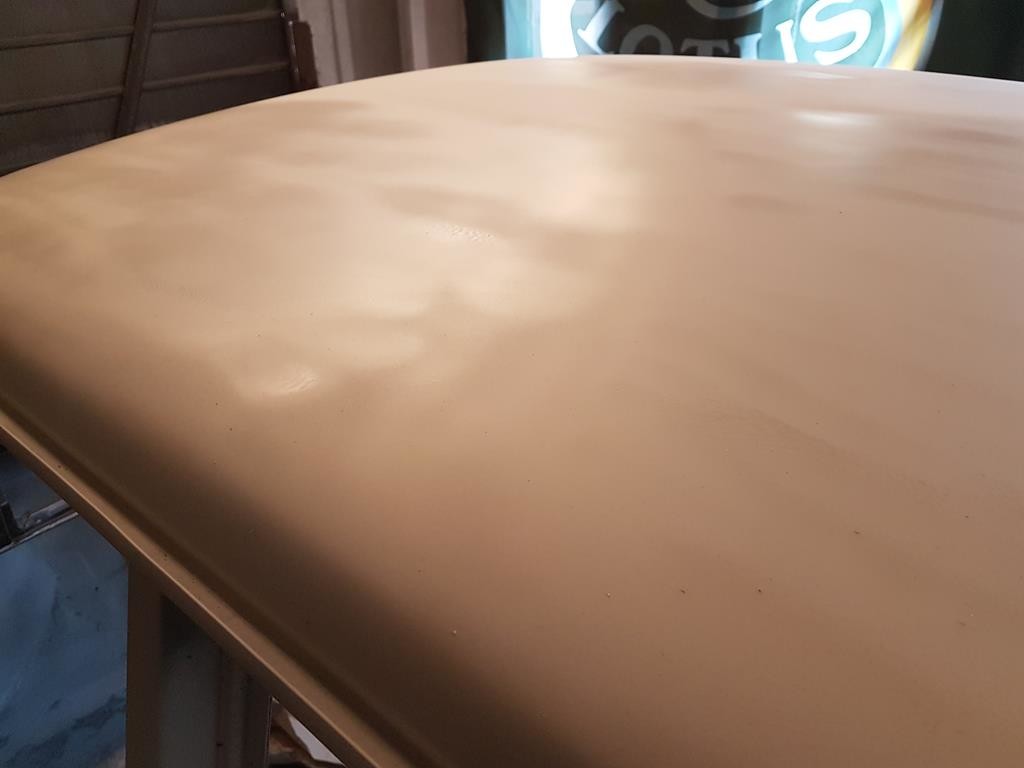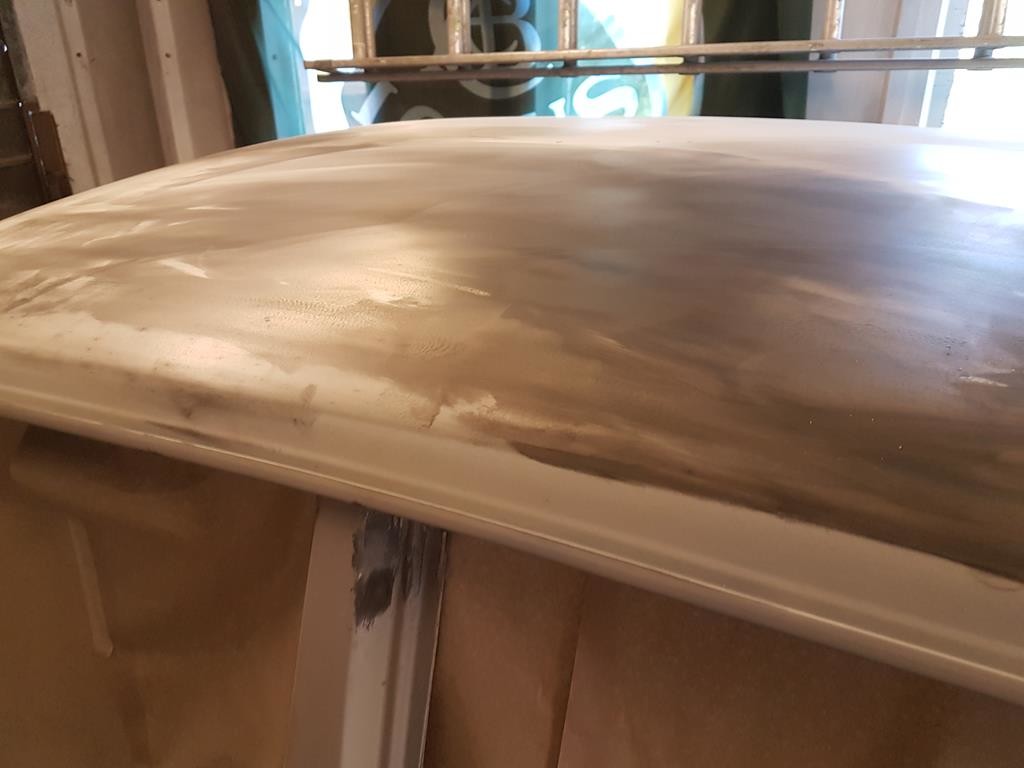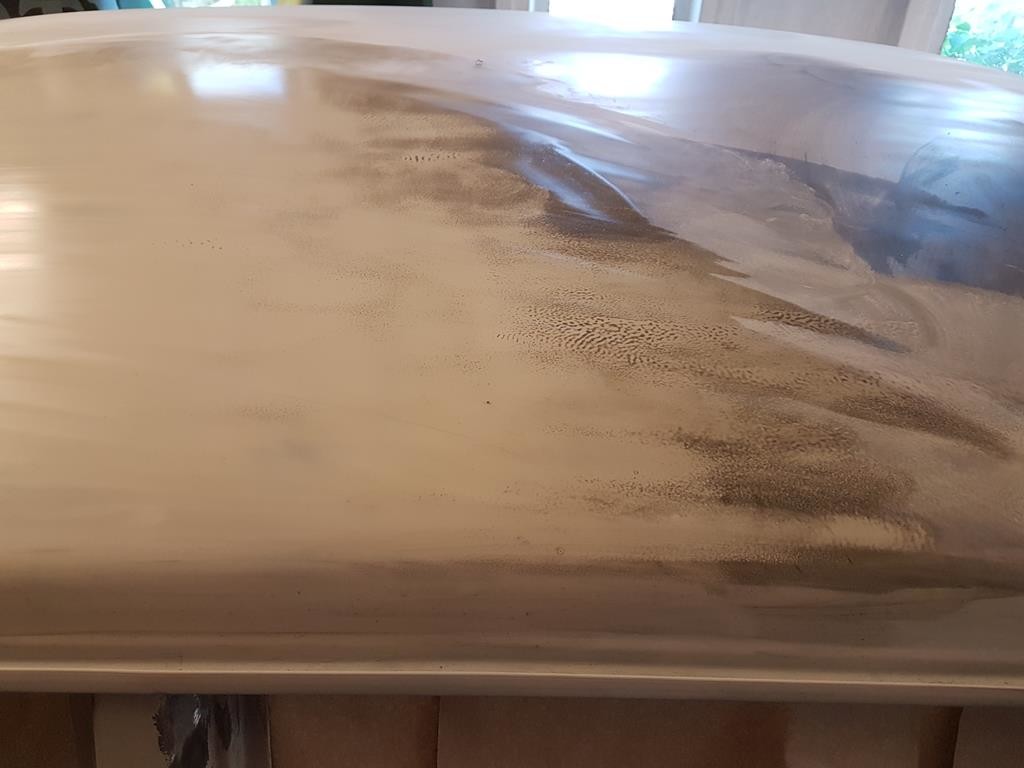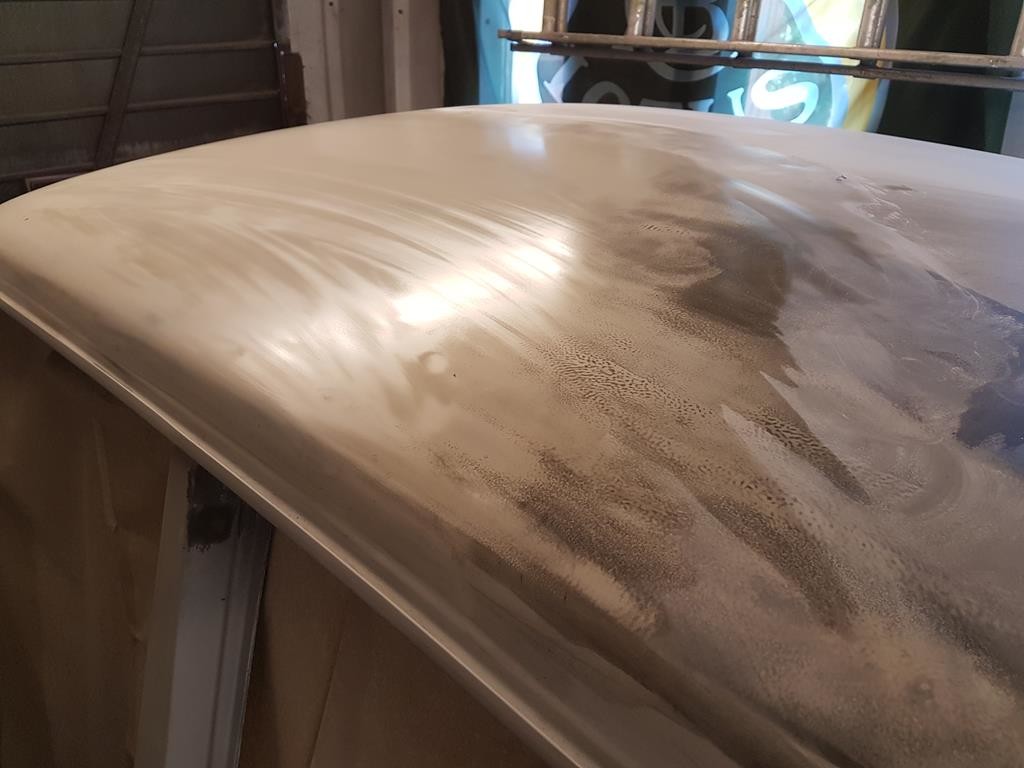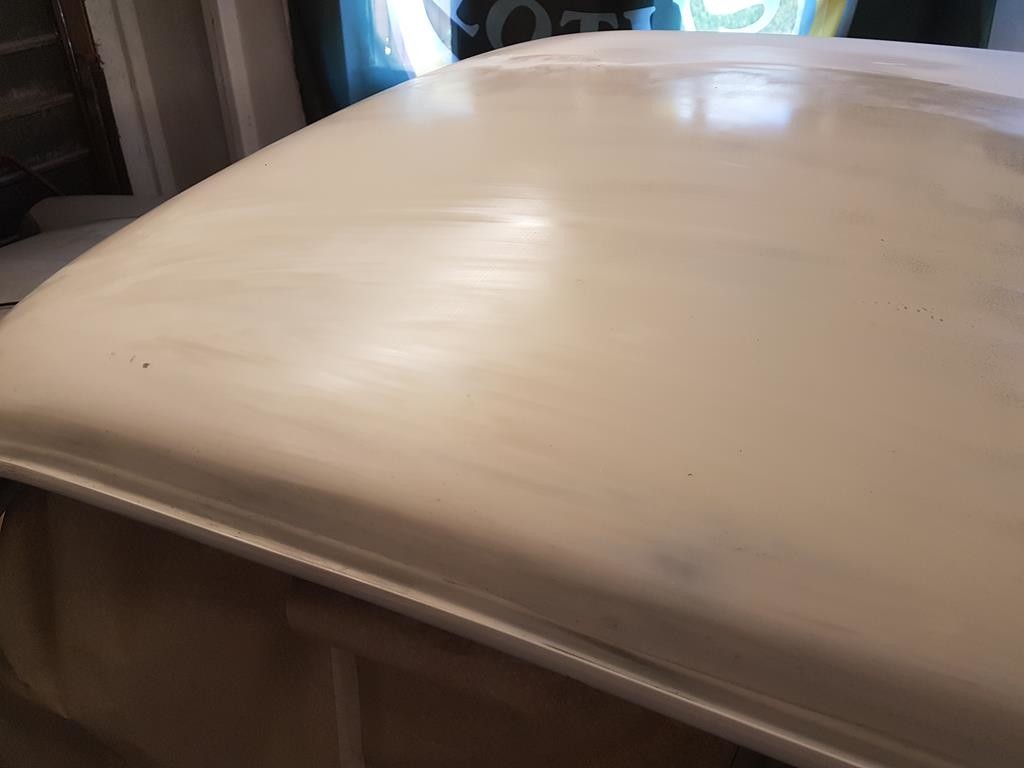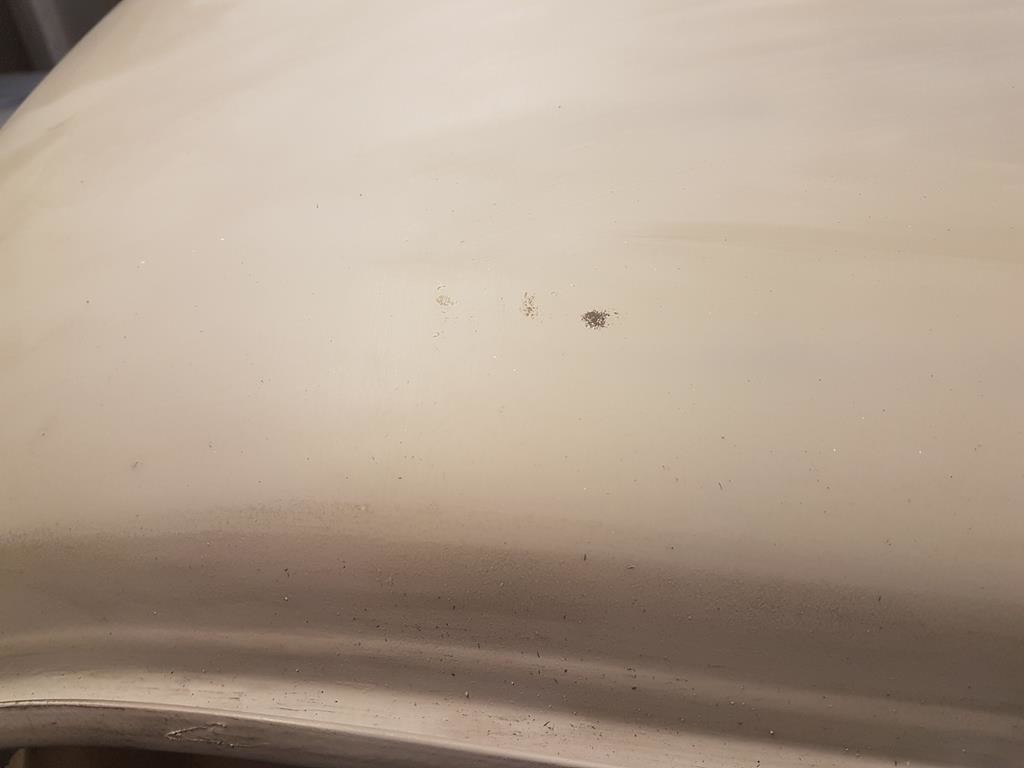 I've bought an erbauer gun but I'll need a new air line fitting - a friend of mine has one similar so hopefully it'll just be my technique that is the only problem!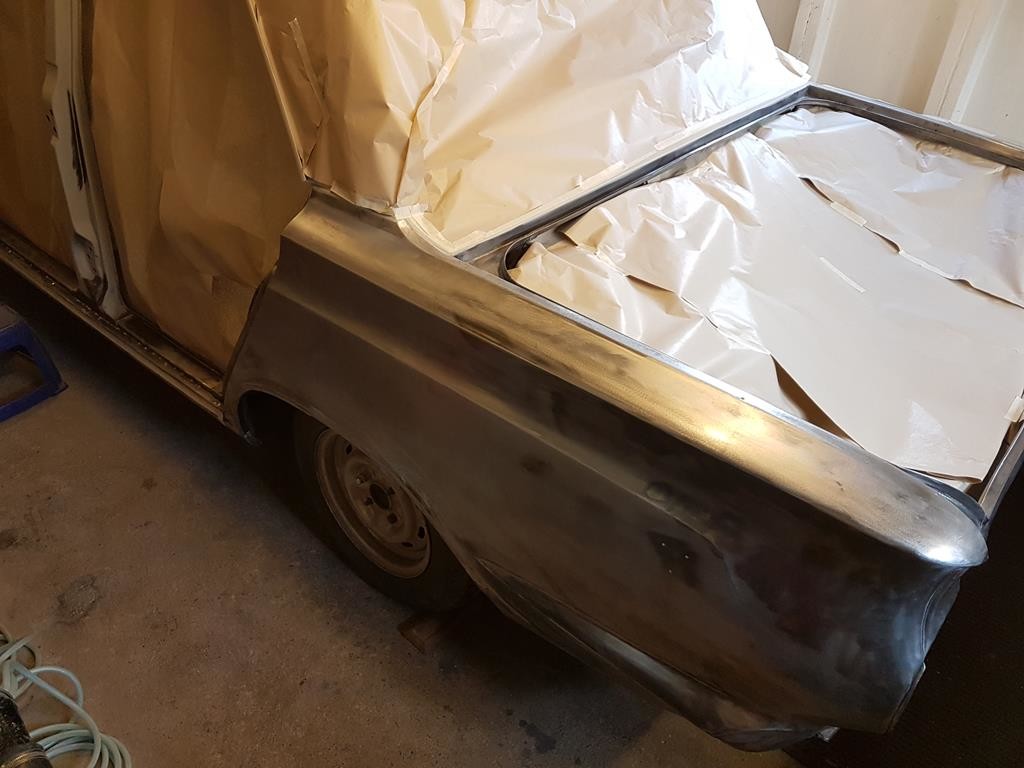 It's ready for the rear panels and most of the side needs spraying.

This post is dedicated to my primary angle grinder...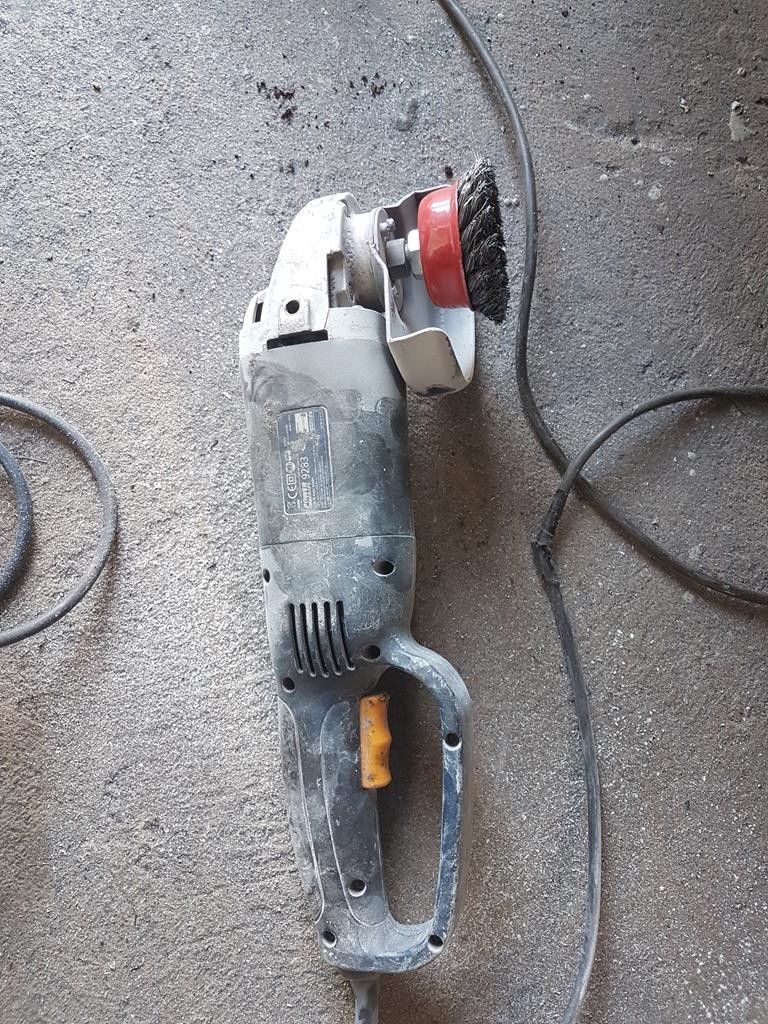 5-29-2018
I'll keep this brief, the new gun is a lot easier to use and I'm not leaving patches any more.

I think it might need a tweak to dial out some of the peel I'm getting but I'll have a look tomorrow when it's all dried.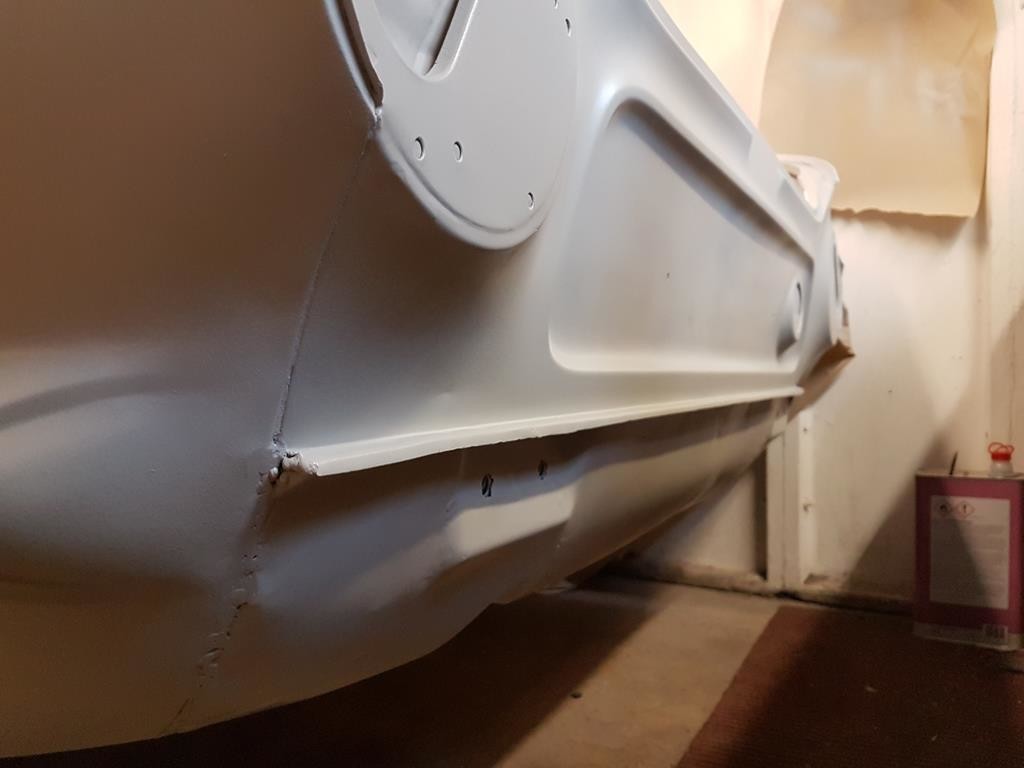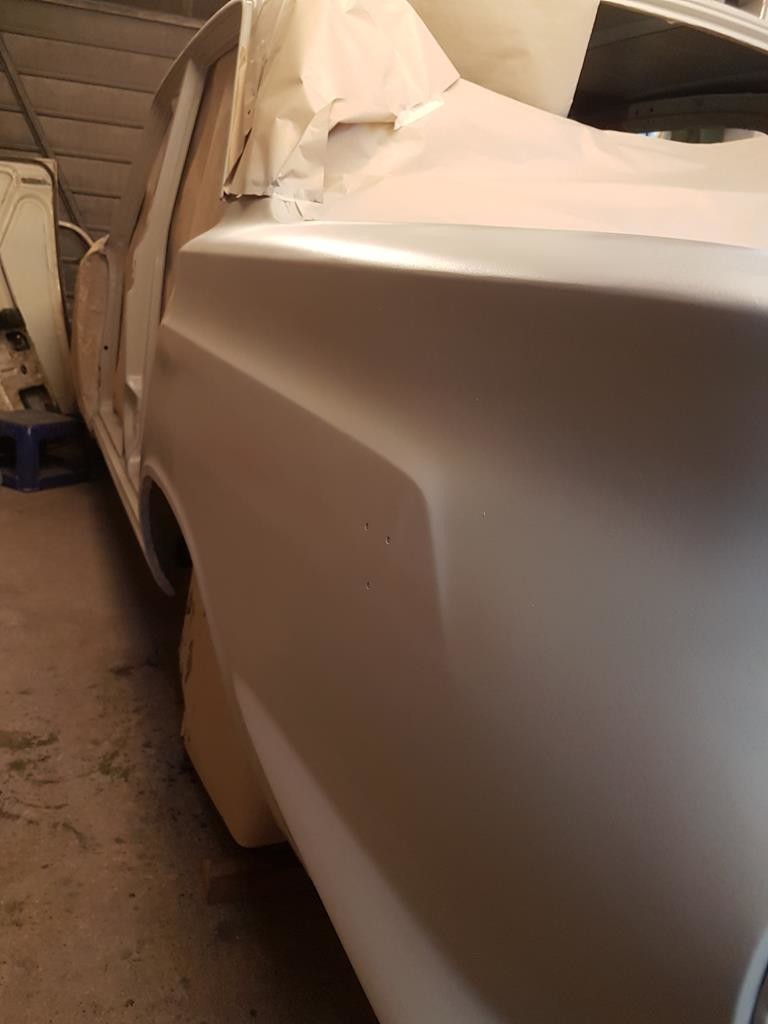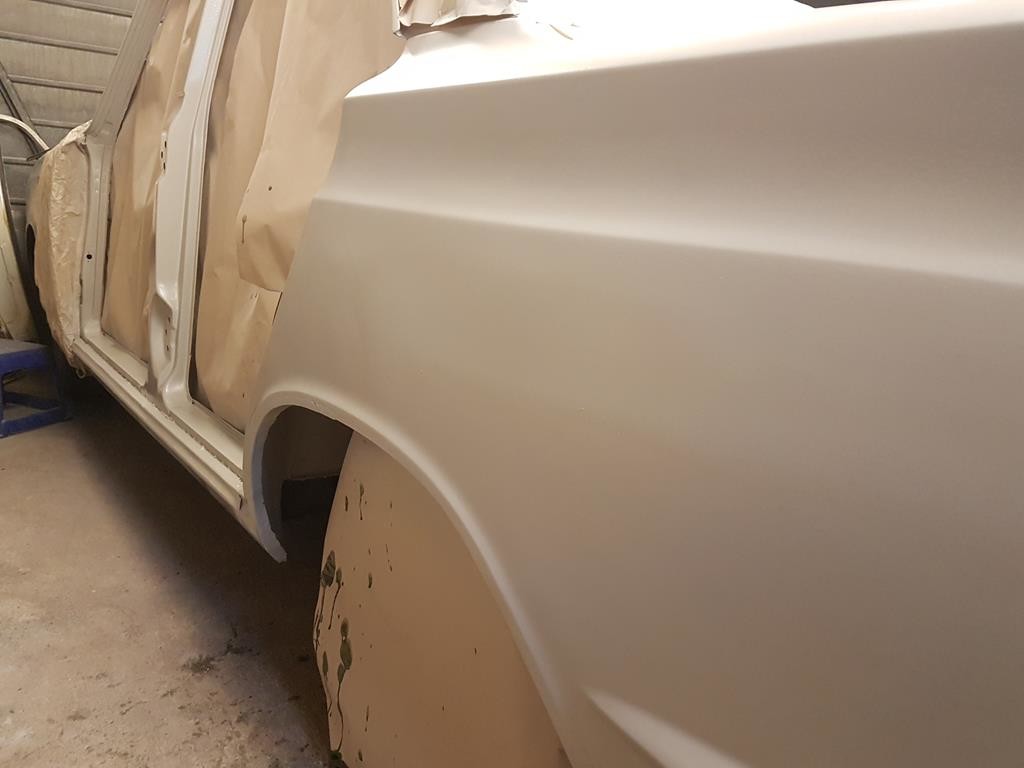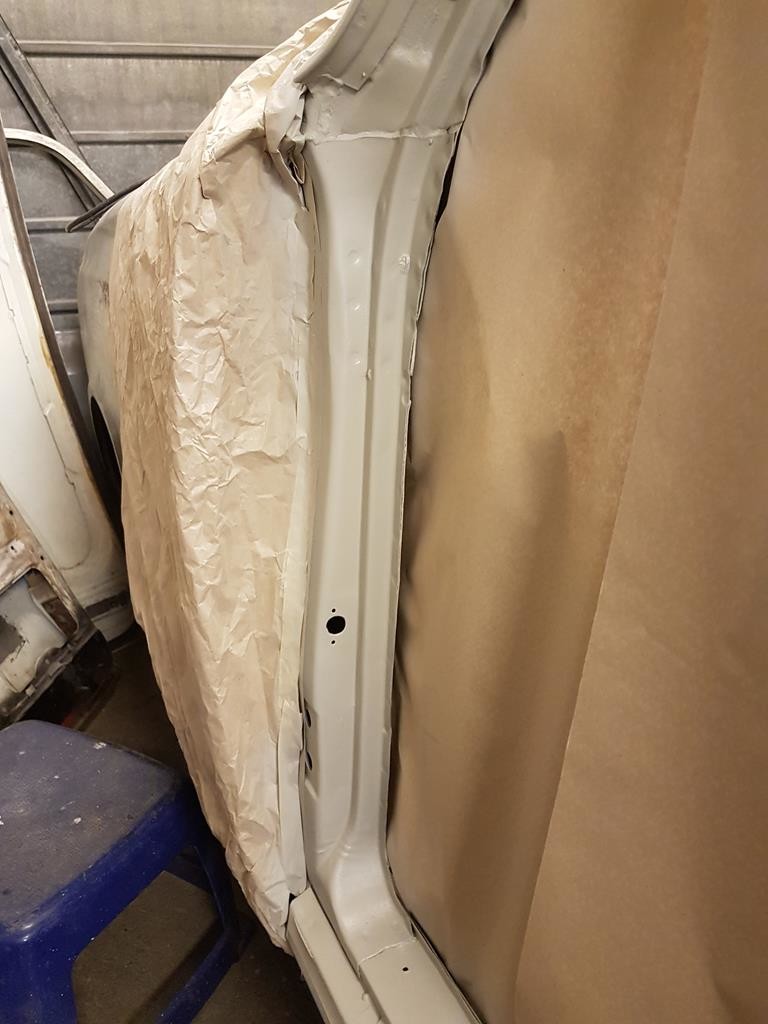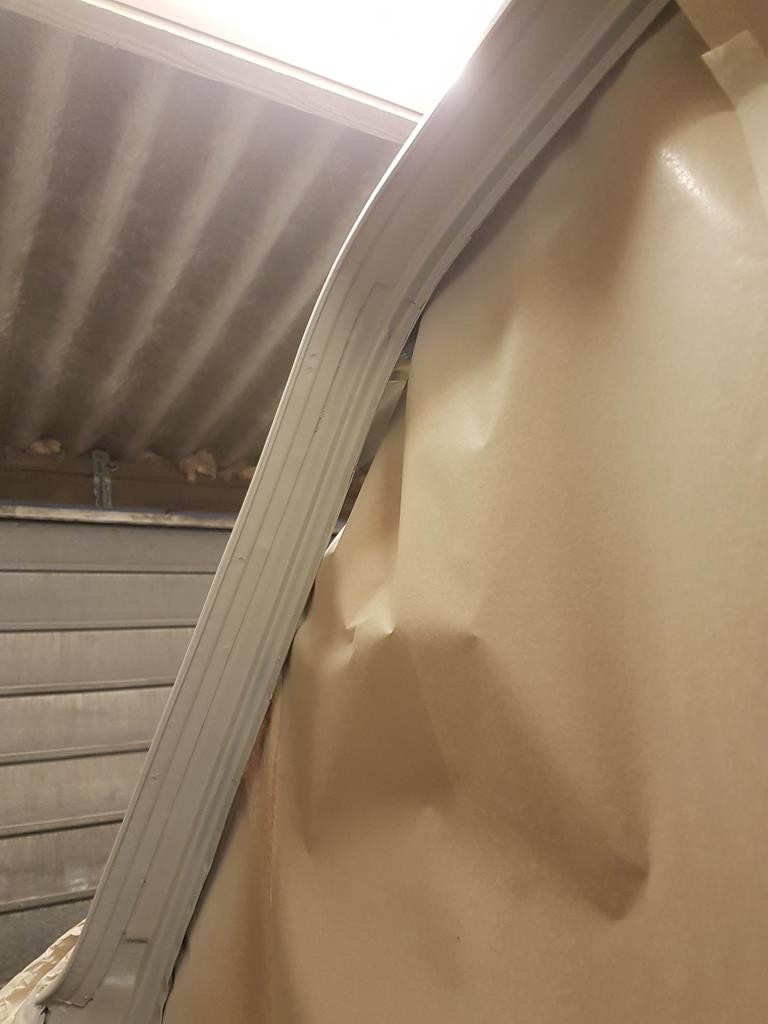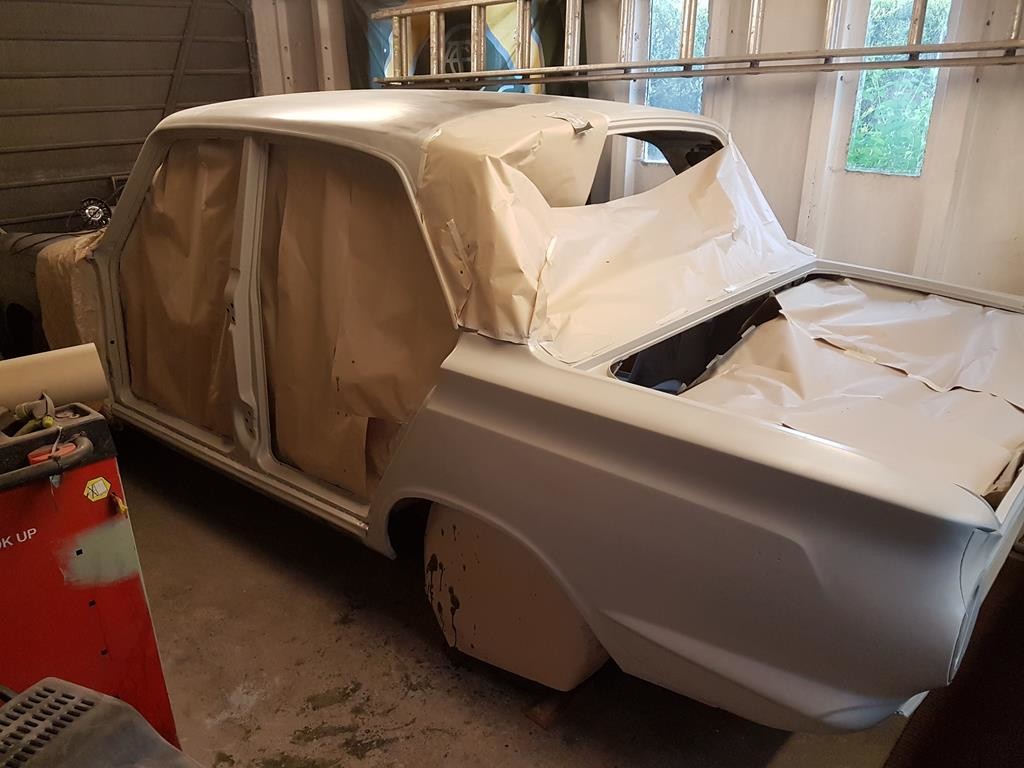 5-30-2018
I'm making a start on the roof but should I be wet sanding epoxy or do it dry?

I've done dry but I was getting as lot of build up on the paper after a few strokes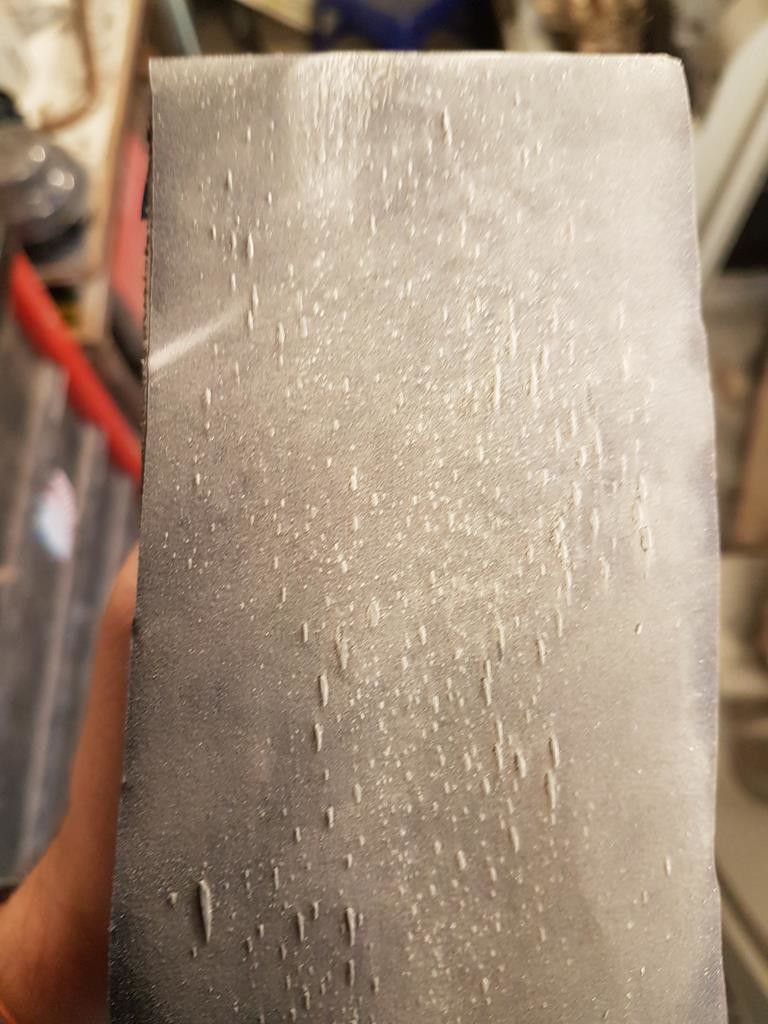 Is there a good way to clear this off? I'm using 240 because I've got some lumps to tidy up!

I've got some surface rust to sort in an area I can't really get to easily- any suggestions?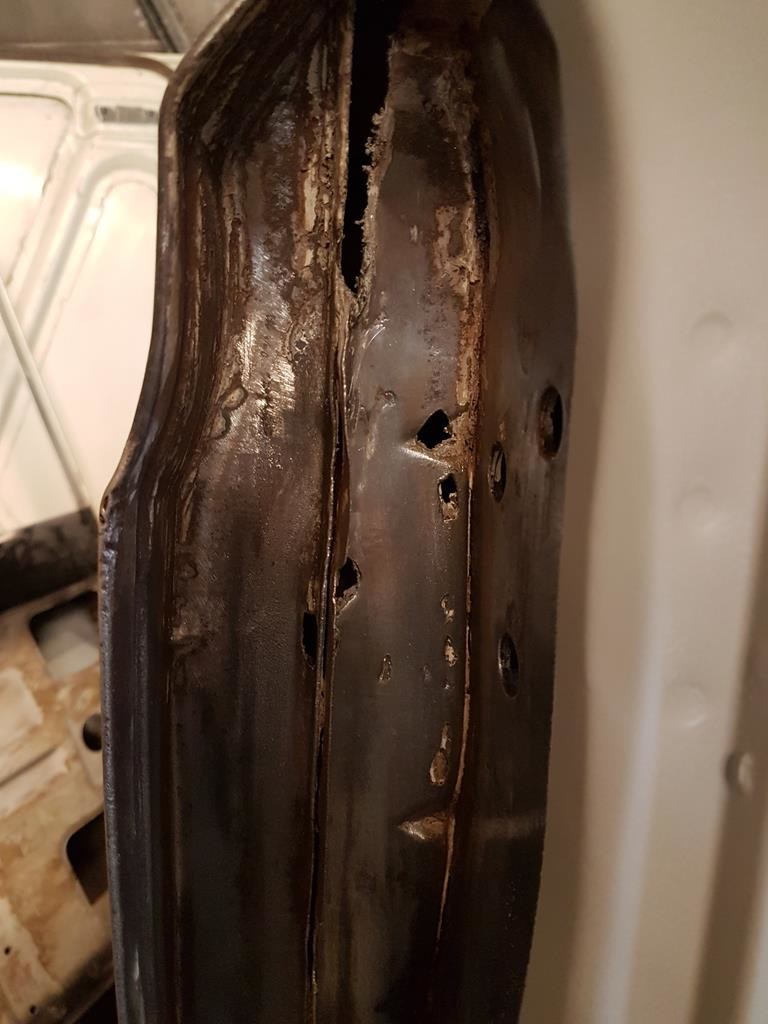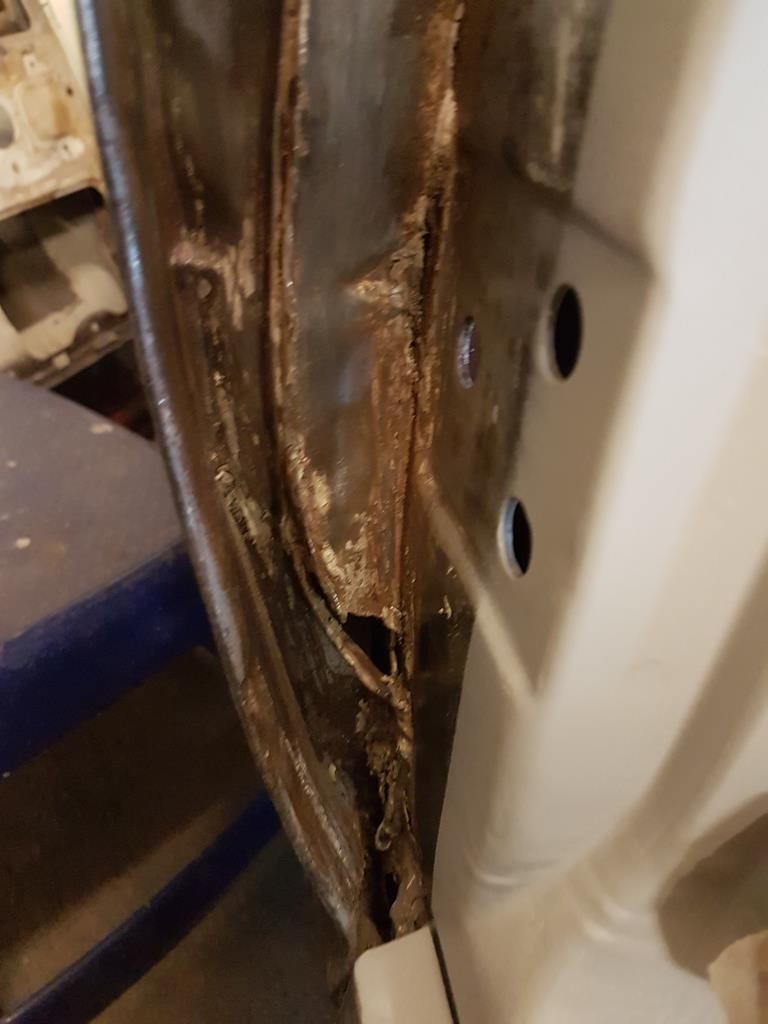 The holes can be sorted easily but I don't want to paint over rust. I've used kurust in the past but will it work on this?
6-3-2018
I've got the roof flattened but it's highlighted how thin some of the spraying was but it's great to see it have some reflection in it!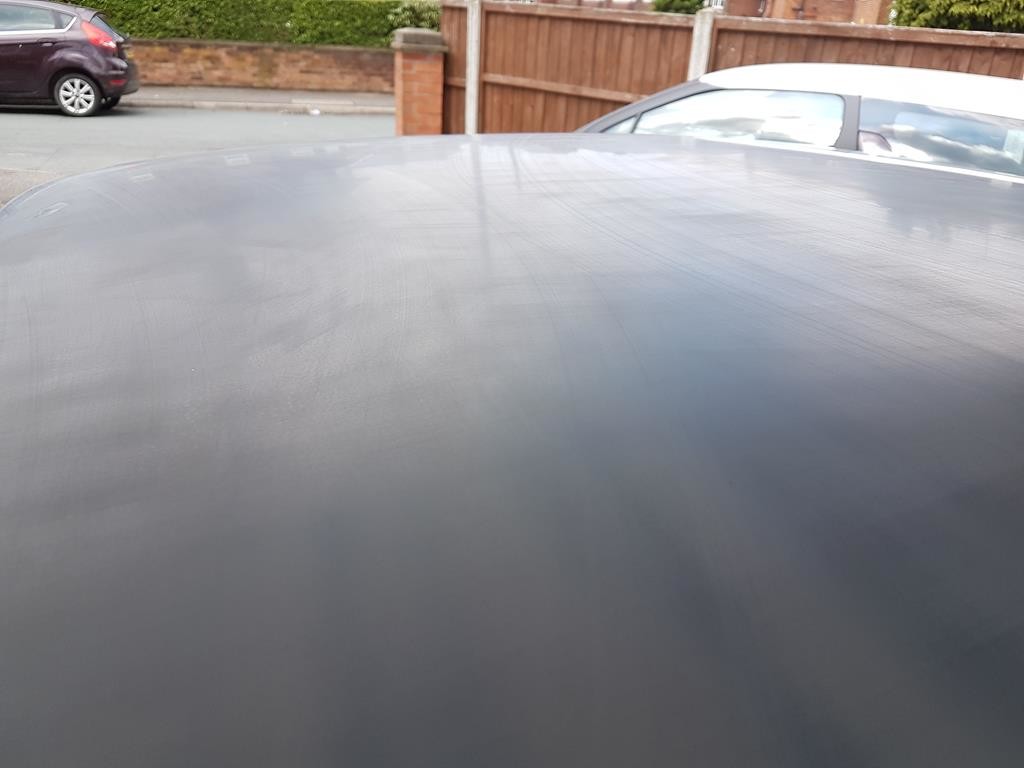 I filled the a pillar area it's not the prettiest but it's sealed at least!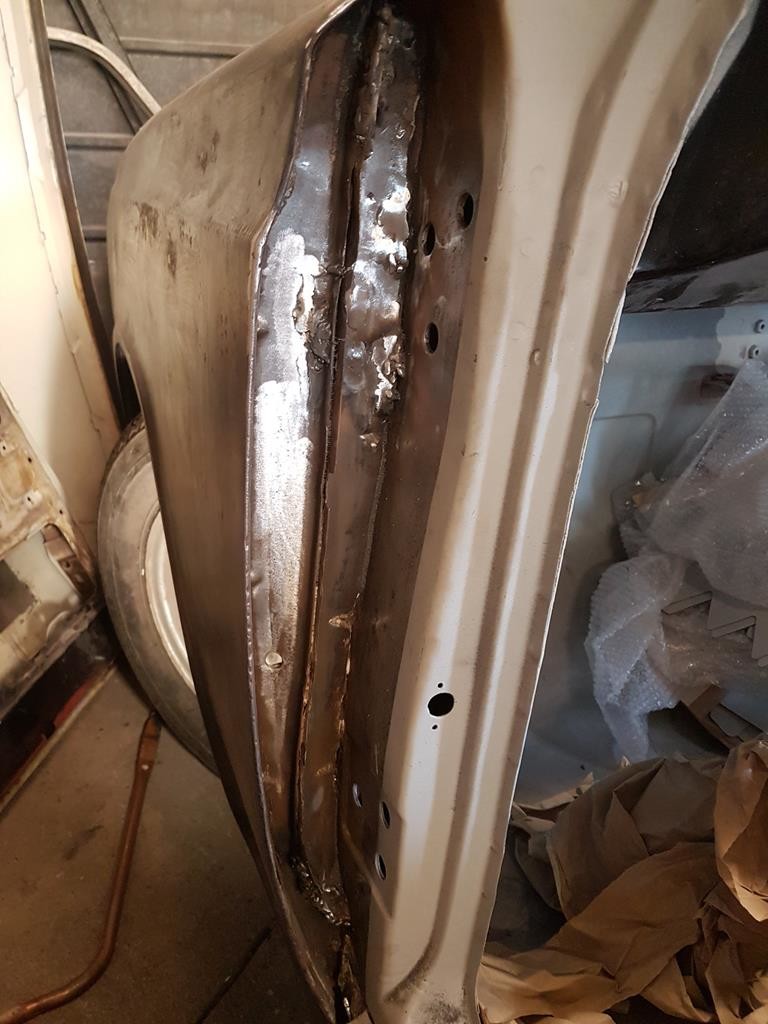 During the heavy rain yesterday I found out that the garage leaks, this is forcing my hand to epoxy the front out of safety, at least it's done now and allows me to focus on the doors and boot.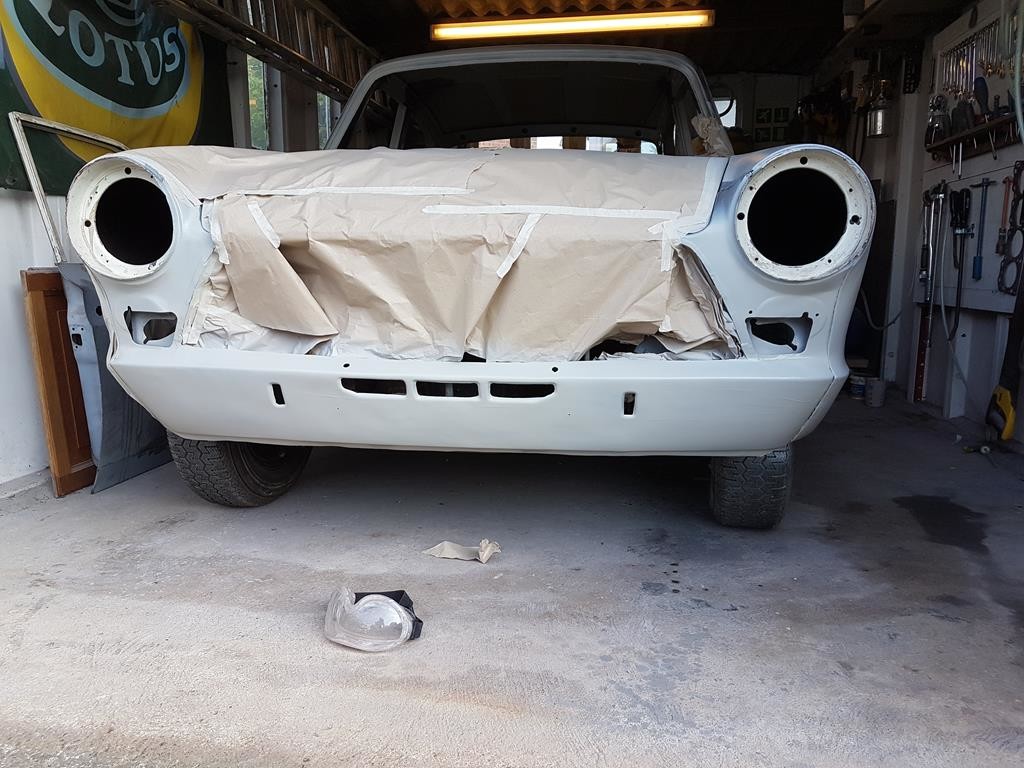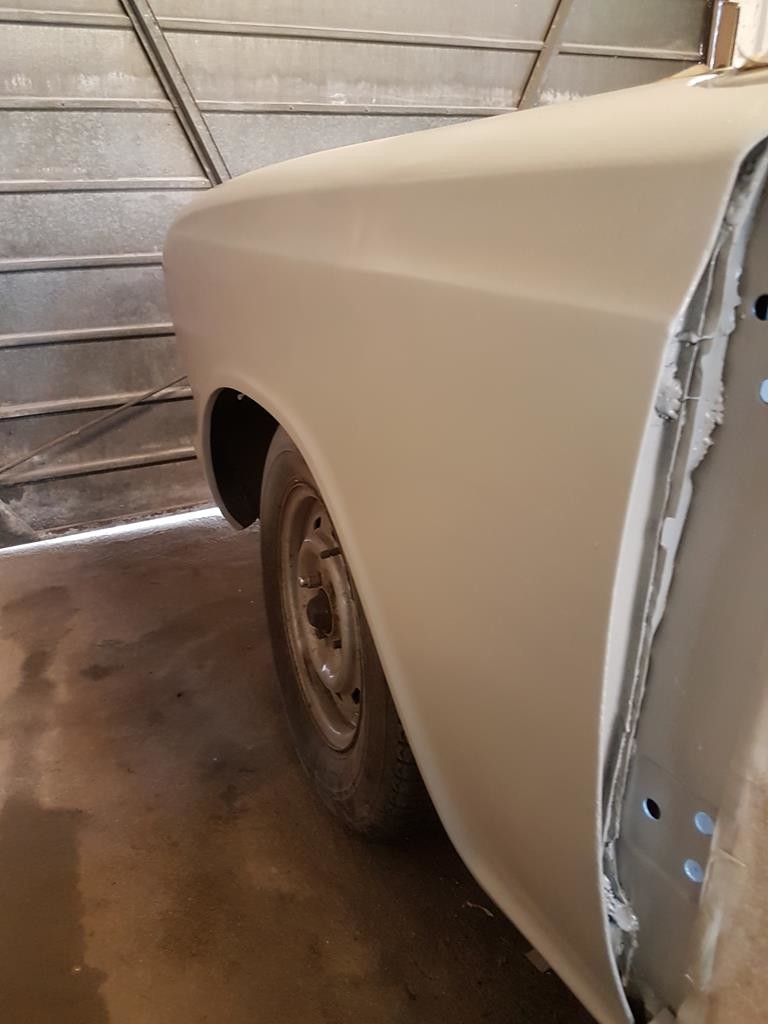 I've got some rubs because I got too close with the gun - I'll try and work out a way of extending the garage using an awning.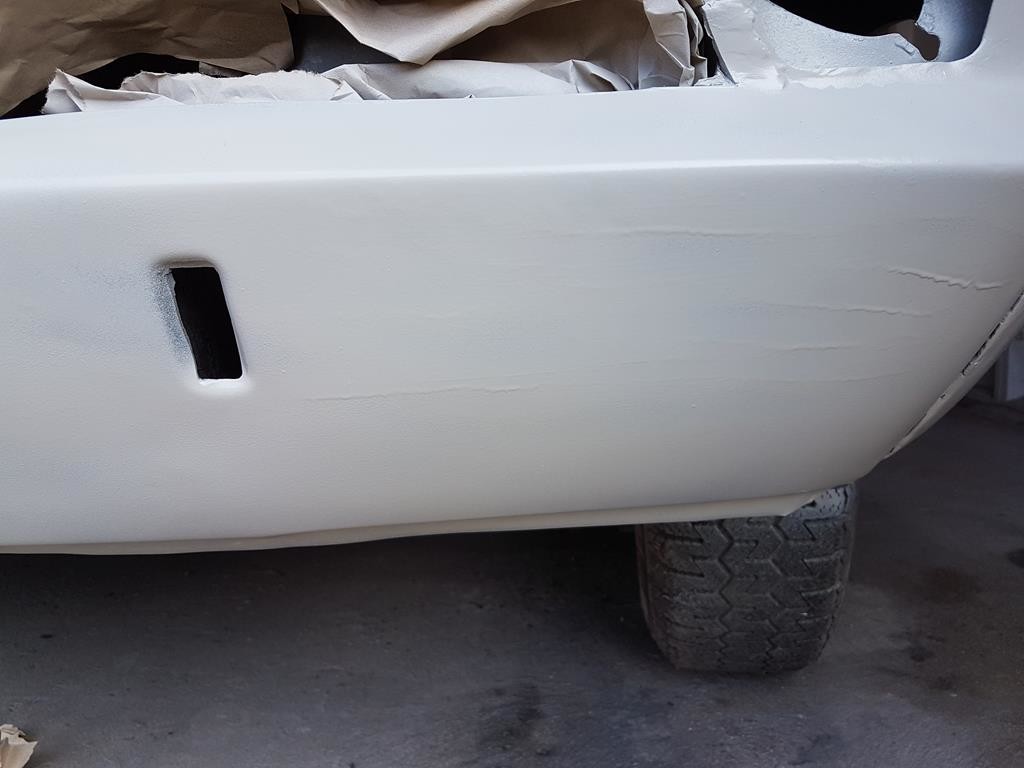 I think it's a slightly rougher finish that I'd like - I did thin it more but I'm unsure about air pressure.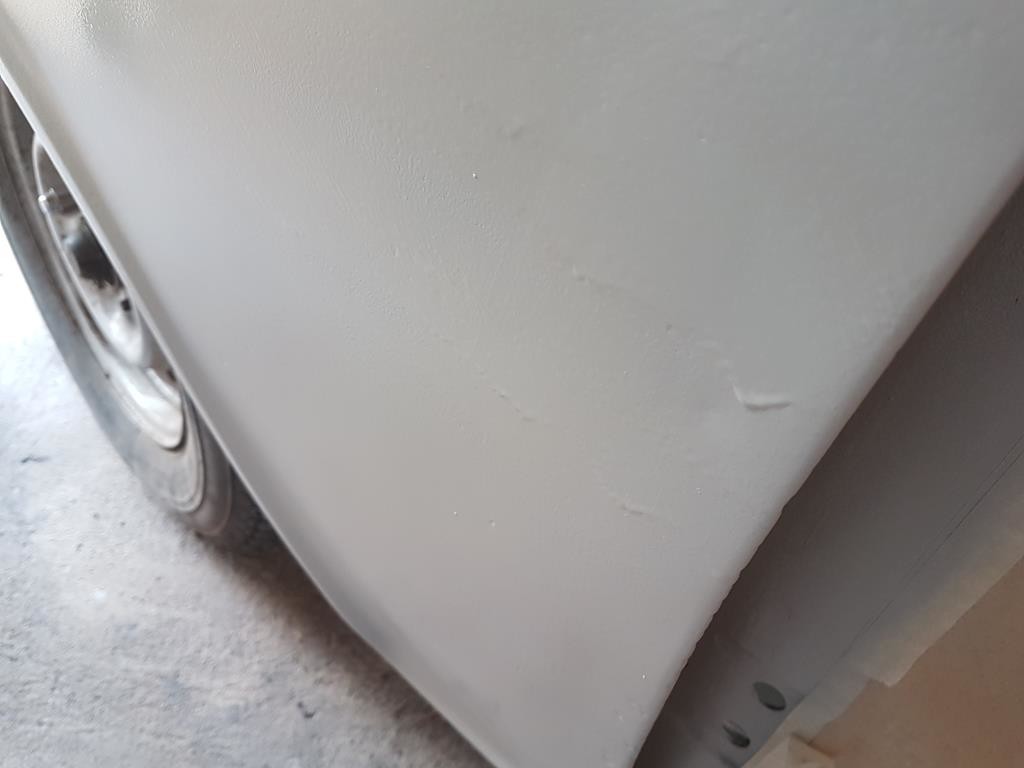 6-12-2018
So I've started playing with other panels whilst I concoct a plan to fix the holes in the front wing as it's been tricky to sort.

I've focused on the boot lid and some of the door pieces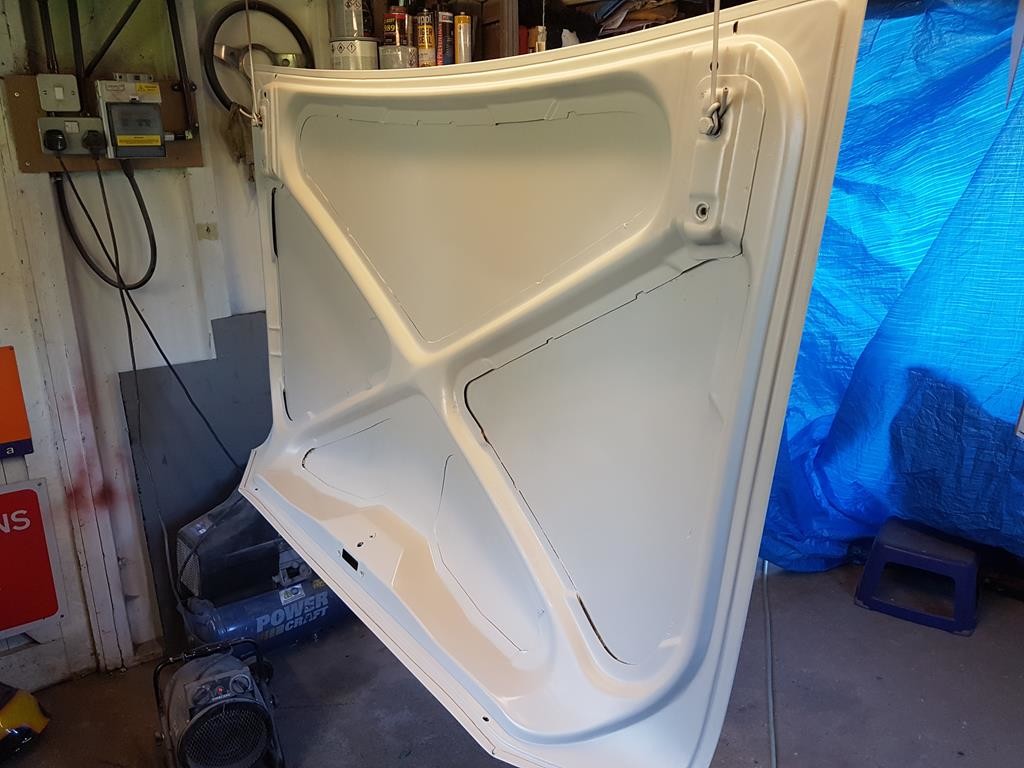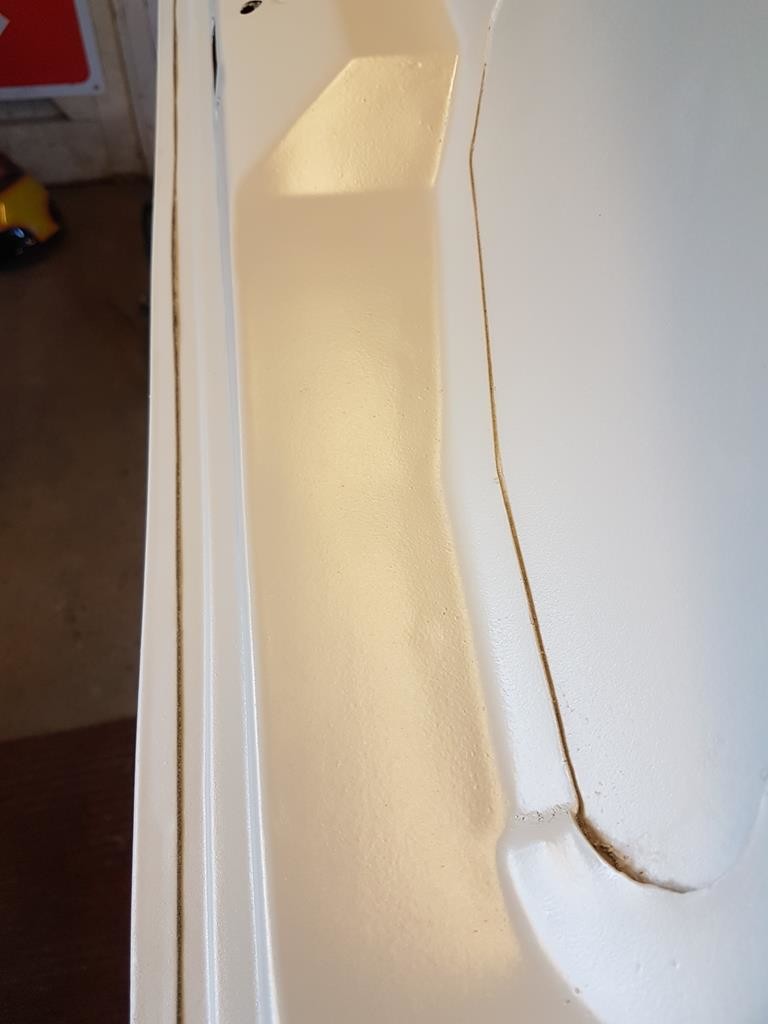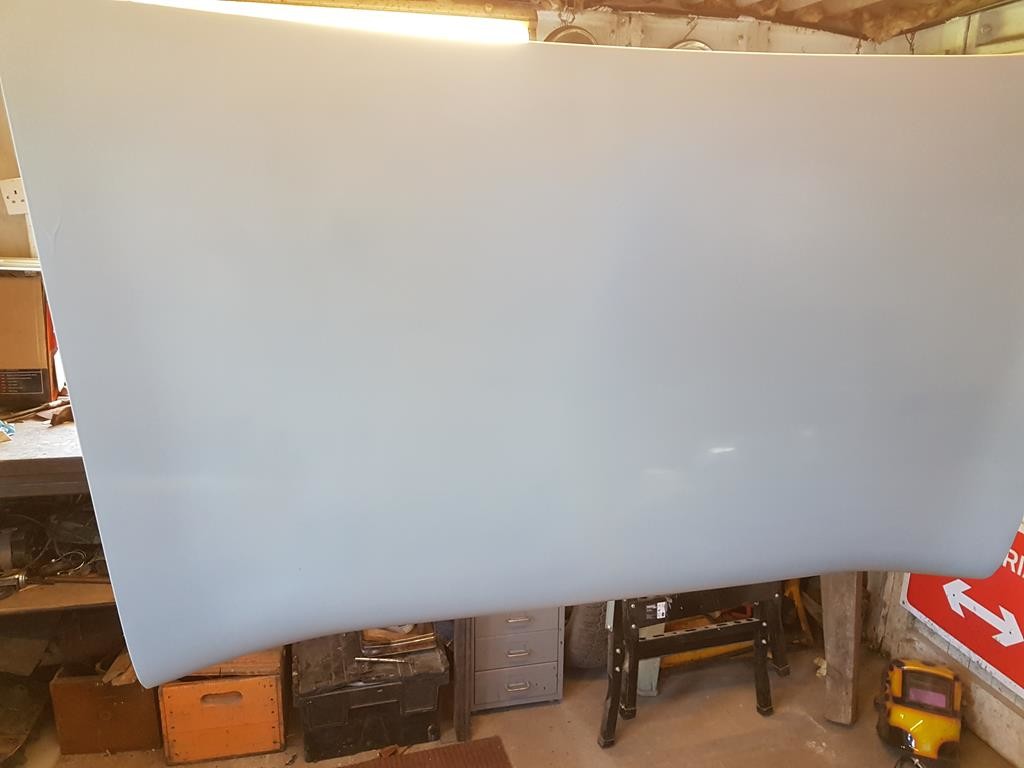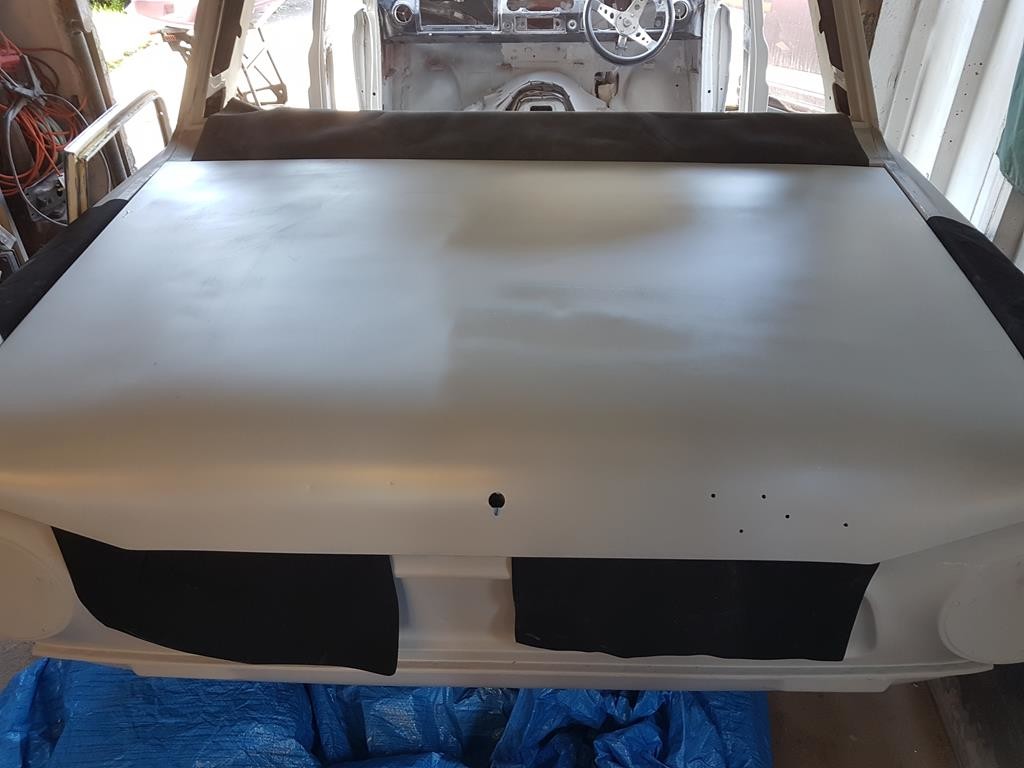 The compressor was running out of puff doing both sides but I'll not hang it this way again as it's a real pain and I'd rather focus on a side at a time.

I used the left over primer to brush the inside of the doors before I prepare the outside - looks a bit lame but all the right bits have good coverage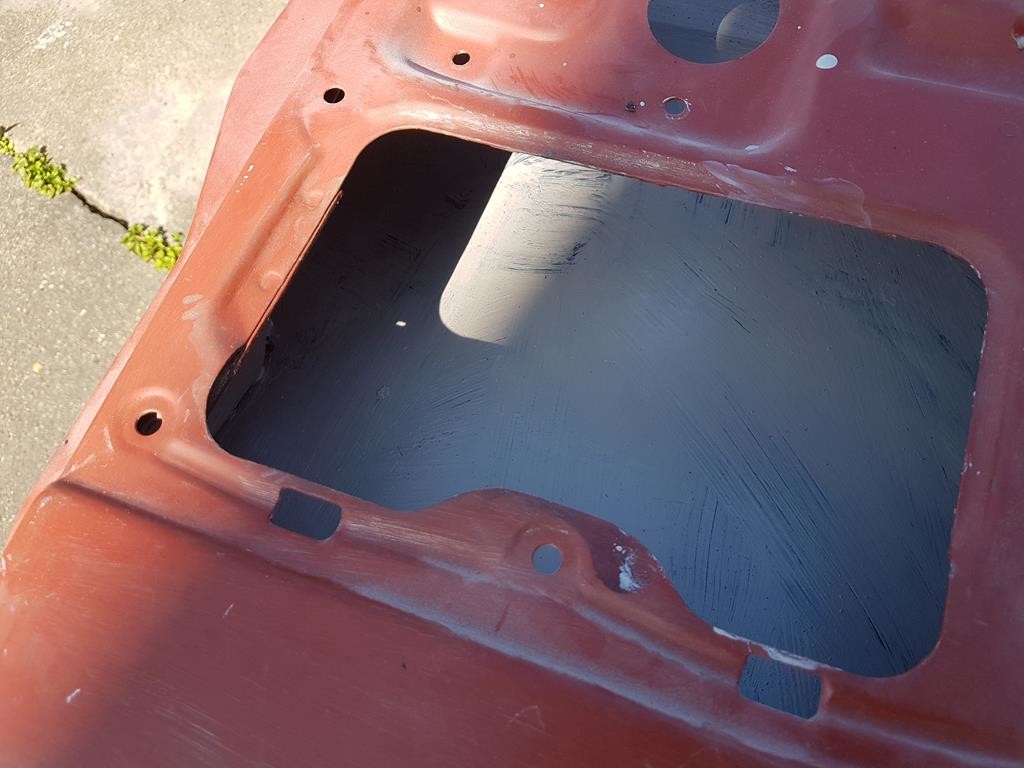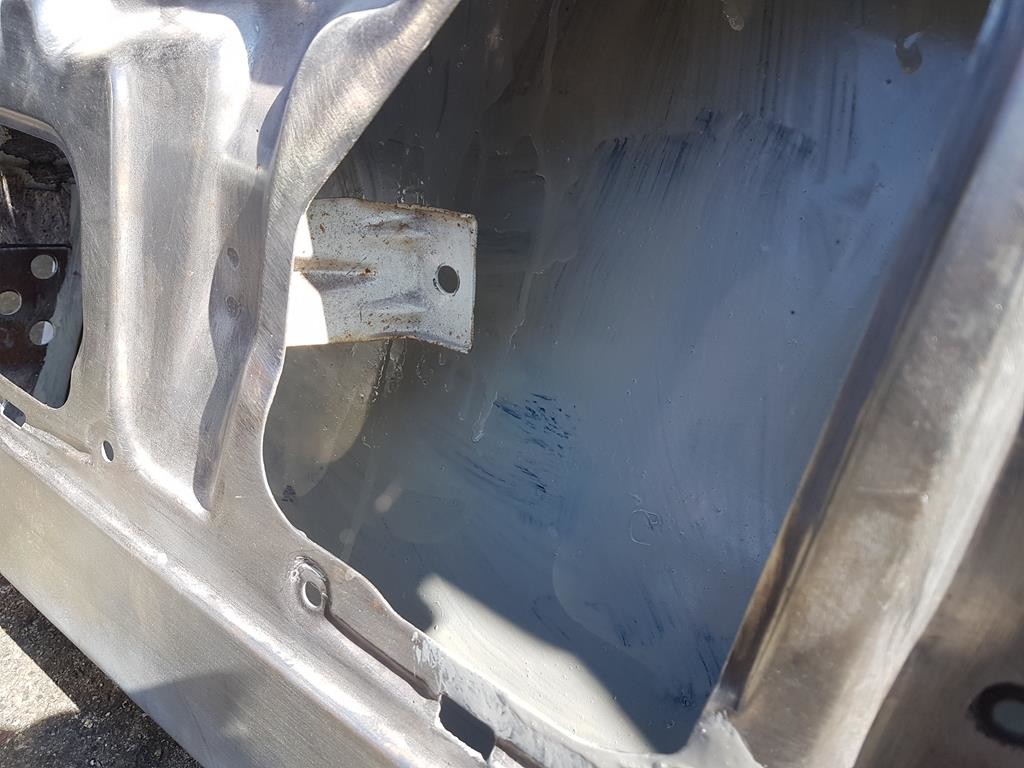 Also I cocked up - I removed these pieces from beneath the trim on the c pillar but I have misplaced the drivers side. I'll try to find it but I have a feeling it got caught up in some stuff I threw out.

If anyone can help me I'd even buy a pair.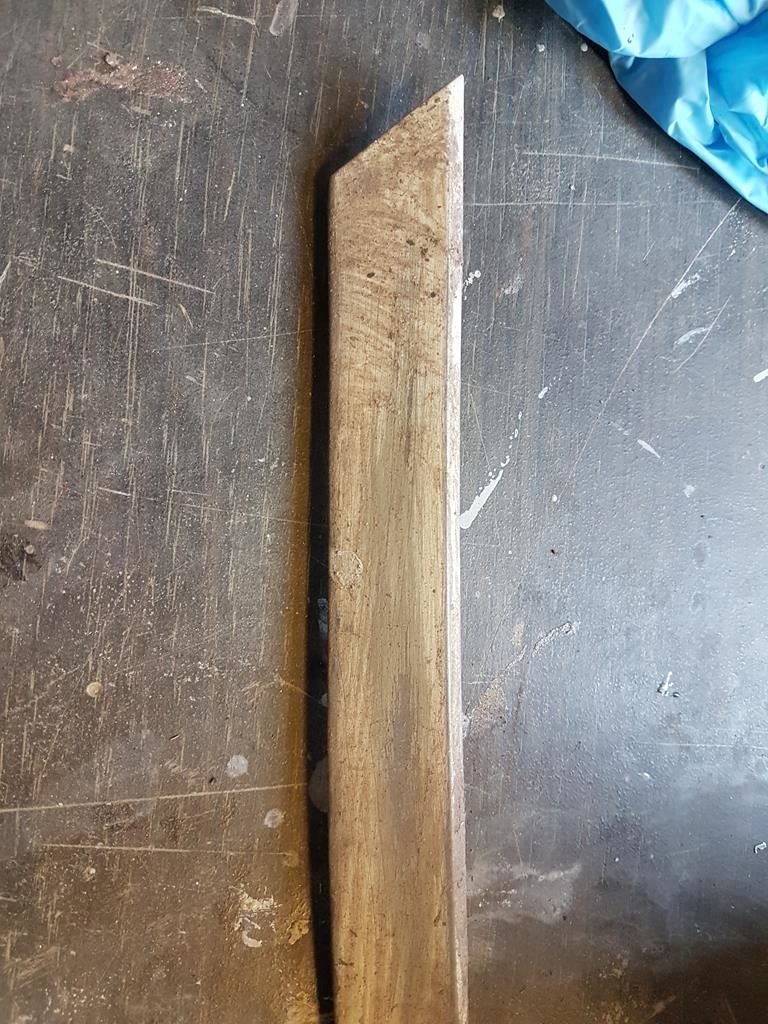 7-2-2018
I've been cracking on with getting the doors in primer and luckily I managed to do 2 inside and out and a 3rd on the outside, good thing I had an old wardrobe door to support them!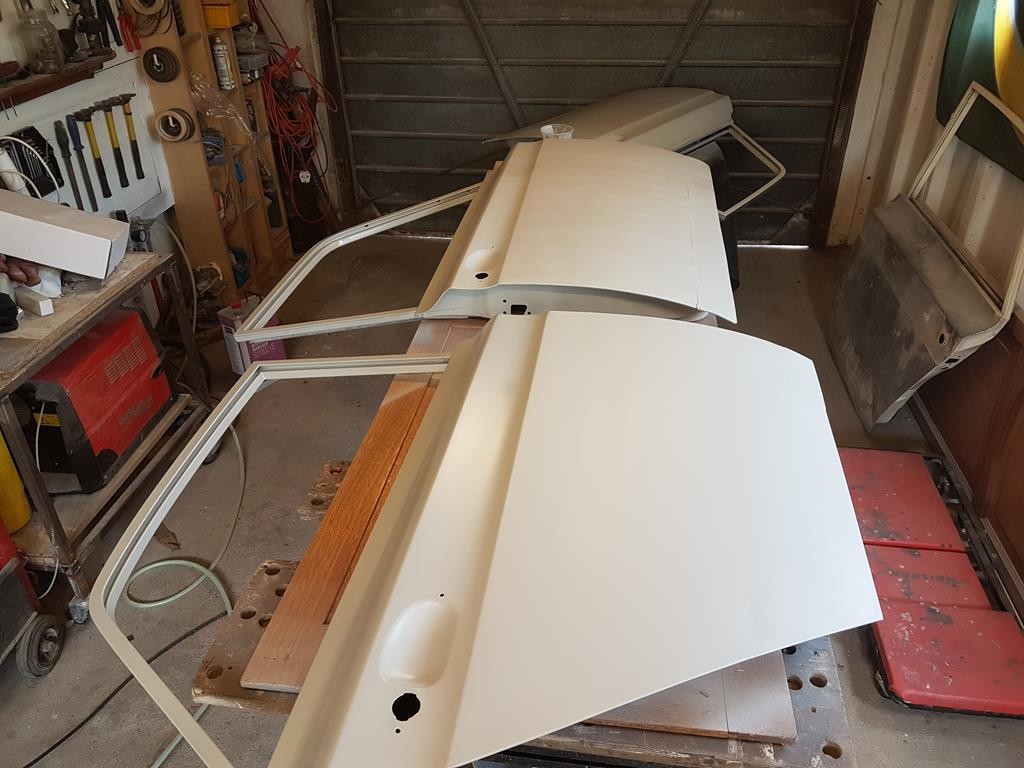 With the oil radiator on it got mega hot so I could do both sides in a day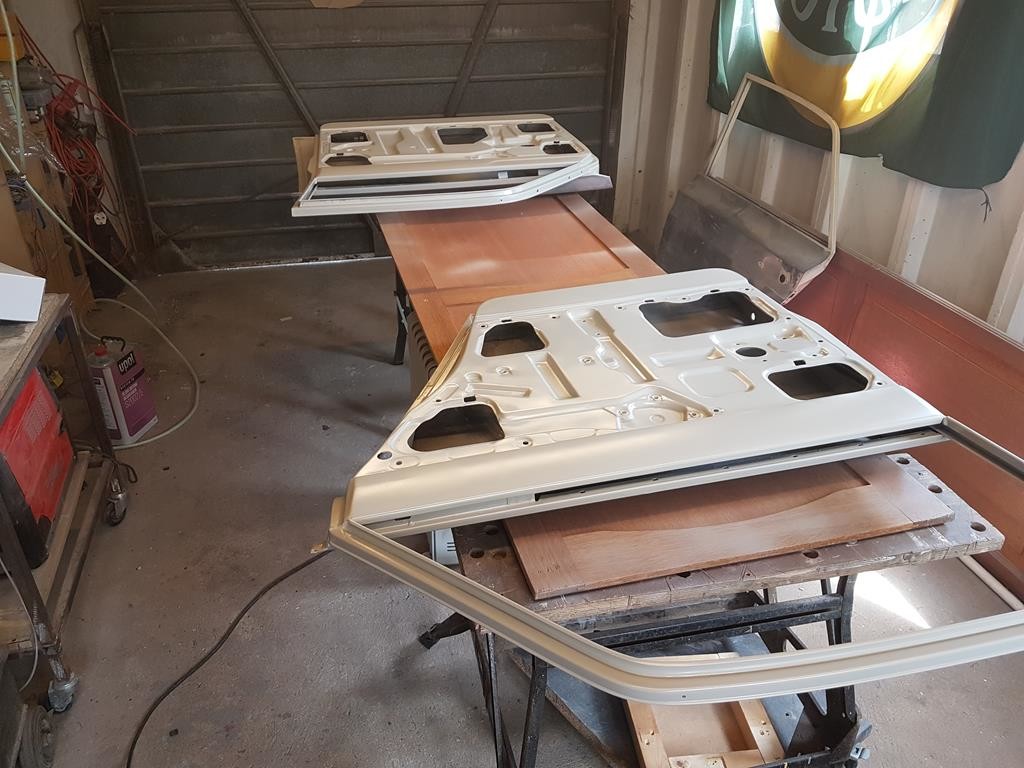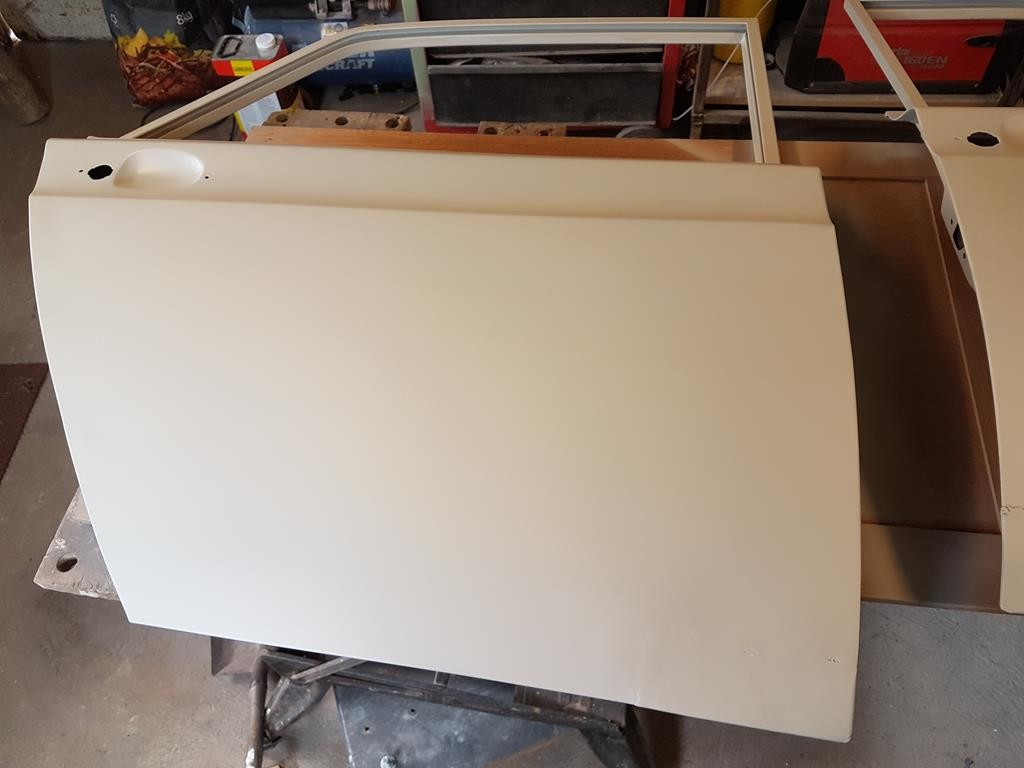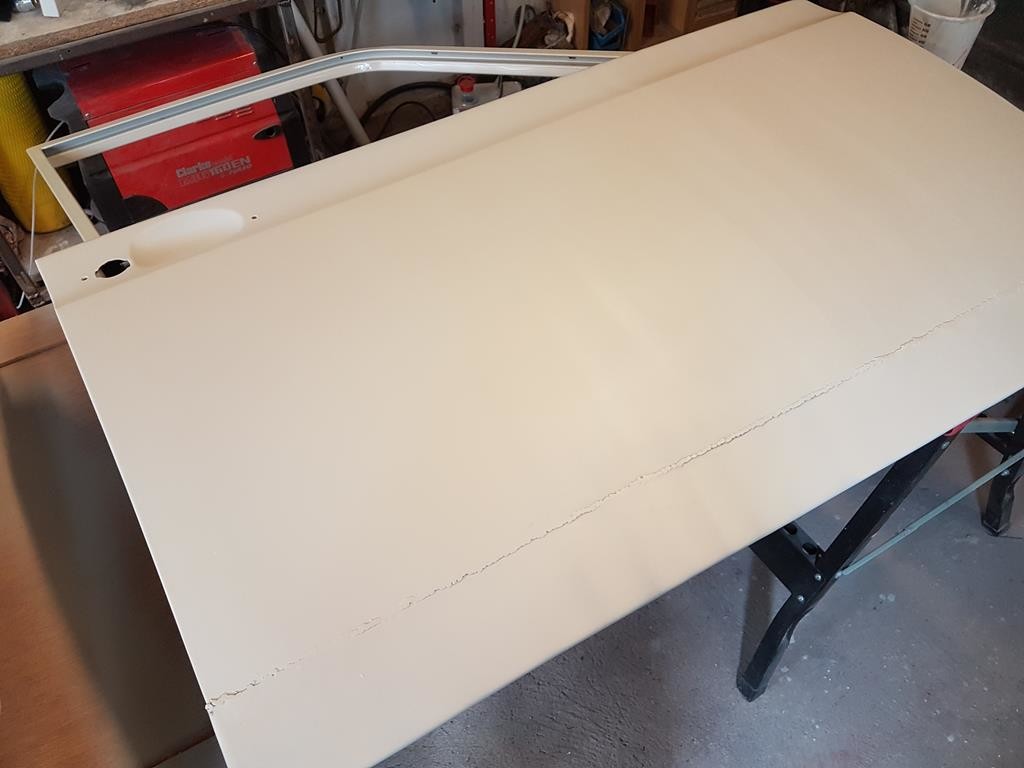 These have been put away so that I can focus on the shell rather than the flaps!

The inside has been seam sealed and I've flatted the epoxy it's had a 2nd epoxy go on but I think I've found some low patches that need a little work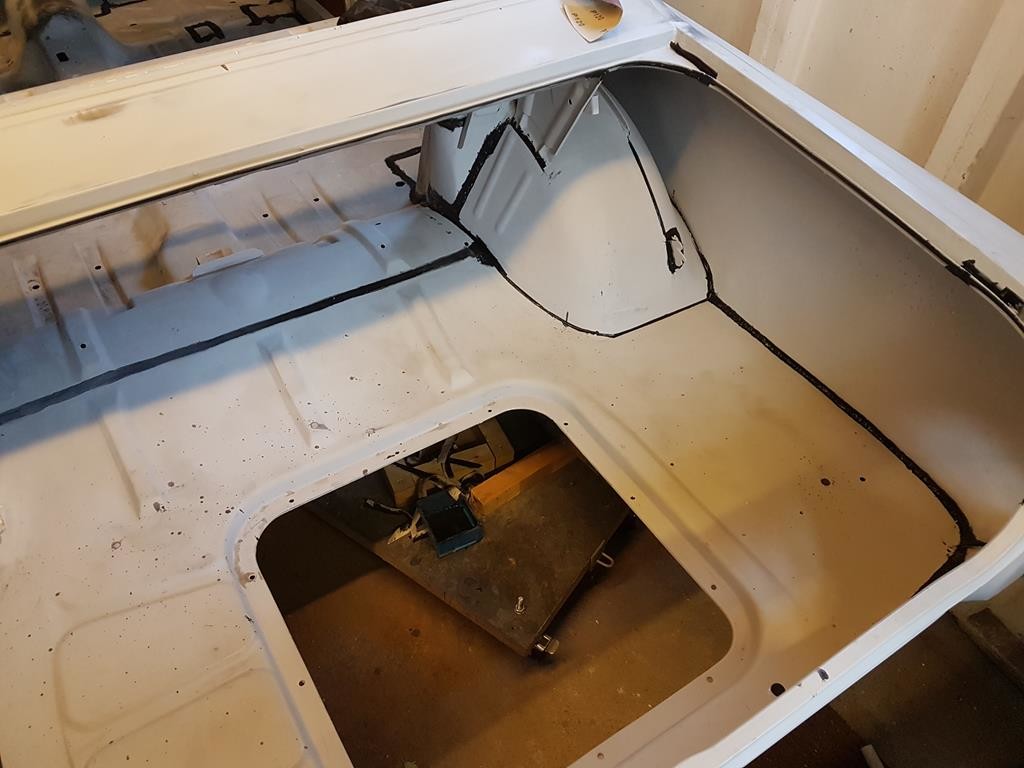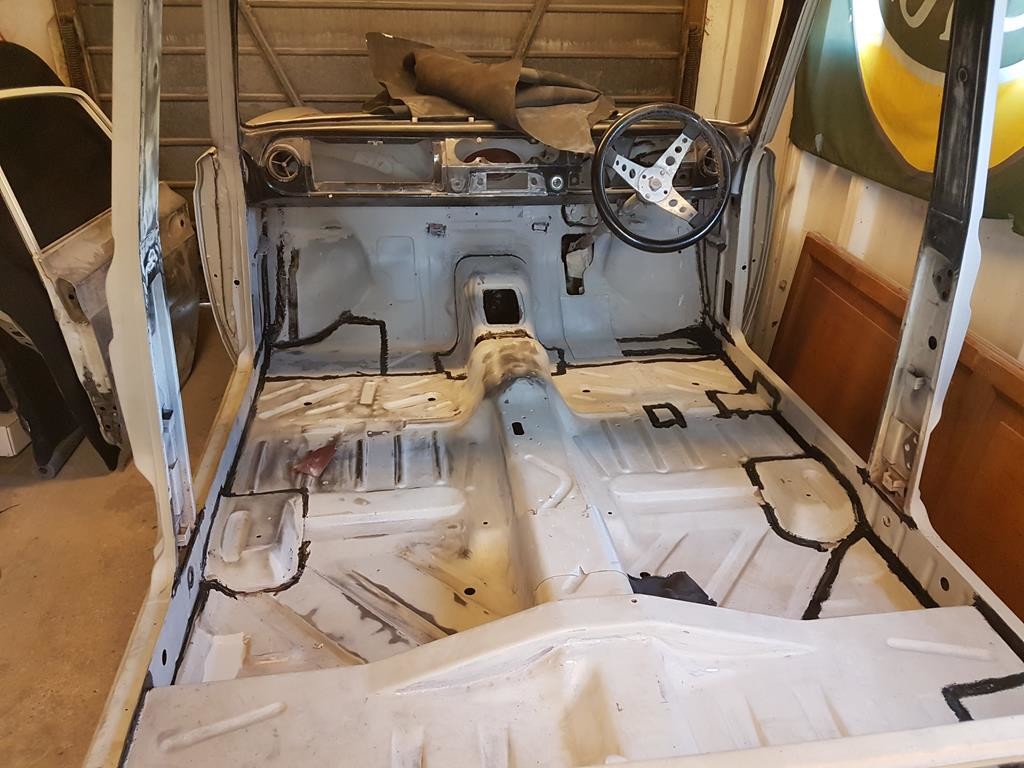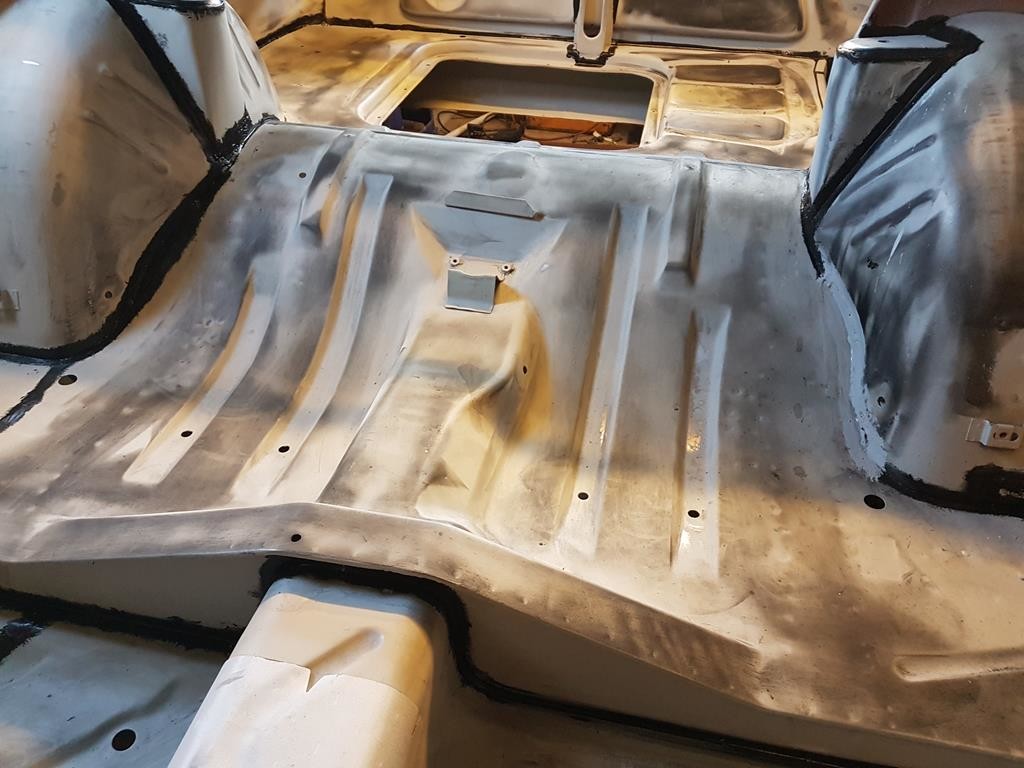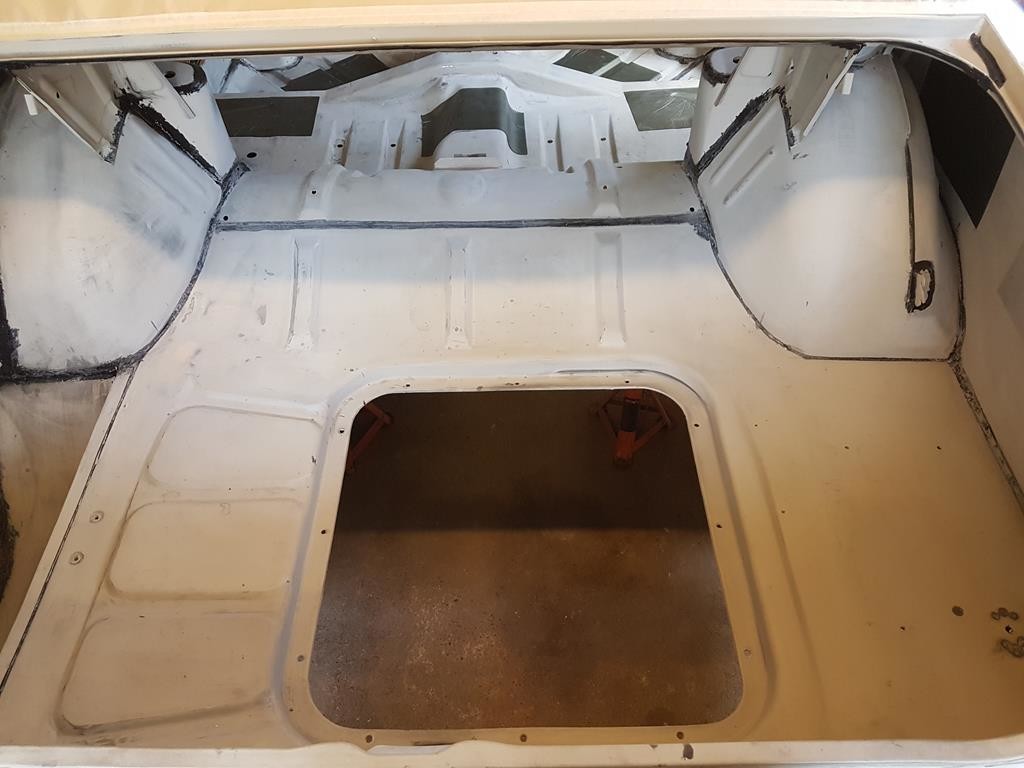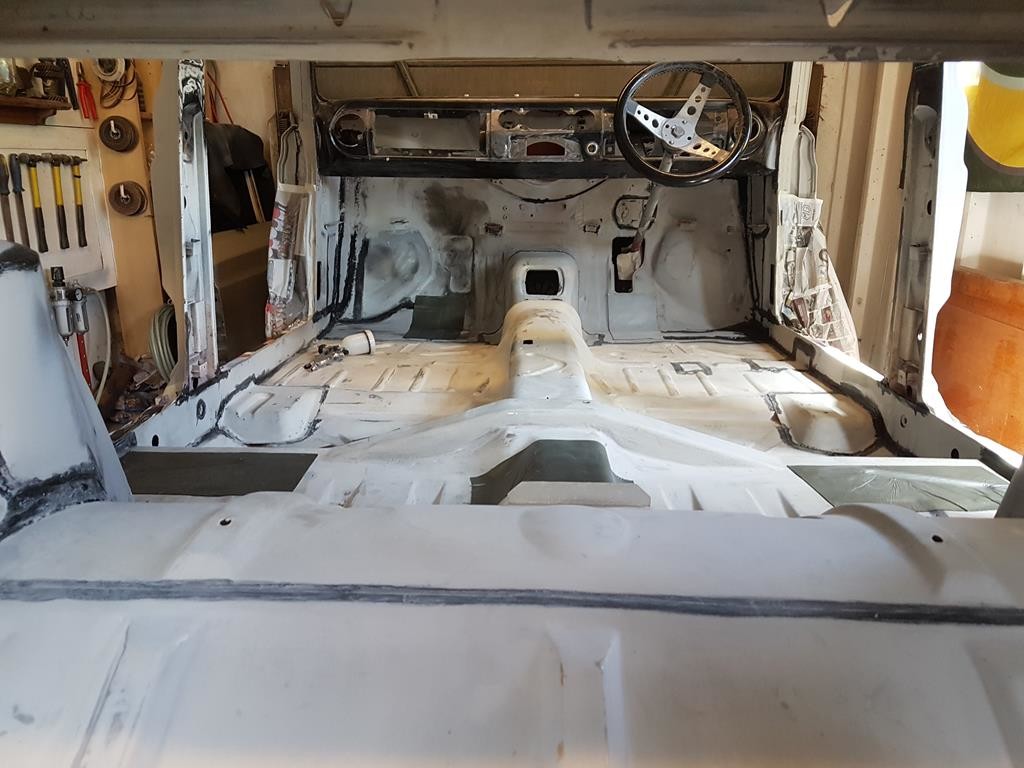 I also used classic cars to protect my classic car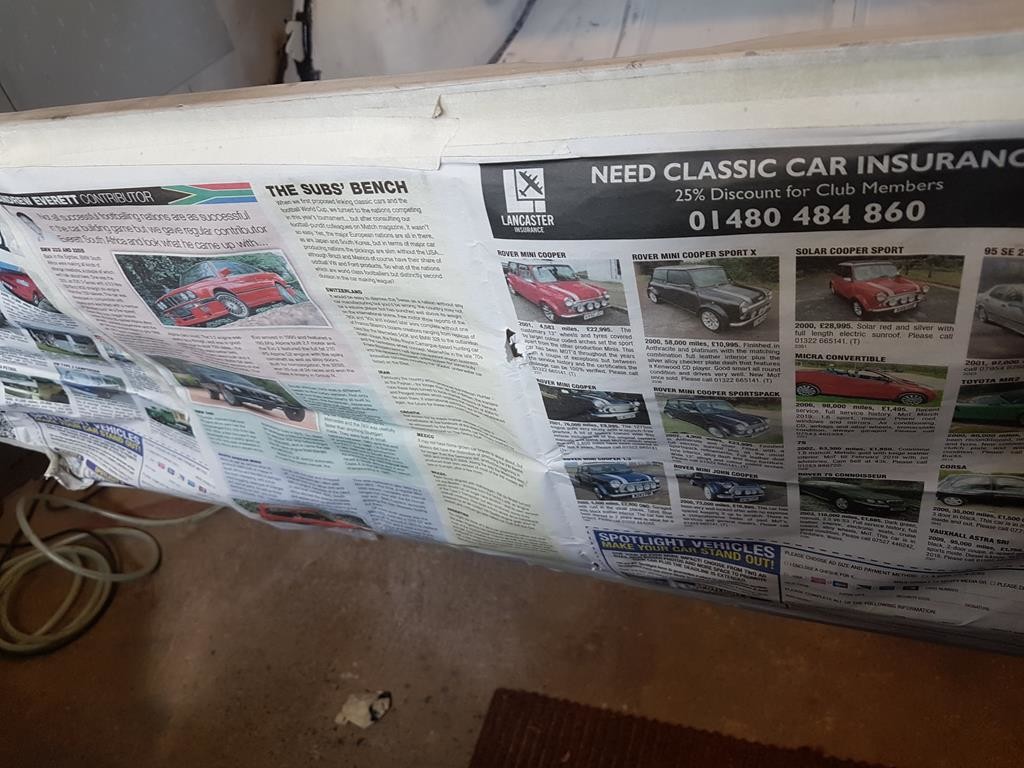 And new primer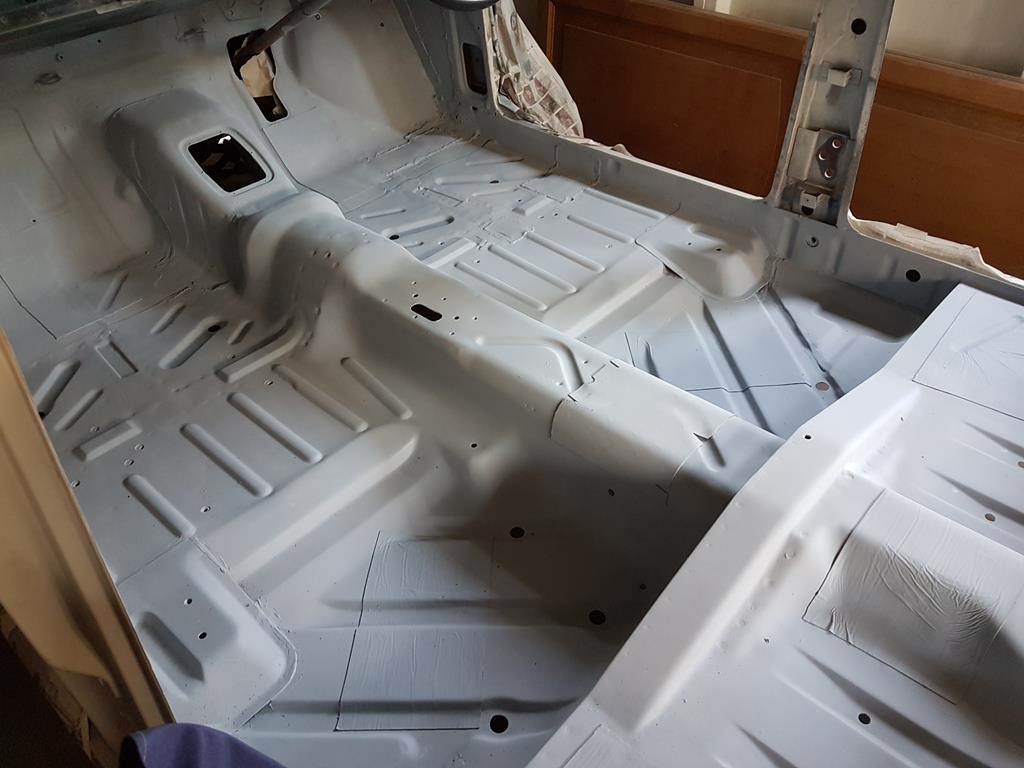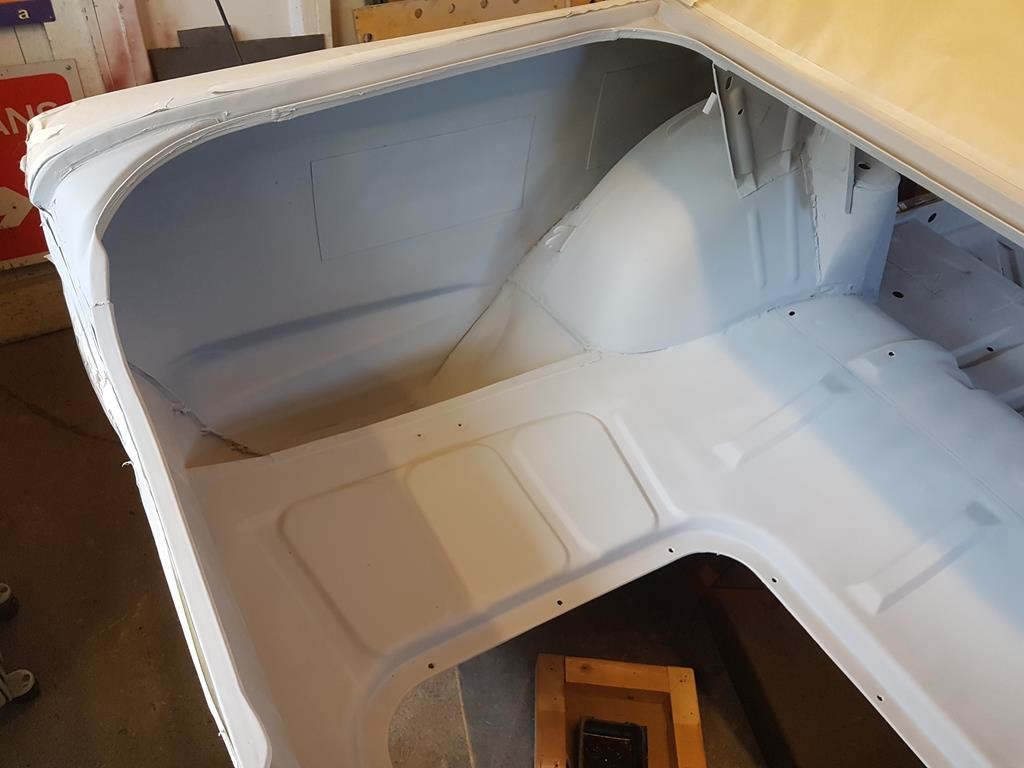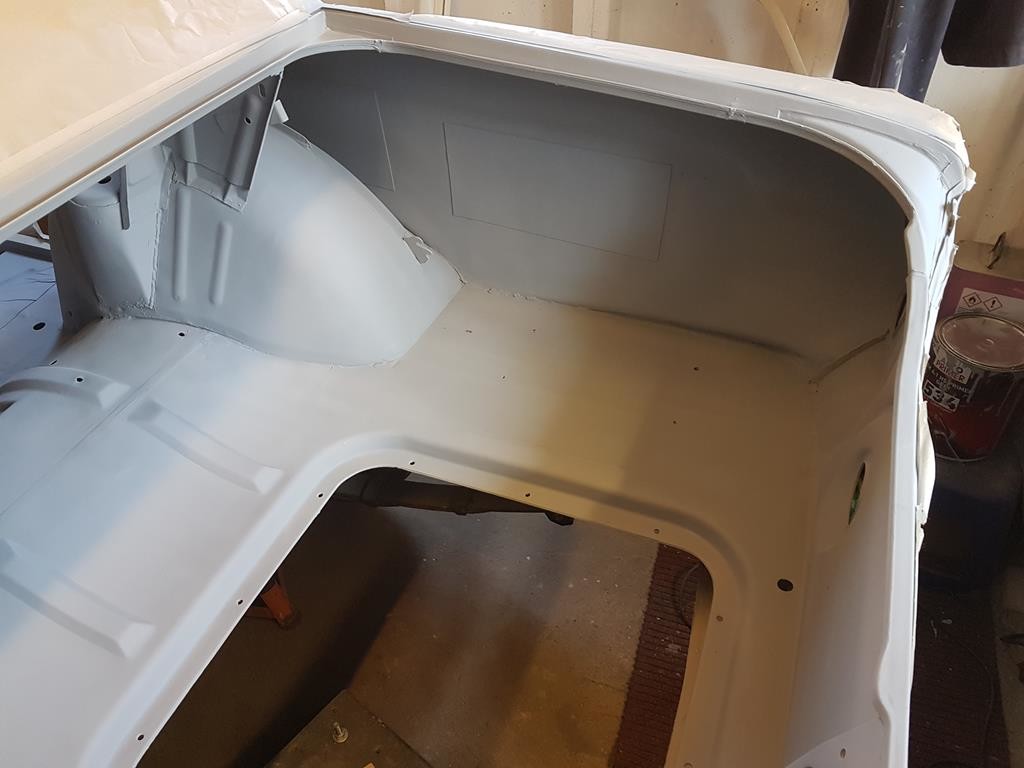 I think I'll be seam sealing the underside of the next few days but I'll focus on the wings as I want to get them level but I need a longer sanding block, could I use wood? It'll stay flat but some advice would be great.

Also is there anyone in the Nottingham area who can lend me an engine crane for 30 mins - I need to pull the engine and it's ready to go!
7-4-2018
Thanks Chris, I sent you a message but I went to the local paint supplier and bought the hook and loop block below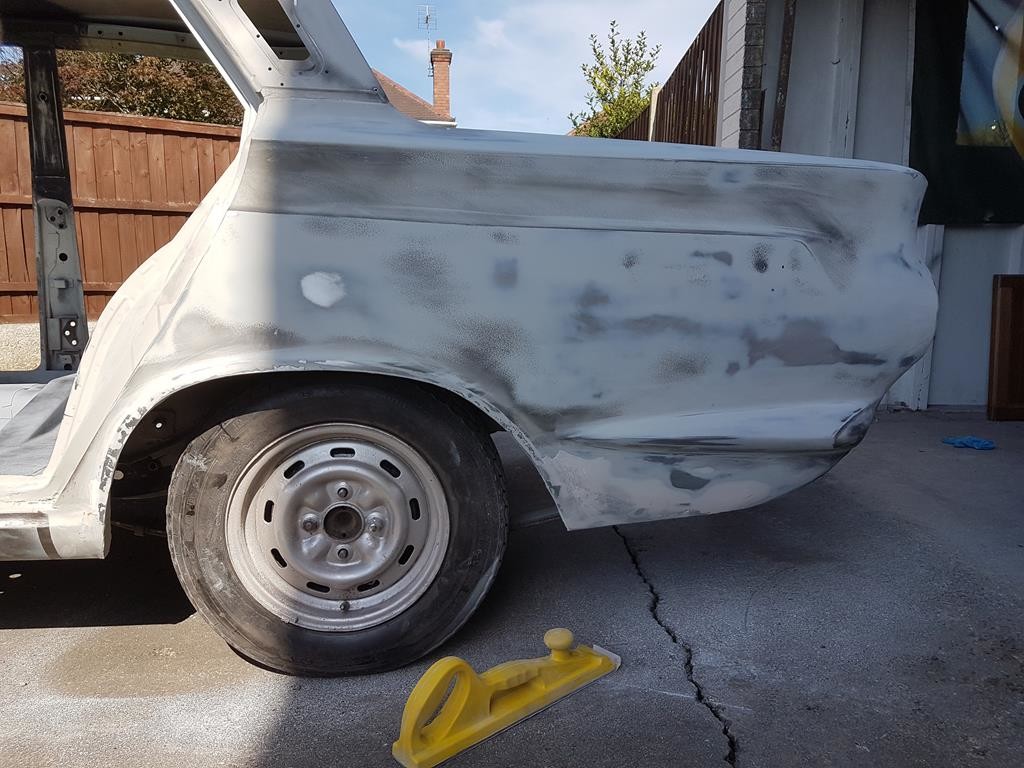 I've done quite a bit today which was much more preferable than being in the office at work!

So there are more low spots than expected but they can be sorted.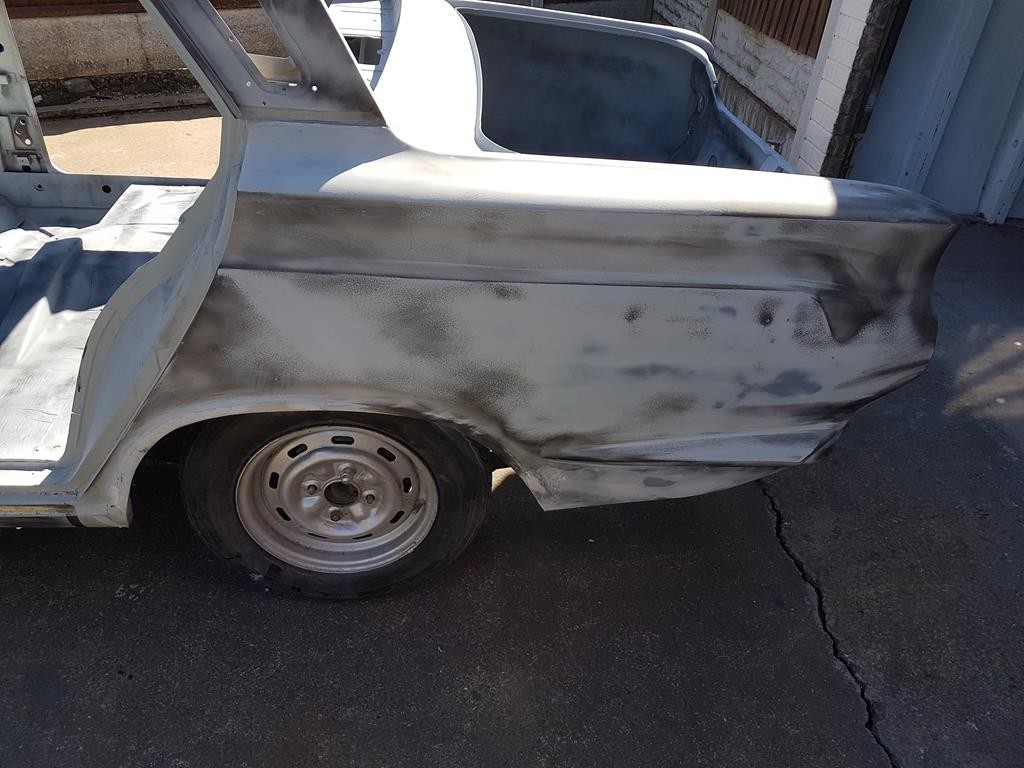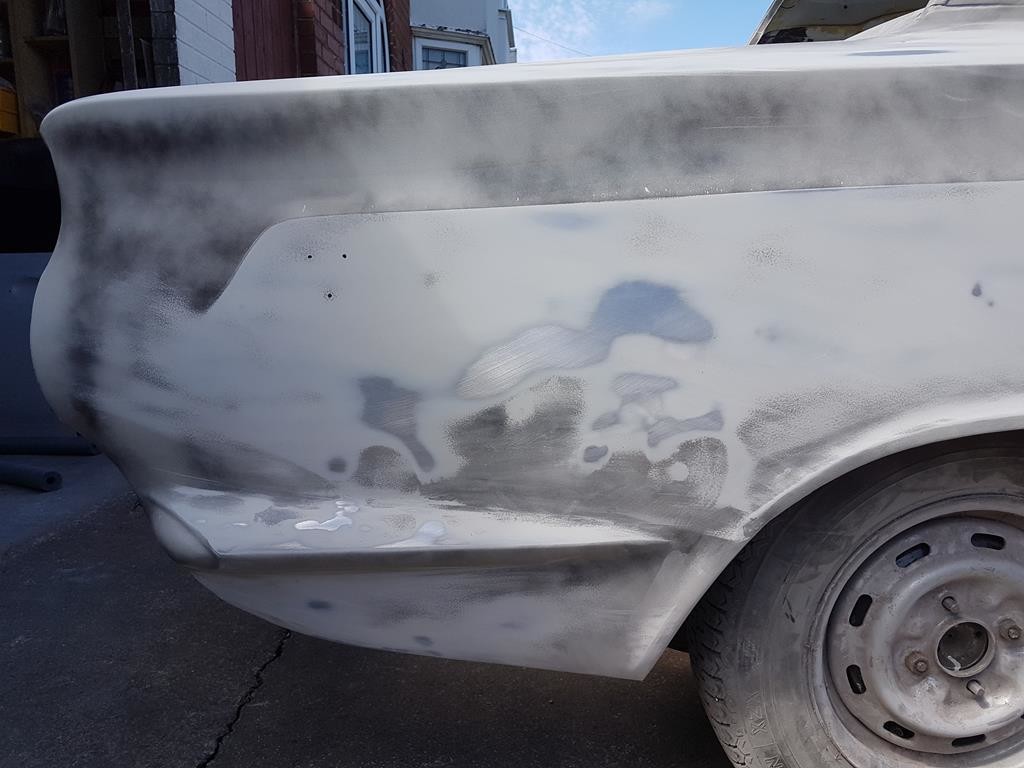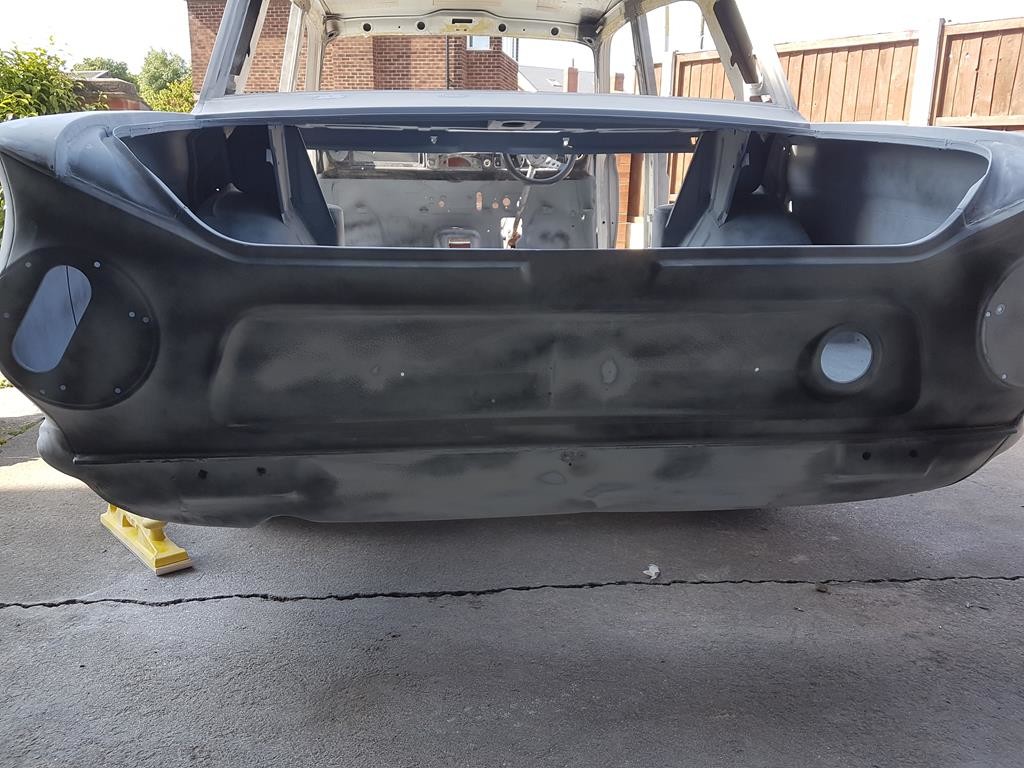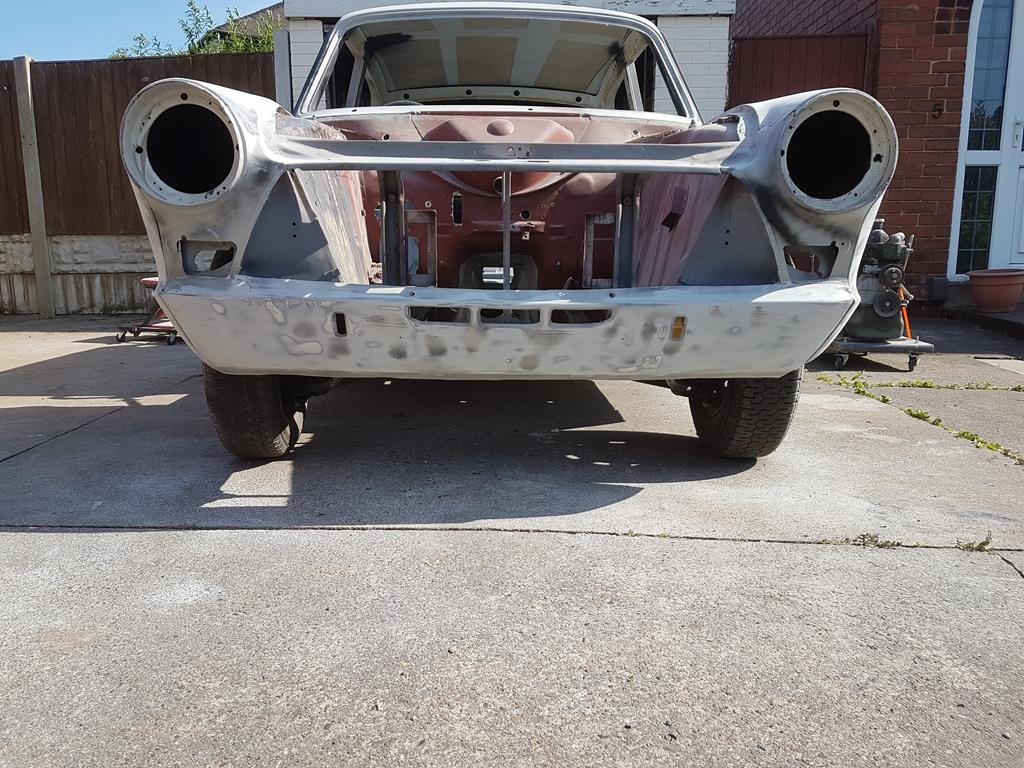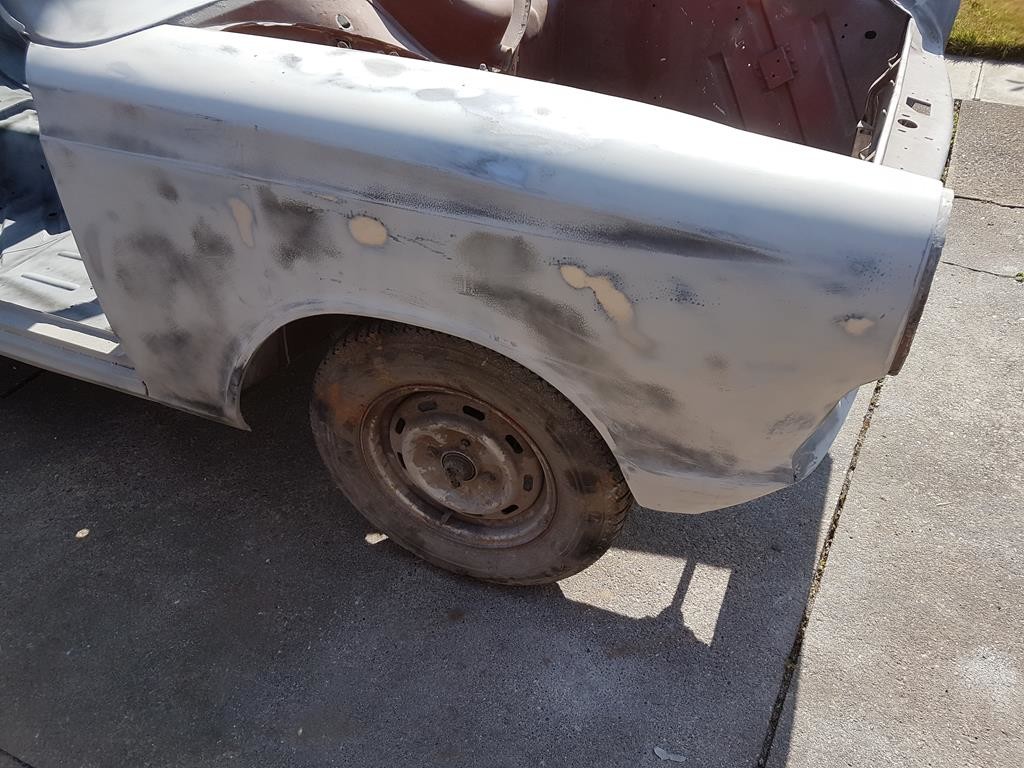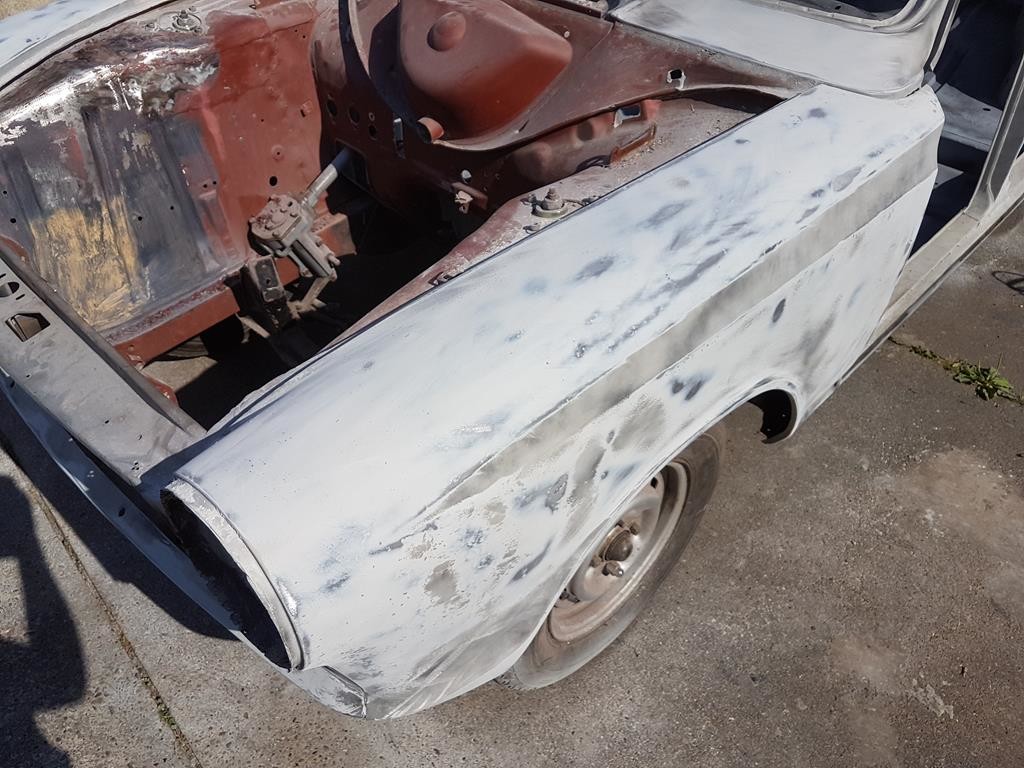 Shandylegs kindly came over today with his engine crane to lift the engine out - thanks again for your help!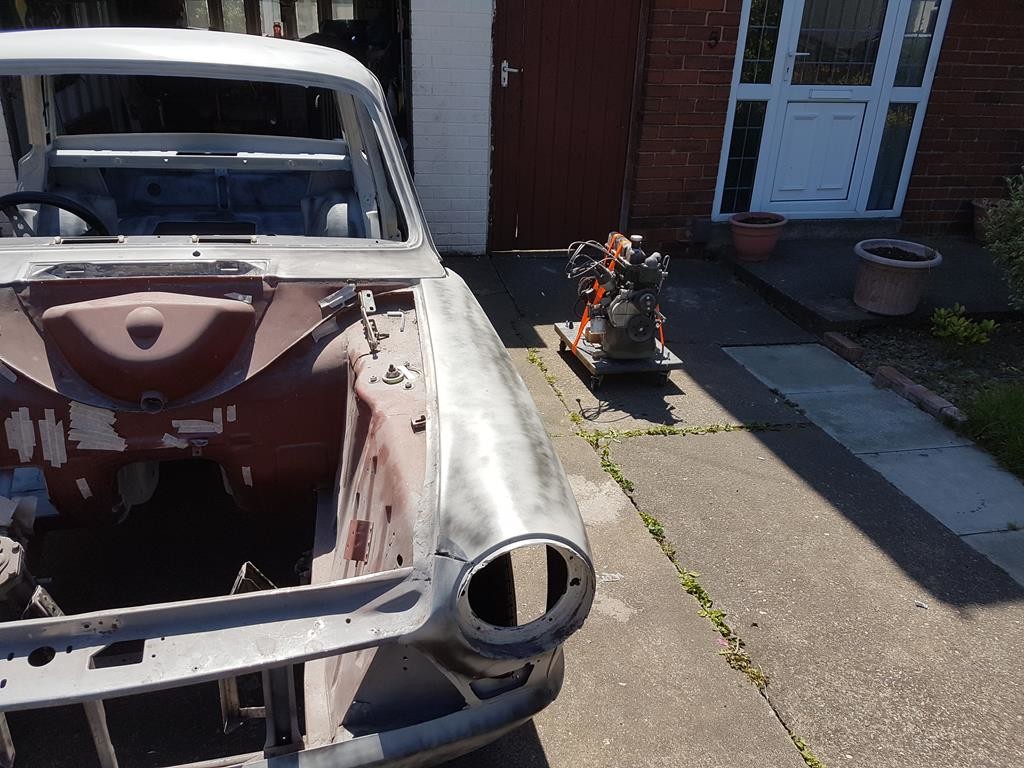 Now the engine is out I'll crack in with the inner wings and I made a start on the bonnet too.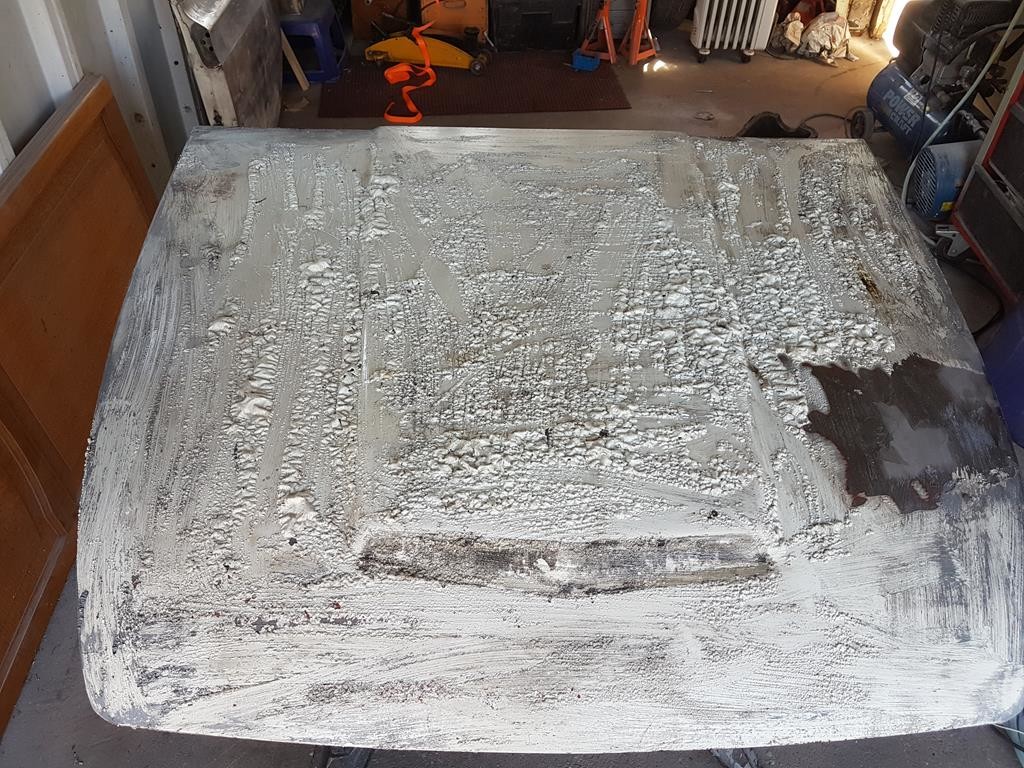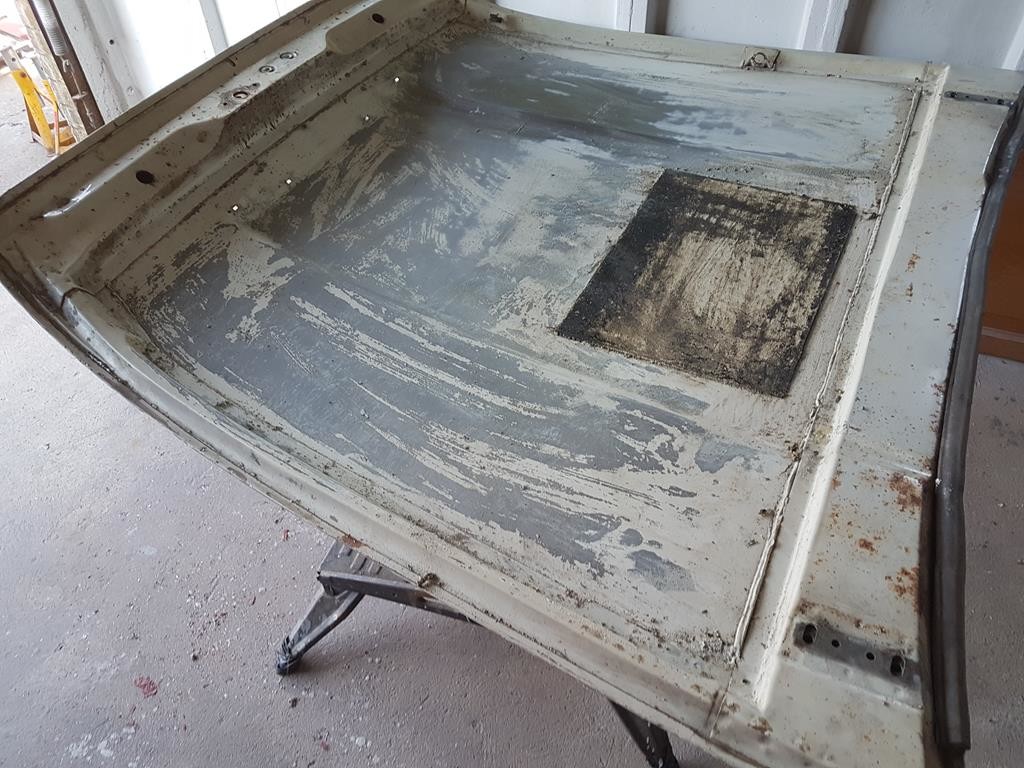 I've got a few bits to do in the morning- then I'll start filling on the back and sorting the welding/ bare metal work whilst it's curing.

I'm going to work out a frame that'll mount where the subframe is so I can remove the front suspension and roll the shell out on castors - it makes sense in my head at least!
7-15-2018
I'm still getting on with the filling of the rear panel and rear valence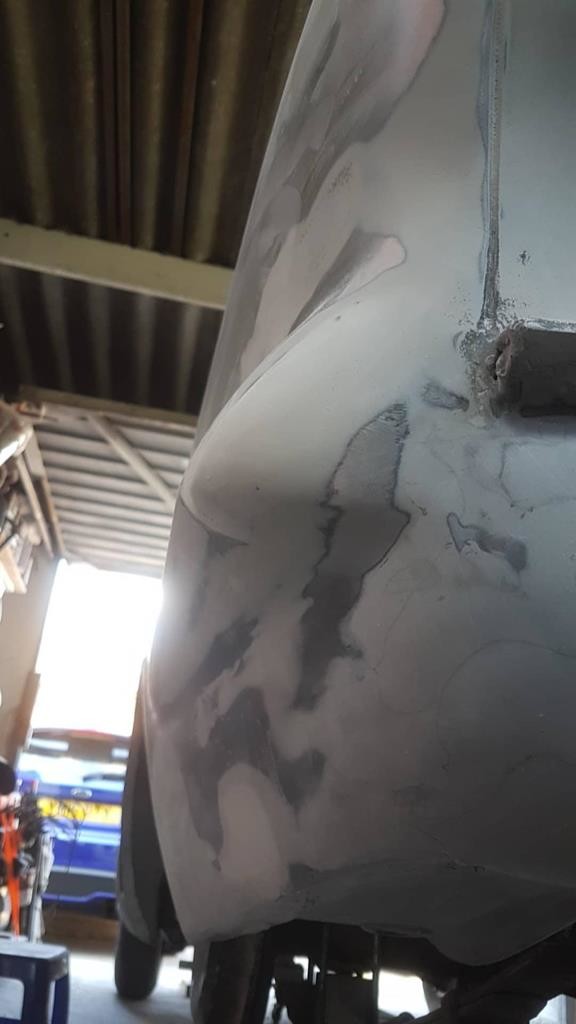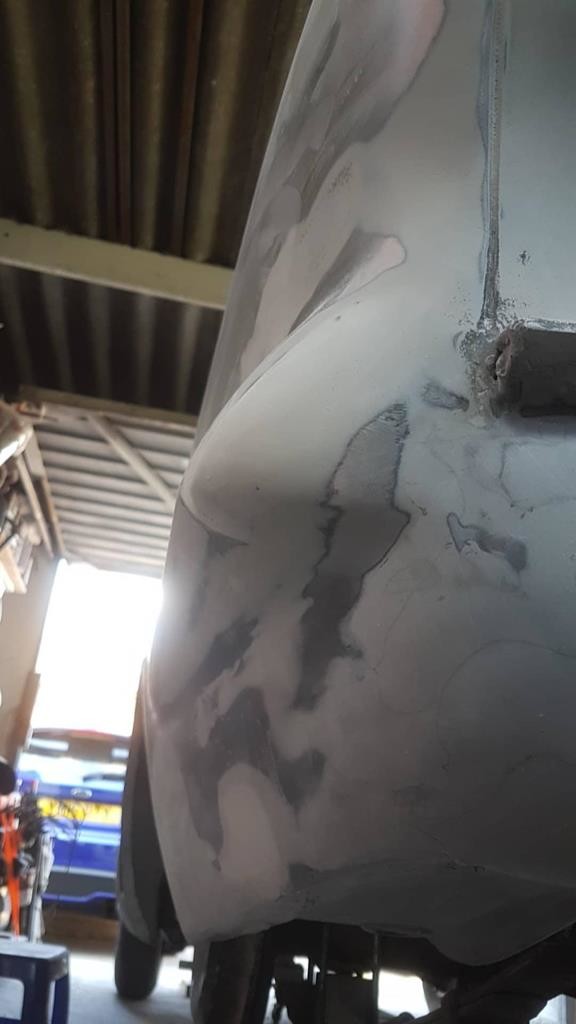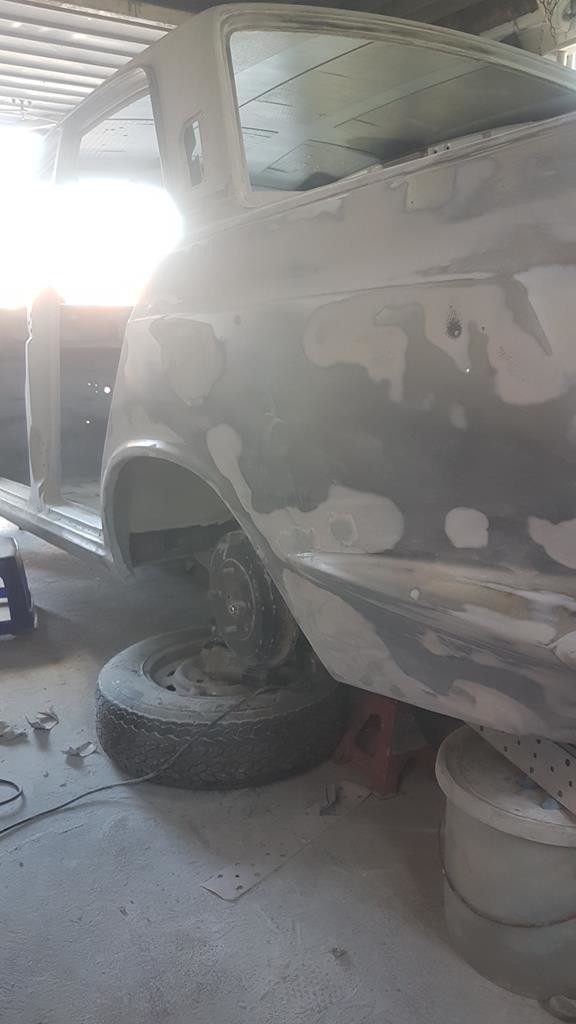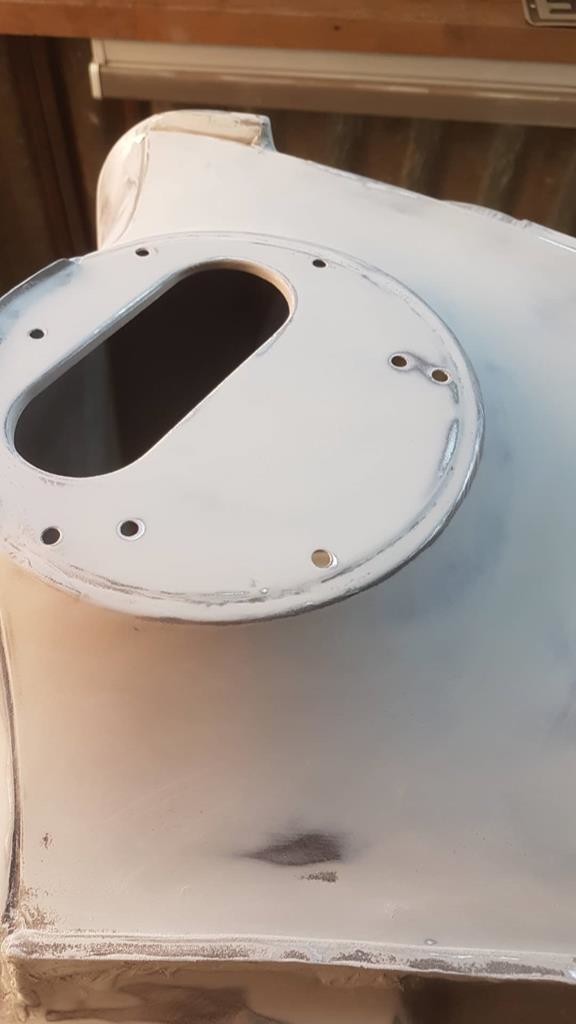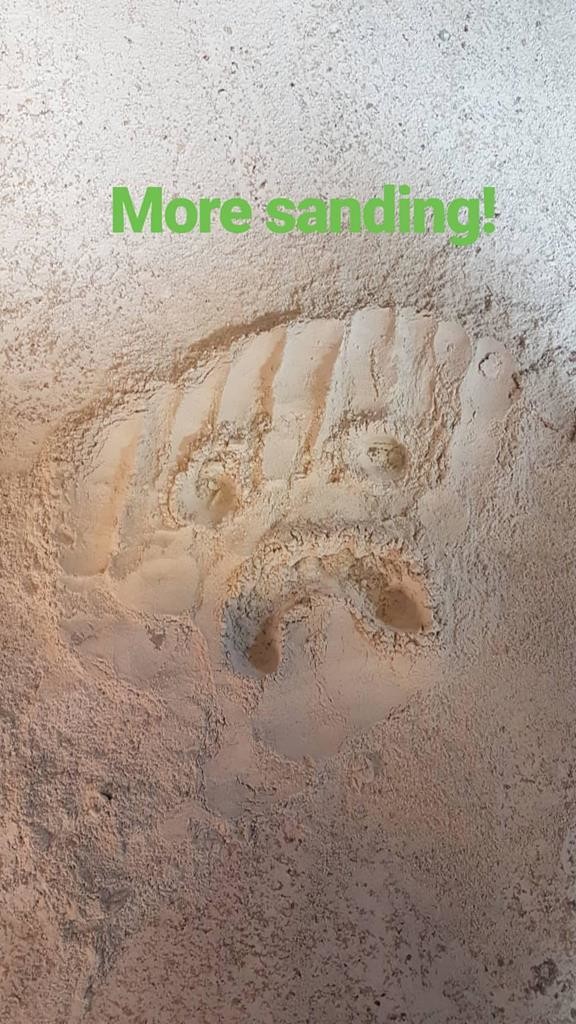 I've also purchased this stereo off eBay because it is retro looking and has bluetooth and other input which are great but mainly bluetooth.

The issue is that it's similar to a modern unit and my dash isn't. I've seen newer units in mk1s and I assume I've got to cut the old radio section out but if anyone has some advice I'd be grateful.

I've tried to wire it up on the bench and it's not turning in but hopefully they'll replace it.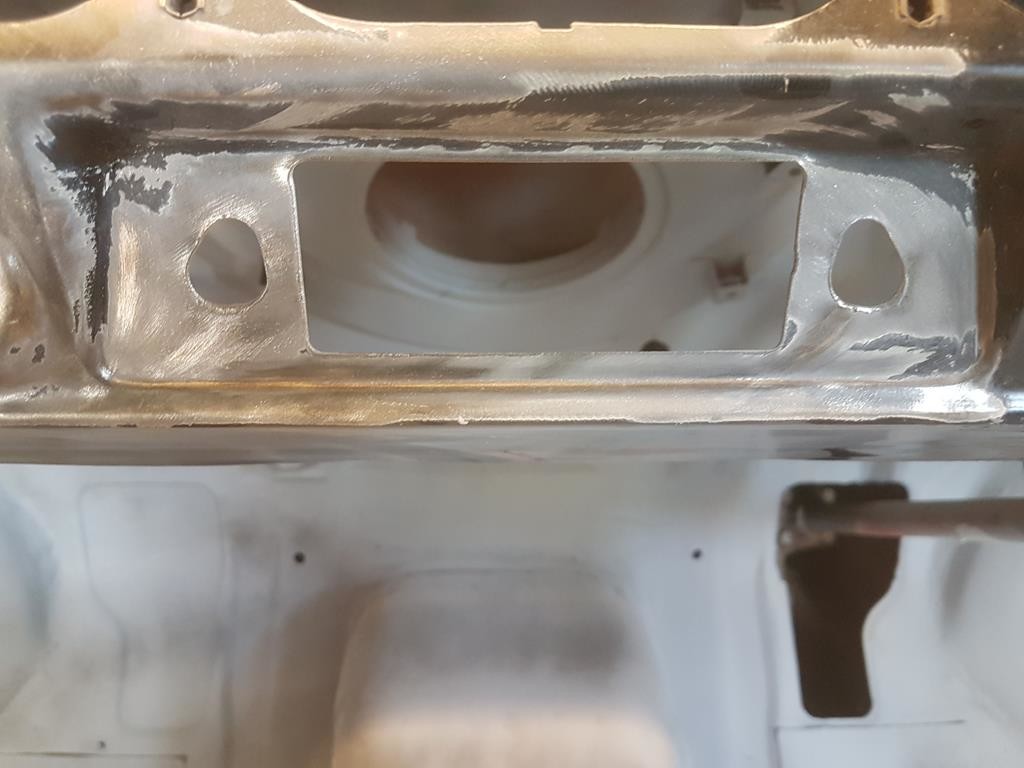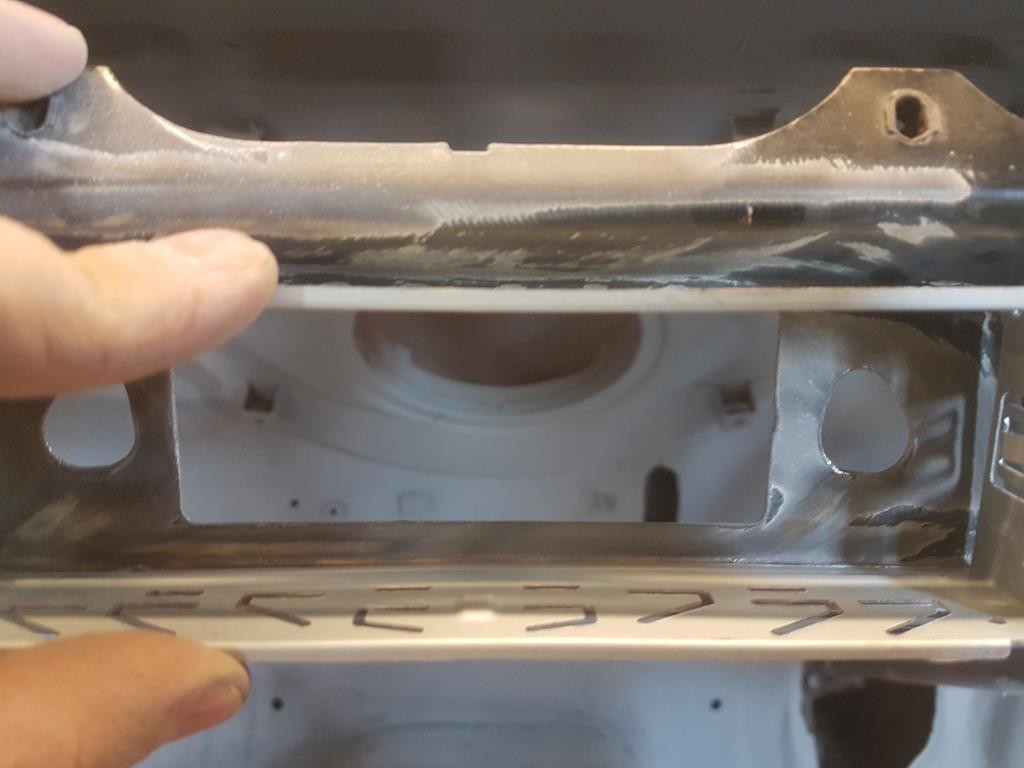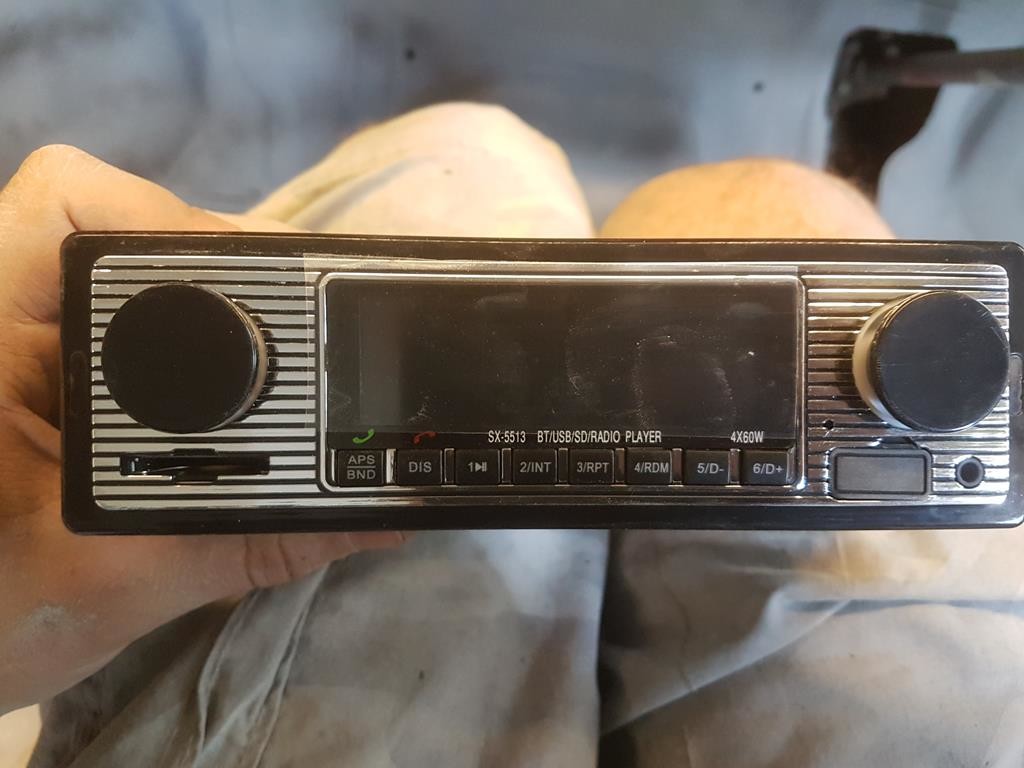 7-22-2018
I thought I'd got the filling sorted on the rear wing so I've given it a prime along with the sill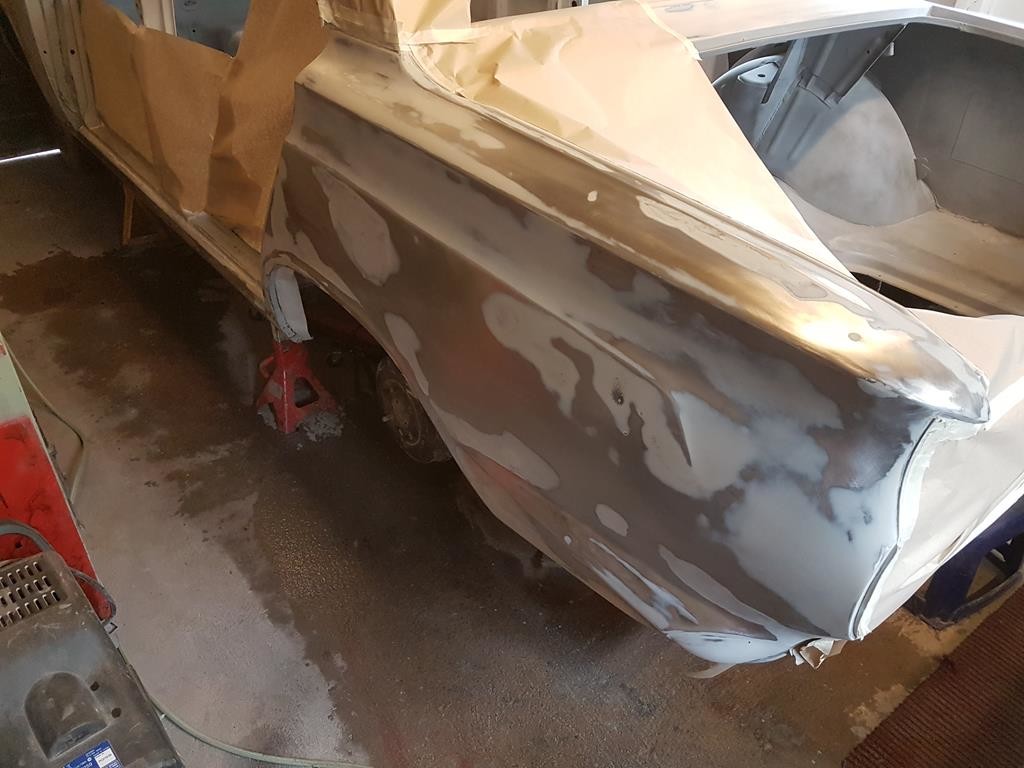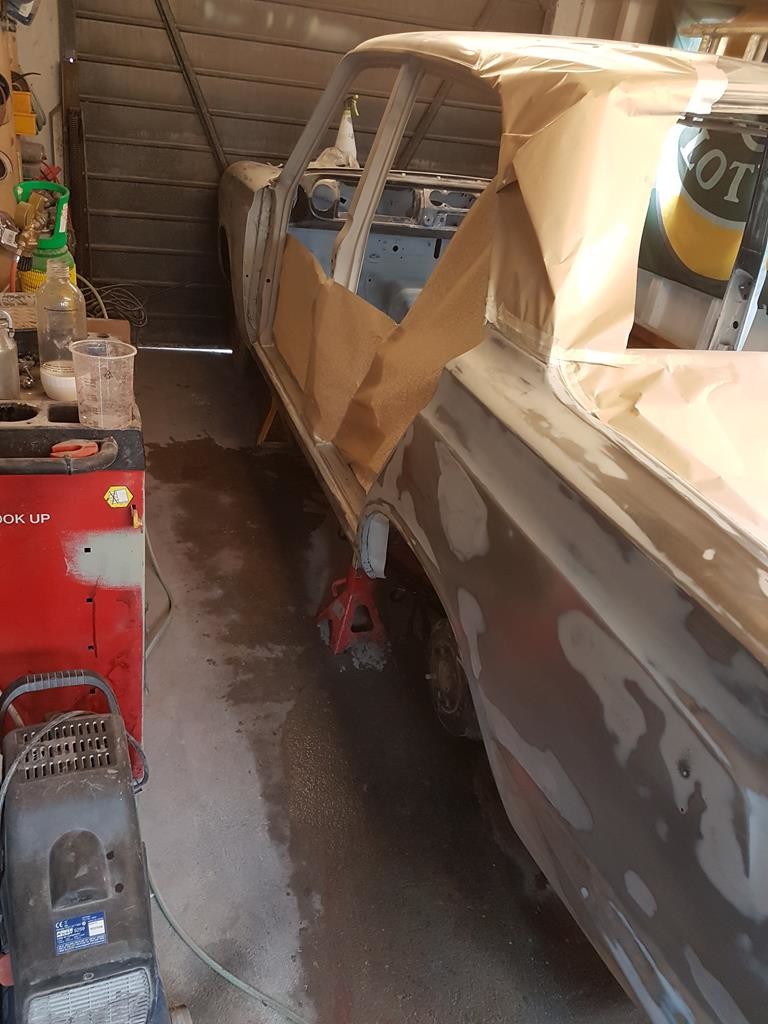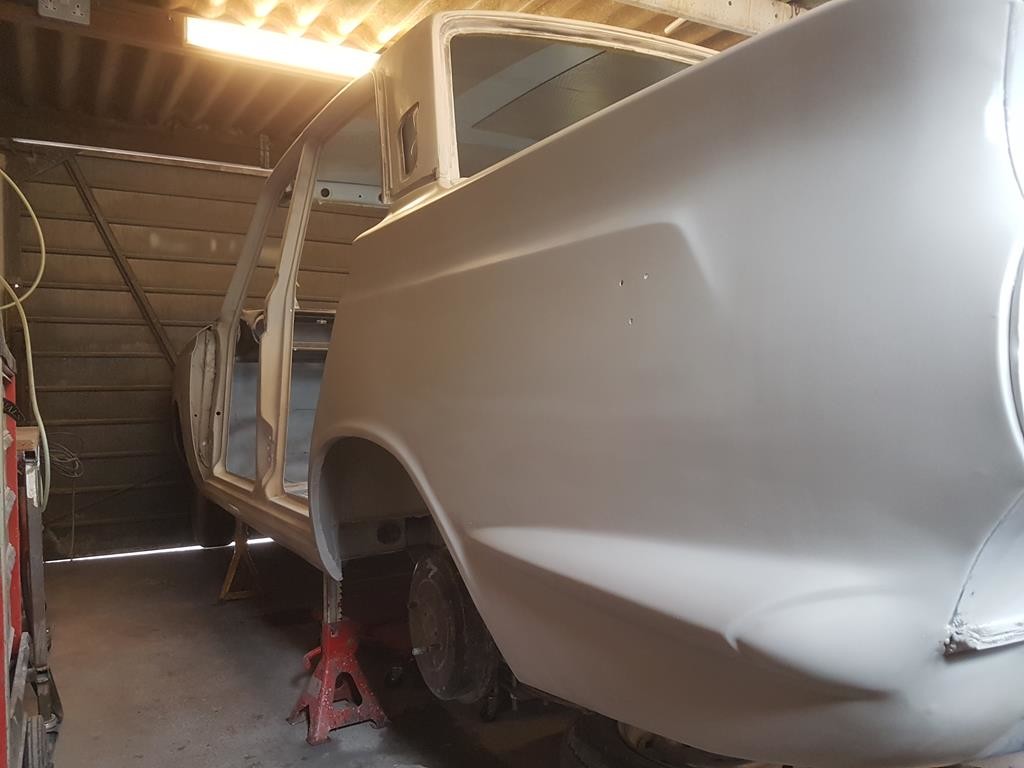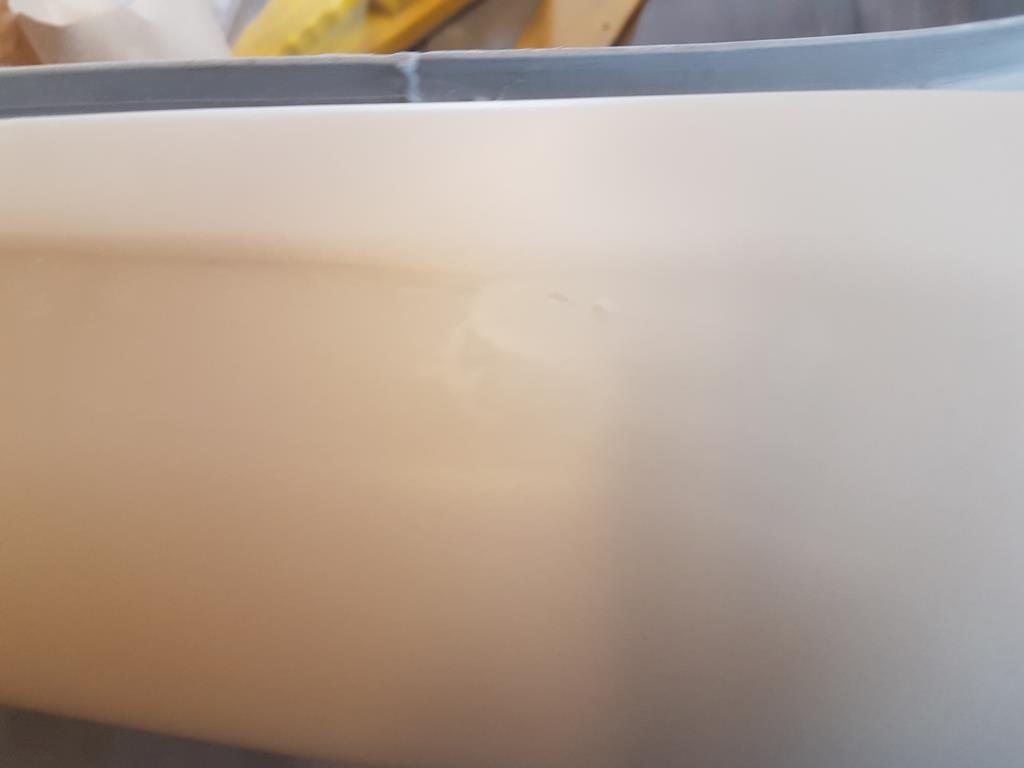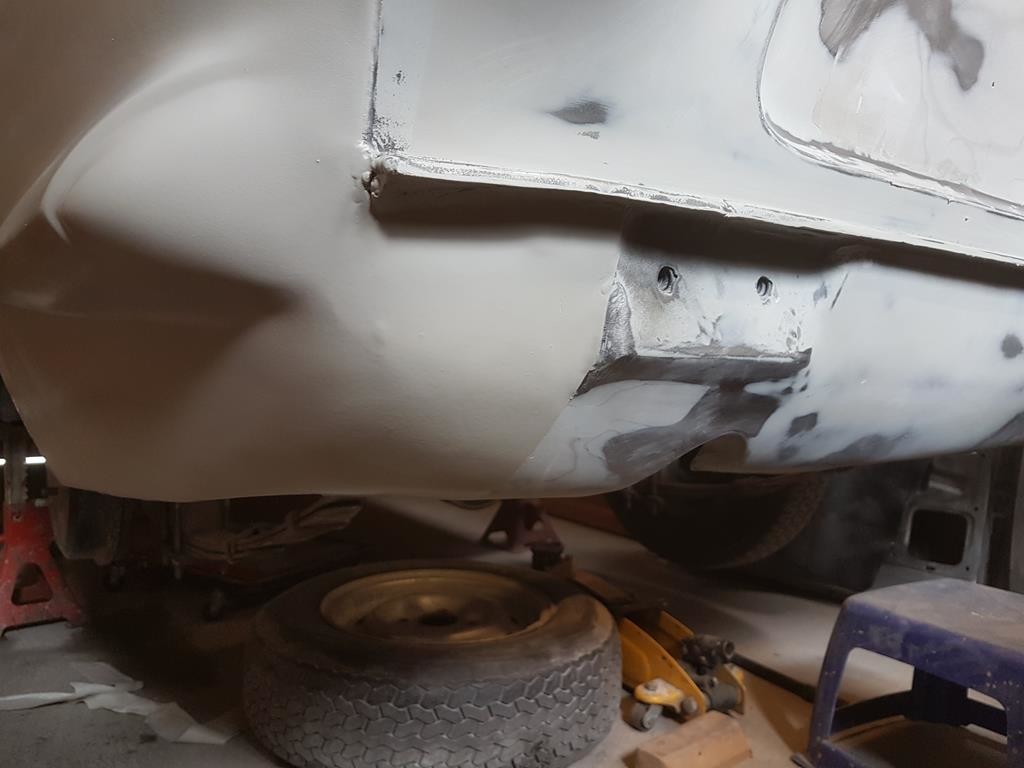 There are a few low spots in my filling that need sorting which is frustrating but manageable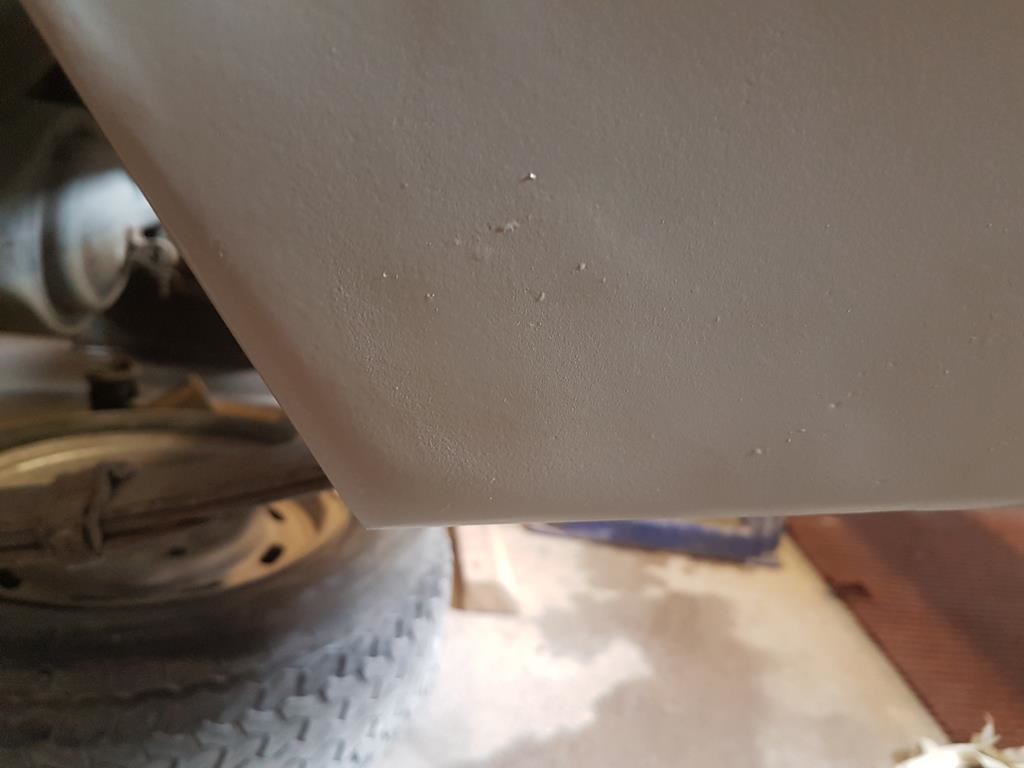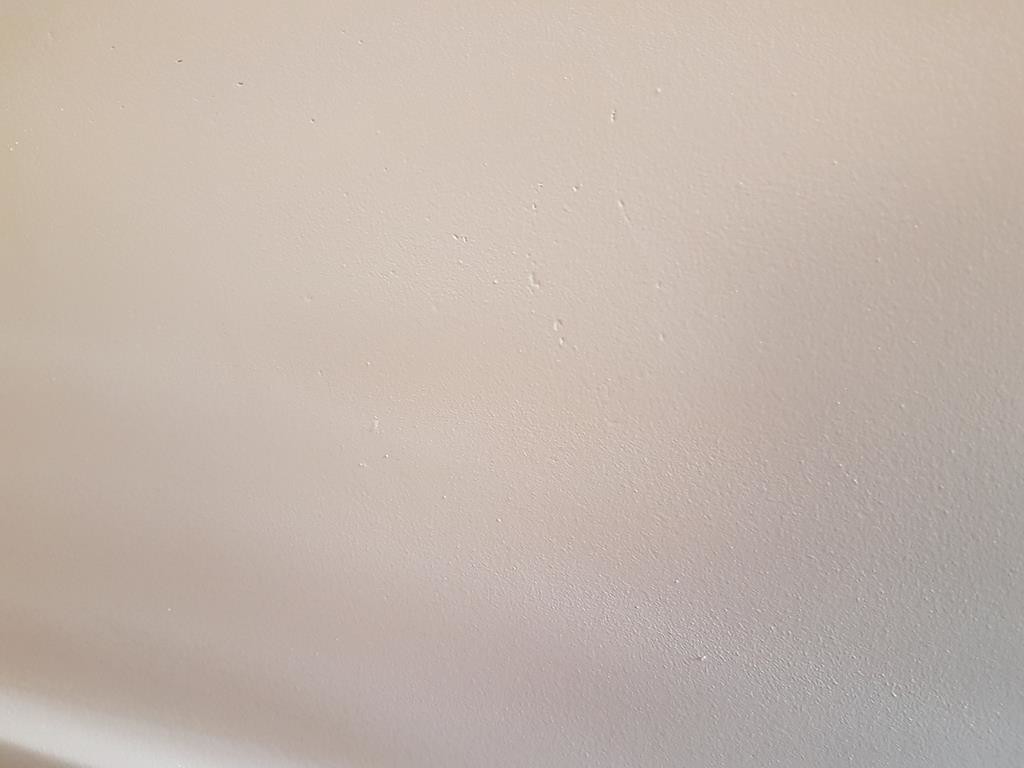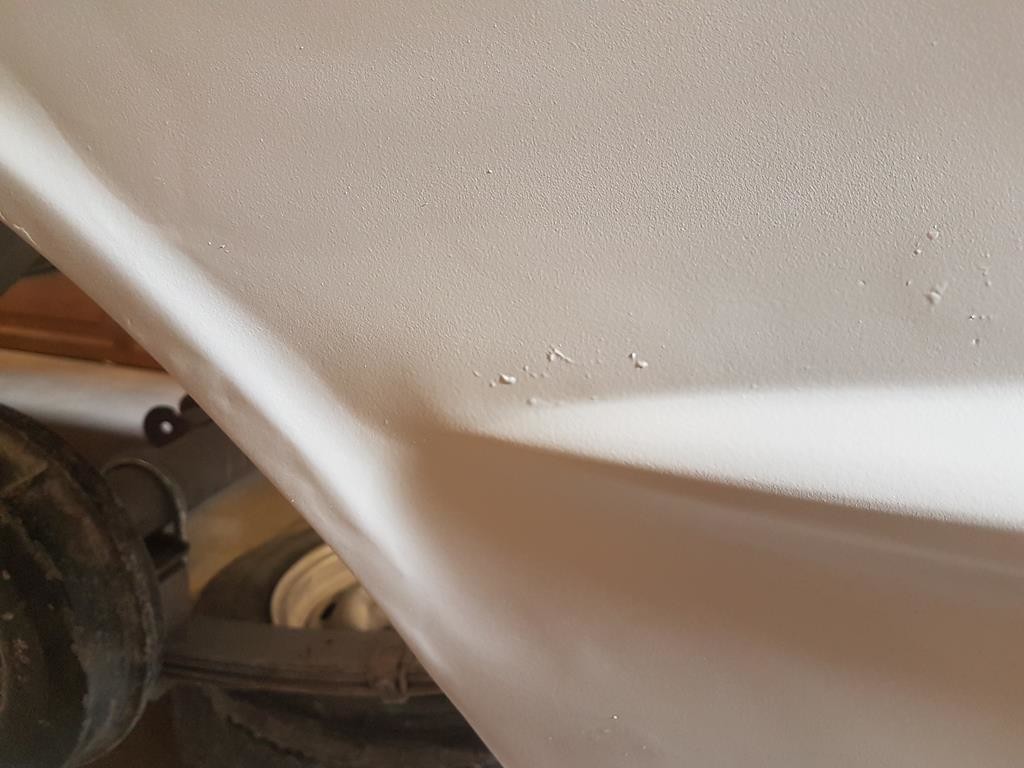 I managed to get the radio fired up so that'll be something I'll get on with now I know it works. I m impressed with the unit to say how cheap it was.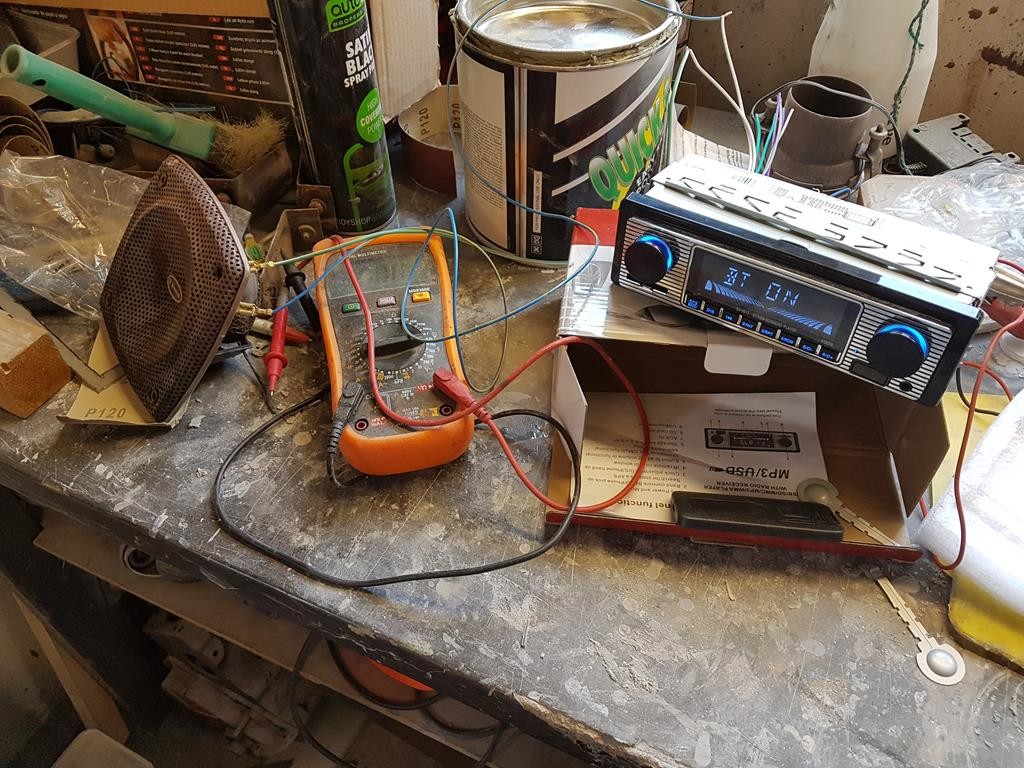 I'll leave that rear wing for now and turn the car around and get the other wing done and start the engine bay/ under the front wings
8-14-2018
It's been a few weeks since my last post, mainly because I don't think I've done enough interesting stuff.

I finally pulled my finger put and made the frame which I wish I'd done a lot sooner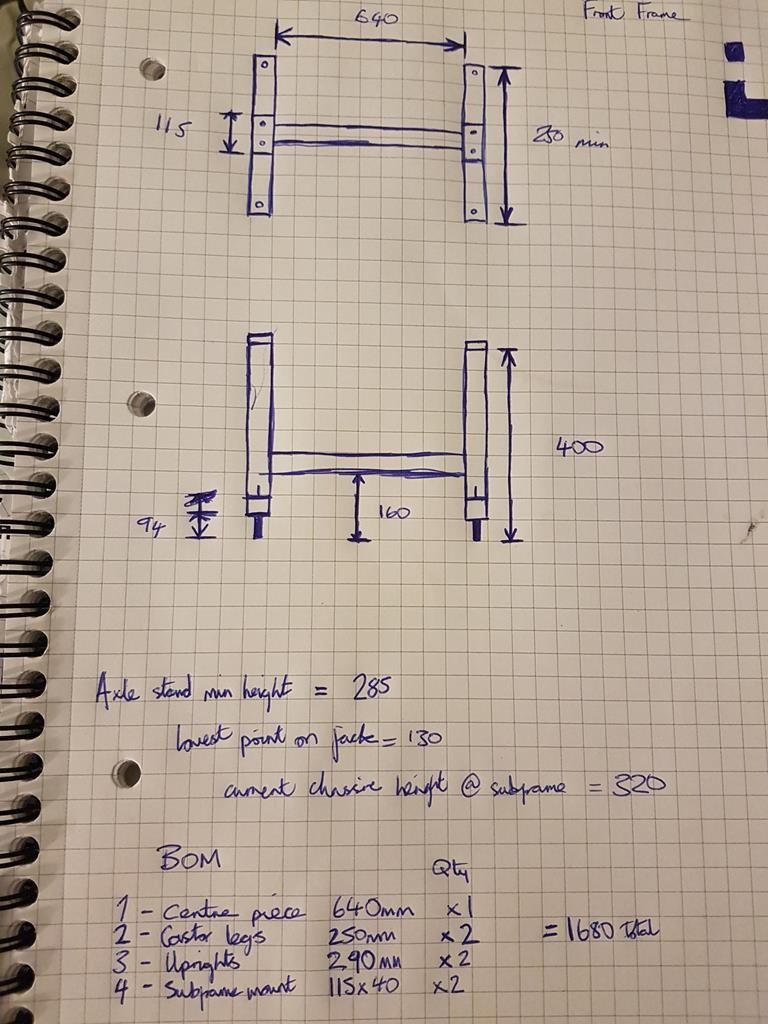 I ordered the steel from the metal store (Google it) they do 10 cuts for free so everything had clean cuts which made the job a lot easier.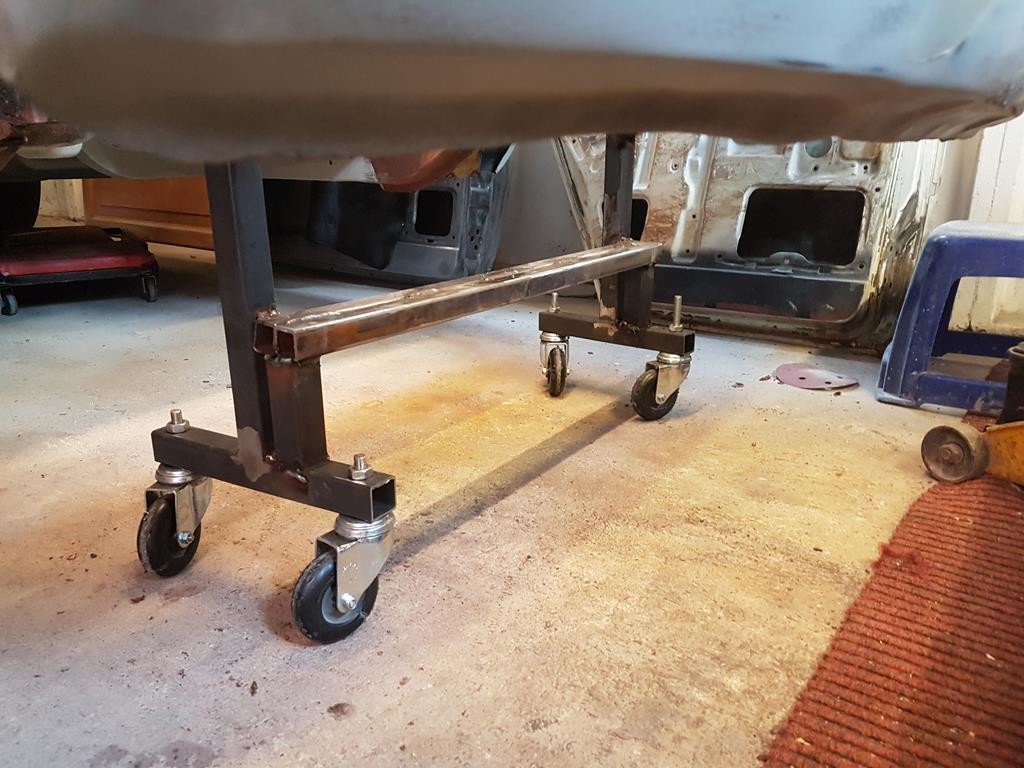 The cross piece was improvised as the crossmember looks straight but when I put the 2 legs on before jigging the cross piece the toe in to match the legs. It's no major change to how the frame works but it doesn't break down easier when I take it off the car.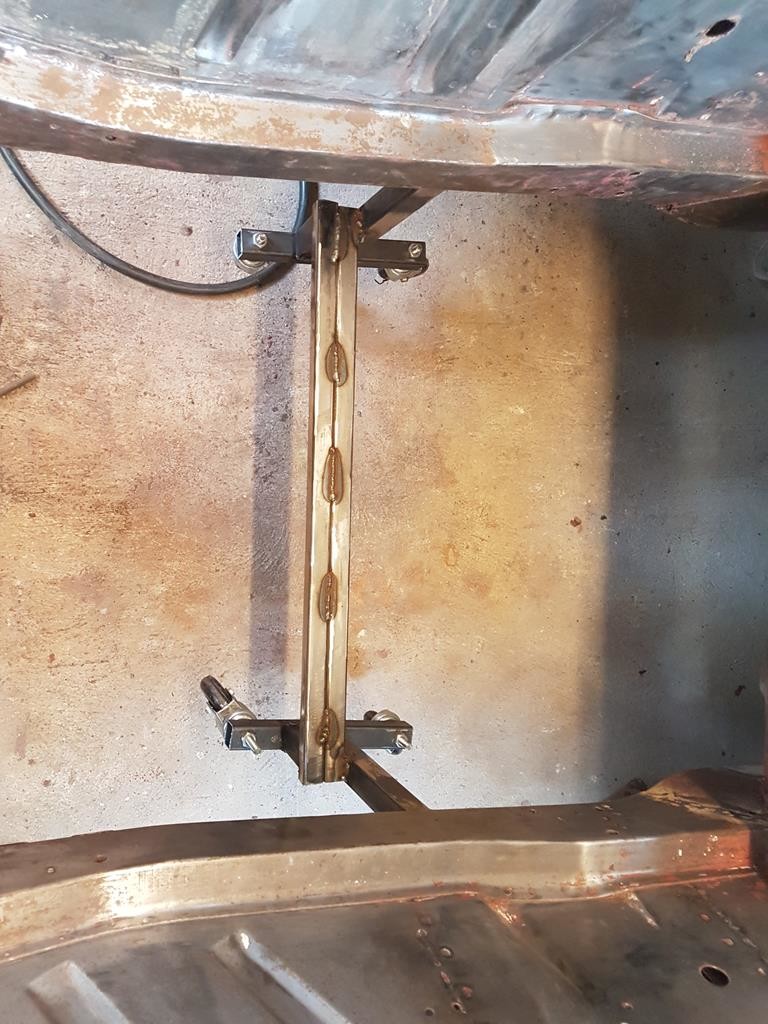 It moves easily and the height of the cross piece allows me to get the car higher with less effort for spraying underneath. I'll get the rear done to match but it depends on how long it takes to spray the underside.

Carrying on the front end tidy up I'm still working on the drivers side which has taken a lot more work than expected (It's a running theme of the restoration!).

The bumper bracket or welcome to the layer cake: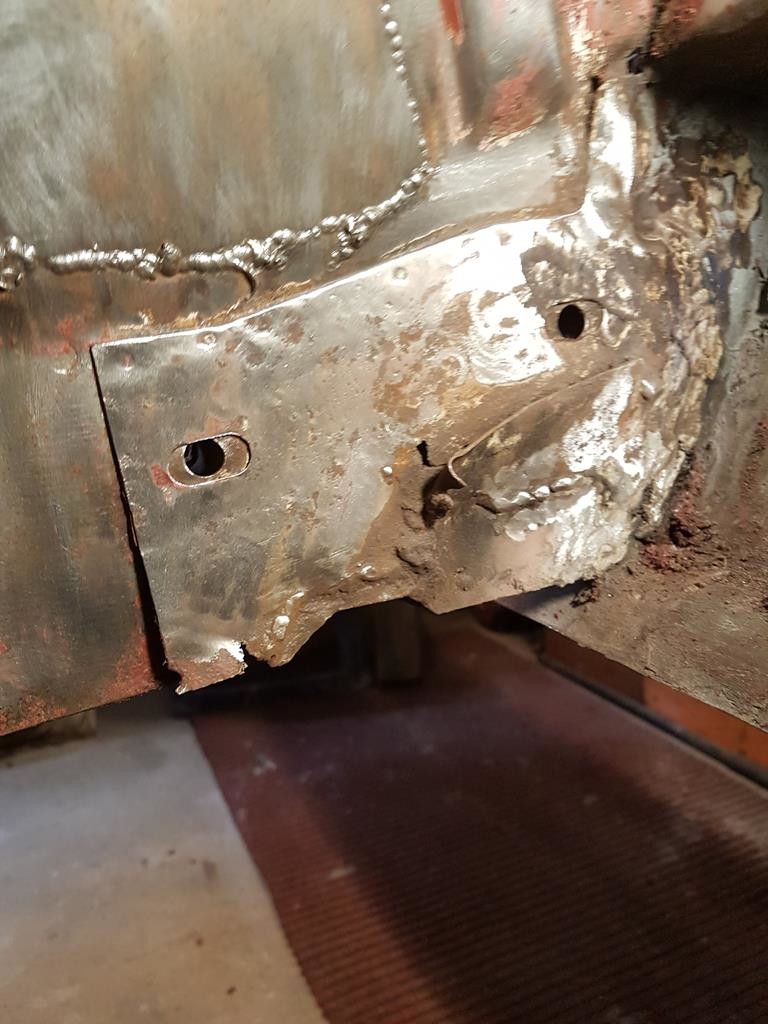 Excellent patch job!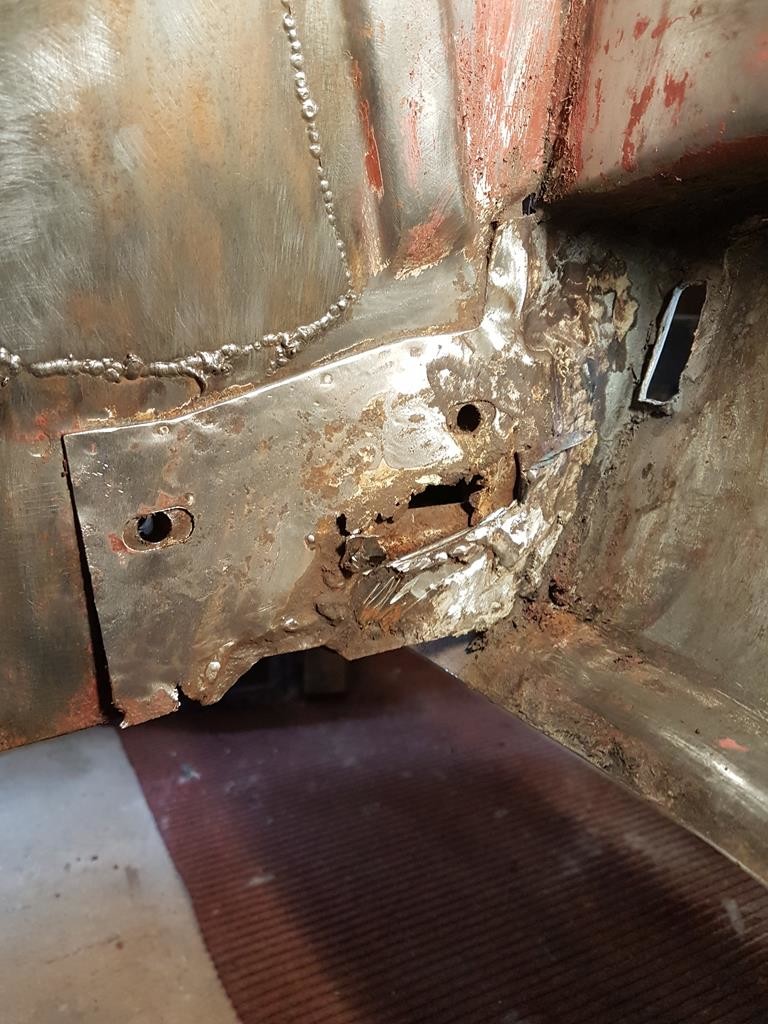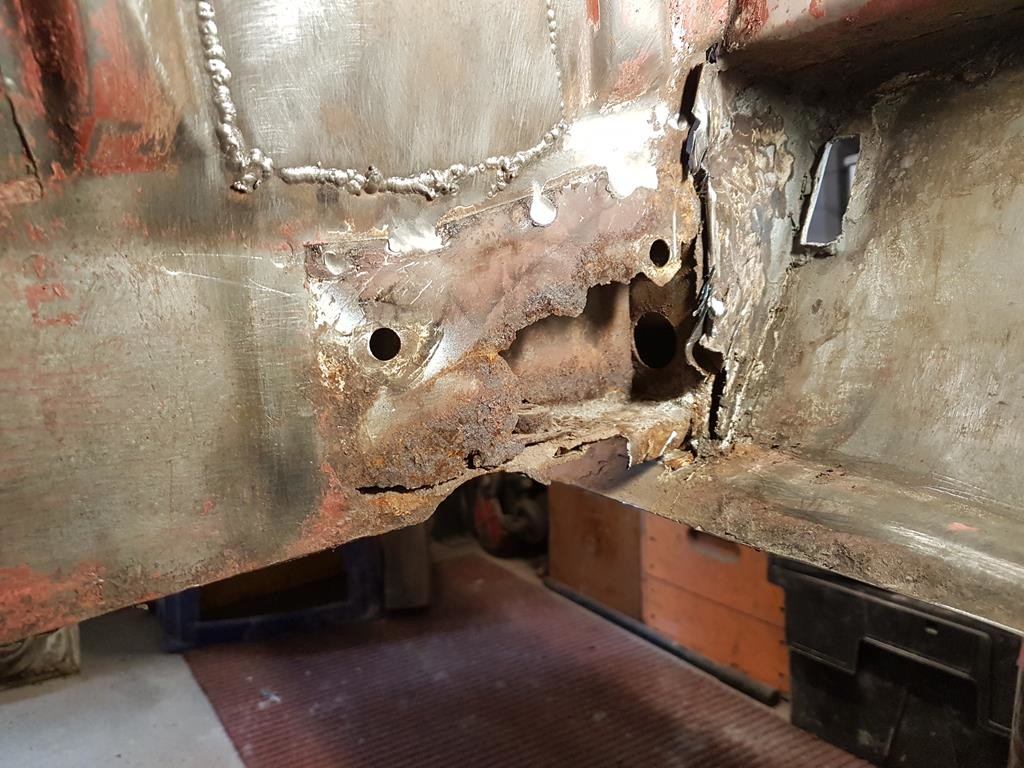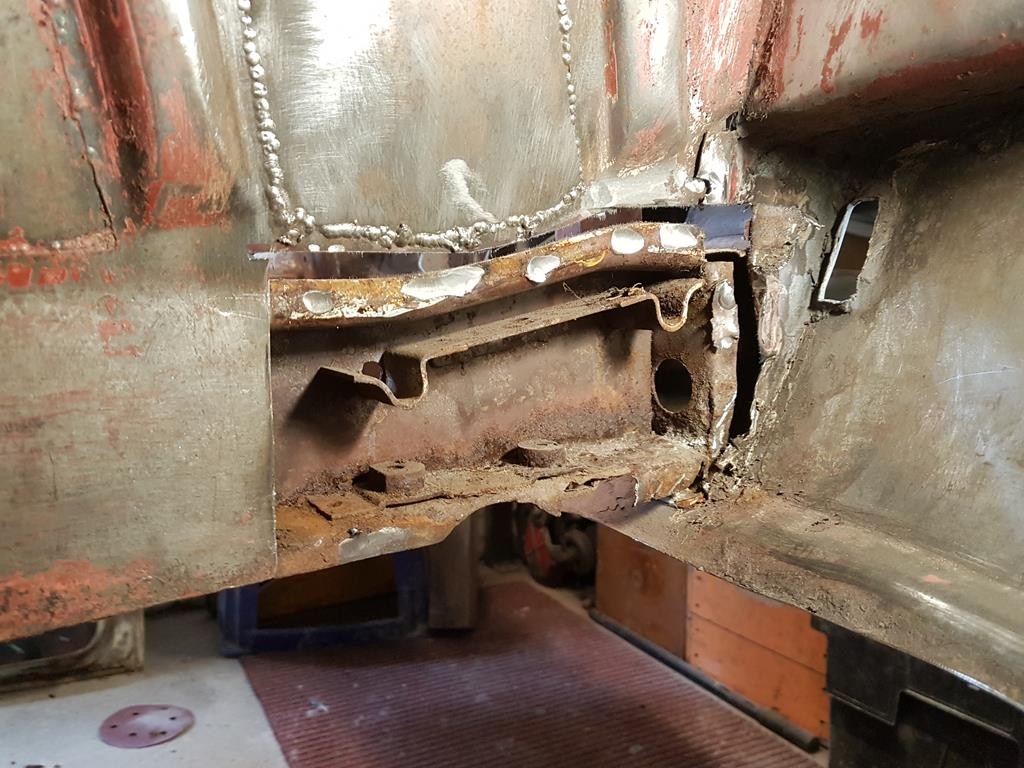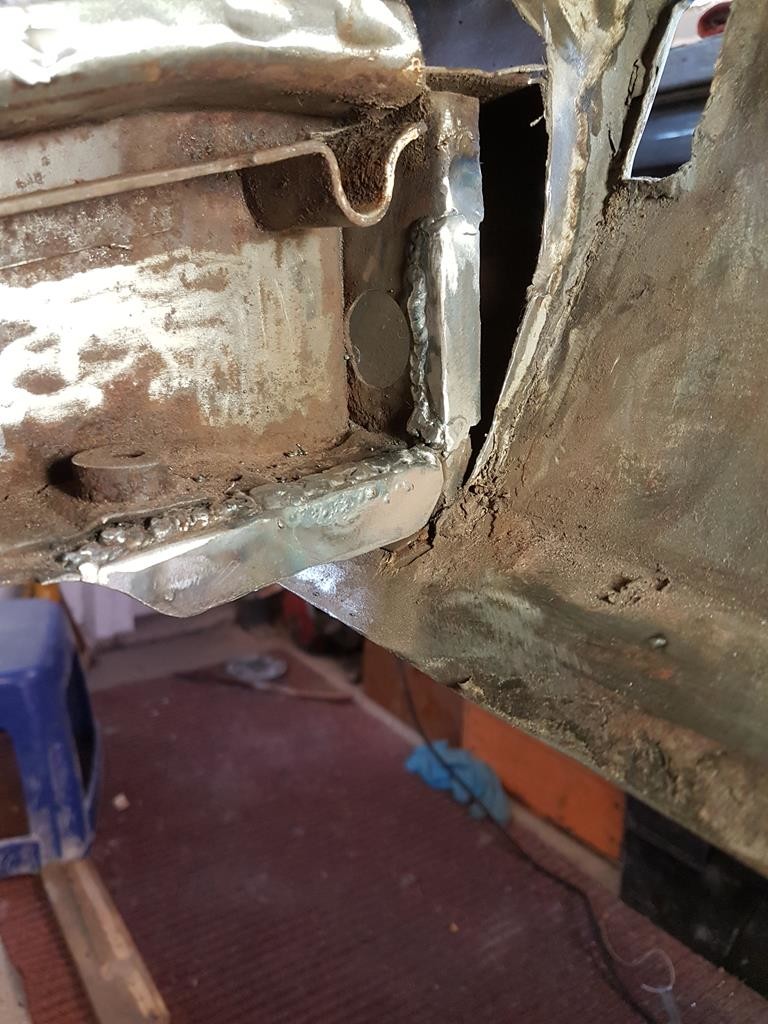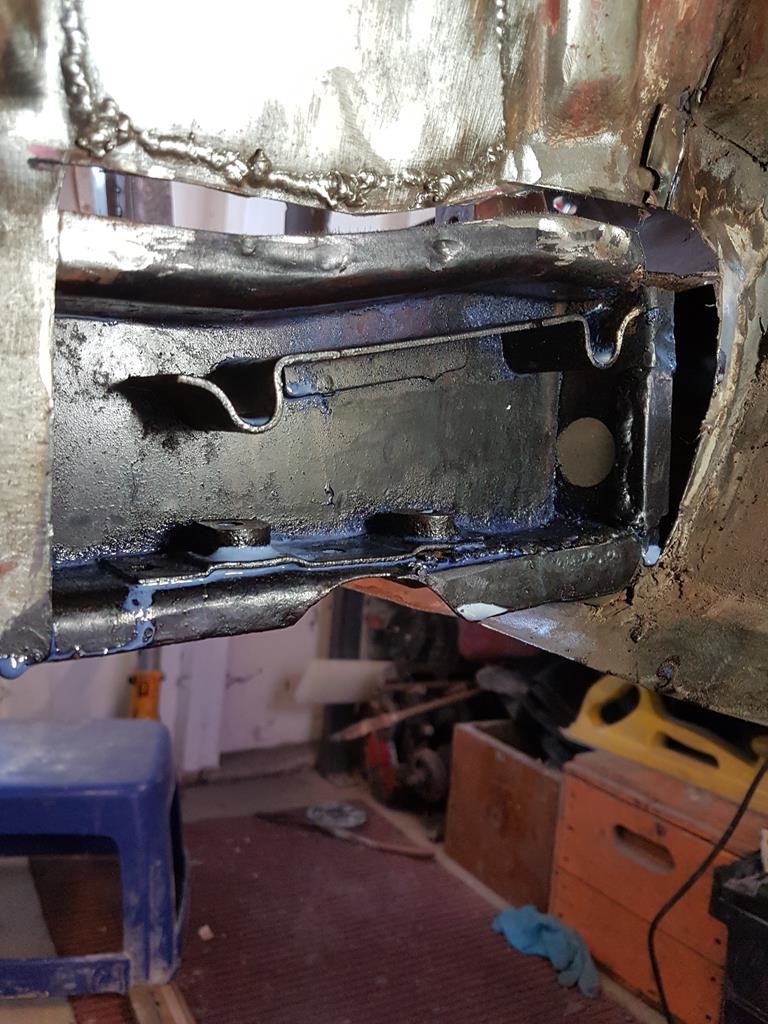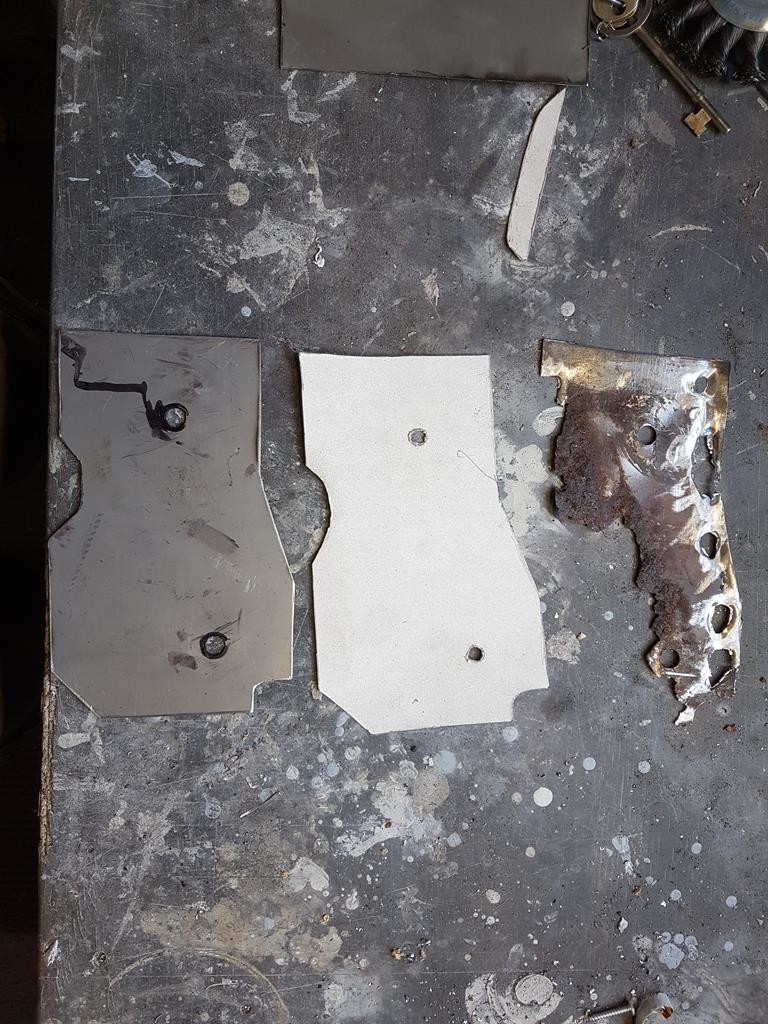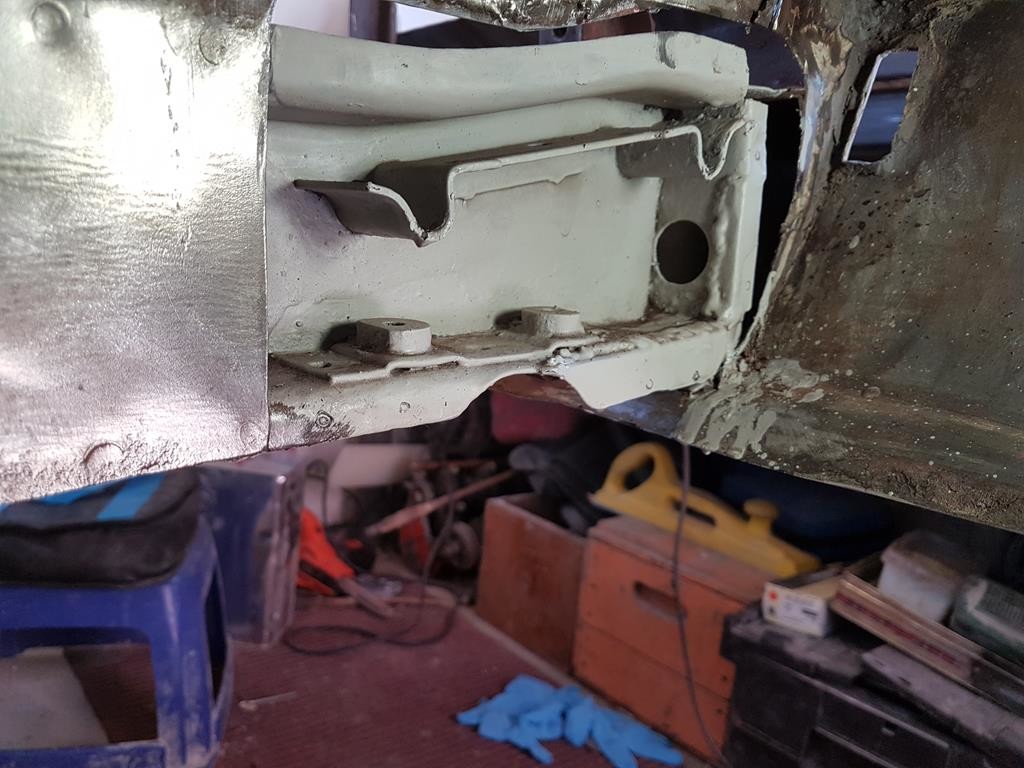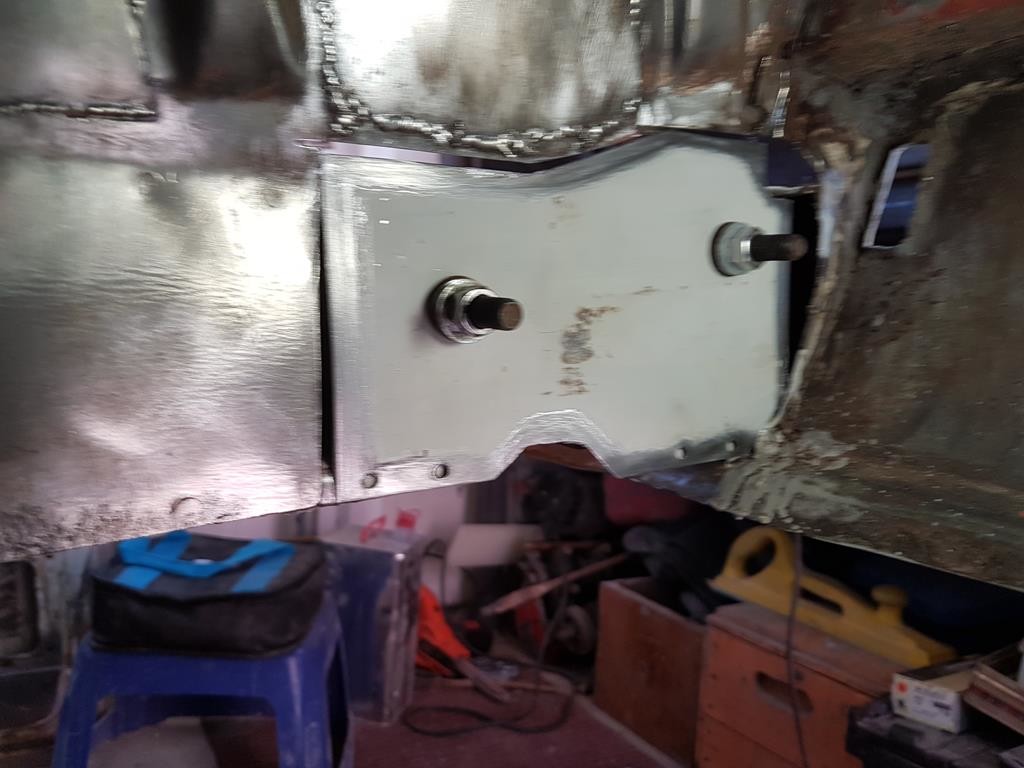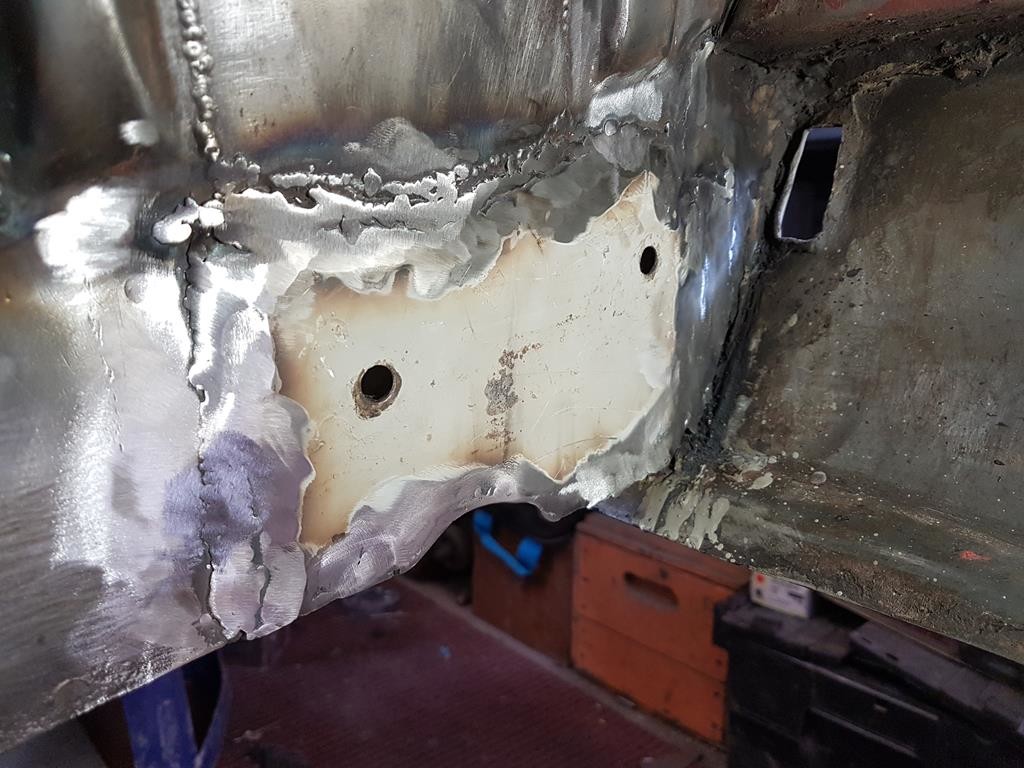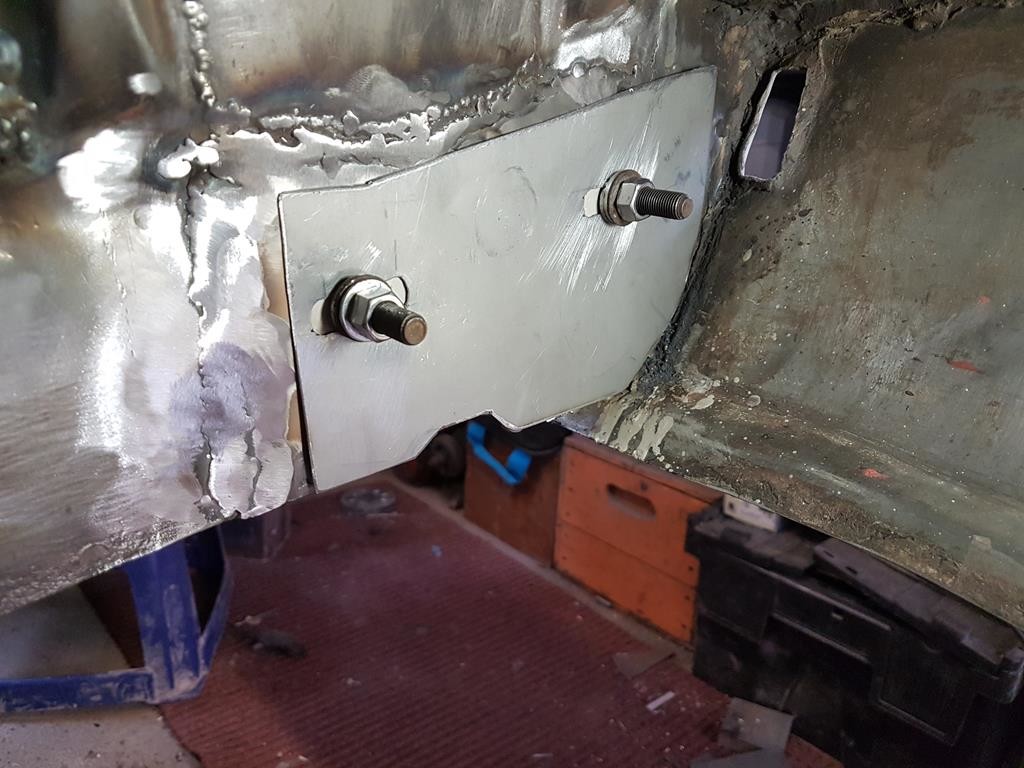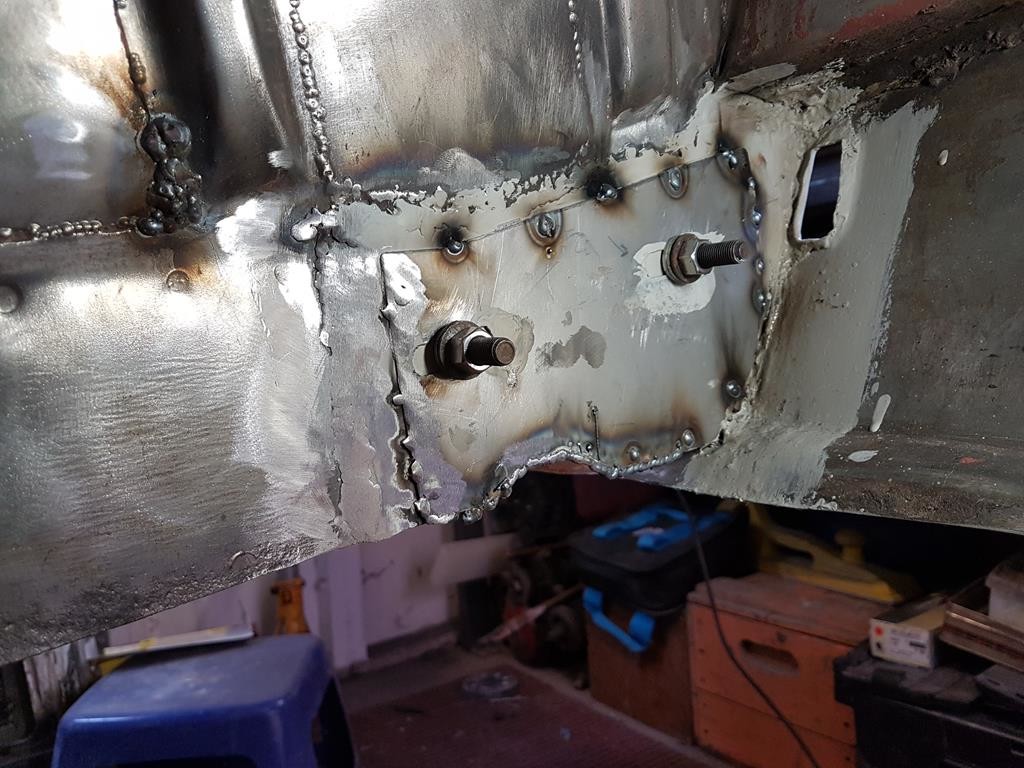 I've got a few bits to sort on repairs that I did years ago when I first started welding so I'll have some more updates soon then it's back on with getting underseal off which will suck because of a lack of space!
8-26-2018
Nothing major to add to the post I'm still working on the front drivers side inner wings. It's a constant battle!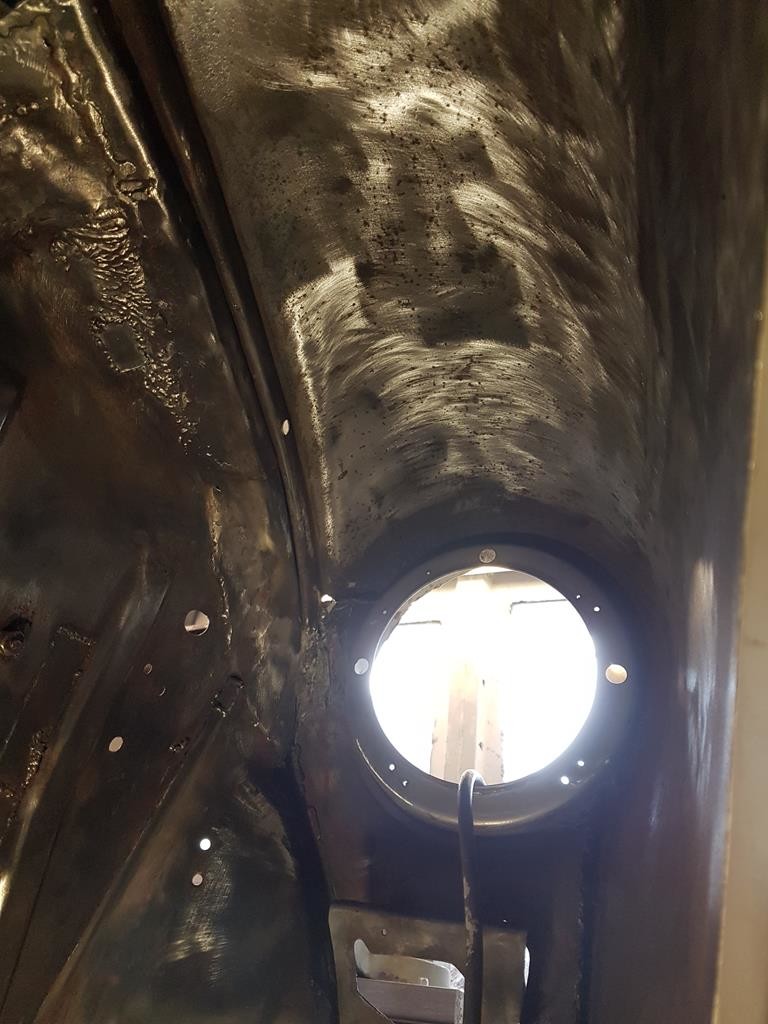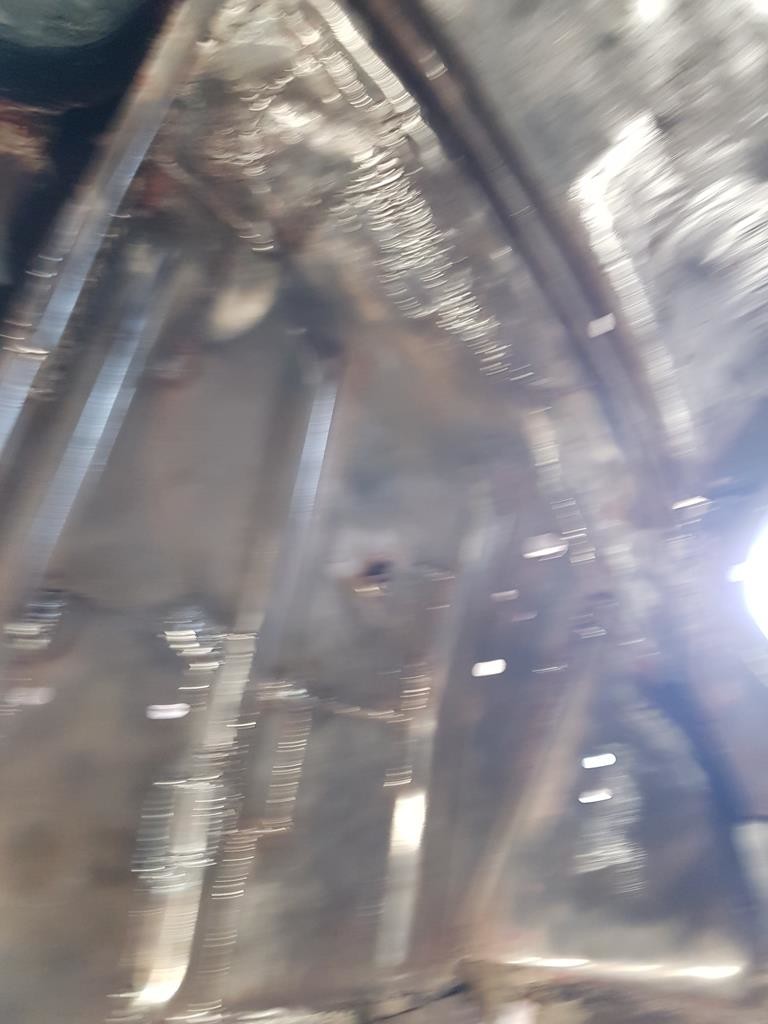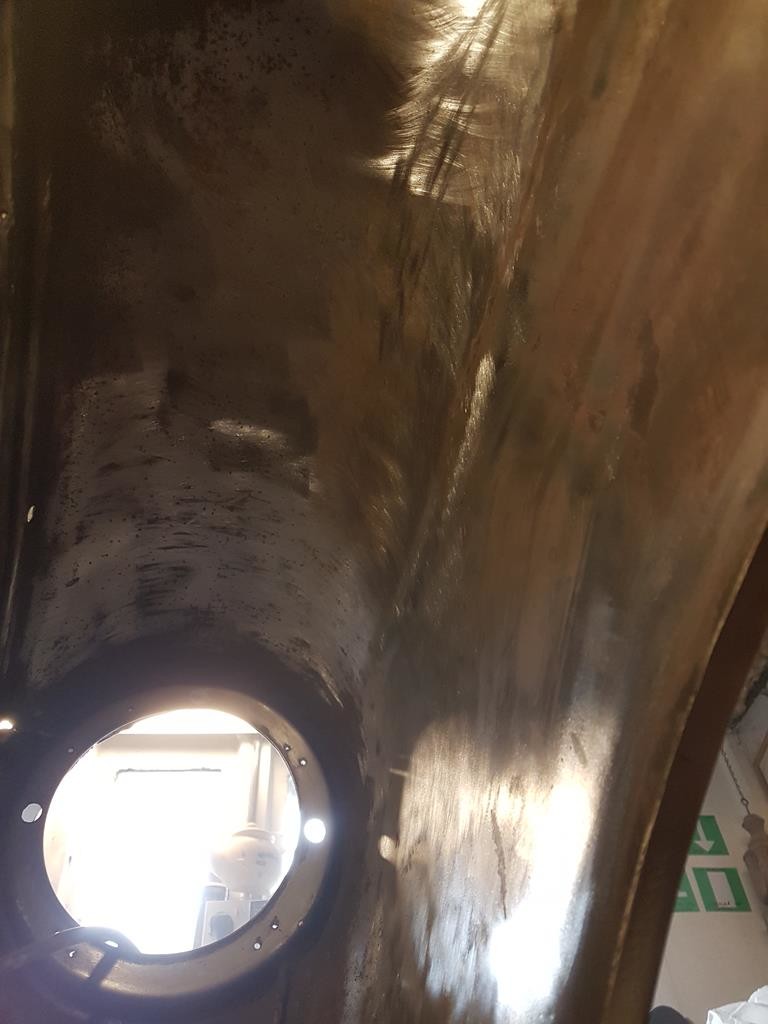 There's some areas with underseal I can't reach with either a wire wheel or a scraper and heat so any ideas?

I'm not even half way! I've got the other side to do...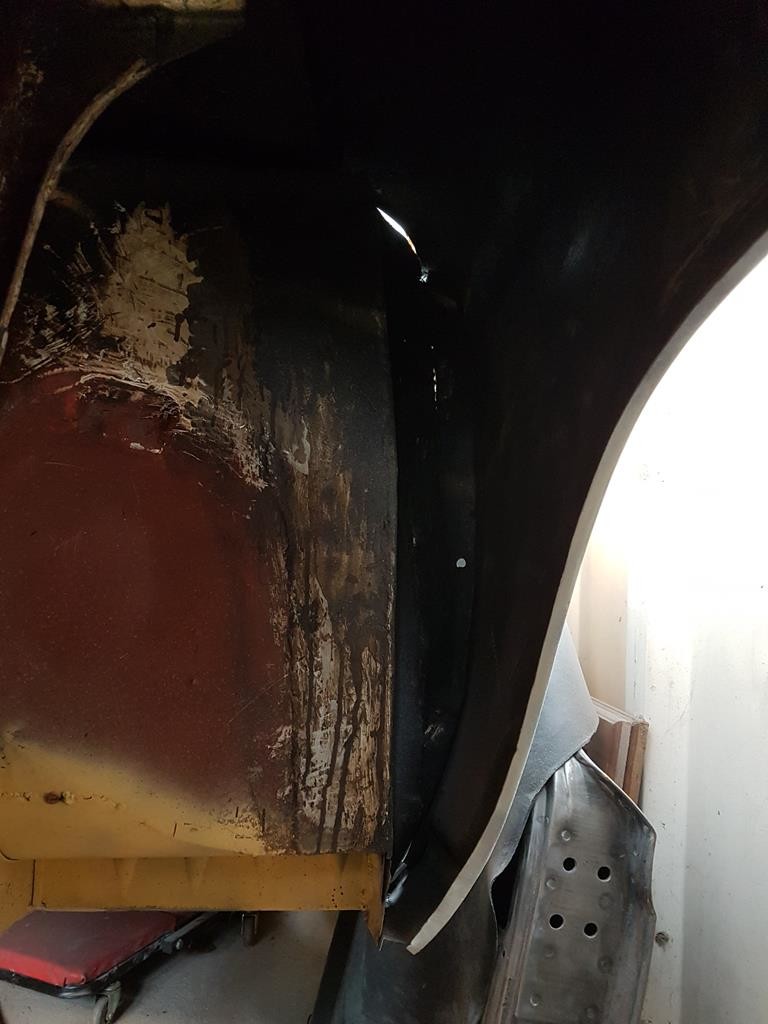 Also some good news bad news...

Good news - I got the c pillar trims! I found a pair on eBay.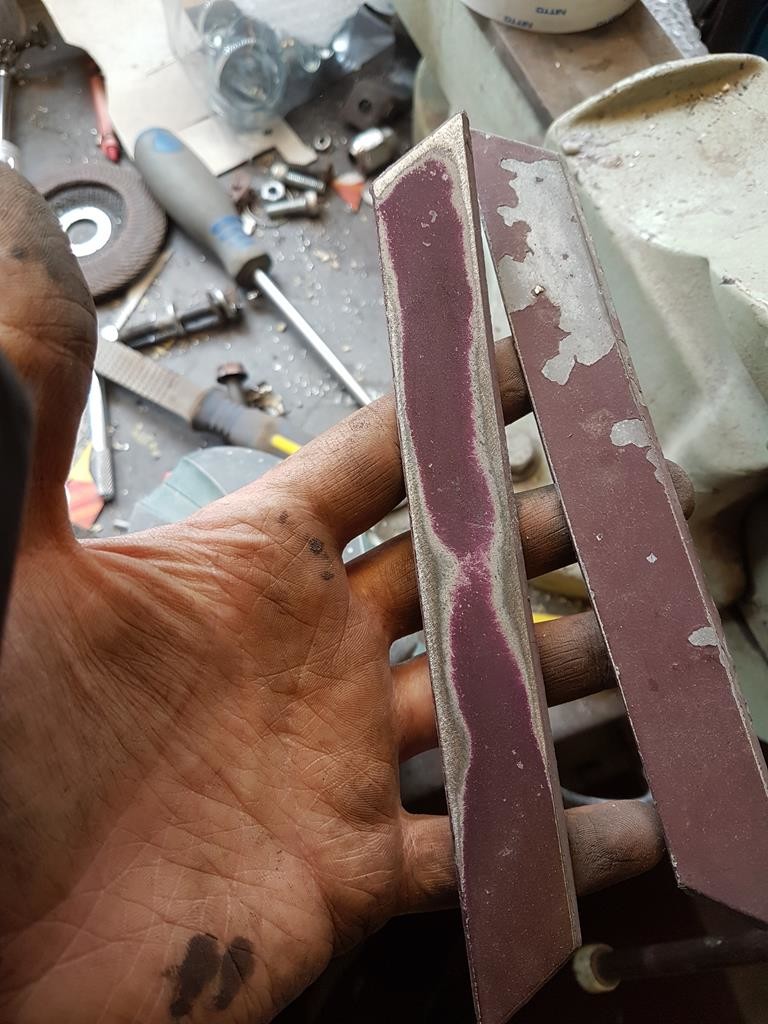 Bad news - the cellar has flooded (It'll get tanked) so I've had to move some spares out and into the conservatory. Nothing is damaged but the bad news is I heavily under sold how much stuff I store in the house to Mrs. Jim. I'm waiting for sentencing!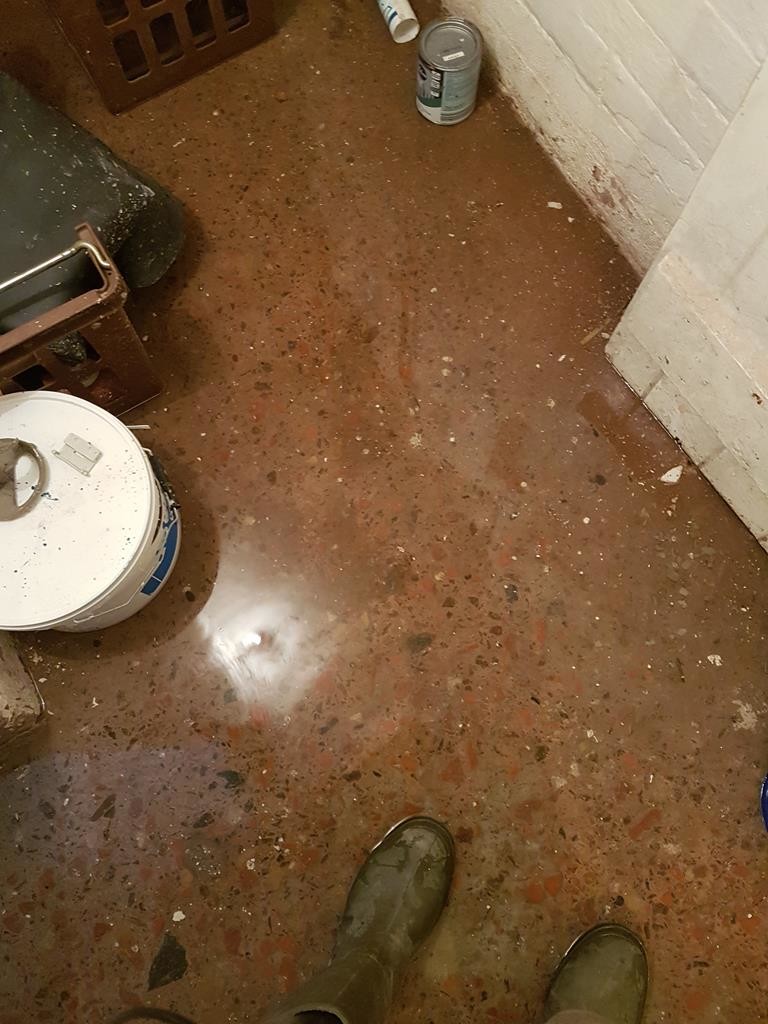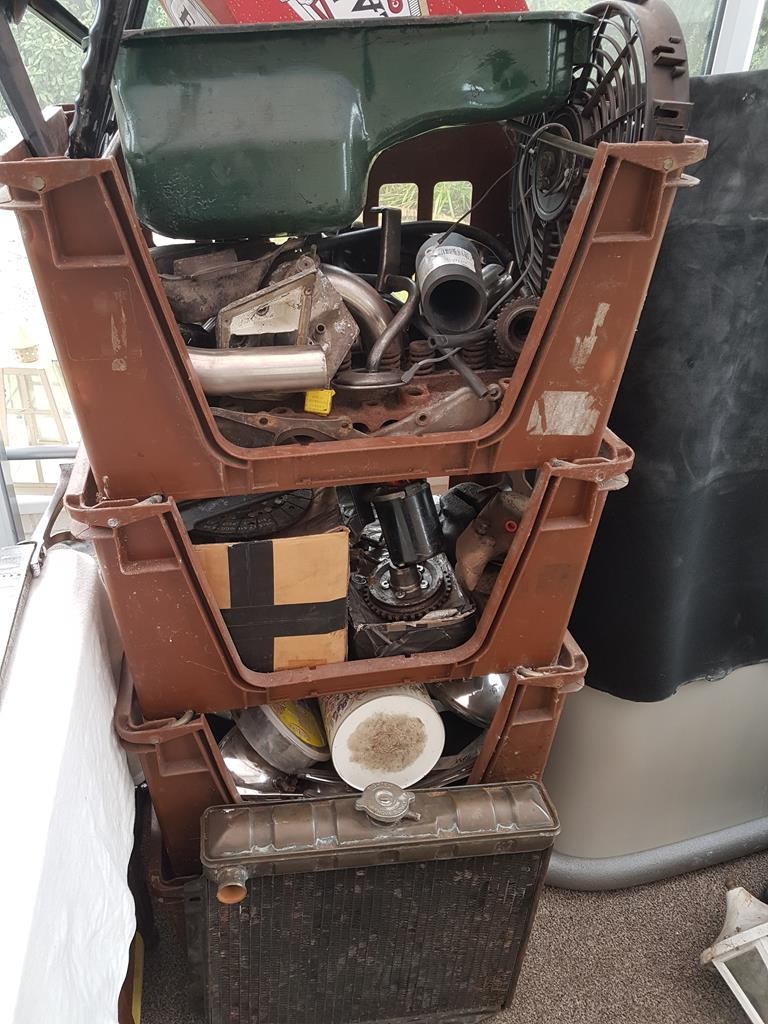 If anyone can help with the underseal I'd be grateful.
9-15-2018
Thanks Duncan! I'm going to pop the front off that radio and see if I can use the dash as is and alter the frame of the radio as it's not that sophisticated!

I've managed to sort the underside of the wings and it's been a long arduous job especially the a pillar to wing that was excellently moulded tiger seal!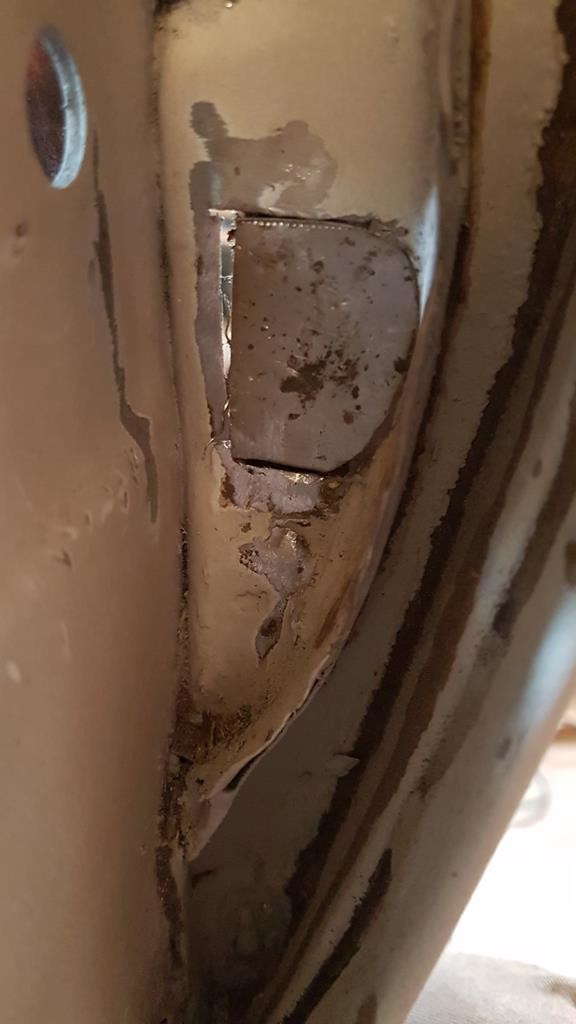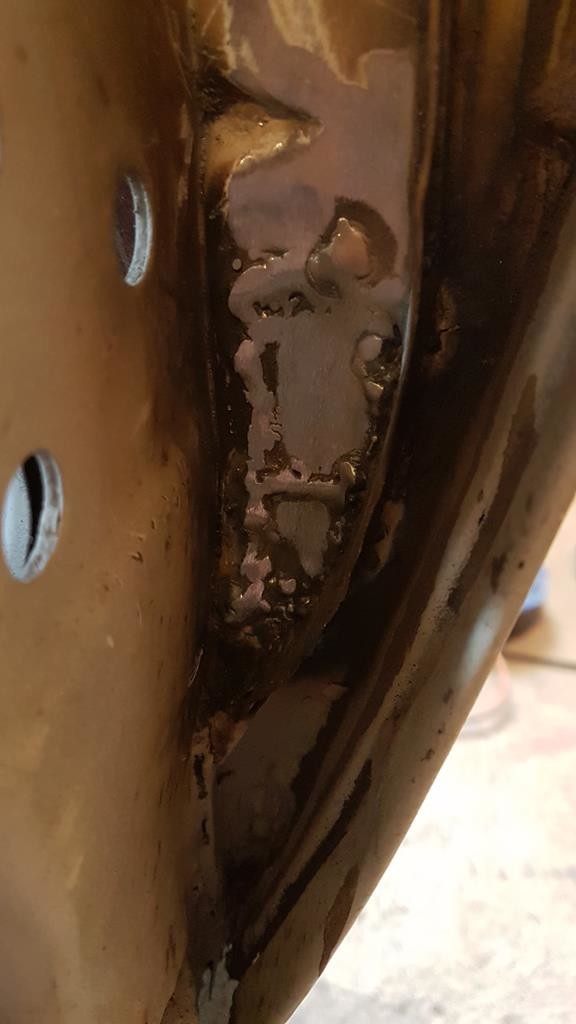 I had a break that day to watch the tour of Britain bike race that went past the end of our road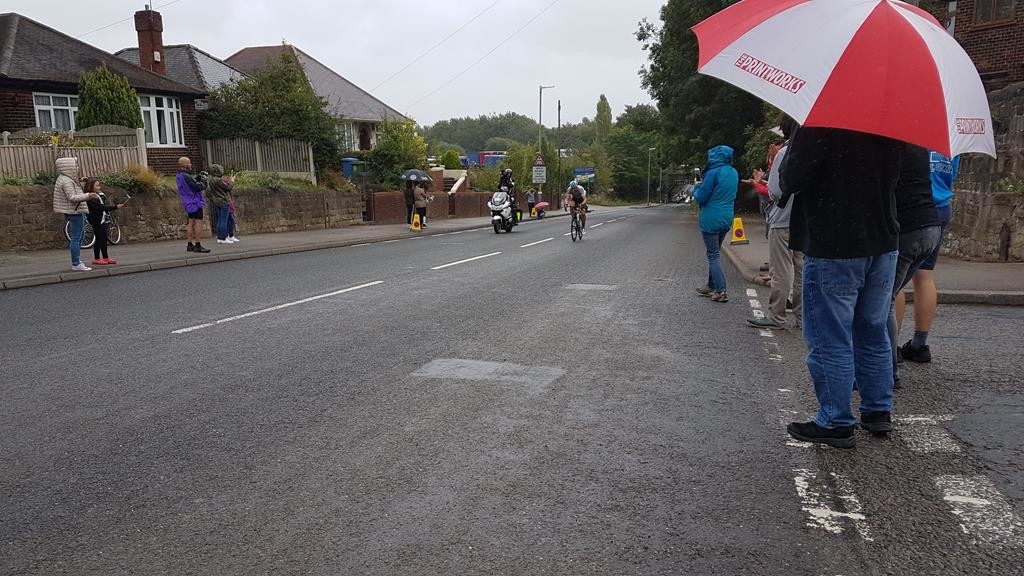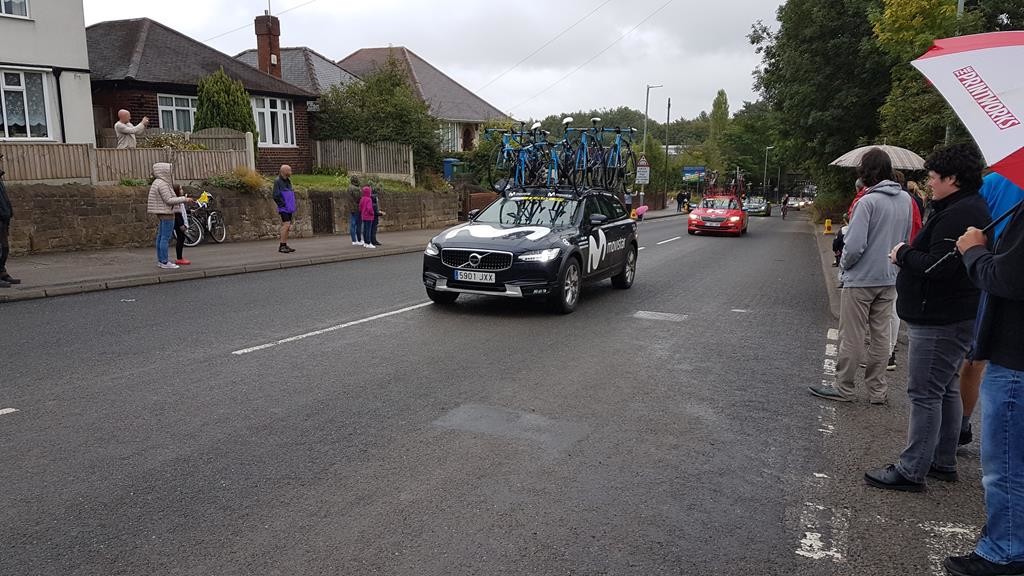 I had another look at the passenger wing top where it meets the a pillar, I think it's solid now and just needs a bit of dressing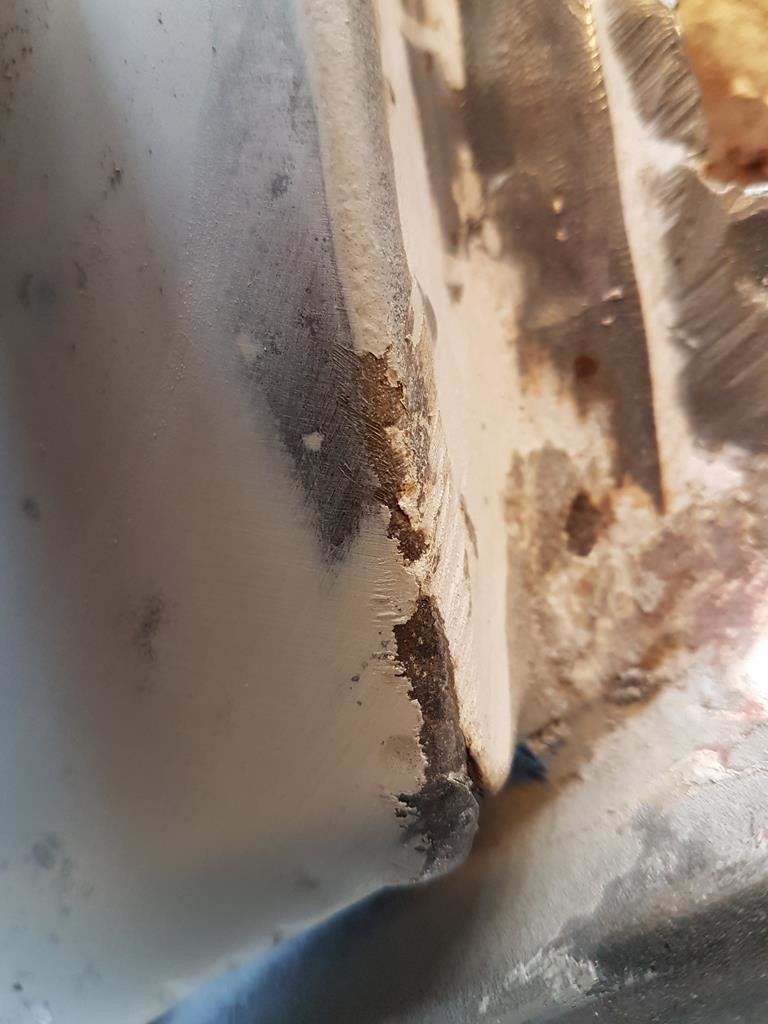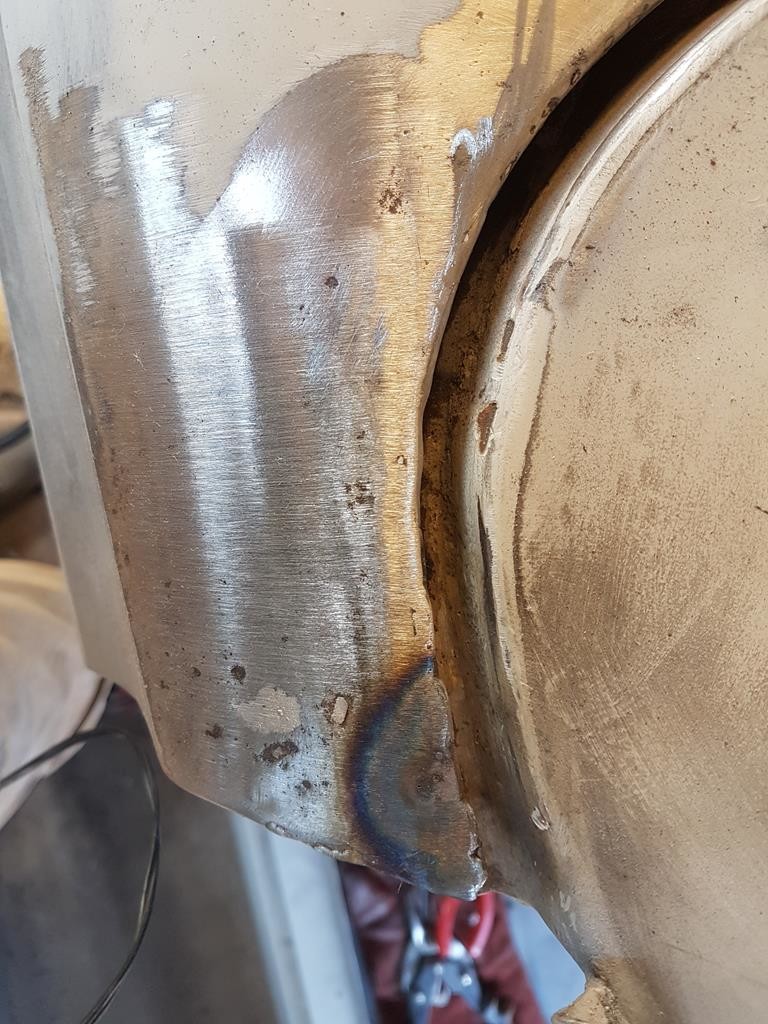 Then back on with the under wings!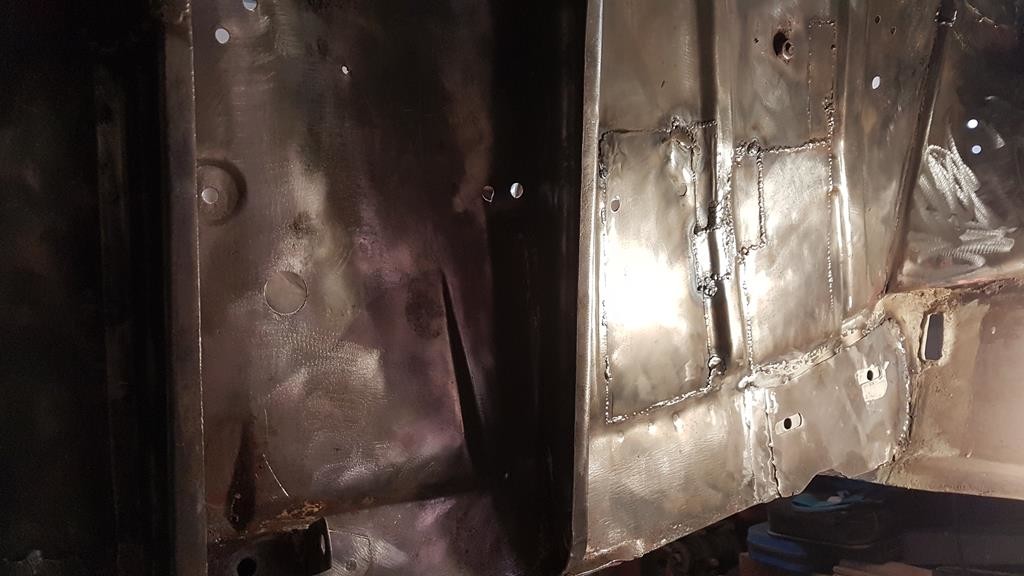 The welds have been tired! I've also applied kurust as a precaution.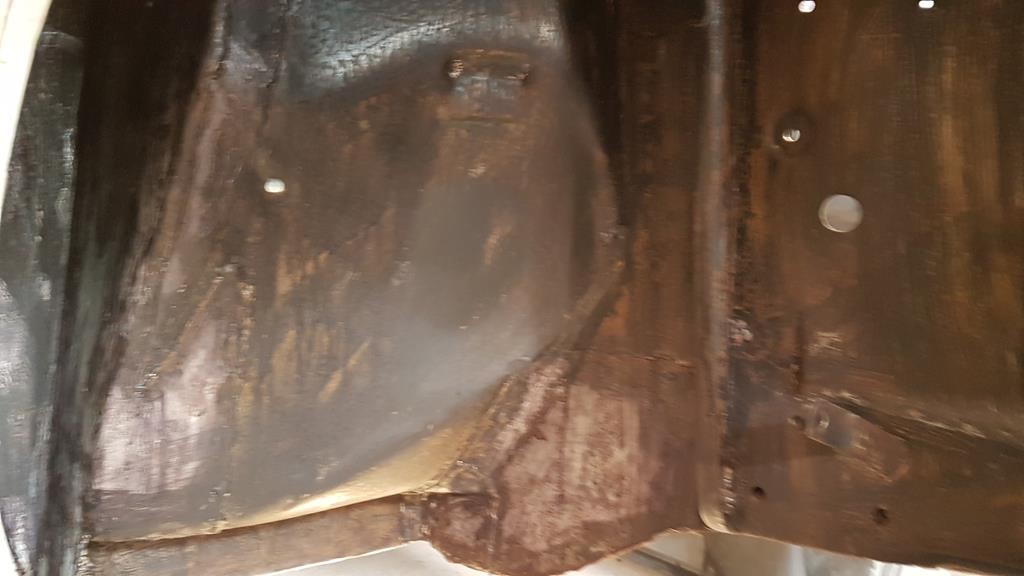 And primed - there are a few touch ups needed.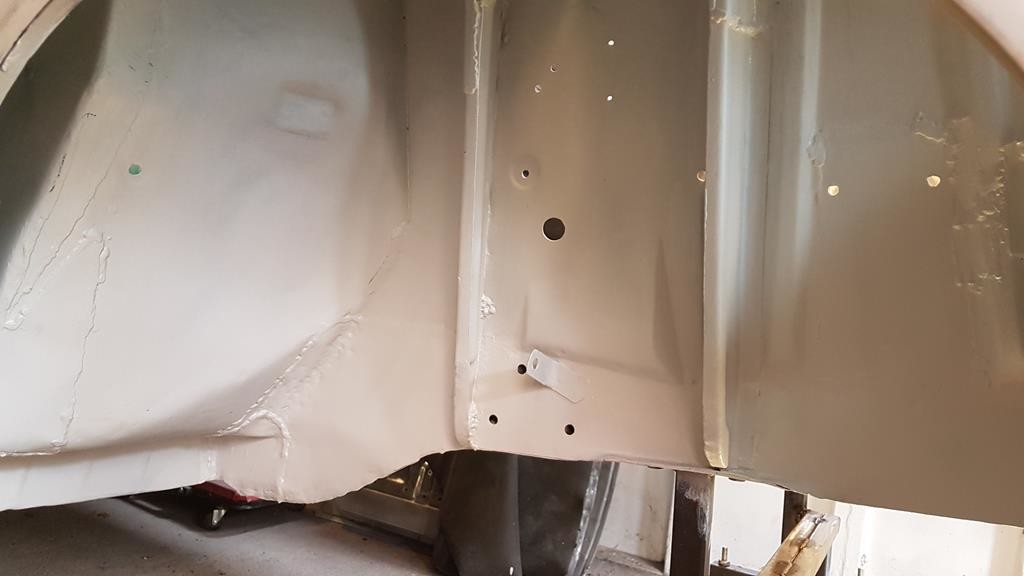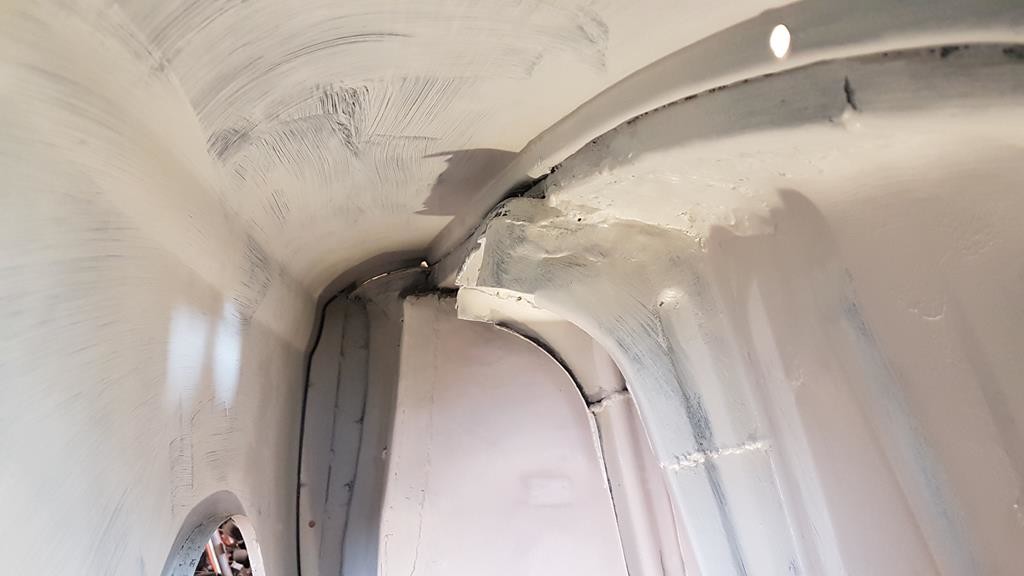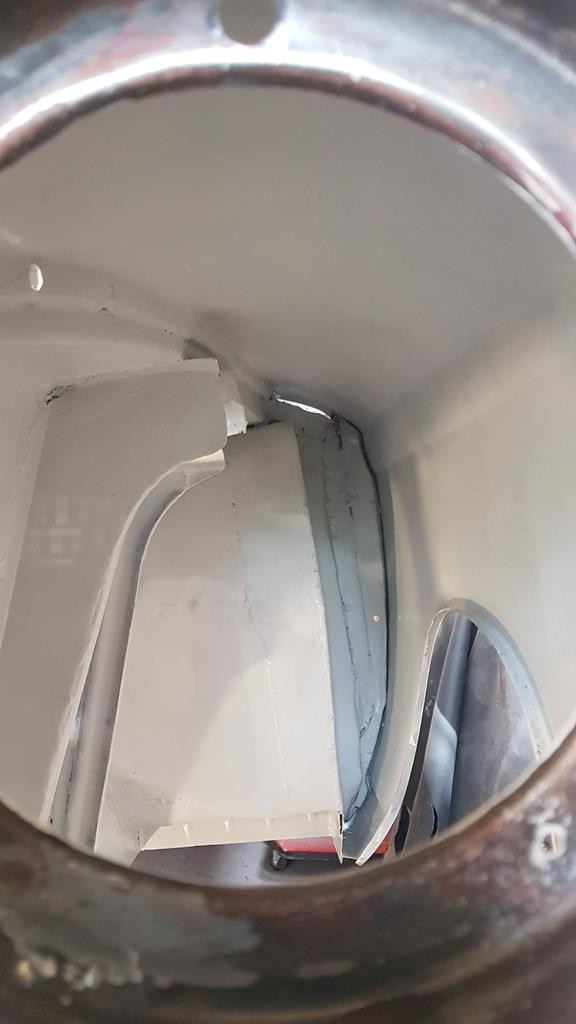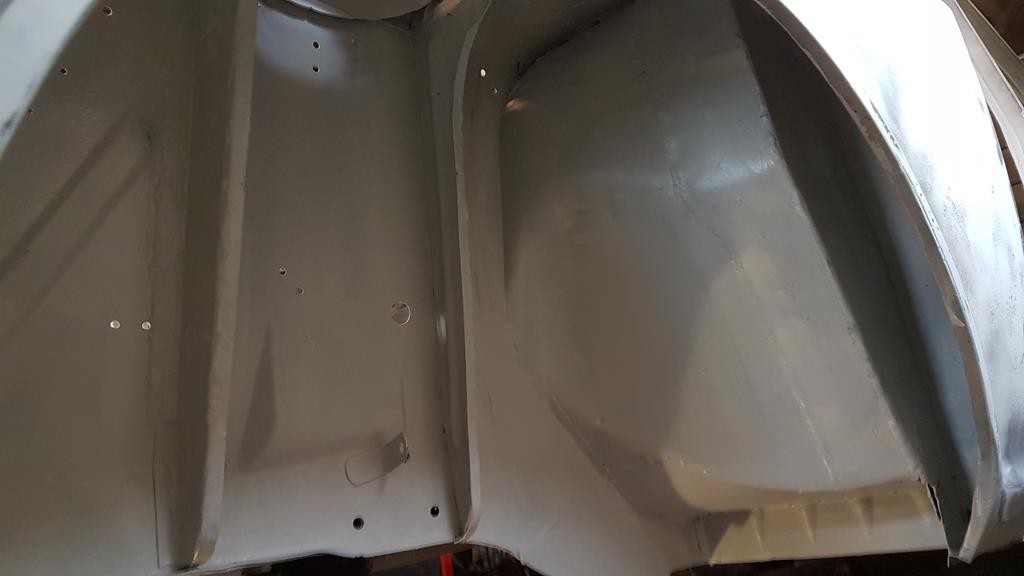 It's a massive relief to be at this point as it's been a long slog!

During the evenings I've been doing some engine bay work, this is the centre support of the slam panel and I hacked it to get the electric fan to fit and it was flimsy! I've made a good and moulded it at the top to meet the original section - it's come out better than expected which is a shame as it'll never be seen!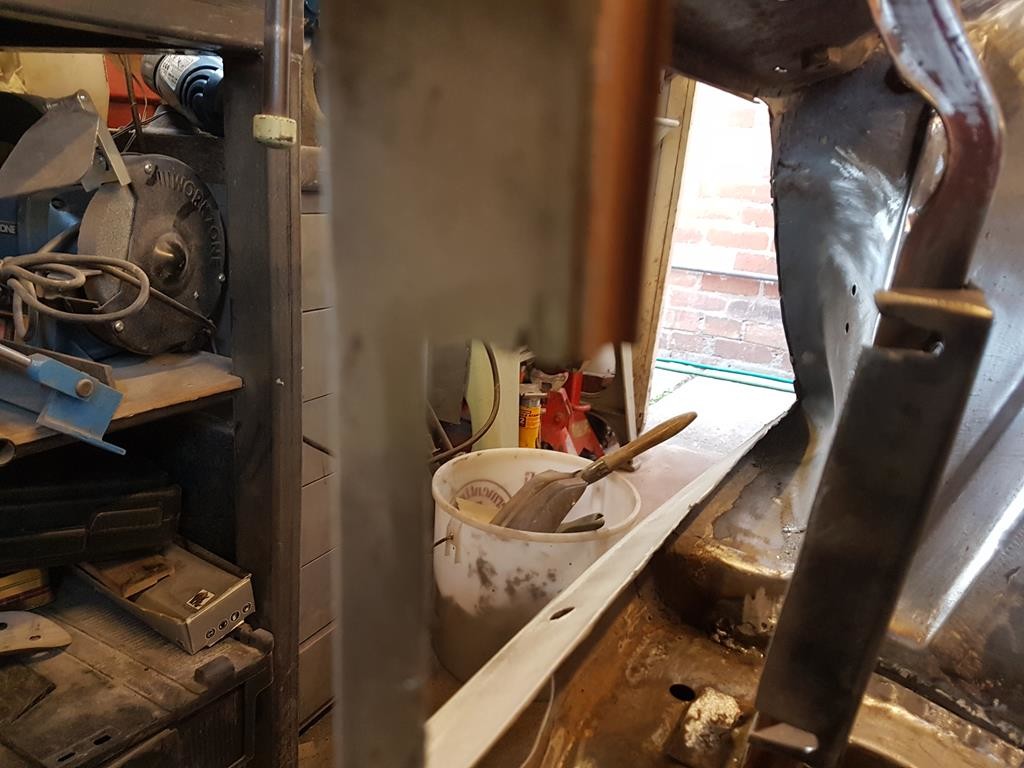 I made my own set squares!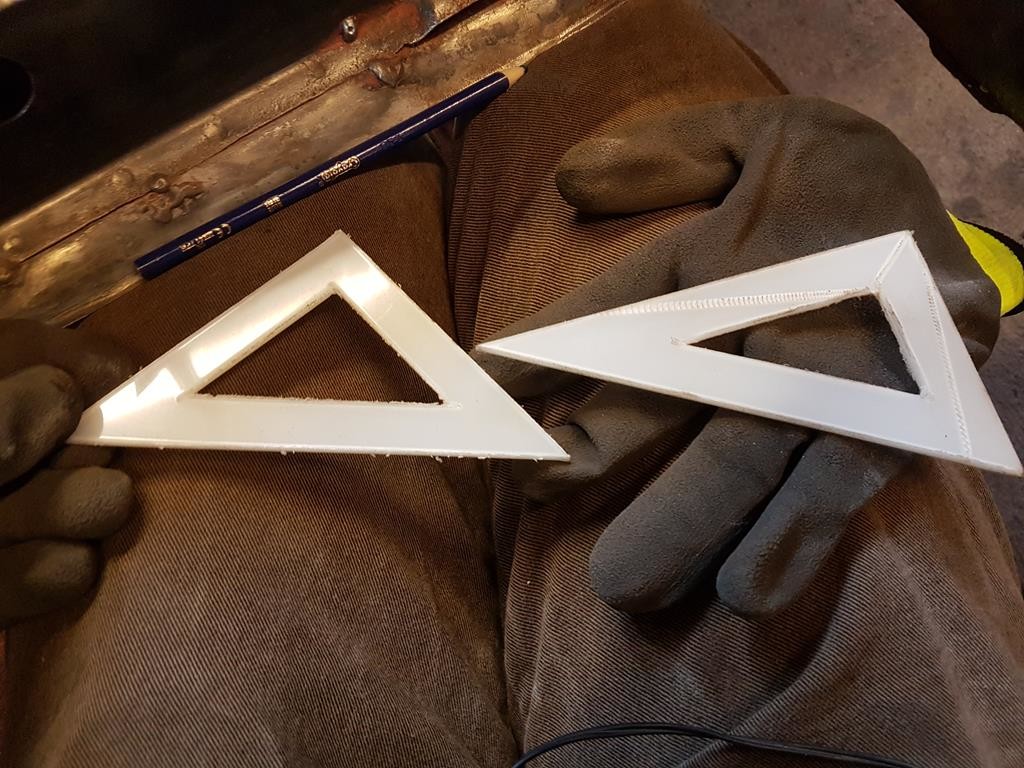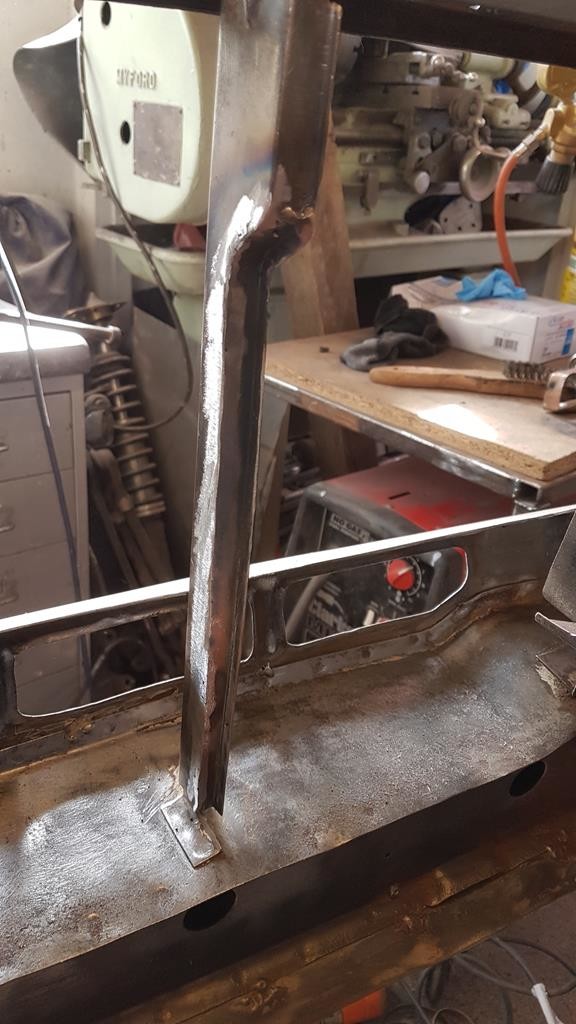 Now I'm onto seem sealing!!!
9-23-2018
I've seen sealed the underside
It's a mix as I was using up the black tube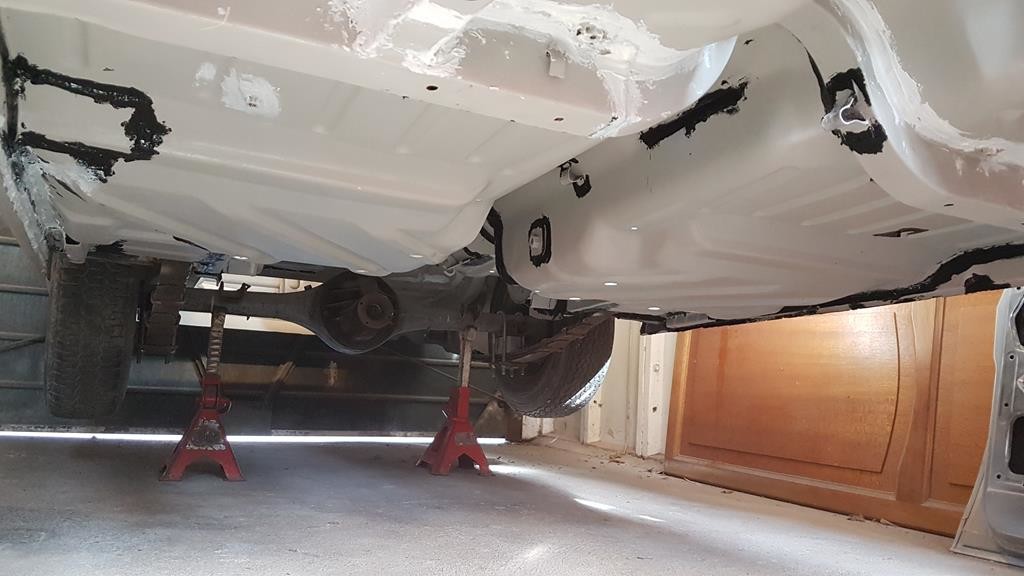 Then I did a buy- 1l of ermine white.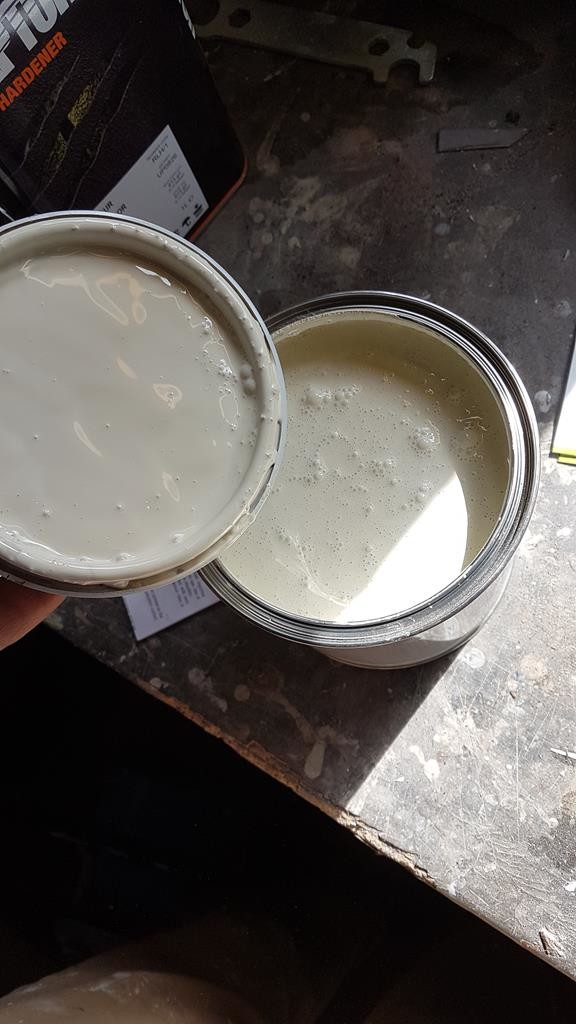 Then this happened: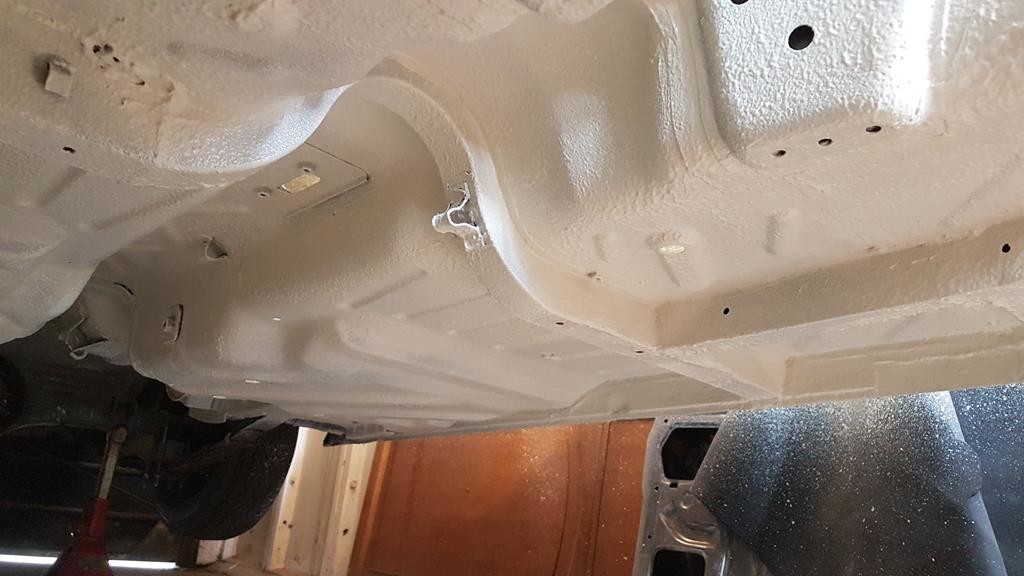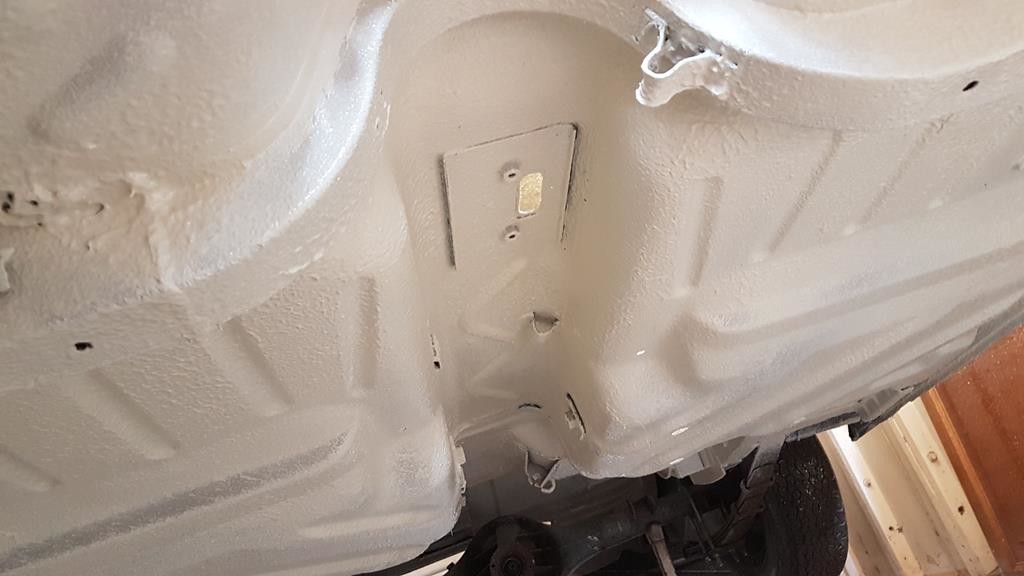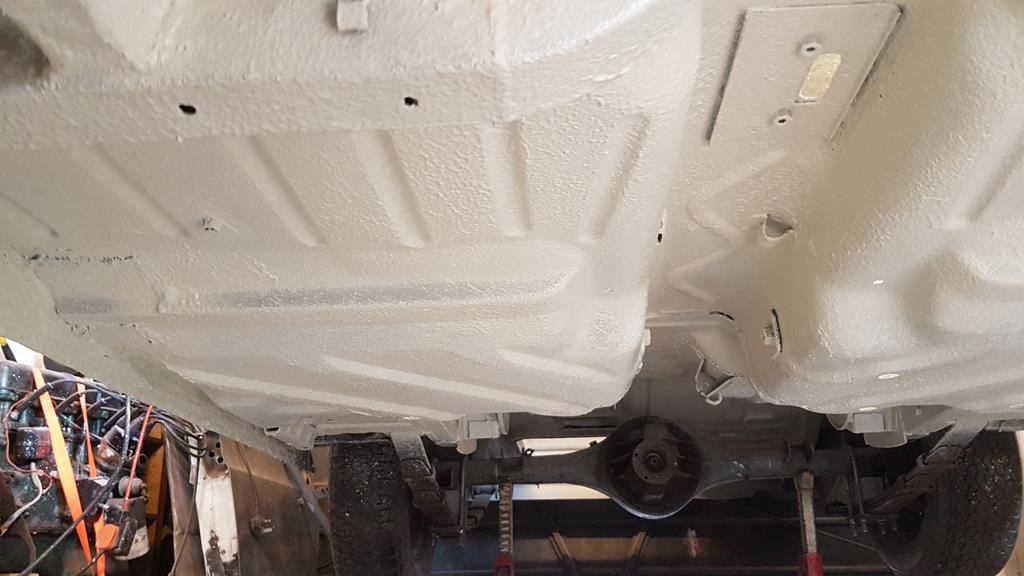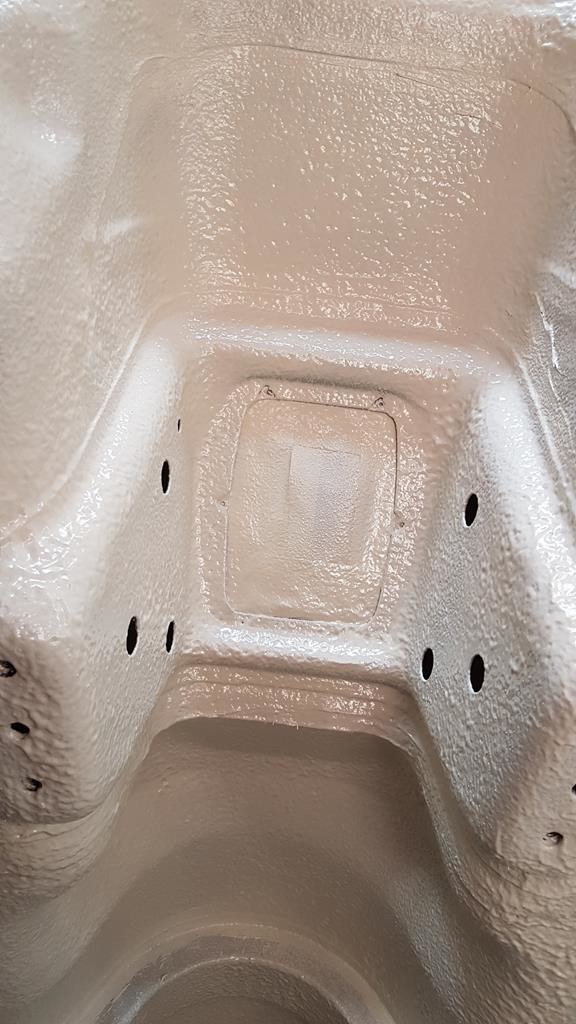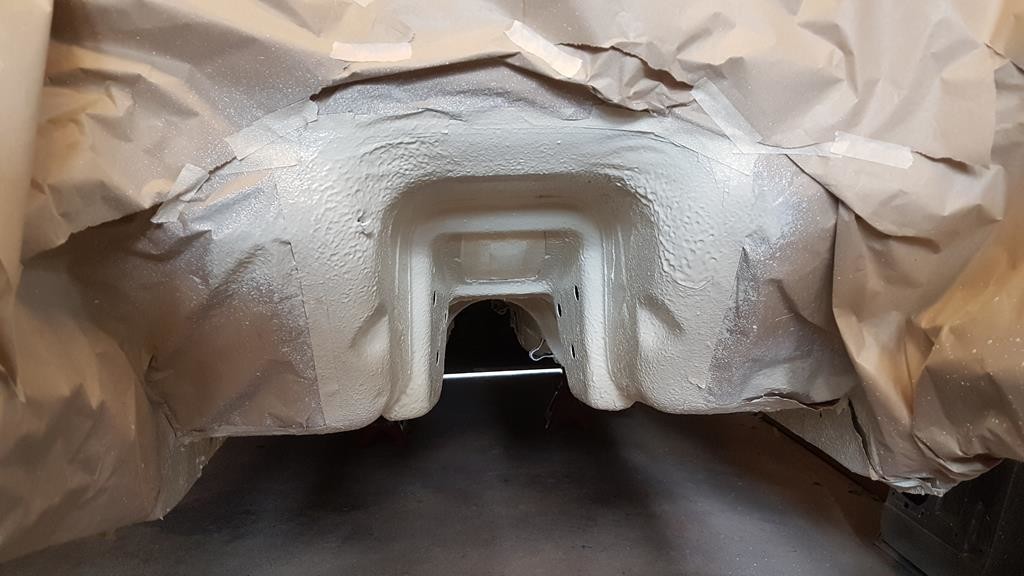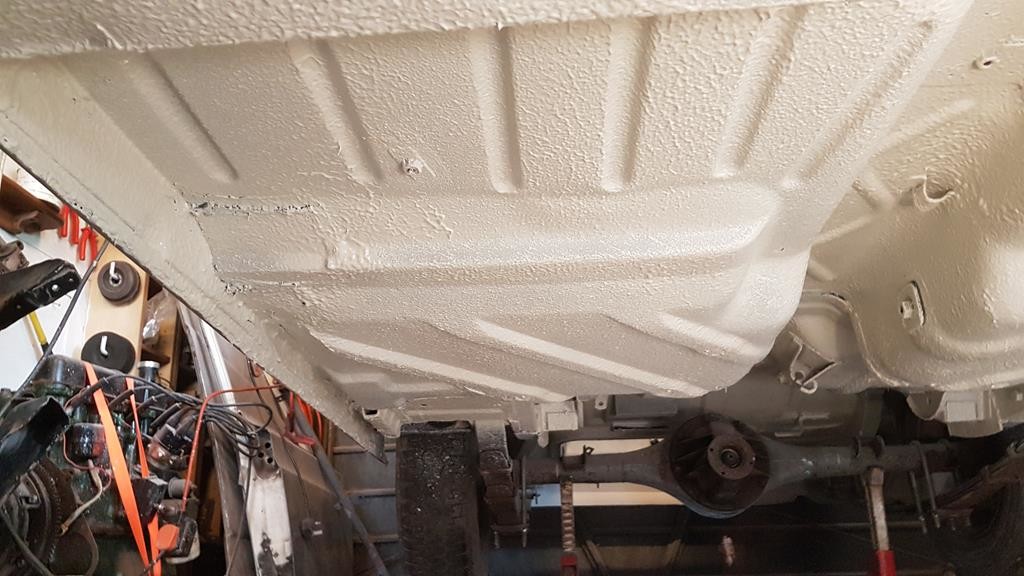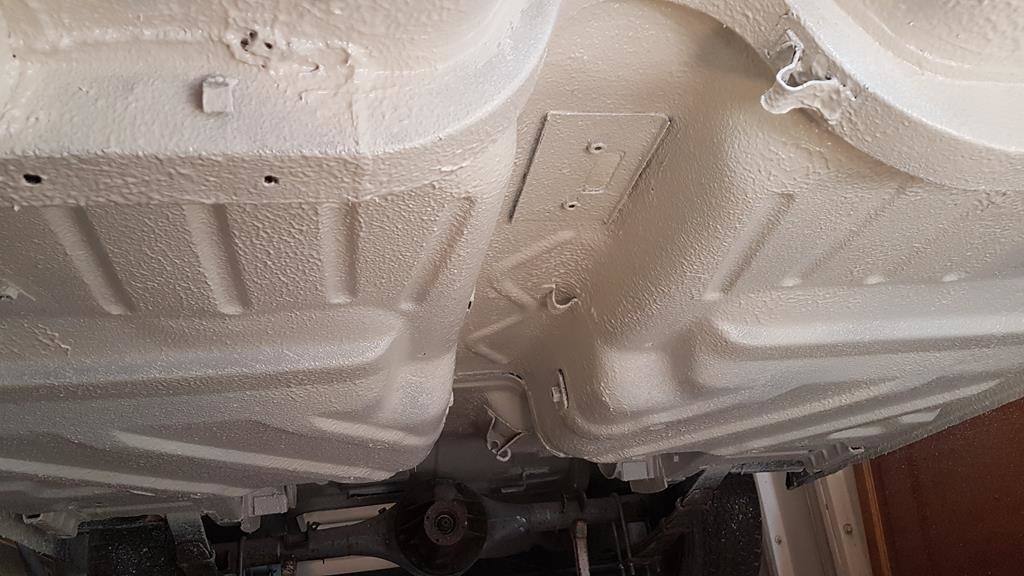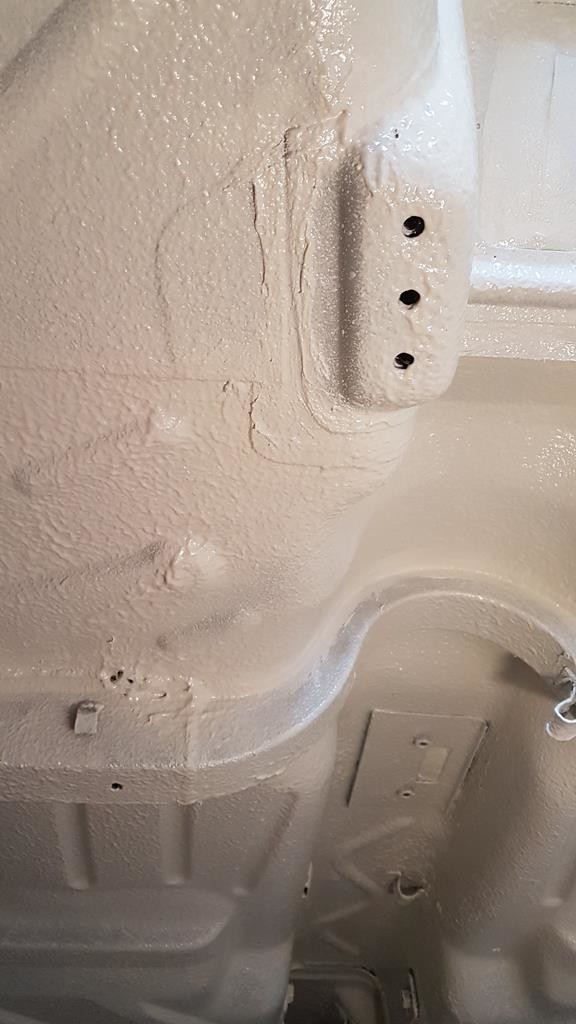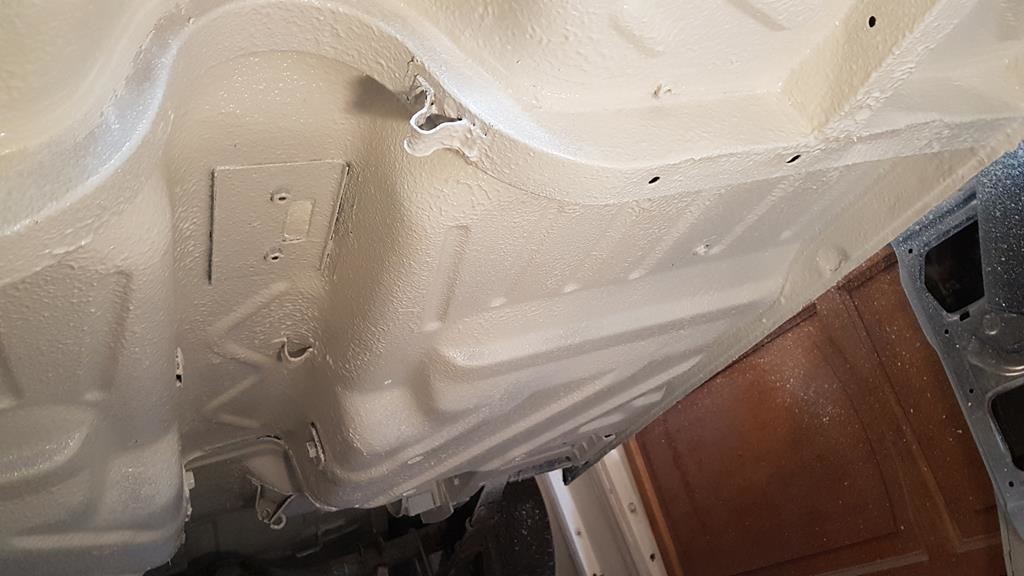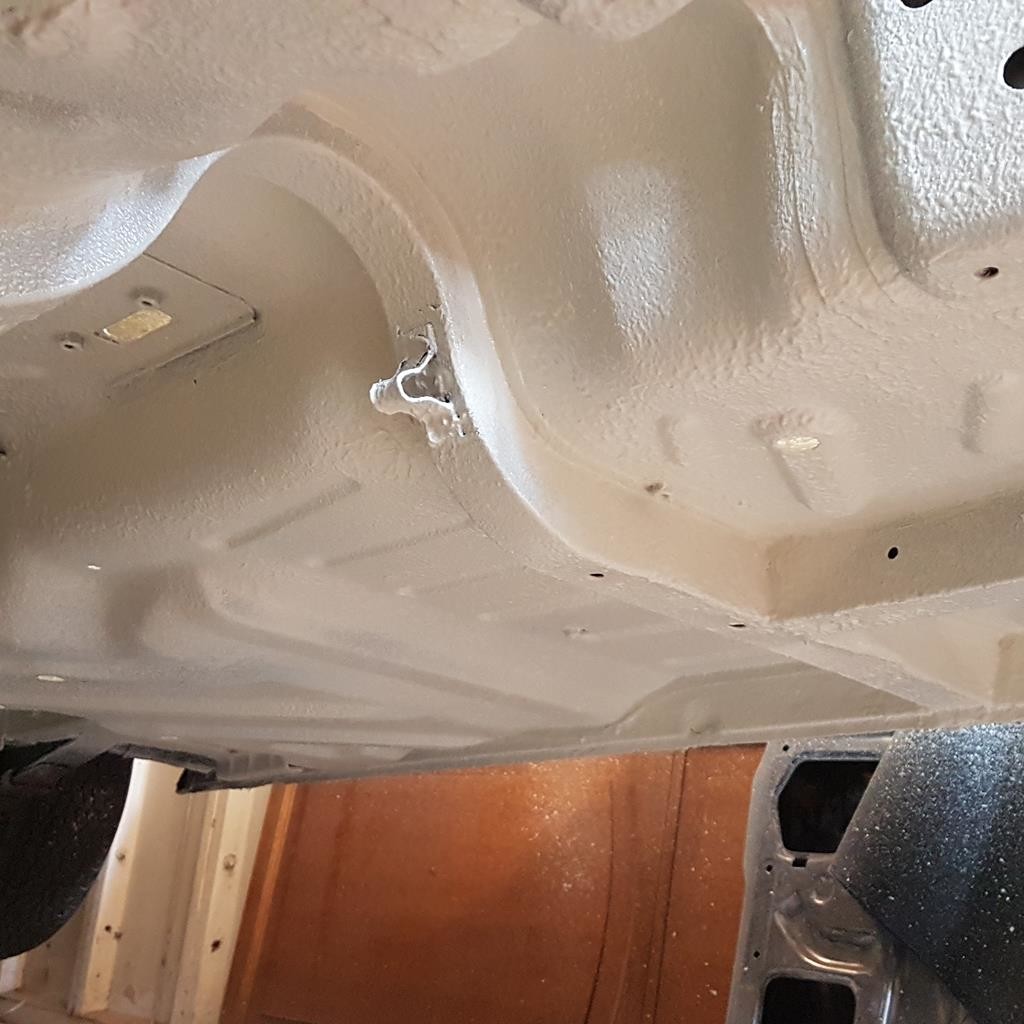 Edit: I used 3l on the upol raptor - Its sprayed just beyond the axle and close to the tank hole. I bought a 4l kit but I think I'll need another 2l or so. There's a few bits missed but I'll sort it.

It's a little coarse but I love how easy it is to use!
9-30-2018
I've. Managed to get some more sprayed, I get believe how different it looks now!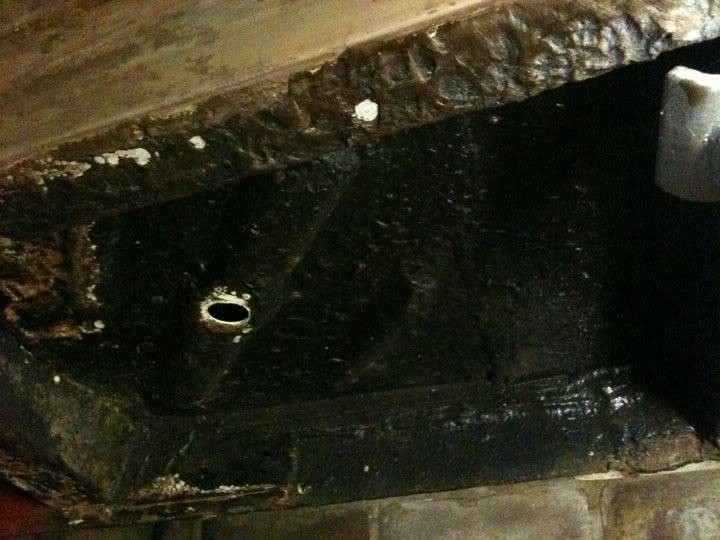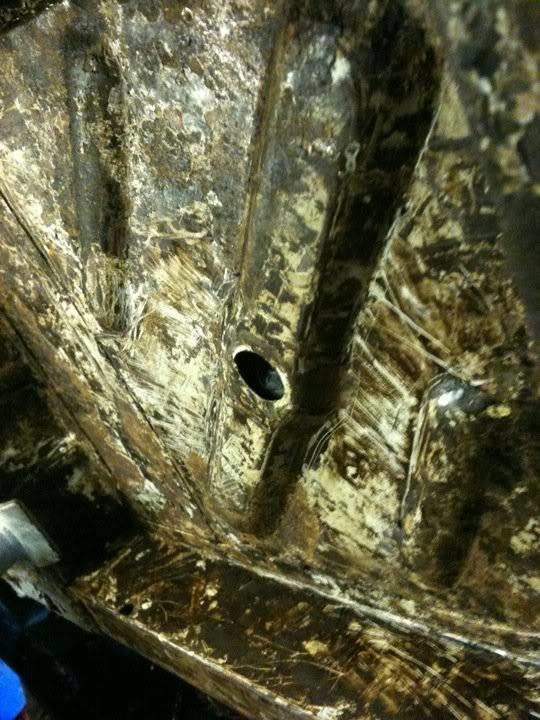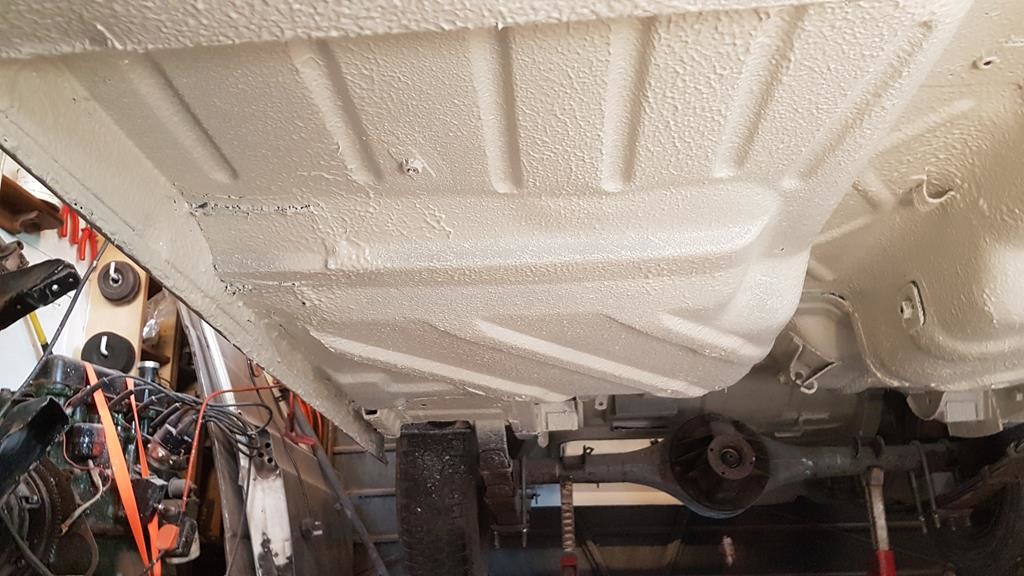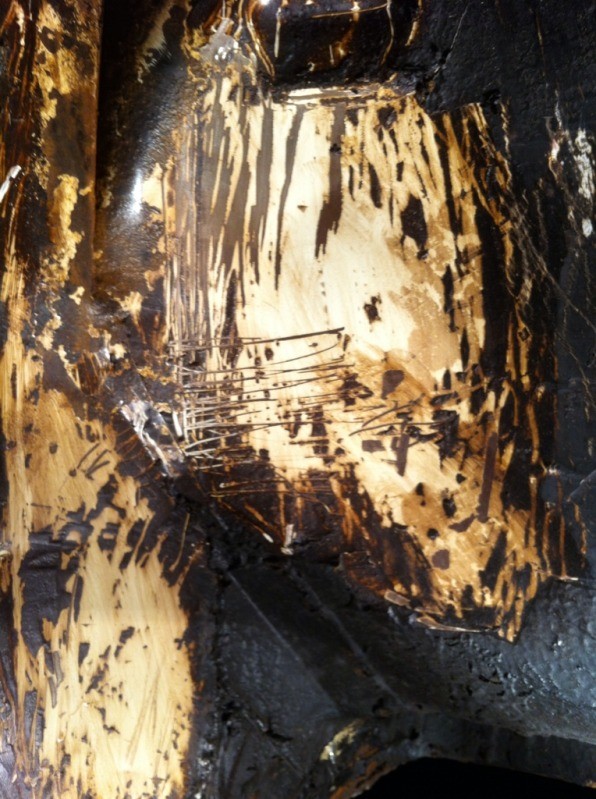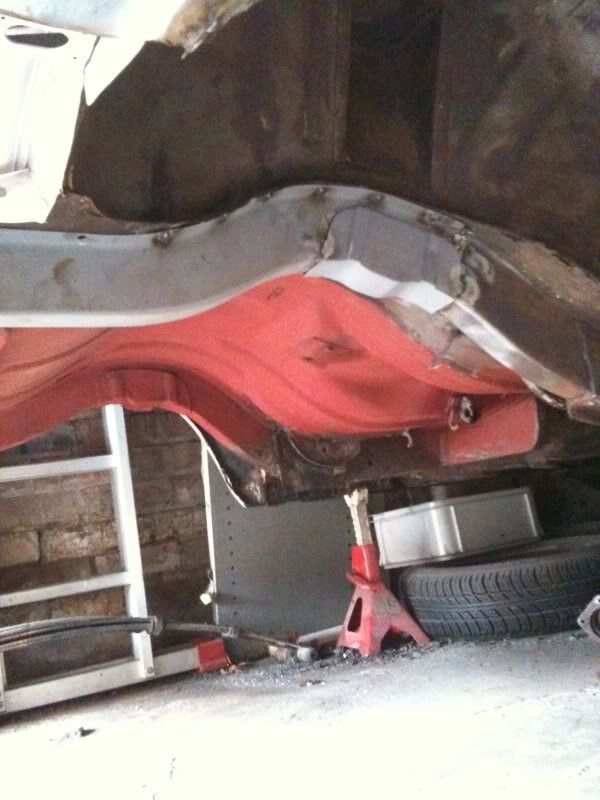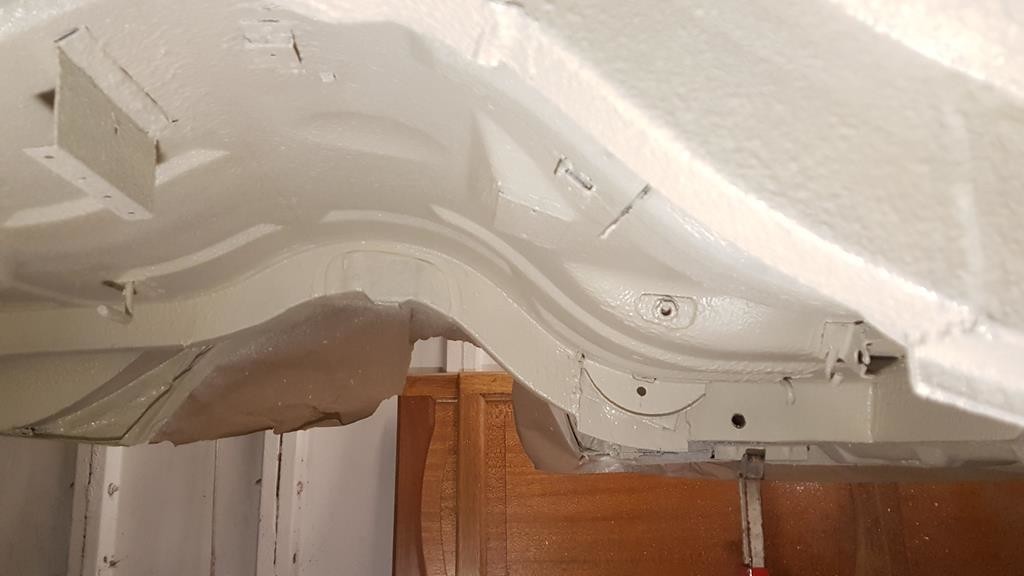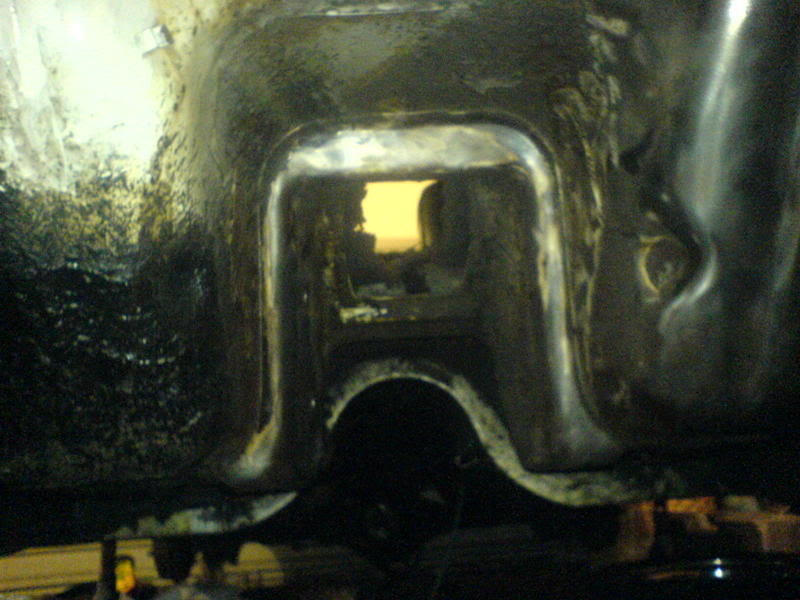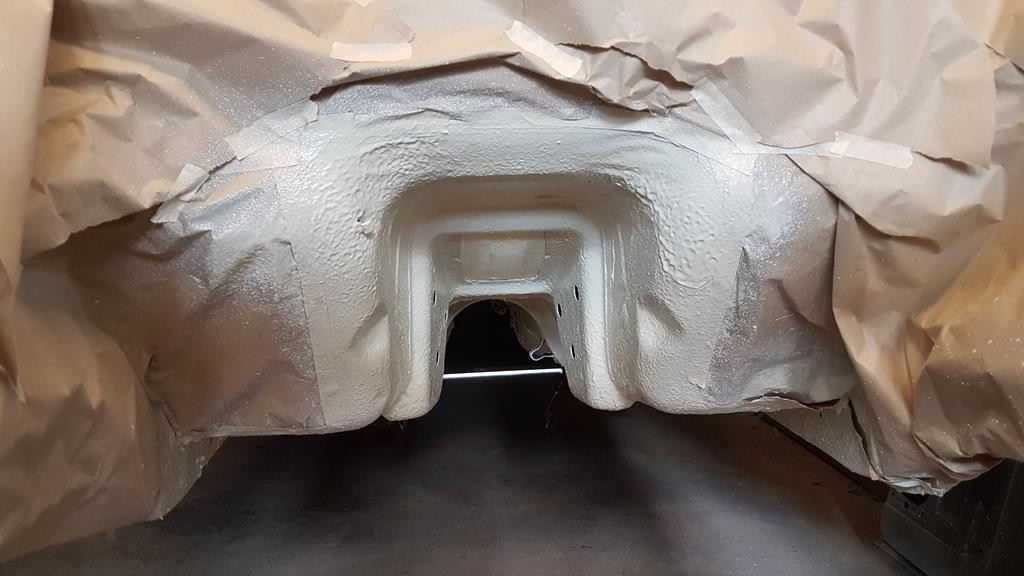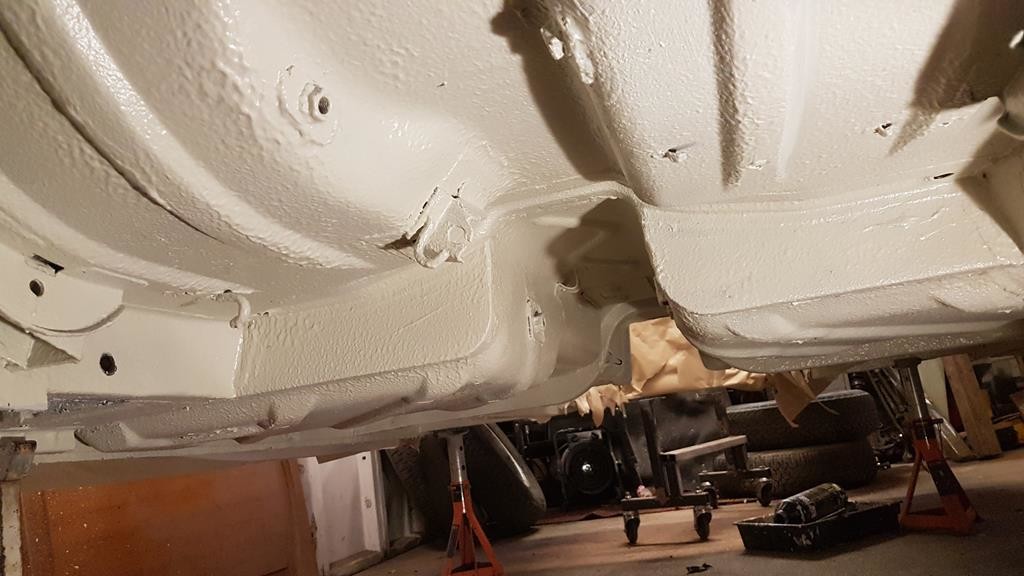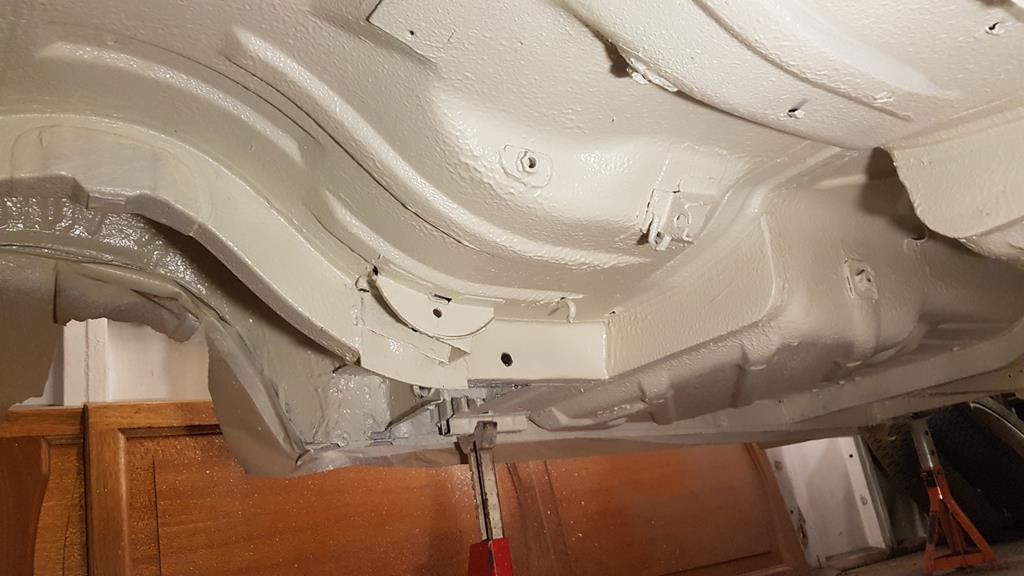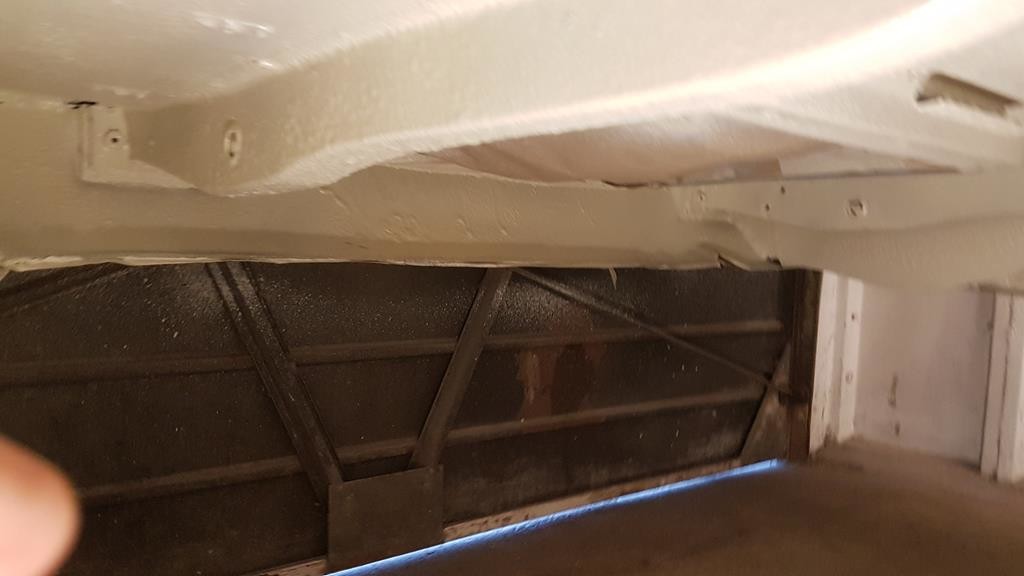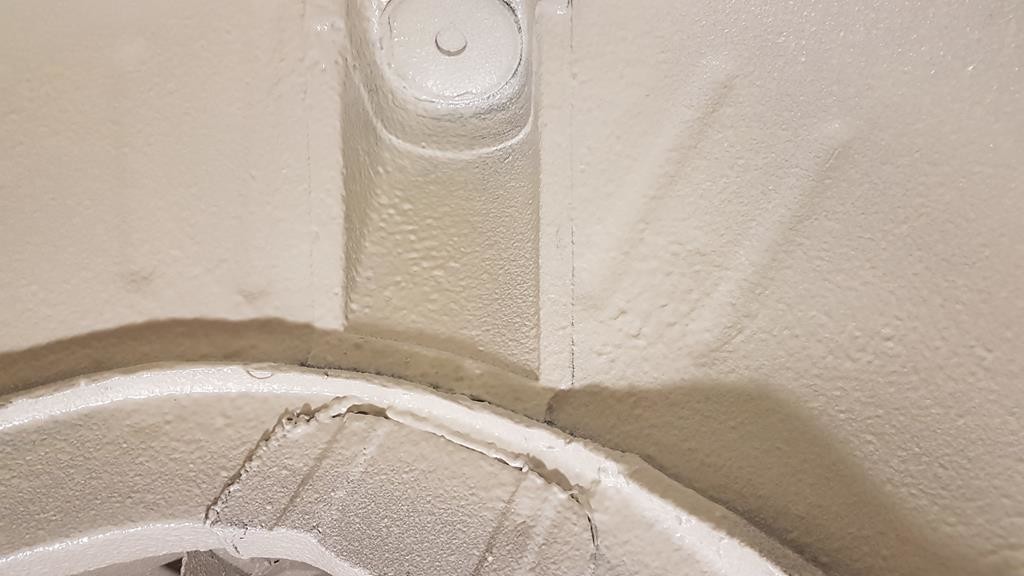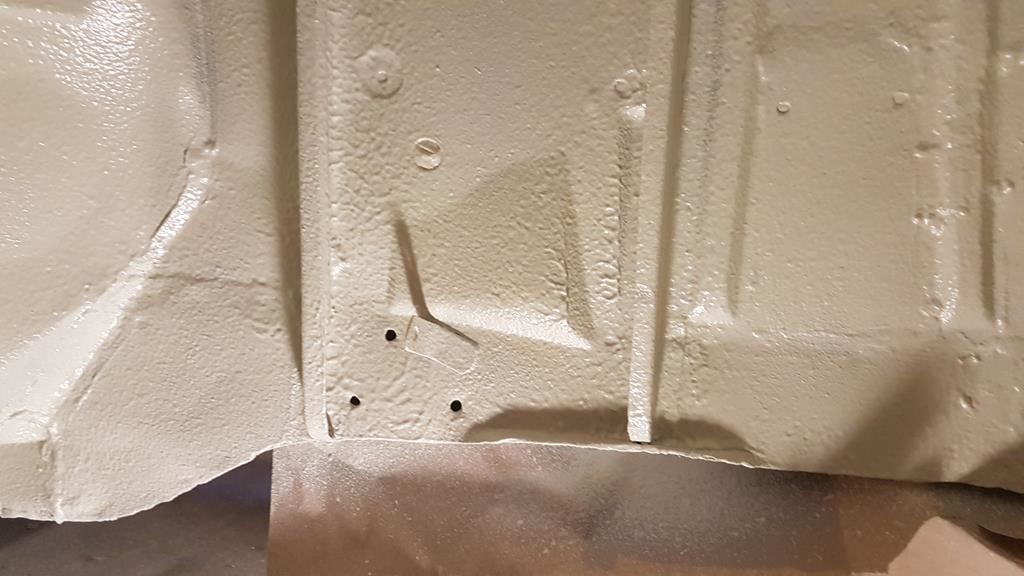 It's 90% done just touching up etc but I'm very happy!

I'm having a break from spraying and I'll make the rear frame for wheeling the shell around
10-25-2018
Just a small update:

I've been flatting the interior which is going well but I have found some thinner areas so I'll put more primer on but the majority of it looks good.

I've just primed the Engine bay for the second time - the 1st was a disaster! I ran out of primer a quarter of the way through and i hit a pocket of dust!

But I've just laid some primer on and it looks ok - I can start doing filler etc at least!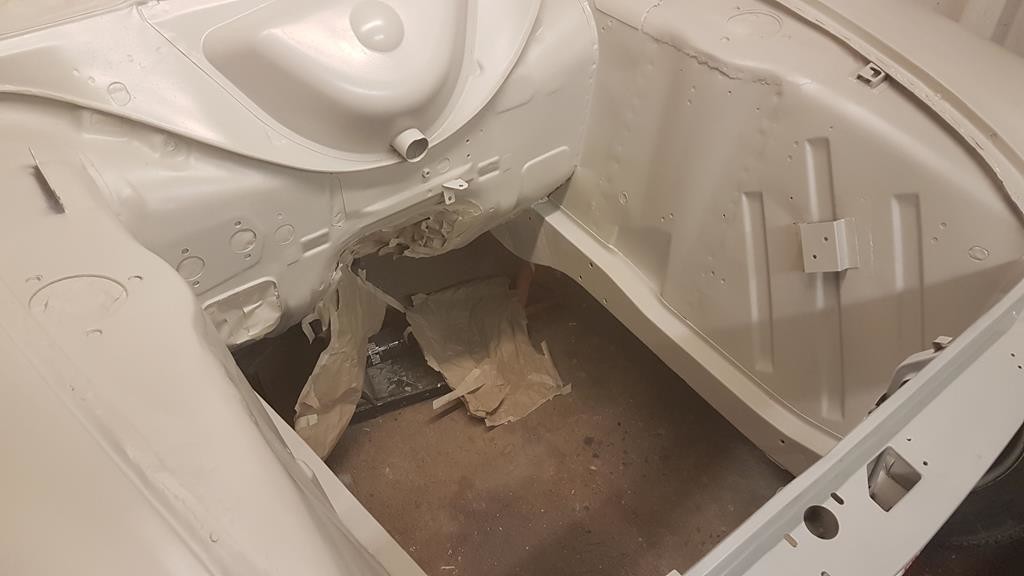 I've struggled to get in these tight areas - any ideas?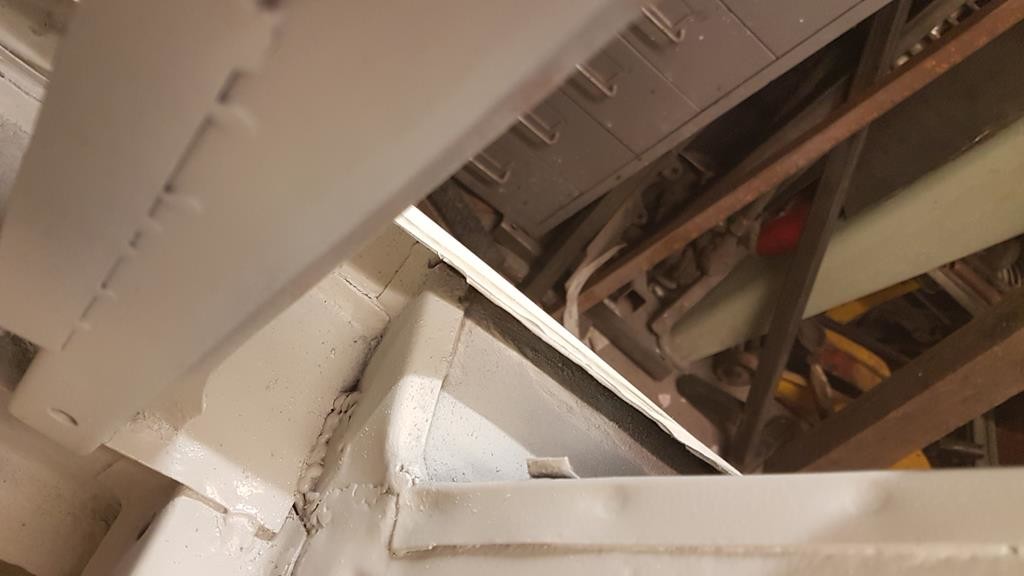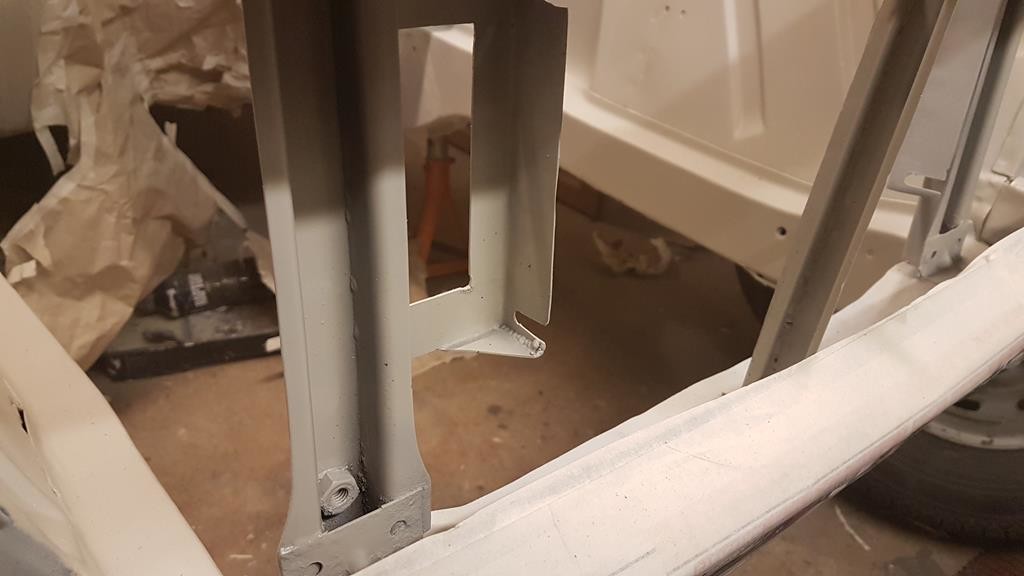 The more I look at the fan mounts I made the more I dislike them - I think I'll cut them off and use the ziptie mounts that go through the radiator
11-12-2018
I've been filling etc in the engine bay inbetween work and life.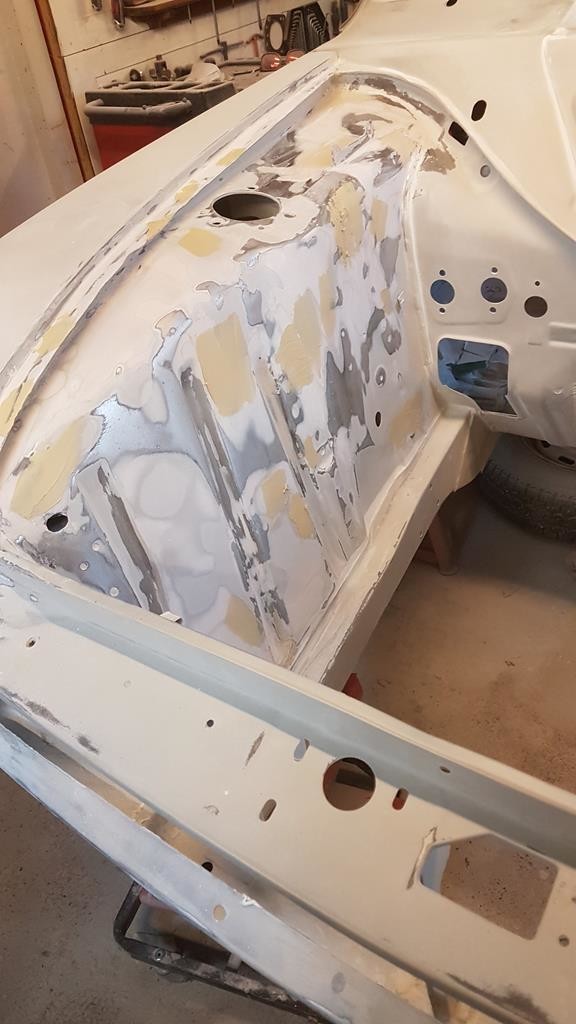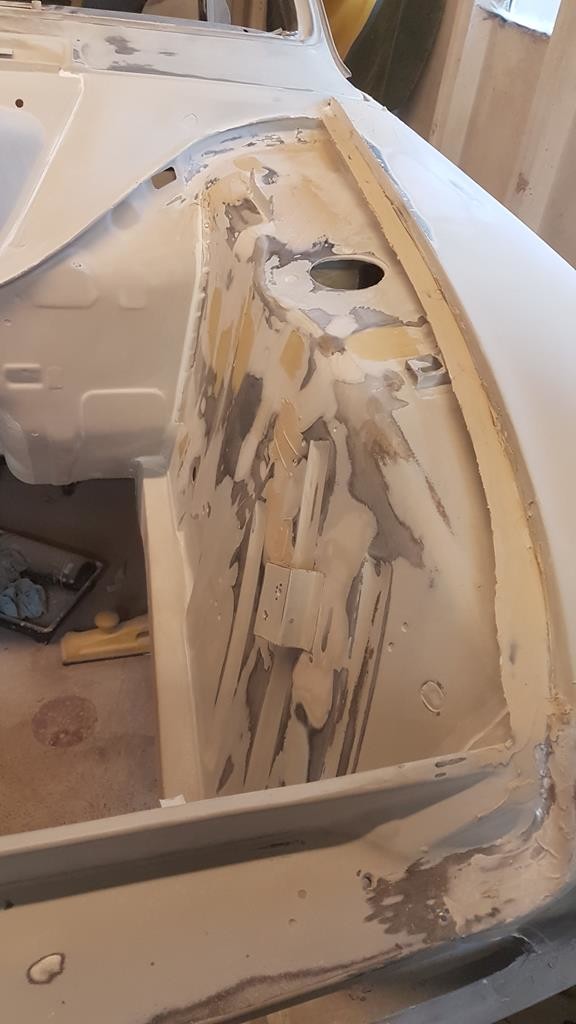 And sanded again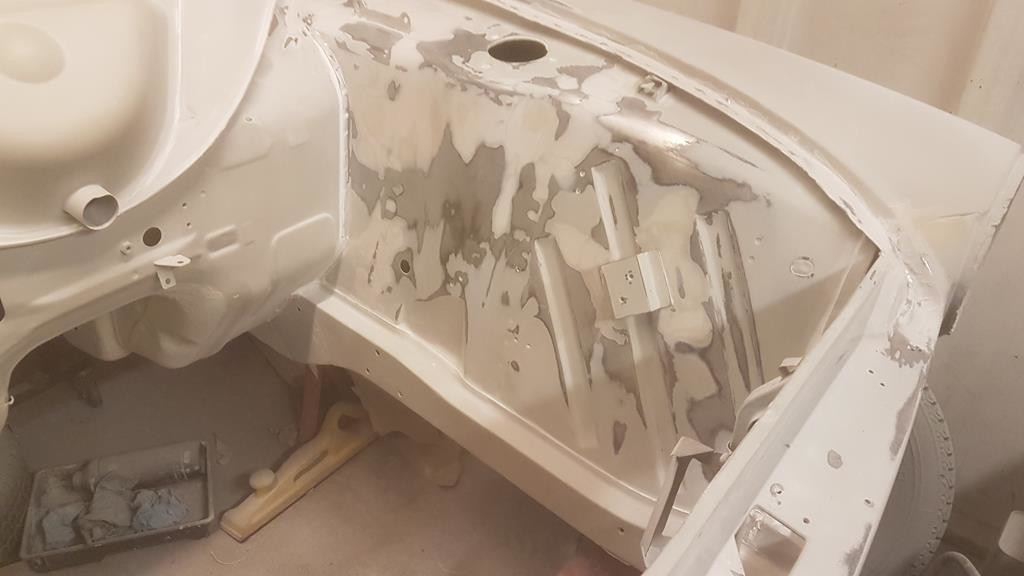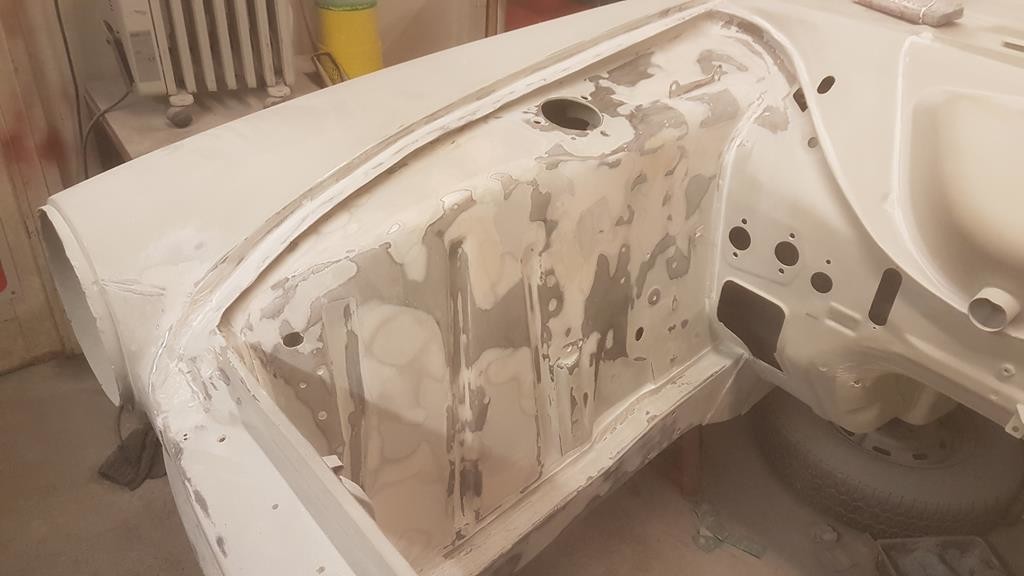 I'm going to guide coat with the powder and go on with 120 to get the 80 grit marks out and see if there are any pin holes I've missed
11-19-2018
Just a quick post but I've got a new toy.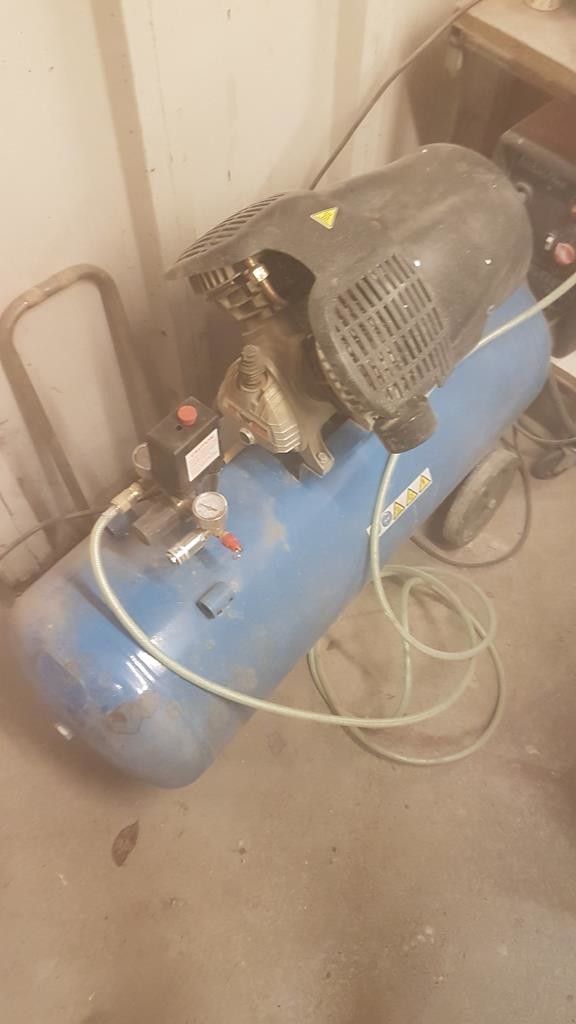 It was an e-mither special that as it turned out was a none runner. A new switch and a clean up and it's ready to go!

I'll get it plumbed in properly and I know it'll not make me a better sprayer but I can do it for longer which helps!
12-17-2018
Just a few updates from the last few weeks:

Engine bay

I finished rubbing the filler down and put a fresh coat of epoxy on.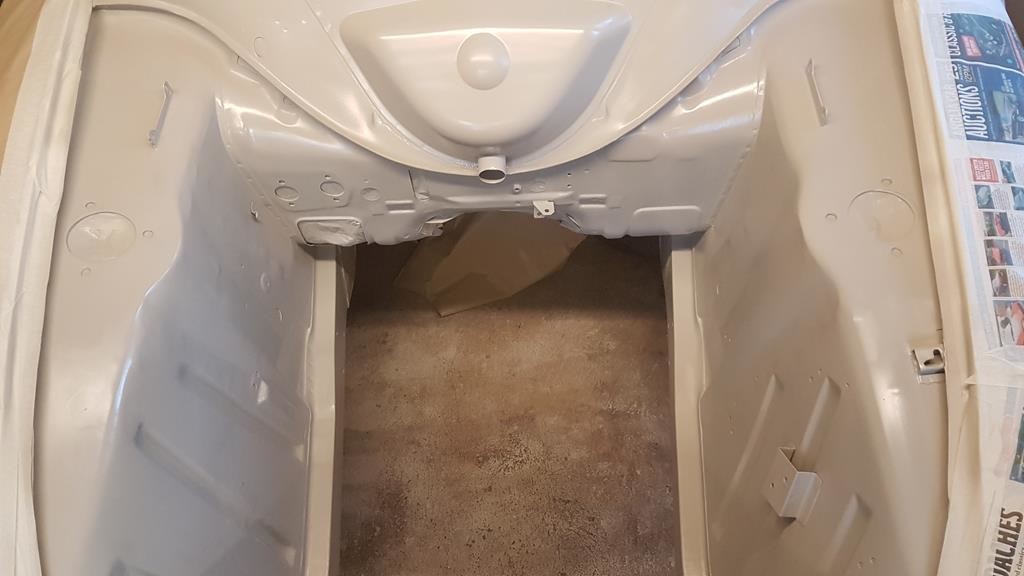 Even though I looked for pin holes the primer did a better job and I found this lot...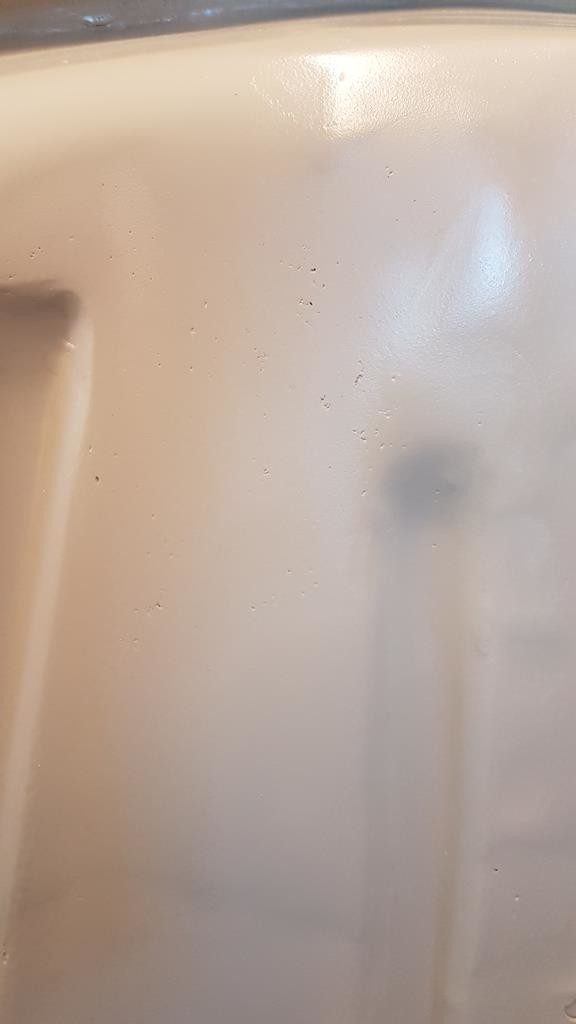 Generally it looks good though and these pin holes are just frustrating but fixable.

Dashboard

I hacked it! I was very careful about this and have kept the metal removed so I could weld it in should I change my mind.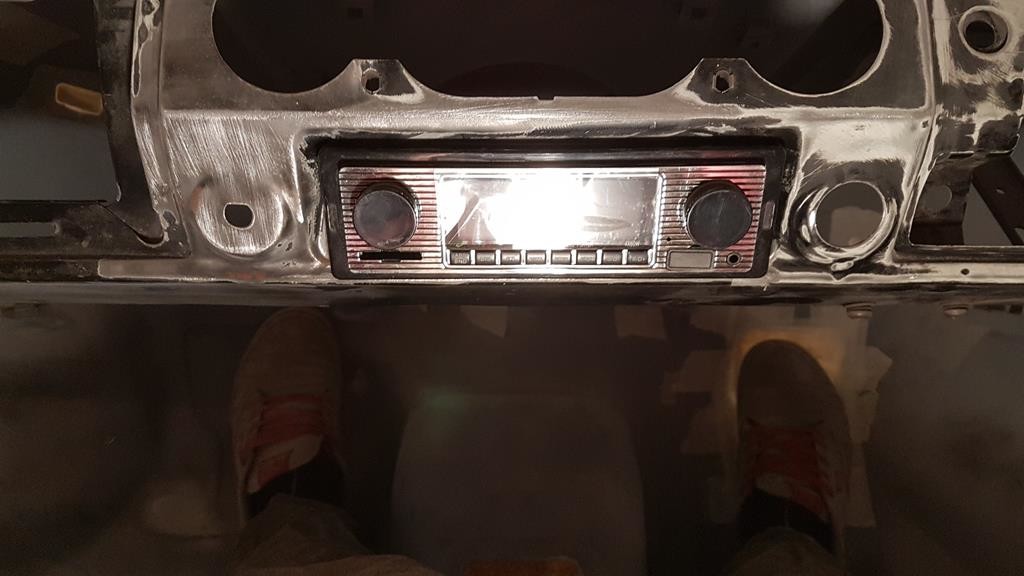 I then rubbed the whole thing down and sprayed epoxy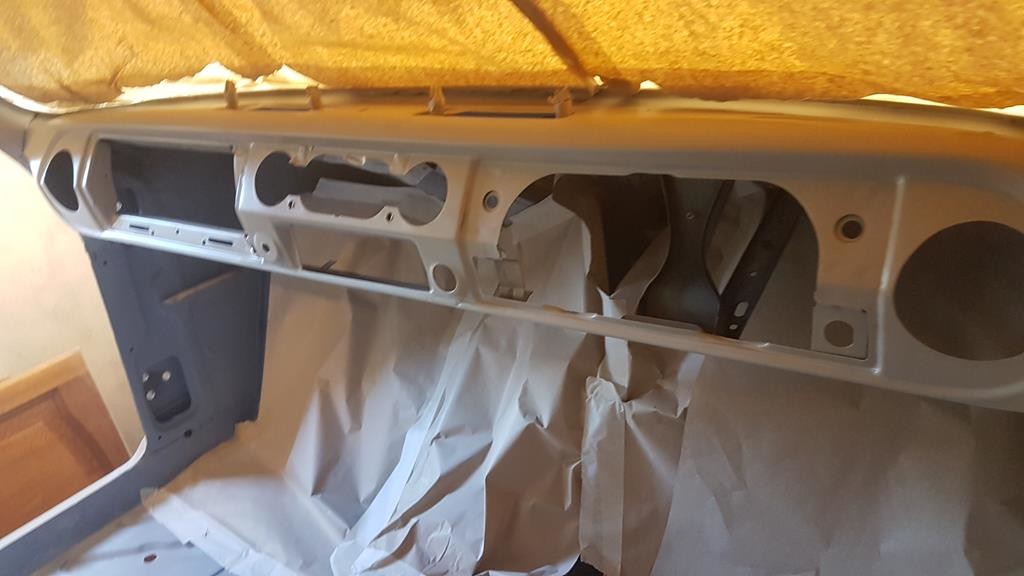 I used the oil heater to get this to cure as it's been cold in the garage but I got brave and threw down another coat of high build on the interior and dash. I've also bought a larger gun that I wanted to try too which made this job easy.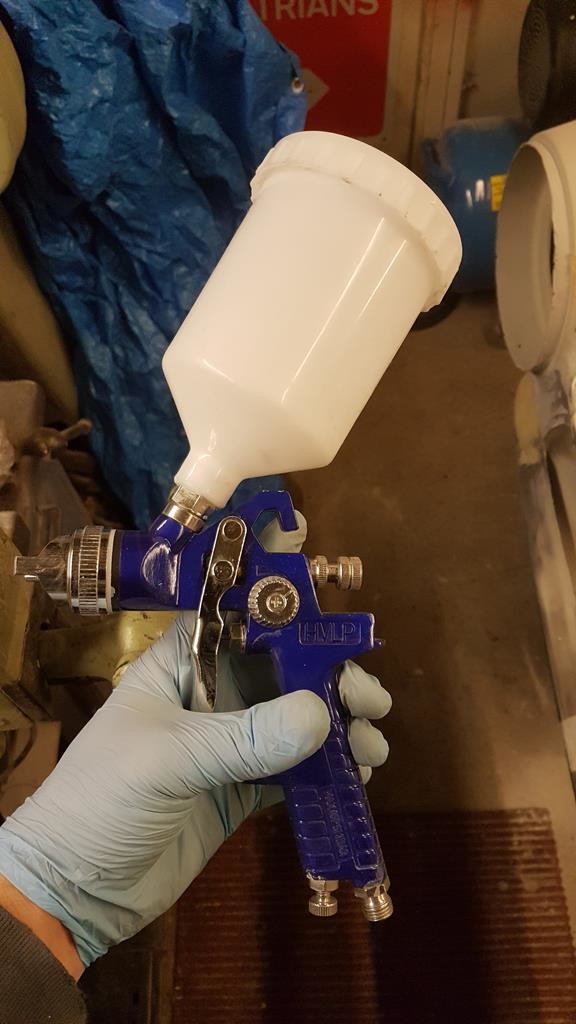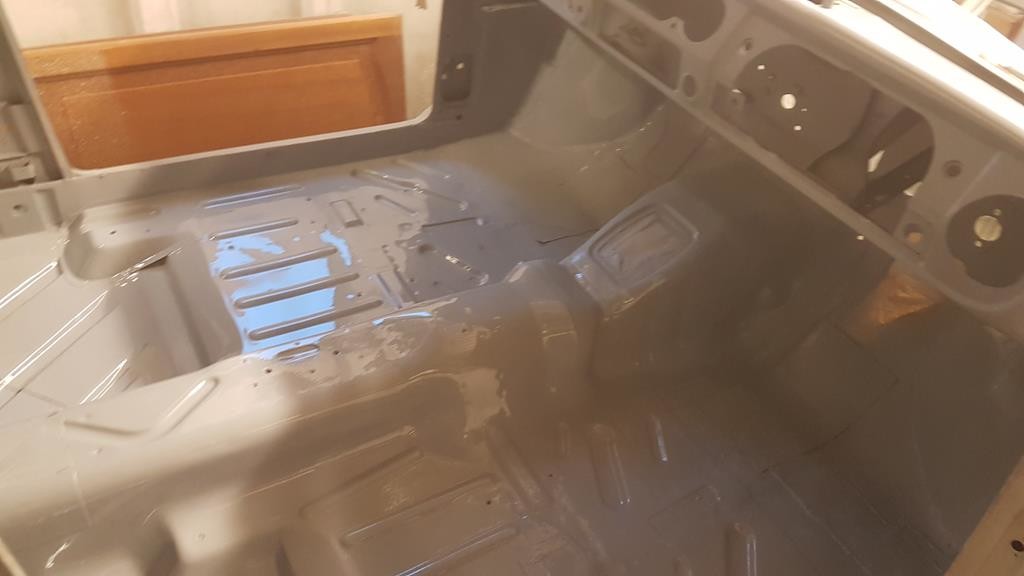 A slight cockup but I thinned the primer a bit too much and produced a few runs but it'll flat out - it's a learning curve!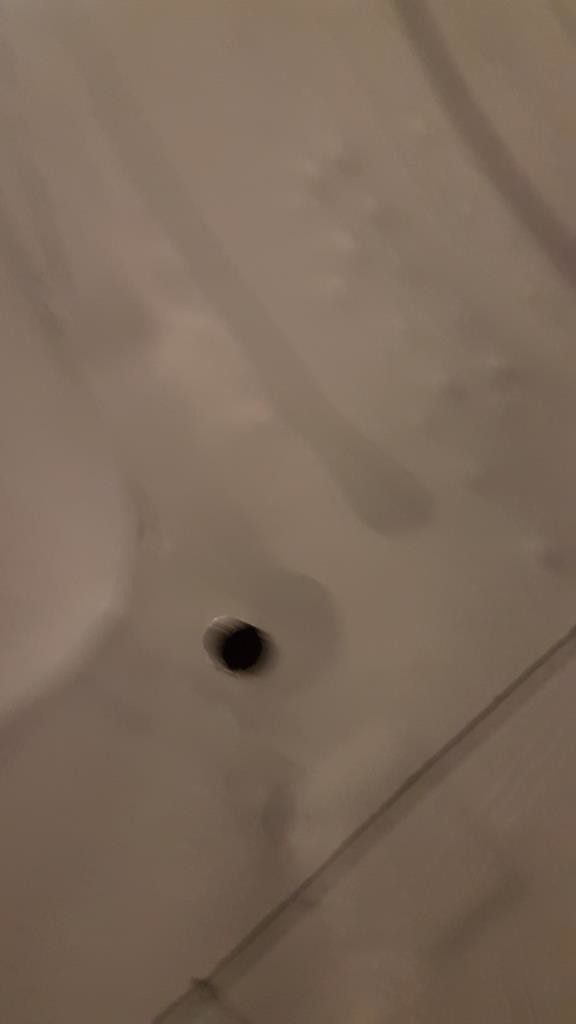 1-4-2019
As it's too cold for spraying so I've gone back to the doors to get them filled and sanded along with a skim on the wings etc

The drivers side front door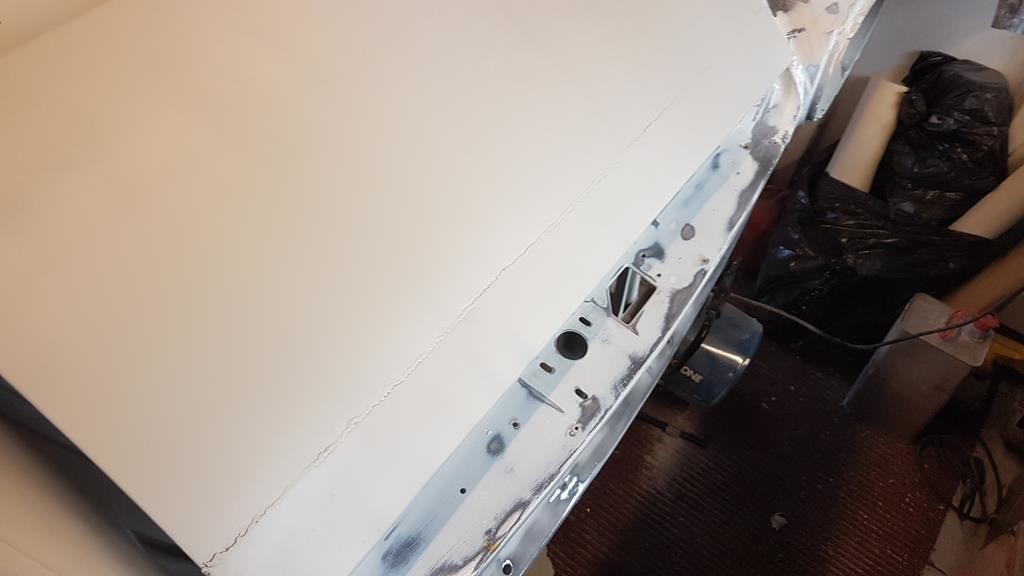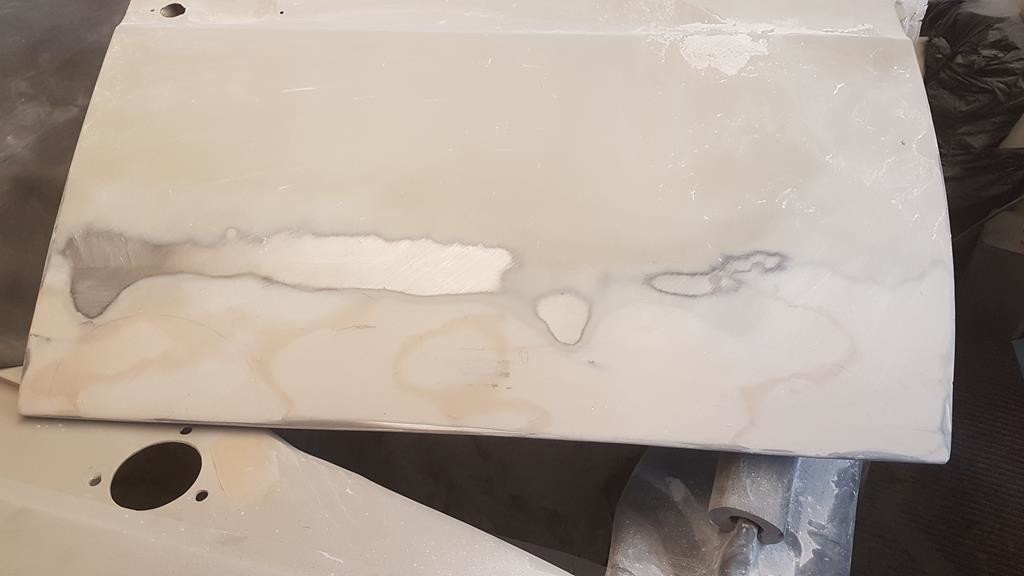 The drivers rear door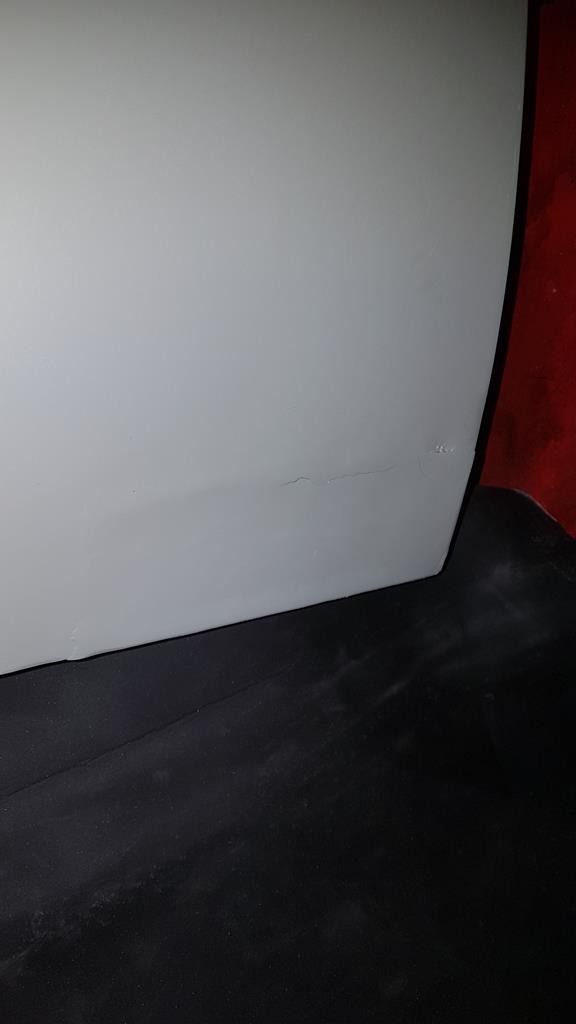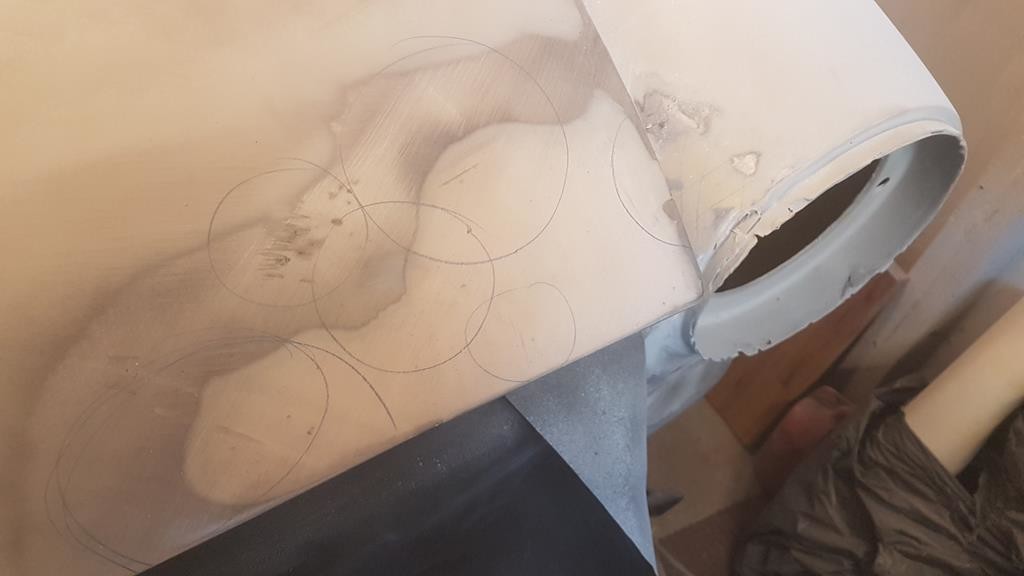 I've long blocked the filler but I think I can still feel low spots? It's odd because when I've put fresh guidecoat but it doesn't show any low spots?

The doirs have been thrown on but they need a lot of fettle - the front door kicks out at the bottom and the rear kicks out st the top!

Any tips for door fitting?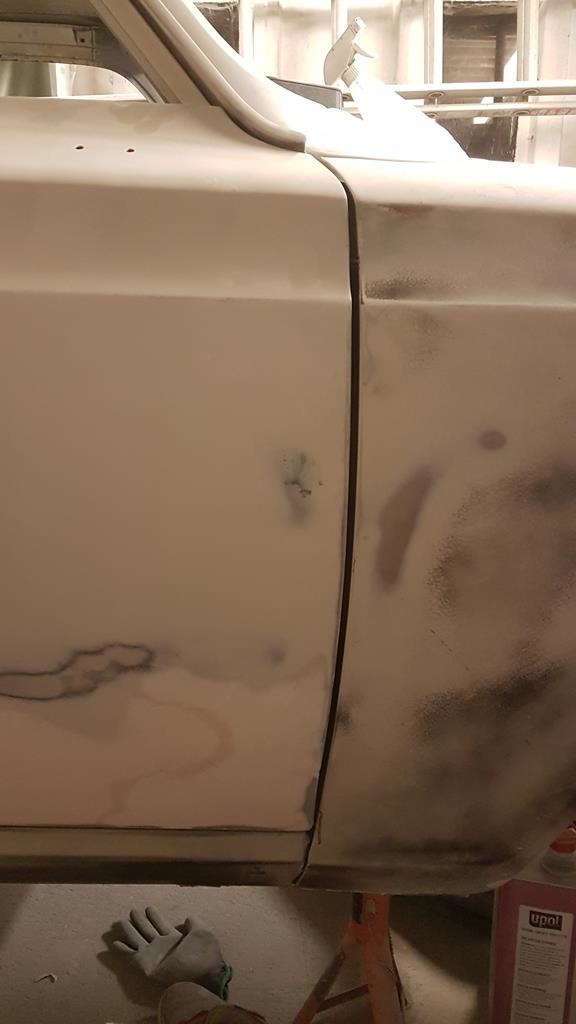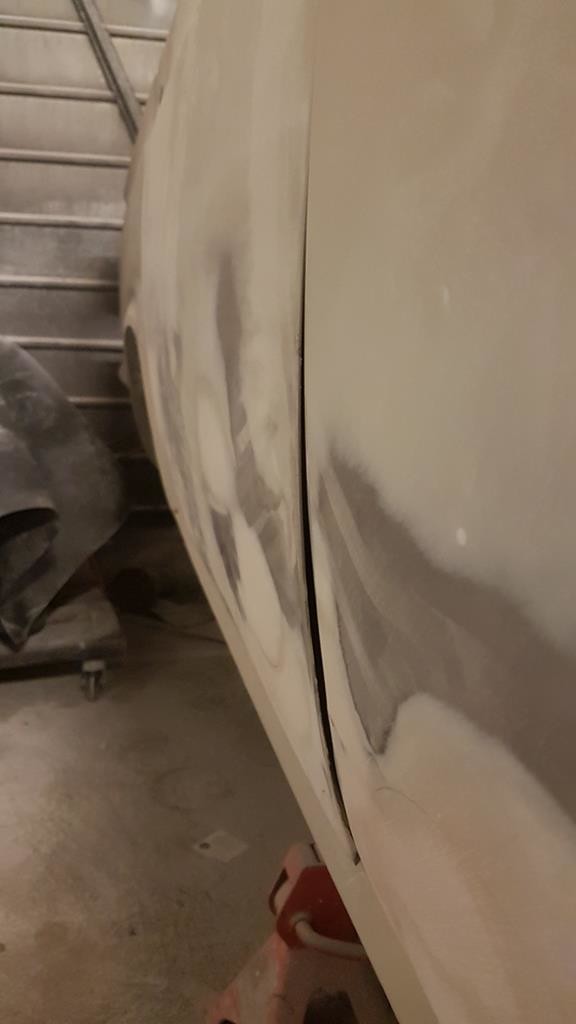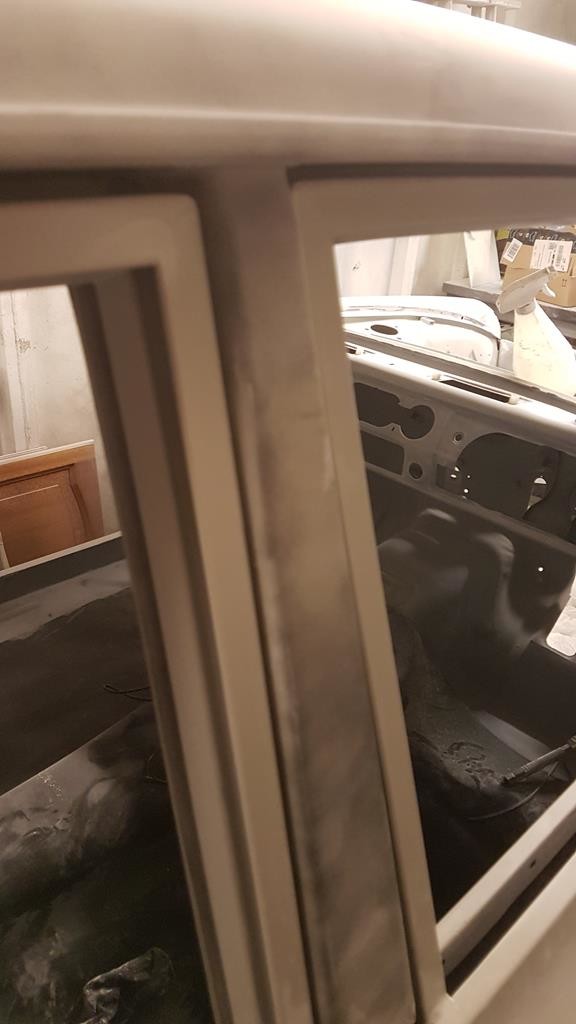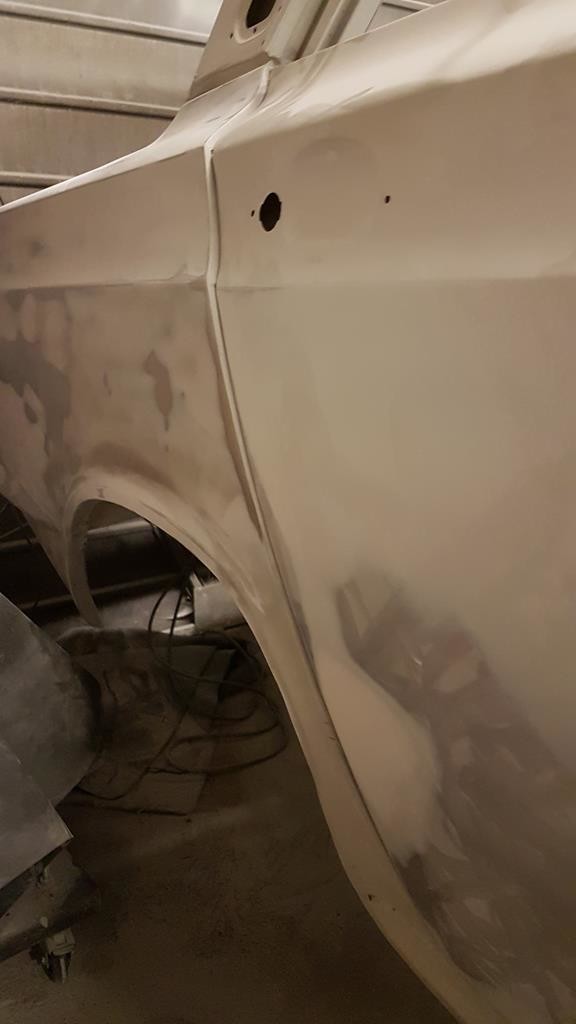 1-5-2019
Thank you all for the advice - I've had a crack at the doors again today and I think I've got the fit as good as I can without seals.

The front door had the bottom rotated clockwise (looking toward the from of the car) bringing the lower section in, the photos below is the percussion adjustment that I needed to do. I did this with a bluntened chisel and a rubber mallet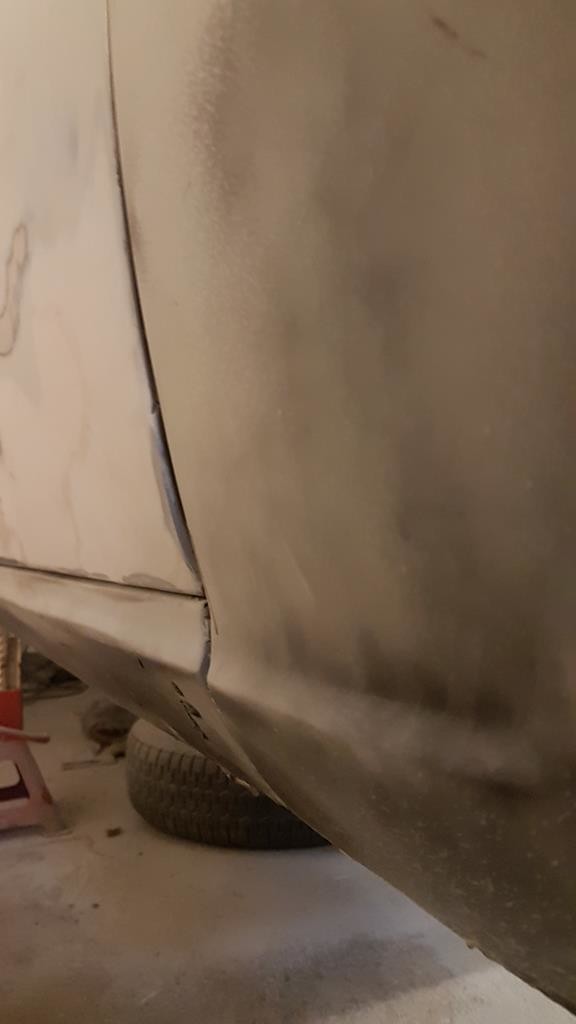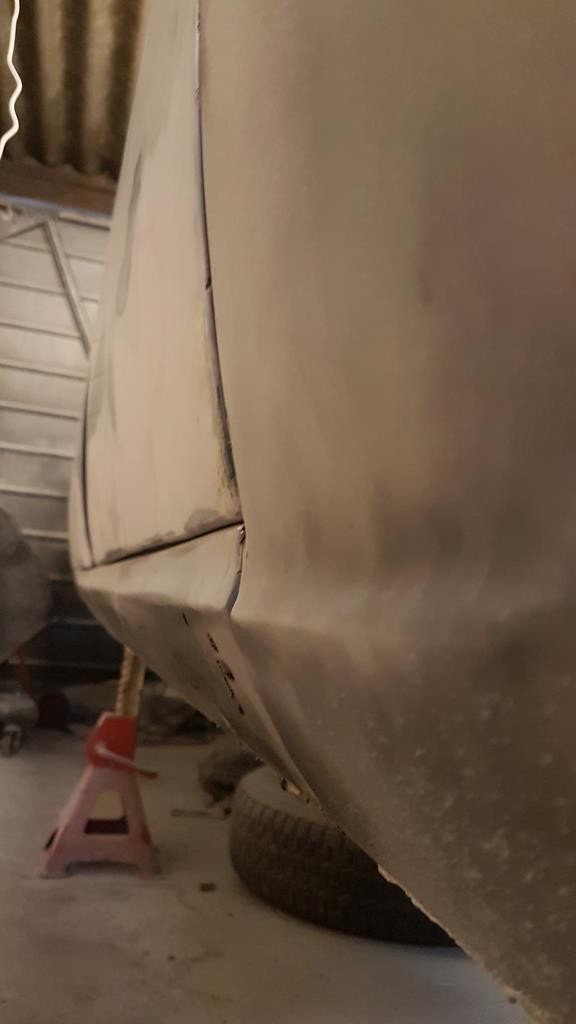 The other end need pulling out as it off by some margin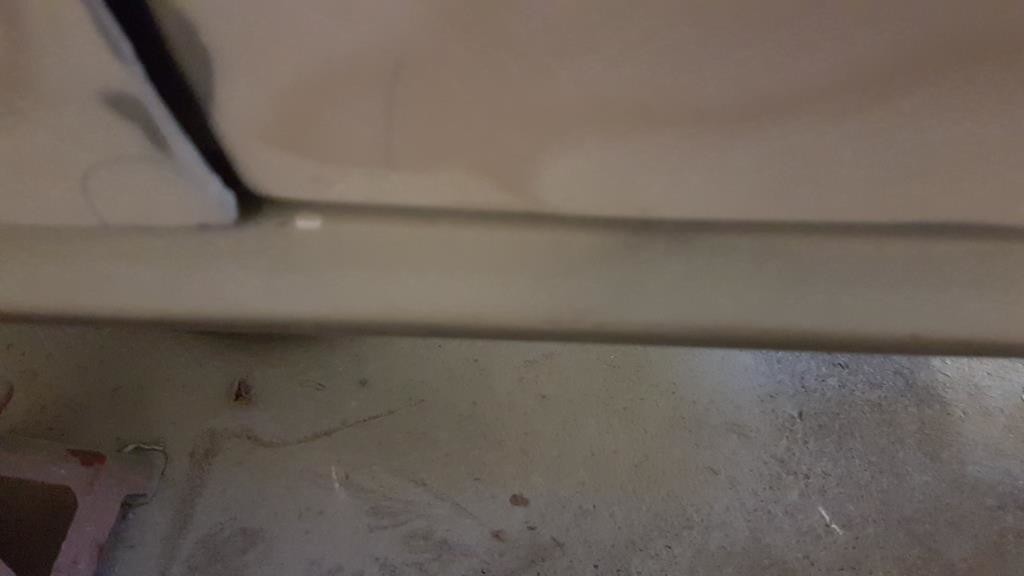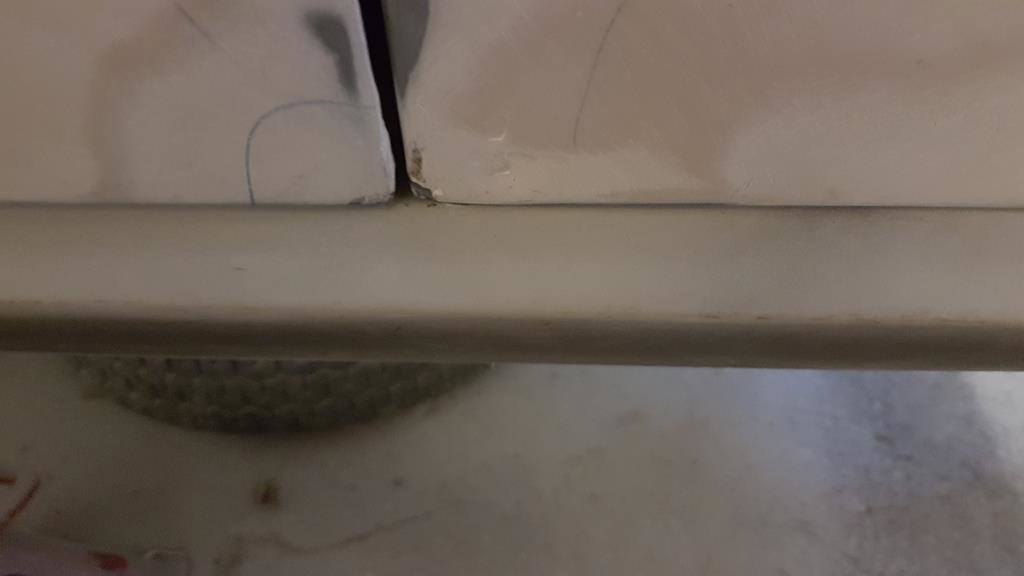 The other end need pulling out as it off by some margin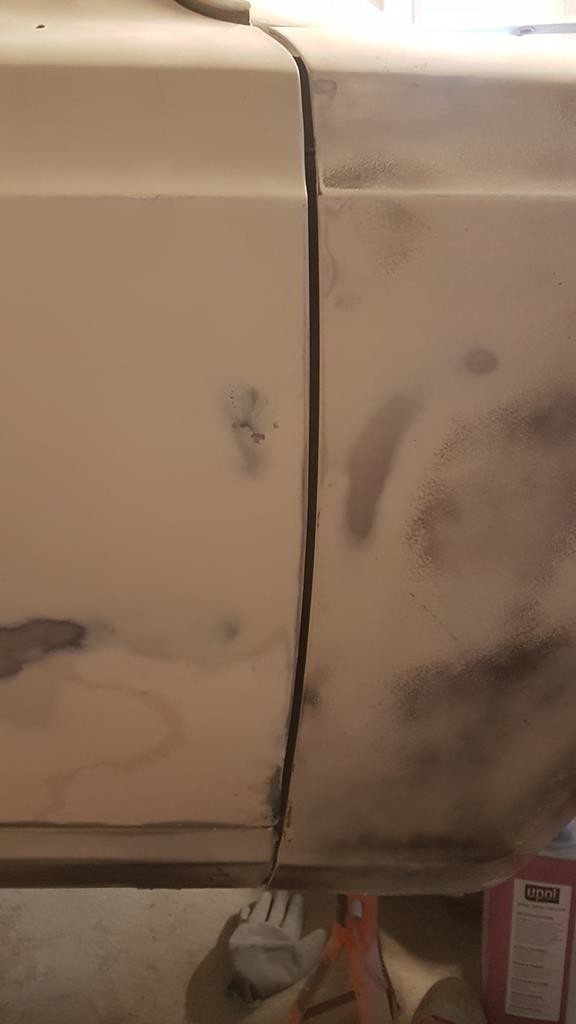 I've tried to move it forwards as best as I can but I need another pair of hands.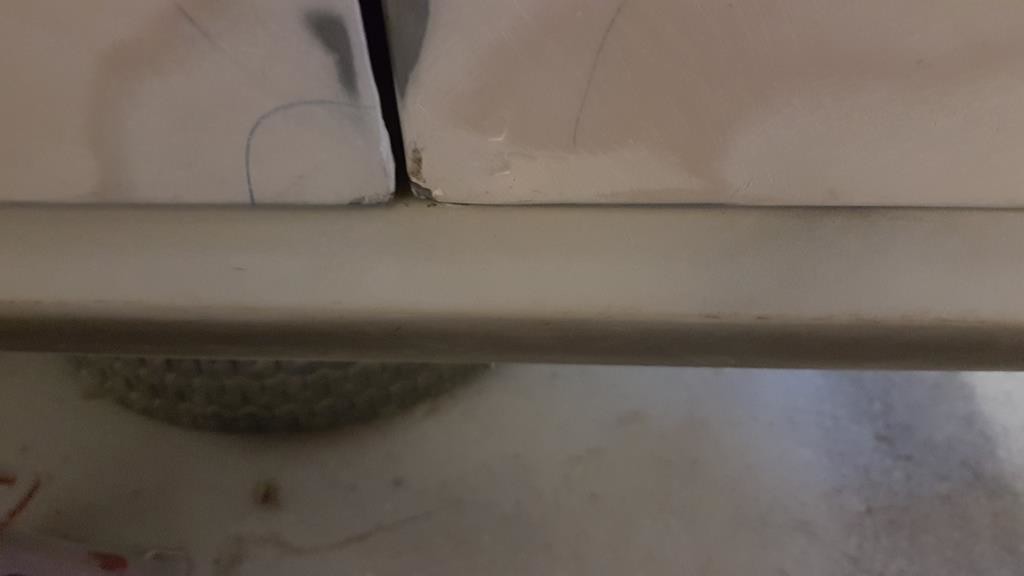 There's something not right with the frames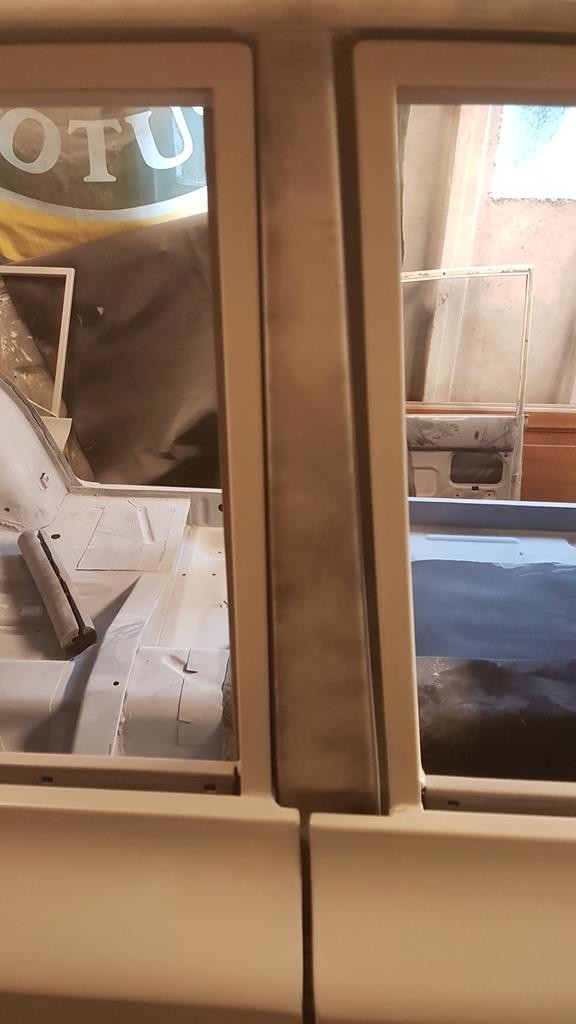 The rear door needed more very long as the gap was huge!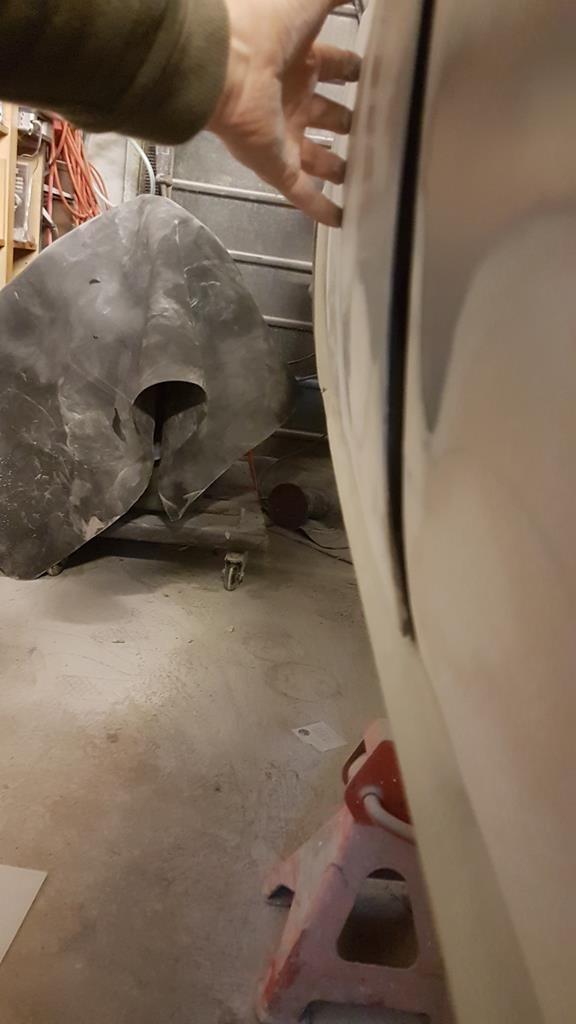 I got this gap to a similar point as the front but I had another issue!
I couldn't open it as it clashed with the front!

The position was sorted and the gap to the front door is consistent which is odd as the rear gap isn't as tight as I'd expect with some tightness.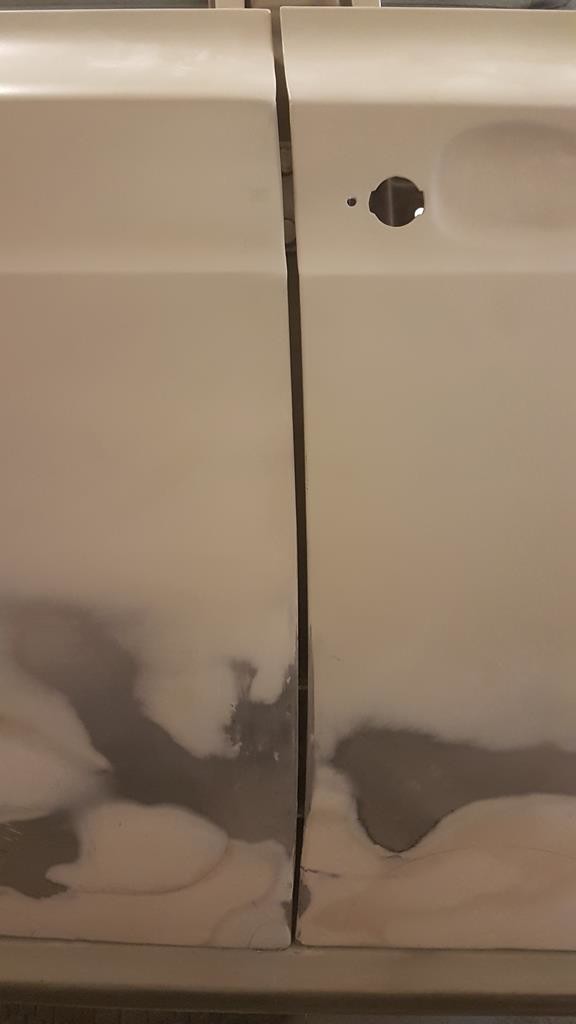 As they're fairly close I'll hold off doing much with them till the other side is on and look at getting some seals and finishing the job off
2-26-2019
I decided to have a break from the doors and focus on the front end as I didn't want to leave them semi bare from the long blocking I'd done in summer. I have the intention to get the filling finished and then I can focus fully on spraying.

The first thing I focussed on was the headlight gaps, I had a stunt trim piece to use for getting the gap correct.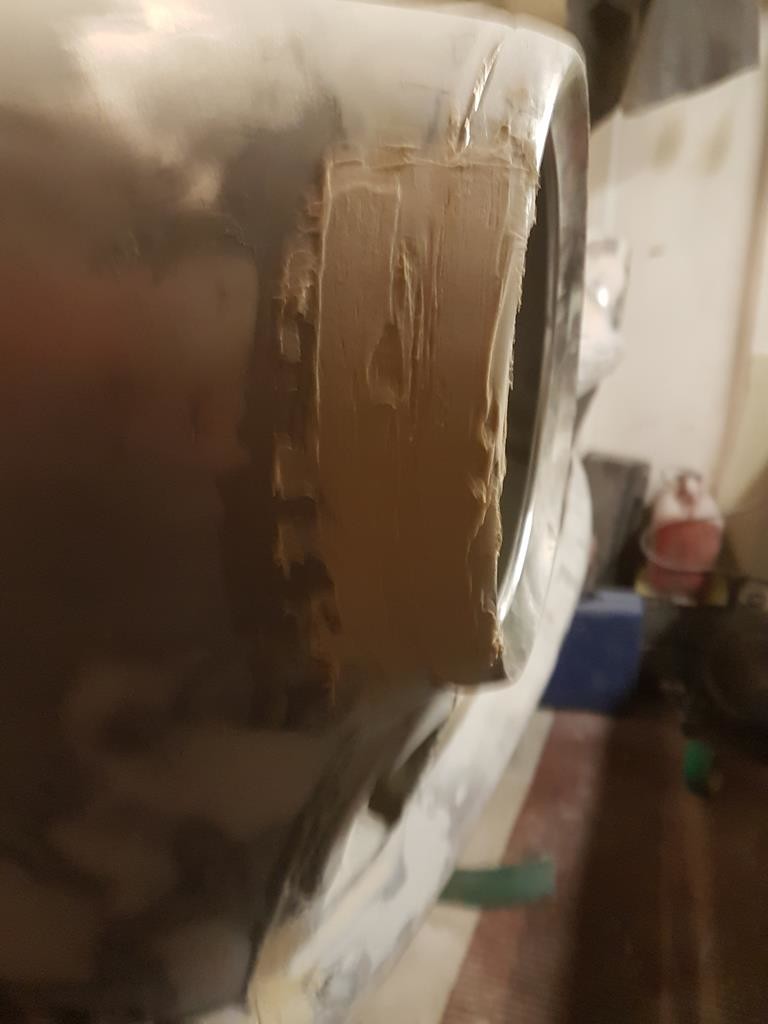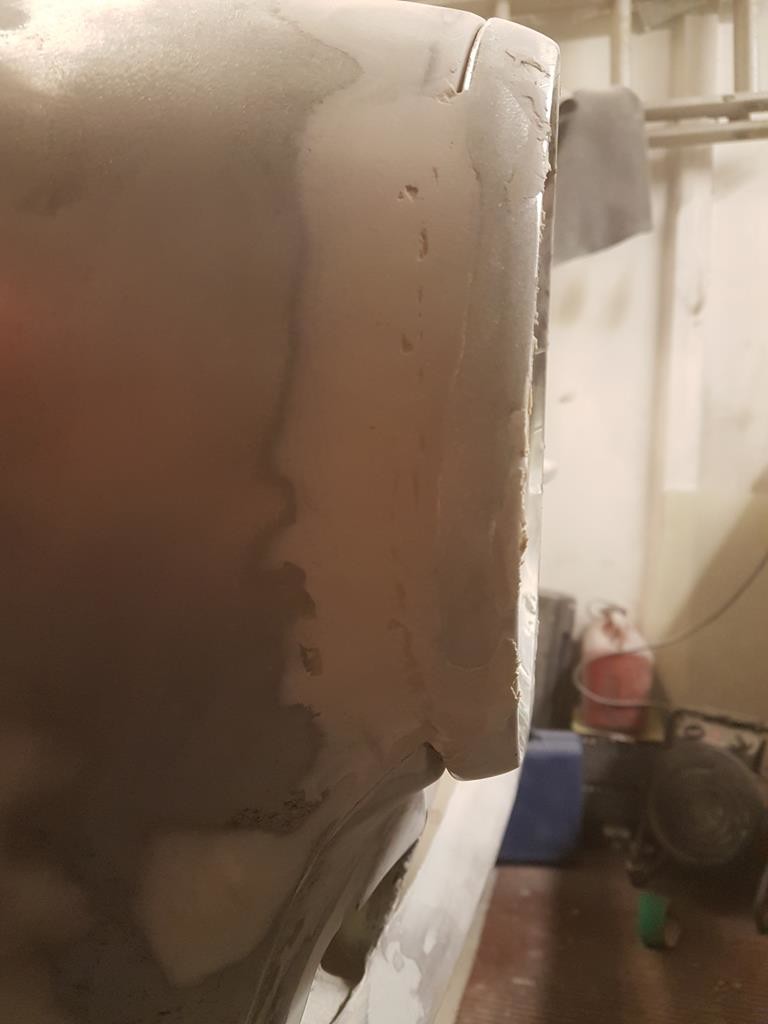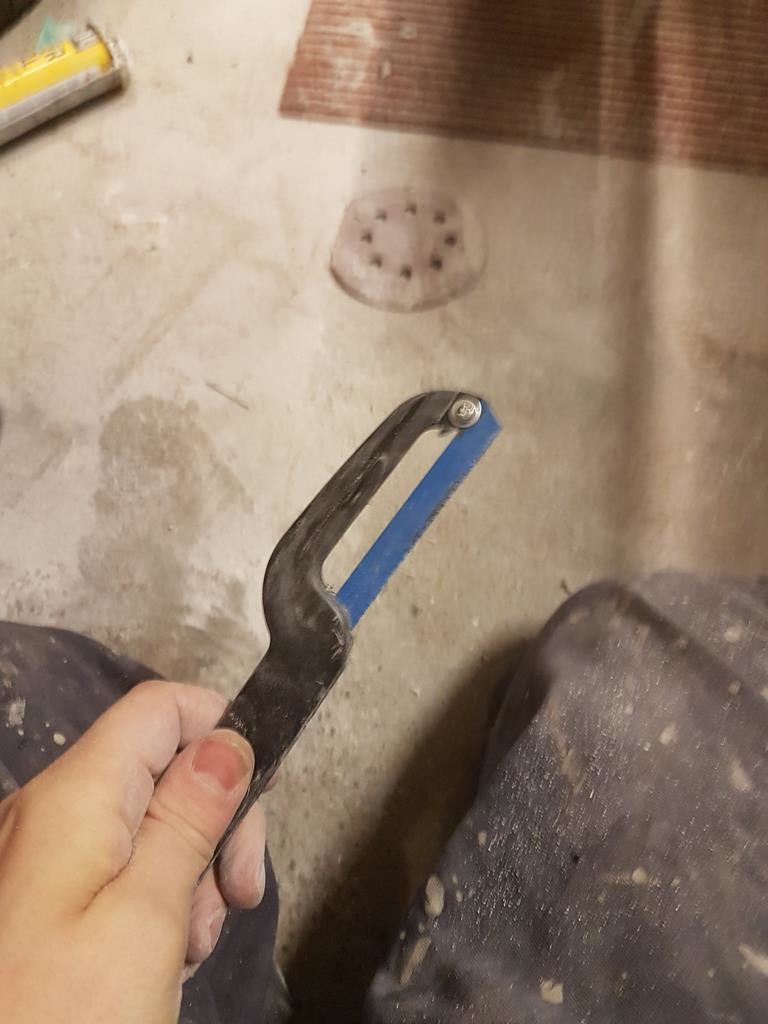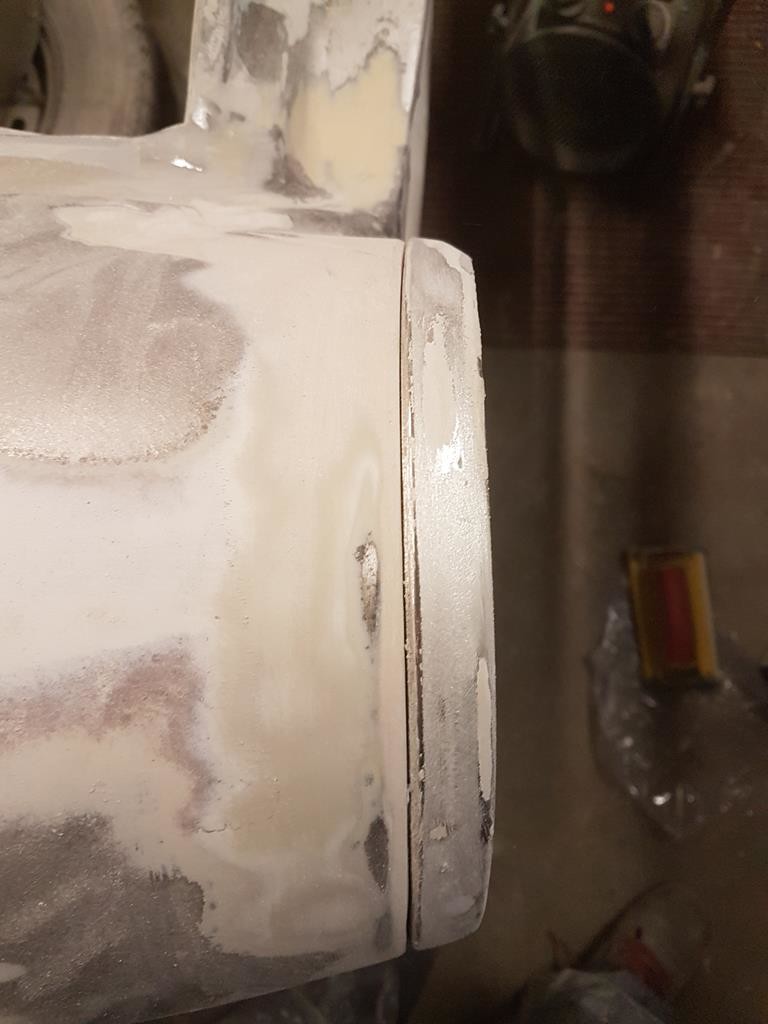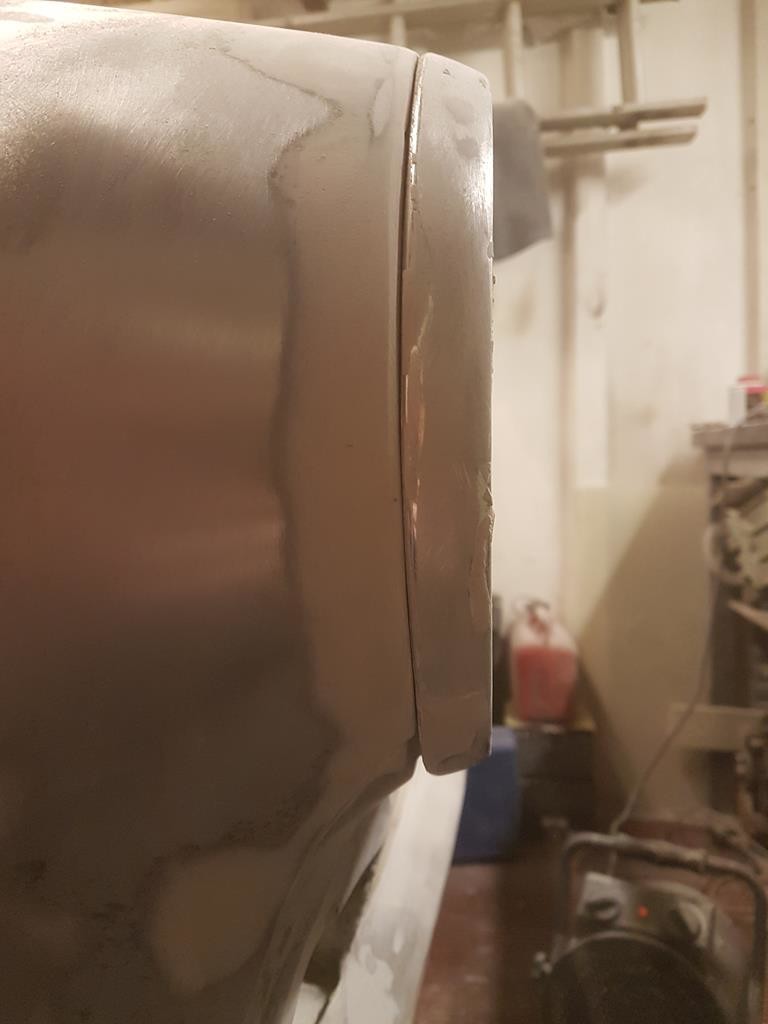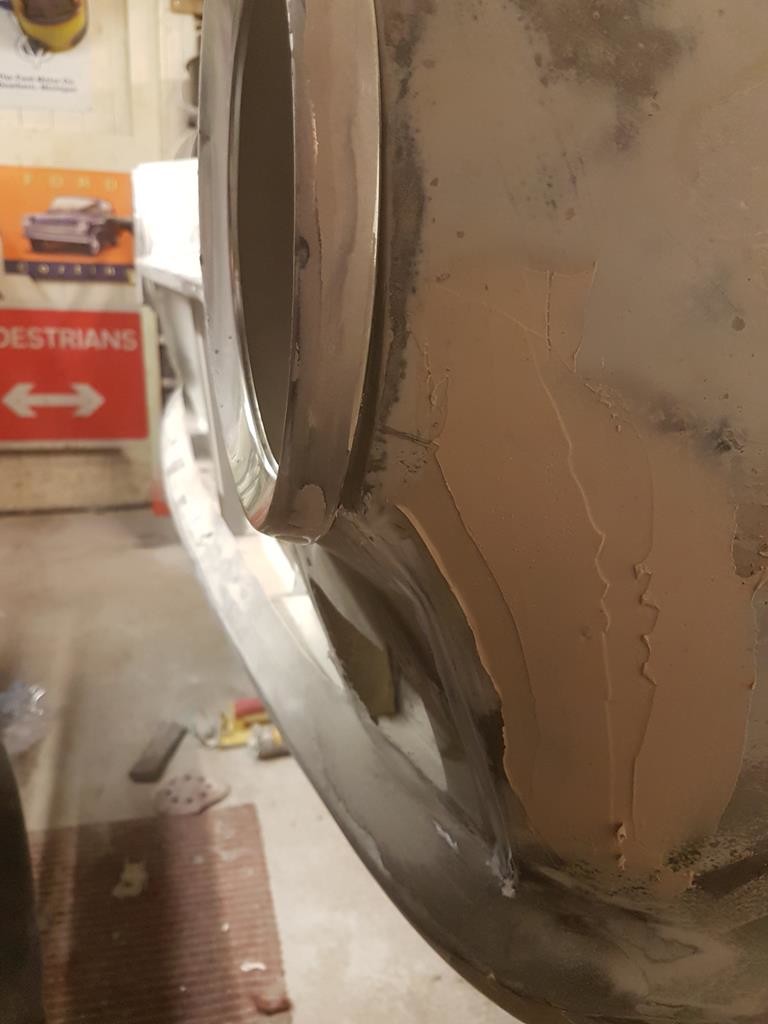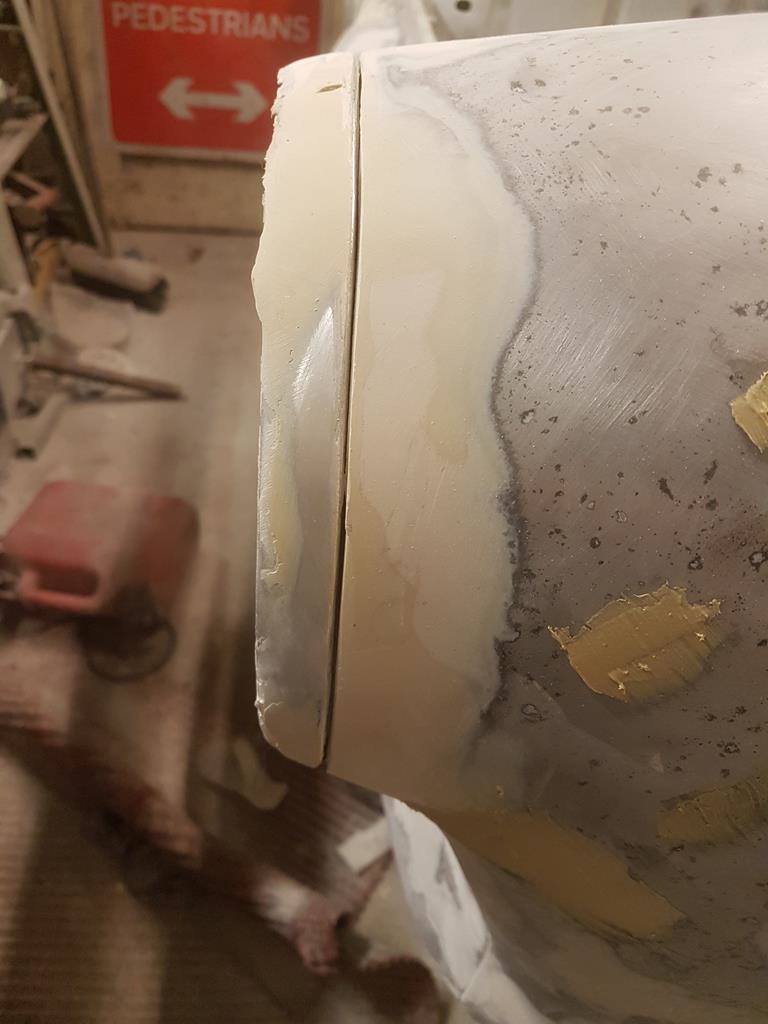 I've tidied the panel gaps using this method too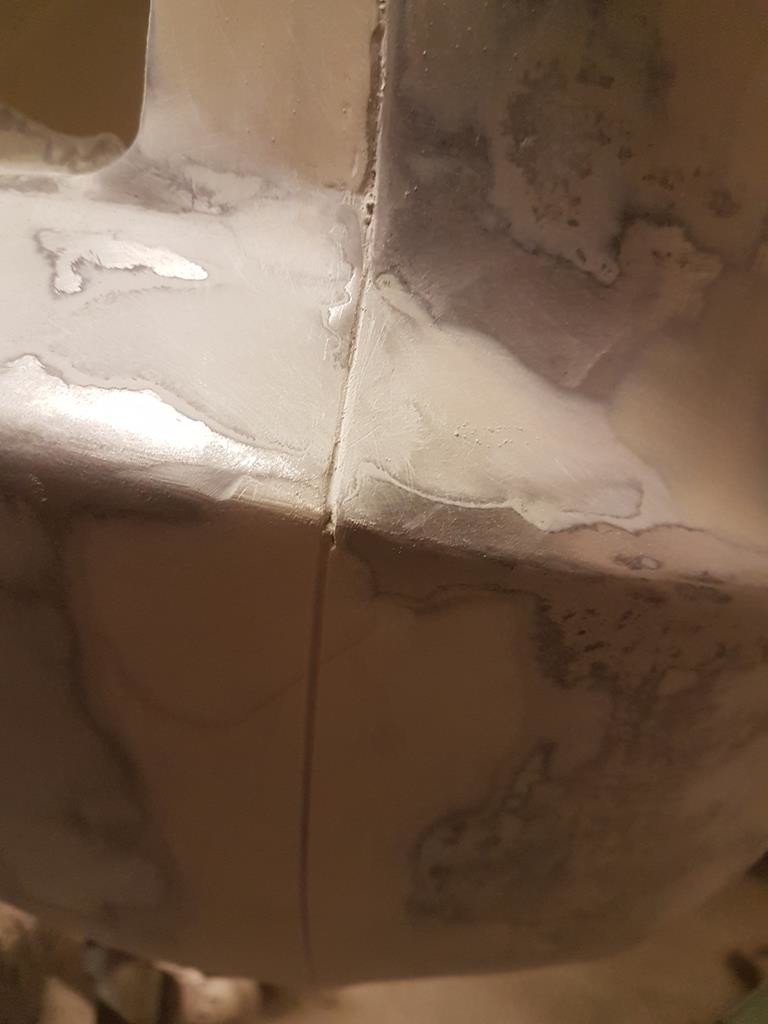 All this created a huge amount of dust!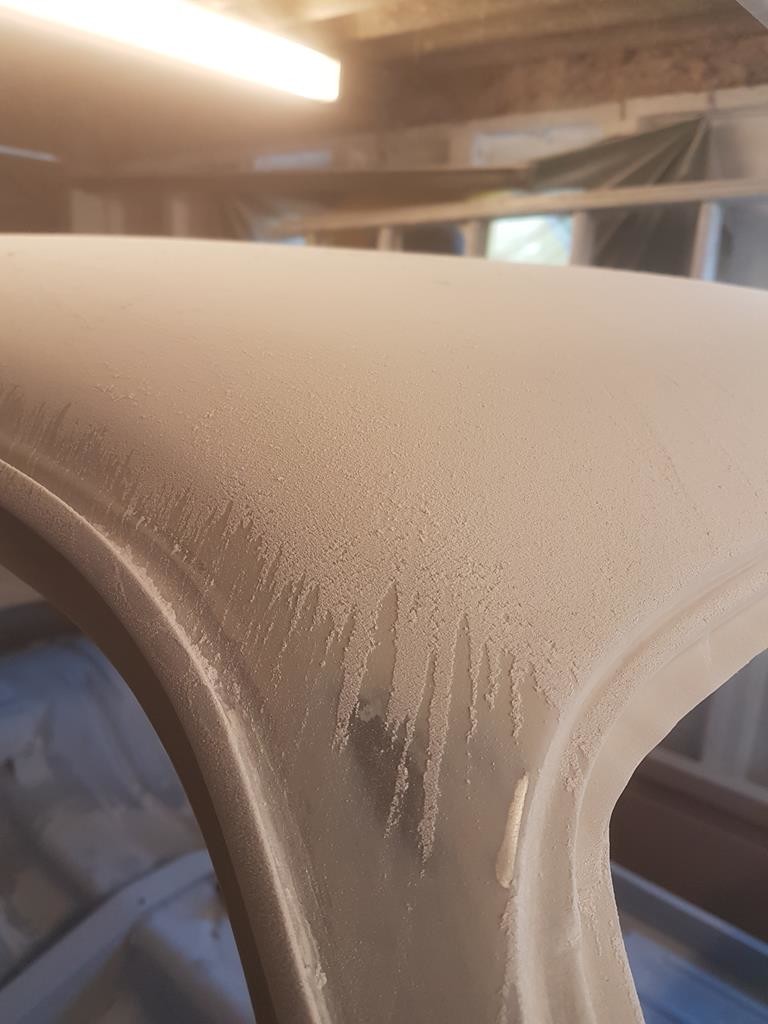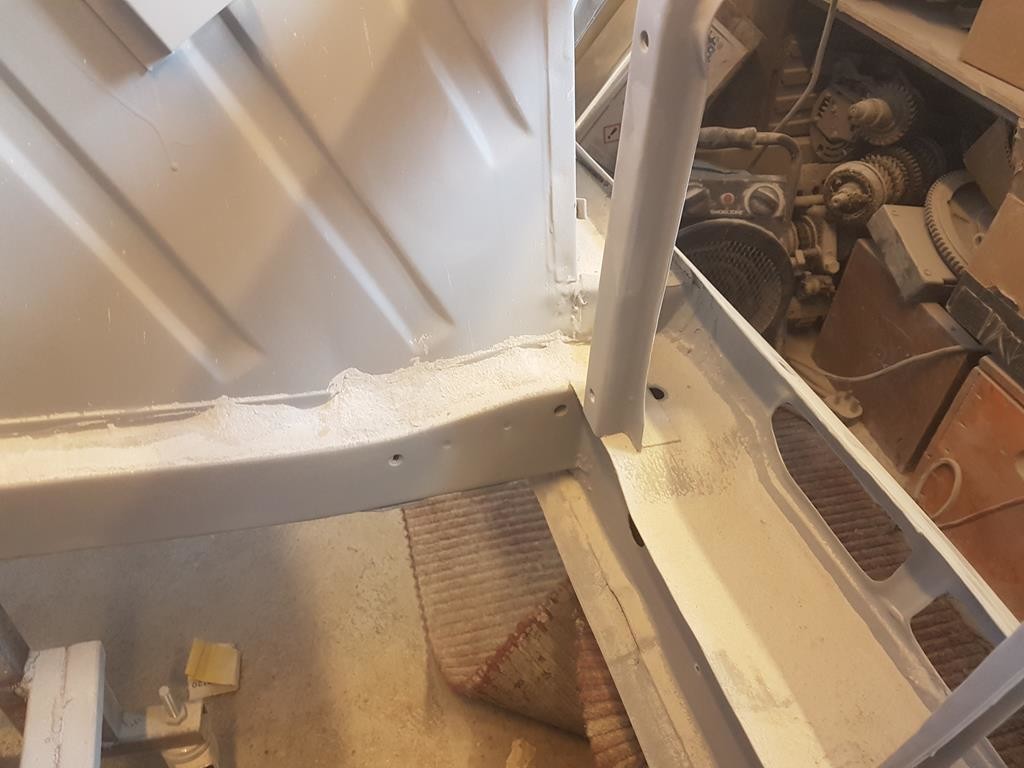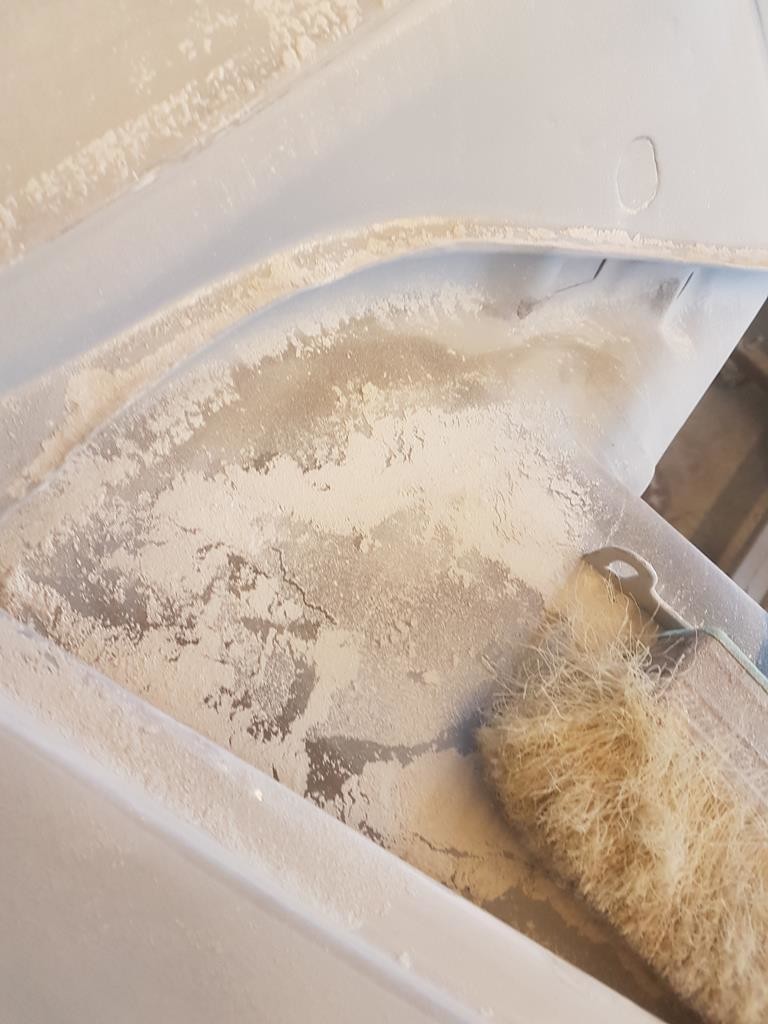 This took a lifetime to clean! Over the weekend I dropped 2 coats of primer on which is mostly ok - there are a few runs and pin holes but it's flatting nicely without going through to the metal so far.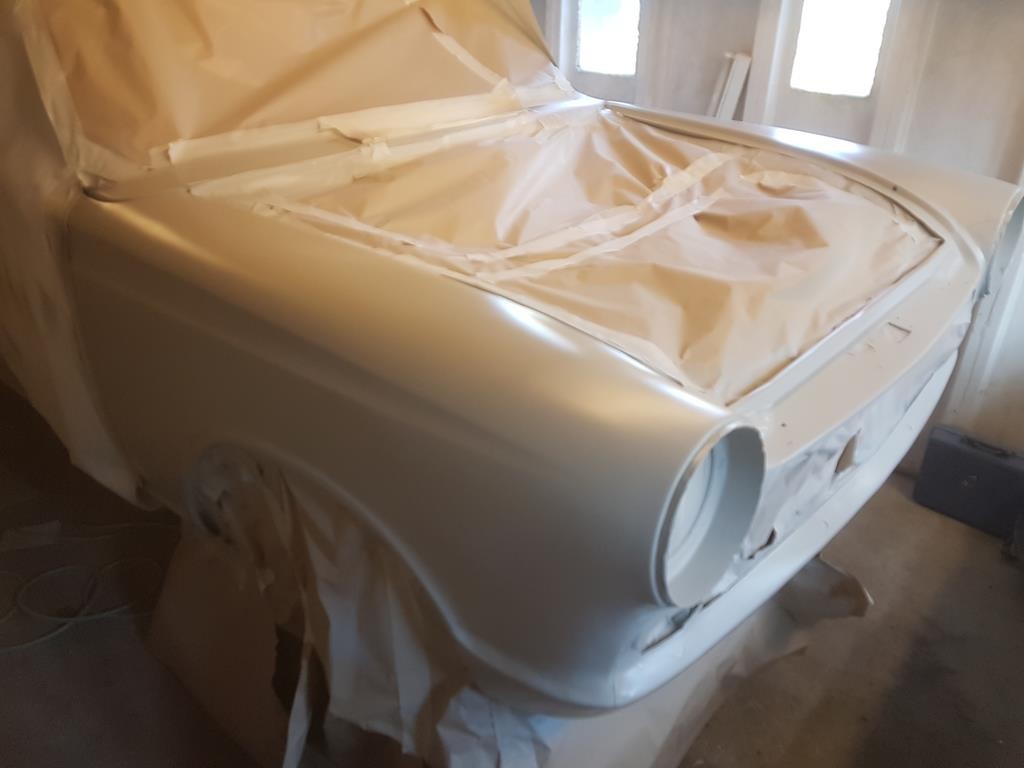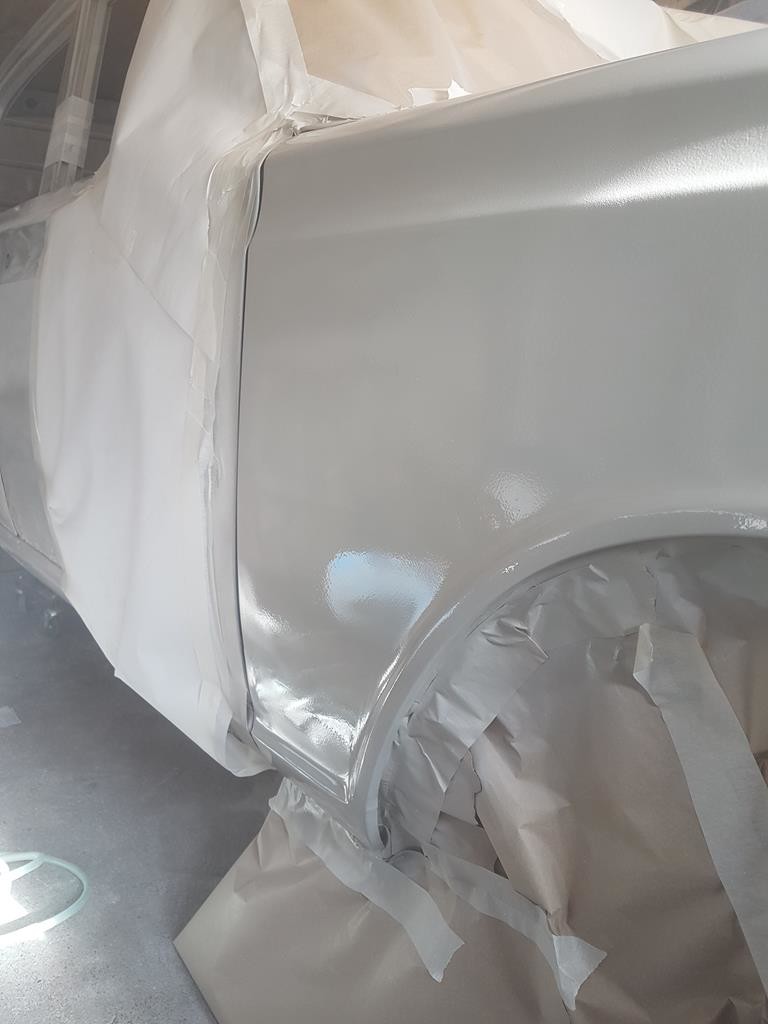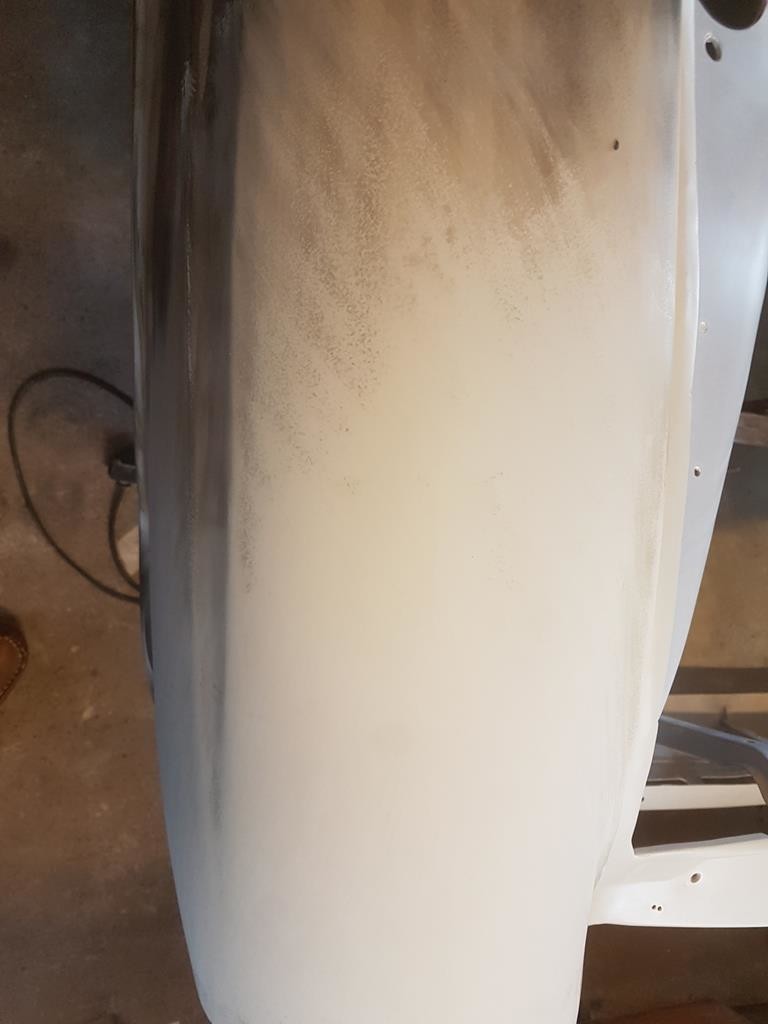 Thanks. I've been posting most if this as I'm going on Instagram @ 66cortinaGT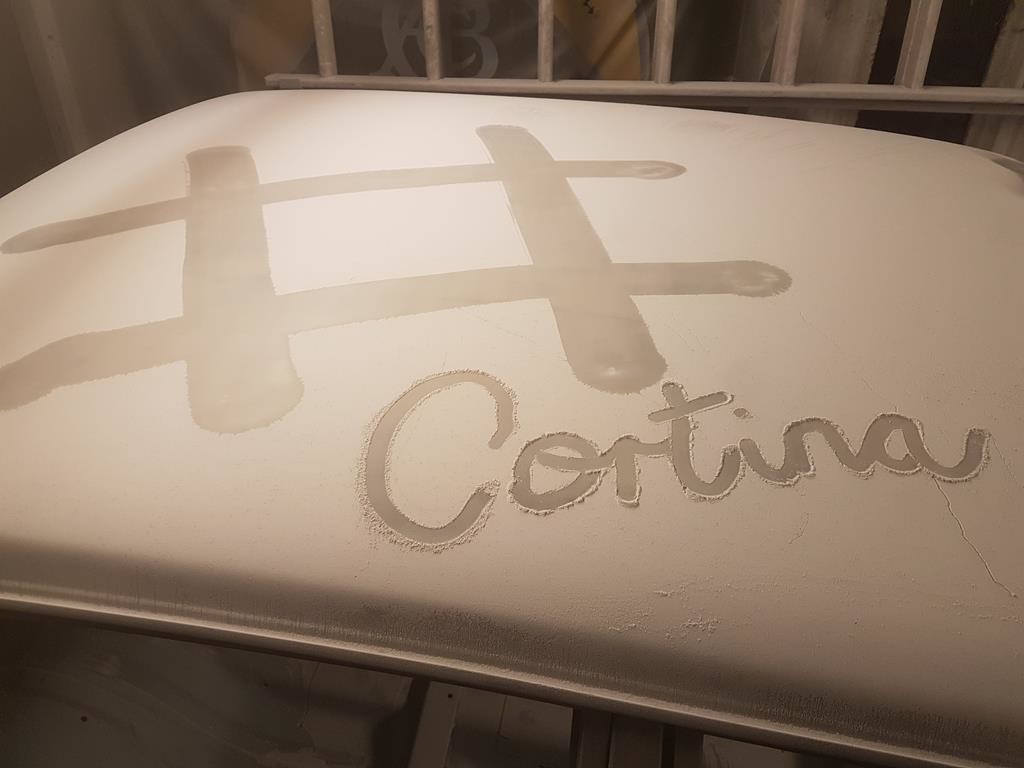 3-15-2019
Carrying on from the last post regarding doors I made a start on the door I know needs the most work. I'd been putting it off because it's dented and bodged!

I've fixed the rust and sorted the outer panel but the dent that was there is impossible for me to fix as is. It'll tidy up but I'm going to look for a replacement in the back ground.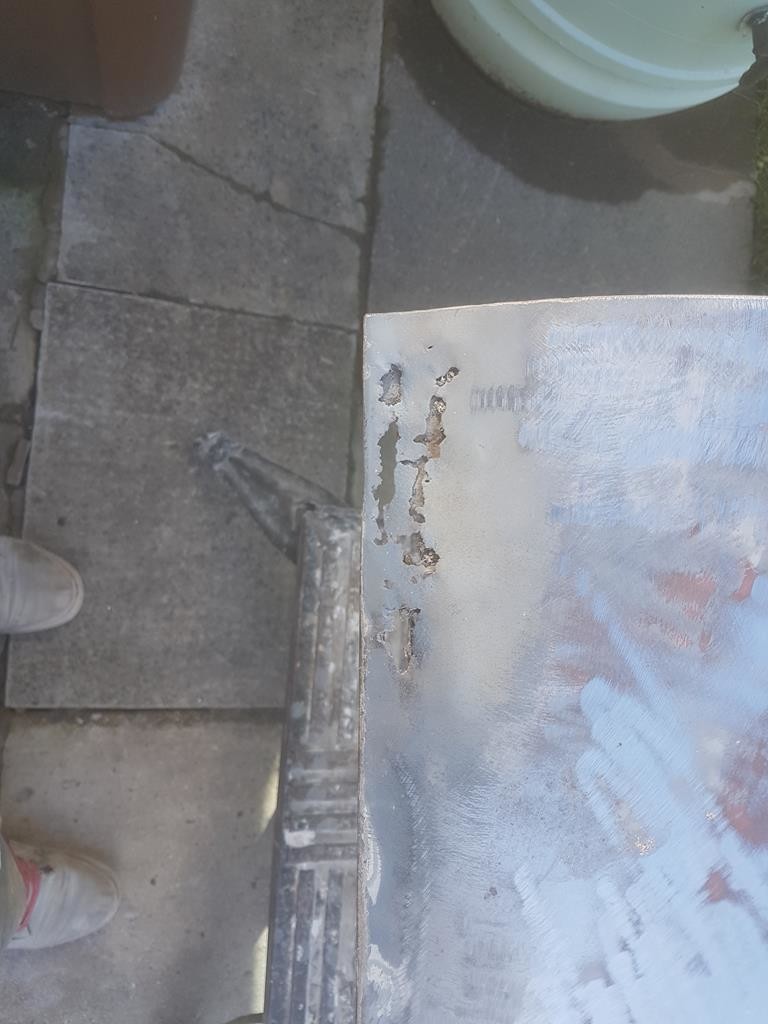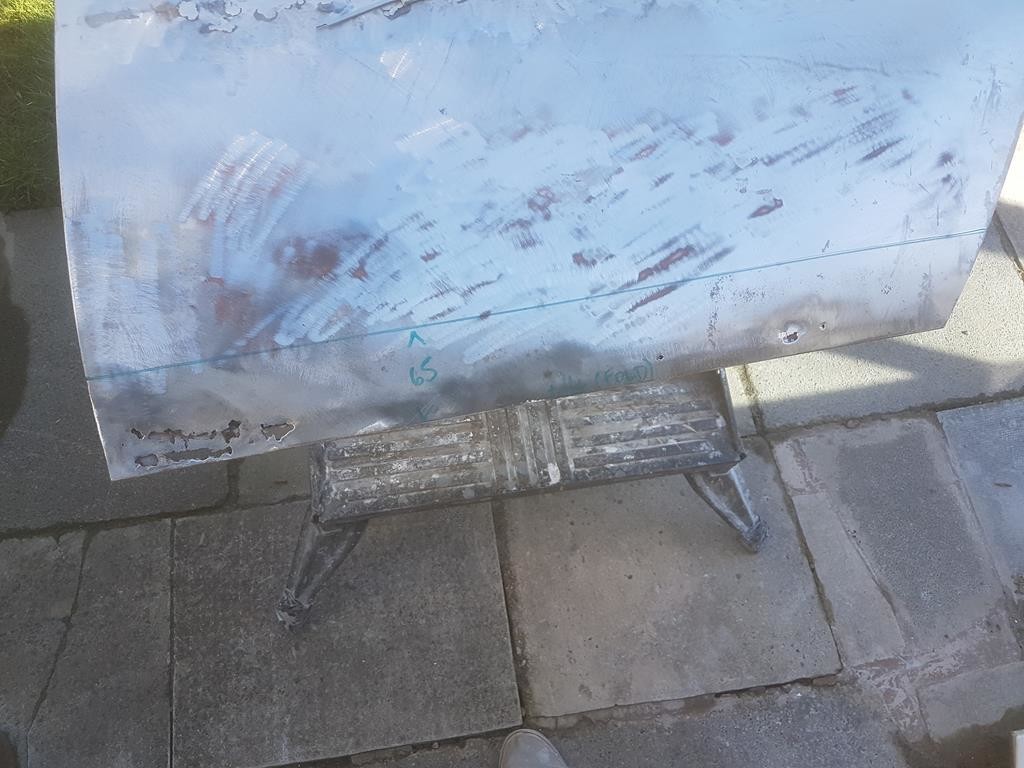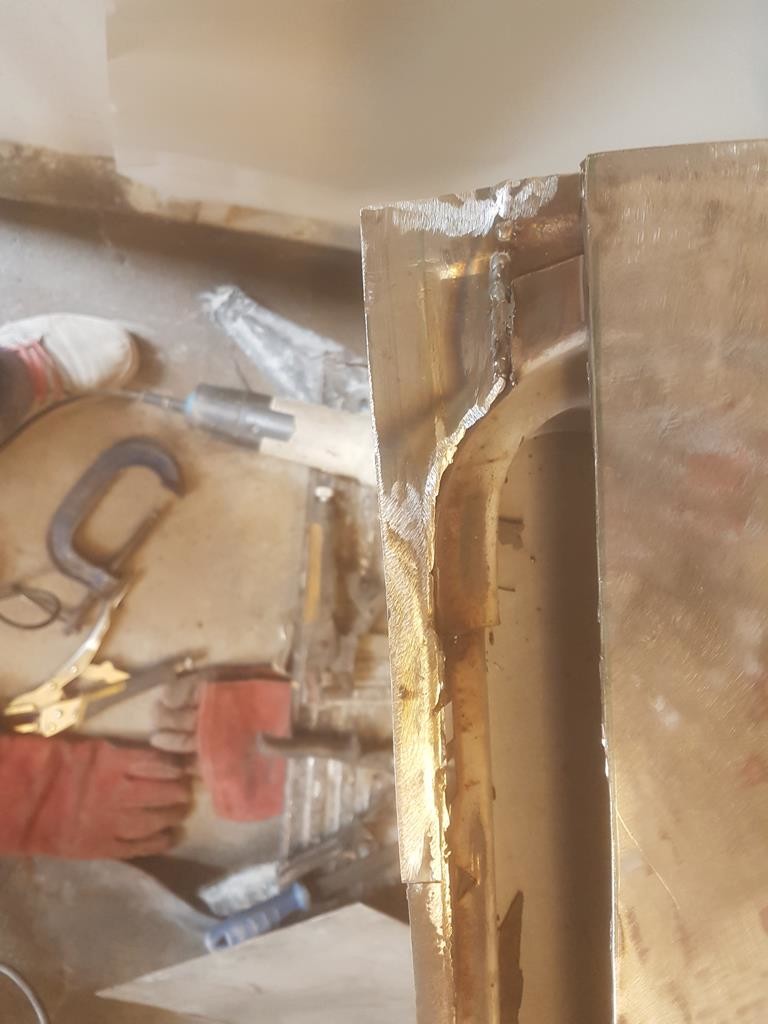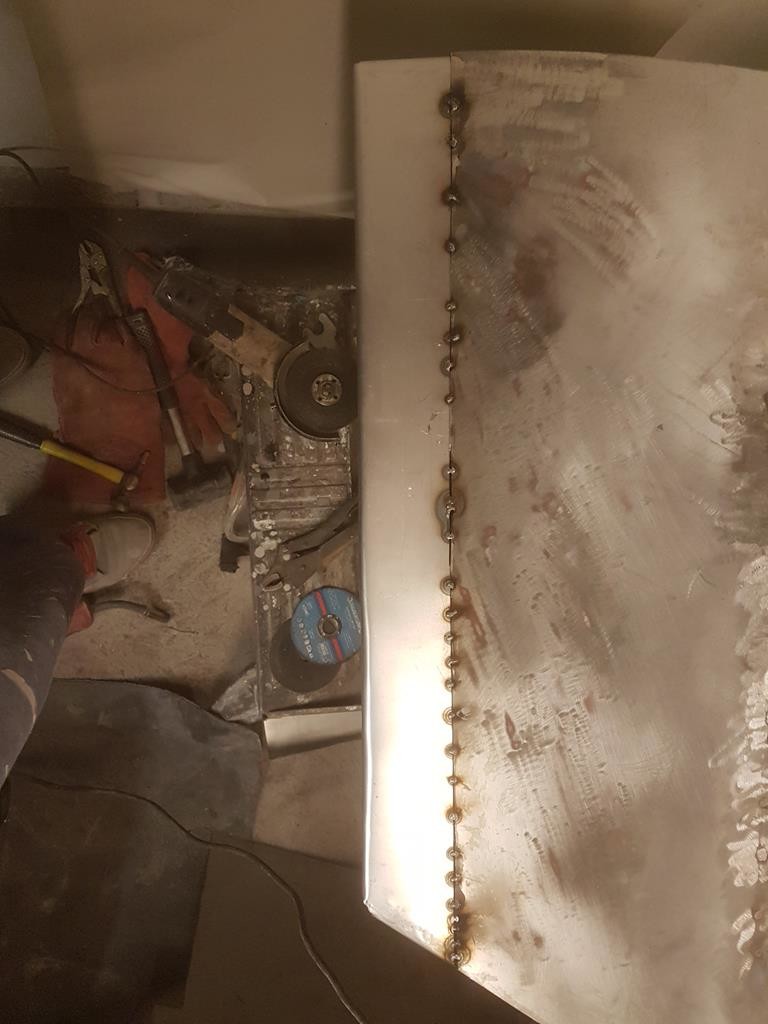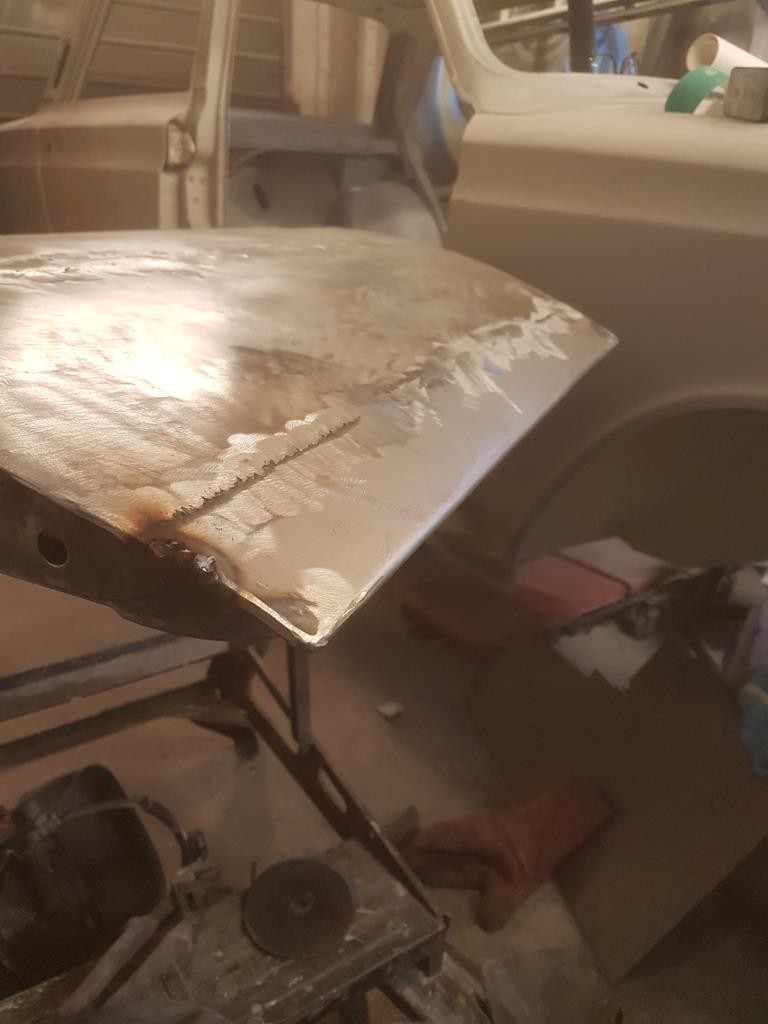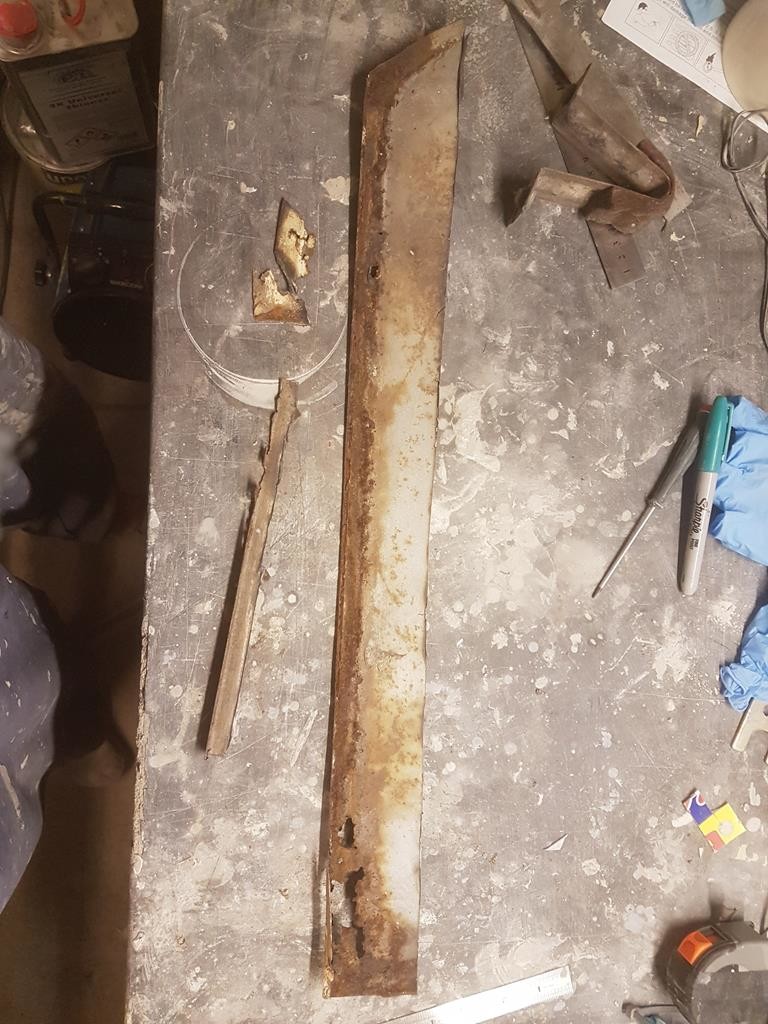 4-10-2019
It's been a month since my last major update, I changed jobs at the beginning of the year I don't need to be there till 9 so for the last 3 weeks I've been getting up at 6 to work on the car for an hour.

Just sanding and panel prep but it's helping a huge amount and cheaper than going to the gym!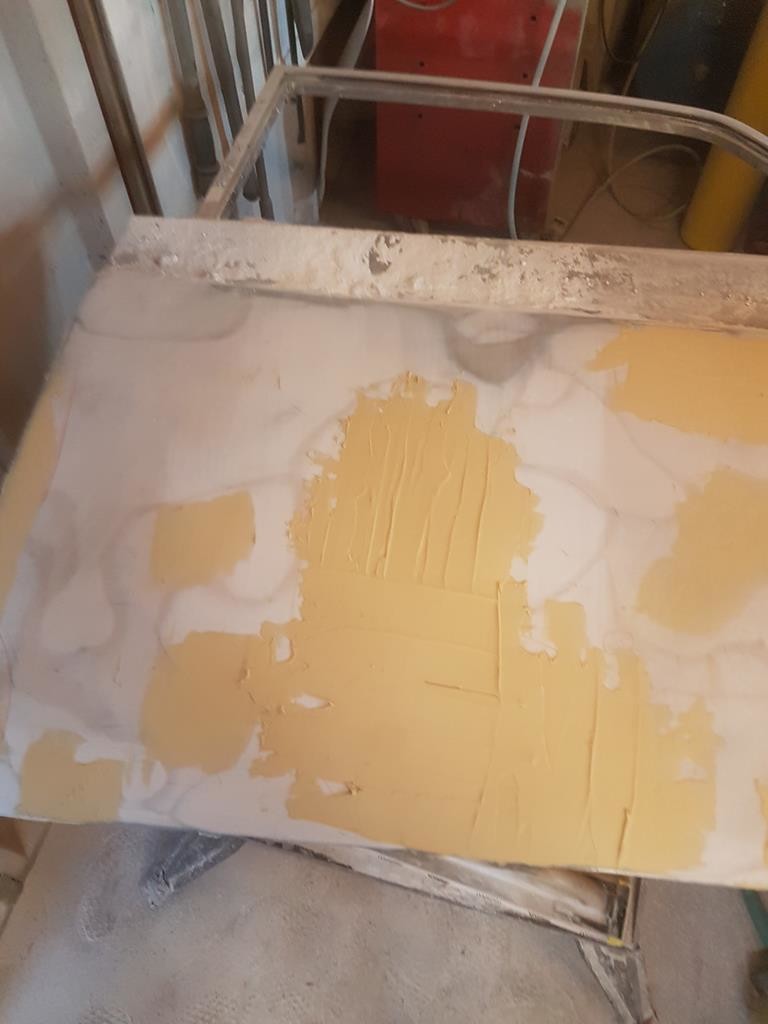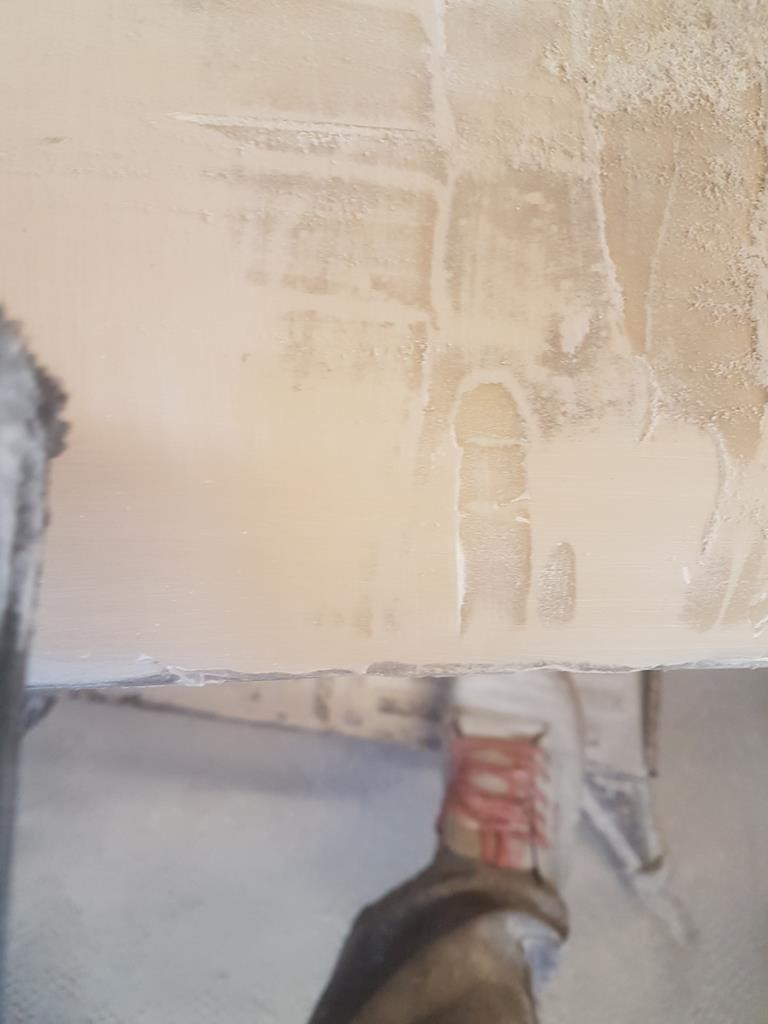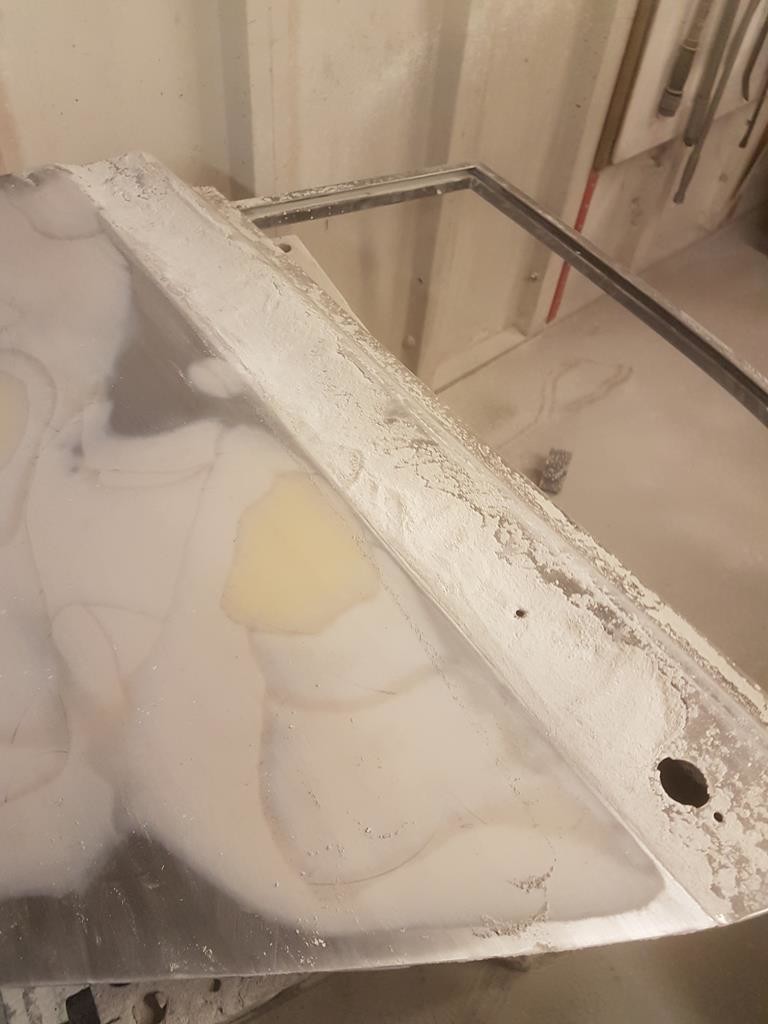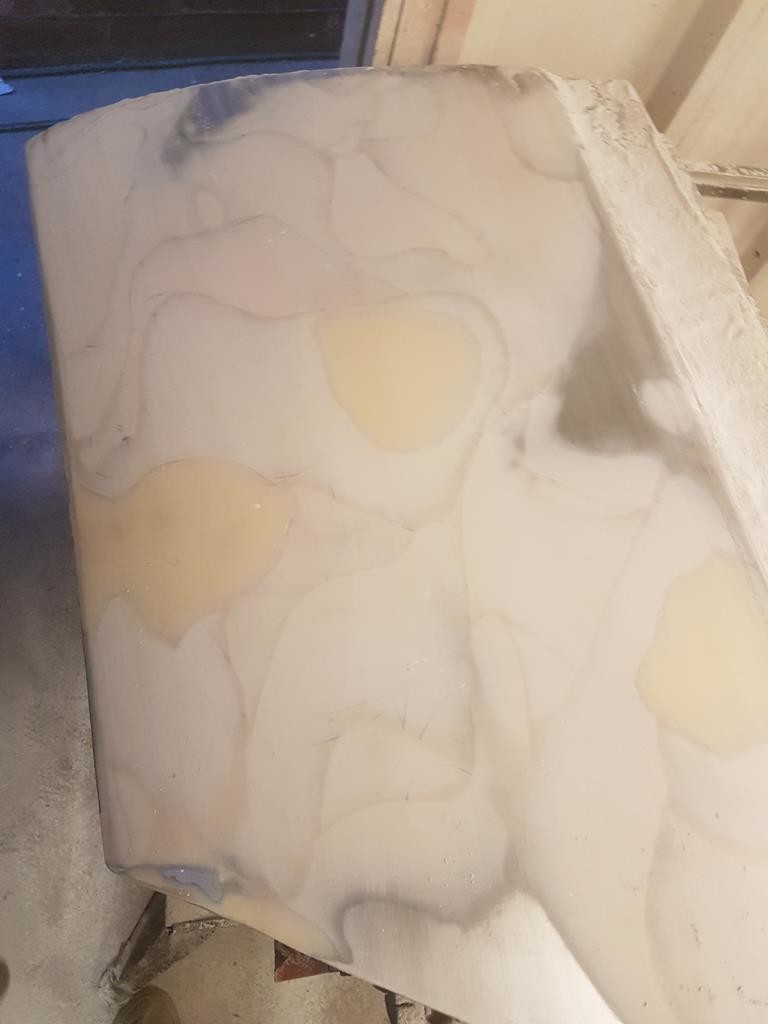 This door has been a real pain but I'll look for another to fix in the meantime - I just want to drive her again but do the best job I can.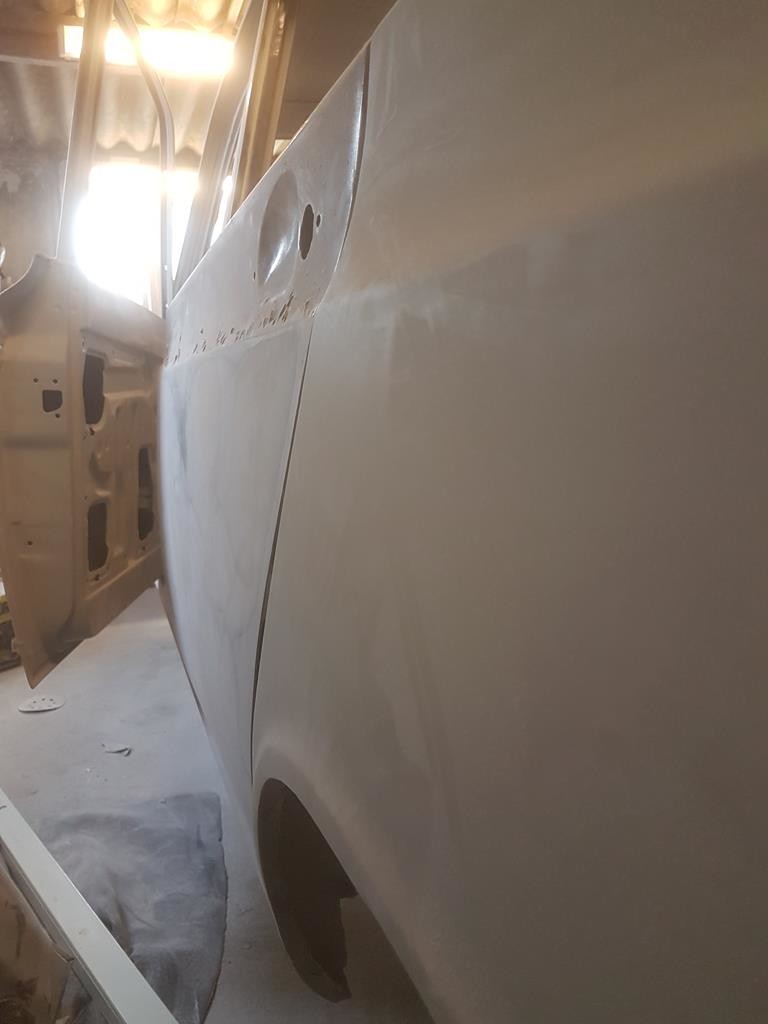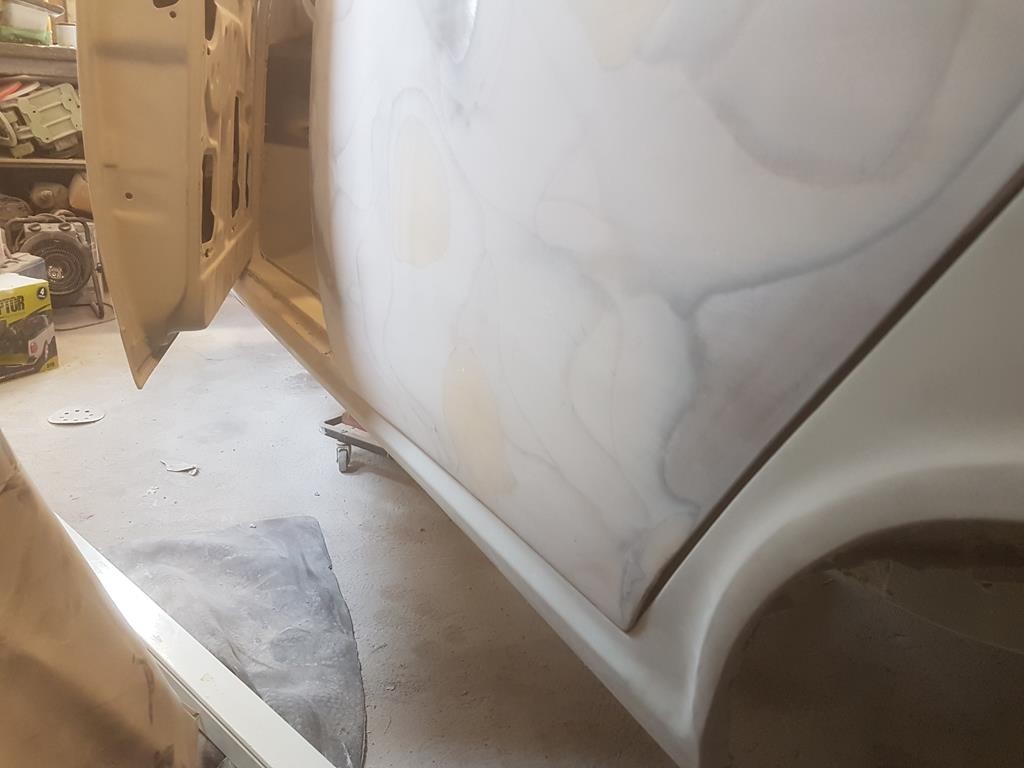 The fit isn't bad though!

The bay is flatted to 400 but I found an inch piece that's through to the bare metal - curse word!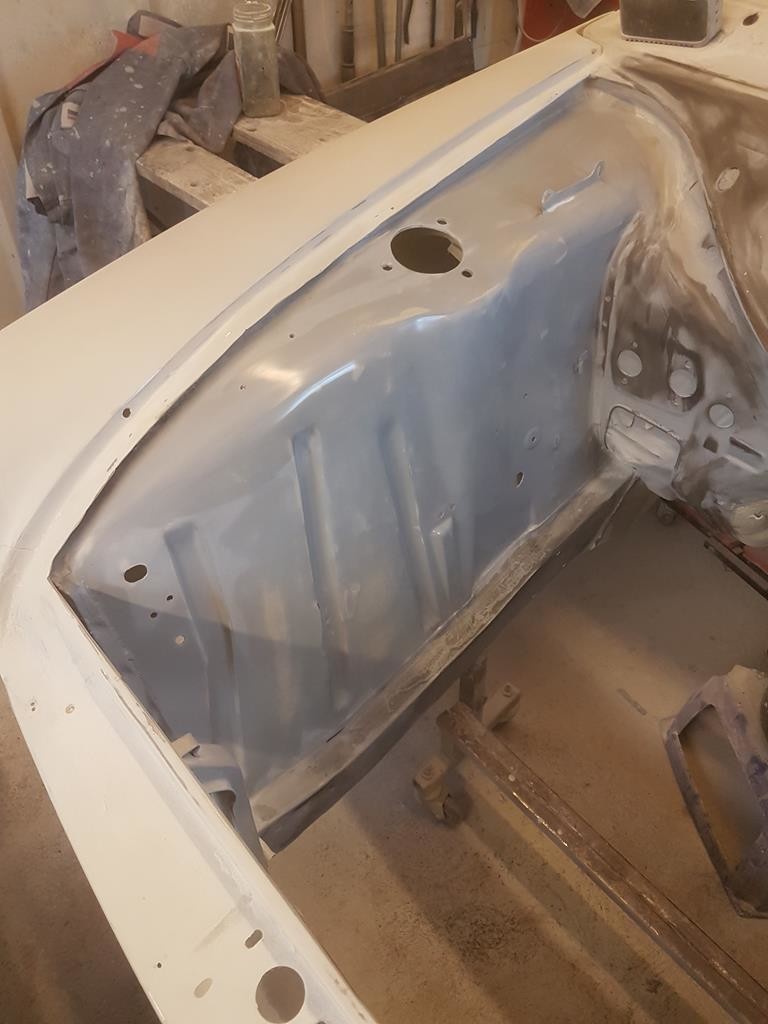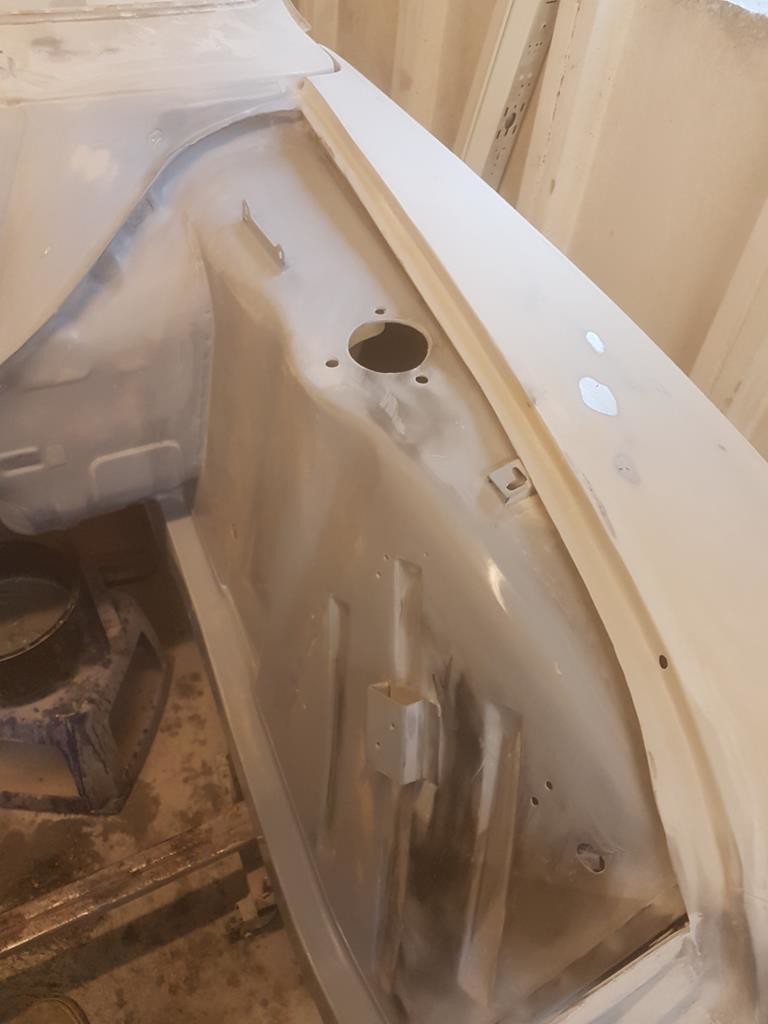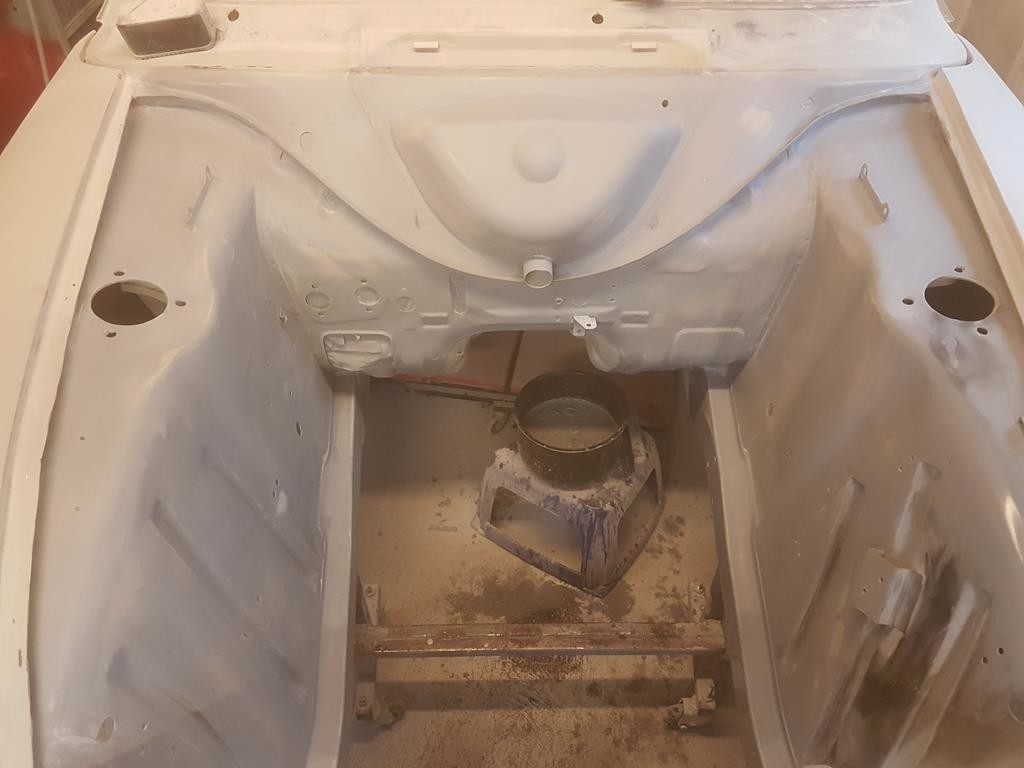 I've got the bonnet ready to prime but I'm waiting on more primer!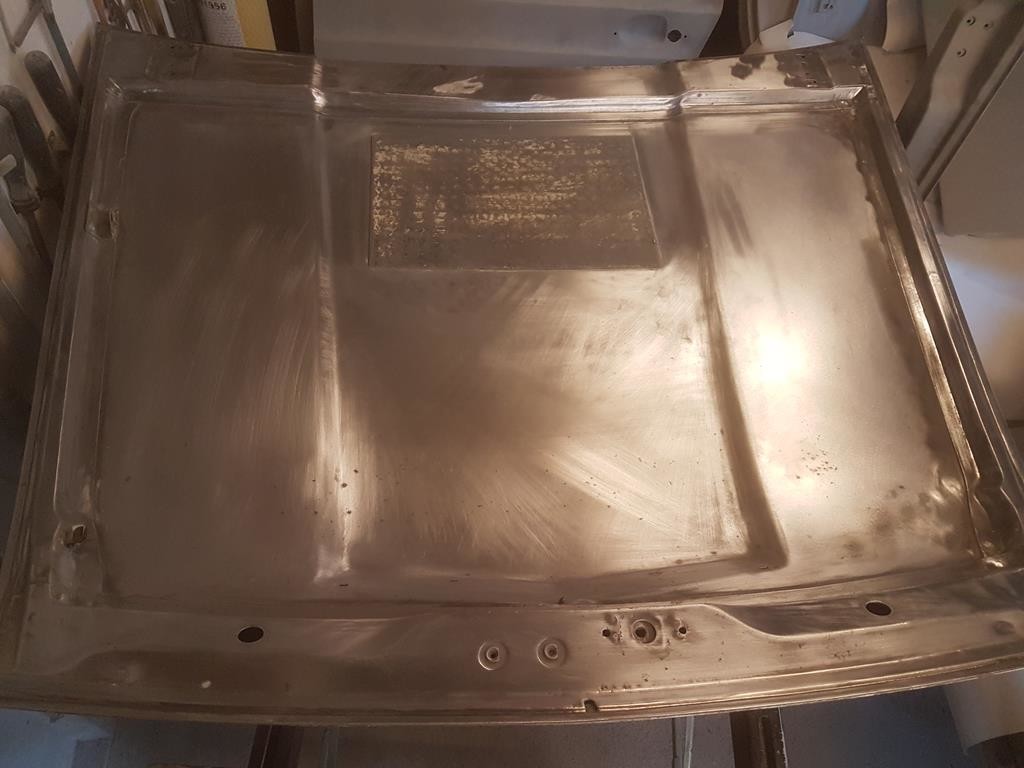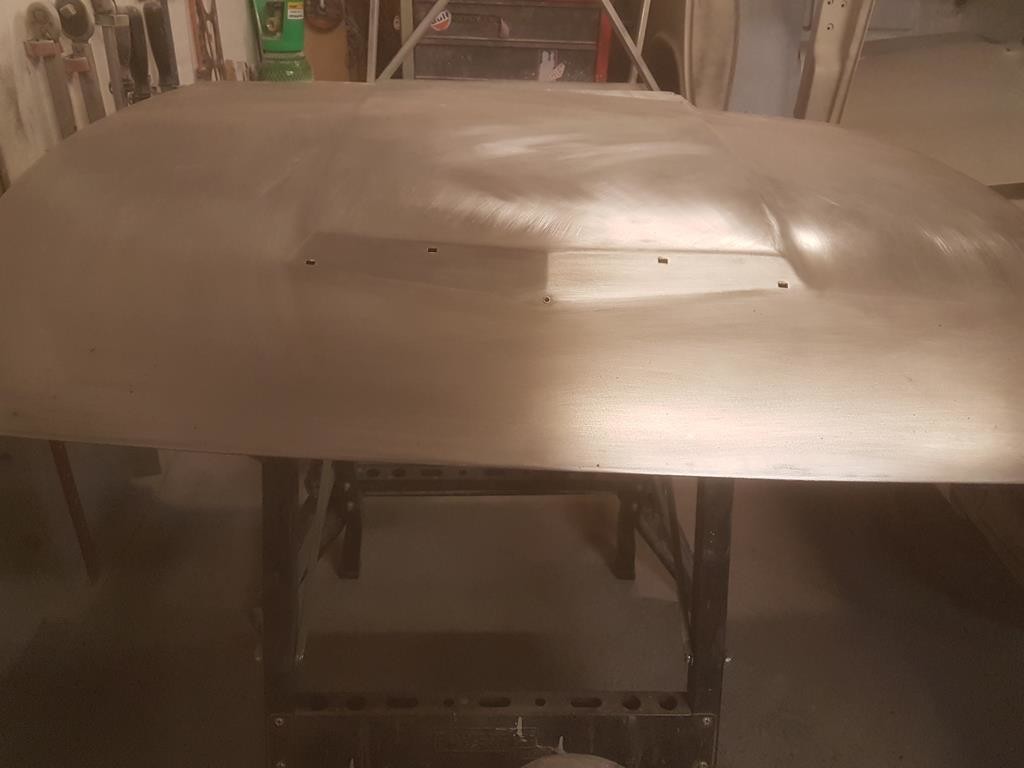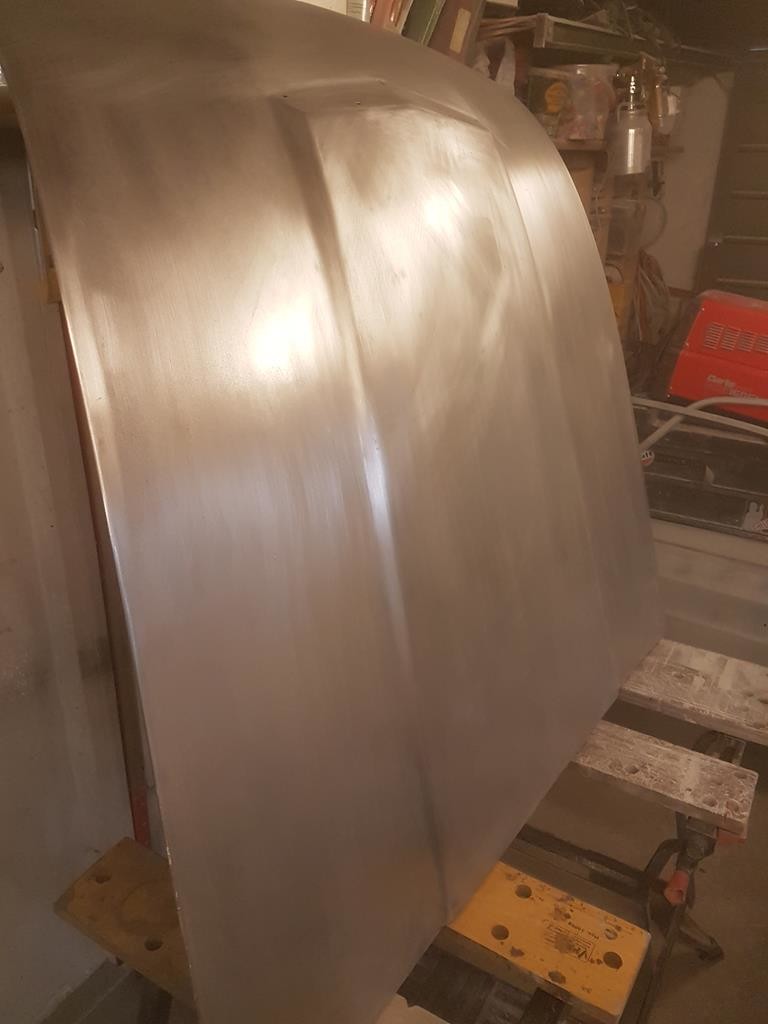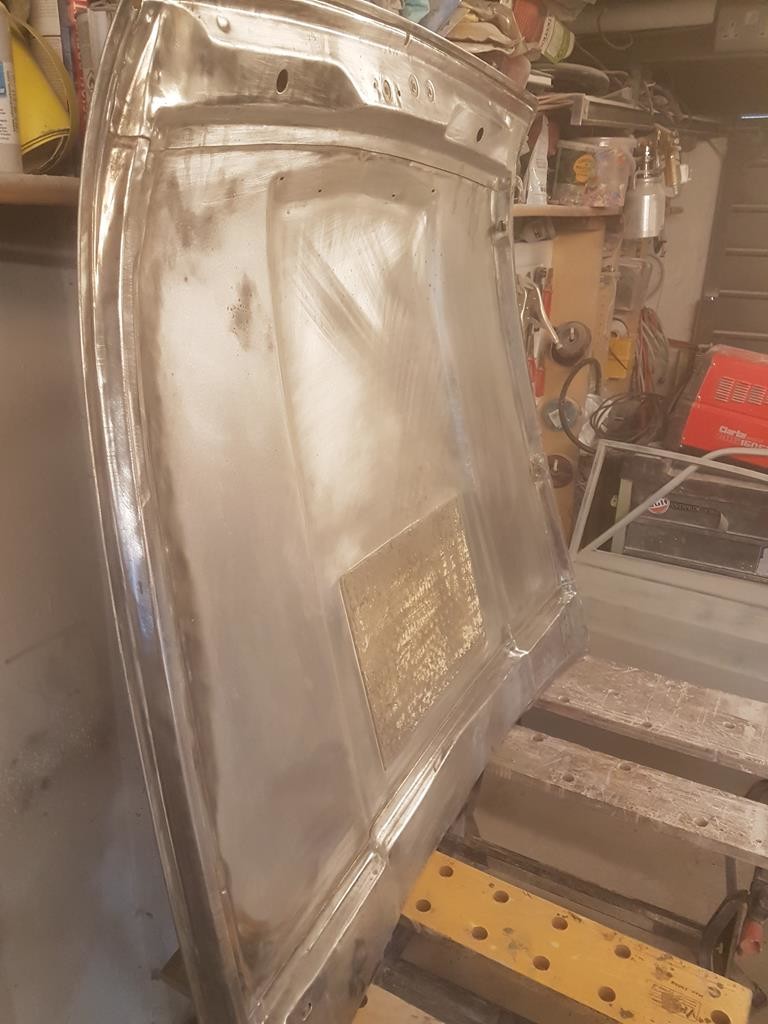 Any ideas on how to remove the bonnet prop clip?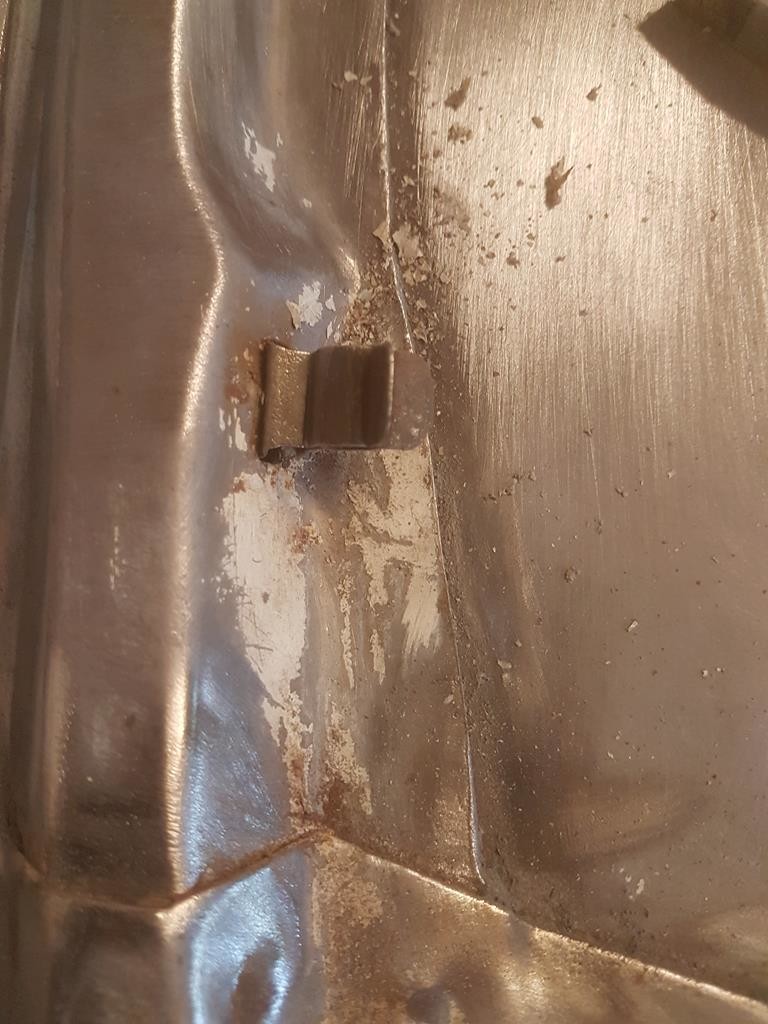 4-10-2019
I meant to ask this too;

I've got very fine line holes that I can't seam to fill using gold top - would dolphin glaze be the right tool for the job?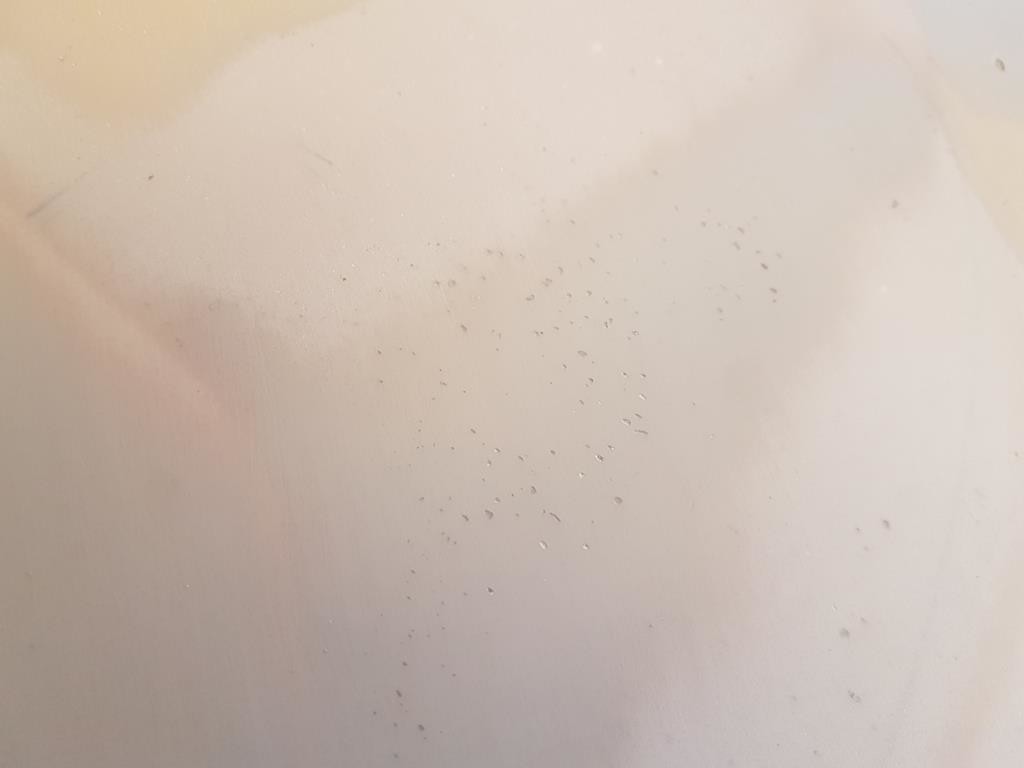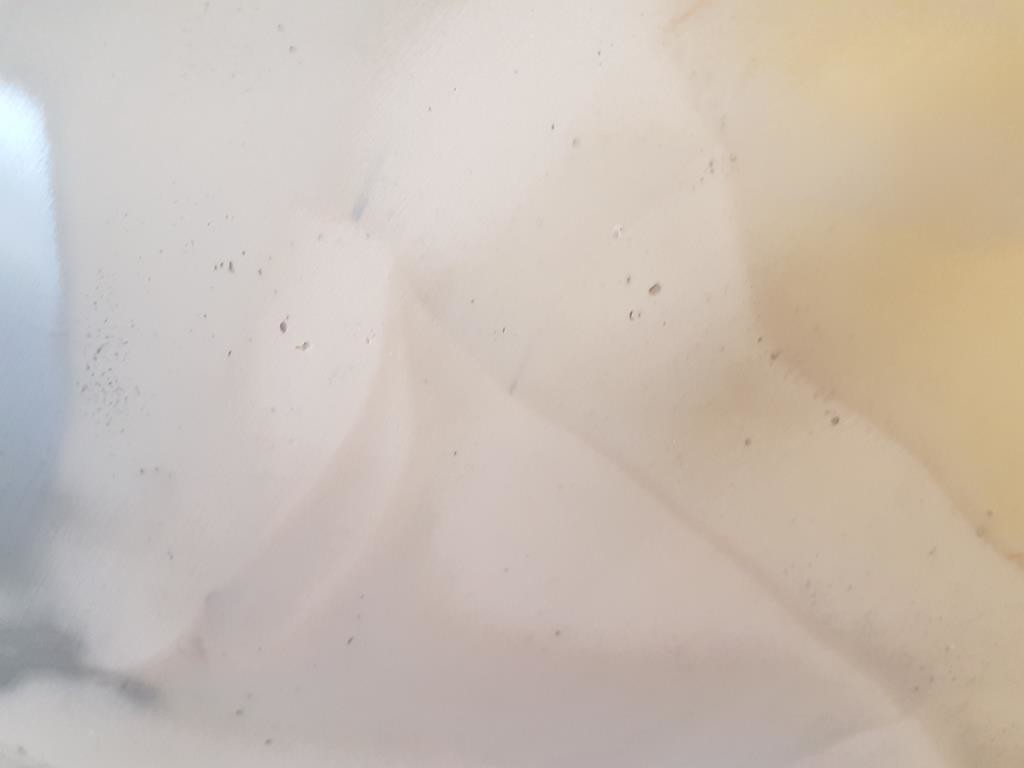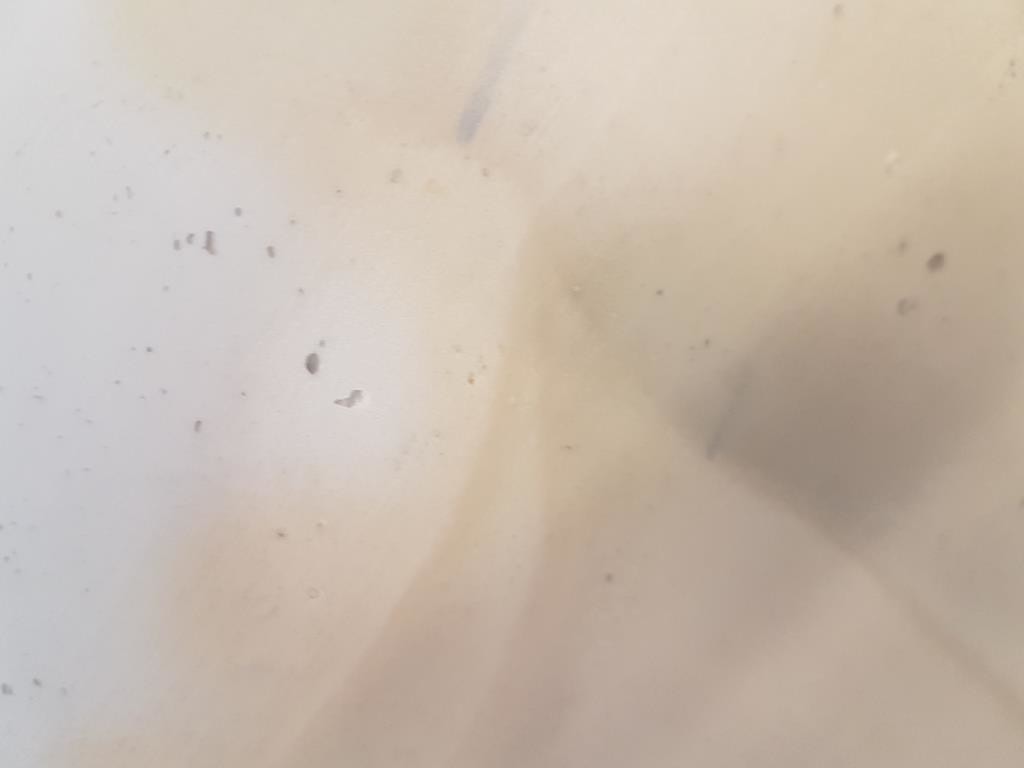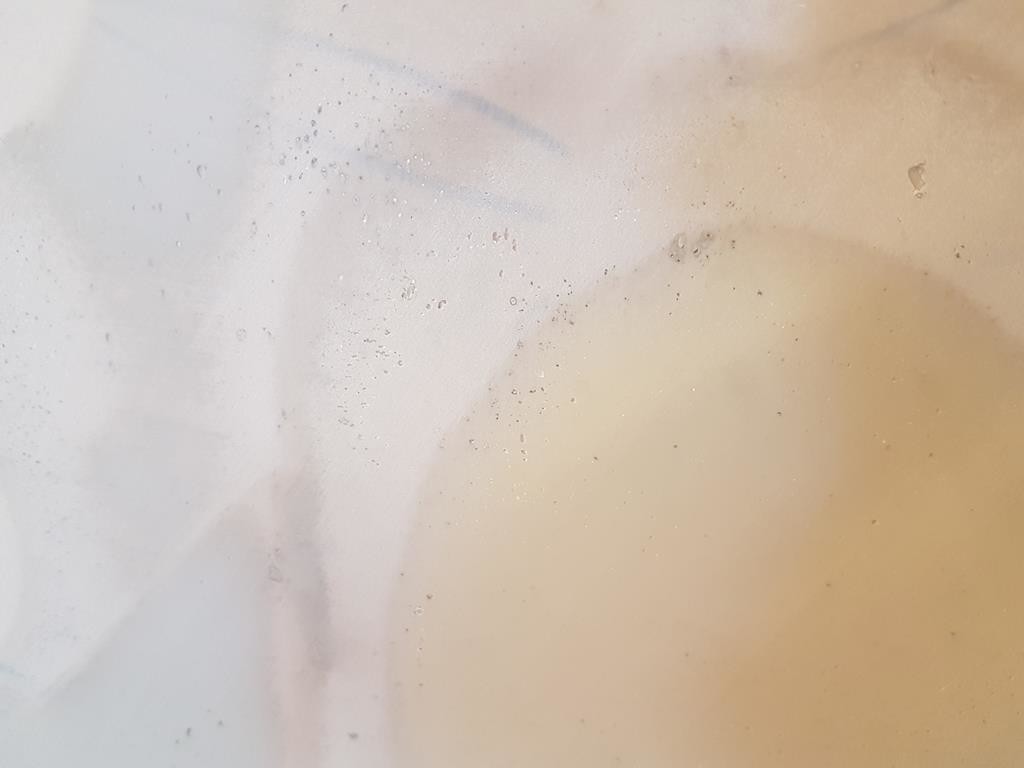 5-13-2019
I've had great success with the dolphin glaze, I managed to use 1 bag for all 4 doors which went further than I expected.

Before I get on with the photos I thought I'd recommend these gloves I got from tool station (not a sponsor!). They're hard wearing and can cope with thinners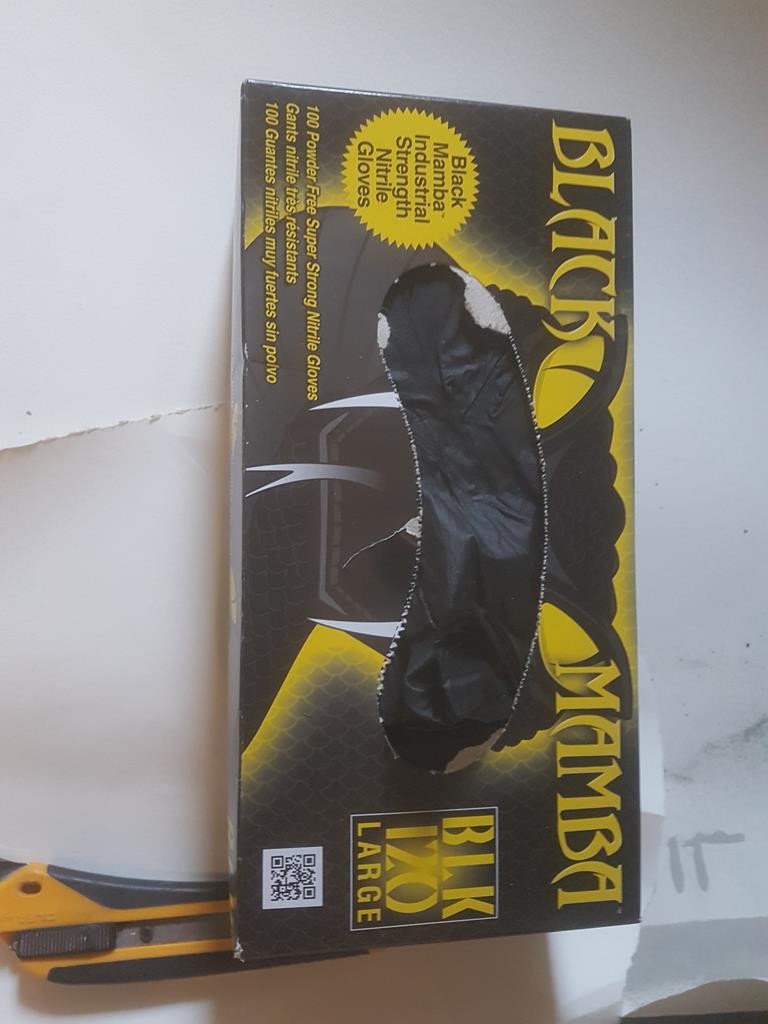 I needed to get the bonnet primed which was relatively easy, I tried to use the scales for measuring the primer. I'd been filling the cups as measured using 30% thinners but struggled to getba good finish but when I used the weighing method the 30% line was showing as being 12%!

The thinner primer was easier to spray but I had a few runs based on how I used it more than the primer being too thin.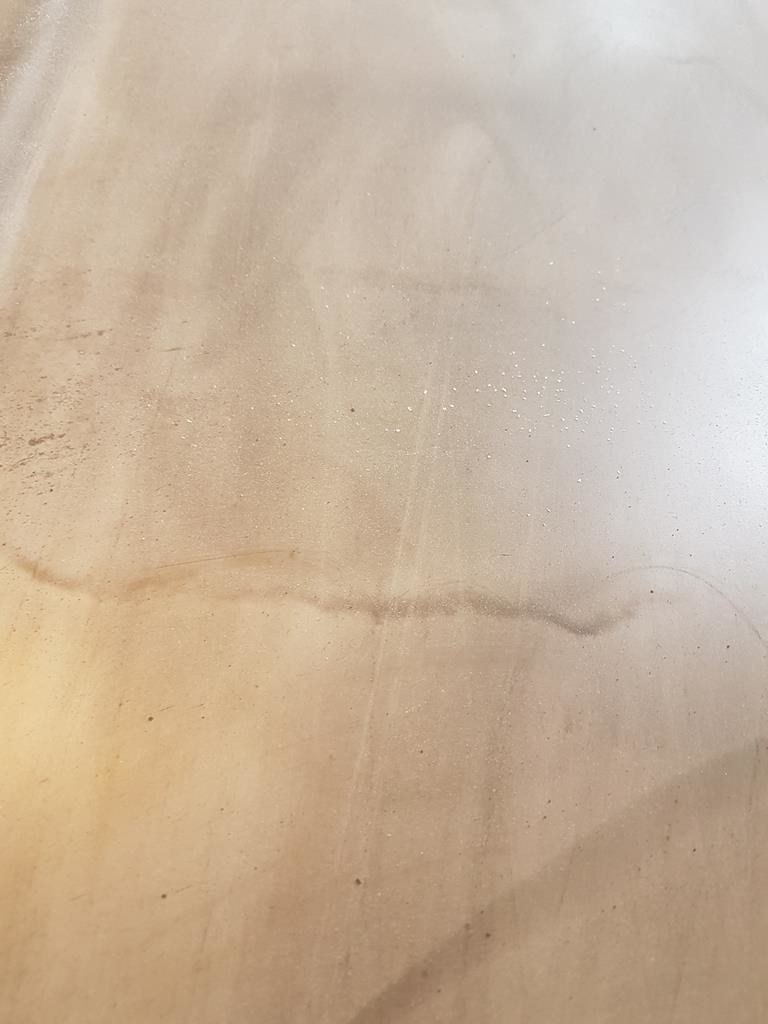 So filler photos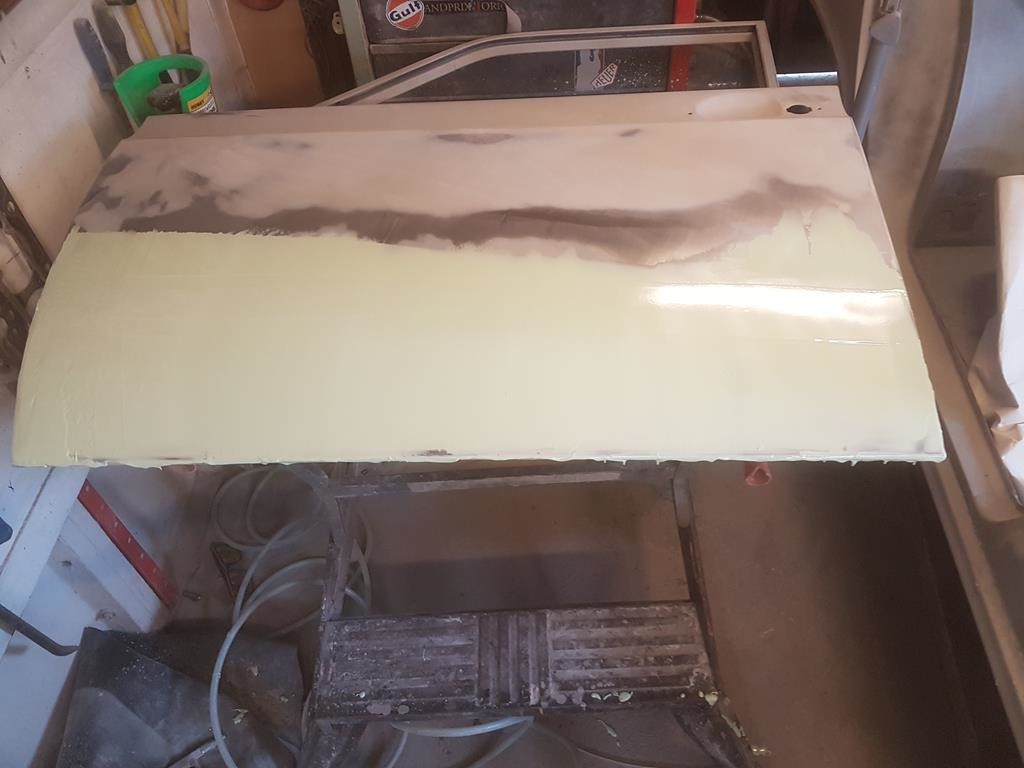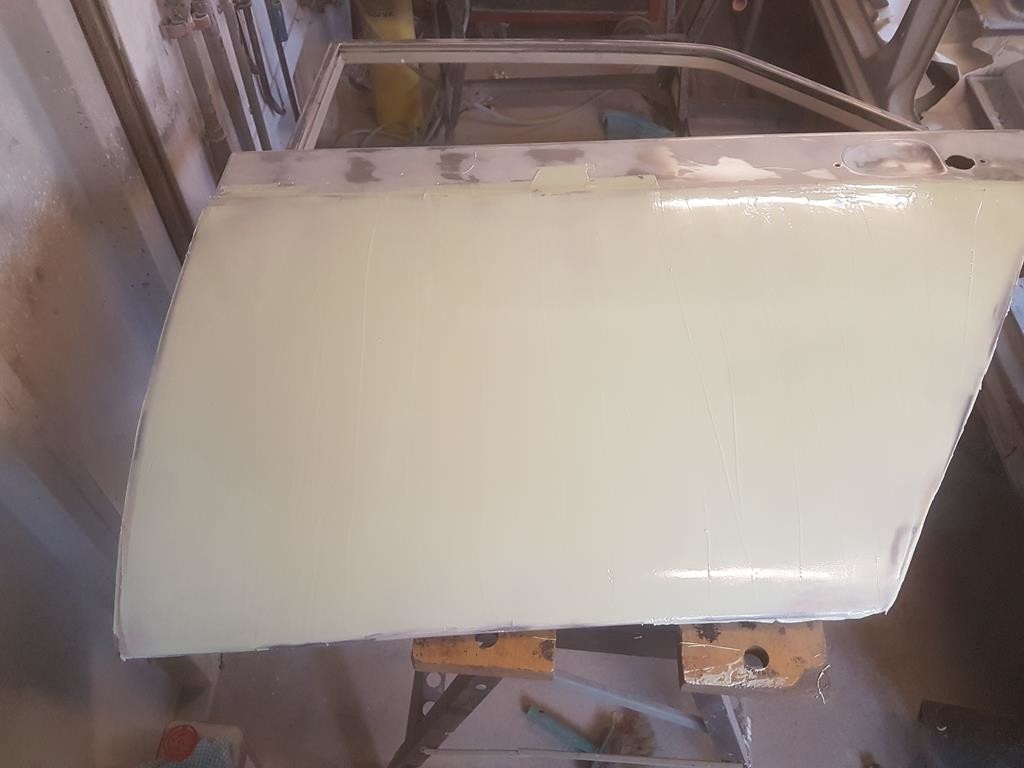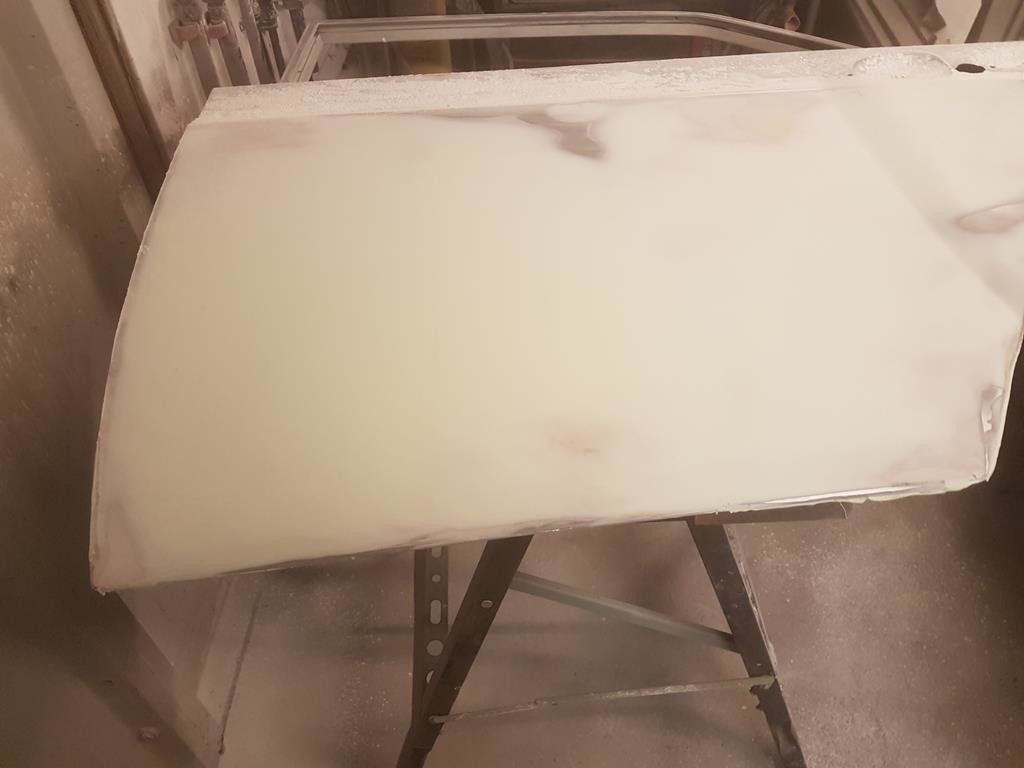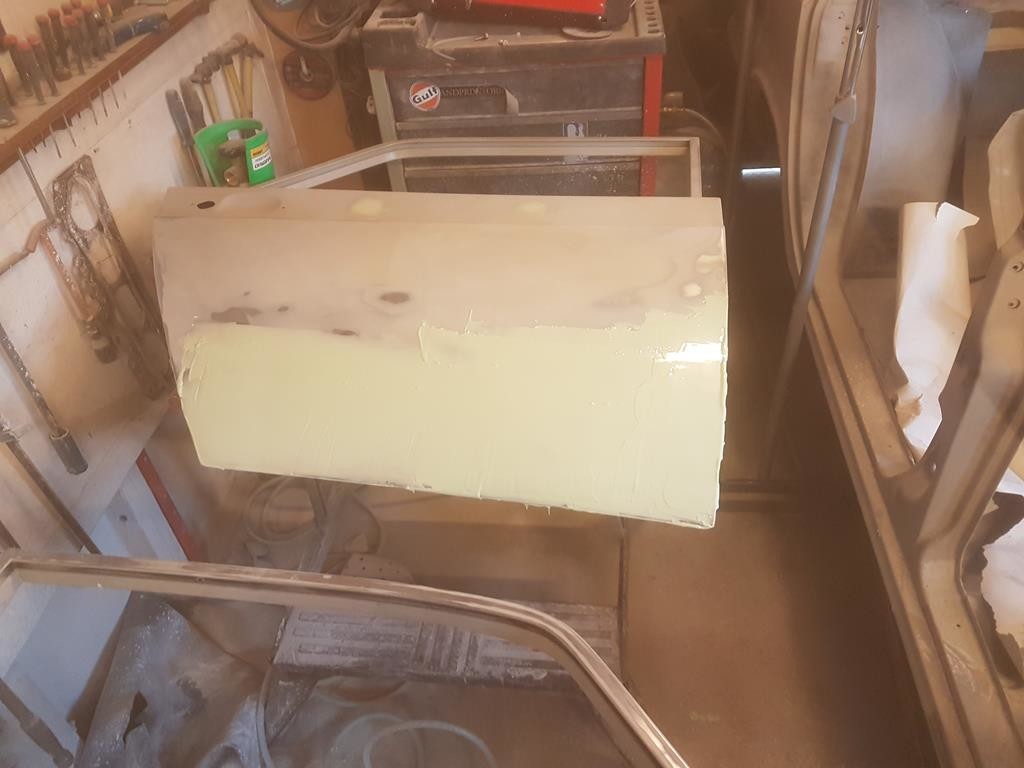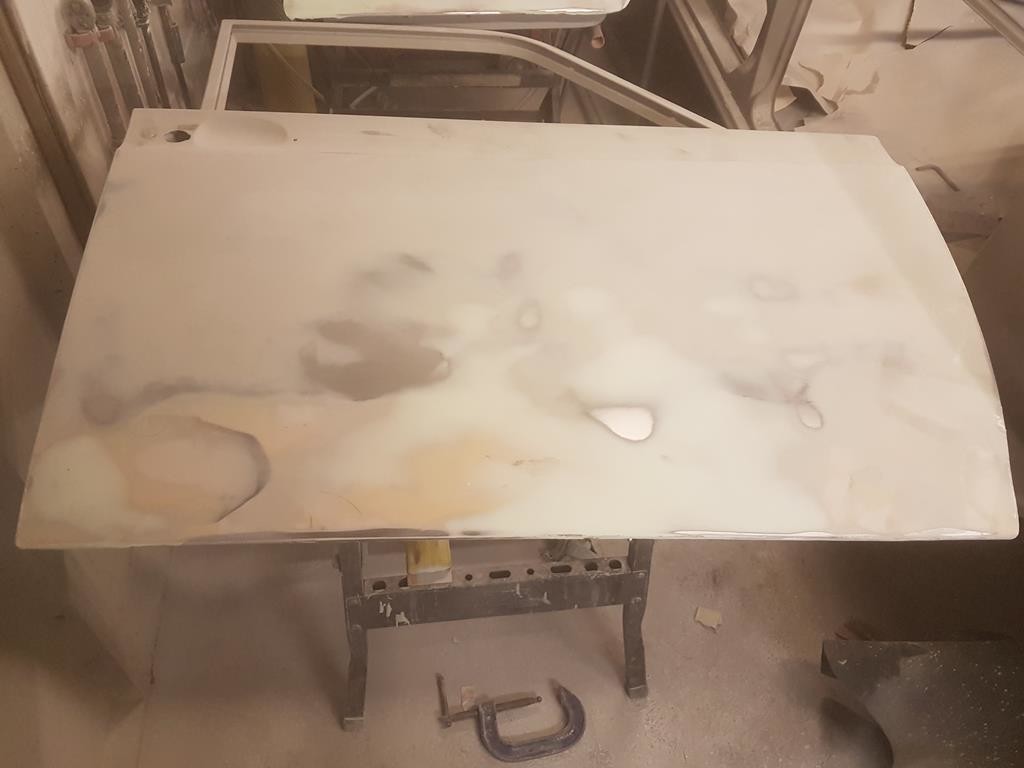 Whilst I was working through the filler we (Mrs Jim and i) did the seam sealing of the panels.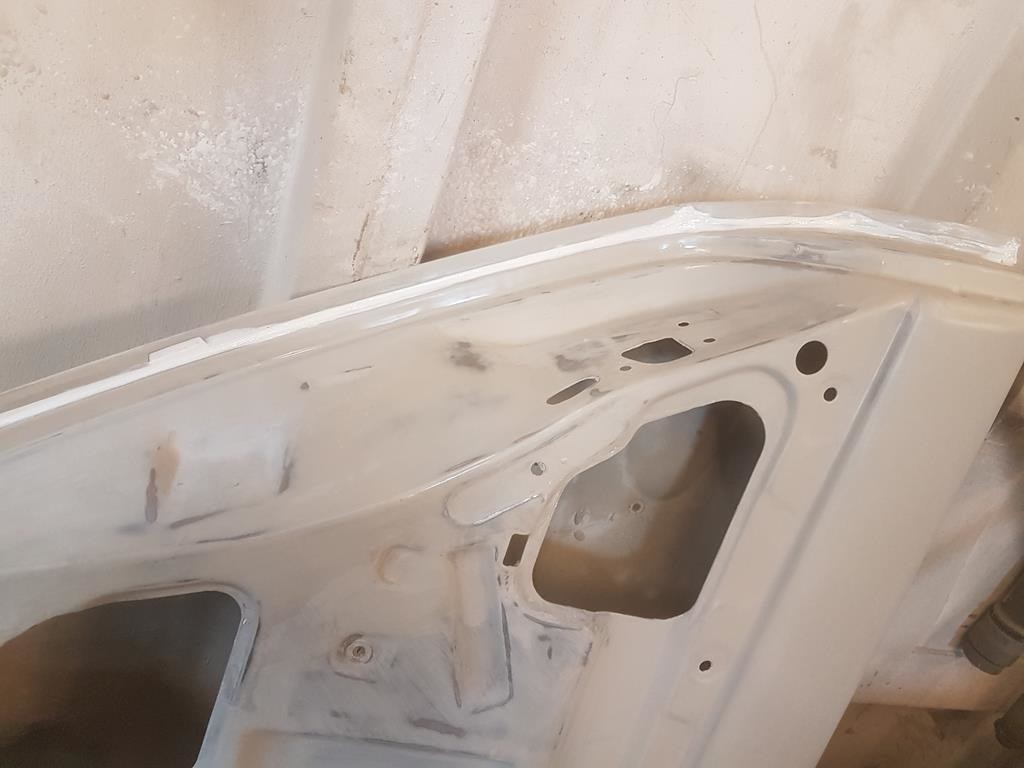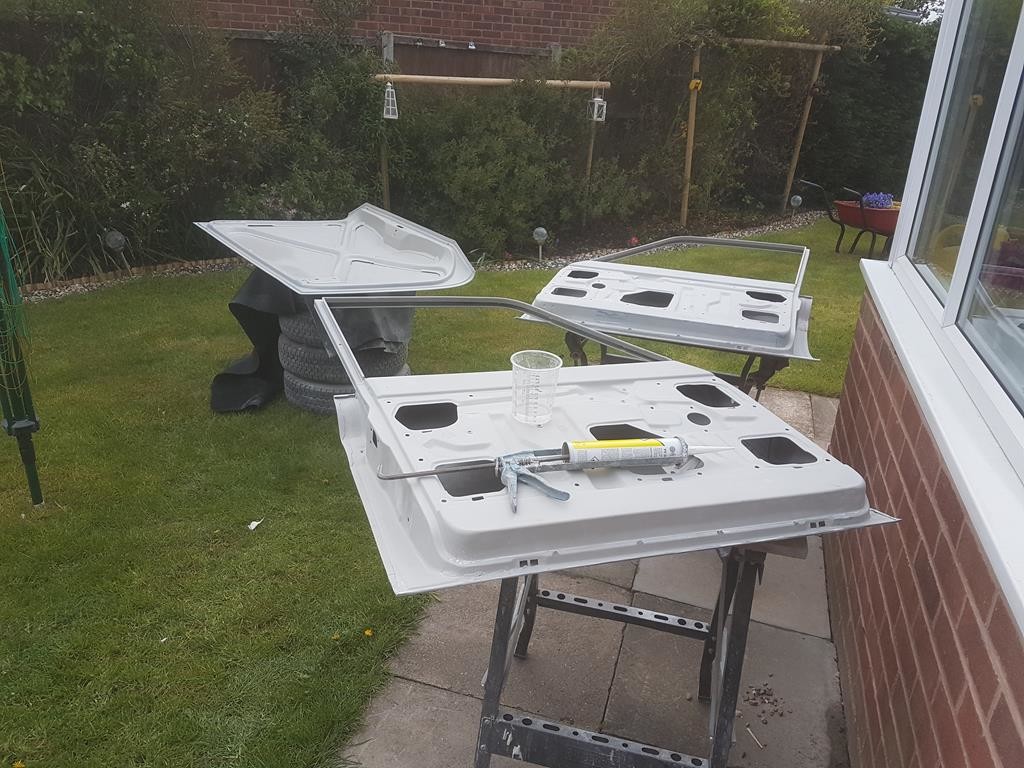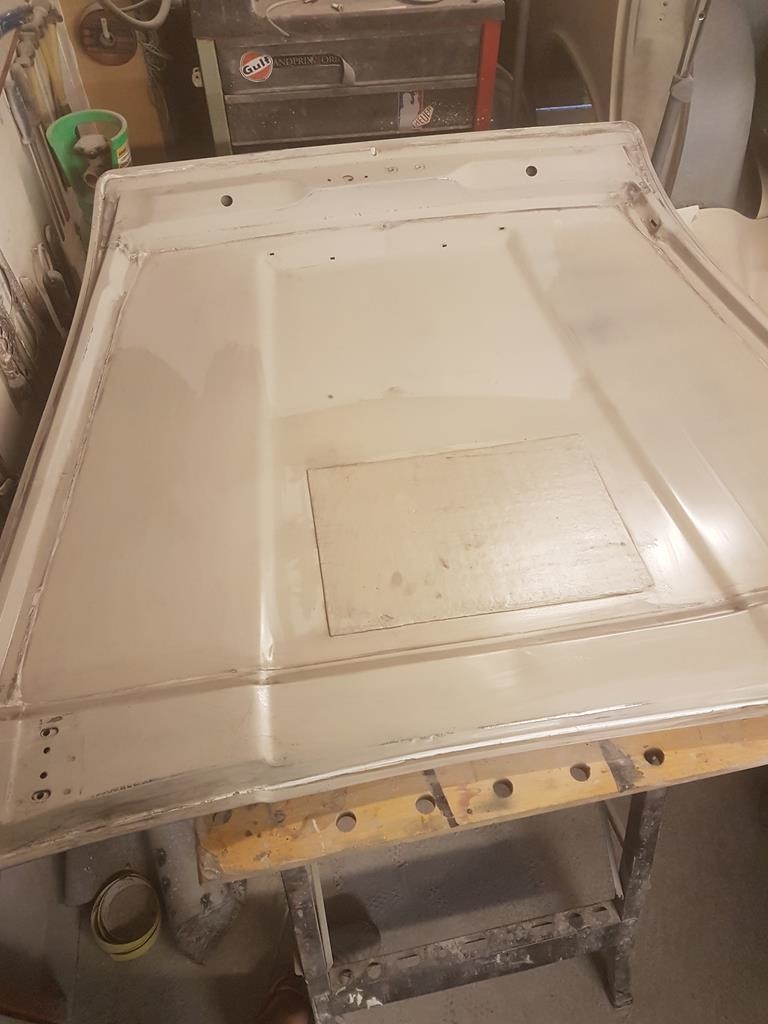 I wanted to try an experiment - we bought a clothes rack when we moved in because we needed a wardrobe quick! I insisted on keeping it for this purpose to hang doors etc for spraying.

As a budget tool it's not bad but I can't do bigger panels - who cares when it's cheap!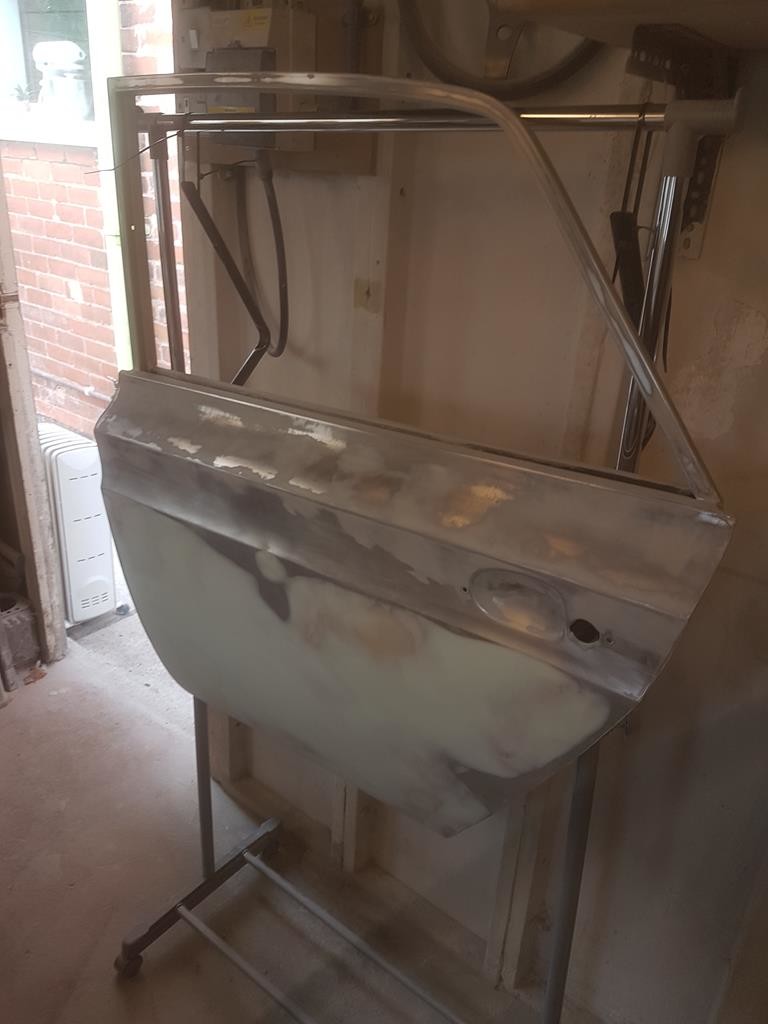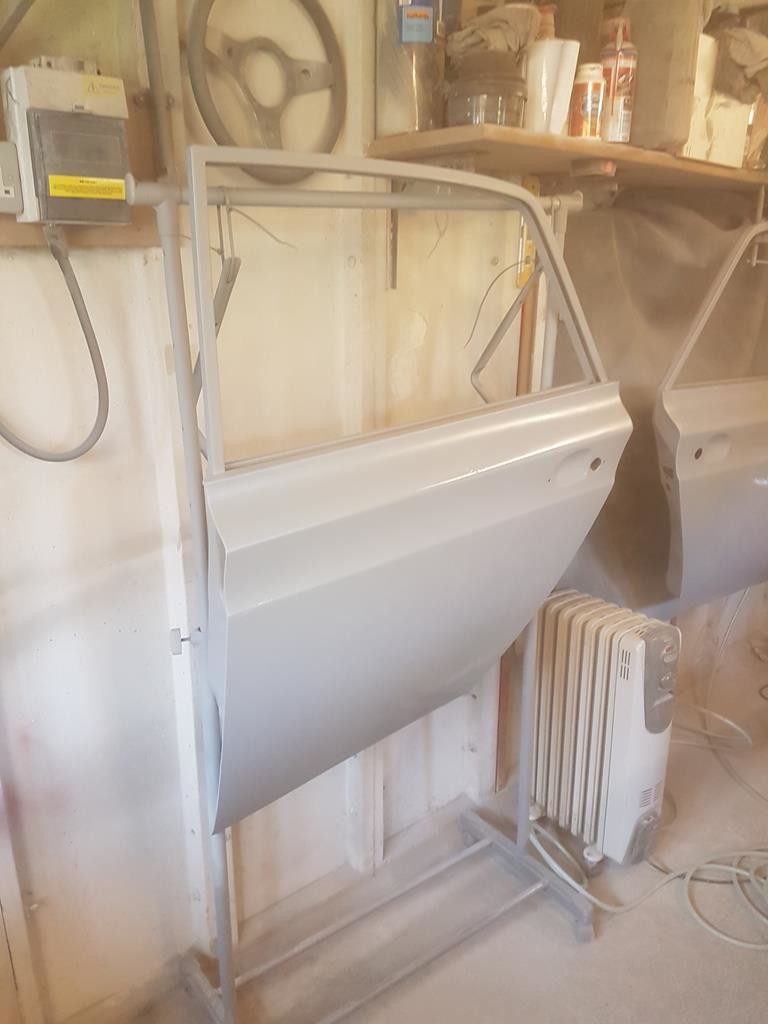 I finished the rear wing with a 2nd bag of dolphin glaze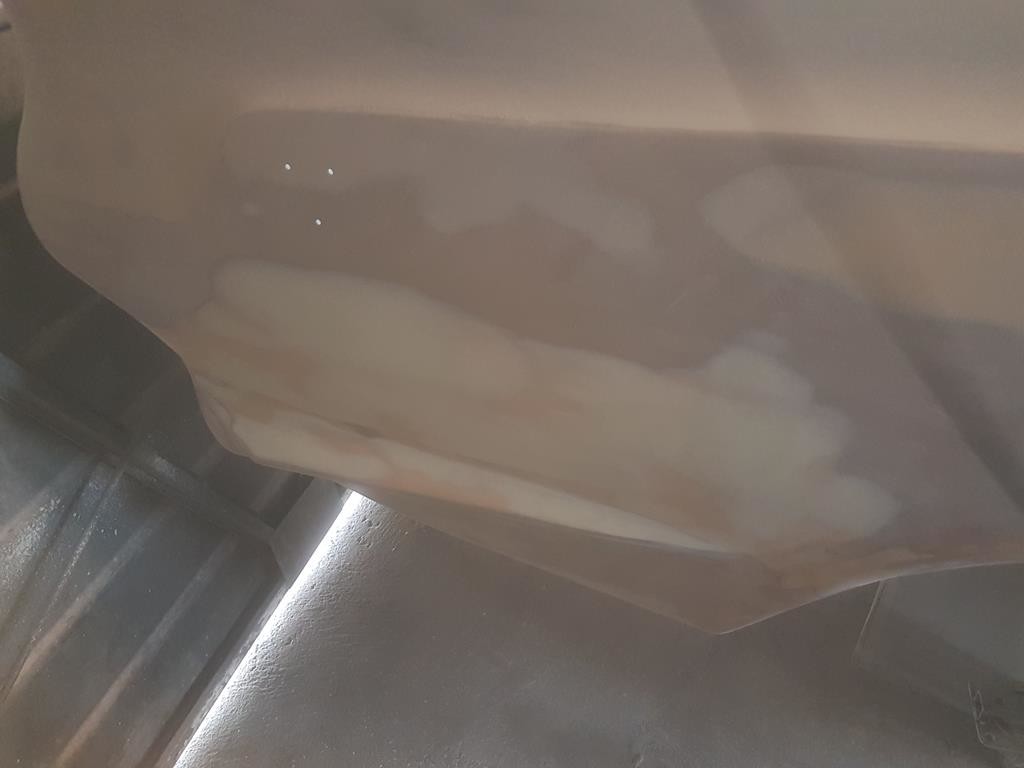 With the filler work all done FINALLY! Last weekend it was time to clean the garage

Some before shots of how bad it was.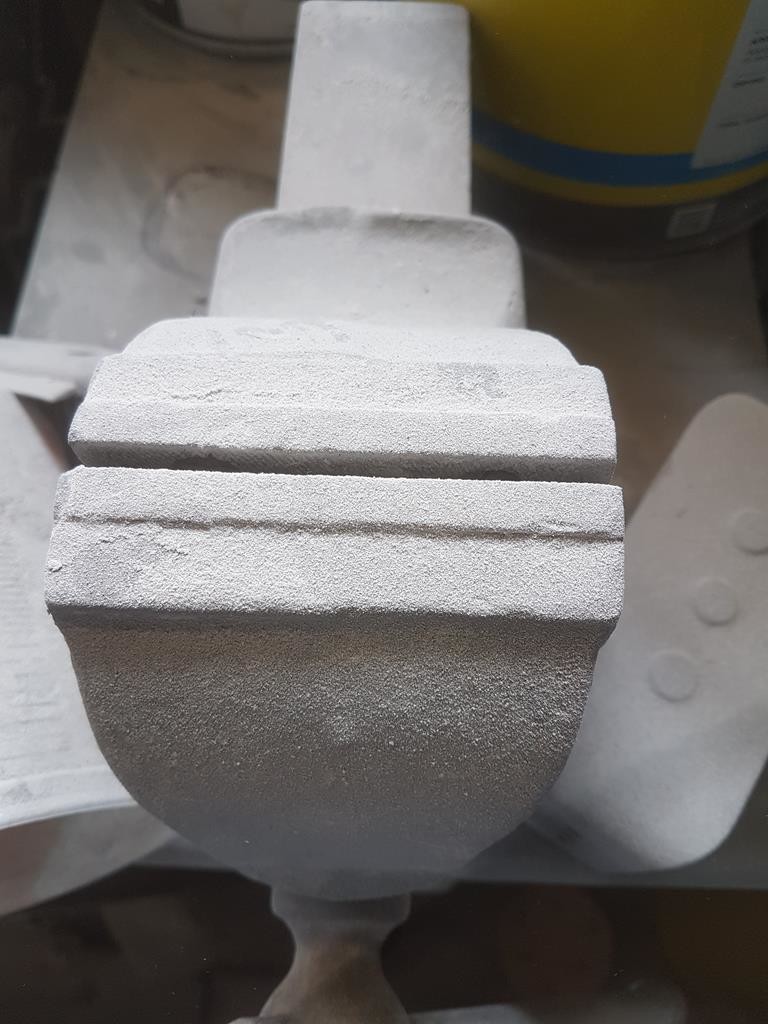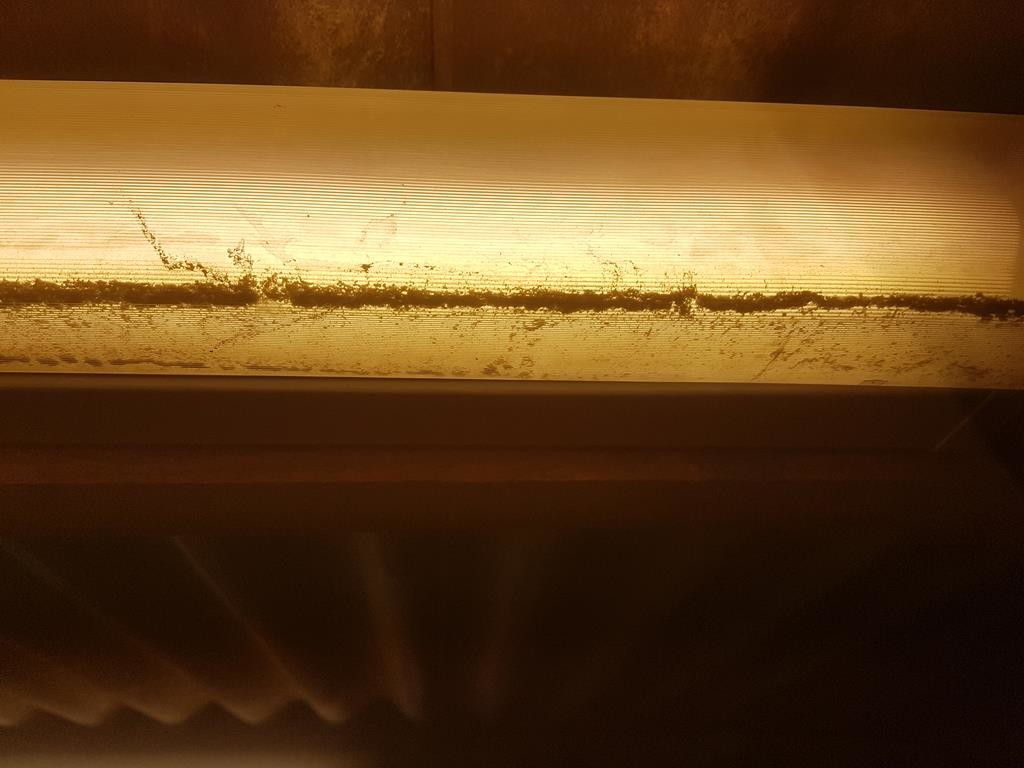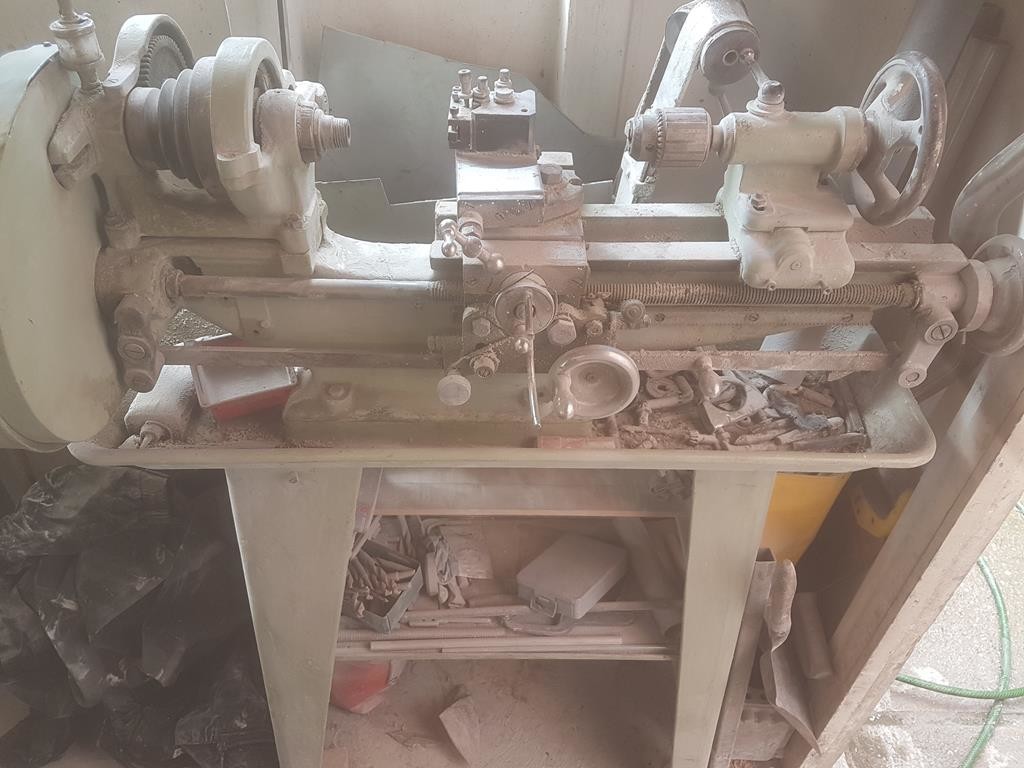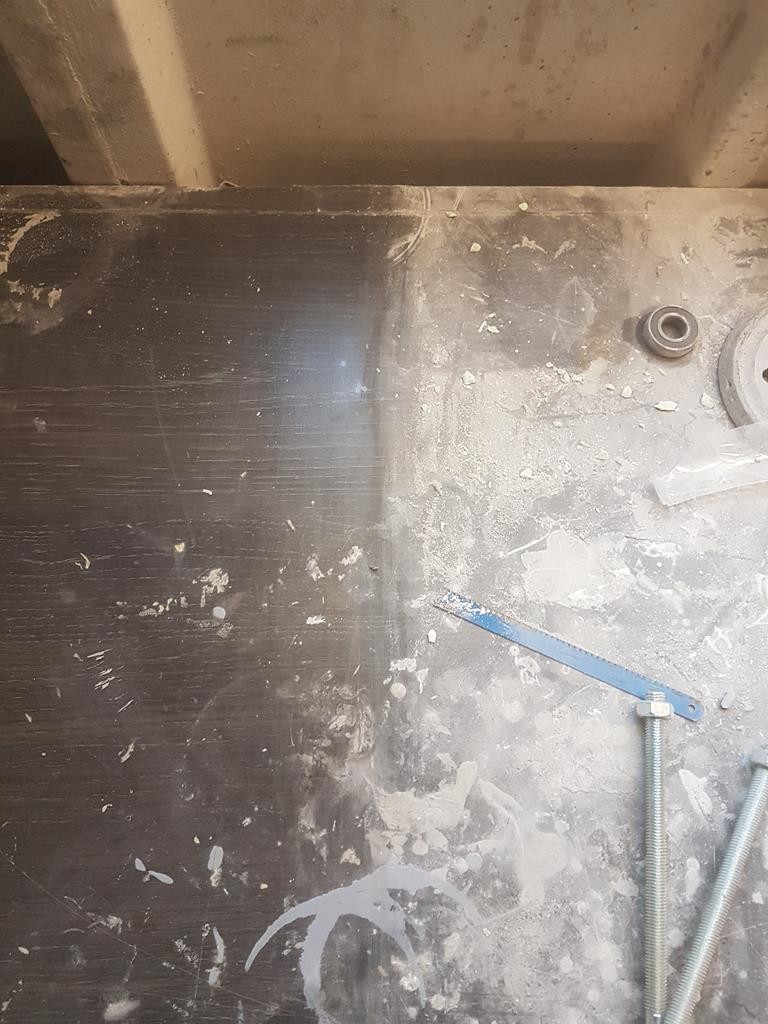 Mid way through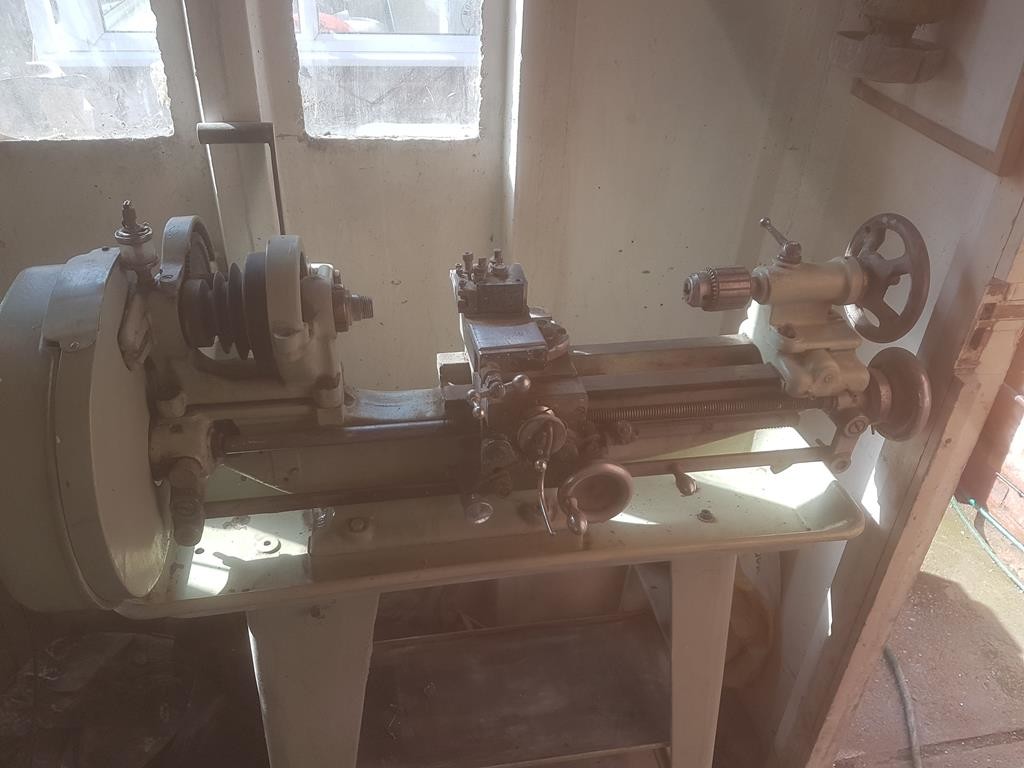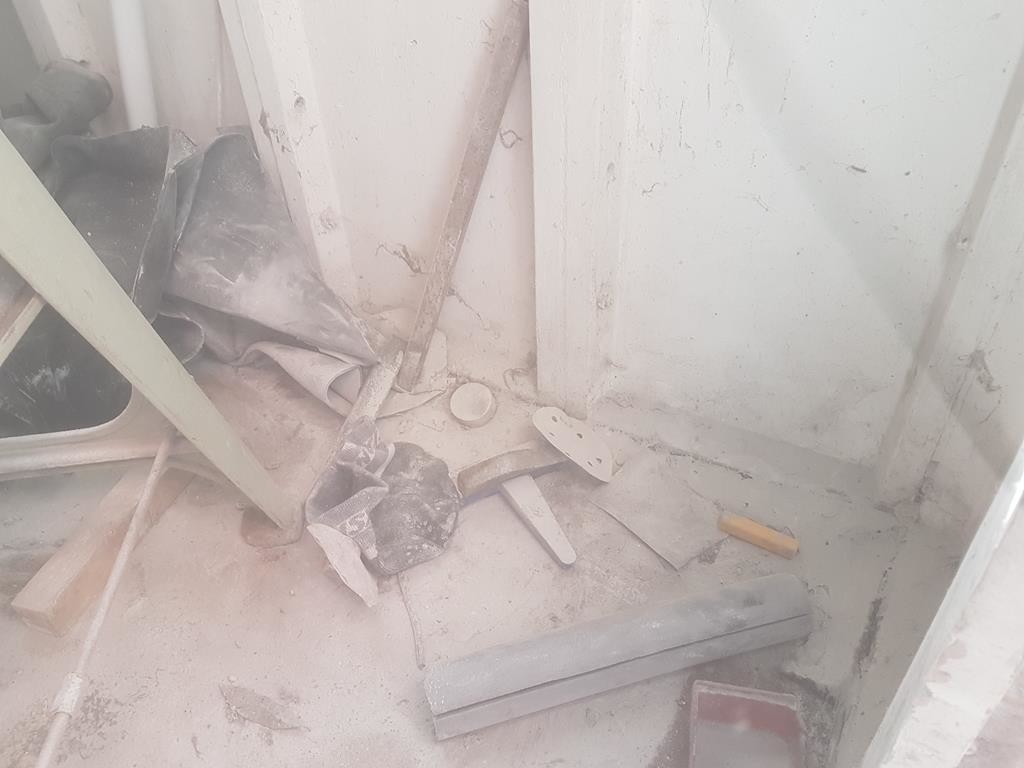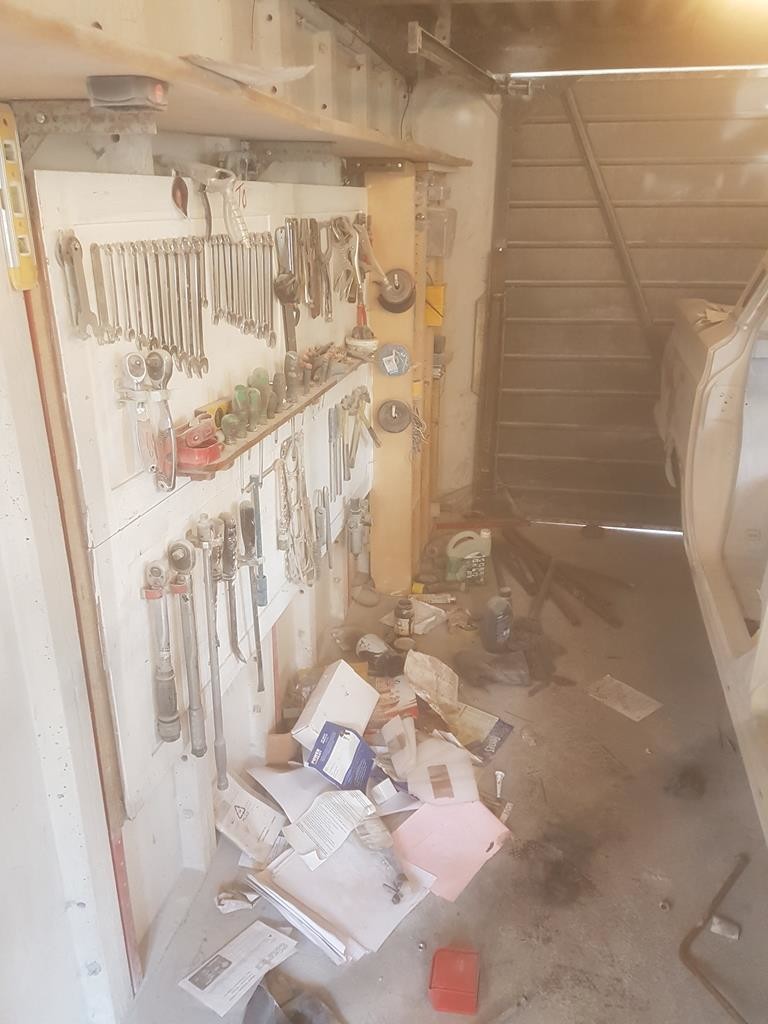 Mrs Jim got in on the clean up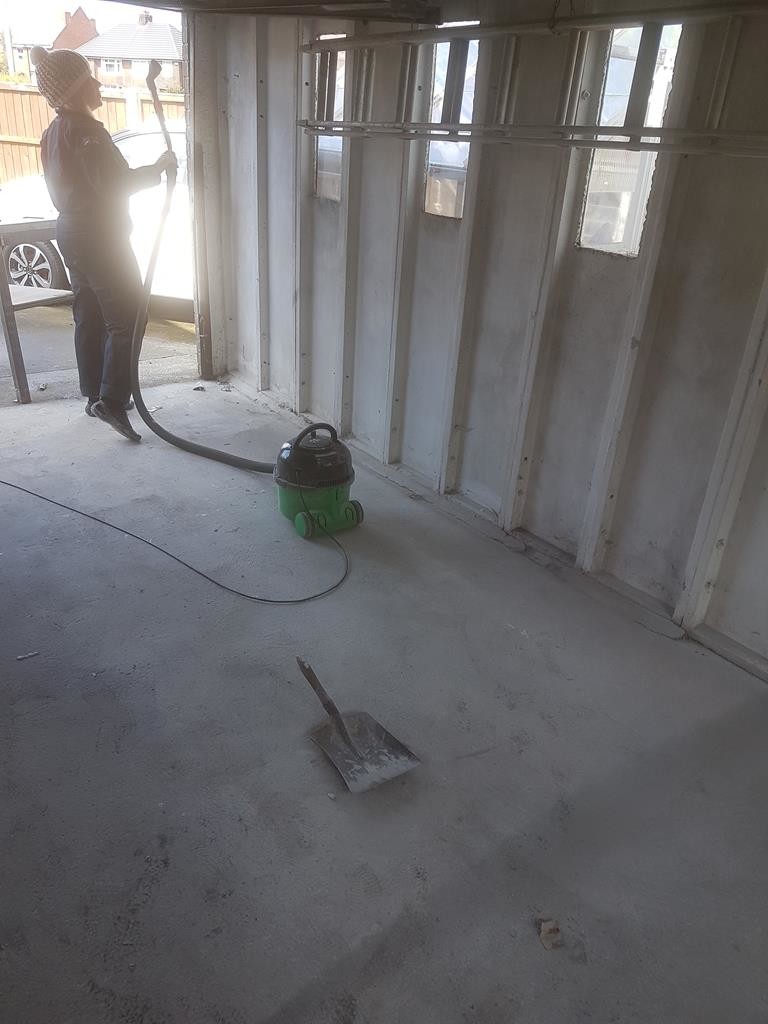 We had to jet wash the floor 3 times to clean it! The dust was embedded in the floor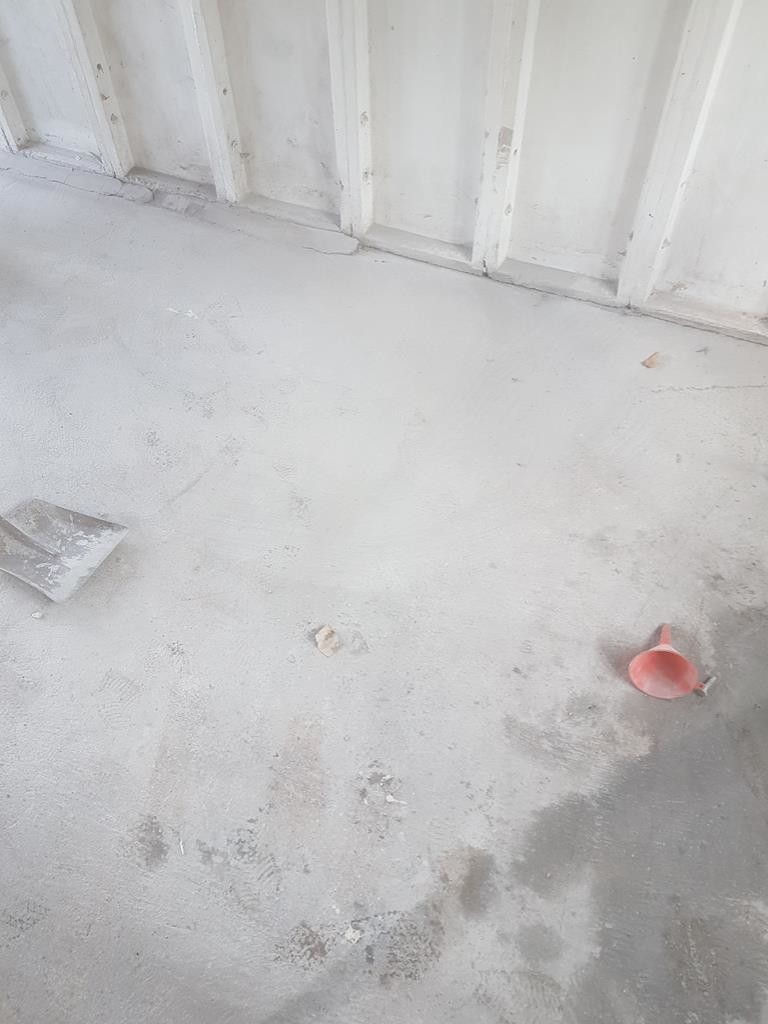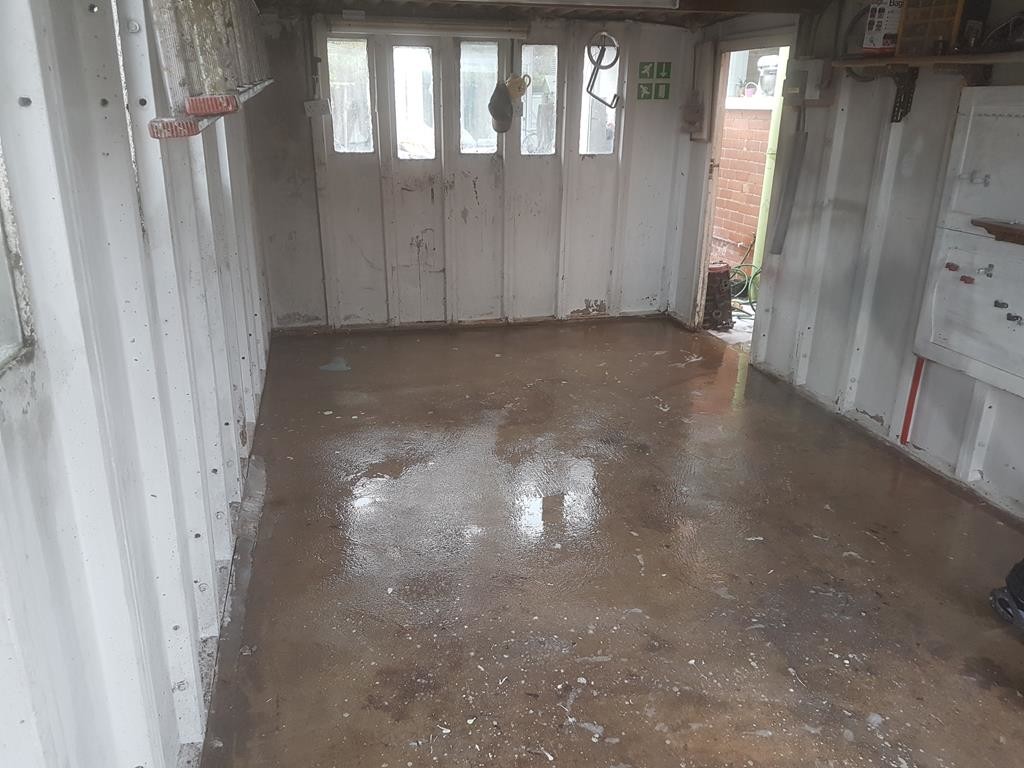 And afterwards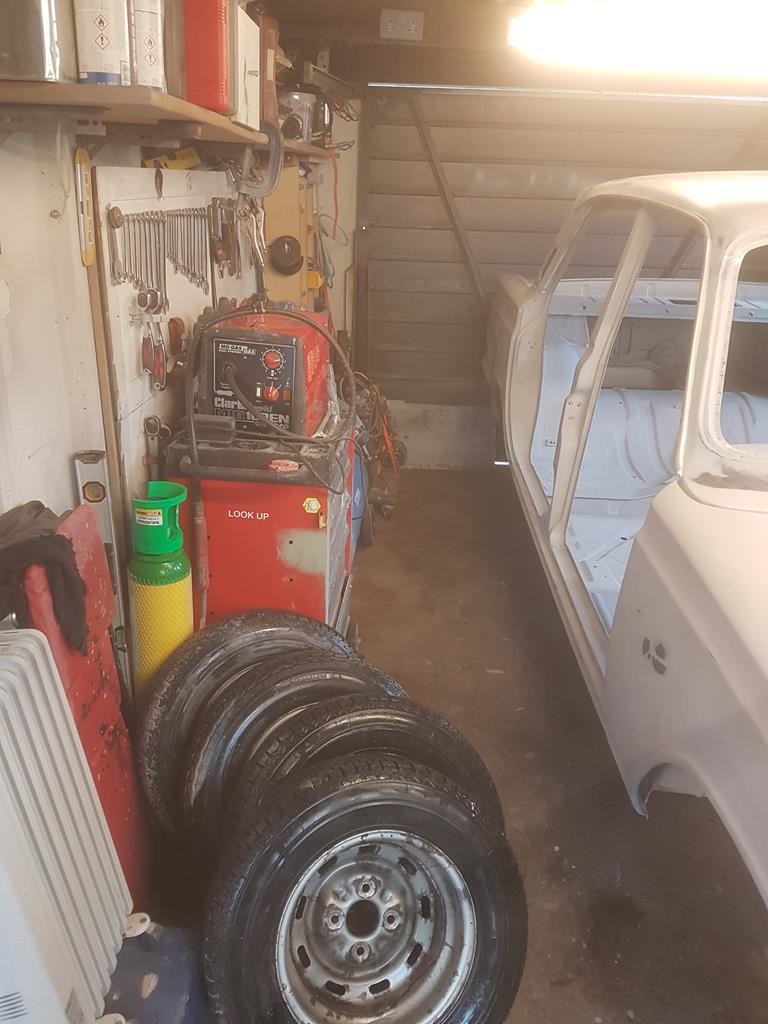 It took some hard work but I'm happy with the result plus it's great to go in the garage without needing a dust mask!

Clean bagpuss agrees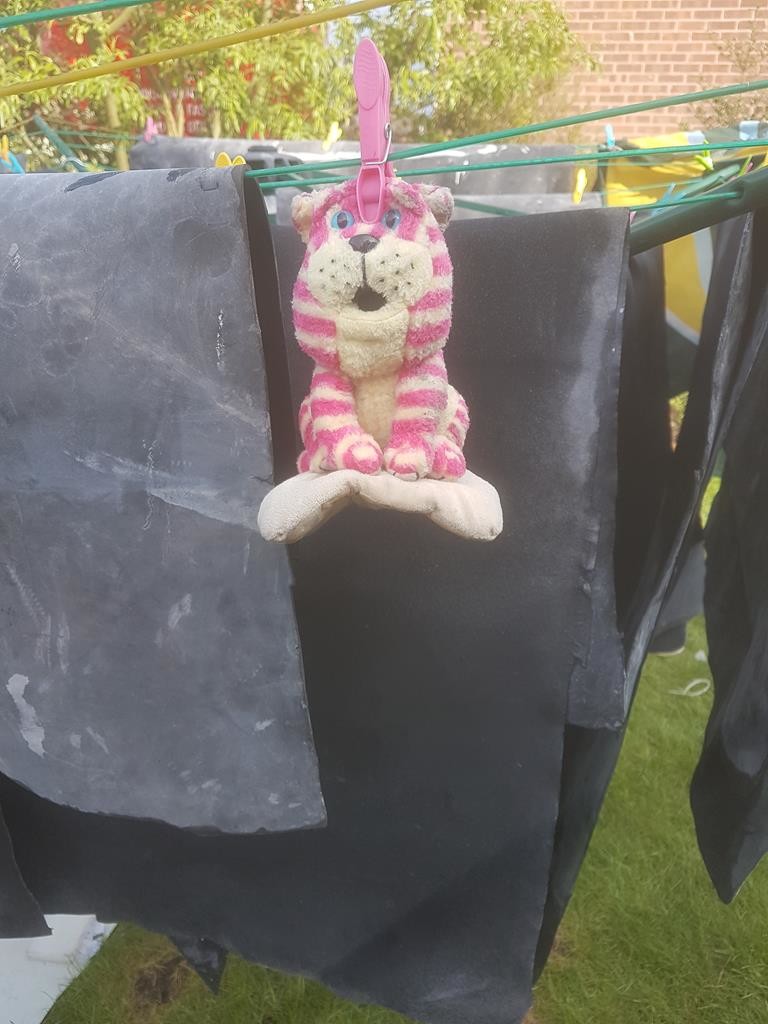 6-2-2019
I had a big push recently or it feels like one!

We bought this gazebo a few years ago with the intention of eventually using it as a garage extension for spraying, it's worked pretty well for something basic!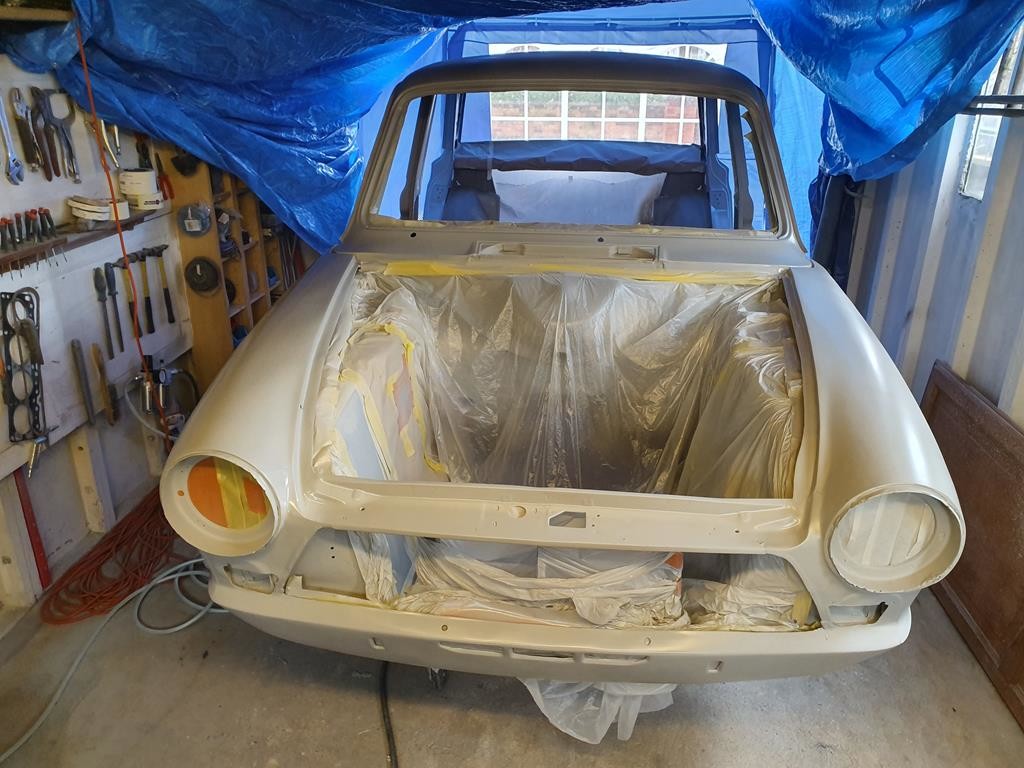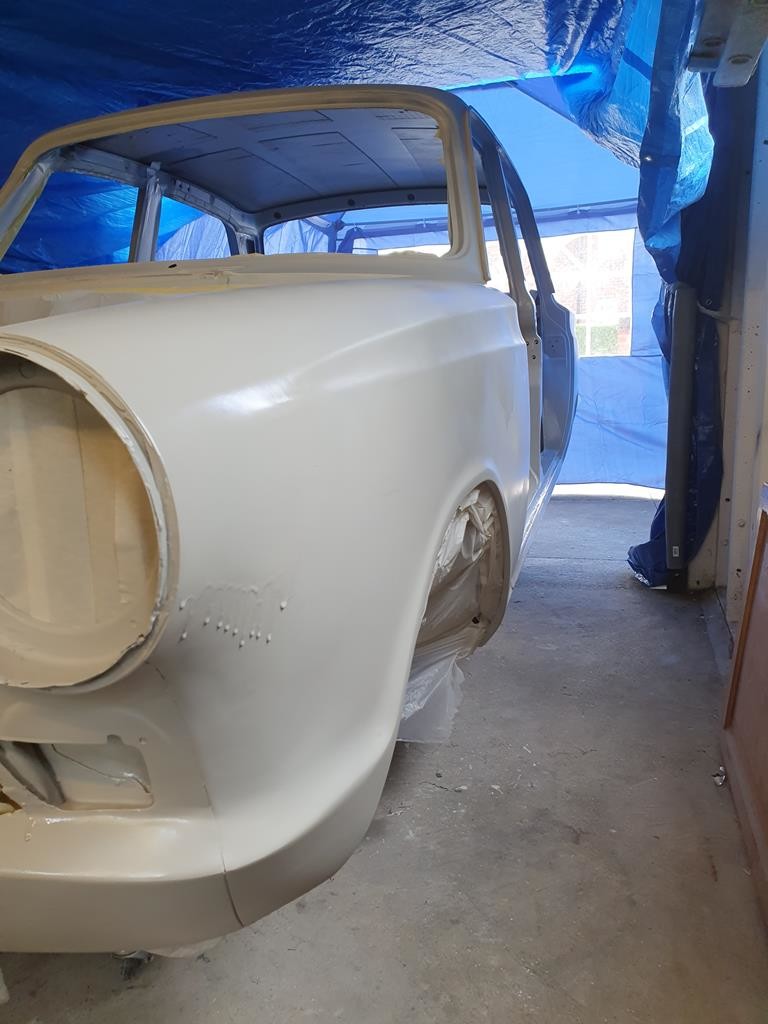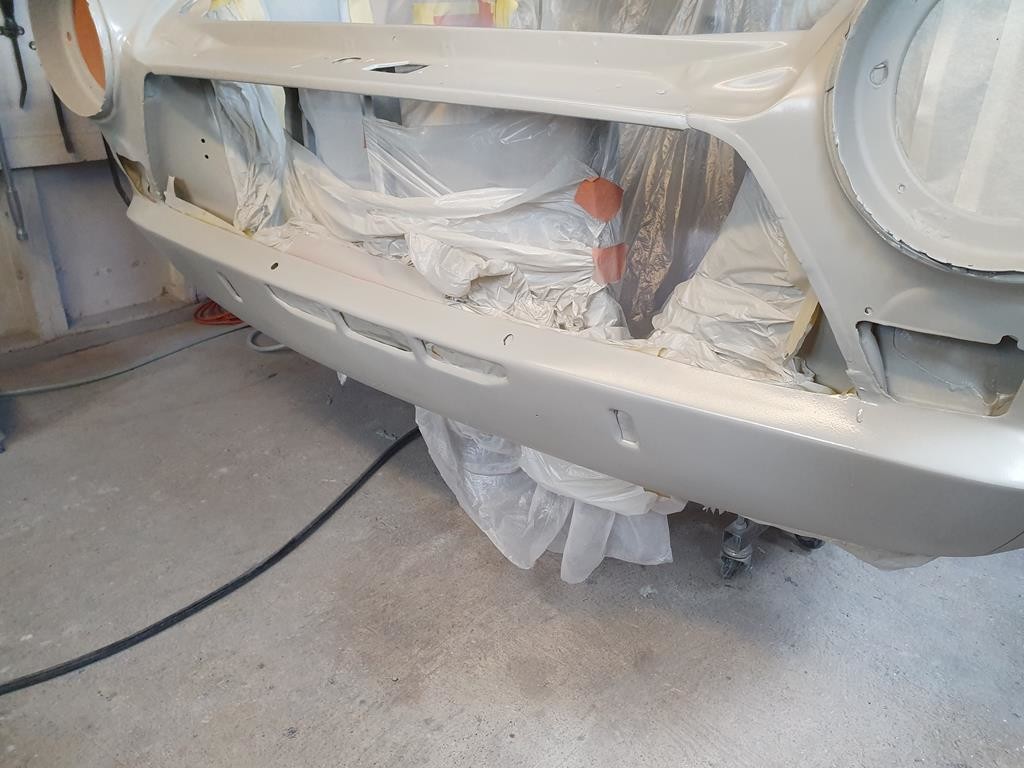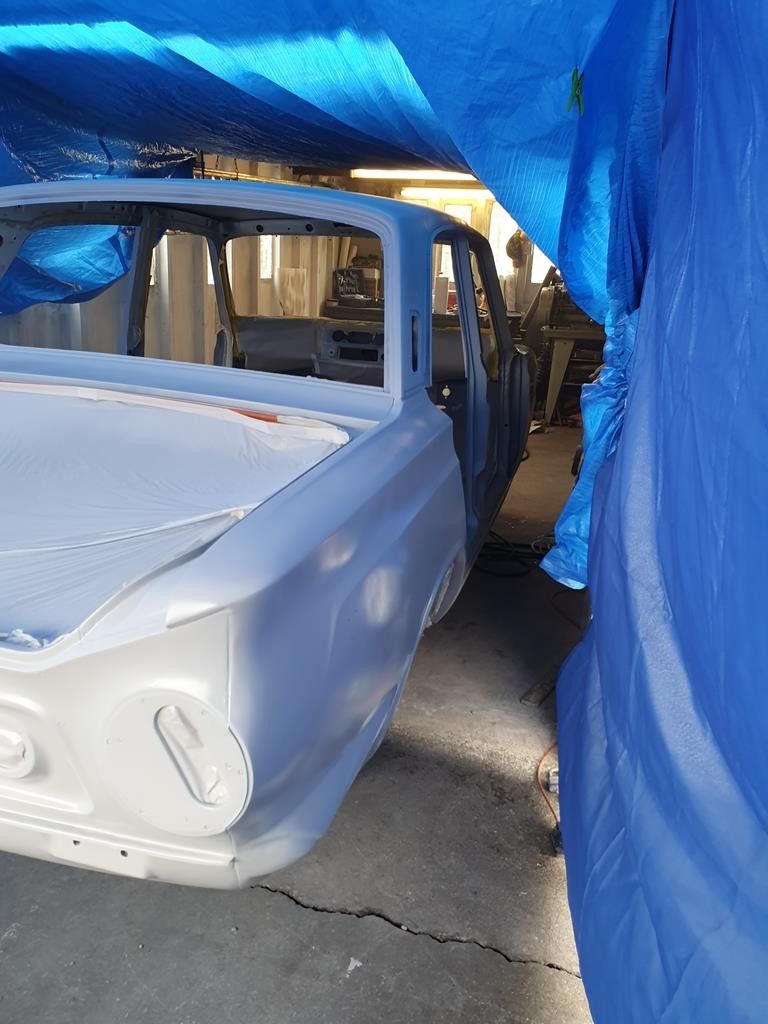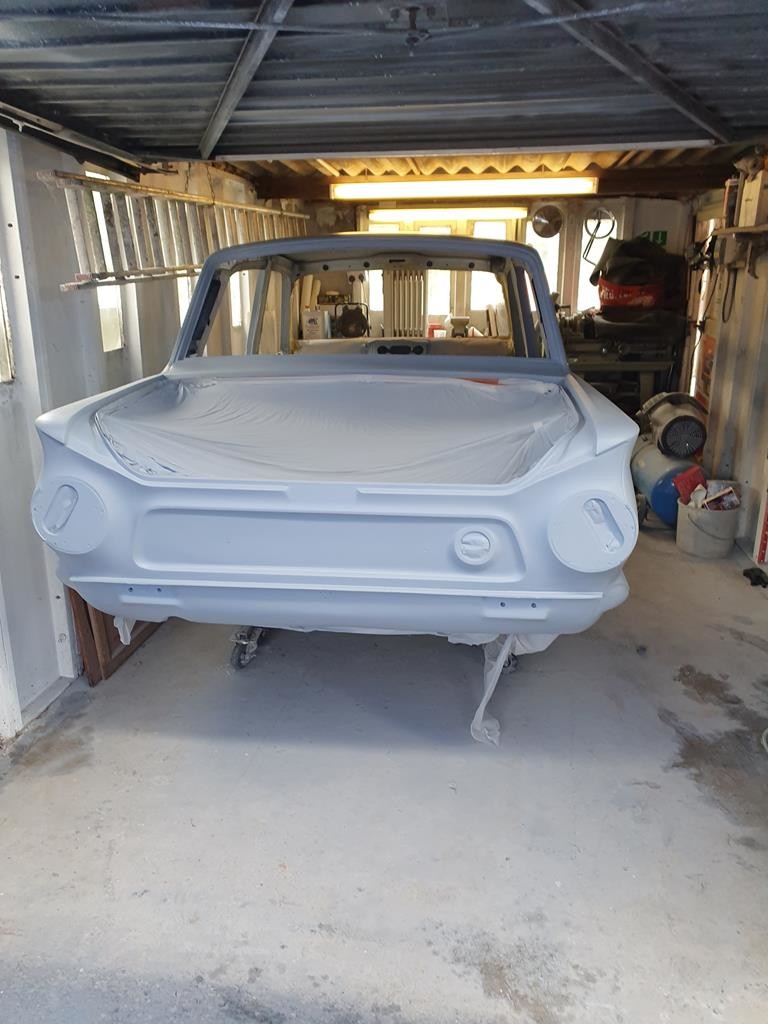 I had a few cock ups with runs and I think I had too much air as it seemed to dry like overspray. It seems to clear up well with 320.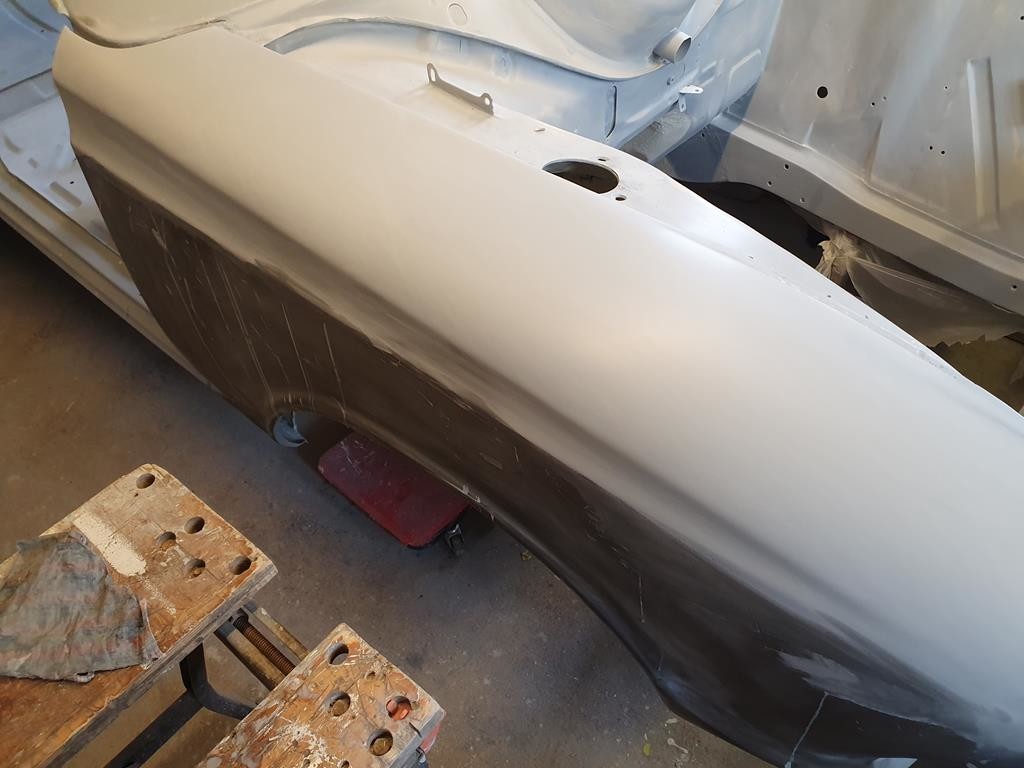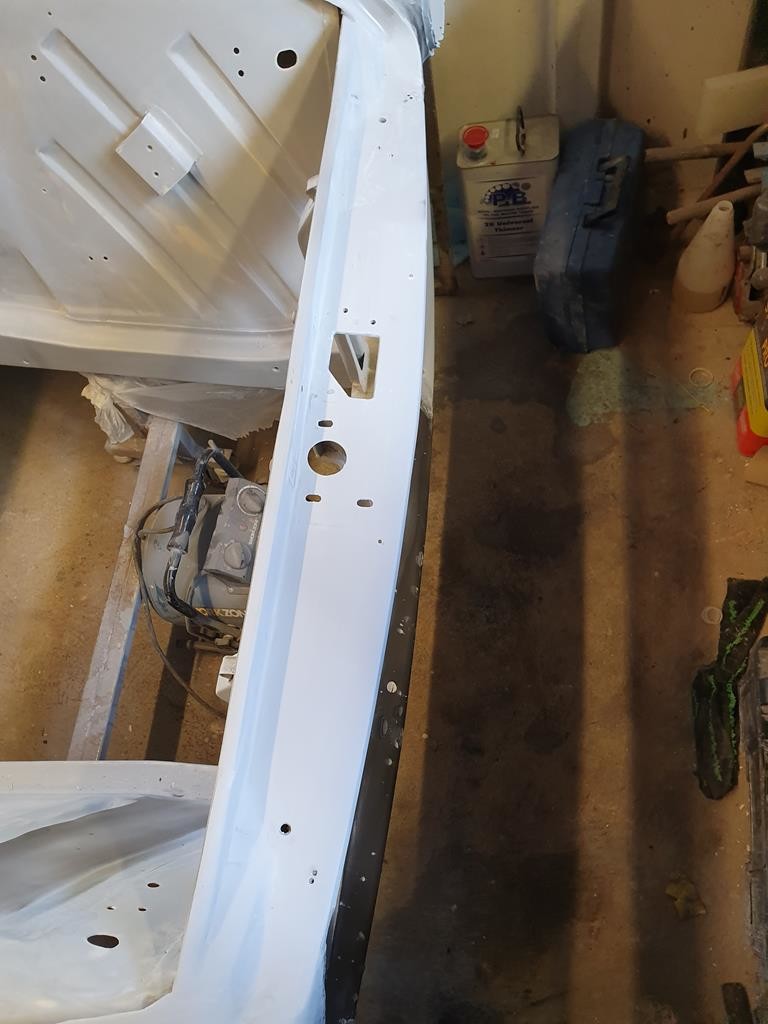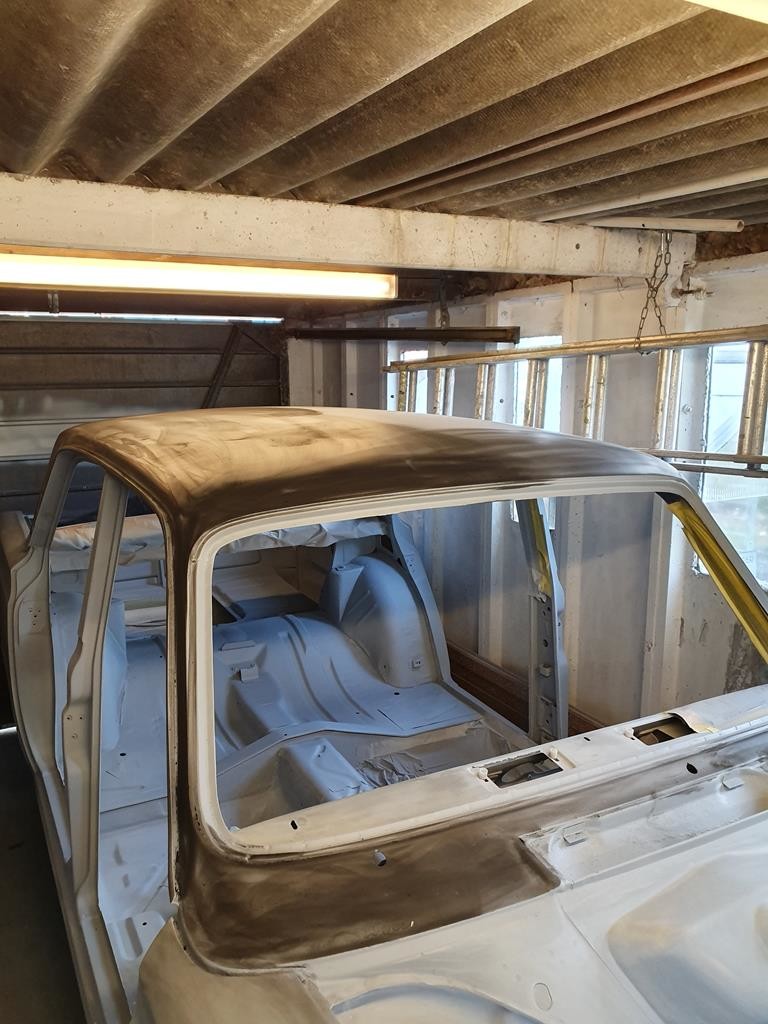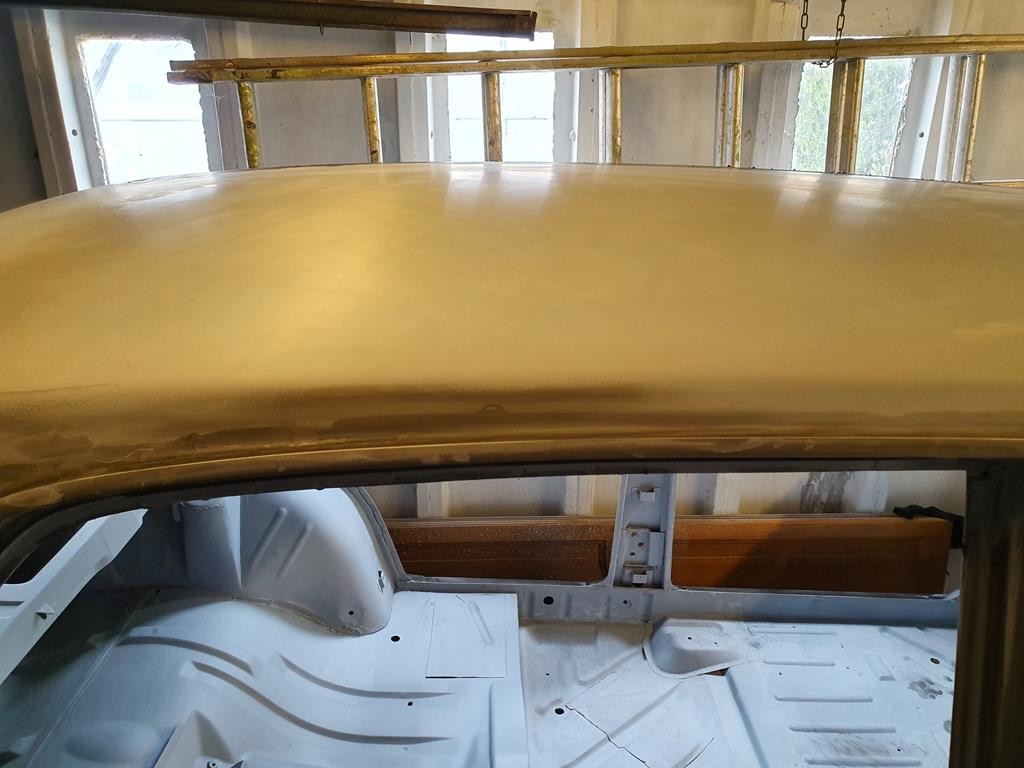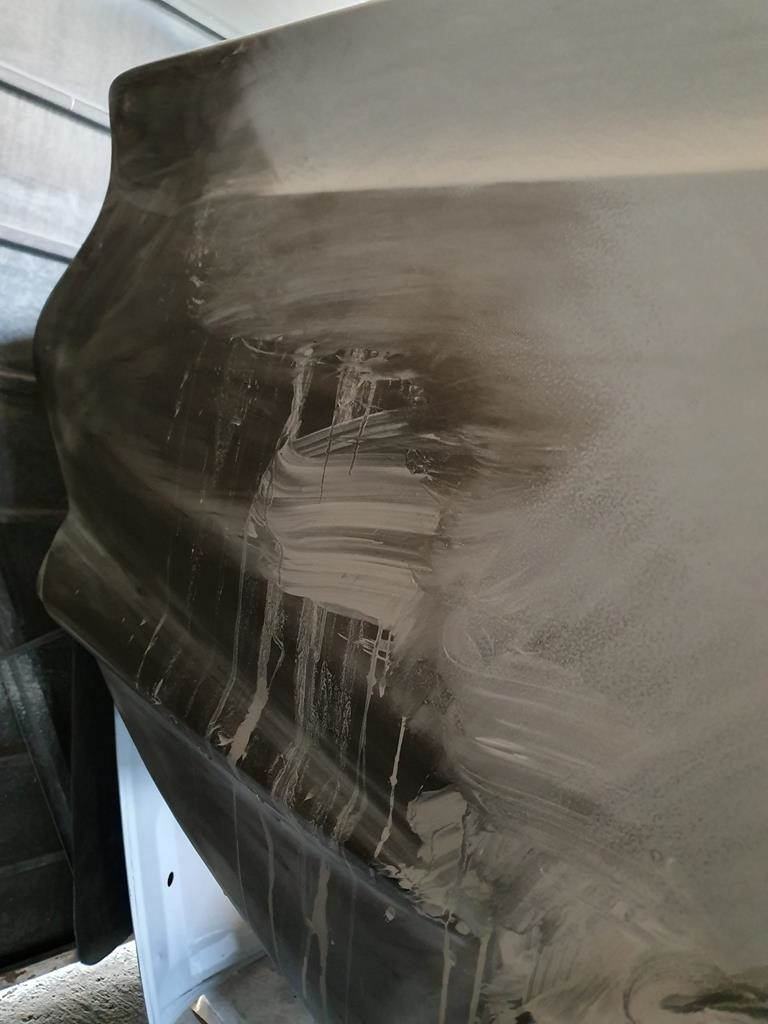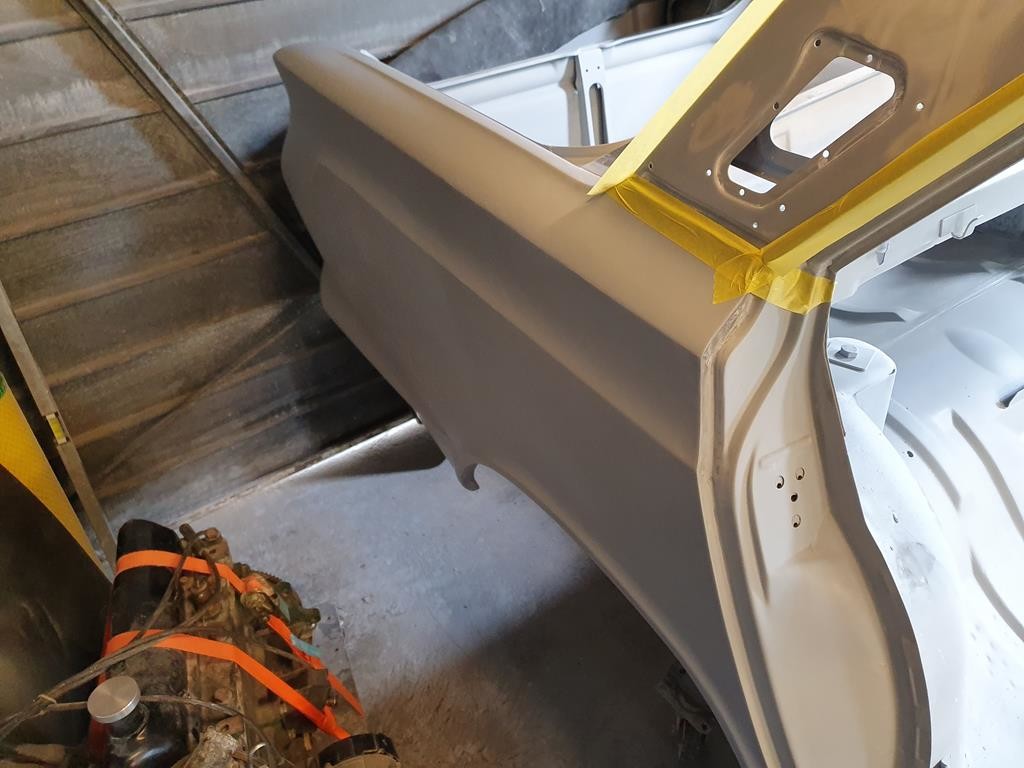 The b was a little light in primer so itll need reworking but its easy to mask off. The c pillar looked like it had melted! Its masking off and I'll dust it when I start working on the door inners which I'll probably do 1 at a time because of space and time.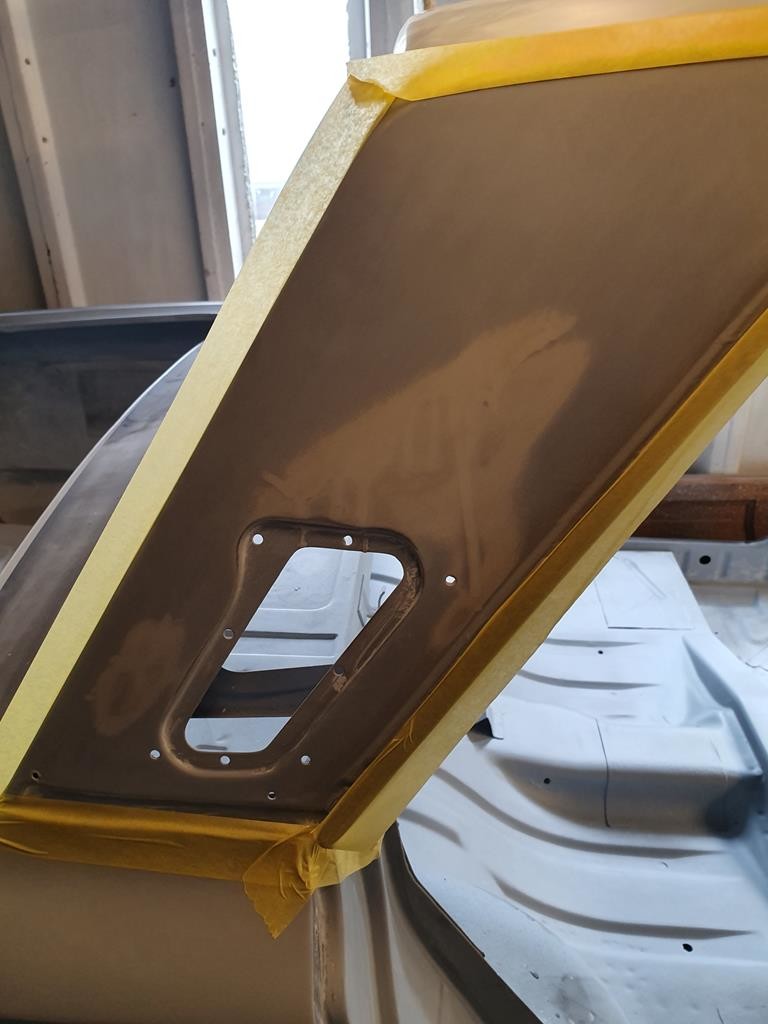 With that I'm off to wet sand - it takes an eternity but at least I can put my headphones on and tune out the rest of the world!
6-9-2019
This week I've just about finished the 1st stage of floating the body back.

Today I've been working on priming the doors and blending the body repairs in.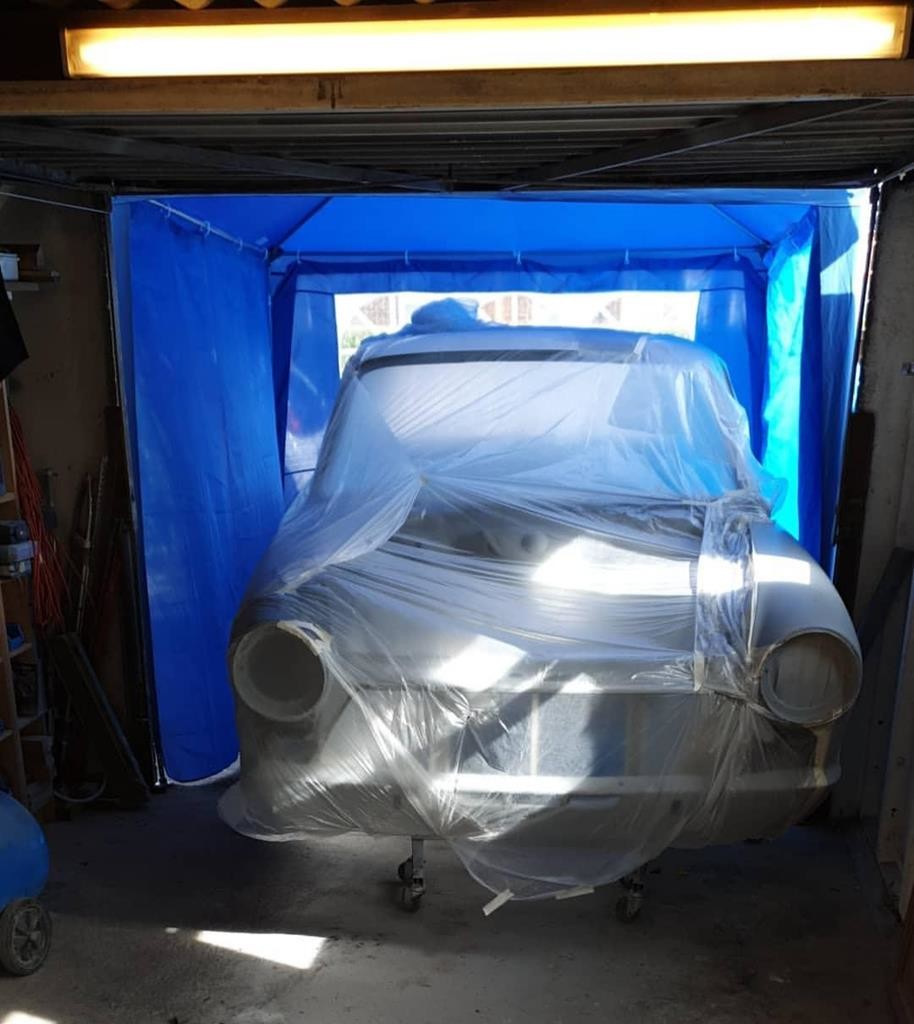 I got 2 of the doors hung ok and secure, I was working on securing the near side rear door but I messed up...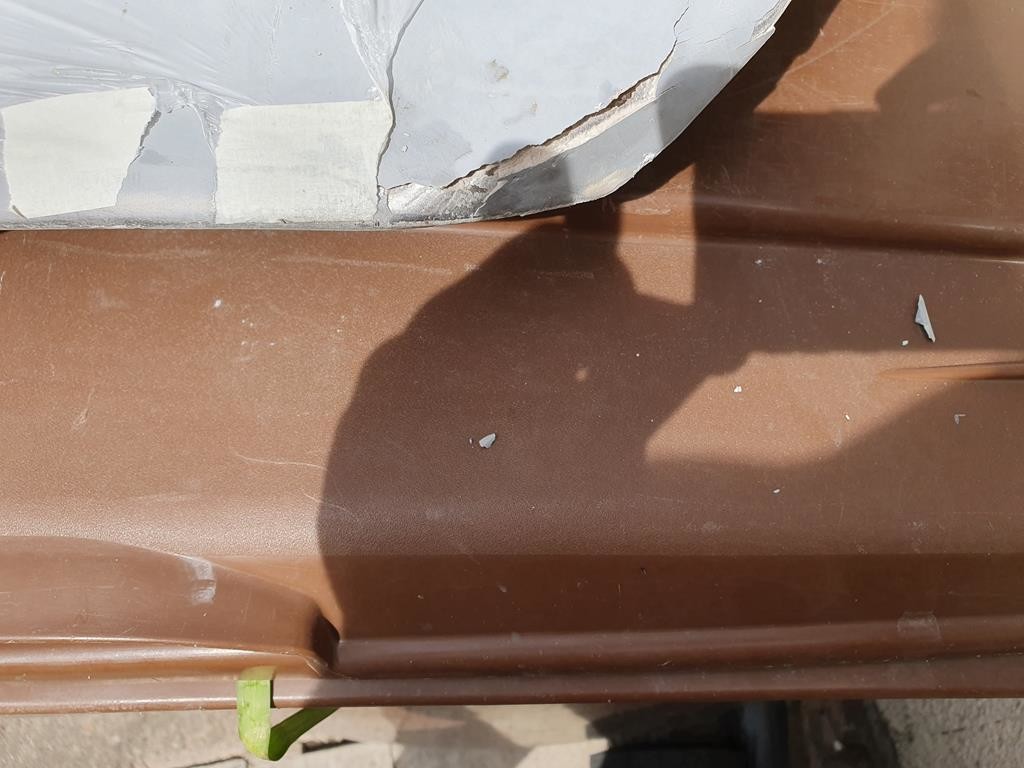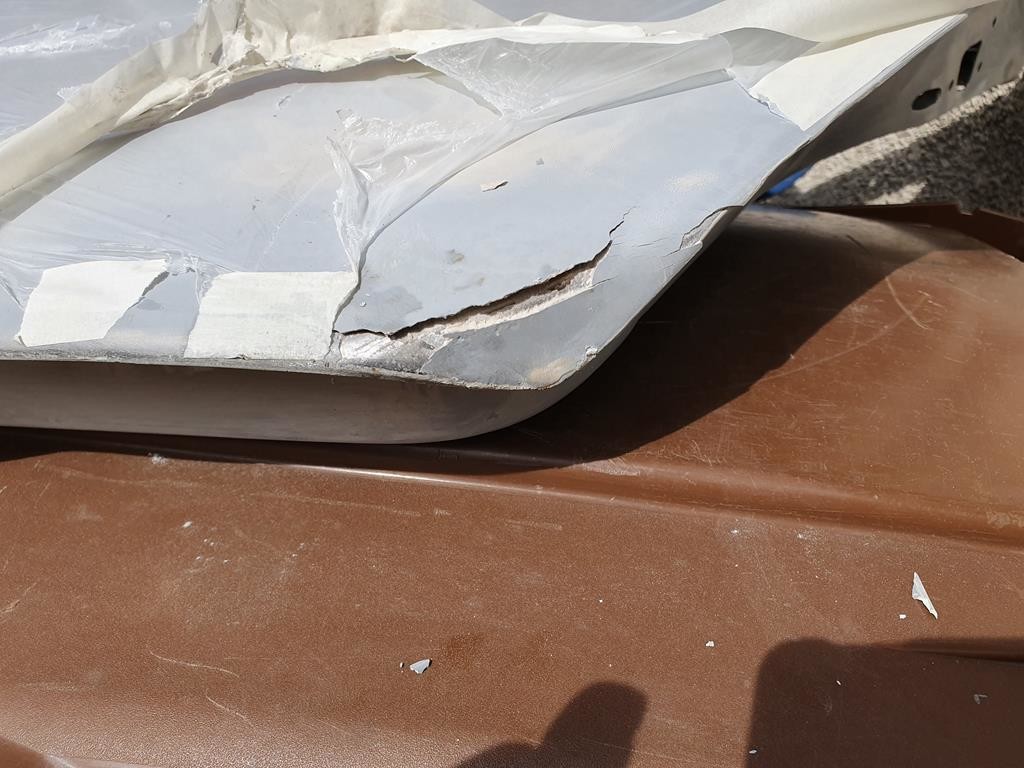 🤬🤬🤬🤬🤬🤬🤬

It's the door that I repaired as a last attempt instead of reskinning - given the work required to sort this I've decided to reskin it - any advice on this would be great.

On the upside the other 3 doors are in high build do ivd got plenty to get in with and I'll get a new skin from the owners club and go from there.
6-24-2019
I've not updated much recently, whilst waiting for the doorskin I've been flatting the body.

I decided that I needed a small job that would give me a boost- so I've painted the dash and pillars.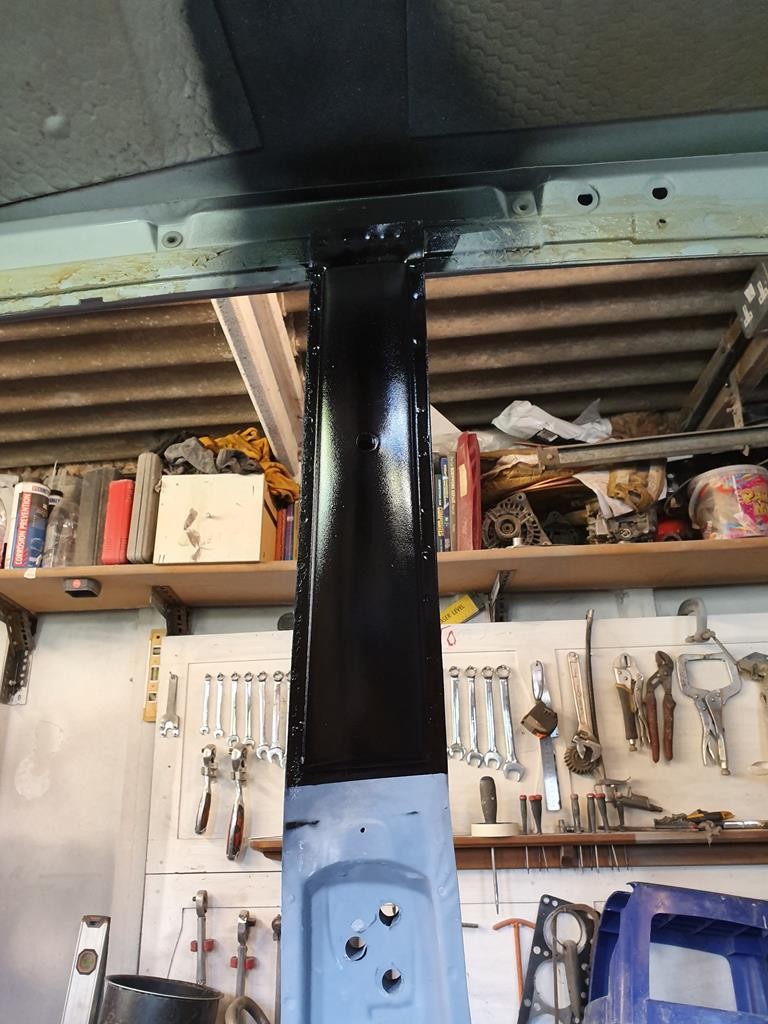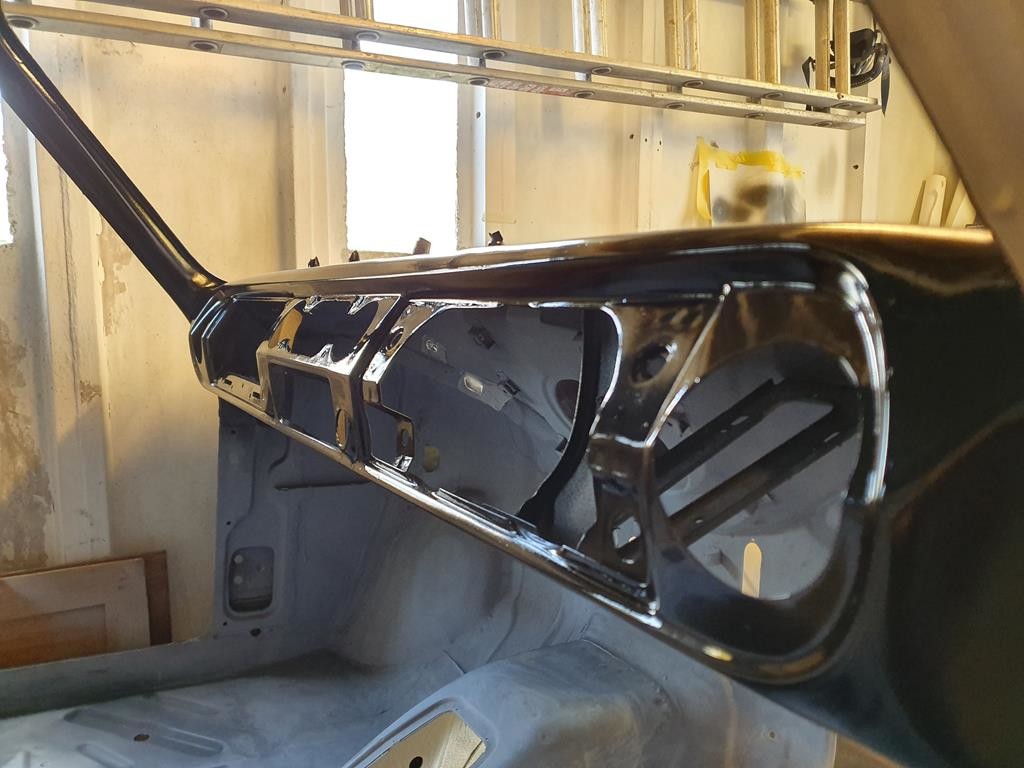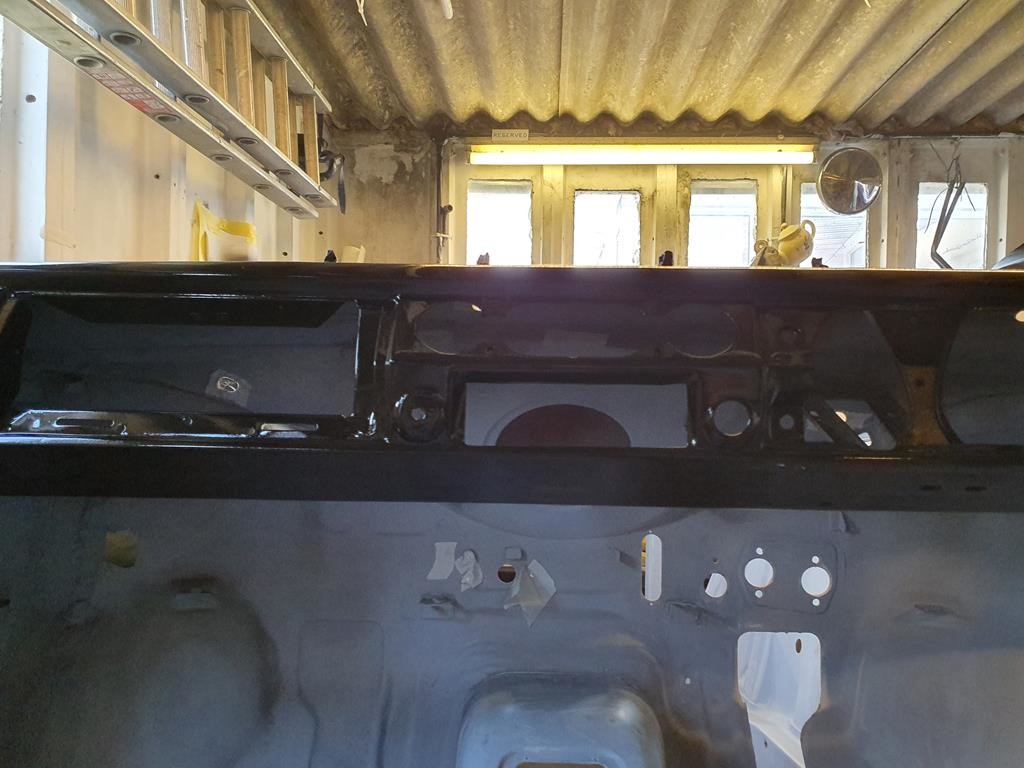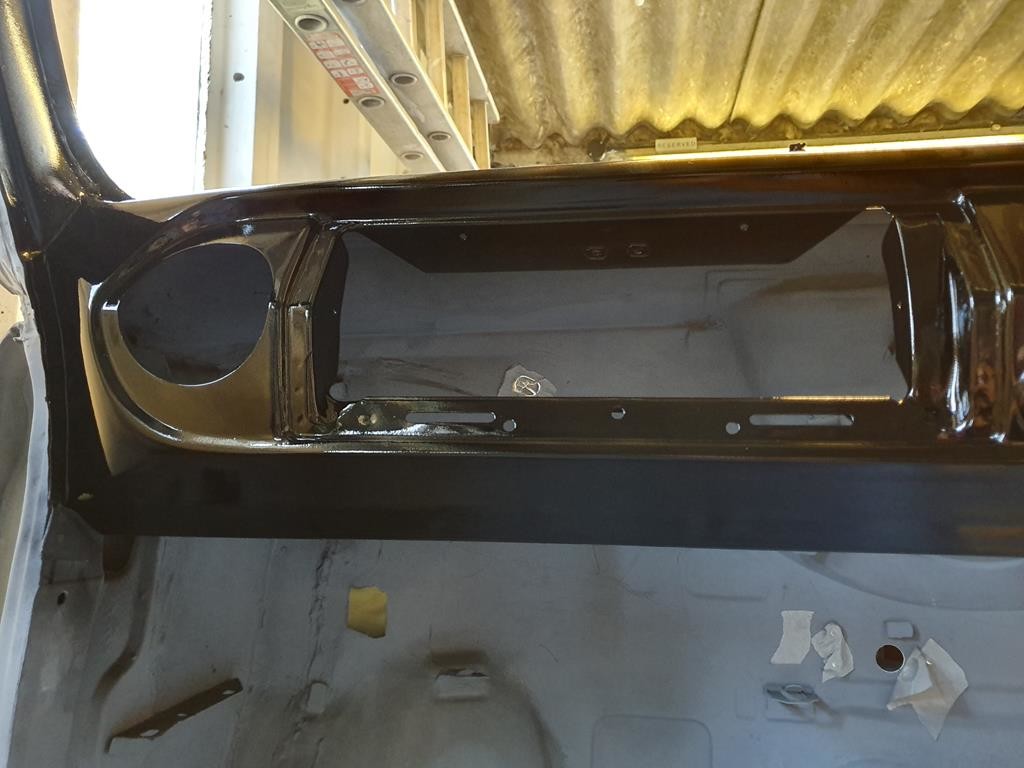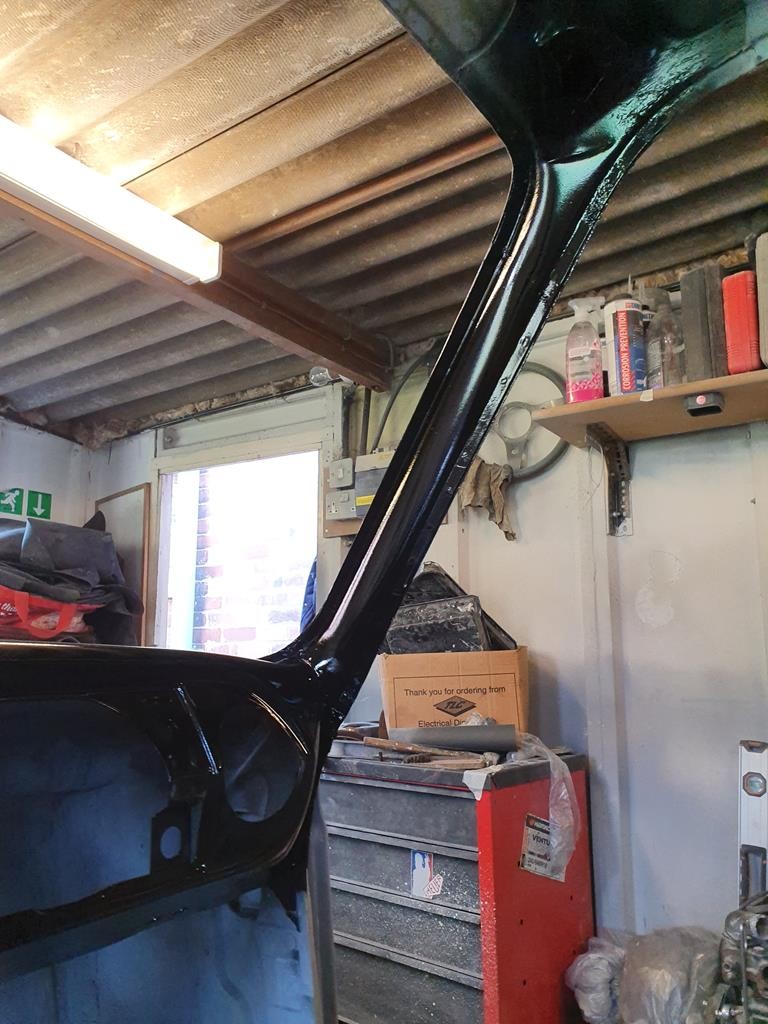 Its 1 dust coat and 3 thin full coats. I think it needs to be a tiny bit thinner and a little less psi. But more importantly I'm happy!

I'll give back to wet sanding the outside and let the paint harden off properly before fettling.

Fingers crossed I'll be buying the big tin of ermine this week!
A huge milestone for me - I'm spraying paint!

Less talk more pictures.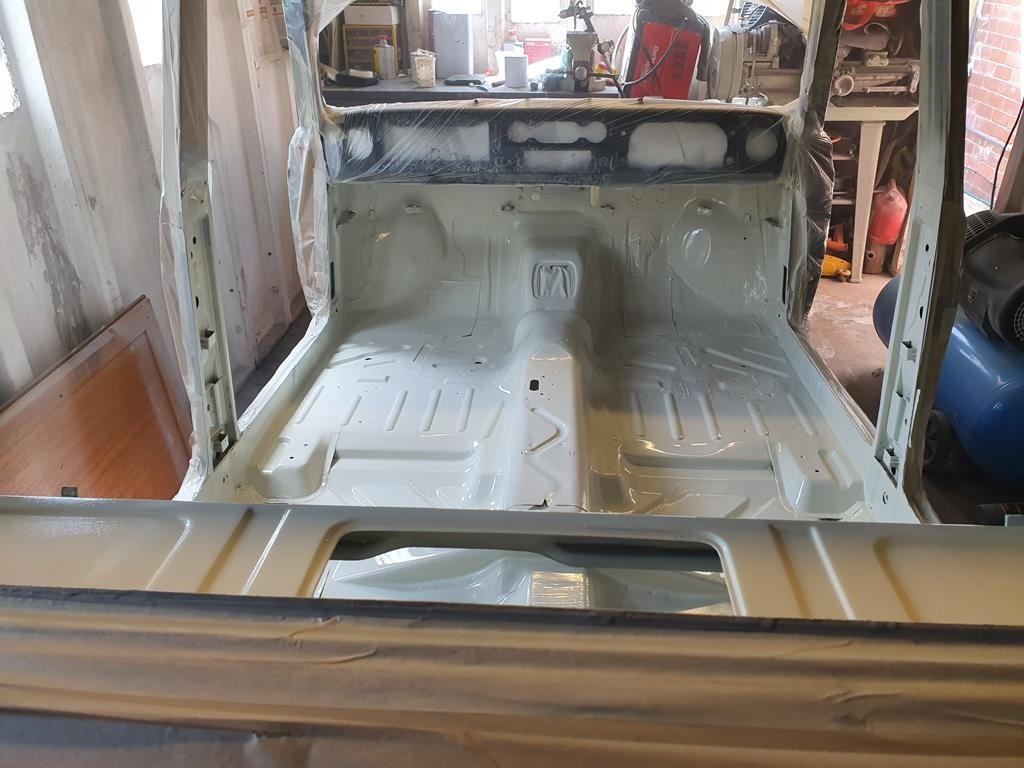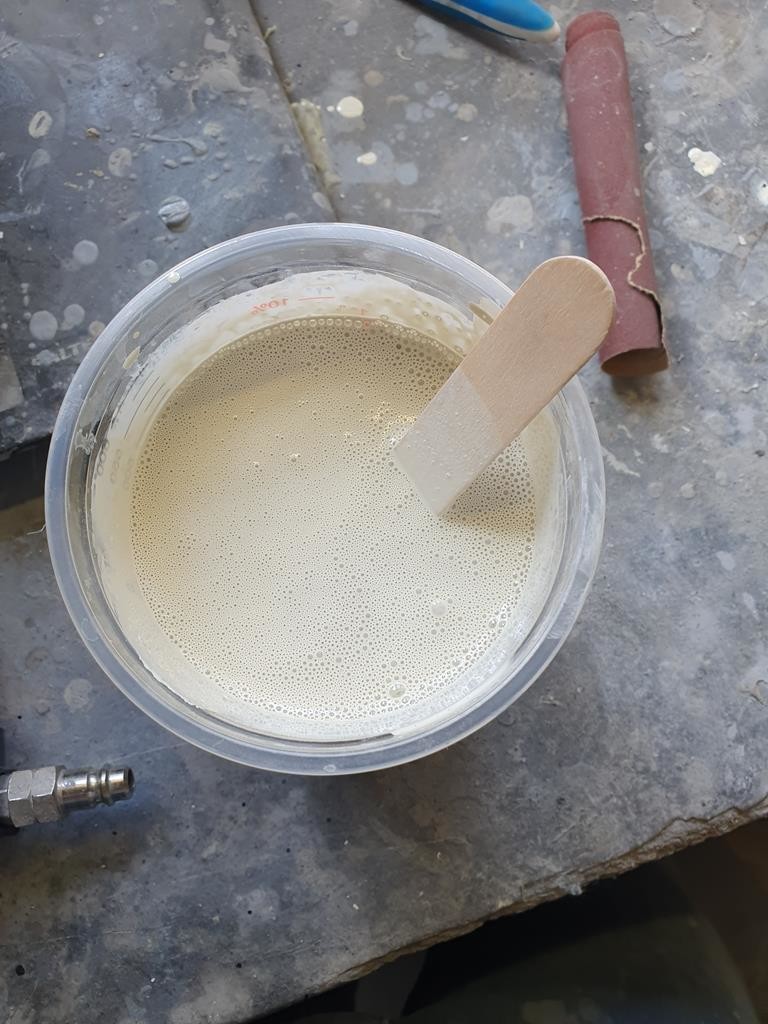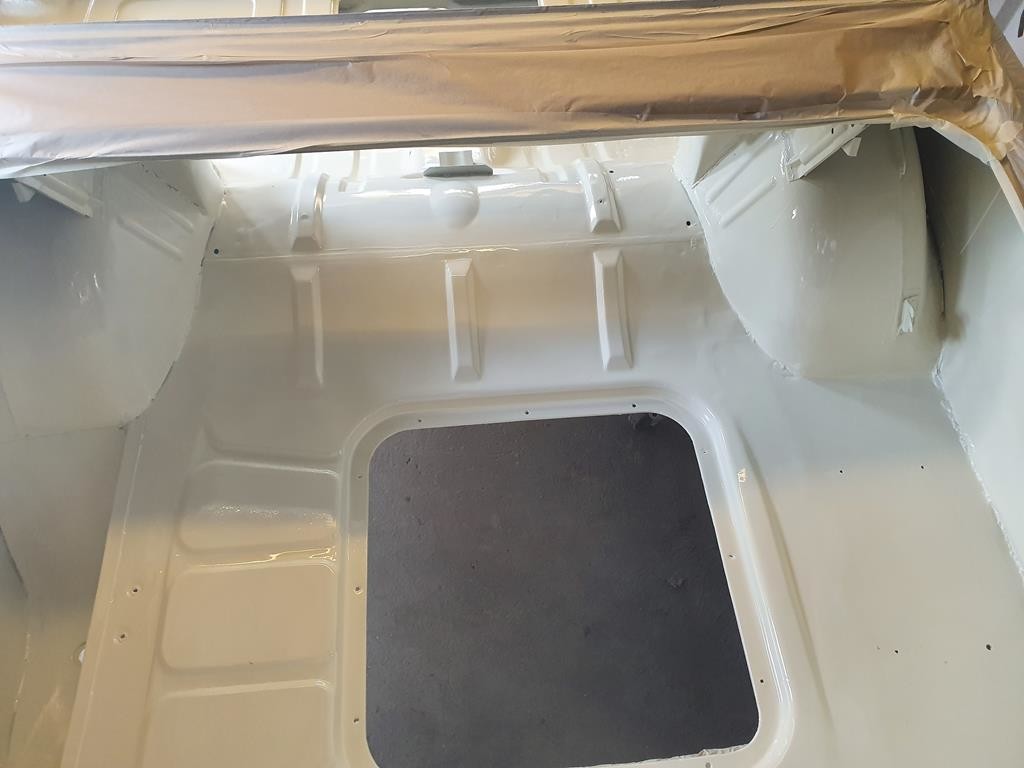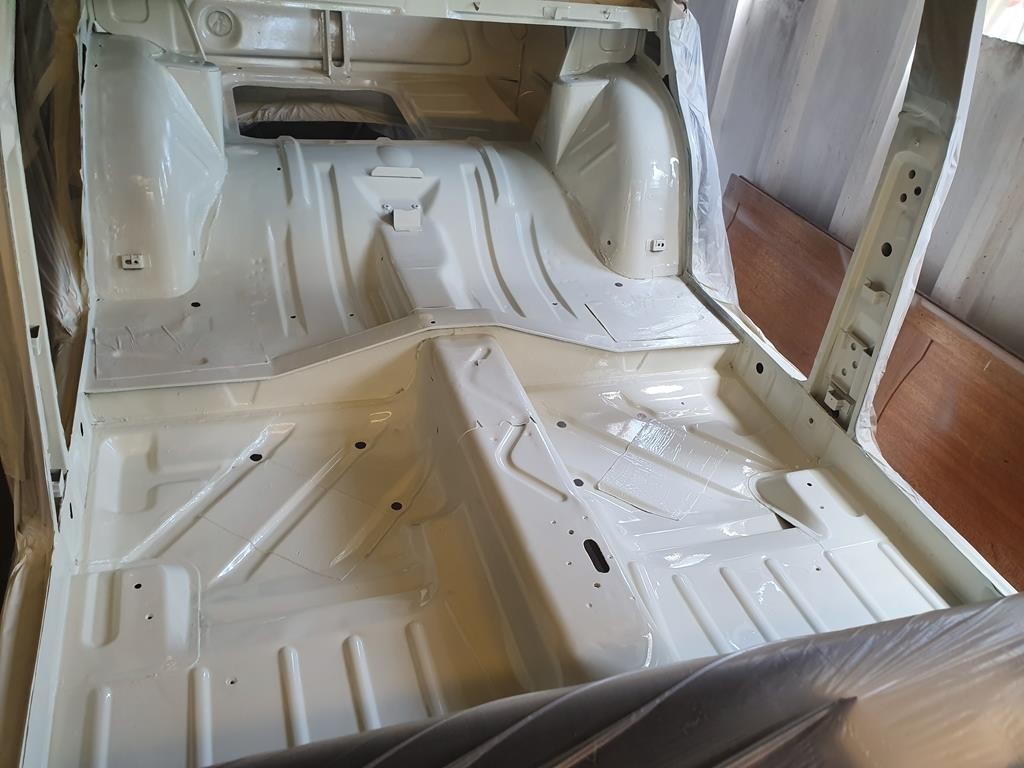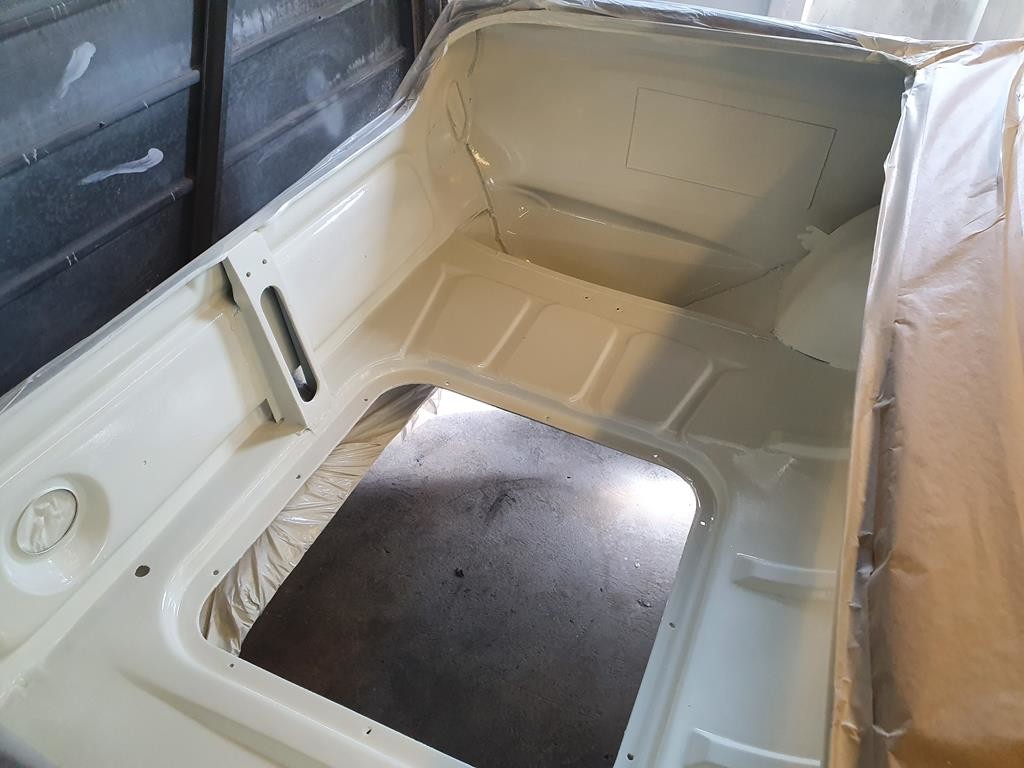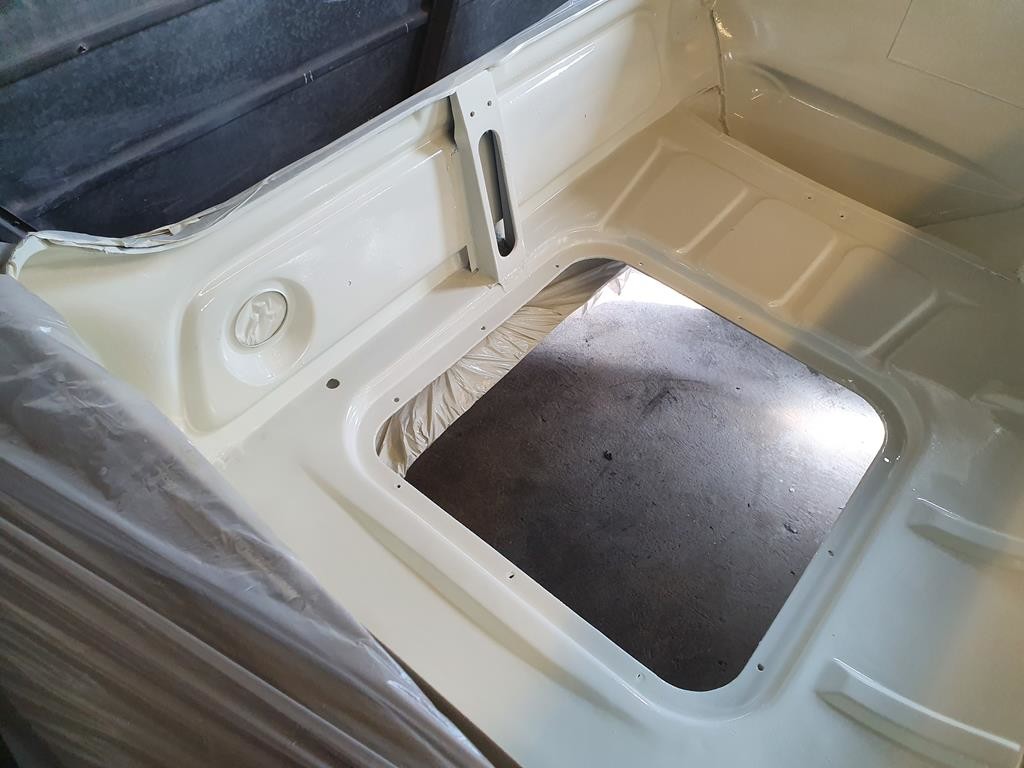 I've seen a run on the rear panel that'll need addressing but I cant believe I'm at this point!

Also make sure the lids on your gun before moving...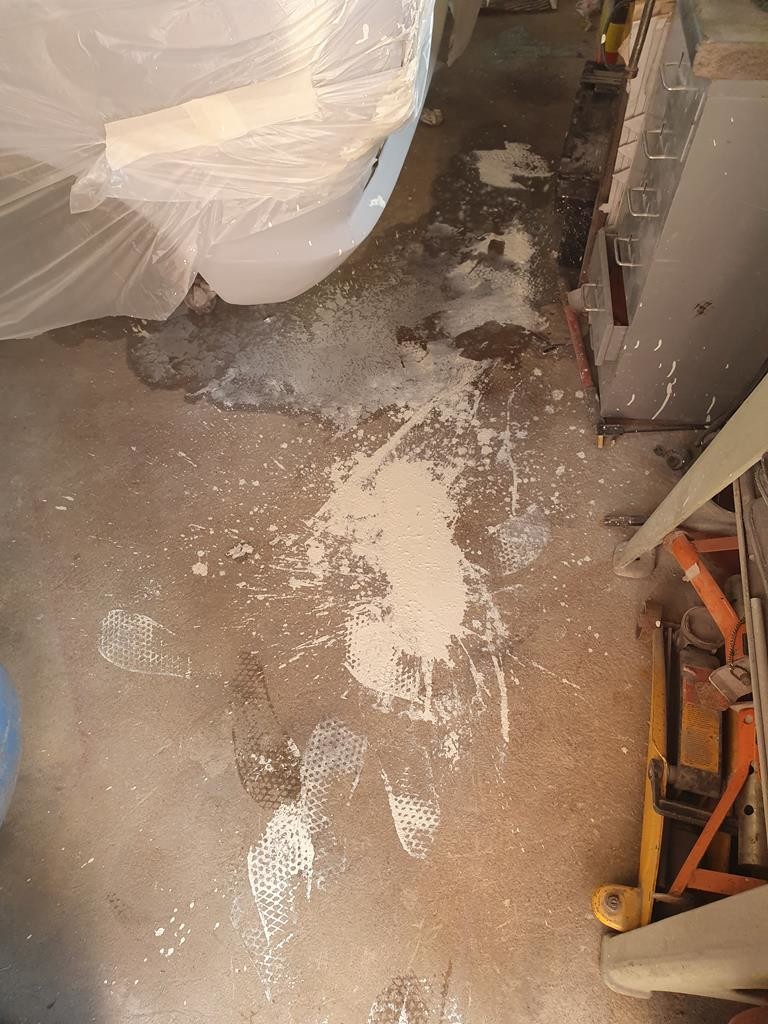 It looks like giants pulled out in my garage.
7-12-2019
After the success of spraying the interior me and mrs jim had a week in New York where I sweated a lot in 30 degree heat and tried to get gout!

I saw some cool stuff though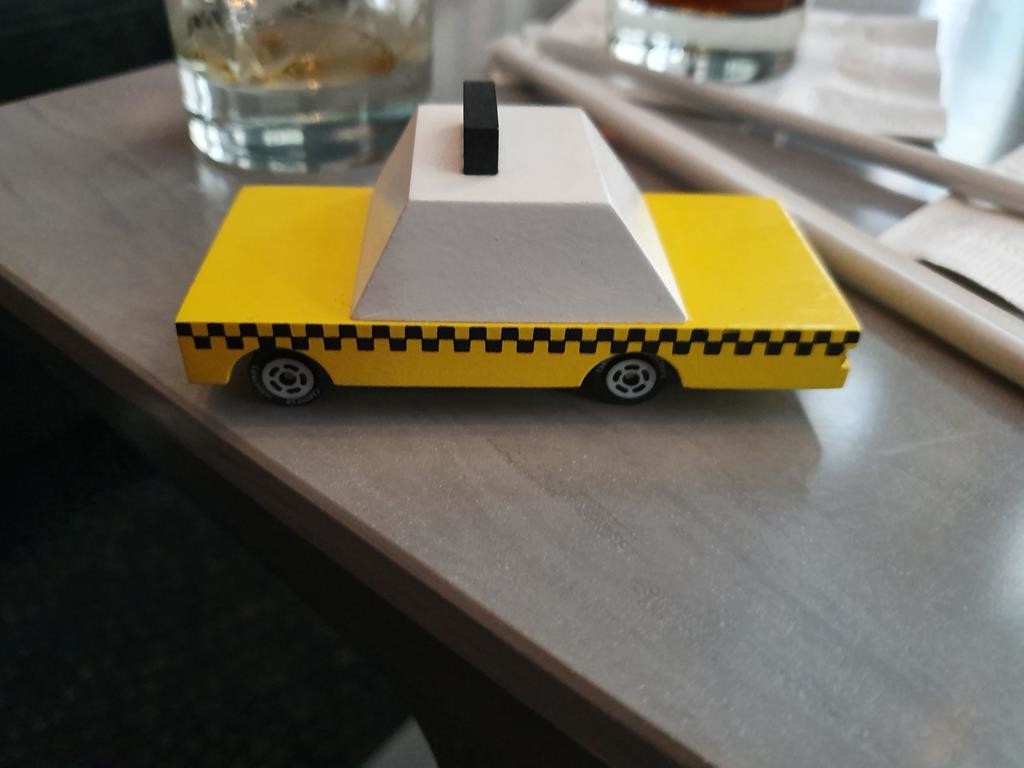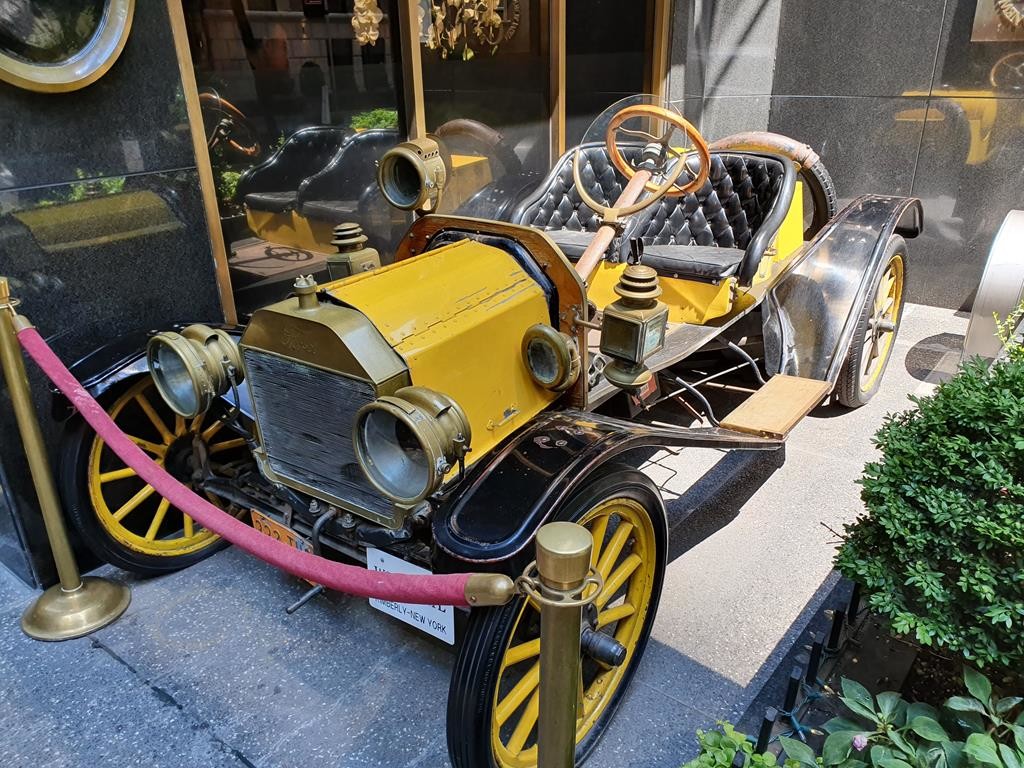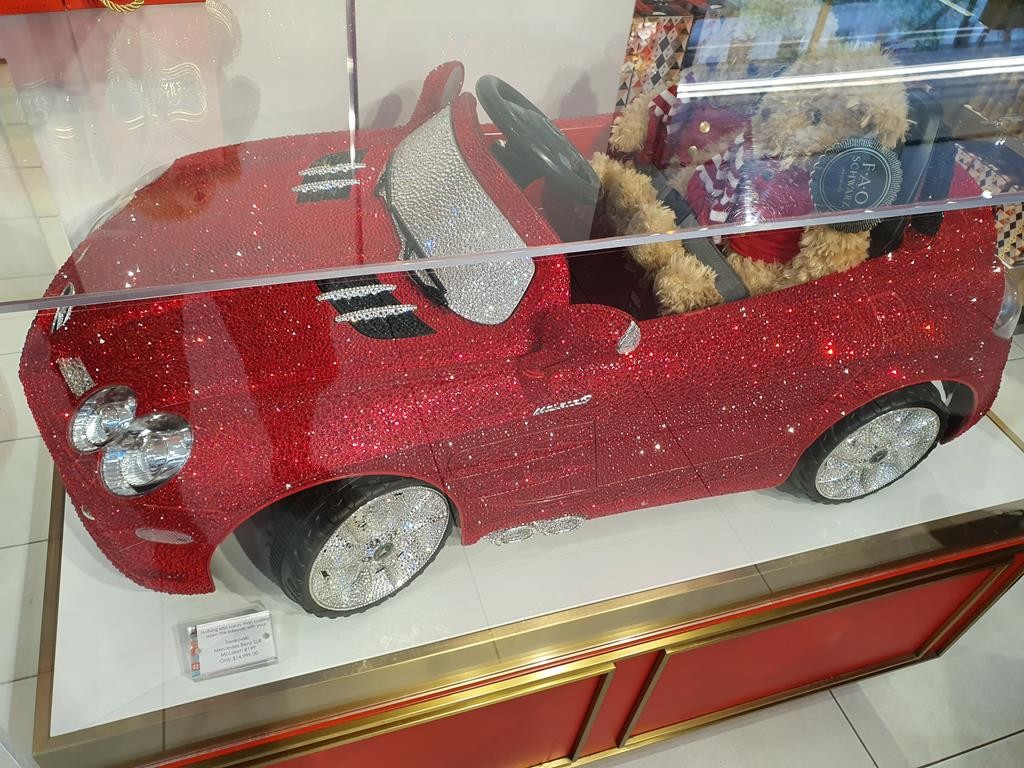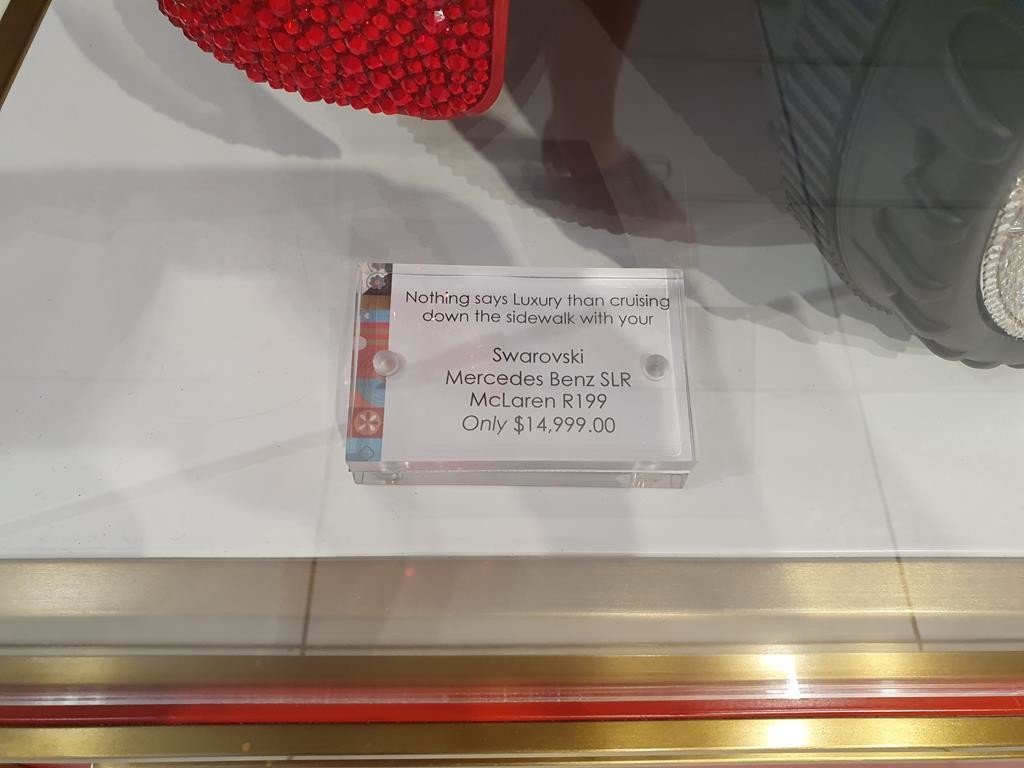 How much! 😵

After getting back I did this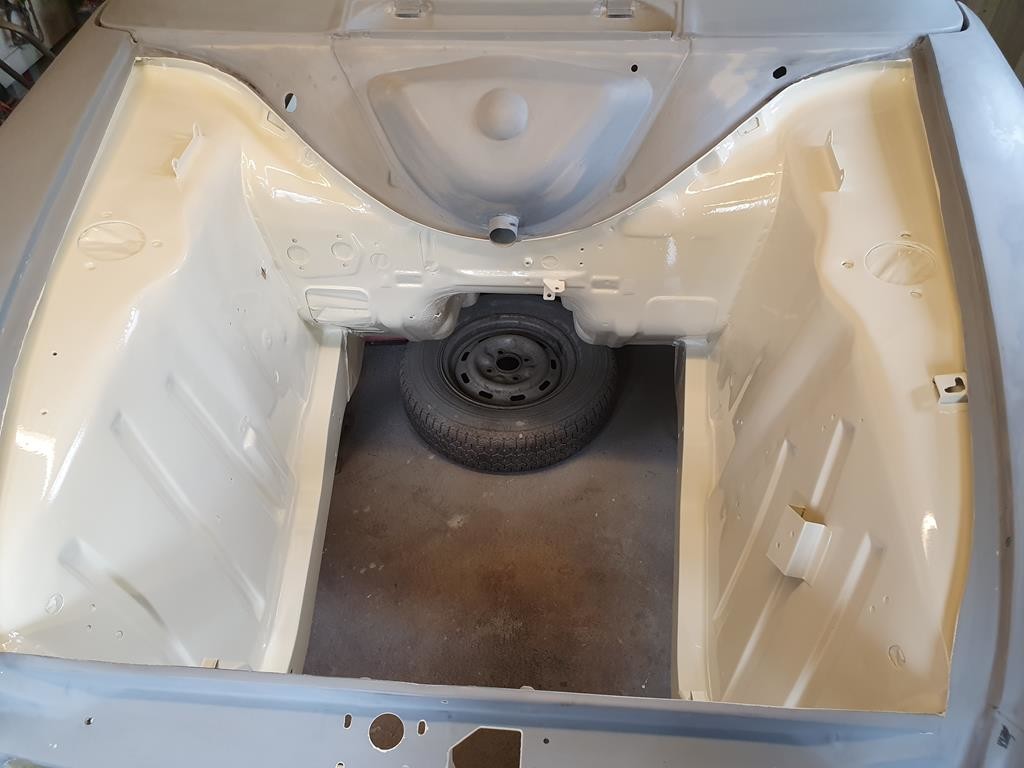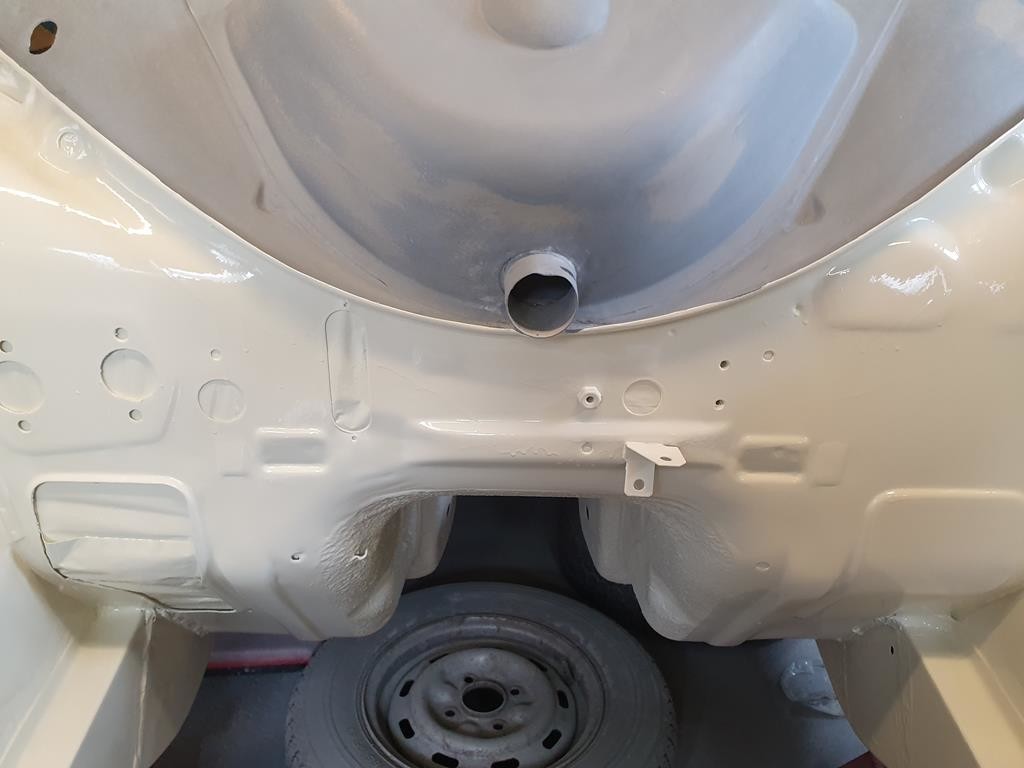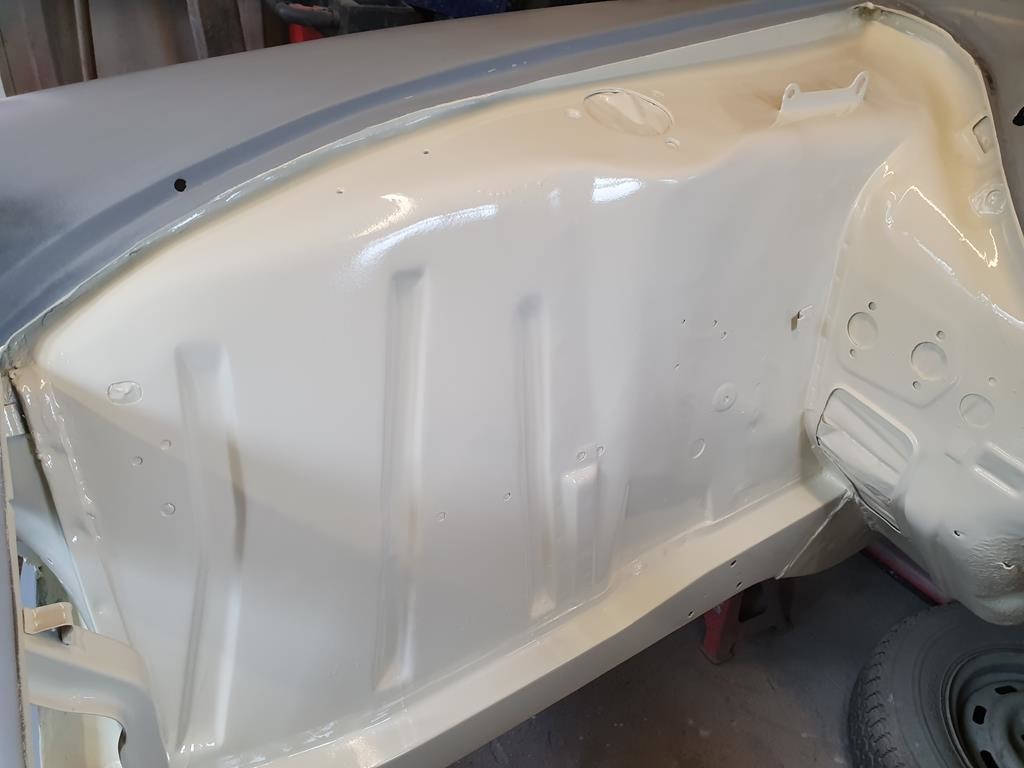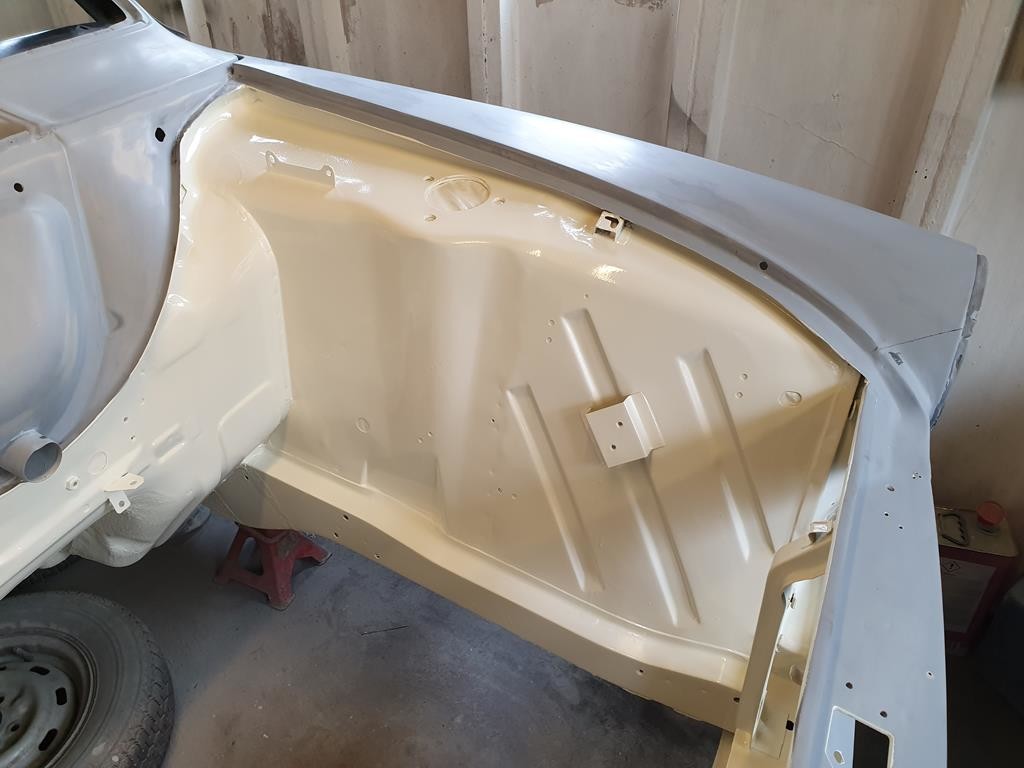 I've also had a go at wet sanding to 1500 and then polish - its boosted my mojo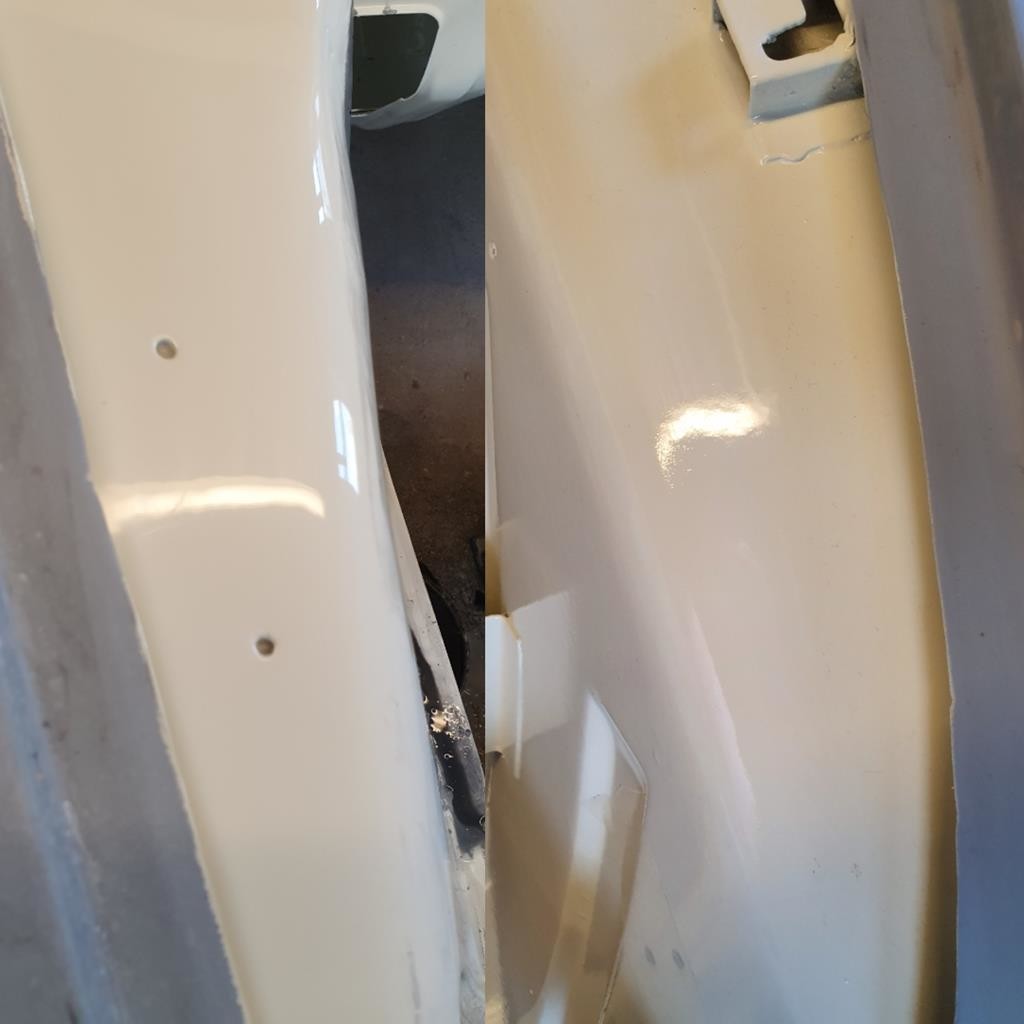 The drivers side which has been done vs the passengers
7-16-2019
With the strut top all shiny I carried on to the rest of the drivers side inner wing which was working well till I went too far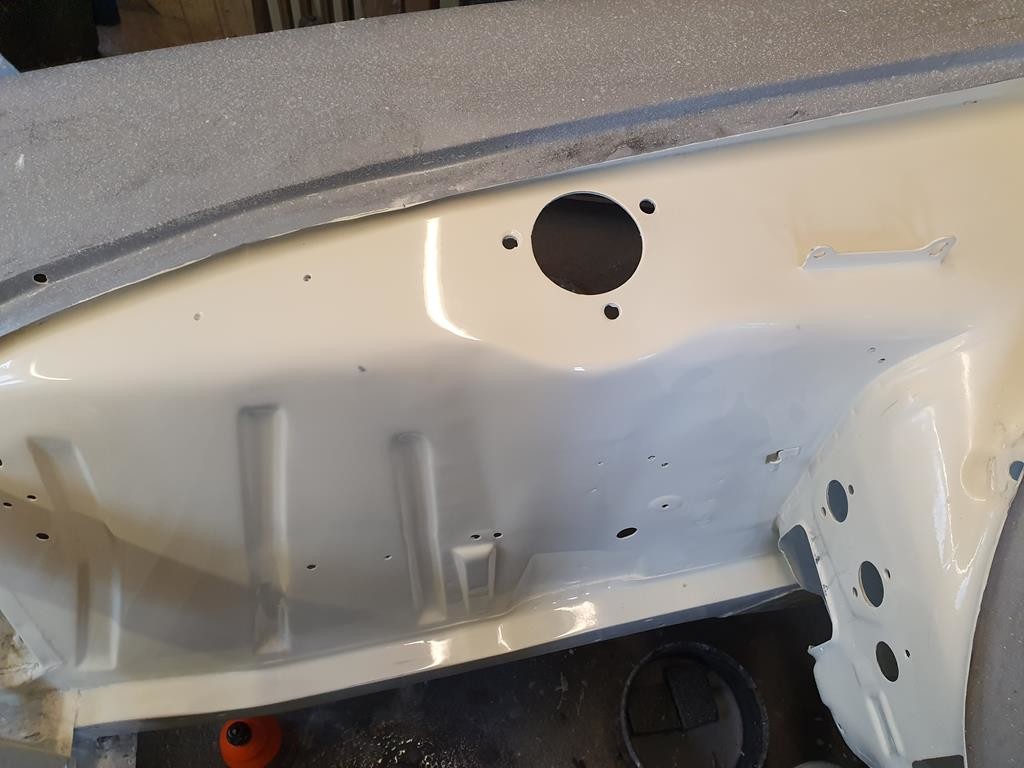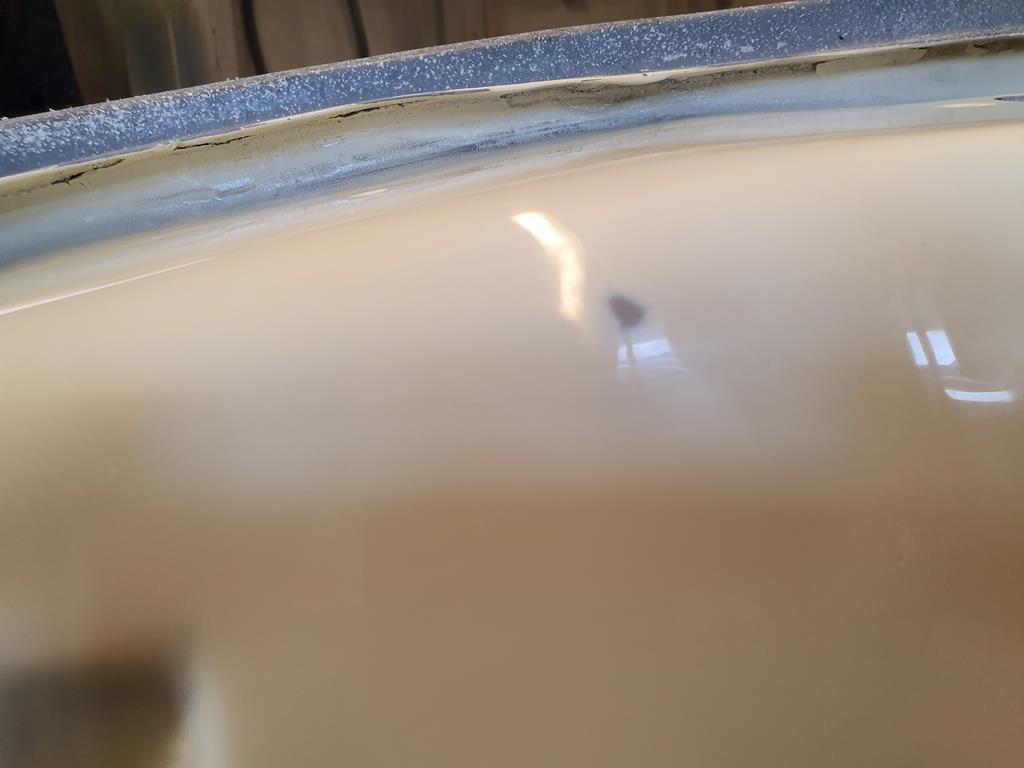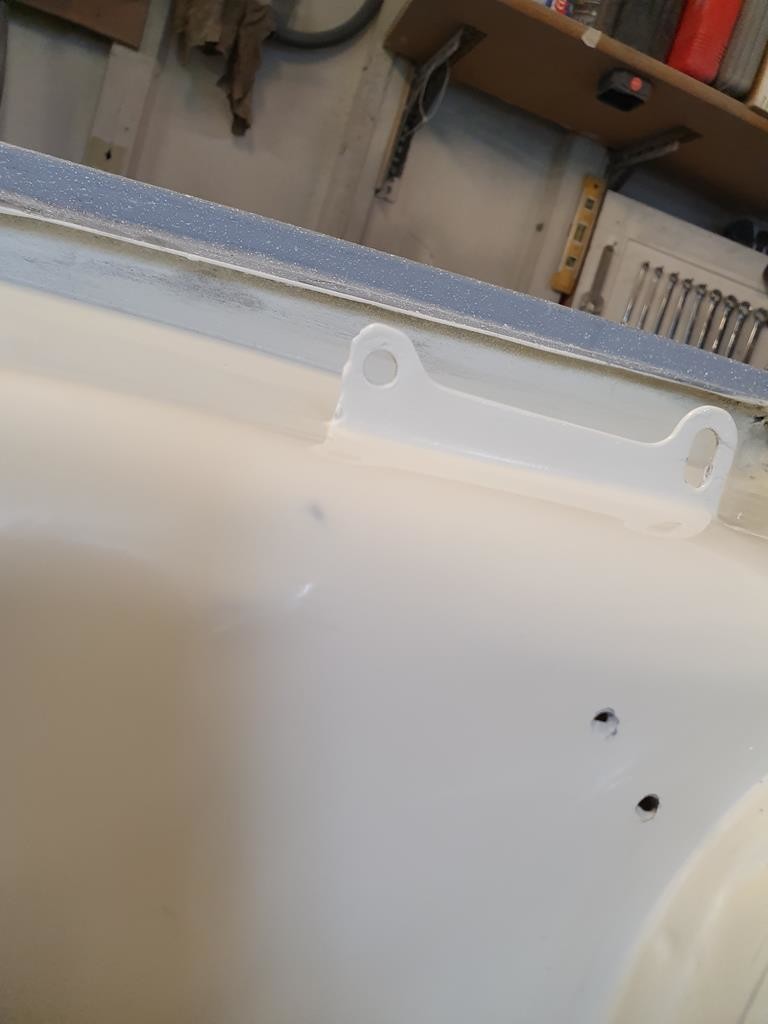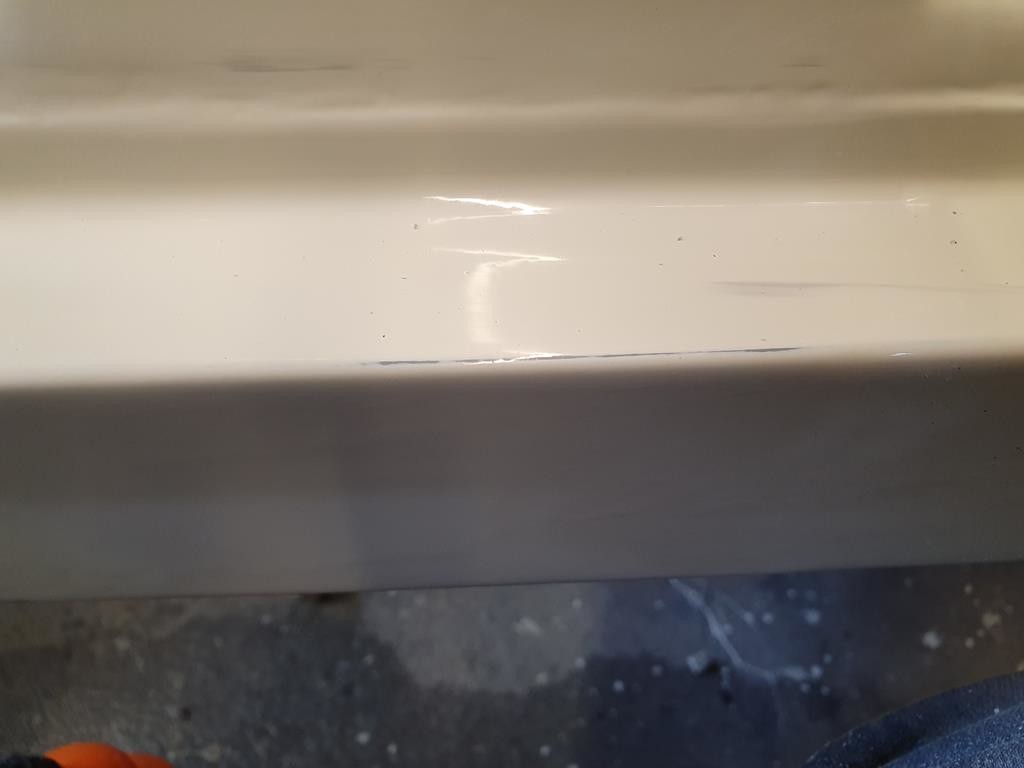 It'll be straight forward to flat and re paint as 1 panel.

The bulk head was more successful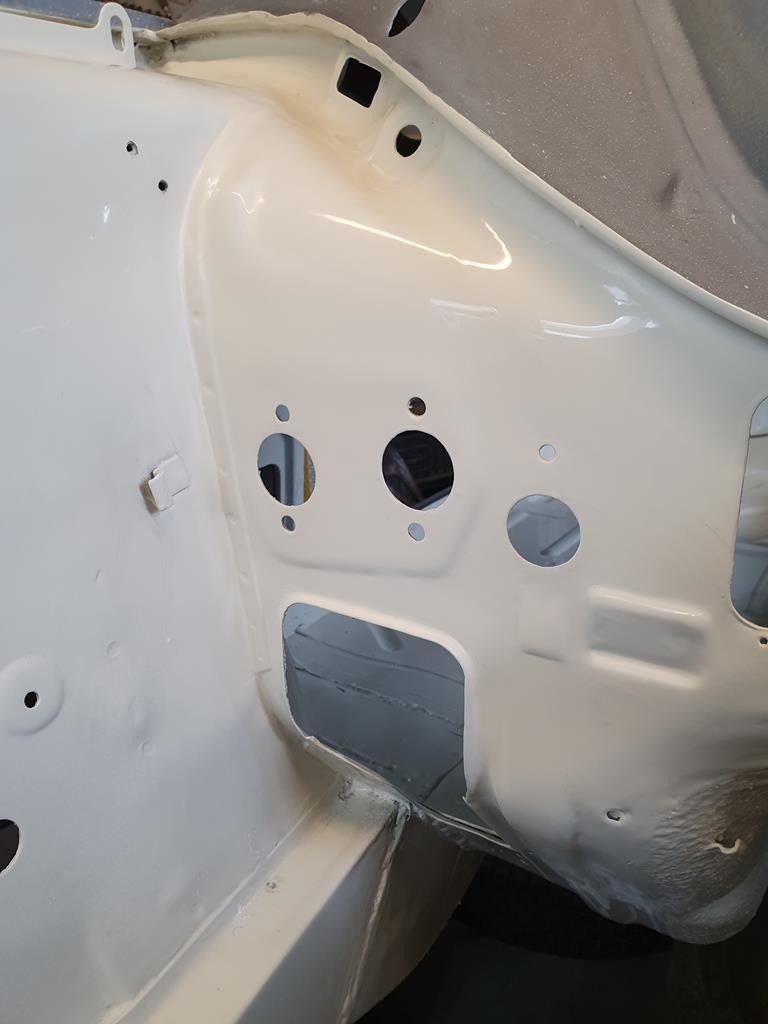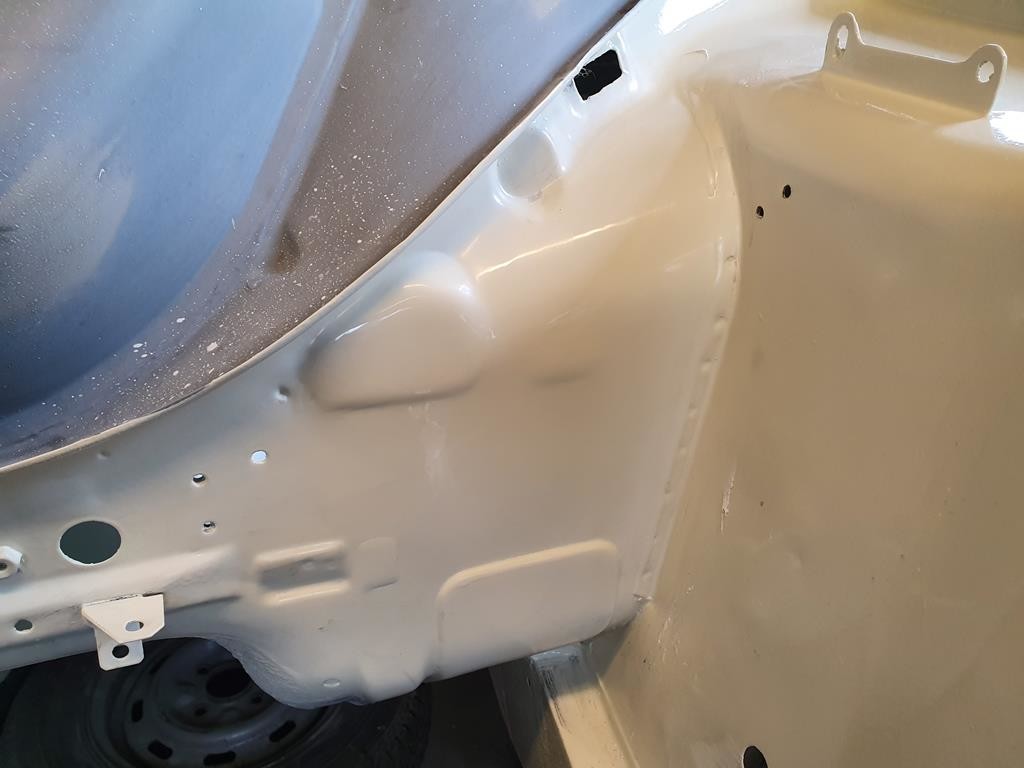 The passengers side wing is going ok but I over did it chasing a run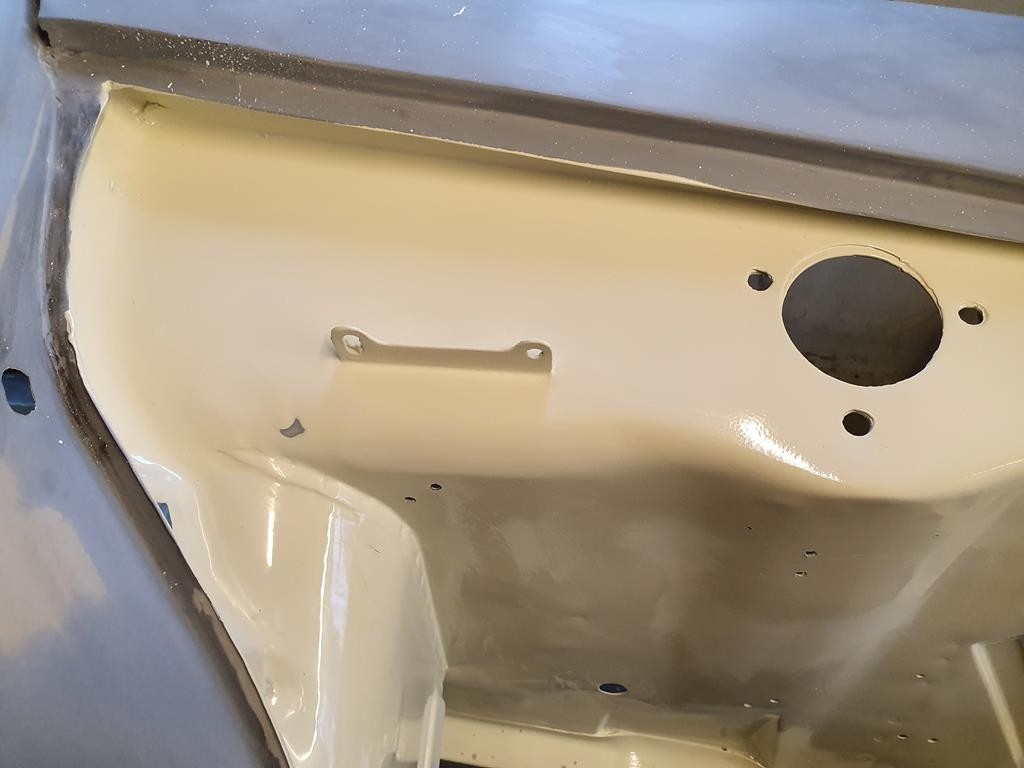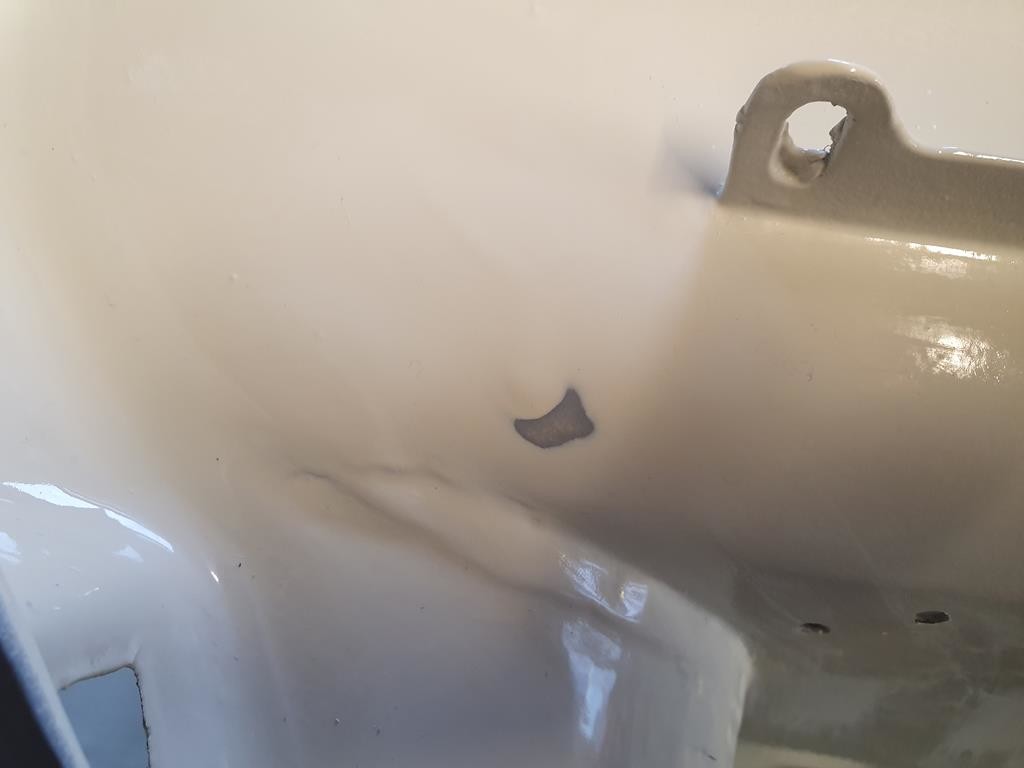 Would it be possible to do a small spray area for this? The rest of the wing is good
7-28-2019
This week my door skin arrived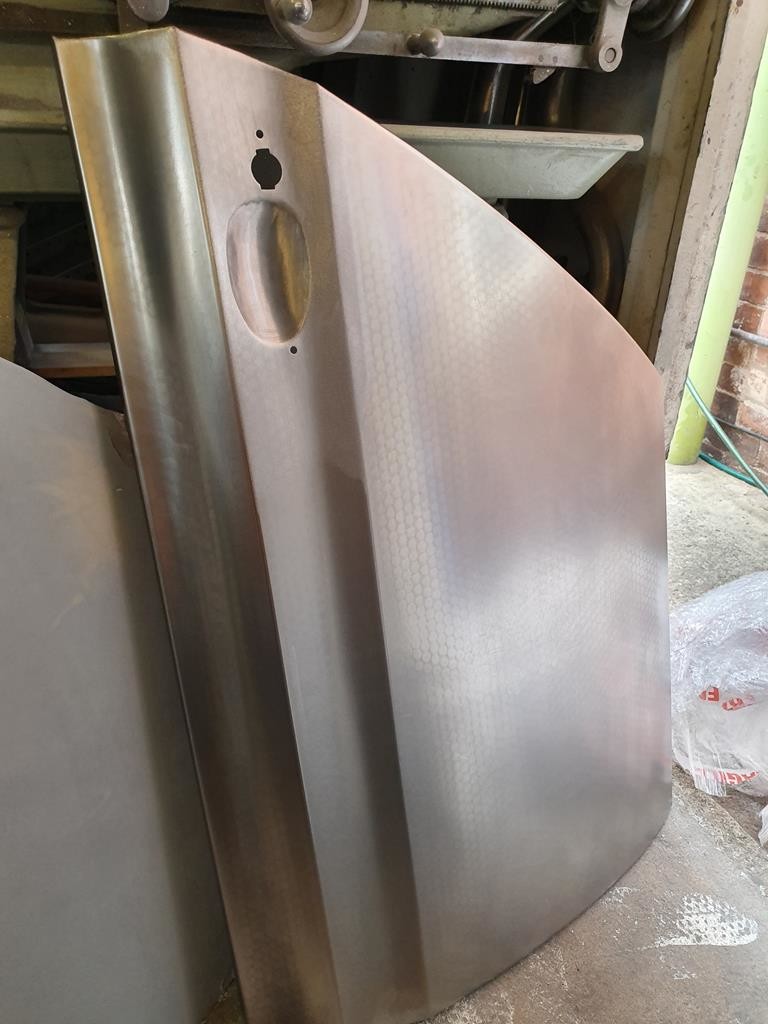 I chopped the old one off and I'm working on de rusting and repairing the bent areas. The skin has been weld through primed but fortunately before I started fitting I've noticed that the skin needs some square holes on the top edge for window seal clips which would be a nightmare if I'd forgotten them!

Saturday morning I got up early and built the gazebo and learning from last time I put a tarpaulin over it from the garage roof to the floor which made life much easier and kept the weather out. The downside is I think the neighbor's thought it was a police tent!

I've made some mistakes when painting because that's how I roll!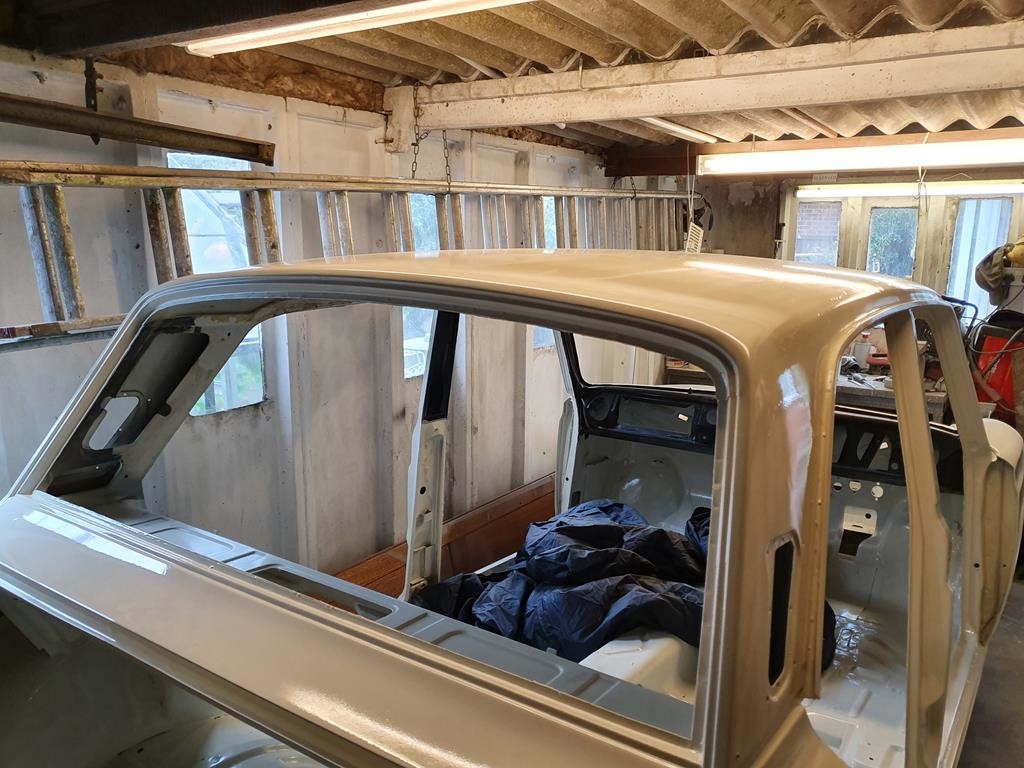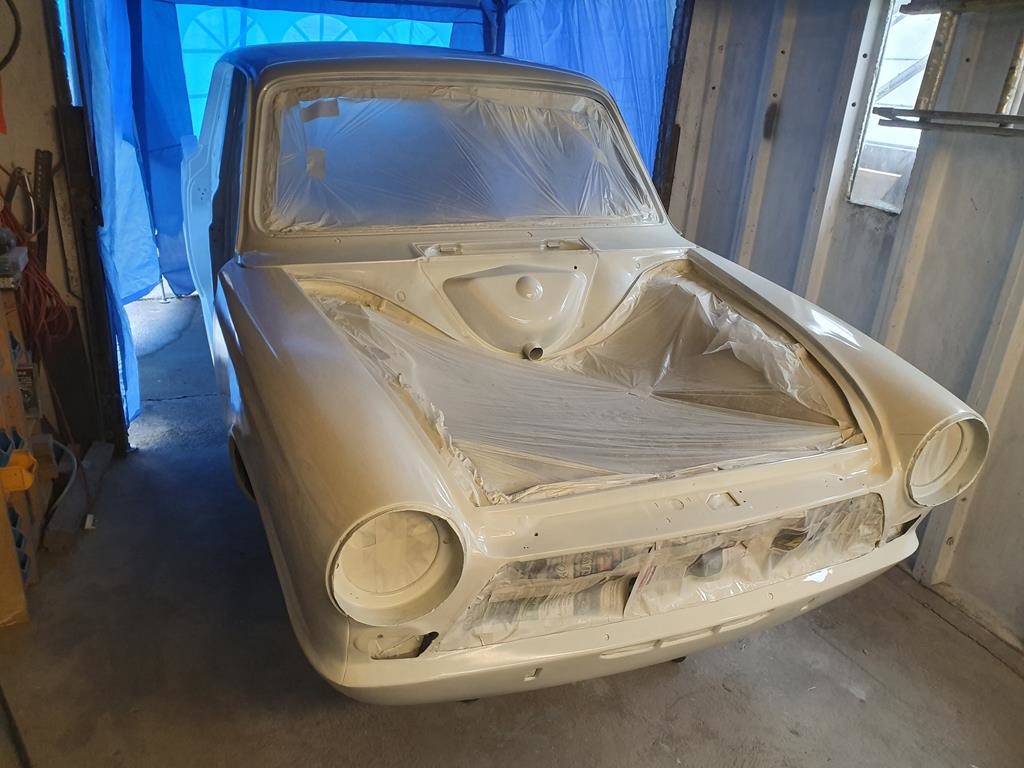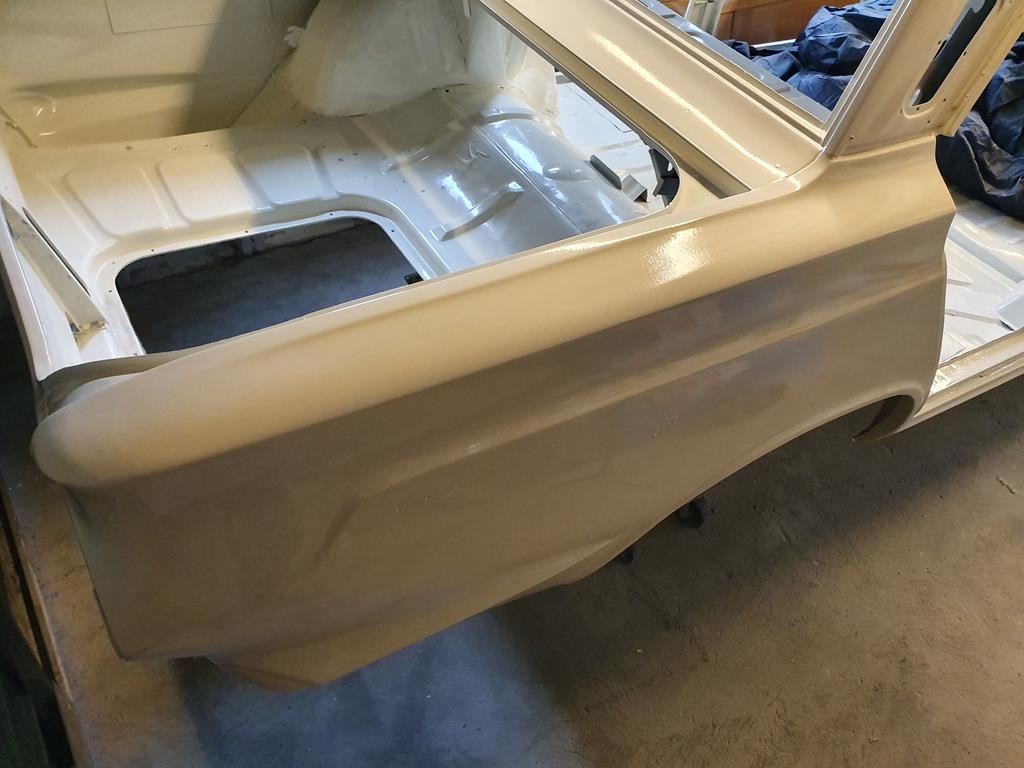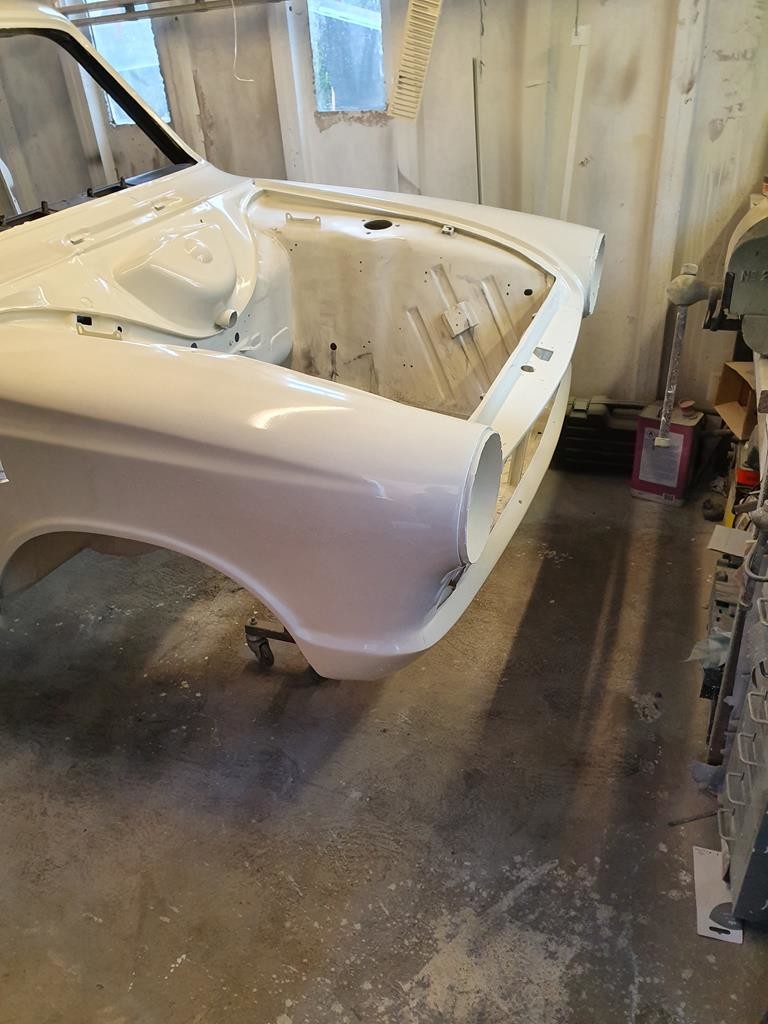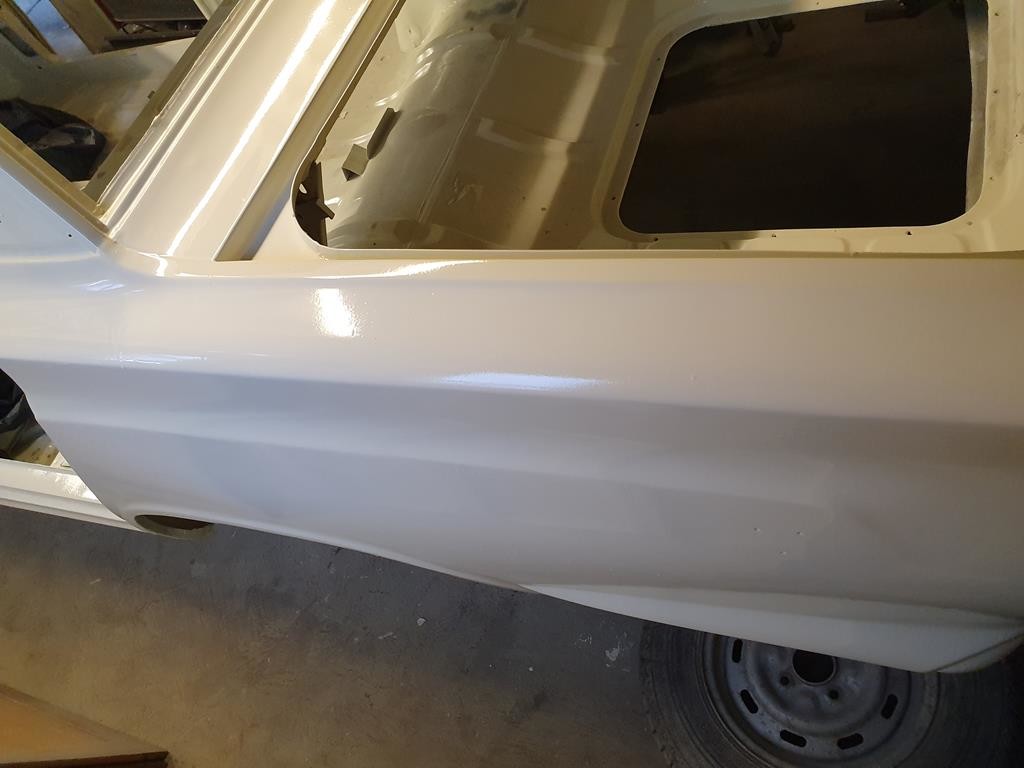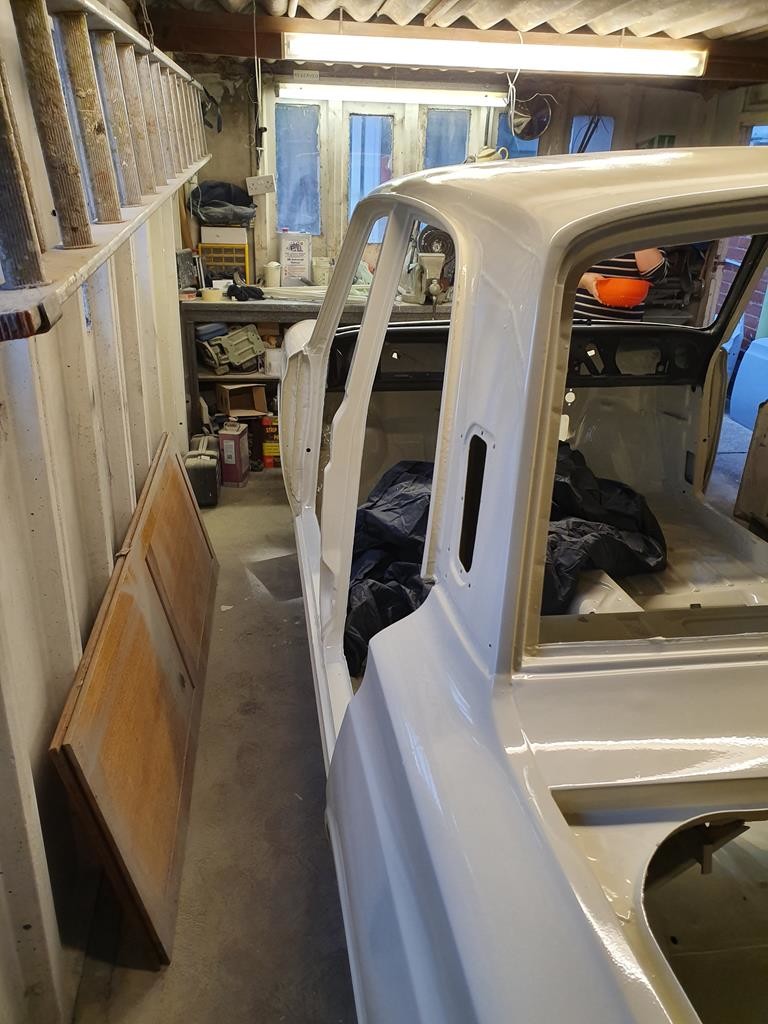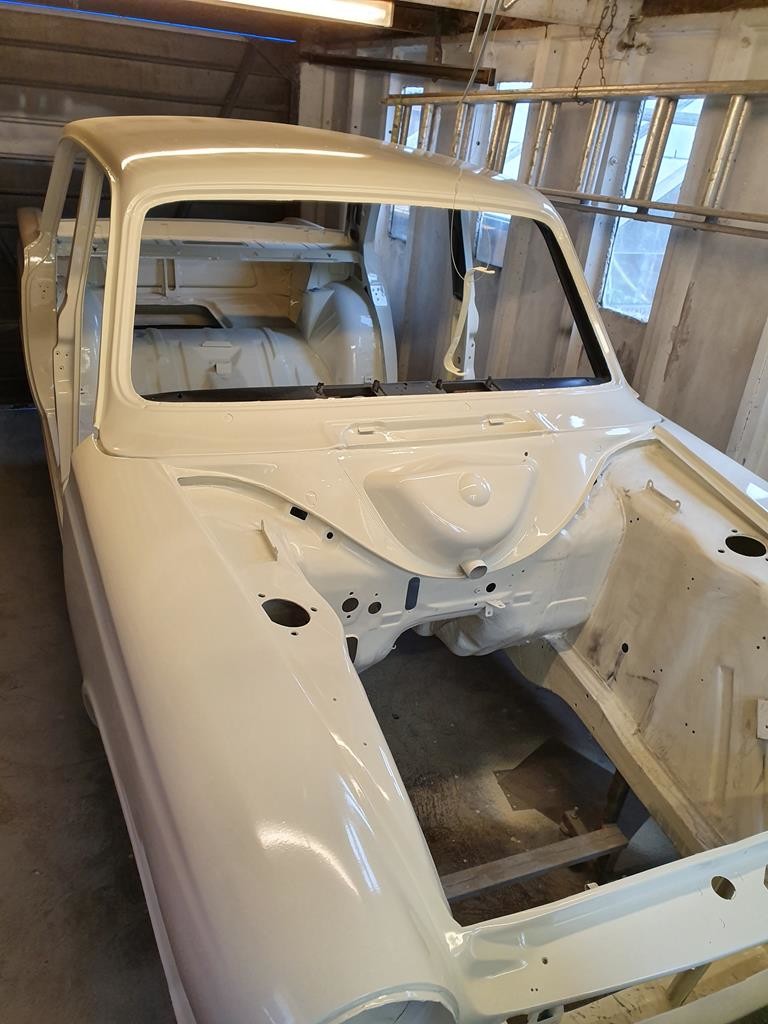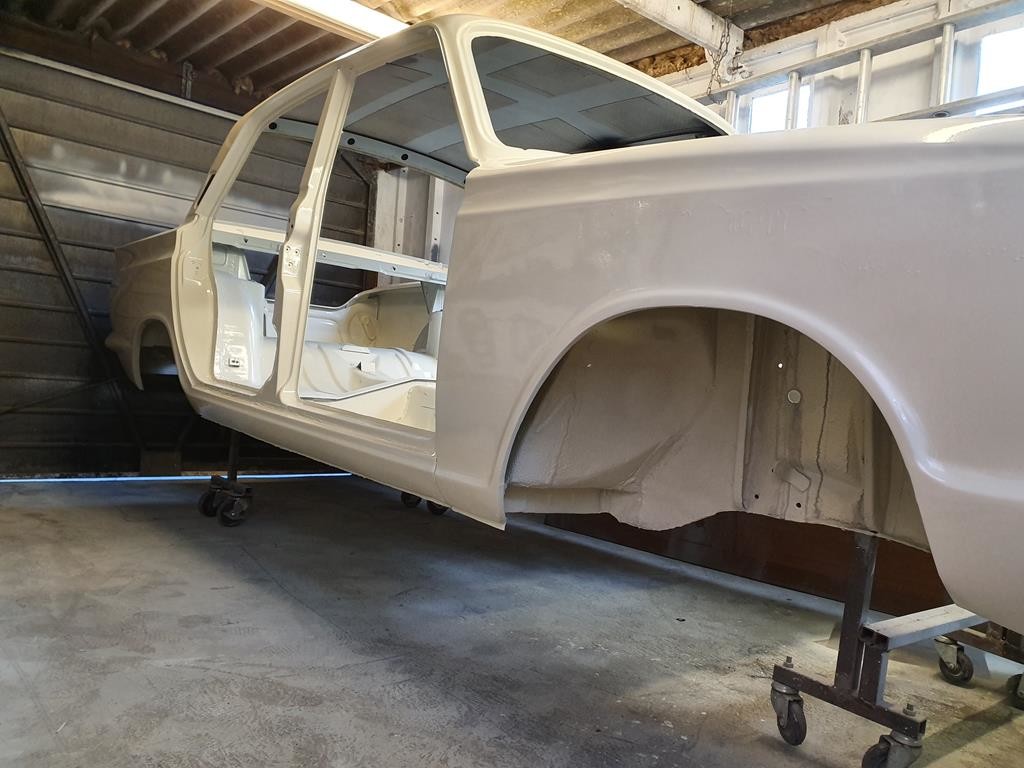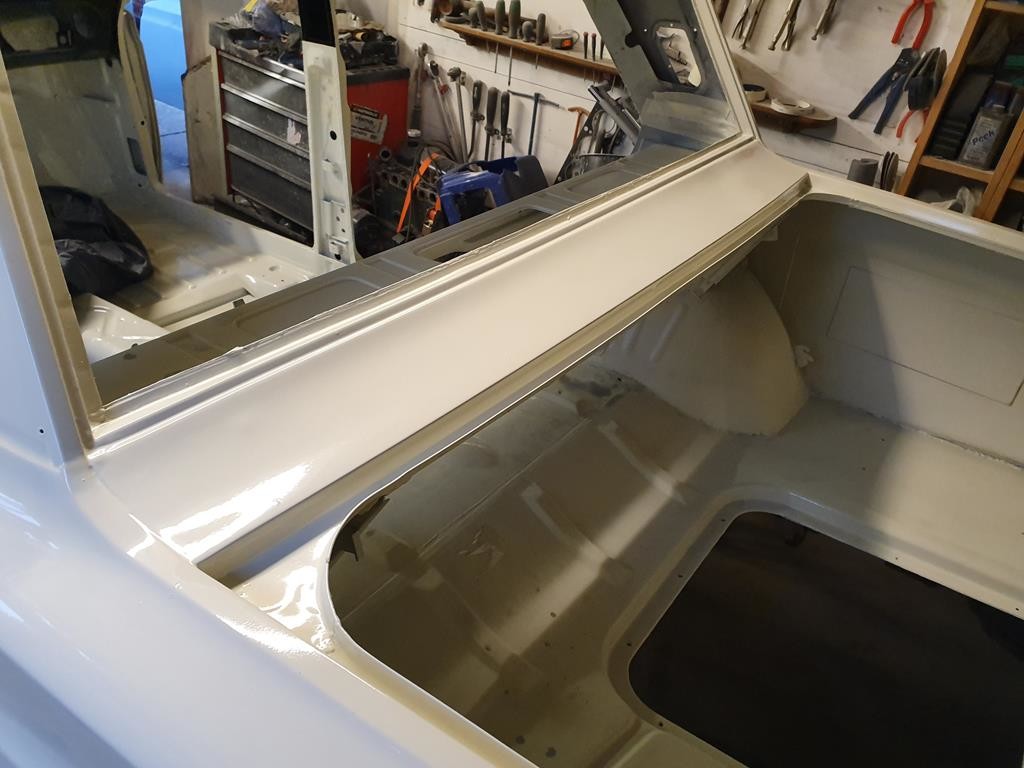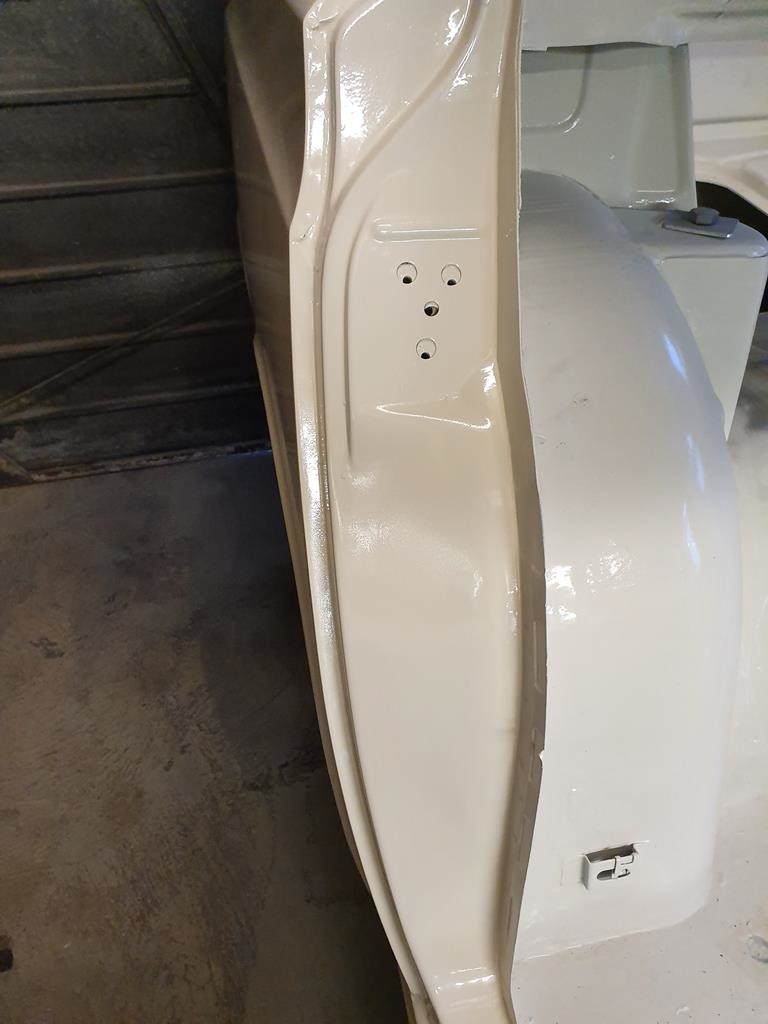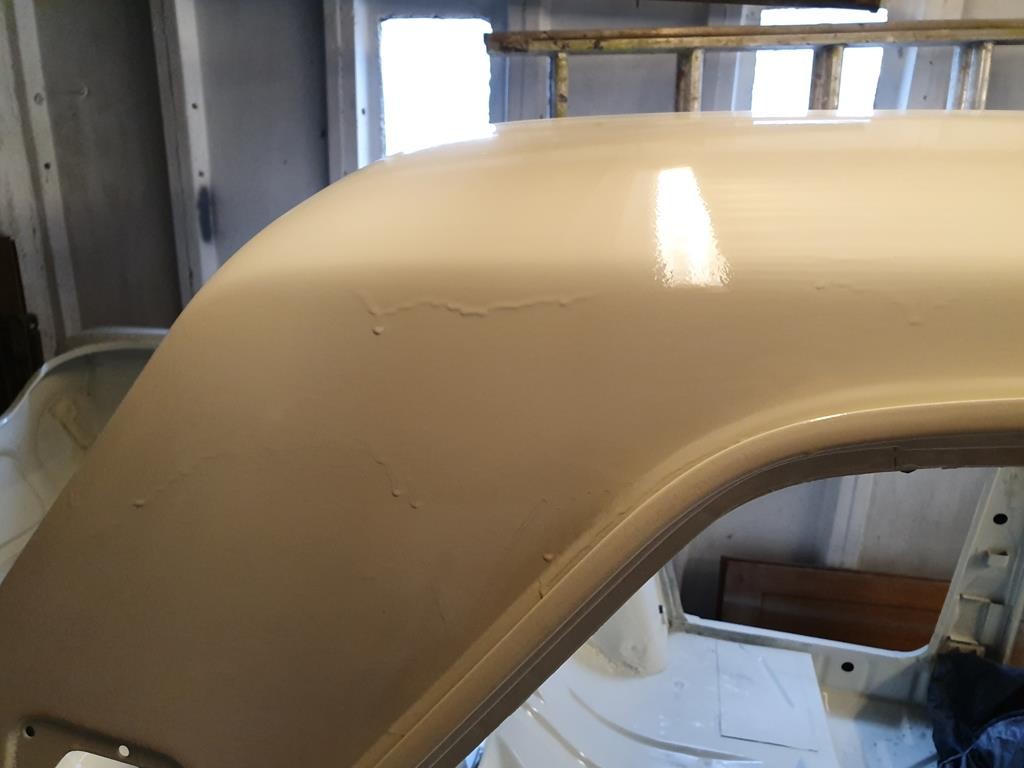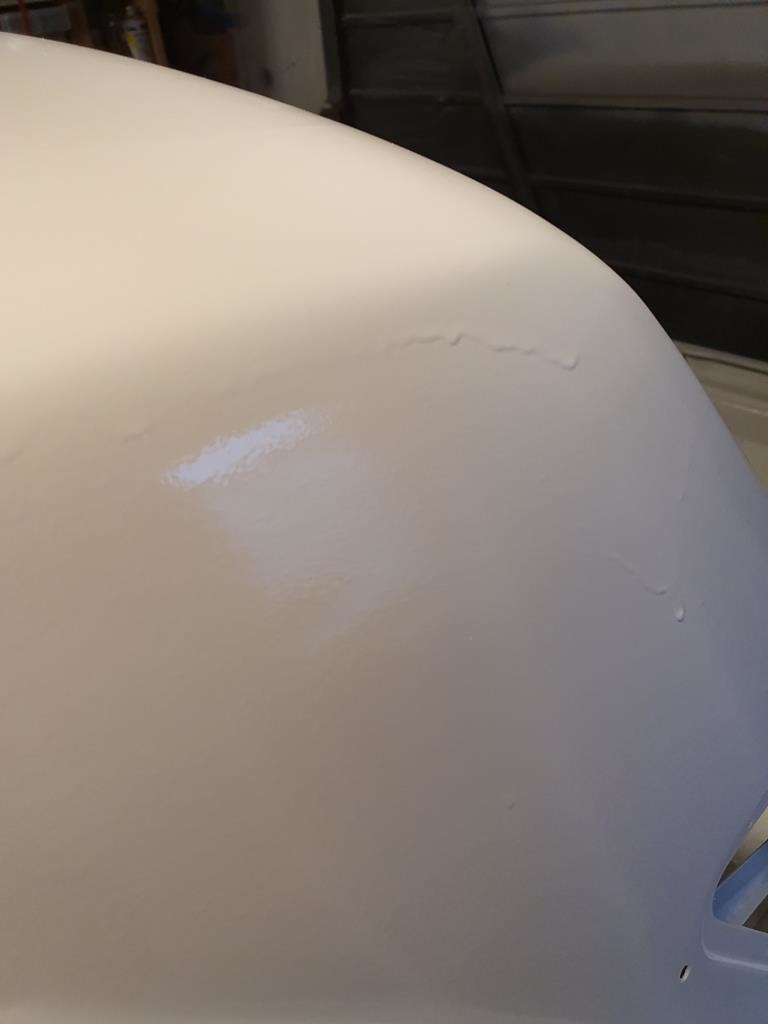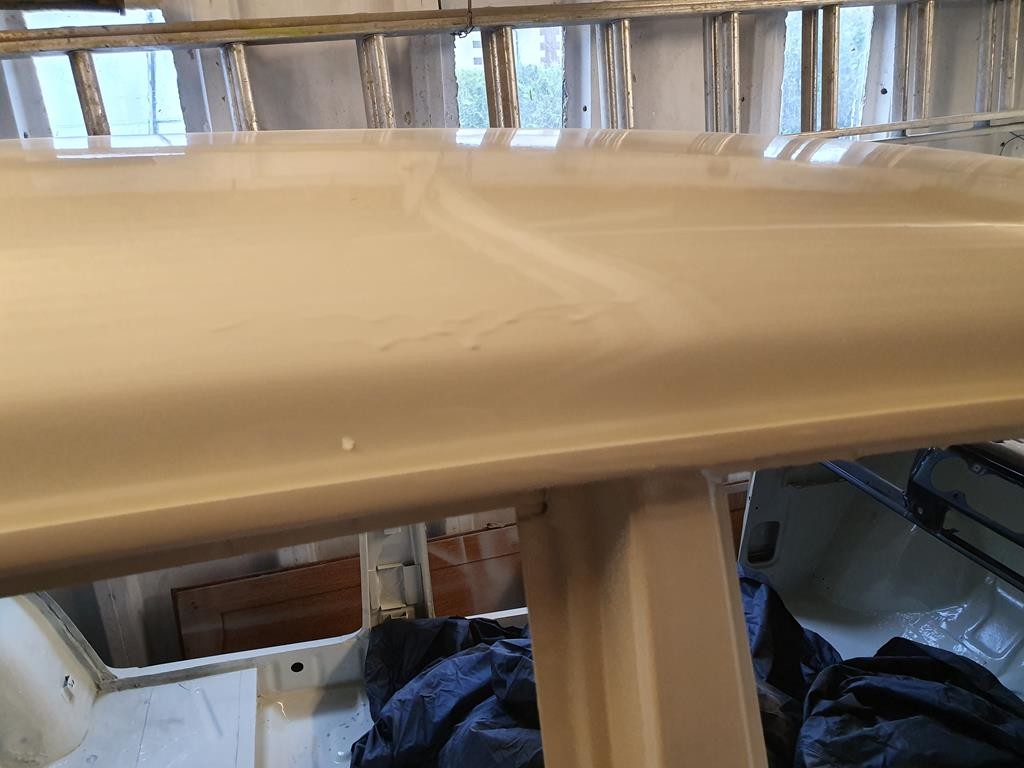 I'll try to fix it as best as I can and see what happens- it's all part of the fun but I'm happy its one colour. I cant remember when it was all white!
7-29-2019
I think I have some filler somewhere, I tried the razor idea using a fresh Stanley blade which worked a bit but it appears that the paint is cured as at the base of the run peeled off in 3 spots.

I carried on as I might as well use it as an experiment, I used one of my paint stirrers with 2000 grit to get it level which I could still see using the guide coat powder but I couldn't feel it.

I gave the area a light 1200,1500 and 2000 blocking followed by some polishing which had good results except the defects I made at the start.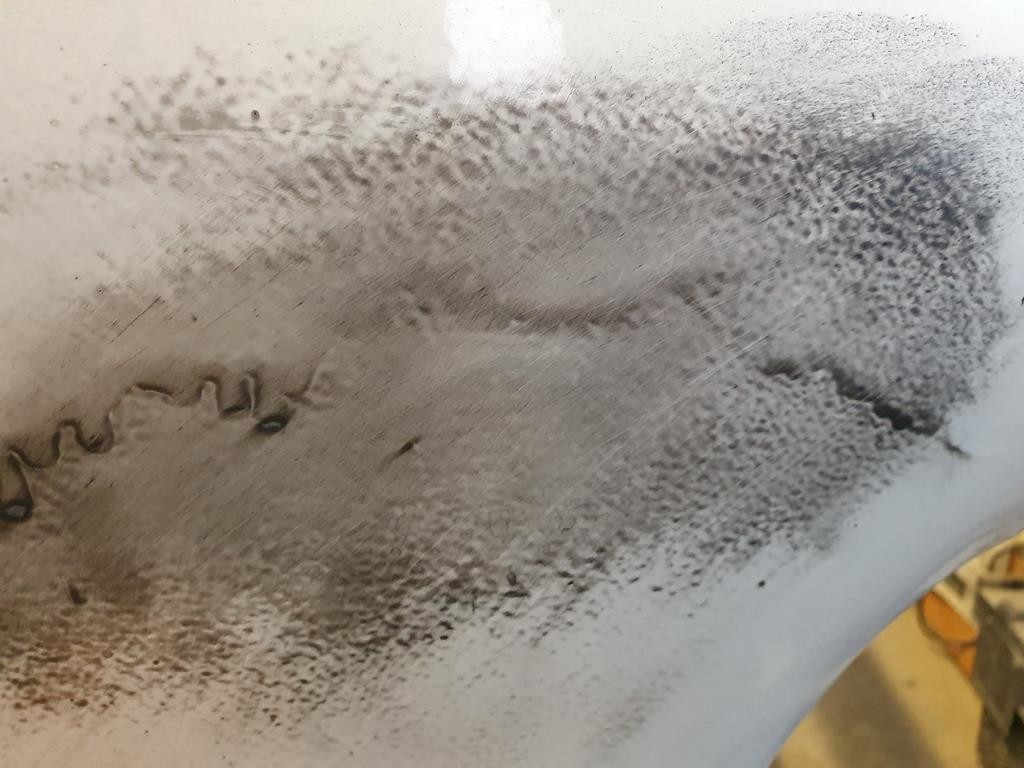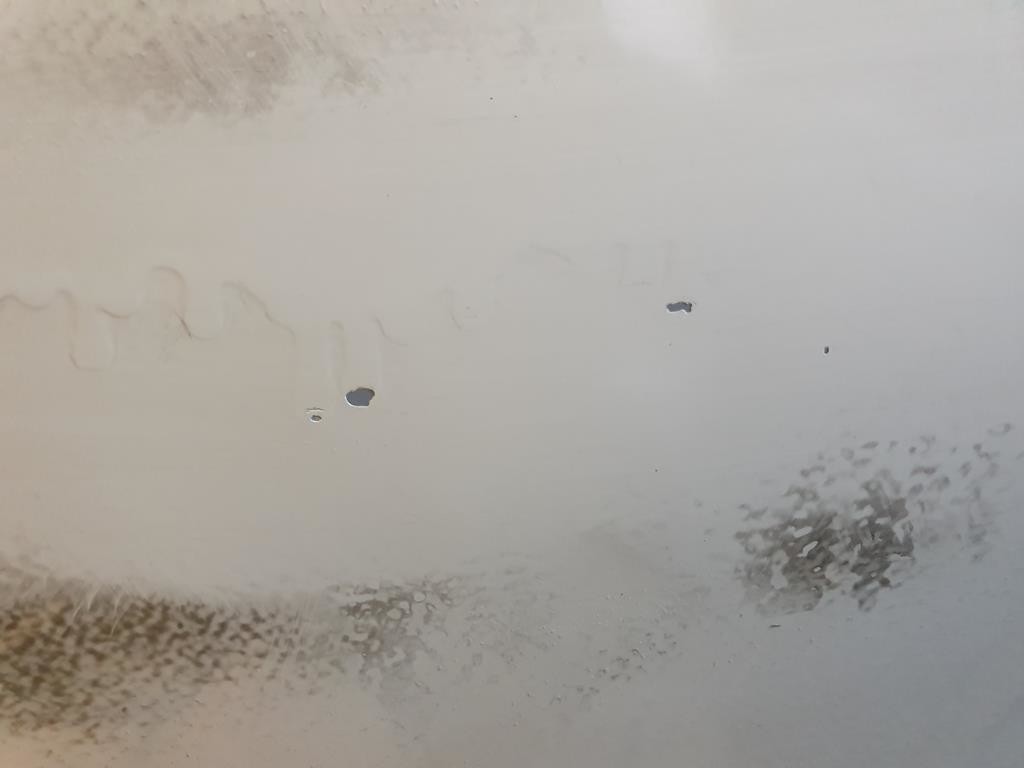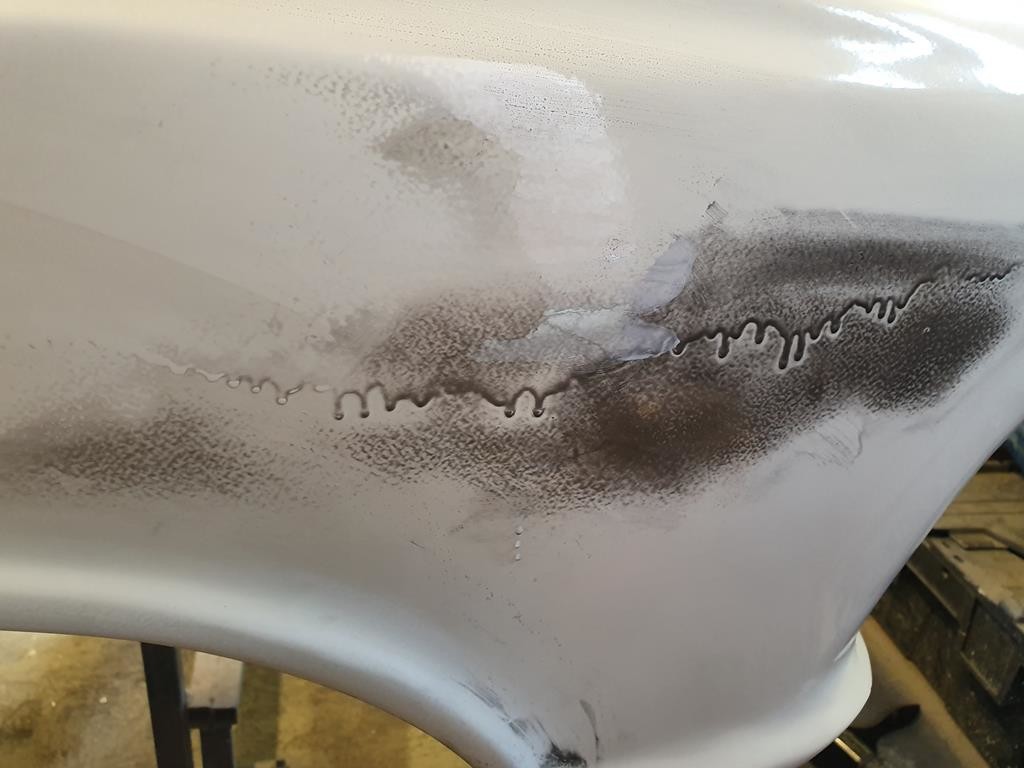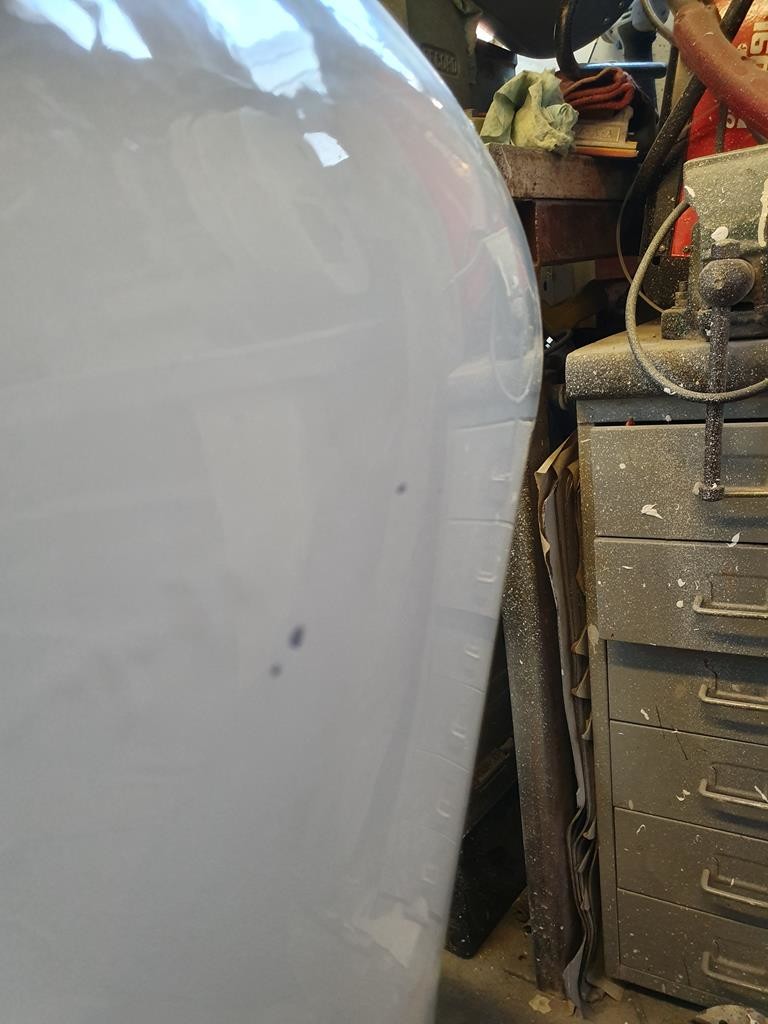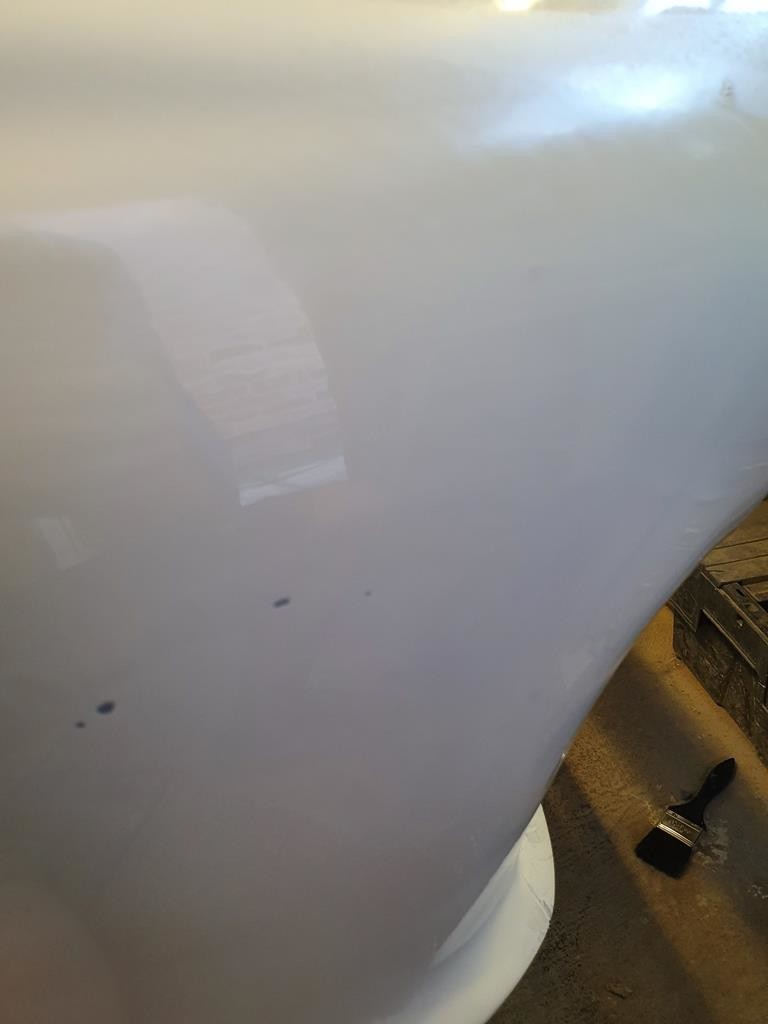 8-5-2019
I've had a few days off the car and on reflection I think it's better for me to level the body to 600 grit and throwing another 2 coats approx on top.

I'll start with the engine bay and part of the boot I messed up - I'll try to give a light dust to the areas I've gone to the primer to try and even the coat up.

I tried a run razor but the paint seemed soft and as soon as the blade touched the base of the run it dug in and pulled lumps up!
Tonight I had a play with the door skin and I've got it fitting a lot better, it just needs the clip holes making.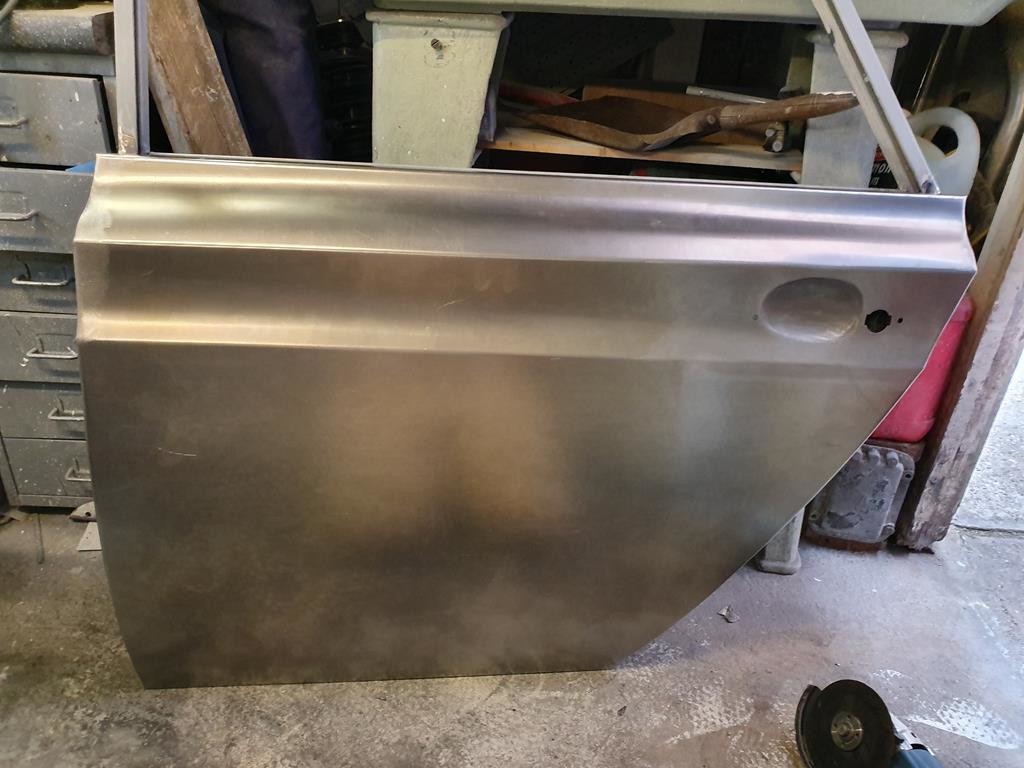 8-19-2019
I've done the drivers side, roof, heater bubble and I'm half way through the passengers side.

The engine bay was sparyed with no hiccups, I used the 0.8mm 150ml gun to dust the areas I'd gone to the primer before using the 1.2mm 600ml gun.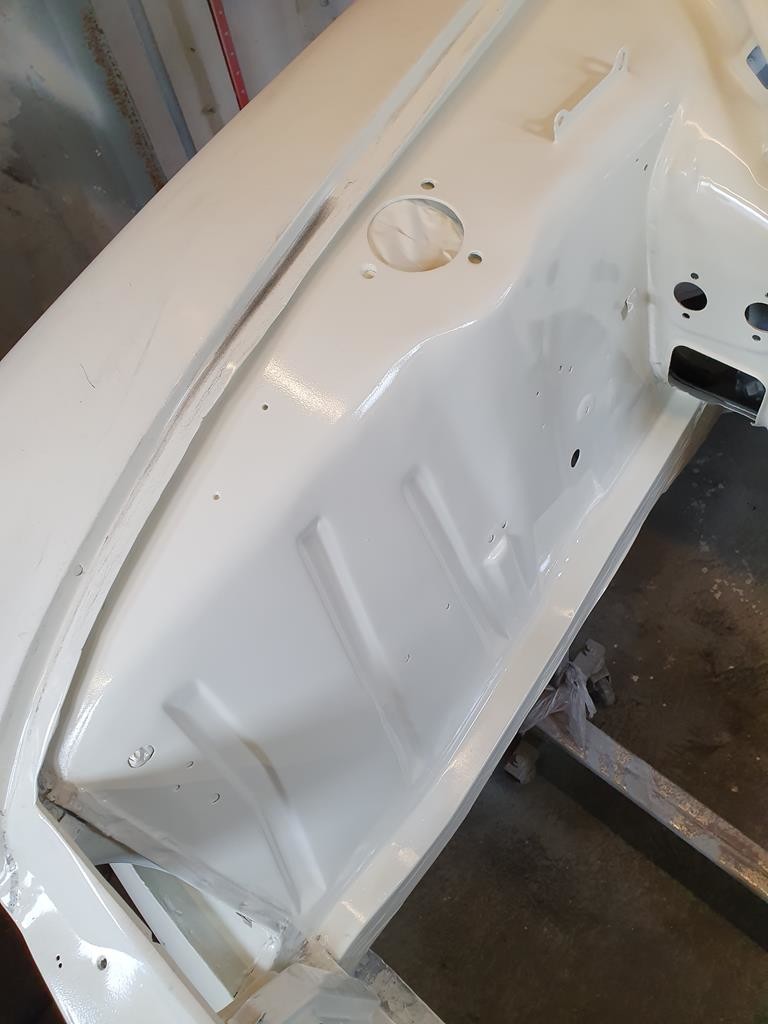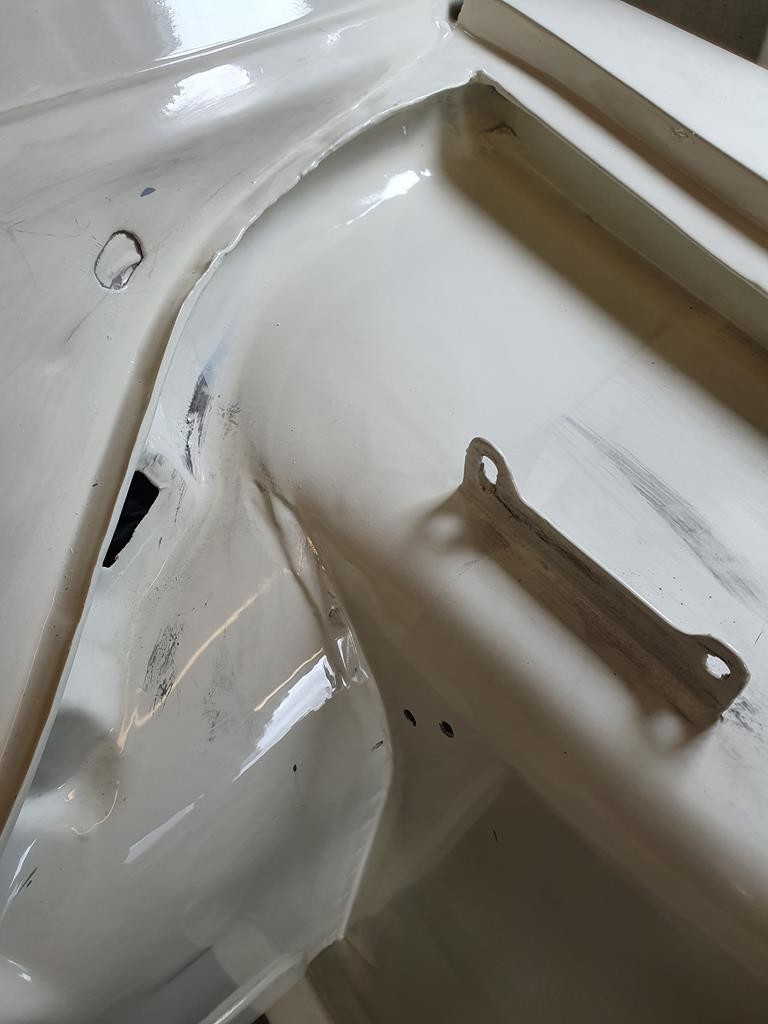 Whilst I was at it the bonnet and boot hinges were painted.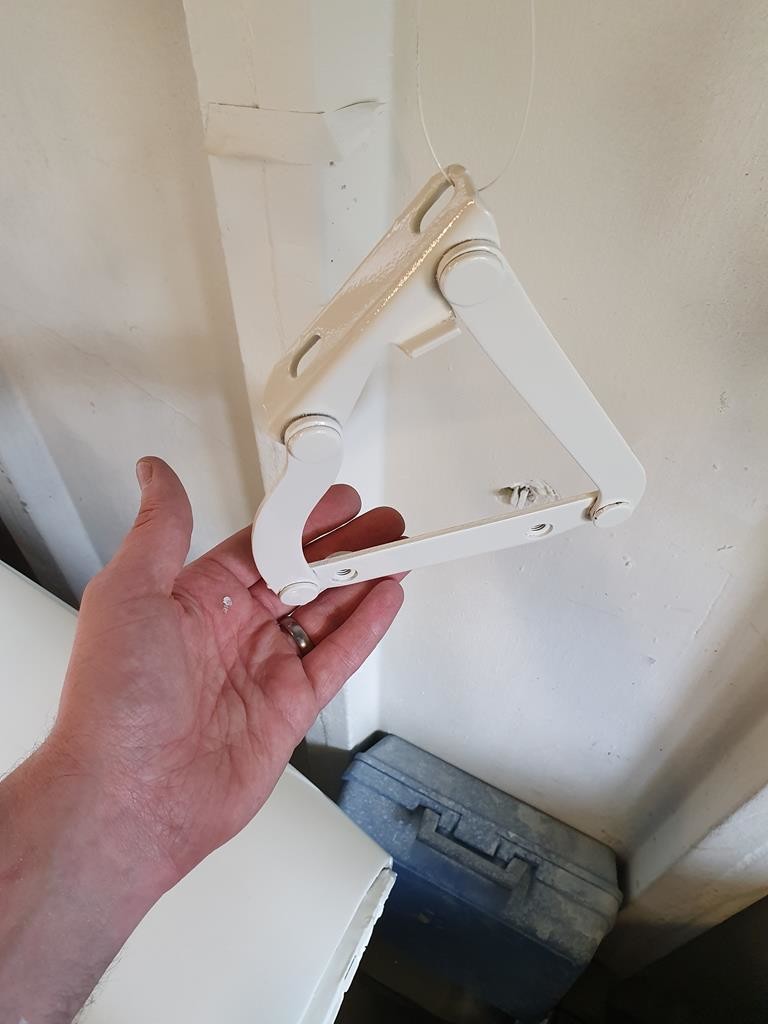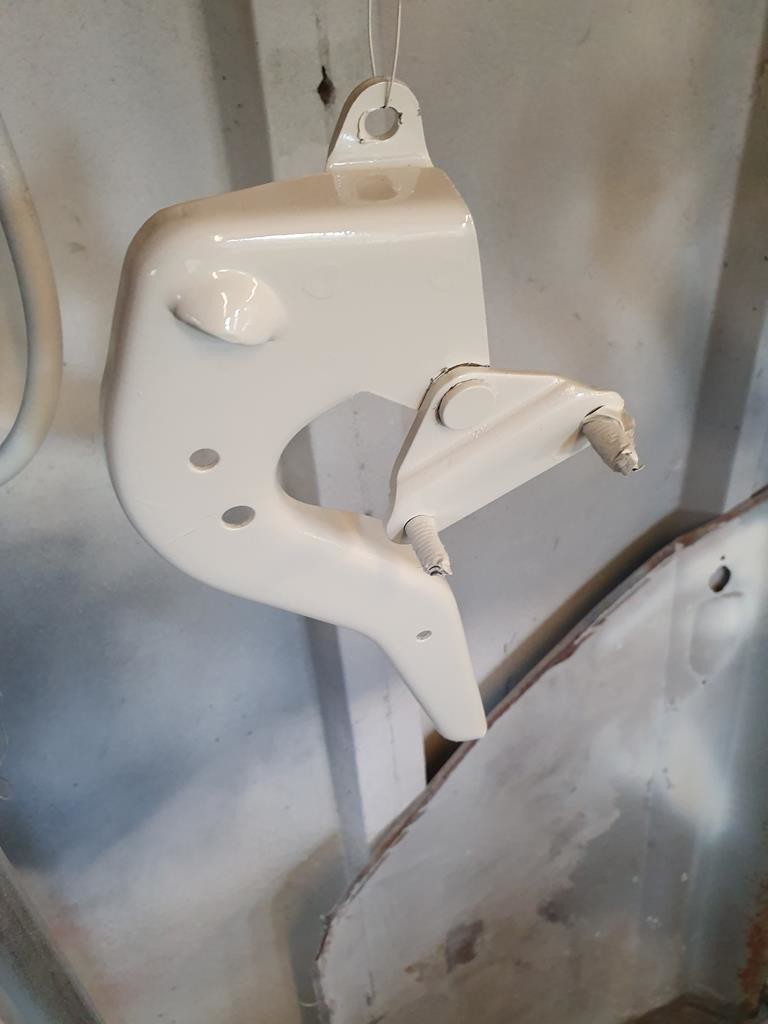 I've still to sort the passengers side inner wing but the drivers was sanded to 1500 grit and a polish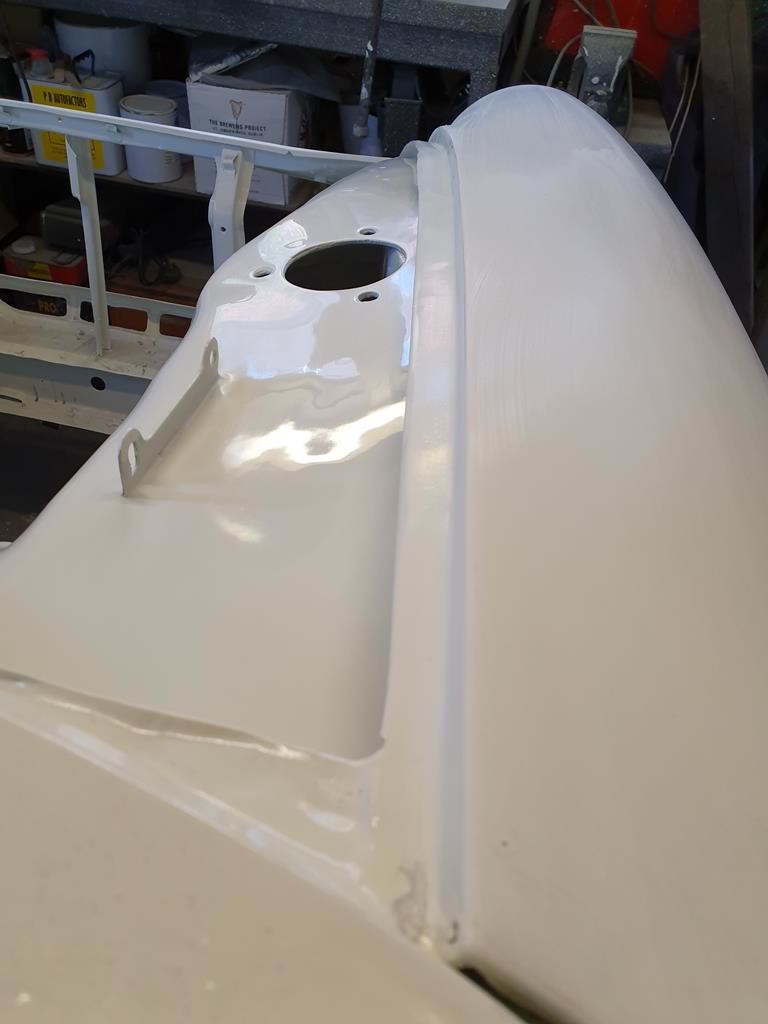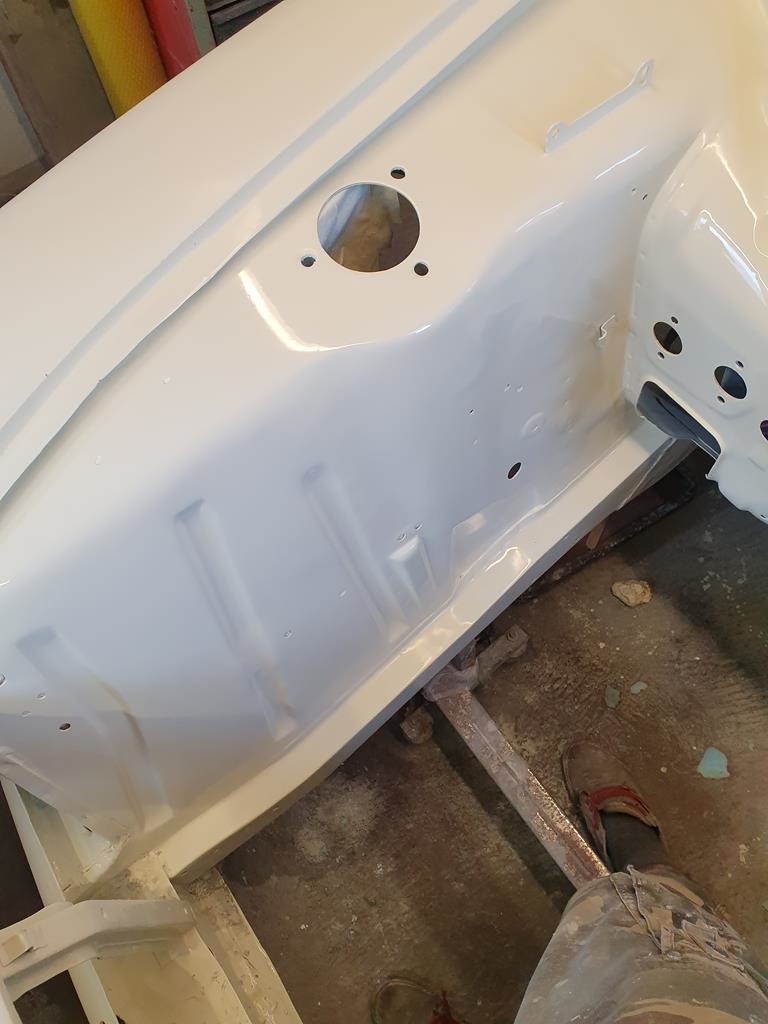 Whilst the paint was drying I cut some square holes into the door skin for window seal clips but I haven't progressed on it, the inner door needs finishing ready for priming and mating the 2 together. I managed to get mrs jim to help out!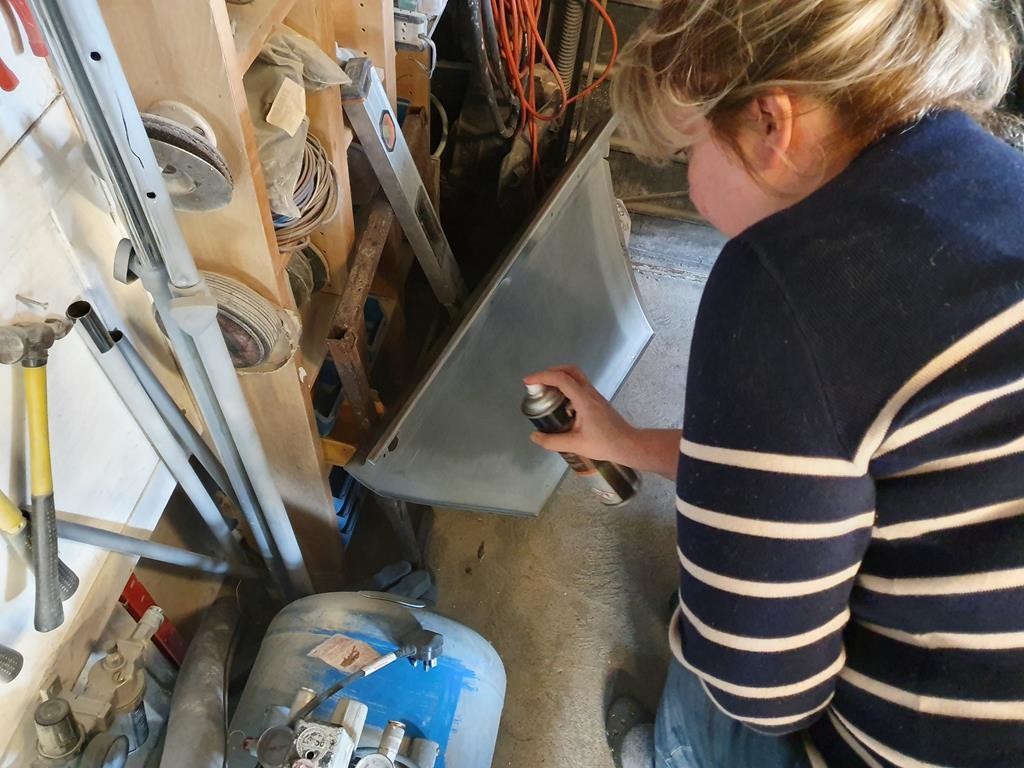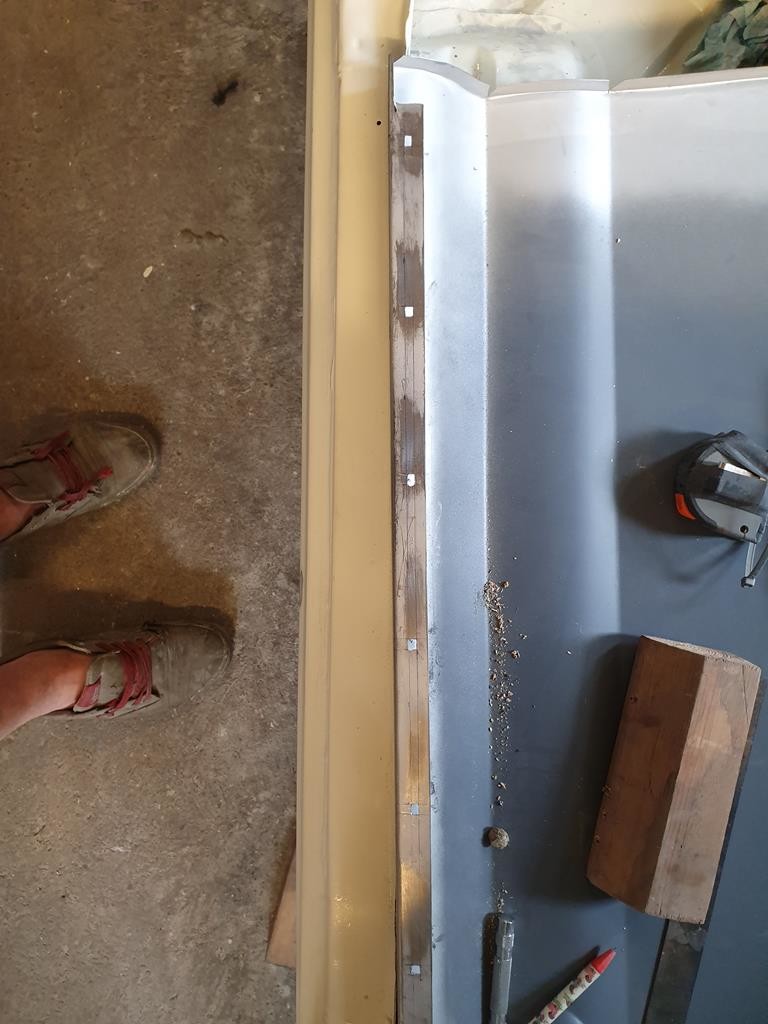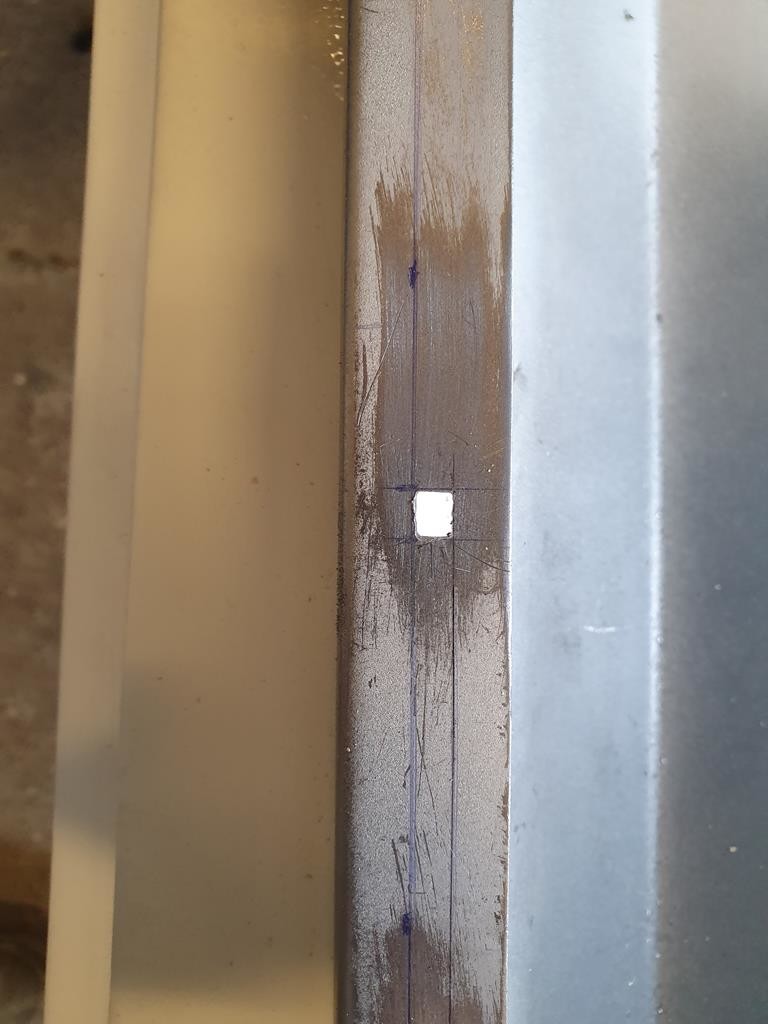 I'll probably do this after sorting the shell, September is pretty busy so I need to get the big spray jobs done asap
8-20-2019
With the bodywork taking a lifetime I've been looking at superchargers - I wrote my dissertation on this years ago, it's all theory but the practical side needs to be worked out.

I managed to find a bad ebay listing so figured I'd take the plunge!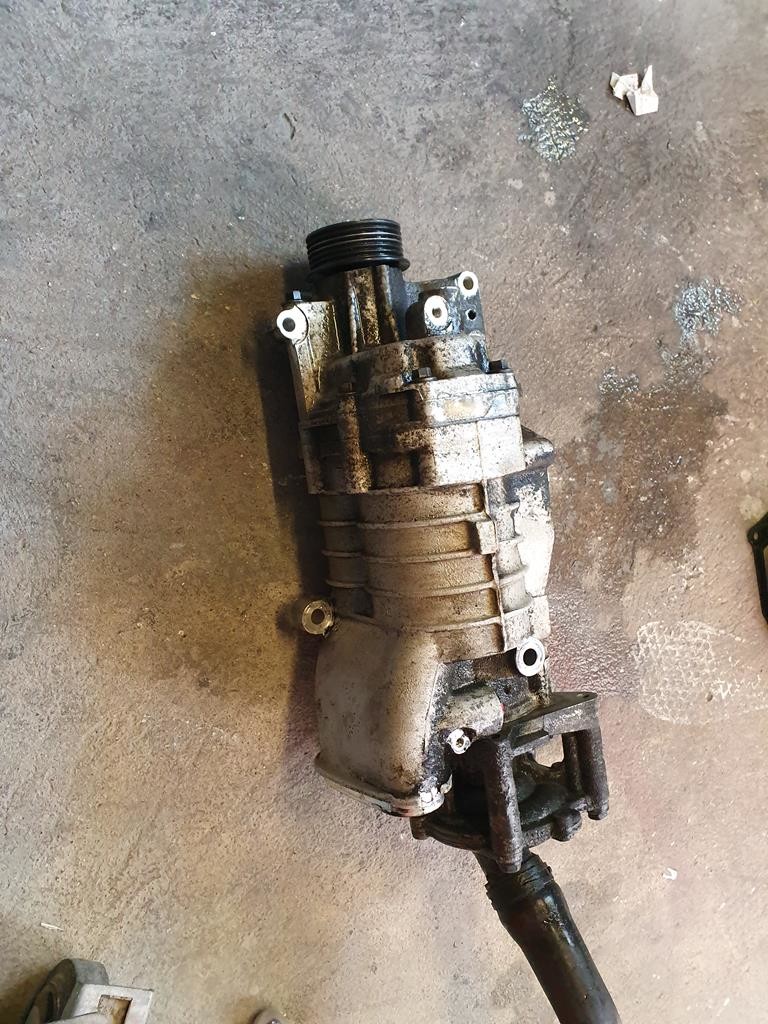 It's not far off being the right length and the current idea would be run it as a draw through setup as going blow through would ideally be a full injection setup.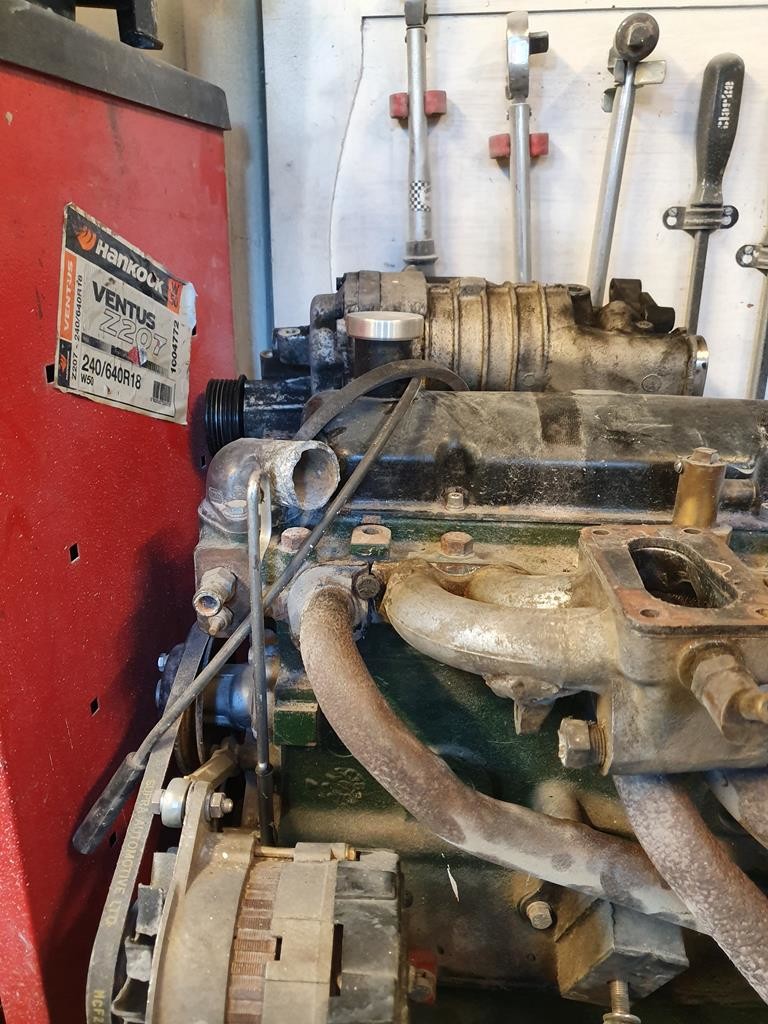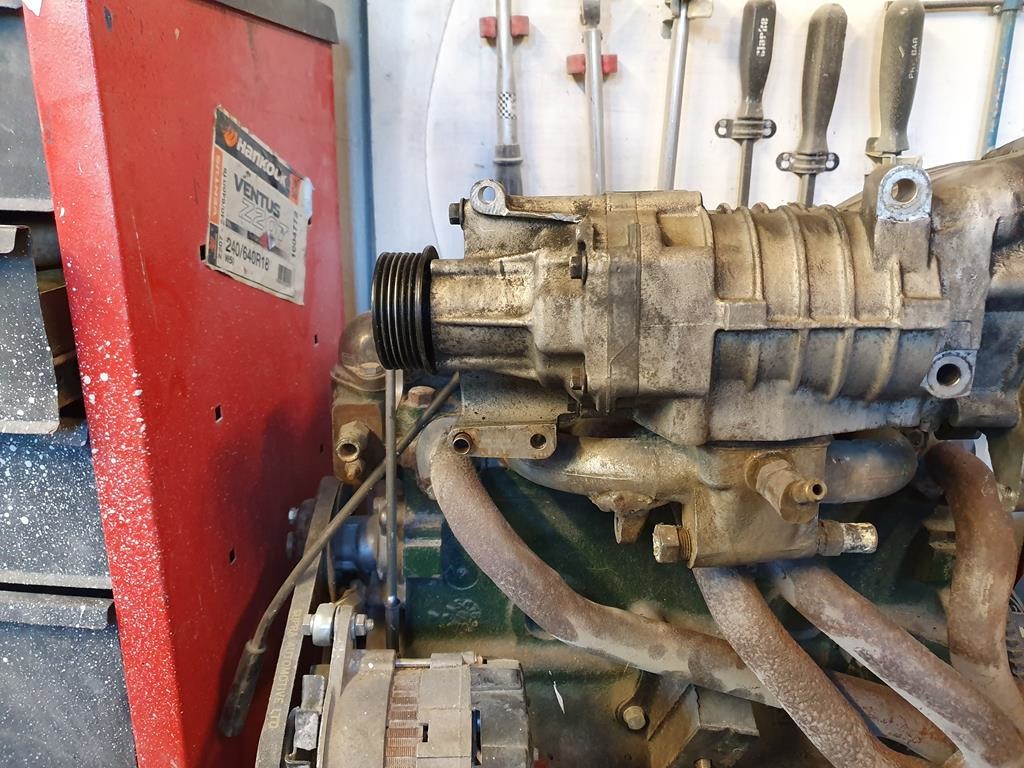 I think I'll need to fabricate a new inlet manifold and pulleys but itll be a fun project and one that I'll take lightly. Plus boost and whining noises
8-21-2019
I'd not looked at pintos with them, I've been doing some research over the last few weeks and this a quick breakdown of what I'd like to do.

Using the 1590 that I've got:

•drop the static CR to 8.5:1 min 8
would be better

•run the boost to 7psi approx (I'll work this out - thr dissertation was 10 to 12 psi which is too high for now)

•find a lucas distributor that I can play with and lock the advance off (still researching this)

Draw through setups

Weber 28/36 DCD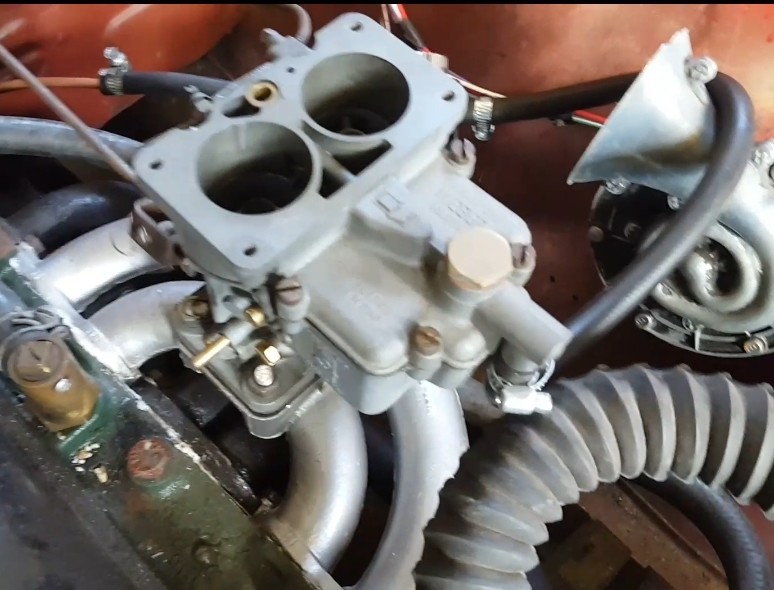 Pros:

•There's jets and tuning parts
•I have spares

Cons
•weighty when hanging off the back of a blower - they crack inlet manifold as they are! Ford had to add supports to the manifold
•height I think itll be too close to the bonnet but to be confirmed

SU's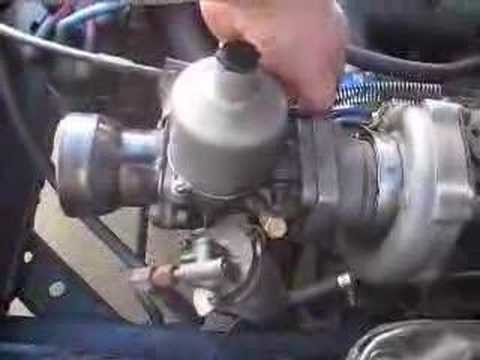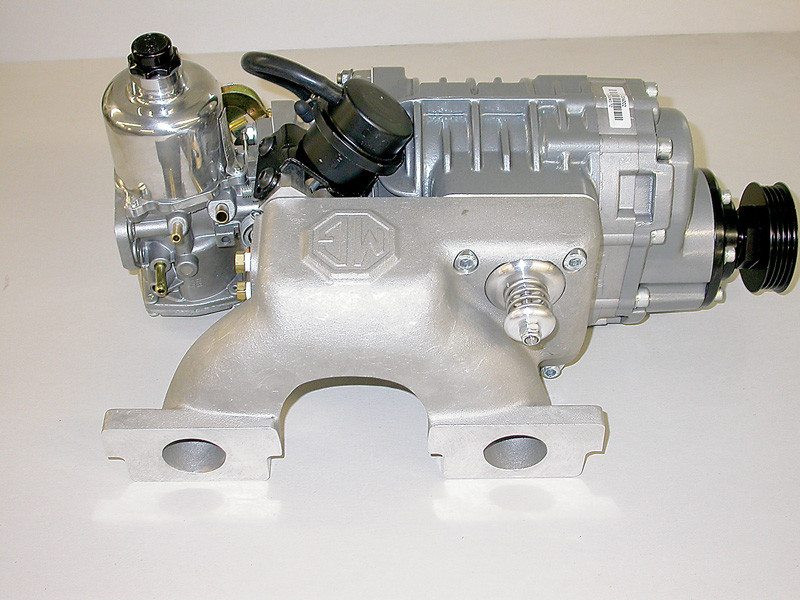 Pros
•they work!
•not a complicated carb

Cons
•I don't know a lot about them!

Fazer 600s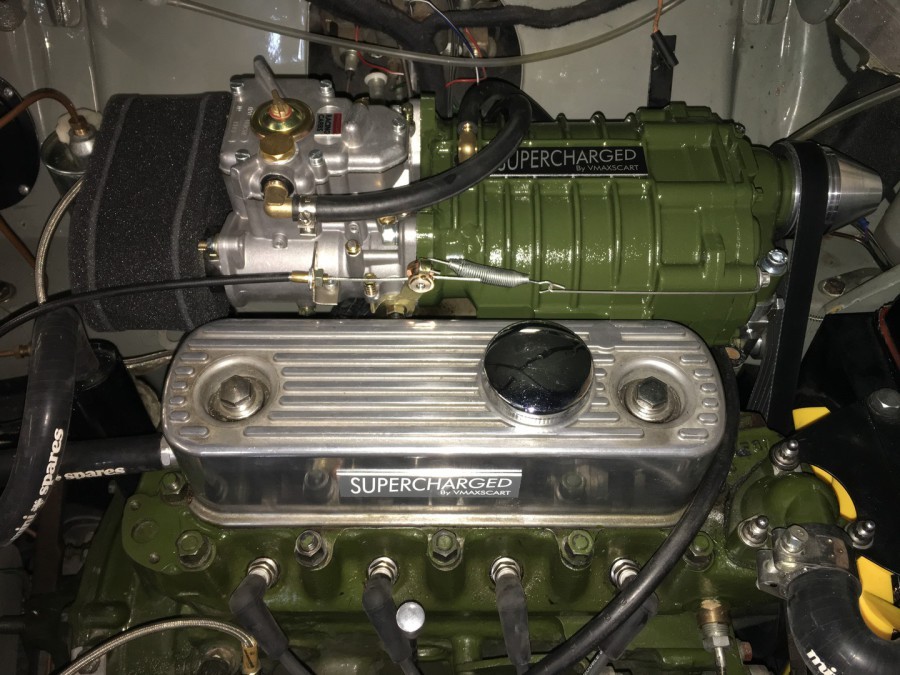 I know it's a weber but hear me out! I bought 2 sets of fazer 600 carbs for the cortina years ago but never progressed far from making a basic manifold. It's a CV carb like the SU so I'd use these and they have a 34mm choke like a weber dcoe 40 would have

Pros
•they were cheap and gathering dust
•small and can be mounted anywhere

Cons
•more head scratching to get them running
•I know little about them other than basic information I found for them being used on a crossflow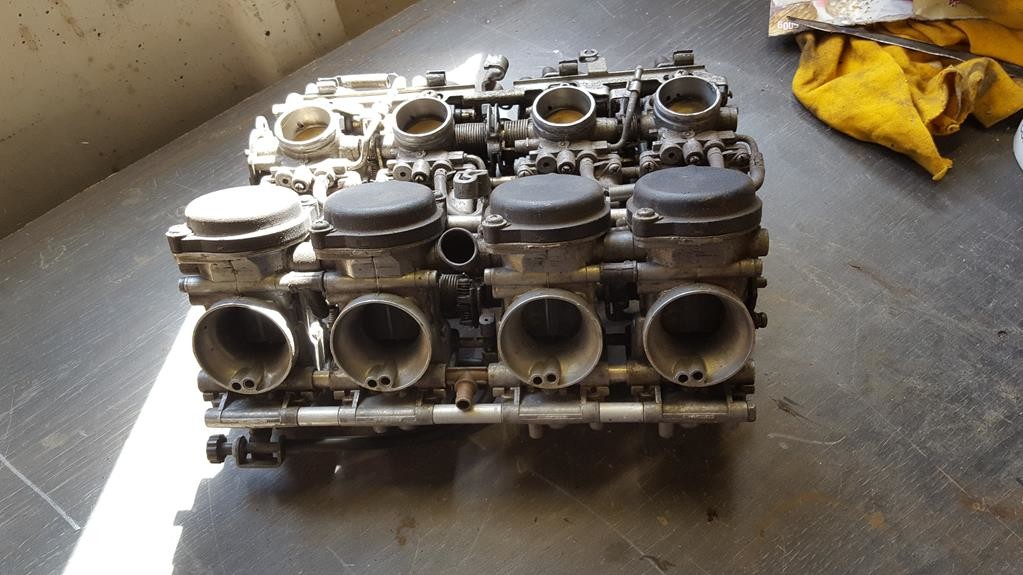 Blow through

Weber 28/36

They leak from the throttle shafts as standard! But the 32/36 has been used on blow through setups in Australia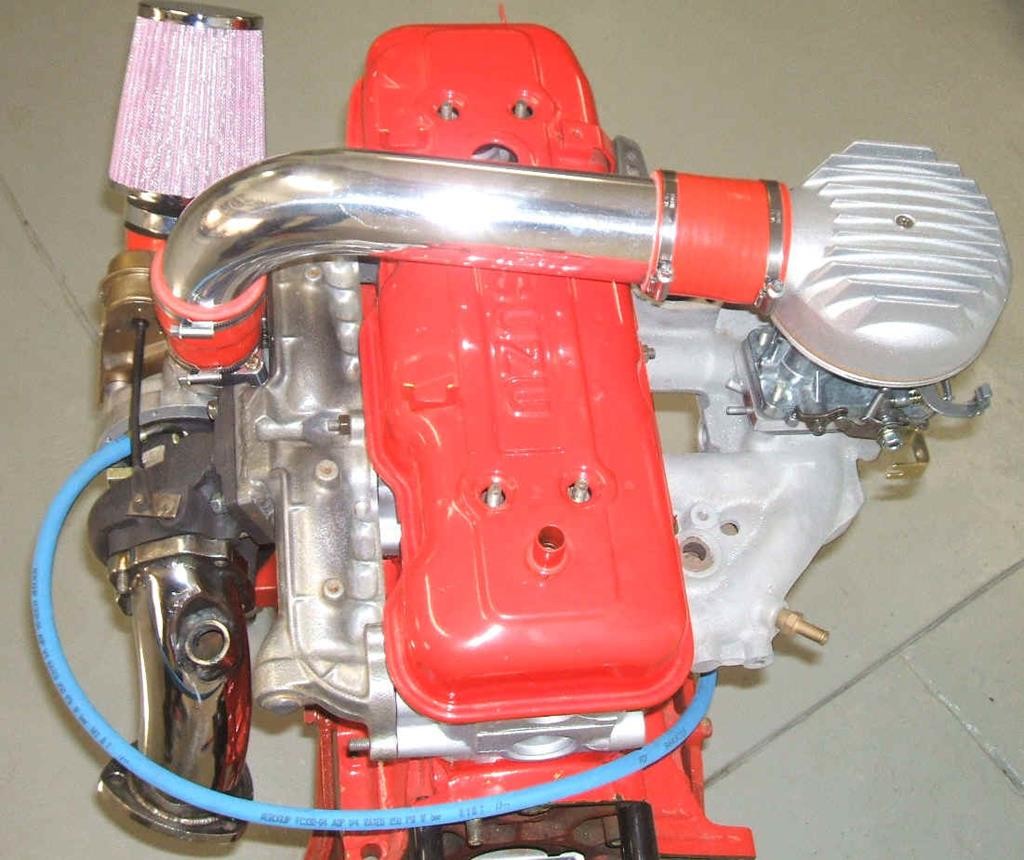 From what I've read so far I'd need to change the float to plastic from brass, Bush the shafts along with end seals, runs pilot tube above the throttle to the shaft to stop it blowing out, pressurise the fuel bowl to make sure fuel comes through as it should under boost and change the gasket to neoprene bug I'll CAD some up and get a local firm to cut these

It wouldn't need anything modifying for inlets or throttle linkage and I have some spares but not enough to build a carb but given the modifications I'm not writing off a serviceable carb

Su/ renault 5

They work and can take power as far as my research has shown but they're few and far between which Jack's the price up! Given the prices I've seen off expired ebay listings I'd sack carbs off and build a speeduino ecu.

SUs would need an elbow to work with the GT manifold which is more fab work than the renault 5 solex which is an adaptor plate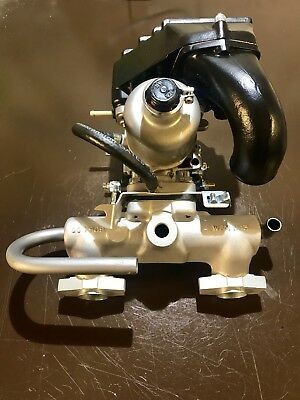 Fazer 600s - i don't see the point in fitting itbs with a blower. Unless they're the lotus dhla dellortos but I'm not snoop dogg - I cant make it rain dollar bills!

Out of these ideas the 2 taht stand out are the fazer draw through and the weber blow through


I'm excited about the challenge as it's been 10 years since I started writing the dissertation and it's fun for me as I'm an engineer!

Allard did it back in the day and even built a 1650cc methanol powered anglia making 220 brake back in the 60s!

Here's an anglia to finish off my rambling!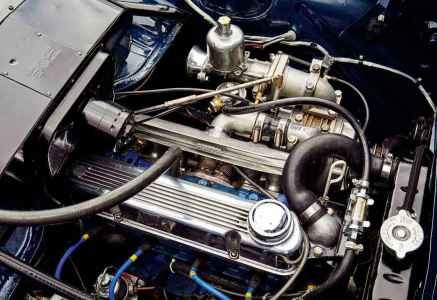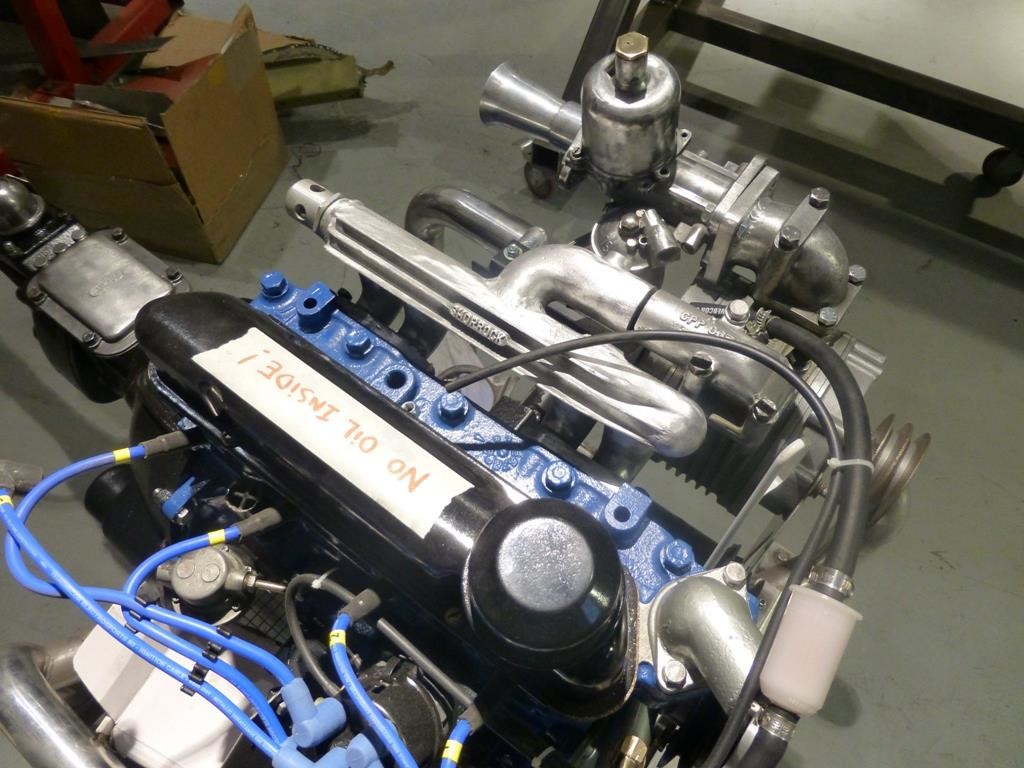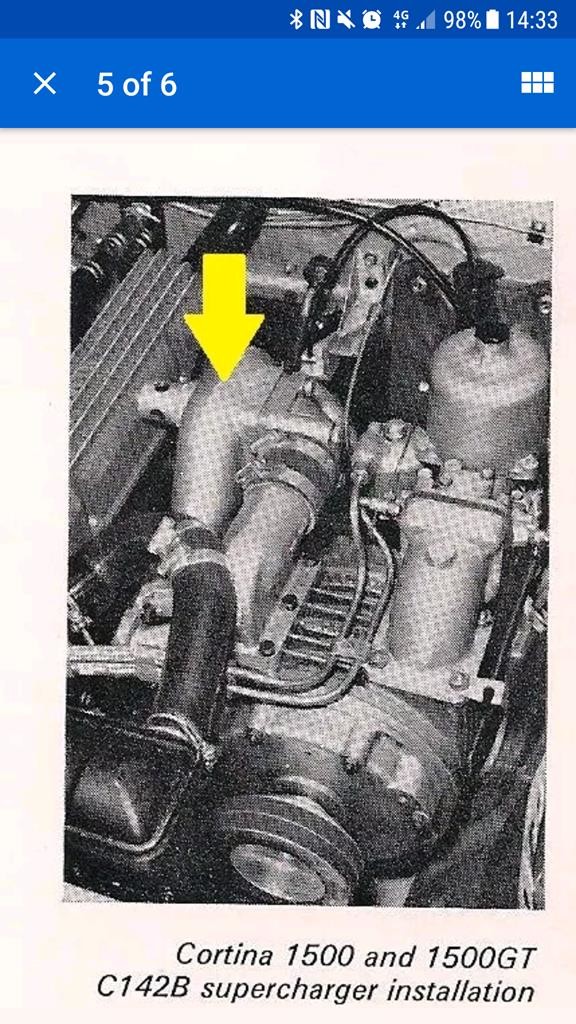 8-31-2019
Just a quick update, I laid 2 coats on the body last week - badly...

Its textured! I'm clearly doing something wrong and I think the issue I'm having with the finish is looking down to not doing a thorough job of cleaning the gun!

I've tried to flat it but it's that bad I'm literally taking off these new coats- not ideal!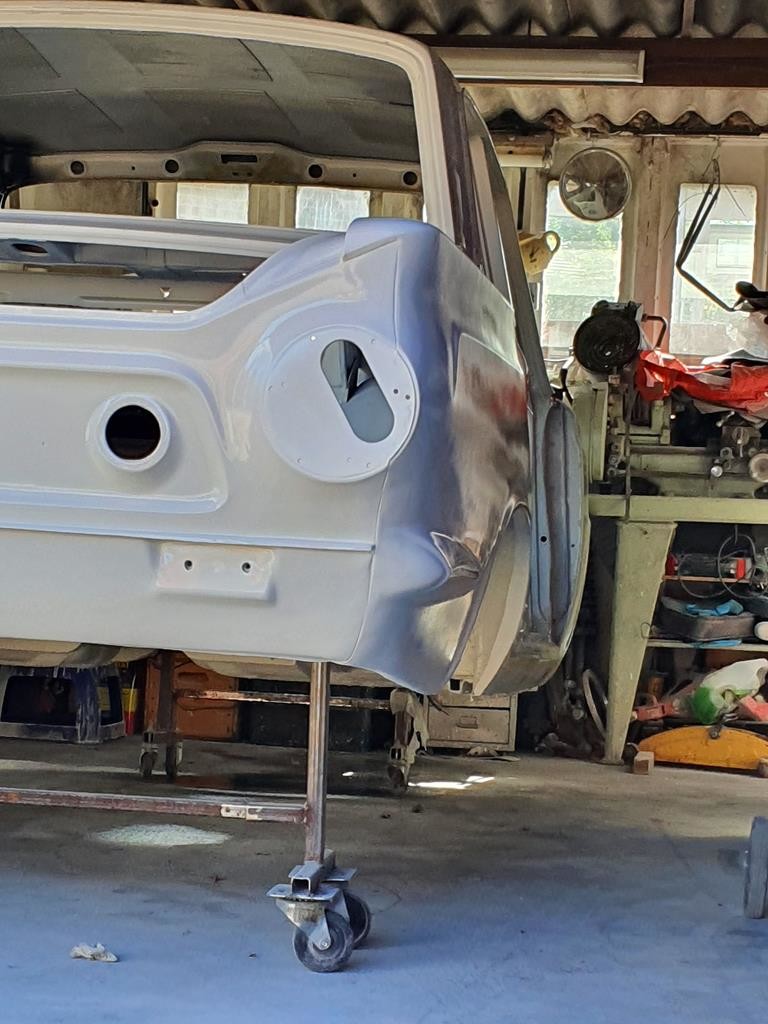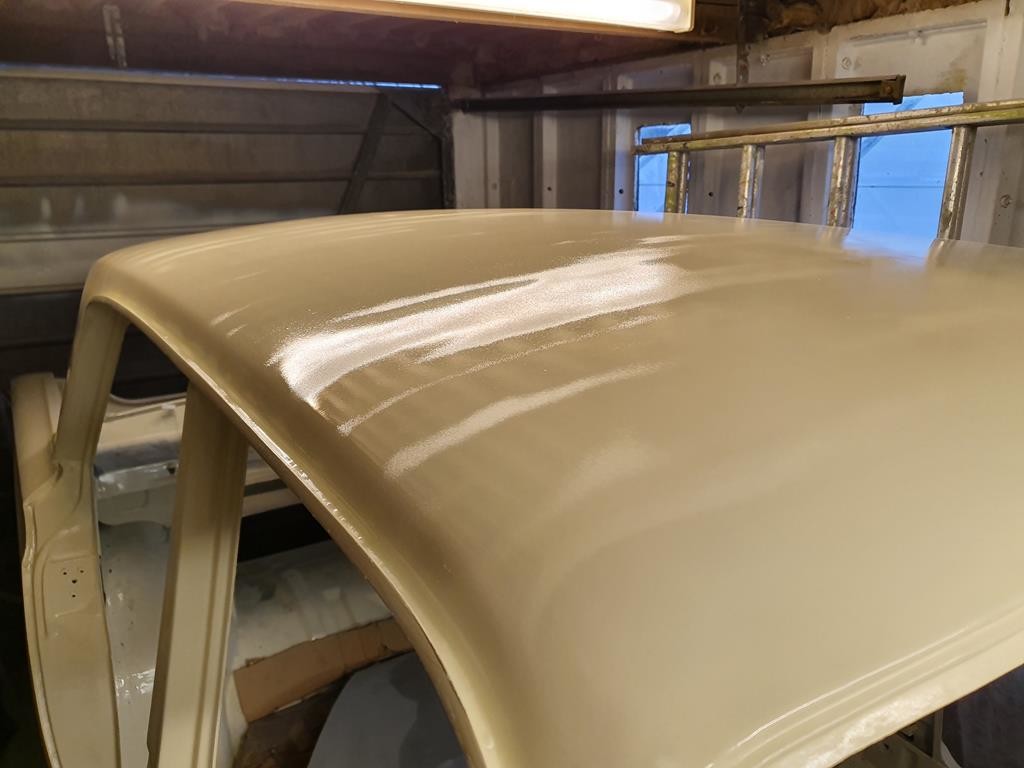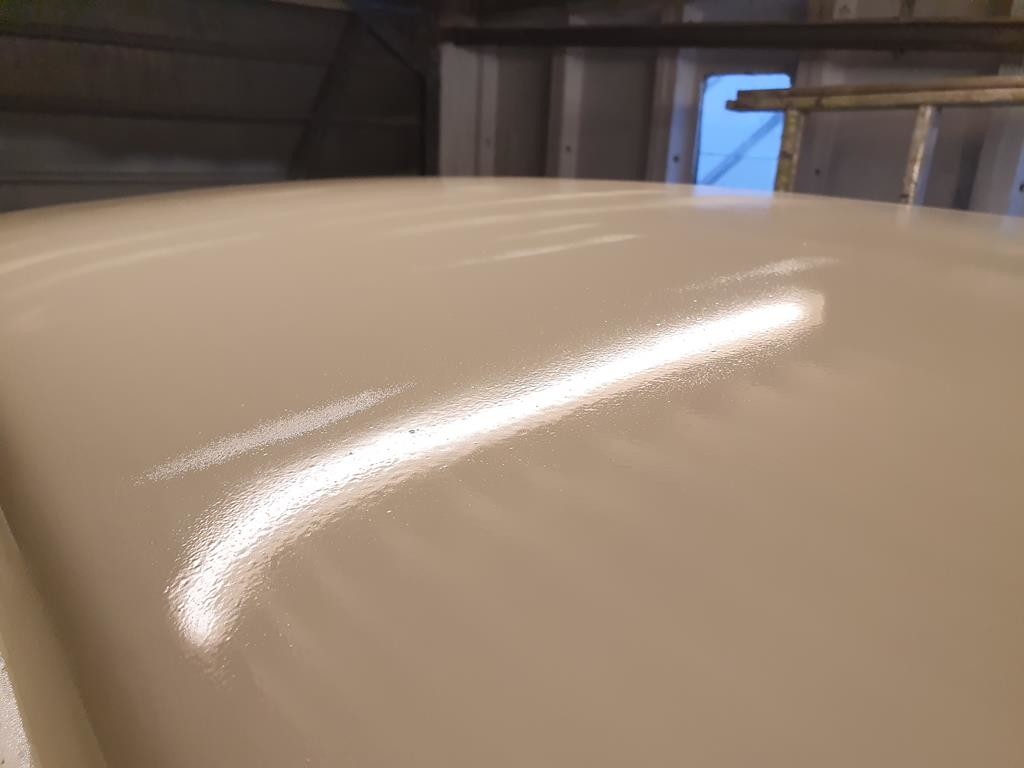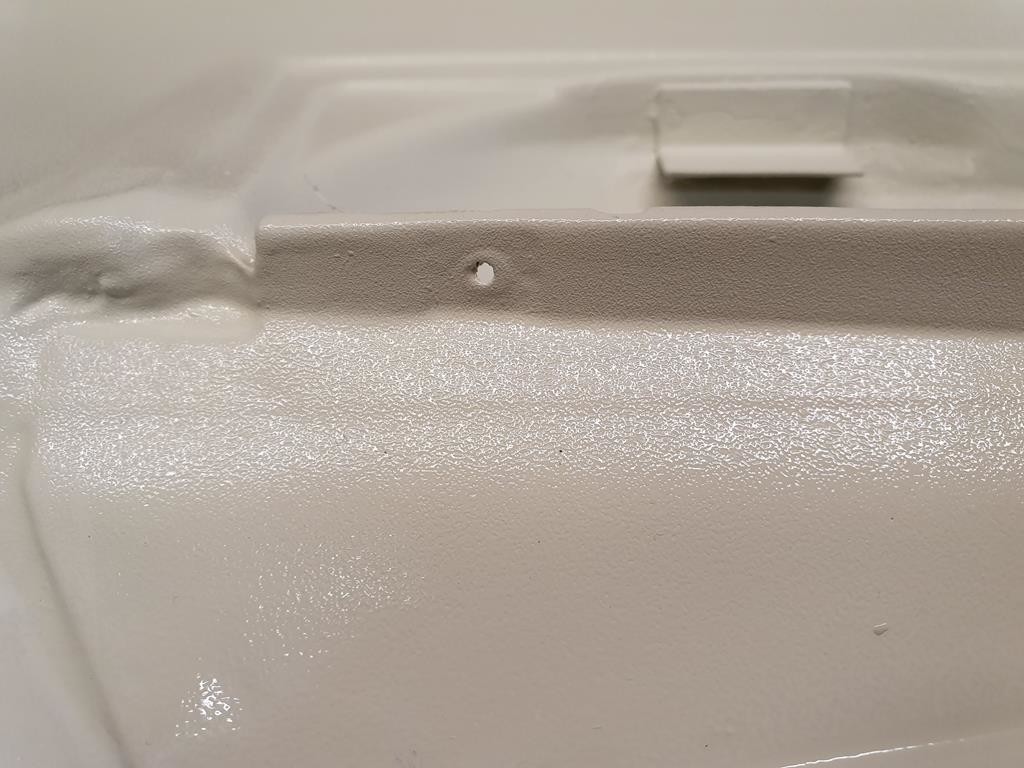 Its been in soak for 24 hrs I'm finding more in areas that I've missed as I saw remnants of primer! I'm not entirely sure if this I'd sll of my issues but given I'm now out of paint I'm considering my options- do I carry on given the mistakes I've made already or do I concede and have someone fix the paint and apply clear coat giving me a better finish.

Sorry for the rant but I'm not sure what to do?
9-10-2019
Thanks dude, I thought you'd done a good job of the fasty!

I'm back to wet sanding at 600 again - I'll give it's due, its been a fight to sand do it should be good against stone chips!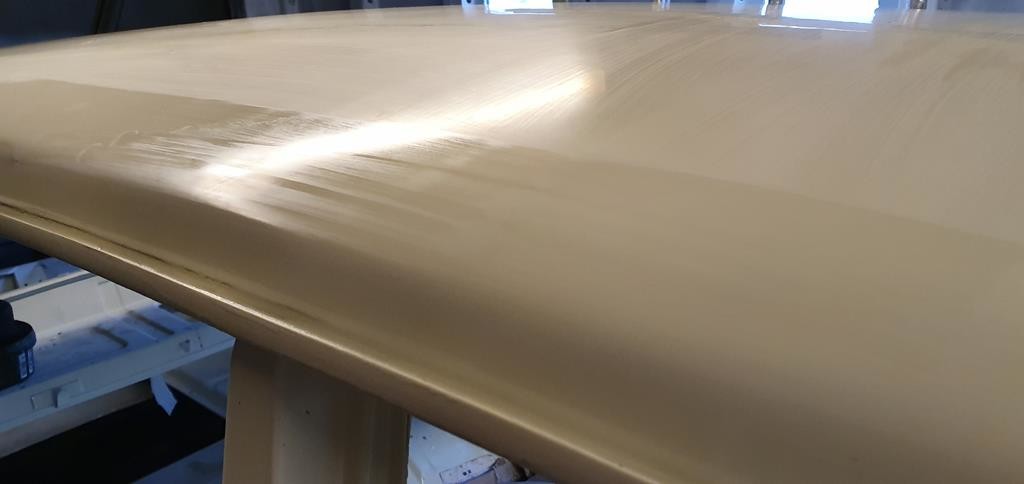 I've found some very small freckles that I've not seen to this point which I've managed to get rid of but they're tricky to see nevermind photograph!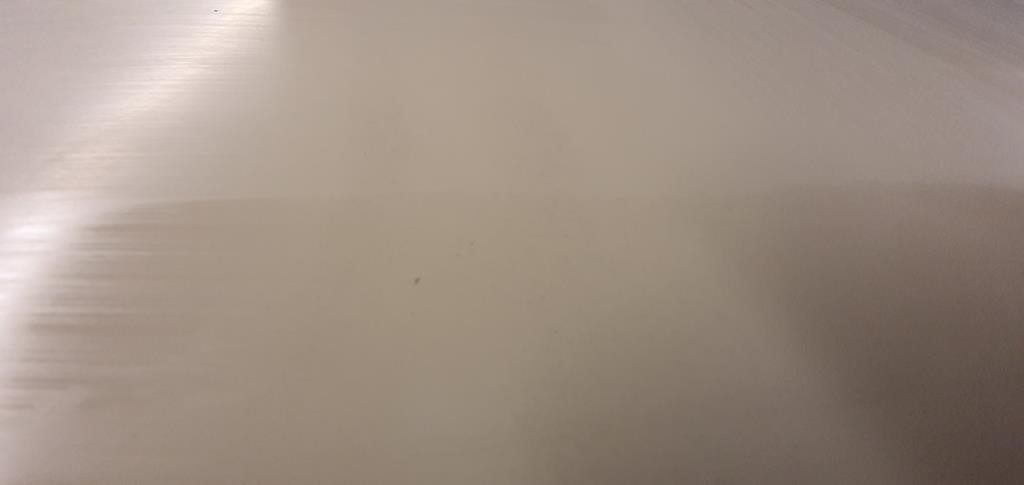 More interestingly I was on a business trip last week in Denmark - I managed to find a hotel with a classic car meet 2 mins away!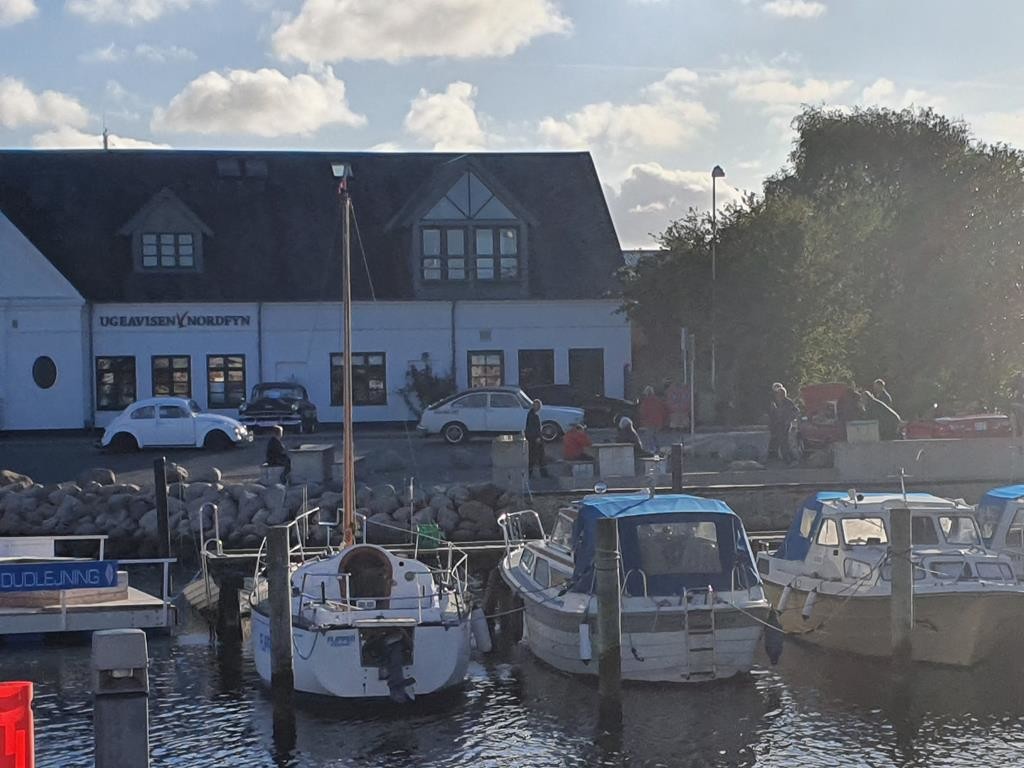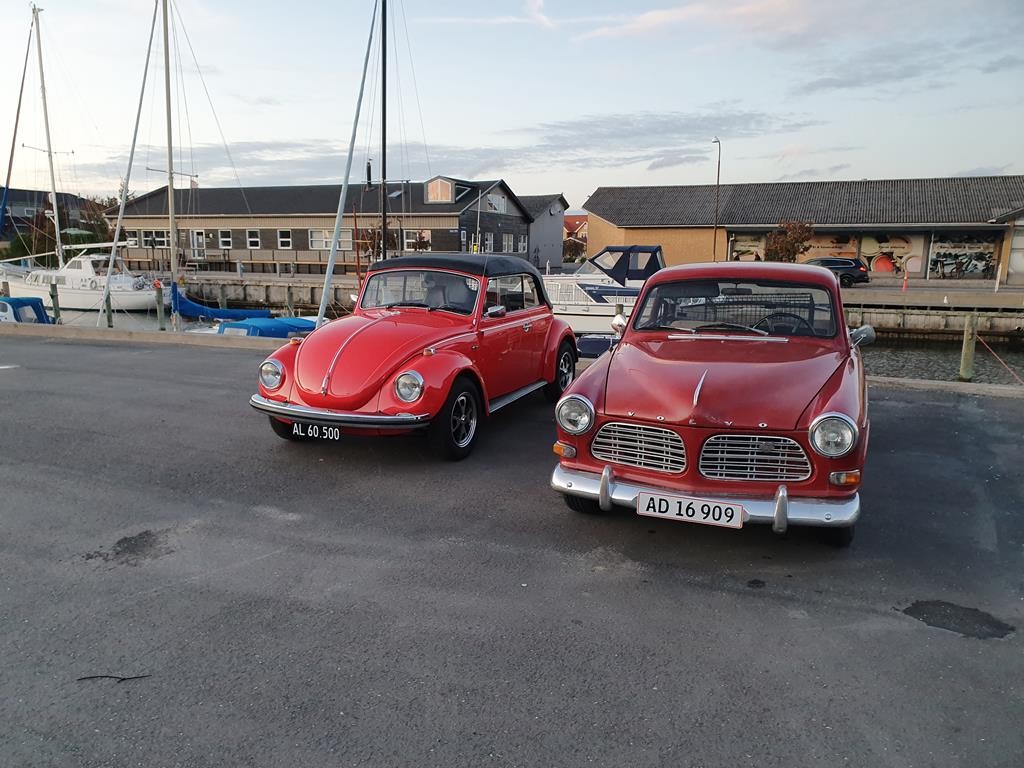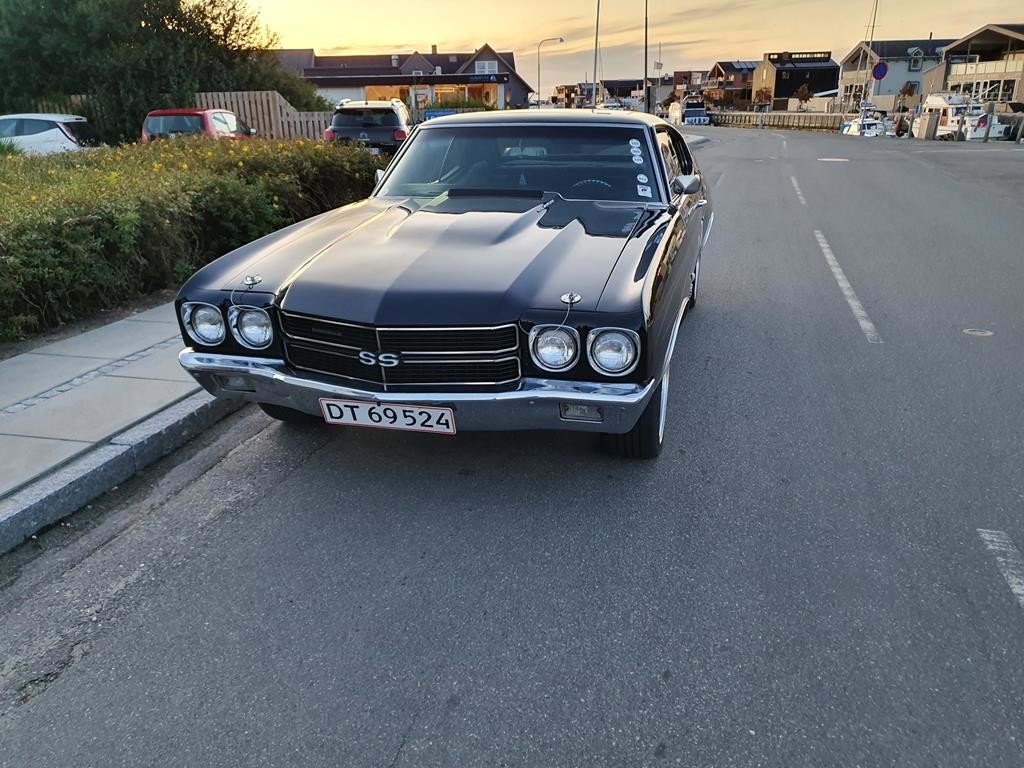 9-24-2019
Not a massive update but it has possibilities.

Without banging the drum about the paintwork again I've had a chap come and quote for spraying a decent coat of colour and clear coated including the engine bay and the inner panels.

Its tempting because I'll have a shell that's ready for stuff to be fitted.

I need to get some more information etc but in the meantime I've decided to have a go sorting rear door I started reskinning.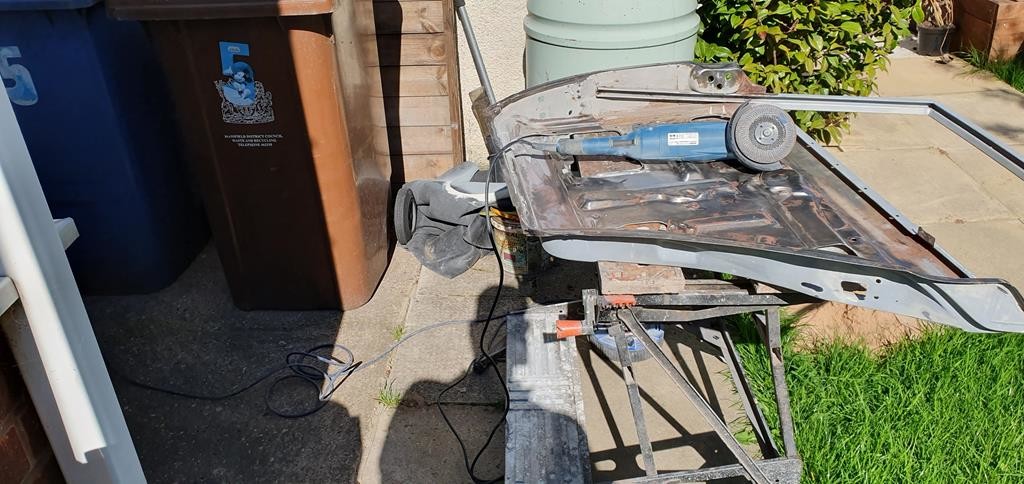 The inners have been cleaned, rust treated, prined and stone chipped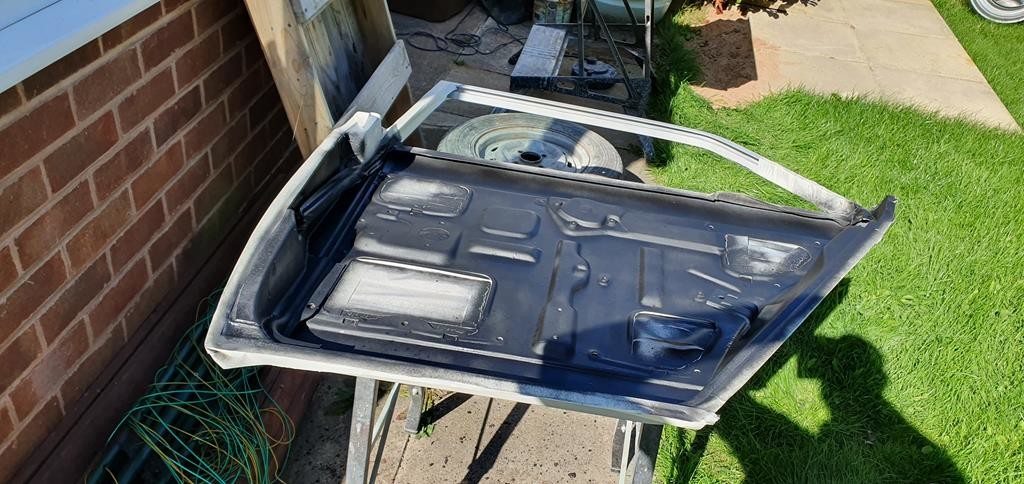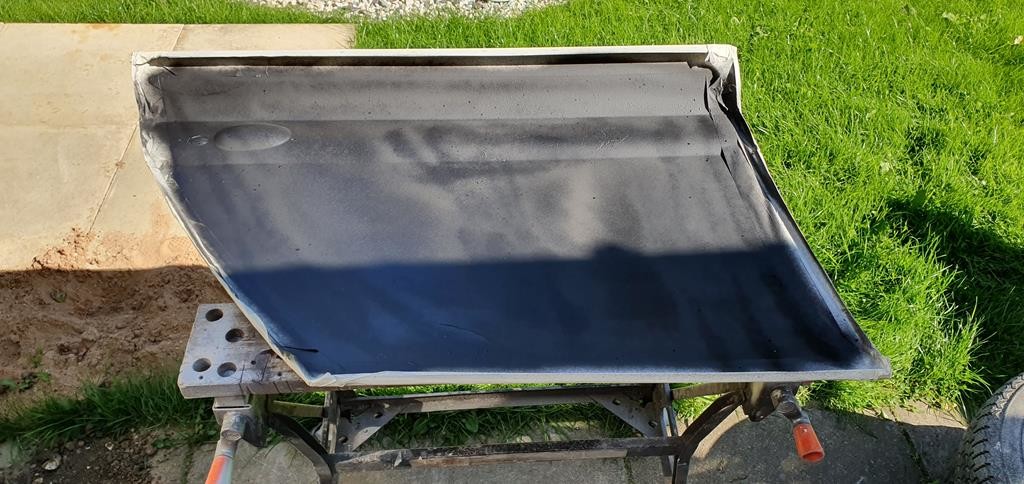 I threw the inner on and have been playing with the fit for the last 2 days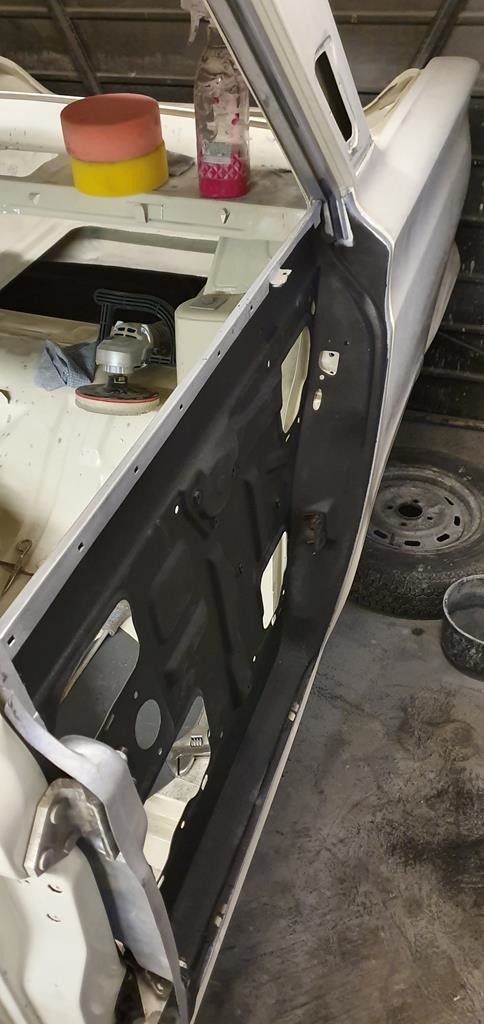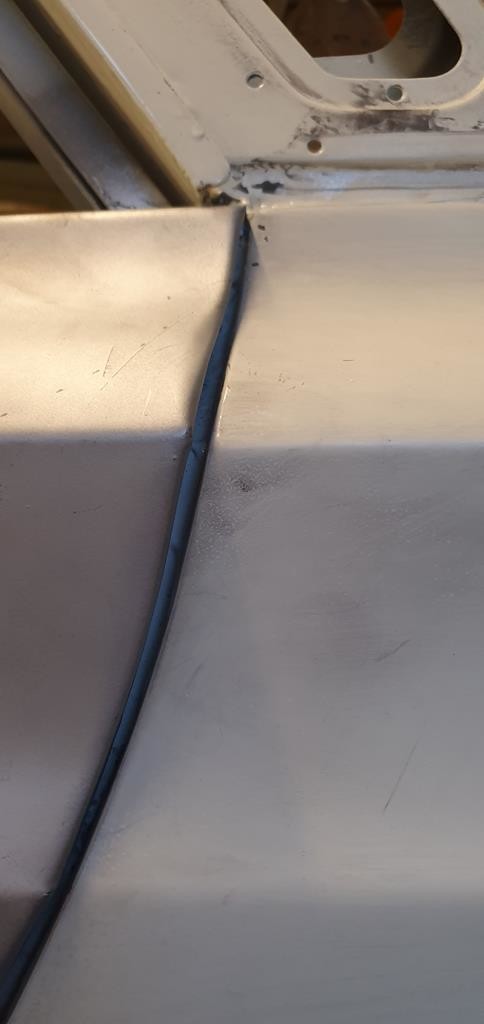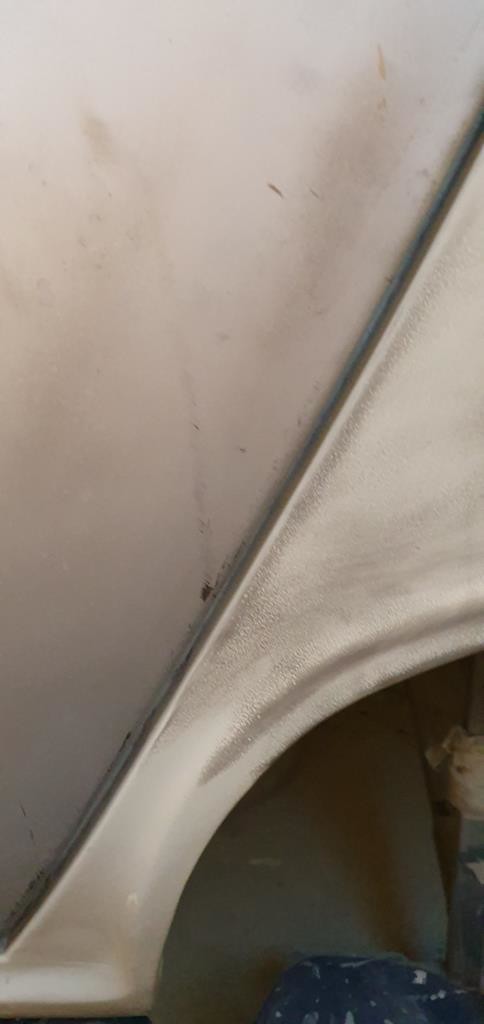 Its needed some trimming near where the outer meets the window frame and it's a snug her fit, it's hard to say that its exactly where it is because the skin lip hits the hinge so the plan is to shim the doors figment and get it as close as possible.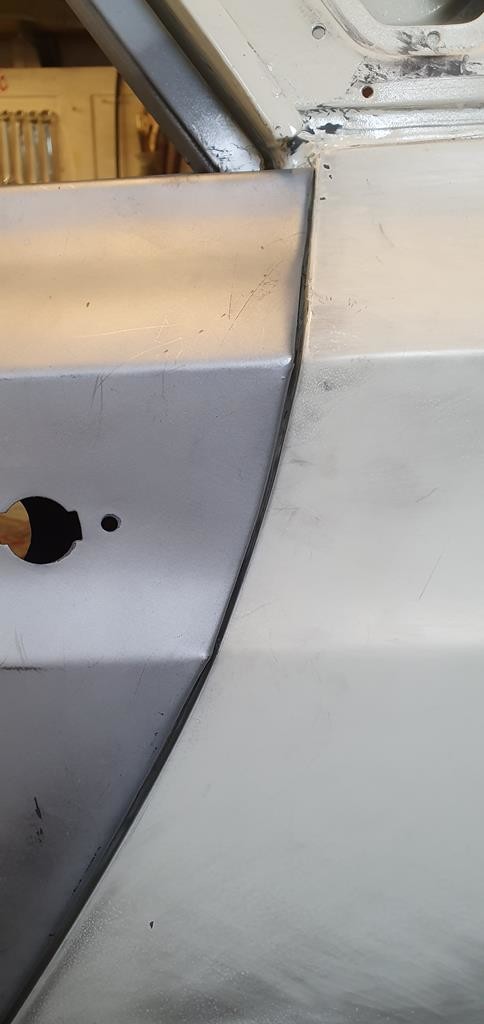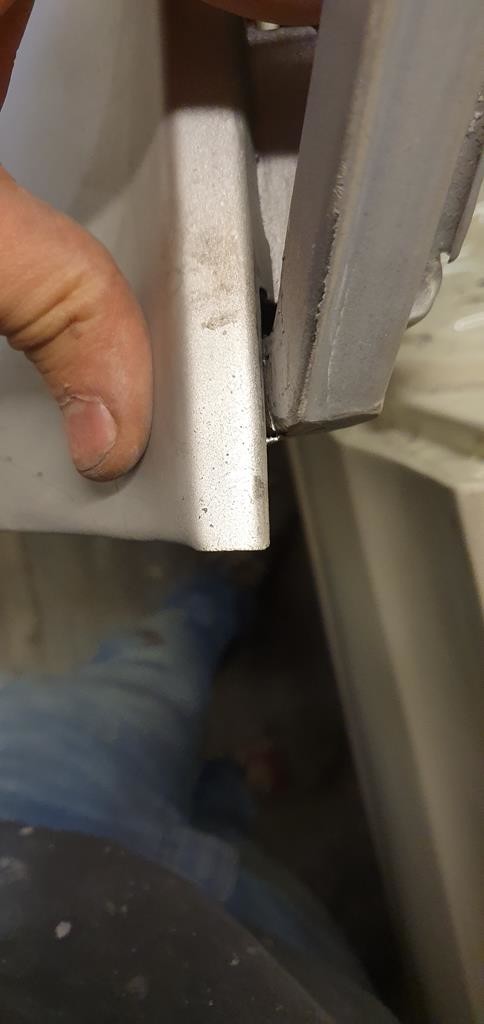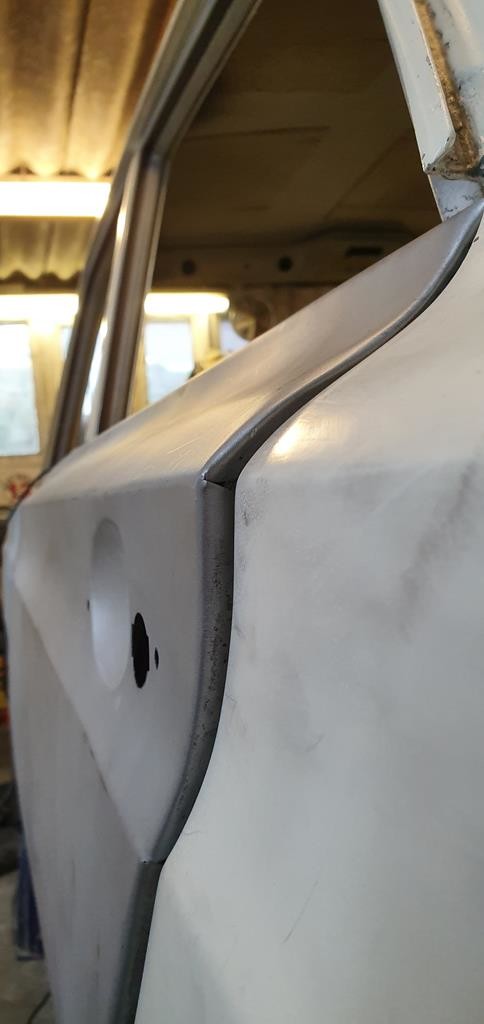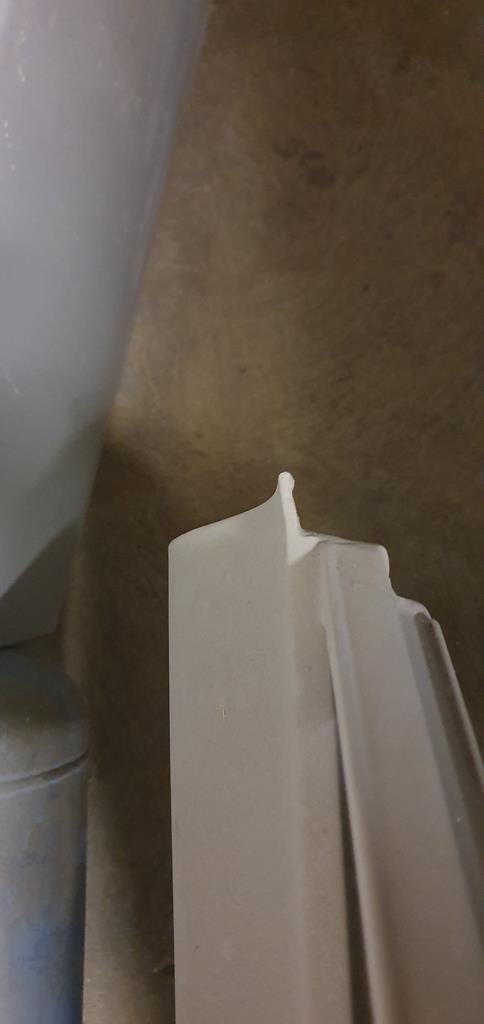 9-25-2019
Ivr just come in from the garage, I started off with gaps that were a little off but I got it to 5mm on the frames and 7 next to the front wing and 8.

I'm happy with the result - I'll just have to see where I'm at with the rear door.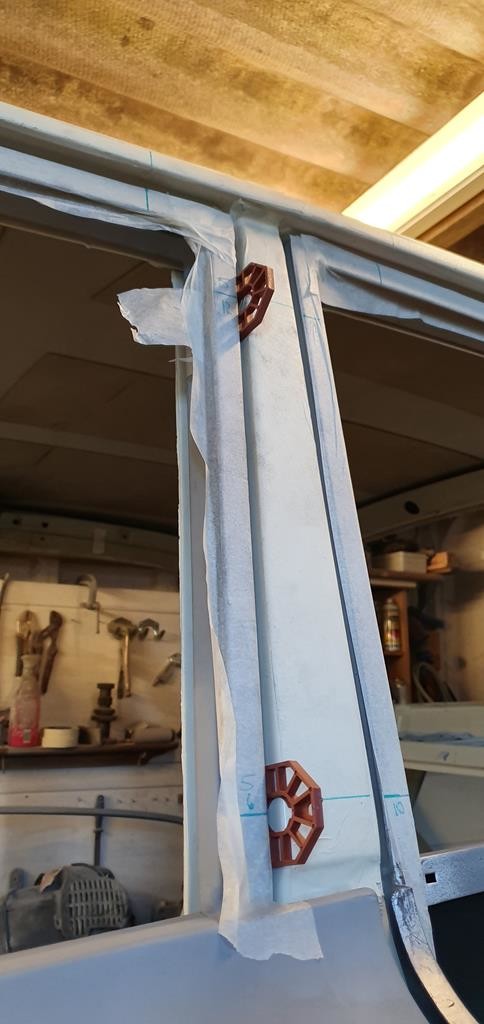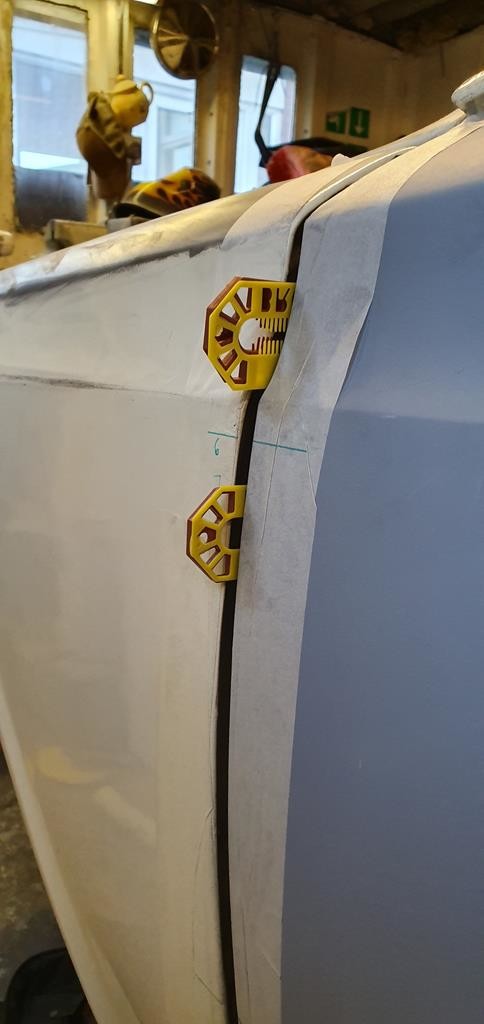 10-17-2019
The last few weeks have been a repeat of the previous posts I've made! Basically lots of sanding,swearing and cups of tea!

My attempt to get the door skin failed and it appears the gaps to wide and too far gone for it to be rectified. I'll have to replace it again but the body shop will do the job as they should have done - lesson learned...

End this on a high note shes been safely loaded and sent in her way, the door will be sorted afterwards they're unphased about it though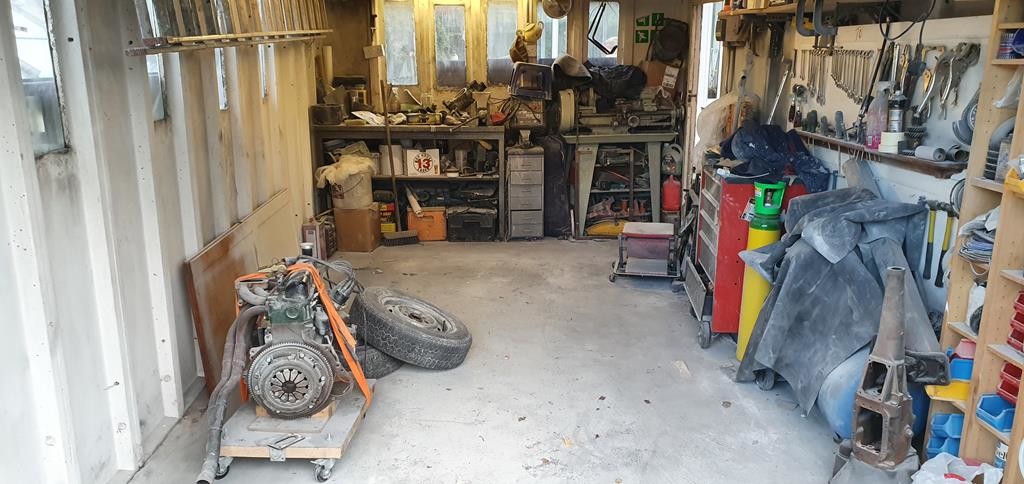 10-20-2019
With the garage free for doing activities.


I've bought the axle and sub frame in from the shed which has earned me some brownie points with mrs jim! At this rate I'll be at 0 by Christmas!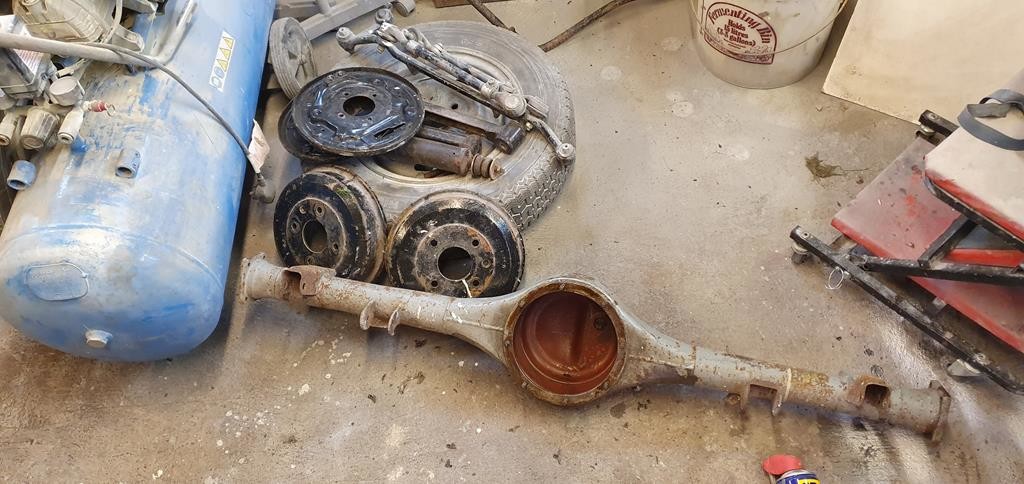 I've stripped one of the leaf springs down but I need to find someone who sells replacement pads/rubbers for them. I've found rubbers but the circular pads are tricky- I may have to make some.

I also pulled the tank out which will need reworking as the por15 hasn't worked- its flaked in the tank and under the paint its rustier than I've worked on yet! Unfortunately its rusted through, I'm in no rush for a tank but I think I'll cut the lower section off and get some more L in there too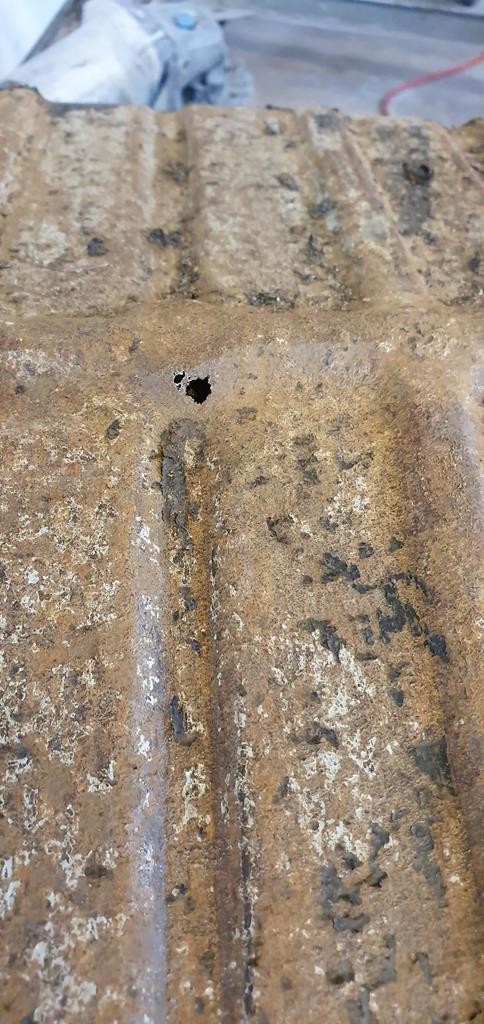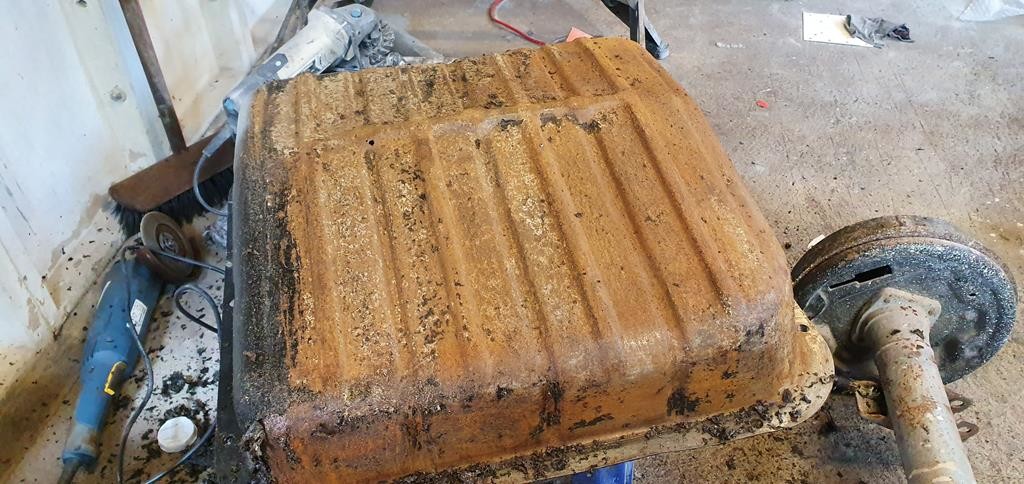 11-3-2019
Shes back! Truth be told I got the shell back - the 3 doors were then dropped off on Friday. The plan is to polish etc once the new skin arrives and the 4th door is finished.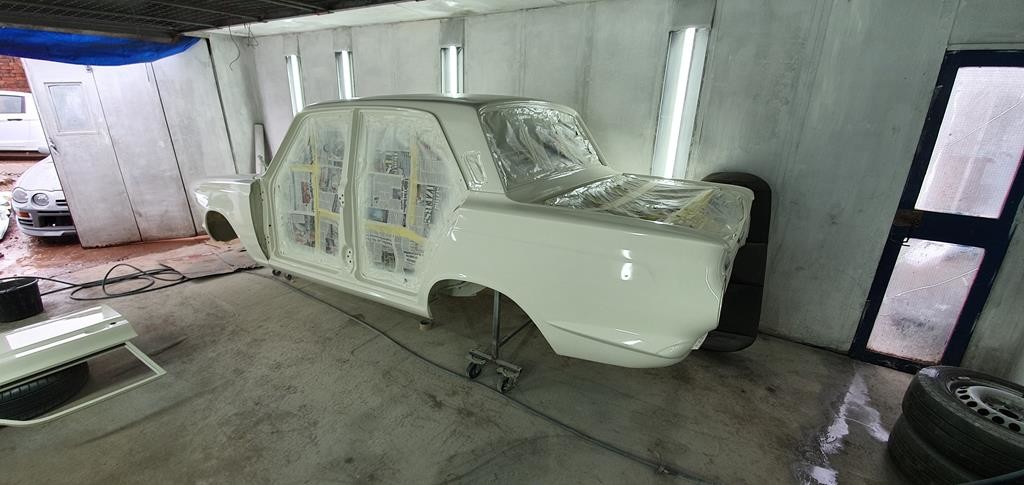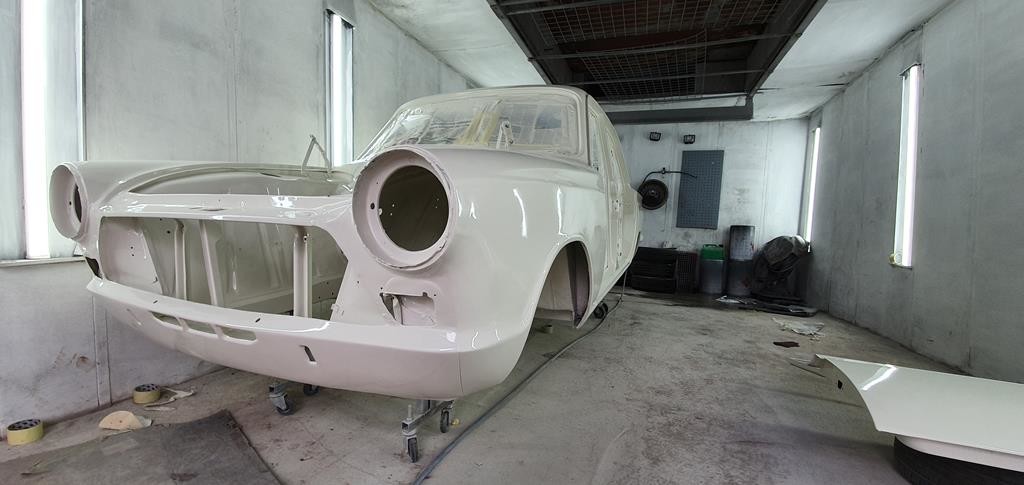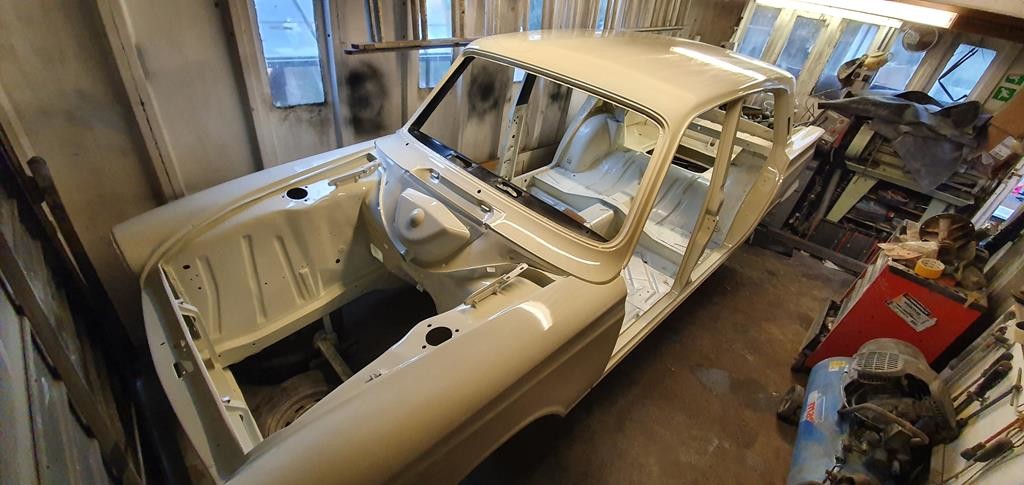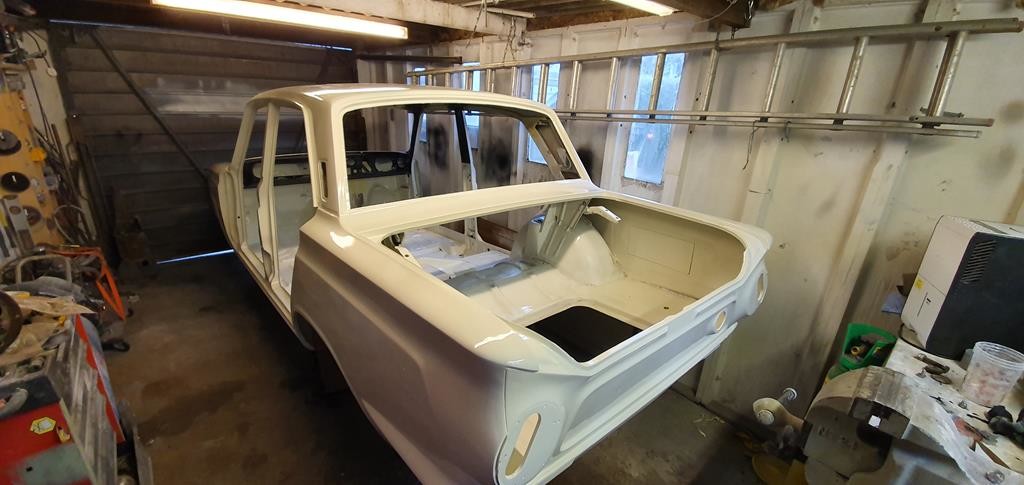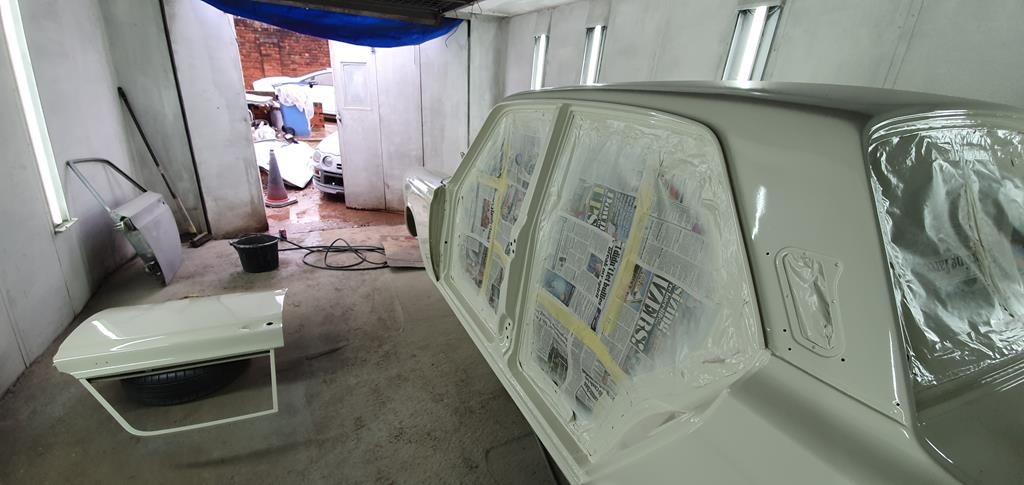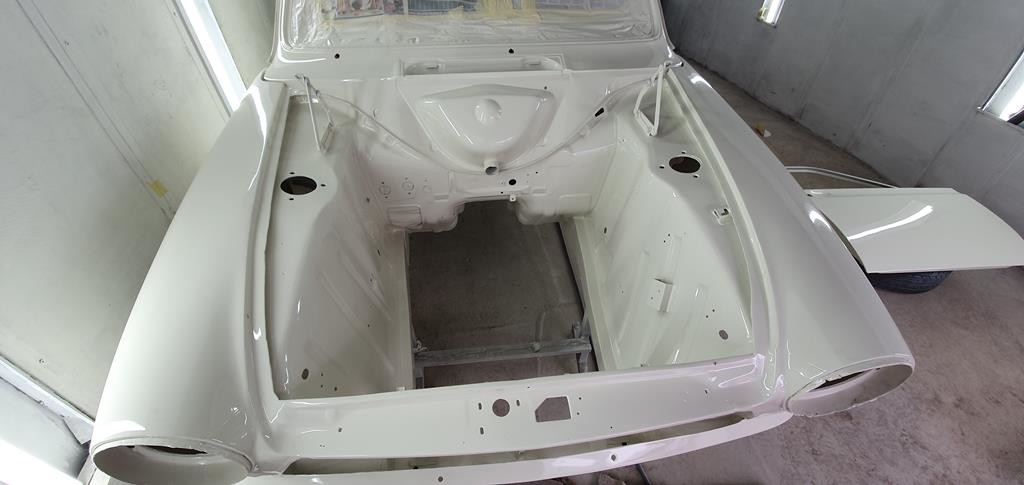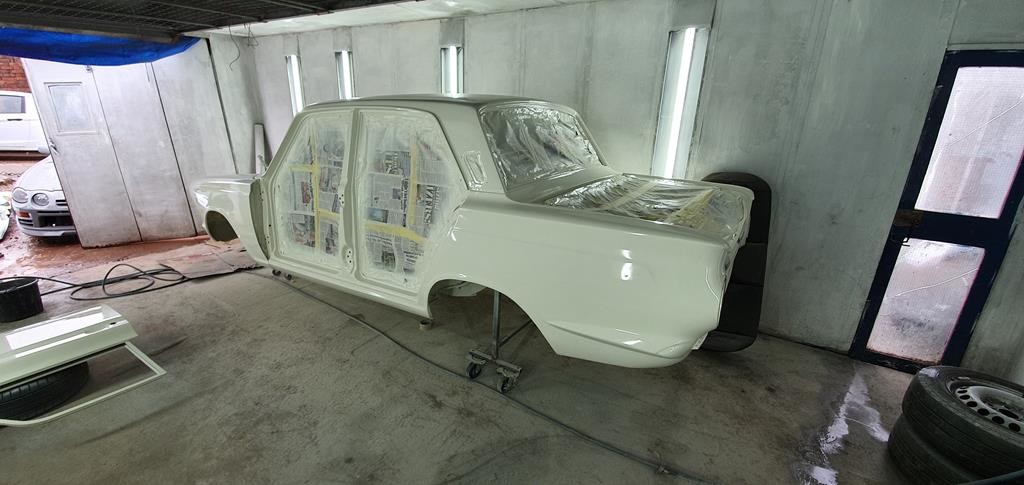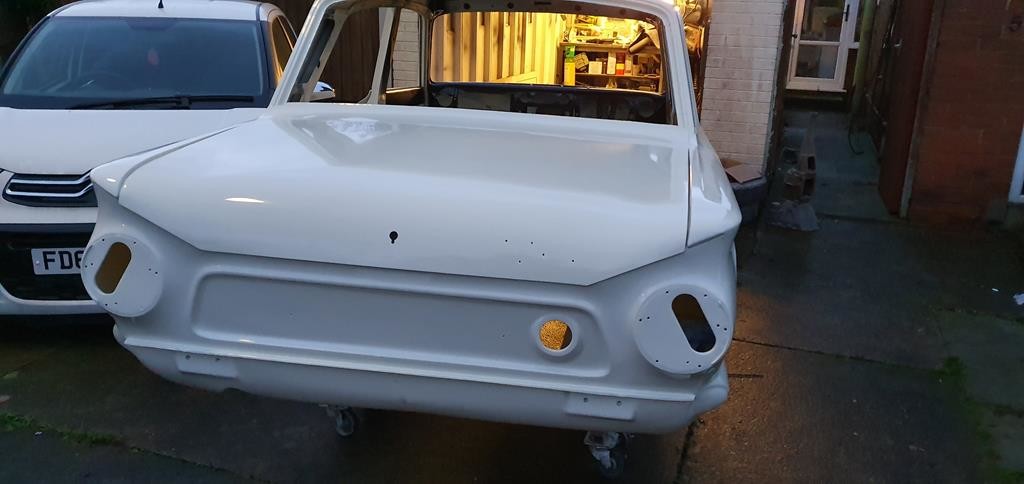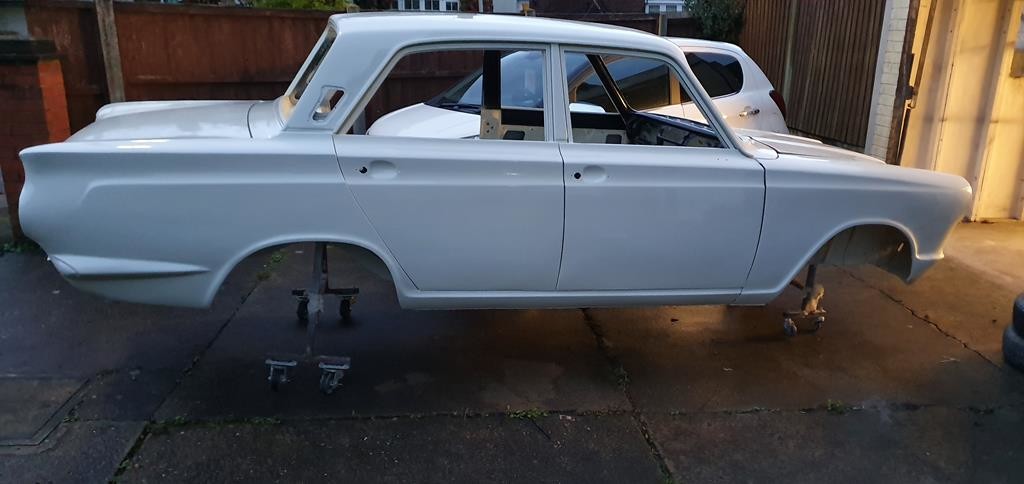 Emmy came to check out the paint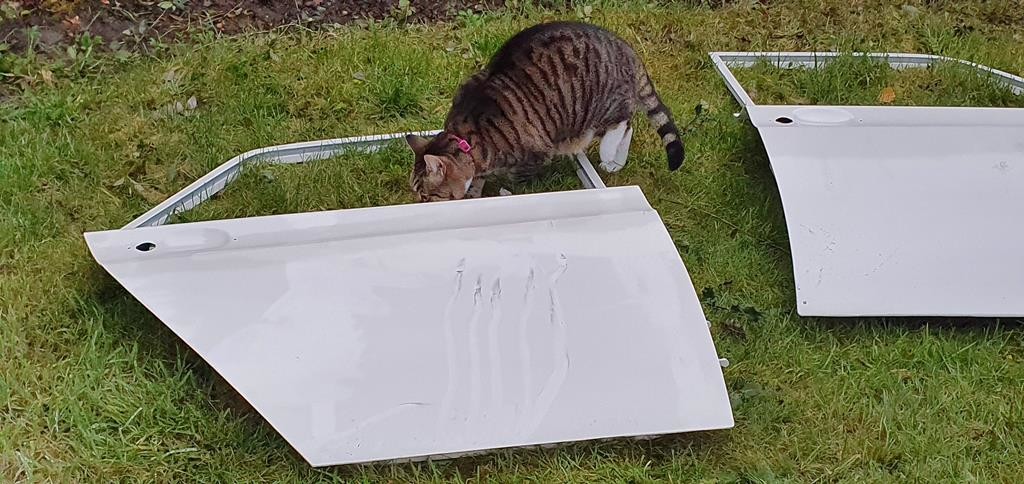 I'll sort the gaps properly but my first job is to get the back axle on as the rear frame has had it!

I'm waiting on a few bits to do this but so I figured I'd put some pedal in!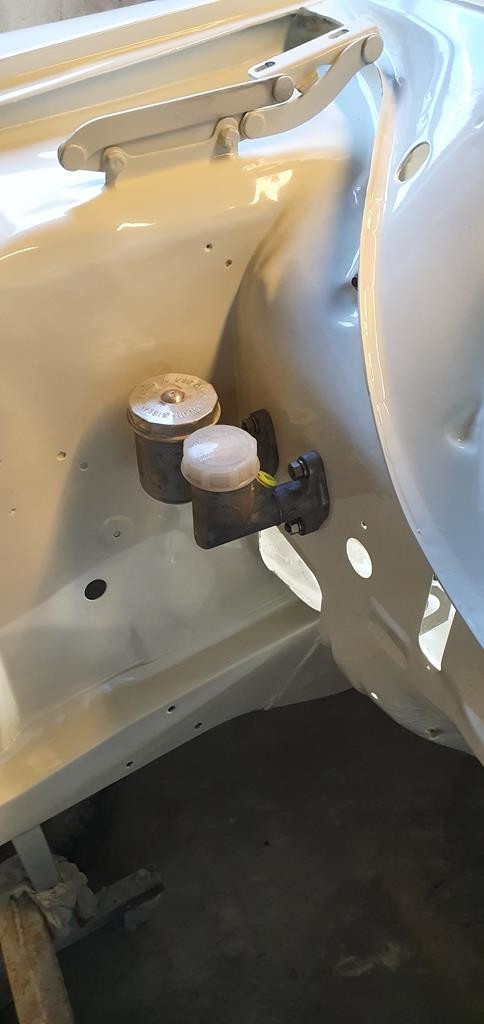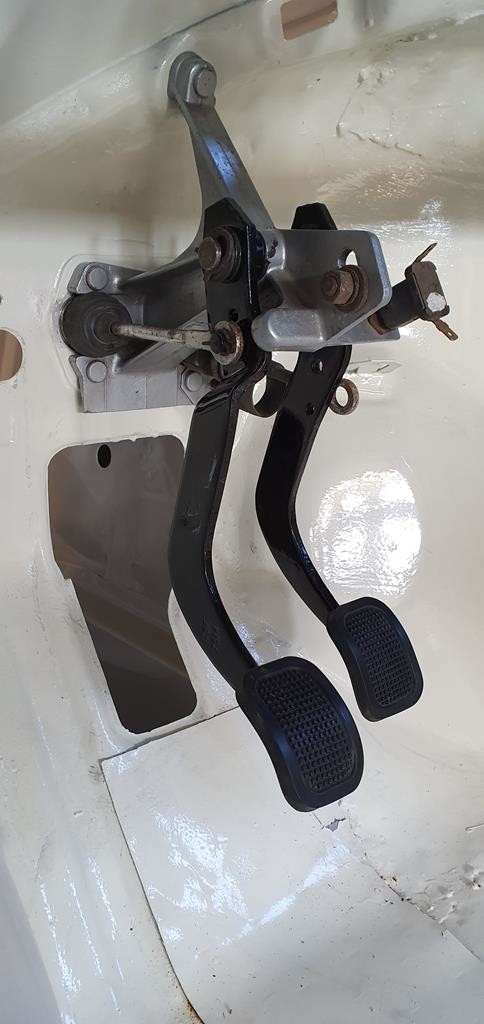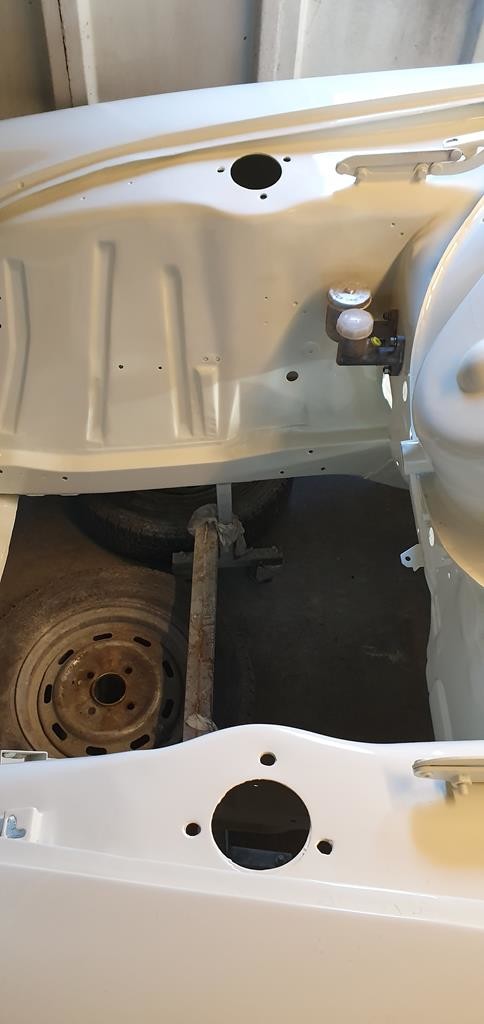 11-24-2019
I used dinitrol and I've done half of your car, I've still got the passengers side doors to do and I'll also get some longer hose to get all of the chassis rails.

Last week I got my 1st delivery of bolts, they're bright zinc plated. I couldn't get all of them from one place. Which I organised into where they'll be used - mrs jim was surprised that I was capable of such things!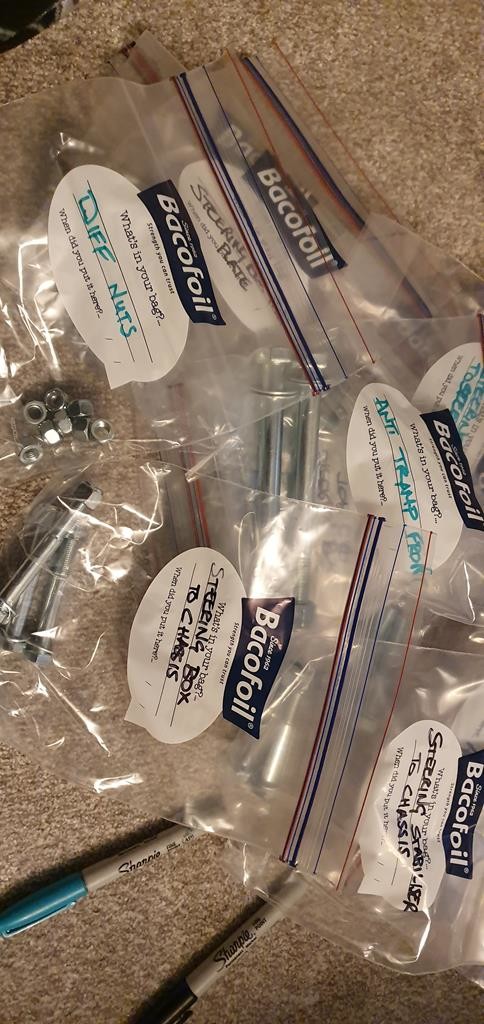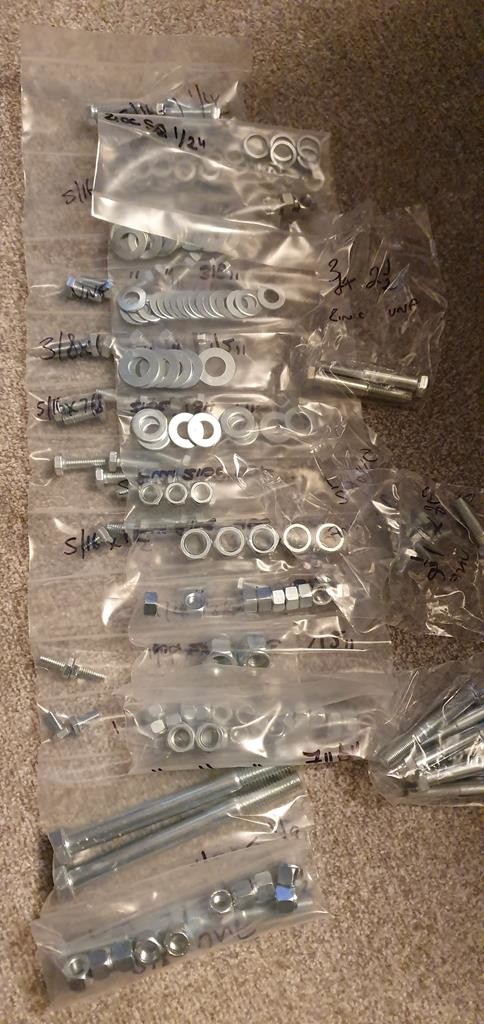 I had some anti squeal shims made up as they're impossible to find, rebuilding the leafs was much easier than I had anticipated. I have a few chips to sort once they're fitted but I'm not worried about that.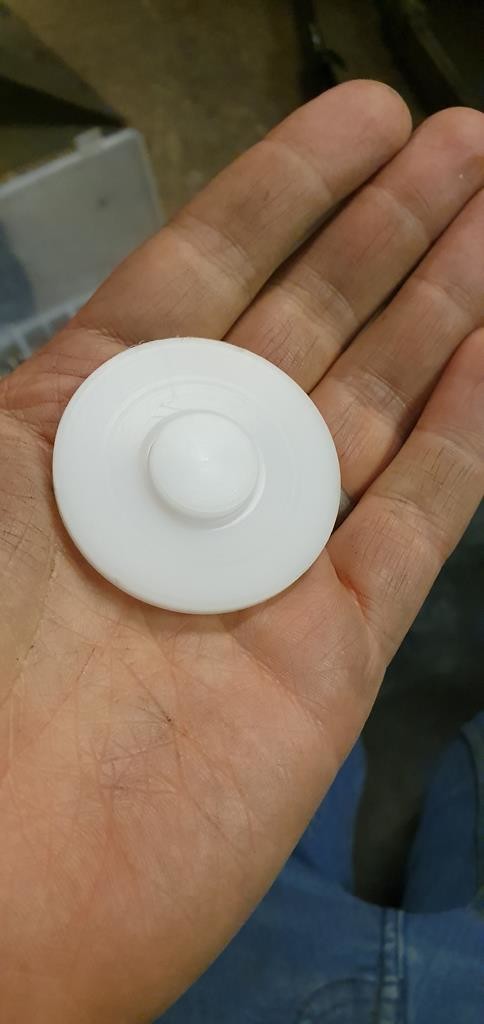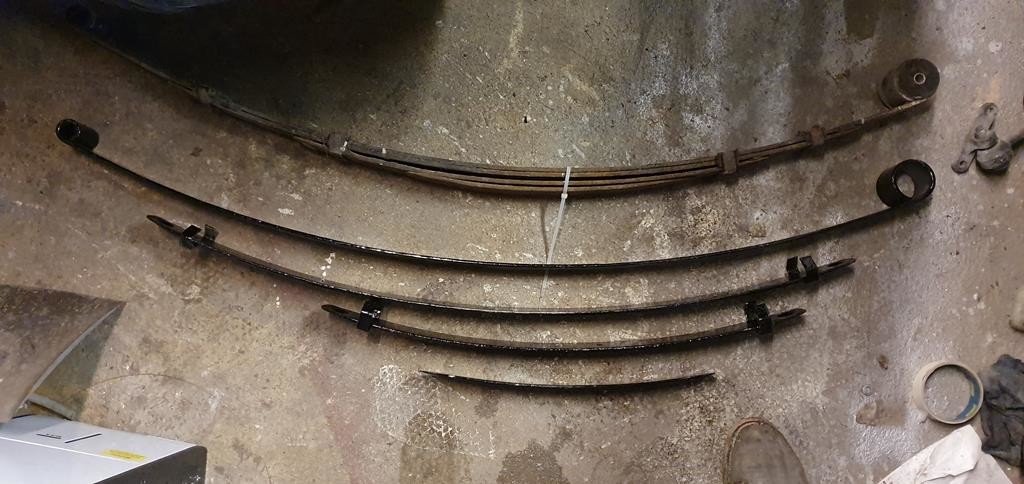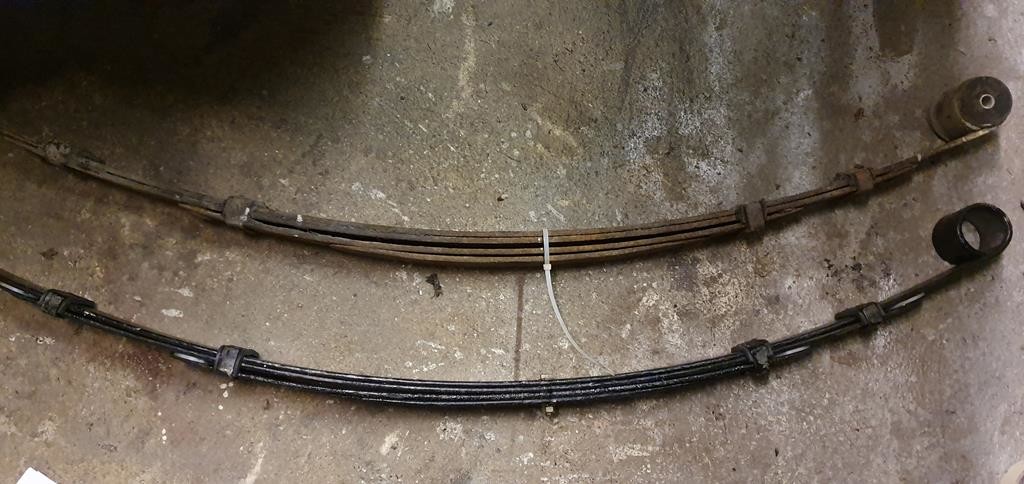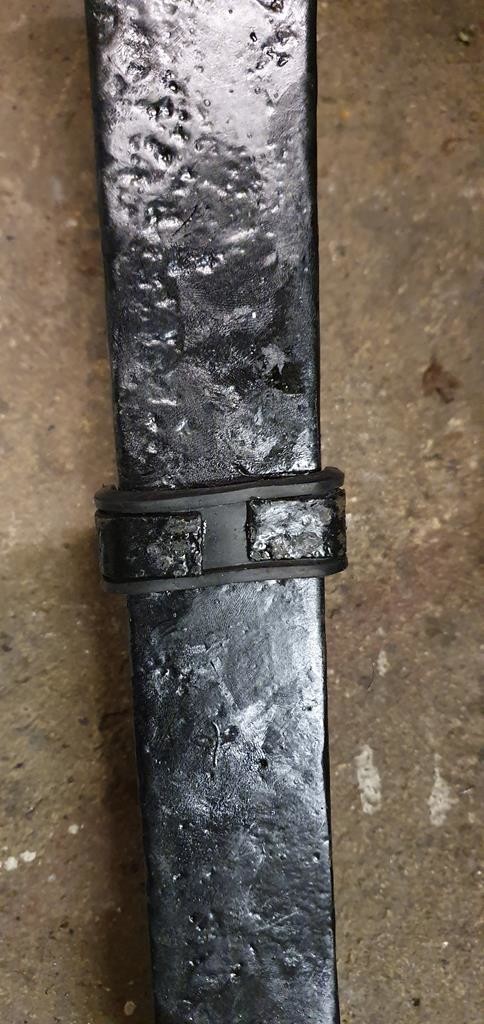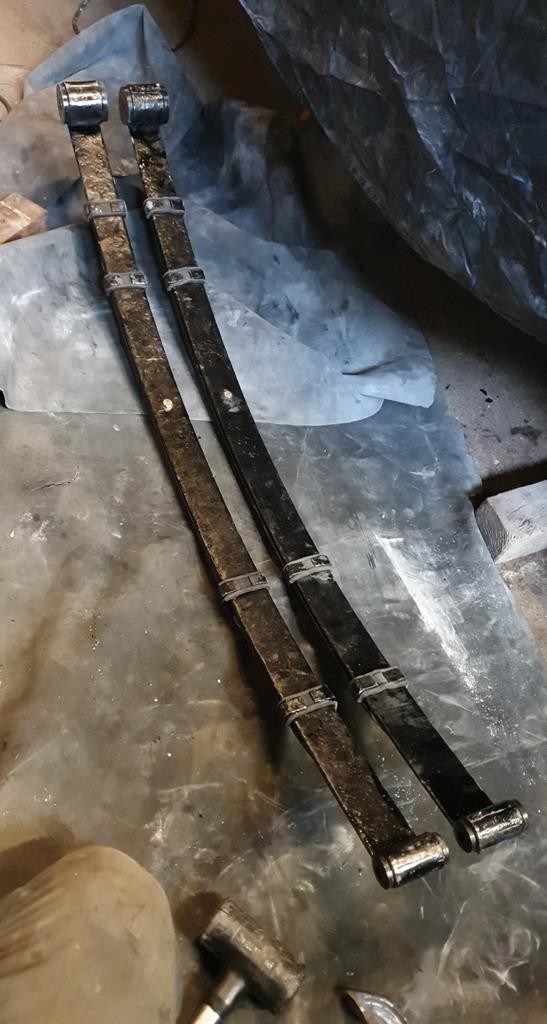 I had a decent session on tina yesterday and got the rear axle on along with the diff.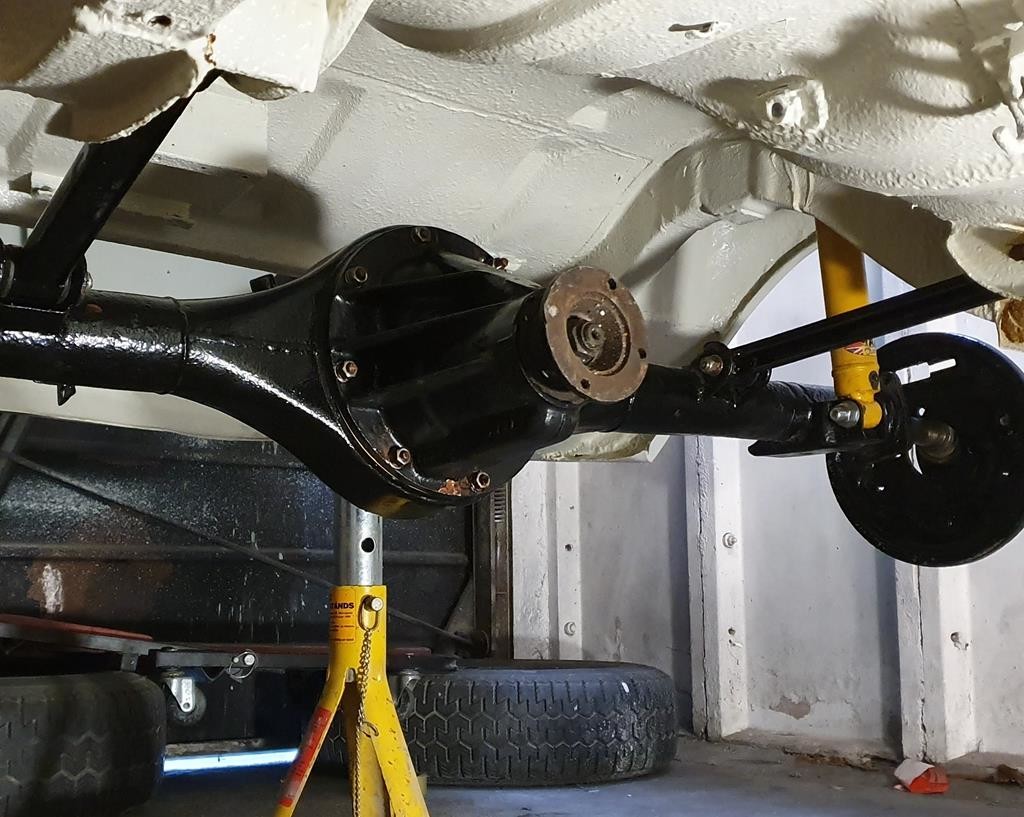 I should have the other fasteners this week so I'll be able to get the springs on and dropped on the deck.

Before I sign off I'd like to ask if anyone knows of any good chromers and zinc players. I'd like to get the C pillars done and the eyeball vents (plastic?) And the grill (aluminium).

Pics for reference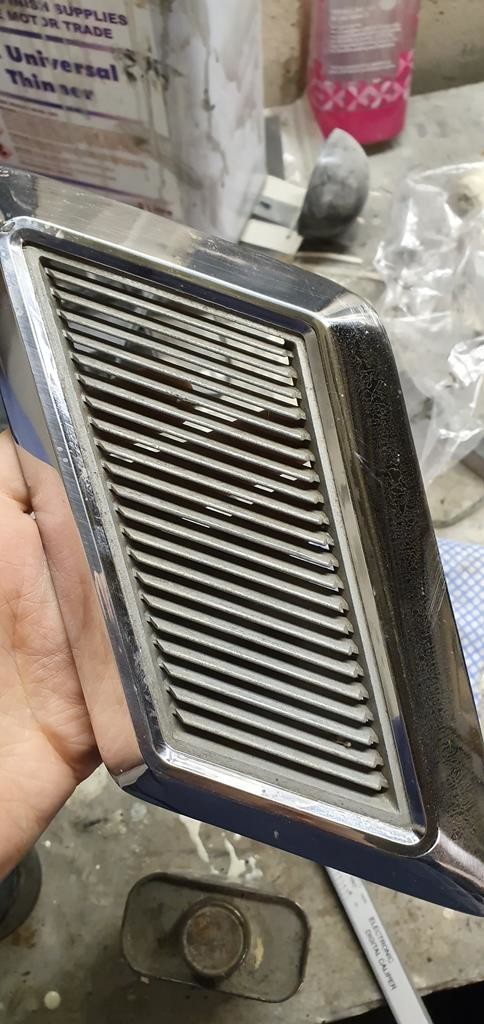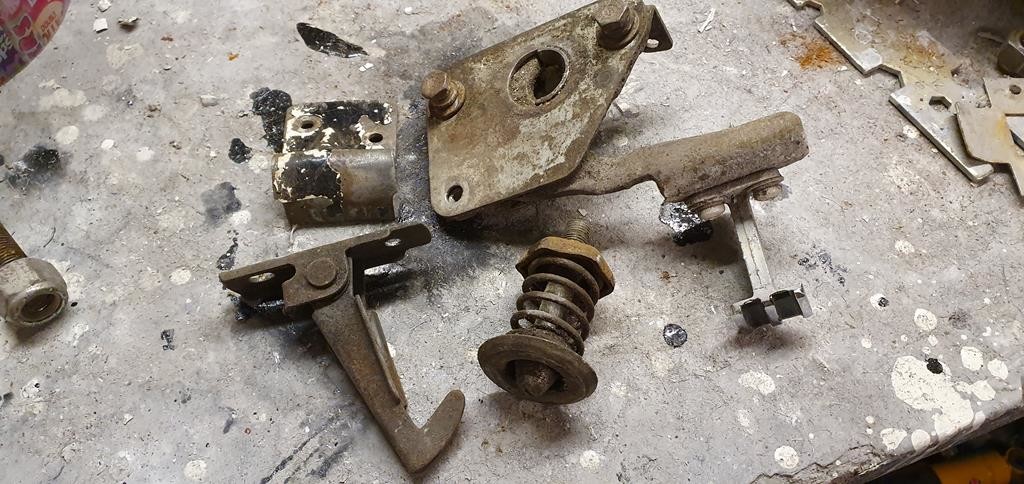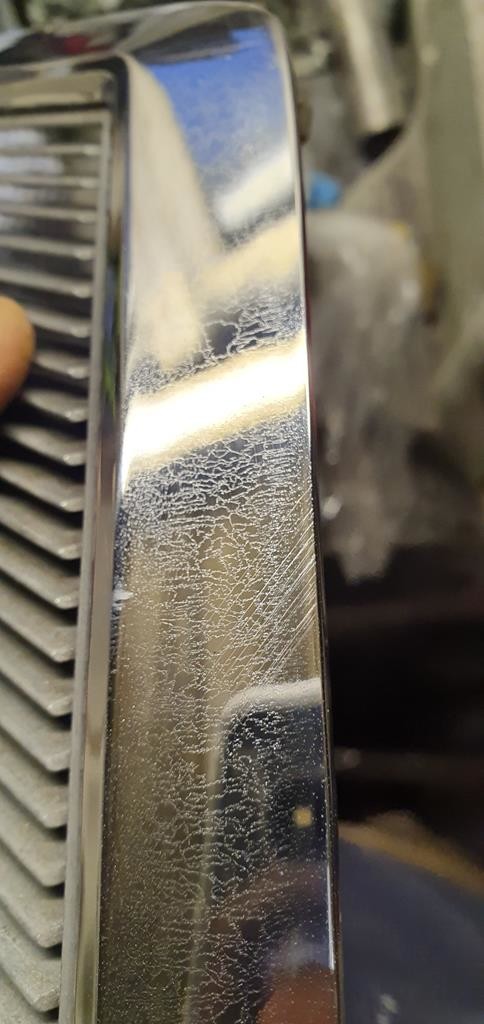 12-29-2019
Thanks Pete!

I've been working on the front end since the rear went on and I'm feeling as though things are taking shape.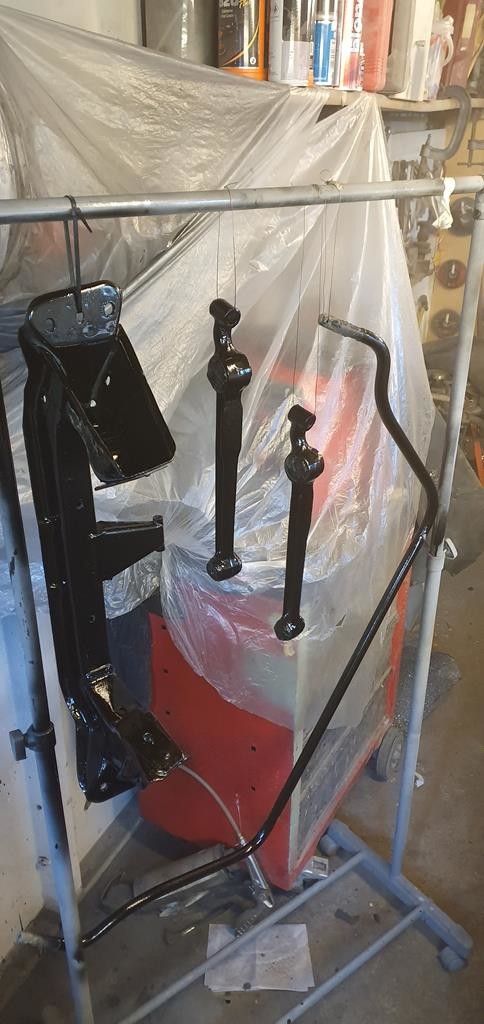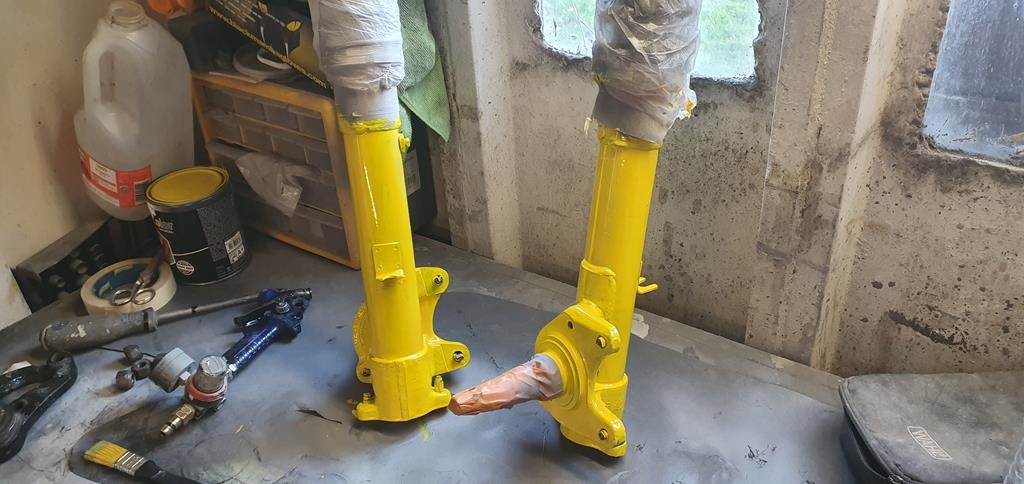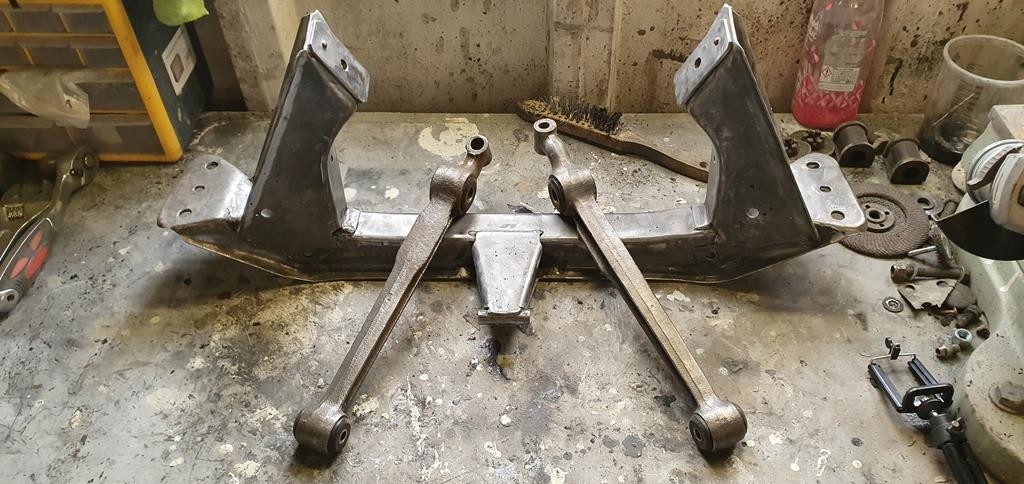 I've modified the steering arms so they can adjusted without using grips. It's an M18 nut filled out to 20mm, it's worked well but the track rod threads feel tight so I'll either strip them back again and see what the issue is or look at making new ones from hex bar.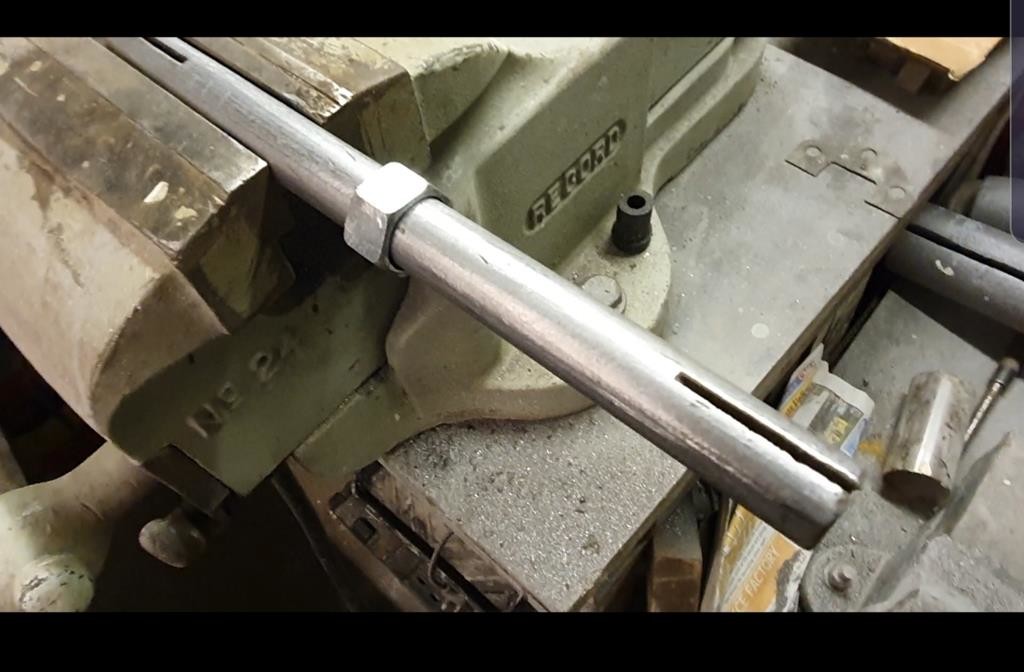 The steering box has been tarted up because it's in a great way as is so why risk messing it up!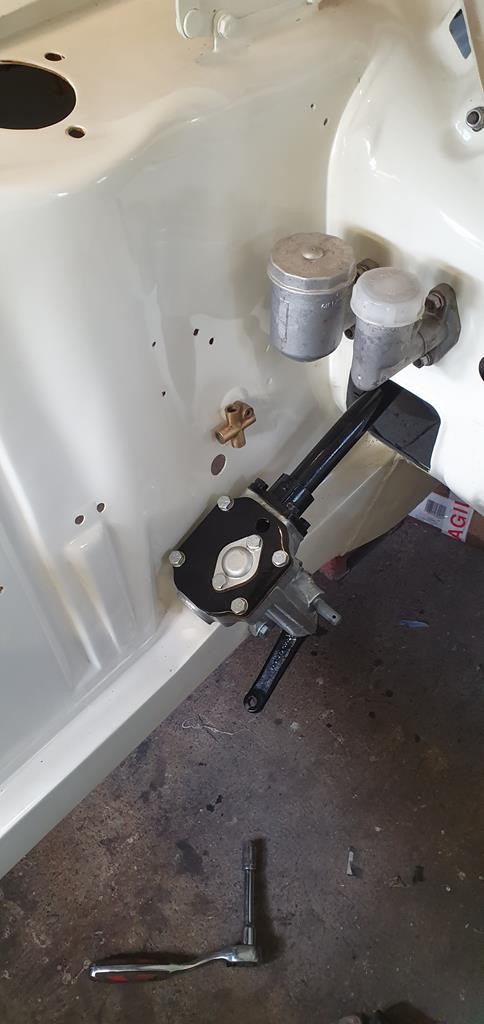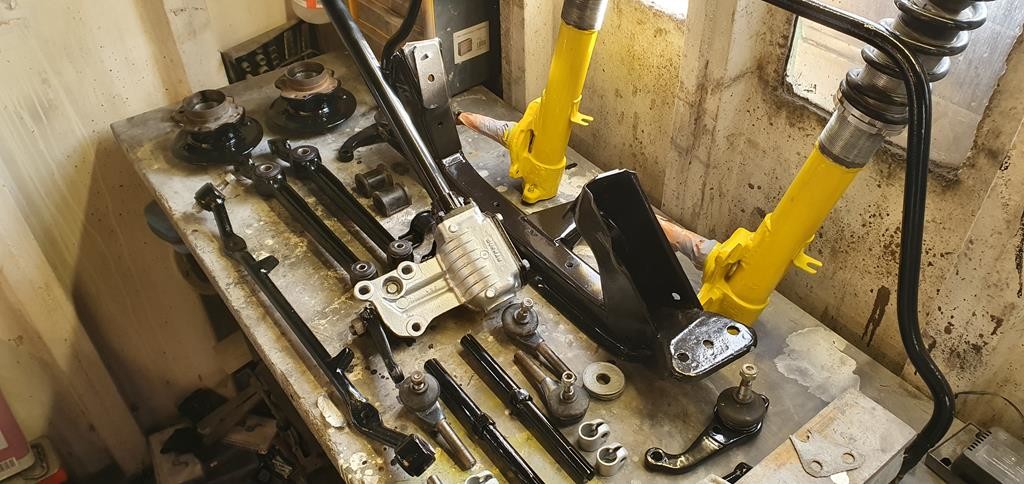 I've made a video about all this so please watch it - I'm new to this side of work so I'd appreciate some pointers!
1-17-2020
I've been making progress with the front suspension, all the shiny bits have been fitted.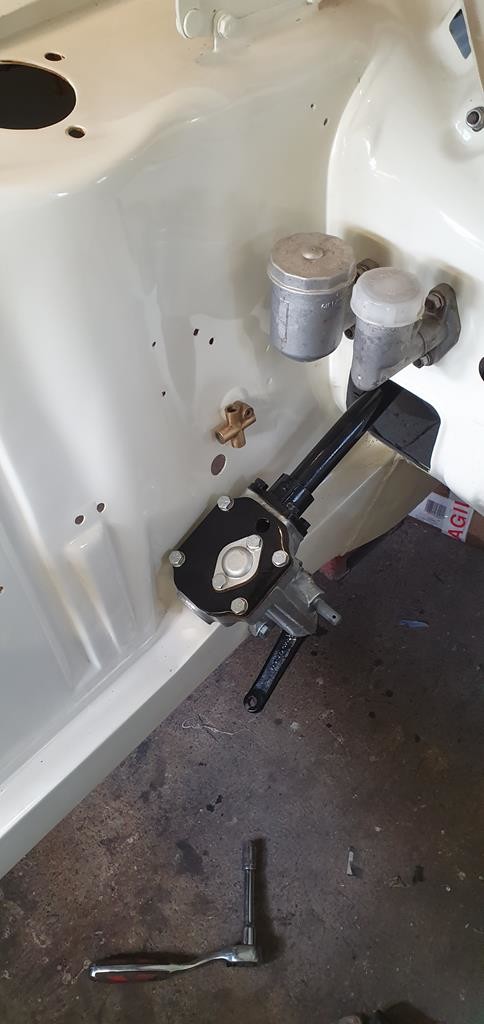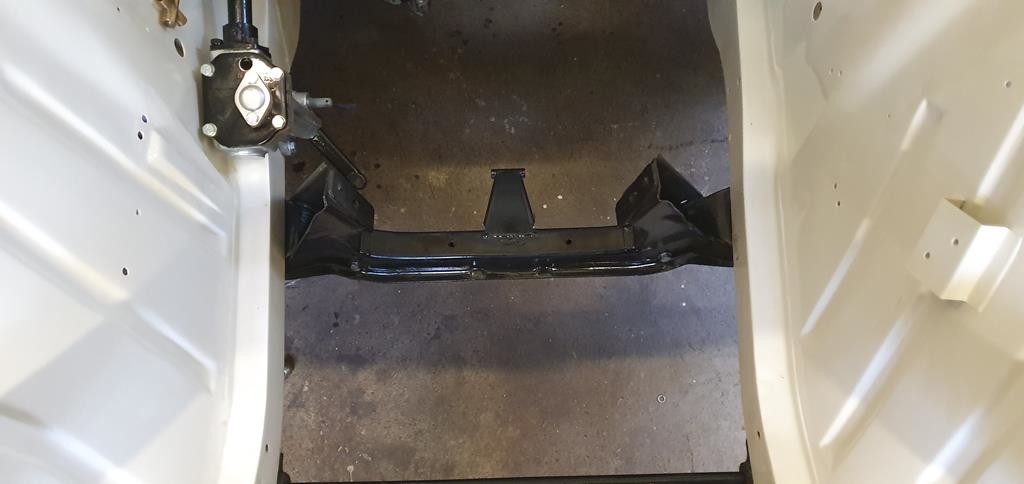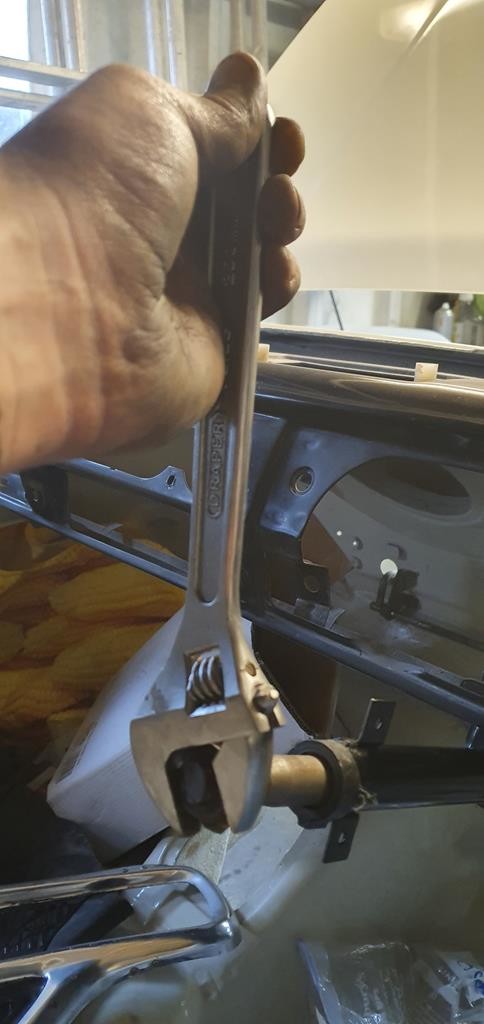 The steering wheel isnt ideal!

The tyres are rubbing on the struts more do on the drivers side so I need to take some measurements.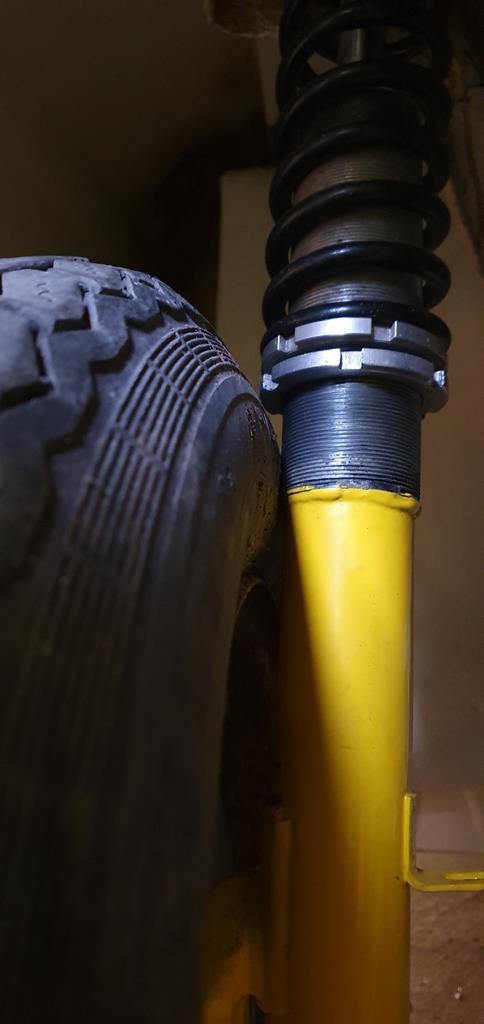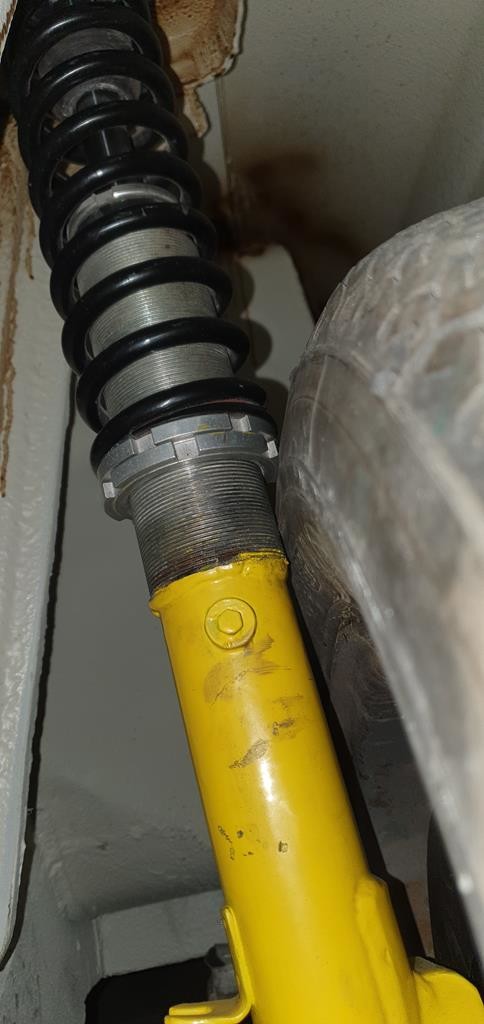 I'm waiting for some brake bits to arrive but thanks to Pete and Jonsey for your help. I've got the back plates located correctly
1-20-2020
I was having a look at the tyres this morning but they're 165's the N/S that's lightly rubbing can be spaced easily as for the O/S.

The calliper fitment on the NS is correct whereas the OS it is hitting the disc, I also believe that the OS hub isn't seated correctly. I'm going to pull it off and check the bearing fitment and then refit the hub.

Going back to the wheels I think they might be from a mk3/4 escort - these are the stunt wheels and won't be on the car when it's road legal so I think they're a different offset to my Dunlops. This rubbing is common with coil over converted struts as I see that retroford sell alloy hubs that eliminate this issue but right now I need to put that money into more important stuff like seals or rebuilding the gearbox
2-12-2020
I managed to rebuild the drums which was made much easier thanks to Jonsey and Pete - I owe you both a beer!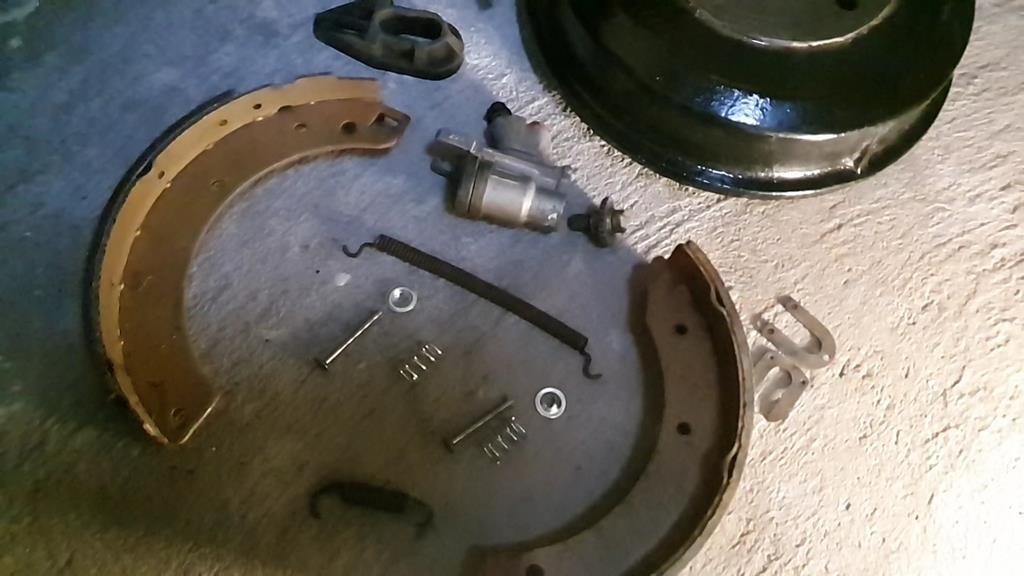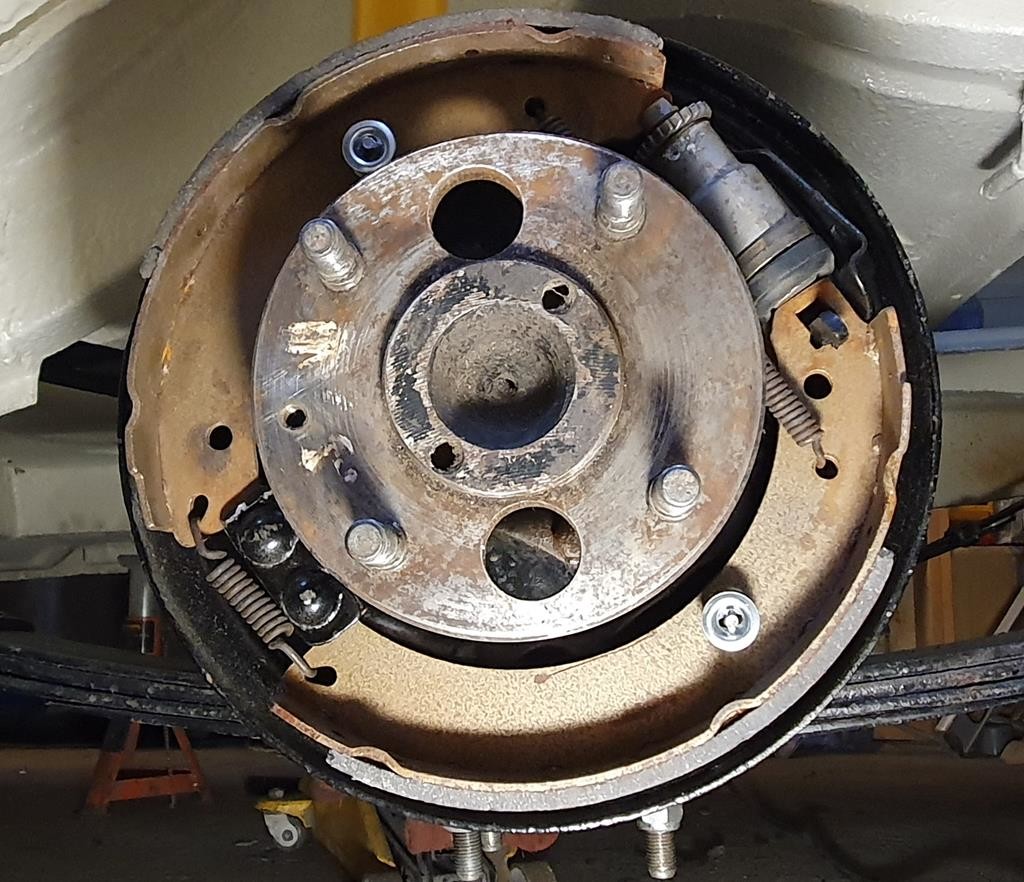 With the rear drums on I focused on the rear brakelines, the lines came from Ebay years ago which I thought was a good idea given they were probably flared etc but they were either too long or short - annoying but easily sorted.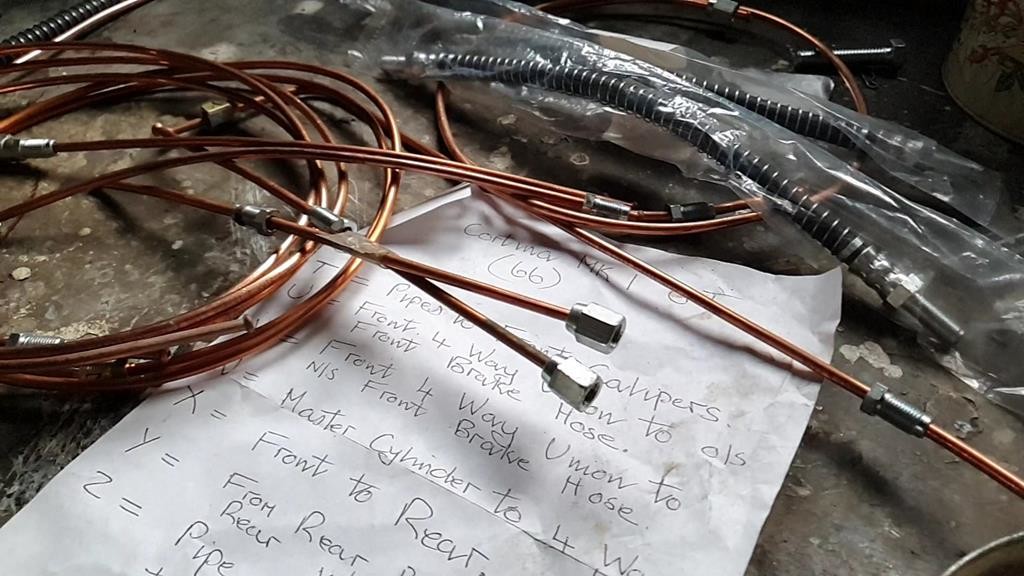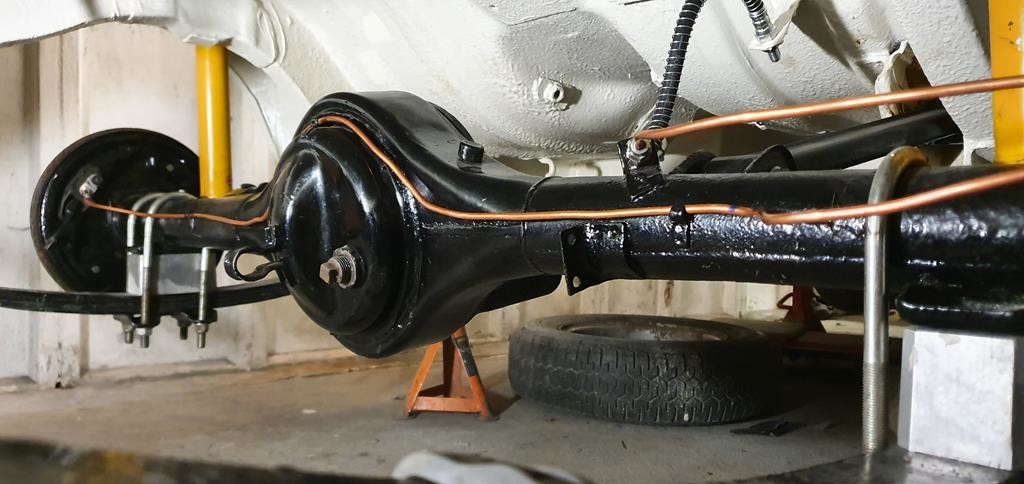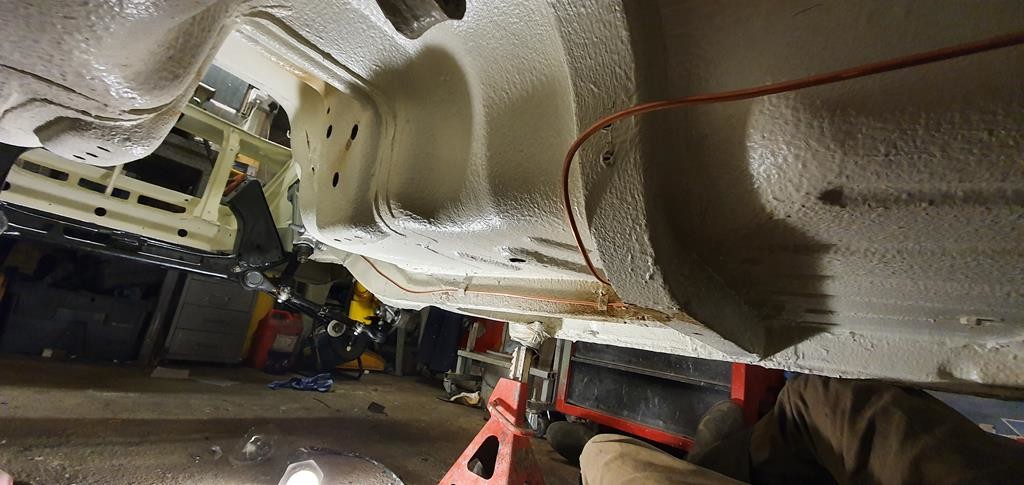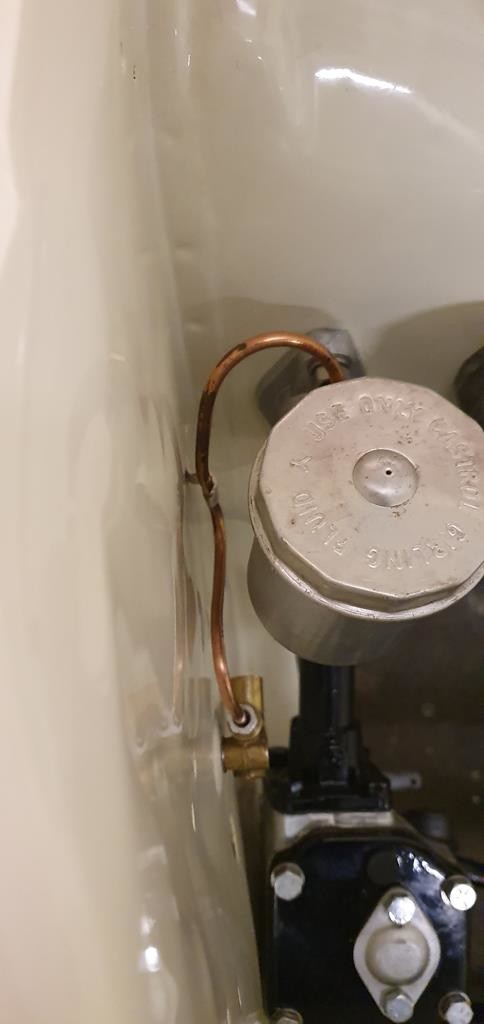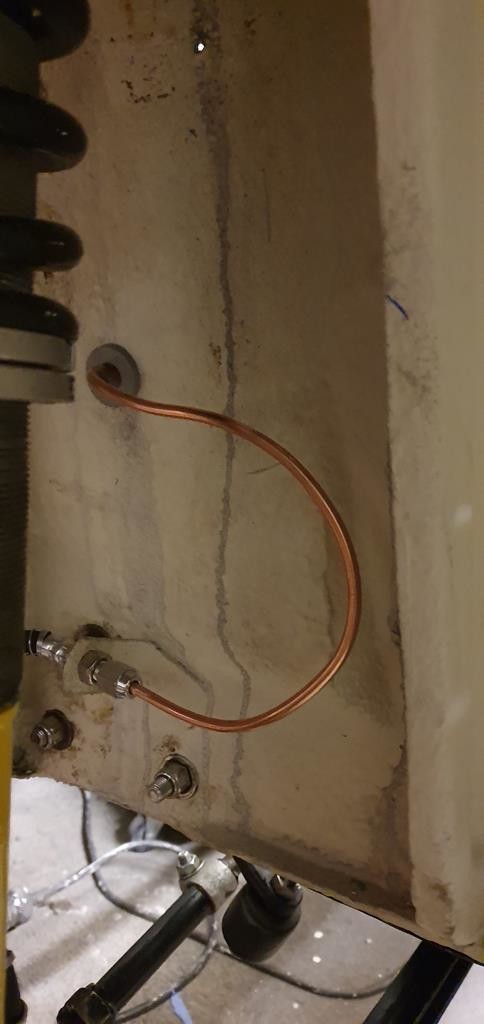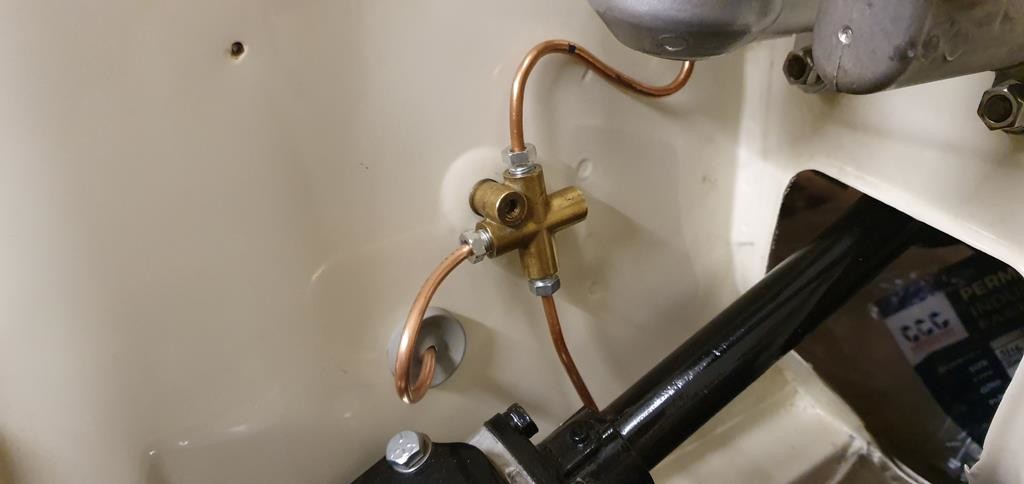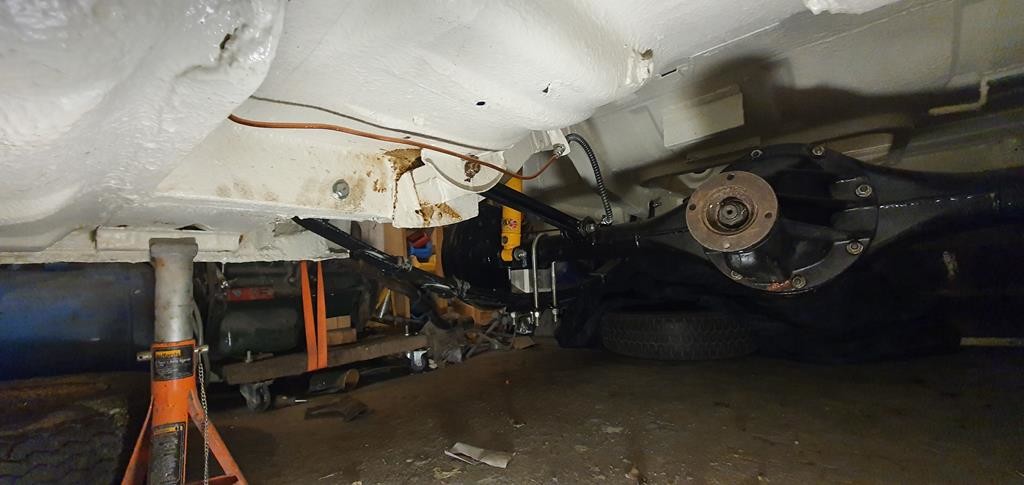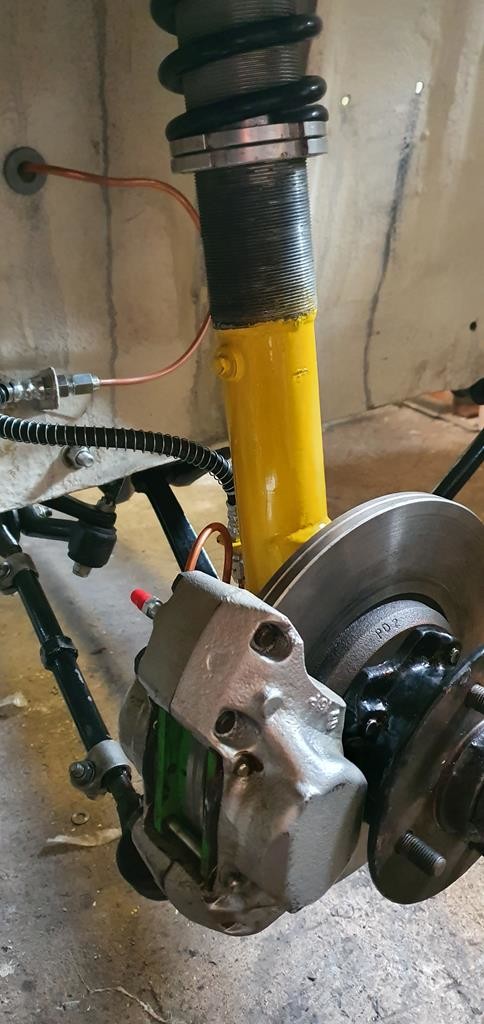 I used 3mm spacers on the front so now I'm fully rolling not that I'm going far in this weather!

I have made a video of my latest exploits!


3-4-2020
I'll bear all this in mind and I'll ensure it's all supported.

Has anyone used silicone brake fluid? I'm wanting to bleed the brakes but I'd like to not worry about my paintwork?

I've been avoiding the wiring because I have flashbacks to when I smoked it!

So I decided to sort the wiper motor!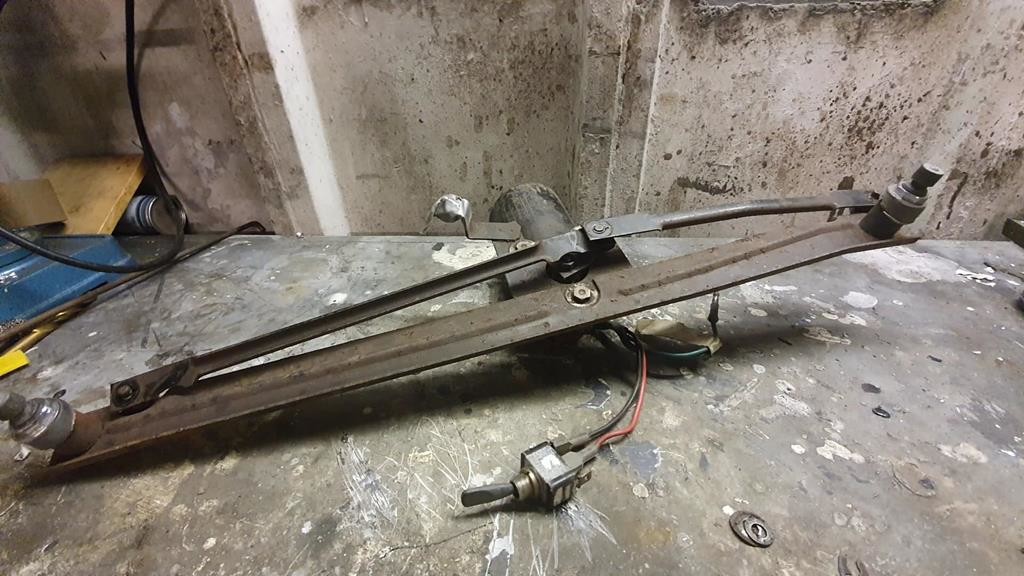 The wipers were slow moving and a little hesitant to start up which sounded like the armature needed to attention, one of the bolts that holds the motor together was sheared but easily removed - I couldn't source replacements so I managed to tap it to M5 which has fixed it.

As prescribed the armature was scored but the bushes were ok so I used some 600 grit to clean the surface and then re cut the gaps and now it has a lovely movement and starts on the button!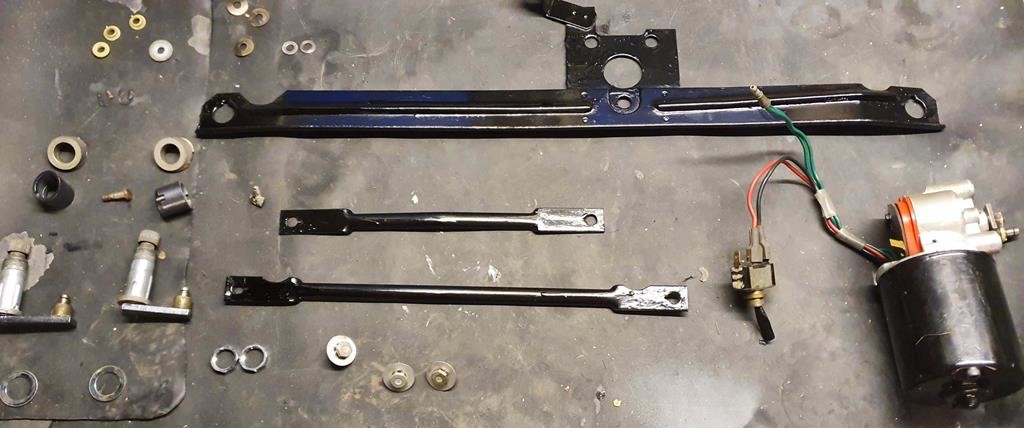 I would recommend doing this if you have a similar aged car and it's relatively easy to do - I filmed it for reference
I can't keep avoiding it - it's time to look at the wiring!
3-15-2020
Thanks for that Pete, it's good to know many of us have used it. I'll get some ordered.



The last week has been spent going over the loom, after it was removed I put in a box in the loft it's as it was when I removed it so should be a straight forward job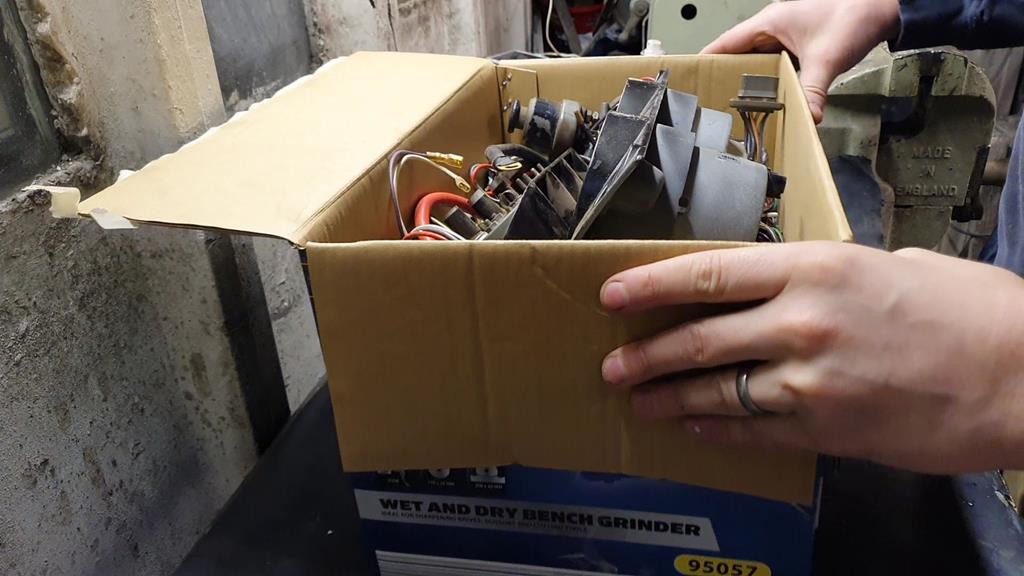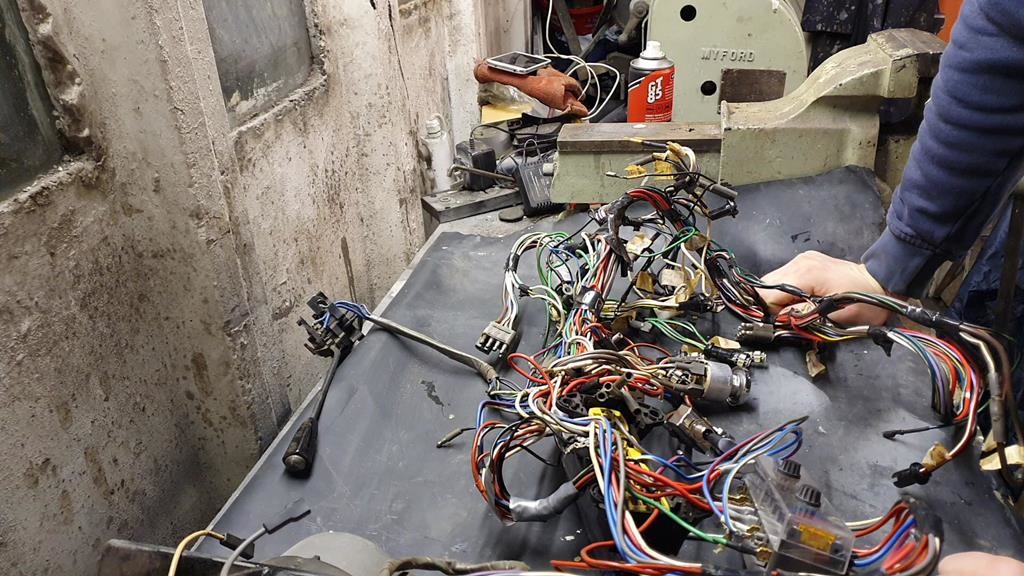 The engine bay loom needed a new wire running to approximately where the oil pressure sander is as I need to fit an oil pressure switch for the fuel pump. This was easily done as the bulkhead connectors have space for 2 extra wires - you just have to drill it!

The only part of the loom I never looked at was the part that goes front to back and it looks as though its had some action.
M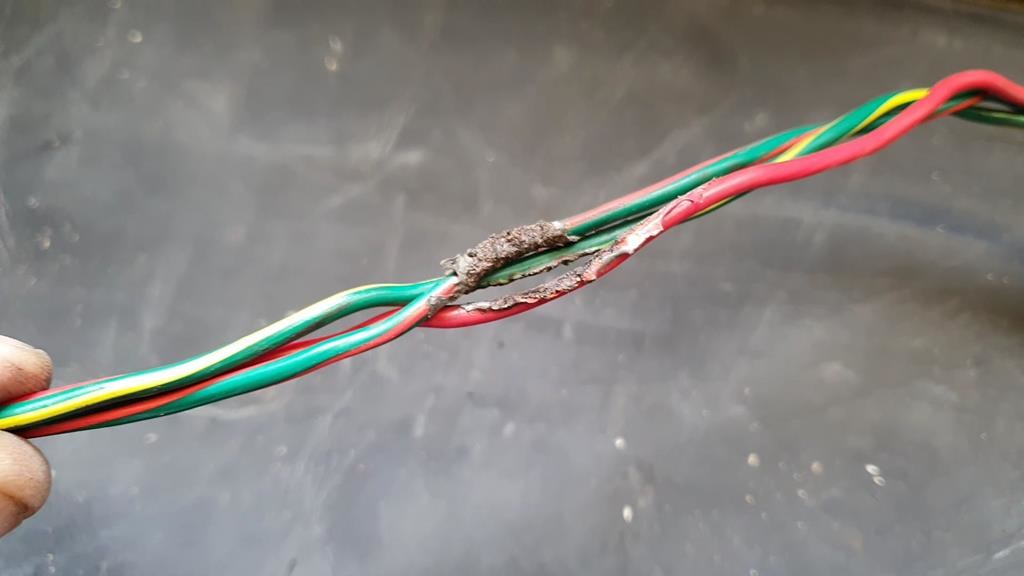 It's not from a short as its midway along the loom between the 2 tail lights so something must have caught it.

Easily repaired and wrapped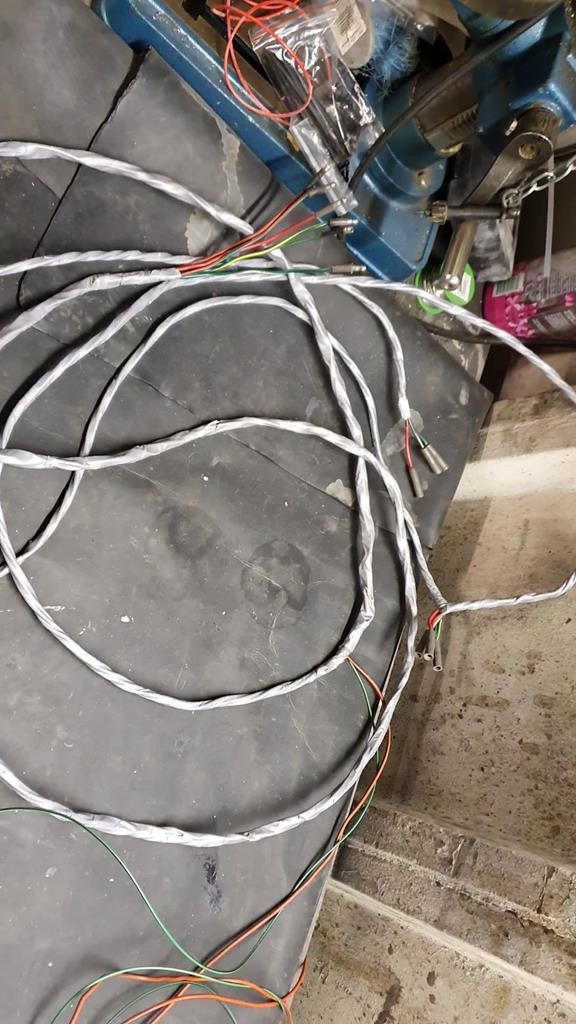 If you're interested in seeing how I added the wires in and repaired the loom - i filmed it.
3-28-2020
I didnt know 5 was friendlier than 4. The boot loom is an odd one, I need to go over some old photos as I'm not sure I've got in in position correctly - I don't want to wreck this one too!


Speaking of the loom I have now mounted it in the Cortina which wasnt as hard as I'd expect it to be although I didnt order enough loom clips!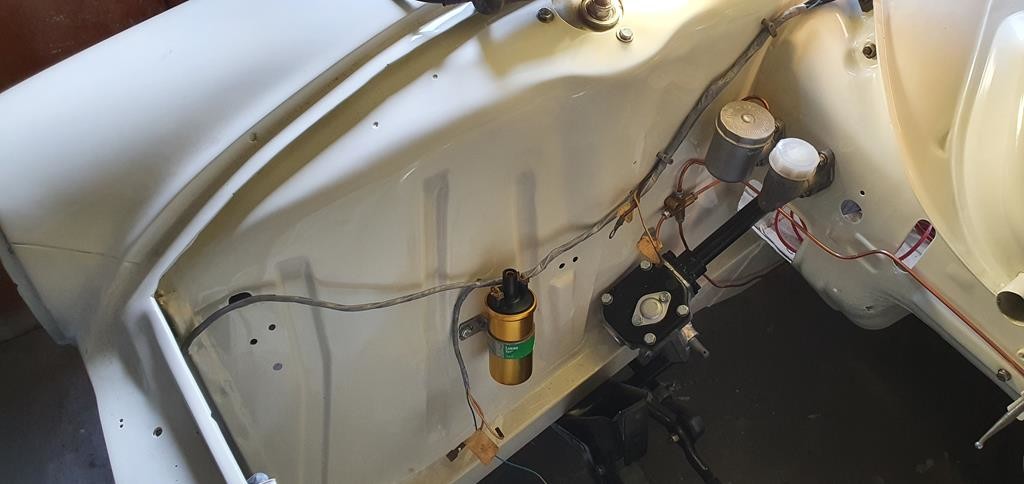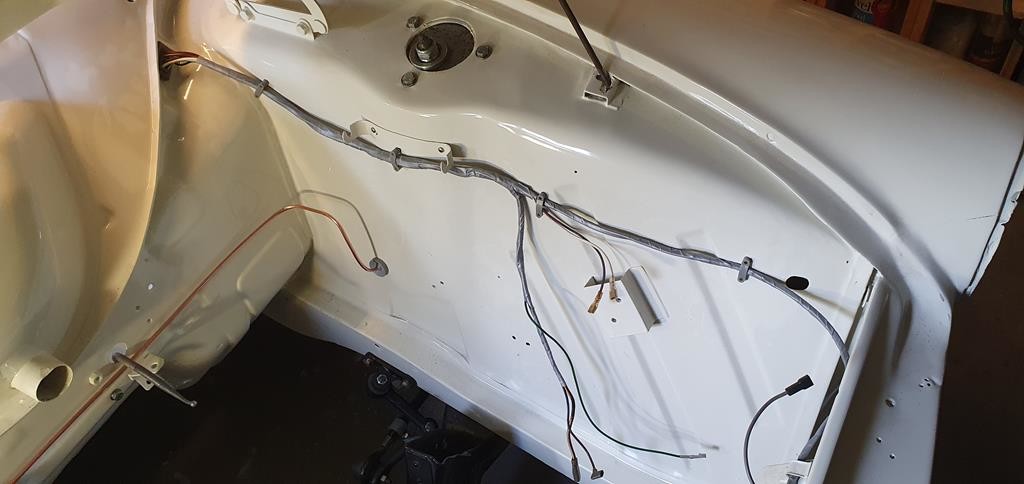 The under dash is in place but not taped and I want to try it all before I work out the best way to tape it etc so cables arent too short or too long
Last weekend I was cleaning the tail lights ready to fit them and found that all 4 bulbs are original Ford ones which I still cant get over the fact they're working after 50 years!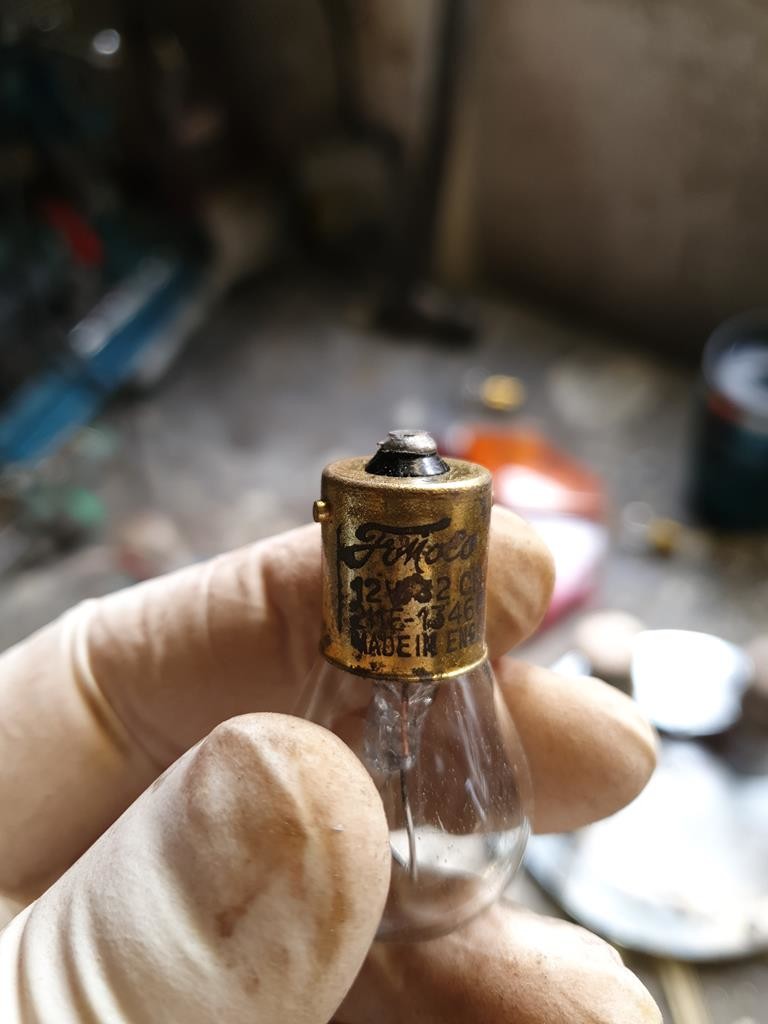 The tail lights just needed the lenses cleaning and new gaskets.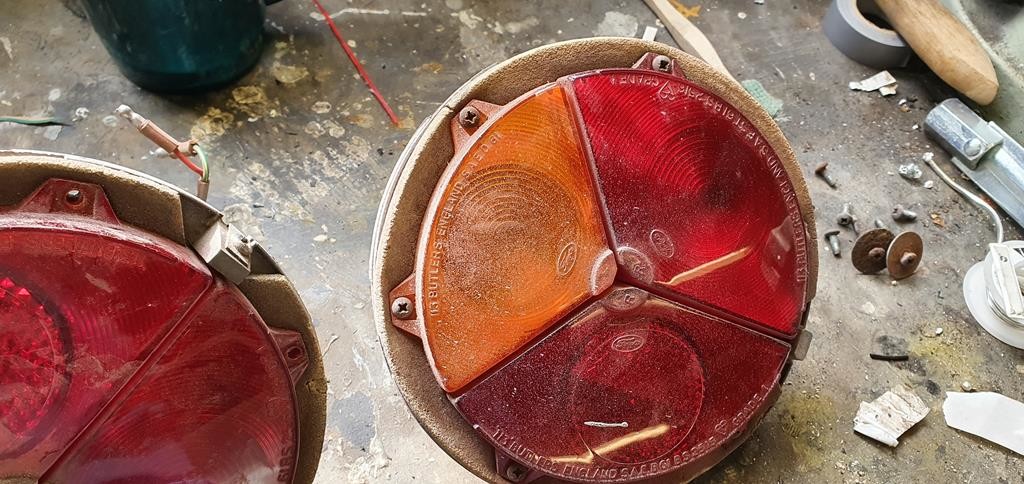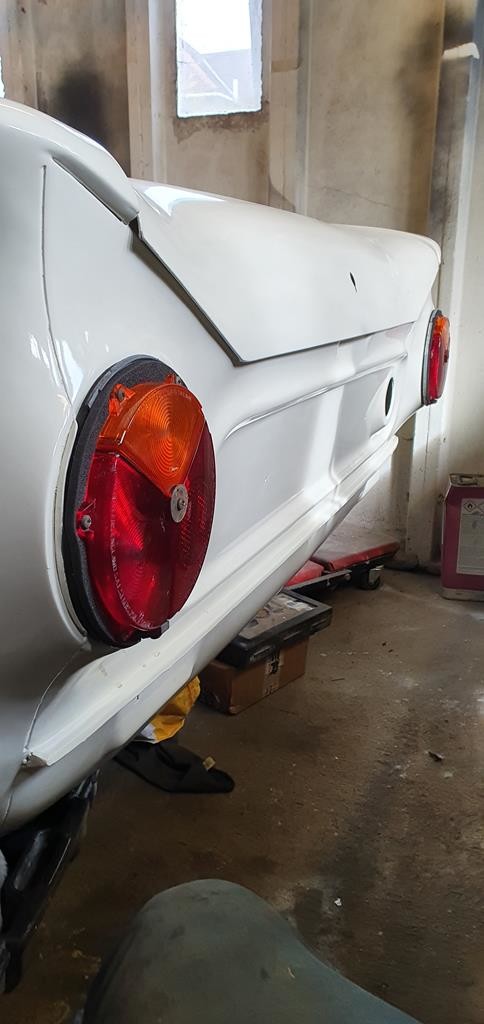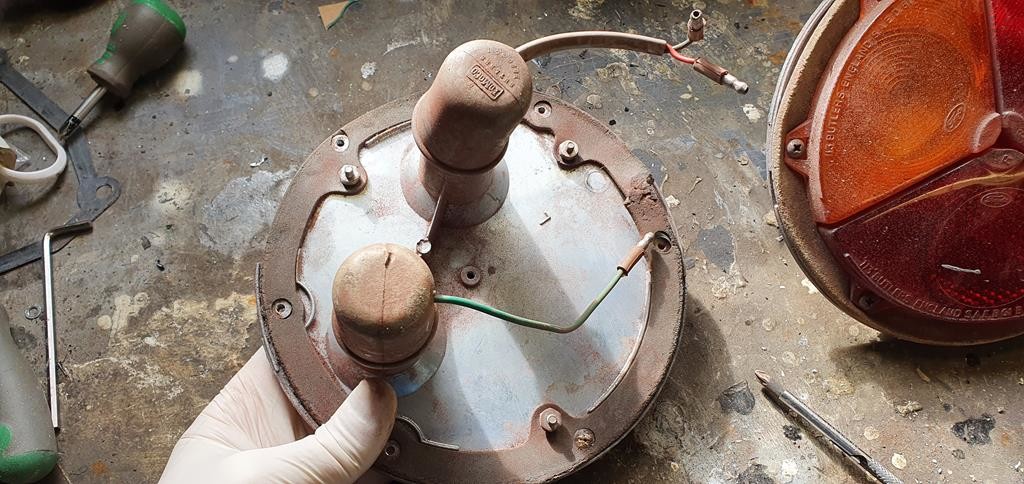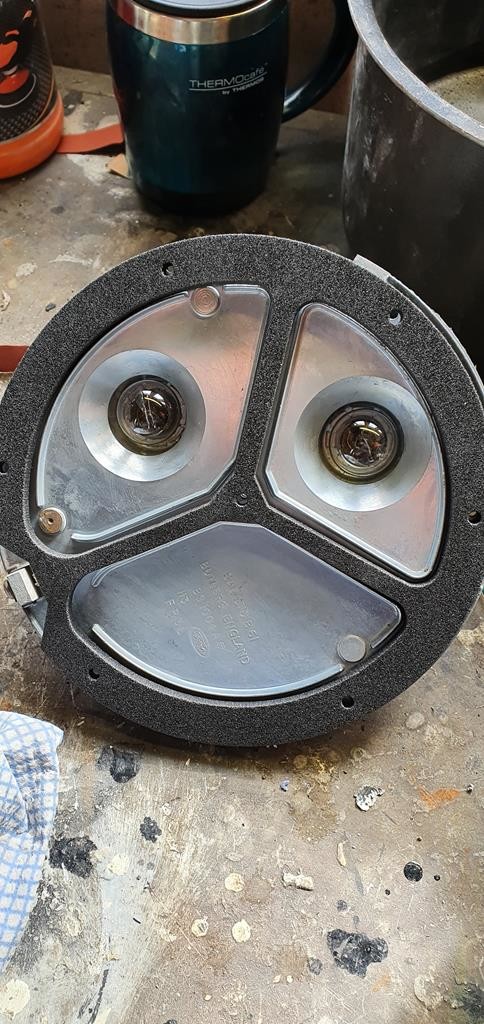 The battery arrived yesterday and I'm hoping to be able to have some functional stuff!
4-12-2020
I hope everyone is well and keeping safe in these strange, I have been working at home and doing jobs on the Cortina. With spending so much time at home on the computer I've been spending less time on the web. My wife's still at working at the hospital so our evenings have generally been spent in the garden to get away from the outside world.

I have removed the loom I was getting some weird results and without being able to fix it in situ without damaging anything I've pulled it out to get it sorted on the bench.

An example of this is your brake lights shouldn't turn your dash lights on - don't ask i can't explain it!


I had a meeting worksop i borrowed our printer and printed off a colourised loom i made o paint in A1

The egg is for scale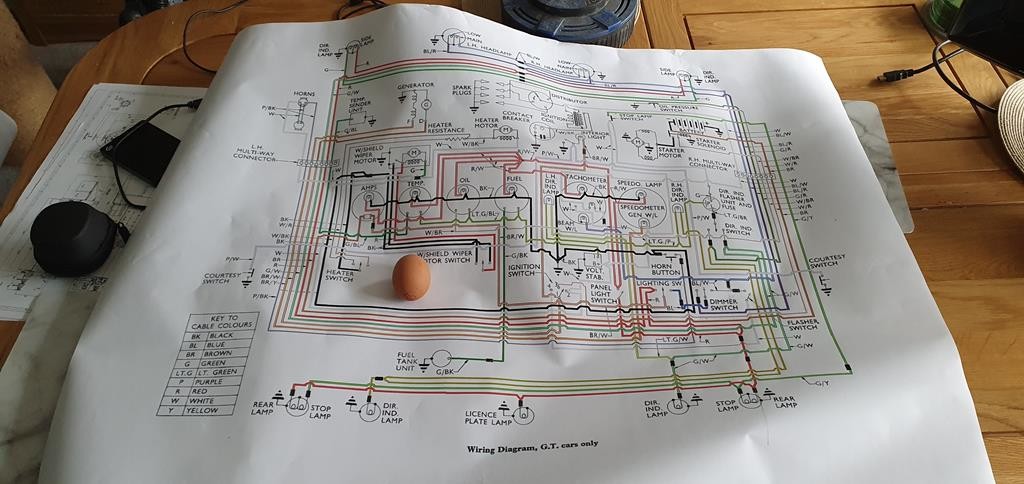 I had started to give nickel plating a go and made my own nickel electrolyte- it did a great job of the original key.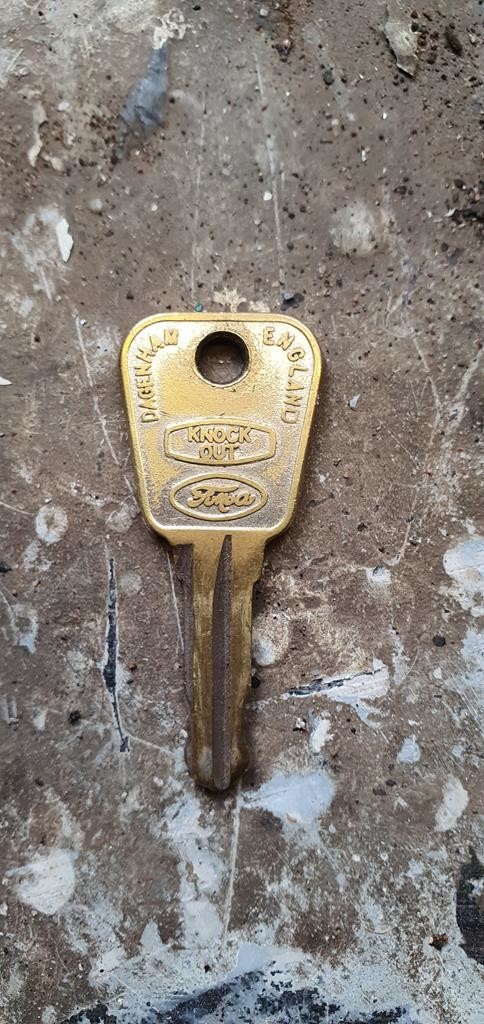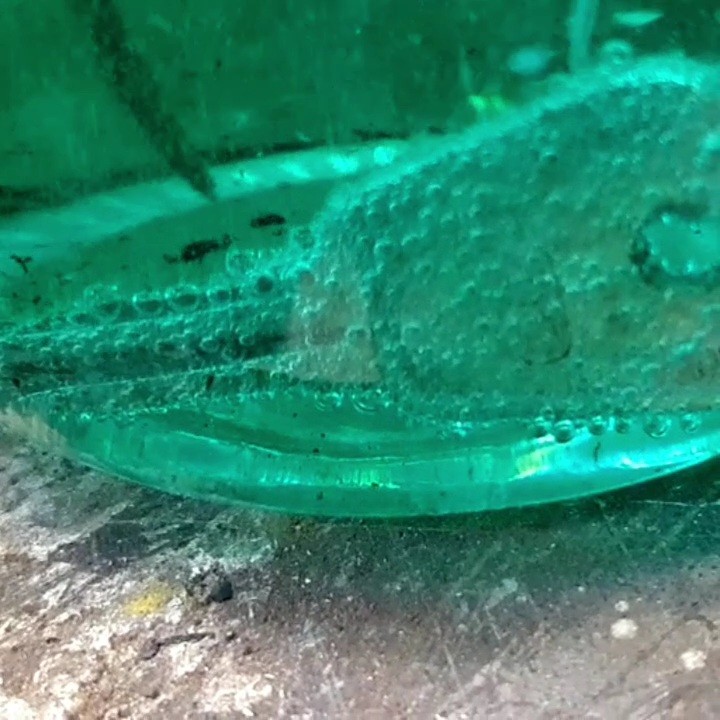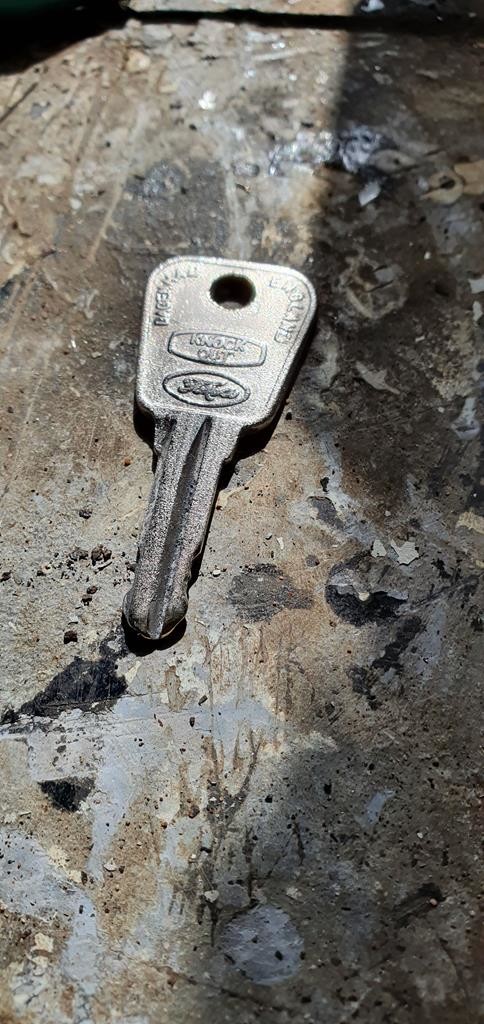 I'm waiting on loom bits for rerouting wires and replacing the rear bulbs because they do work but they're so worn the contacts have worn! So I'm looking at sorting the gearbox out.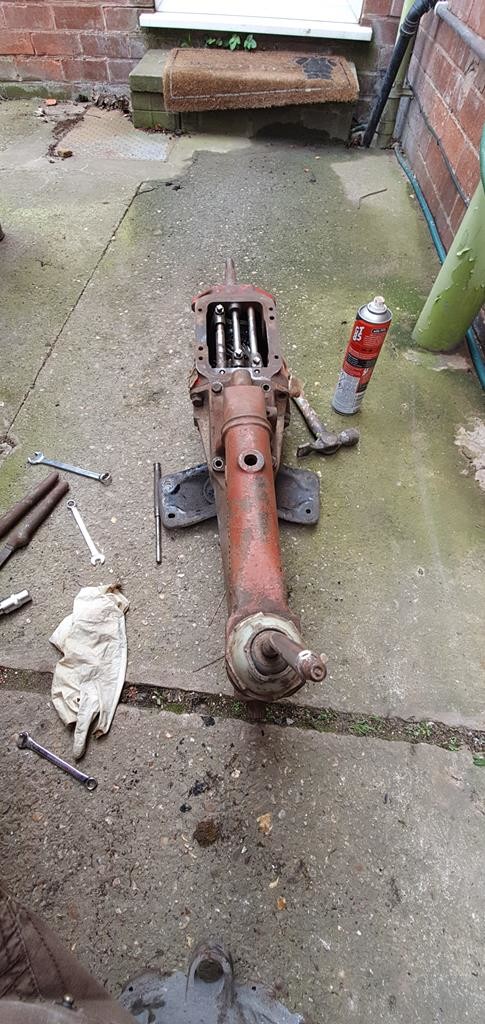 Its an original 1500/GT box with the less than ideal ratios, its missing a few bits like the 3 springs that keep the selector rods locked in place and the plate that goes under the selector Bush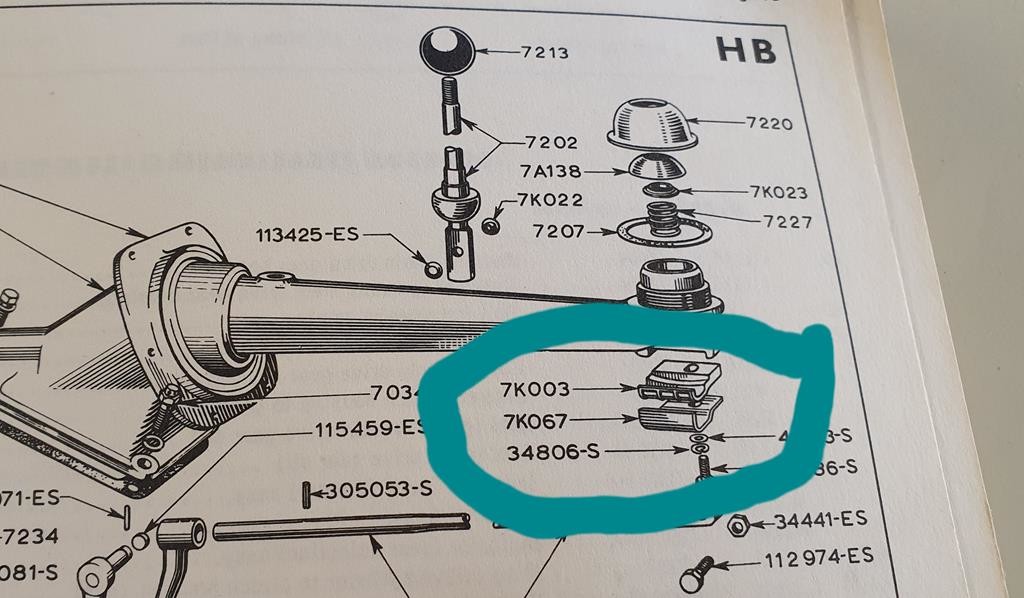 If anyone can help me out with photos and dimensions or has a spare please get in touch. I'm also missing the clutch lever assembly if anyone has a spare please message me.

I'm not using these ratios as I have a 2000e/ mk1 lotus set to go in - it looks dirty but it is in a good condition looking at it as it is.
Anyway stay safe and keep washing your hands.
4-15-2020
I was going to add these last night but got distracted, I firstly did some.digging in my 64 parts book and my 66 one and found that the only part number for the case is 7006 - not ideal given the lotus box has different ratios and different diameters for 1st on the layshaft.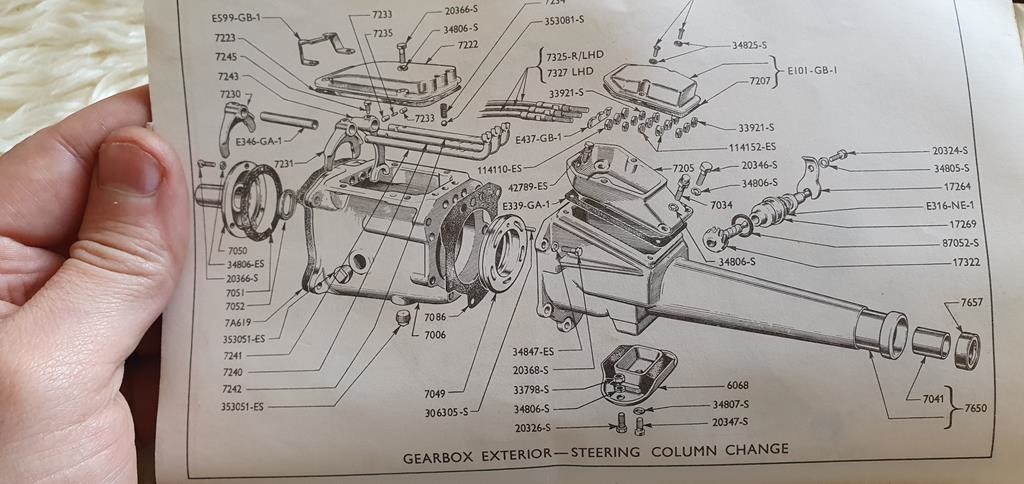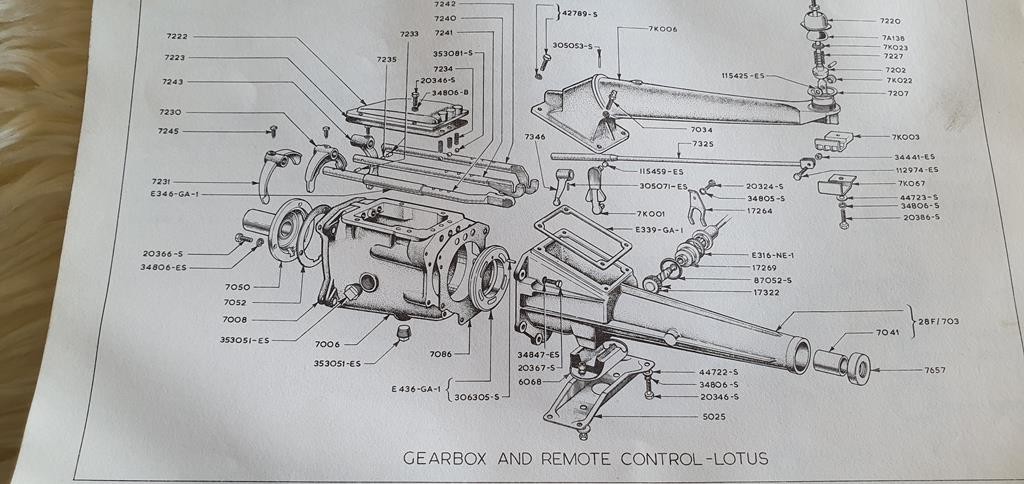 I checked the cases which got a bit stranger, the case the 1500 gears came from doesnt carry any other numbers other than this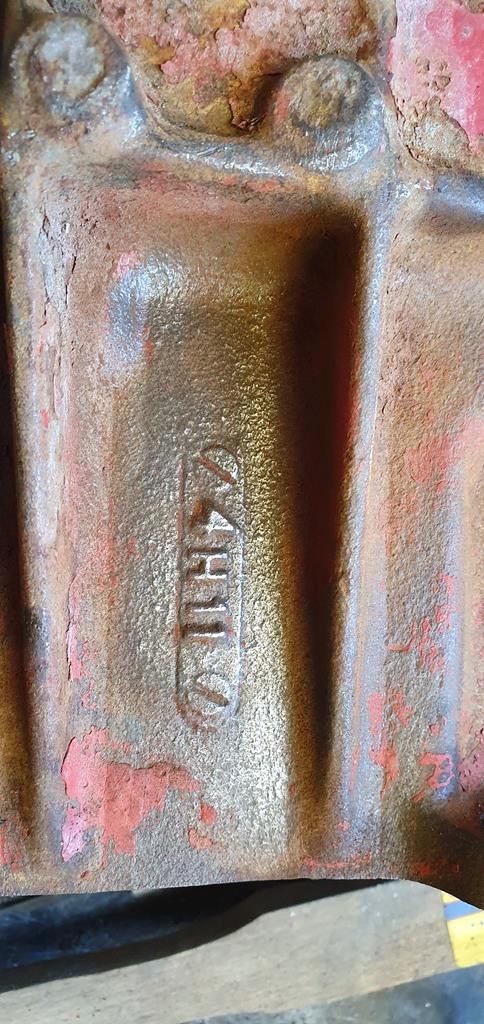 4H11 which after talking with Pete doesn't make sense.

I think this is the case the 2000e ratios came with (I bought this box donkeys years ago). It has the 7006-D which must be based off the original 7006 case but is revised. It has a reverse switch mount so not from a mk1 cortina and has an extra Web on the side for strength.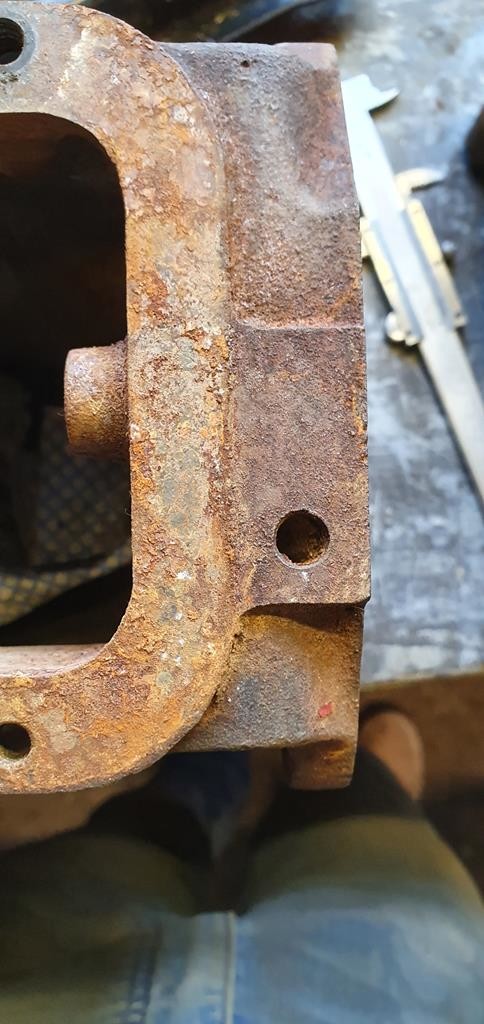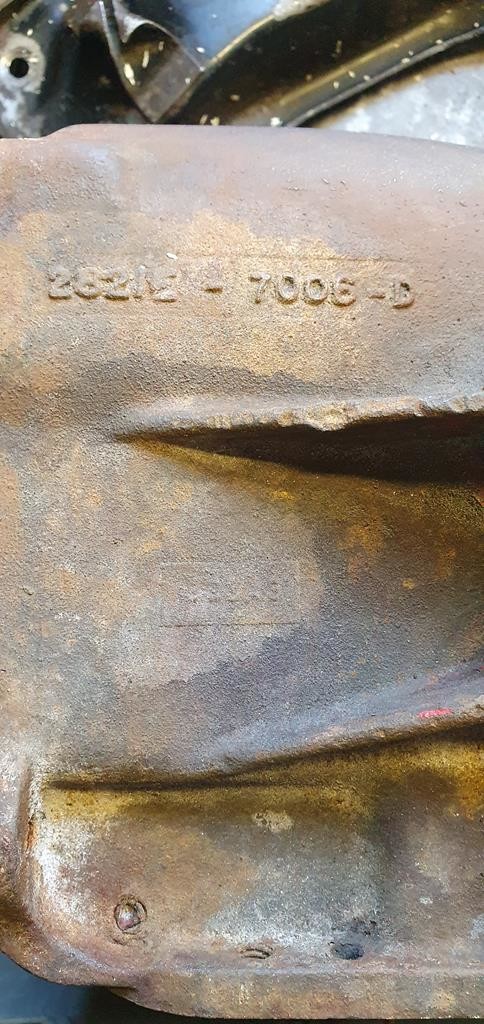 5-4-2020
Quick update.

I'm part way through the gearbox but ive ran out of parts!

Does anyone know what size springs are used for the hear selector rods- the 3 on the drawing below.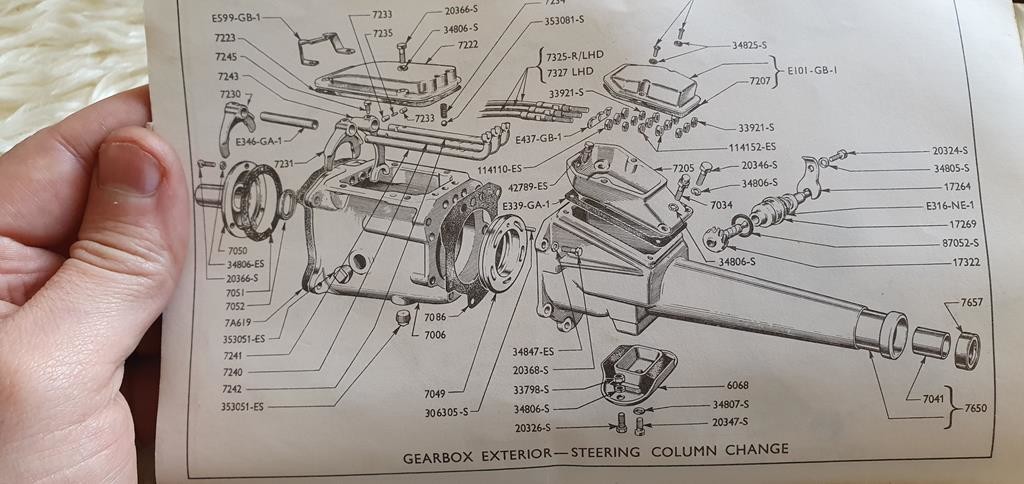 In between drawing parts at work and doing stuff for tina I measured and modeled the GT badge with the intention of getting it made but not sure if its viable but they look cool.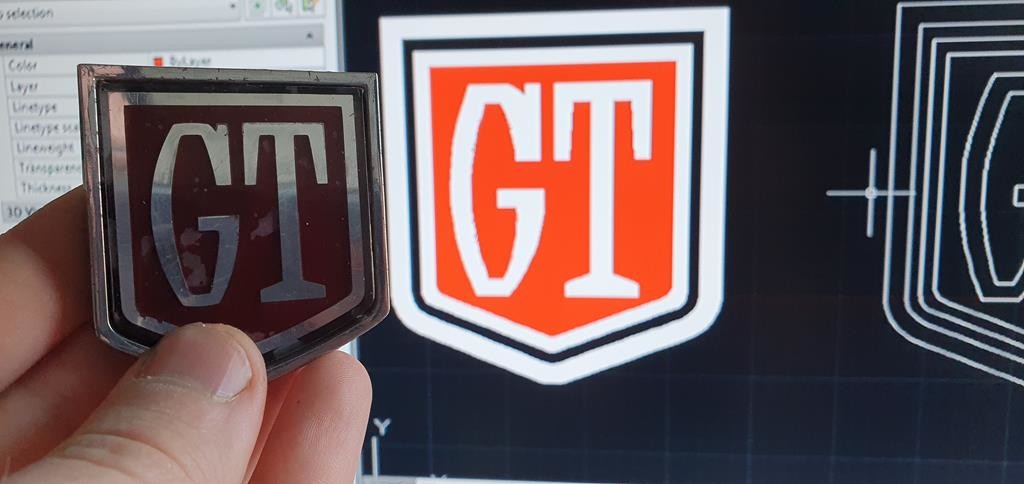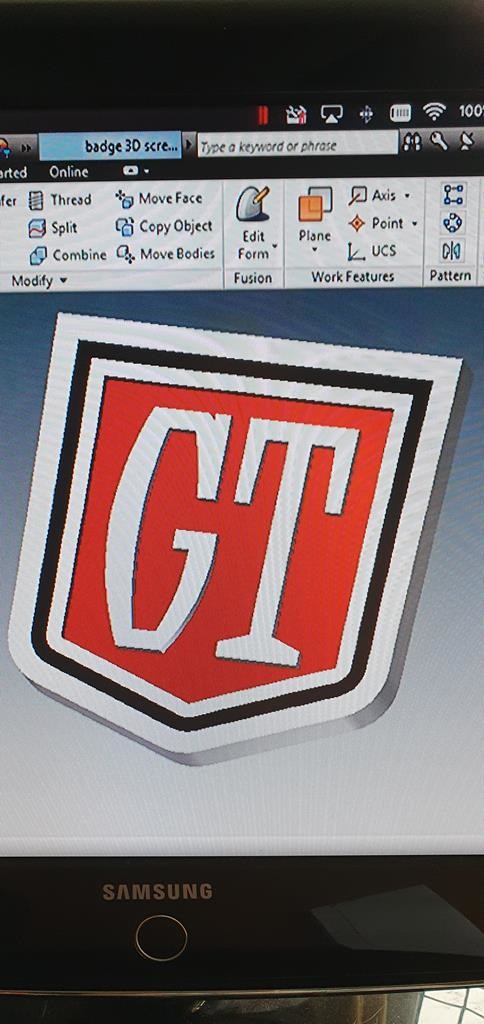 Mrs Jim wanted some tyres for raised beds do I duly obliged by getting the tyres taken off the D1's.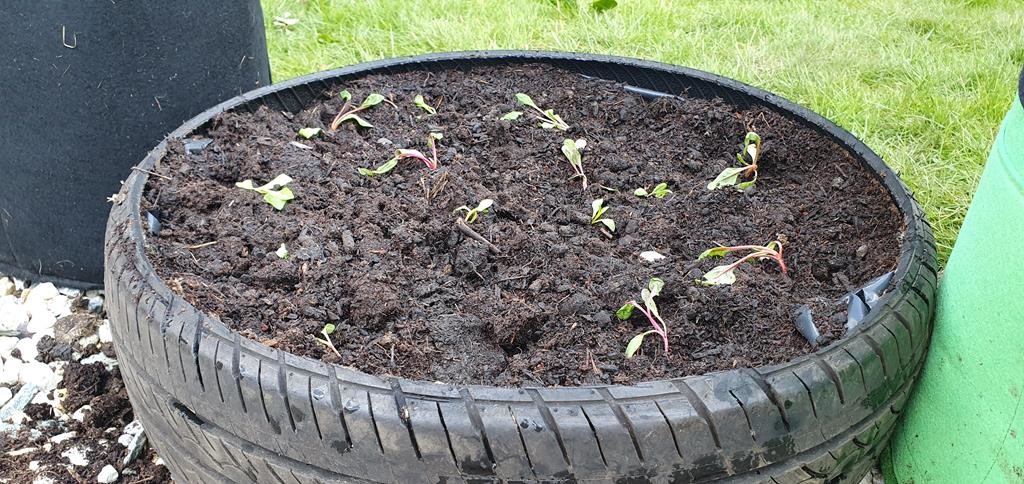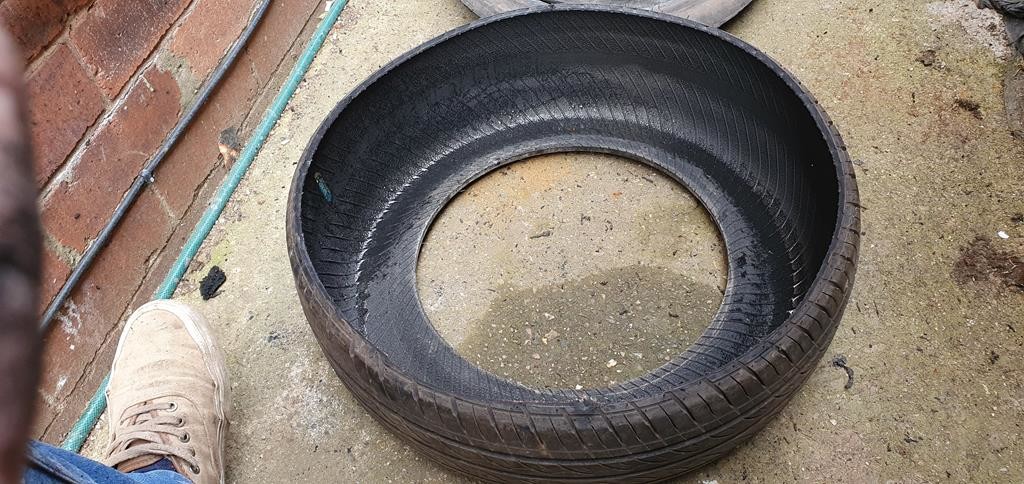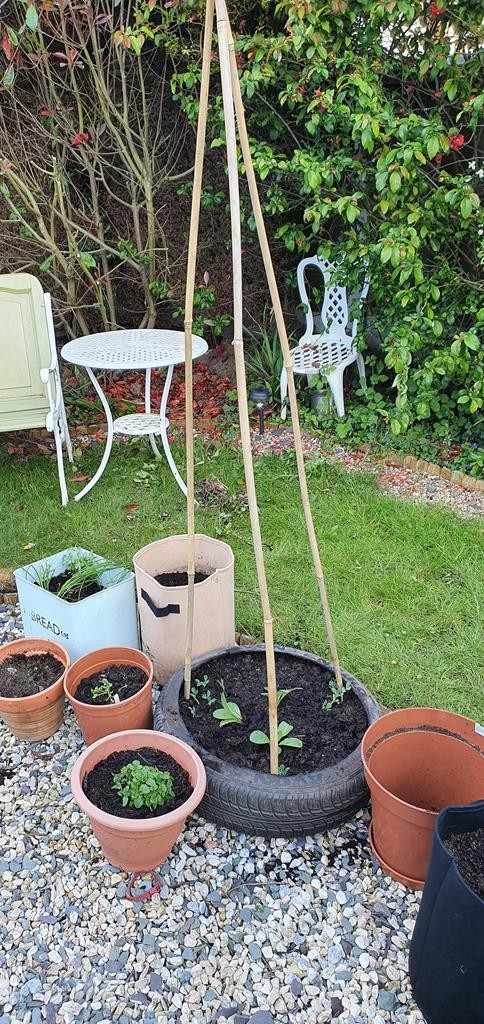 As it was nice outside on Saturday I had a play with one of the wheels i started with 120 and went up to 1200 but only did half of 1 rim because I'm low on wet and dry! They have promise though.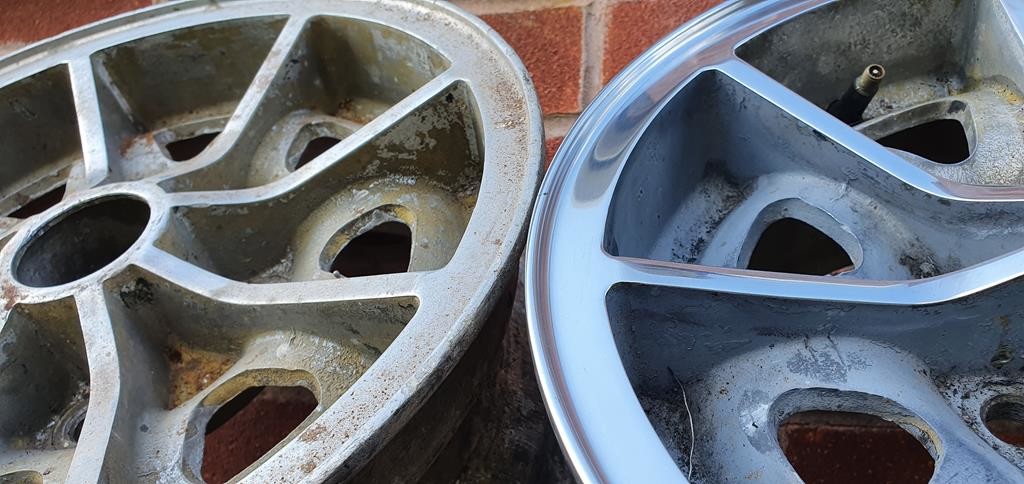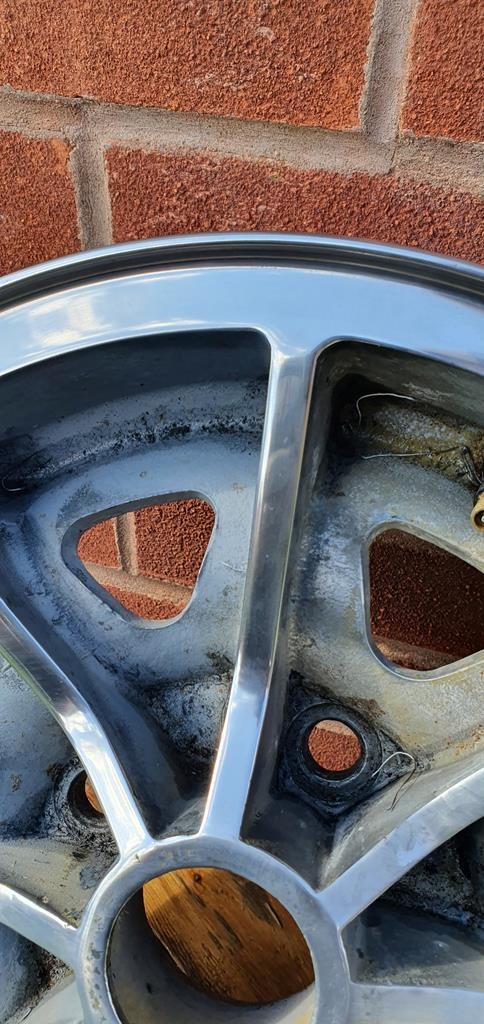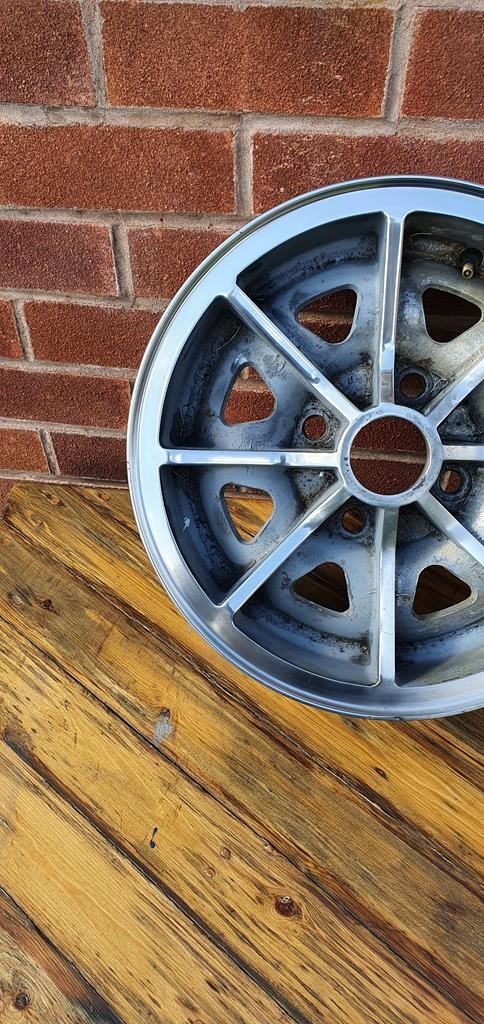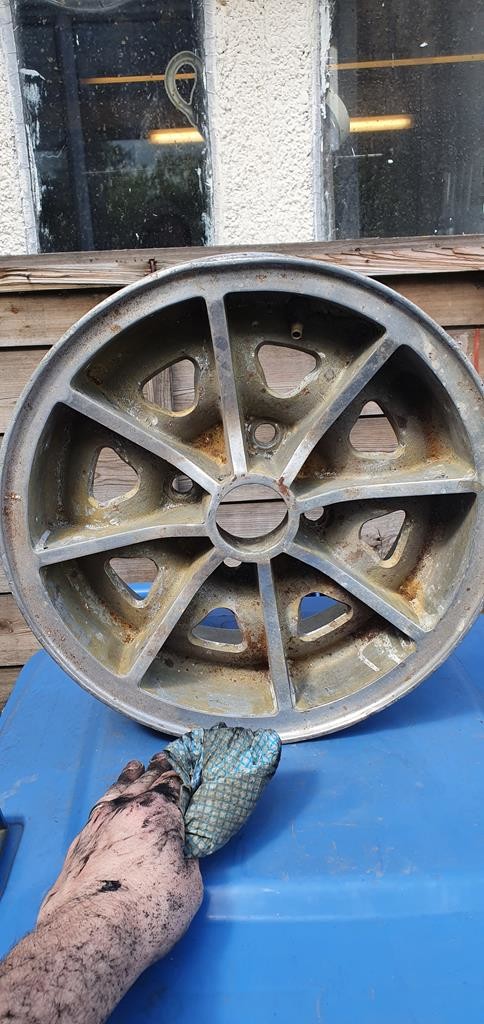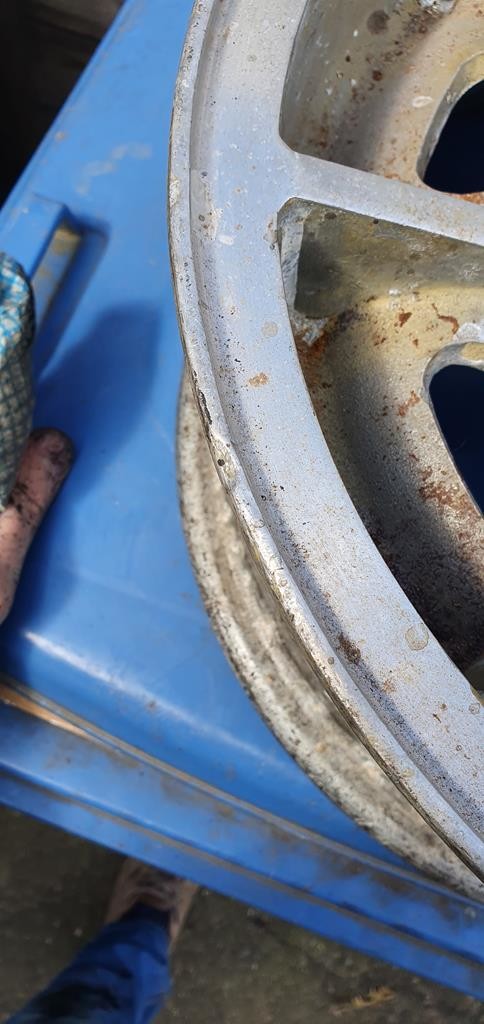 5-9-2020
I finally received enough bits to start the gearbox, I had ordered stuff form various places but given the situation the delivery has been sporadic. Never mind that thought because the gearing was fully stripped down and cleaned.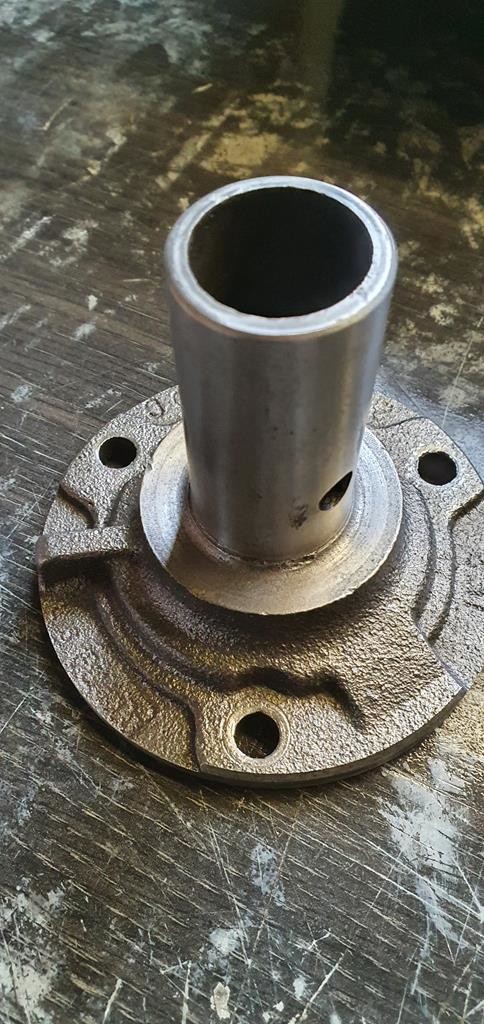 I finally received enough bits to start the gearbox, I had ordered stuff form various places but given the situation the delivery has been sporadic. Never mind that thought because the gearing was fully stripped down and cleaned.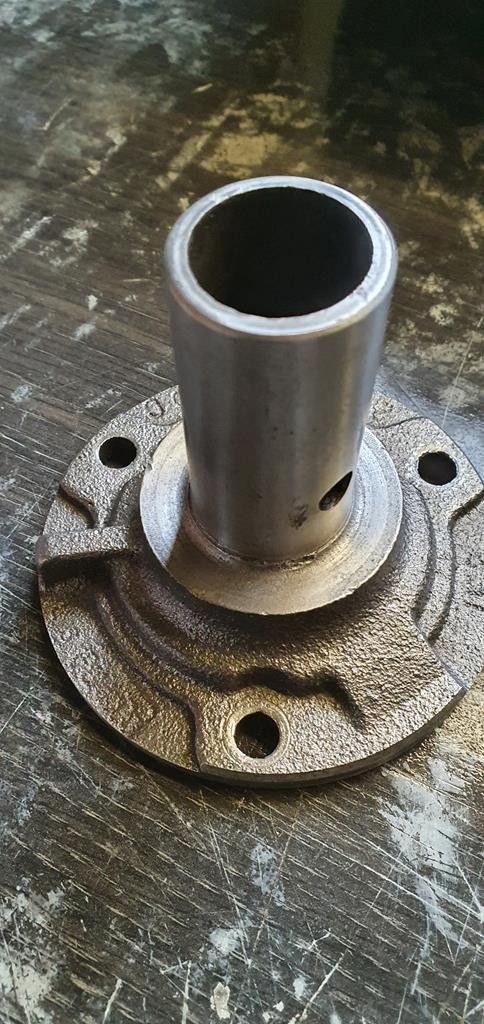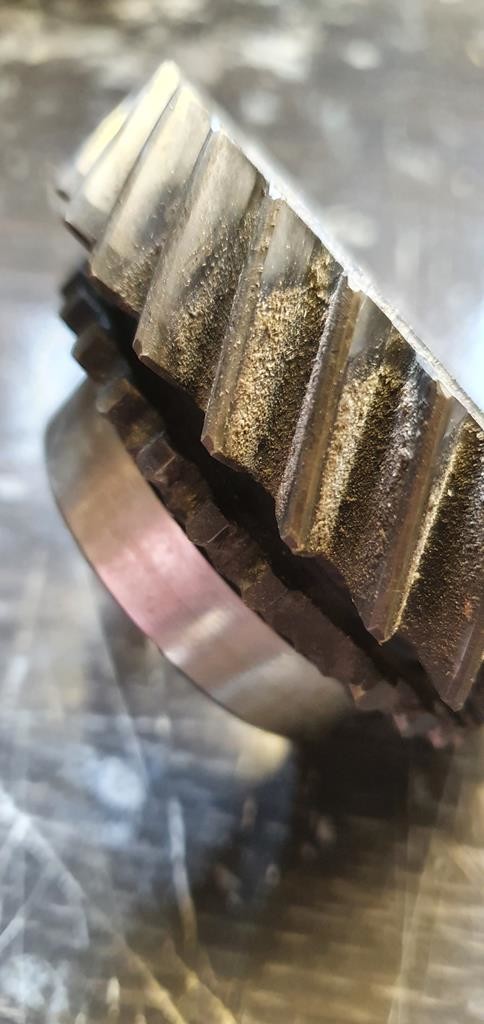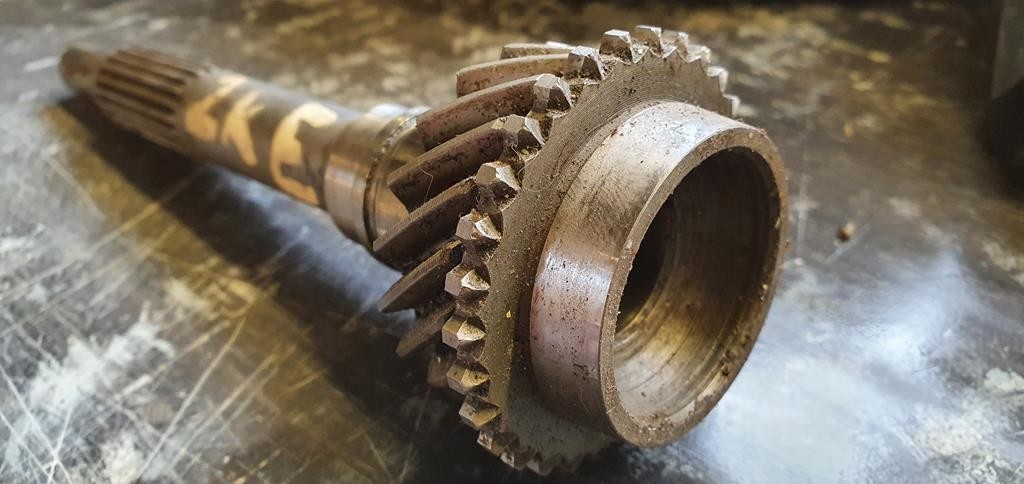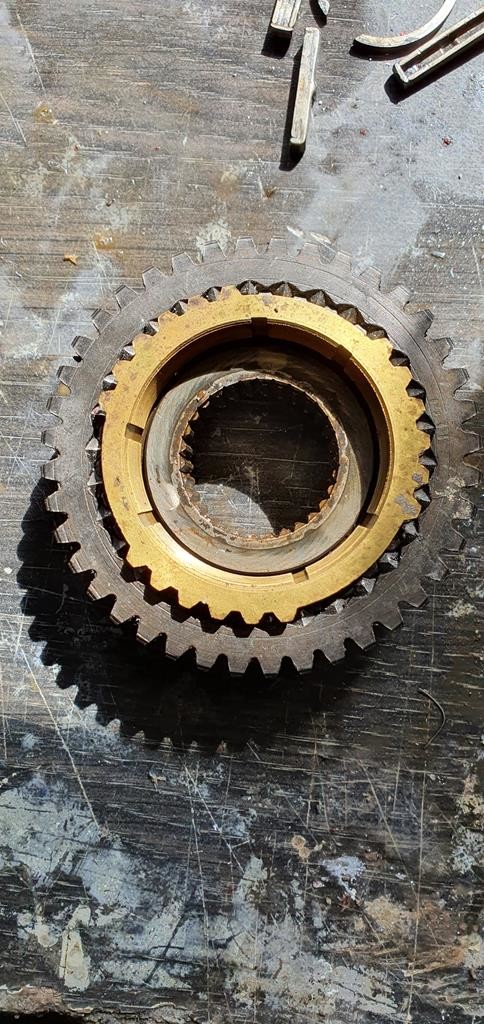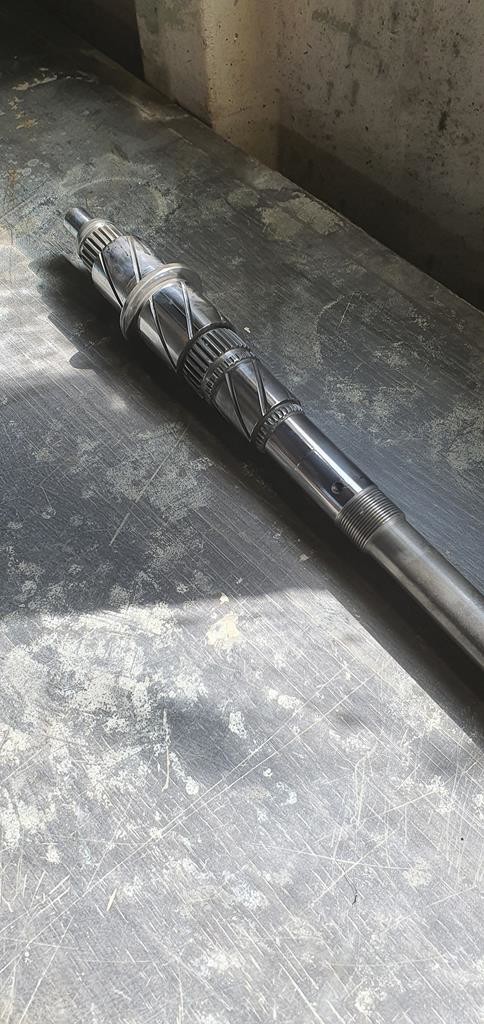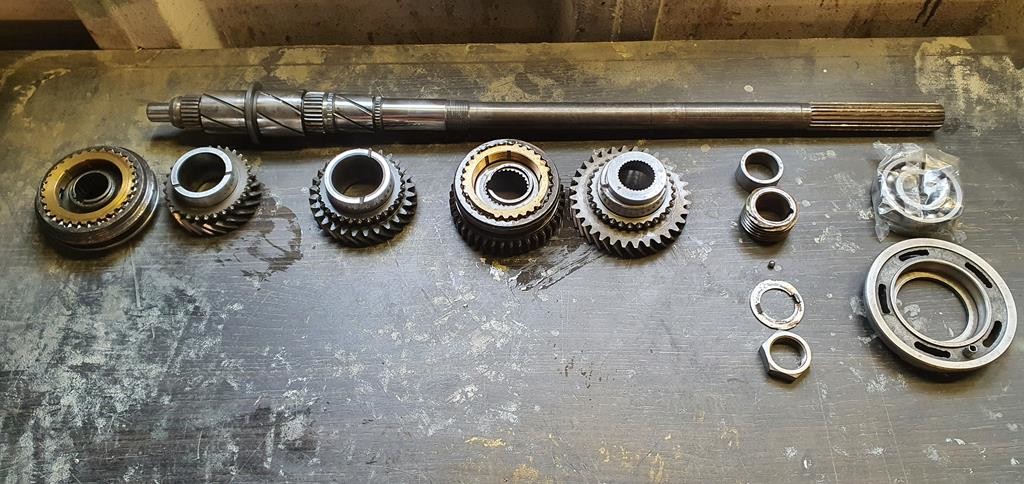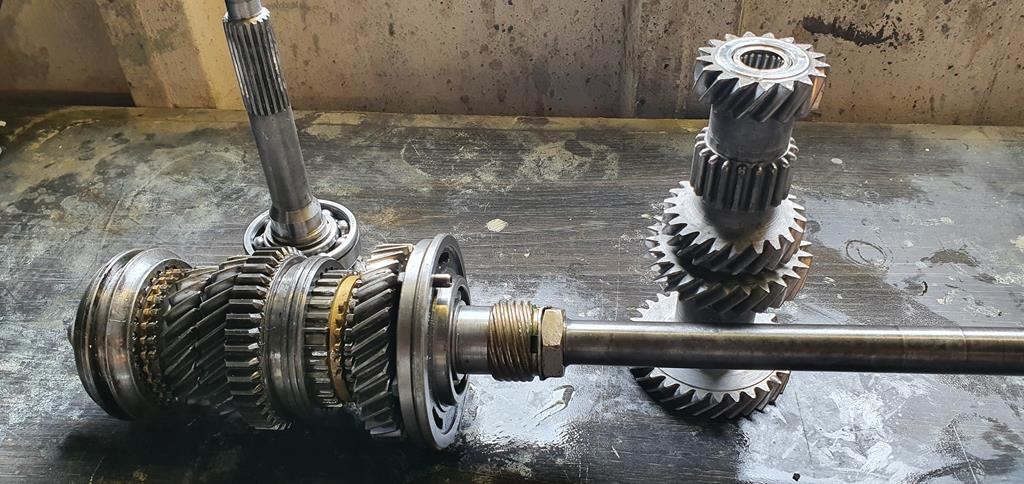 The build wasn't as fidly as I found it years ago when I had to fix the syncros in the old box when the cortina was on the road.
Its a long one but if you're interested in taking a gearbox on there's some useful information.

I finally managed to get the loom working correctly on the board so I thought I'd start migrating it back on to the cortina, as the weather has been lovely i figured why not make the most of it.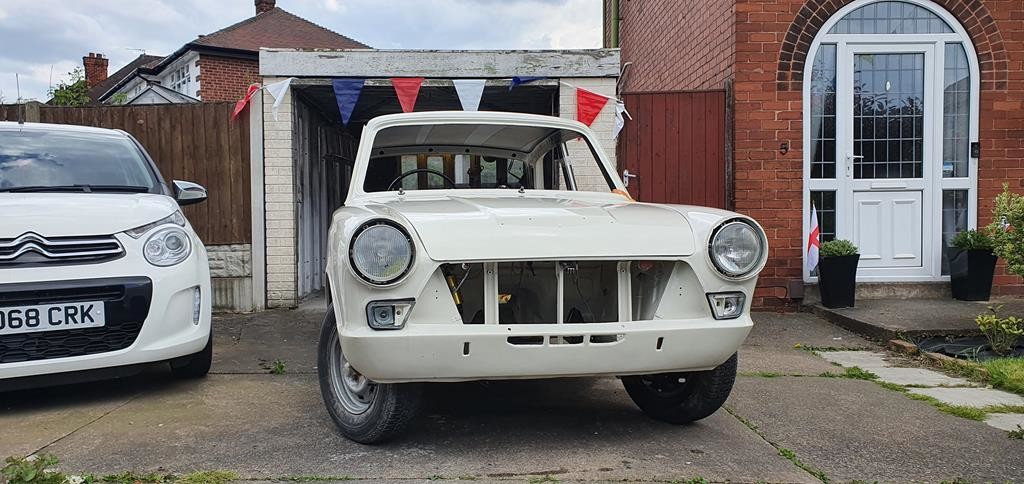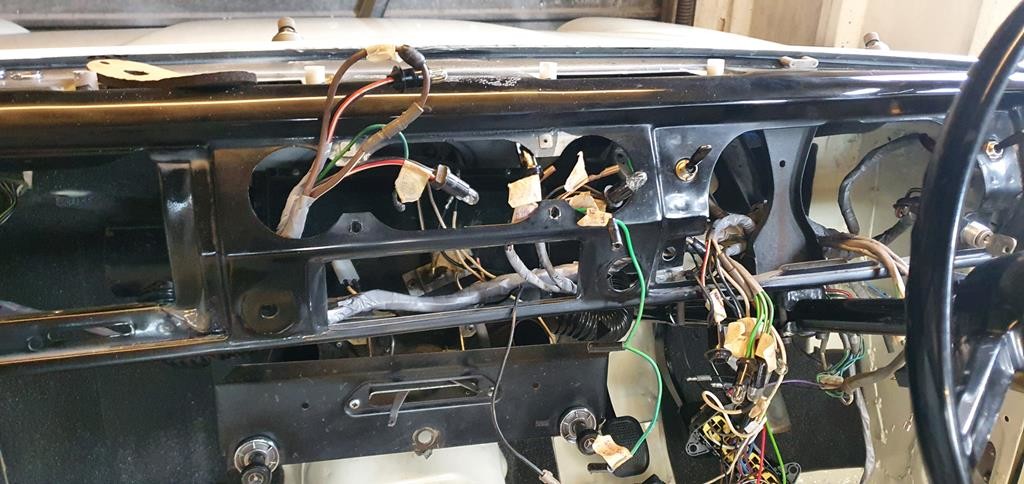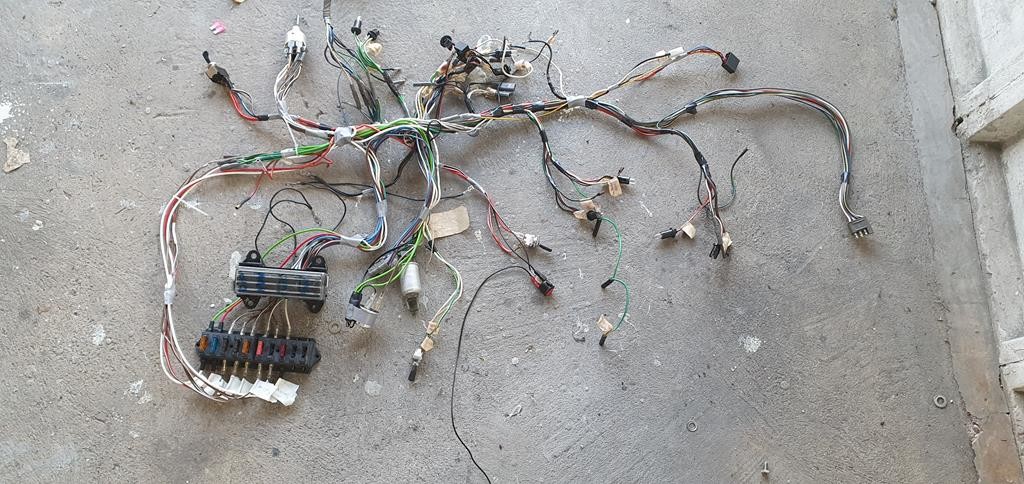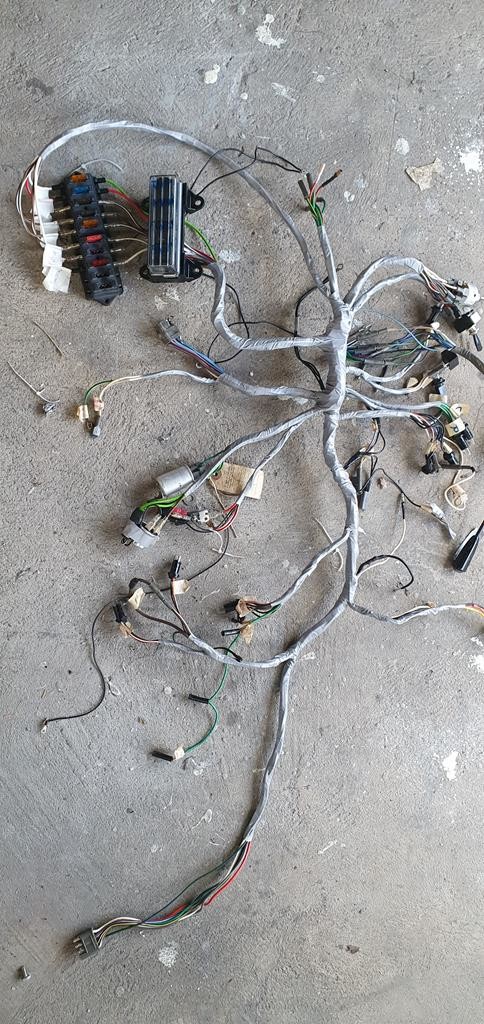 With any luck I should have it buttoned up tomorrow and that way I can get back on with the gearbox.
5-25-2020
Good news! The loom is in and working... mostly!

Full beam needs a tweak but I'll have a proper look once I've got a few jobs done - I need a break from electric snakes!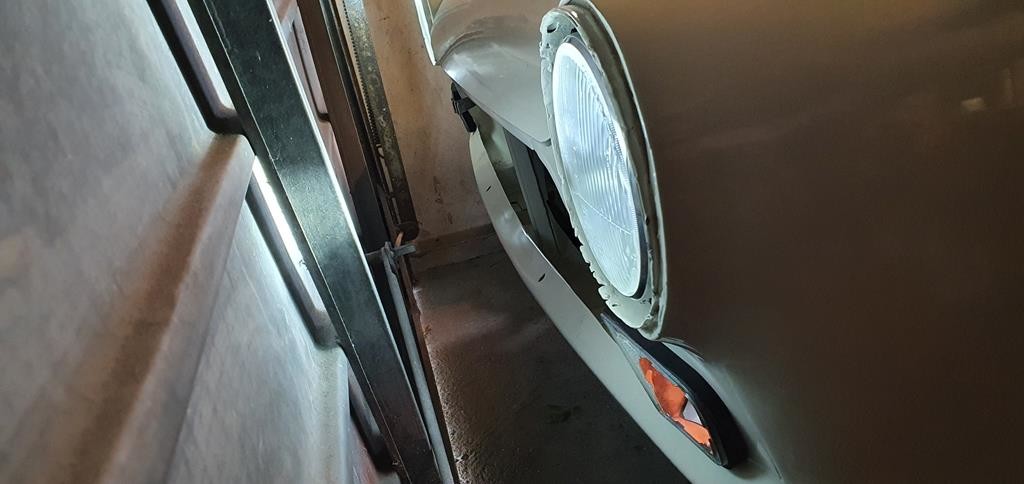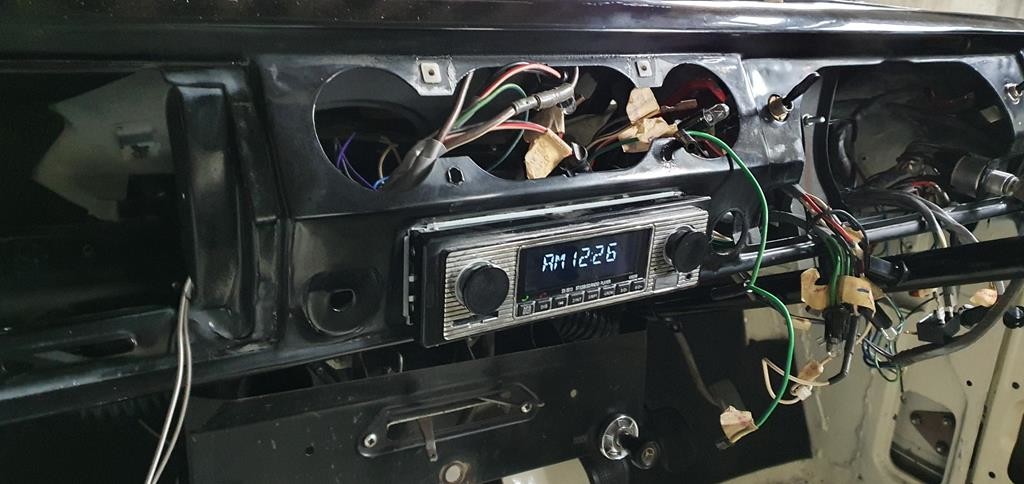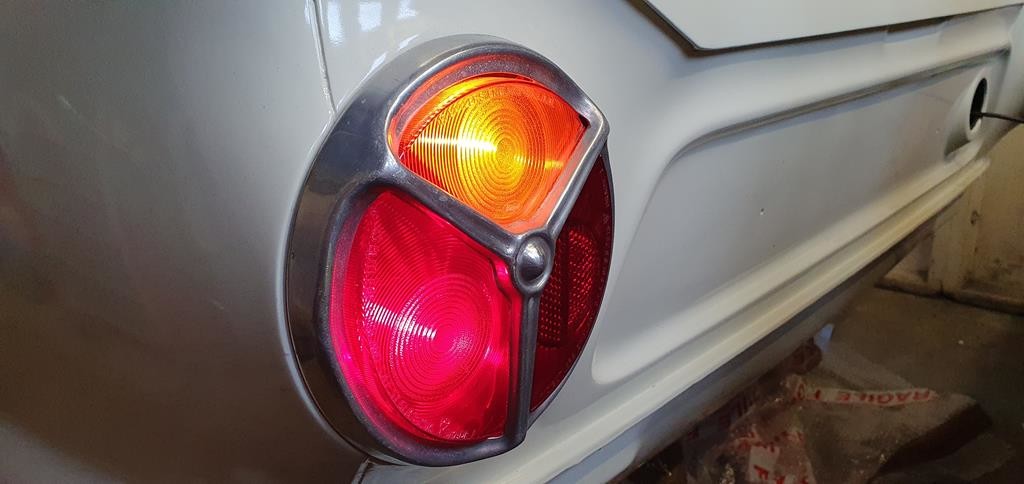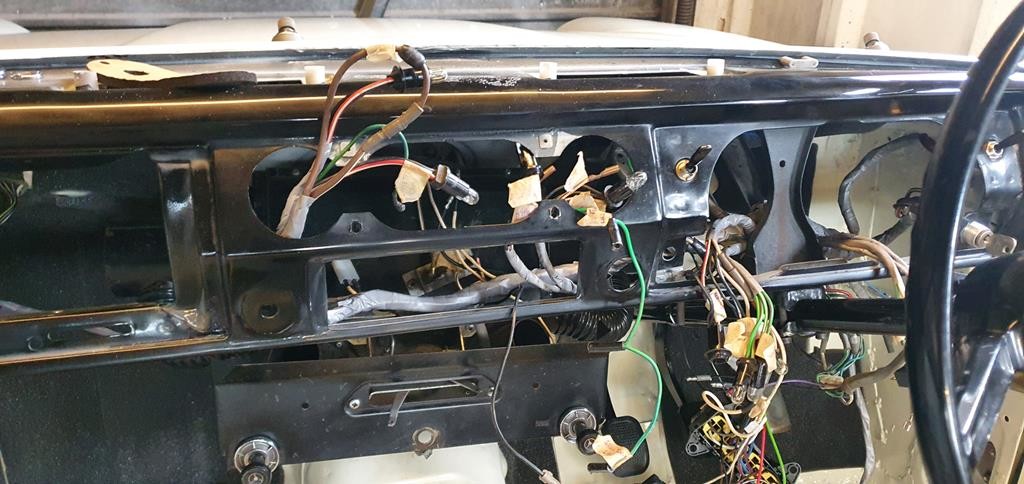 I'm currently waiting on some gearbox parts so I moved my focus onto easy wins starting with the dash top.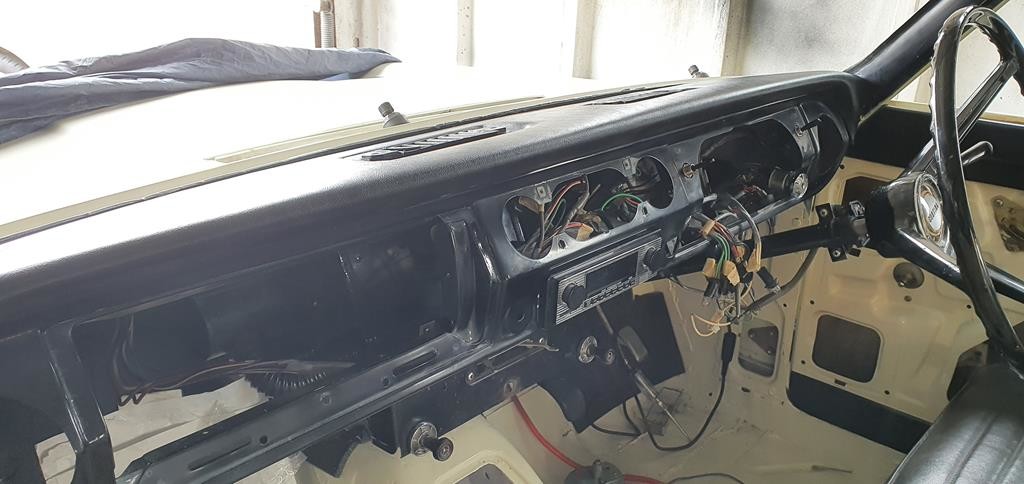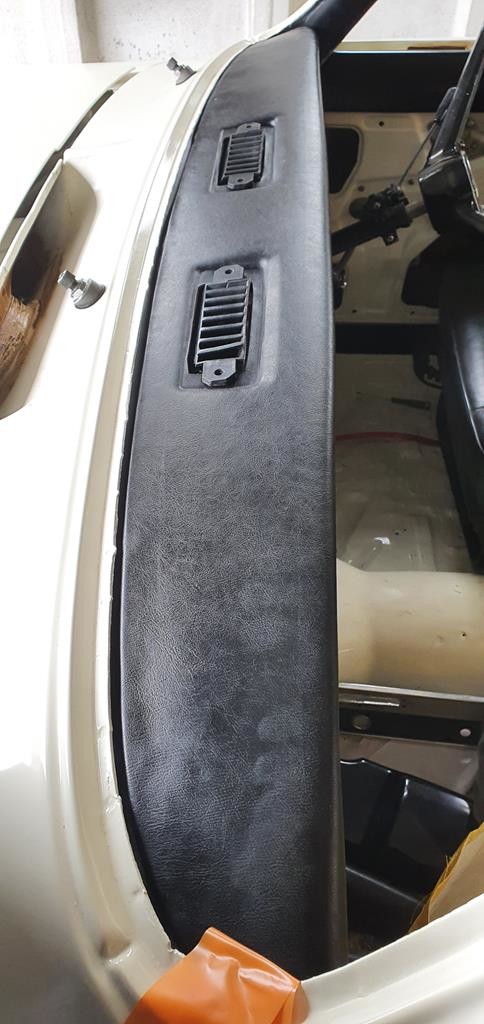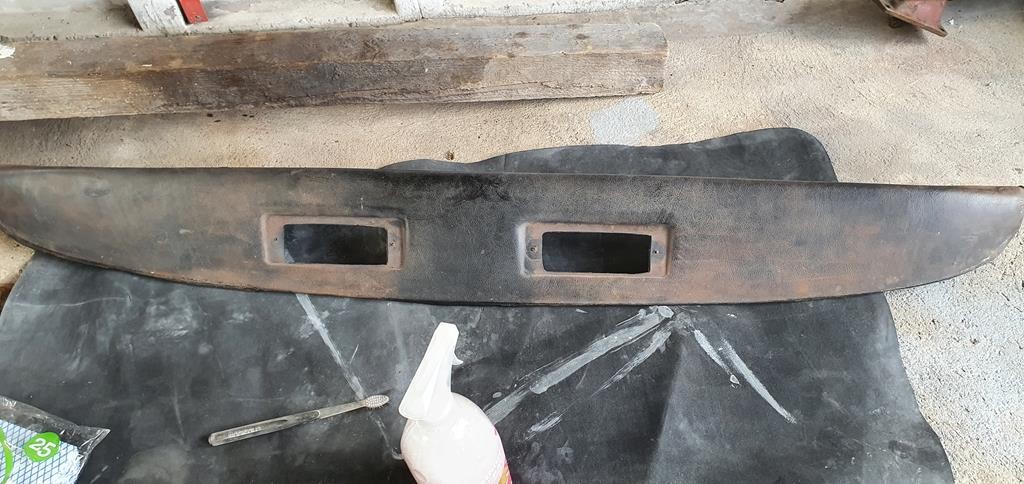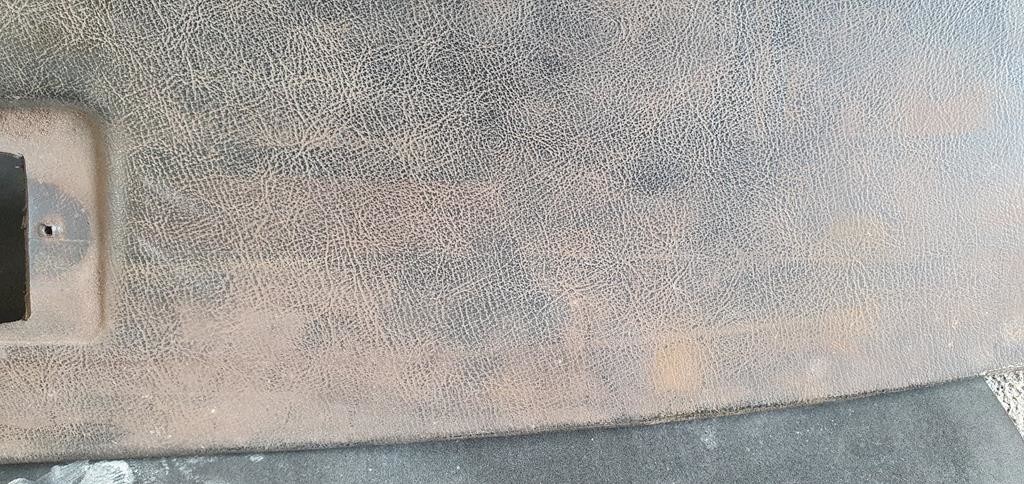 I've got some more interior bits out of storage so I can start making the cortina look more like a cortina!
6-17-2020
It's taken longer than I expected but it's not as though I'm going anywhere! I had been struggling to find a few parts for the gearbox such as detent springs and a new cup for the selector (I'll come onto that). The gearbox went together much quicker and easier than it had the 1st time I did one of these - that layshaft fitting is truly stressful and designed by a sadist!

Fortunately the Record made for a good casing stand - I love that vice...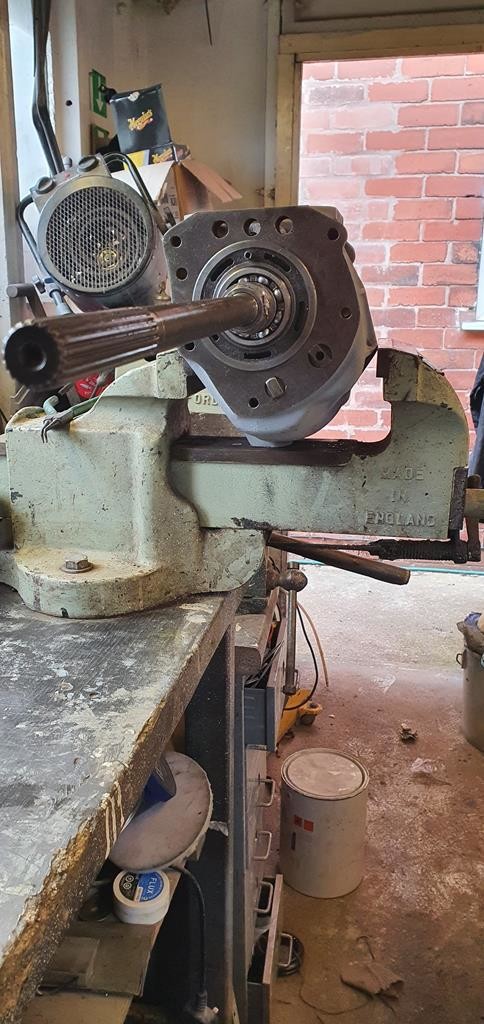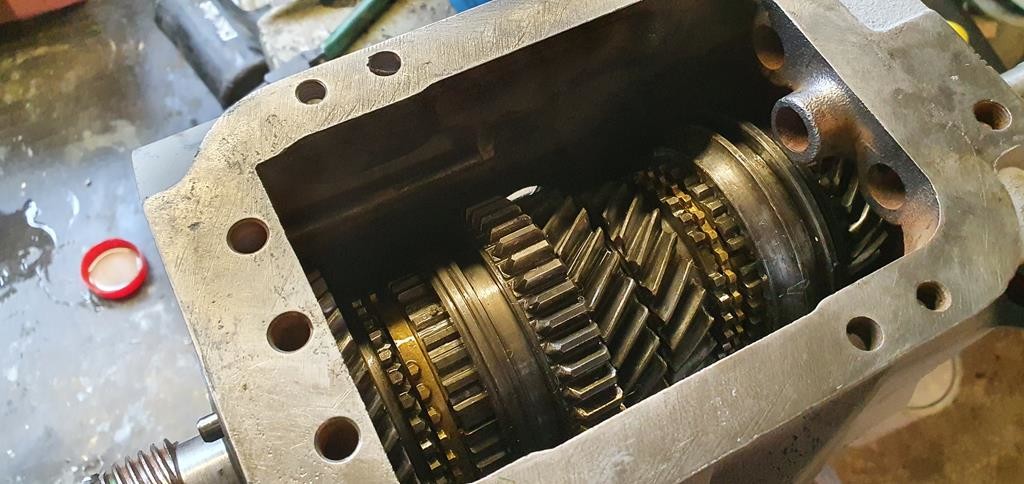 Within a couple of hours - tea breaks and helping Mrs. Jim in the garden the box was completed and tested using the floppy old shifter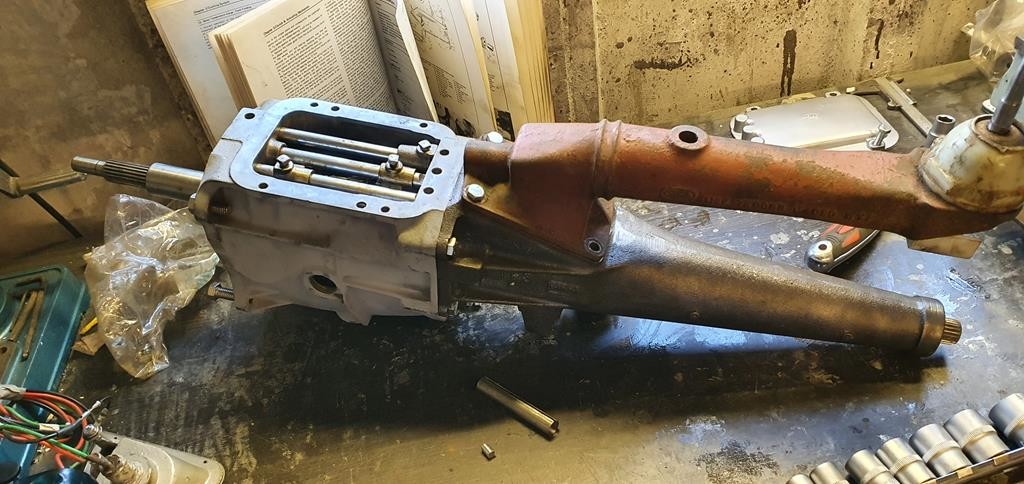 A couple of days later the missing parts were delivered and I could motor on and get the shifter stripped and rebuilt.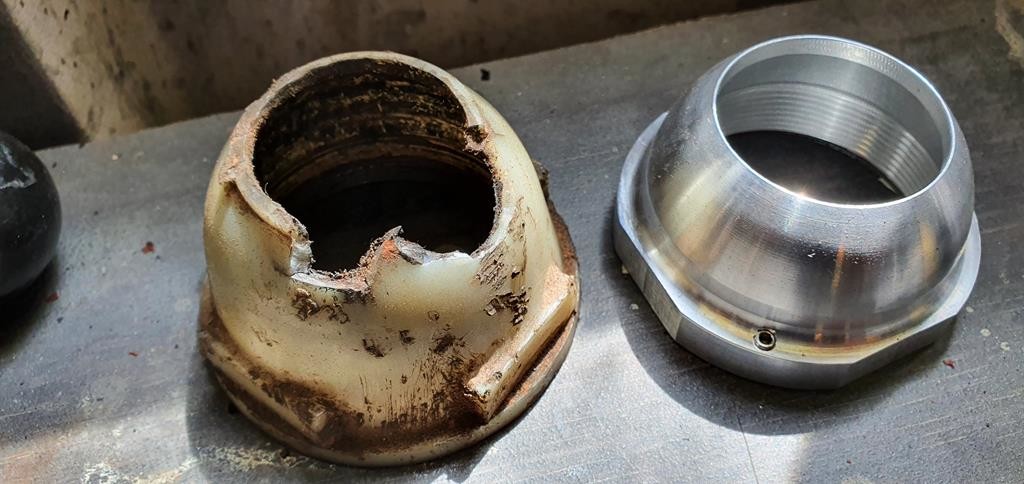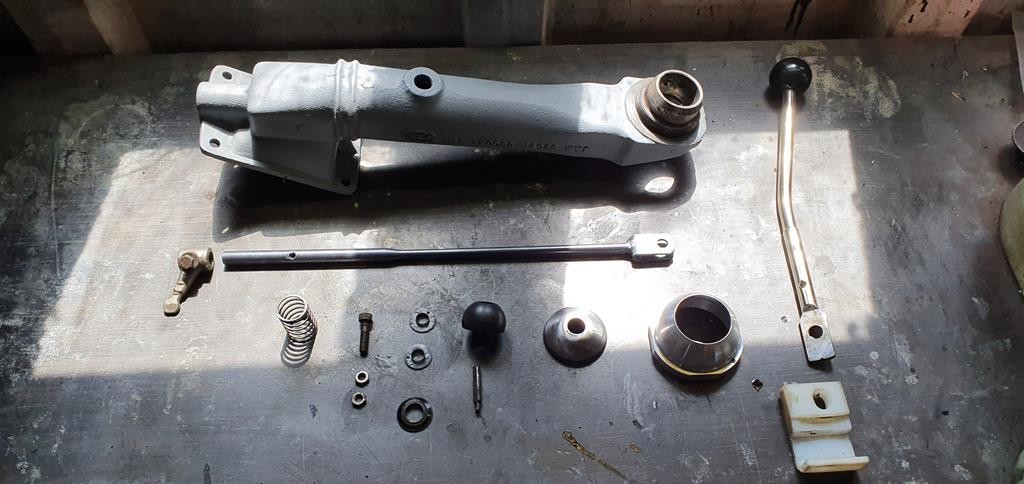 You can see how shot these bushes were and the spring cup damaged added to the throw! I found out these parts are the same on the Elan so made it much easier to source - the aluminium cup was chosen over plastic for longevity for the little extra in cost, it needs a little bit of adjustment still but the feel is vastly improved and feels more like how I remember it being when the Cortina was on the road.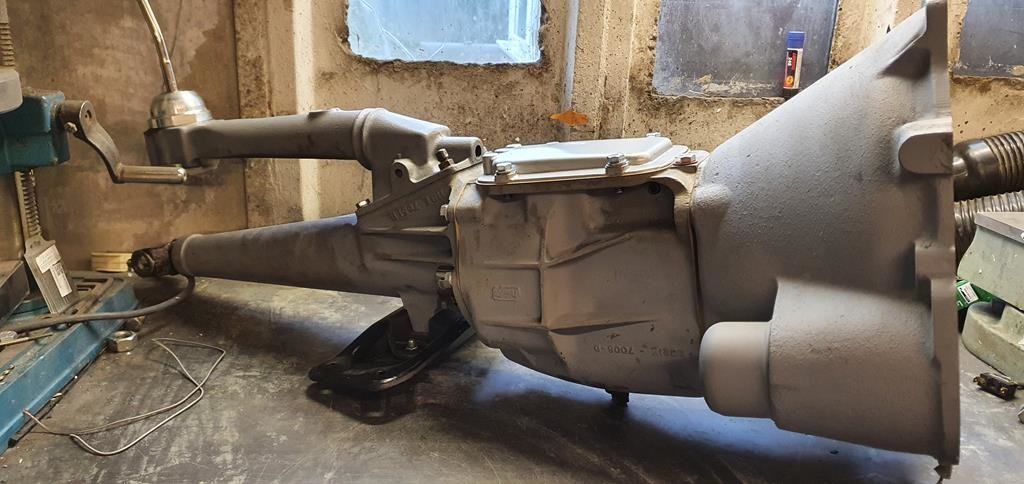 Of course this was all being filmed and for anyone who is undertaking this work there are some useful tips.
now that the gearbox was finished I figured I'd do a few little jobs as I couldn't go to my parents to get the engine stand, I'd scotchbrited the cill kick plates and used this meguiars polish which gives a great shine and smells rather fruity (not a sponsor).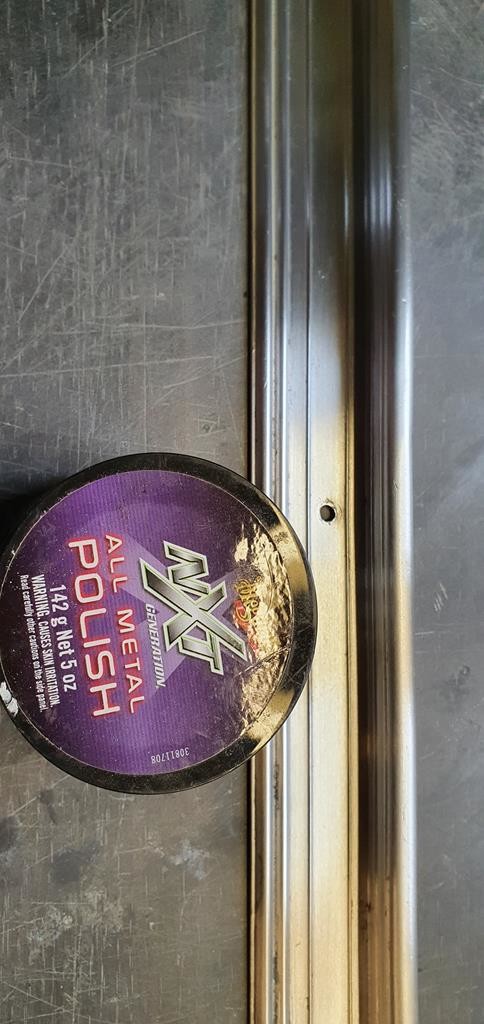 I have been having a visitor recently as I leave the door open - she is ours and loves to climb things! If only she would decide if she's black or ginger!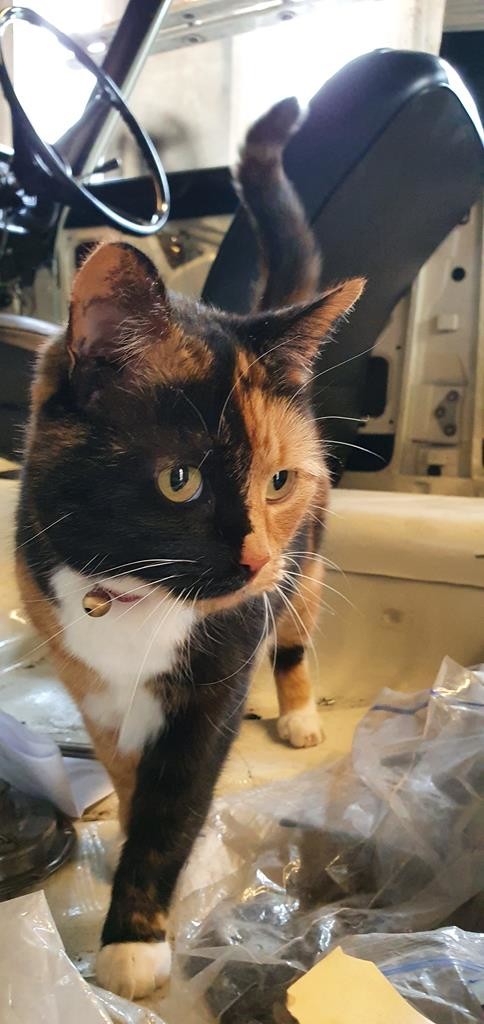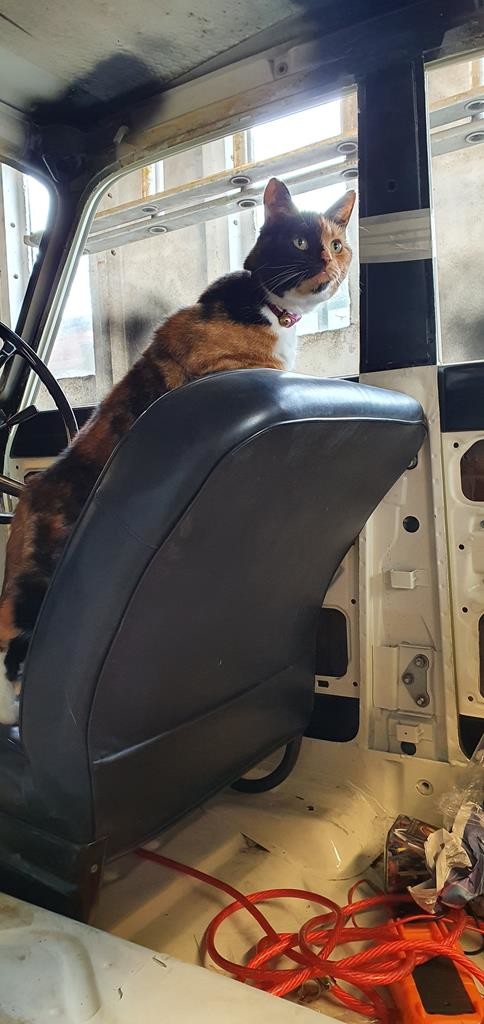 The week before we went into lockdown I took Mrs. Jim to the Emma Bridgewater factory for her birthday where we toured the pottery factory, had a fancy lunch and then had the opportunity to decorate out own piece of pottery so naturally I chose a mug because I love tea! My artistic side is clearly something that needs working on but we had a great day out and is something you all need to consider if you want to score some brownie points at home!

I got my inspiration from the Cortina - the GT badge and Lotus stripe for the handle!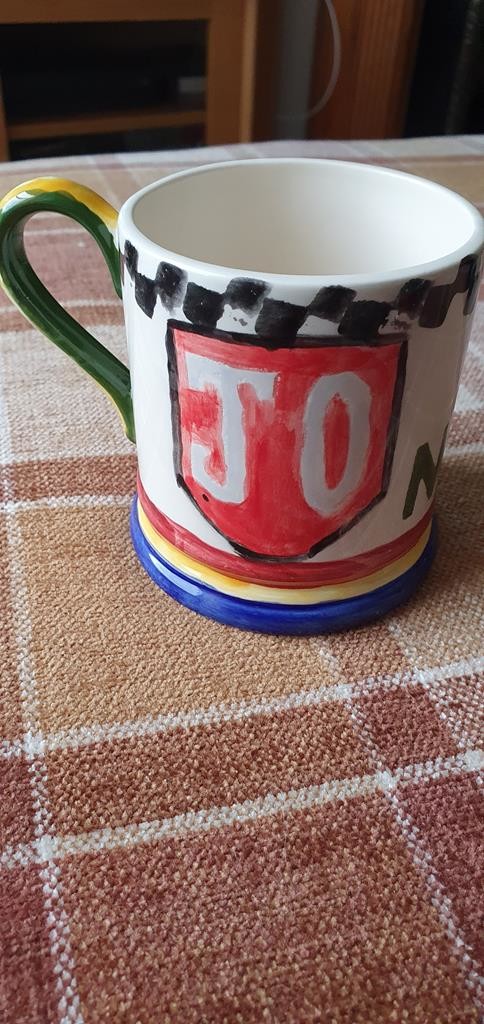 This is meant to be an empty sign and not a 1 armed robot with a knife!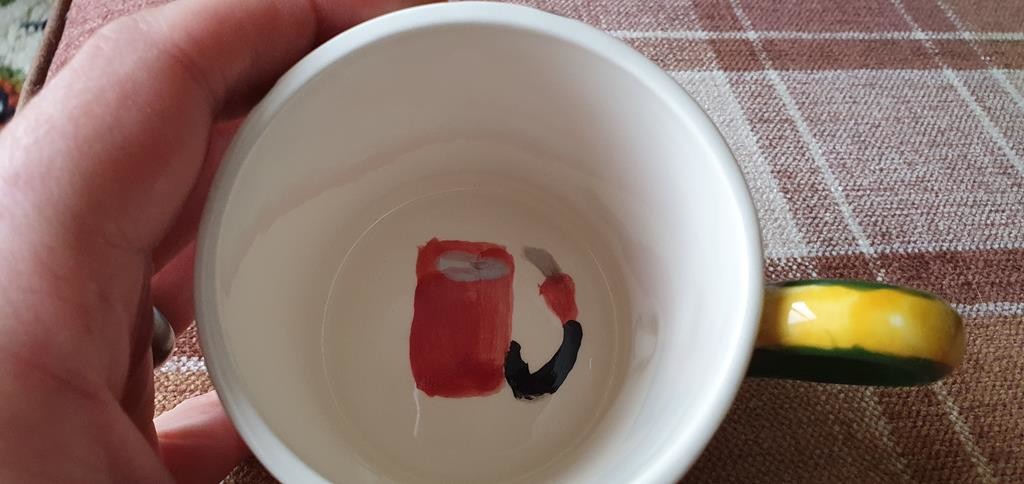 EDIT

With us now being able to visit people but not go inside I managed to get the engine side by proxy from my parents garage, this week I have put it on the stand to get a few jobs done before it goes into the bay.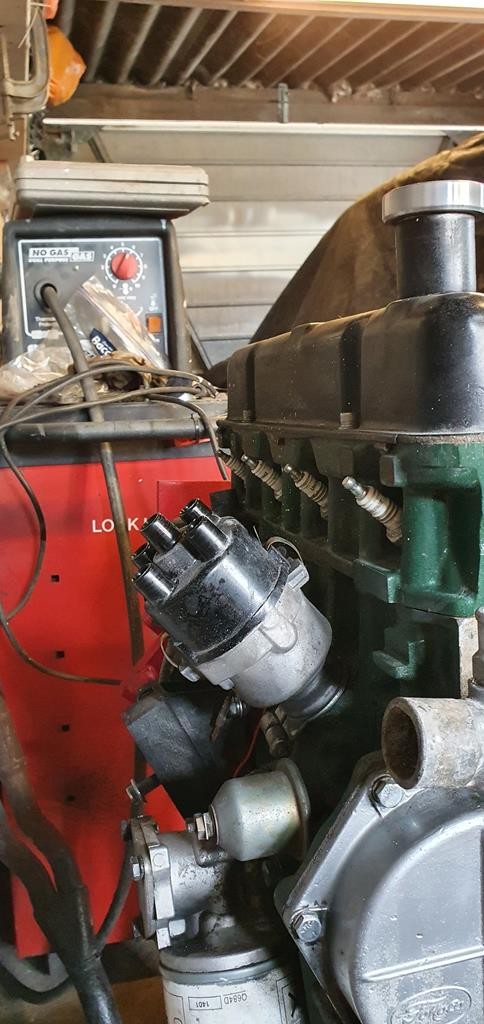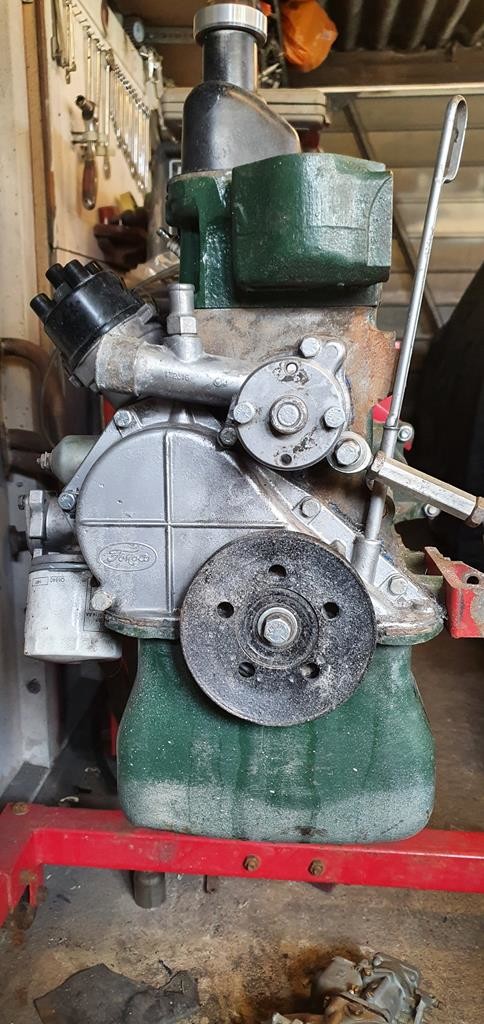 6-30-2020
Thanks Jonsey, fingers crossed it's OK but I have the same concerns!

I've been playing with homebred nickel plating which I've mentioned before - I managed to tidy up the bonnet release parts.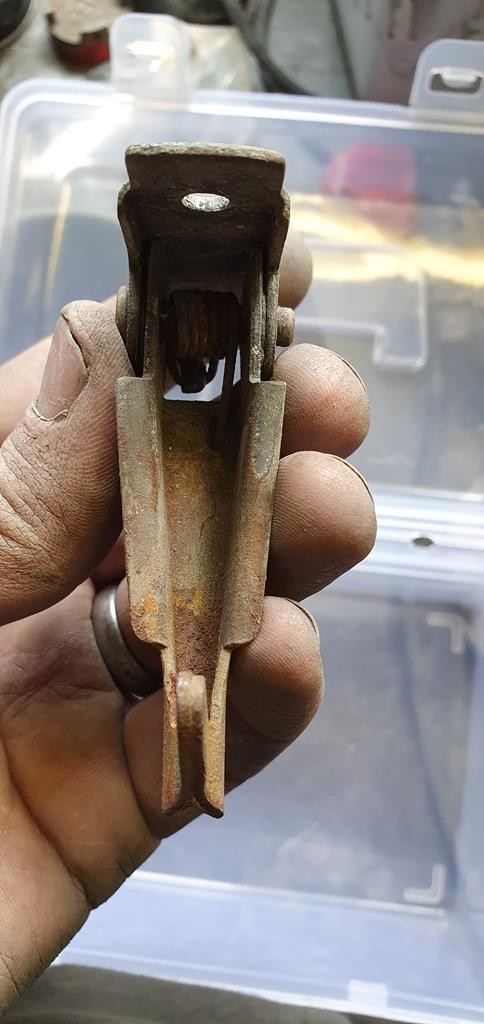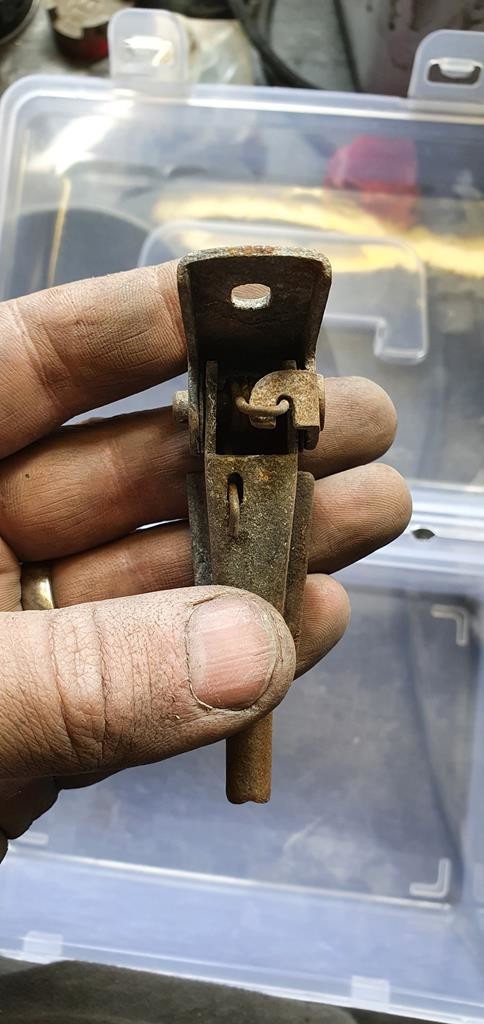 It looks pretty good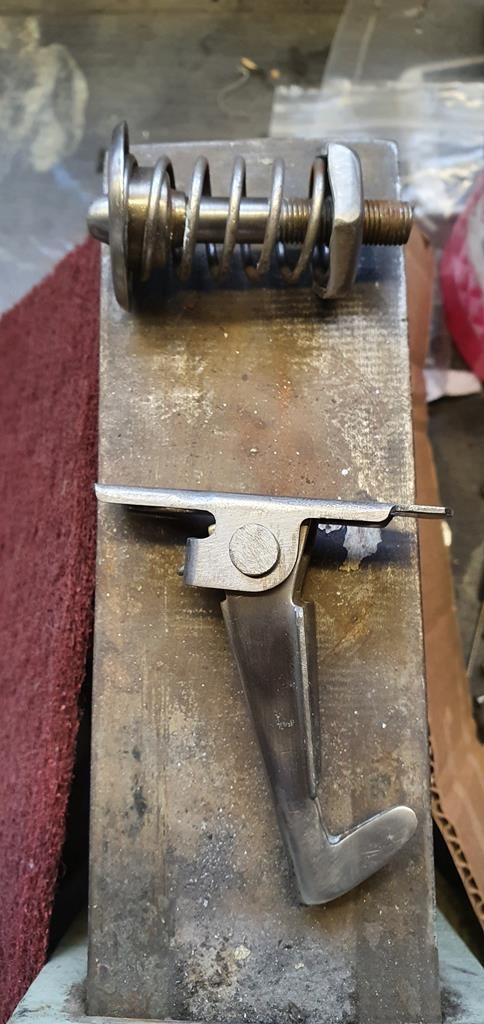 Its easy to do, I'm finding me feet with it but for a fun side project its turned out well.


I'm working on the engine, the sump came off because I did a terrible job of fitting it and its had a dent in it so I figured id have a go at knocking it out!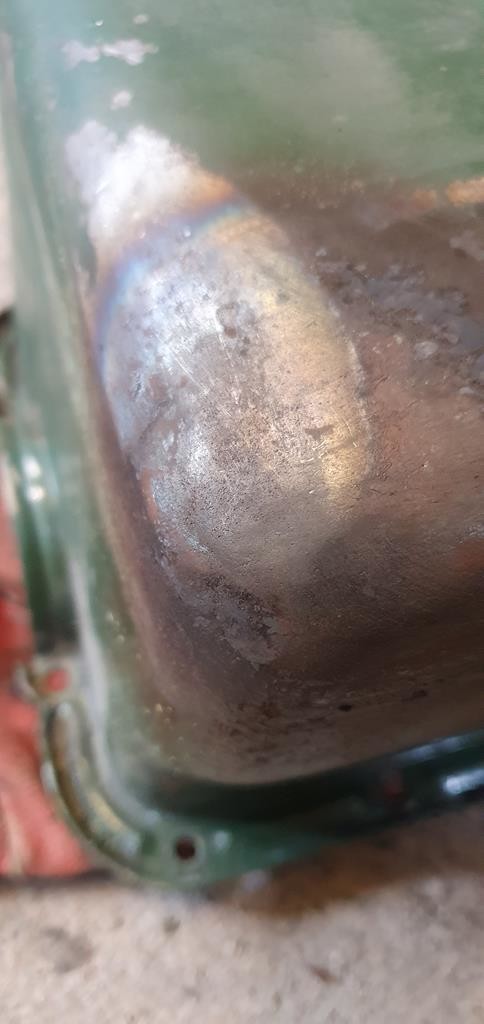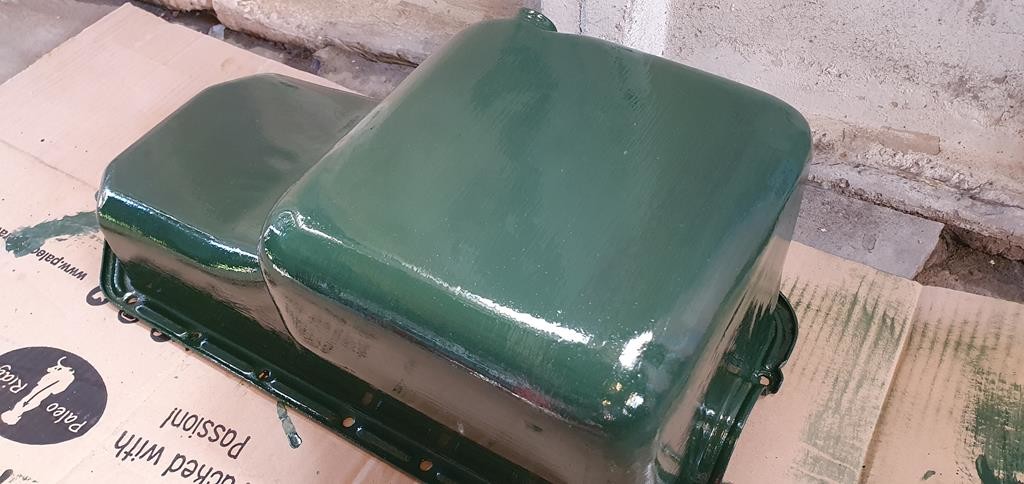 A bit of heat and some strategic bashing! It's gone much better than my previous attempts so I'm pleasantly surprised.

I have an issue with the clutch- I bought this from Burton Power years ago when the engine was being reconditioned mainly for balancing the flywheel and pressure plate.

The pressure plate fits the flywheel and is flush without the friction plate, the friction plate fits the input shaft and is the correct diameter for the pressure plate.

Put this lot together and you get this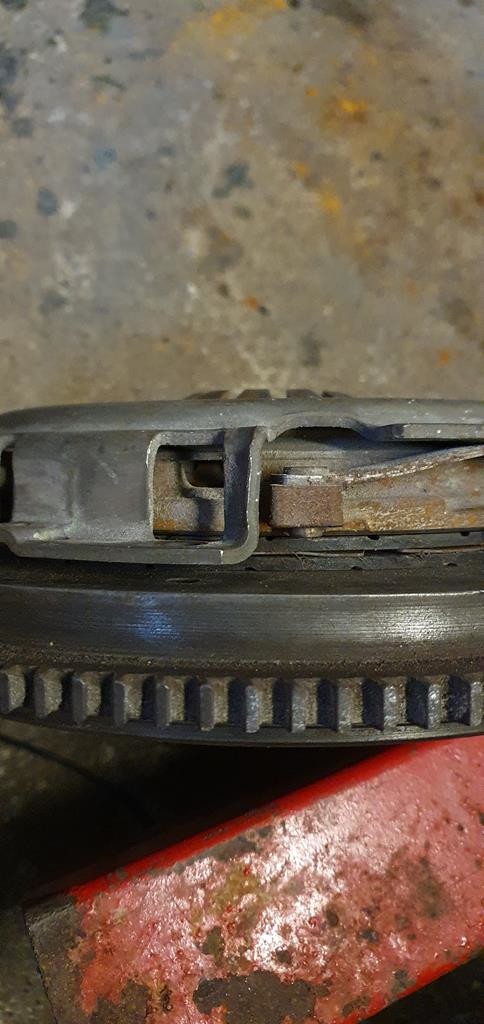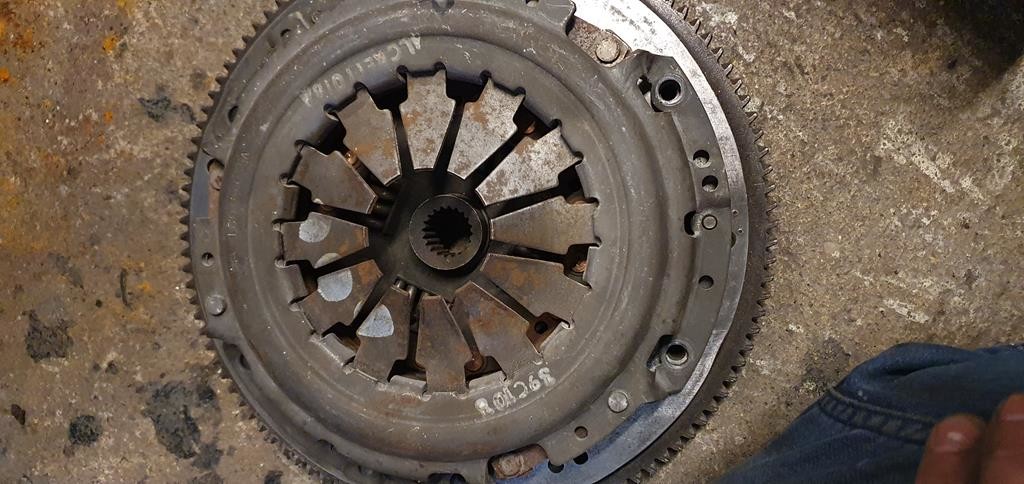 Have I missed something? I don't remember needing spacers?

Answers on a postcard!

Hope you're all staying safe out there.
6-5-2020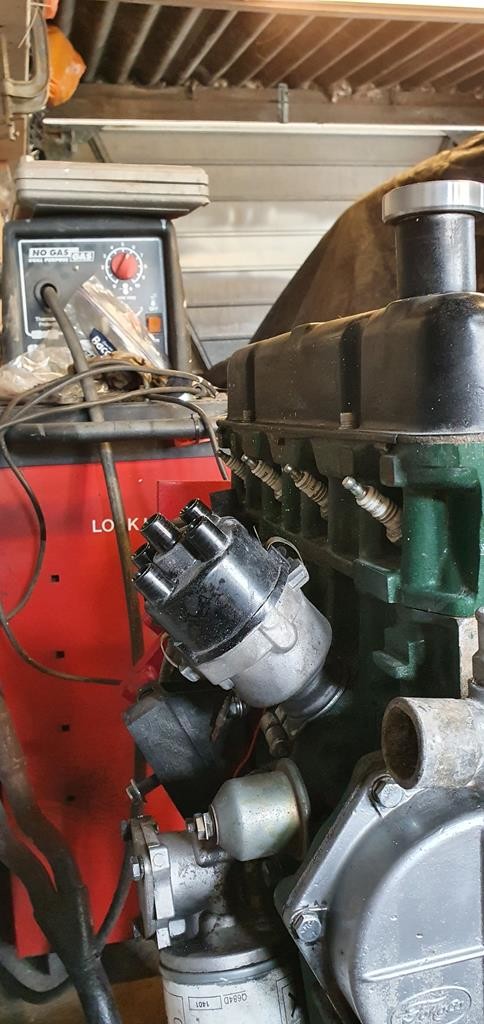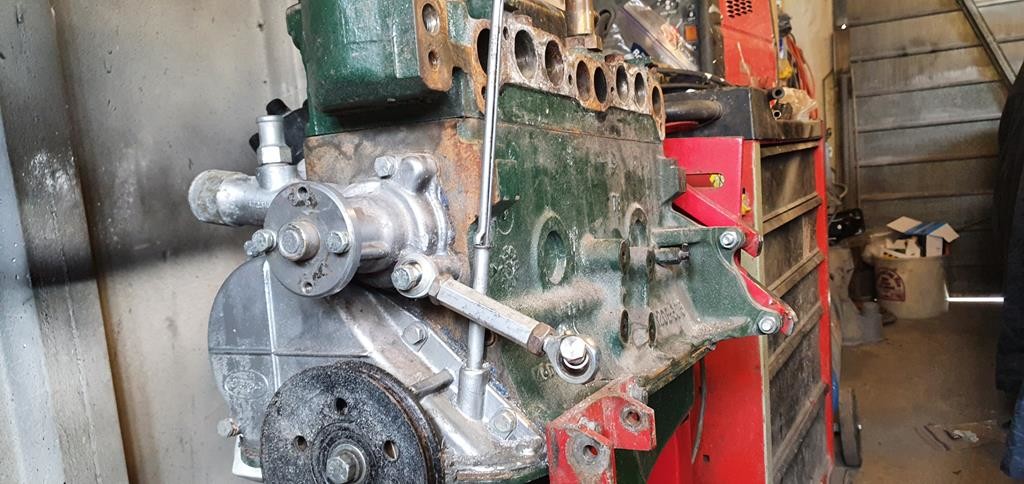 The engine needed to be cleaned up, despite being perfectly functional it was looking sorry for itself as I'd had it in the garage whilst the body work was being done - its my fault entirely but we'll gloss over that...

The sump needed a fresh gasket as I didn't do a great job of it - it dropped as much oil as BP!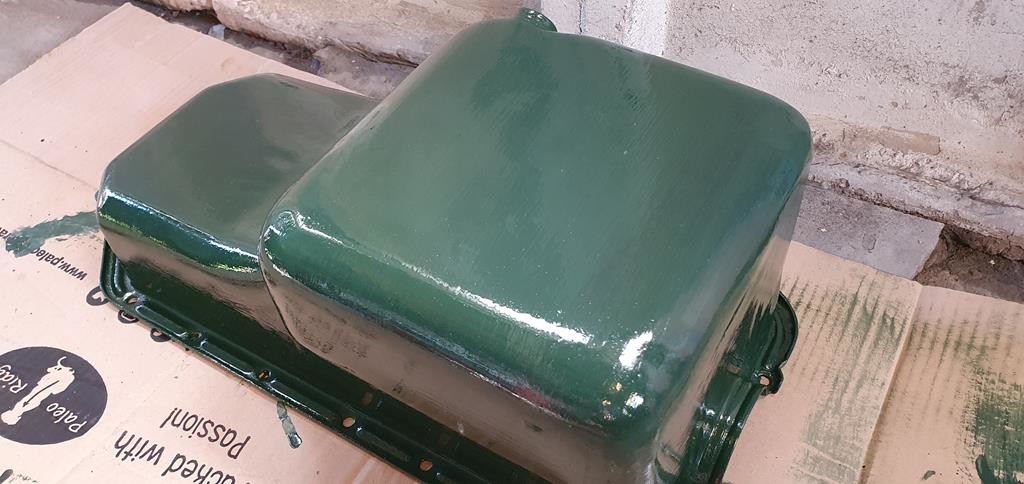 After some prep time of sorting the loose paint and overspray I ended up with this: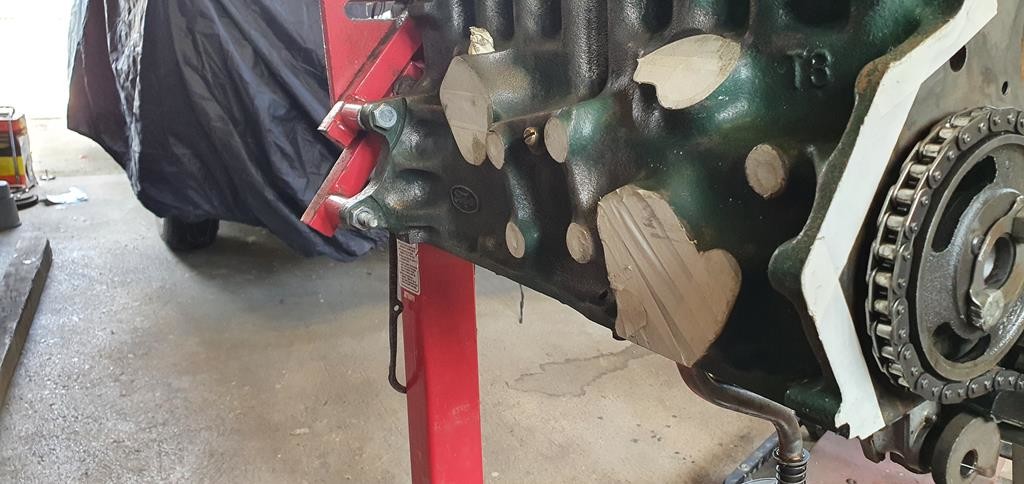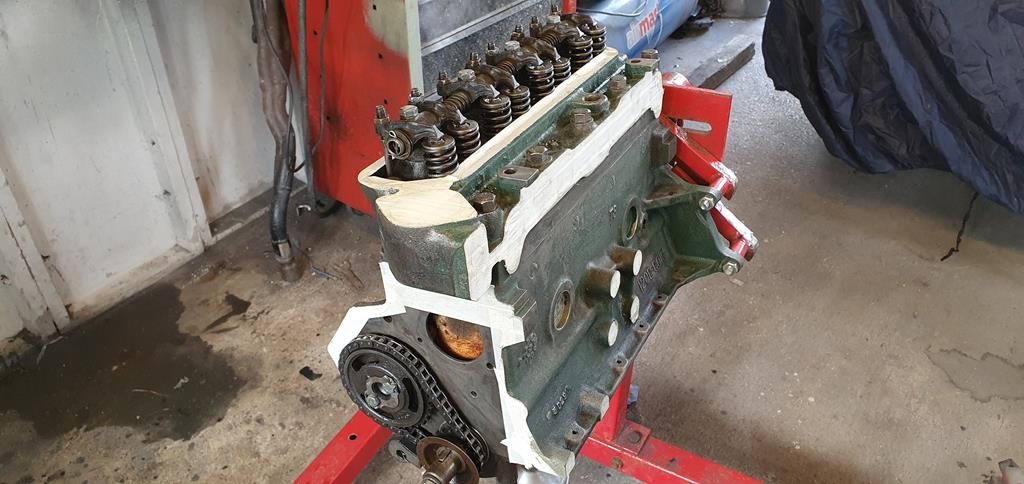 Then i could crack on with the British racing green- as close as i could get to the Ford version without getting it mixed.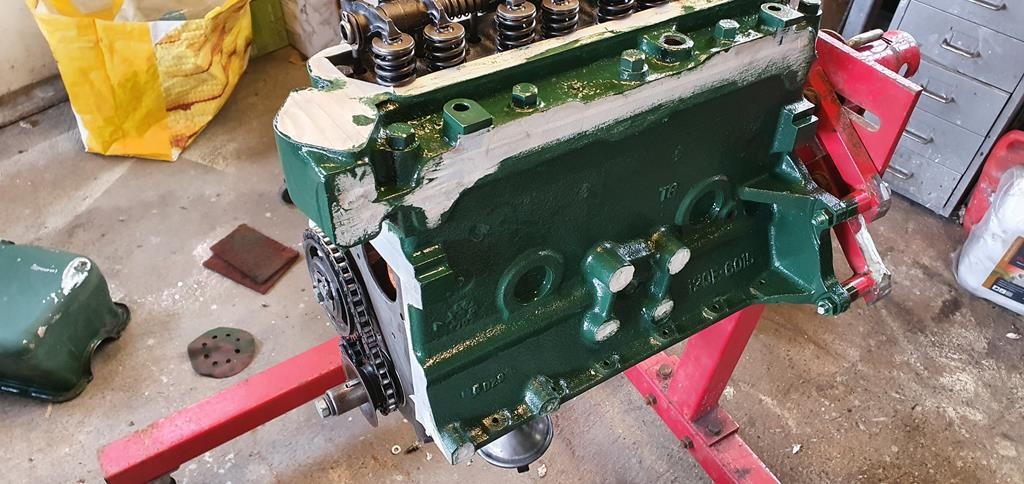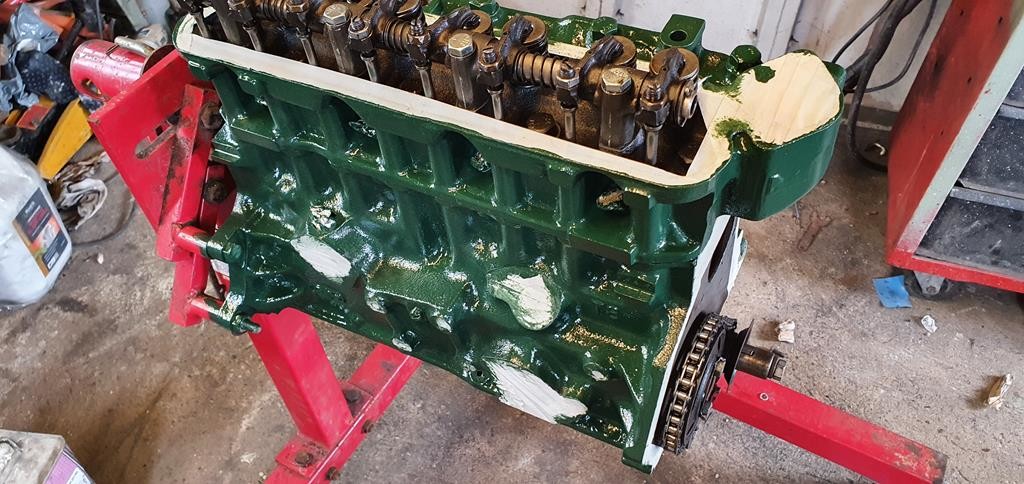 The pulleys and rocker cover were painted black, i had an original pressed pulley and a smaller performance pulley I found cheap on ebay years ago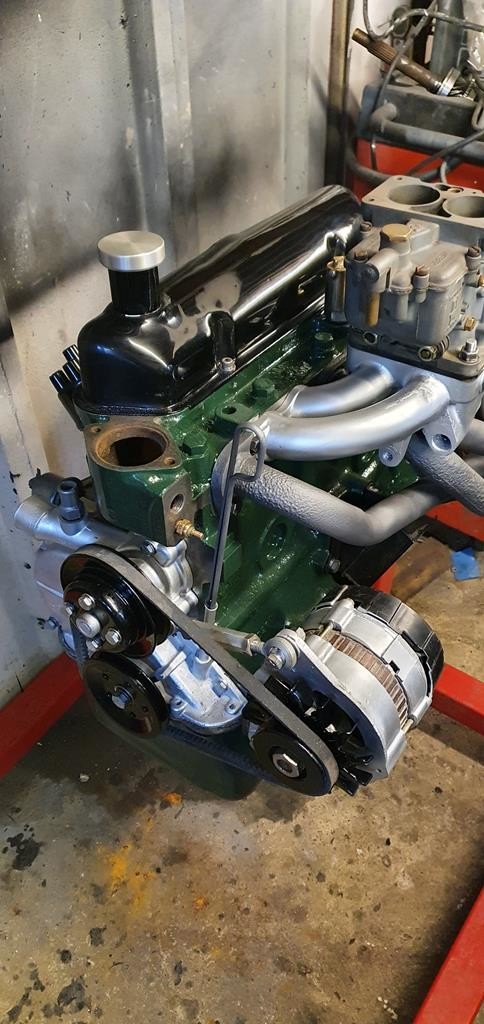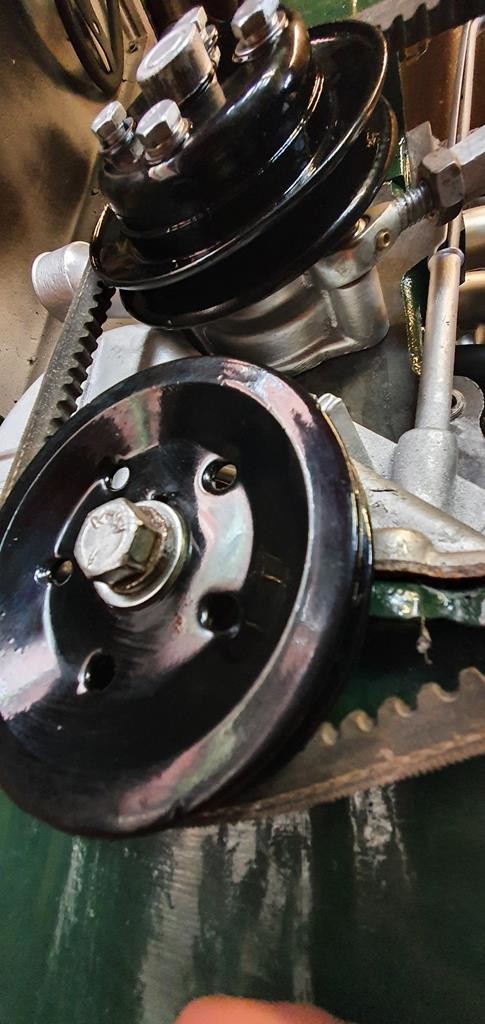 The clutch went together nicely after my brainhad gone into neutral the other day and fortunately the gearbox skid straight on.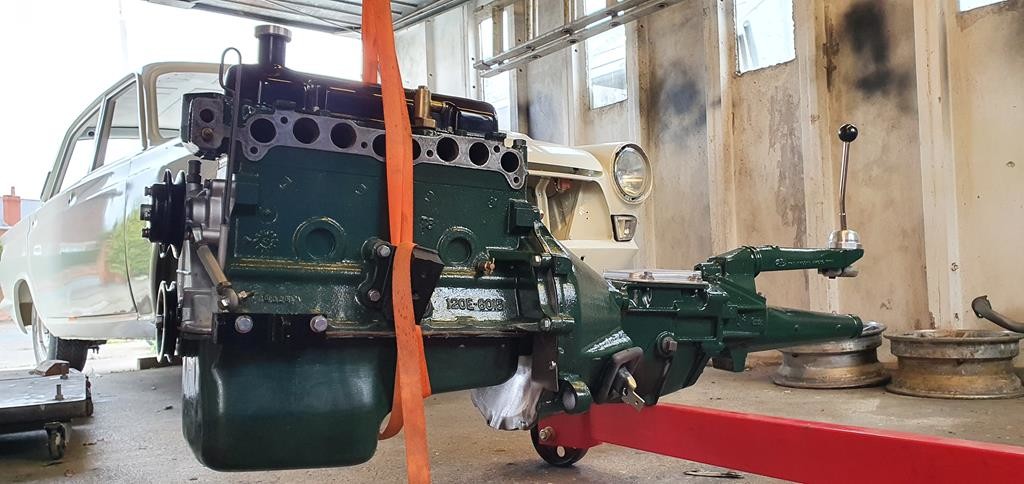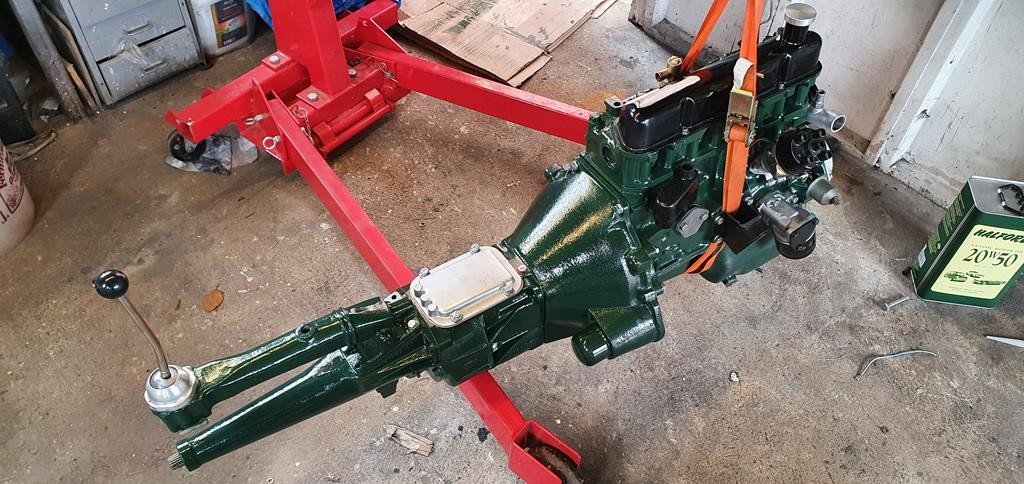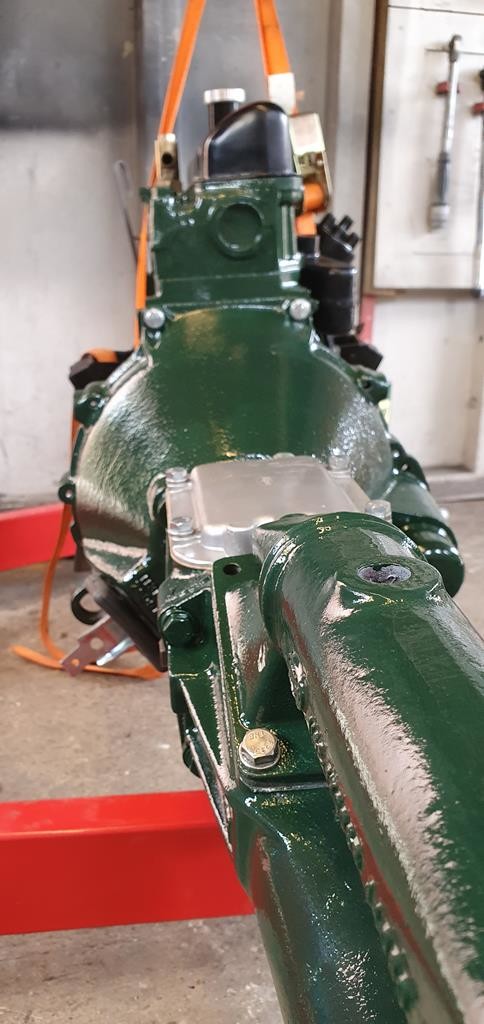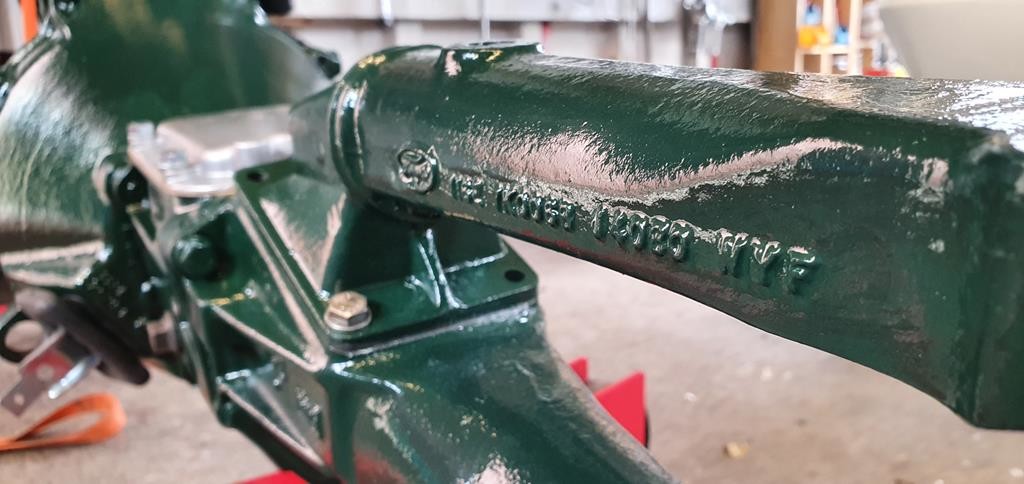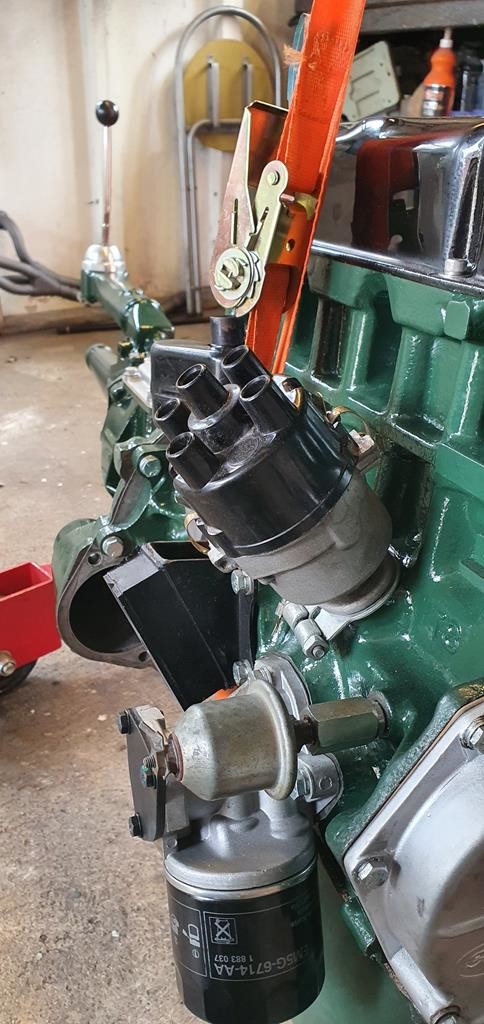 Gratuitous shots I know but its not had a functional drive train since 2006!

With rules changing my dad came over to help me drive the crane and get it in. It was straight forward getting it in the bay but we had a struggle to get the mounts lined up exactly.
It was fine though and good to see him properly and not on a video chat!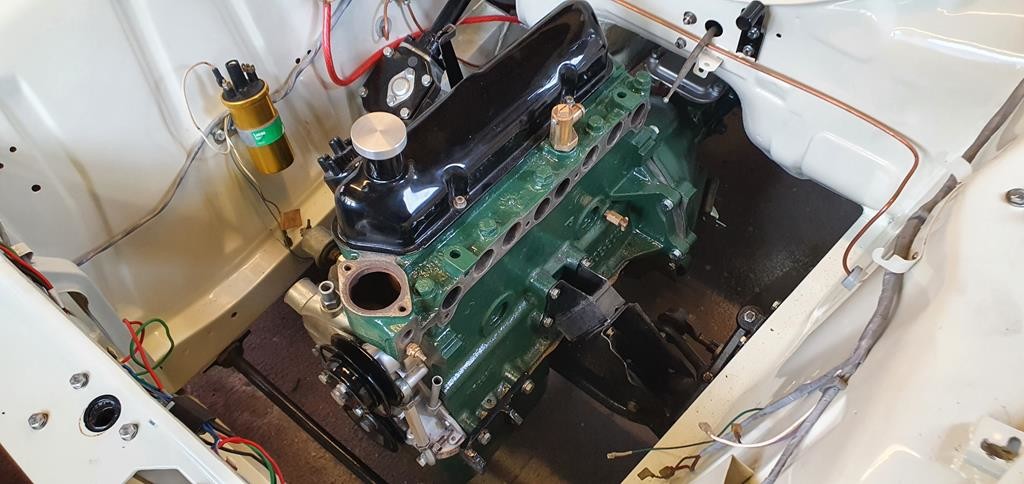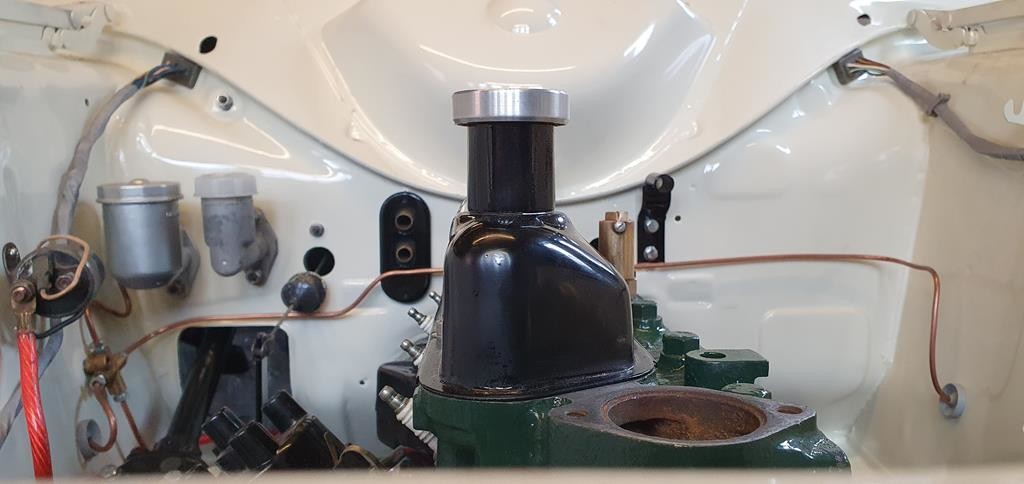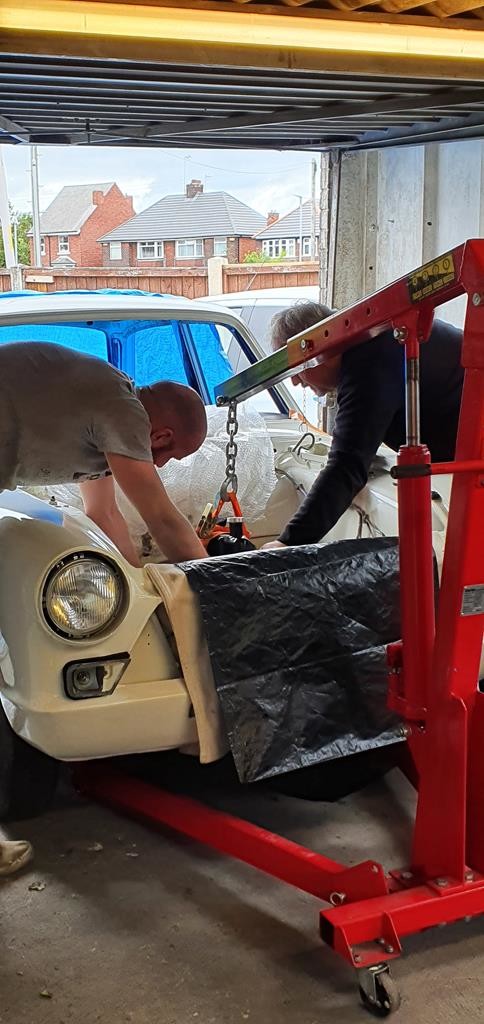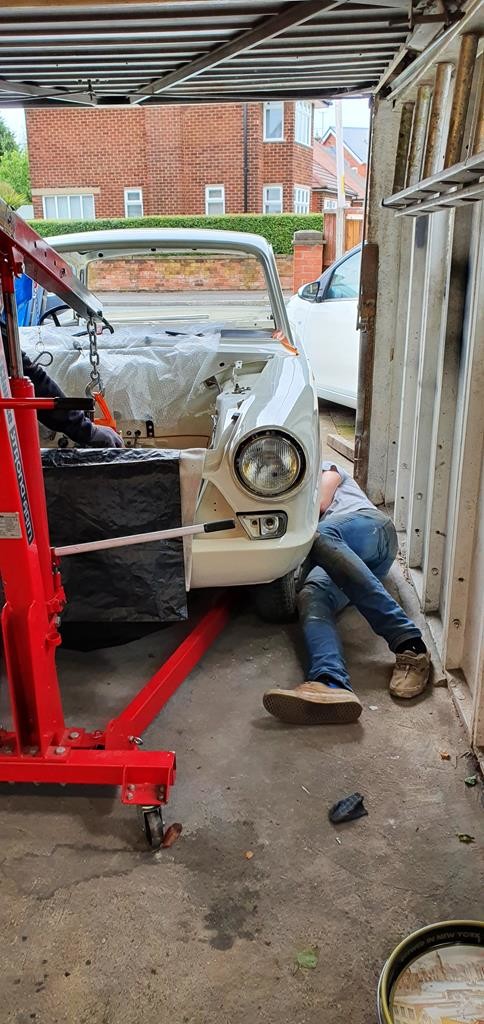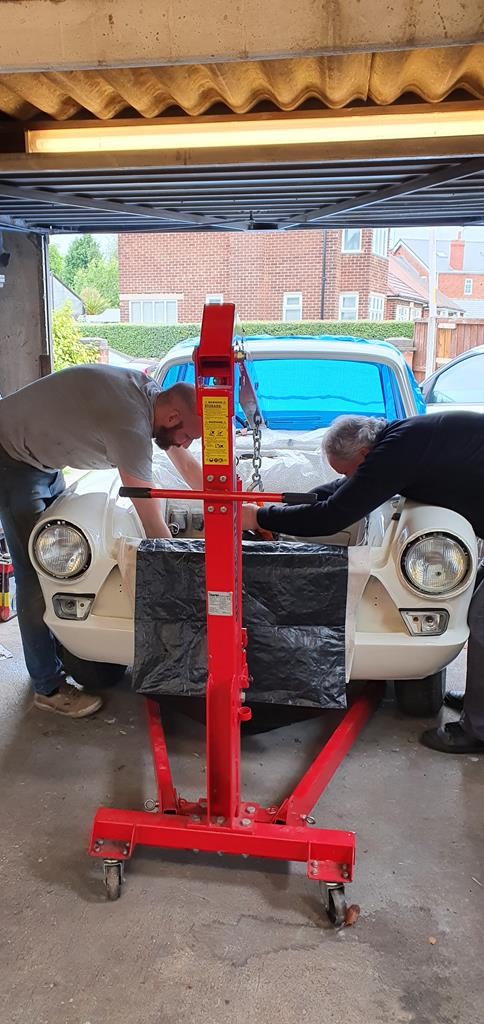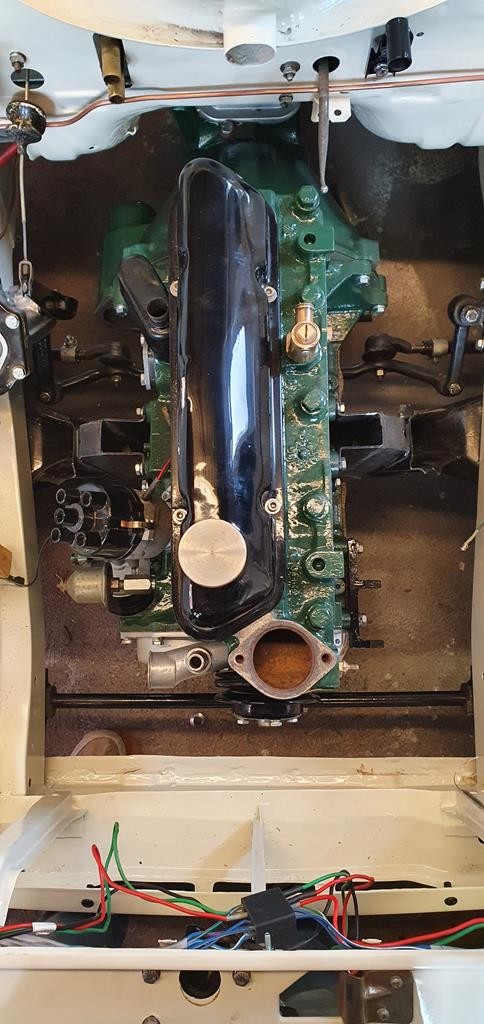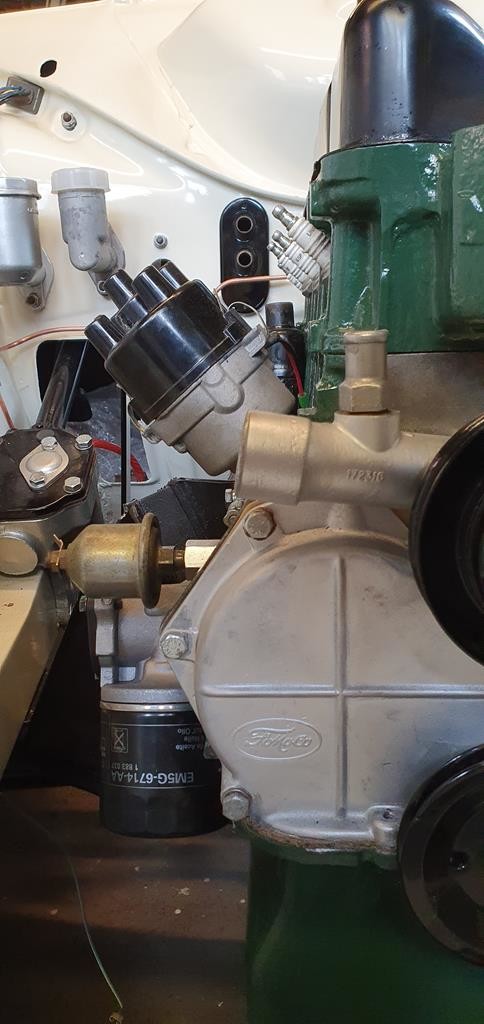 I have a lot of work to do till i can get it running but I'm very happy with what we achieved.

I hope you're all well and getting things done
8-9-2020
I've been quite busy over the last few weeks. I painted the dash and put it back together. It's great how something as simple as fitting dials make the car look more complete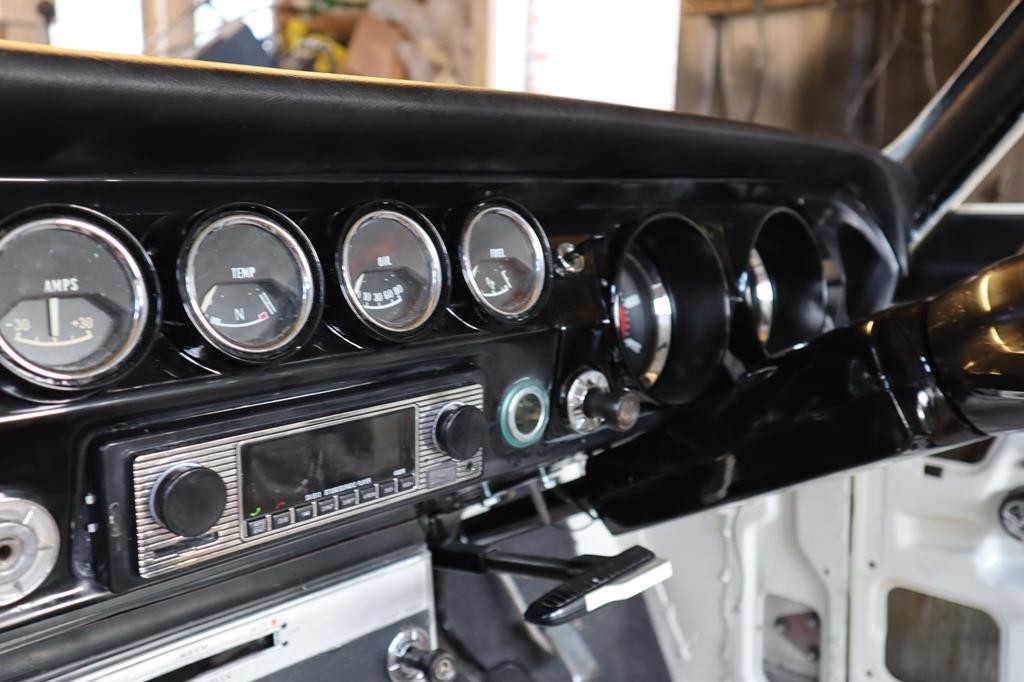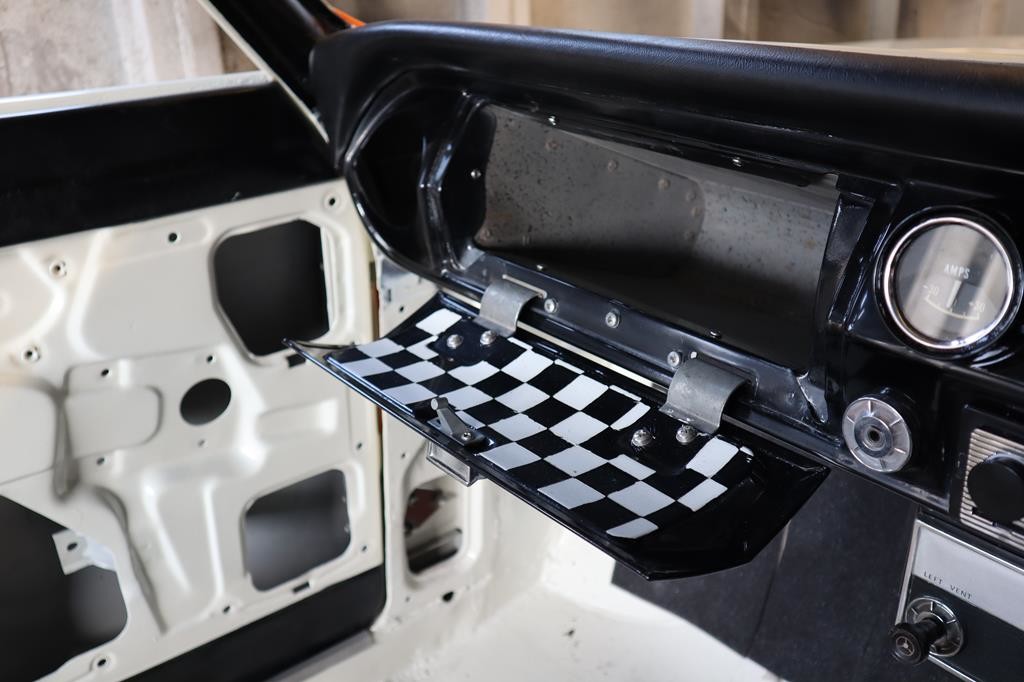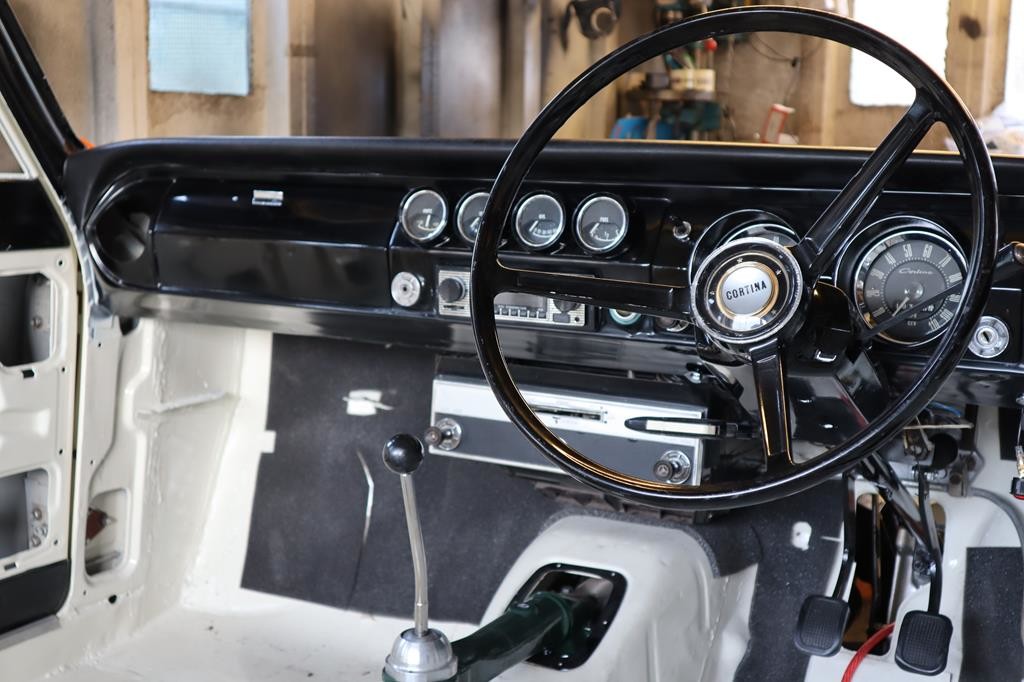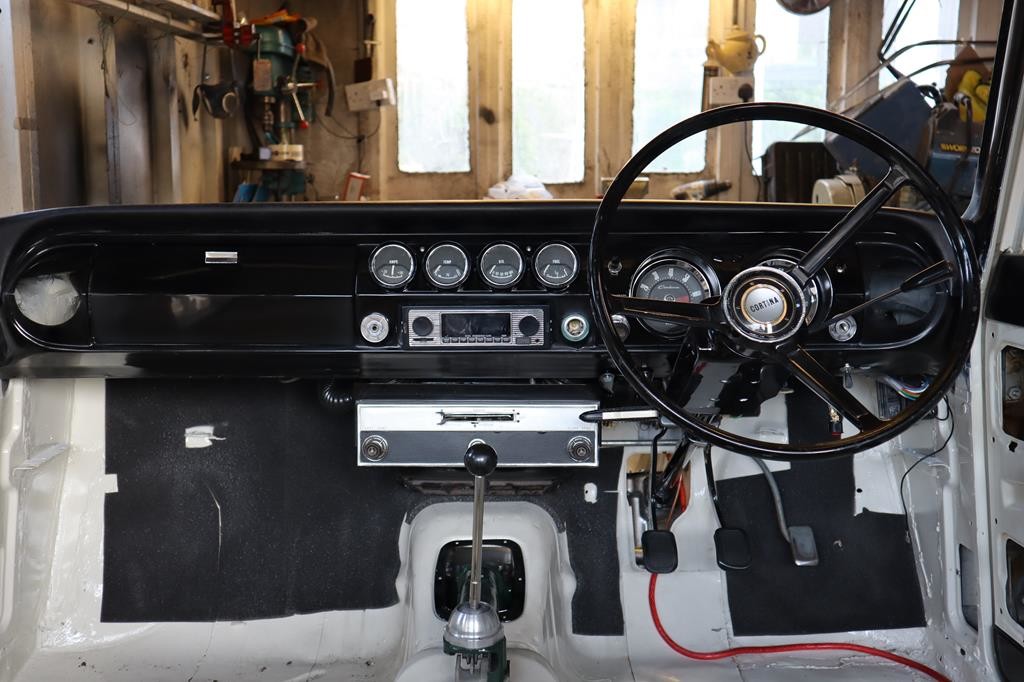 I had prepped the engine parts before I put the engine in the bay, except the carburettor it was sanded blasted years ago and still looked good but I wanted to give it a full service as a precaution because it had been sat for a while.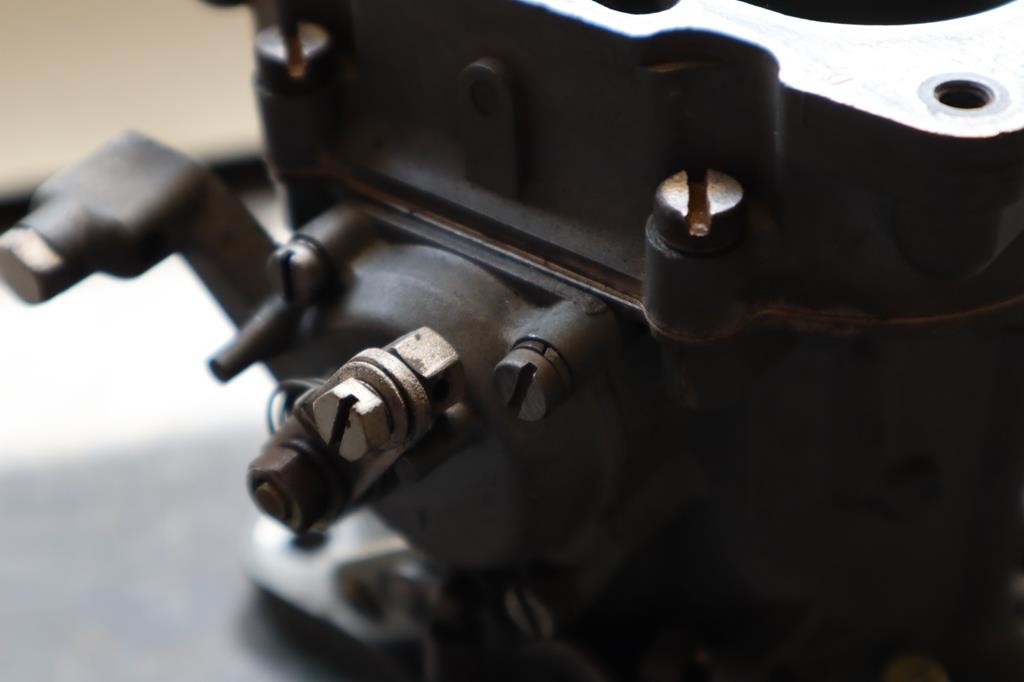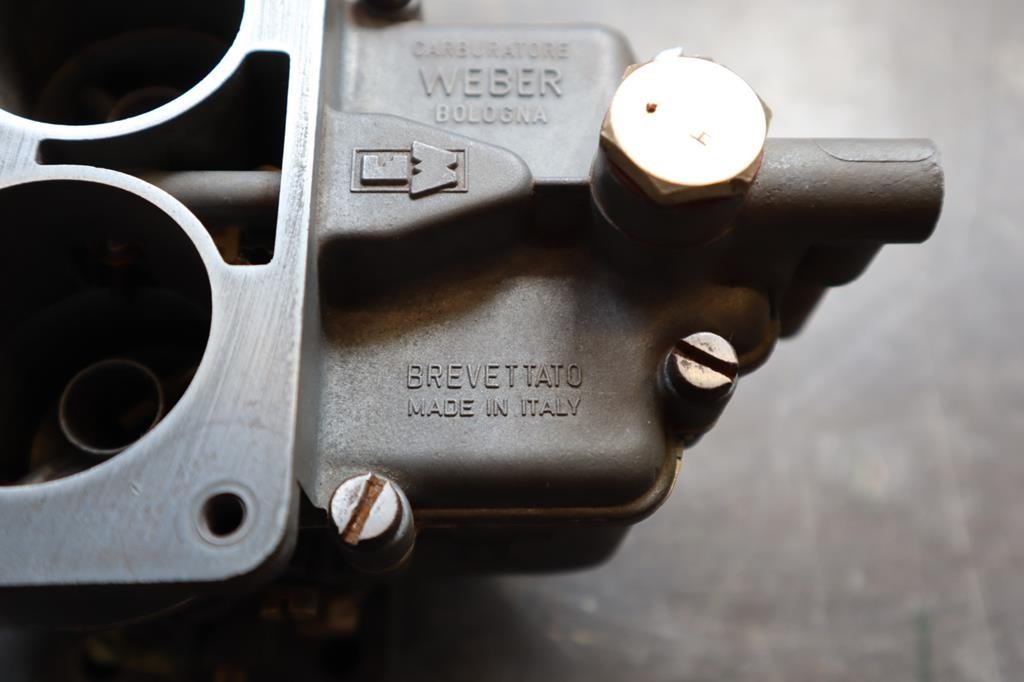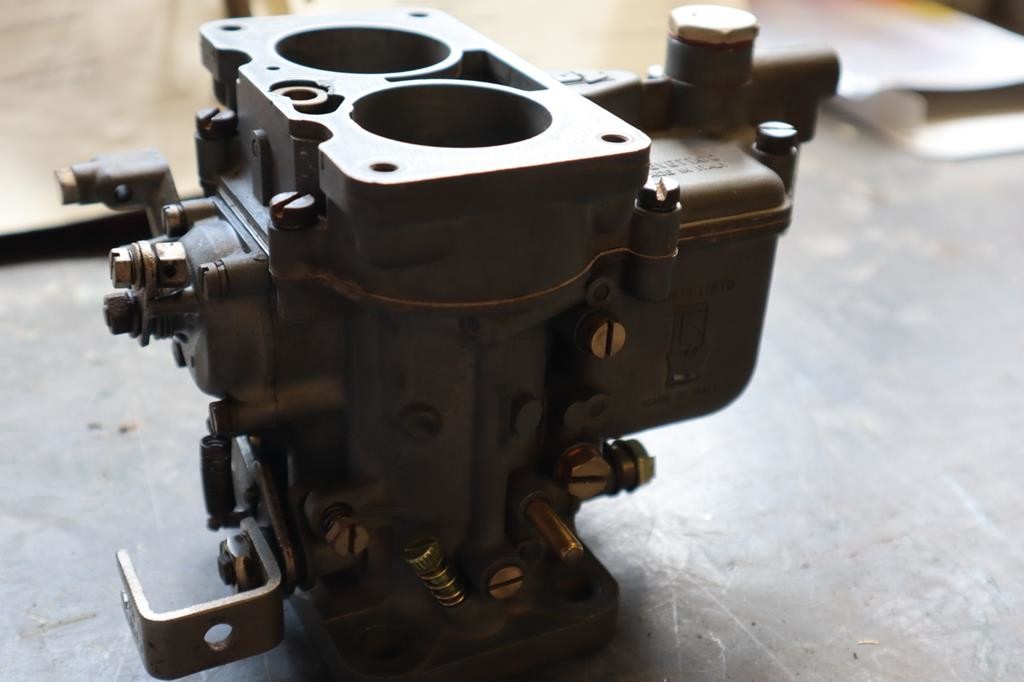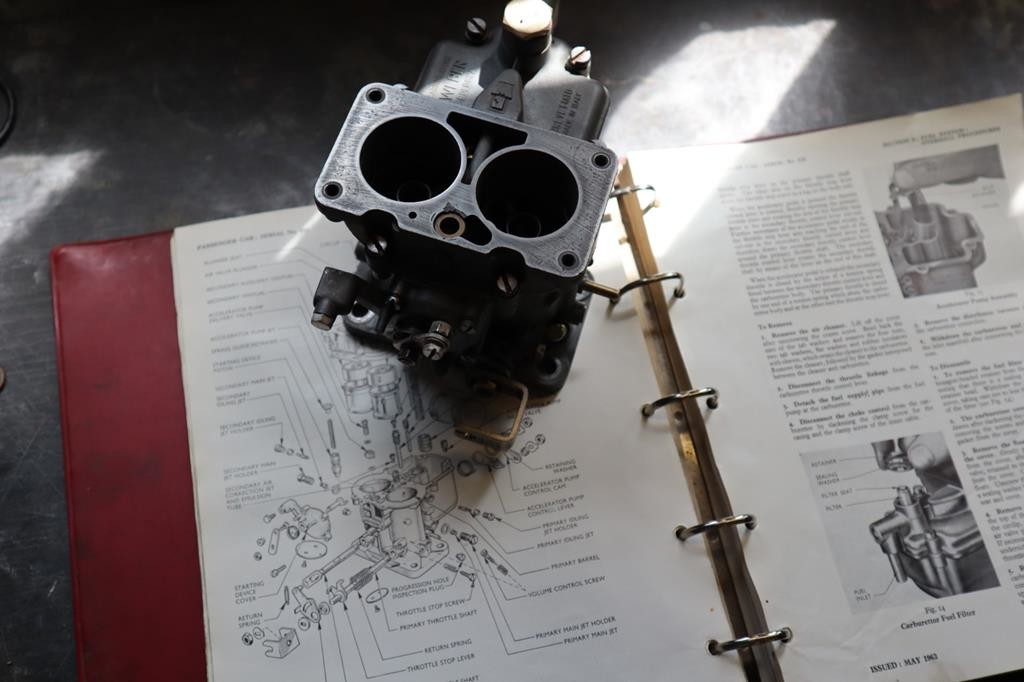 This gave me something to do whilst I was waiting for some new shiny bits for the Cortina to come, they turned up but I wanted to make some nicer brackets for it.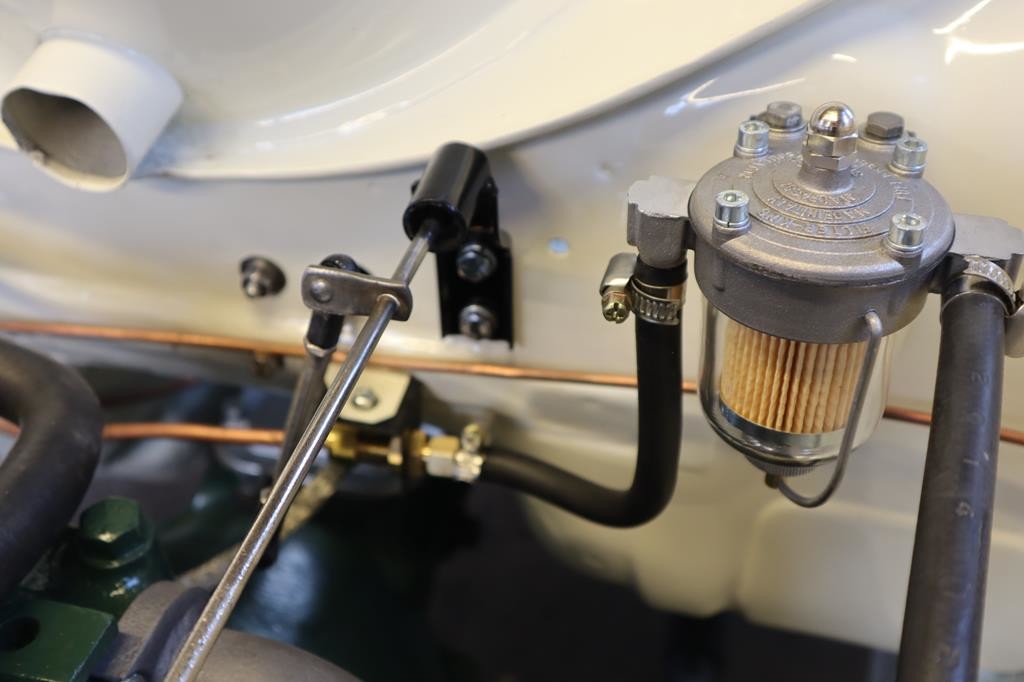 The fuel pressure regulator is attached using a home made bracket and rivnuts through the bulkhead. The fuel line fittings are 1/4" BSP's throughout and 8mm fuel line, the bulkhead connectors allow me to go to flexi lines in a neat way.

Then I was ready to fire her up and...
10-12-2020
It feels like a lifetime since I last posted on here, I have been busy with work and trying to get all the pieces together to make the cortina run under it's own power but I ran into a few issues.

The owners club website had been down for 5-6 weeks so I couldn't order certain parts so I had to scramble around to find alternatives that weren't back breakingly expensive!

The other was the fuel tank - I had discussed this in an earlier post that the original tank and one I refurbd using POR15 weren't good for anything and would try to fabricate a new base for the original tank - problem was the steel would blow through and burn. Hardly a surprise but annoying all the same.

A brand new replacement would require a new sender as they only make tanks and senders for the earlier model and as luck would have it a used tank was for sale with a brand new sender for £150 (its £90 for the sender)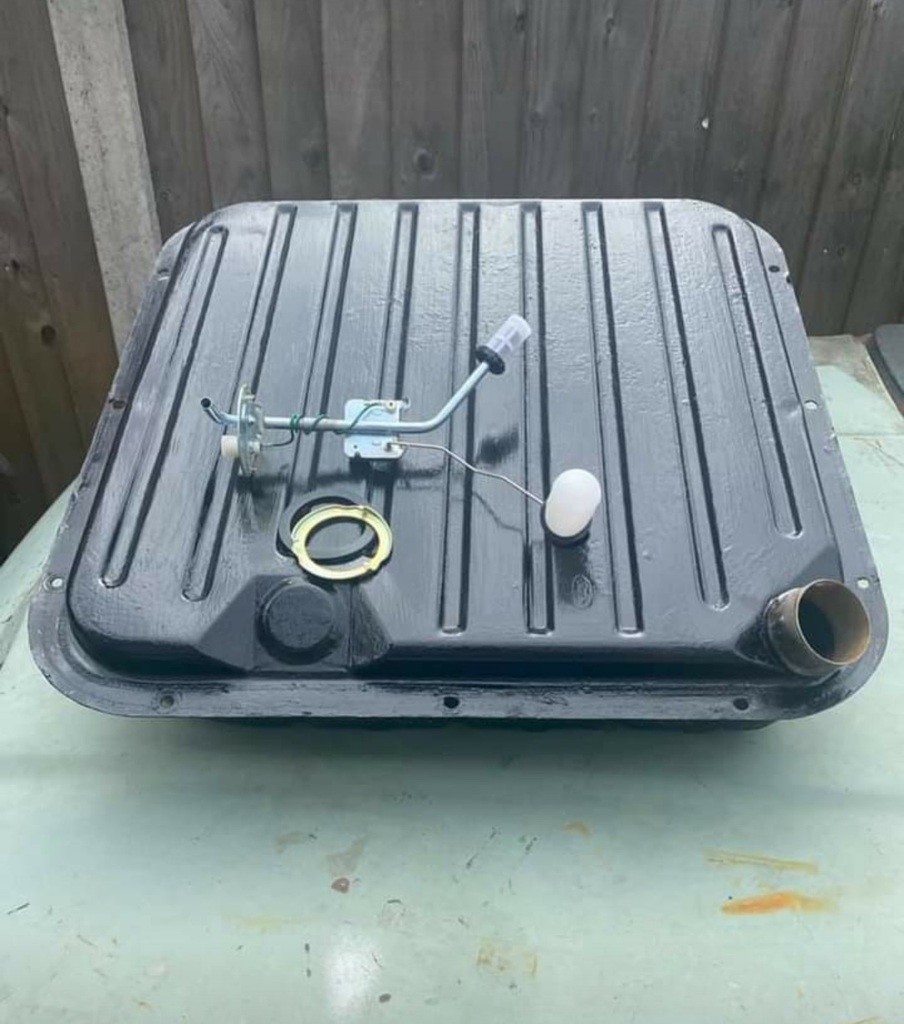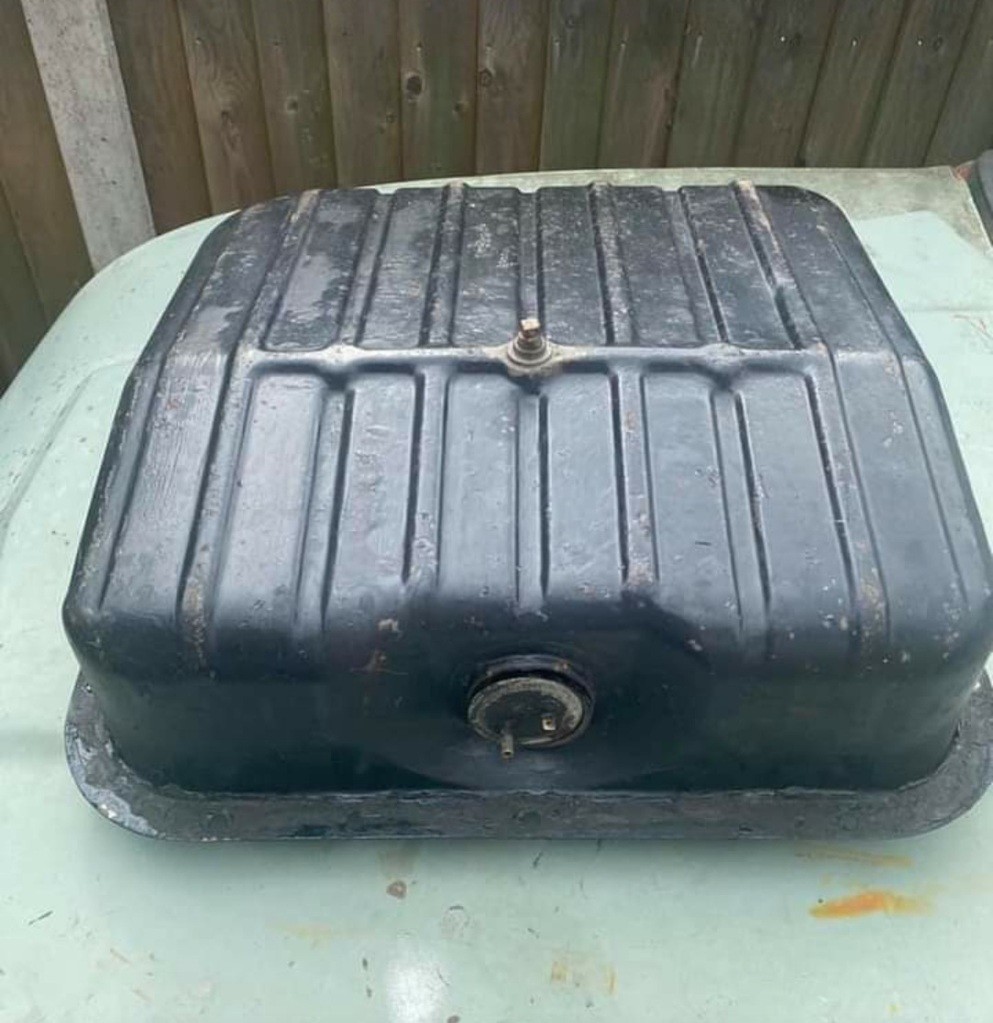 I figured as the original tank was done for I chopped it up but kept the top for a potential rainy day project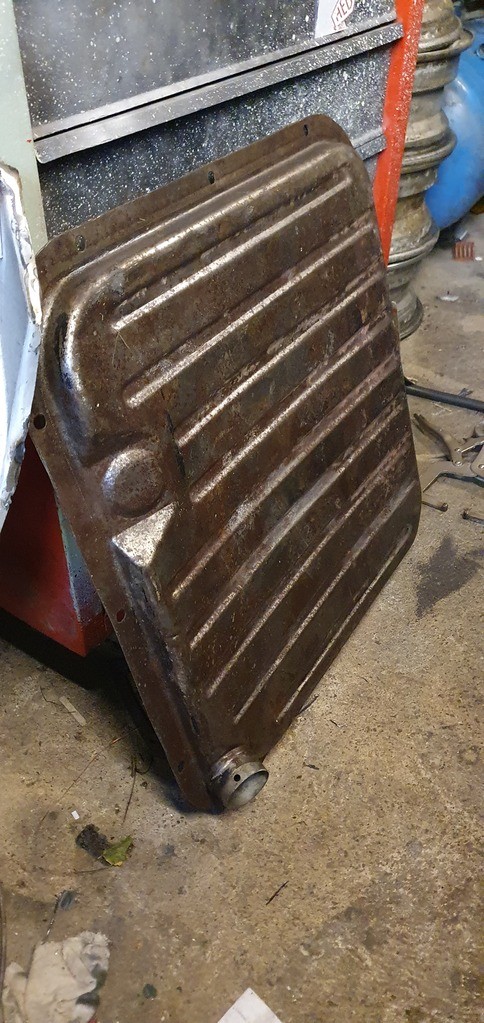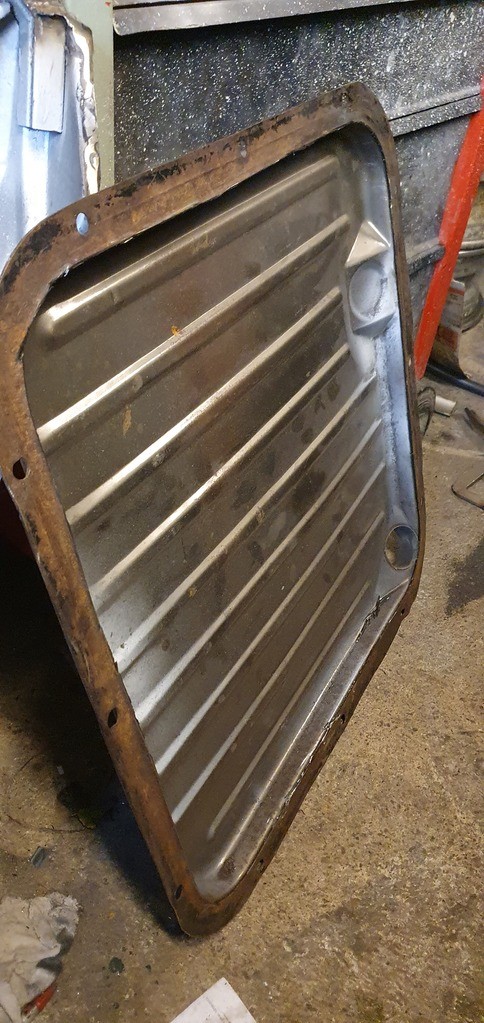 I'm rather happy with the end result - I just need to get the last few bits finished.
10-15-2020
Whilst sourcing the tank was an important job it was only part of the bigger picture, the goal was to make the Cortina move under it's own power. I know it won't mean I' heading off to the MOT station but this is more of a motivational goal and something I wanted to attempt before I got too deep into fitting parts that would ultimately need to be removed.

There were 4 main parts to this;

The clutch hydraulics - standard parts and easily sorted,
Propshaft - new UJ's and paint, again standard fare,
The fuel tank (I'll not go over that one again)
The coolant system - hoses were tricky as the club website was down for a revamp for 6 weeks and ebay had questionable parts.


I didn't take any photos of the clutch arrangement and I'm unsure why but I have a clear plastic pipe which highlights my lovely purple DOT5 - whether this pipe is ok long term is to be decided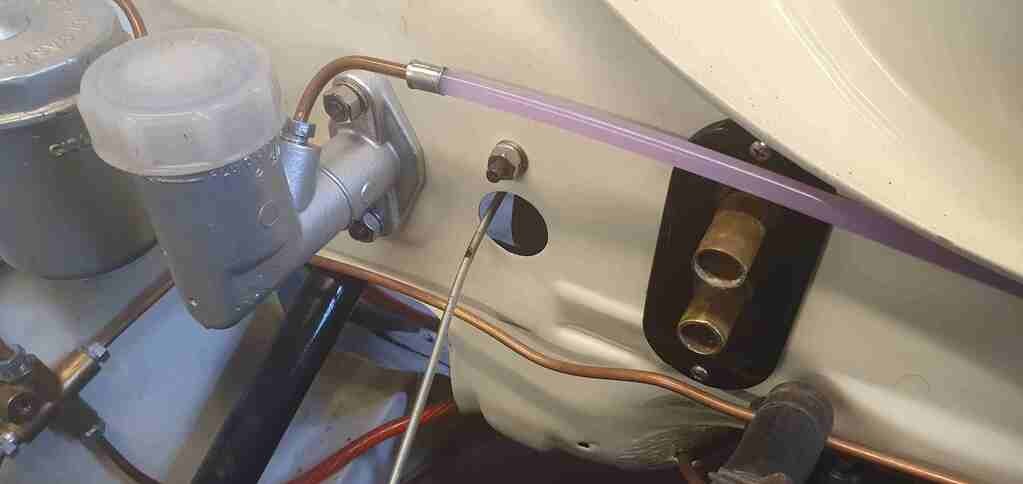 The prop shaft came up rather nicely, even though it's brush painted!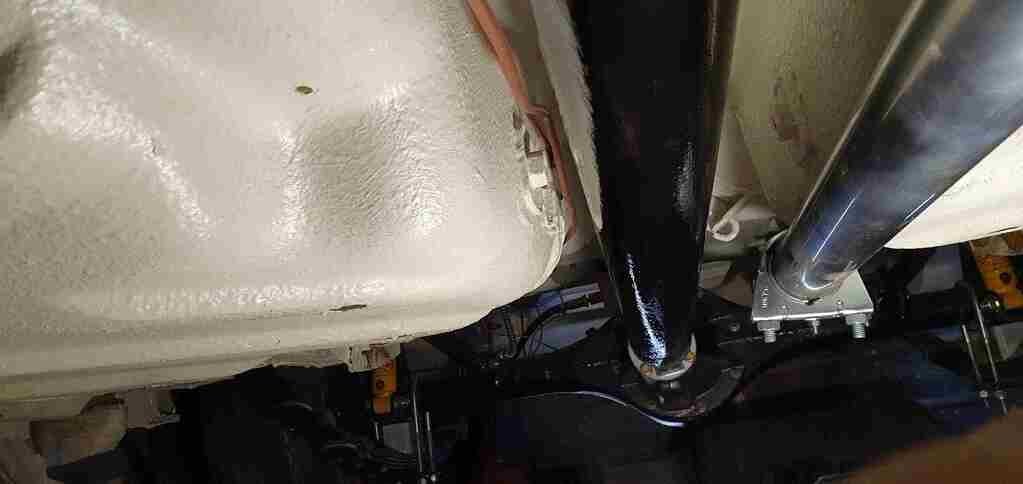 I painted the radiator and sourced the hoses from all over the internet before polishing the lot.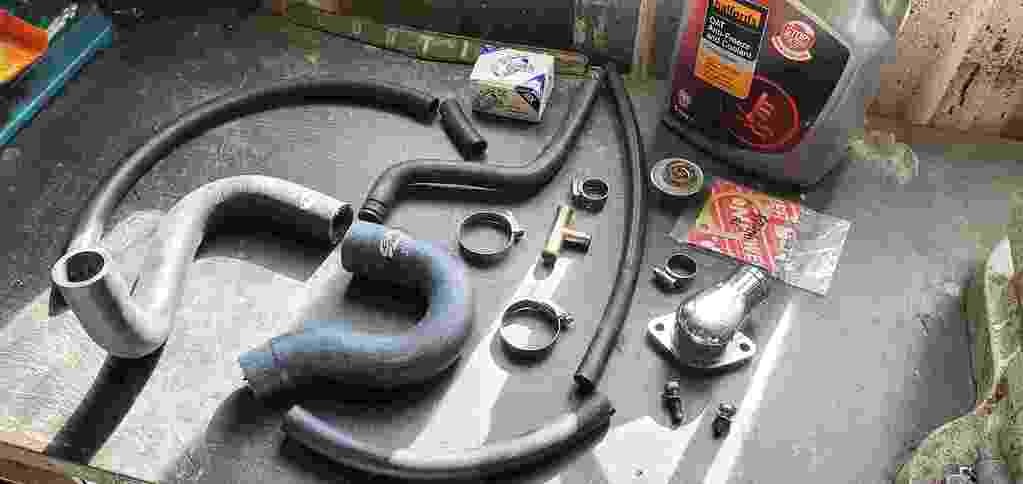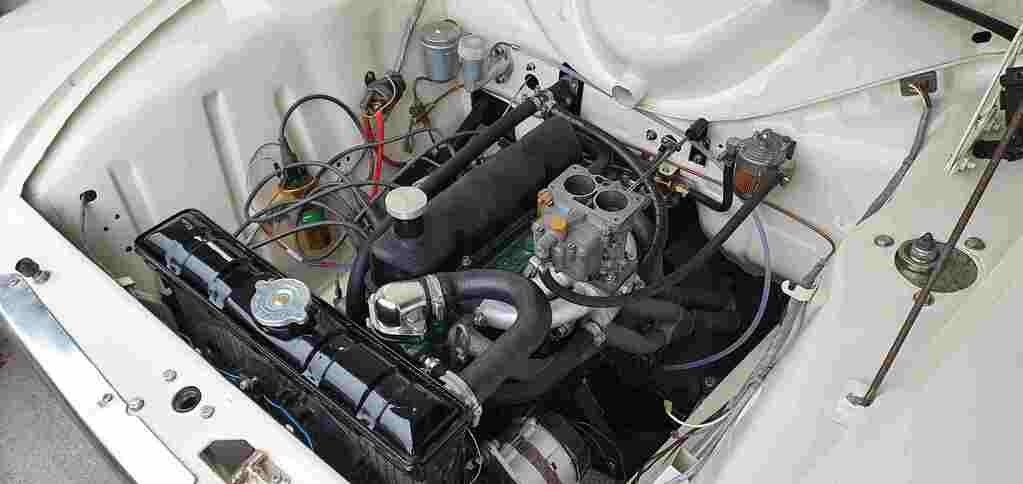 Once filled I heard a dripping sound..
The source of this was the coreplug conveniently located between the engine and flywheel, you know the one that's really easy to get to and can be fixed in minutes



Off came the prop, gearbox, clutch, and flywheel so I could fix something I thought looked "OK" it was a pinhole but enough to cause a flood.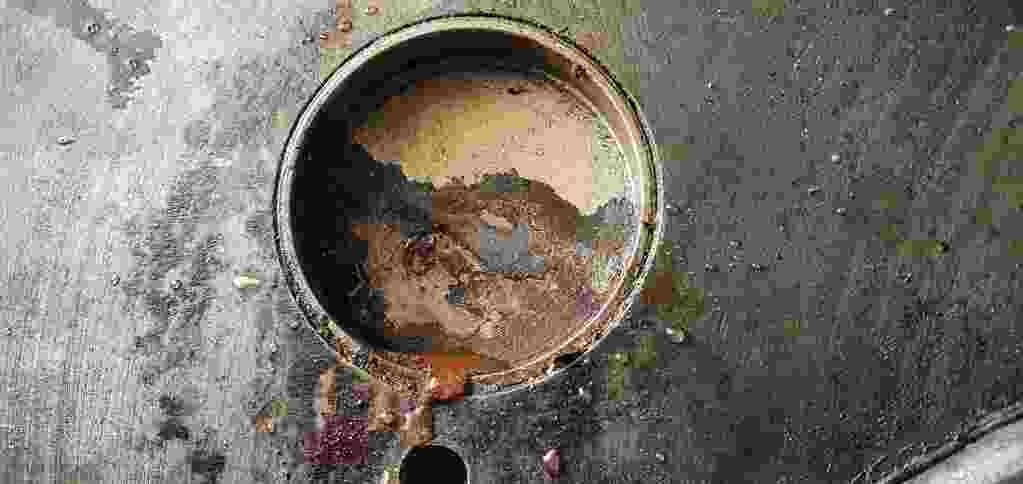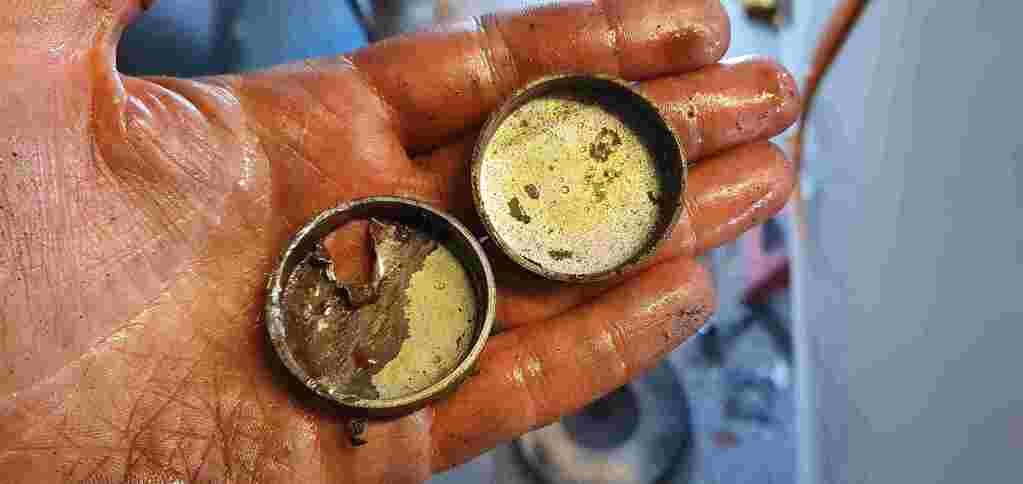 Once replaced I checked the coolant system once more before putting the underside back on, on my own not that I'm bitter...

Upon inspection I found that the release bearing wasn't making contact with the clutch and as it happens the AP clutch I bought isn't as tall as the original unit so all in all I would have had to remove the gearbox this week which is a small saving grace but even so!

Burton power who sold me the clutch informed me that I needed a bearing extension which they happily sold me and also told me that my clutch is now obsolete so there's a job for future me!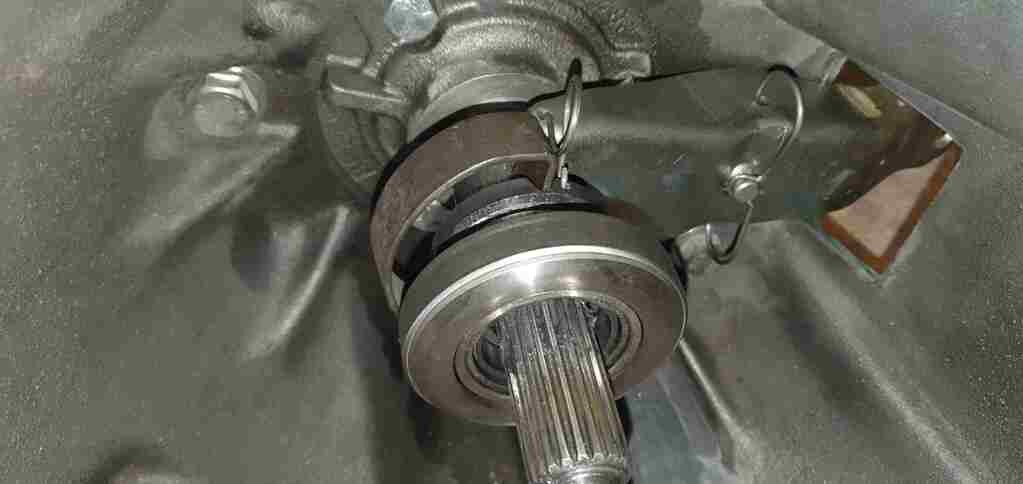 Now it could all go back on.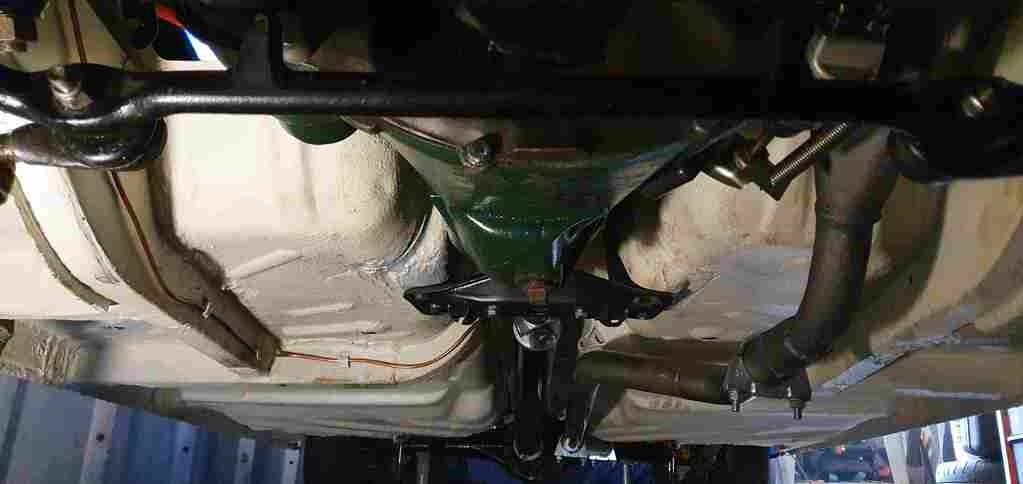 And that left me with 1 job to do...
I know it's a 6ft journey but I'm ecstatic with the thought of what's to come and overcome to get to this point.I'll admit I got a tad emotional but I have had this car on a pedestal in my head since 2005 and not driven it since 2006 so I think it's fair.