Ryan Cheek Racing
By bl_steel
74 minute read
You must be logged in to rate content!
Ryan Cheek Racing
5-22-2018
Highlands Sports Car Club's Night Series keeps the same autocross course for the whole season. With a total of 6 events, there's plenty of opportunities to figure out the best racing line and get every turn perfect.
This picture is from the 3rd event. I still haven't gotten the course perfect yet or found the best tire pressure (as you can see here, too much tire roll), But with 3 more events and plenty of in-car course footage to review, I'm really striving to set the fastest raw time, of the season, in a street legal car. Without further moddification to the car, it is going to be a challange!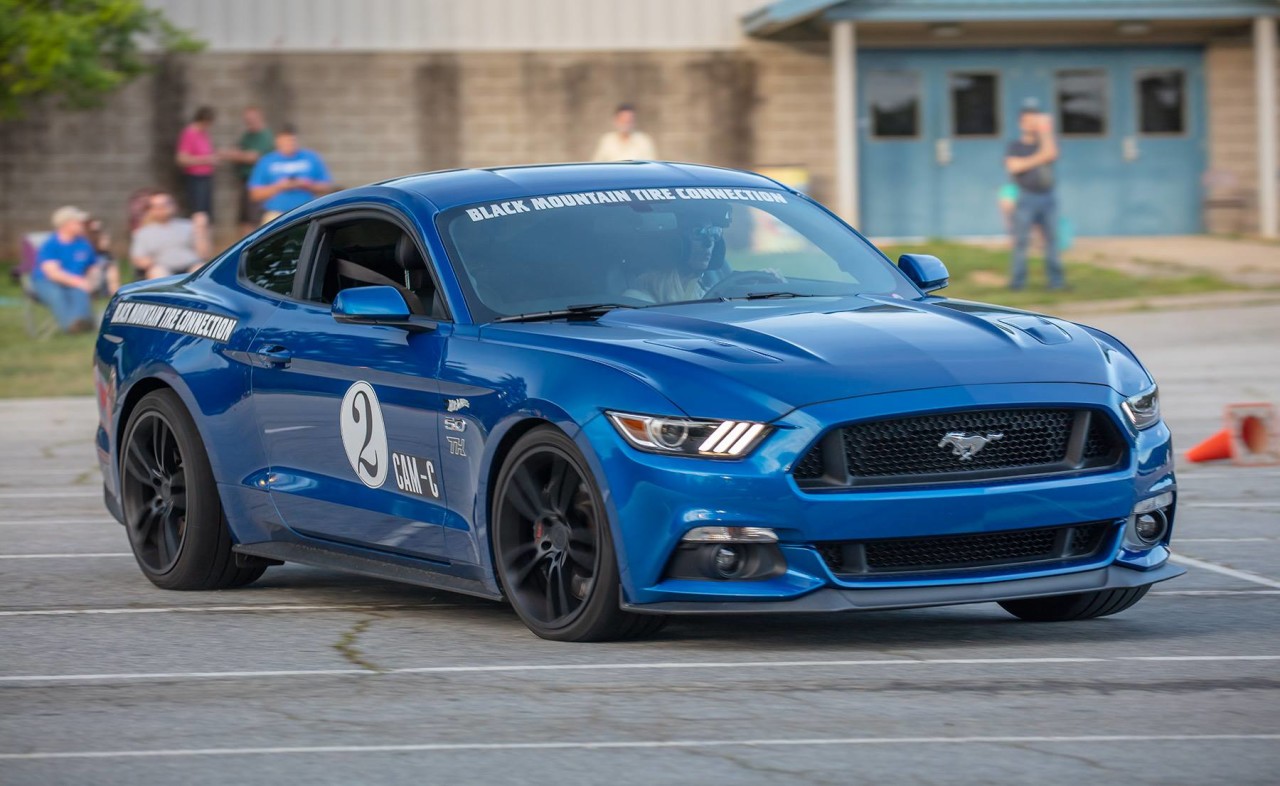 5-25-2018
My fastest lap from Tuesday's Autocross and taking Brian Dickens for a ride.
Enjoy the rodeo!
5-28-2018
Proudly sponsored by Black Mountain Tire Connection Inc.
#Michelin #PS4S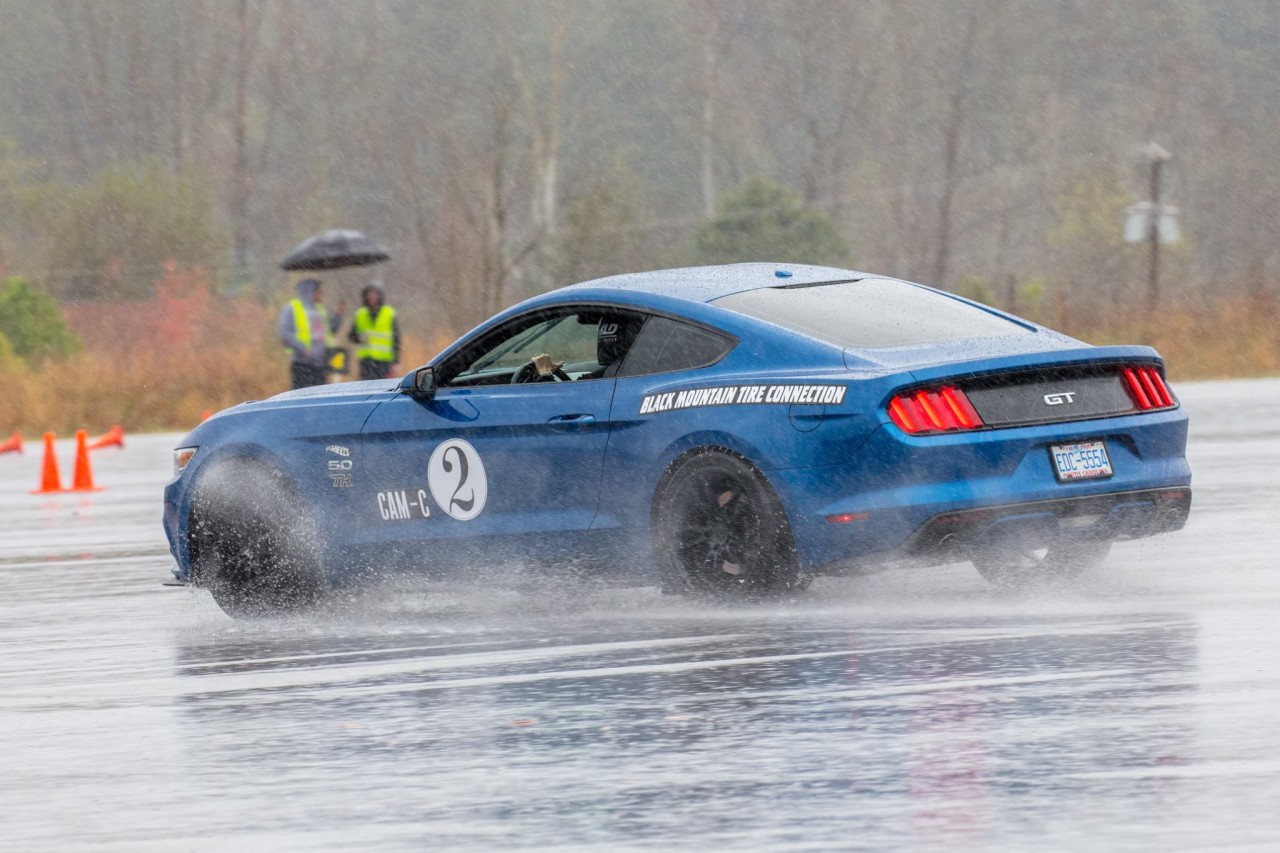 5-16-2018
It's Wednesday, I've tried to write this snippet four times in the last 3 days. But, truth is, I don't want to write this.
This summary,
This review,
This -"the event is over and let me tell you about it",
because The Event isn't over for me.
I continue to awake to my phone's early morning alarm that I set in my Aloft Hotel room the first evening. At night, my thoughts visually rotate through my wardrobe to choose the right outfit for tomorrow's planned activities. But tomorrow never comes, only Wednesday, this Wednesday, the day I have to really say good bye and write this recollection of Michelin's Women In Drive Experience.
Short answer: It was a premier, invite only event to bring women from the automotive industry together to experience the company that is Michelin.
Long answer: Prepared to read?
This was an inaugural event and took over 2 years to plan. Michelin brought together 21 women from across the US, to their US headquarters in Greenville, SC, and proceeded to give them an experience of a lifetime. The group of women, although having an automotive common interest, were quite diverse. Drivers, writers, shifters, drifters, women who knew the difference between Louis Vuitton and Louboutin, and women who knew there's no difference between Target and Tarjay. The women came in all shapes, sizes, ages, races, and, unquestionably, were the hottest grouping of women in the history of groupings.
Our minds were quickly distracted and refocused as Michelin's own, Johnny Valencia, literally took us to school on tires. Here's a bit of what I learned in bullet form:
• Michelin is French. Yep, I didn't know that.
• Michelin is the parent company for BF Goodrich and Uniroyal tires.
• The PS4S has a 300 Treadwear rating, but that's at the choosing of Michelin. The tire actually lasts longer than a typical 300 TW and performs closer to a 200TW rated tire. It's all marketing and I bought into it, as I have these on my car. I wouldn't have wanted these tires if it had higher treadwear rating because I'd think they were less sticky/non-performance, nor if the TW were lower because I'd think the tires wouldn't last long.
• The PS5S is already in development. That is crazy. At this point Michelin's only competition is itself. The previous version of the PS4S, the PSS, had been top rated for years and it was a shock to the tire industry when Michelin put out something even better!
• Corvettes only come from factory with Michelin Tires. "Aller 'Murica!" (Aller, google says, is French for "Go")
• Michelin is developing "Michelin Track Connect", a combination hardware and software system to provide a driver live tire temps and recommendations based on driving style. Within each tire, a removable small device will constantly record pressures and temps across the entire tire and then, relay the info and adjustment recommendations for quicker lap times. As the name says, it's meant to give drivers an edge on the track and is currently being developed for the Sport Cup 2. However, many of us women agreed, this has relative applications in all aspects of driving and could be the future of tire monitoring systems.
• Twheels! Tire and wheel in one, typically for earth mover applications, but seriously cool.
Mid-class we were divided into 2 groups, one group stayed while the other ventured off to tour US1. Michelin's US1 is the first tire manufacturing facility Michelin built in the United States and its inner workings are still a closely guarded secret. I was in the first group to tour US1. Before entering the complex, we had to show ID and receive a visitor's pass. Next, we stopped in a room full of HiVis vests, radios and shoes. Yes! We had to change shoes. They seriously asked 10 women to pick from a stack of shoe boxes a temporary pair of shoes to wear touring the plant. Would you believe it only took 5 mins? Really, nobody cared what they looked like, only that the shoes fit. Again, my people! With different shoes, bright vests and a headset with receiver we walked behind our tour guide, Tator, who did kinda look like a potato. As we entered, the smell of the rubber was the first sign that you were in a tire manufacturing plant, and we were warned of it's potency, but honestly, I liked it. We weaved around large machines, handled different rubber compounds, and attentively listened as Tator told us each component's function. There is hardly any waste. Trimmed rubber gets re-melted and reused, and tires that do not pass inspection get broken-down and used for mulch or other shredded rubber compounds. Astonishingly, US1 produces over 25,000 tires every day, yet only produces a handful of Michelin's tire line. Mostly their passenger vehicle and light truck division.
The biggest take-away, was the intense quality control Michelin implements in its manufacturing. Every tire is hand inspected, by people required to complete a 60-90day training program. If, somehow, one tire slips through the expert's hands there's a machine just down the line that takes one last look, separating good from bad. I never saw a tire get rejected. Every 5 days (I believe) one tire from each line is dissected by engineers who use x-ray, micrometers, and precise standards to ascertain that the tire is perfect.
After the tour, we ate lunch at the grounds' cafeteria and headed back to the classroom. Over the next hour, three women executives from within Michelin told us their stories. I lack the ability to describe how much these testimonies affected me. I can say they were relatable, inspiring and emotional. I cried (hopefully secretively and nobody noticed).
Dinner was catered at the Karting venue and it was after 11pm when we arrived back at the hotel.
The next morning, we headed to the Michelin Laurens Proving Grounds; Michelin's huge, private testing facility. I drove Hank, my Mustang. Upon arrival we, again, had class time. We learned the importance of tire pressure, contact patch, and worn tires. All of which we'd be hands on testing throughout the rest of the day. We were then divided into small groups and shuttled off to different areas of the grounds. On the way I could see Mustangs lined up on a autocross track, so I got very excited, little did I know my first activity would be hot laps in a GT350R wearing PS4S tires. I have never ridden in a GT350R and it's very different from my Mustang GT 5.0 PP. I could write an entirely different essay on the GT350R vs my Mustang, but I was supposed to be concentrating on the tires. So, the tires…They were able to put down the R's 526hp, 429 lb-ft of torque smoothly and quickly. The tire provided audible feedback during the 100mph - 9:30 steering angle - sweeping left turn, and never did I feel the car slip or bobble.
Our next activity, we arrived to find 2 Ford Focuses (Foci?), a front wheel drive vehicle, each with 2 new tires. One car had new tires on the front, the other car had new tires on the rear. We drove them at 45-55mph around a wet concrete oval. In the car with 2 new tires on the rear, you could feel the front of the car hydroplane and push/unsteer to the outside of the oval, but a gentle release of the throttle held the car planted. Next car, with 2 new tires on the front was completely different. As soon as you felt the car hydroplane, it was over and you were spinning out. For the average driver, and even above average driver, this could not be controlled. ALWAYS PUT NEW TIRES ON THE REAR , doesn't matter if the vehicle is front-wheel drive, rear-wheel drive, or all-wheel drive.
Next, we simulated wet braking and measured braking distances. We were in Hyundai Santa Fe's, one with Michelin Premier LTX tires that had been buffed down to half tread (half-worn) and the other Santa Fe had brand new Bridgestone H/L Alenza Plus. We were required to reach 45mph, re-engage cruise control, drive into an aisleway of cones and water, and wait for a verbal command to stop. When told "now" we had to stand, and I mean STAND, on the brakes. My personal testing alone showed the half-worn Michelins stopped over 15 feet sooner than the brand new Bridgestones.
Next, we autocrossed V6 Automatic Convertible Mustangs. One on PS4S's, the other on a leading competitor. I was frustrated with the automatic gearbox, but the PS4S did better, by far. I really wanted to run my Mustang (that has PS4S's) through the course, and offered to let my group drive, but something about liability and insurance and red tape……
Our last activity compared a Chrysler Minivan on it's OE (Original Equipment, aka from factory) Michelin Tires, vs an F30 BMW 328i on the cheapest OE fitment tires. The course was a large wet oval with a few chicanes, a decreasing radius turn and an increasing radius turn. You know the Minivan won, but it was very scary to feel how awful the BMW handled on crap tires. Car magazines, car reviewers need to put more emphasis on what tires the car has when it is being reviewed. Granted, not all cars come OE with Michelins. (But they should)
After two days of in class learning, a tour through the manufacturing facility, and behind the wheel testing, my longtime opinion was cast into fact: Michelin makes the best tires in the industry.
I'm not sure what time we made our way from the Chophouse back to our Hotel, but from there, a few of us hung out at the WXYZ lounge and stayed until closing. That was socially epic for me!
The next morning, I had a glorious hangover, but didn't rush home so I could spend a few more moments with the ladies that hadn't left for the airport. I know I wasn't much in the way of company, but I was happy to have those scrambled eggs and watch you girls geek out over popcorn and jerky.
Most of all, the friendships and bonds that were forged over these few days will last a lifetime. To be a part of this inaugural event was humbling and positively self-affirming at the same time. I cannot say thank you enough to Michelin and for all the hard work put in by Lisa Rouby, Johnny Valencia, Oscar Pereda, Mike Lewis and others. You've changed my life for the better.
Not all the pictures are my own, I wish I had more to share!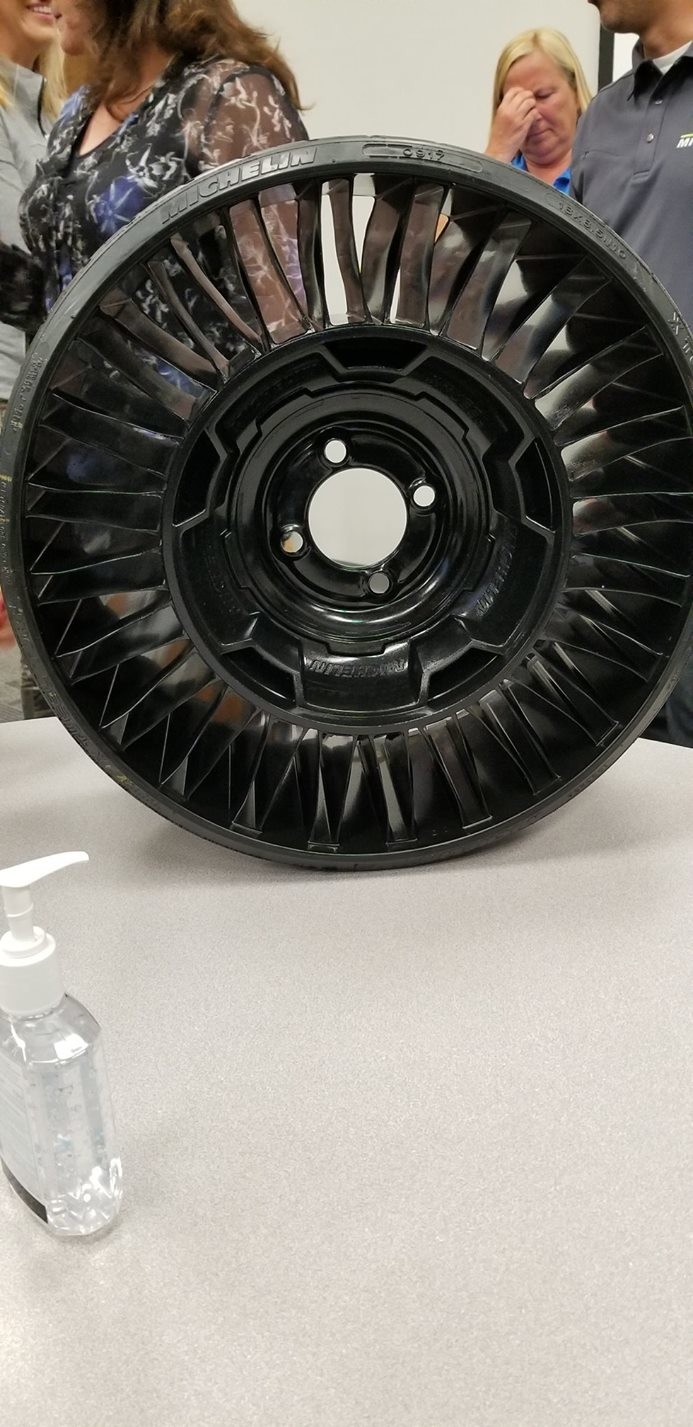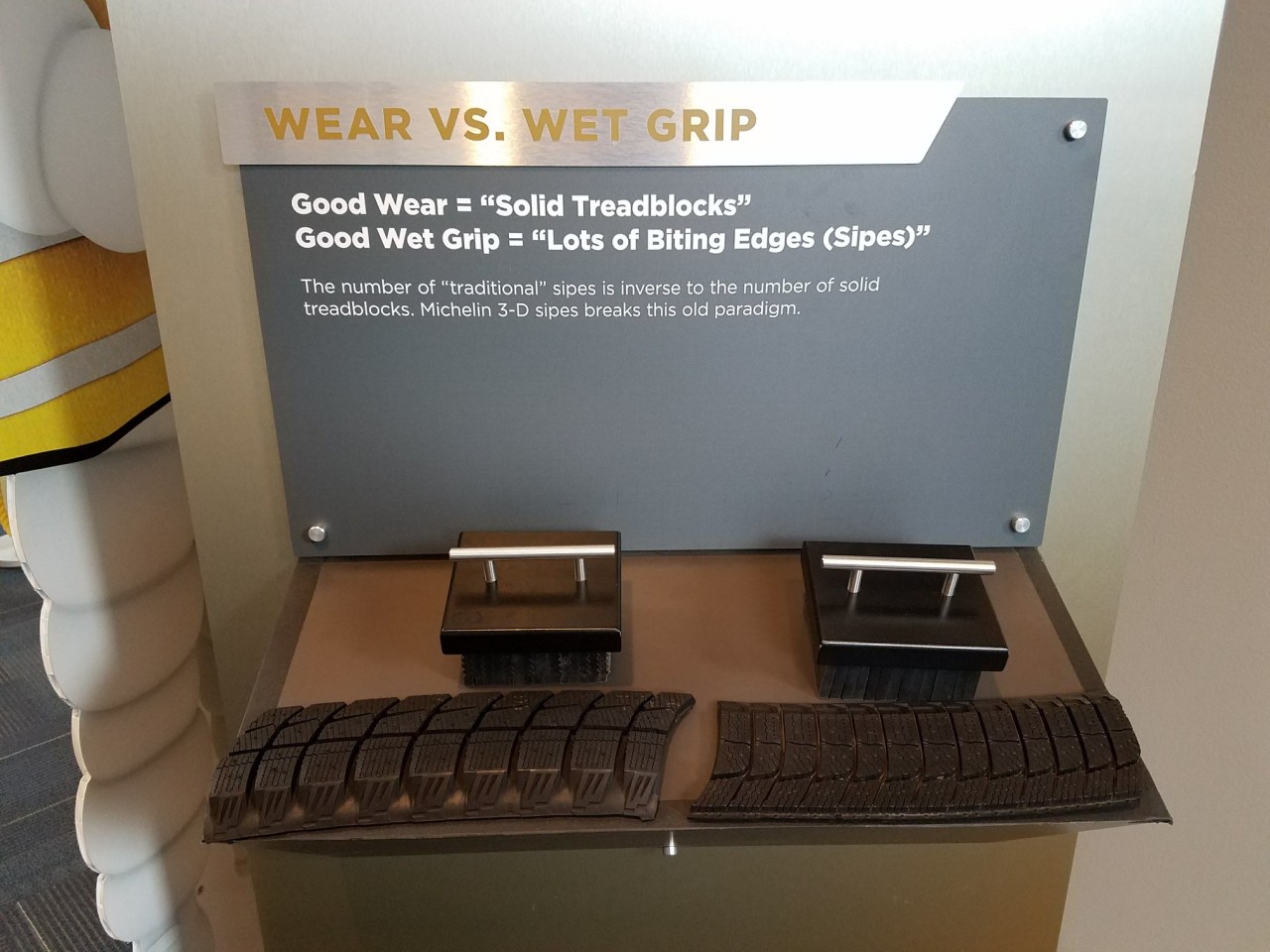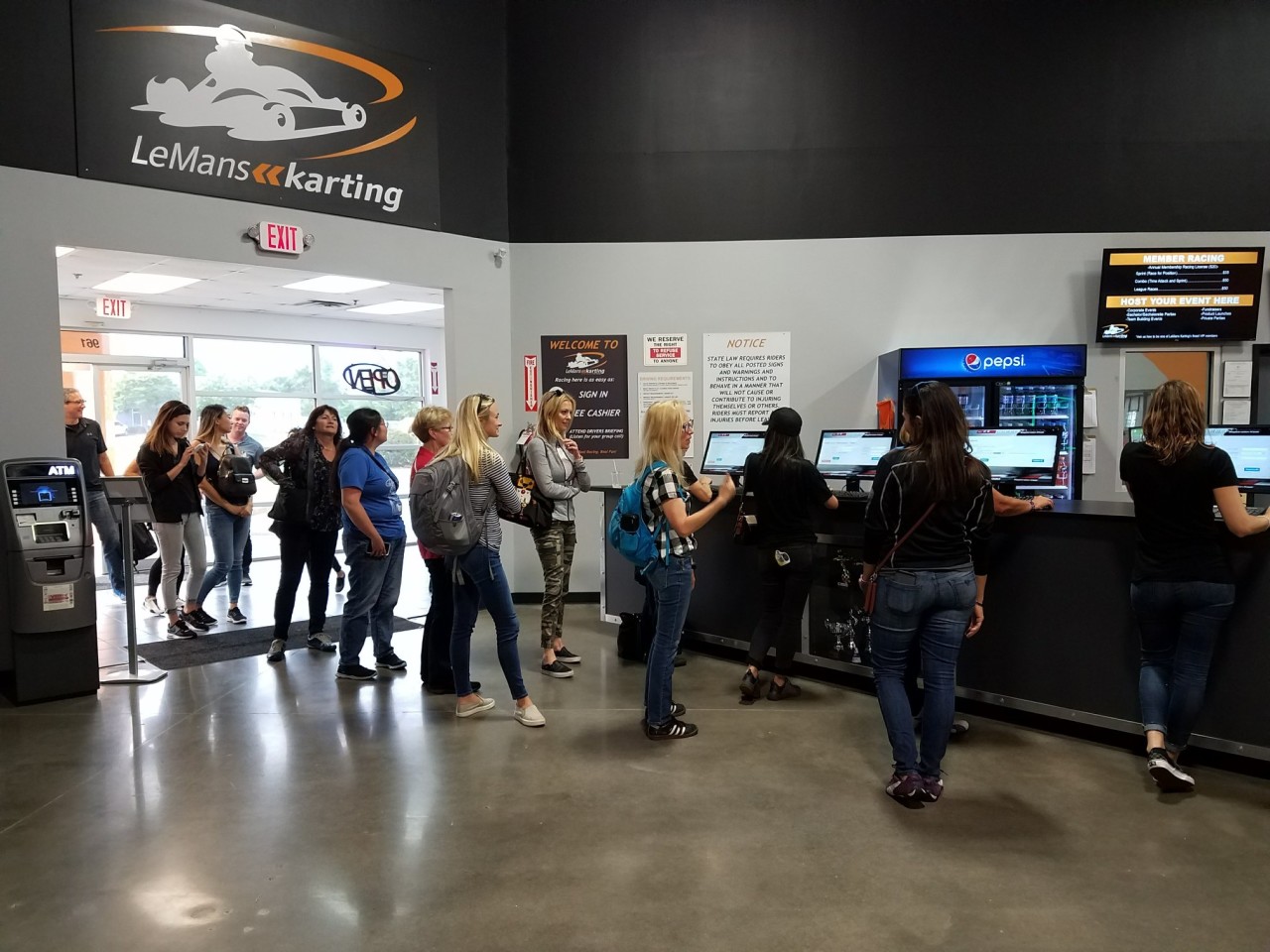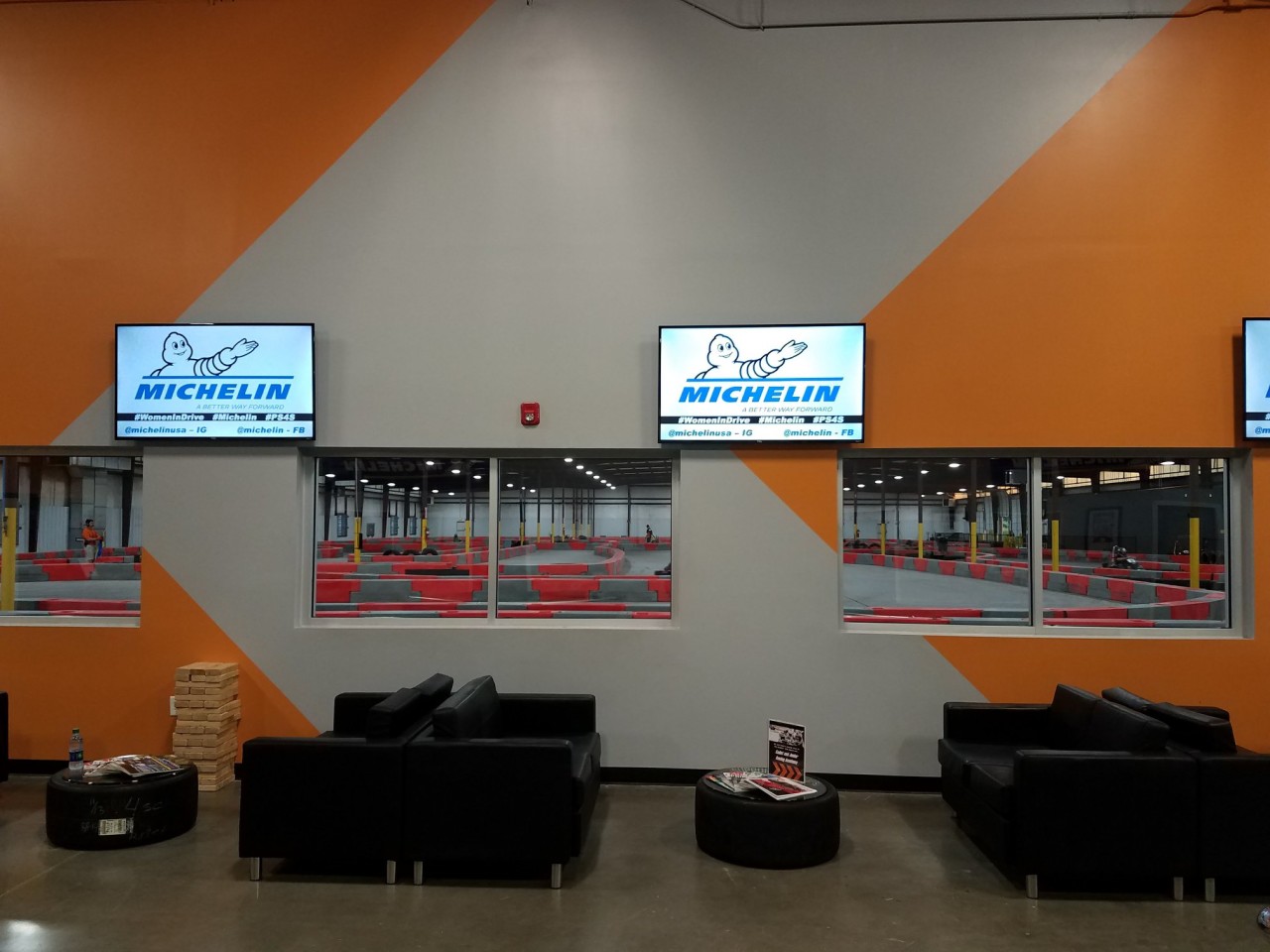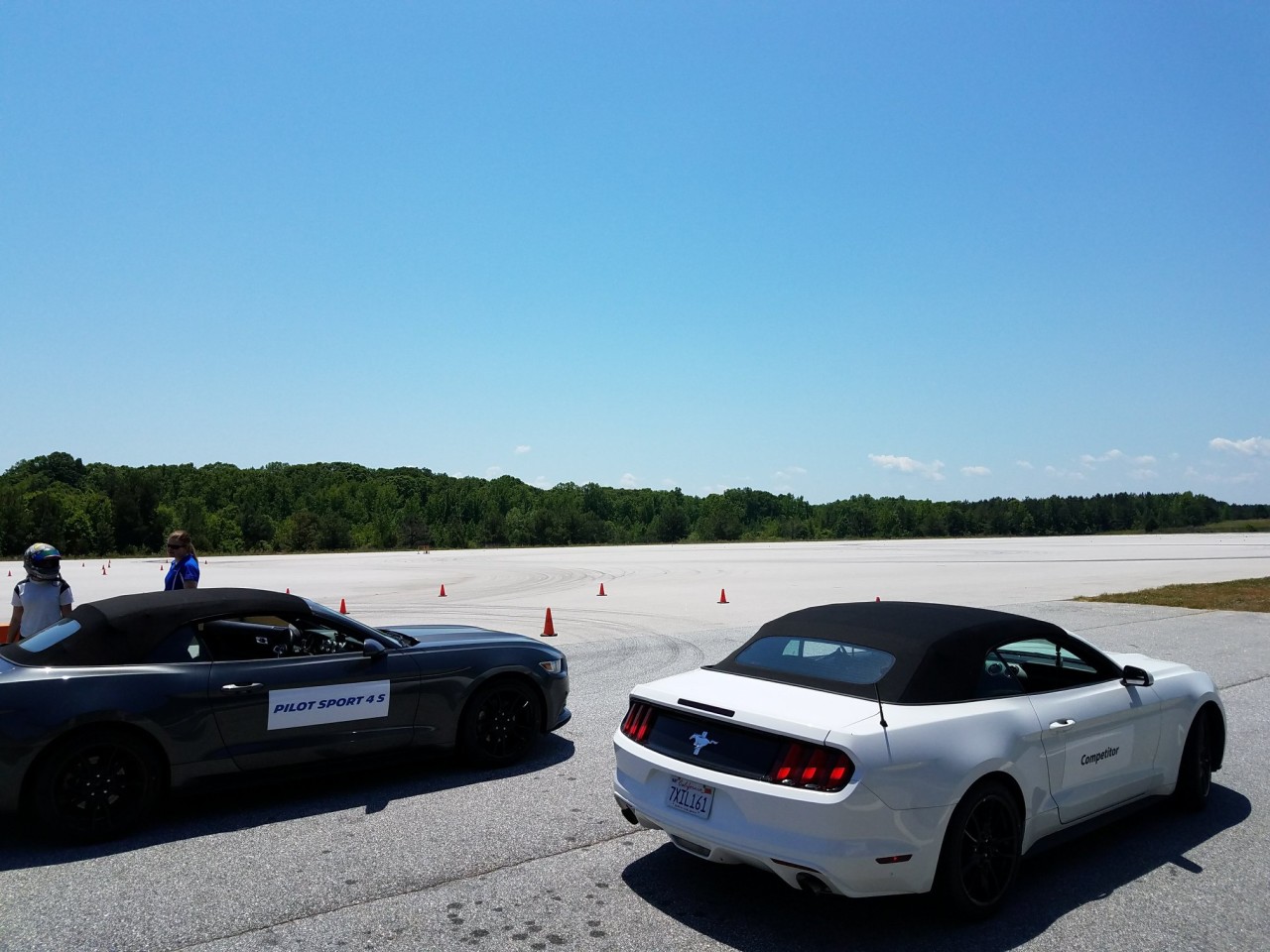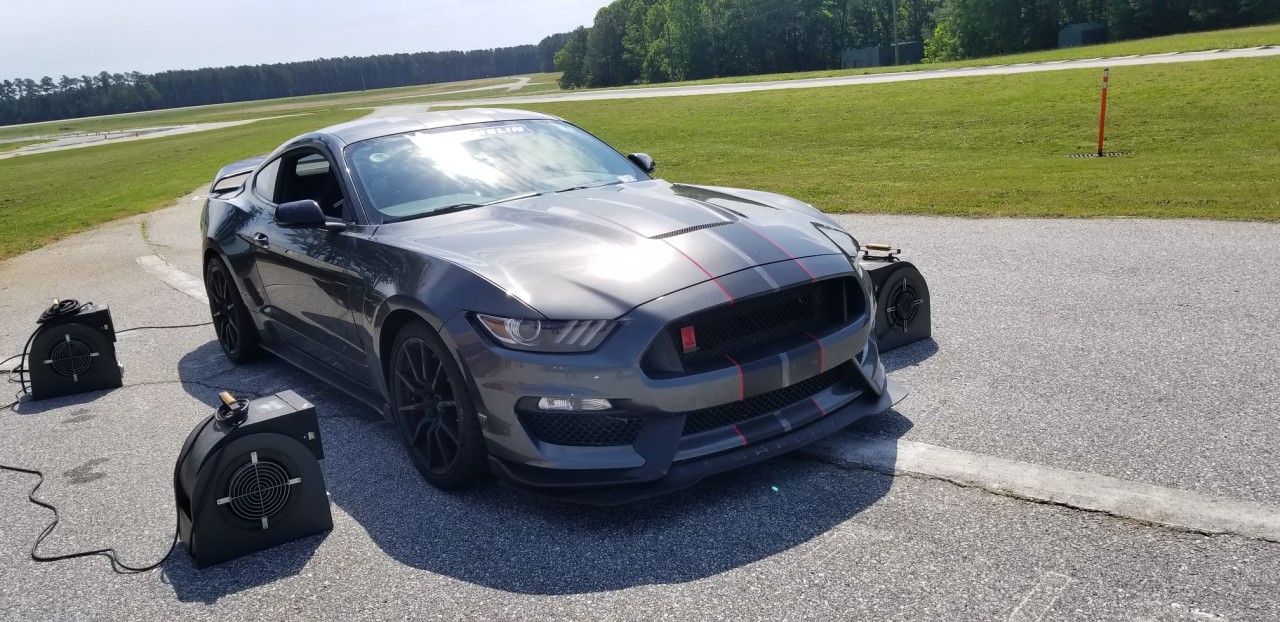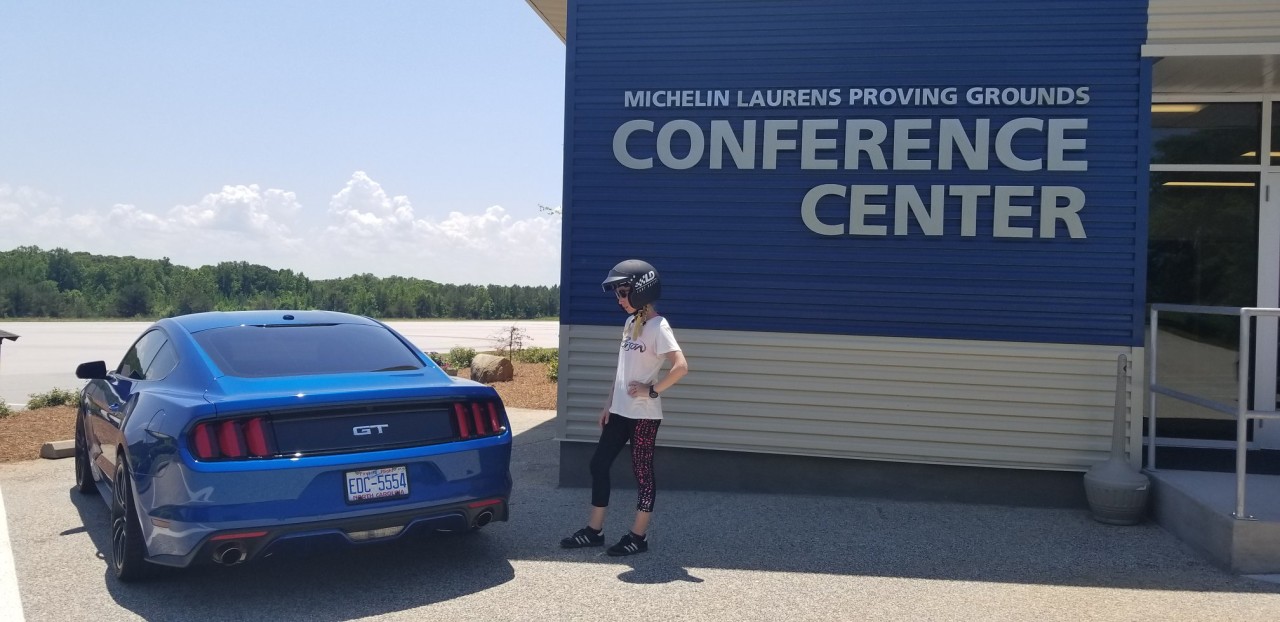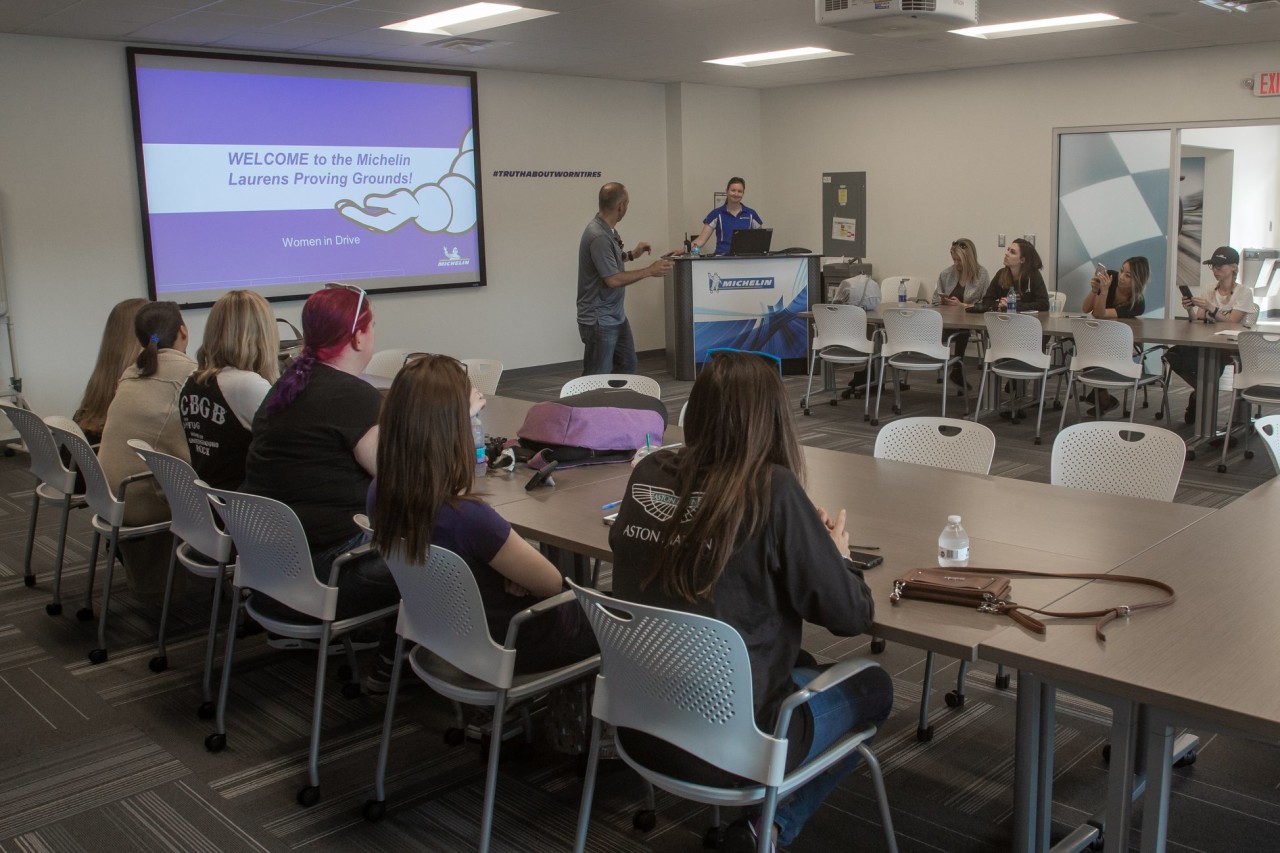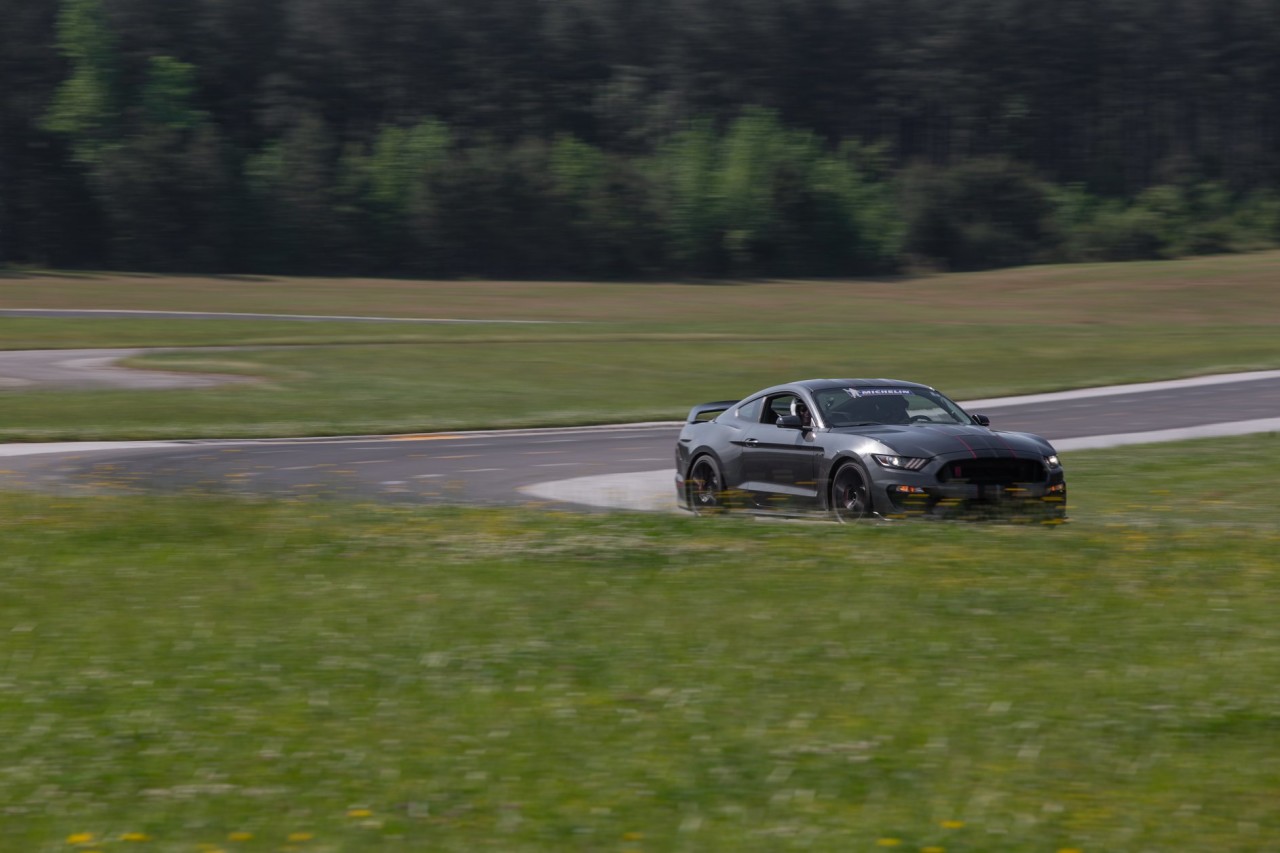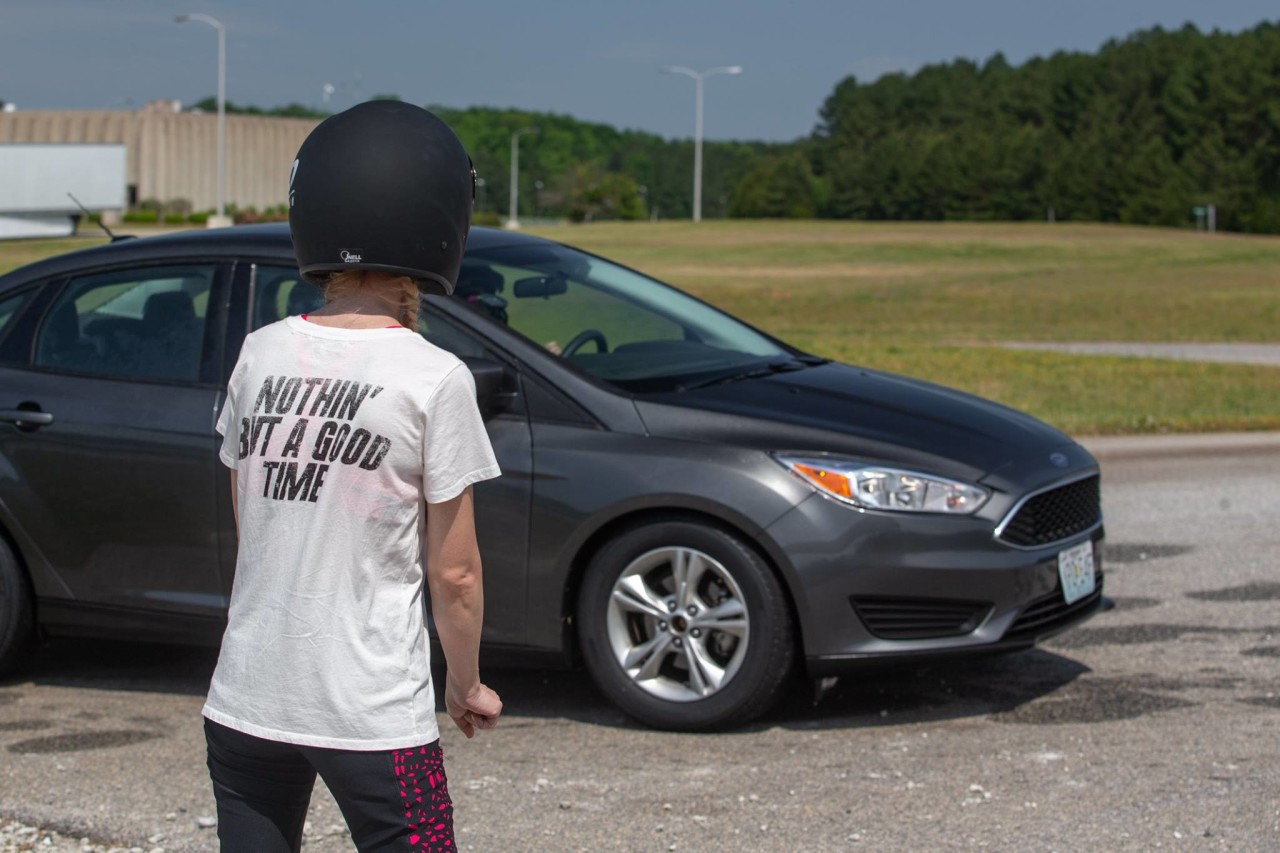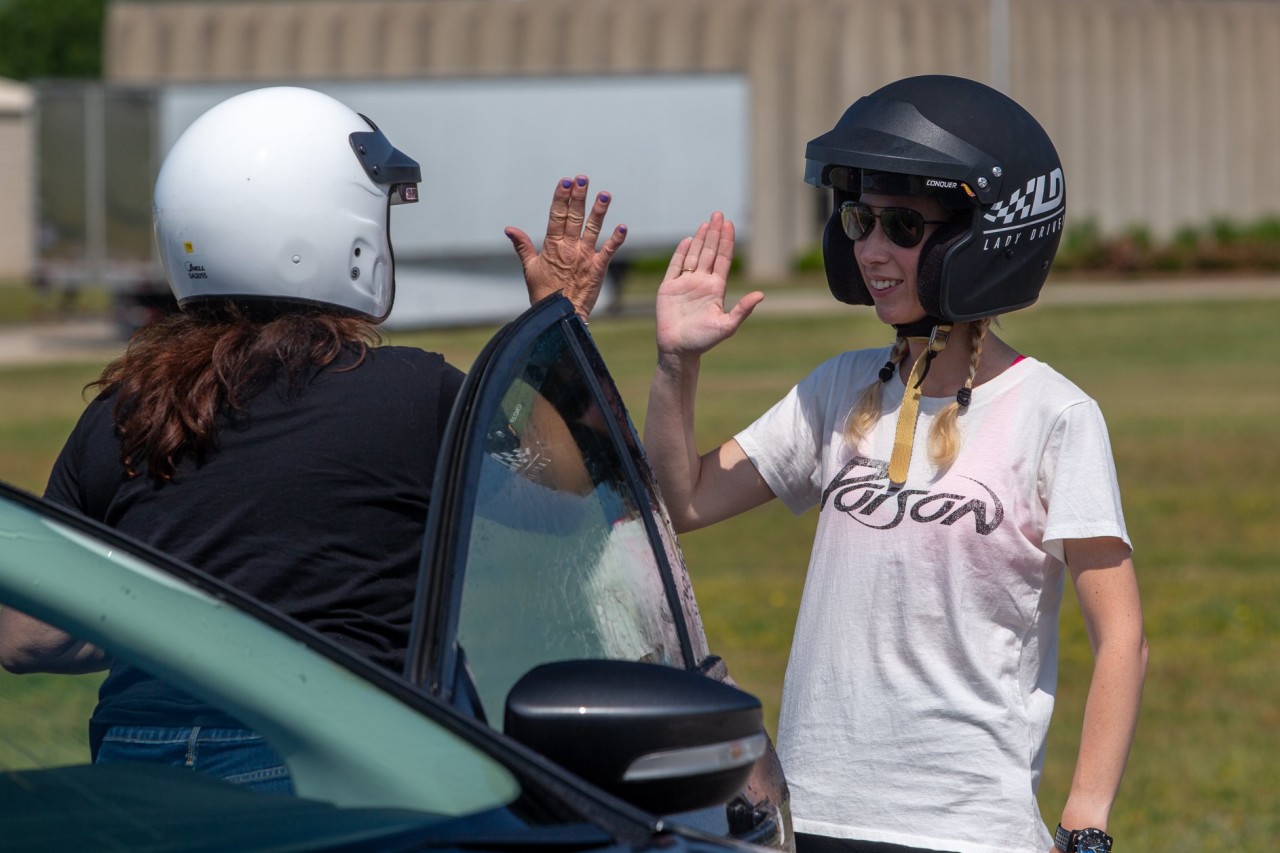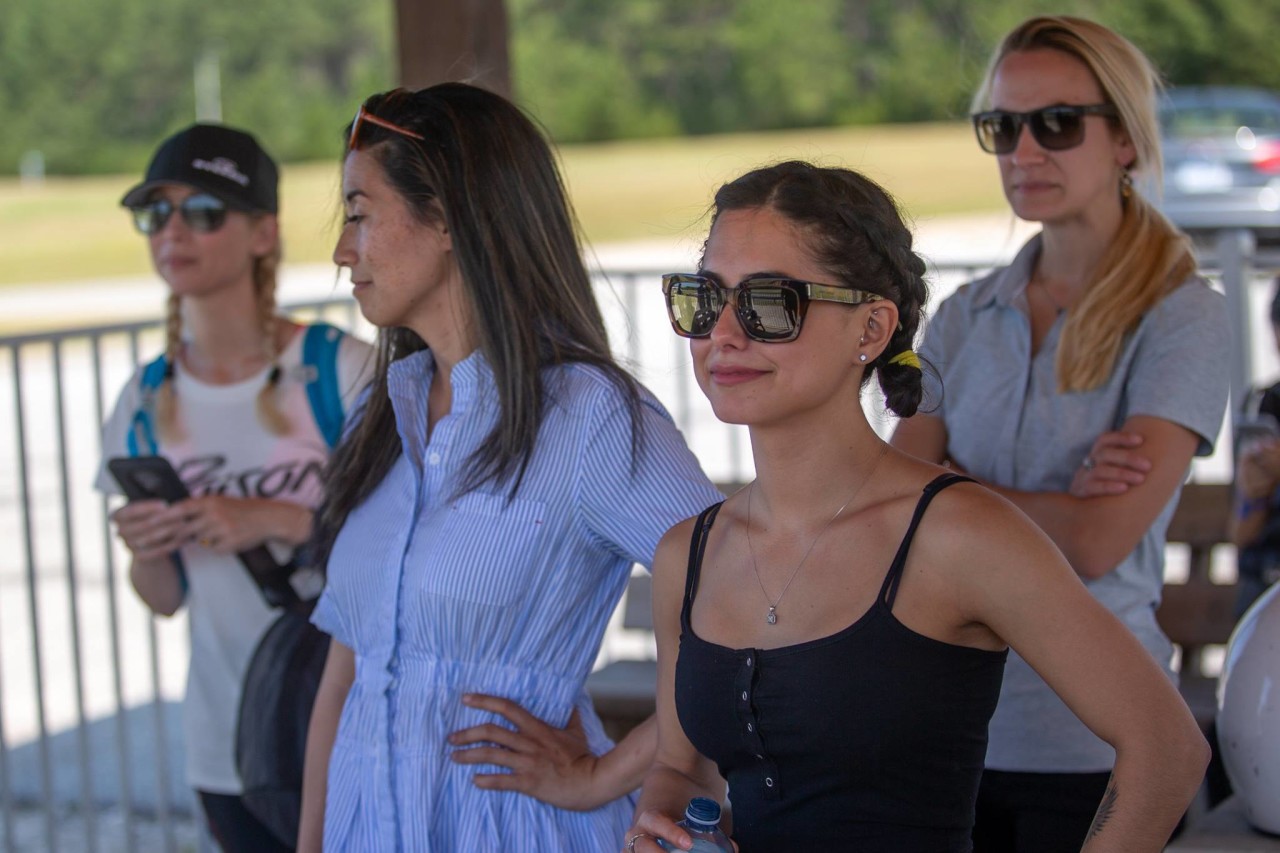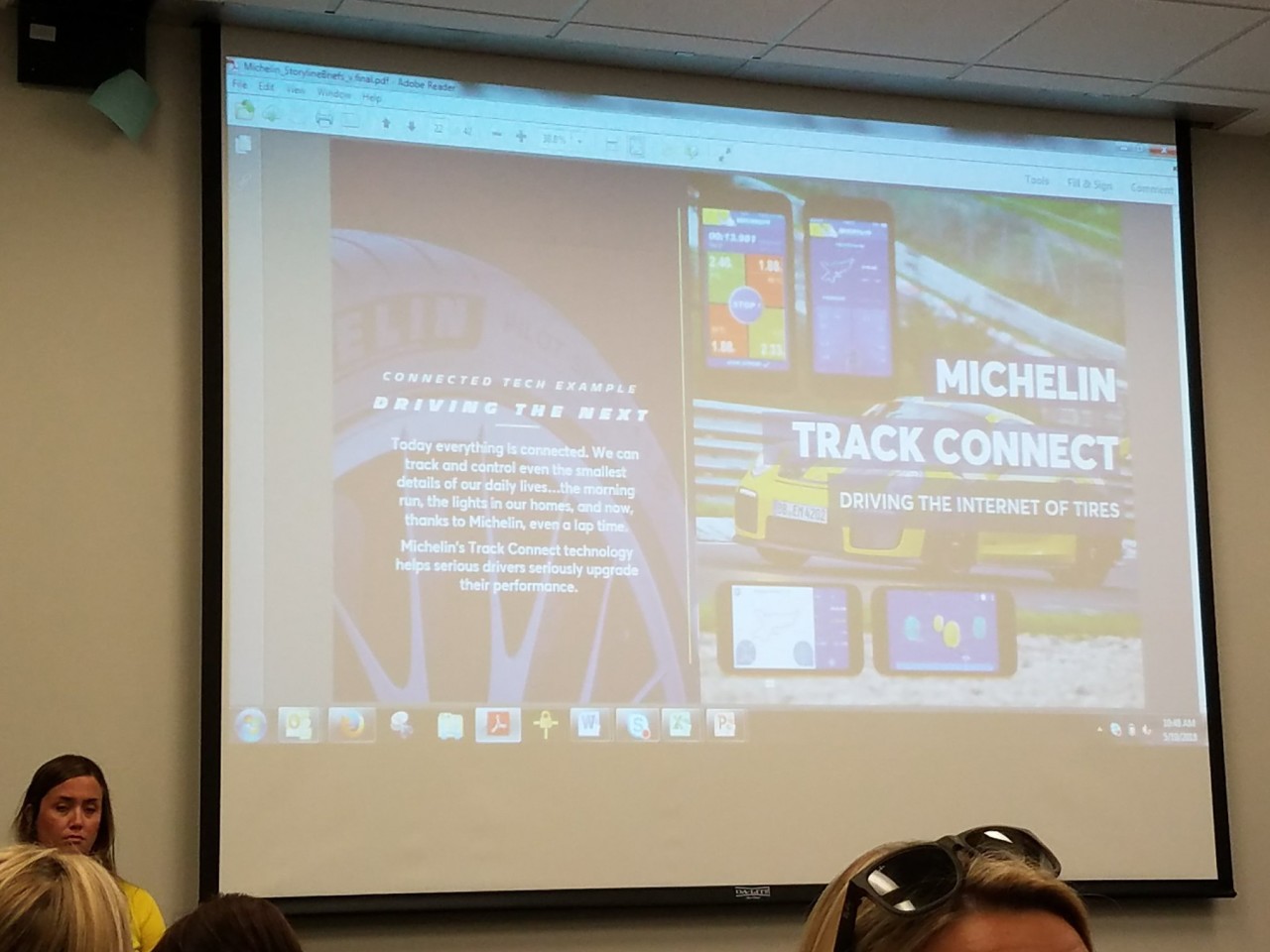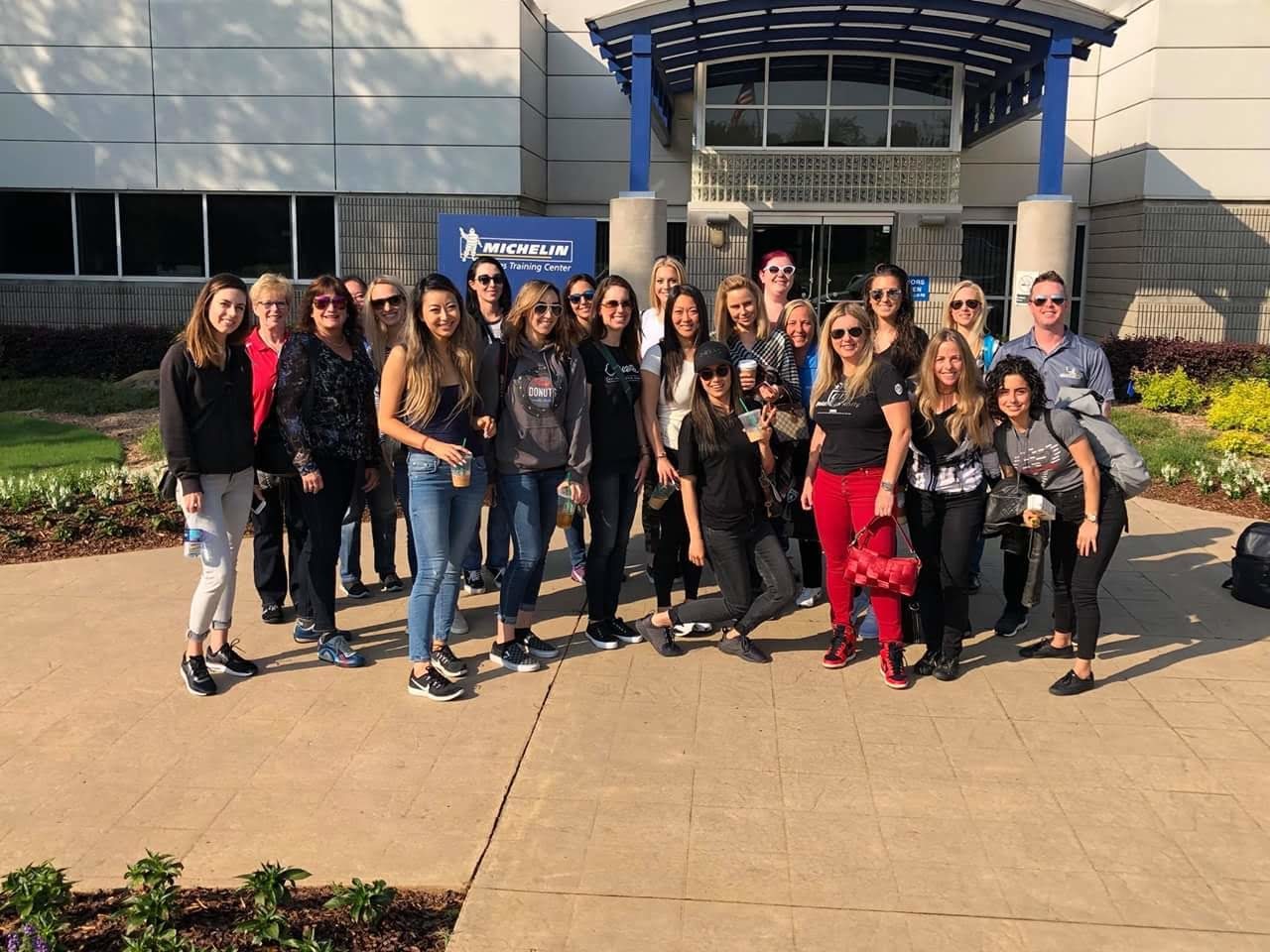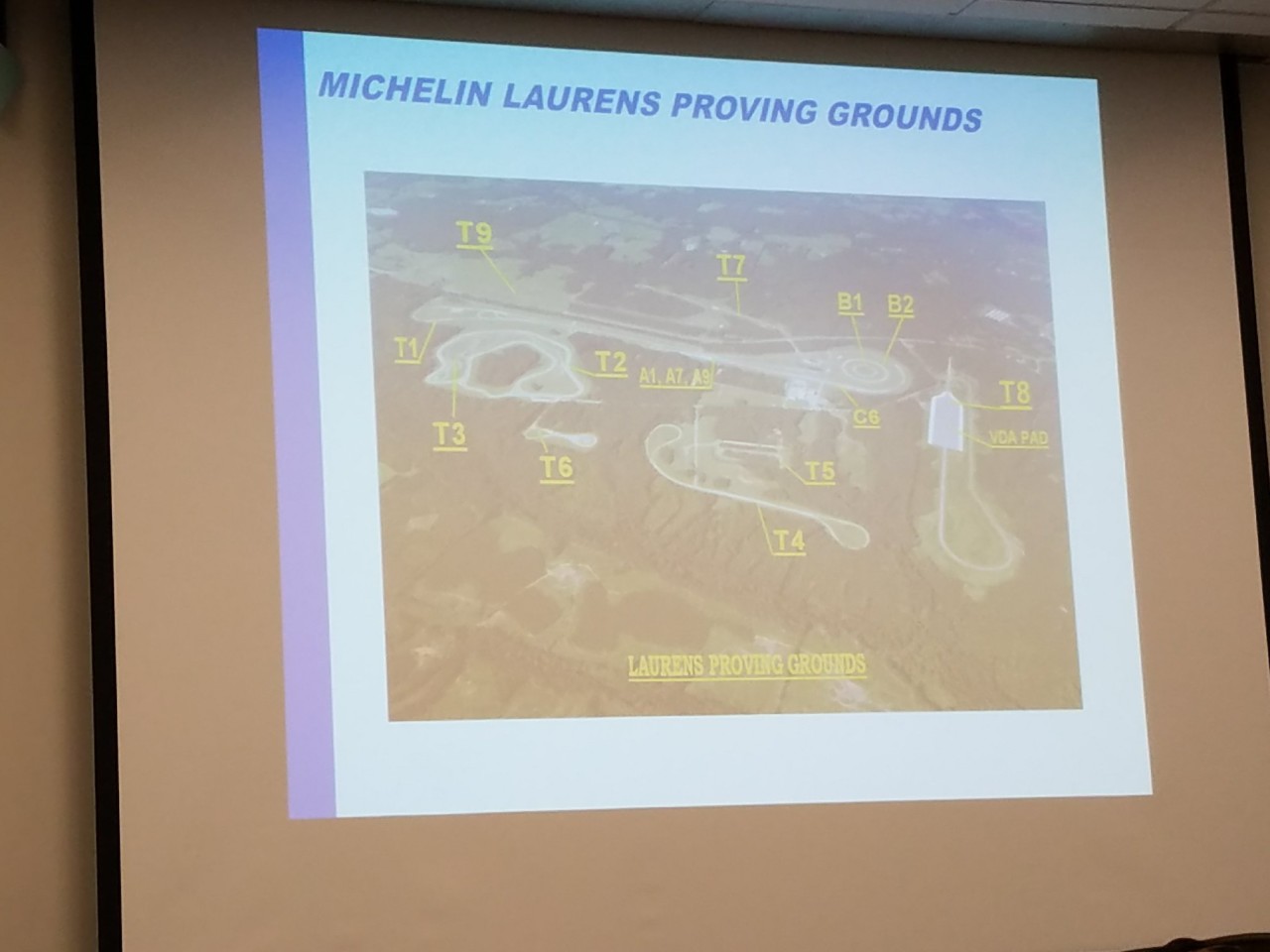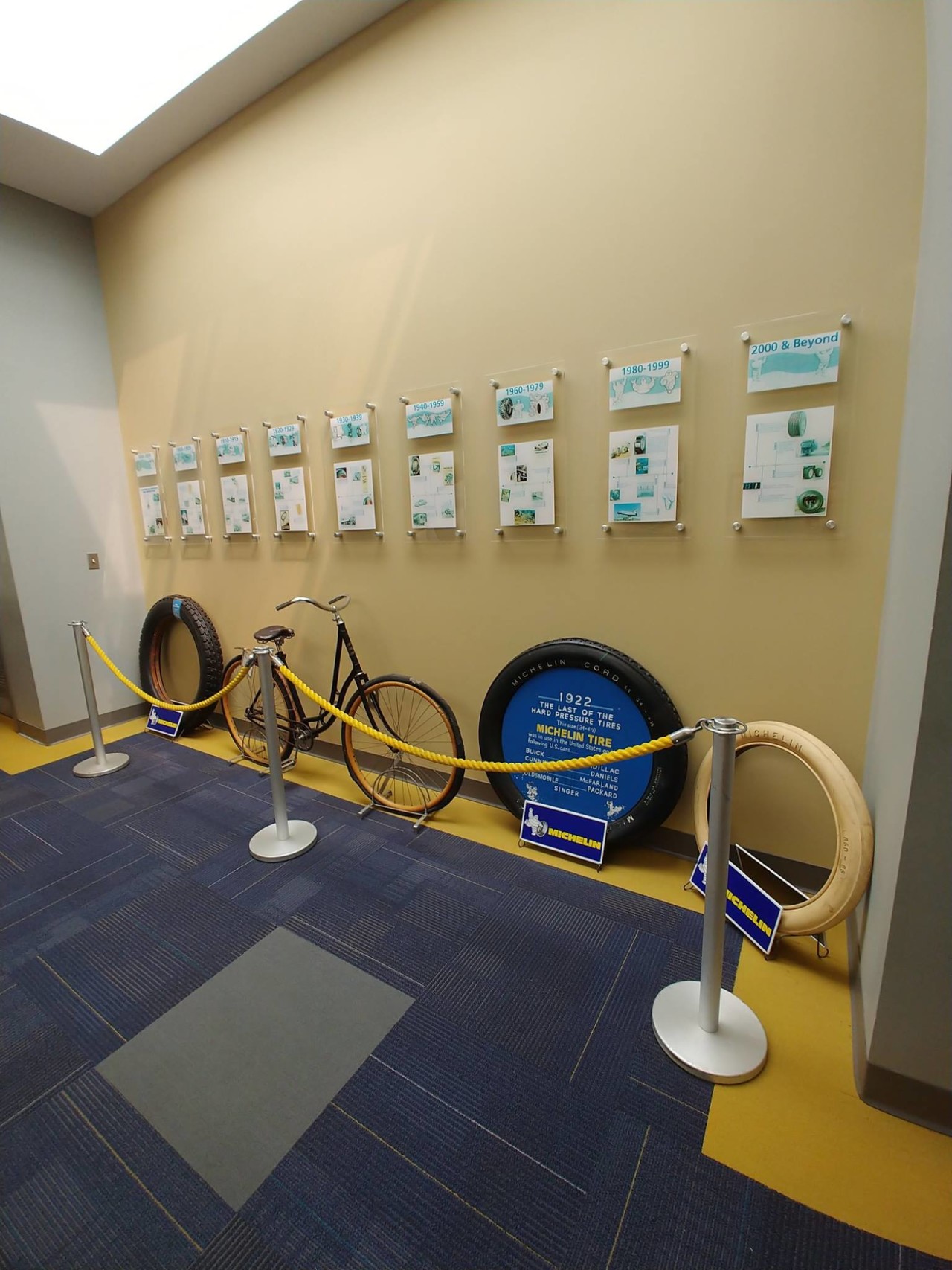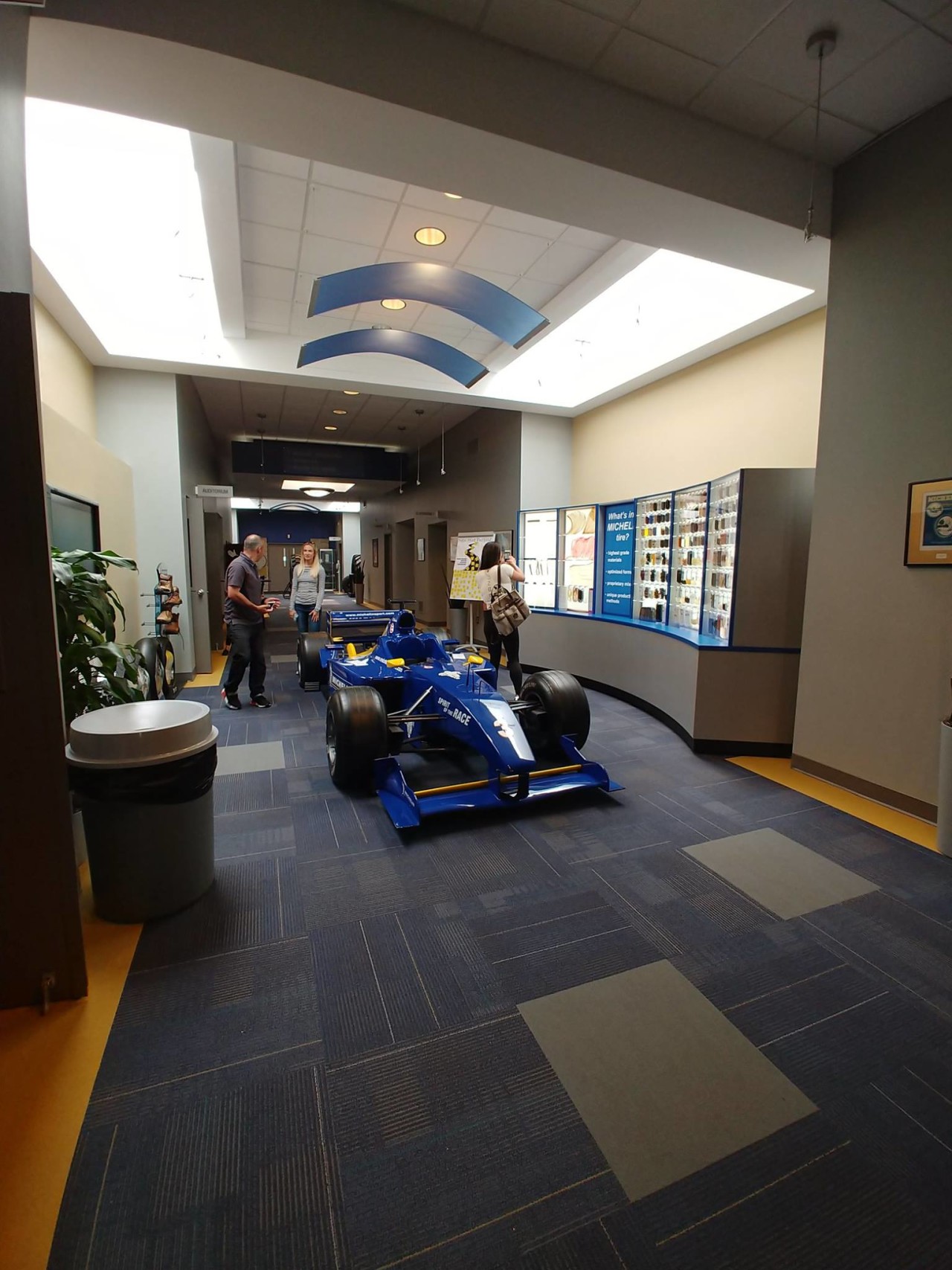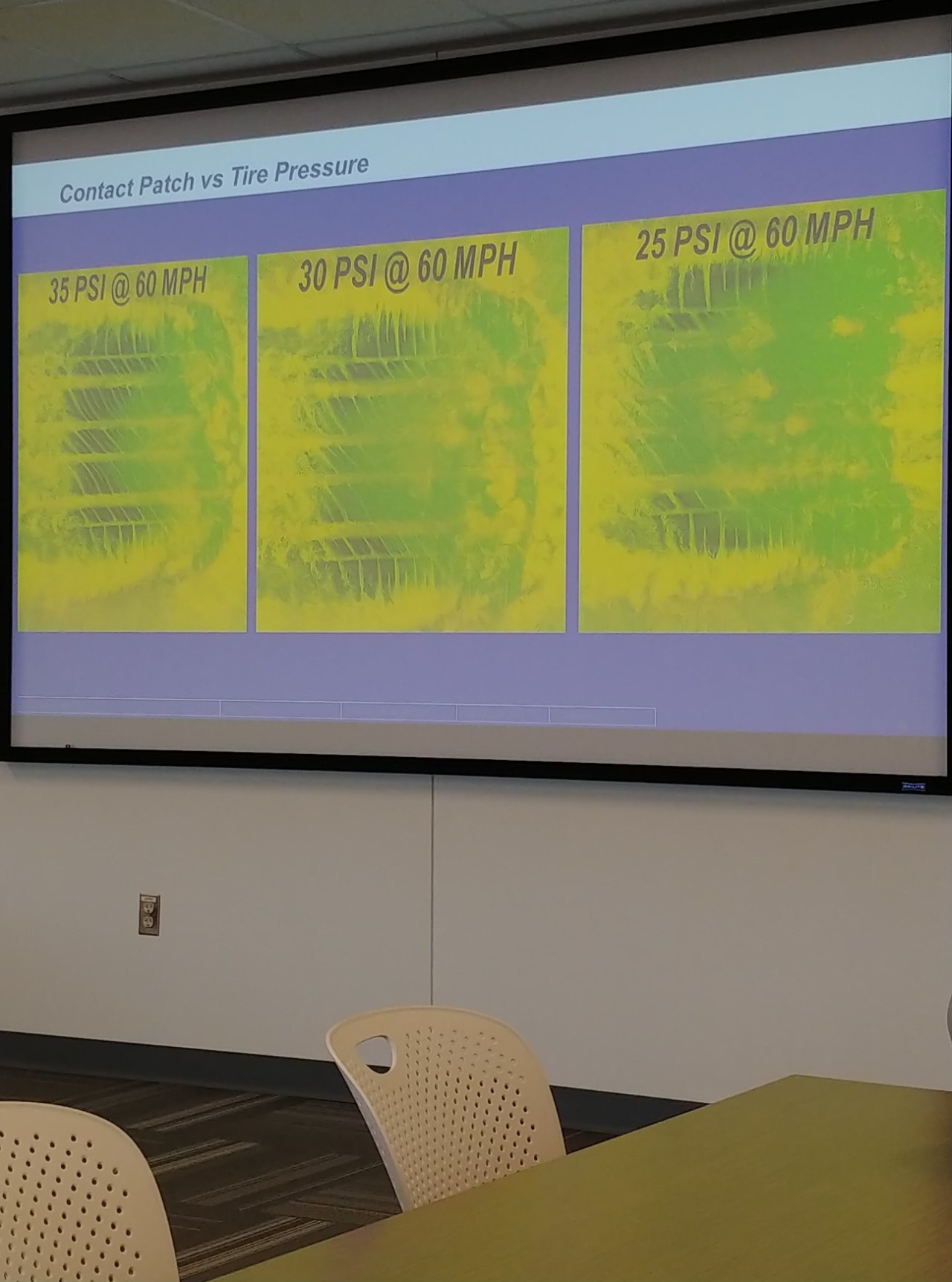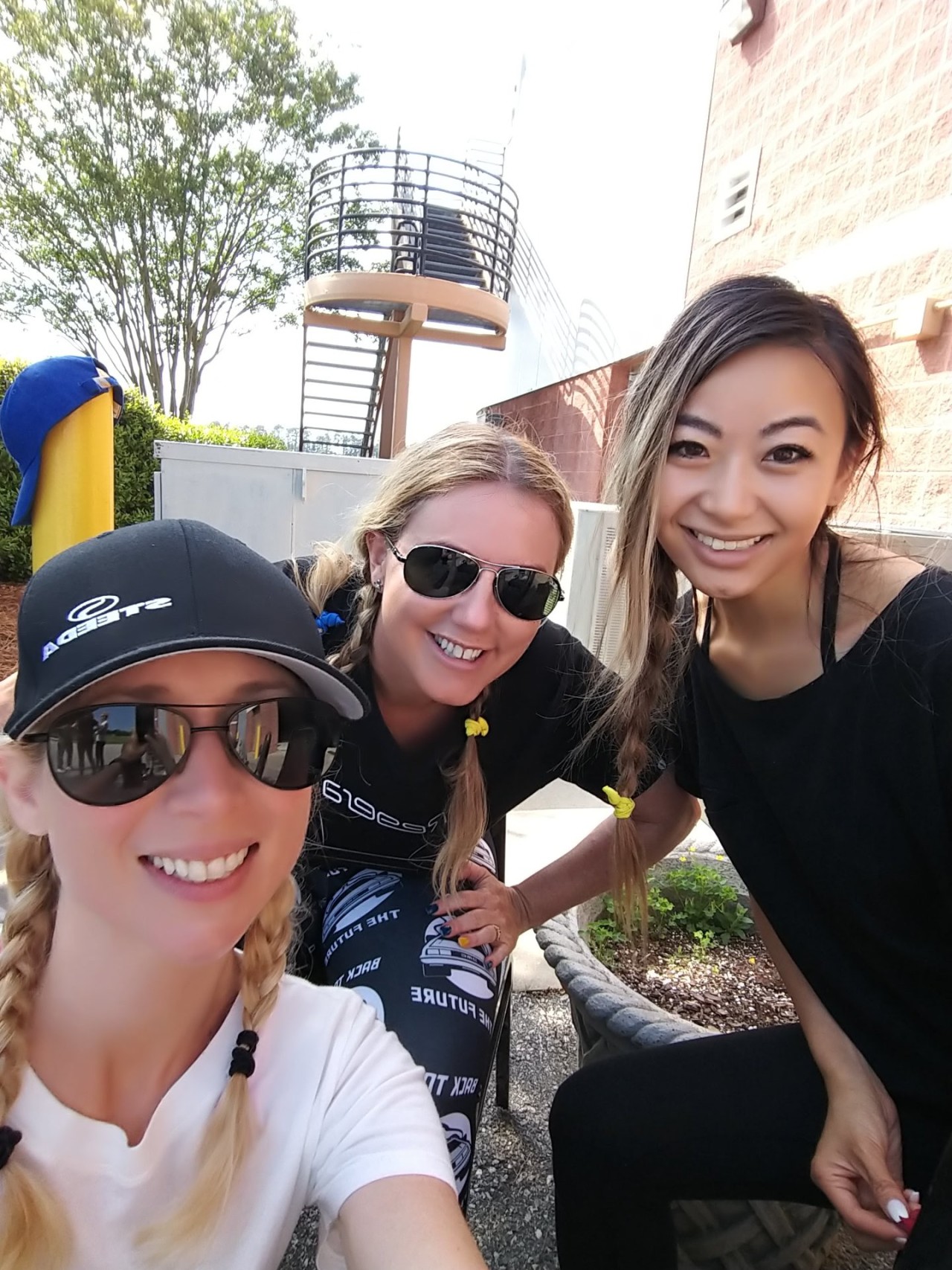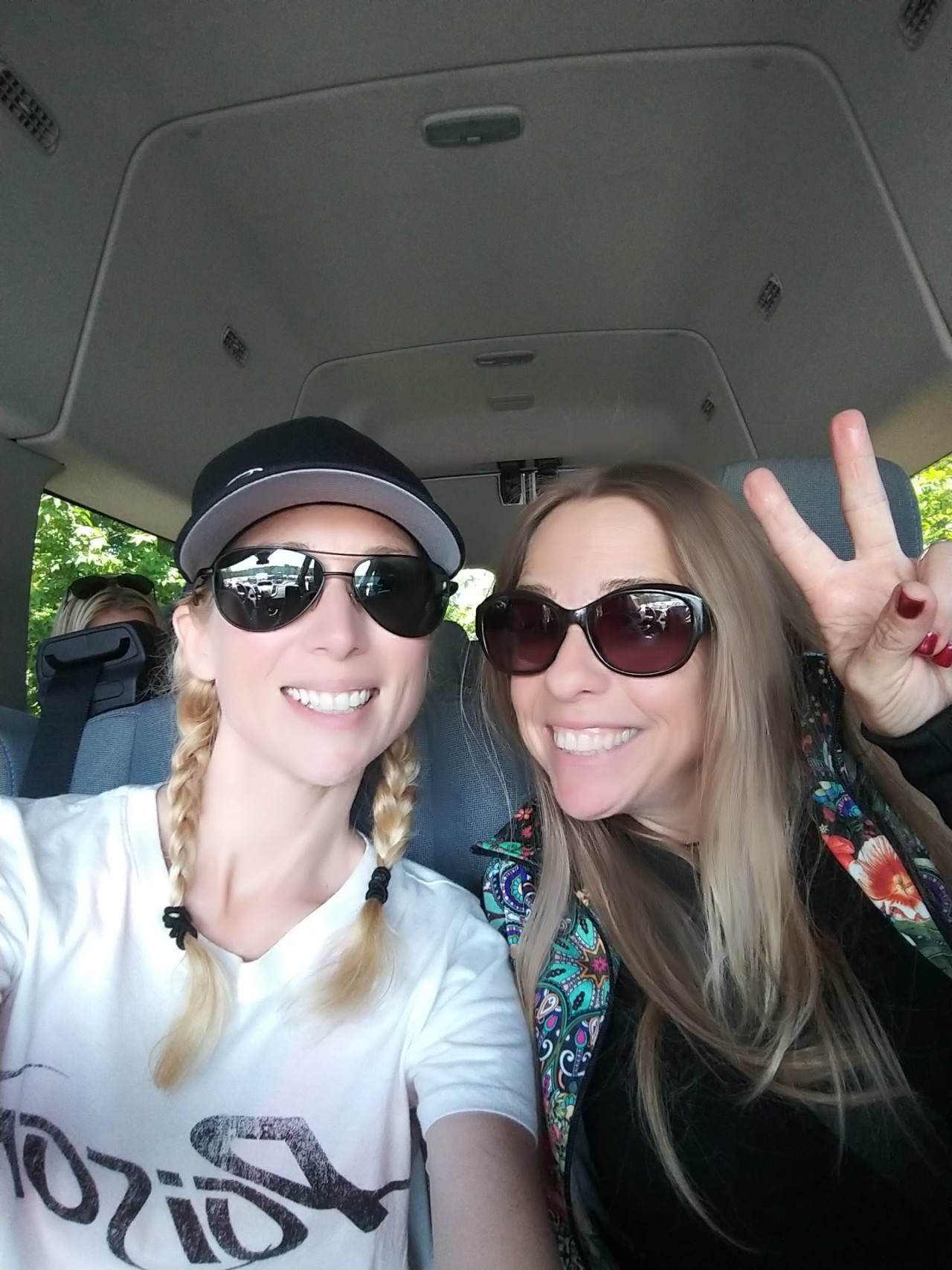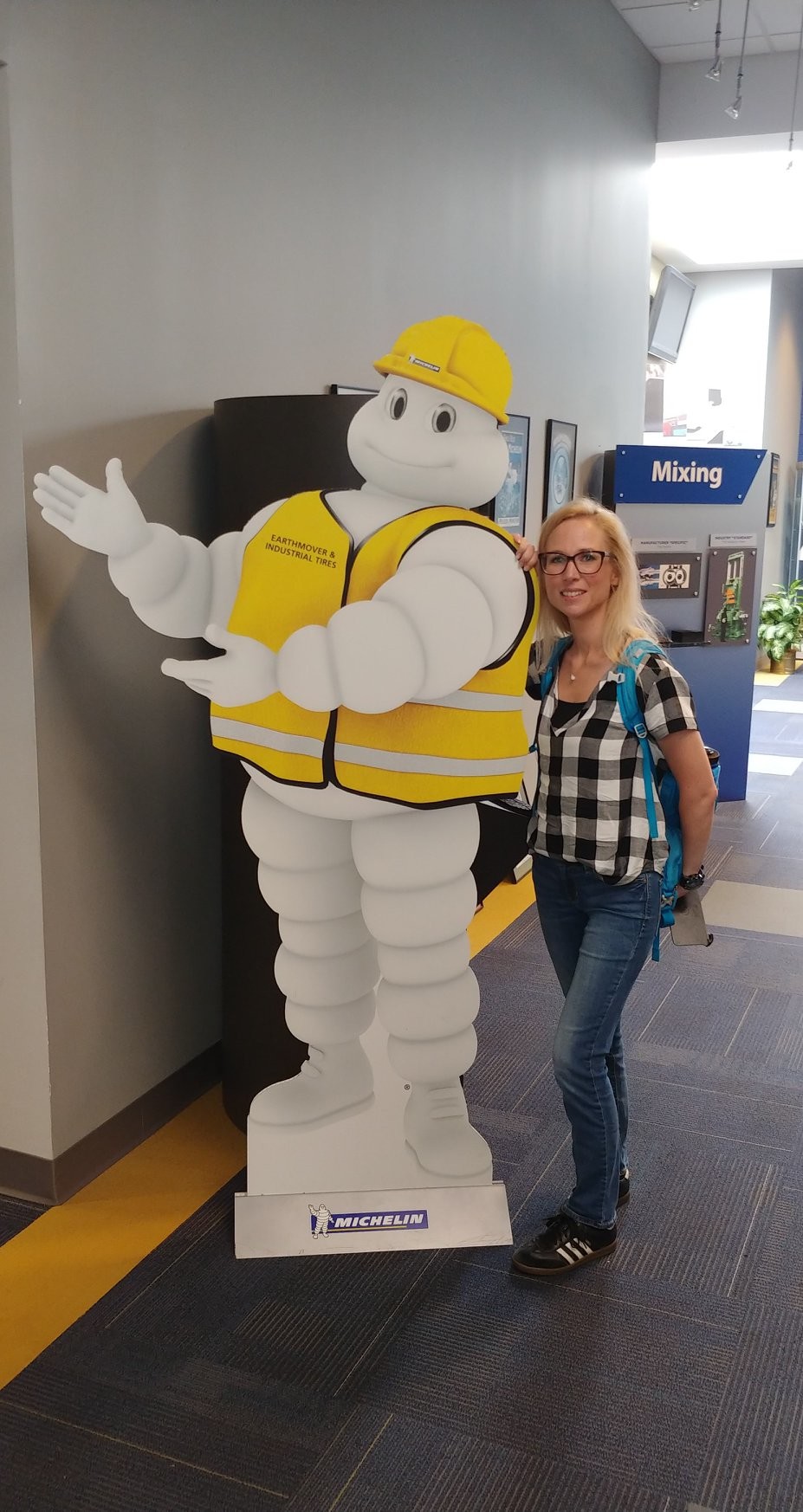 5-31-2018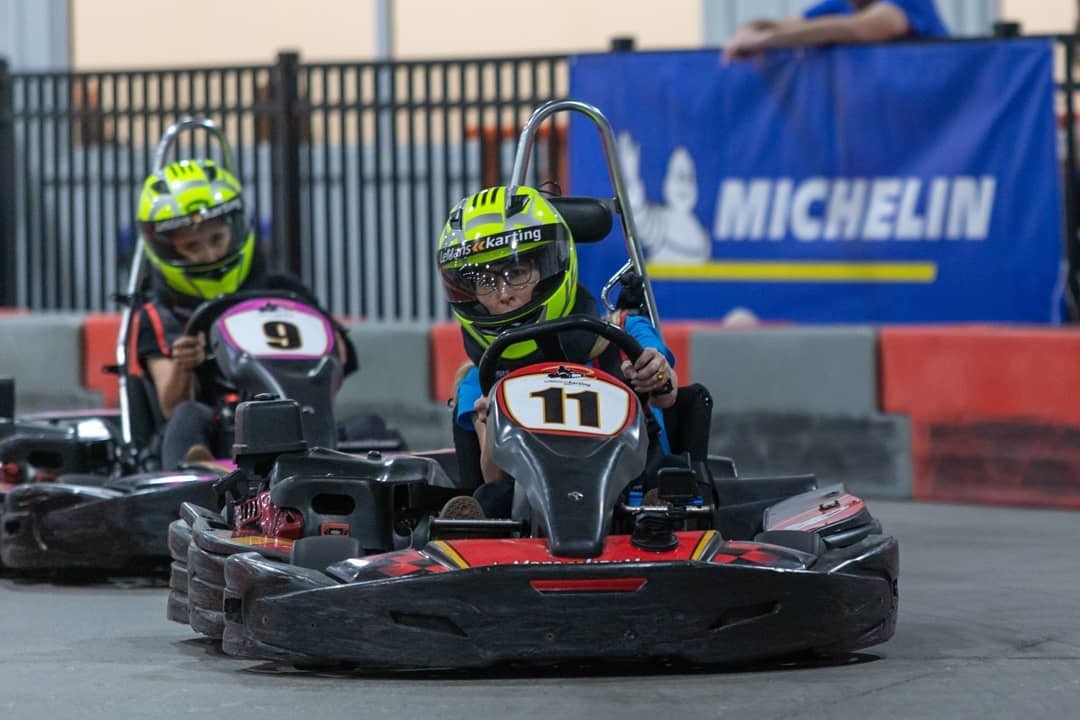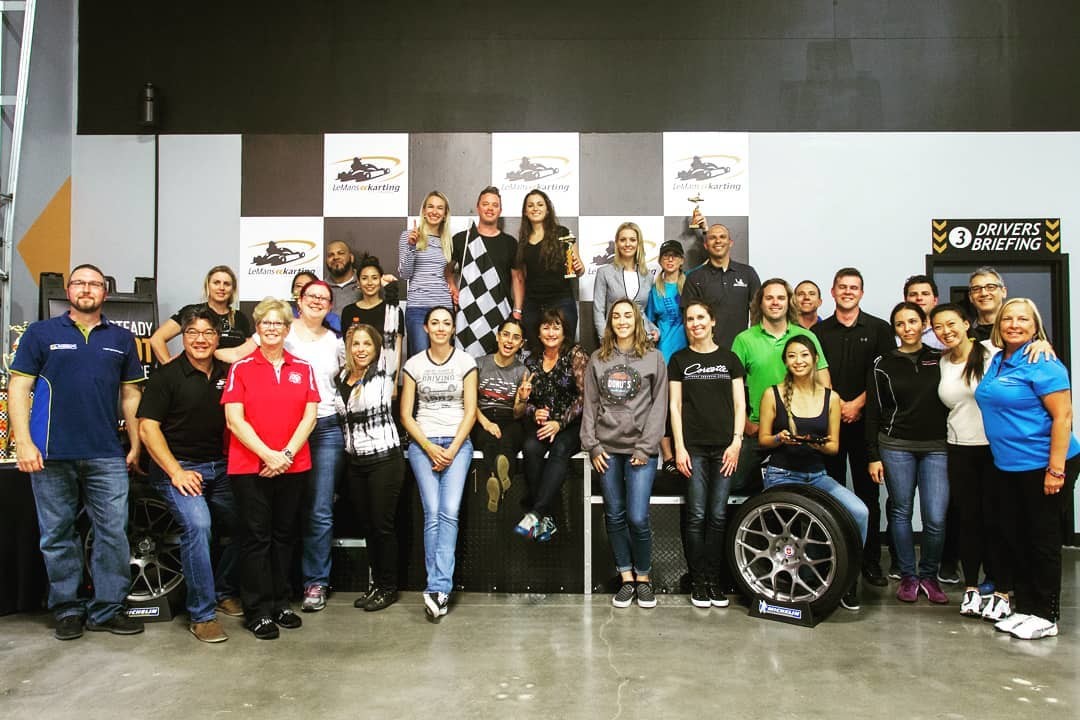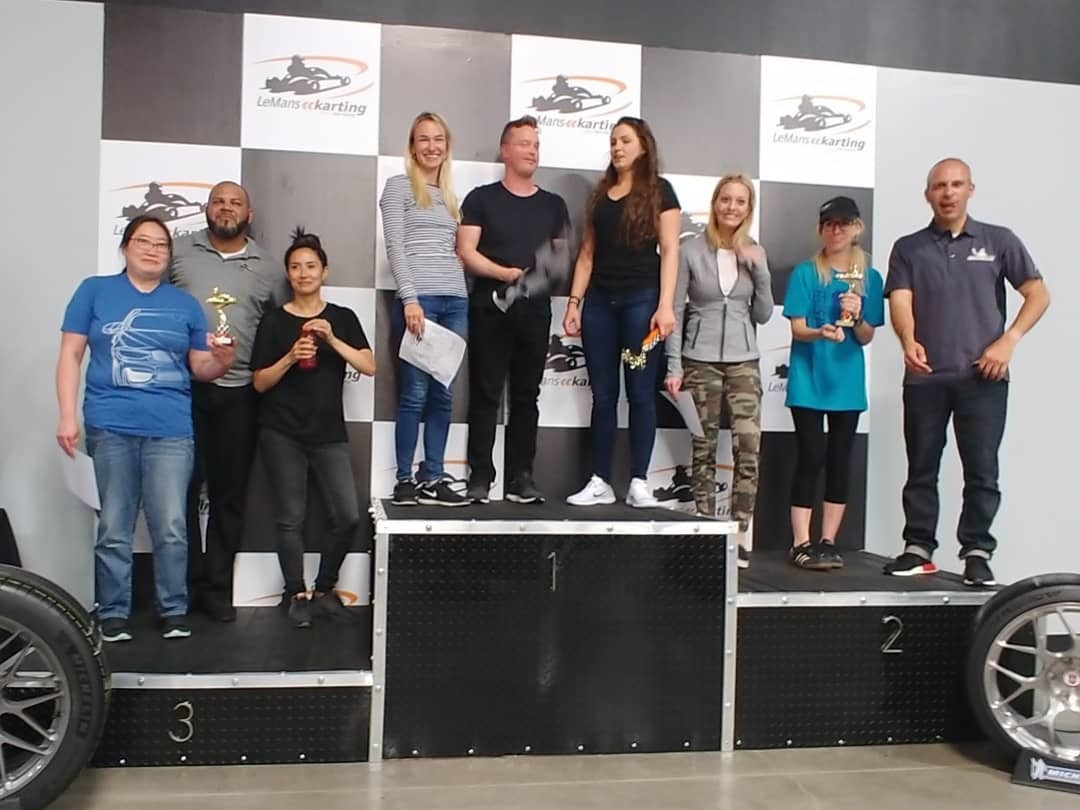 3-2-2018
Class 10th/16
Raw 125th/182
PAX 118th/182
Very high speed course, I had an optional shift up to 3rd or bang the rev limiter for ~1sec (2nd gear tops out at ~61mph, with my 3:73 diff) on the first half of the course. I can see in these photos how much harder my suspension was working compared to my "normal" autocrosses. And I could tell, through butt feel and turning performance. Slowing the car down felt firm, with minor brake fade towards the end of each lap. The car had good initial turn-in, but then would push and understeer early to mid-corner. Absolutely no problem putting down power/throttle, as far as rear tire spinning/hopping is concerned.
The pavement was extremely hot and I built a lot of heat into the tires. Pressures jumped from 32 to 34psi on my first lap, then 34 to 38 on my 2nd lap. I kept dropping pressure back to 34psi for my last 2 laps. Of my 4 laps, only 1 was clean or devoid of tank slappers. My final run had 2 spin-outs, back-to-back, and I had to finish the course at a crawl just to maintain traction. Whoops!
-The car is a 2017 Mustang GT Premium Performance Package with the 401a tech option.
-Current modifications:
Ford Performance X-springs (aka street handling, only lowered the car 1", same progressive spring rate as Performance Package OE Springs),
Ford Performance Power Pack 2 (GT350 intake, throttle body, & tuned for 93 octane),
Videos coming!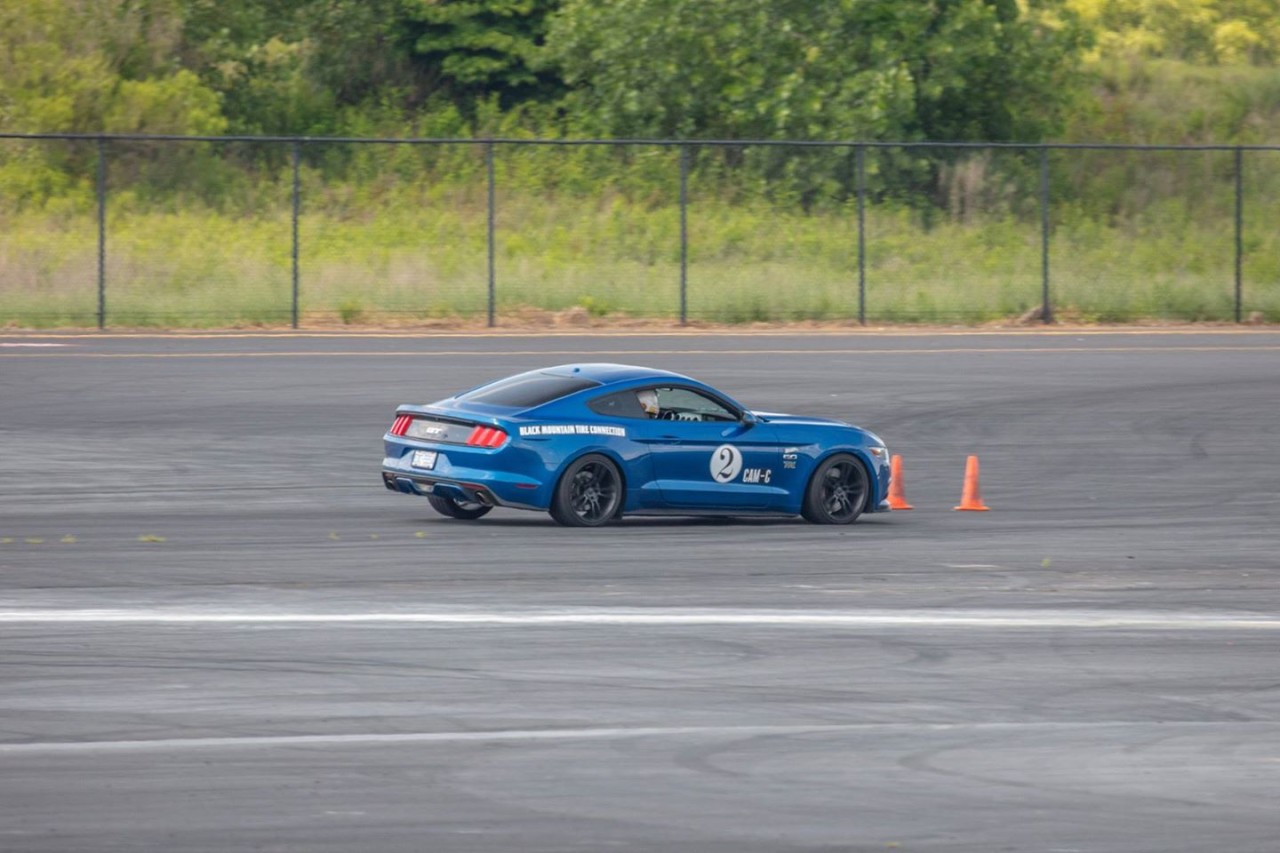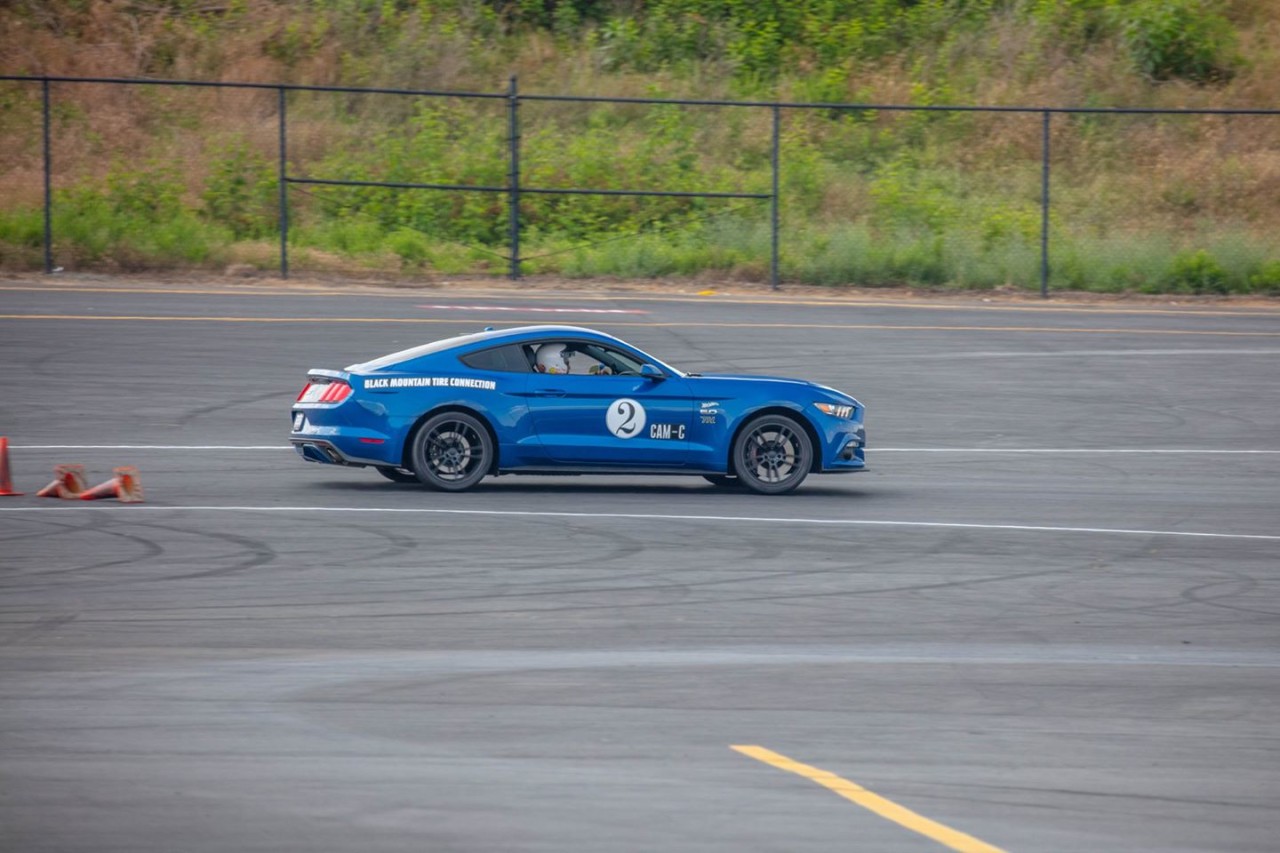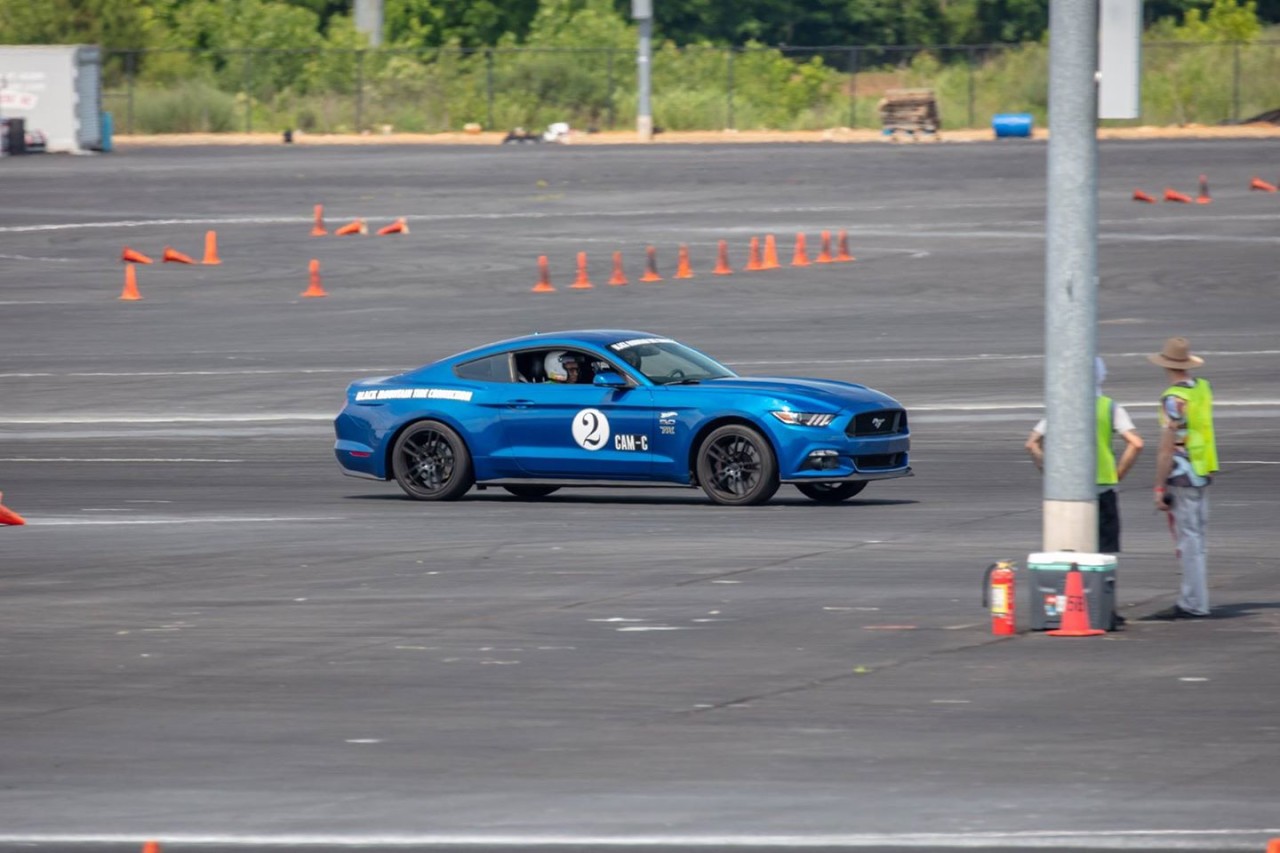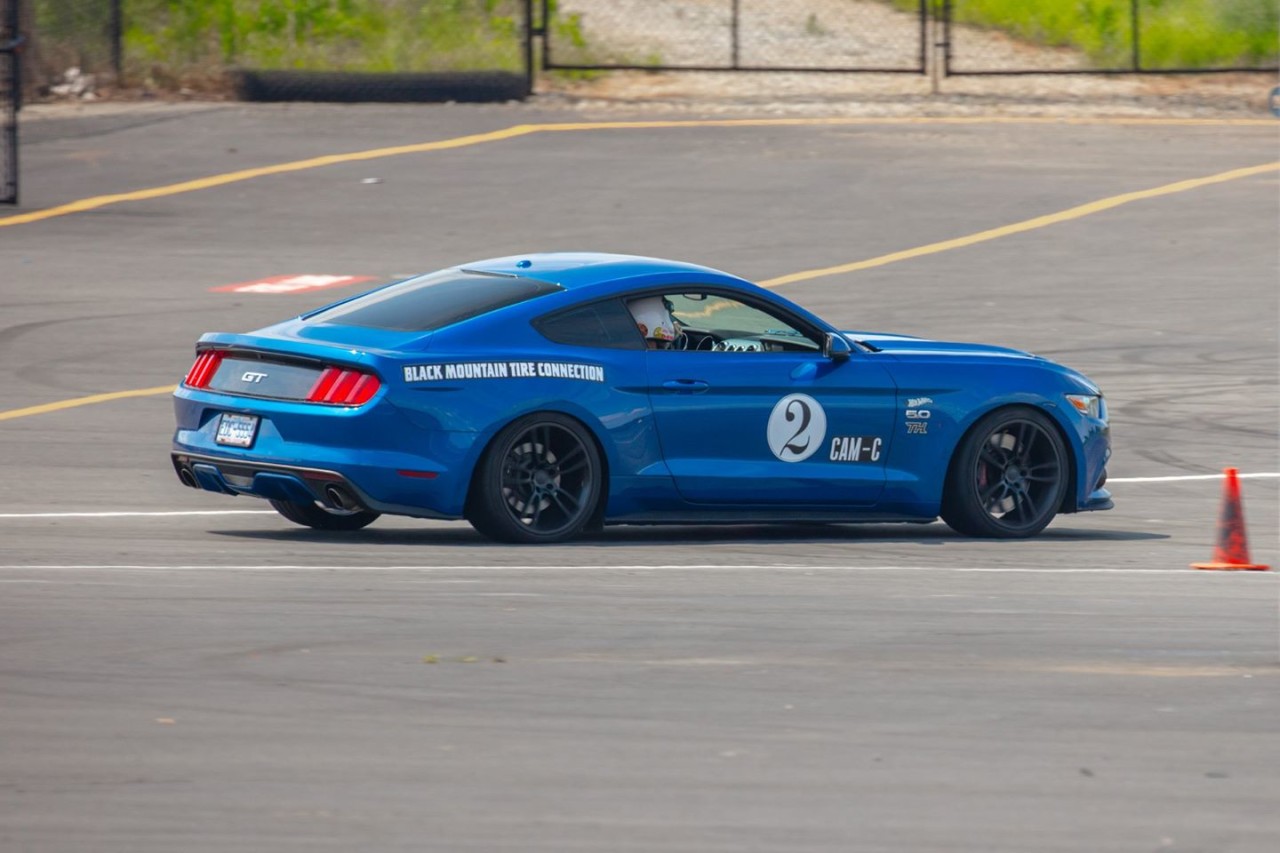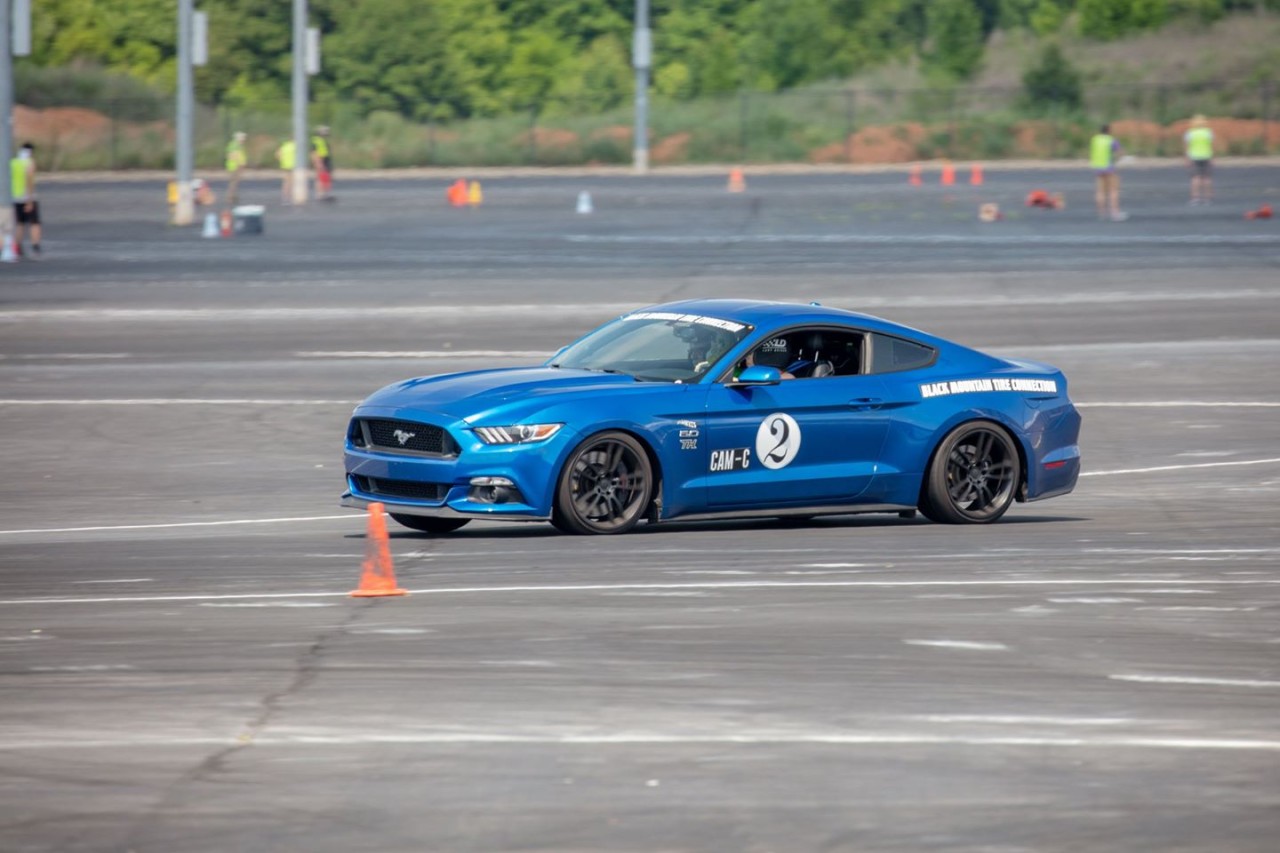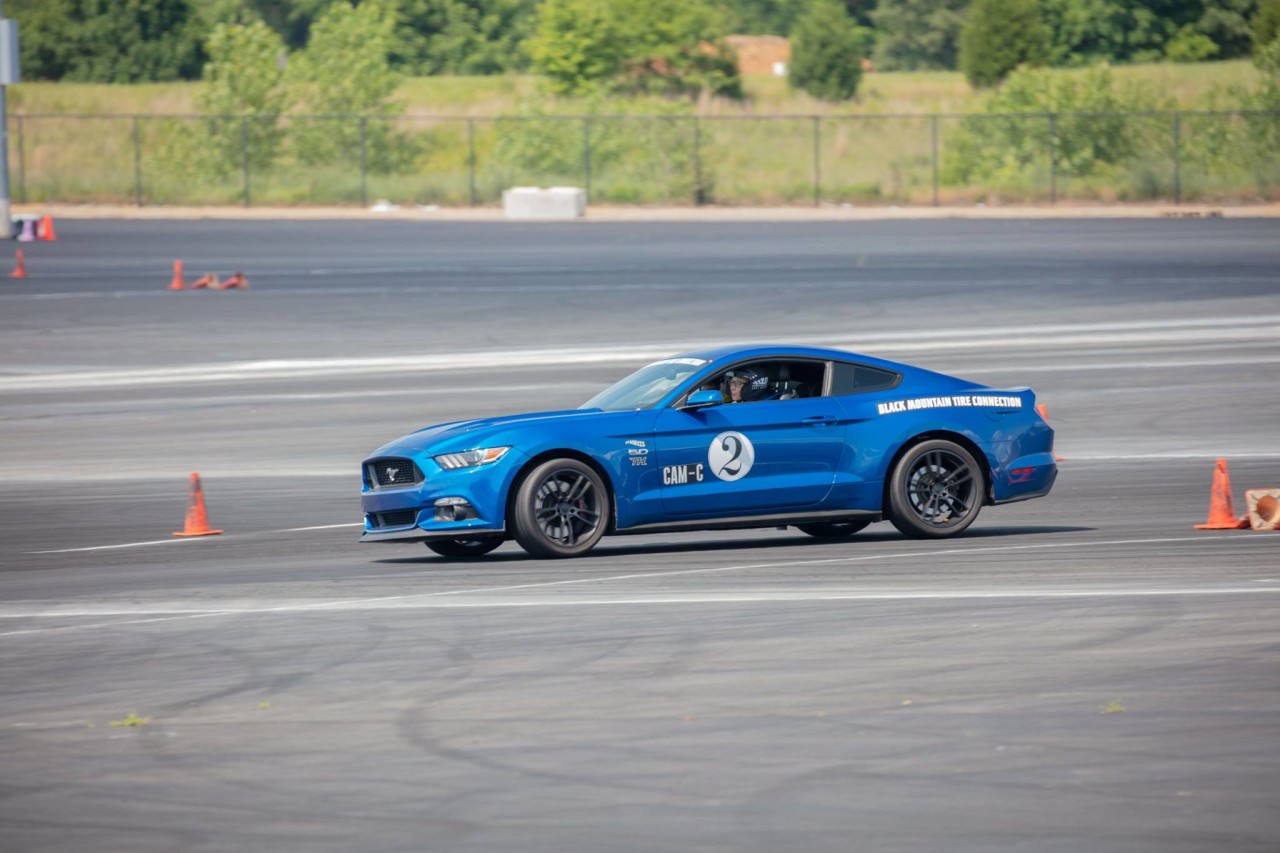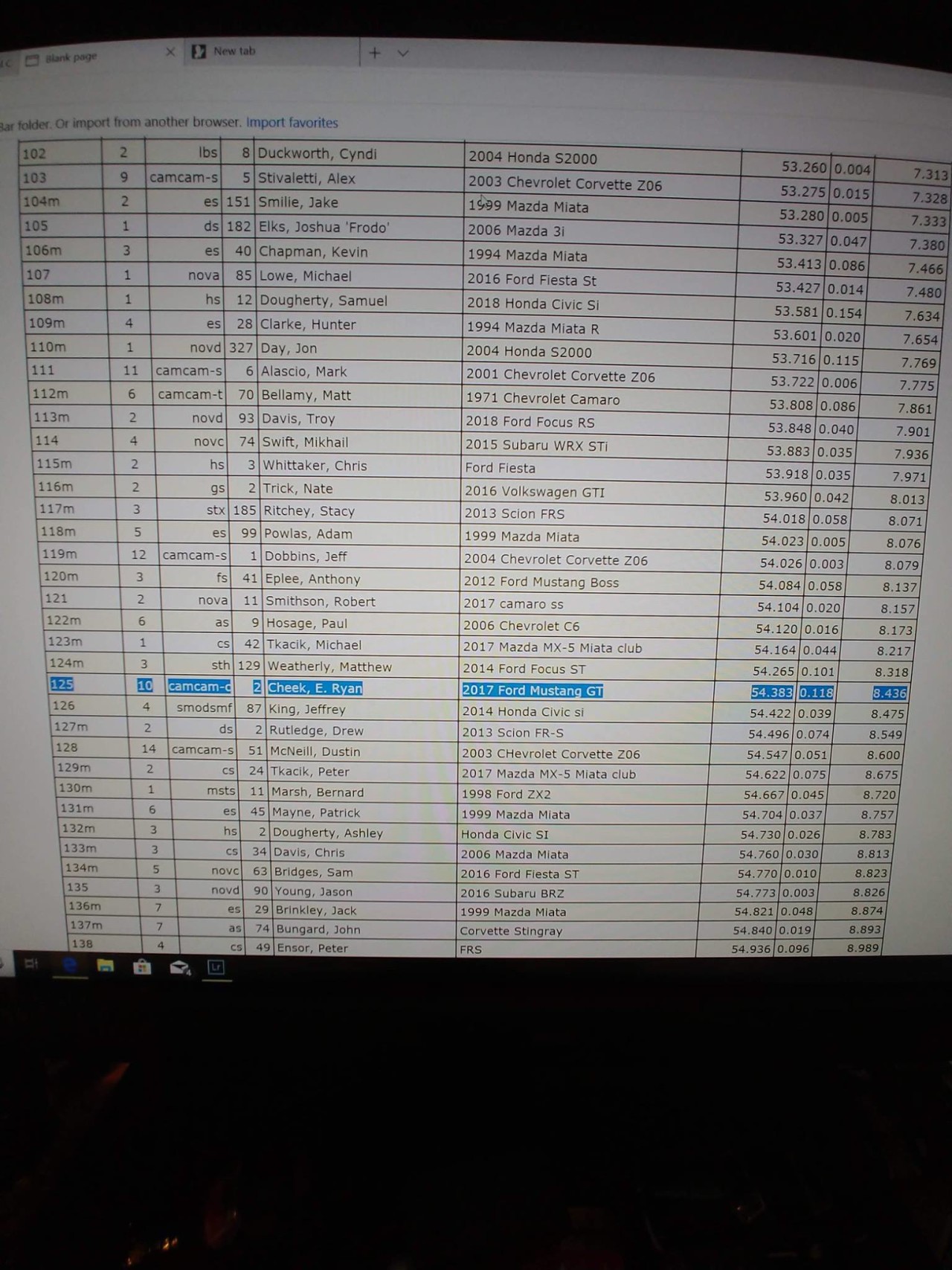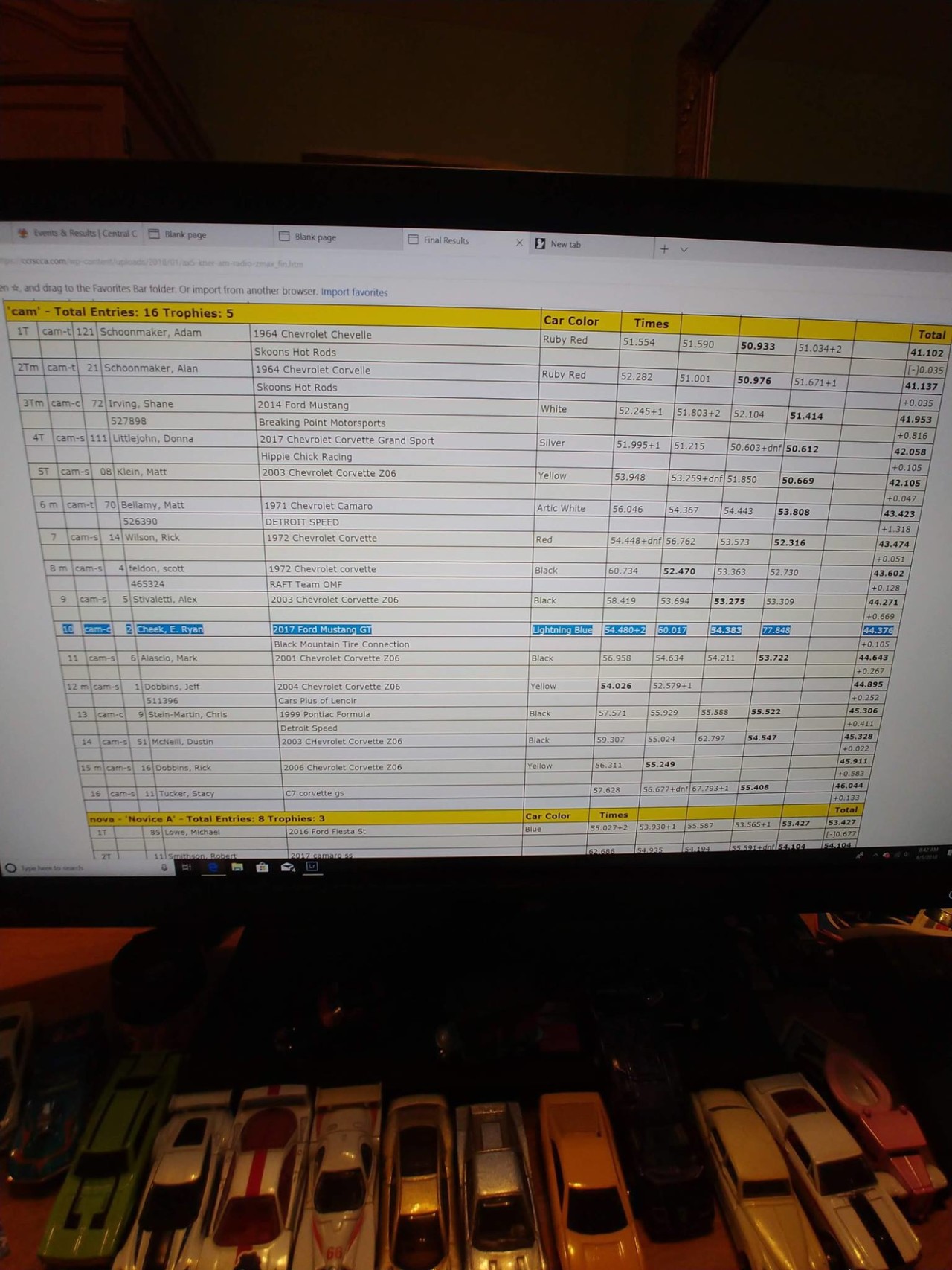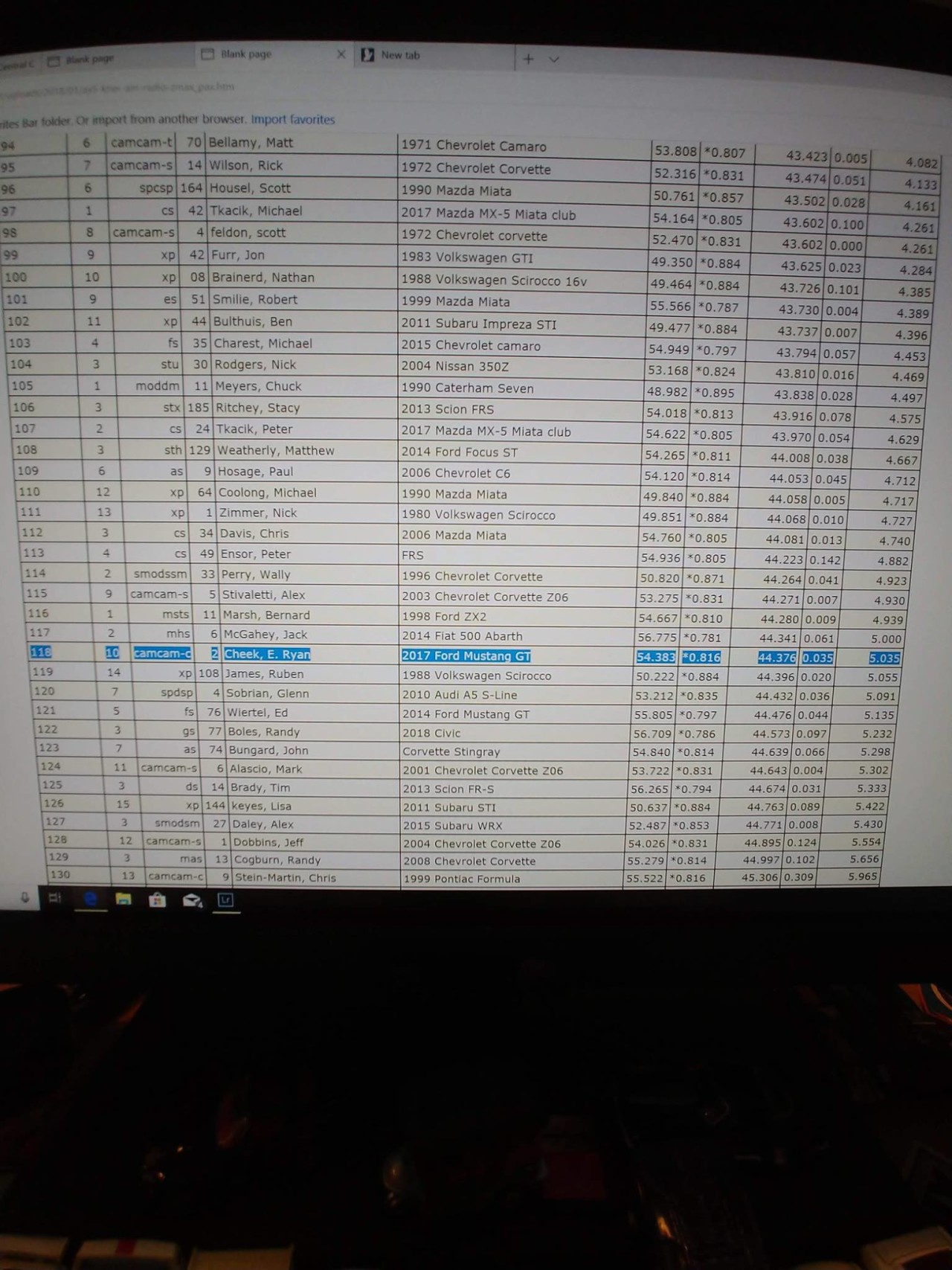 6-5-2018
I learned a lot,and want to learn even more. Please critique.
Car info:
-The car is a 2017 Mustang GT Premium Performance Package with the 401a tech option.
Current modifications:
-Ford Performance X-springs (aka street handling, only lowered the car 1", same progressive spring rate as Performance Package OE Springs),
-Ford Performance Power Pack 2 (GT350 intake, throttle body, & tuned for 93 octane),
-Steeda subframe alignment and support kit,
-Schroth Racing QuickFit 4-point harness.
The car was in Track mode and manually turned Full Advancetrac off- but you can see in the video something was being funky.
I have a page and a half of my own notes and critiques. A lot of things were happening on track that I didn't realize, for instance- the 5secs of banging the rev limiter in 2nd gear. Should have went to 3rd and stayed there. I had no idea I was going so fast throughout the whole course
8-4-2018
High Performance Driving Introduction held at NCMMSP, Bowling Green, Kentucky.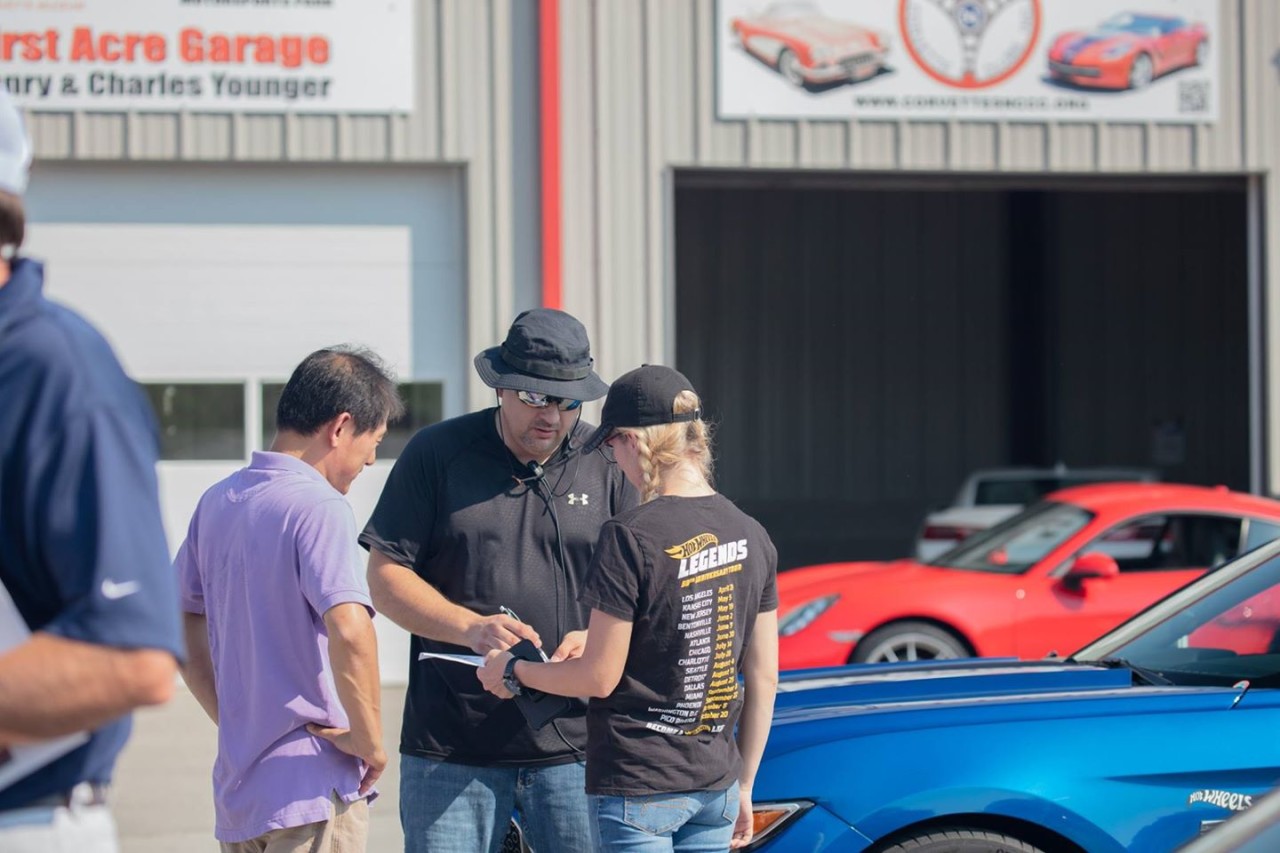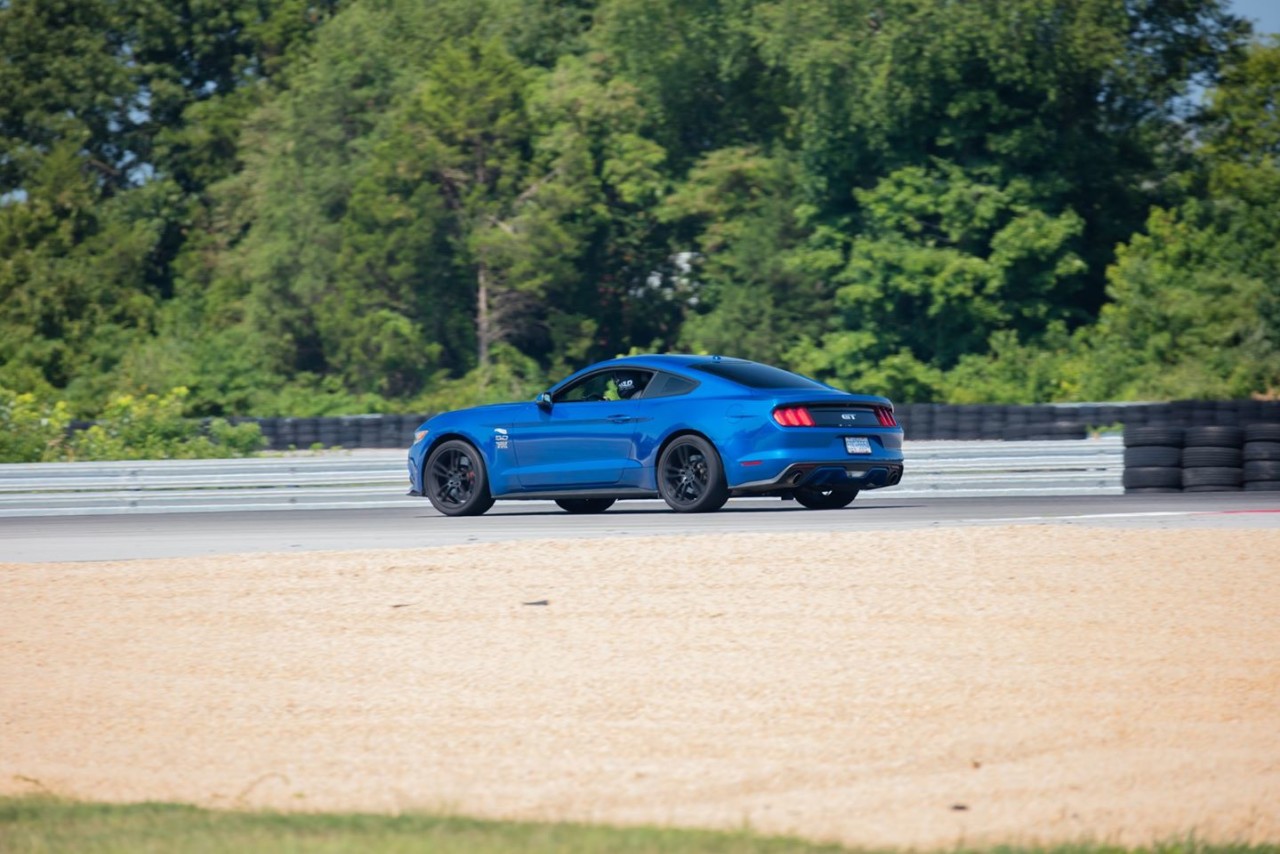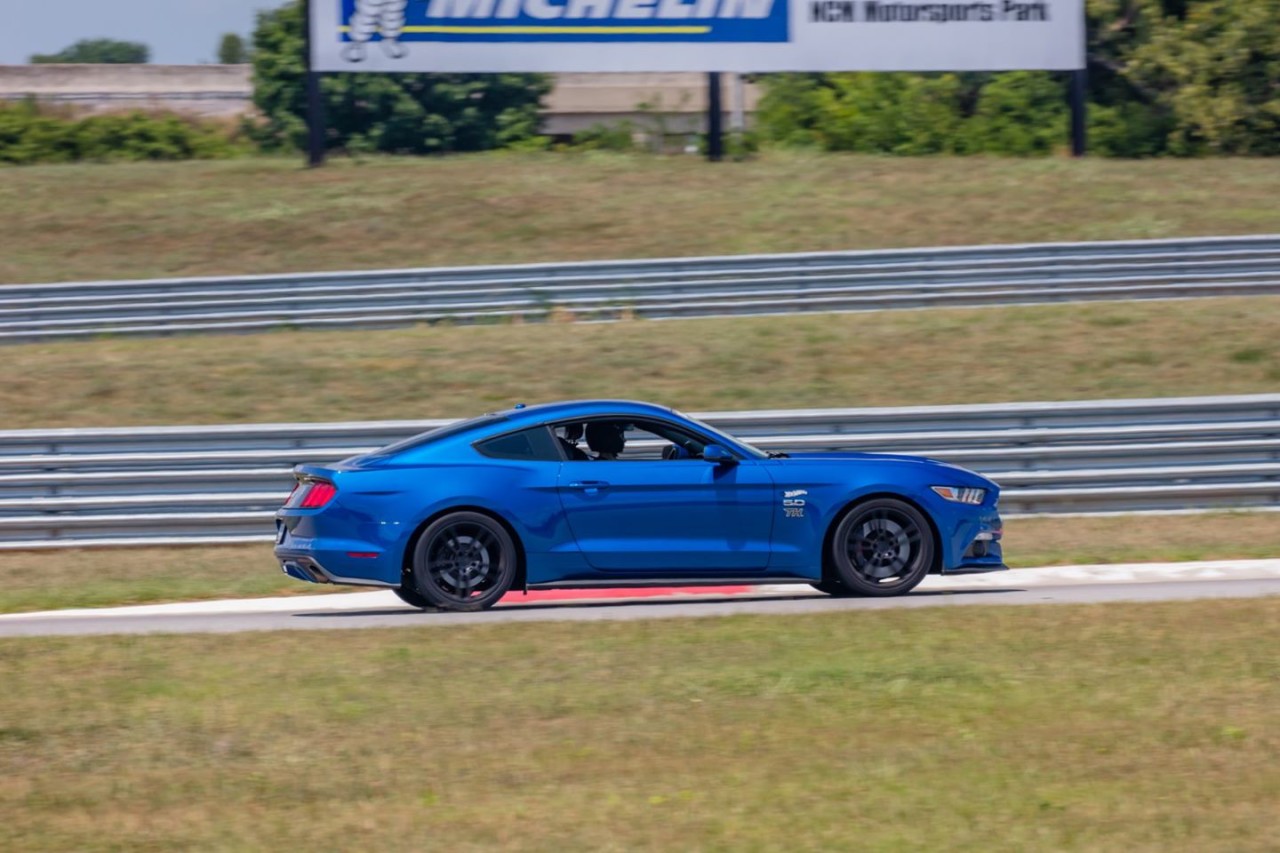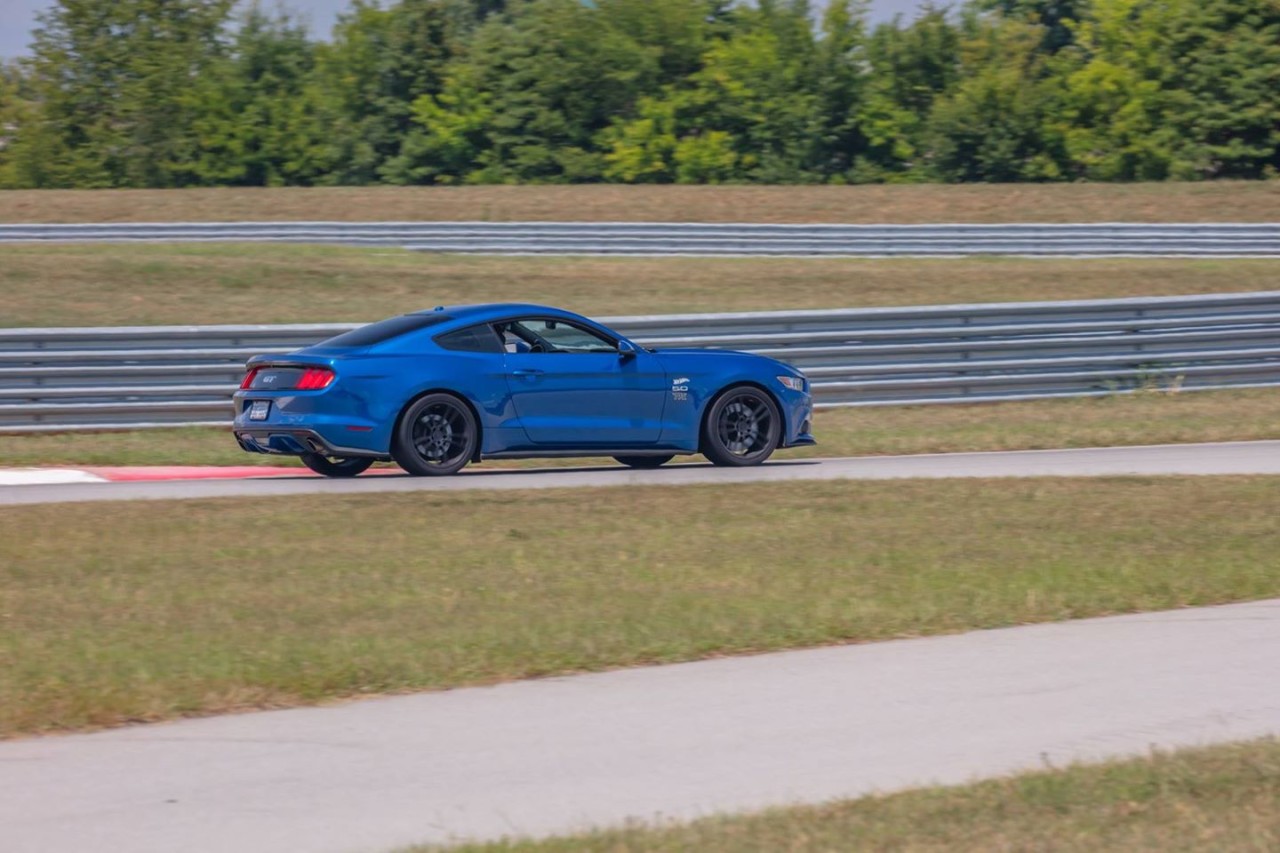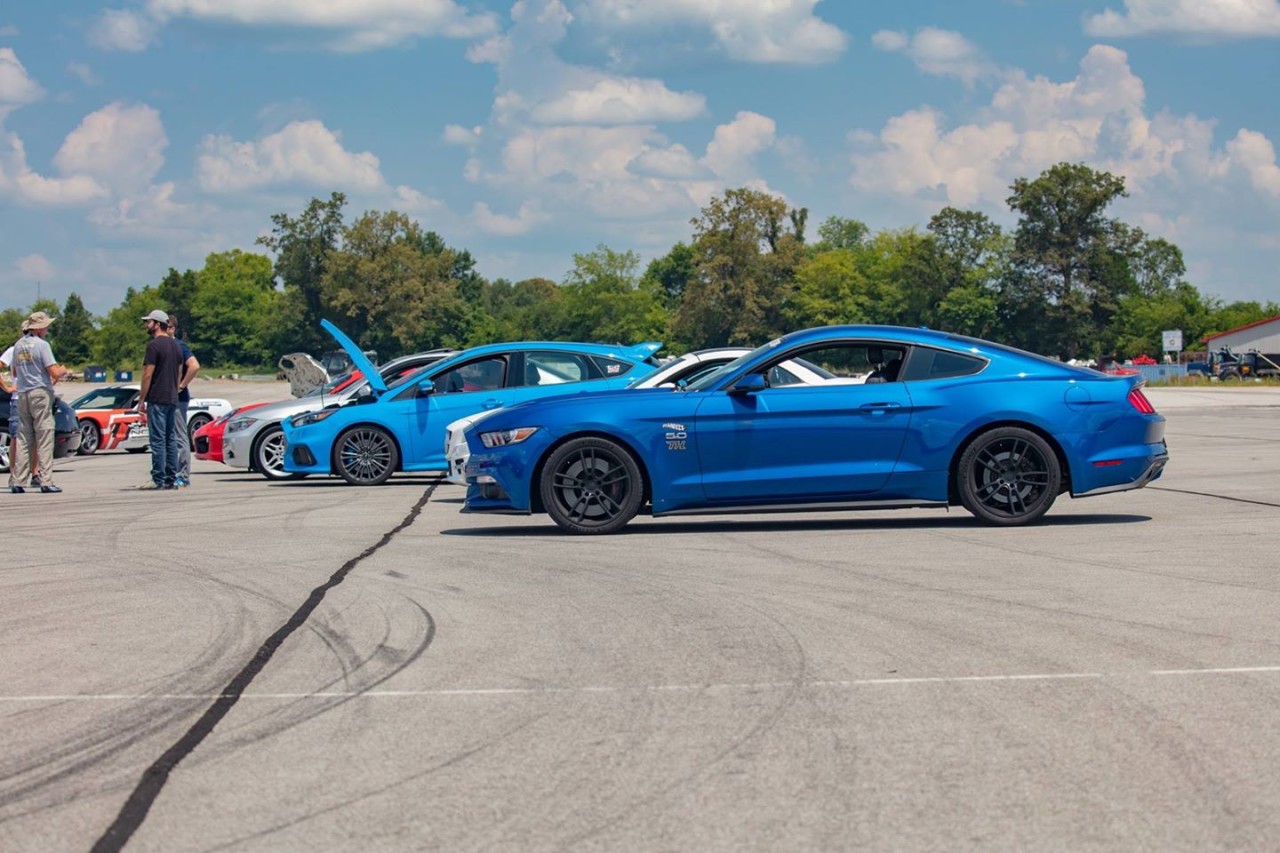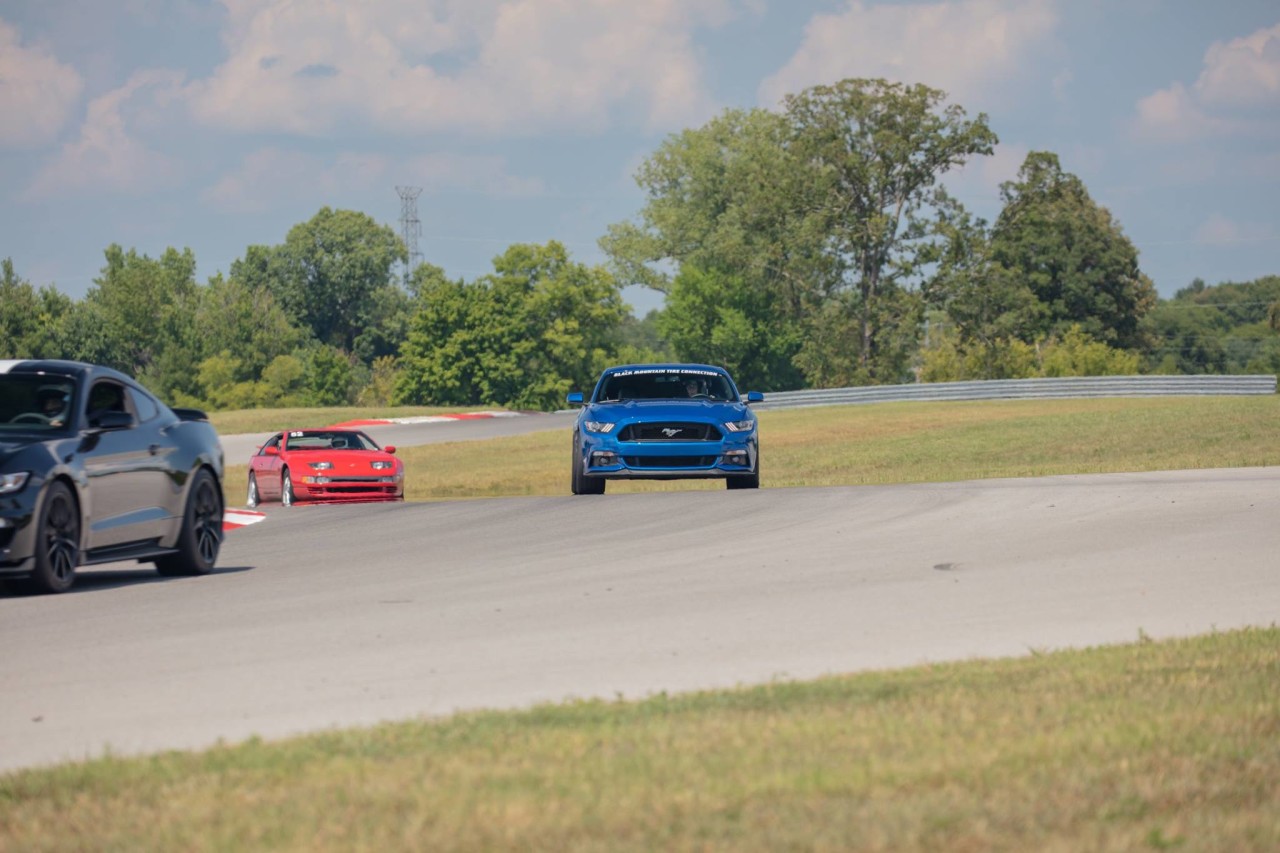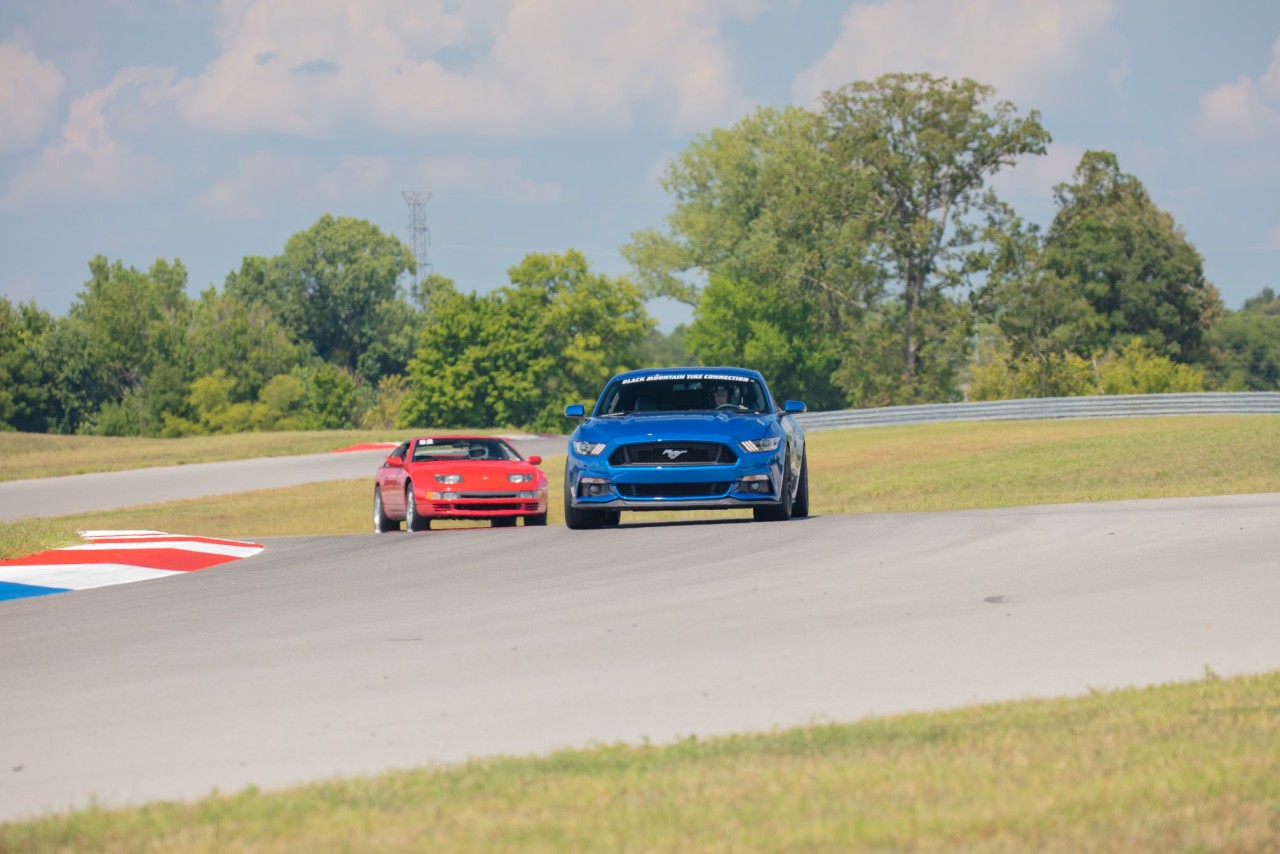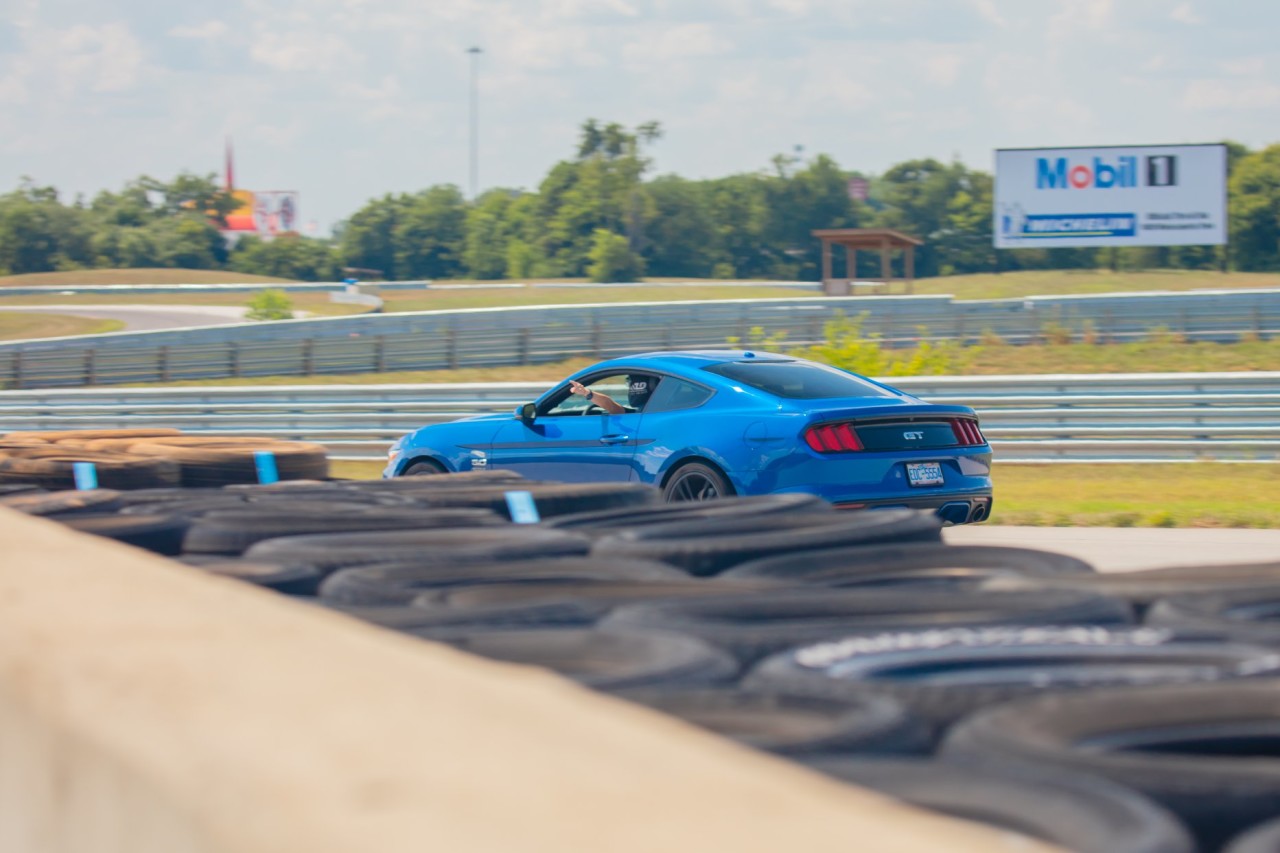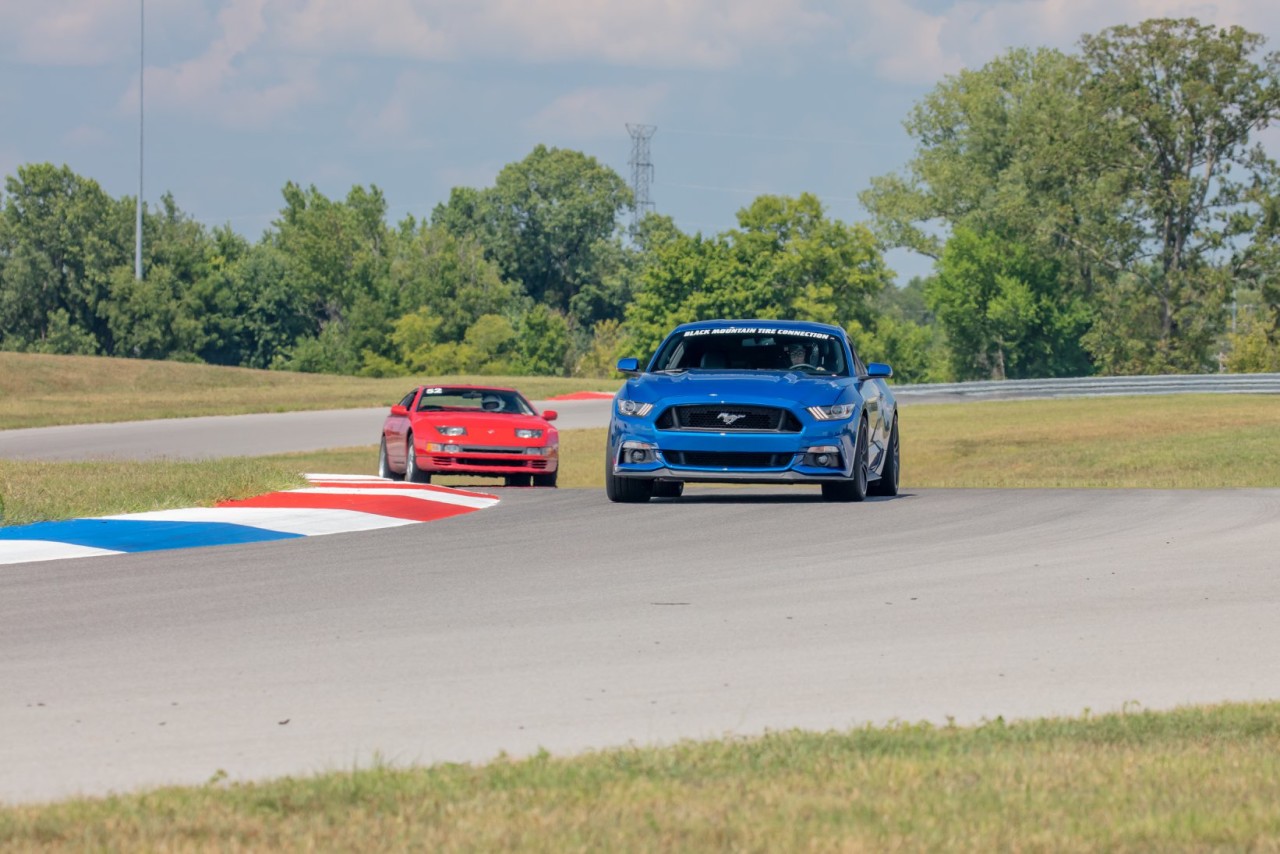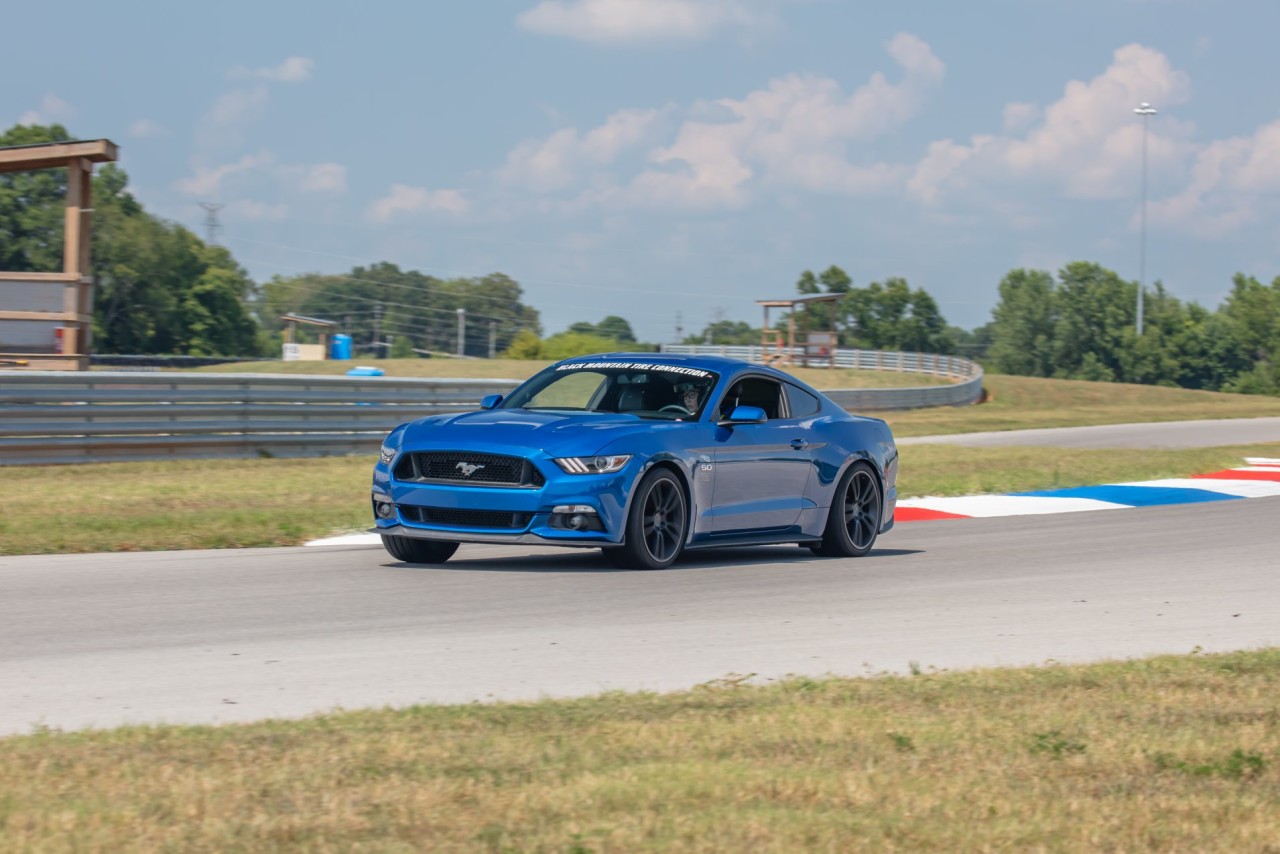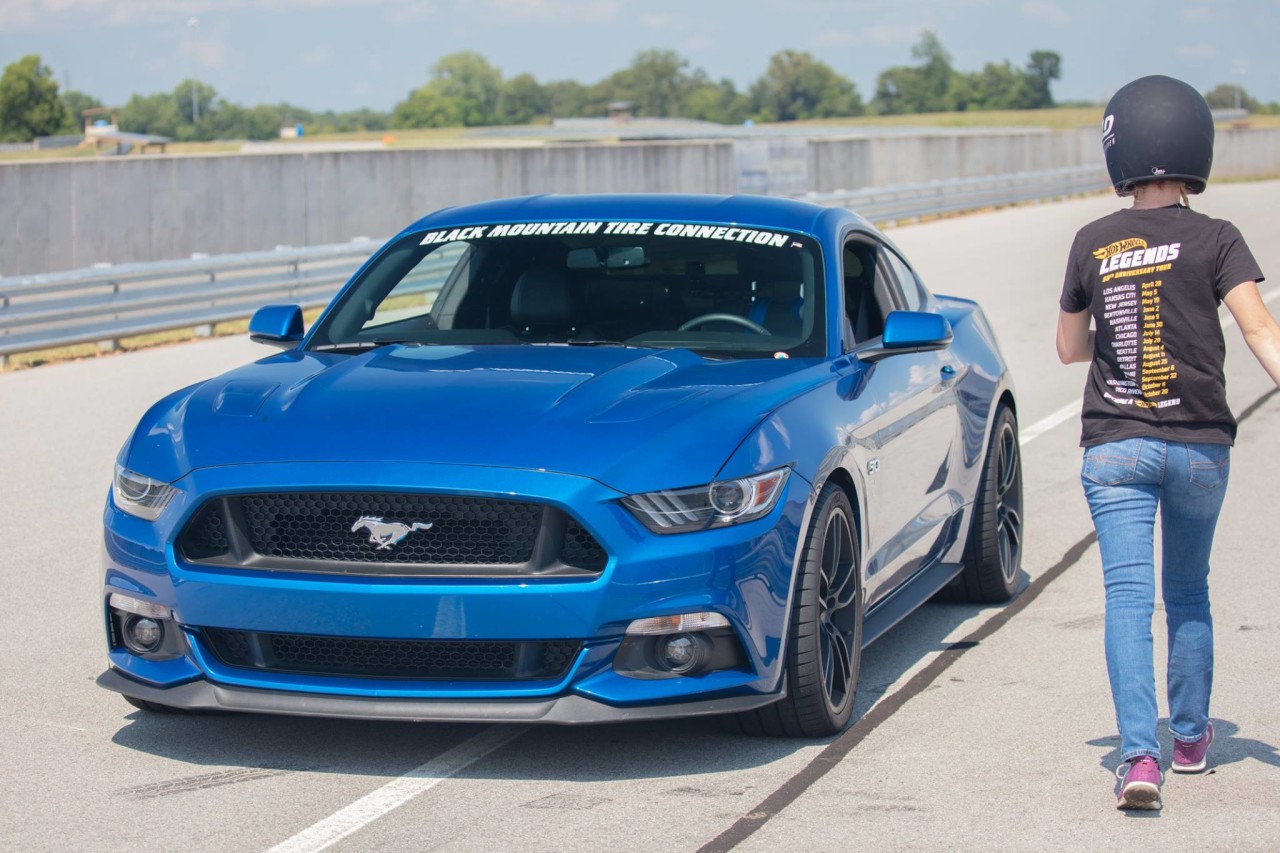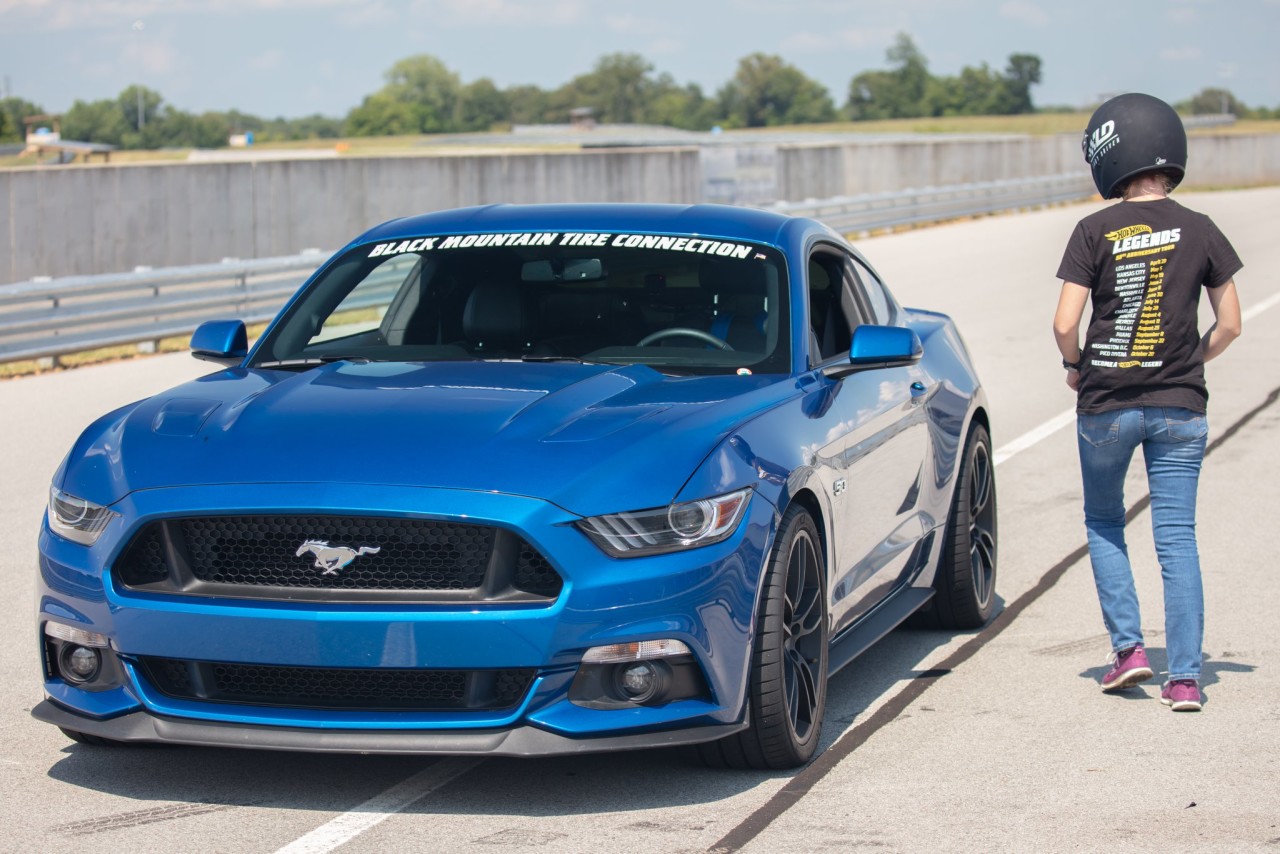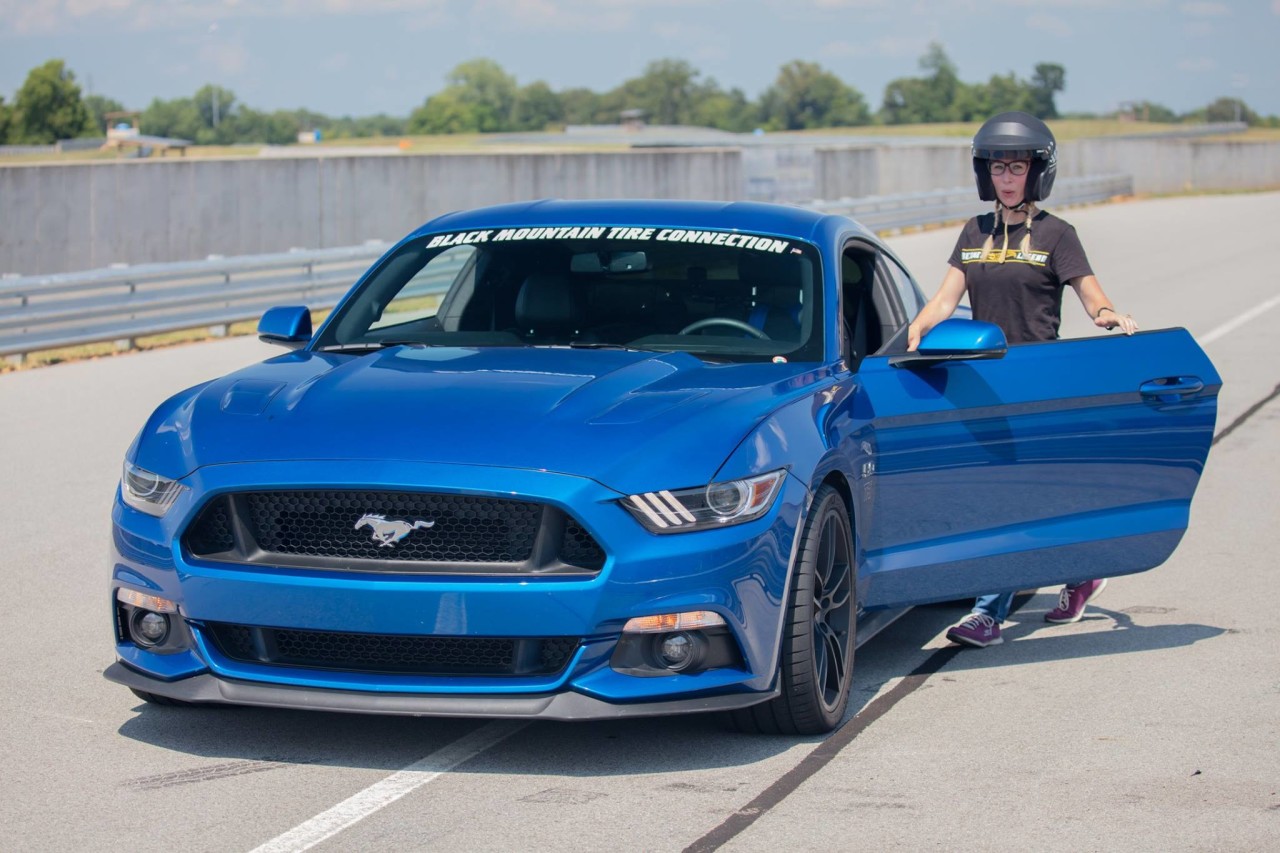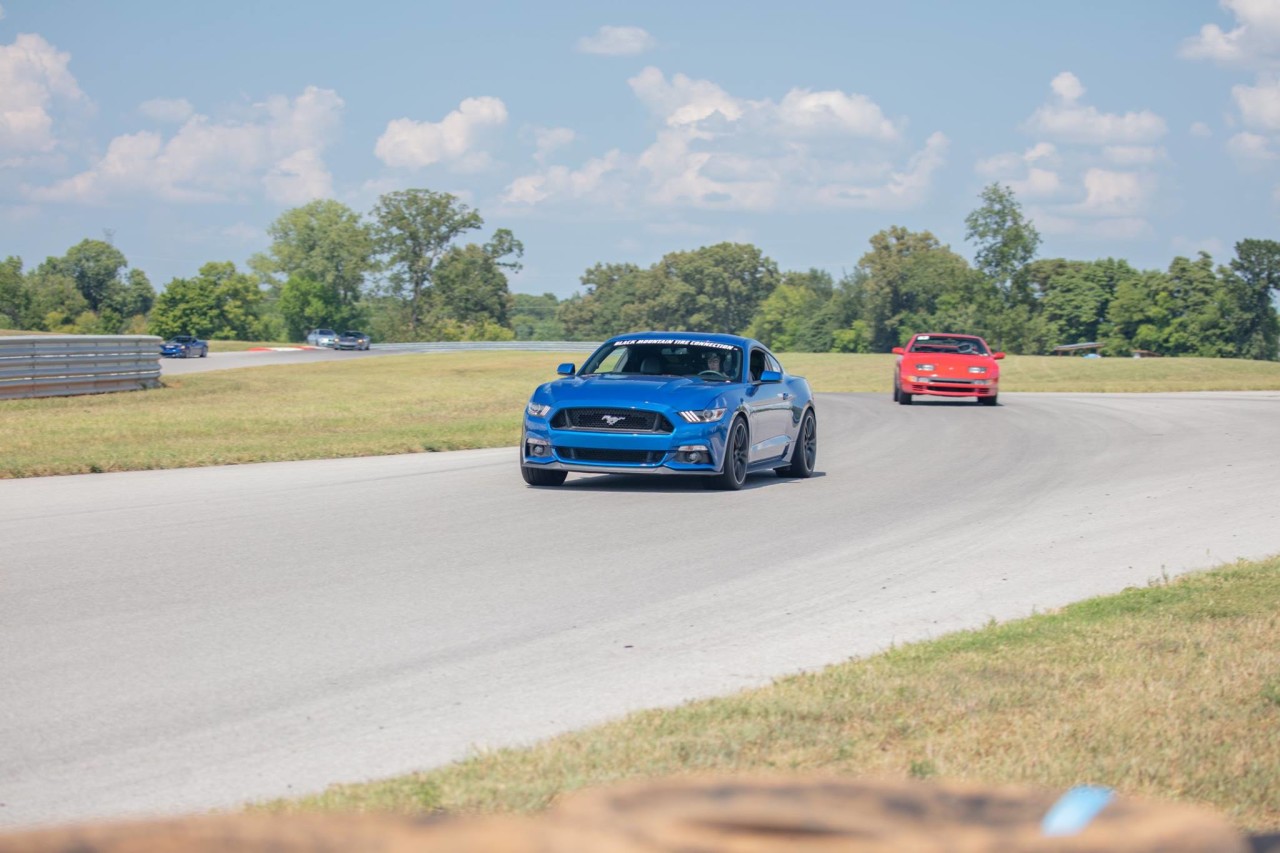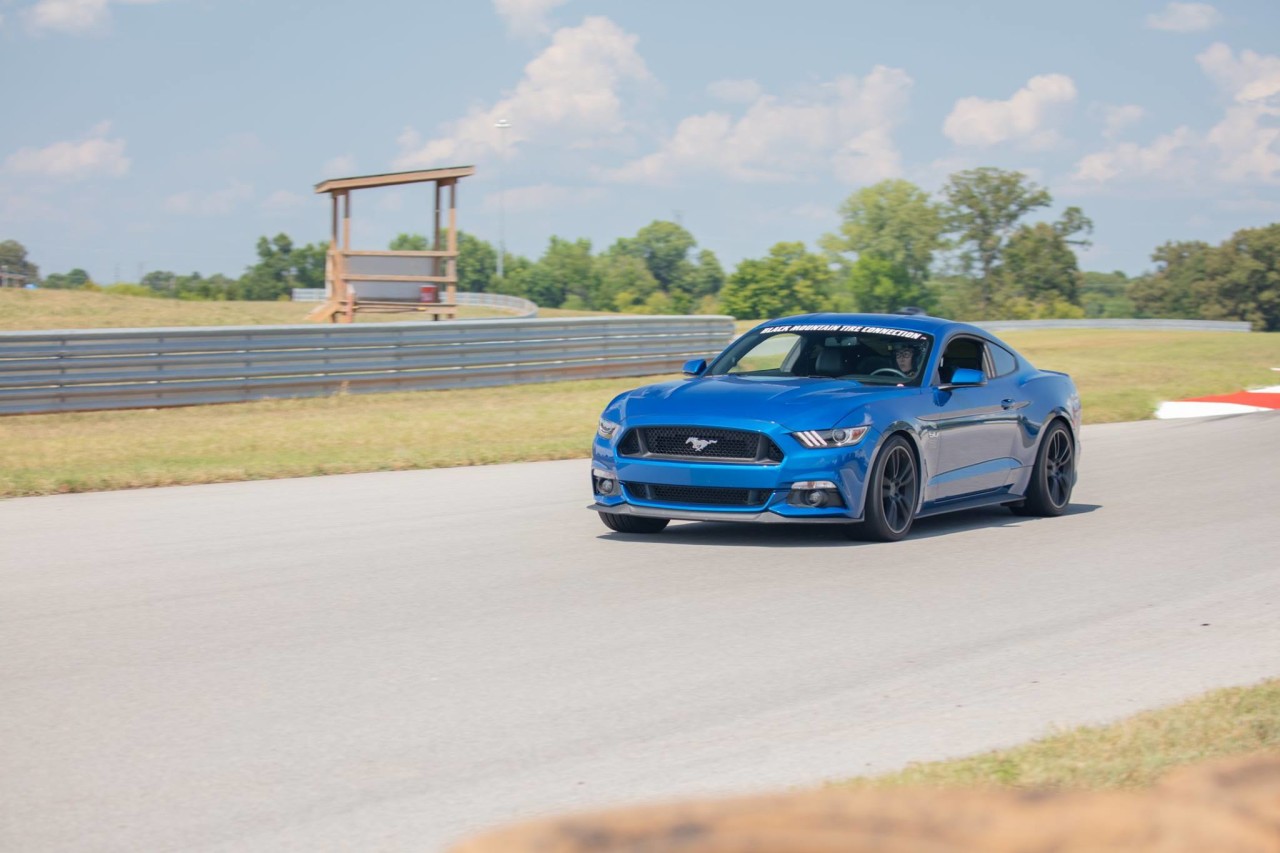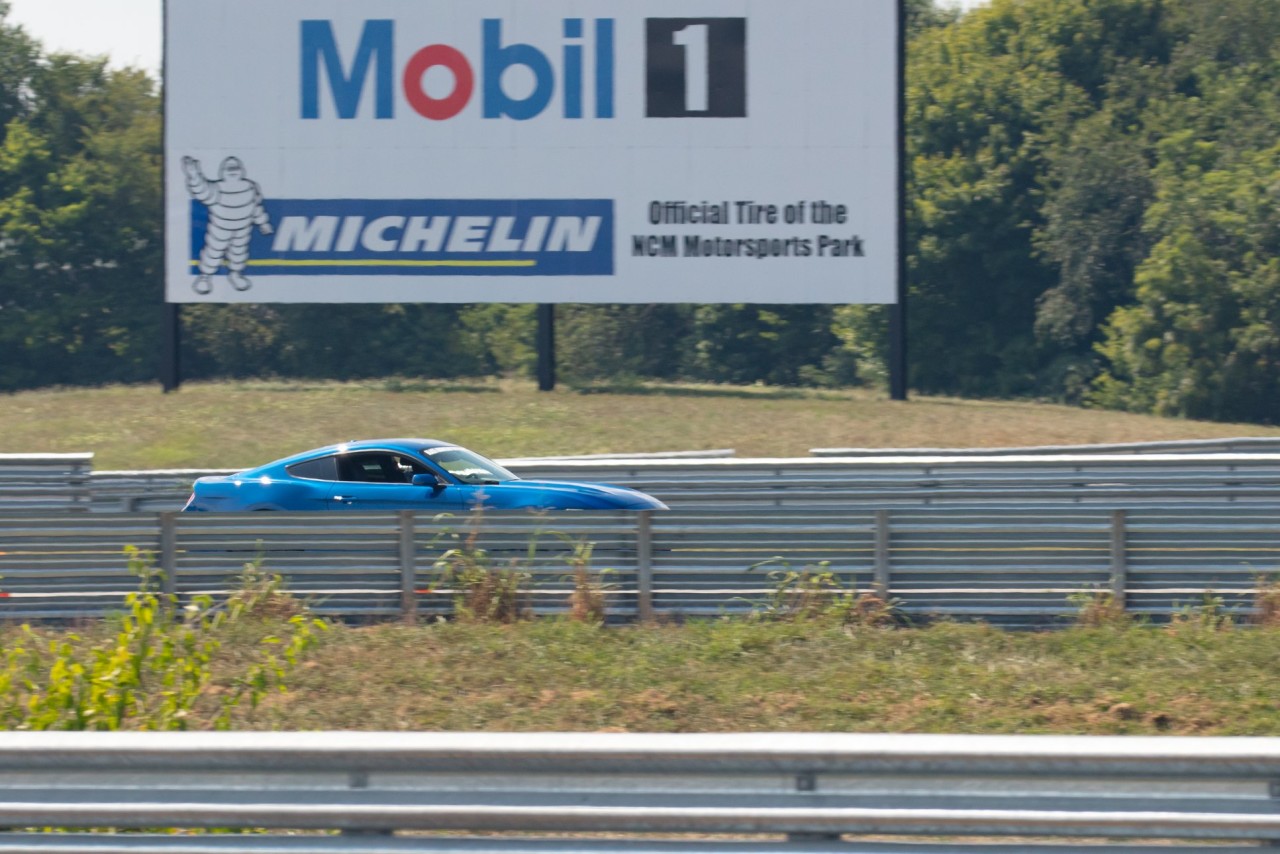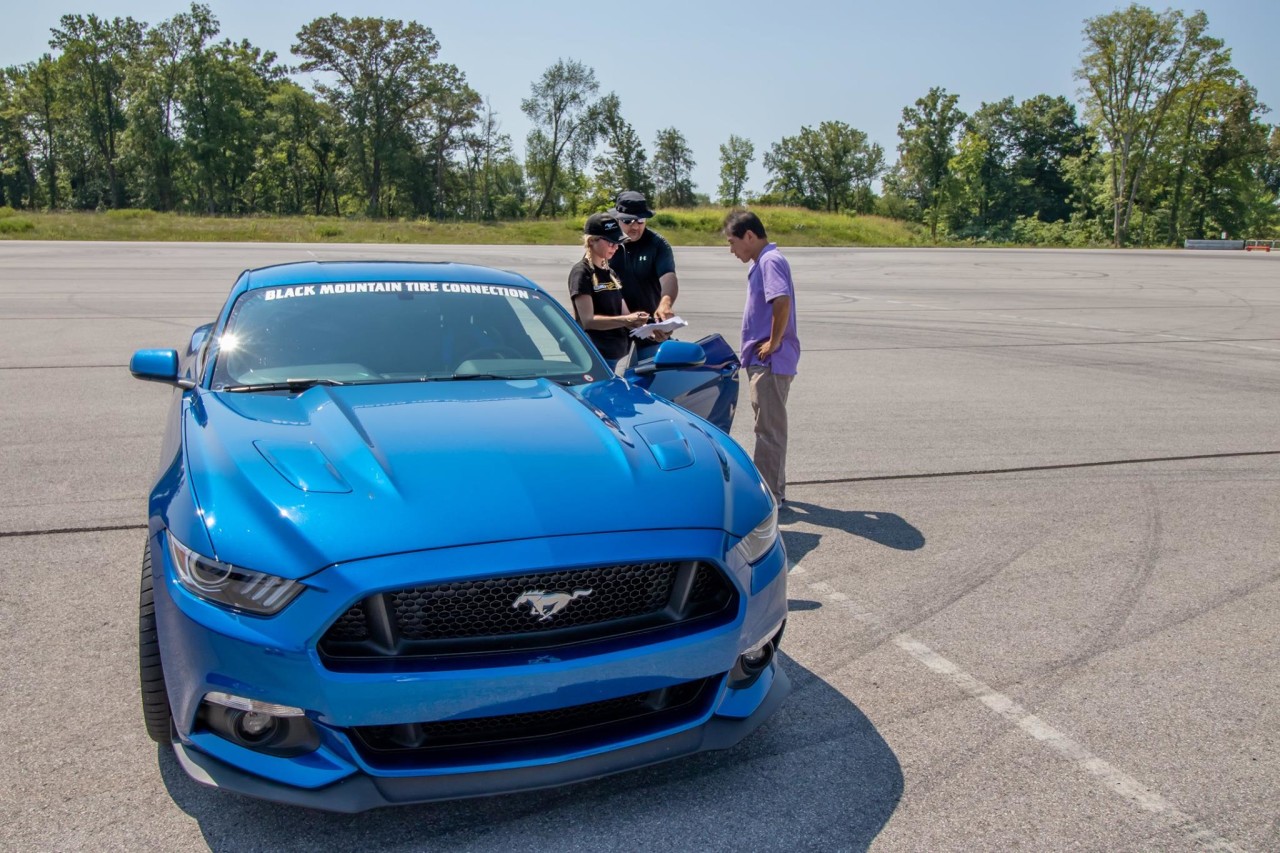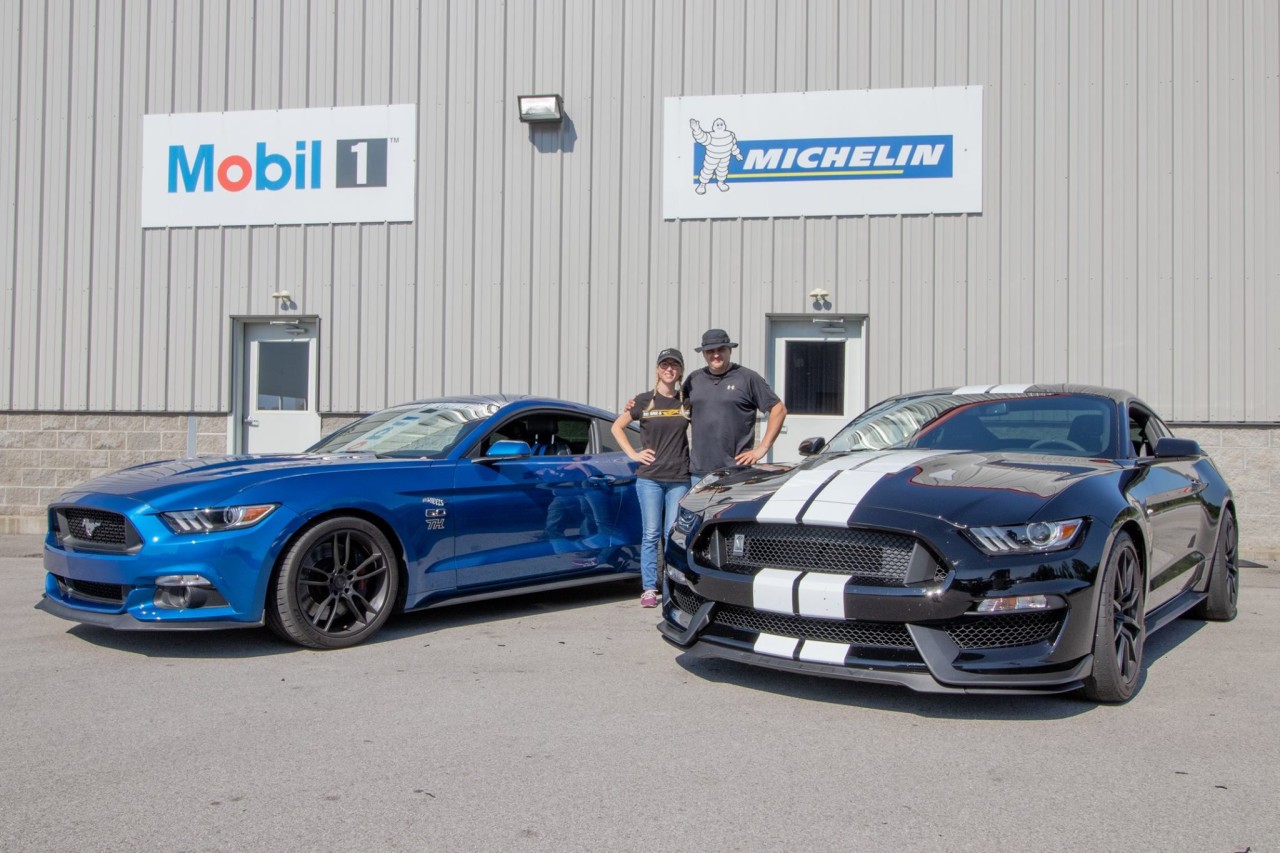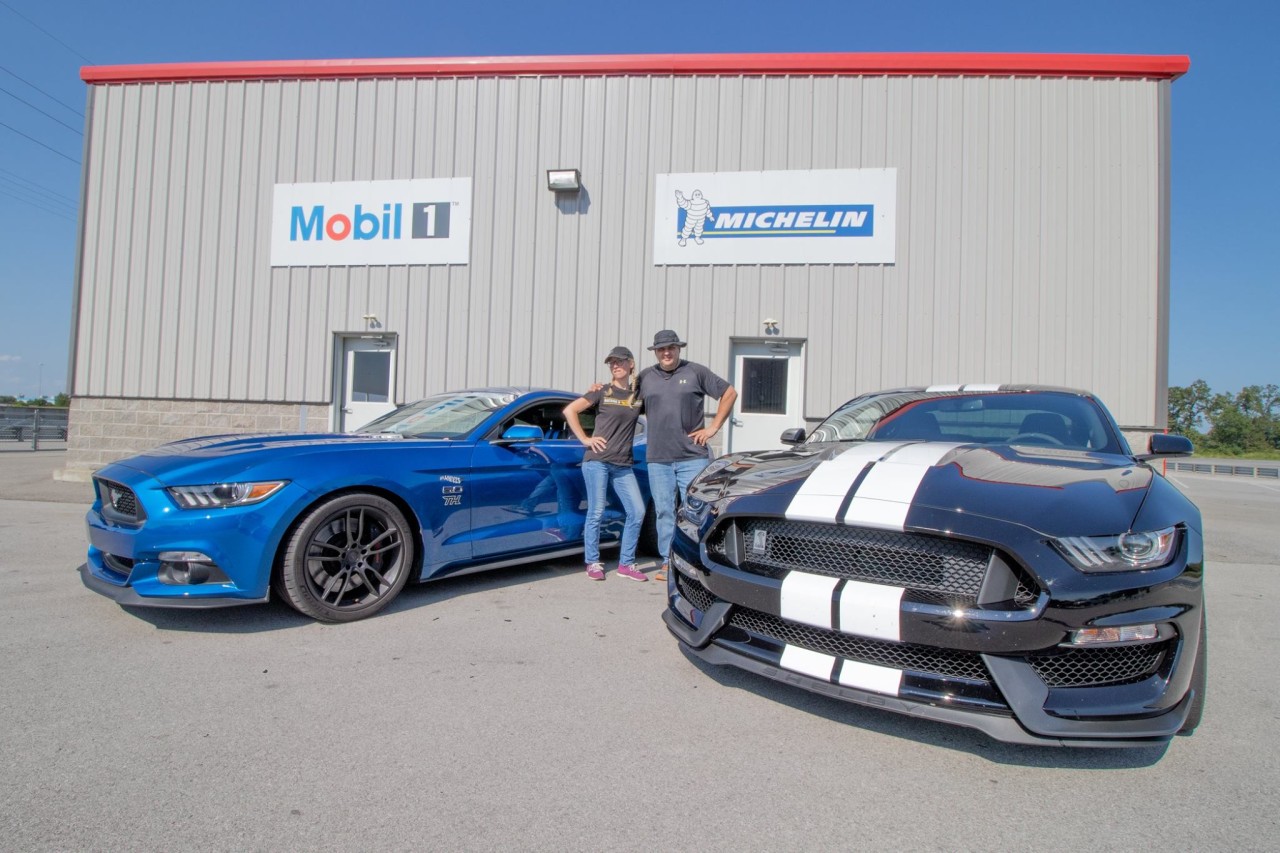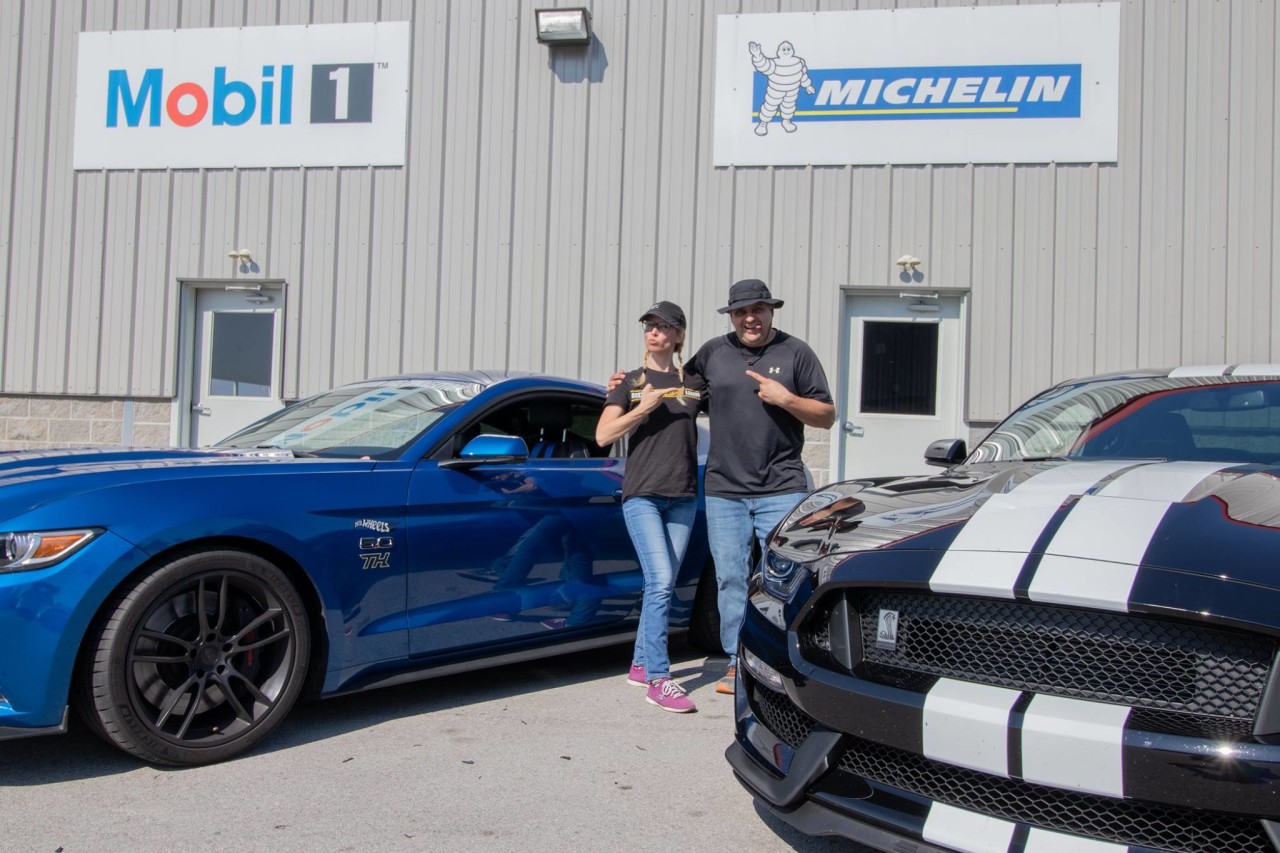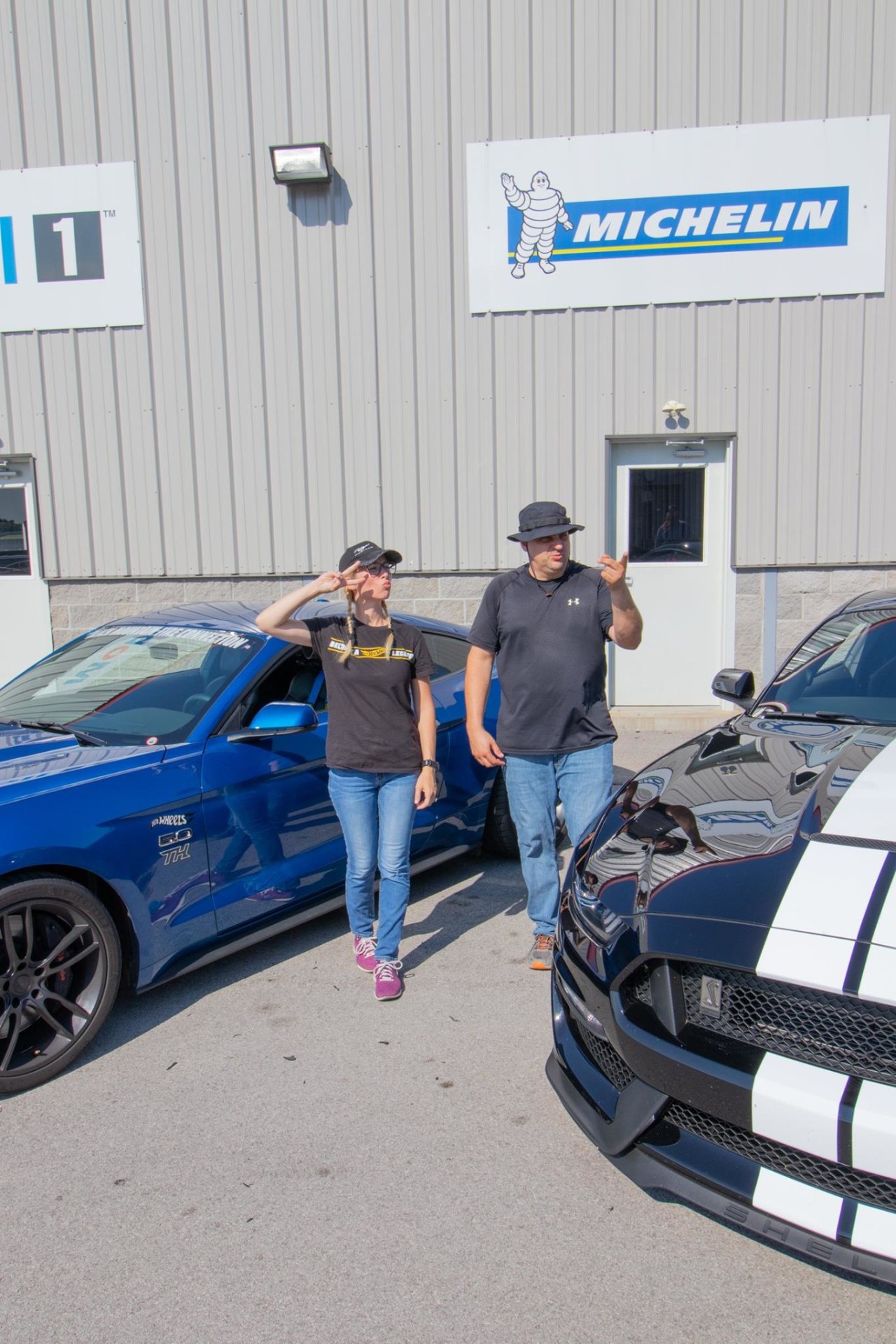 8-10-2018
Every time you enter the race track and cross that blend-line there's a risk. Most people feel confident combating that risk by buying track insurance* and/or relenting themselves to the fact that they're not going to go "full beans" on track.
For this High Performance Driving Introduction I took the later form of "risk management", confident that this was a beginner level of track instruction so therefor there should be no possibility of mishaps.
I was wrong.
The videos I've posted are from the final track session of the day. There had been no previous mishaps or close calls. Before entering the track, my fellow student (with prior track time), my instructor and I had all discussed and agreed to continue our increased pace and to practice the skills we had been learning all day. Going into turn 10 for probably the 20th time that day, there was a small mishap. Visible via my rearview mirror, my fellow student lost control. (short video is just the mishap, the other is the lap leading up to the mishap) Again, a small stumble by typical track standards and within moments the student had righted himself on track and regained our lead-follow formation. We calmly made our way to pit-in to give the car and driver and thorough looking over, both were fine.
It's taken a lot of self searching to admit the fact that I was NOT fine. What if he had been right in front of me? What if that had been me losing control? What if it had happened when we were going 120+mph? What if, what if, what if...
Most people will say it's the "what ifs" and chance of danger that makes the sport thrilling. That's not what I find thrilling about performance driving or the prospect of racing cars. I look forward to the opportunity to put my driving skills up against the skills of others.
And so, with a heavy heart, I've relented to the fact that I will not get back onto a road course, with other drivers at speed, without being in a fully track prepped car with roll cages, harnesses, fire suppression, etc. and wearing a full racing suit. My heart is heavy for I know a car and setup like that is no where in my near future.
I will be putting a lot more focus on my autocrossing and looking into the world of competitive karting.
8-16-2018
Dang I was slow but Lucy sure was a beauty!
8-24-2018
Feeling pretty awesome after the results from Tuesday night's autocross were posted. I knew I rocked a pretty good time out there but shocked I placed Top 10 (9th) Raw. With a fairly high equalizing index of .816, I still managed to place 6th in Pax. Unfortunately, it was the last Night Series for 2018 and I never claimed the FTD I was striving for, but we'll give it another go next year!
FWIW: Mods list
Ford Performance x-springs (to complement the OE Performance Package)
Ford Performance Power Pack 2 (GT350 CAI & throttle body)
Steeda Subframe Alignment & Support kit
Schroth quickfit 4-point seatbelt harness
MRR M600 Wheels 19x10 (square)
Michelin PS4S 295/30zr19 (square)
I really need to flush my brake fluid (literally laughs out loud that I'm still on OE fluid) as my brake pedal got a little squishy after my 3rd run on Tuesday.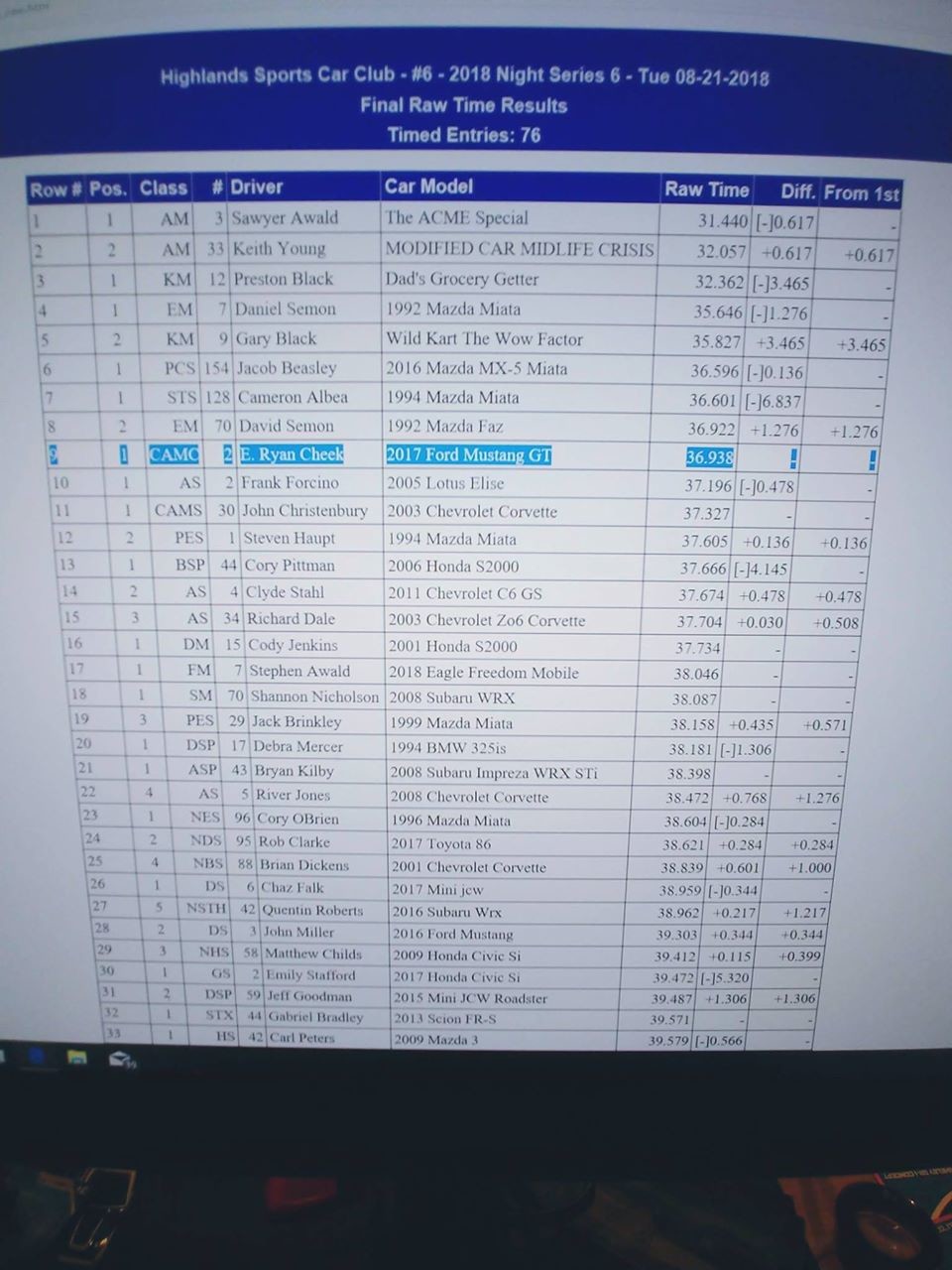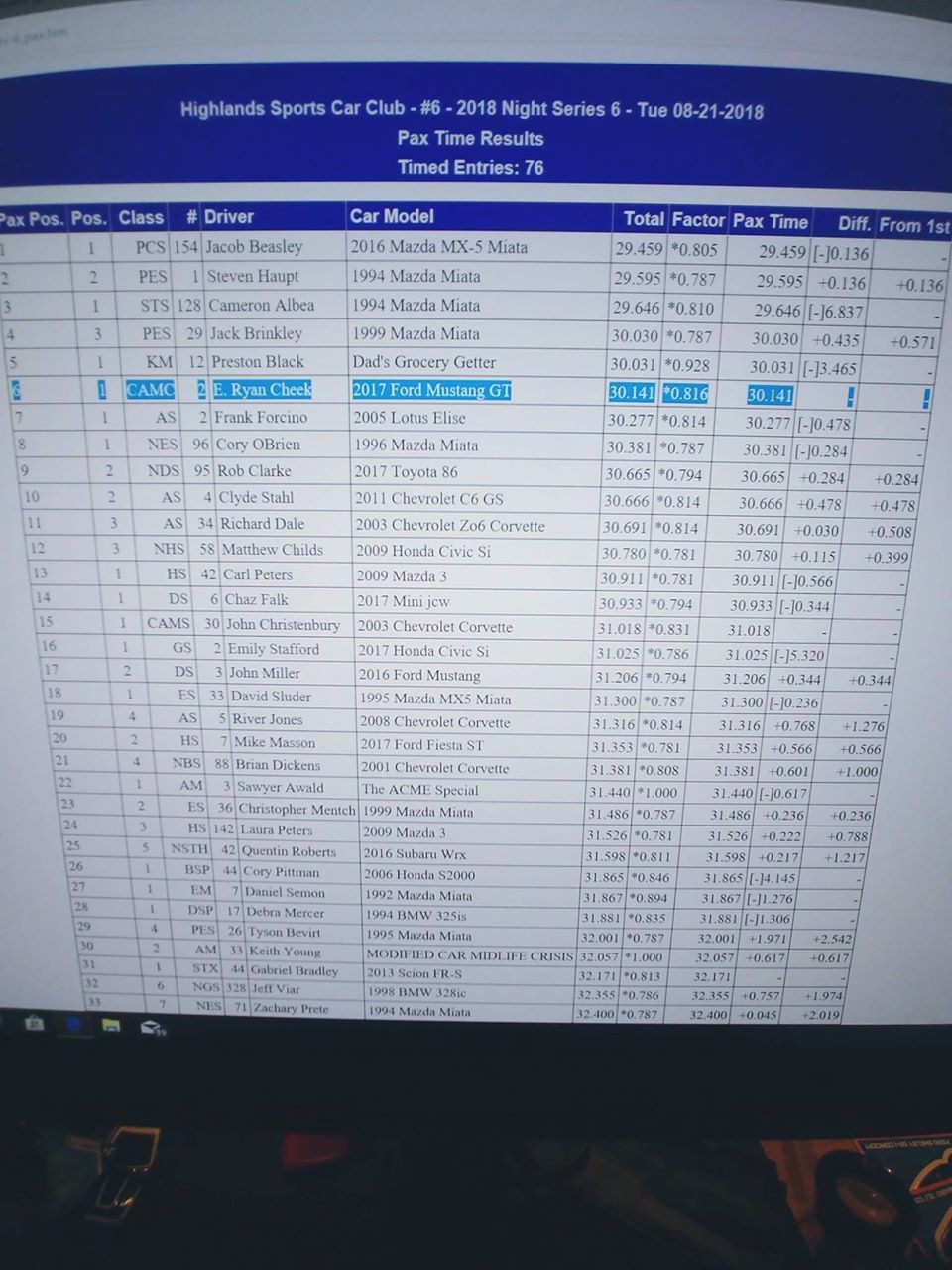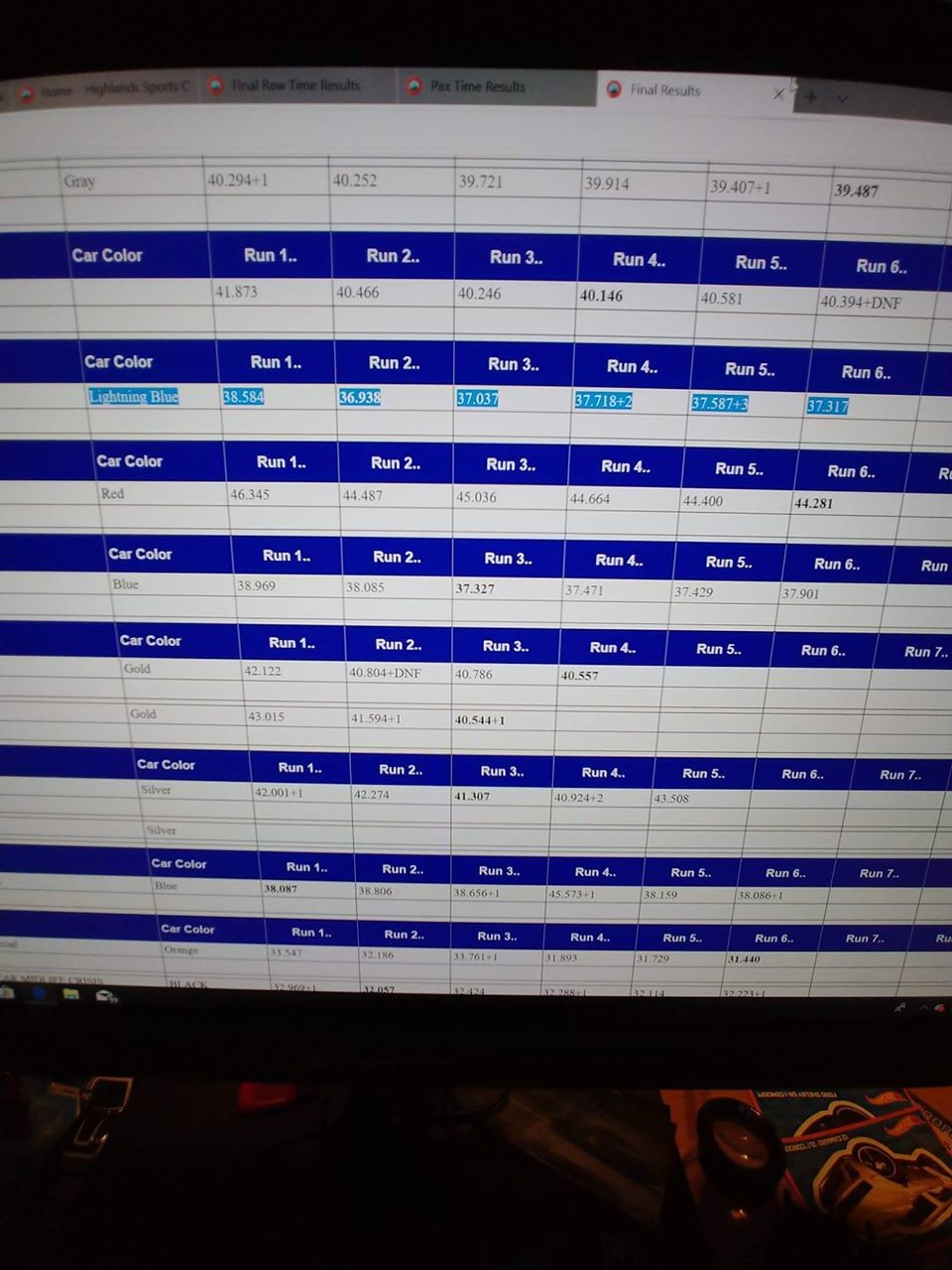 9-22-2018
All women drag races happening now!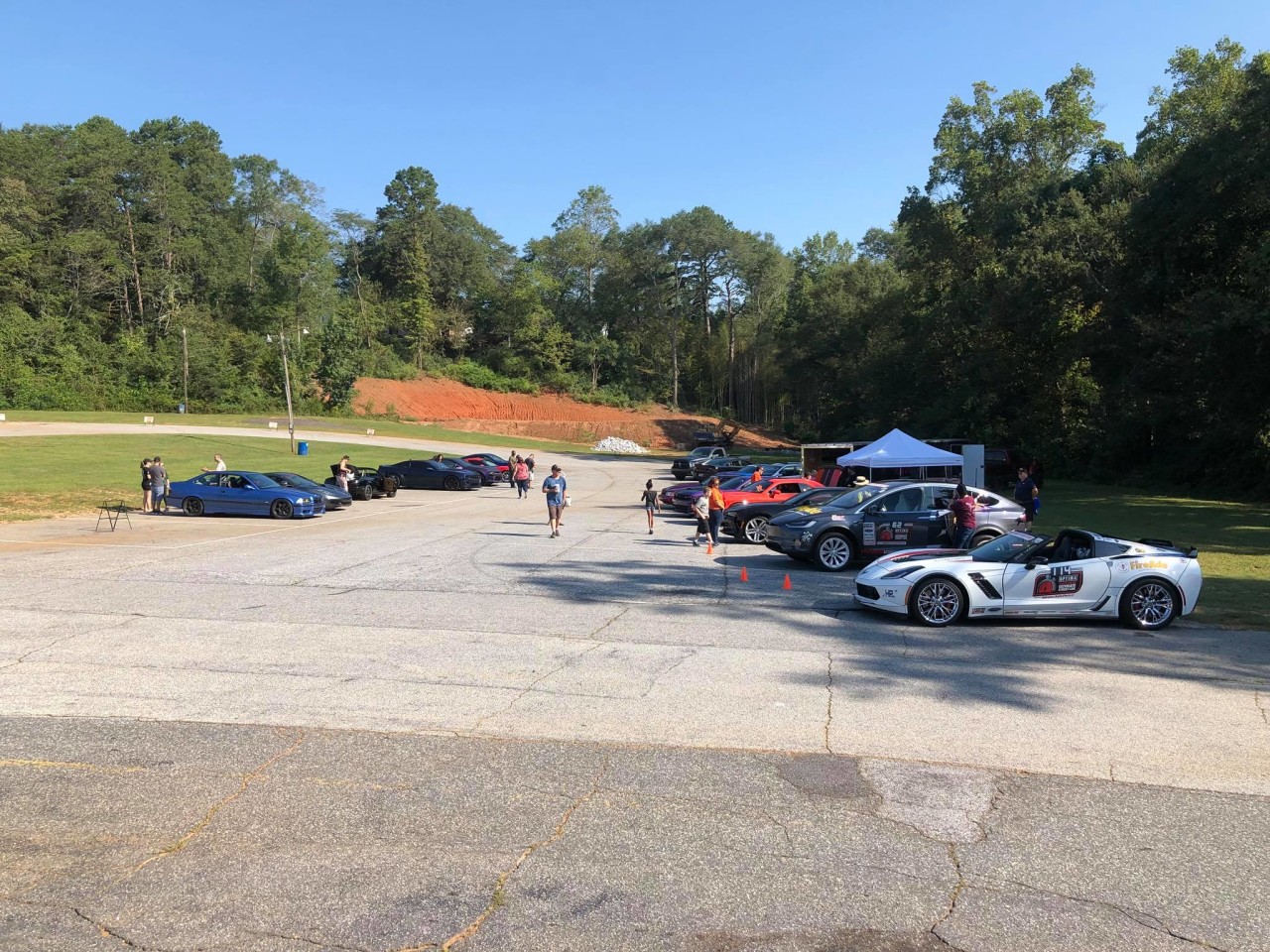 9-23-2018
Attending the first ever Ladies Day at Greer Dragway was so much fun. And, I even learn some stuff, which makes it even cooler.
Please tag yourselves. If you don't see a picture of your car, send me a message, there are more pictures!
Feel free to download any pictures, they will print clearly up to 4"x6"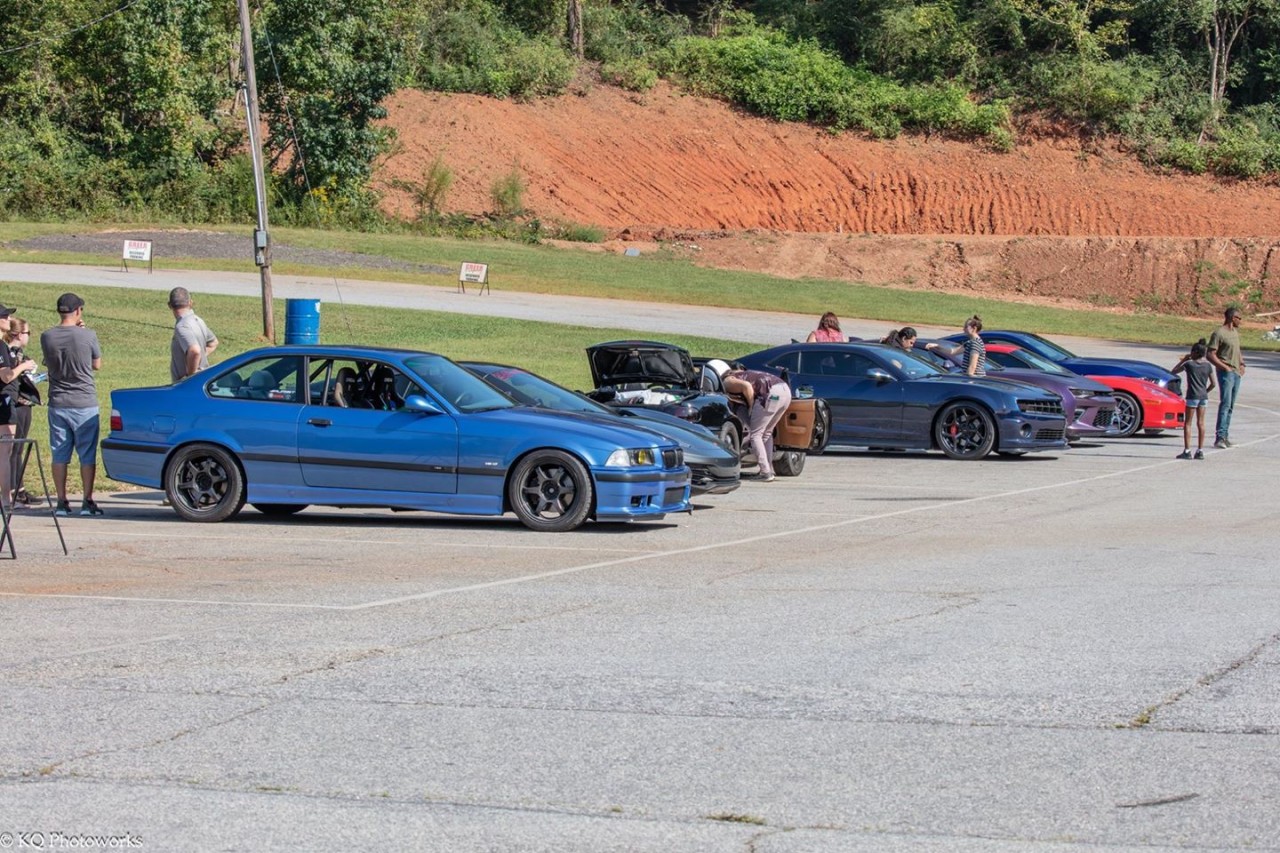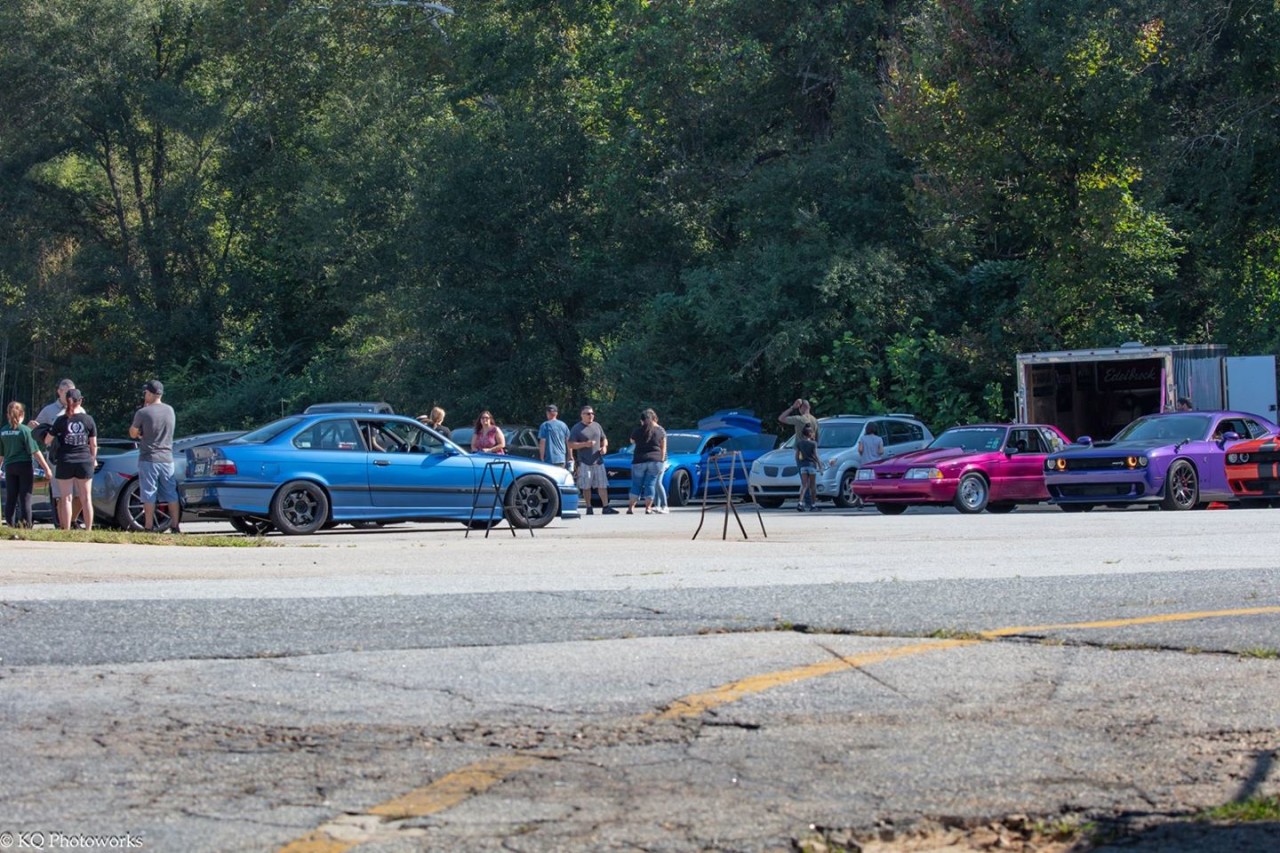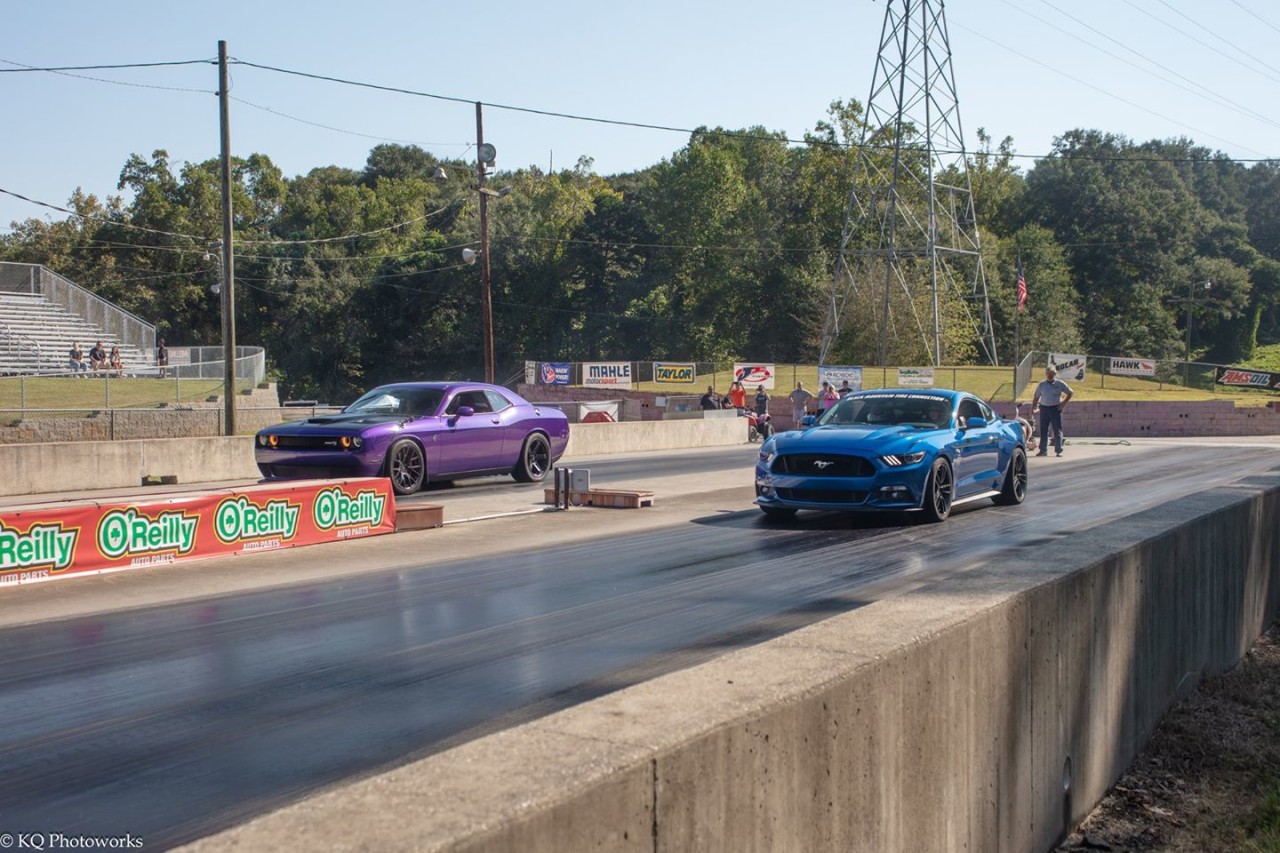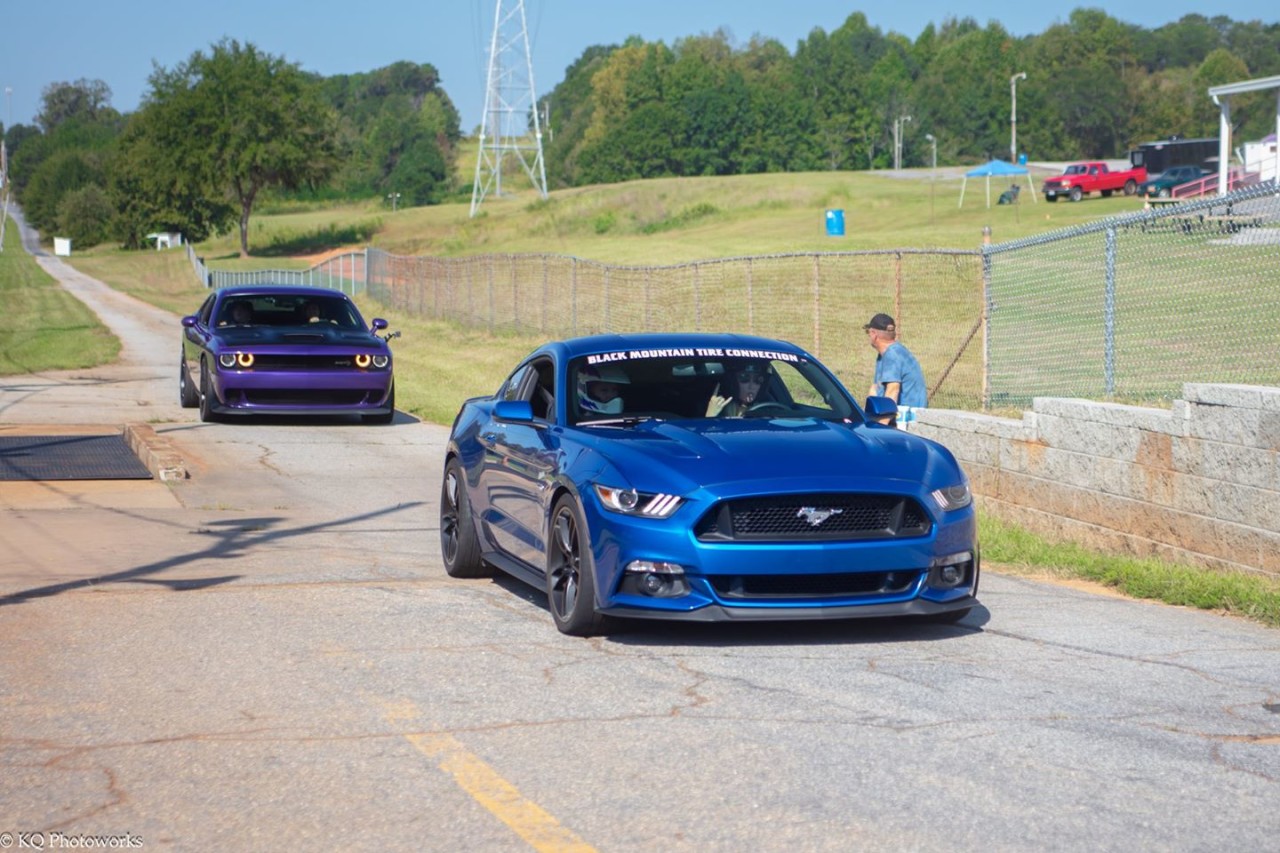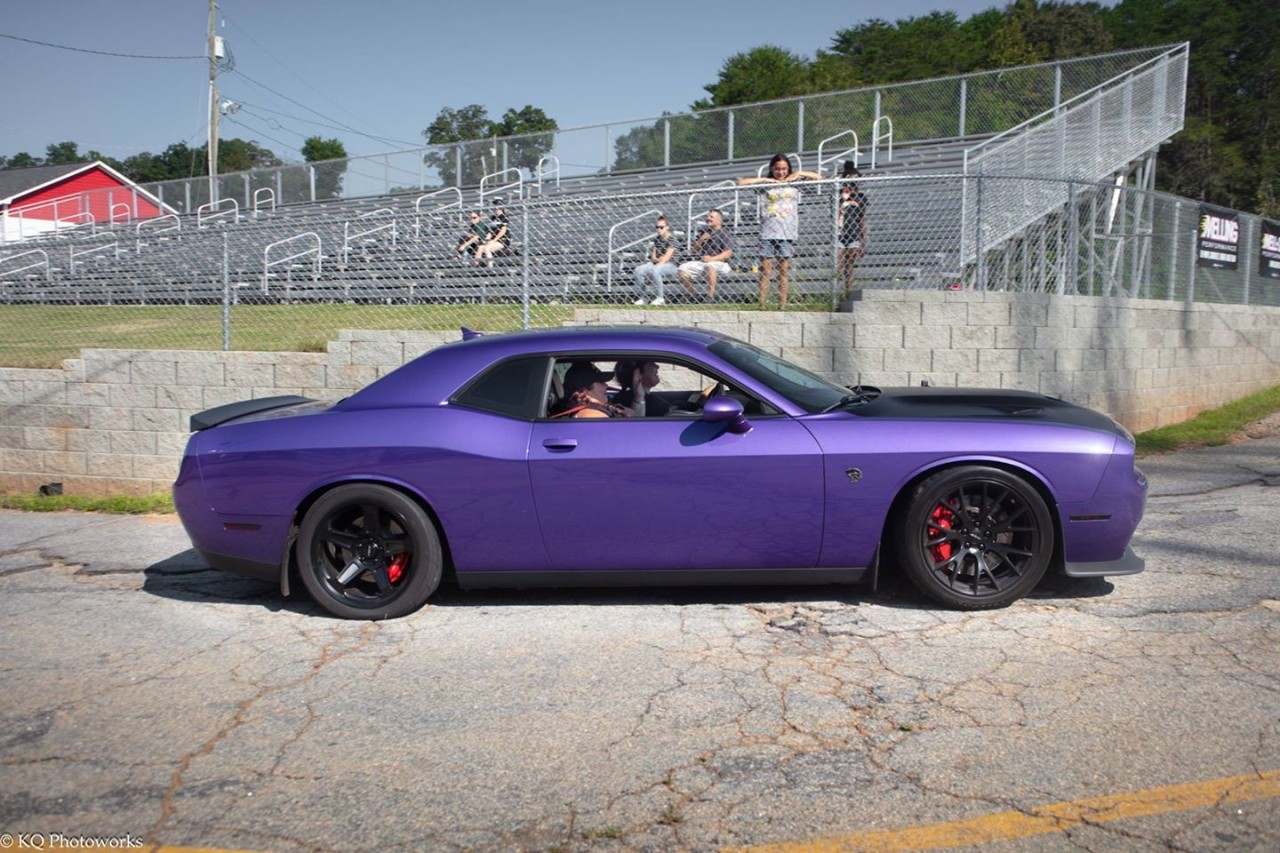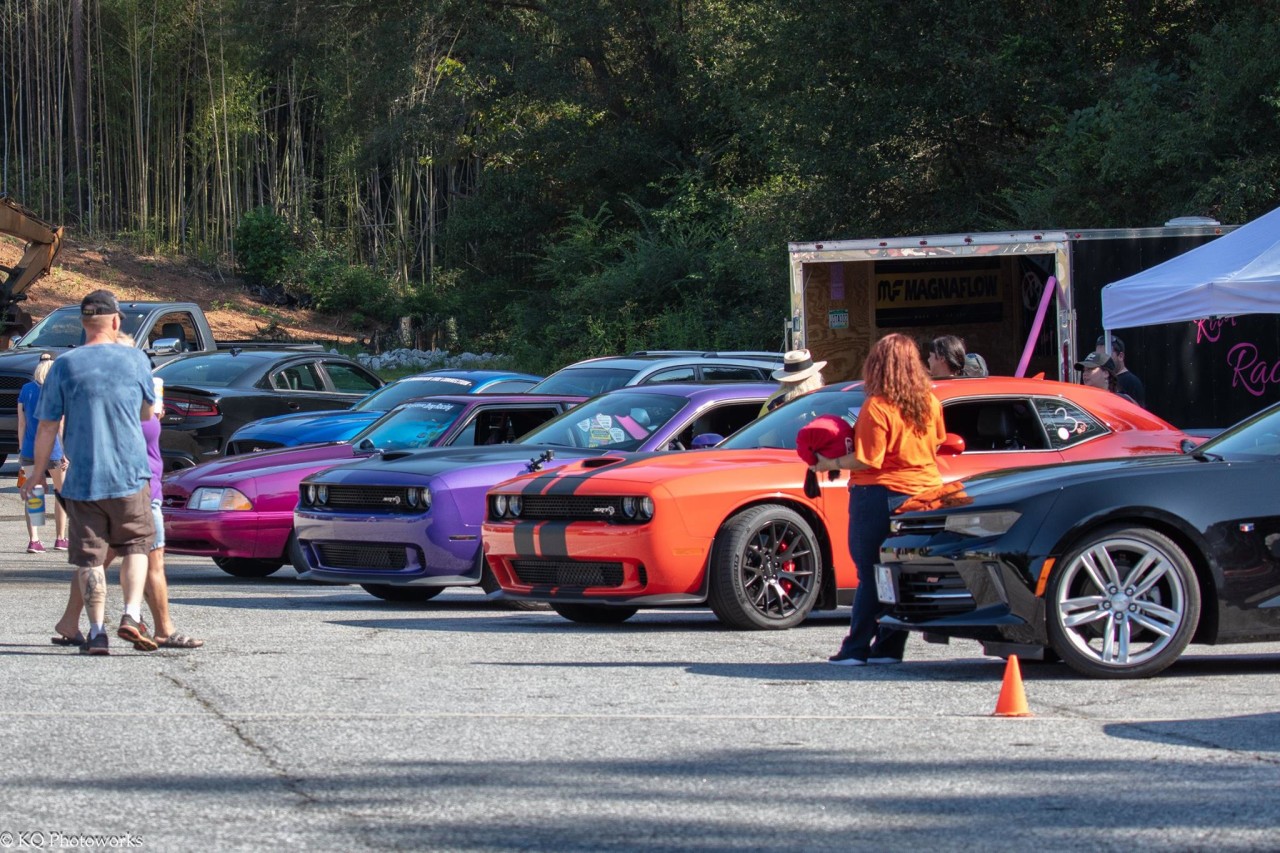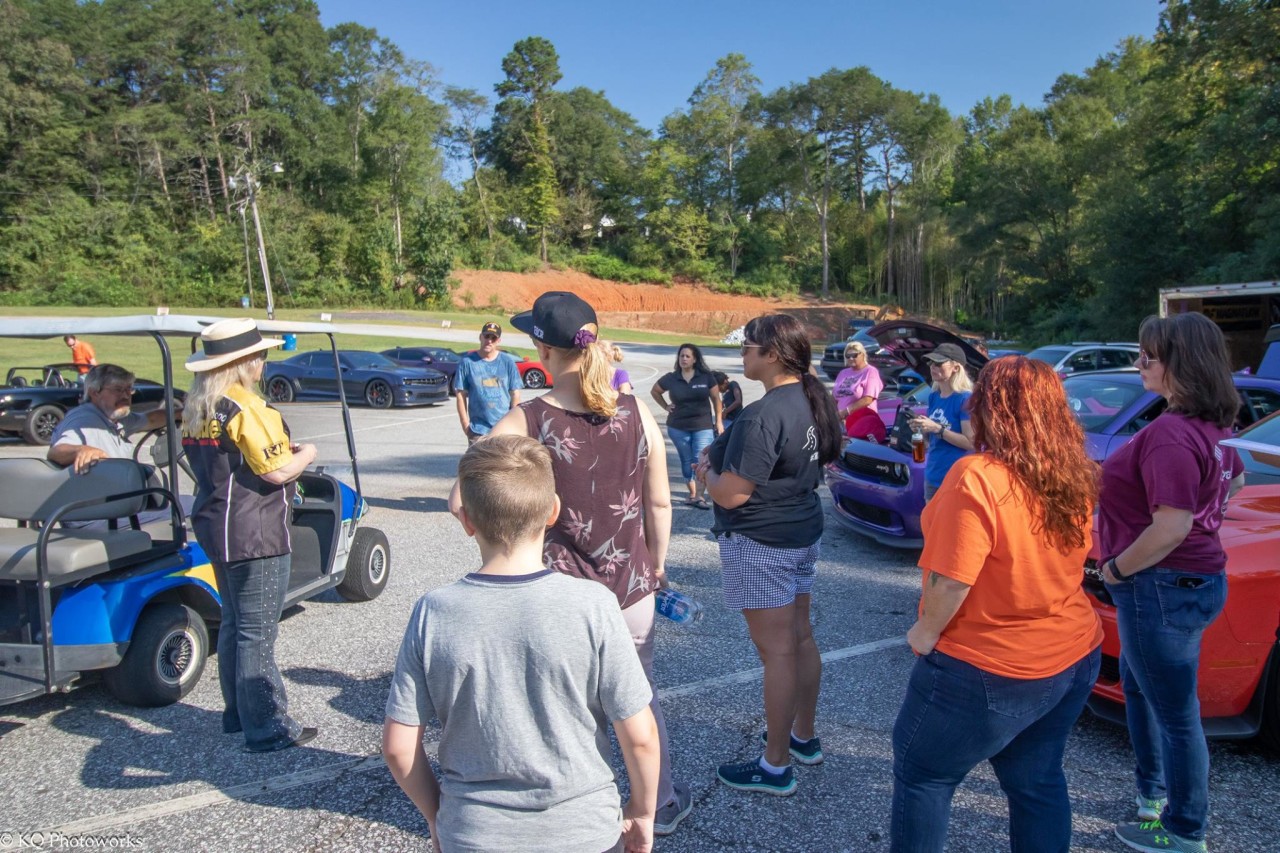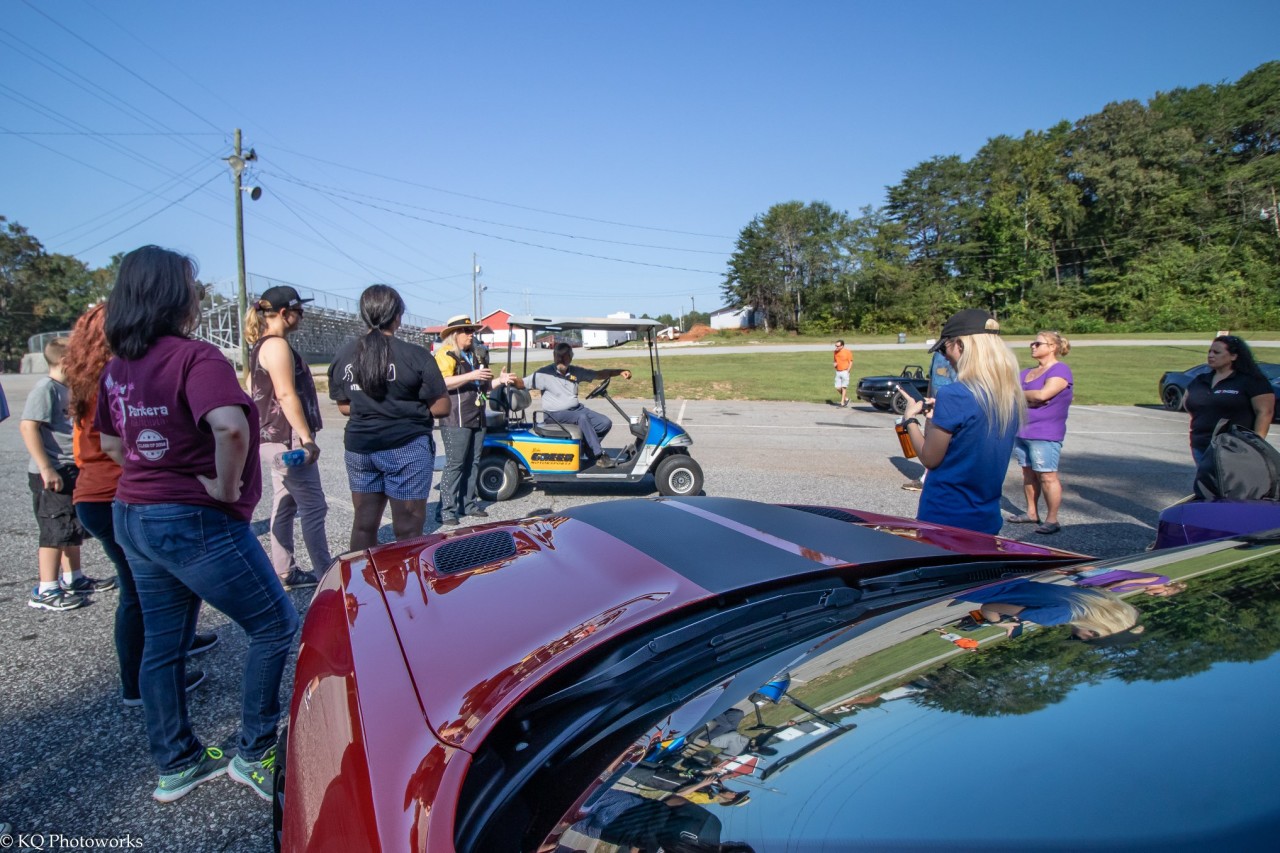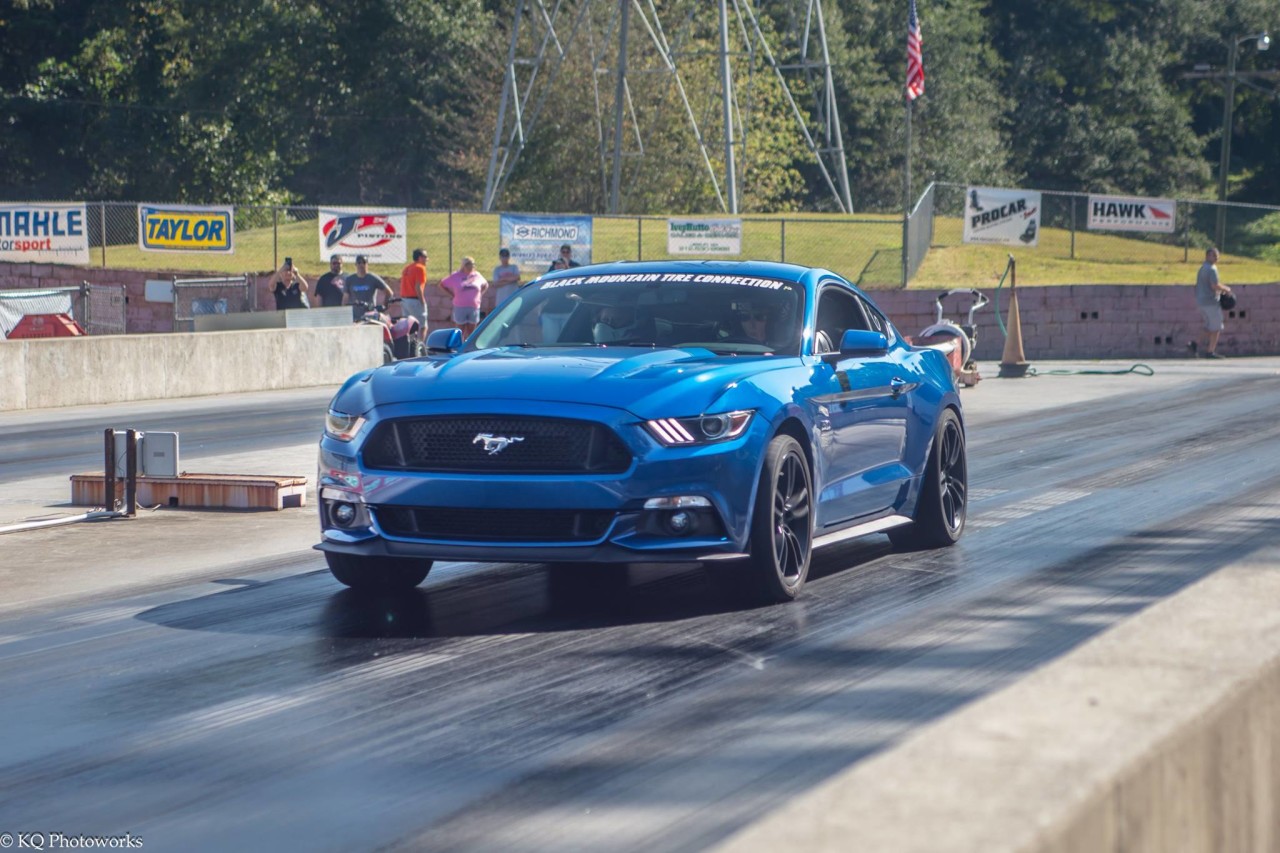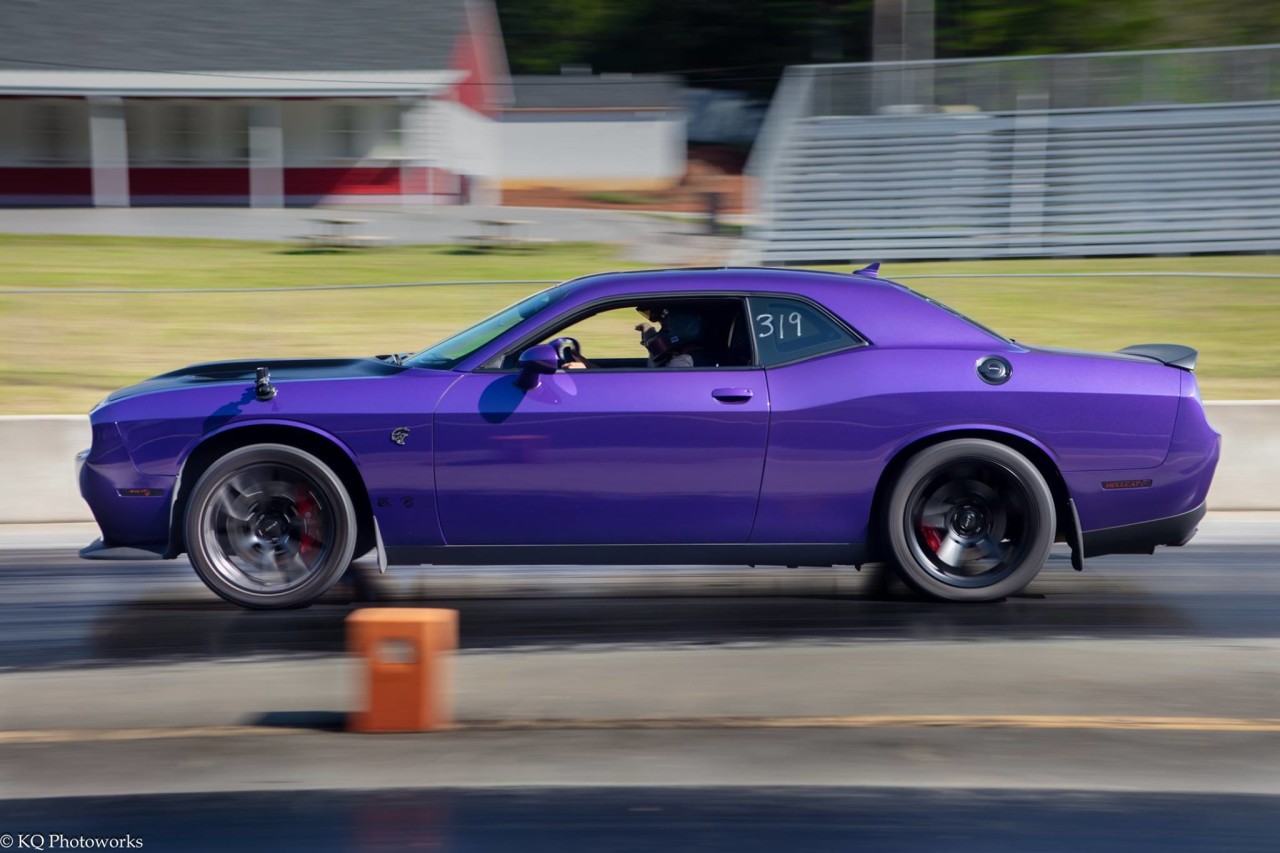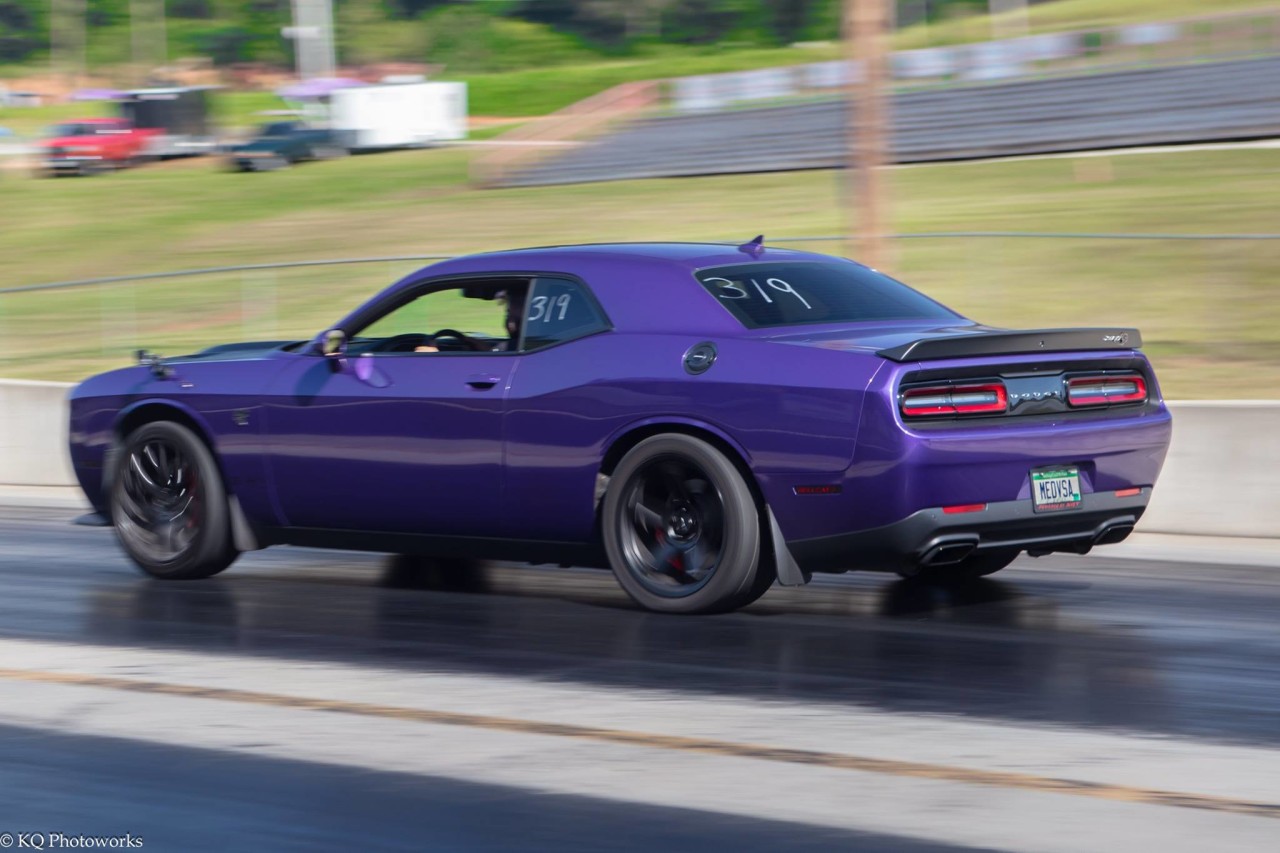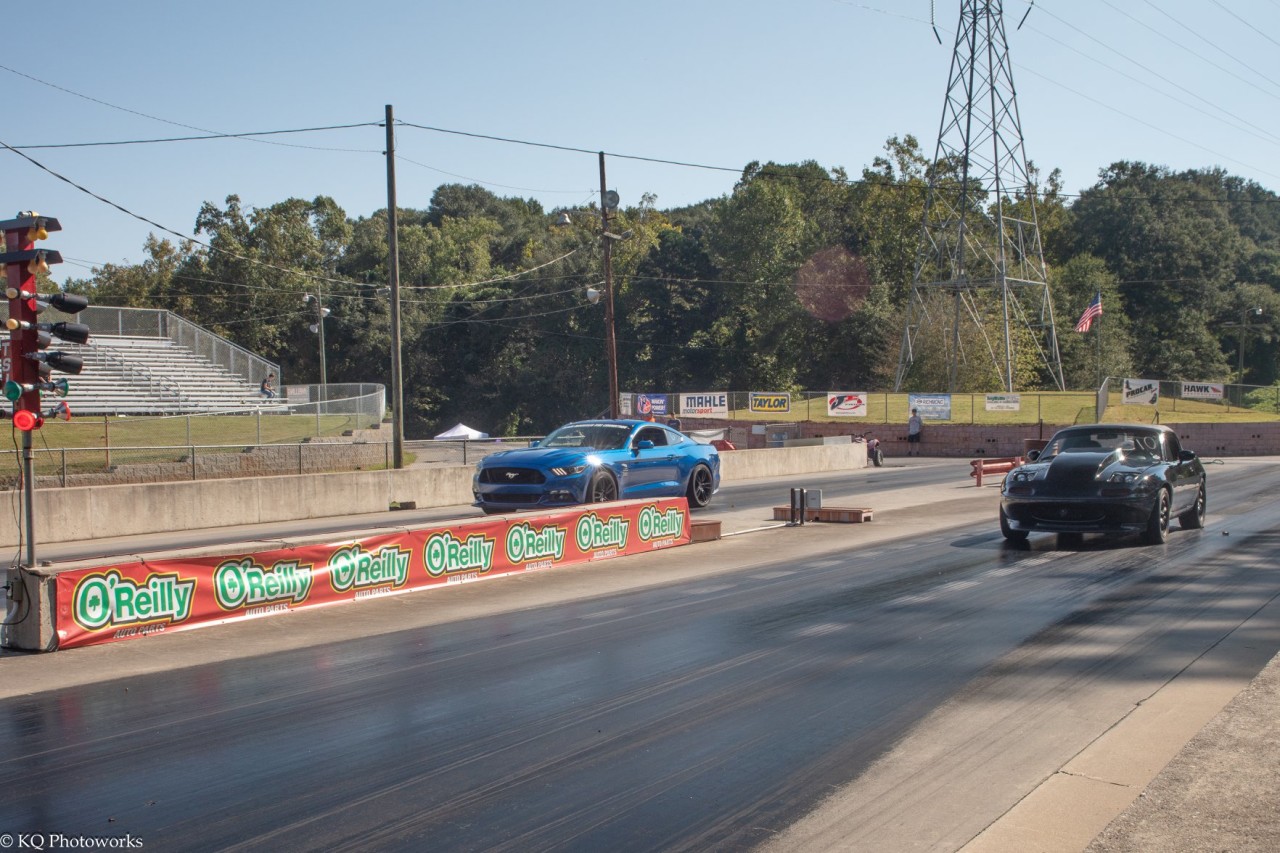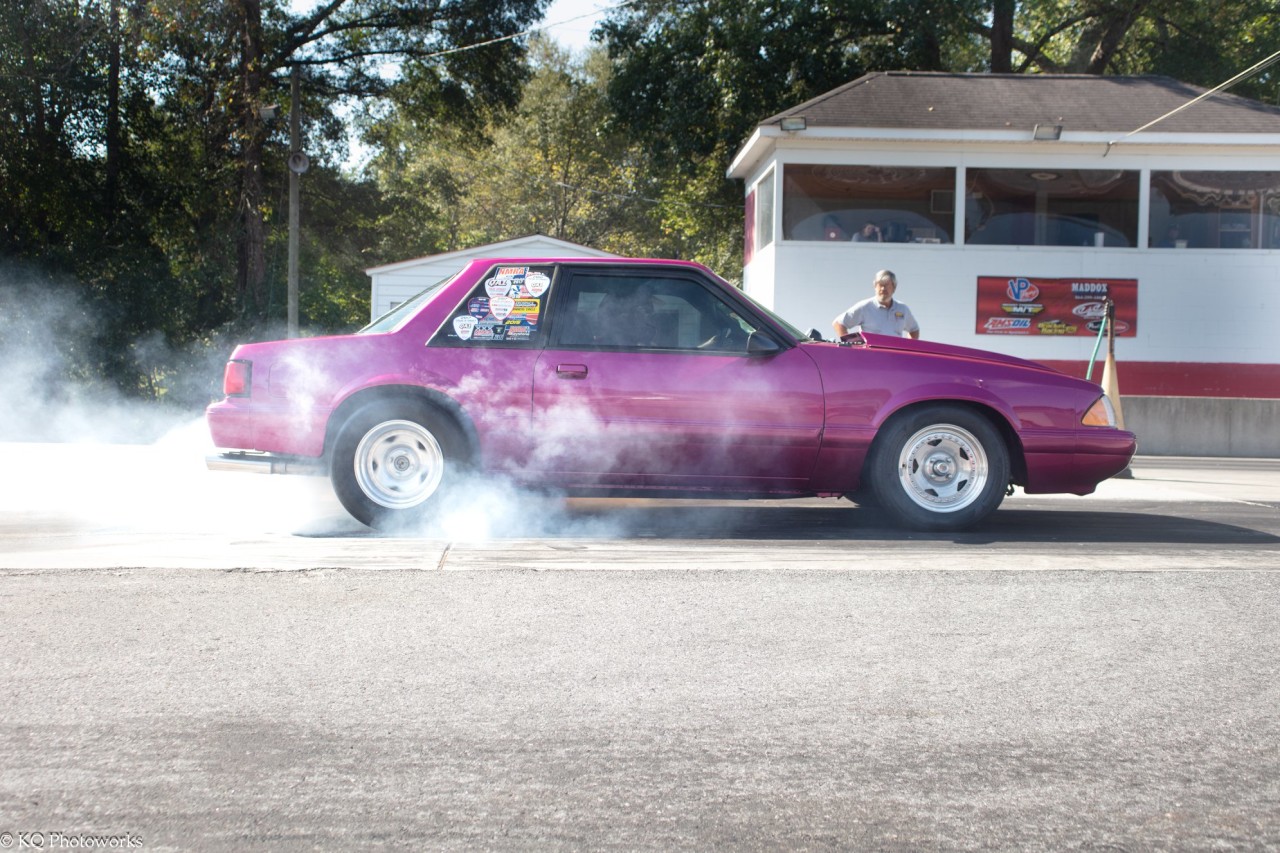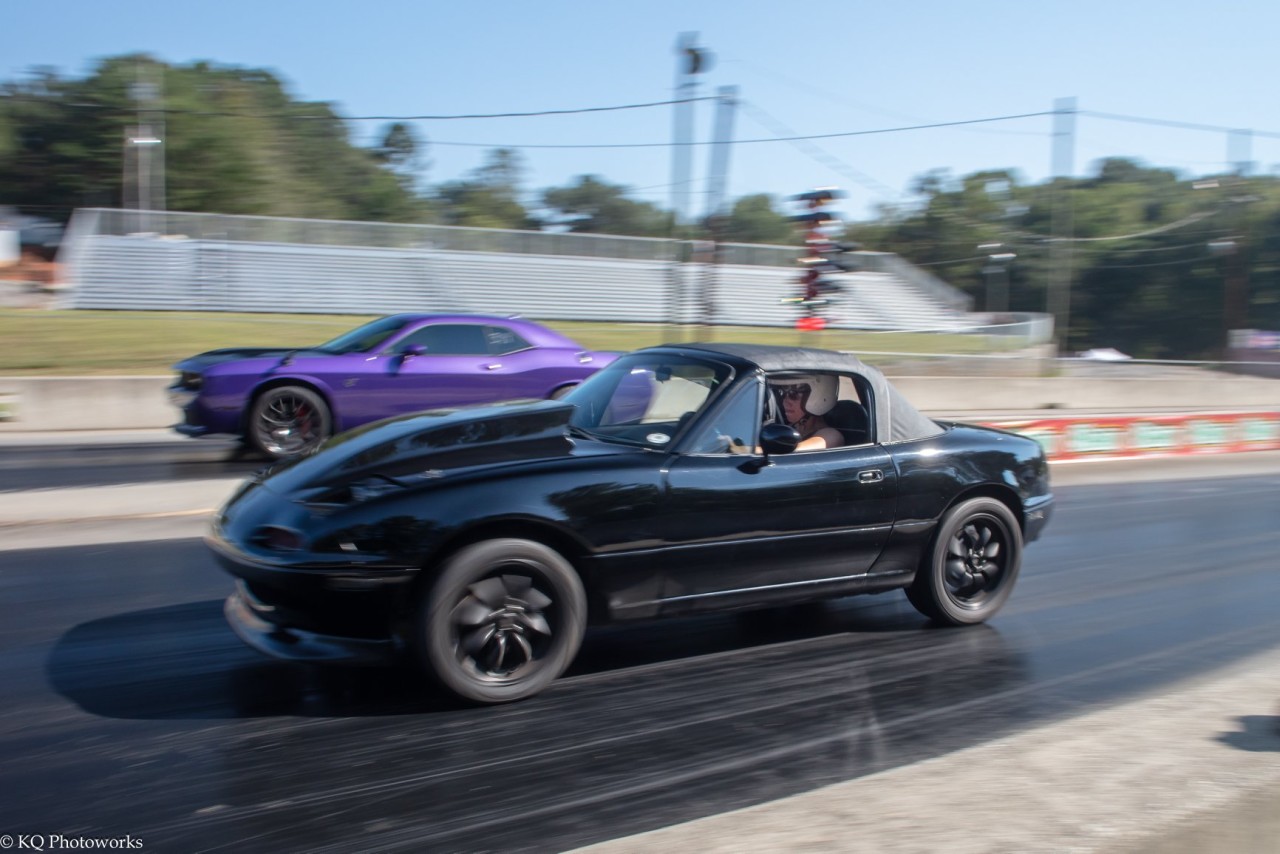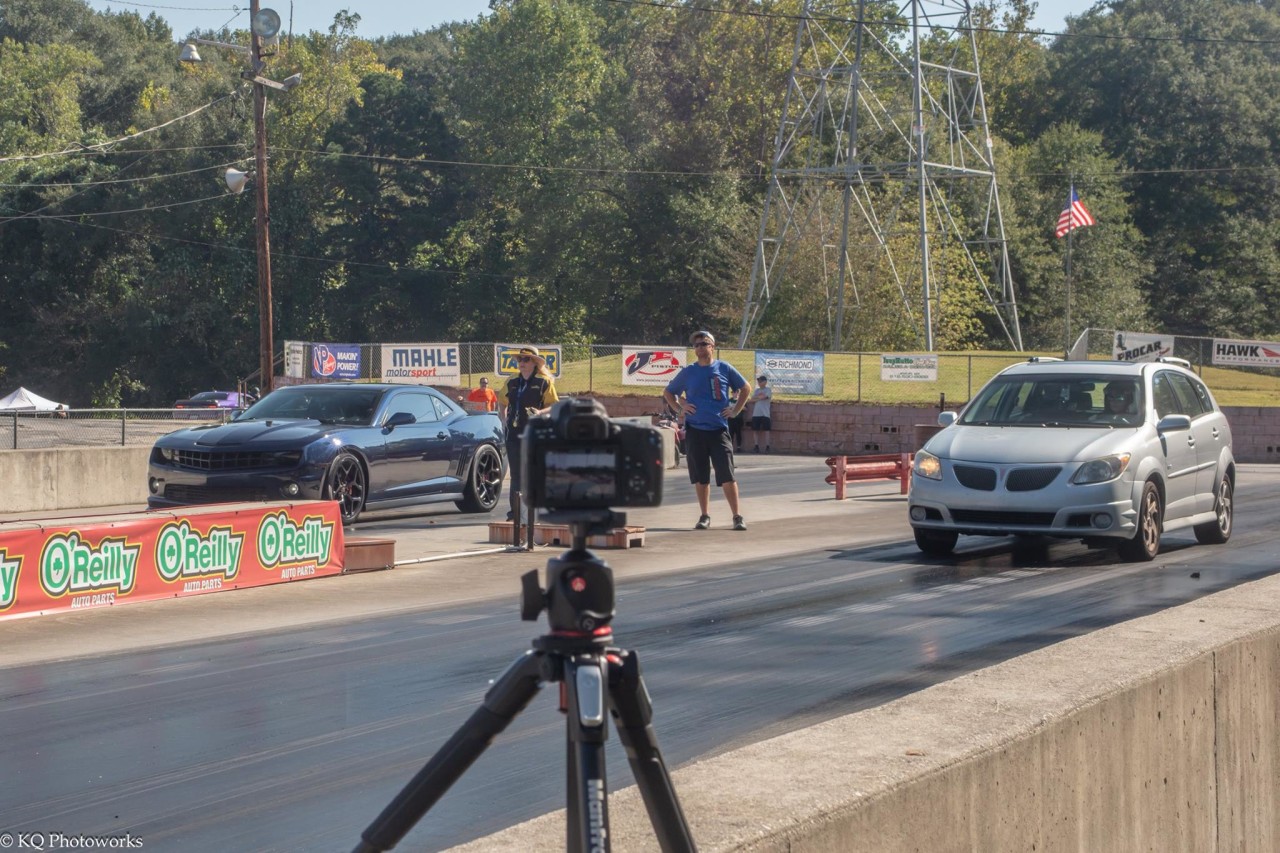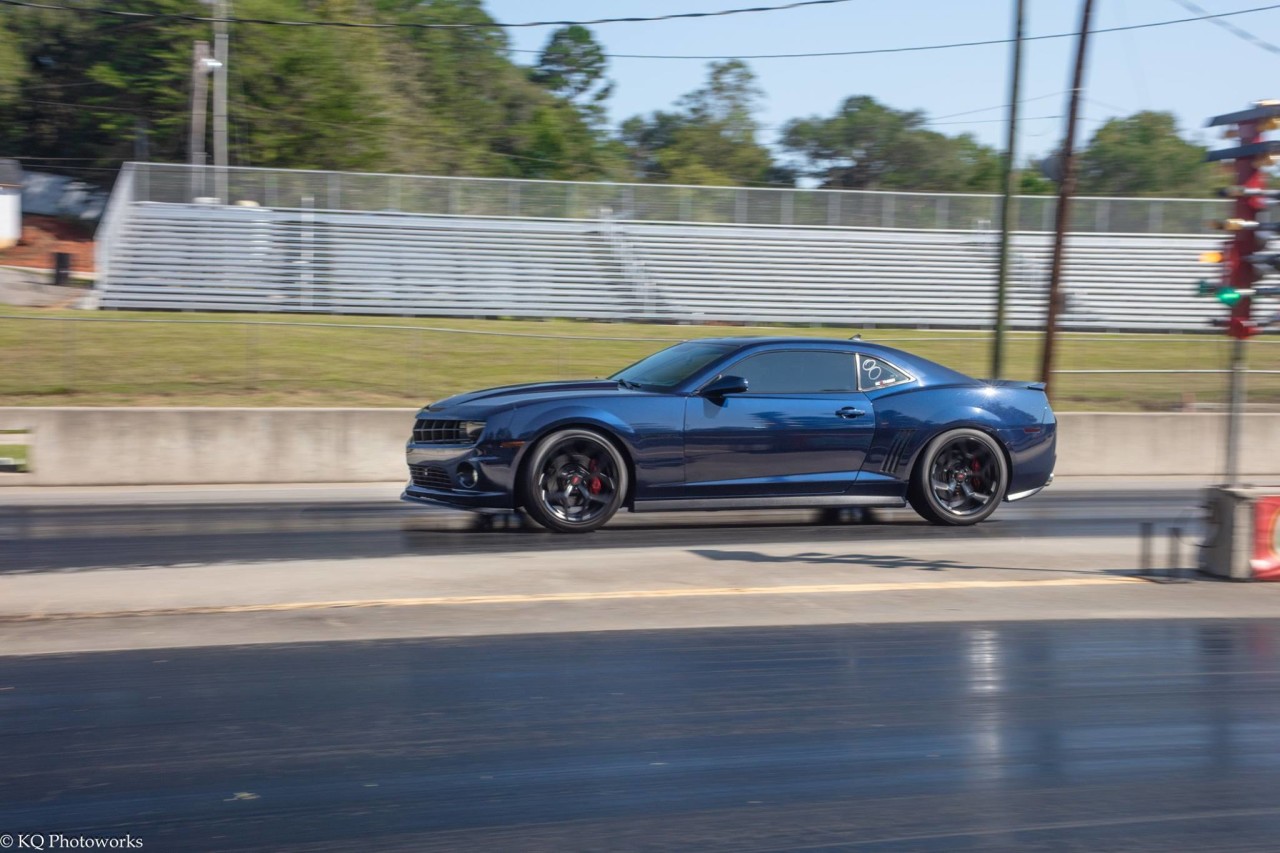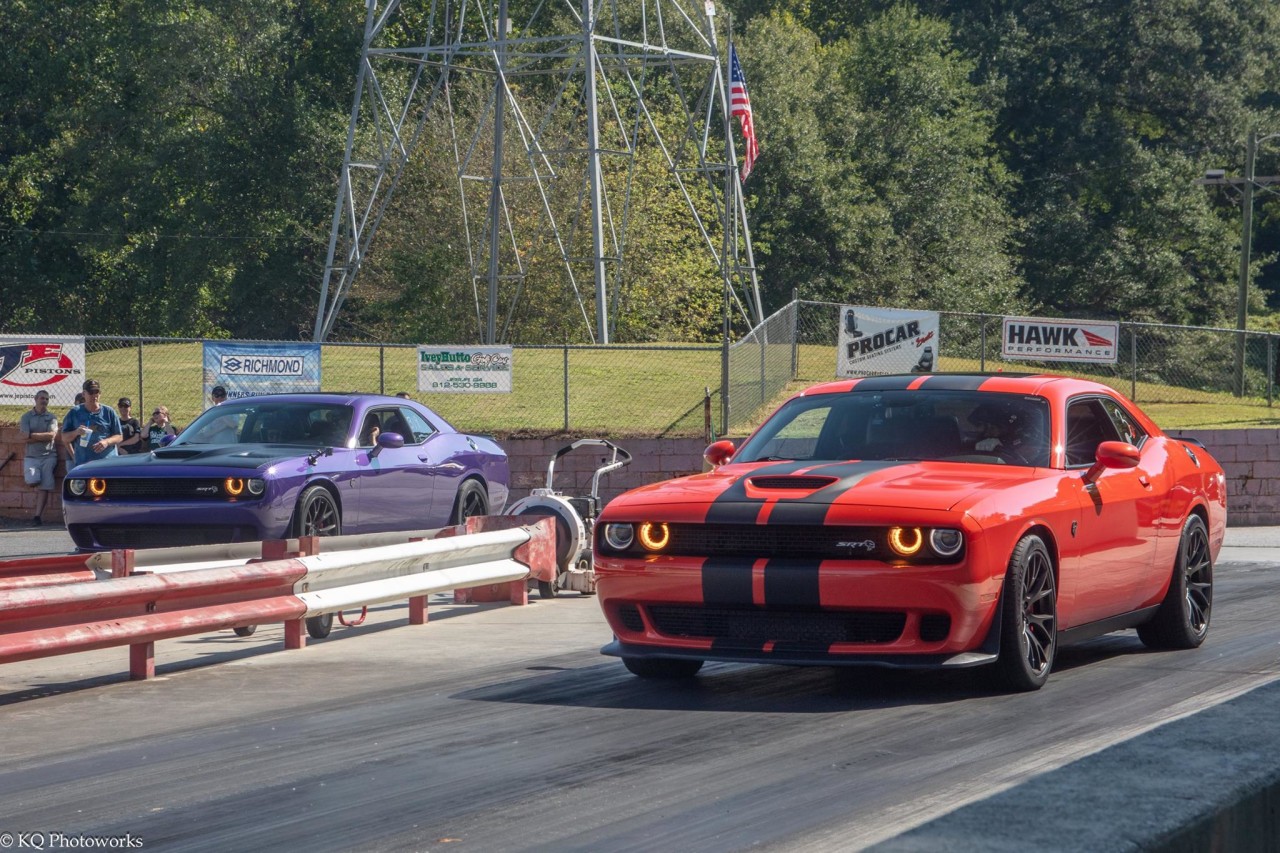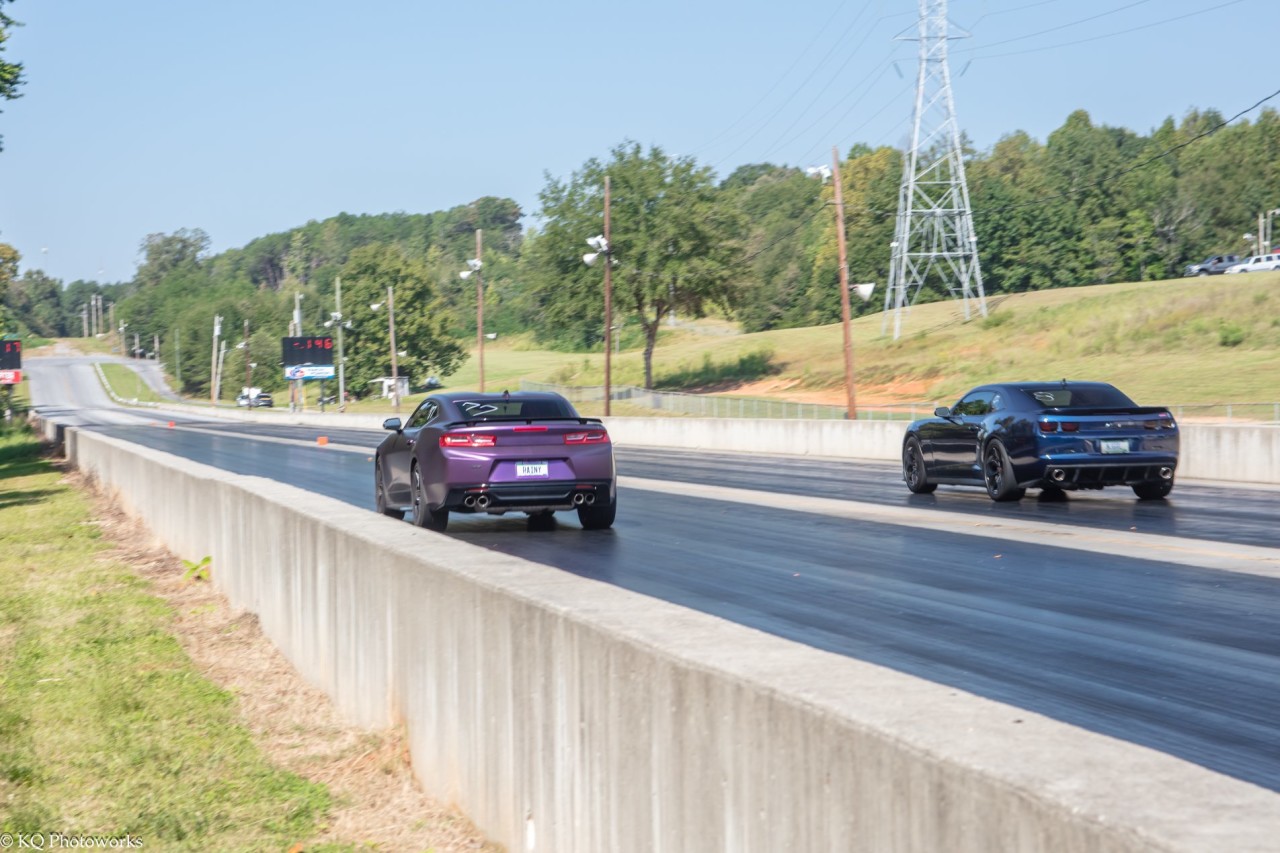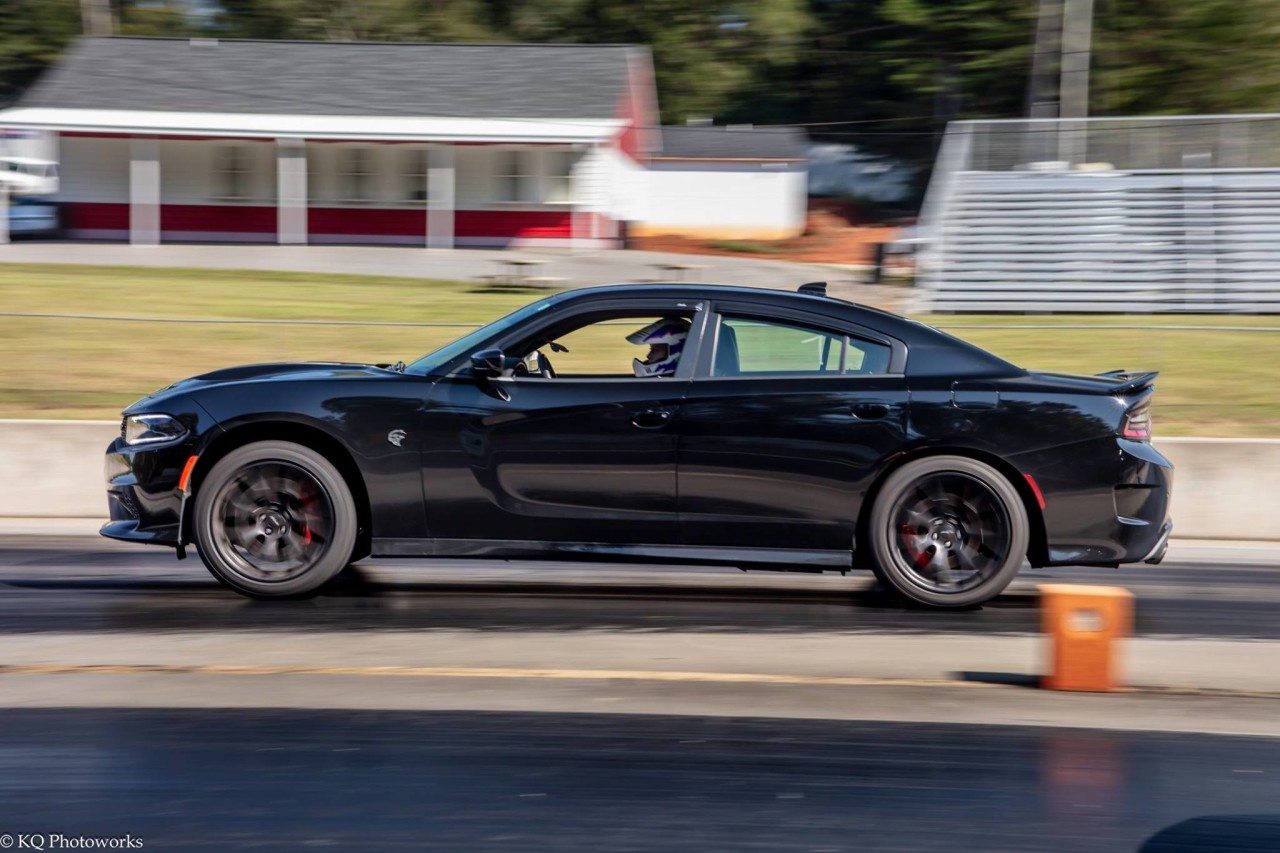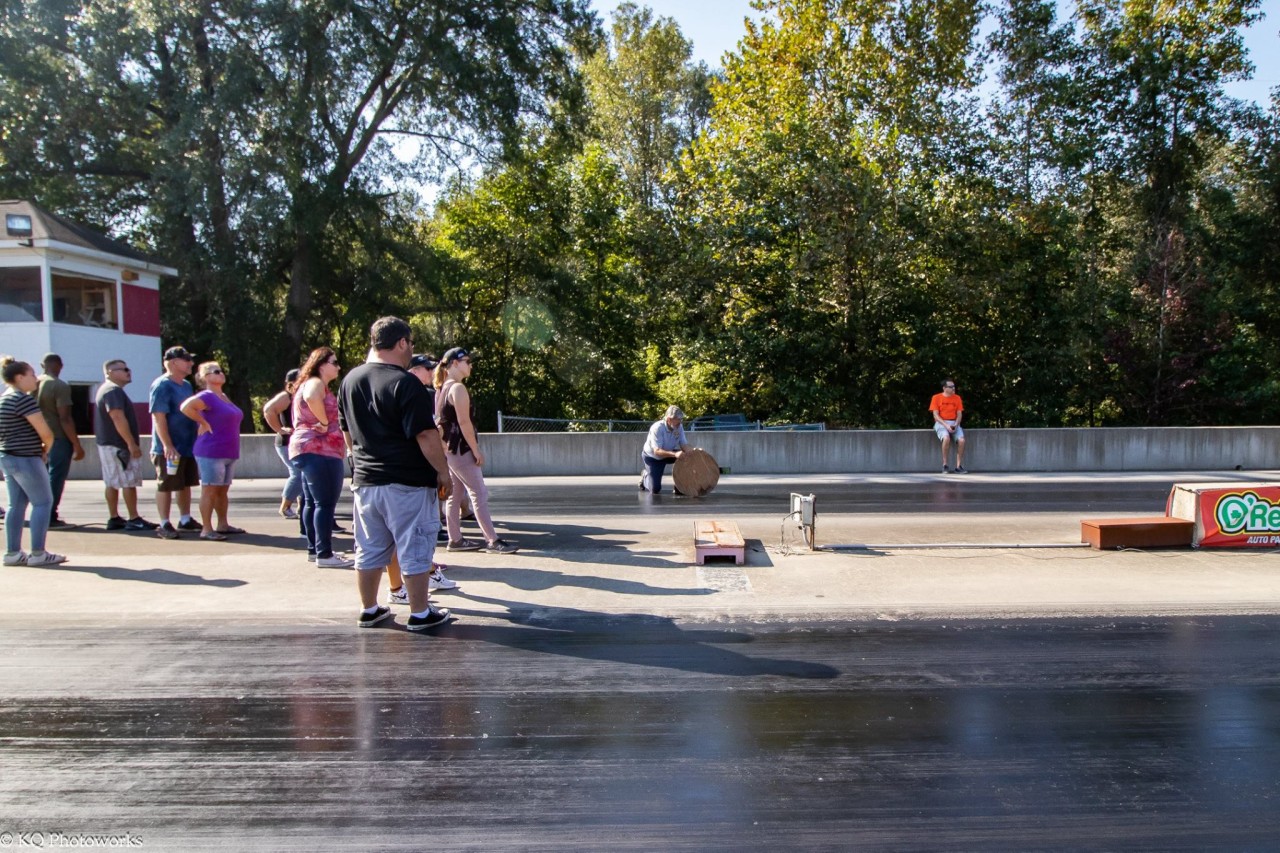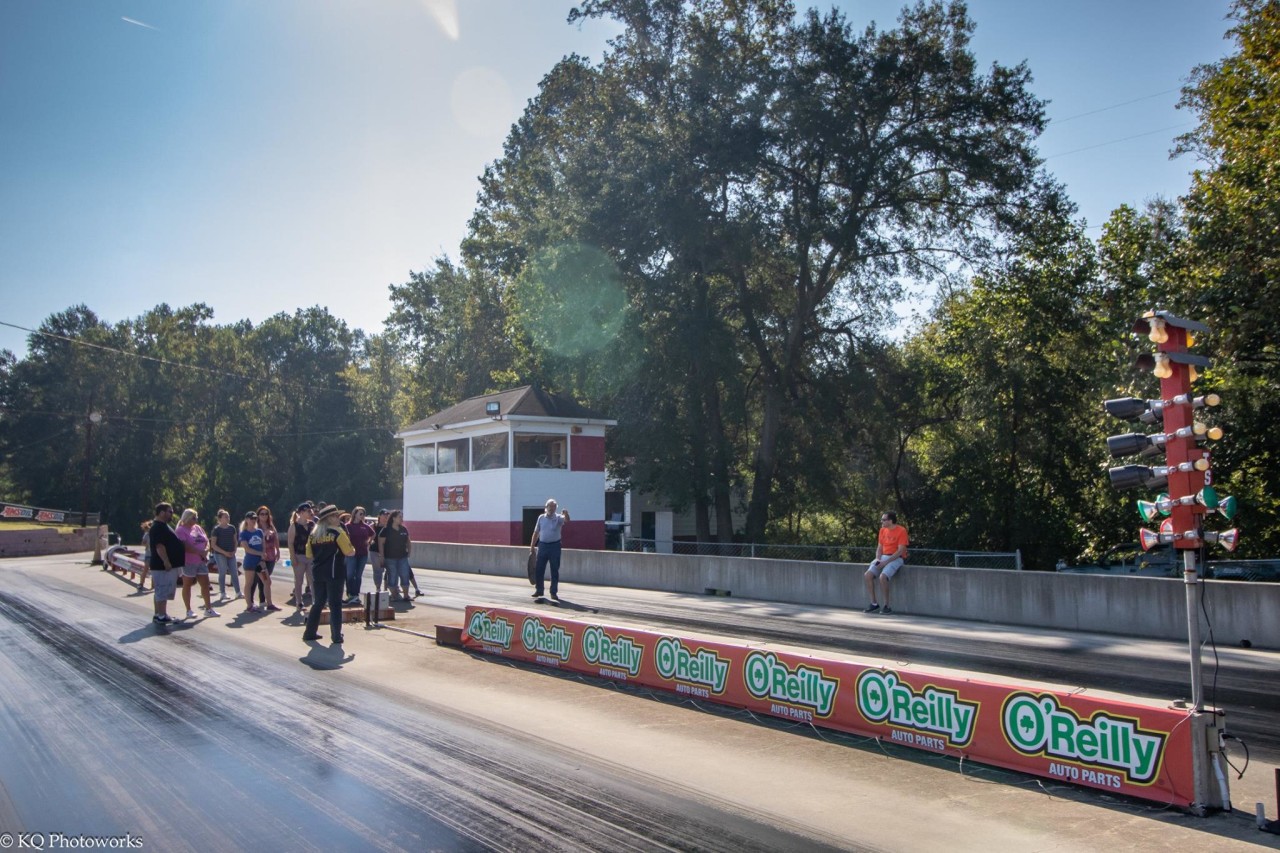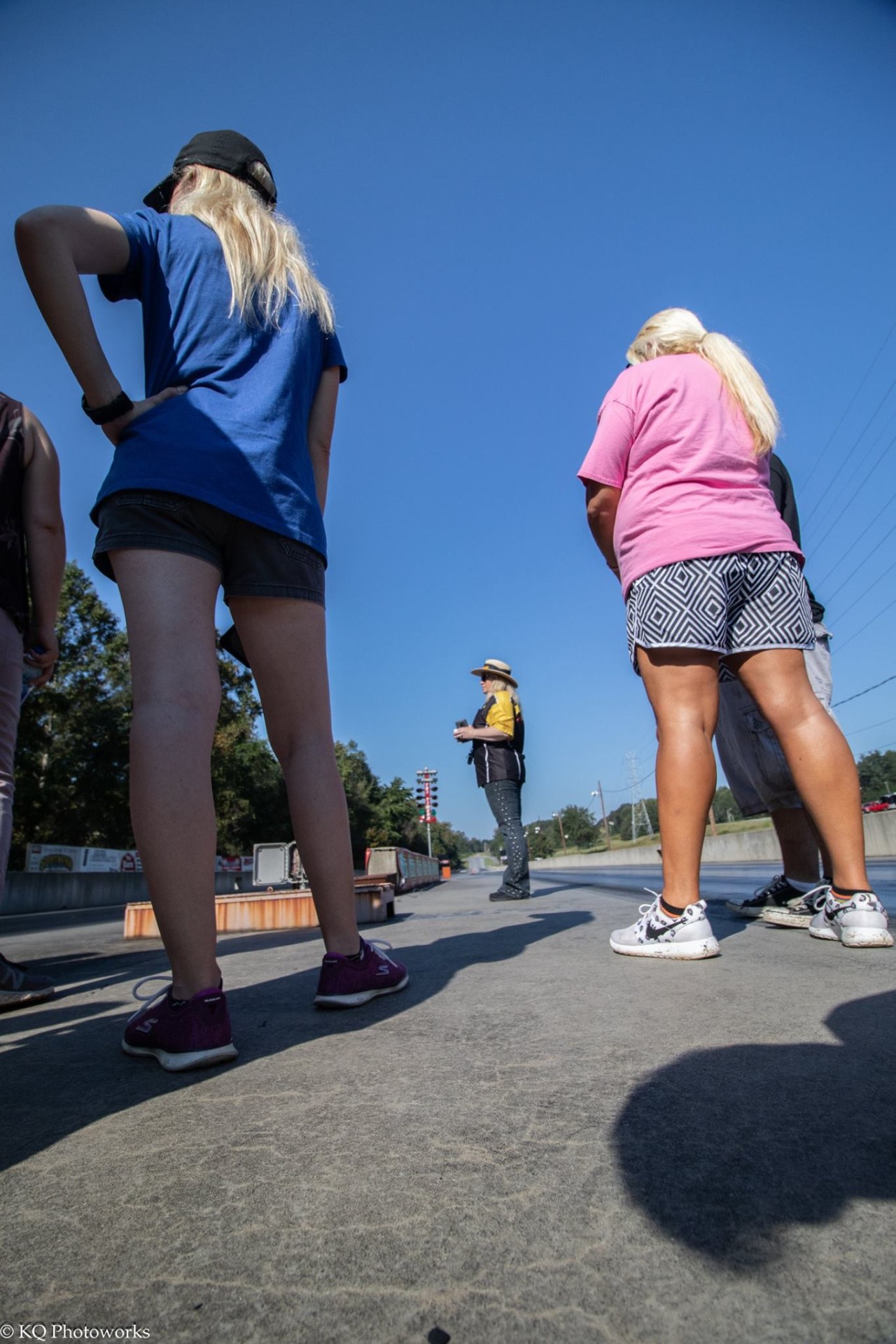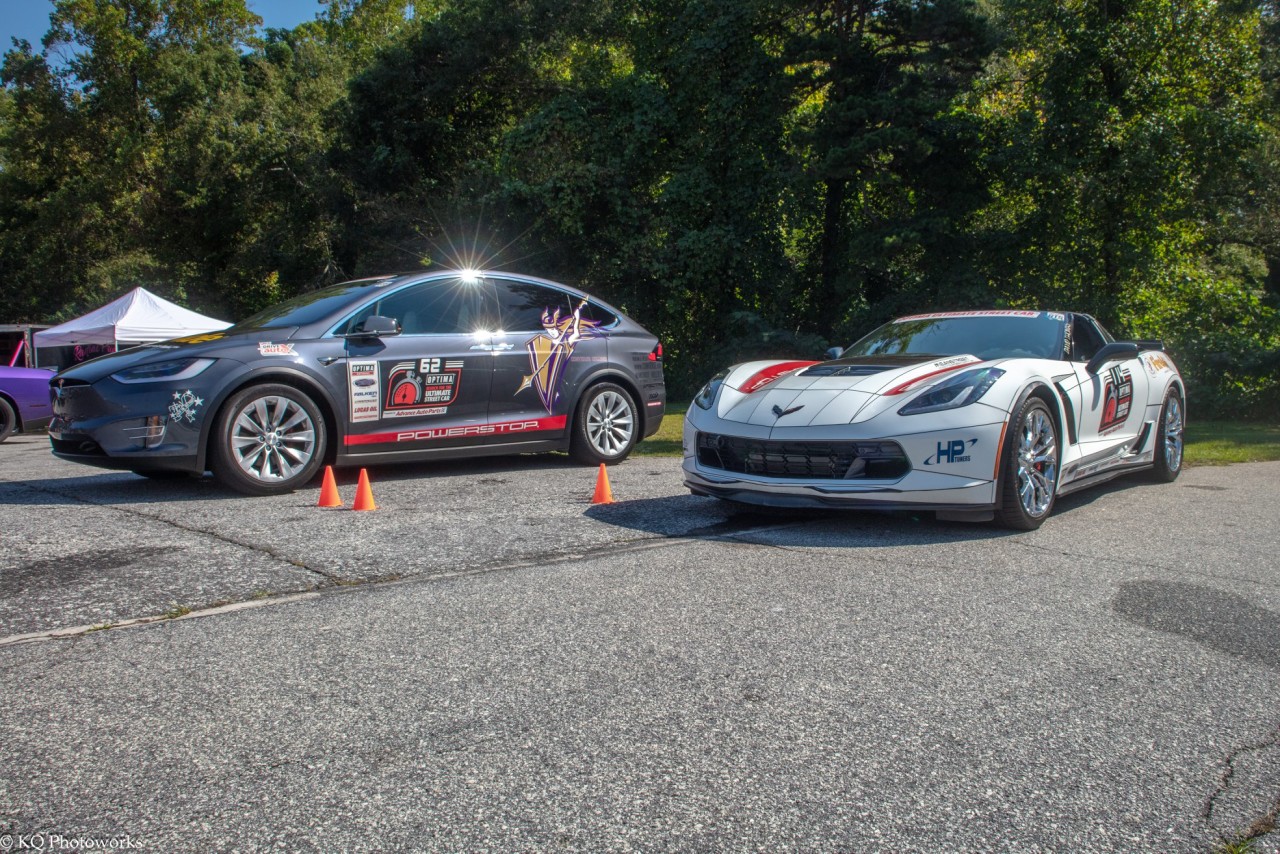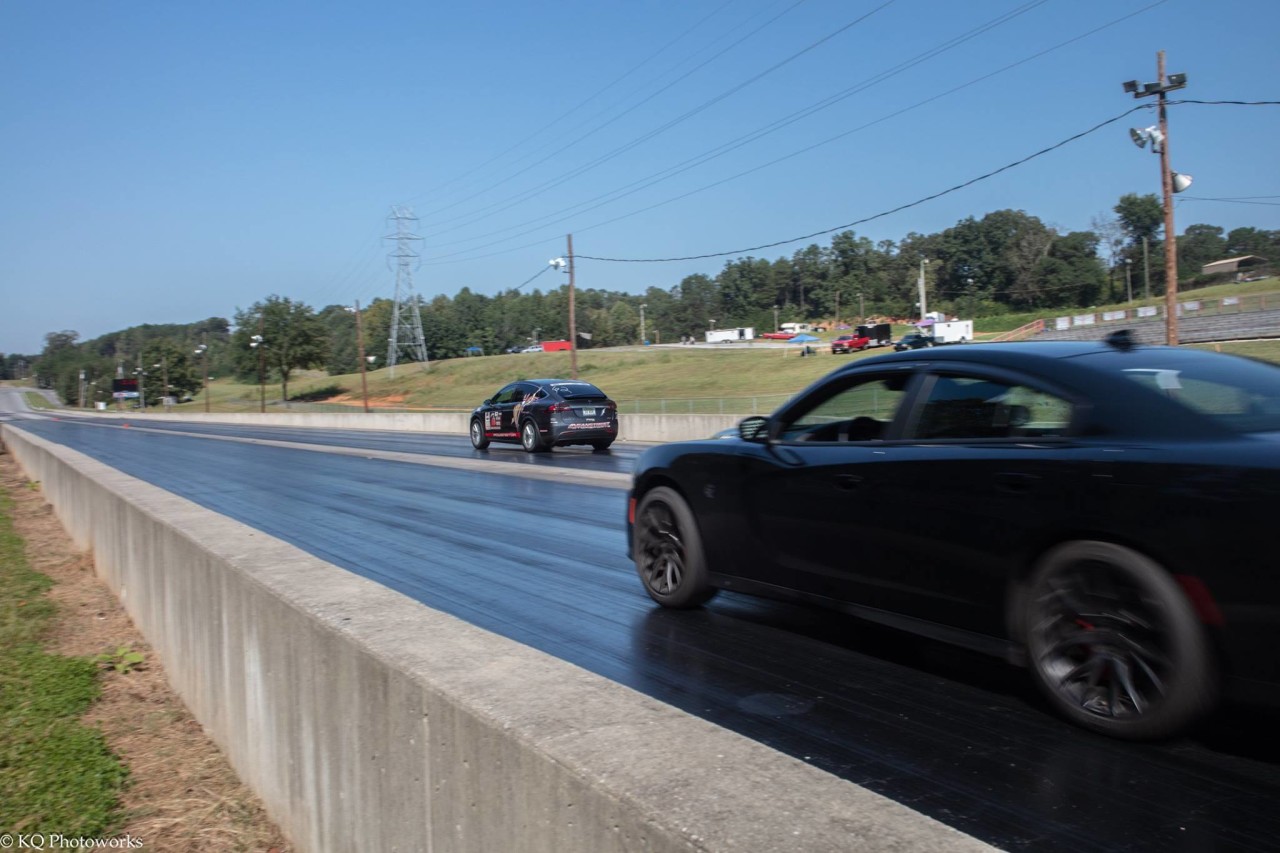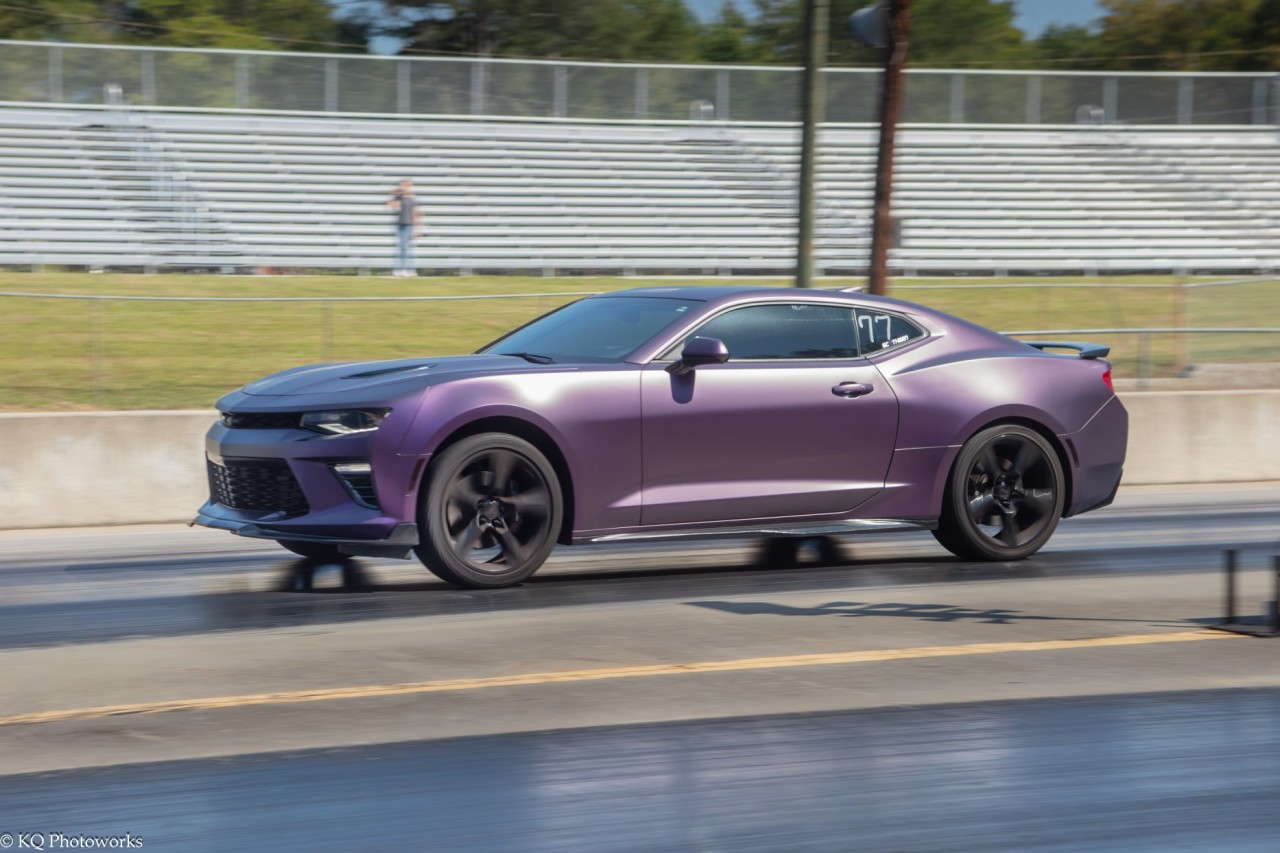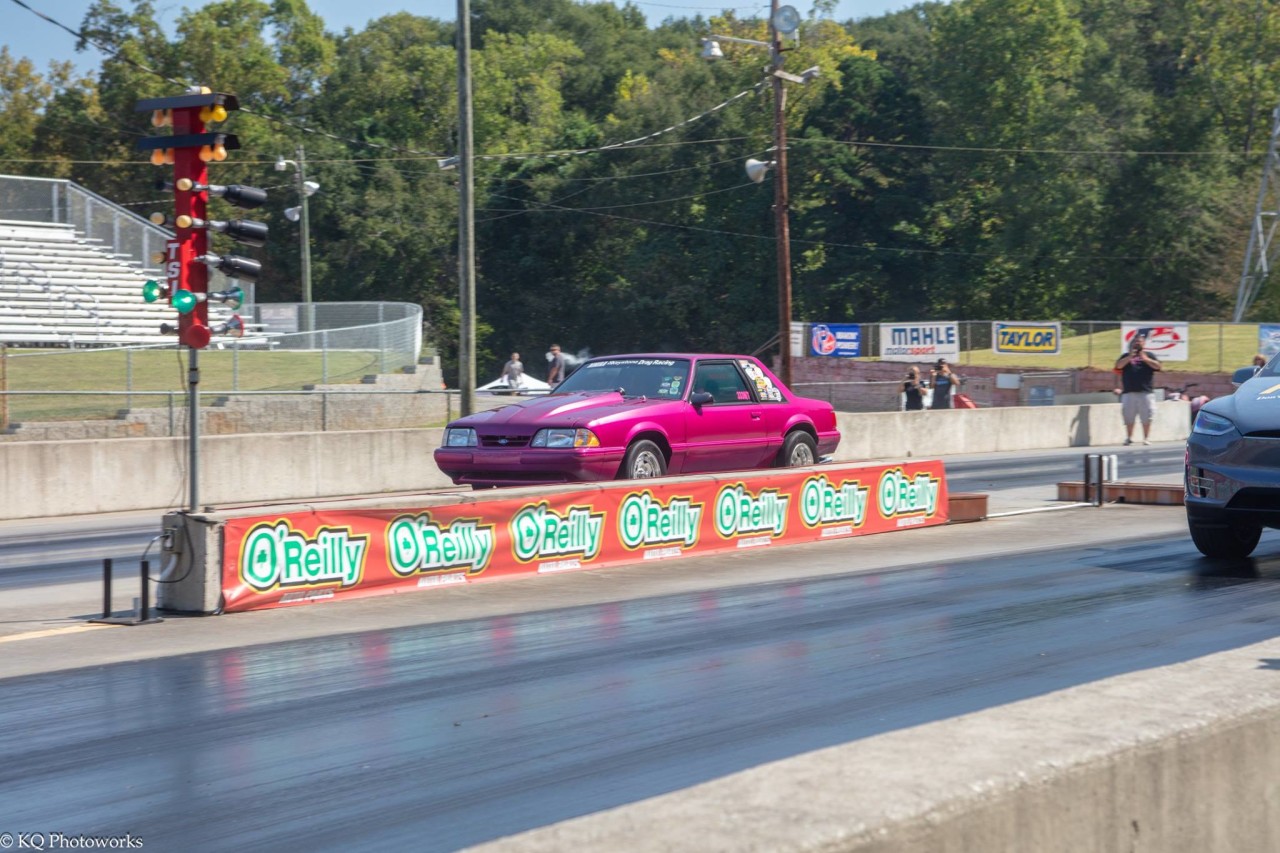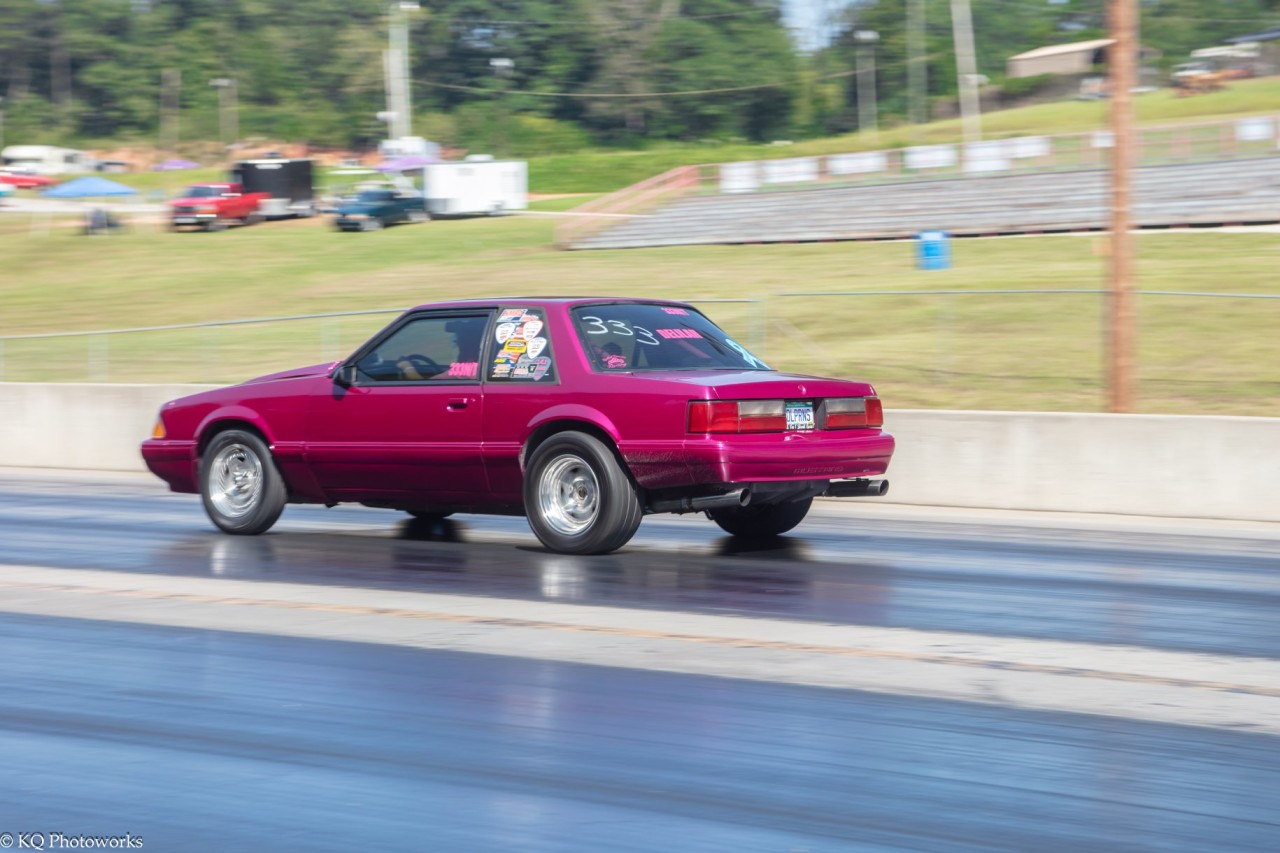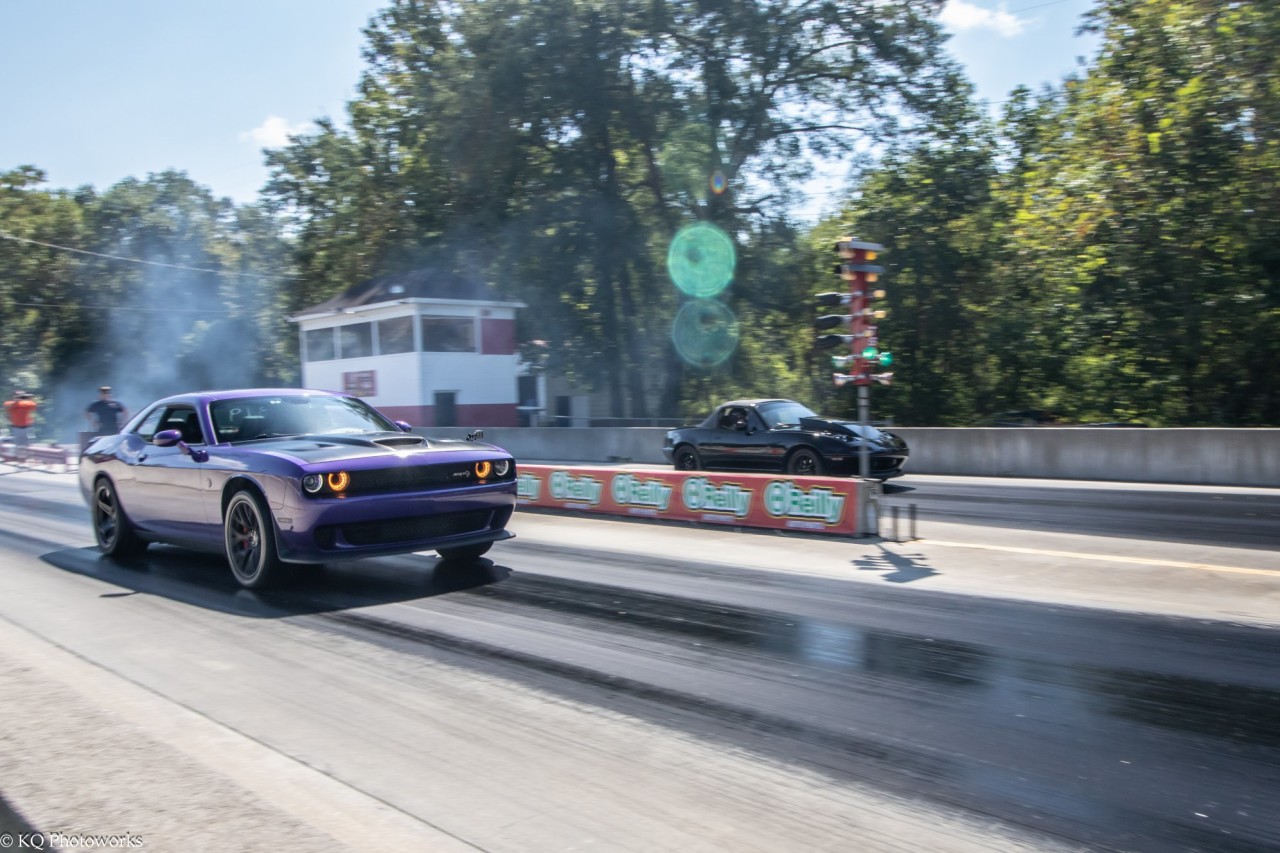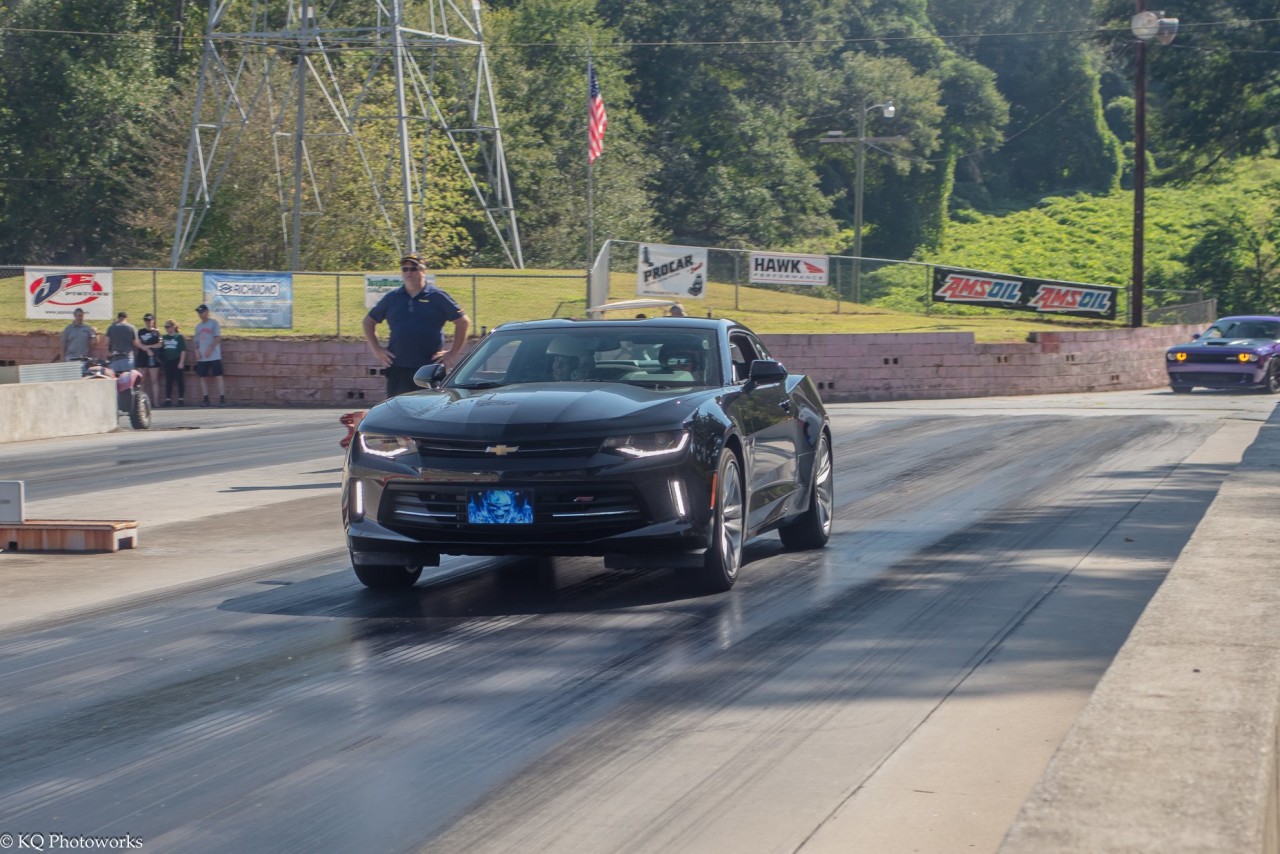 10-9-2018
North Caroline Autocross Championships 2018 hosted by CCR-SCCA, Oct 6-7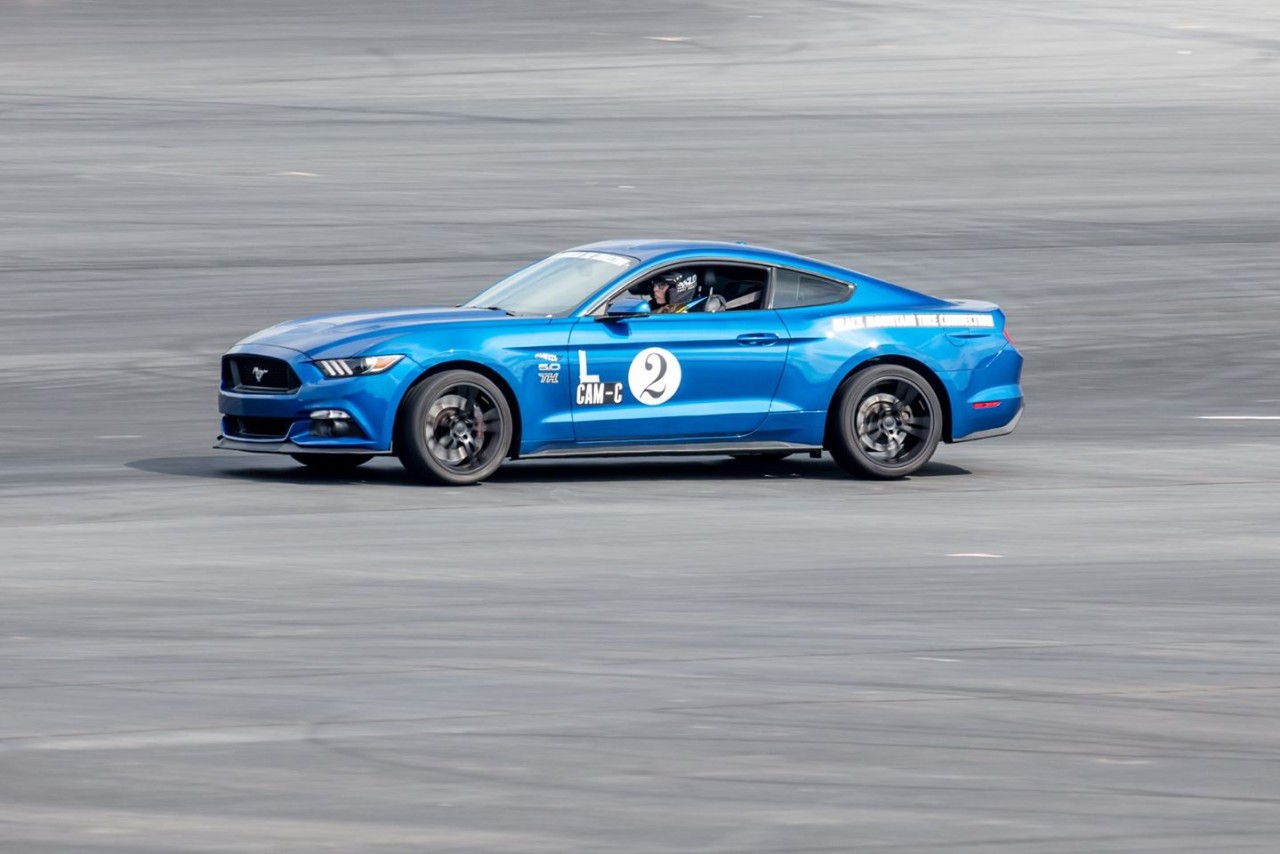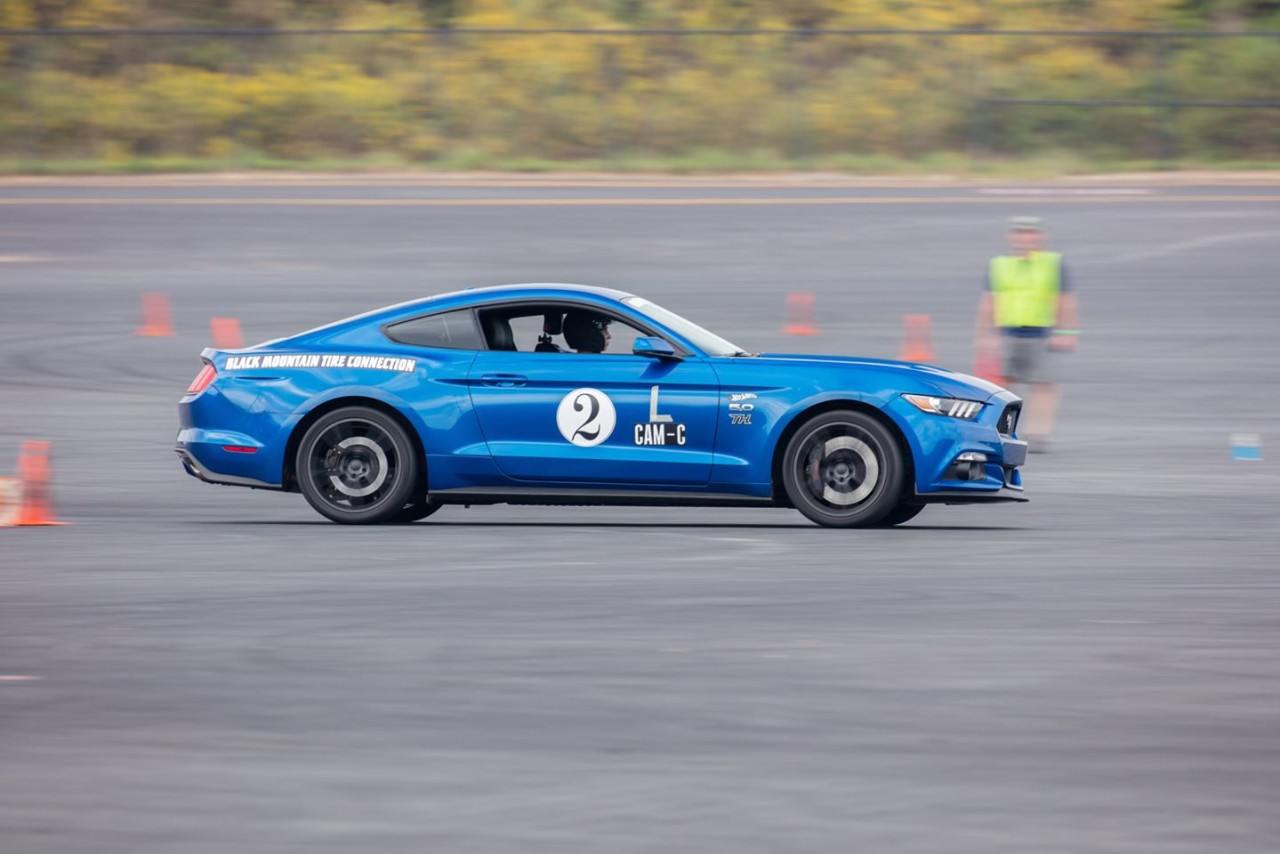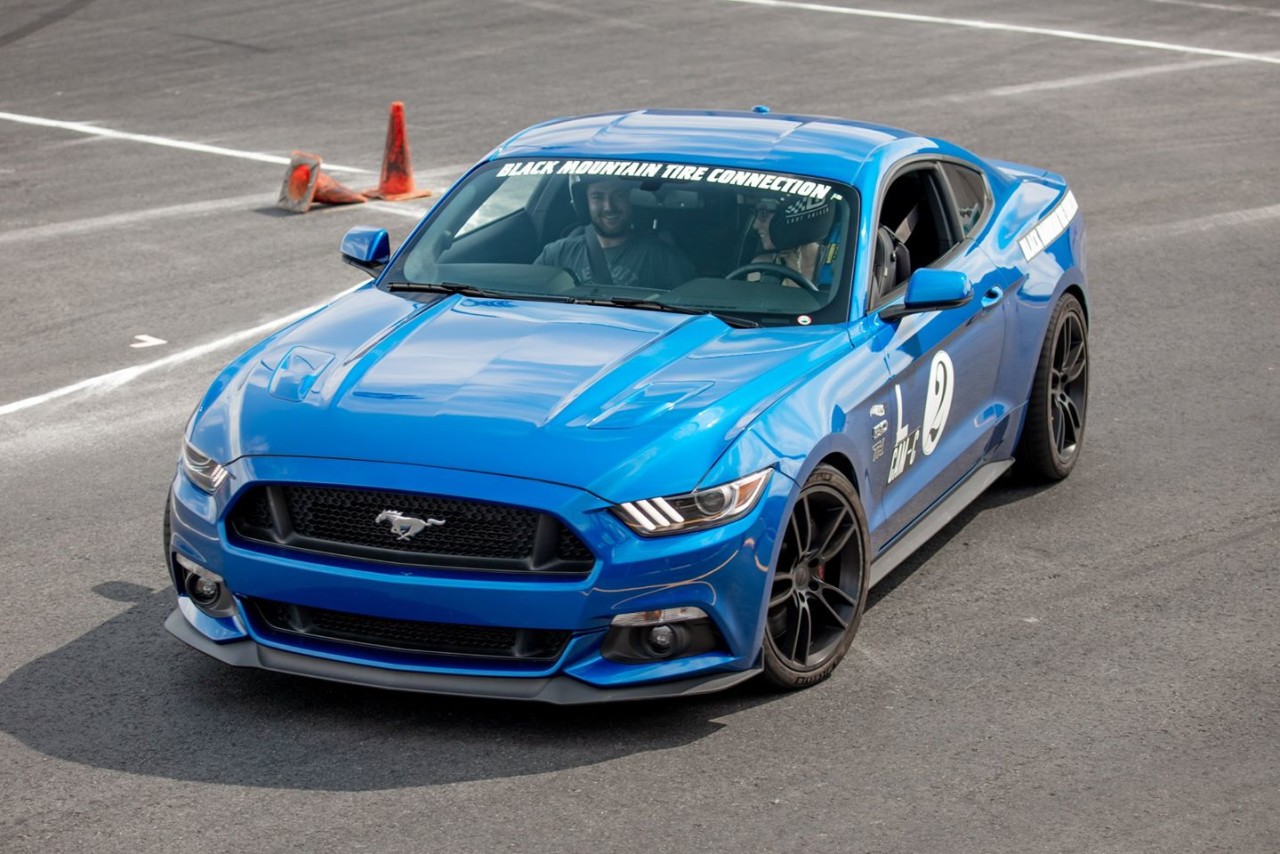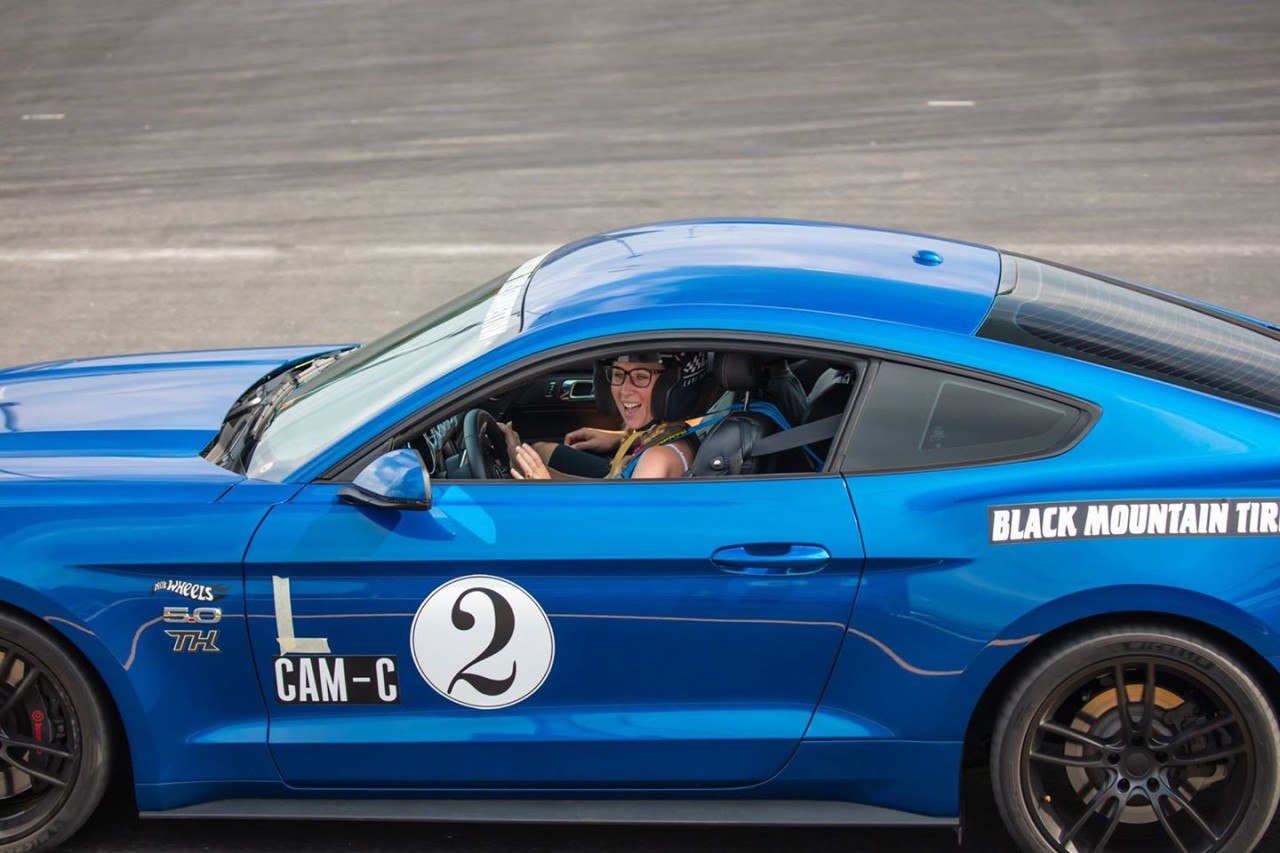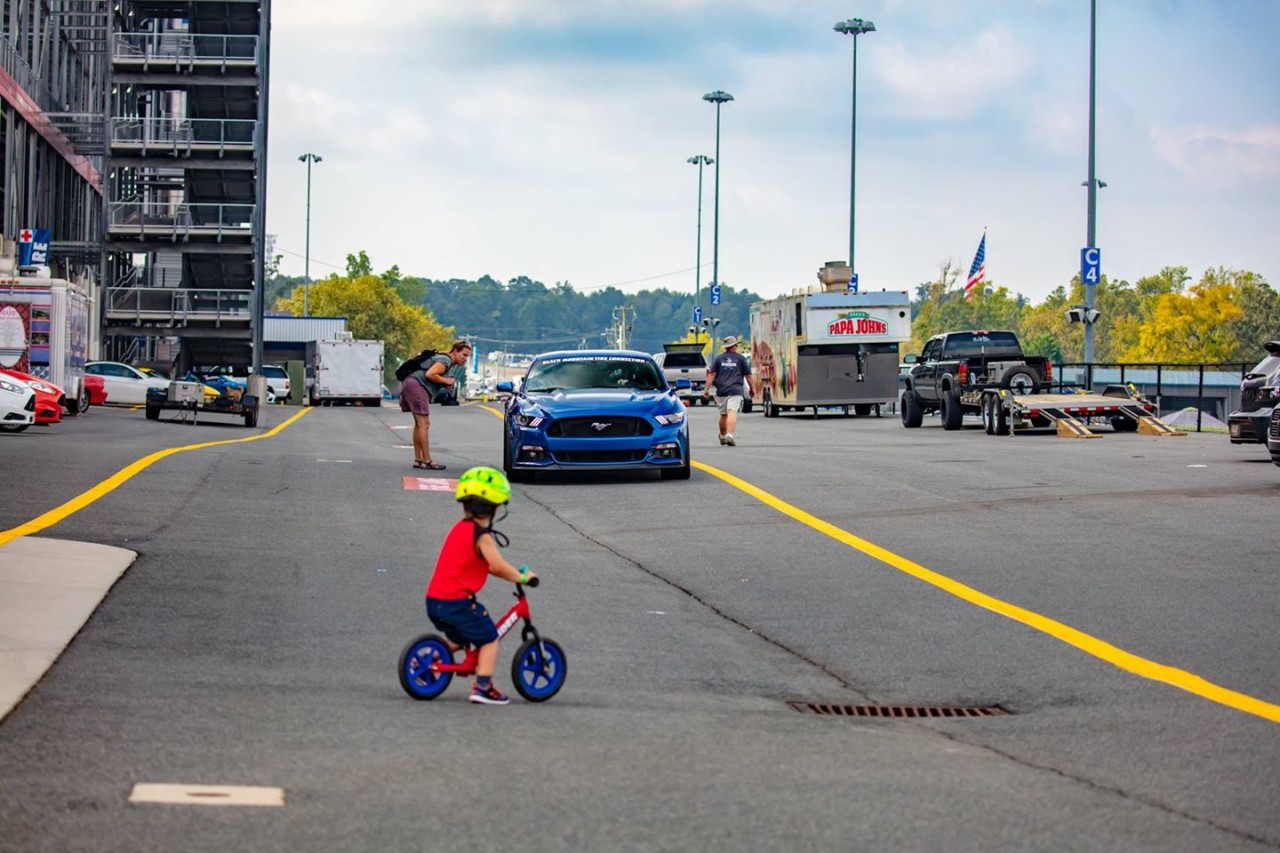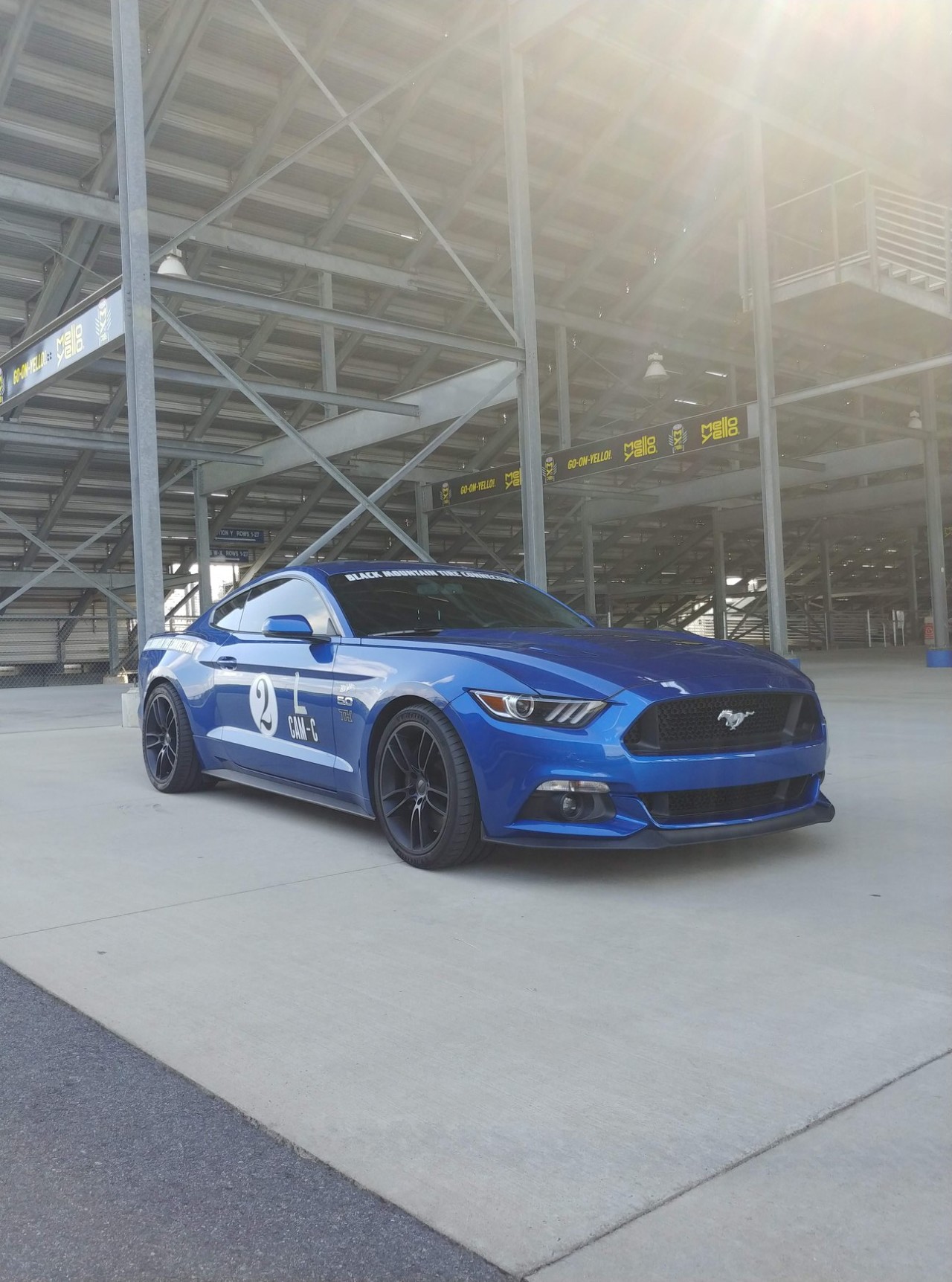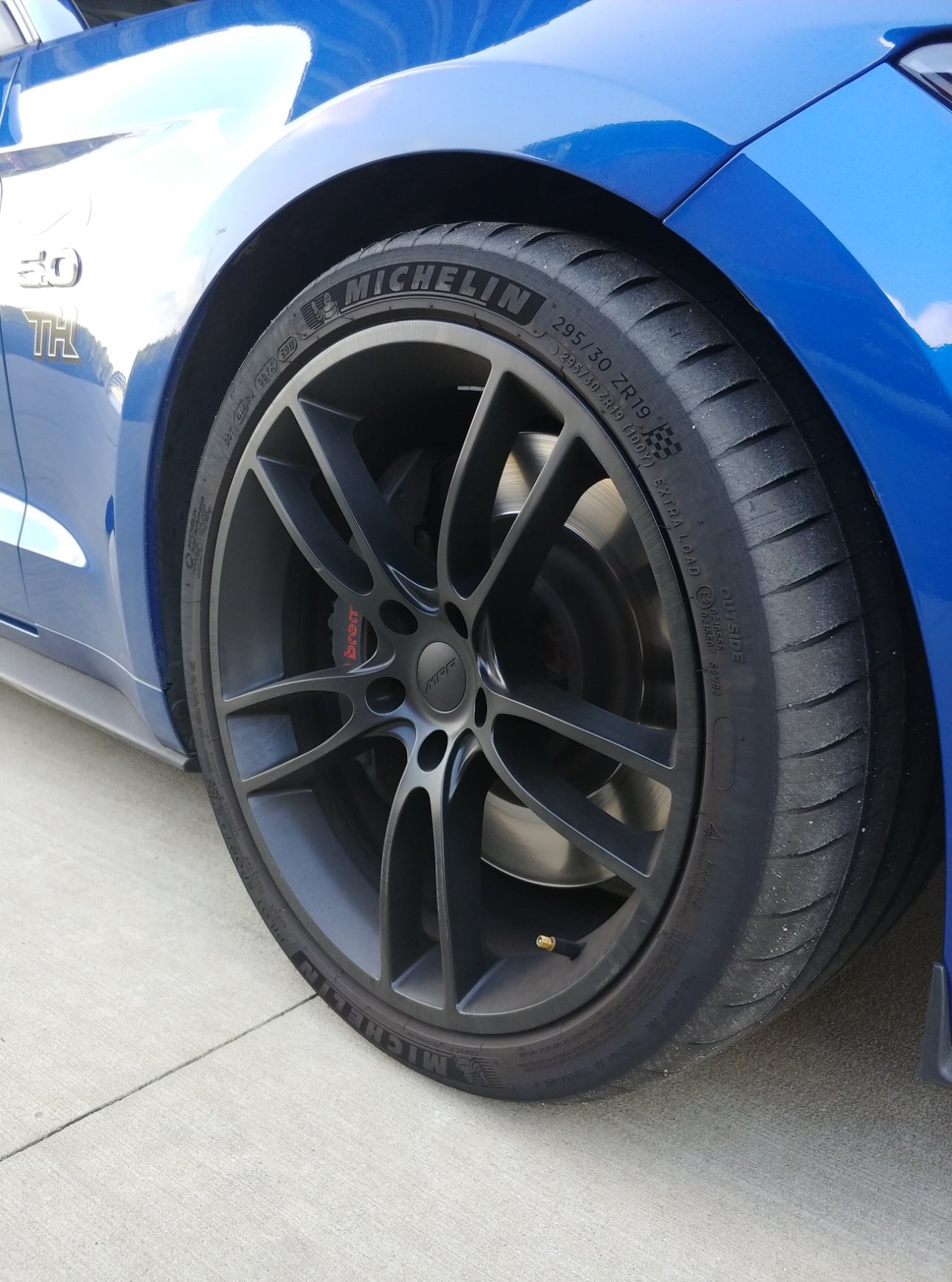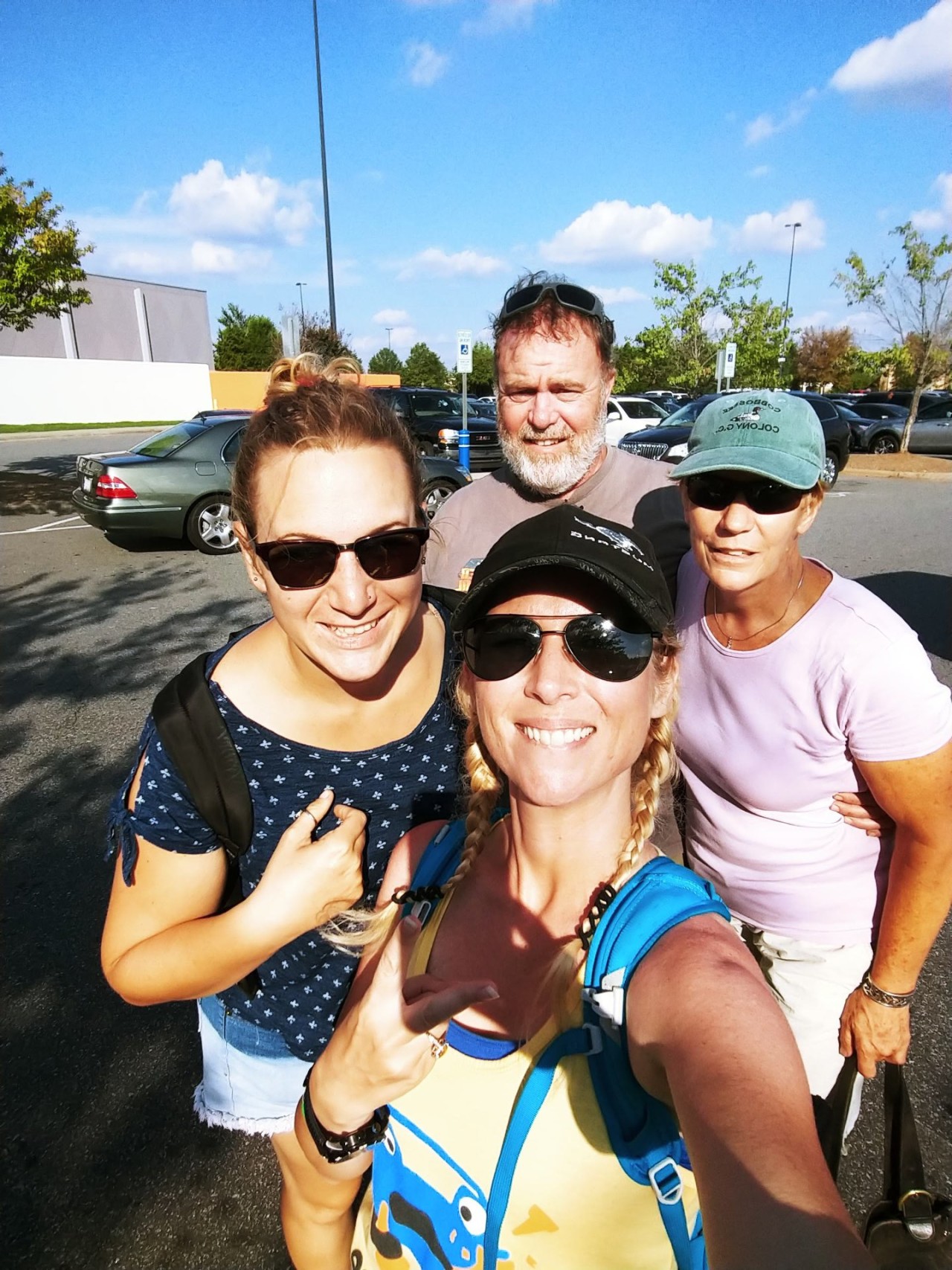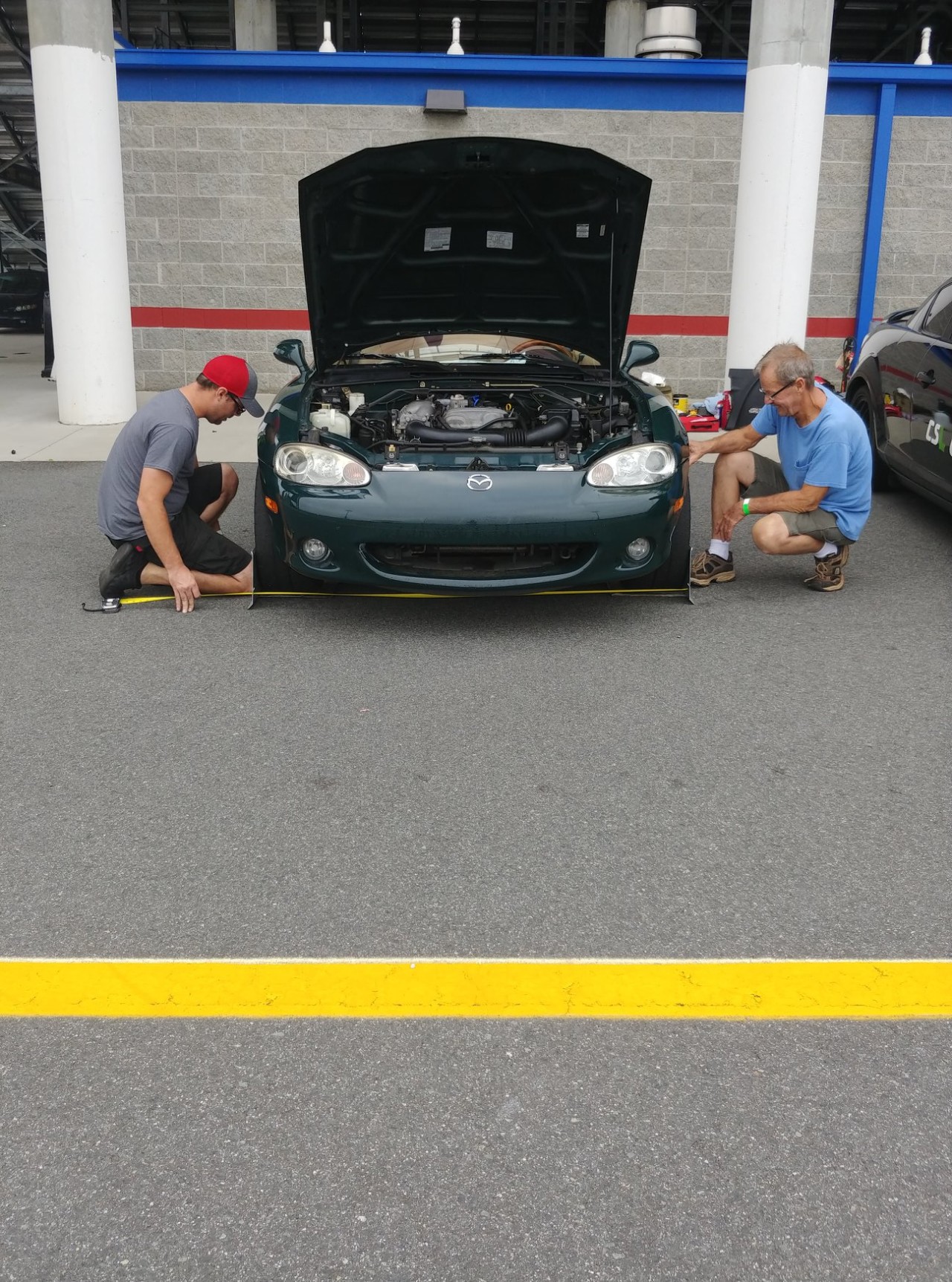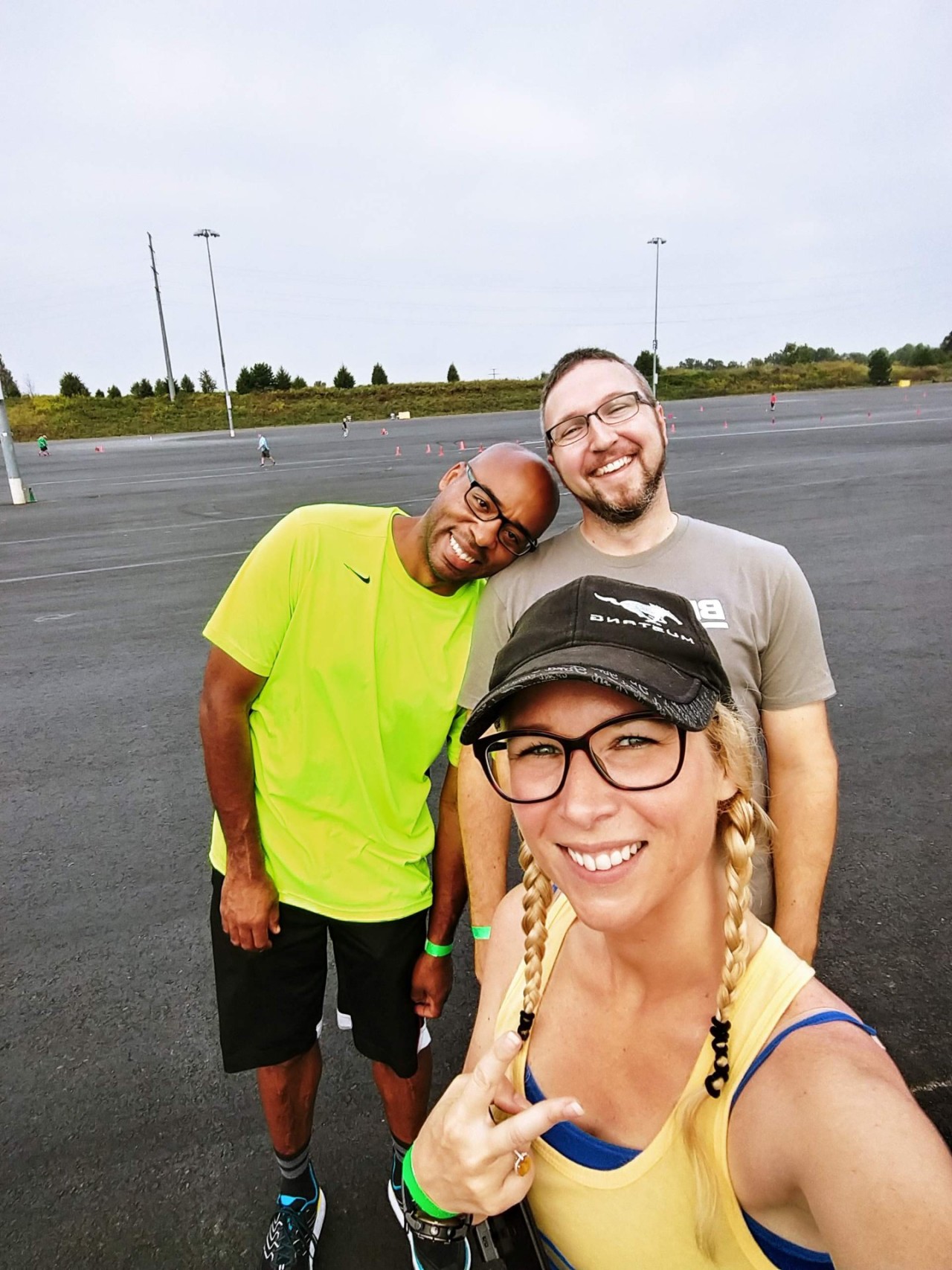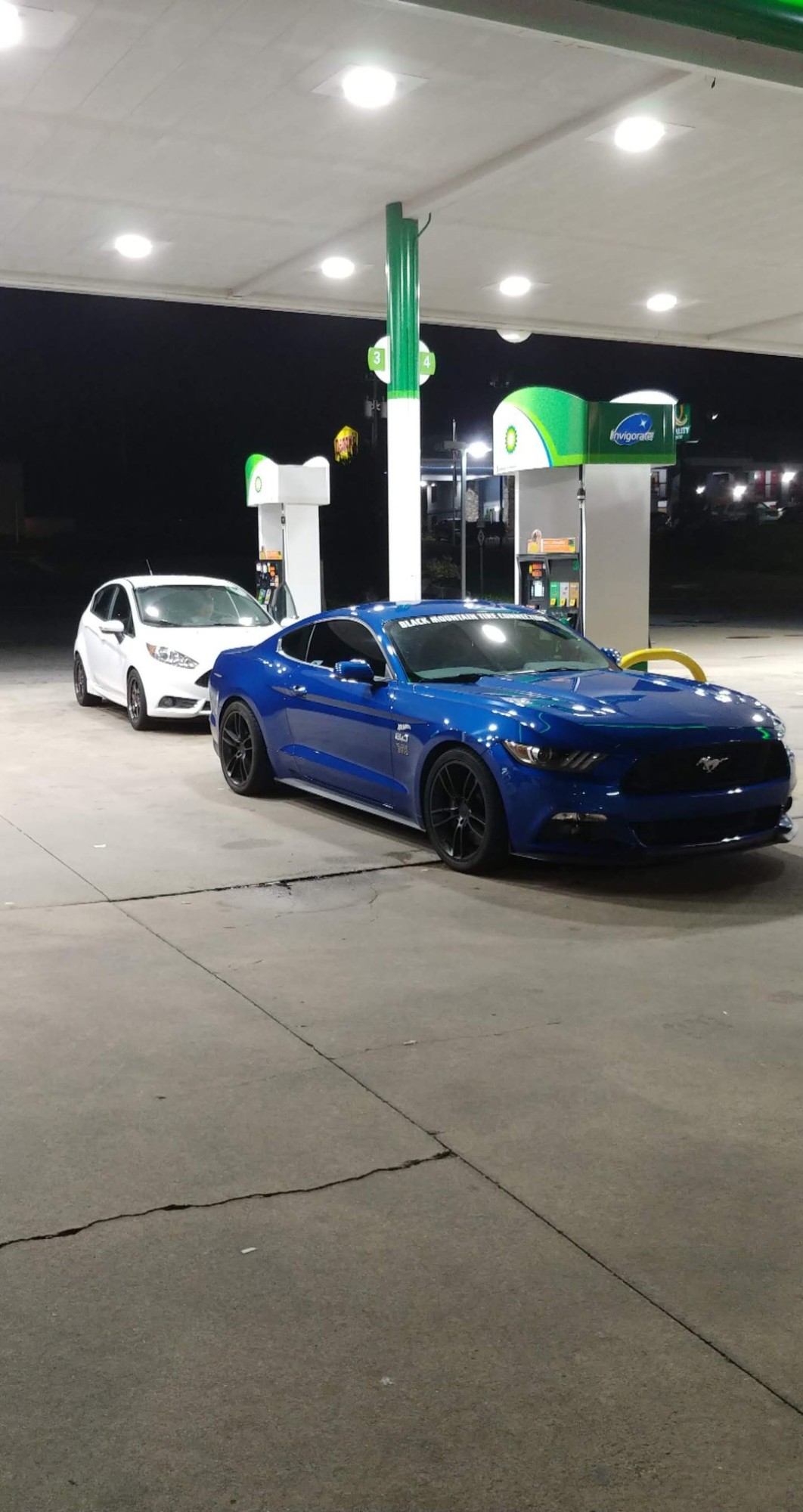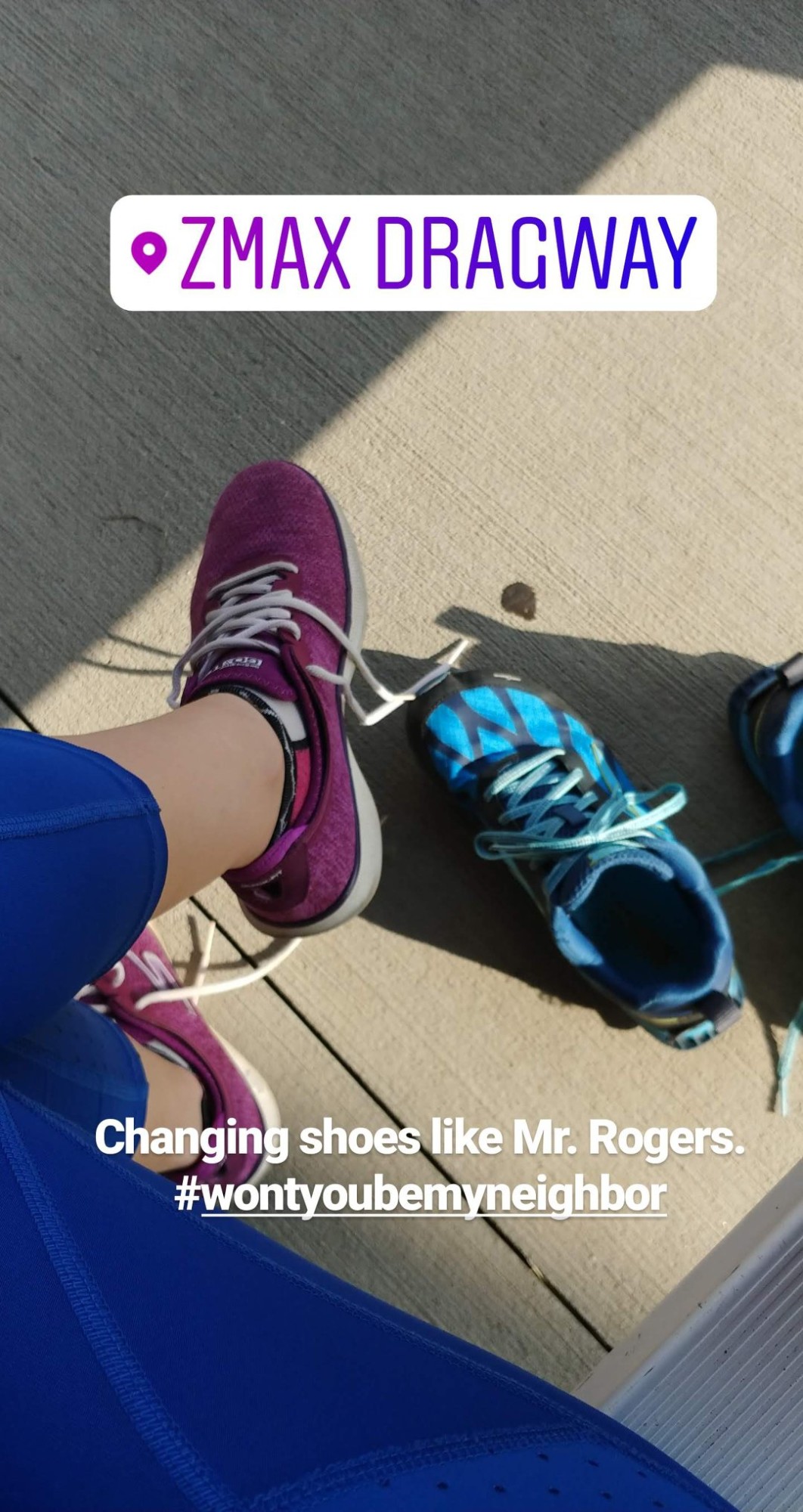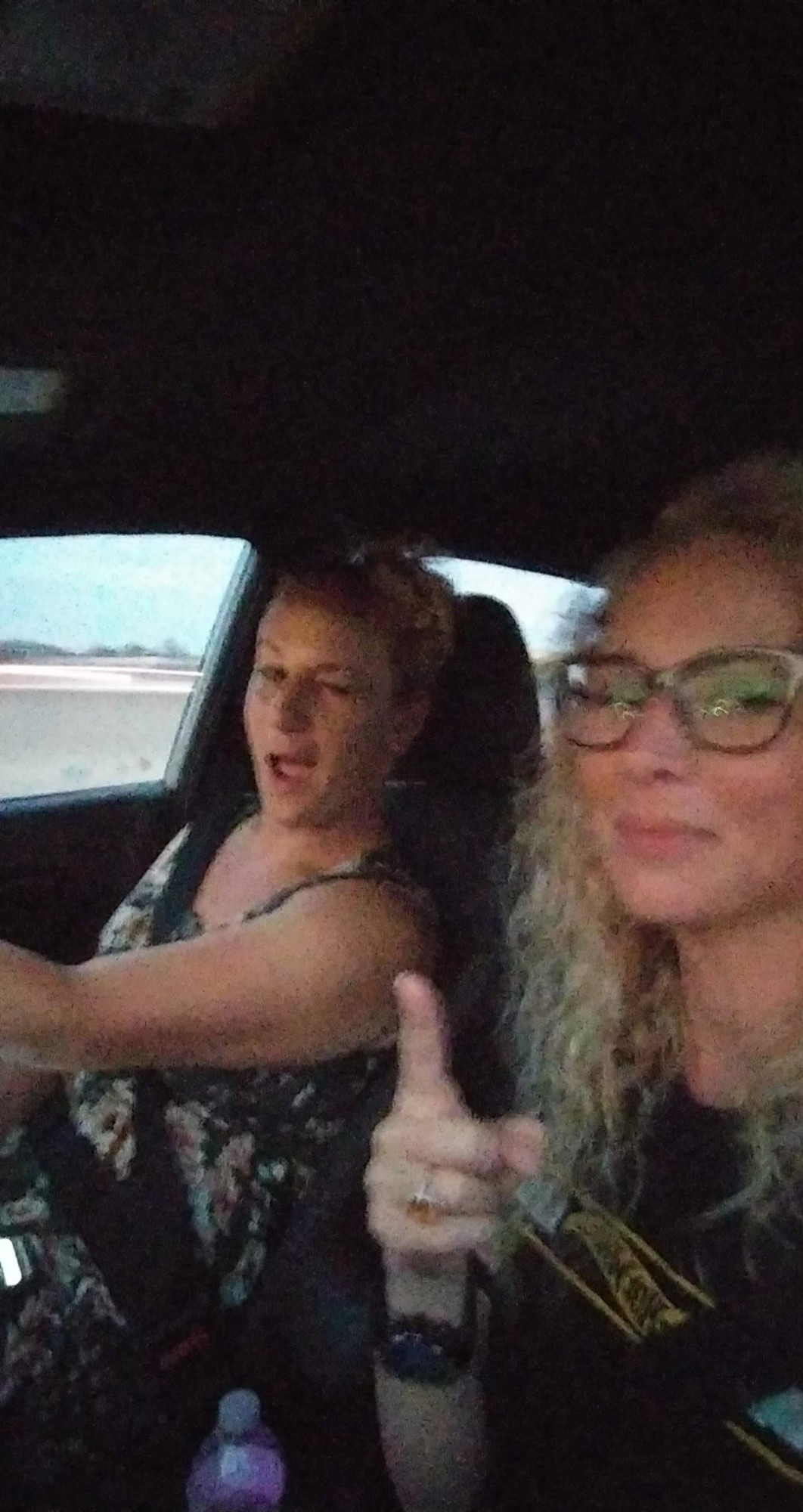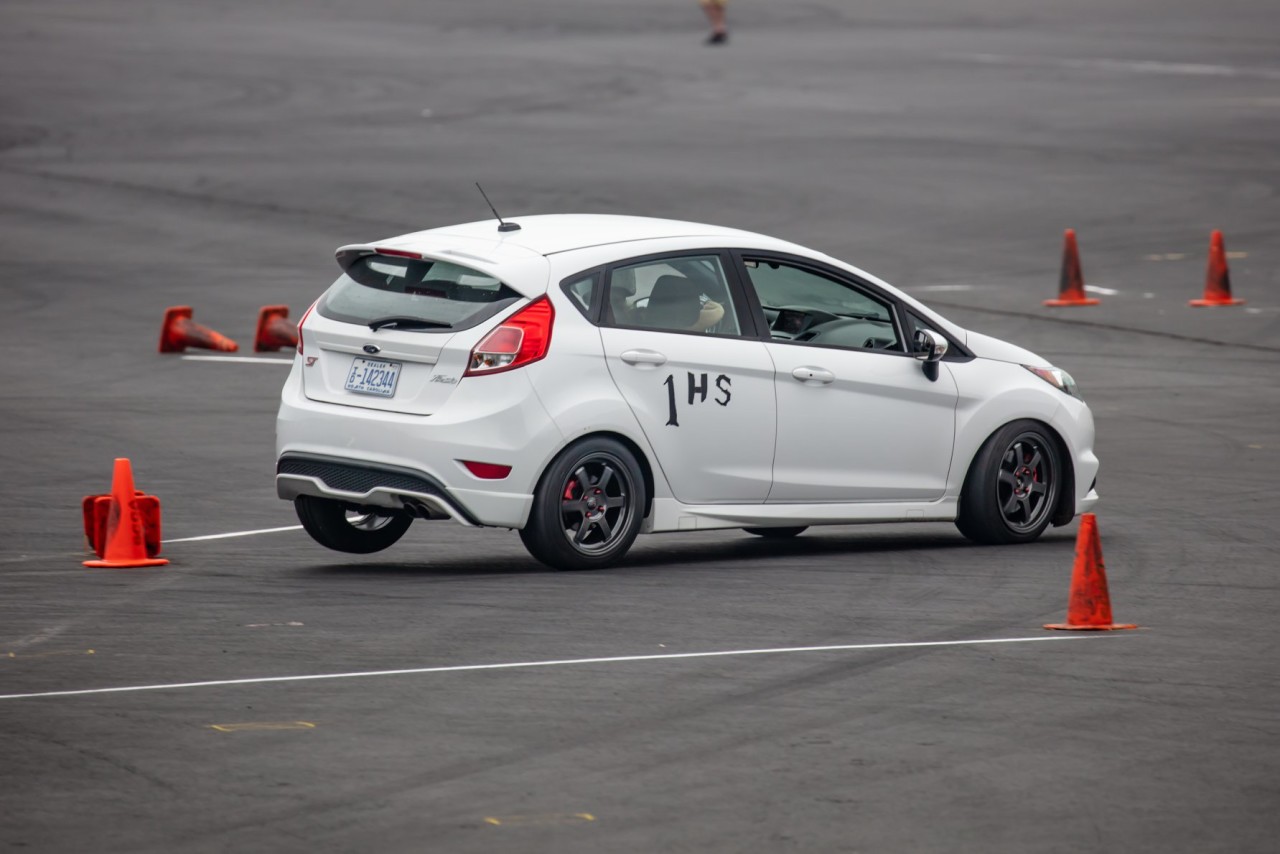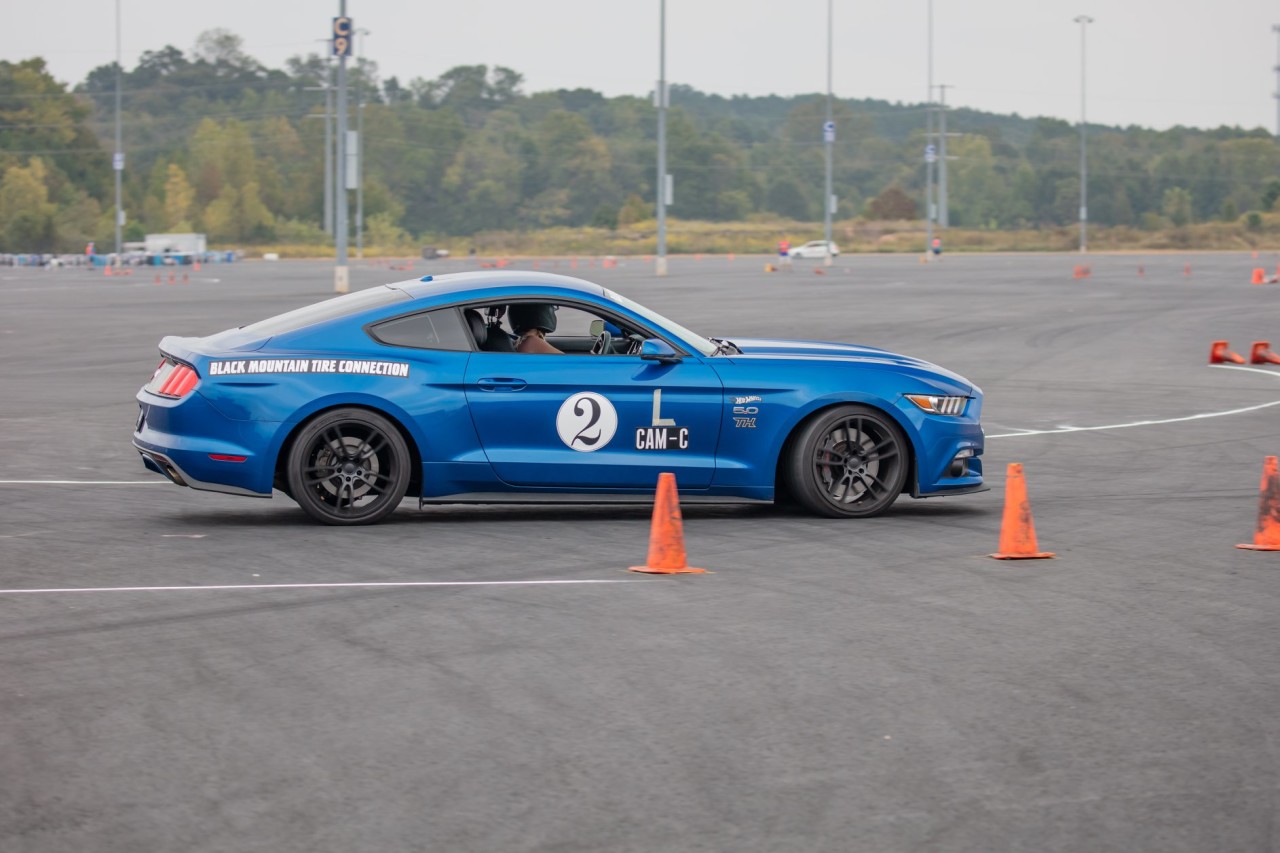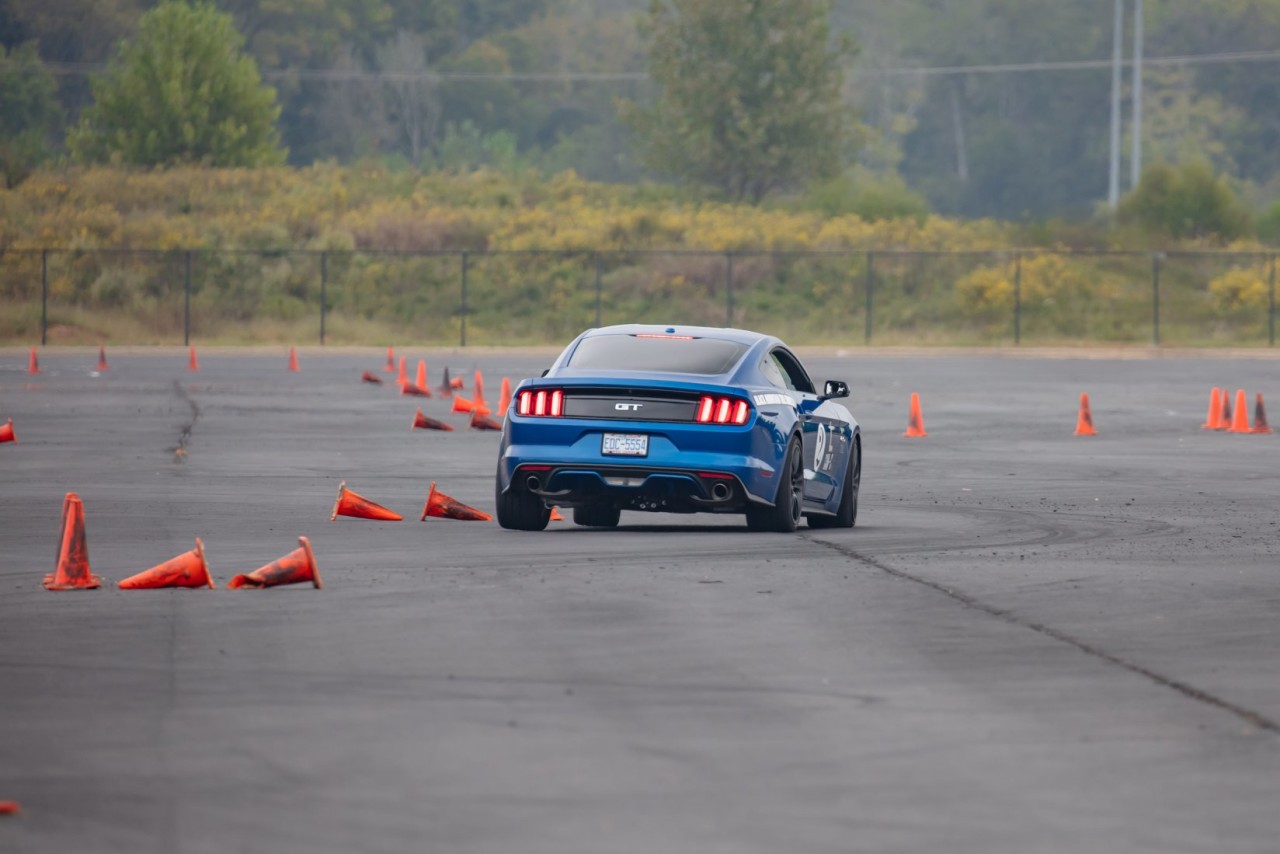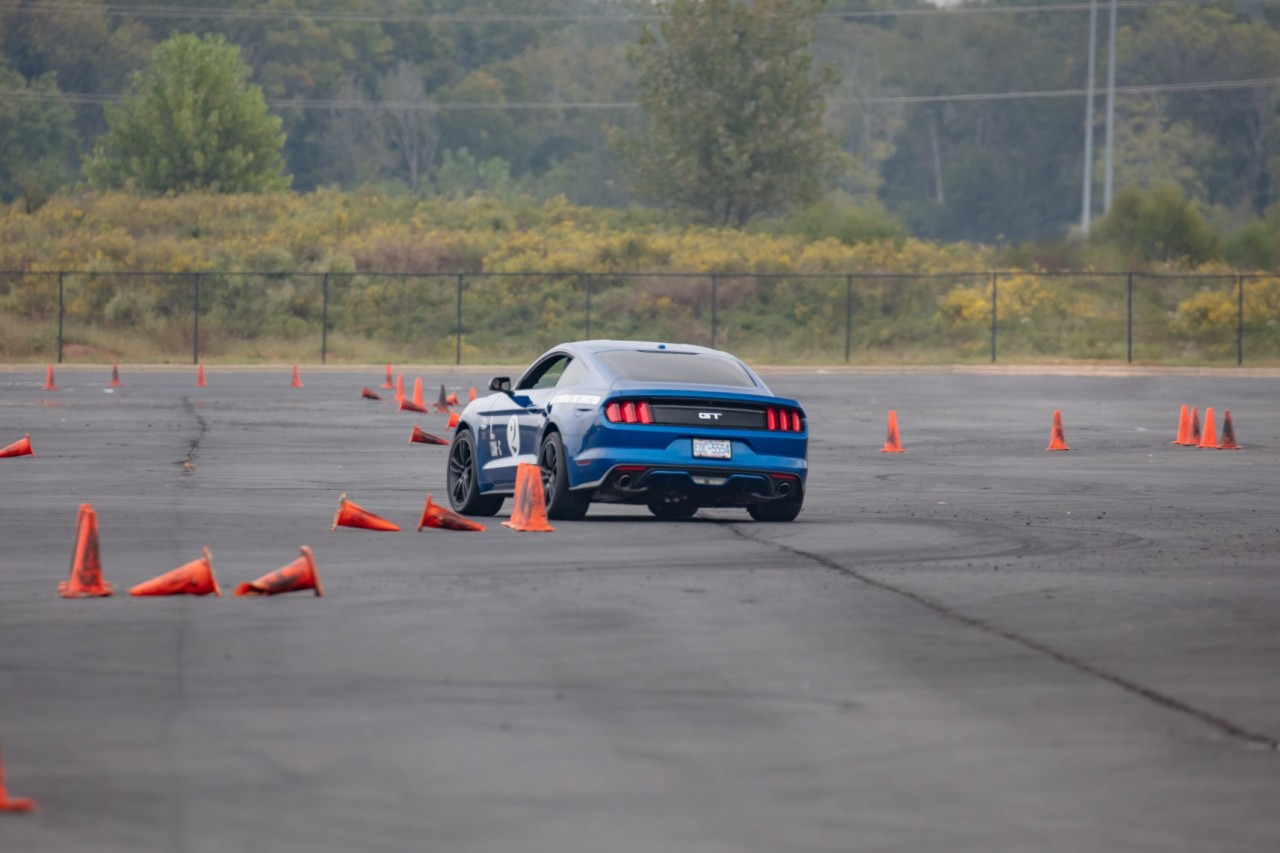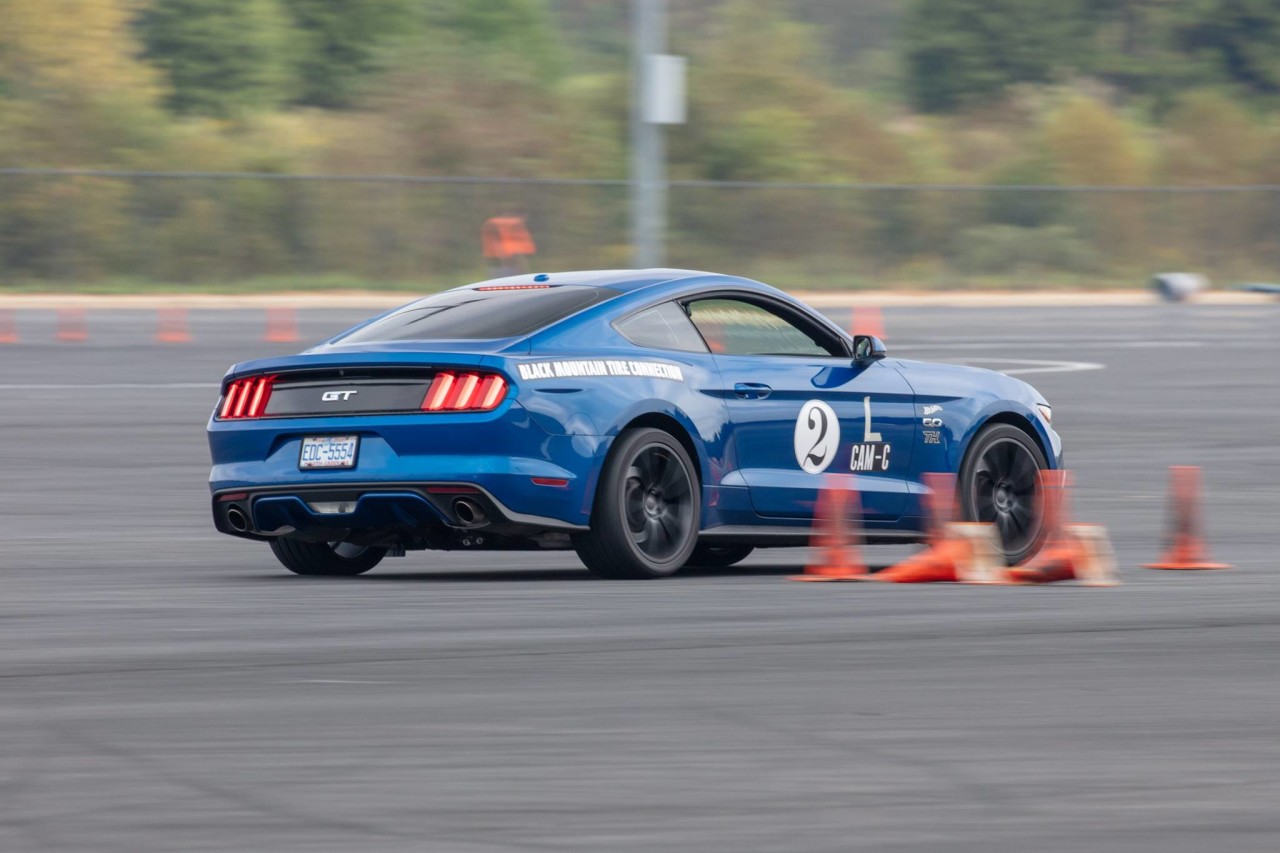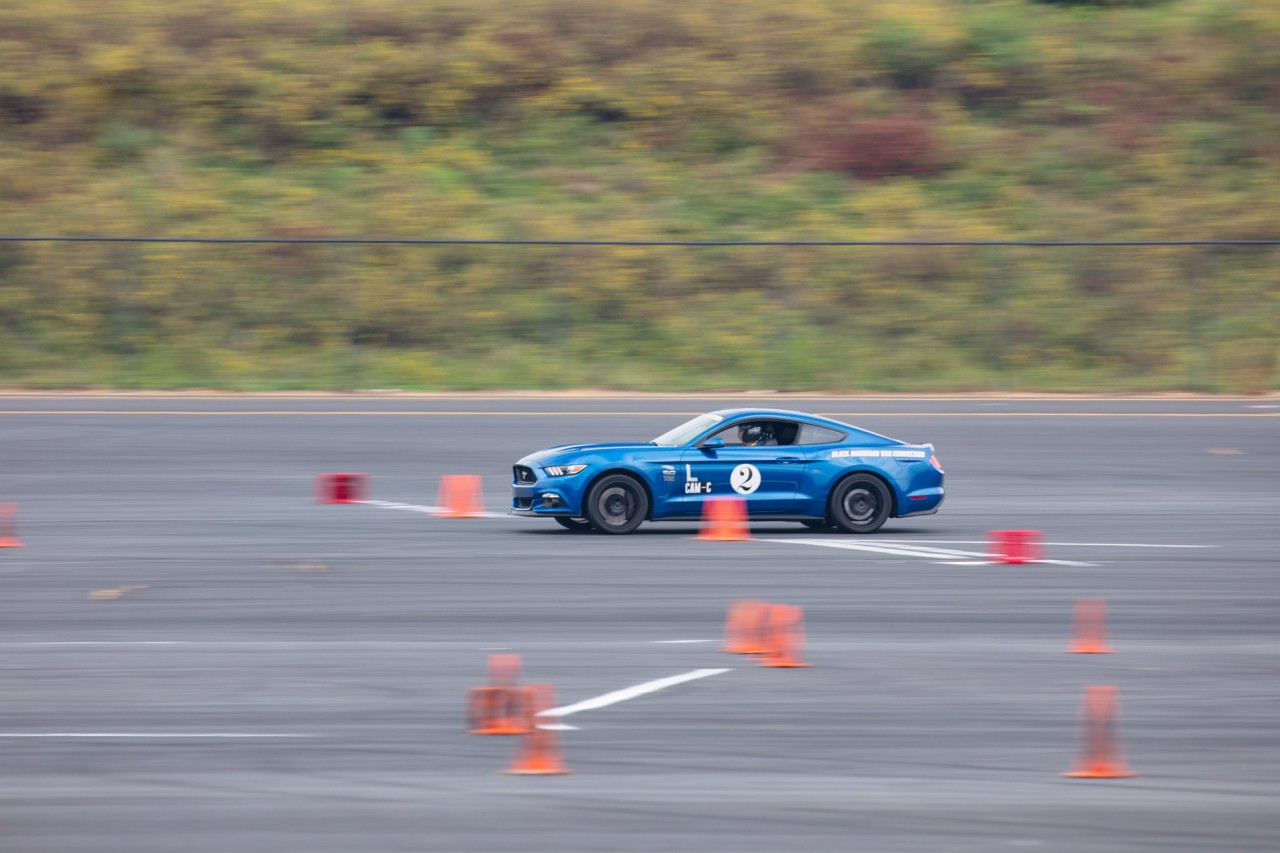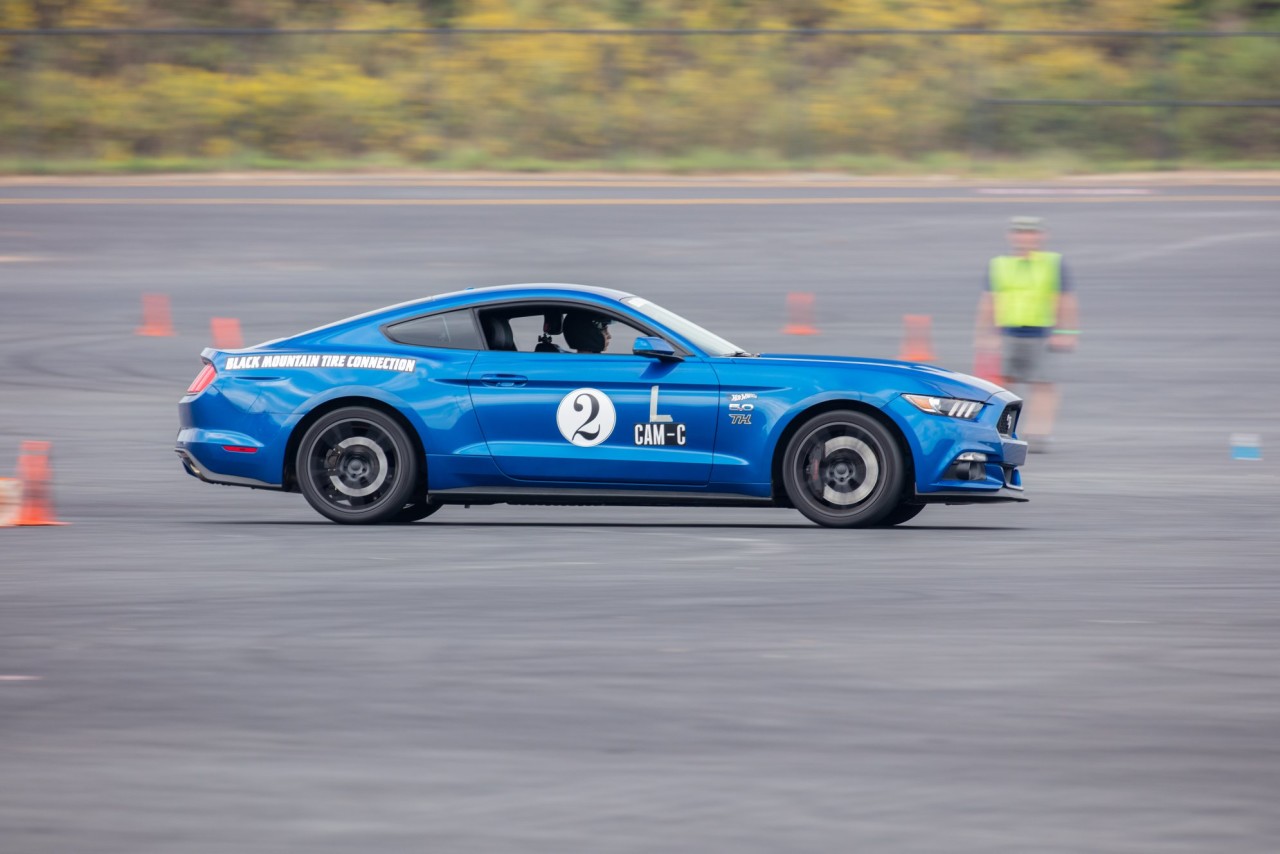 10-28-2018
I drove really well today. Stayed focused on being more agressive; getting on throttle harder-faster exiting a turn, and braking hard & early (felt like extra early) coming into a turn. I also got to practice up/down shifting throughout the course, it felt natural and I now feel silly it intimidated me before.
PS. This event was a rescheduled autocross (due to hurricane Florence), hence the wrong date on the mug.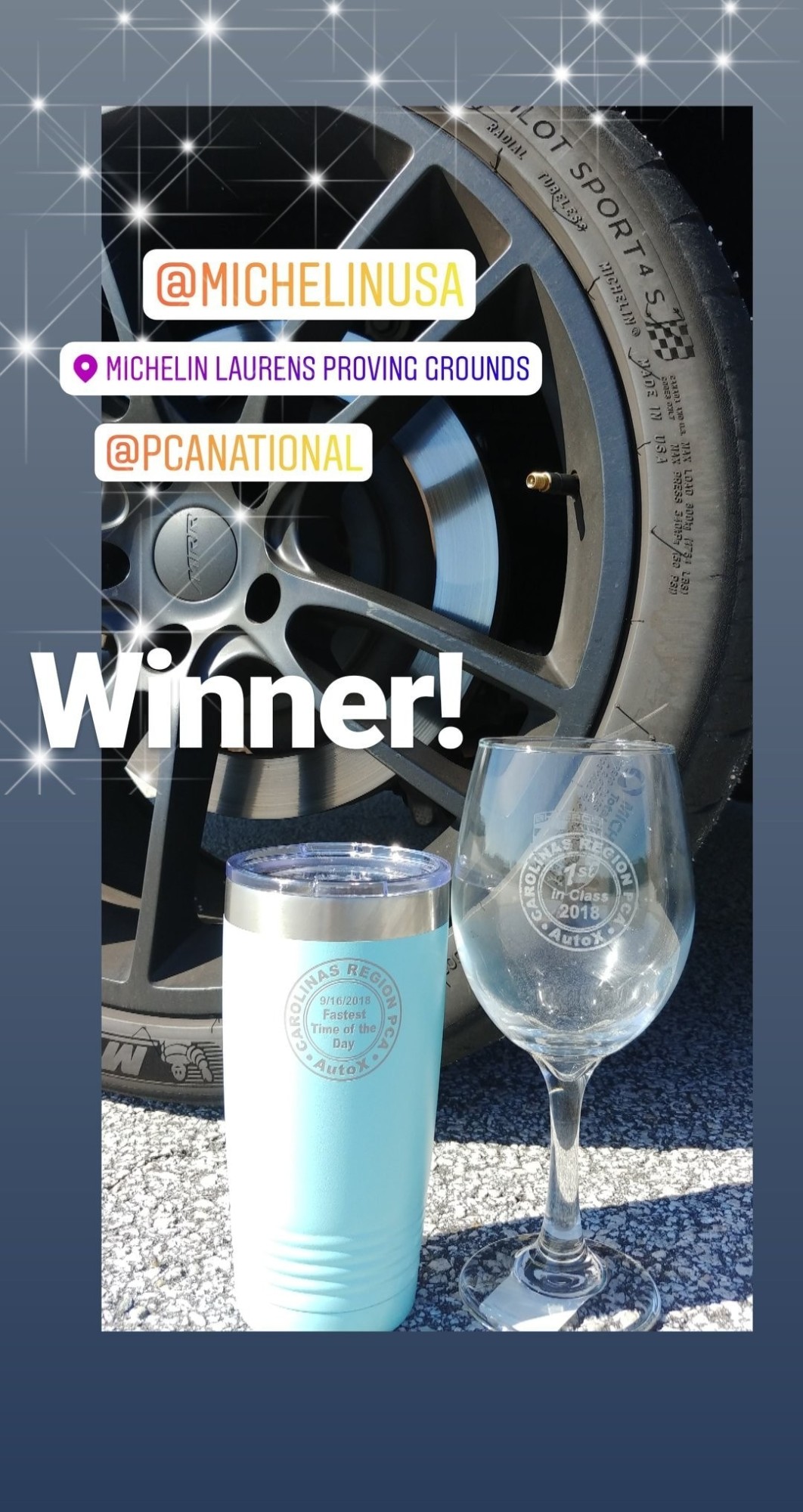 11-20-2018
The first annual Veterans Day Parade, held on Sunday, November 11, 2018. All pictures are by Kyle Quattromani Photoworks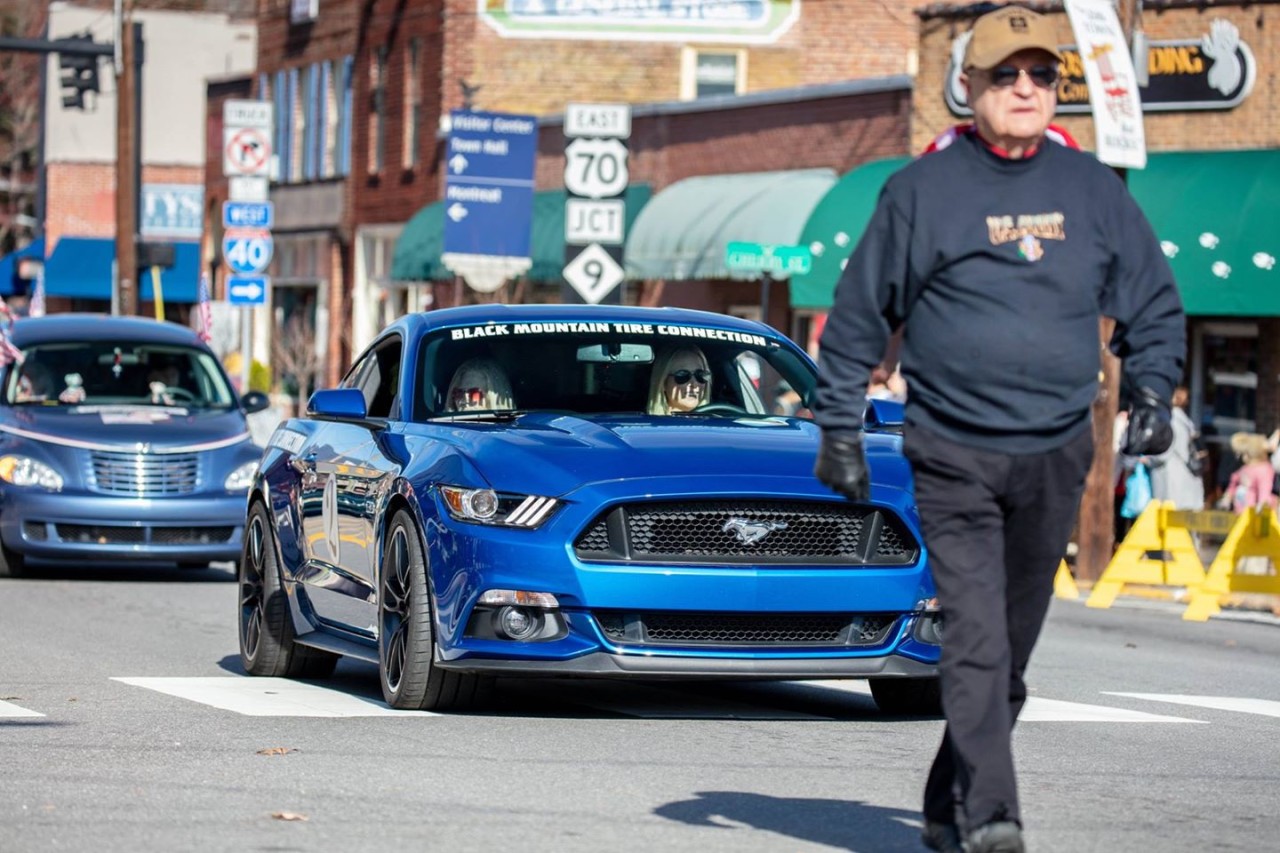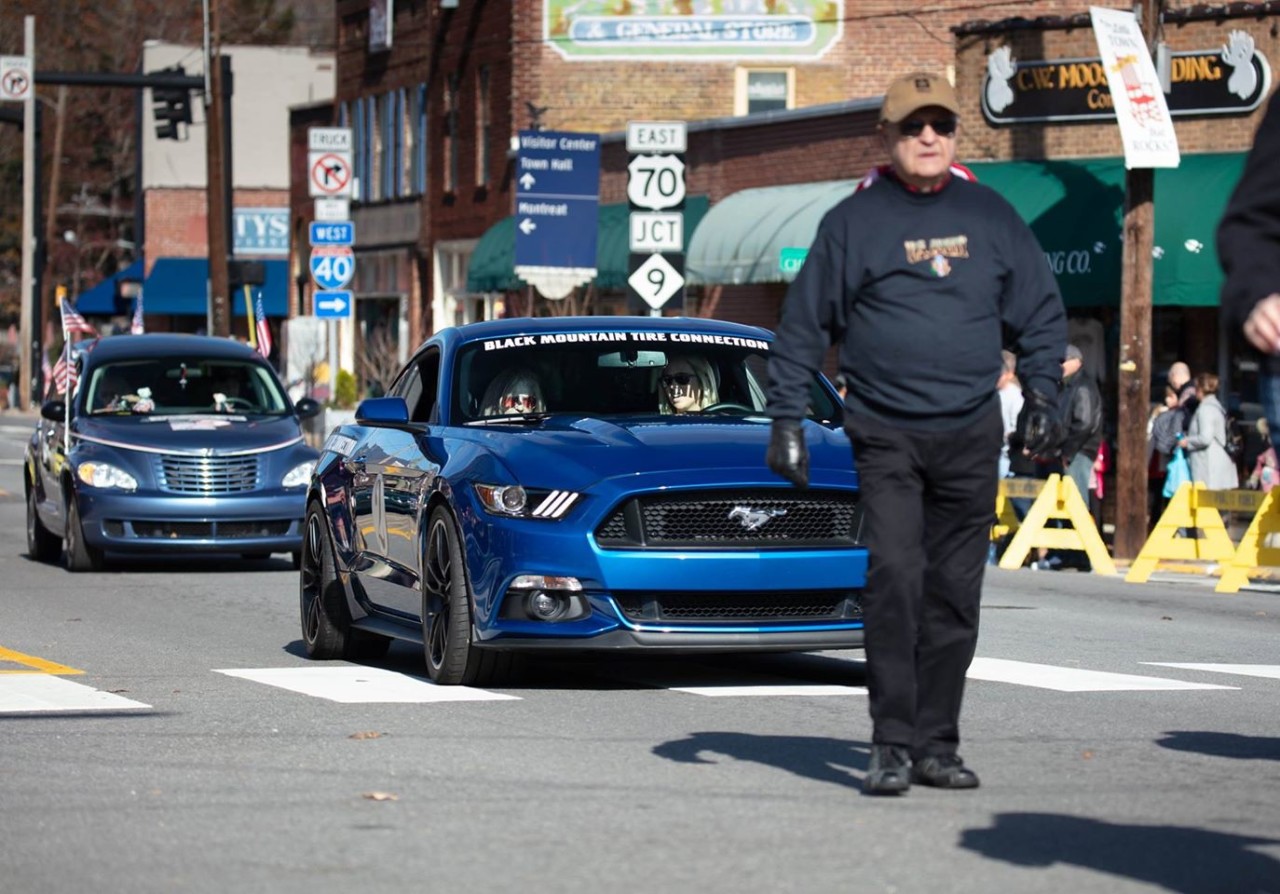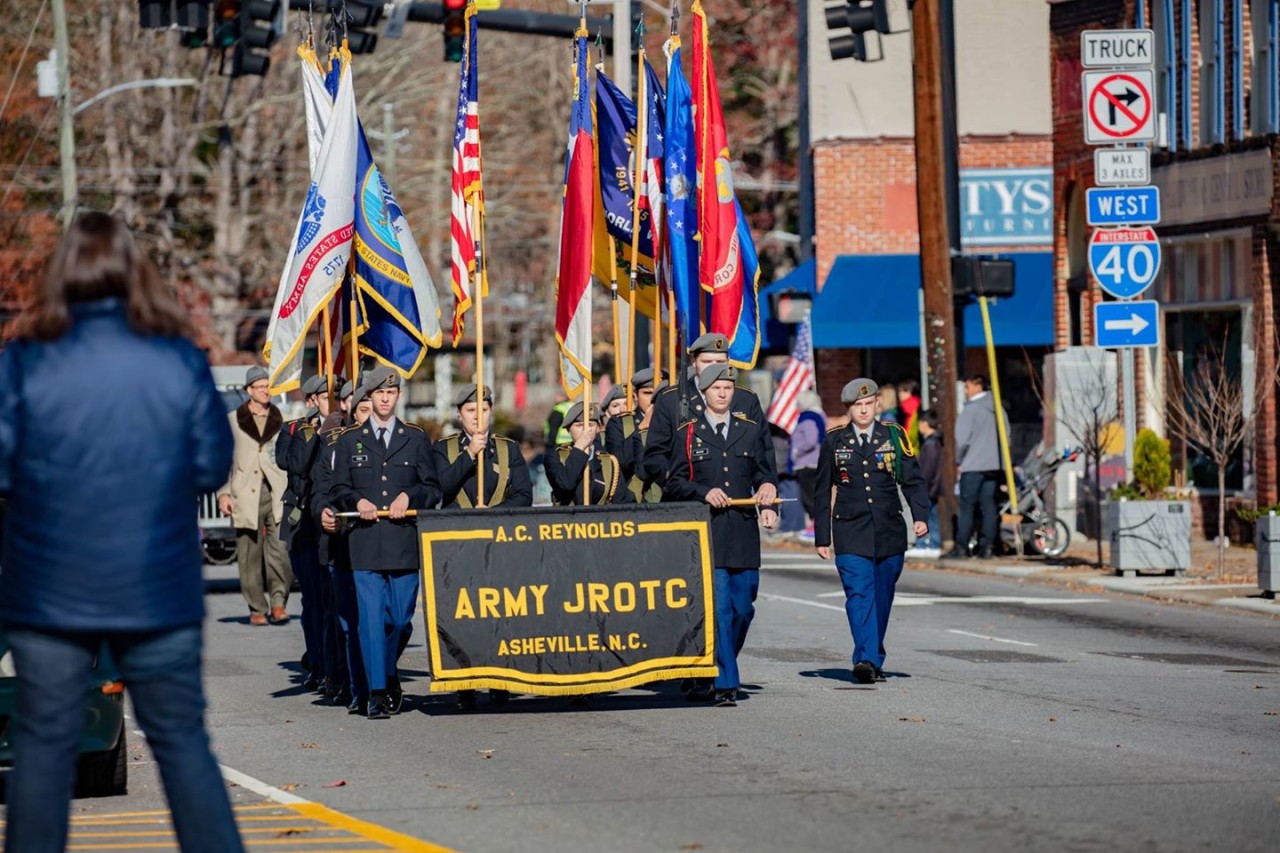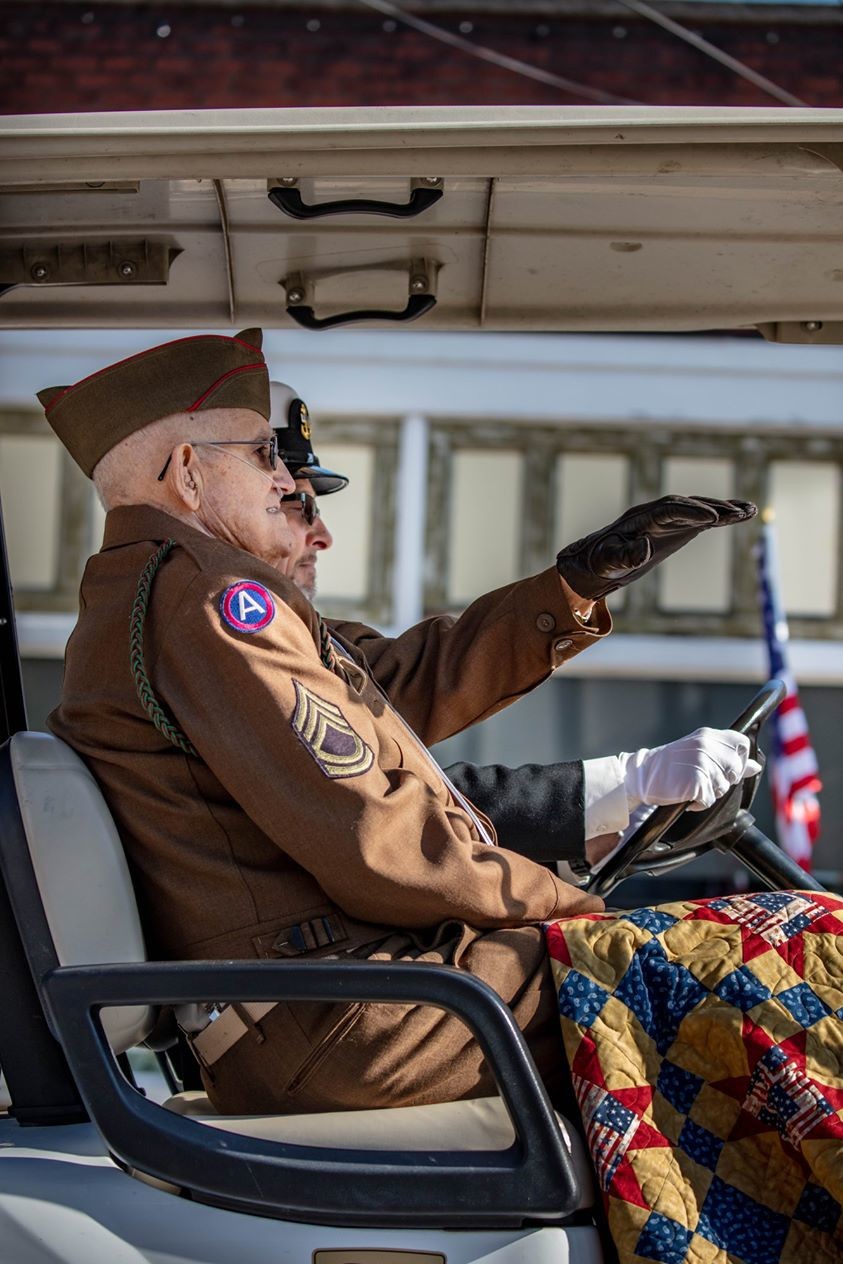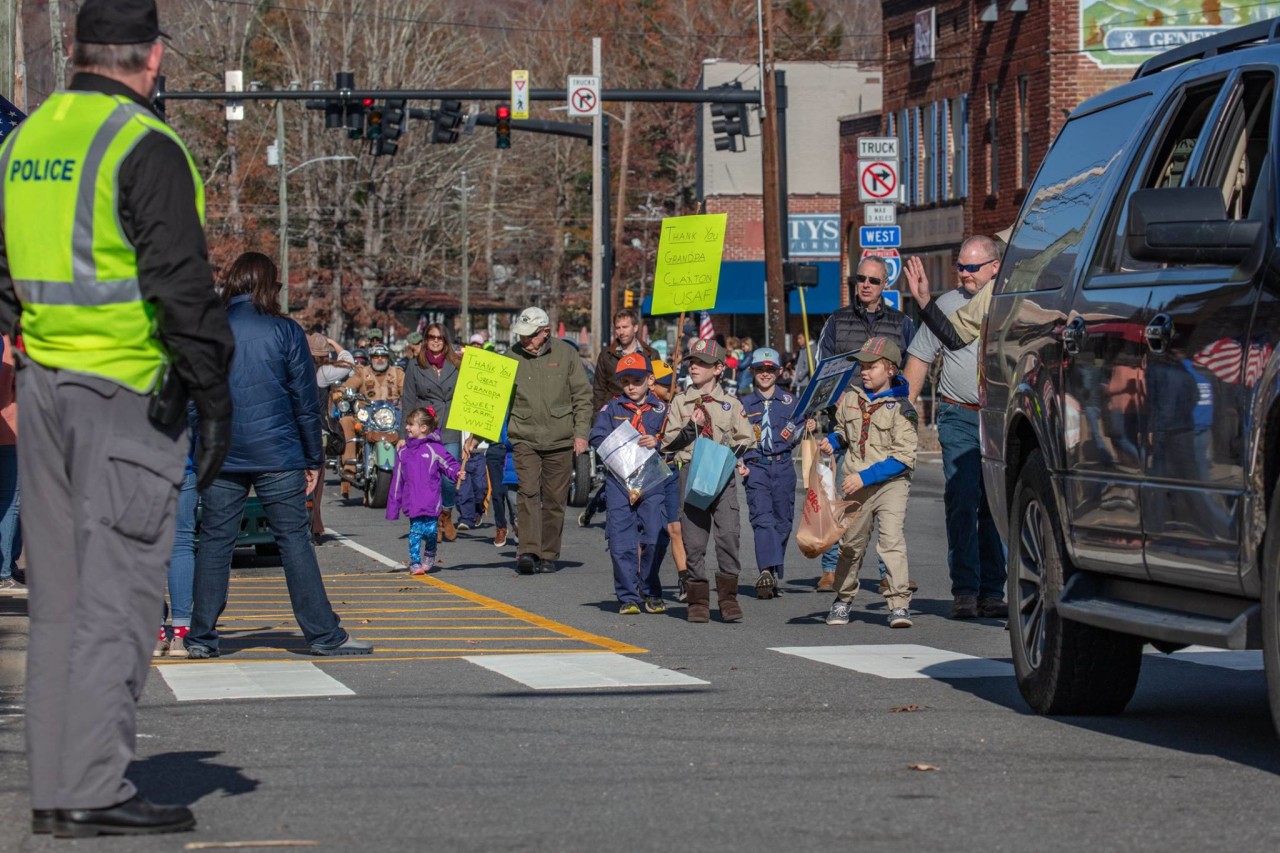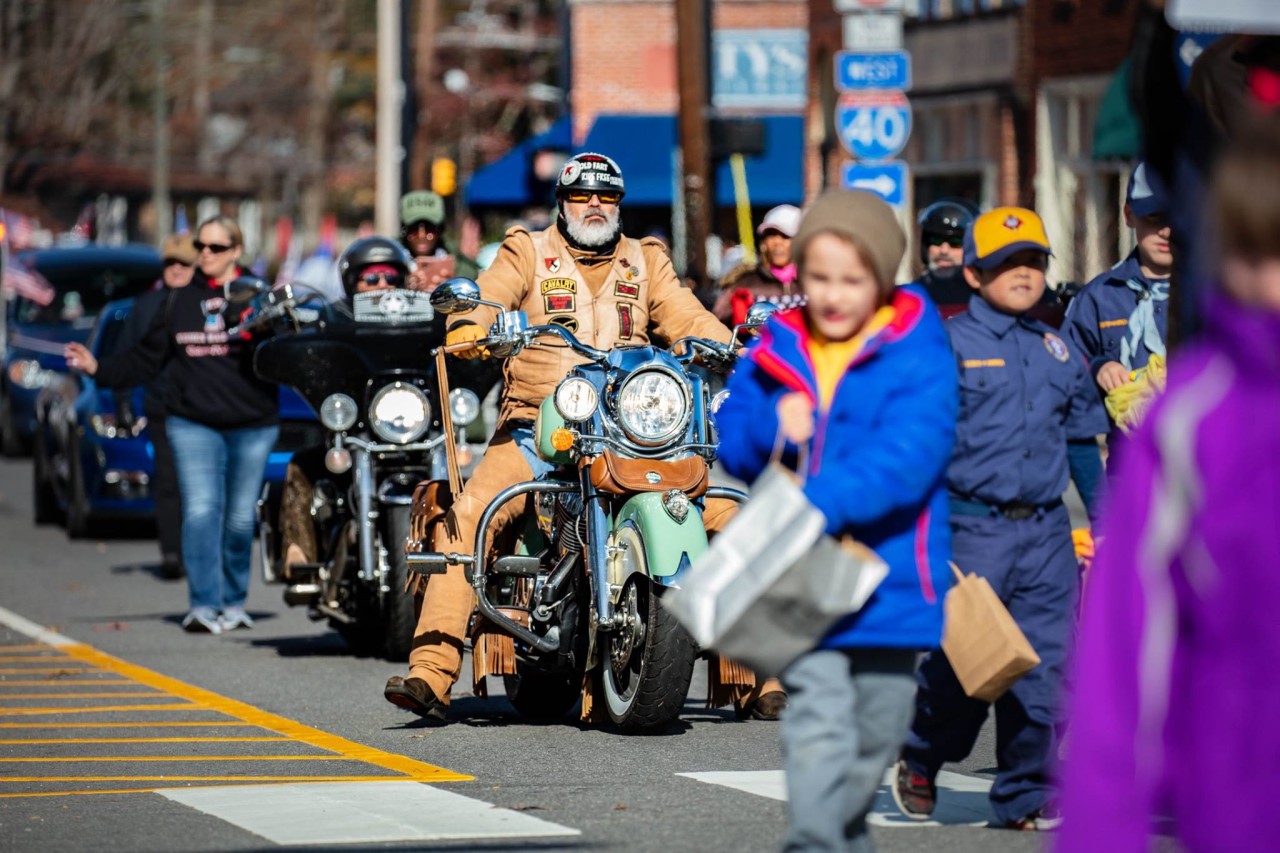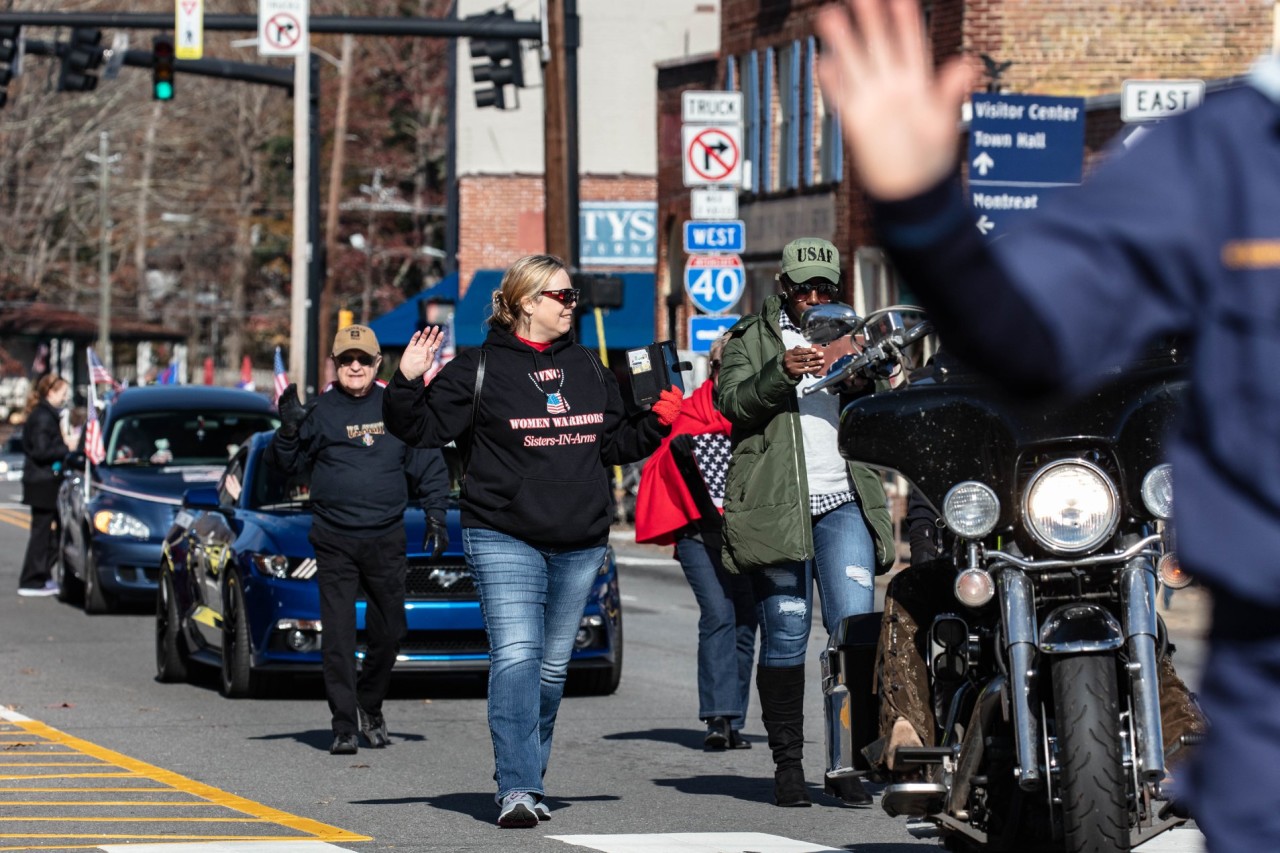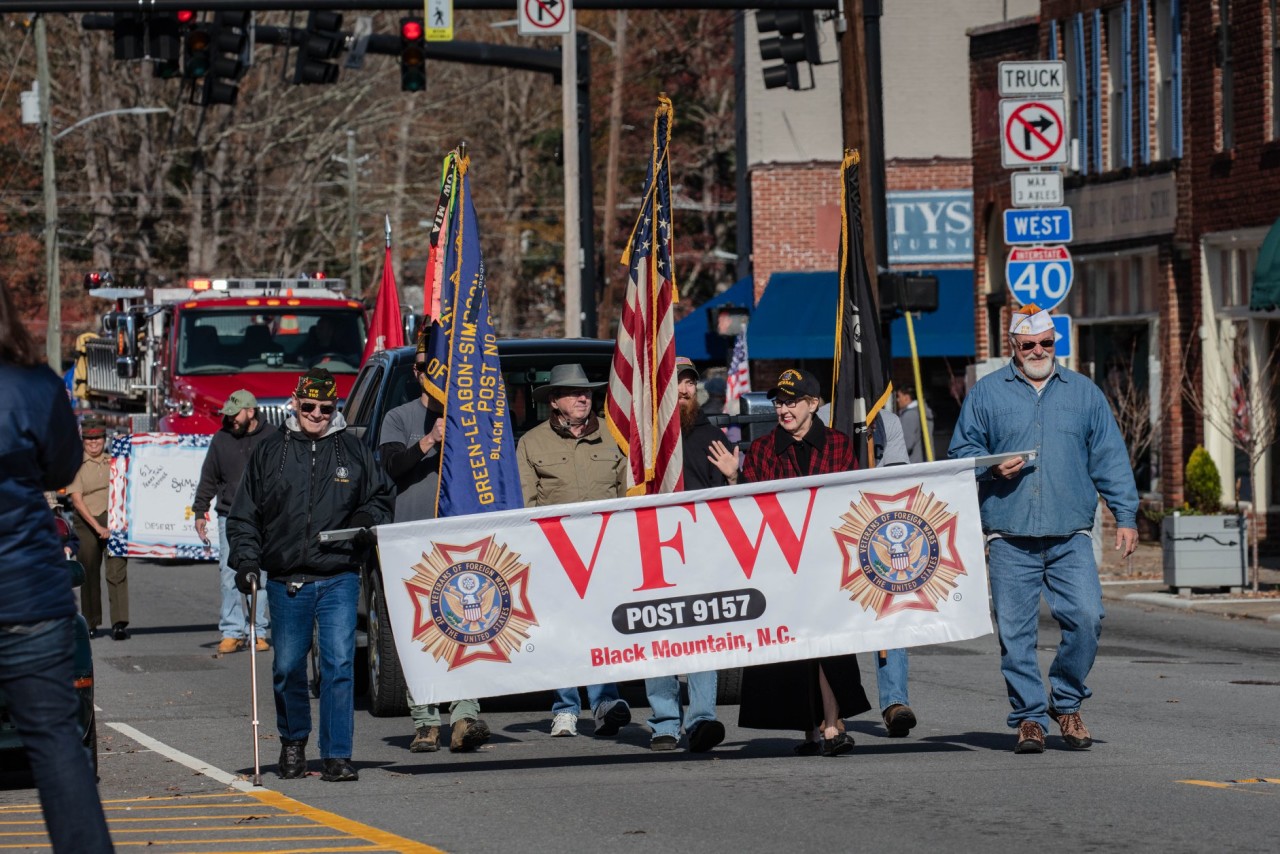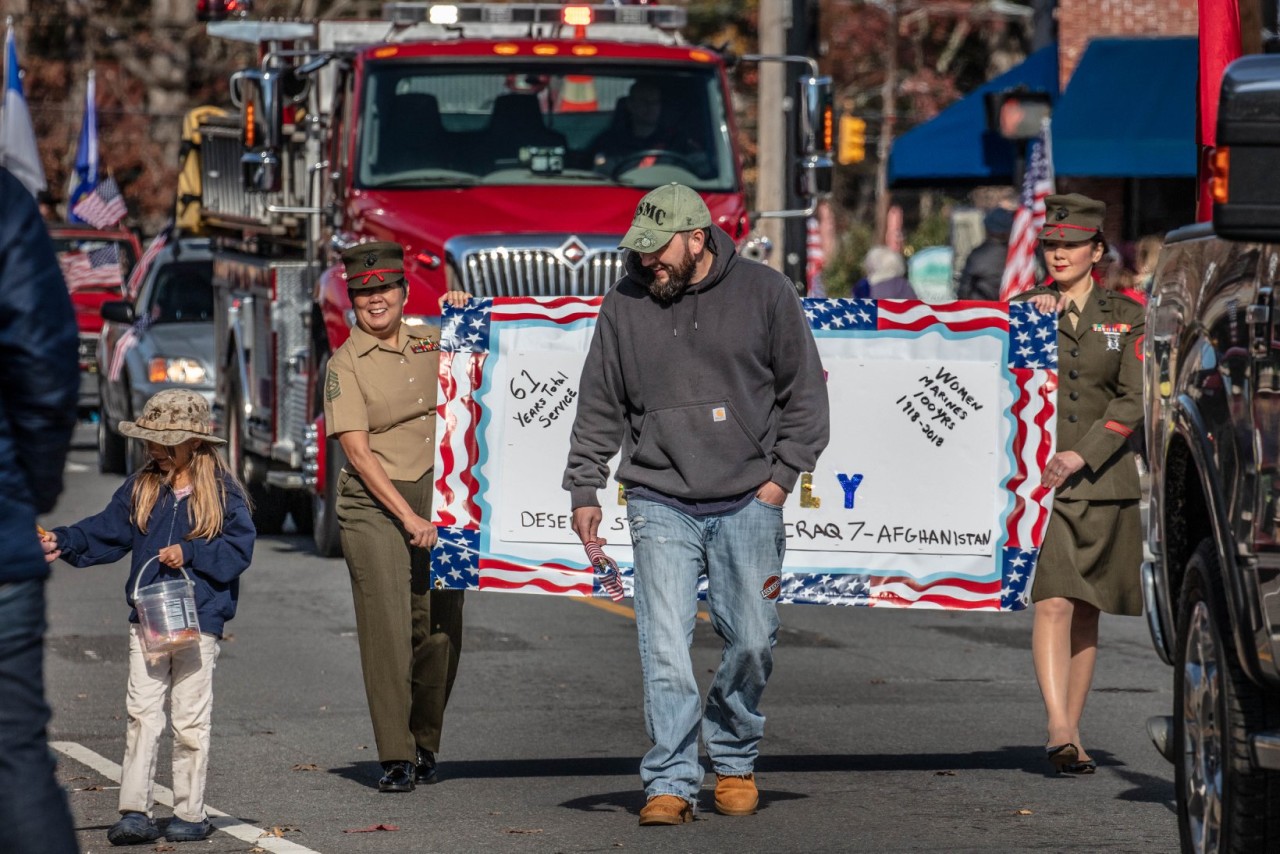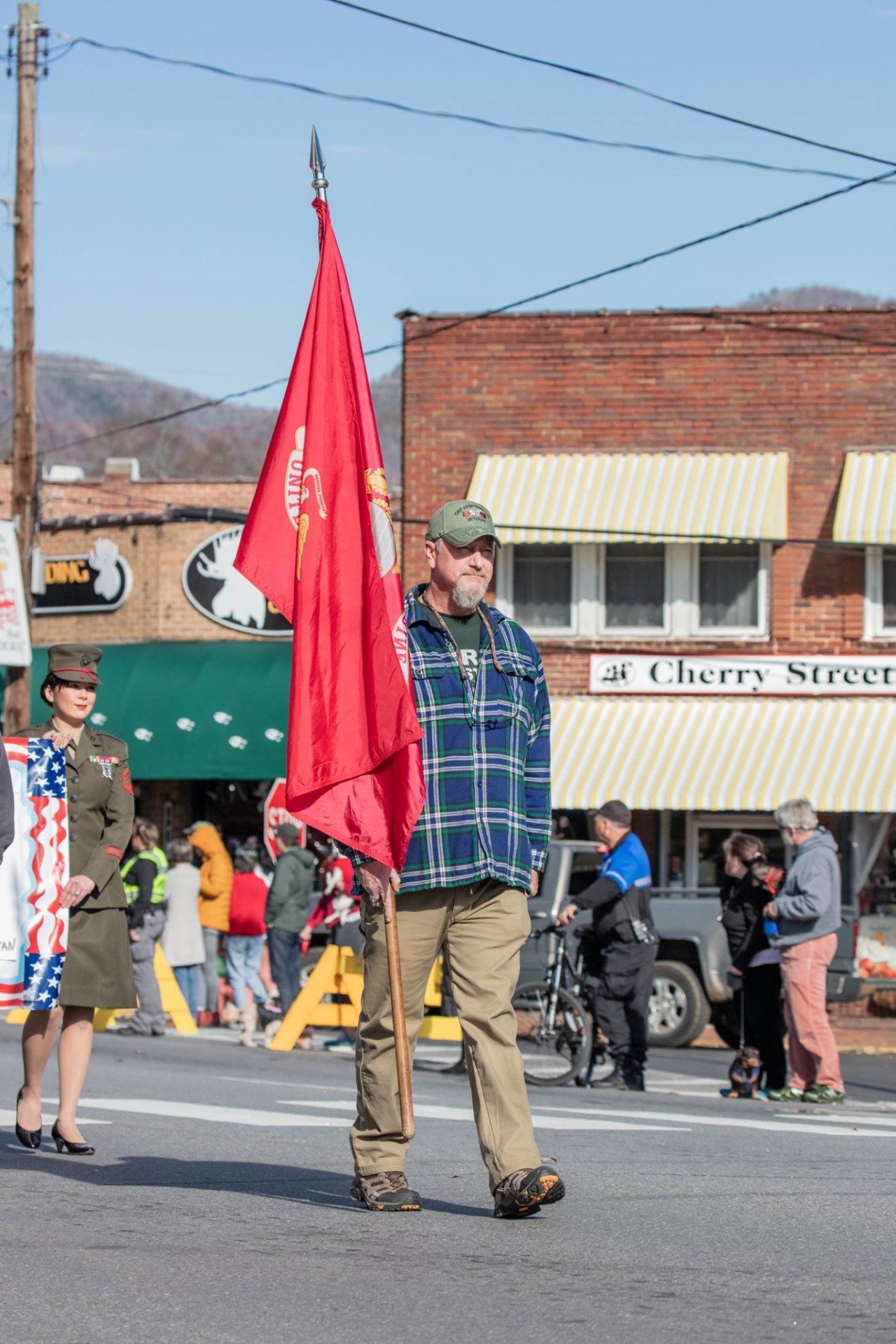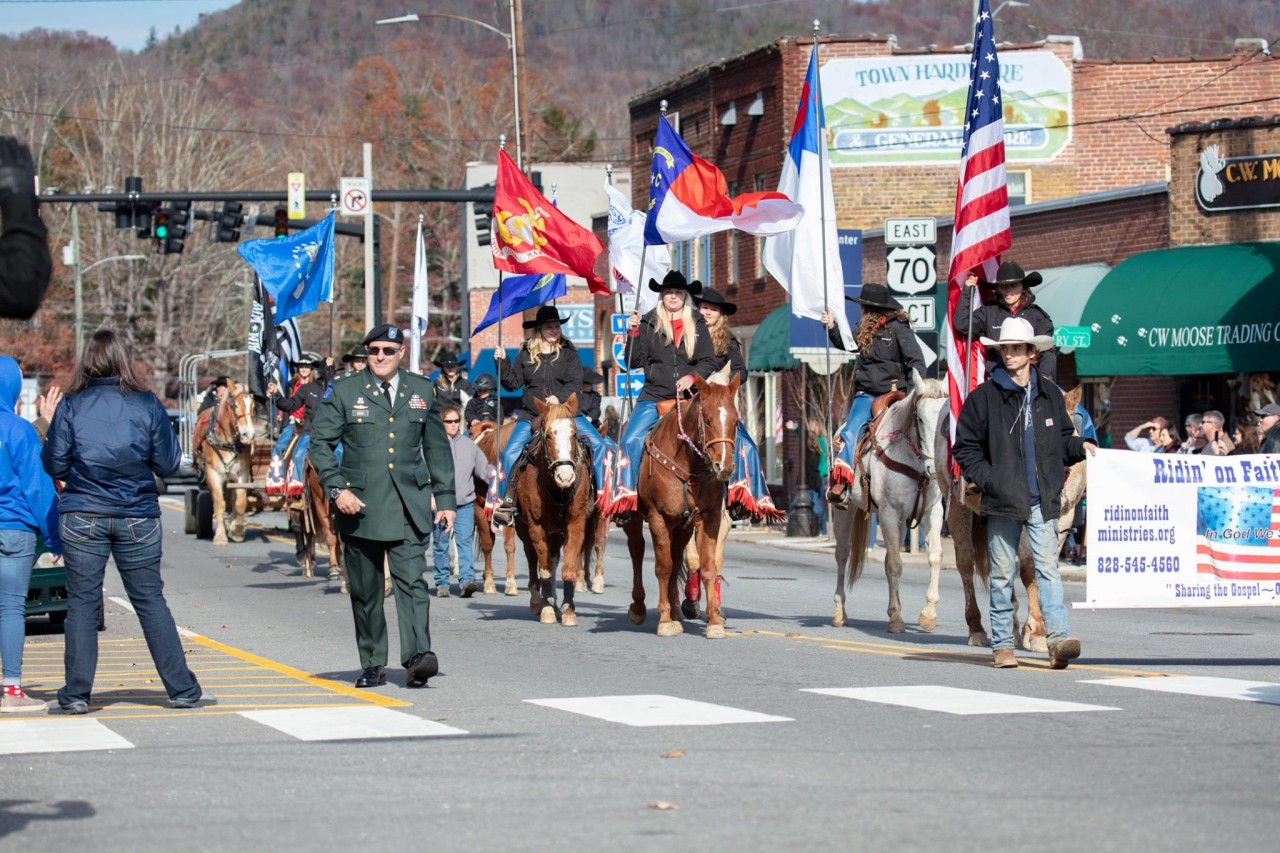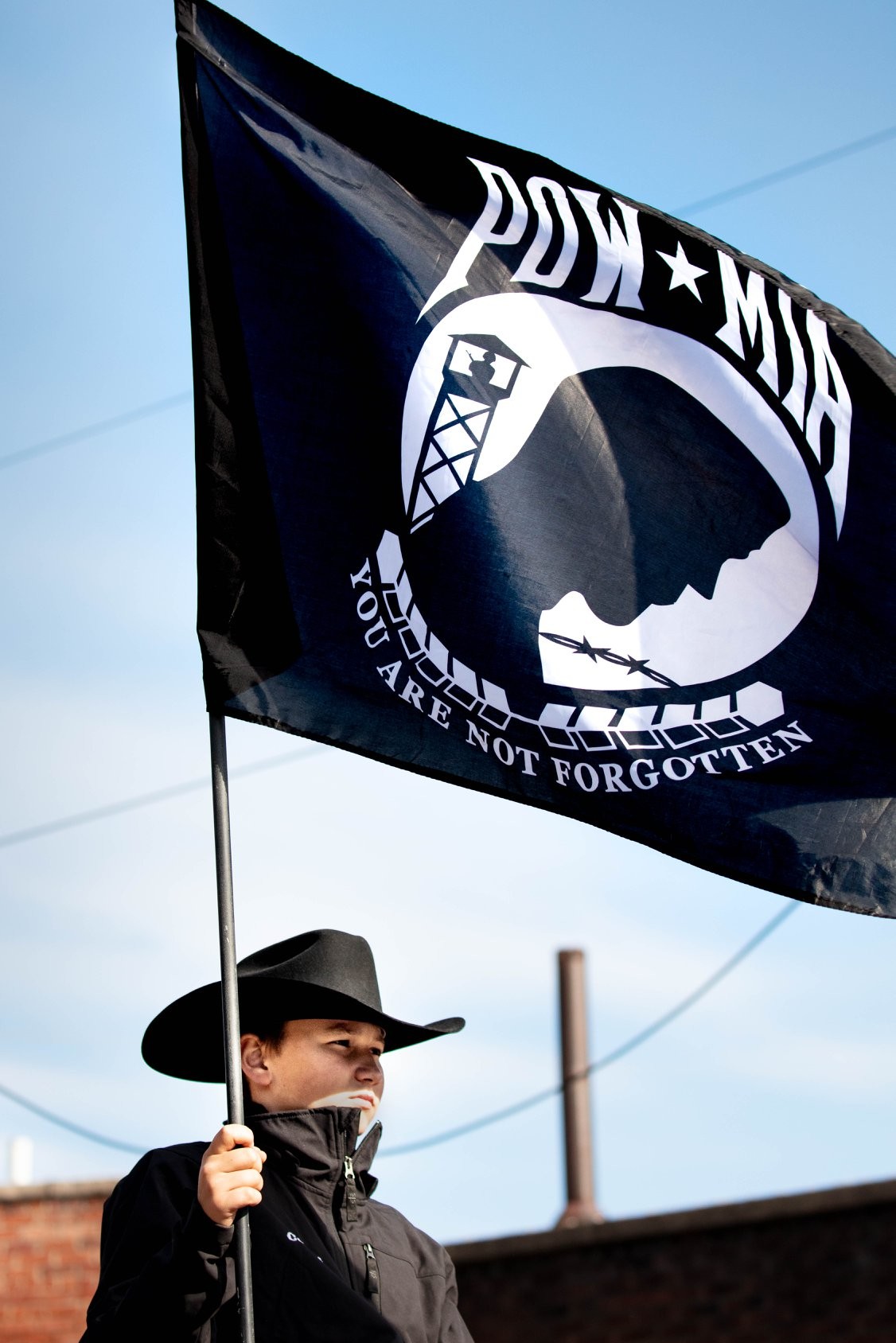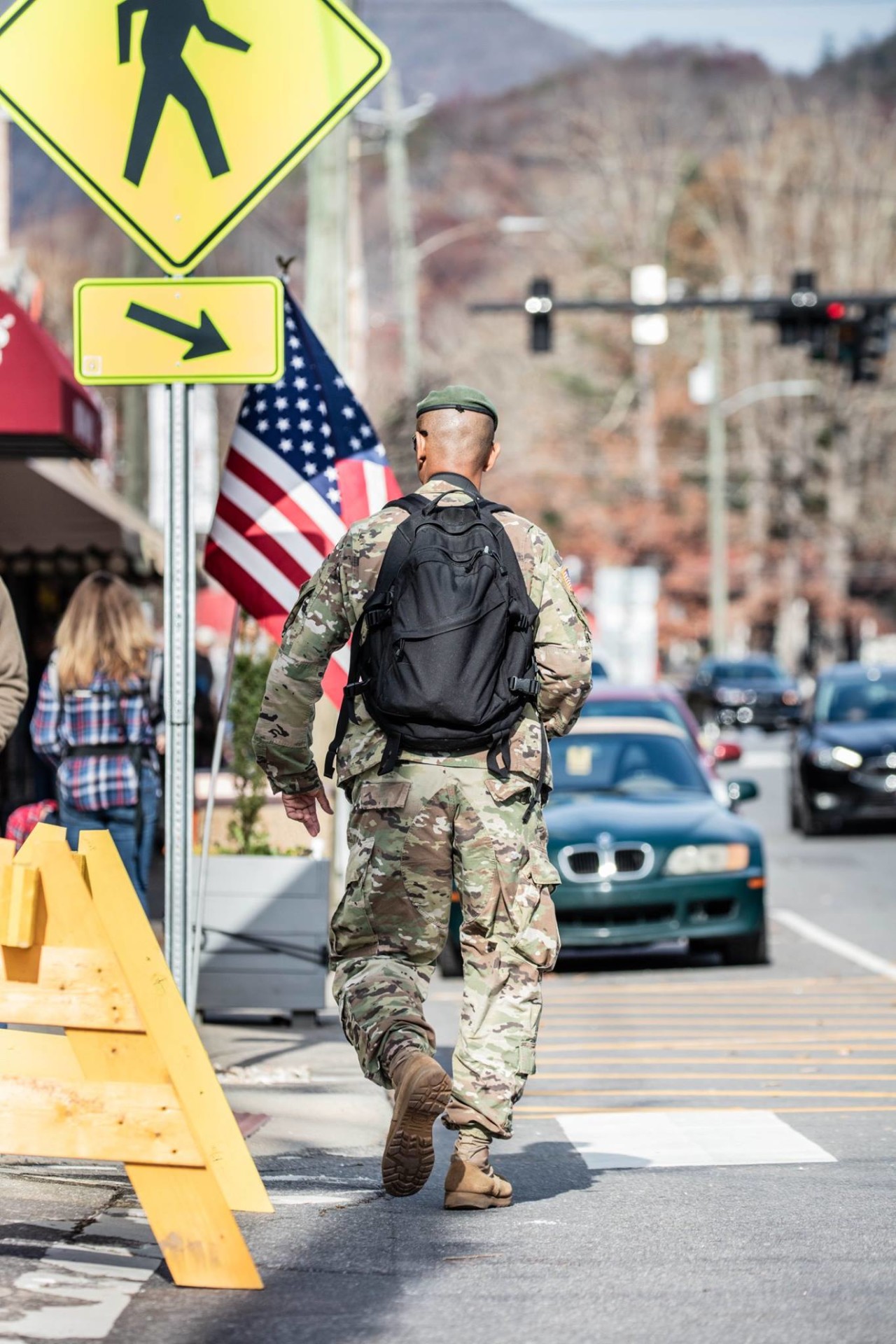 1-14-2019
2018 Highland Sports Car Club Awards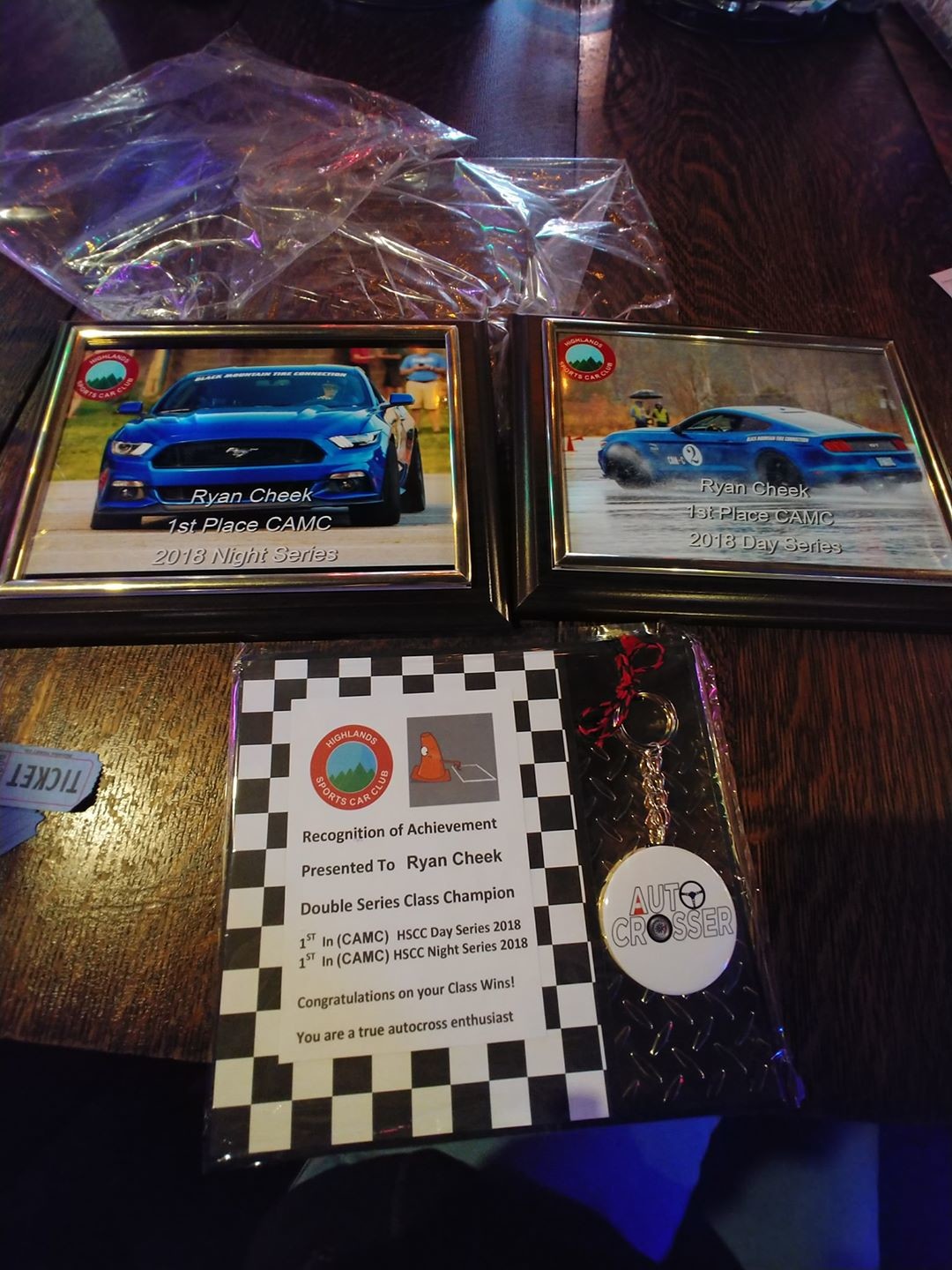 1-20-2019
Not promoting street racing but facts are facts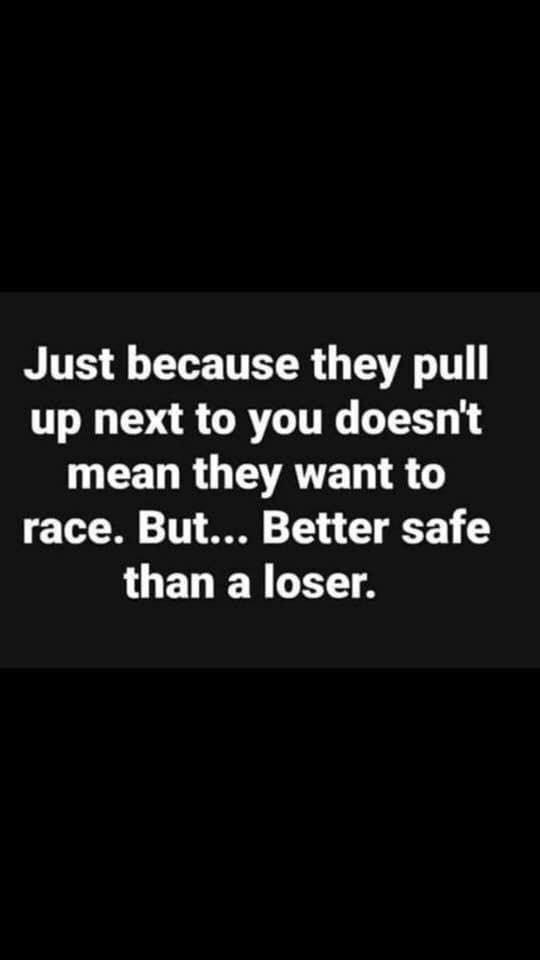 7-8-2019
I enjoyed a fun weekend putting some miles on Hank with my boys. Kyle Quattromani Photoworks took some pics and it felt good getting to edit again. Definitely missed it. Here are a few finished photos that I really liked.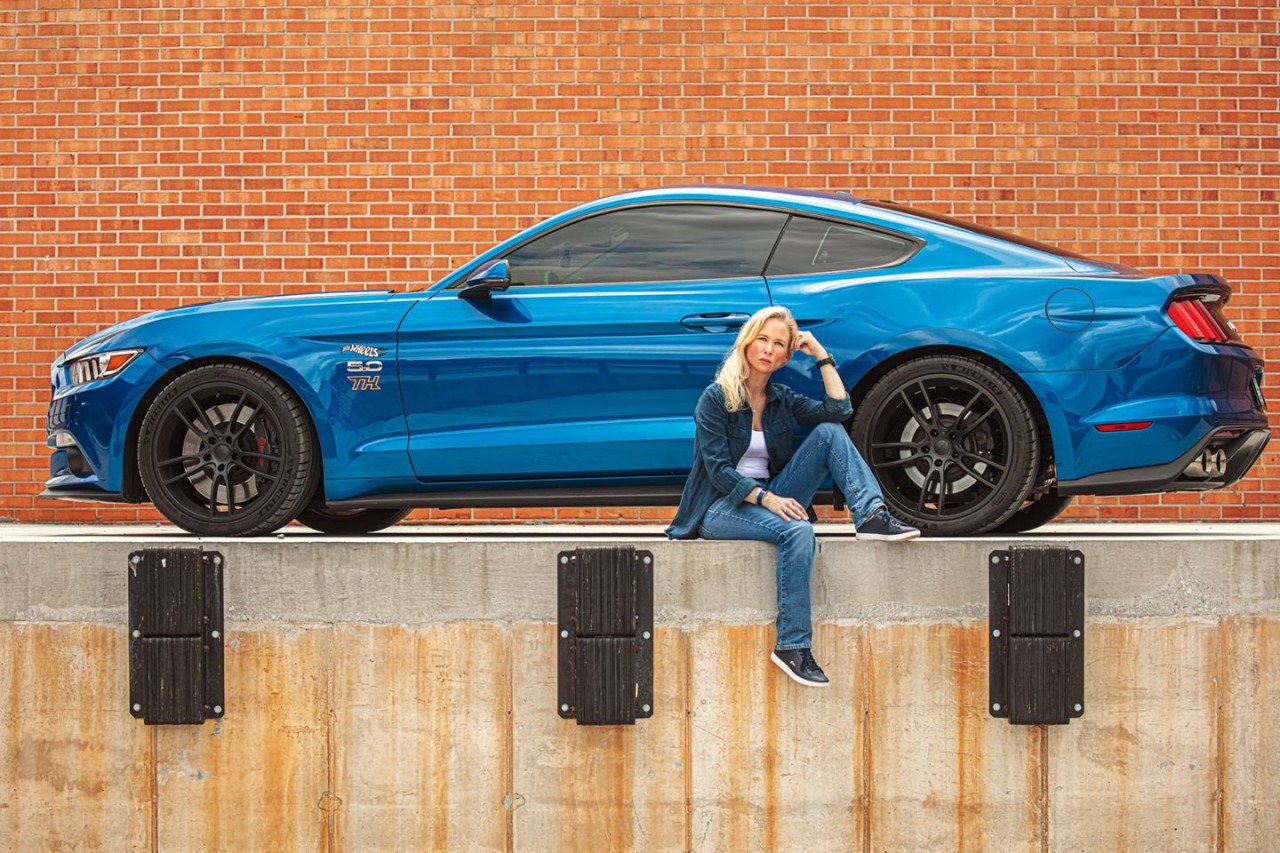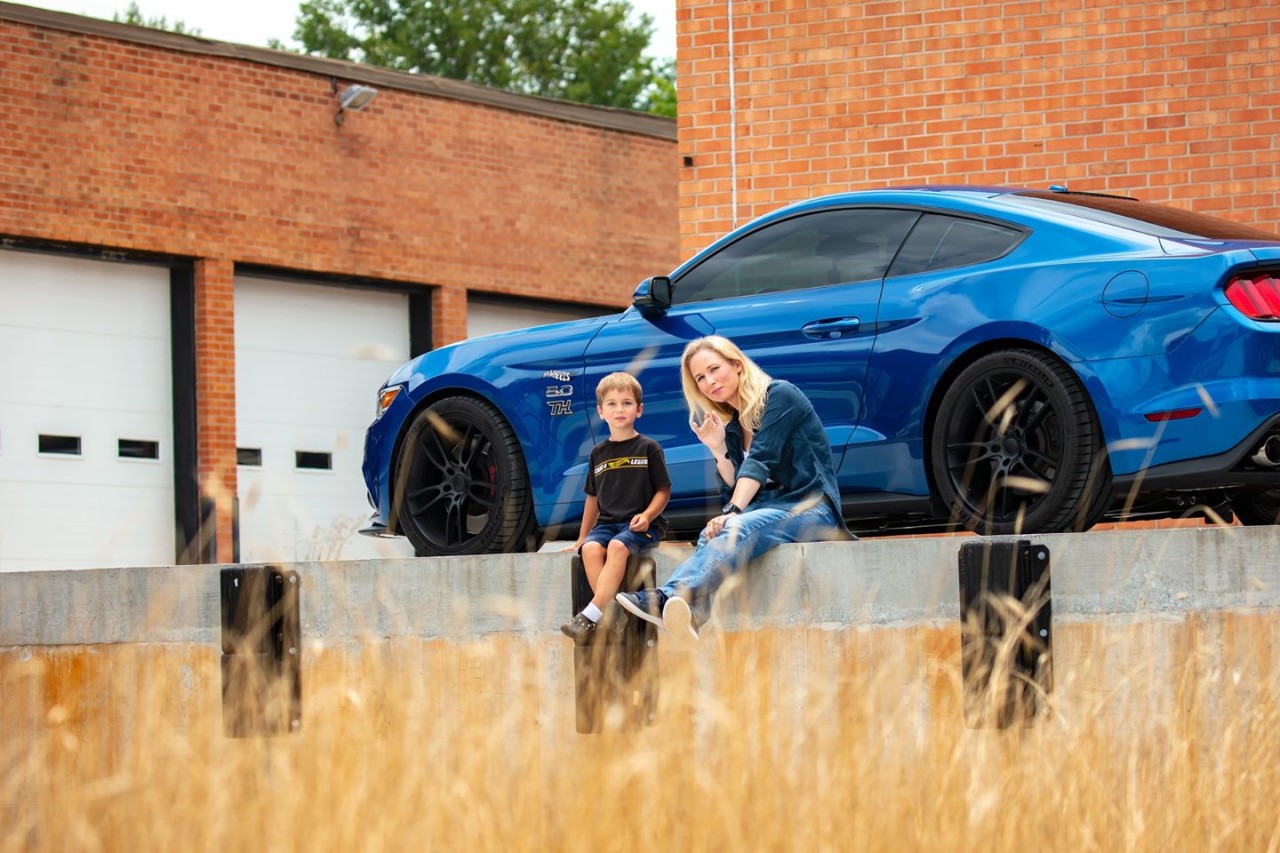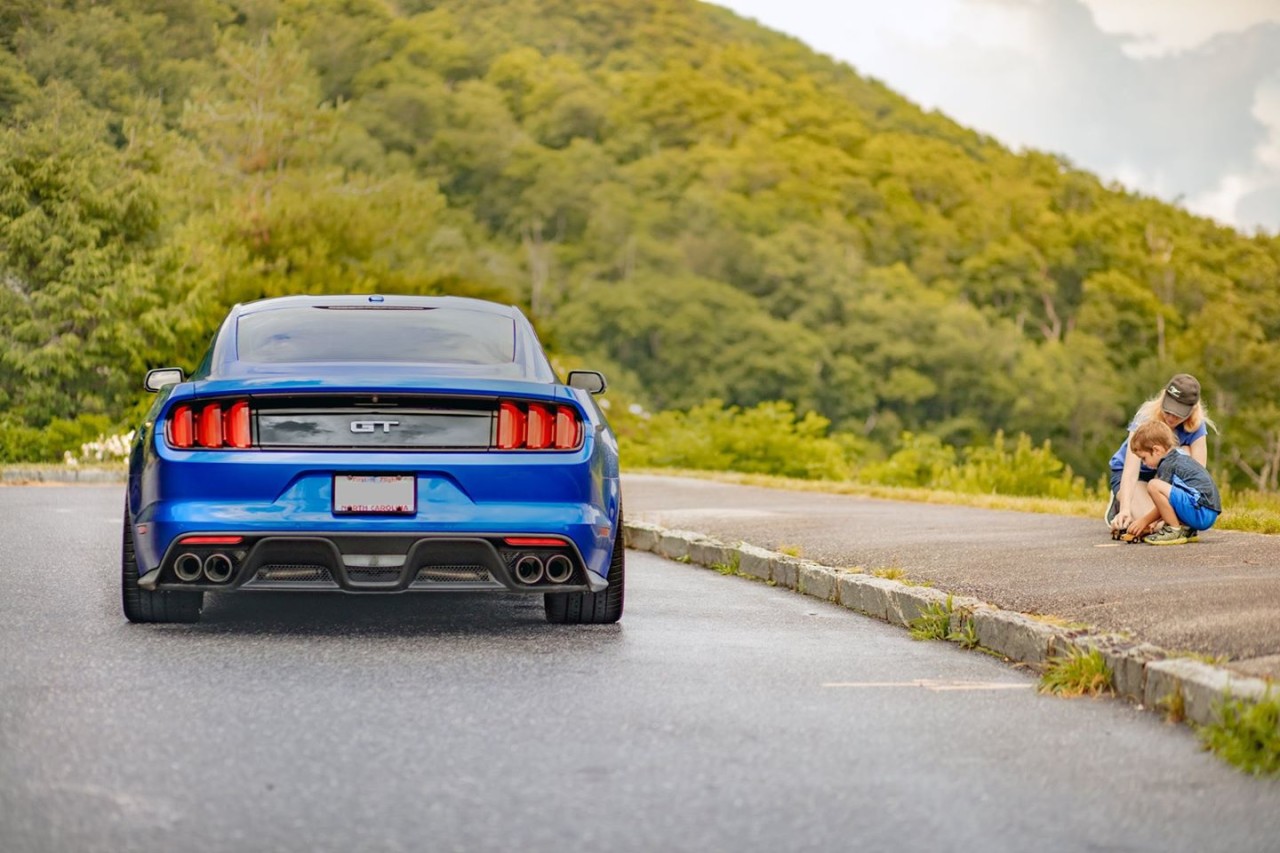 10-10-2019
Ok, it's actually not that little. And, I am more terrified & excited than I have ever been in my entire life. Yet, I am fully committed and have put my money on the table to reserve my spot. The event filled up very quickly this year, and there are 36 teams on the waitlist. I am number 31. OLoA announced that the same thing happened last year, and "with the typical drop-outs, everyone that wanted to go, and could, made the event". I am moving full steam ahead with certainty that I will be in the event.
I will be sharing my updates as I plan and prepare for this epic event.
Entry #1, October 10, 2019.
Team Blue Steel.
We are currently over 6 months away, and there's lots to do. I have compiled a rough budget, it's close to $15k. On top of the $3k entry fee, insurance policy, required tires & safety equipment, fuel, food & lodging for at least 2 people, I need every drop of racing gear (suit, shoes, gloves, full face helmet, etc). I have also included cost for new brake pads and rotors for all four corners of my car, and an extra set of brake pads to carry on the event.
Planning is still in the infancy and contains a lot of variables. I have not chosen a teammate(s), but there are a few interested and very qualified persons. I'm not 100% set on using my Mustang and would be interested in running a brand new stock vehicle. I currently have zero official sponsors.
The definitive variable is that I need racing gear. Proactively, I will be in Charlotte, North Carolina this Sunday-Wednesday, to shop for, and try on, said racing gear. I am thrilled to finally be shopping for a racing suit. I have dreamed about this for a long time!
That is all for now. Please follow me on this journey through my FB posts and on Instagram, @bl_steel.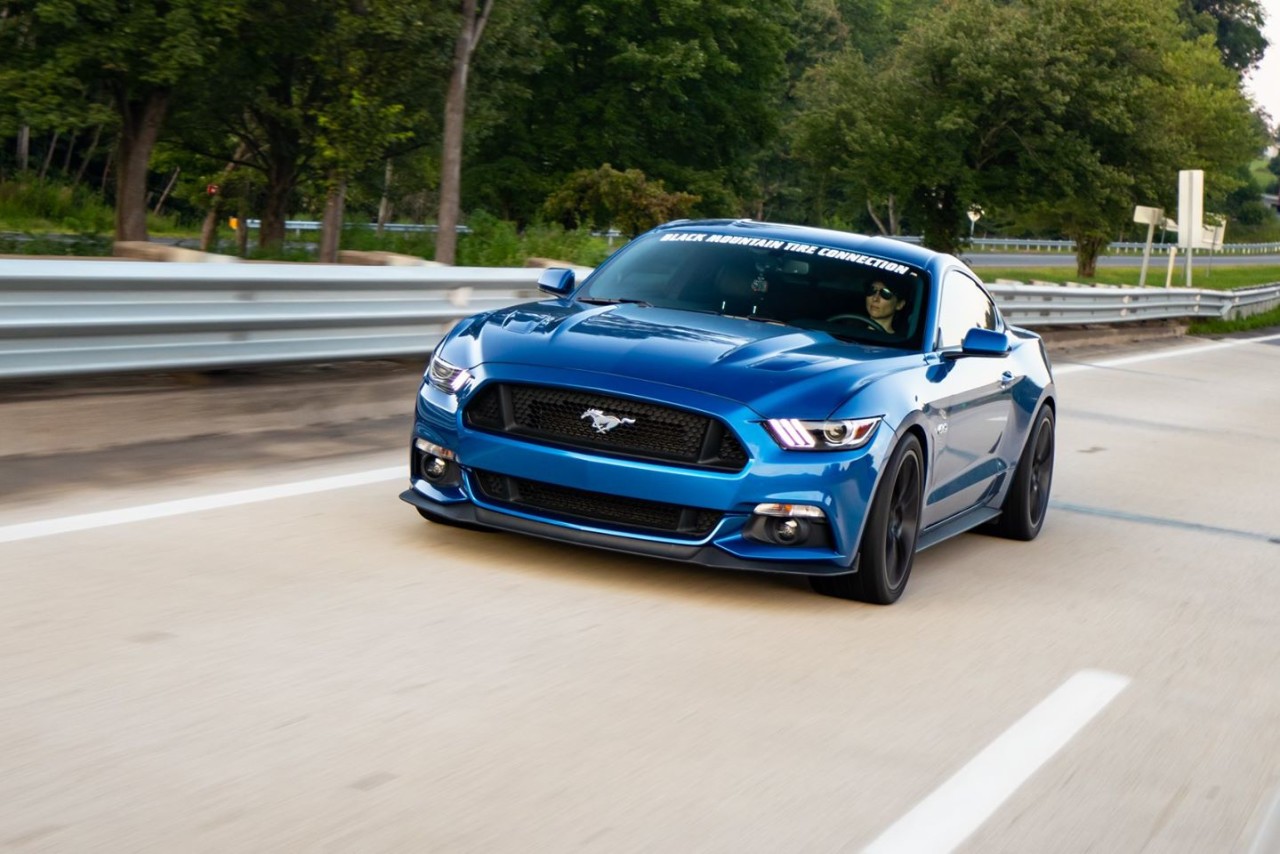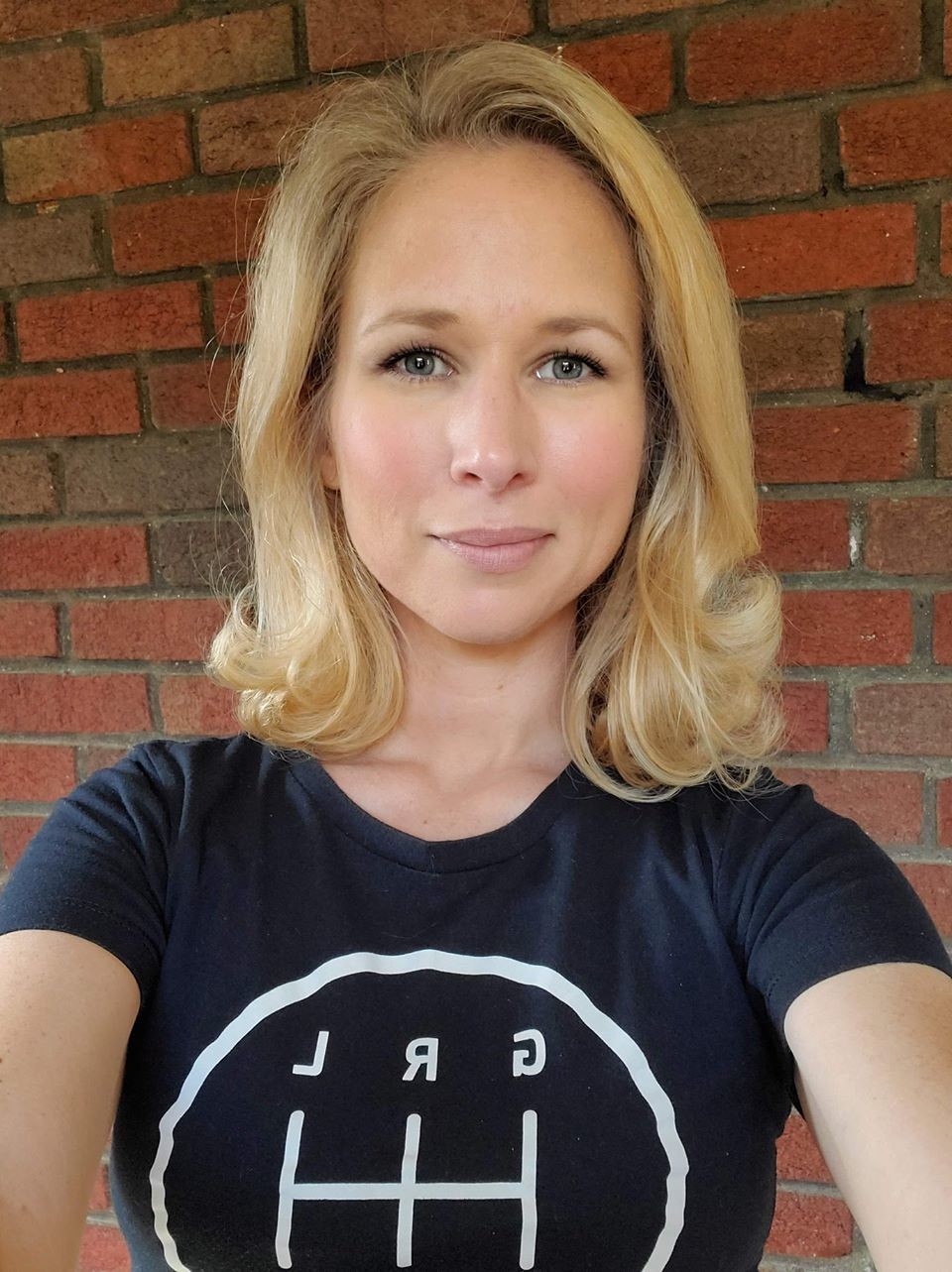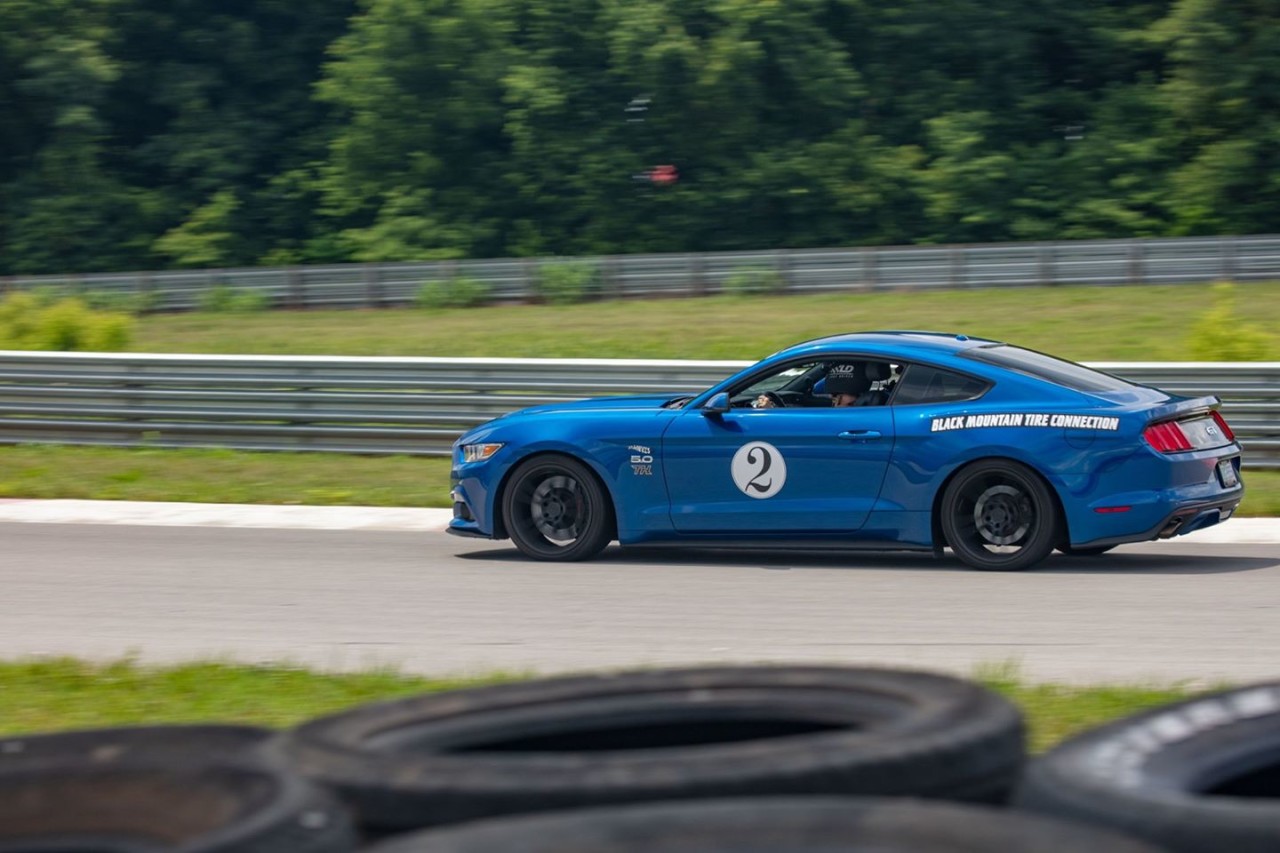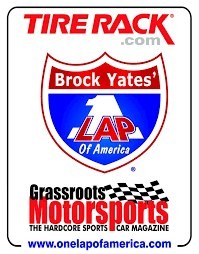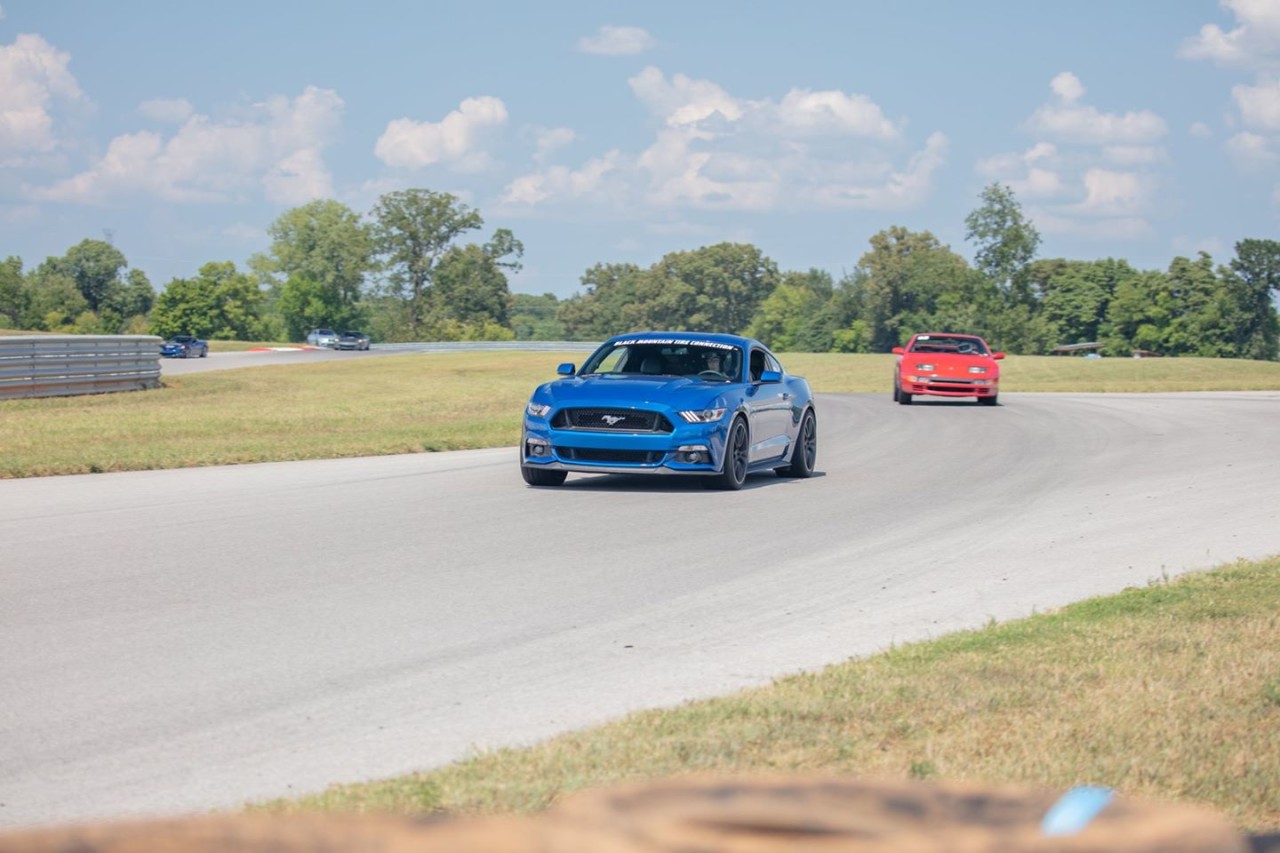 10-14-2019
Big thank you to John and the guys at HMS Motorsports in Mooresville, NC for getting me outfitted for the 2020 season and One Lap of America! I nabbed myself a Stilo ST5 GT Composite helmet with full comms kit installed, Alpinestars Tech 1-zx gloves, head-to-toe Alpinestars Race v2 base layers, and ordered Alpinestars Tech-1 T shoes in black/white/red. They'll be sent directly to my house, free shipping! Picked out a racesuit, the Alpinestars GP Pro Comp (mens XS) but at this point my bank account needs a moment to recover! There were less expensive options and more expensive options, but with help we were able to get me geared up with a great balance of form, function and price.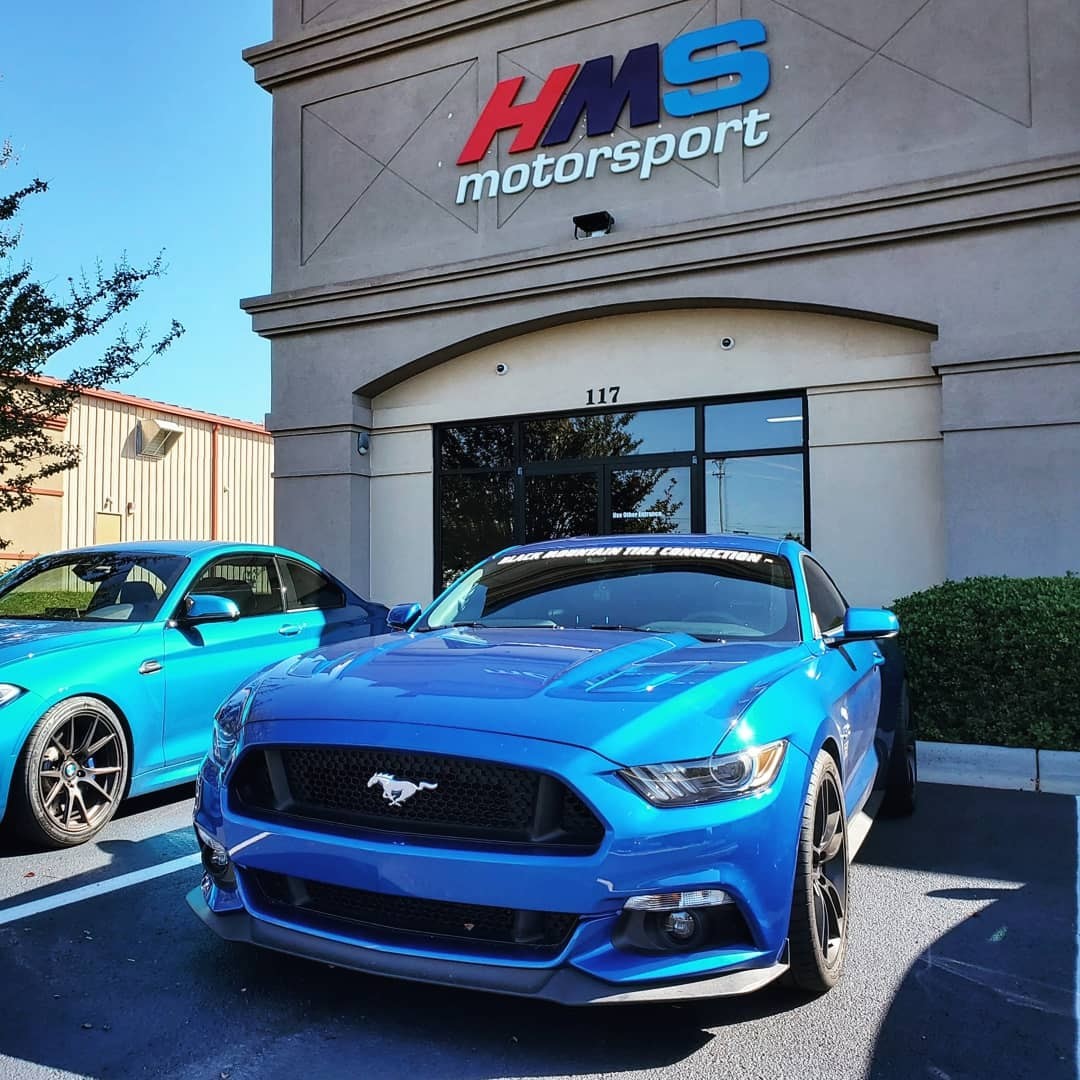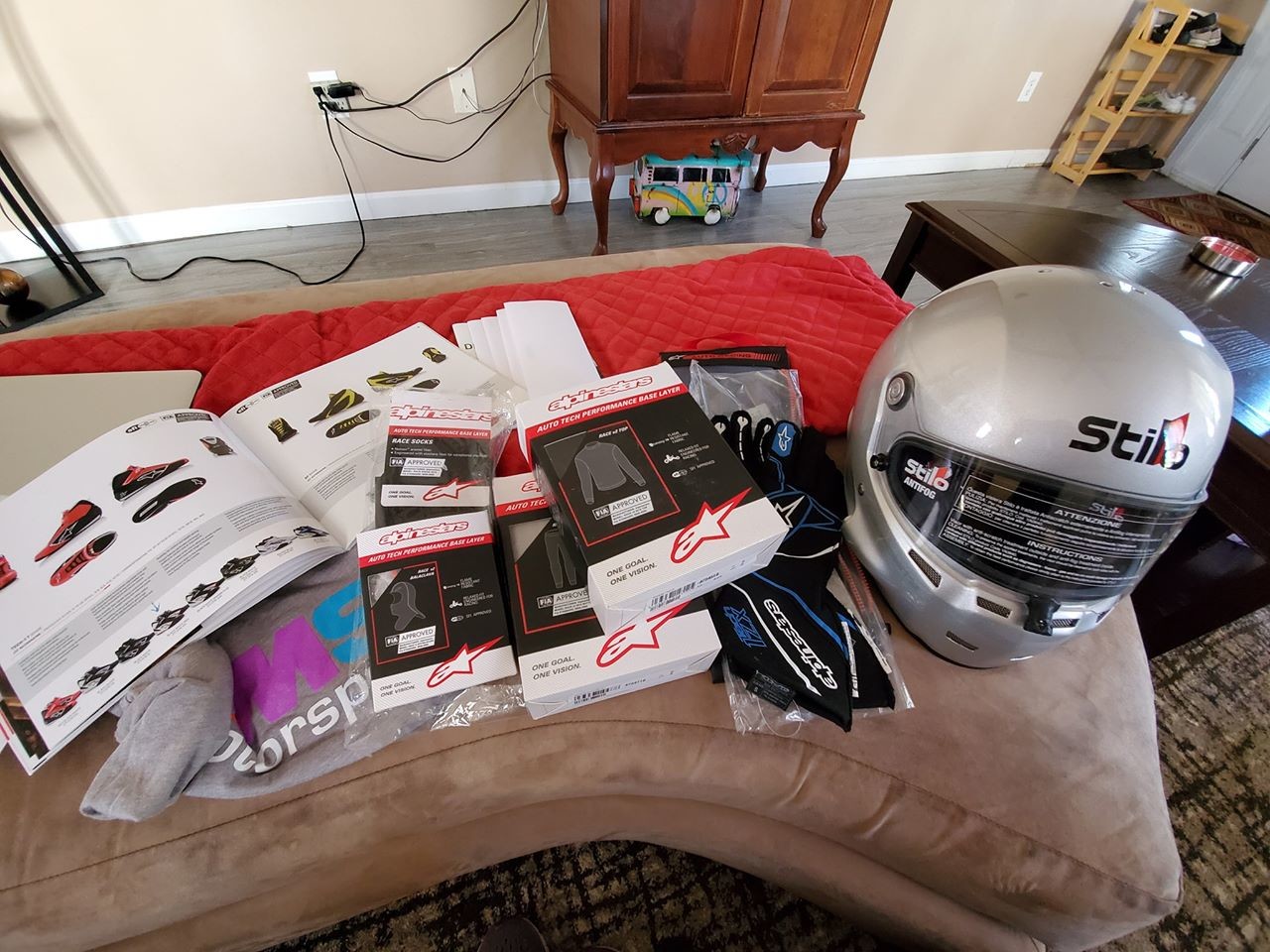 10-18-2019
It is #wearyourhelmettowork Day presented by @stilo_official and @grassroots_motorsports. I'm a full time Mom and Domestic Engineer. FWIW, my son did not think it was weird that Mommy was wearing her helmet all morning, just that she was taking pics of herself doing it! #stilo #grassrootsmotorsports #domesticengineer #dressforthejobyouwant #momlife #momlifeasadriver #playallthemotorsports #anycompetitiononehelmet @ Black Mountain, North Carolina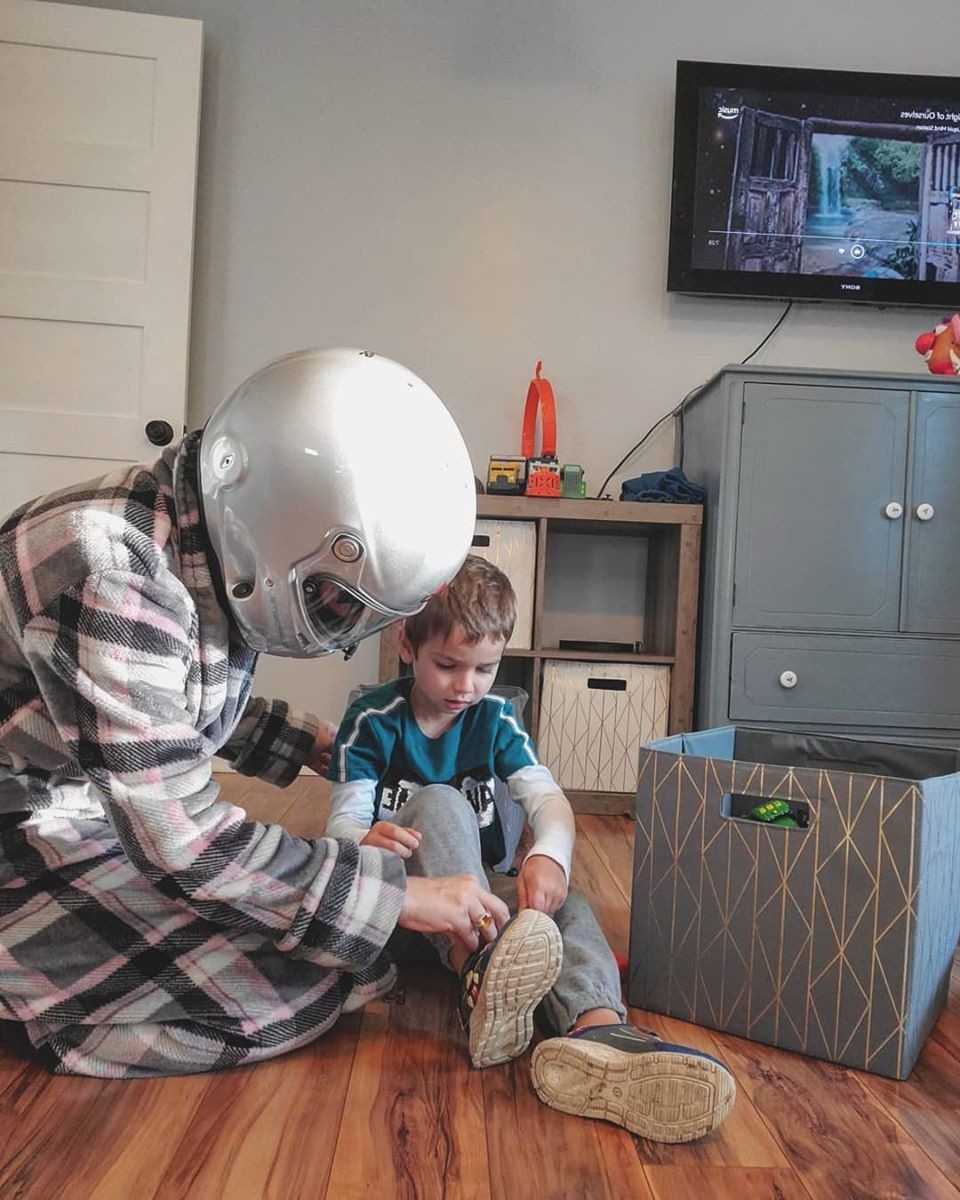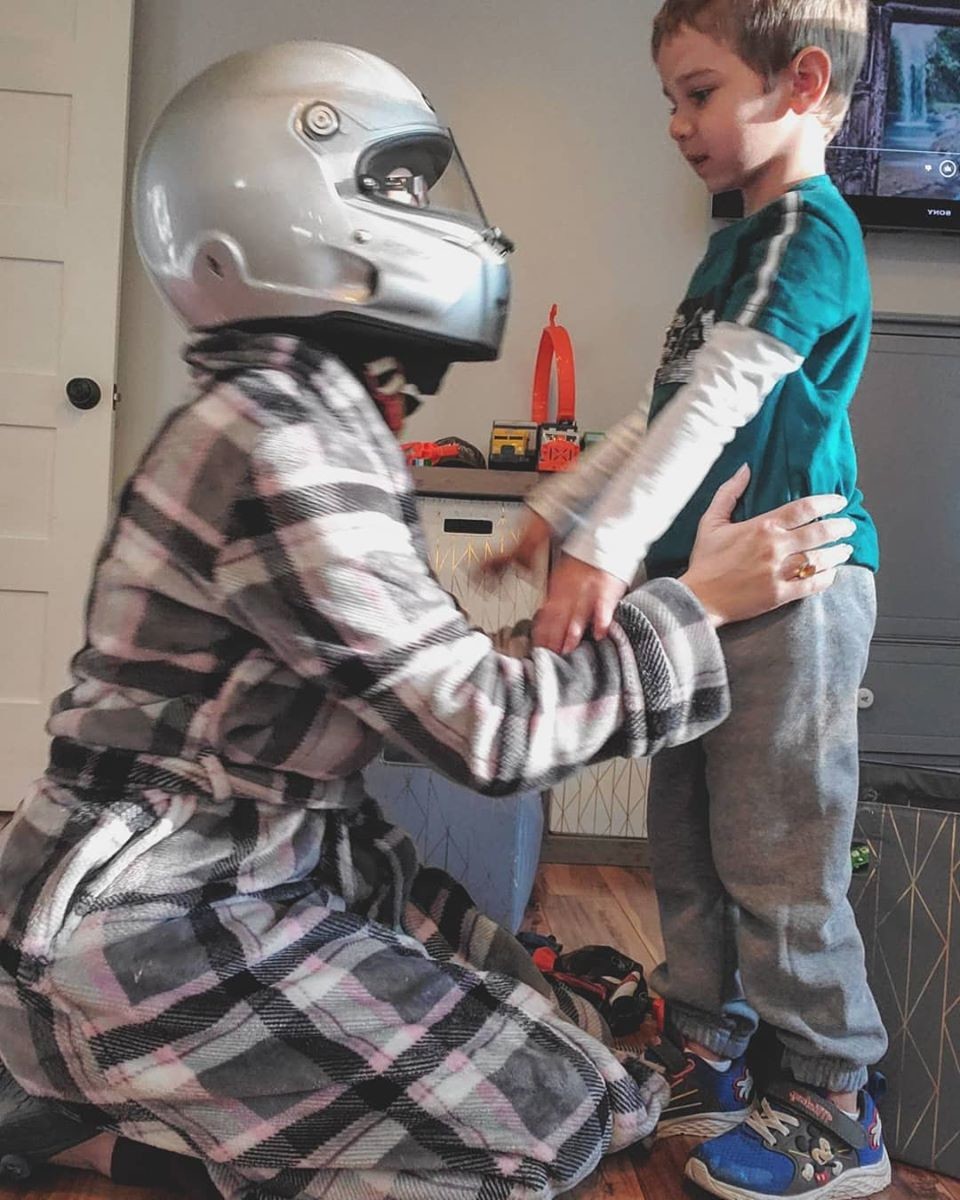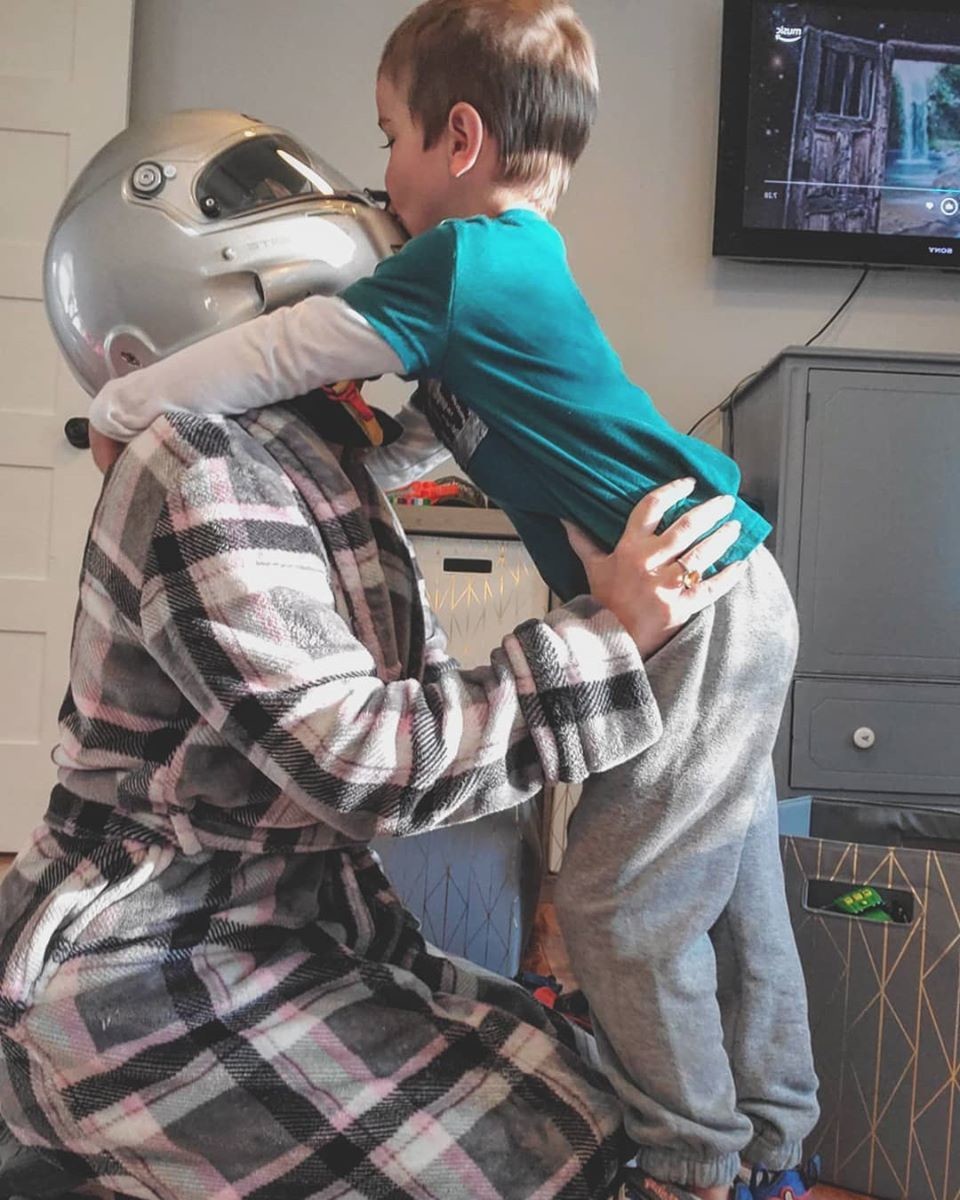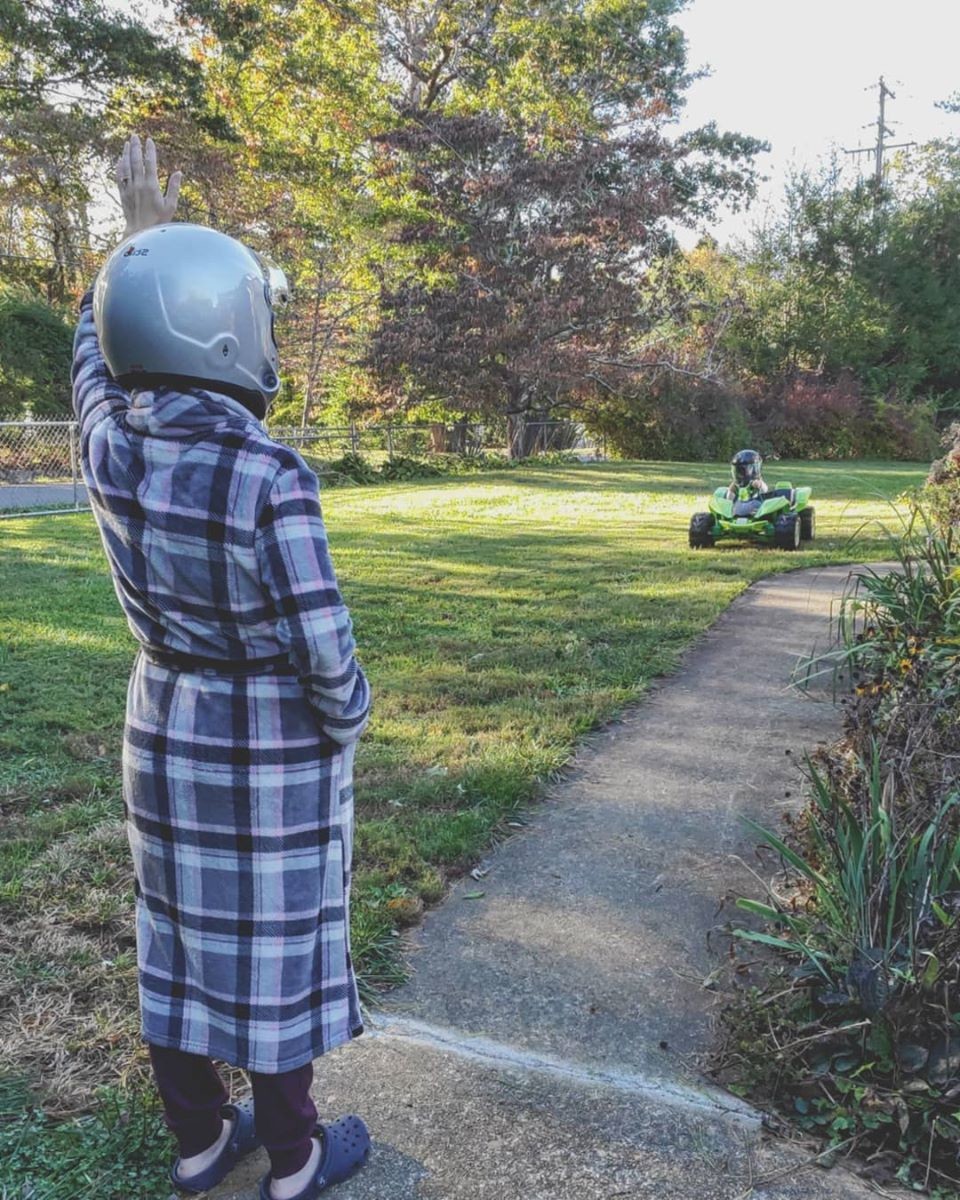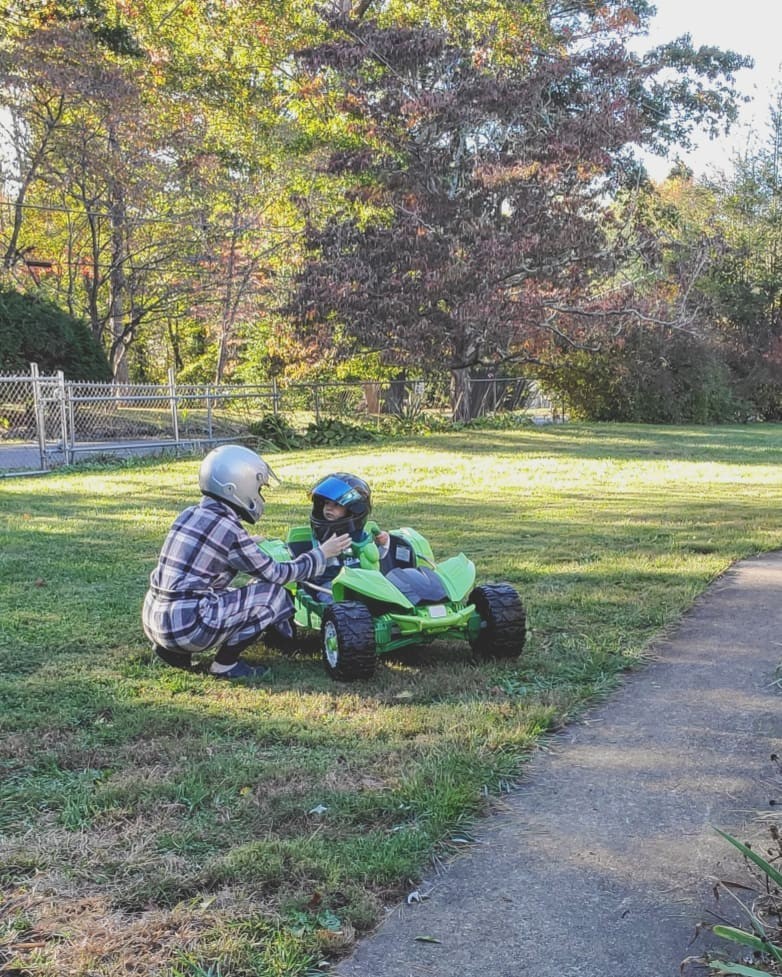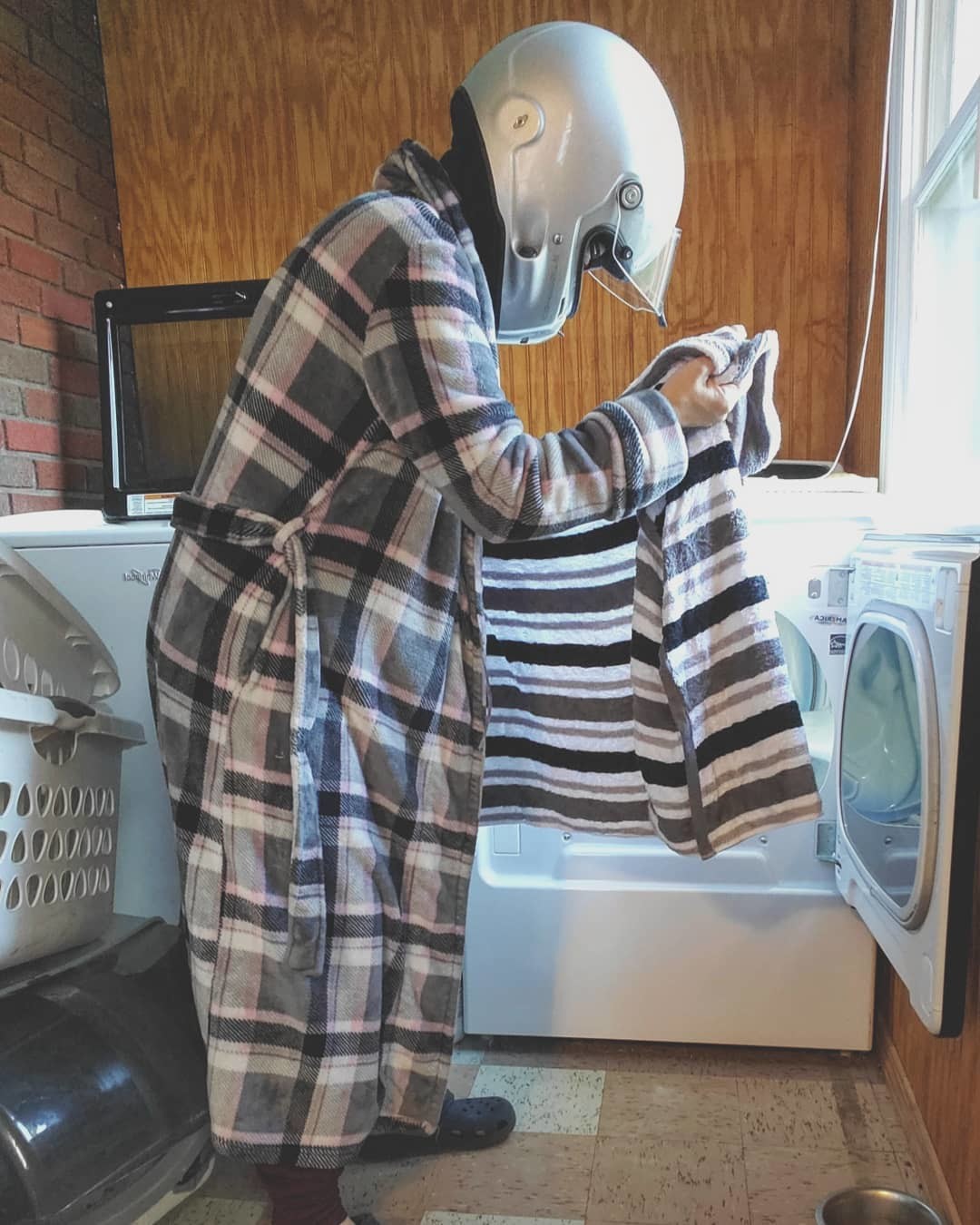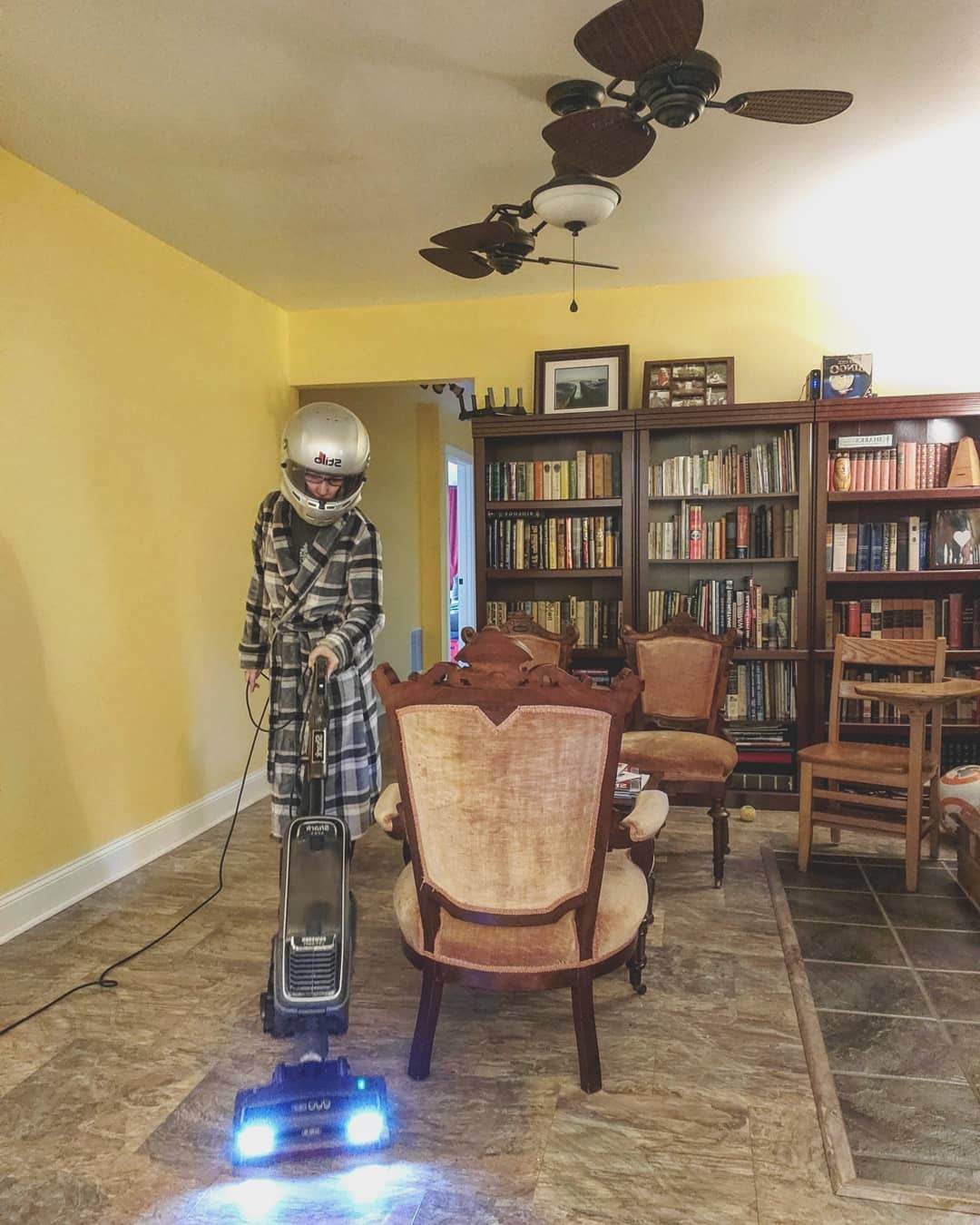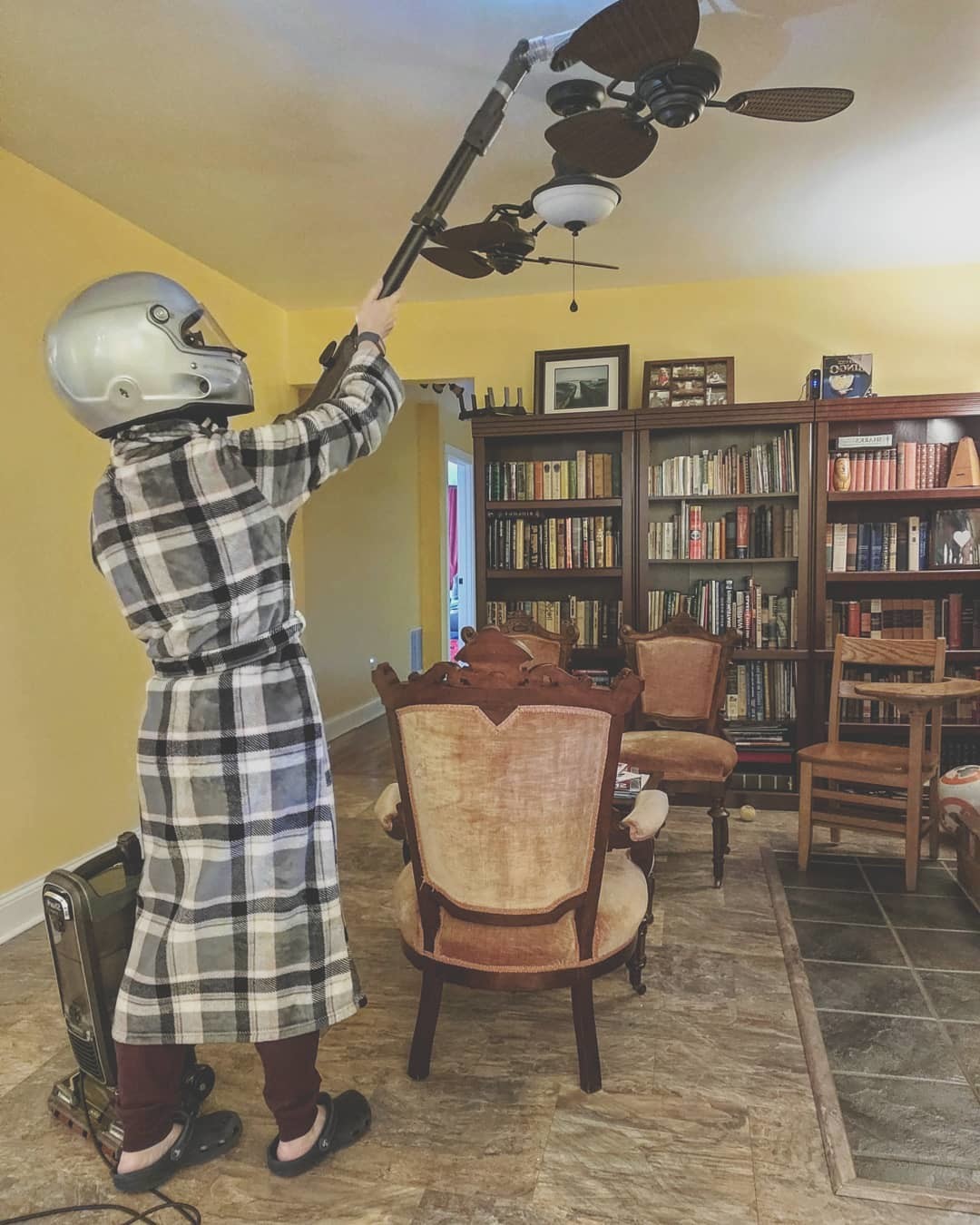 10-24-2019
I only lack a race suit now, but then I'll be outfitted for many race seasons to come!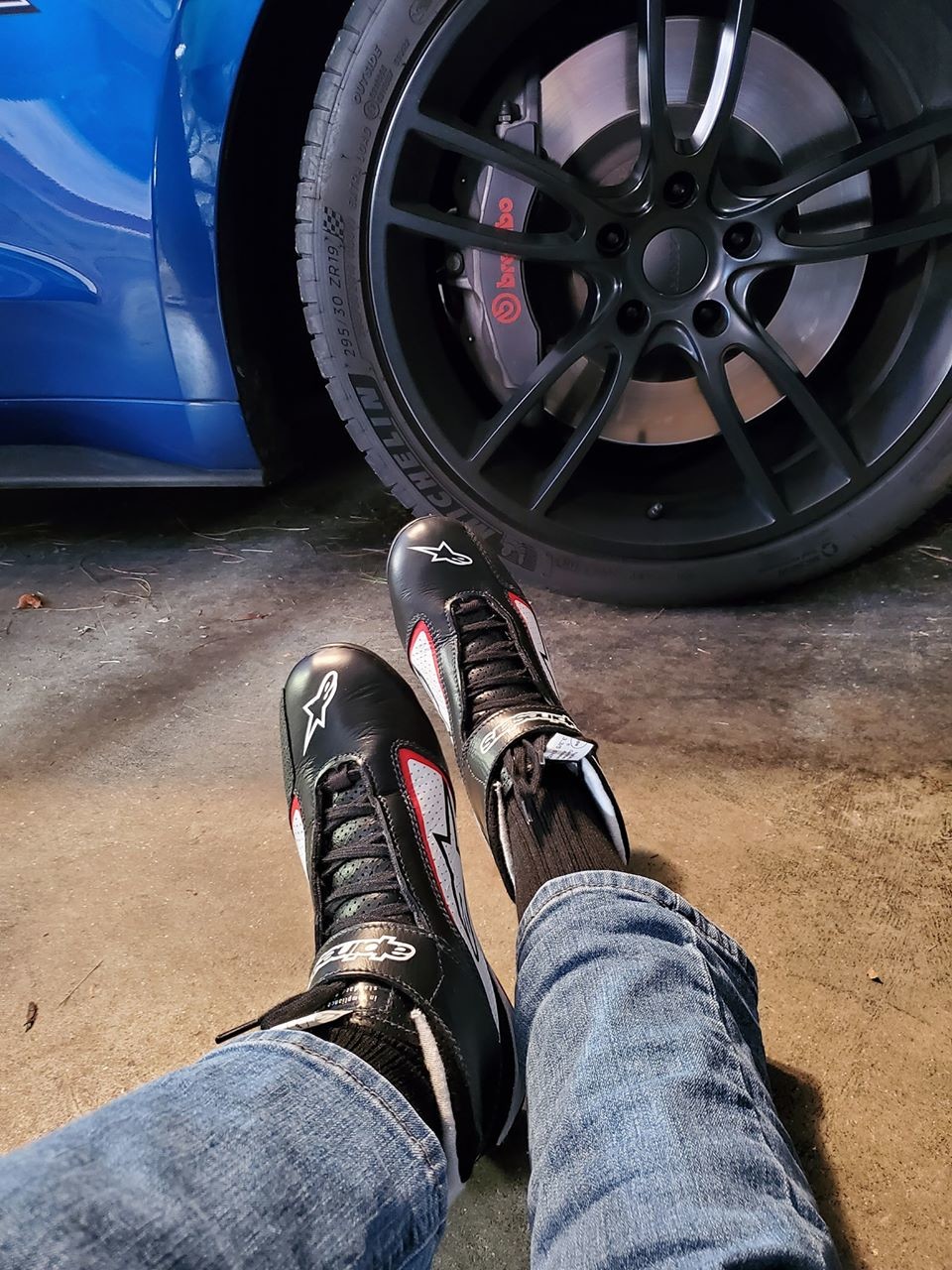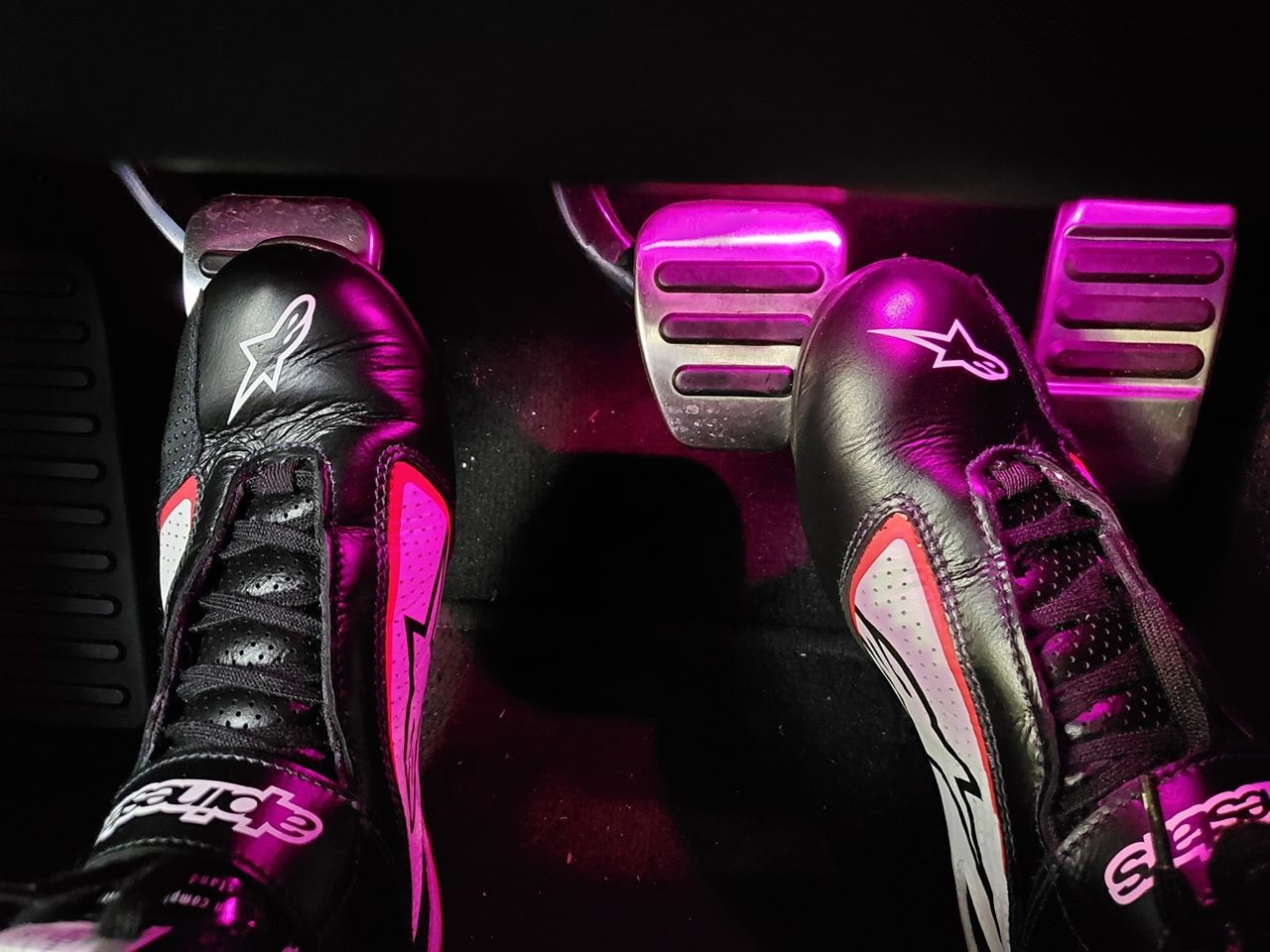 11-3-2019
In the space of a small autocross, Rob and the team had laid out a miniature road course, complete with pits and "passing zones". The first 3 run groups started with lead-follow laps at 25%speed, to give the mostly novice drivers a chance to learn the course. It was then time for each run group to go out for a continuous lapping session lasting 10 minutes.
After all 6 run groups drove two 10-minute lapping sessions, we were given a lunch beak. I was surprised to learn that I had set the fastest time of the day (FTD) during my 2nd lapping session. But, that had quickly changed as friend and local autocrosser, Brian Dickens in his C5 Corvette beat my time in the following run group. Pretty cool for a couple of "novices" to set such quick lap times!
As the day progressed, Brian and I were moved into more advanced groups and continued to battle! A Focus RS joined the top rankings, pushing me to 3rd fastest. A placement I was never able to advance.
(Disclaimer: Arbitrary lap times were taken with hand held stopwatches to show students their progression throughout the day. Although, there is always an element of competition when people are passionate about their activity and trying to improve themselves, it is important to remember this was not a competition.)
Although, trying to regain FTD was in the back of my mind, I was really excited to try new driving techniques to test and advance my skills. I began getting more and more comfortable with throttle steer around the tight corners. I also tried different driving lines and later braking zones. It was awesome to be able to try different things in the same turn, over and over, during continuous lapping. It really showed me how setting up turns ahead could provide better entry and speed for later sections of the course. I did plenty of over-throttling and recovering, which is a part of racing that gives me the most anxiety. I was also able to be very close to other cars when they made hard braking or over steer mistakes to give me a feel for how to react. A reaction, I might add, that seemed much more instinctual than I imagined. Granted the speeds were much slower than they will be on a full-sized road course, I feel much more confident in my ability to avoid collisions and stay in control. Overall, this is one of the best driver educations I've ever participated in and l look forward to attending another one!
Additional notes:
-I had just over 60minutes seat time, not bad for a $90 track day.
-The Ford Performance Track Suspension gave Hank an entirely different driving dynamic compared to the FP Street Handling suspension I had been previously running. Body roll was greatly diminished during turns. Weight shifts were smoother during acceleration and braking. All this allowed me to push the car harder and go faster. I was able to use throttle steer without unsettling the car. And, I noticed that under hard braking, the car would pitch a little forward, but mostly stayed flat and didn't overload the front tires as much as it used to. Granted my daily around town driving is more firm with a tad more noise, it is a great sacrifice to have exponentially more control of the car during hard driving.
-Oh, video. Always fun to get home and see the possibility for loads of improvement. The video I've posted was from my 2nd morning lapping session during which I set my recorded fastest time of the day. However, my afternoon lap times were close and very consistent.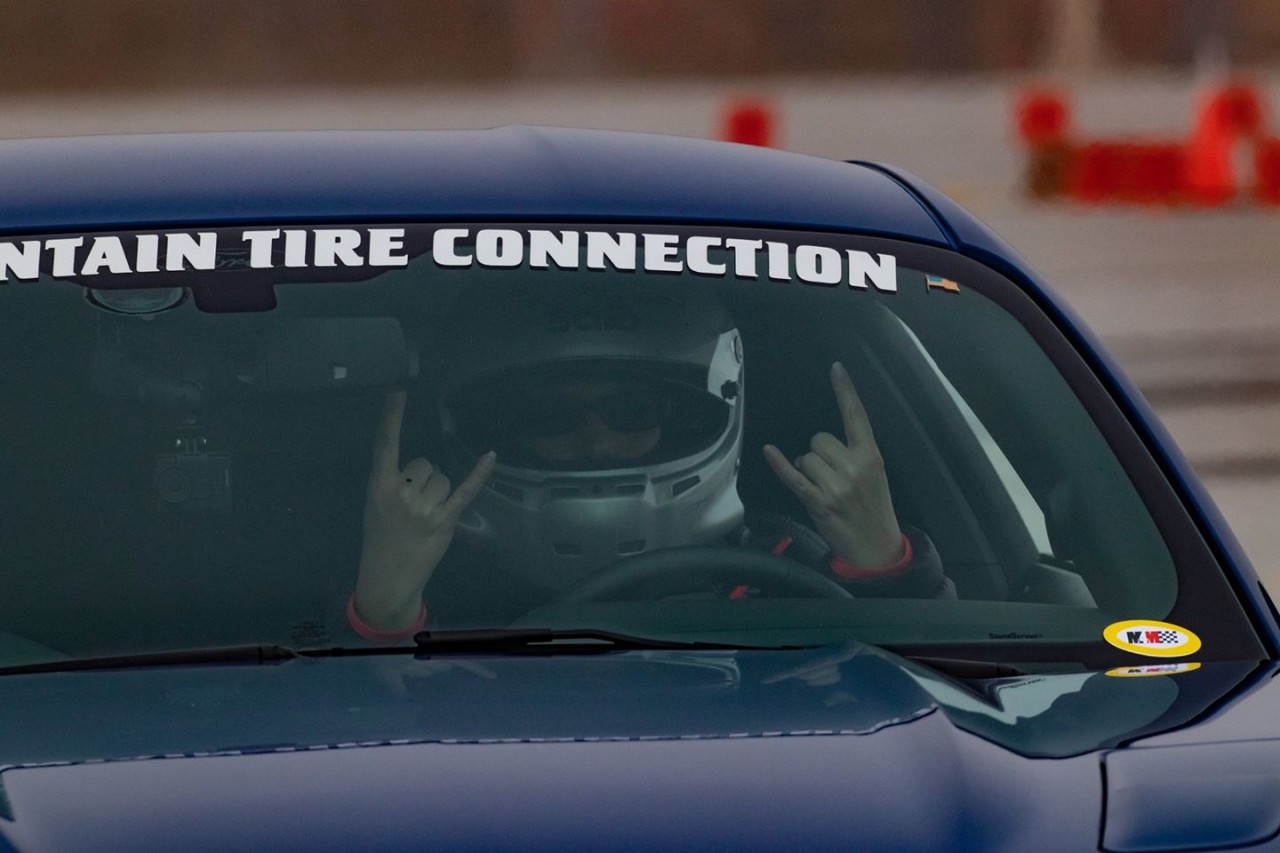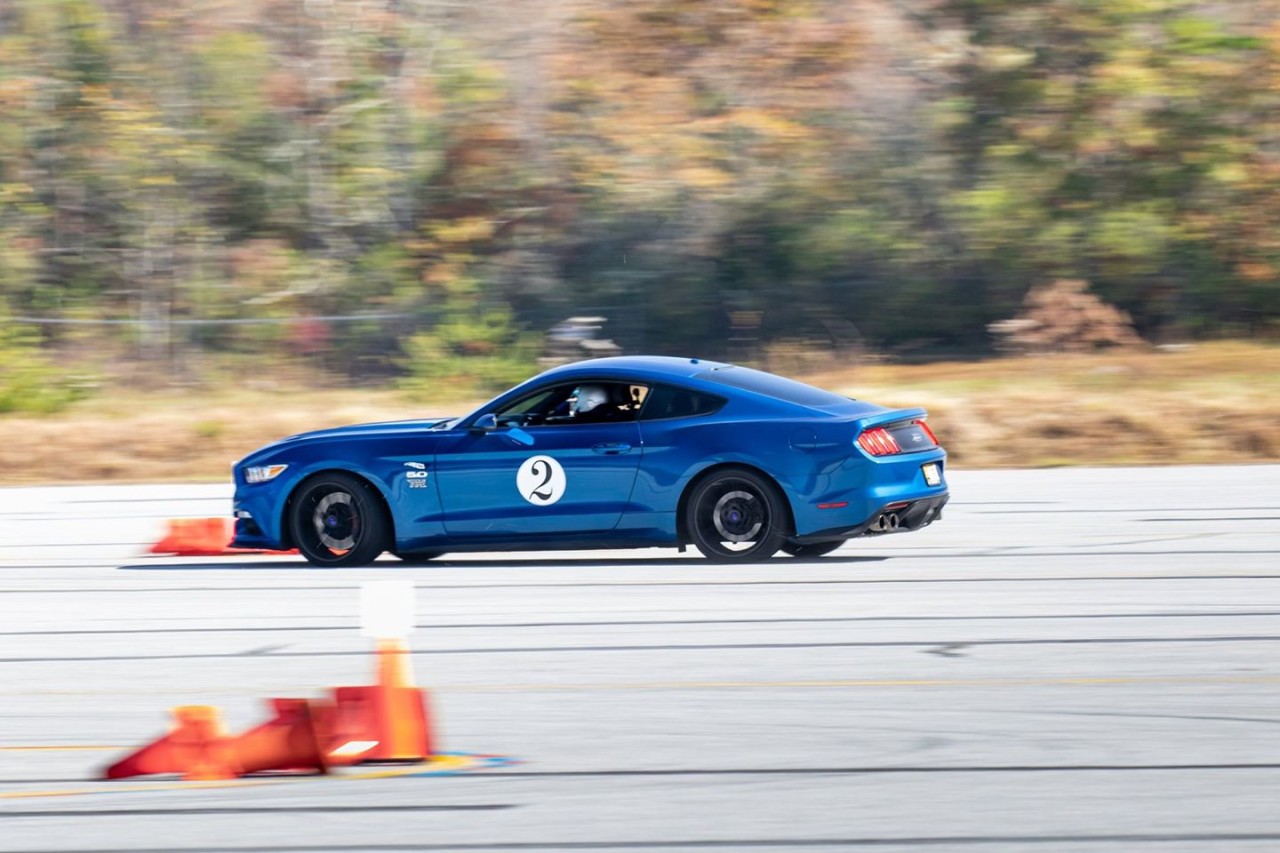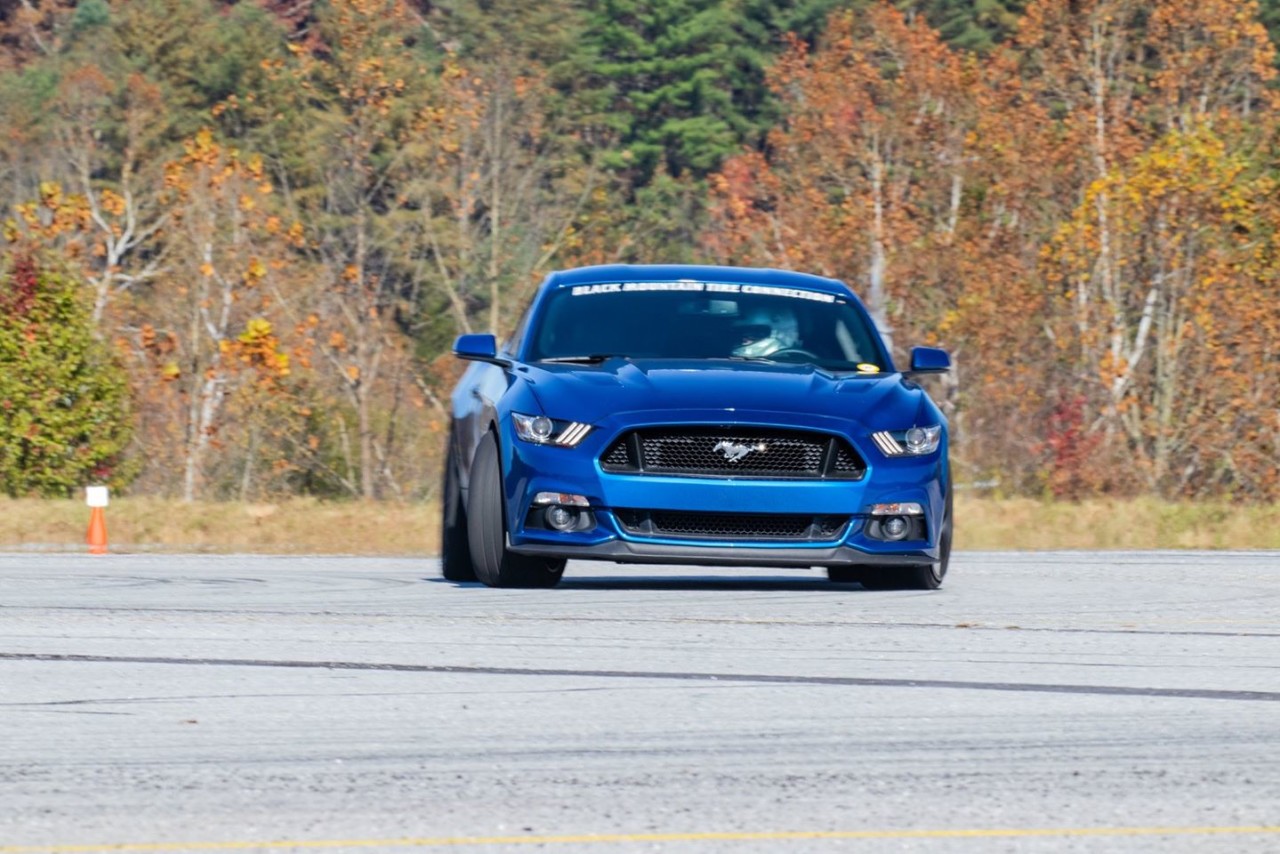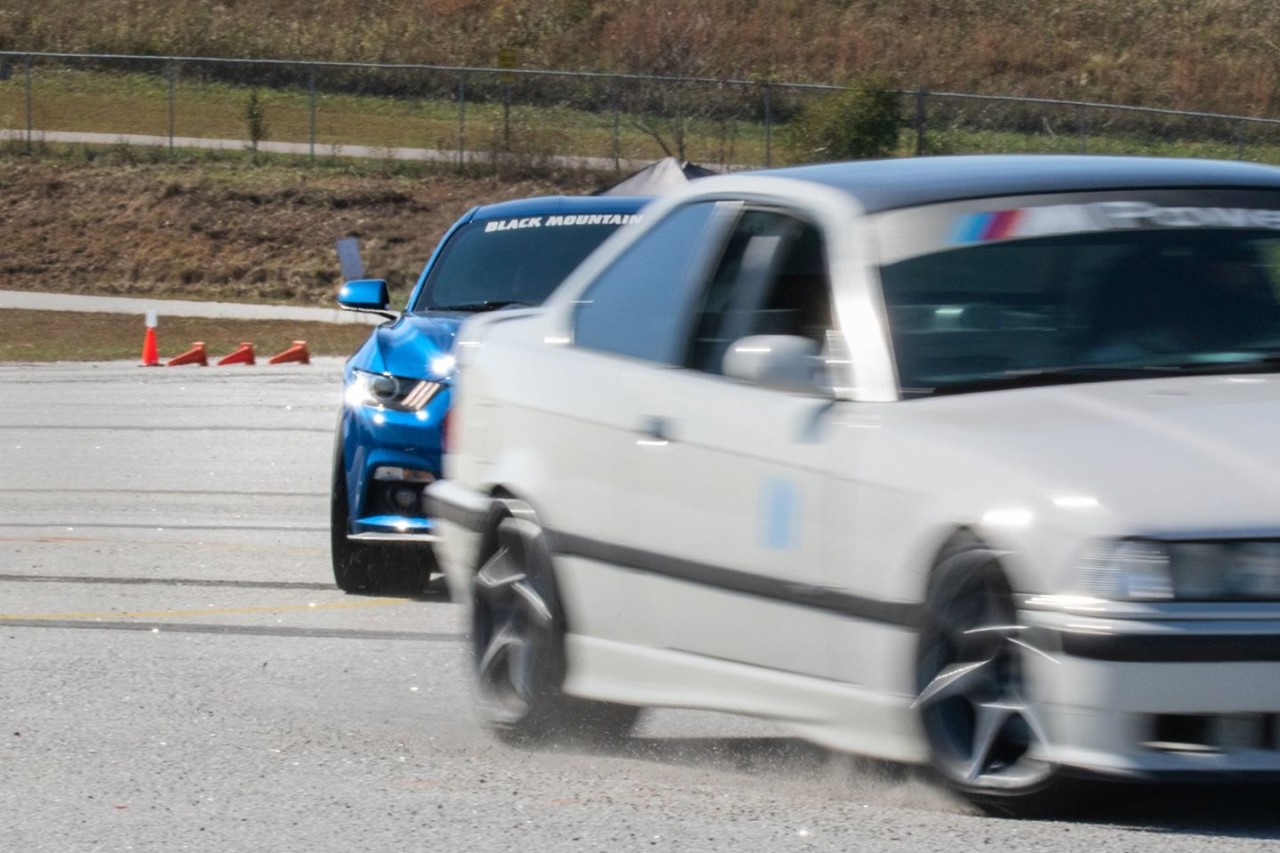 11-11-2019
.
.
.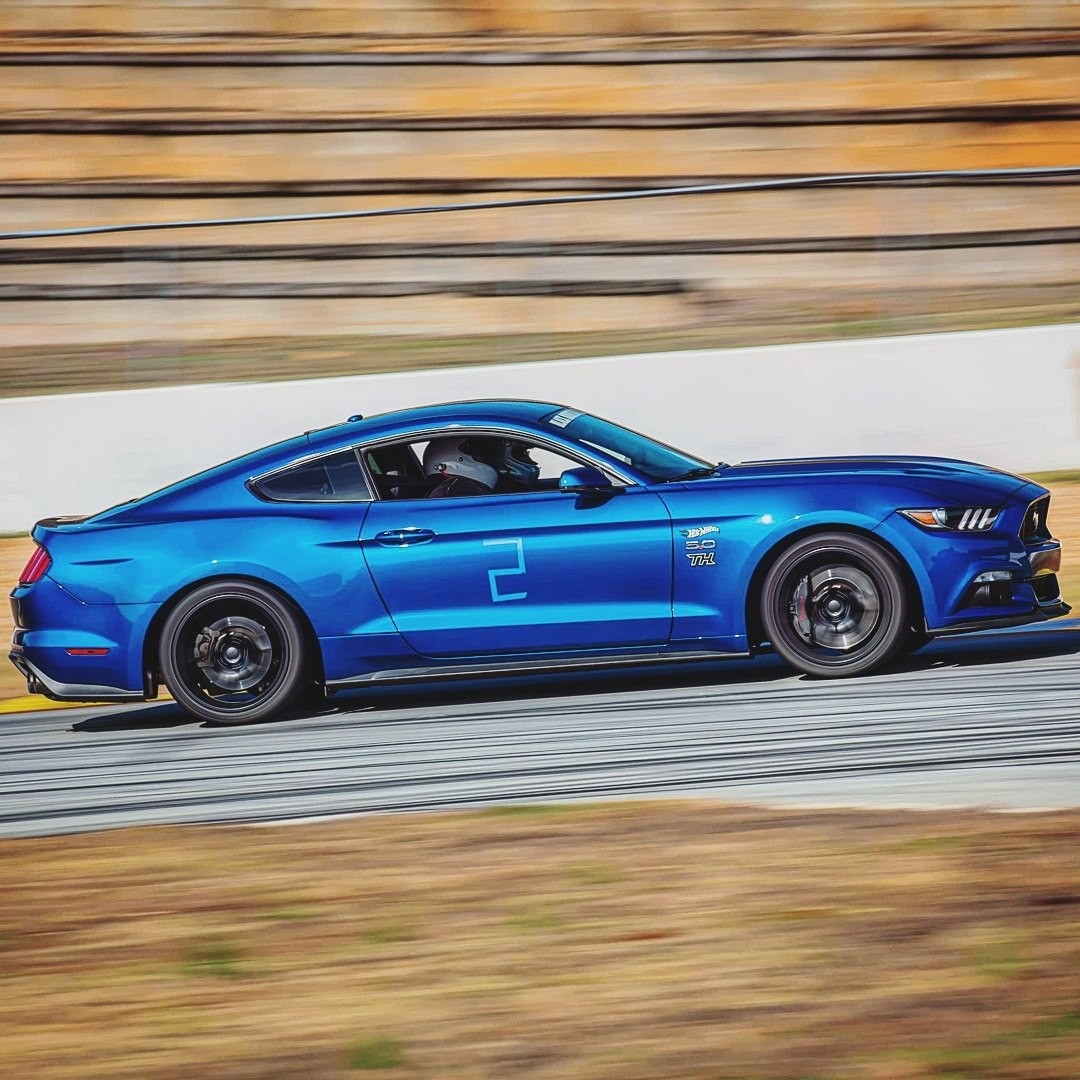 I'm working on getting video of all four 30minute sessions uploaded and finishing up a personal recap of the entire event.
Note: I use the term "bad driver" in regards to another car on course. I regret saying it, they're not a bad driver they just need more seat time and instruction (as do I!).
11-13-2019
It was a dark rainy night as I missed the turn into Gate 2 at the entrance of Michelin Raceway Road Atlanta. I was on my way to the Novice Driver's meeting held the evening prior to the Women's Track Day Powered by Michelin. Traveling with a few friends, in separate cars, we had just made the 25 minute drive from our "Home Away" rental in heavy traffic. I was the only one to miss the turn, "smooth Ryan, very smooth". After making a U-turn on a pitch black rural two-lane, I pulled into the iconic Road Atlanta and caught up with my buddies. Together we walked into the Michelin Tower to find we were about 30 minutes late to the meeting. I felt my face flush as we made our way to a table in the back. "Great", I thought sarcastically, "things are going perfect." Sitting uncomfortably in my half pulled-out chair, scared to move and create more of a distraction, I listened as the Mann continued explaining the meaning for different track flags. In front of a large crowd, Chief Driving Instructor, Scott Mann, clearly explained what each flag indicated, when they would be used, and what to do if/when we see one on track. Mann also went over how the following day would proceed, from getting cars "tech'd" to driver's meetings to pairing drivers with instructors. Next, we heard from two-time IMSA Champion and active professional race-car driver, Christina Nielsen, followed by Michelin's first woman test driver, Sarah Robinson, who now brings her skills and passion for driving to every day people and the next generation. As the meeting concluded, people were socializing and finishing the final preparations for tomorrow's adventure. I was able to meet some social media friends and caught up with Sarah Robinson, who I had met at a previous Michelin event. Sarah let me know I had been assigned an awesome instructor. She called him a friend and mentioned he had a lot of racing experience and seat time at this track. Our simple talk calmed my nerves a little but I was still antsy about the next day. Tomorrow would be my 3rd time on a road course, but 1st official High Performance Driving Event (HPDE) and 1st time on track at Road Atlanta. I slept about 4hours that night.
The next morning started before the sun came up. My troop of 4 women drivers, and 2 supportive men, arrived early and set up an area to shade our gear and purses as we emptied our street cars, seemingly turning them in to track cars. It was then time to have the cars officially tech'd. The all-male crew from ACI Motorsports checked over our cars looking for any safety issues, added tape numbers to the outside door panels, and gave us the "ok" to hit the track later on. It was around 7:30am when we headed inside the Michelin Tower for our complementary breakfast and to get ready for the driver's meeting. The driver's meeting was a bit of a blur for me. As they went over important track flags again, my mind wondered, nostalgically thinking about racing legends that had driven the track that was just a few feet away.
At the end of the meeting, I met my instructor, Michael Lawrence. Michael, I perceived, was a little uneasy after I told him about my lack of track experience, described my high horsepower Mustang, and mentioned I had been driving Road Atlanta on Forza. He hid his uneasiness well and calmly asked me "what did I want to get out of today?". That question stunned me, what DID I want? I knew what was expected; to drive around the track at our designated times and not hit the other cars. After a moment's pause, I told him I wanted to learn the racing line for this track, that I wanted to take turns fast, that I wasn't concerned with top speed on the straights, that I wanted to feel more comfortable on track with other drivers and looking for corner stations and most importantly, have a lot of fun. Those were high expectations, and looking back, I got everything I wanted and more.
My first session on track started at 9:15am. Prior to entering the track, my instructor went over his very simple hand signals for turn left, turn right, slow down and speed up. I started the session very slow while my instructor used hand gestures and verbal communication to guide me around track. Thirty minutes later, at the end of the first session, I felt I knew the layout of the track and had a vague grasp of the racing line. I had passed some cars, and I had been passed by some cars, but I was focusing on my performance, not comparing my performance to those who may be more or less experienced than me. After each session, groups were supposed to head back into the Michelin tower for group talks and group education. My instructor, and I, stayed in the car for a few minutes and discussed the session. He gave positive feedback about things I had gotten right and also gave suggestions to work on during the next session.
My second session started at 10:45. As we staged in pit lane, my instructor reminded me the first 2 laps would be under yellow flag and we discussed what we both wanted to accomplish during the session. Heavily focused on driving the racing line, my instructor was very thorough with explaining where my car should be, where my turn in & track out points were, and when to be on the brakes and off the brakes. Quicker speeds seemed to come naturally after I got the racing line correct. With the quicker speeds meant my downshifts needed to be smoother and finished before the turn. The fine art of heel-toe is what needed to be happening, but not knowing the technique, I worked on getting my braking finished early then blipping the throttle as I downshifted into 3rd. I never quite managed to get the hang of it by the time the checkered flag signaled the end of the session. My instructor gave me some complements as we drove into pit lane and we both agreed it was a good session. I knew I had a much better understanding of the racing line, but I was I little bummed about the downshifting. We spent the next few minutes discussing how to improve the downshifting, covered my good points and ideas to make the next session even better.
Lunch time. Lunch was complementary at the Paddock Grill. Founders of Accelerating Change, Christina Nielsen and Mariana Small, stood before the group a told us a little about themselves. Christina Nielsen is the first female driver to win a WeatherTech SportsCar Championship series title and continues to race professionally. Mariana Small is the president of the Porsche Car Club of America Los Angelas chapter, with a worldly education and a background in marketing. They also gave us very encouraging words to carry with us the rest of the day. Lunch took a little time to order, but arrived promptly and was yummy. My nerves were a little frazzled as my body started to feel tired and I grew more mentally frustrated about my downshifting. I had to give myself a mental pep talk and remind myself why I was at the track (because it's what I think about everyday of my life), and remember all the good things I had accomplished so far that day (learned the racing line, increased speeds, looked for corner workers & flags, and got more comfortable passing and being passed).
As my instructor and I climbed into my car for the third driving session, a plan was made to stay in 4th gear for most of the track and work on a smooth downshift from 5th to 4th gear (instead of 3rd) going into turn 10a. The session went better than expected. I was driving the racing line, really nailing most of my turn in and track outs, and even managed to get the hang of downshifting prior to entering corner 10a. The 30 minutes flew by and left me smiling. My instructor said he was really impressed, complementing my smooth inputs and getting downshifting just right a few times. We spent the next hour between sessions sitting in my car and talking about everything racing. Before we knew it, it was time to head back out on track.
My fourth and final session of the day went amazingly. I put together all the information I learned throughout the day and rocked out some fast laps. I started to hear the tires approaching their limit on a few corners and the brakes started to show signs of heating up. At the end of the session, I exited track onto pit road feeling very accomplished. A few moments later I was talking to Christina and an entourage of cameras. My instructor laid on some pretty great complements and without delay I was crying. I don't like to get emotional, but everything in that moment felt like I was exactly where I needed to be. It was a moment I will never forget and a special thank you to Christina who may, or may not, have also teared up so I didn't feel so dumb.
The sun was starting to lower on the horizon as everyone gathered for a group photo. We crowded next to track and piled in around a couple of beautiful Porsches. Those minutes were filled with smiles and laughter between shutter clicks, along with a great sense on camaraderie. The energy and good vibes filled the Michelin Tower as we grabbed light hors d'oeuvres and took our seats for a final group meeting. Rounds of applause and motivational commentary was followed by raffle drawings and goodie bags. Michelin, Porsche, and The Driving Club at Road Atlanta contributed some great prizes. I won a sweet Michelin shirt, as did a couple of my buds. One of my friends won a private driving instruction day provided by The Driving Club!
The day was officially over and can only be described as a success. Accelerating Change did an excellent job creating a high quality high performance driving event focused on women. The blending of a woman created event, female only drivers, a mostly male driving instructor group, and all male tech team, proved that women want to be on track and men involved in motorsports want women there too.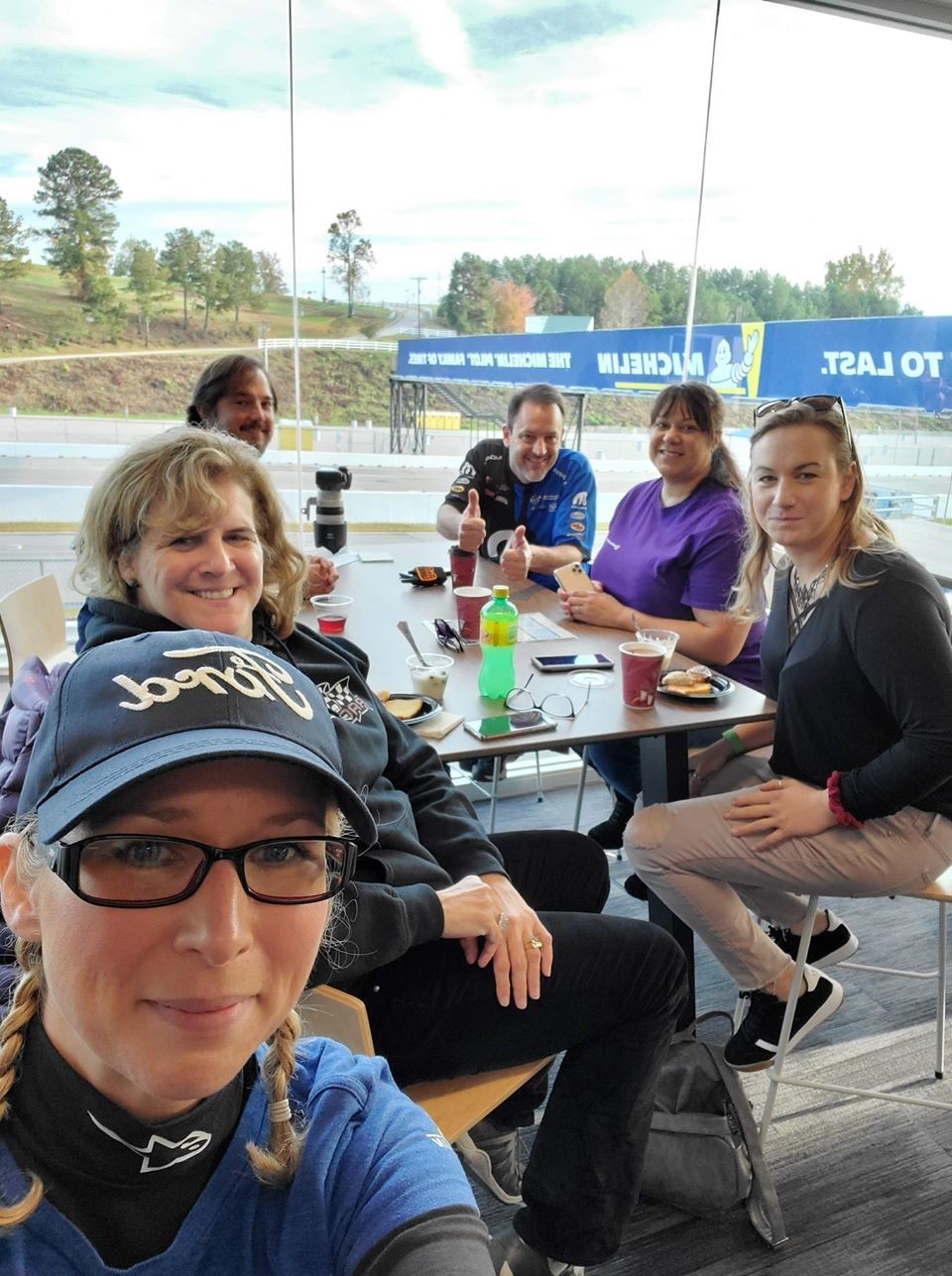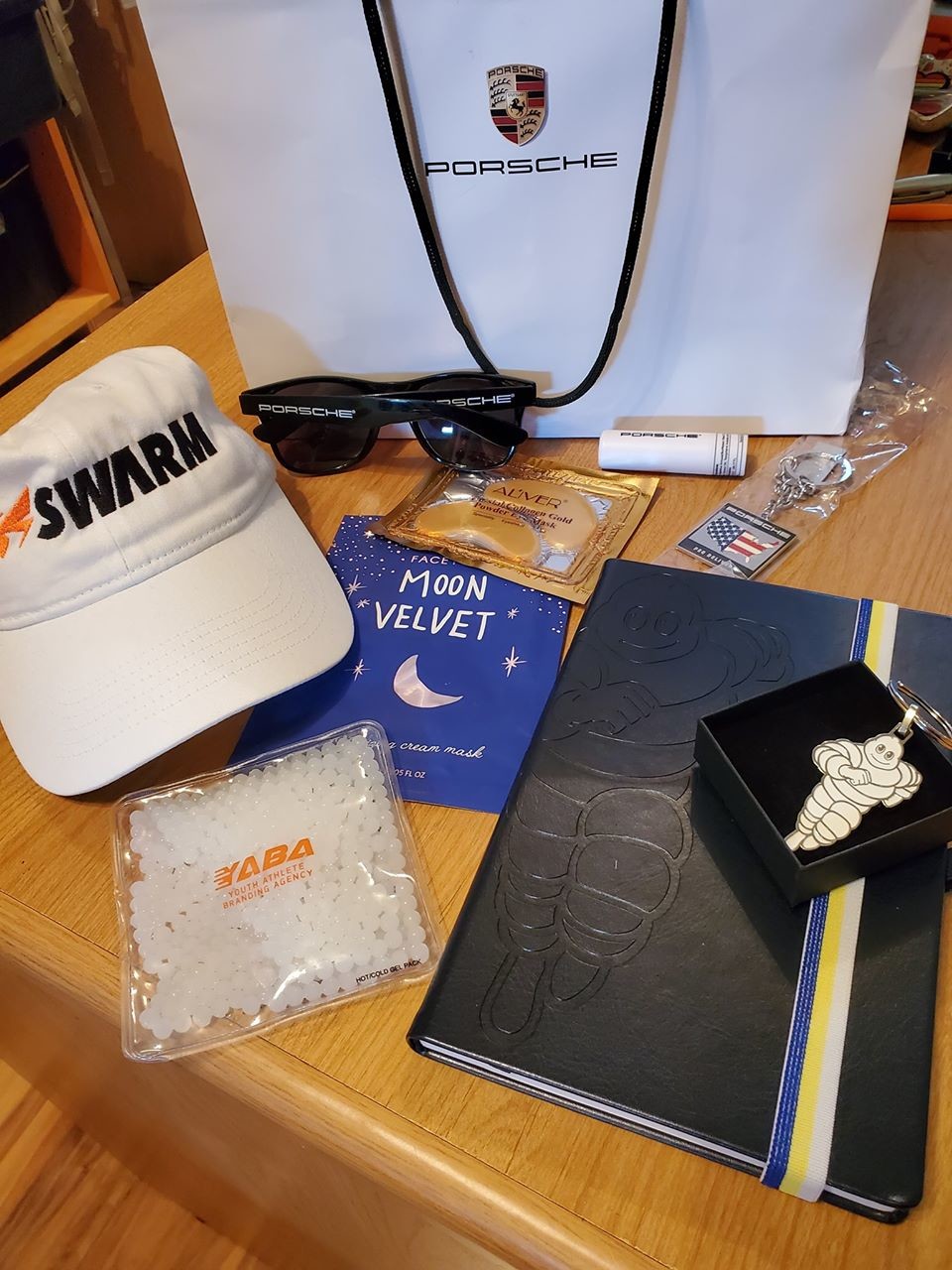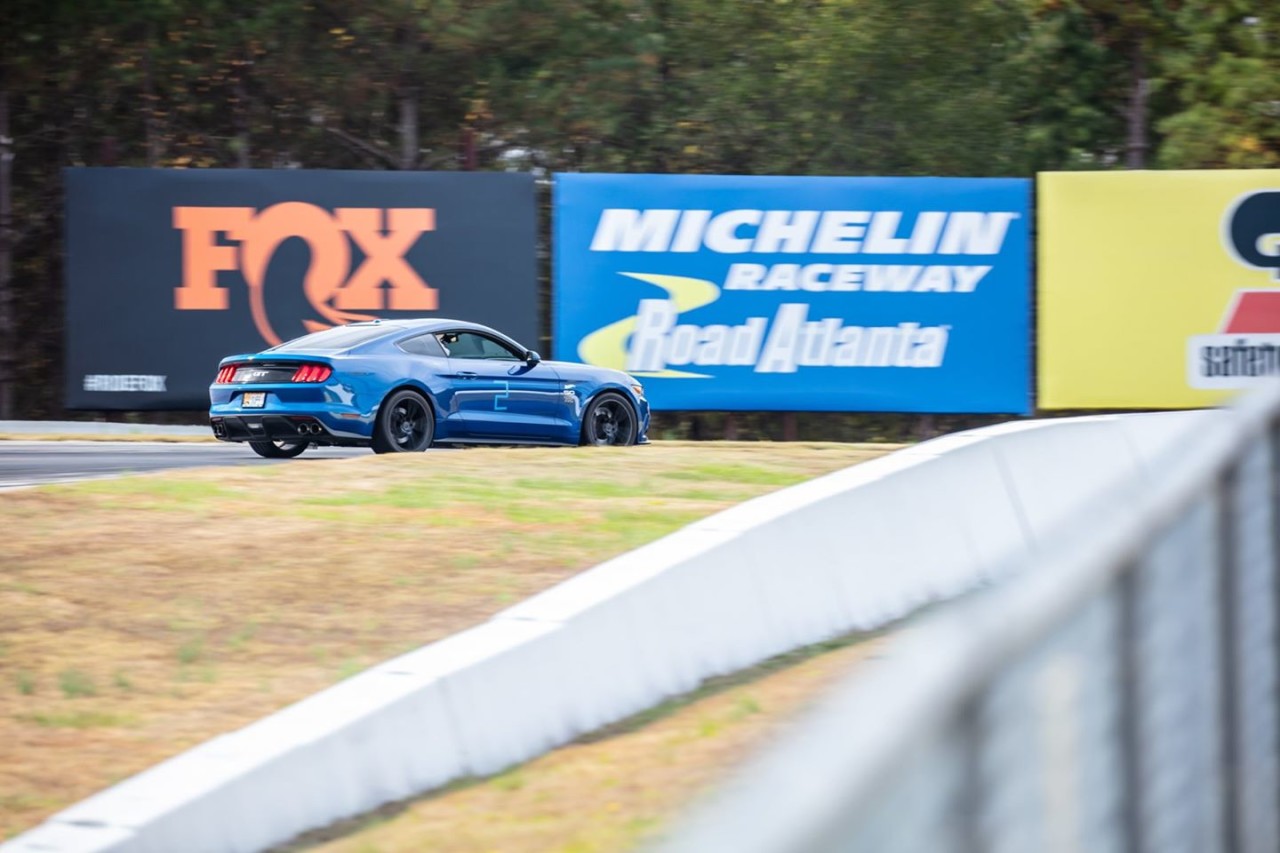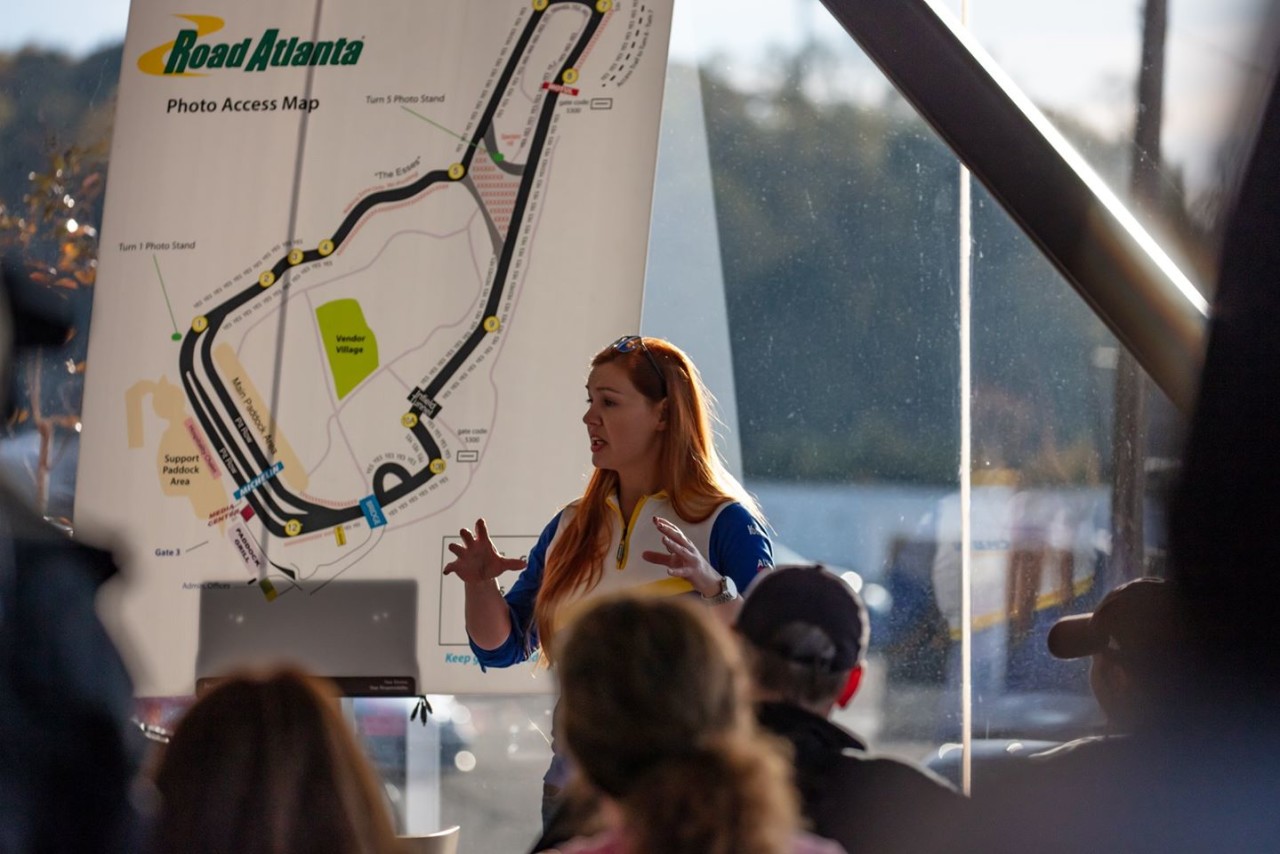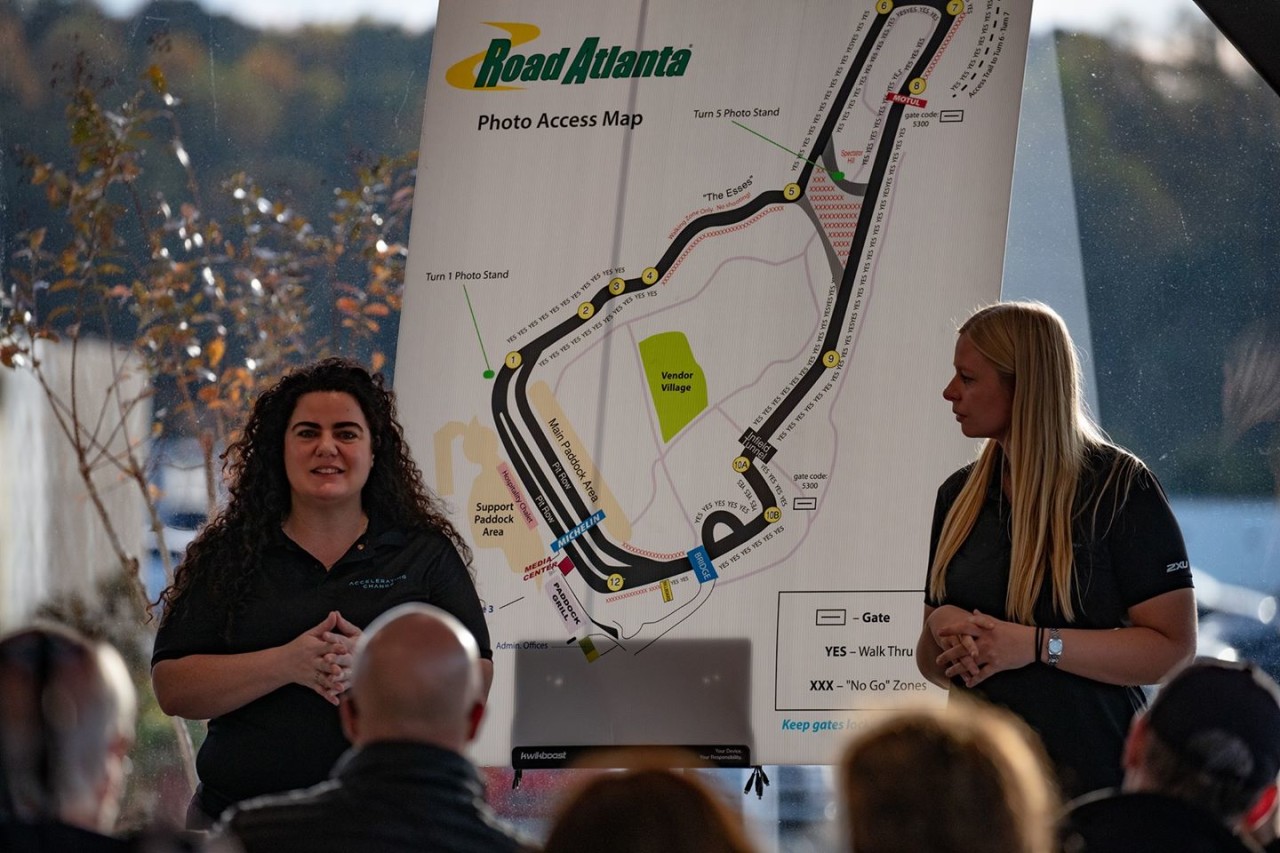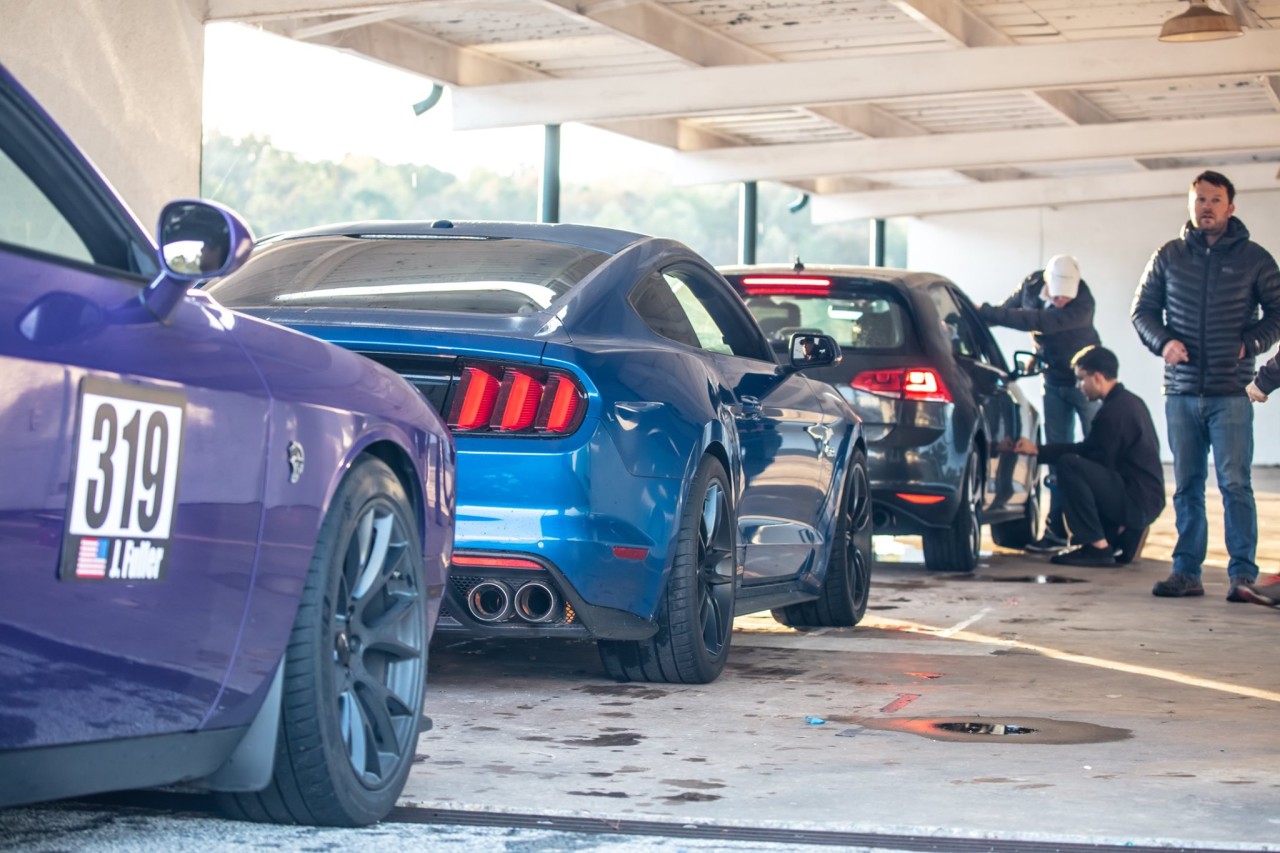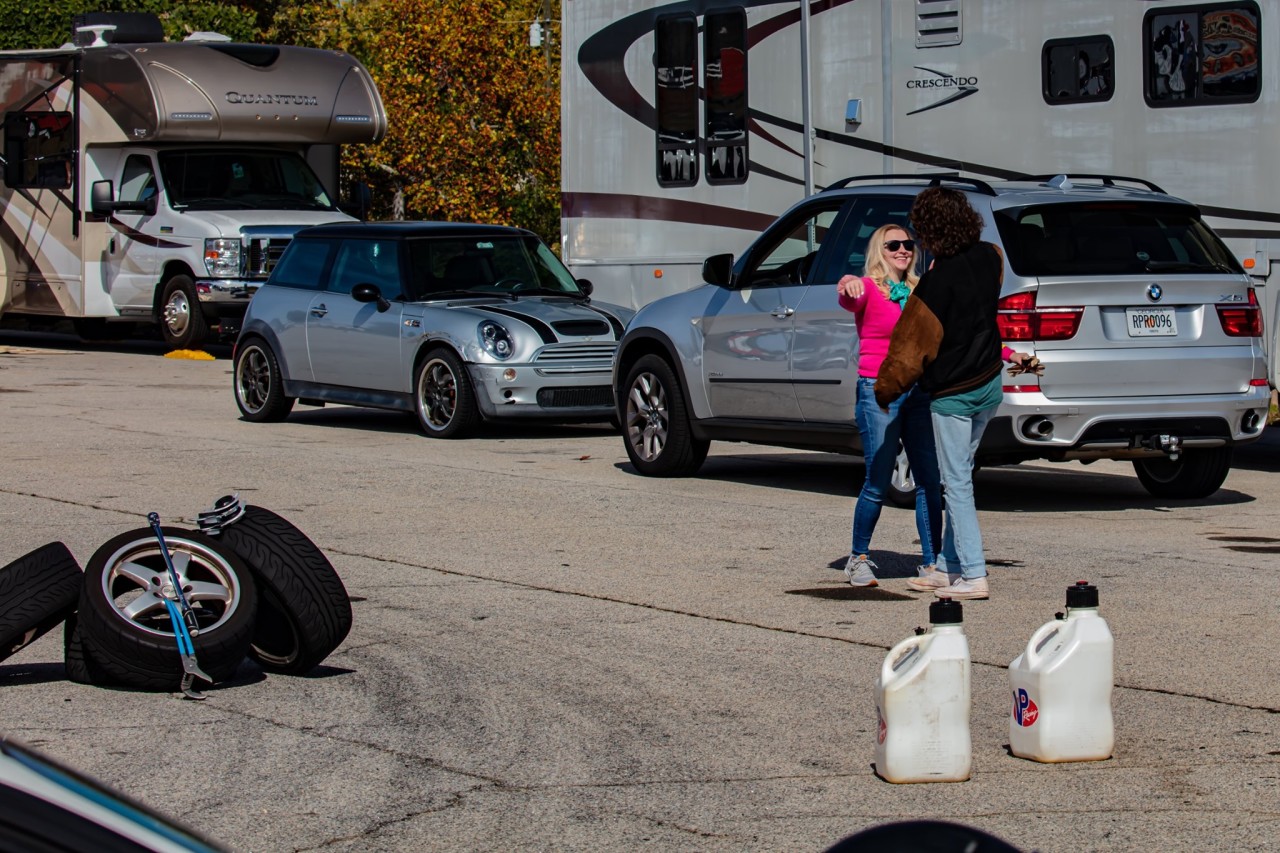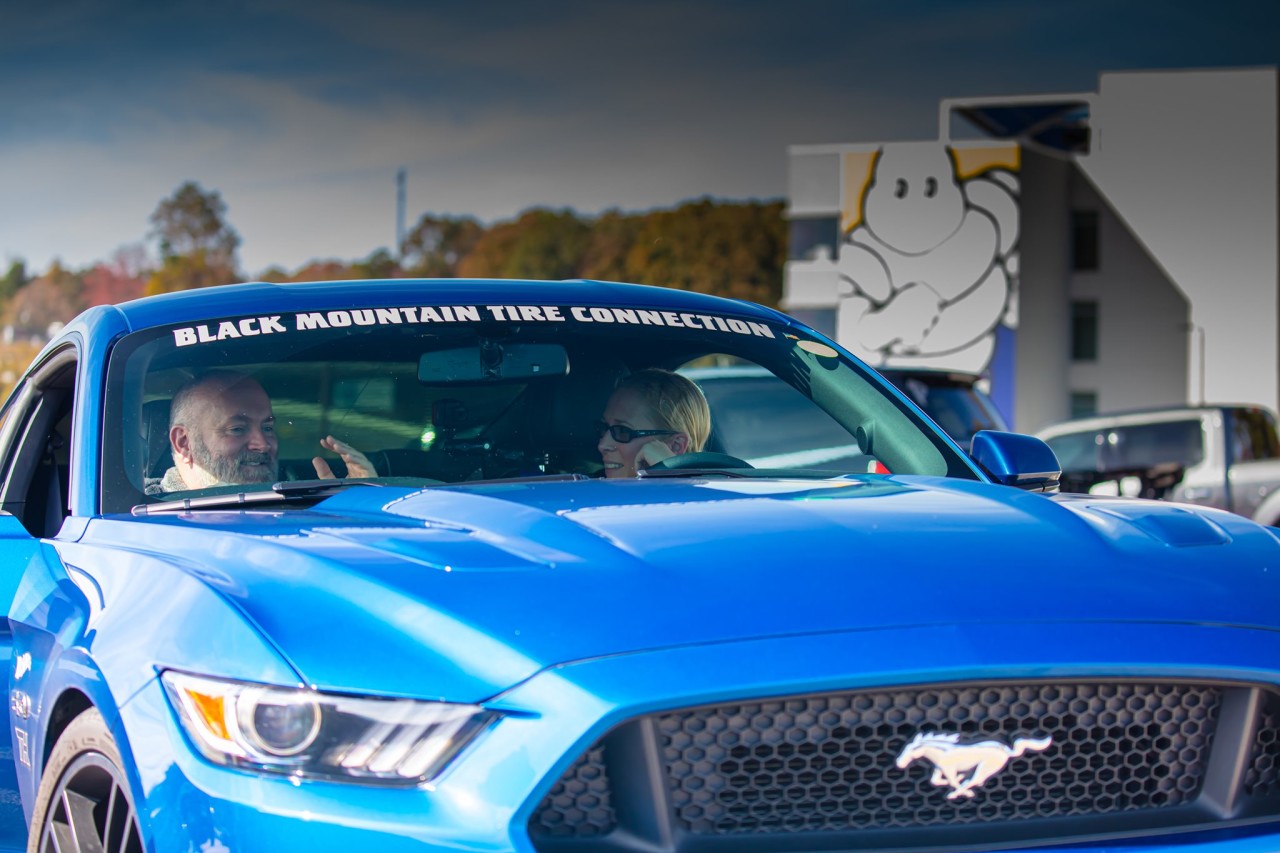 12-21-2019
Safety gear for Christmas, I'll take it! My father in law may not understand my driving obsession, but he's always encouraging and supportive. This time he has gone above and beyond with gifting me a Schroth Racing SHR Flex, a front head restraint. Making it safer for me to be on track, and adaptable enough to drive any vehicle in any driving position. I am so pumped for 2020!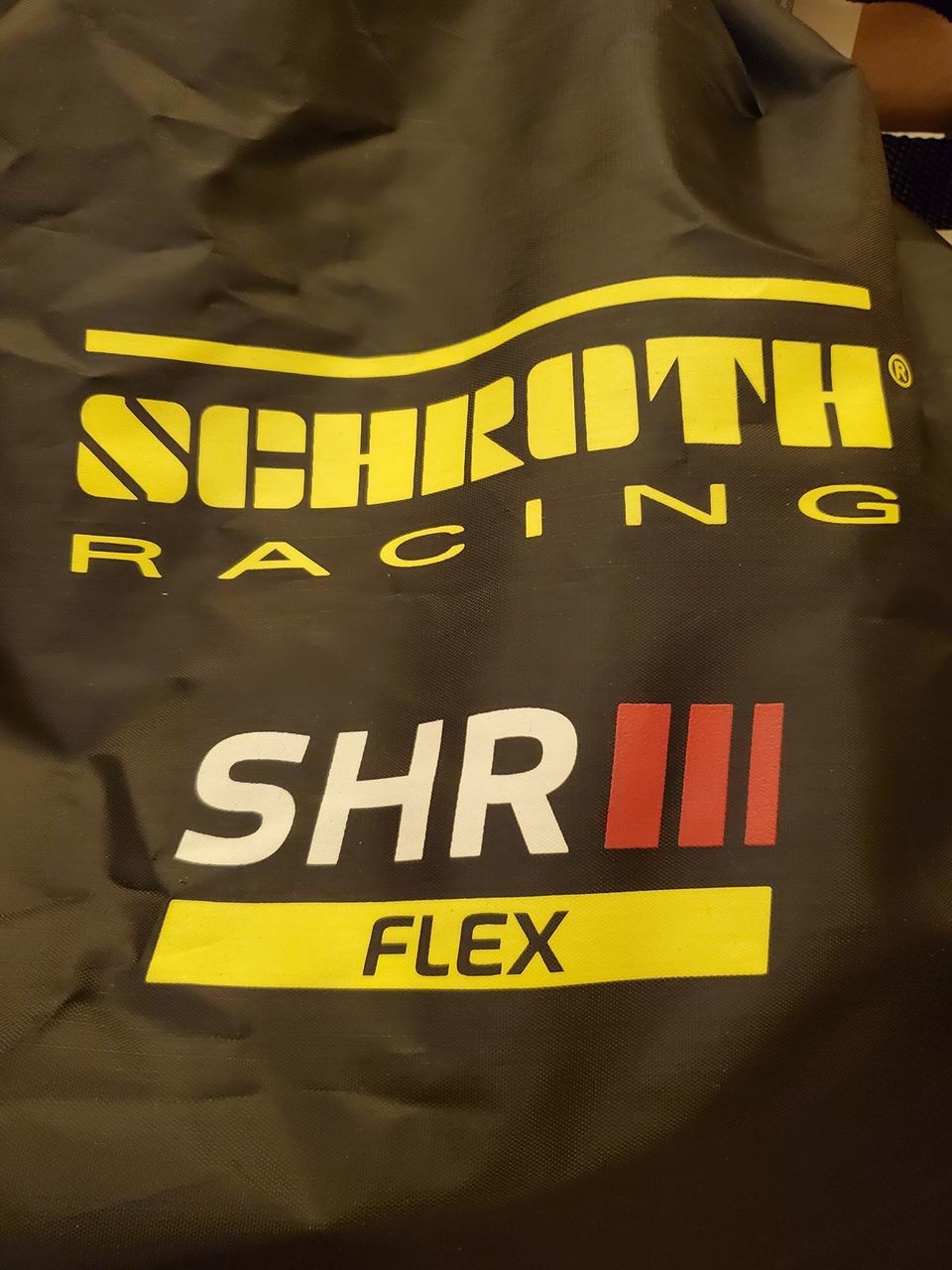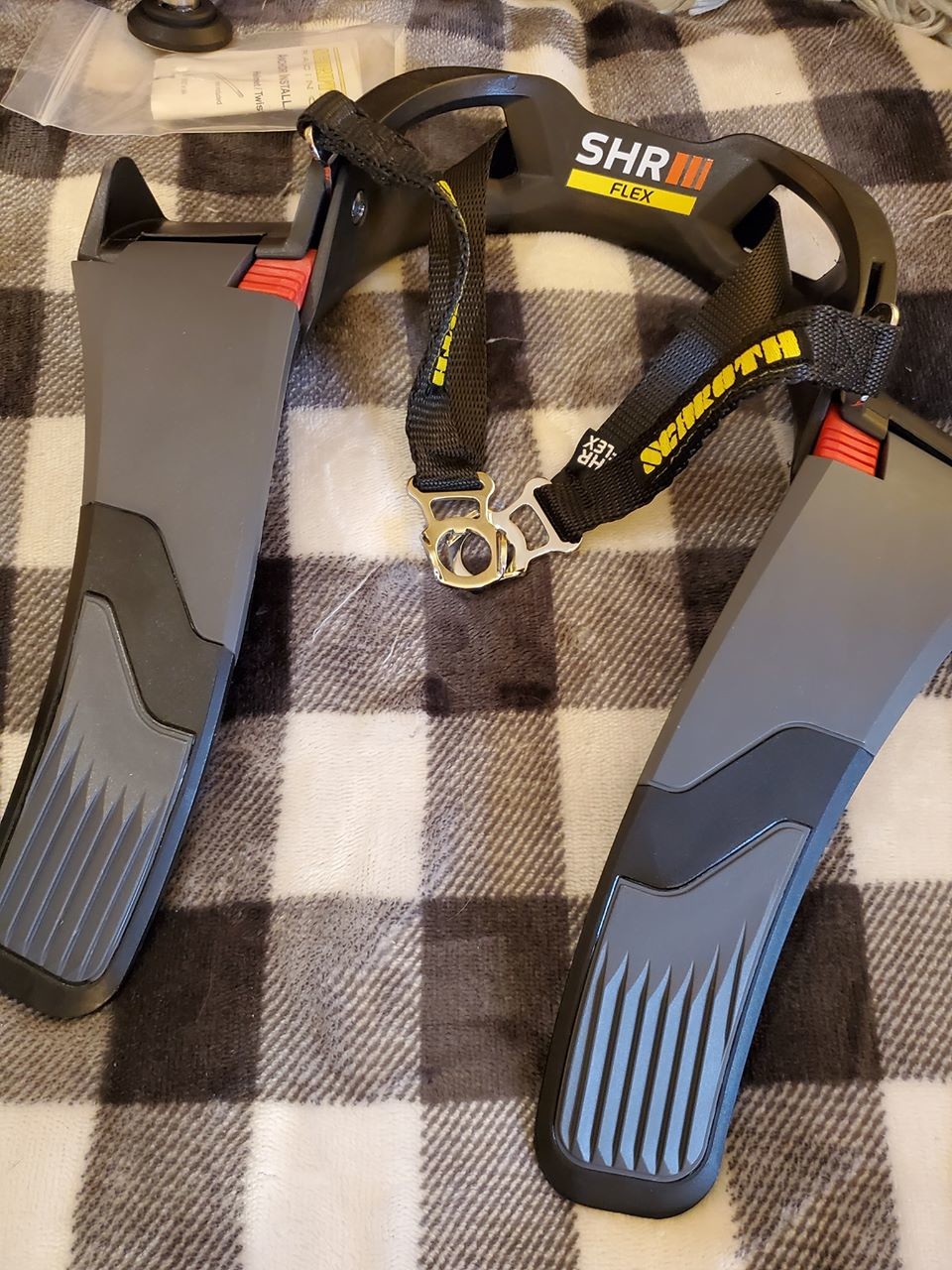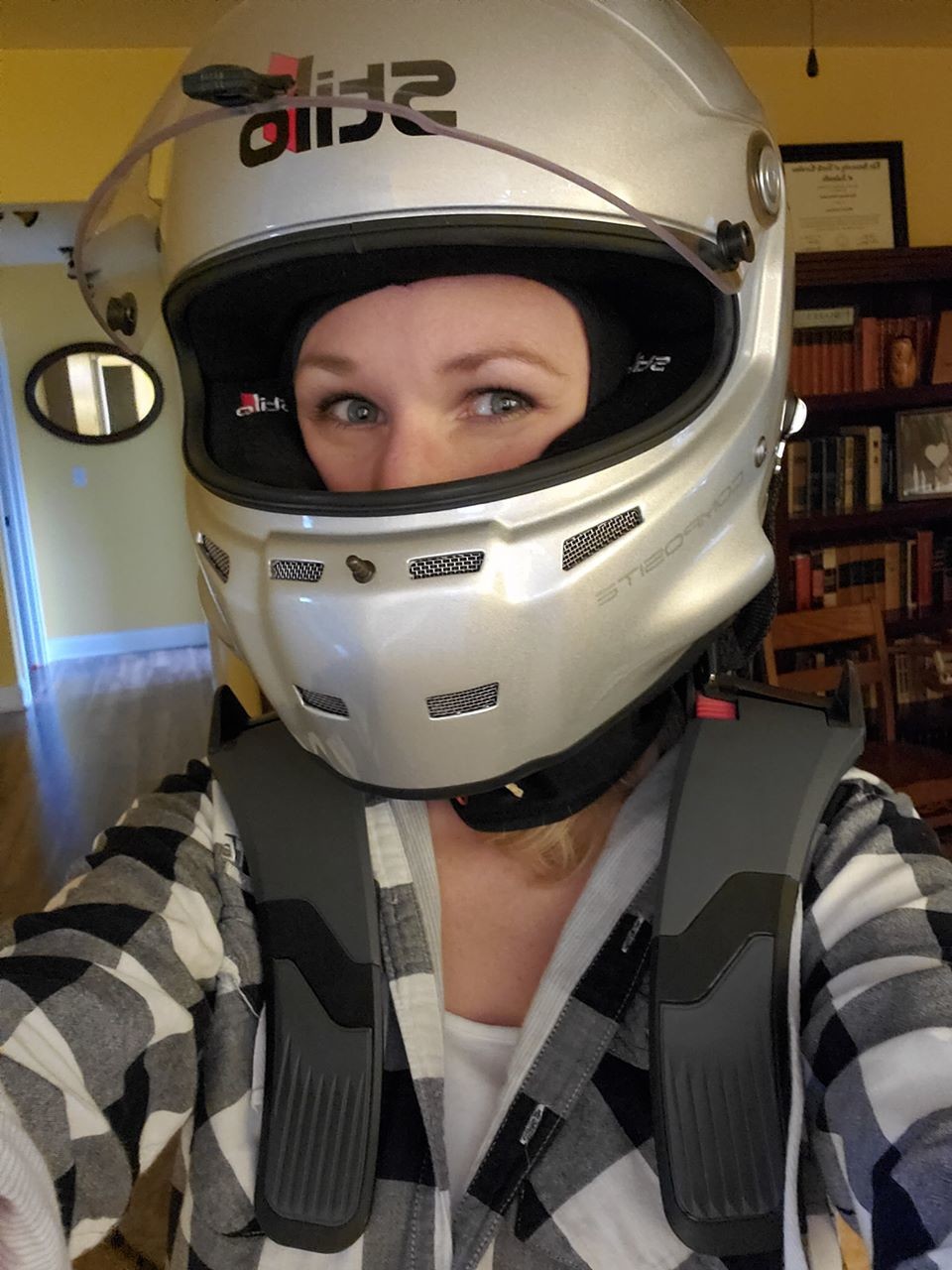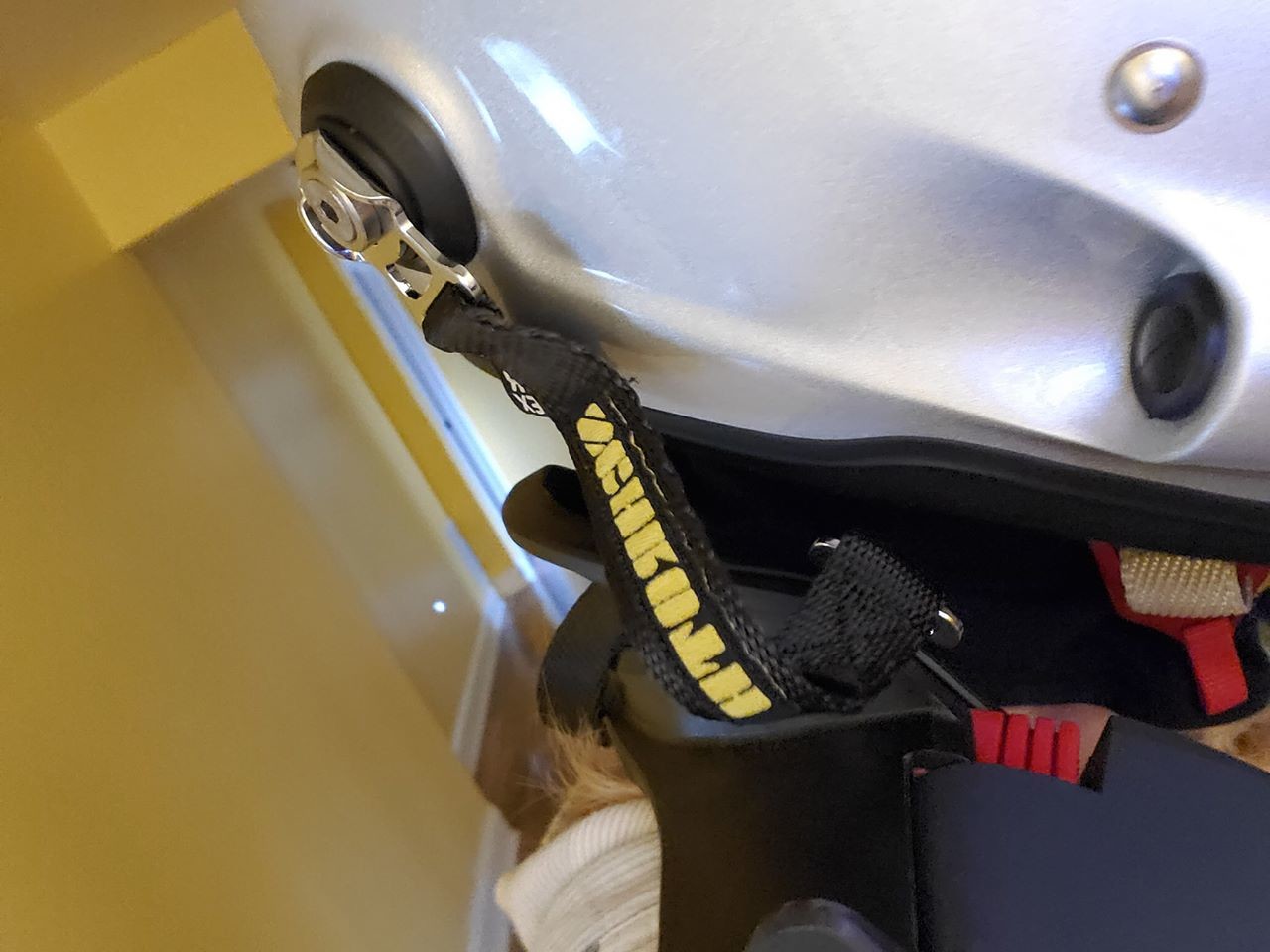 12-31-2019
Driving a Shelby Cobra, here I go!
.
.
.
We met up with Ted to photograph his roadsters, have some lunch, and to discuss my racing future. Kyle invited a young photographer, @lw_photography._, to come and join the chance to shoot these topless beauties. I'm excited see how his pics turned out!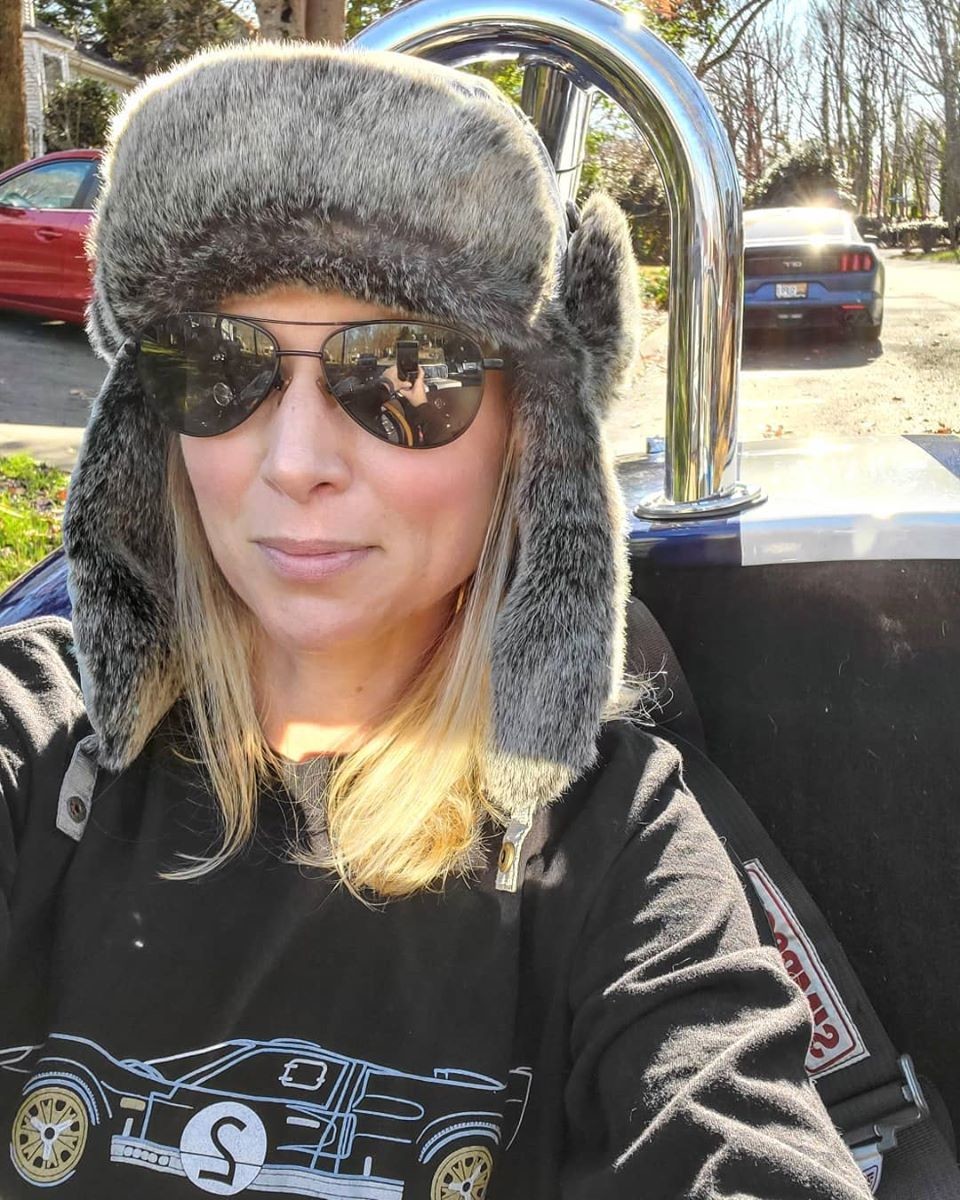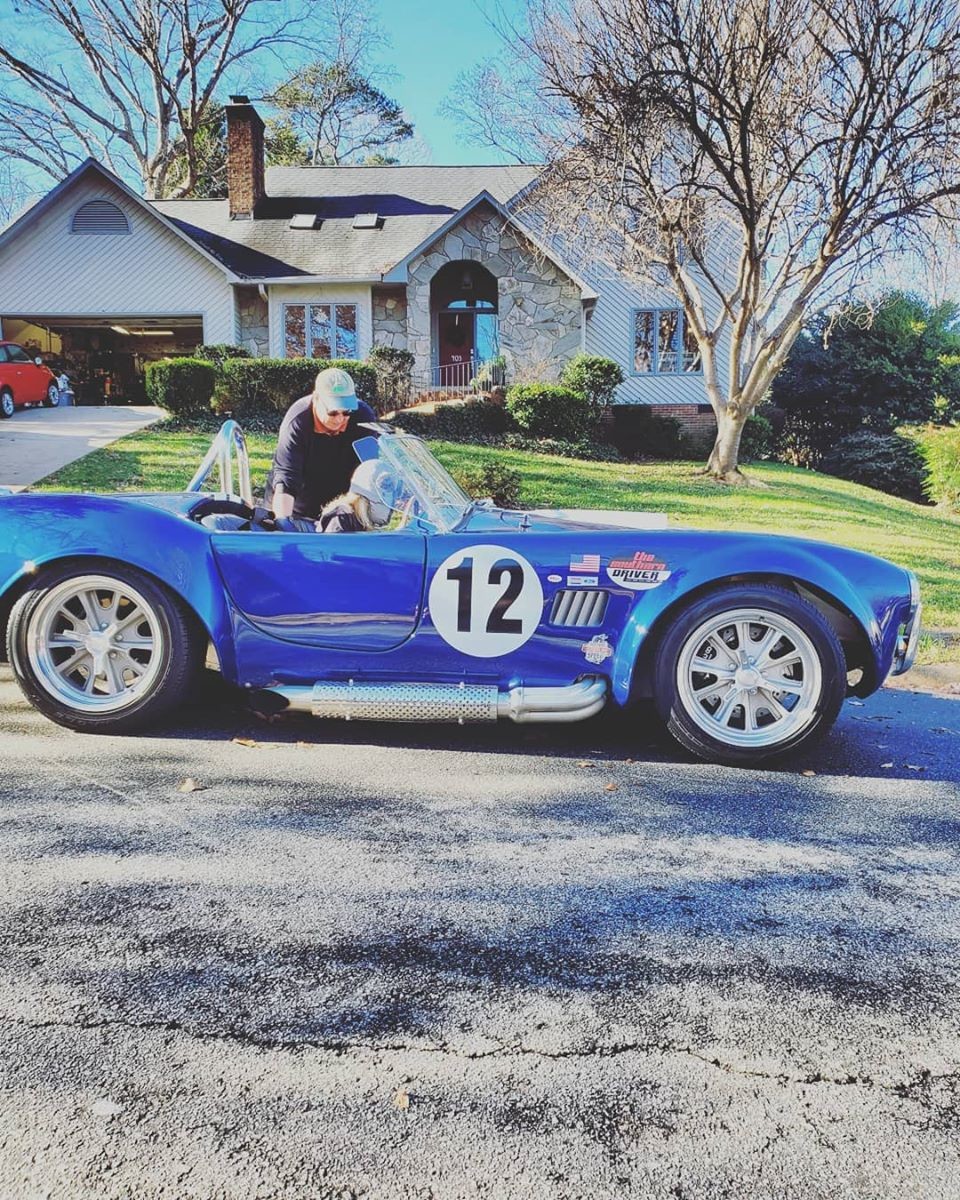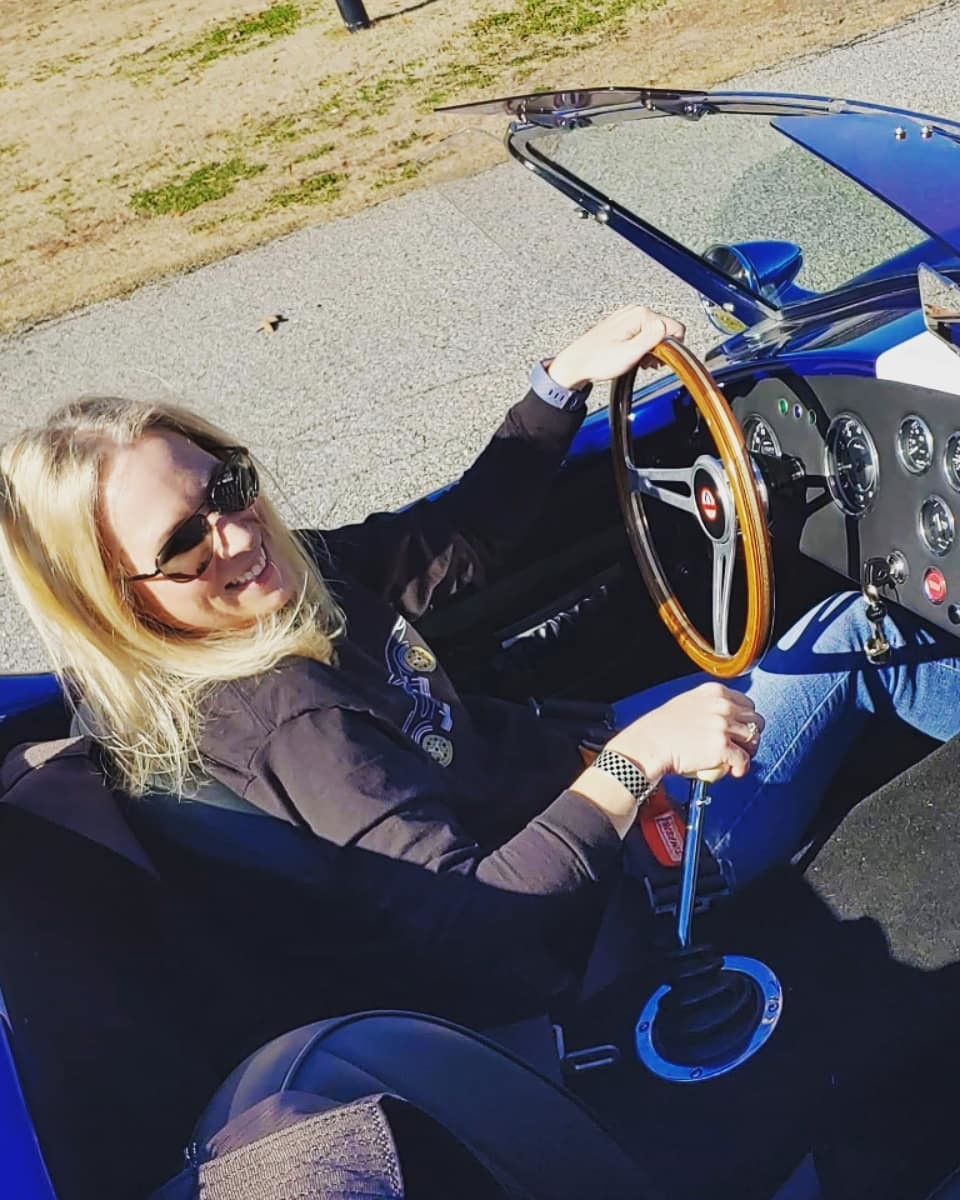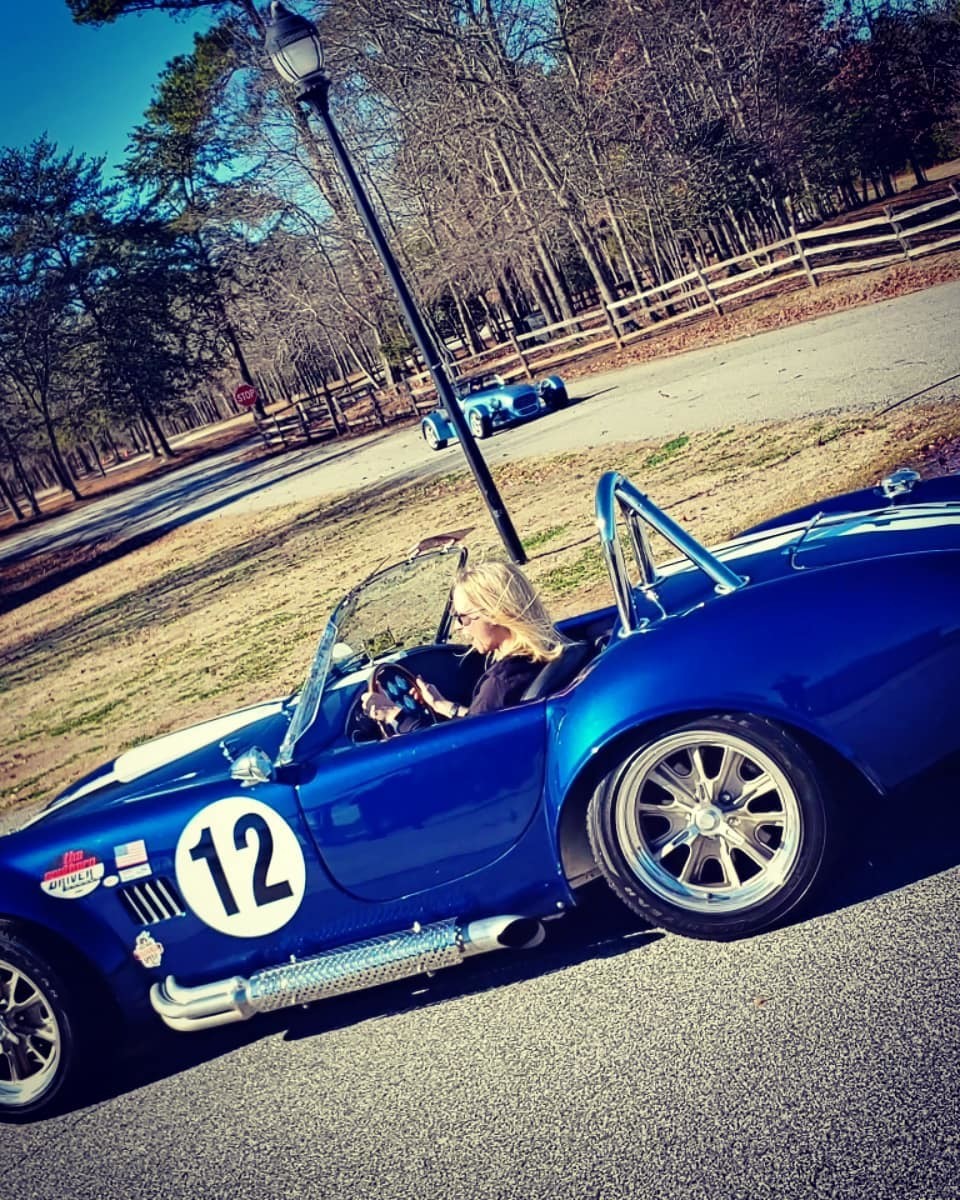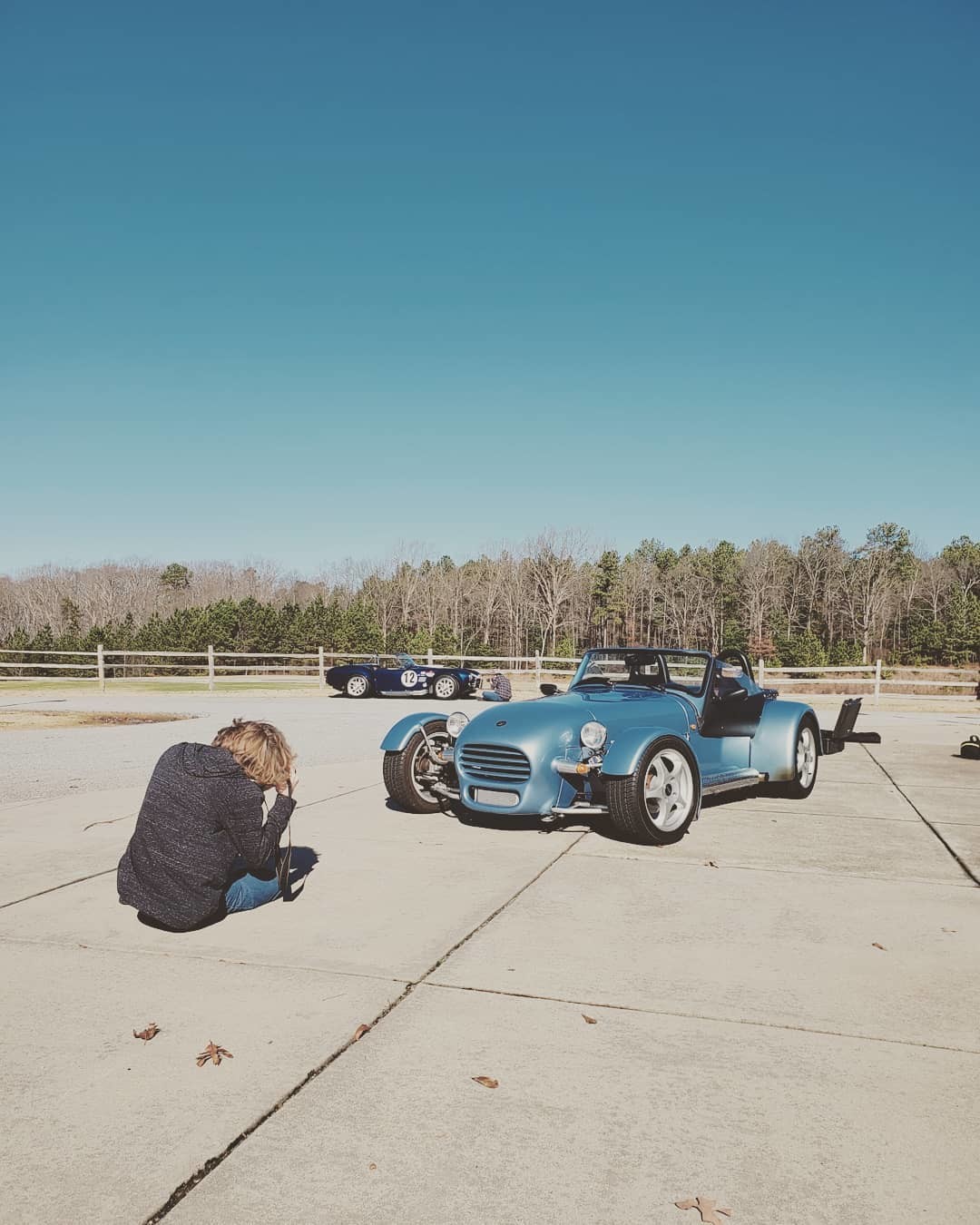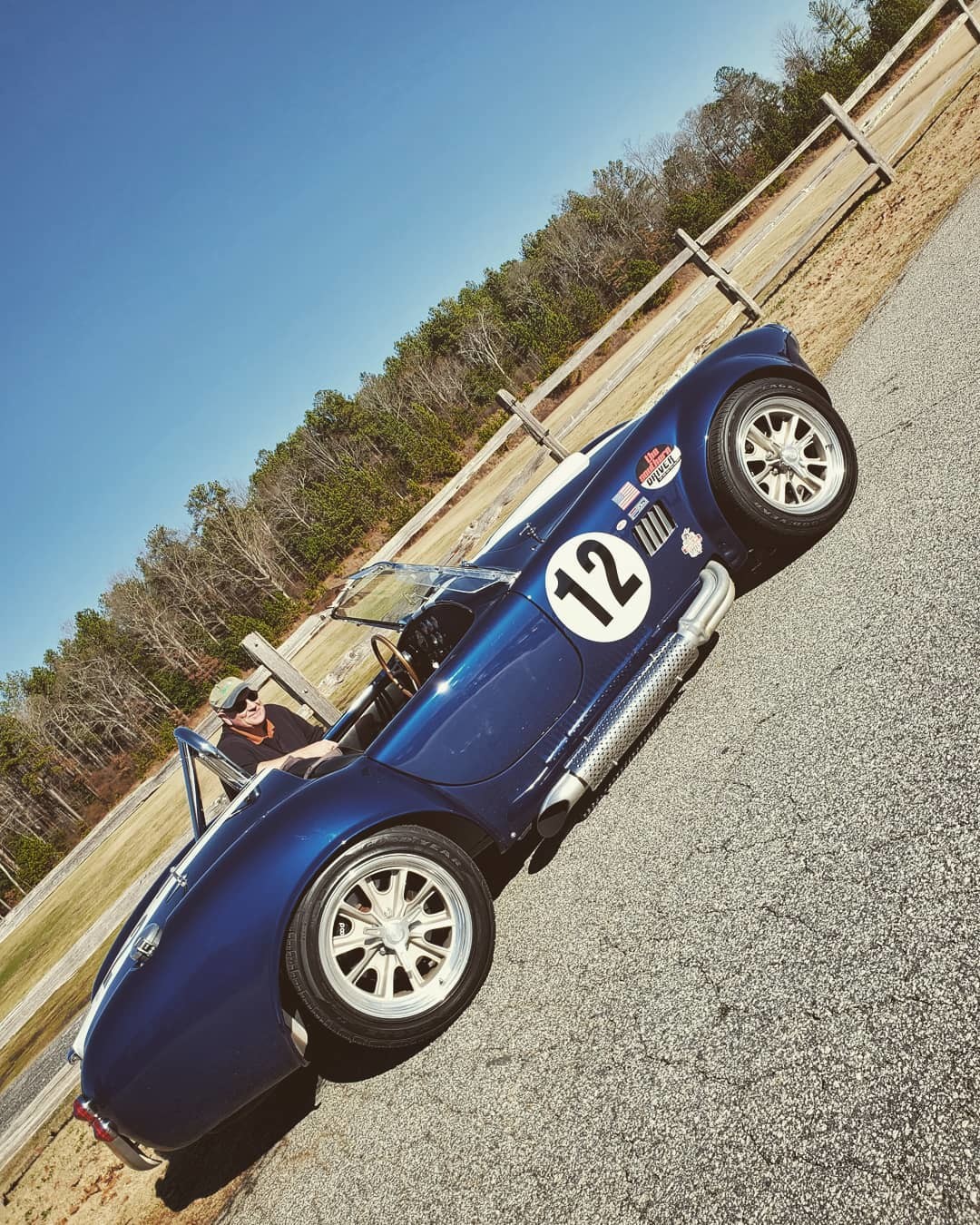 1-21-2020
My venture with NASA-SE started weeks ago with research and chatting up people involved in the club. It is a reassuring feeling when club officials and participants are so willing to communicate and forthcoming with information to help a potential new comer. The proverbial 'Welcomed with Open Arms' seems a little cliche but it is the best way to describe my introduction with this club.
Every NASA-SE track event offers High Performance Driver Education, competitive Time Trials, and competitive Wheel-to-Wheel racing. It is mind boggling how organized and well run the events have to be to stay on schedule. Both days I was there, the events were on time all day and without issues. This means every 20-30 minutes cars were exiting the track, staging and going onto track, and spectators were entering and leaving the track facilities which are located within the actual track and, again, everything was on time. This level of proficiency is worth noting.
I spent most of my time at the track watching the cars. As someone who prefers driving, I thought I was going to be a little sad just spectating, but that was not the case. Watching the cars was thrilling. I even got to see my first wheel to wheel competition and it made me even more eager to get out there and compete. I did walk around a bit, check out all the cars and tow rigs in the paddock area, and shake hands with people I had been talking with online. Everyone was very warm and welcoming. The greatest moments were talking with the driver's after their track sessions. While their adrenaline was still up and the endorphins were flowing. These were my people. Even though I felt a little awkward not having driven the track or even having a ton of track experience, I could see and hear my own passions reflected in the drivers' conversations.
Being able to watch & hear the cars in action, and talking with the guys that drive them confirmed that Spec Iron is absolutely the wheel-to-wheel class I want to compete in. I will have to work my way through the 4 HPDE classings, then through Time Trials (TT), and when I'm comfortable and qualified I'll get to move into wheel to wheel competition. It will take time, but I'm excited to progress with an organization that supports and nurtures it's drivers. With NASA-SE's dedication to safety, education, and well run events, it is clear they care about their participants' success.
Special thanks to those all of you who took the time to meet and talk with me and answer my questions. I hope you all are as ready for me and I am to be there!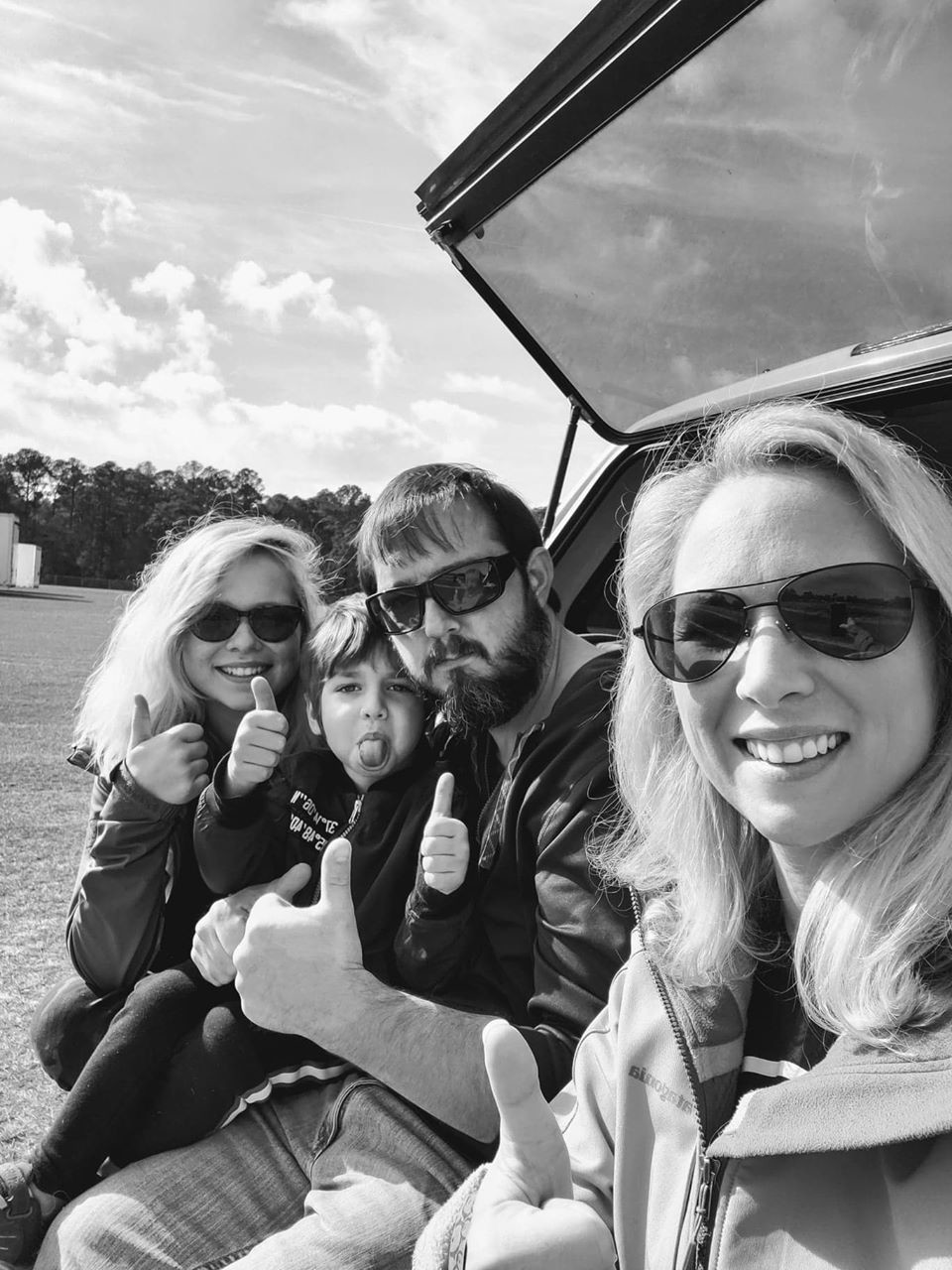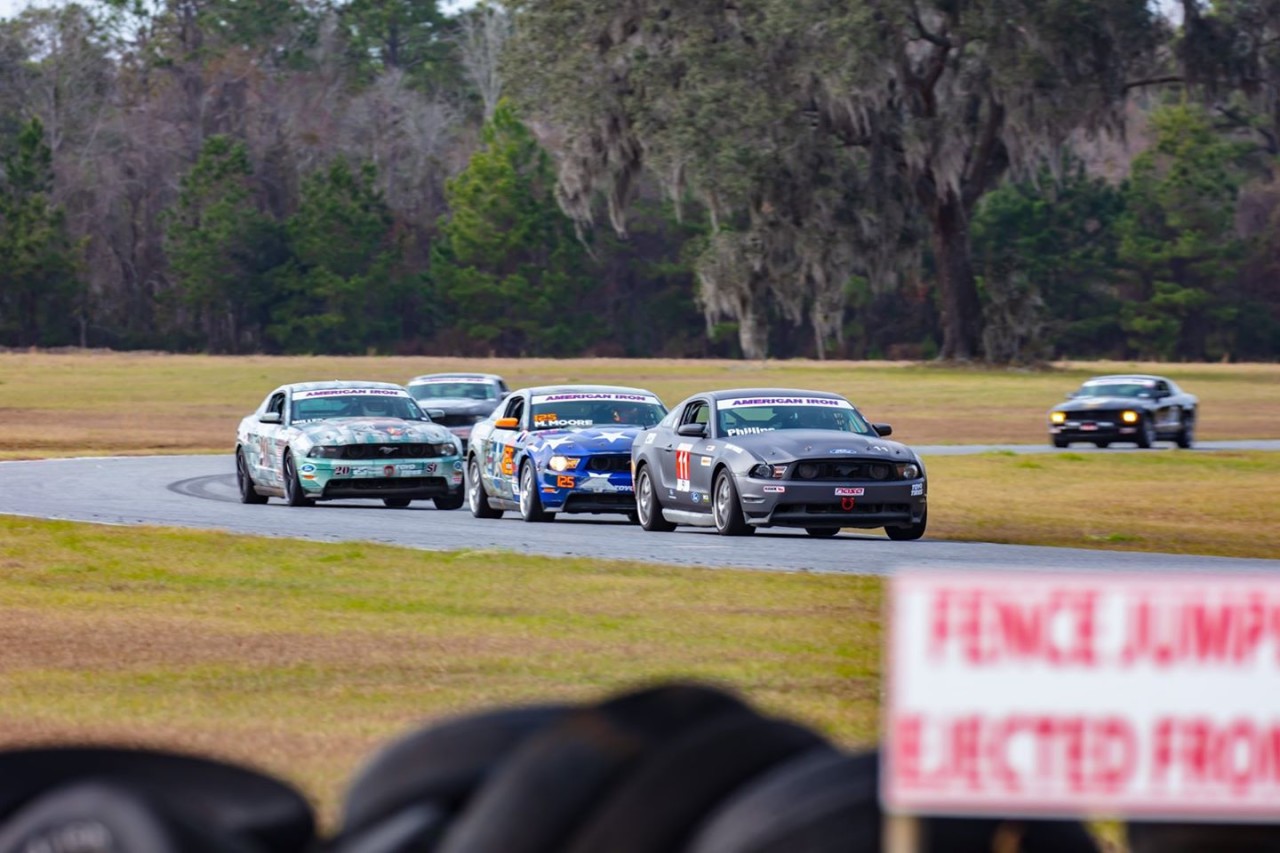 1-29-2020
I found my track car! I picked up a 2006 Mustang GT Premium, 5speed in Performance White with Black Leather interior. The car is mostly stock except for a straight piped exhaust with flowmaster tips. The engine runs strong and the transmission shifts smoothly.
The car came with it's OE 18" wheels and some very worn out tires. First modification absolutely had to be tires and my first thought was to order a set of all-seasons for the OE wheels, but after a weird mishap and some research, I swapped my 2017 s550 PP1 wheels on to the car, no problem. This not only saved me money (about $800) but the black wheels tie in nicely with the ongoing white & black theme and will offer better street performance in their more aggressive sizing. (Note: these are not track tires)
There are a few things next on the list that need to be addressed.. Mechanical items include suspension sorting, evaluating the brakes and fluids getting flushed. I plan to get this car on track in mid-March for the National Auto Sport Association Southeast Region's Road Atlanta event. I would love to have a full roll cage in by then, but, for DE1 class, I would be comfortable turning laps with race seats and fire suppression.
I am really excited to sort this car out. Upgrading it along the way as I progress through Driver Education and Time Trials and eventually fit into the NASA Spec Iron class for wheel to wheel racing.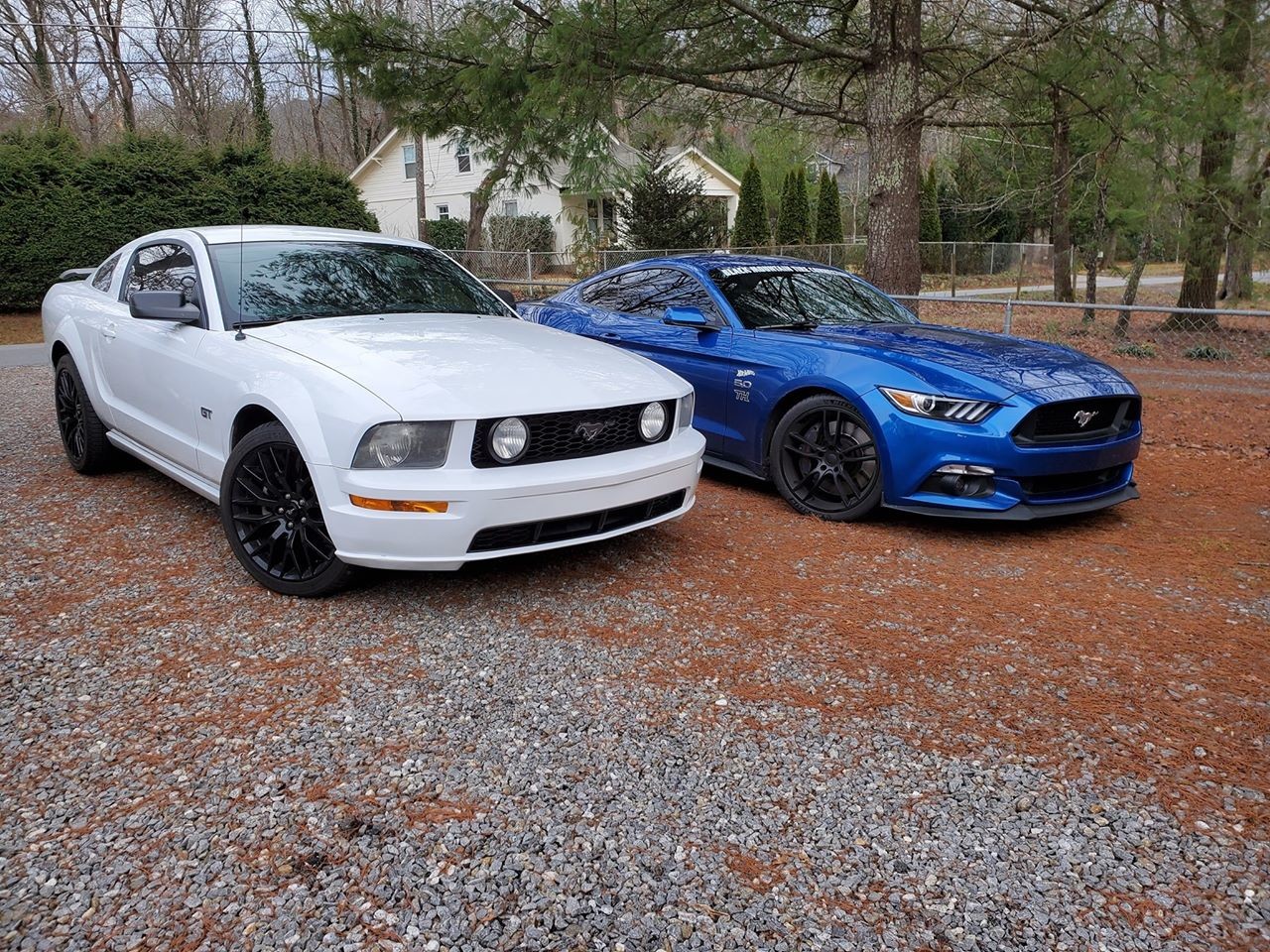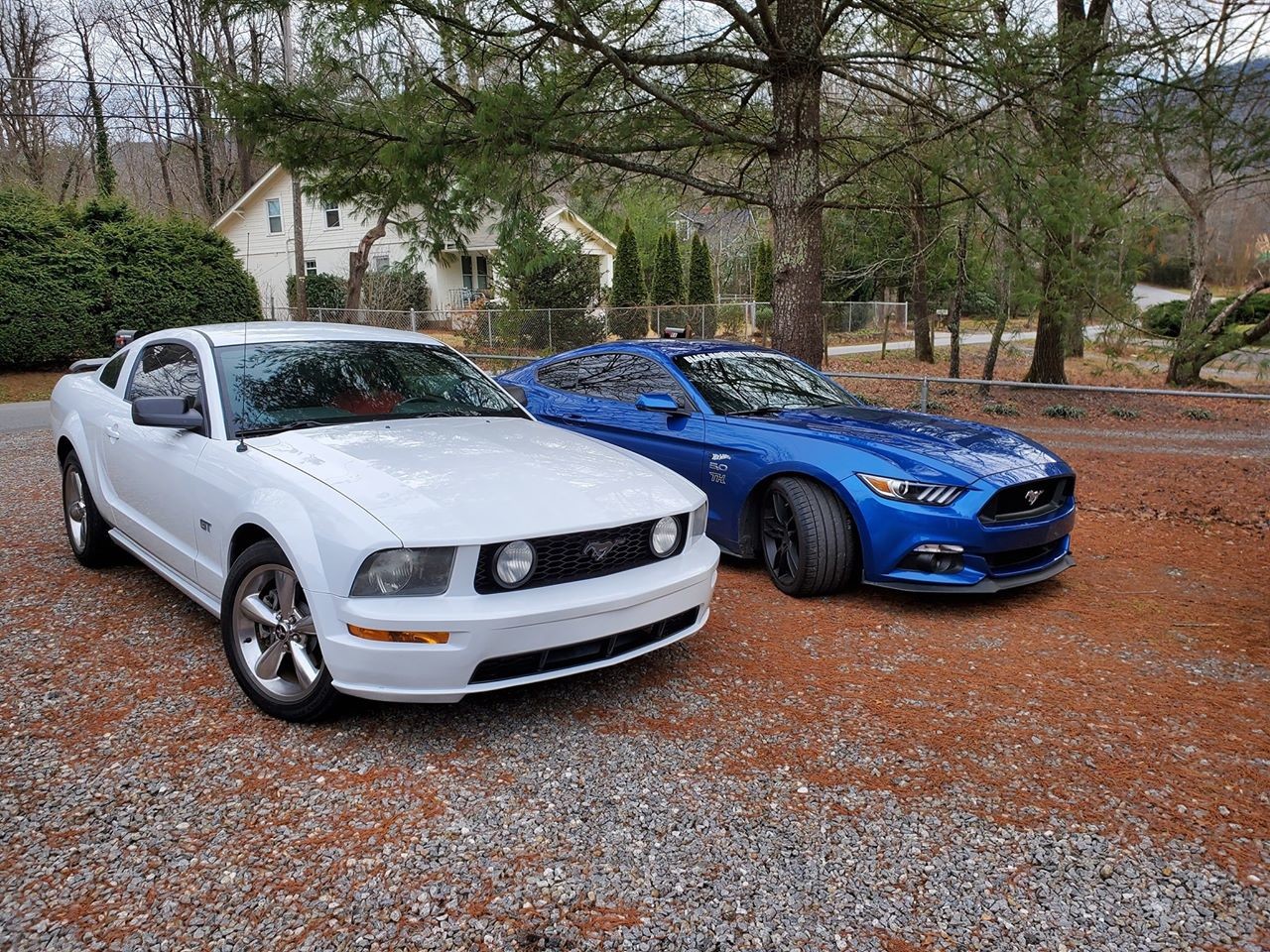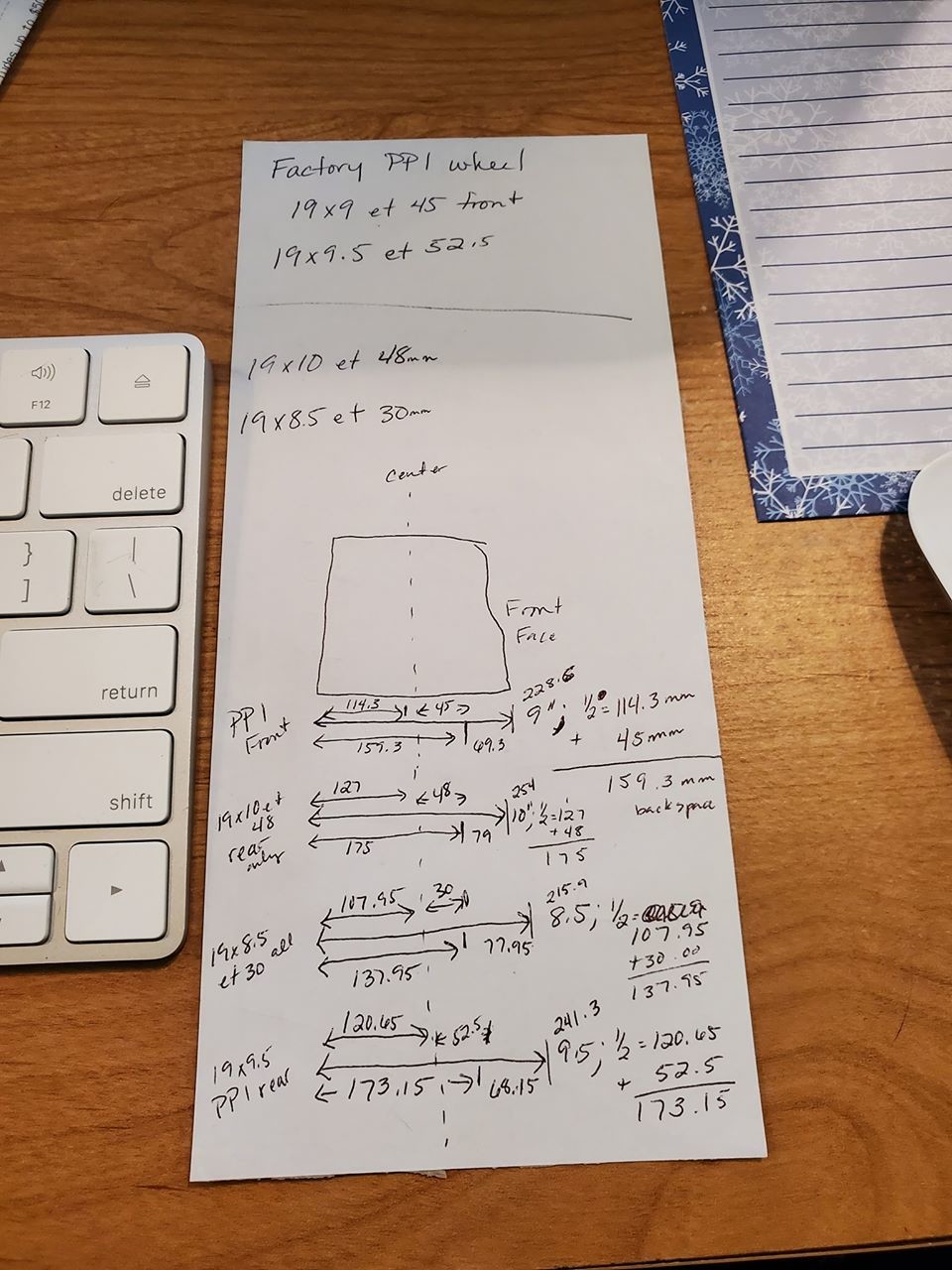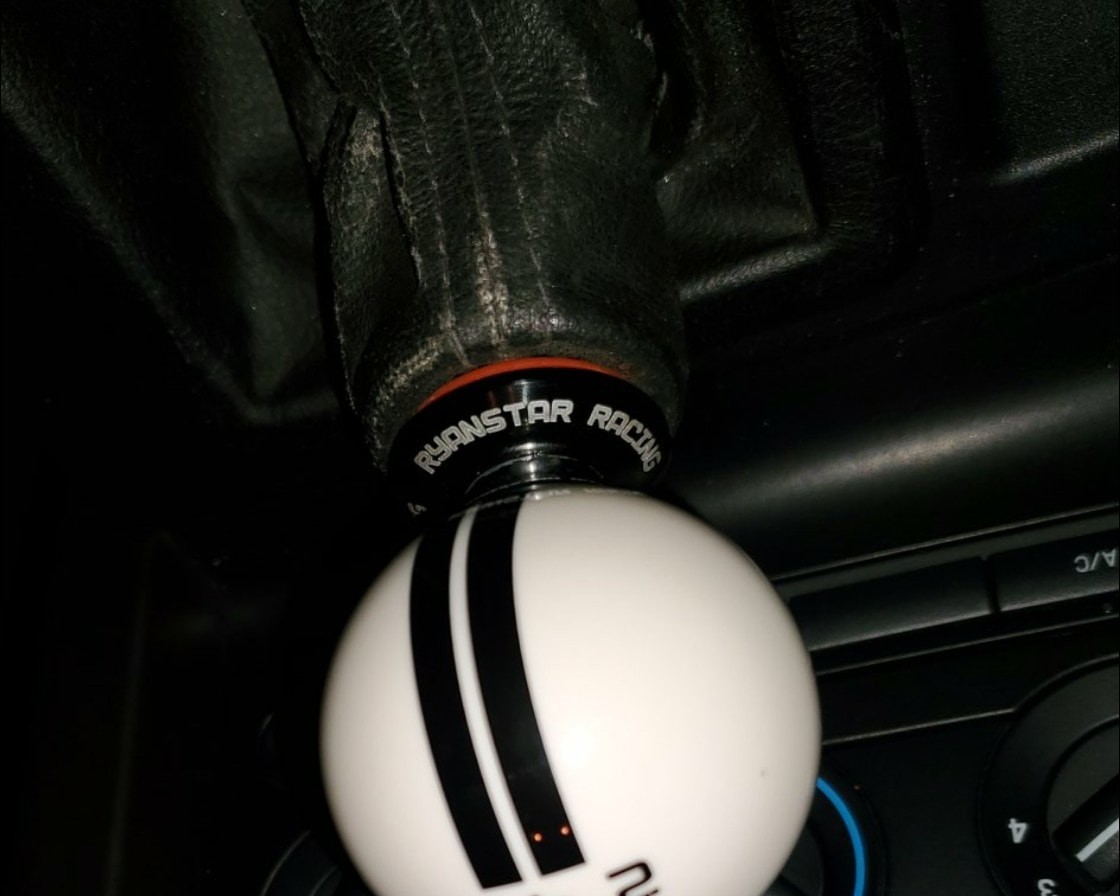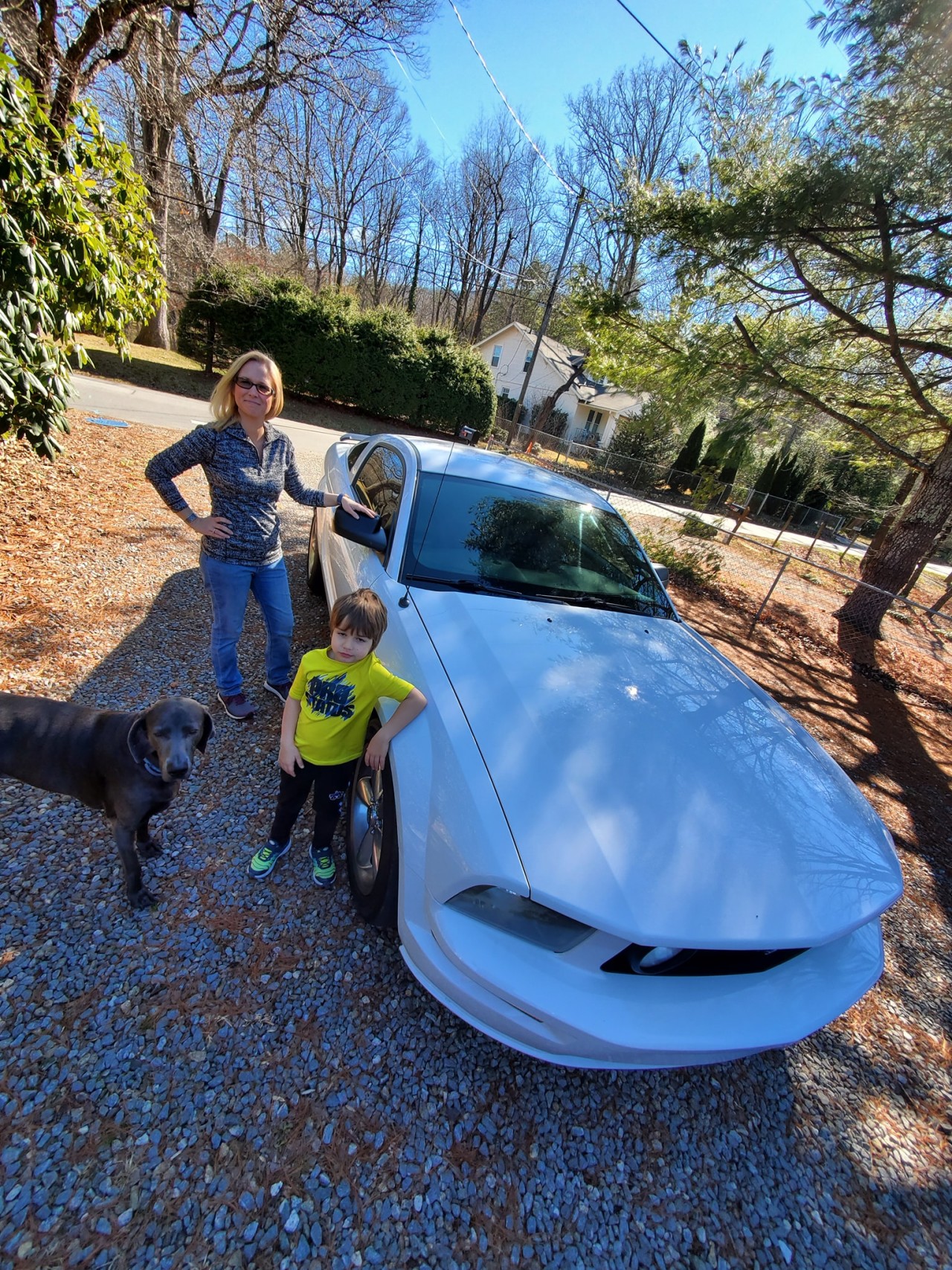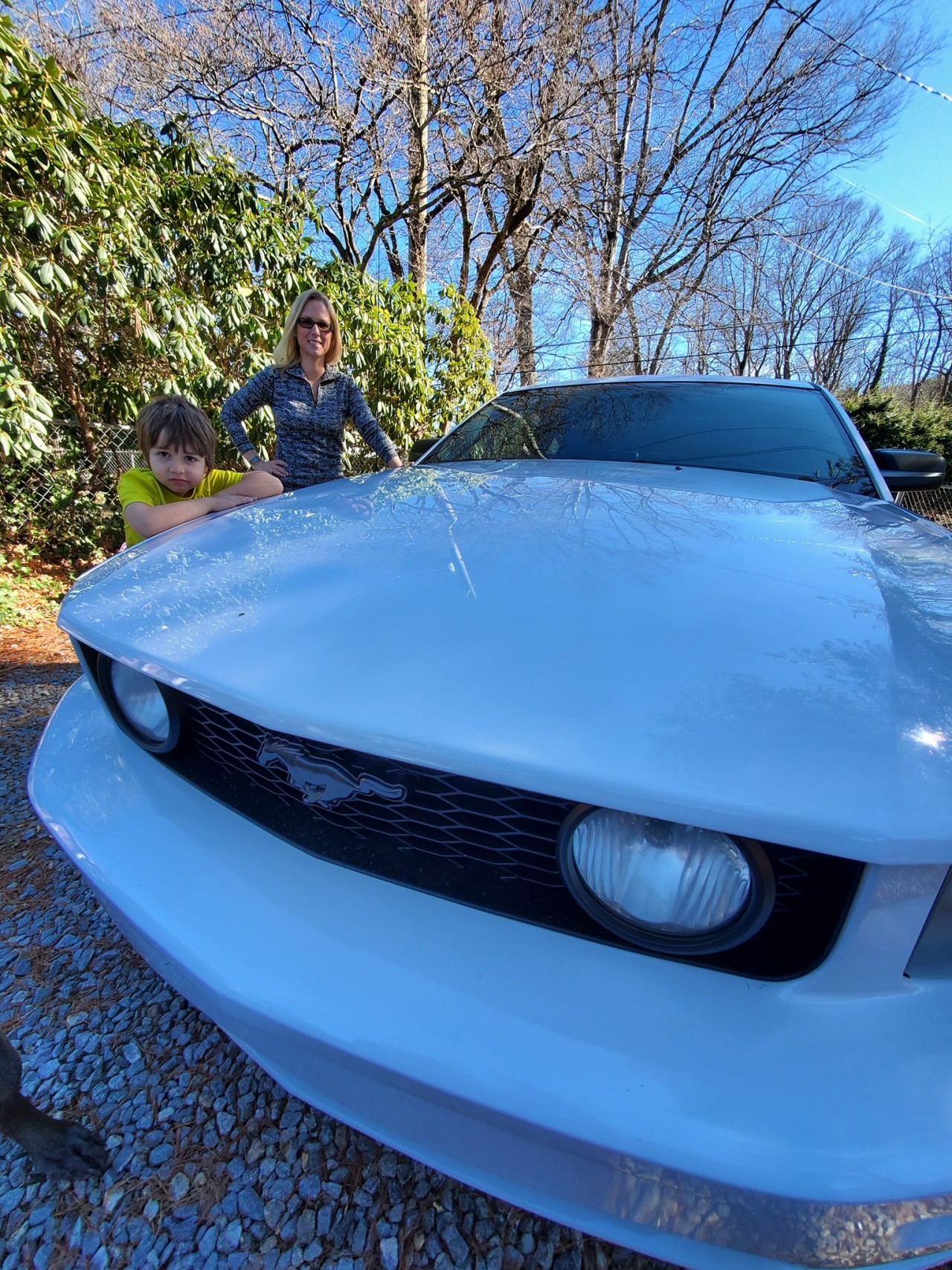 2-17-2020
This weekend the family and I visited Atlanta Motorsports Park to do some shopping at the Discovery Parts store located within the facility. After a warm welcome at the entrance gate, we spotted some sweet cars in the parking lot and made our way to Discovery Parts.
Inside Discovery Parts, Lane, whom I had chatted on the phone with earlier in the week, was quick to help me find the perfect seat. He was patient with my noob questions and offered his extensive knowledge about racing safety and different brands. Lane also helped me pick out all the mounting equipment needed to go with the racing seat and 6 point harnesses to go with them. My driver's seat and equipment is 100% picked out, I'm still deciding on going with a new passenger seat or a used seat. Safety for my passengers/instructors is important to me, and I'm trying to find that balance of safety and cost efficiency.
Once I noticed the plethora of racing suits I asked about trying some on and was curious if they would even have any to fit me. They had a wide variety of suits, in so many sizes, in the store which really surprised me. I tried on the Alpinestars "women's" Stella GP, first. It fit me in the shoulders, but got bigger and baggier the closer it got to my feet. Race suits are usually too long in the legs, I learned, but it is an easy fix with some hemming. But this suit was too baggie in other areas and Lane called in another staff member to see if it could be tailored to fit. A beautiful lady in heels and a faux fur coat came out and immediately went to cuffing, pinching, and adjusting the suit to see where it needed to be to fit me. She took a step back, looked me up and down, then said, "be right back". When she returned, she had brought out her personal OMP race suit for me to try on! I immediately told myself to stop sweating and I was ever so delicate when I unzipped and slid into the suit. As the zipper slid northward towards the collar and the fabric hugged my hips and waist and gave me plenty of room in the shoulders, I knew this was the suit I wanted. Come to find out this is the "men's" One Pro, straight from the shelf with no alterations. This suit is about double the cost of the racing suit I had set my eyes on back in October and, at this point, it's just not in the cards.
As I got my street clothes back on, I was doing some mental math, trying to decide what I was going to be taking home that day. I came to Georgia prepared to spend some serious coin on safety equipment, but I had just been given a ton of information and was still processing it all. Instead of pressuring me to buy that day, Lane set me up with a personal account, loaded all the equipment and clothing I had picked out in to the account, and suggested I go back to NC and think about it. Discovery Parts offers free shipping, so waiting to buy wasn't going to cost me more. I even get 10% off the total with my NASA membership! That 10% really adds up! So this week I will be evaluating my budget and officially ordering safety equipment!
Once the seat(s) arrive and are mounted in Future Racecar, we can prep the car and get it over to Troy Wilson's shop for the roll cage install. It is important to have the seats in the car to make sure the bar(s) behind the seats are in the correct location for the harnesses to be attached. If those bars are too high or too low, the harnesses, when attached, will be at an improper angle to pass through the racing seat, and will not provide optimal safety.
The racing seat I picked for me (driver) is a secret, for now! But it is the one I'm sitting in in the picture, can you guess which brand/model it is?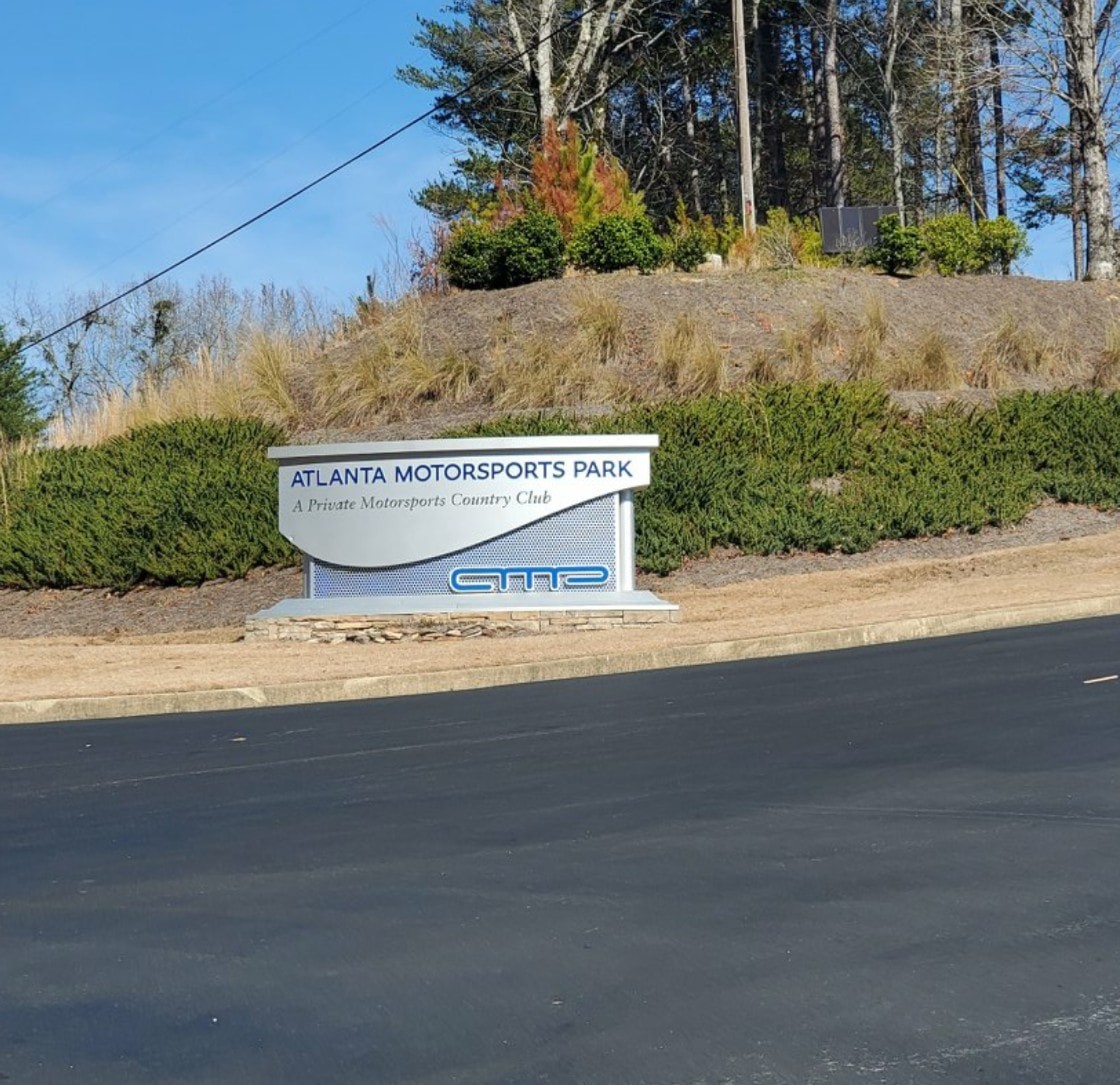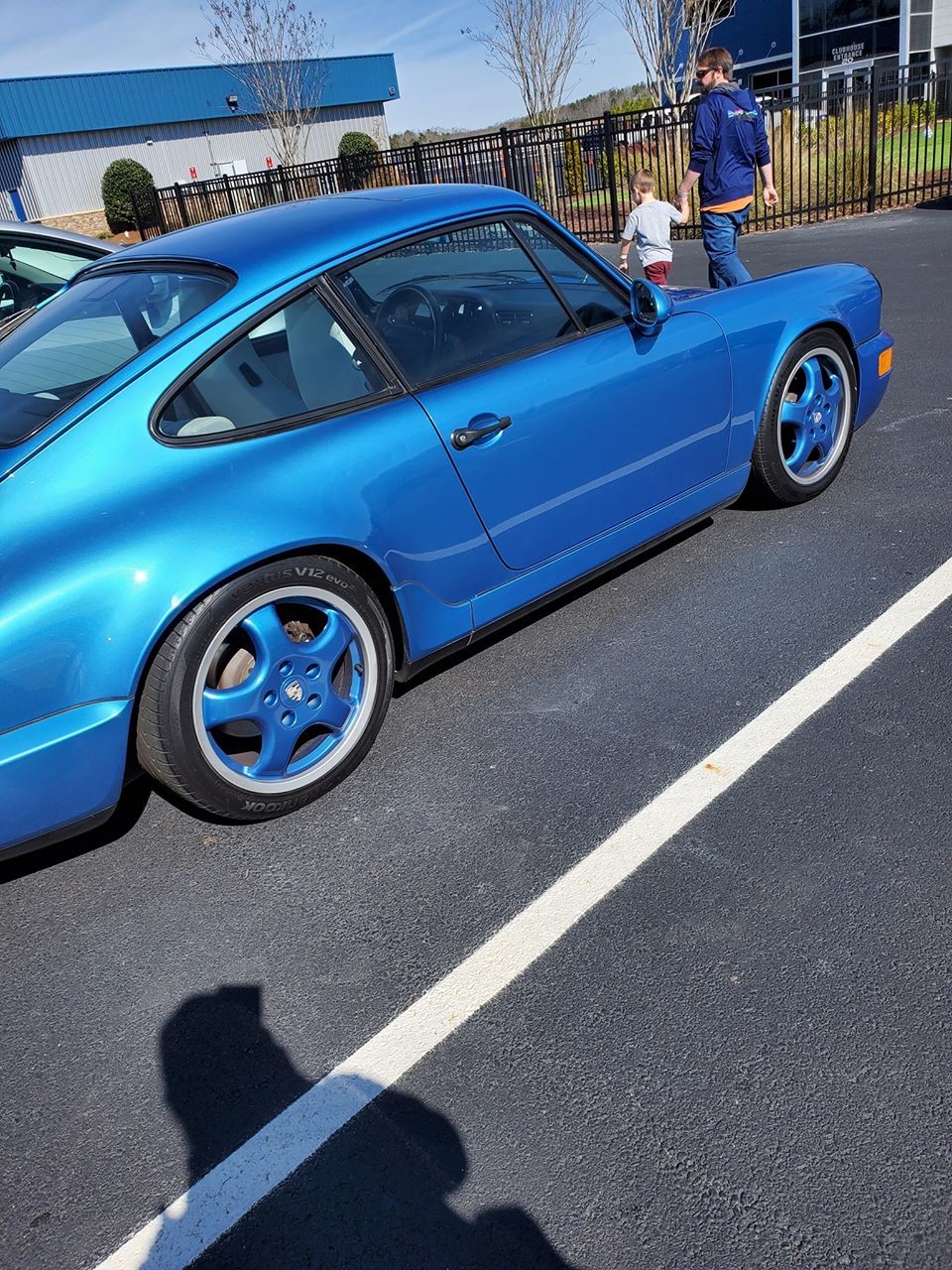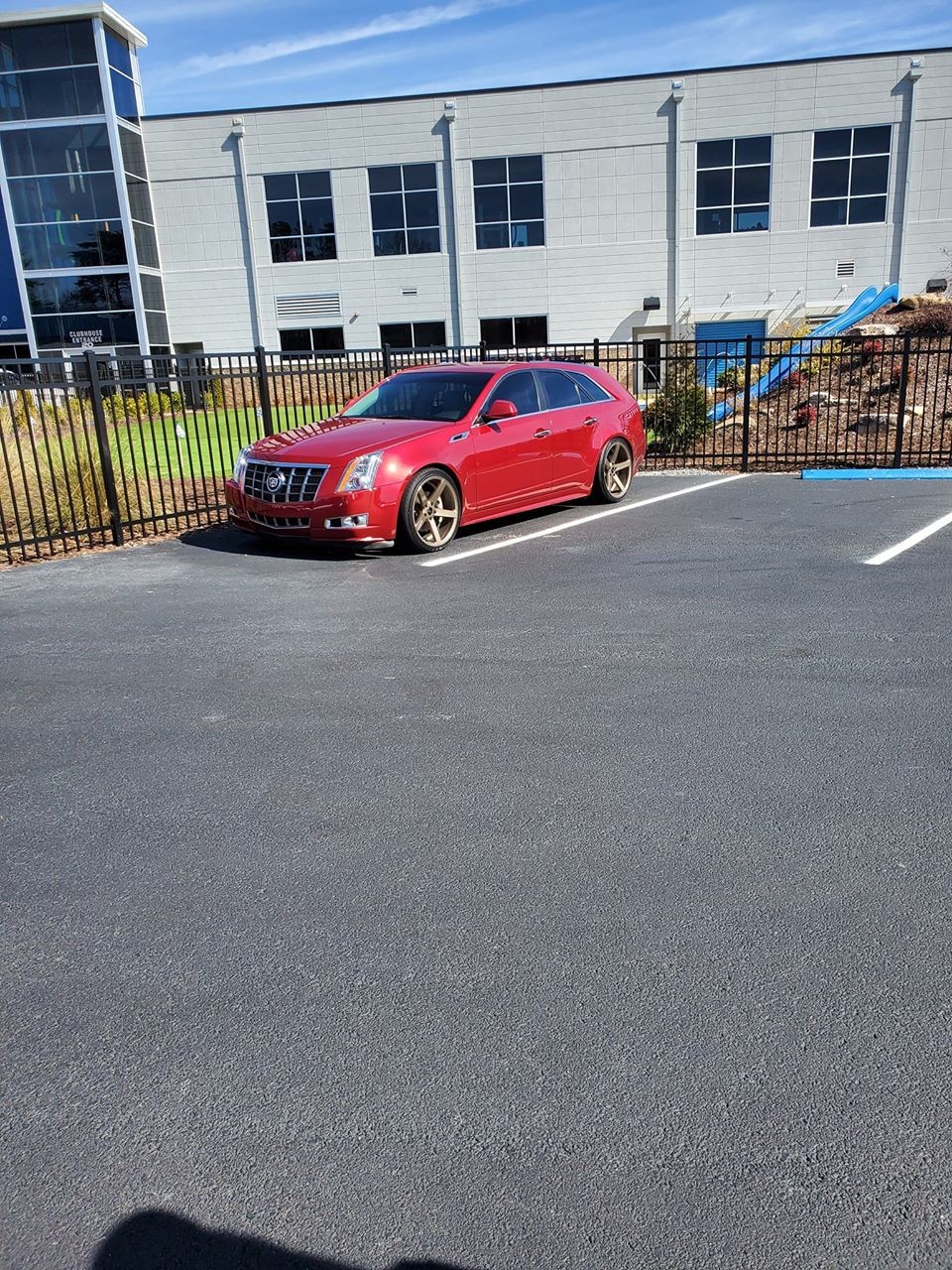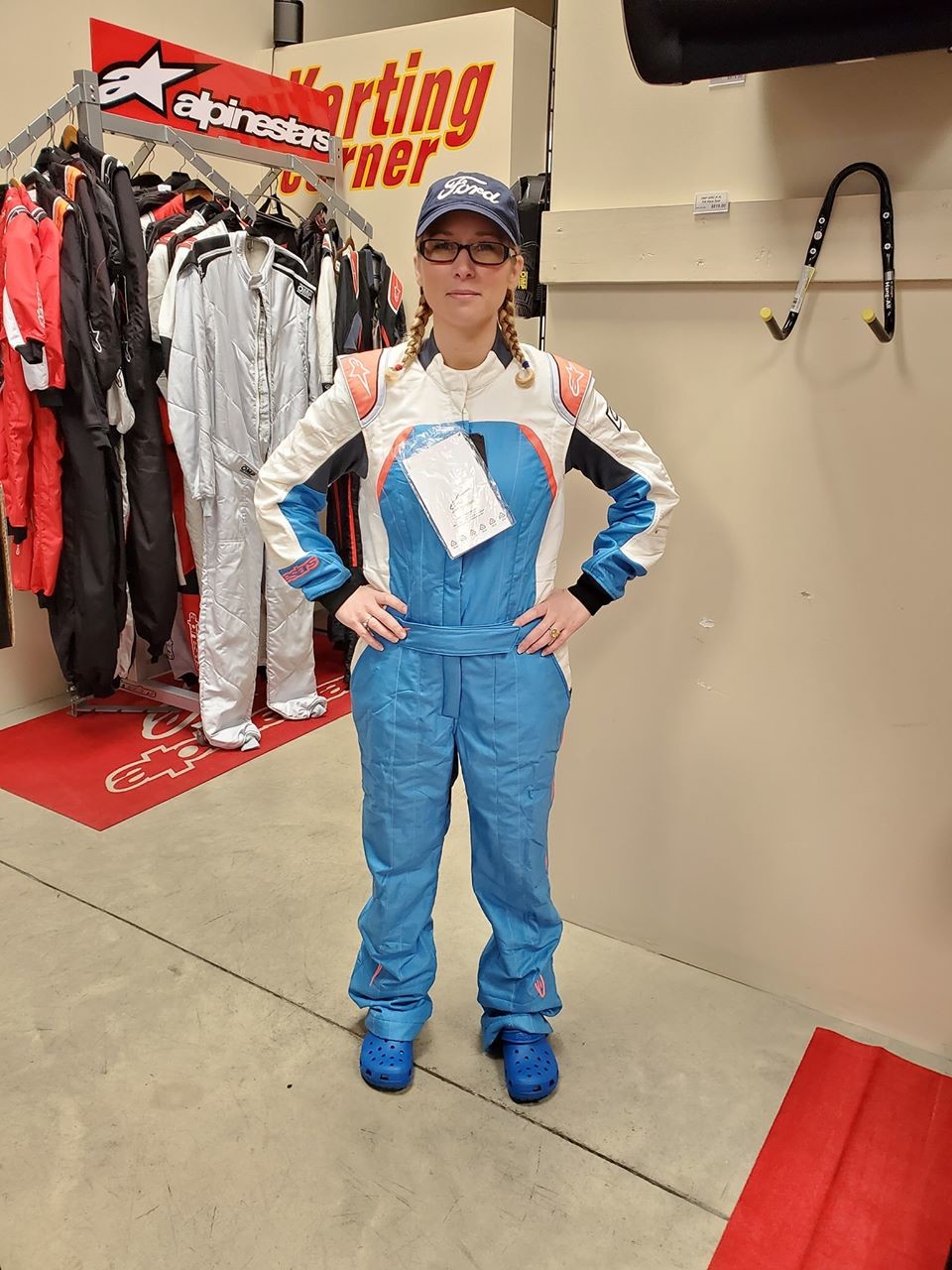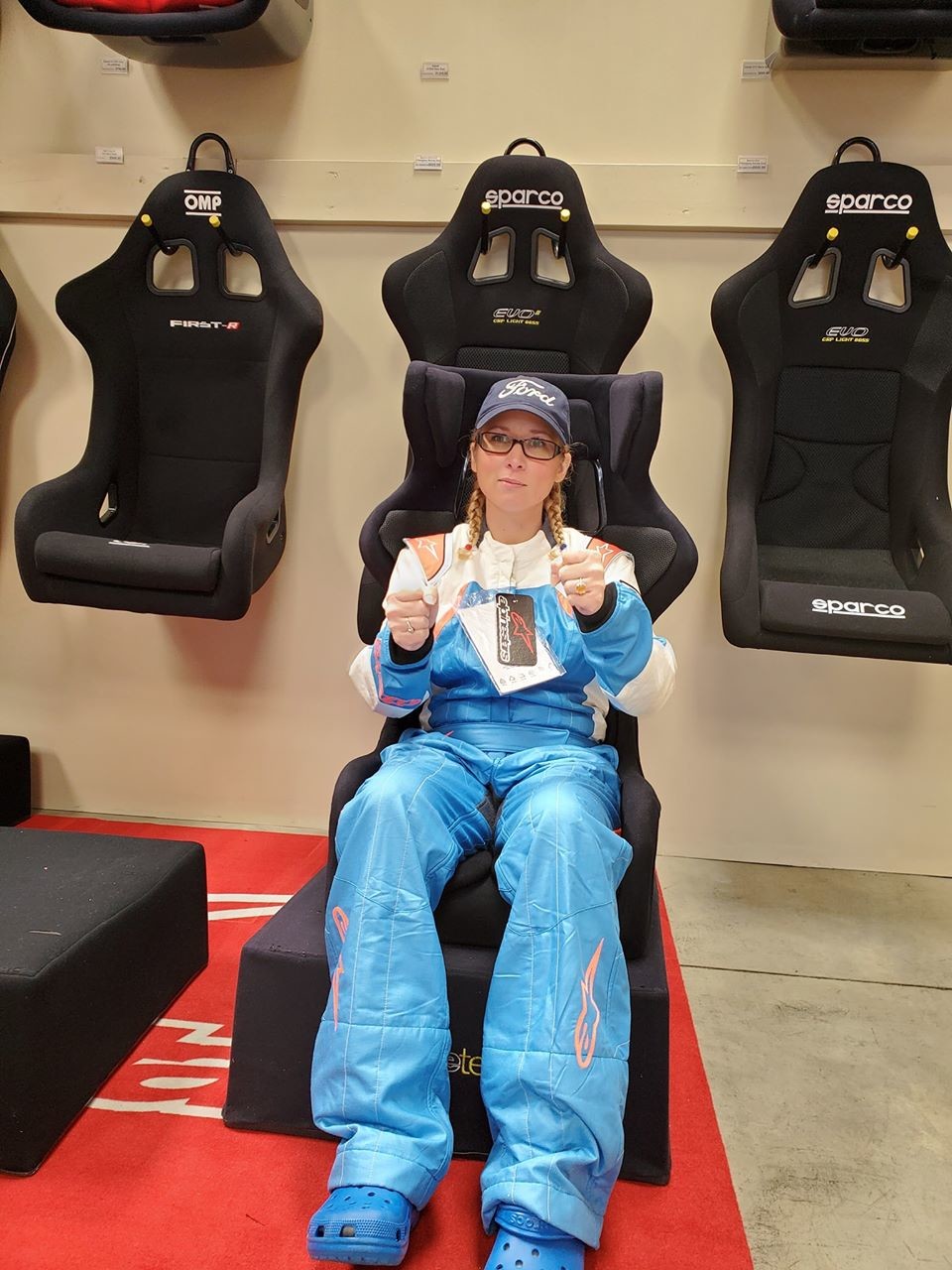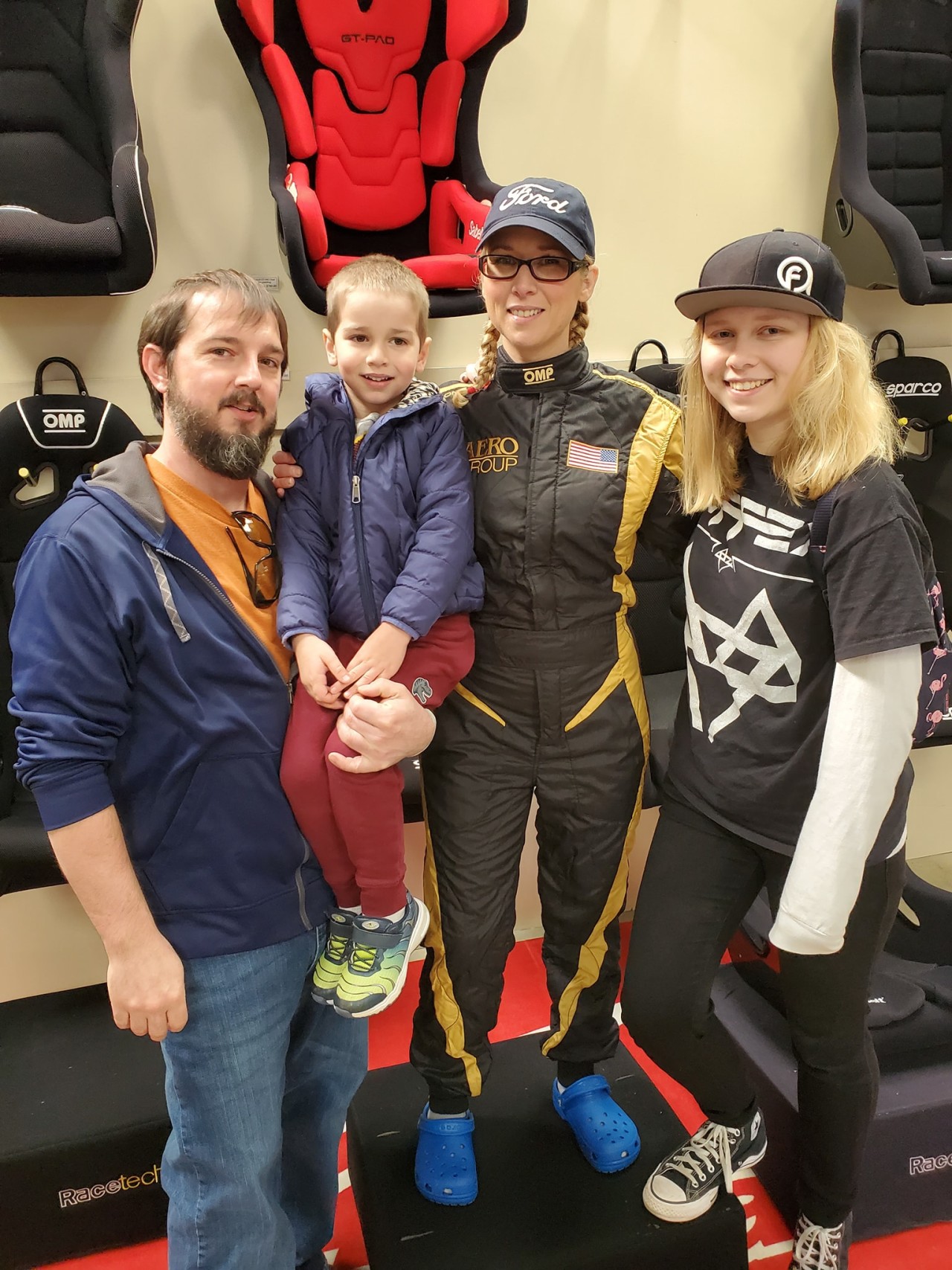 2-25-2020
.
.
.
With excellent guidance and some extra muscle here and there from @kqphotoworks, I managed to turn every bolt on these installs. I've always been the "helper" in the garage, but I really wanted to do it all myself and build my own racecar. The car now sits about 1" lower on the @fordperformance adjustable suspension that includes, adjustable struts&shocks, adjustable front swaybar, adjustable panhard bar and new rear swaybar with upgraded endlinks. Bedding the brakes showed she's got a lot more stopping power with all new fluid, 4piston @brembobrake front calipers, 14" front rotors, and @goodridgeltd stainless steel brakelines on all four corners. I am so excited to see how this car performs on track! Next up is safety equipment.
.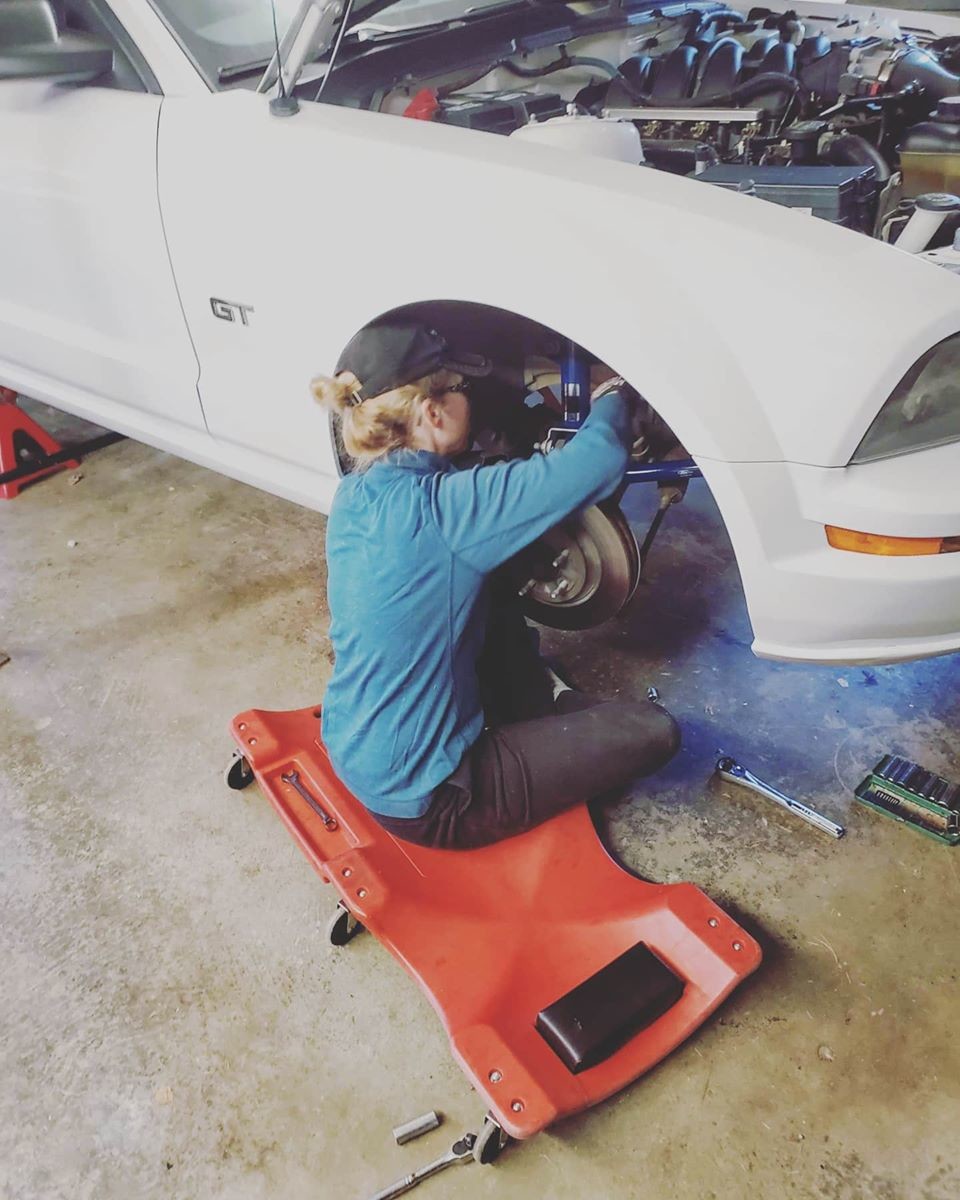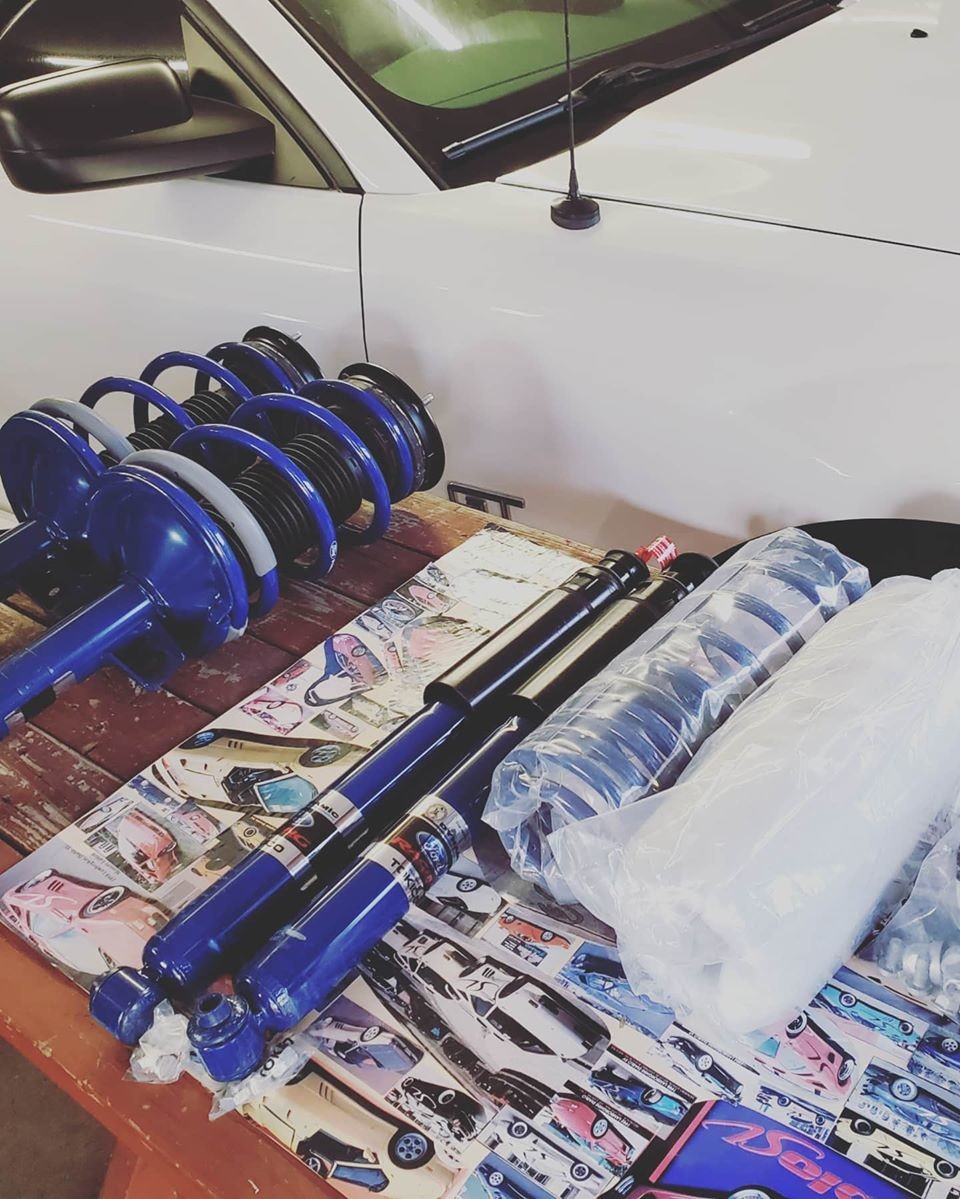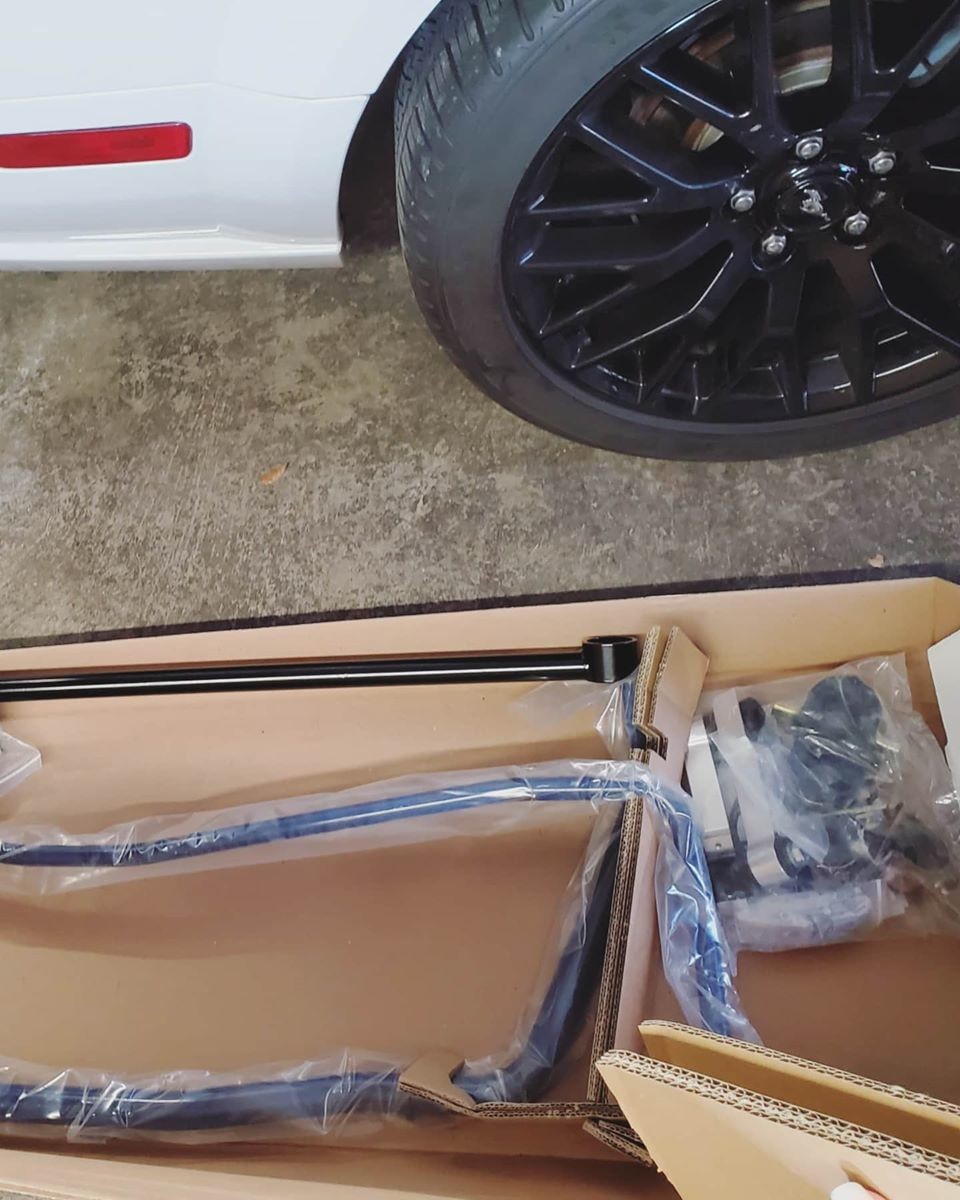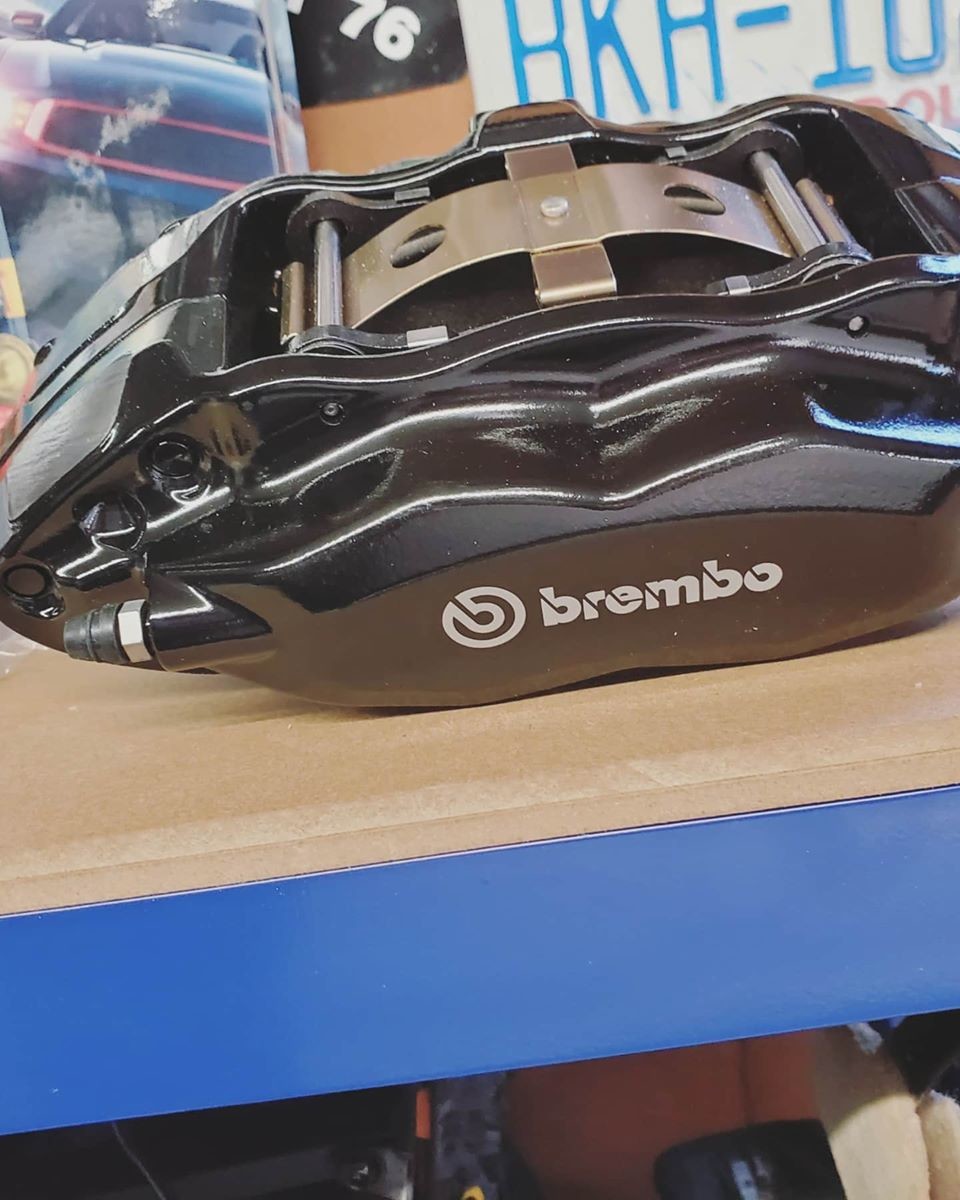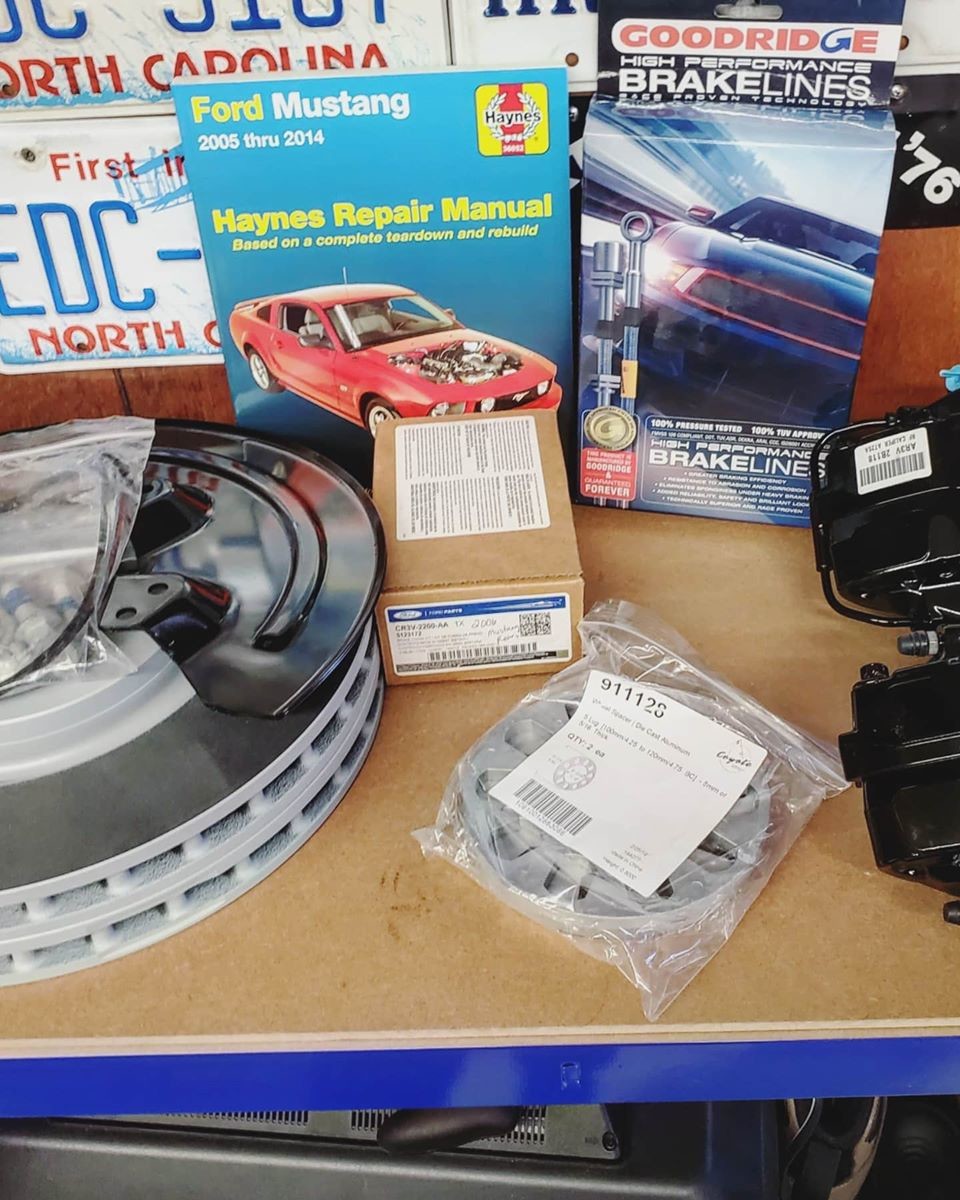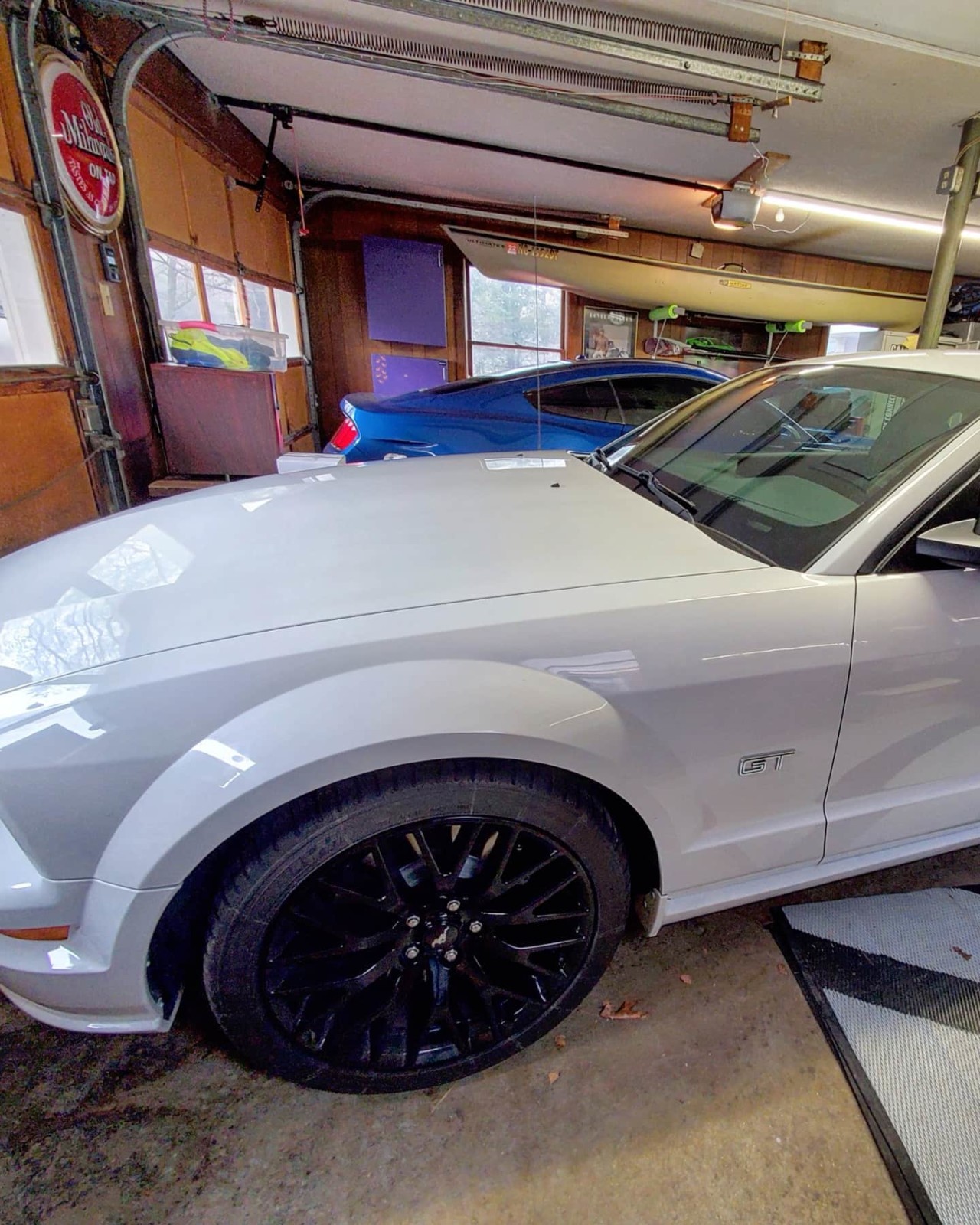 3-6-2020
Racing seats have been installed!
The X-Pad is a smaller seat overall and fits my petite body type perfectly.
The GT-Pad is a much larger seat, overall, and has different seat pad options to fit any size occupants. Each pad option is an extra cost, fwiw, and I went with the middle sized pads to be able to fit a variety of different passengers.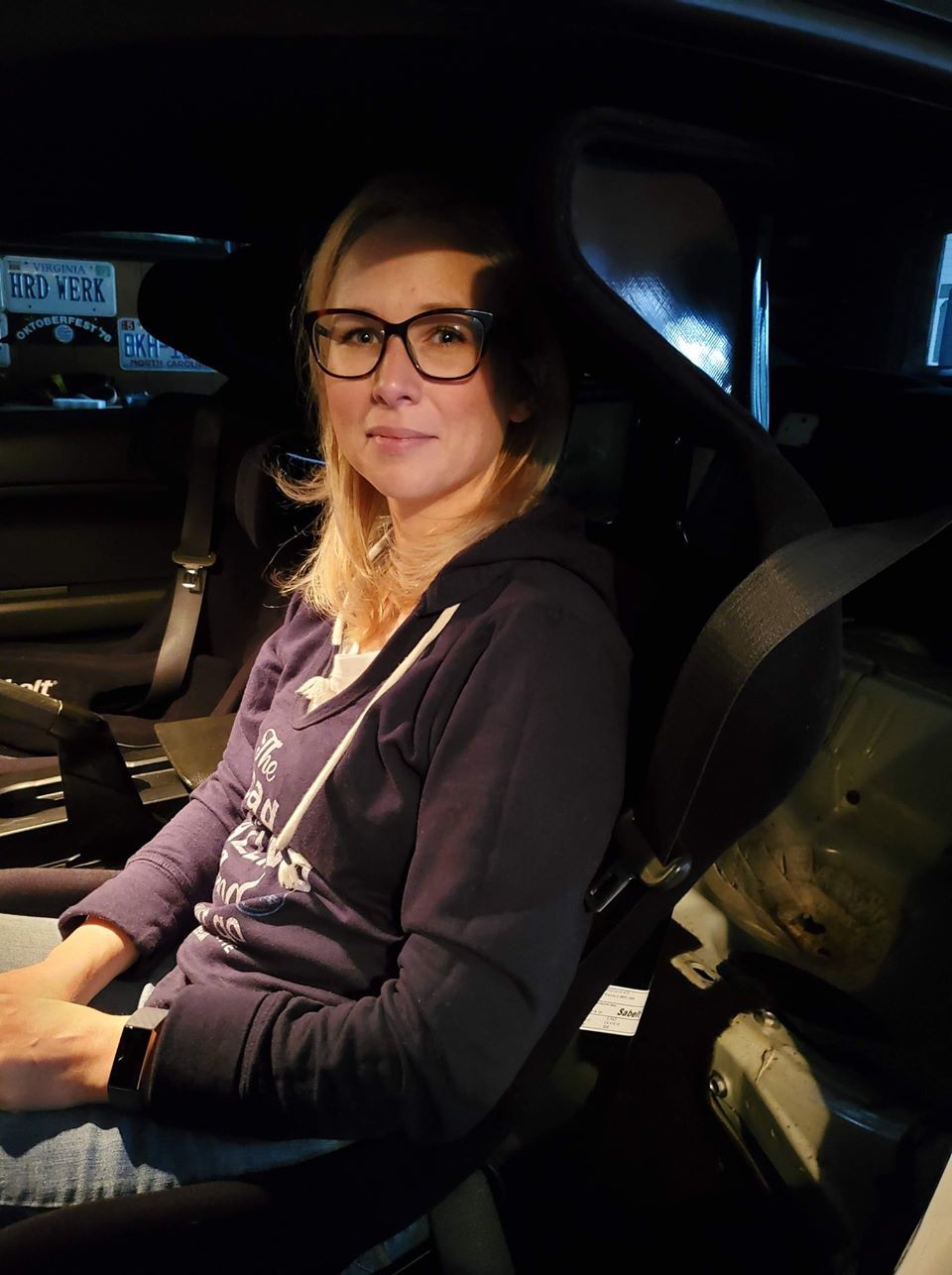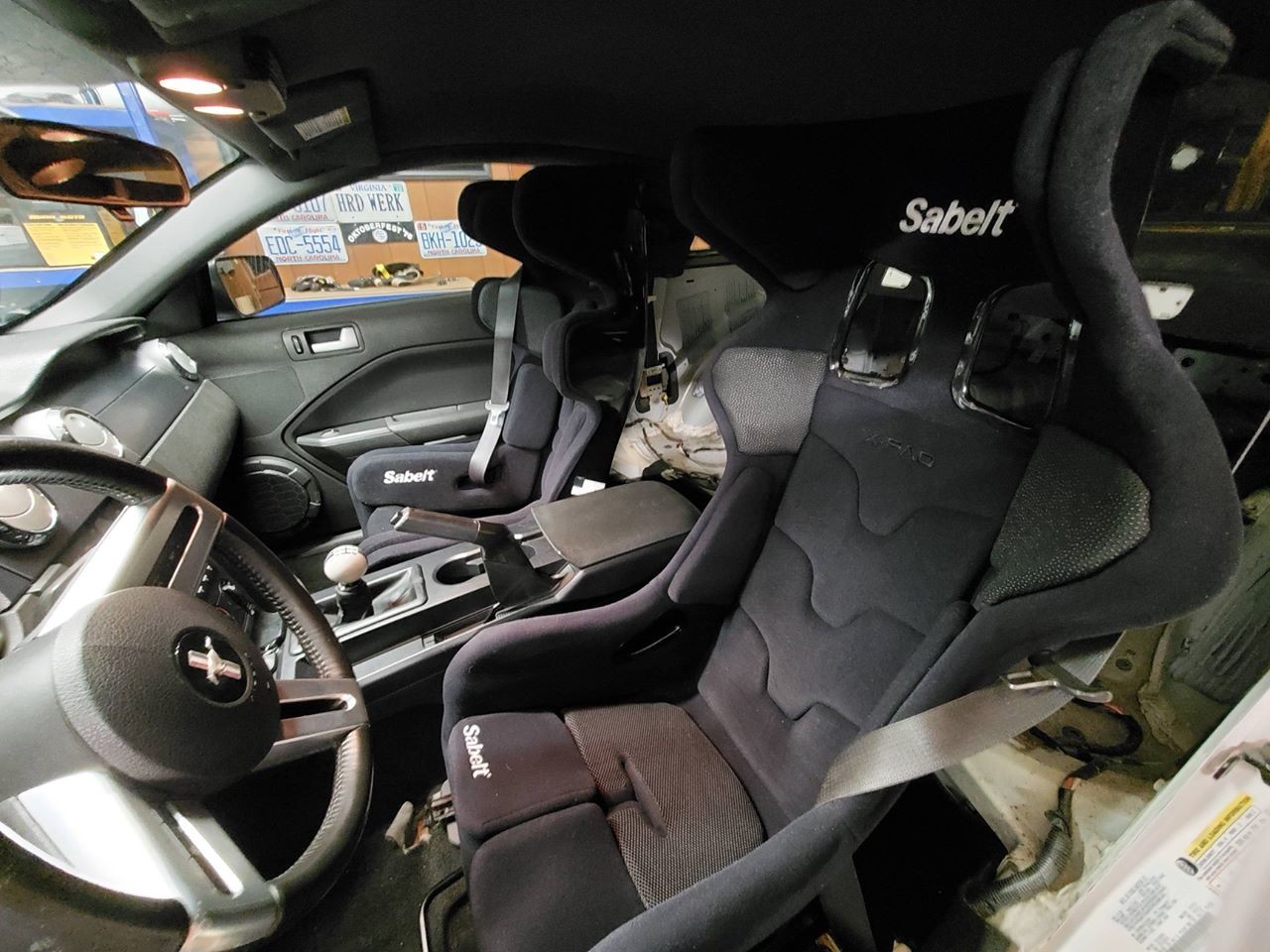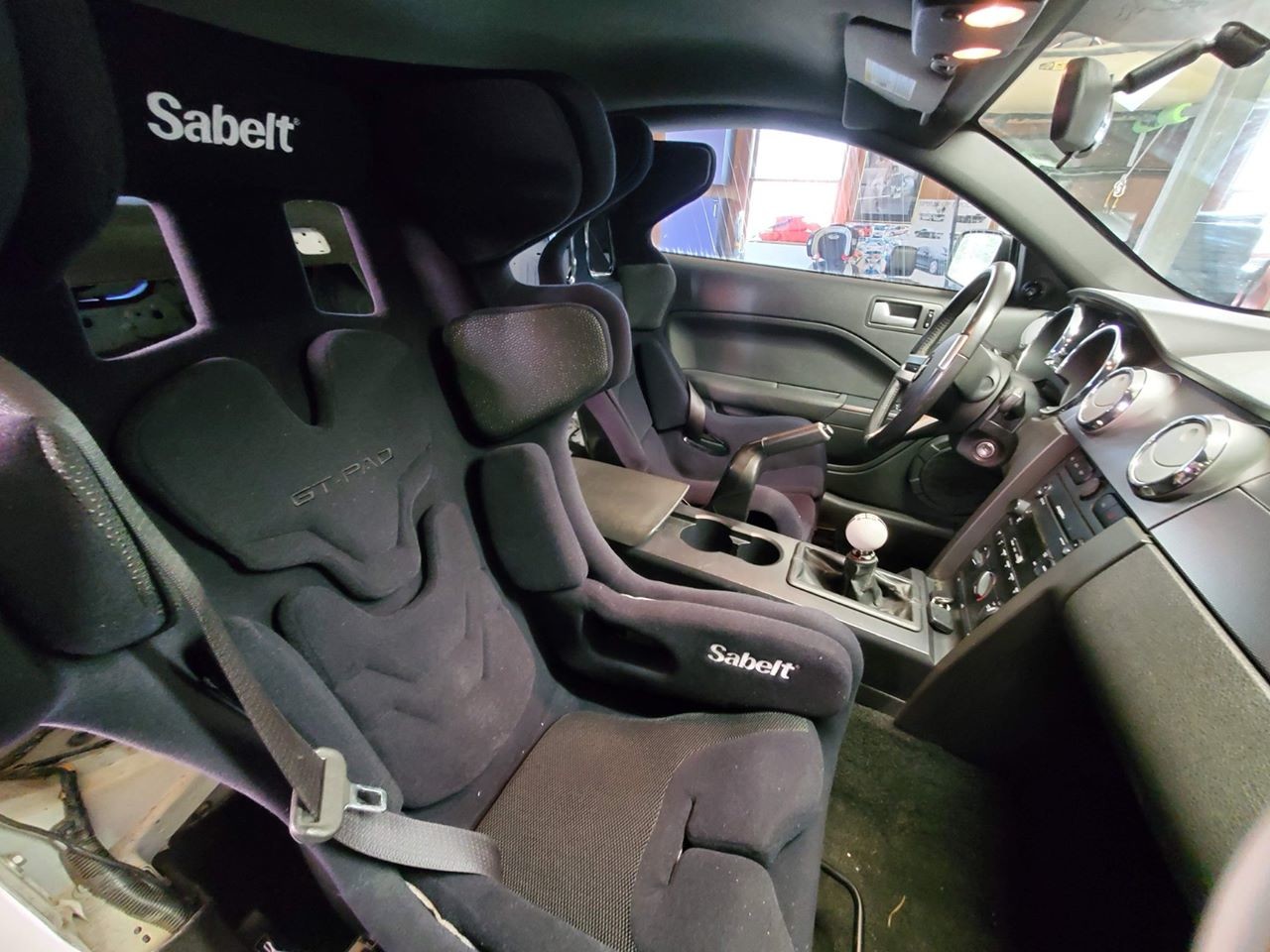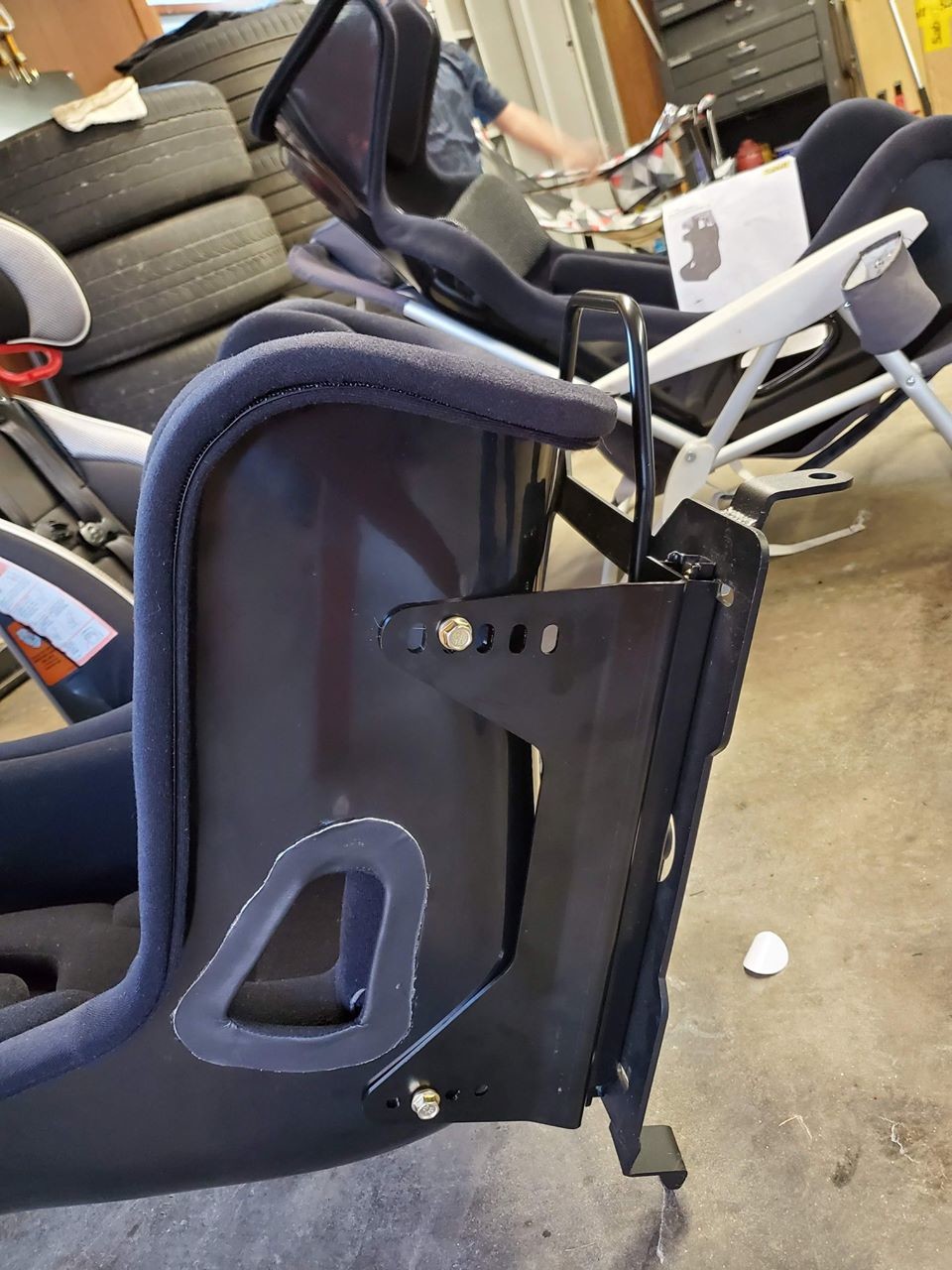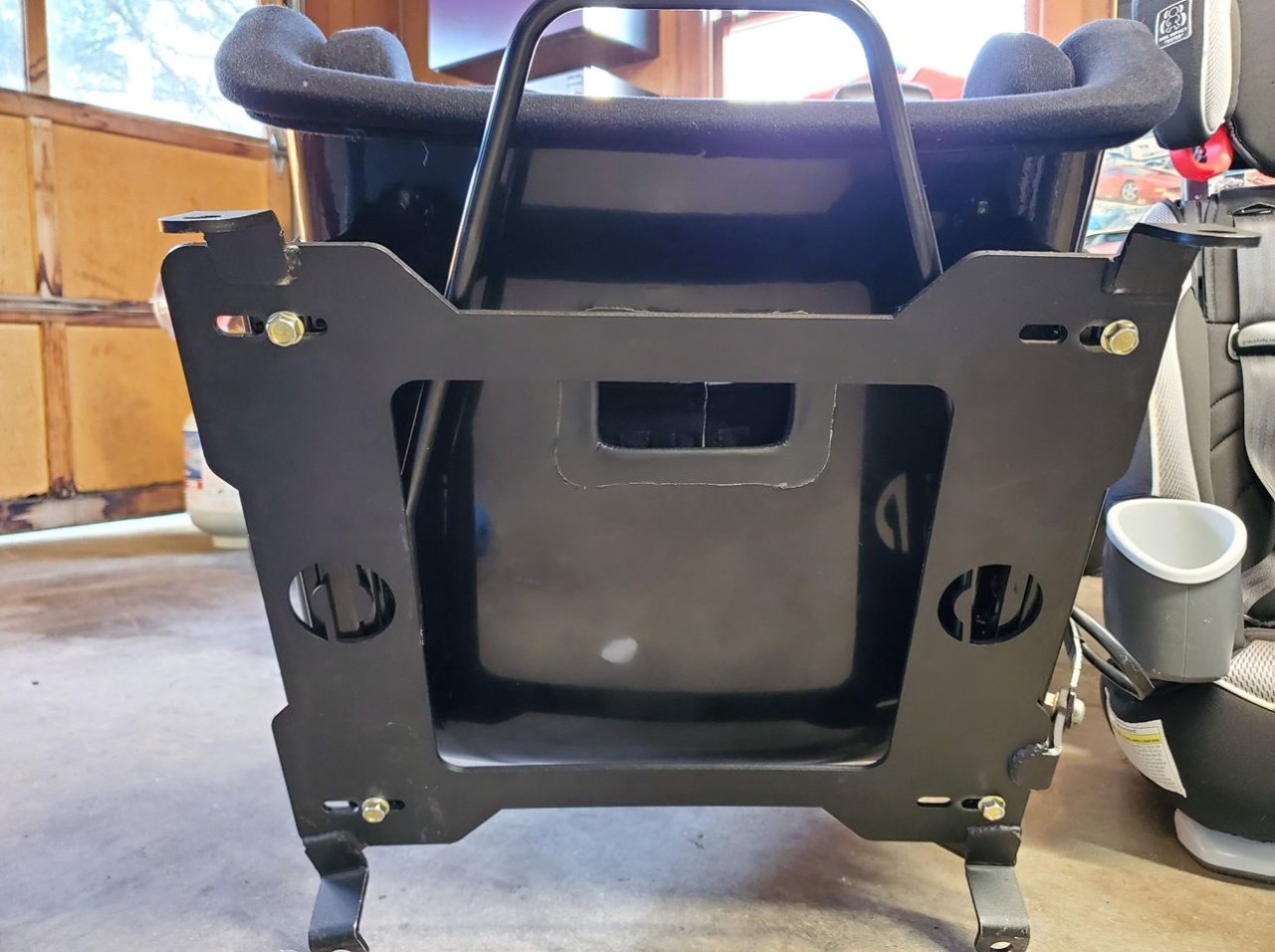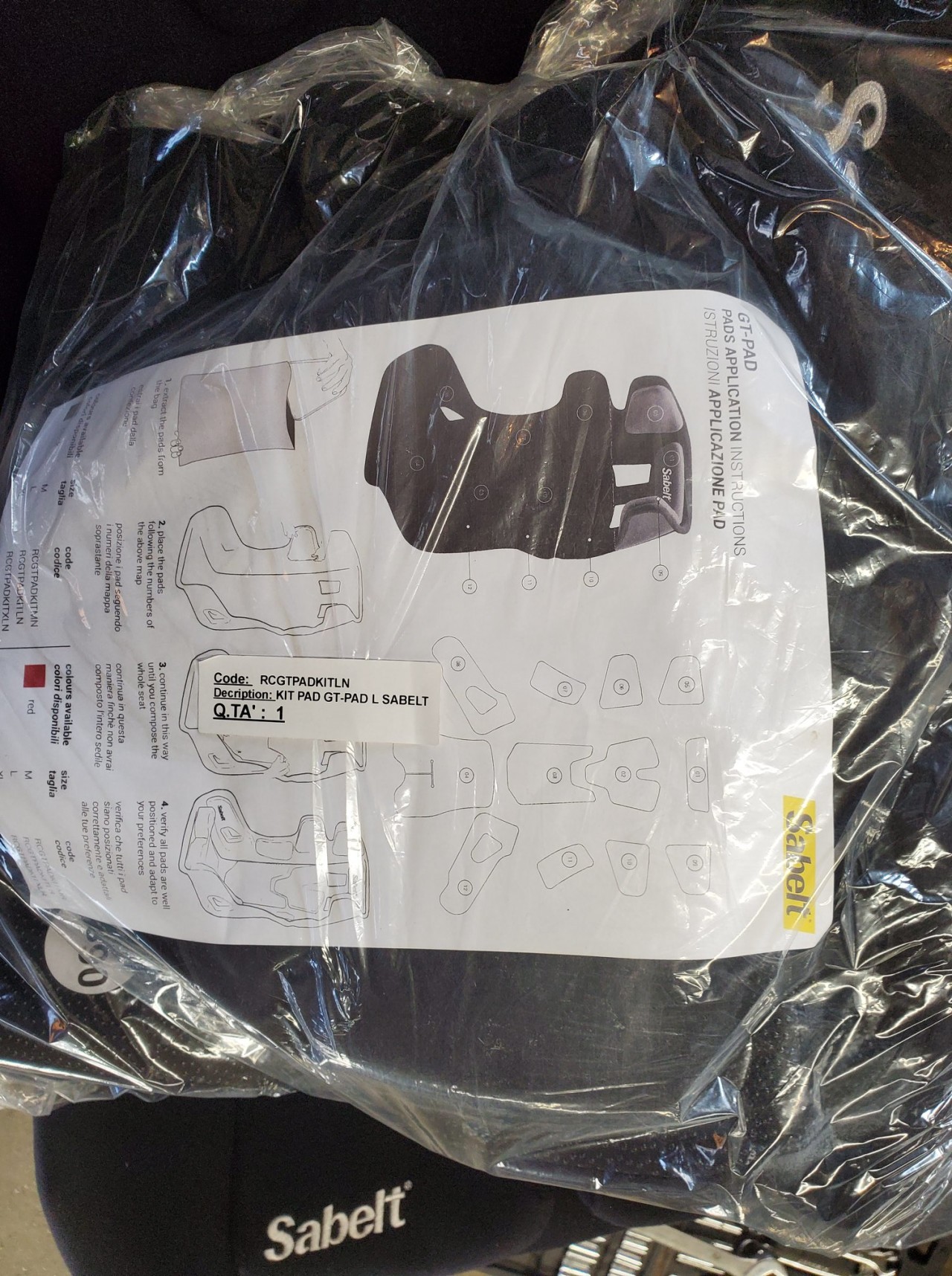 3-17-2020
This was the final lapping session of my HPDE1 weekend at Road Atlanta with NASA-SE, March 14-15, 2020. This was the first time I had driven my recently built S197 Mustang GT on track, and my second time at Road Atlanta. During the weekend we had dry, damp, wet and down pour conditions. The track condition was constantly changing, even during a lapping session.
I don't have a lot of time in driving this car. I bought it at the end of January 2020 and began replacing/upgrading worn parts. The car has a Stock Engine running 87 octane, Ford Performance Adjustable Suspension kit, Ford Performance Brembo GT500 Brake Upgrade kit, All new OE spec fluids, All Seats Removed and front seats replaced with Sabelt X-Pad & Sabelt GT-Pad. Wheels are SVE Tech7 in 19x10et35 with three-quarters worn Michelin PS4S tires in 296/35zr19 (square).
I was cautious to push the limits of this car the whole weekend. Even during this last lapping session, I was cautious, but felt more comfortable with the car. Shift points were designated by the instructor. I didn't have any spins or offs all weekend, and got a lot more comfortable keeping up with flag stations, watching my mirrors, and handling traffic. All of which were my top goals. The car drives pretty great, imo. Different than the S550, but still very capable. I think with some changes to shift points and stickier tires, the car is capable of being a lot faster around the track. More seat time will make me faster, too.
3-21-2020
There's always a risk when going on track. During the NASA-SE track weekend at Road Atlanta, the weather was constantly changing. We saw sunshine, drizzles and full on down pours, sometimes all within the same lapping session. This meant, for a beginner like me, I was not only working on looking ahead for flag stations and being aware of traffic, I was making mental notes every lap about where the water was puddling or where the pavement was starting to dry. The Esses and turn 12 were the two places I saw the most drastic changes in pavement conditions. This photo is at turn 5, coming out of the esses. I didn't see the sn95 Mustang go off and I can't speculate as to what happened, but I did see the yellow flag, at turn 5, from the top of turn2 going into turn3, and watched the station worker put it away by the time I was dropping into the Esses. THEN I saw the car off to the side, which might have startled me if I hadn't previously seen the flag.
There's always a risk when going on track, but I also learned there's a ton of communication and non-verbal relaying of information available to drivers on track. Staying aware as a driver, looking ahead for that information, and driving within your own limits, can reduce this risk immensely and make you more confident as a driver.
Side Note: Sometimes sh*t happens and I am very antsy to get my roll cage installed!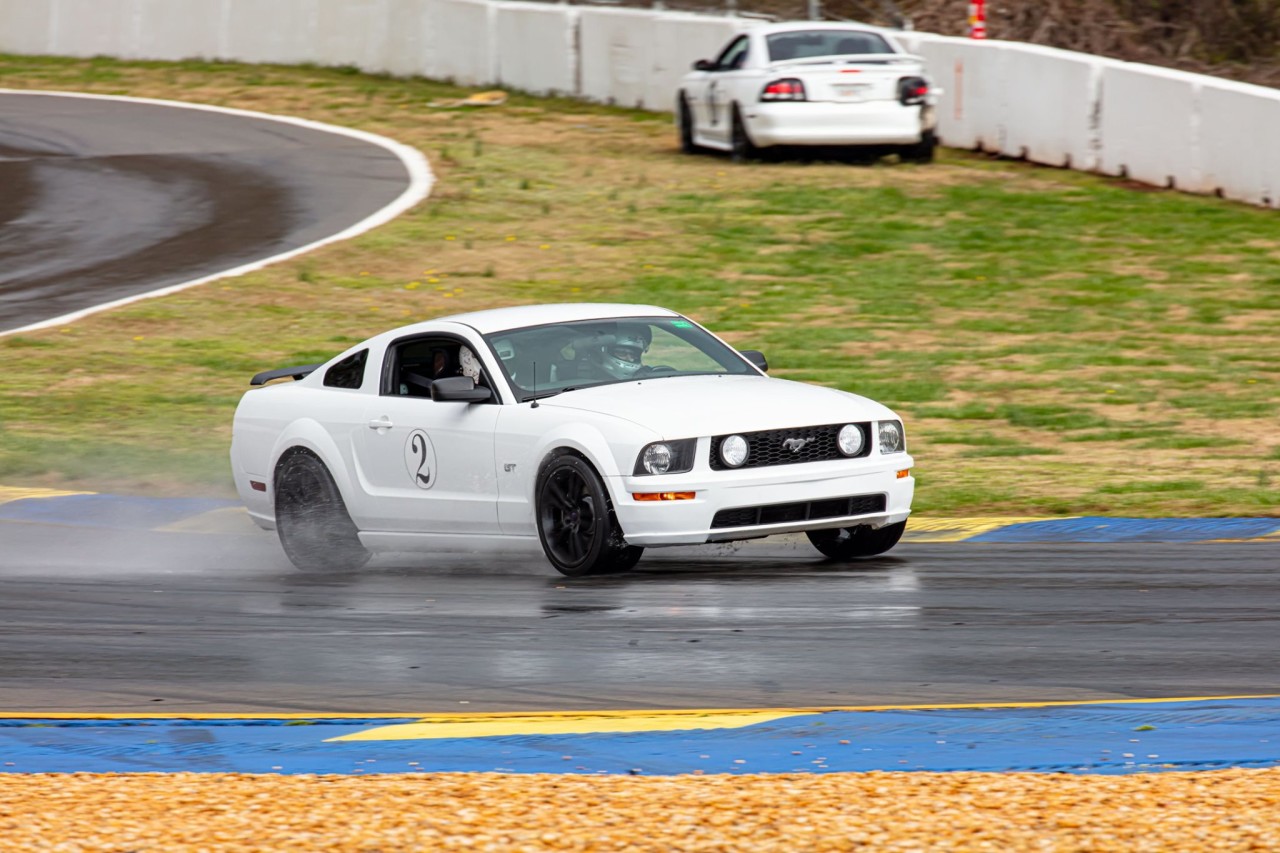 7-13-2020
Exciting news!! Racecar and I are competing in the Chasing the Dragon Hillclimb in Robbinsville, NC the weekend of August 15&16! There's a few things I would like to get installed on the car before the event for some added performance, like strut tower brace, CAI, and new tires. We'll see what the budget will allow, but, luckily, she's capable of competing as she currently setup. #hillclimb #ccrscca #scca #chasingthedragon14 #mustanggt #ford #FordPerformance #MustangsofInstagram #michelin #sabeltamerica #schrothracing #ladydriven #cargirl #s197mustang #trackcar #racecar #ladyracer #PlayAllTheMotorsports #RyanCheekRacing @ Black Mountain, North Carolina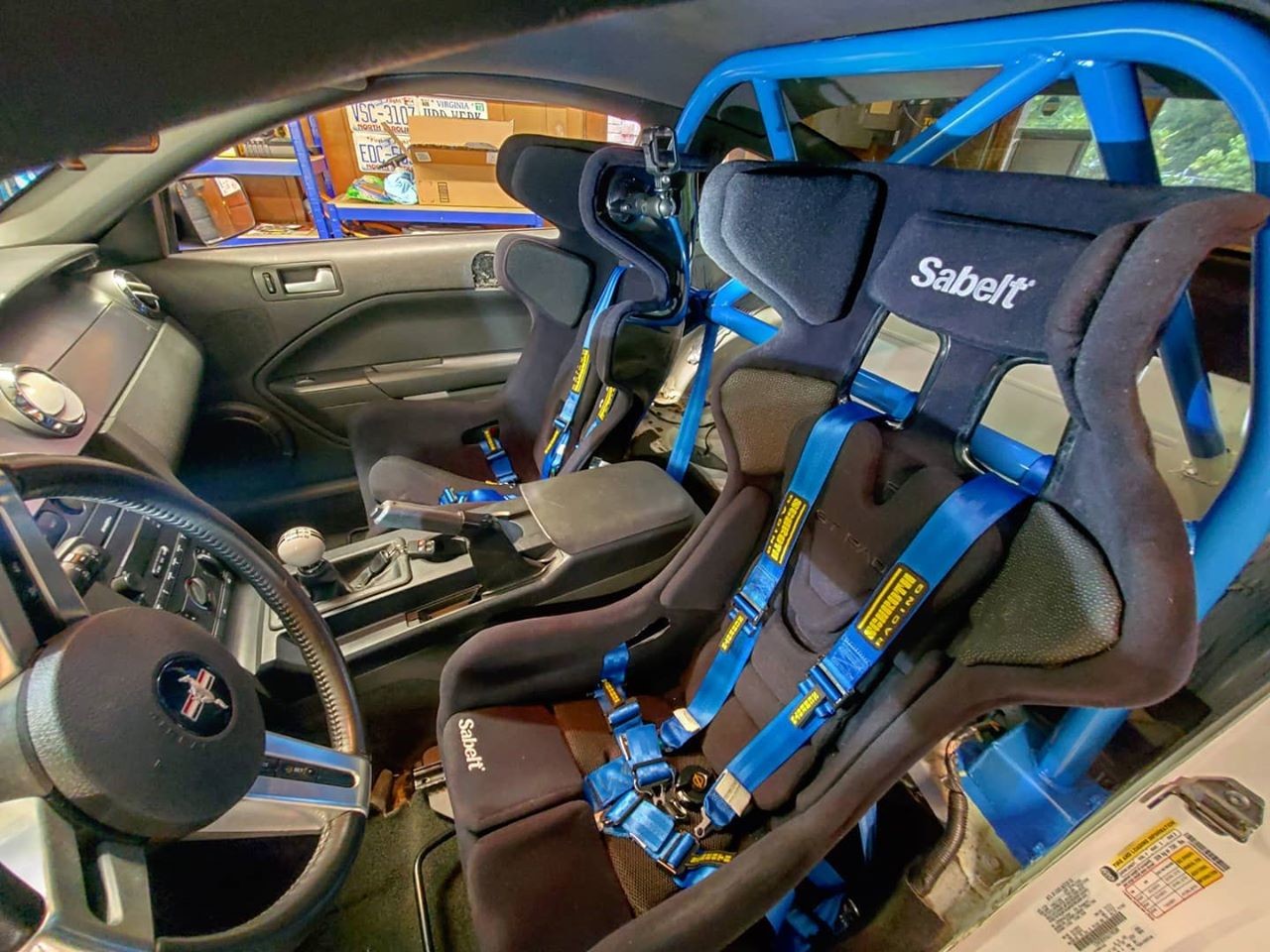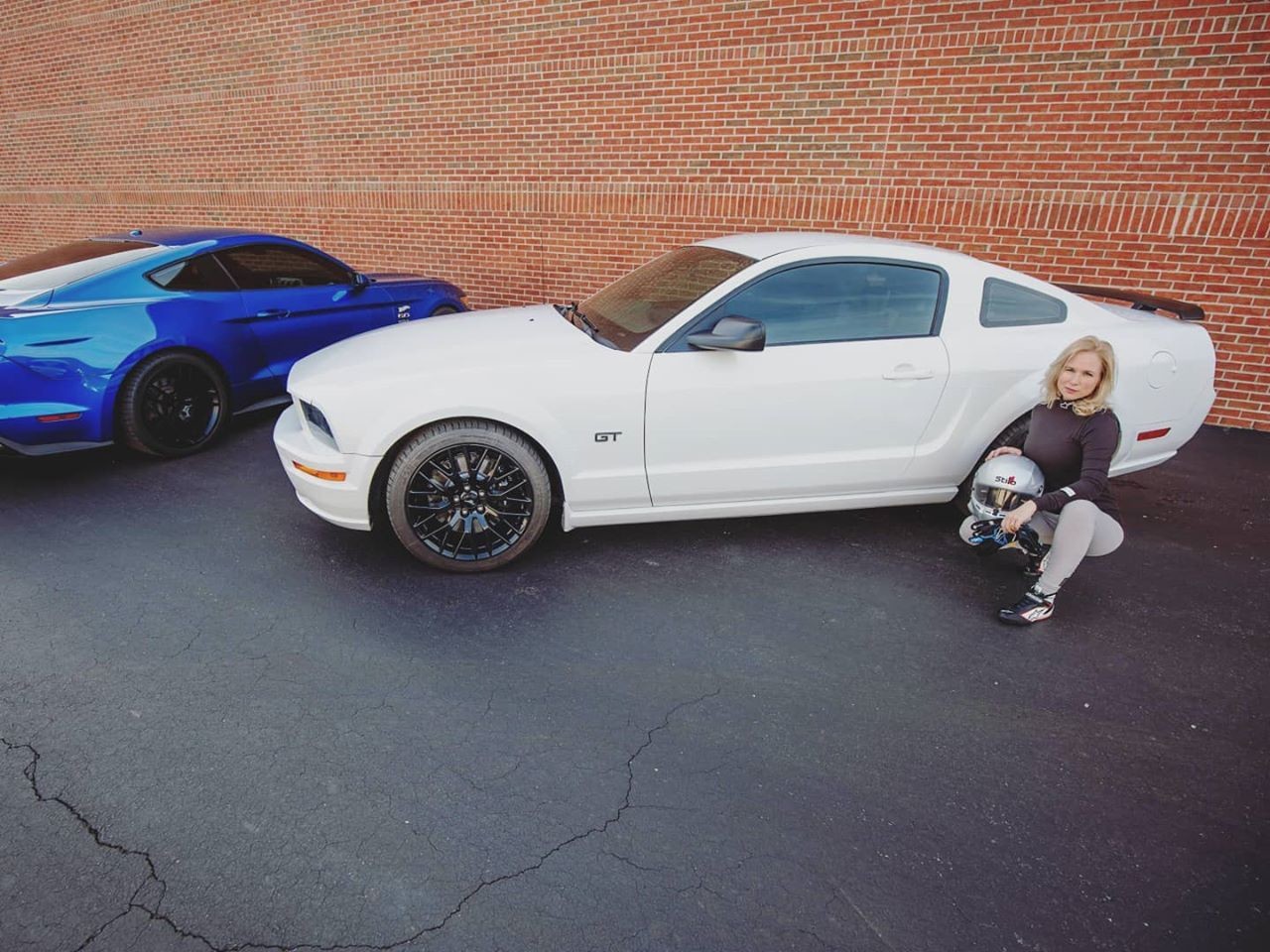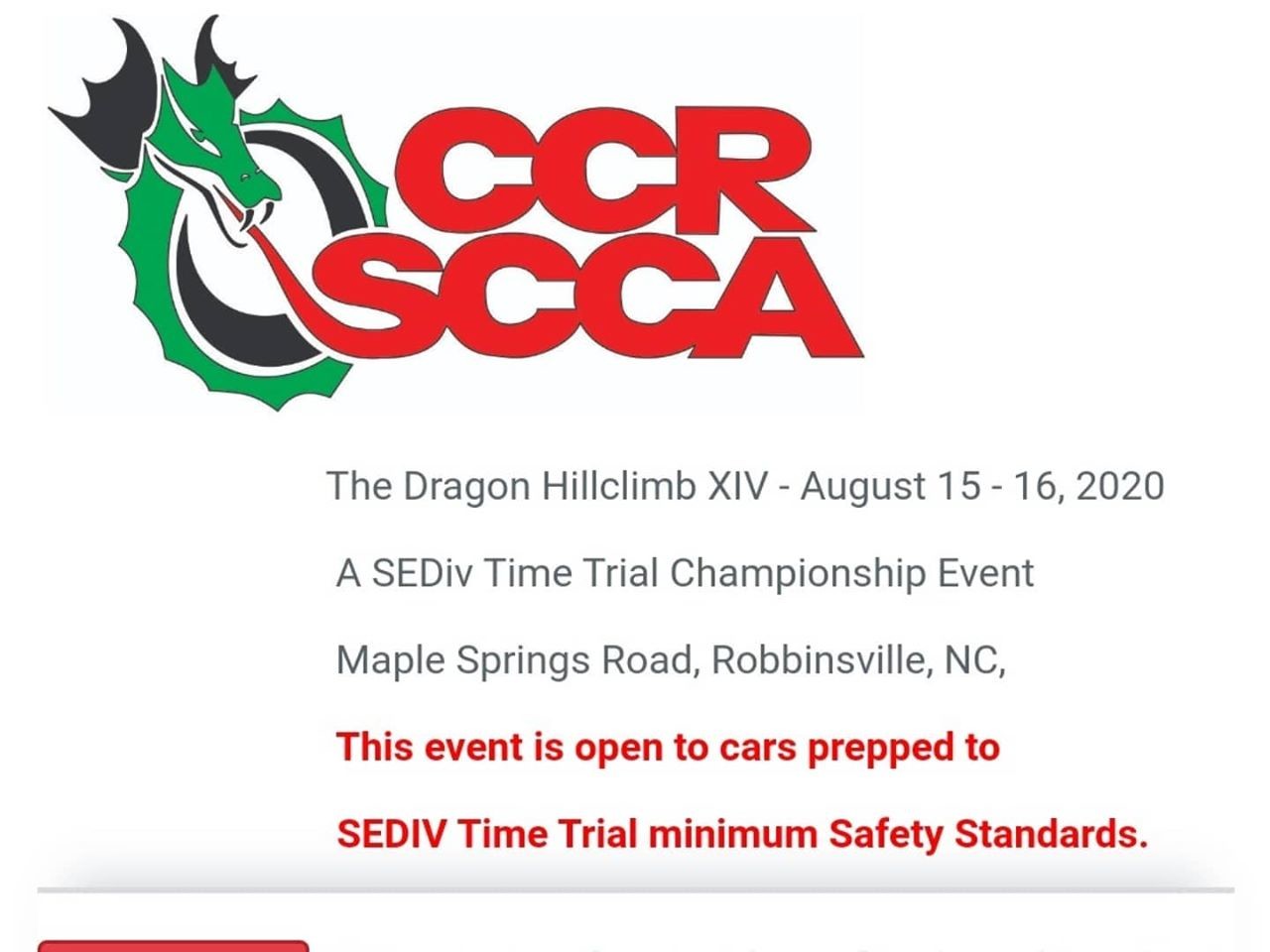 7-22-2020
Racecar scored a set of used 2008 GT500 wheels with @goodyear Eagle F1 tires. the wheels are square 18x9.5, and the tires are staggered with 255/45 up front and 285/40 on the back. I wasn't expecting to buy a new wheel & tire setup but these checked a lot of boxes and were a great deal! I will be using these for the Chasing the Dragon Hillclimb next month. I had planned to run my s550 PP1 wheels with their Michelin All-Seasons.(My 19x10 track wheels w/ PS4S tires are too wide for the class I want to be in.) But, these 220TW Eagle F1's have a lot of tread left and will give me a lot more grip than an A/S! Another benefit of having these 18" wheels is a larger selection of track tires AND these wheels are approved for NASA's Spec Iron w2w class, which I am working my way up to. Let me know what you think about the new setup! #newwheels #chasingthedragon14 #hillclimber #goodyear #eaglef1 #ford #FordPerformance #gt500 #cargirl #stang #s197mustang #trackcar #scca #ccrscca #PlayAllTheMotorsports #RyanCheekRacing
8-1-2020
Fire extinguisher and rollbar mount installed!! I hope I never have to use it, but if I do, this extinguisher is filled with @h3rperformance's Halotron1 clean agent which quickly turns to a gas once expelled. It will put out the fire, is safe for use on electronics and will not require any cleanup afterwards. Plus, it looks really cool, too!

#safetyfirst #trackcar #racecarstuff #racecar #s197mustang #cargirl #MustangsofInstagram #mustanggt #rollbar #hillclimber #firefriday #halotron #halguard#h3rperformance#safetyequipment #PlayAllTheMotorsports #RyanCheekRacing @ Black Mountain, North Carolina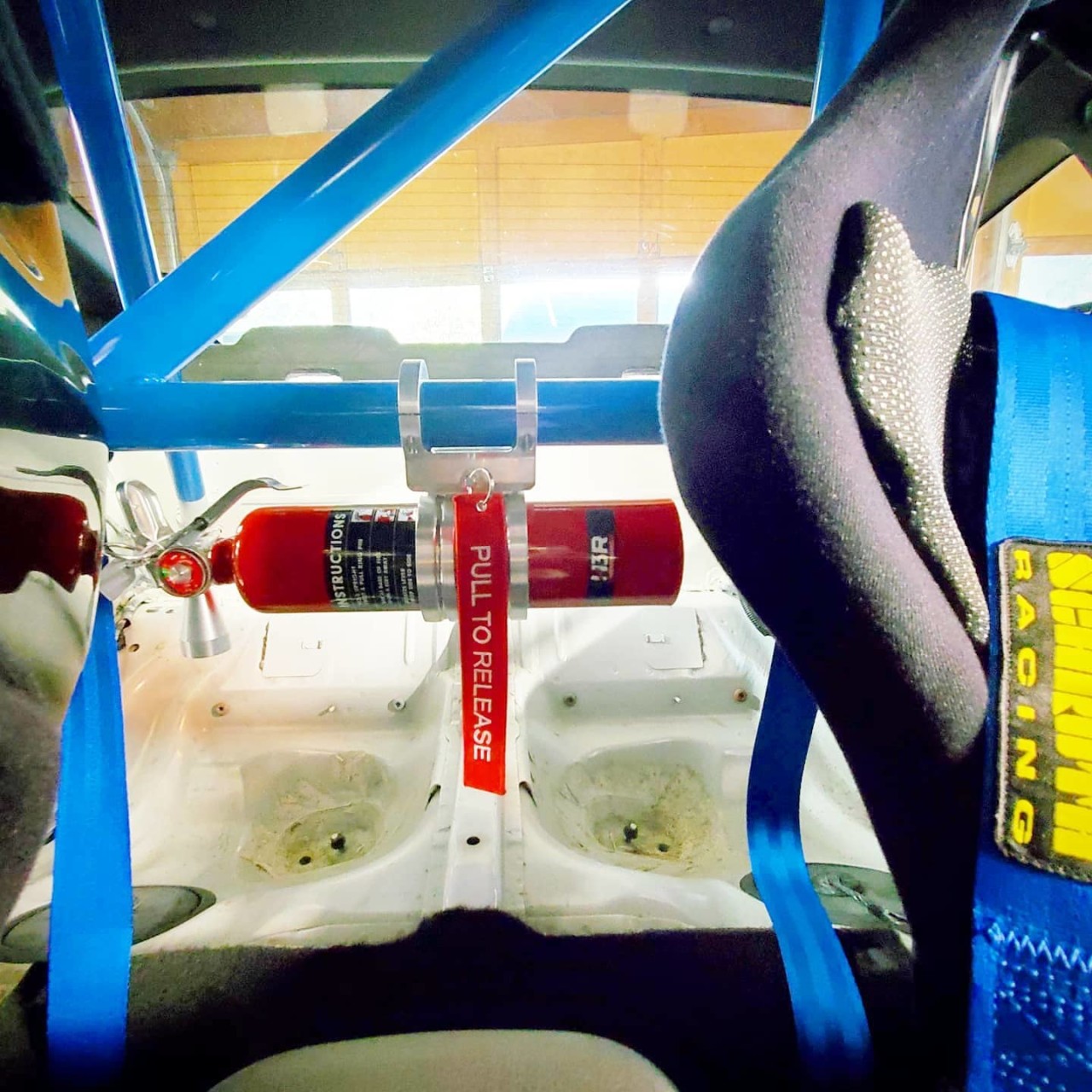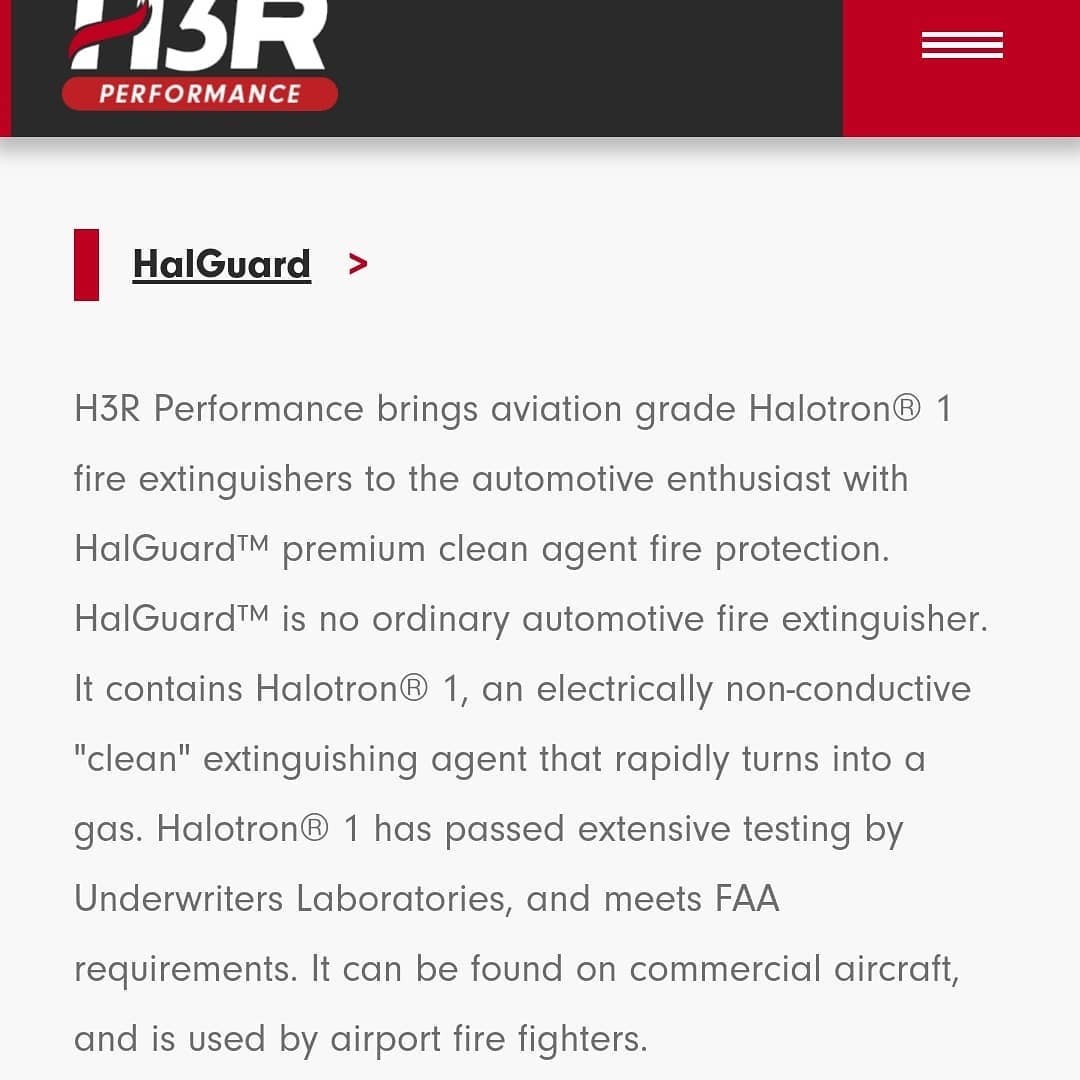 8-2-2020
I took Racecar out for a drive yesterday. About 2hrs of continuous driving through the mountains. The car is running great, throttle response is up, and I'd say she's even a little more peppy after cleaning the PCV hoses, the throttle body and replacing both CAM shaft position sensors. This was my second time driving the car with her new 18" GT500 wheels and Goodyear Eagle F1 Supercar tires. Those 220TW tires are sticky!
Overall, yesterday's drive really made me excited for the Chasing the Dragon Hillclimb coming up in 2 weeks. I'm really starting to feel in-tune with this car. Understanding her strengths and weaknesses, and adapting my driving style accordingly. Compared to my s550 GT (Hank), in Racecare I have to brake earlier but can get back on the power sooner. She gains speed quickly, and can be a little deceiving on how fast she's actually going (feels a little slower than actual speed), so it takes a little mindfulness to brake a little earlier. The GT500 Brembo brakes on the car provide firm, quick braking, but do require more pedal input than my S550.
Racecar, and I, did have a close call on our drive yesterday. But the guardian angels were paying attention and disaster was avoided! Enjoy the video!
8-3-2020
Absolutely love CRASH Jewelry. They take metal from cars and turn it into little works of wearable art.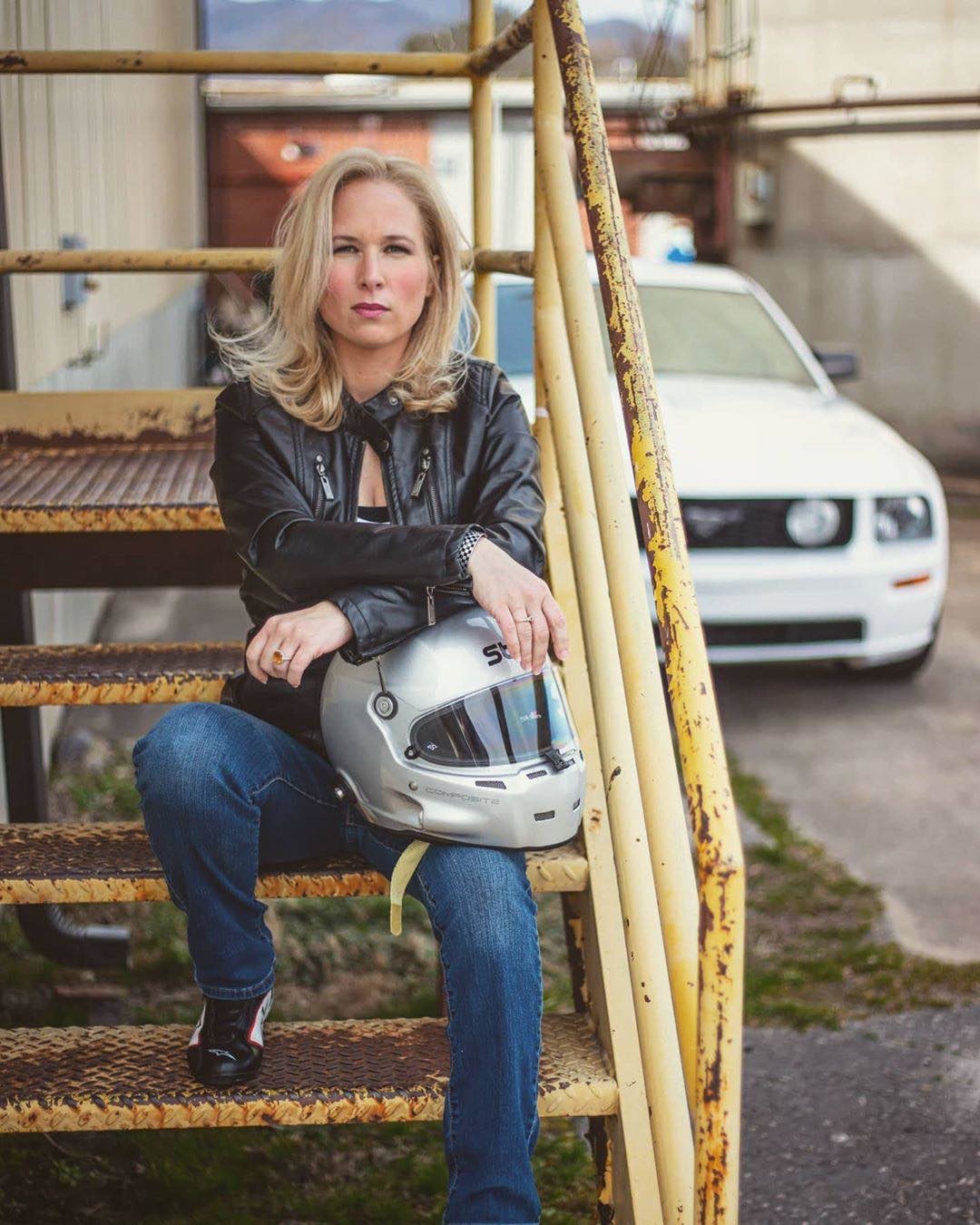 8-11-2020
I am so excited to share this announcement video with you all! We had so much fun making it!!
Michelin makes the best tires on Earth. I state this clearly and as fact. Not only have I spent a lot of time pushing the limits of various Michelin street tires, I've had the pleasure of learning and watching how Michelin tires are developed and manufactured when I attended their Women in Drive Experience. From the classroom, to the manufacturing facility, to my own experiences with Michelin tires, I am beyond excited to have Sport Cup 2 Track Connects on my Racecar for this event.
These tires are engineered to accept Michelin's latest Track Connect Technology. From a sensor mounted inside the tire, information is transmitted in real-time via bluetooth to your smartphone. The system has been developed for specific tracks and is like having your own personal Michelin Engineer to offer setting recommendations to get optimal performance from your tires every lap. This system will also simply provide real time tire pressures, for when you're not on track, if your car isn't equipped with a Tire Pressure Monitoring System.
The Sport Cup 2 Track Connects look and feel luxurious with Michelin's Premium Touch Technology, but that's just an added bonus to these smart grippy tires!
I could not be more excited to race on these Michelin Sport Cup 2 Track Connects. They will provide superior handling and ultimate performance for my very first hill climb race! Thank you, Michelin!!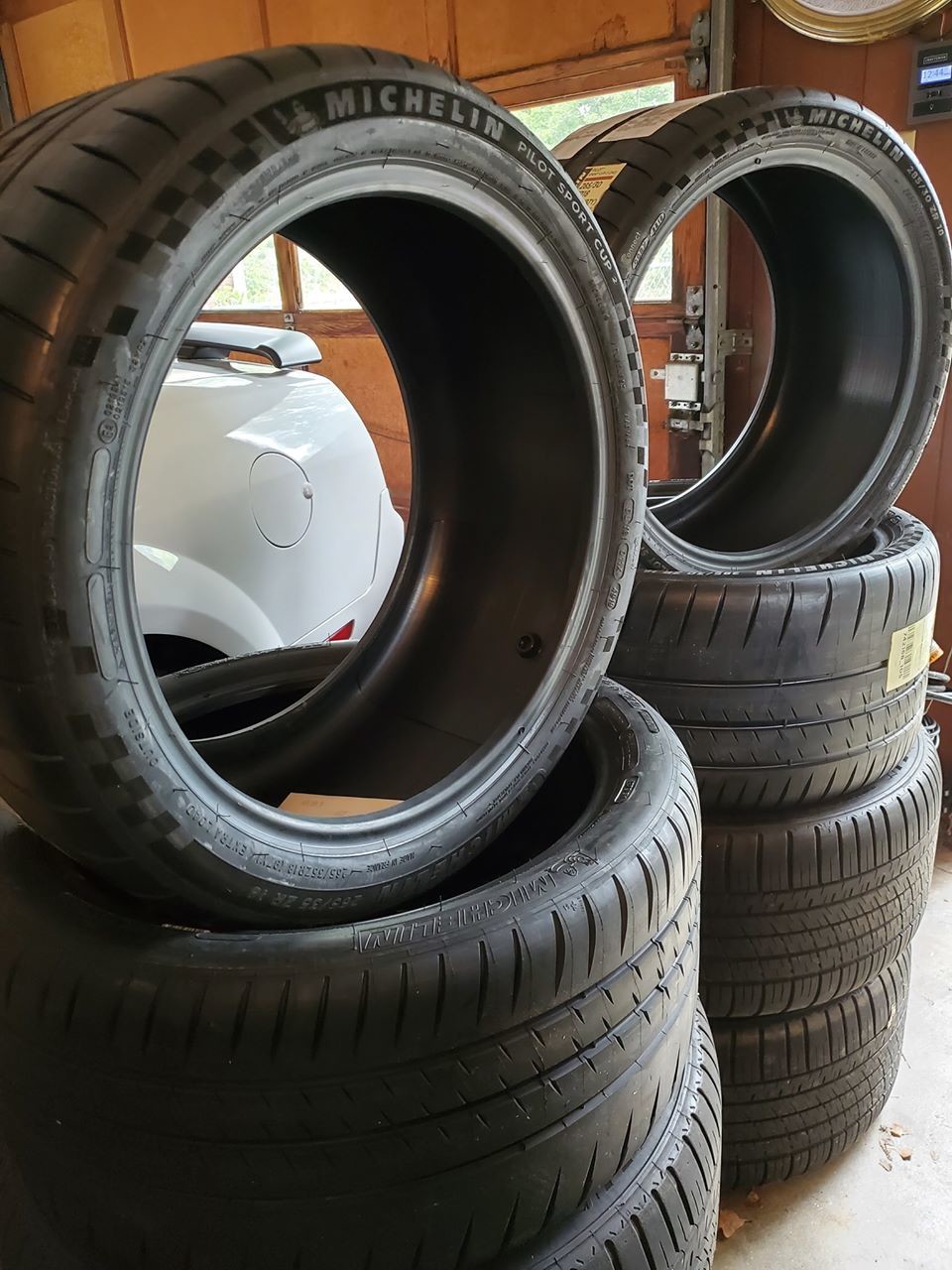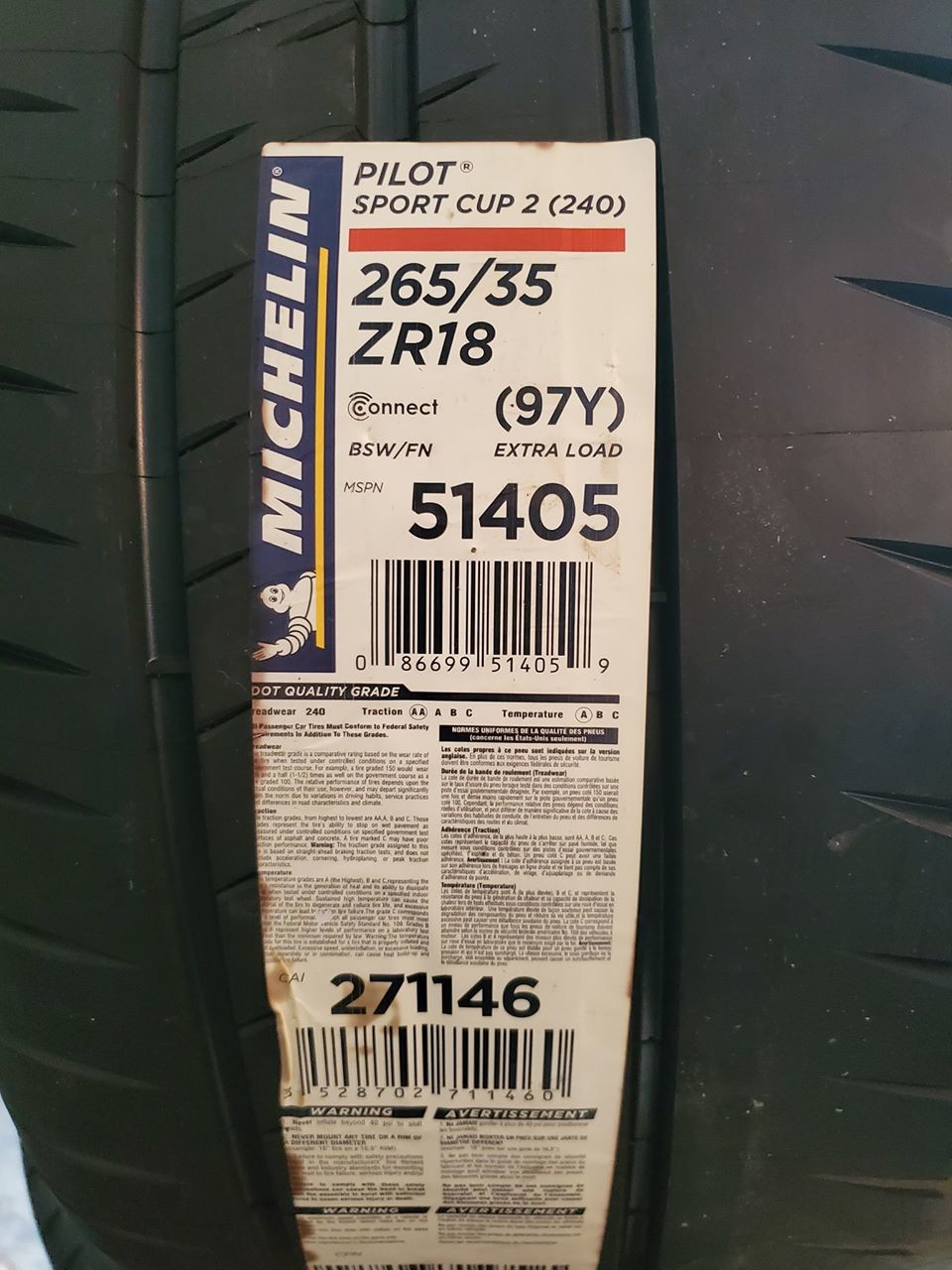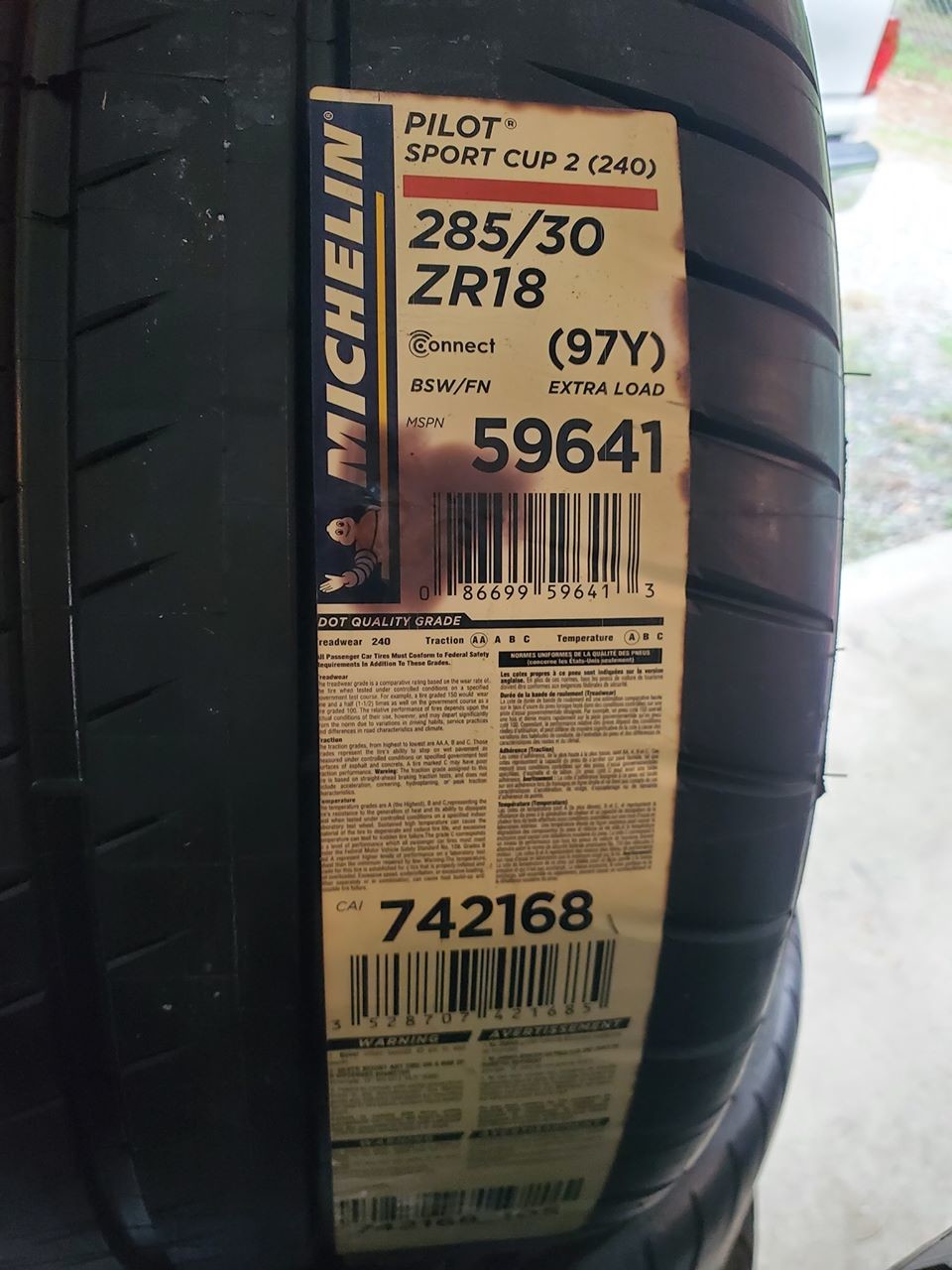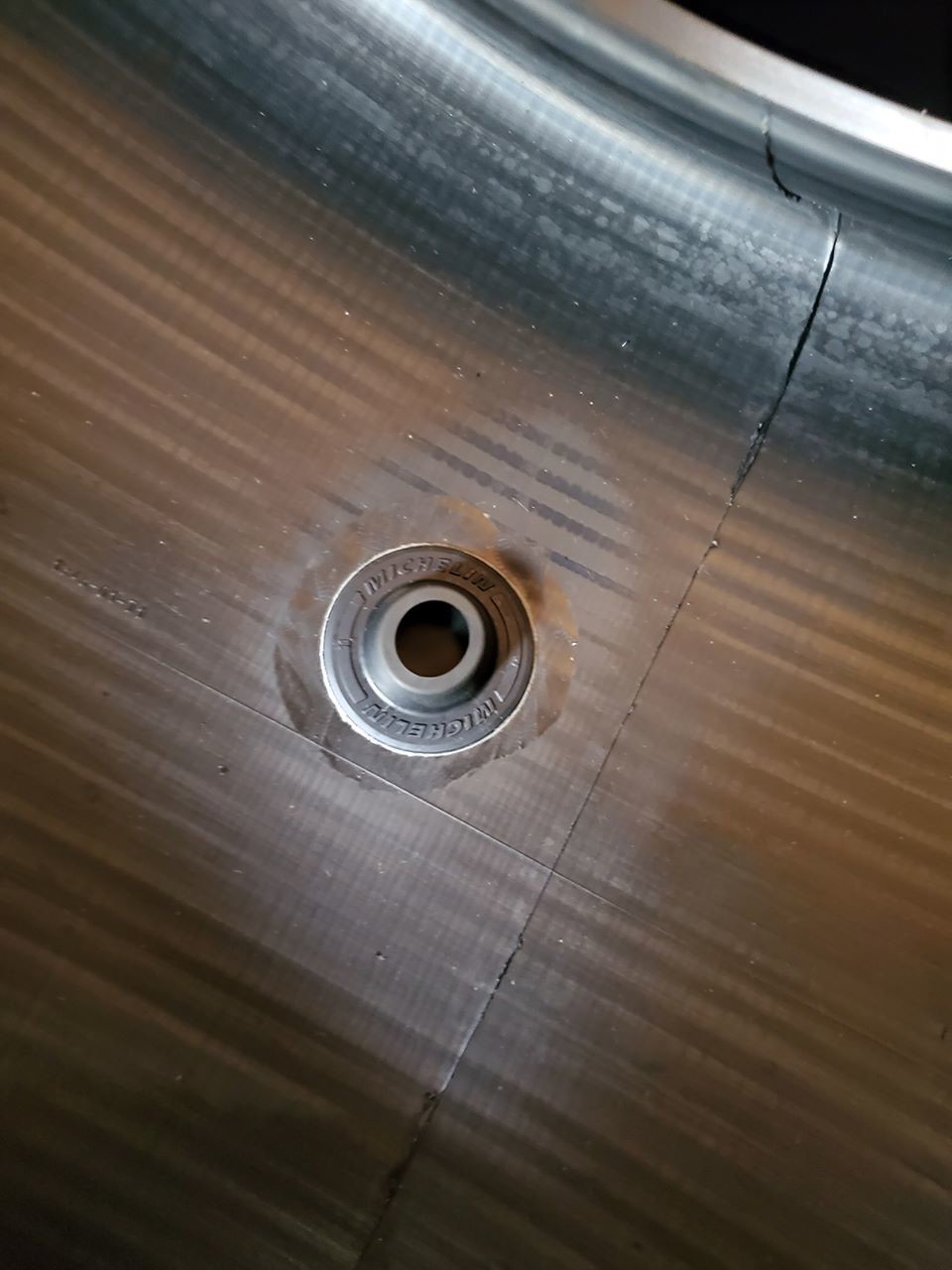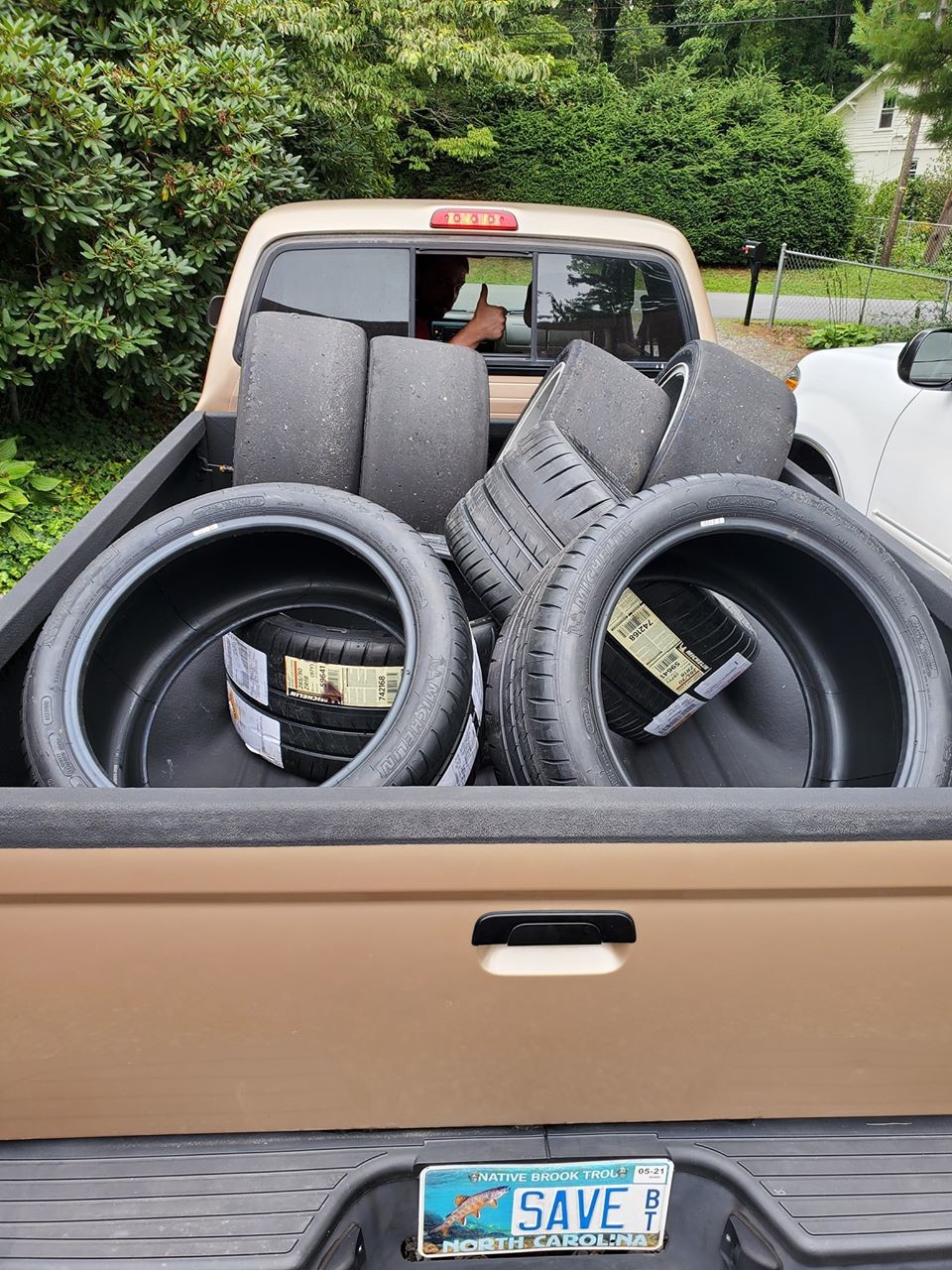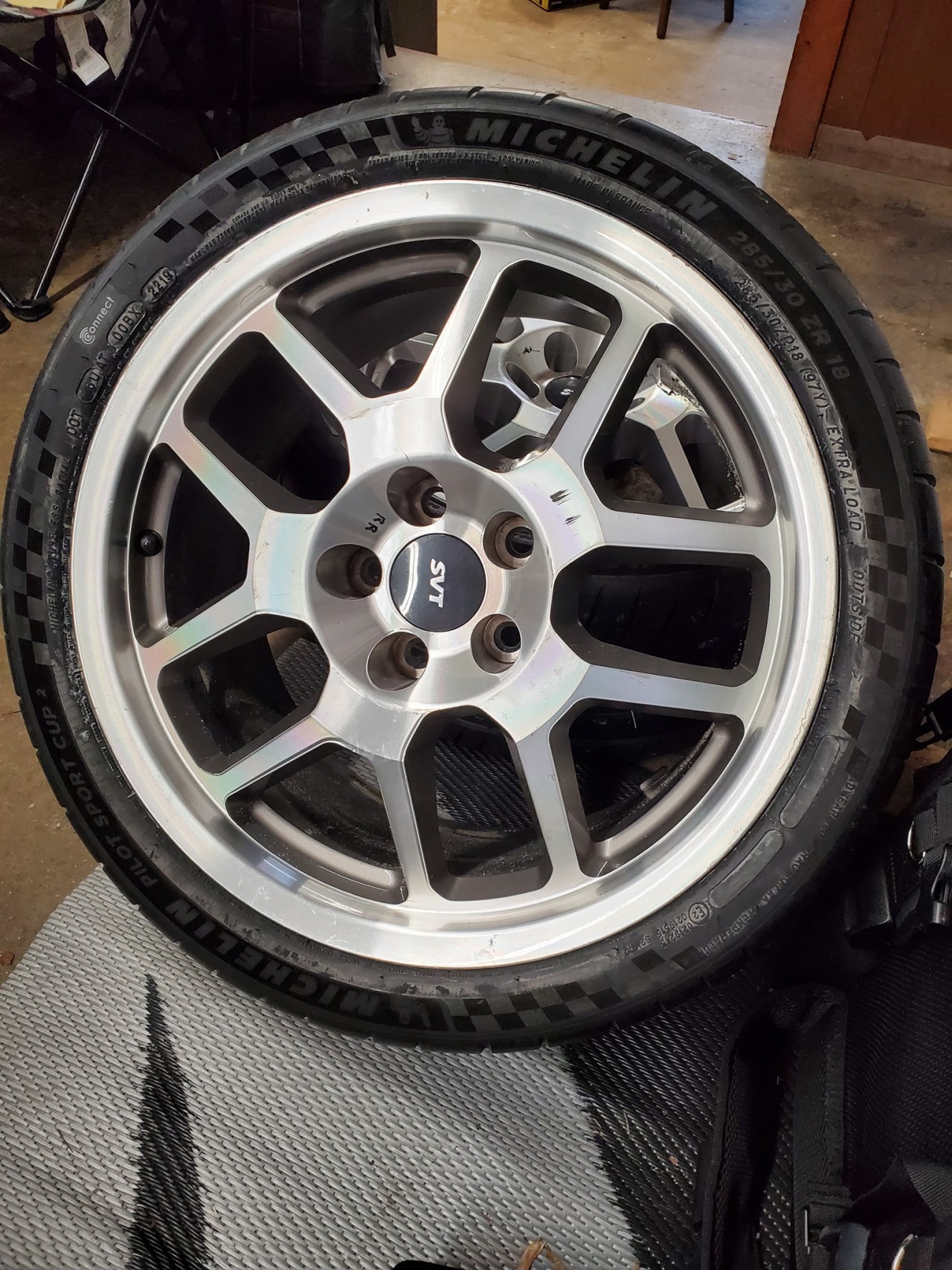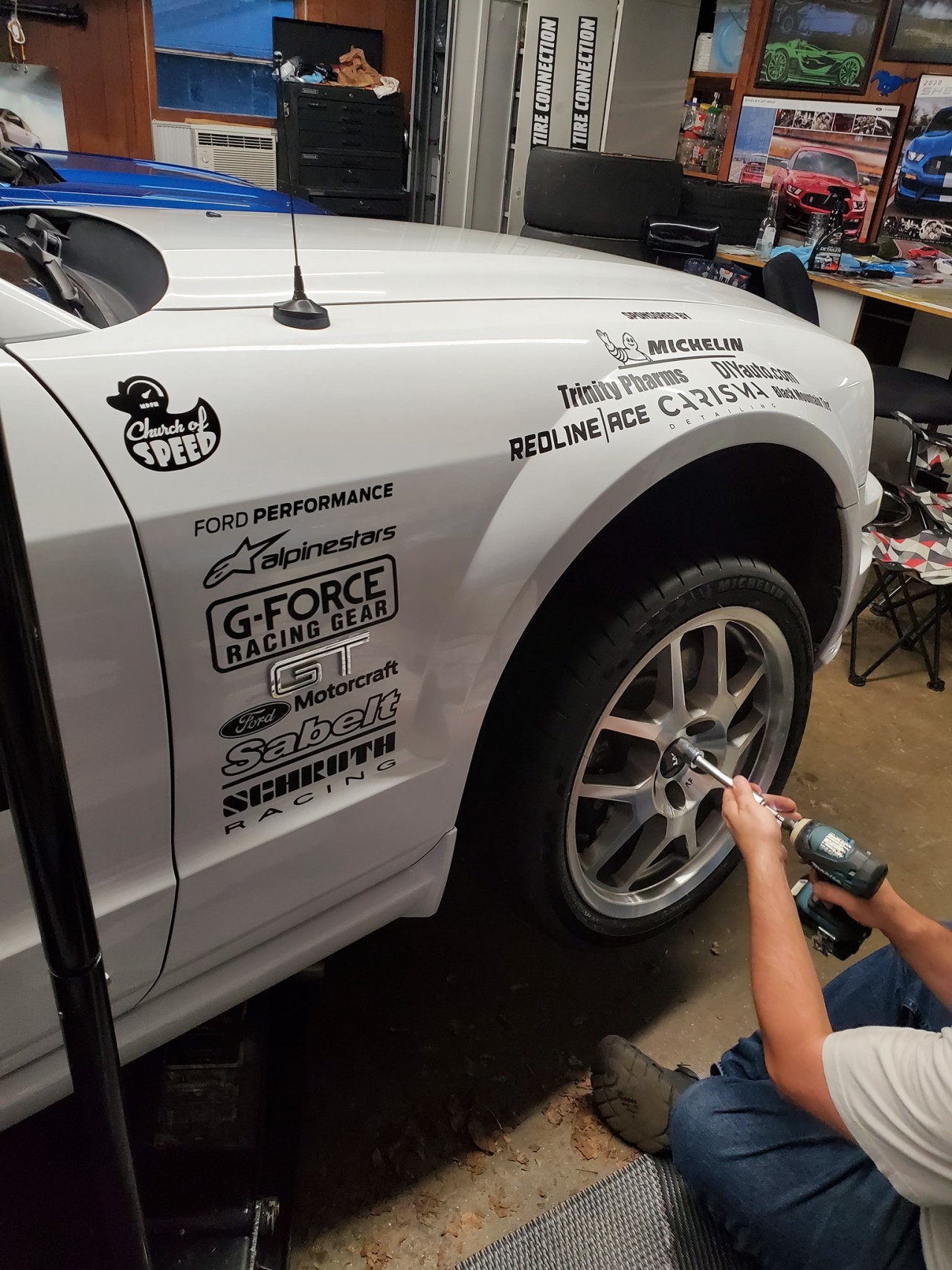 8-12-2020
Racecar scored a new windshield yesterday. The old windshield had really bad hard water spots and was severely etched everywhere the wipers blades touch. It made night driving awful and would refract light in weird ways in shady conditions, but wasn't terrible in bright sunlight. I tried to polish the glass with a DA and heavy cutting compound (for glass), but it didn't make a difference. So, I resigned to having a crappy windshield, as I couldn't justify the cost when I could still see through it "well enough".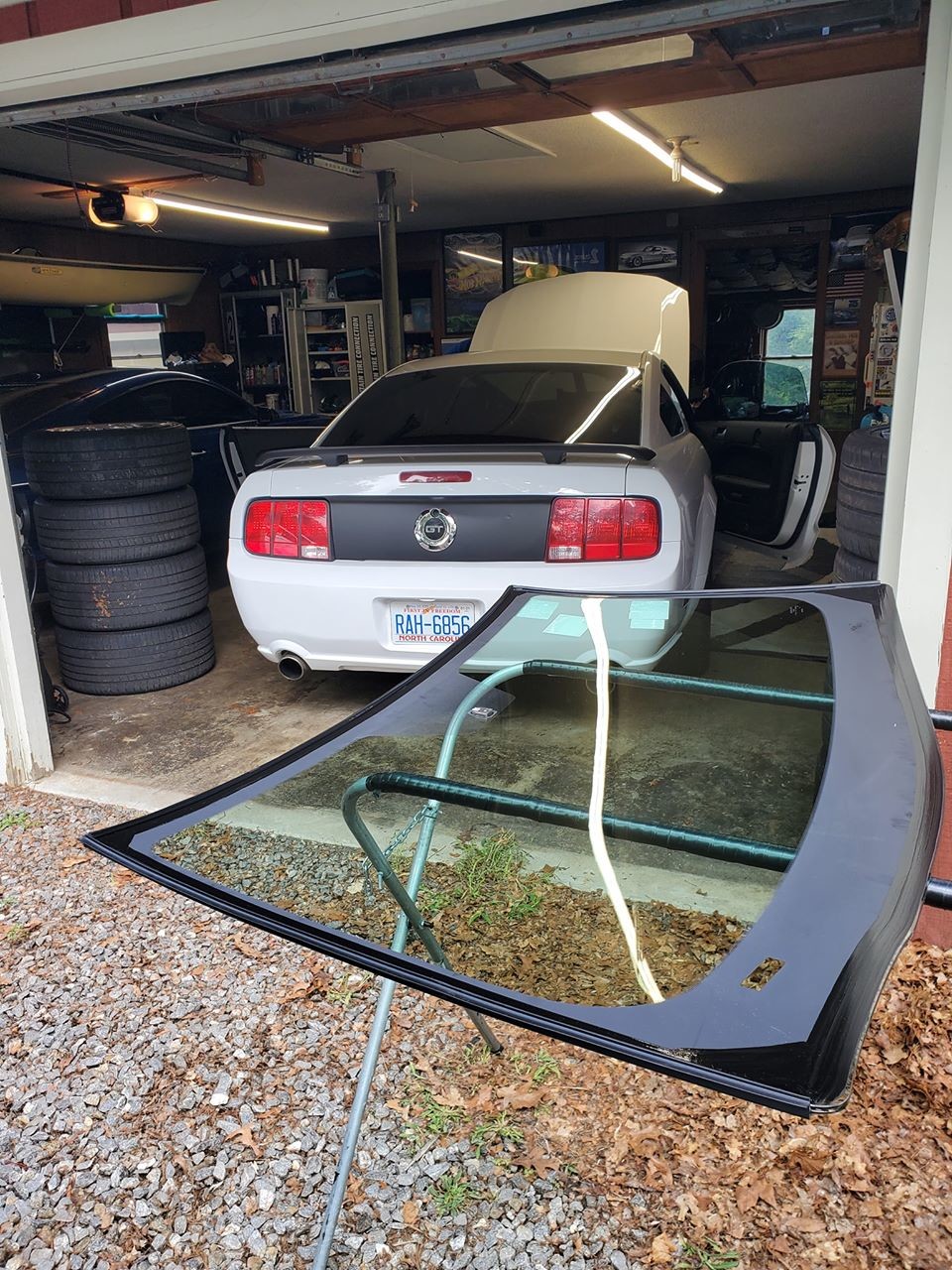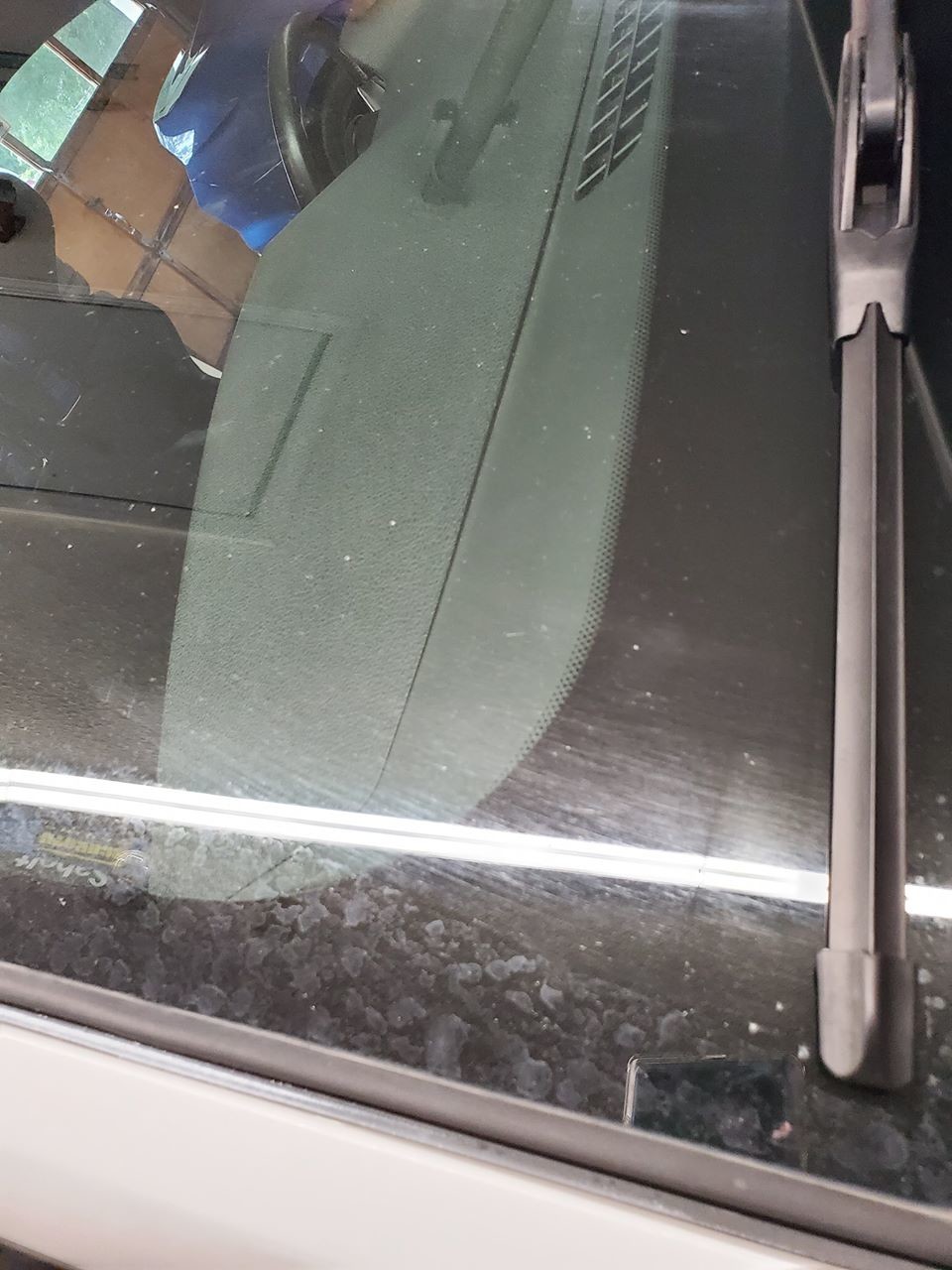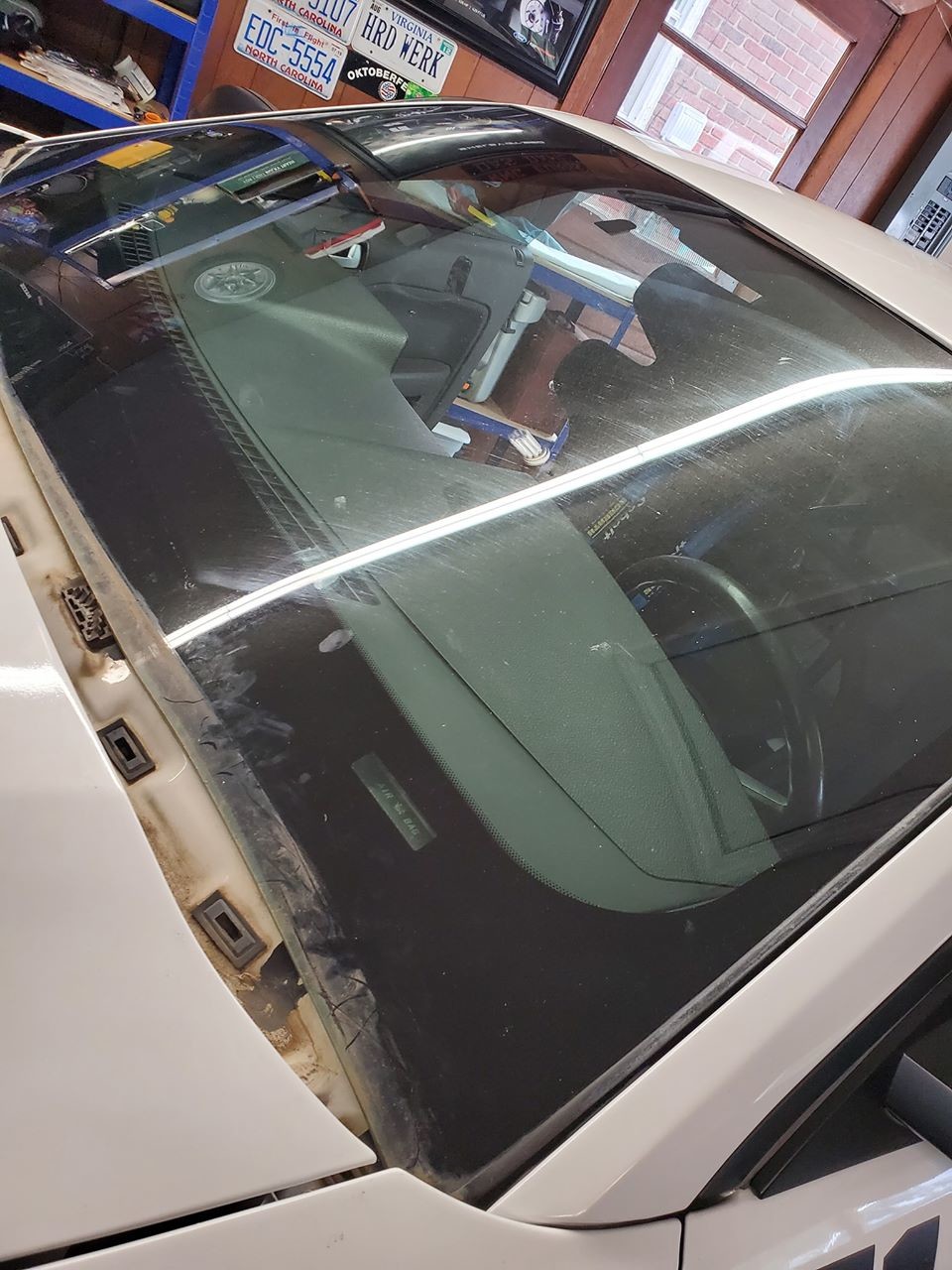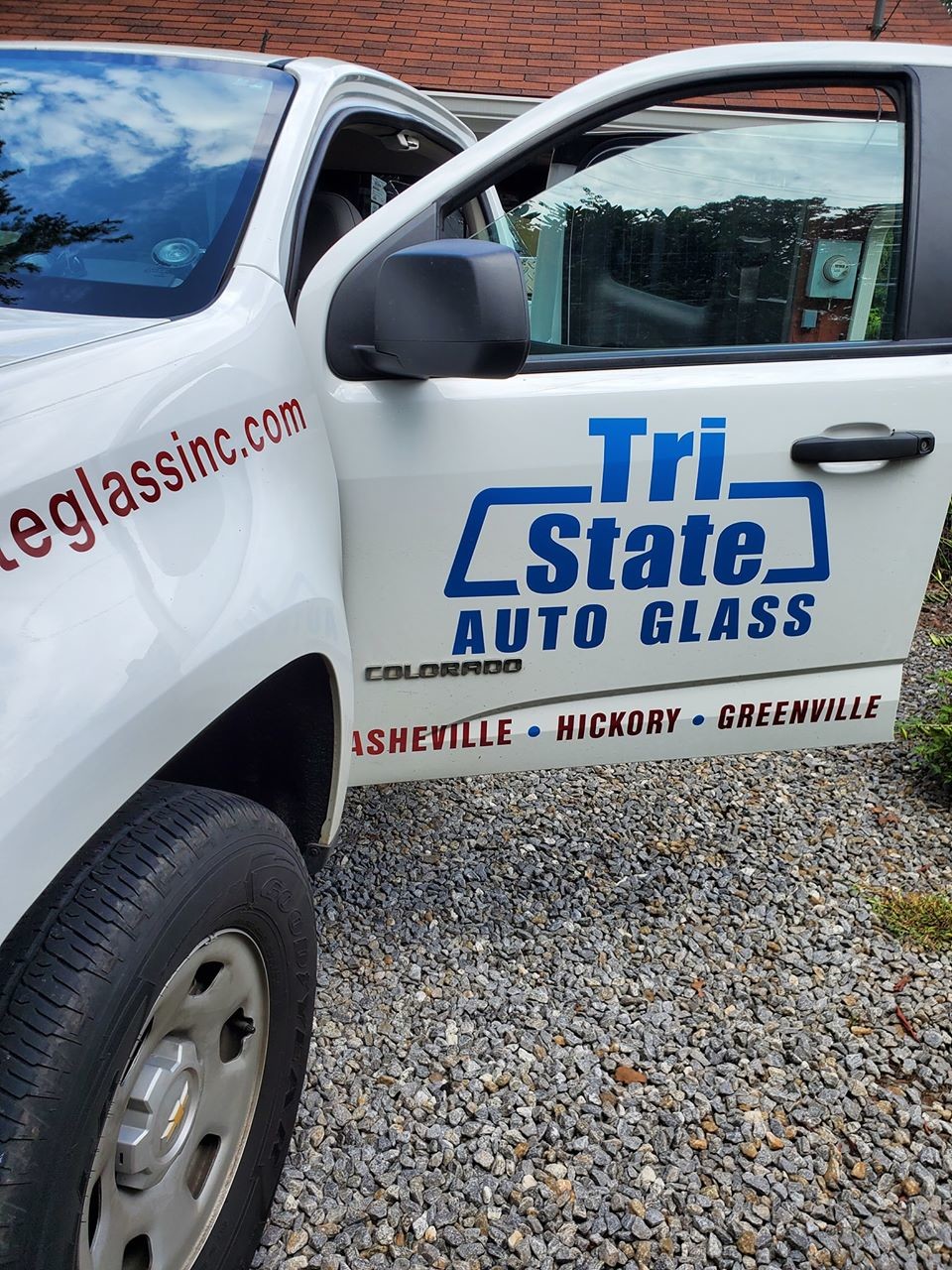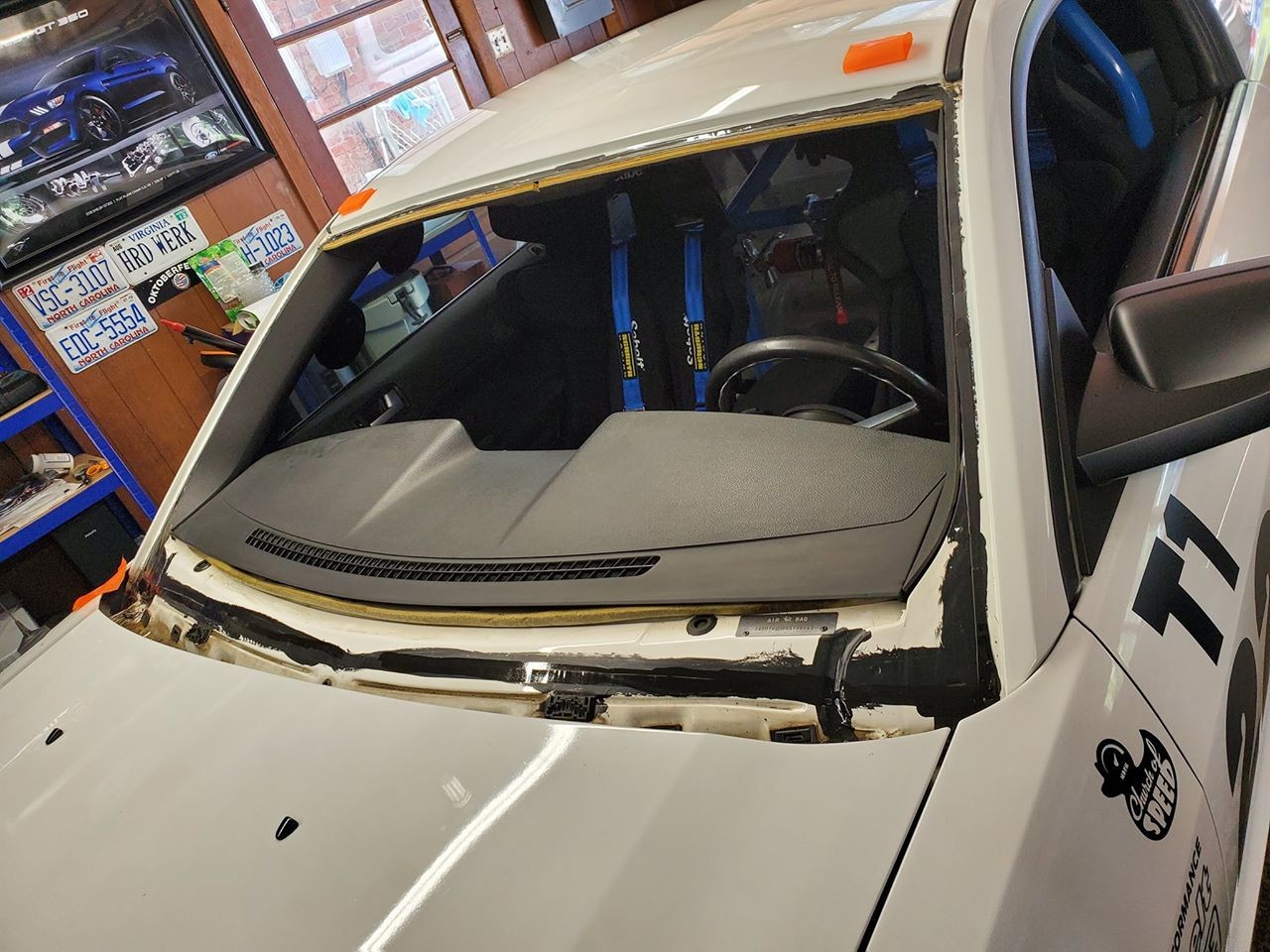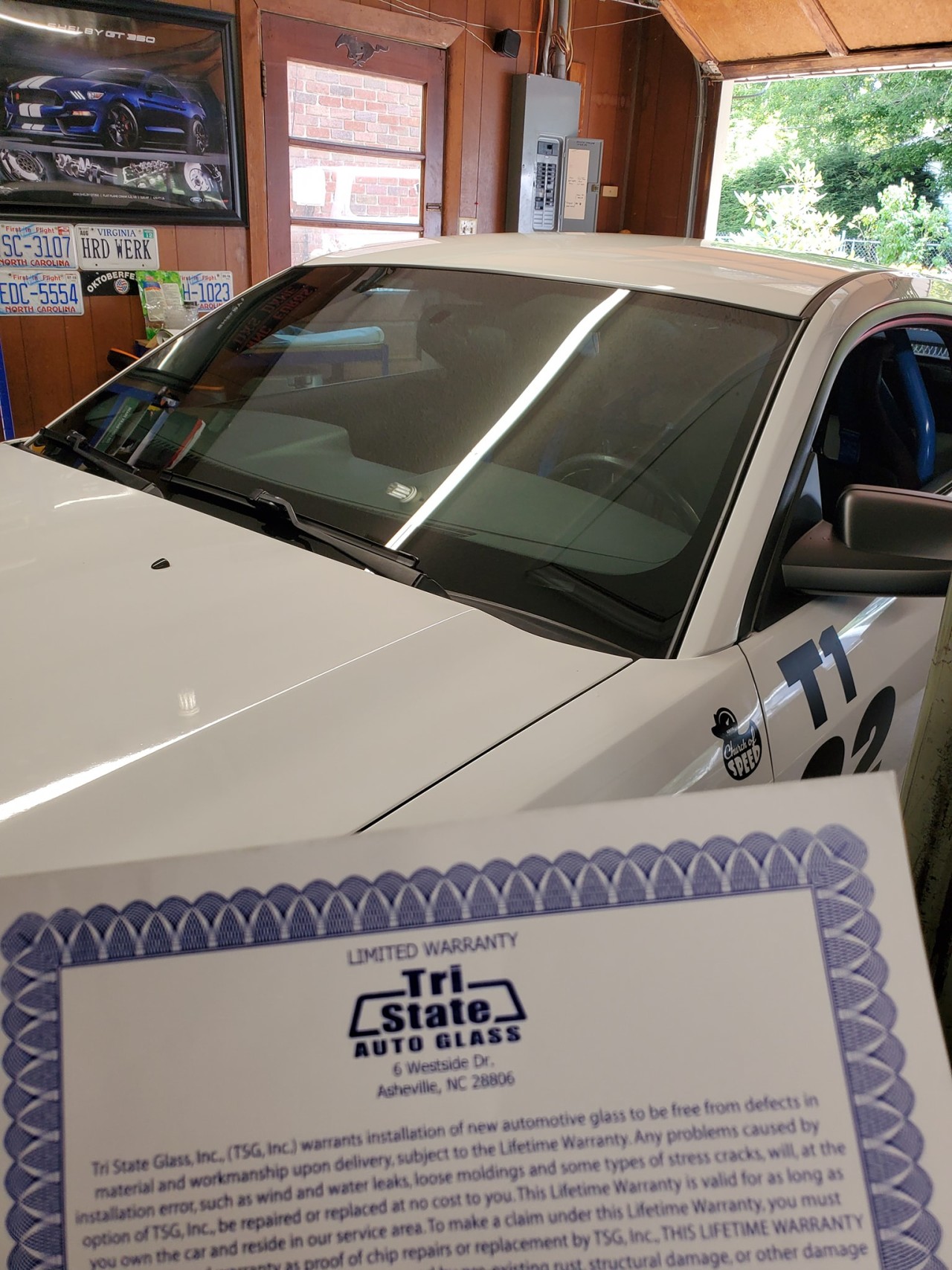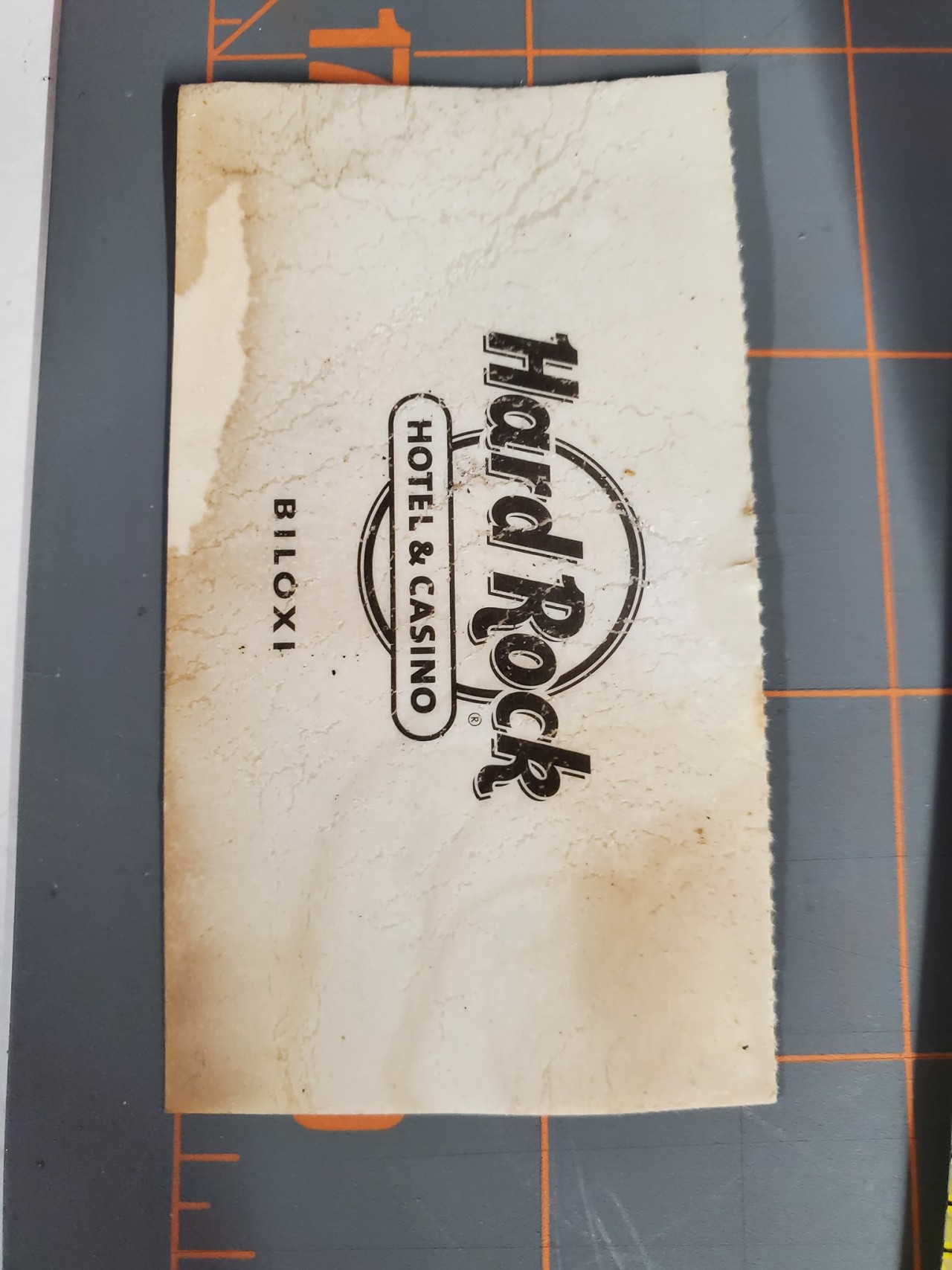 8-15-2020
Soggy start to the Chasing the Dragon Hillclimb

First run ever, and it was in the pouring rain. With the wipers on full blast I took off with great traction leaving the line, and like a noob I braked for the first corner, lol. But the car felt great through the first few turns, I gained some confidence and feel I carried good speed through the rest of the course. The road is very bumpy! At times I could feel the car hopping around, but overall she stayed well connected to road. The Michelin #SportCup2Connects tires are soooo good! Like magical almost. Never lost traction laterally and they really help my braking. I will continue to run throughout the day, in the rain, mostly to familiarize myself more with the road. #PlayAllTheMotorsports #RyanCheekRacing #chasingthedragon2020 #s197mustang #MustangsofInstagram #mustanggt #trackcar #cargirl #hillclimb #hillclimber #womenindrive #womeninautomotive
My 2nd run's official time is 140.561seconds (2min20.561sec). Course is a little over 2.2miles long. Conditions are still wet, but the road pavement is course and provides great drainage. Again these Michelin #SportCup2Connect tires are doing fantastic! I left my traction control on, (wasn't thinking about it and I dont normally turn it off in Hank), and it really over slowed the car in a couple other places. There is definitely a bit more time in the car in conditions like this. #PlayAllTheMotorsports #RyanCheekRacing #michelinUSA #MustangsofInstagram #s197mustang #hillclimbcar #hillclimber #trackcar #chasingthedragon2020
Above is my fastest time for day 1 of Chasing the Dragon Hillclimb. Official time 137.060seconds (2min17.060sec). Traction control was off, had to do some counter steering. Really happy with how quick I can get the car to rotate with a dab on the brakes, but it will over rotate quickly but it's fun to use throttle to catch it. This is by far the most "all out" driving I've done since my autocross days. Extremely fun, but also a little scary, which kinda makes it even more fun.

I will be trying to smooth out my driving with tomorrow's runs. I believe there's a little more time to drop if the course was completely dry, but most of the time I will drop will be me knowing the course better and being smoother. Most importantly, I want to drive my car home in the same pristine condition it's in! #MustangsofInstagram #mustanggt #s197mustang #hillclimbcar #incarvideo #actionshot #racevideo #chasingthedragon2020 #RyanCheekRacing #PlayAllTheMotorsports #michelinusa #SportCup2Connect #womeninautomotive #womenindrive
8-16-2020
My fastest official time of the event is 134.342sec (2minutes13.342seconds). I feel really good about my performance at this event. This was my first Hillclimb and first competitive event in this car. Racecar & I took first place in our class and set a new class record. I am absolutely in love with the @michelinusa #SportCup2Connect tires. They were great in the pouring rain, in the damp, and in the dry. This was the first time I've competed on a sticky 200TW tire and it did not dissappoint. I typically run the Michelin PS4S which is a great all around tire, but does not have the grip that the SC2C provides. Racecar ran strong all weekend. She is an '06 GT and has a stock motor (not even a CAI), straight piped exhaust, @fordperformance Adjustable Track Suspension (not coilovers), and GT500 @brembobrake 4 piston calipers. Car is semi- gutted; no back seats, 4point rollbar, racing seats and harnesses, full dash and OE door cards. And A/C!
8-18-2020
Hey

Here I am coming back down the hill after a run up the Chasing the Dragon Hillclimb. Had a lot of fun this weekend! #MustangsofInstagram #womenindrive #womeninautomotive #hillclimber #chasingthedragon14 #s197mustang #chasingthedragon2020 #trackcar #ford #fordperformance #cargirl #mustanggt #PlayAllTheMotorsports #grlpwr #RyanCheekRacing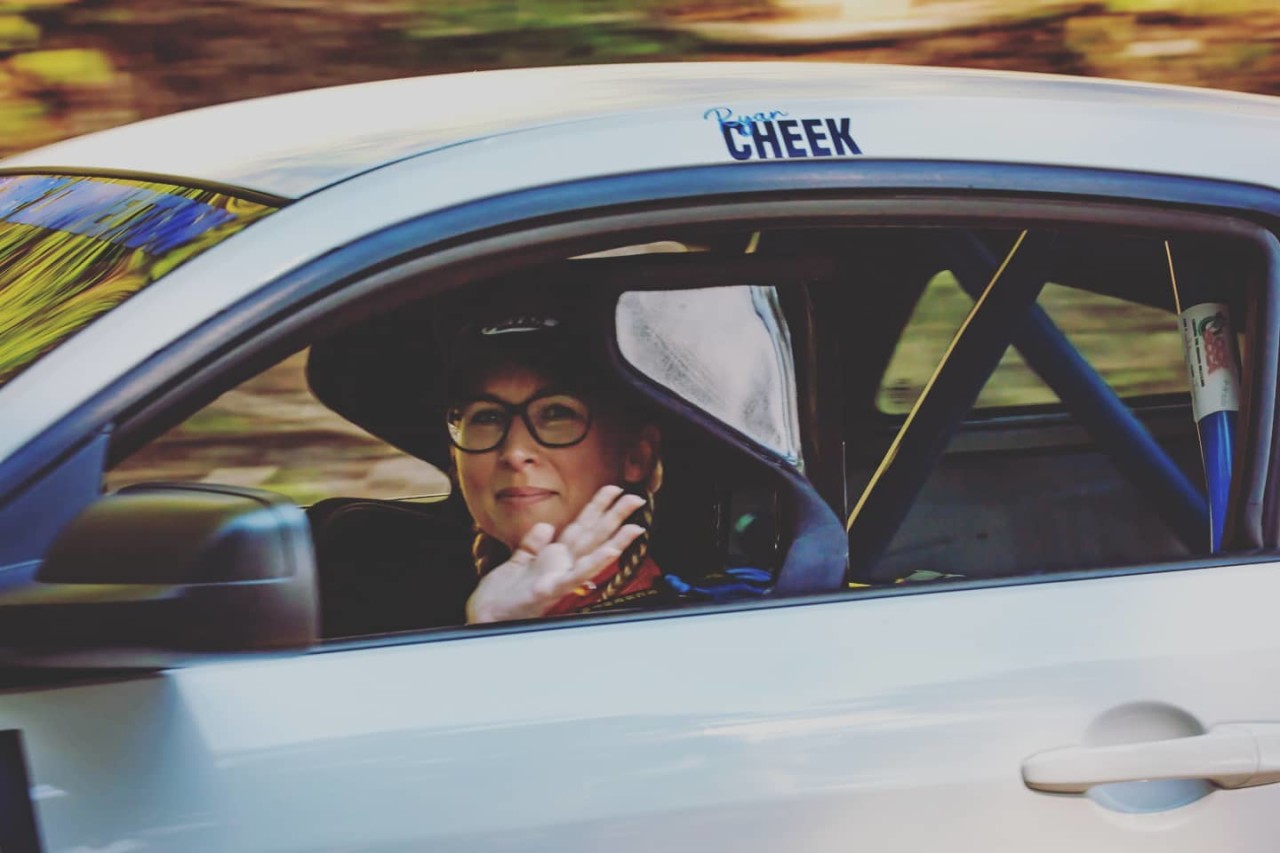 8-19-2020
"I say the fish don't fry in the kitchen
Beans don't burn on the grill
It took a whole lot of trying
Just to get up that hill"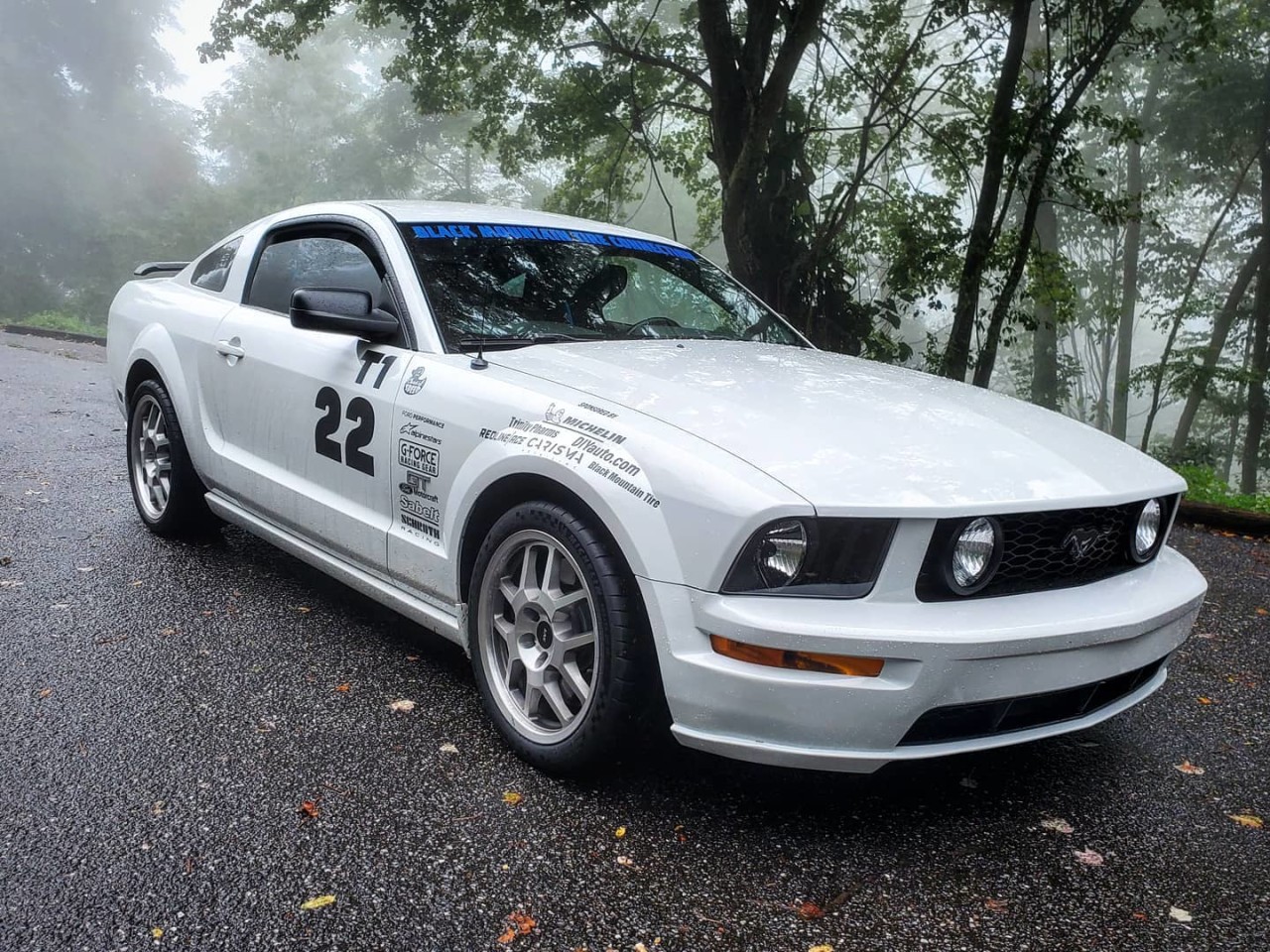 8-21-2020
Really excited to see my name on this Class Record Holder list!
Looks like I may be the only girl on there, too. But, there definitely could be another girl with a gender ambiguous name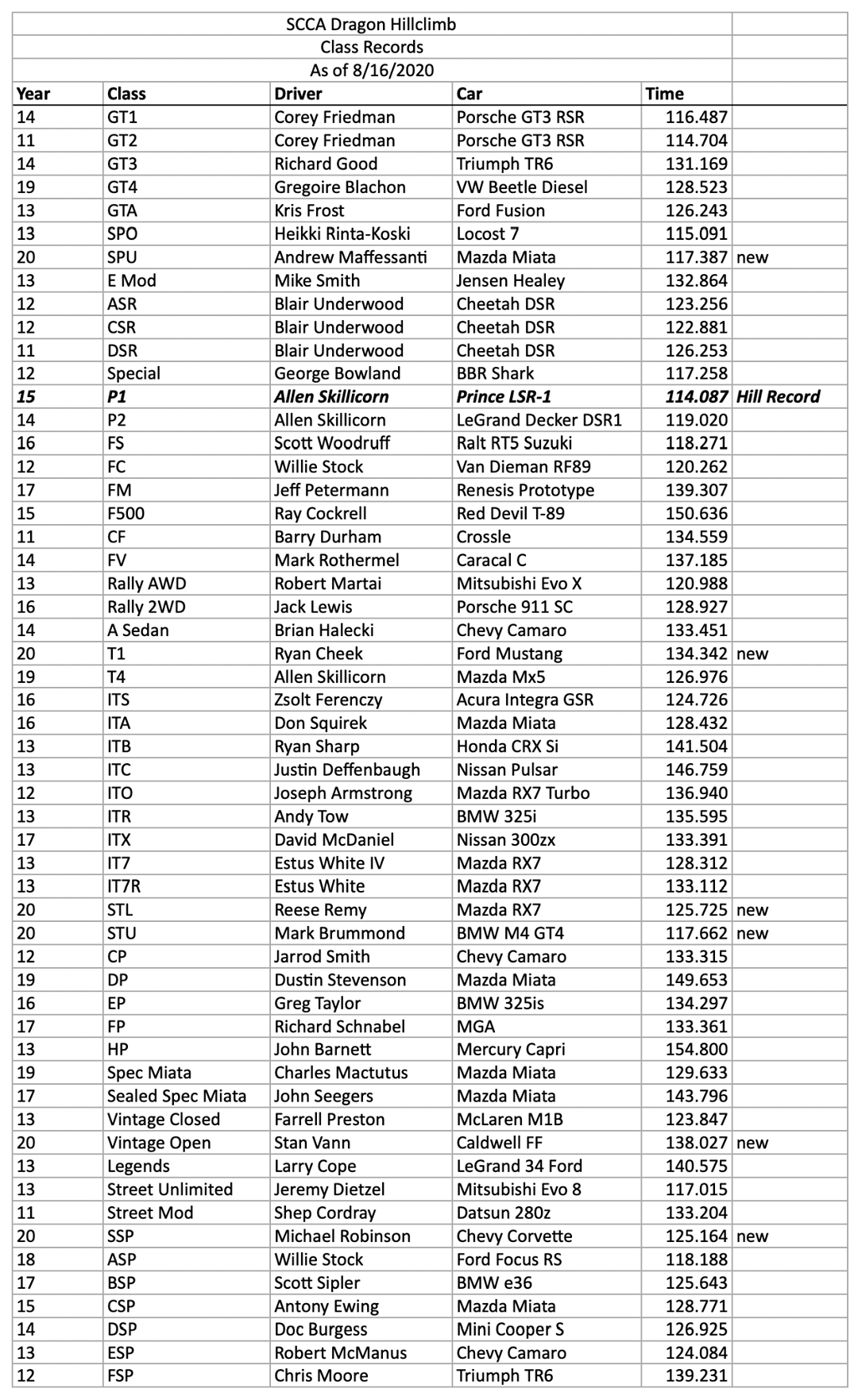 8-24-2020
Cloudy with a chance of Mustang. Had to bring Hank closer to the wifi to update his Sync 3. Here he is in full glory parked in the front yard. Really enjoyed the view from my window as the data loaded. I could totally see myself parking my cars inside the house, if that was an option. #MustangsofInstagram #s550mustang #streetcar #ford #fordperformance #cargirl #mustanggt #americanmuscle #musclecar #PlayAllTheMotorsports #RyanCheekRacing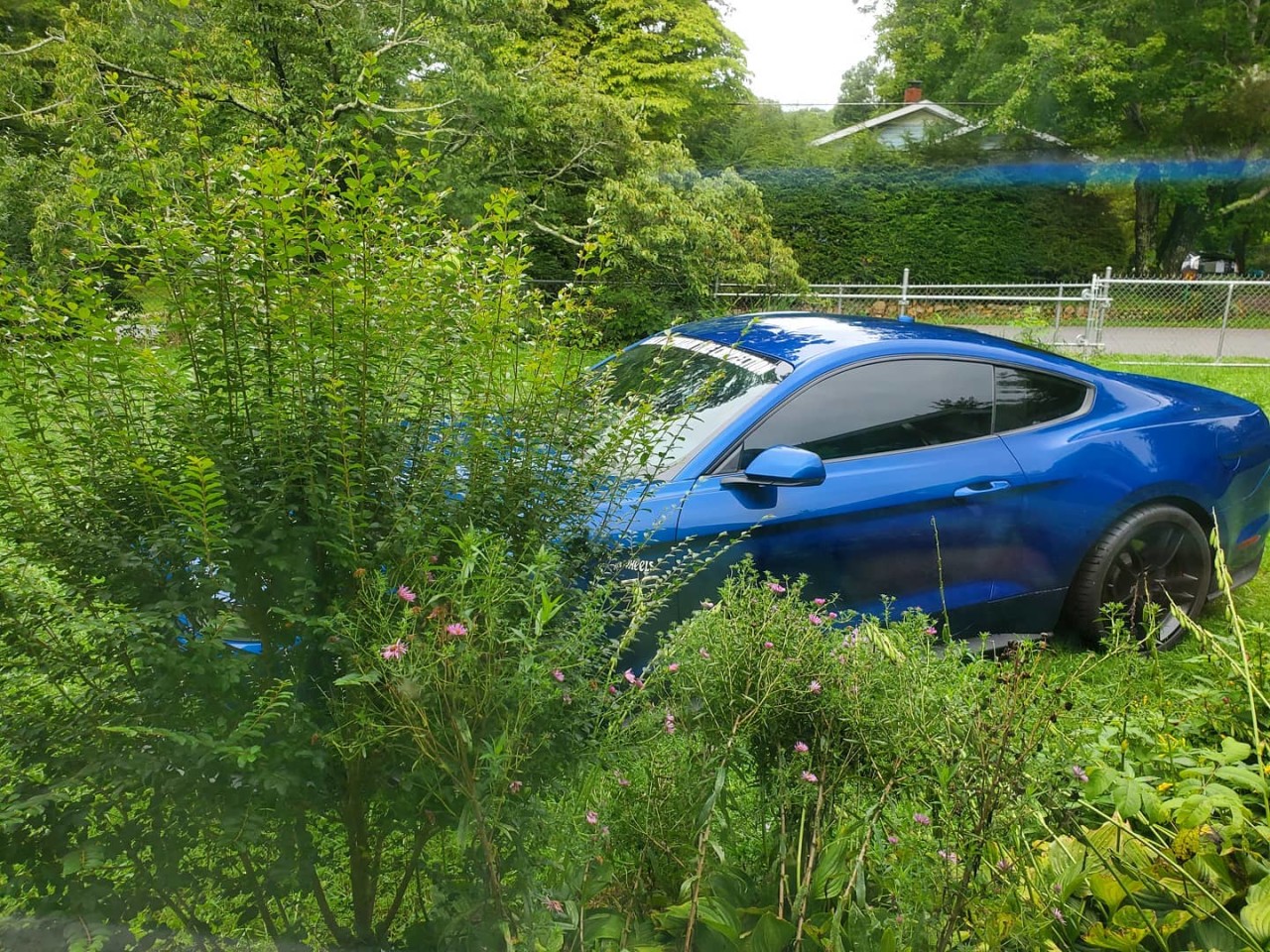 8-27-20
-----------------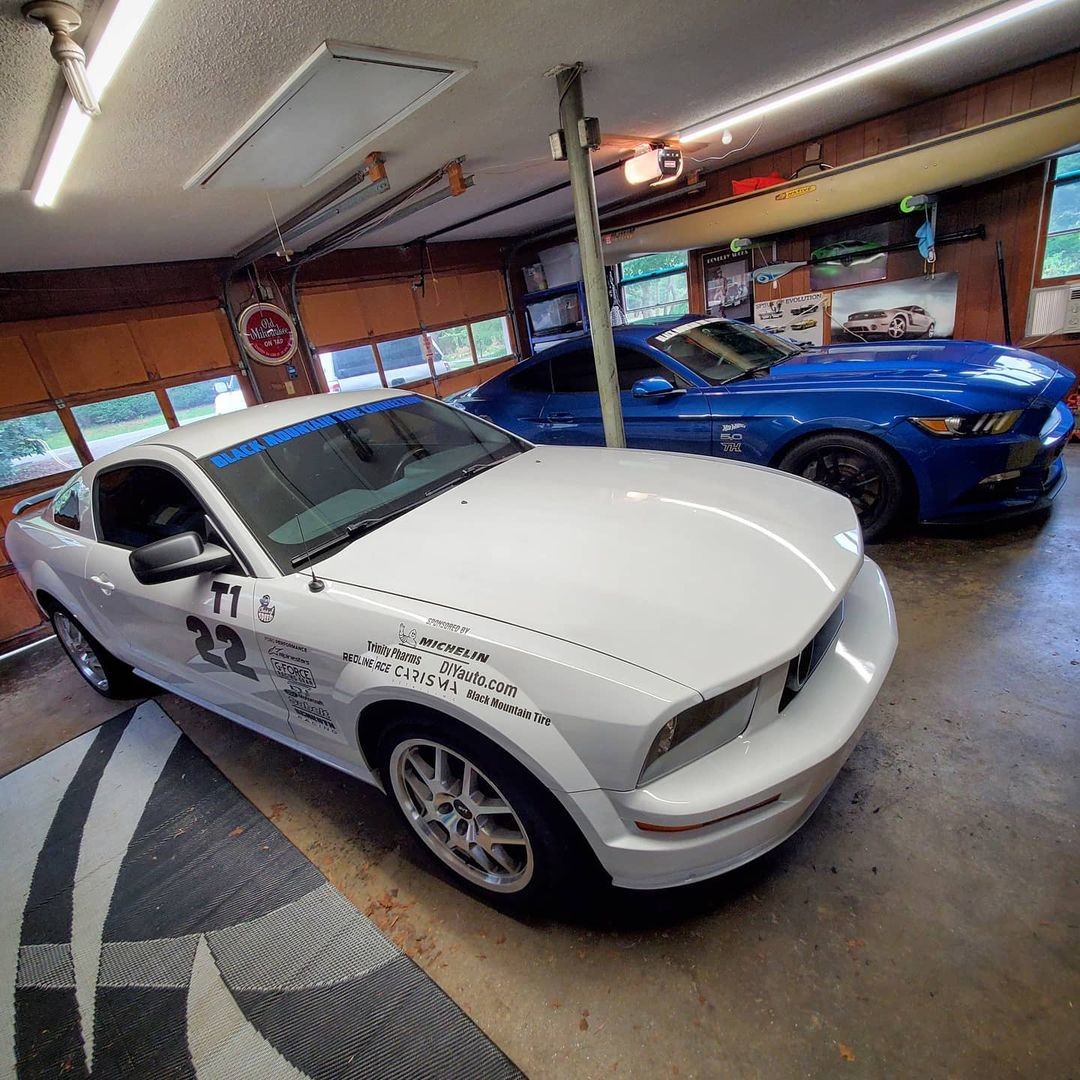 8-31-2020
Racecar, being the 140k mile-14year old car that she is, has had a noise & vibration when turning right since I bought her in January. The noise and vibration got a little better when I installed the new Ford Performance Adjustable Track Suspension, but started to get worse, again, at the hillclimb and on the 2hour drive home from the hillclimb. After being parked in the garage for a couple days, I noticed a small fluid puddle under the car. I cleaned up the puddle, which was bright red (indicating ATF) and waited to see if it returned. A week later the puddle had returned and was about the same small amount. Racecar's Tremec (TR3650) 5 speed manual calls for Mercon V ATF, and the power steering also uses ATF, so the possibilities of where this leak was coming from were limited. I was suspect that the leak was coming from something in the steering since I was also having the issue when turning. But, nope, the ATF puddle was right under the very front of the transmission, no where near the PS pump or steering rack. There were no obvious signs of leakage from the transmission. After making this video, I did some reading and I believe I overfilled the transmission when I drained and filled it, earlier in the year. (Fill to 1/2" below the fill hole. I filled it to the top) While the car was in the air I did the wheel-wiggle test to check for a bad wheel bearing or bad outer tie rod end. Holding the wheel at 12 & 6, there was no wiggle or play in the wheel. Holding the wheel at 9 & 3, there is a slight wiggle. This indicates a bad tie rod end. I have ordered a bump steer kit (adjustable outer tie rod end). The bump steer kit will help counter understeer and offer more predictable handling under hard braking or over rough surfaces, esp now that the car is lowered. I am excited to install new parts, but not excited about "shimming" and dialing in the bumpsteer kit.

#MustangsofInstagram #mustanggt #racecar #ford #fordperformance #cargirl #s197mustang #womeninautomotive #sisterhoodofmuscle #womenindrive #PlayAllTheMotorsports #RyanCheekRacing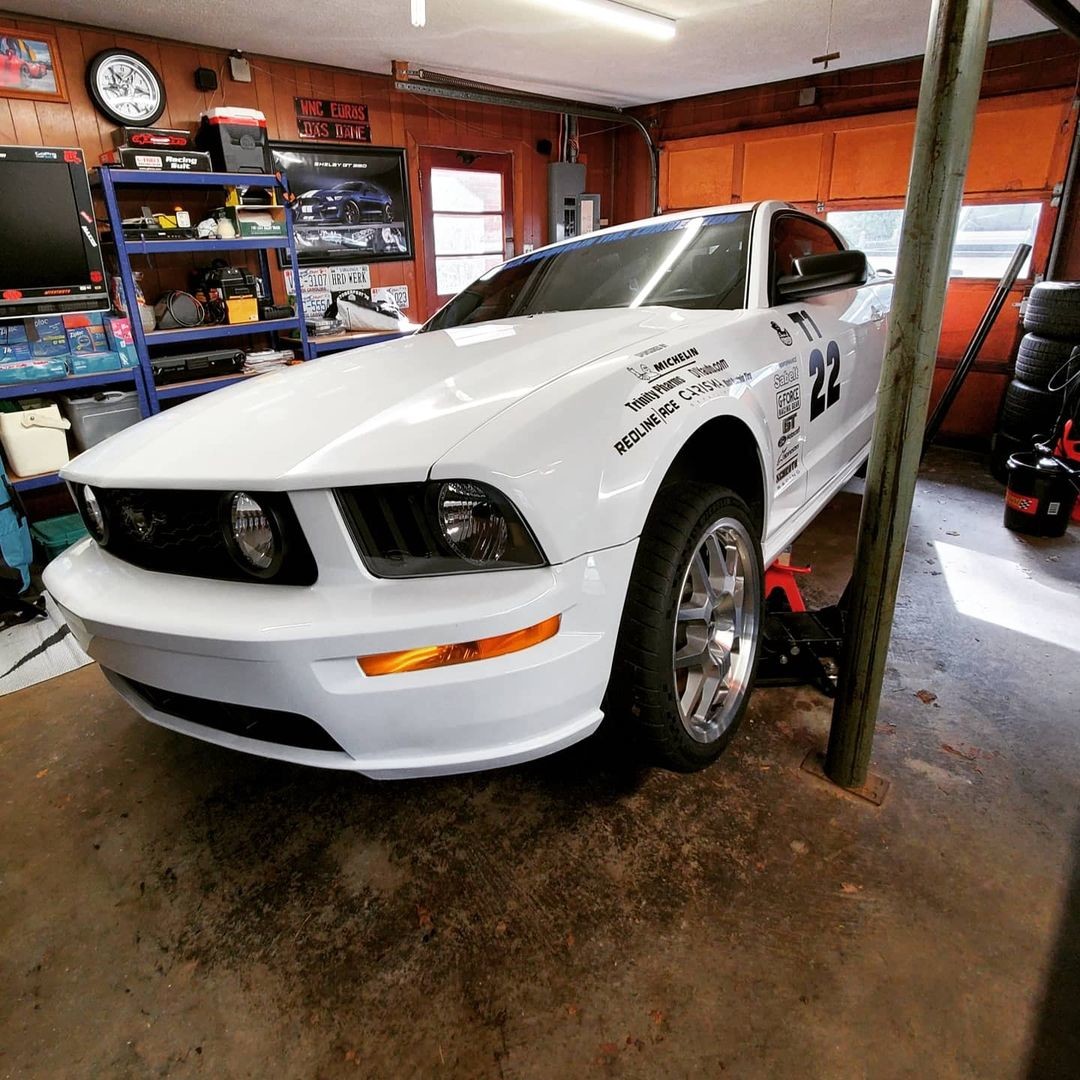 9-1-2020
Best seat Not in the house!

And, it's snack time so you know the puppers wanted to hang out with me. Racecar is in the air still. If her bumpsteer kit arrives before my hubby gets off work, I'll be able to get started without him. Really excited to see the difference a properly working tie rod end can make!

#doggo #MustangsofInstagram #mustanggt #ford #fordperformance #cargirl #sheshed #ponys #musclecars #PlayAllTheMotorsports #RyanCheekRacing #womeninautomotive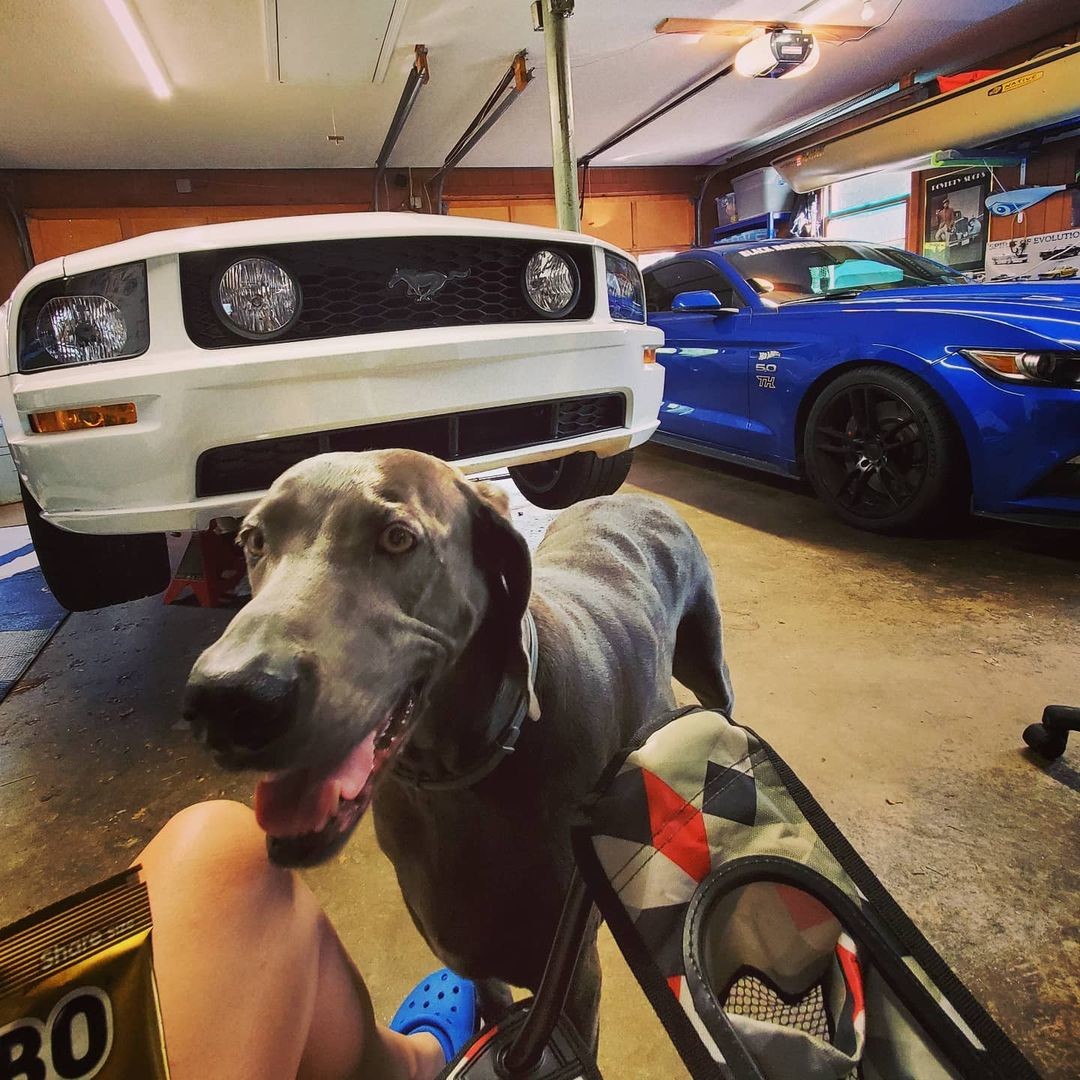 9-2-2020
Sometimes I fix my hair next to my cars and @kqphotoworks takes my pic.

#womenownedwednesday #MustangsofInstagram #cargirl #ford #fordperformance #musclecar #mustanggt#ponycars#s550mustang#s197mustang #musclecars #womenindrive #womendrivers #womeninautomotive #fastback #PlayAllTheMotorsports #RyanCheekRacing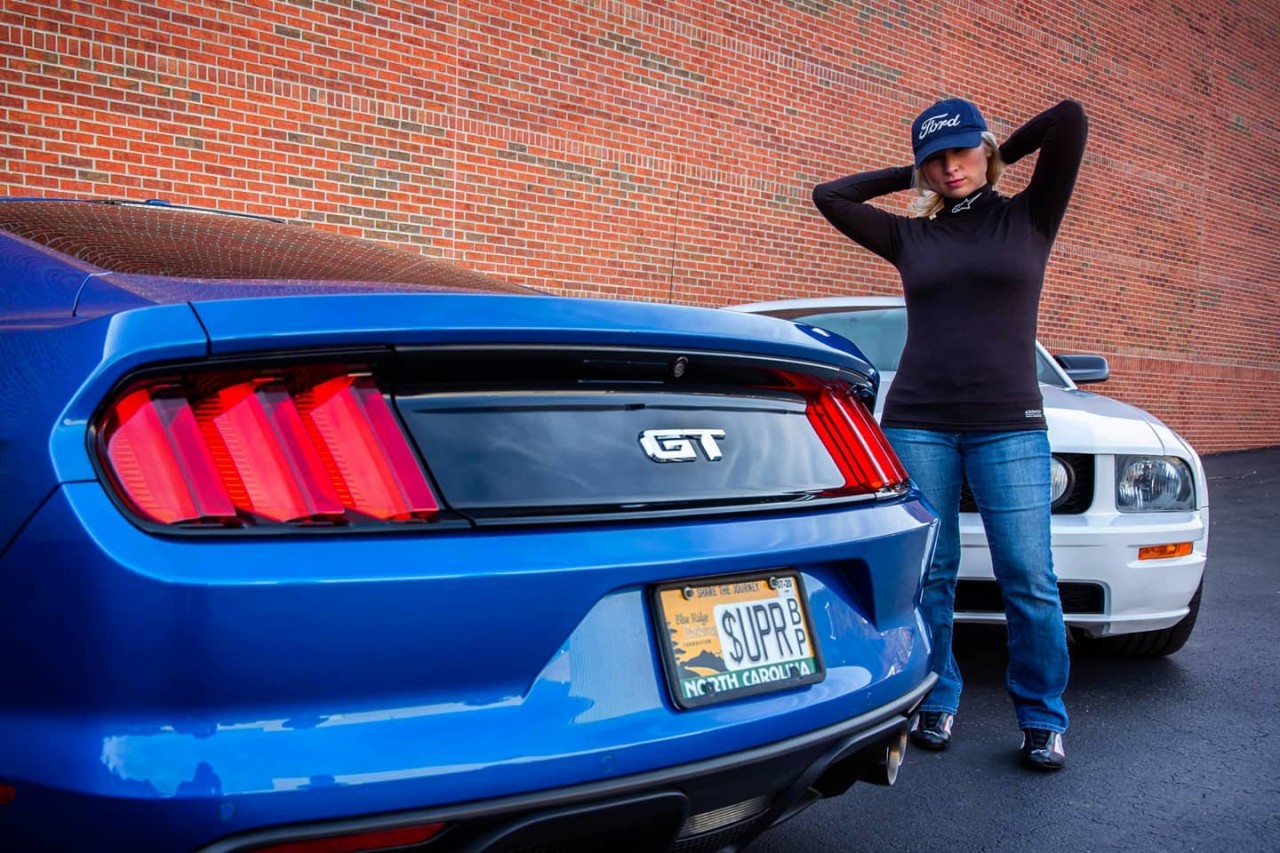 9-3-2020
Hillclimb. The only time it's ok to cross the double yellow! Thank you to Caleb Dorr (@calebdorr) for these awesome photos of Racecar and Me at the Chasing the Dragon Hillclimb! Swipe

#hillclimb #hillclimber #MustangsofInstagram #trackstangs #s197mustang #trackcar #ford #fordperformance #cargirl #ponycar #womenindrive #michelinUSA #sc2c #womeninautomotive #musclecar #PlayAllTheMotorsports #RyanCheekRacing @ Chasing The Dragon Hill Climb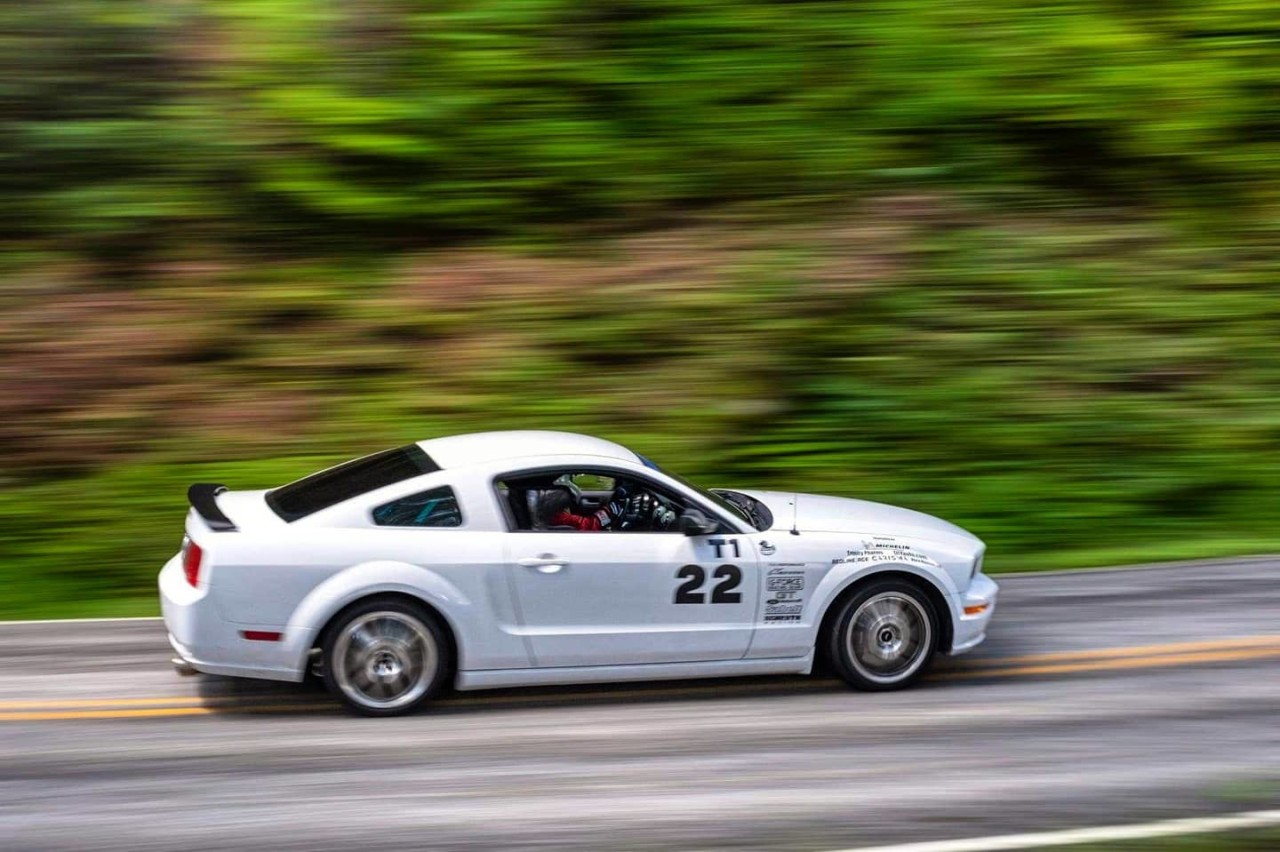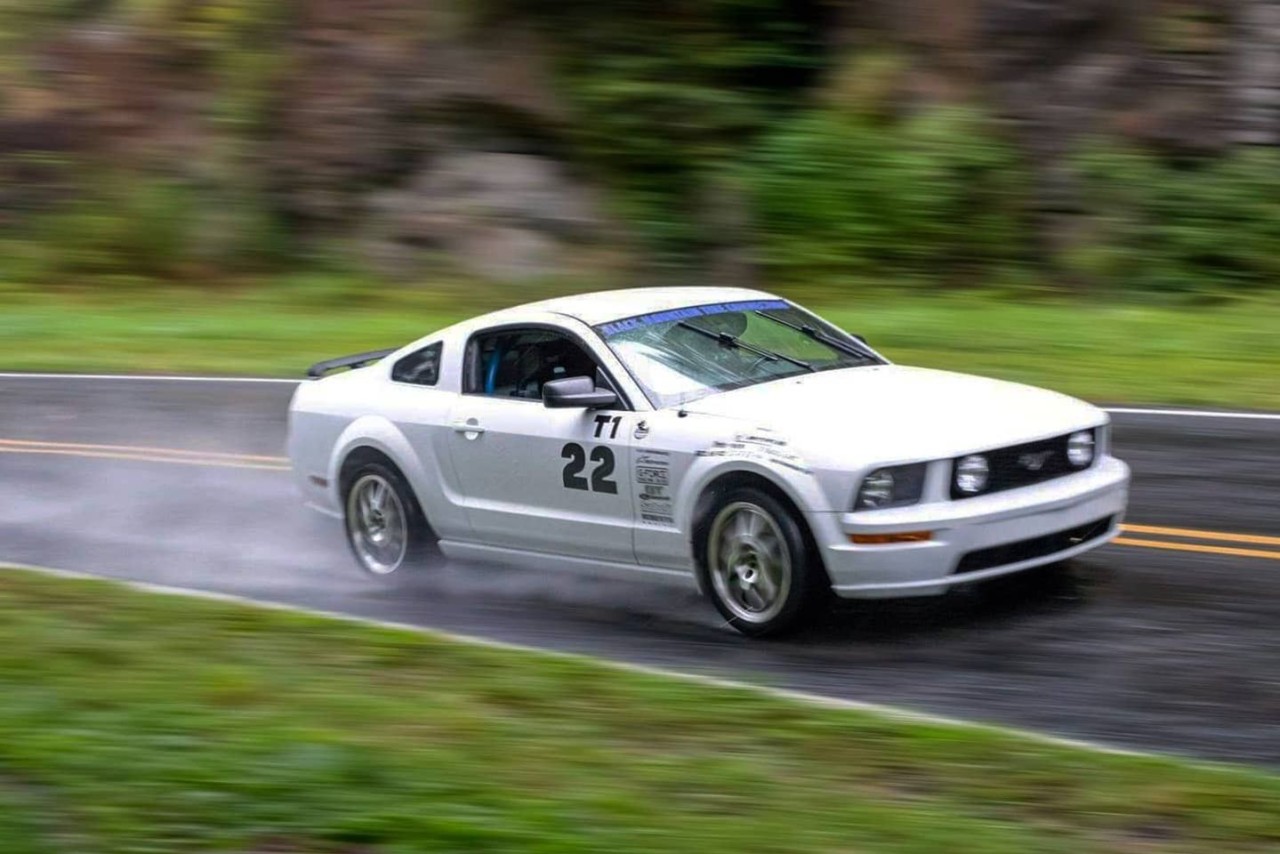 9-4-2020
Not your average paddock parking.

If a tree falls on your car in the woods, do you still run it up the hill? The answer is Yes!


The driver was in the car when the tree fell. He would have been crushed had it not been for the required rollbar/rollcage. Thank goodness he was ok and the car was still able to compete!

2nd pic credit to Matt Phillips. 3rd pic credit to Amanda McCafferty. #MustangsofInstagram #chasingthedragon #ford #fordperformance #s197mustang #fordpinto #pinto #hillclimbcar #hillclimber #womenindrive #womeninautomotive #musclecarsonly #PlayAllTheMotorsports #RyanCheekRacing @ Chasing The Dragon Hill Climb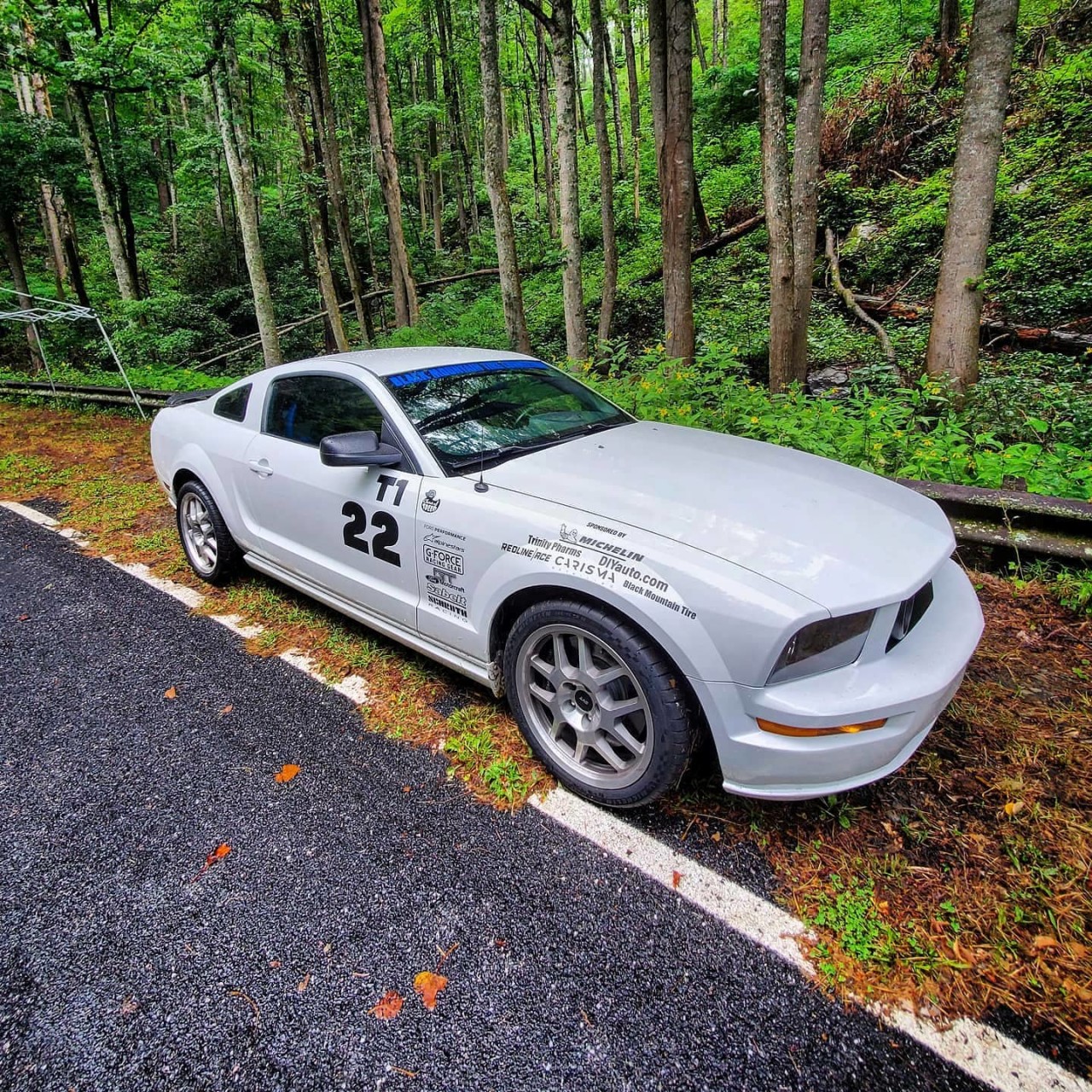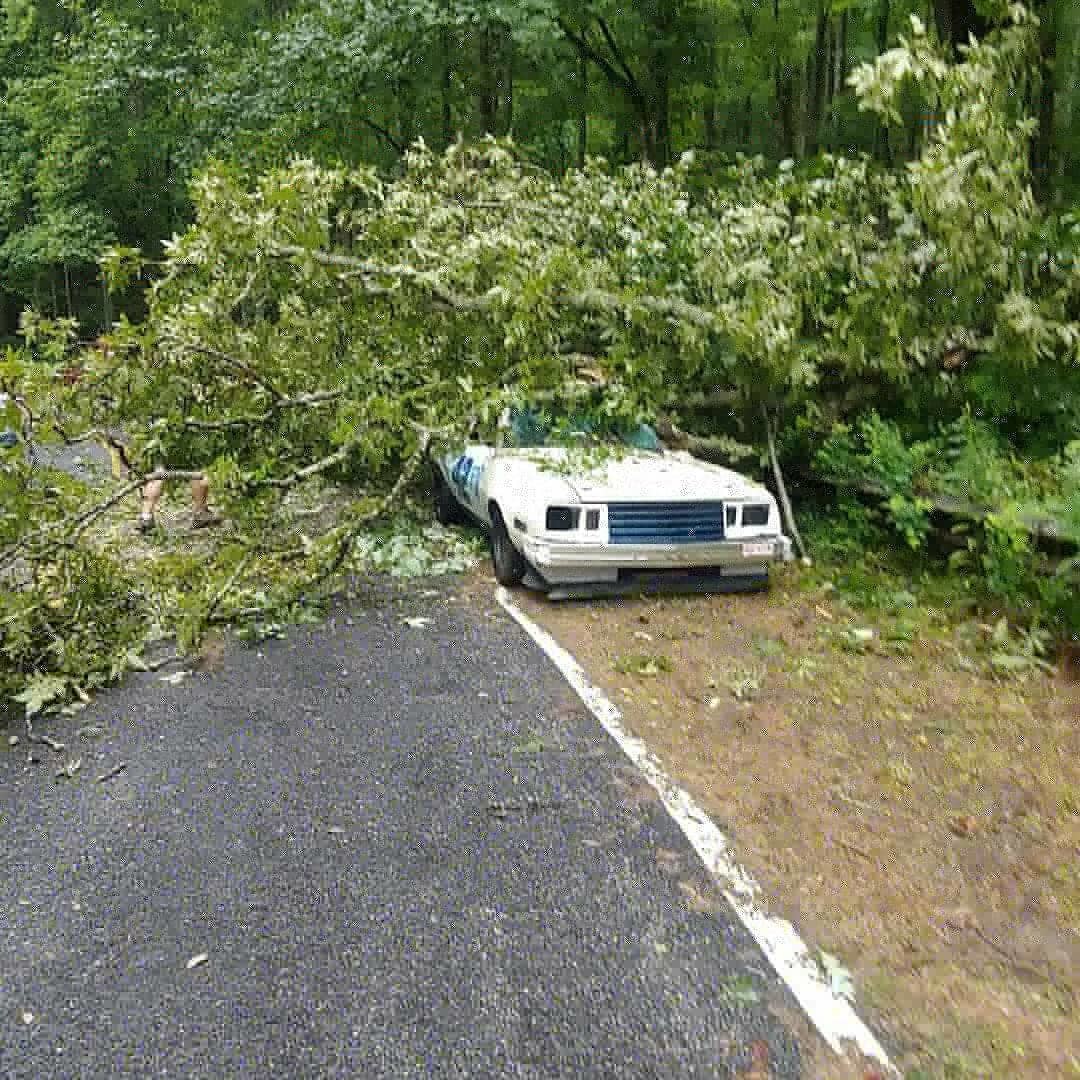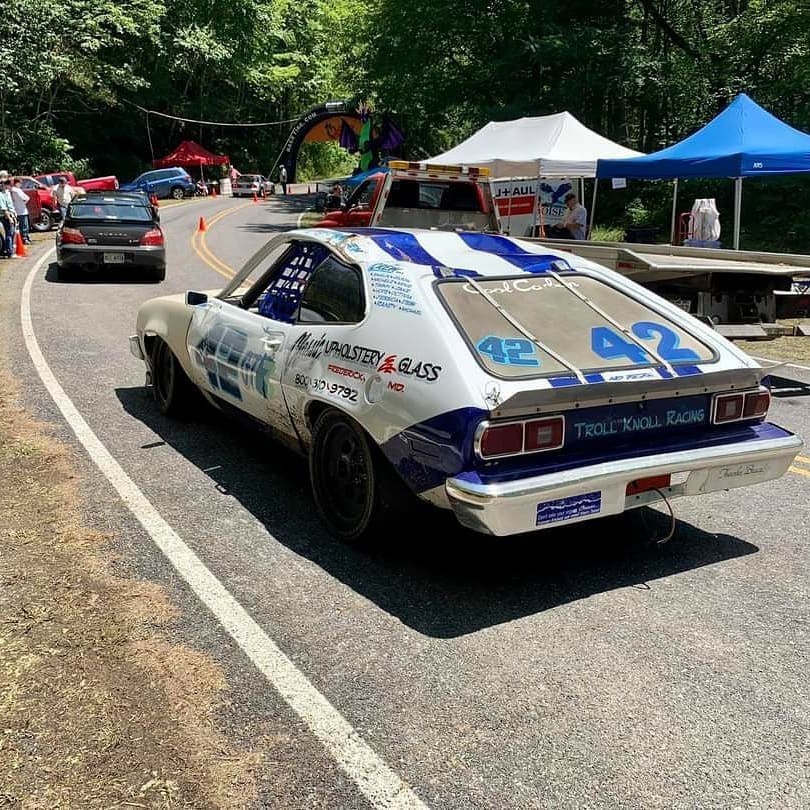 9-8-2020
Torqued to 150ft-lb! Getting my s550 Mustang's wheels torqued to the correct spec. Not to be confused with the 100ft-lbs the wheels on my s197 Mustang require! If you're headed to "NOT Mustang Week" in Myrtle Beach be sure to check your lugs and tire pressures before hitting the road. I recommend a cold tire pressure reading of 31-32psi in these warm summer temps! Have fun and be safe! #notmustangweek #mustangweek #MustangsofInstagram #ford #fordperformance #womenindrive #diyauto #womeninautomotive #mustanggt #cargirl #PlayAllTheMotorsports #RyanCheekRacing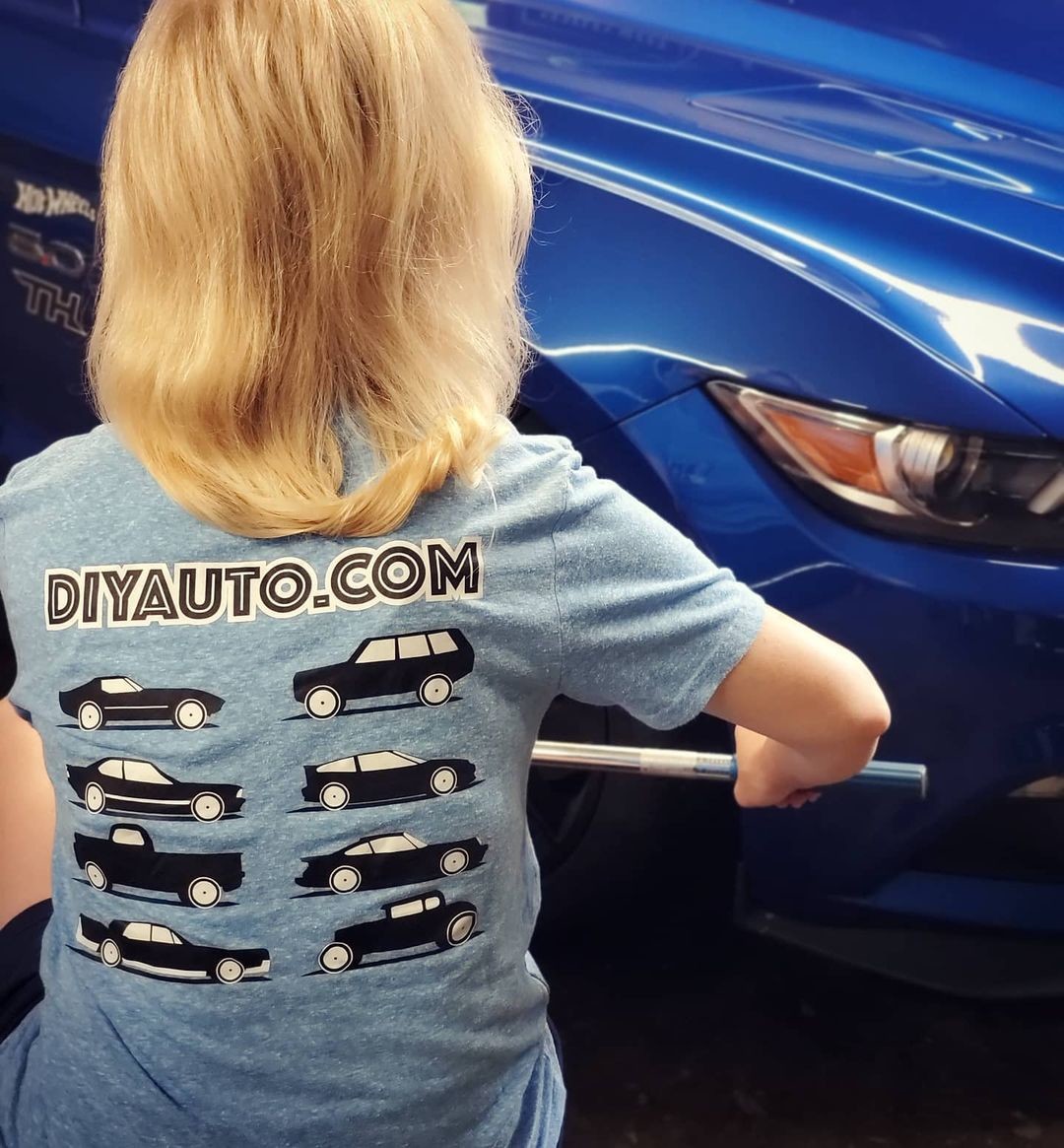 9-9-2020
Michelin +SVE+Brembo=All the feels!

I am super impressed with these @michelin Pilot Sport Cup 2 Connect tires. They provided the ultimate street tire grip during wet and dry conditions for me at the Chasing the Dragon Hillclimb. I also drove the car on the tires about 100miles to and from the hillclimb event. On the street, the first thing I noticed was the increased braking abilities. I was able to slow the car much quicker and in less distance which was shocking the first time! The tires were a little louder than I expected and louder than other Michelin tires I have previously driven. However, this car is mostly Racecar and straight piped, so you could not hear the tires over 35mph. My tire guy, @citskipper, at Black Mountain Tire Connection, said these tires balanced super easy, too. Which also says good things about the @sve wheels. Road conditions at the hillclimb were not optimal. The pavement was very coarse, bumpy and rutted. The tires really did great providing stability and grip even when my car's stiff suspension was working against them. Even with a bad passenger front tie rod end on the car, these tires provided great turn-in feel, immediate responsiveness and had unwavering grip in tight corners. I never found the "edge" of grip with these modest sized tires which I feel is quite impressive given the dynamic weather conditions, my heavy solid rear axle mustang, and never having driven the road before. Big Thank You to @michelinusa for providing these awesome tires! They helped me take 1st in class and set a new class record! #michelintires #pilotsporttires #psc2c #MustangsofInstagram #michelin #PilotSportCup2Connect #svewheels #brembobrakes #ford #fordperformance #cargirl #racecar #hillclimbcar #sheshed #wheelwednesday #womenindrive #womeninautomotive #mustangweek #musclecar #PlayAllTheMotorsports #RyanCheekRacing @ Black Mountain, North Carolina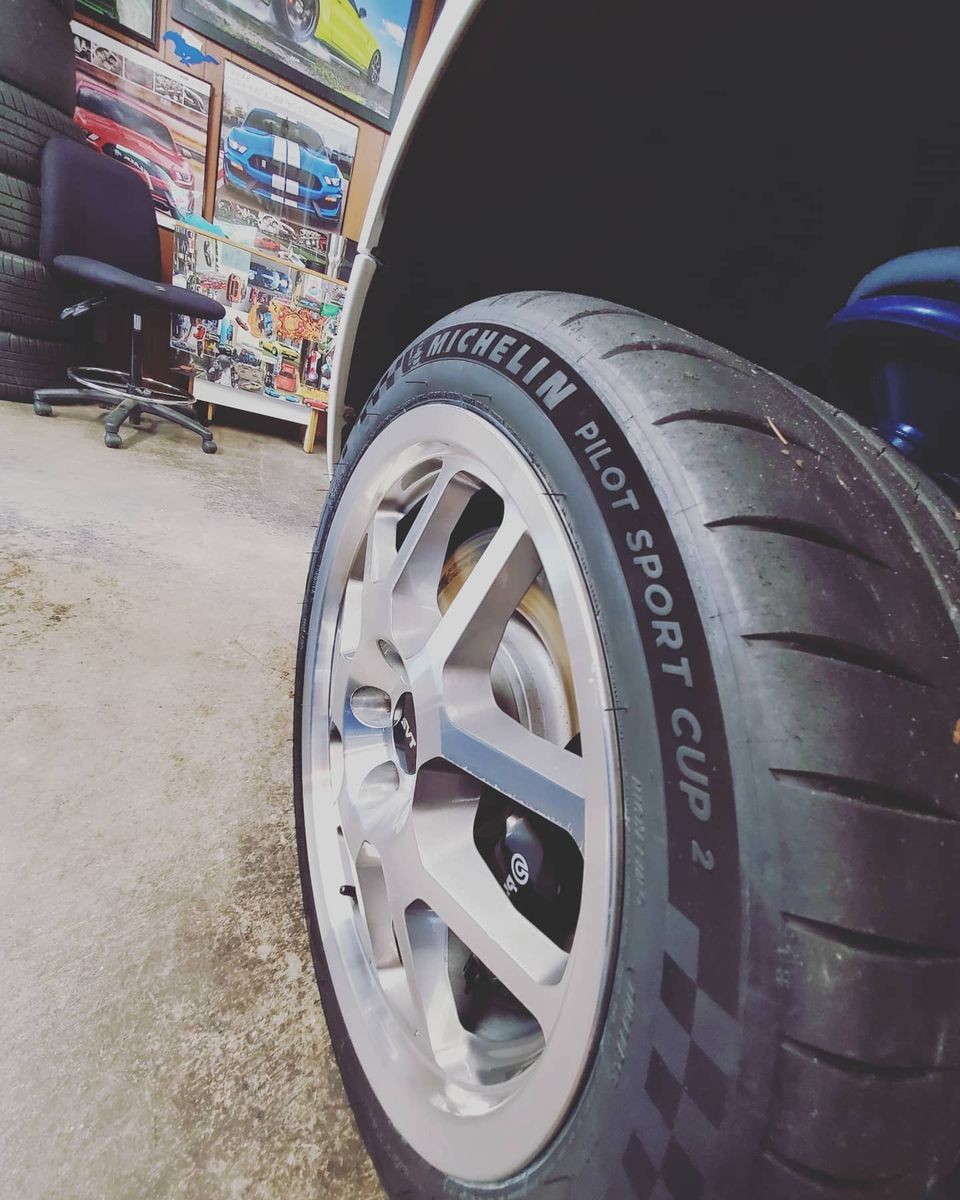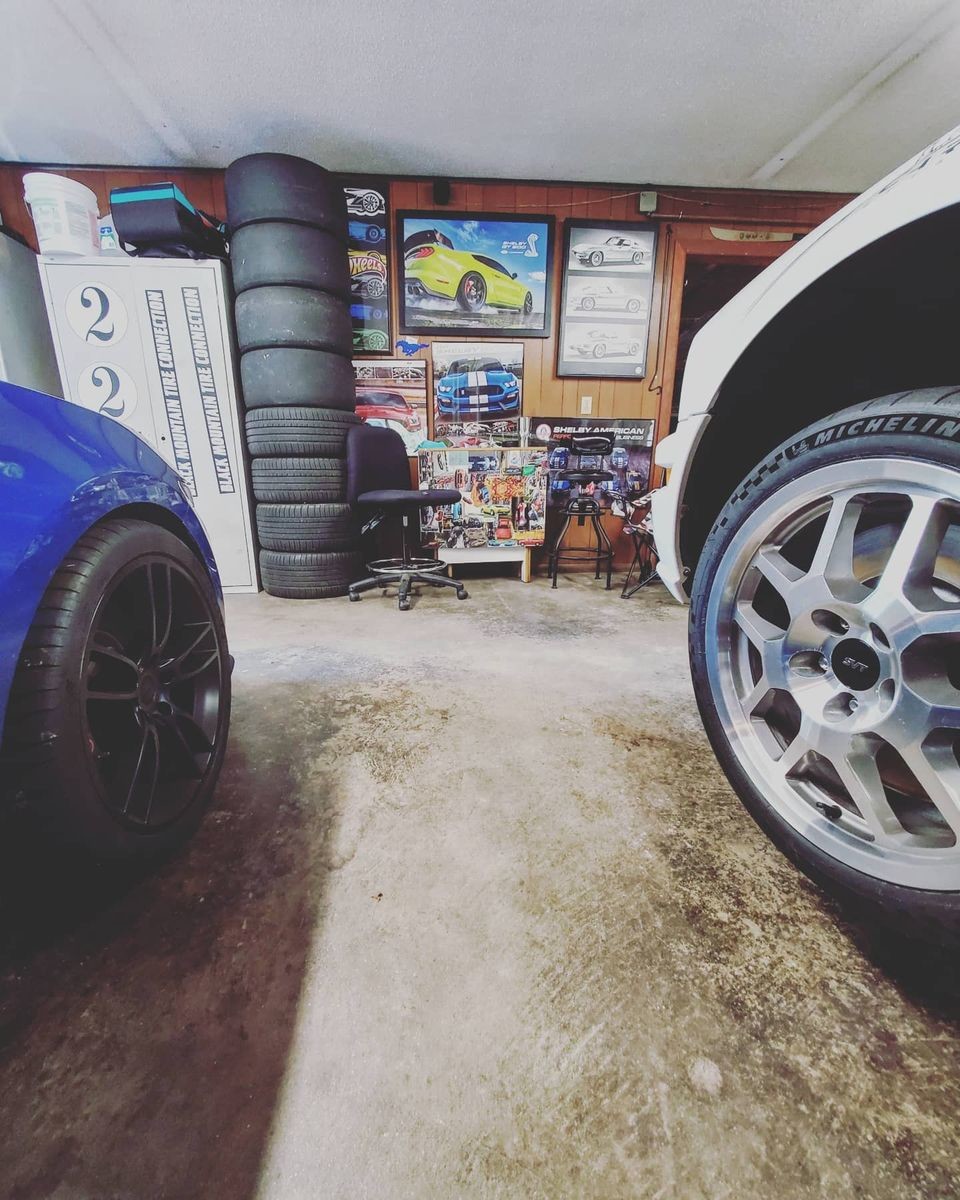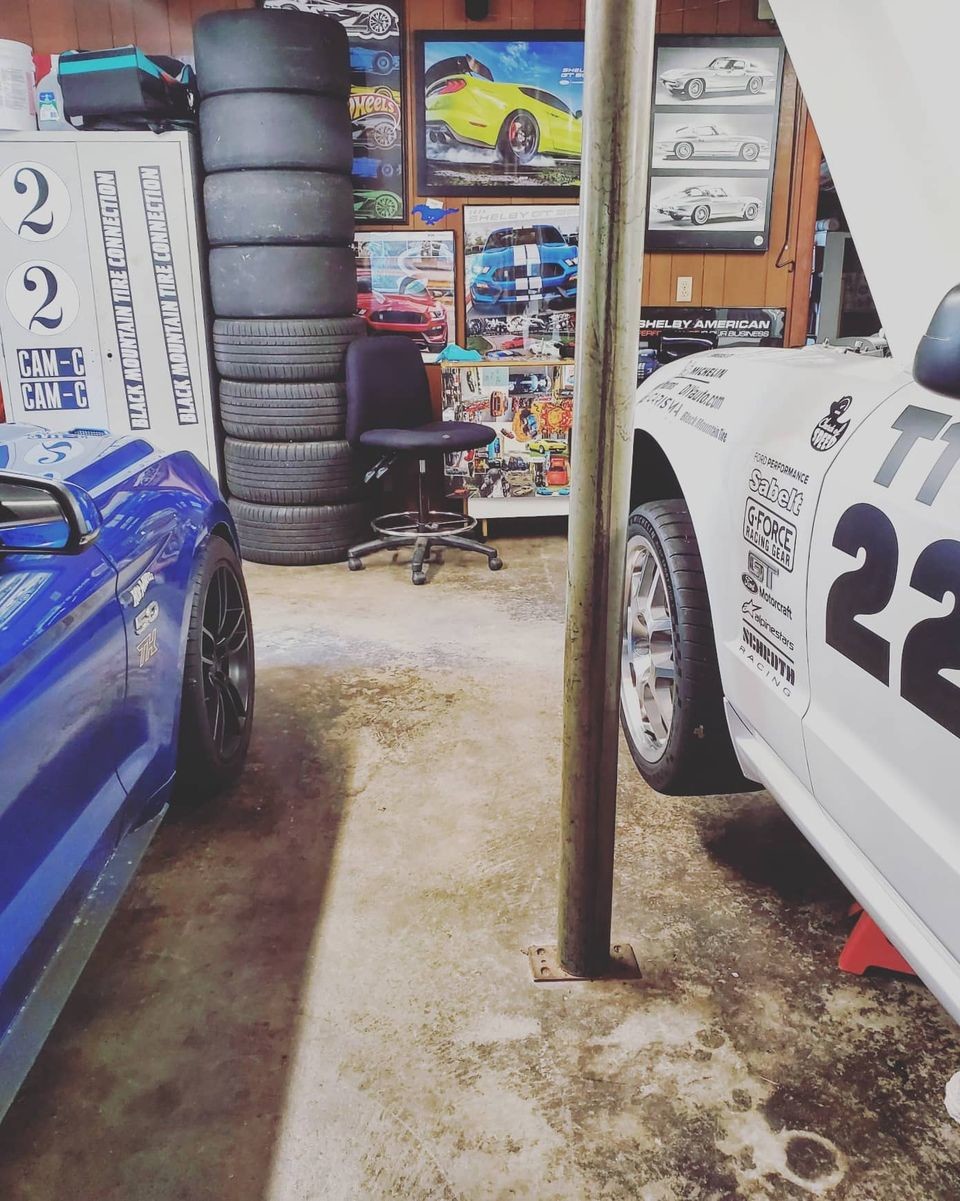 9-11-2020
Replaced my my outer tie rod ends with Maximum Motorsports Bumpsteer Kit. This video is the passenger side installation, only. This first side took about 40 minutes, mostly to get the tie rod lined up correctly and to determine which shims to use. The driver's side went much quicker, only about 20 minutes. Shout out to @latemodelresto and their '05-14 Bumpsteer installation video on YouTube. Their tips really made the whole process easier. While the car is still in the air I will go ahead and bleed the brakes. New fluid should arrive today.. Then the car will go for an alignment either this Saturday or early next week. Thanks for following along! #bumpsteer #mustanggt #maximummotorsports #s197mustang #MustangsofInstagram #womenindrive #womeninautomotive #diyauto #racecar #cargirl #timelapse #mechanic #ford #fordperformance #babe #PlayAllTheMotorsports #RyanCheekRacing
9-15-2020
Time Trial National dates are September 25-27, with a track practice day September 24. Thats a total for 4 days on track! Look for story updates from me and posts from the event.