66 Mustang Coupe by Ls1velle
By stevegolf
You must be logged in to rate content!
66 Mustang Coupe
Compliments of Ls1velle @ www.pro-touring.com
2/17/12
Heres a few pics of the 66 im building for the wife. Its a 289 automatic white ext black int and blqck top. I bought the car a few years back from Pheonix, its pretty much rust free not like any cars i could find in Canada. Heres the plans, Heidts front and rear suspension, shaved handles, drip rails, emblems, most trim, smoothed and reshaped bumpers, valance inlets. 1998 Mustang GT 4.6 5 speed and 8.8 diff (3.73). 98 black leather int. Mini tubbed with 18x10 rears and 17x8 frontsAmerican Racing Daytona. House of Kolor paint PBC 38 Limetime pinstripe, PBC 39 Pink top and PBC 40 Violette bottom.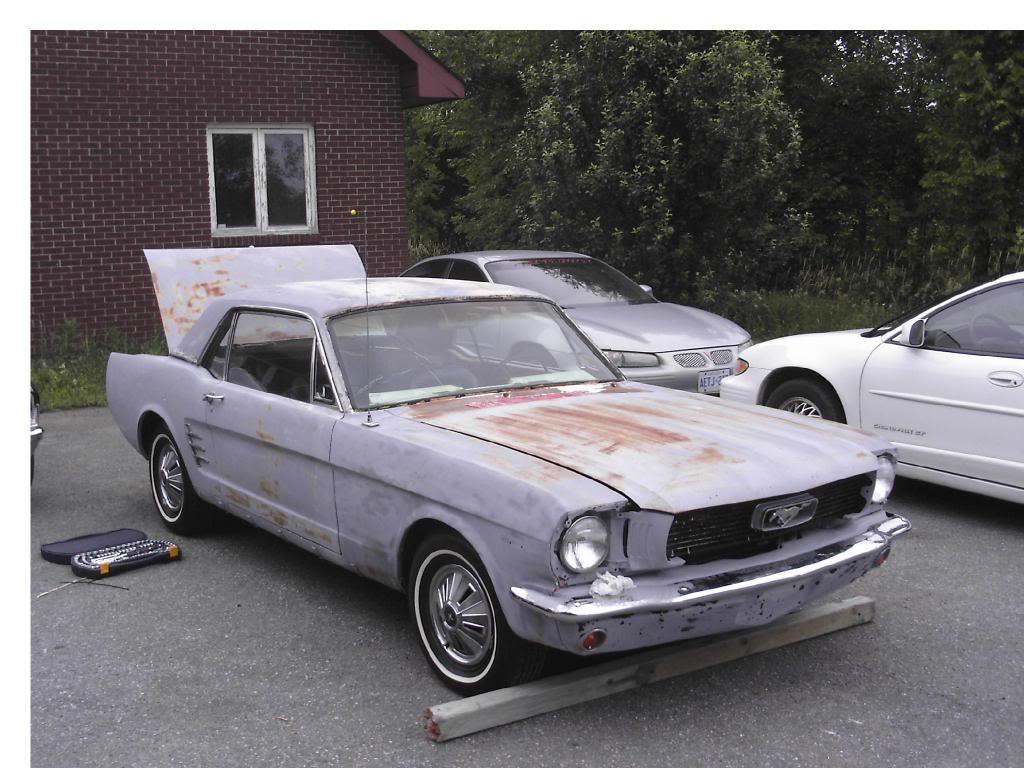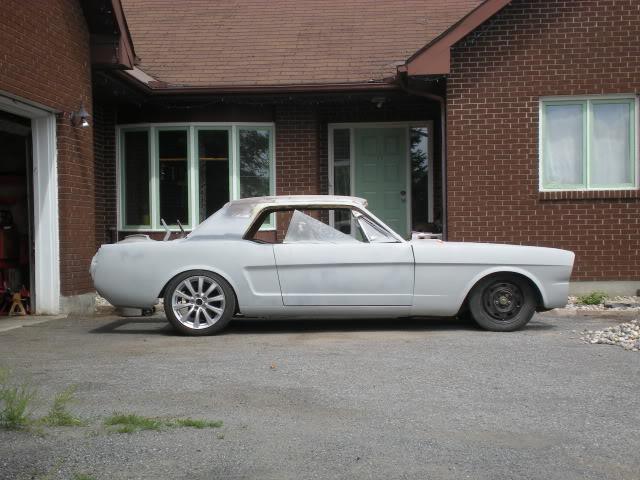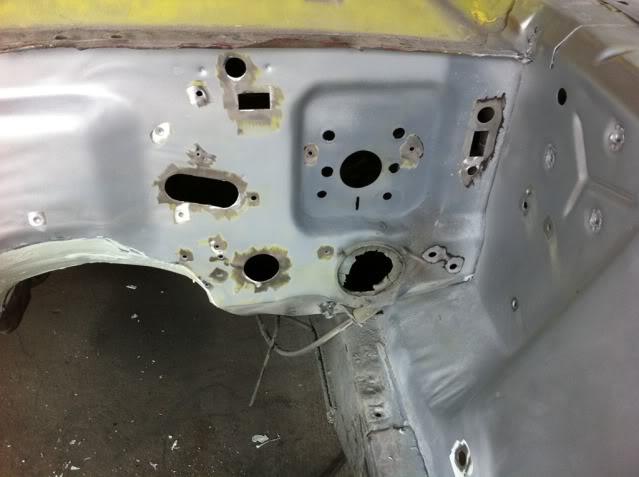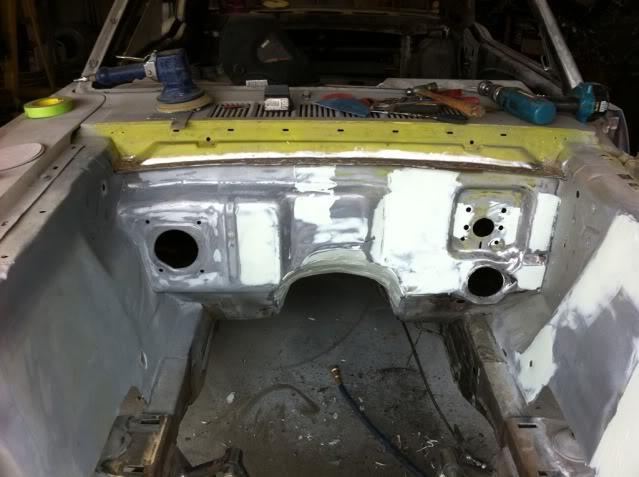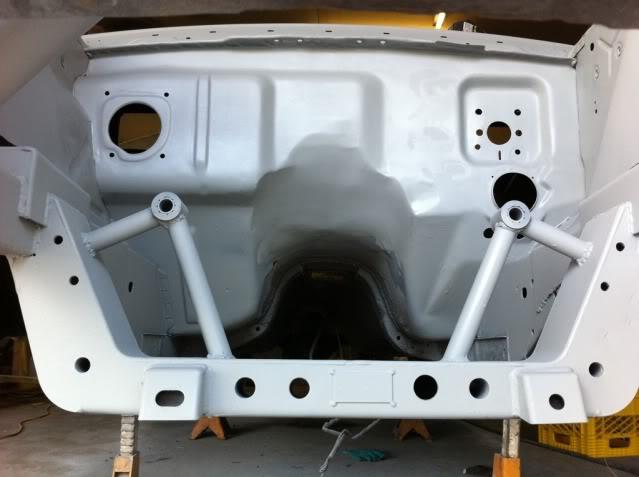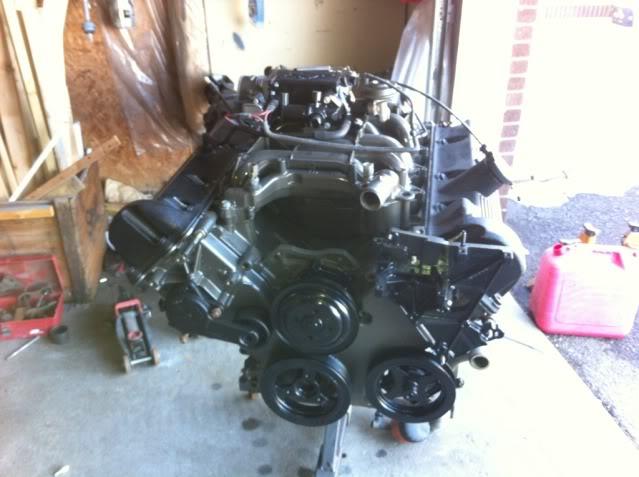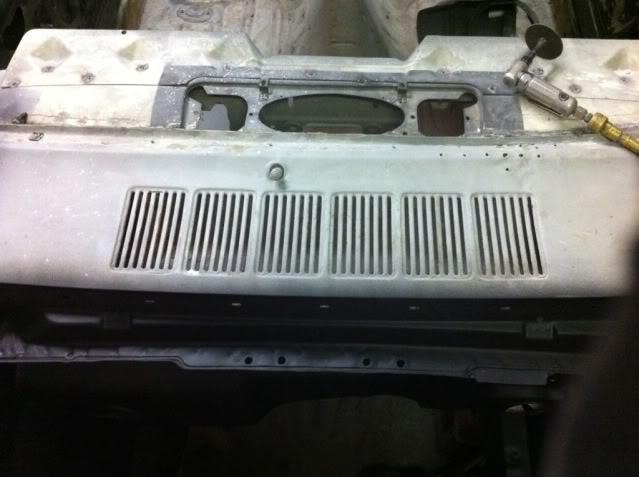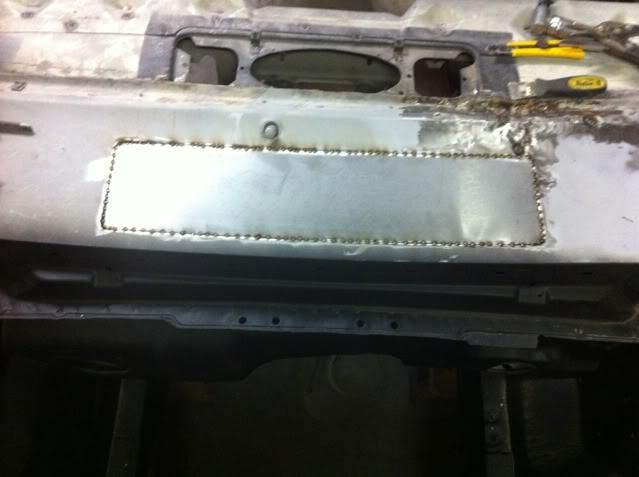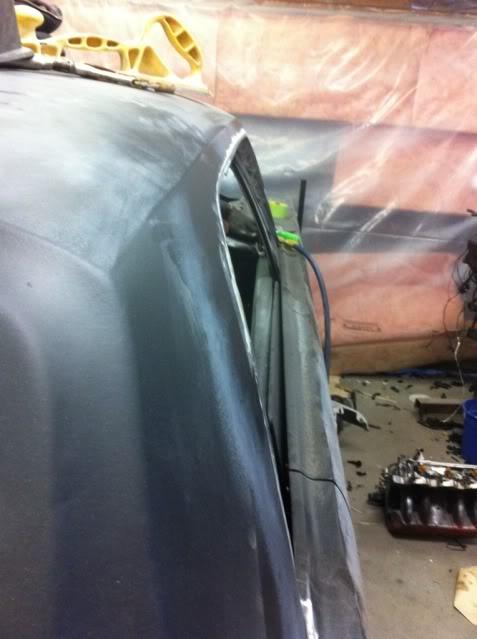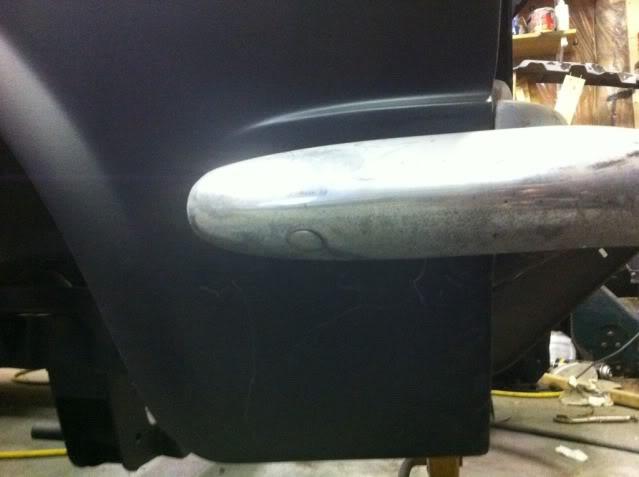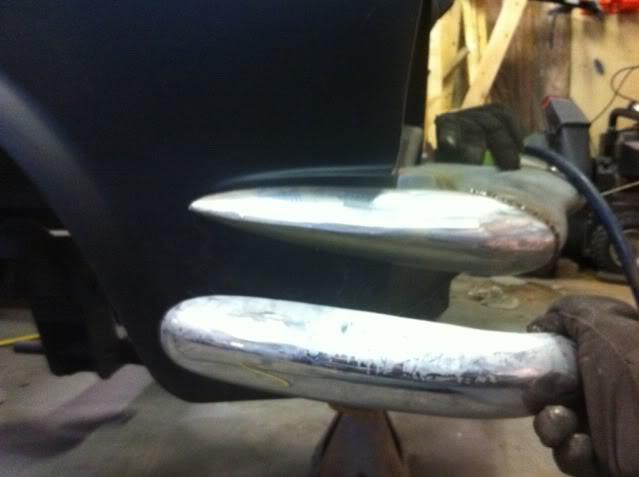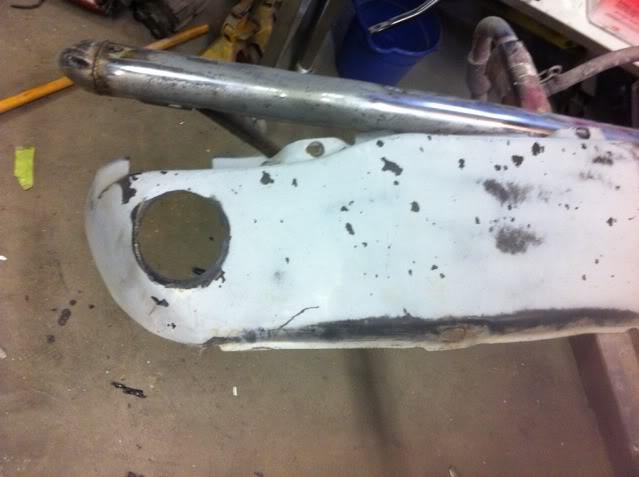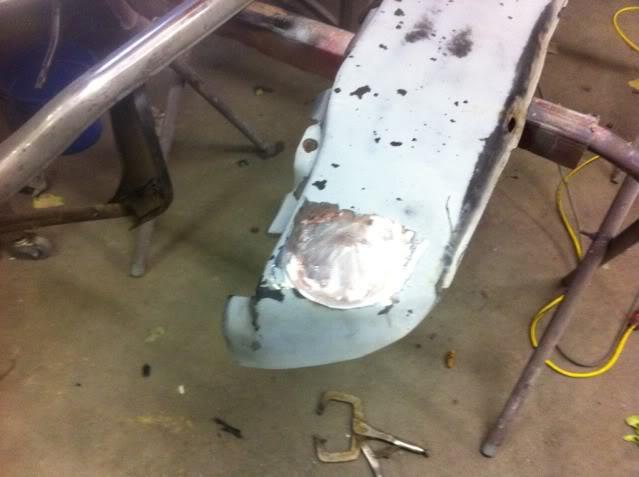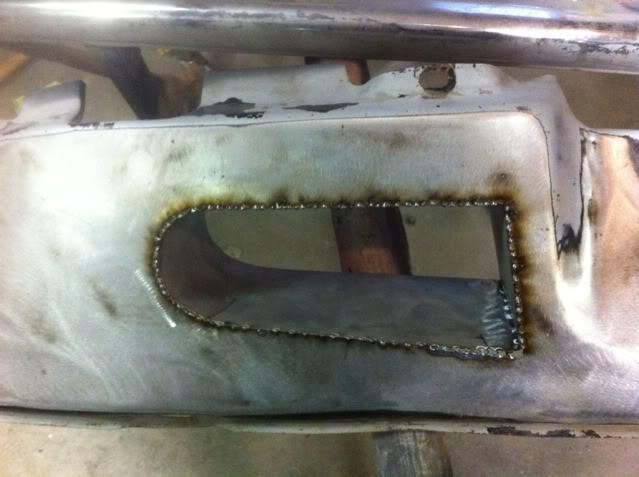 2/18/12
Got a few hours in the garage today to finish up the front valance.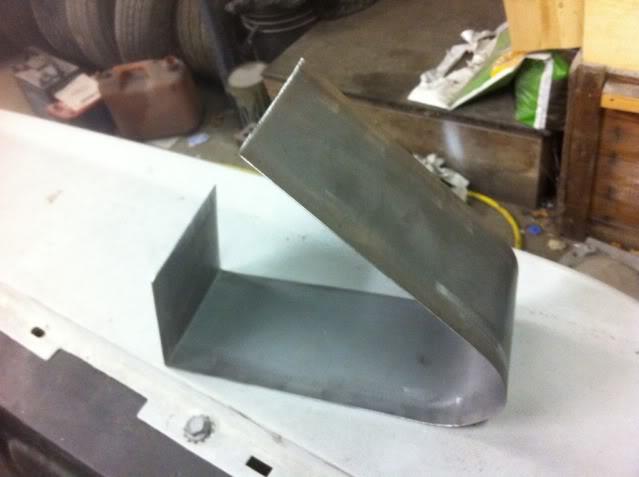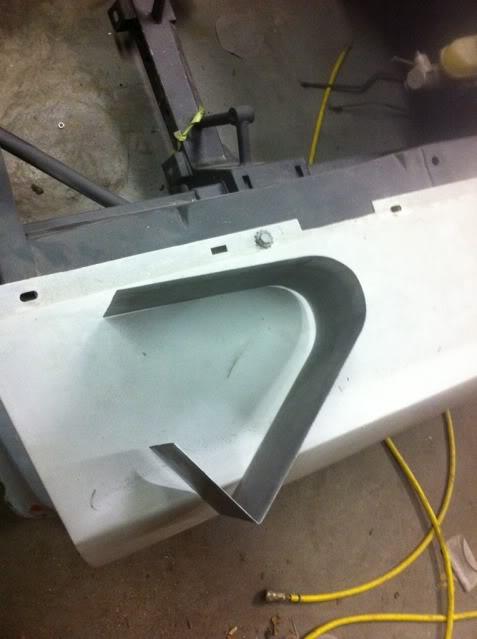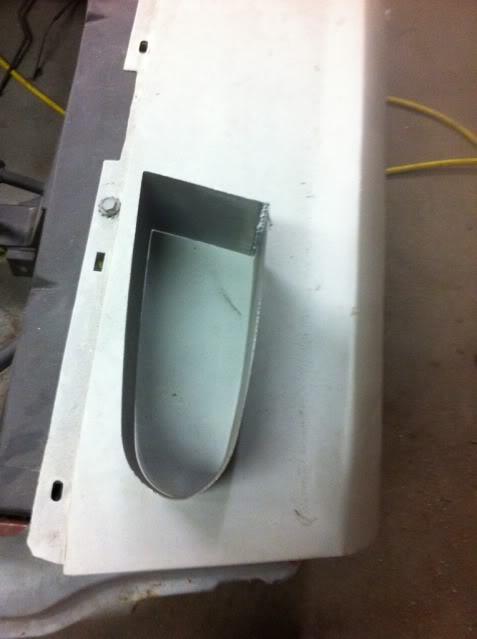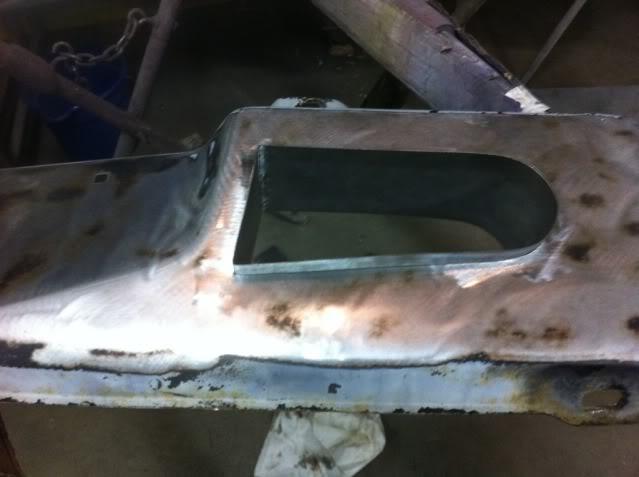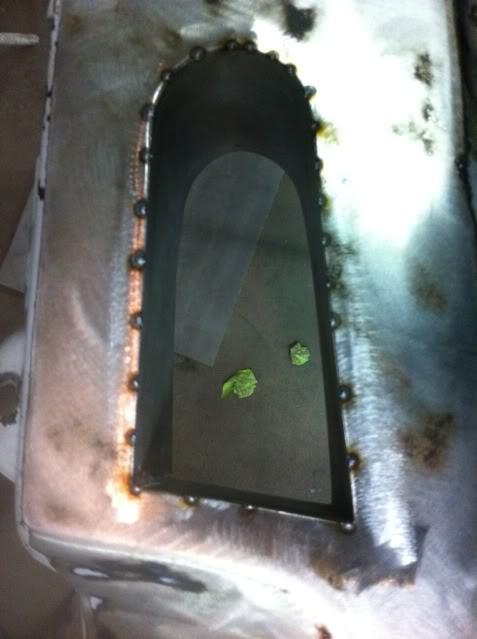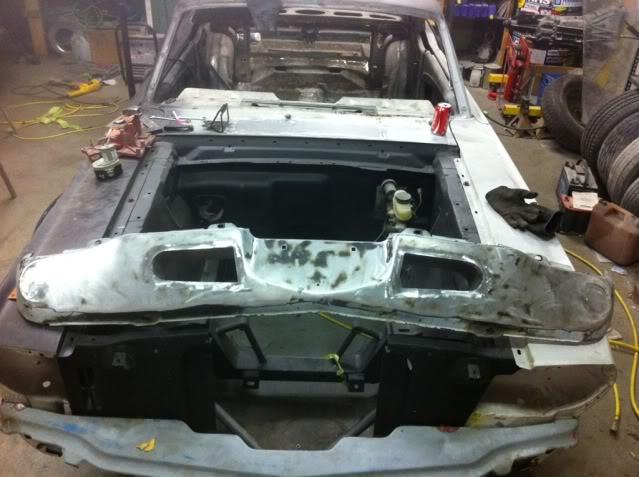 2/23/12
Picked up my paint and gas tank today.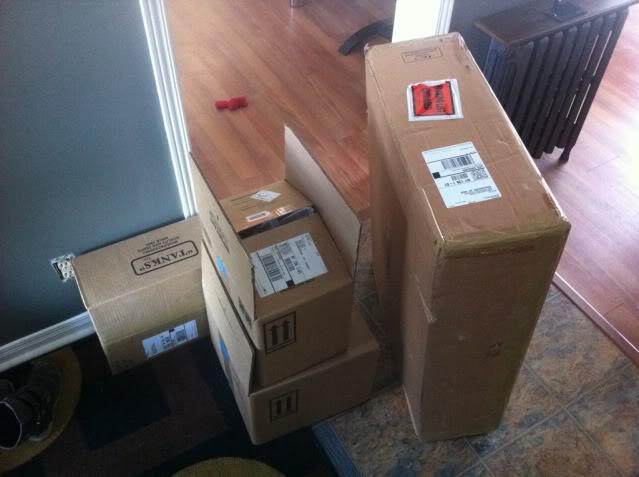 Tanks inc fuel inj tank.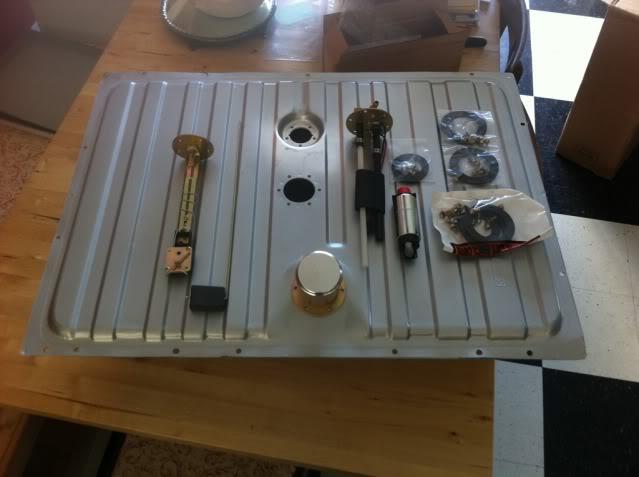 House of Kolor paint sealer clear hardener and reducer.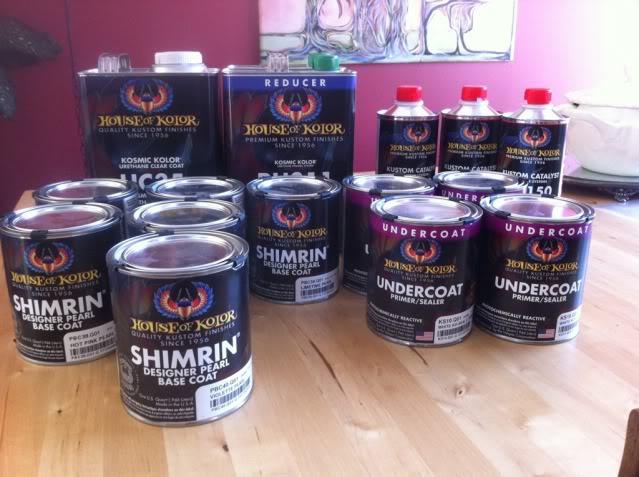 3/1/12
Rear valance.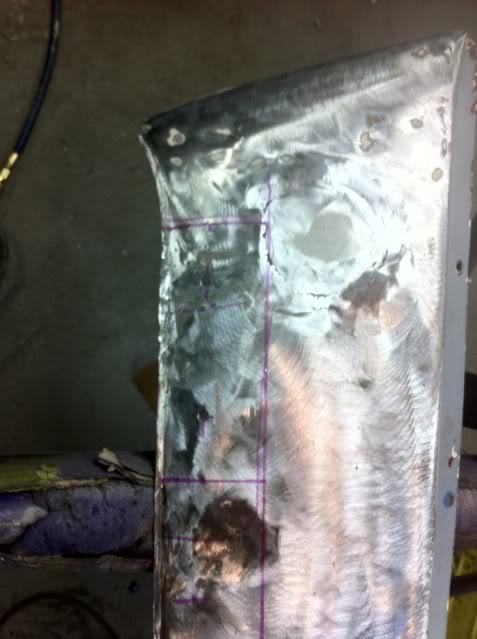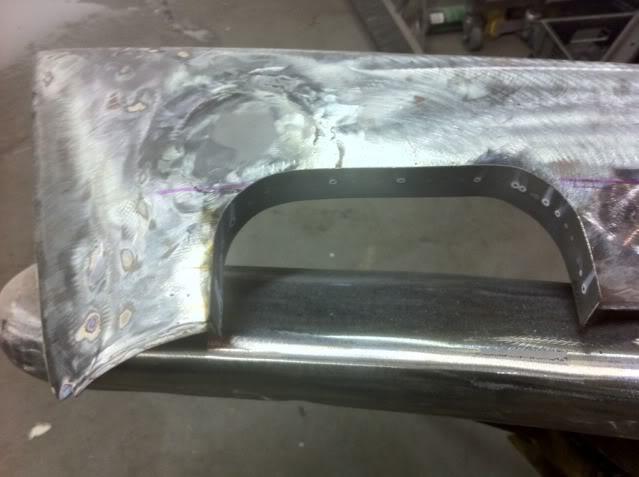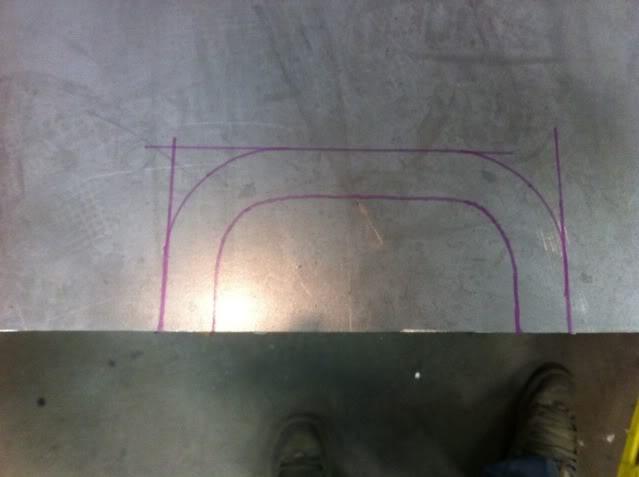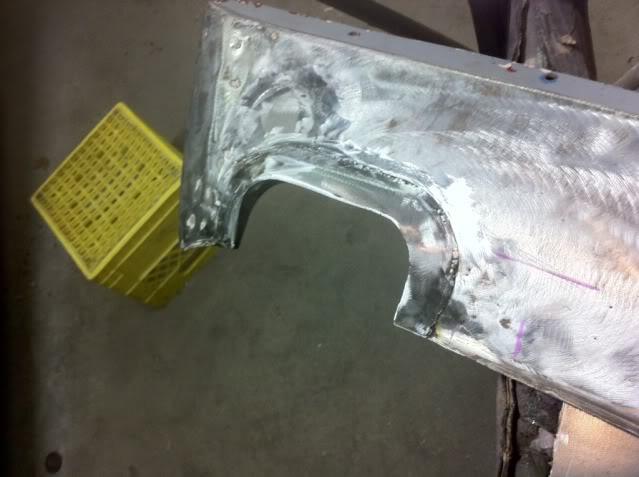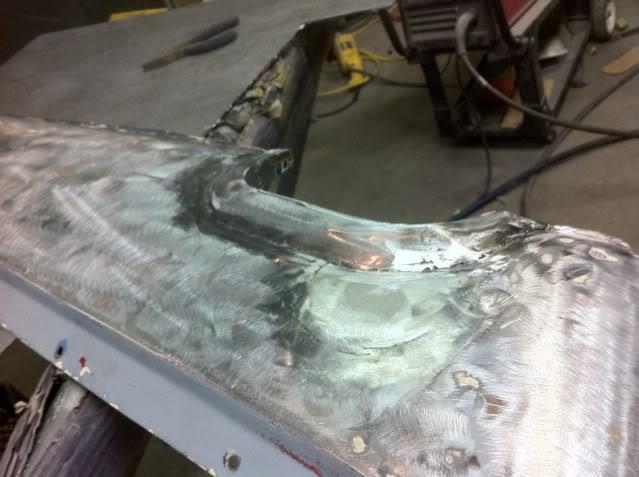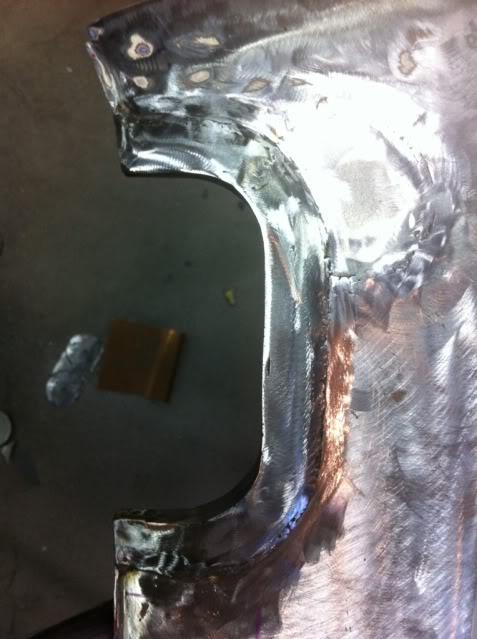 3/5/12
Took a quick look at the trunk lid and hood yesterday, both look pretty good other than having to weld up where the FORD emblem on the hood is and a few small dents. Also spent a bit of time fitting the headlight bucket and extensions, they fit like s@#t.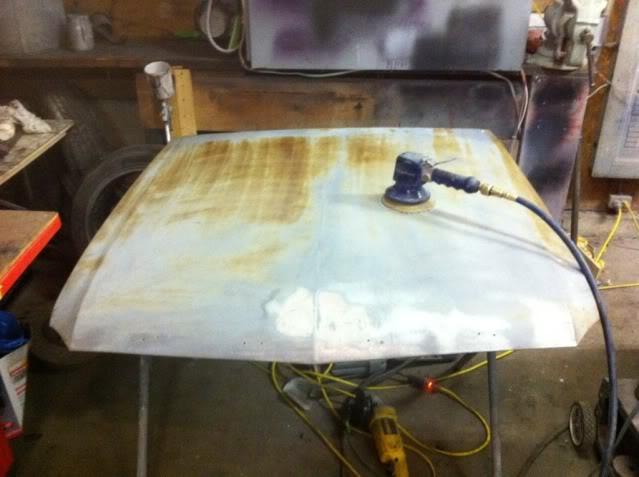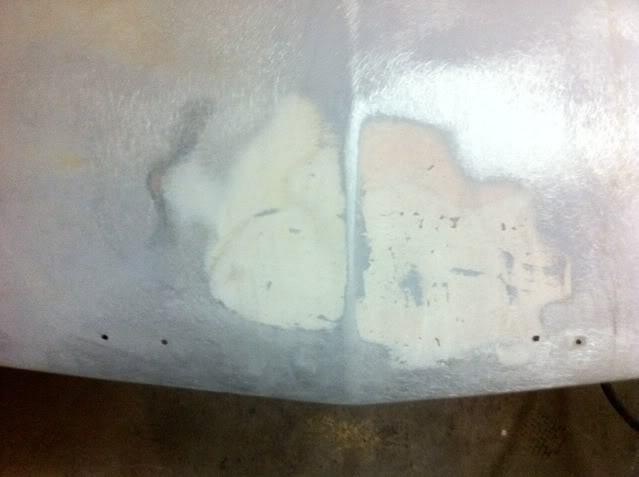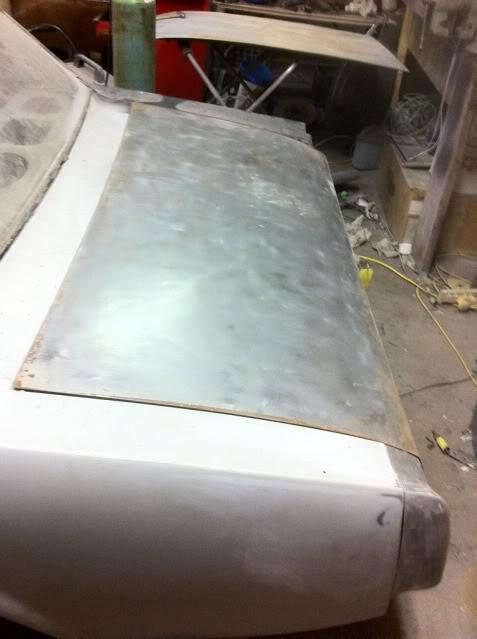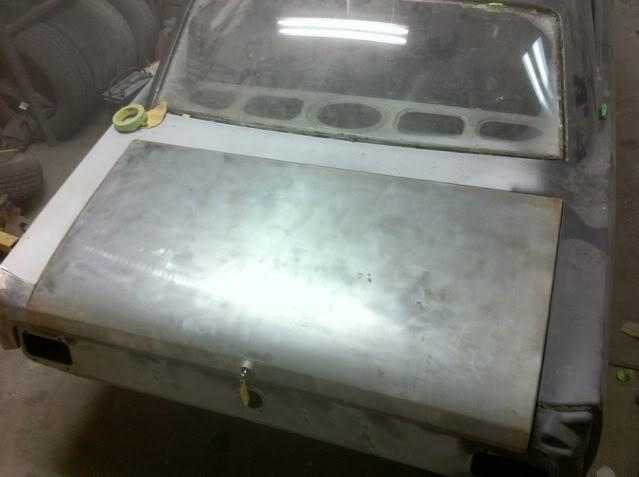 3/10/12
Started to fit the rear bumper i picked up for a local resto shop along with a few other missing pieces.
Shaved the bolts and welded in the brackets.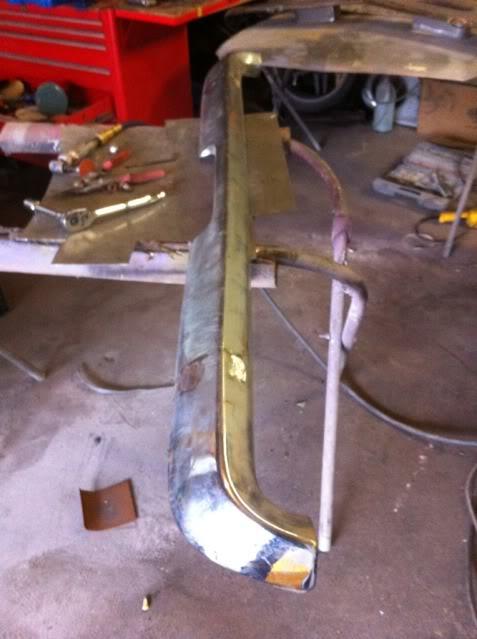 Cut apart the ends to get them to fit nice and tight.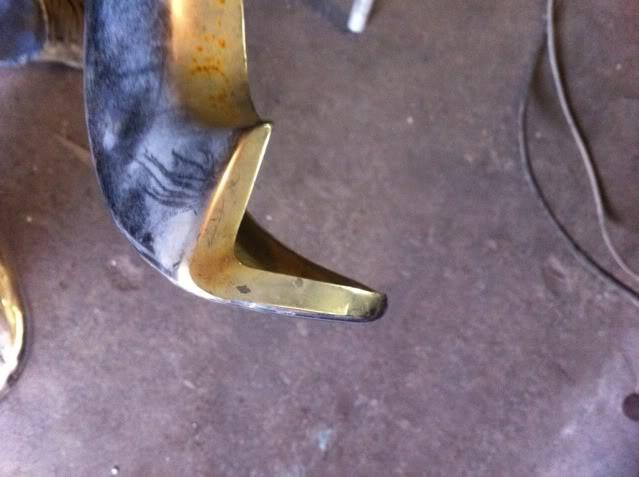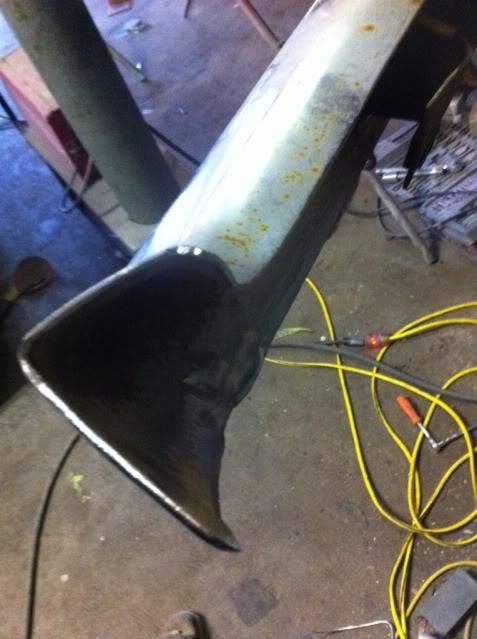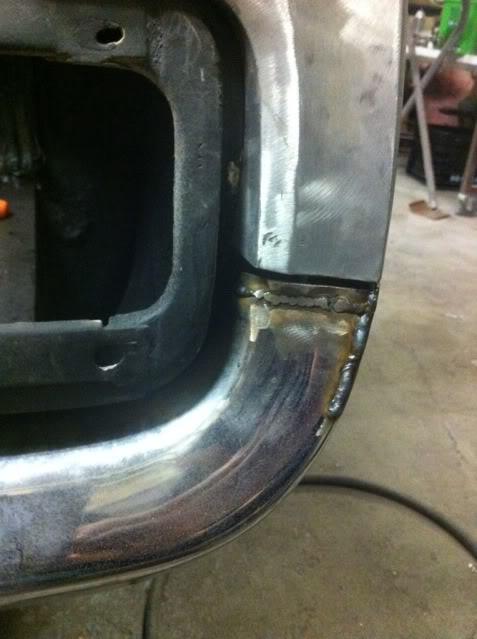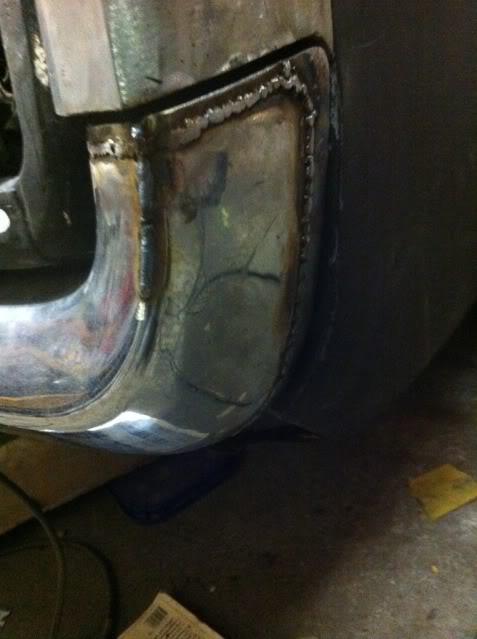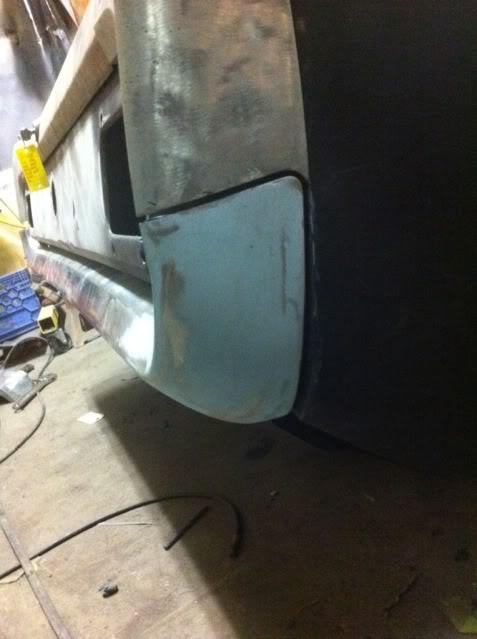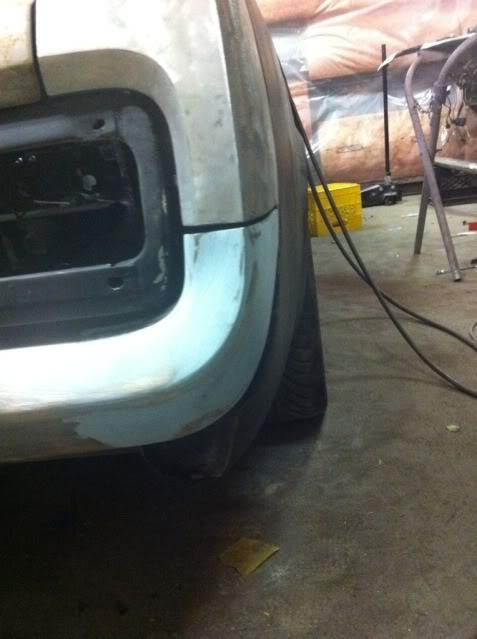 3/28/12
Not much new to post just doing body work, sanding and priming. I did get my new clutch and the flywheel surfaced.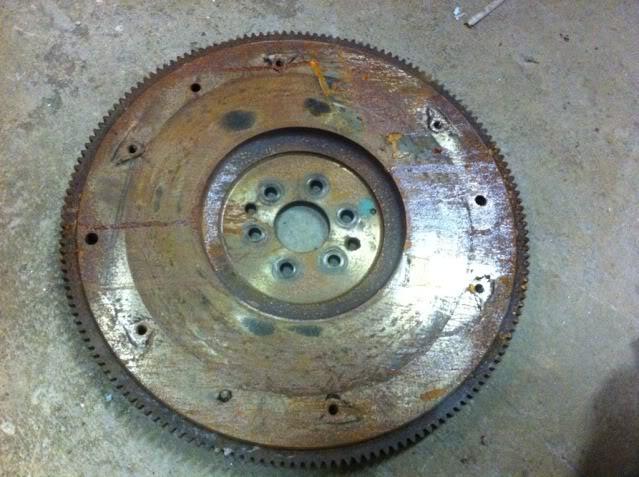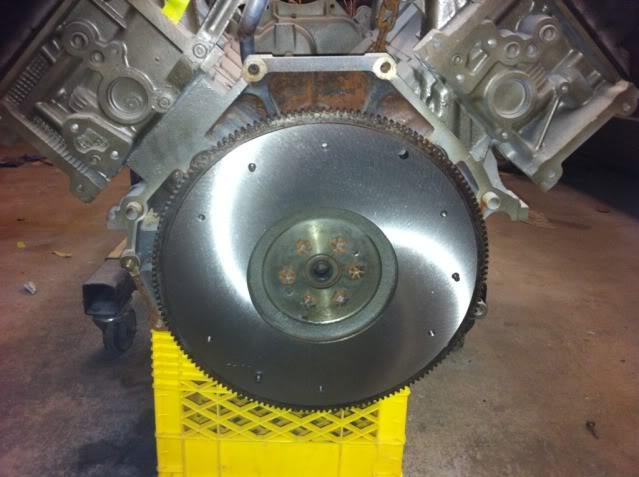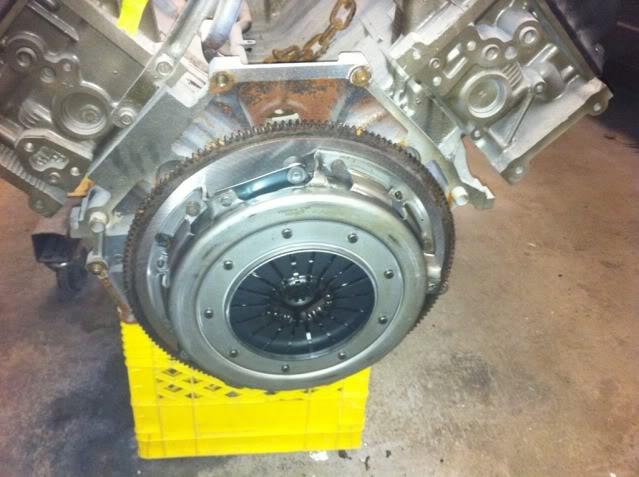 4/27/12
Got back from Carlisle with a few things so I can get back at the mustang.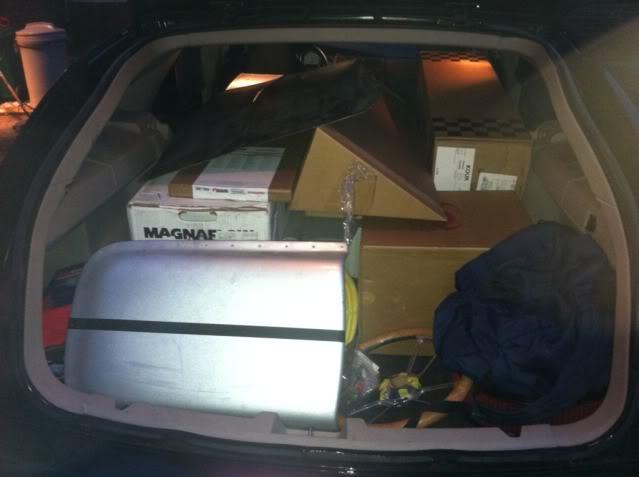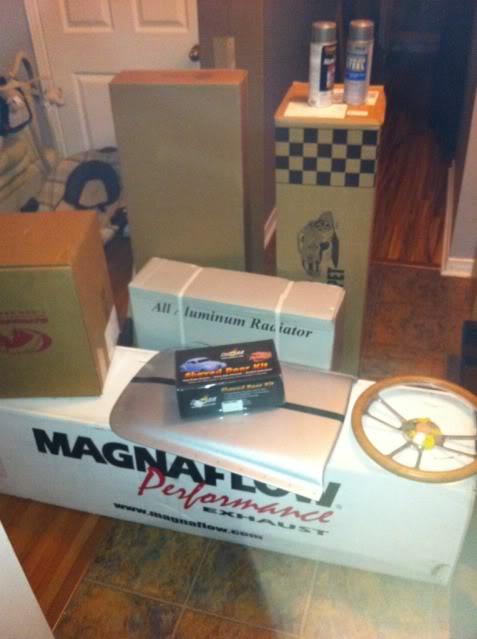 I got a 5.0 conversion rad, dash pad, door panels, carpet kit, master bolt kit, wiring kit, stainless exhaust, billet steering wheel, shaved door popper kit, Shelby scoop and a few other smalls.
5/4/12
Cut up the 98 GT fan to mount to my new rad. It's a bit big but it's what I've got.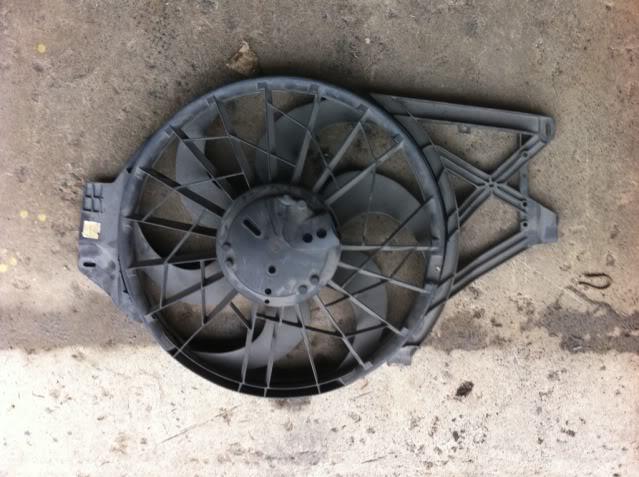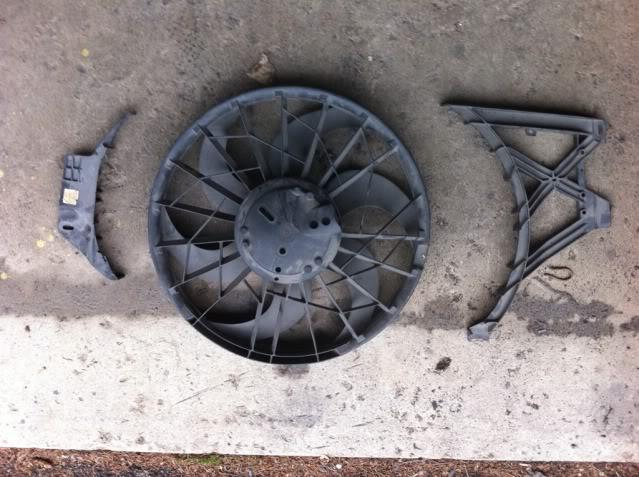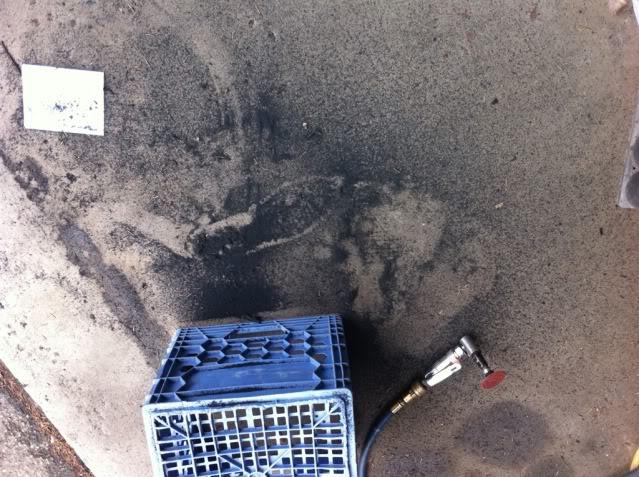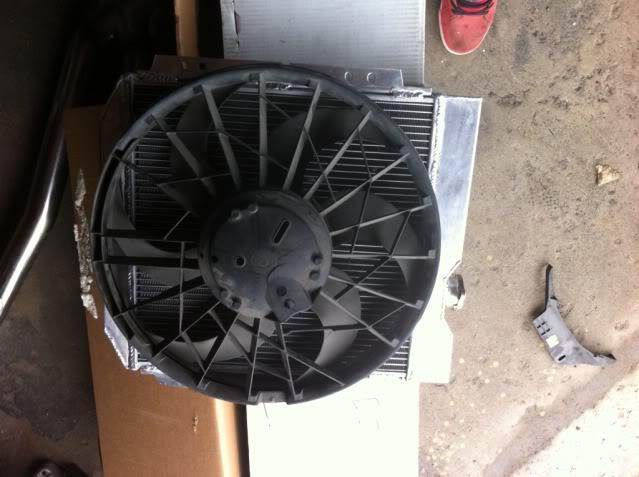 5/5/12
Re-covered the steering wheel.
Before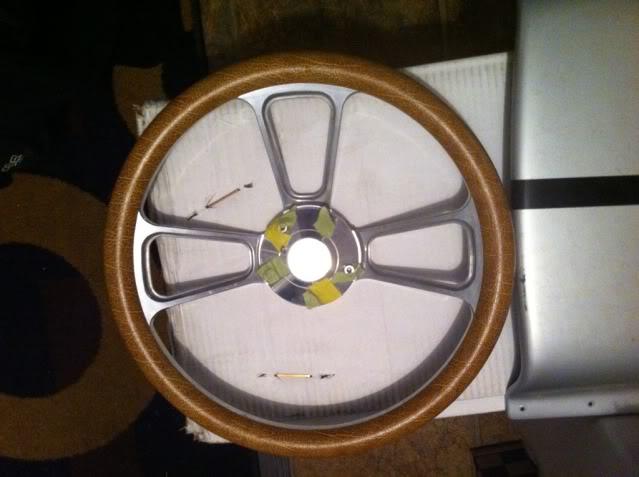 During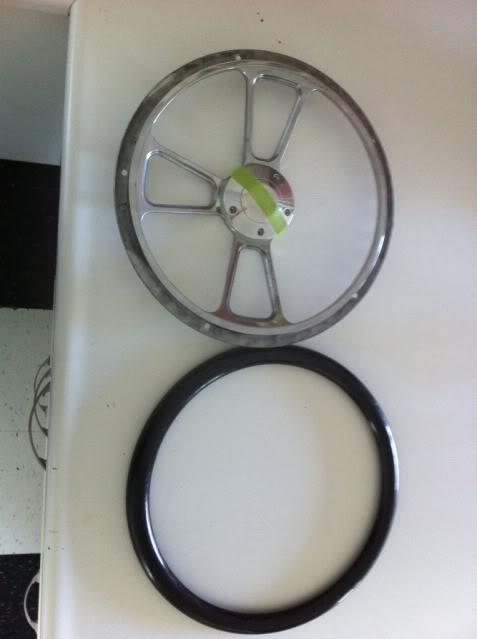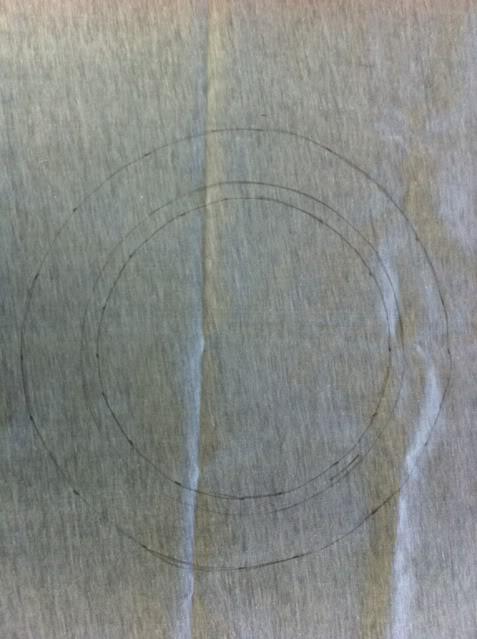 After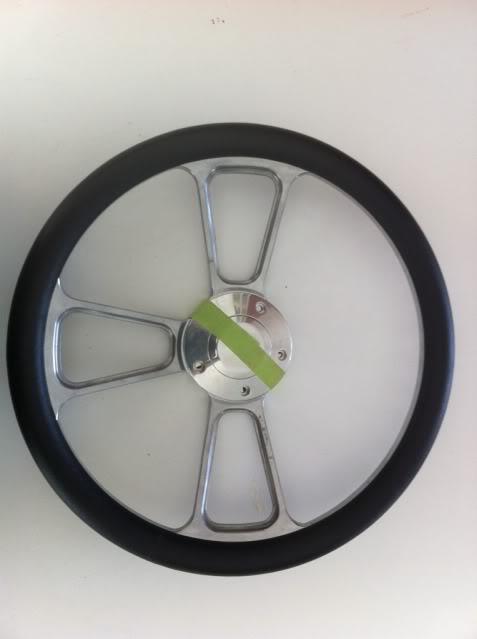 5/8/12
Rear bumper before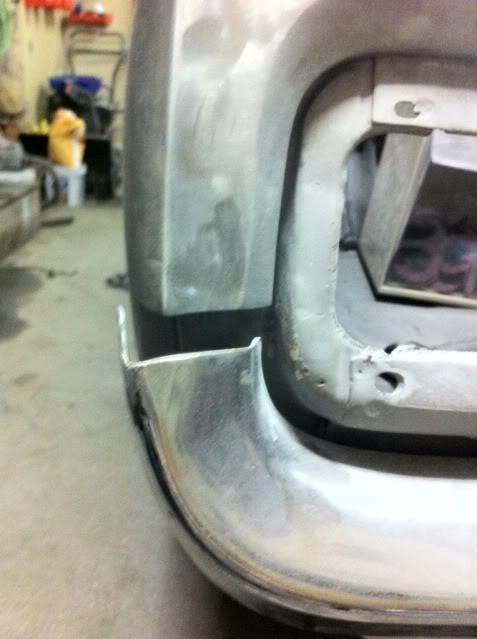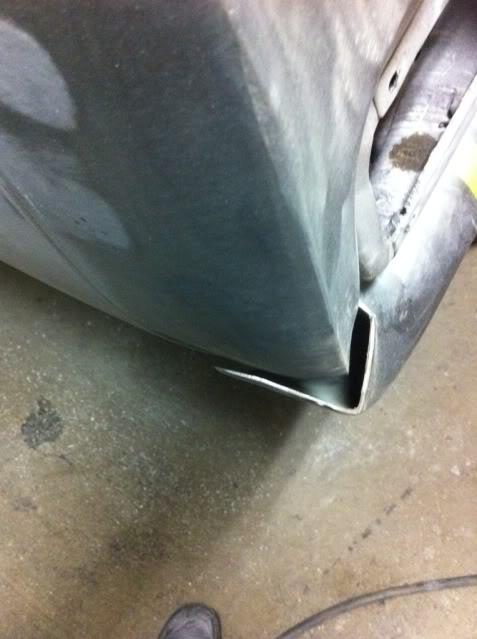 A few cuts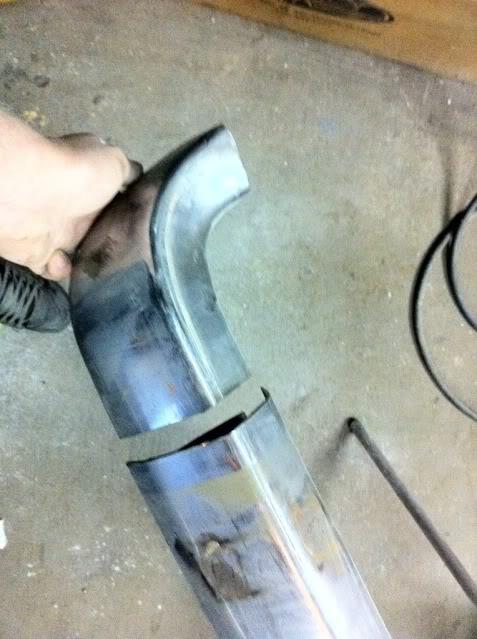 Back in one piece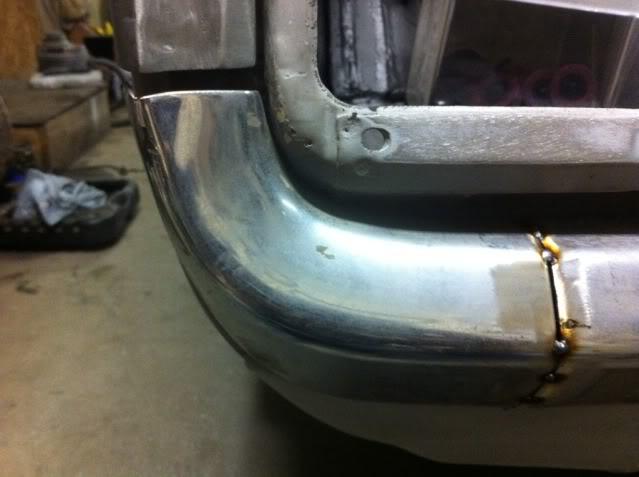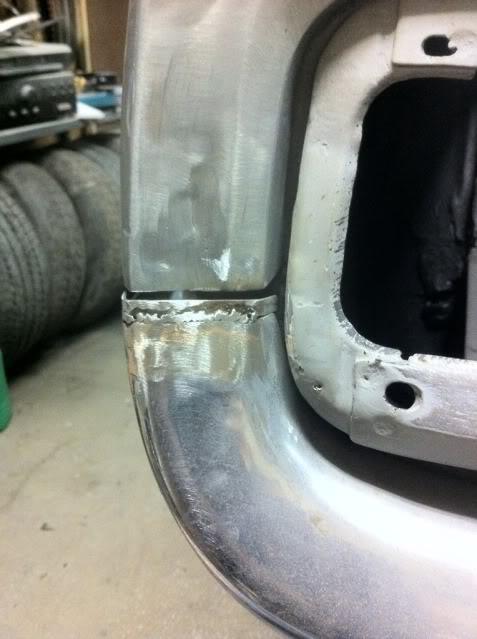 And one more cut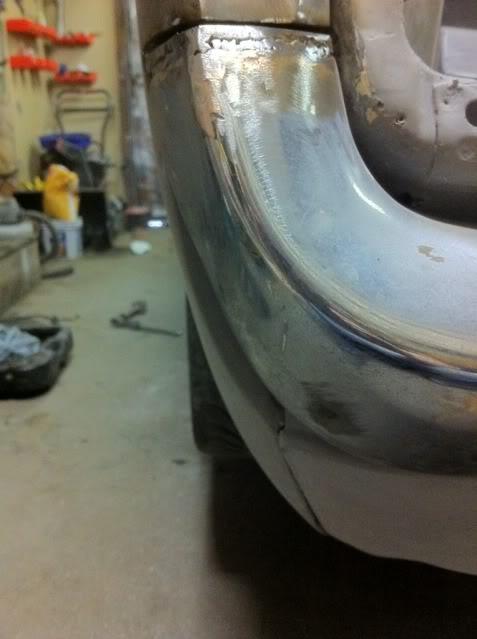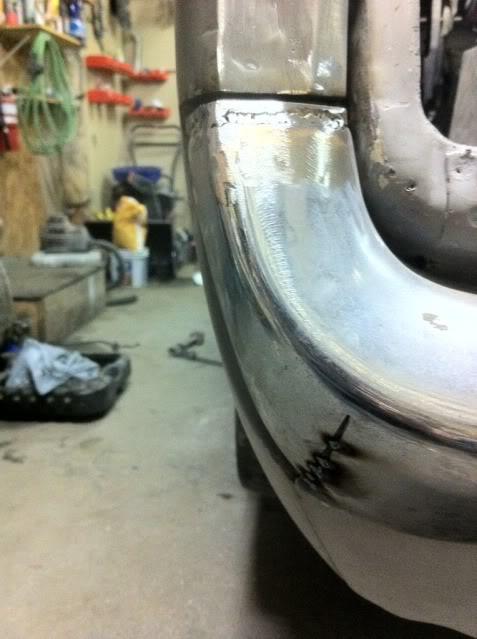 6/1/12
Not much new to show, unless you like primer dust on the floor. I was sitting looking at the door yesterday didn't like the corners.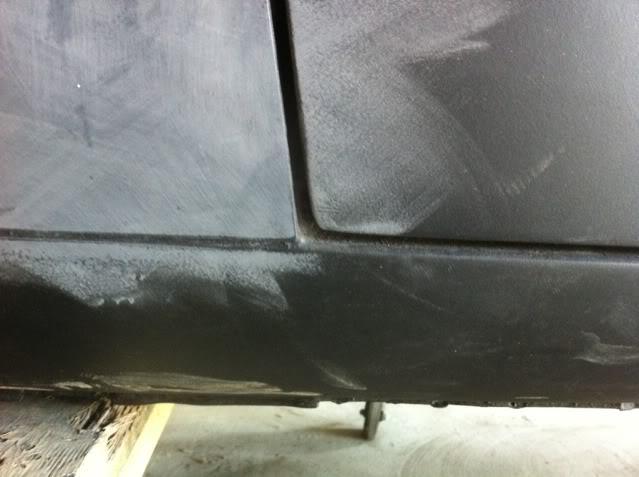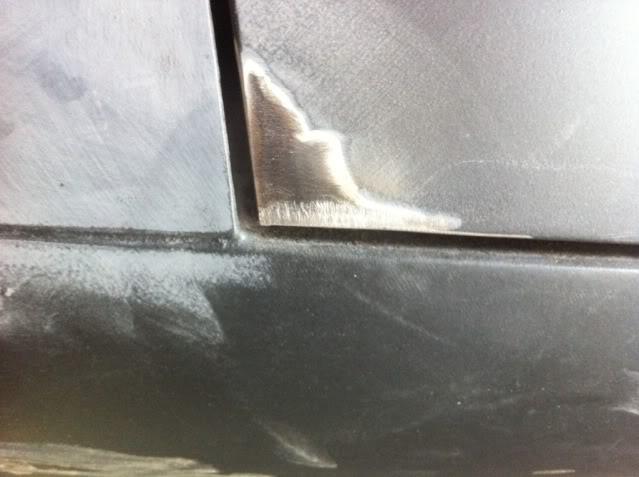 It's not much but those are the little details that will set the car apart from the rest. Hopefully I get my wiring and computer back soon and I can get the engine together and running. Then take it back out finish the body work and mods and get it ready for paint. Can't wait to get this thing done. Then it's on to the Chevelle for a redo. Channeled 4.5 inches (stock frame) and a twin turbo 370ci (850hp).
6/10/12
Started on cleaning up the door jambs, also found a bit of rust at the front of the door.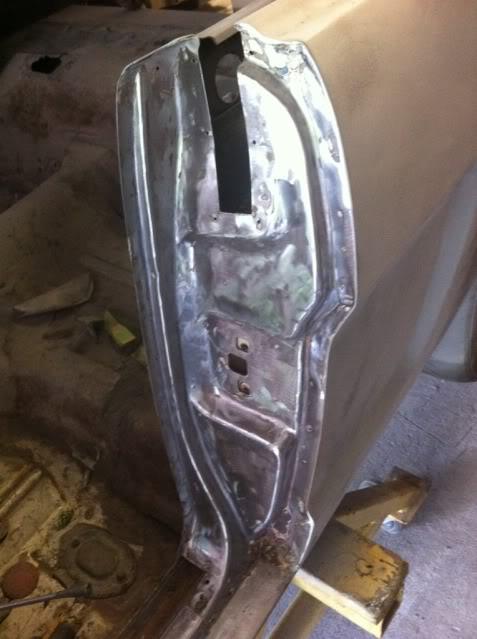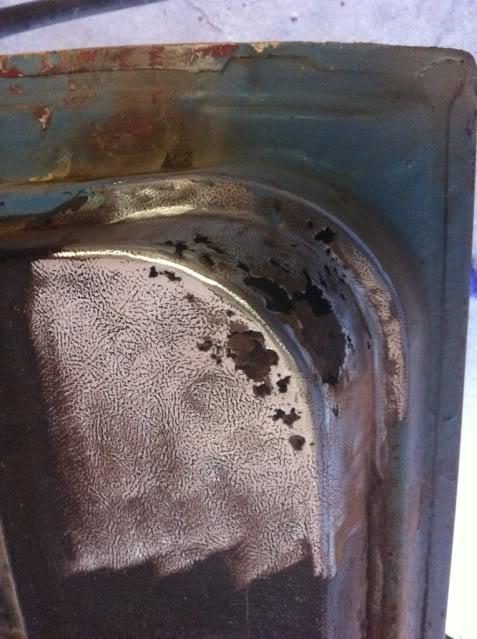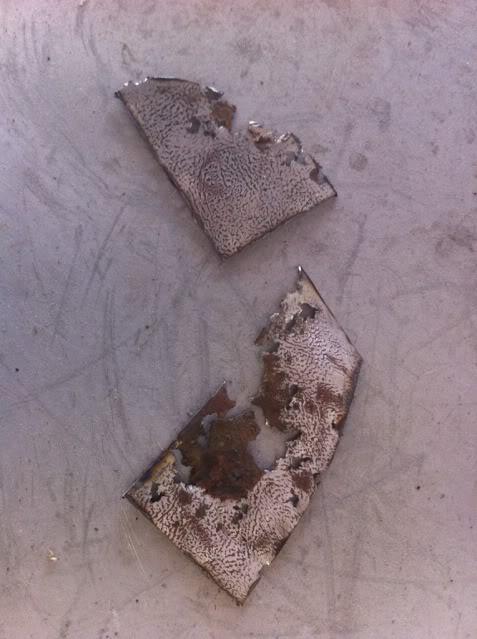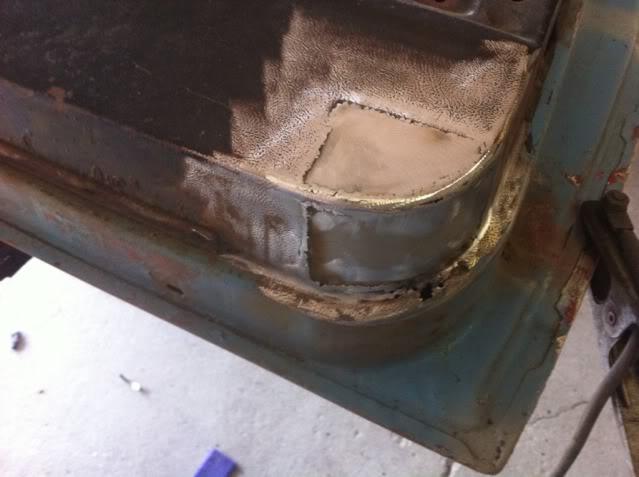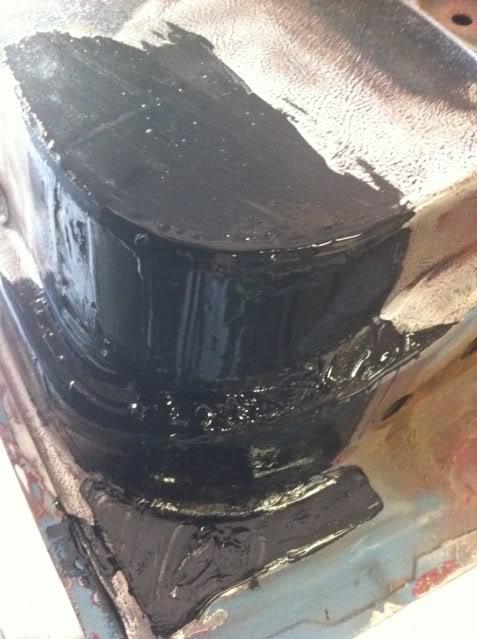 7/28/12
Here's a few pics of the front end back together. Just getting the gaps nice and tight.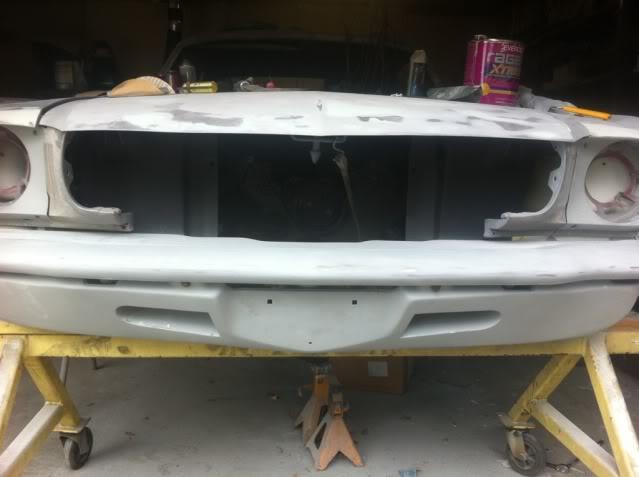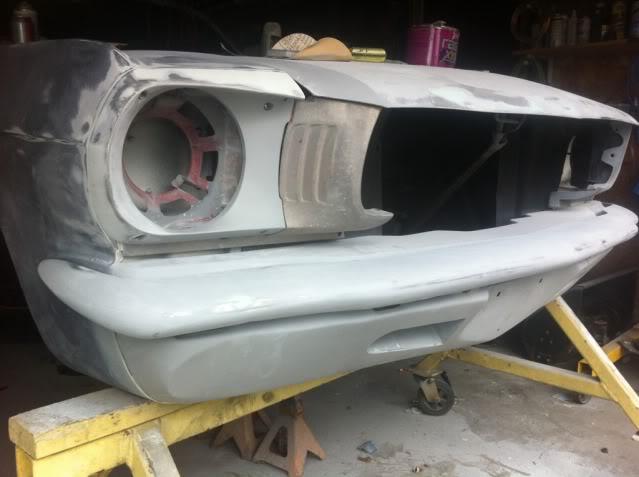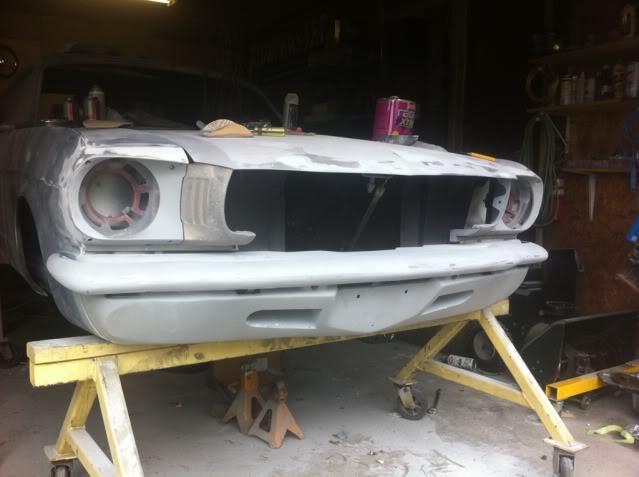 9/22/12
Man it's nice to see color on the car, even if it's just the edges. I'll have to wait til next weekend to get the body painted. So here's todays update, the car is edged and turned out really nice. We had a bit of a mishap with the hood, I had it wired up and was wiping it down with wax and grease remover and the wire snapped and the hood hit the floor. It creased the front edge and cracked some filler and tge primer. I banged it out and painted it anyways. I'll fix the outside this week. Here's a few pics, note the color in the pics is not a good representation of the actual color.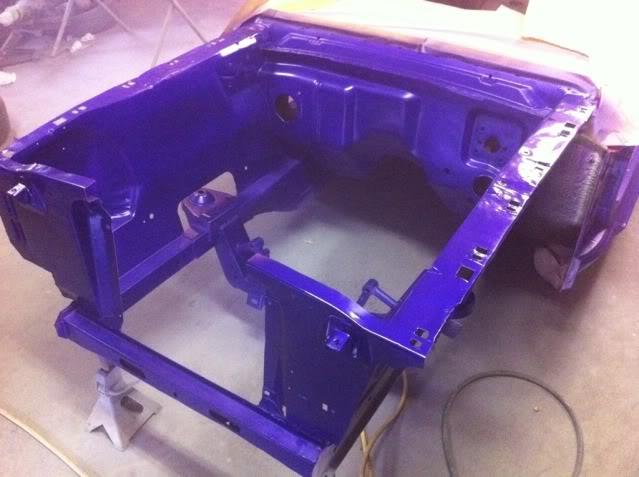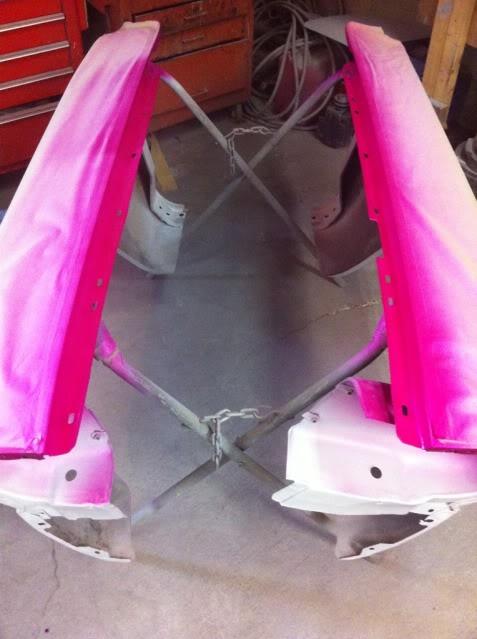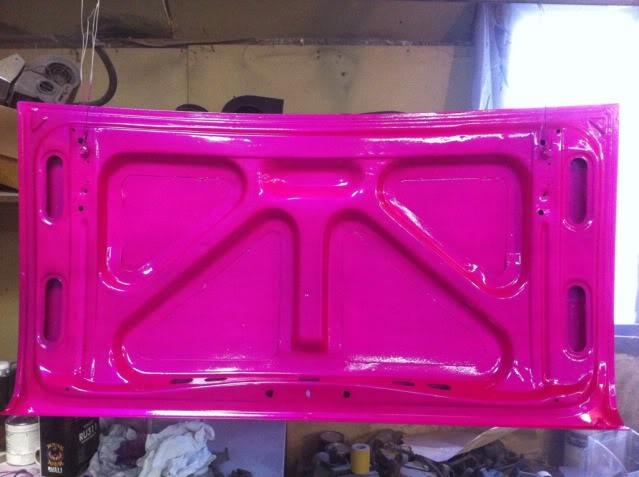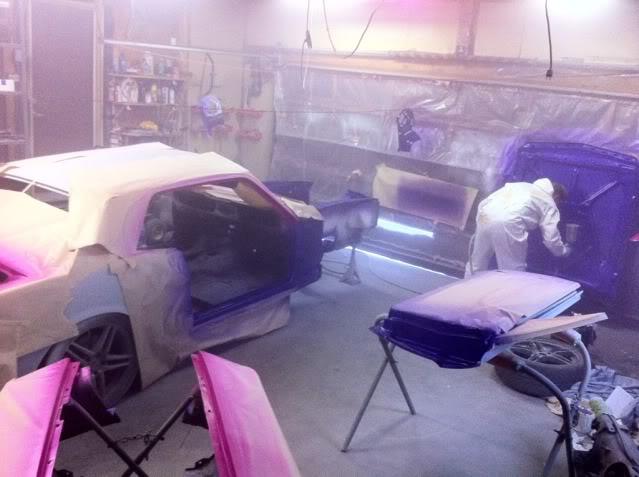 Oh ya this car was built in my 2 car garage with the most basic hand tools and no prior body work experience or training.
10/3/12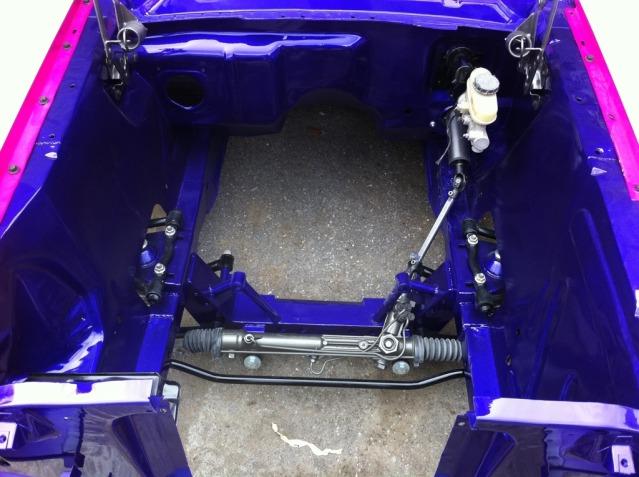 After getting the hood on and gaped I got the pinstripe masked off and painted. I masked a 1/4 inch stripe but it will end up being 1/8.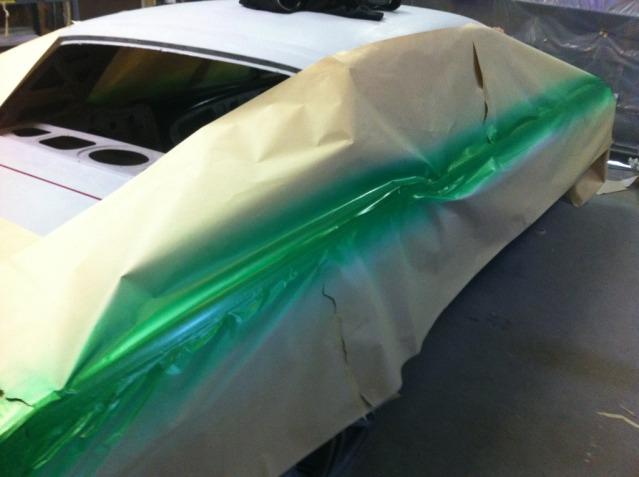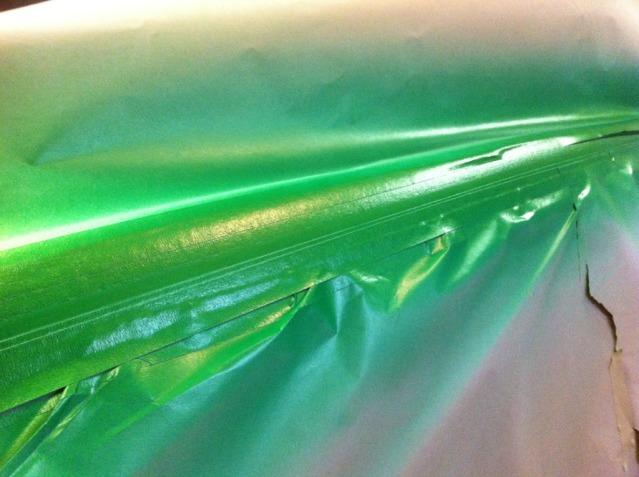 10/7/12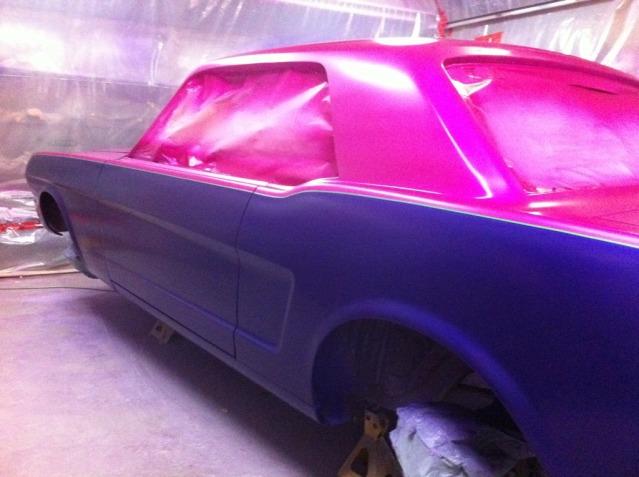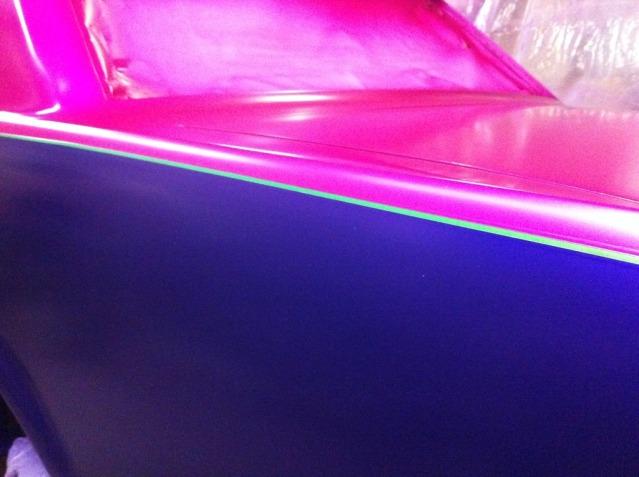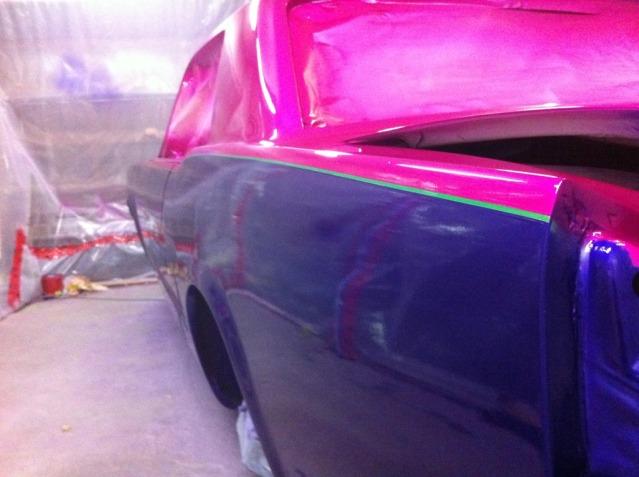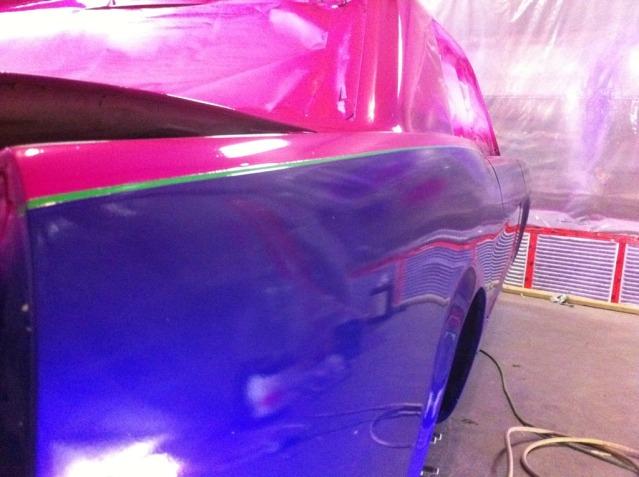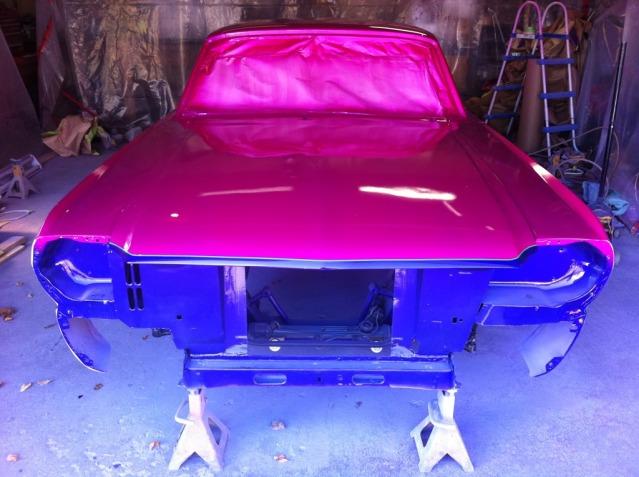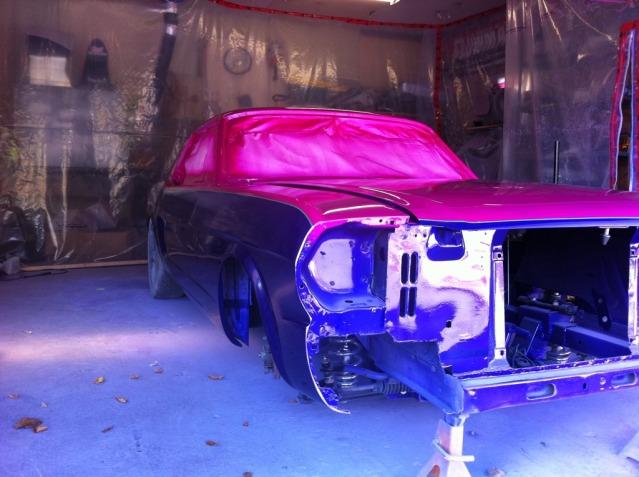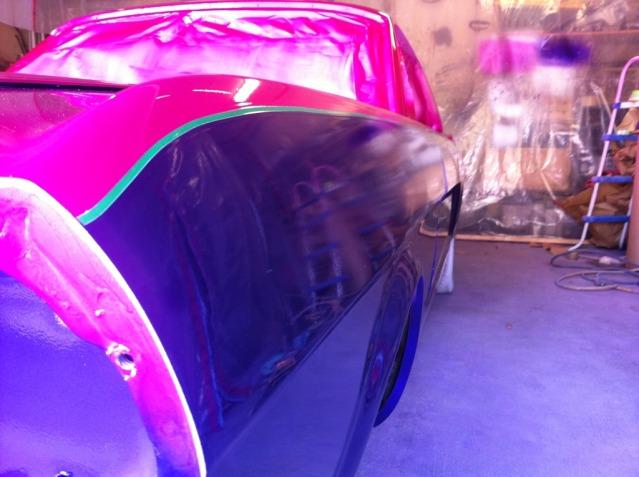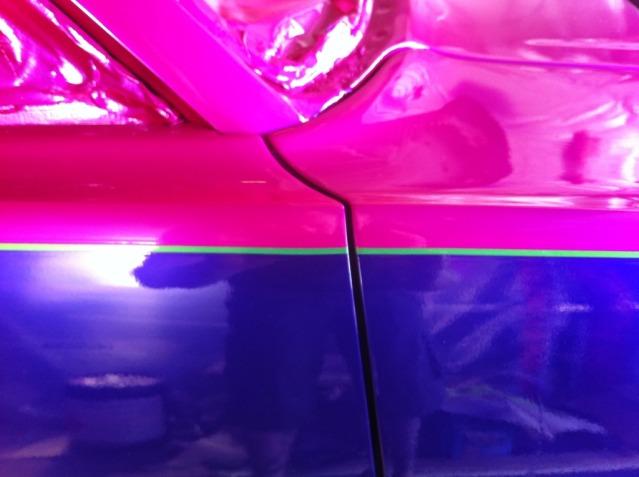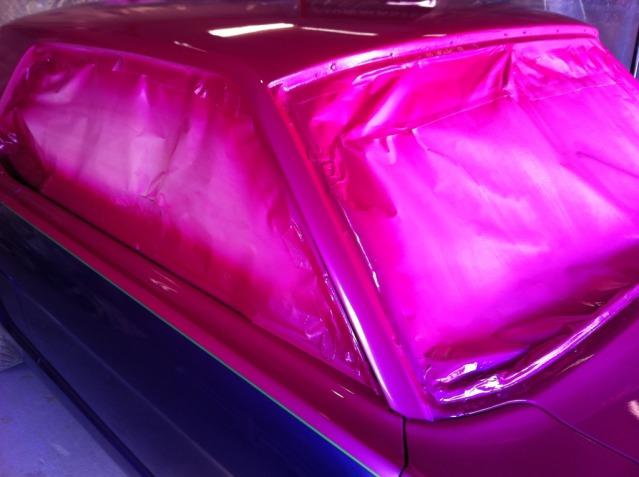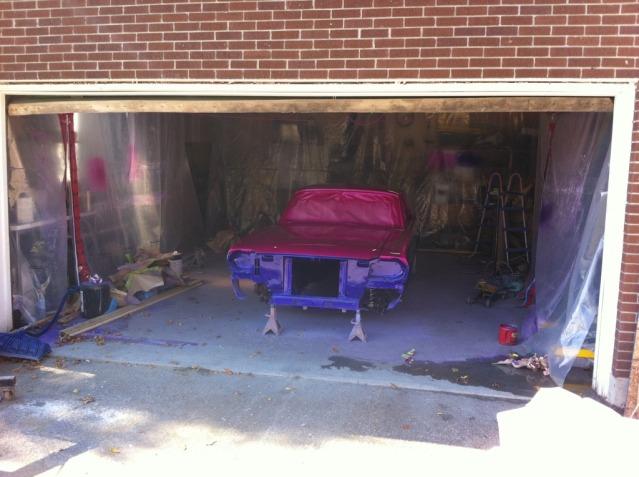 This was my first time ever painting a car. It turned out pretty good for a garage paint job. It's got some dust in it but nothing a sand and polish can't fix.
11/17/12
Mustang got a heart transplant today.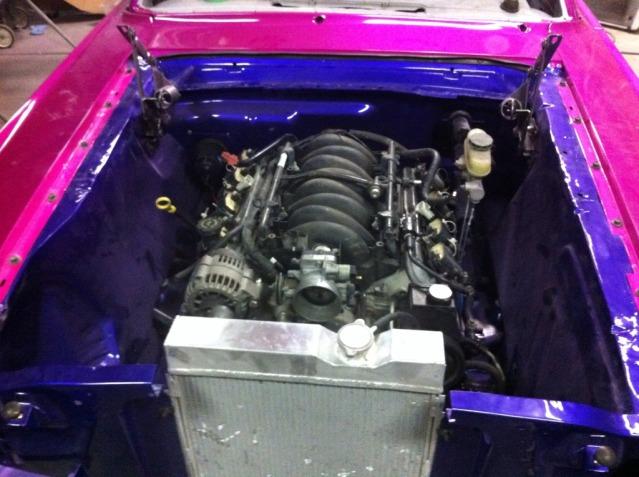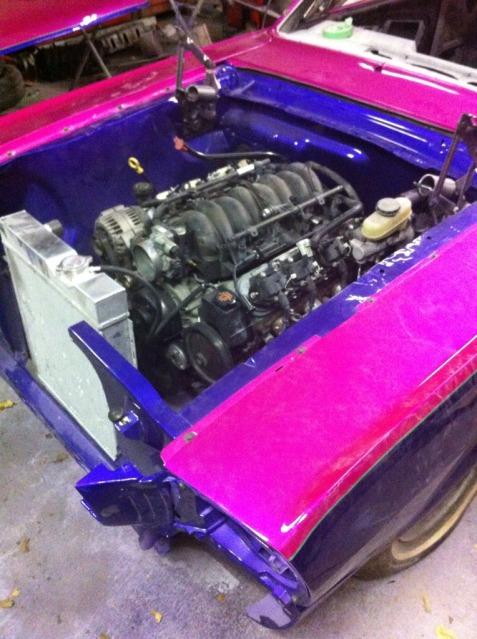 3-28-2013
Getting into the wiring. American auto wire, Dakota digital and painless wiring.

Before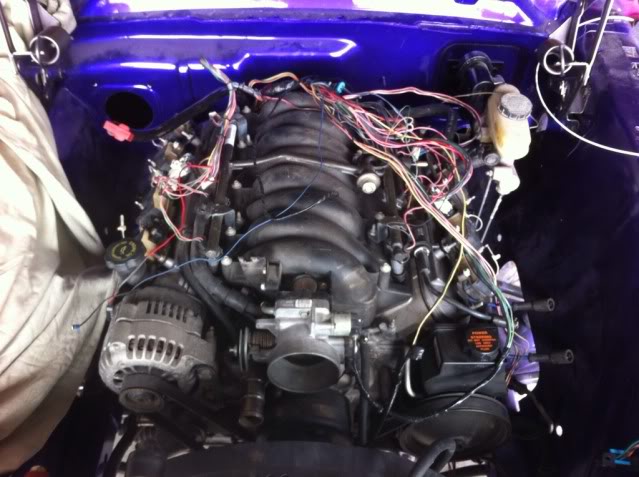 After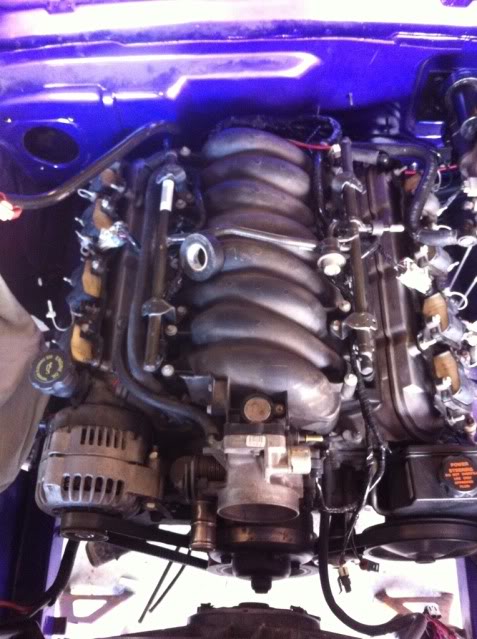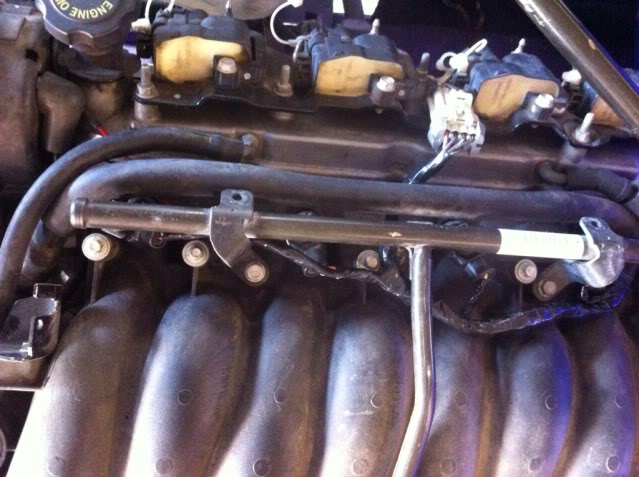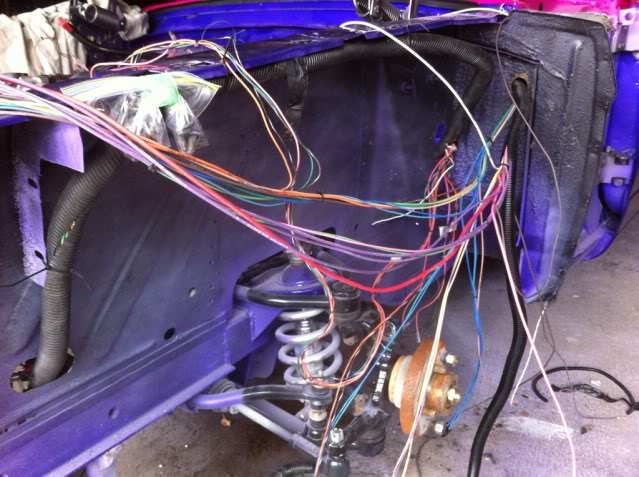 Made a bracket and welded it in to mount a GM brake light switch.


Need to get the exhaust in, fuel lines and coolant then turn the key.
5-3-2013
Got the bumpers, valances and filler panels painted.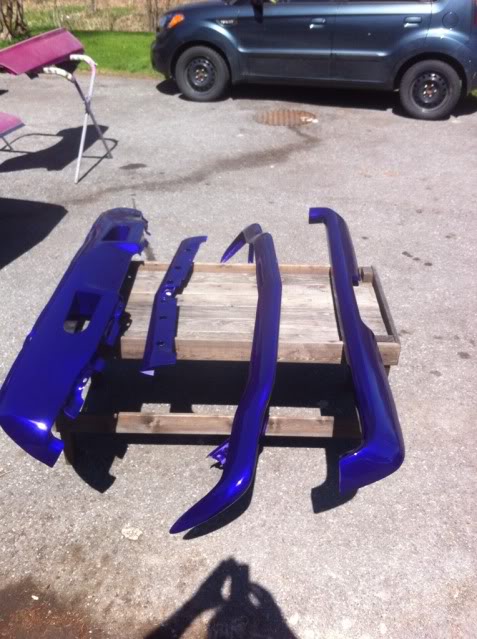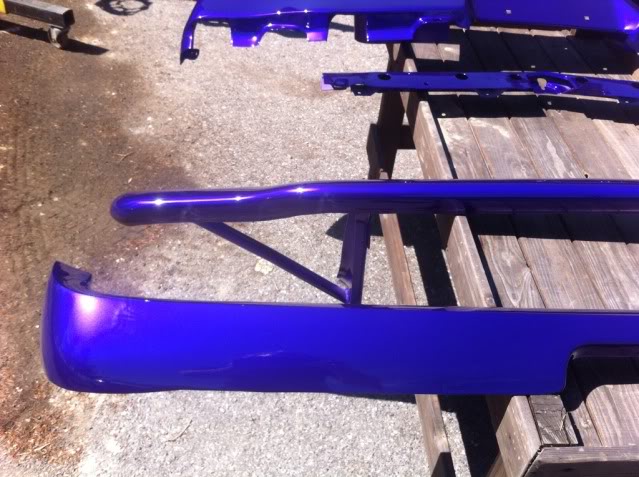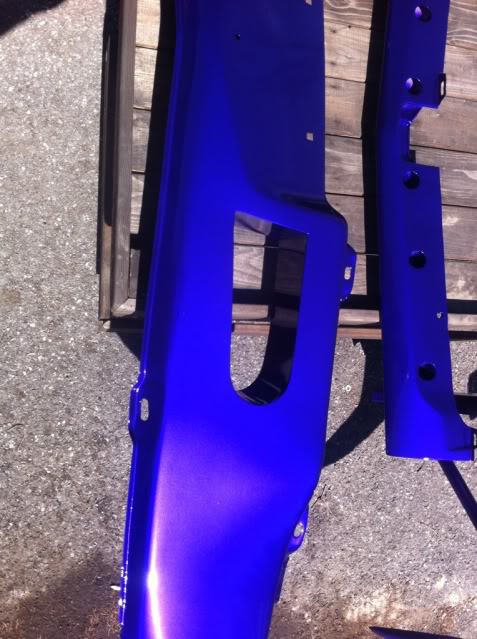 7-17-2013
Got the car running and mostly back together.
9-8-2013
It's alive!!!!! Finally got to take it for a test run. No major or problems, a few leaks and the exhaust hit the rear coil over. Still have a bunch of small things to finish but I can drive it.