specONE's Build Thread
By specONE
You must be logged in to rate content!
specONE Build Thread
Compliments of specONE @ www.clublexus.com
4-27-2014
Okay Well I've decided to finally share what I have been doing with the car.
I have had the car since early January and slowly been amassing parts and slowly getting them on.
I already have an Idea of how this car will look.
My previous Build was a IS300. Slightly sadden I had to let it go to move onto newer project.
Here is a photo of it.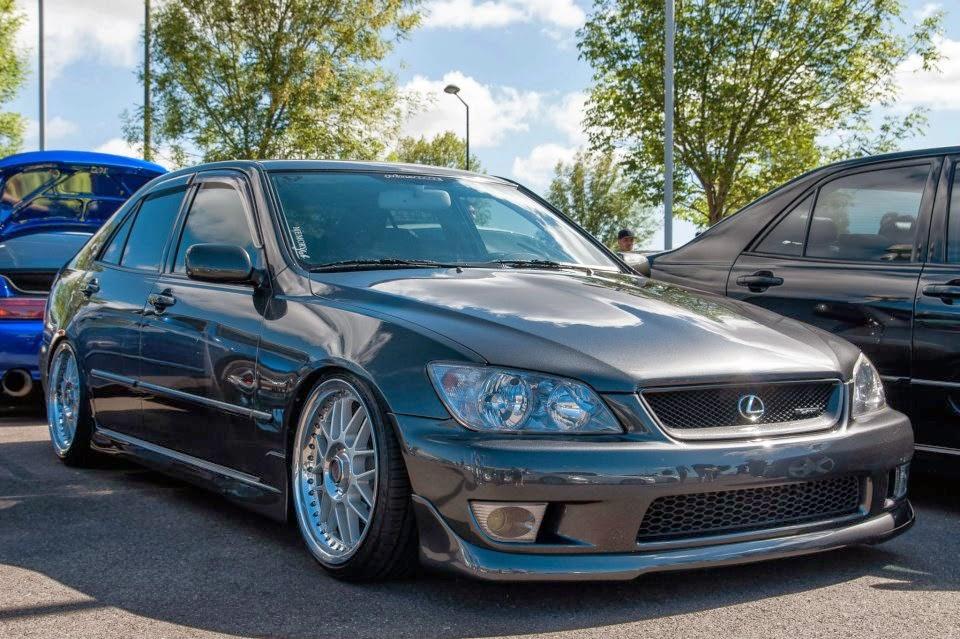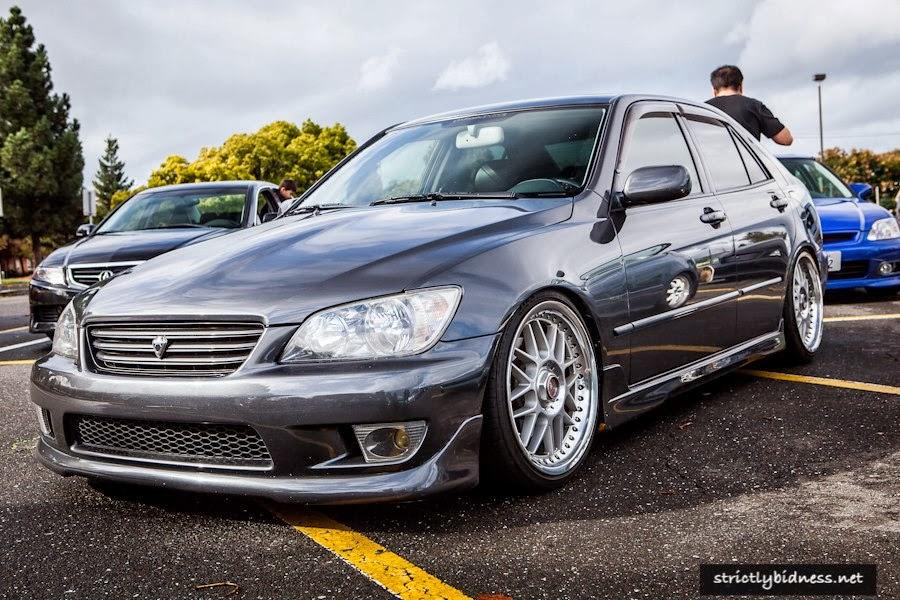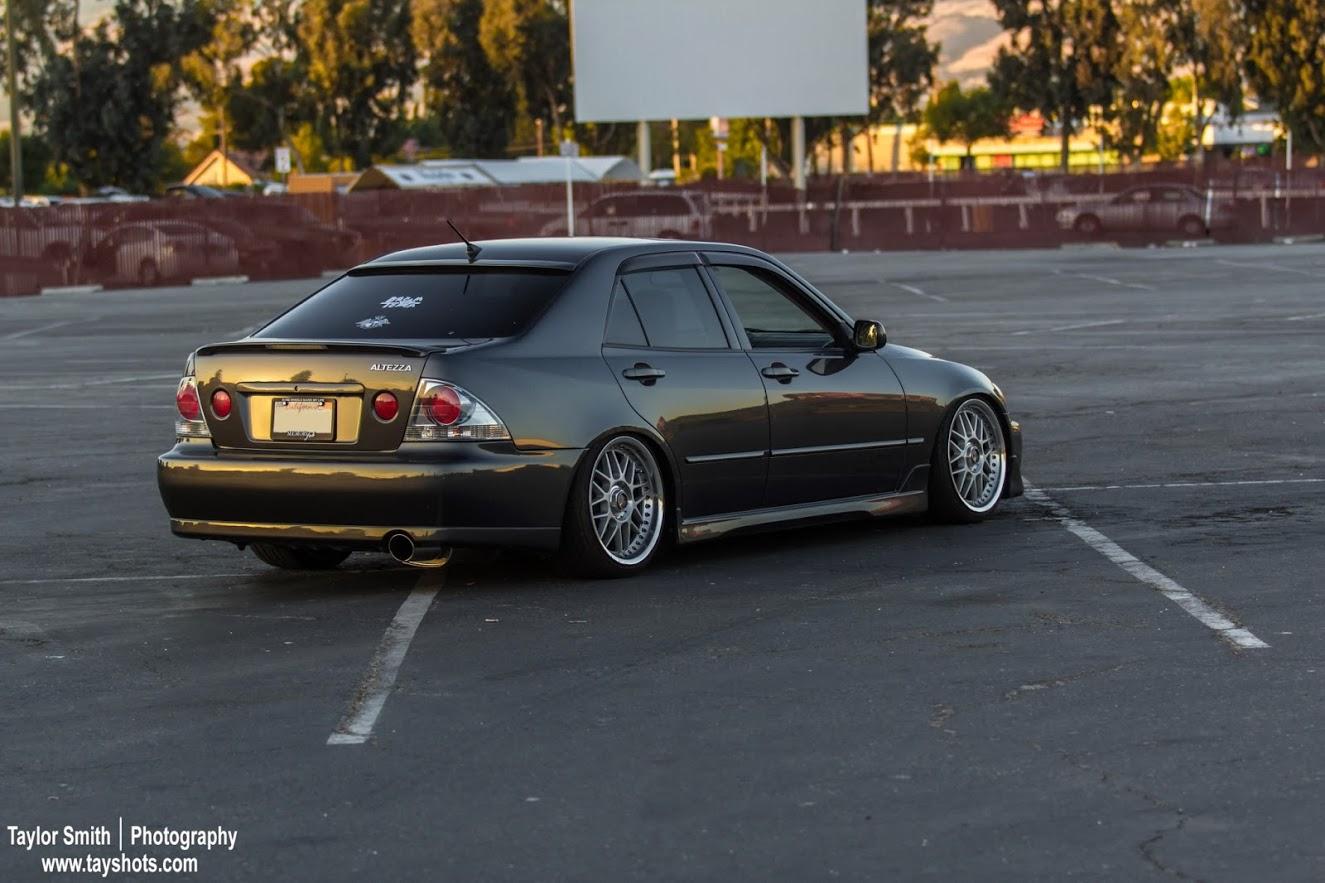 Onto the new car.
It it is a NGP IS350 Fsport with ML
The day I signed the papers, it was literally dropped off the transporter the same day.
A part of me didn't want them to pull those wrapping off so I could do it myself. Vehicle still needed to go through inspection at the dealership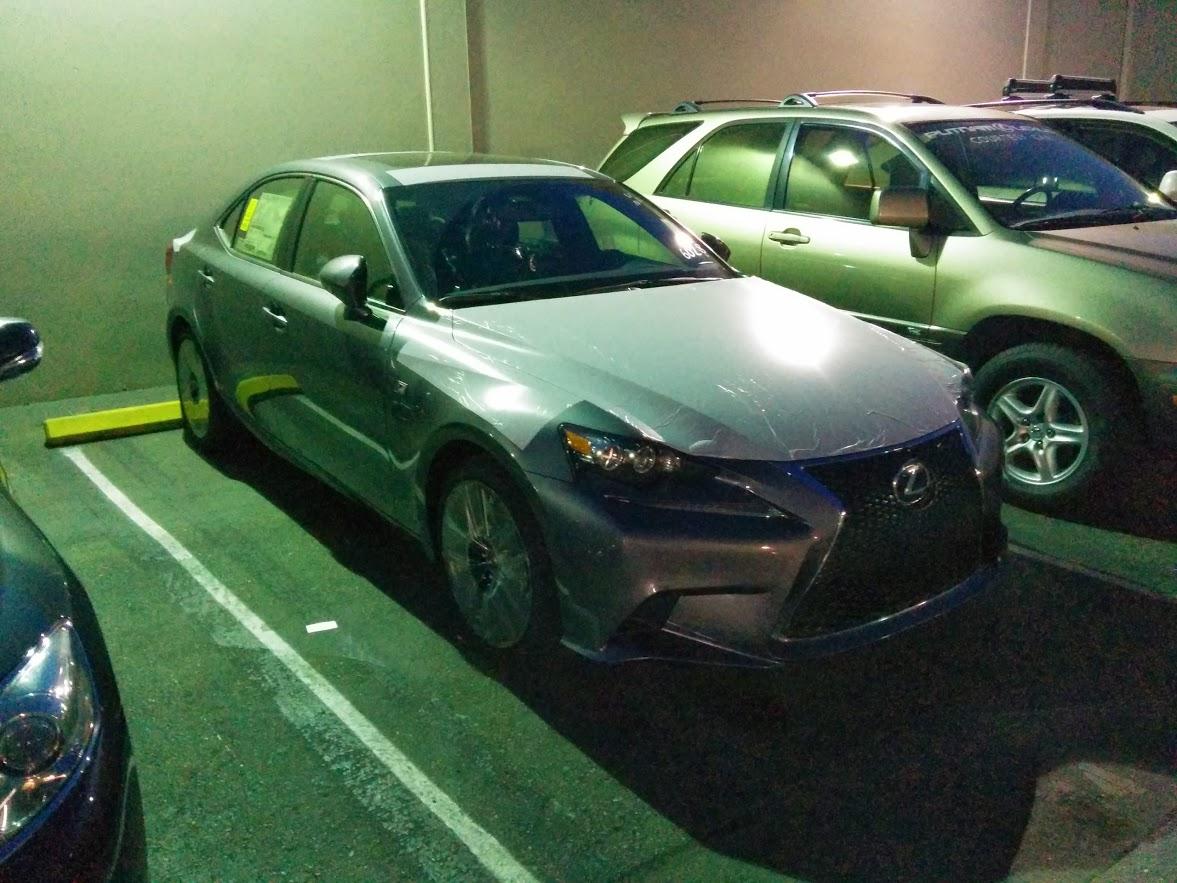 Blurry photo of the day I picked it up.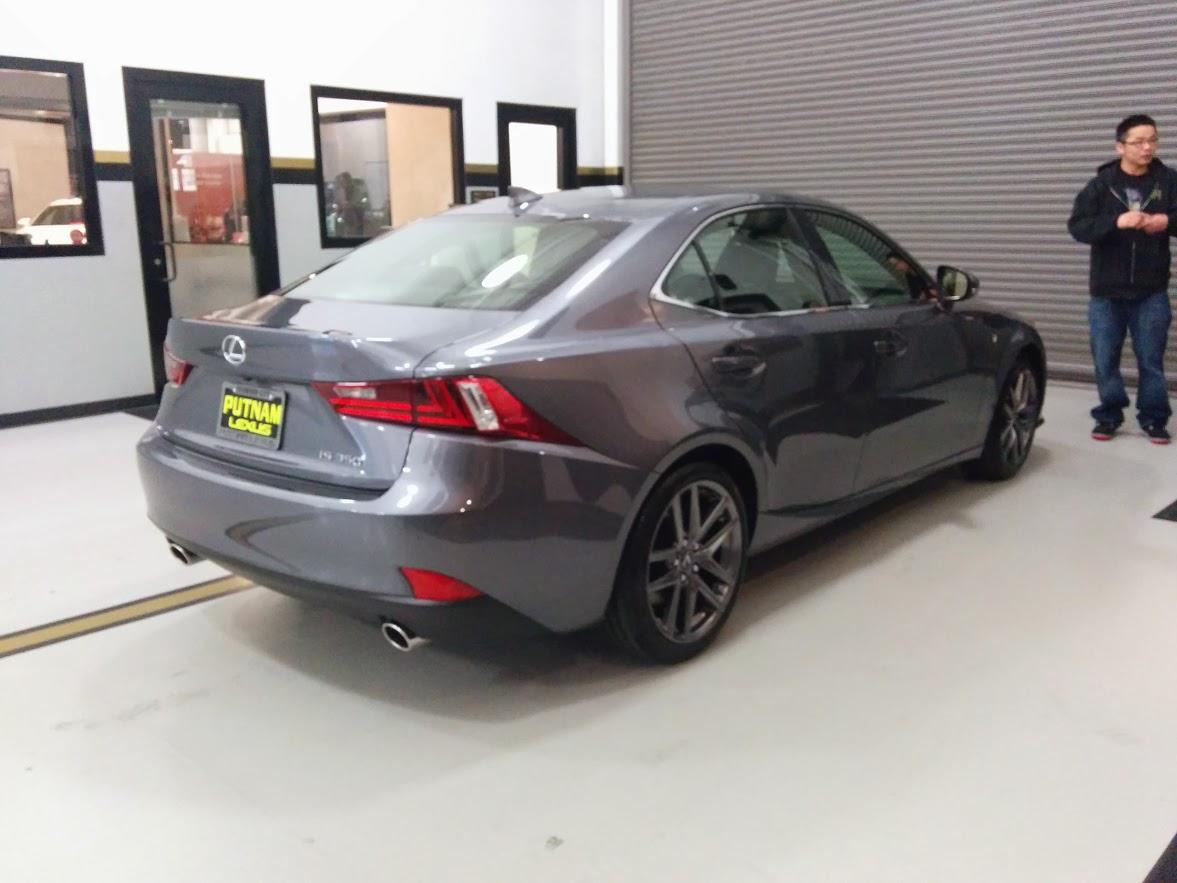 Okay lets jump right in,
Tore the car apart and tossed some dynamat in places hoping to get the sound system to sound better. If you ask me. it hardly helped but didn't hurt me much. Would I do it again? Maybe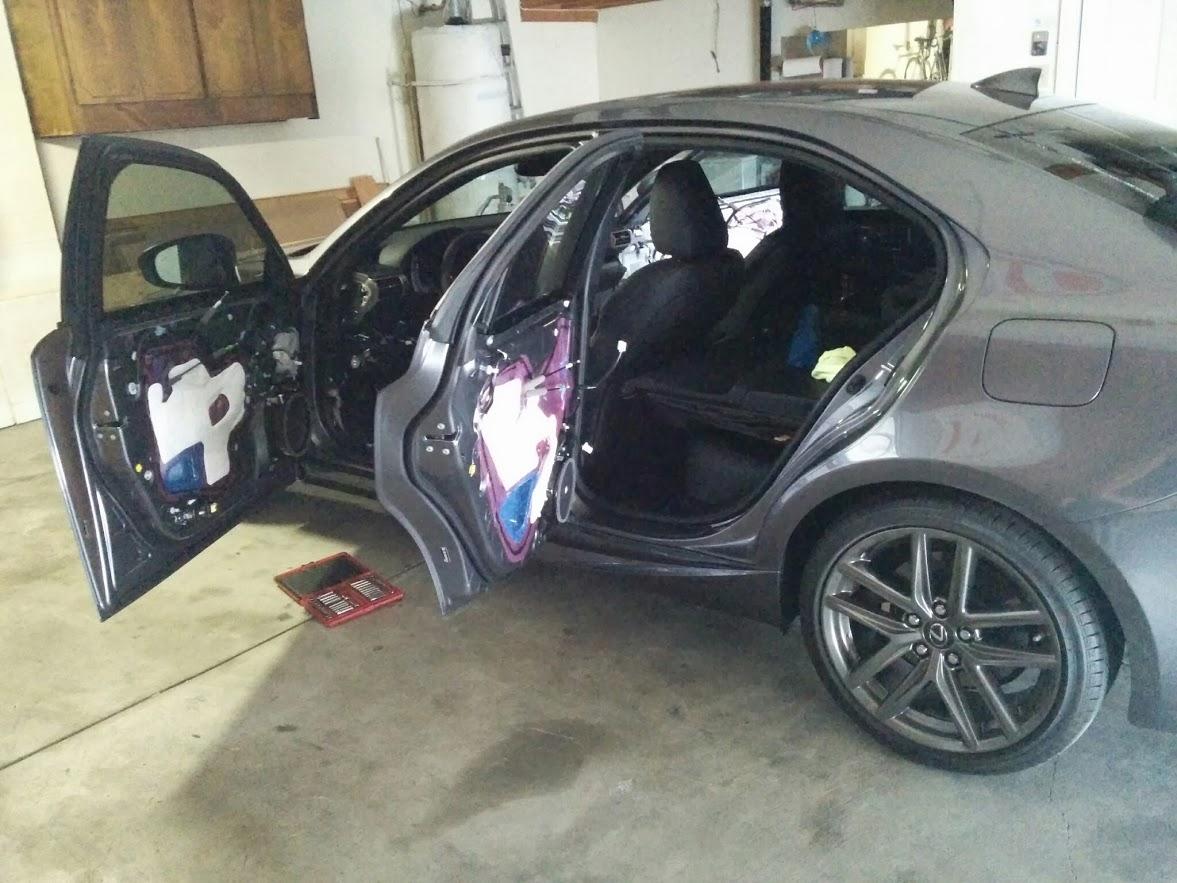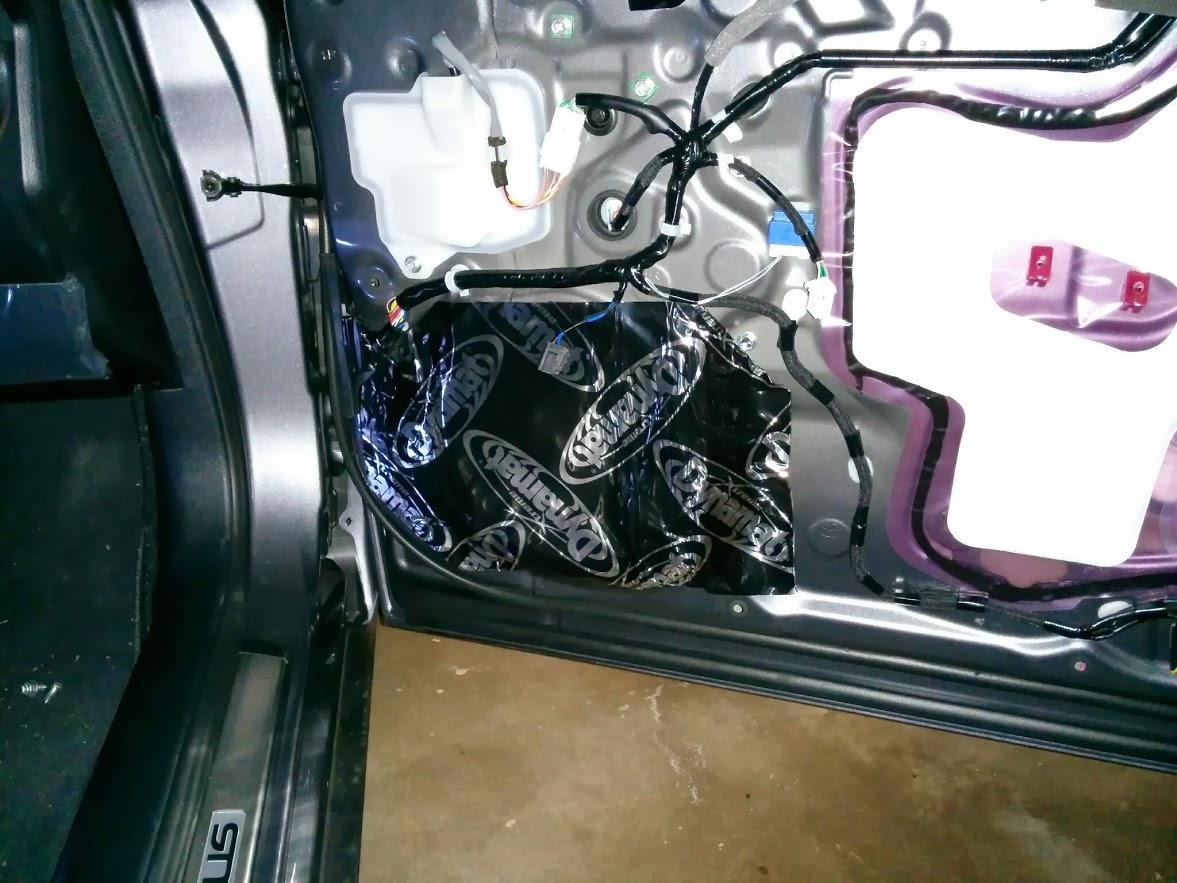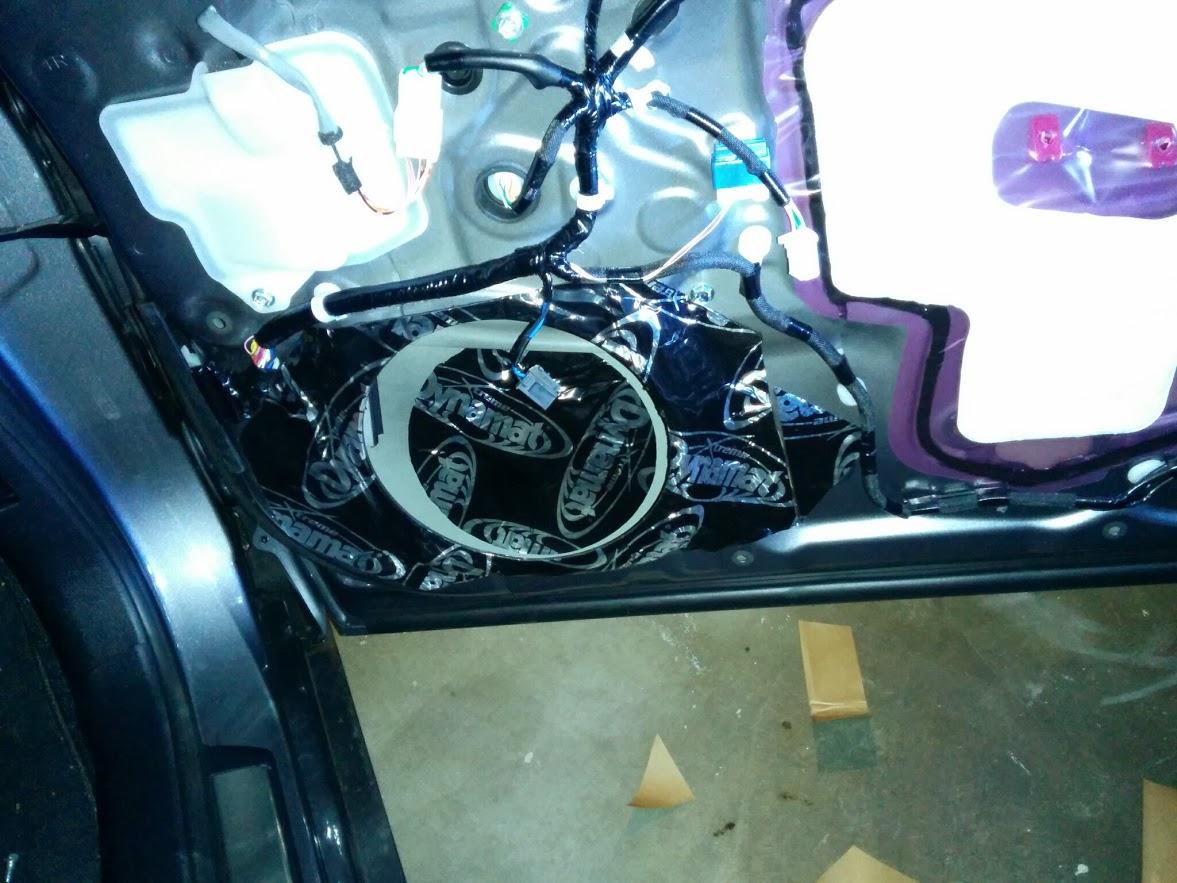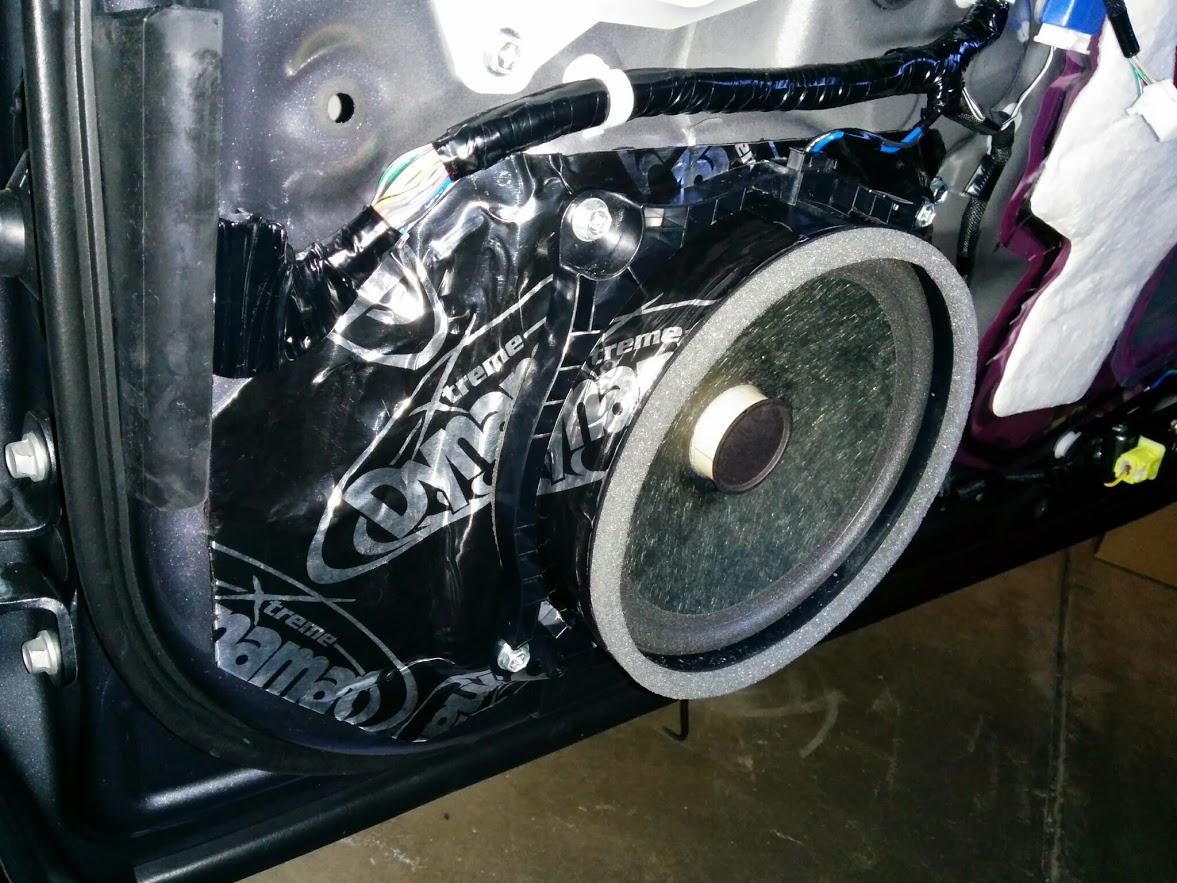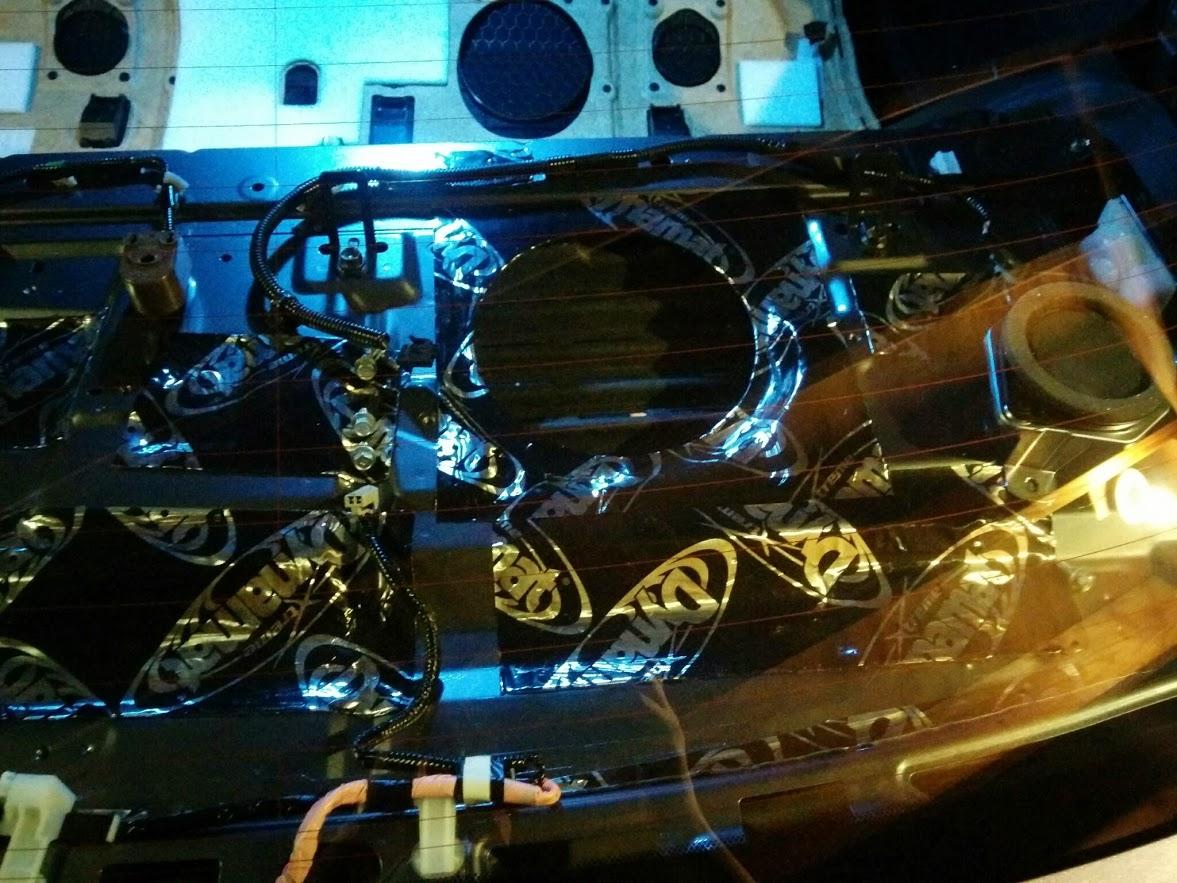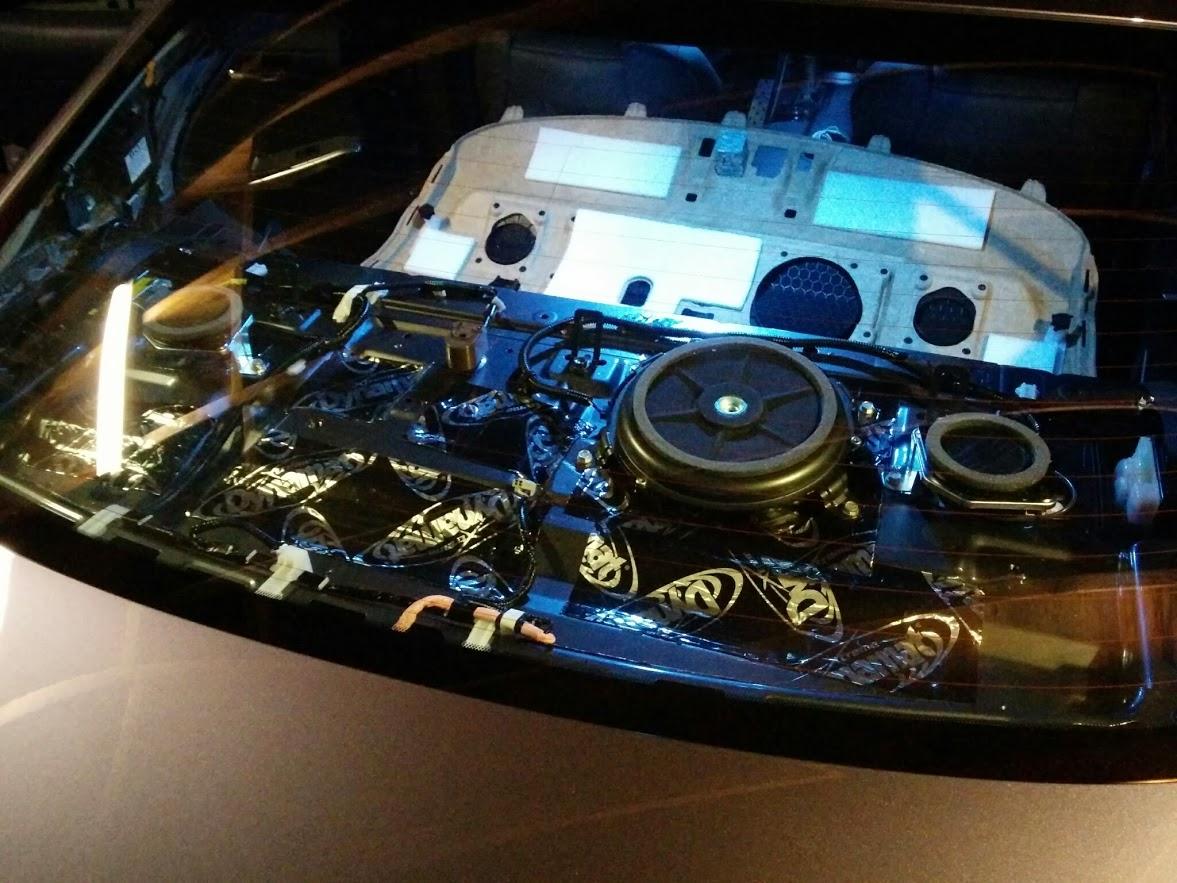 While I had all the doors apart etc. I had the windows tinted, 35% all around.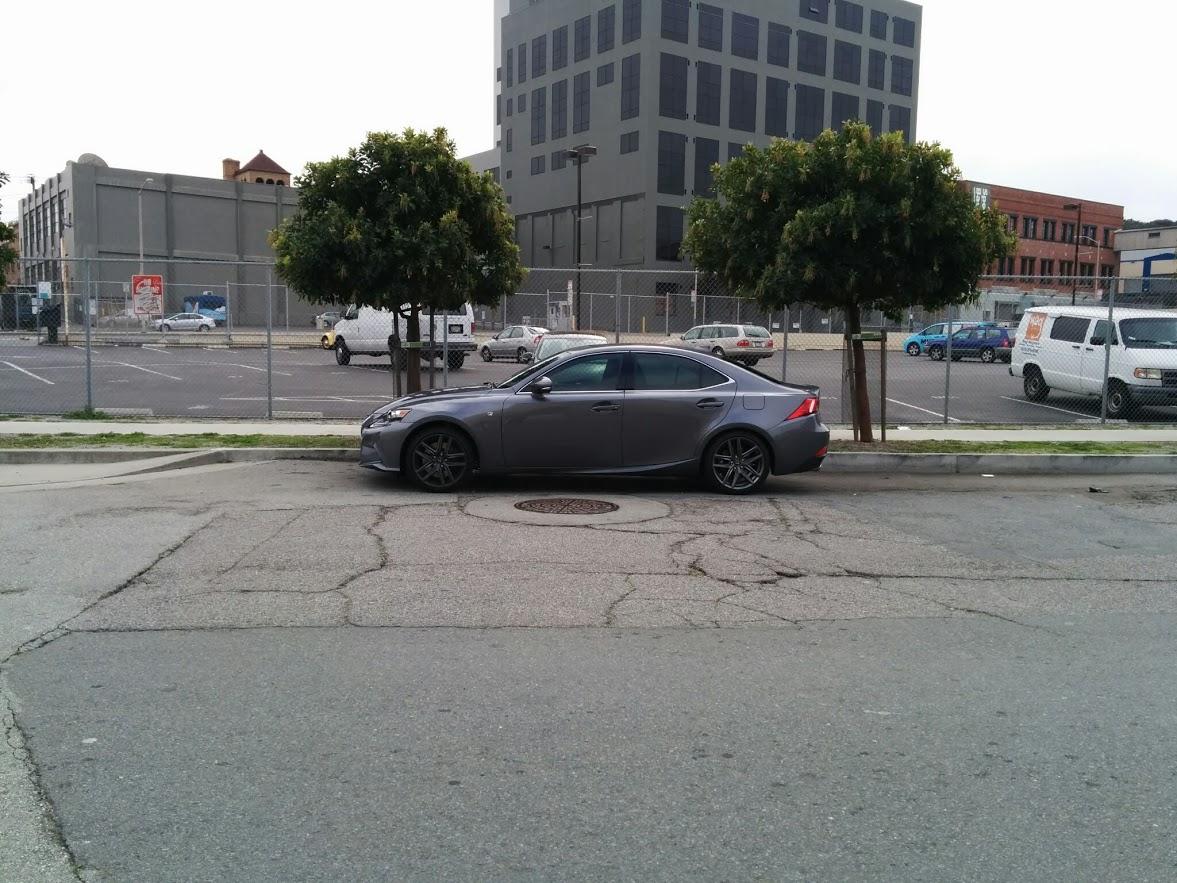 Also went ahead and installed LED all over the car.
This photo is the only one I had of while I was doing them, the puddle lights.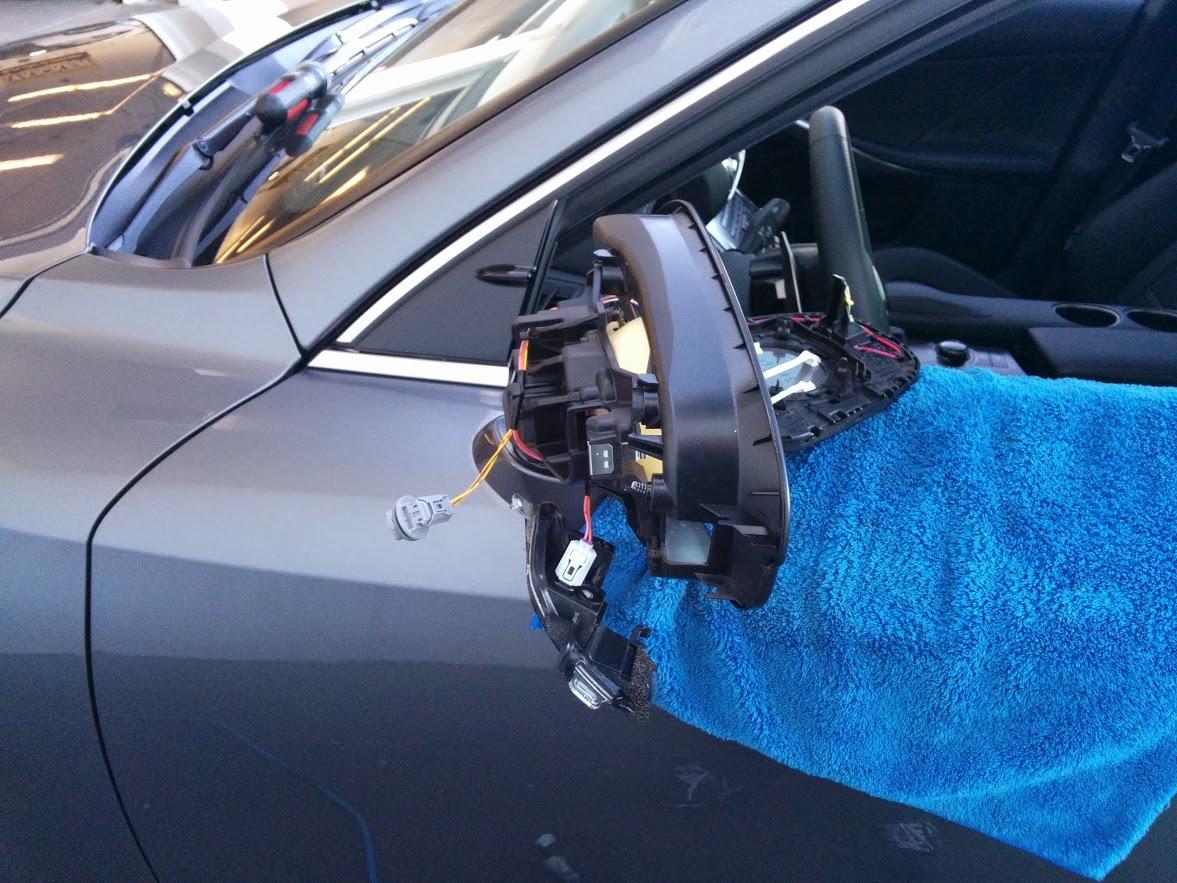 Dash is all torn apart, researching how I am going to get the mirrors to tilt when going in reverse since the Fsport did not get this feature.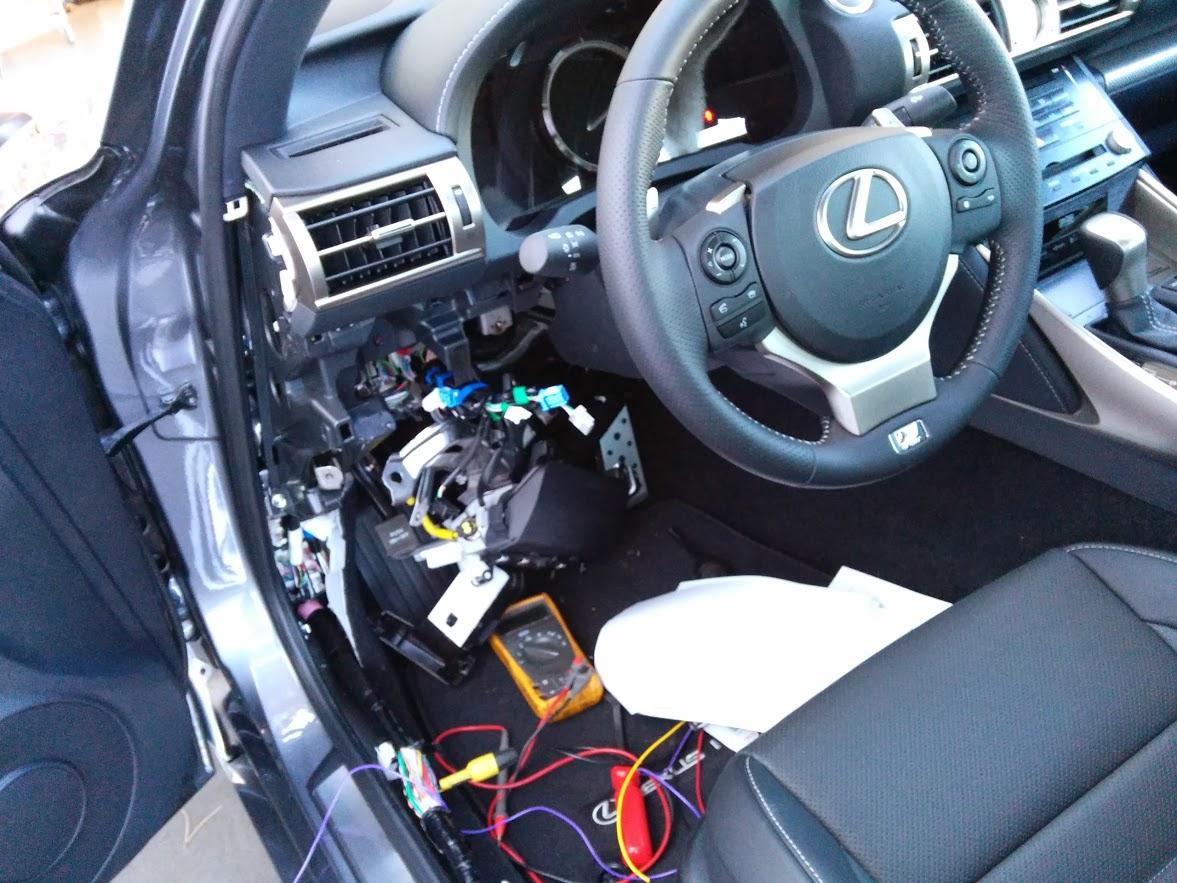 I am using a KP Technologies Mirror Tilt Module that does it by timer up/down, its not perfect but gets the job done. see more at Link below.
http://www.clublexus.com/forums/is-t...s-f-sport.html
Found the wires.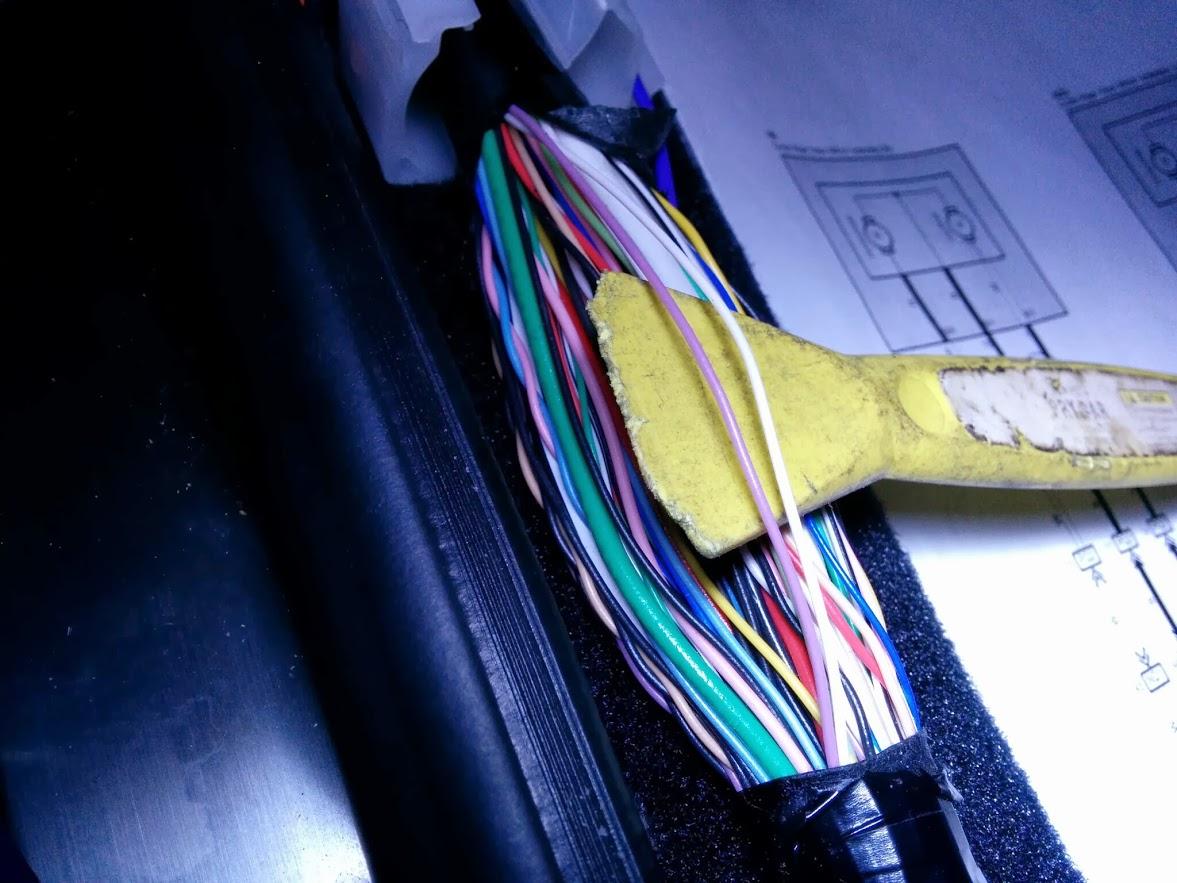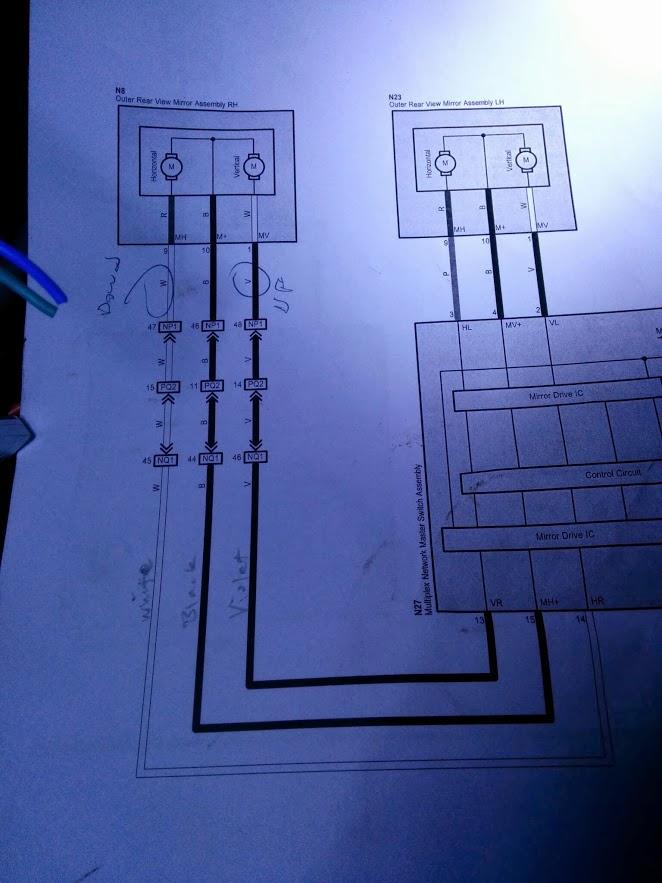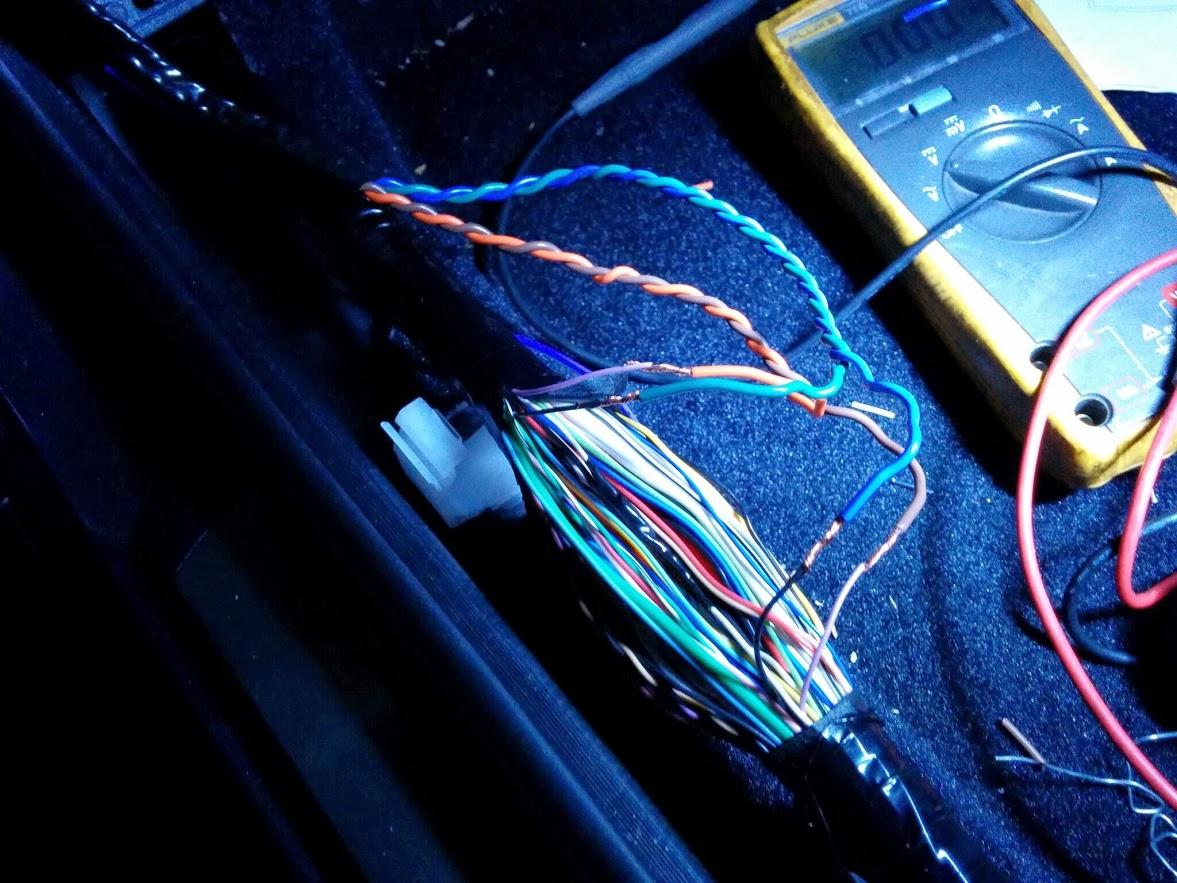 Double check that works is good before buttoning up.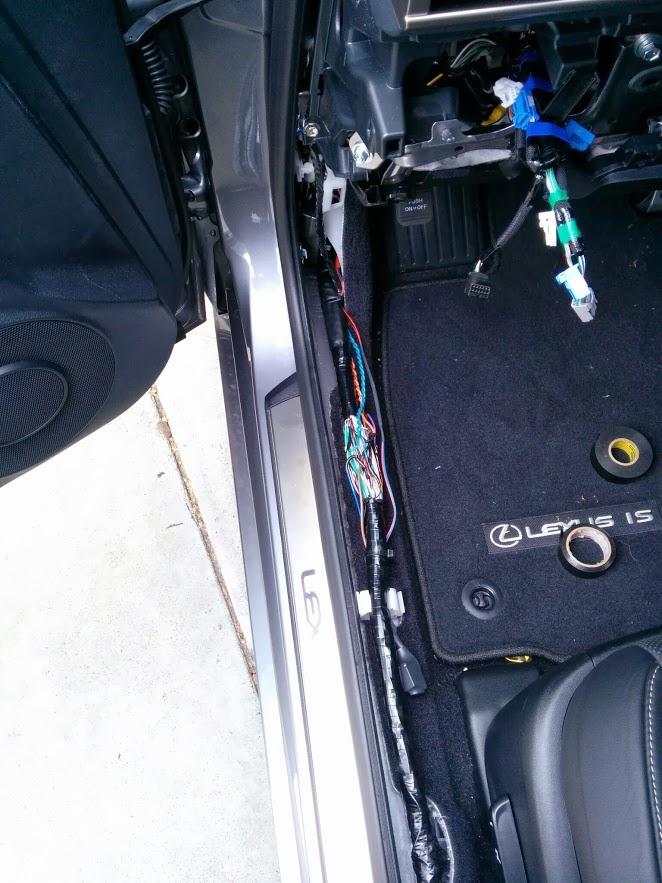 Wrapped it all back up with black tape like nothing happened.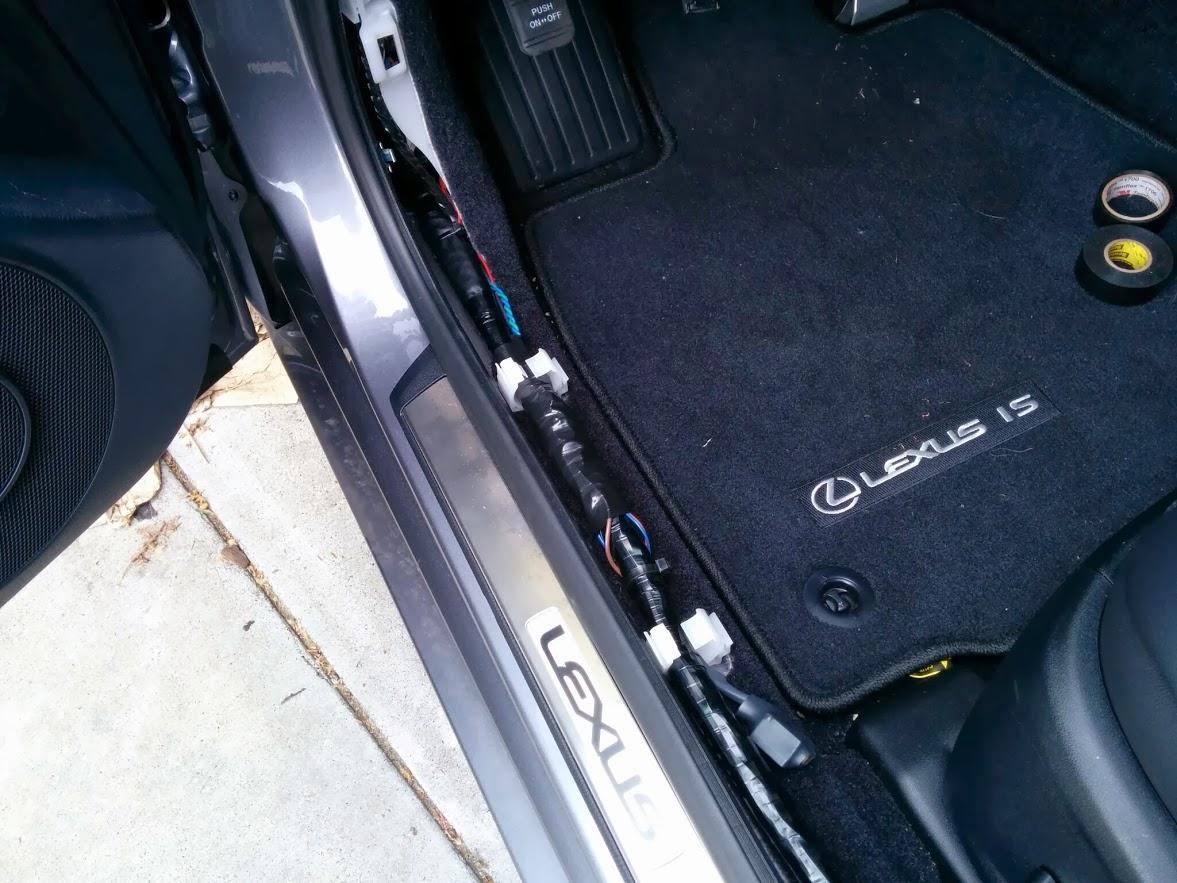 Now to the fun Mods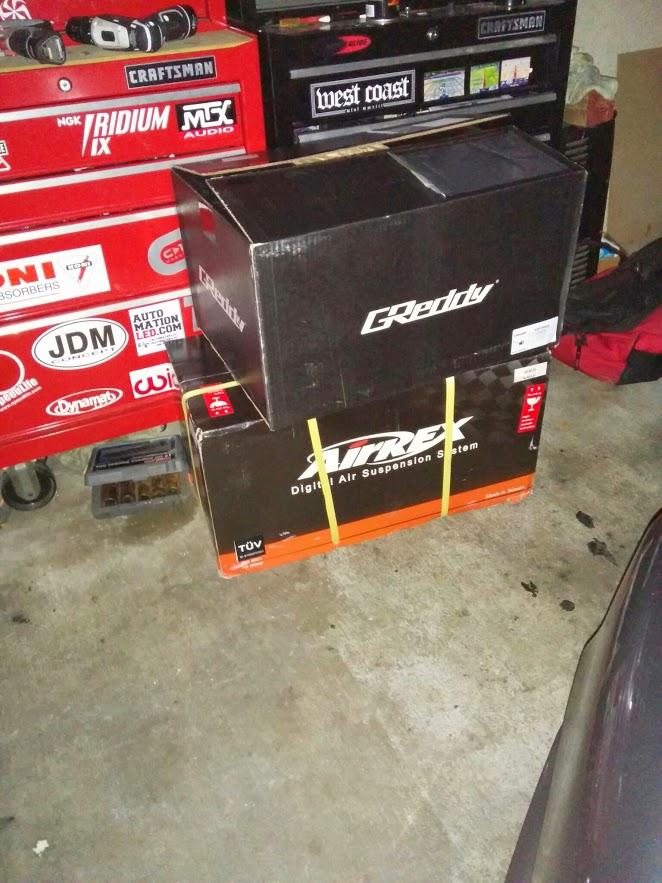 That is a Greddy Intake in the box.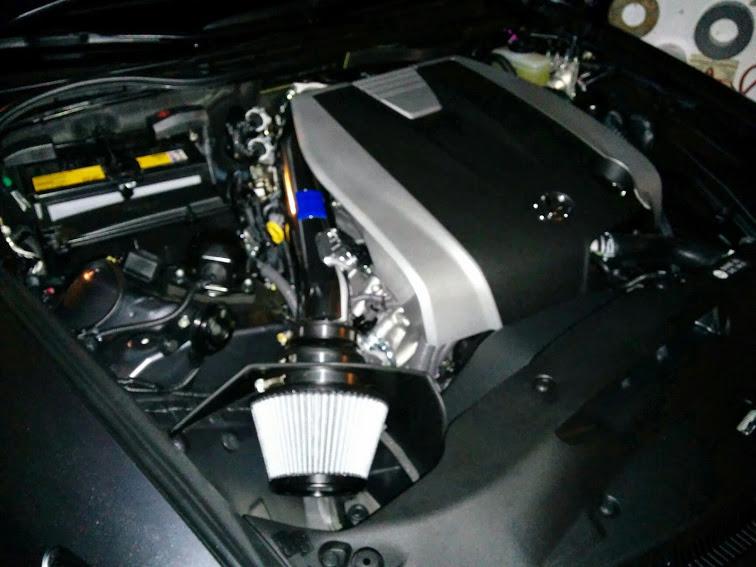 Airrex Suspension and Accuair Air Management is the direction the rest this build will go towards. I did not take photo of the Accuair boxes because there is nothing to see but white boxes.

This thread will be heavily photo geared as I will be doing the installation myself and will be documenting the process as I go. This will be a slow process as I work 6 days a week and I will work on it here and there. This is my first attempt at Air suspension as well but I have no doubt this will come out exactly how I envisioned with my technical experience and knowledge in the Car Audio field. So here comes the fun fabricating and running of wires.
Bought a Circuit Breaker to power the compressors etc, Will run 4 gauge wire, which is overkill for Air suspension but I will likely run a Amplifier Sub woofer setup in the near future as well, so this will take care of both in one wire run.
Here is some photos of the bracket I made to hold the Circuit Breaker.
Started off as this.
Did some measuring, cutting and bending and ended up with this.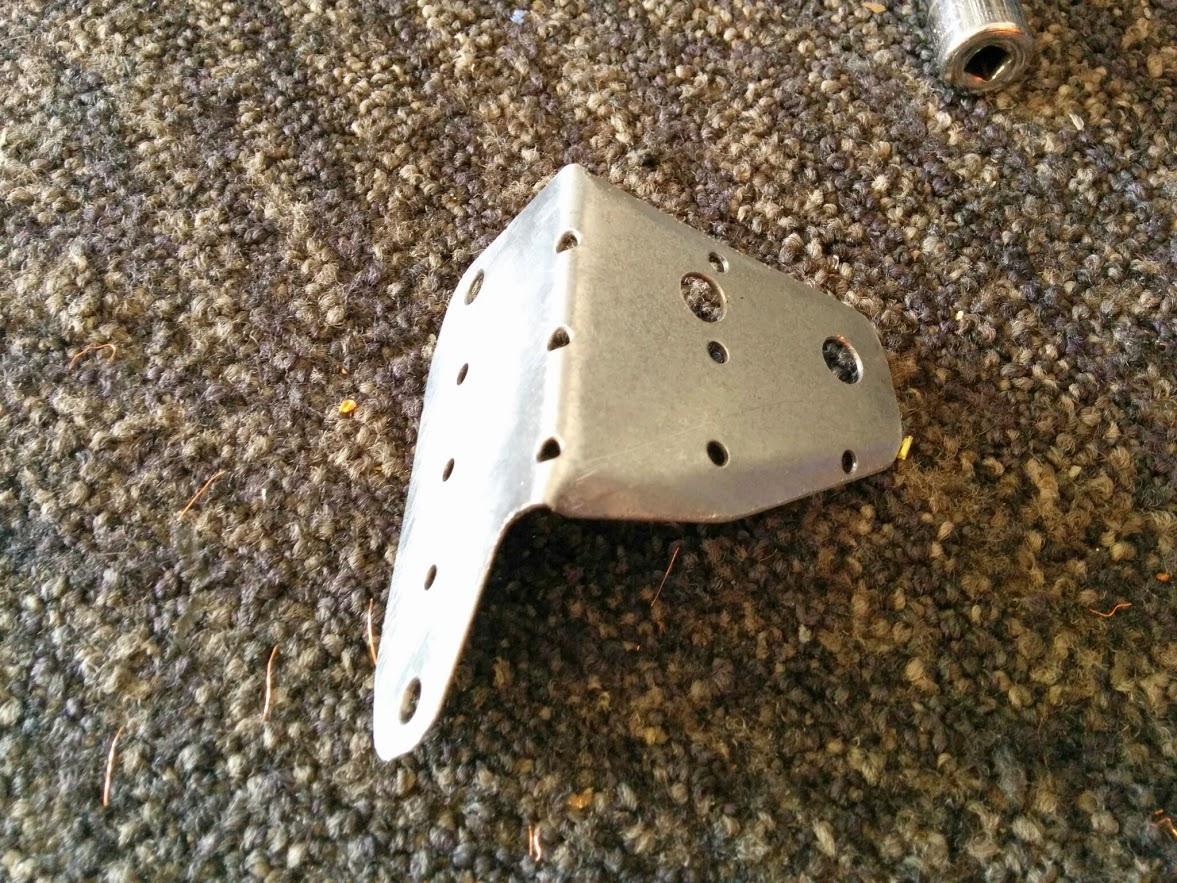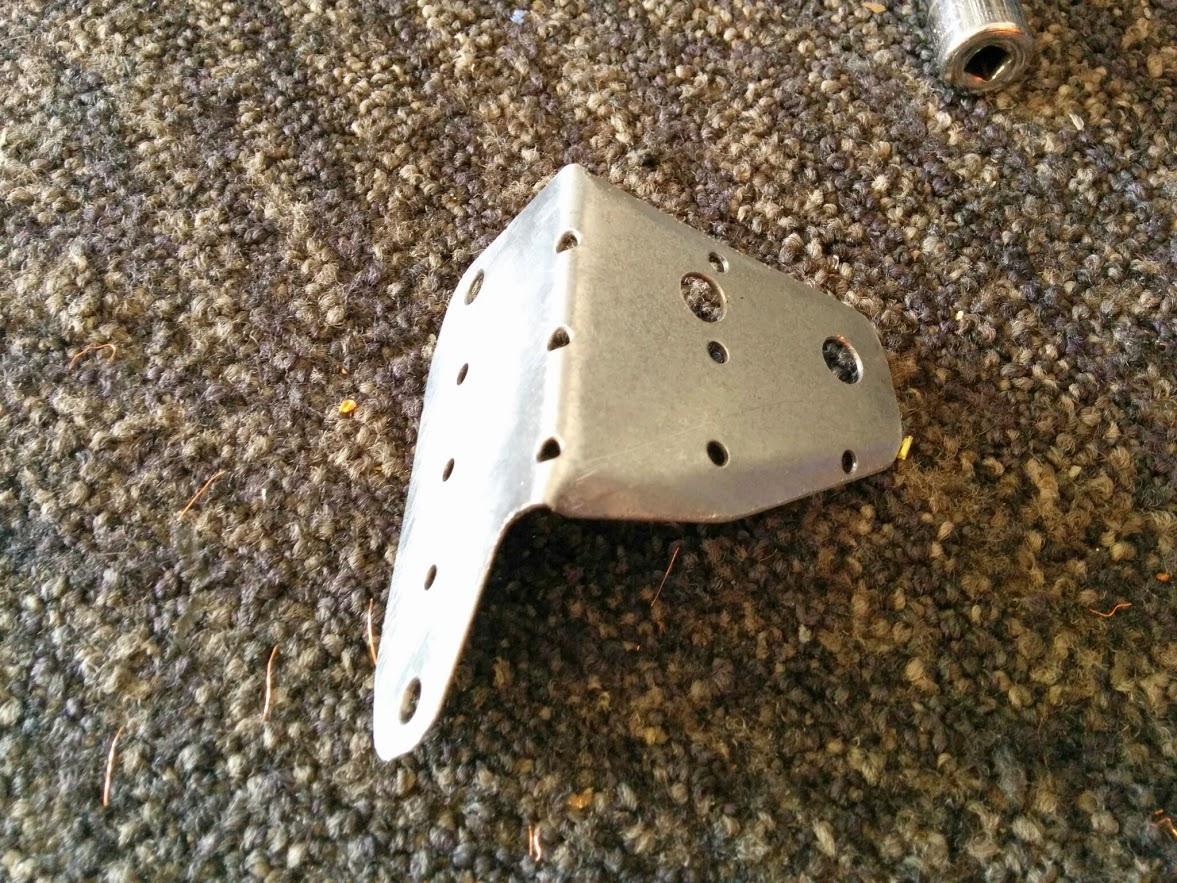 Put some paint on it.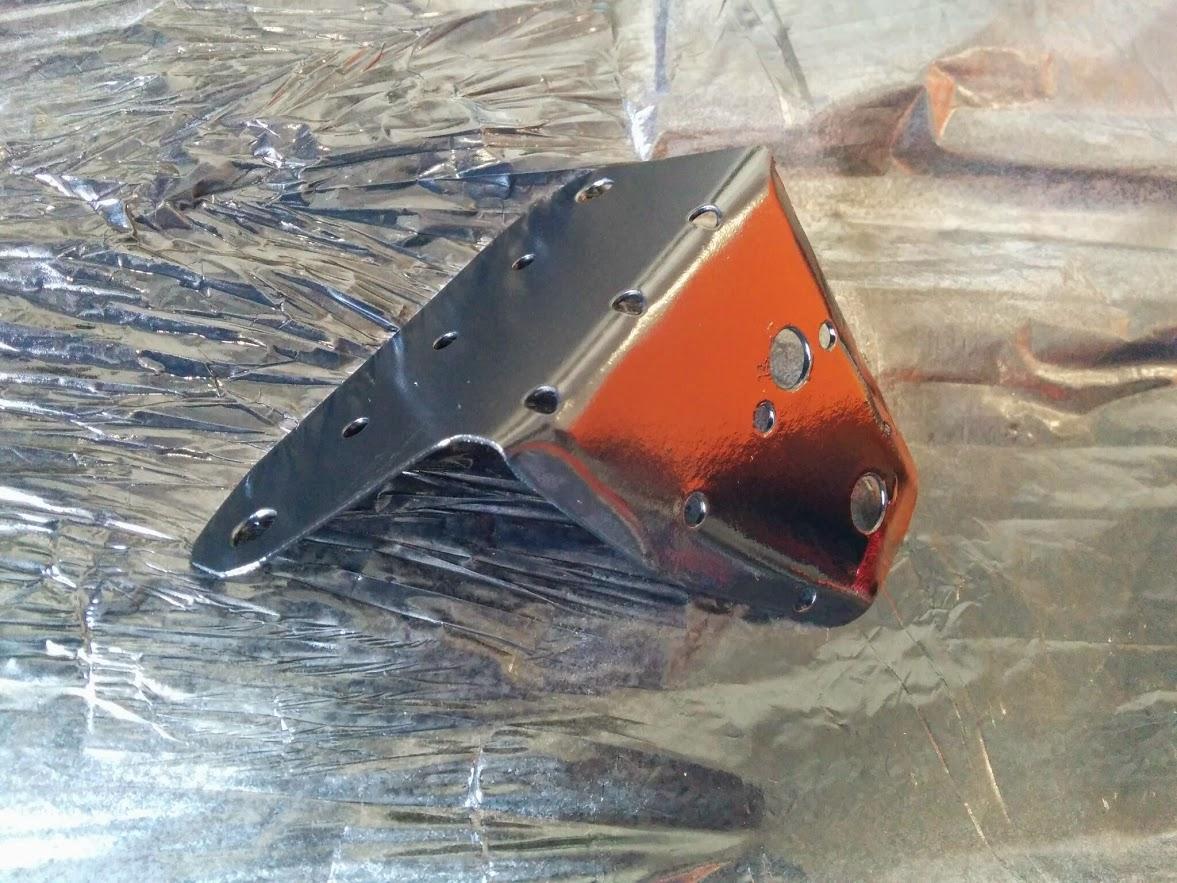 Before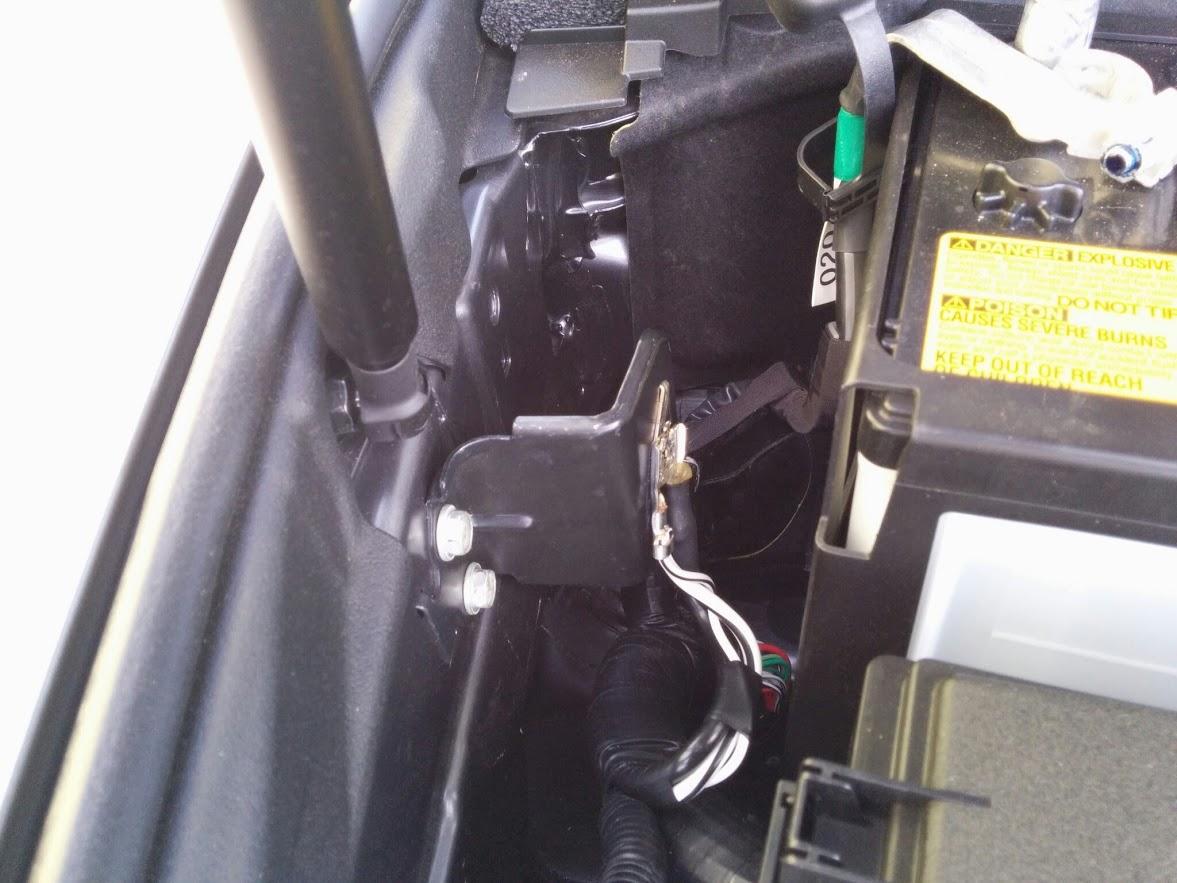 After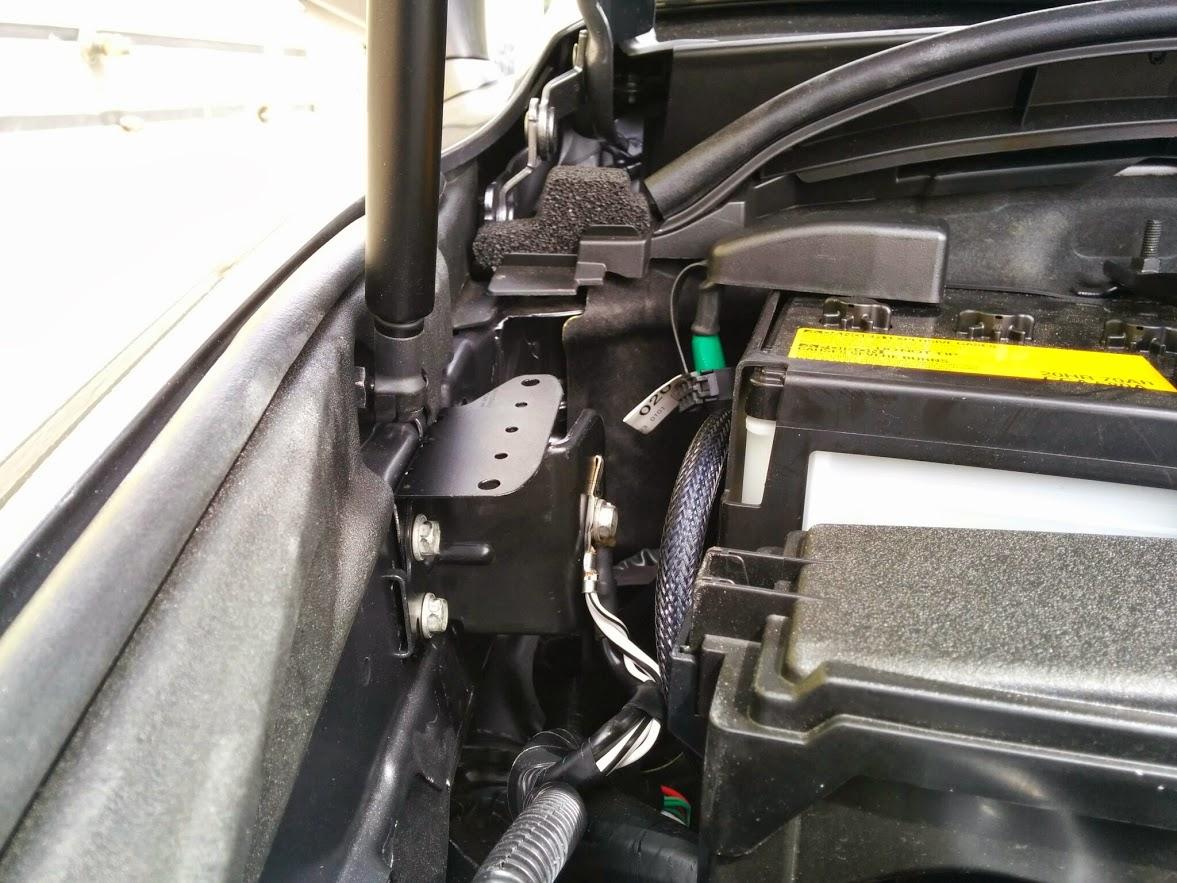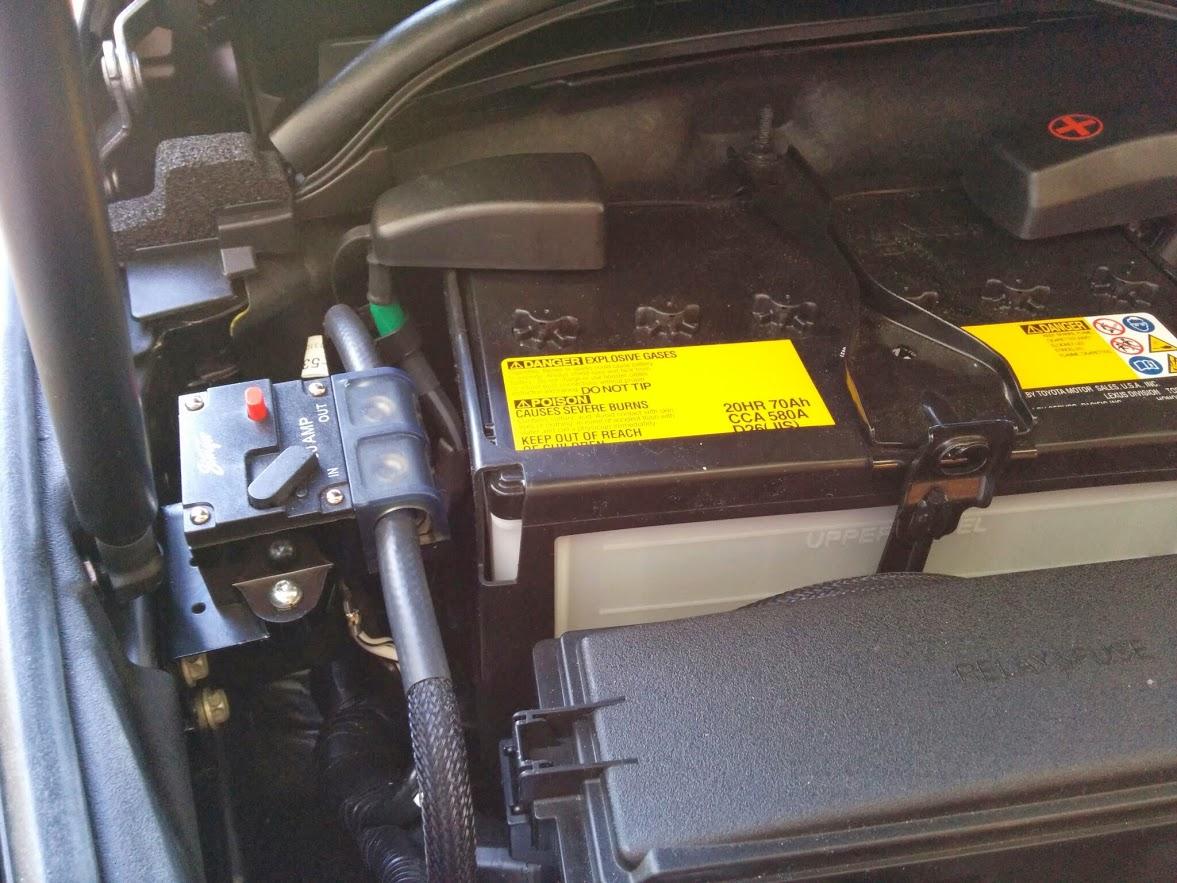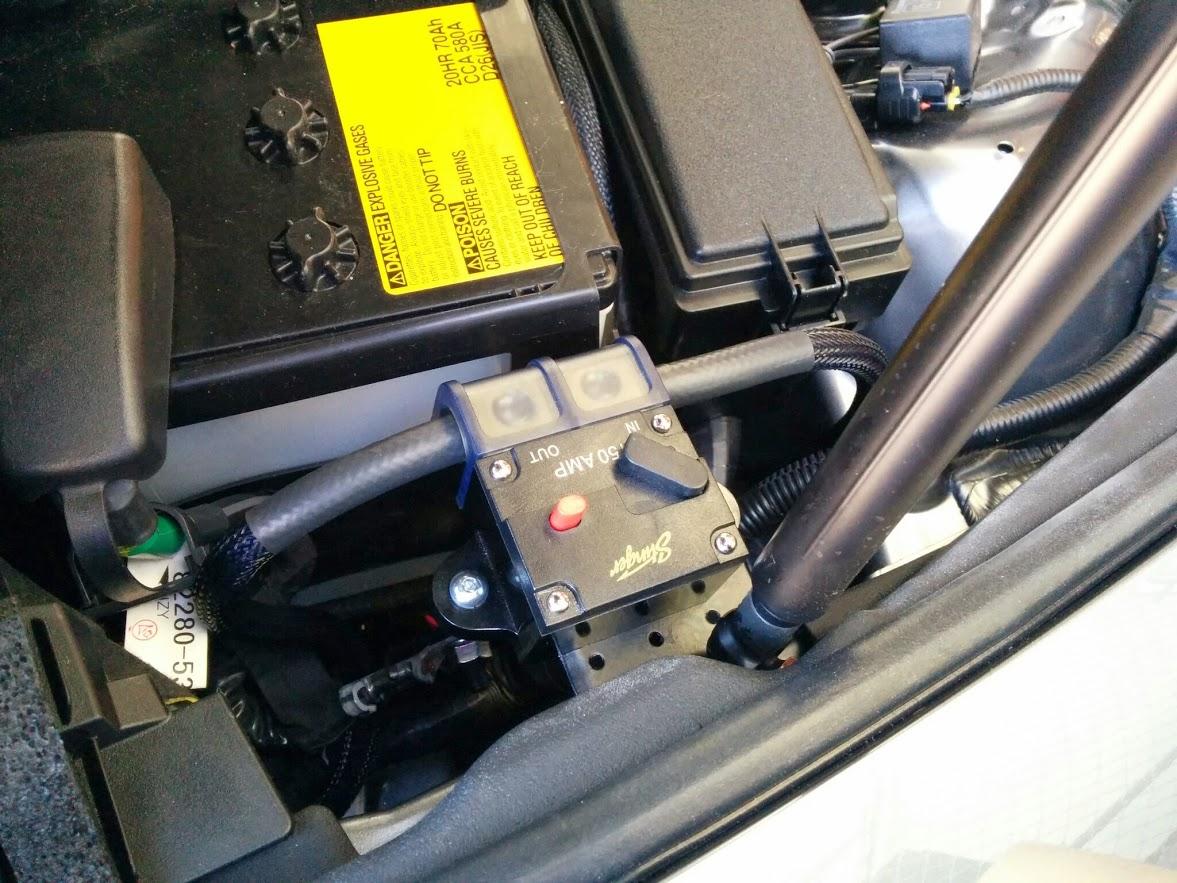 Wire now in the trunk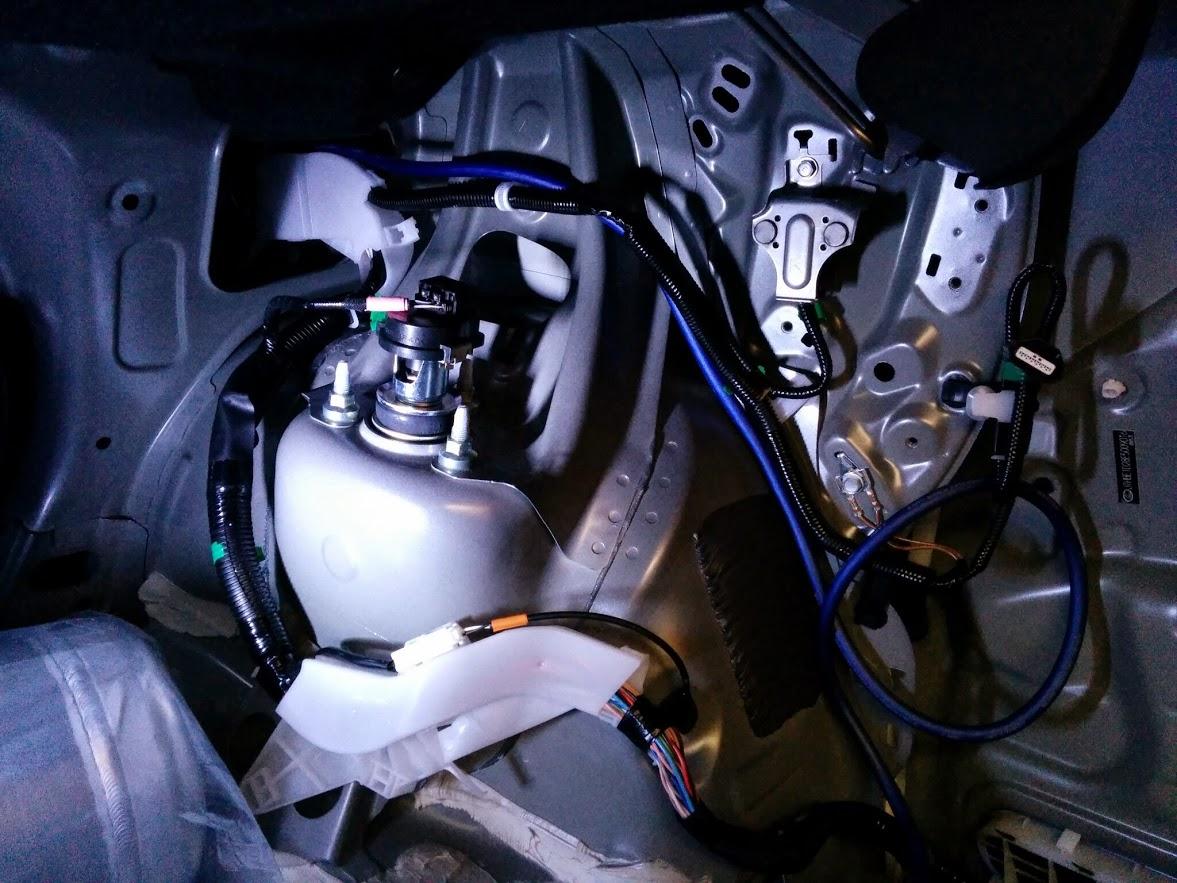 Distribution Block mounted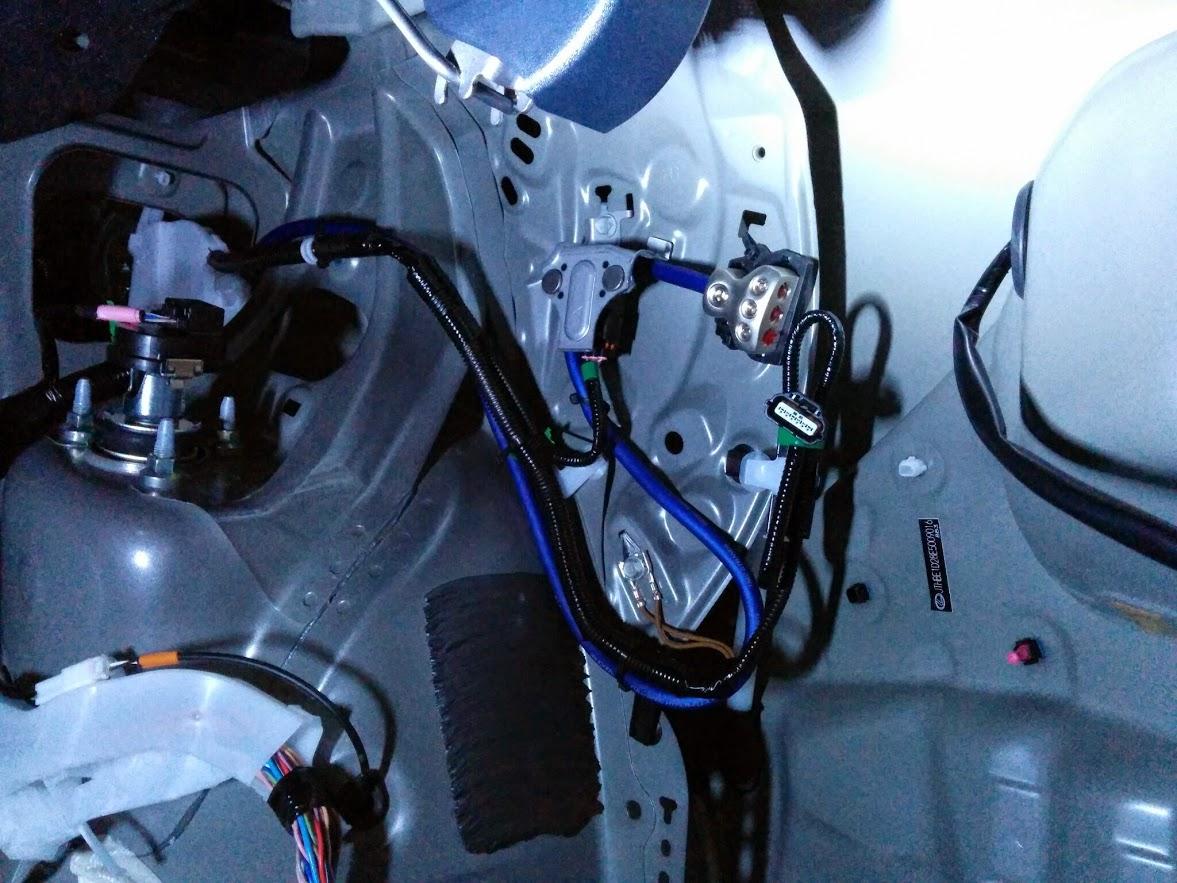 its amazing the attention they put into this Mark Levinson Amp. The finish on it is so nice but it is hidden away.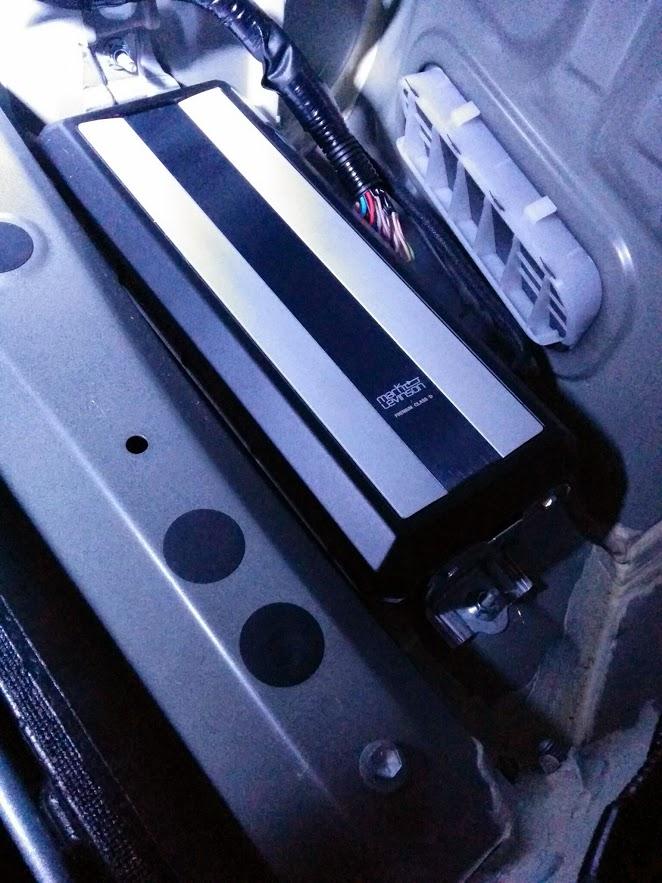 So now to figure out how to mount the air tank etc.
I did not want to do like every other simple setup I have seen out there where people just mount everything onto the floor with exo mounts. I wanted to keep my nice Lexus trunkmat intact and usable. So here we have it. Floating tank behind the rear seat.
Seats are still able to go back up.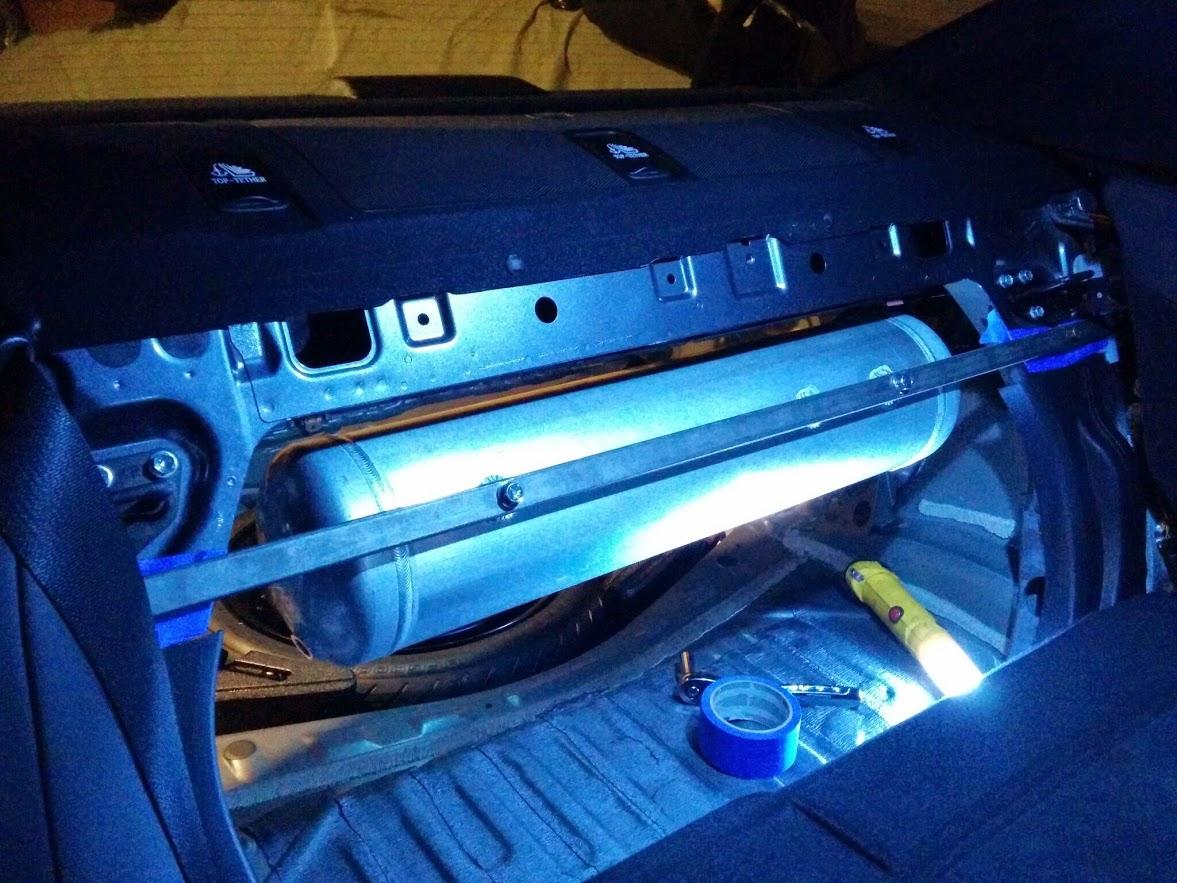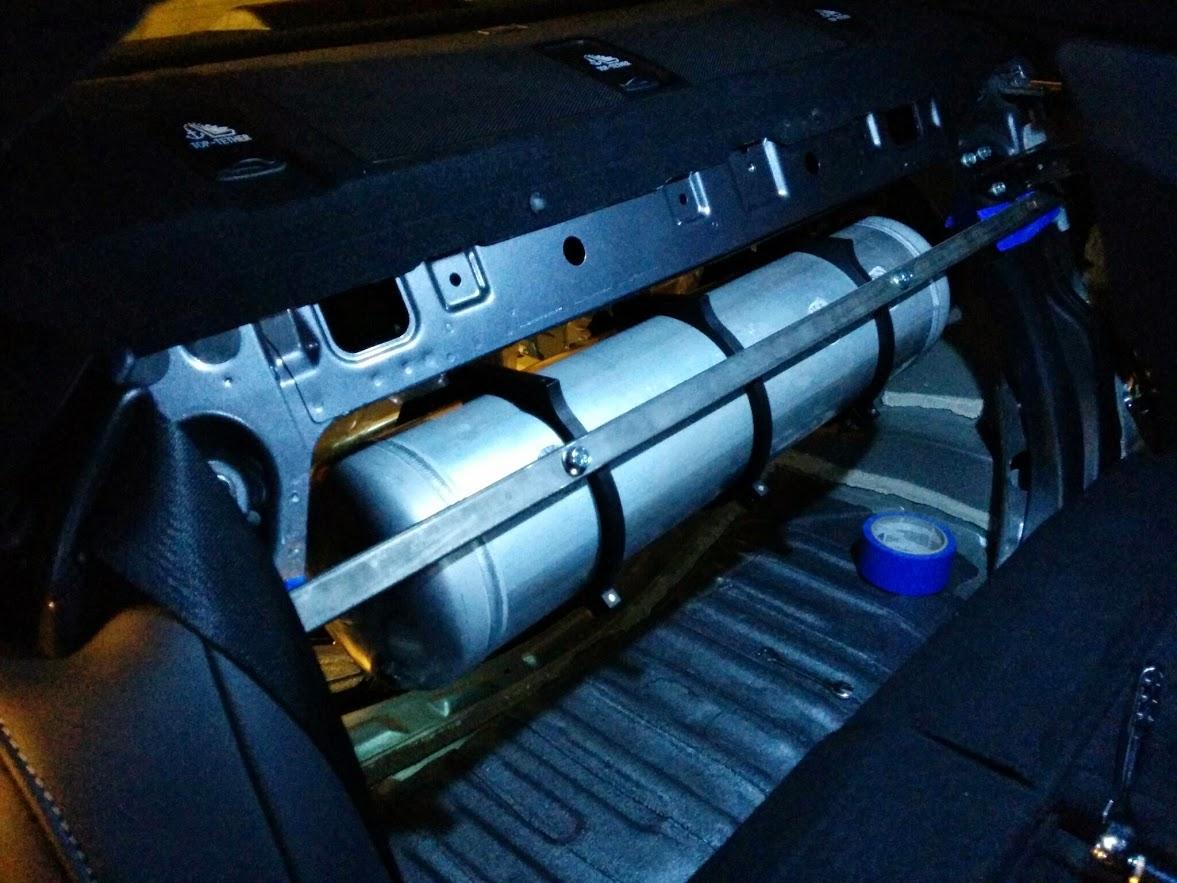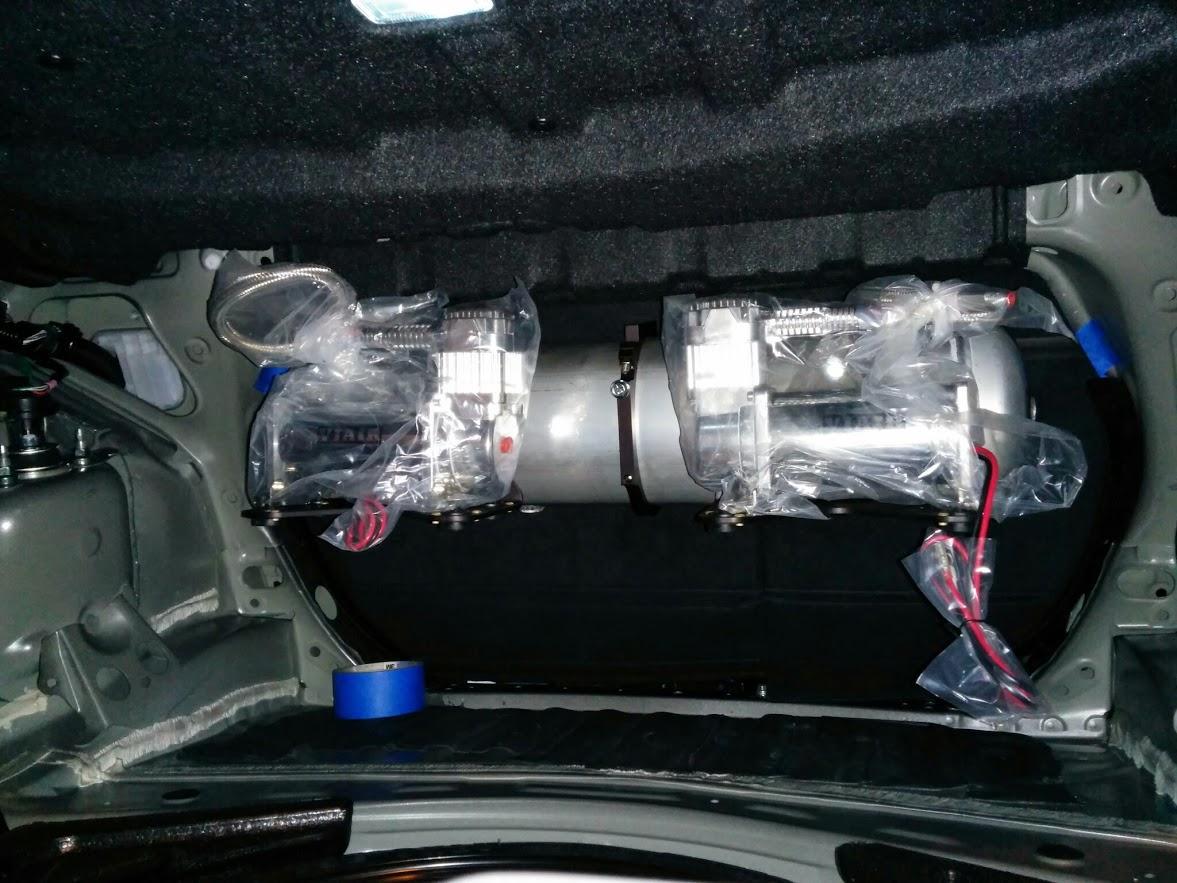 Quick test to see if it can hang with the extra weight of two compressors. (does not feel safe, so that night I stopped right there.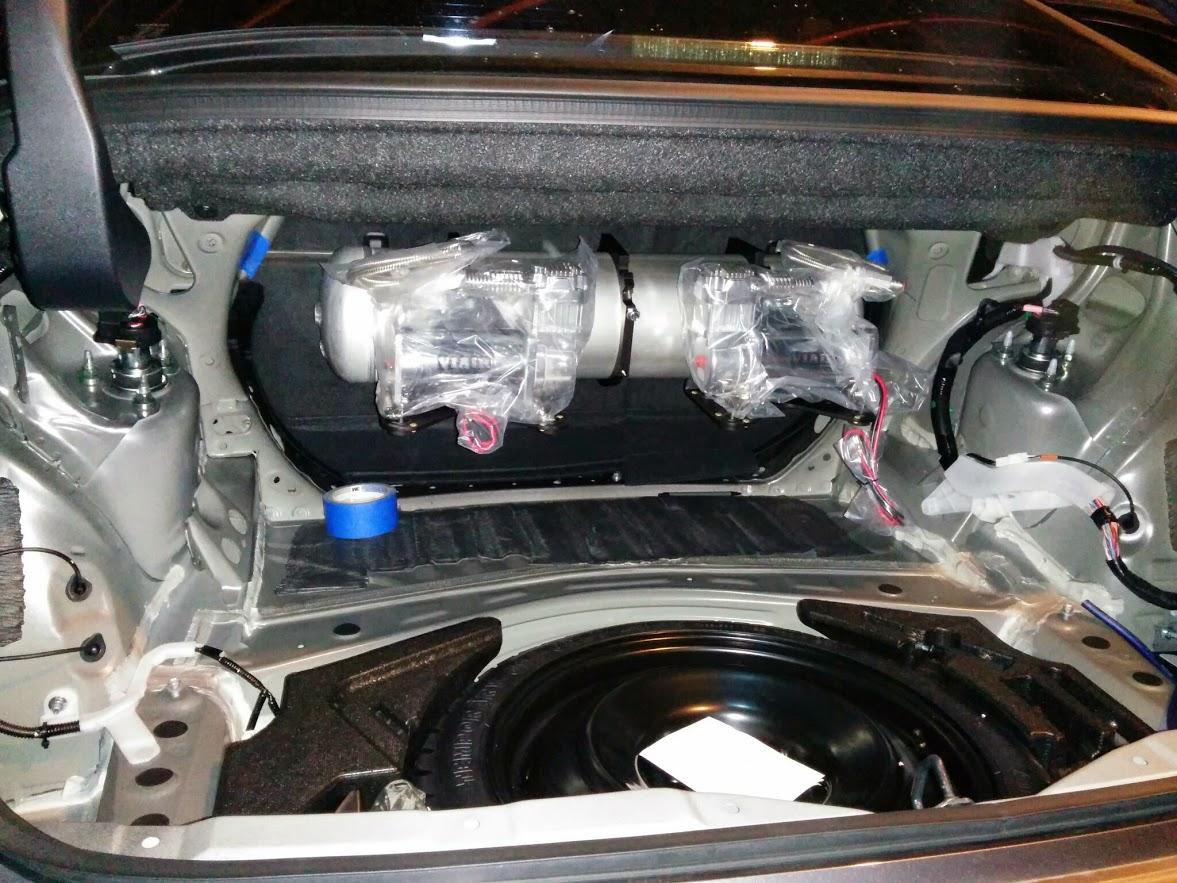 I have resolved the unbalanced weight with another third mounting point by making another bracket from the top of the tank brackets and now all is secure. Seems like I was so into getting it done that I did not get a photo of the process of making this bracket. Strange.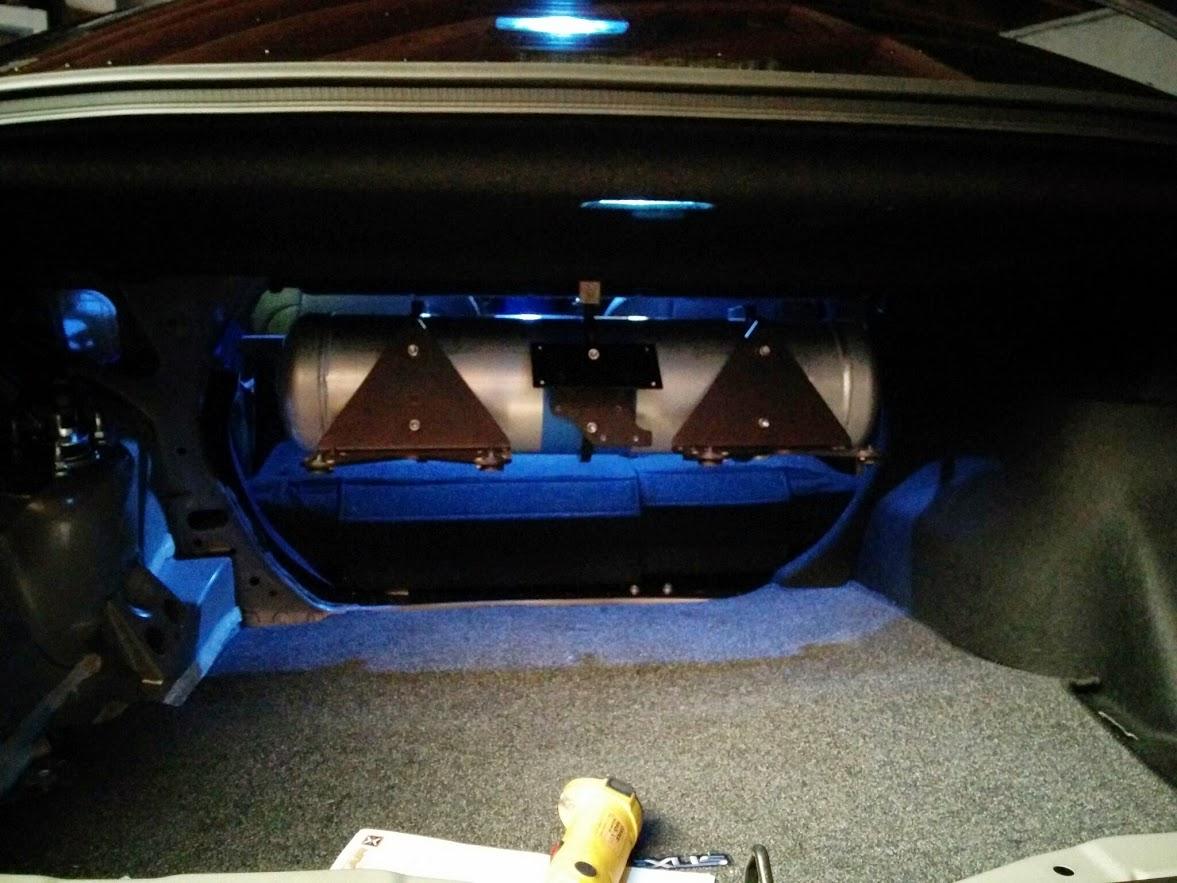 Here we continue on with figuring out which way all wires will be ran and tailored. Hot mess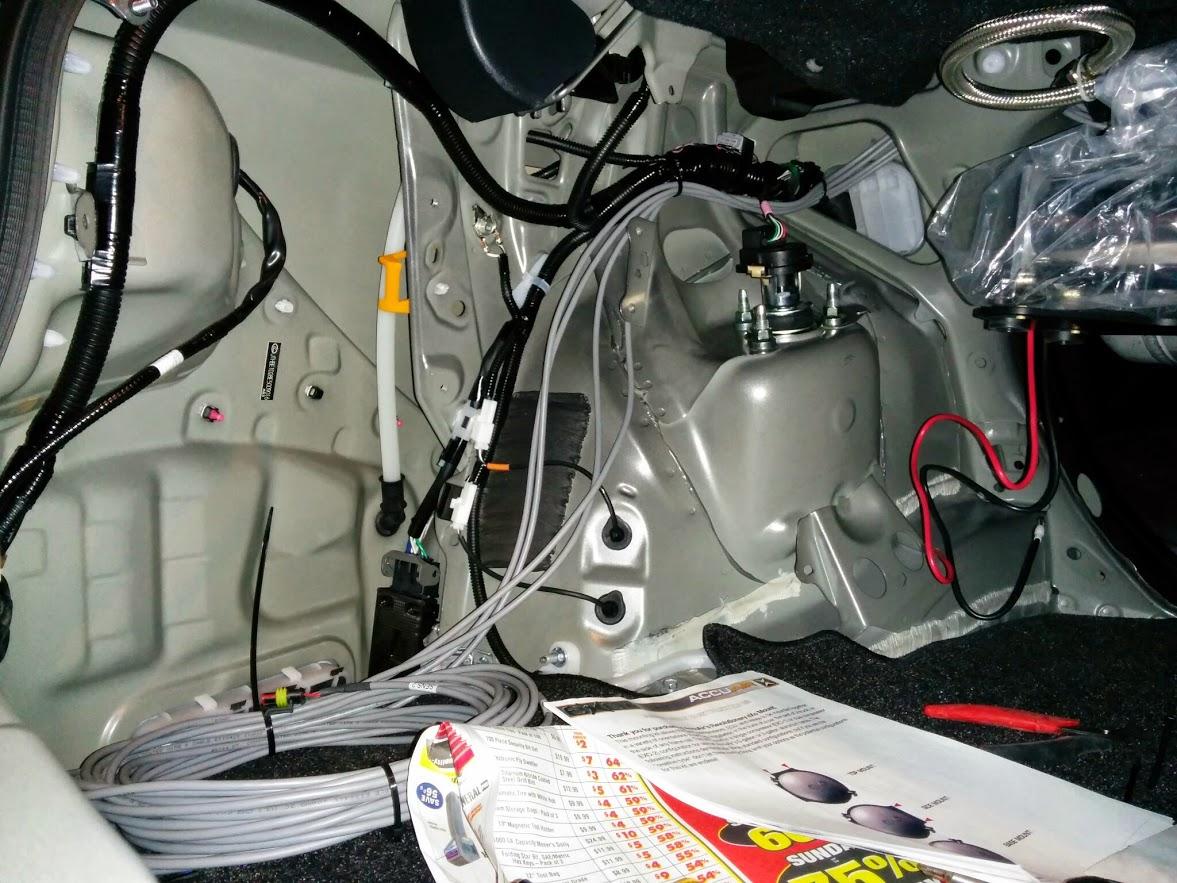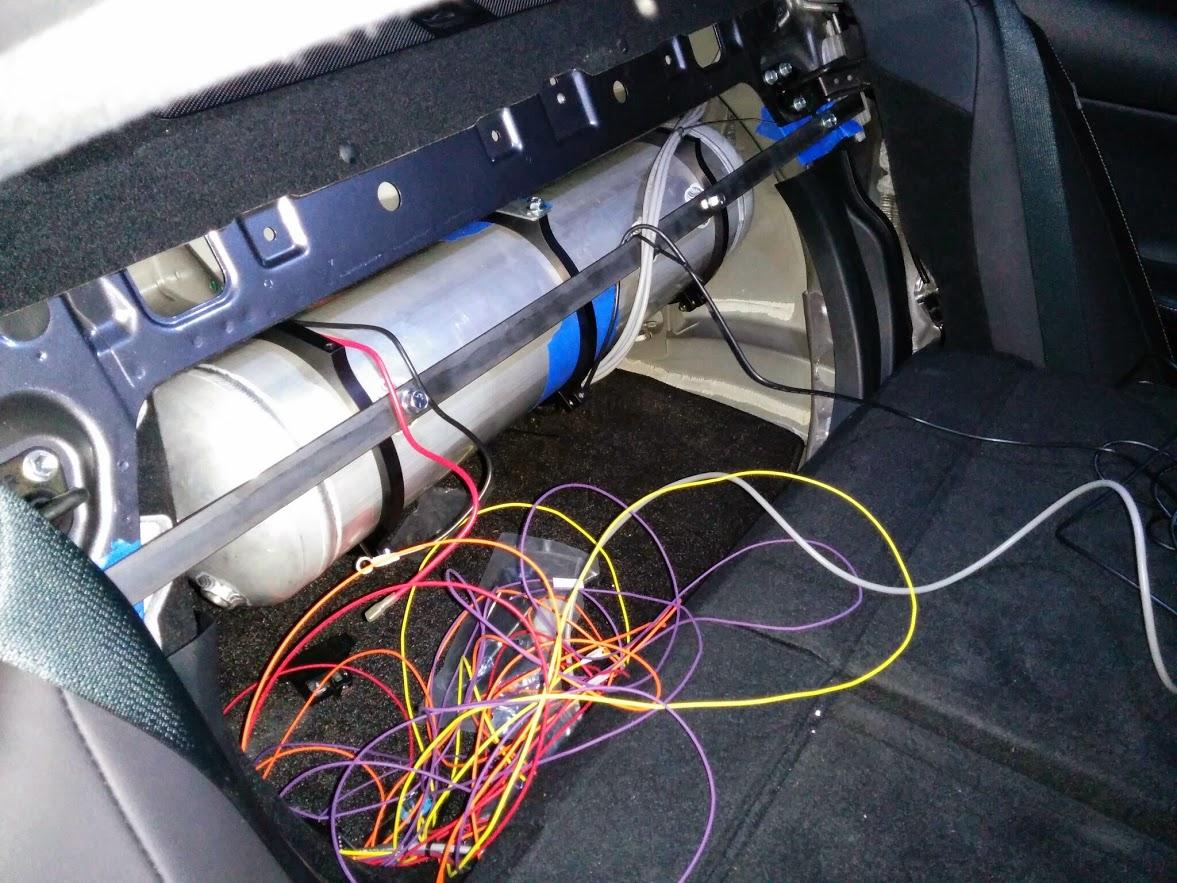 I will be sending the brackets and the tank to get them powder coated soon and order some more wire management items before I can continue on.
5-4-2014
Thanks for all the positive vibe guys!!!
Moving on, the trunk is still a mess and probably at least another 2-3 mounts but parts keep stacking up for other projects.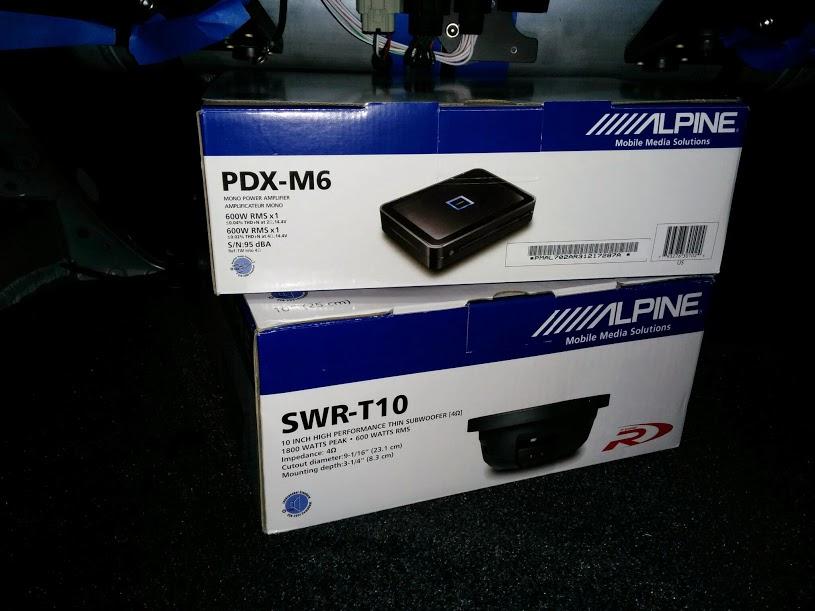 5-7-2014
test fitting new spoiler that arrived today. not bad =)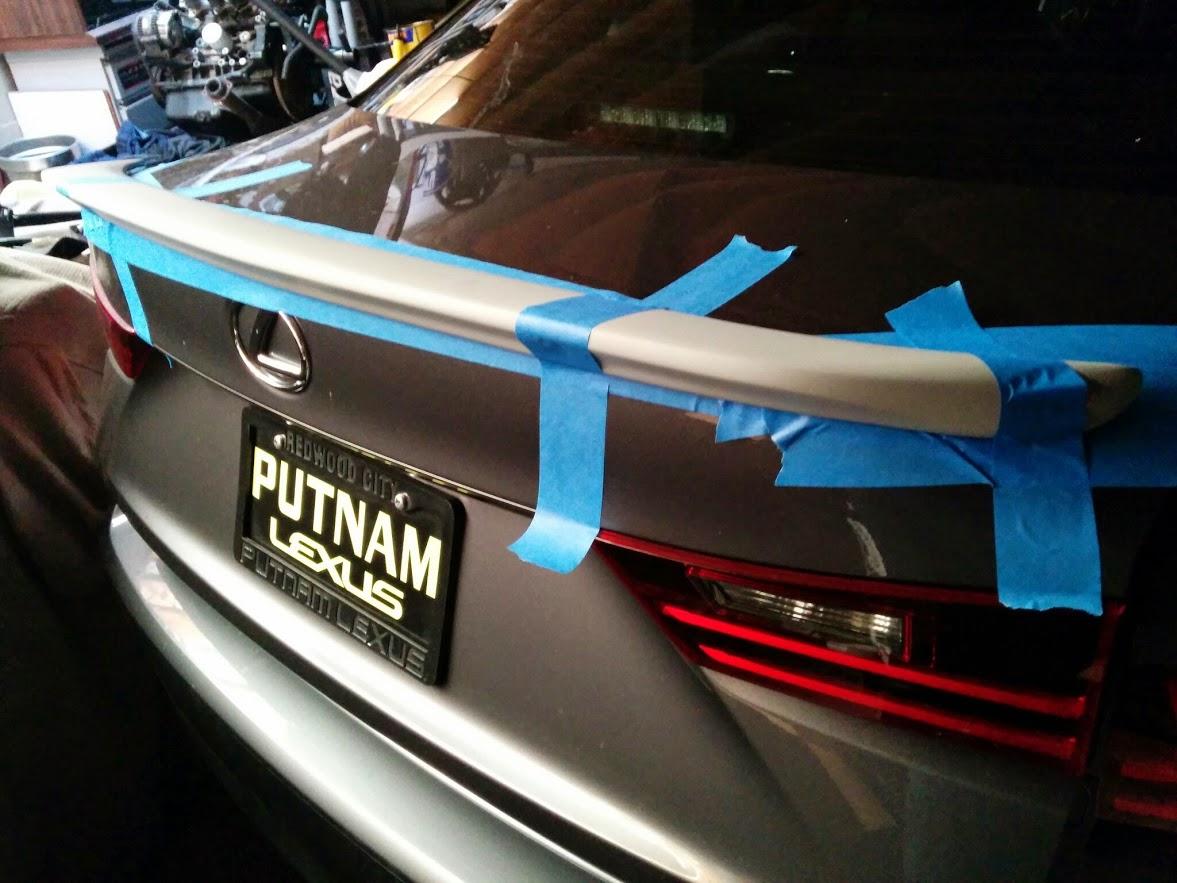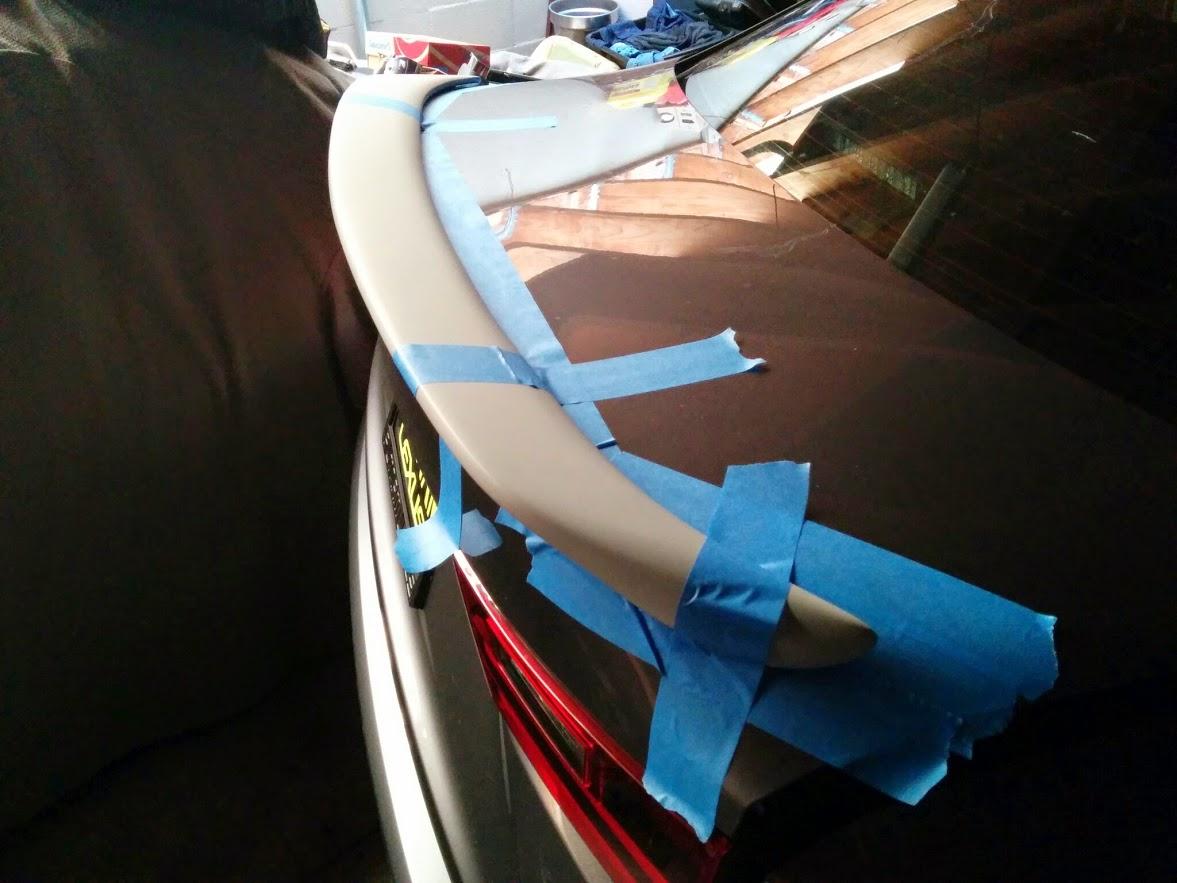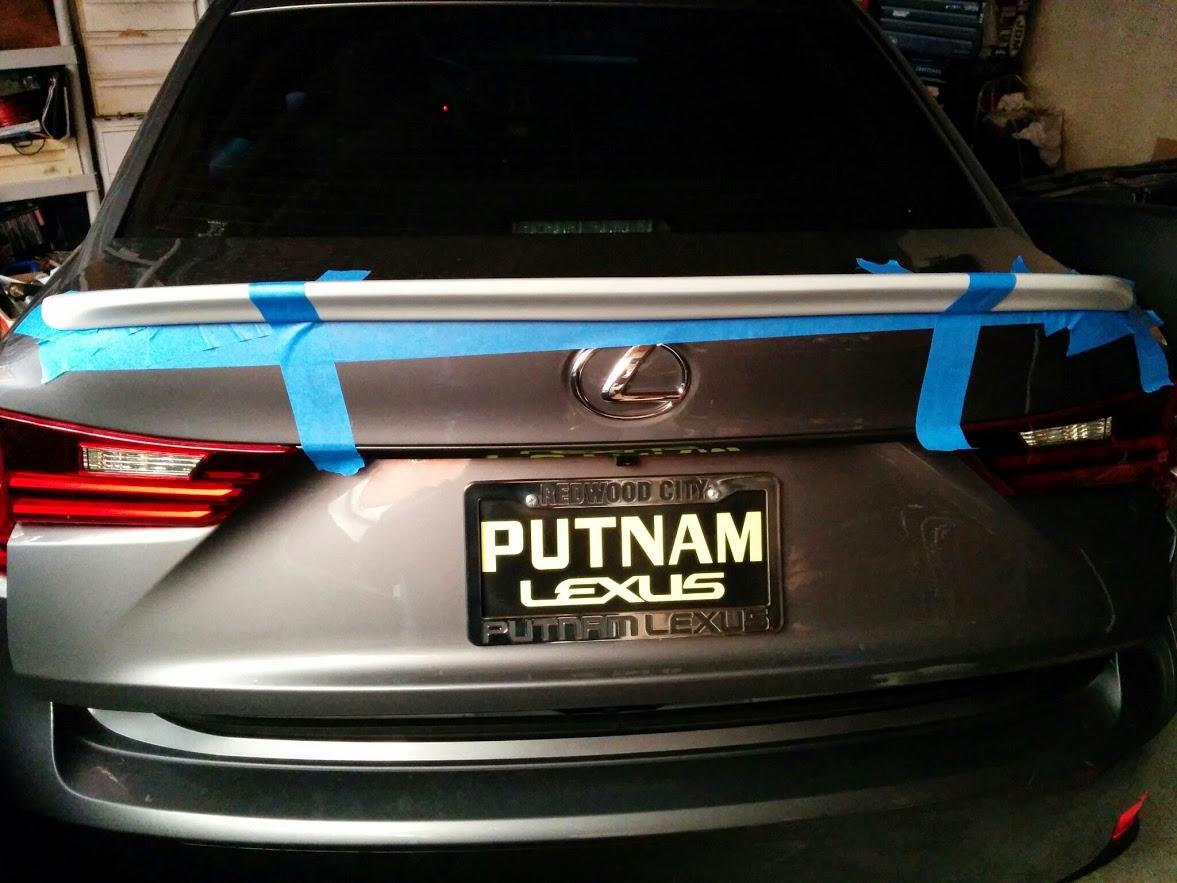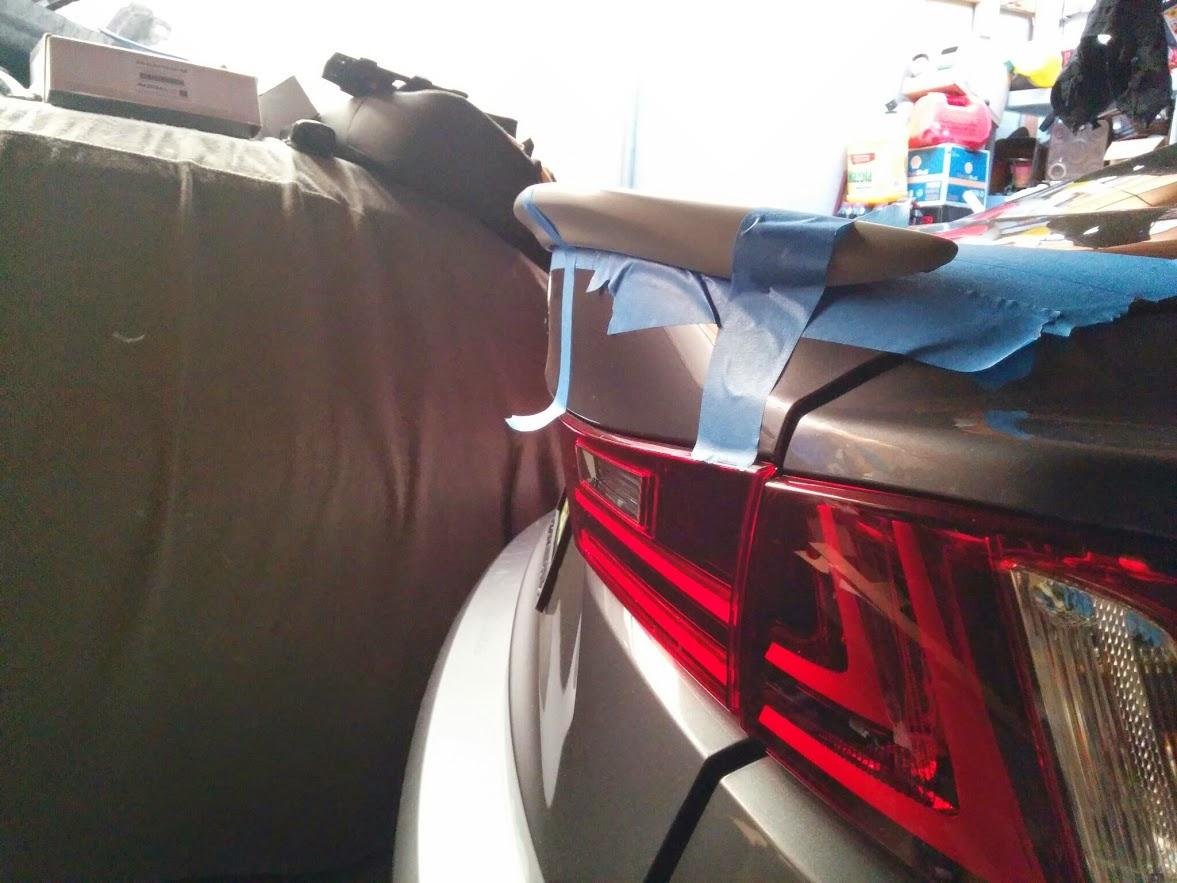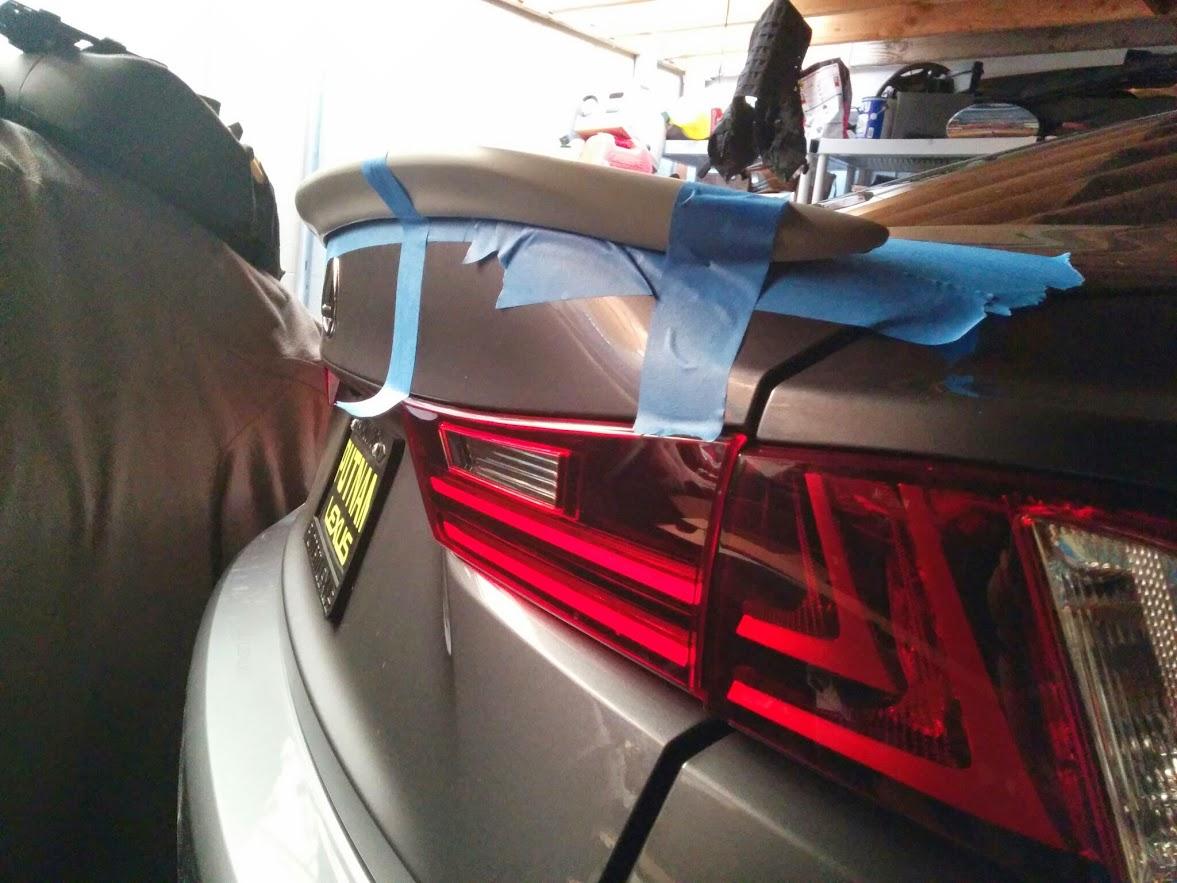 5-14-2014
some more progress
finished routing the wires for the Air setup
Made quick disconnects plugs for both compressors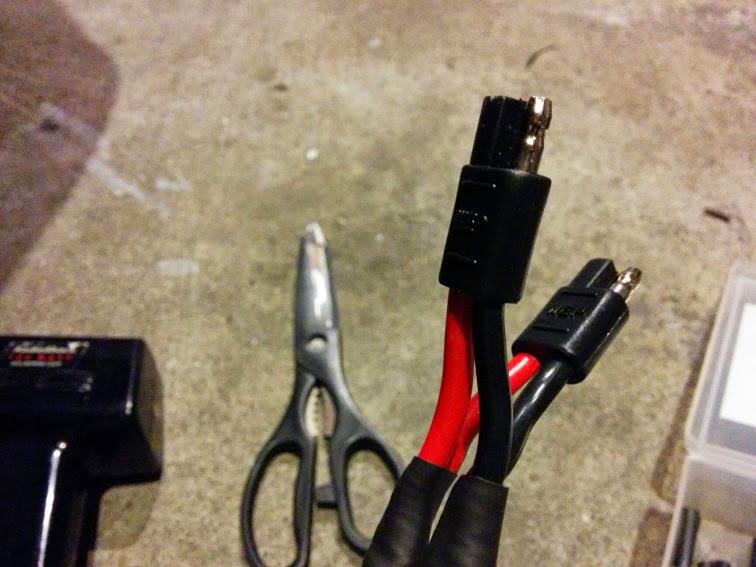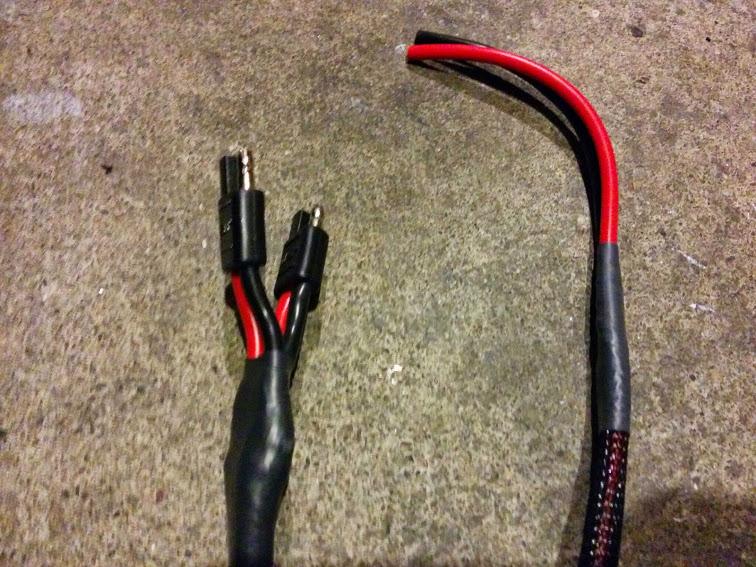 wires on quarter panel routed. power Distribution block and relay mounted here as well.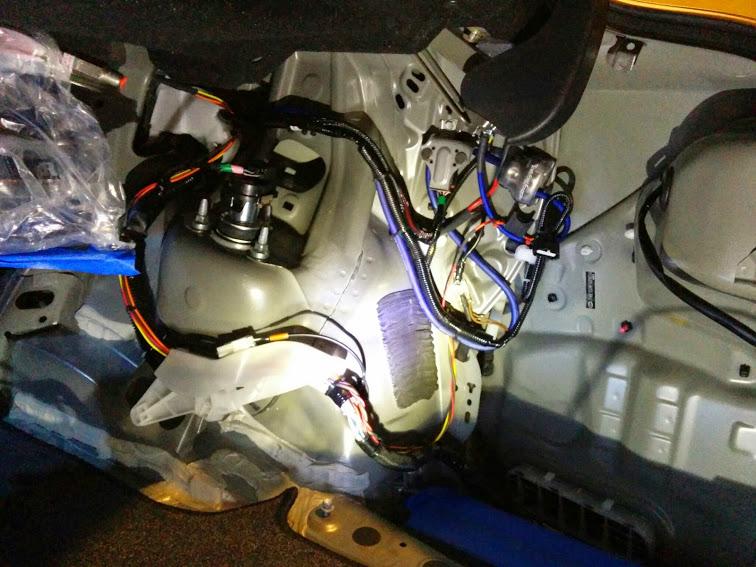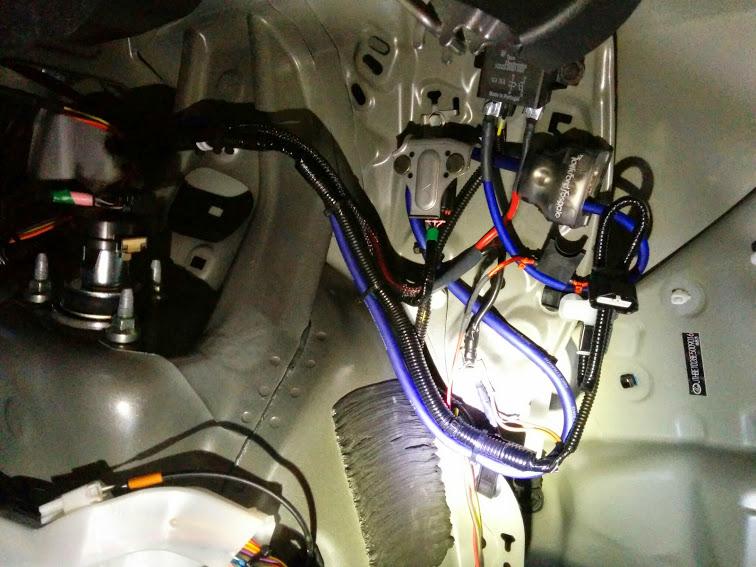 heading to the other side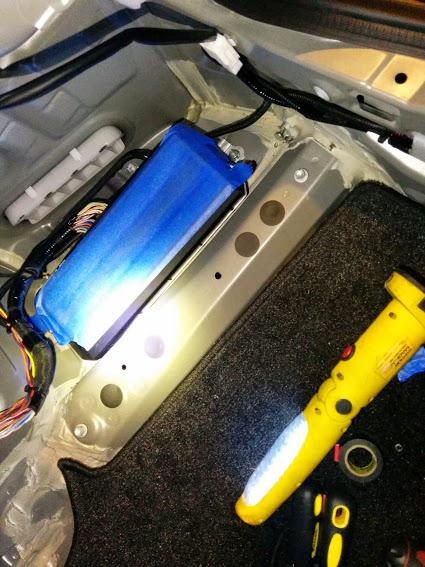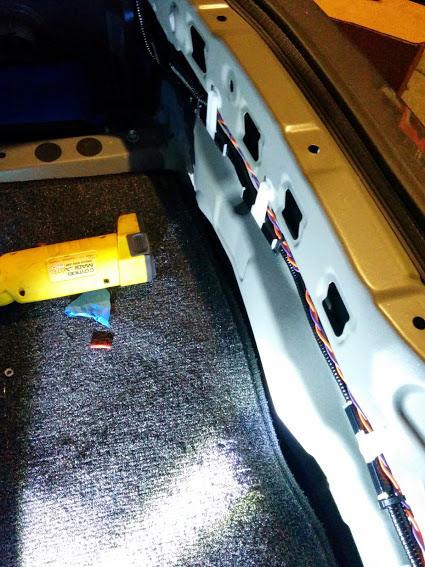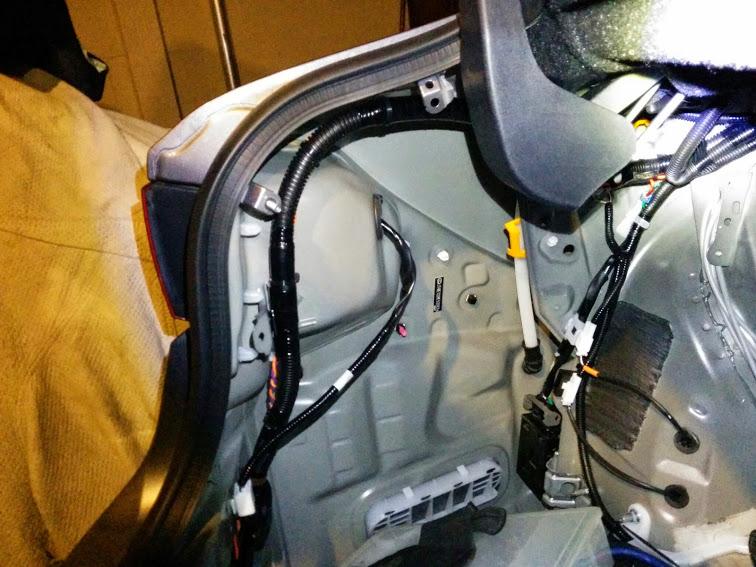 Tapped Parking lights and Ignition on the other side, Igntion is to a Fuel Pump Control Module actually, a bit scary to grab it here and possibly short something out and cause vehciles fuse to pop and stall the vehicle but i will fuse small here right after i tap into wire so nothing bad will happen. This way I am not having to run any wires to the Dash besides the Controller.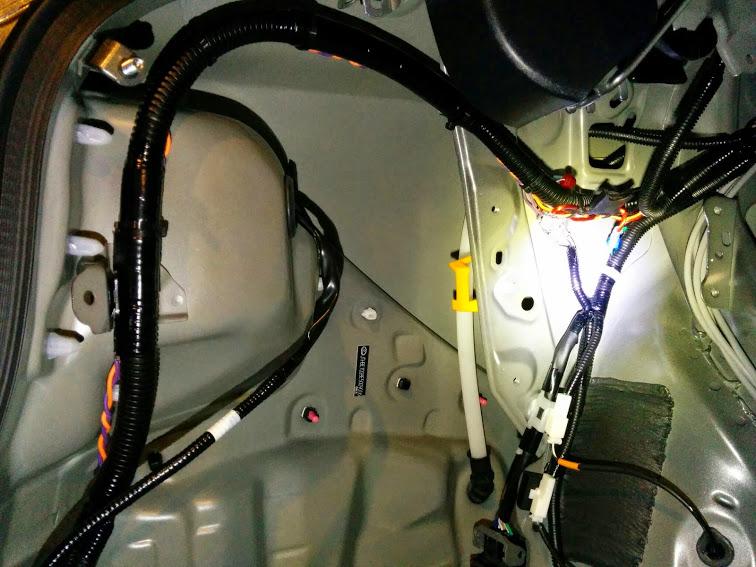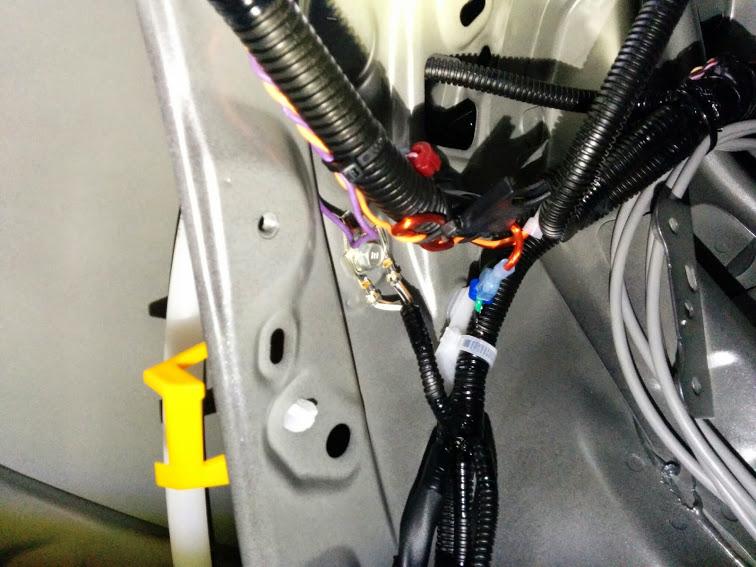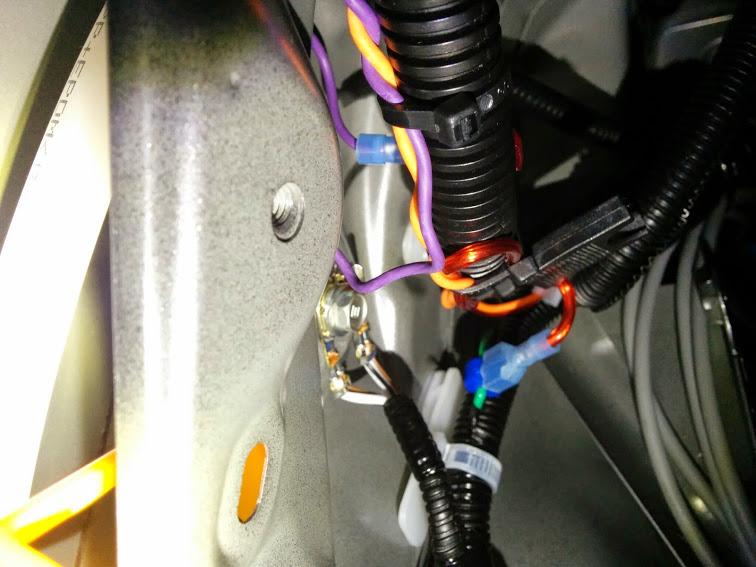 Dropped the Tank back down
to get it ready to send to powdercoating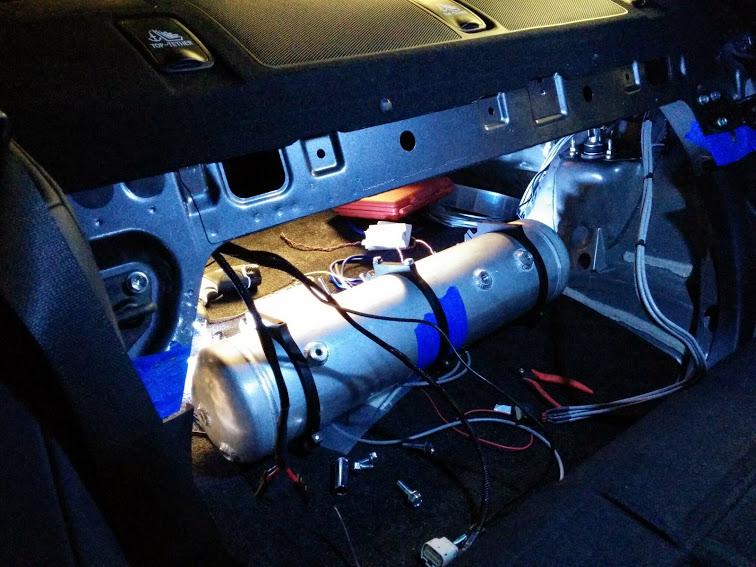 Here is the third mounting point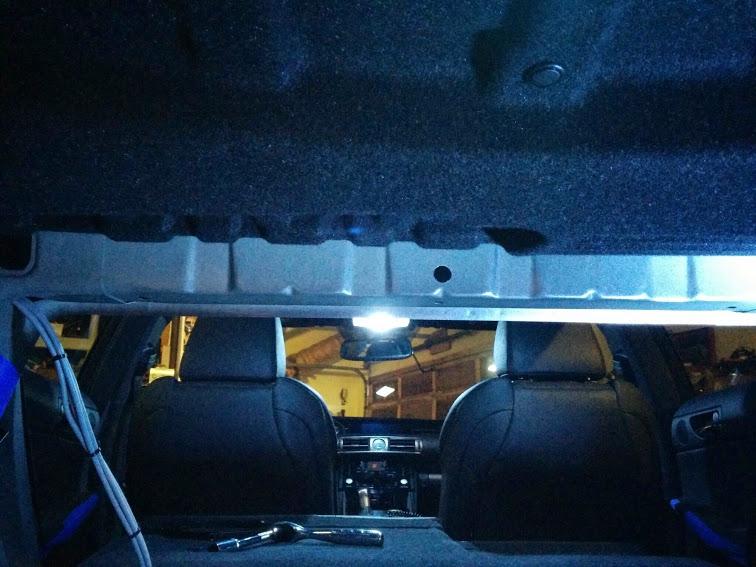 I will Nutsert it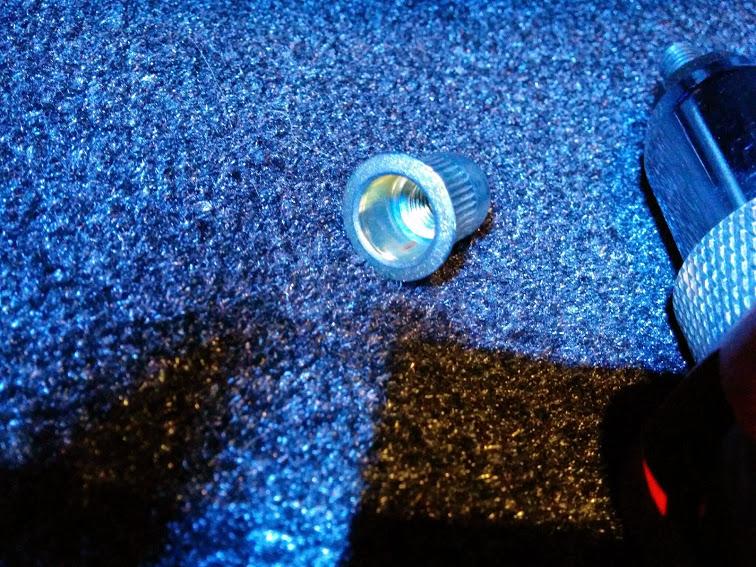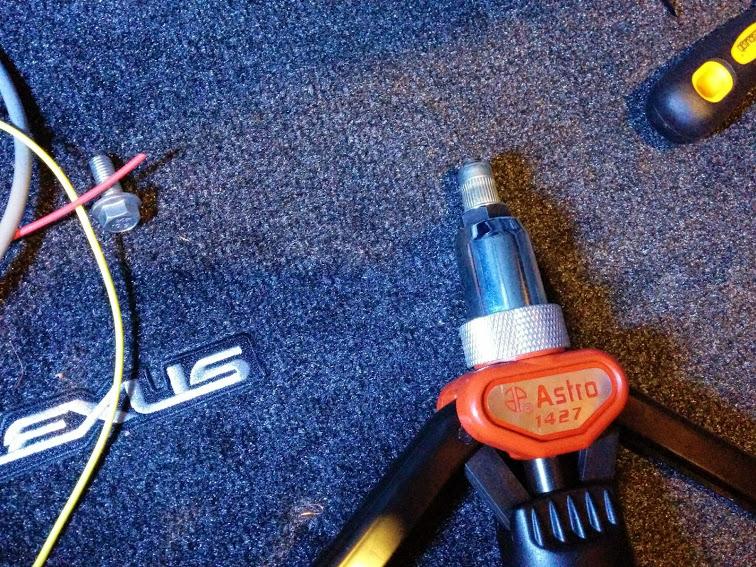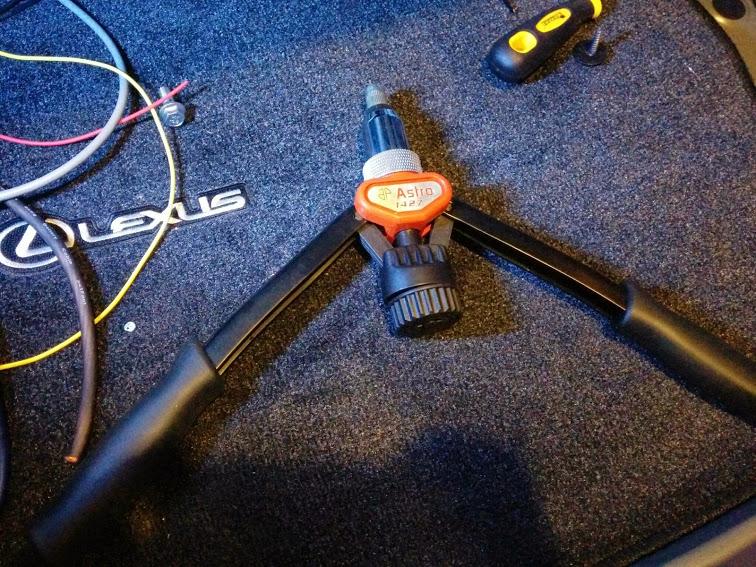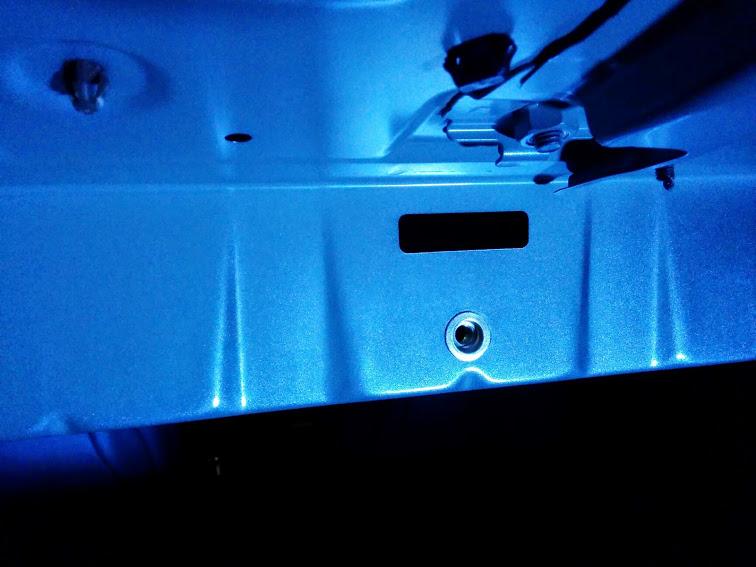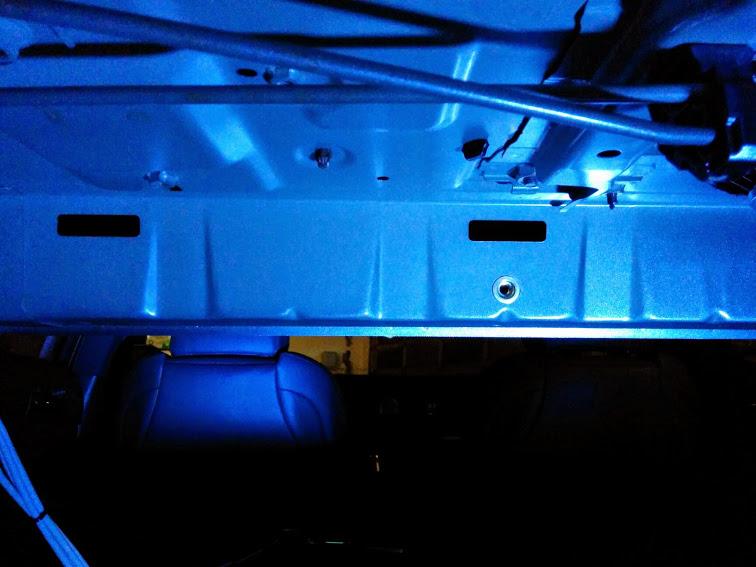 Carpet back in place and now all ready for the tank to be powdercoated and back.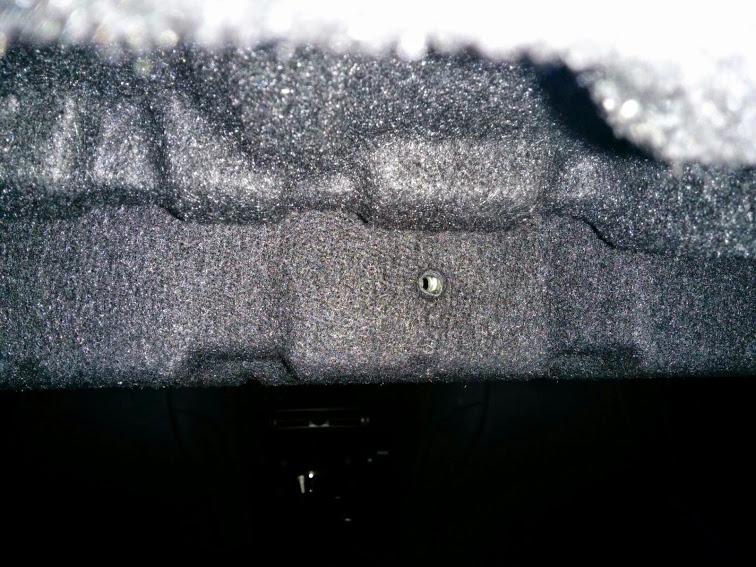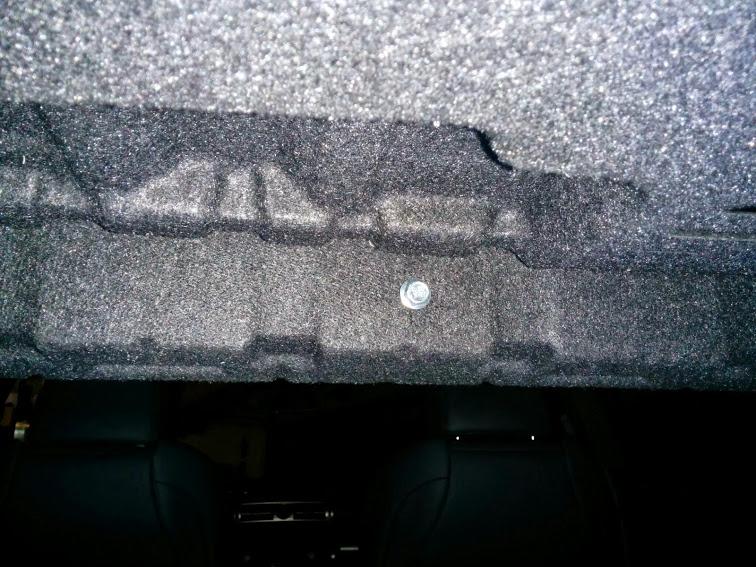 the Third Center Bracket I made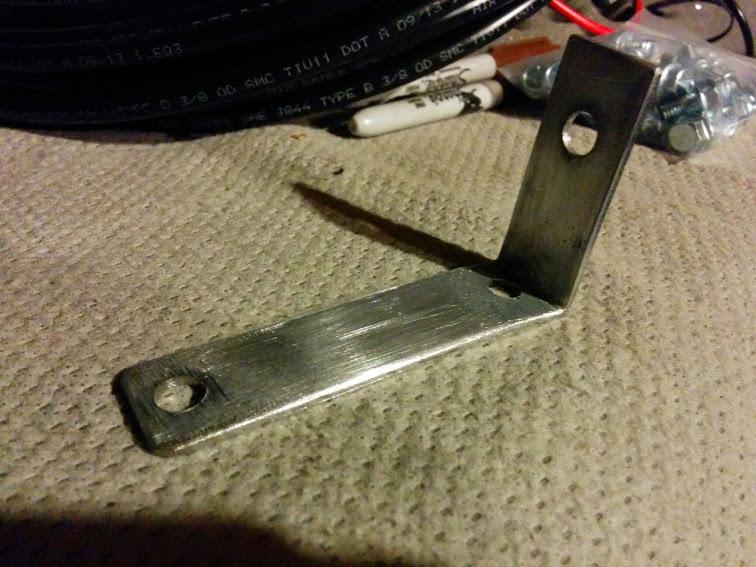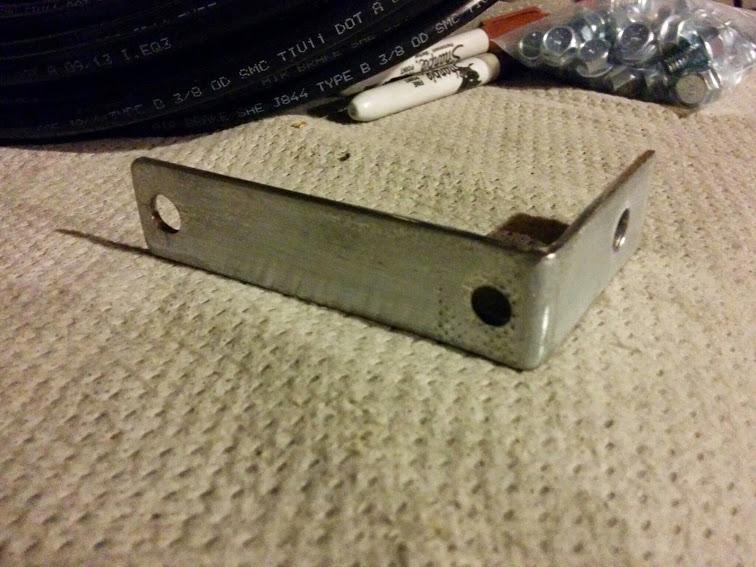 Picked up BeatSonic Navi bypass through Groupbuy also next to it, Power Magic I've been sitting on for a bit for my DVR camera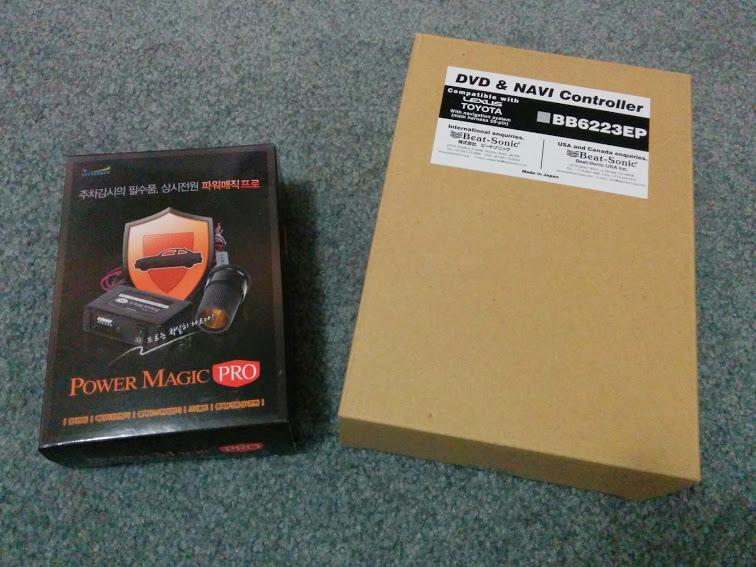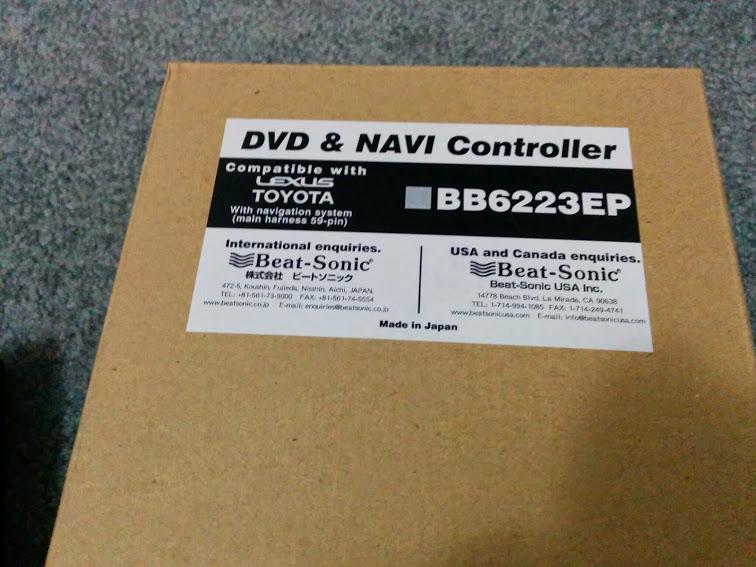 Up next while I wait for the Powder Coating will be probably to prewire the Amplifier Subwoofer setup since it is all apart anyway and wires are visable so later all I will need to do is fabricate Box and amp mount.
5-24-2014
Did some more work tonight and dremeled out plastic panels to clear the bar I am using to mount the Tank etc.
Here is the factory threaded hole That was not being used that I mounted the bar to. There was one on each side and perfect height to where i needed it to be. Its like Lexus knew I needed this to be here =)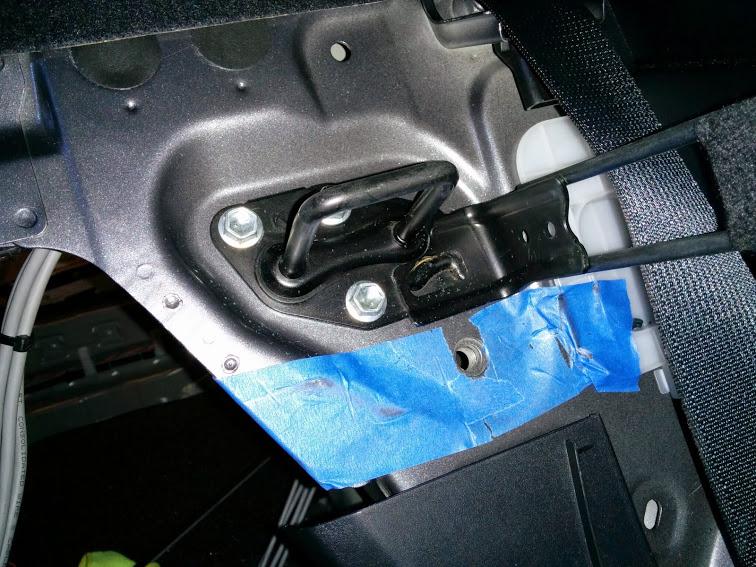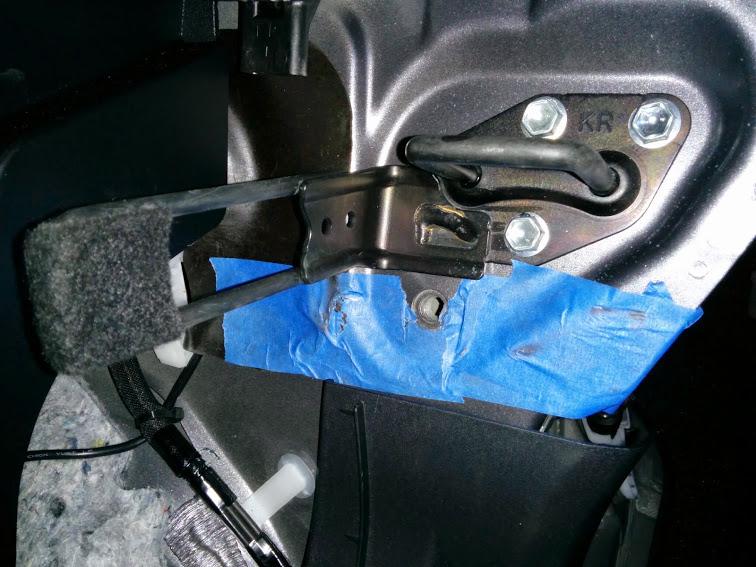 Rough cuts.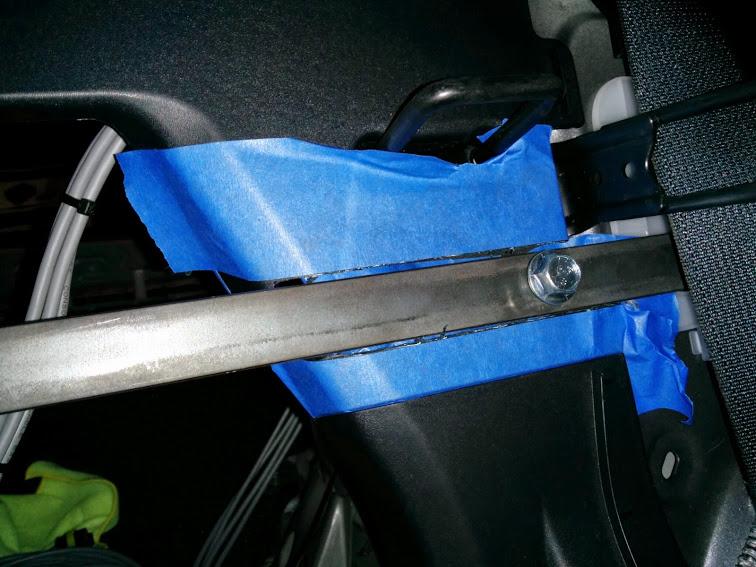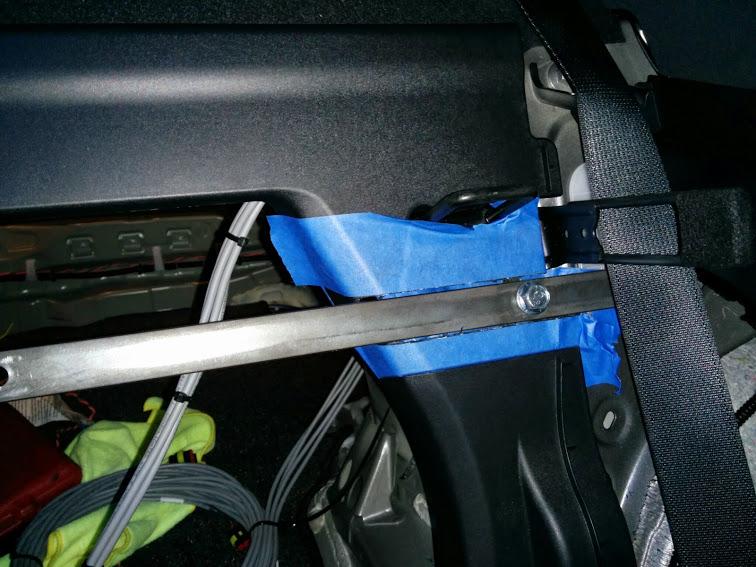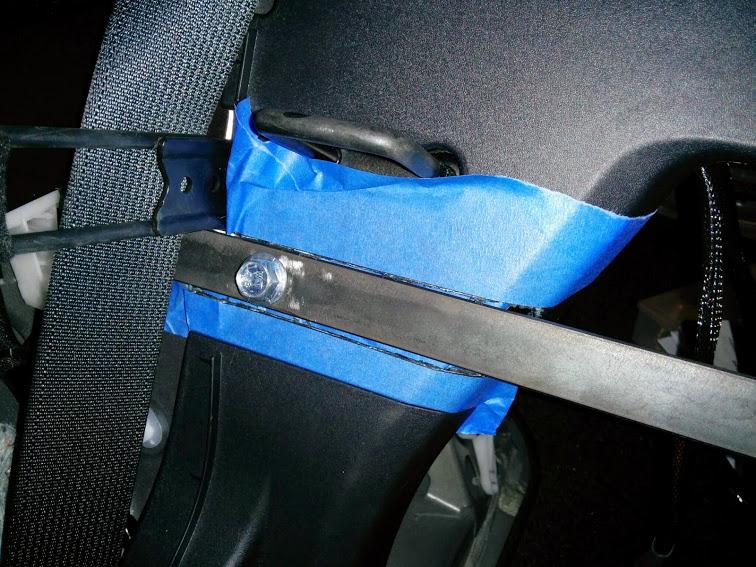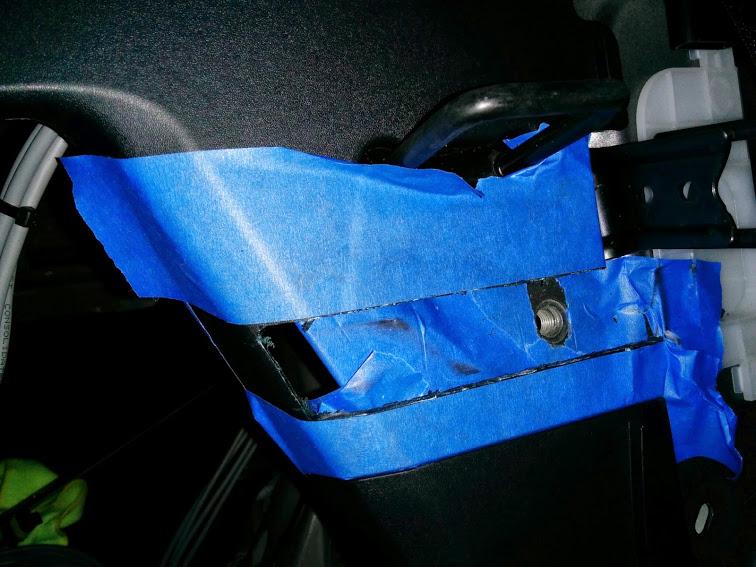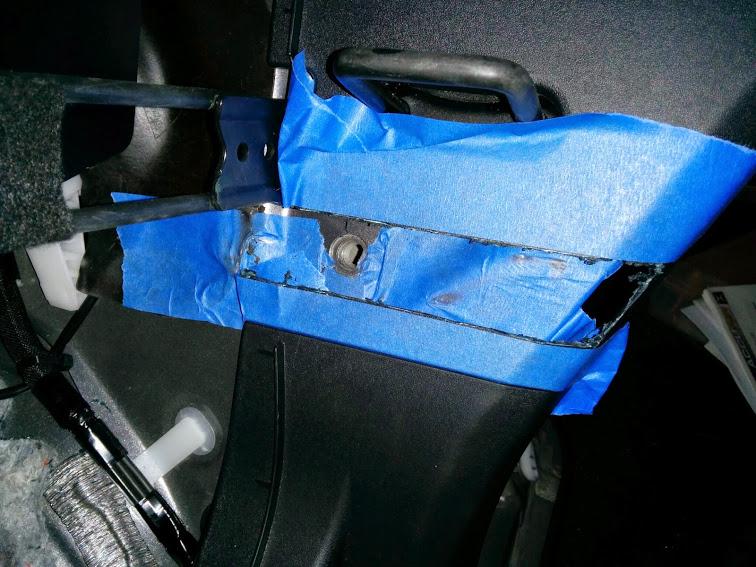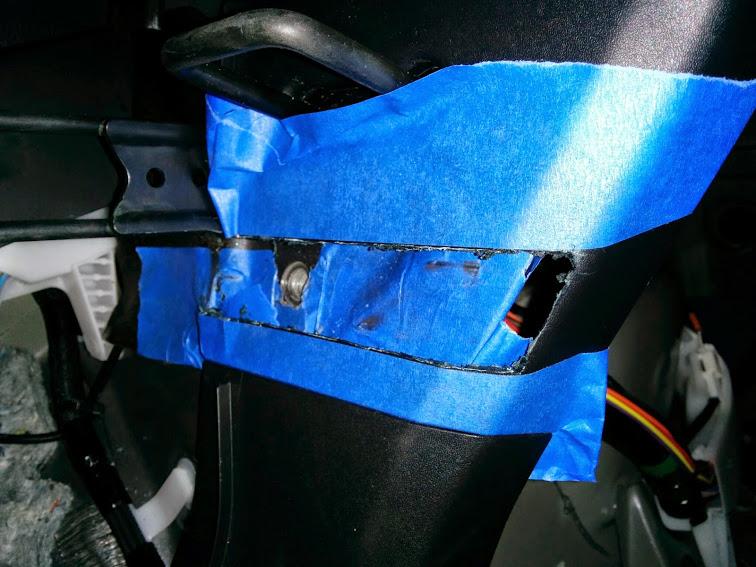 Filing it down to make it look clean.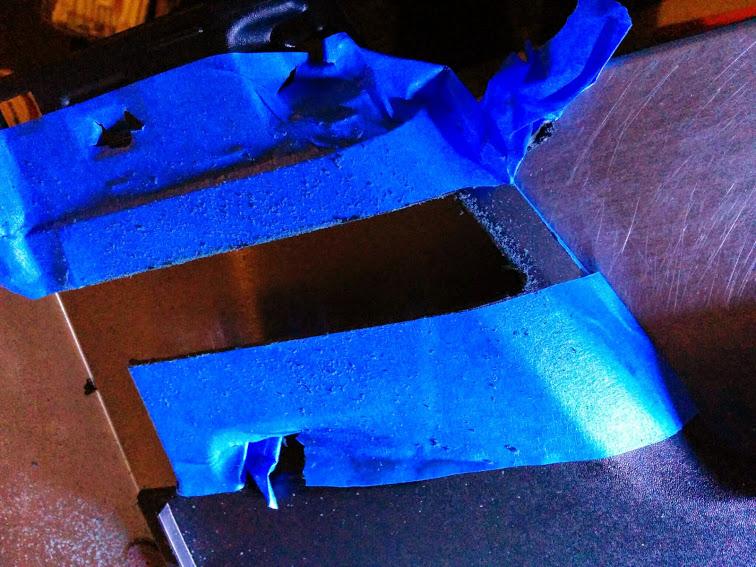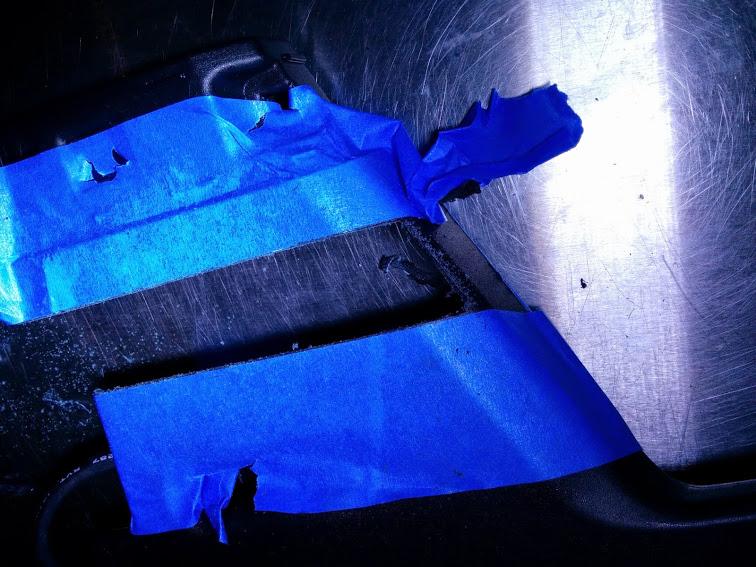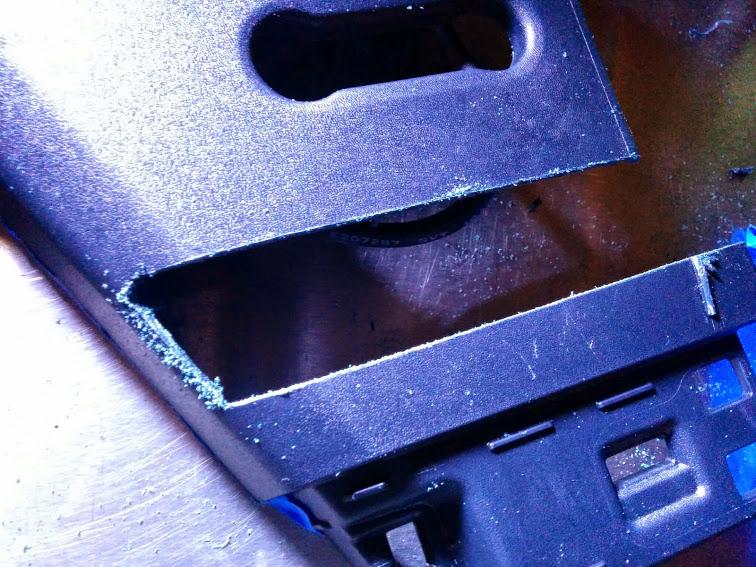 Back on the car for test fit.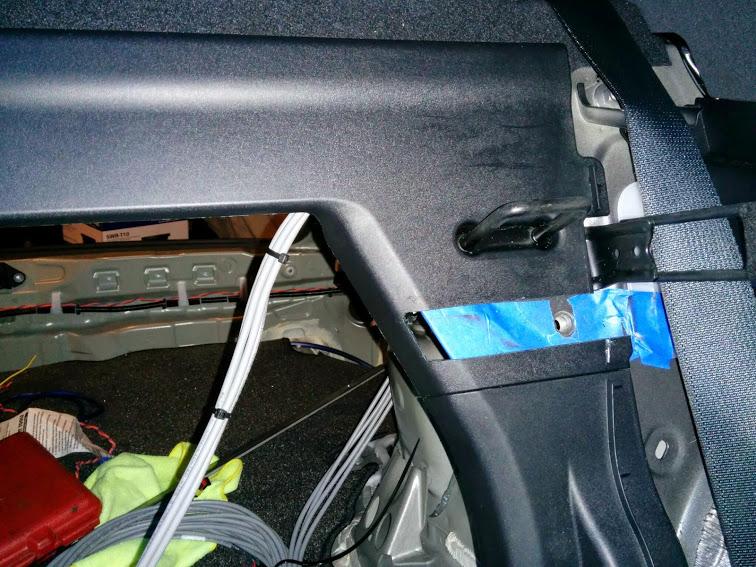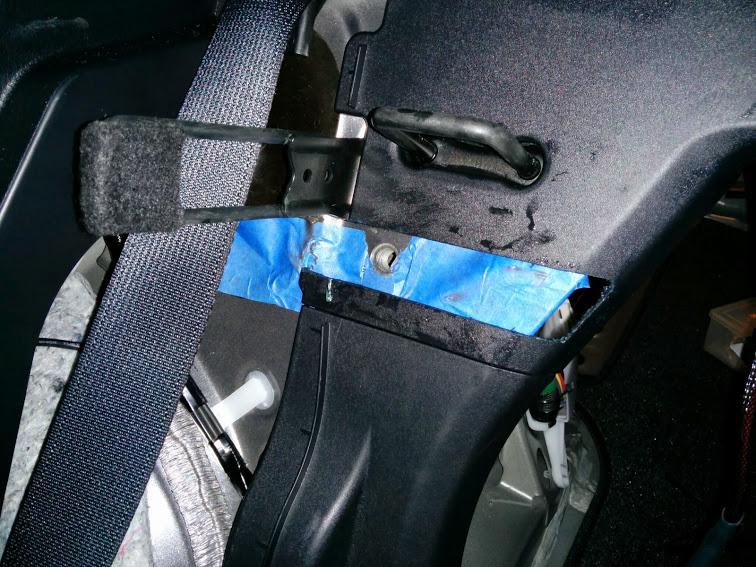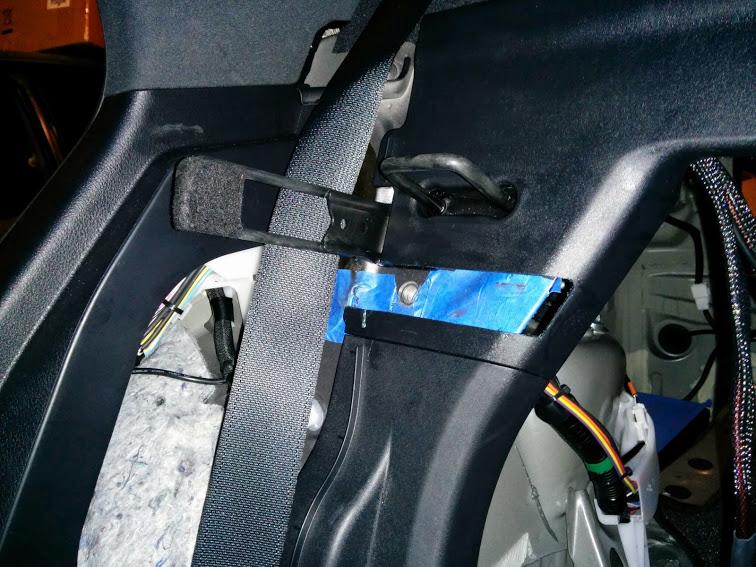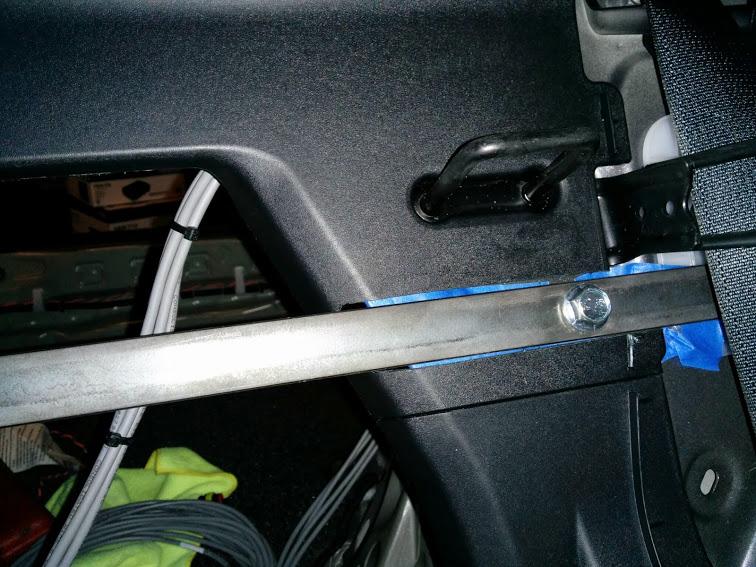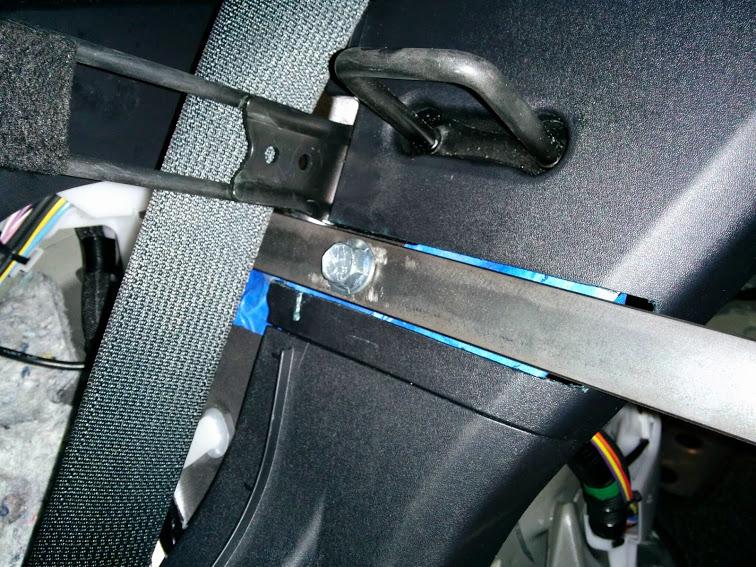 Tomorrow I will drop some felt tape where the blue tape is so that it will not be metal on metal and will not get scratched from the bar mounting when everything is finalized.
Check out the cool "brace bar" haha. fits around factory plastic panels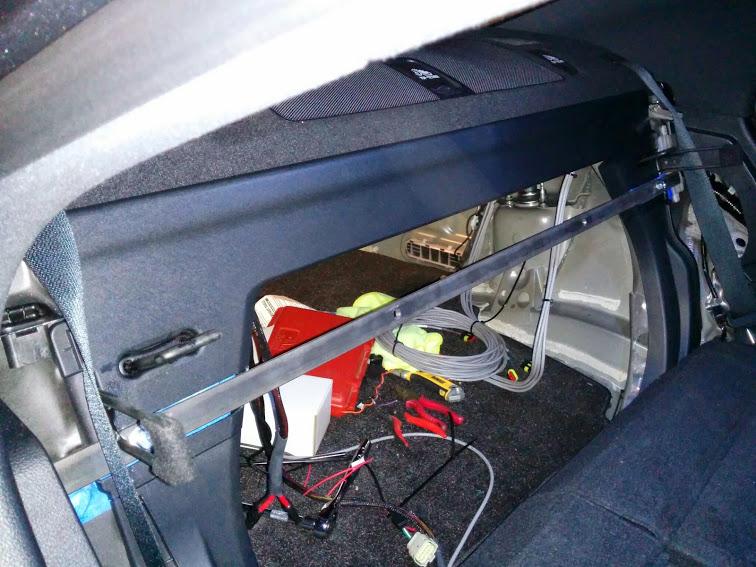 6-9-2014
More parts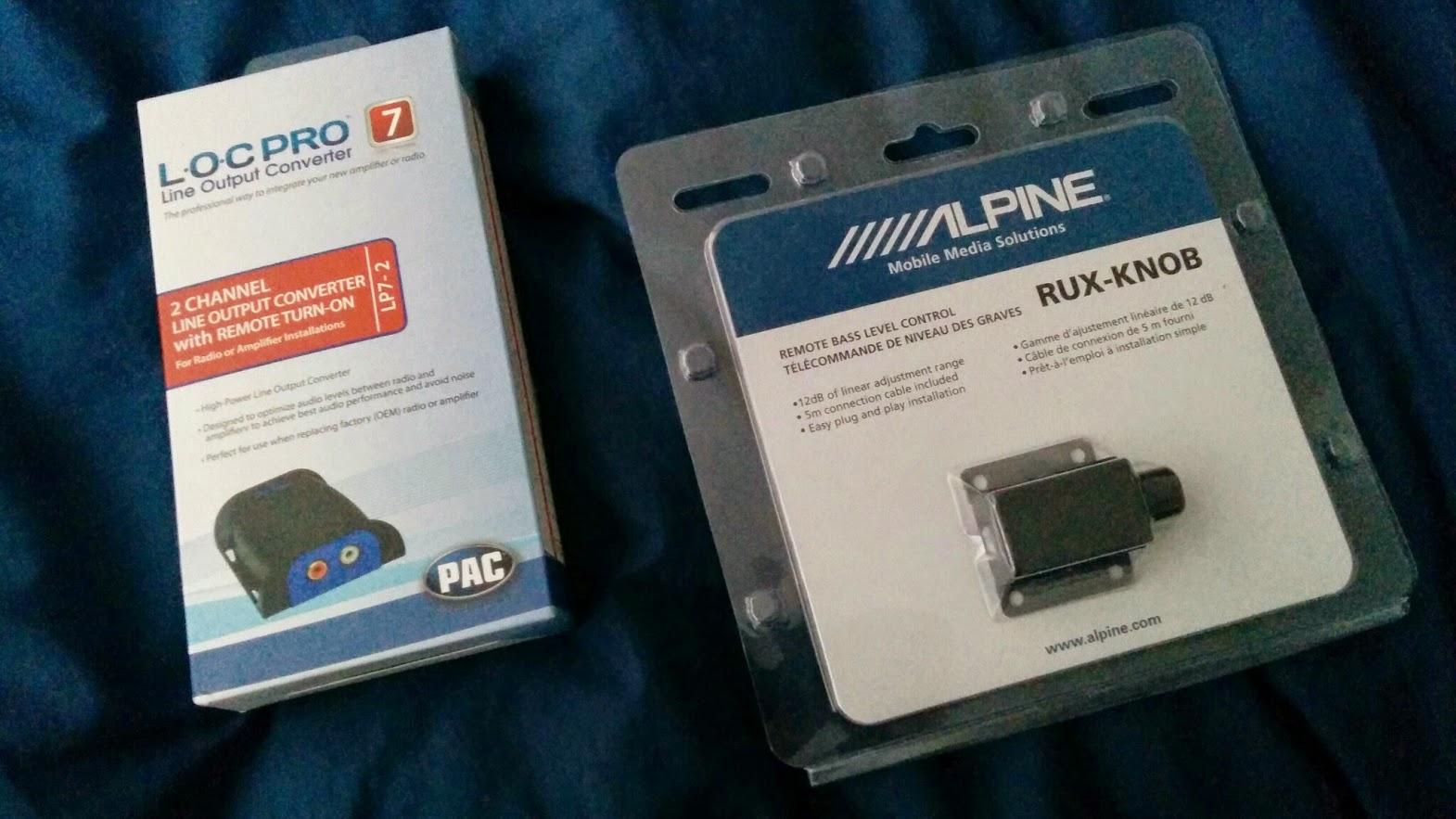 Whats in a box? two months wait

Happy there are finally here at least though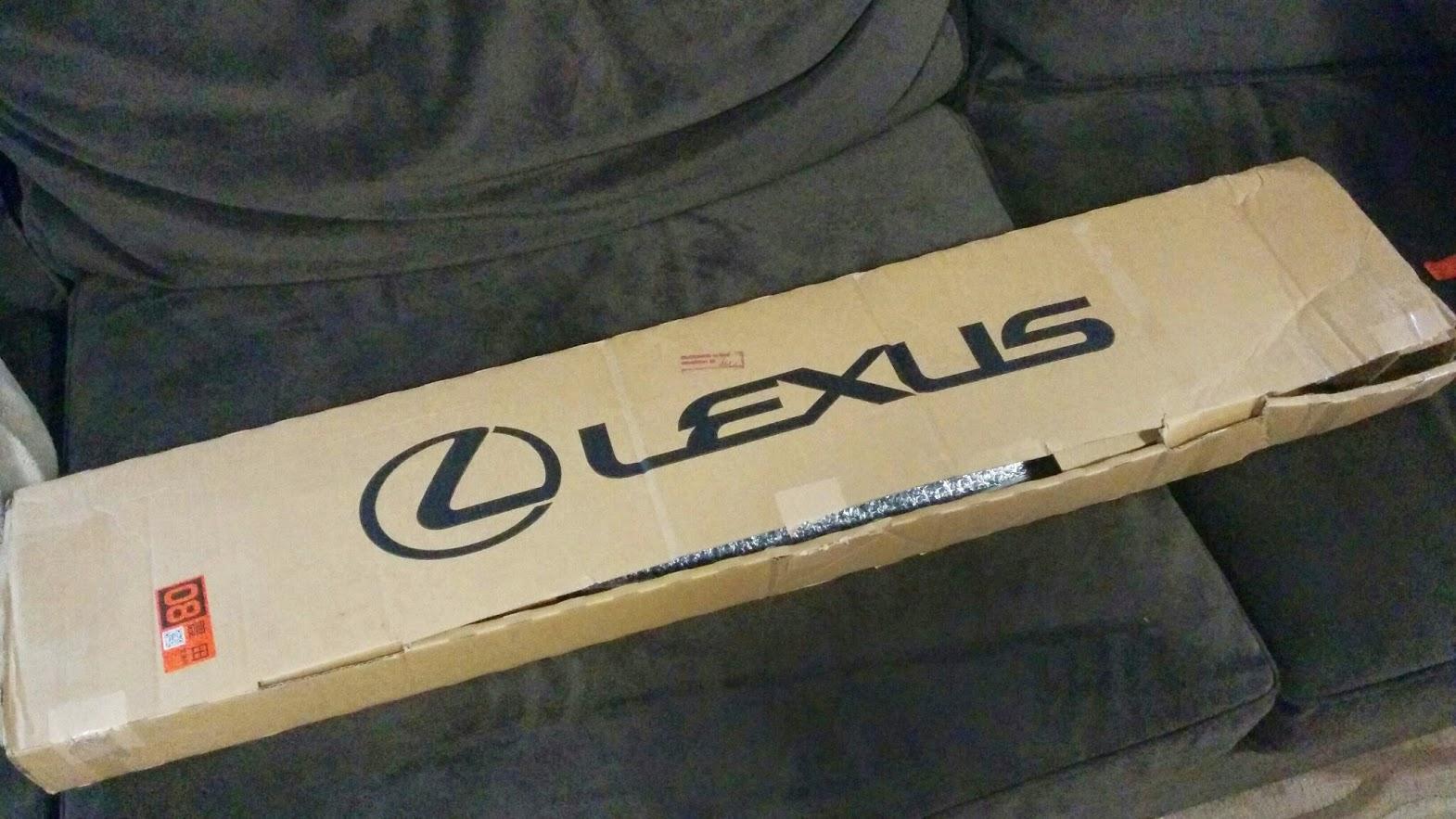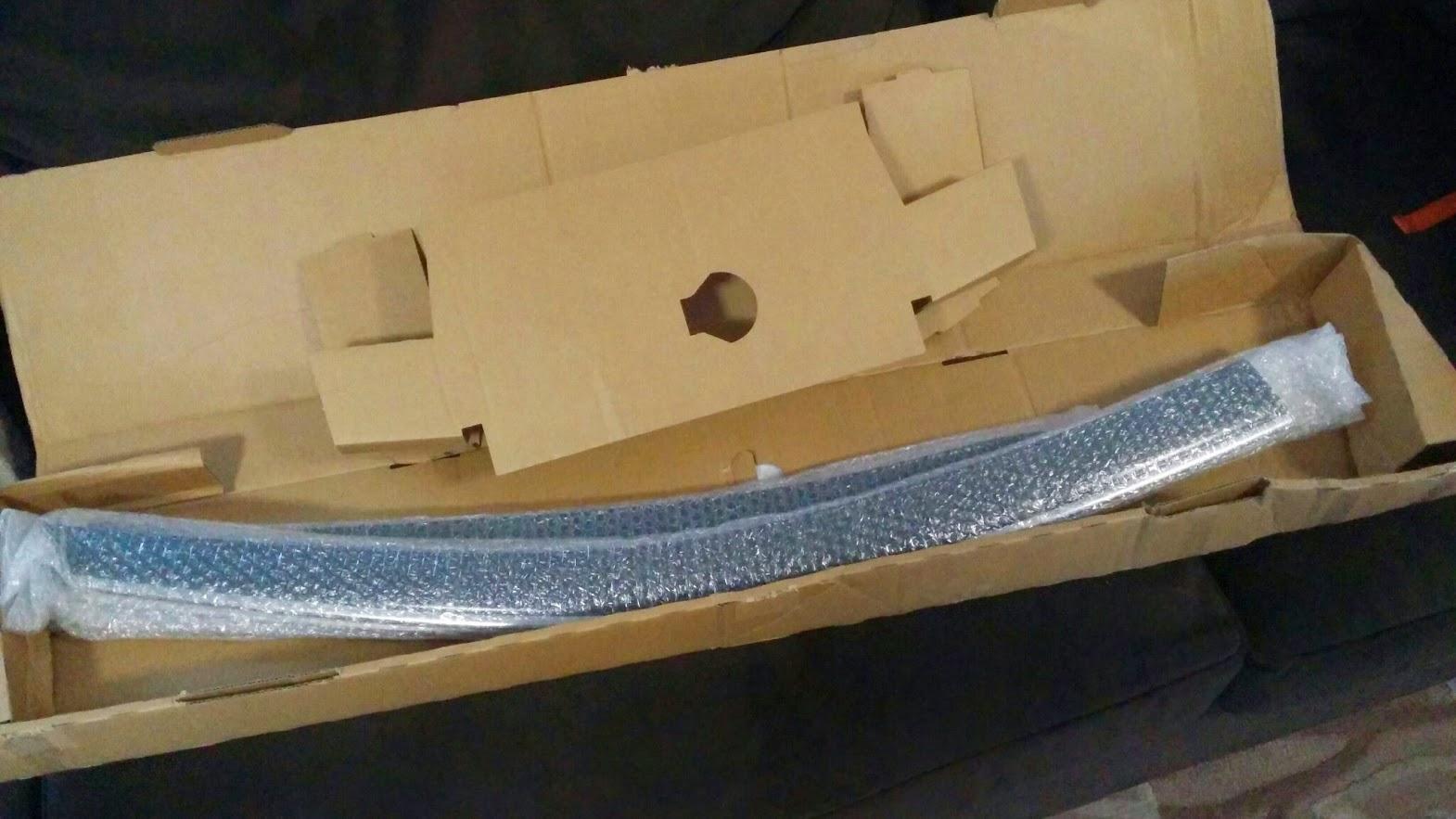 These JDM door Visors are some quality pieces. Some closeup of the mounting side.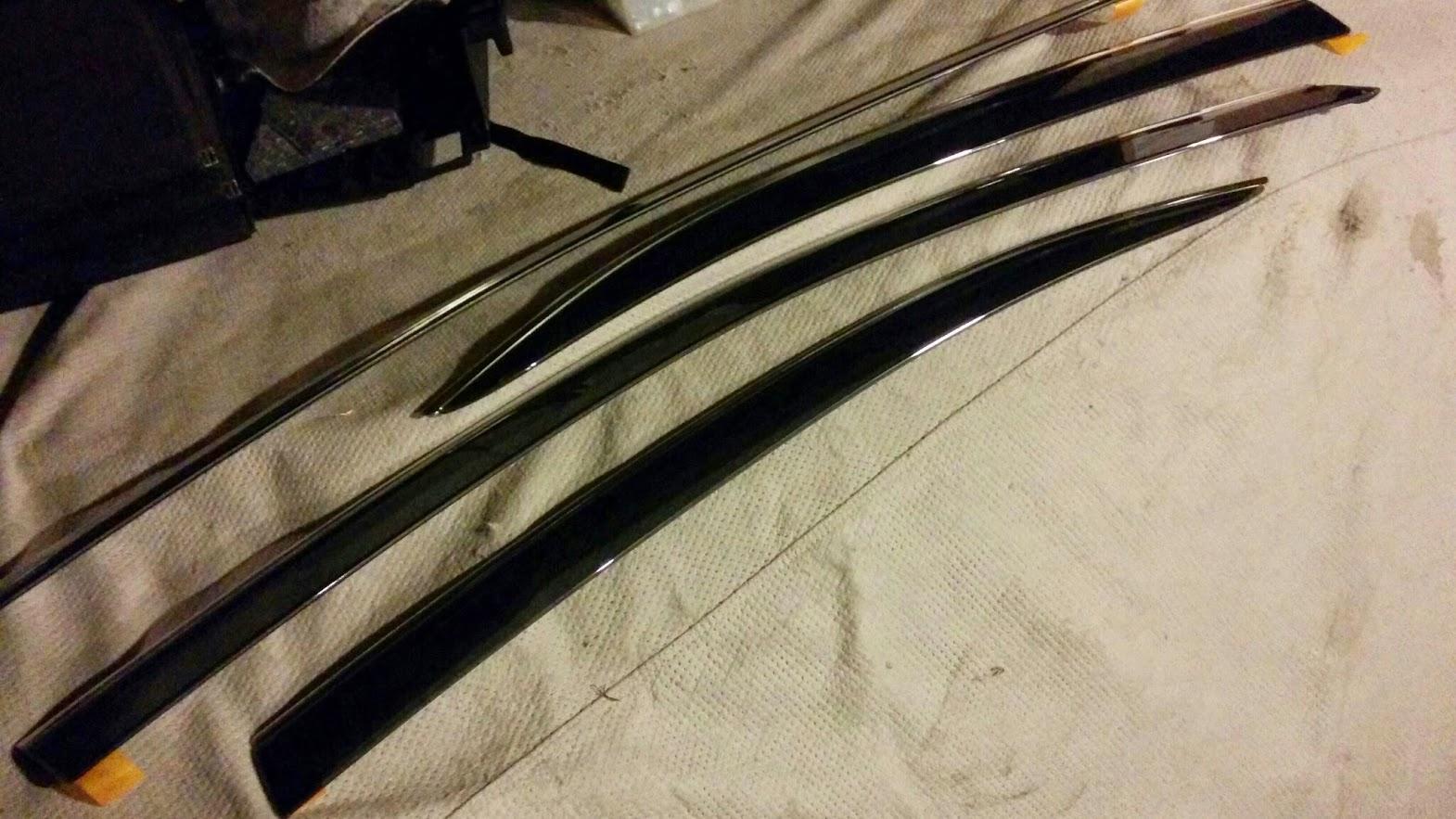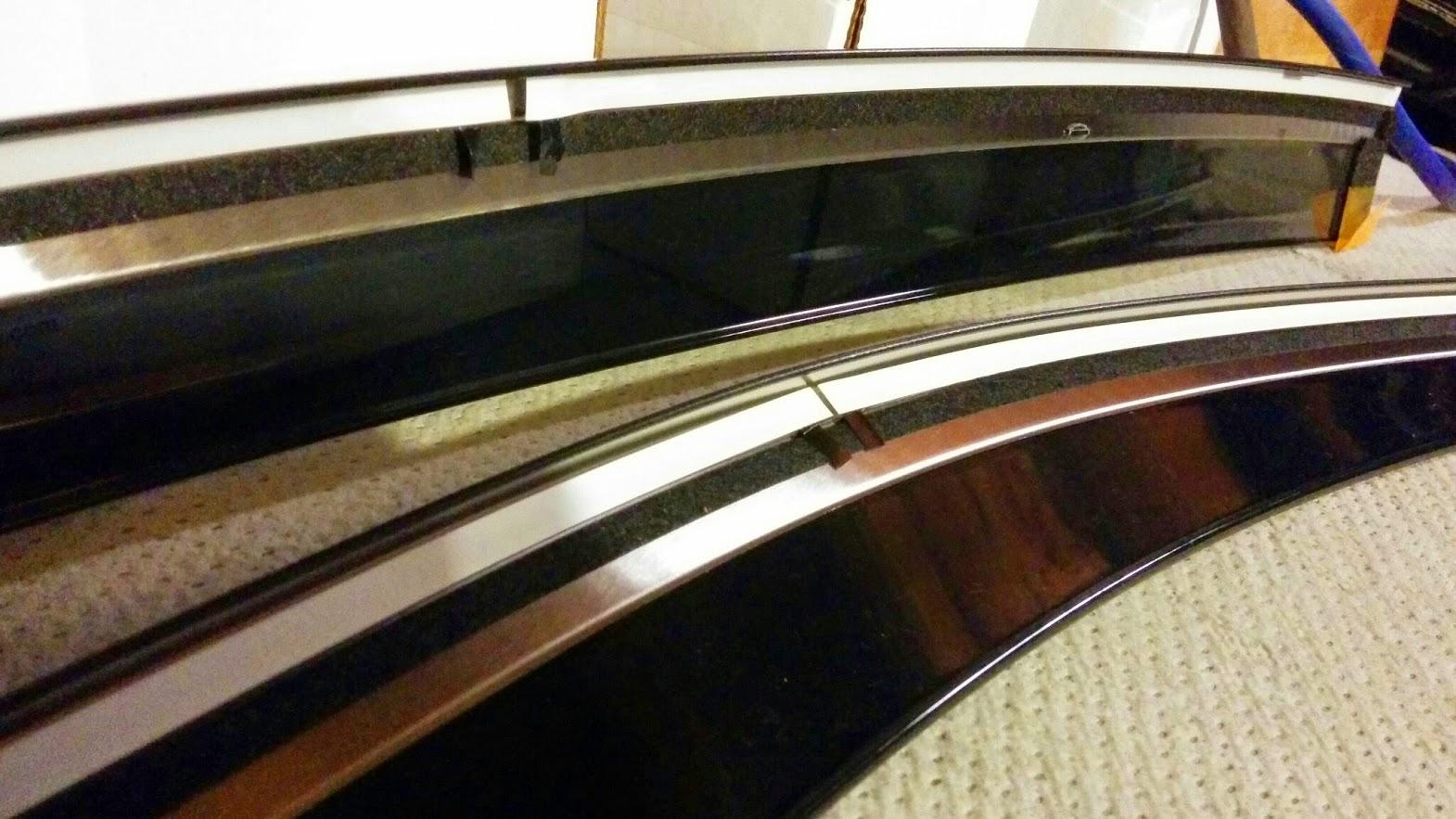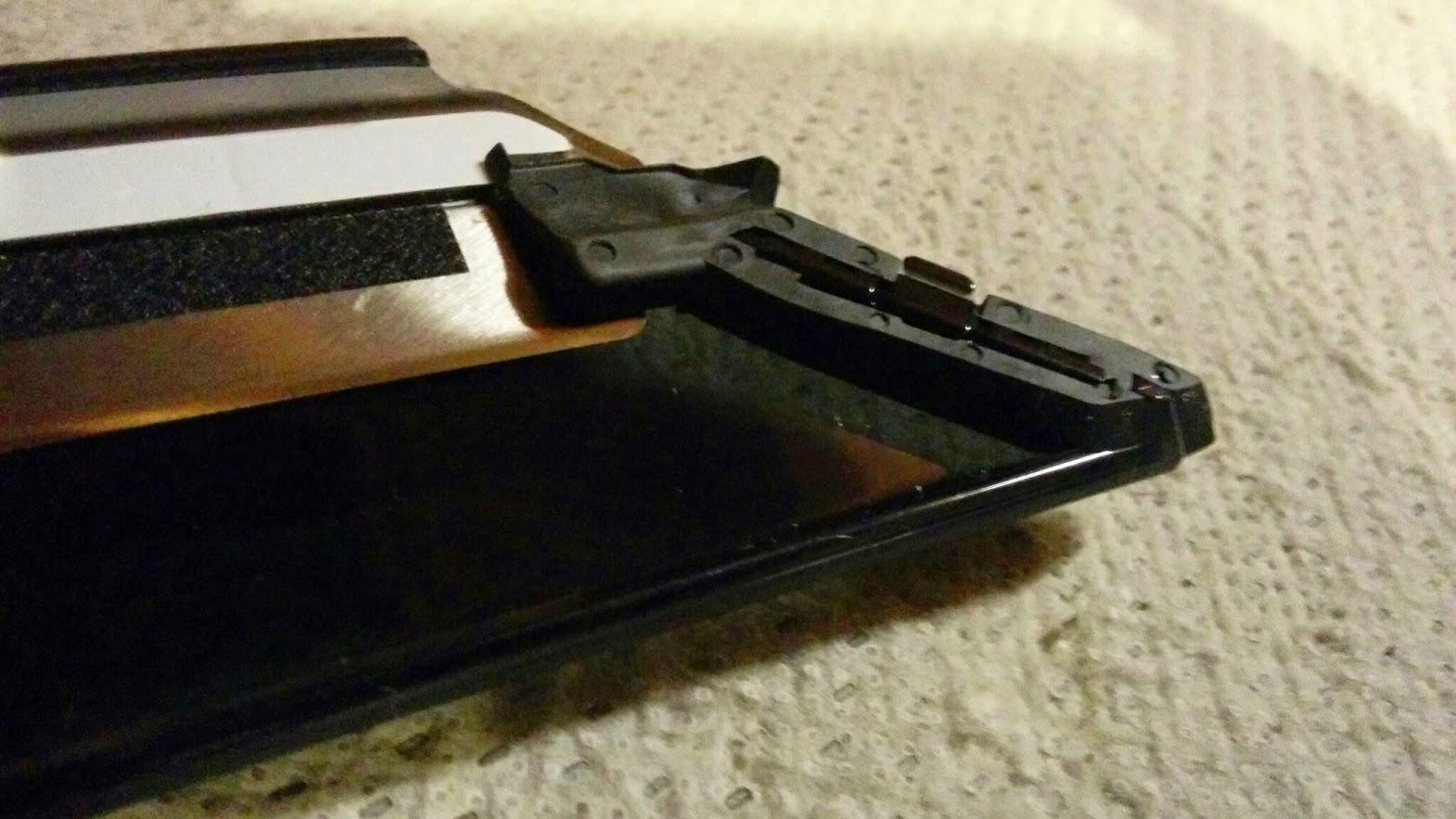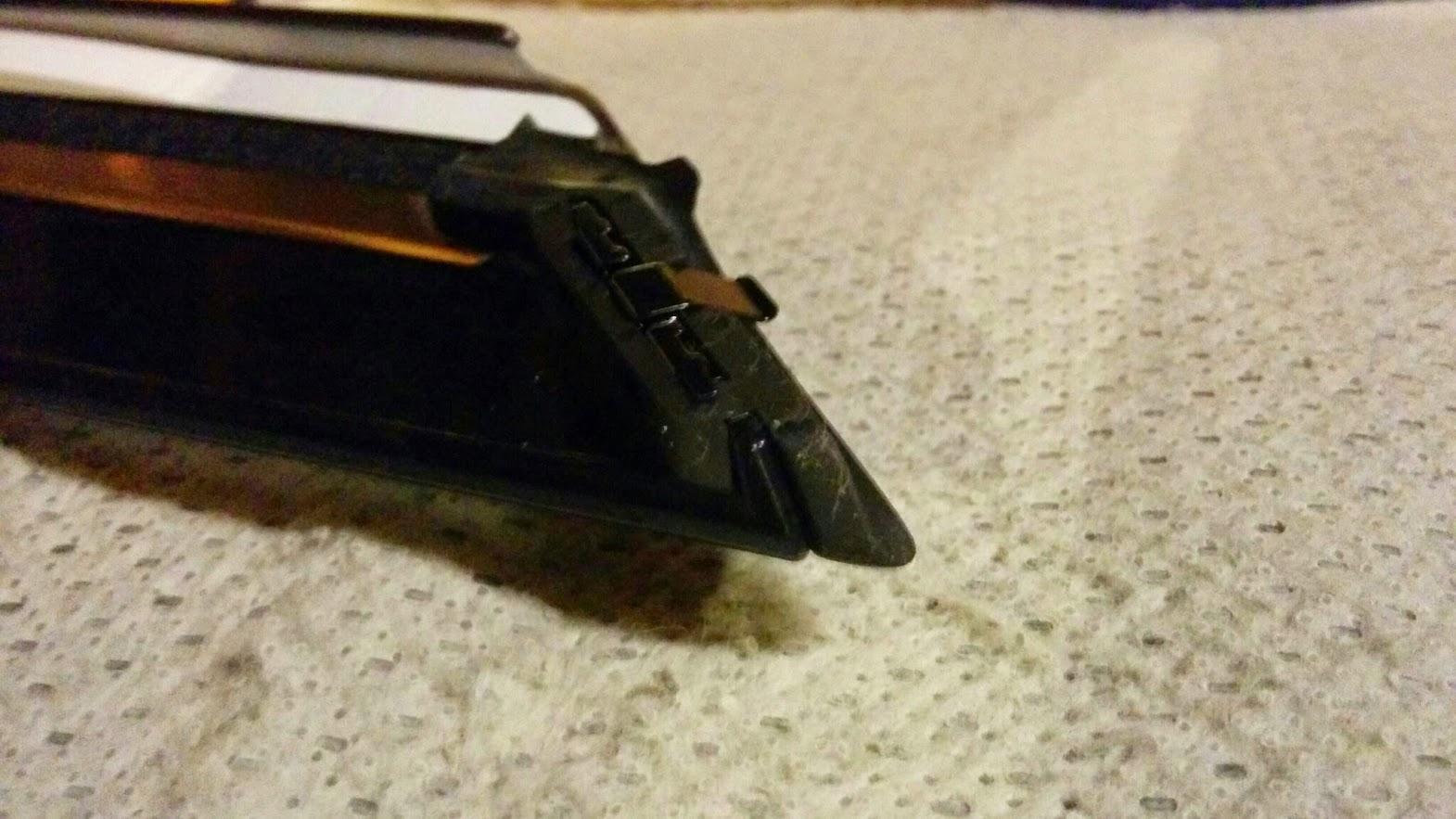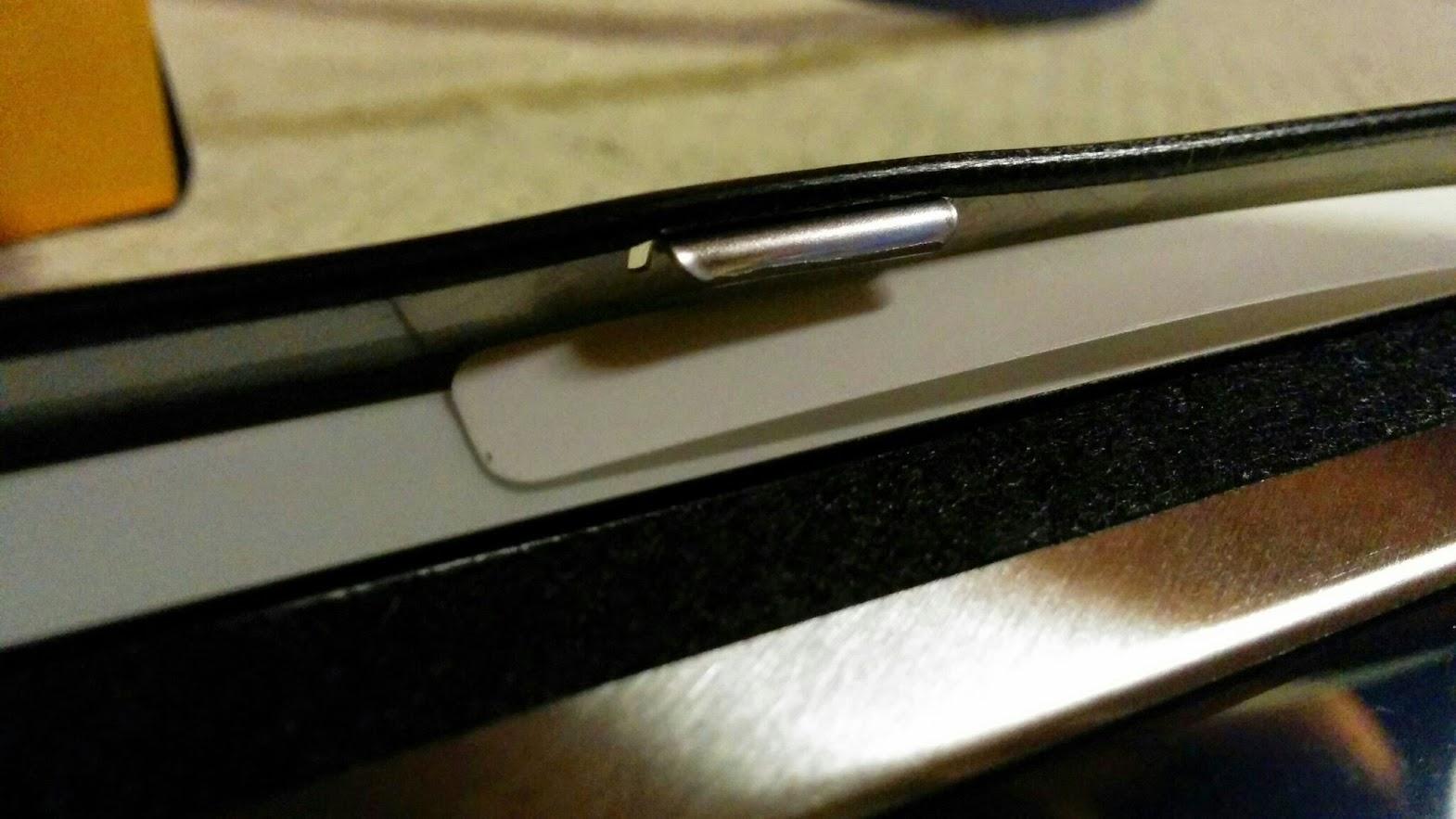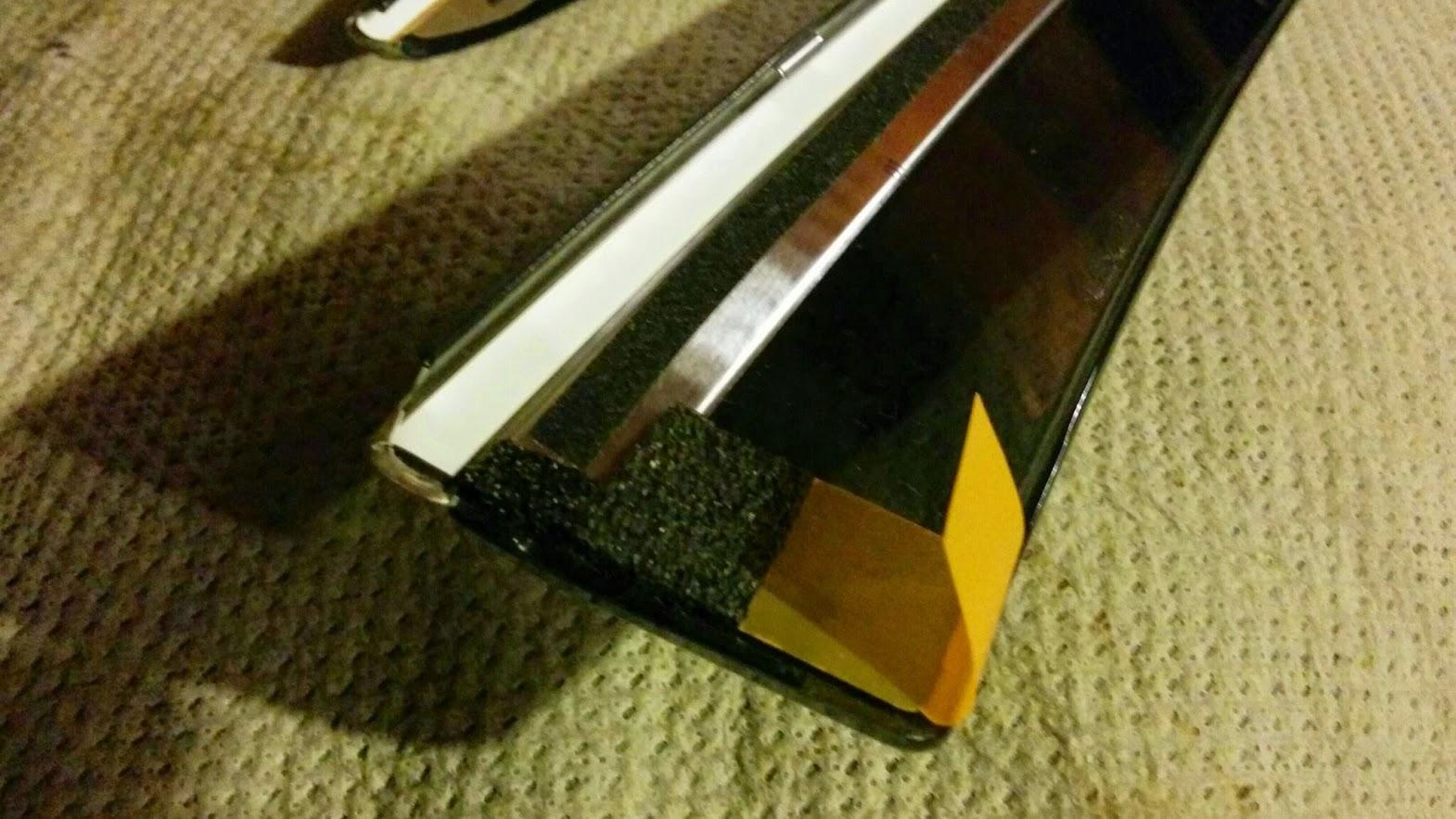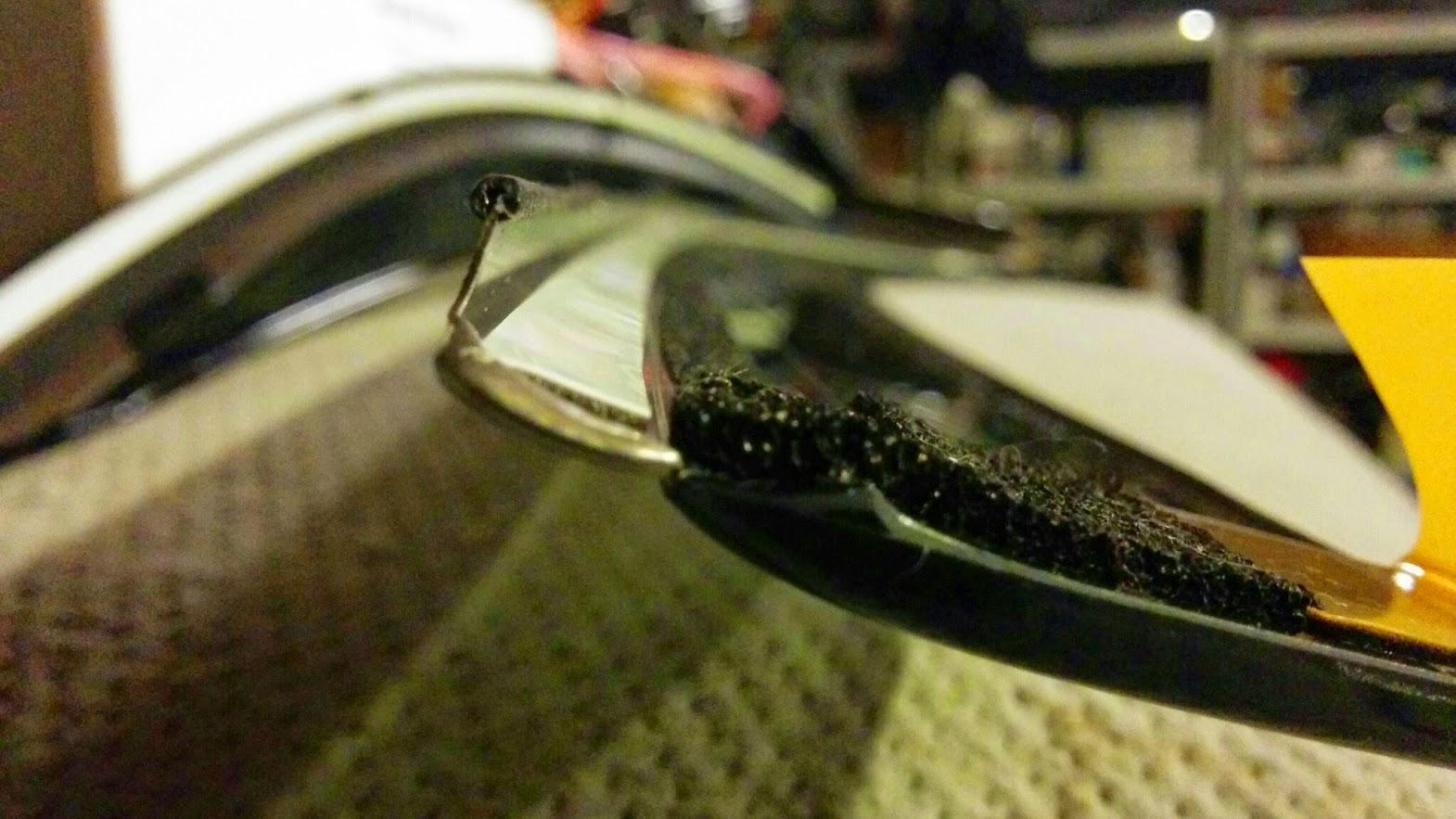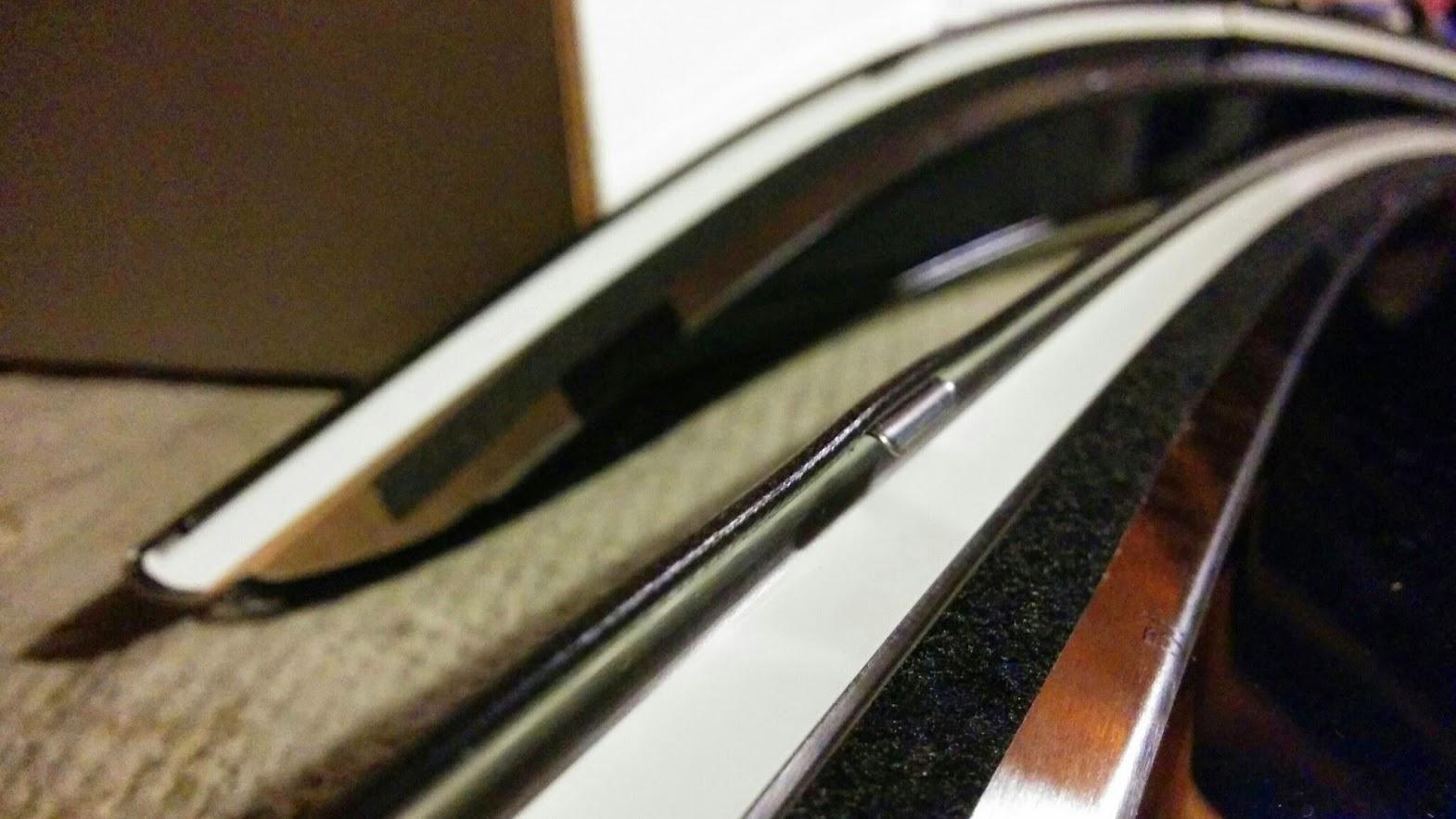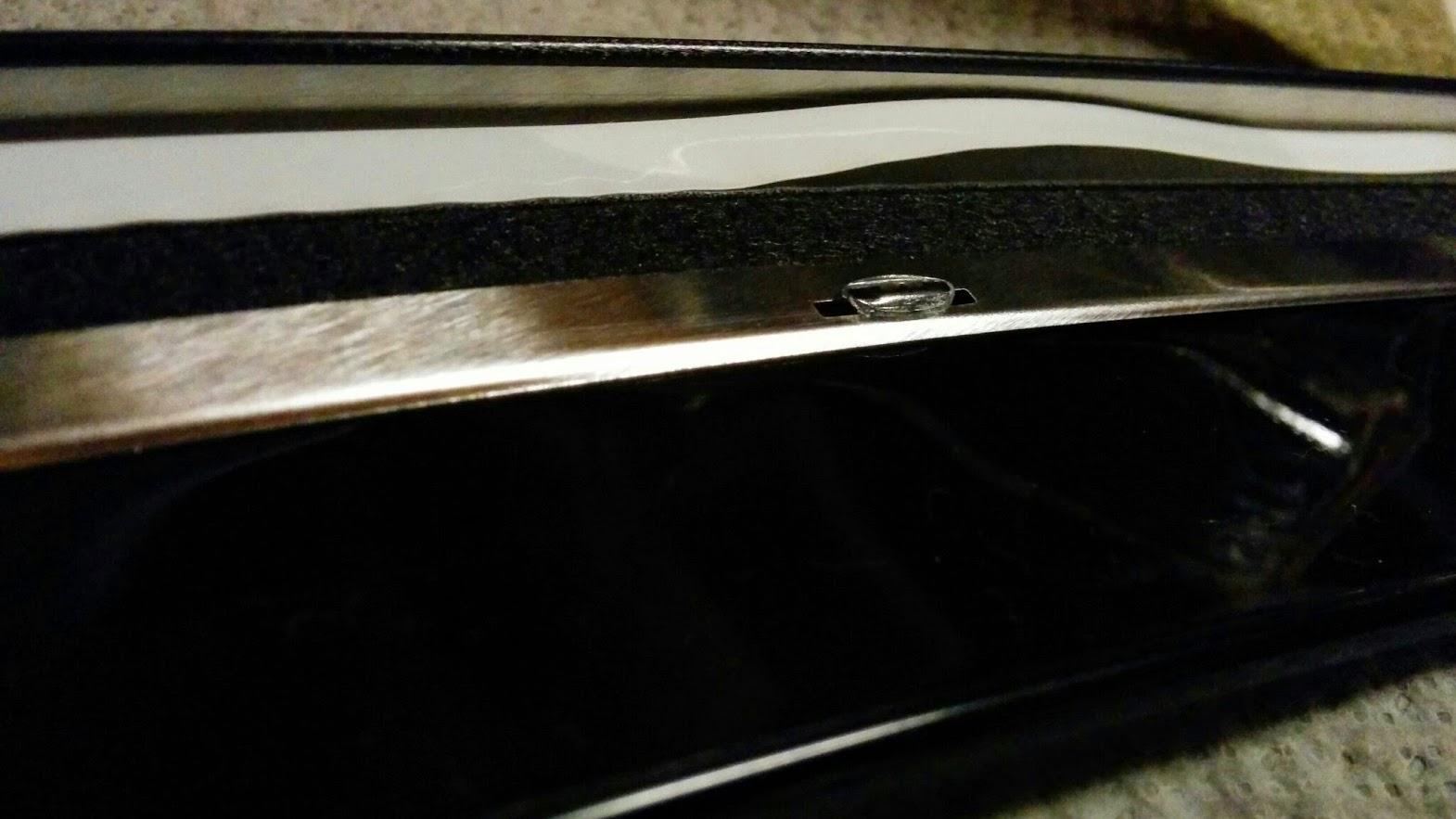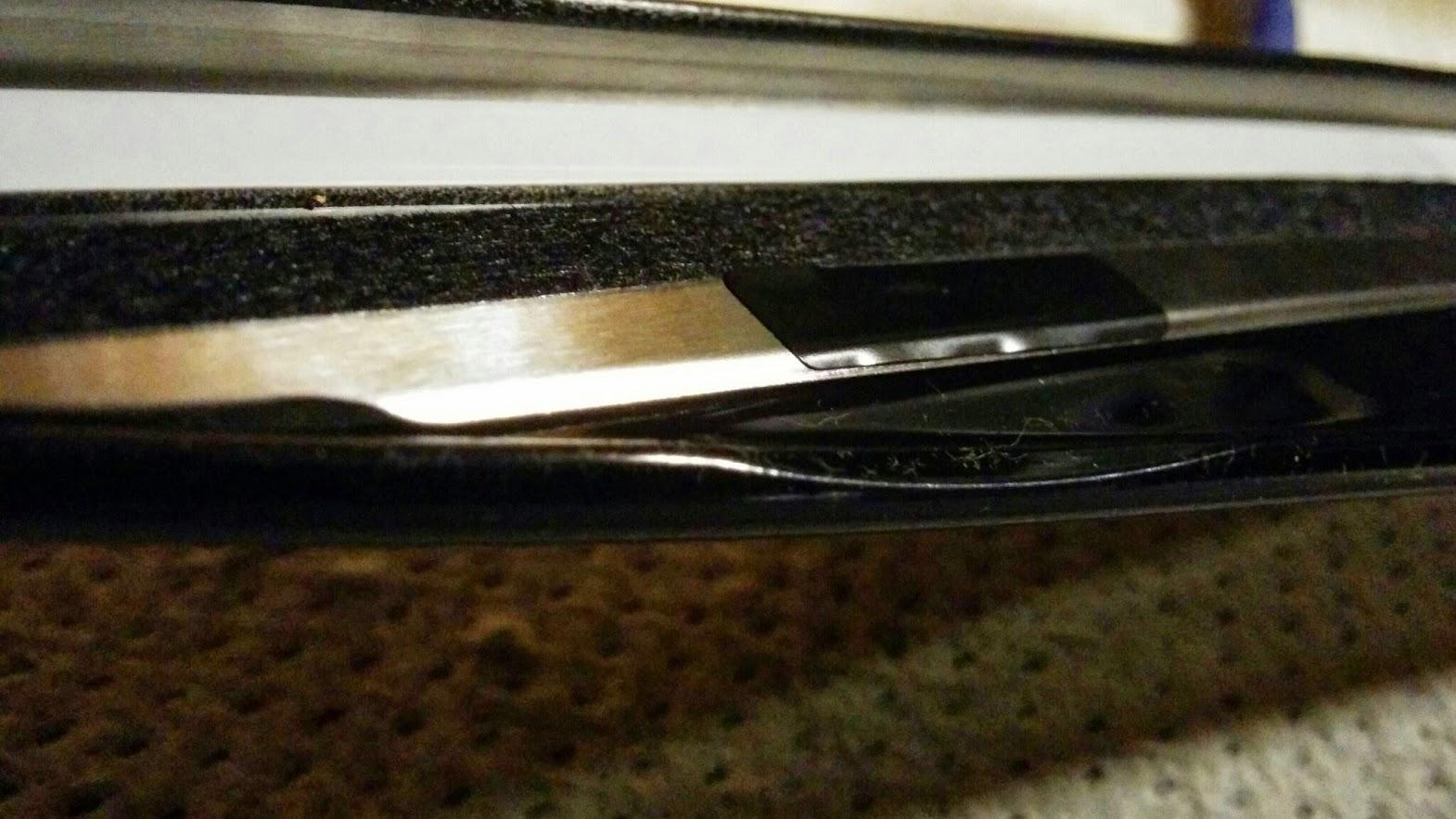 installed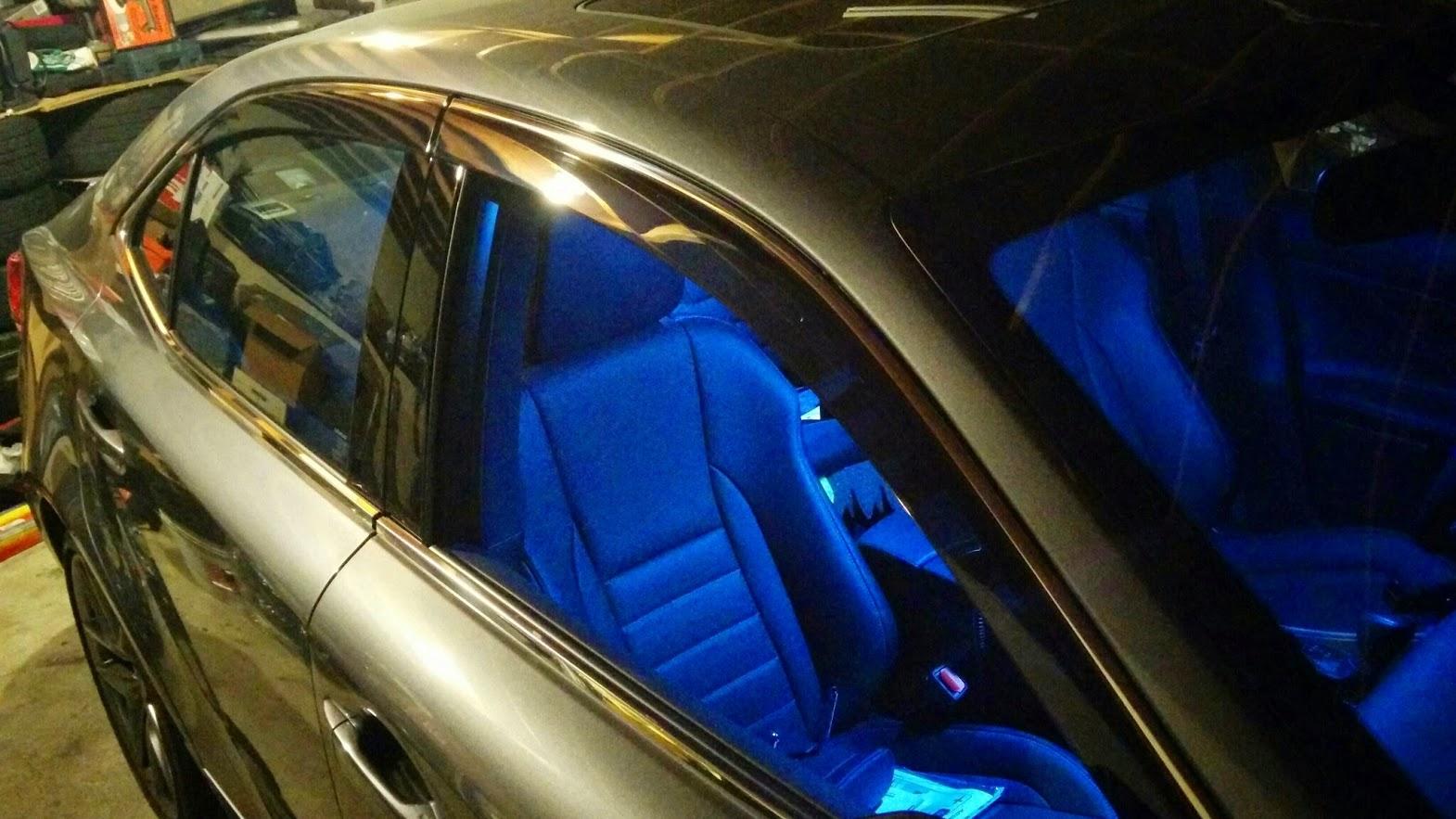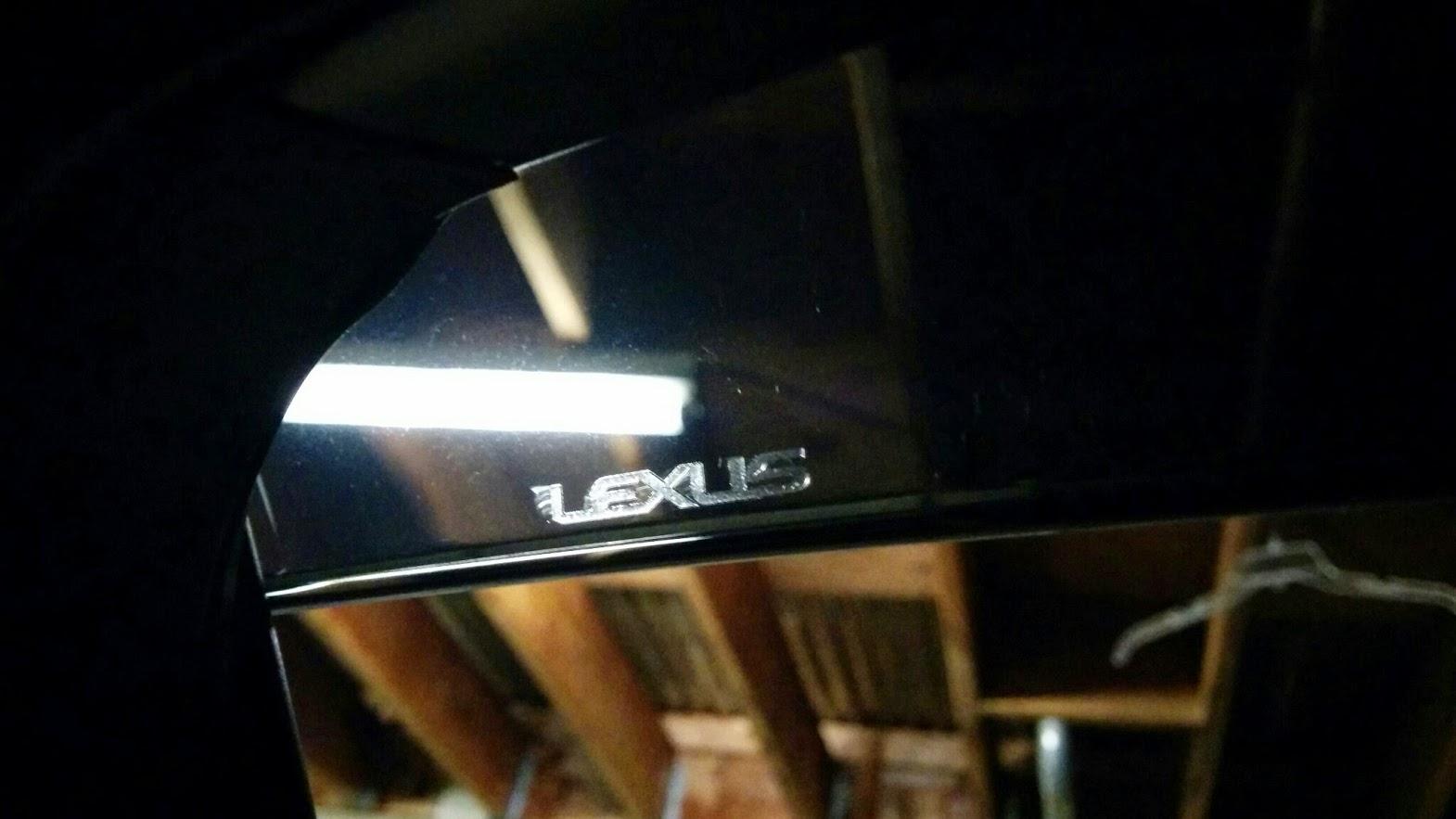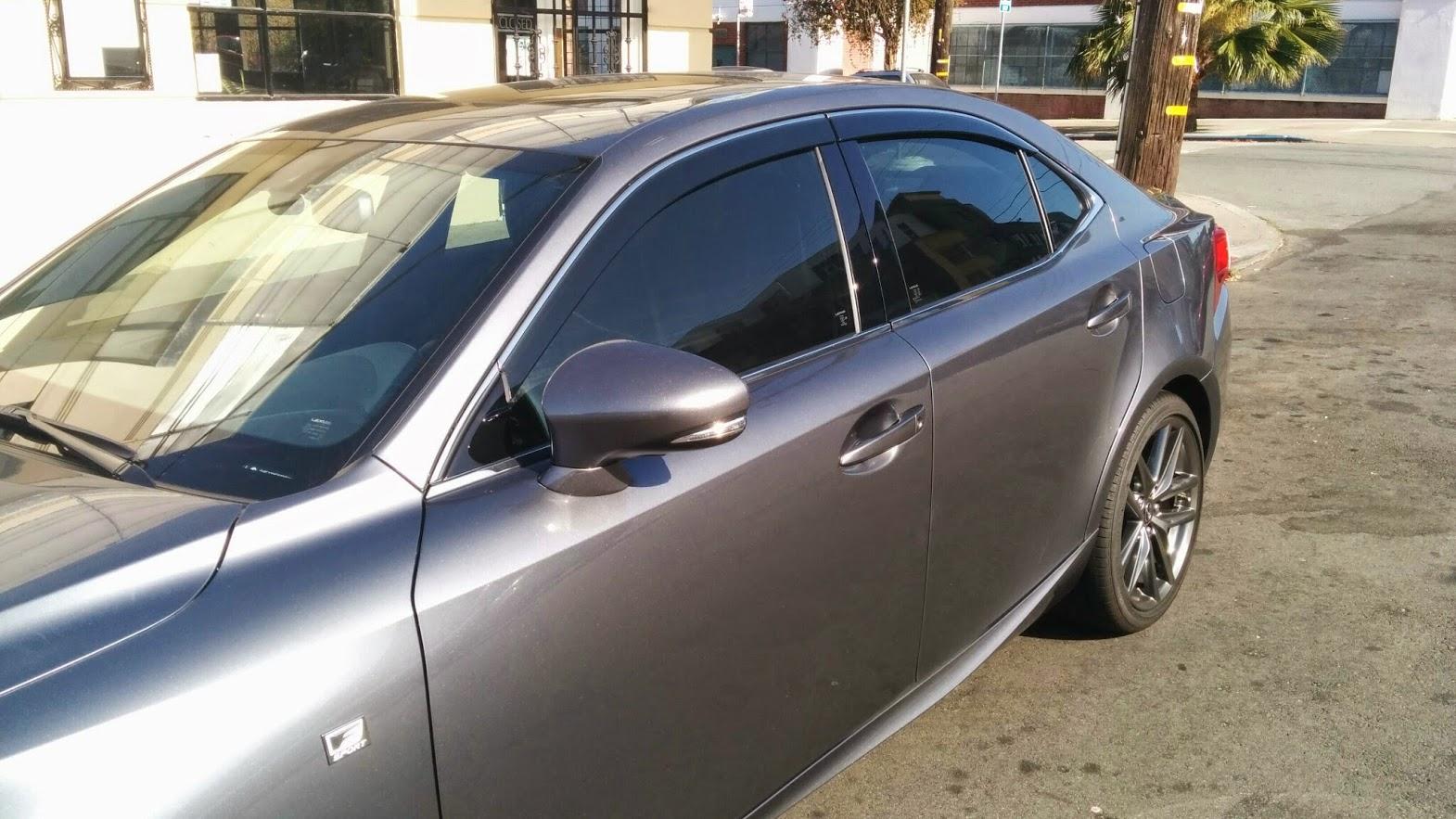 my old car paid a visit to meet the 3IS.

Friend owns it now.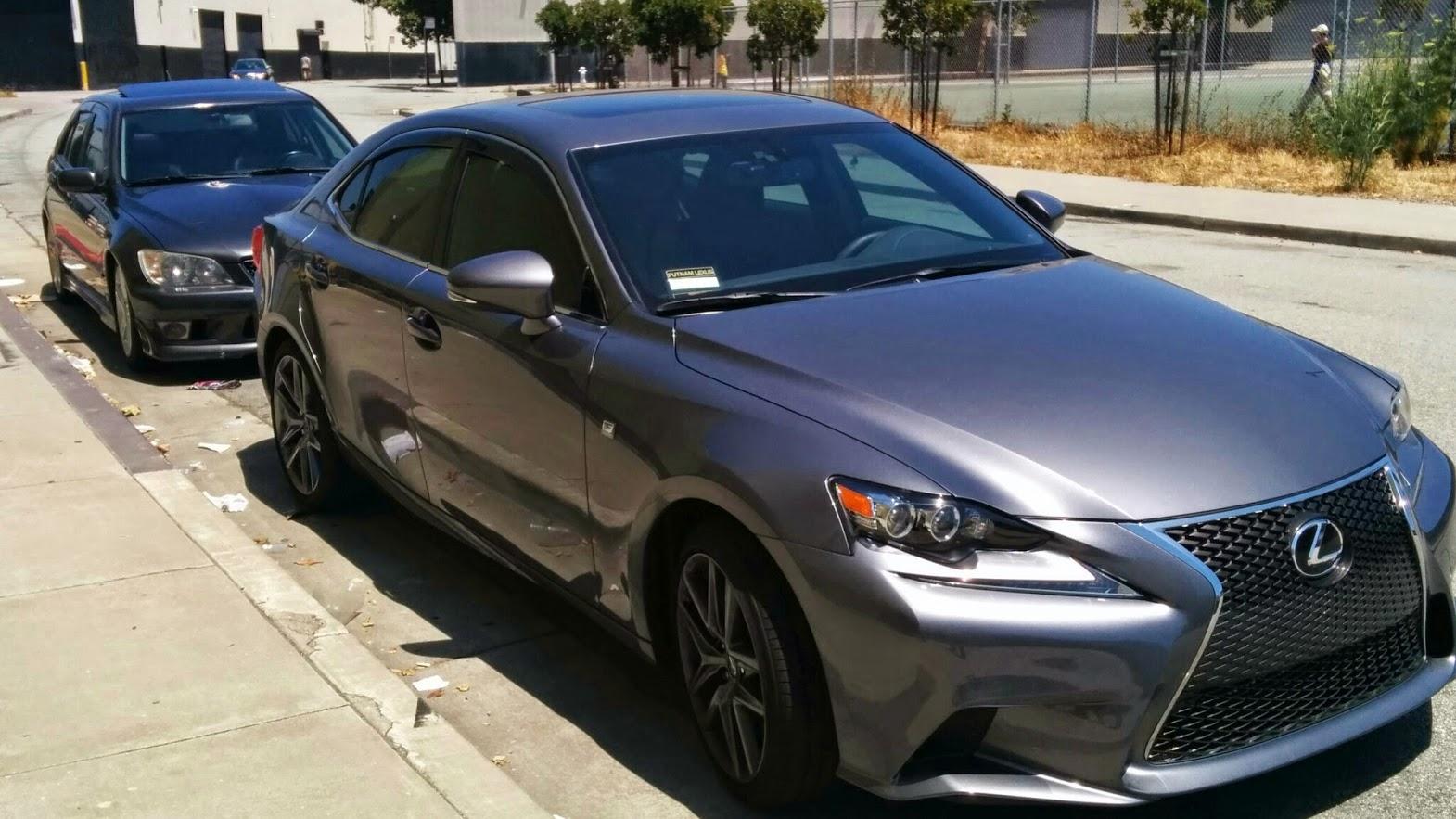 Some felt Tape to tape up the metal so there will be no metal on Metal contact.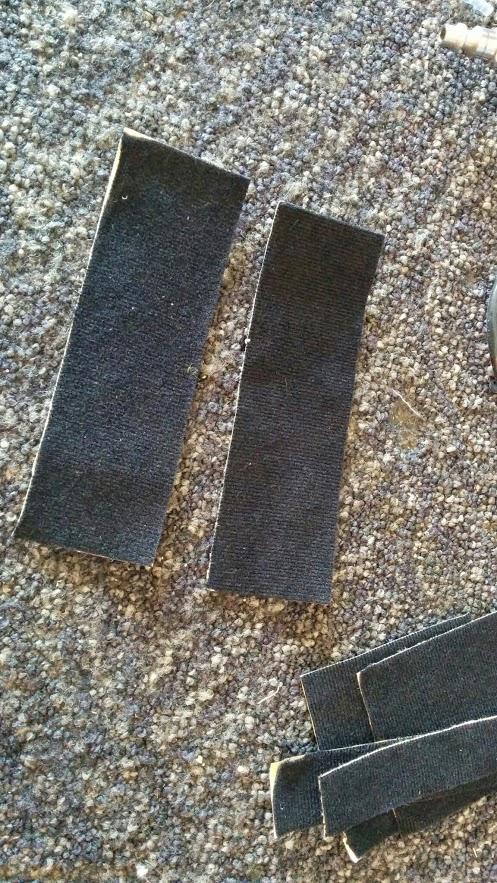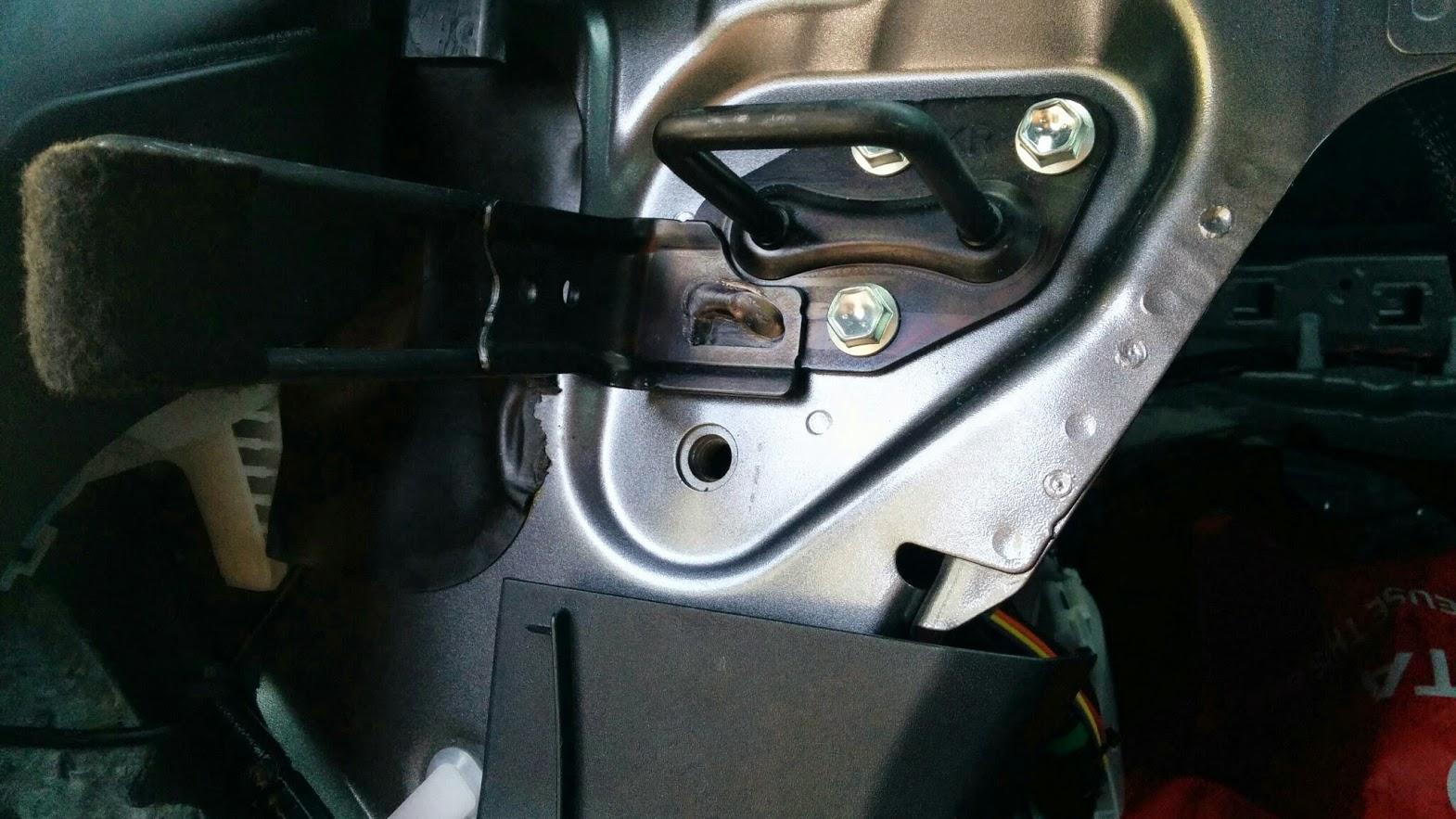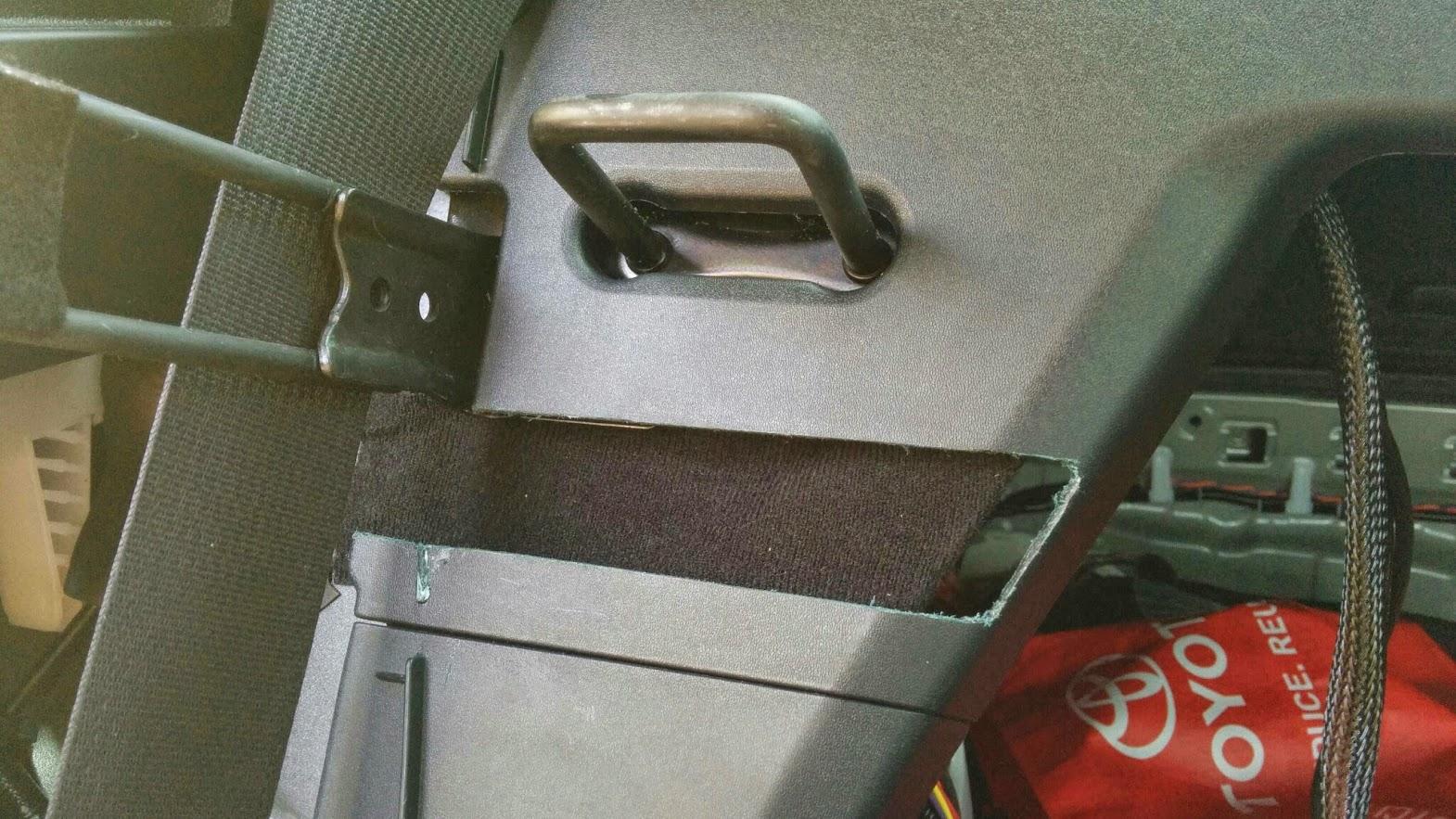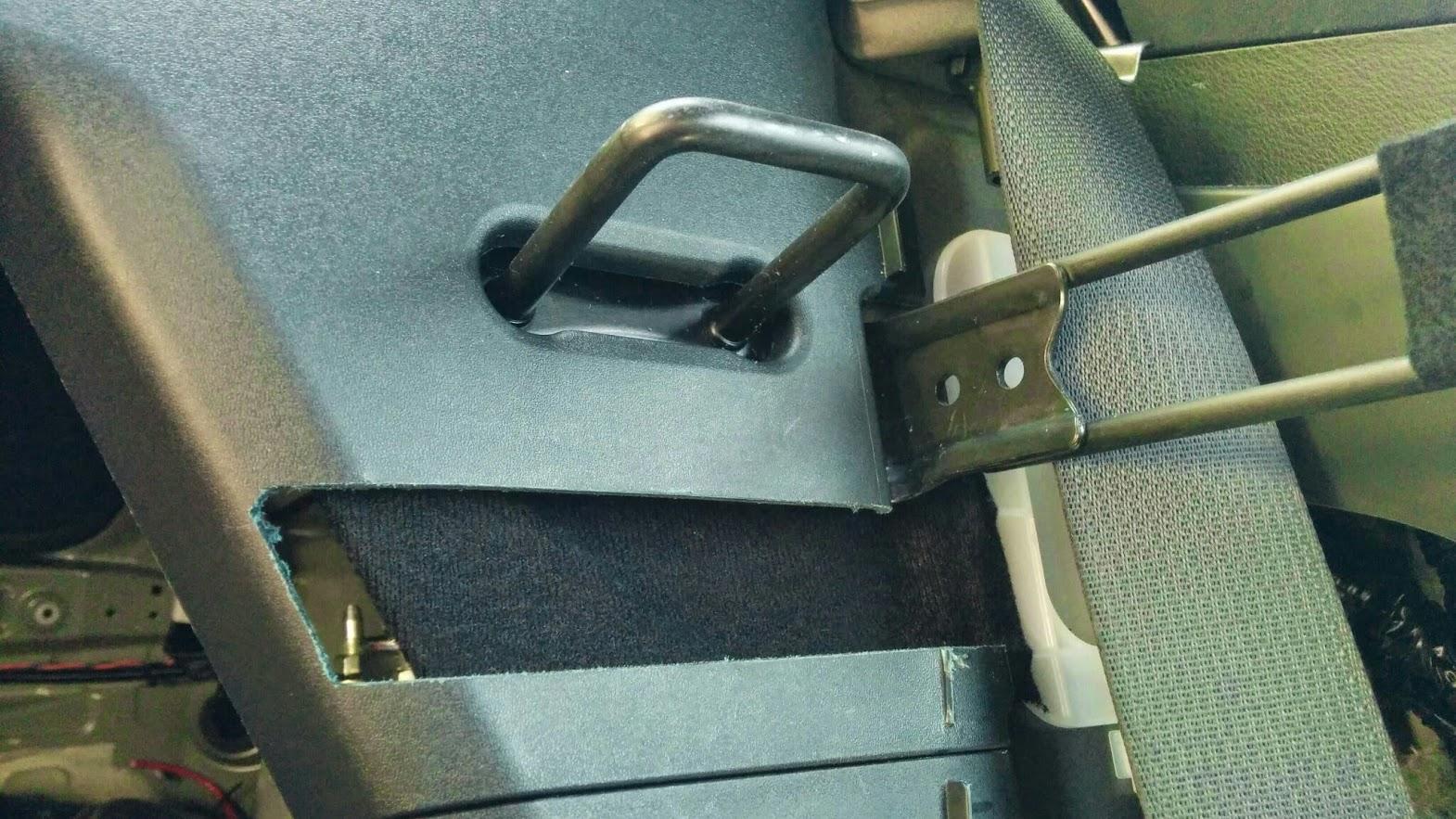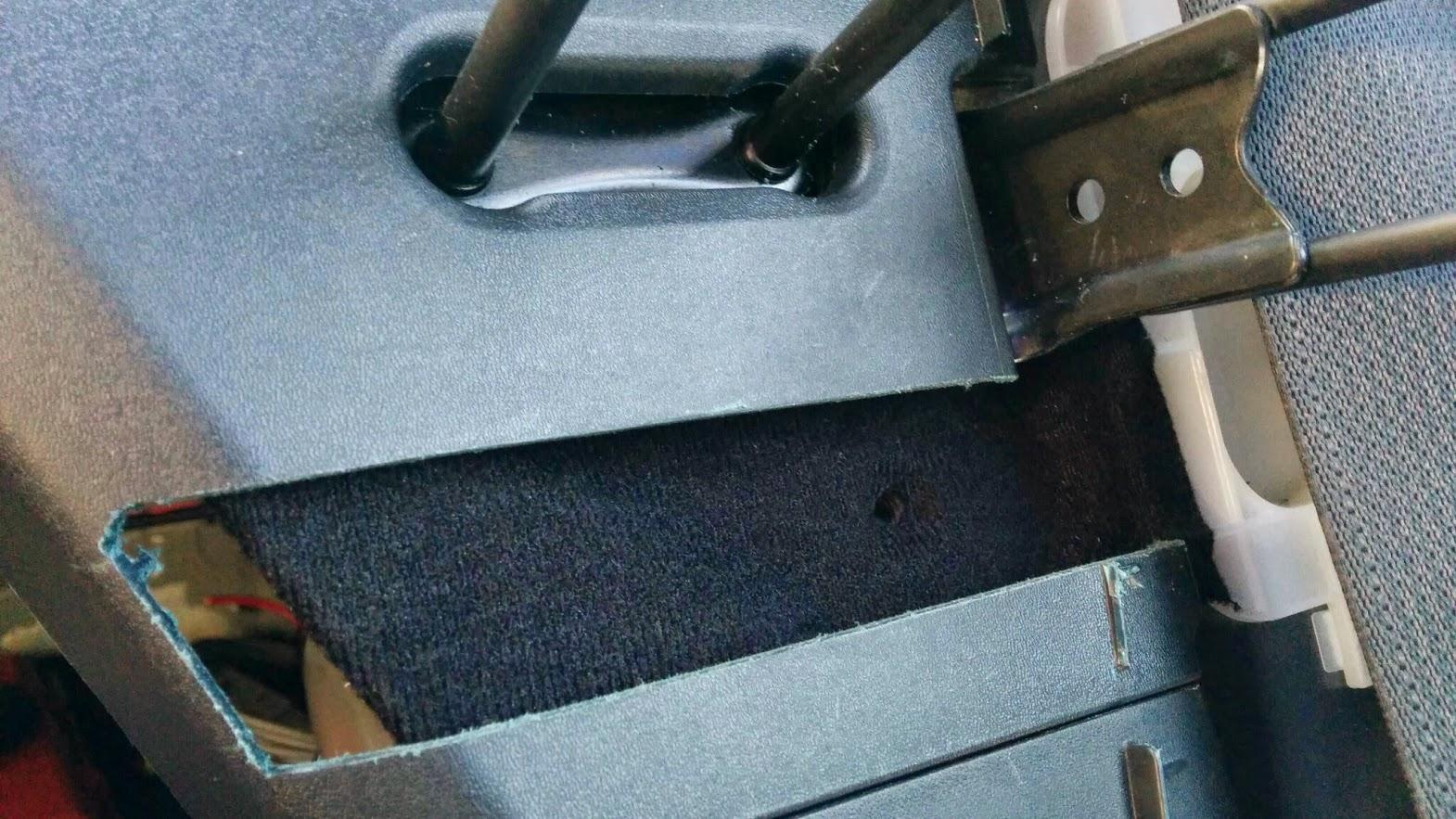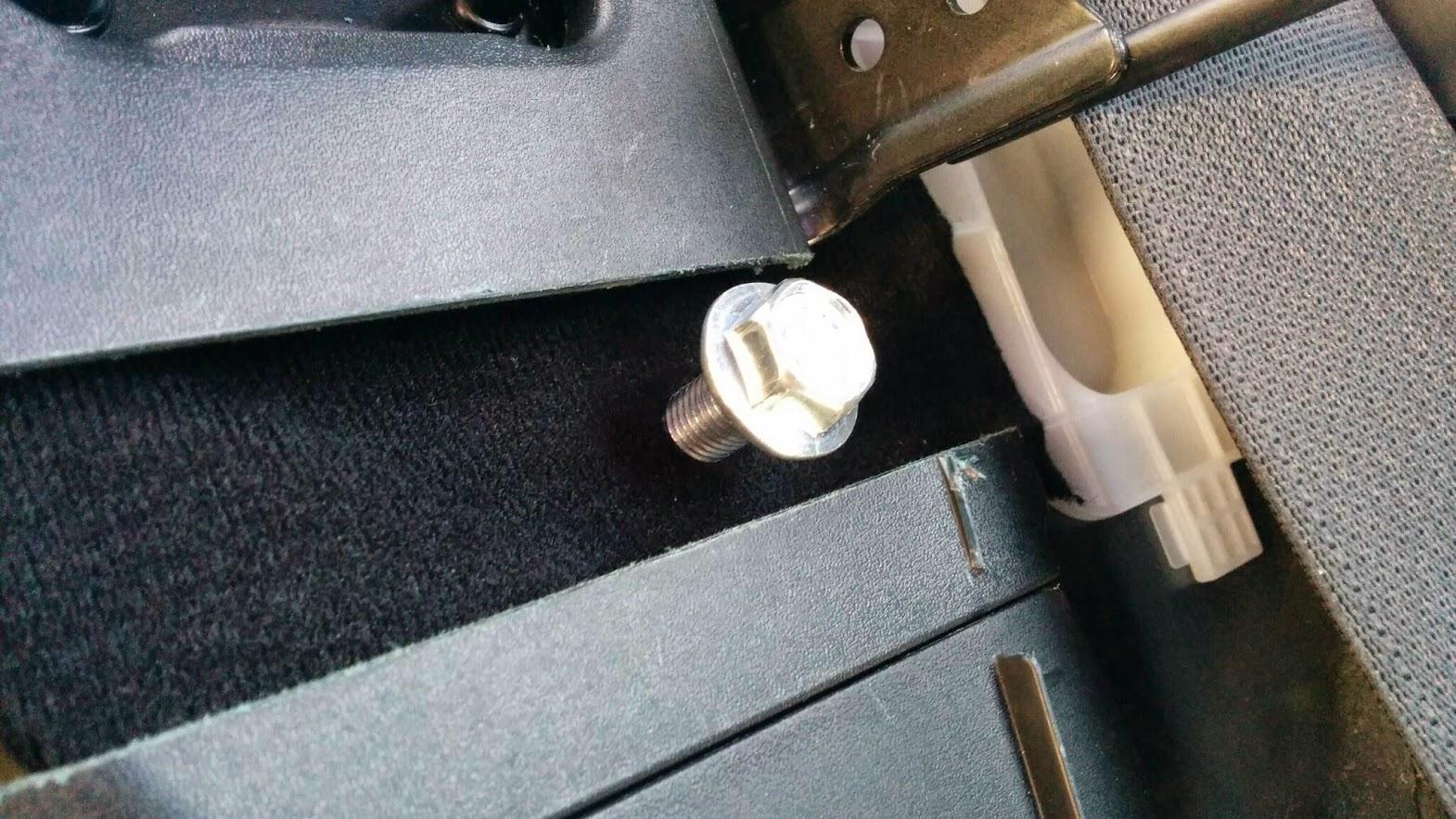 powdercoat parts should come back sometime this week and it will be full steam ahead getting everything bolted down.
And here are teasers of the wheels that will be on the vehicle.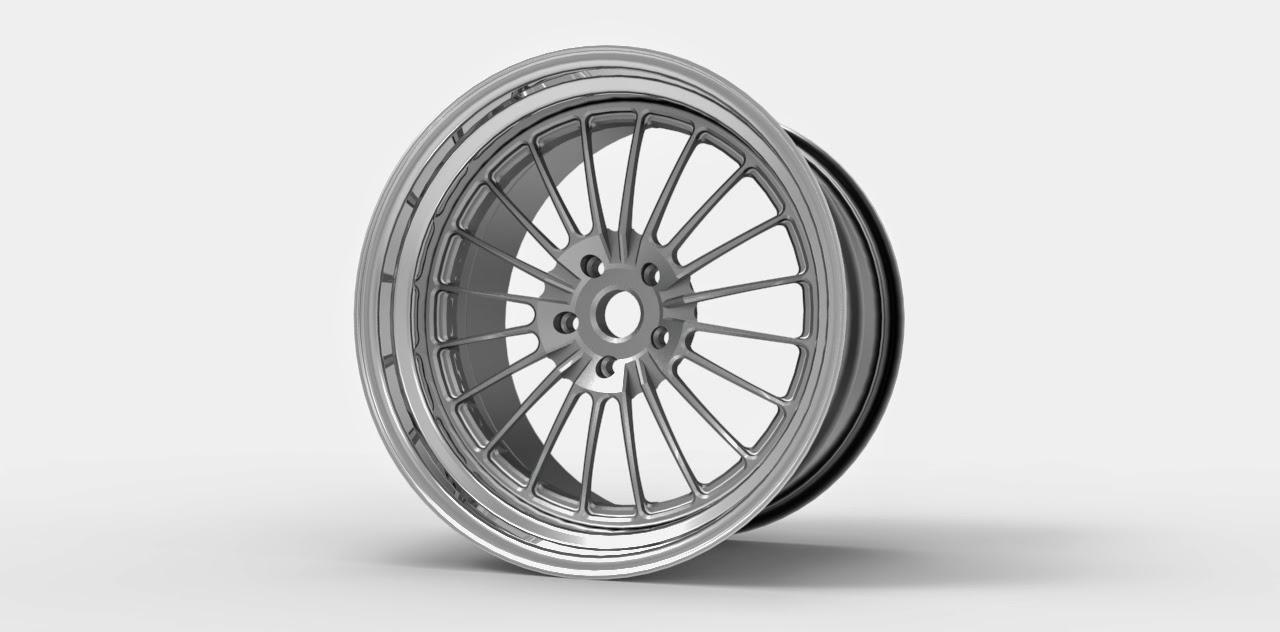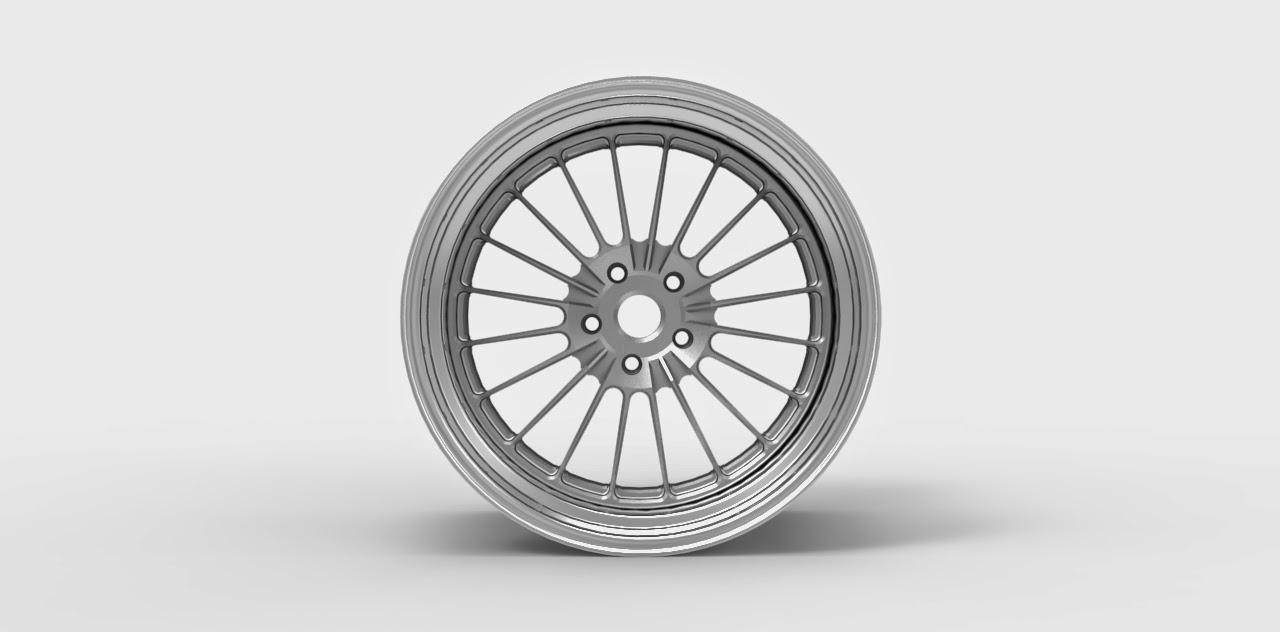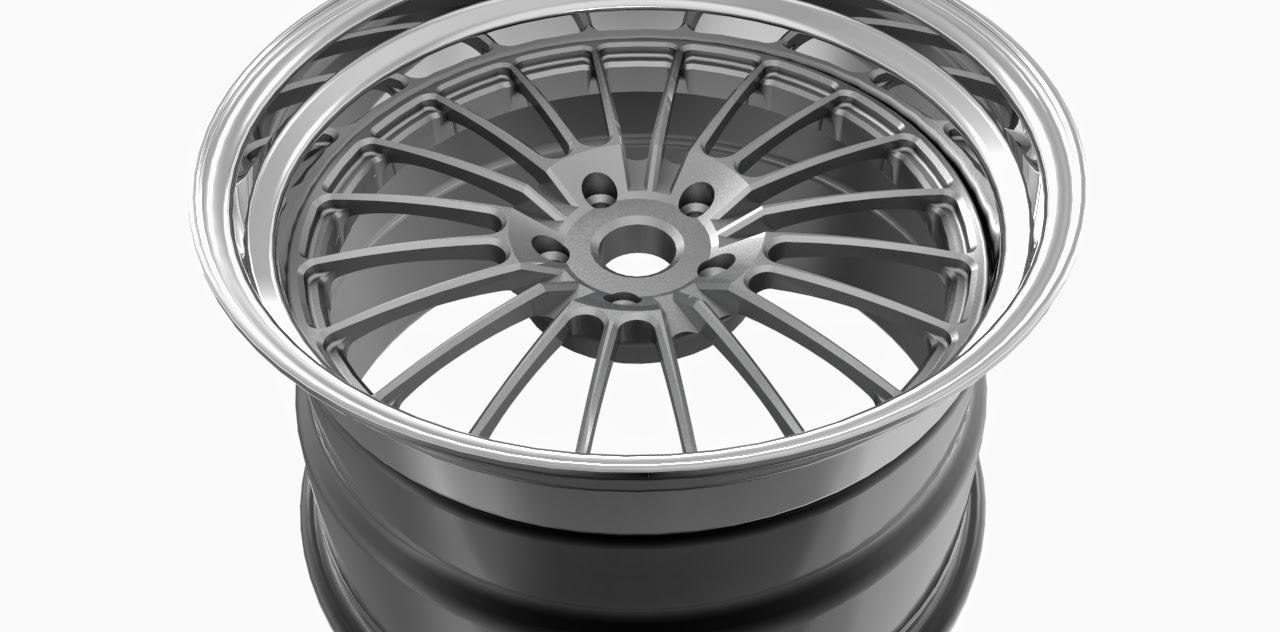 6-14-2014
Some new photos.
The bracket and tank back from powdercoating.
Brackets in krinkle black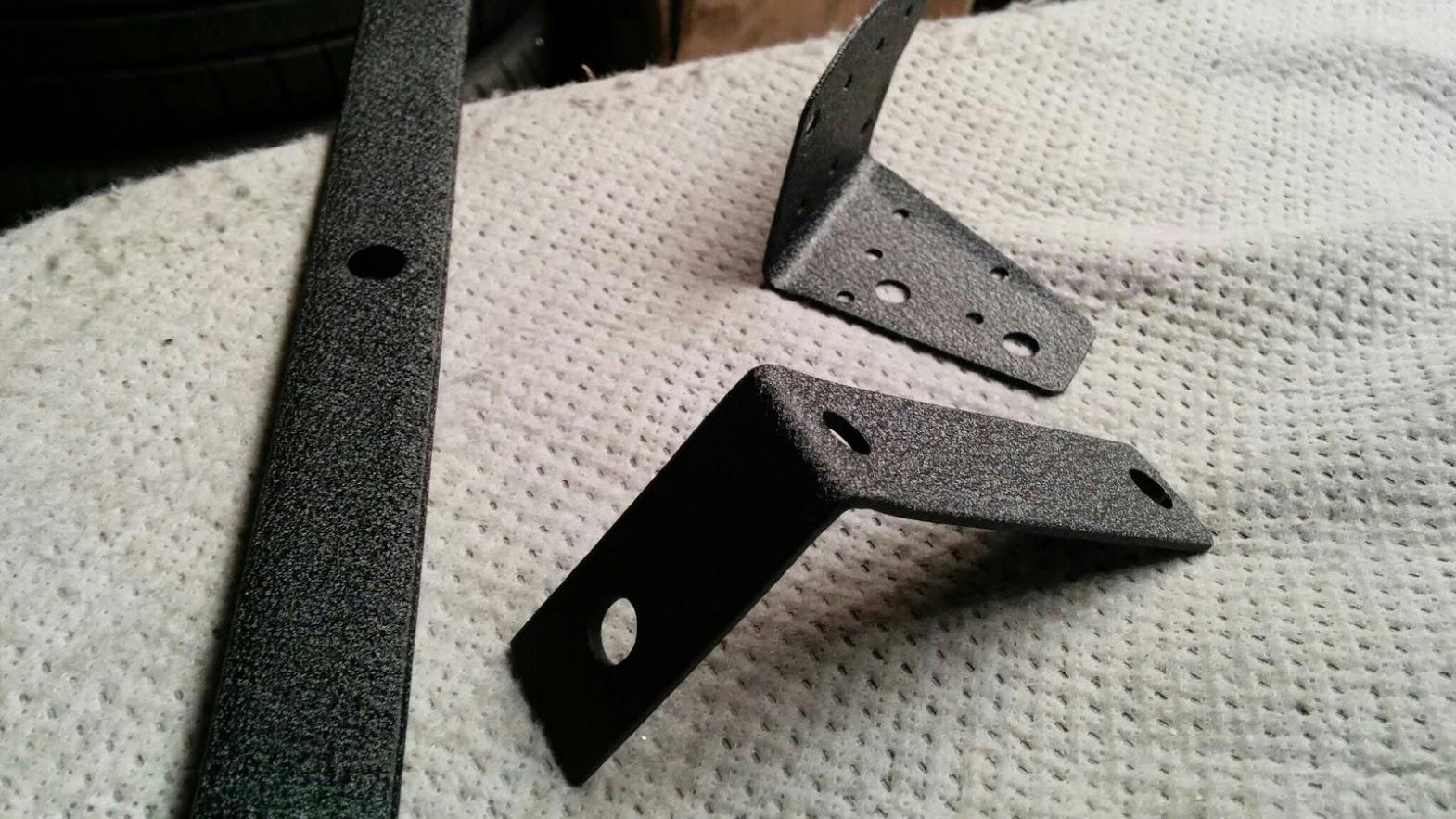 My Circuit breaker bracket matches well with the fuse cover.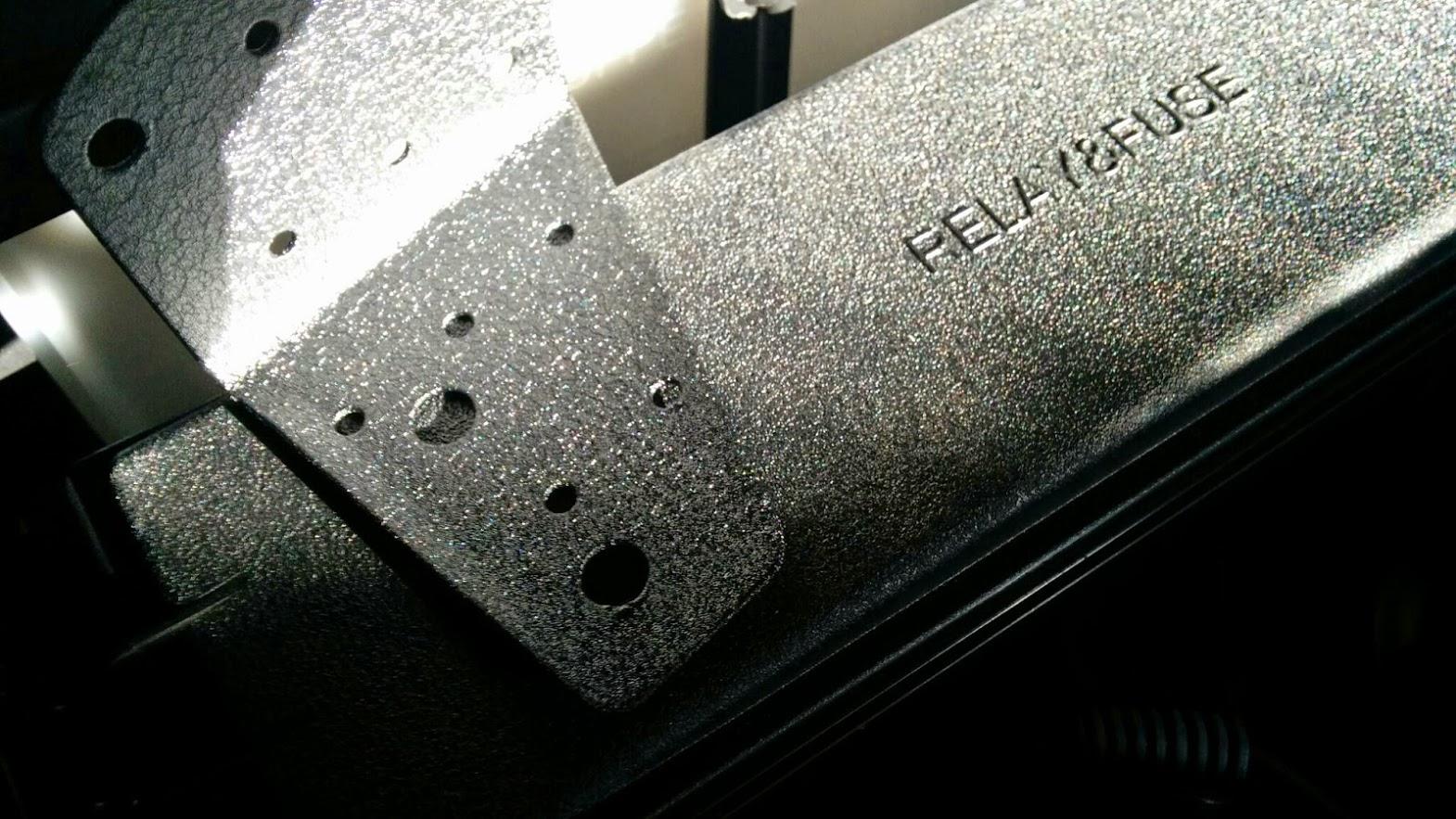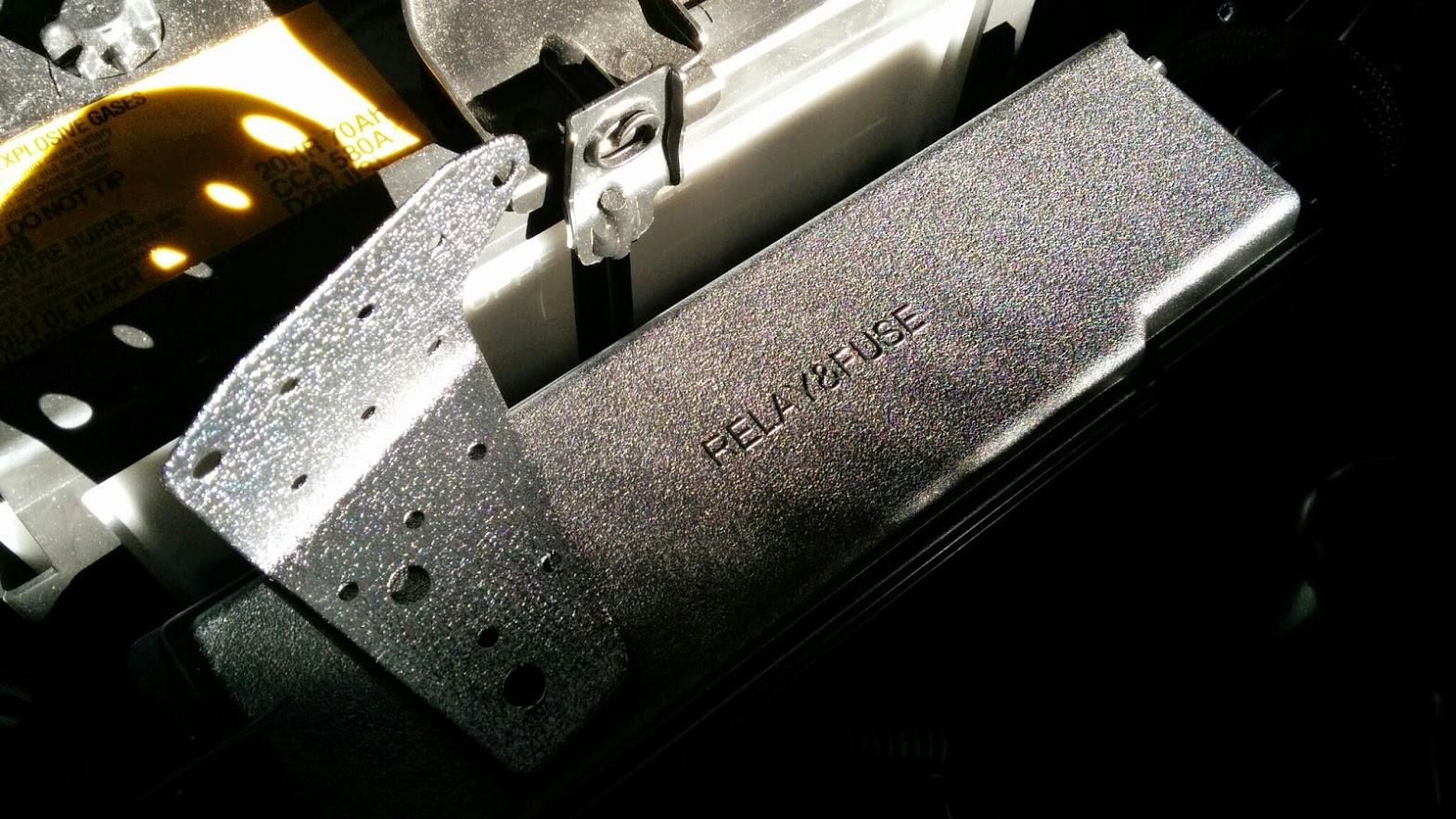 The tank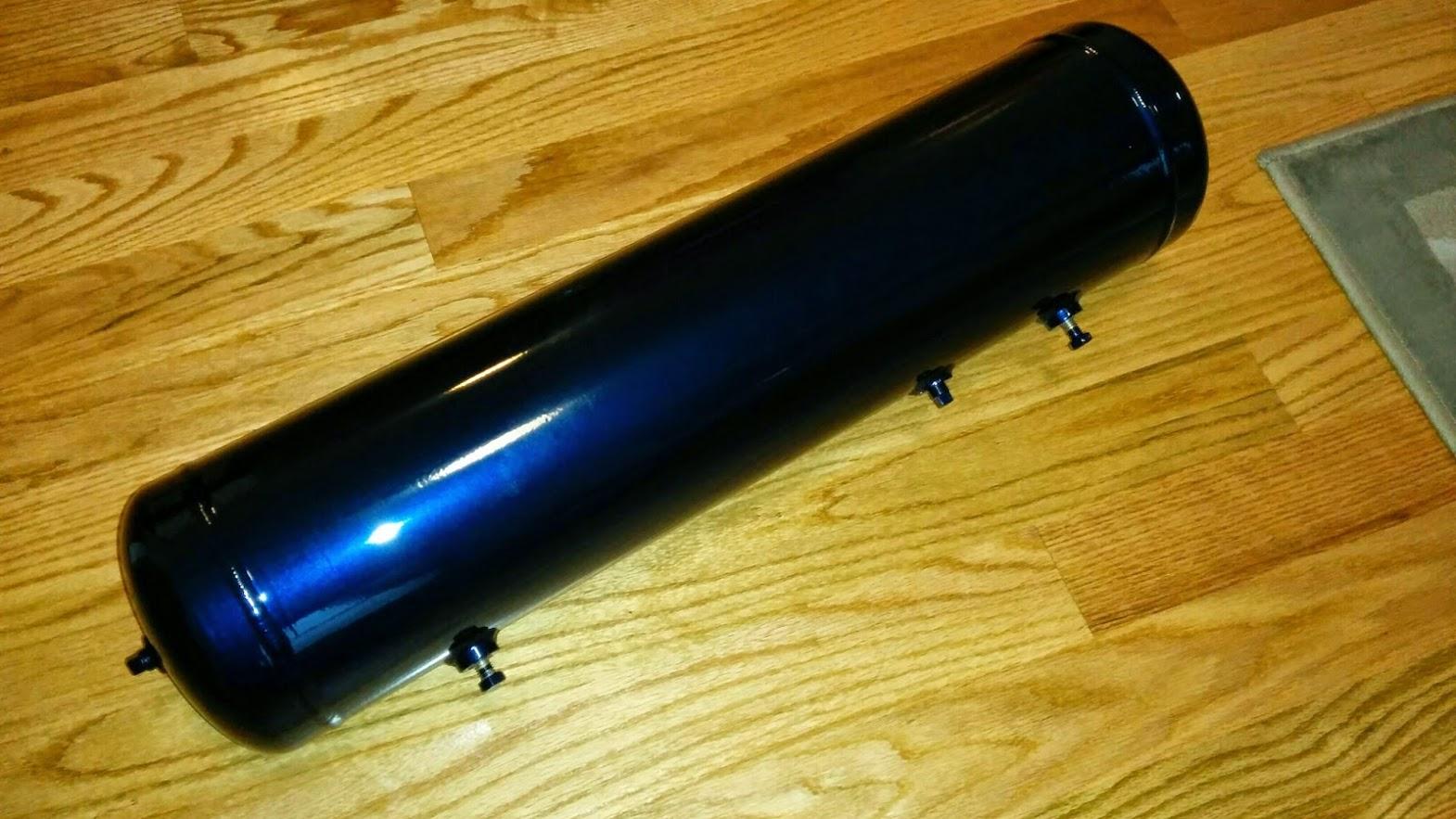 Center mount Bracket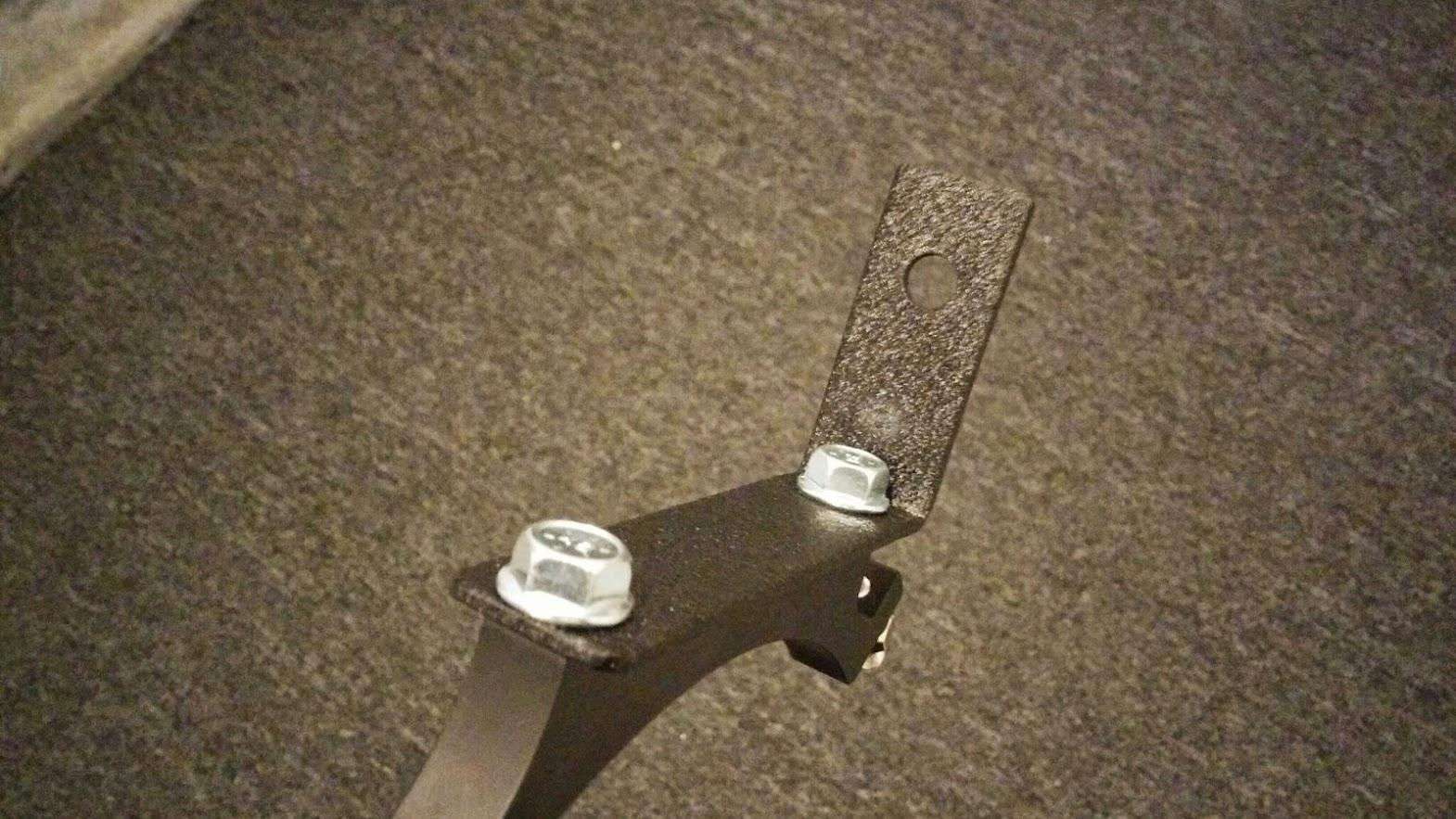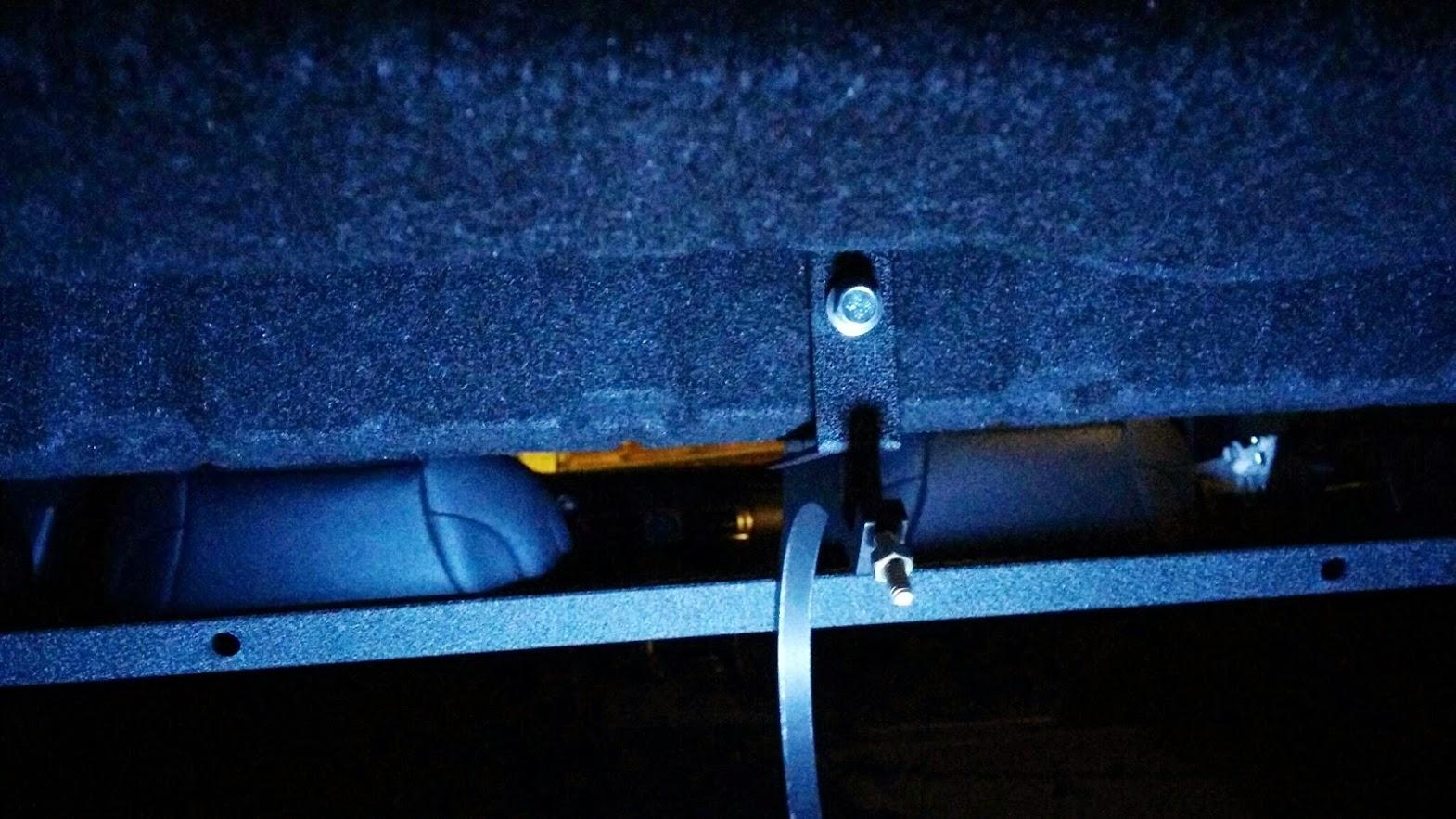 Tanks in to get the center exomount align right.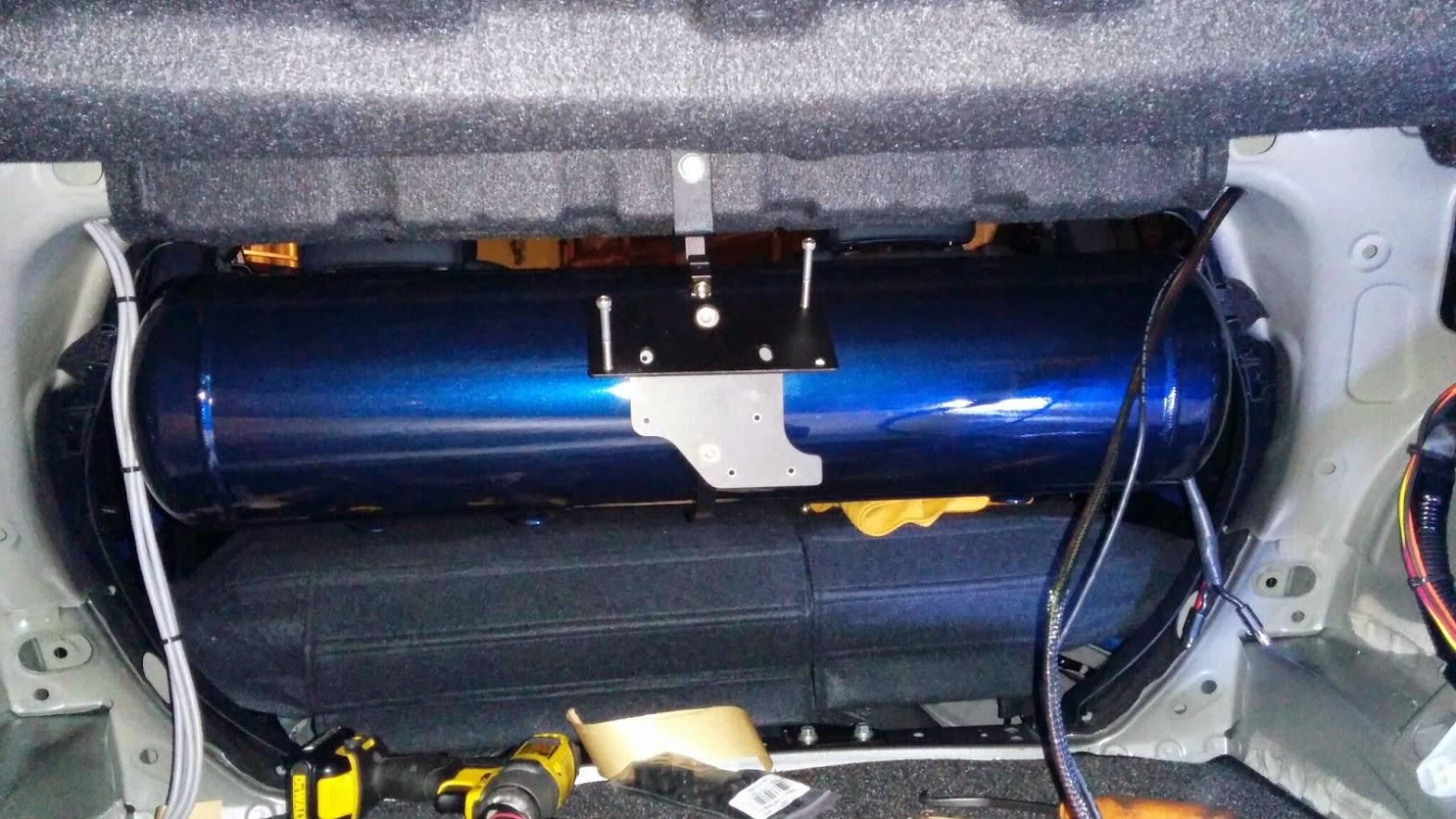 View from the rear seat side.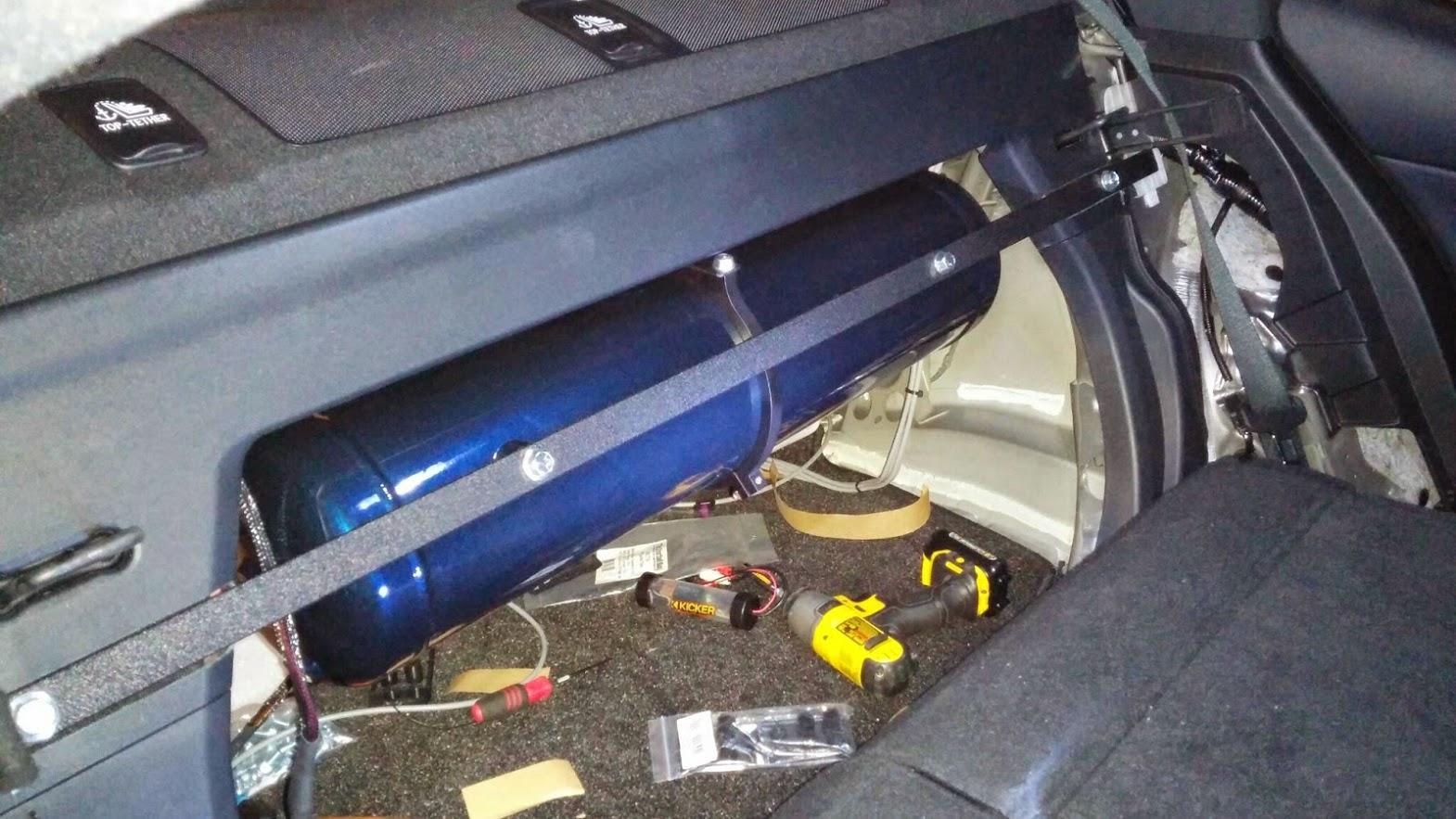 Will get started with the the rest tomorrow after running to hardware store to pick up some right angle fittings.
Cannot really follow Accuair's suggested diagram routing of the air hoses and lines due to the way I have the tank mounted. Right now the pressure switch will be mounted all the way at the bottom of the tank if I follow what they say, afraid of water collecting at the bottom and rusting it out. Will try to relocate this to the side of the tank with an adapter fitting.
6-22-2014
Almost ready to mount in the car. Just waiting on air pressure gauge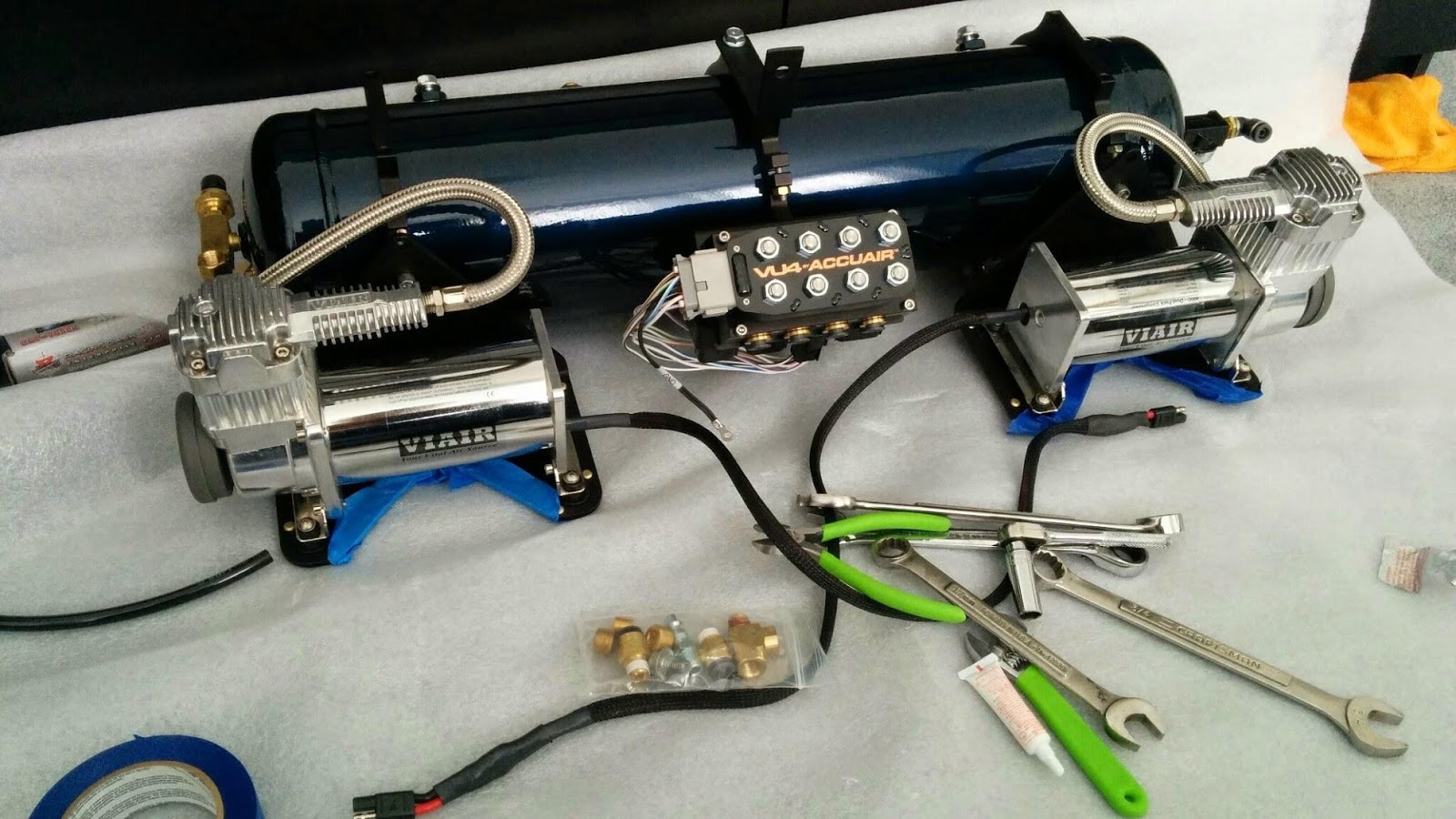 7-5-2014
made some progress over the last couple of weeks.
Mocked up the exomount stuff,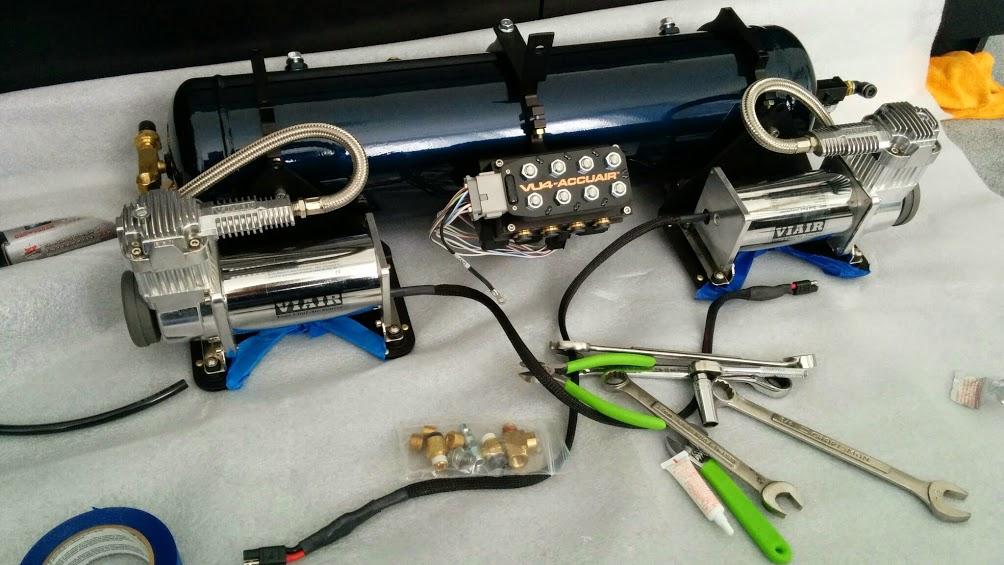 Finished up the Amp sub wiring for later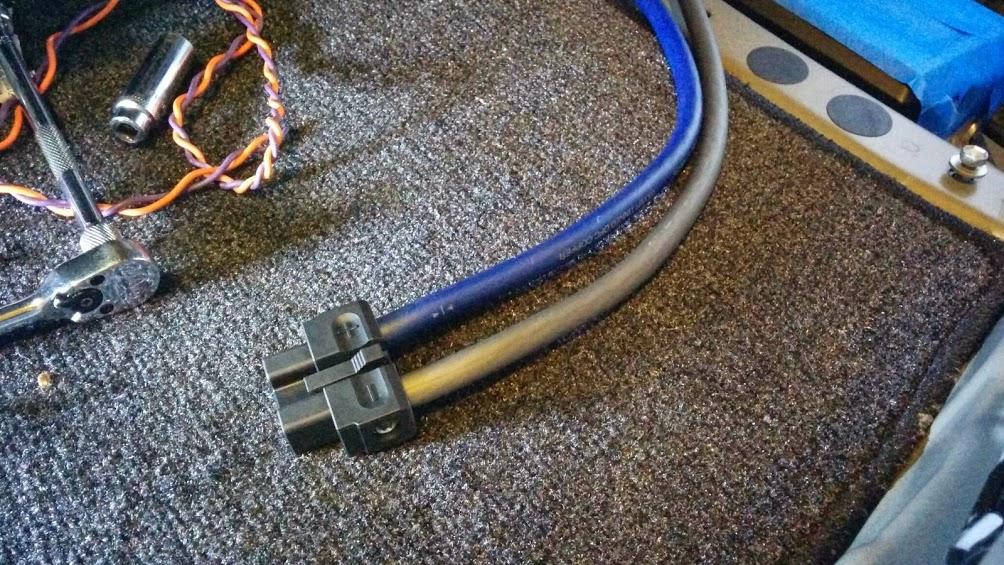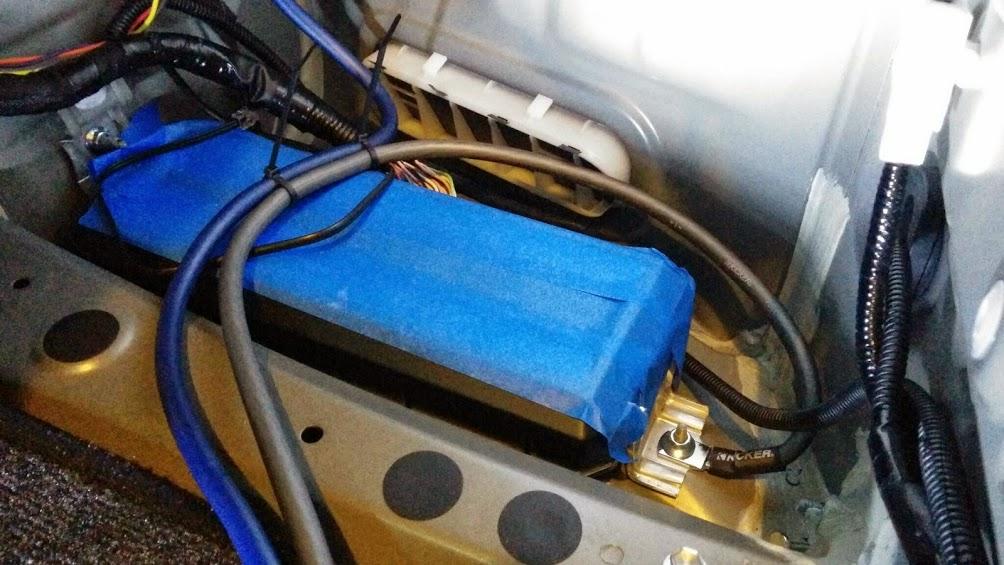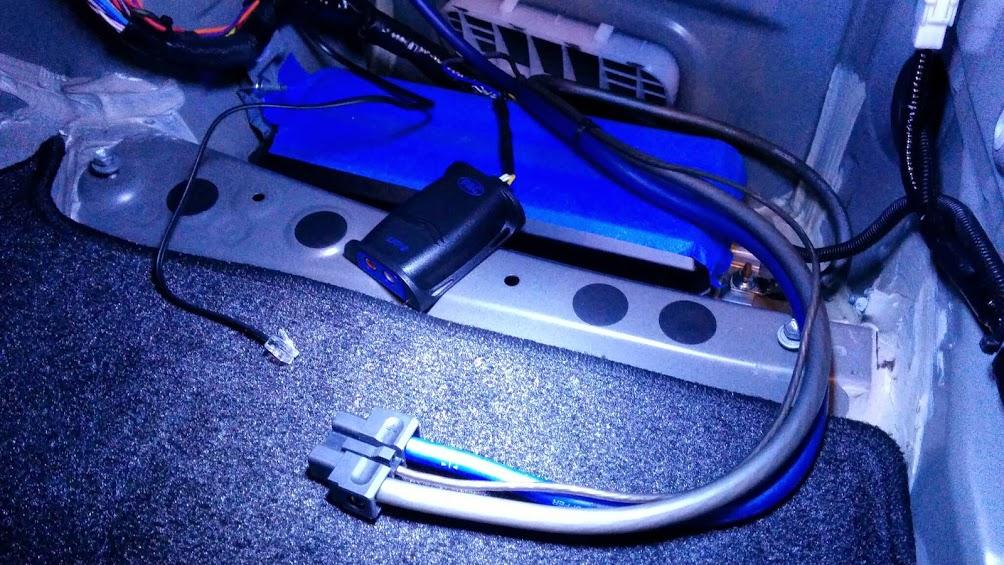 Test mounted the whole setup. Boy it was heavy!!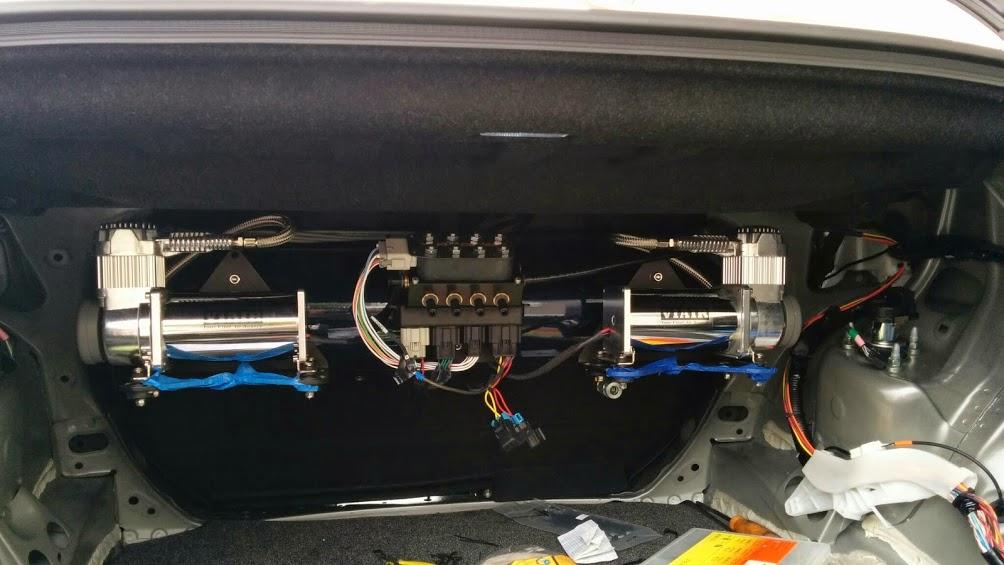 Tossed the quarter panels back in to get an idea how the trunk will look when done.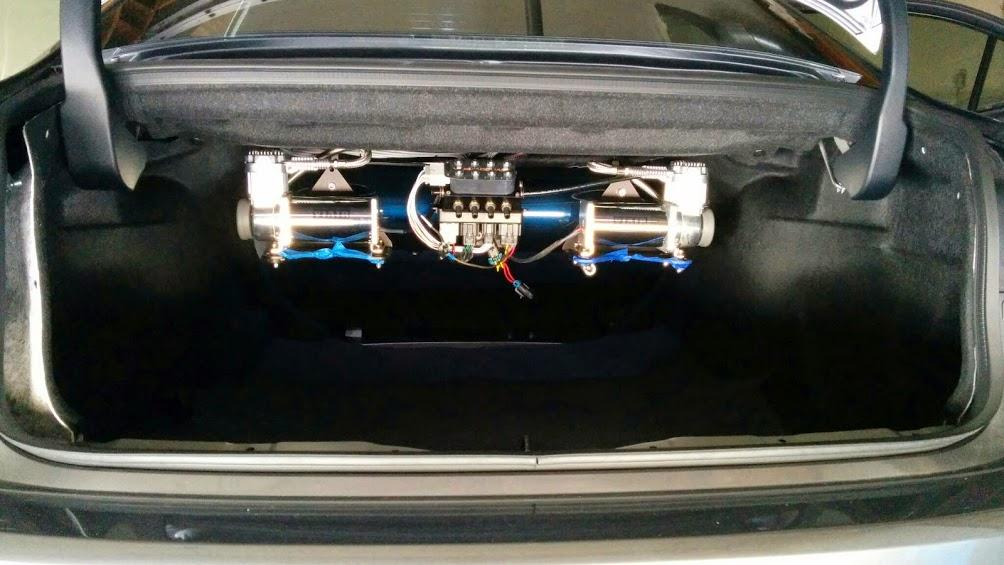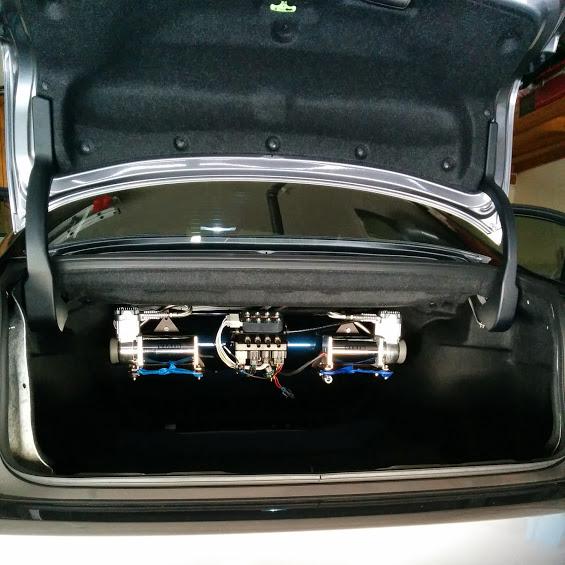 Installed BeatSonic Navi bypass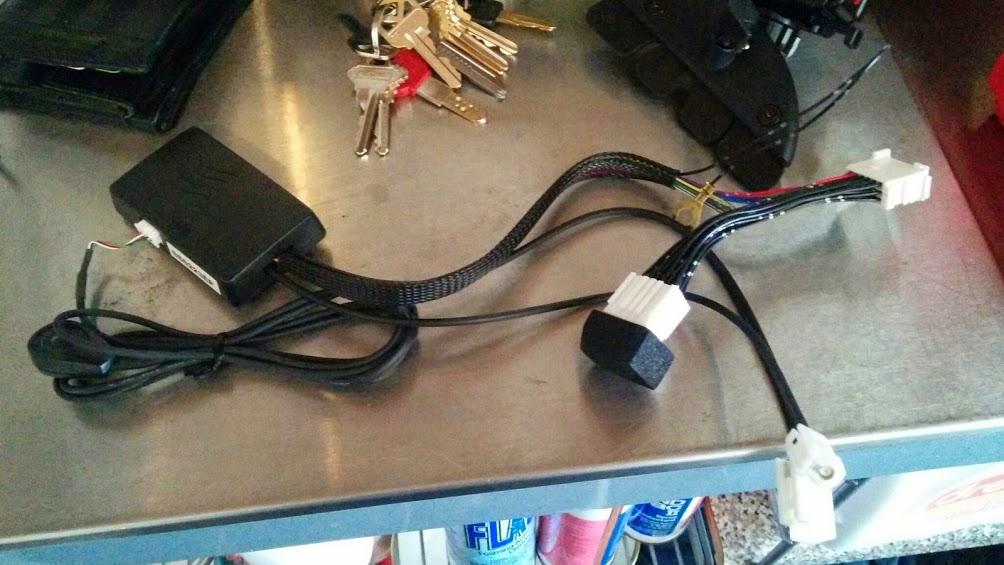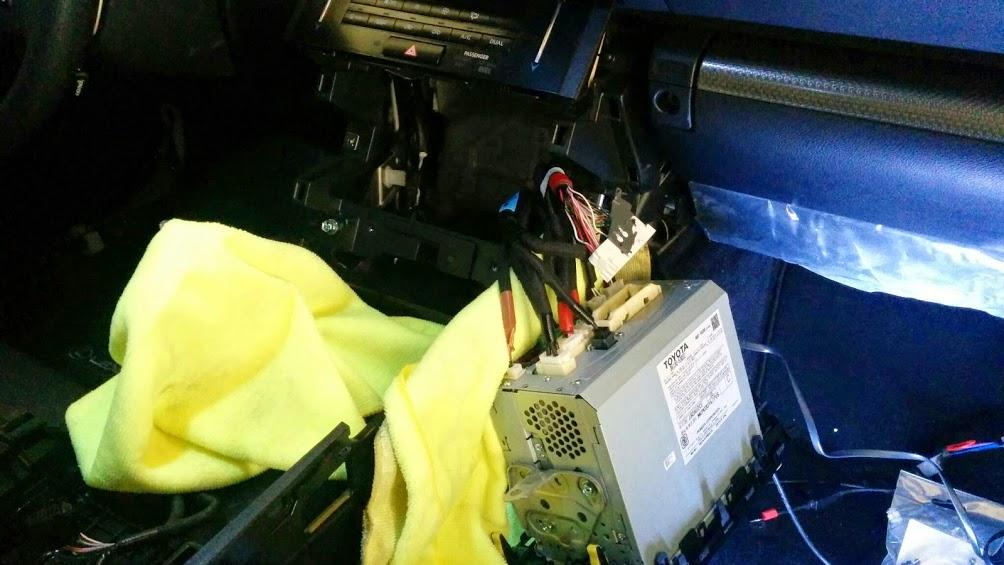 What you guys think of the stealth location of the bypass button?
I love it.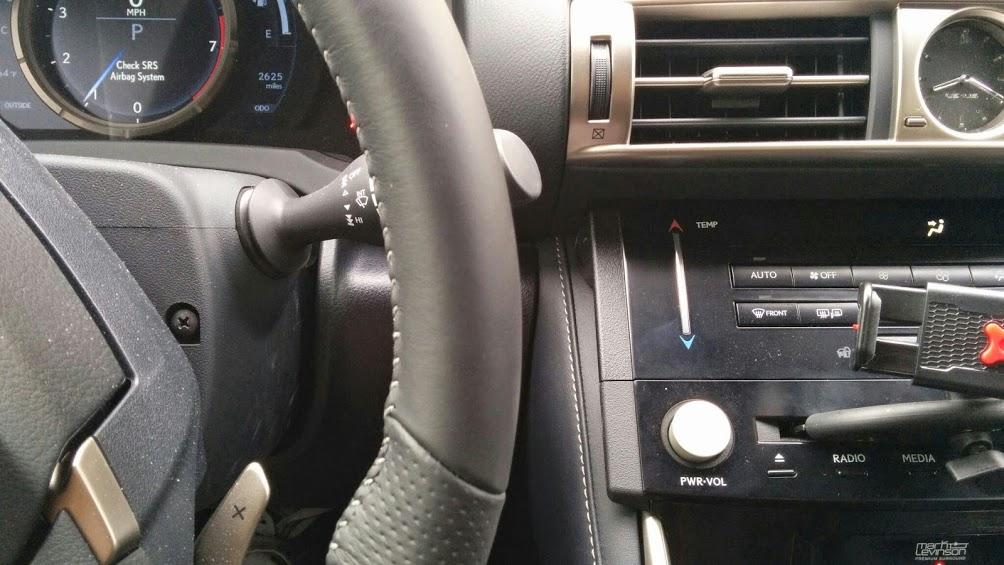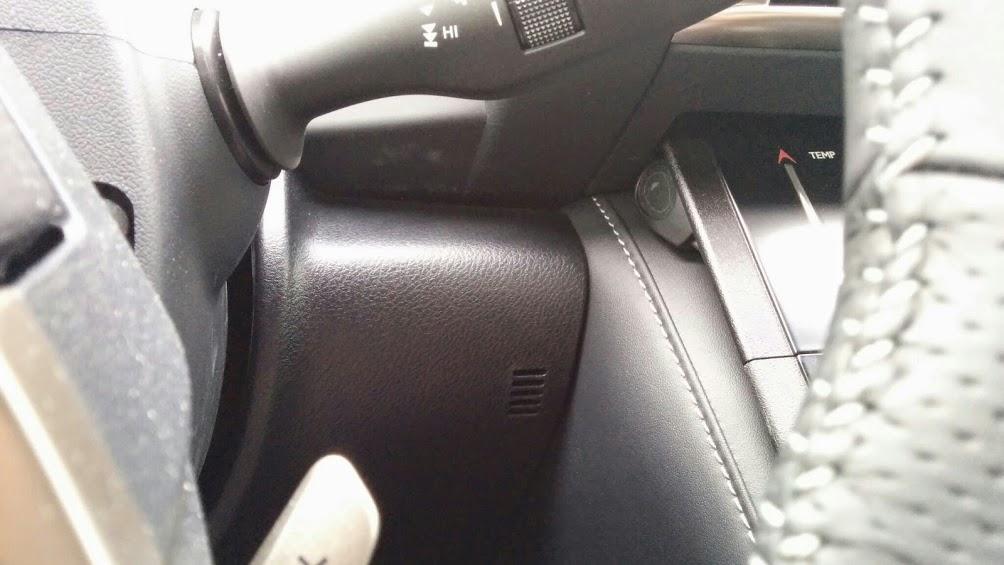 Did some wire managment
Bought some fabric the Euro Cars use.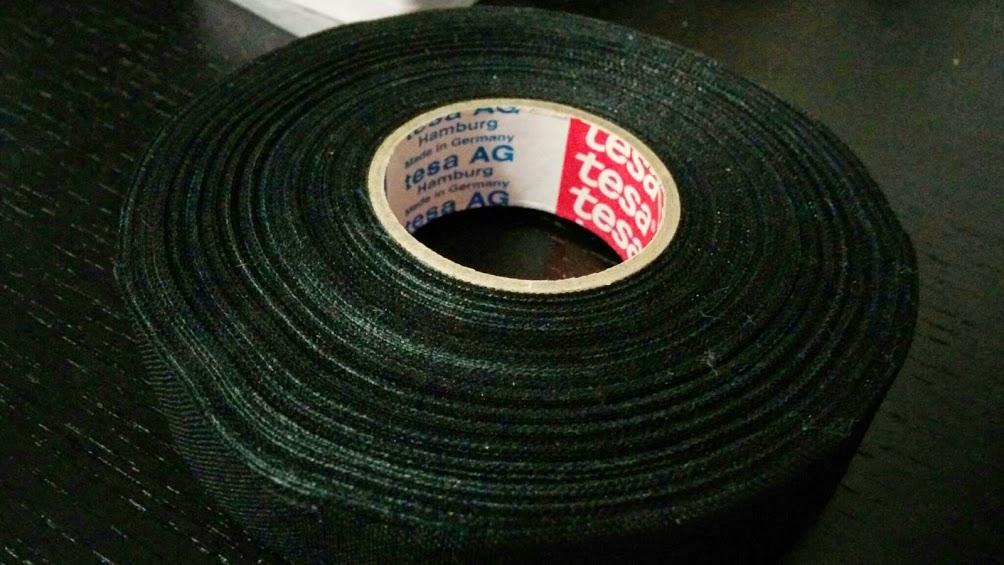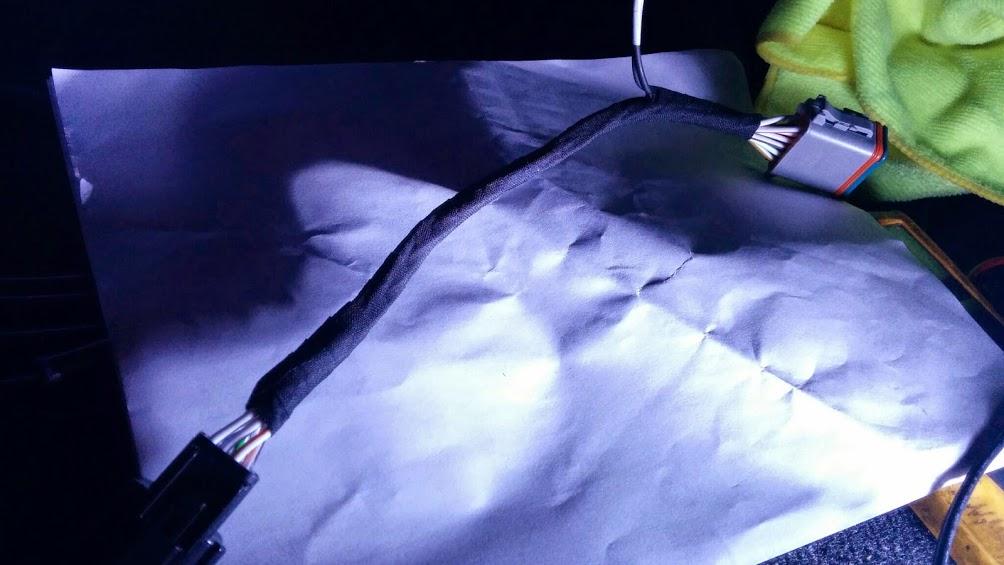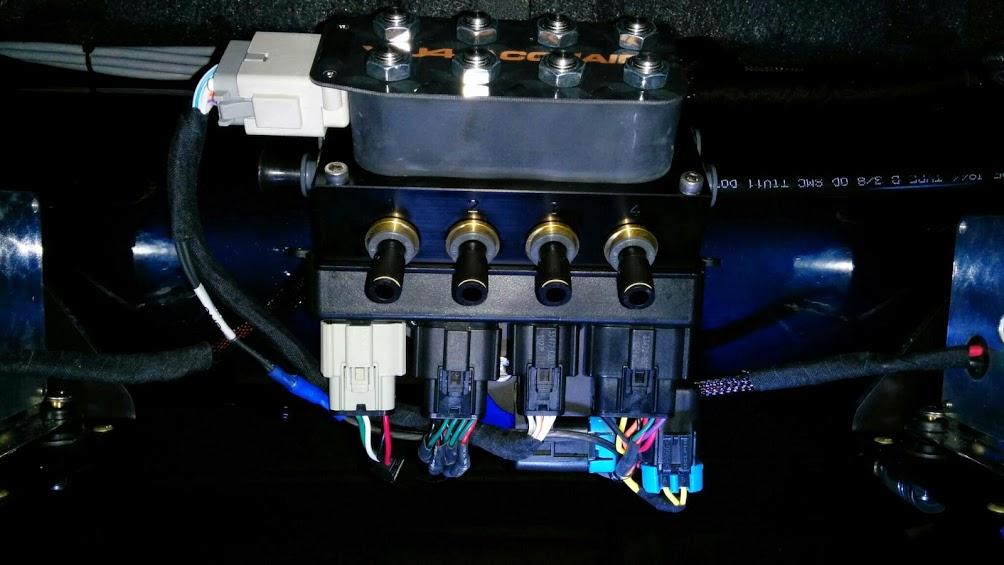 And now finally installing the Airrex bags into the car!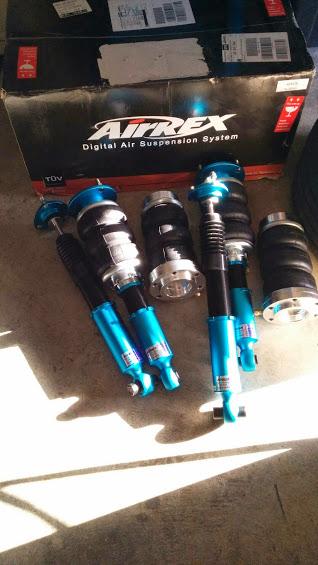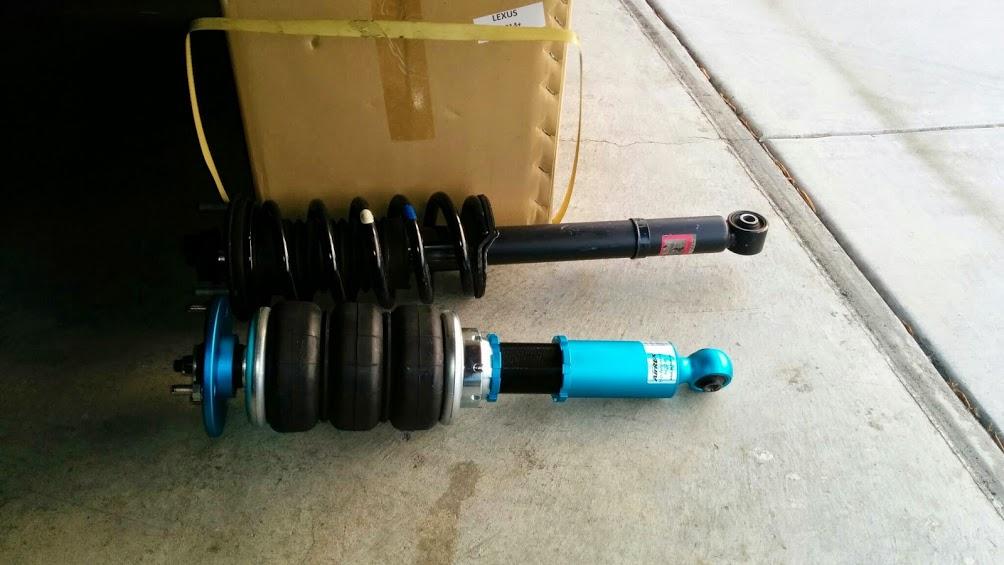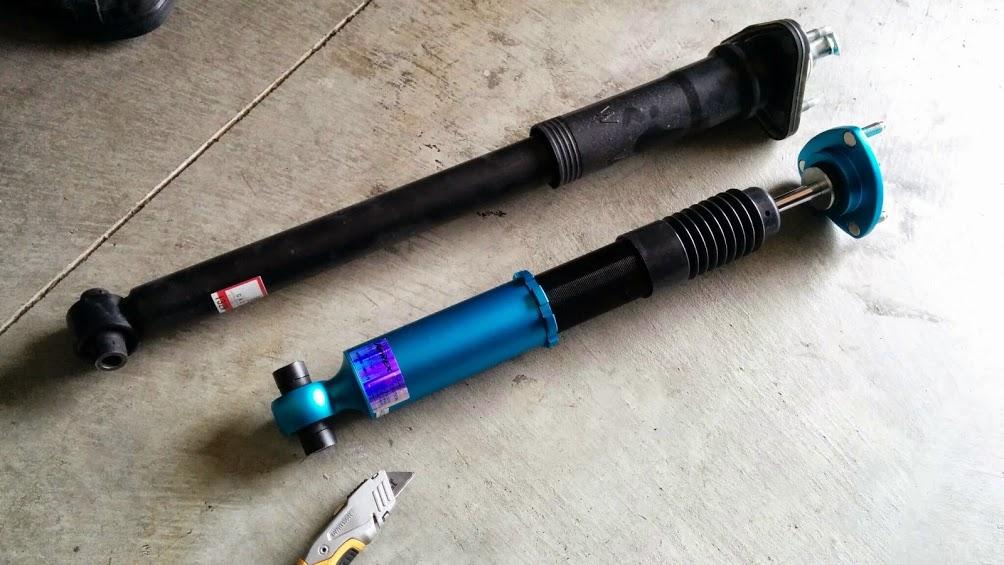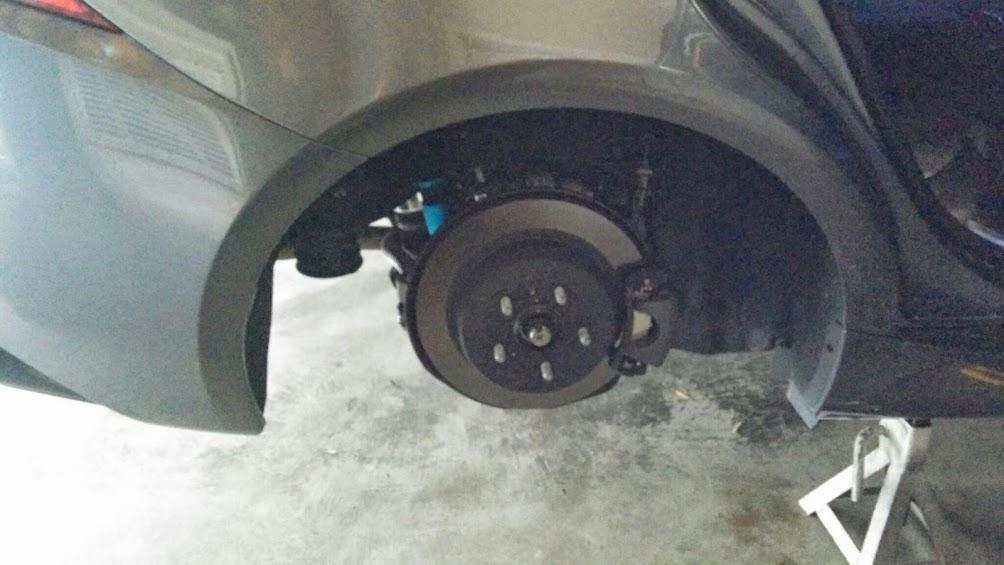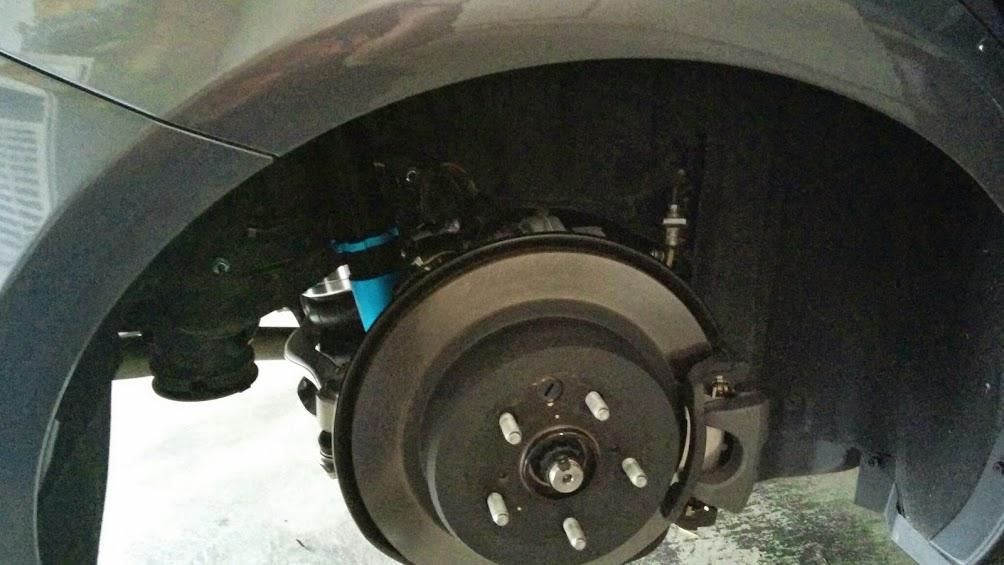 Didnt seem to have gotten a whole lot while doing the install and running the lines.
Here's photo of it tossed on with the wheels back on.
Looks slammed even on jack stands. Adjusted them to give the strut more travel.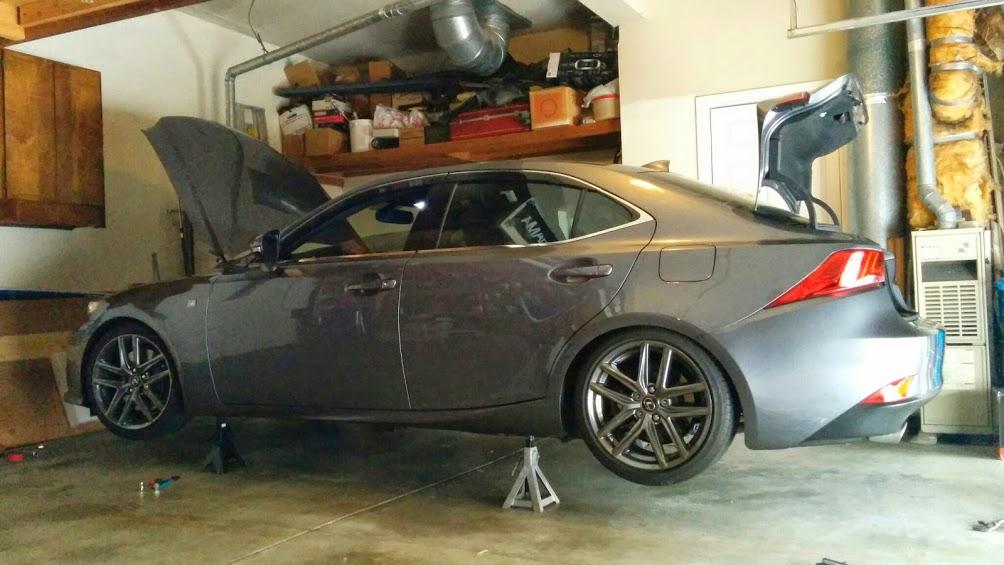 And BOOM. Air'ed out.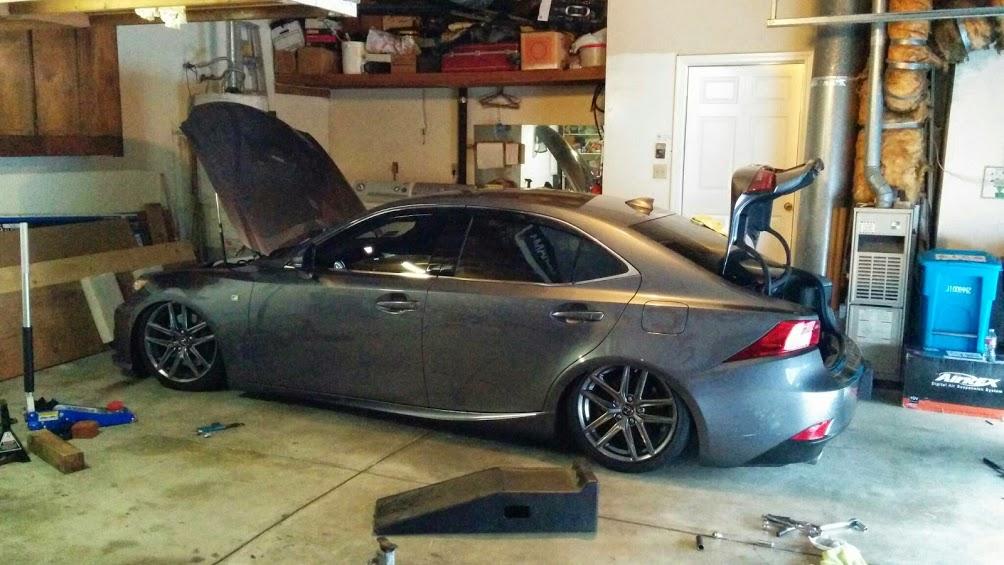 still need to try to see if I can get the rear to sit a bit higher when fully aired out.
7-9-2014
people seem to not reply but they do sure look judging by the view count.
So I'll just keep adding updates.
Bought a Kuda Mount, *thanks to Silec for showing me it.
and some magnets to mount the elevel controller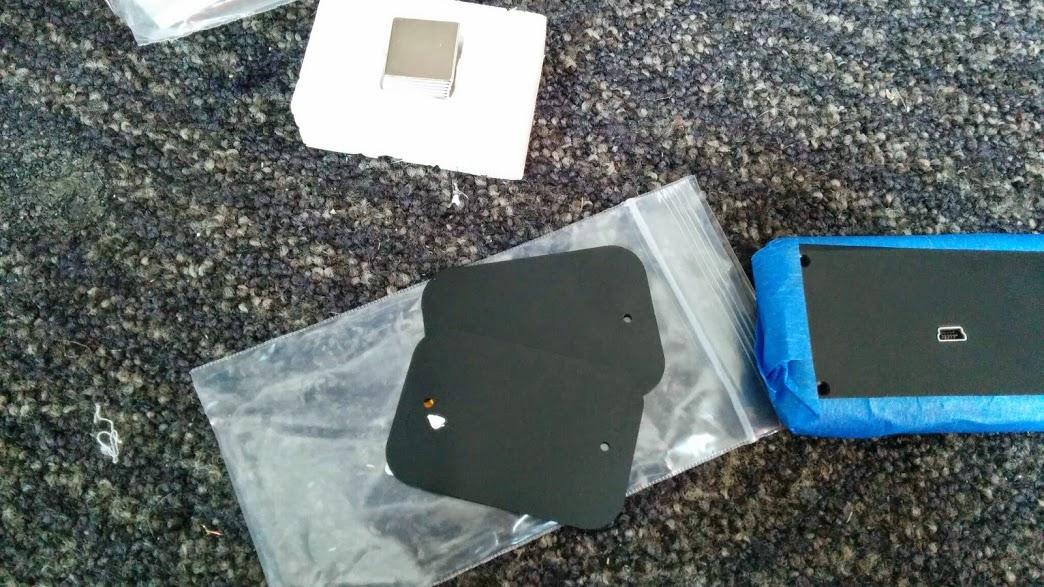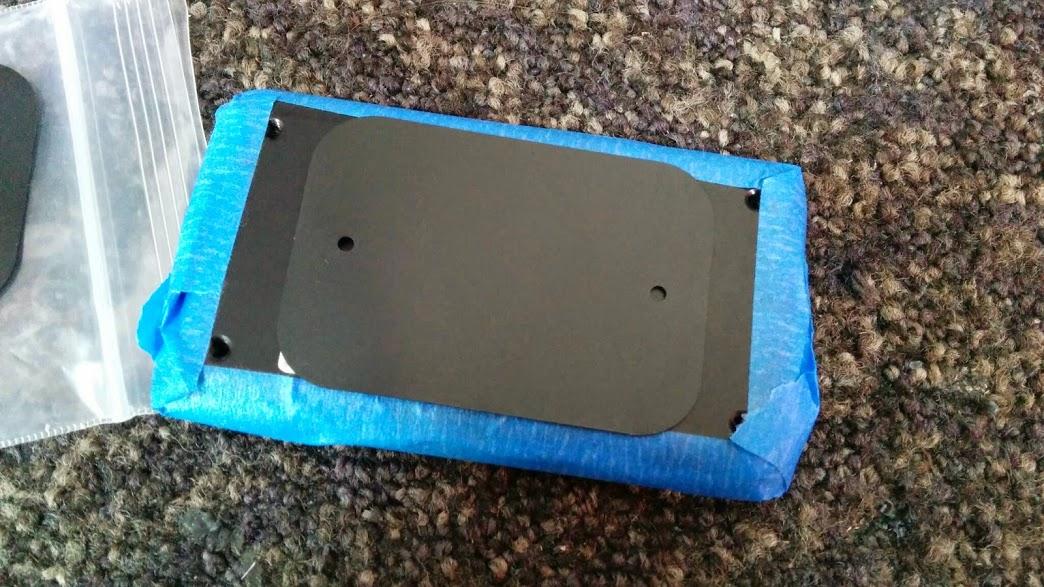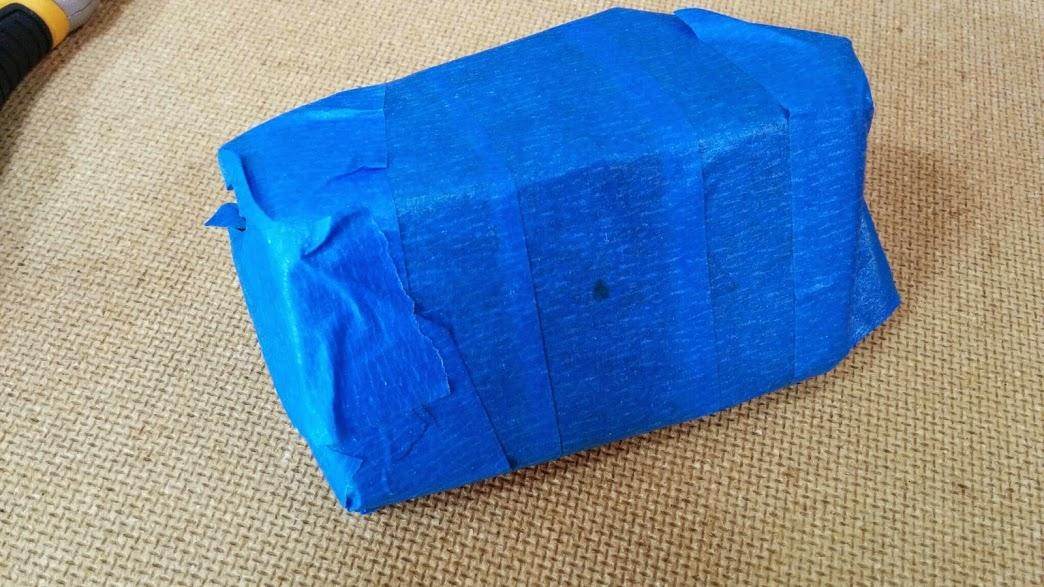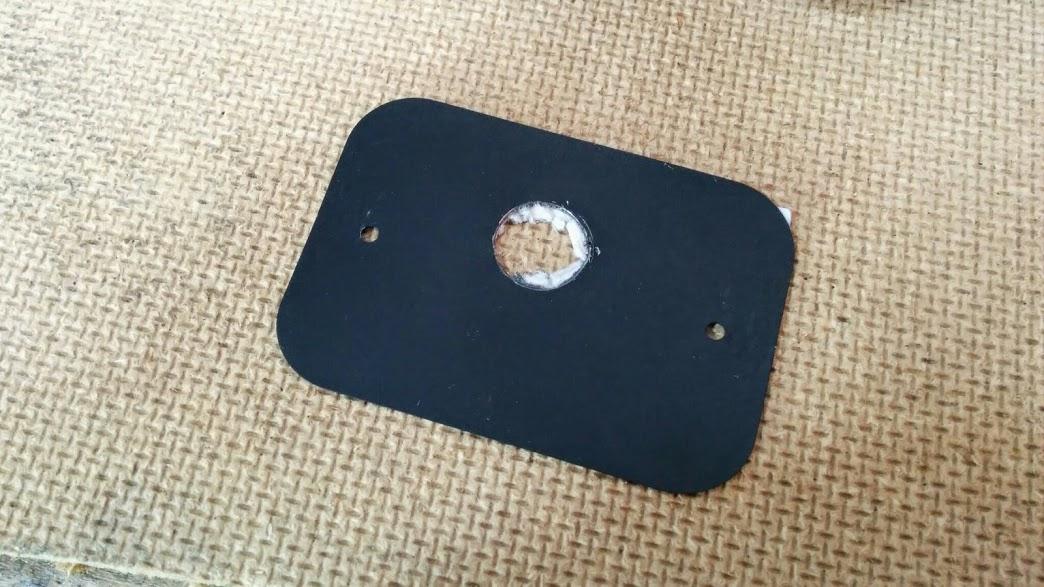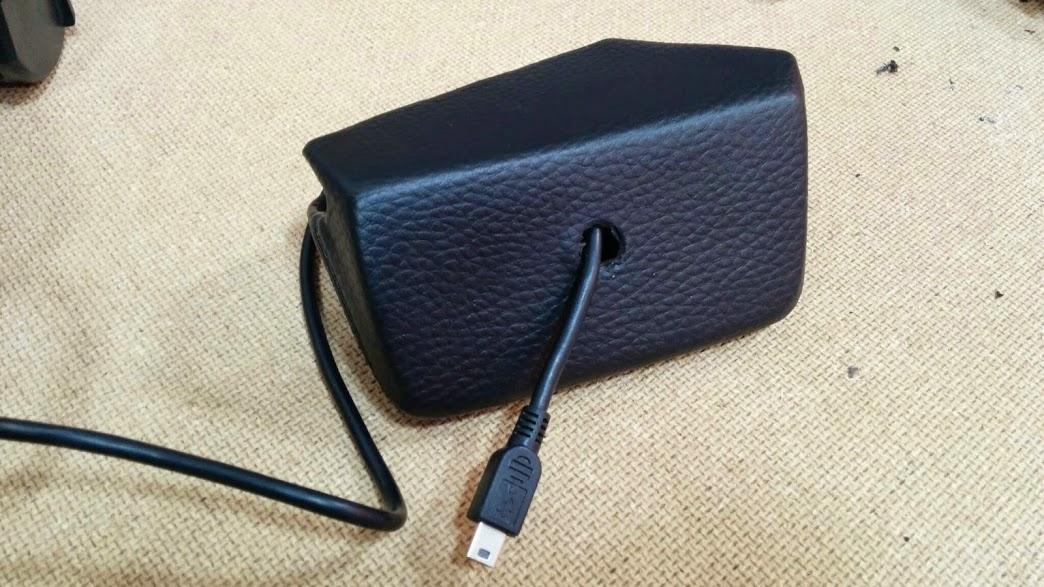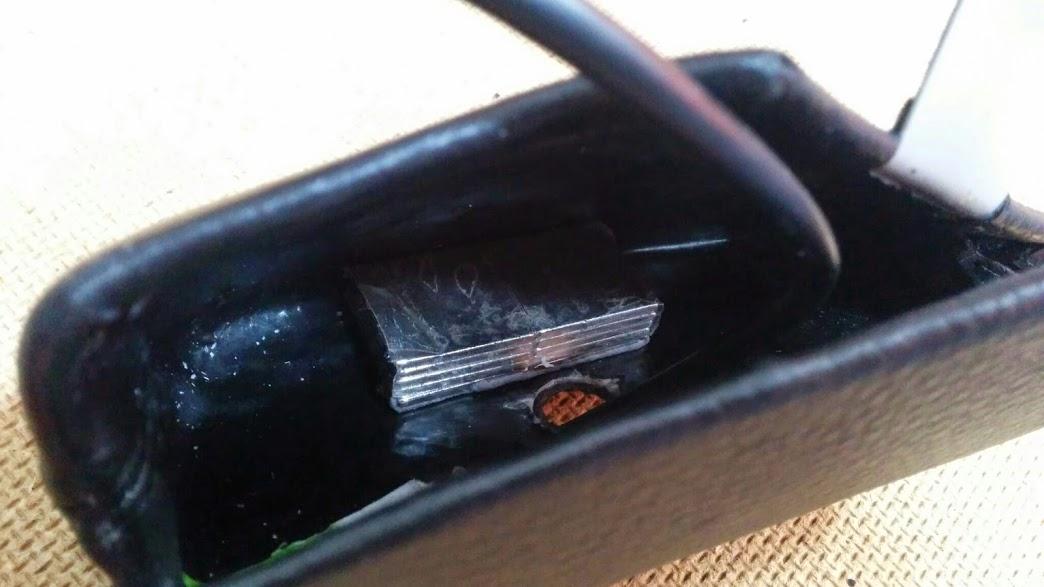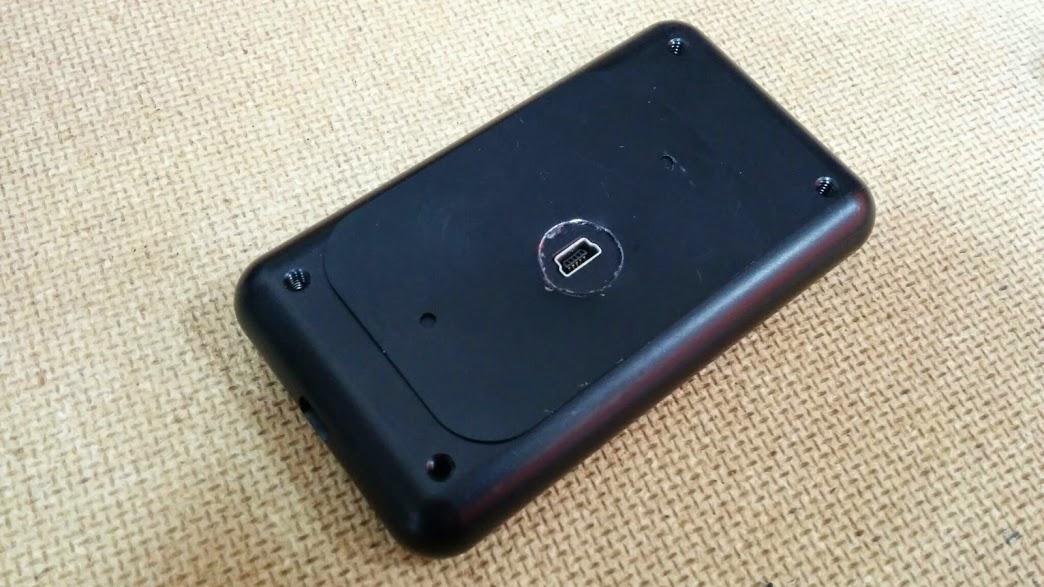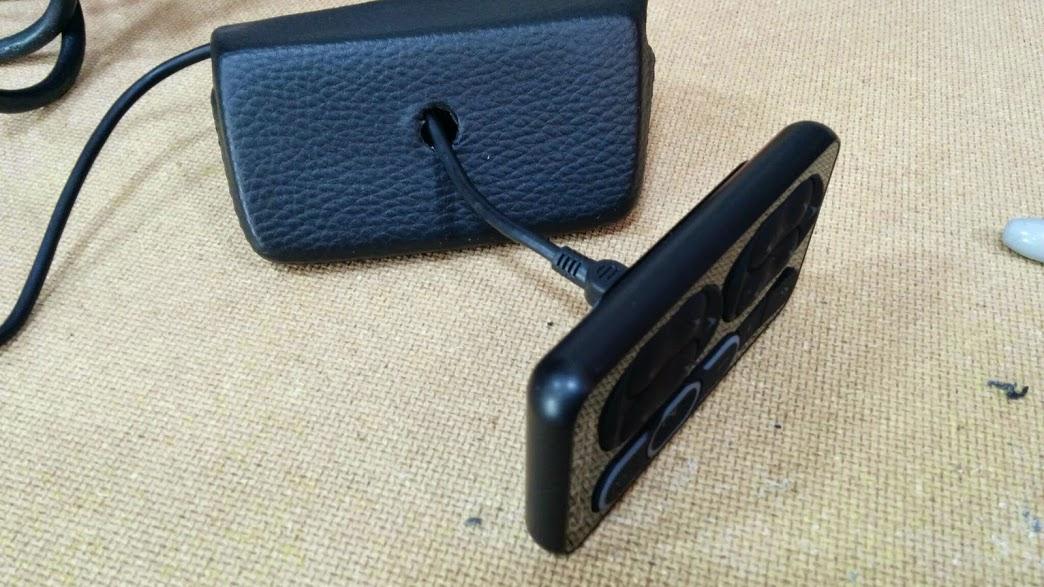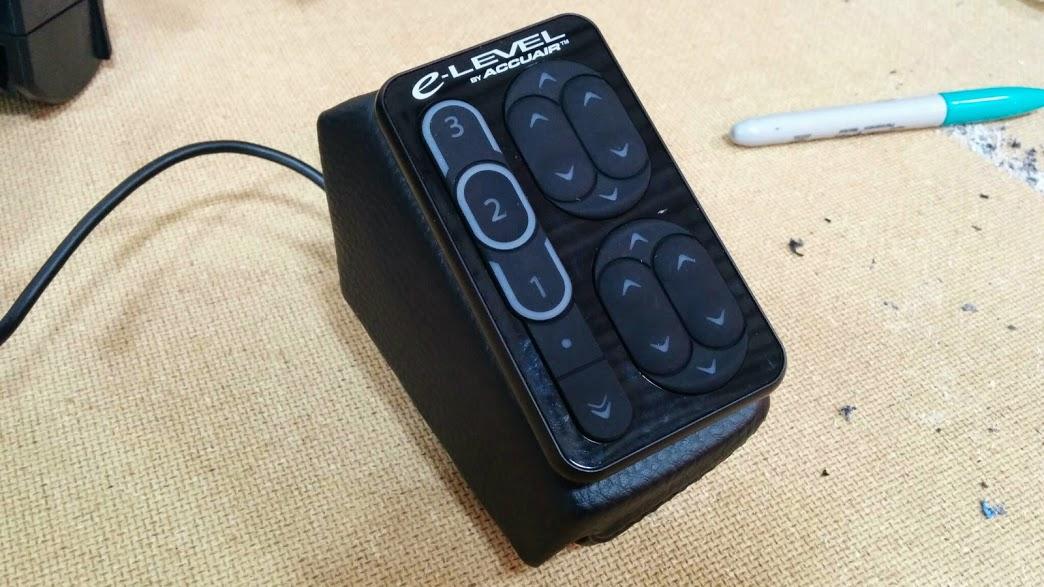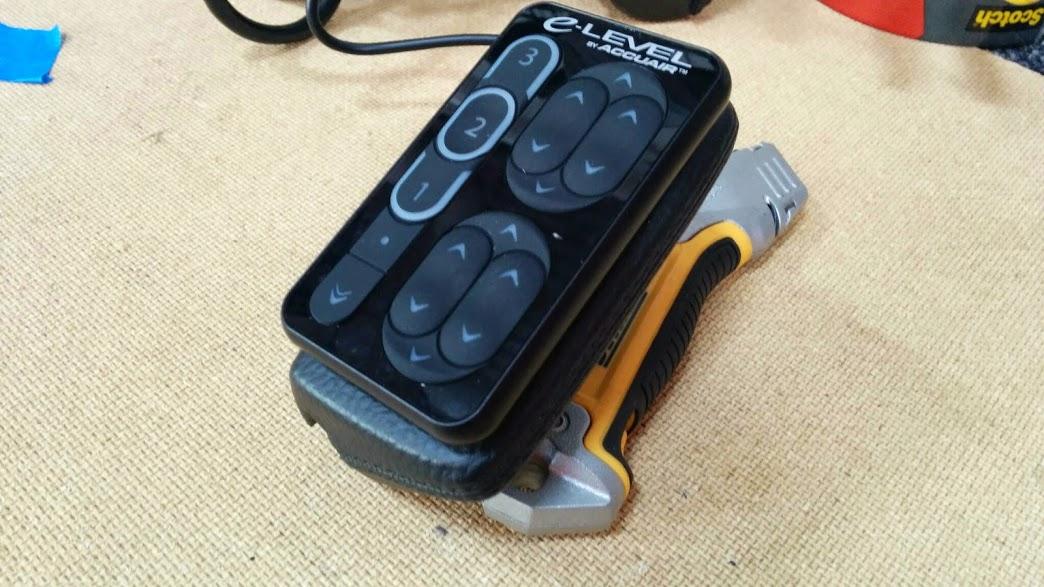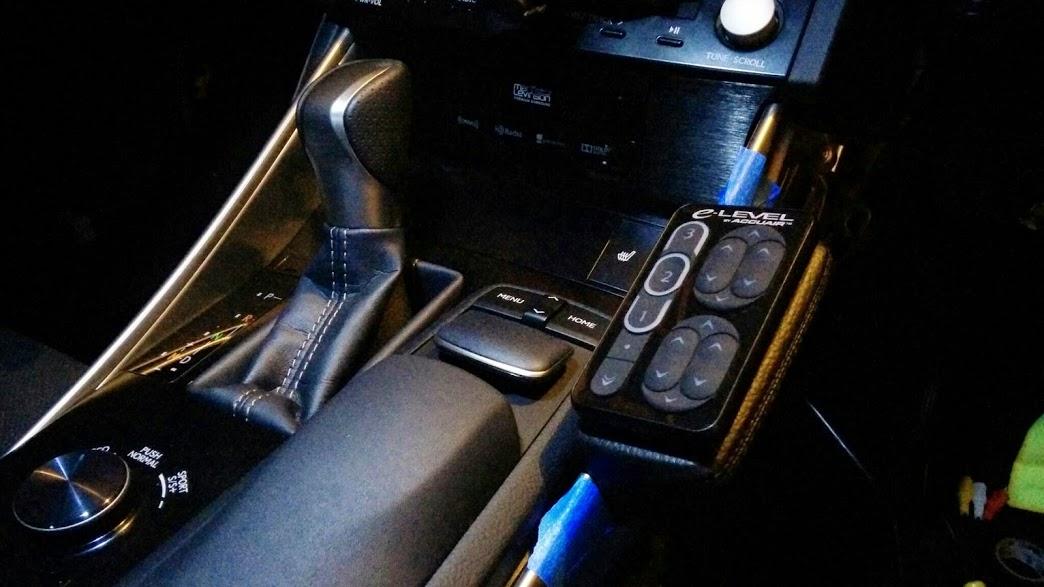 Also today found out one of the air hoses in the rear I left some slack on it but the hose ended up getting smashed on a arm. For those who decide to do air and it being their first time, Double check, then triple check and after check again.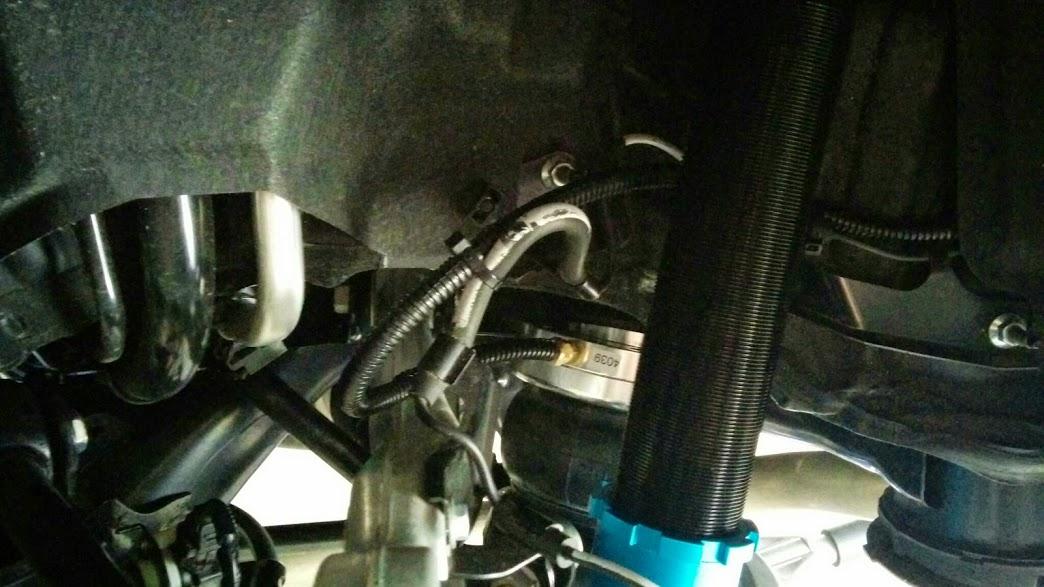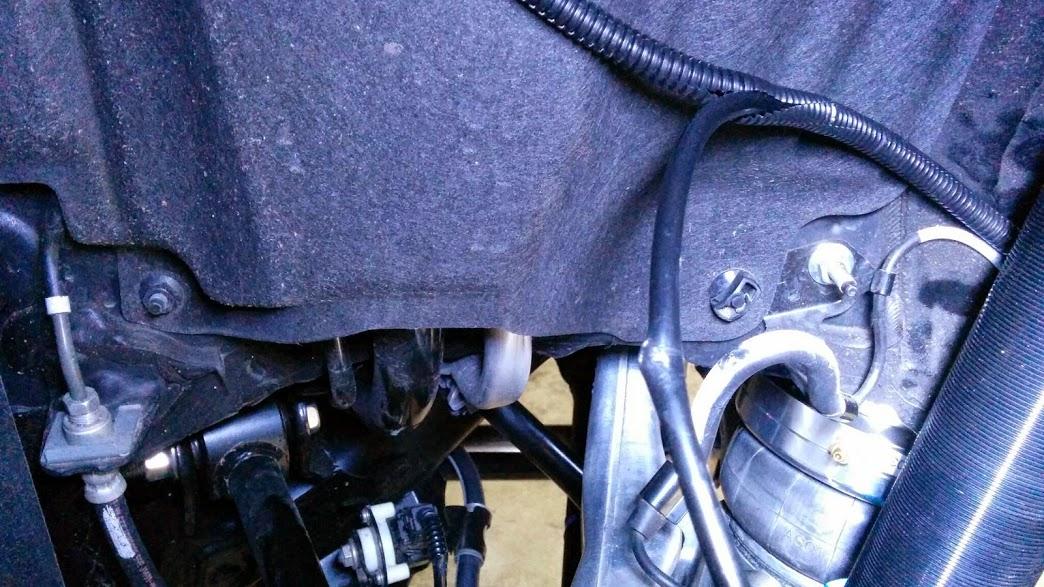 Reason why I took a second look and found the smashed hose, This is worrying me that it may rub the back and rupture it.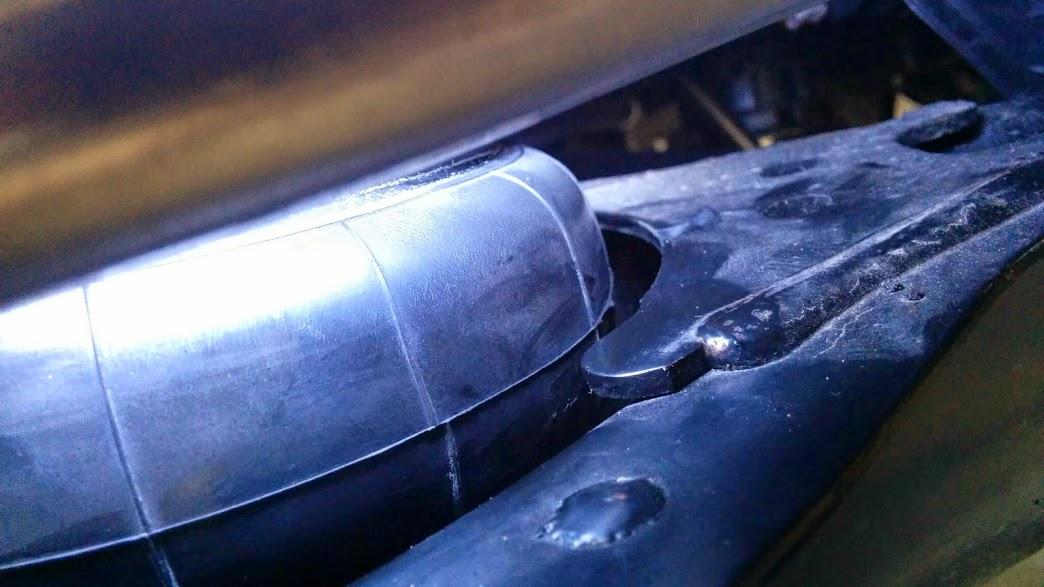 Others running air that see this, Did you Grind this part down or should it be okay and clear the bag?
Here is air hoses re-ran in the rear to clear all arms. i.e. shorten it and got rid of the slack.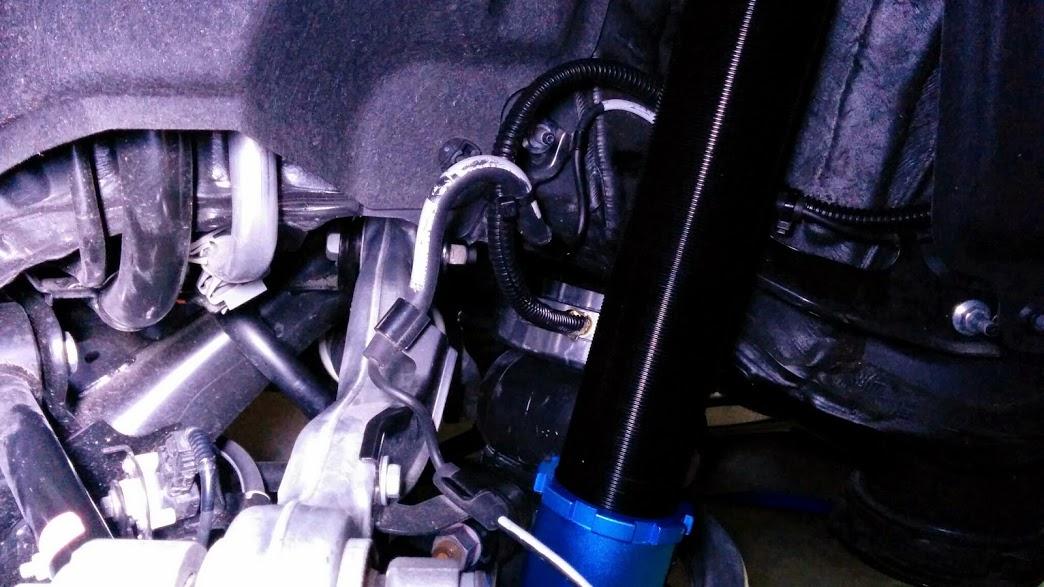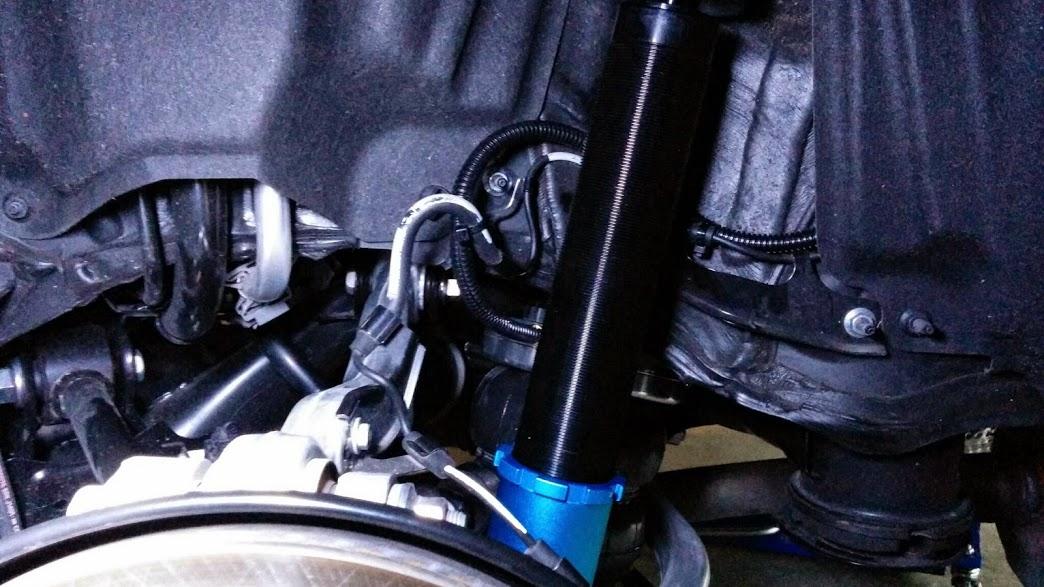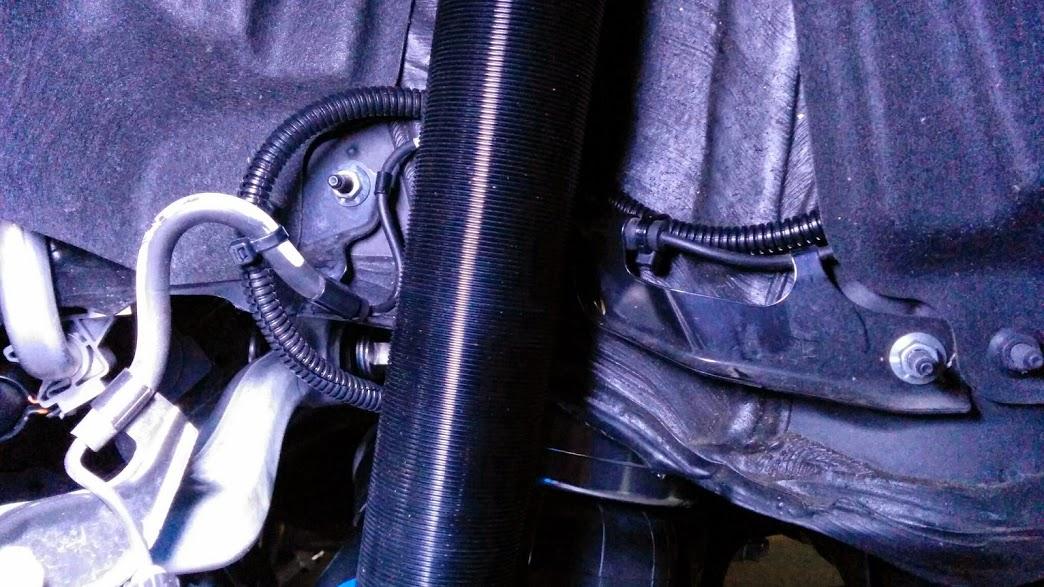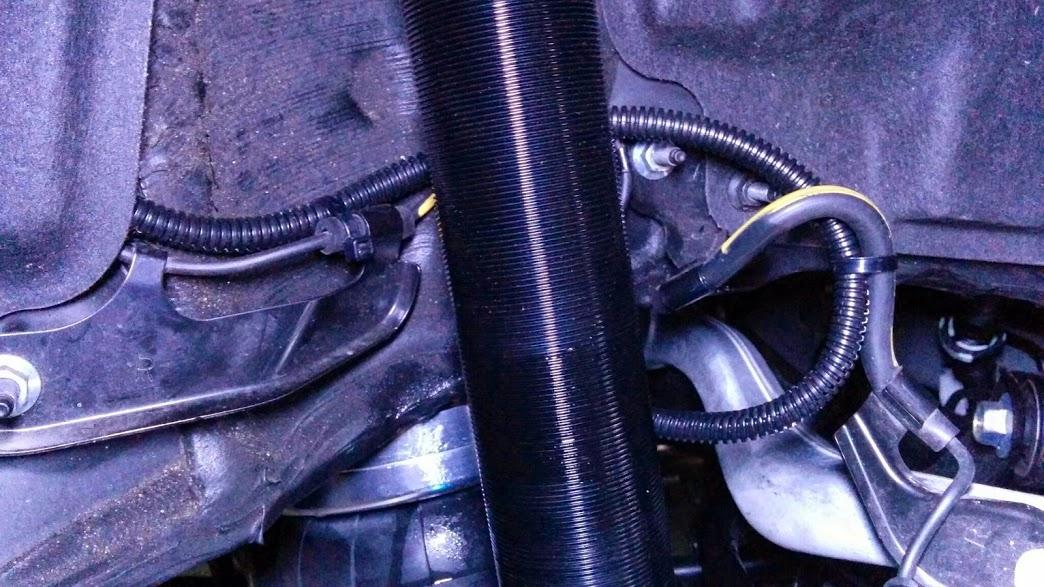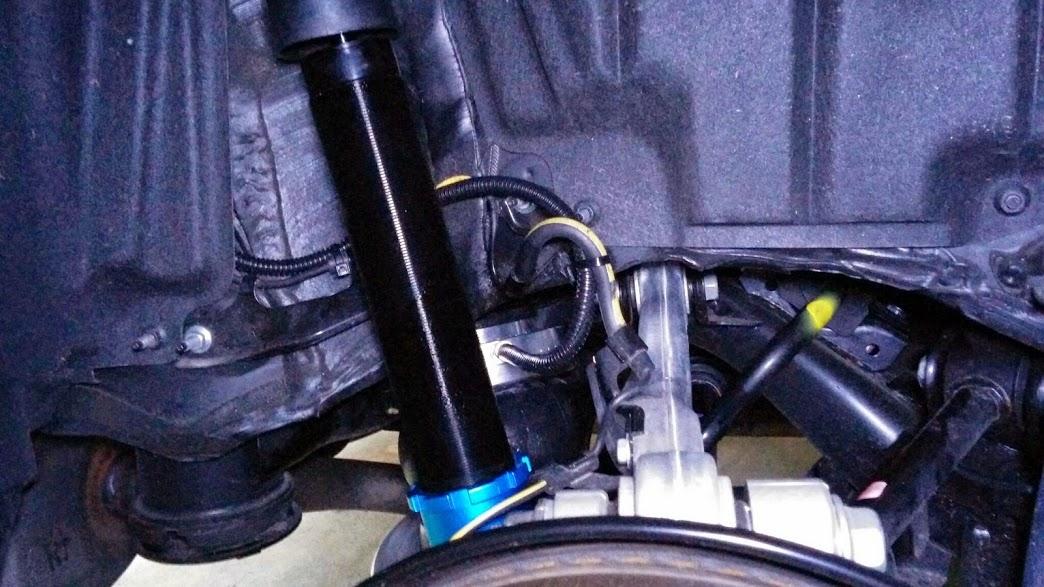 Finally finished Air hose and wire management in the trunk.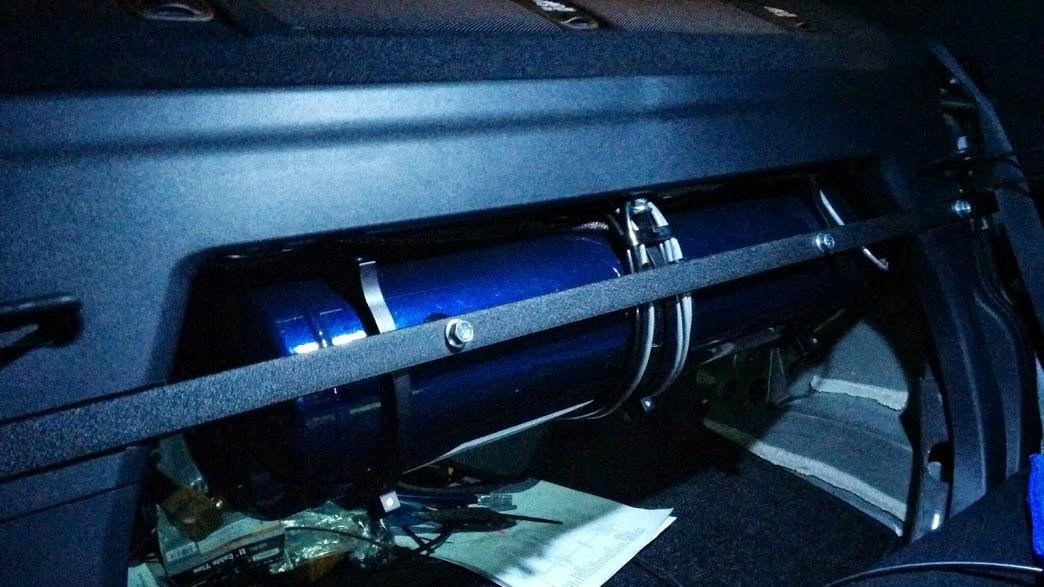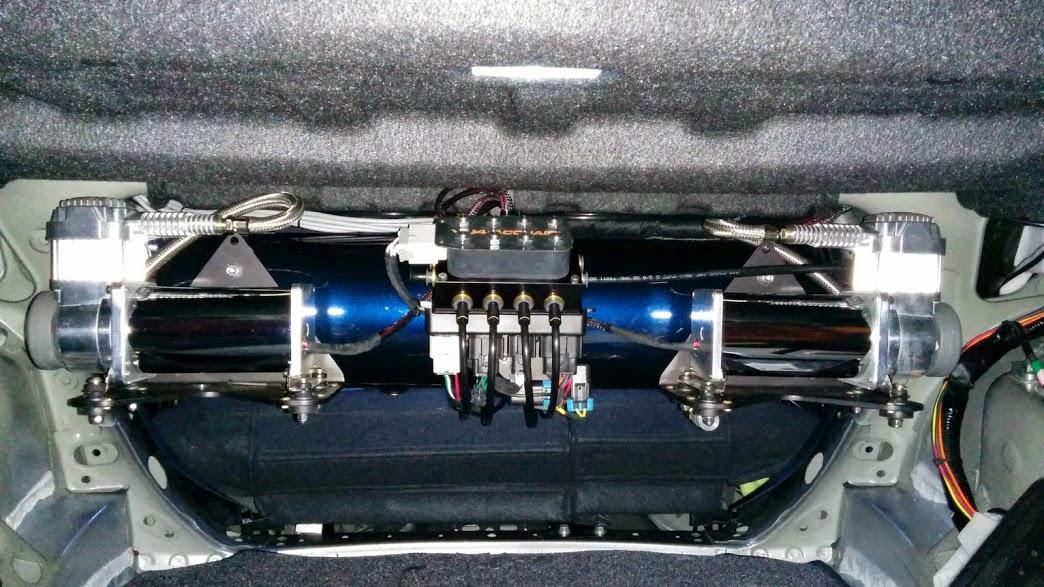 All that is left is to dial in the height air'd out and double check airline hoses.
Then have a shop install the E-level sensors that I do not feel confident to install myself.
here's a video my brother did of the car air'd out while he was home and curious
https://www.youtube.com/watch?v=mVcf...ature=youtu.be
7-10-2014
Watch this video. This is what changed my mind about air
7-21-2014
photo of it the other day sitting pretty in the garage.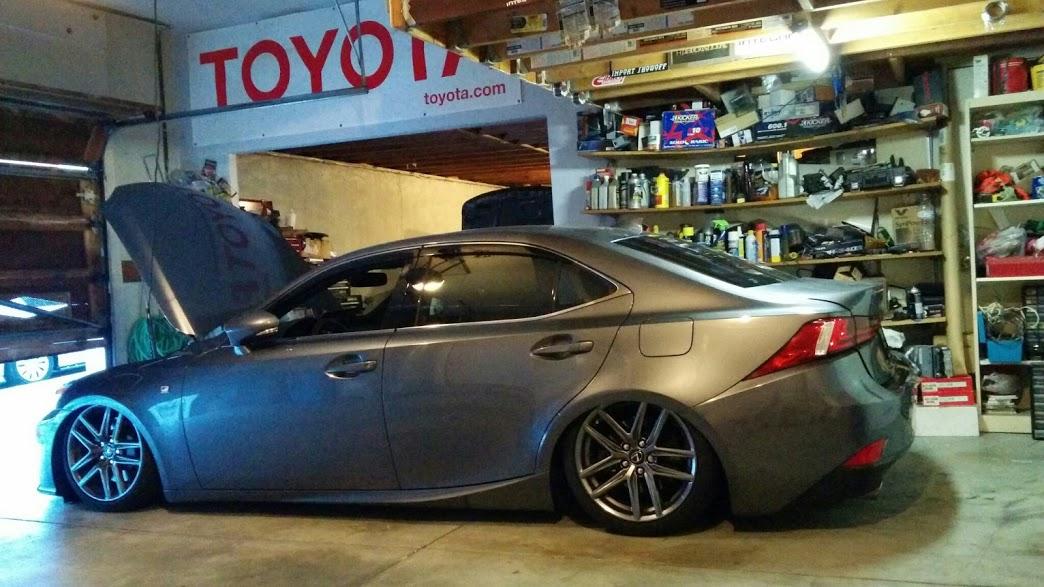 popped the bumper off to play around with mounting license plate but will be reworking idea and trying again before i post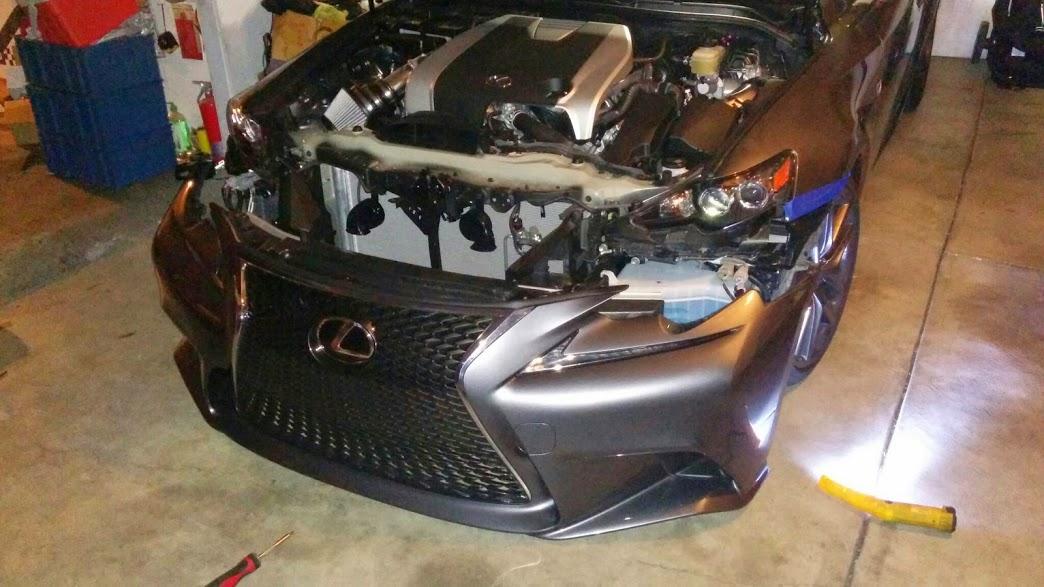 also picked these up and need to install these soon because that fsport brake dust is a killer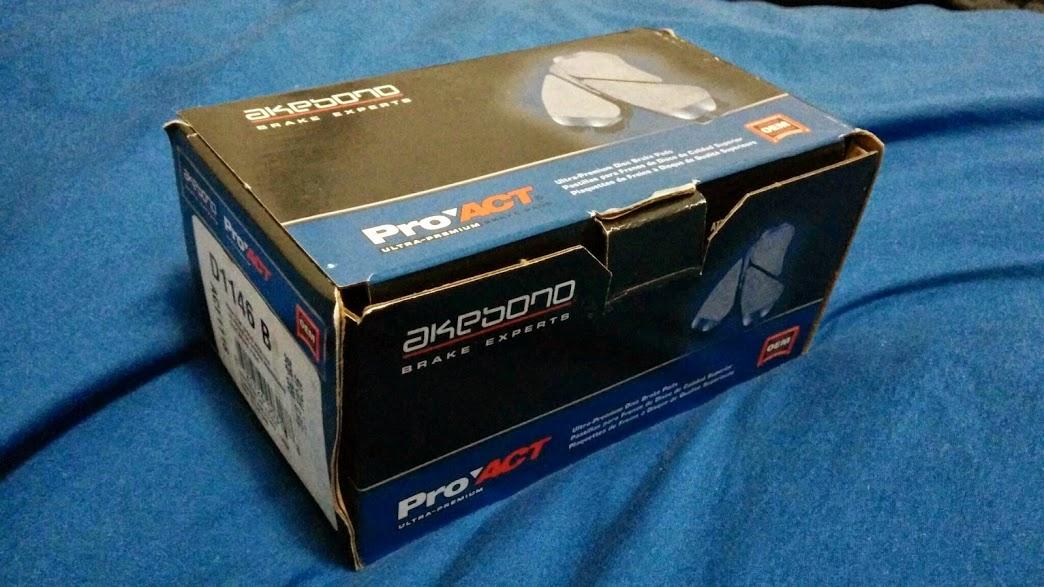 8-8-2014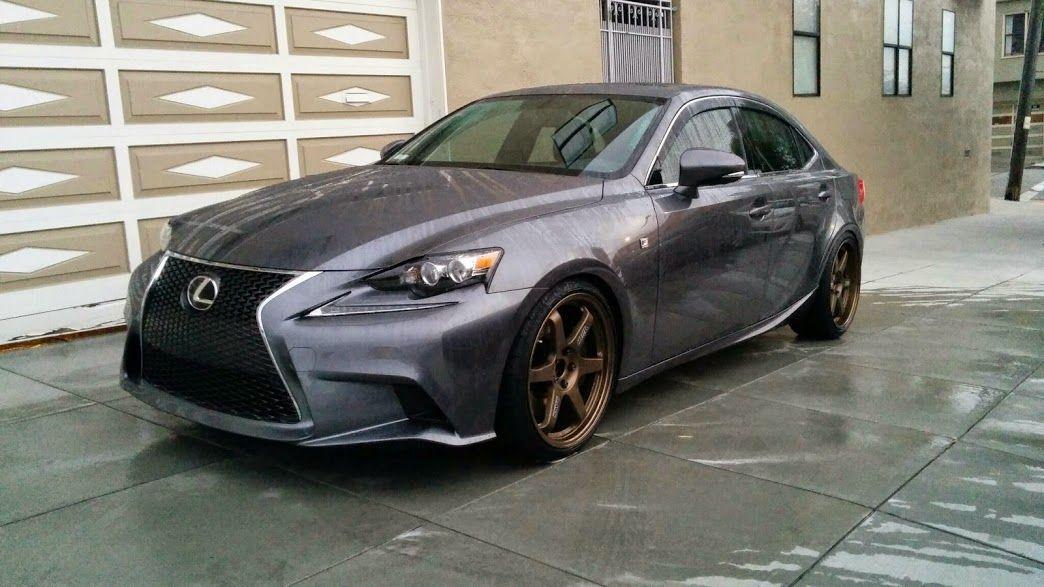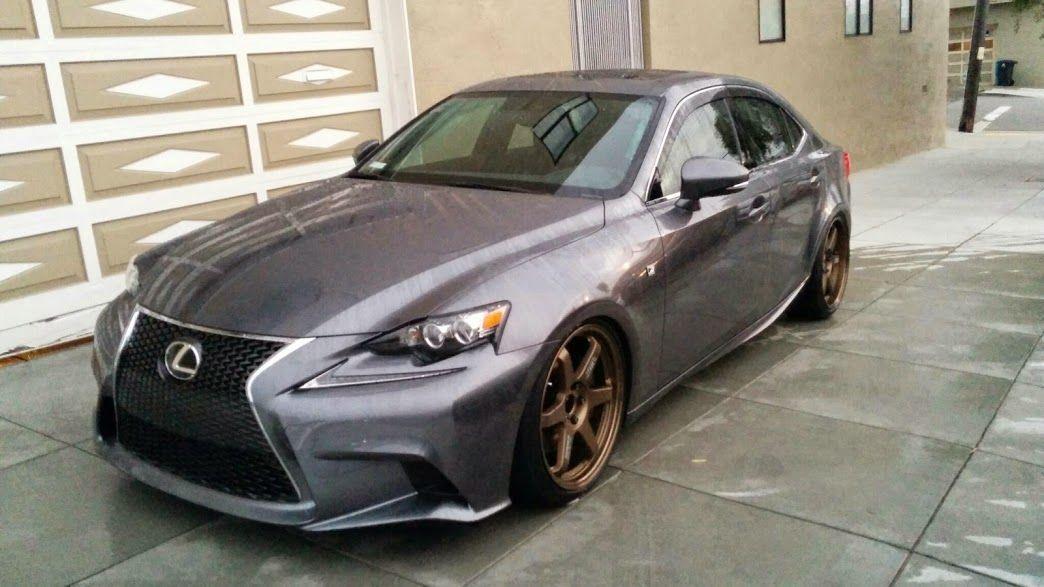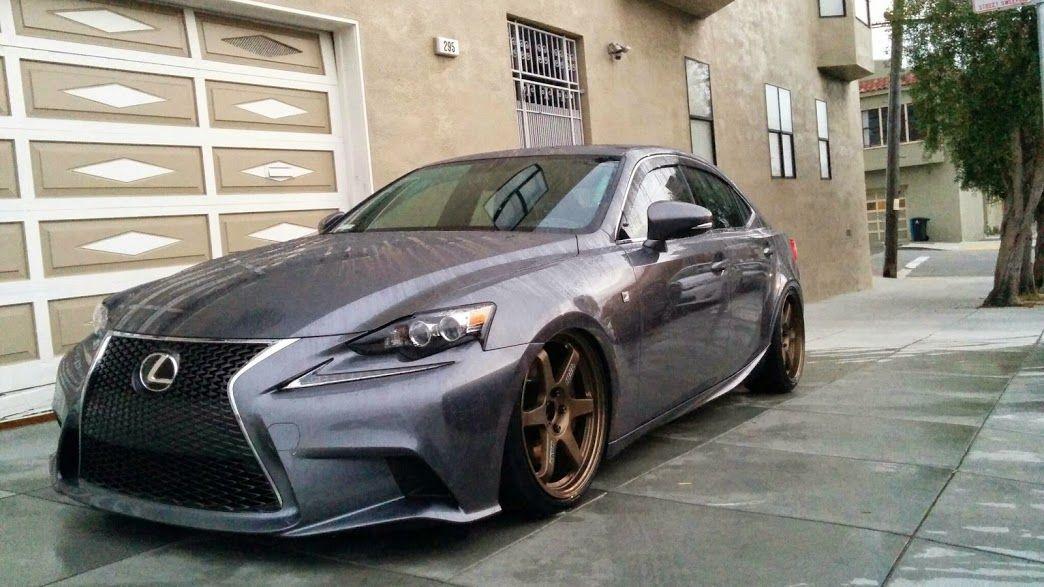 What a horrible designed rear fender arch and bumper for low offset slammed cars.
This is how far I was able to get the rear to go down without damaging something. very conservative offset and widths
19x8.5 +30
19x9.5 +35
225/35/19 and 245/35/19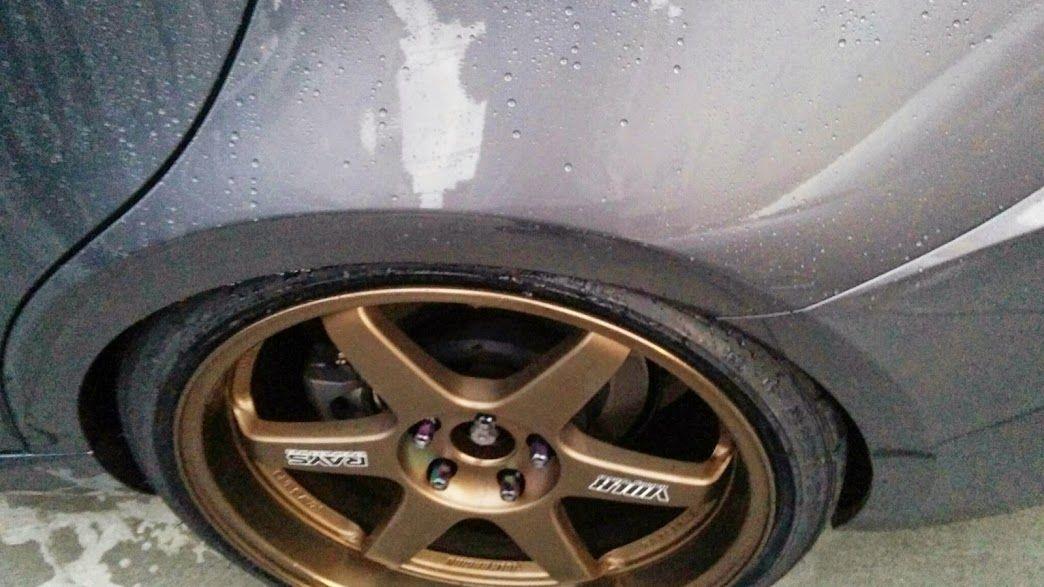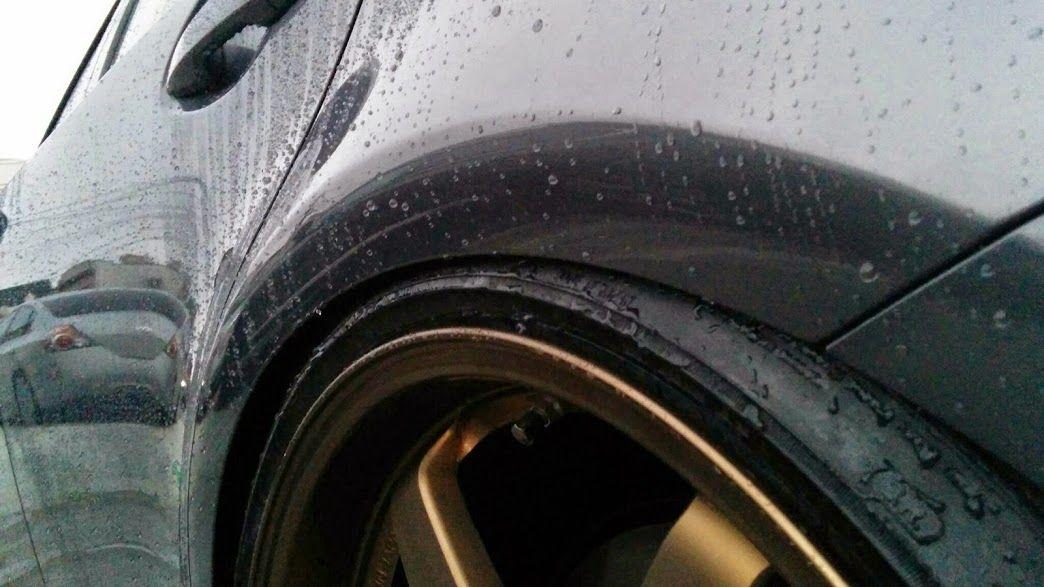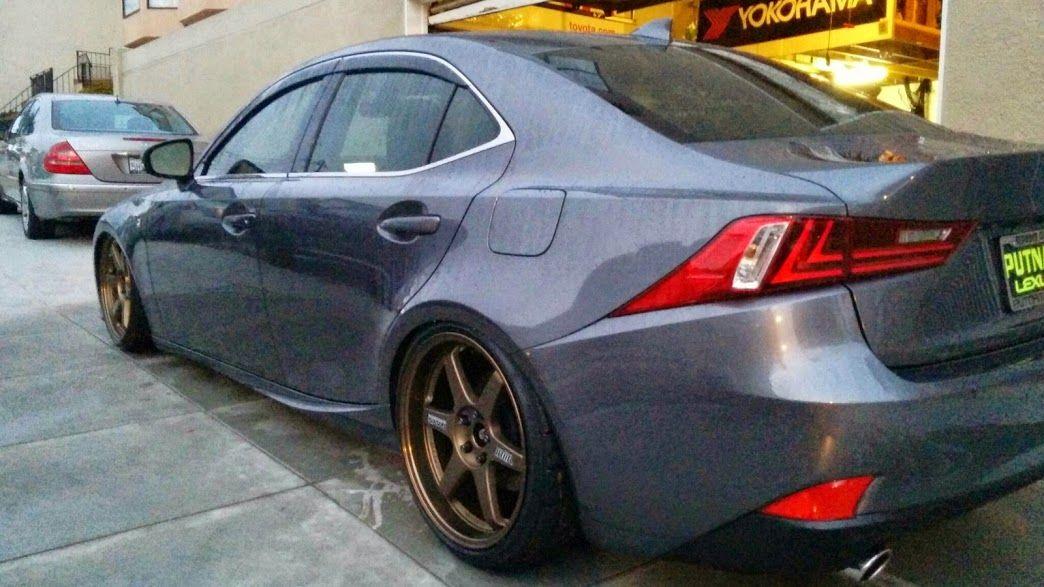 9-8-2014
still trying to sort through the elevel sensors over the last couple of weeks, still trying to get dialed in so It will auto calibrate and get some presets in hopefully soon.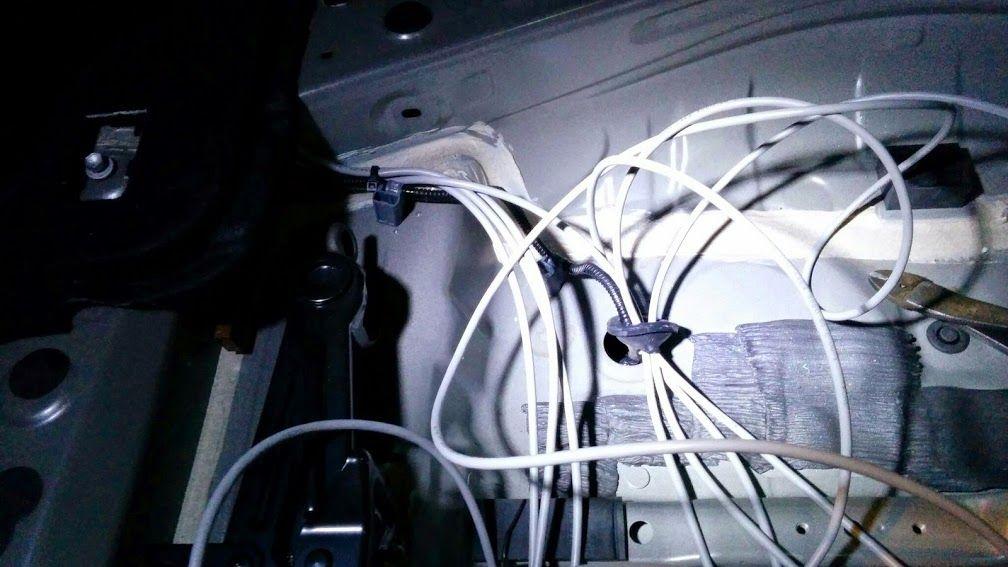 running the wires out the spare tire well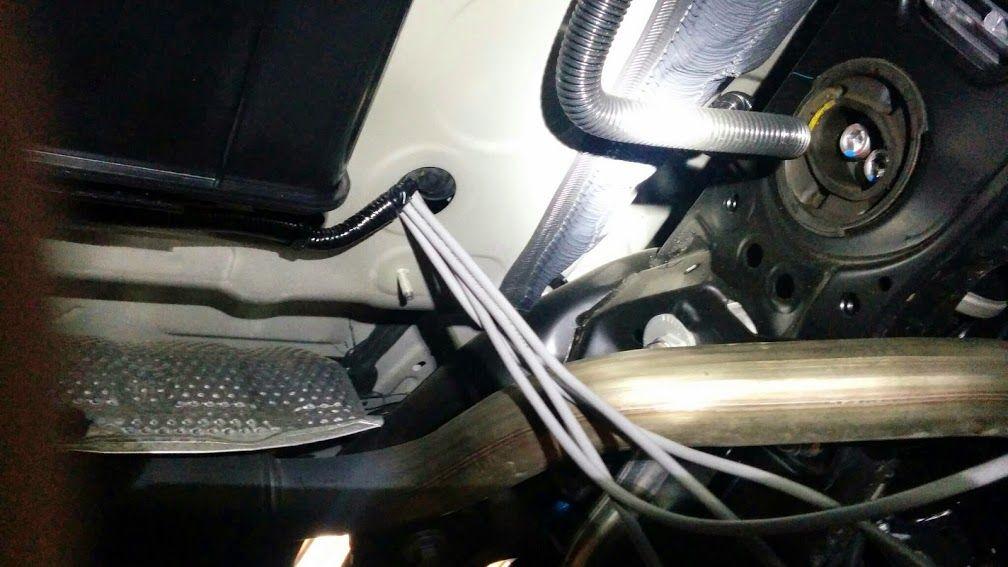 down the bottom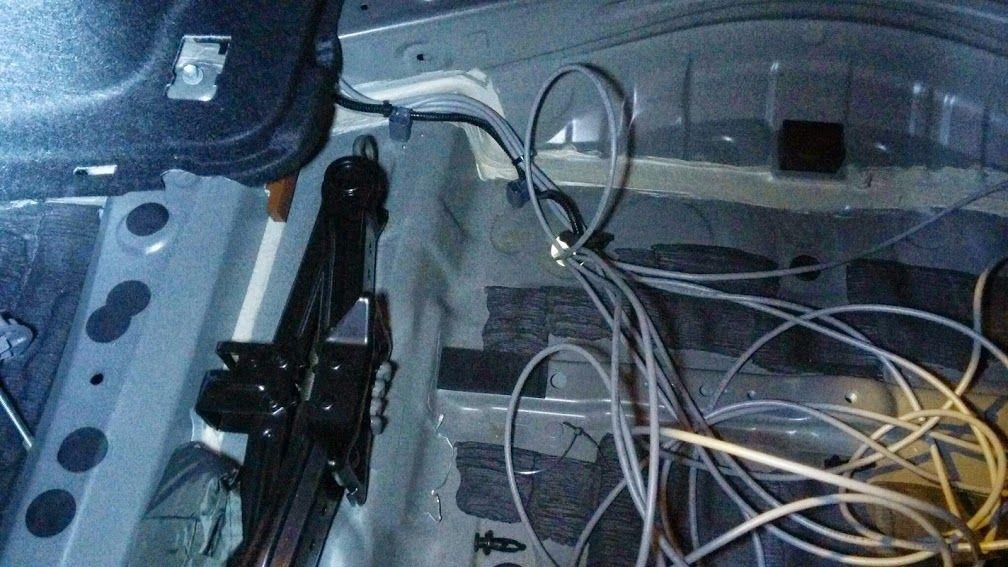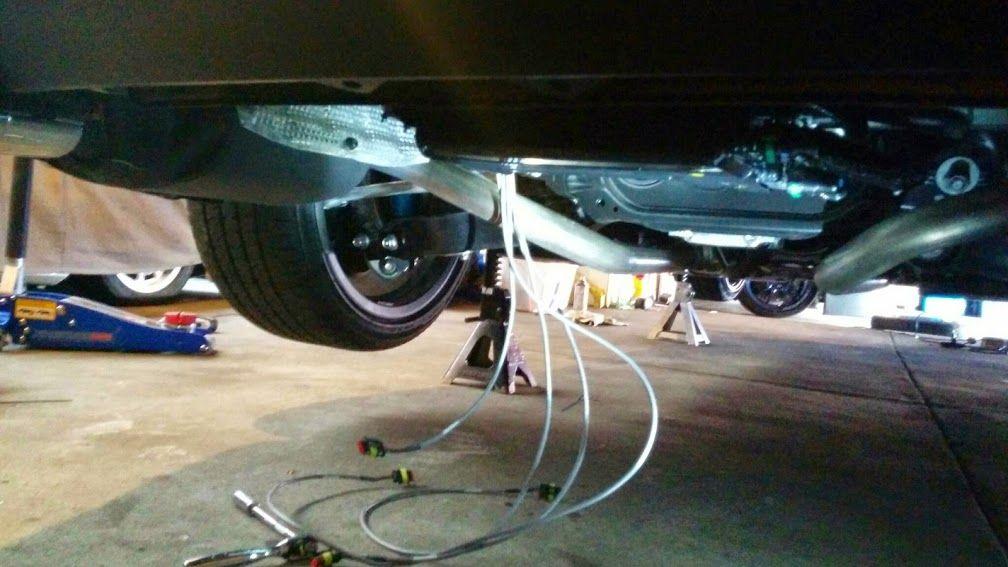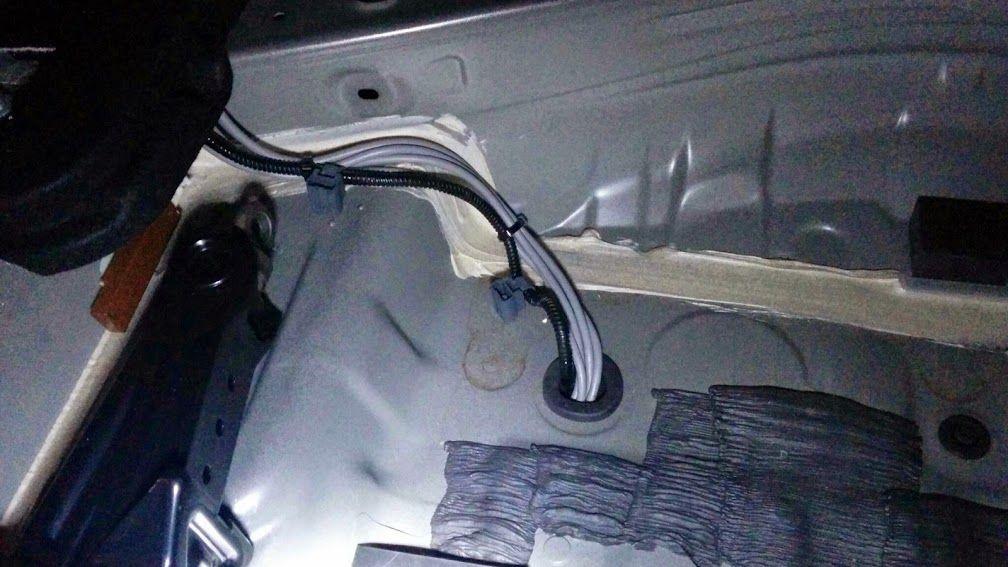 all tied down and done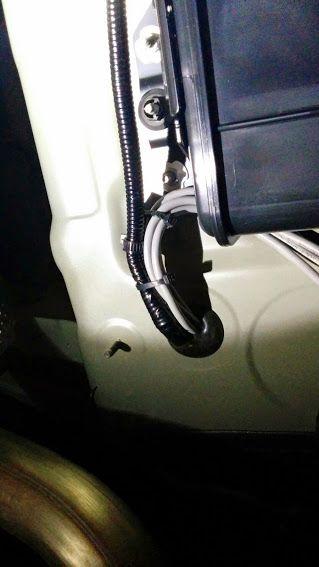 bottom tied down well too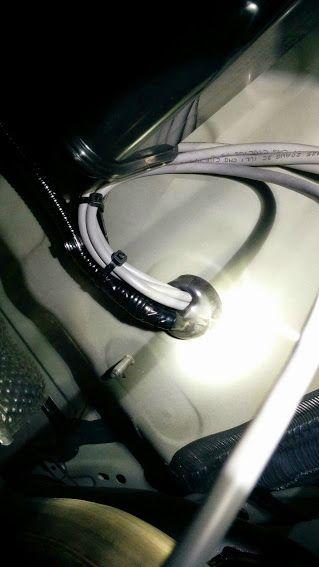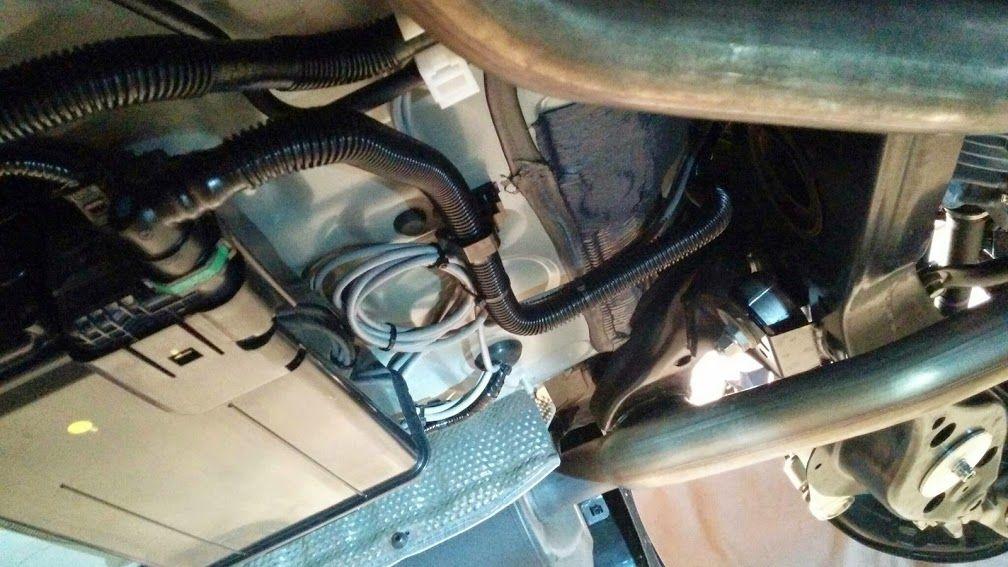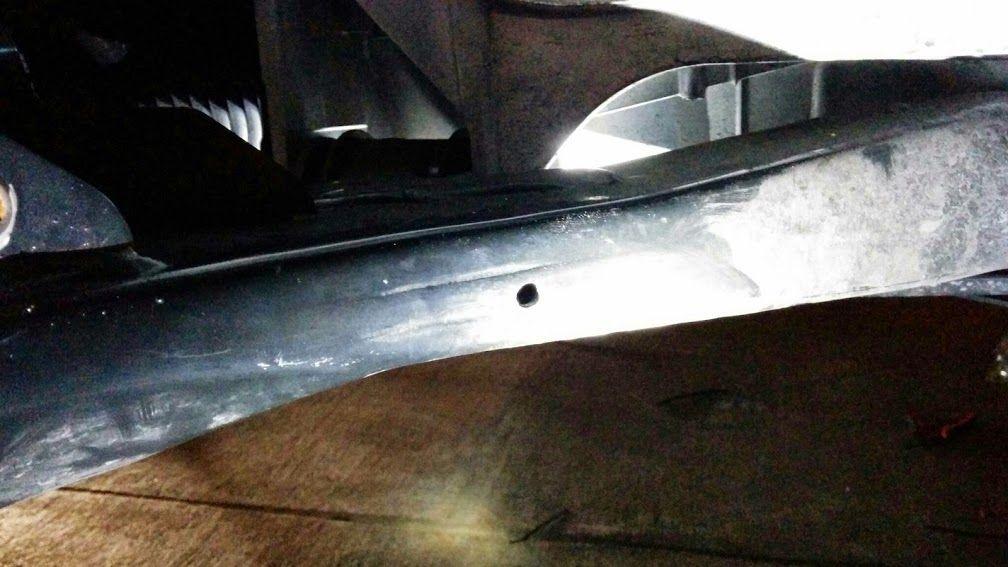 hole drilled in the control arm ready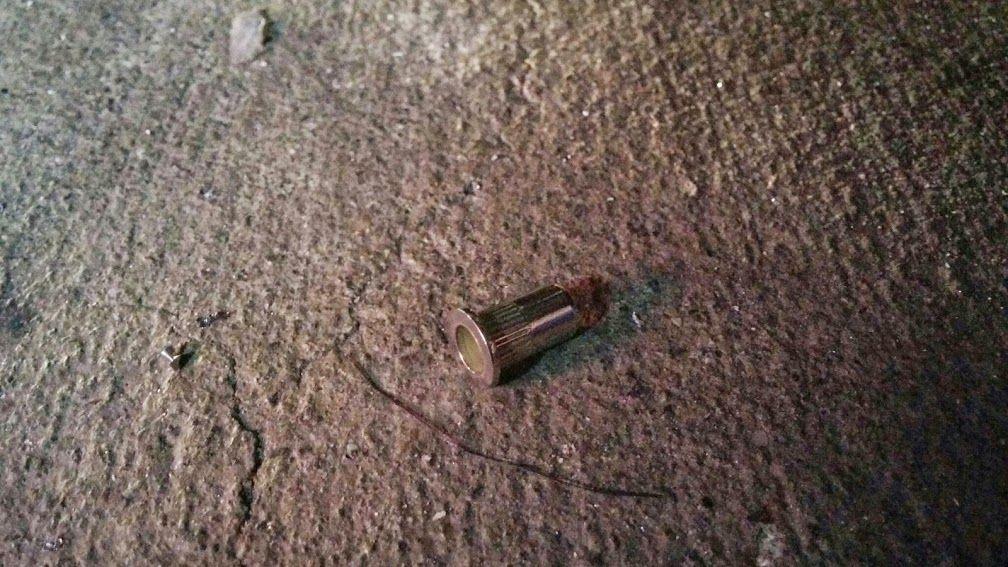 nutsert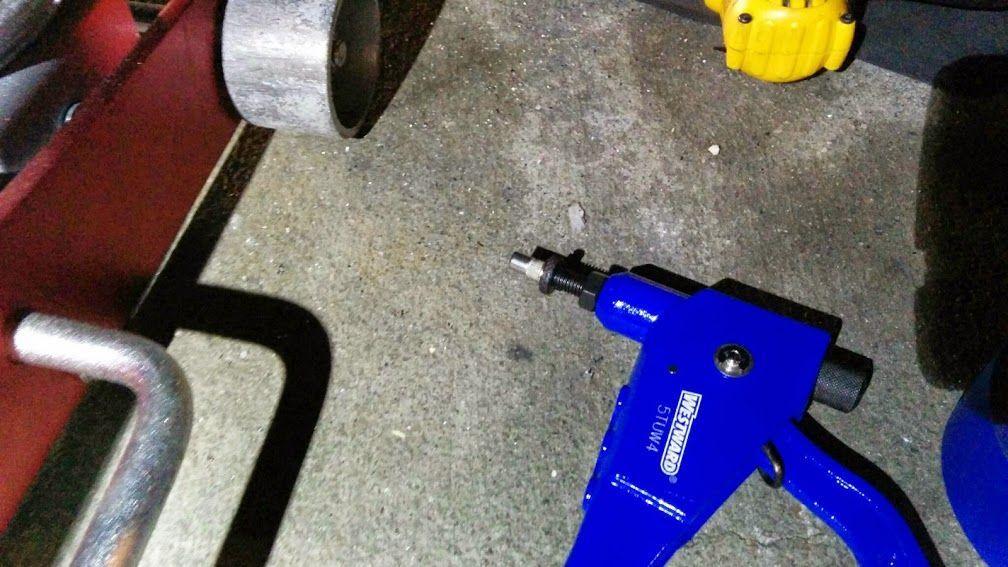 nutsert with the tool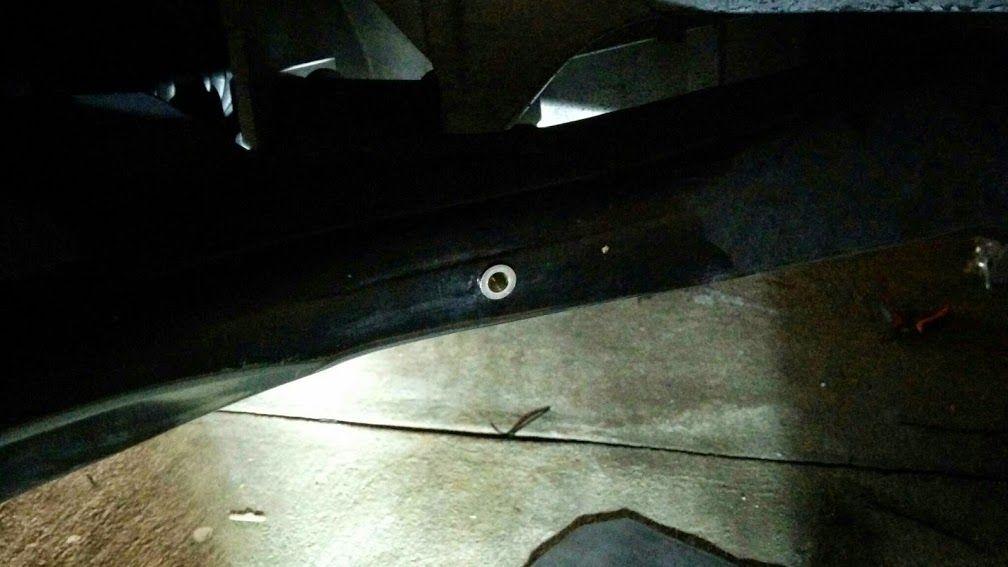 front control arm nutsert in place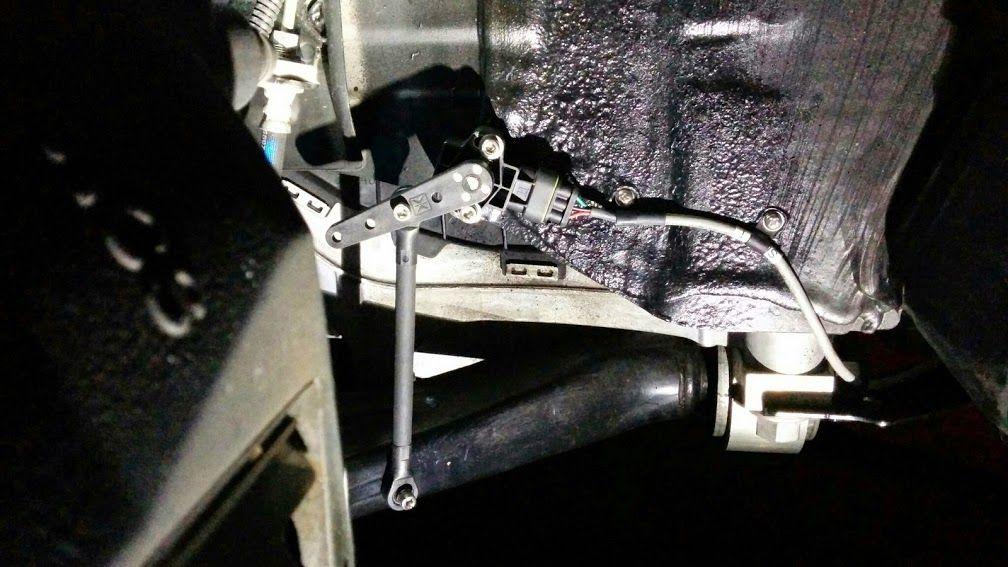 front driver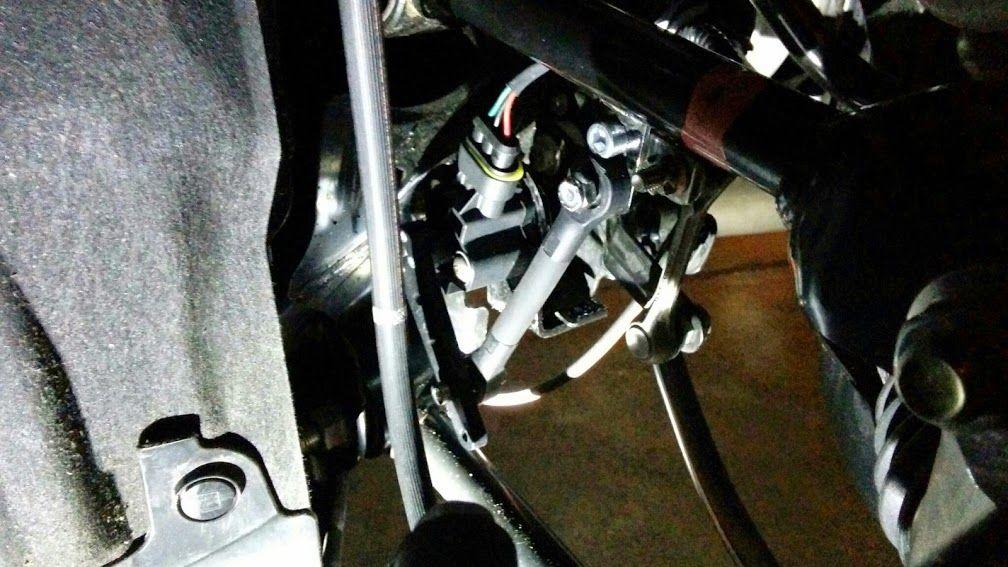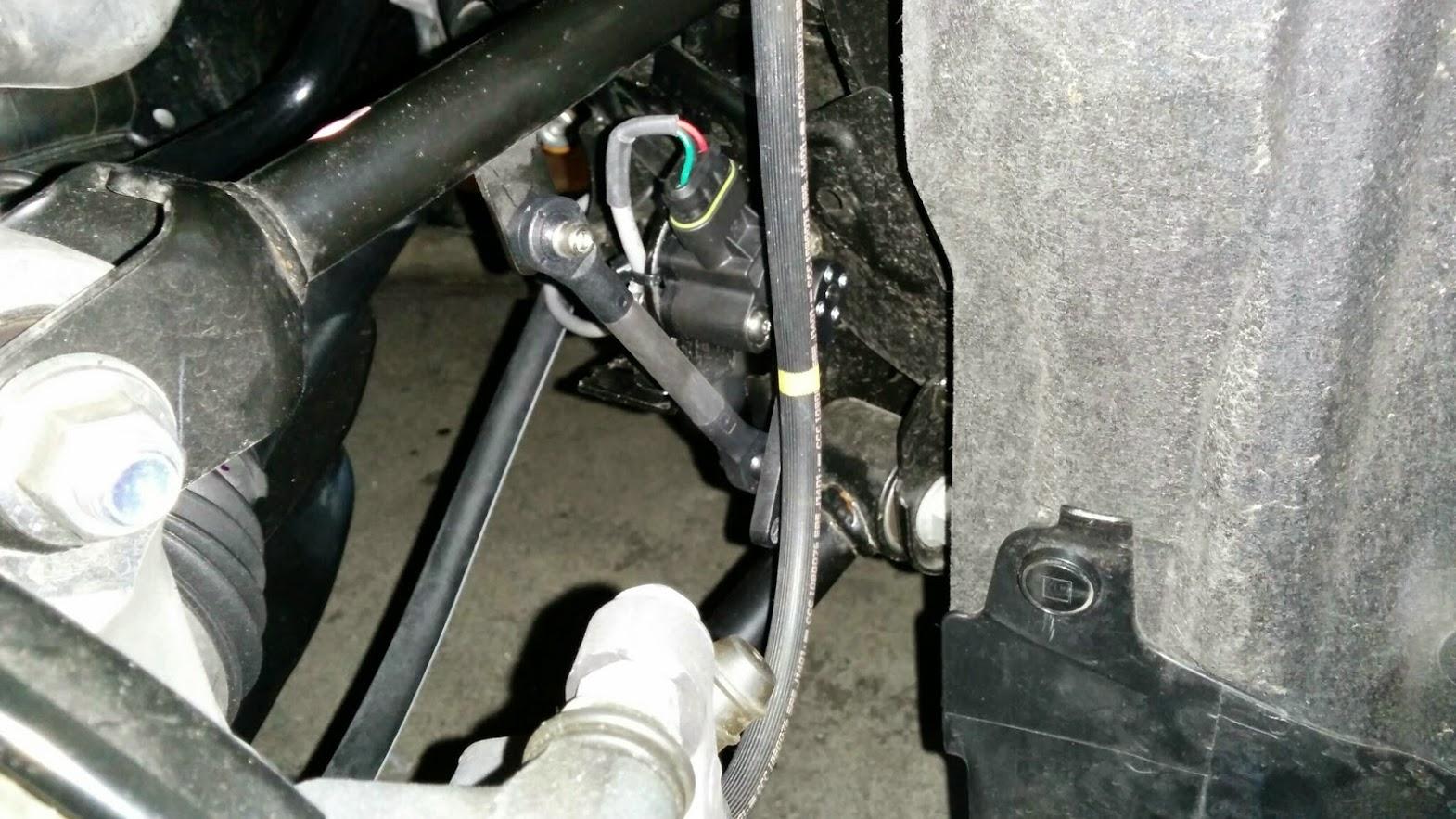 rear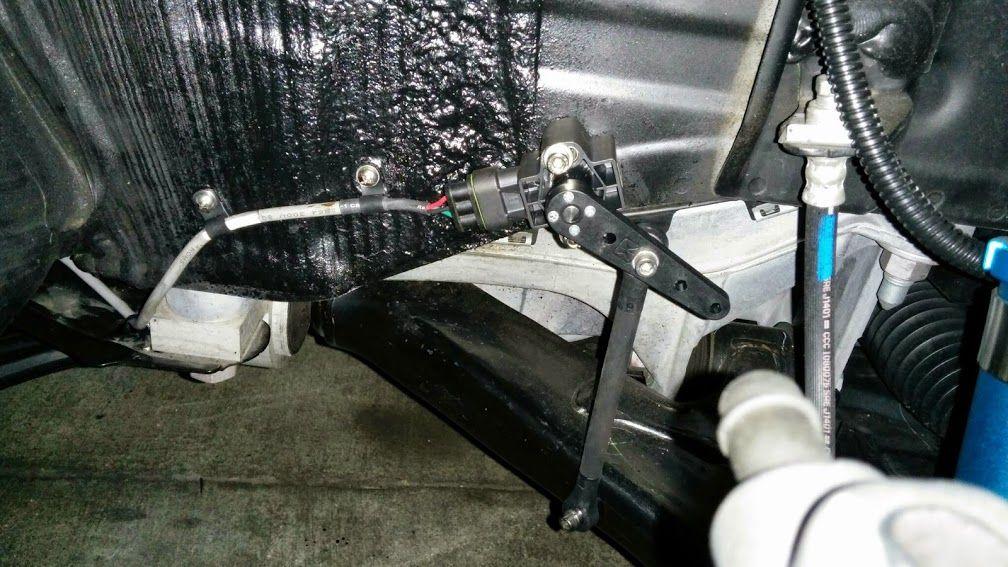 front passenger
also today got '15 factory optional spoiler on. loving this spoiler so far!!!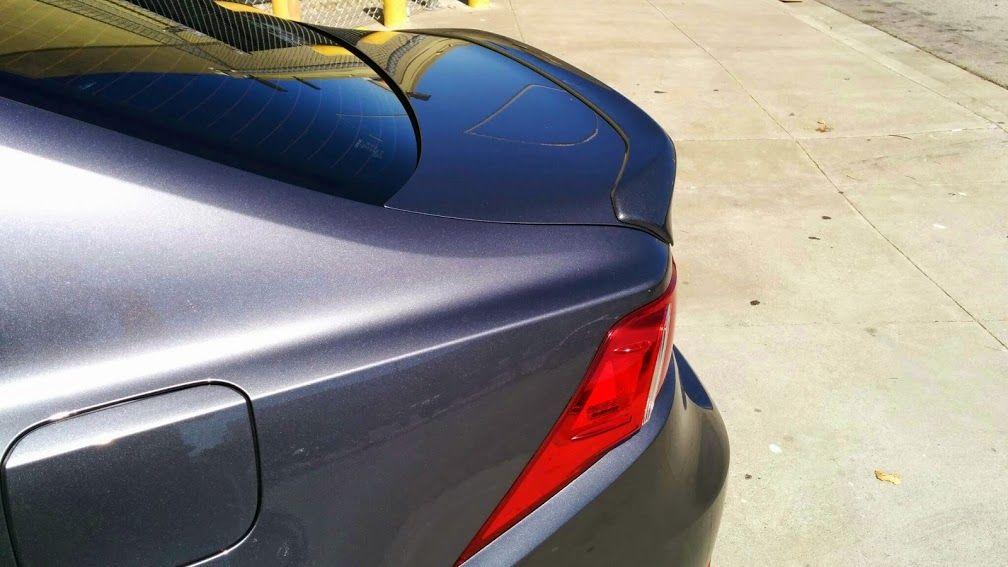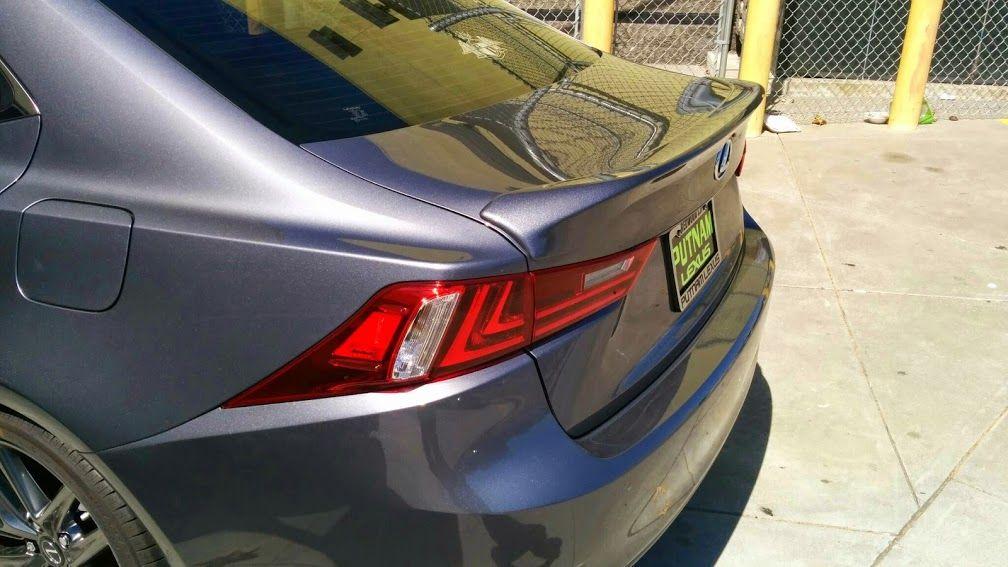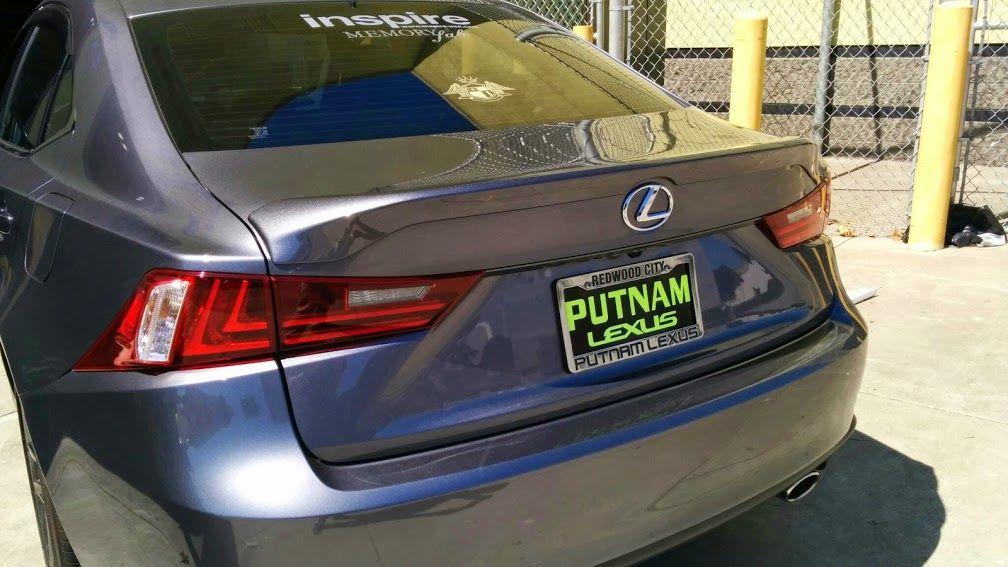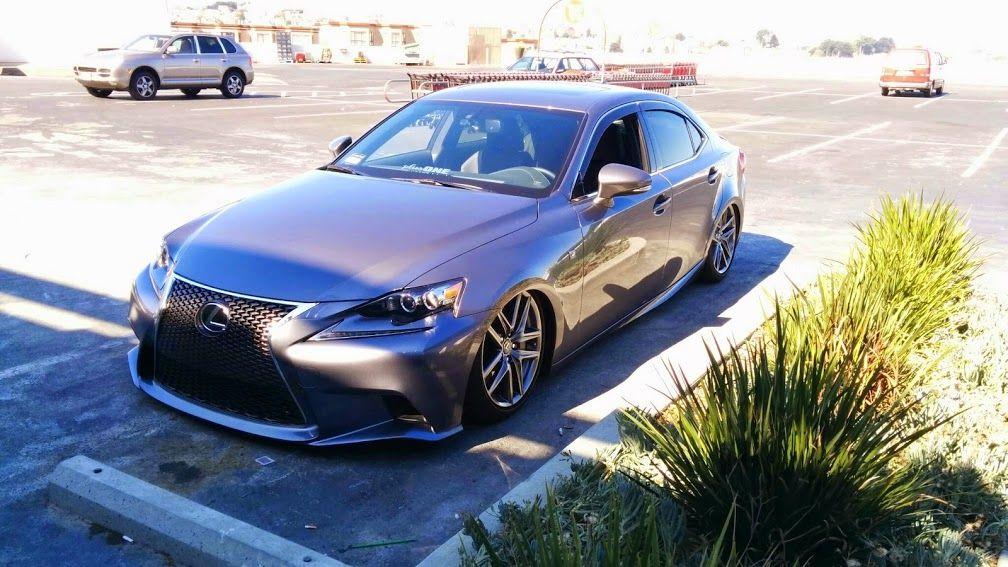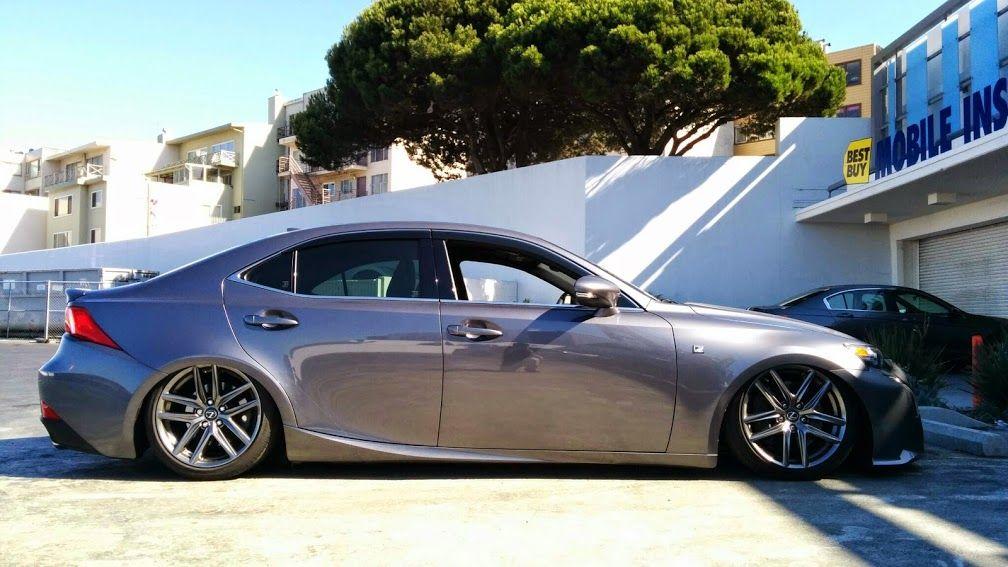 12-27-2014
Its been a while since i've last updated, nothing really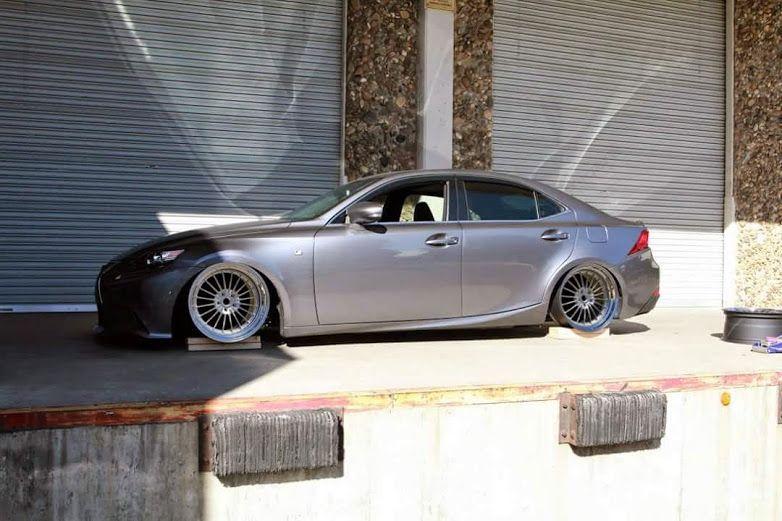 wheels are on order,
Teaser photoshop shot of whats to come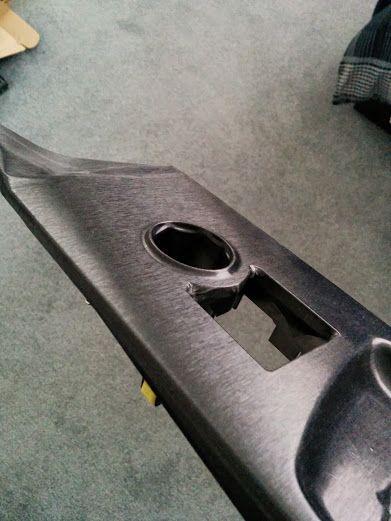 test run of brushed aluminum wrap on center console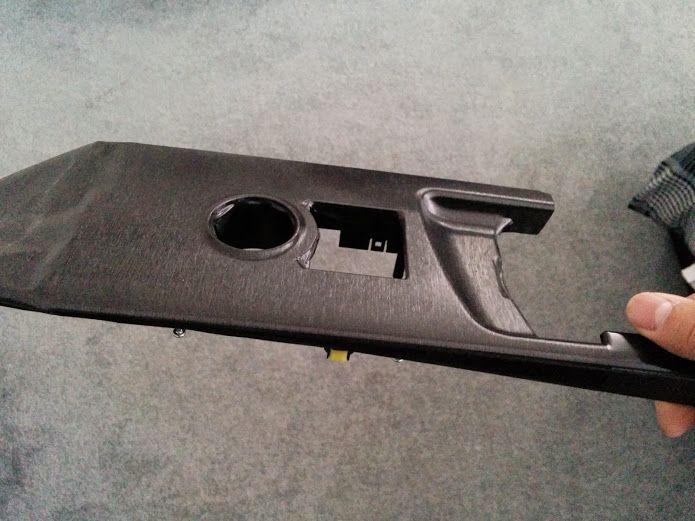 2-22-2015
no major updates yet.
Worked on removable magnet mount license plate for the front bumper.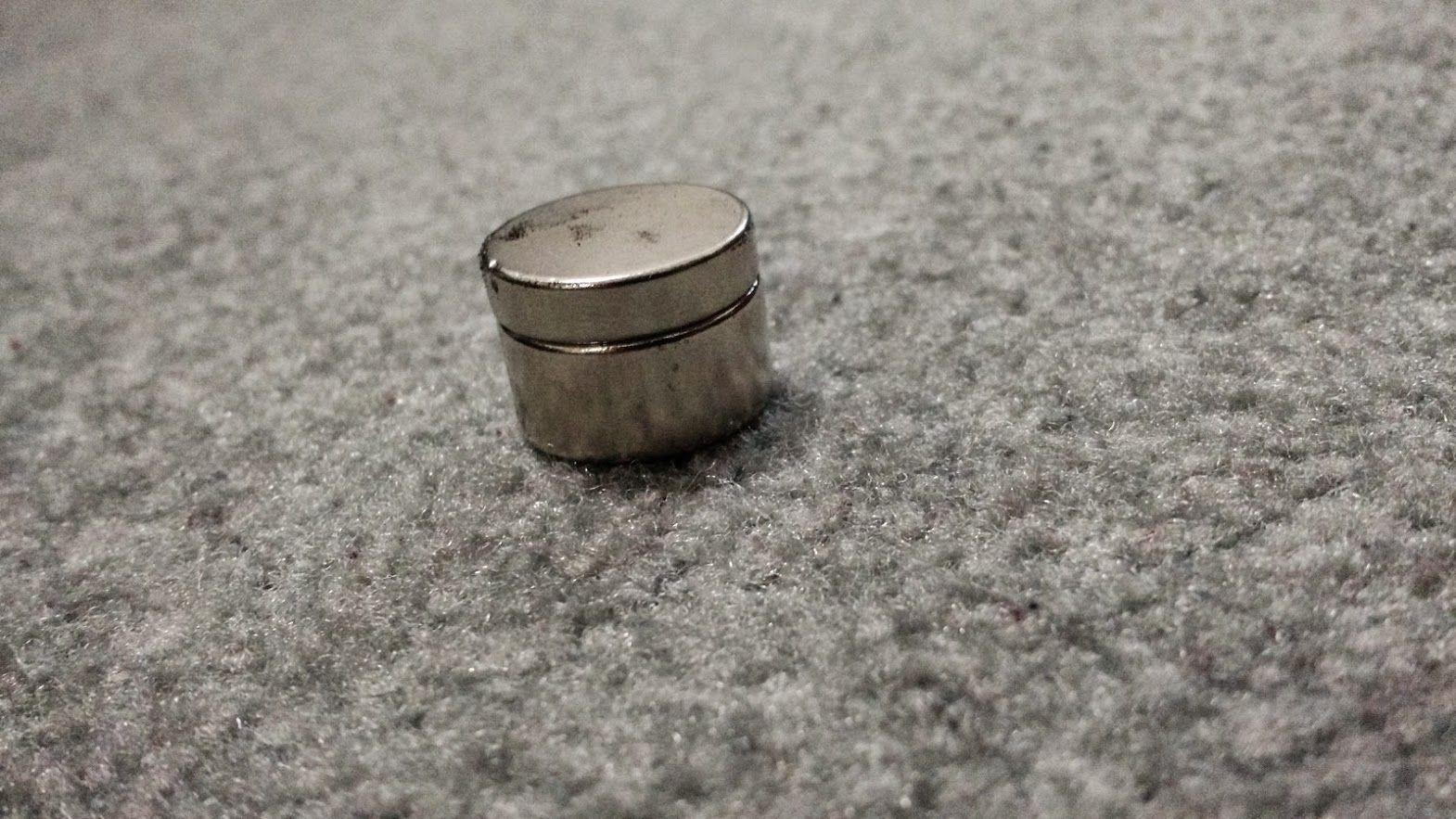 The super strong magnets I'm using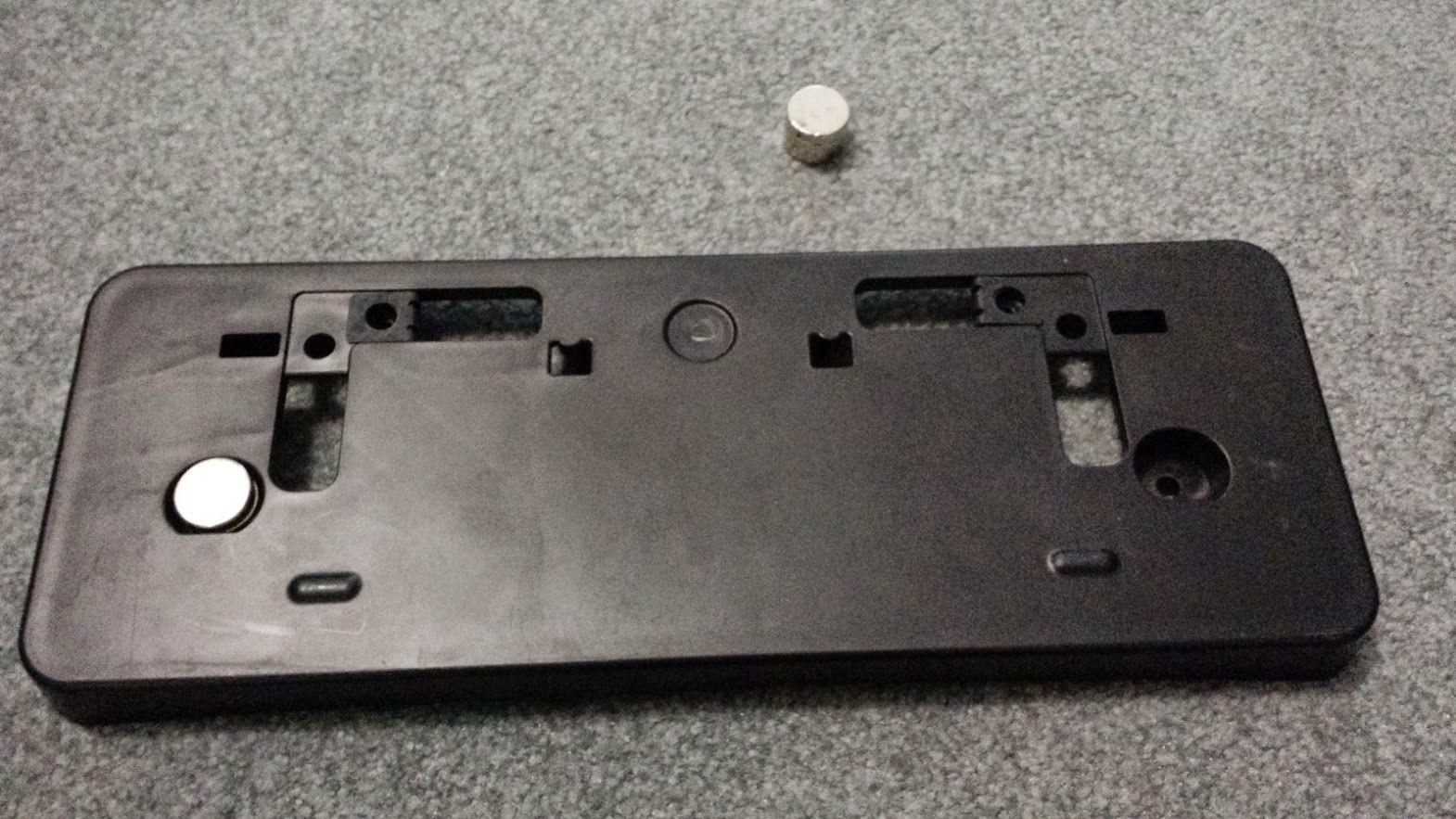 it fits perfectly into the OEM plate holder mounting holes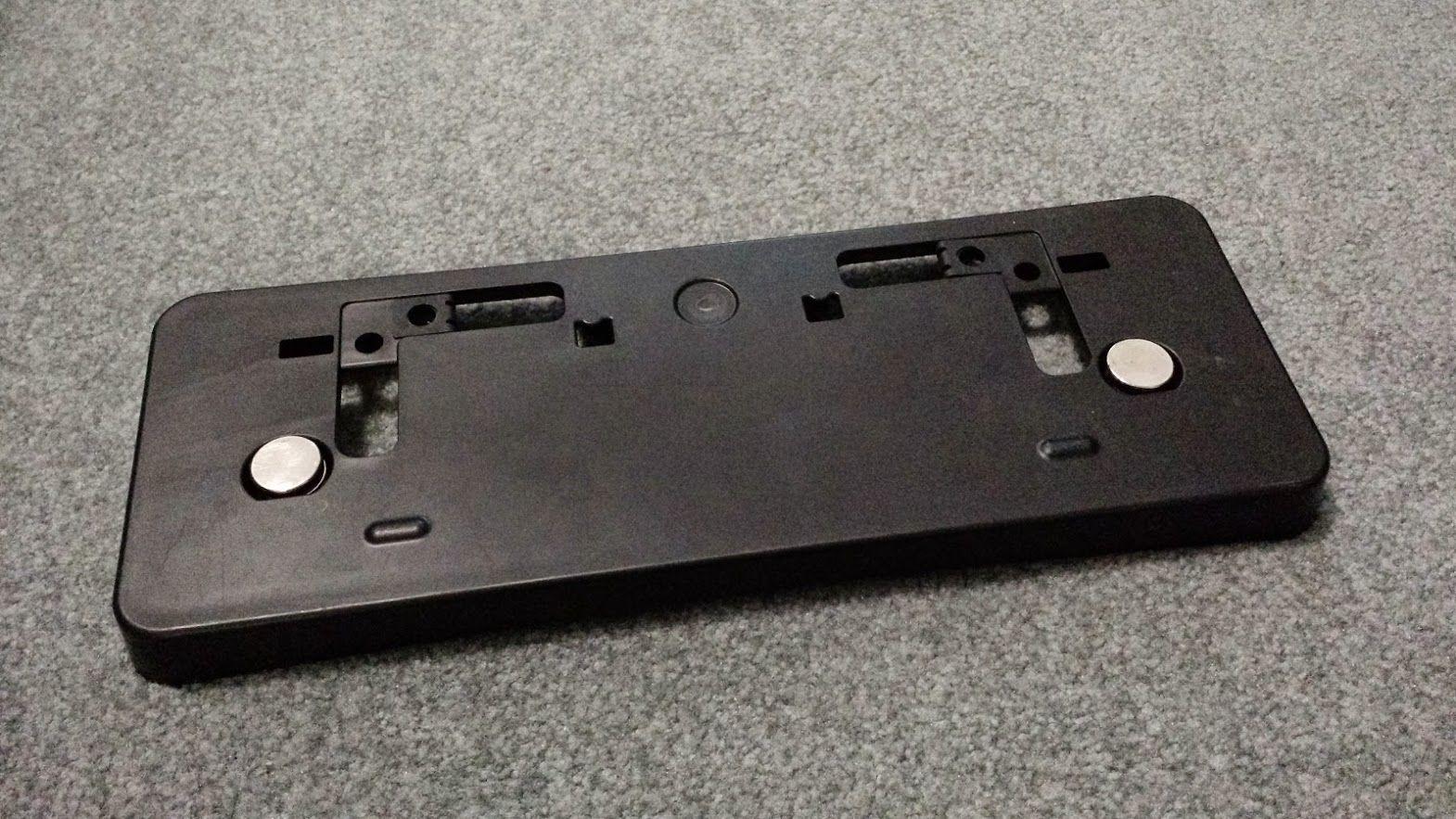 Both pressed into place. License plate will hold them in place and do not even need to glue or tape them down.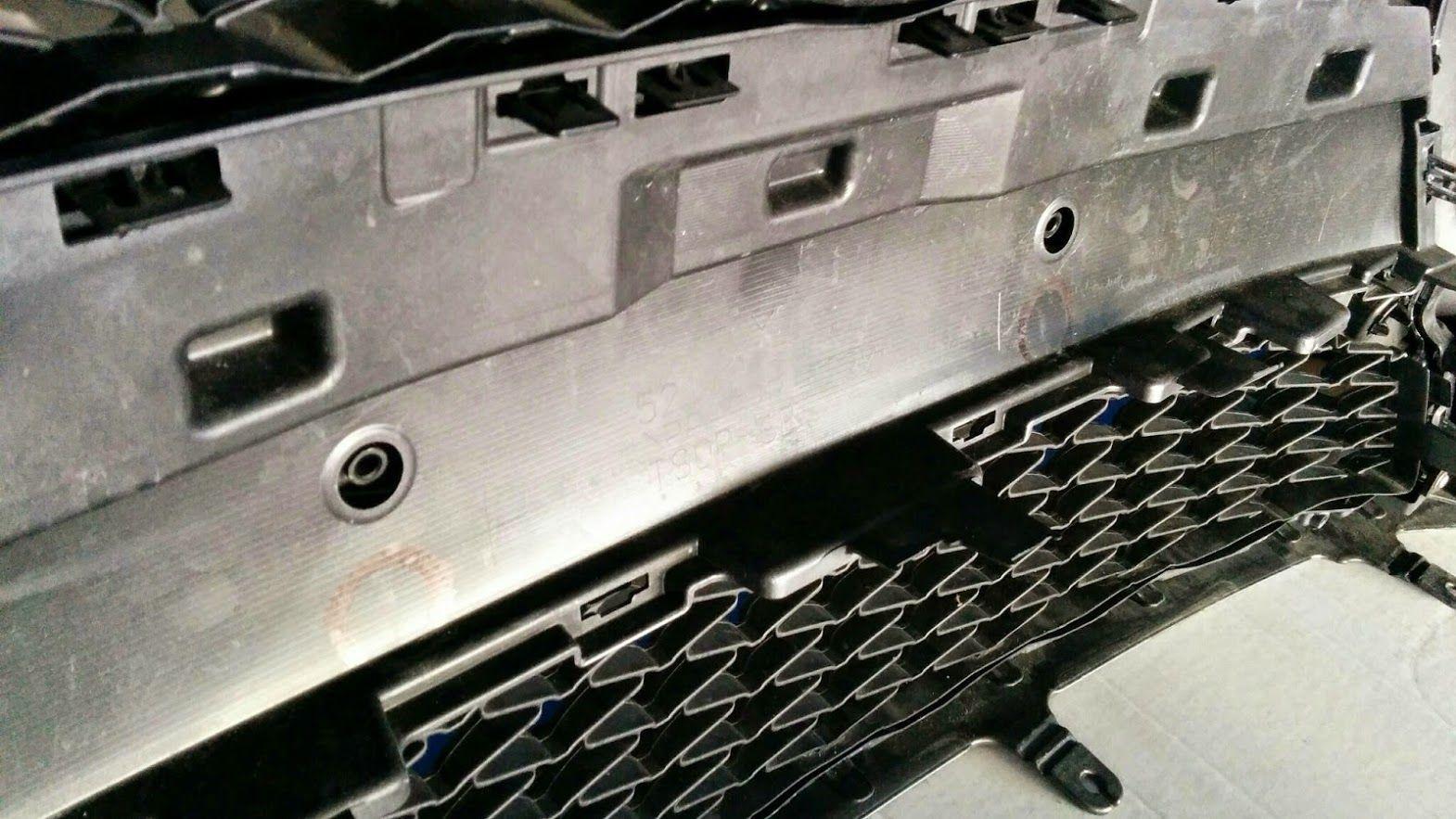 Marked on back side of bumper where i will dremel through plastic so that the magnets sit on the actual grill plastic so the magnets will be stronger hold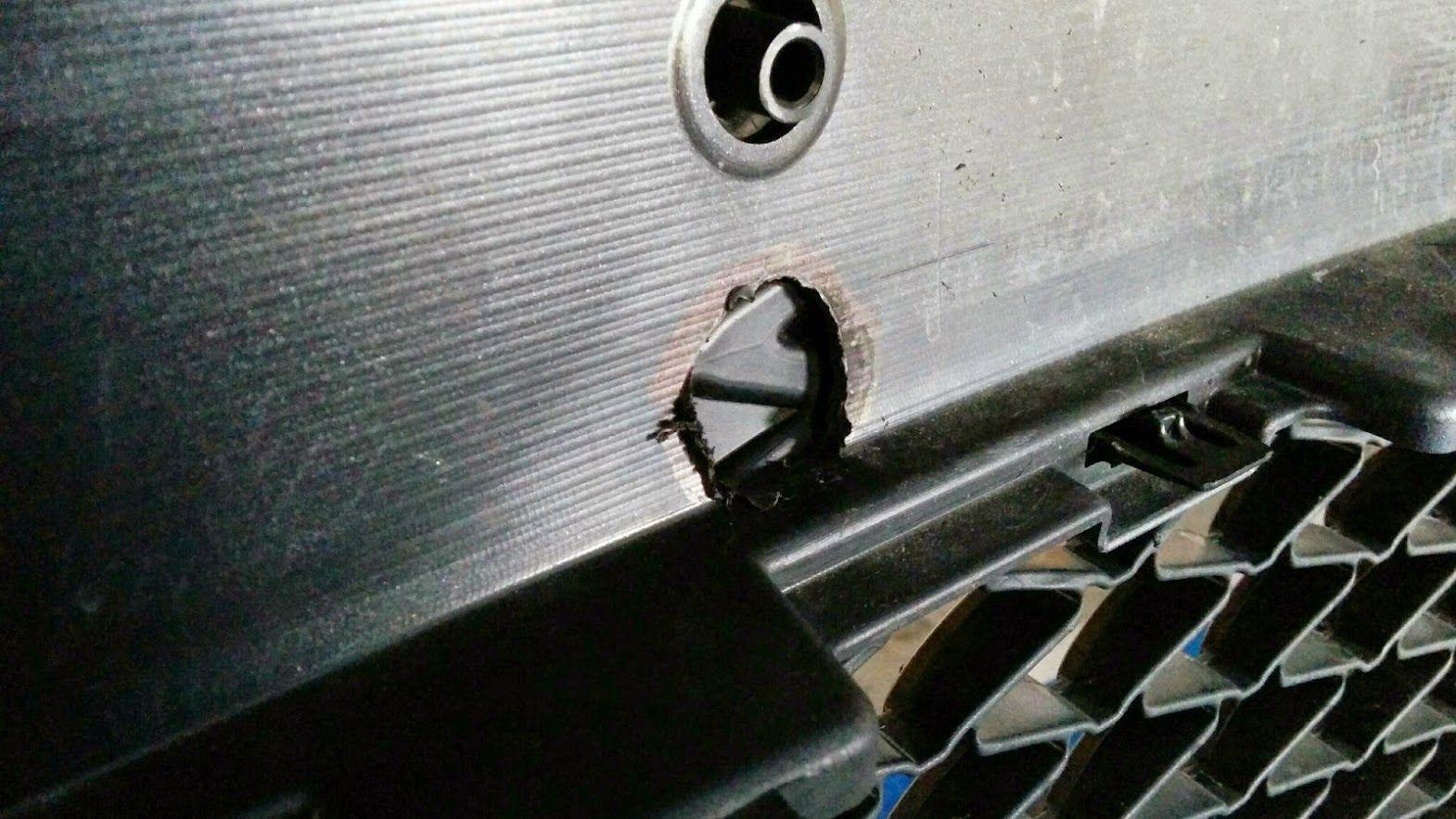 dremeled through bumper, this part will never be seen that it was cut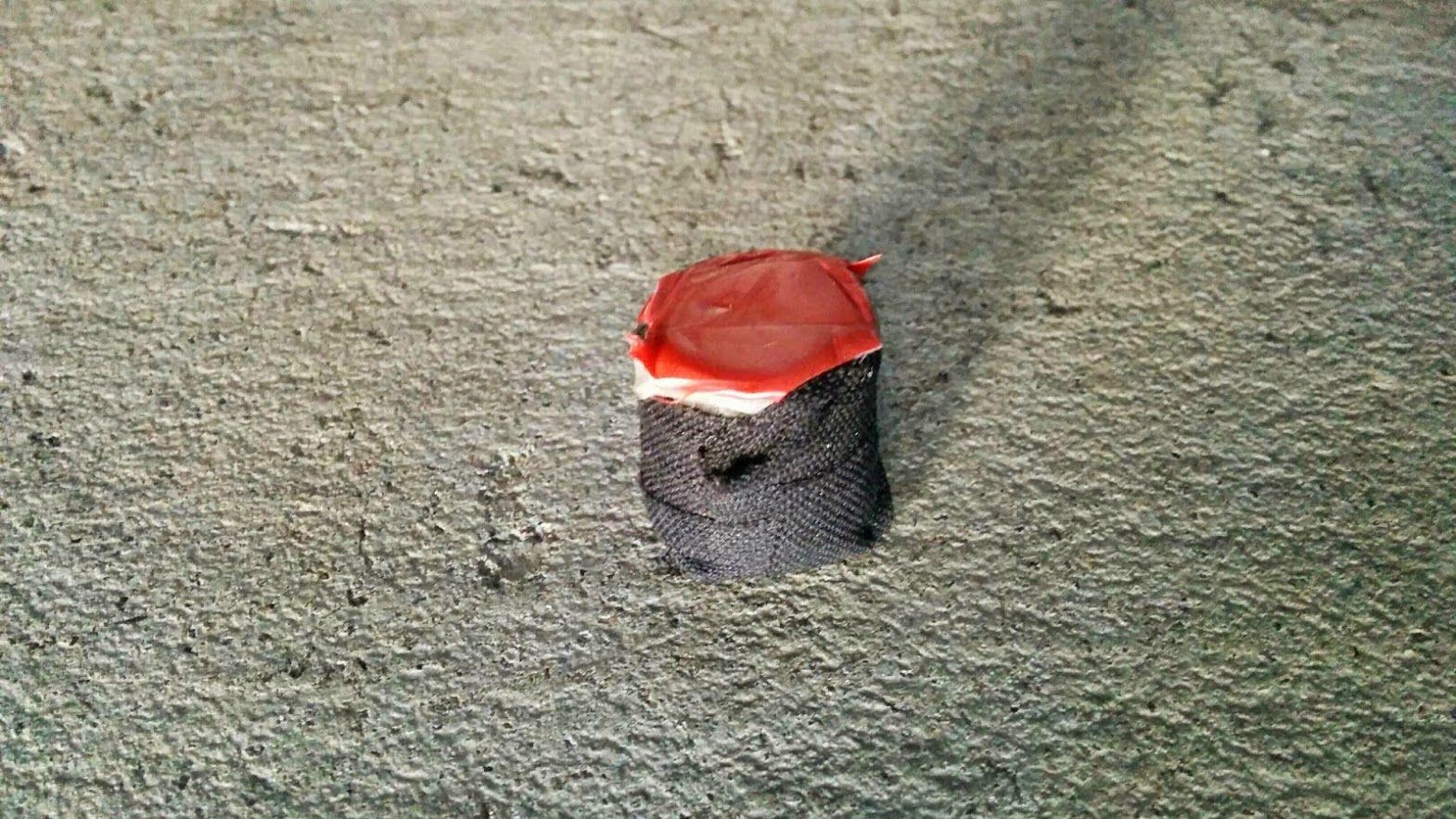 Double sided taped and wrapped the magnets so they dont accidentally seperate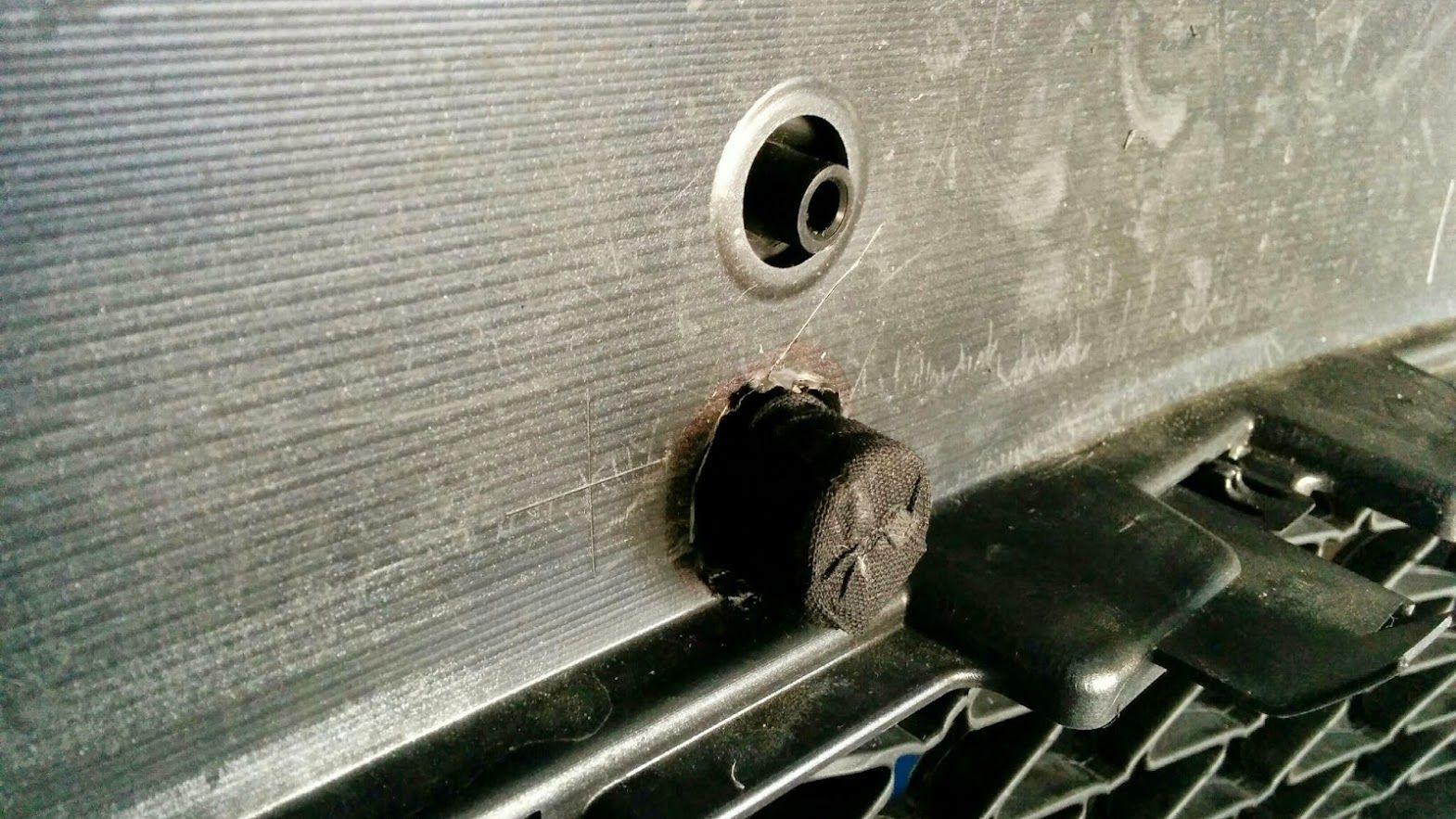 taped down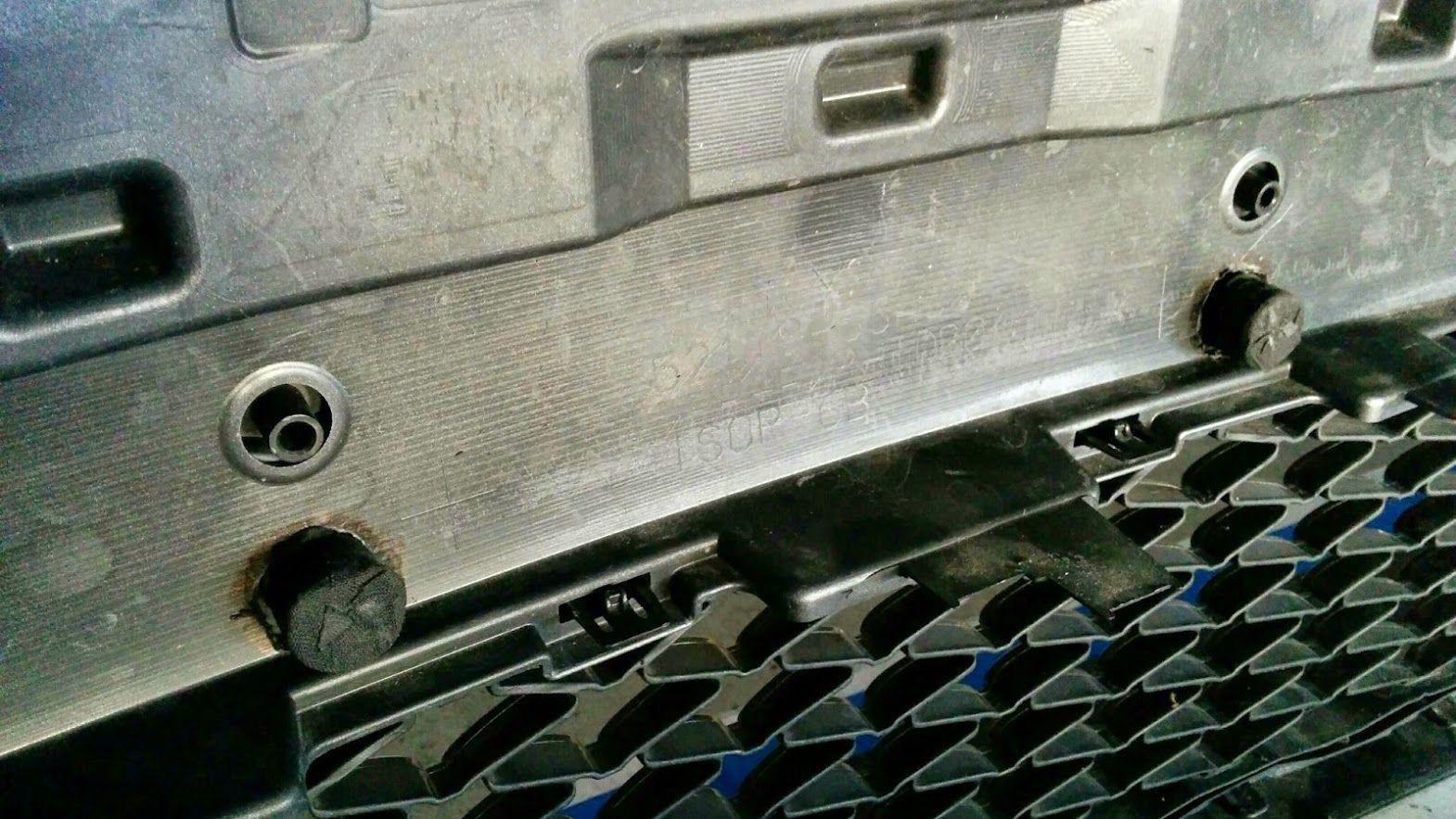 both sides done
Here is video of it working pretty well.
2-26-2015
Strong N52 Neodymium Magnets Rare Earth Round Disc Fridge Craft 20mm diameter fit perfectly into the Hole in the license plate bolt mount recessed portion.
used an assortment of thickness to fill up the hole and stacked them to give them even more strength.
Had to cut into the hidden part of the bumper so the magnets have more pull and be closer together. Initially had it just double sided taped to back of bumper but then the magnets had about 3 layers of plastic to magnetize through so it did not feel as strong.
planning to put foam on the back side of the plate mount so it wont scratch the grill up while "mounted"
3-10-2015
Finally finished wrapping center console with Black Brush Aluminum Look vinyl wrap to cover the scratches made

plus also match the Mark Levinson stereo finish.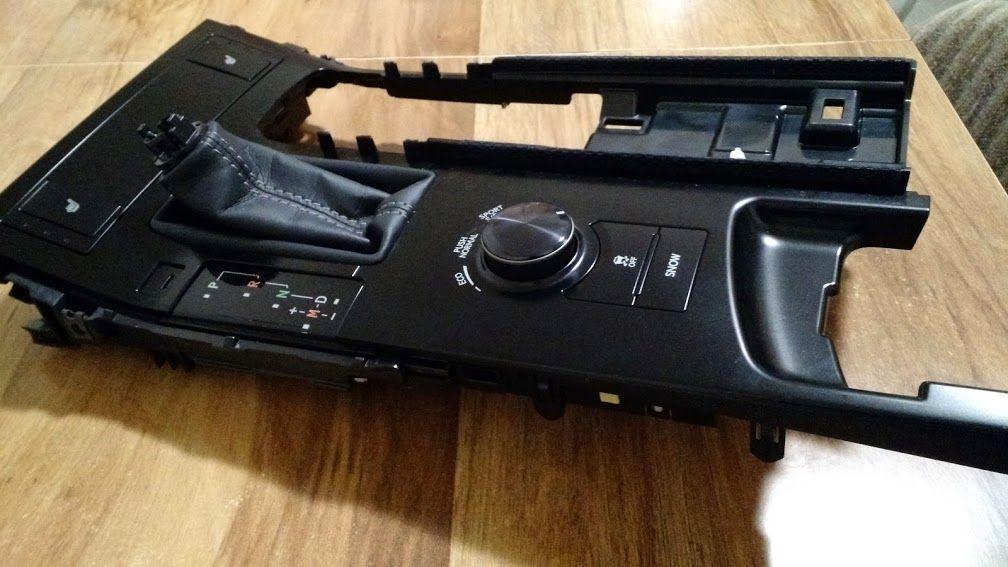 before...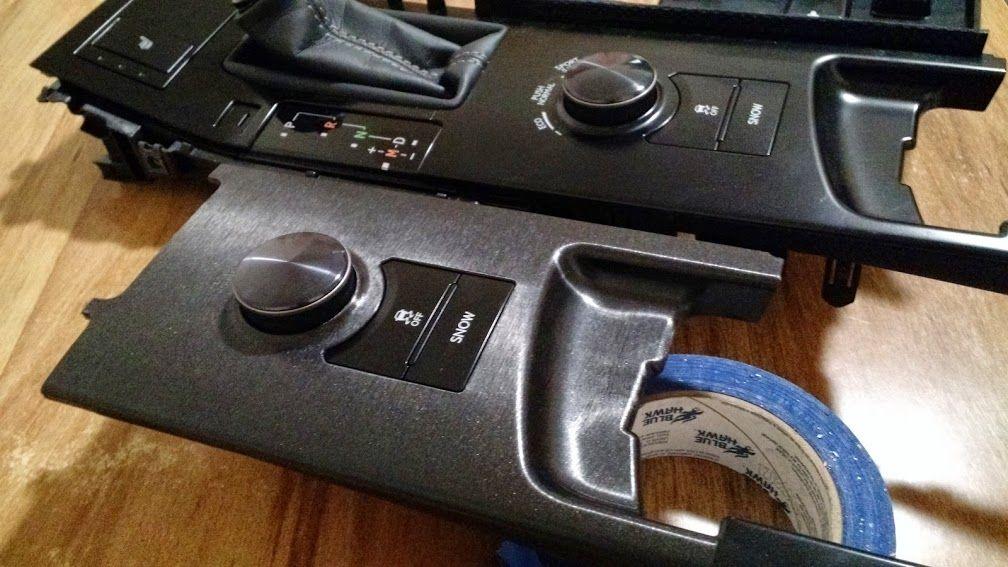 compare....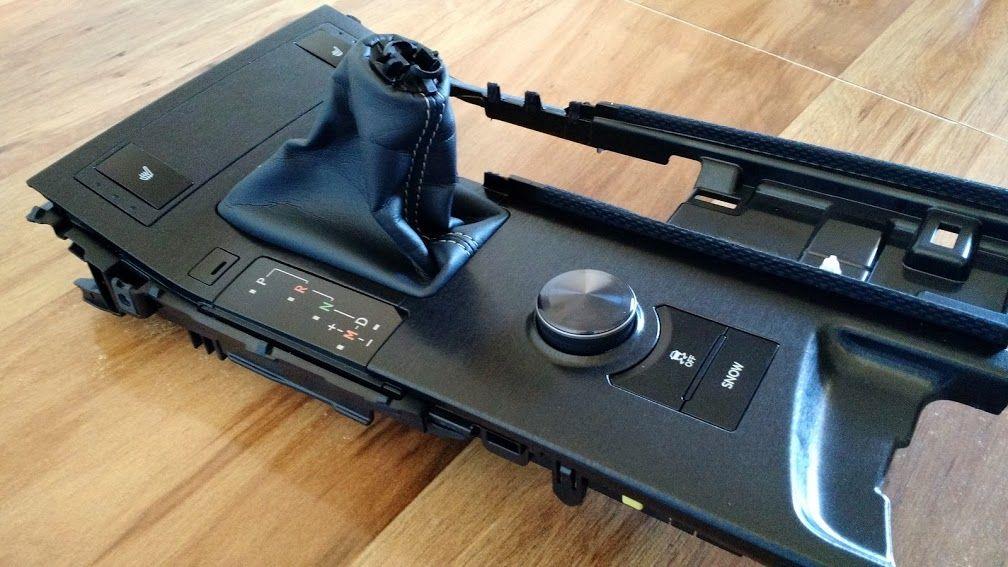 after...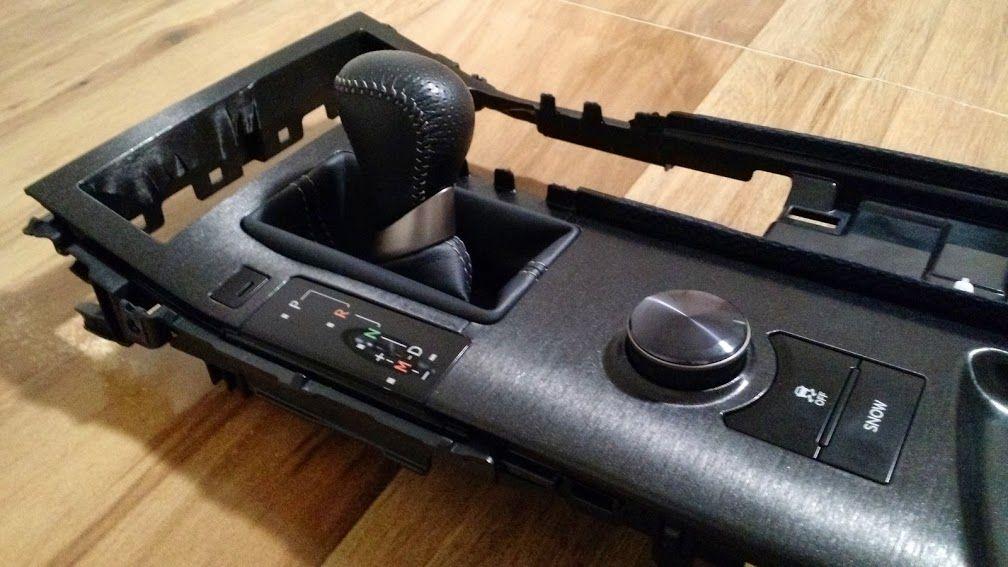 with gs fsport shift knob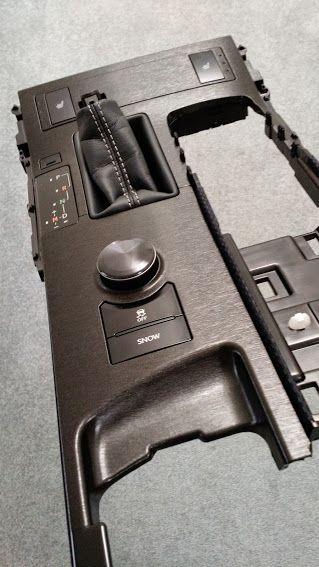 under different lighting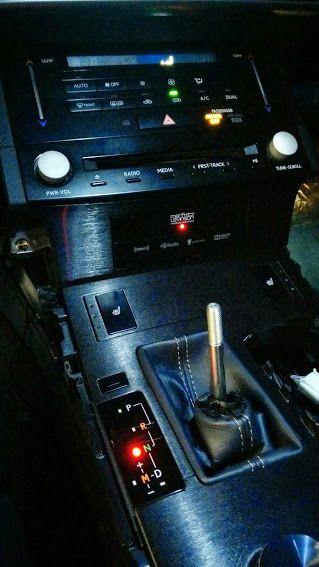 not a bad match to the ML radio texture.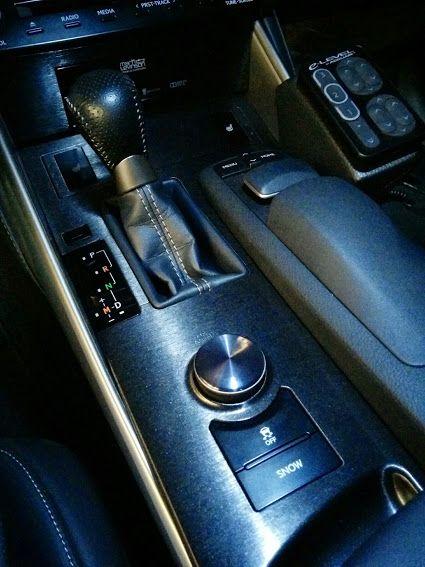 in the car under LED dome lighting
Up next DEI 1-mile Remote Start Pager alarm with Glass break and proximity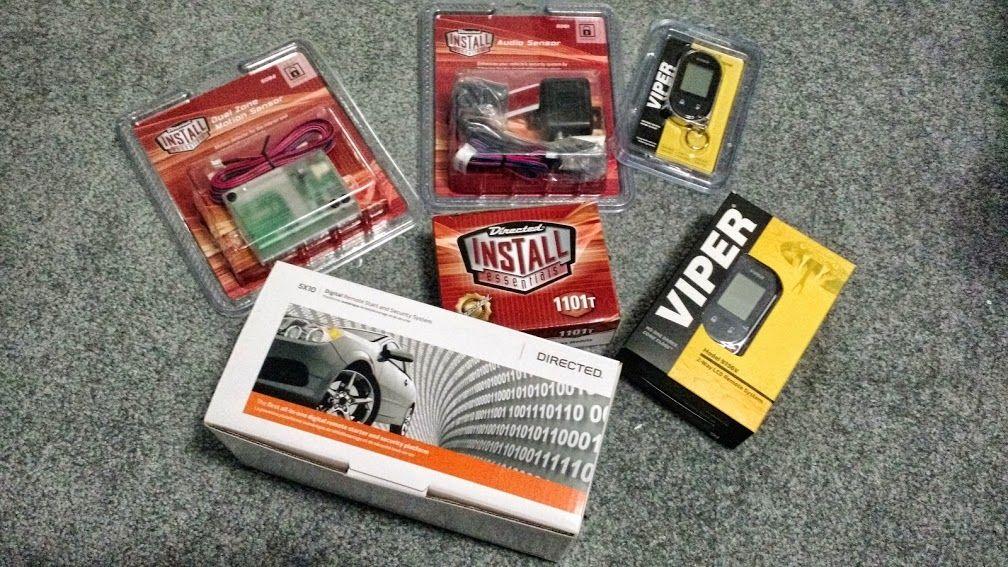 sensor
all the pieces...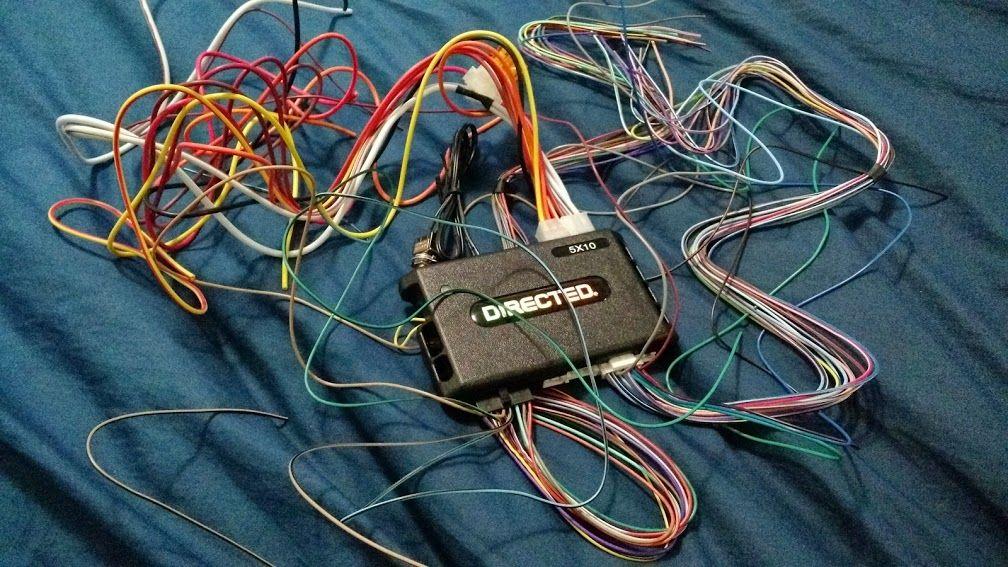 Main Module with harness plugged in.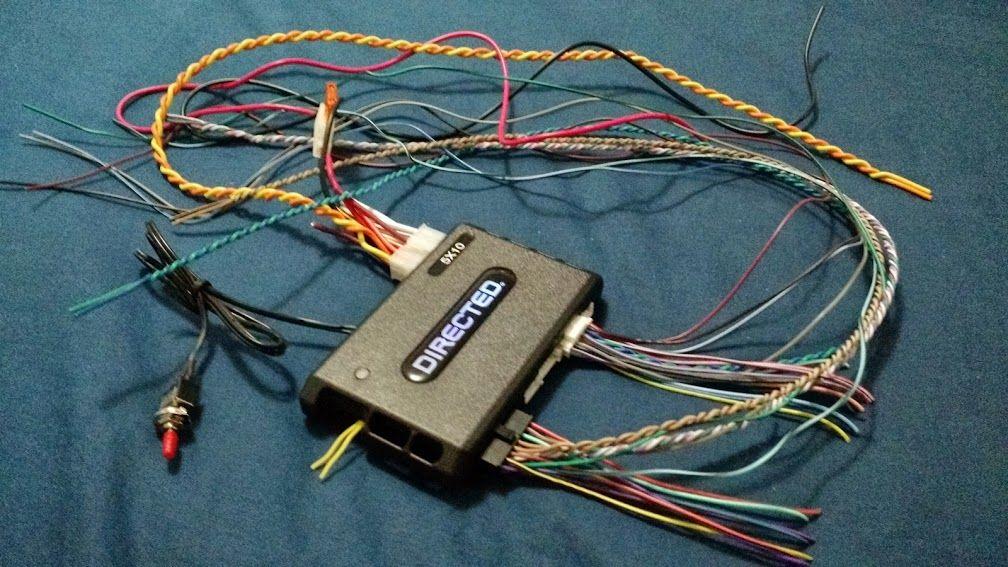 started cleaning it up with only the wires needed.
will clean up some more once i know for sure where things will be going to in the vehicle as well as double checking wires needed
4-7-2015
did some cheap free mod.
hate the way the LED amber in headlight lights up at night right under the side reflector in headlight so i figured out which PIN wire it was and disconnected it, Completely reversible if i want to fix it. Bumper had to be removed for the front.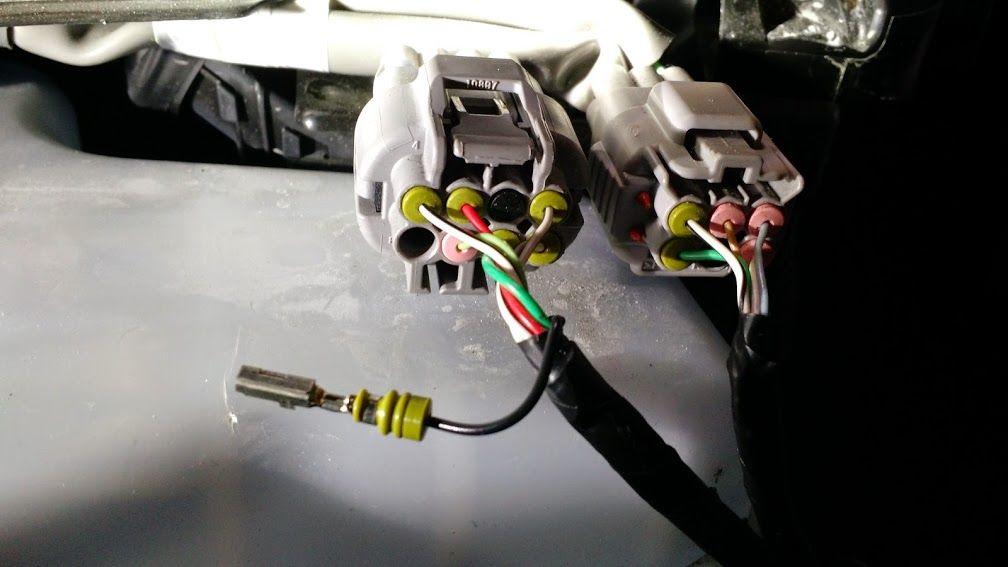 Black wire unpinned from Headlight Connector, Disabling the Amber LED portion. Driver side I believe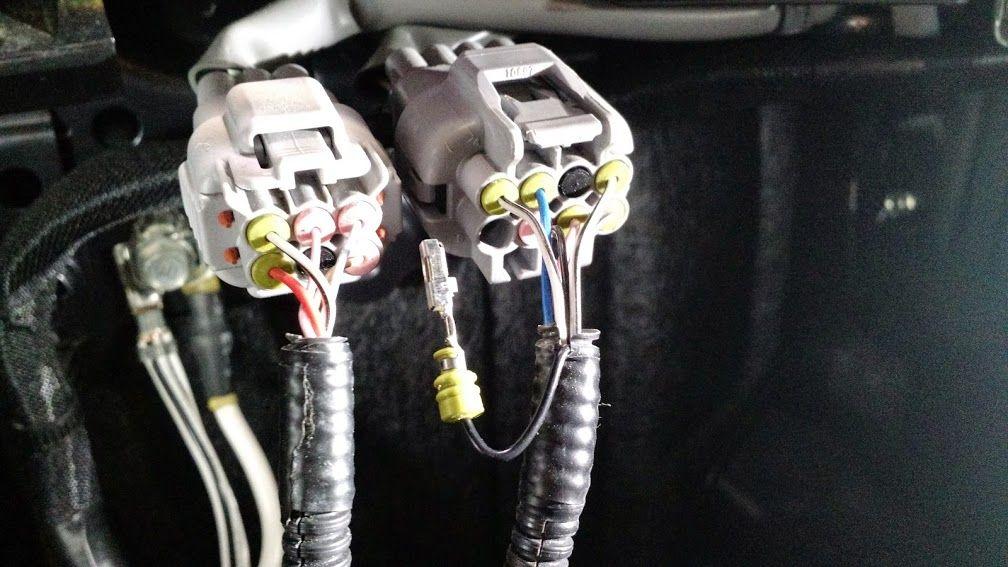 Passenger side also
Forgot to grab pictures of how to unplug unpin the wire without damage. You have to unplug the connector and then from the pin side you remove white plastic retainer with a pick and put it aside and then you will see you have to press tab to release pin wire in question and then reversal by putting white retainer back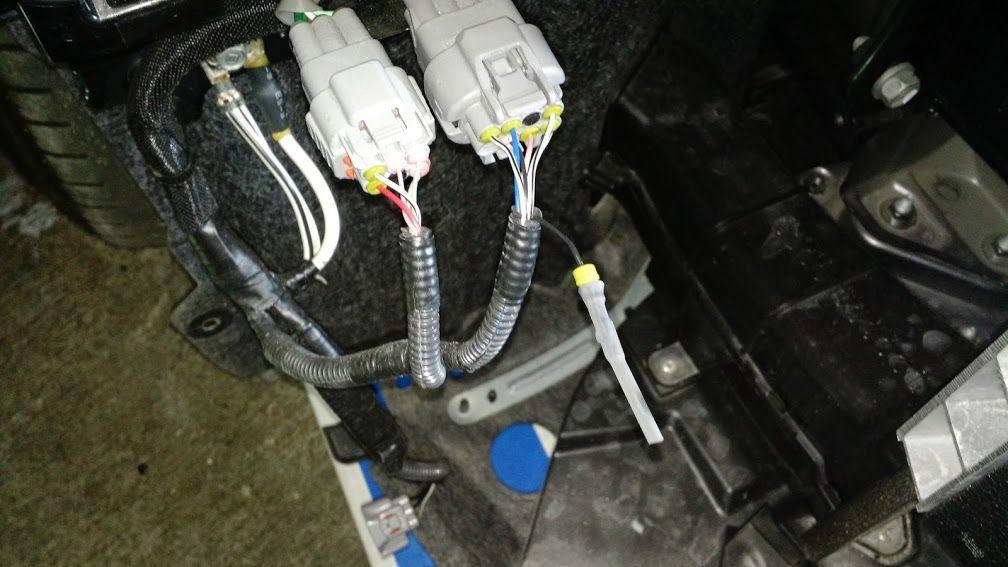 Heat Shrunk Pin to protect it from the elements.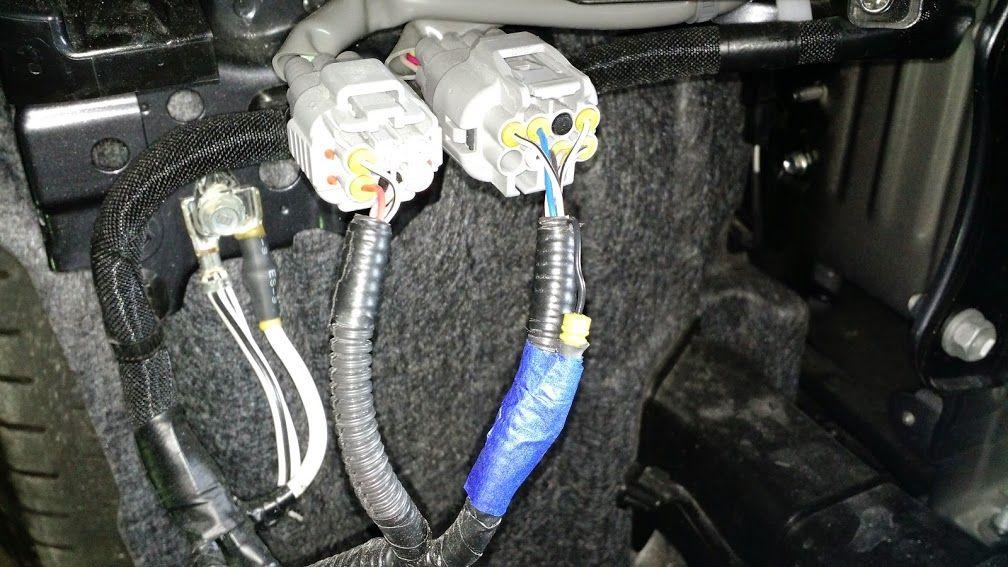 Blue taped wire down so it does not move around.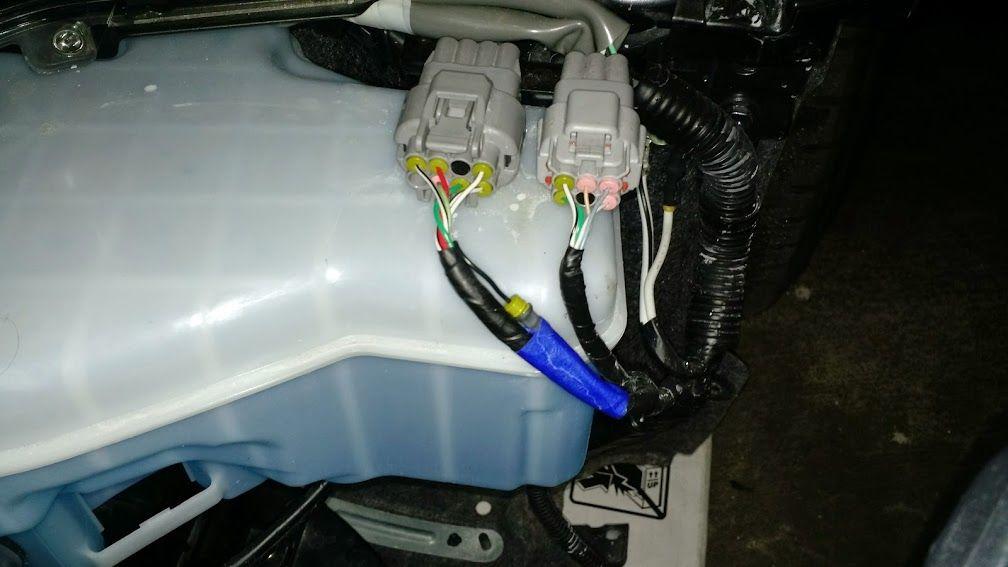 Other side Blue taped as well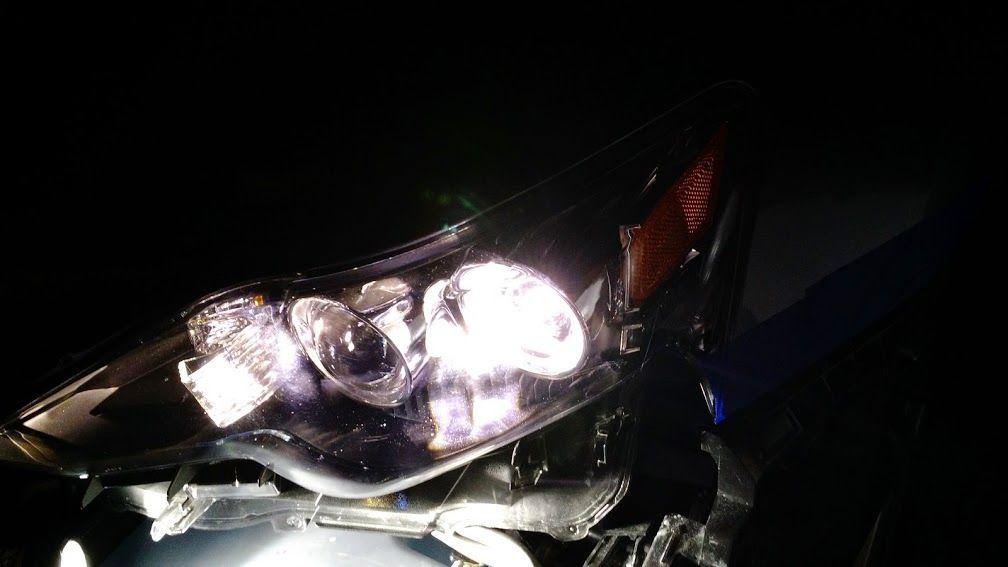 Sample of Headlights with no more Amber LED lights. Front end is all White lights, i.e. Lexus DRL checker and Projector LED. Still amber turn signal bulb though but only when signals are on.
Decided to tackle the rear as well. I love how the taillights look at night but that one portion of RED for the Side Red reflector that breaks apart by way of turn signal portion just kills me everytime i see it light up at night.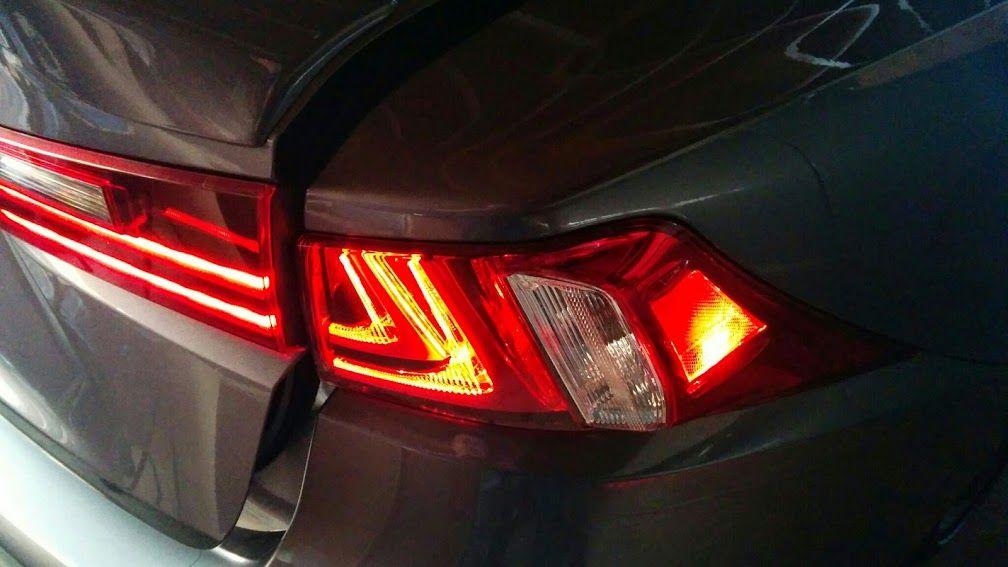 stock Taillamp showing the portion that lights up and does not flow at all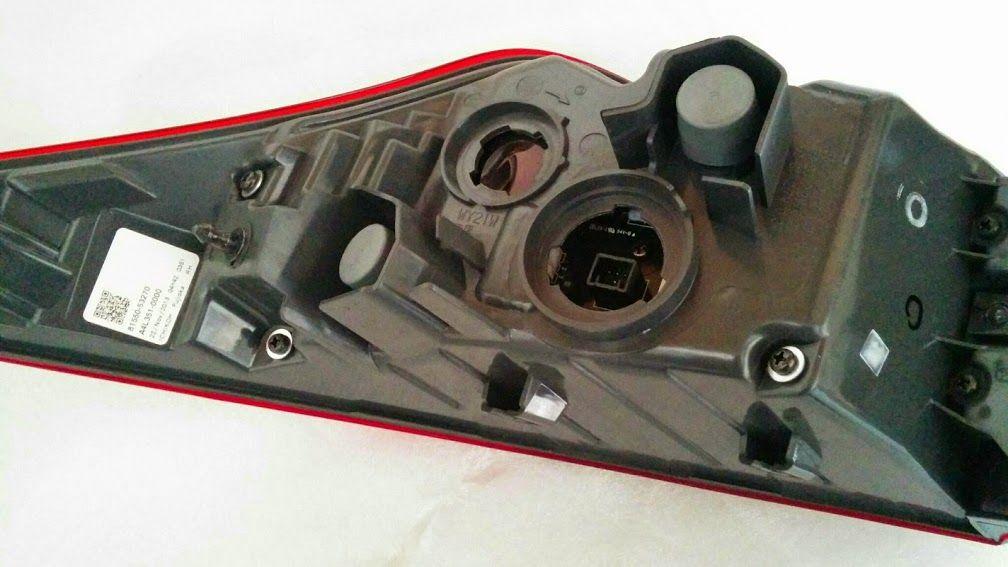 Now with the side portion of taillamp removed we see what it looks like.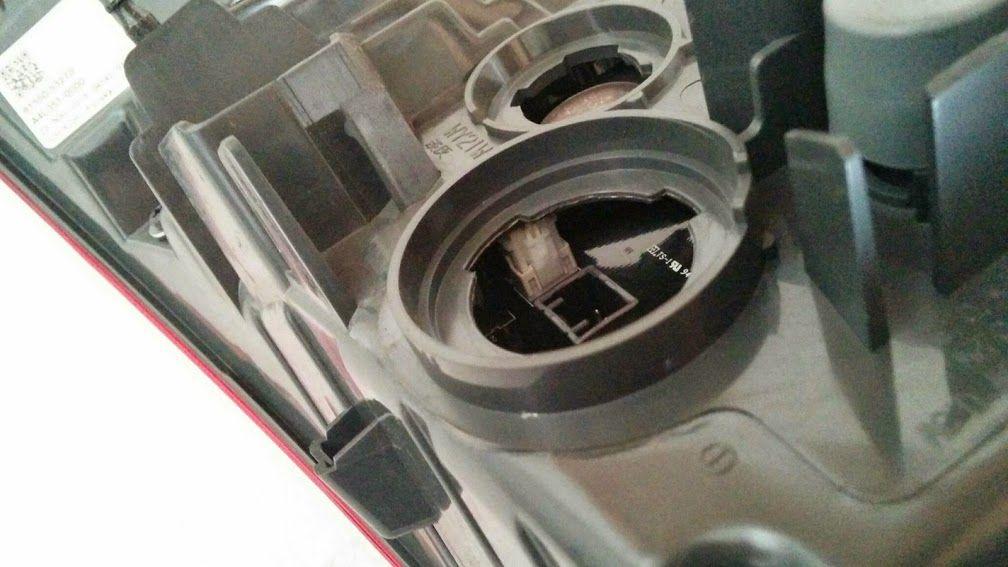 Upon further inspection, it was not gonna look easy since the circuit board inside. But what is that? "I see you", That's probably it!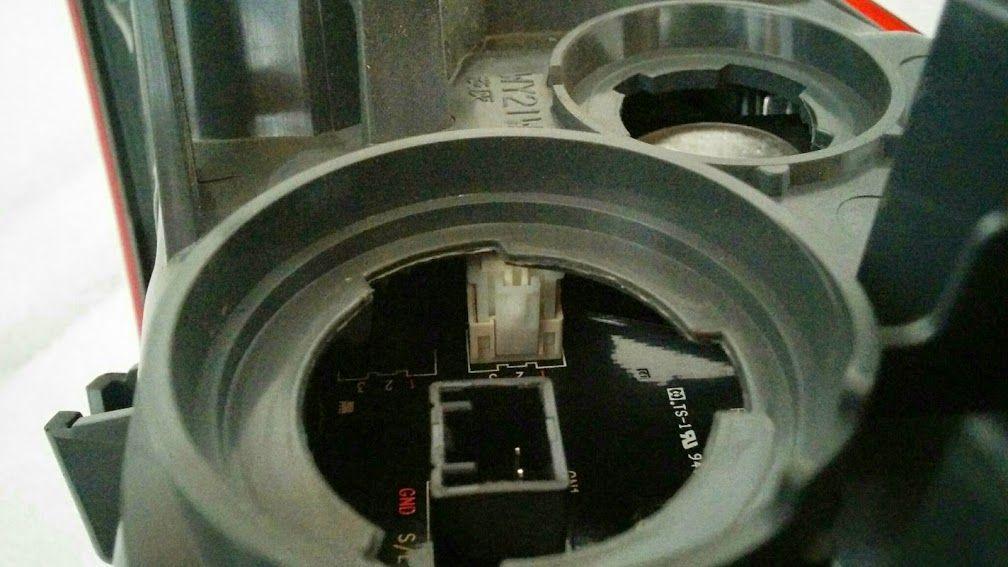 Better angle of the Connector, This factory Connector Slightly unplugged it and brought i back to the car and YES that was it to disable the side lights.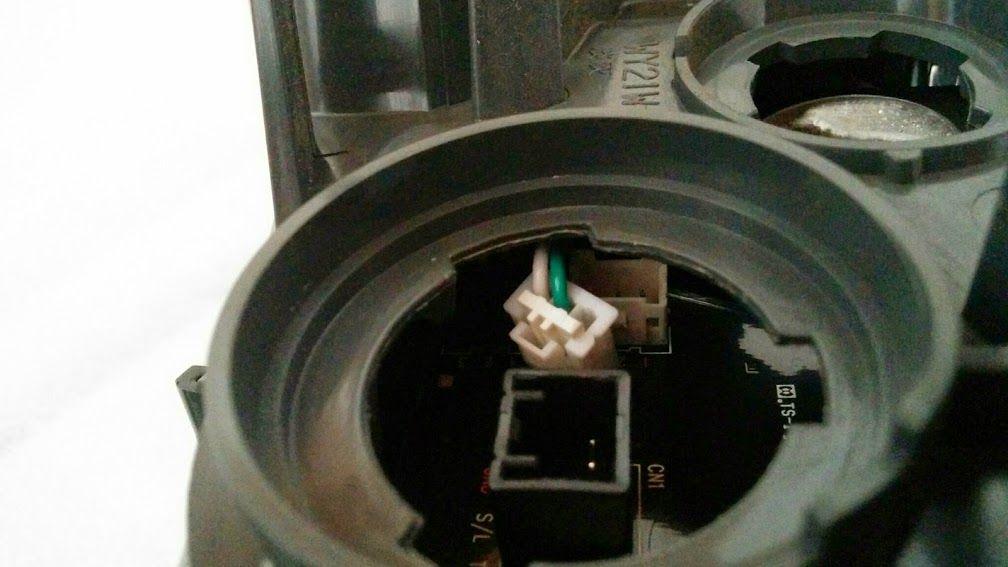 Connector fully unplugged and just sitting there. Reversible also but may take some finesse and patience to get it back plugged in. To unplug this, I needed to use small right angle Pick and small Flat head screwdriver.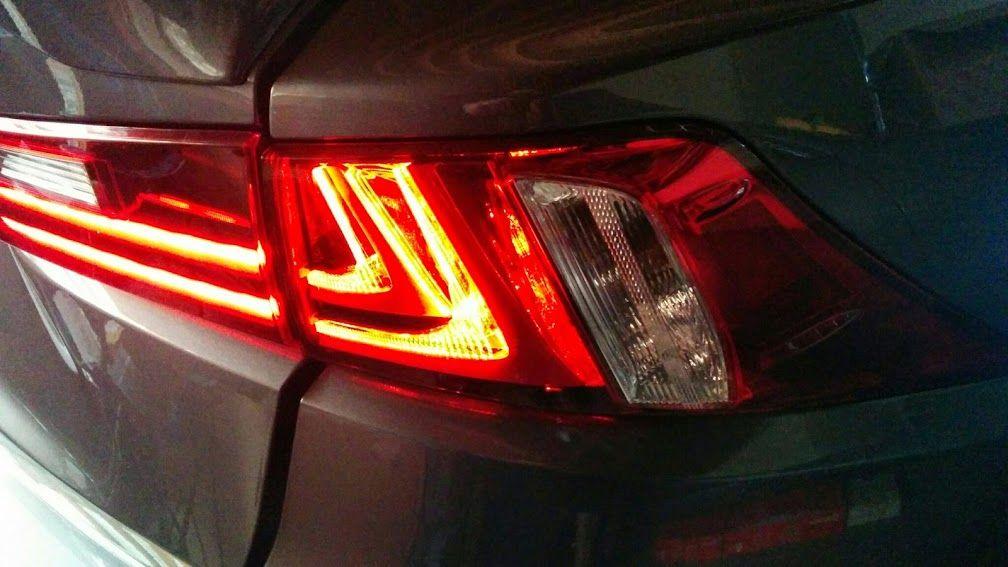 It is OFF and stays OFF!

8-3-2015
not much updates yet. Just waiting on parts to arrive. Here's some little ones with pictures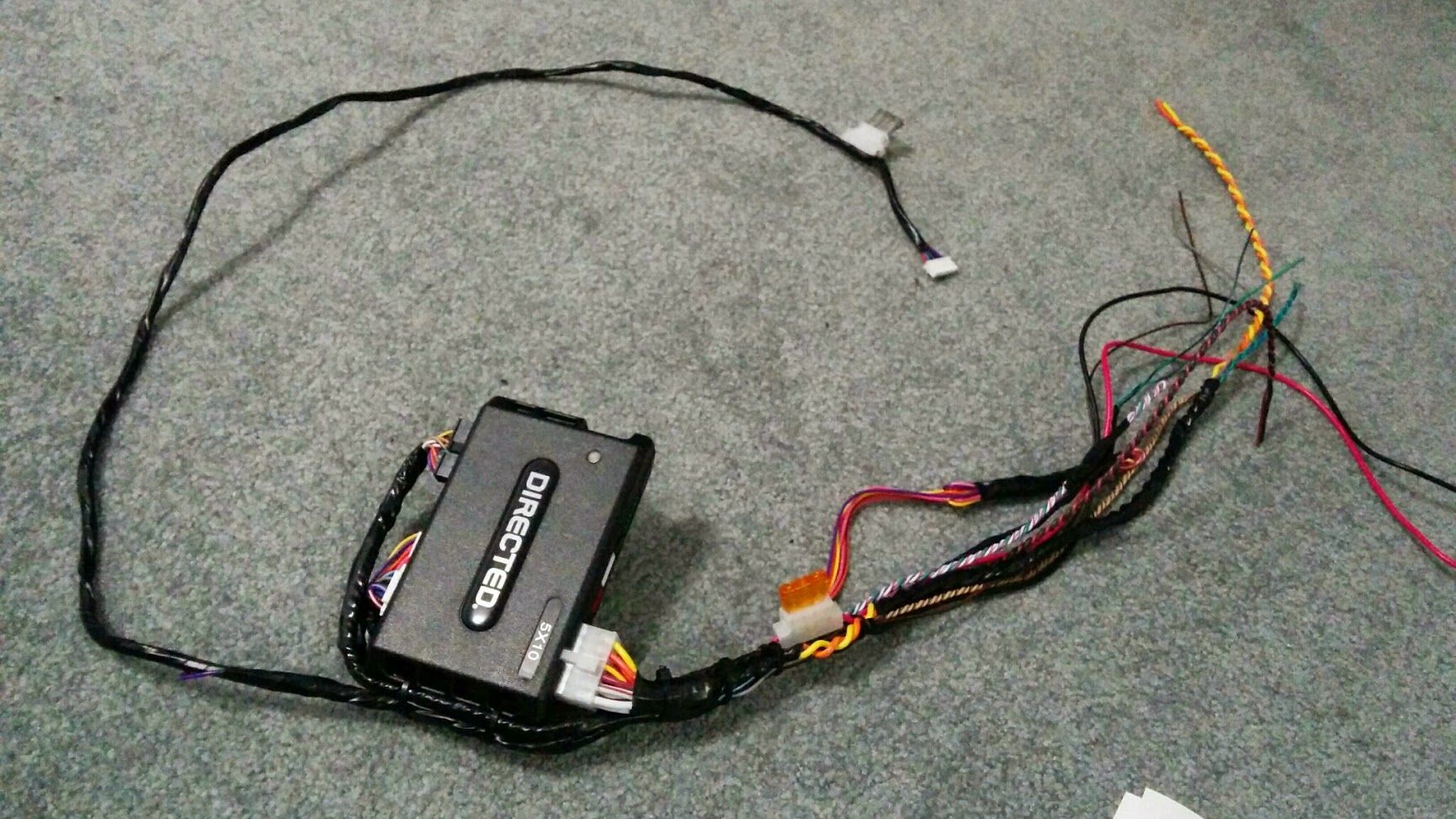 finished prepping alarm/remote start but have yet to have time to get it in.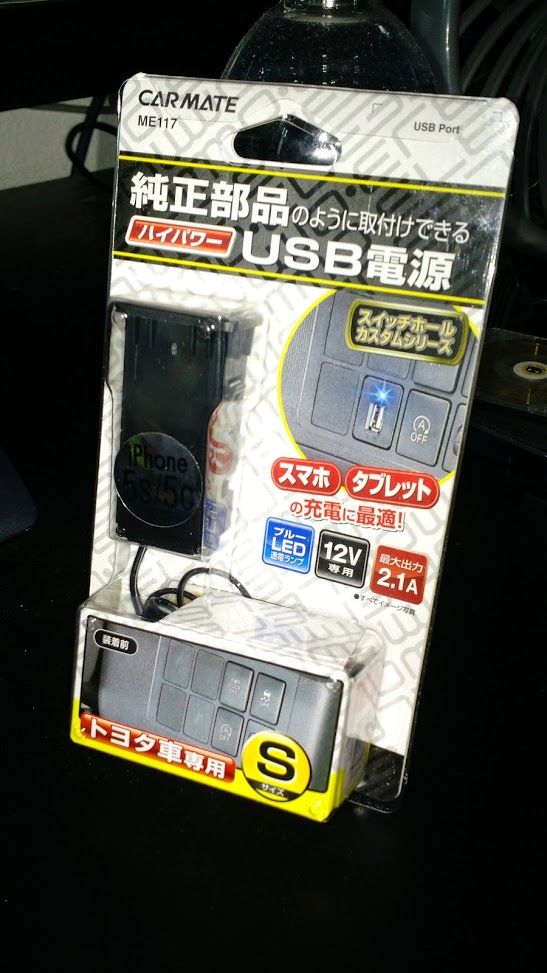 started buying JDM switchs that fit the OEM blank panels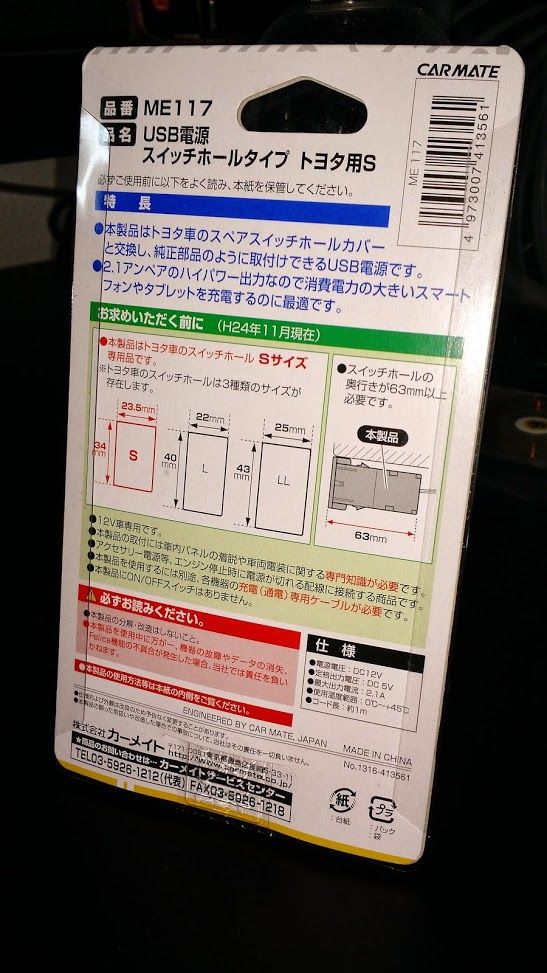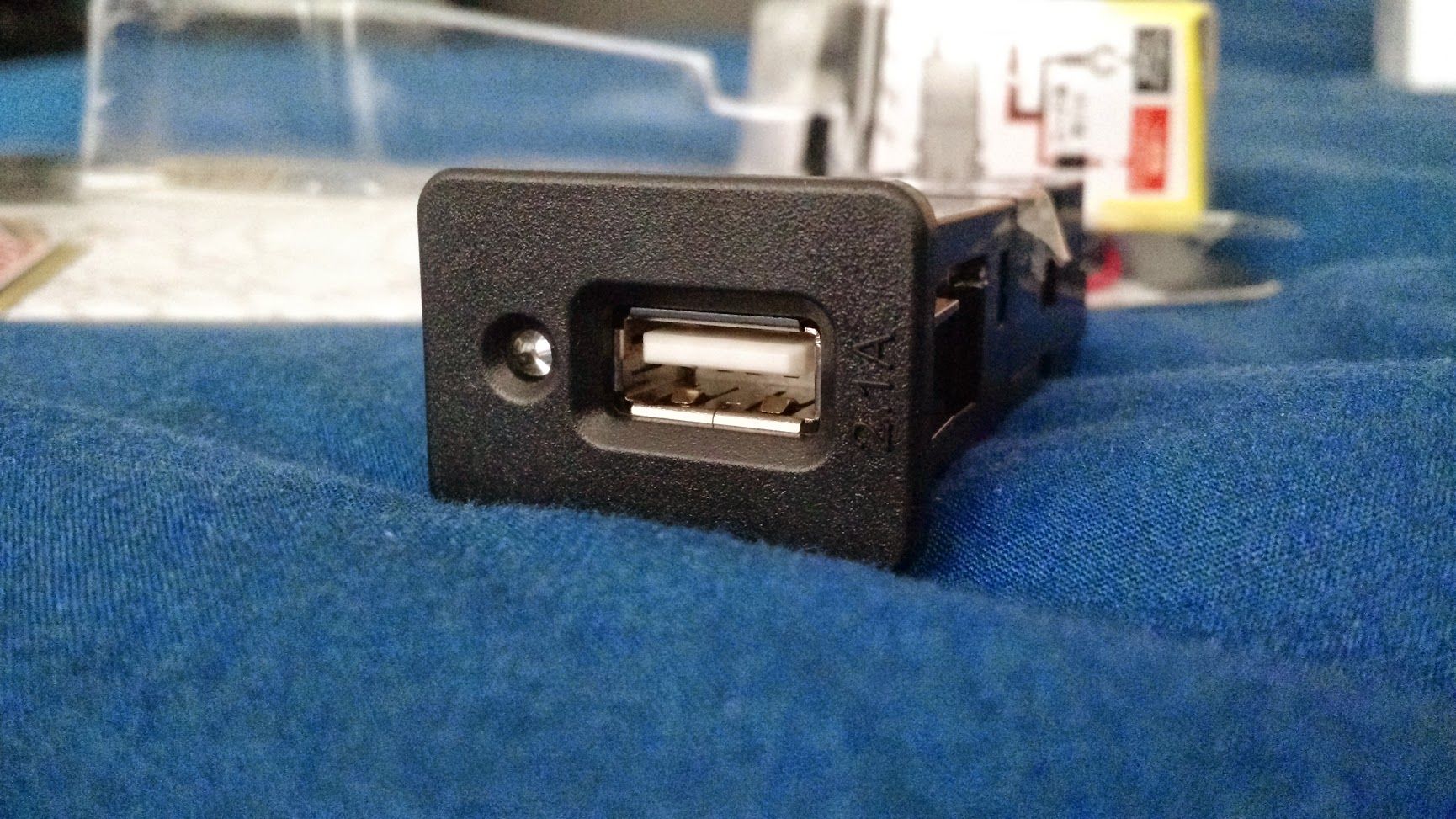 here's USB charging port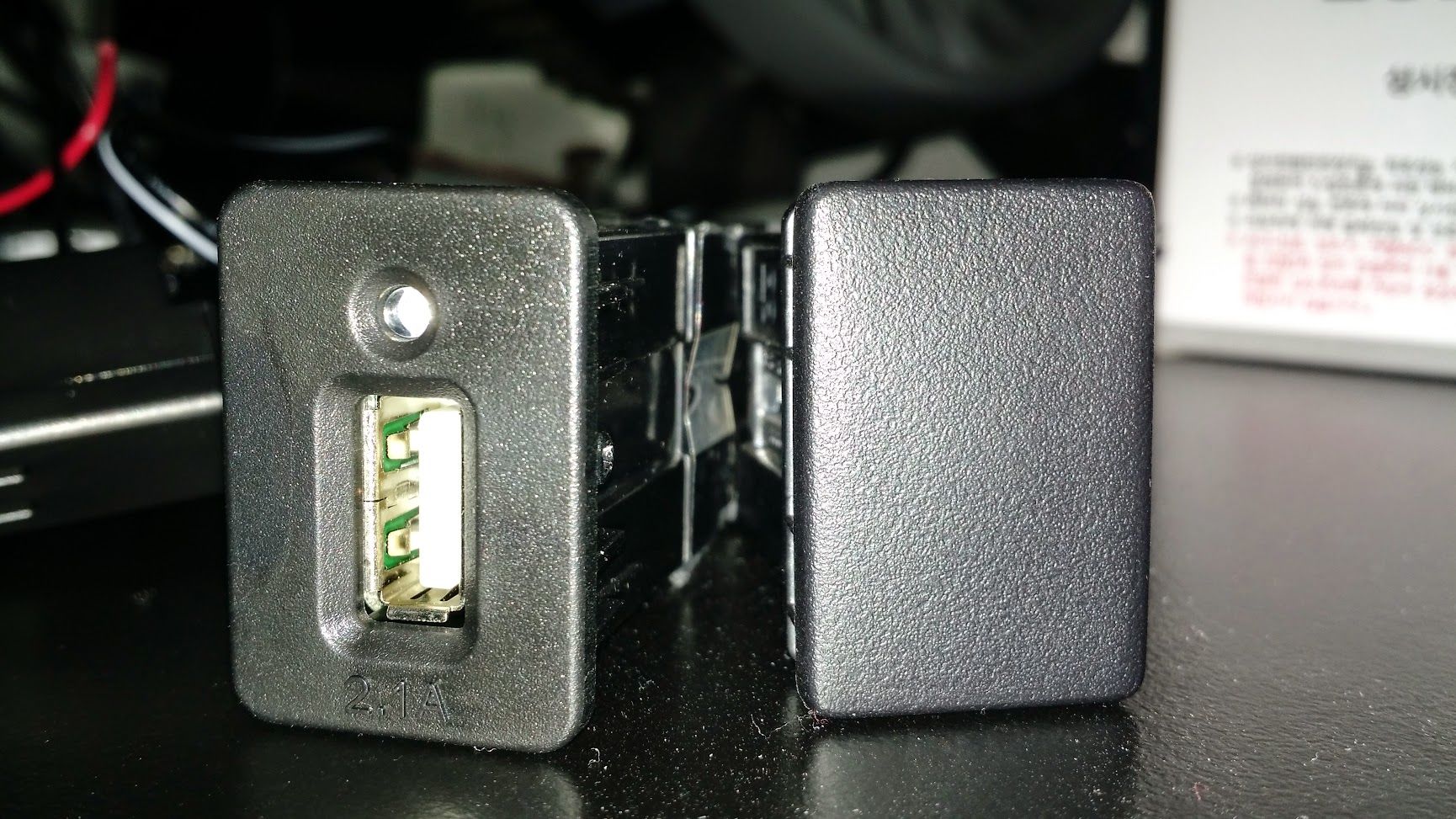 side by side with OEM panel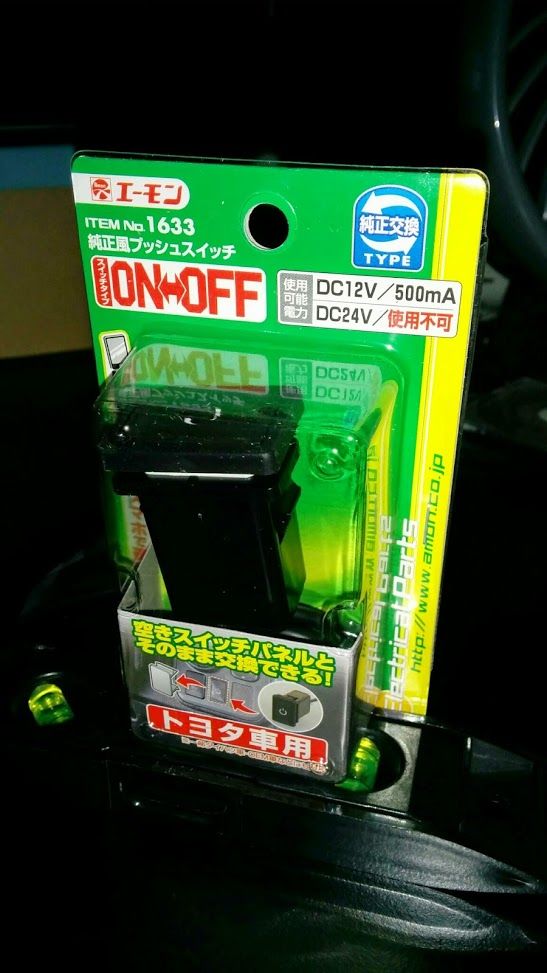 picked up a off and on toggle as well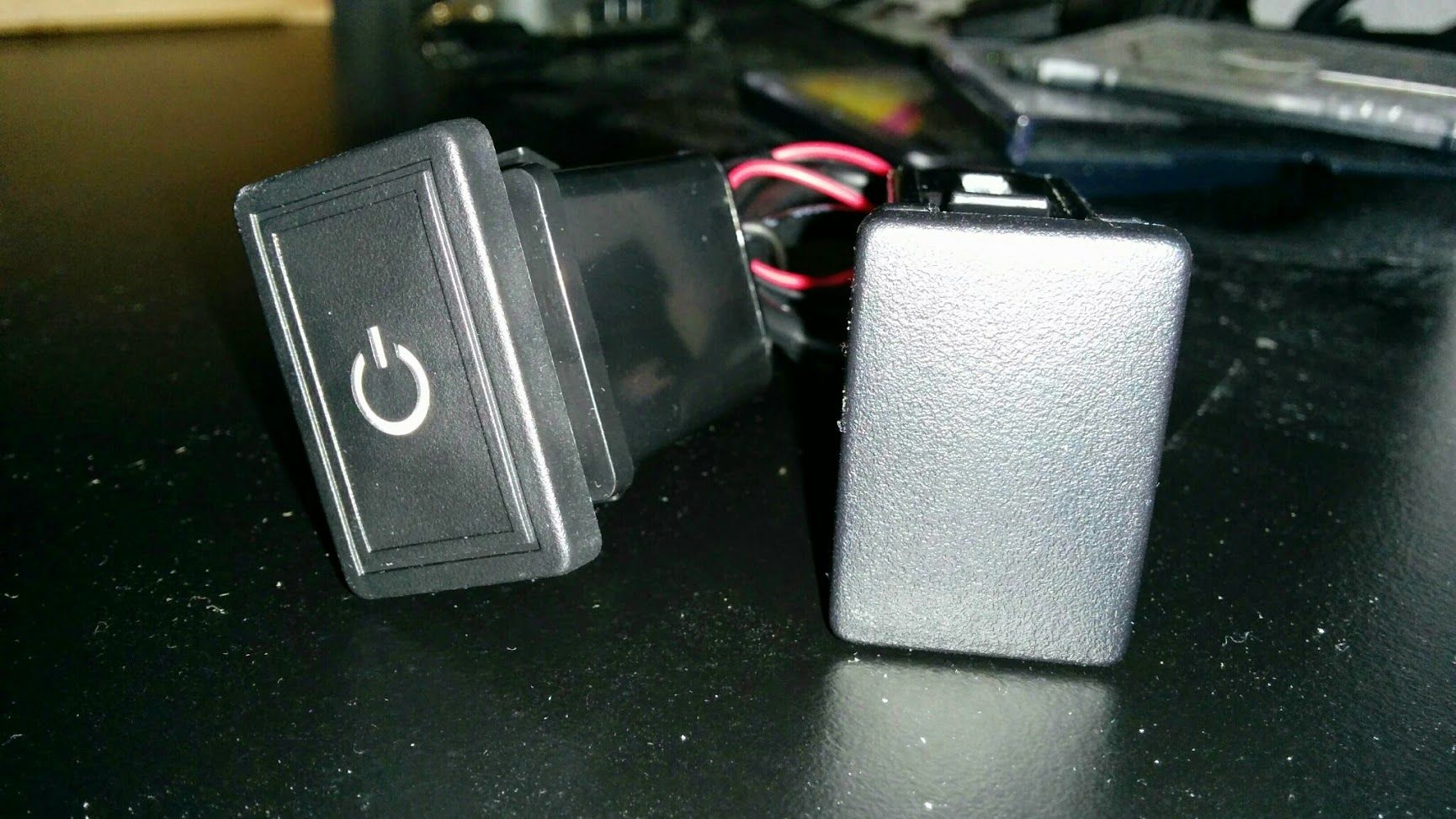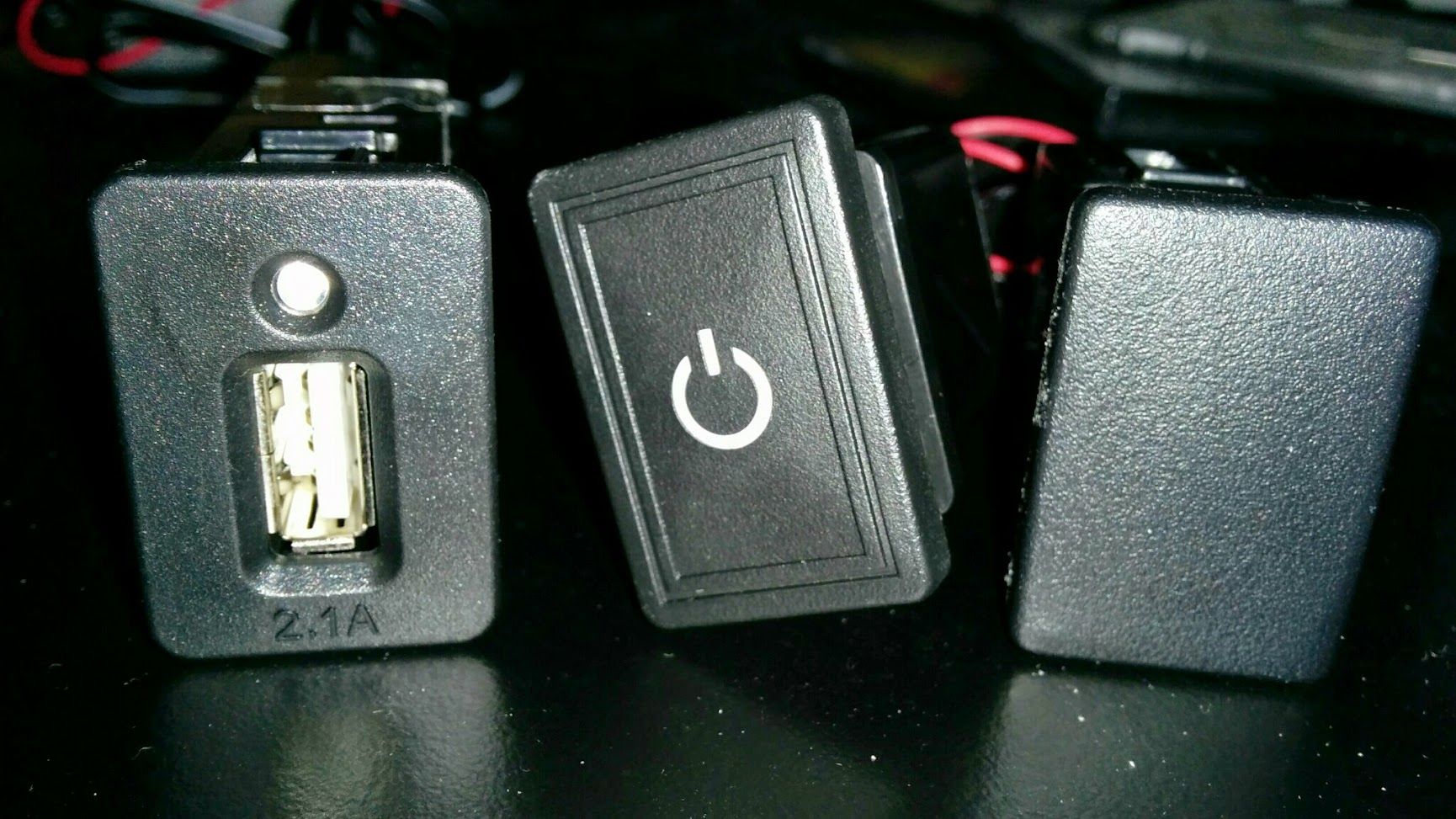 all three together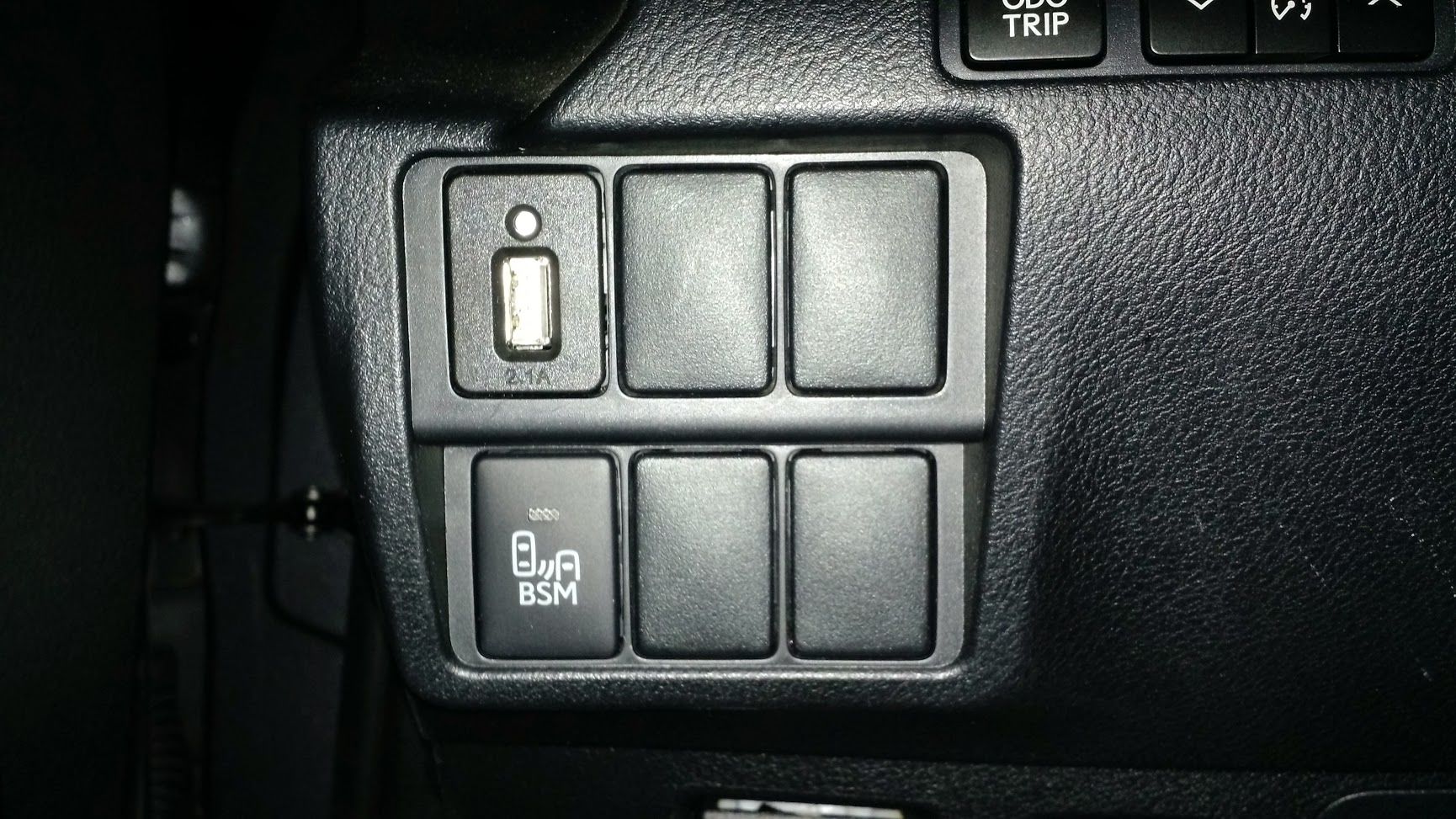 test fitting it in the car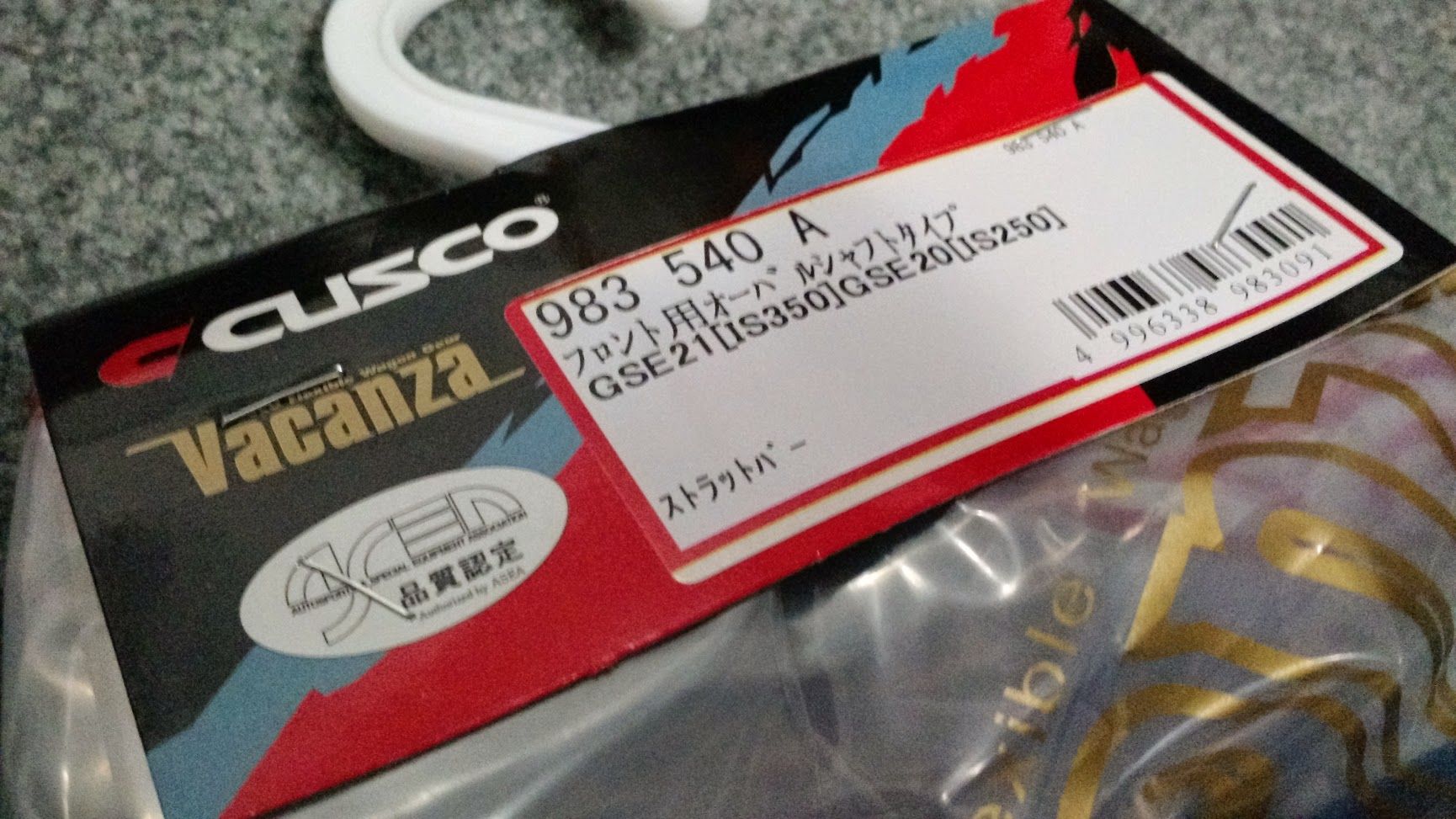 picked up a cusco front strut bar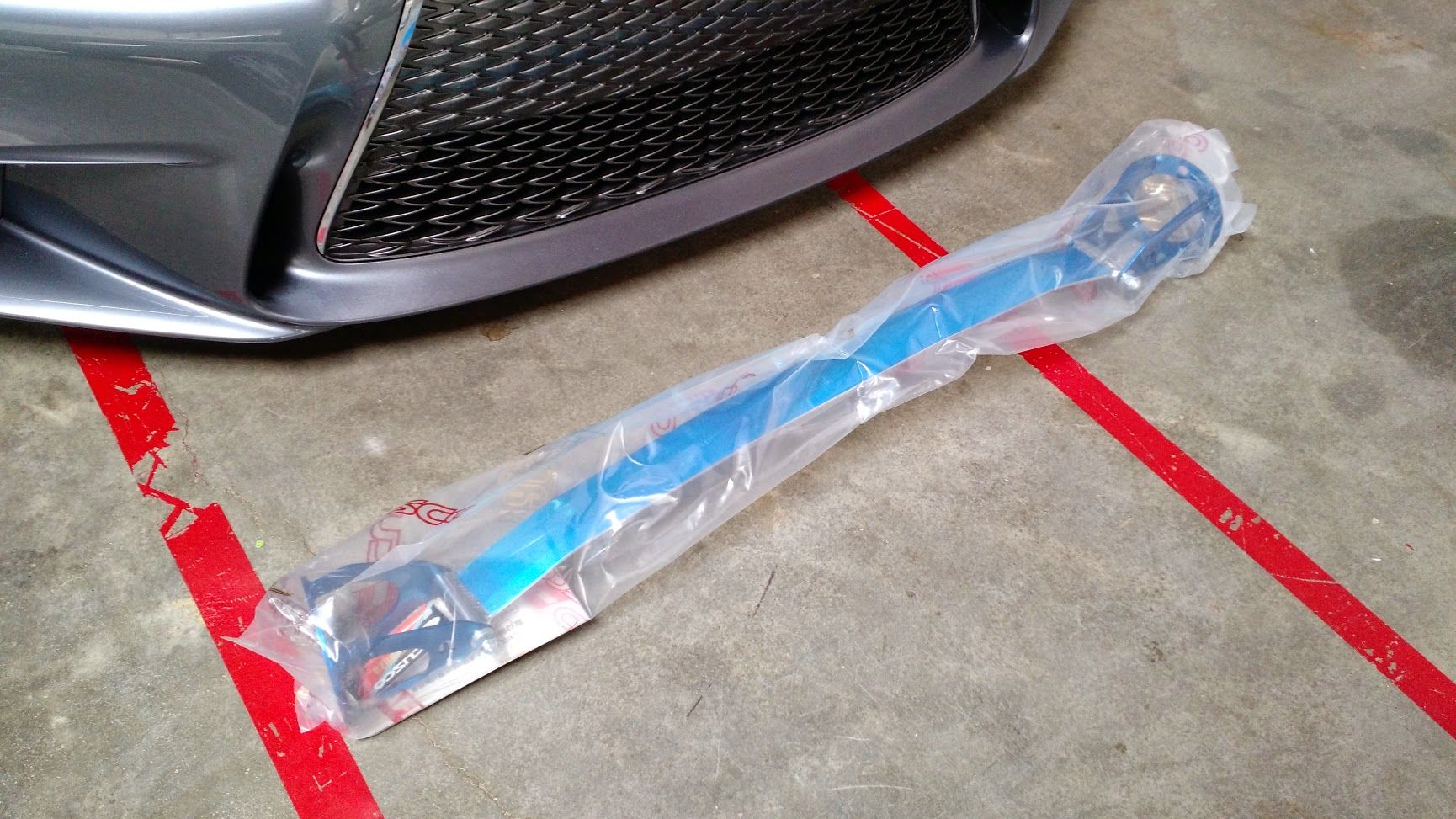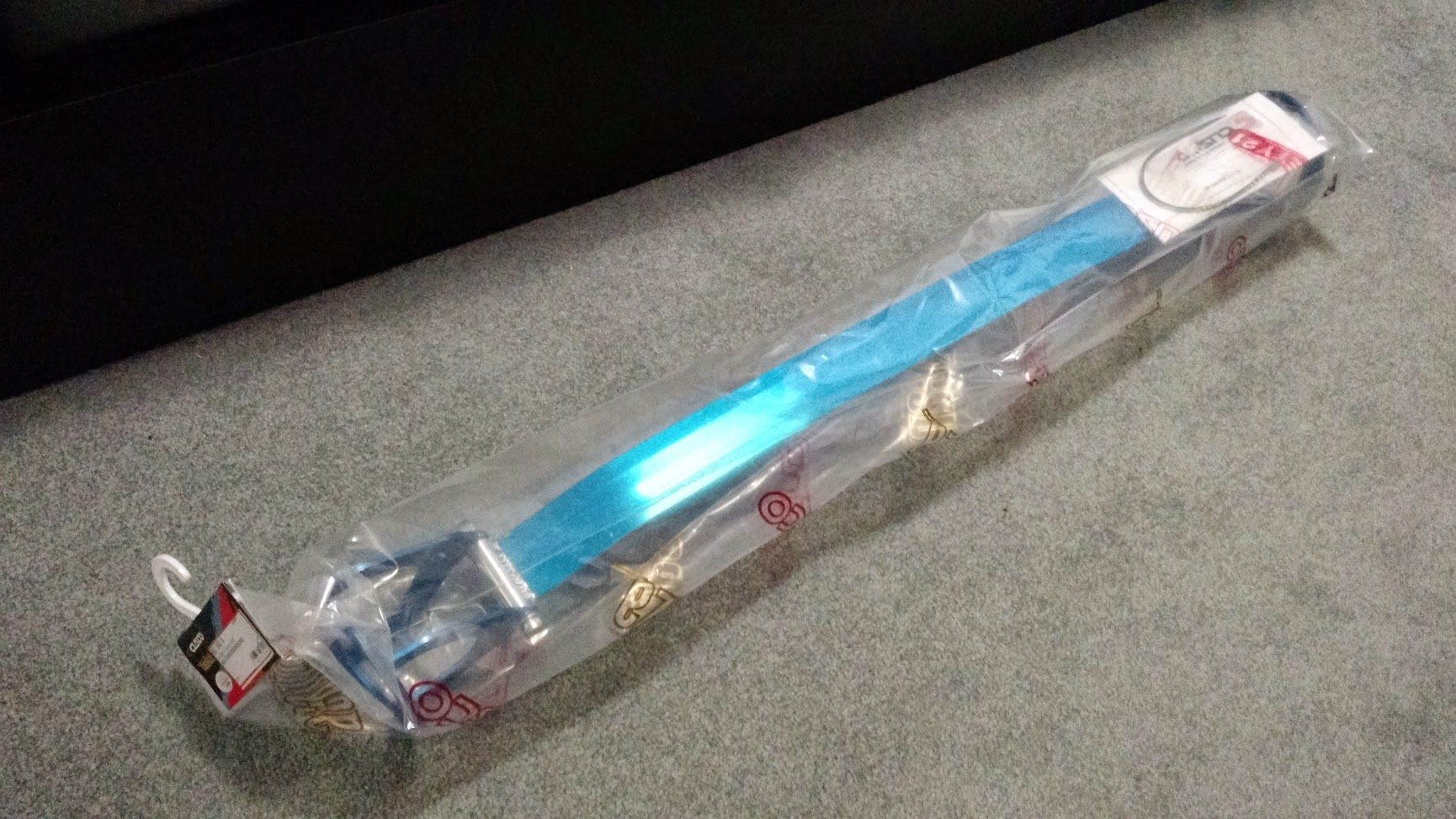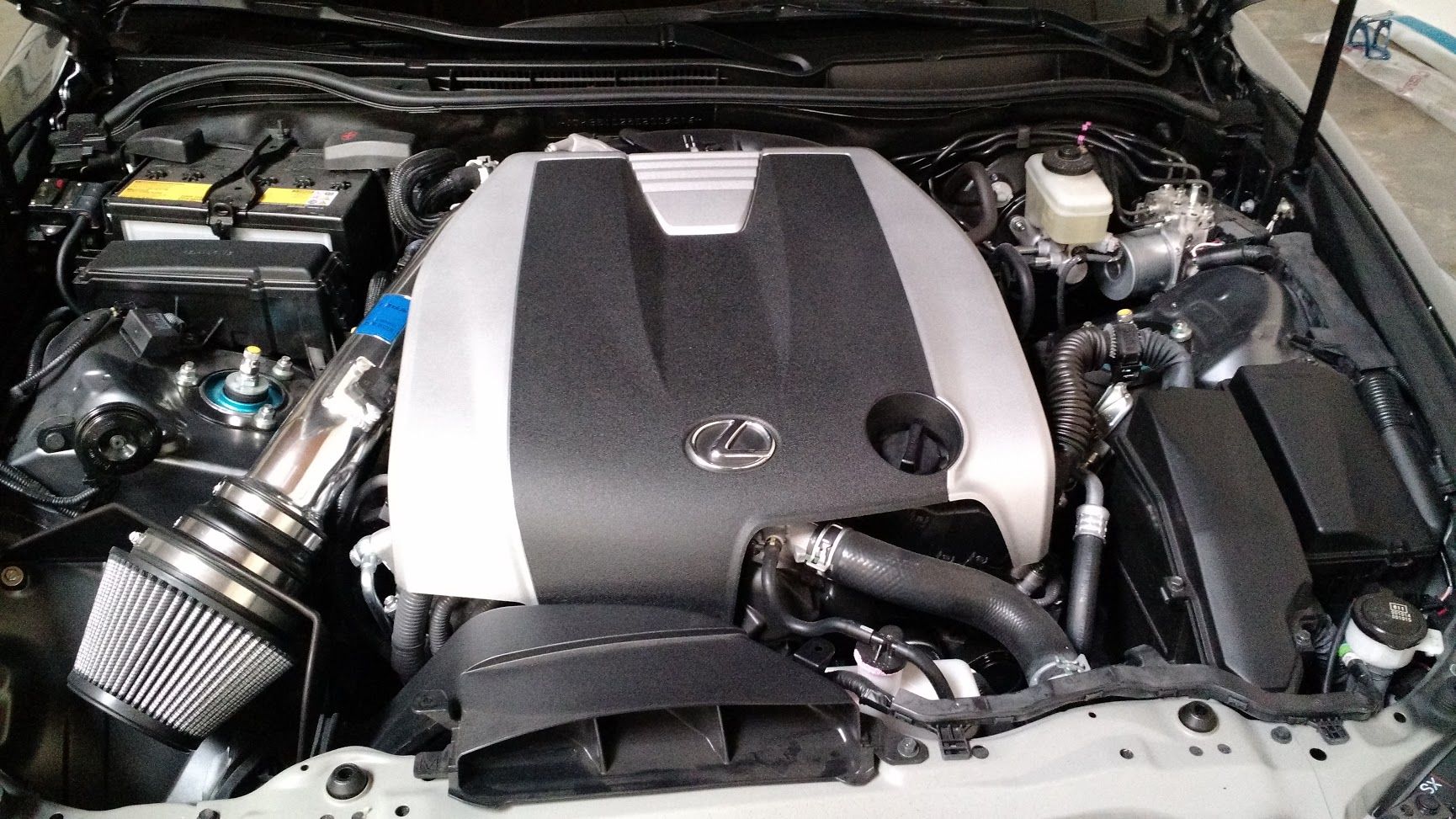 before strut bar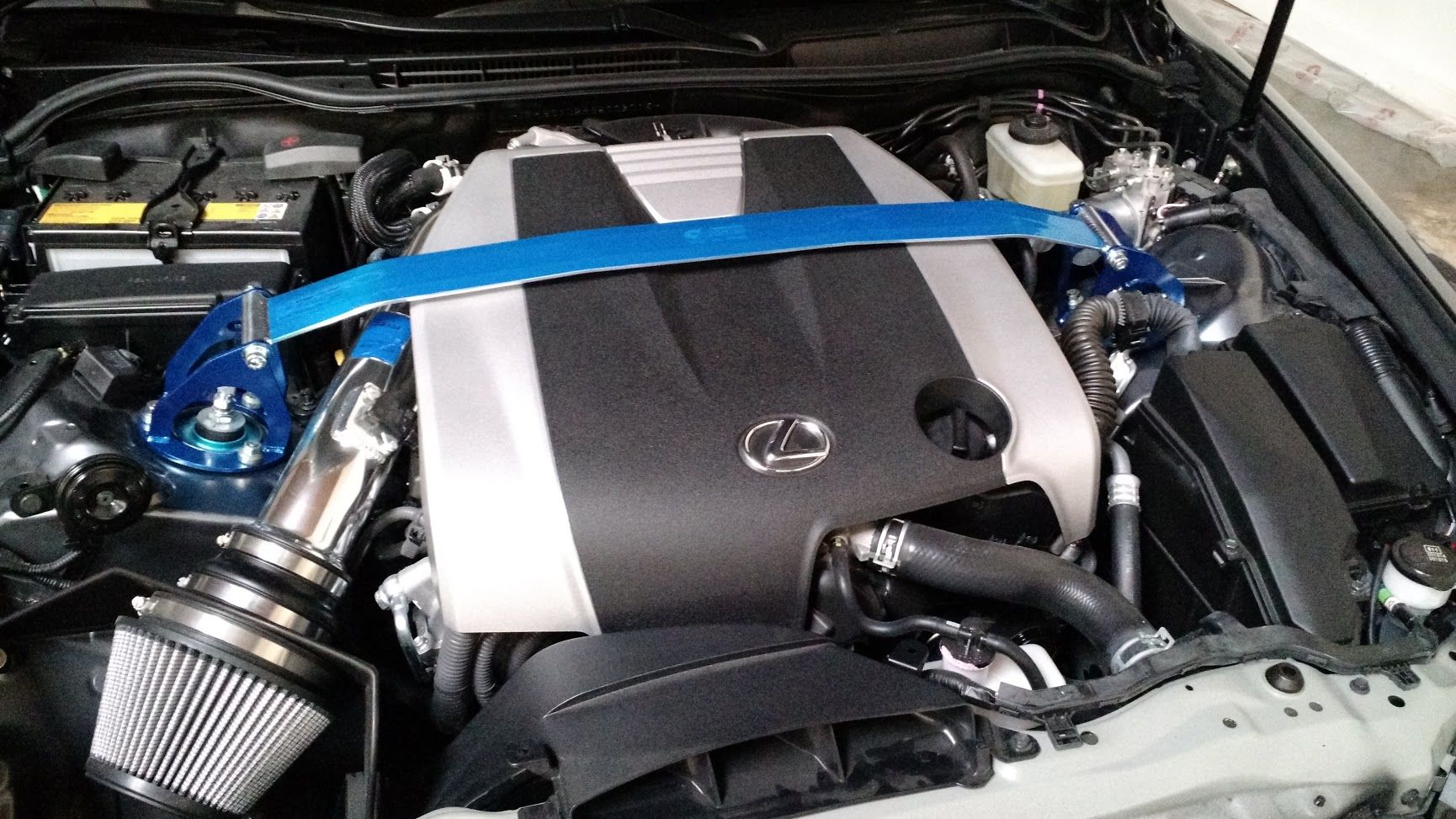 after strut bar, still with protective film on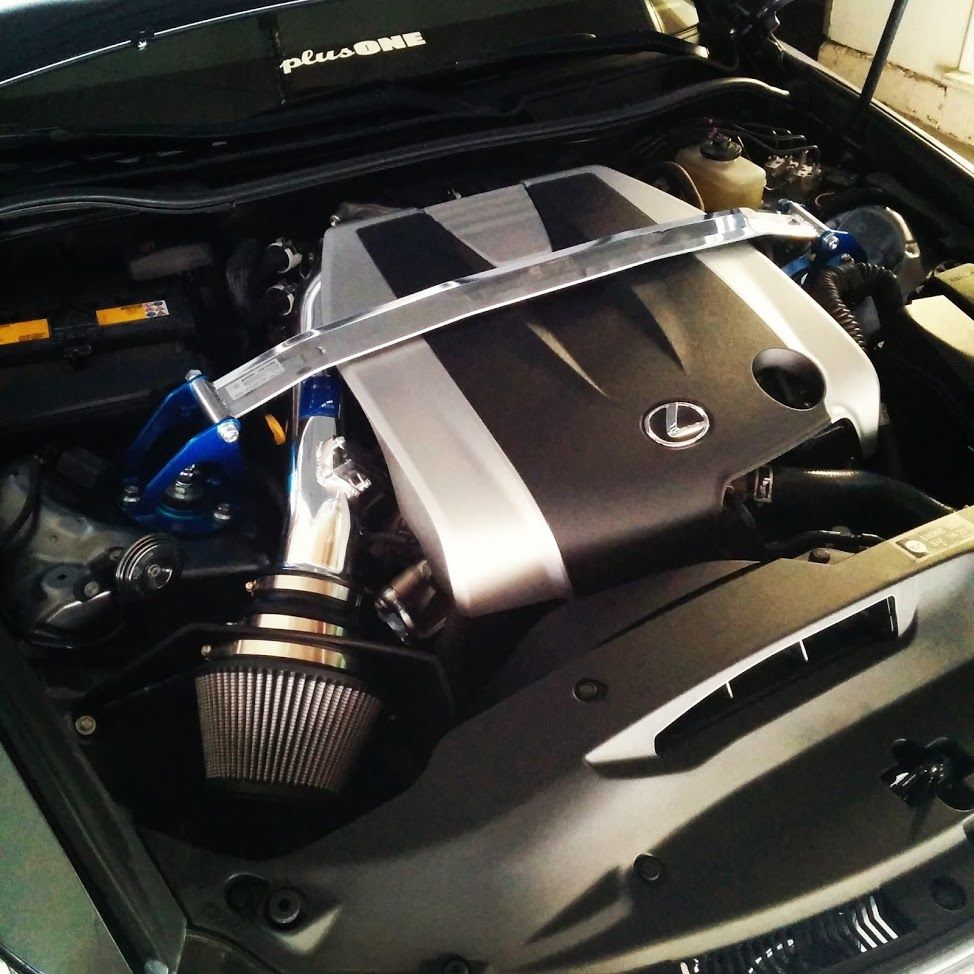 finally removed the film after 2 weeks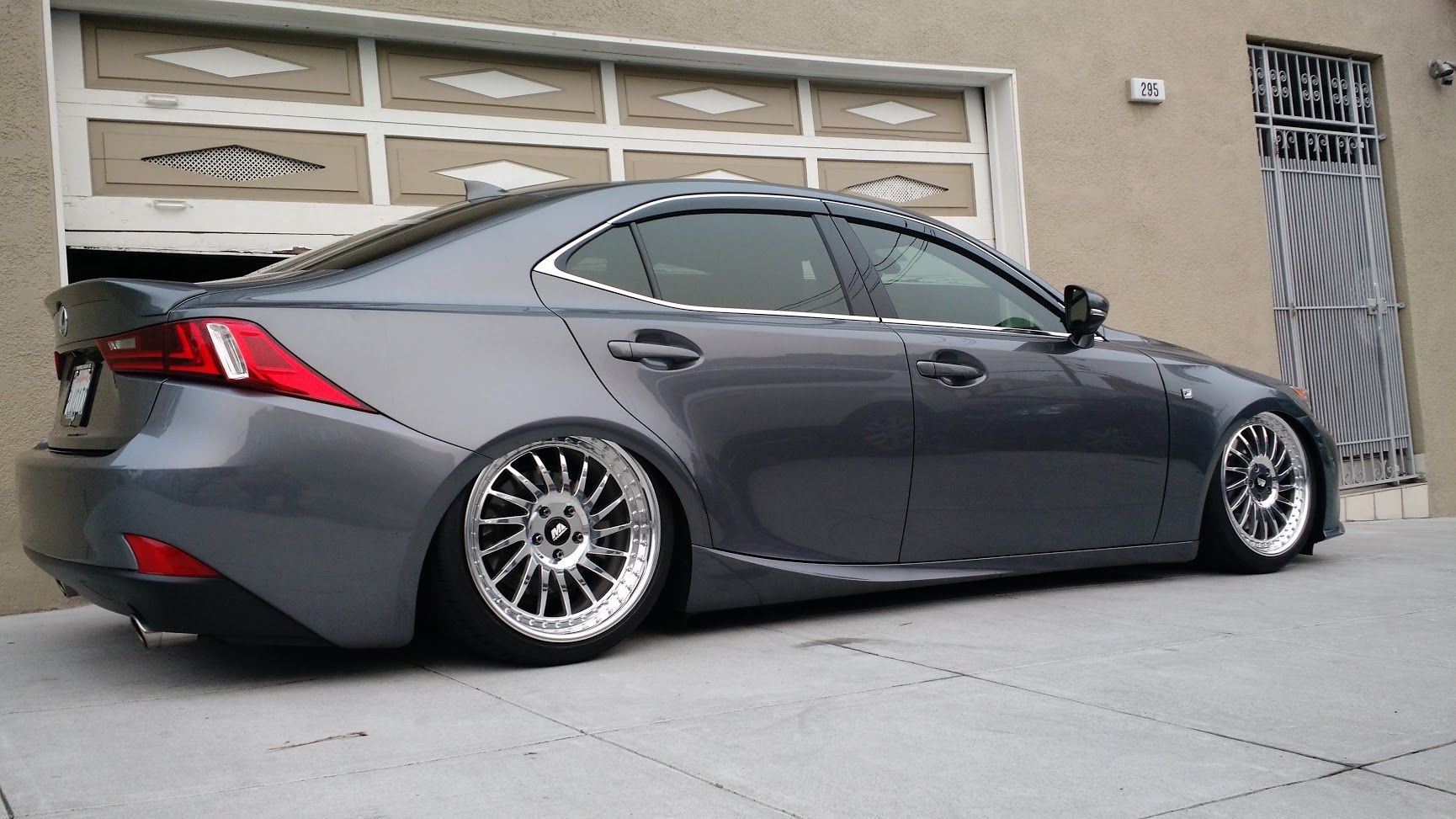 some wheels on loan that were tossed on the car for a car show. they are Mtechnica Directional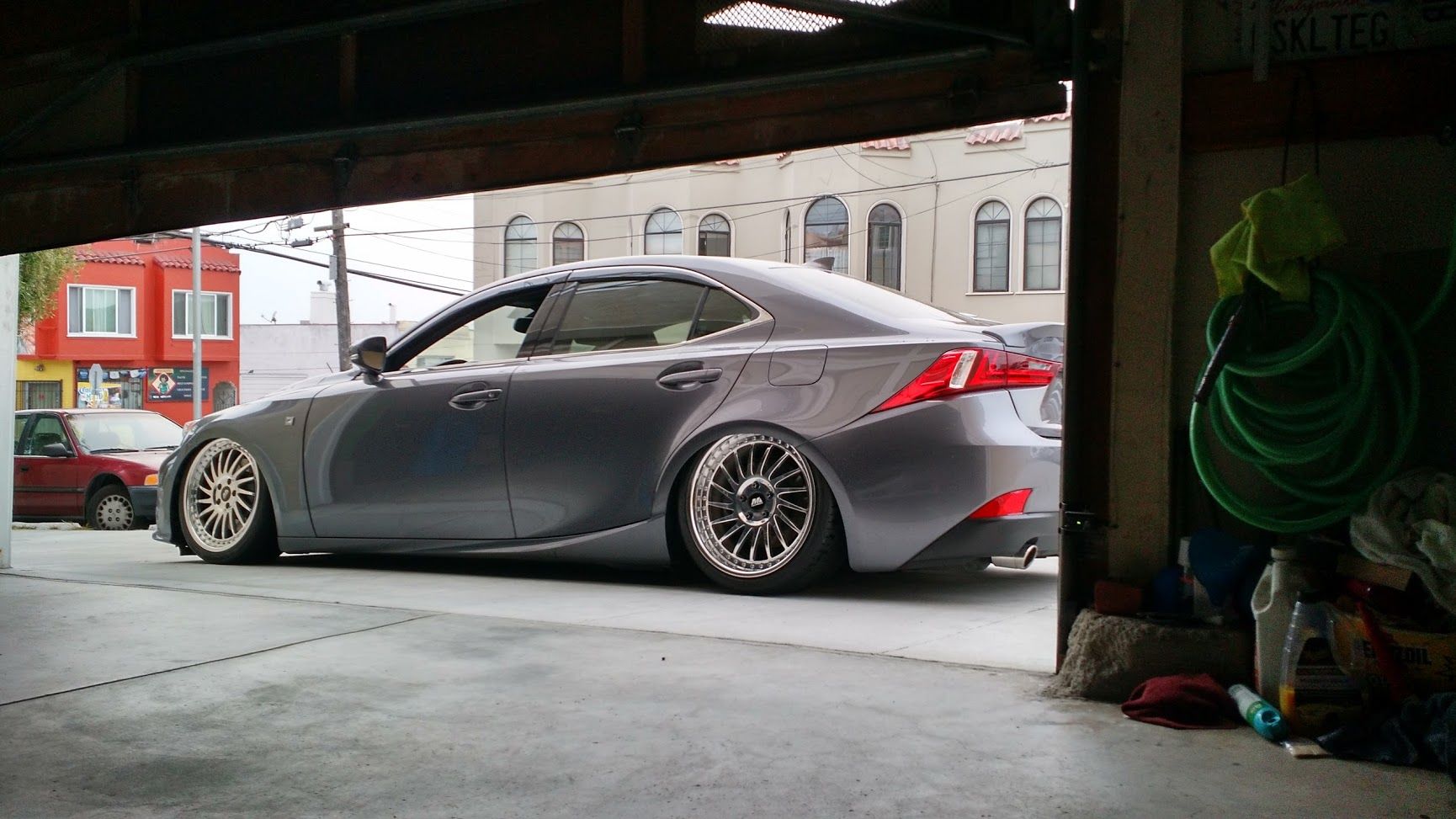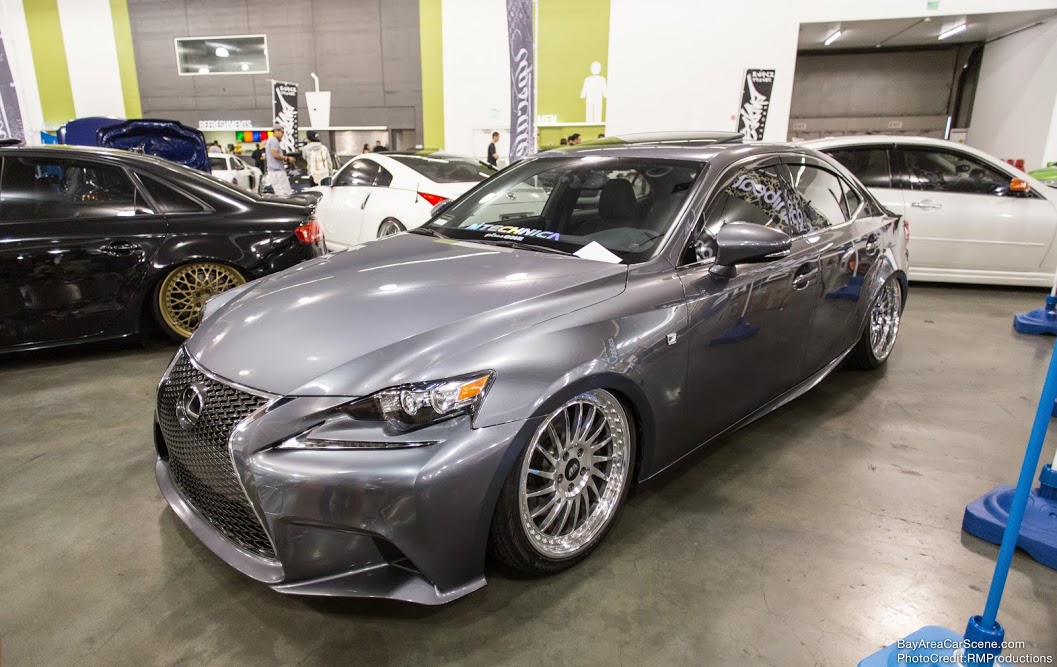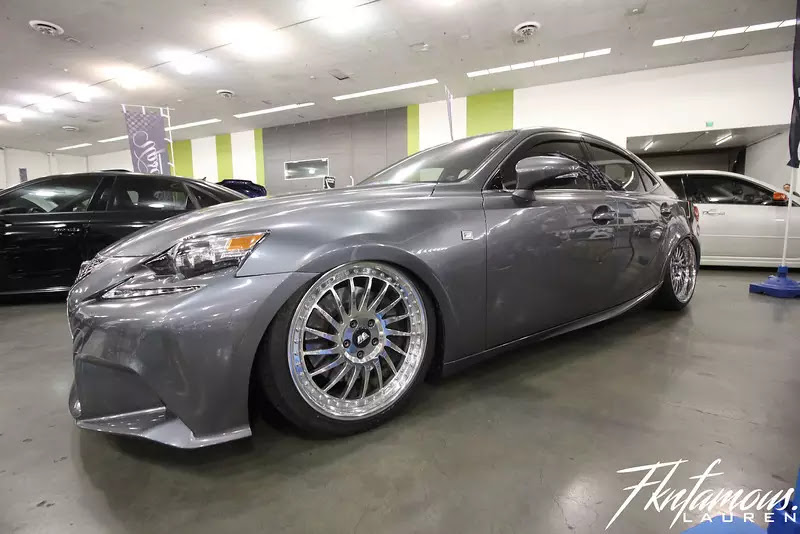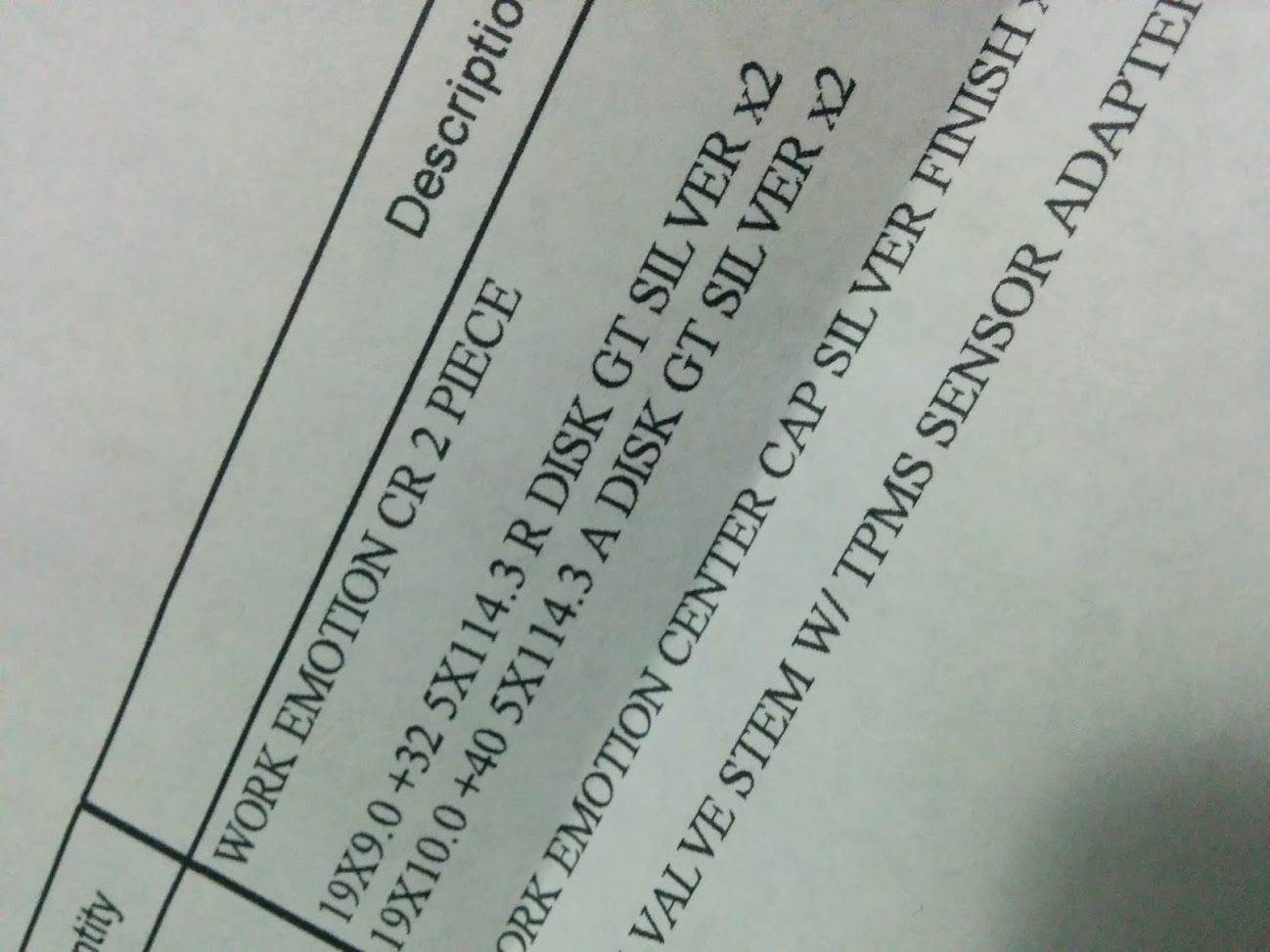 8-11-2015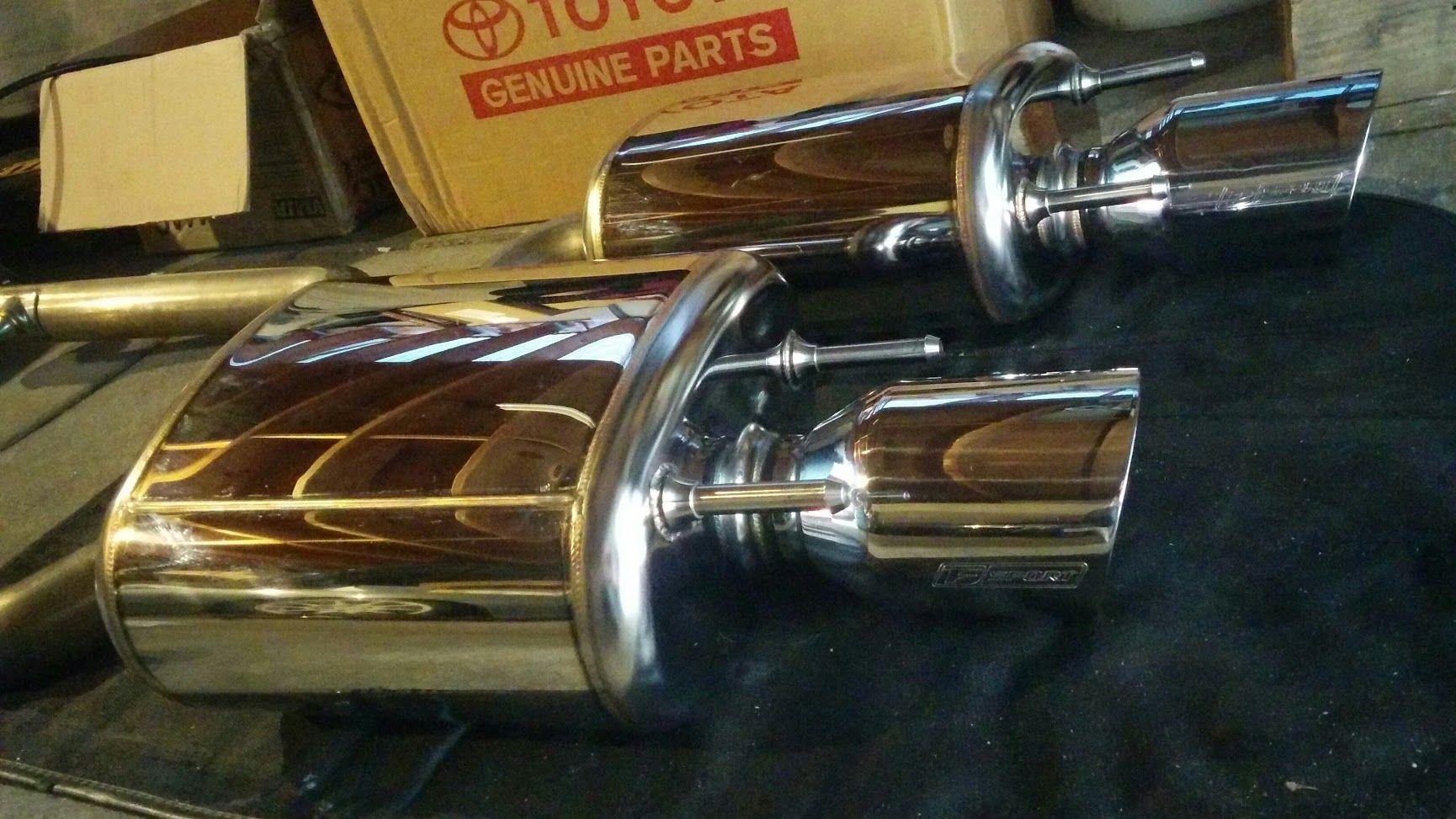 picked these two up last week and spent some time polishing them back clean. installing them next week
8-24-2015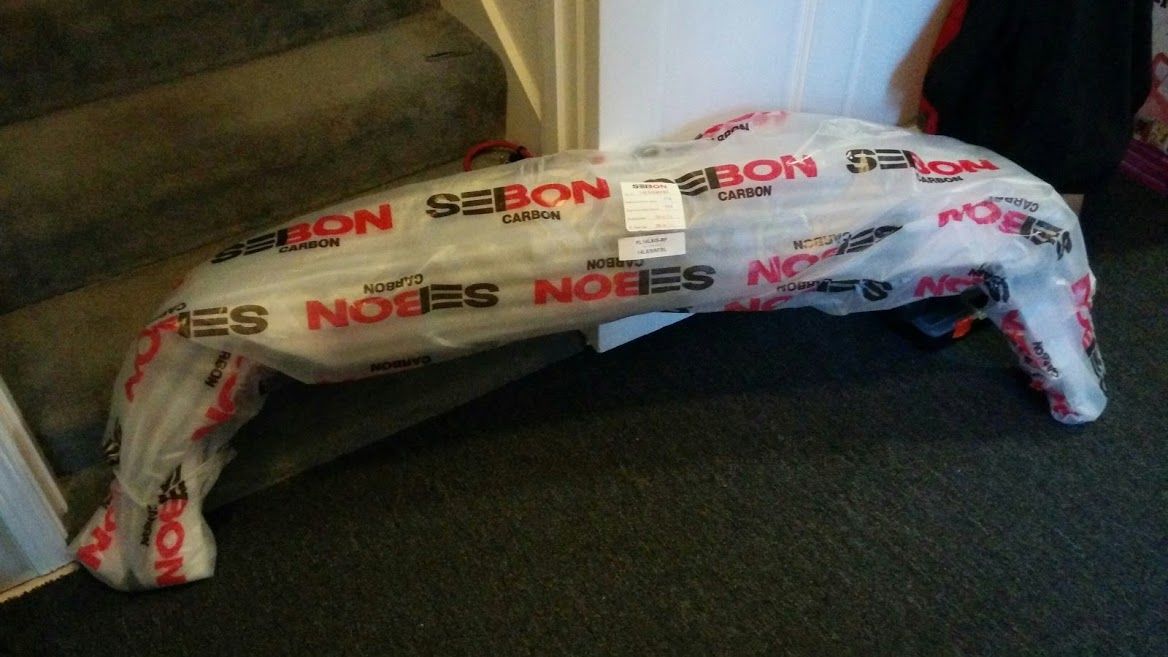 picked up a rear diffuser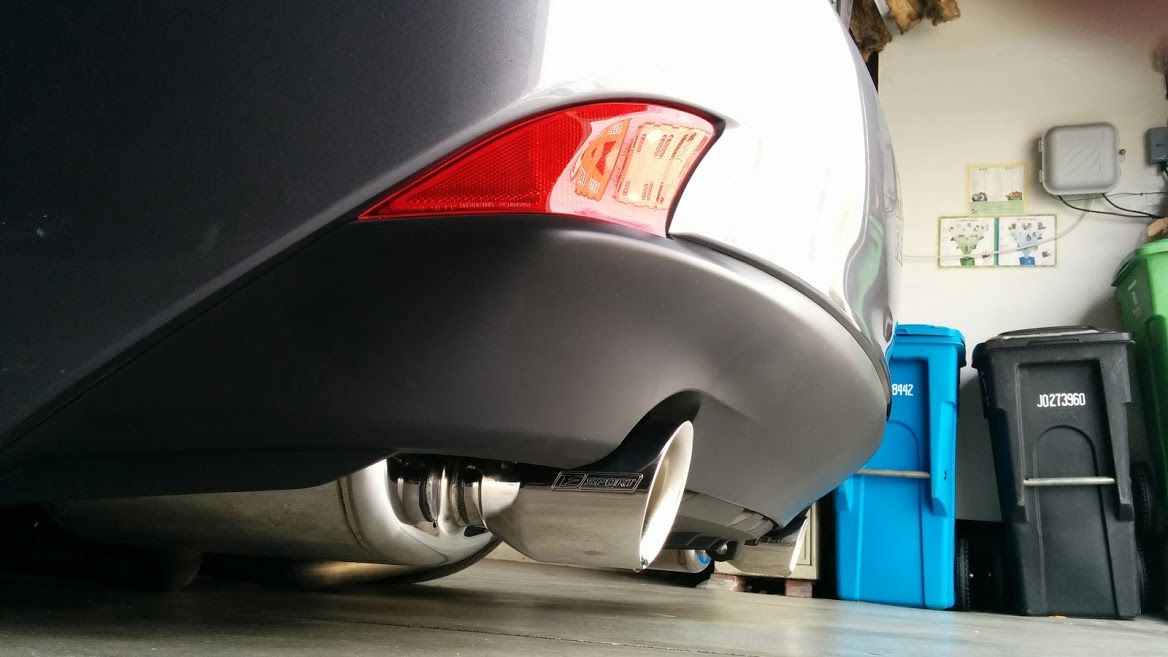 Fsport exhaust installed over the weekend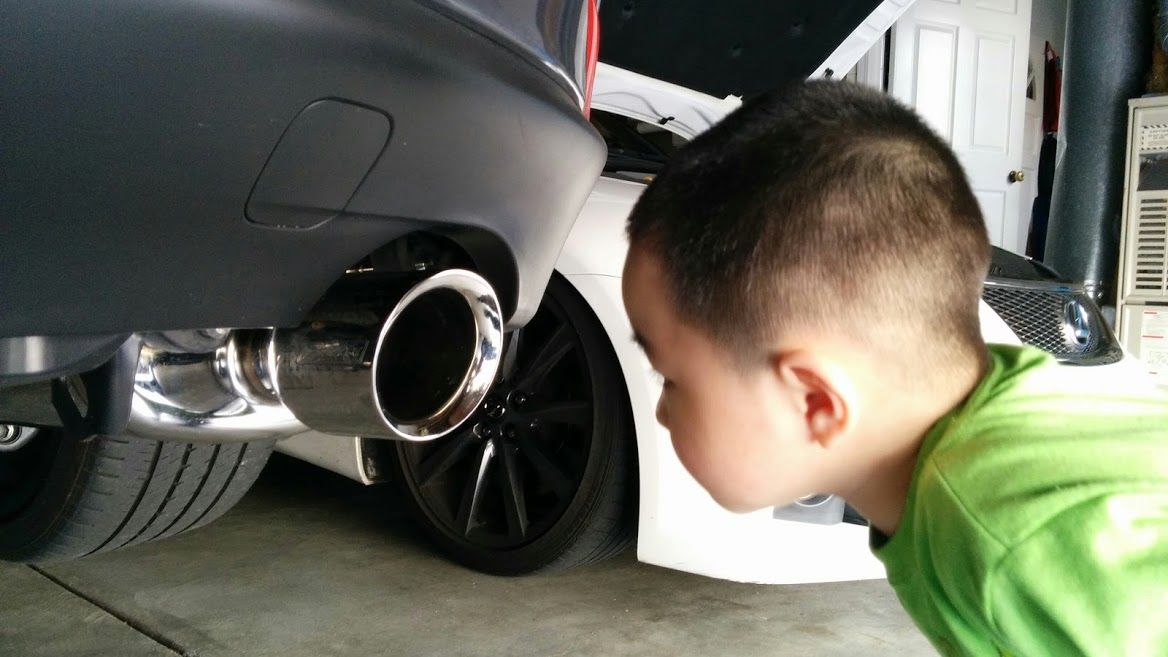 my little nephew checking it out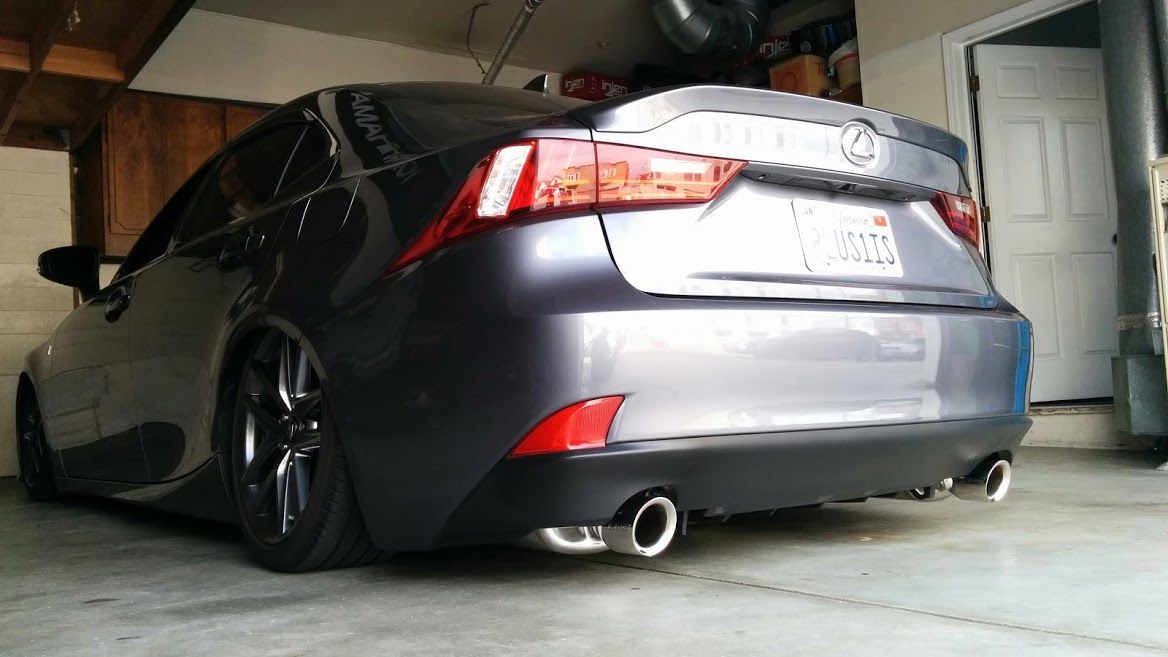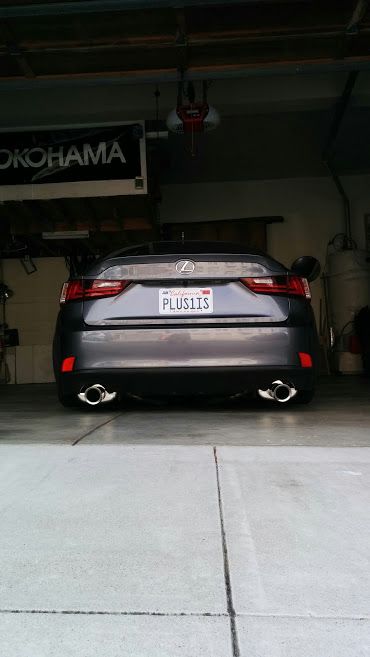 must say, happy with the look on
9-9-2015
finally got Skipper lip kit in.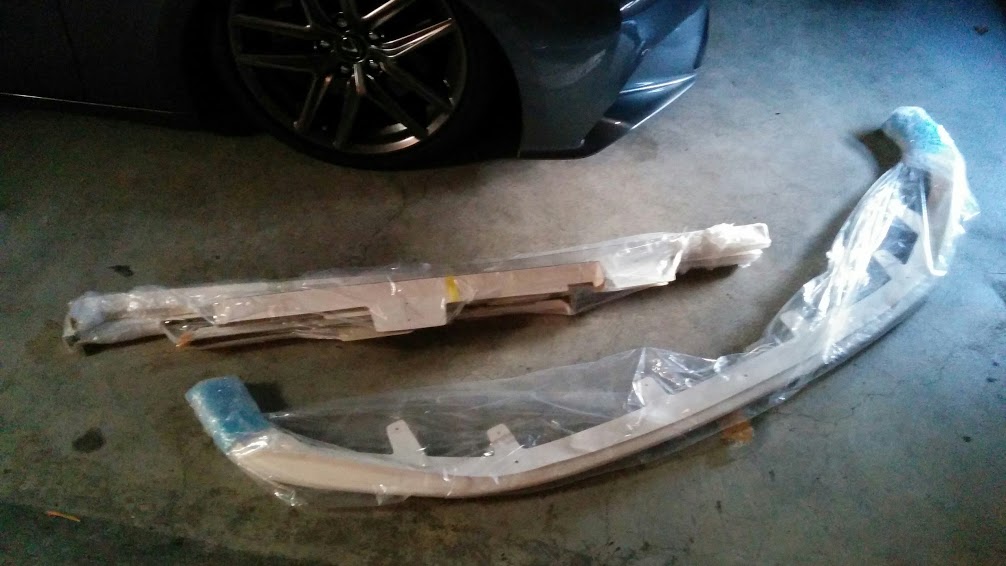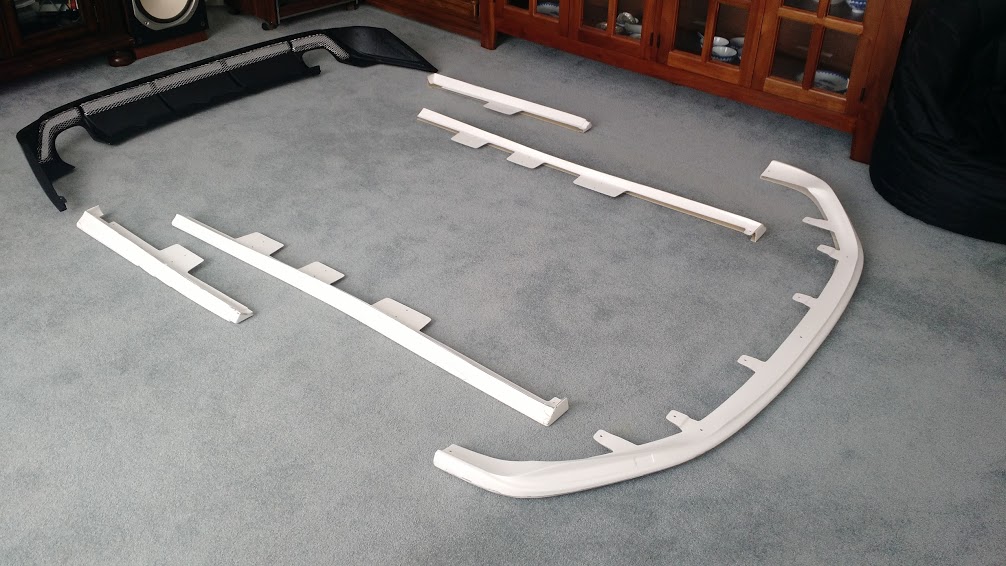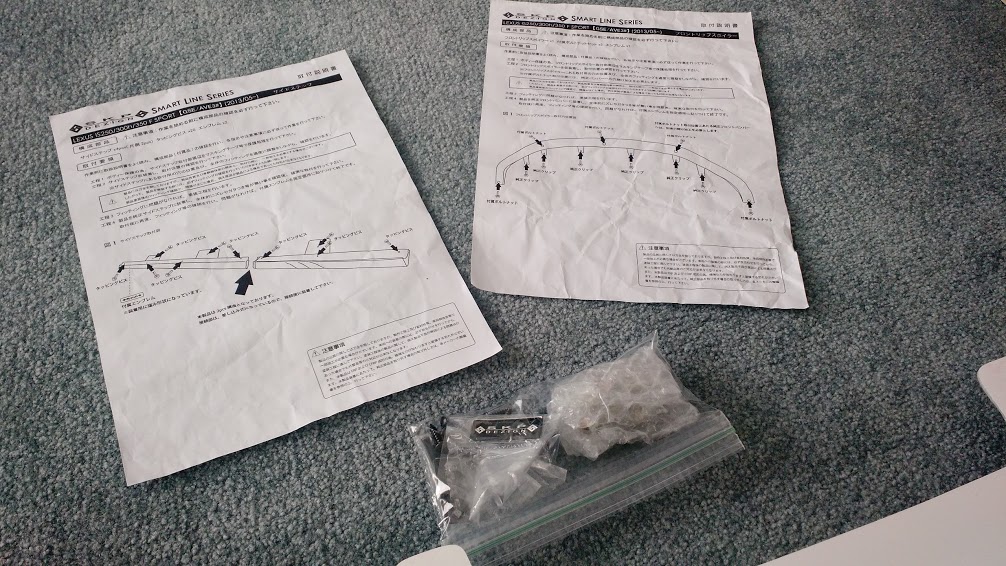 Seibon Rear diffuser out of the bag.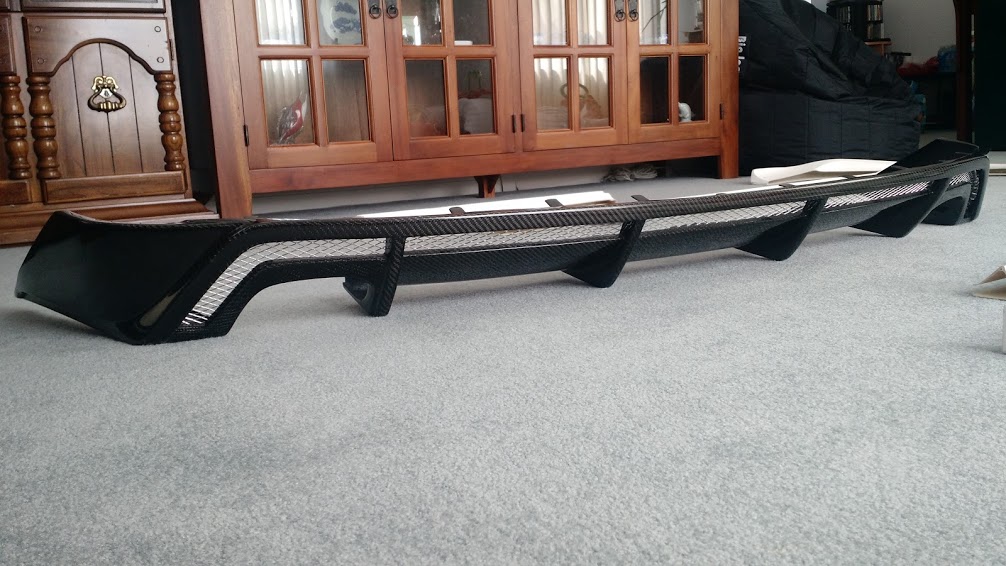 Wonder why Seibon didnt provide black mesh grill.
took care of that myself.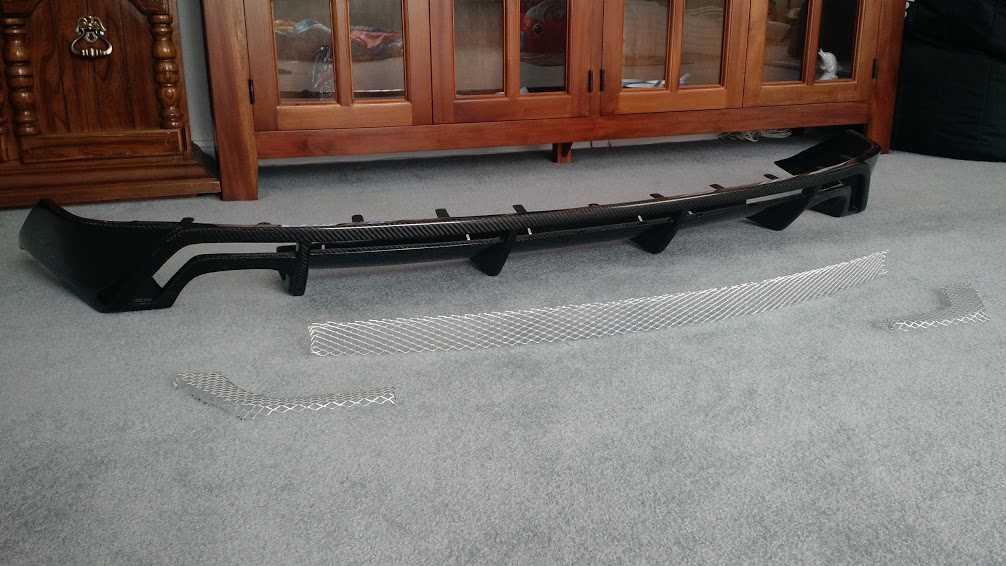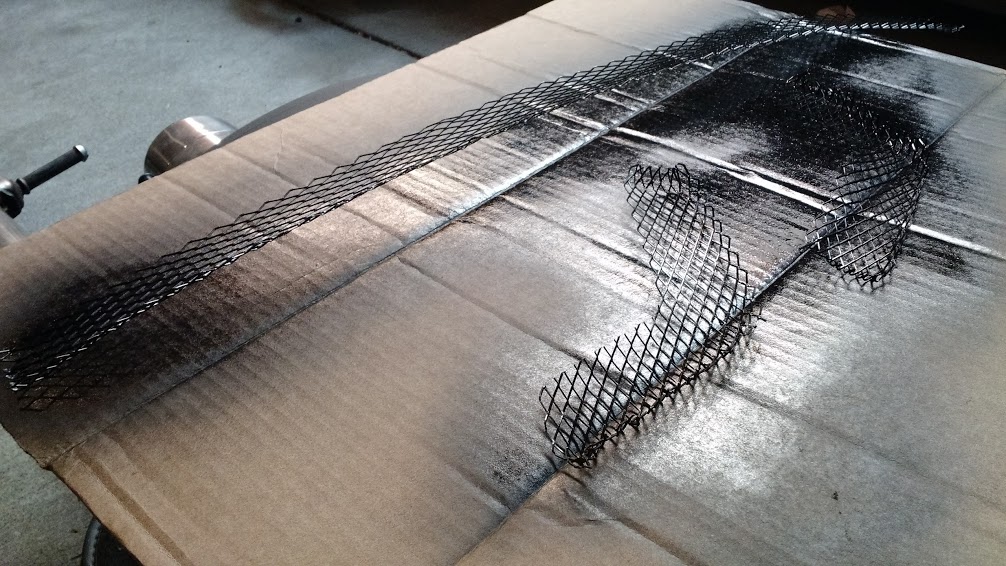 quick mockup test fit before i send to paint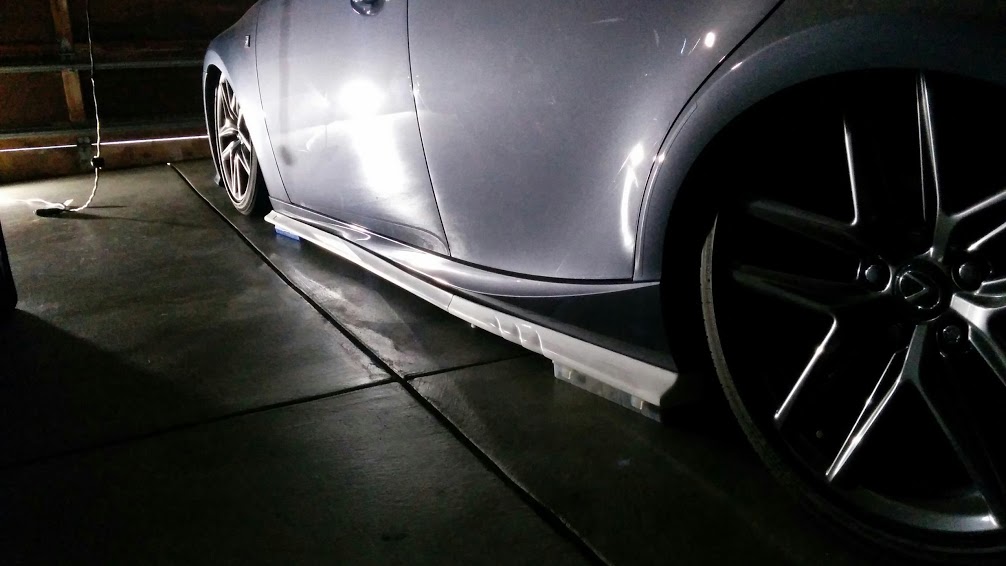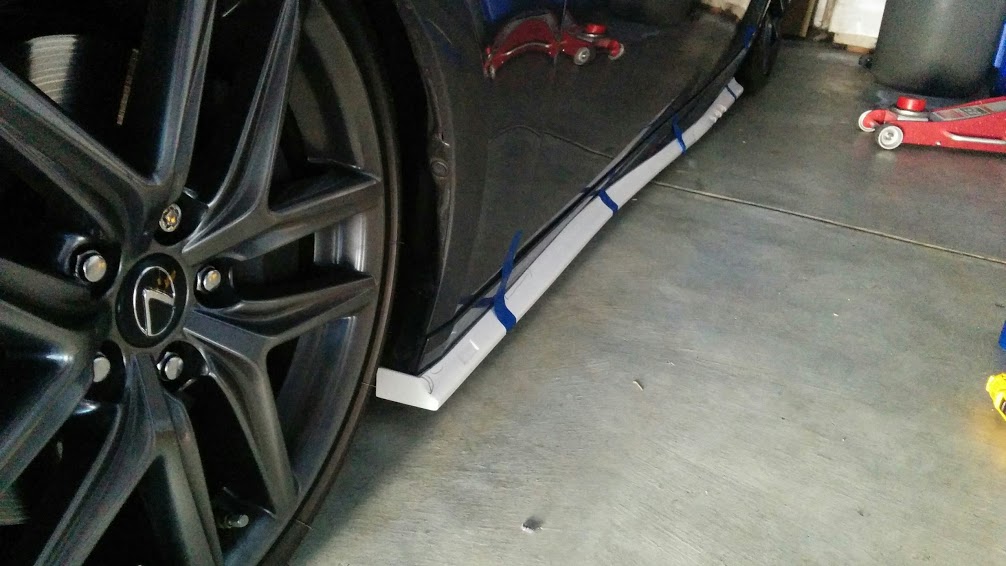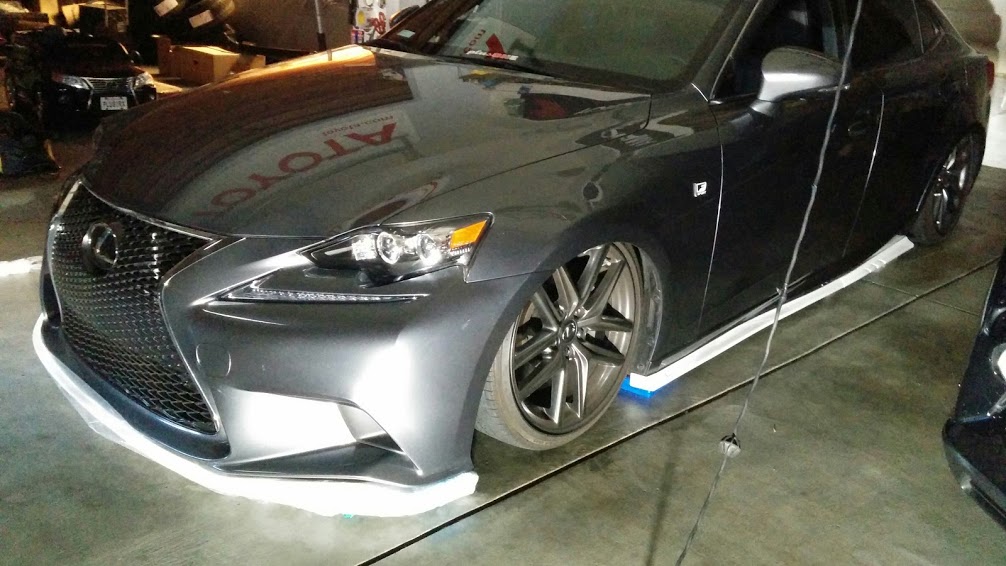 9-14-2015
Okay, Last piece of the puzzle before all the pieces go to paint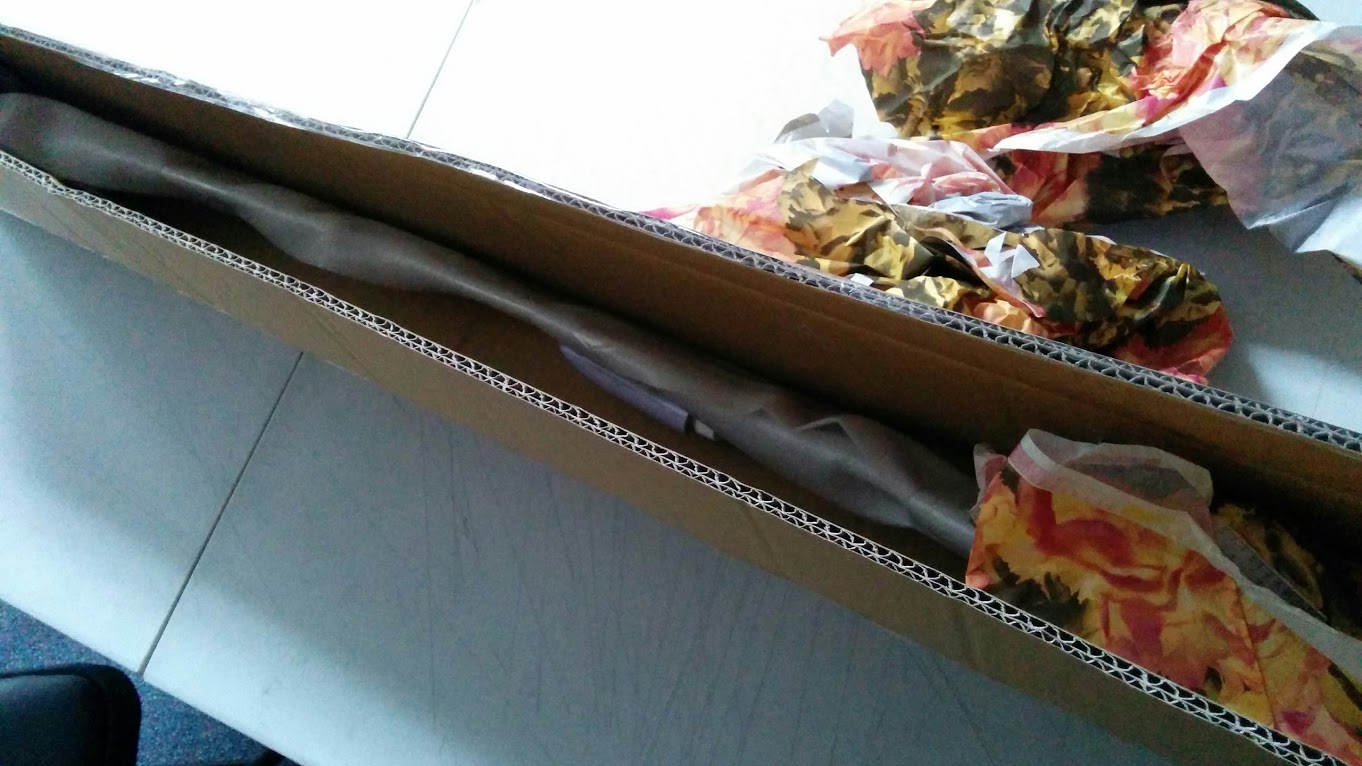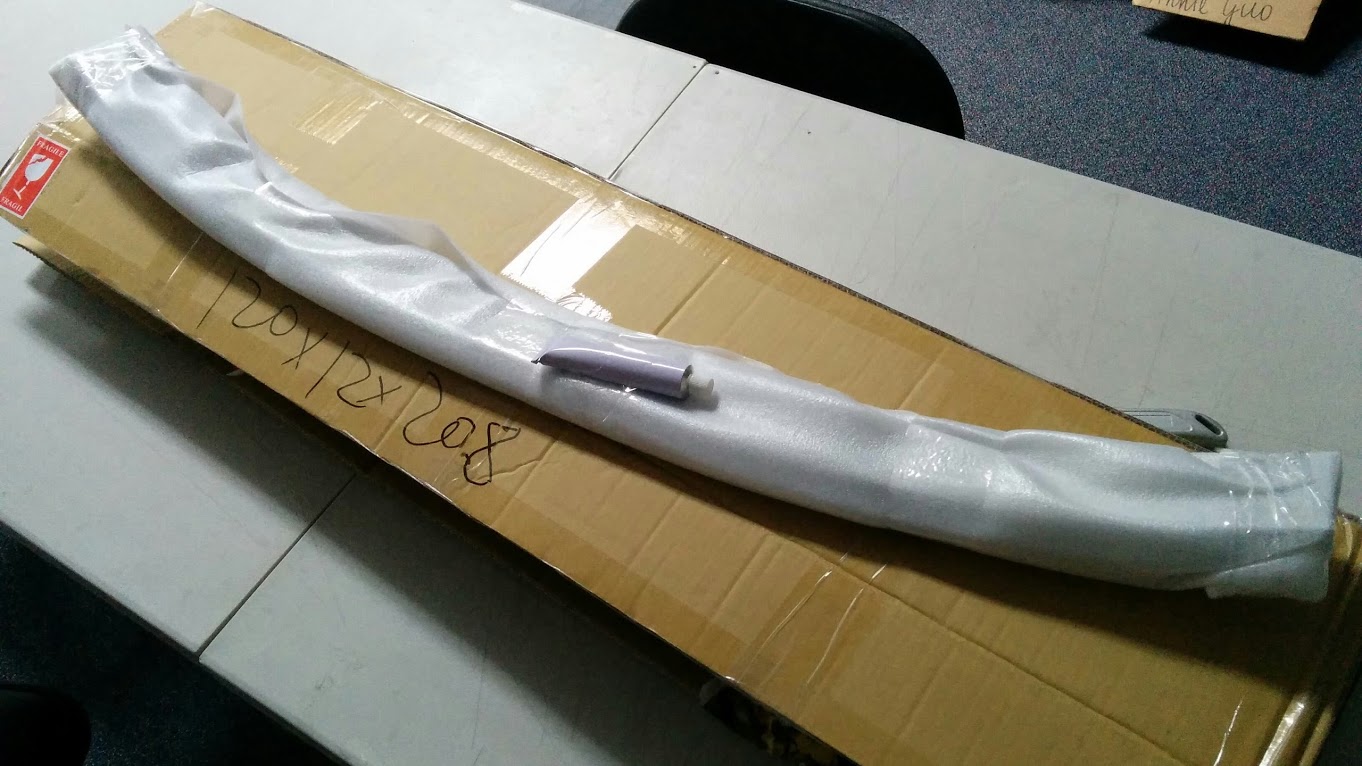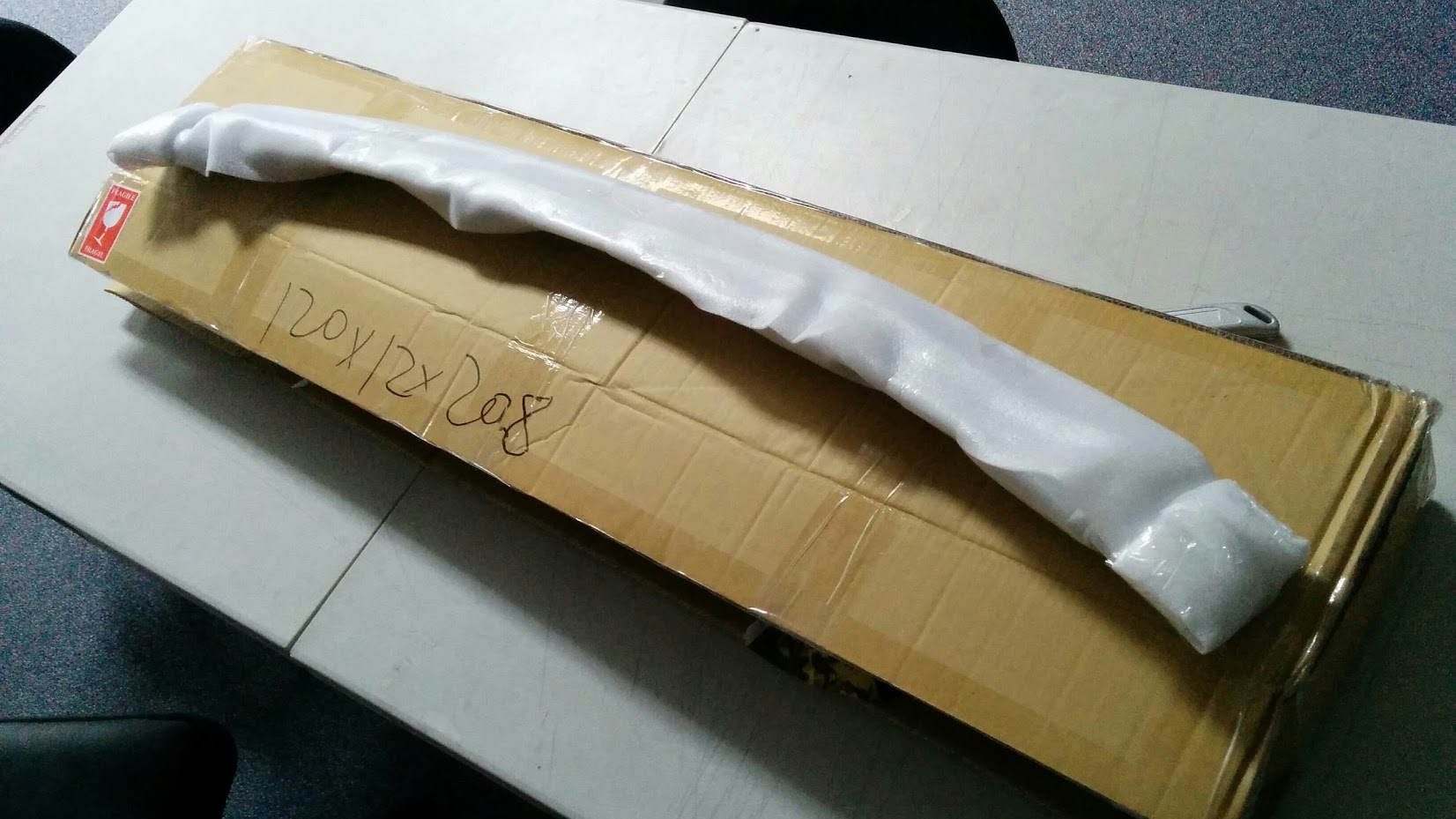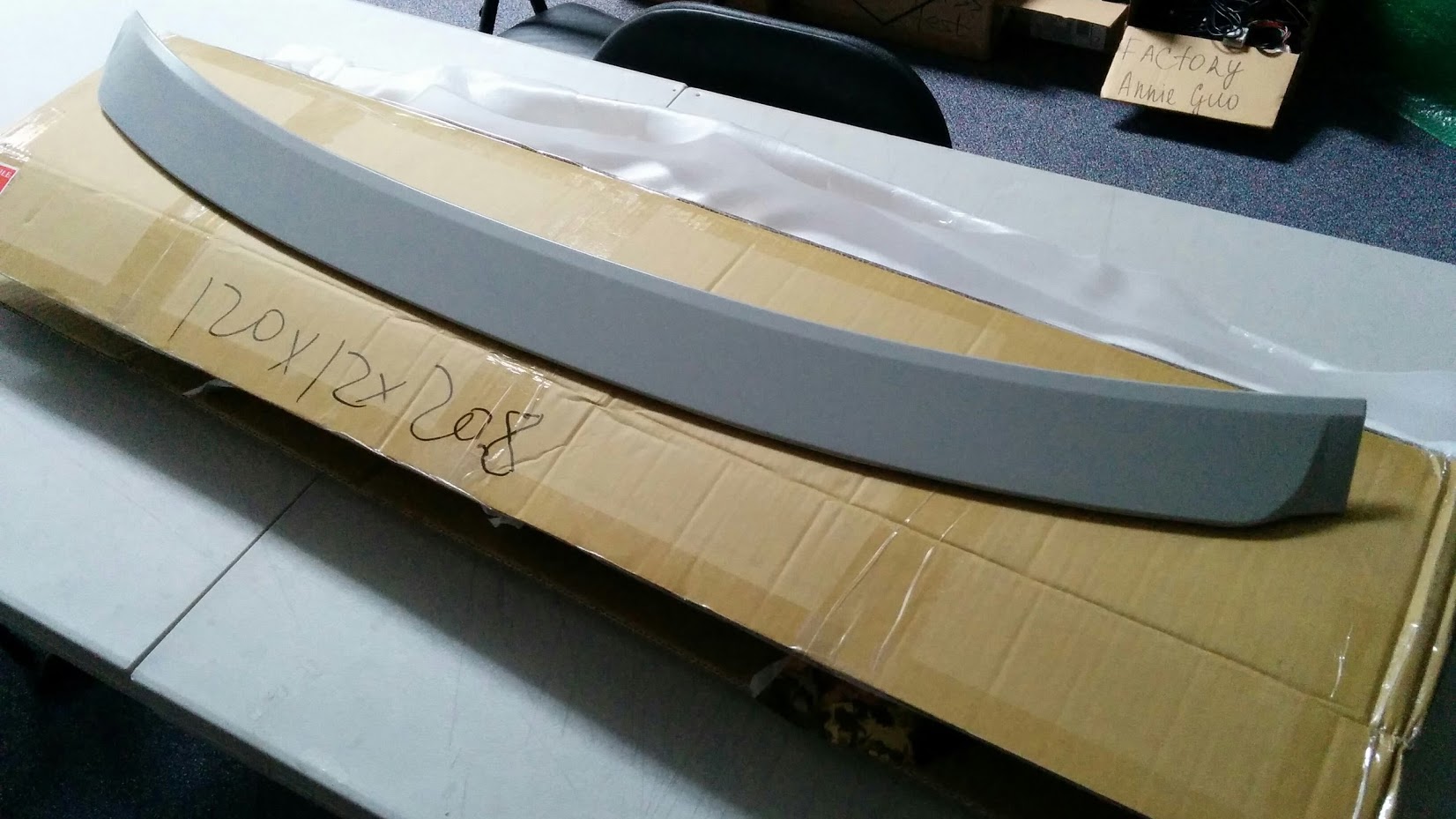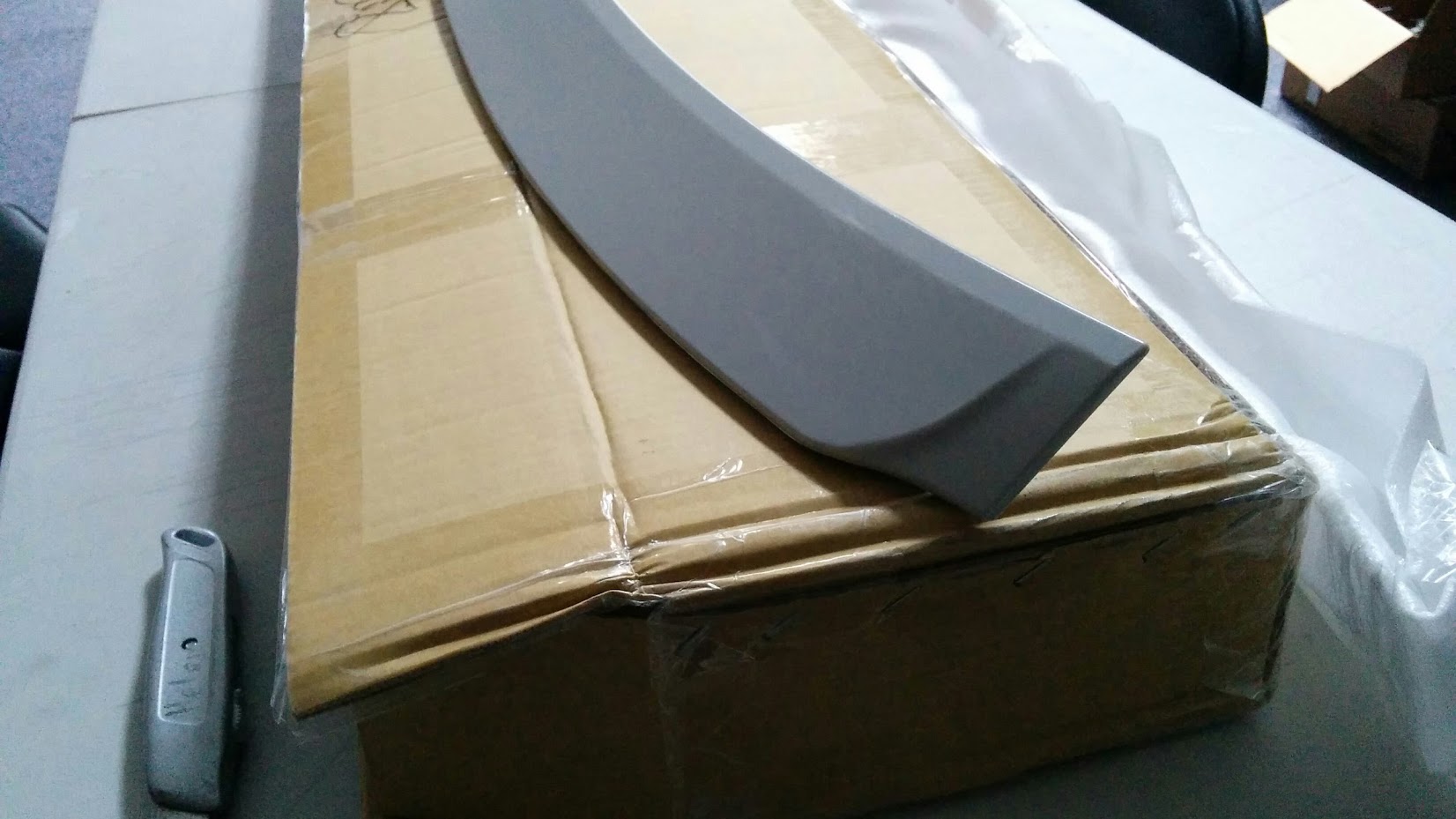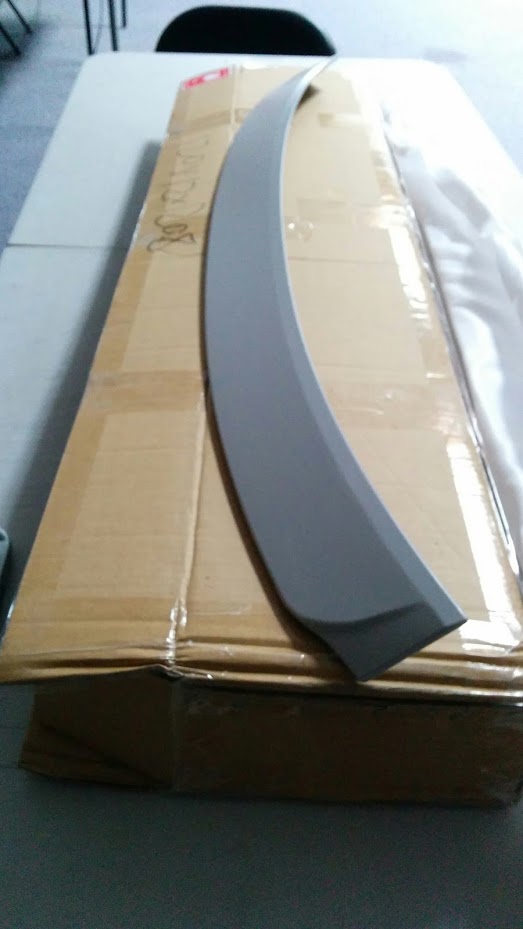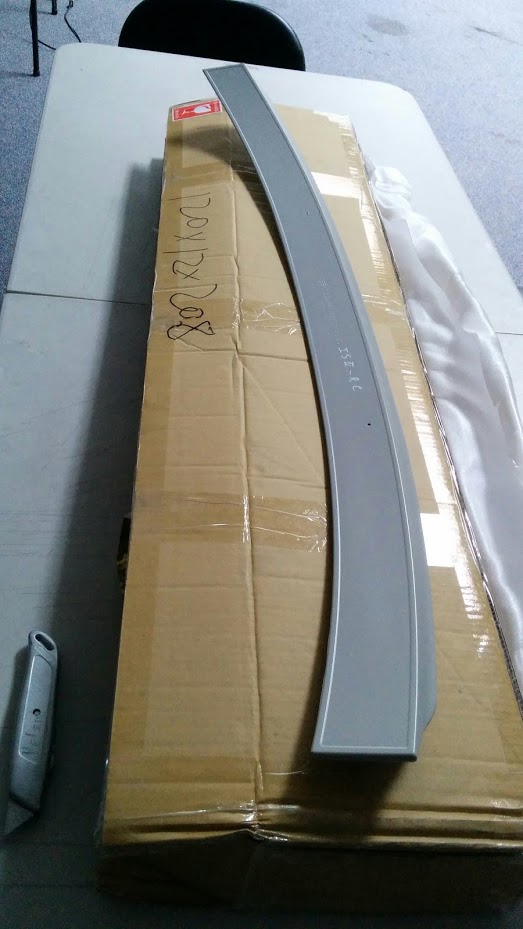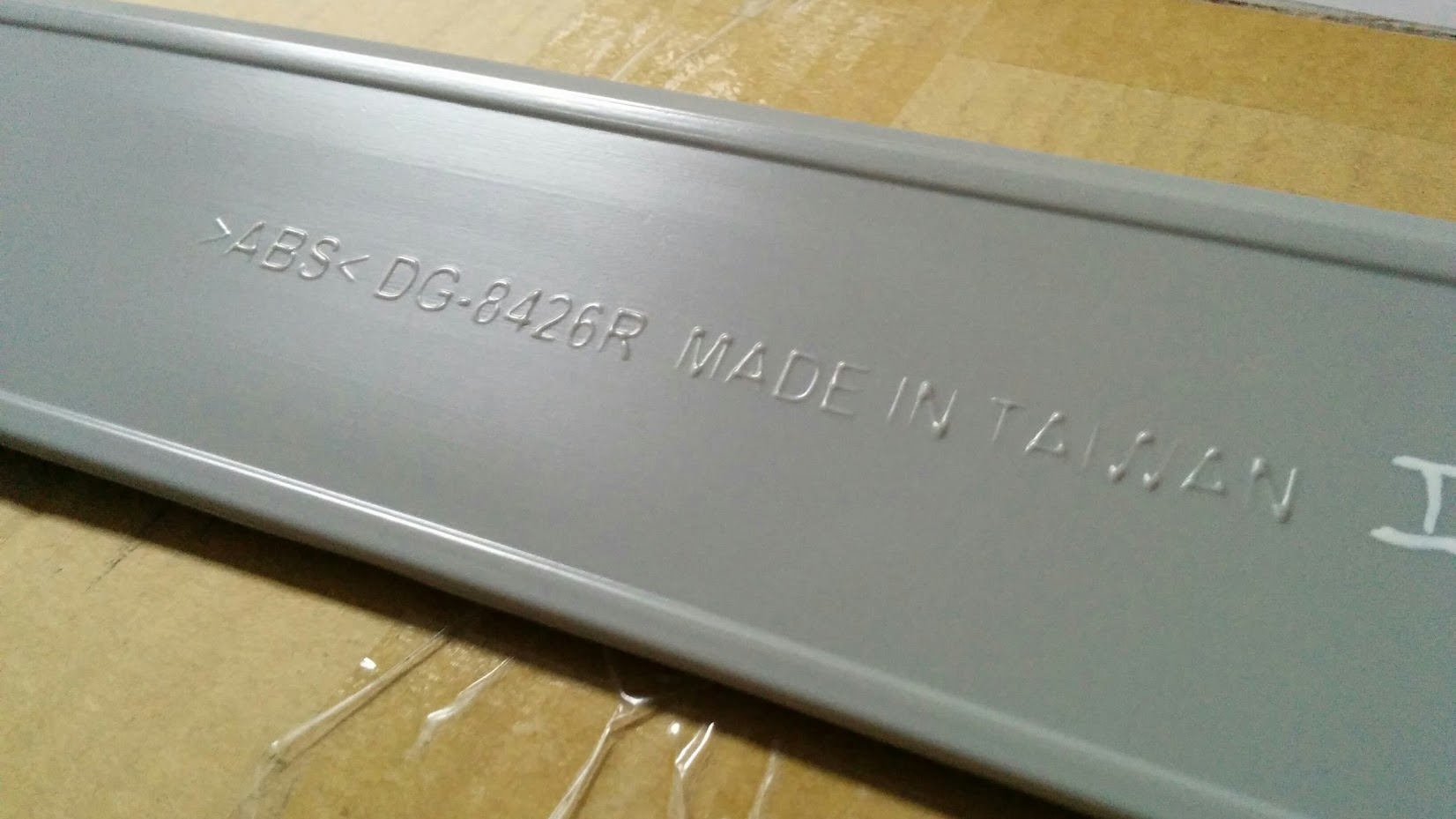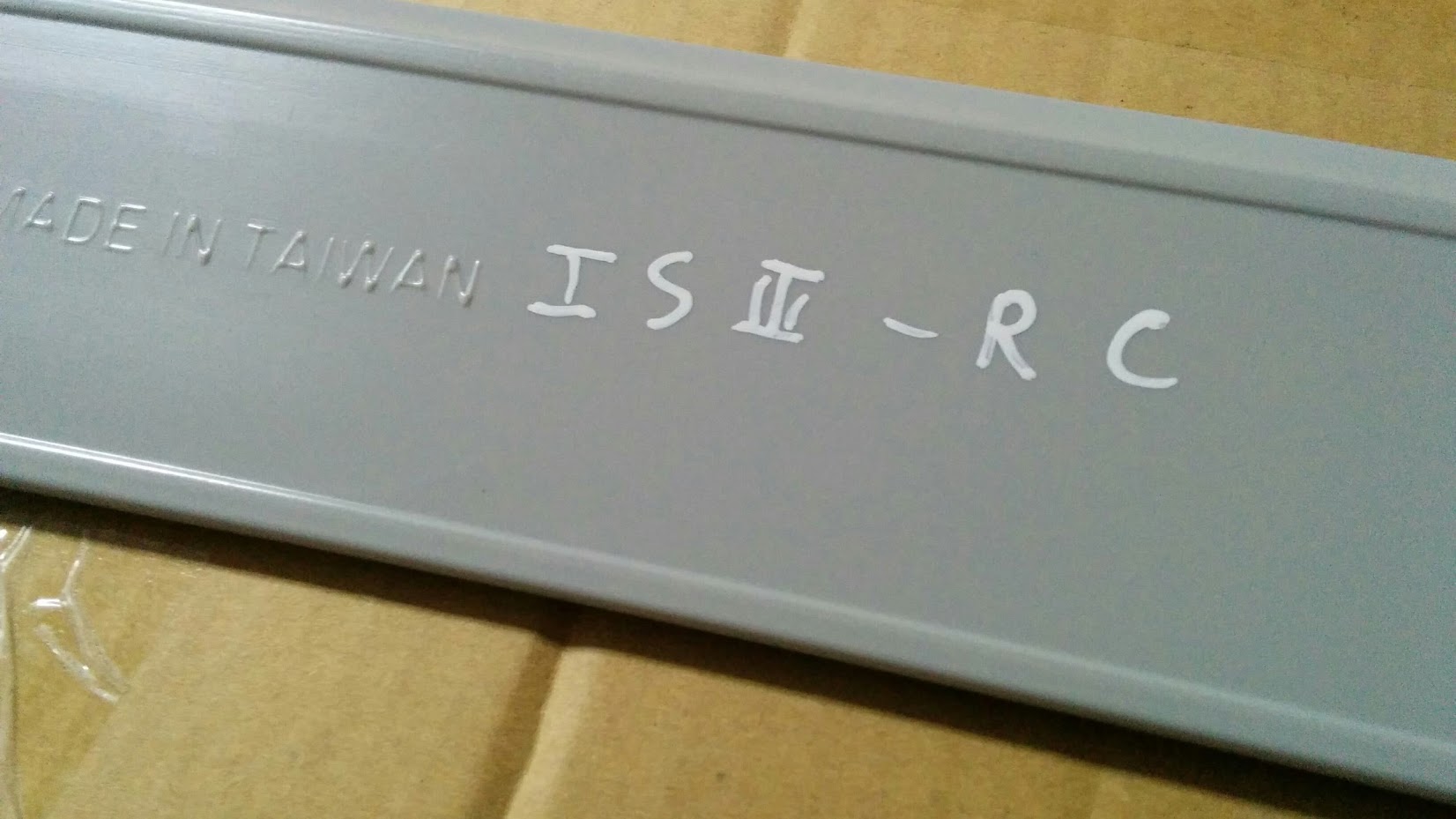 Rear Roof Spoiler
Package shows from "Ameba Wings"
They call it the C TYPE Roof Spoiler
Very nice quality ABS Plastic material Made in Taiwan.
Part number embossed on underside read " DG-8426R "
And it looks 3IS may share roof spoiler like RC as you can see they way they marked it.
Found on ebay, probably first one here in the States I believe because it didn't show couple of days before when I searched Same style wing I've seen on 2IS that I'ved loved for a while. Actually was gonna buy a 2IS version and prayed it fit but after measuring knew it was not going to happen.
Extremely happy with this purchase
Here's some test fit mockups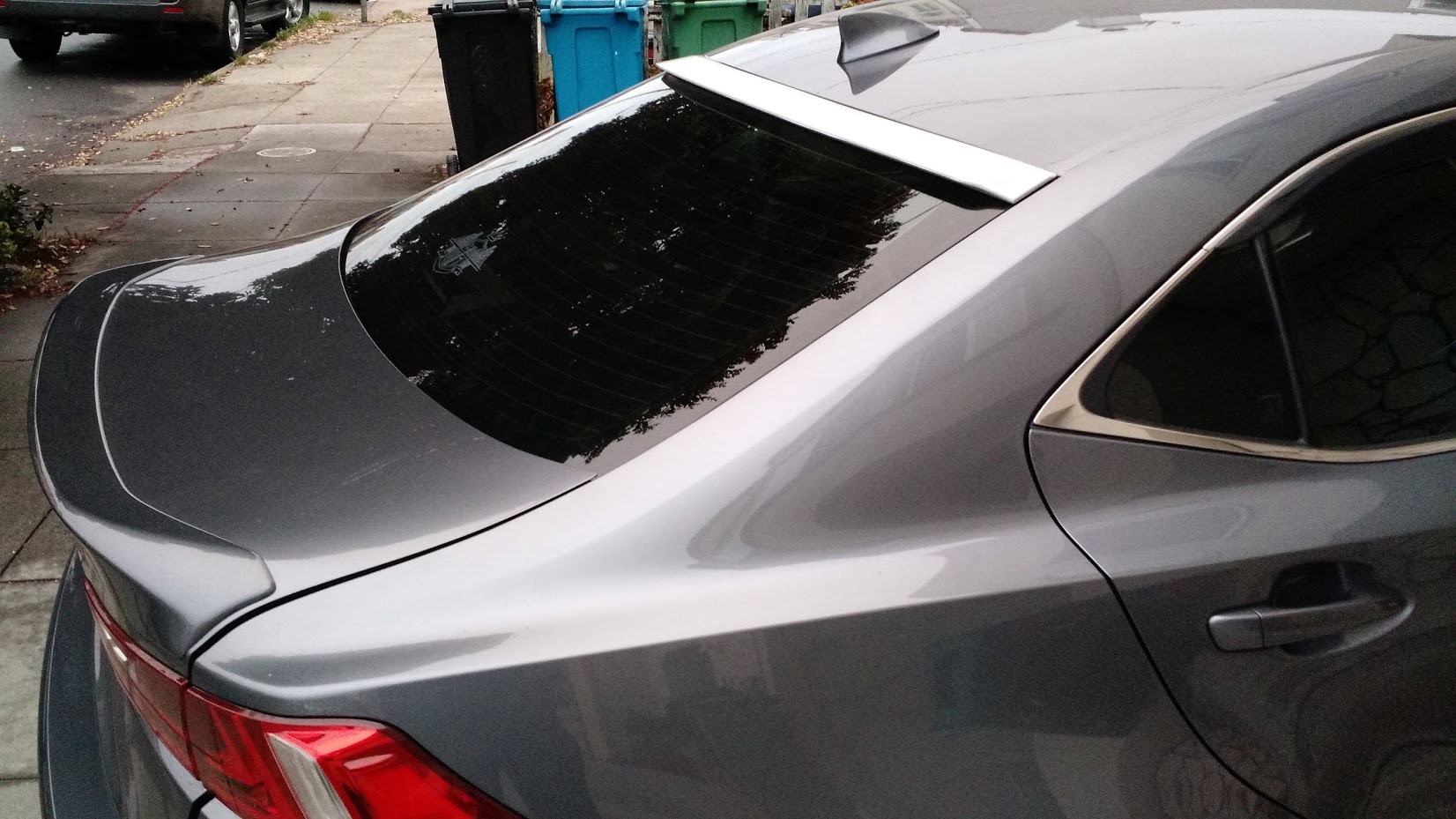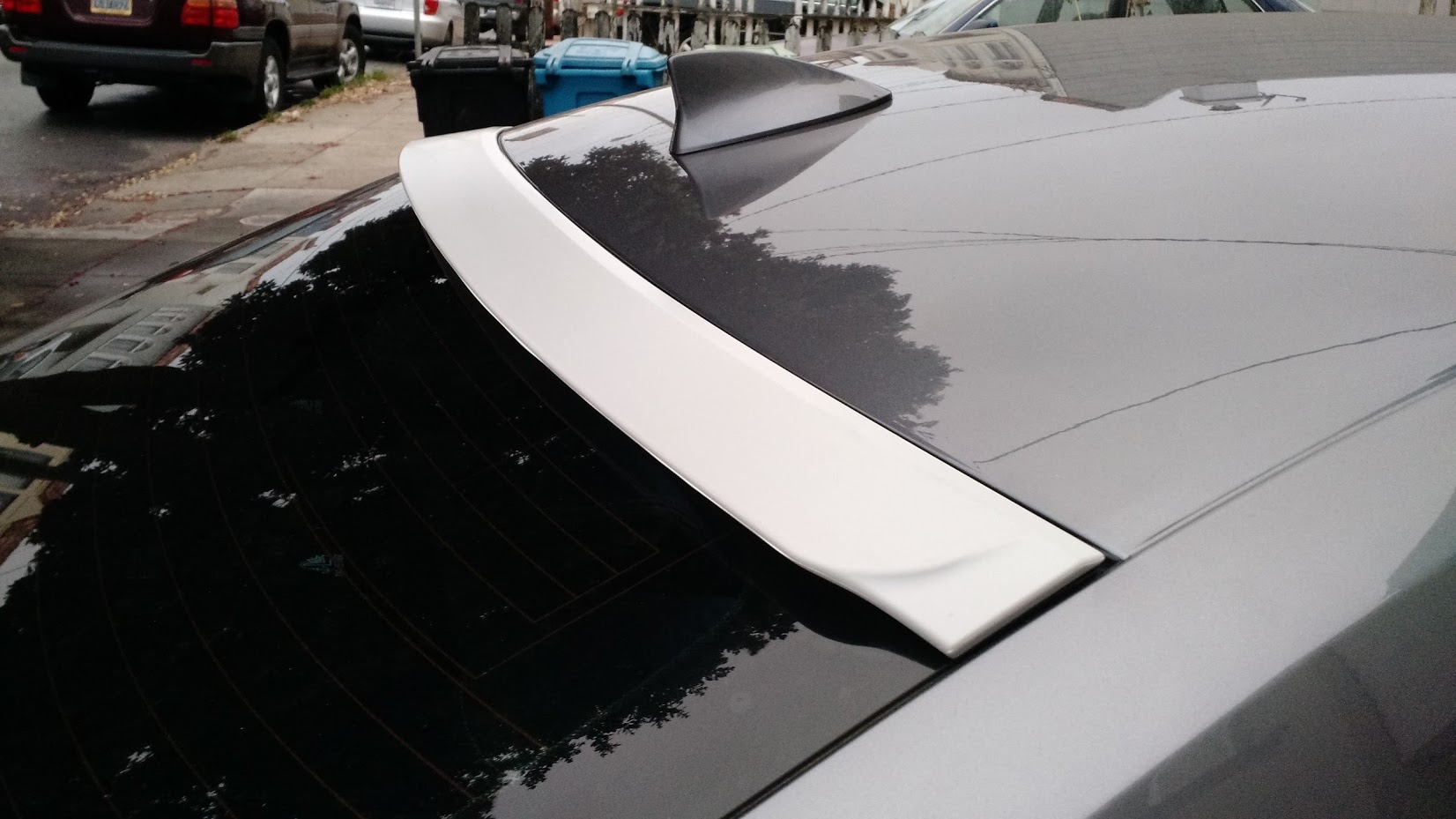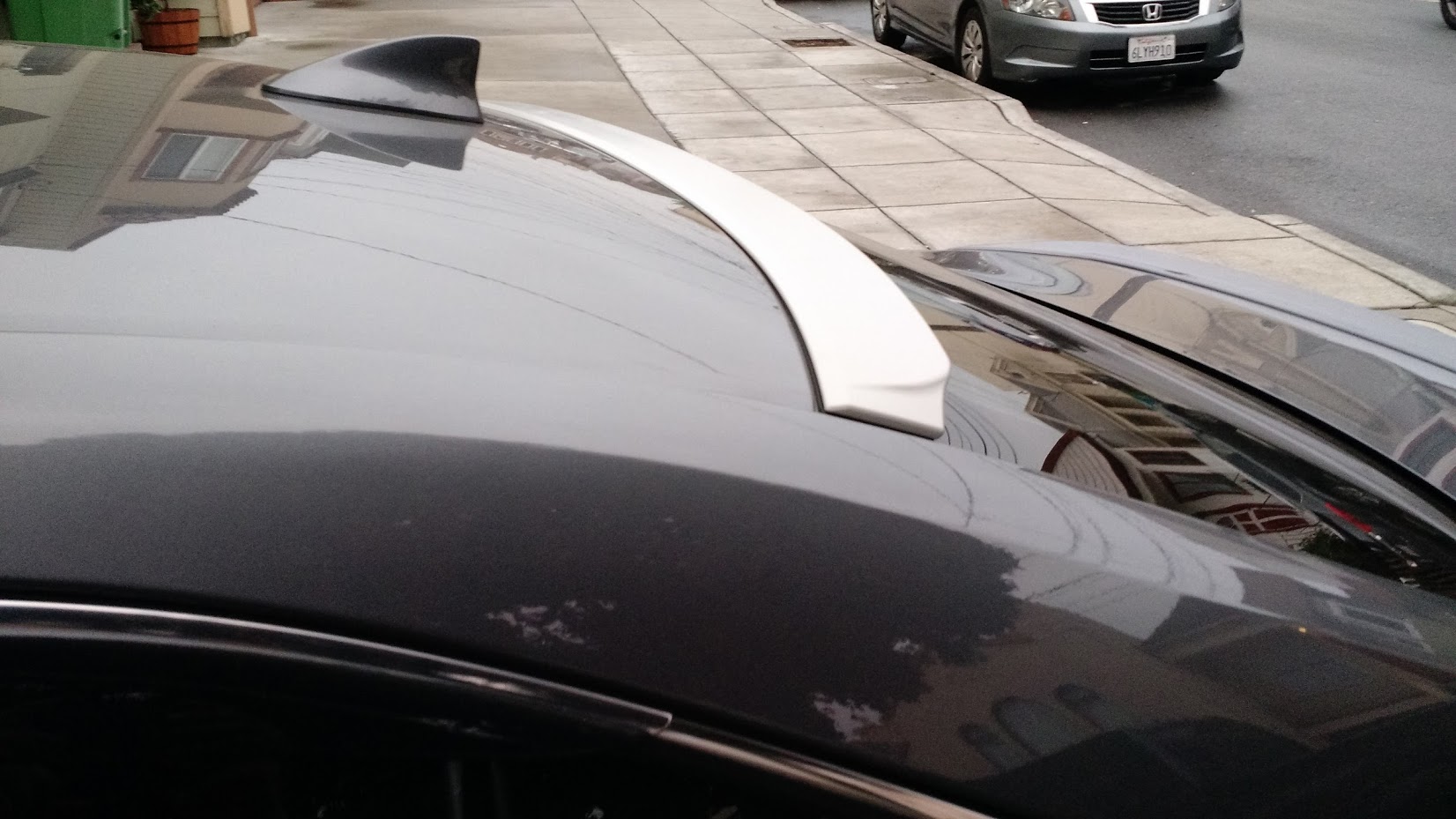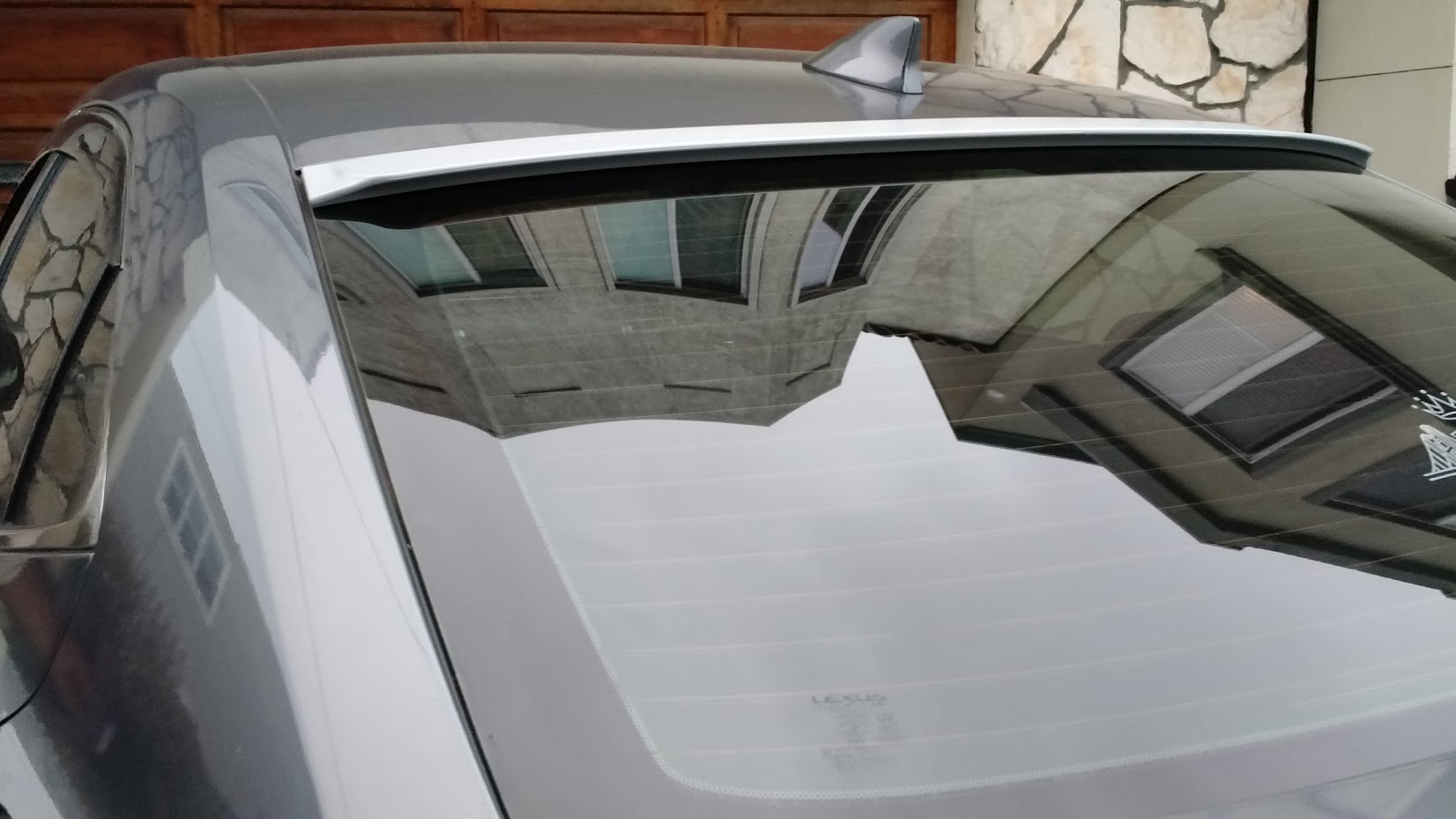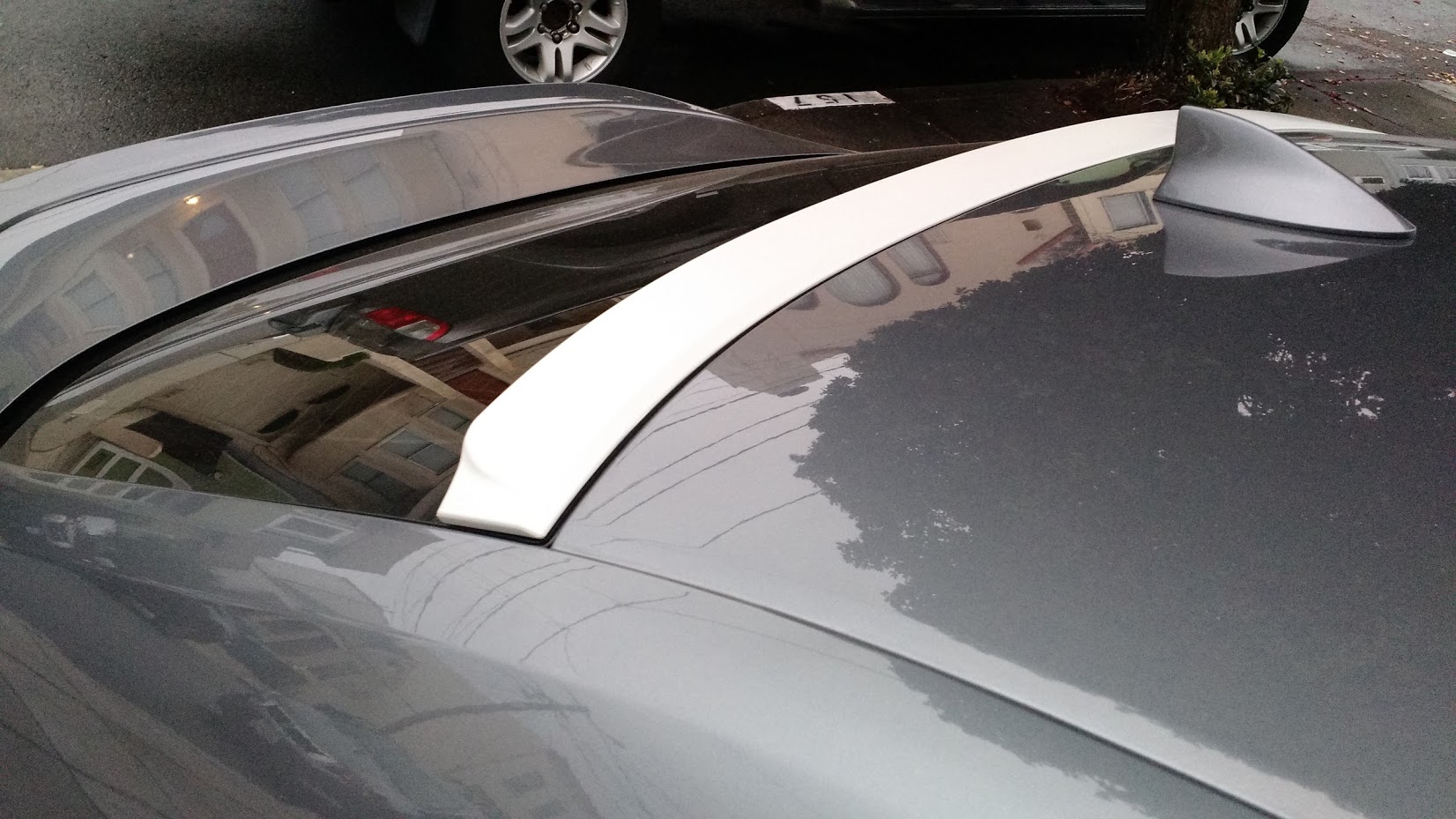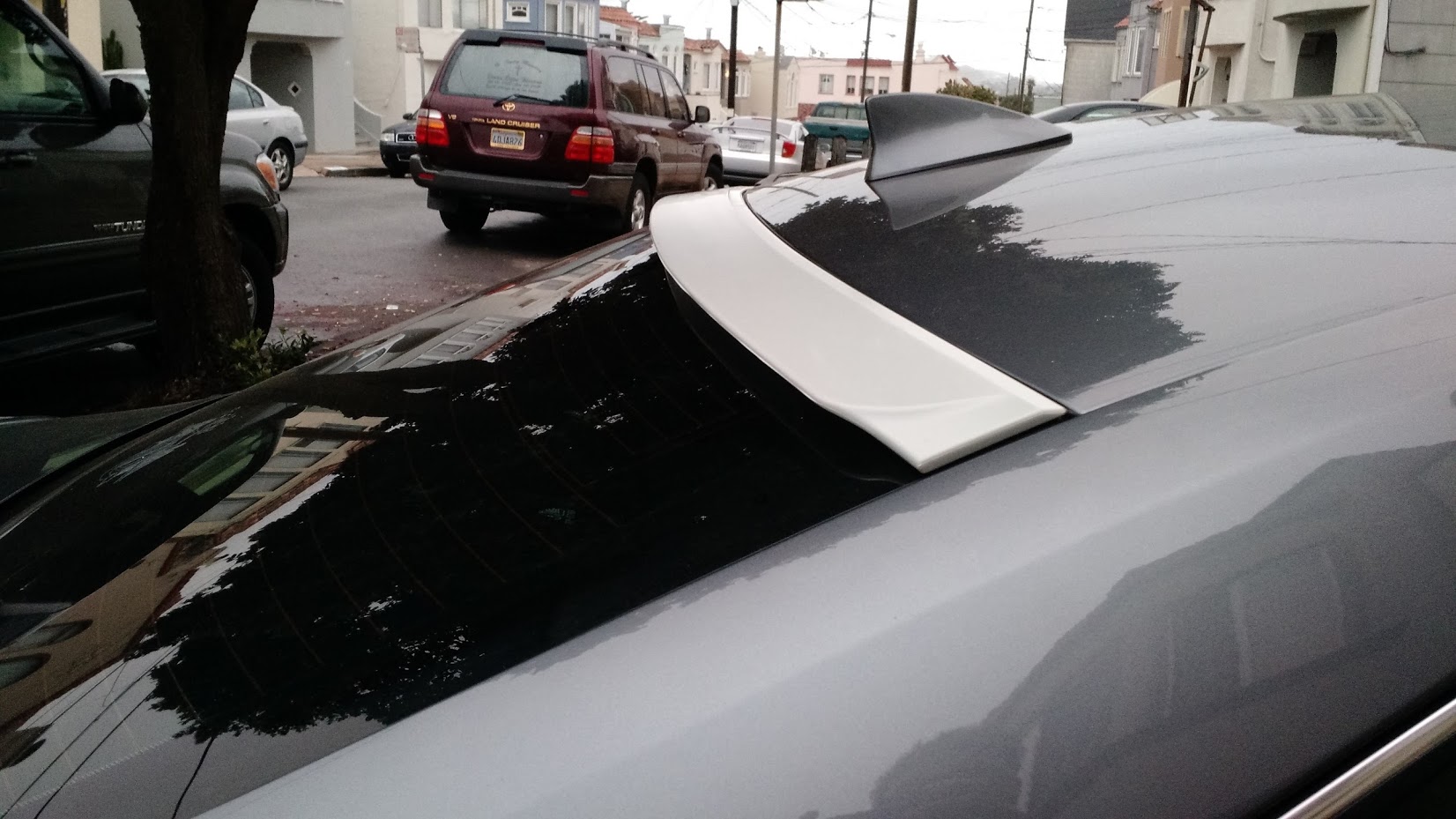 10-6-2015
sorry no updates yet to show for my car as attention was turned to my brothers project past couple of weeks

Here's a sample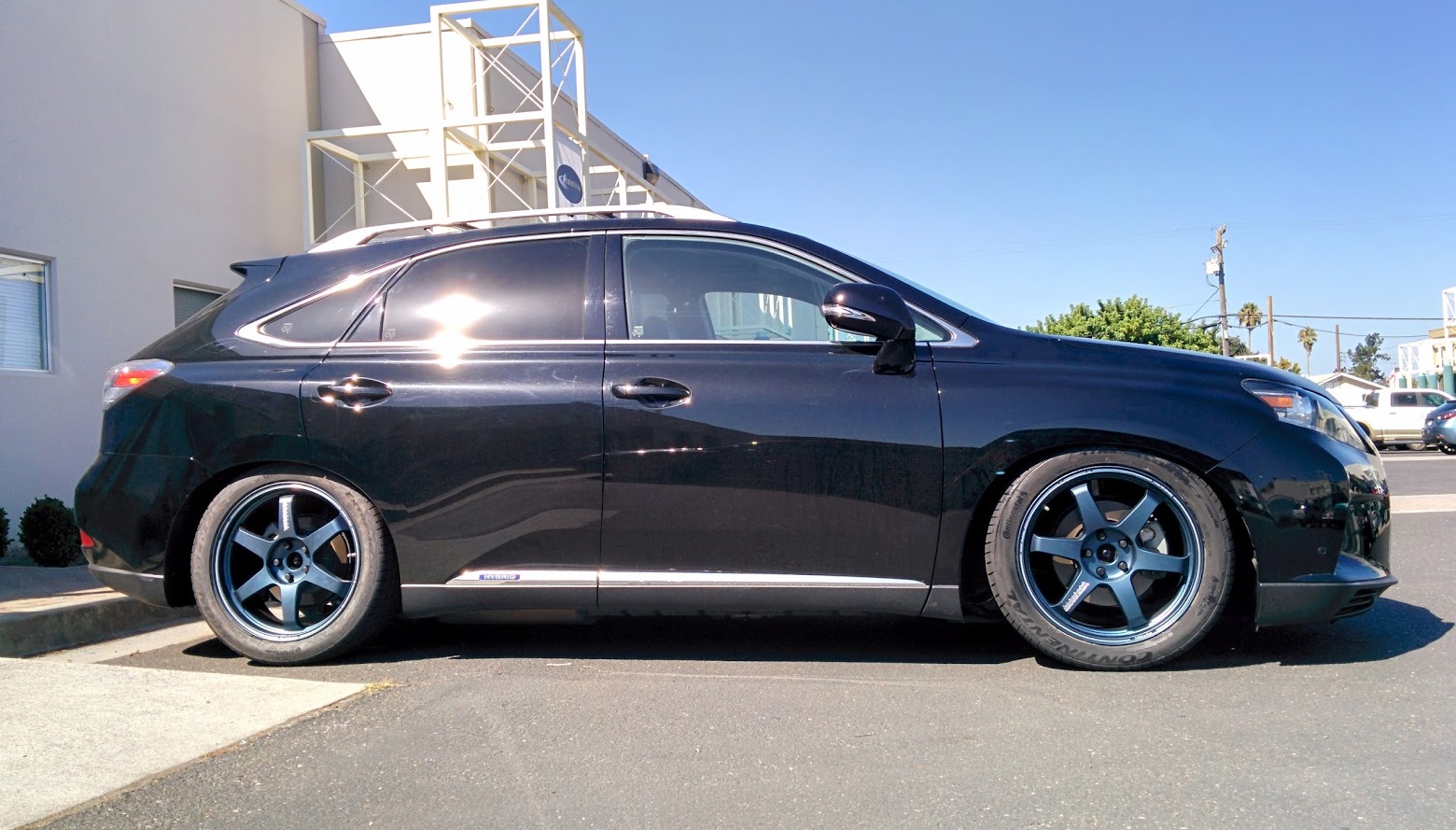 More info here about it if you are interested in this build.
https://www.clublexus.com/forums/rx-...ld-thread.html
10-11-2015
picked up some ijdmtoys 2500k Yellow fogs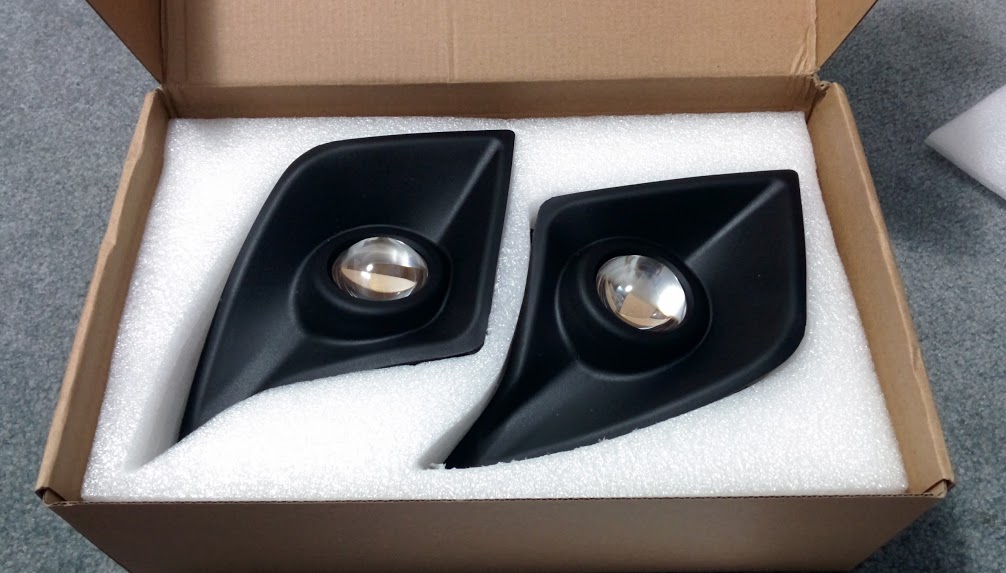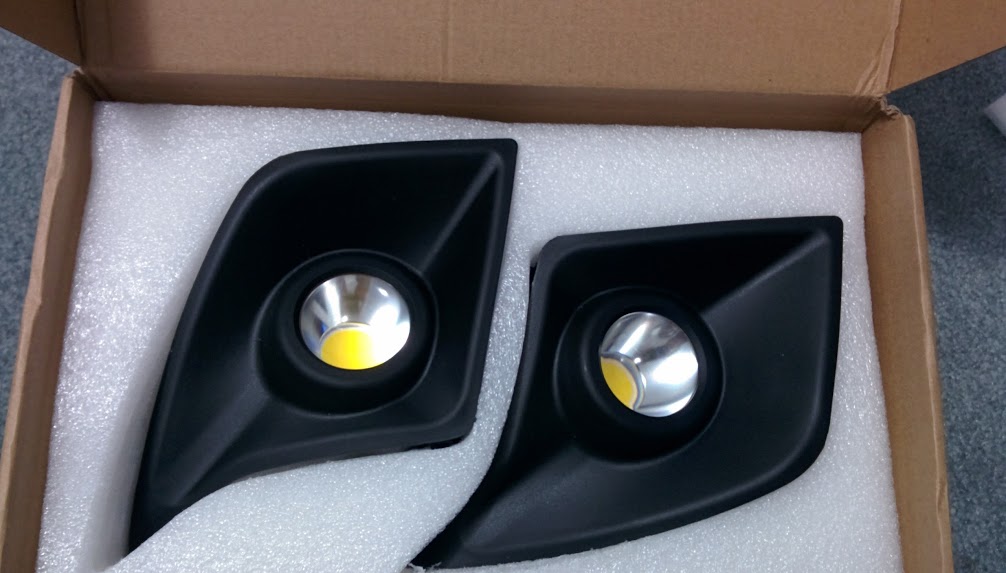 me being curious, took them all apart to see how they are built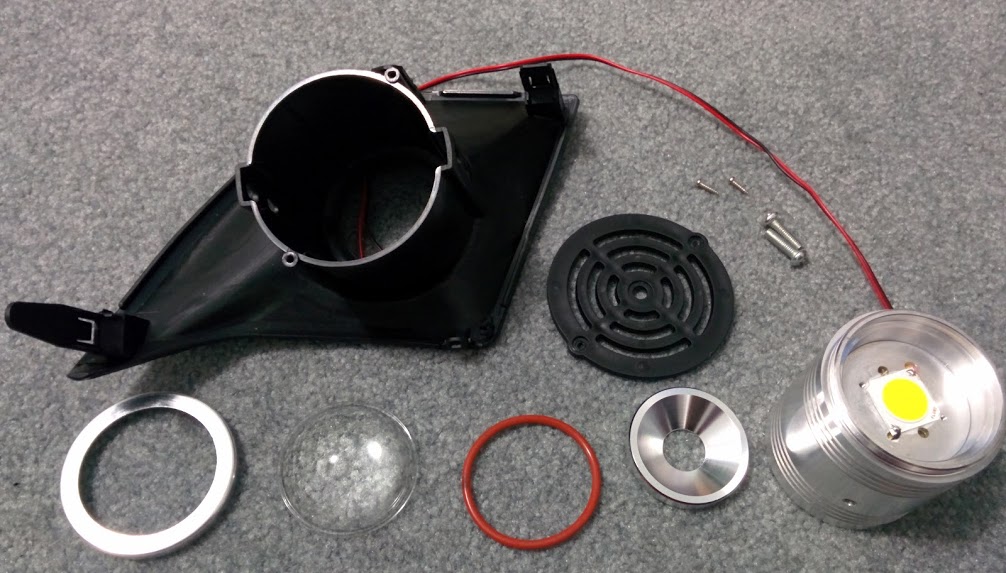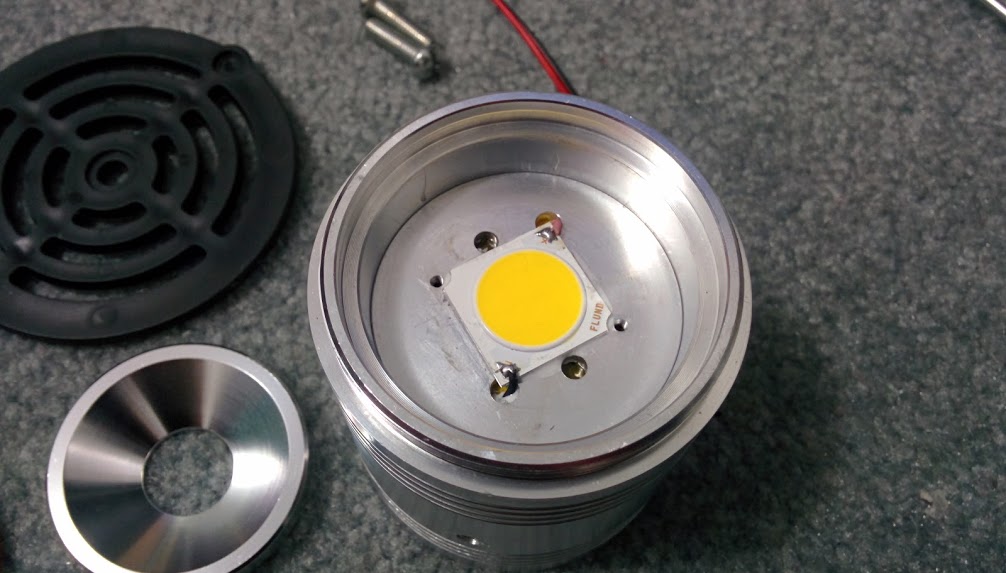 and the wheels finally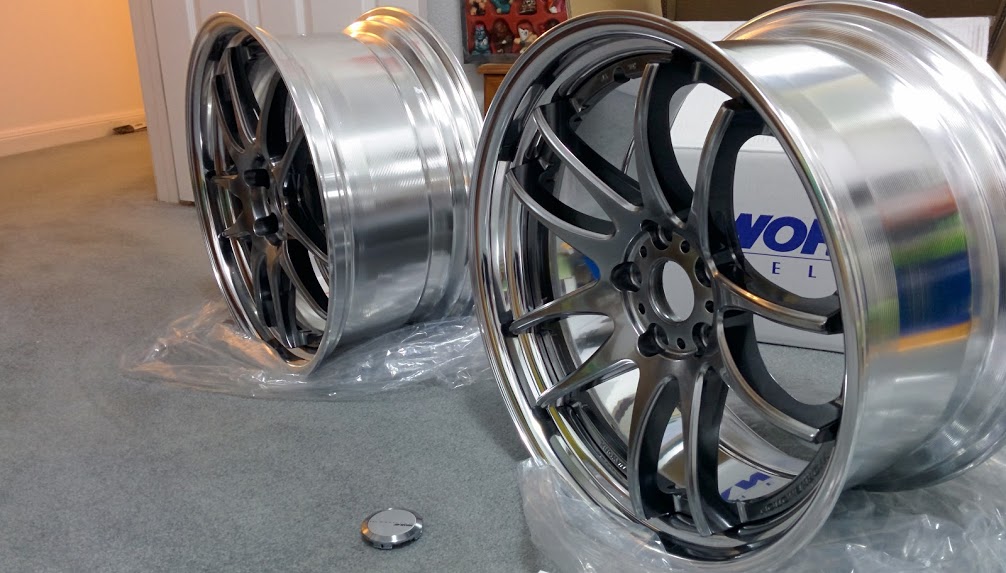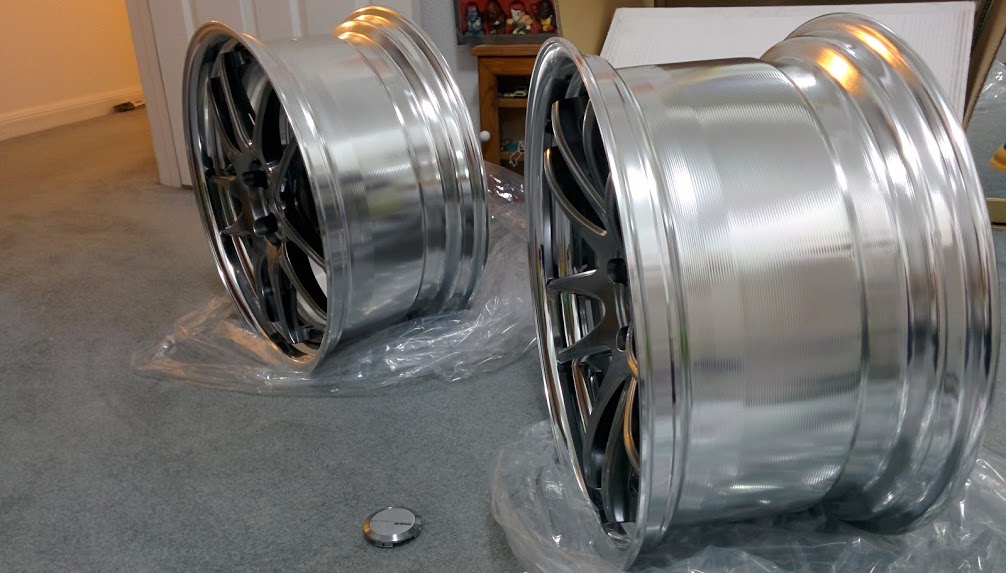 popped some Nutsert to the bottom of the bumper so that my new skipper Front lip bolts on sturdy and easy to remove rather than the supplied Nut and bolt from Skipper.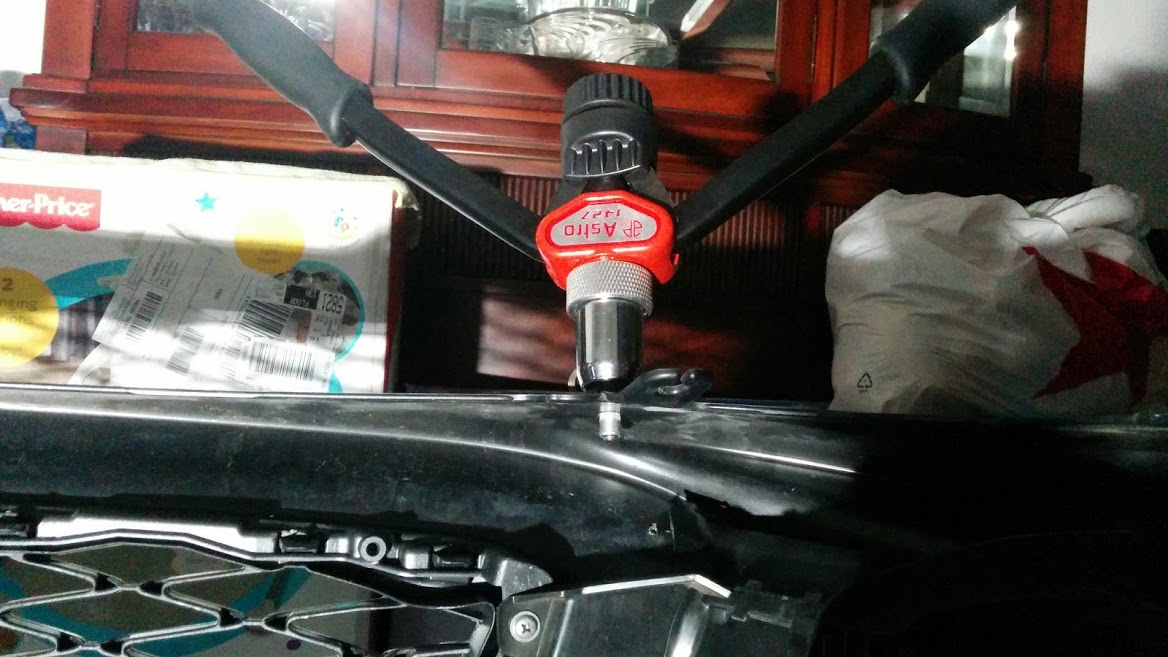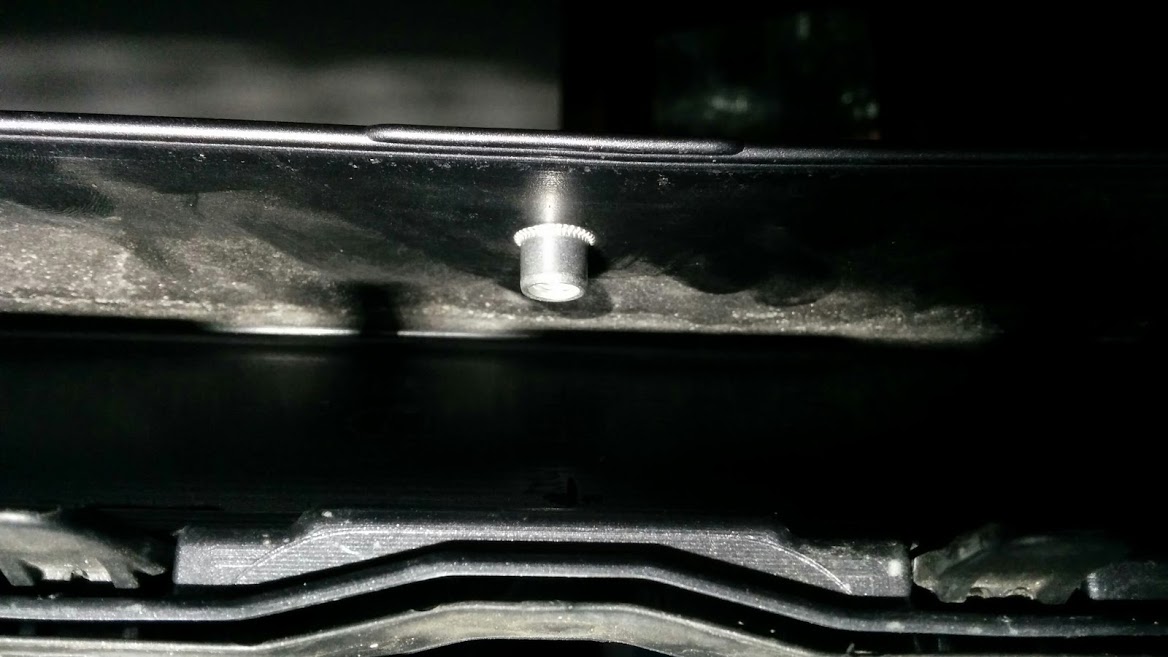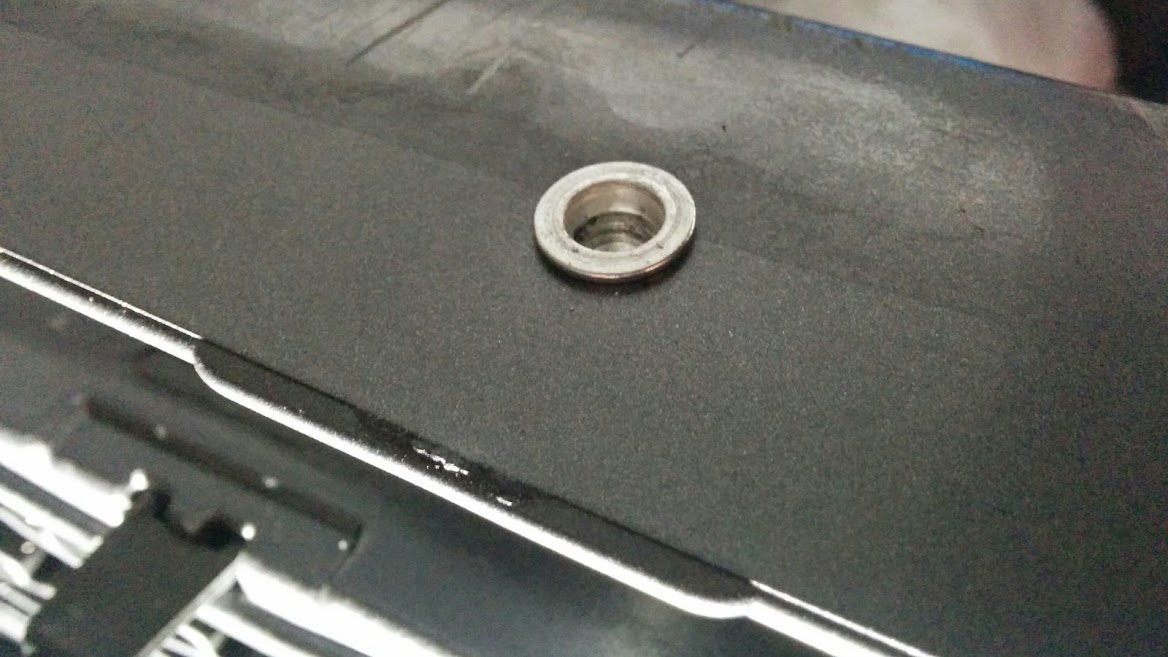 the test fit.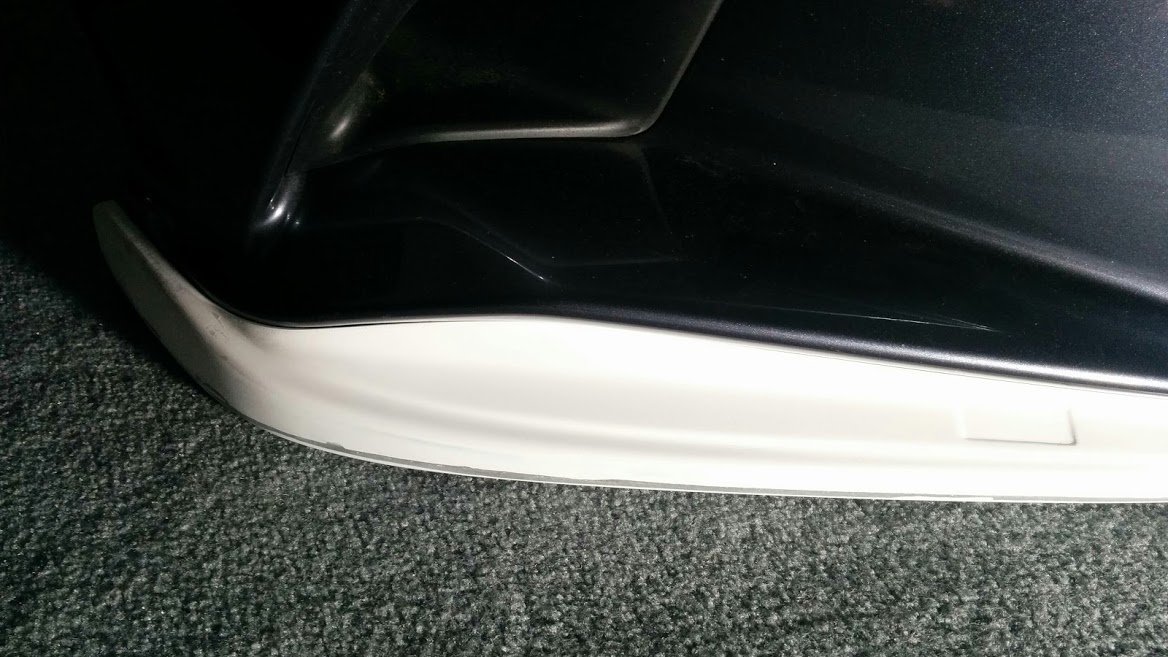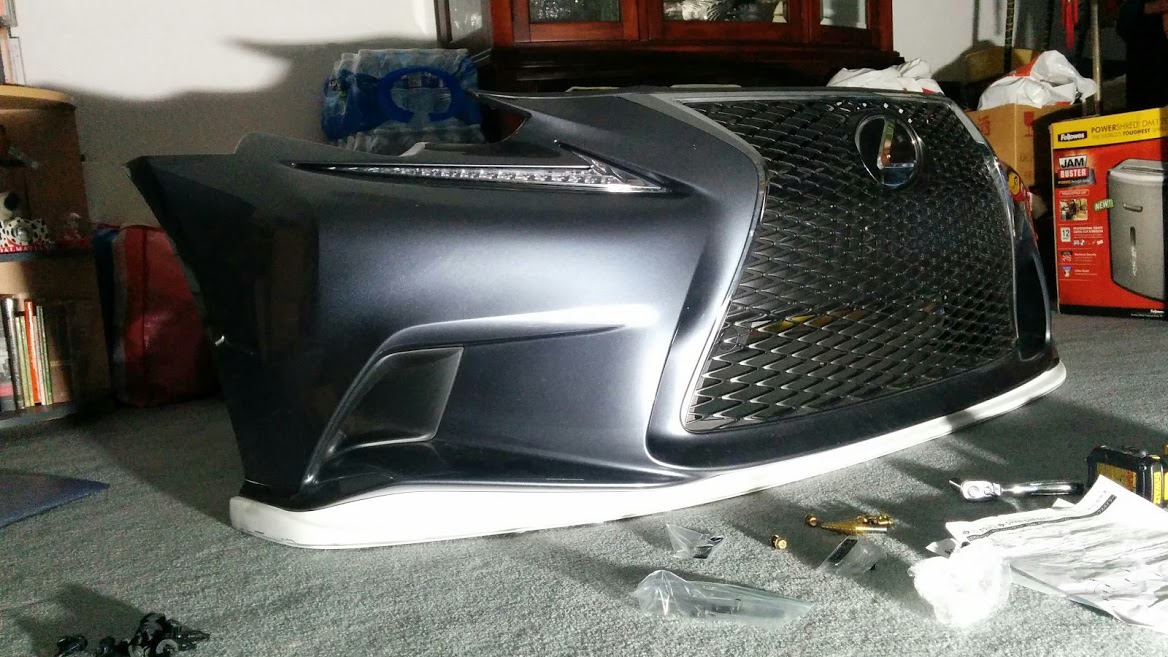 Off to paint now.
10-26-2015
parts back from paint,
Here is some teaser shots. still working out some kinks at the point before i call it done.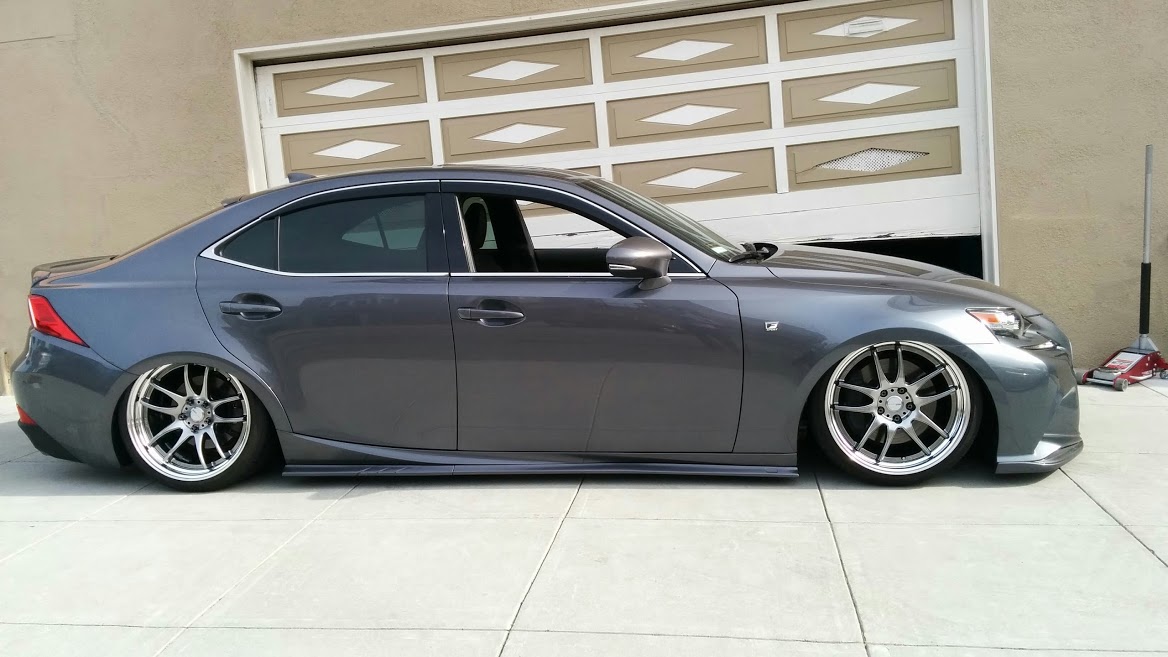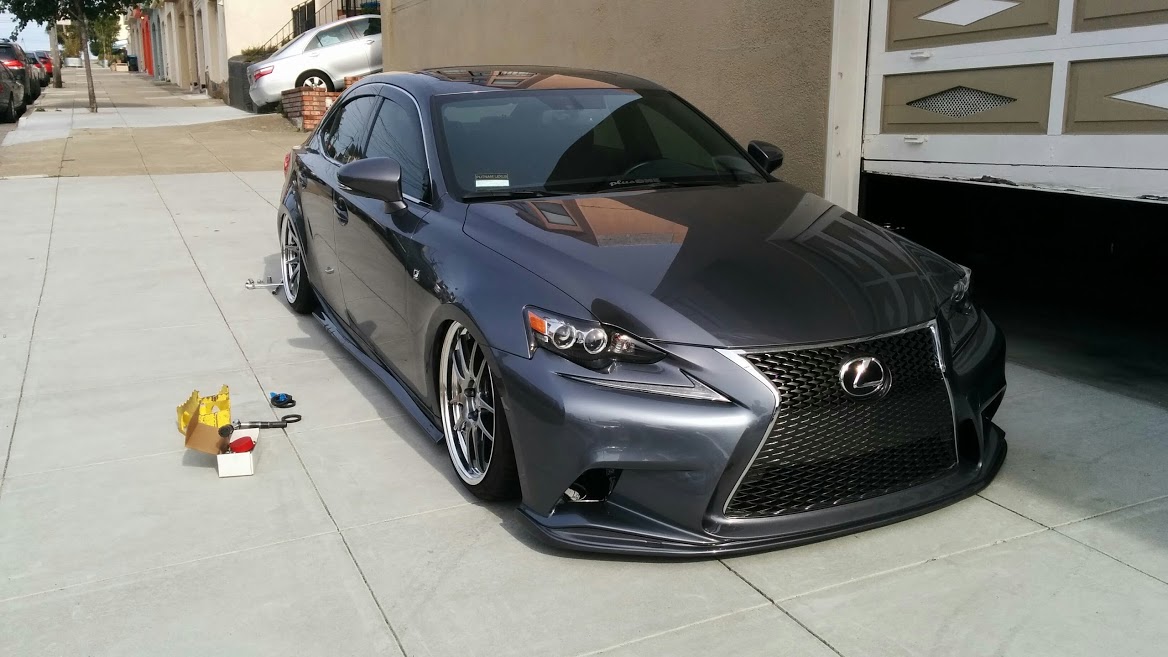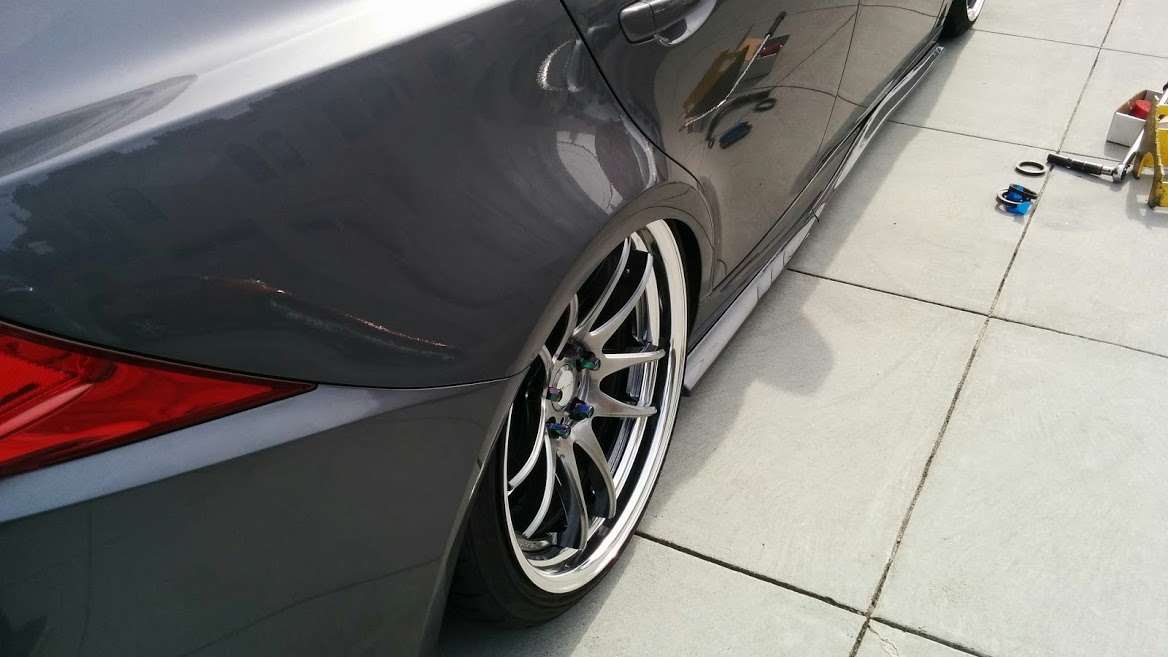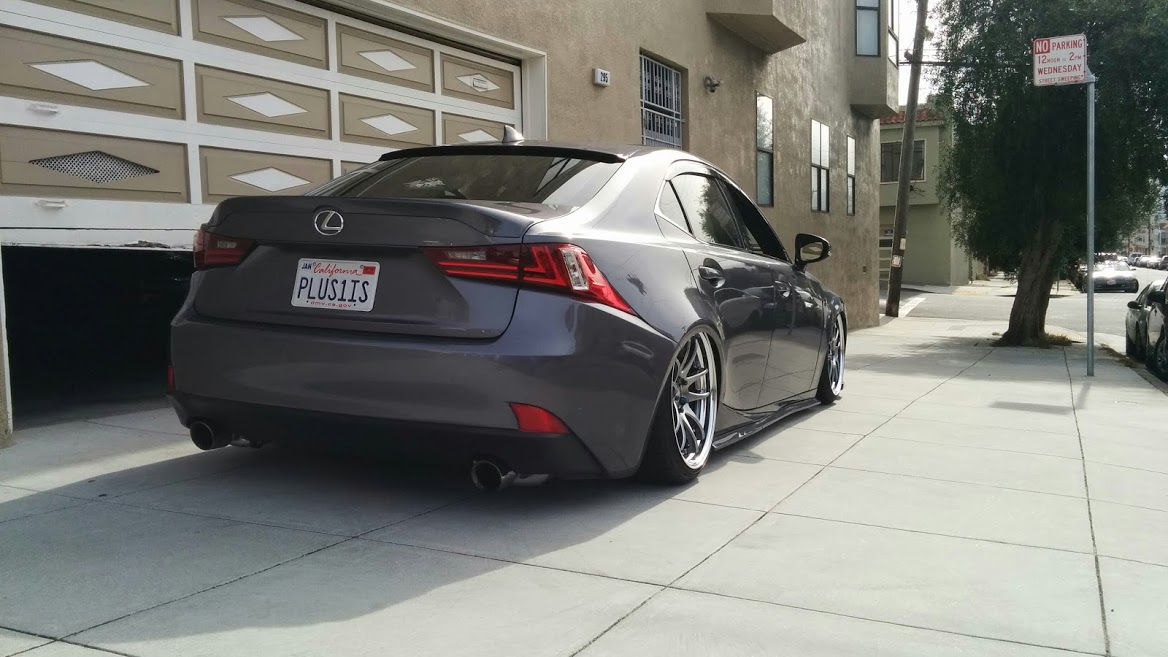 11-15-2015
Lets add to this.
Messed with the ijdmtoys fogs a bit
wanted opaque they mentioned but they didnt have it in production so I decided to emulate the look.
Bought some of this.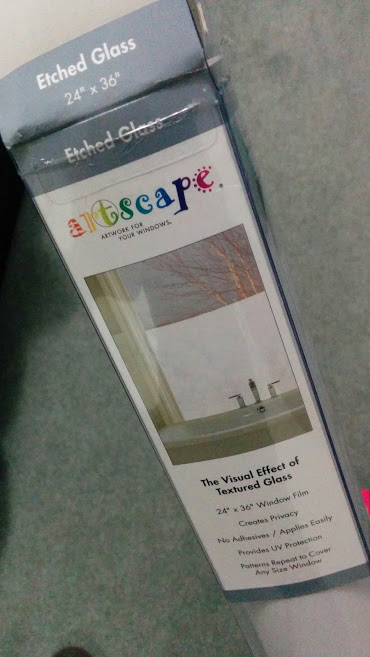 came up with this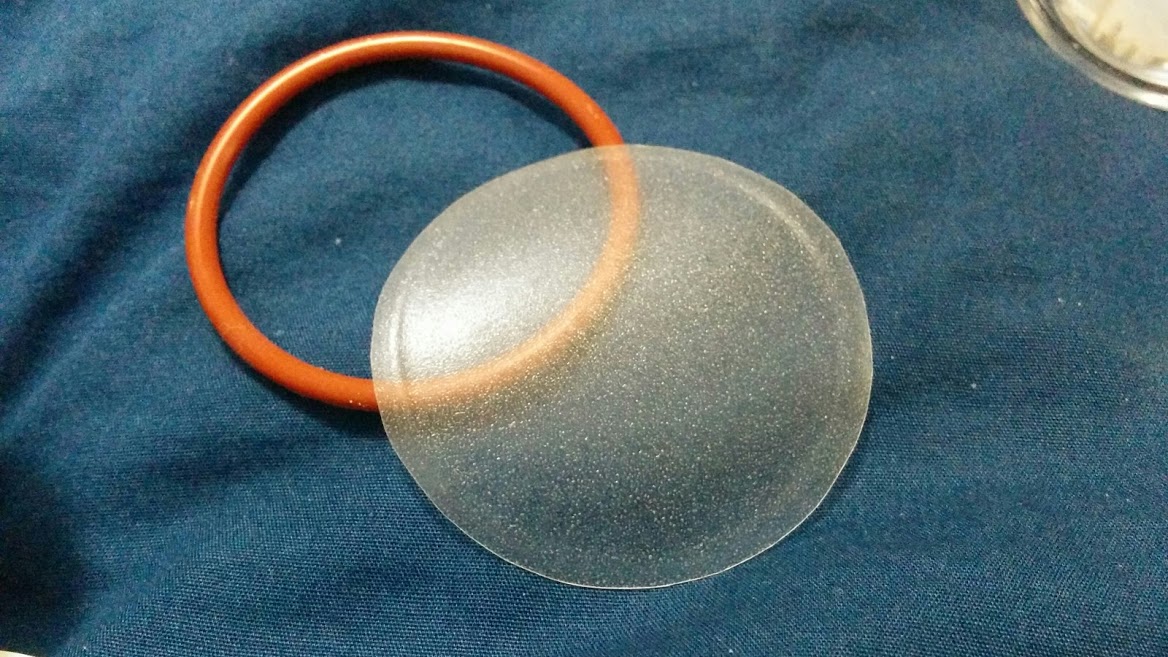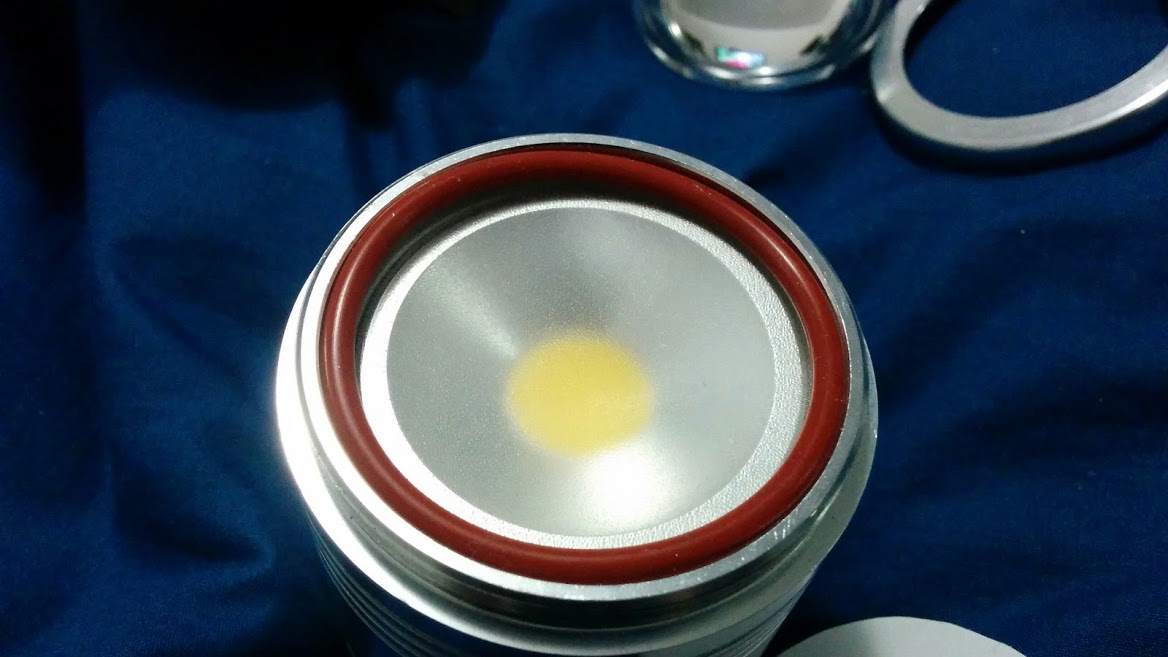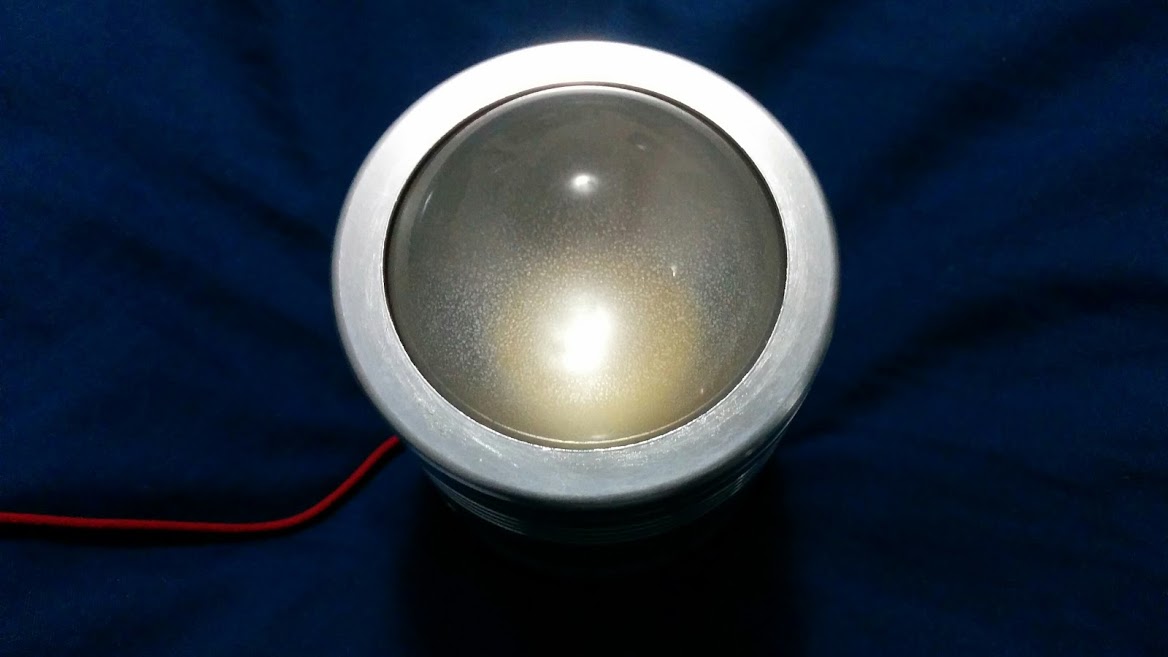 comparison of with and without film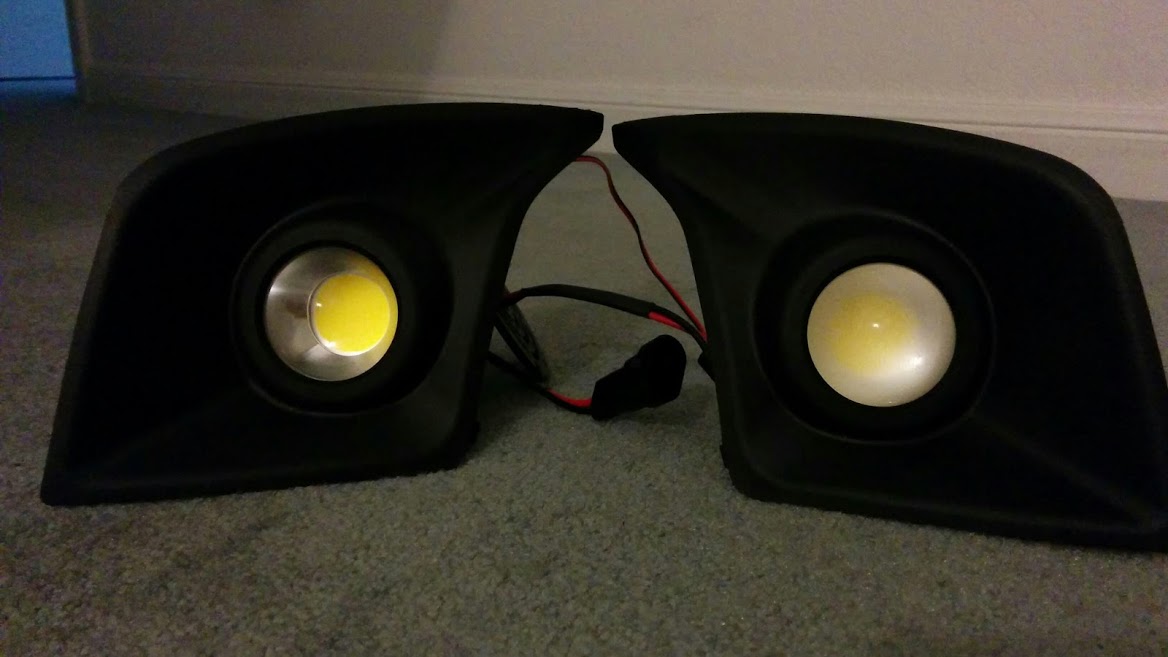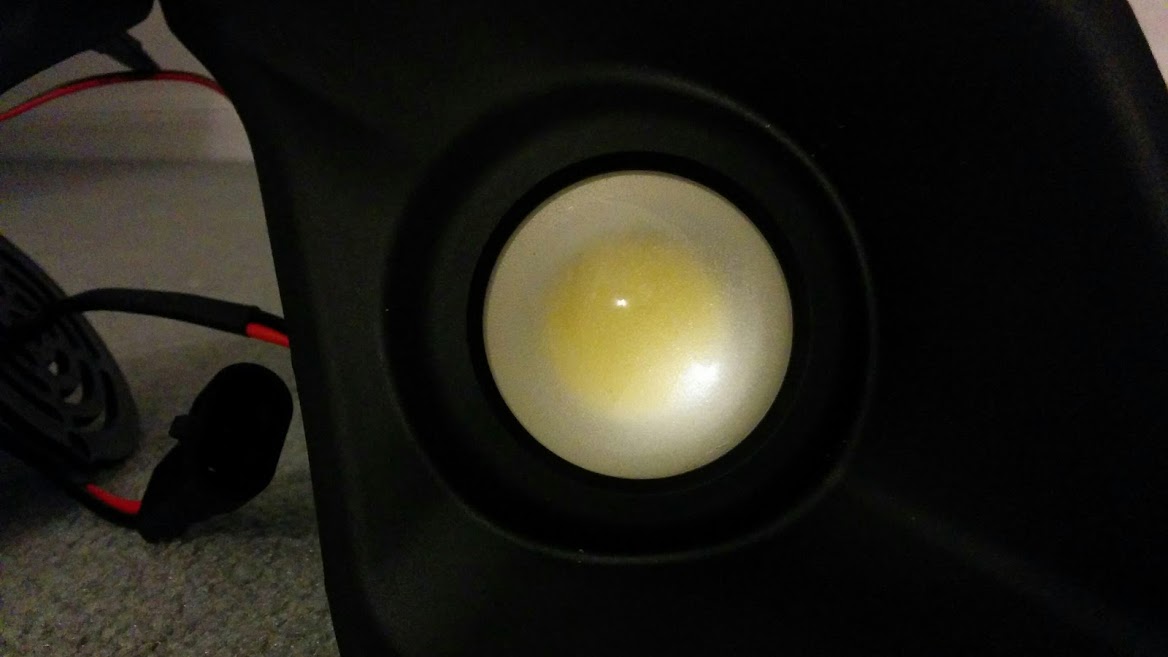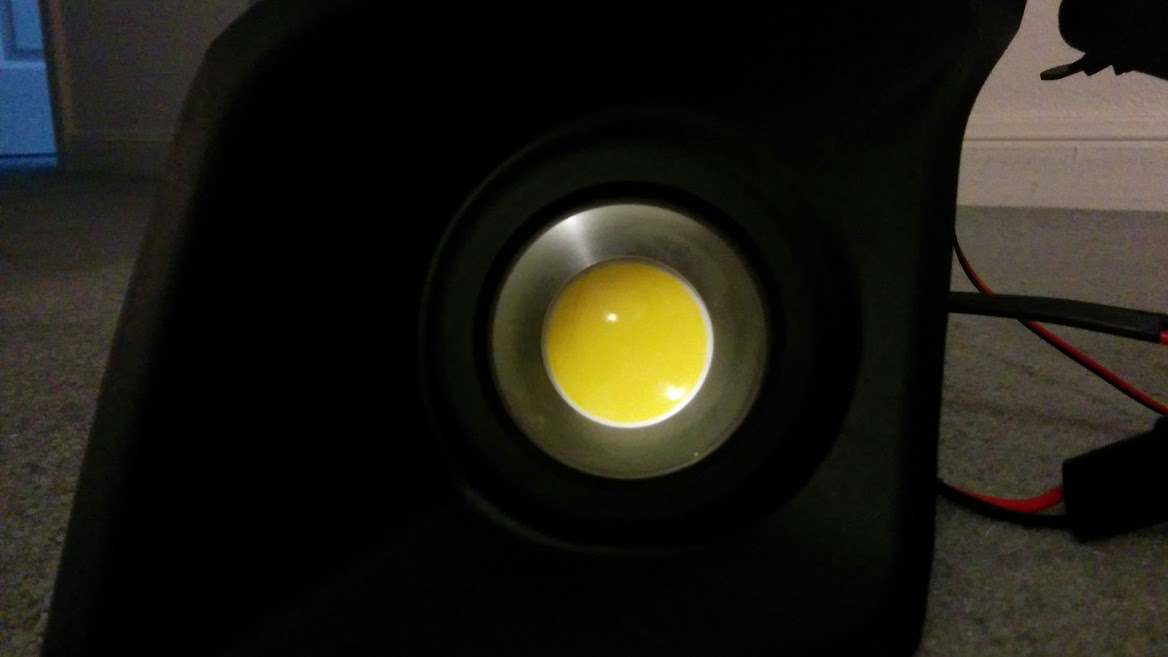 ran a fog light harness in the vehicle so made a harness plug off the Light side as well so it is easy to remove with it still attached to bumper.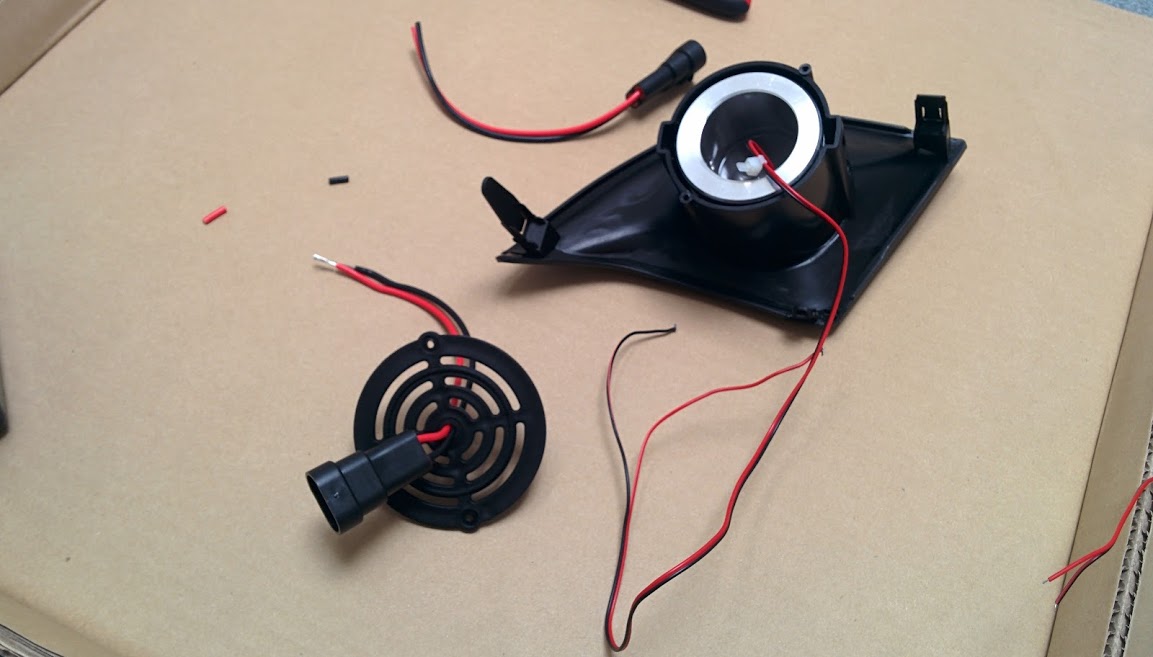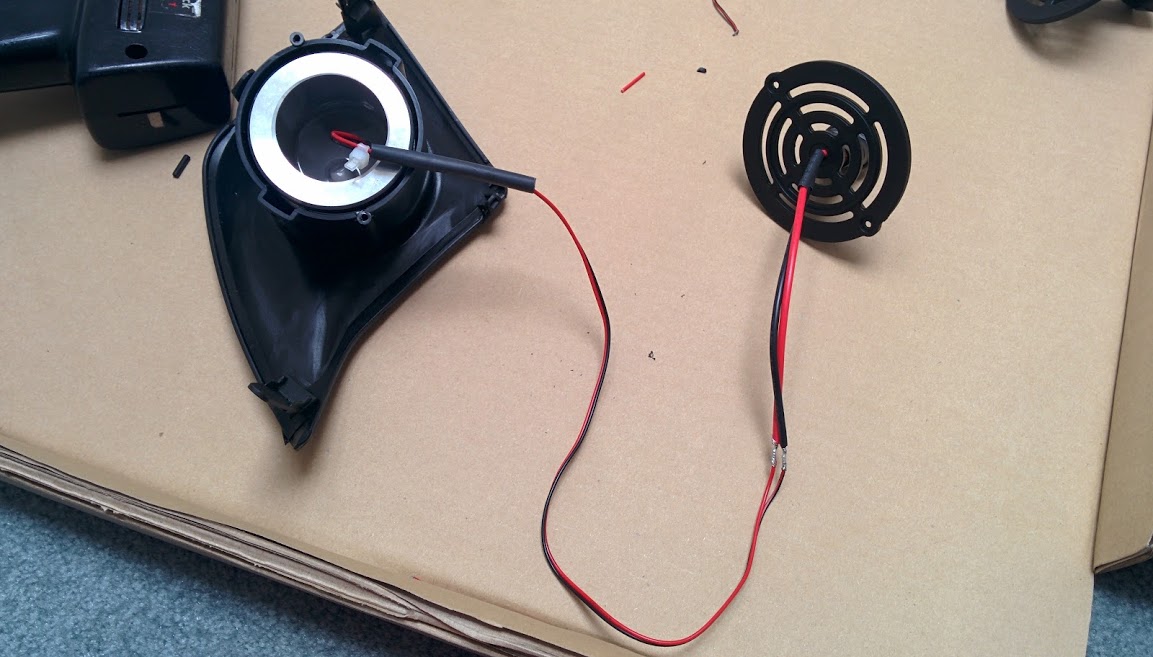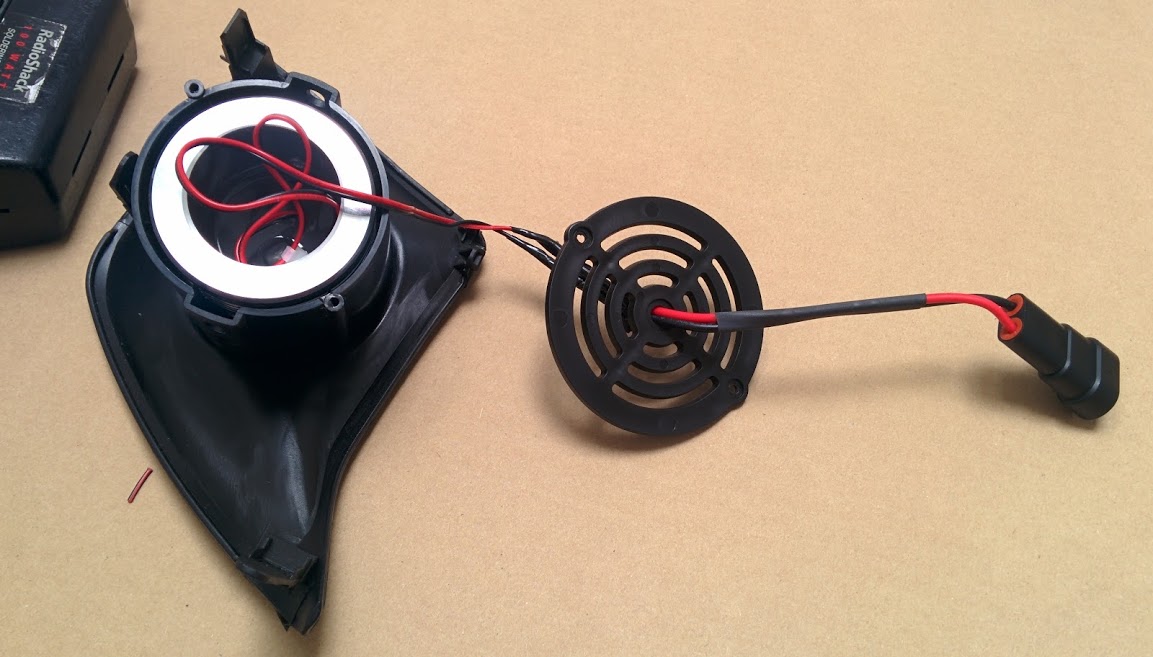 final product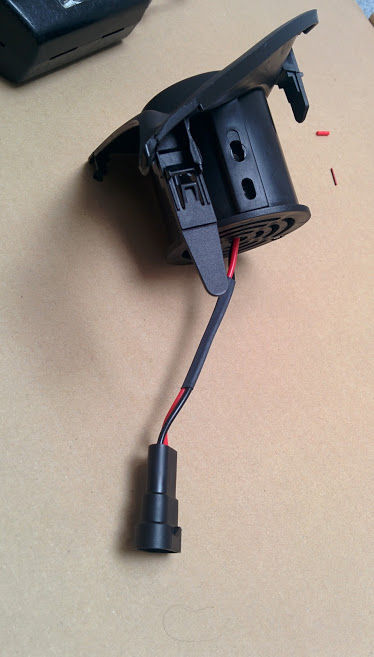 fog light switch, color is off when camera flashed but its close enough
LED backlight is white as well. and dims like all other factory switches
video of the switch in action
Here they are done and on the car.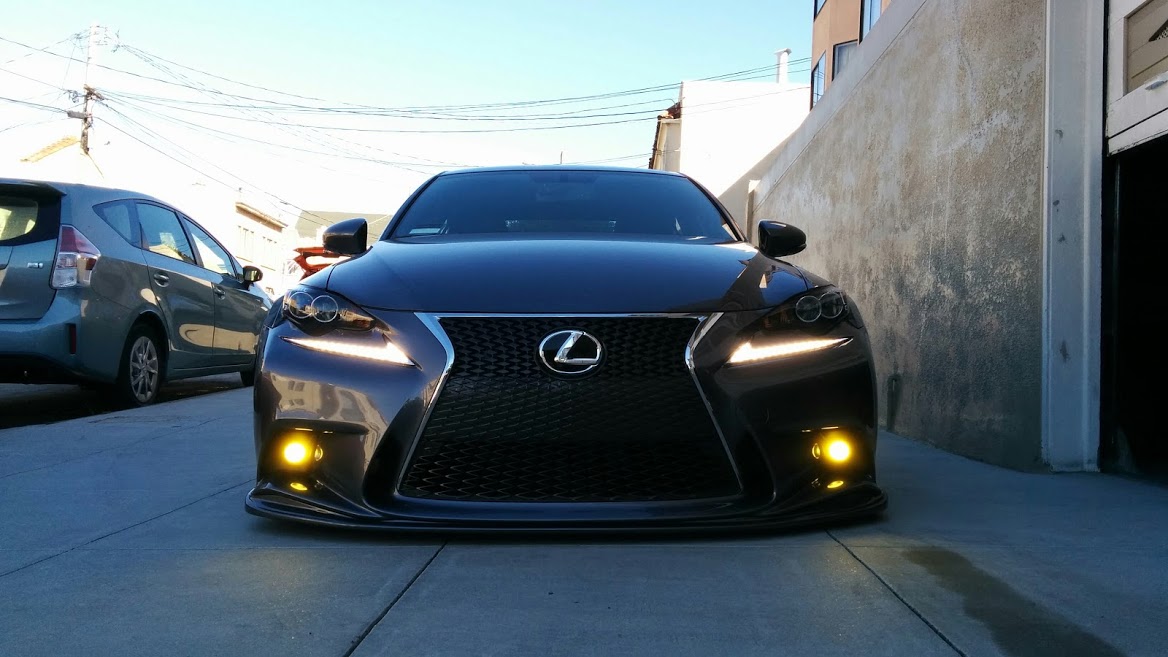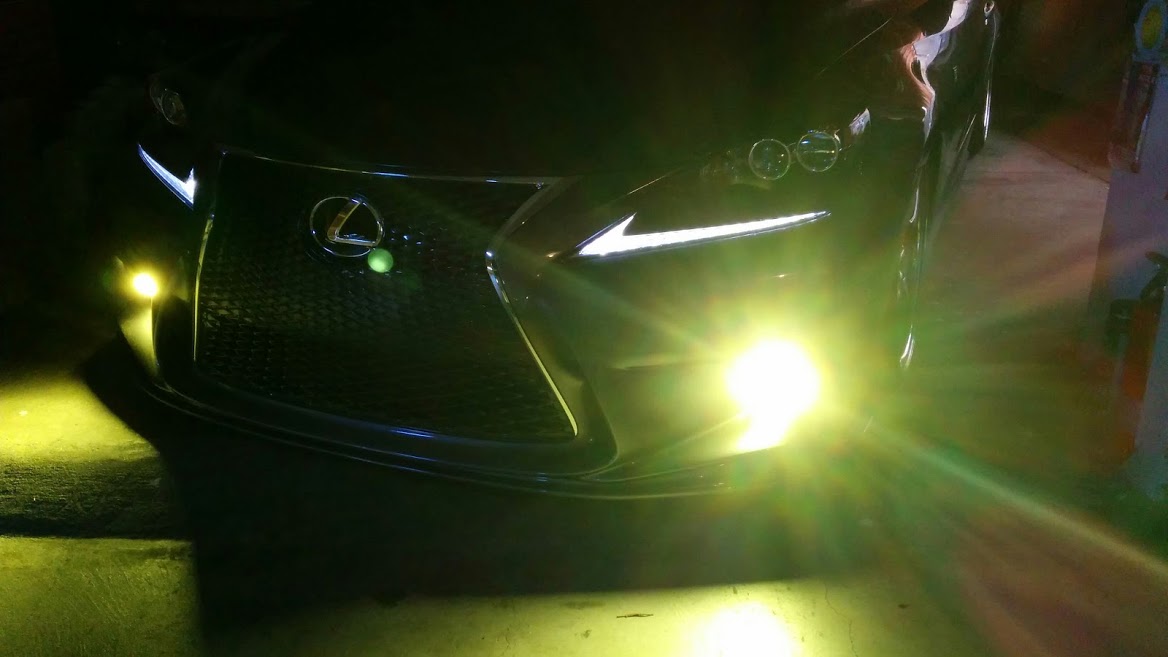 11-20-2015
dropped off the car yesterday evening at the SF Autosalon show within the SF Autoshow for the week.
snapped some photos of it during setup before i left.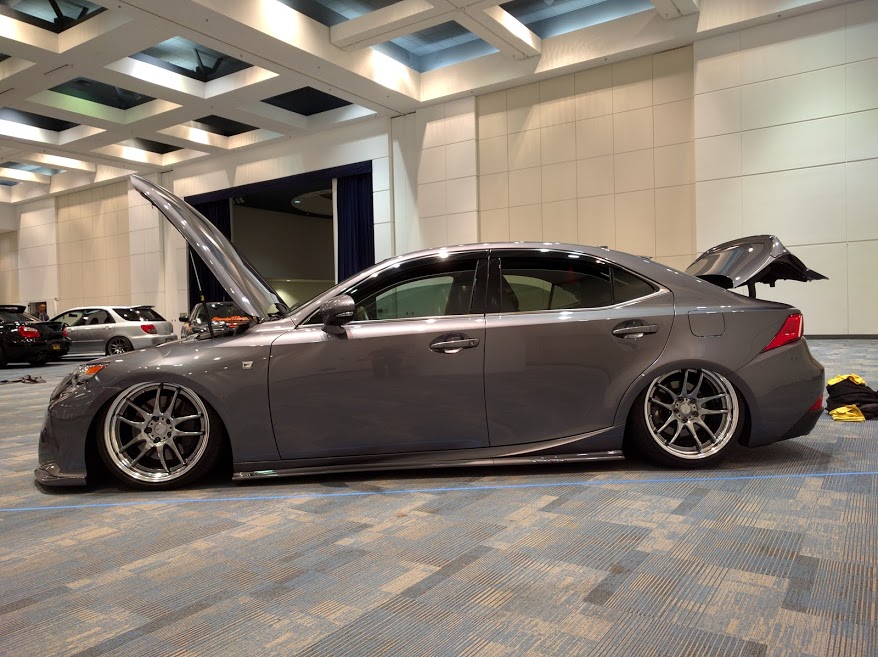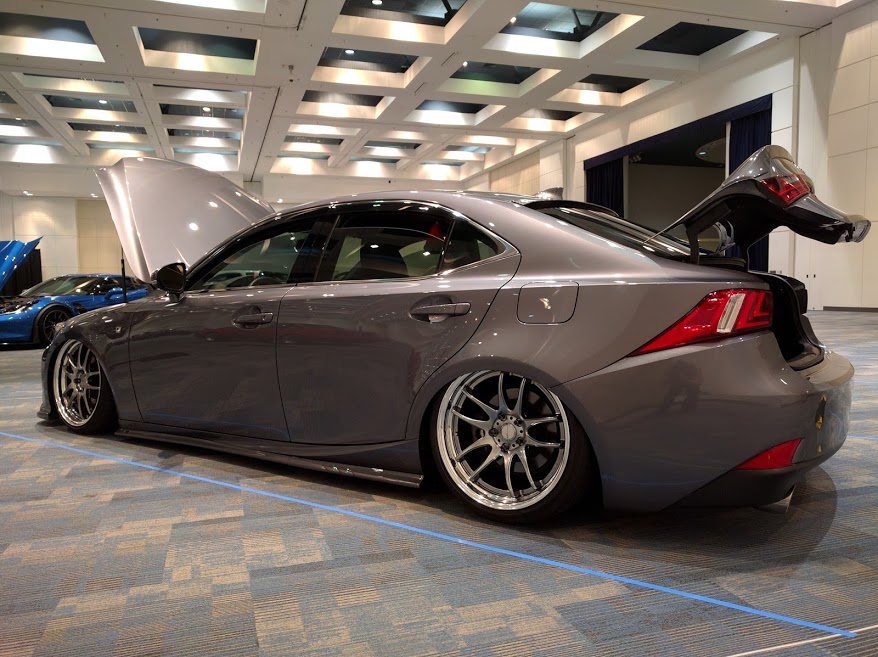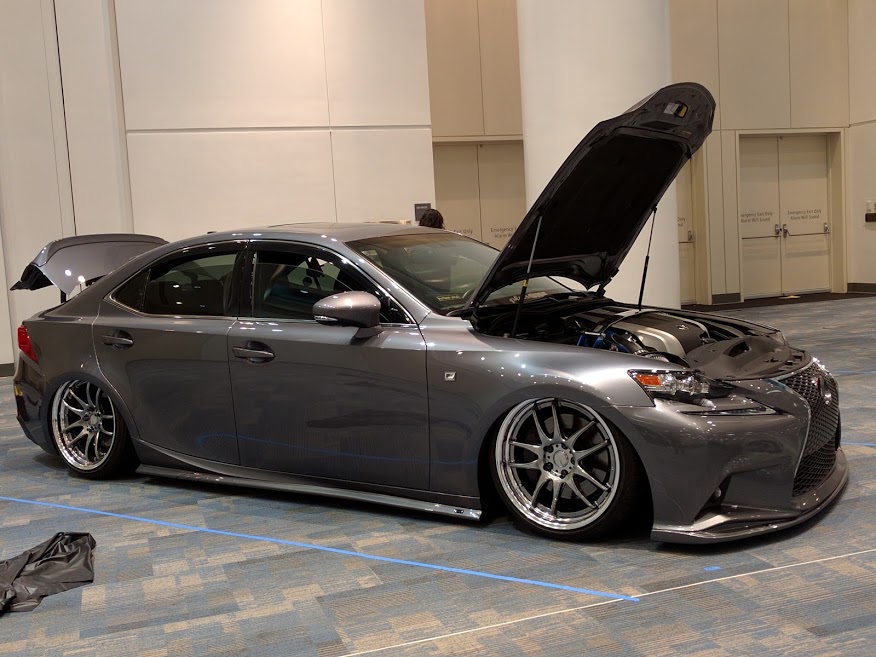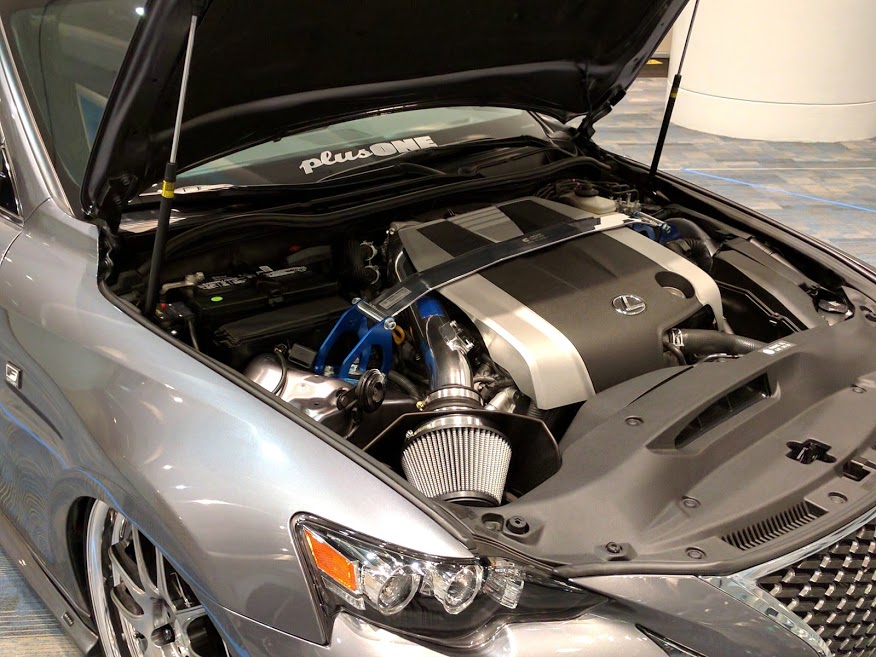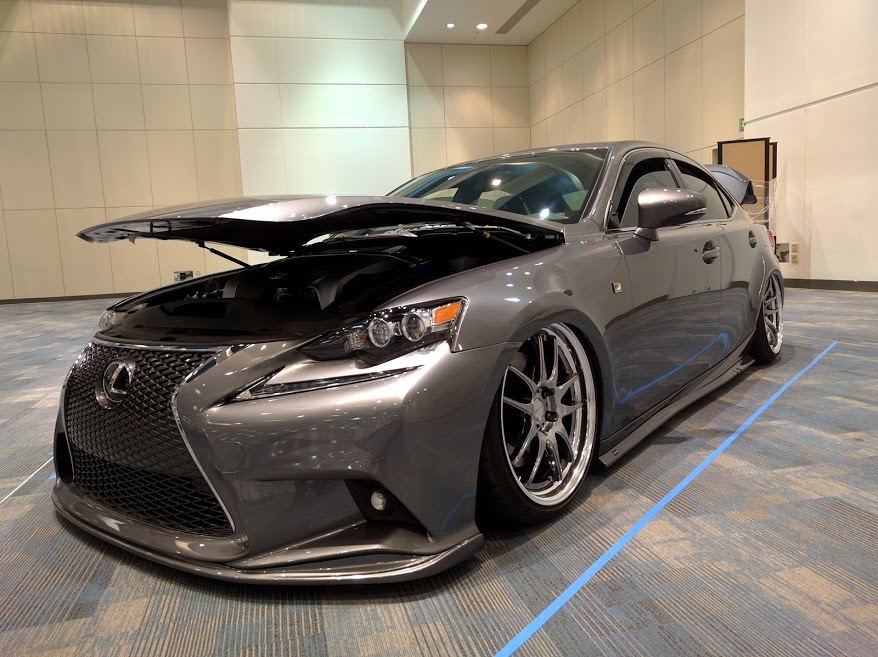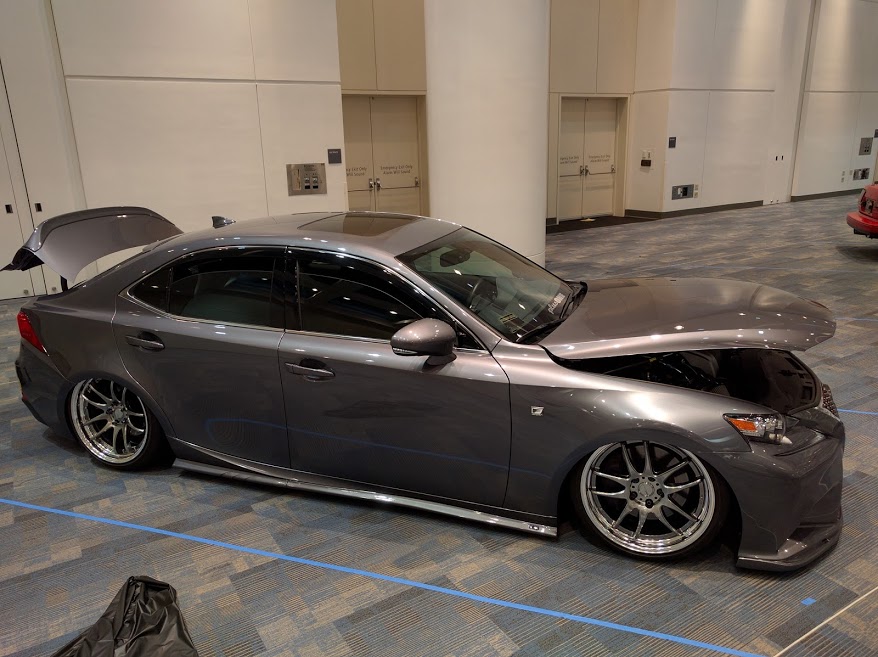 2-9-2016
thought i'd toss a little update from the last two months
For those of you running Airrex or any other Air bags that are bellow style, You may want to take a look at your rear swaybar endlinks to see if it is rubbing bag. I caught mines early but i can see that this can be a big headache if it rubs through
When the bags are filled with air, one side rubbed the bag while the other side was fine. I'm sure over time it would also rub the opposite when the sway bar shifts towards that direction
I couldnt even put a piece of paper through in between the endlink and bag. They were literally rubbing slightly.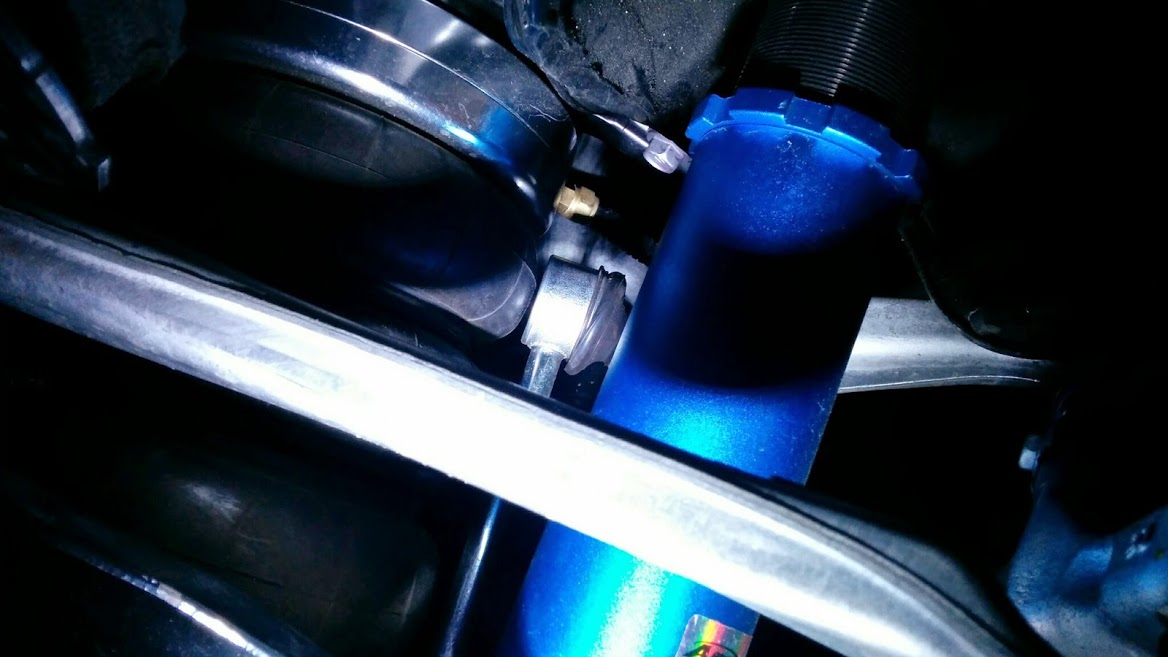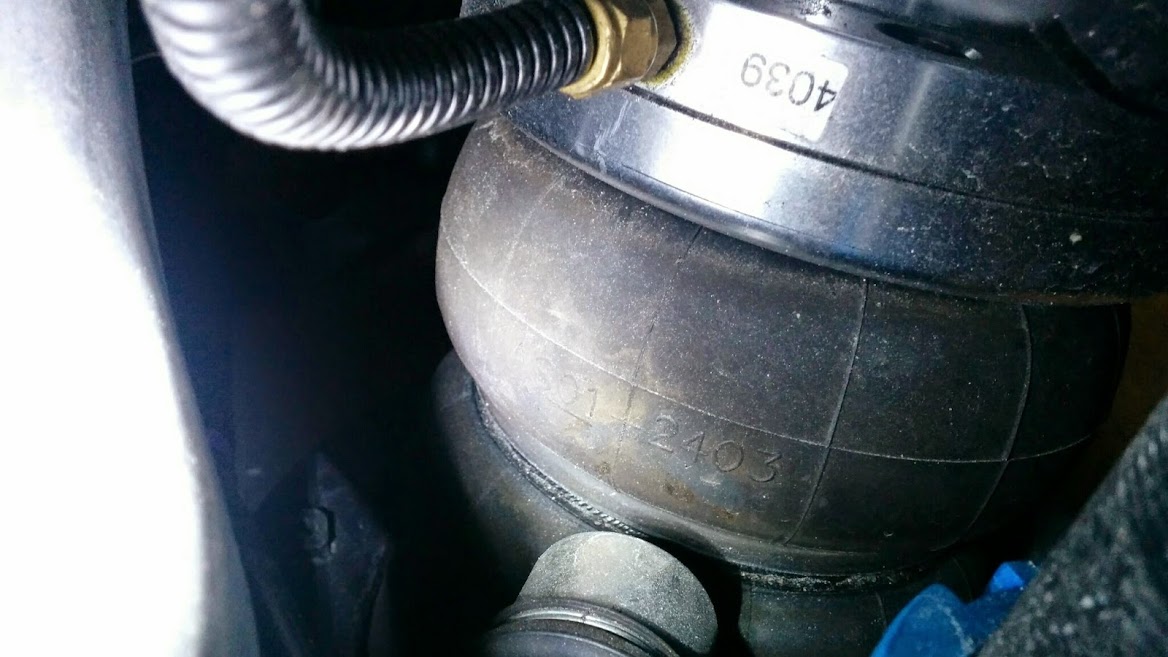 Figured out a easy fix. I removed the endlinks from the vehicle and then took the pressed on Washer off so it gives me that exra couple of mm clearance.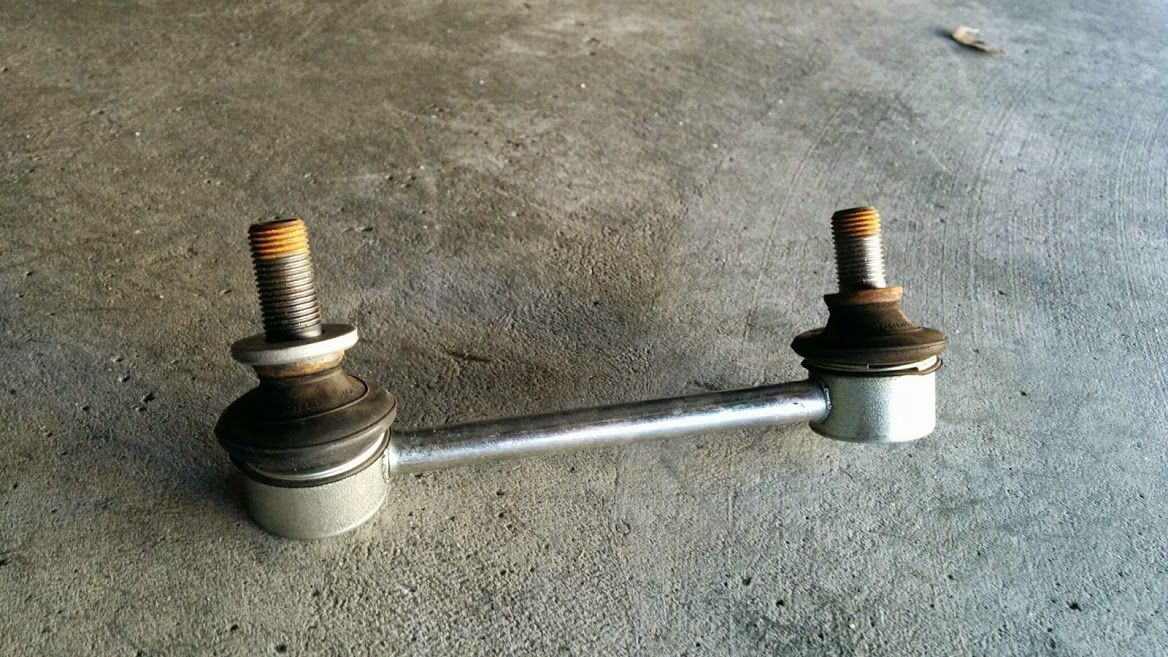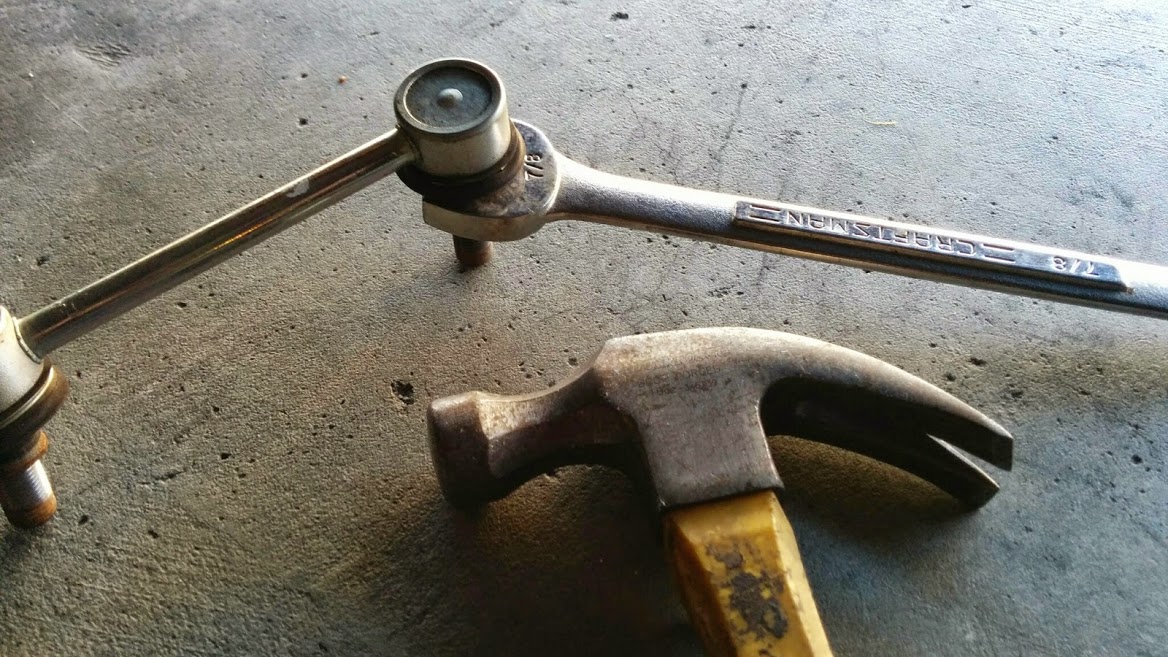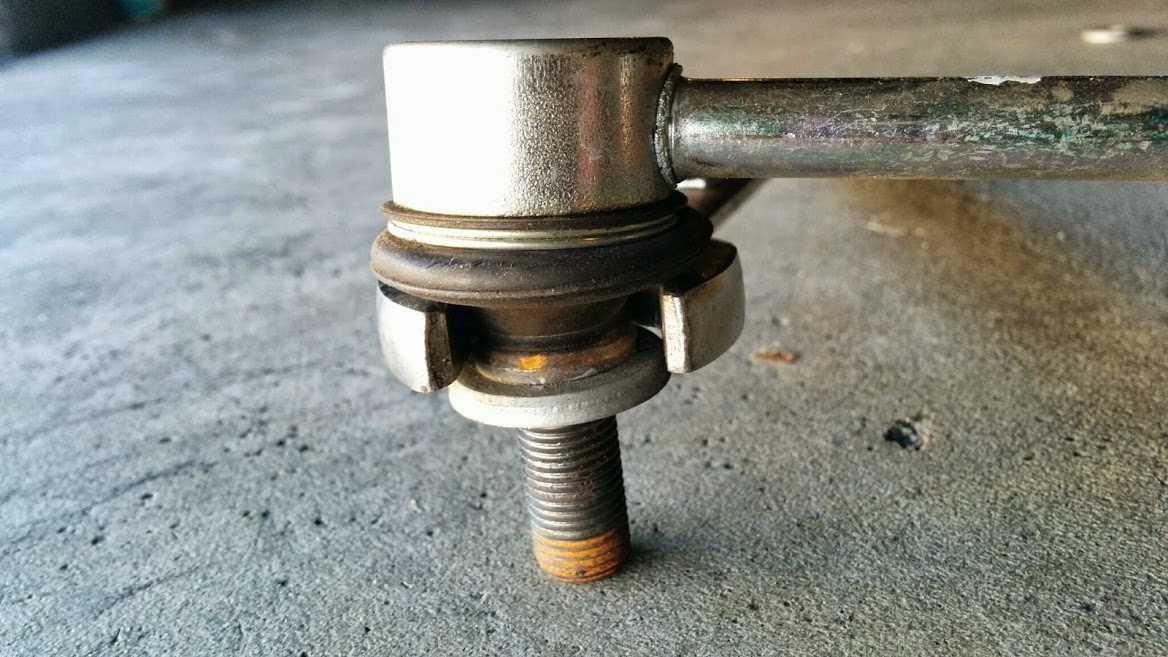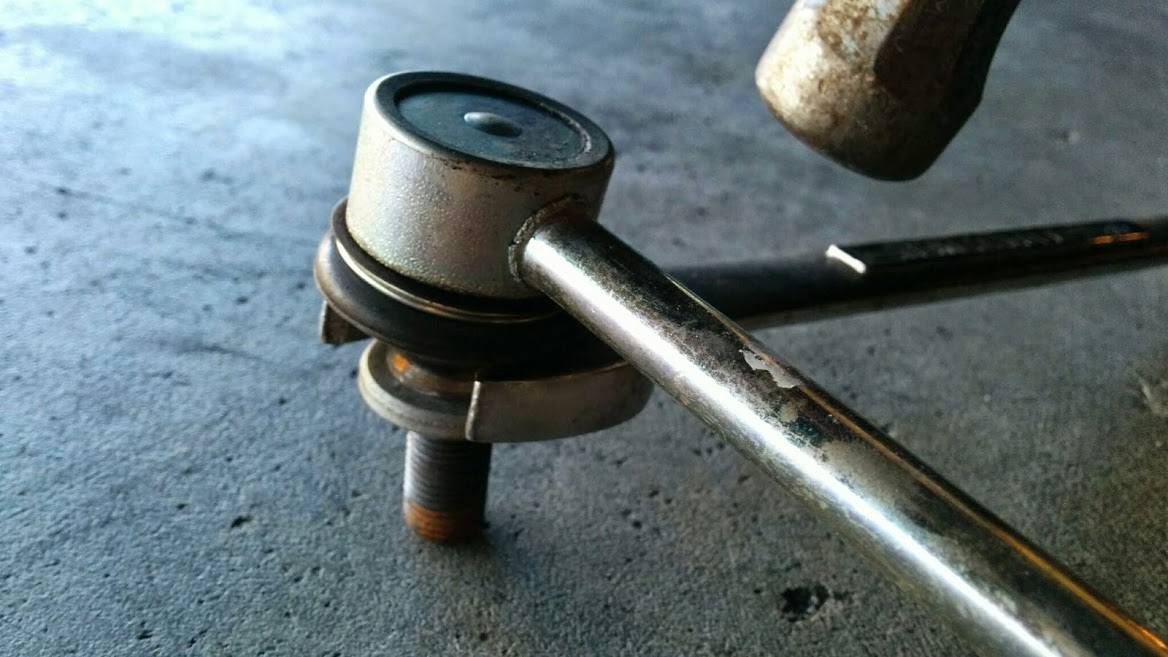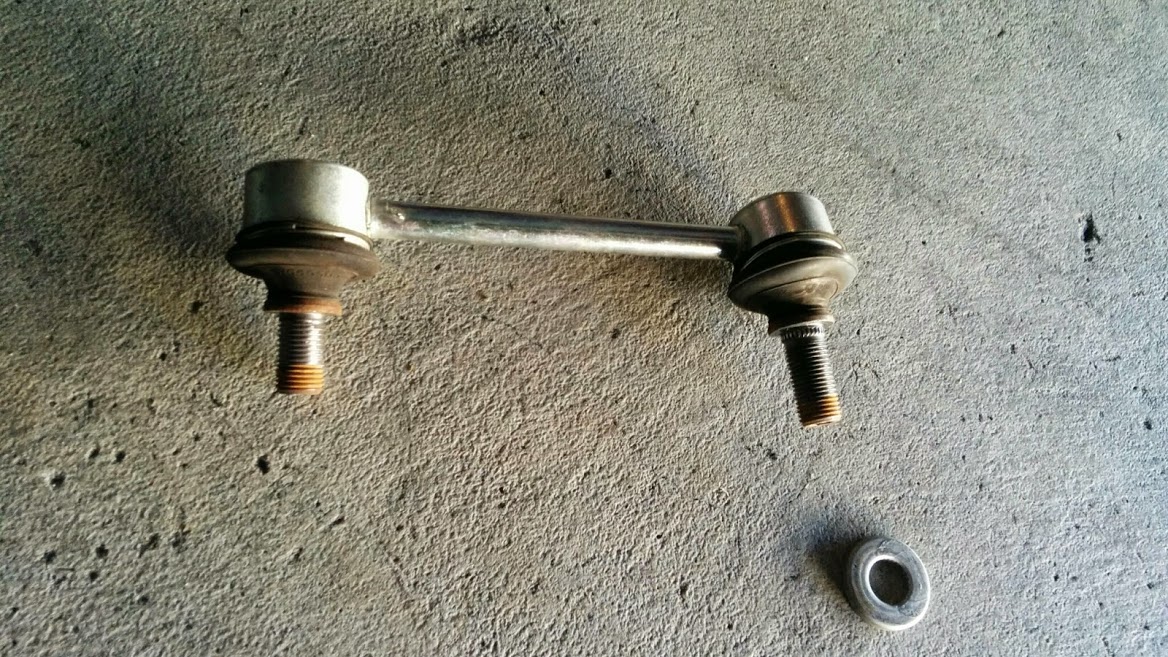 Also This car has some odd suspension issues in the rear, It seems like it is more biased to the driver side of the vehicle.
When Airing out I see that the tire is touching and making horrible noise with a small tab on driver side of bumper.
When looking where the wheels sit in relation to body quarter panel it looks like wheel sits much closer on driver side. This is probably not noticed on a factory height car but definitely noticed when you are much closer in tolerance when lowered a lot or on Air so you can see the relationship. I do not think this is issue with just my car as I have spoke with others with 3IS and they also point that they also seem to have issues on driver side more so. So in order to get rid of the horrible rub noise from the tire and bumper, I decided to install SPC Rear Camber arms even though it wasnt part of the plan. But I rather not hear any noise when dropping the car on the Ground.
You can hear the awful noise in this video of tire rubbing some of the plastic support for bumper before I installed the camber arms
The stock next to the SPC arm.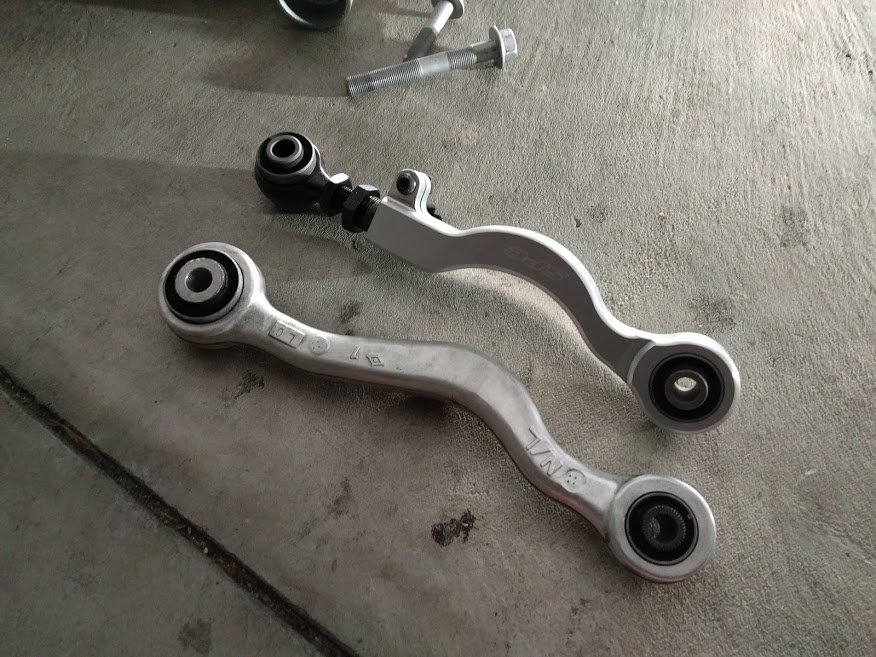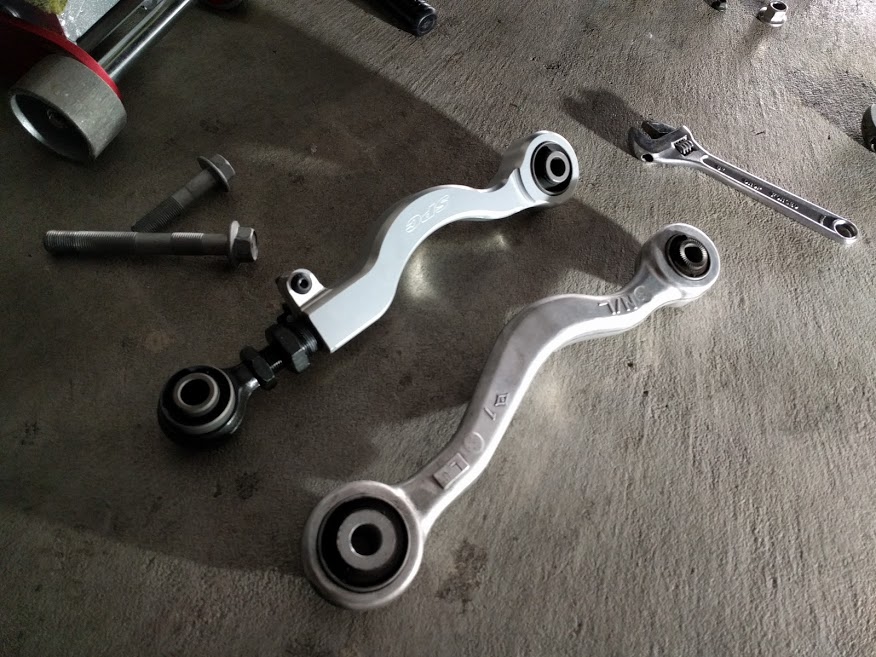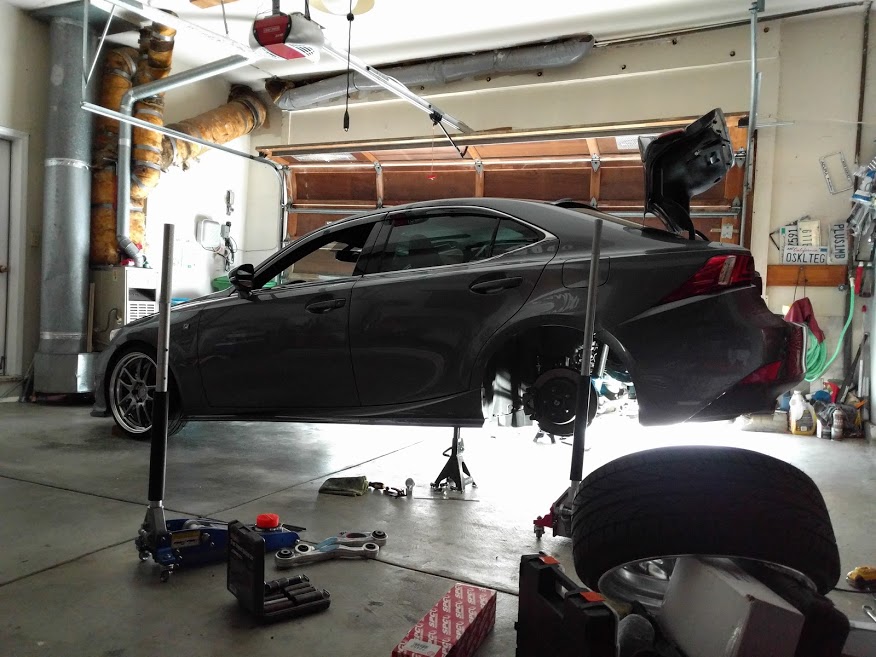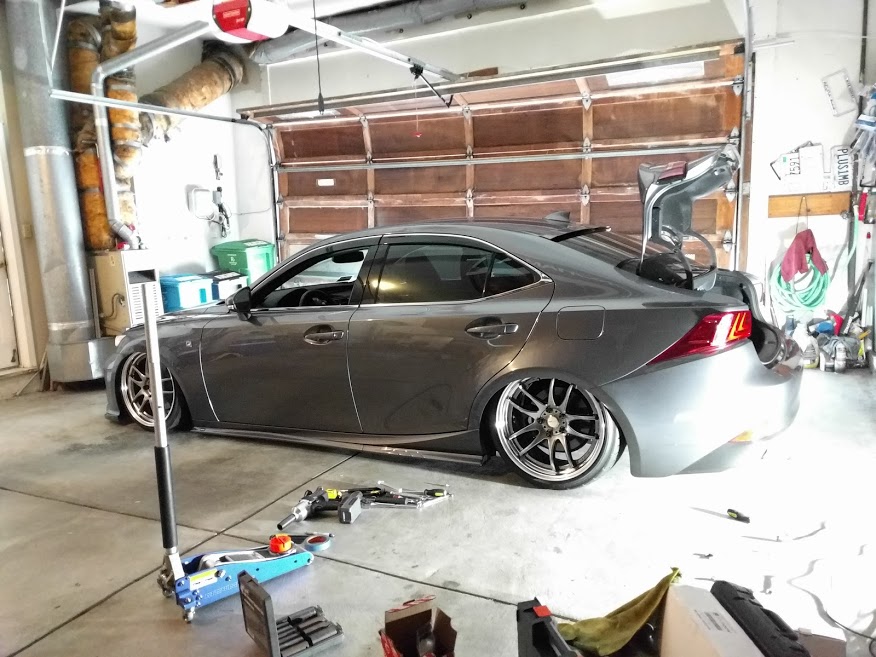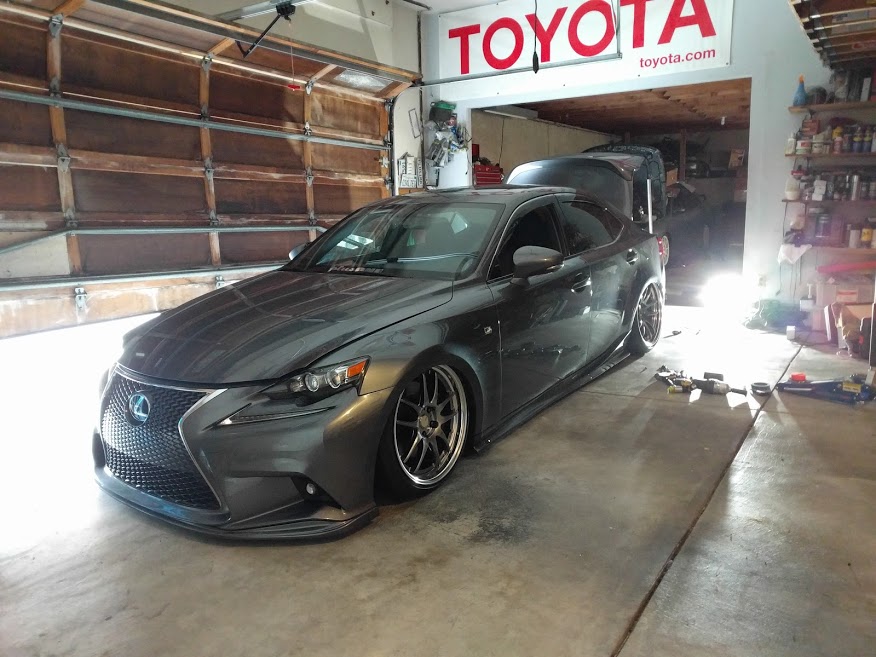 I also ended up installing the Seibon Rear diffuser and did not like how the Fsport exhaust was sunken in from the cutouts so I will end up selling it and keeping it stock for now until i see something else come up that I may like more. Didn't seem to have snapped a photo because my mind changed so fast when I reinstalled the bumper with the diffuser. It was literally 1 minute on and then right off.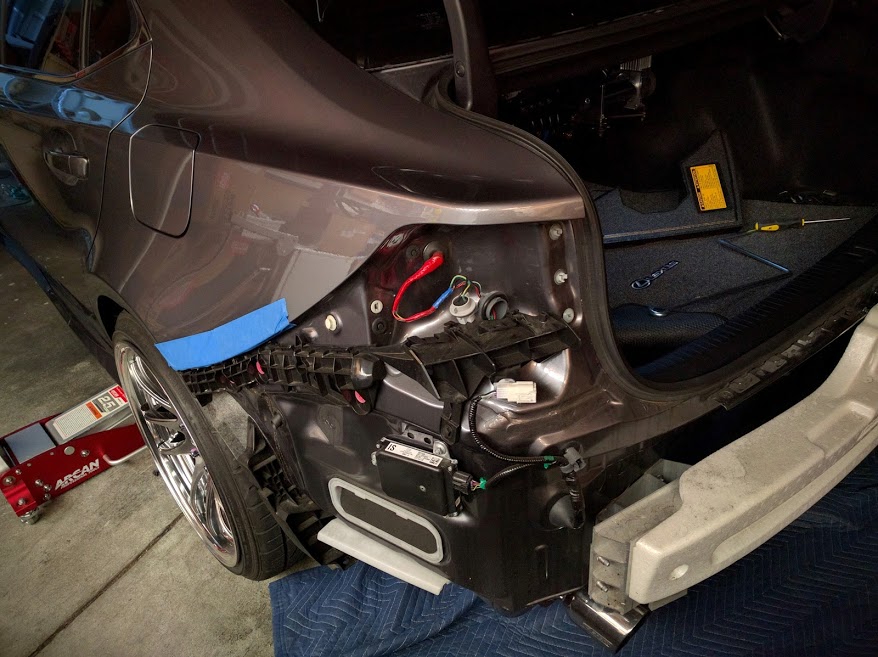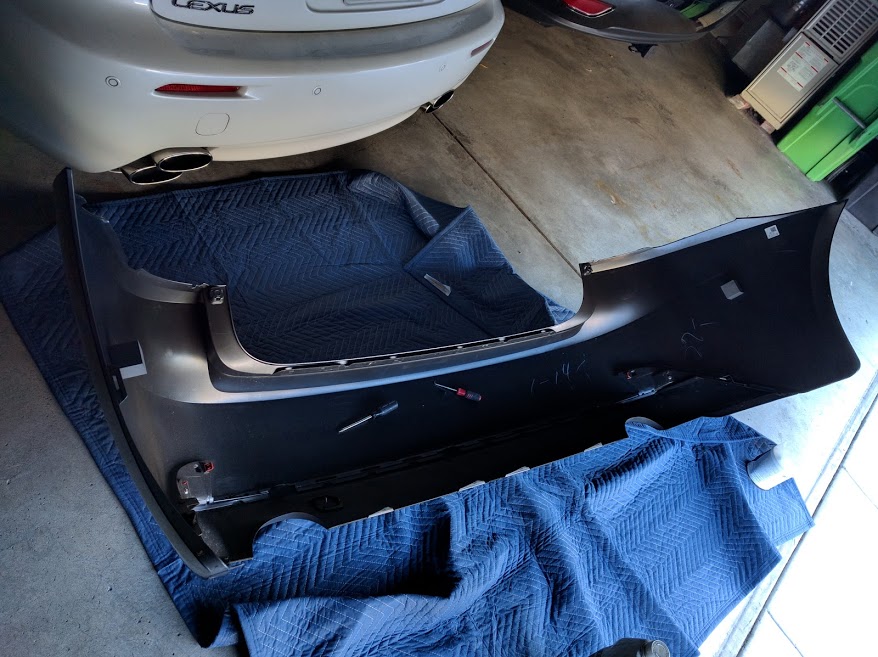 Here are some out in its natural habitat. Will finally start driving it a bit more rather than just letting the car sit in the garage for weeks on end.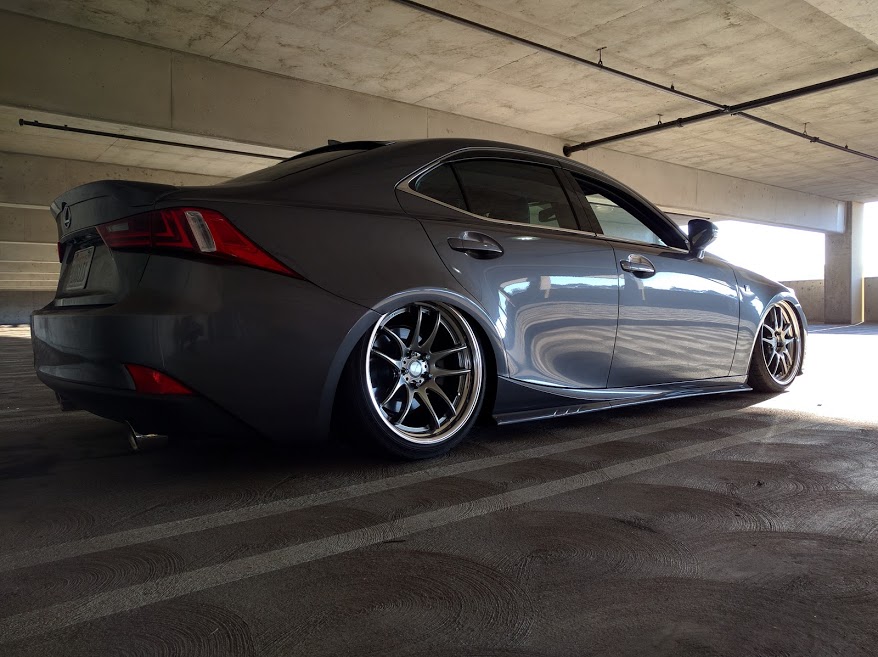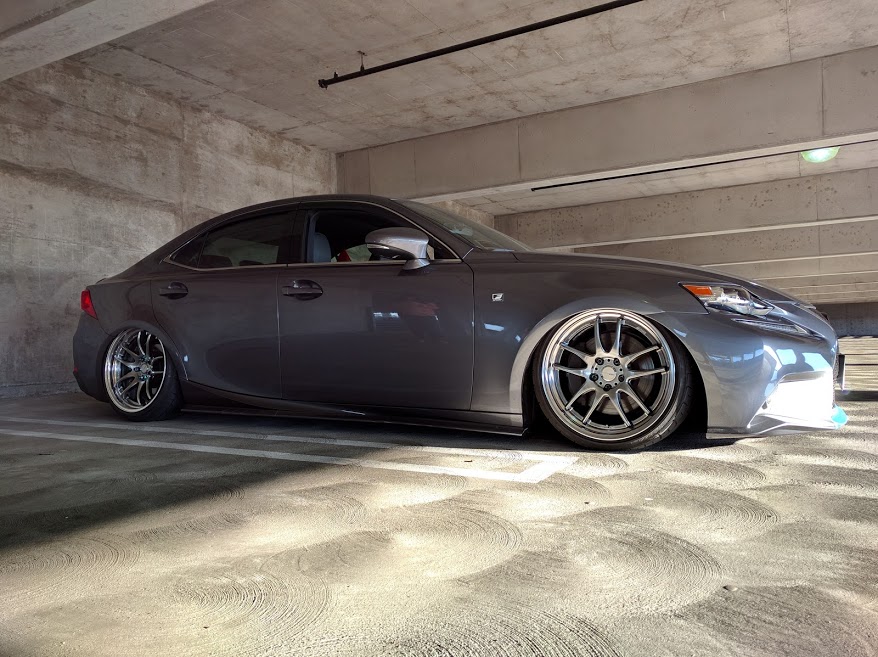 Next coming months, I will finally start the custom Subwoofer enclosure in the trunk.
and maybe wire up my remote start alarm 2-way pager soon as well since majority of the exterior cosmetics are done.
2-19-2016
recently i refined my magnet license platedesign concept mounting due to not being really confident in it staying in place when hitting bump. Now it is sturdy and will not go anywhere unless its purposely removed by hand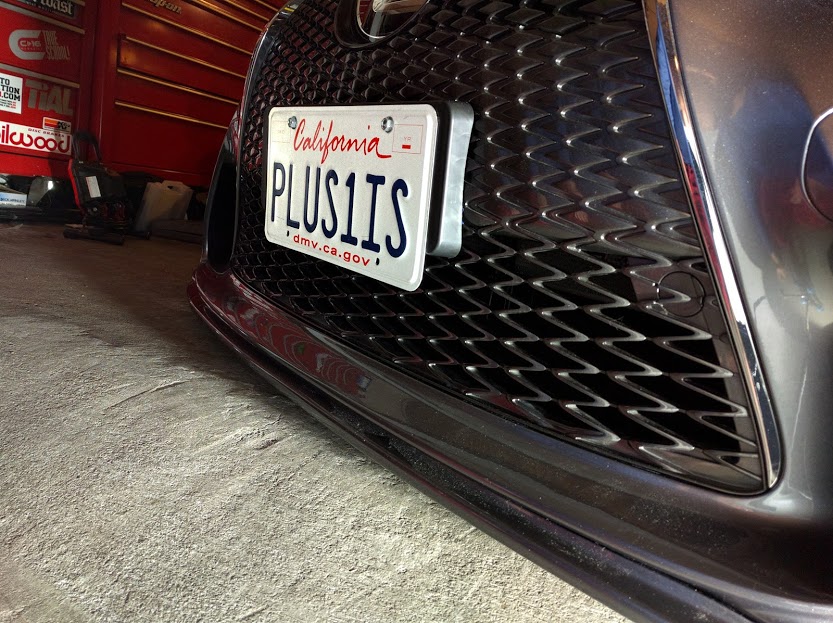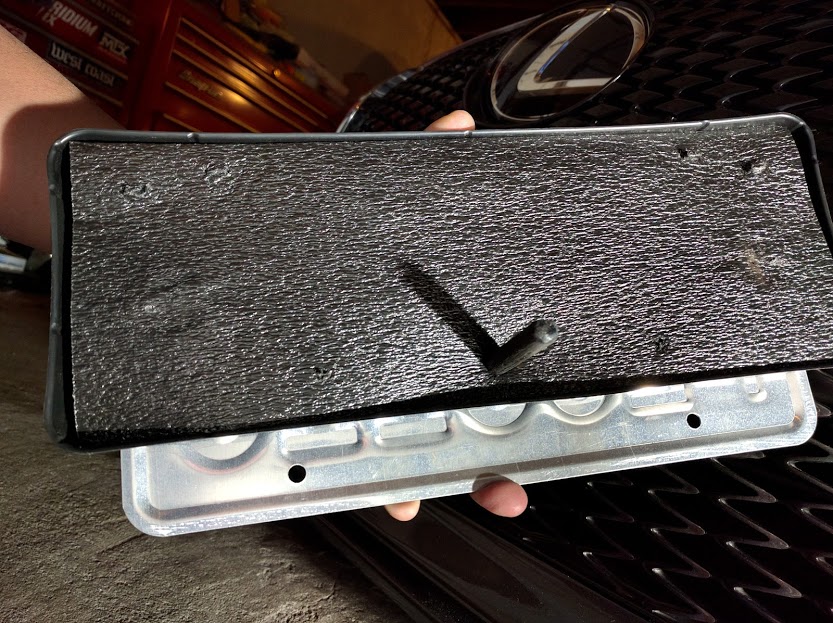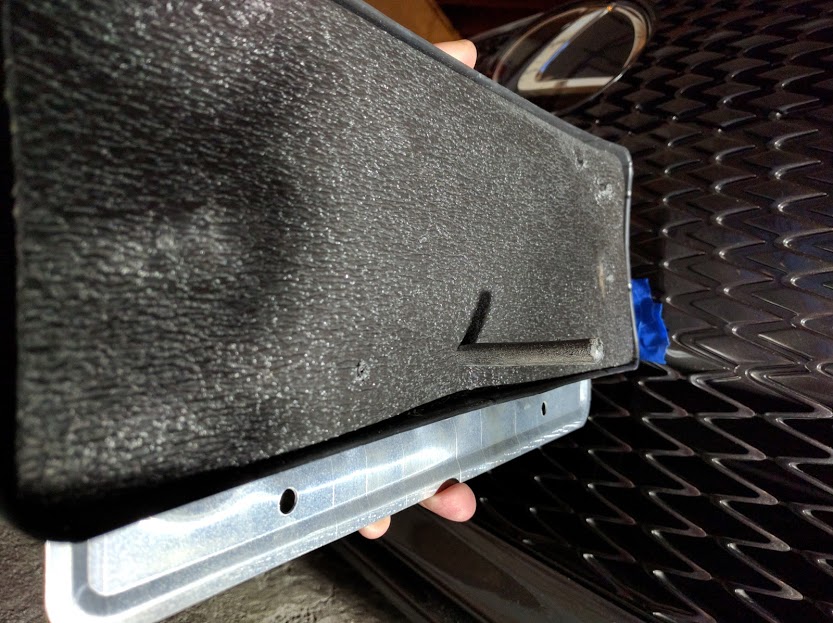 Here's video of it in action and me showing how it will pretty much stay in place where it should no matter how hard of a bump i may hit driving down the road.
2-23-2016
some pictures that others snapped of my car at a Club Lexus meet over last weekend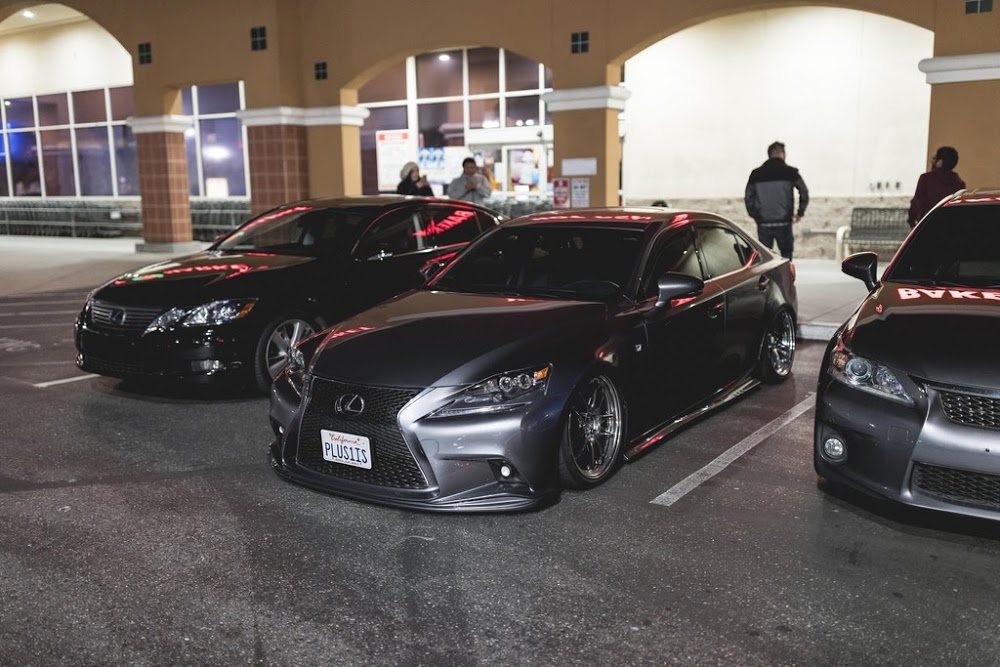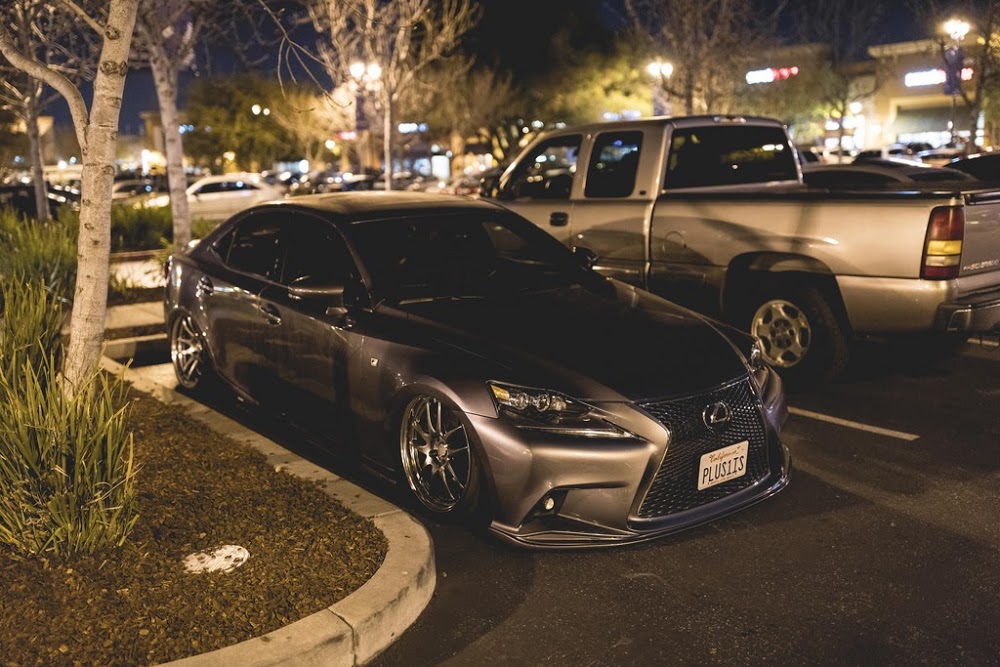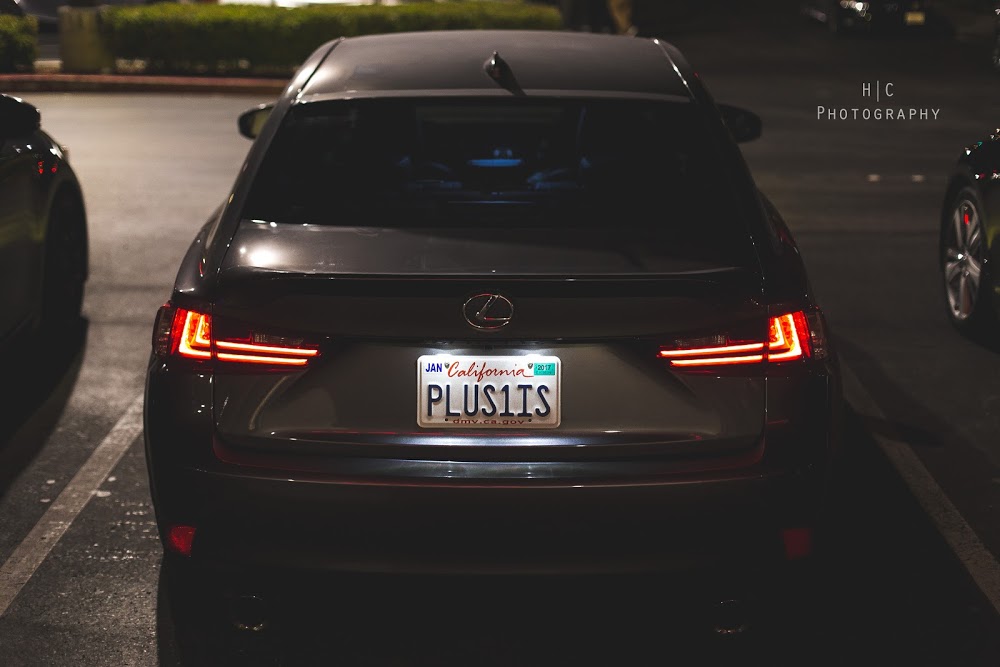 3-16-2016
So moving on,
I will finally start the Amplifier and custom subwoofer enclosure project.
Found out the Alpine PDX-M6 I had bought already does not fit anywhere that i can hide! Even though it is small footprint amplifier, it was not small enough!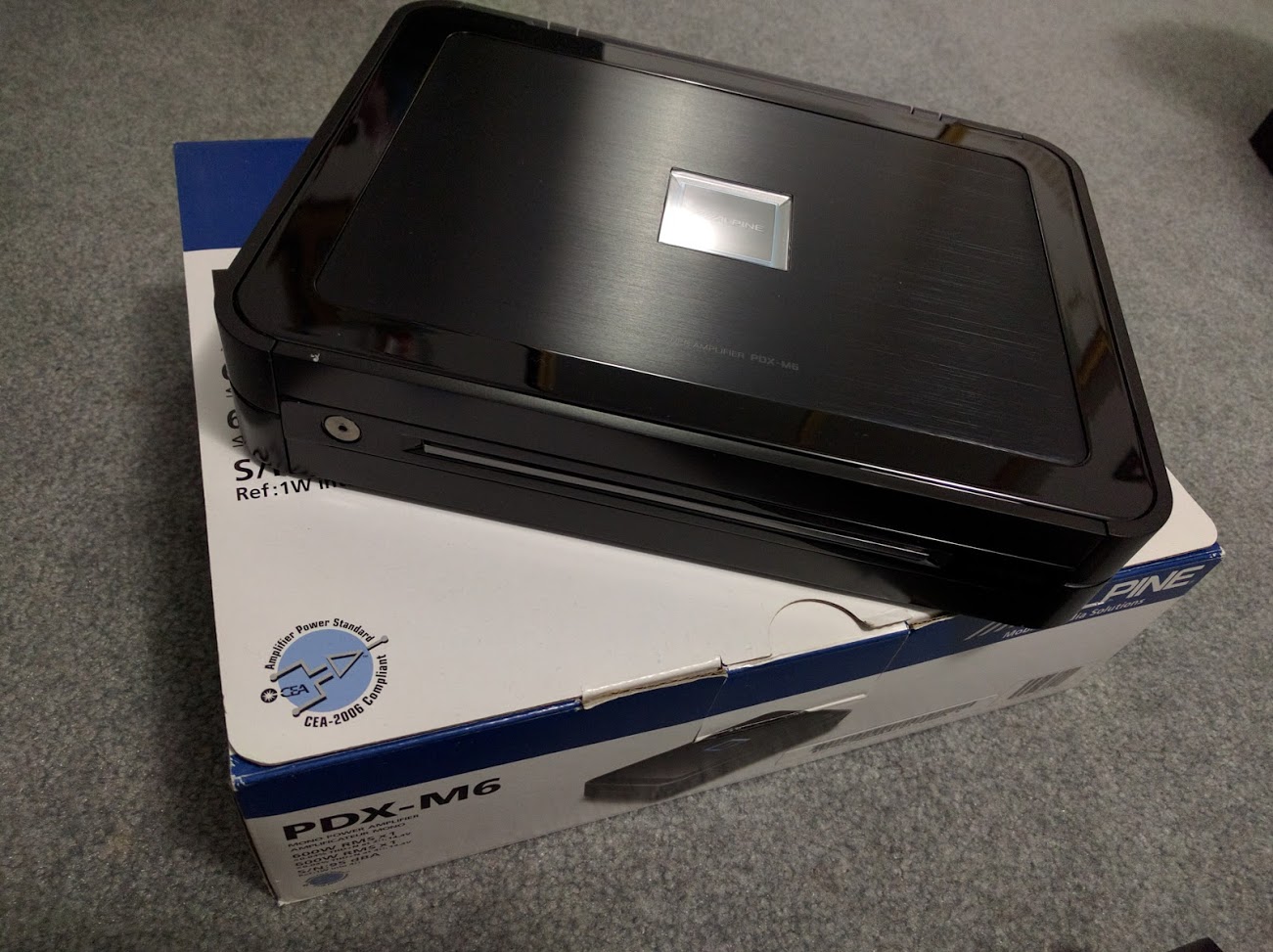 Too bad too, because this is a nice powerhouse amp.
So had to do some research on what to do instead.
Found this "Massive" amplifier that was actually smaller, haha
The dimensions of the amplifier were online so i took note of them and did some measurements around trunk of vehicle and found this to be suitable for what I want to accomplish.
Dimensions10.3 (in) x 5.5 (in) x 2.1 (in)
The specs of the amp
http://massiveaudio.com/products/n3-...lock-amplifier
RMS Power Rating (14.4V):
4 ohms: 450 watts x 1 chan.
2 ohms: 700 watts x 1 chan.
1 ohm: 1400 watts x 1 chan.
Max power output: 2800 watts x 1 chan.
This will be perfect to power my Alpine Type R 10" Shallow Subwoofer.
Here it is, Massive Nano Block N3 Amplfier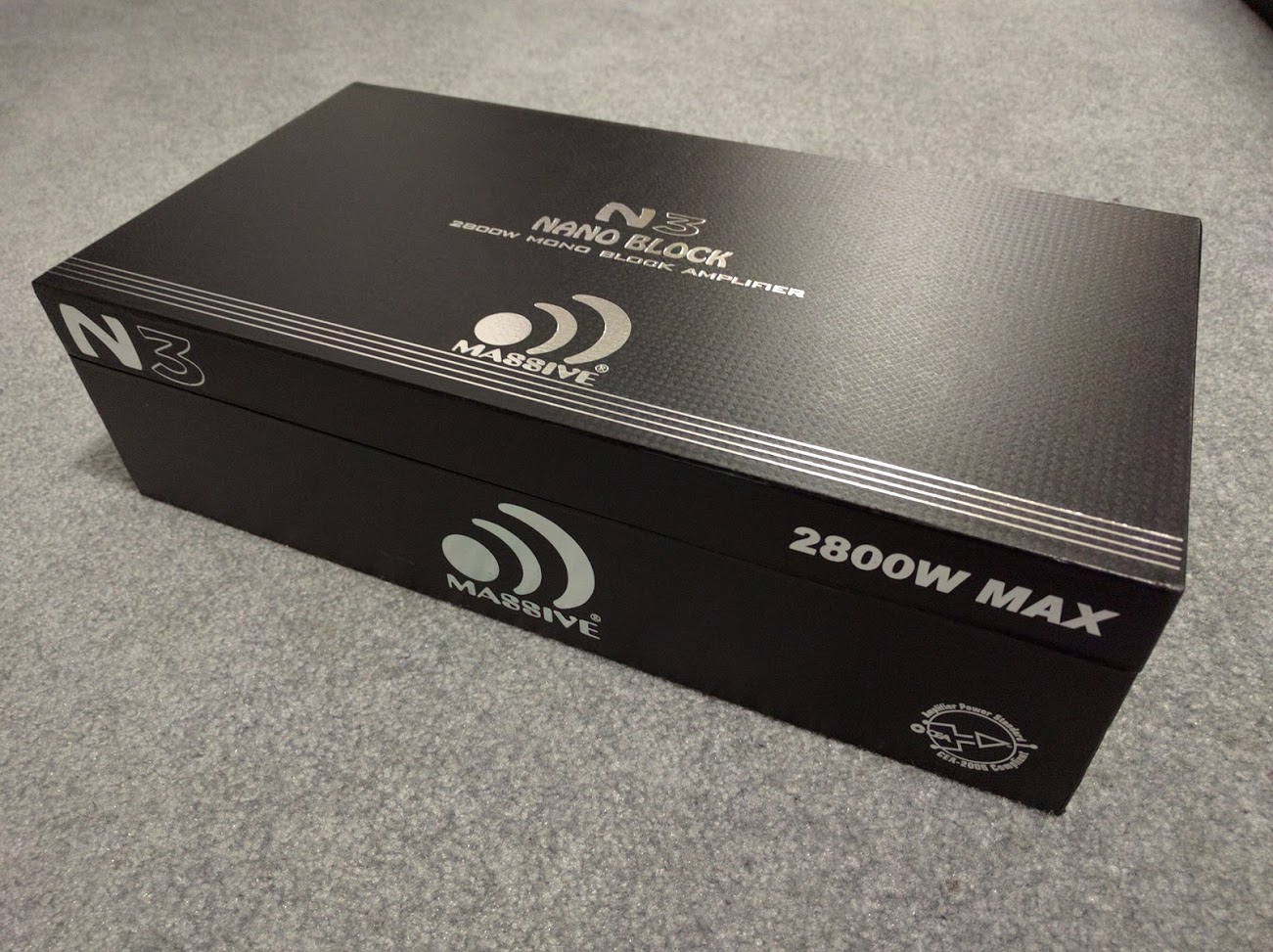 Even the box is fancy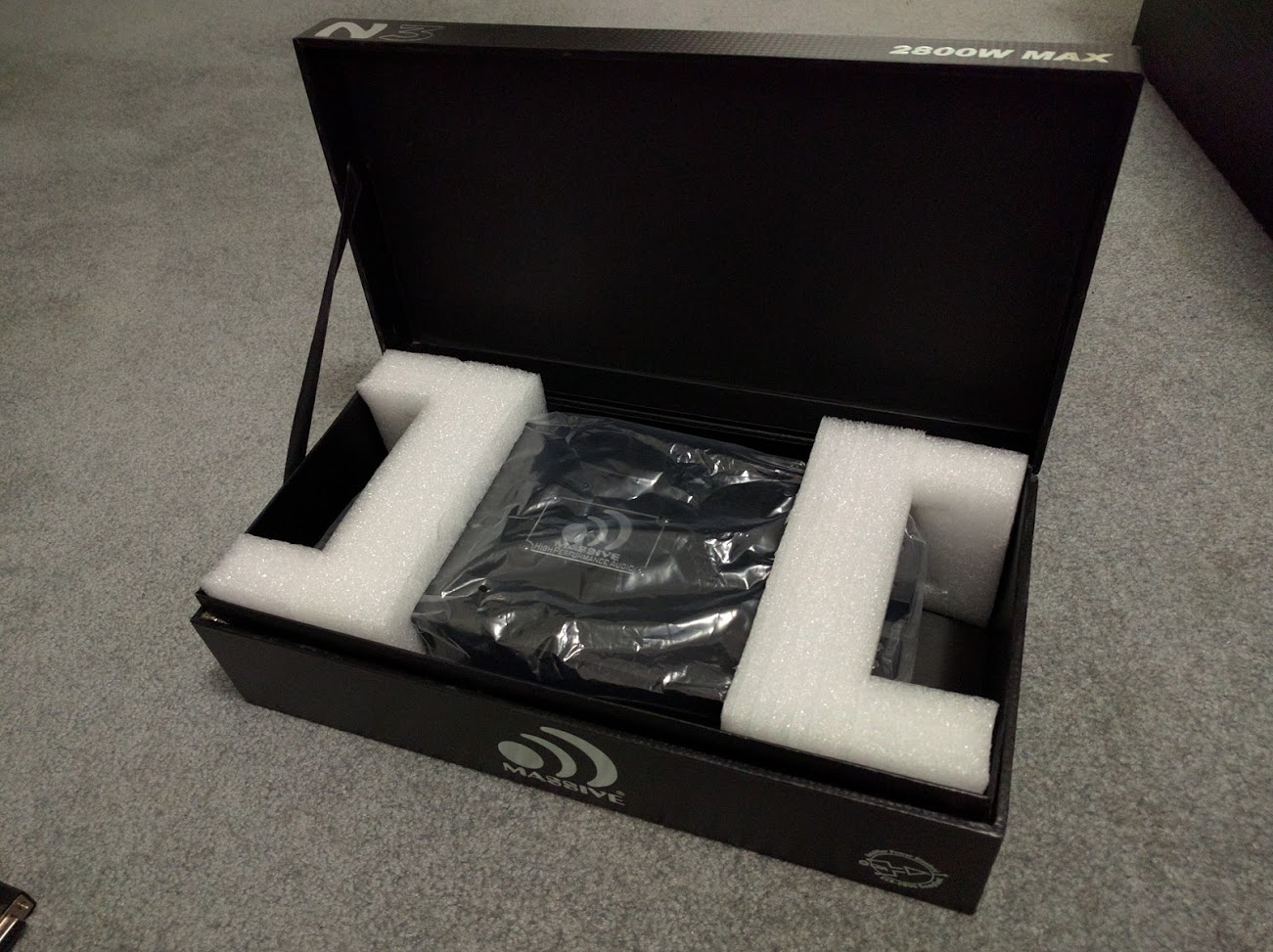 hmmmmm, yum. black brush aluminum casing. Too bad it is gonna be hidden away.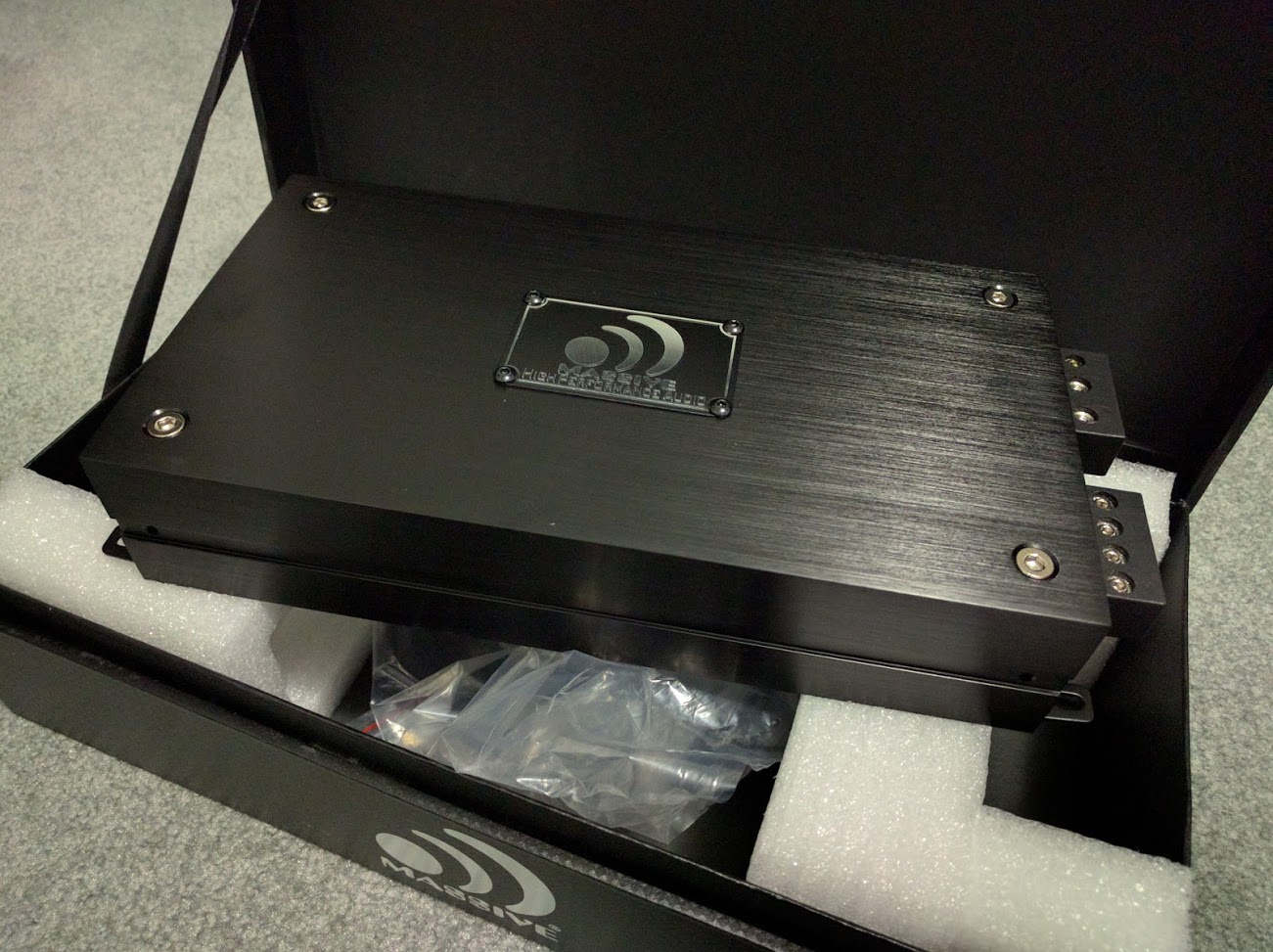 Here's a reference photo of it next to a CD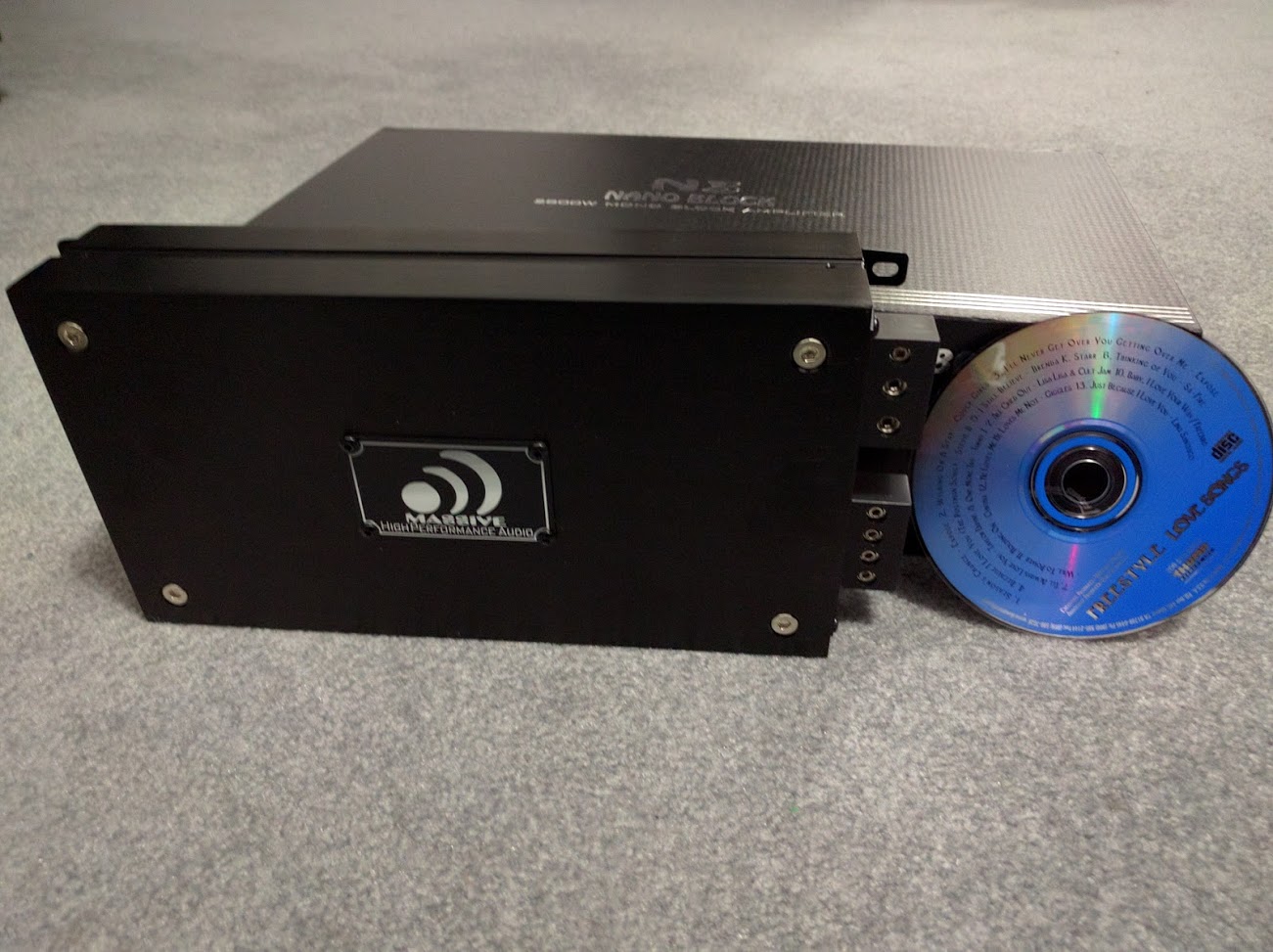 Here are the two sexy amplifiers next to each other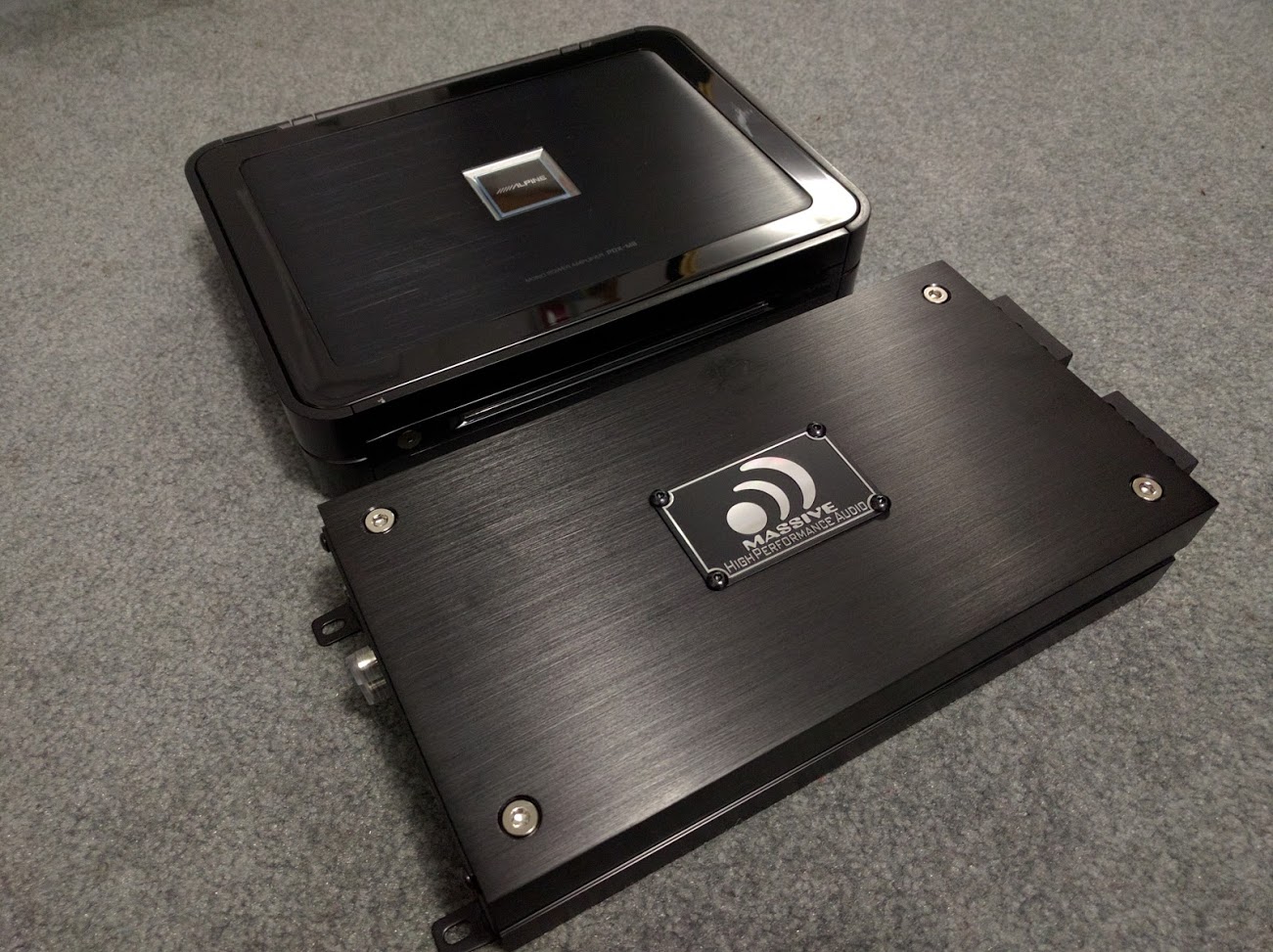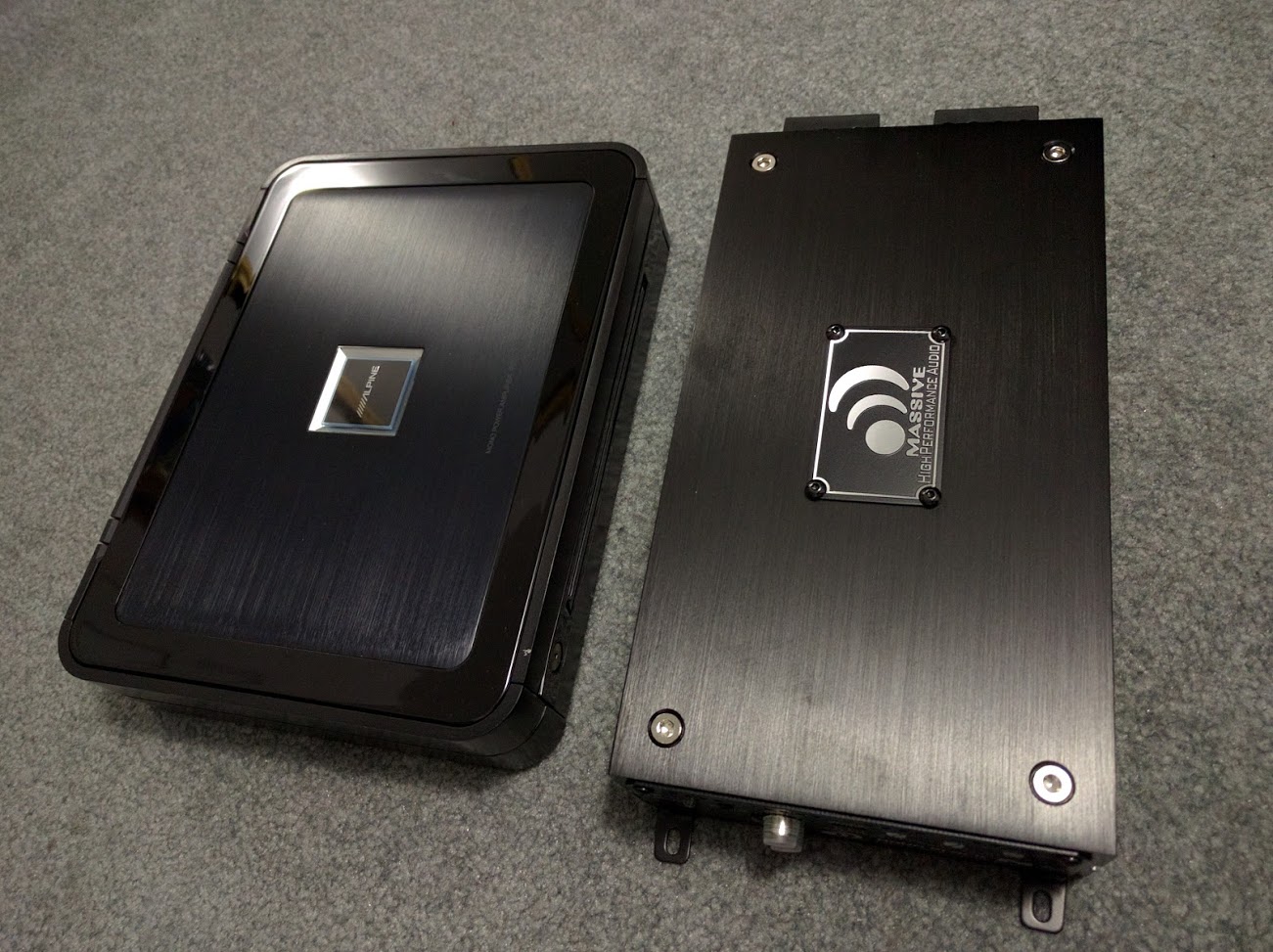 And here is a test fit of where it will live in the car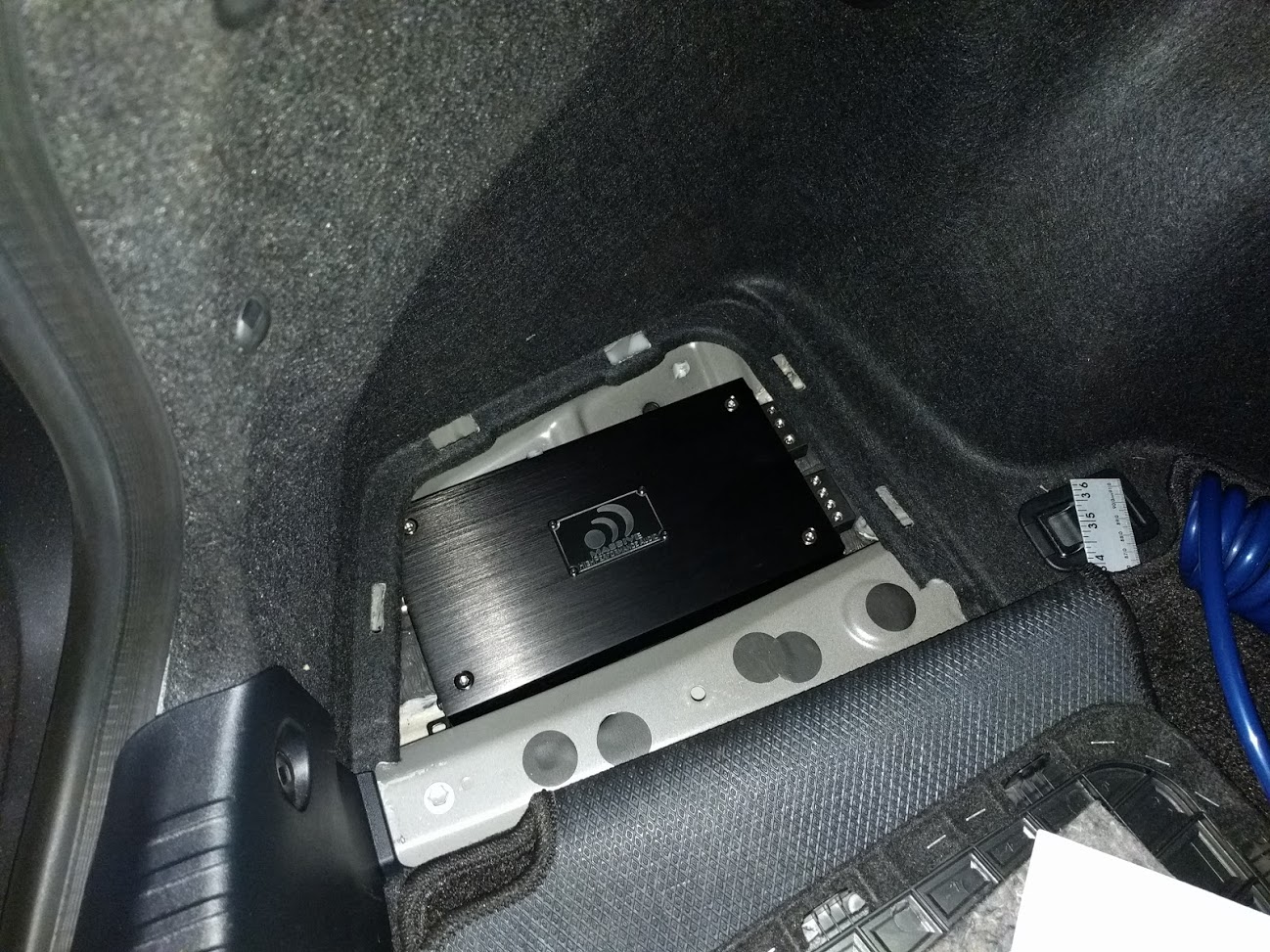 Now to get the ball rolling and rewire the car a bit to accommodate this new amplifier and then full steam ahead at mocking up the custom fiberglass subwoofer enclosure for passenger side rear quarter panel.

4-18-2016
new quick easy mod
armrest compartment storage organizer
basically it gives you another "level" to put stuff instead of a mess of a deep hole
My before mess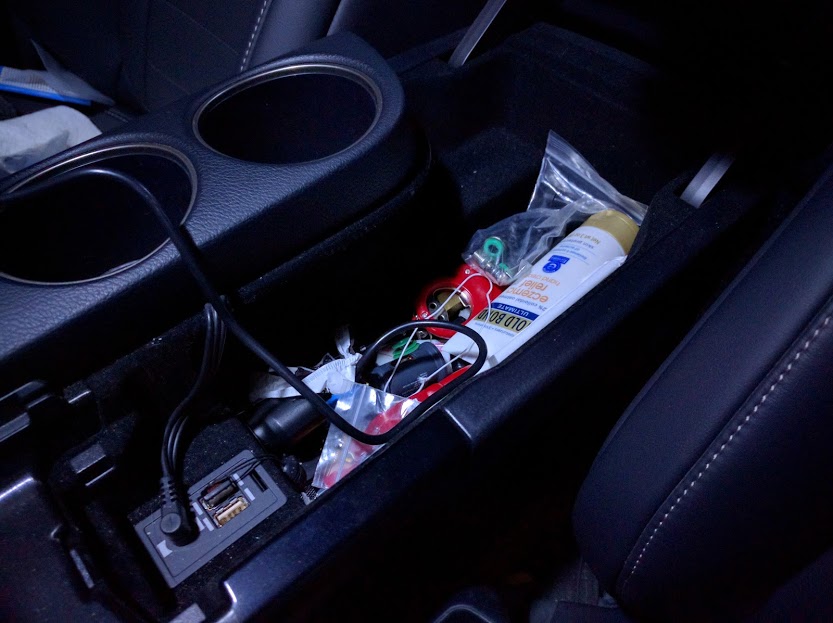 After! my mess is hidden now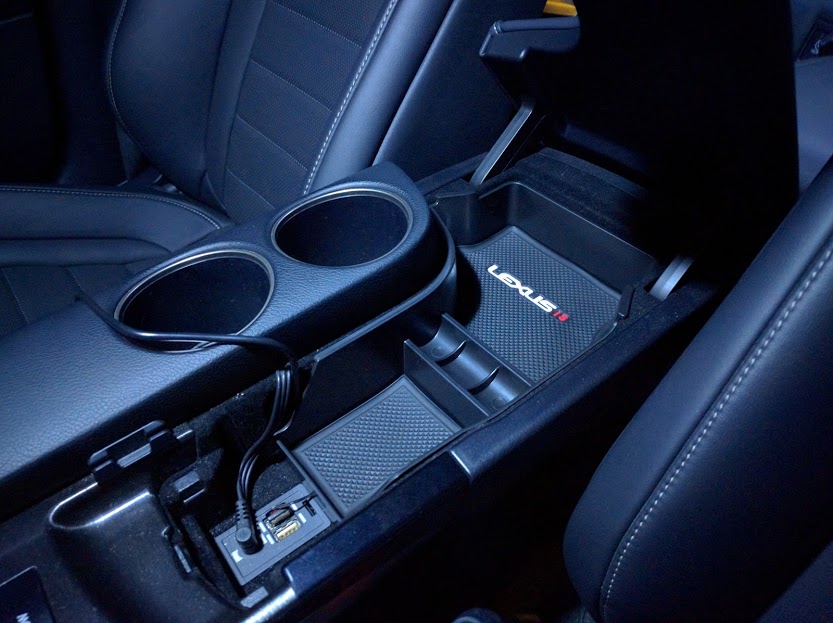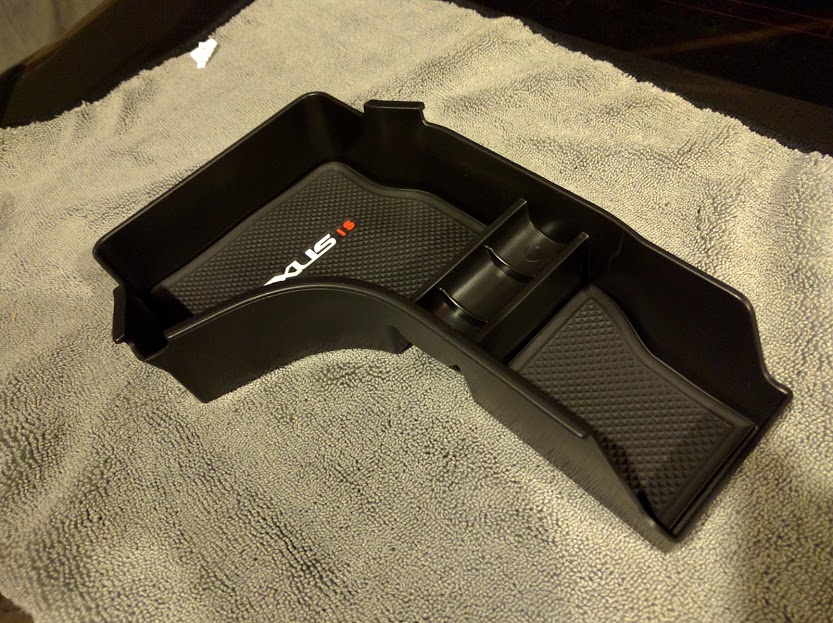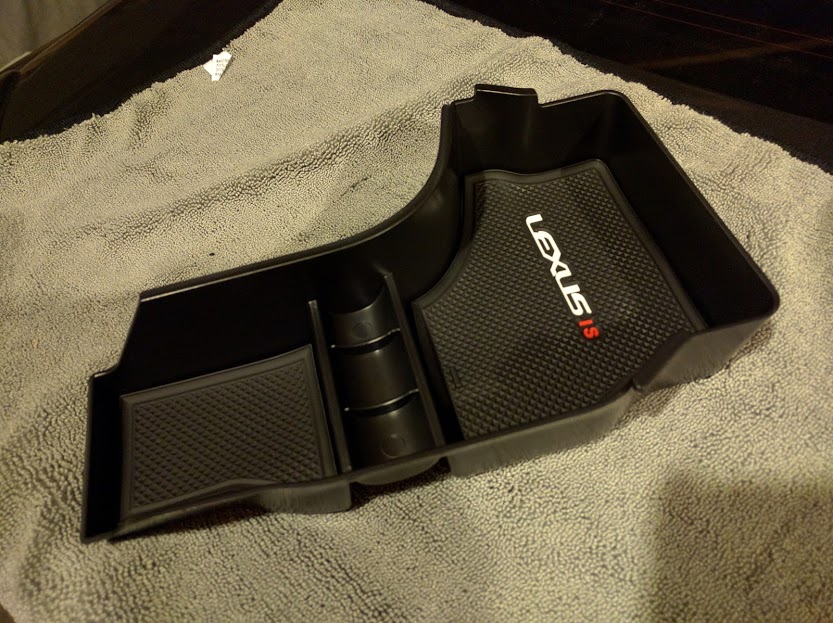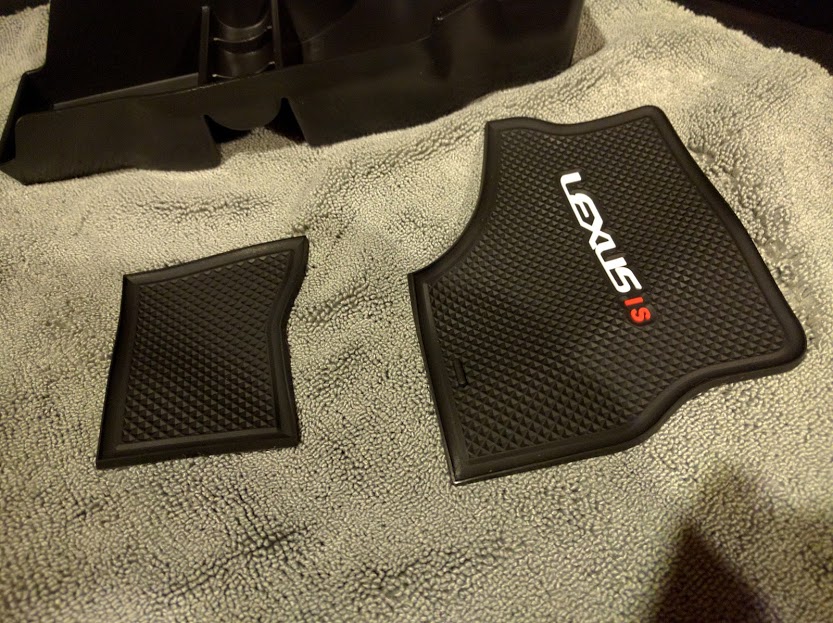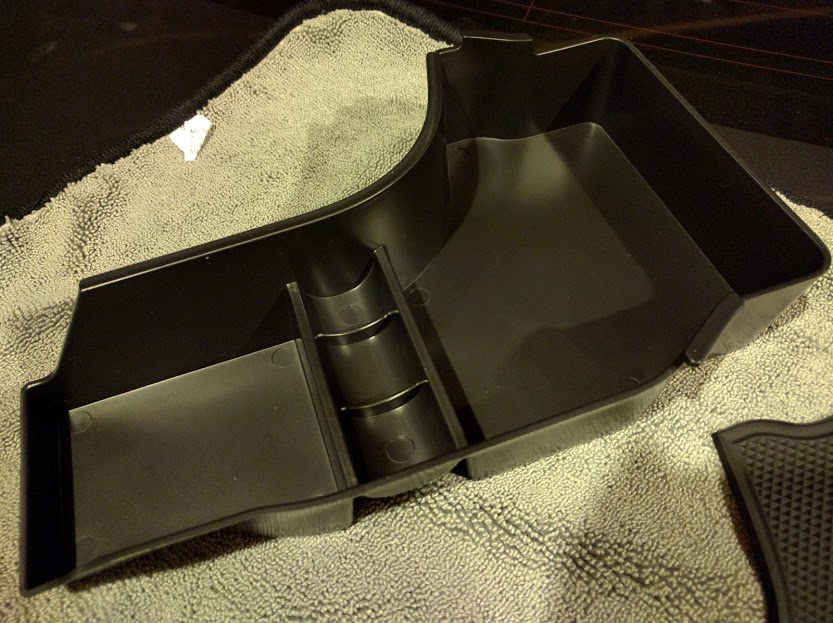 Where did it come from you ask?All I can say is Asia
This one pictured probably first one to make it over to State side.
Happy hunting for those that want one also
4-19-2016
got rid of the iJDMtoys fog lights a couple of weeks ago and picked up a used set of OEM JDM.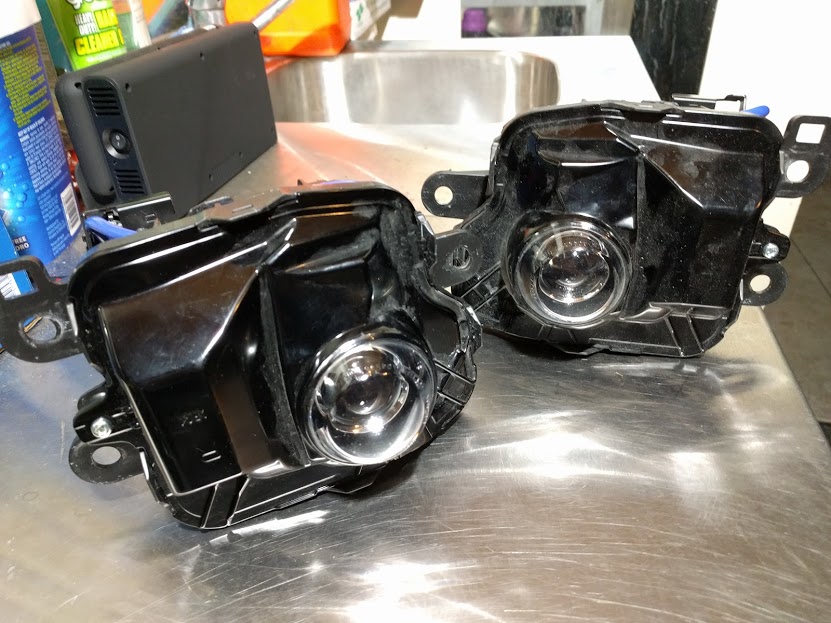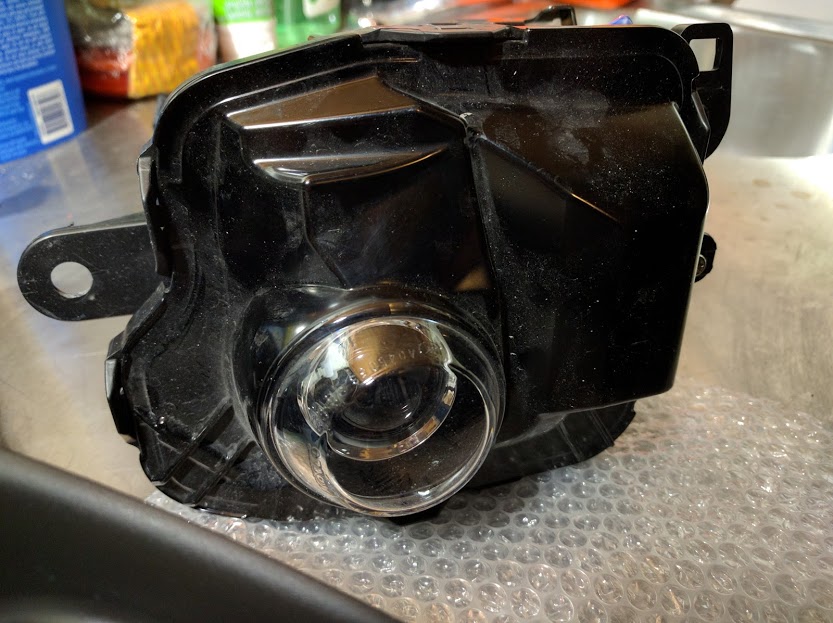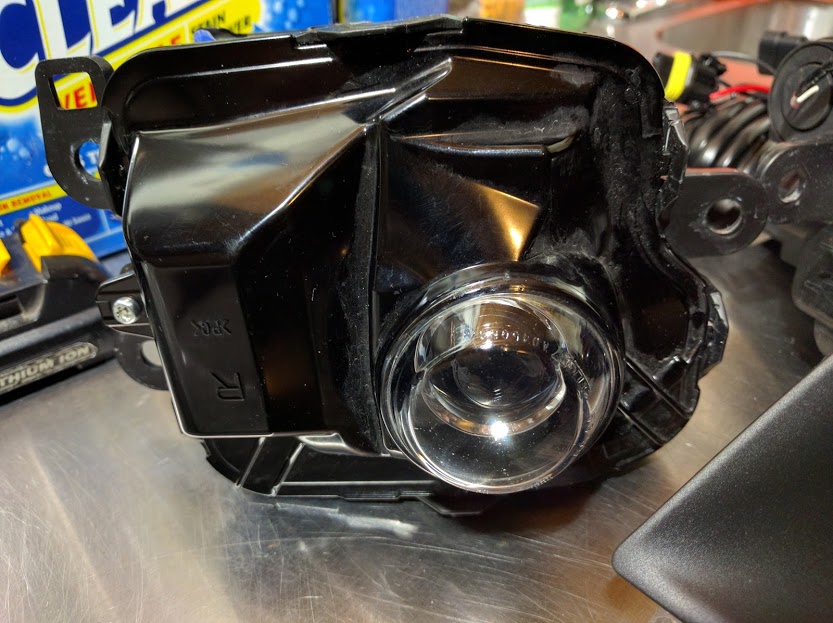 The shrouds that came with the used set were super pitted with rock chips so i ended up selling them out and purchasing a new set to take its place. Probably my favorite part of the this fog light set since they are still new from the bag =)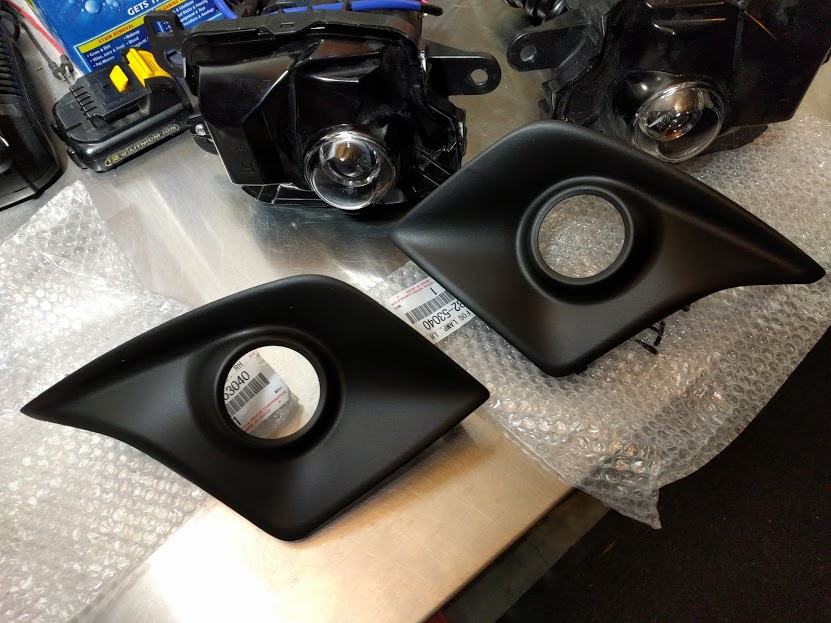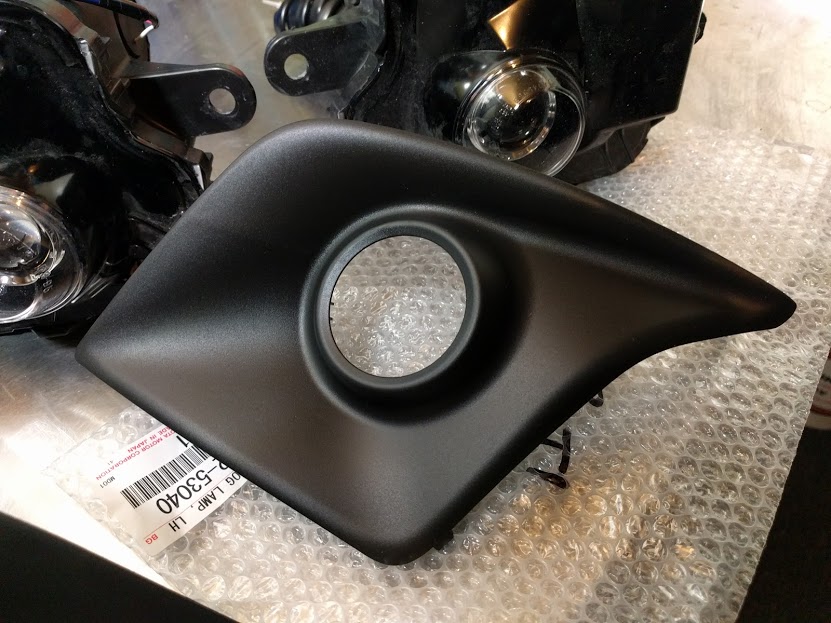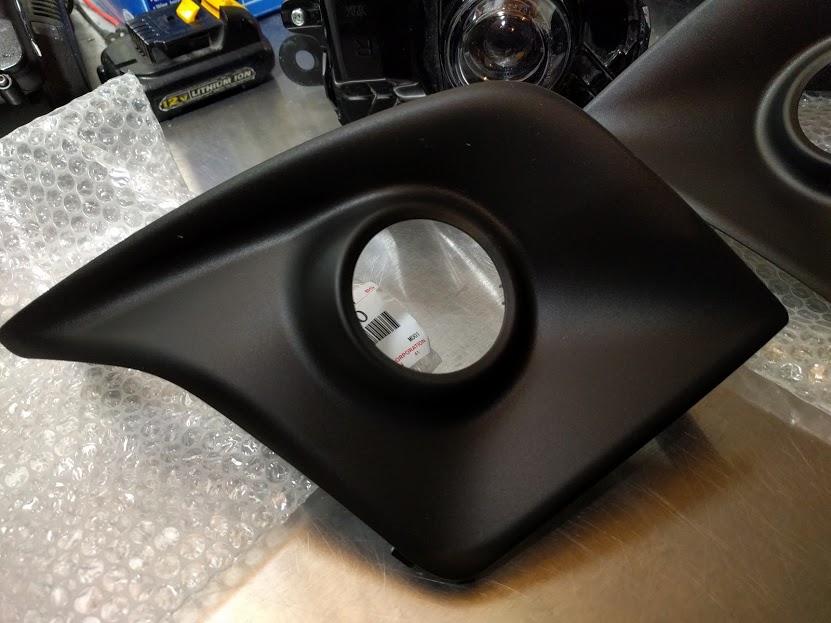 The fog light harness that I ran in the vehicle already for the iJDMtoys had a different connector plug at the end of them so I sourced some OEM style connectors to make a harness adapter so its plug-n-play and tight secure connection when i go to actually install them on the car.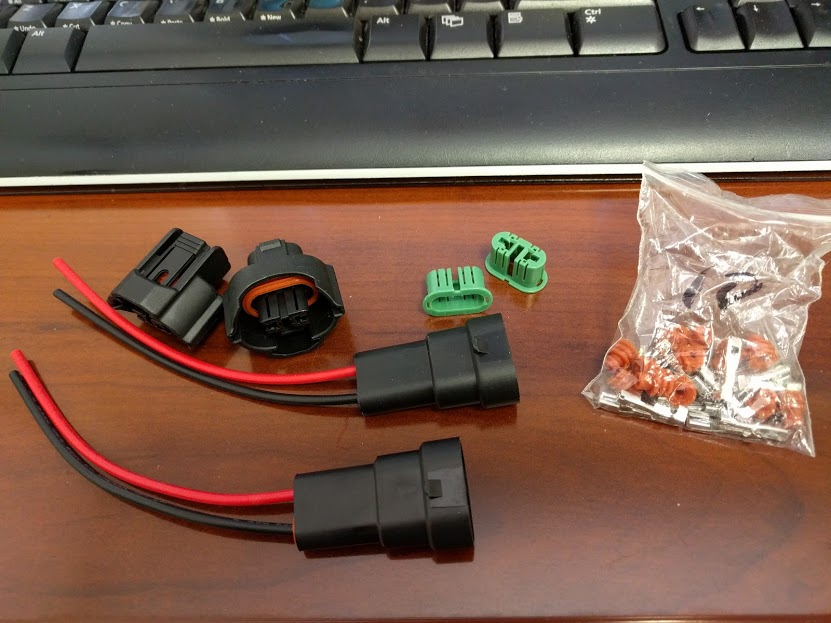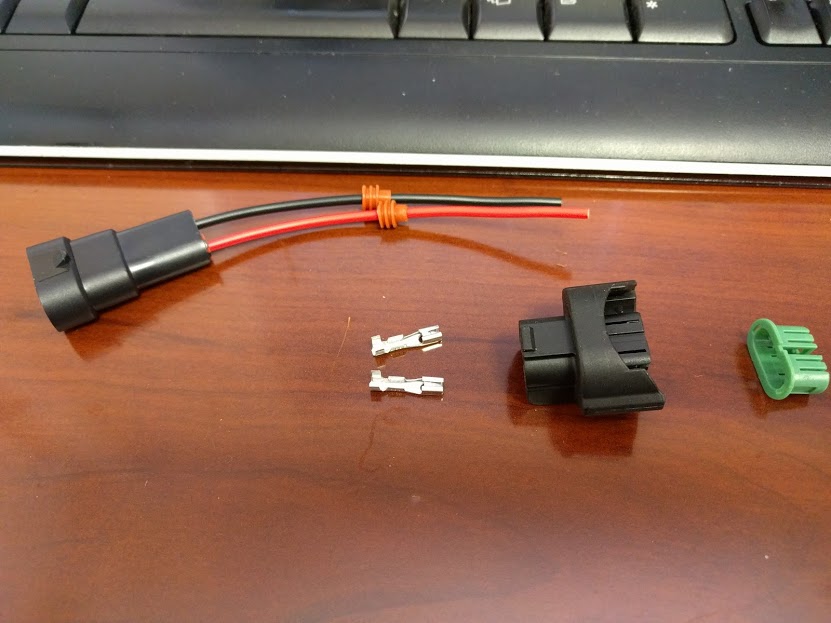 crimped with special tool.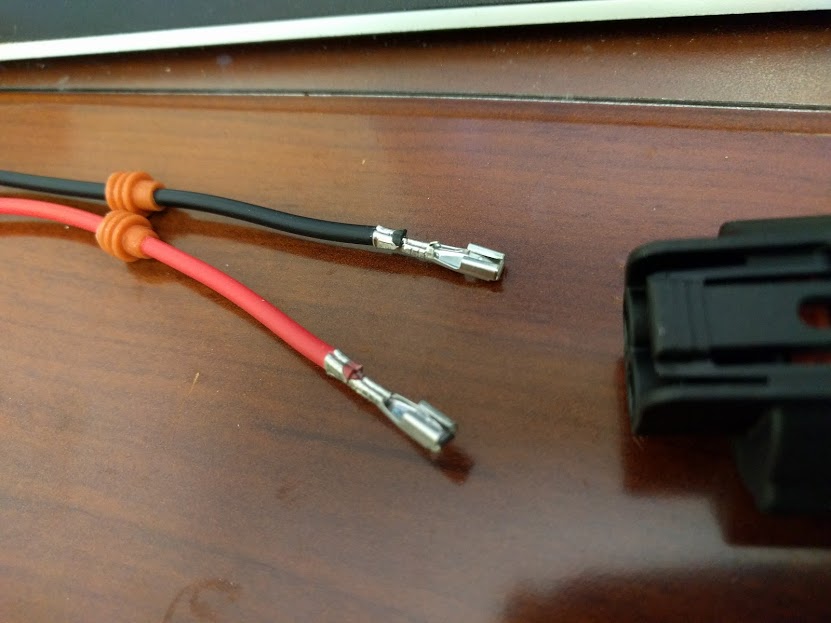 Done and heat shrinked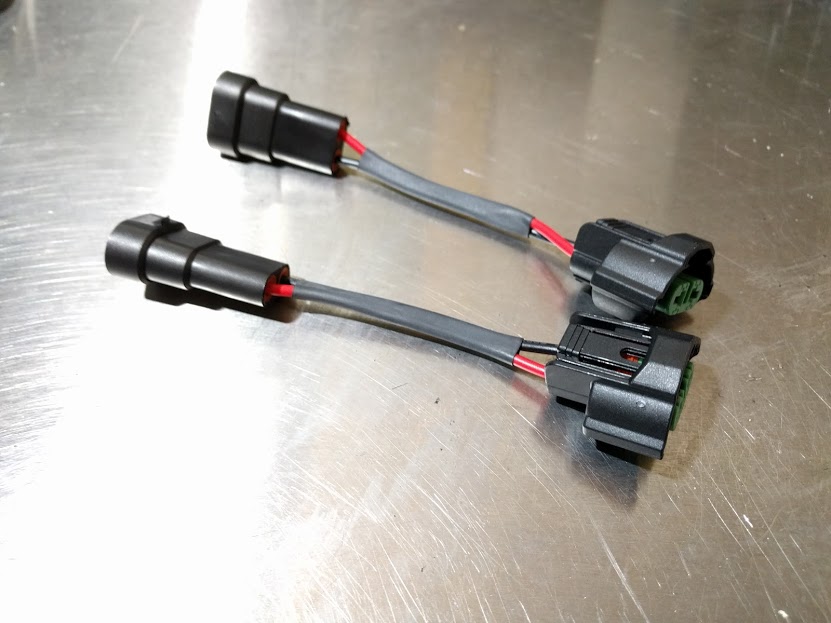 OEM connector at the end of the fog lights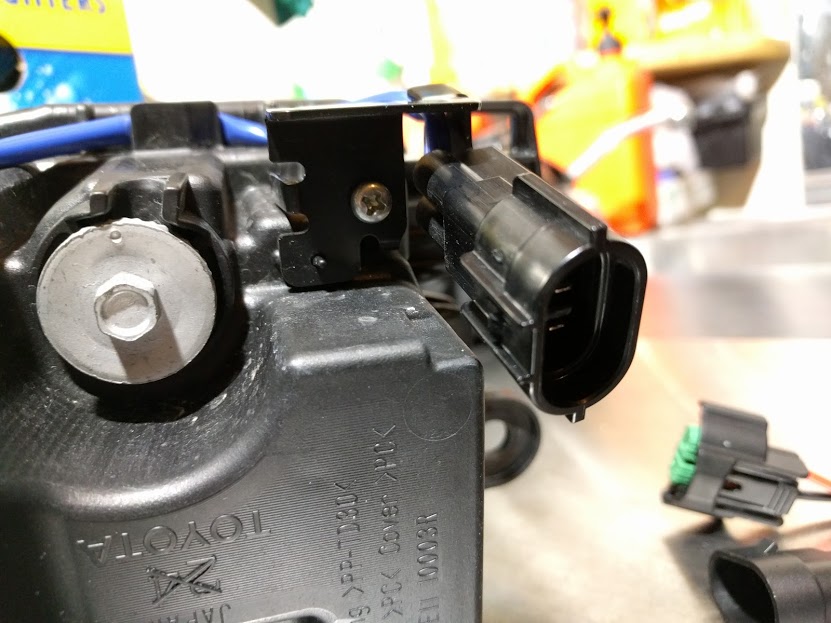 fits light a glove, or should i say OEM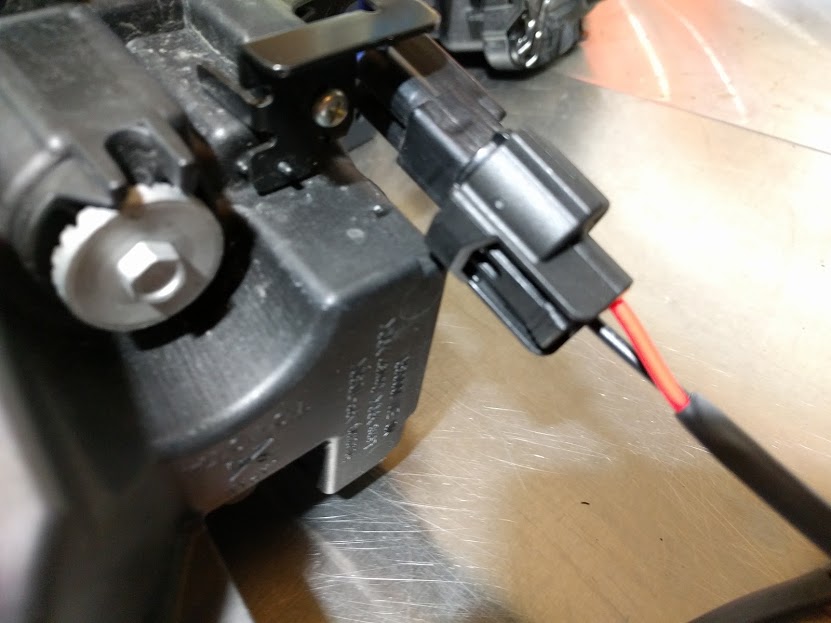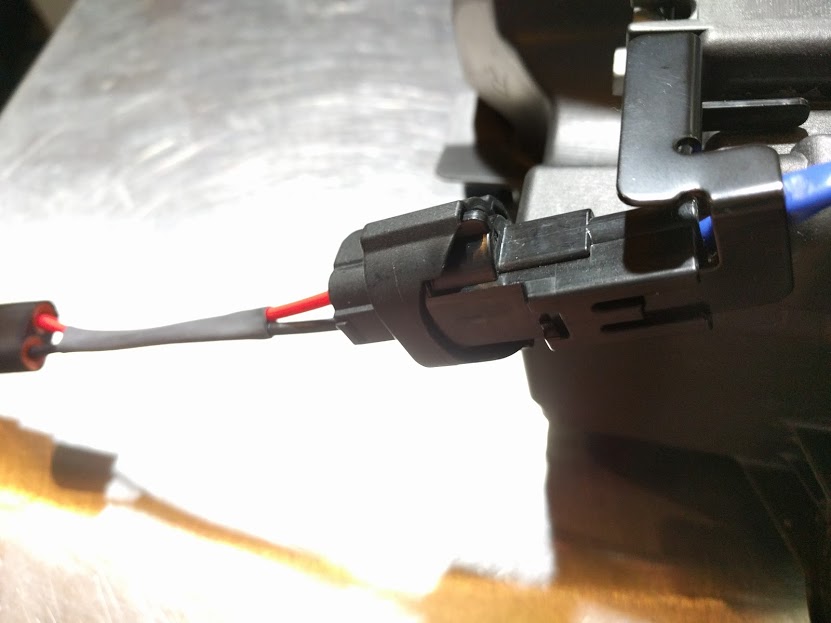 A quick benchtest to make sure the wiring adapters are all set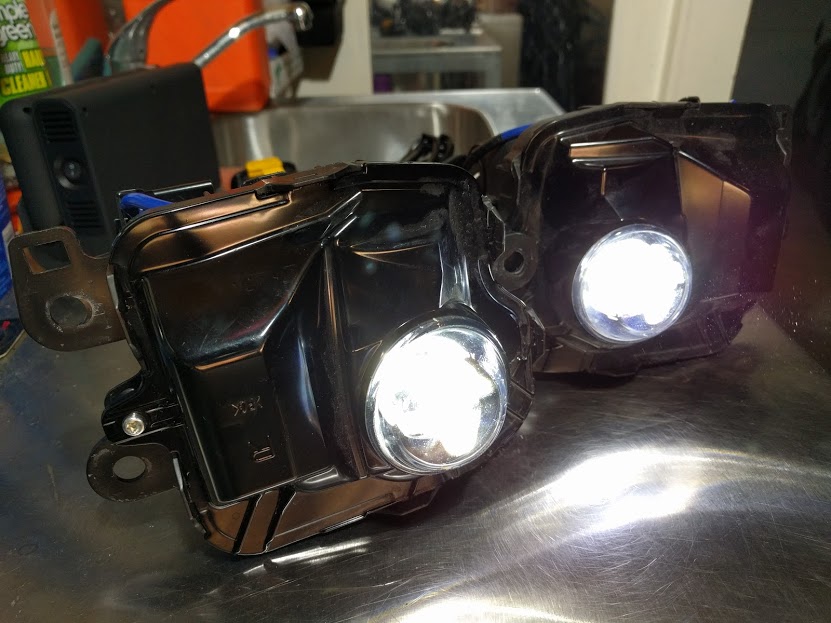 Will hopefully get them on the car soon.
4-24-2016
had some time today to get the fog lights in.
turns on there is absolutely no way I was getting them on without removing the front wheels.
They have to be stuff in from the back side to bolt on.
Luckily I had a little more free time than i initially put aside for it today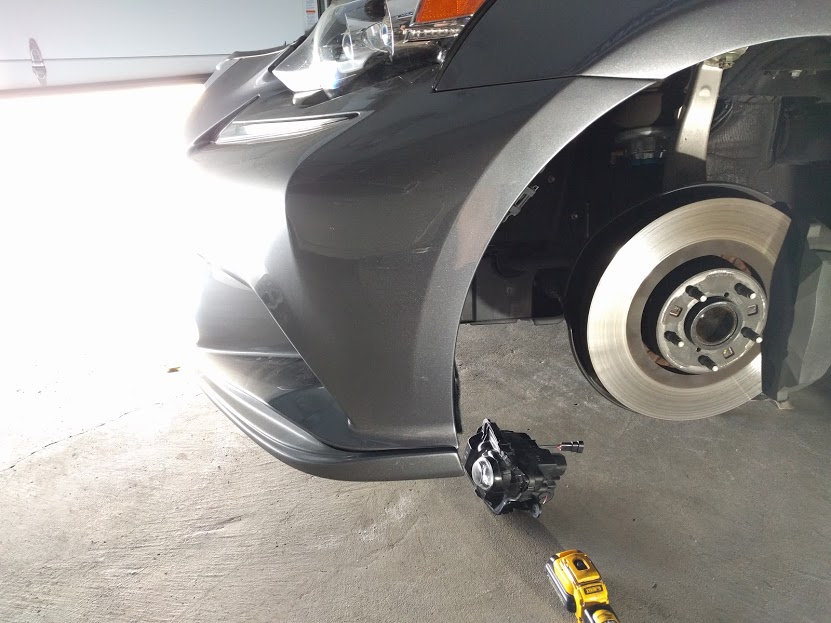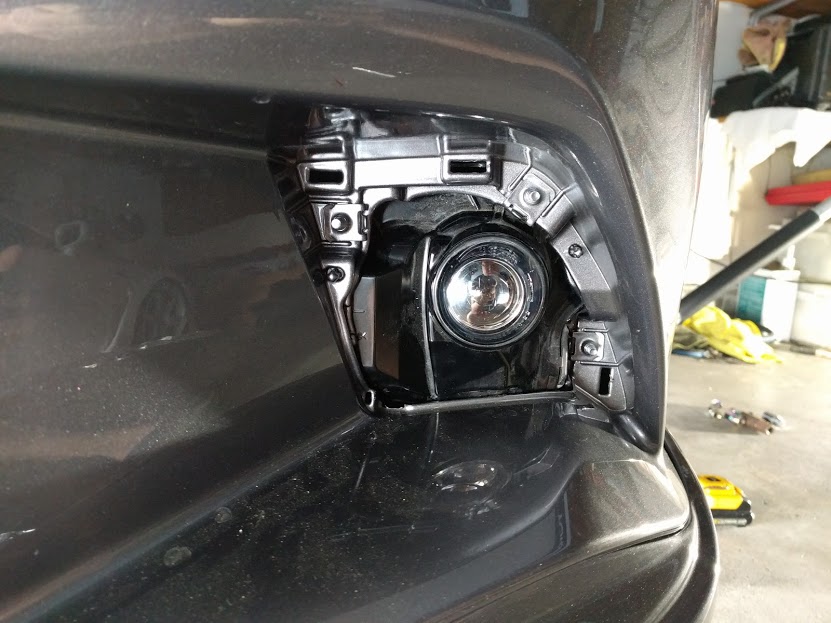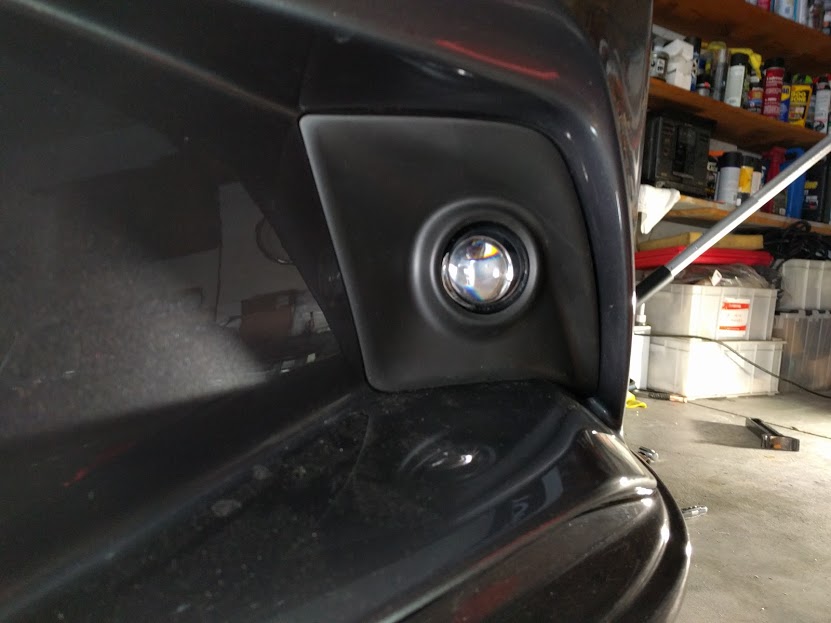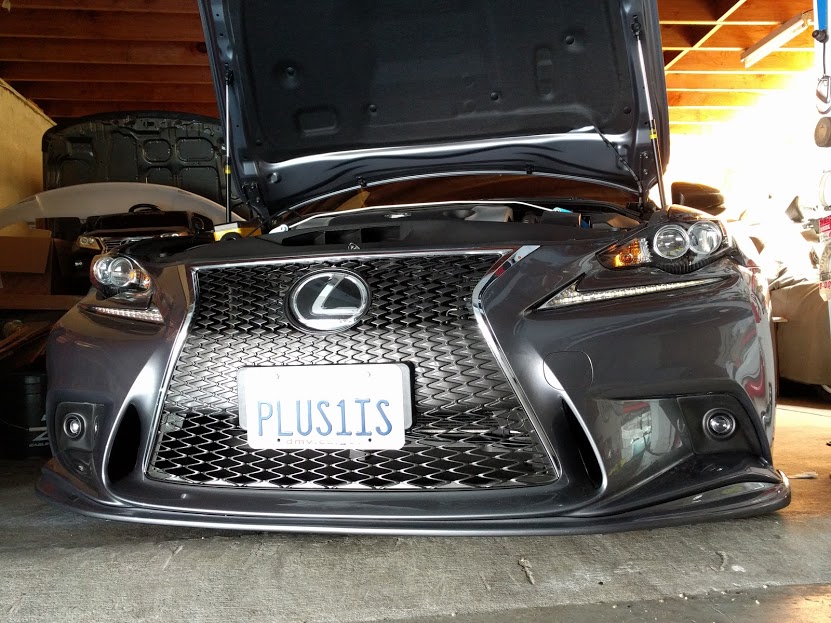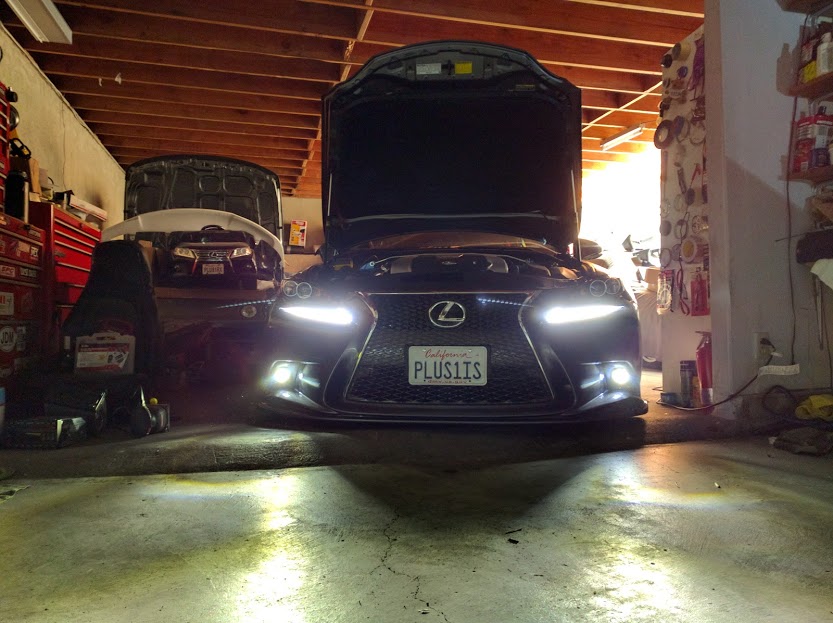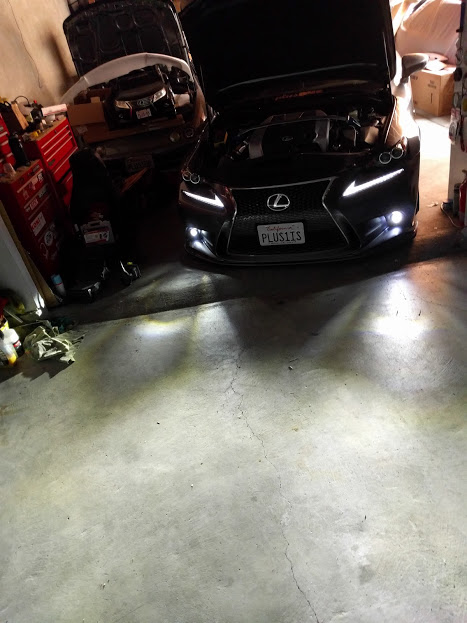 5-2-2016
commence the itchy posts
used a cardboard template to figure out the bottom of the subwoofer enclosure. Cardboard easier to cut and do over if I mess up rather that do it on wood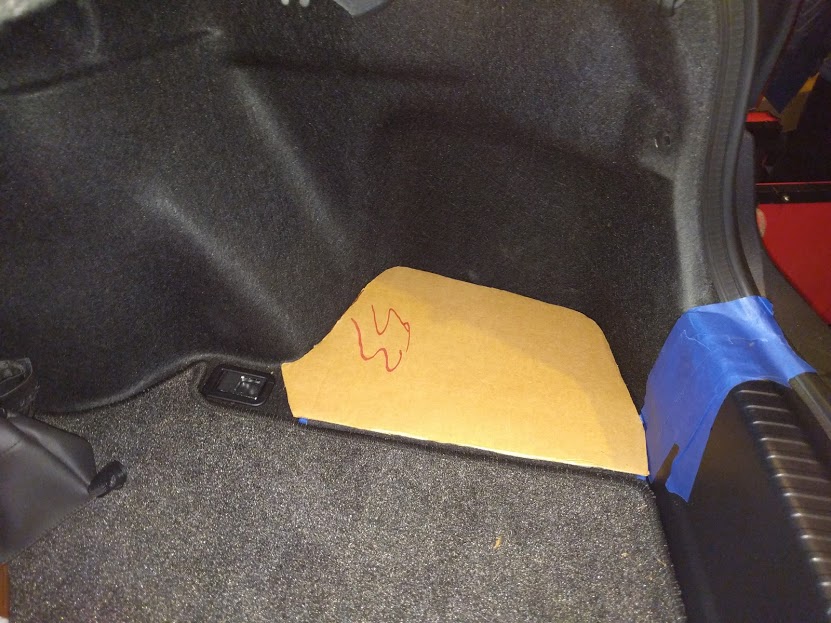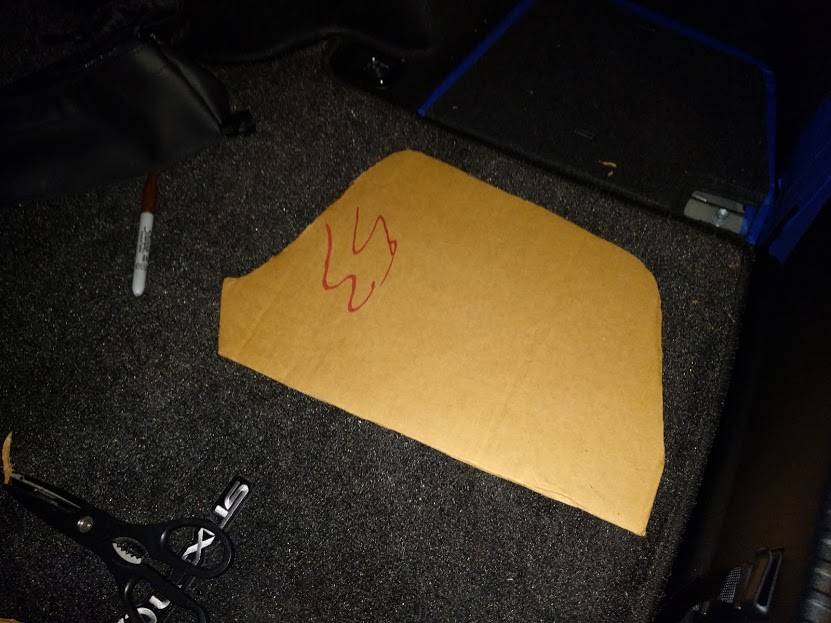 now to trace it onto the wood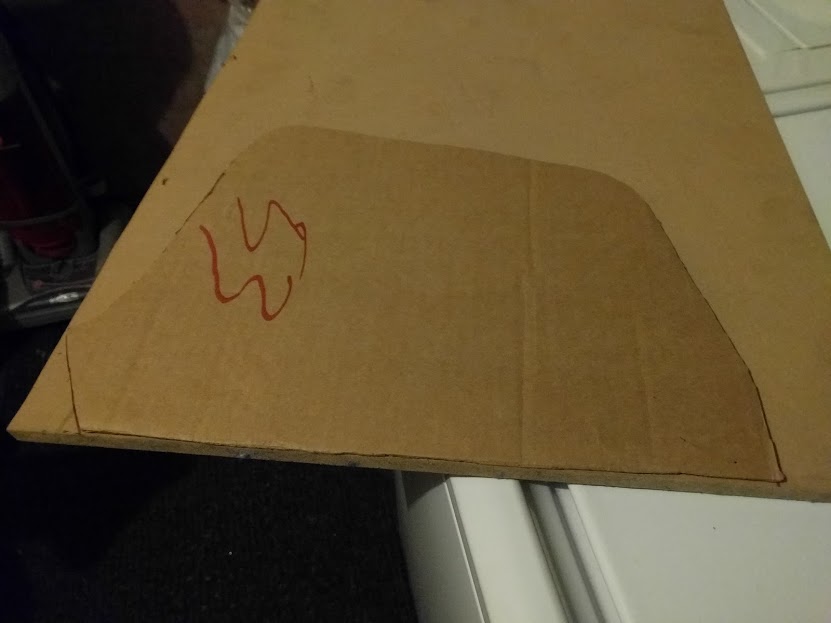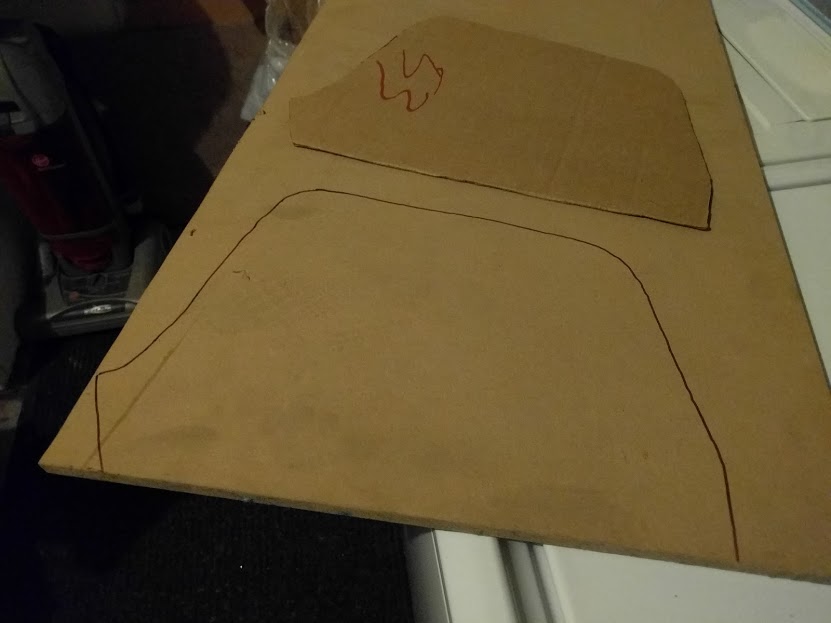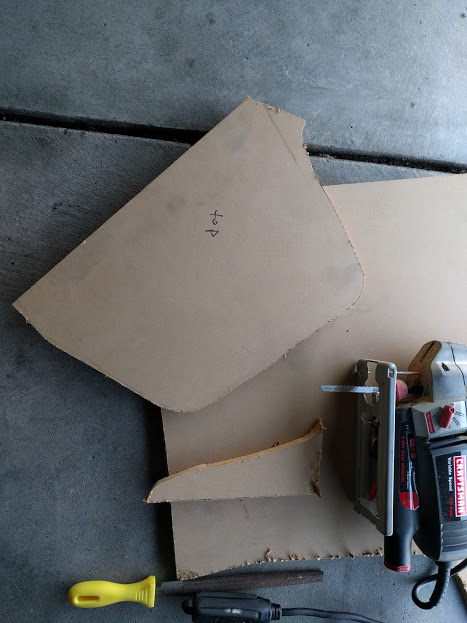 now taping commences to protect the trunk lining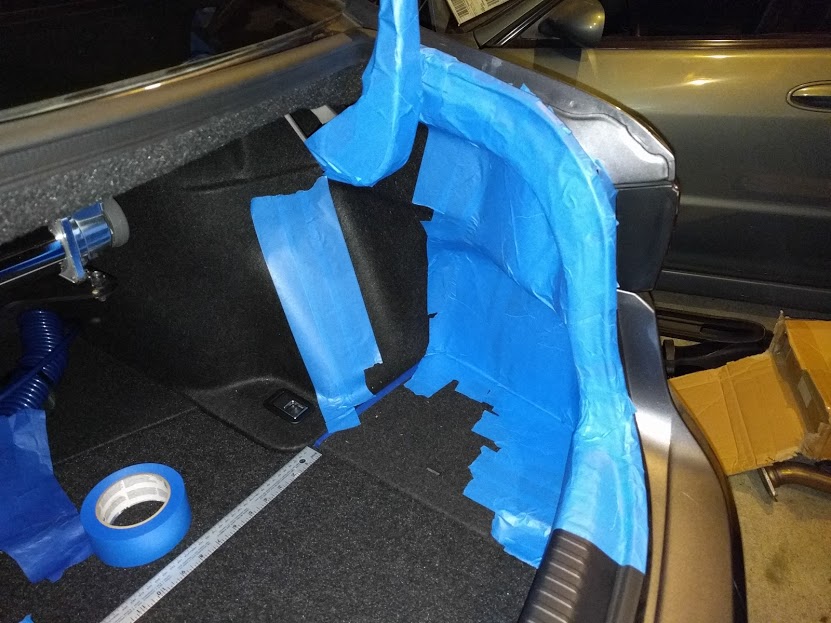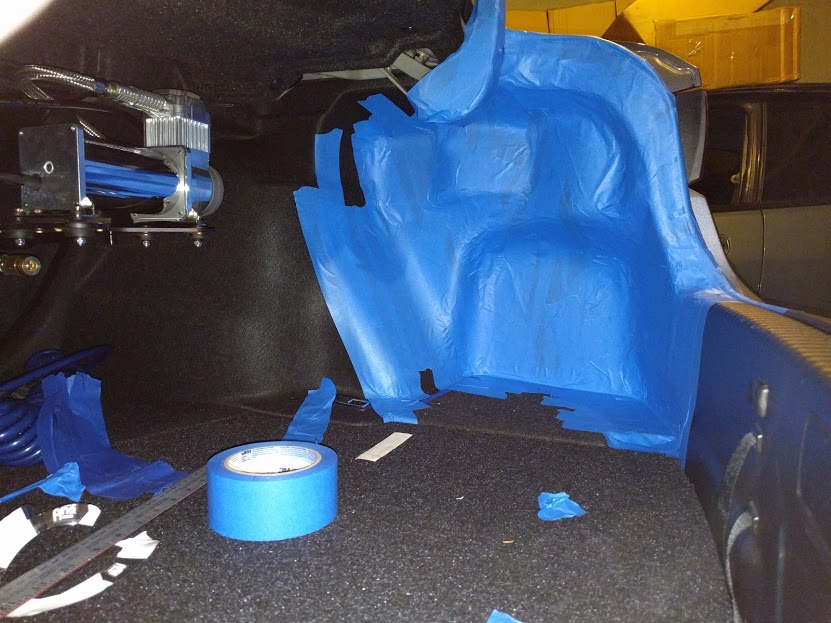 bottom wood test fit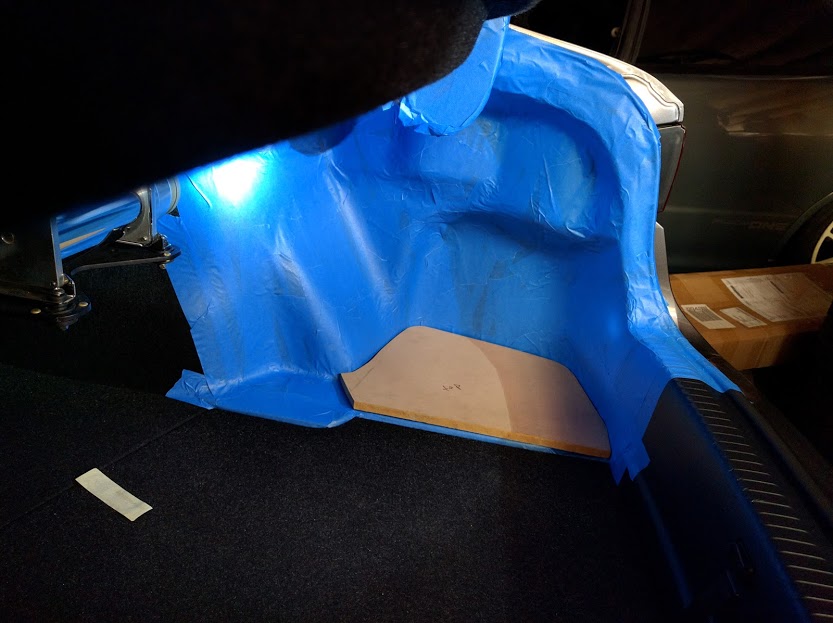 Time to protect the rest of the vehicle so the Fiberglass resin does not get all over the place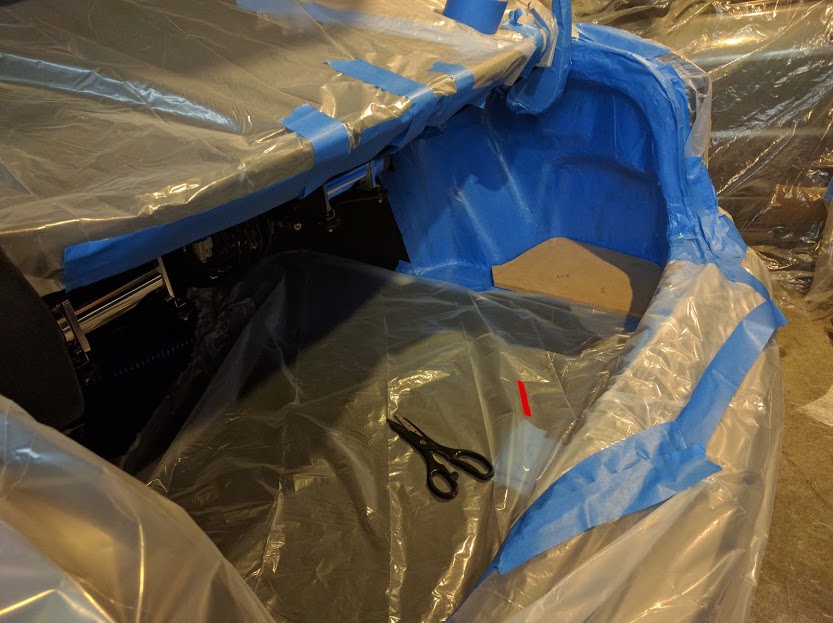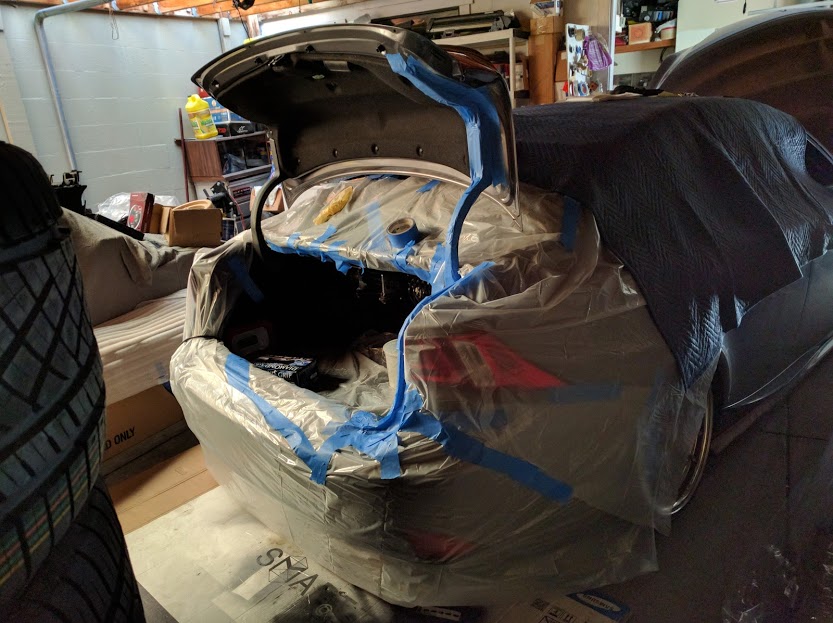 First layer of resin and mat laid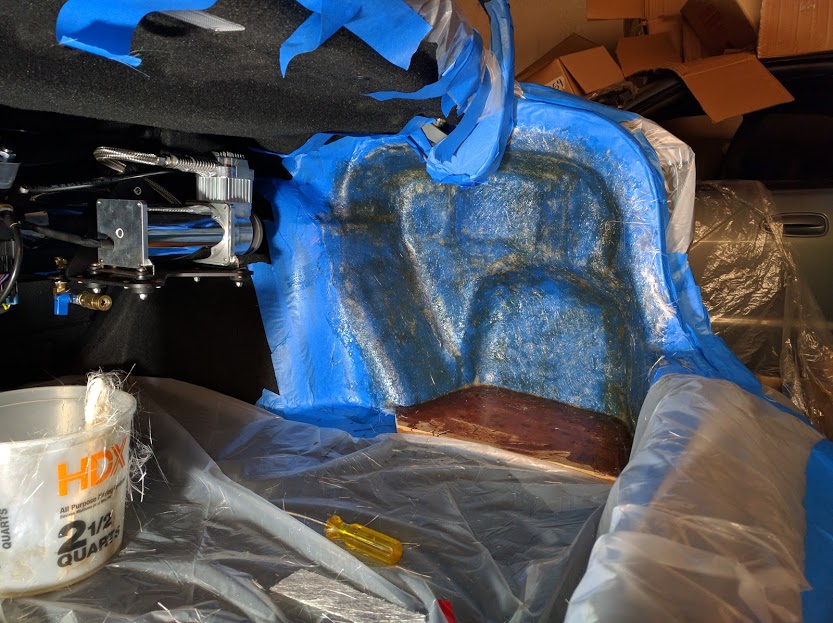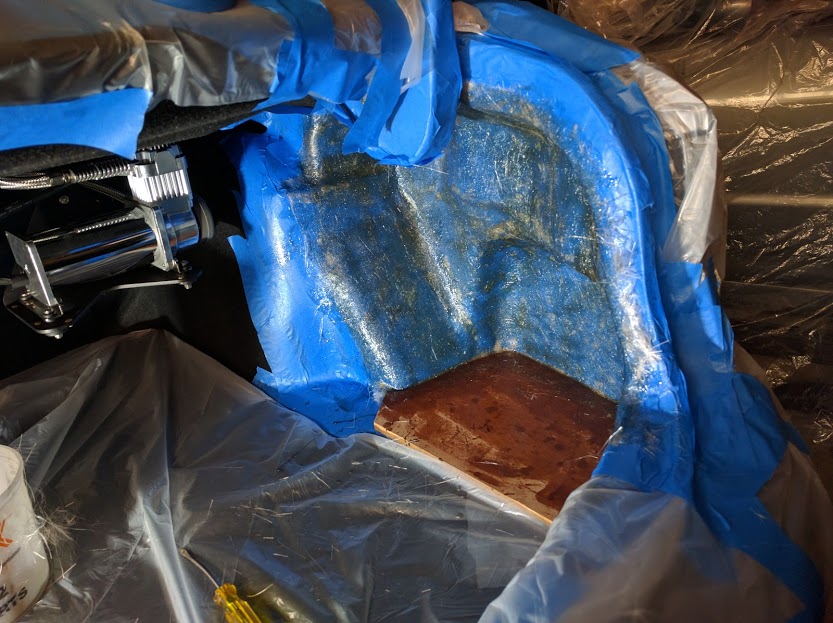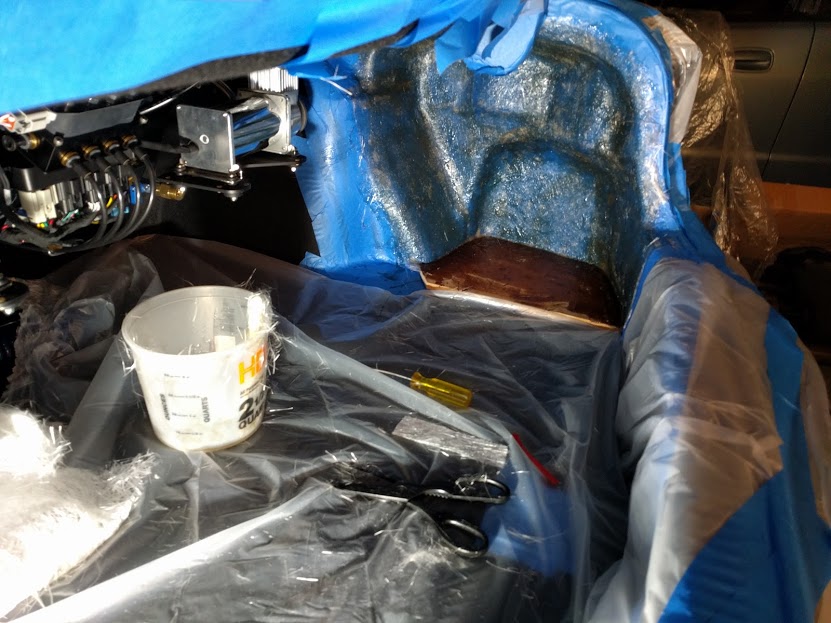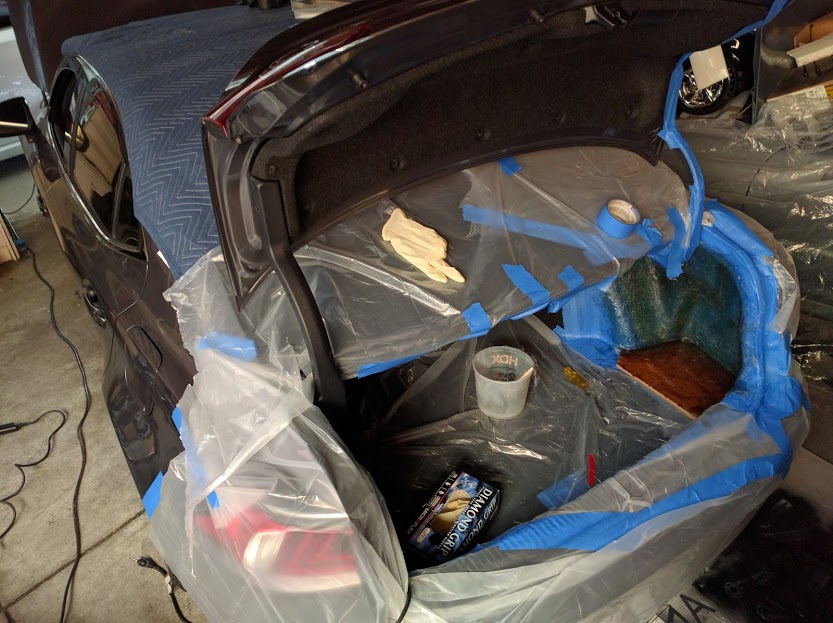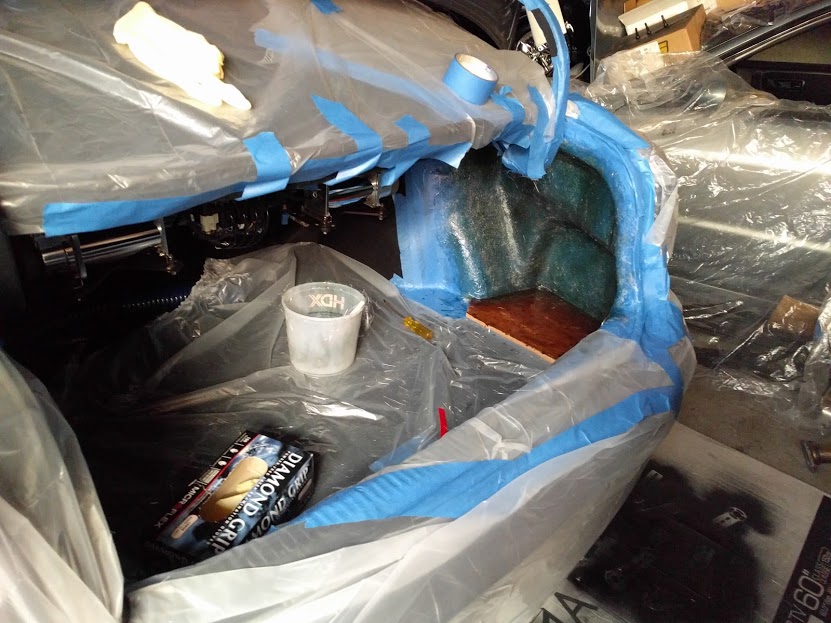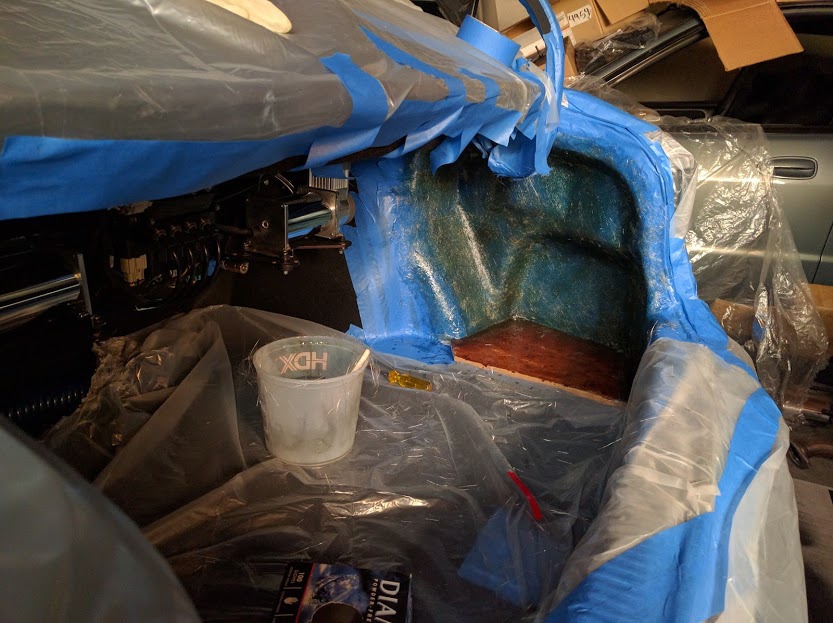 now that it is dry, time to get it out
and boy did it give me a workout pulling on it to release it. Struggled for a good 40-50 minutes pulling and yanking and spraying water into the crevice to weaken the blue masking tape adhesive.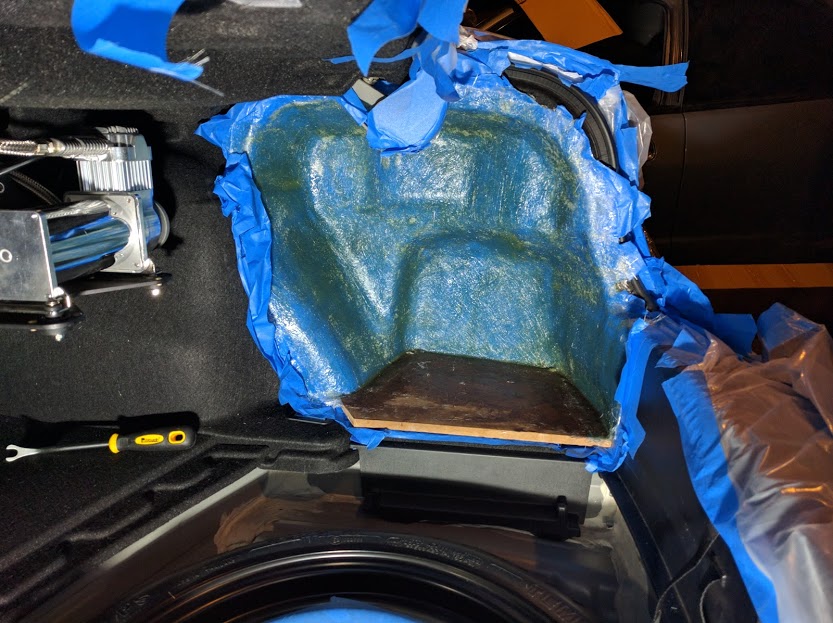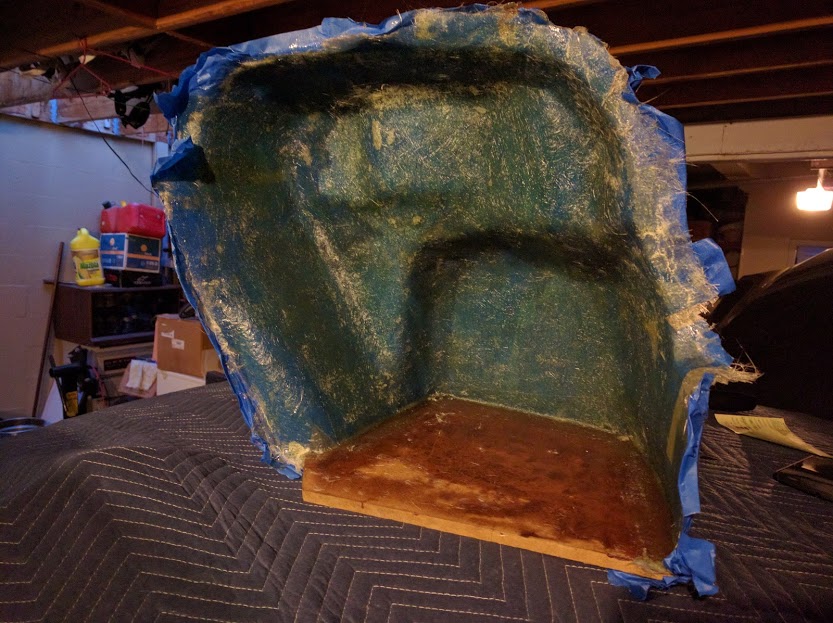 my trunk is still intact and not a mess after pulling the mold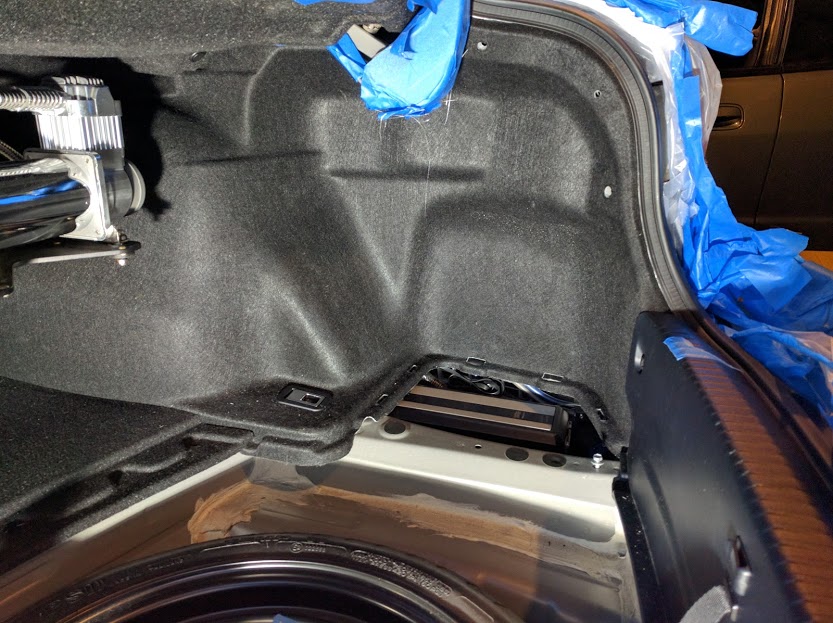 Took a half hour of peeling the blue tape off the rear of the mold, very tedious activity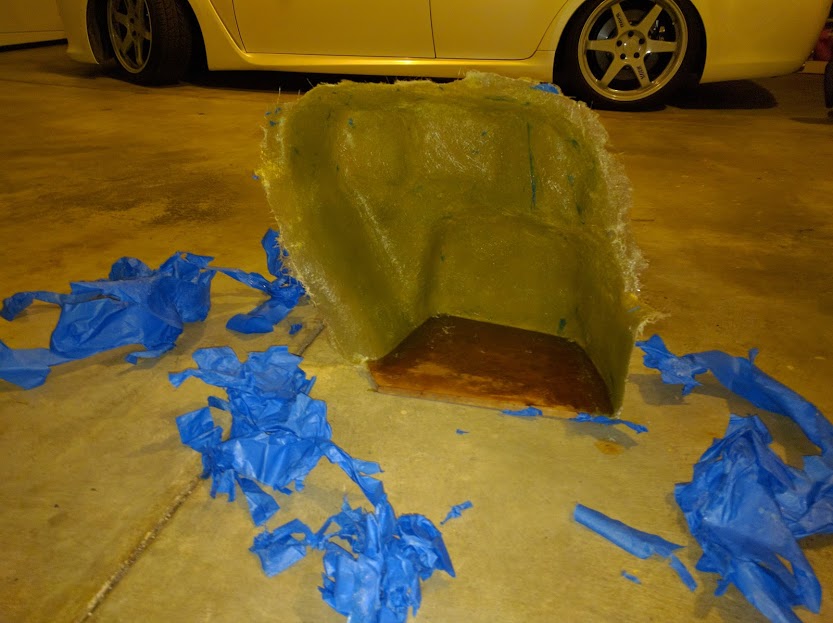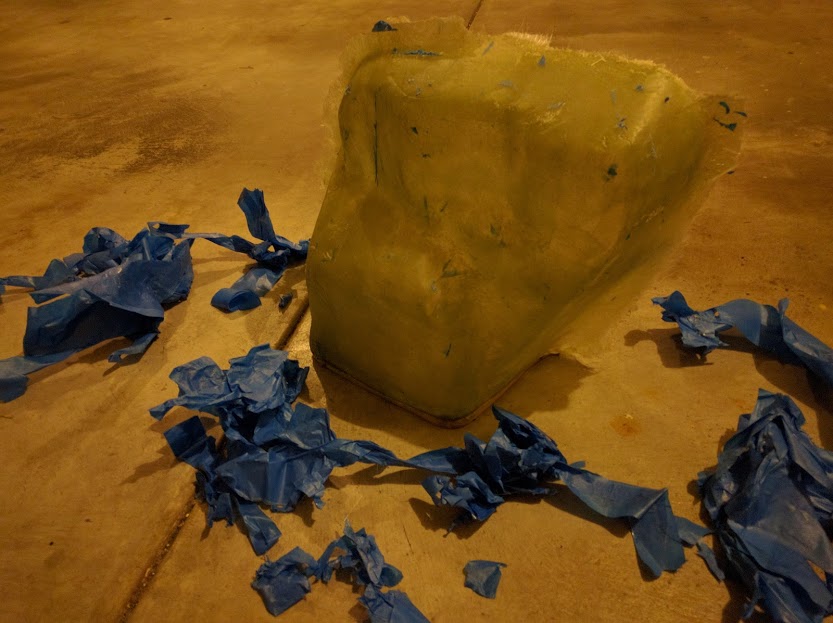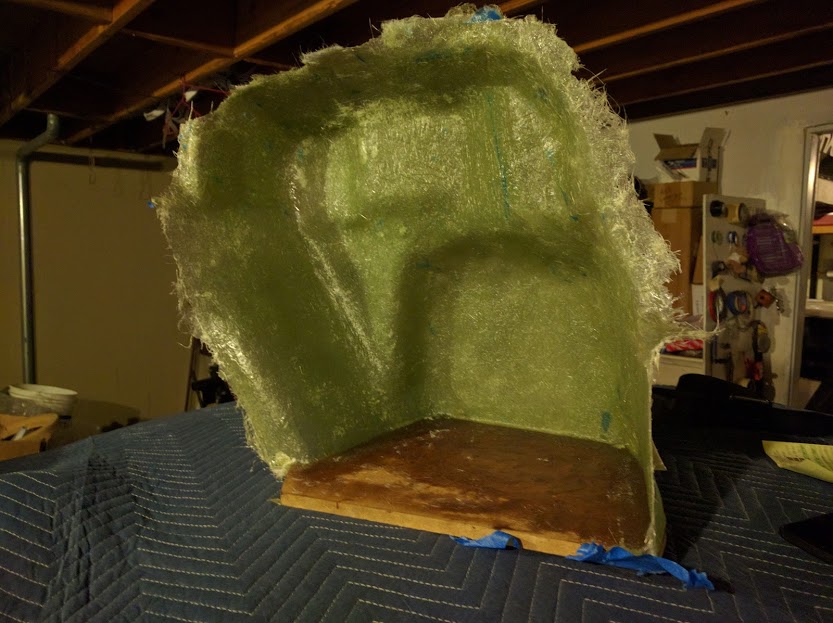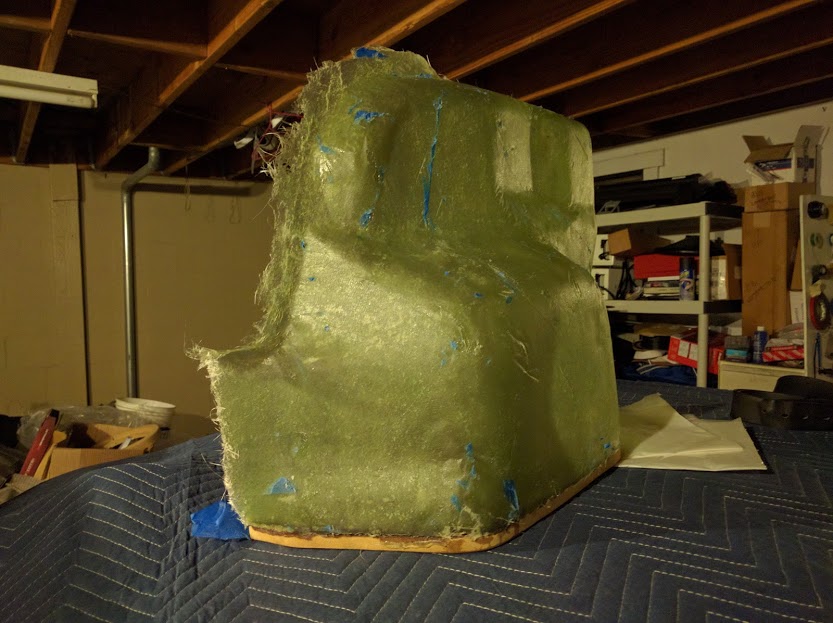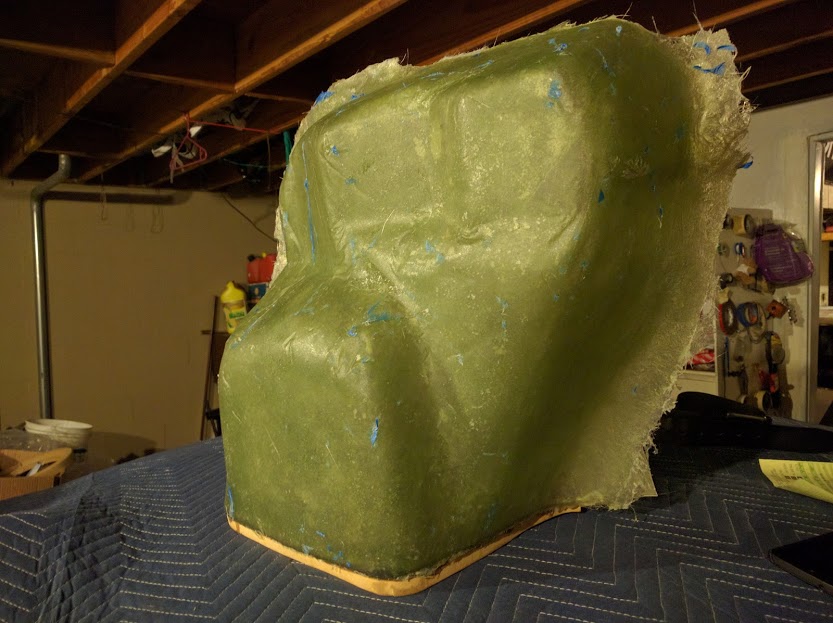 quick test fit back in the car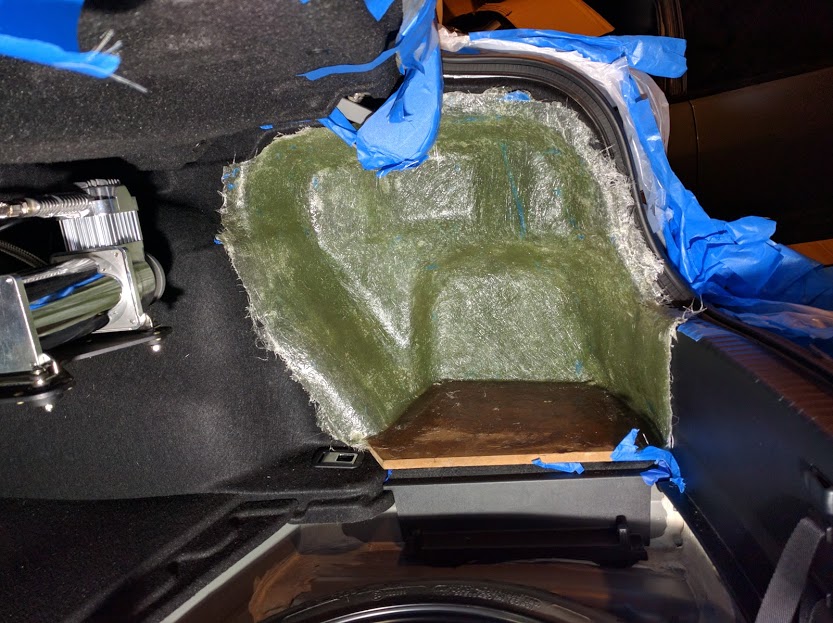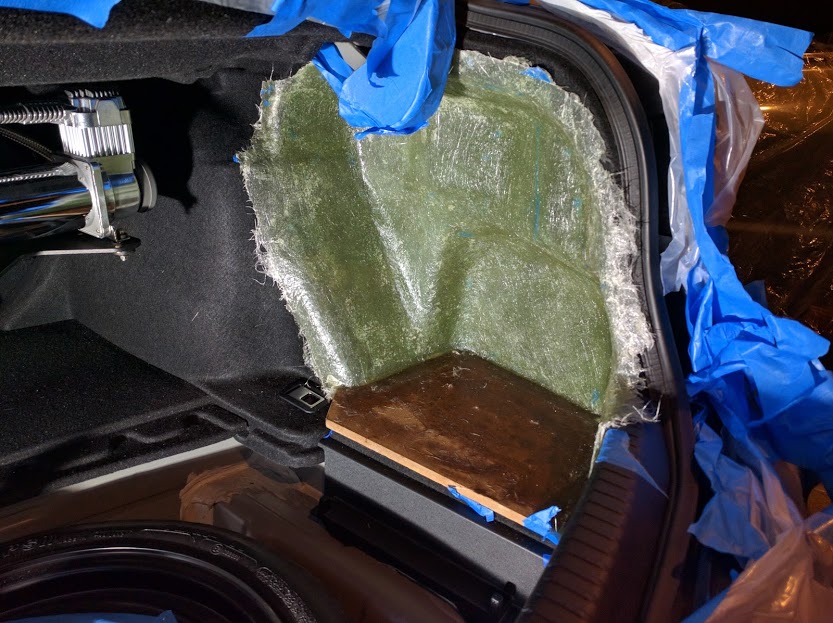 up next will be to add another layer or two to this to strengthen the walls some more before i trim the piece down. right now the mold is a bit oversized and not easy to remove in and out of vehicle. Then onto figuring out how the front will look .
hopefully i can keep the momentum of this project going,
if not expect a update in a couple of months lol.
6-26-2016
made some minor progress on the subwoofer enclosure
Trimmed the excessive part of the glassing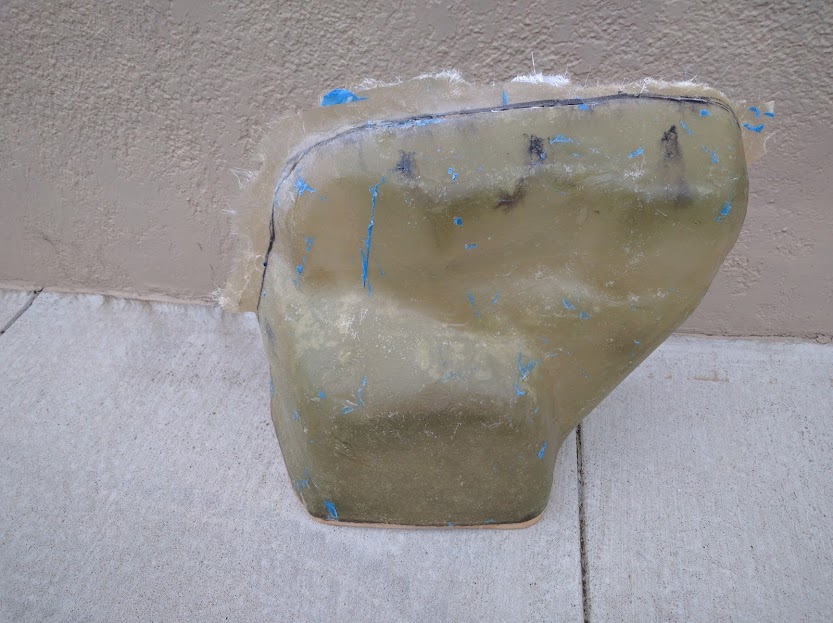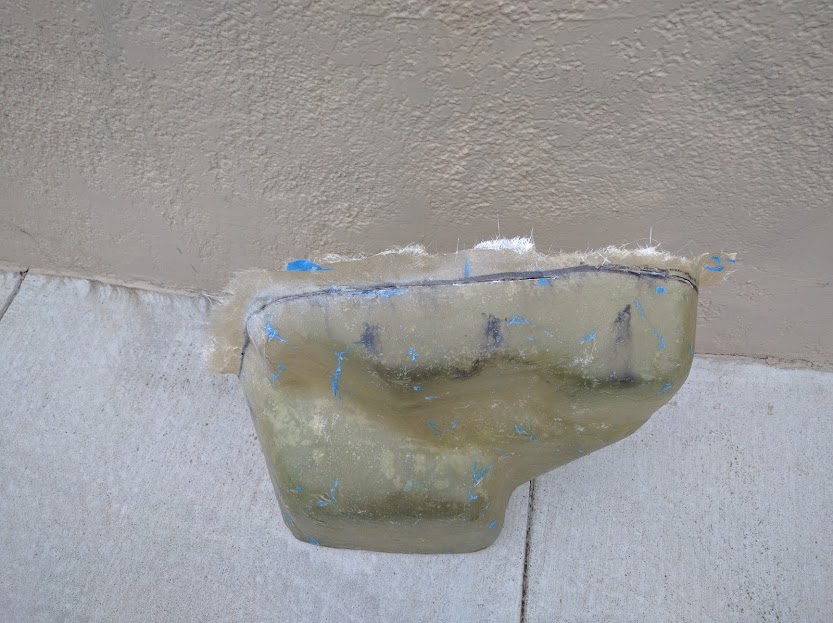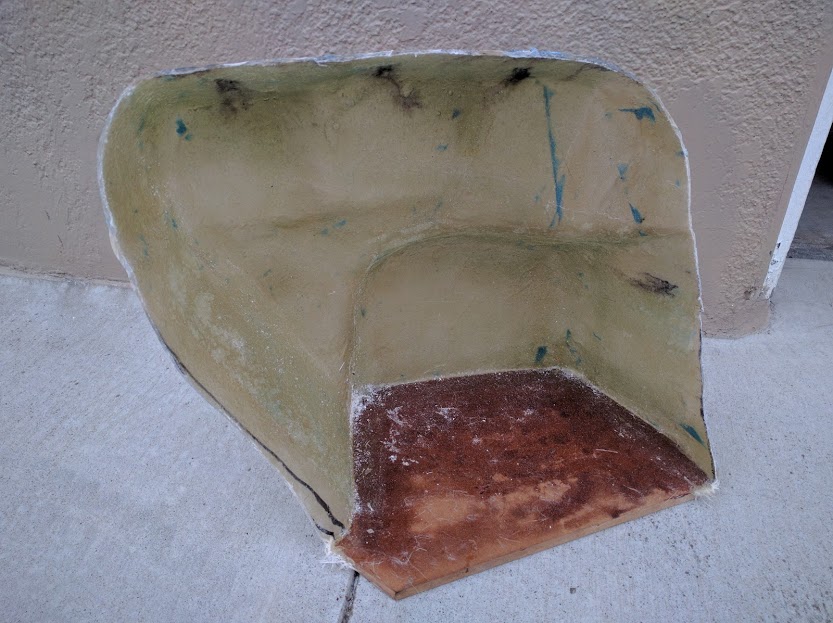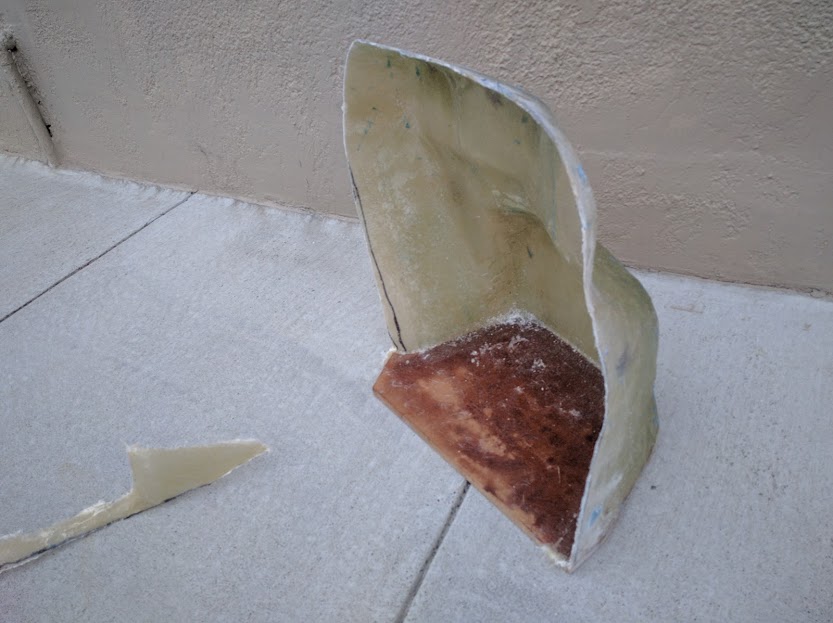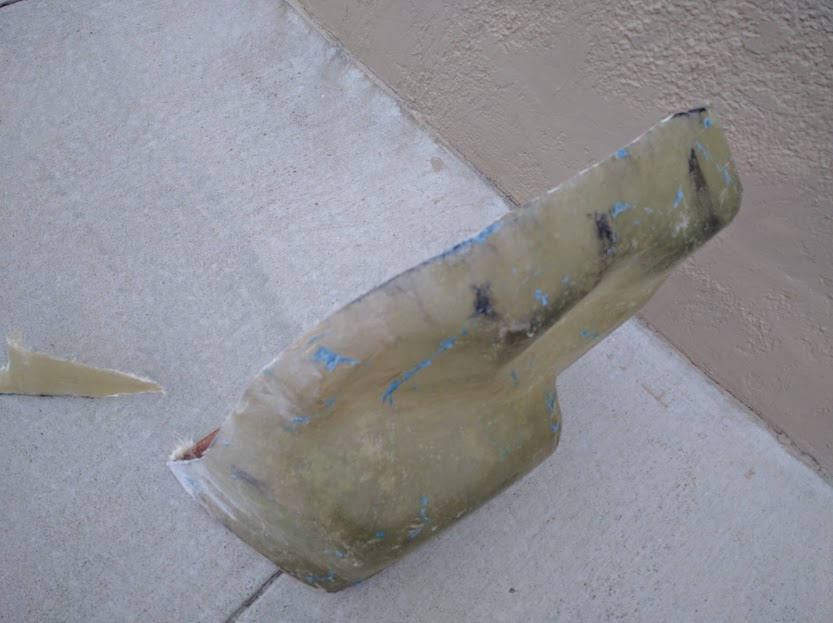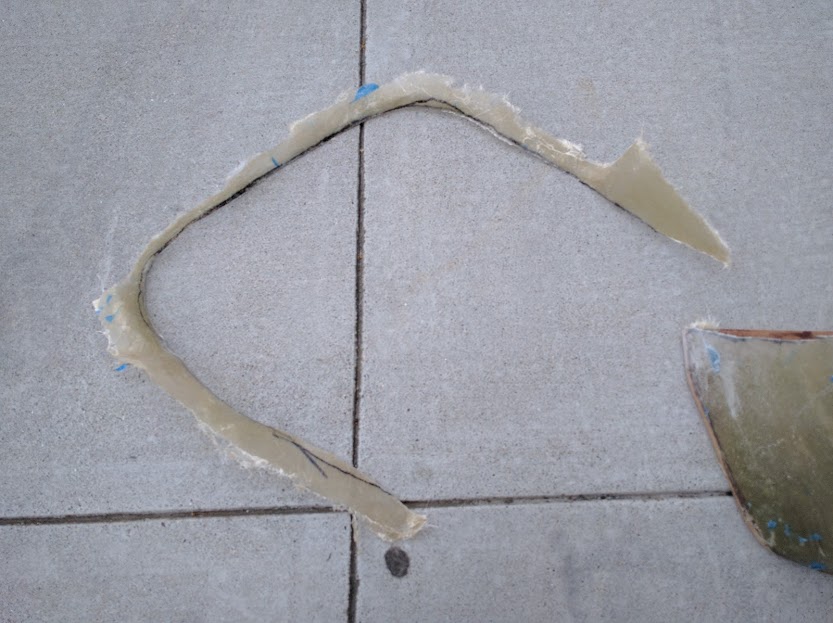 test fit in car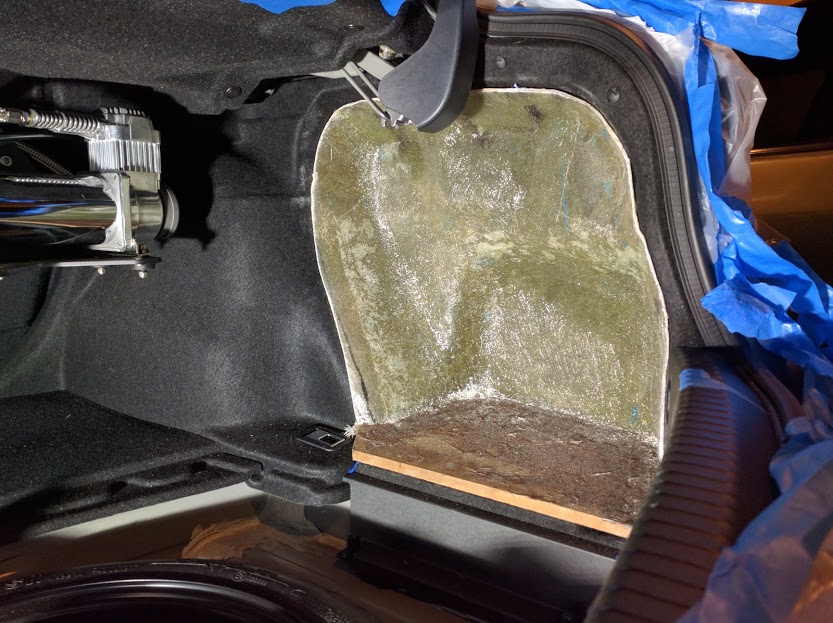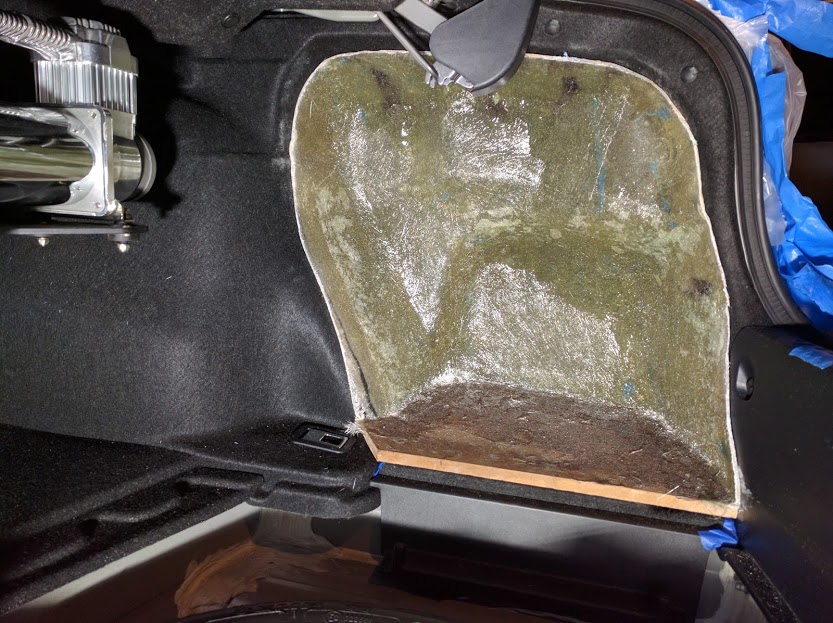 now to mount the speaker ring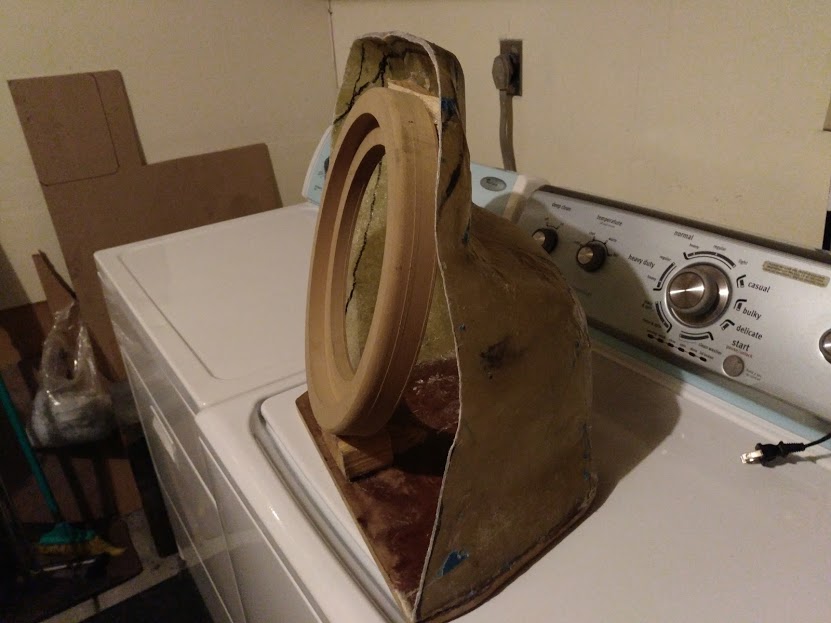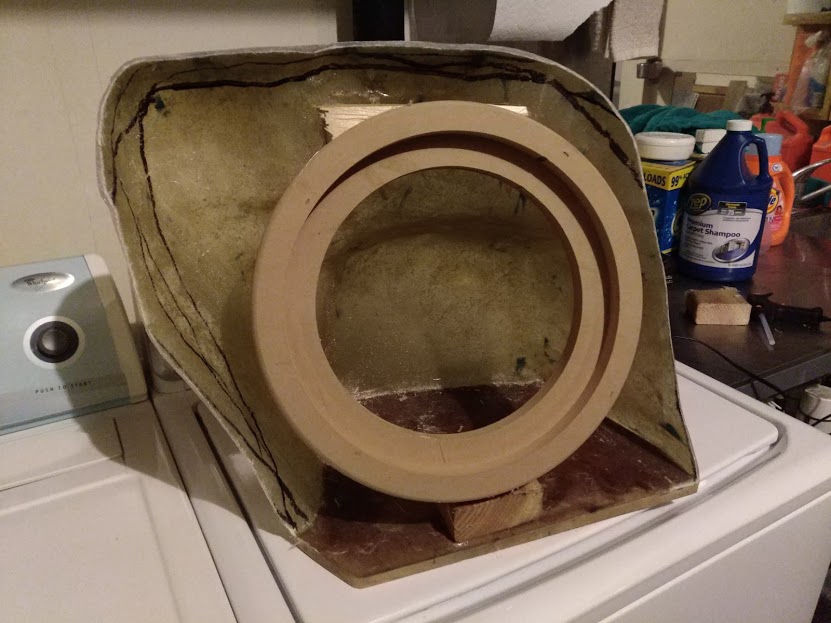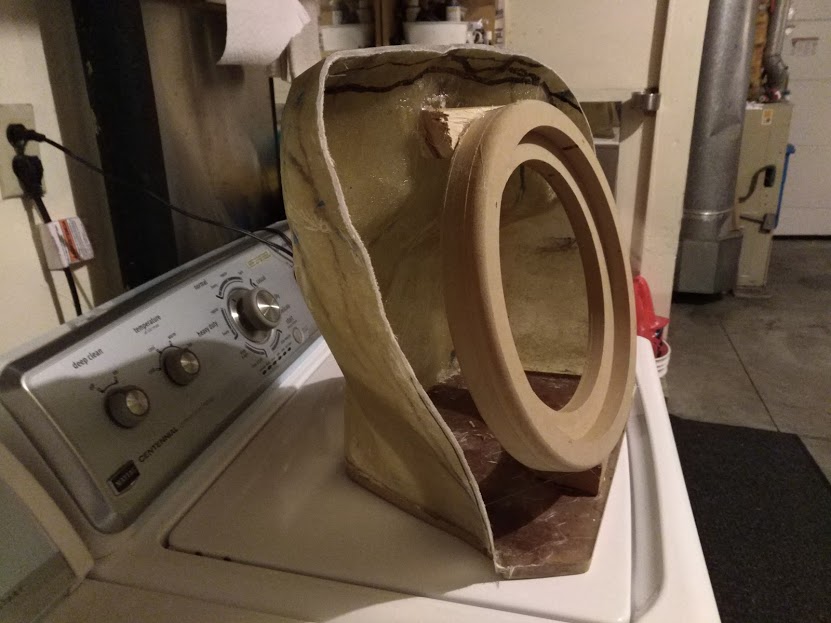 Another test fit in the car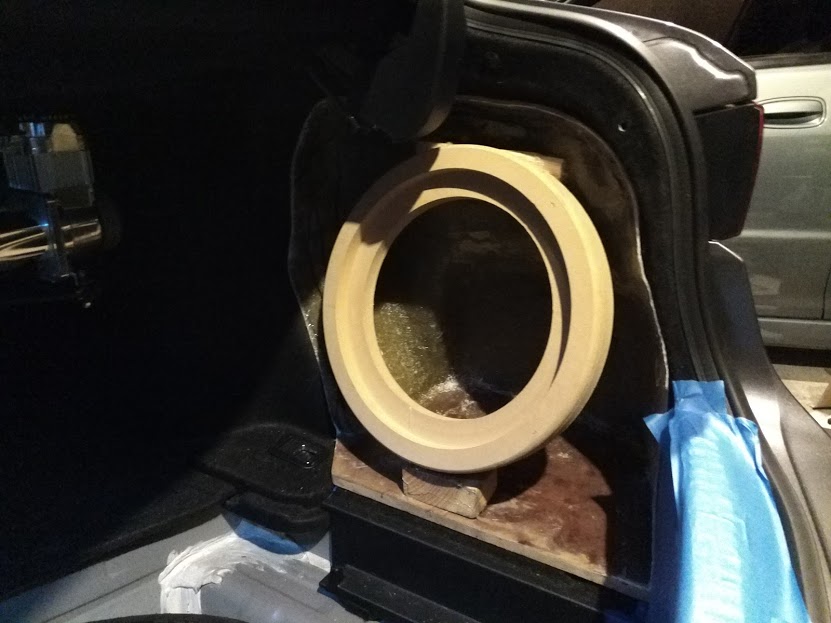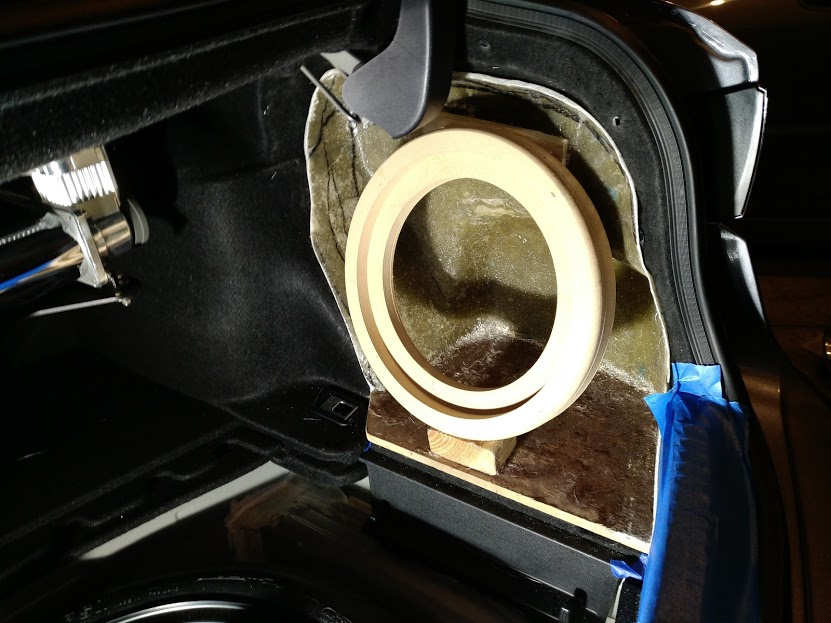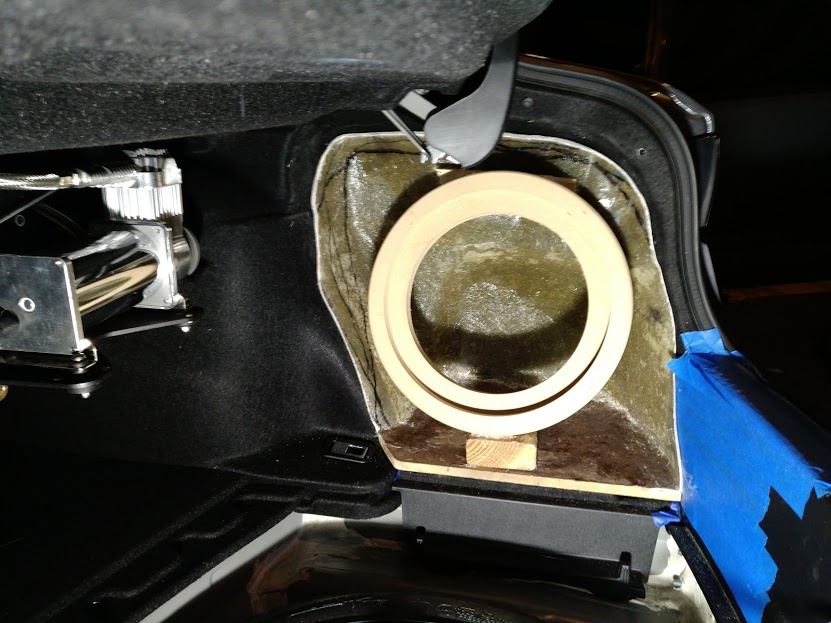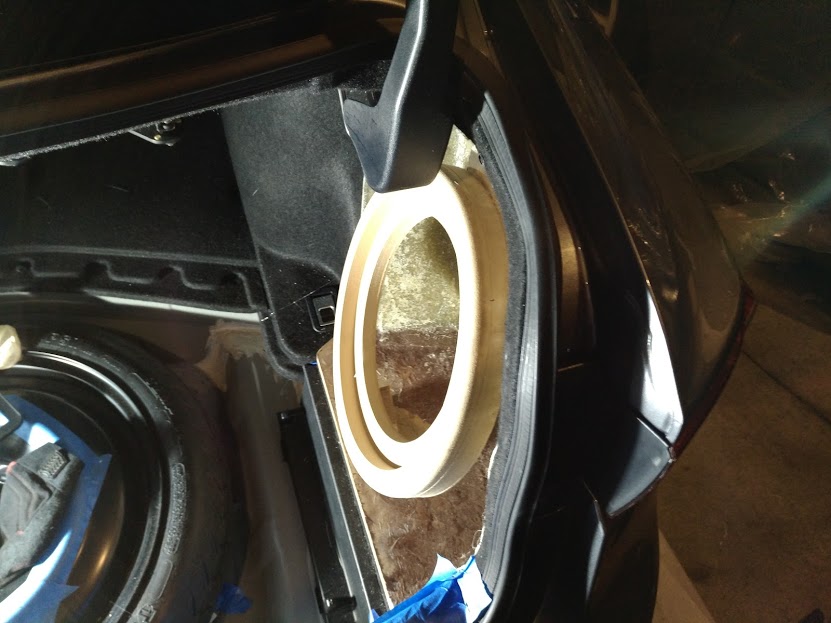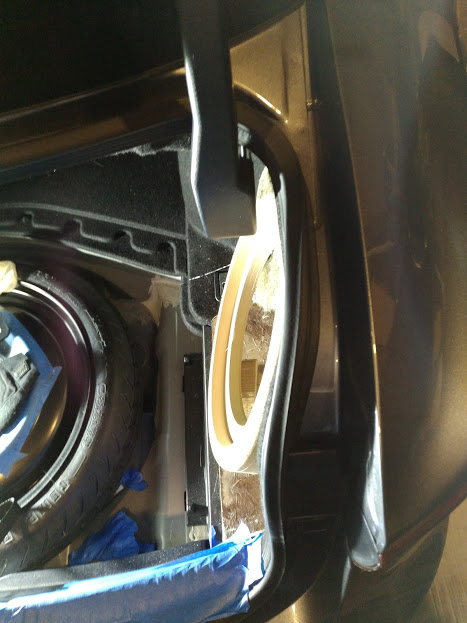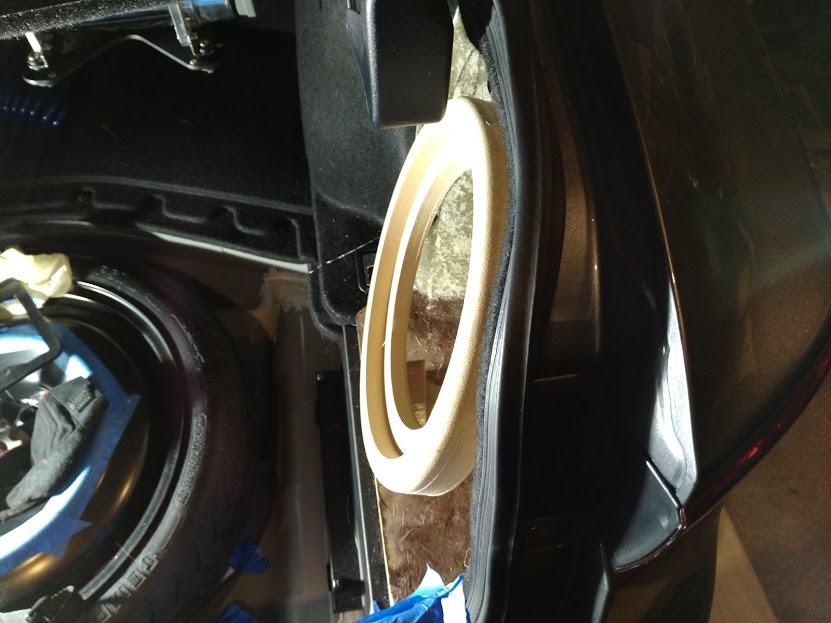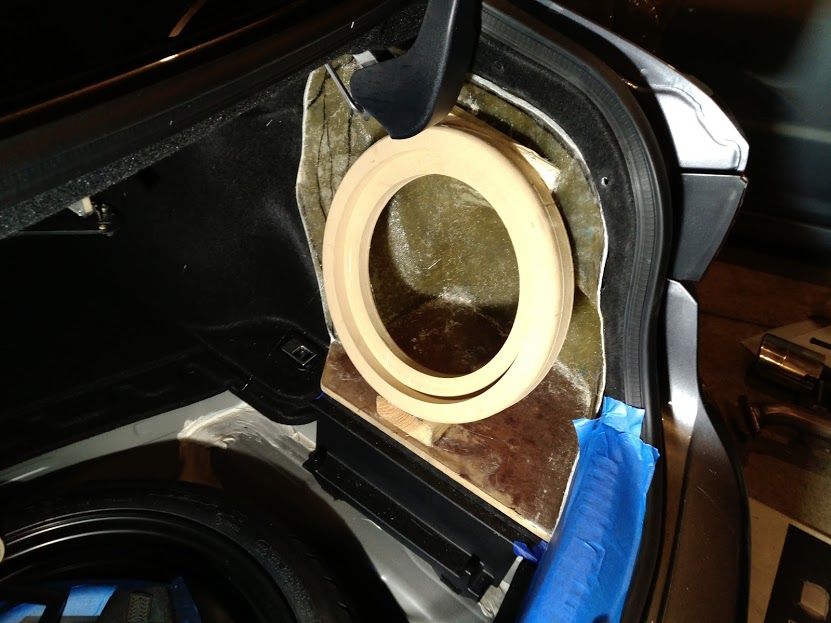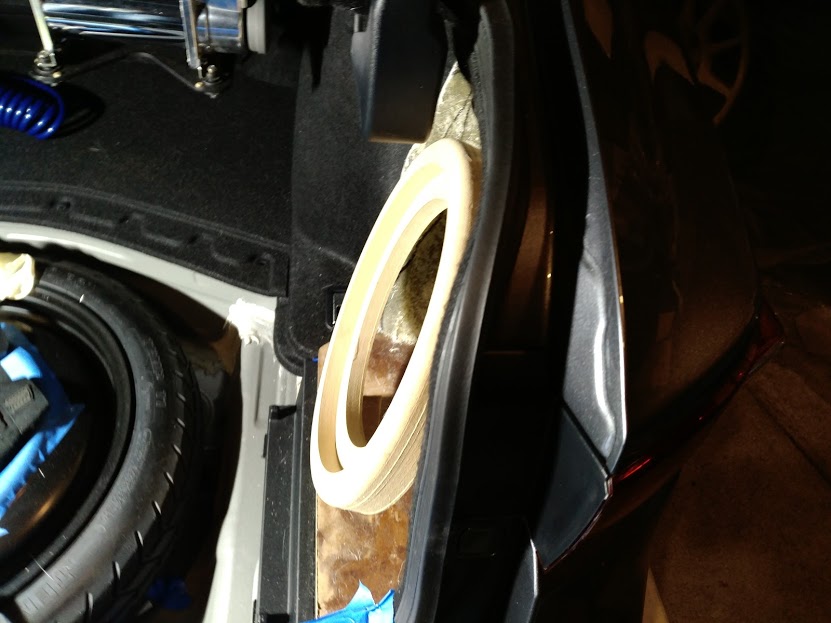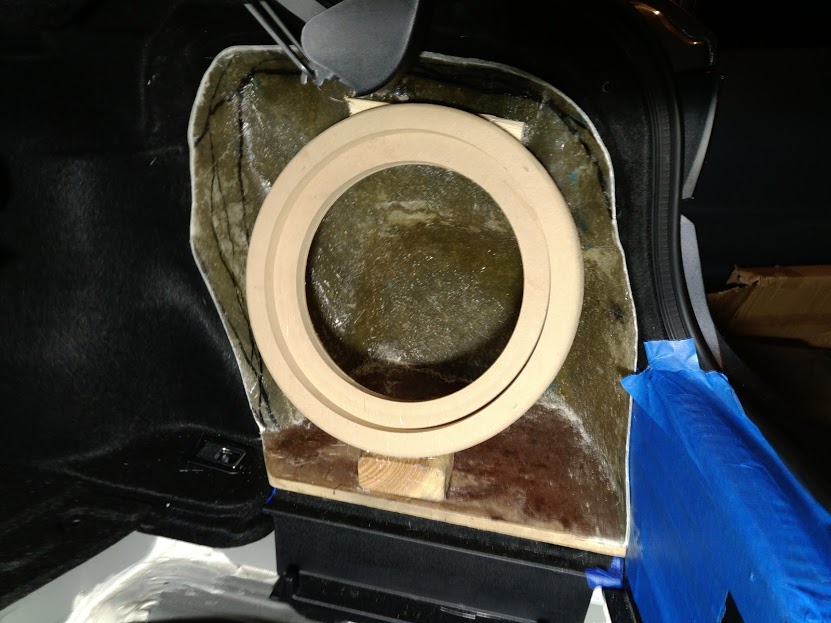 will start glassing the front of the enclosure in the next week or two when i find some time
7-10-2016
time to glass the front of the enclosure
laid some trunk lining carpet to start the shape. Spray adhesive it into place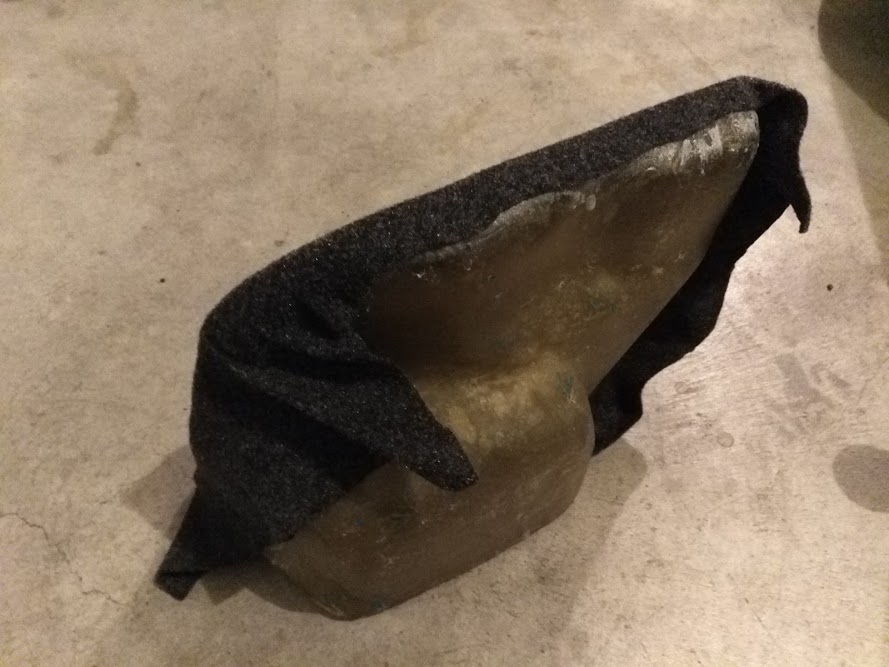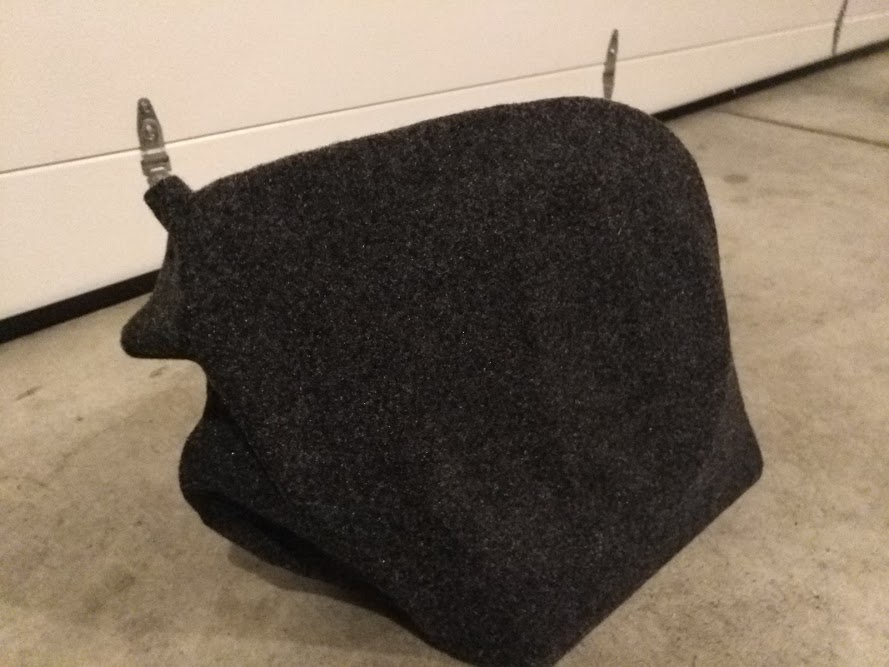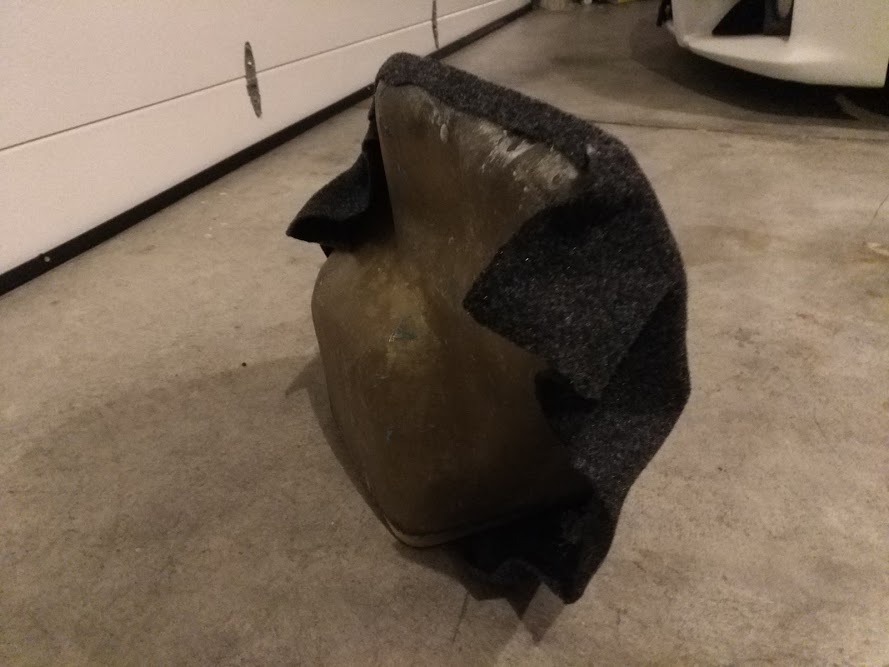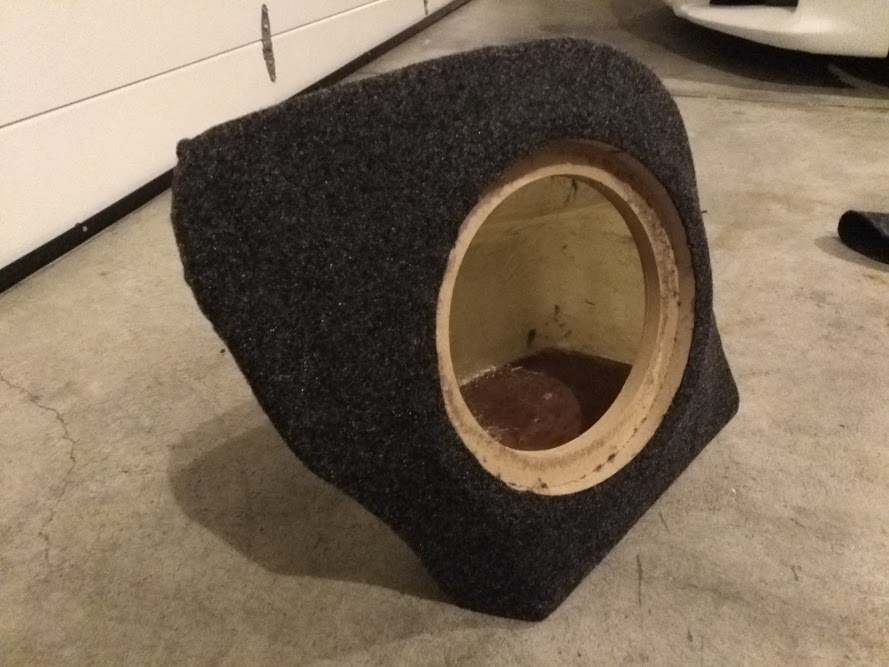 laying the resin on now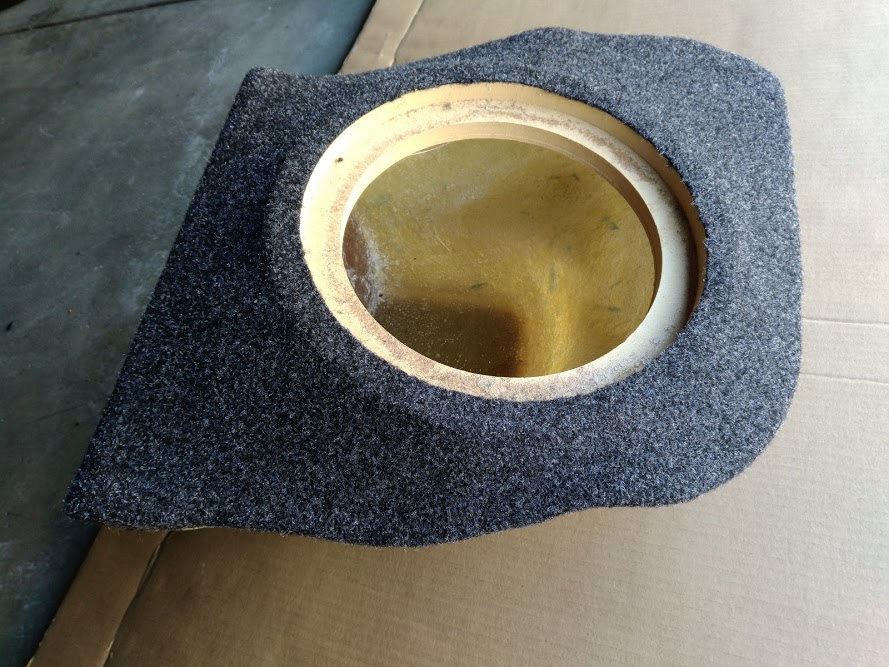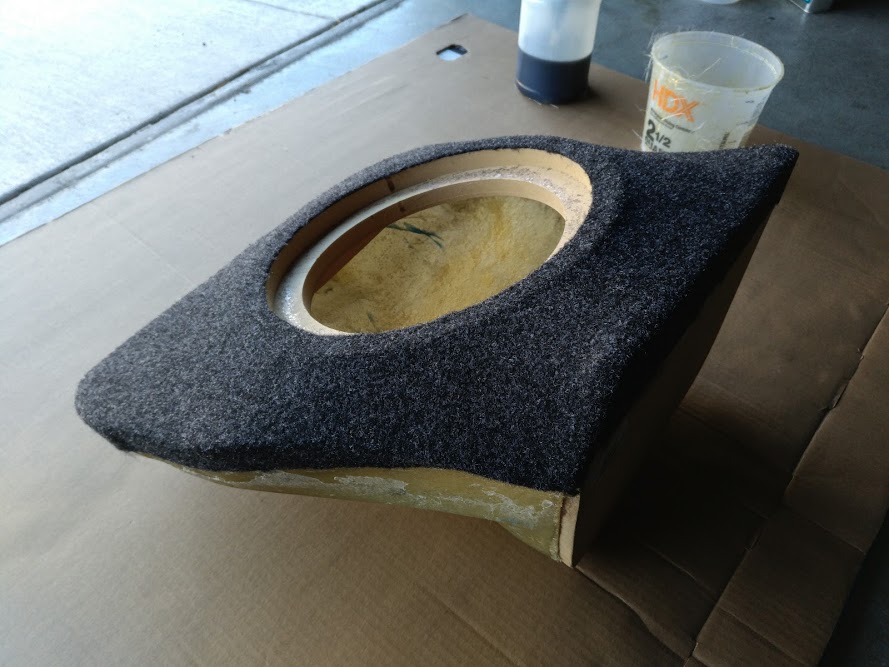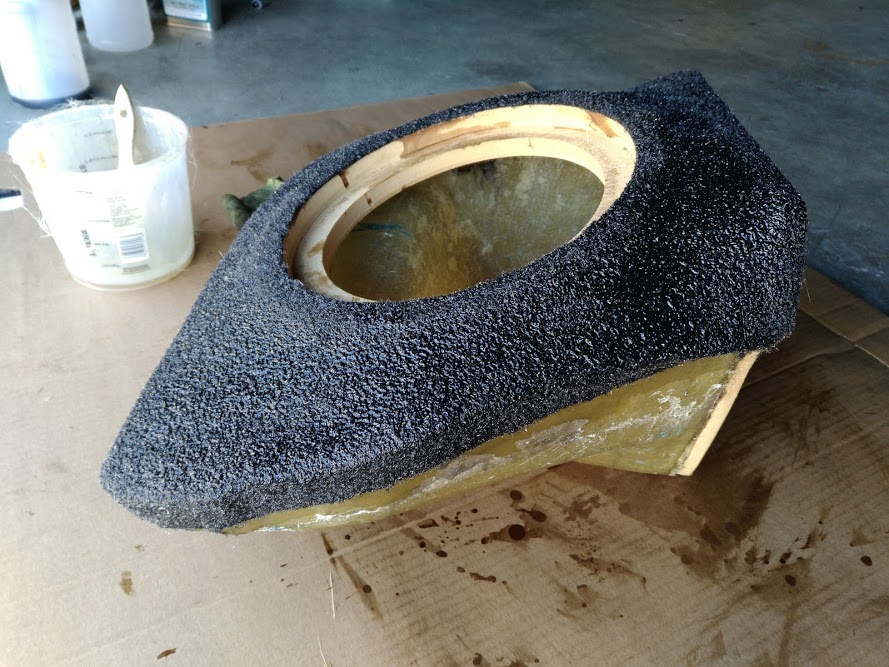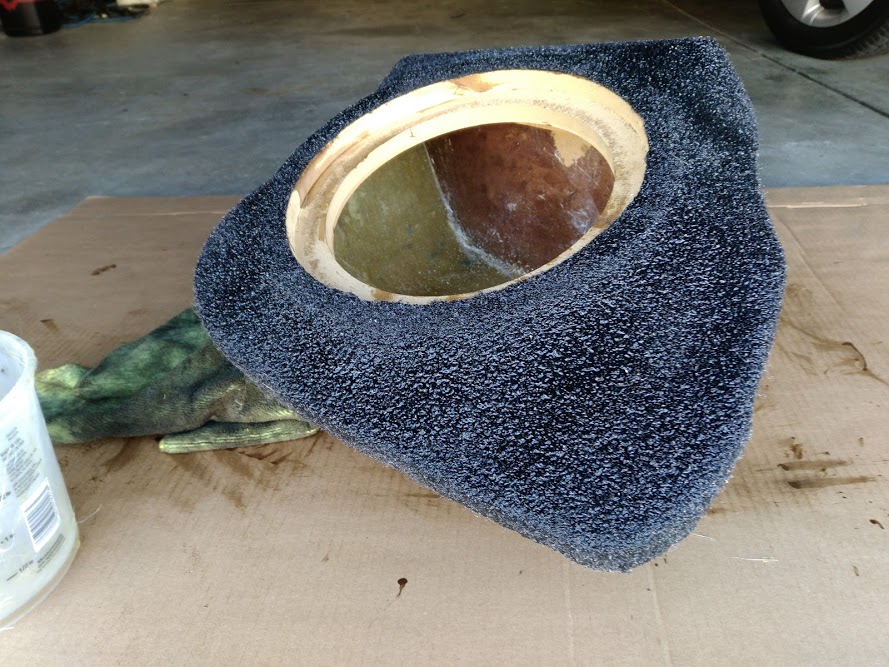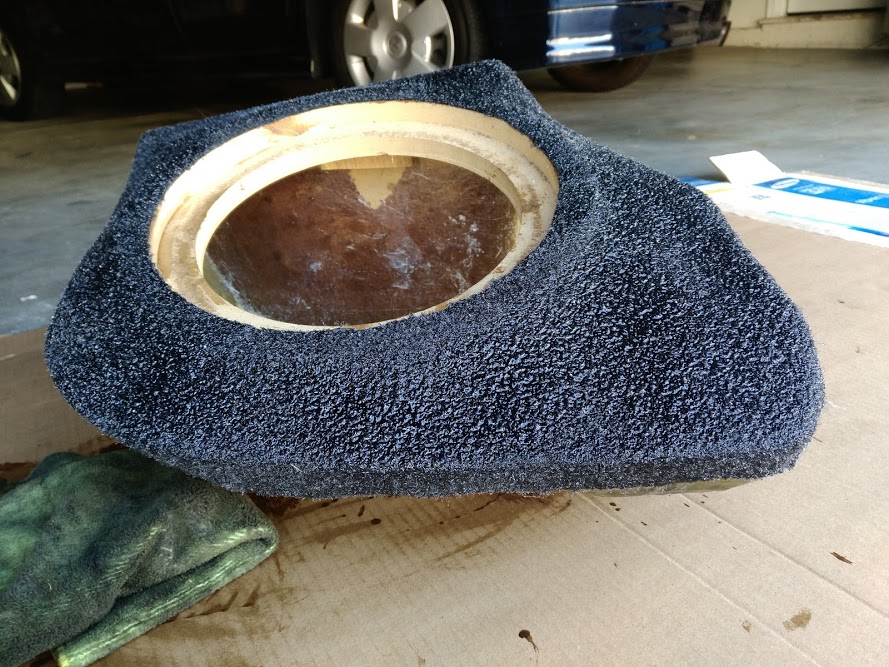 out in the sun to dry.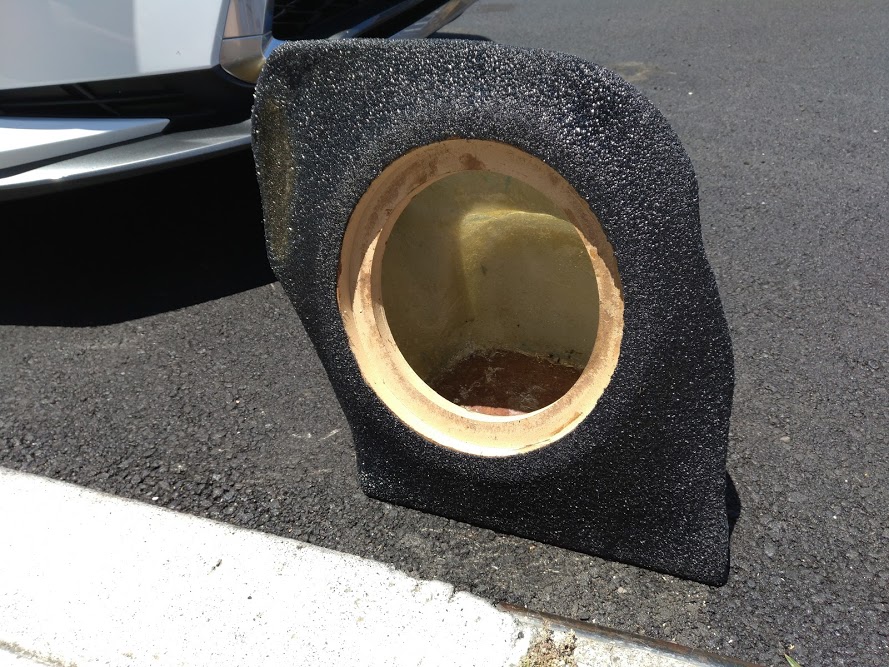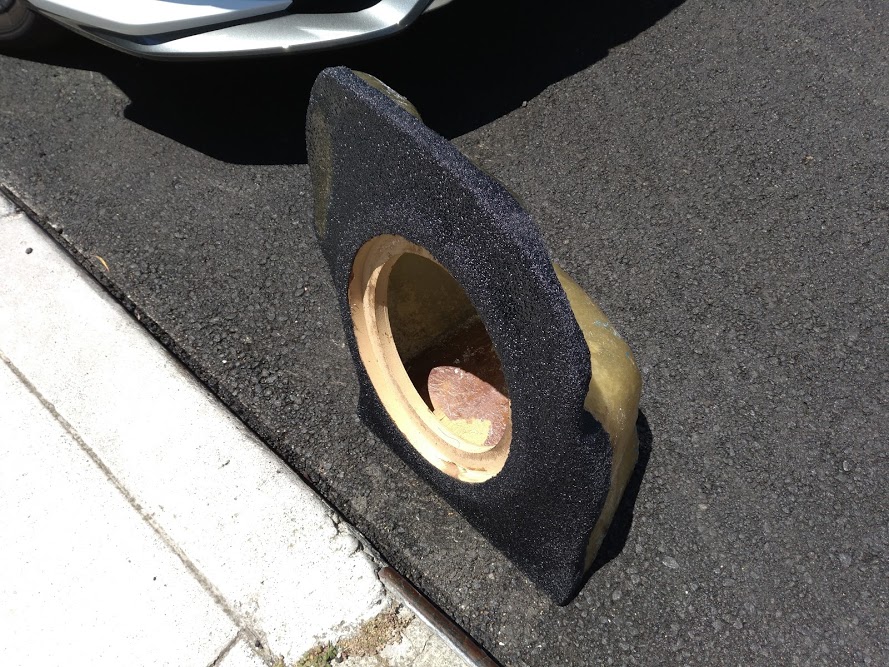 Had to lay some fiber glass cloth on top for strength.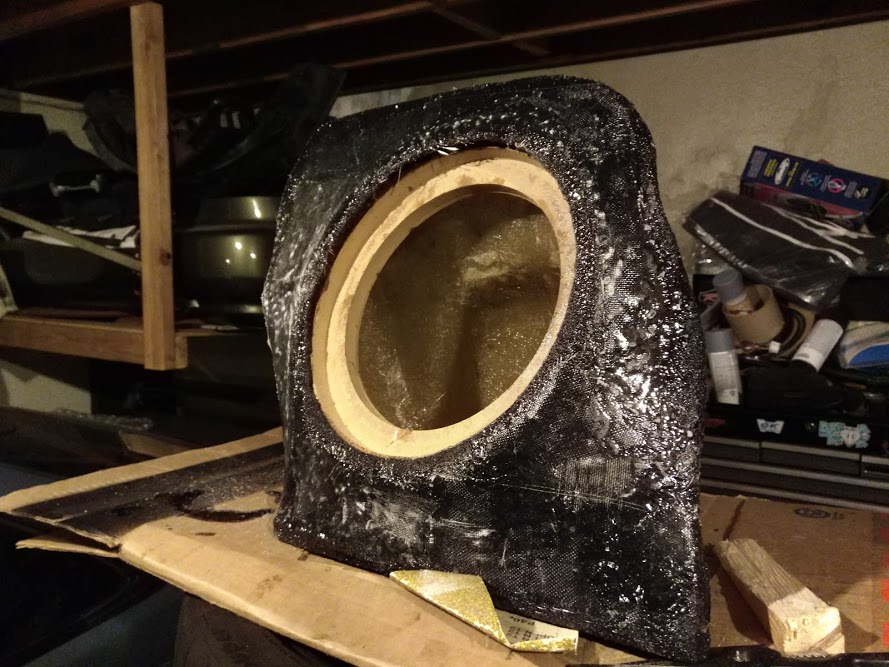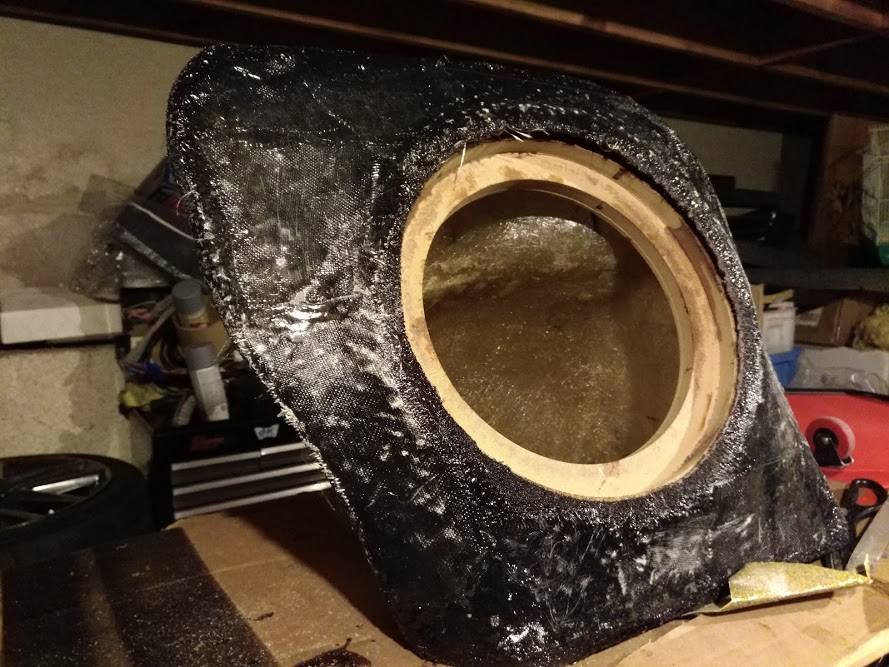 sanded/grinded down the high spots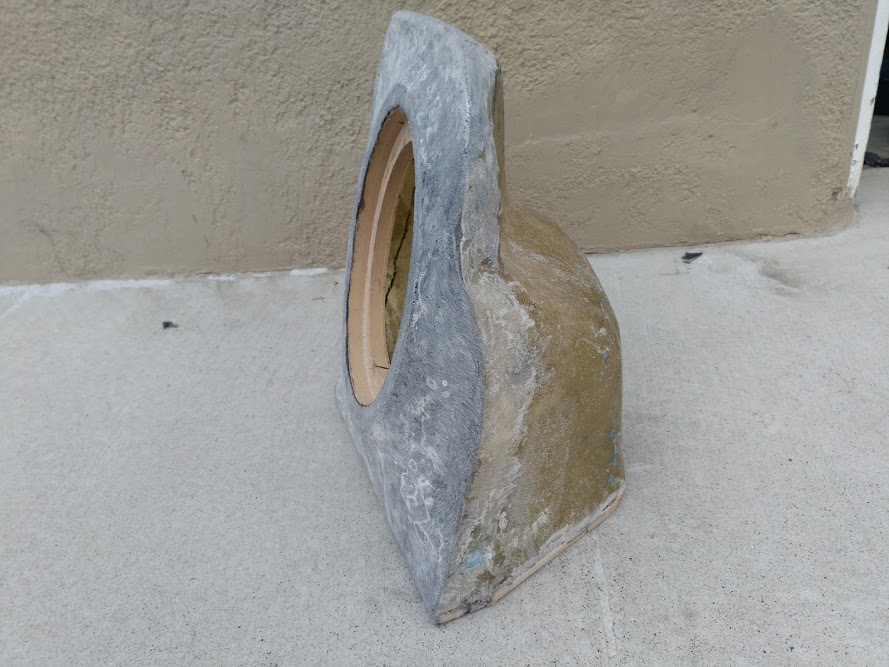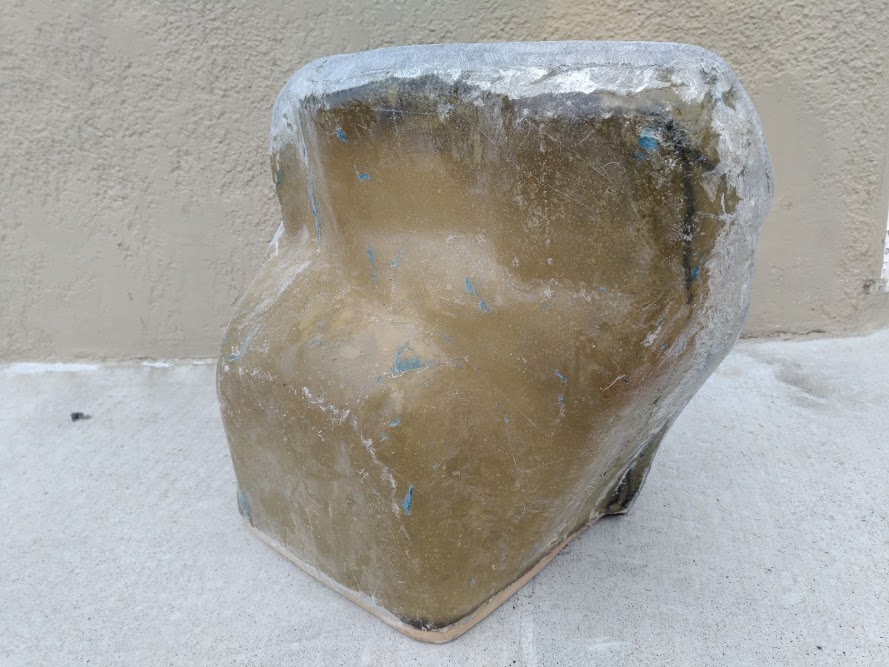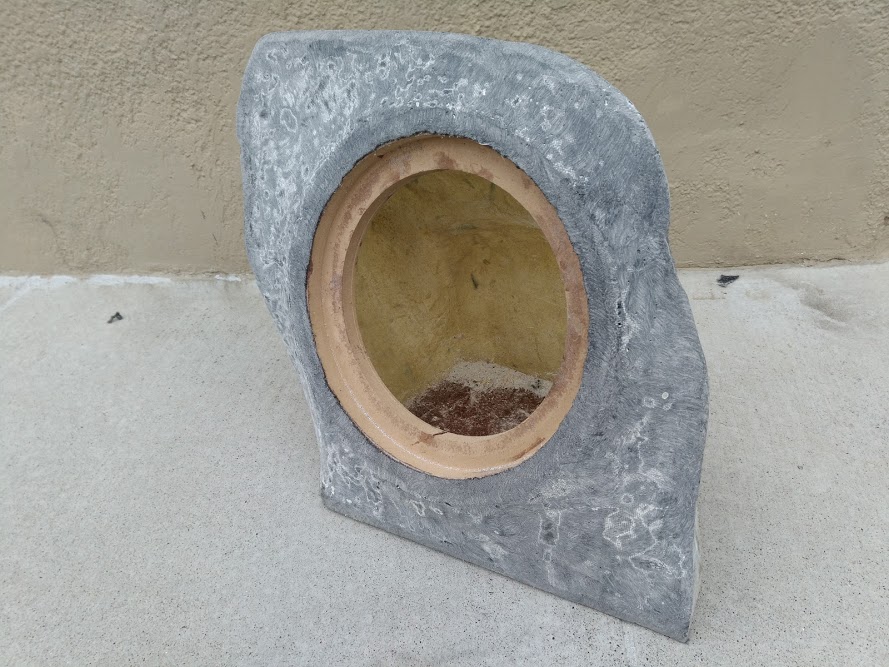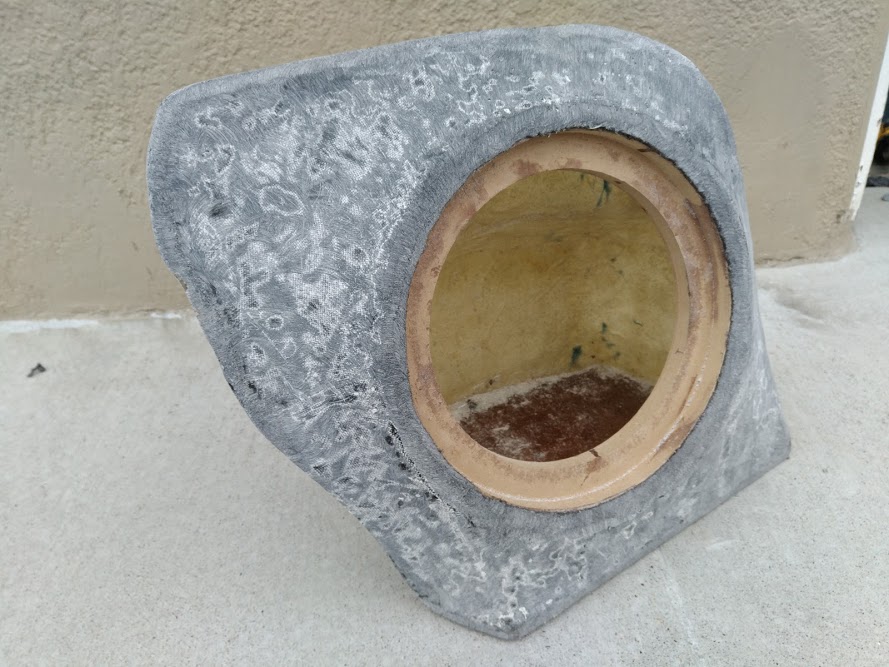 quick test fit in the car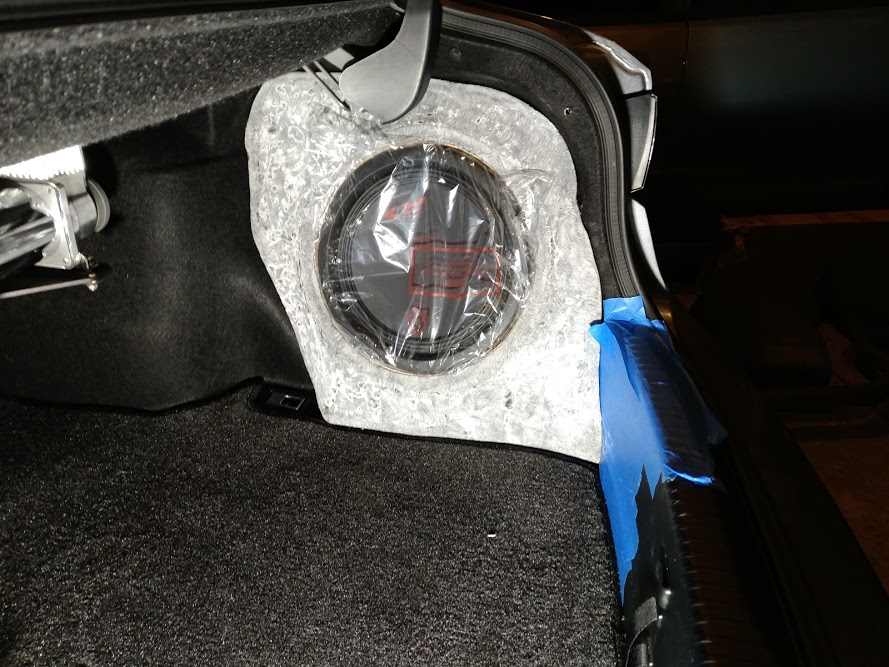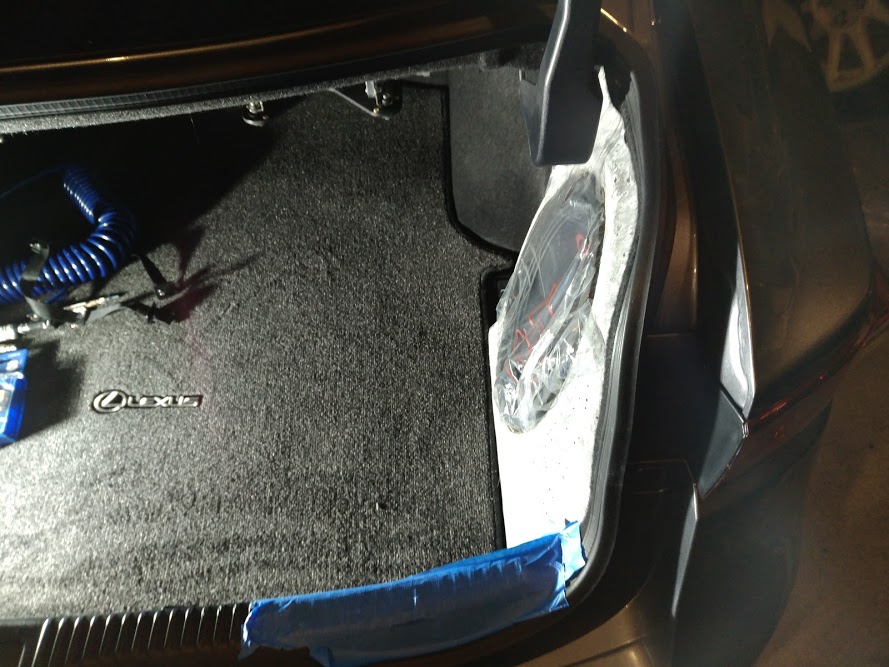 now to body filler it to smooth some of the valleys on the front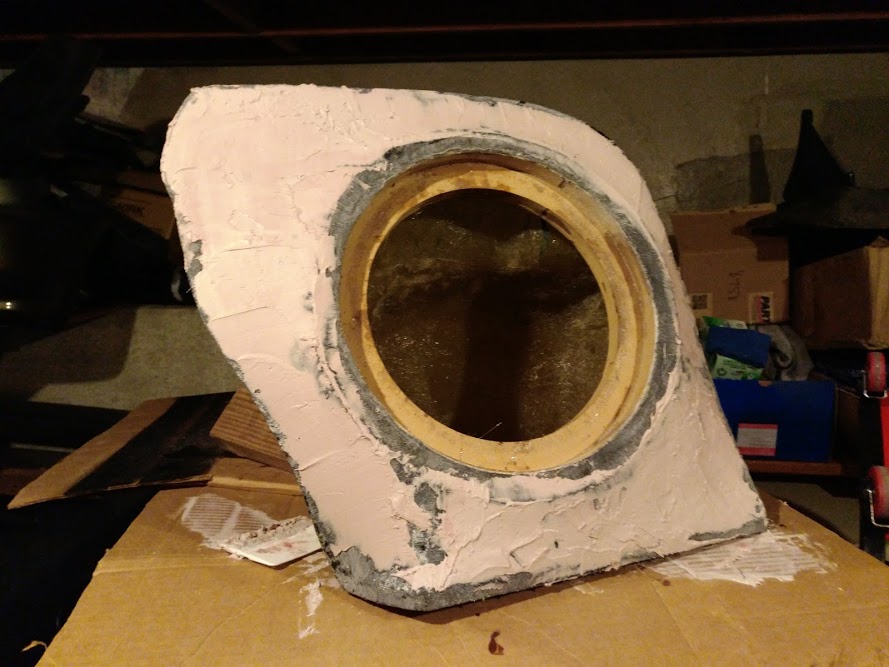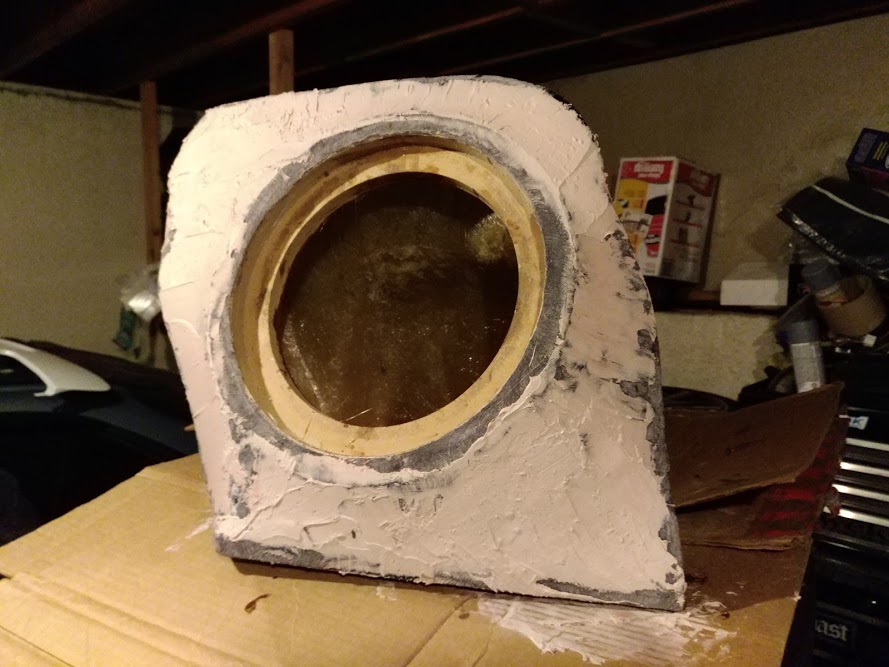 sanding is a mess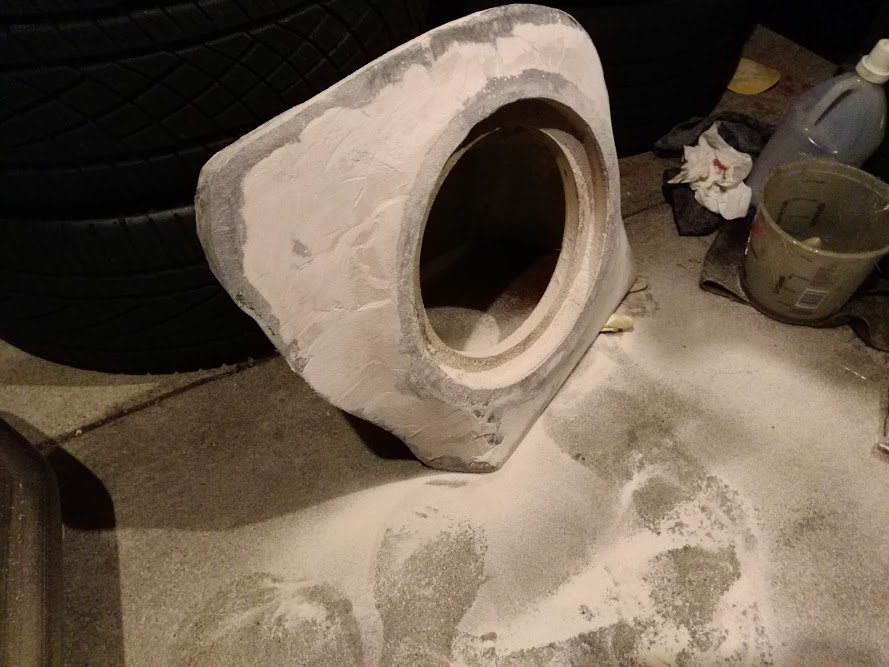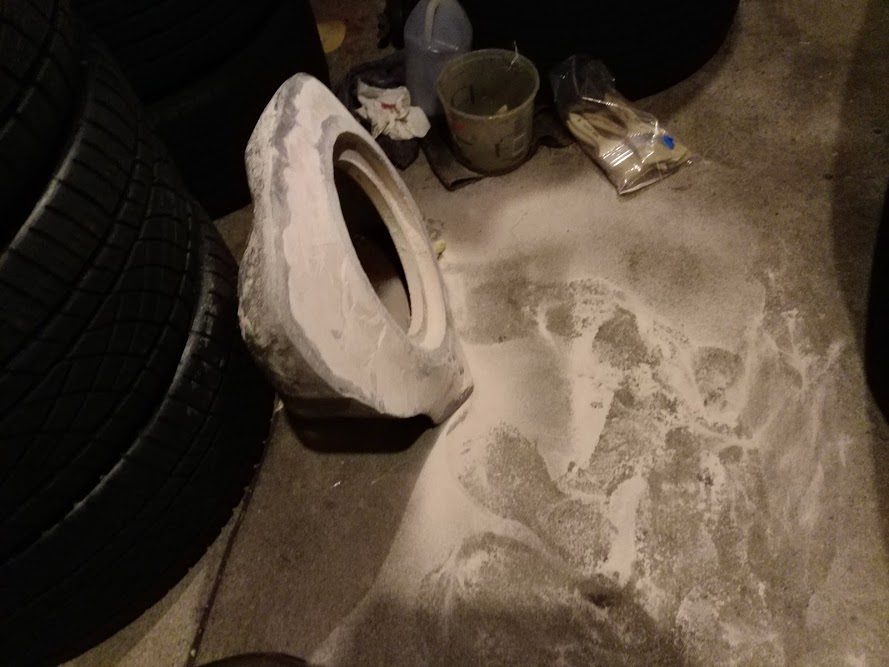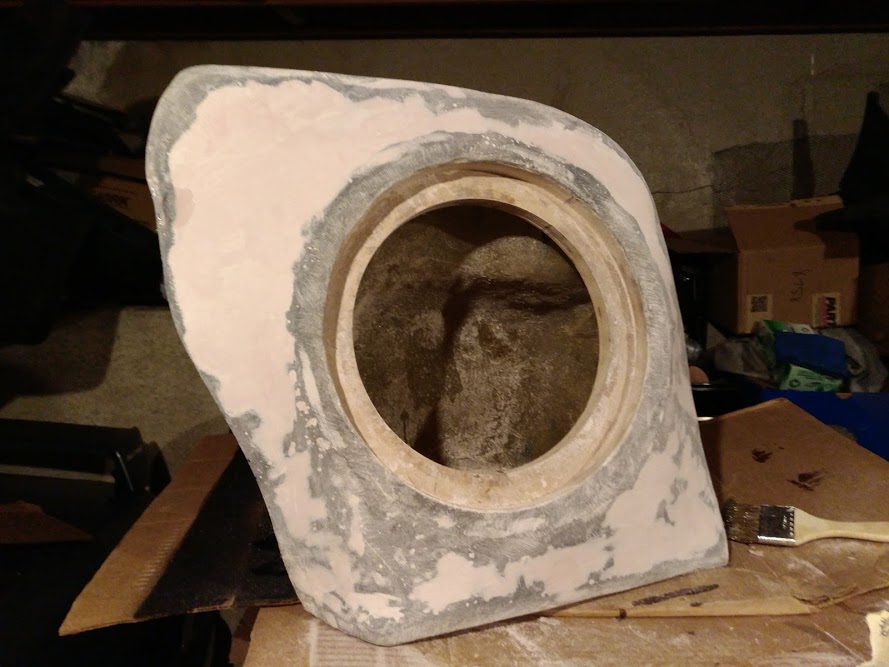 test fit in the car, I think its ready to wrap in black carpet which i will do soon.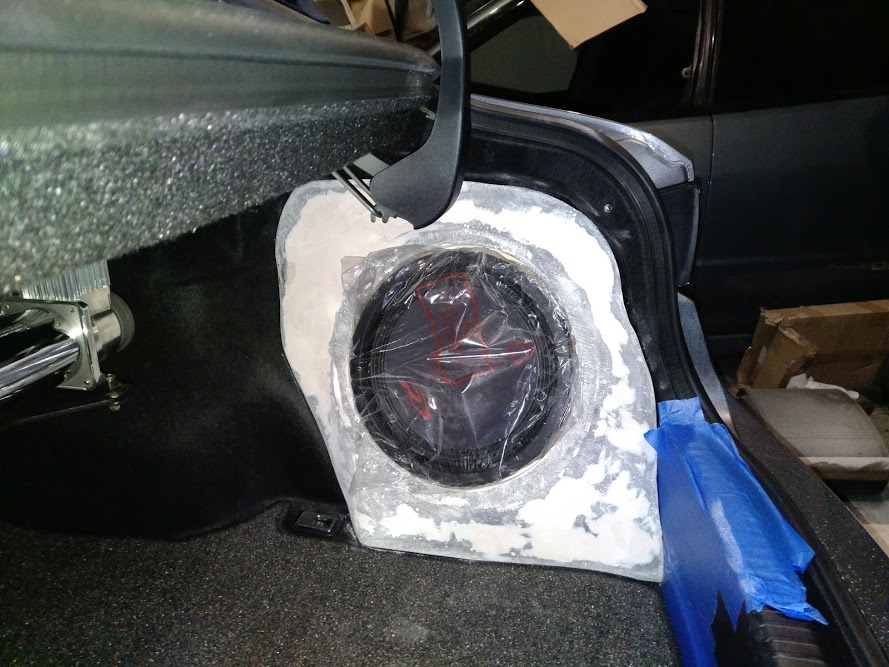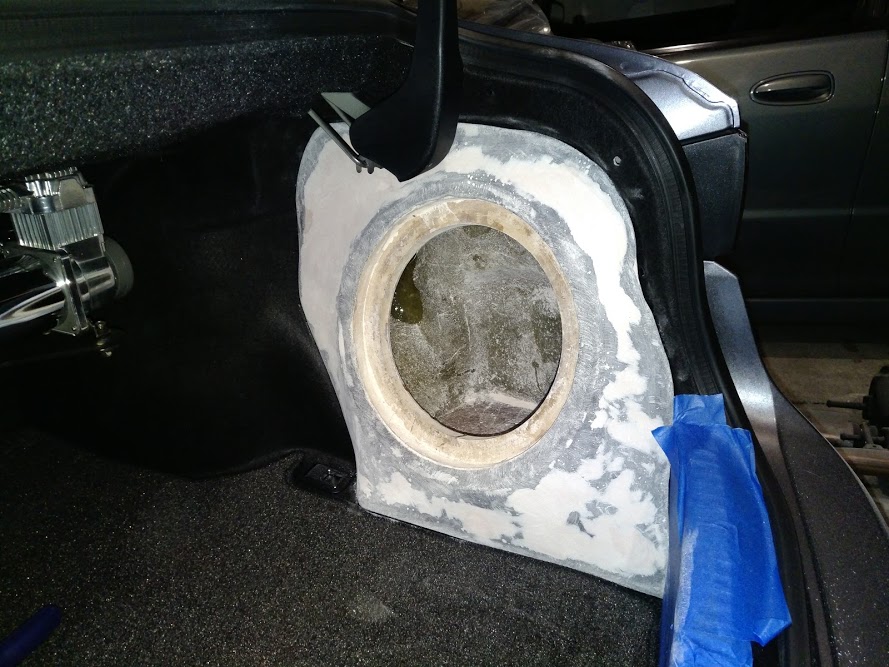 7-12-2016
Finally all done with enclosure.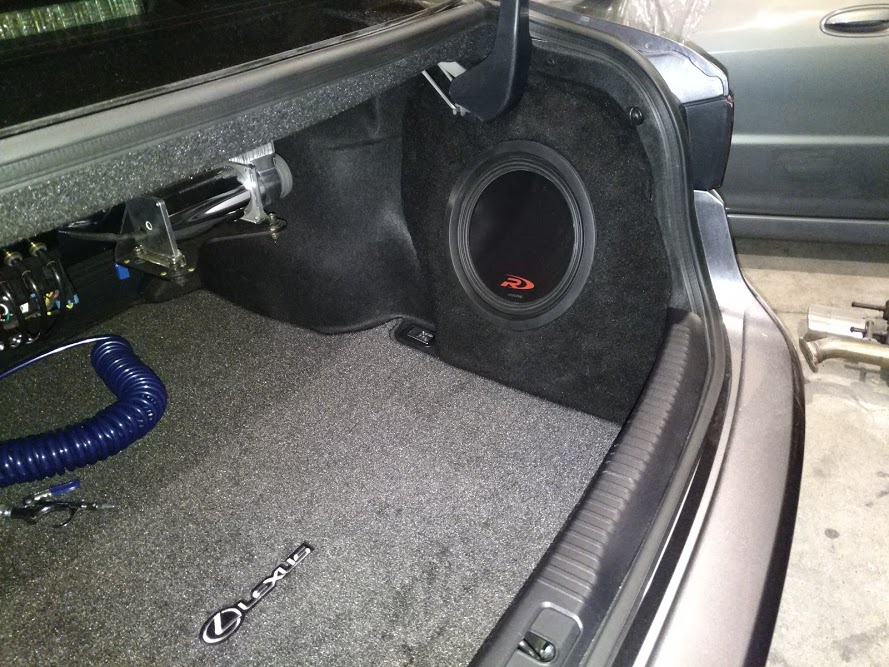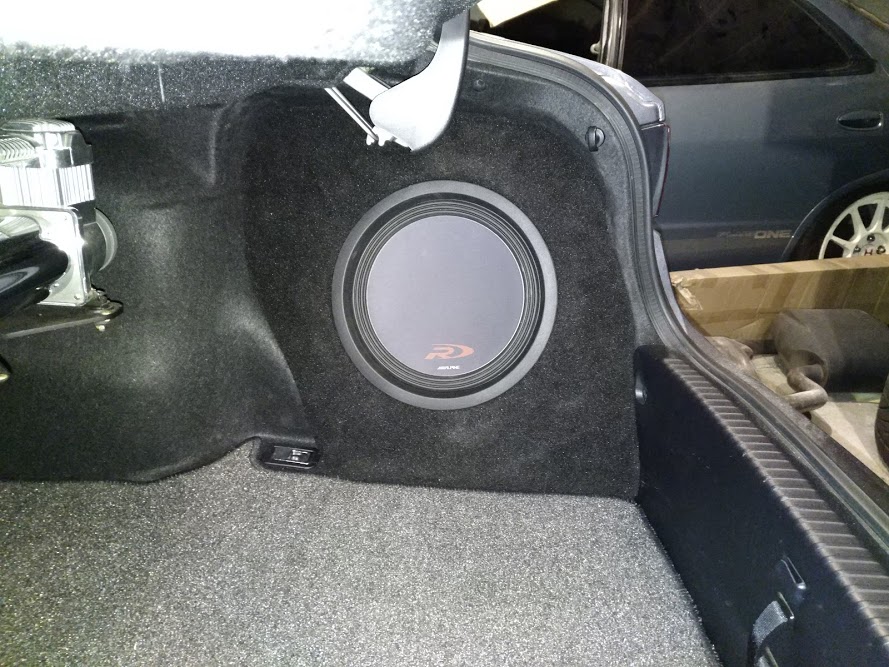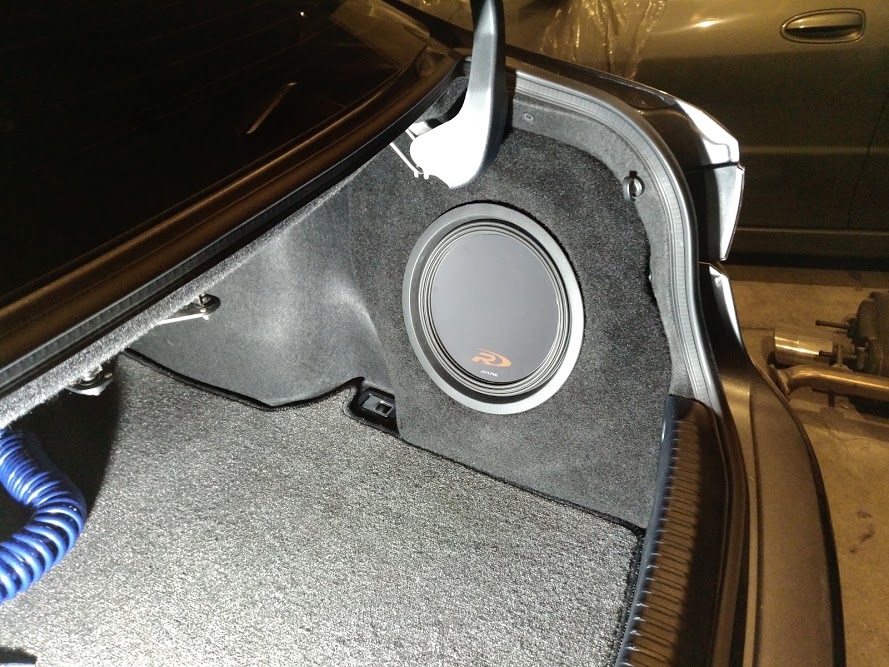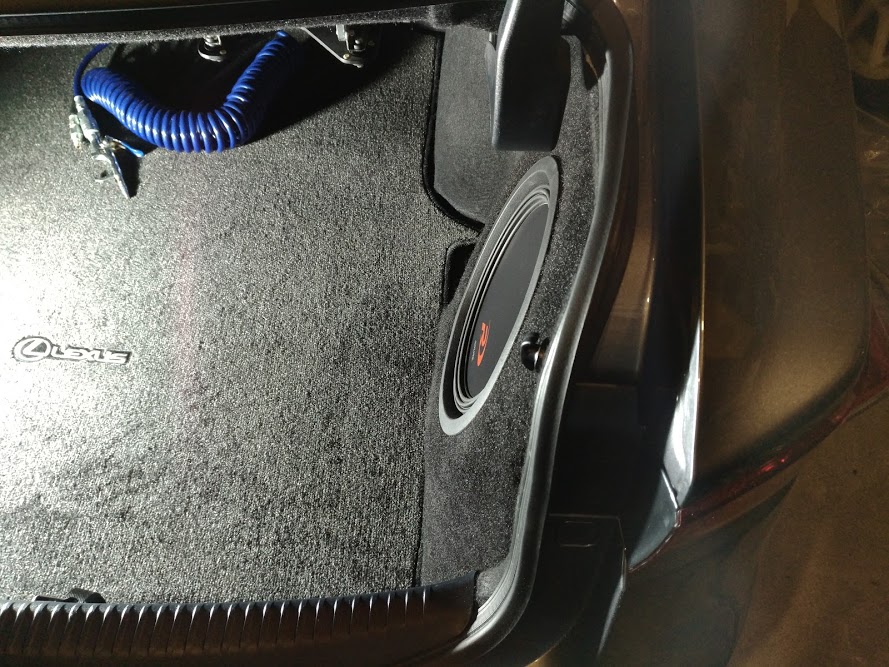 Now to make some time to get the amplifier tucked away.........
8-21-2016
*yawn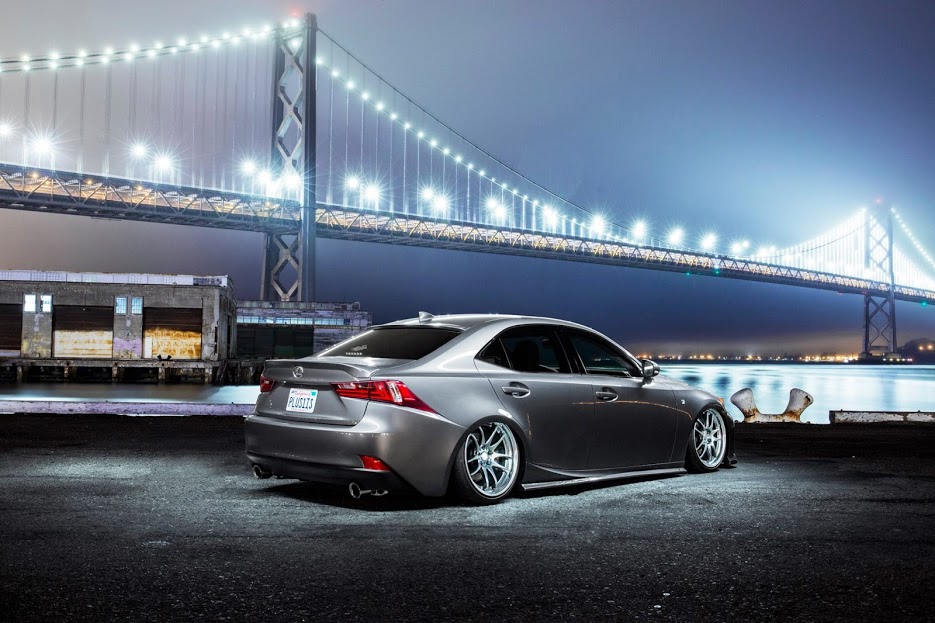 9-5-2016
New Mod, sorta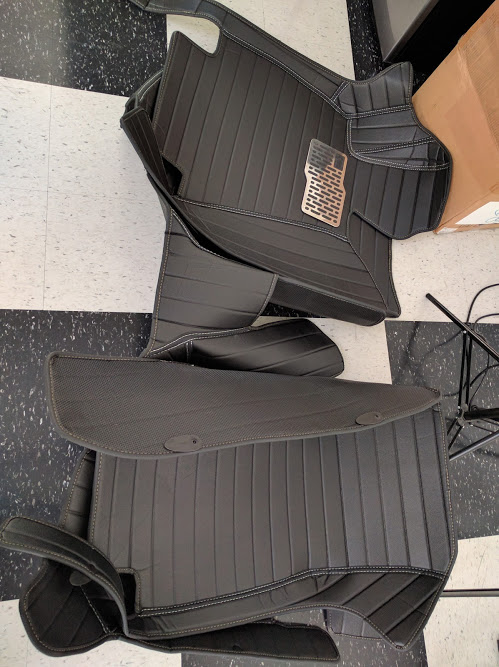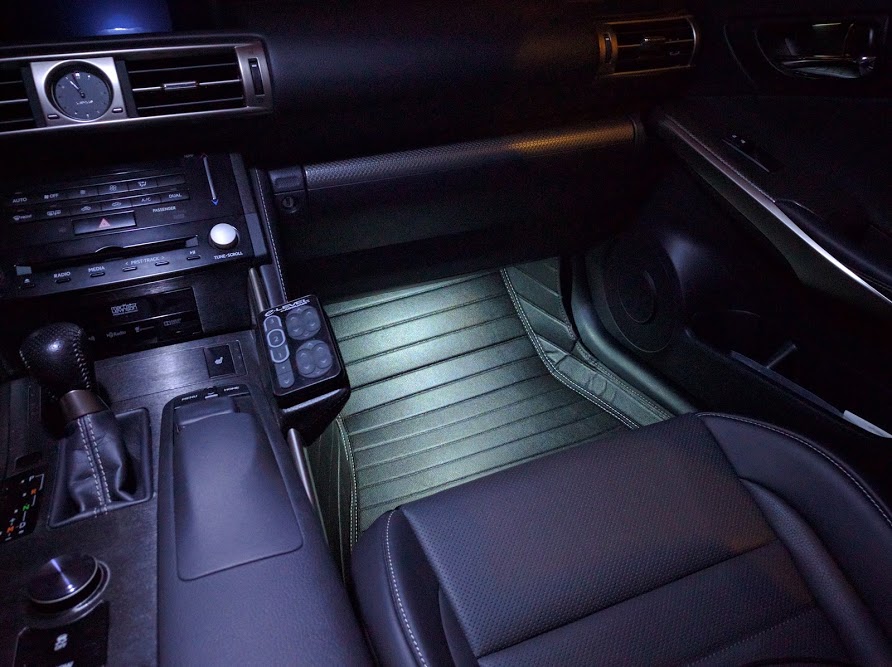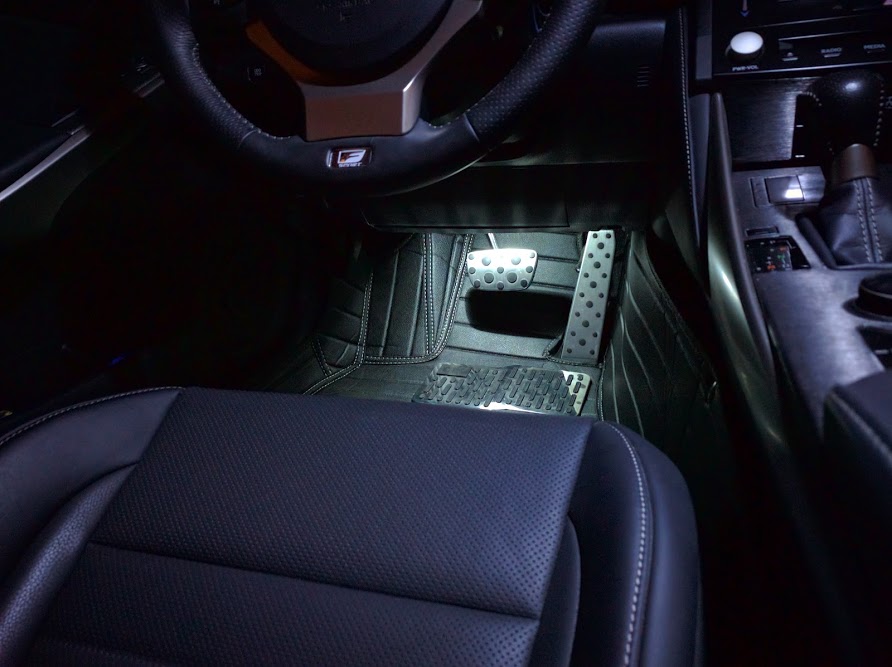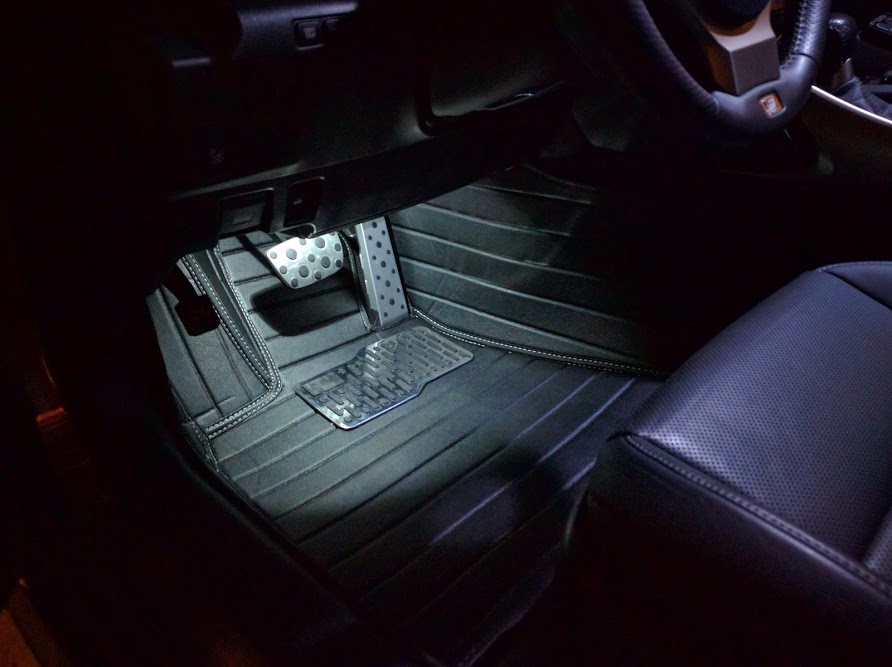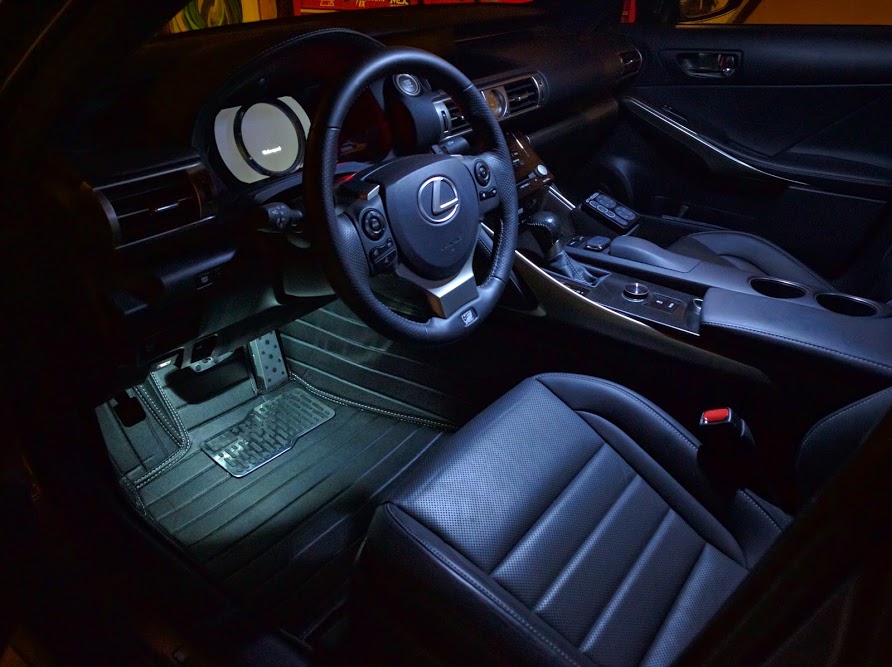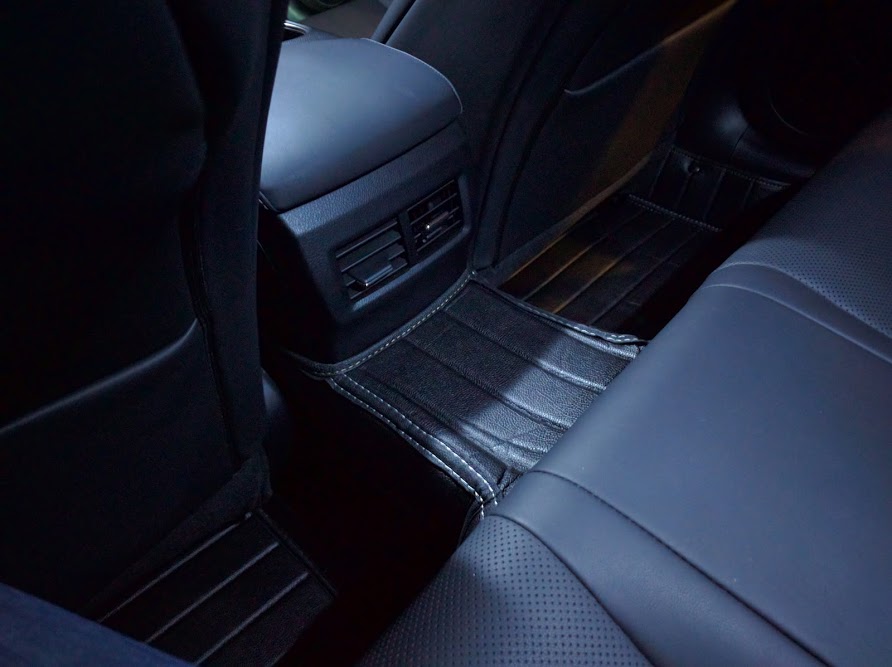 Need to probably run a heatgun on some of the creases from package shipping or throw it out in the sun for a couple of hours
9-8-2016
Finally have the amplifier wired up fully.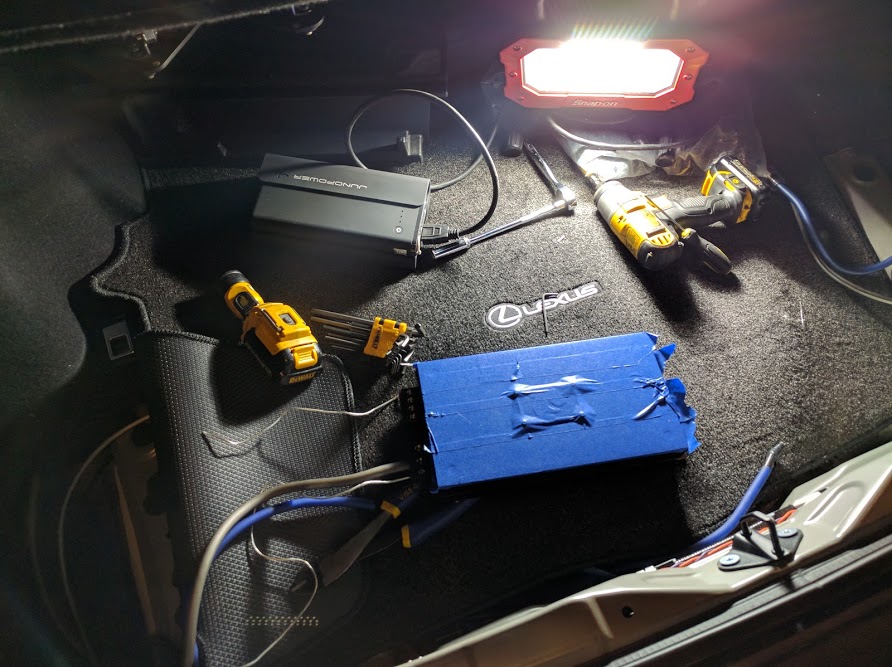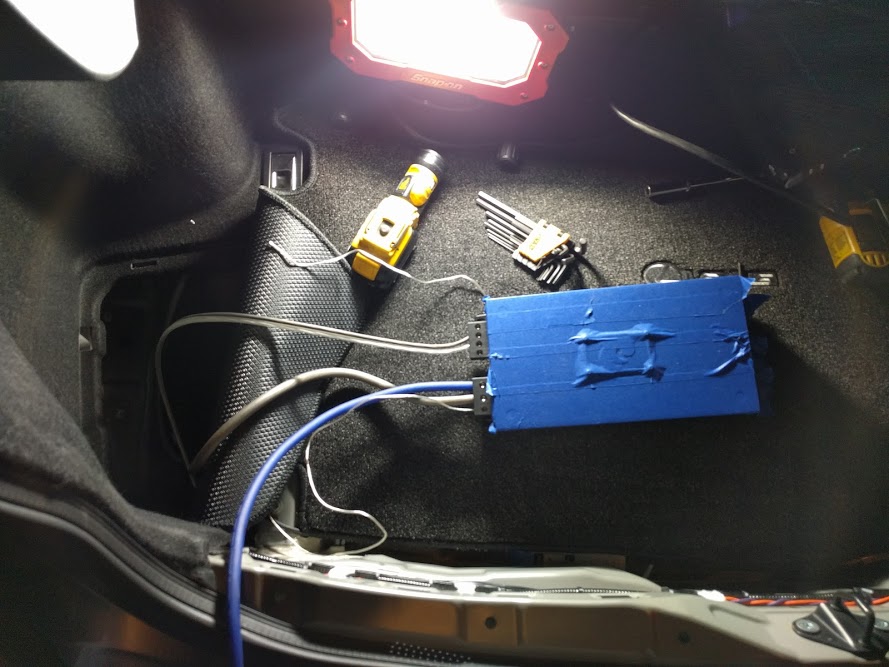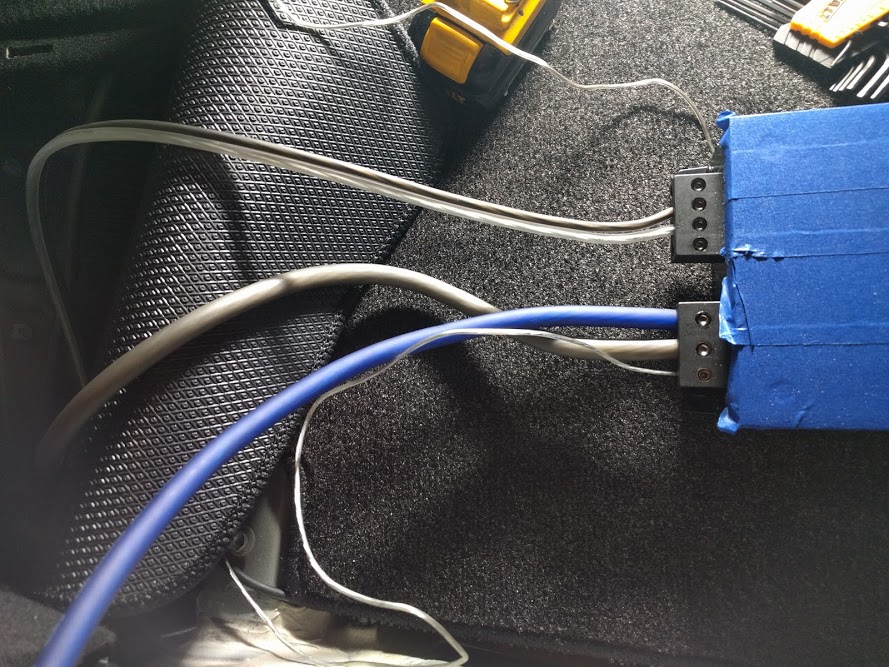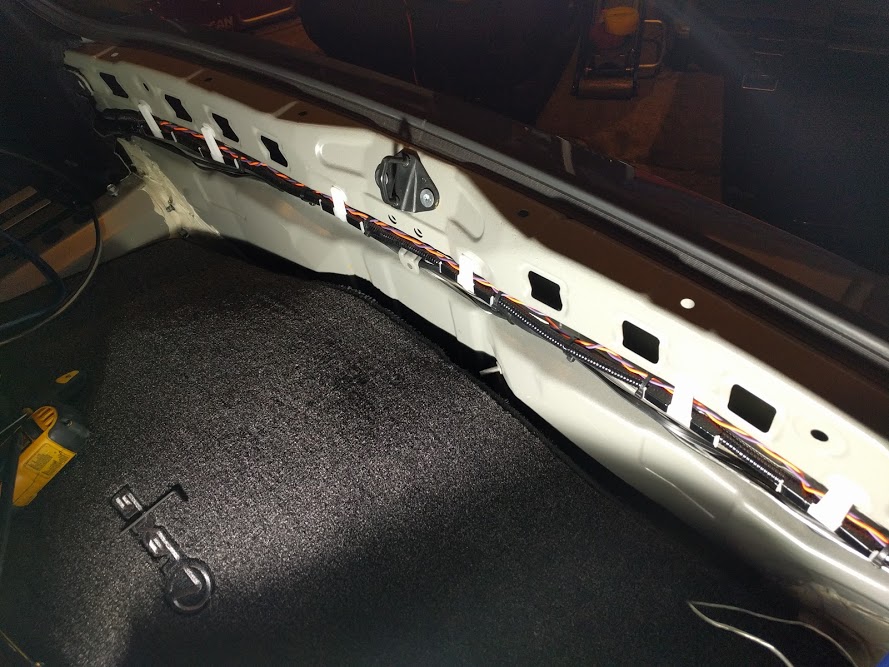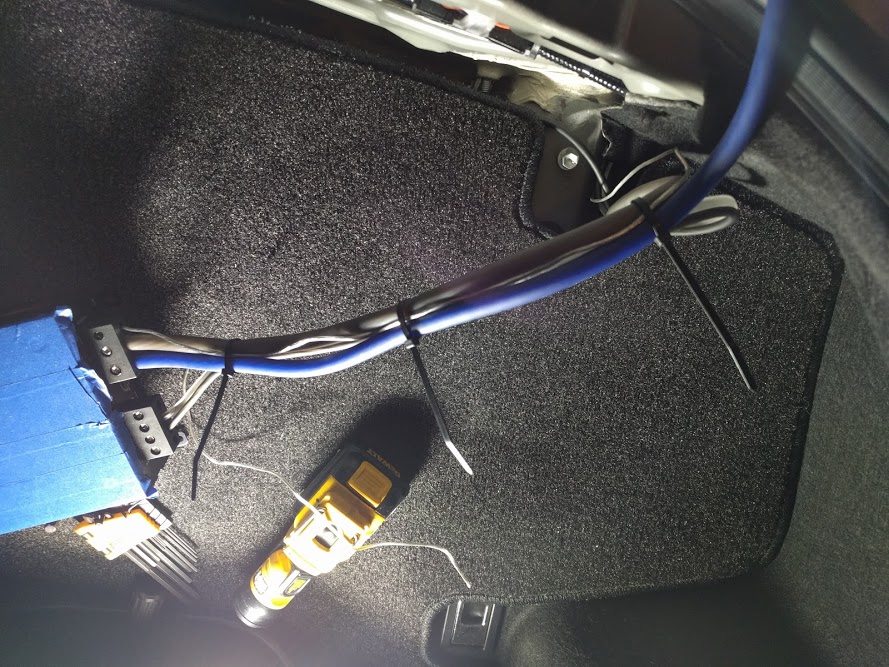 Sounds loud and amazing, need some tuning and then button the install up.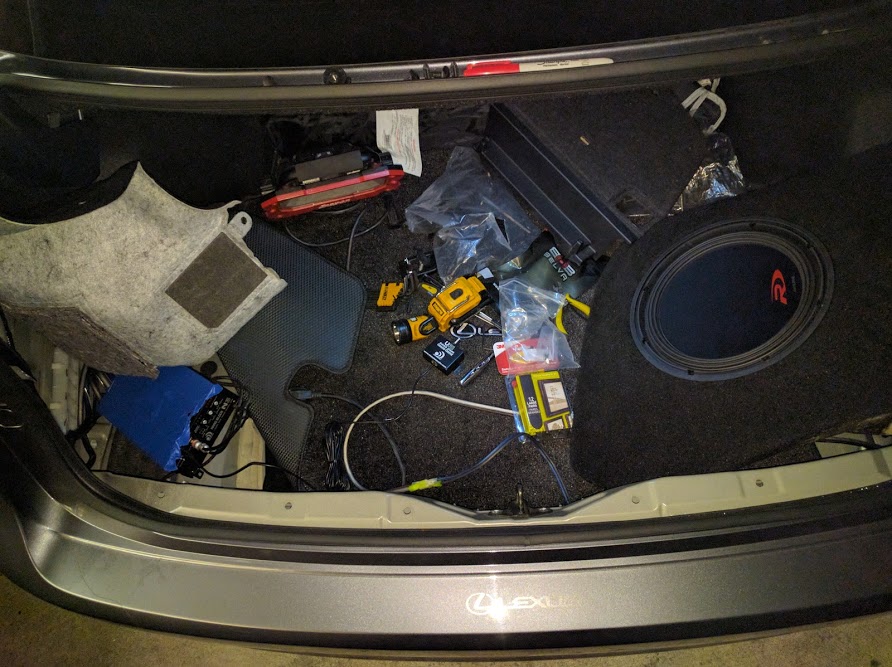 10-31-2016
The mess of a trunk during the process of getting the Amplifier wired up.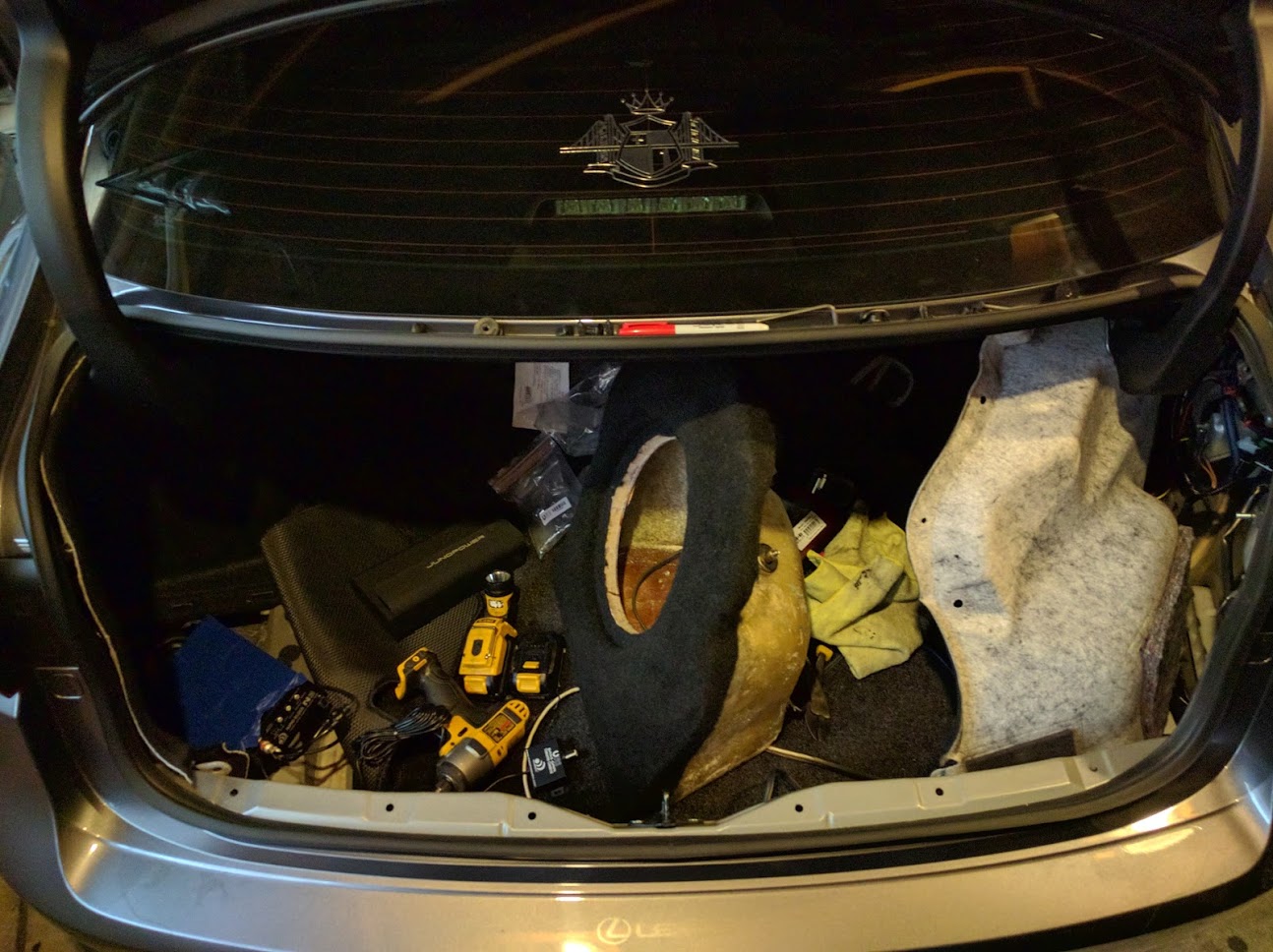 Where/How I mounted the fuse holder to distribute power to the Amplifier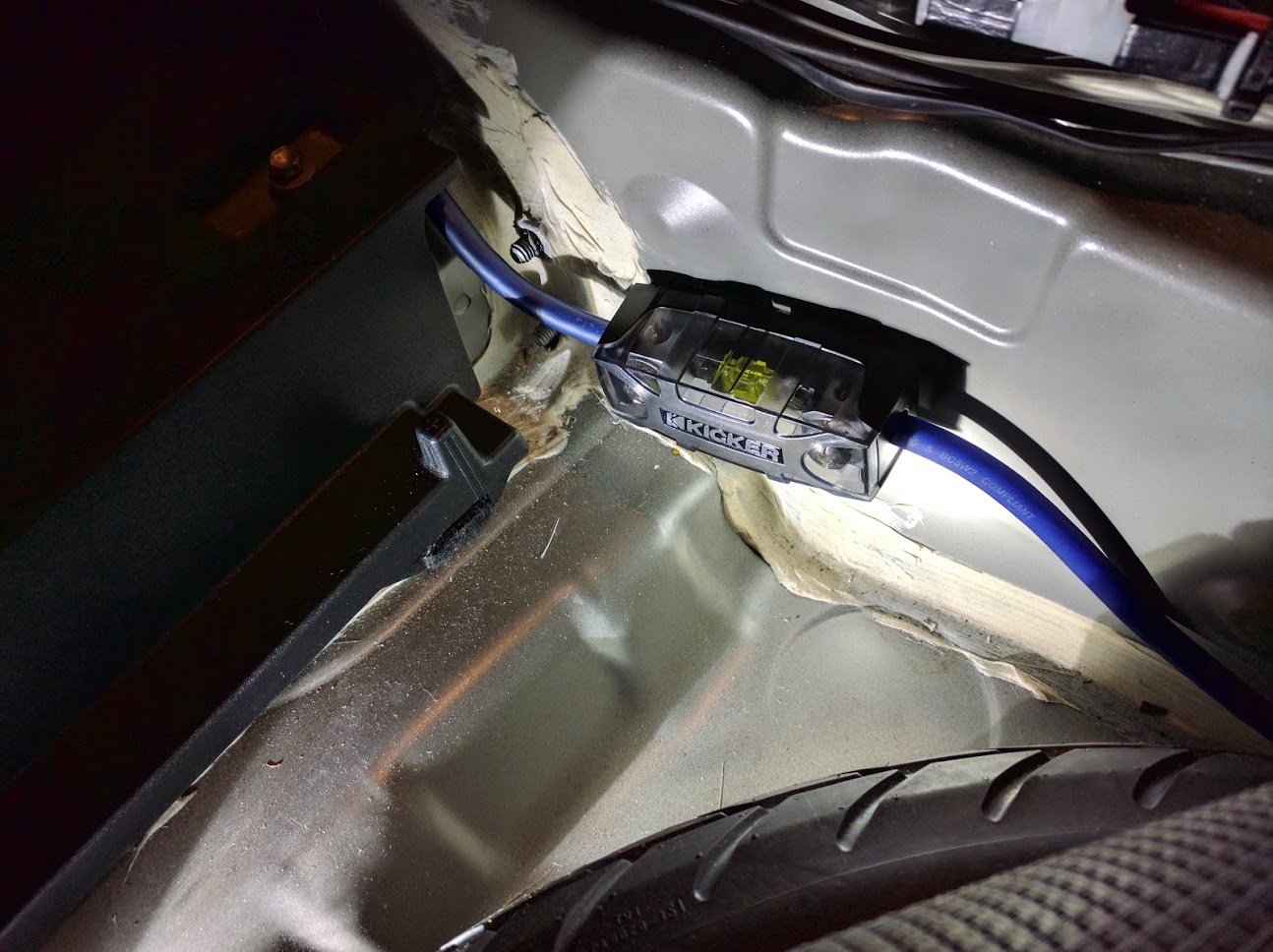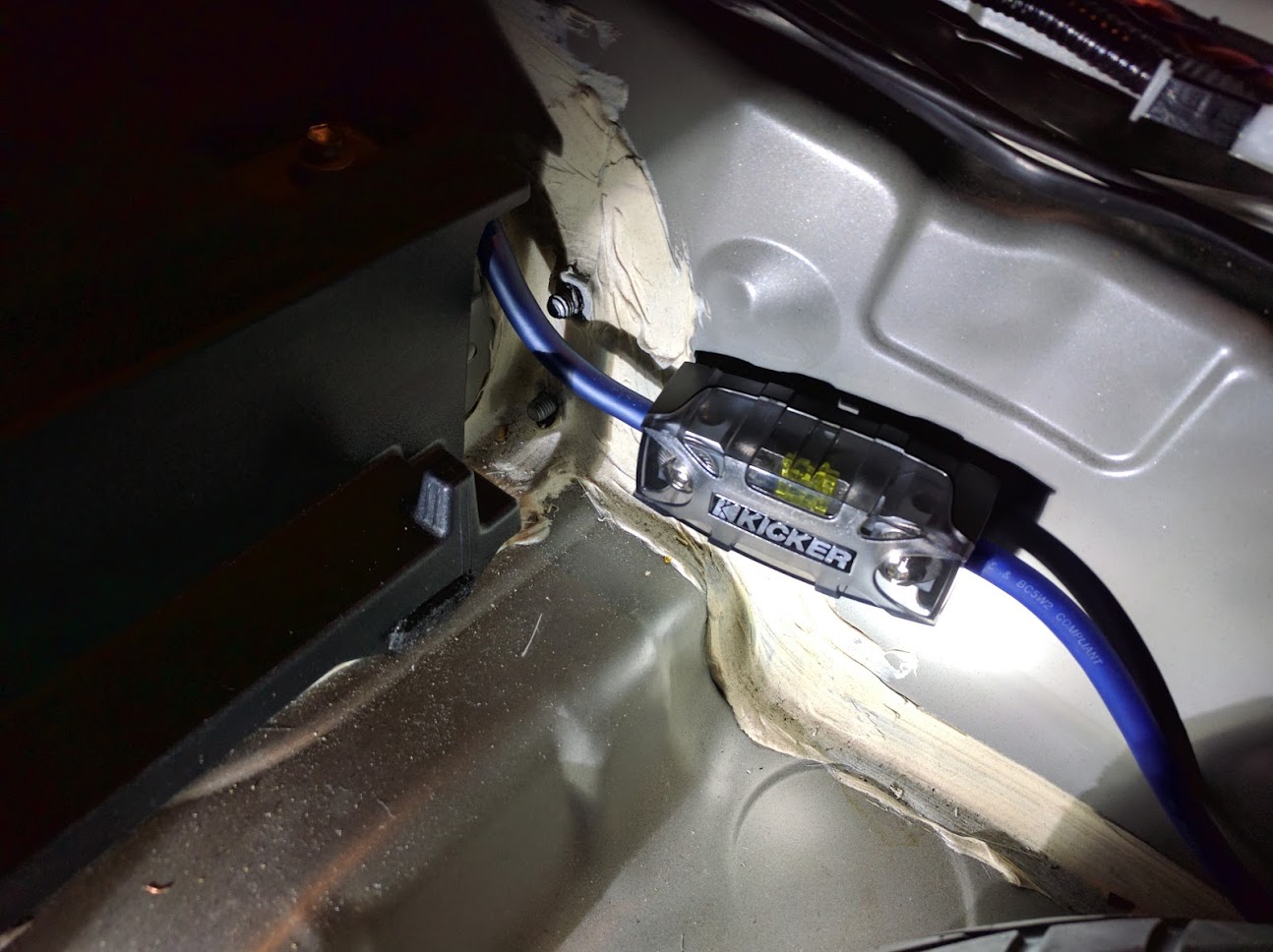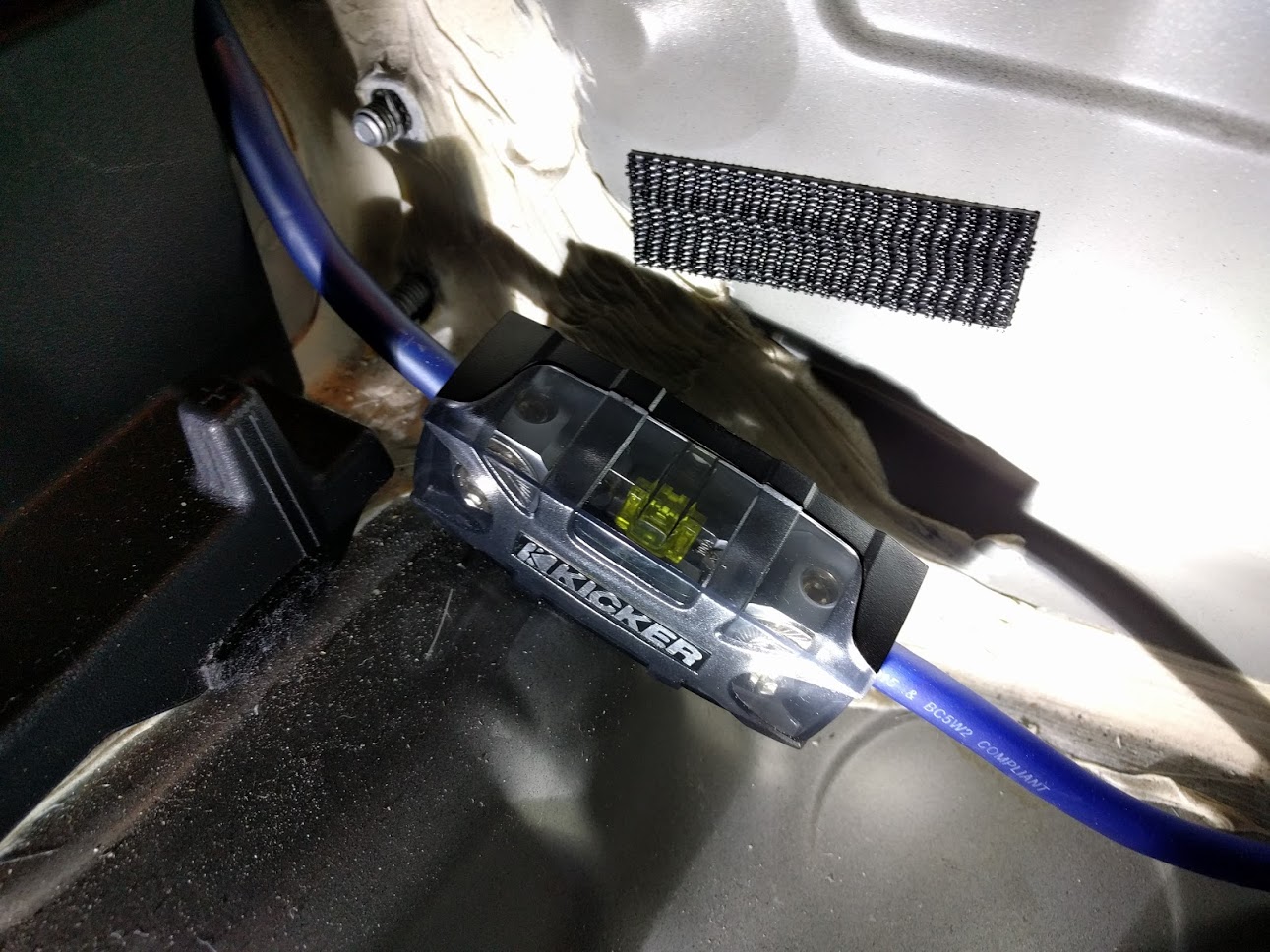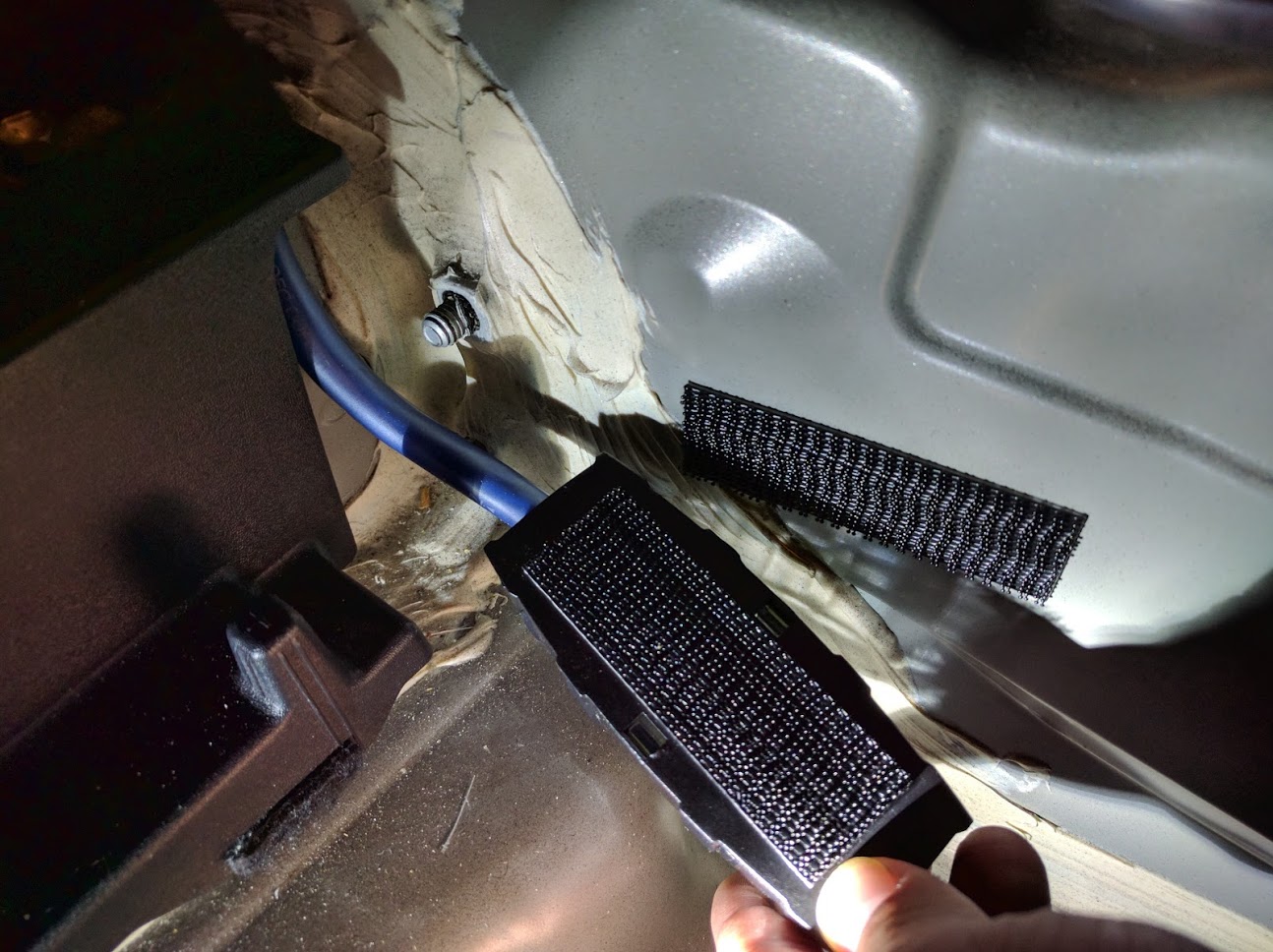 Fuse holder clearing Trunk panels and tool holders back in place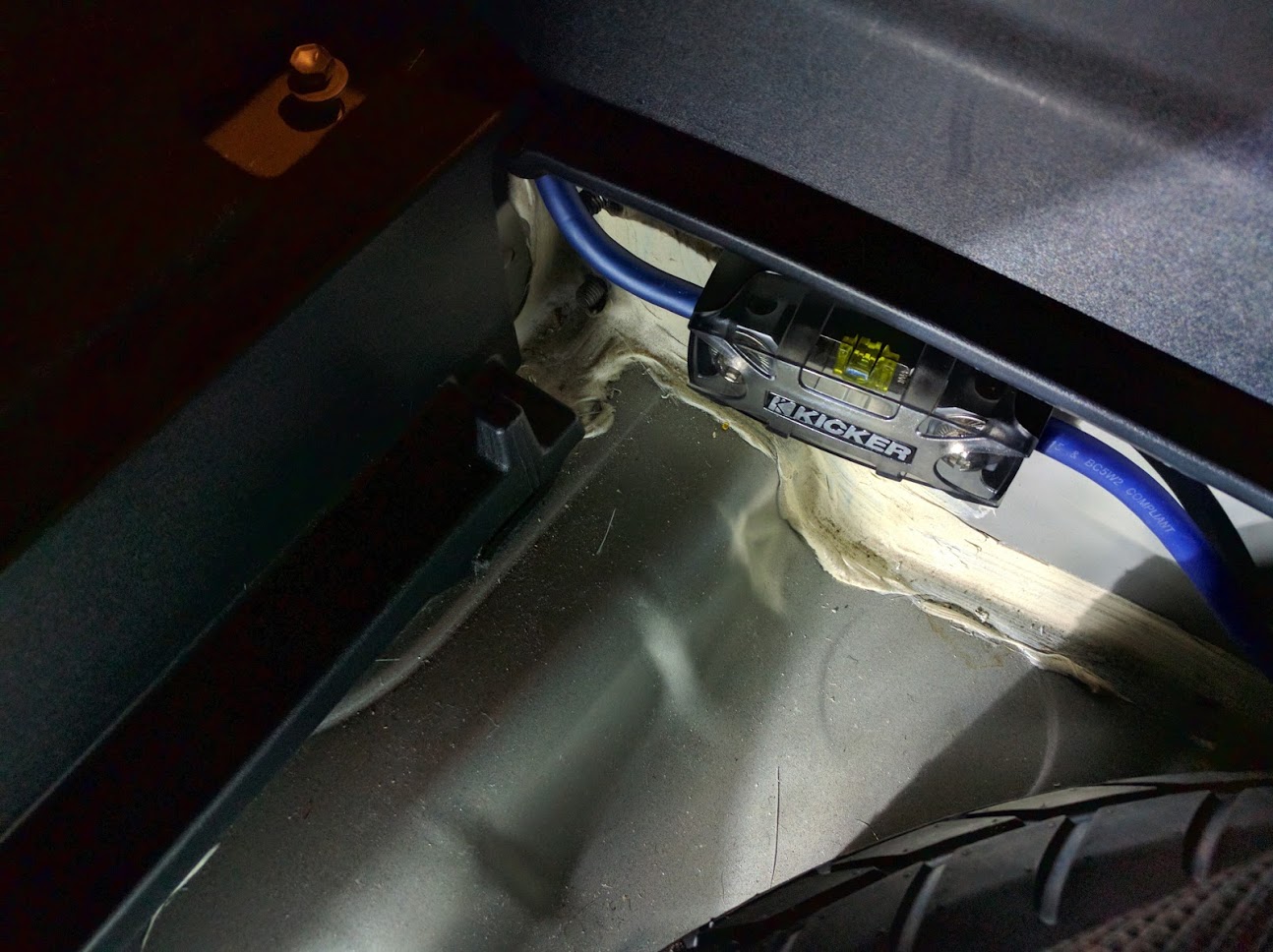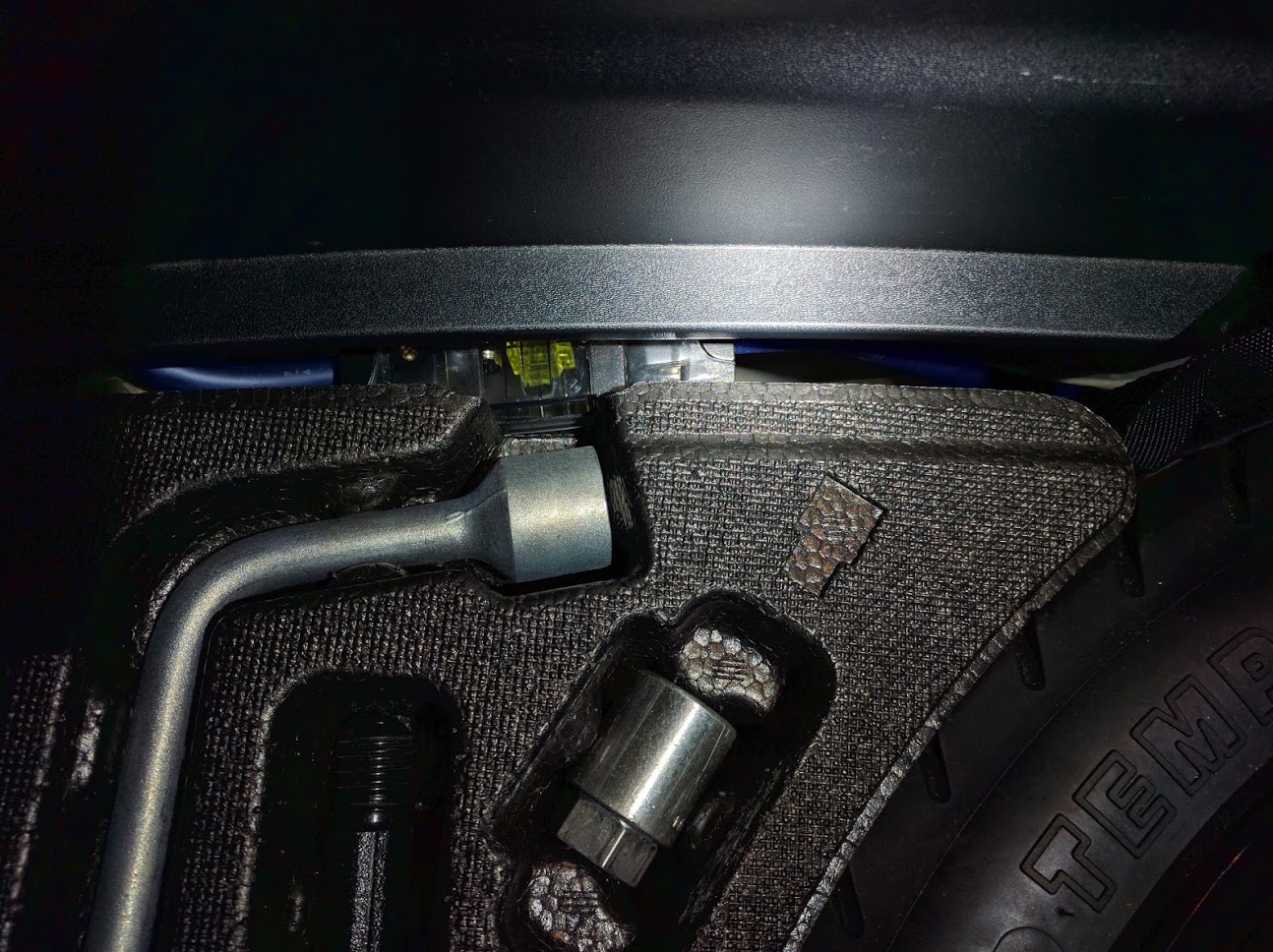 Boom booom =)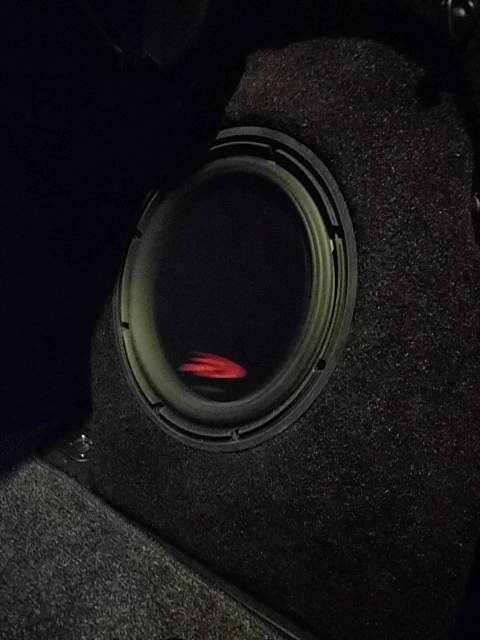 Poly filled the enclosure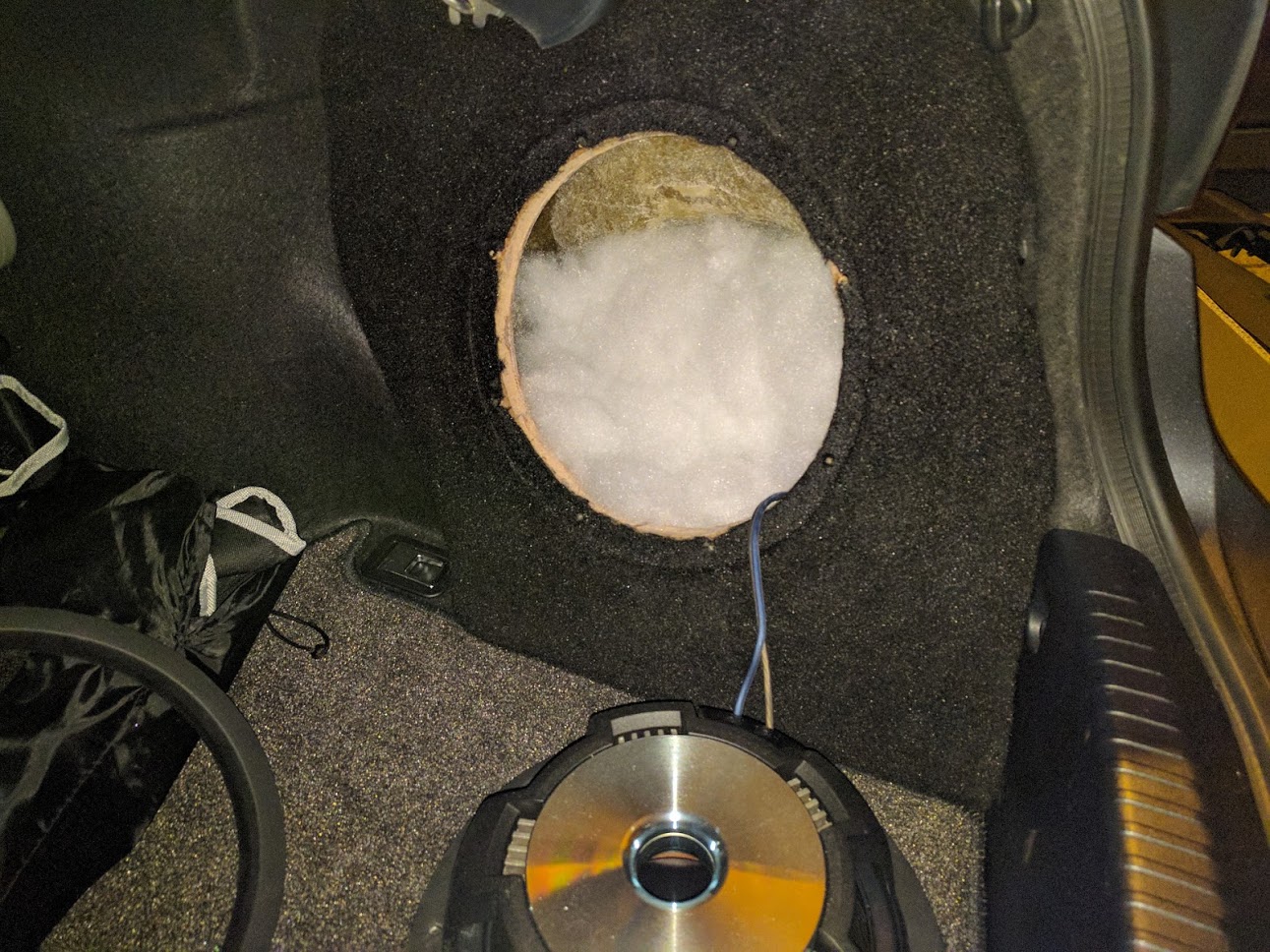 Amplifier mounted securely and tucked away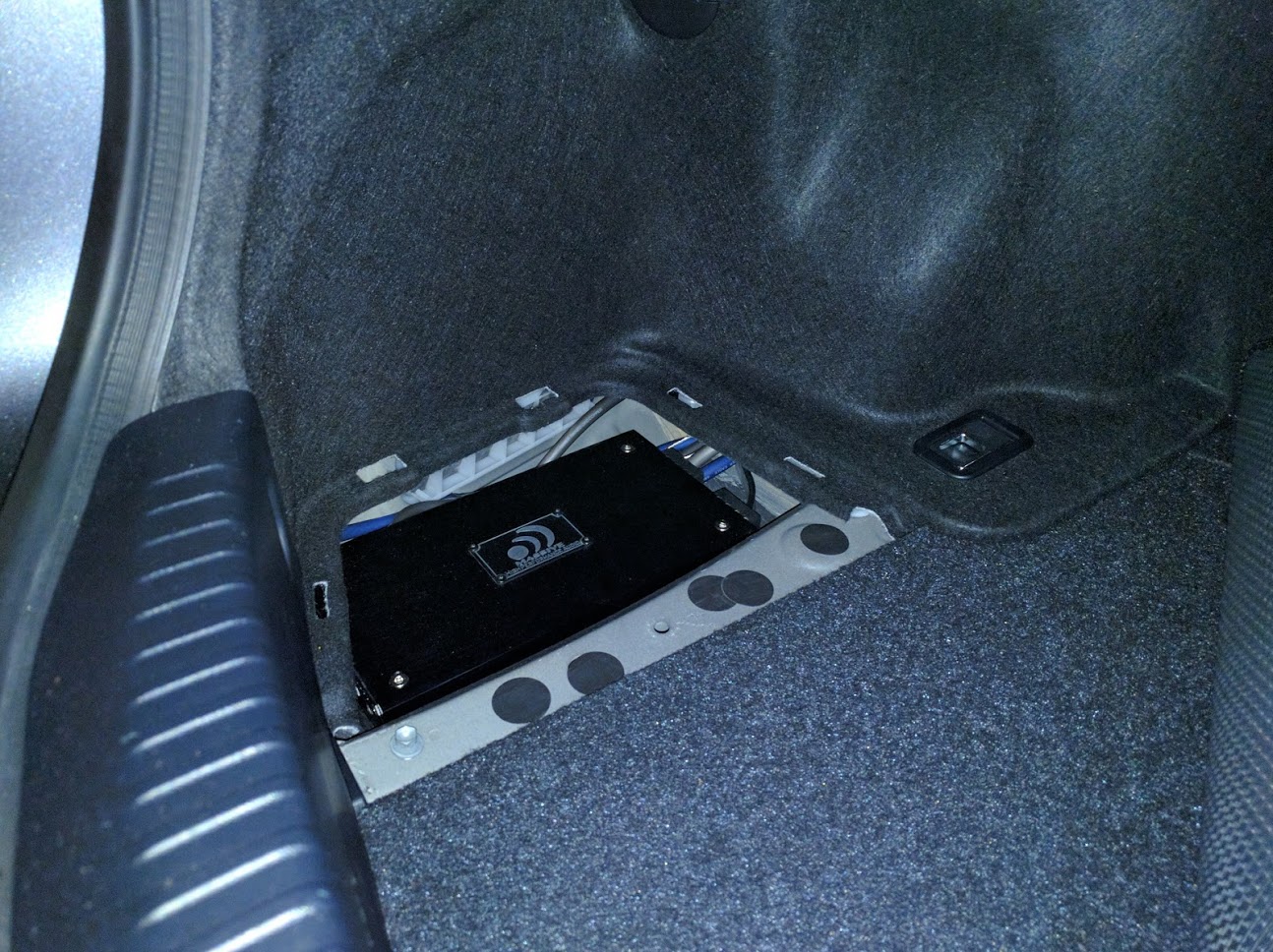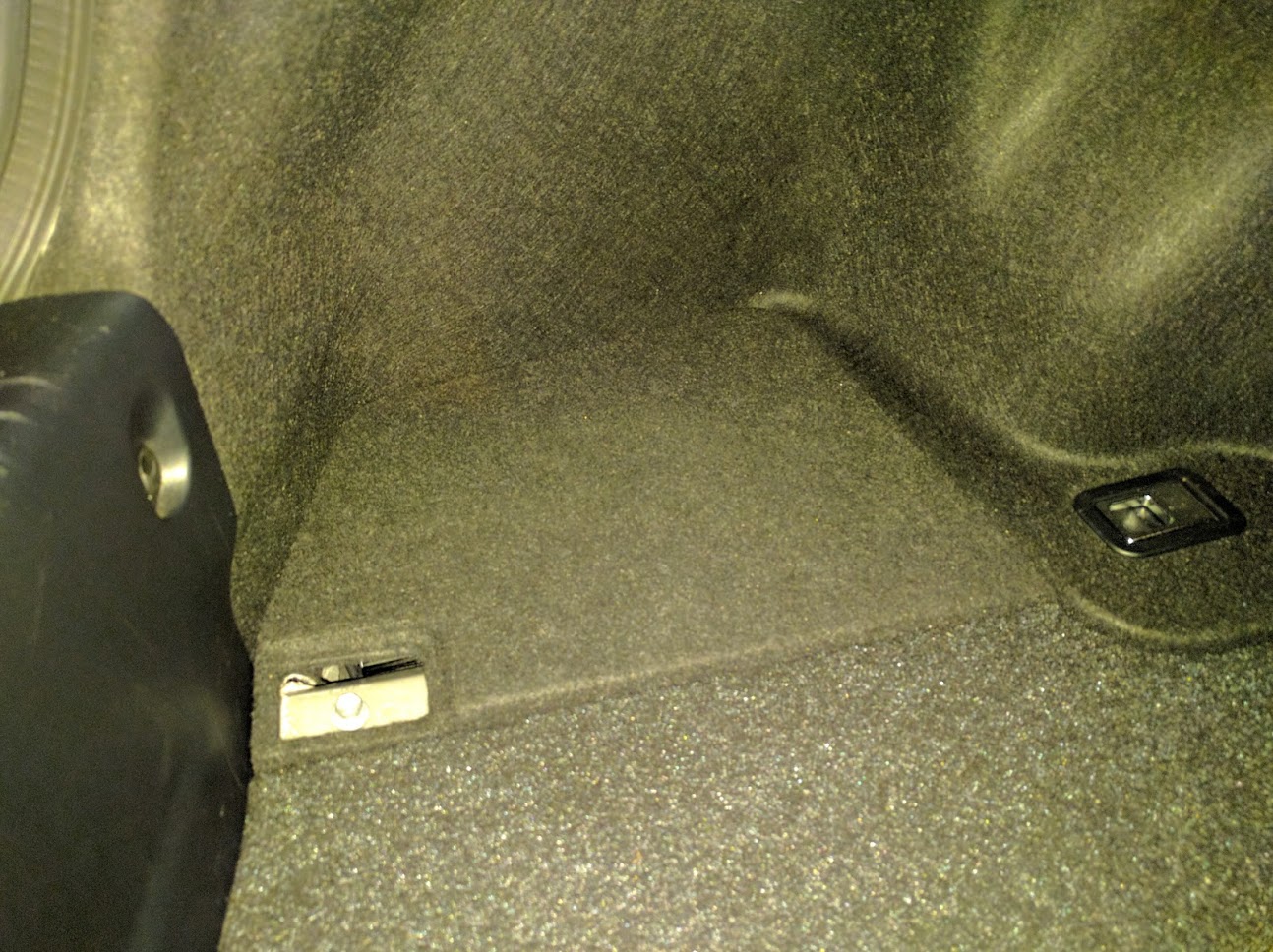 The remote volume **** up front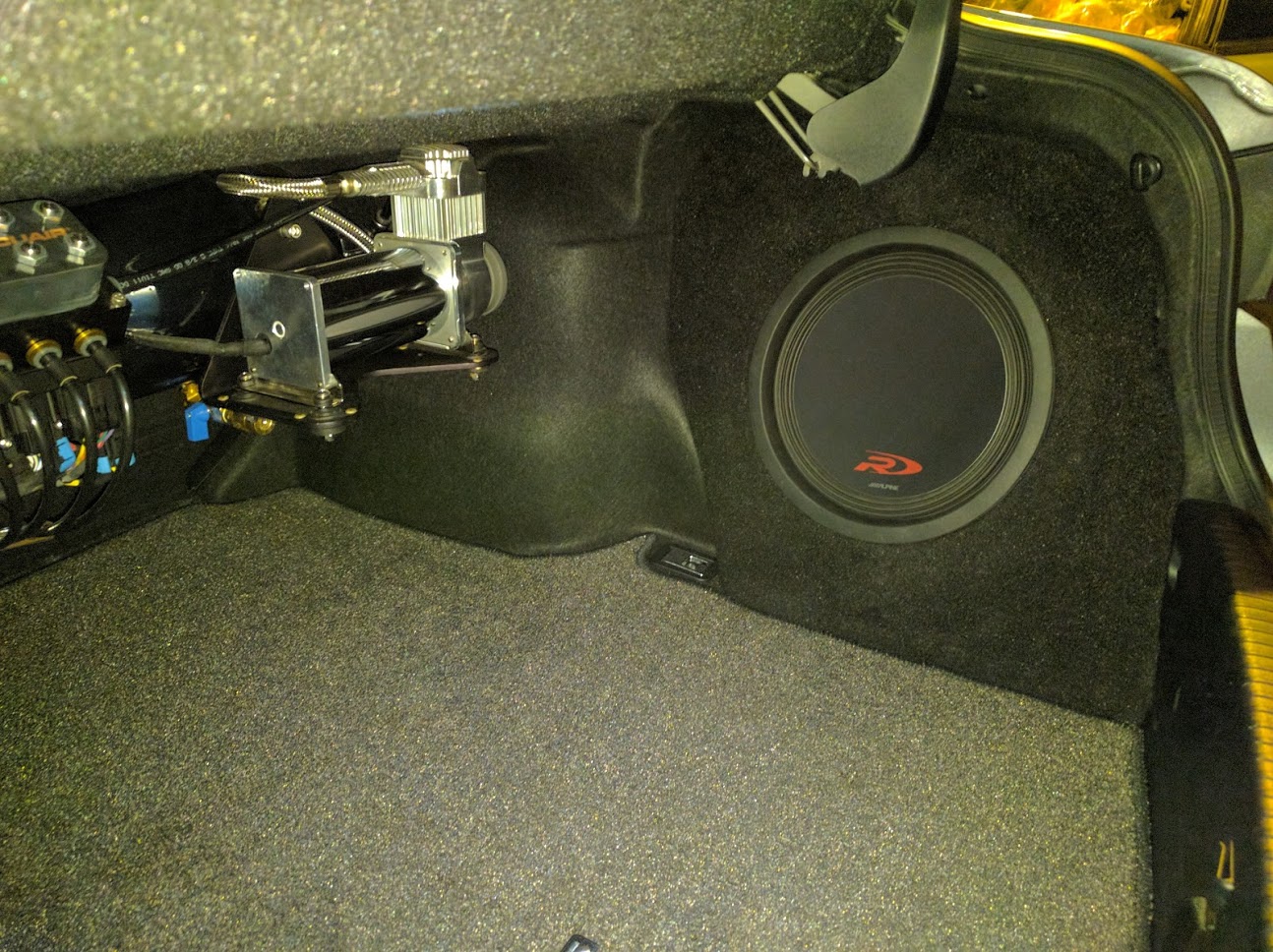 11-1-2016
Some random photos of the car from the past couple of months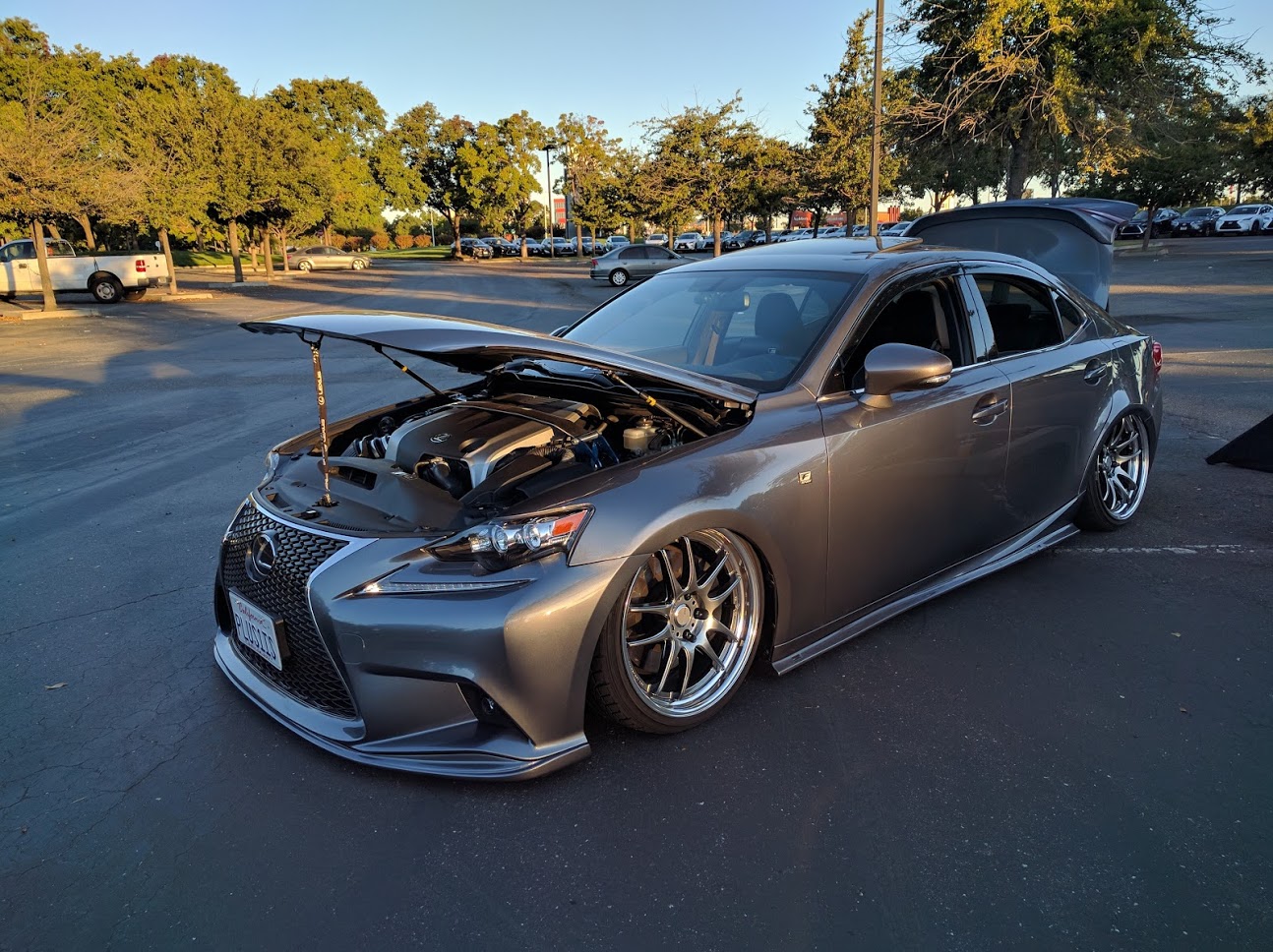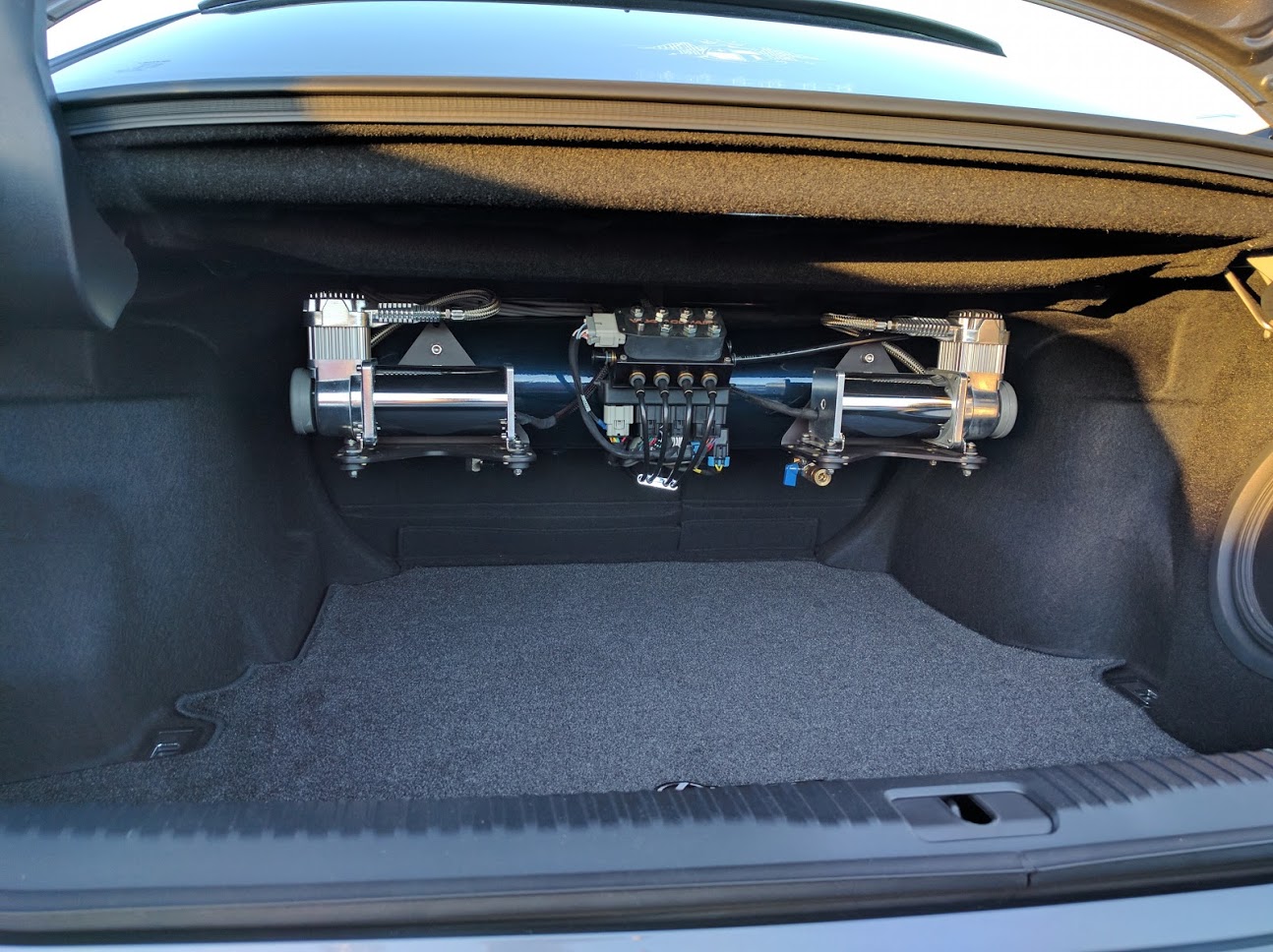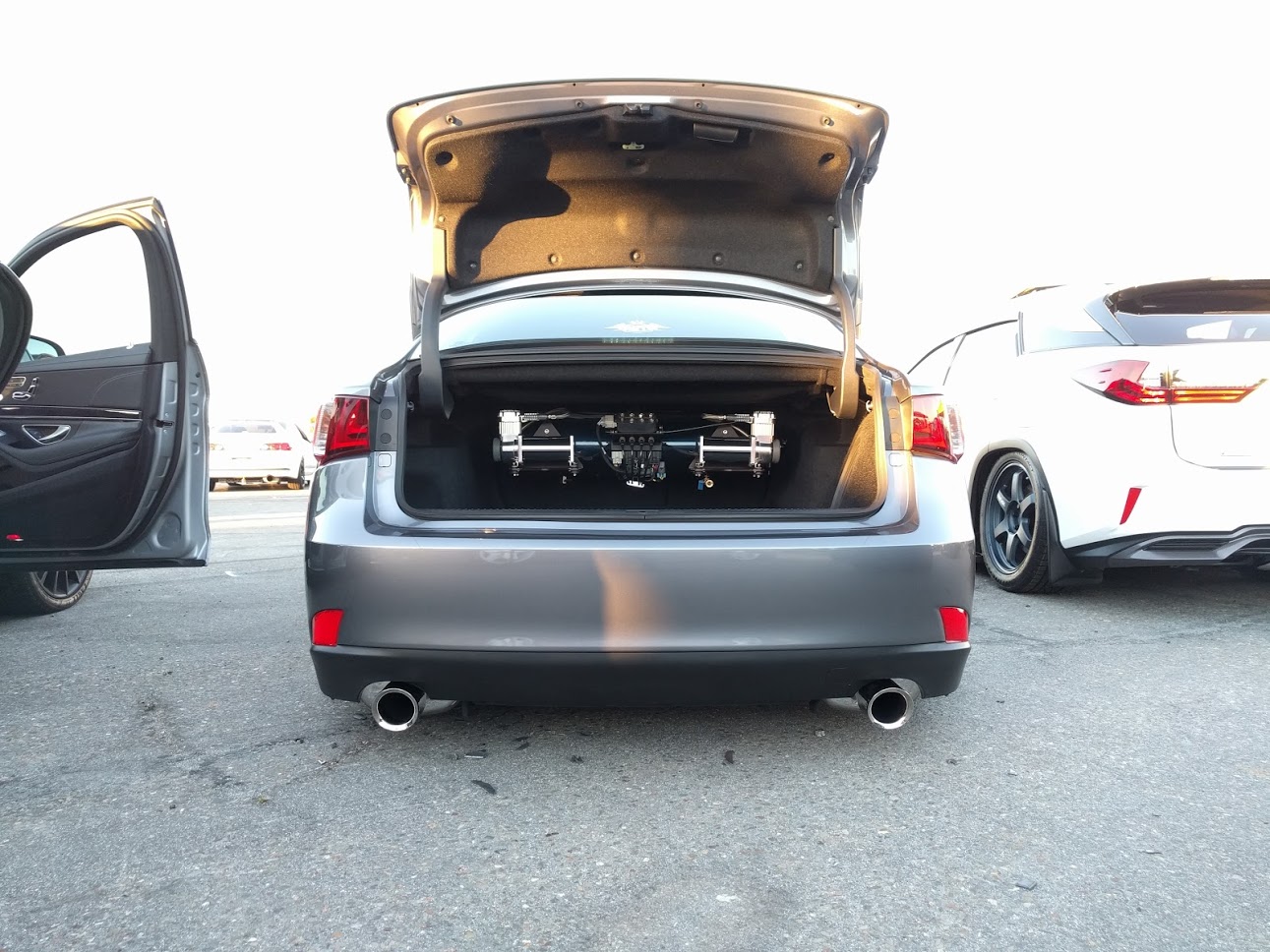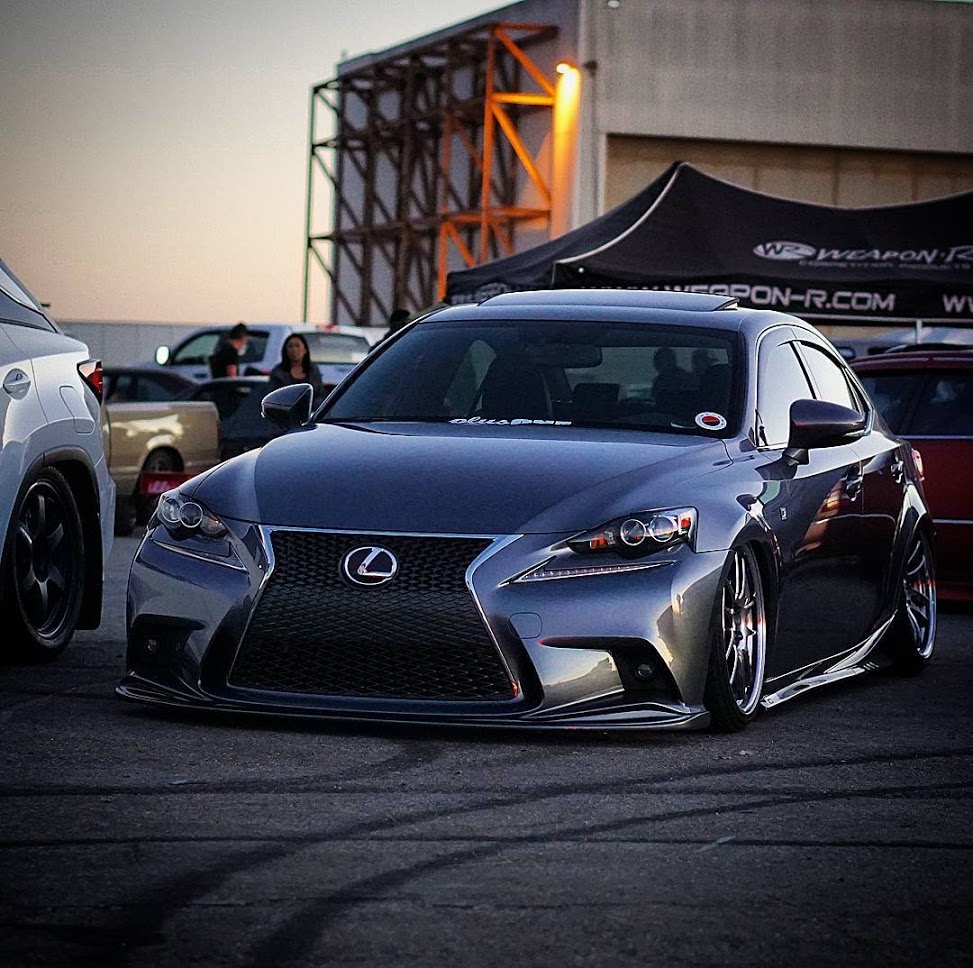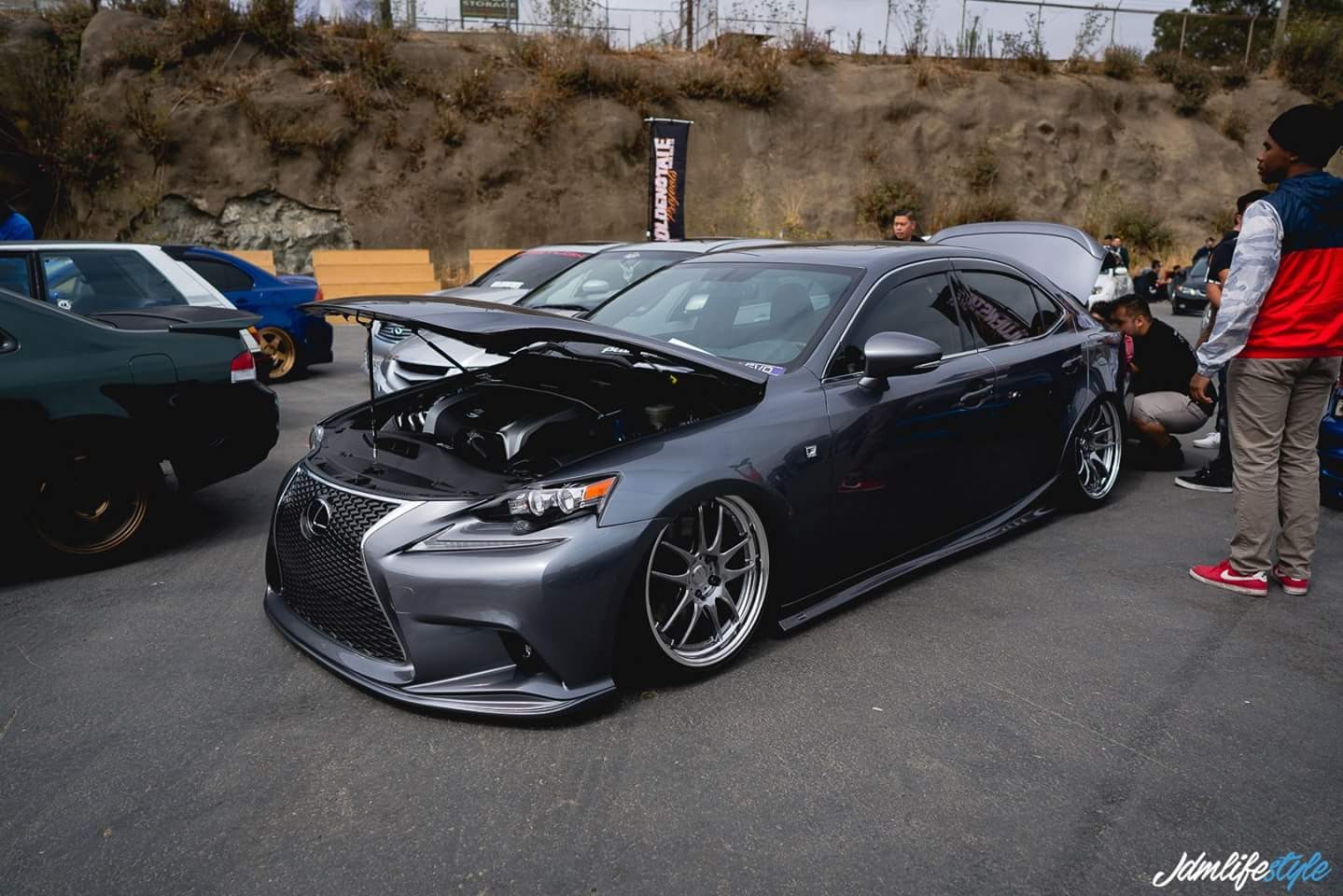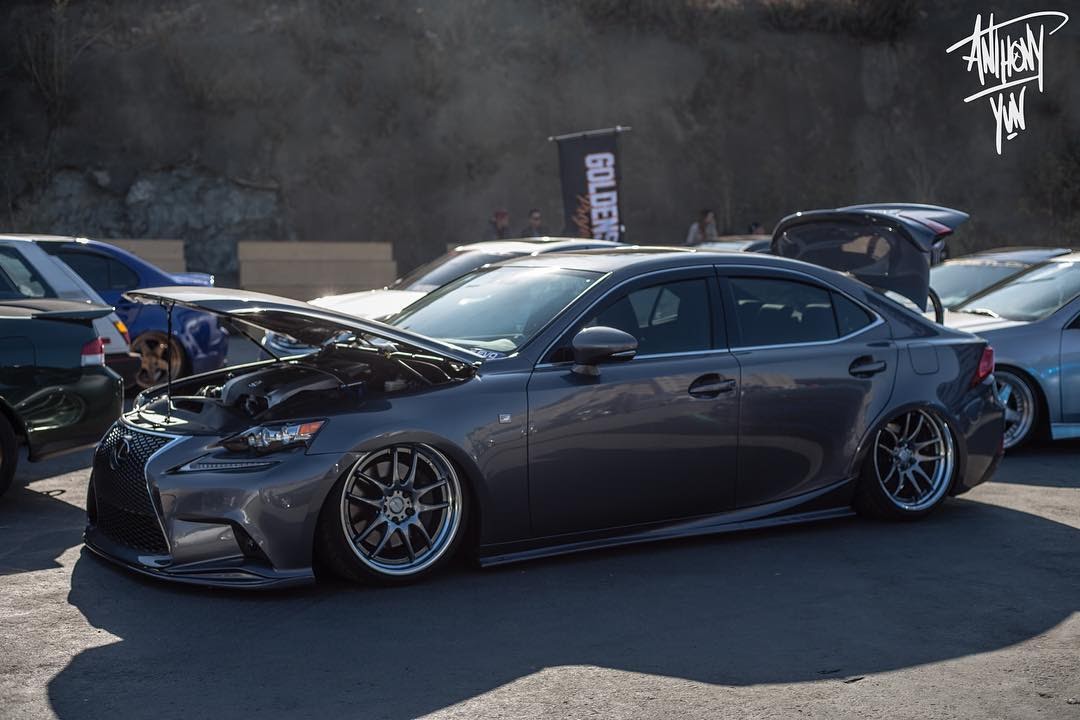 11-15-2016
*yawn,

probably time to sell the wheels soon and get something new for next year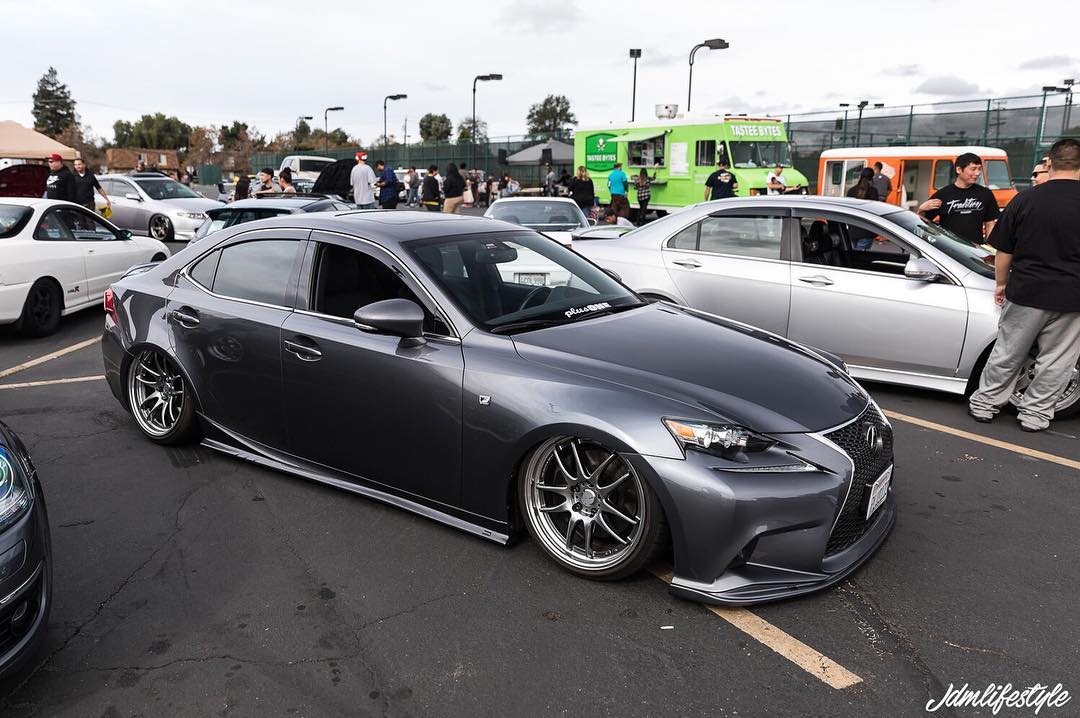 2-7-2017
just playing around with videoing and editing.

Video of me giving the car a wash
2-15-2017
Reason I've been quiet about the tune is due to this.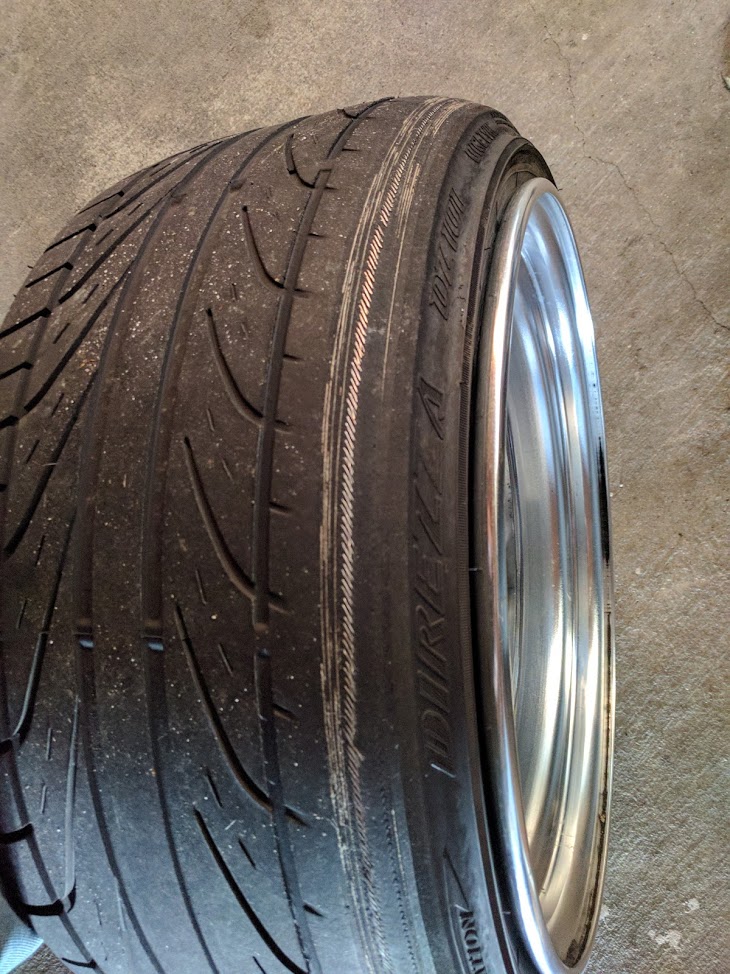 This past weekend I have removed my camber arms and put it back to stock and will get the tires replaced in the next month and then I can play around with it some more.
In the meantime while i was working on the car,
I finally found some time to put on the JDM RC-F Rear fender moldings. purchased from CL member gpxluke
https://www.clublexus.com/forums/cl-vendor-products-for-3is/840550-second-group-buy-on-jdm-rcf-fender-molding.html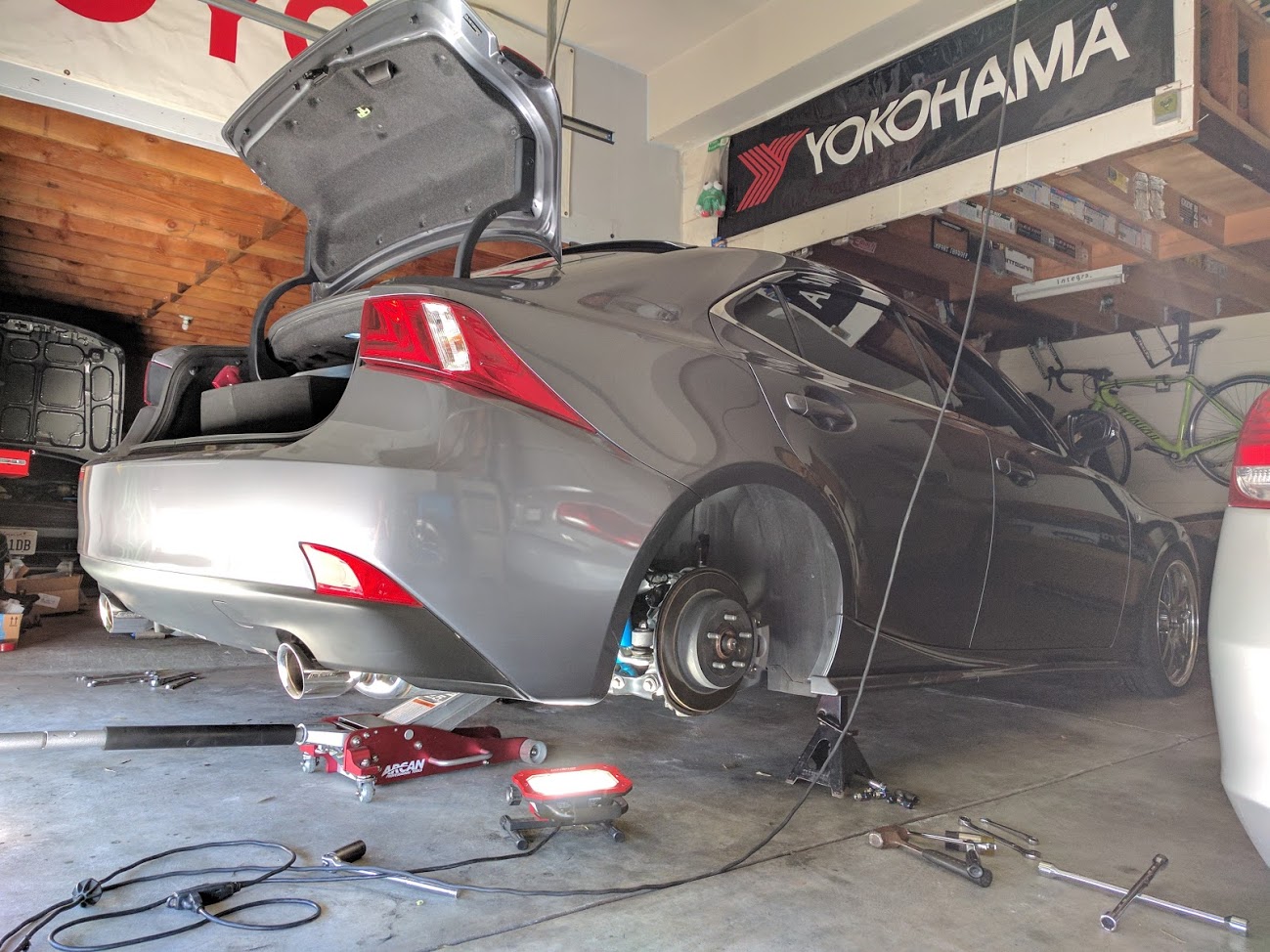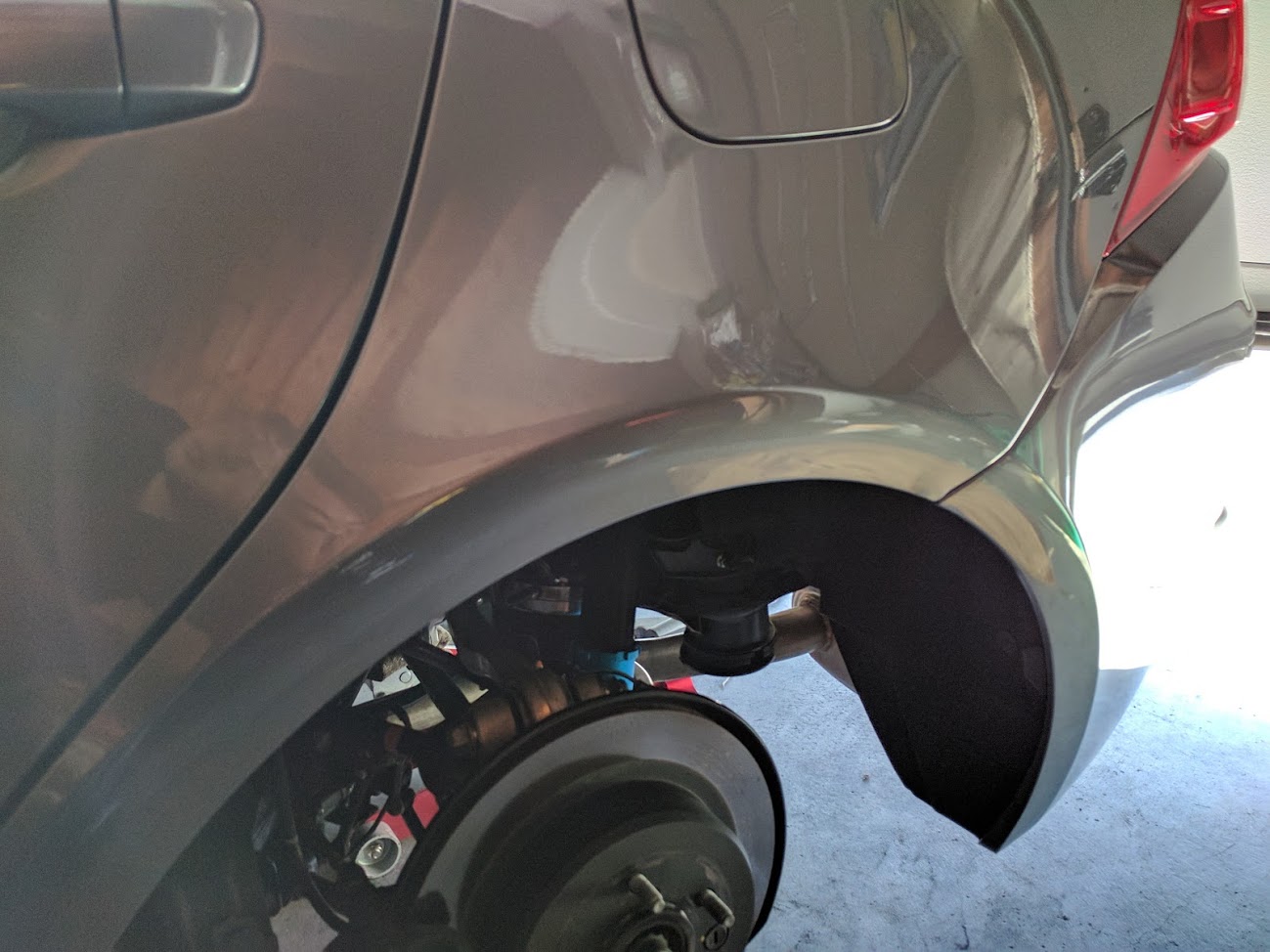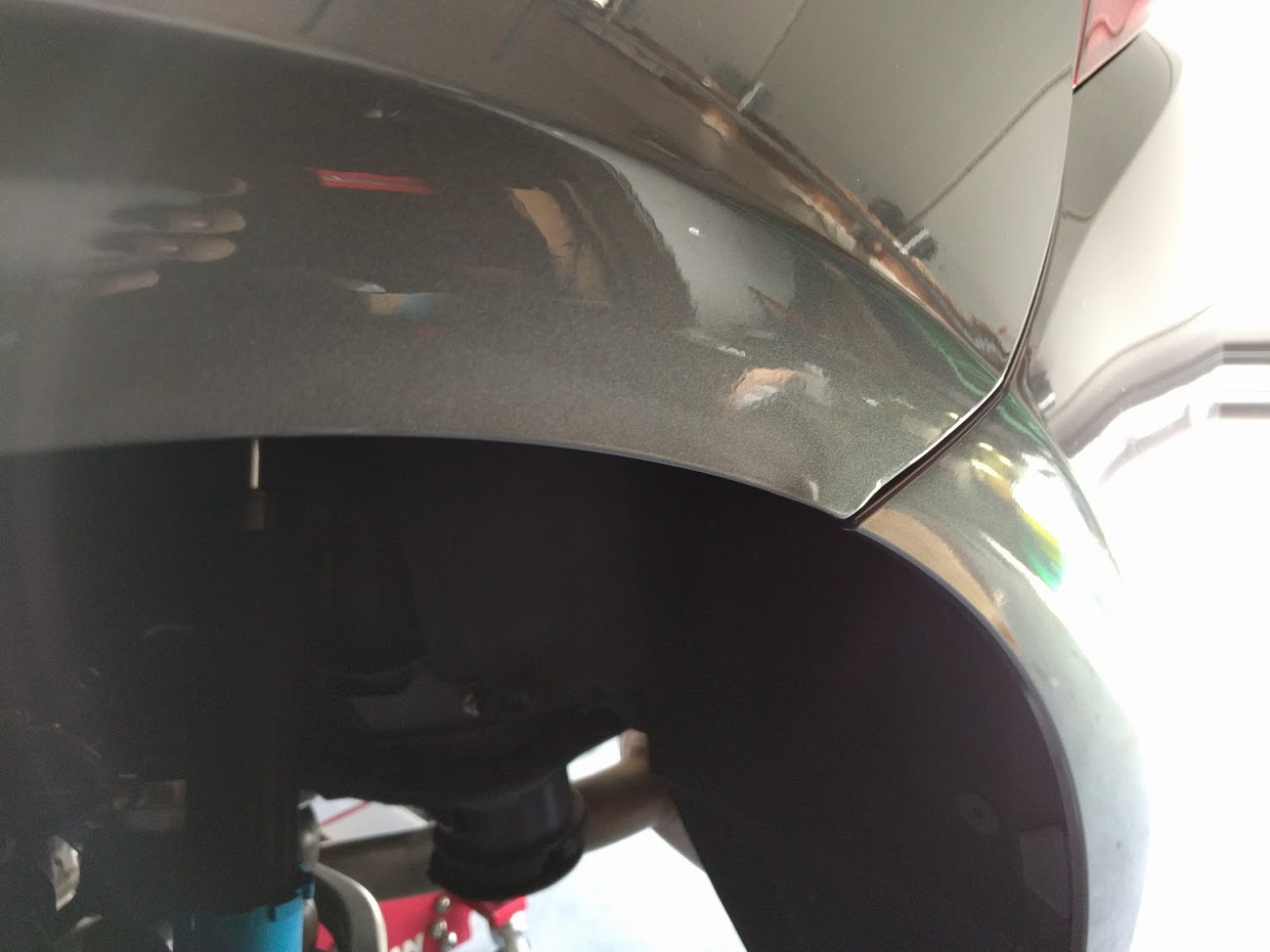 Driver side done,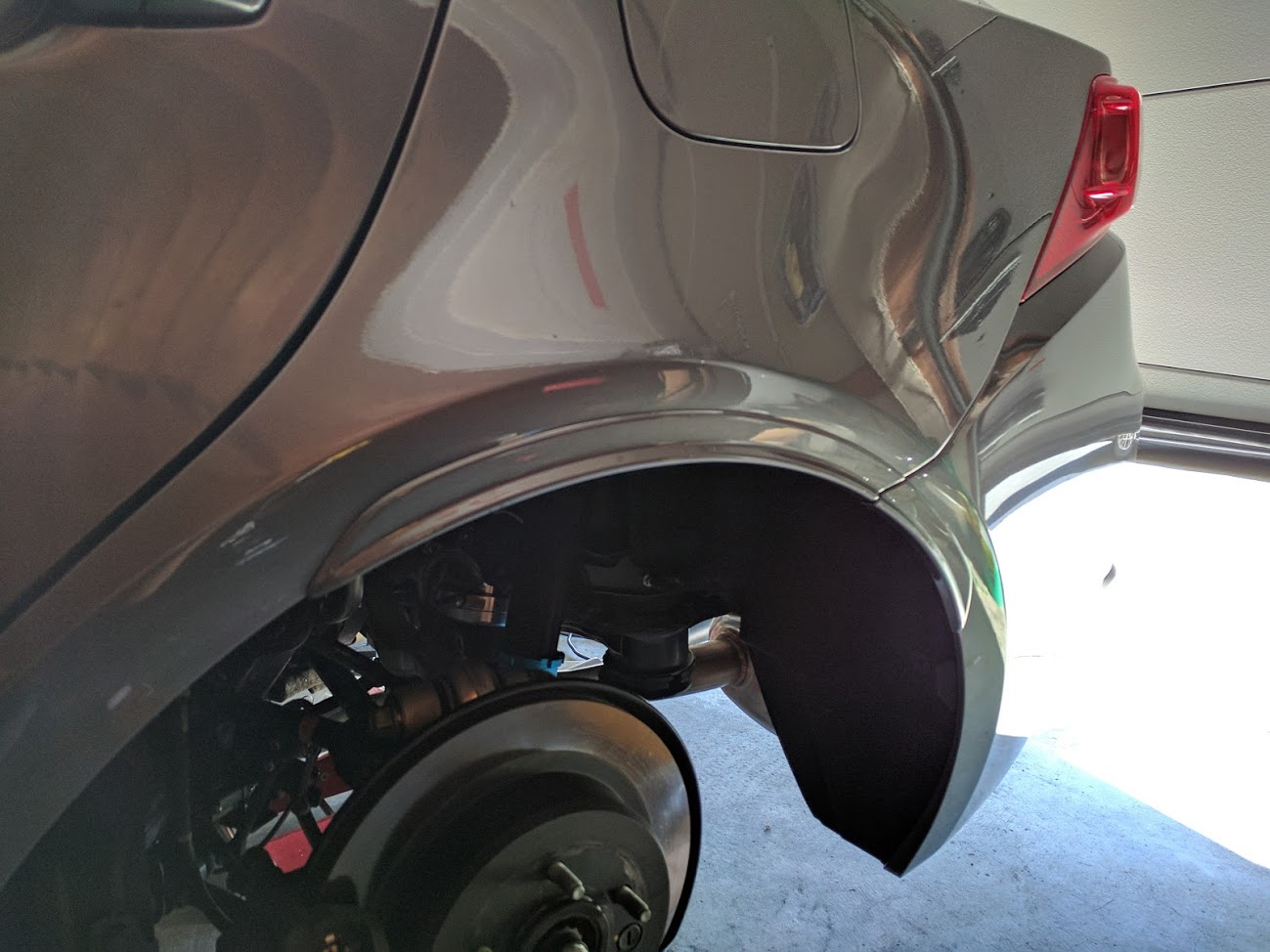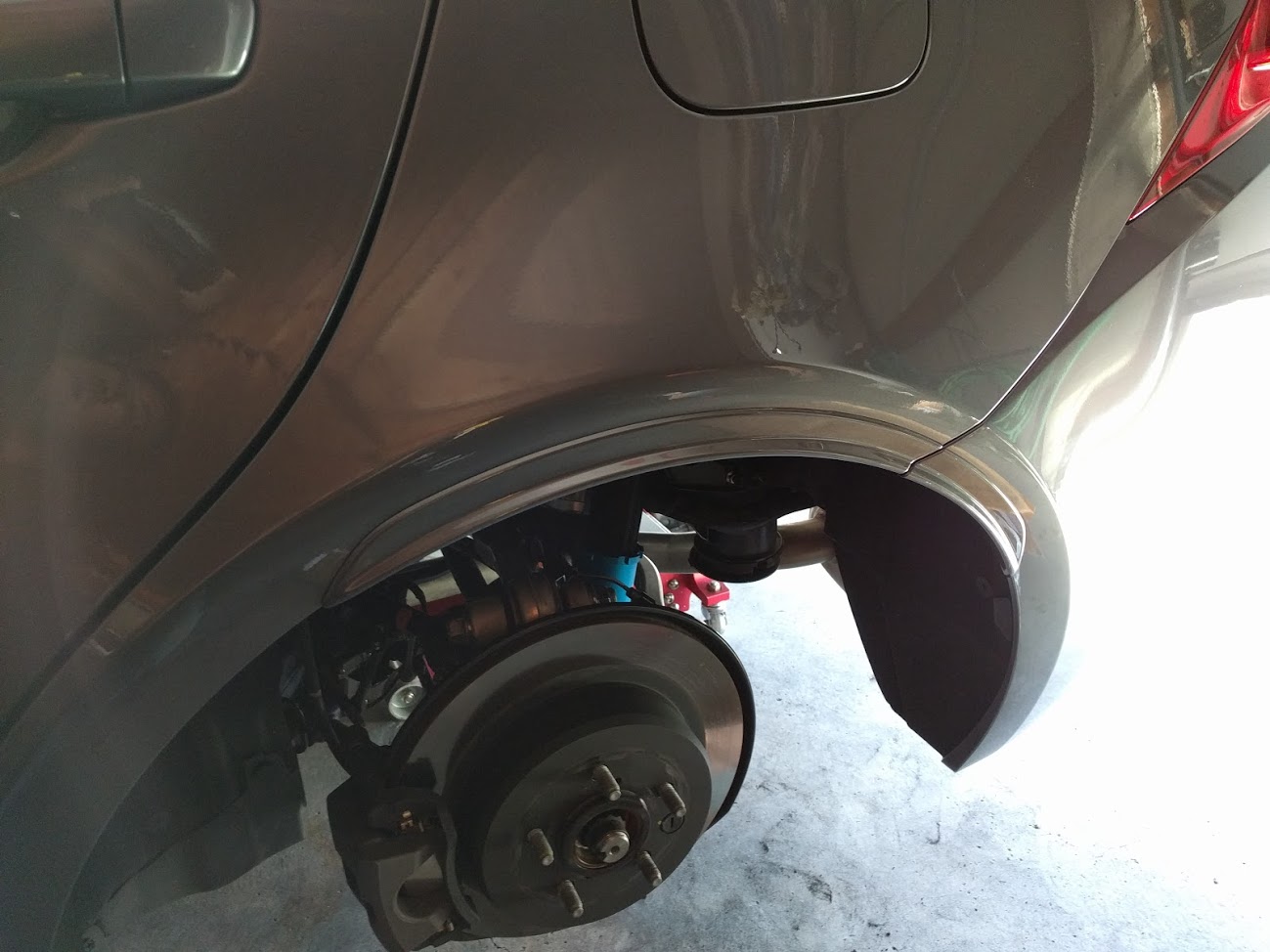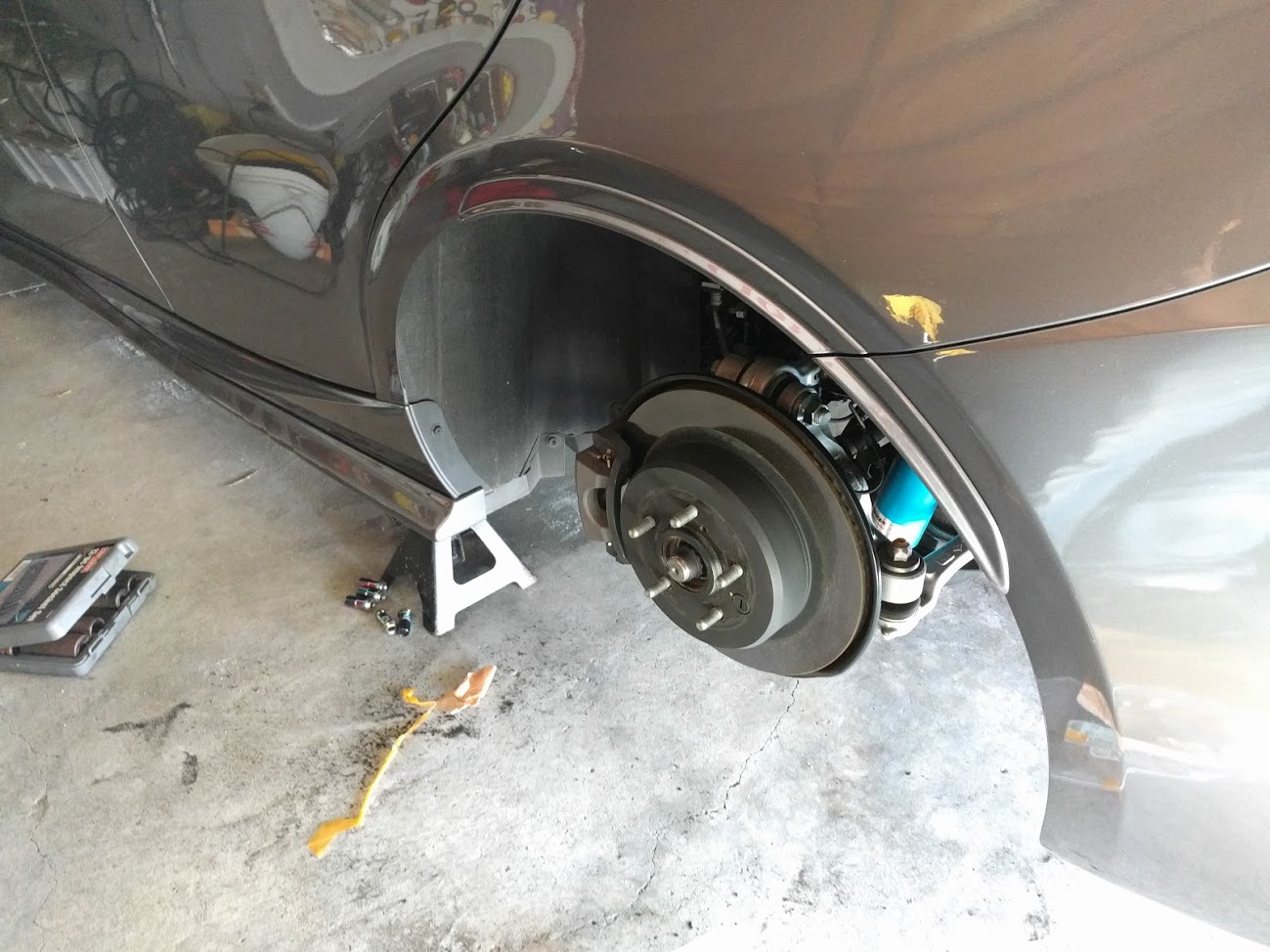 Passenger side,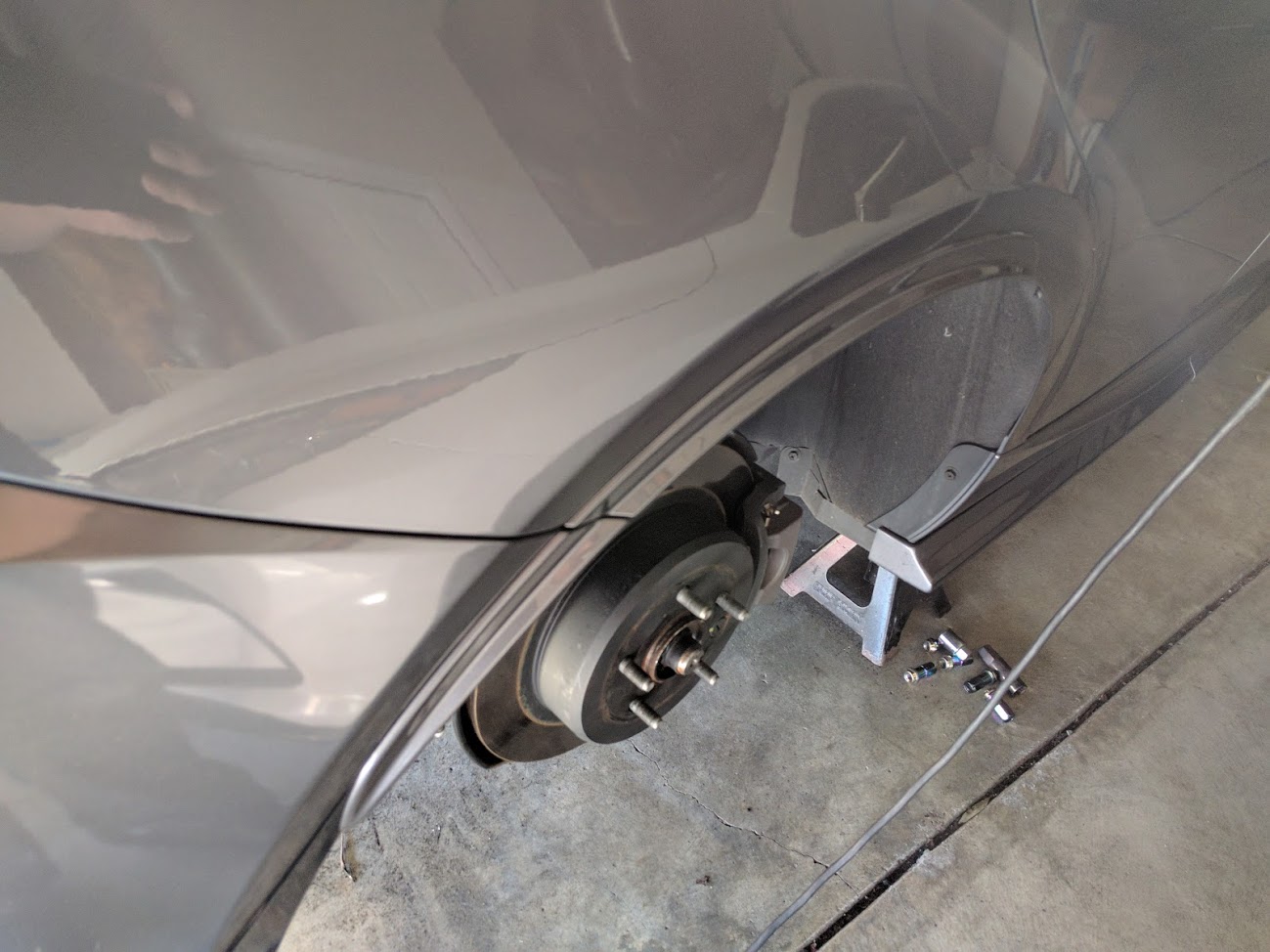 Air'd out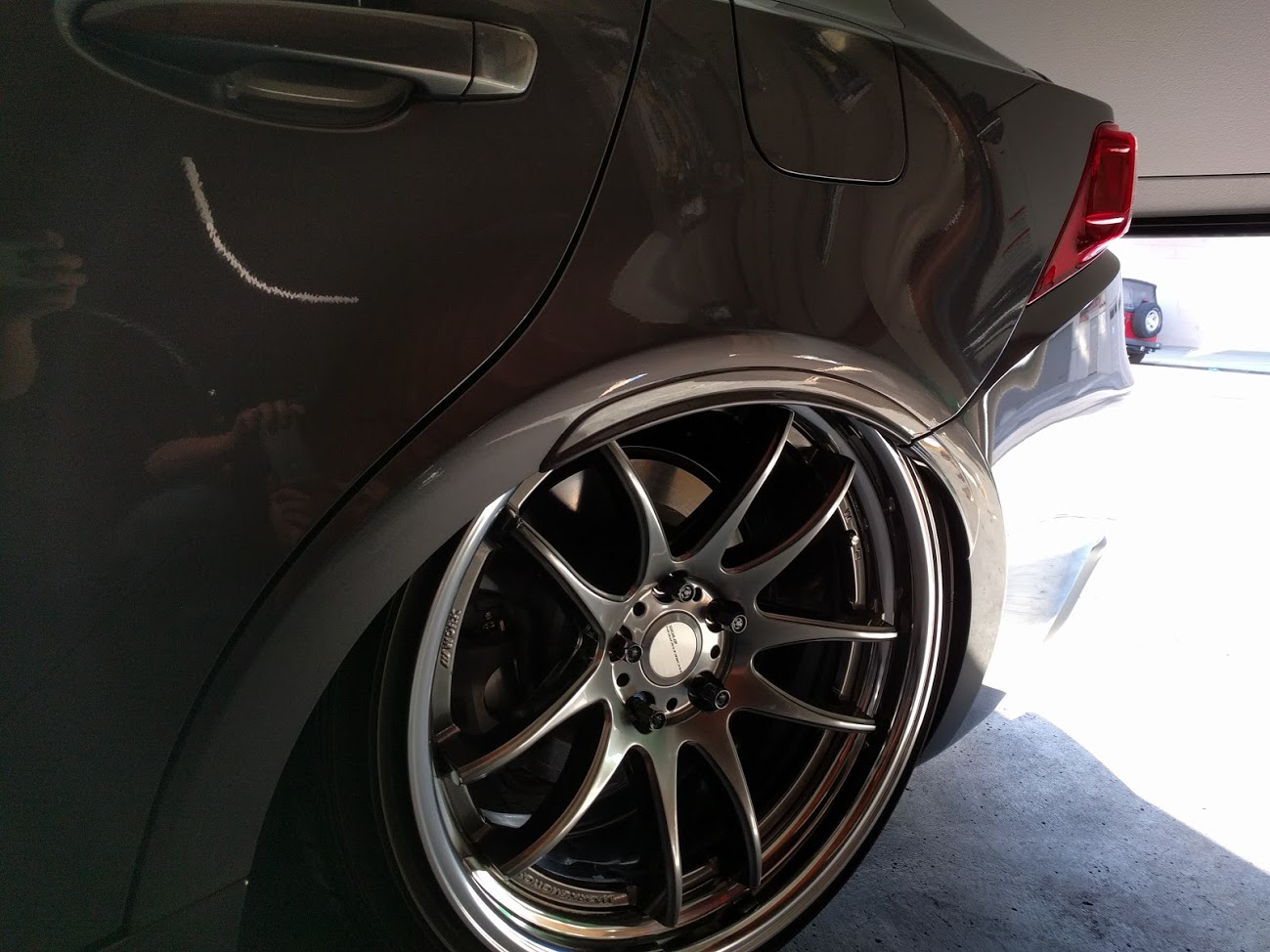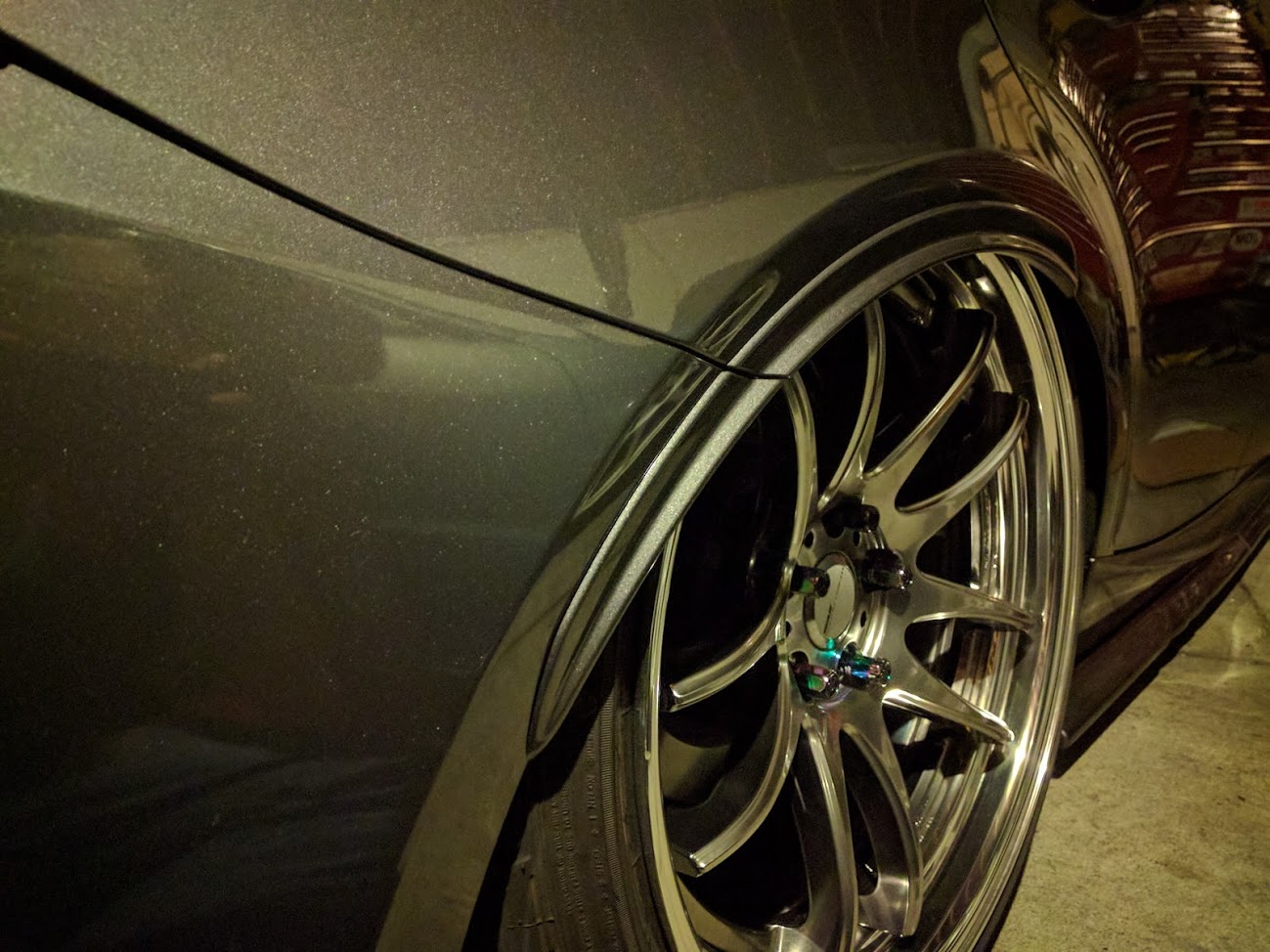 3-12-2017
Picked up some OEM Illuminated Door sills, Normally they come with 4 pcs (two back pieces with aluminum inserts) but I was only able to get the fronts from the guy I purchased it from.
What I found out that was interesting is that these work via Fiber optic lighting Which i found very interesting.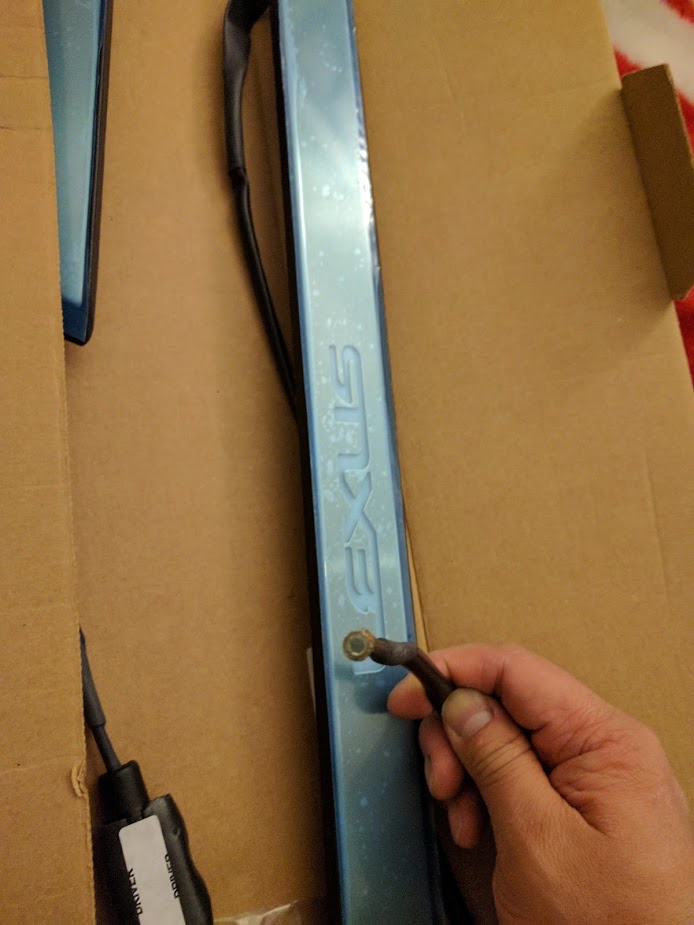 So the curious me as always, tore apart the Little module the fiber optic cable went into to get light from.
Turns out it is just a standard LED board, Very easy to get a different color light up if someone needed to, Just swap the color LED bulb out. Me personally i'll leave it White though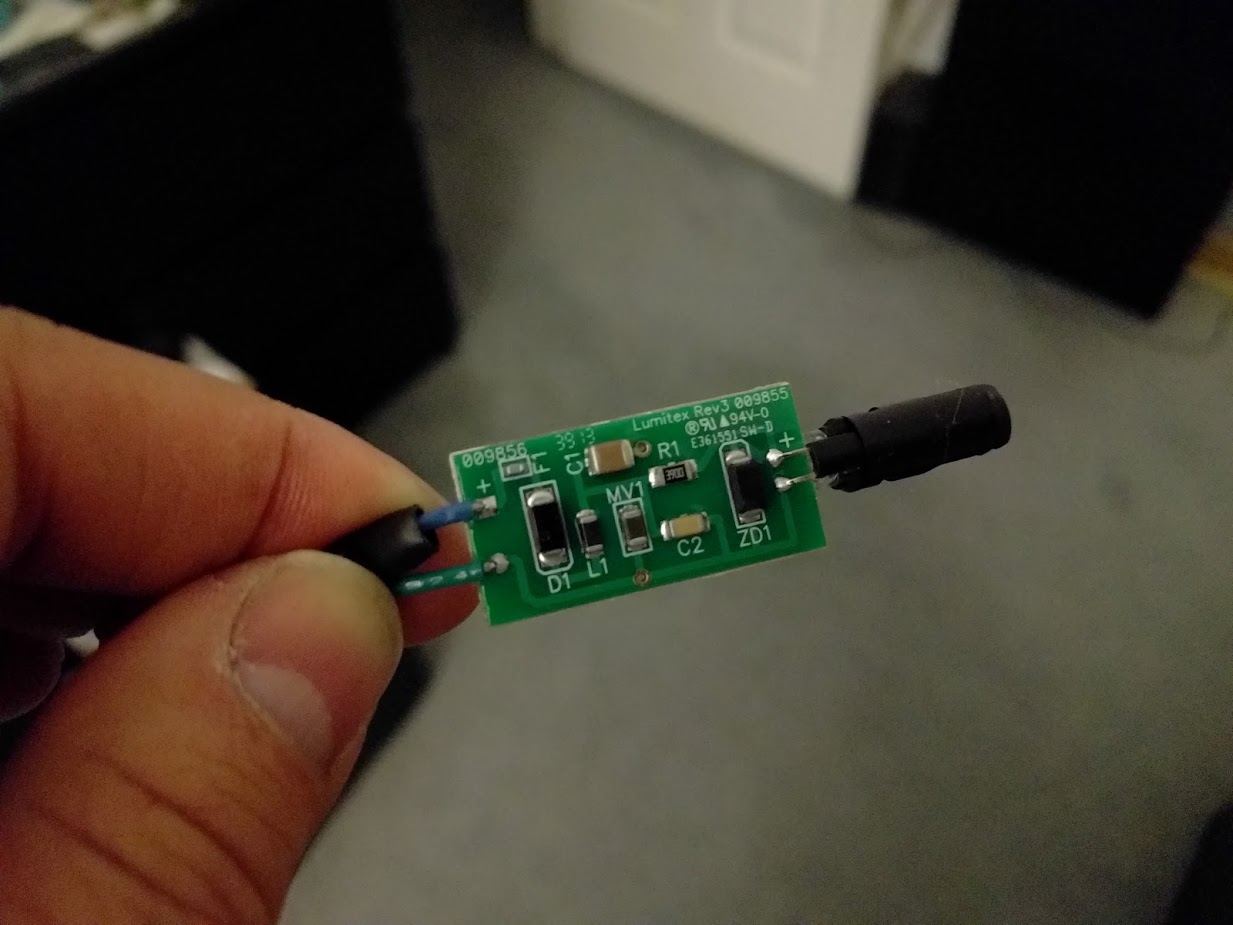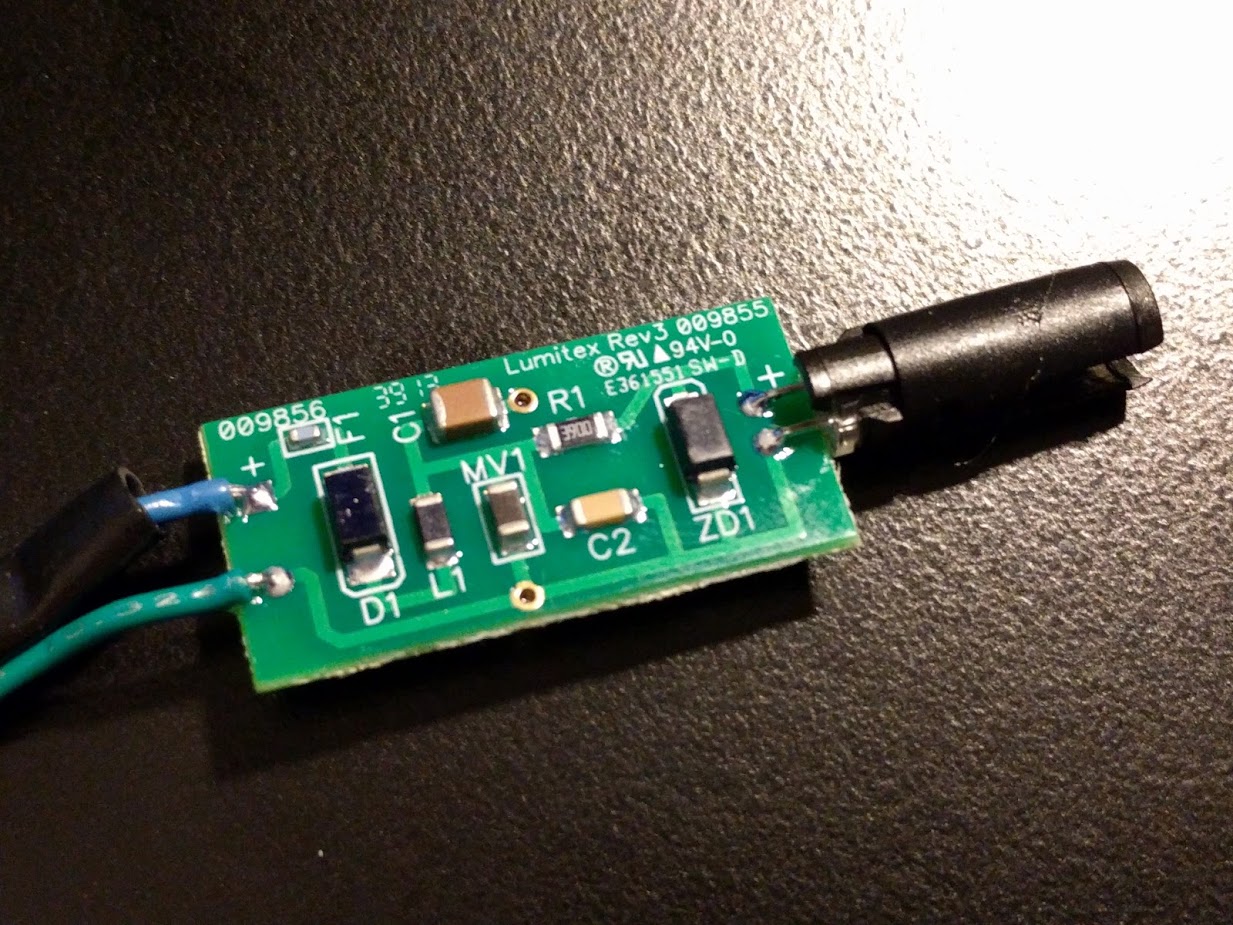 Here's also a quick video I made playing around with the panel with a flashlight off my phone to show how easy it is to just shine a different color light down it to get the color desired.
3-23-2017
Getting into messing with video

Here's a Video I've made recently. Its a bit rough right now
Please Subscribe to my Youtube channel if you want to follow me and my adventures in my IS350 build as well as my other projects
https://www.youtube.com/channel/UCZ3...kB9adTl19jcOQg
4-17-2017
working on something very interesting that i bet nobody in the this side of the world has done that I know of yet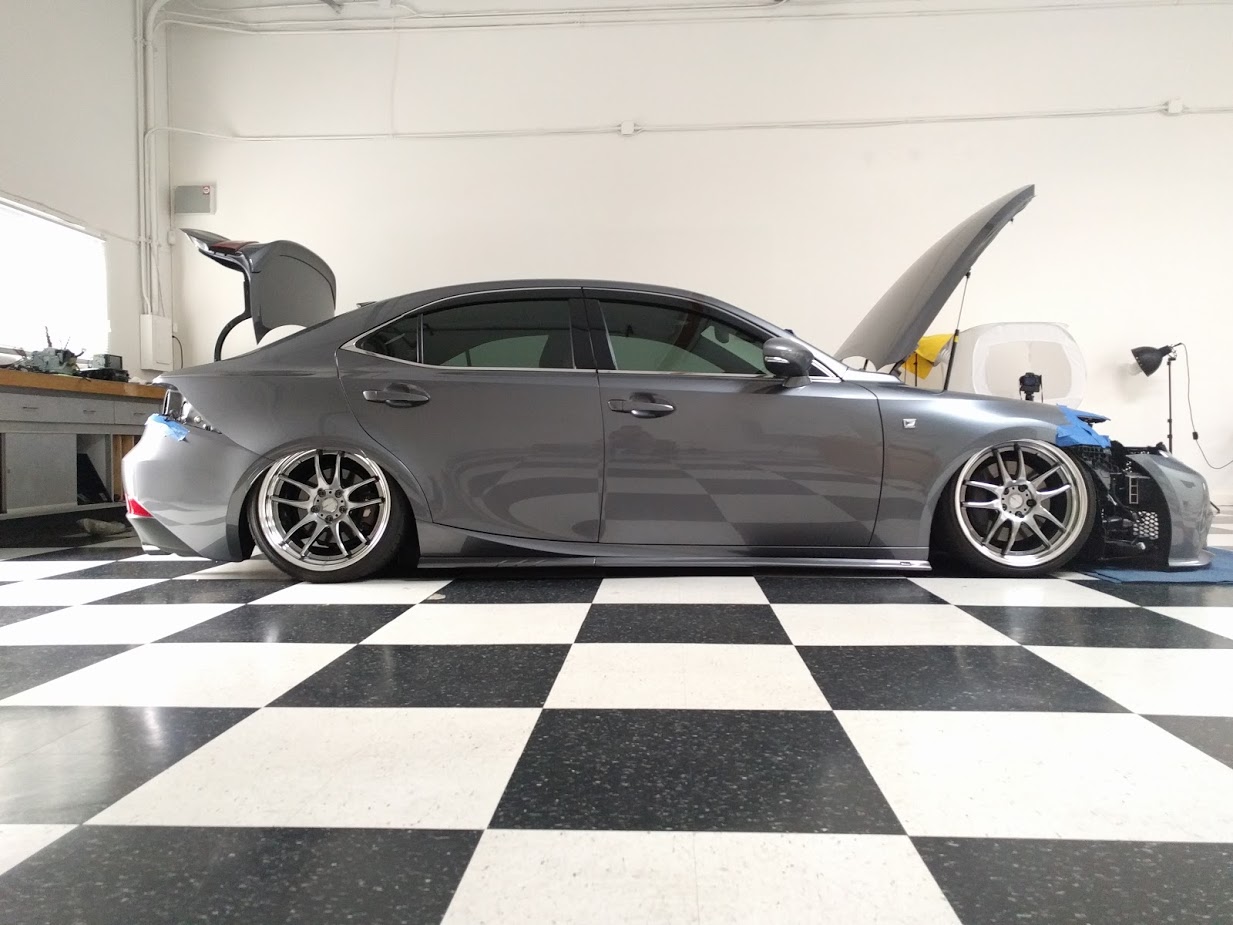 And here's a video time-lapse of me removing the headlamps and tail lamps in under 1 hour
Bye bye headlights and Taillights,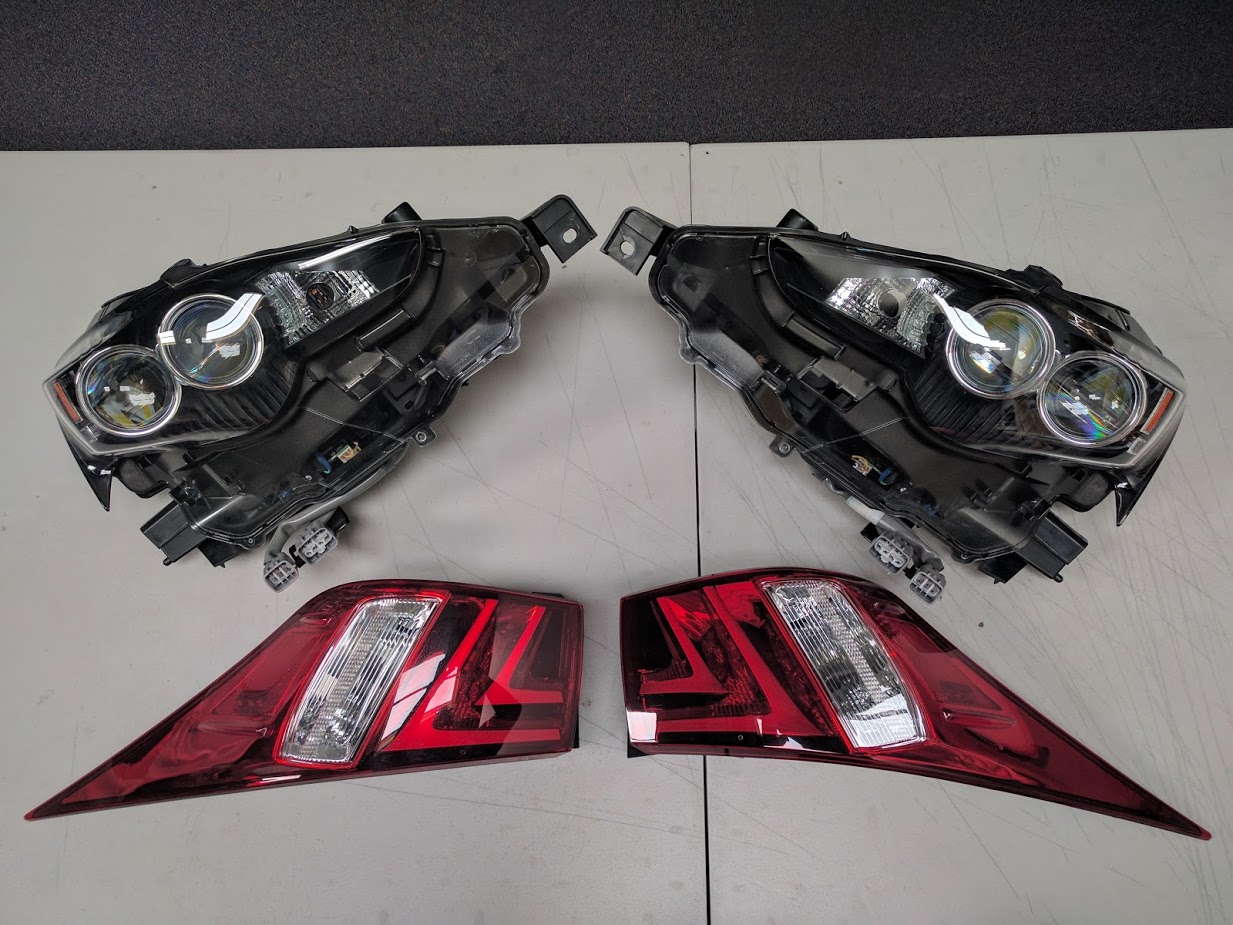 off to its new home in Japan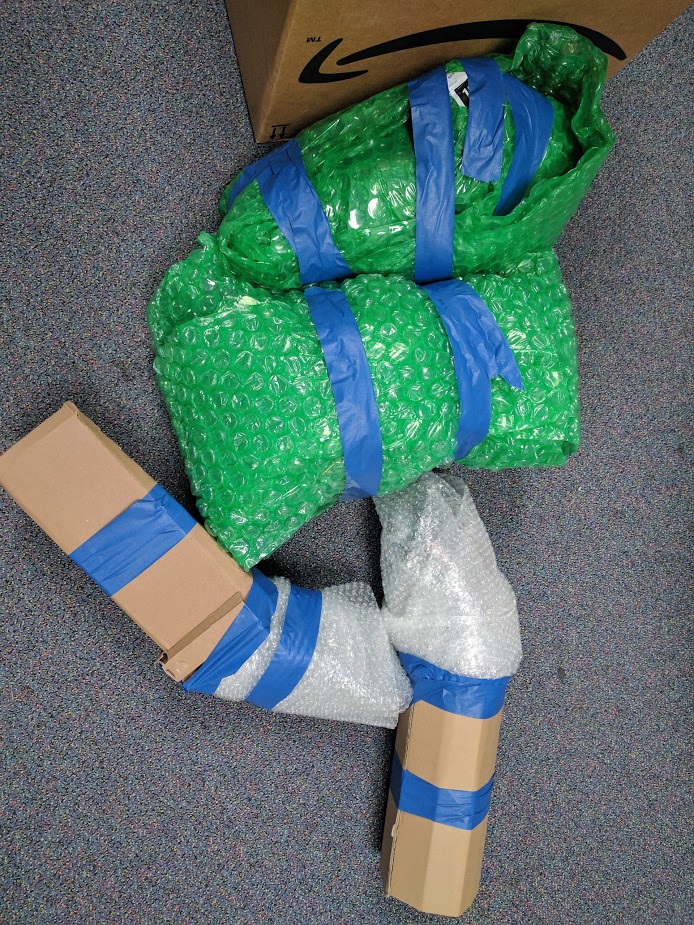 and here's the car of new friend i have made that it will be going onto,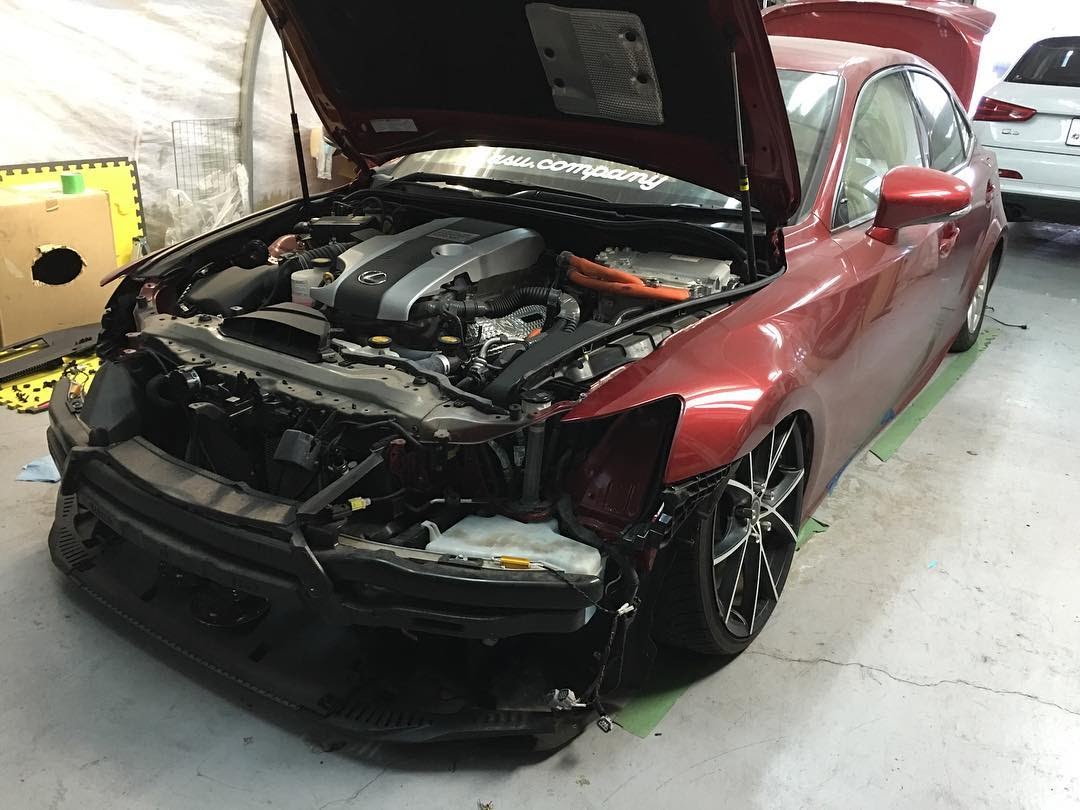 Should get the idea of where this is going now.....
More stuff to come very soon tooo beside this, (i.e. Hybrid Fsport Intake setup) ........
4-18-2017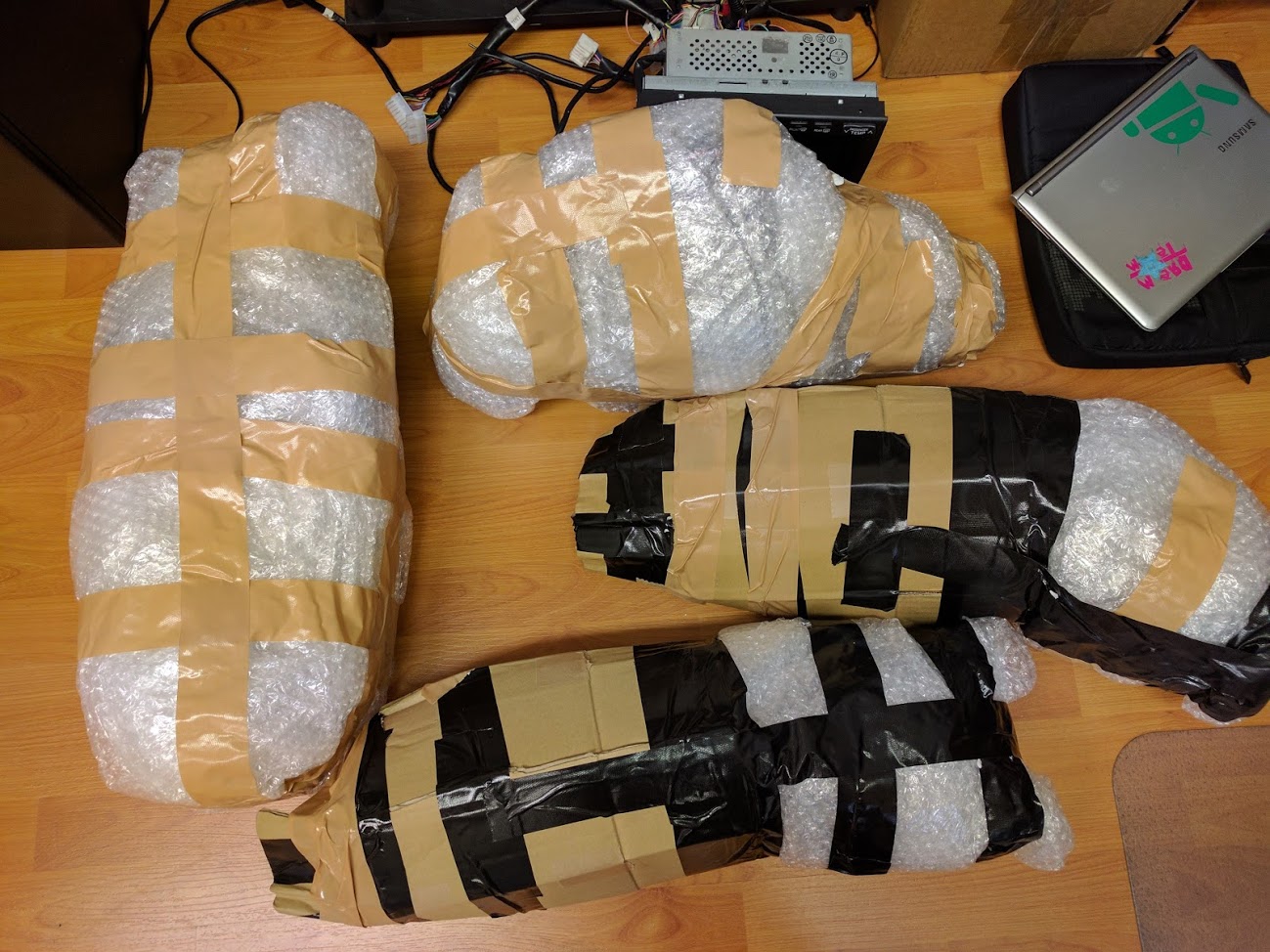 without further ado here they are,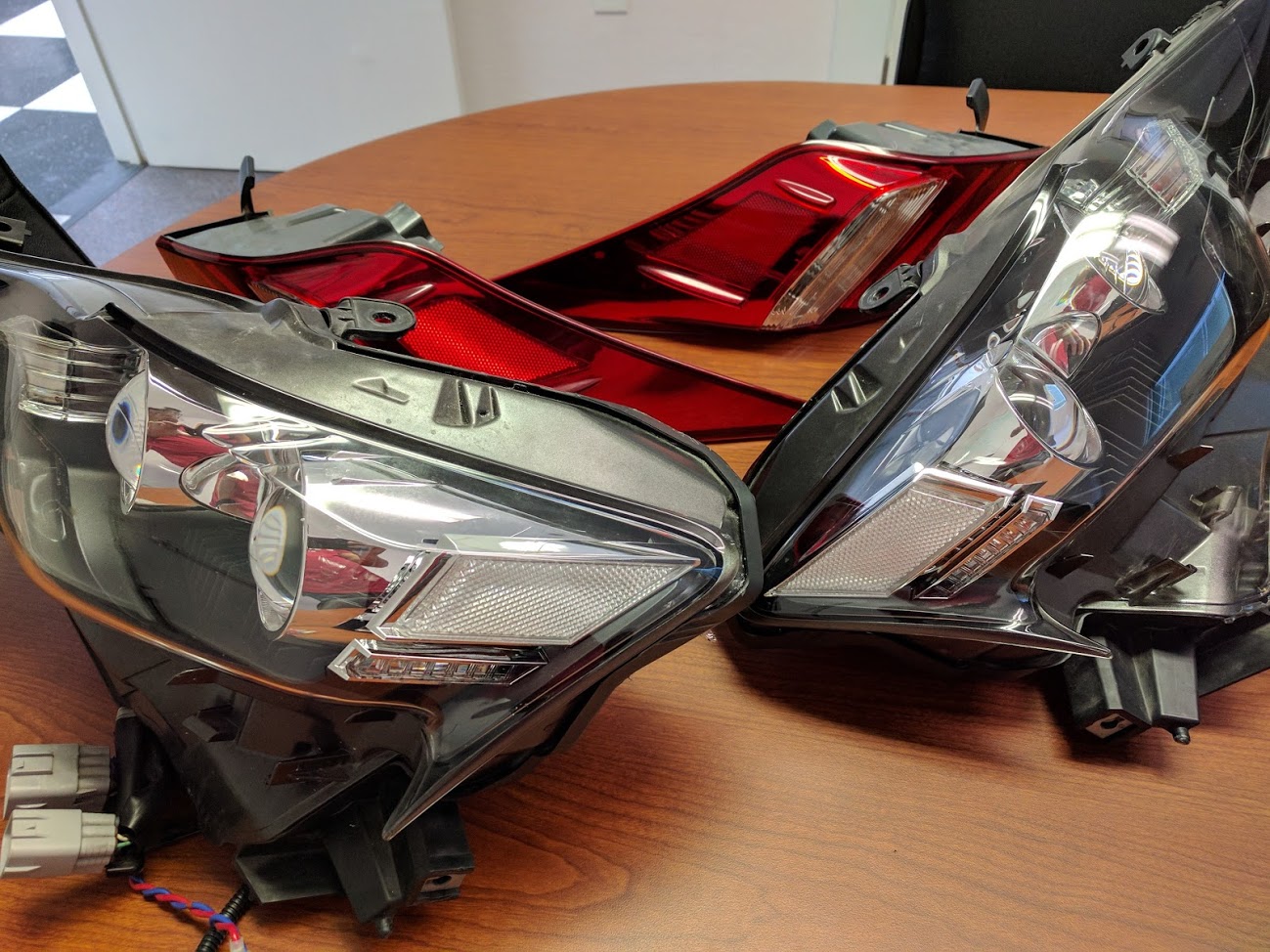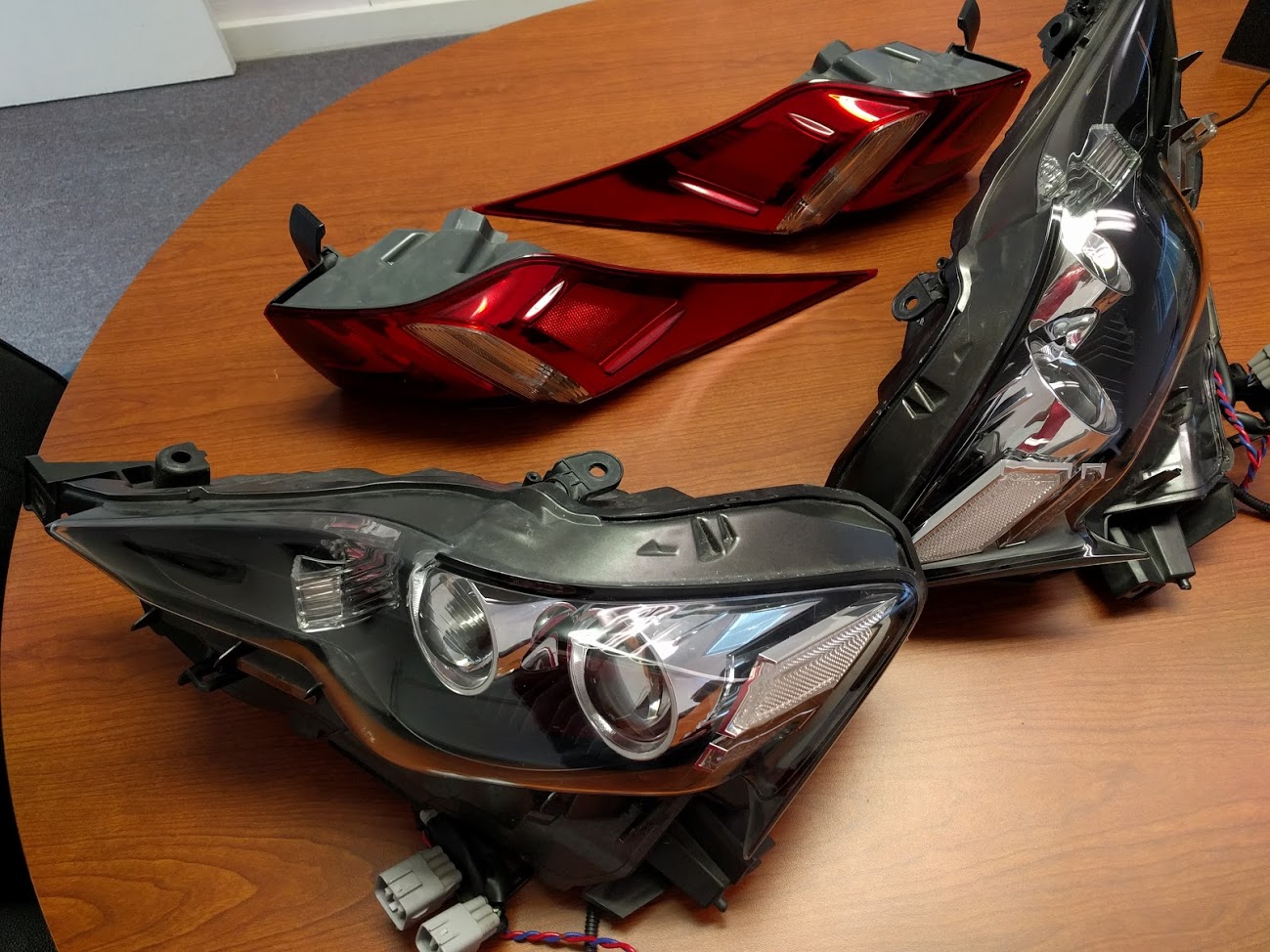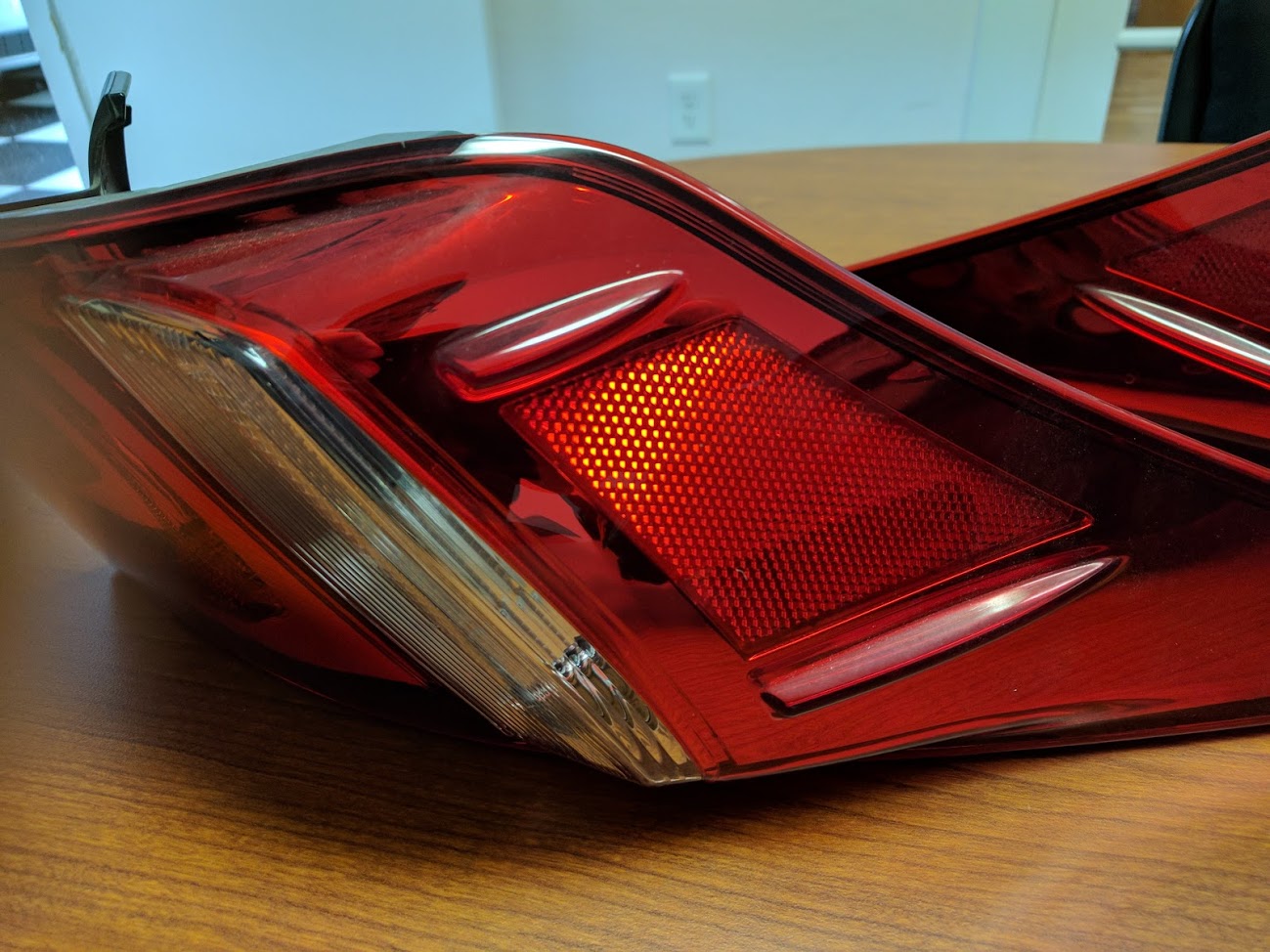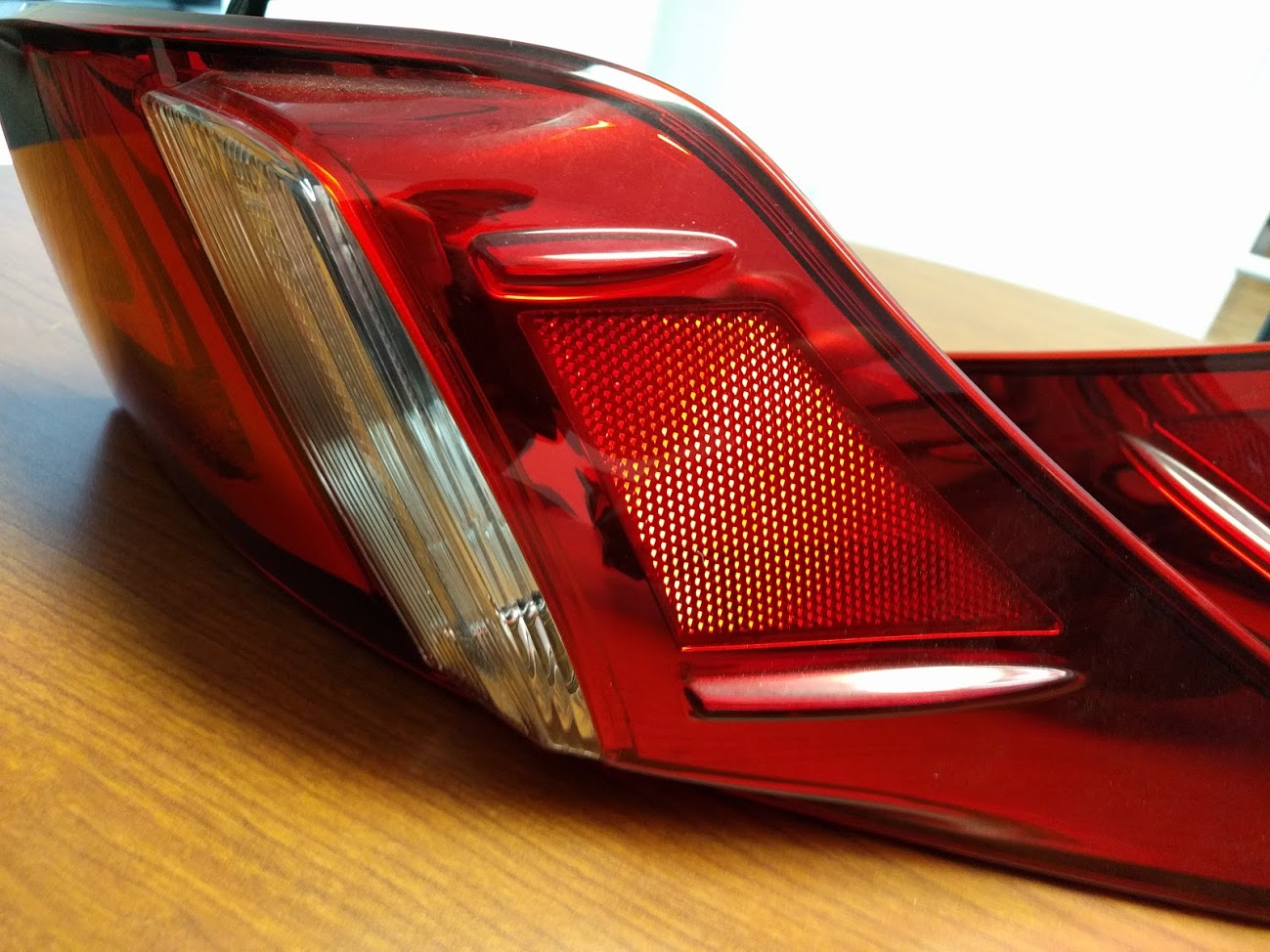 I will make separate post explaining the differences between JDM and USDM
There are some minor ones can would be unnoticed unless you have had both in hands and know what you are looking at
4-18-2017
Was going to wait until tomorrow to mounted them back on the car but got a little excited so on they went.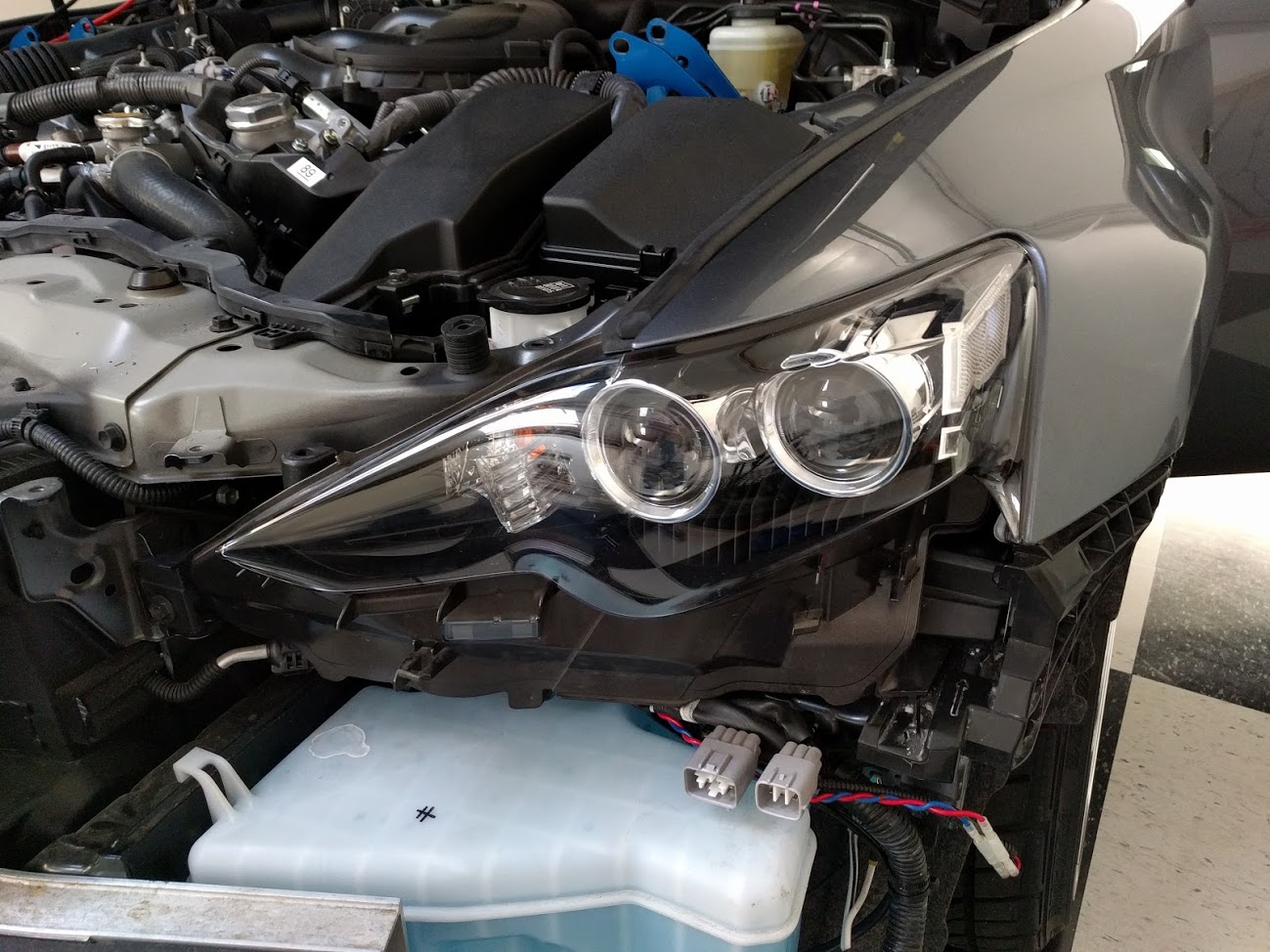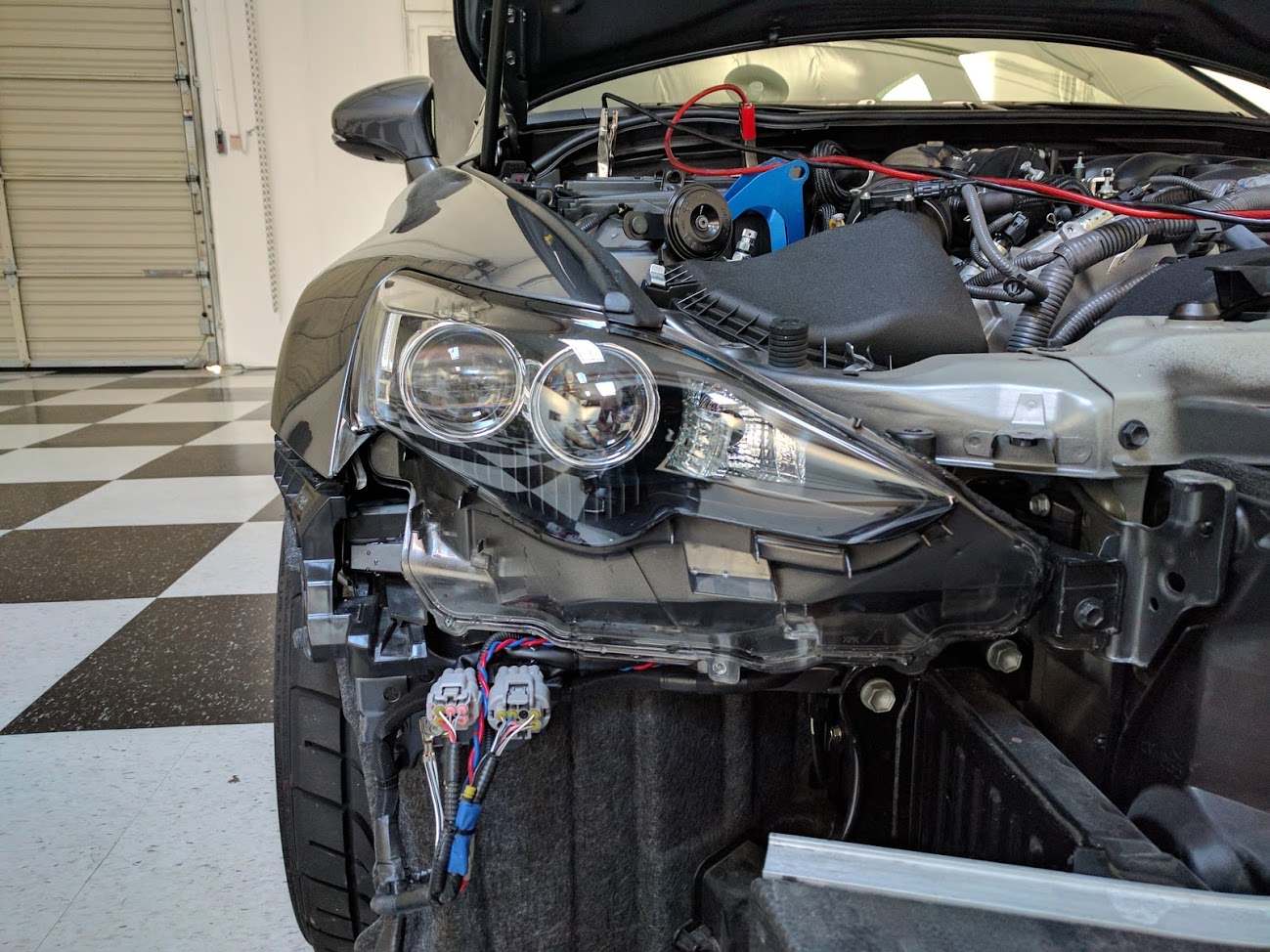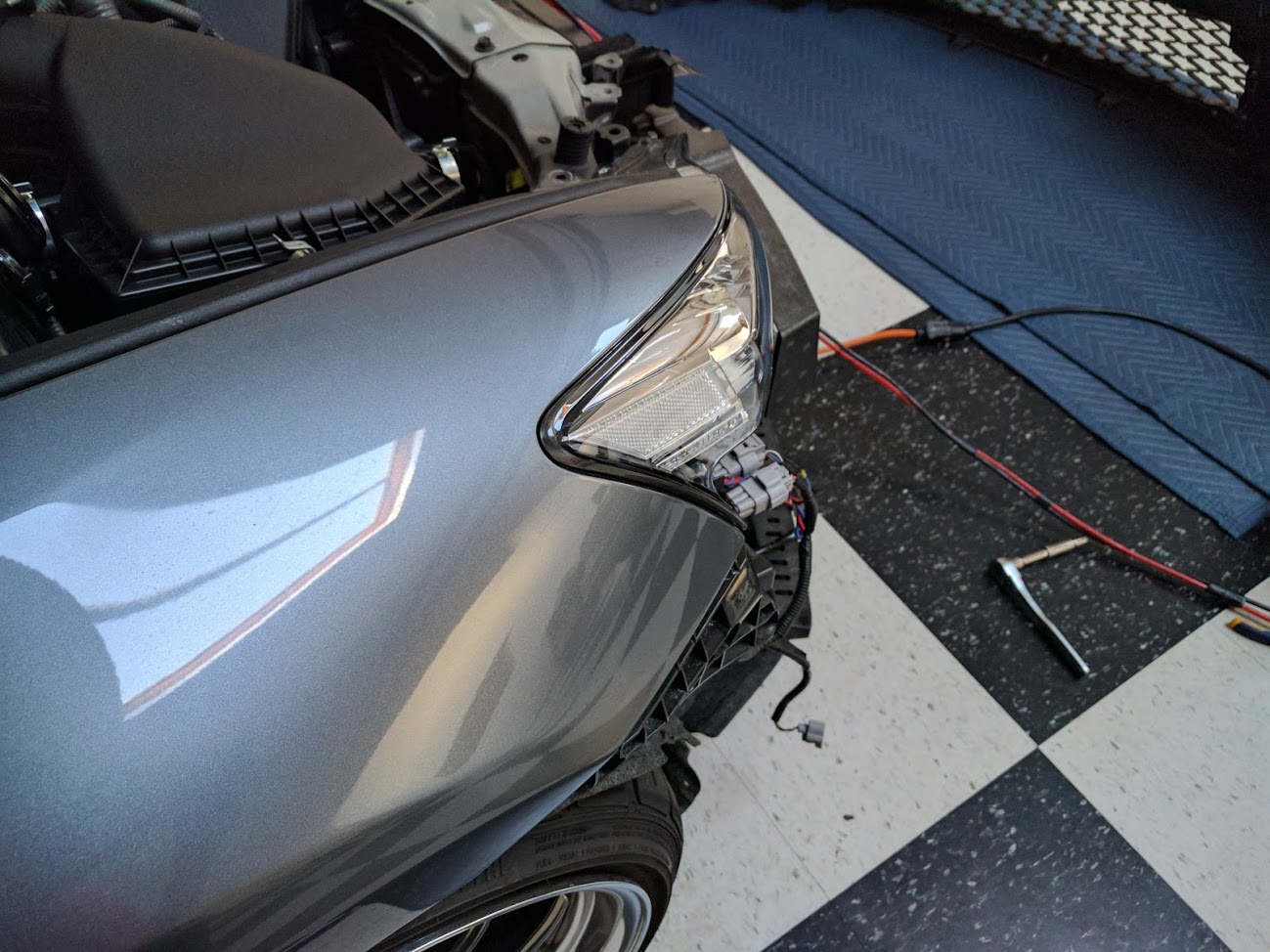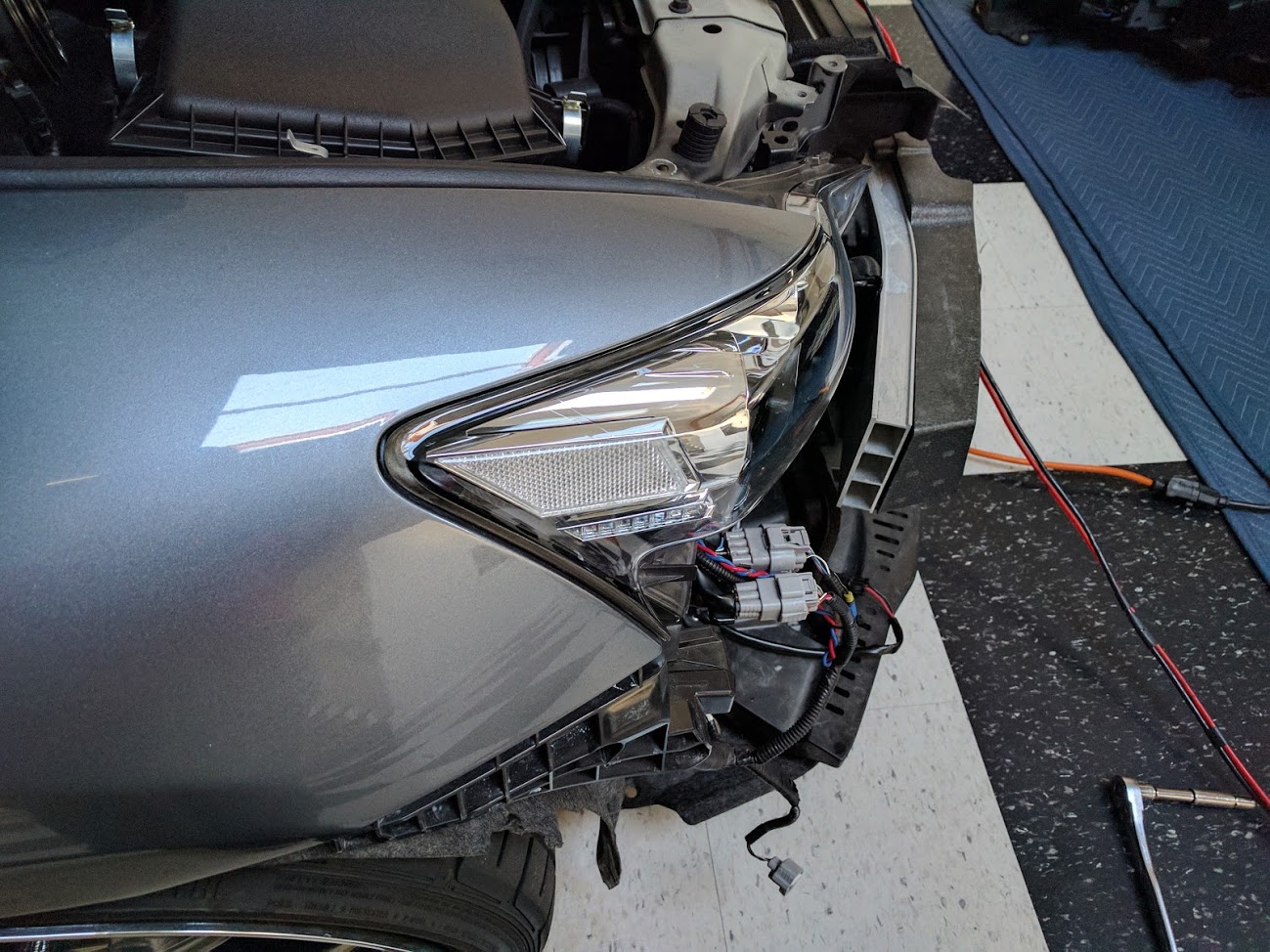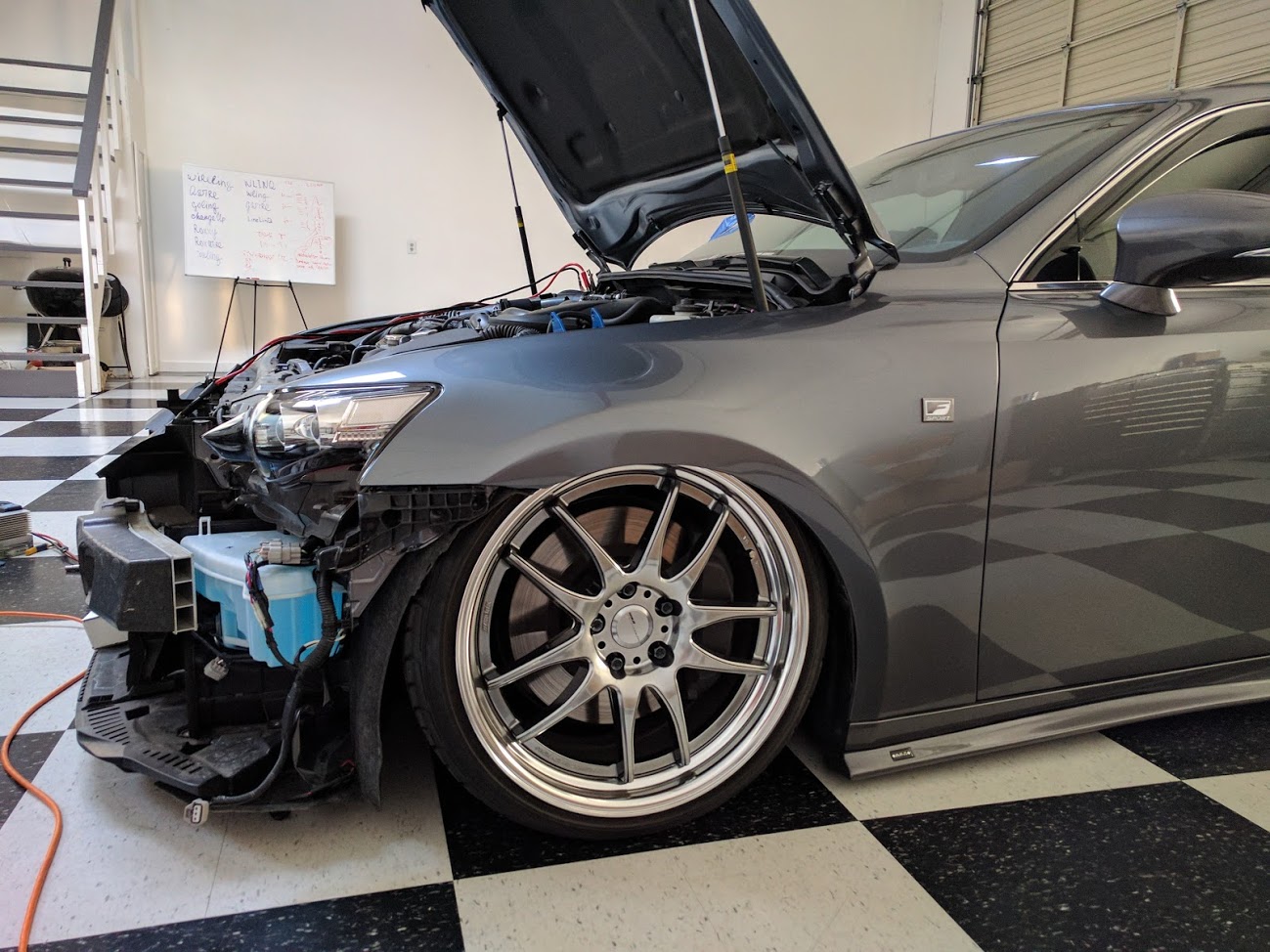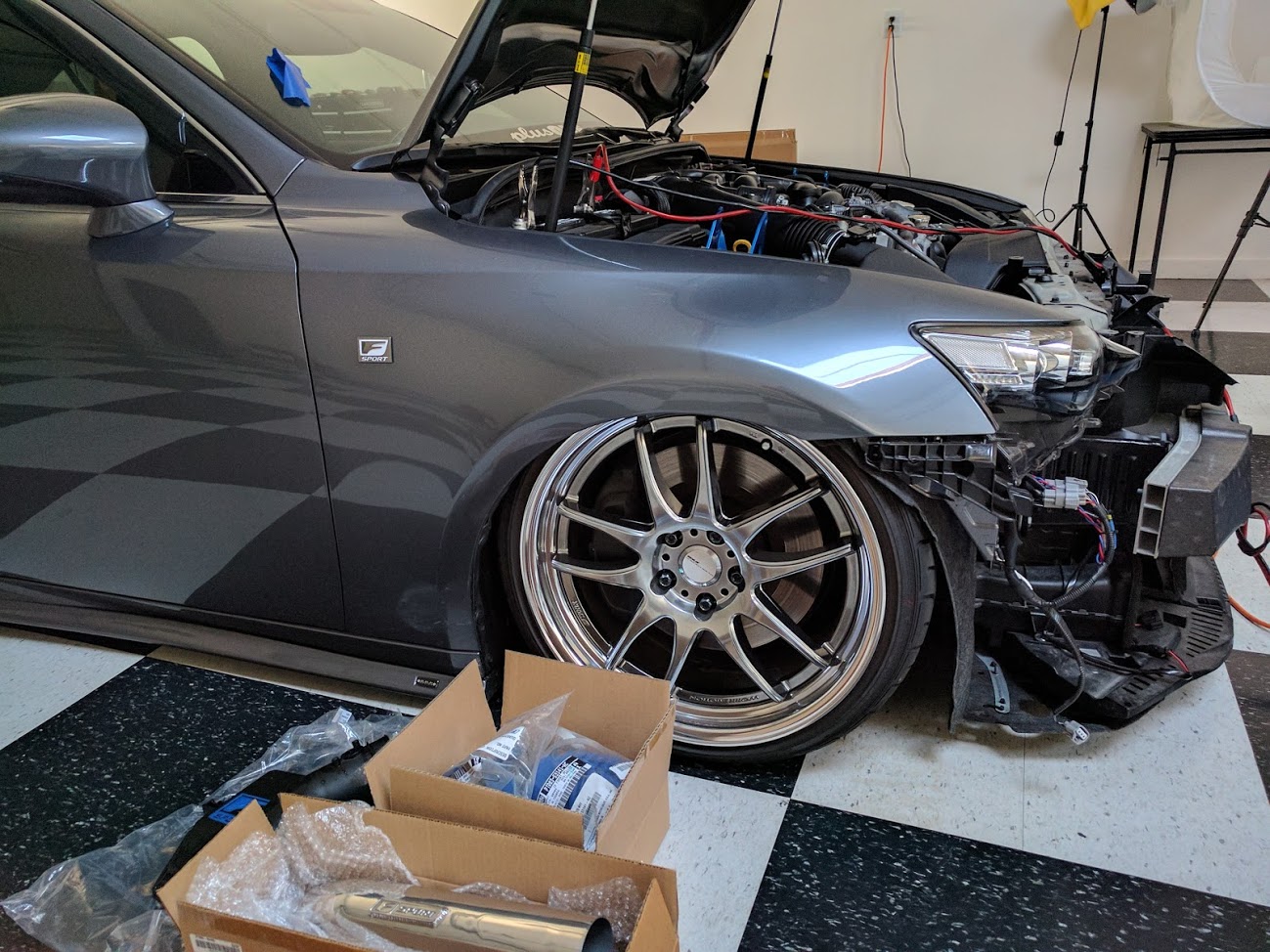 4-19-2017
The twisted pair of red/blue wires were added by the previous owner, it is not factory like that.
Yes the key difference is the side reflectors are different. The rear reflector has no light on it on the JDM version.
The front reflector has no light on it and instead of Orange, it is Clear in color.
it is very minor but someone that understands the difference will spot it right away.

In America Market law, car manufacturers must follow DOT and put Orange side reflector in front headlight and have side amber light.
On the Rear Taillight, it also must have Side reflector and Side red marker lights.
(you will see some cars have it on separate piece on bumper instead in some cases)

This Orange piece sticks out like a sore thumb to me and ever since I've gotten the car I always admired the JDM version with the clear piece instead. So as luck came to me, I met someone recently in Japan by name of Ryoto that was in search of the USDM with the amber instead and we agreed upon trading. He also wanted the Taillamps due to the minor difference so I traded these for his as well. I do not care too much for the taillights but I figured I'd helped him out and do a full trade. (Side note, you would see that I actually unplugged this side light earlier on in my Build to mimic a JDM light look)

Regardless I am Happy I have these headlights now as it sets the color theme I have going on much better.
4-21-2017
Moving right along, we now are installing a Fsport Air Intake that I recently pieced together.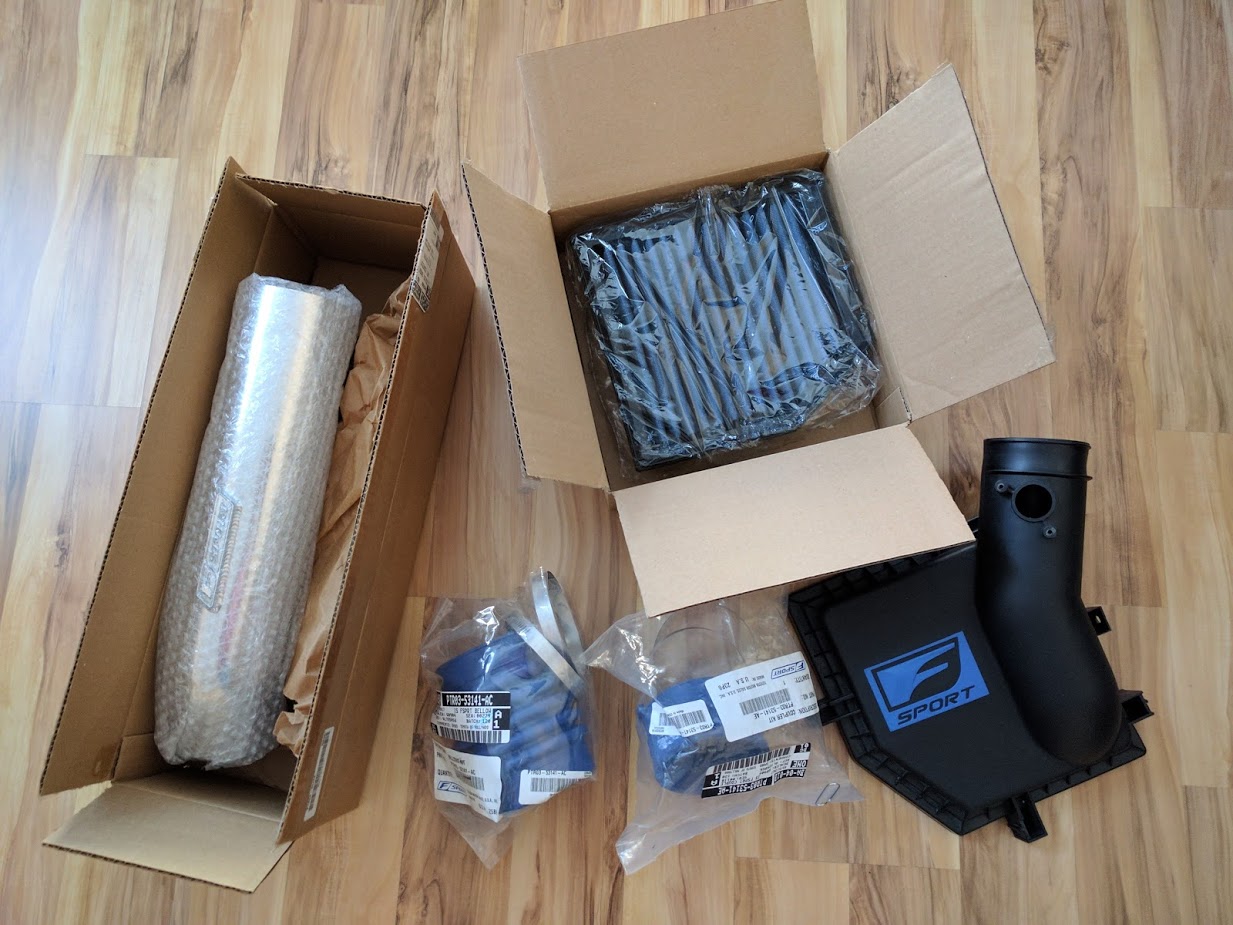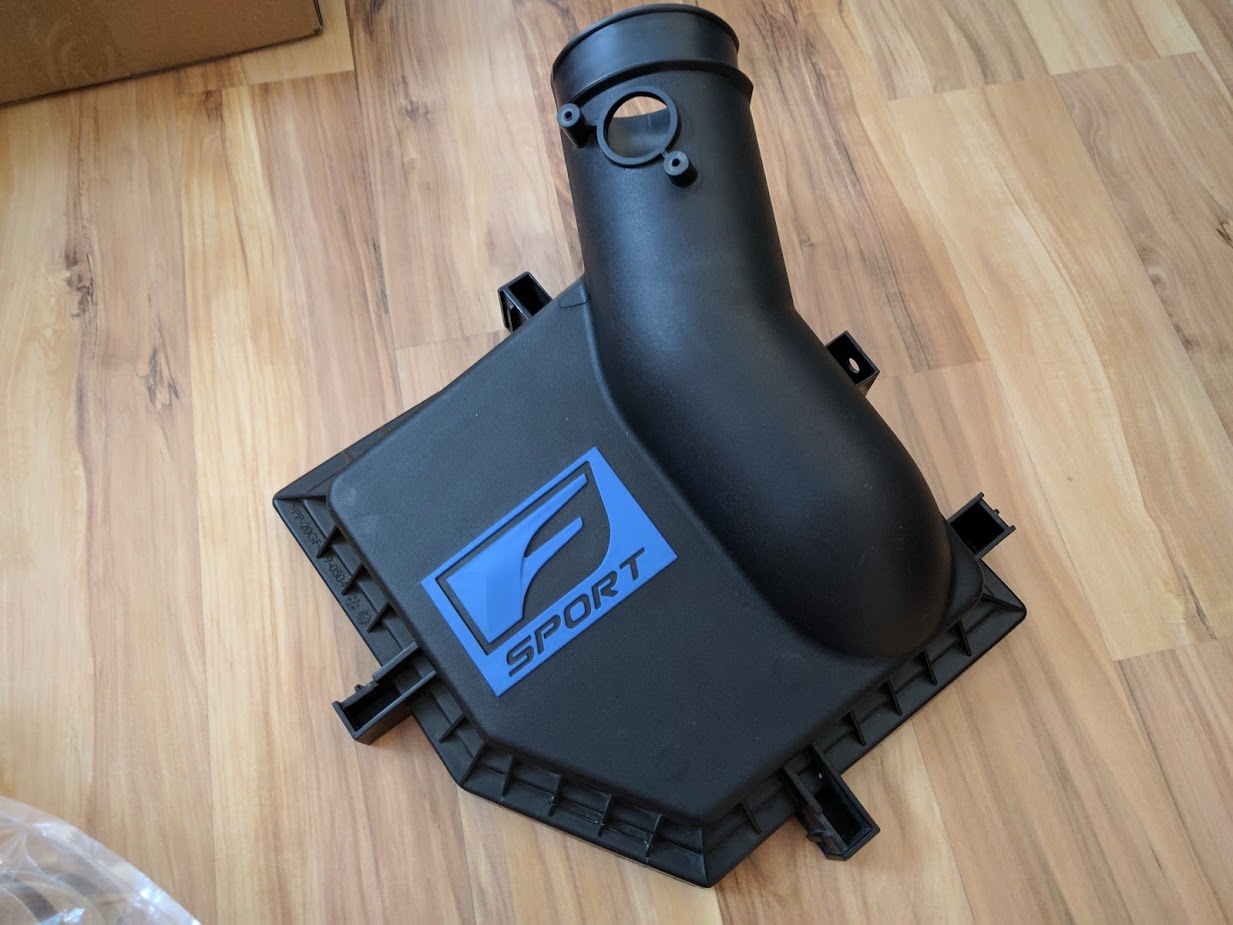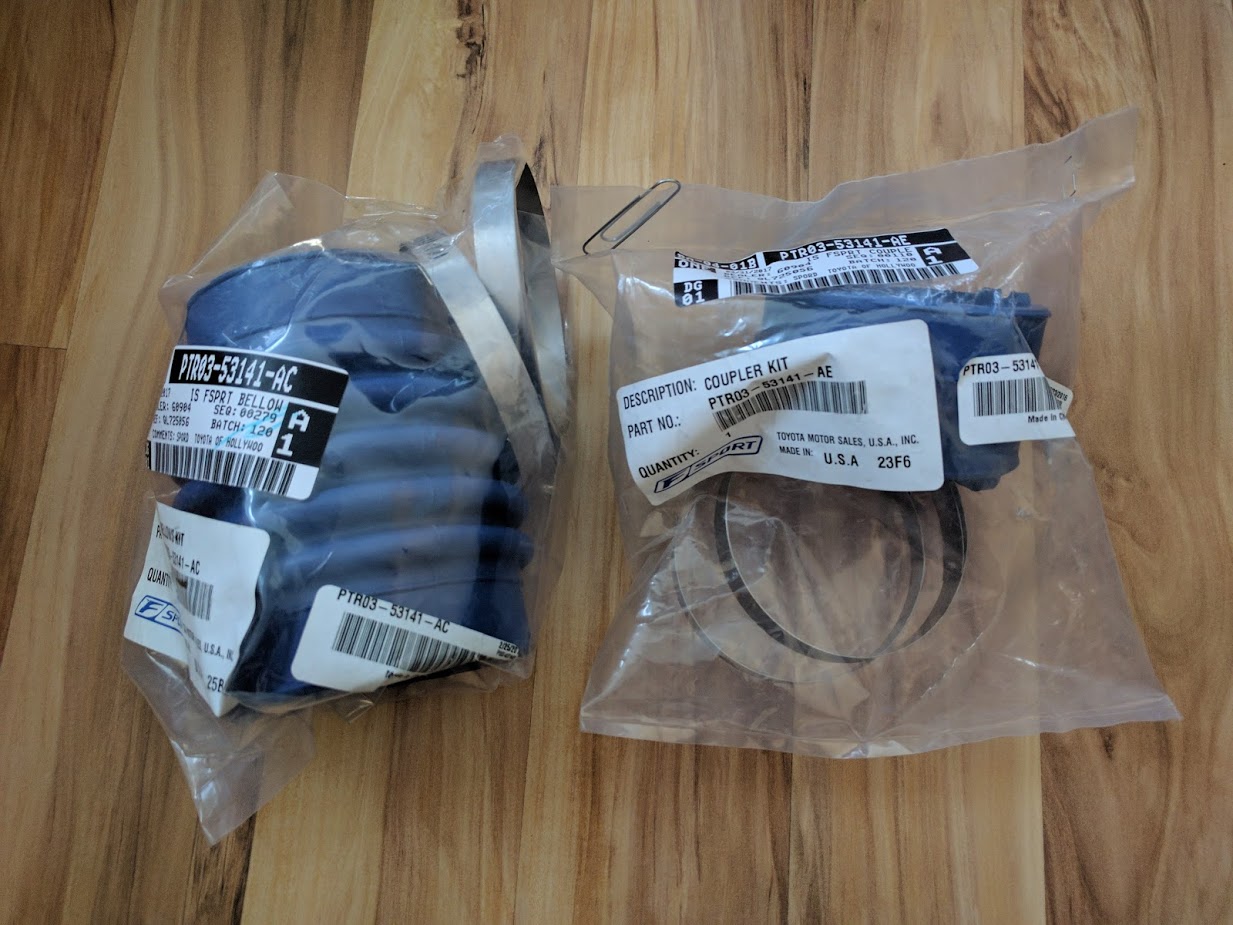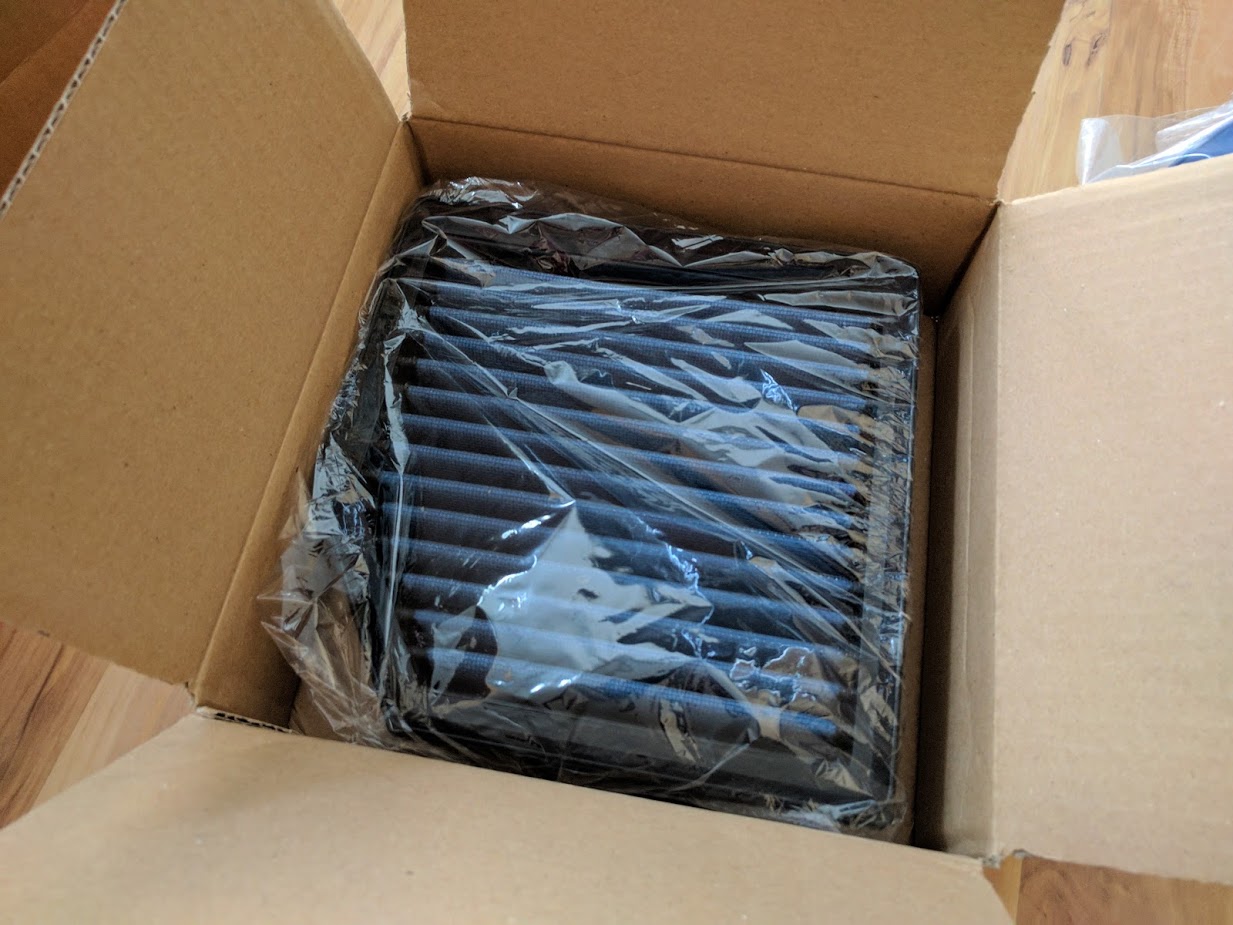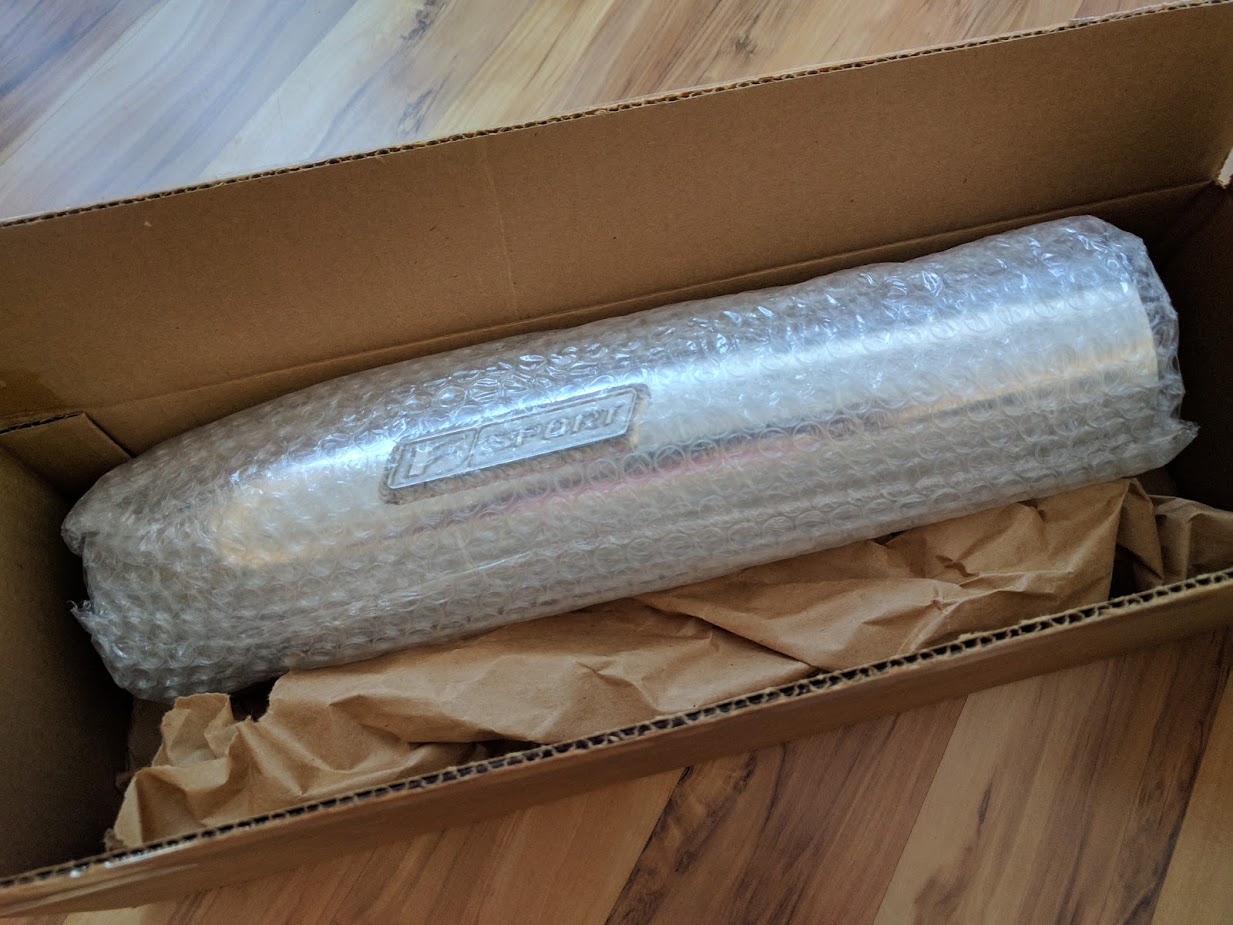 But there's a twist to it!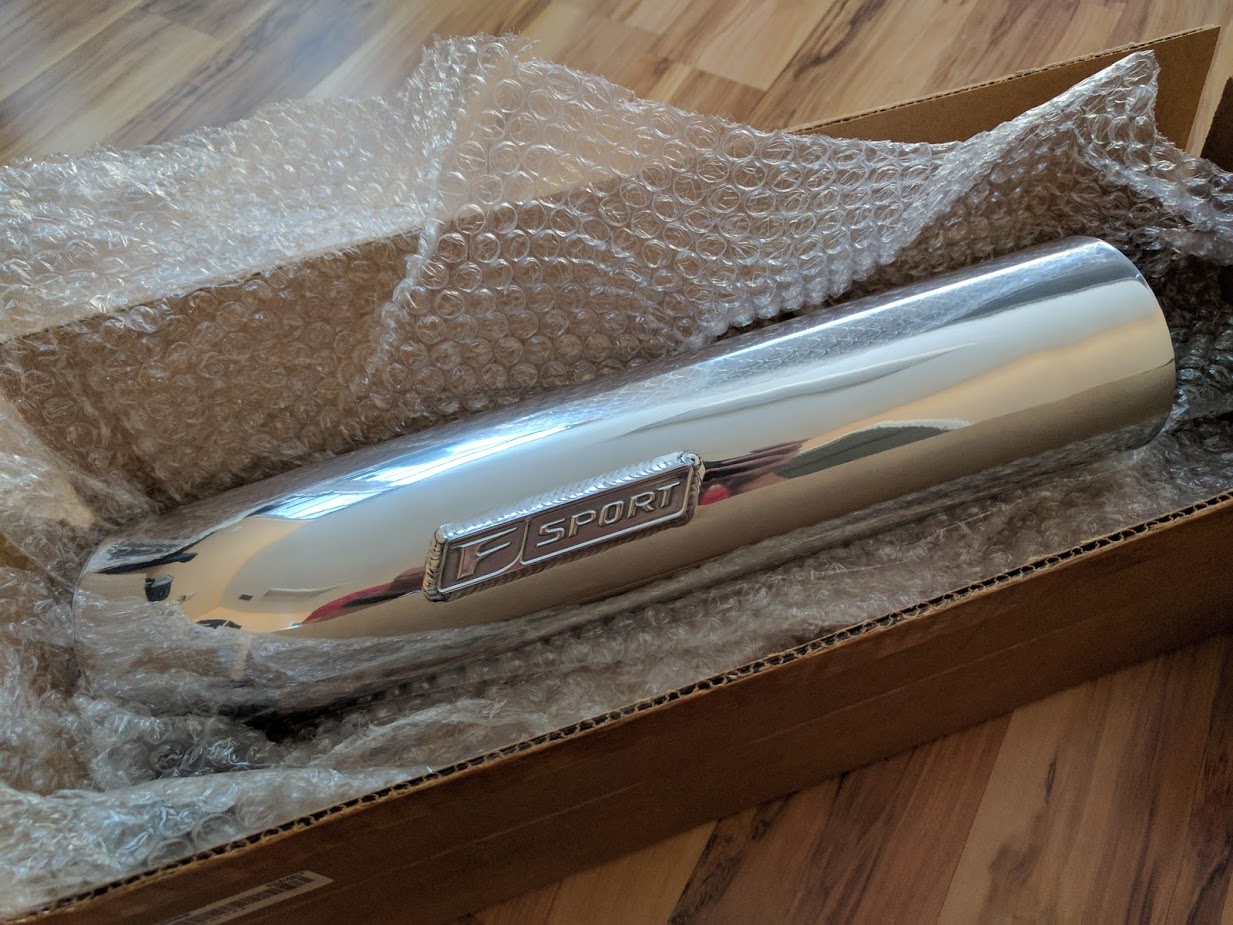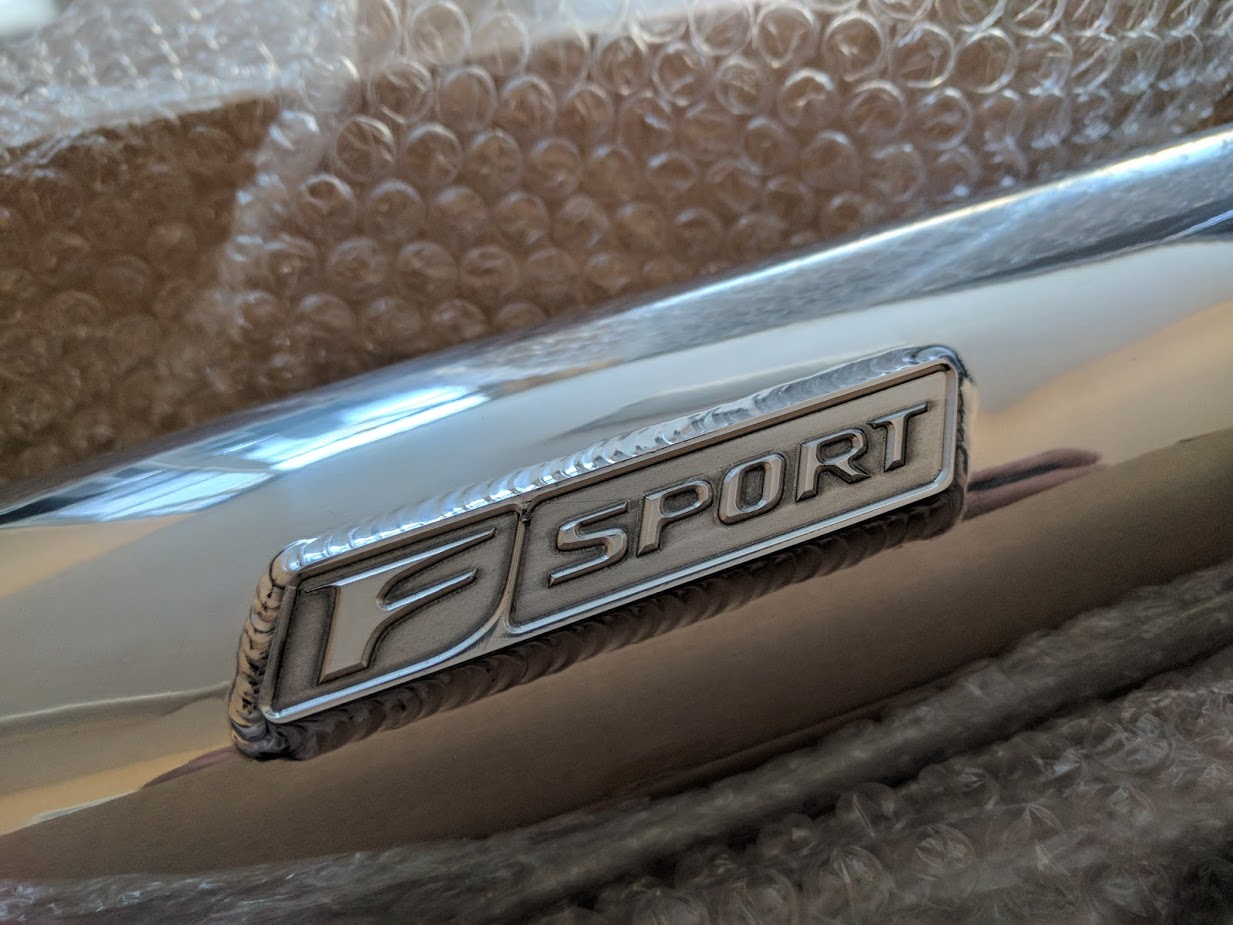 Before going out and purchasing the 3IS Fsport Air Intake kit, I noticed that the 2IS kit had a pipe with a Fsport emblem welded into place.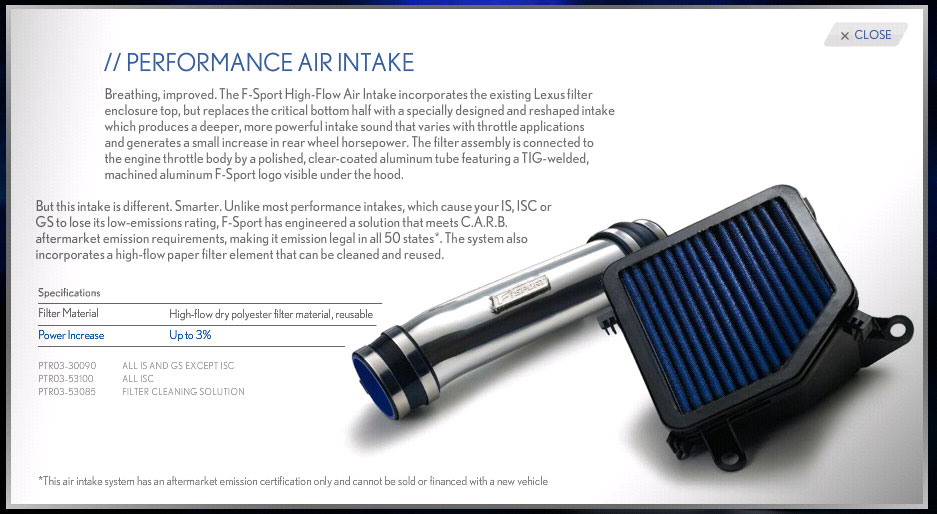 This got me curious and I wanted it more than the plain pipe that comes with the 3IS kit. So I did some research and found out that I can buy all the pieces individually in the kit as well as buy the 2IS pipe individually.
A small part of me was worried that it may not fit but since all the other 2IS intake out in the market transferred over to the 3IS just fine then it should in theory work. I priced it out purchasing it separately and it came close to purchasing a full 3IS kit. I went ahead and placed order for all the individually pieces.
Installing it......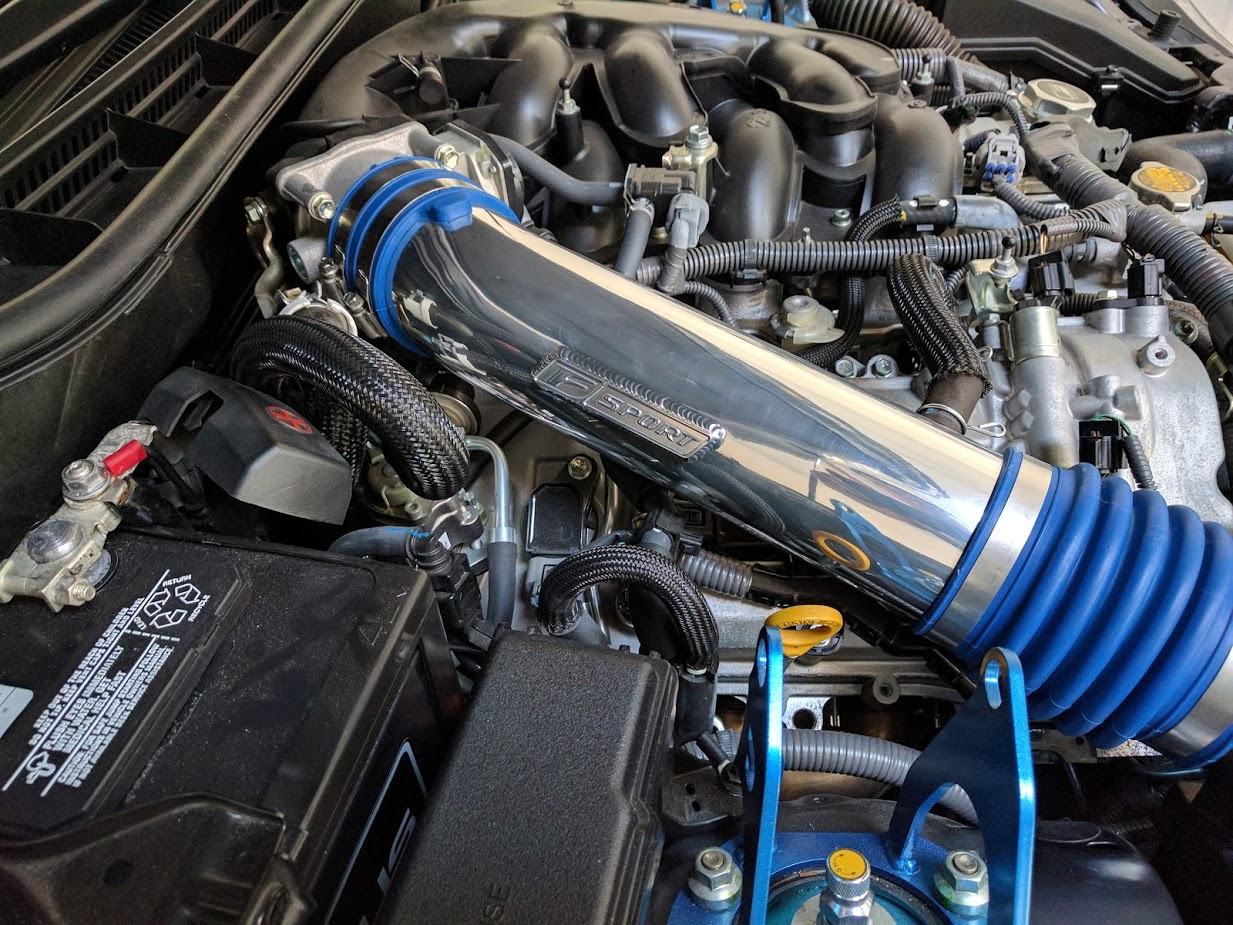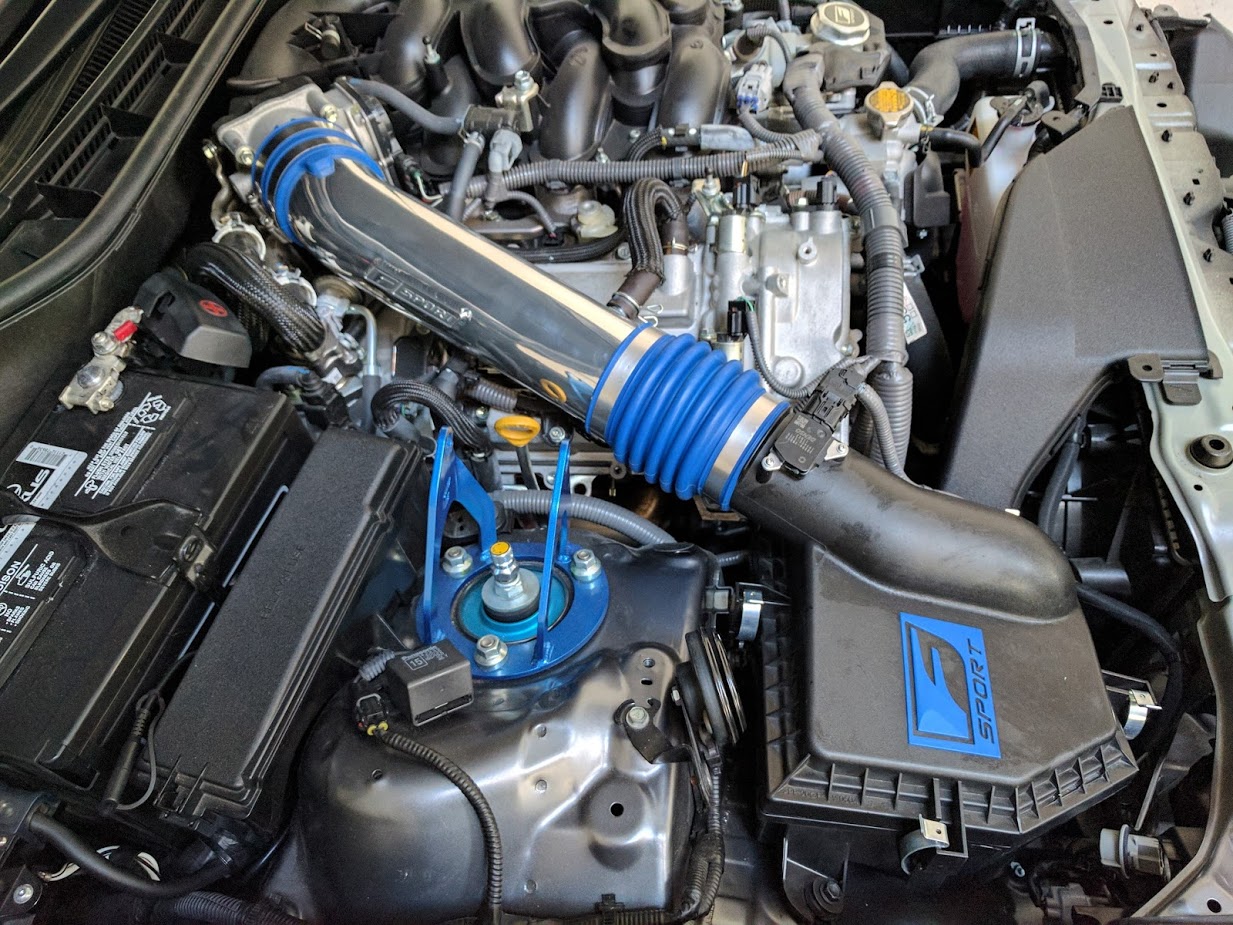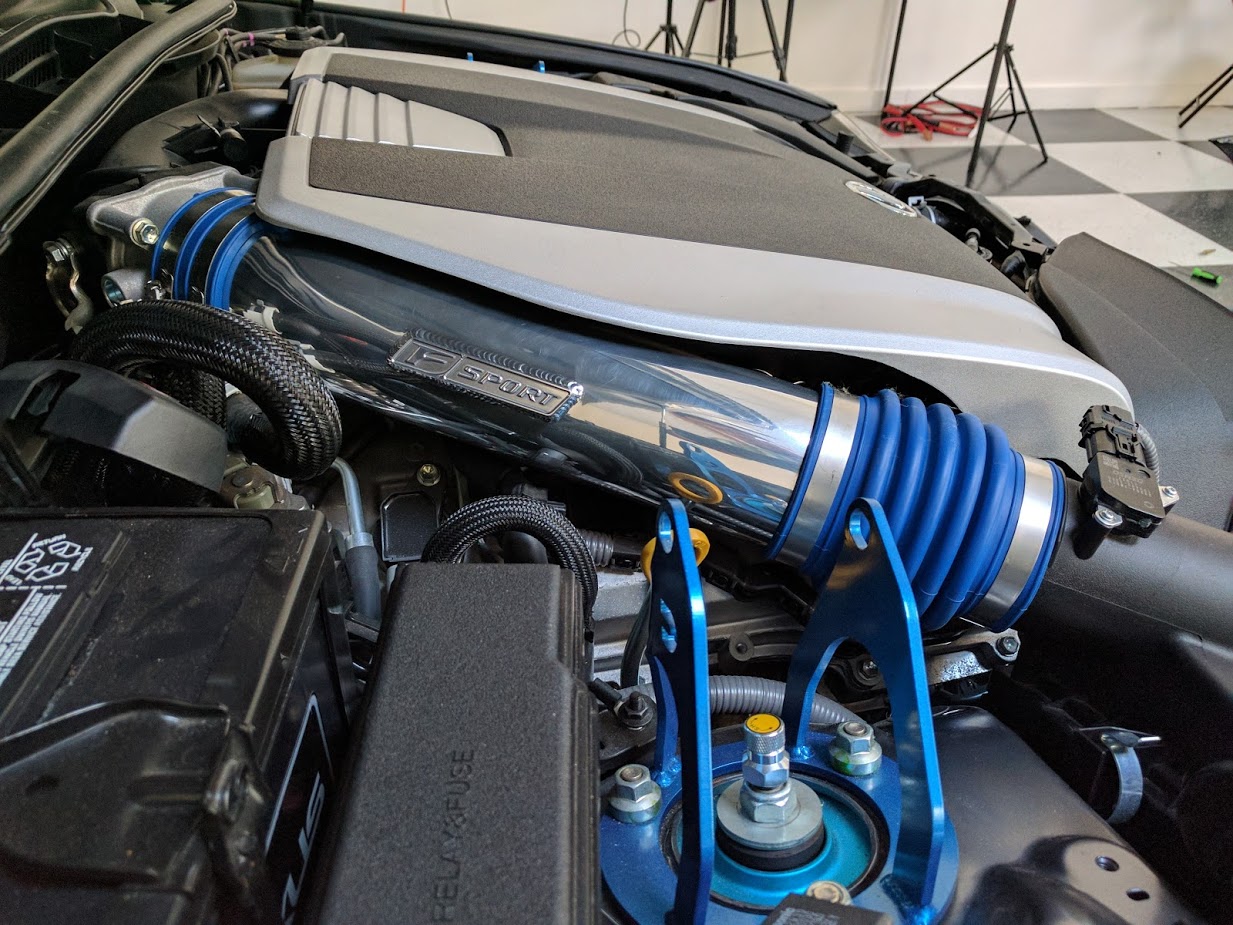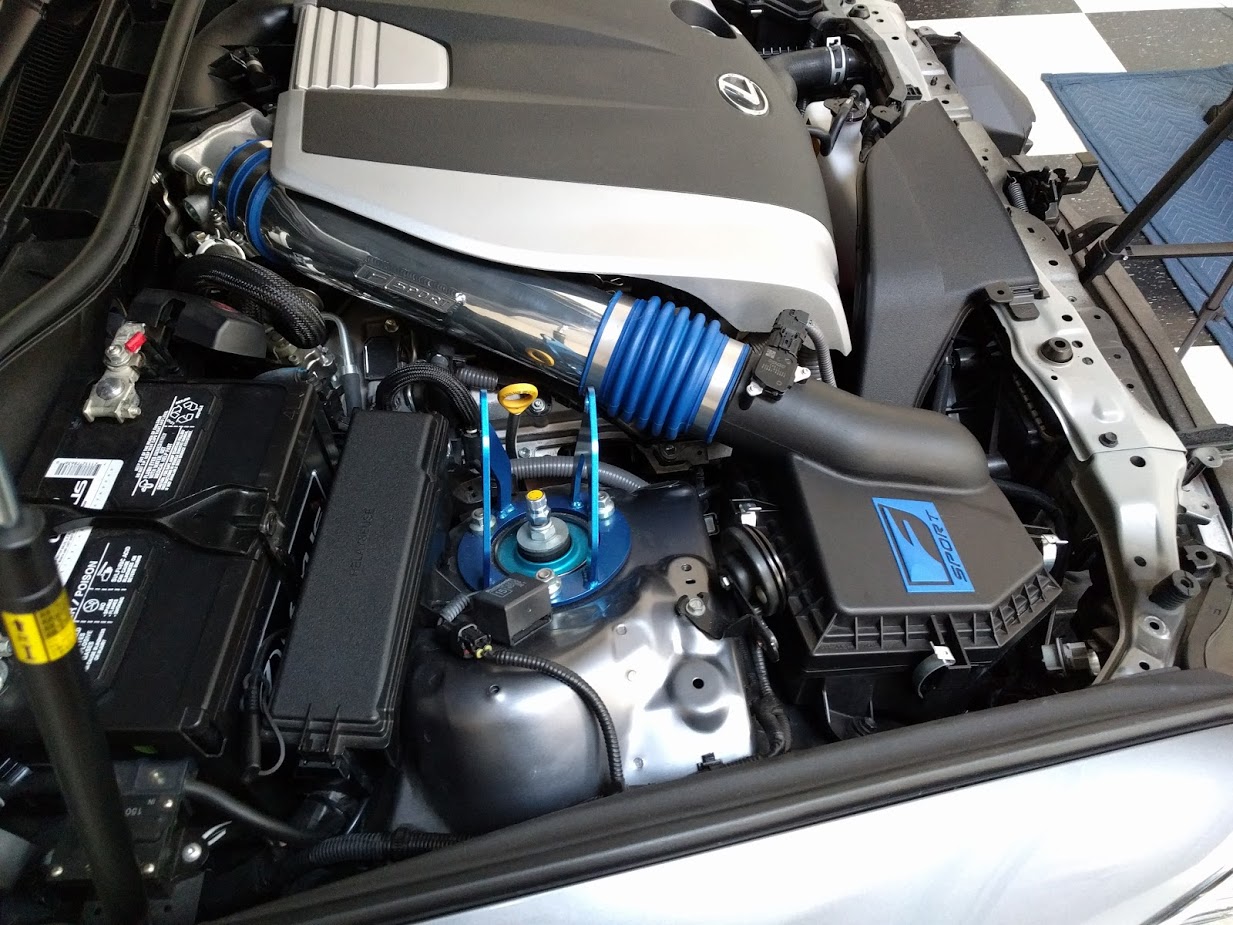 And what do you know it works and looks awesome. Most people will miss this small detail but those that do spot it would appreciate it.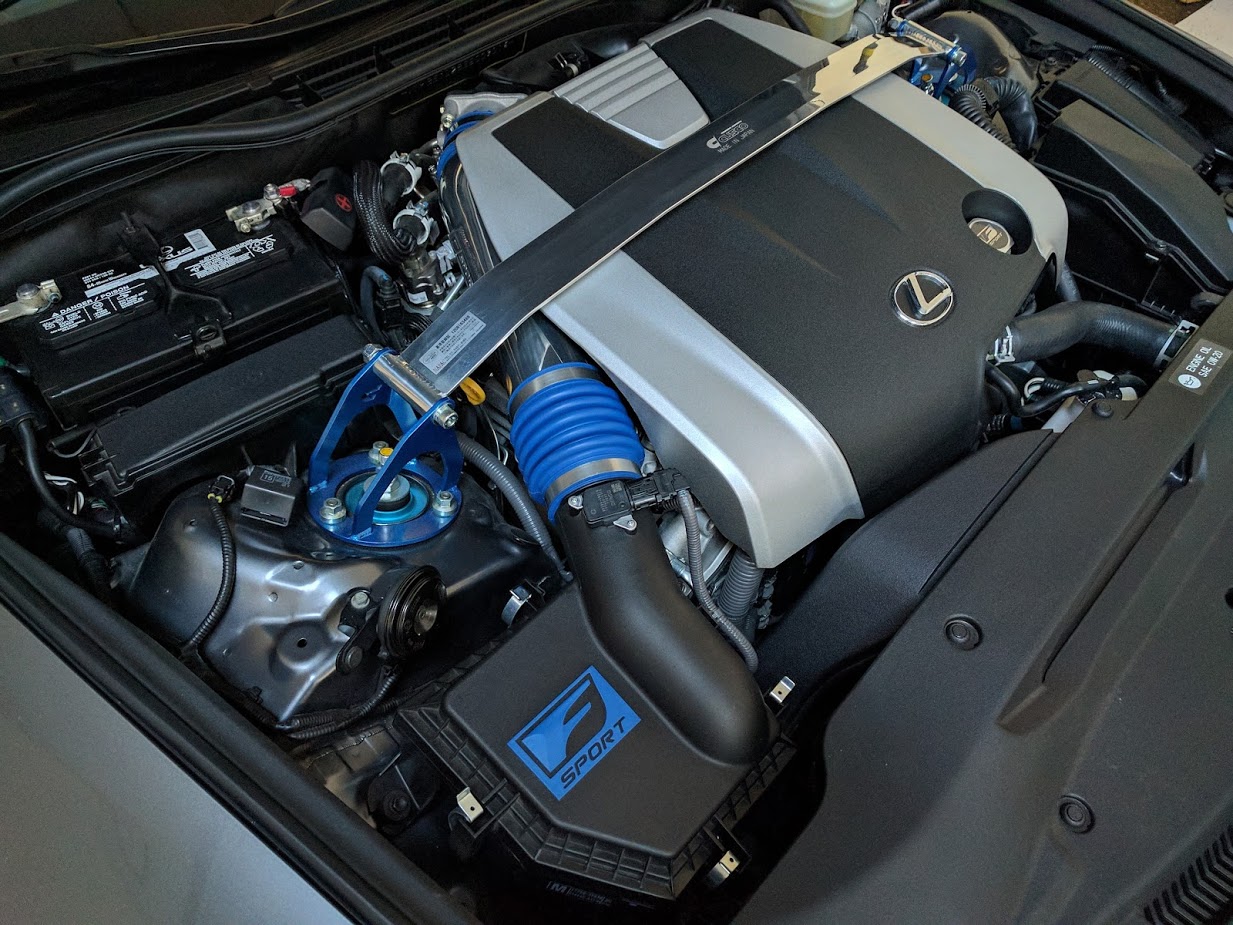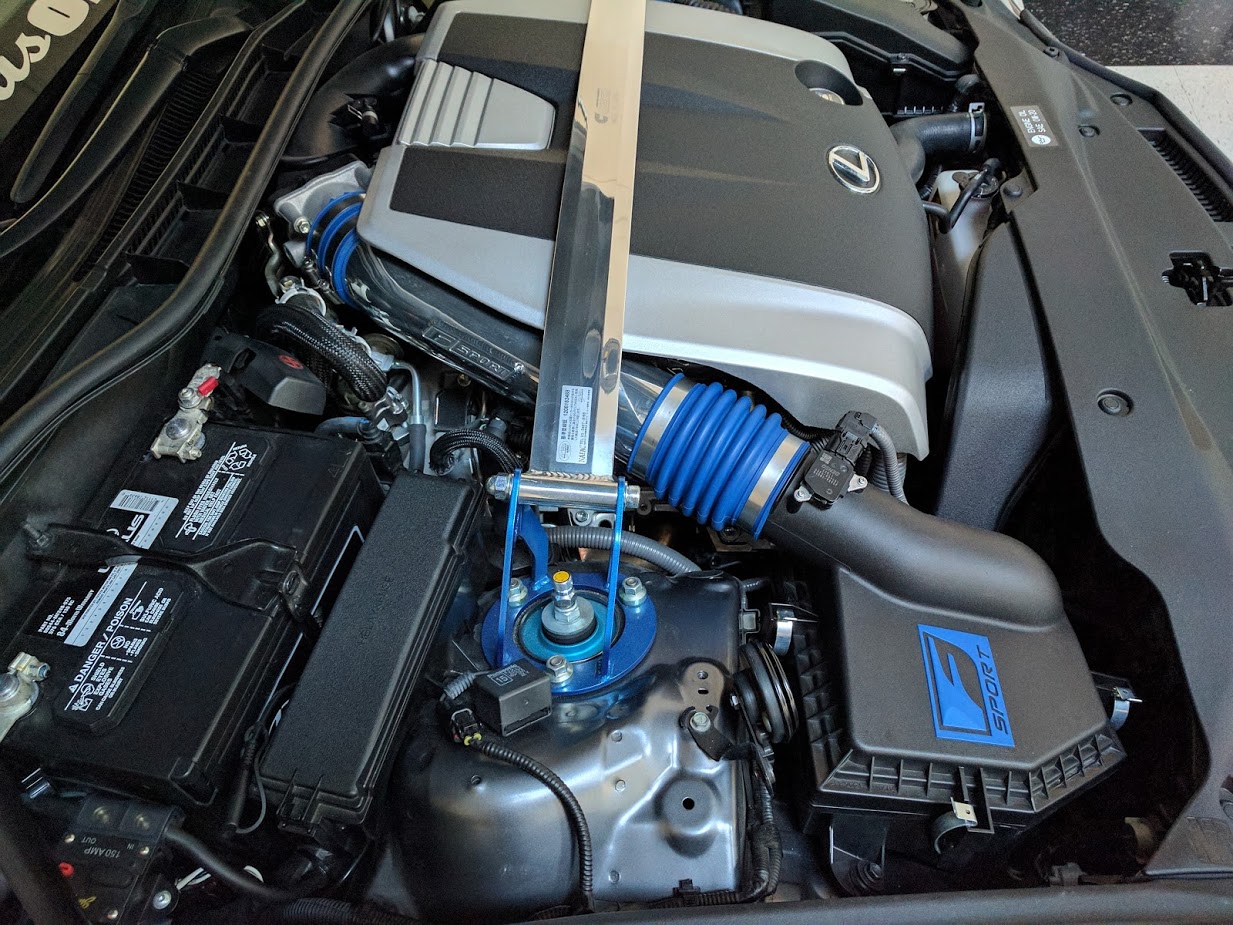 Here's a video of installing it....Subscribe to my youtube channel for more videos in the future like this!
Here is are the individual part numbers if anyone else wants to do the same as i have.
https://drive.google.com/file/d/0B-a...ew?usp=sharing
3IS parts numbers:
PTR03-53141-AA /// F-Sport Filter
PTR03-53141-AB /// F-Sport Air Box Upper
PTR03-53141-AC /// Bellows & Clamp Kit
PTR03-53141-AE /// Coupler & Clamp Kit

PTR03-53141-AD /// Intake Tube 3IS
PTR03-53083 /// Intake Tube 2IS (raised Fsport)




=====================================================================


One last shot of the JDM headlights with the clear reflector now with the bumper back on the car. So in love with this right now.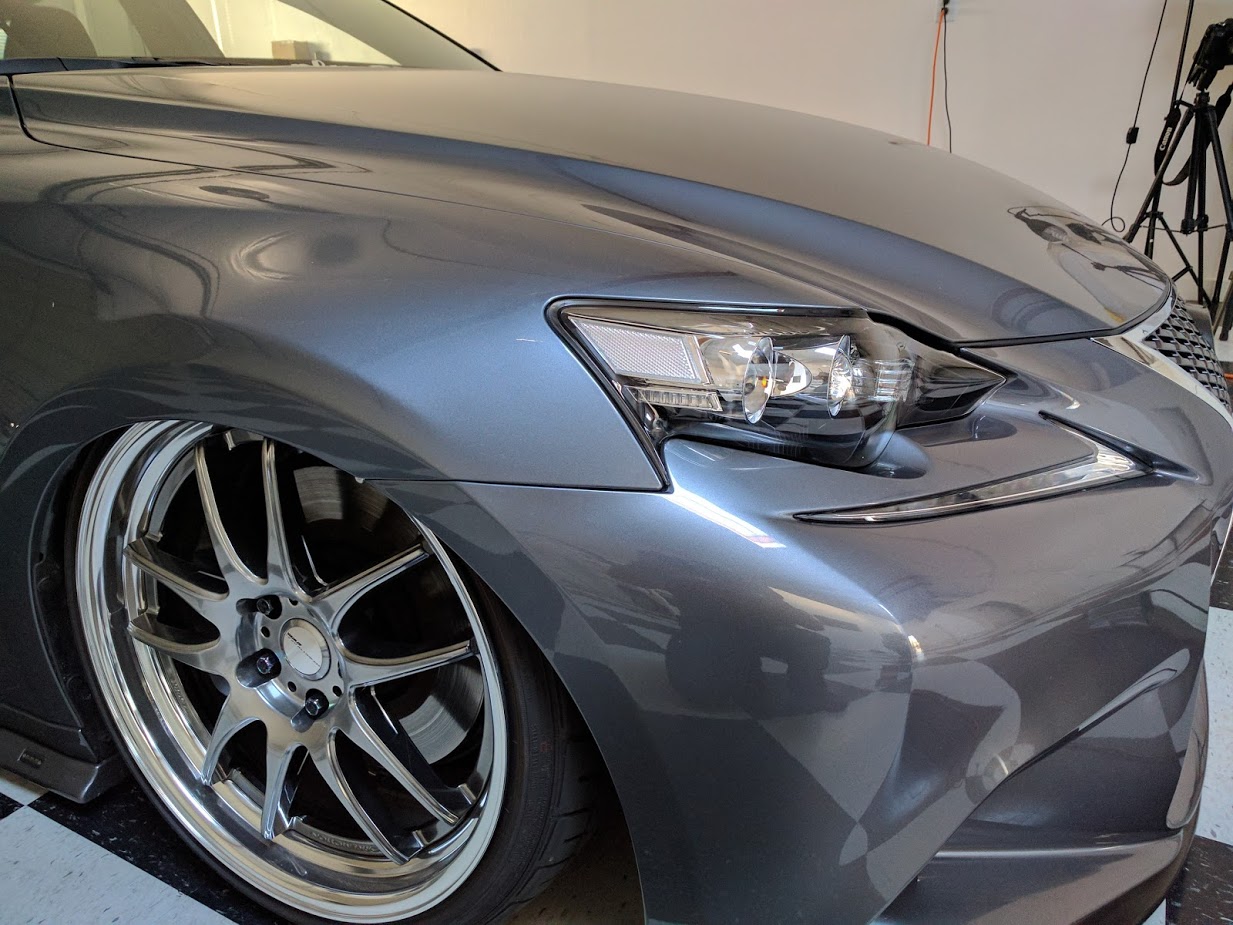 No modification needed if you have JDM Light harness for the headlamps
The difference in the headlamp is oddly the Turn signal is Dual Filament in USDM but we only use the brighter part of the bulb in LED headlamps anyways, Because its a dual filament bulb the socket on the headlamp is different, thats why the need for the JDM turn signal light harness. The other wire just sits there and does nothing. My guess as to why we have this USDM harness is maybe to keep it all the same for the headlights, the Halogen version of headlamp maybe uses the dimmer portion as parking lights is my guess.
Luckily me and my friend in Japan compared photos before we sent off the headlamps and figured out the signal light harness was different because we were thinking of holding onto our respective cables to maybe lighten the package weight.
Here's some comparison photos from that time before we sent the lights to eachother
This is the USDM light socket with three wires (only picture i grabbed, didnt take more)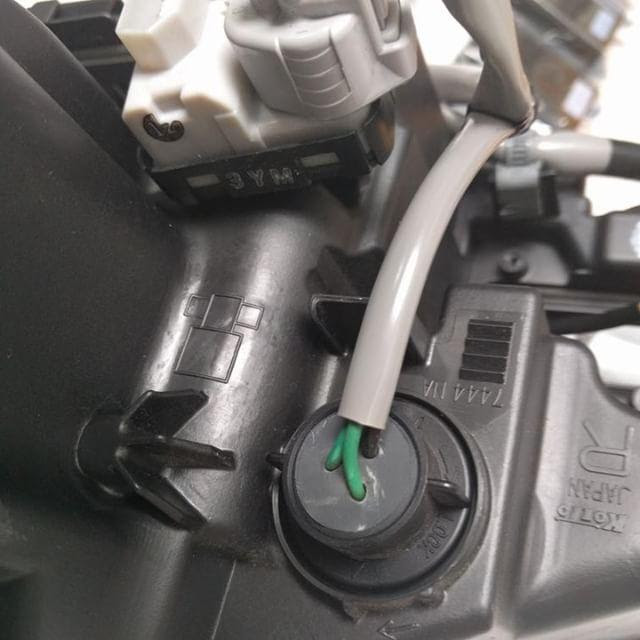 This is the JDM with two wires only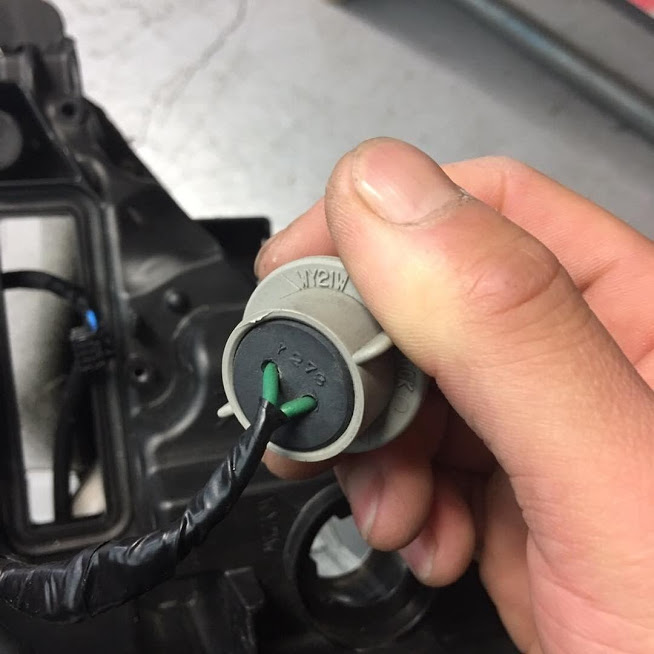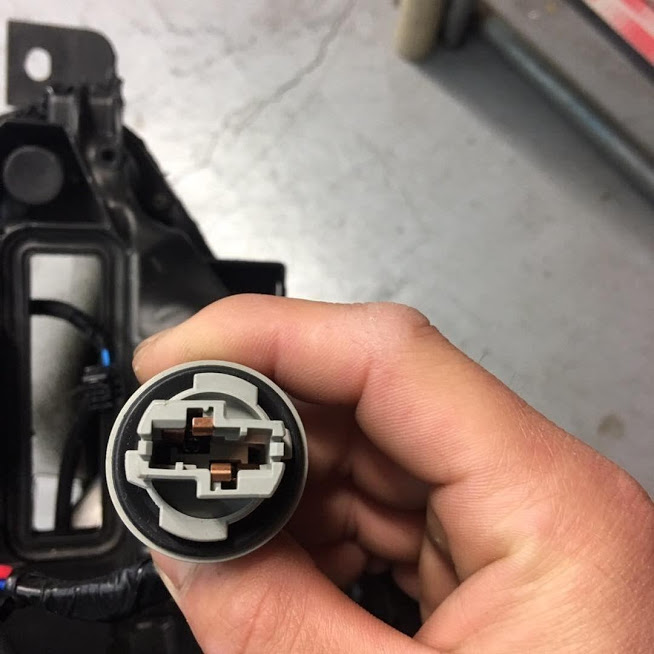 JDM socket hole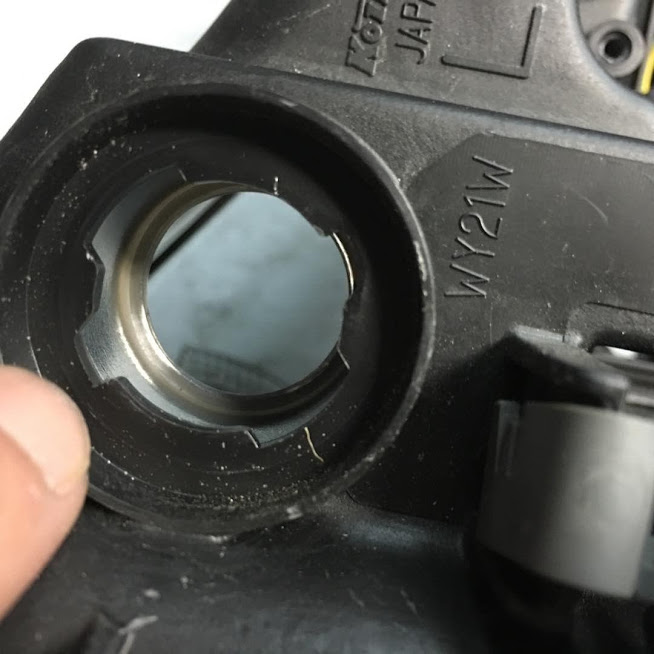 As for the Taillamps, they were plug and play, only difference was the side indicator light does not exist.
kinda of boring so i didnt post any pictures of it lol
6-13-2017
Picked up these guys a couple of weeks ago when they had a Groupbuy sale. Need to find some time to get them installed.

RRacing USRS Front lower control arm bushing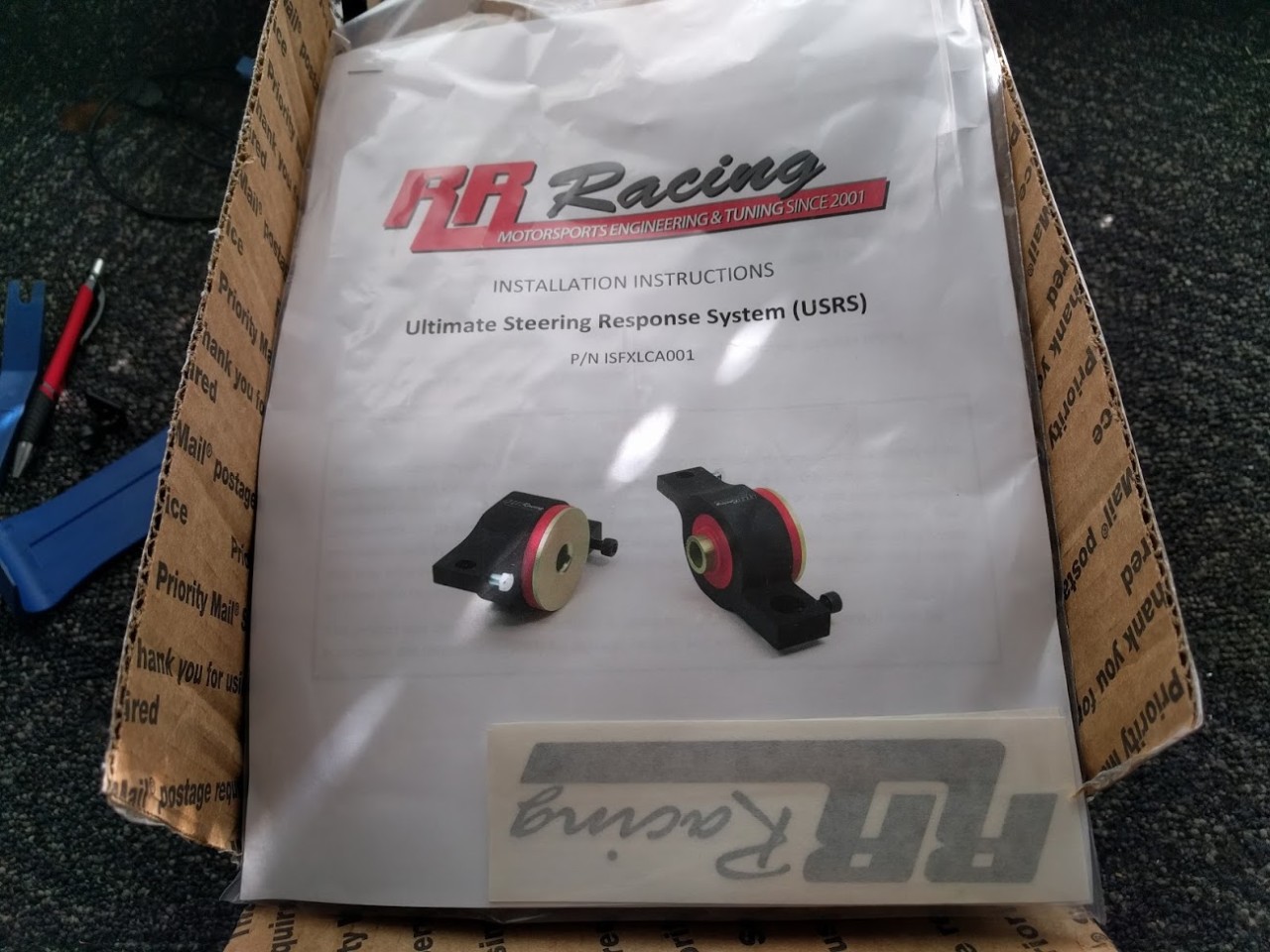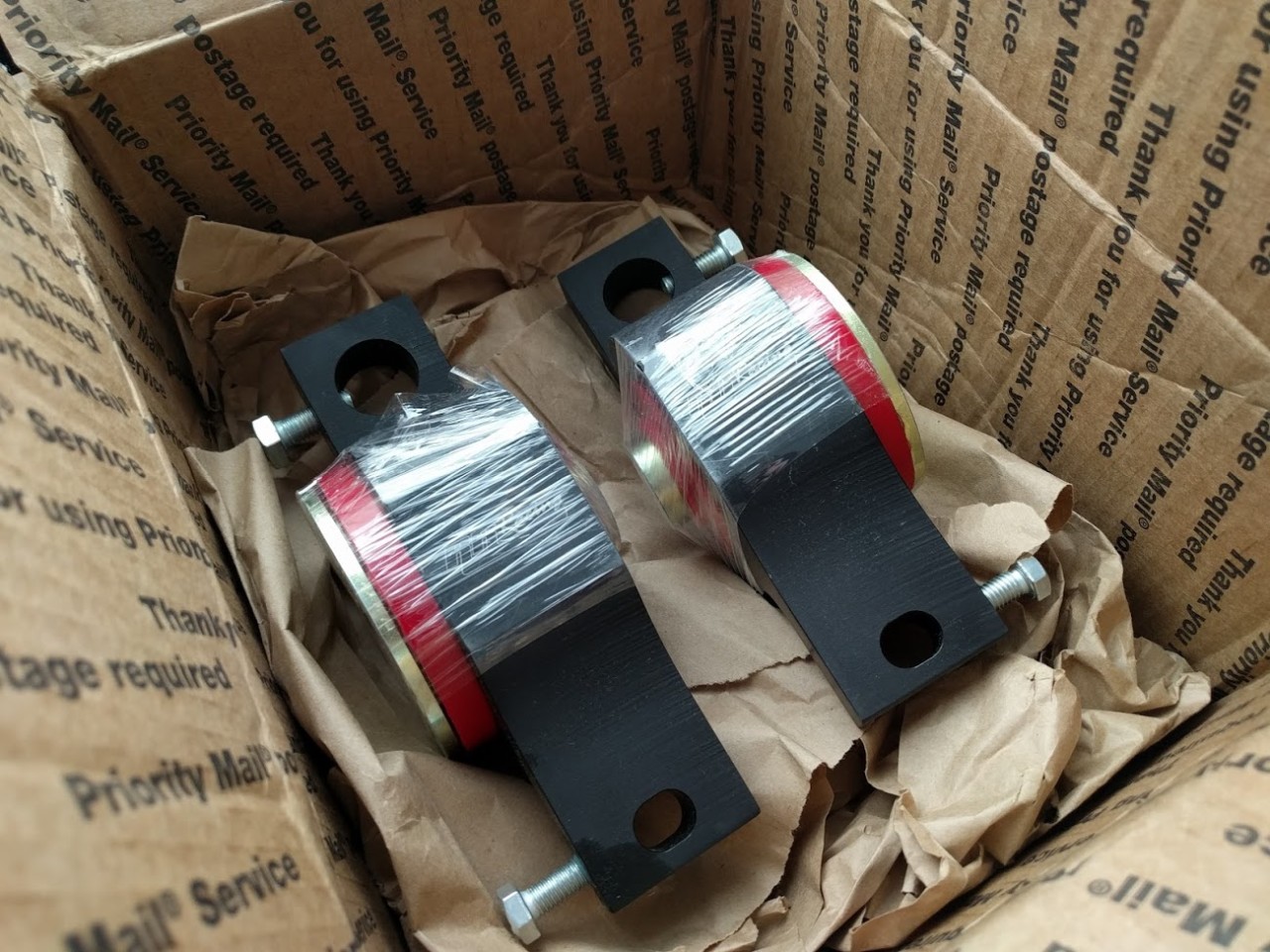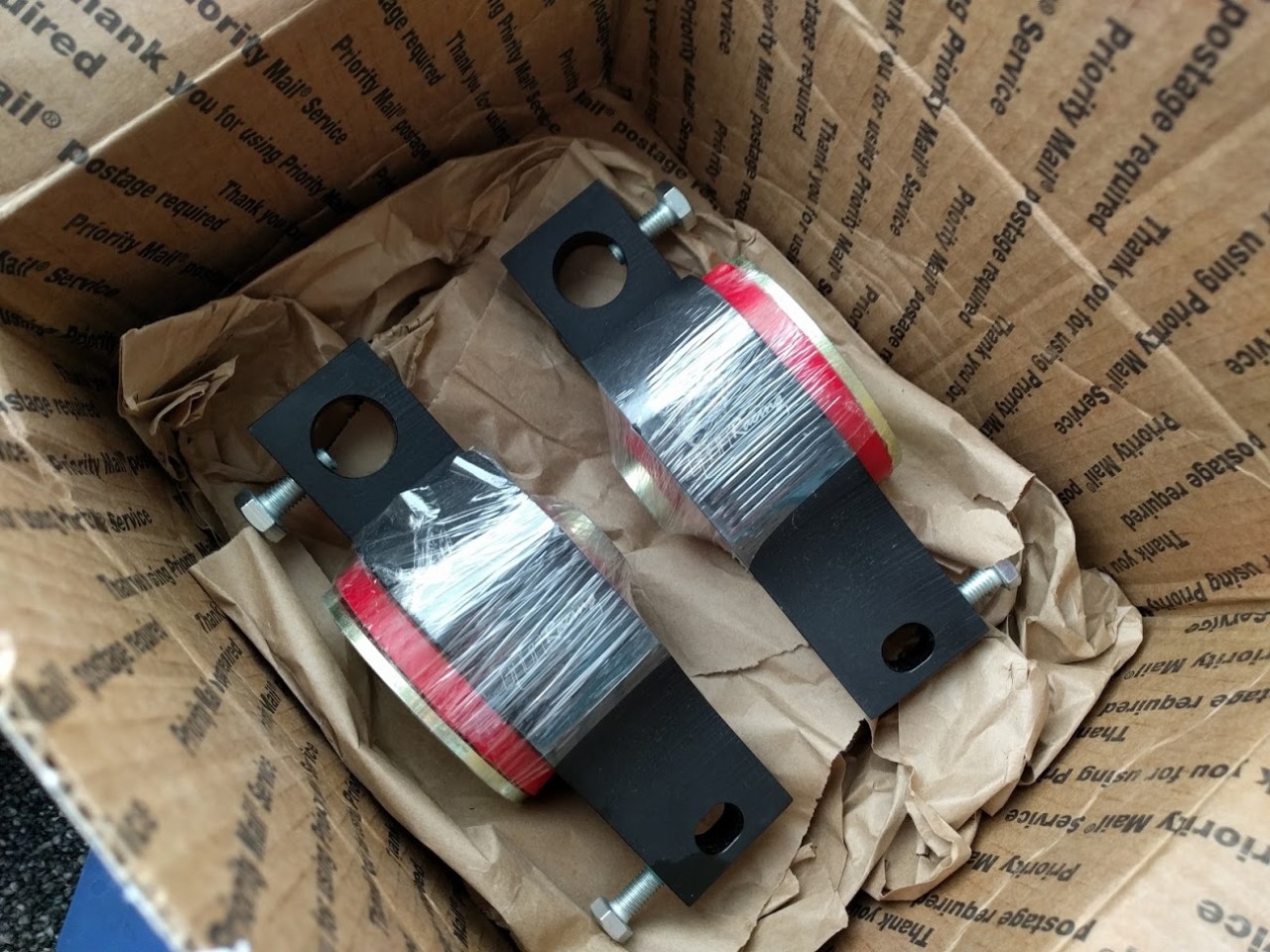 7-3-2017
https://www.youtube.com/watch?v=LxGLbn6DBPQ
7-15-2017
Has some time finally to get the Ultimate Steering Response System (USRS) mounts onto the vehicle from RR Racing that has been sitting for a couple of weeks
Check out the video of the install I made. Hope you guys engine.
https://www.youtube.com/watch?v=gaP3w4adGPU
7-25-2017
Had some time finally to get the illuminated door sills onto the car.


OEM Lexus Illuminated Door Sills
Part number: PT942-53140
https://rover.ebay.com/rover/1/711-5...Ik%26vxp%3Dmtr



Here's some in progress photos


stock one removed, (if anybody with Non-fsport base is interested in it)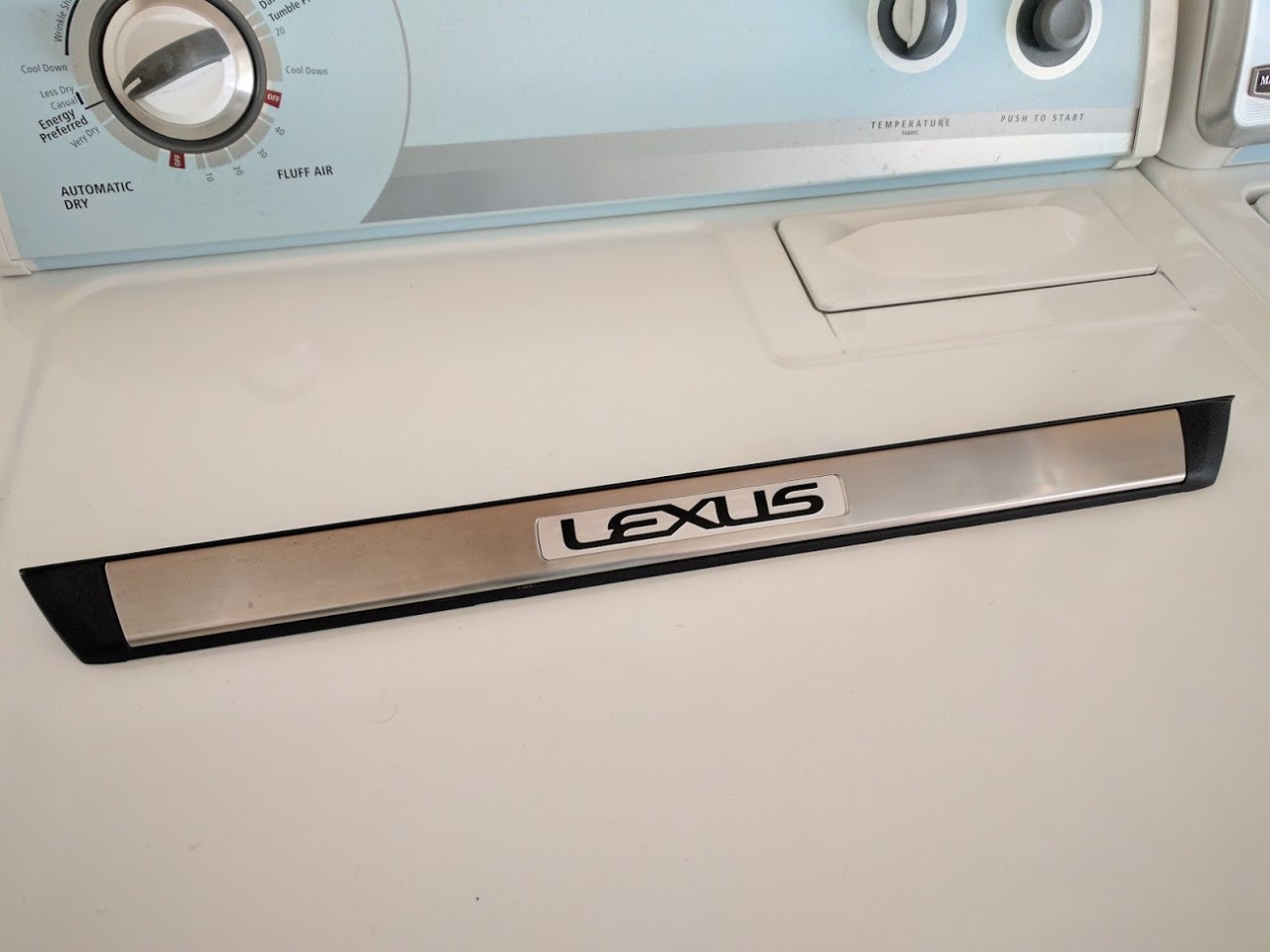 Some in progress pictures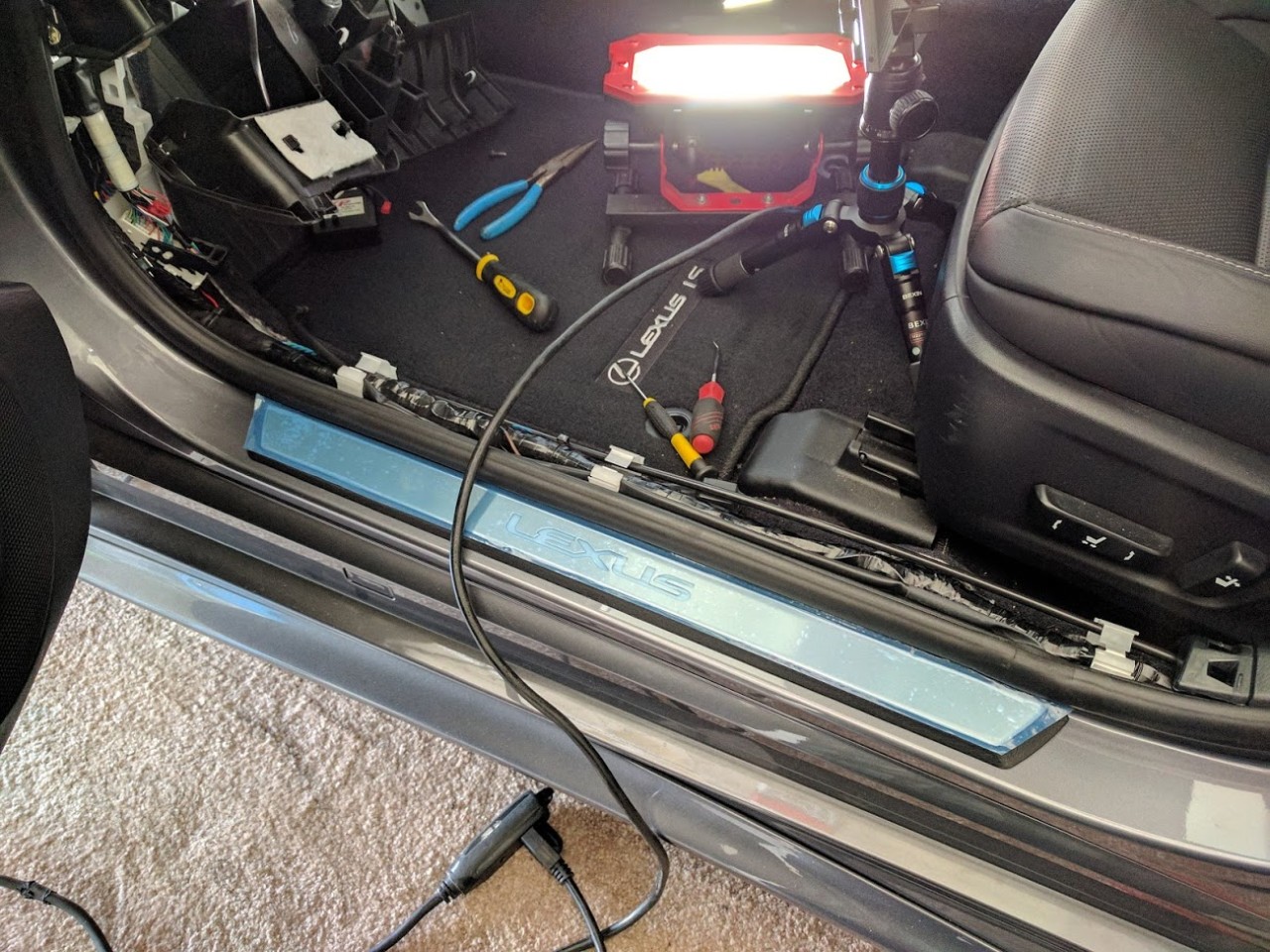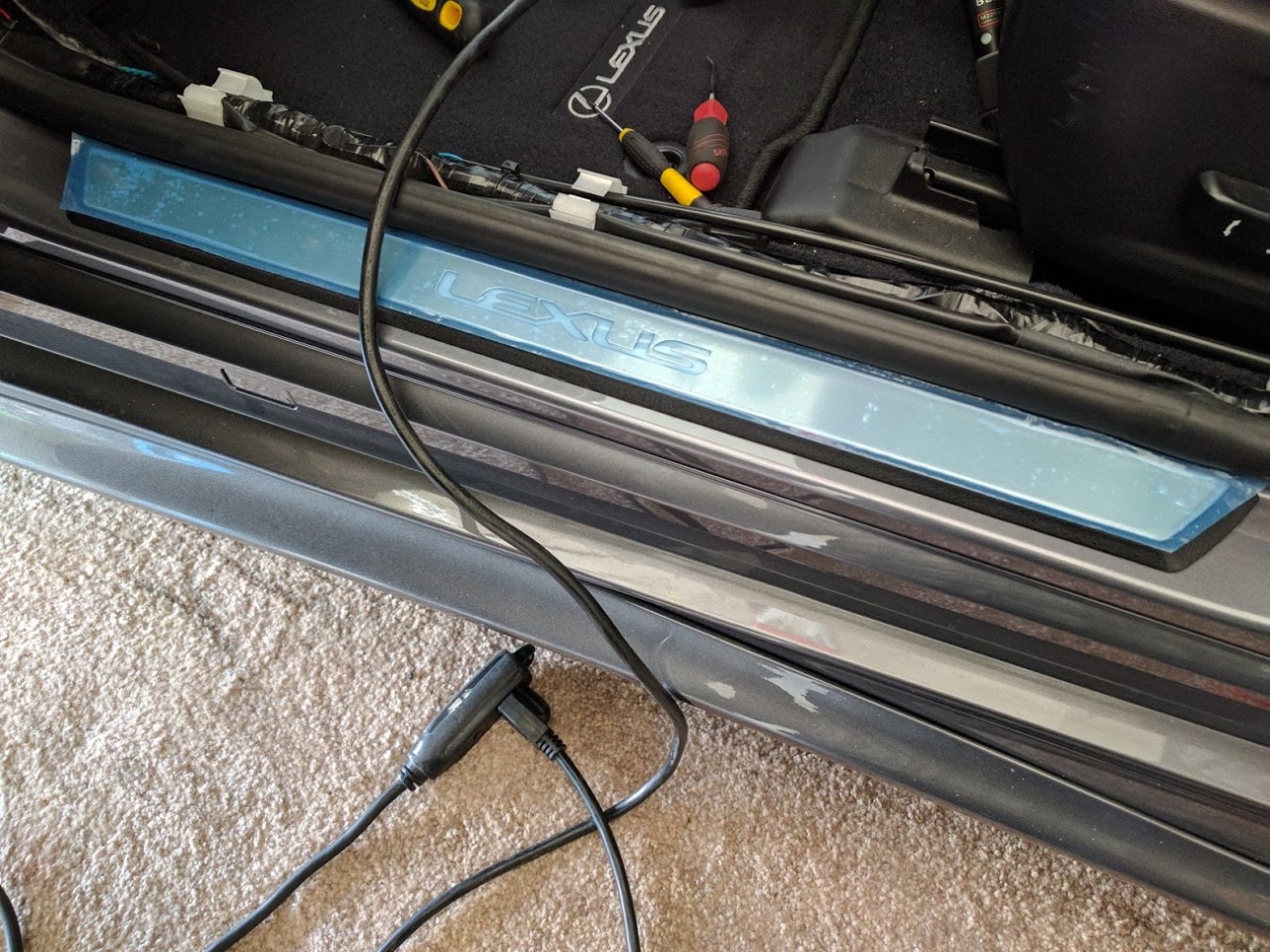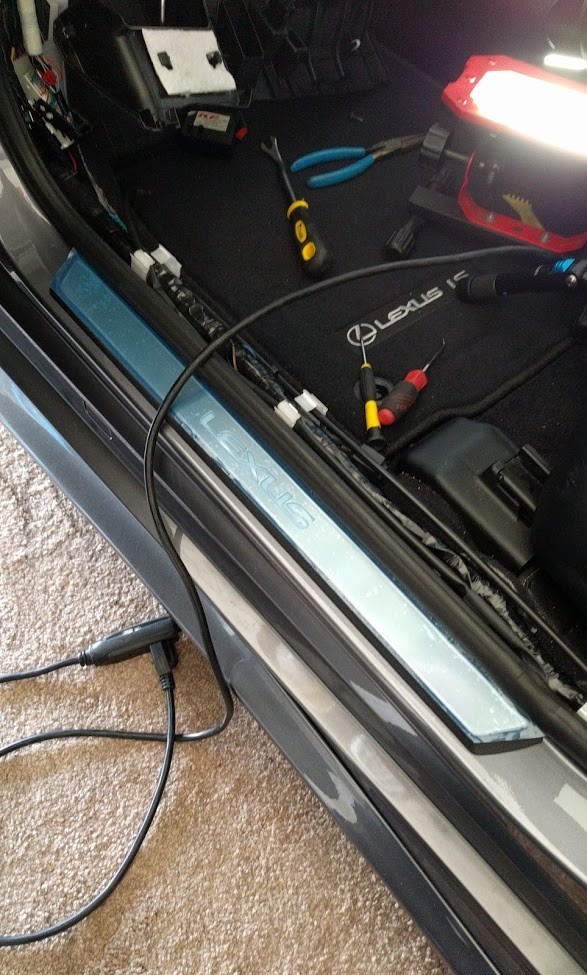 All wired up and done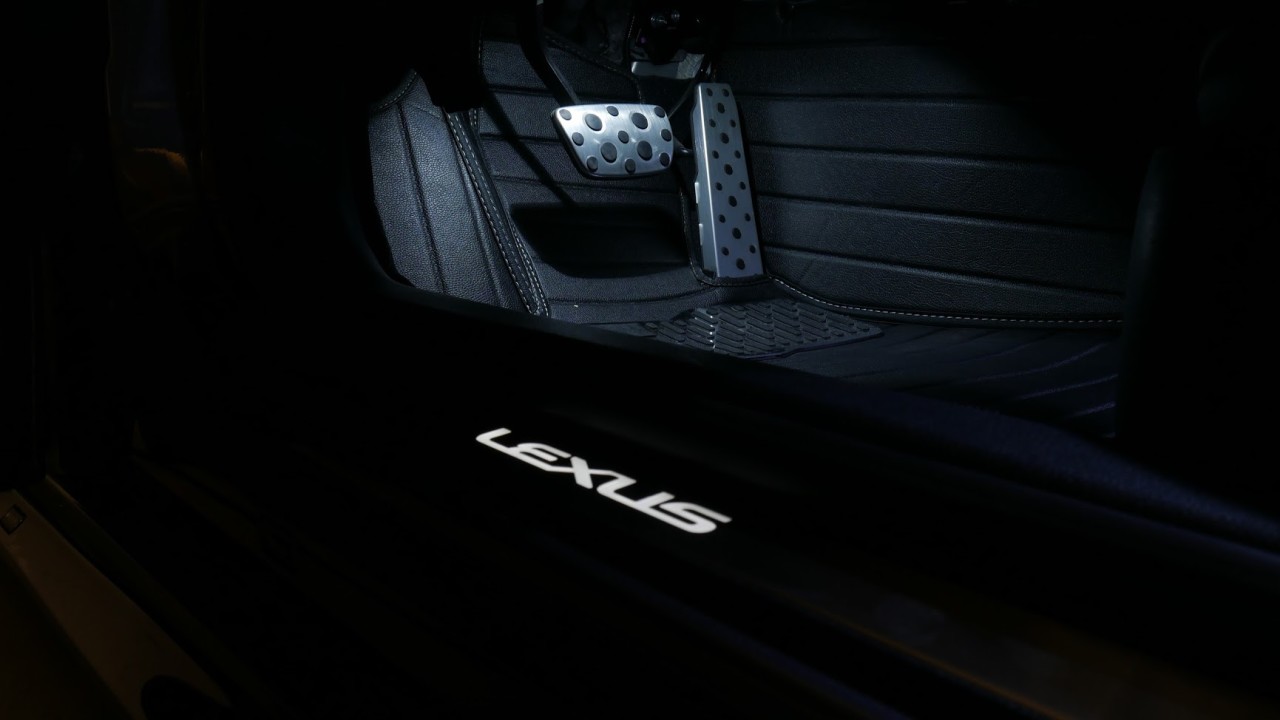 in-depth installation Video for anybody interested in what it entails
https://www.youtube.com/watch?v=I-YVplOQerU
DIYers can probably follow it for helpful hints.



some extras of the car while i was in the garage with a camera with the jdm headlights on
and some more random (please dont comment about the carpet in the garage
)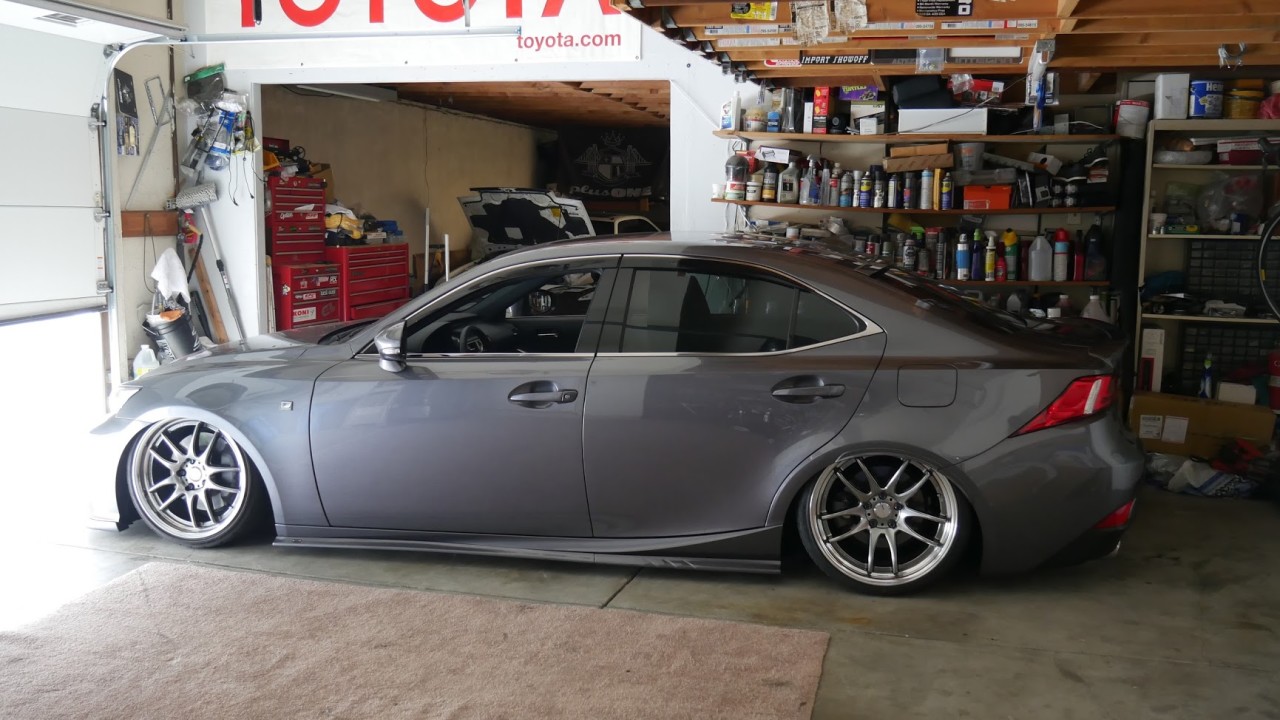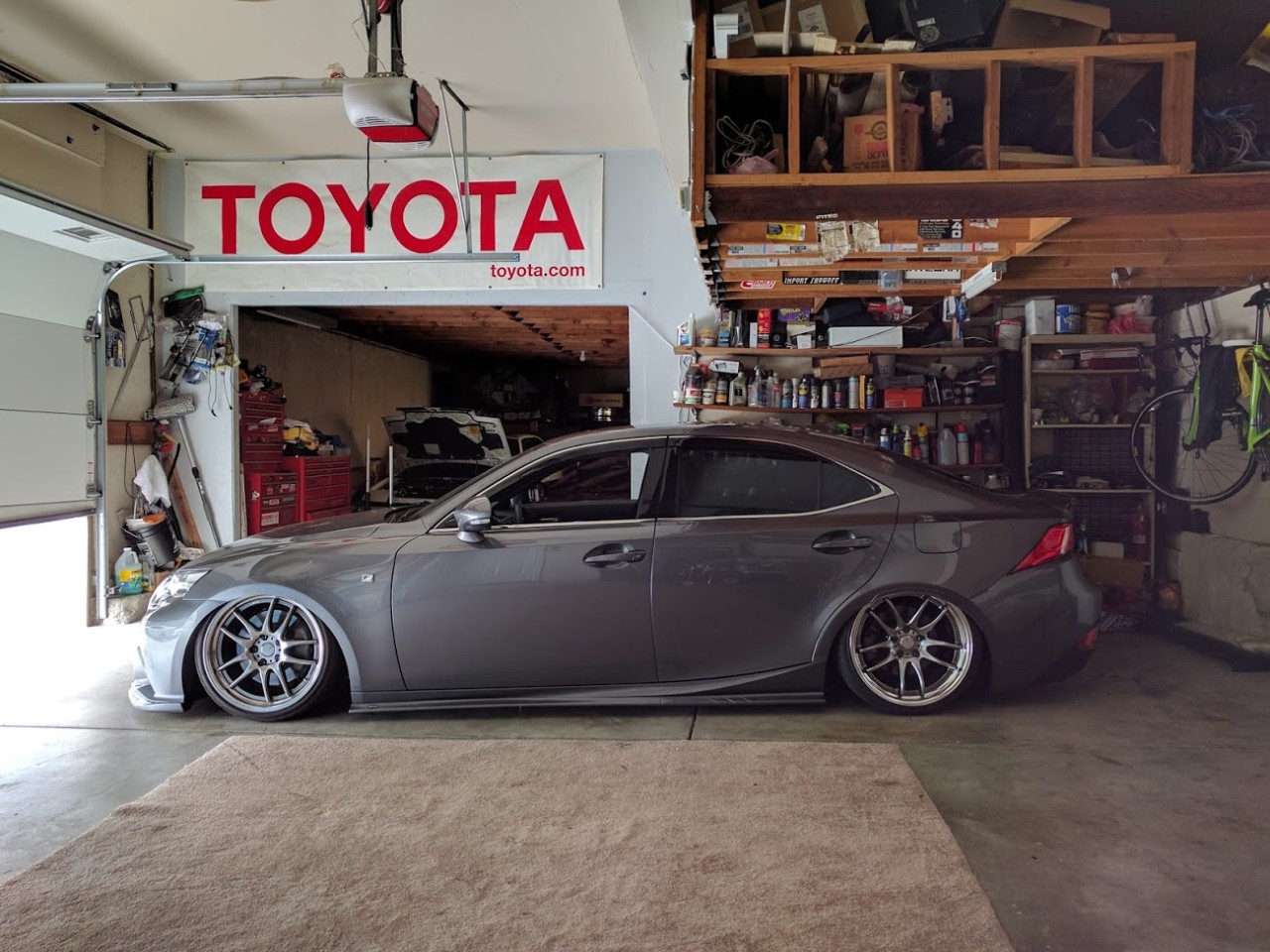 8-18-2017
https://www.youtube.com/watch?v=aa-_RjcF-VU
9-6-2017
Its all about the community
met up with some Southern California 3IS guys two weekends ago
Here are some pics from that day taken by Kevin aka Phamkq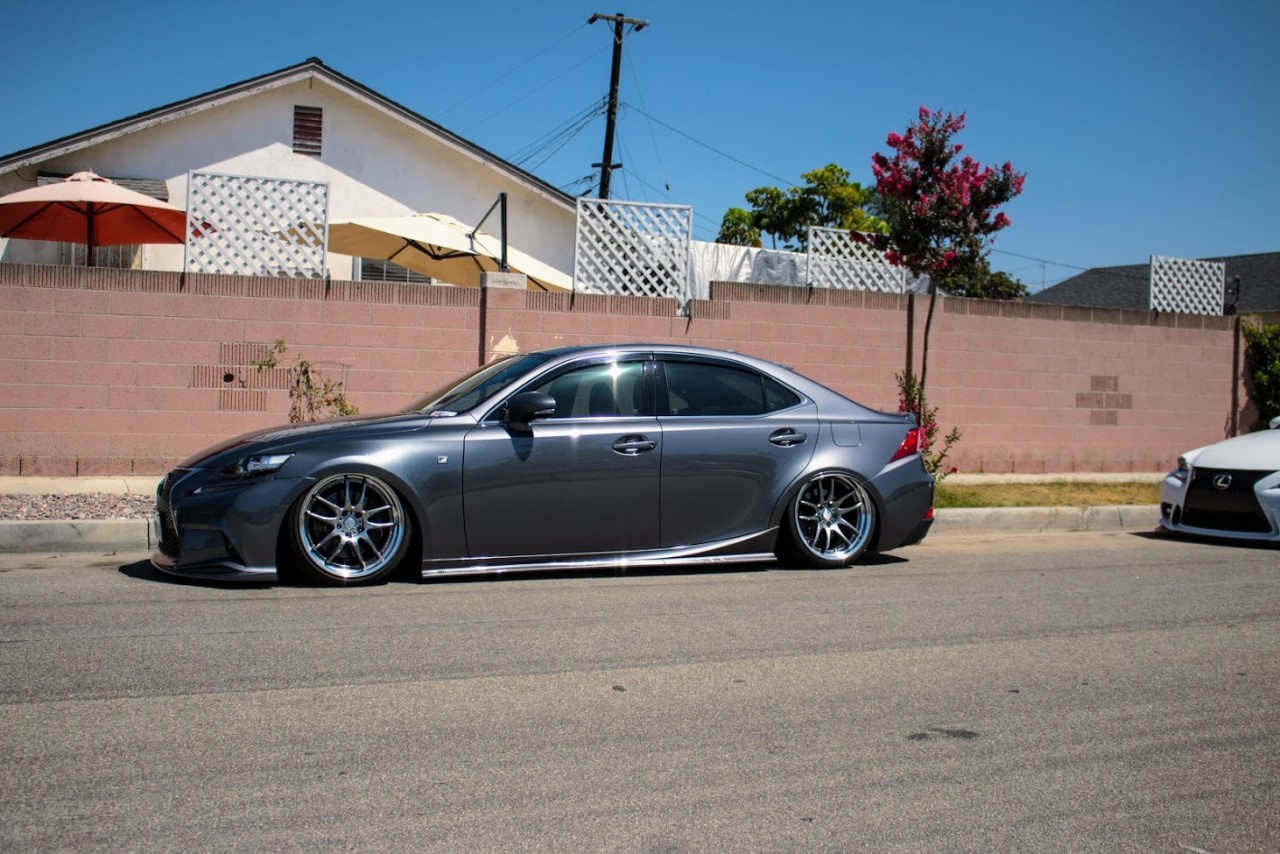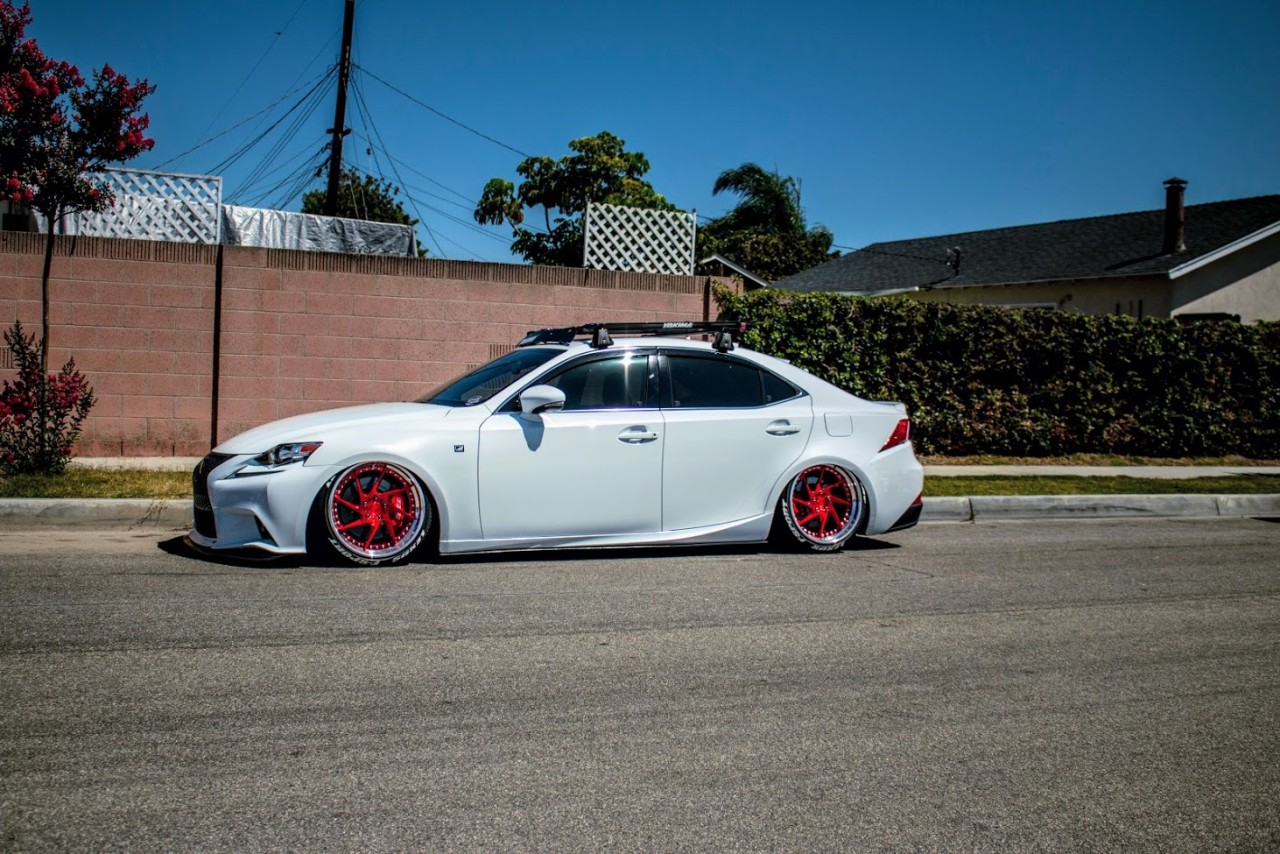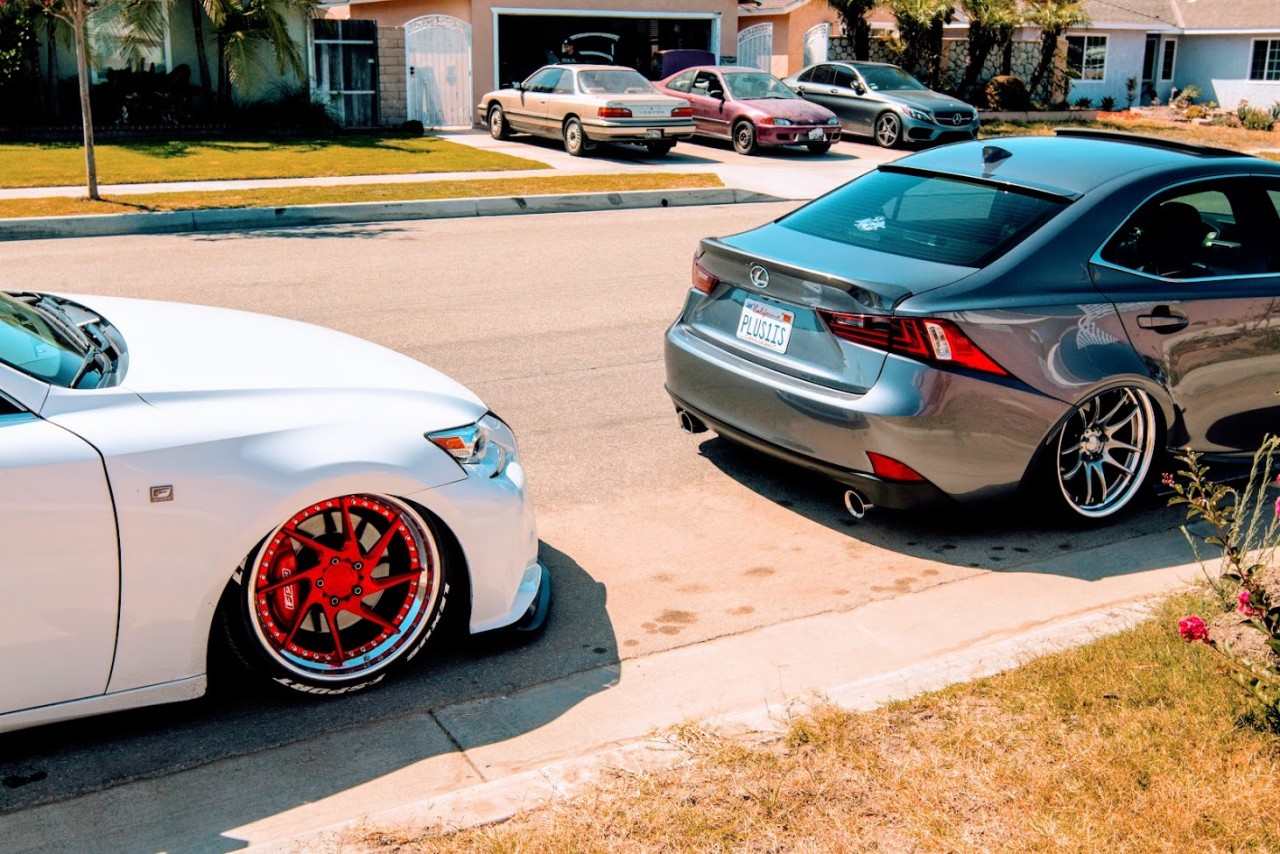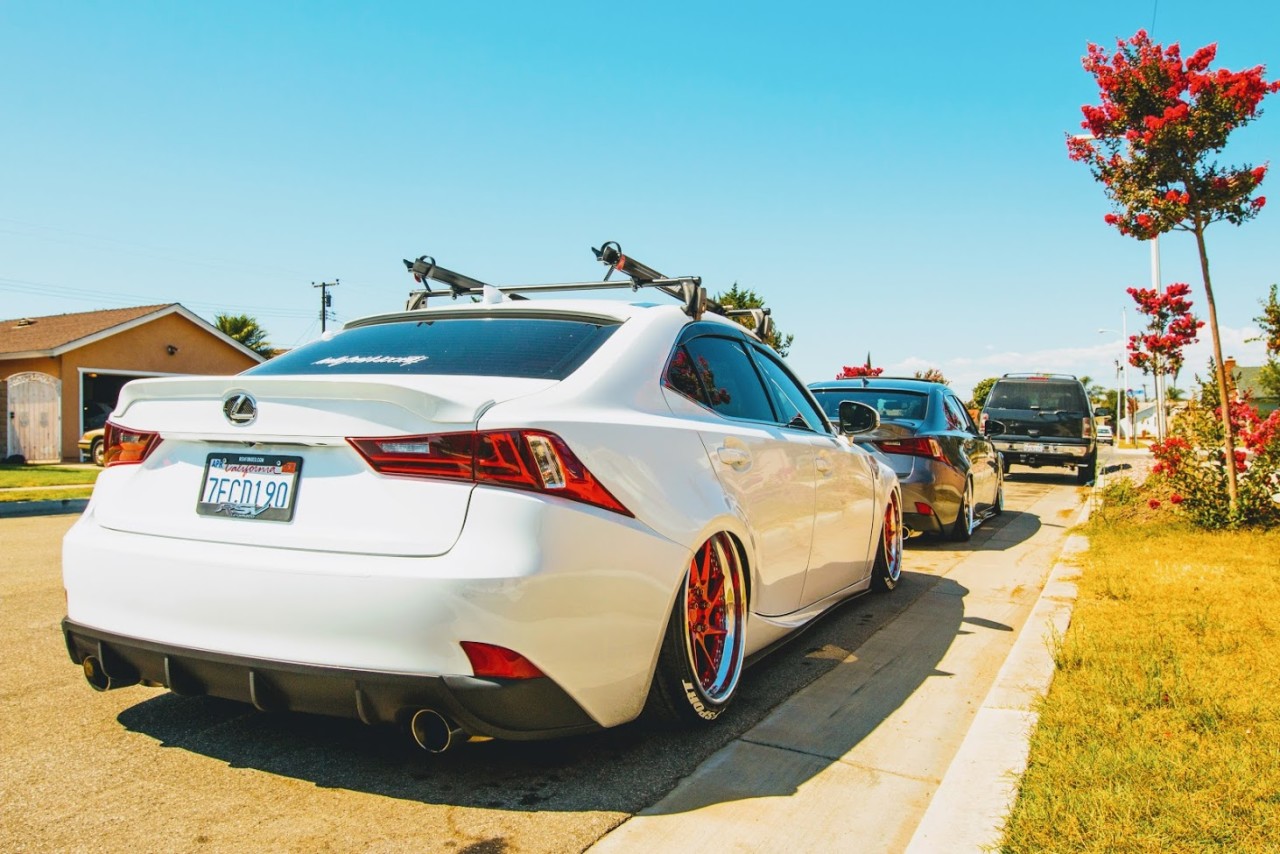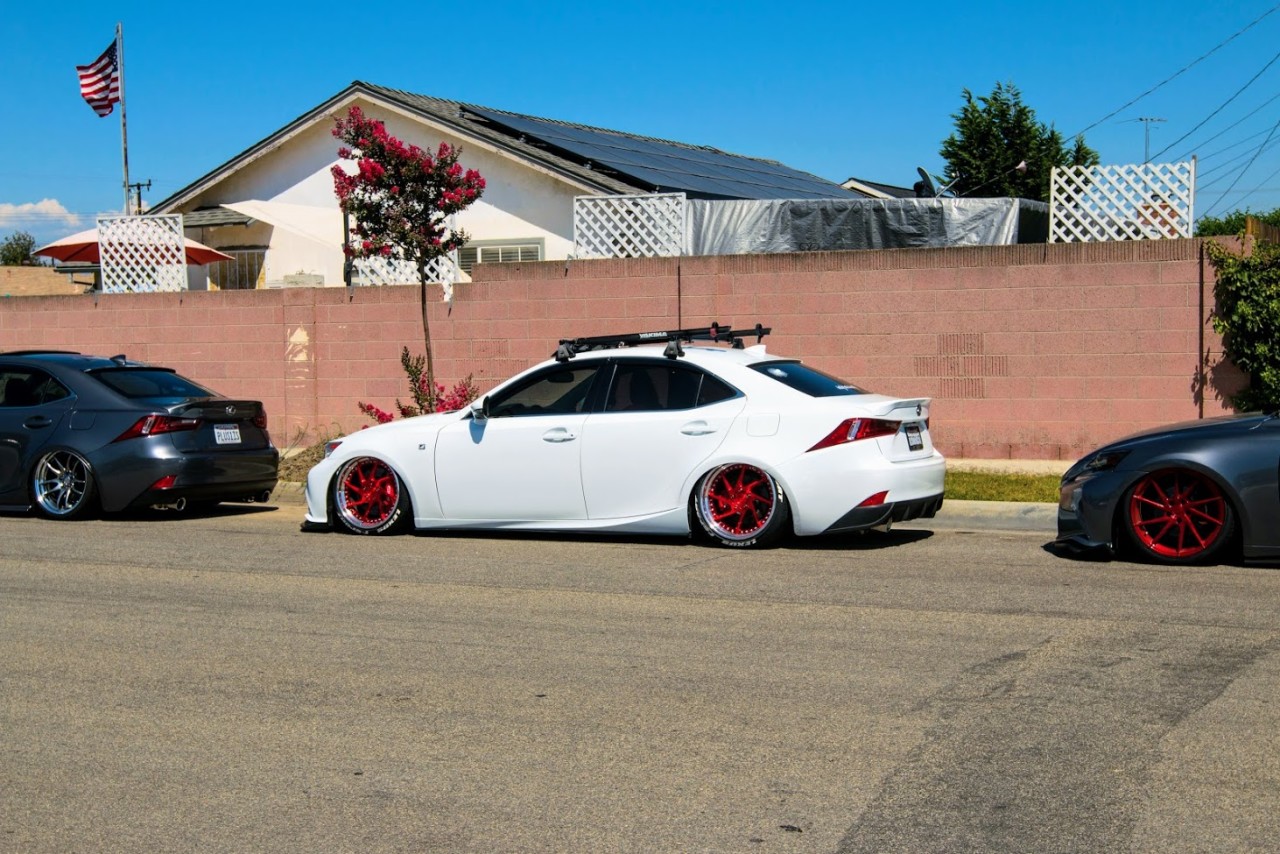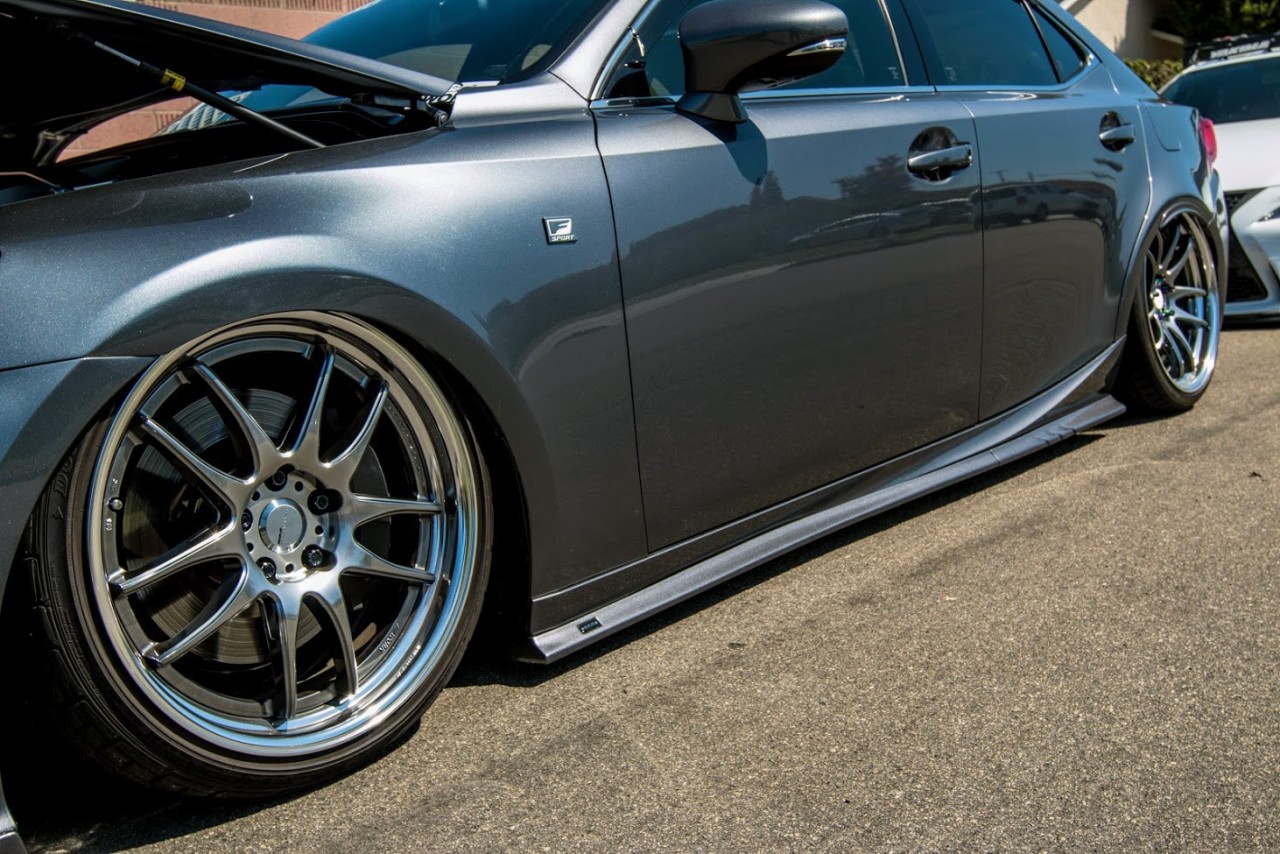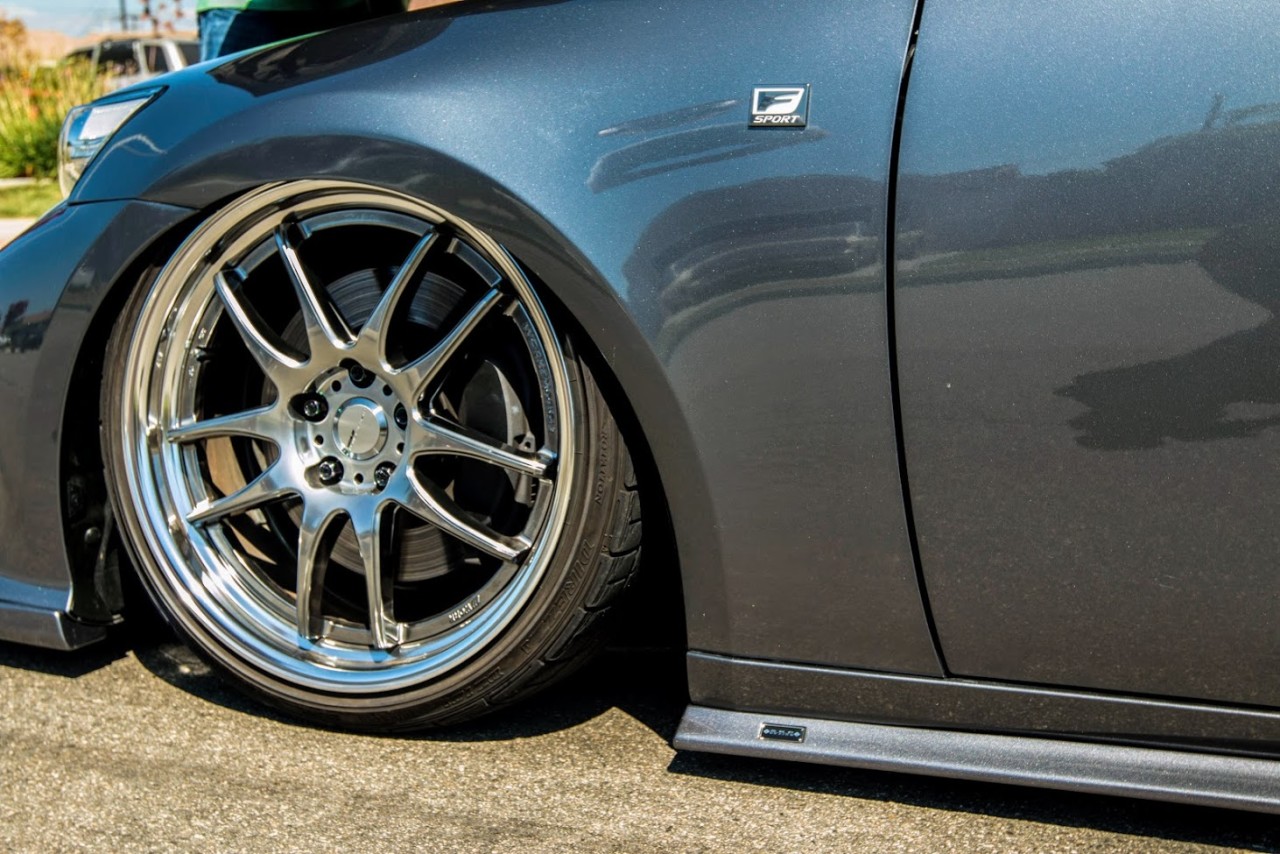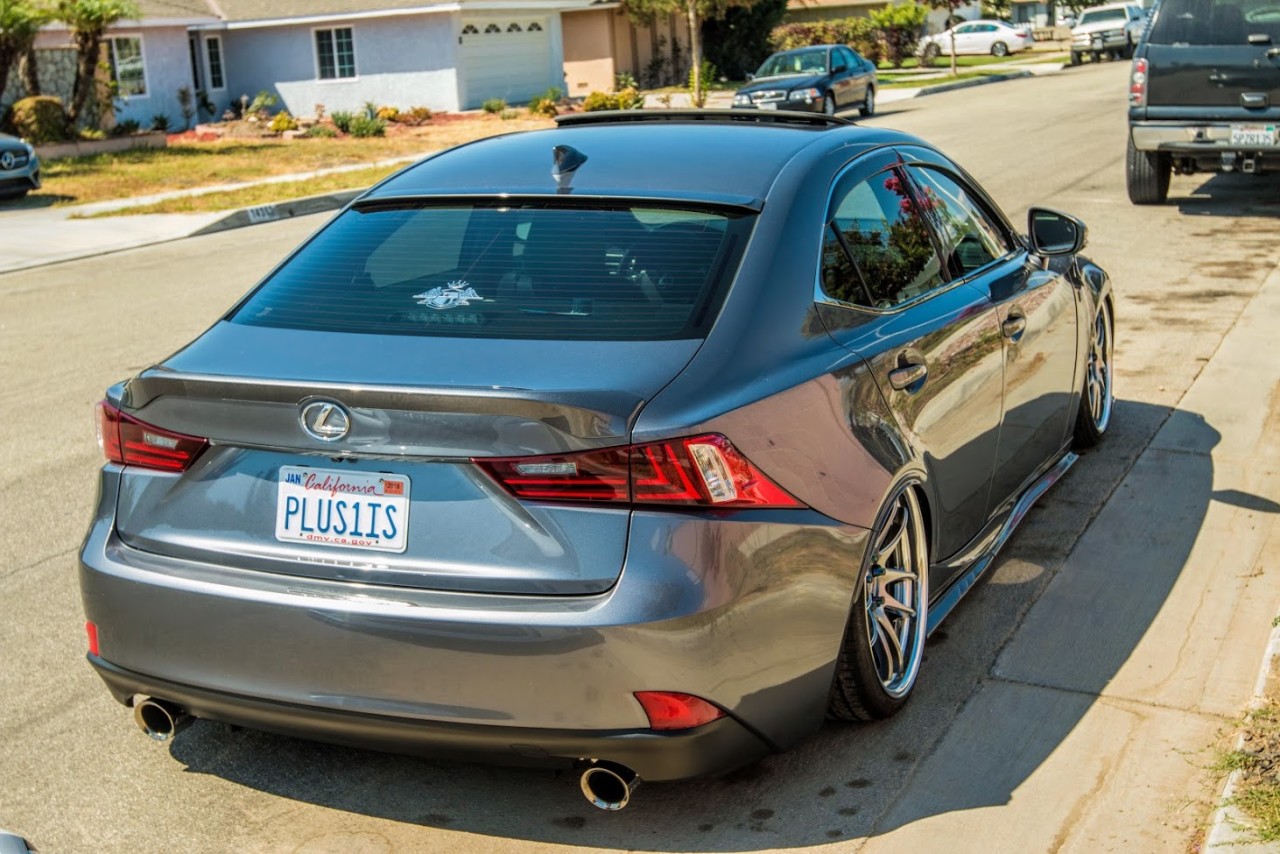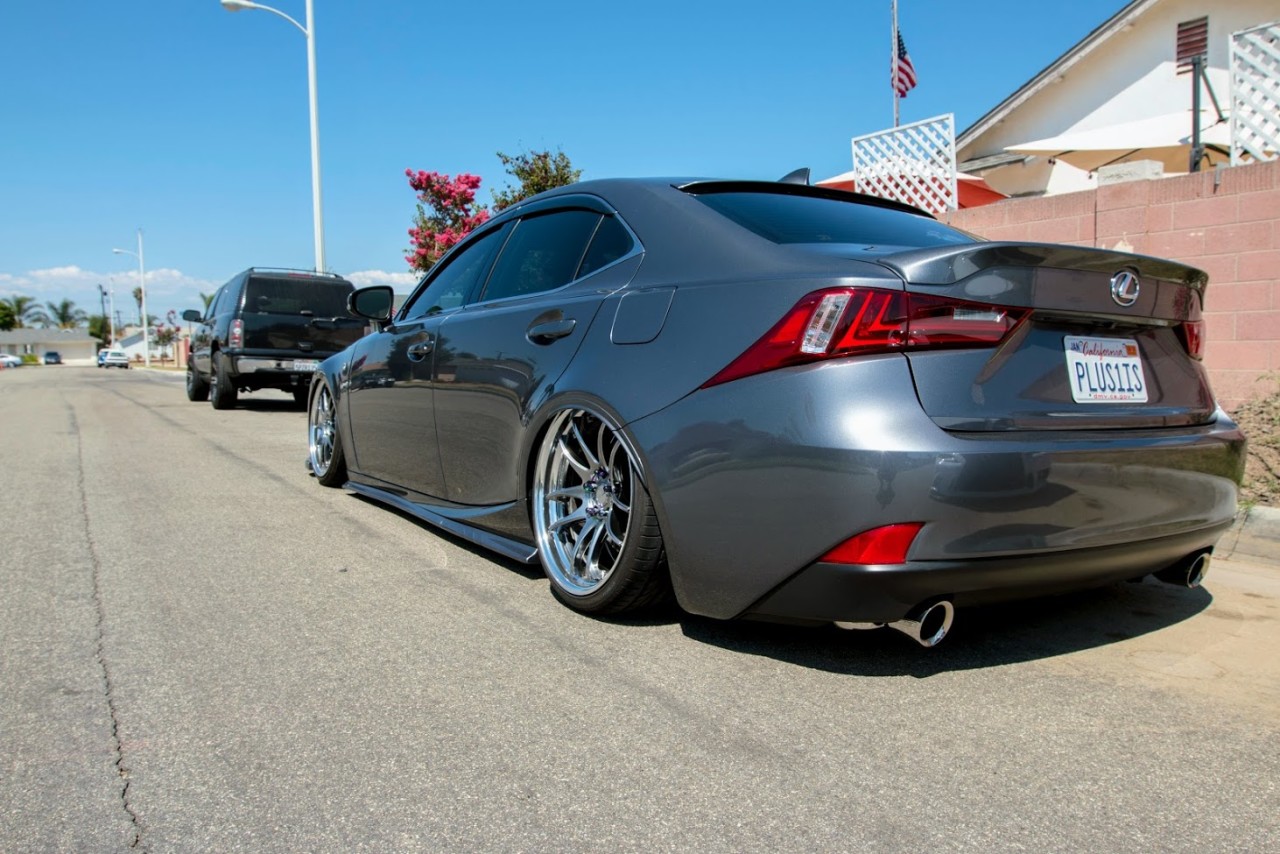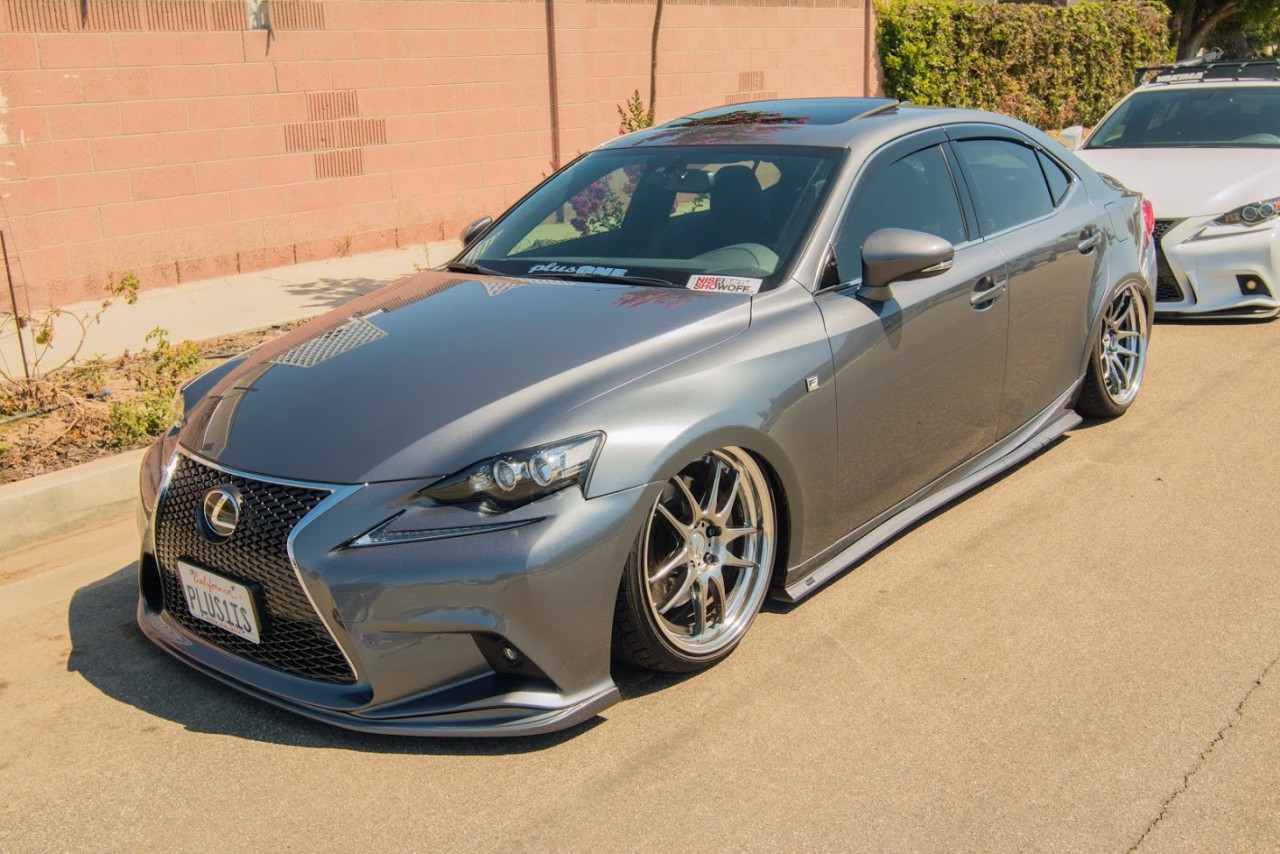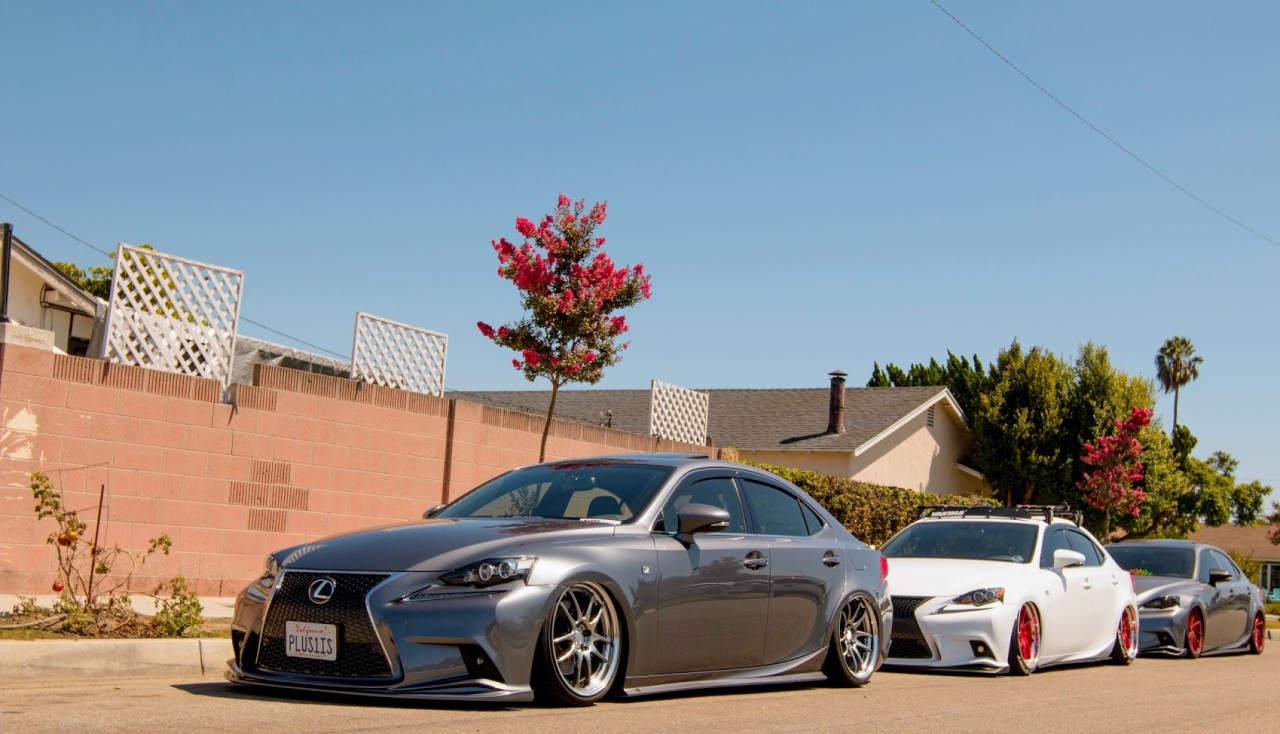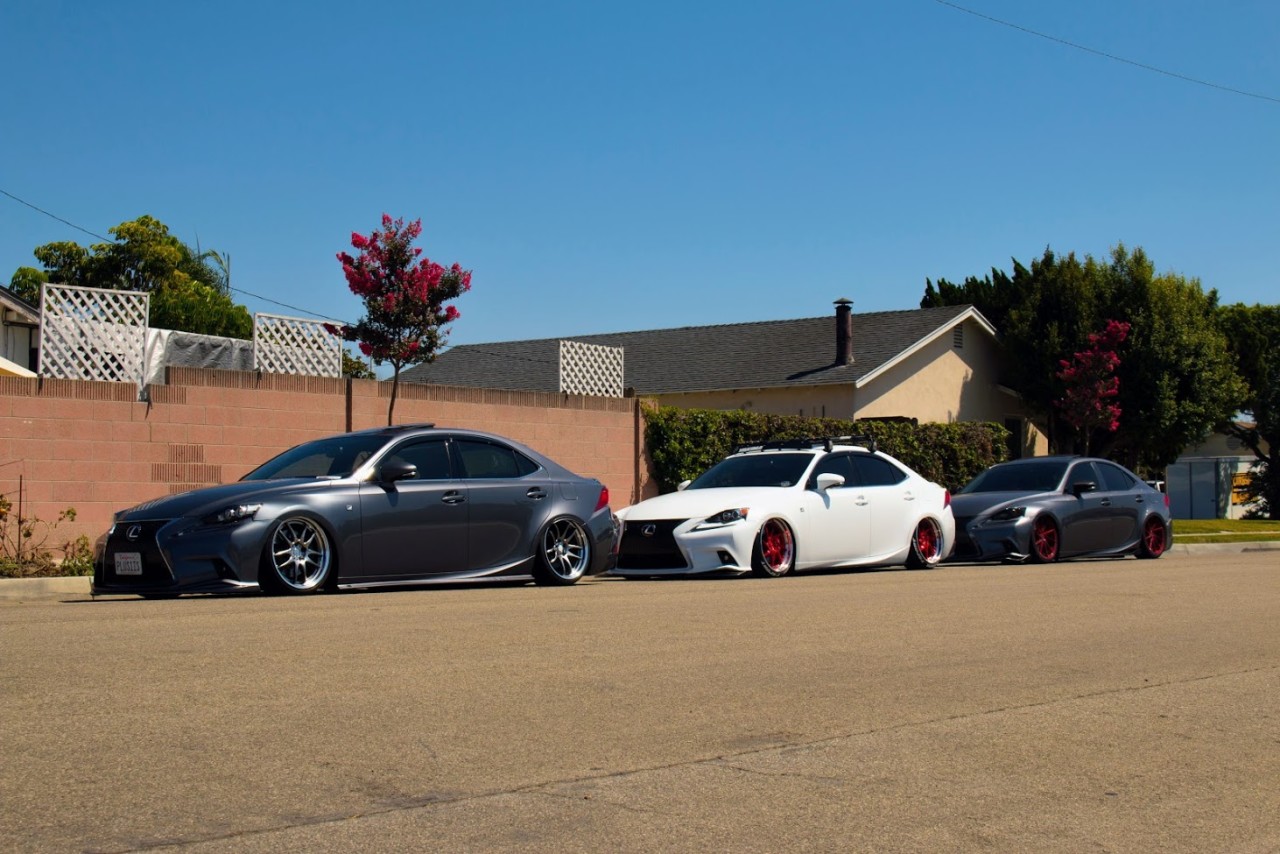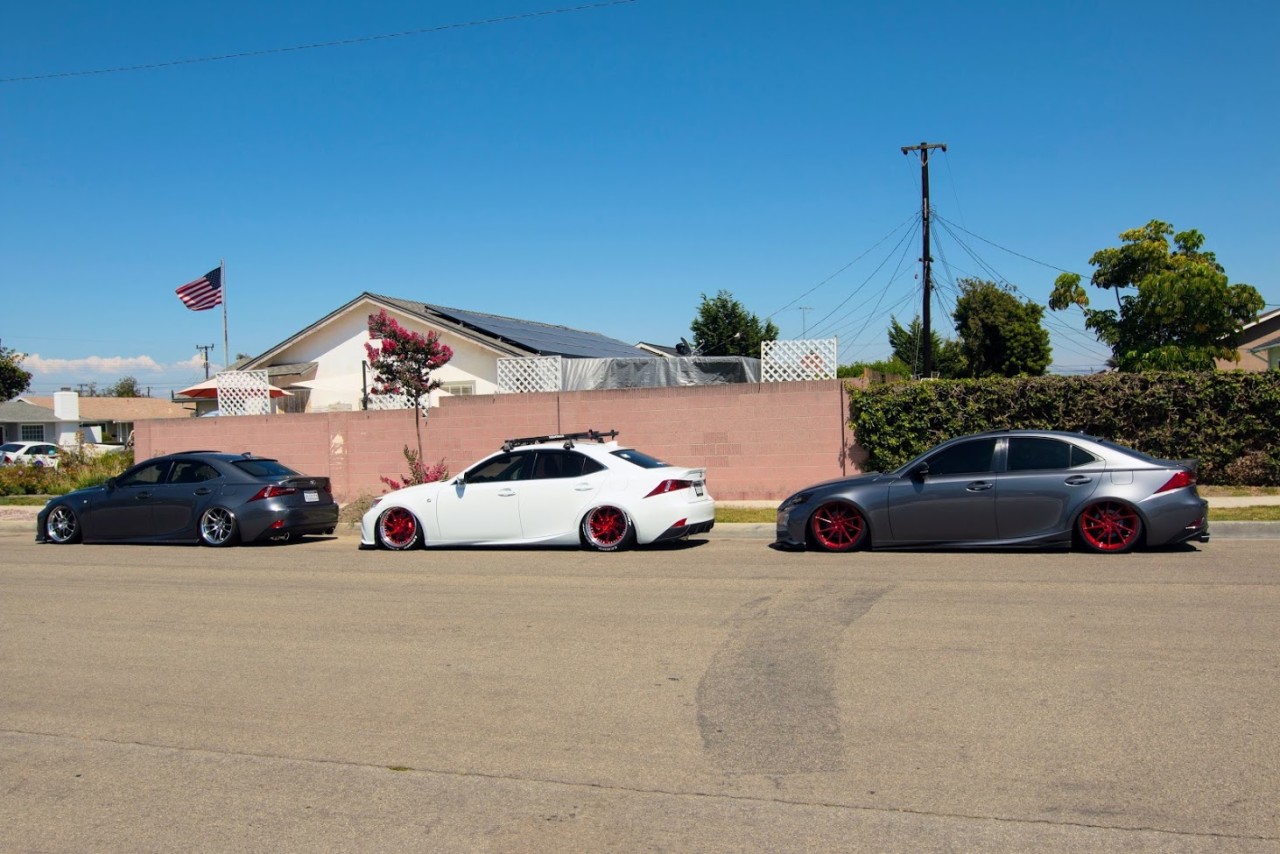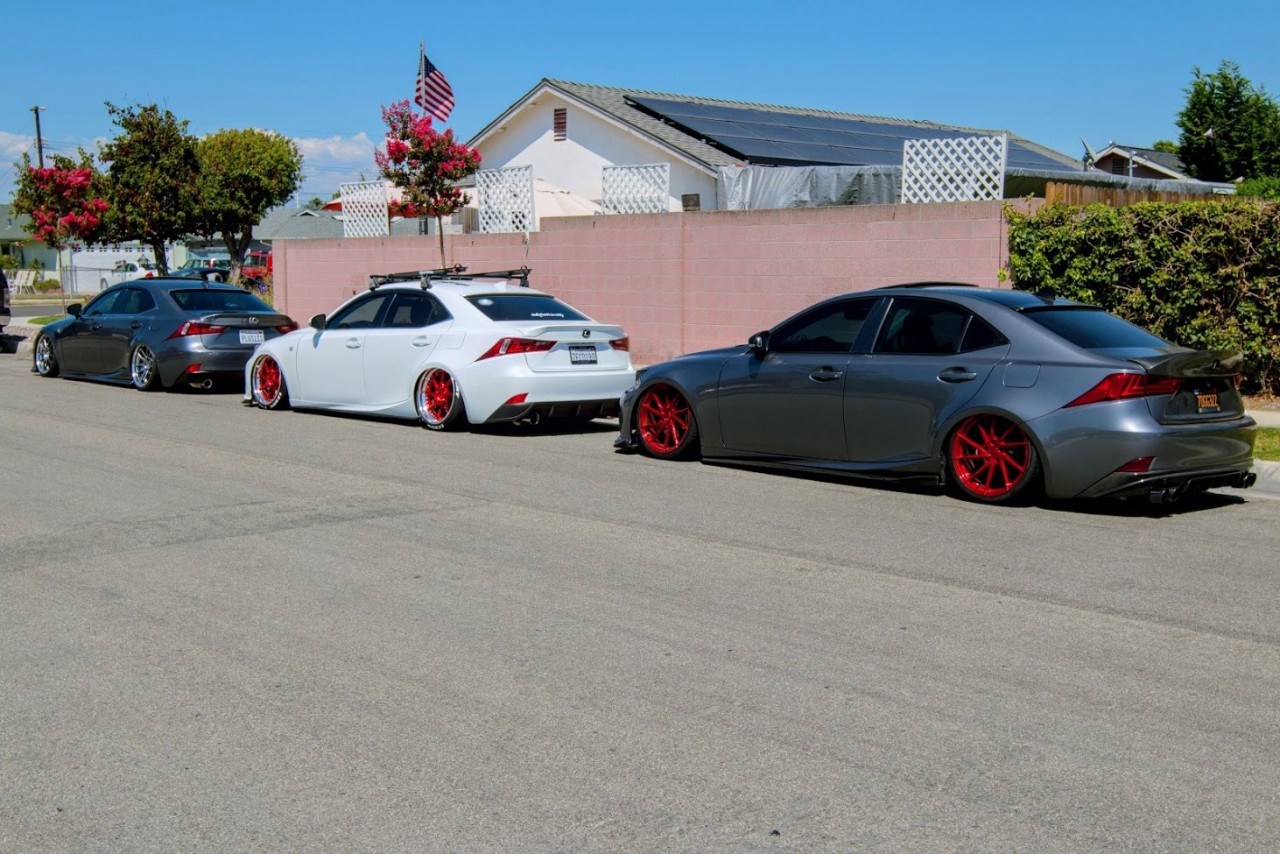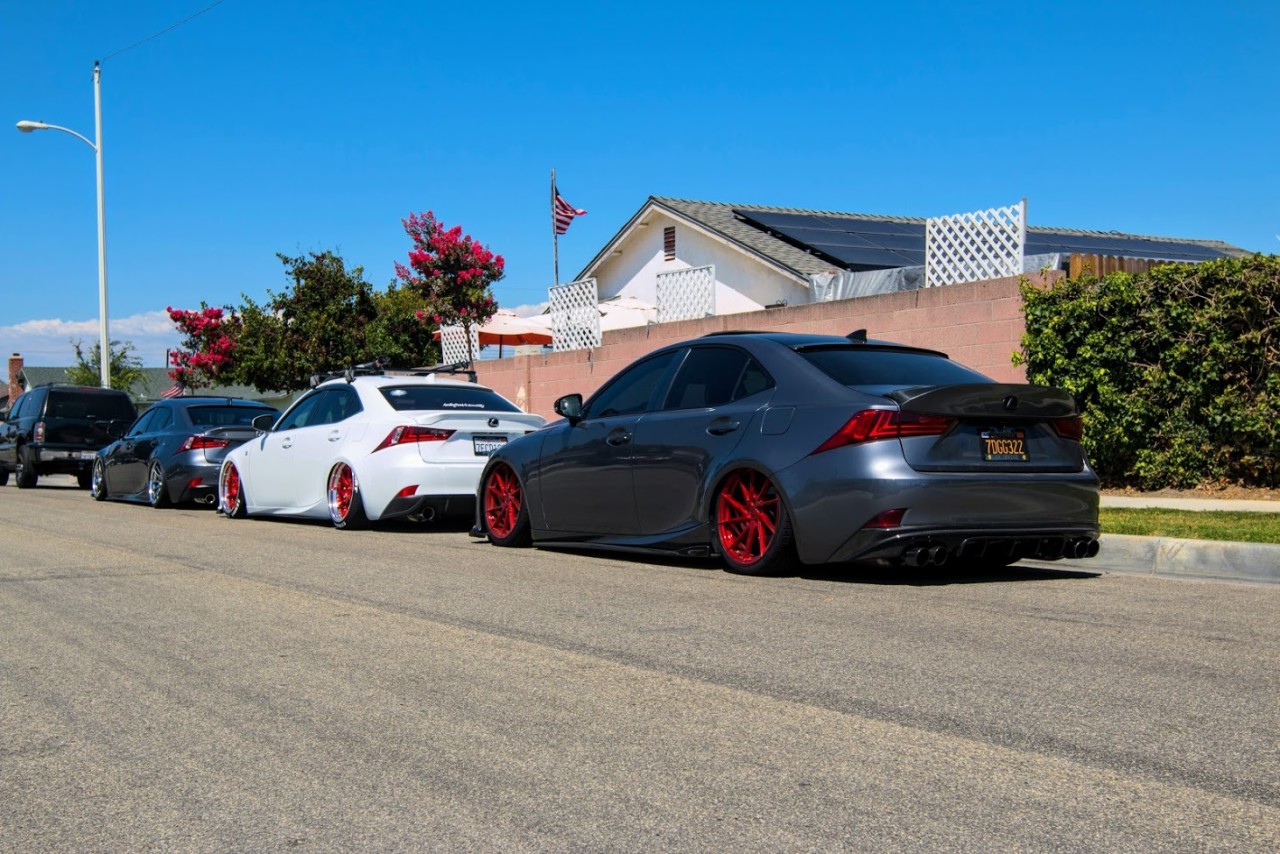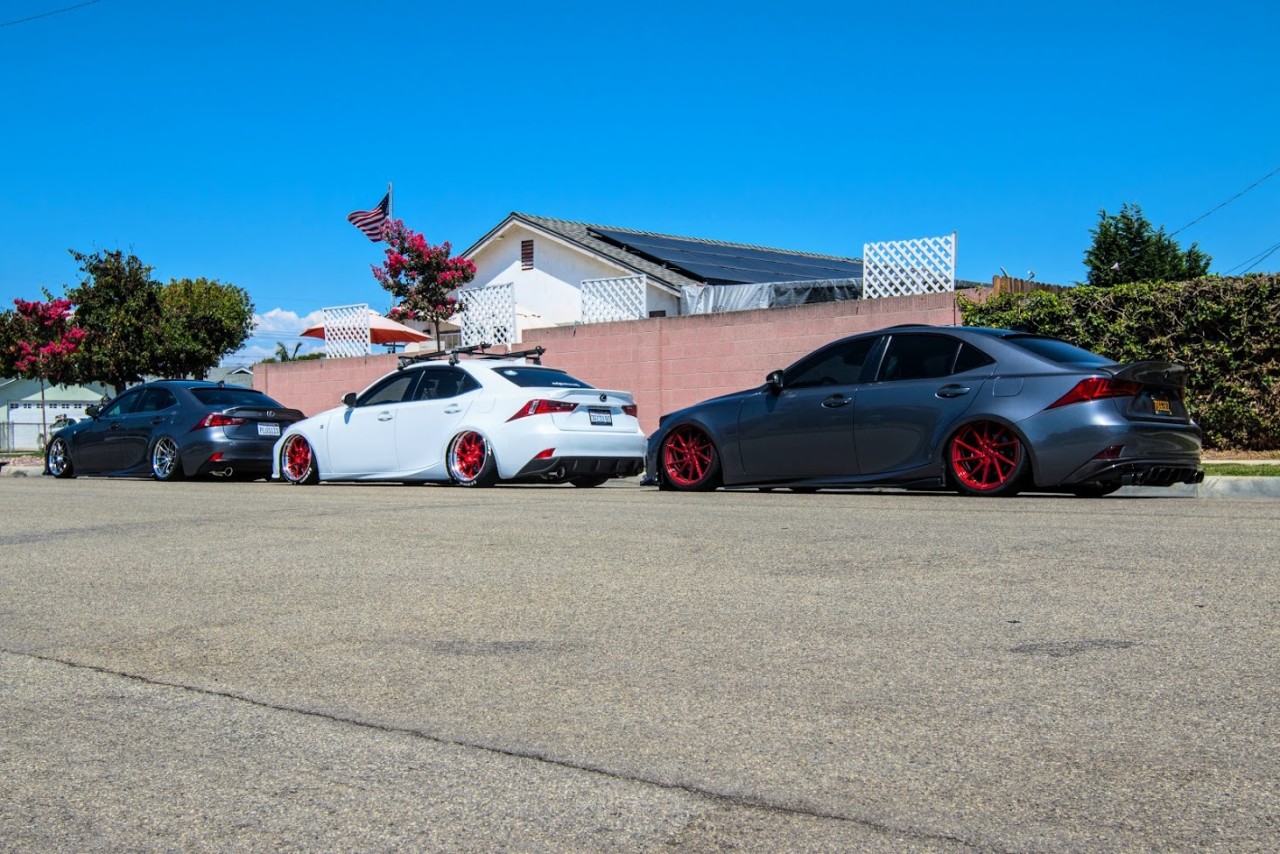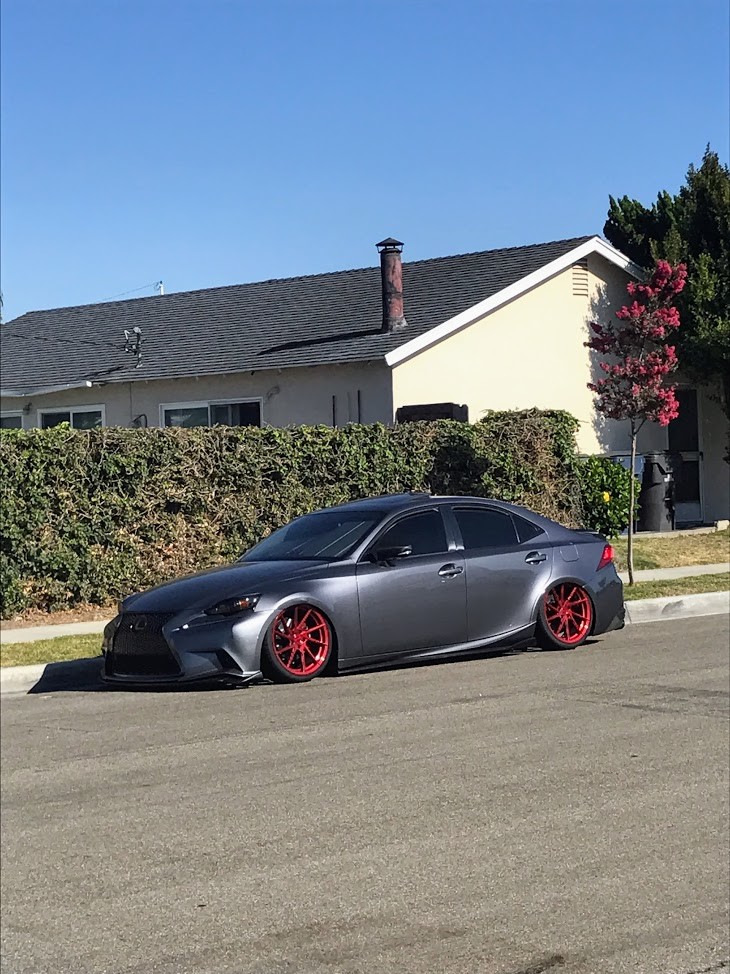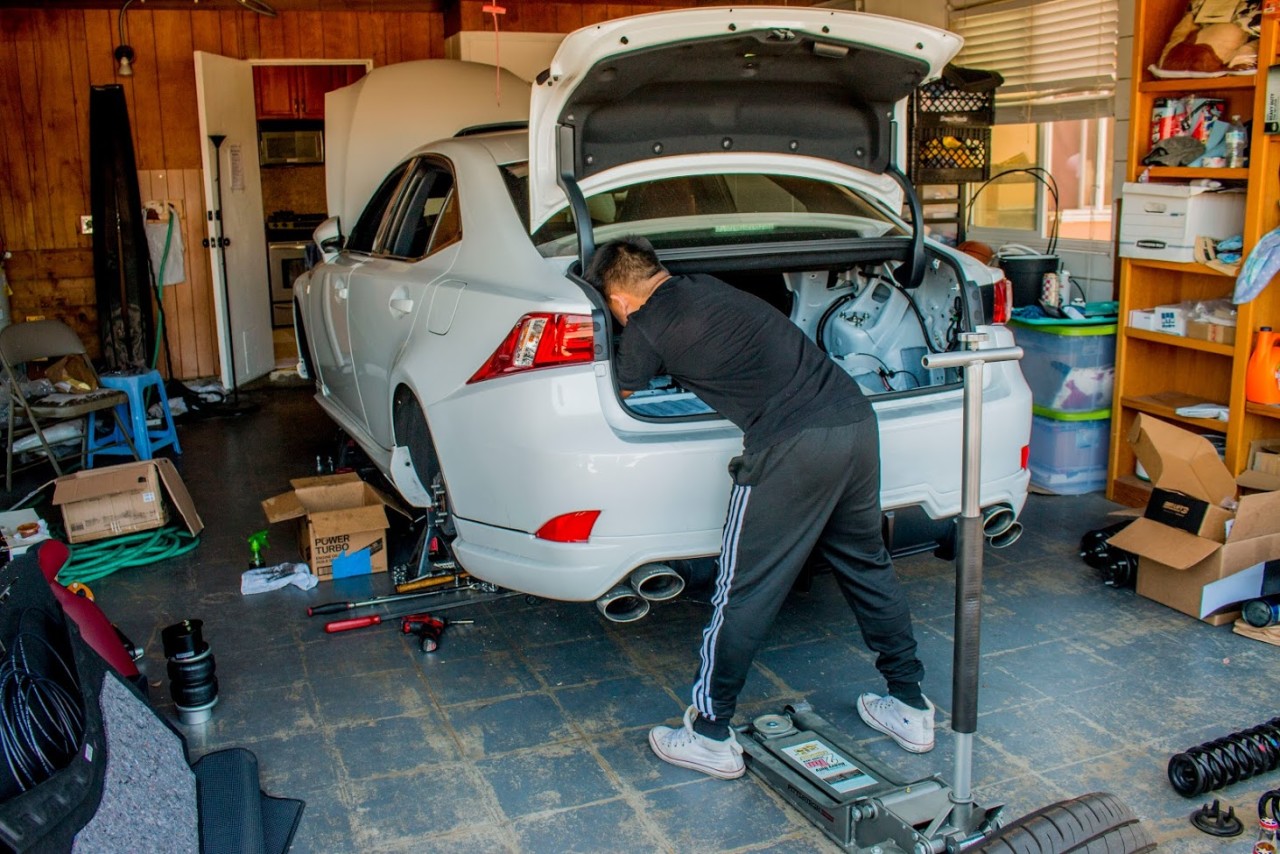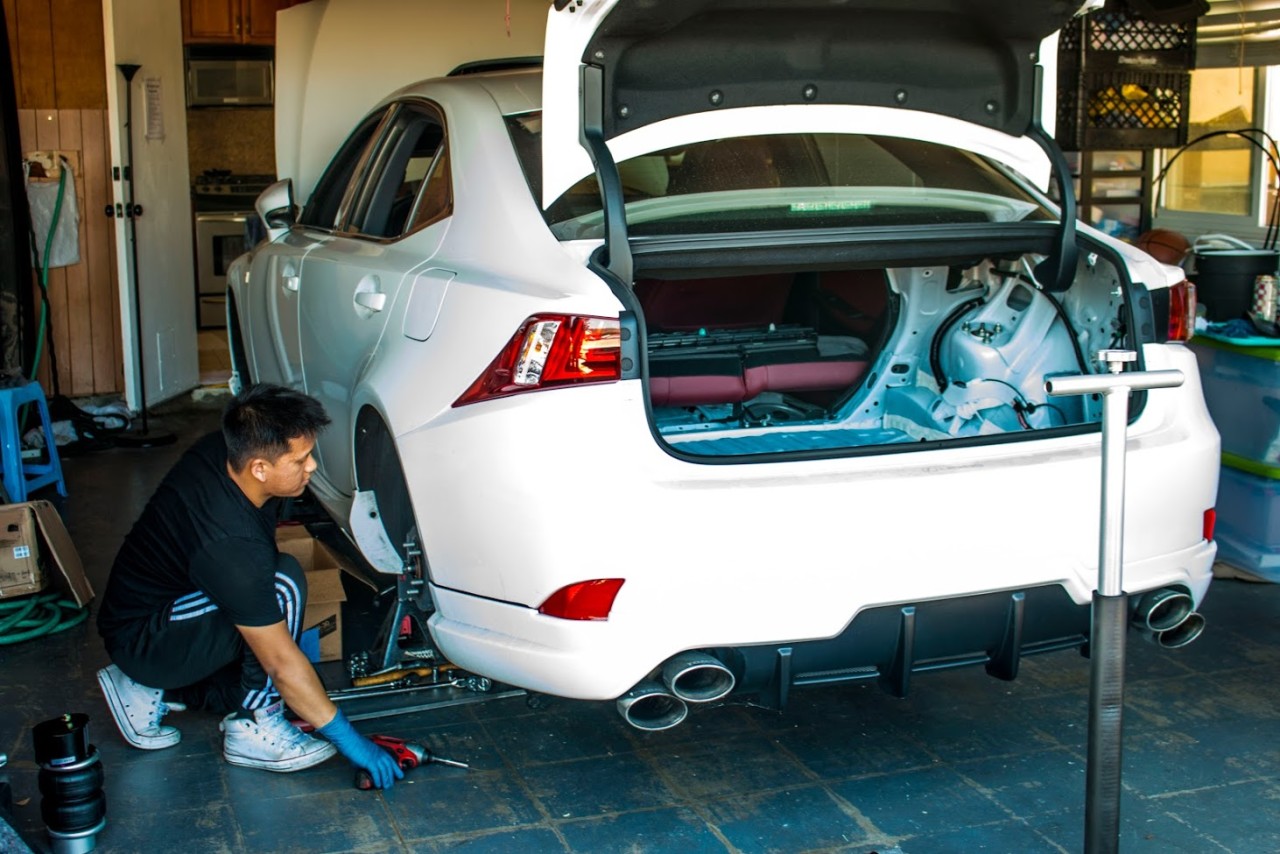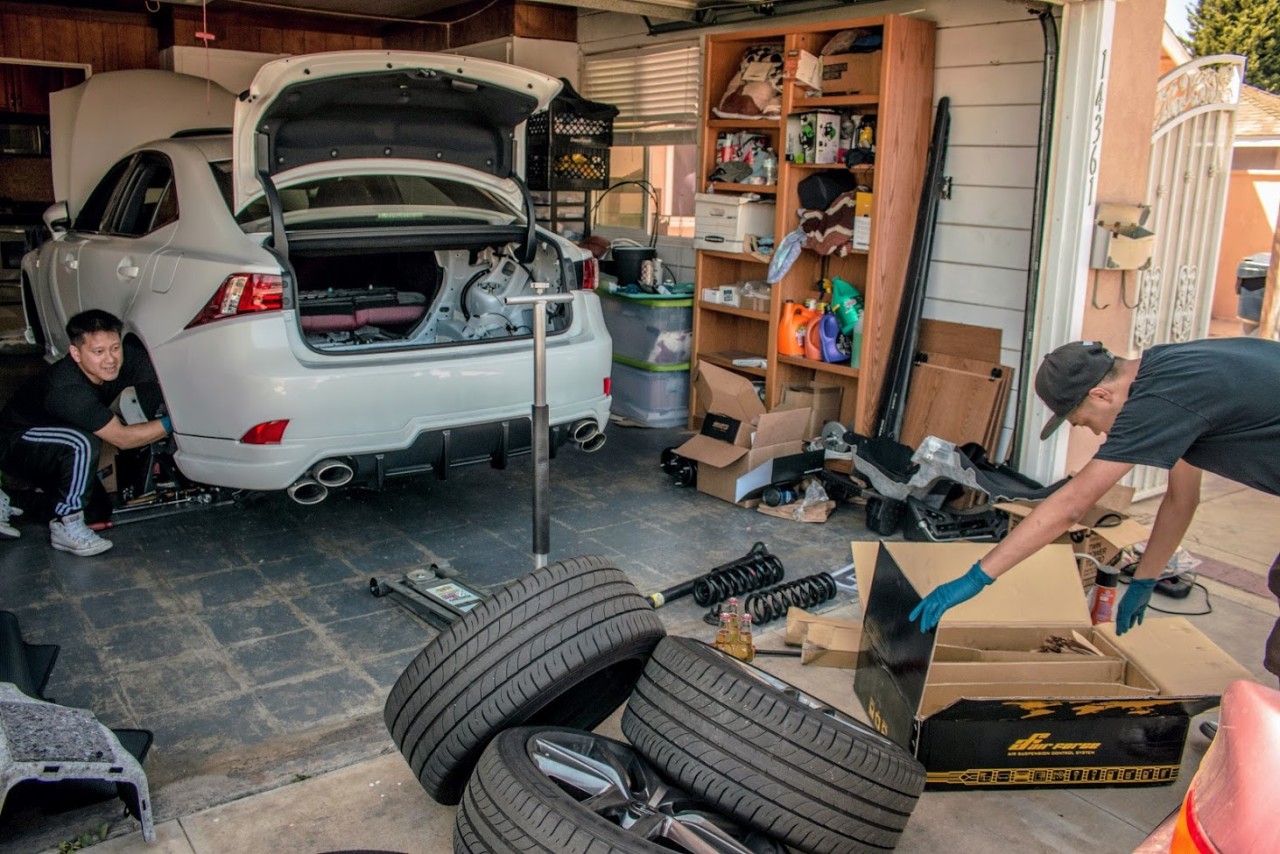 10-20-2017
Video my friend shot of my car
https://www.youtube.com/watch?v=ApJ_qZyNQnw
10-22-2017
got me the new Pixel 2 phone this week,
Decided to go out and give it a good test run.
Not bad at all, These at straight from the phone no Post editing from me.
#teampixel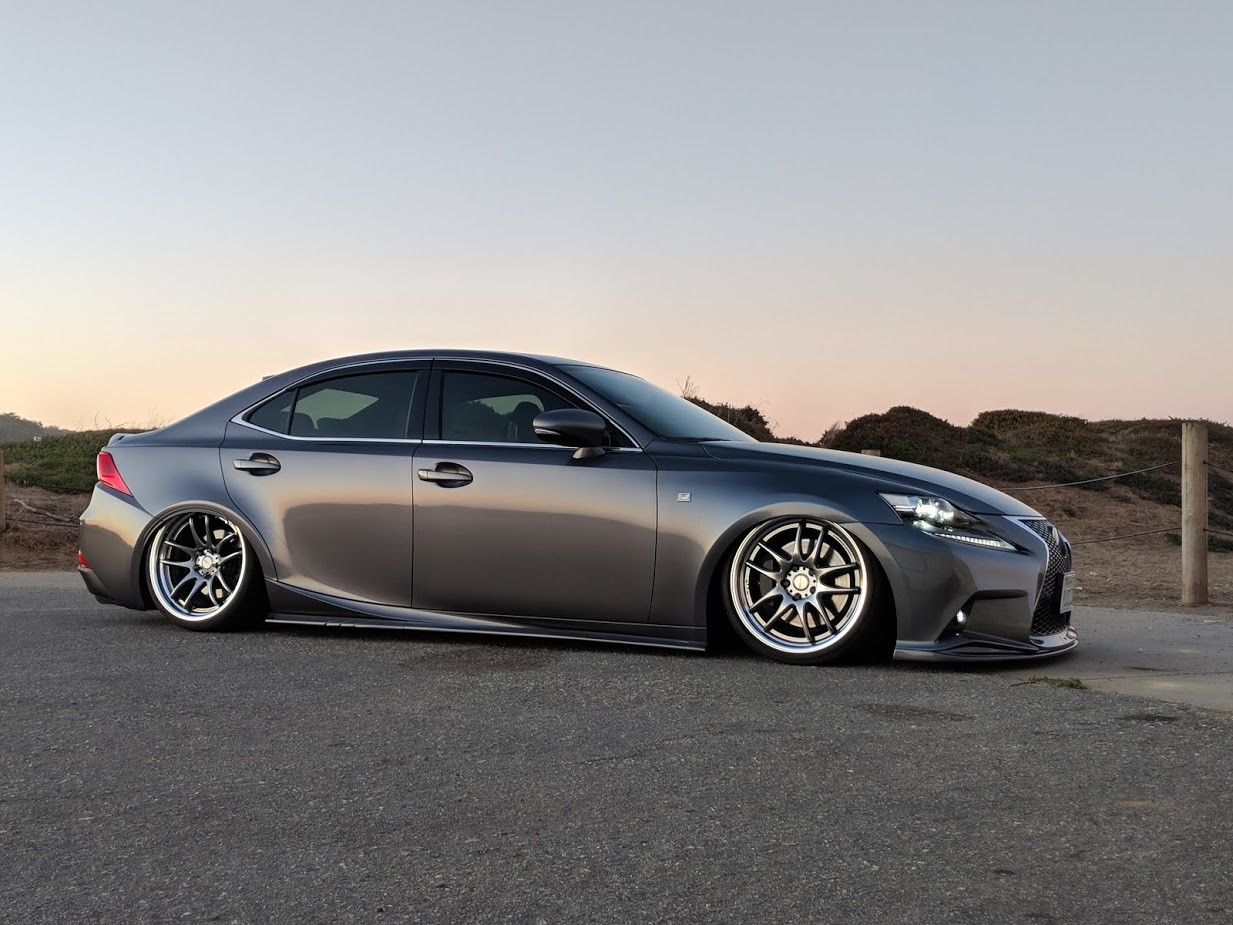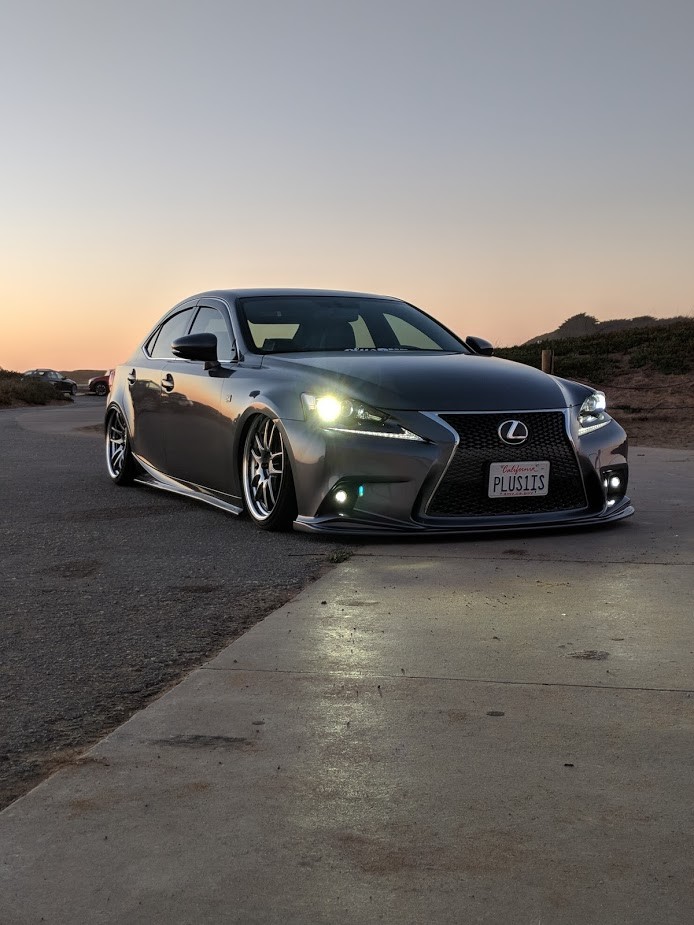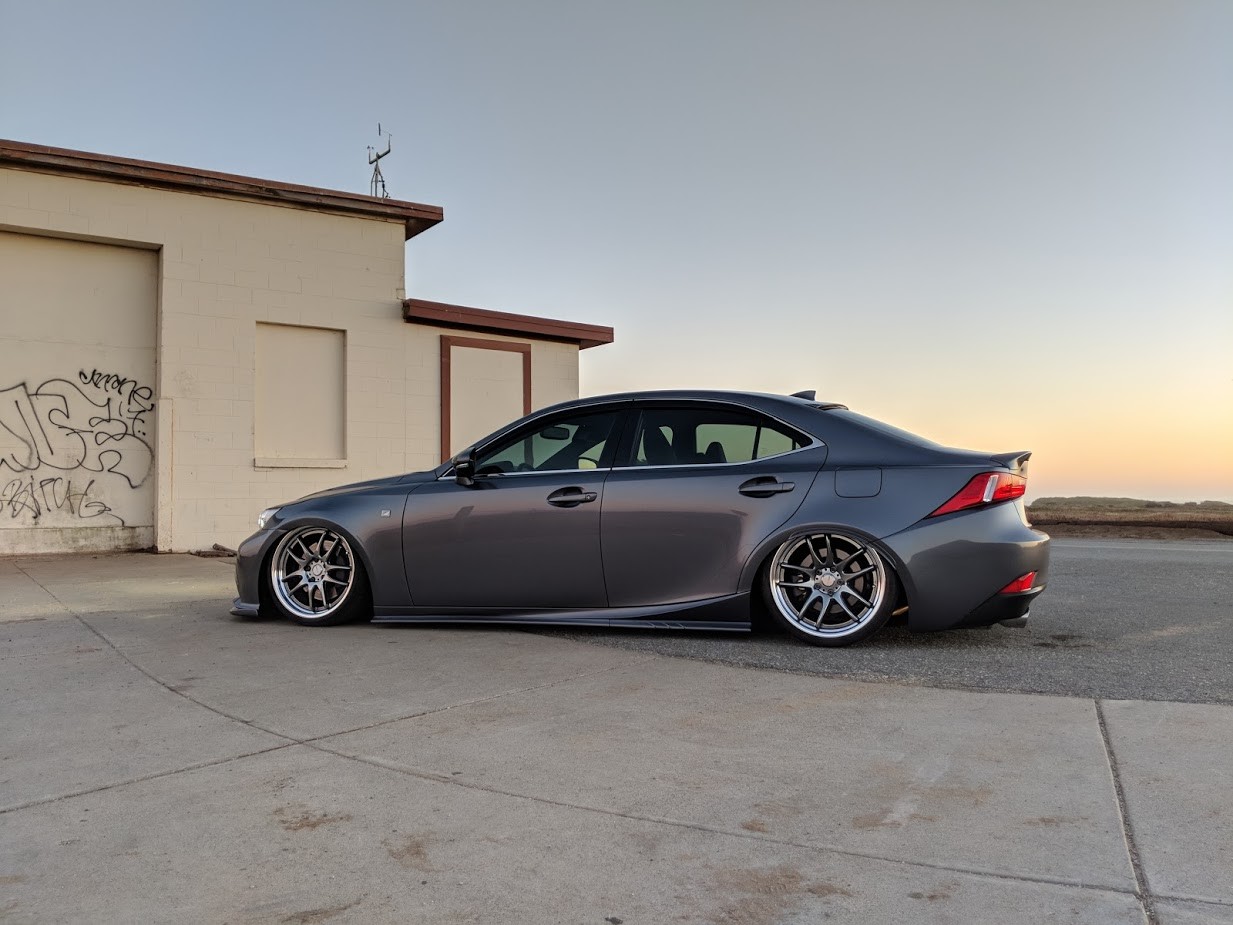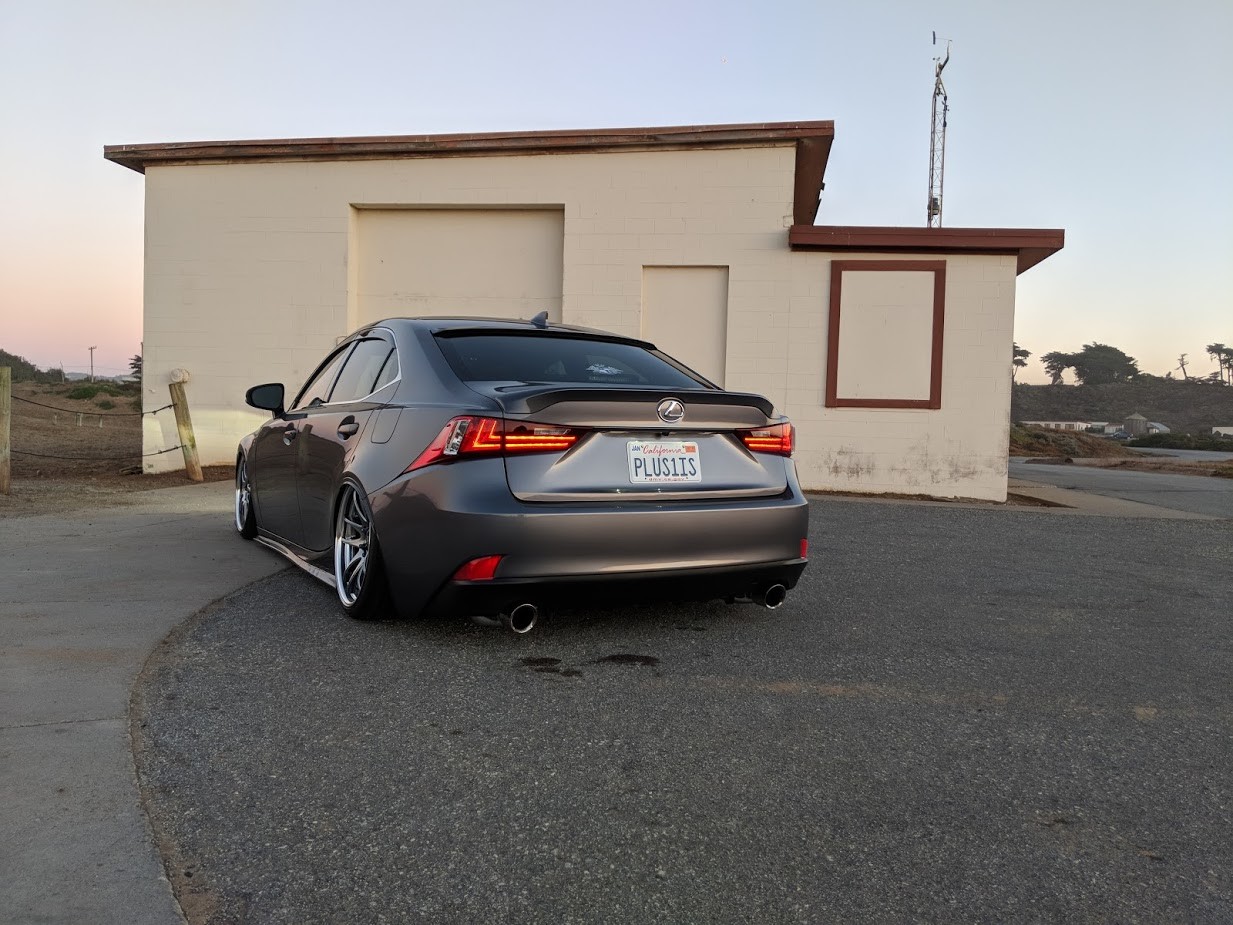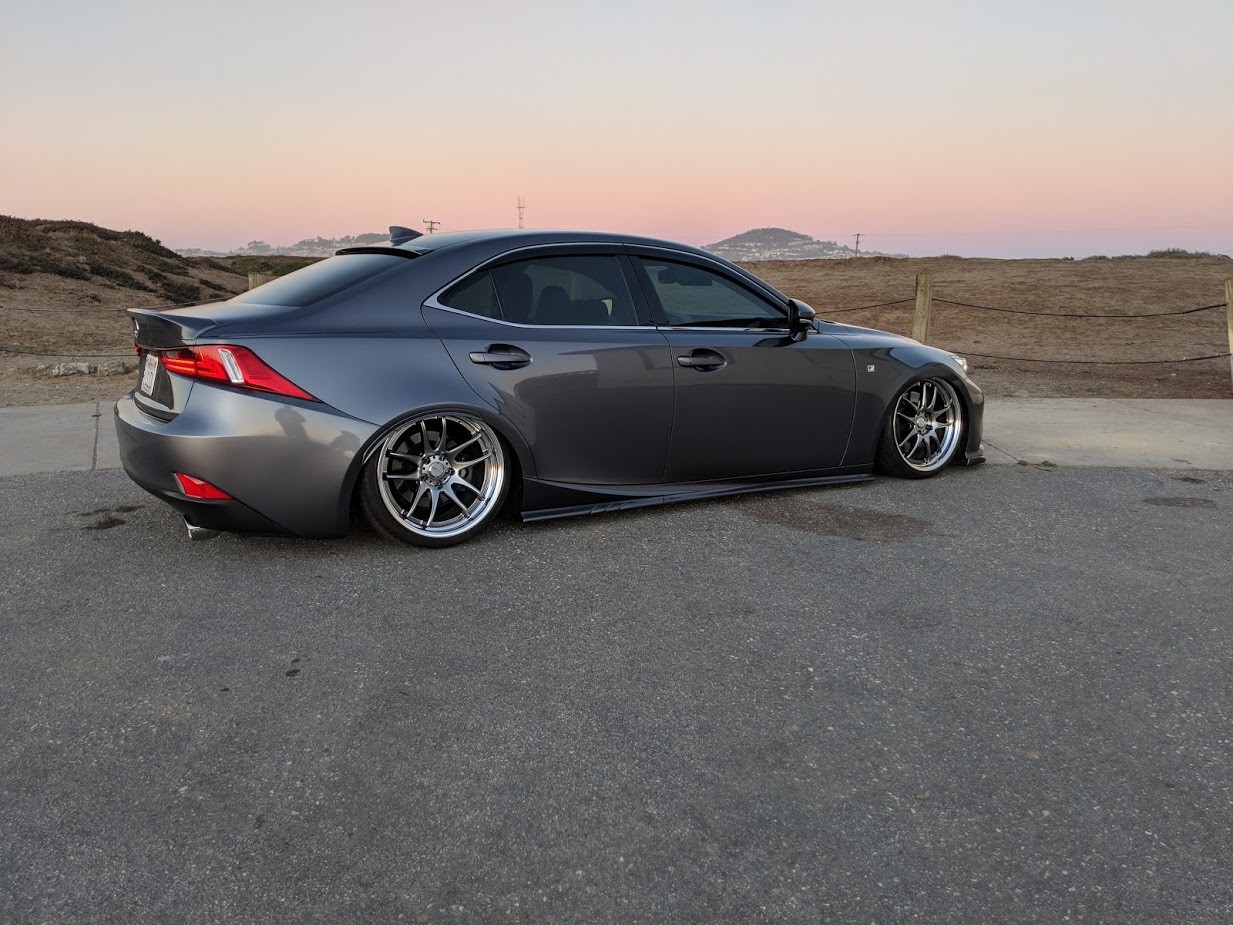 11-6-2017

Getting bored... nothing more really want to do..



but I came across this, Might take the dive and give it a try.
Lsailt LLT-LKSS-VER7.4.3H (for remote joystick car)
http://s.click.aliexpress.com/e/aUJmq7U

Its a interface box that is
Android 6.0 system,
2GB RAM
16GB ROM
Quad core 1.6GHz Cortex-A9
Decent specs for in-car computer

Ran through the Installation manual with the broken English and got the gist of it. I get what needs to be done and how it operates.
Will keep you guys posted.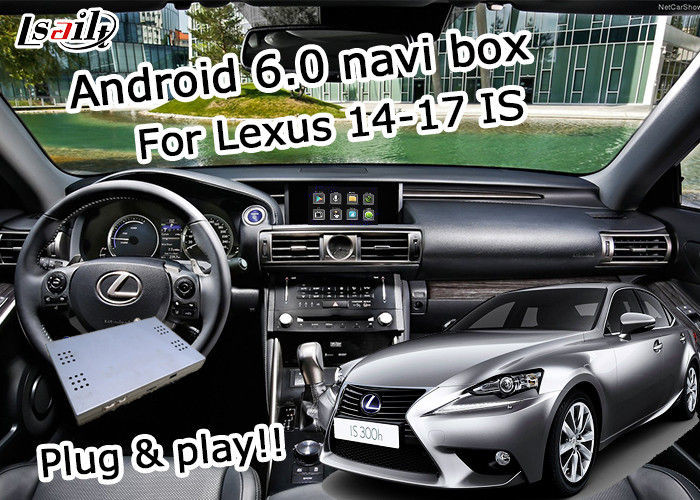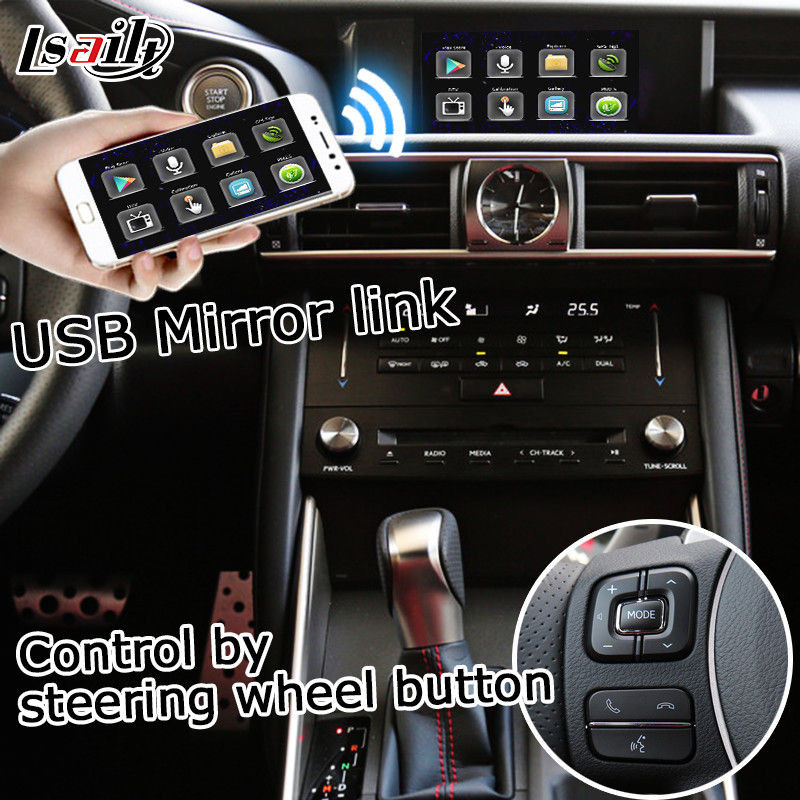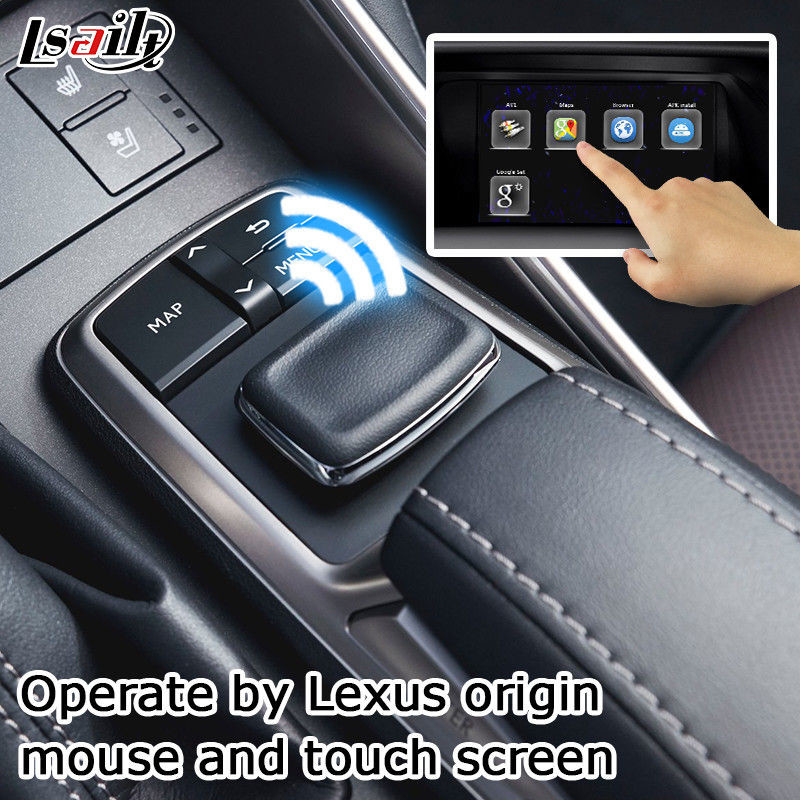 <<<==weird, 2017+ remote touch Pictured, but just could be the artist didnt know the difference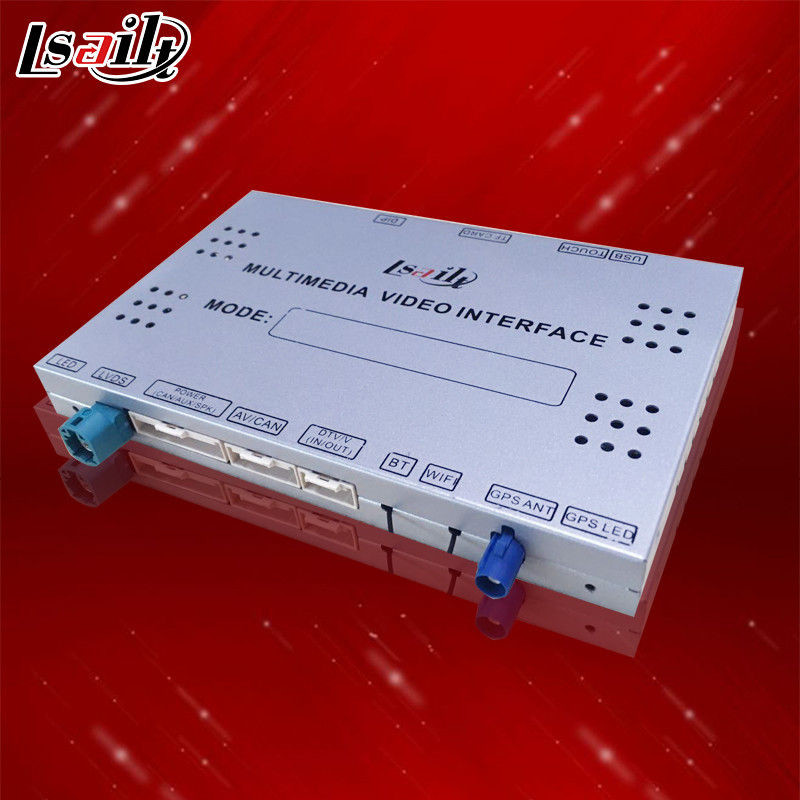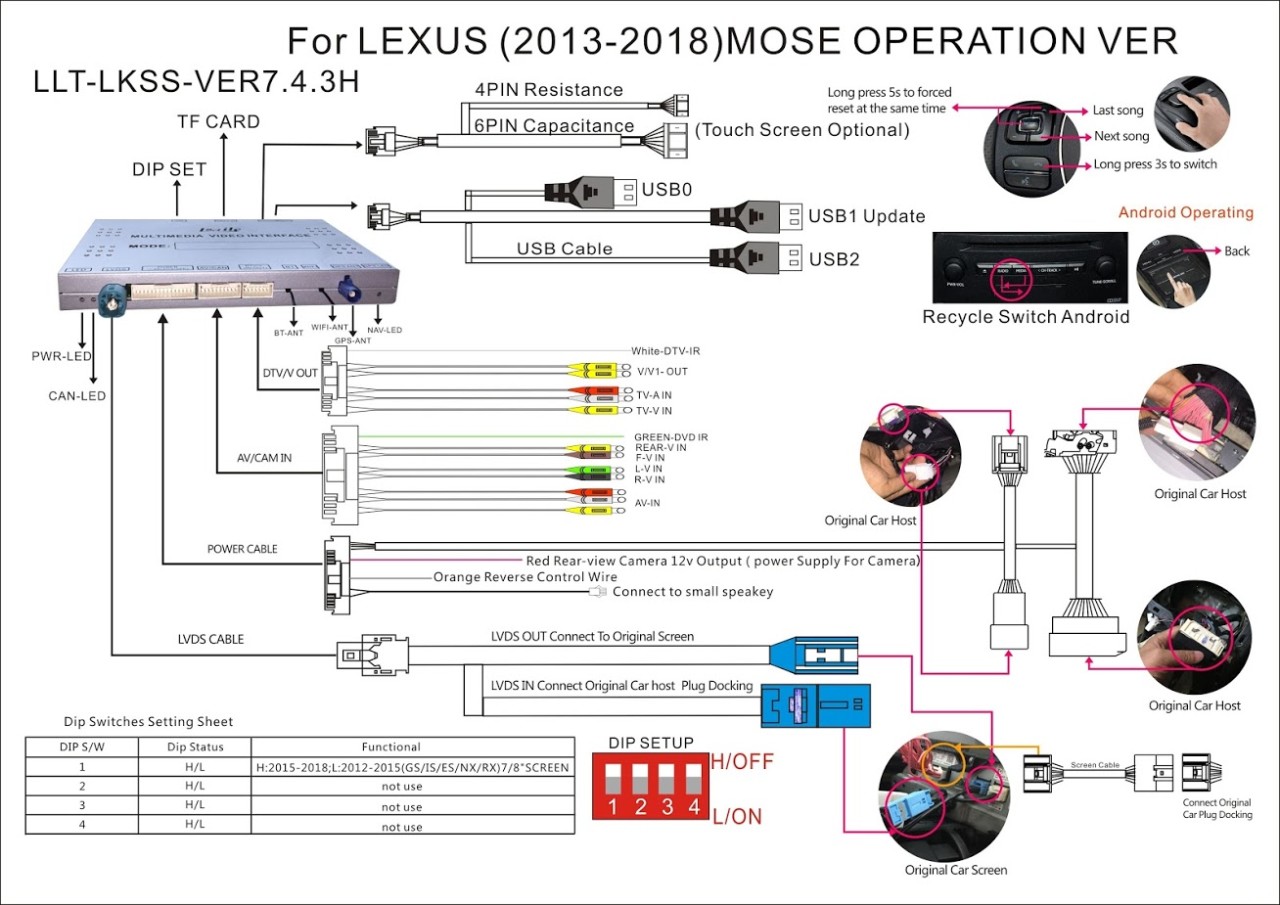 11-8-2017
Thanks for sharing but that doesn't look like from same company, The interface does not look the same.
The one from Lsailt that I will be trying, I have received some videos from them that they shared of their system in action, granted it was in different model car but at least they are showing they are using original Joystick mouse in car for movement.

The video you shared, it seems like they are just using a USB or Bluetooth mouse connected to their system for it to work. I don't want to be using a computer mouse laying on my armrest to make this work.
Here's a video of him showing off his keyboard mouse setup. To me that's not integration. They just using the screen for image only
11-16-2017
The Android interface module is in my hands now.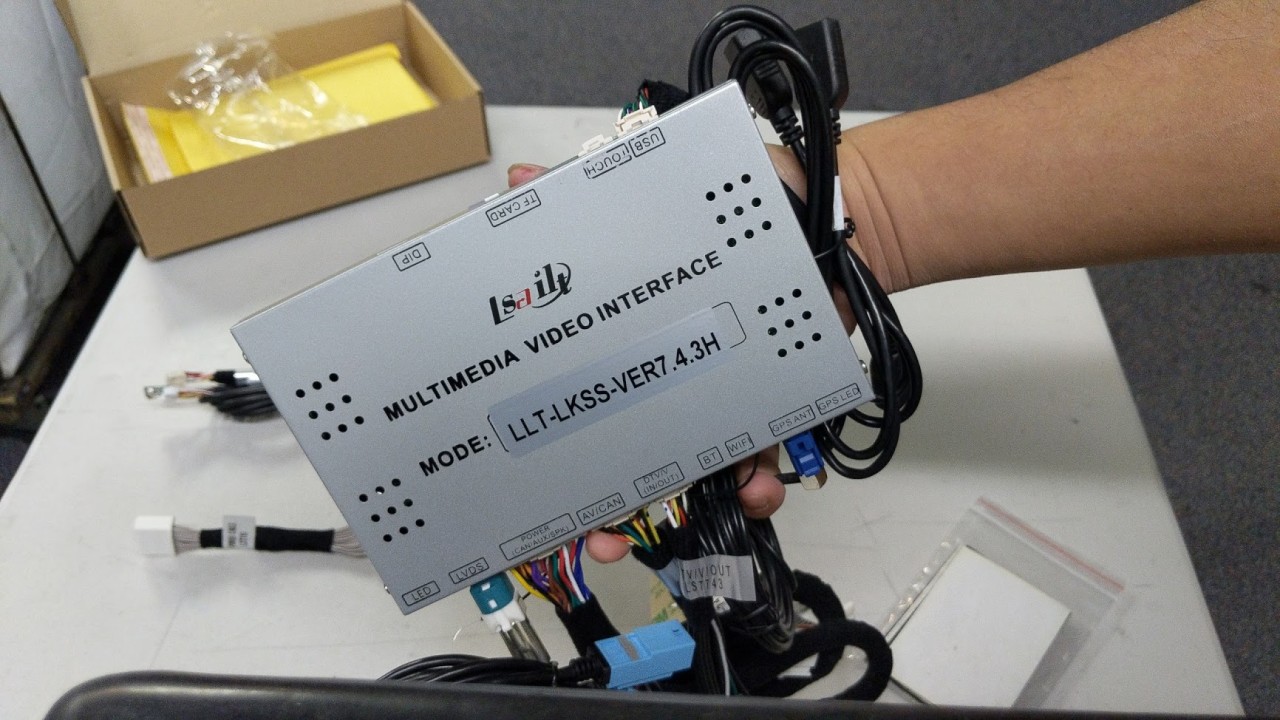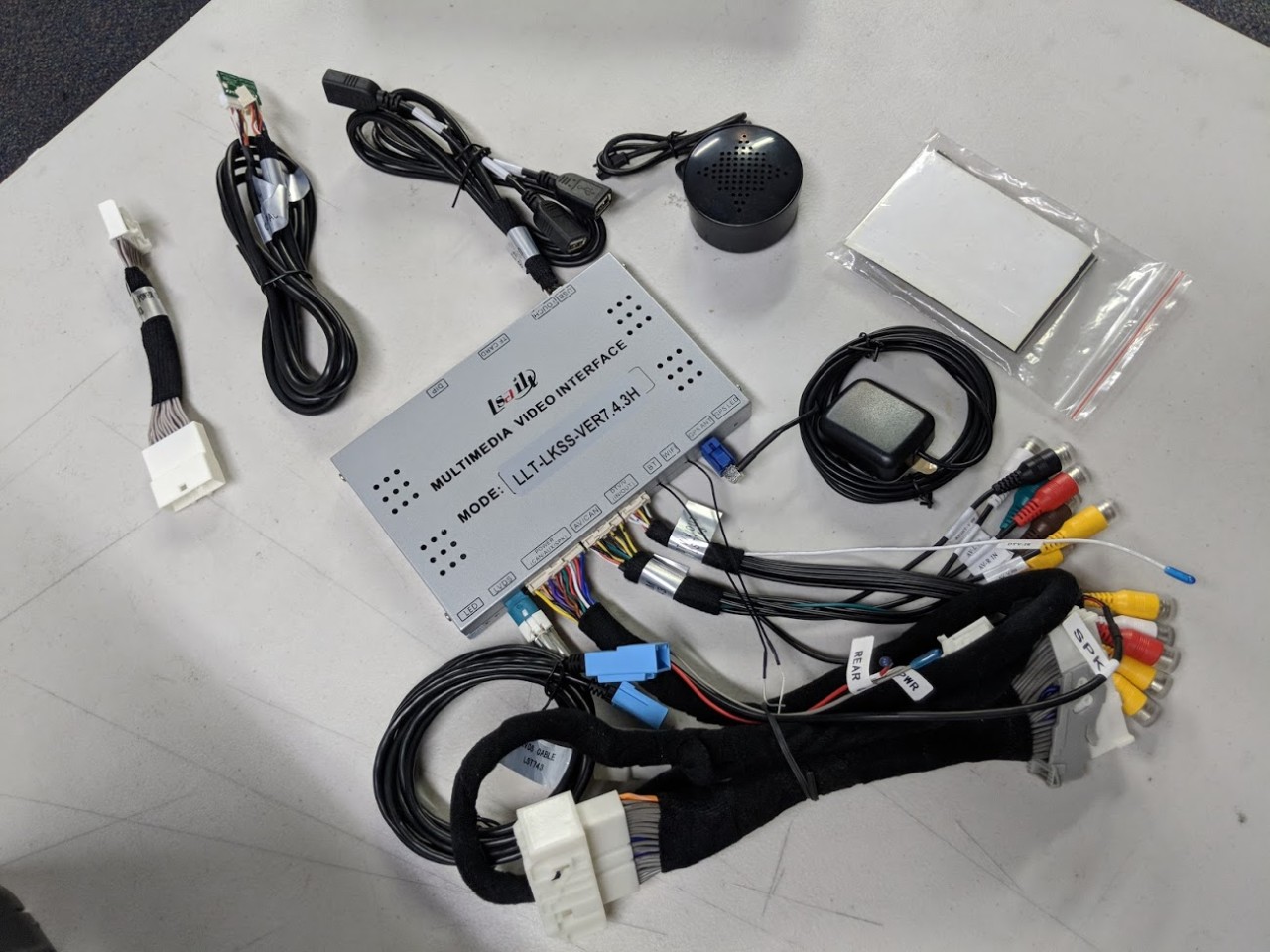 If you want to learn more about the Android interface and follow me along, I will post more in-depth info at this thread I started elsewhere on the forum below
https://www.clublexus.com/forums/is-...e-we-go-2.html

Short Summary will just be in my build thread here to keep the chronological timeline of whats been done to the car.
12-11-2017
dabbing into photography recently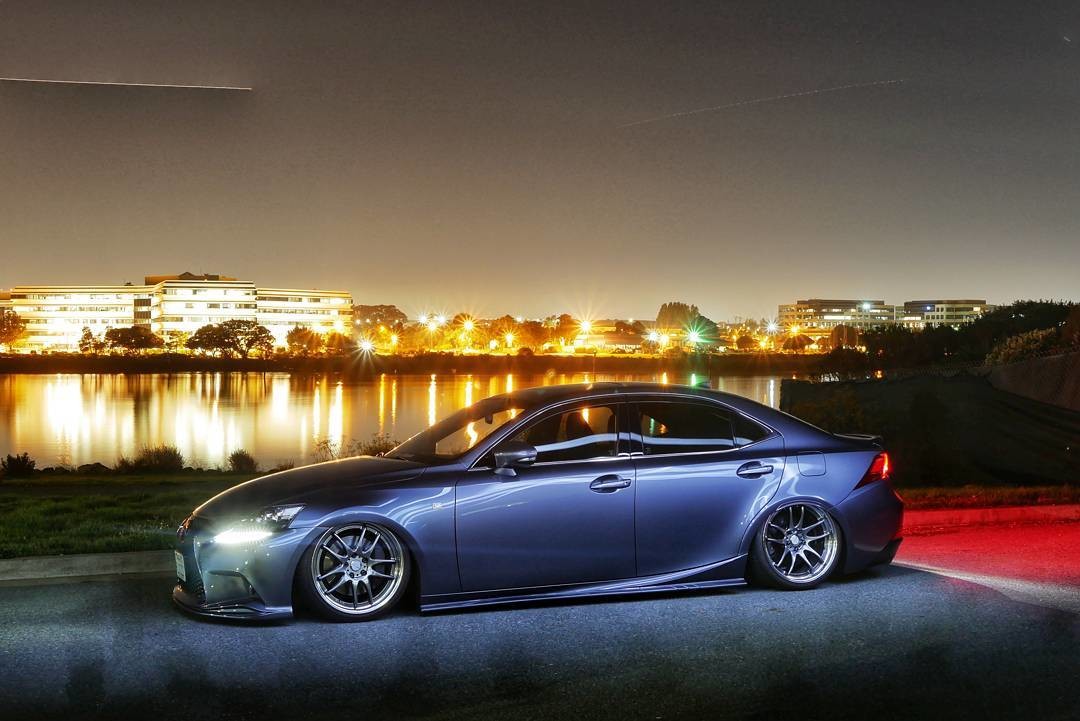 6-15-2018
brought the car down to Toyotafest 2018 in Long Beach, CA two weeks ago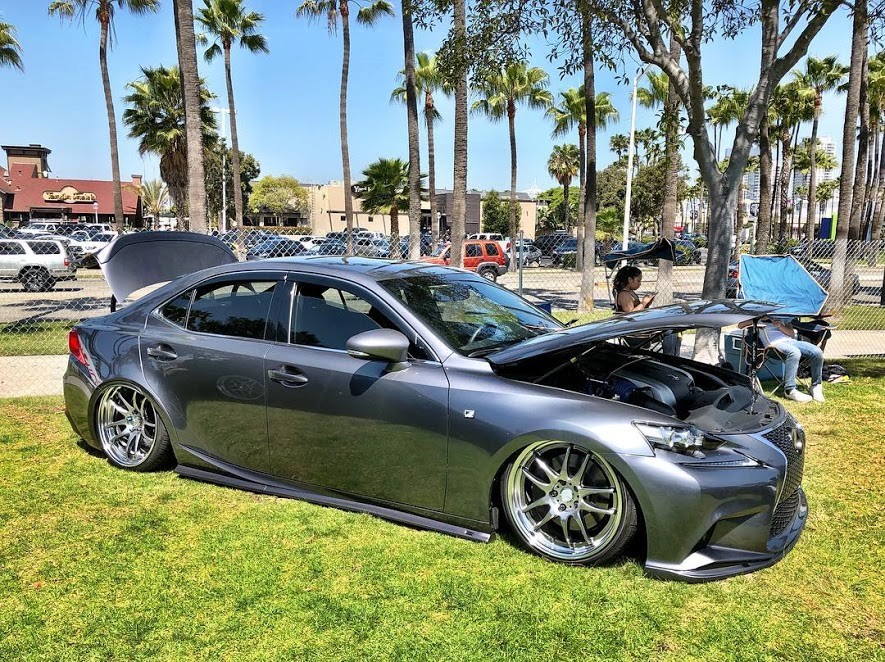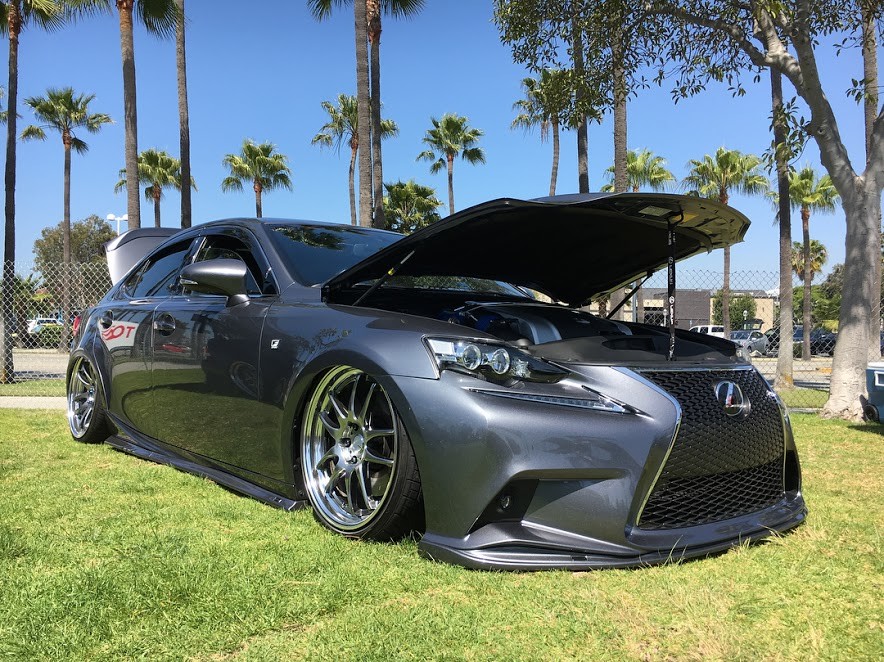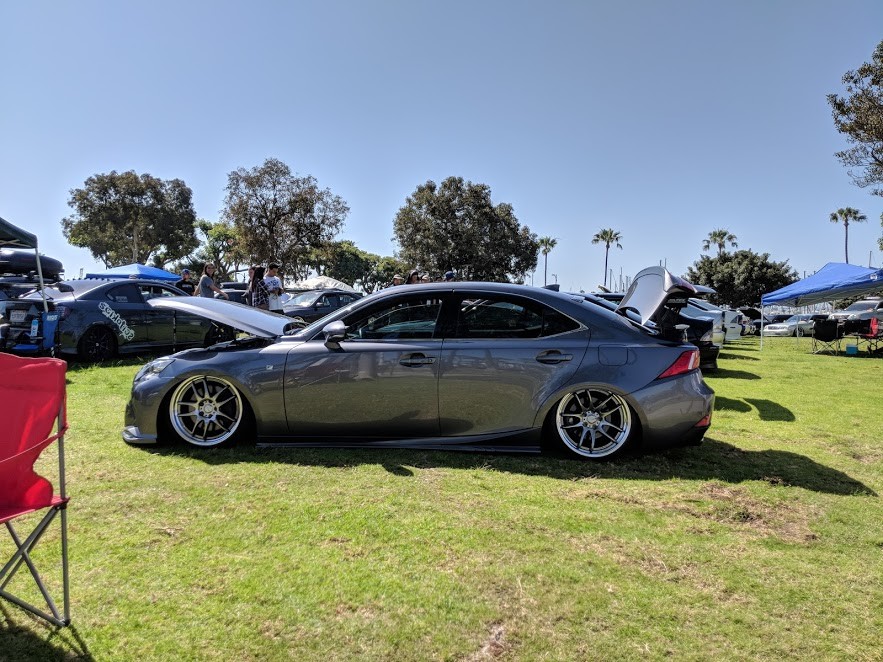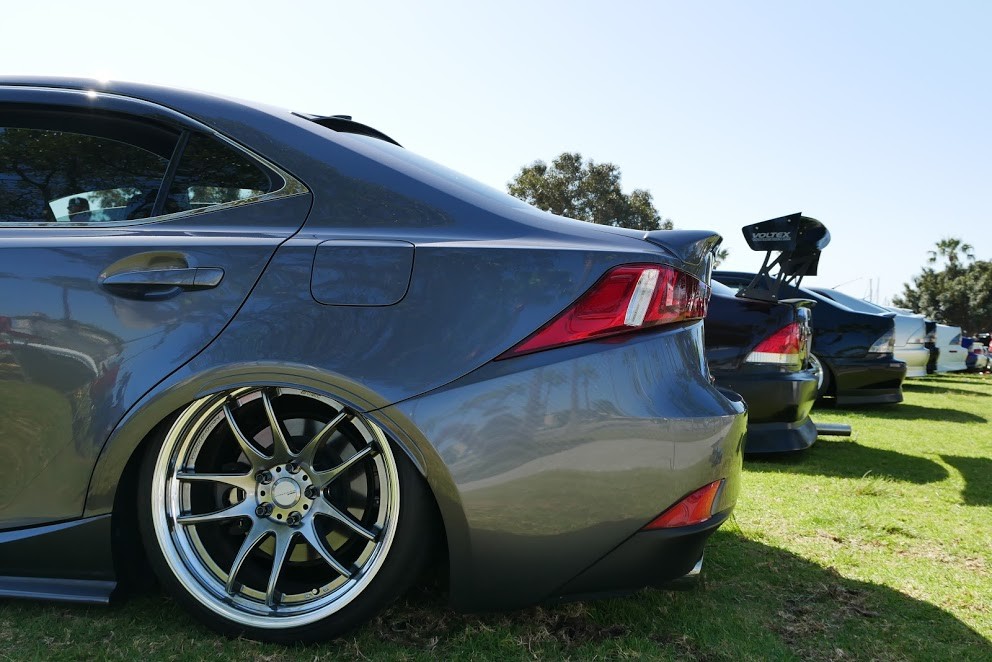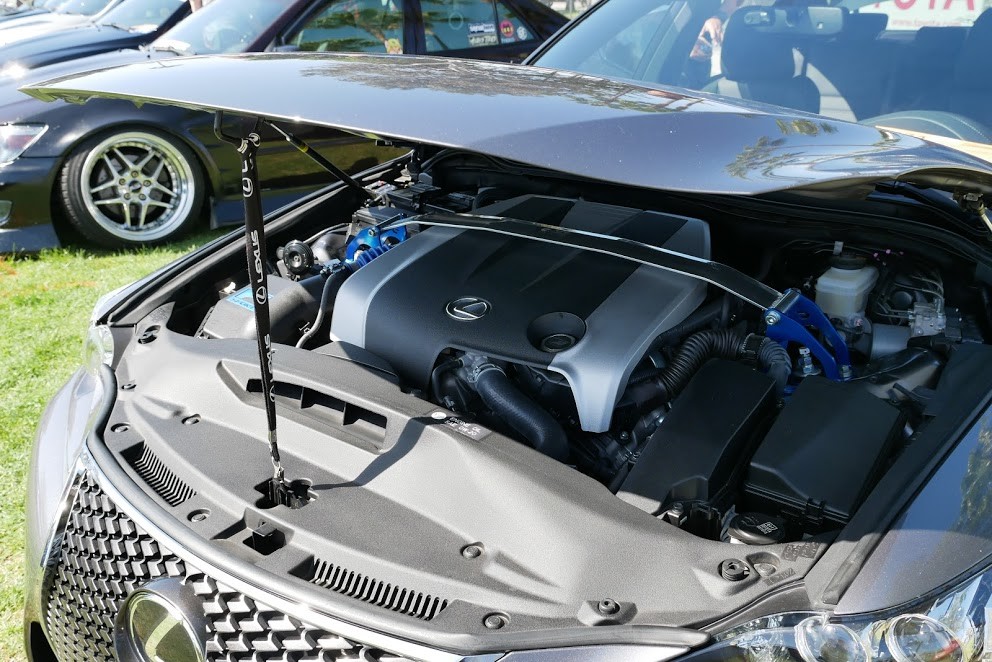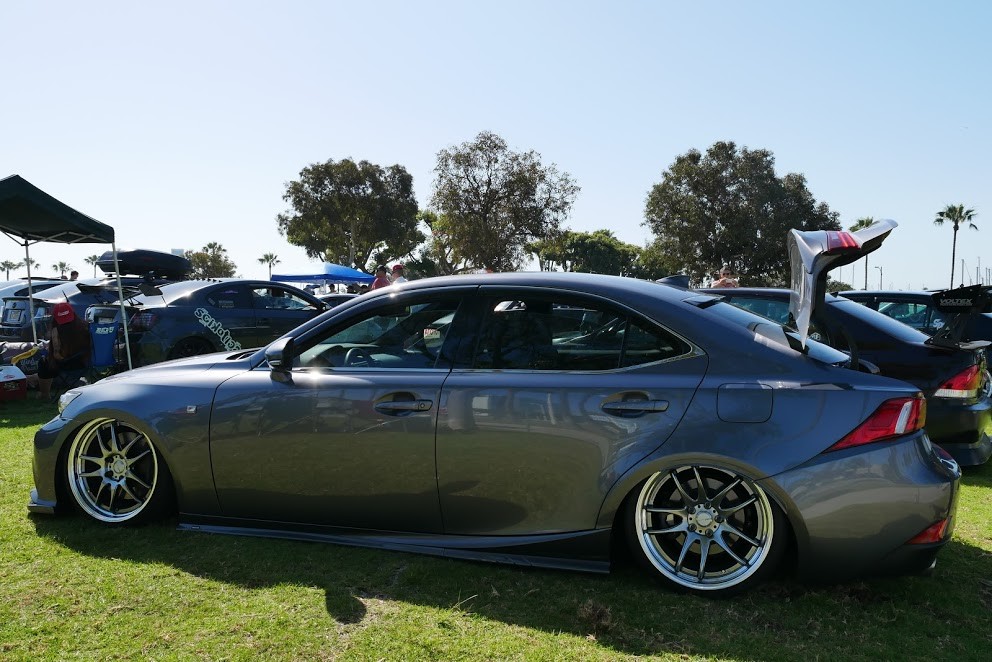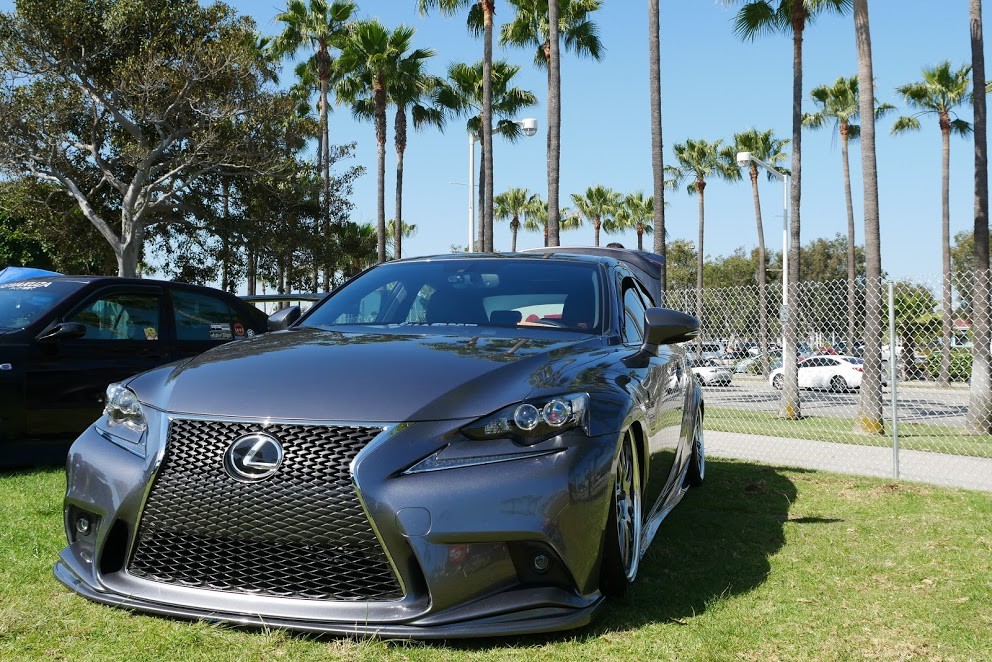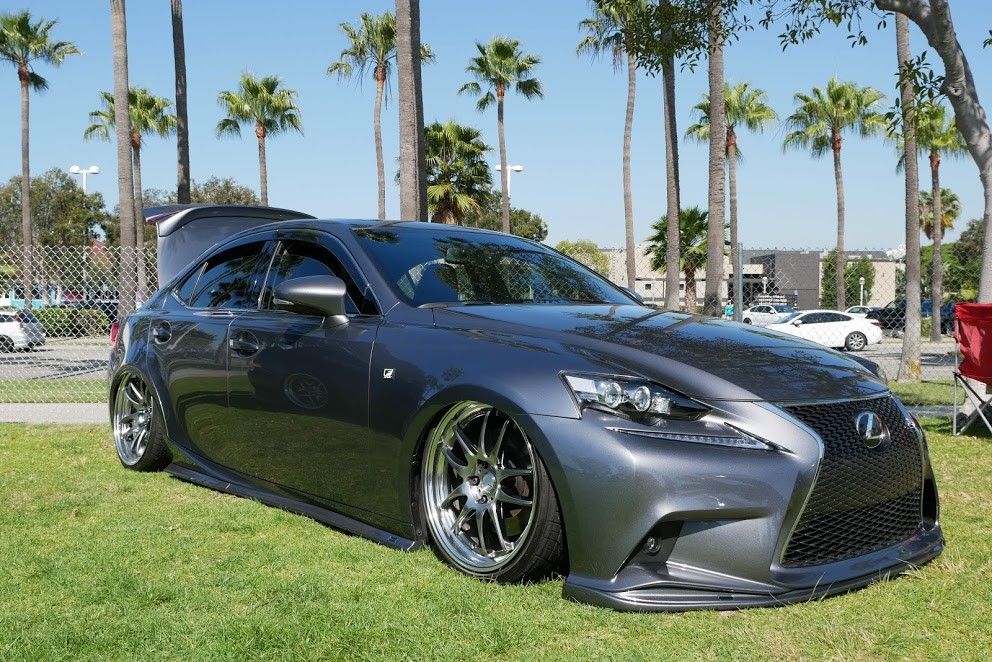 and brought something back home from it