My coupe by 66Lincoupe
By diyauto
You must be logged in to rate content!
My coupe
Compliments of 66Lincoupe @ www.thelincolnforum.net
11-18-2008
Here are a couple of my coupe...
I bought it from the original owner. It had been sitting for 25 years, It still had the original black and white Arizona title... And NO rear main seal! to prep the car for starting I had to remove the intake because the owner had removed the carb to rebuild it and do a tune up and never got to putting it back on, so new intake gaskets (and soaking in Marvel just to be safe), a donor Carb, Pertronix ignition, coil, plugs and wires and I got it started... ran fair, made some noise but nothing unusual...and no big leaks, the water pump trickled, but just a single drip from the rear seal area after half an hour! After I made sure it would at least start I started replacing the dried-up seals and bushings... Timing set, valve cover gaskets, water pump, diverters, rebuilt power steering pump. I wanted to change the oil pan gasket and thought that it would be a good time to change the motor mounts too. I pulled the pan, and the rear main bearing to change the seal to a new neoprene seal instead of the rope seal. There was no seal in the cap! I thought no big deal, it probably stuck to the crank... Nope! No seal at all, top or bottom! the two side seals were in place but no rope! I called the original owner to see if it had ever been in for that type of work and he replied in the negative! so this engine ran for the better part of 15 years with no big drips... How's that for quality?
How I found her... Crying out for attention...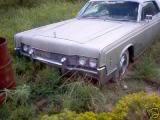 How she looked the day before I came to Michigan...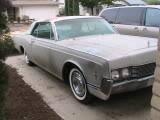 Slow work, but worth every second...
12-10-2008
Found a photo today from when the shipper dropped the car off here in Michigan. I was still in Arizona so my wife sent me this to assure me it made it okay!!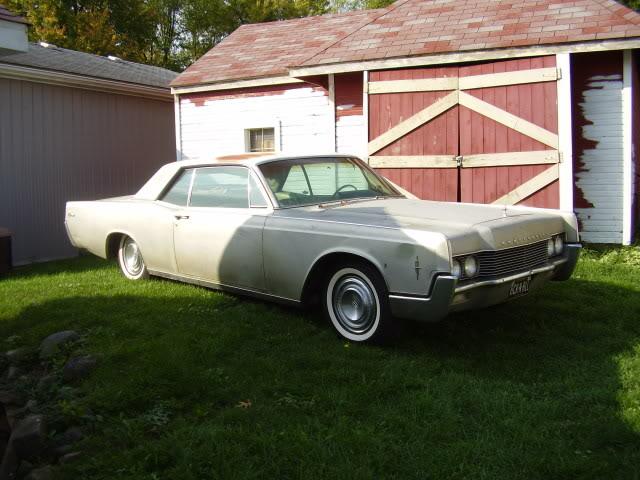 Then she had to park it in the barn!! She hates driving anything bigger than her car, I told her that her car was actually taller... That didn't help.
Here's when the flatbed dropped her off the day I bought her December 2006.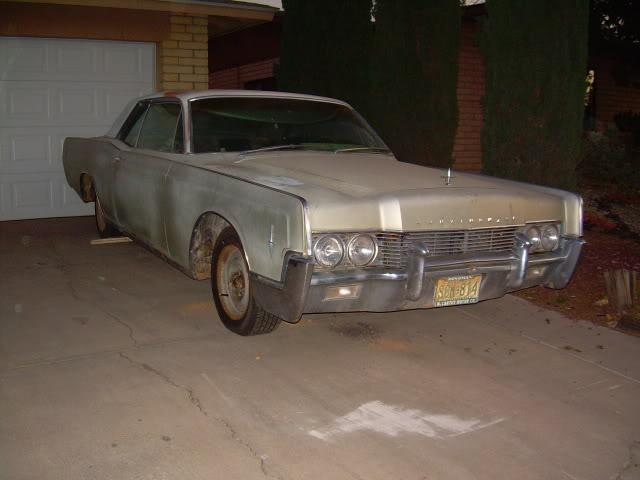 I pressure washed over 25 five gallon buckets of crud off of the bottom, when I was done I was expecting to see huge holes everywhere. I was shocked to find no rust-through anywhere... Just the surface stuff on the roof and the edges on the bottom. My floorpan undersides you can still see the E-coat where the black undercoating has flaked off...
4-22-2009
Okay, I'm about ready to dig in again. I was a bit disappointed with the move from Arizona and the weather here, but I think I had a recharge over the winter. Here's the plan this late spring/summer after vacation:
I will finish the Upholstery - interior and trunk, and then get the engine in and humming finally.
The body will have to wait for a while, I think I will just strip and seal it for this year and try for next year. It is going to be a bugger to find the rubber parts for the coupe specific stuff. I already have replaced the front bumper (Thanks Dan at GOldman)
I have three ford script (gray) headlamps, two high beam and one low that I will be replacing with H4 style assemblies (I'm actually replacing all four, but only three are script.)
I will be replacing the incandescent taillamps with LEDs. I already have a sequential "kit" from Webelectric, but will be replacing it with the system that came with the LED panels.
Hopefully join LCOC - Regional and National, I know mine will not be stock, but I appreciate the work that goes into an original vehicle restoration, and you can't beat the support I see available...
I will post photos as work progresses...
9-5-2009
While getting the final iteration of my engine figured out I decided it would be a good time to clean the engine bay. While removing the battery tray I found that I can no longer say this is a rust-free Arizona car...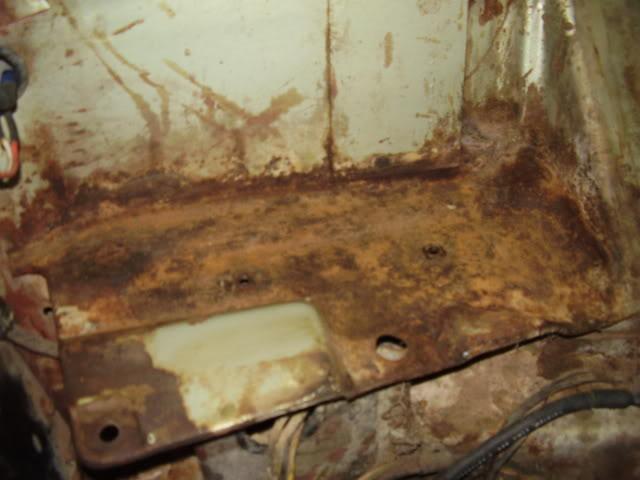 The tray itself and the shield between the engine and battery look really good and still have most of the original black paint, and the rubber shield! This is the inner fender underneath everything. I "peeled it like an onion"

to get here. Actually, this area is very solid and the rust is just superficial, no flaking - and I took it all apart with nutdrivers and no "liquid hope" (penetrating oil).
I found some more grease pencil markings, too: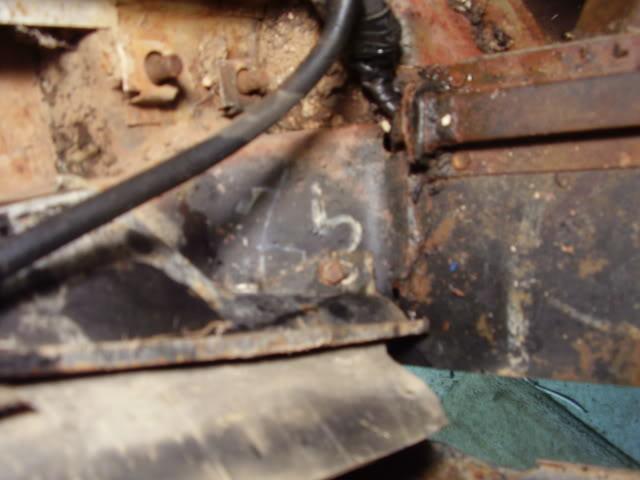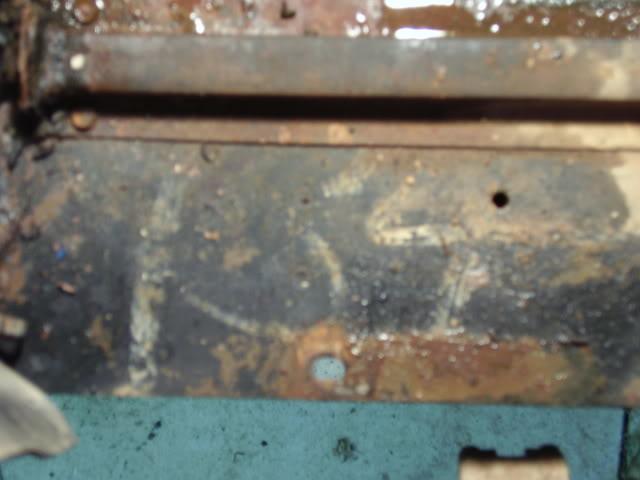 I'm not going for stock, or perfect - there are enough of those - So the engine compartment will probably be semi-gloss black, I just like the contrast. More later.
9-20-2009
Well, I finally got off of my butt and am ready to install the final (hopefully) version of the 462. I pulled the second mule out a couple weeks ago and am ready to clean up.
Here's the hole left in the garage. What a tank.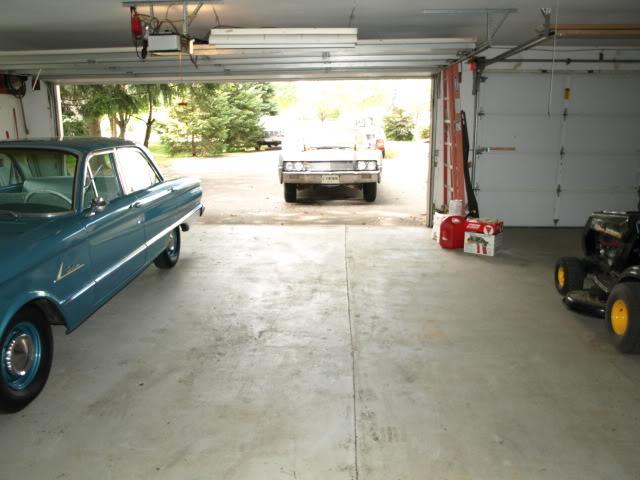 I miss the desert. Kingman was home for a long time.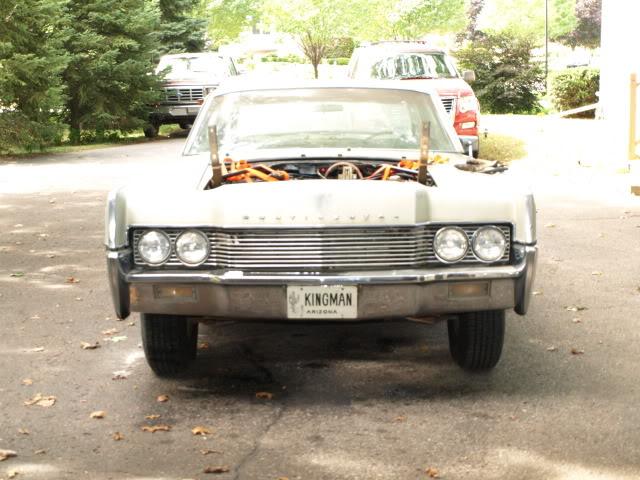 Contemplating grease... YUK.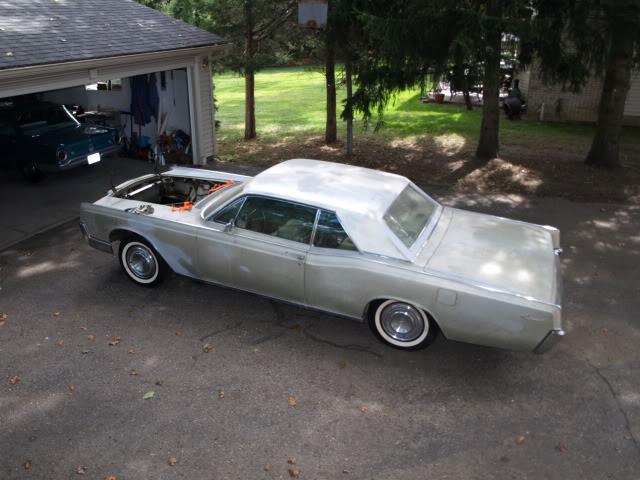 The dirty, dusty, bay.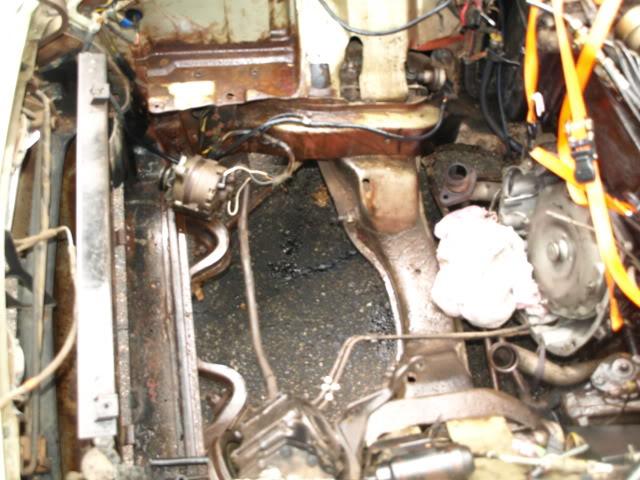 I know the bay is supposed to be body color, but I haven't decided if I am going to paint the car a "pretty" color or just black suede and have it striped... So the bay will be semi-gloss black no matter what. (Sorry Dan.
)
Landau! Did the vinyl top cars get this?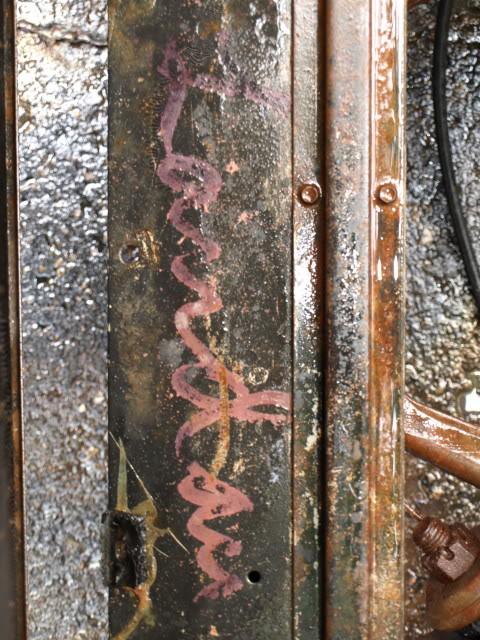 And done with the dirtiest part.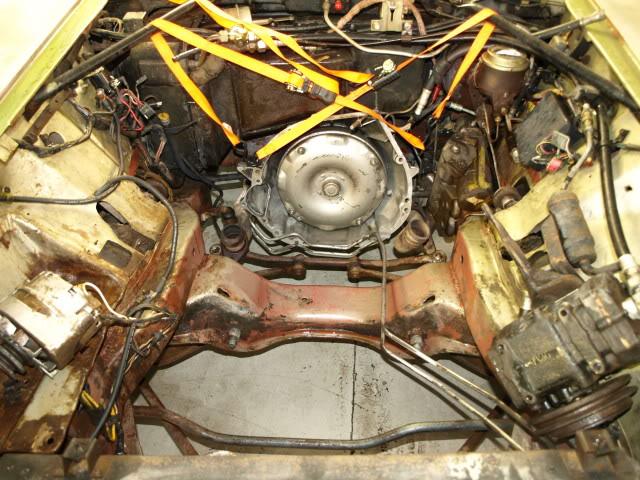 12-2-2009
Okay, here are the first shiny bits (again...)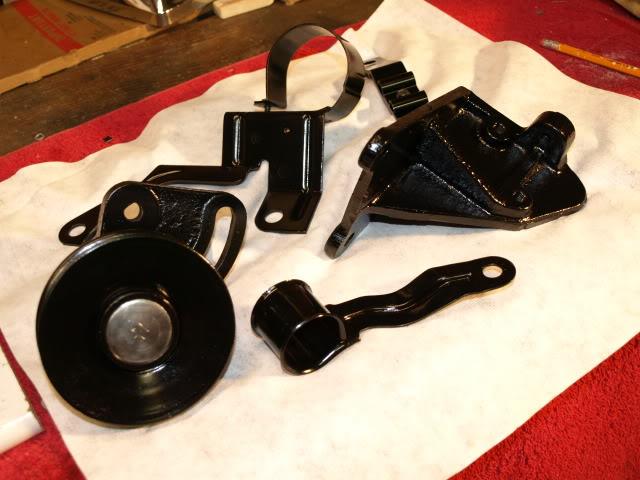 And now: More Rock, less talk... By request from Holland.
More shiny stuff...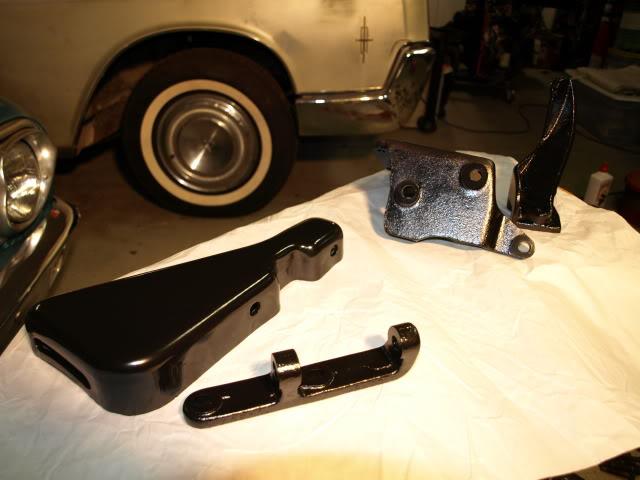 I think all of the engine brackets are done now. Unless I find more at the bottom of this pile: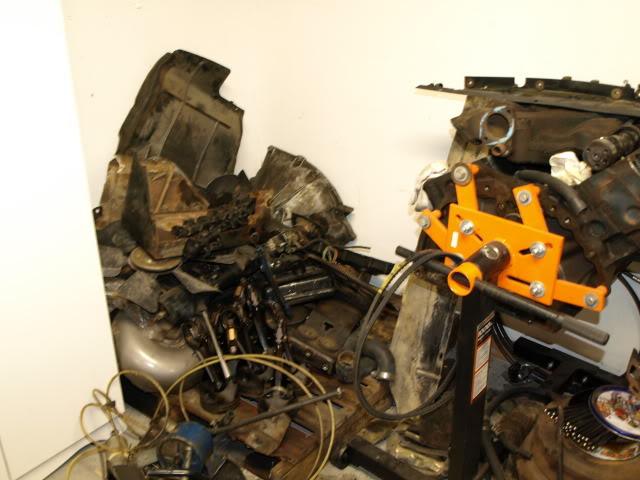 3-18-2010
Just touching base - I actually have been working on my car through the winter... I just hate the cold.
Here are before and after photos of the same head. Right now I'm just cleaning - machine work is later.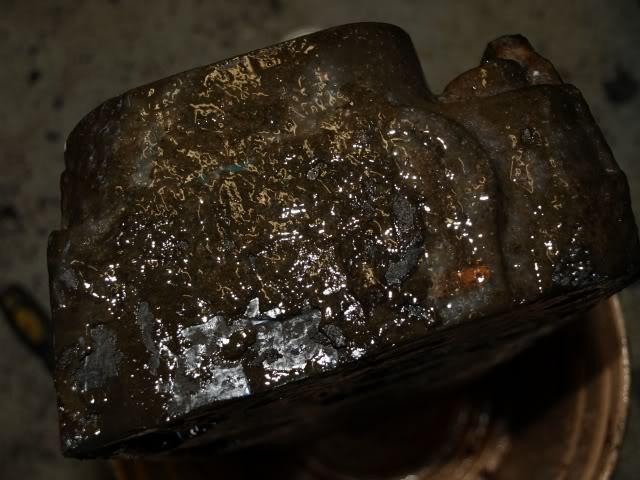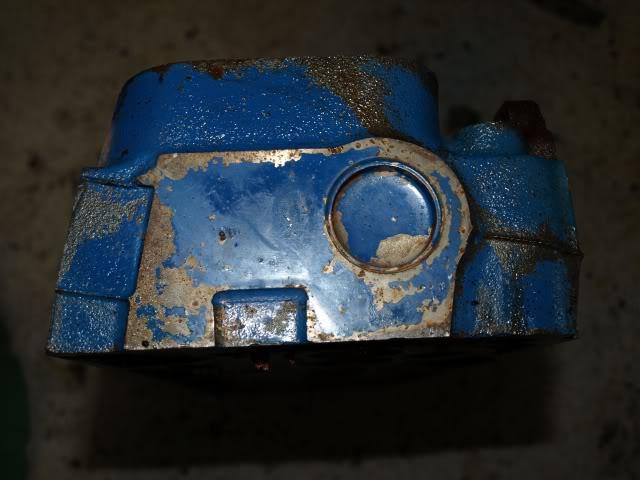 I think the desert heat (okay, maybe the grease too...) preserved this engine. This is the original engine from my car and while it has issues is in awesome condition as far as cylinder wear.
I have another mule I have been using to test oiling ideas but it is very worn. Here's what I've done:
HV Melling pump with a 90# spring. (Critical to use the Heavy duty oil pump drive - I'm still trying to find a way to run a 5/16 driveshaft..
Drilled and matched the feed galleys to the pickup (like port matching an intake)
Drilled the pasages in the heads to match the pedestals and the rocker shafts.
Radiused the area on the heads the oil feeds into - this normally has a hard edge that sludge will build up on and if the engine ever gets hot it will turn to carbon and block the passages.
Polished the head bolt holes that are used to feed oil to the rocker shafts - I wanted to drill them a little bigger but didn't because just these modifications improved flow to the heads (volume volume volume.)
I have 80 PSI cold at the crank - on a worn engine! And just over 60 psi and plenty of flow at the rocker shafts... I'm happy. Time to apply these to my engine and put it all together!
Sorry for rambling Reijer...
I just used 10W30 cheap stuff until I hit the numbers I wanted. These engines have marginal upper end circulation like an FE engine. It seems like the same FE engine modifications work to increase the upper end flow without hurting the crankshaft numbers. So far so good. If my numbers on the fresh engine are too high (going into bypass right away) I will replace the spring with a lower pressure one. I like the More rock - less talk thing BTW, I use it when I'm training now... Thanks!
9-27-2010
Just a quick update - And a public thank-you! I sent my fuel pump to Mike Casella at Then and Now. I shipped it on a Saturday and had it back Tuesday Morning! What astounding service!
The car is still not going anywhere. I have a mountain of new parts and ZERO ambition. Maybe this winter!
11-17-2010
Well, the going is slow... when it even goes. The Lincoln is on the farthest burner back. Sometimes I even forget I have it.
I took some time off of work to relax - no phone, no work related computer. What a nice break. I actually got some forward progress on the Lincoln though. I now have turn signals and brake lights (new turn signal switch)! It started raining when I got done, but I'll post a video ASAP... Sequential turn signals!! YAY! I should be finishing the LED conversion next weekend (another long one)!
This weekend was supposed to be final engine assembly, but some unforseen pitfalls have thrown the project into a ridiculous tailspin. So the "couple years" I expected will probably become "after I retire". Unless that dream Mark VIII shows up...
12-3-2010
Excuse my dorky voice... I had to have my brother-in-law work the switch.
The only drawback to this system is there isn't enough load to light the inside lamps more than the first sequence; I'll figure something out - it's still really cool - the LEDs will be even better quick on and off!
Thank you Chris! I think the problem lies in the fact there are a million (okay maybe not that many) relays between the switches and the lights. My lights flash the same speed whether the rears are working or not - with the relays the flasher seems to operate like a no-load unit. I am going to install an adjustable electronic flasher and then the LED panels I made.
1-31-2011
Some of the frontend stuff I've done...
A before and after of the strut-rod assemblies: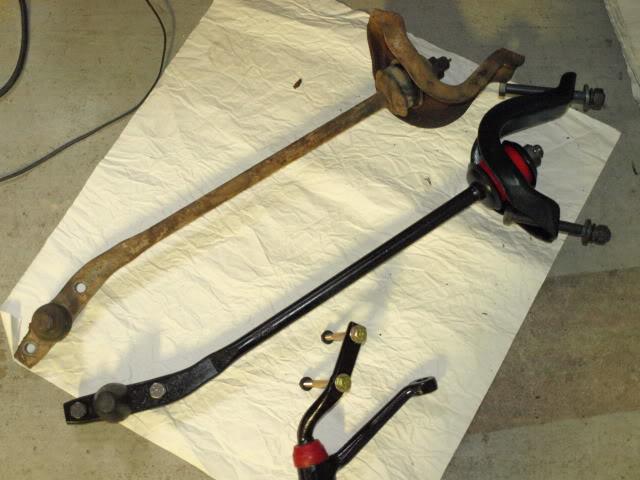 Close-up of the Idler arm. I was able to heat a tie-rod dust boot up enough to stretch it over the shaft... Looks pretty cool!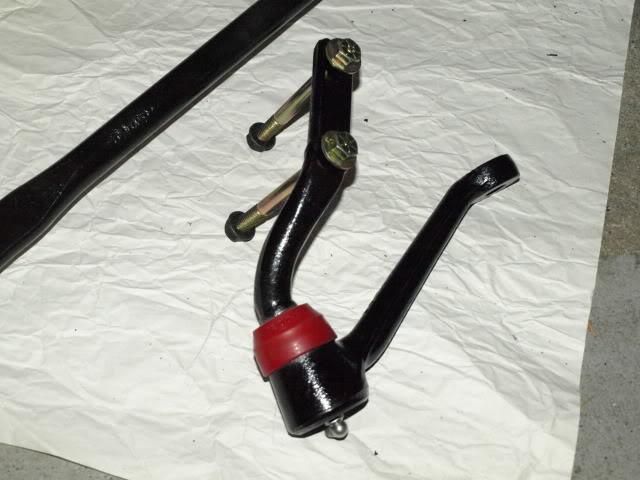 And a close up of the boots and strut-rod bushings... Energy suspension stuff is so cool.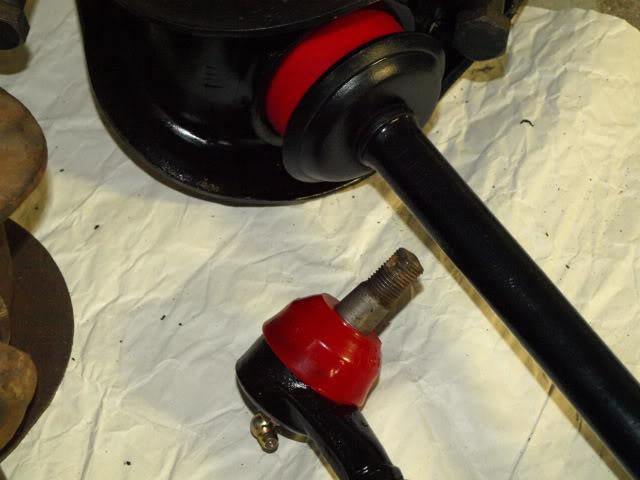 3-17-2011
Well, it seems like D day is approaching... After a bunch of trial-and-error gotta-see-what-this-will-do experimentations the final engine is ready to go.
My biggest fear was oiling in this engine. As expensive as the MEL is to repair to run out of blood would just suck - to be blunt. I used a lot of FE tricks and got awesome volume and pressure everywhere - even to the top end.
Here is the "finished" engine waiting to be installed. I haven't got to the bay yet, just too darned cold... winter is yuk.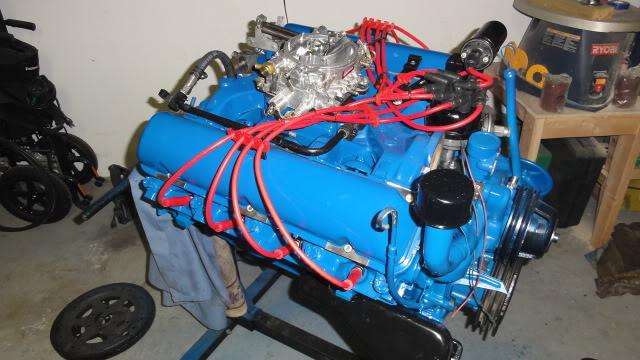 Some of just the basic FE stuff is matching the oil filter adapter holes to the holes in the block and smoothing all the transitions - anywhere the oil changes direction. You can do this with a sanding drum in a die grinder - this is actually the best way for a novice to port-match since you don't take material away as fast as with a carbide bit.
Make sure the ports in the block and head match - just port matching again.
Make sure all of the oil supplies in the crank are chamfered (I don't have a picture, but there are lots online).
I used the Melling M57HV pump but I used a 90# FE spring in the relief where stock is about 60 (ish) So the pump is high volume/high pressure now - with this combination it is VITAL to use the heavy-duty drive shaft from Precision Pumps - on one of my test engines I twisted a stock rod just from the oil resistance.
There are a few more but I have to go through my notes to get exact specs. Really it was making sure there were no sharp edges or pockets where oil could sit, bake and sludge up.
I used Glyptal in the valley and crankcase also to aid oil drainback and to prevent oil from sludging up on the webbing and skirts...
4-30-2011
Still just cleaning. When I bought the car it was sitting in a field in the desert. I thought I got the majority of the crud off of it - boy was I wrong.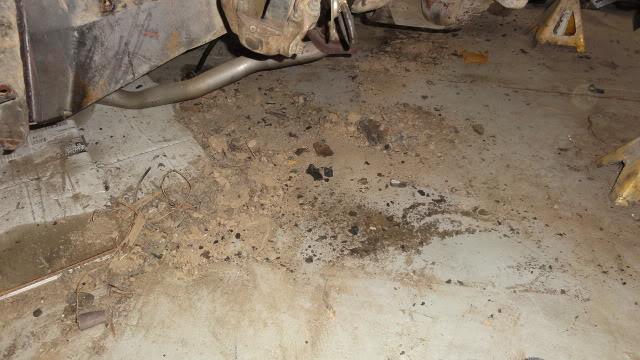 But I am getting things cleaned up...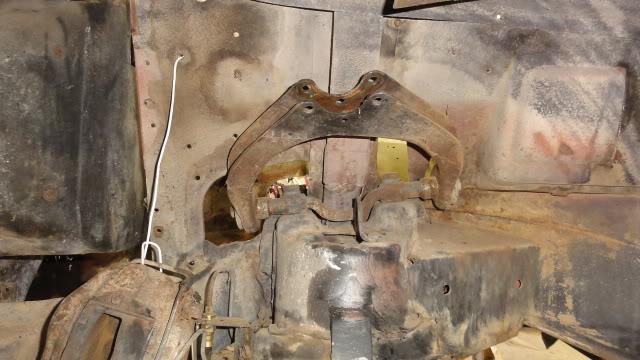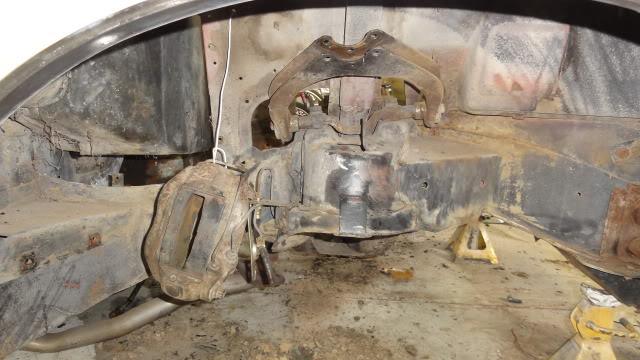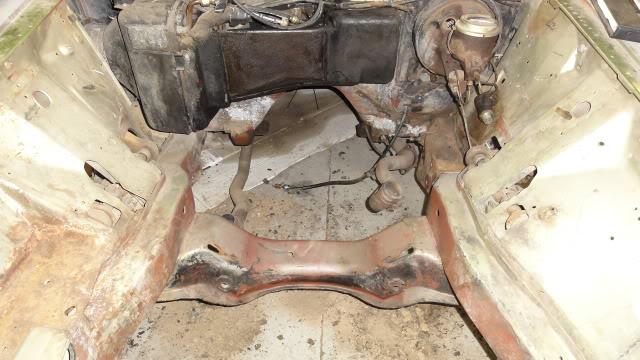 These are mega overexposed, but you get the idea...
5-1-2011
Finished scraping the crud off of the rails. Aprons are next.
Not making a show car, just a fun driver with some mild custom touches.
6-25-2011
Back on the road again... It's been more than 30 years since this car was running as it should. I have had it for nearly seven years and have been piecing it togeter as time and budget allows (and my automotive ADD - I get distracted with other car stuff). There were a couple questions about my springs - I cut a coil and a half which is about 2 inches of unloaded spring height. This was the result.
Before: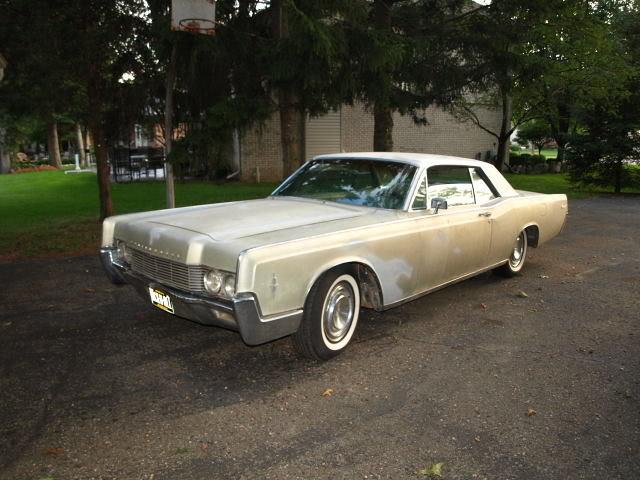 After: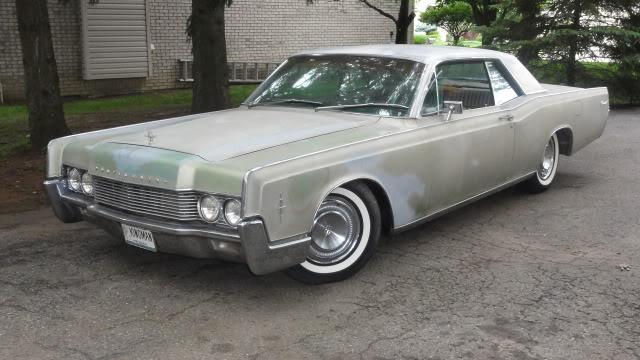 Since I didn't really measure the before height, just going off of these two pictures I figure there is a 3 and a half inch total drop. The fender lip was just even with the top of the tire stock and now it is about an inch away from the top of the whitewall.
All that's left is body and upholstery... Maybe before winter!
Thank you Reijer! I like the way it looks in full profile, just a slight rake to the front.

As far as handling, it wallows like a pig... really floats!
but it is very composed through the corners with the urethane bushings everywhere. All the weight keeps the ride fairly smooth, but there seems to be a lot more transmitted noise through the suspension now. I can hear and feel the tires more when I hit tar strips in the road.
I didn't notice much of a change in handling with the cut springs, of course I'm not driving it with the intent of hitting the suspension bumpers... Low and slow is how I like to roll.
7-3-2011
First drive this was before I put the hood and air cleaner on... and the hubcaps... and washed... I just wanted to drive it!!

9-4-2012
It's been a while since I posted any updates... This is just a teaser. I was hoping to have the car back together by Woodward this year, but my schedule threw a wrench into those gears. So I still hope to have it back together before I retire

! This is when I started pulling trim for paint...
9-8-2012
Just thought I'd show you some of my help... The dachshund isn't too great for anything but moral support. The girls weren't too sure about getting dirty today: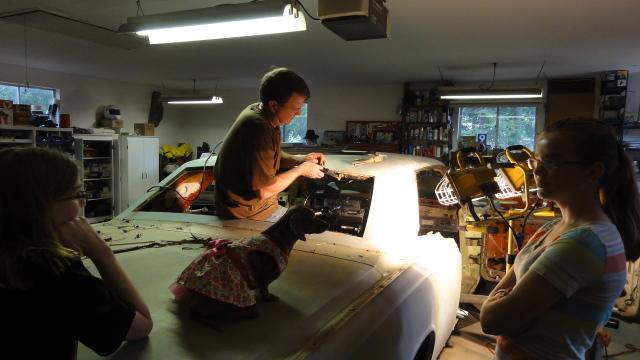 But they were into it a few days ago!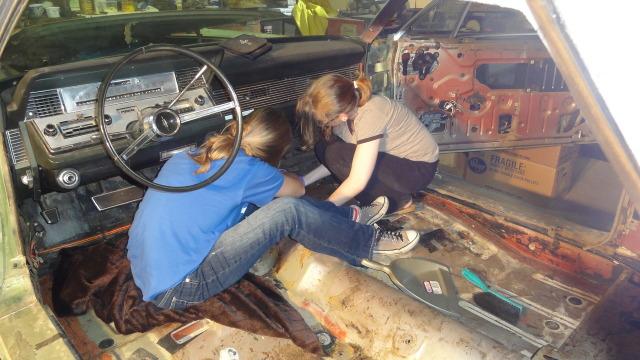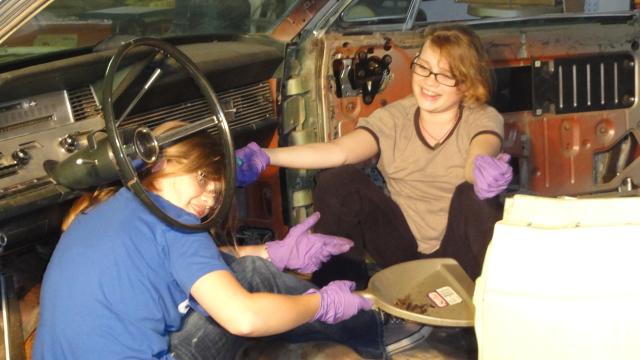 And even Mrs. Lincoupe got her hands dirty! She isn't a big car fan, but I promised another MGB when the Lincoln got finished.... Bribery will get you everywhere.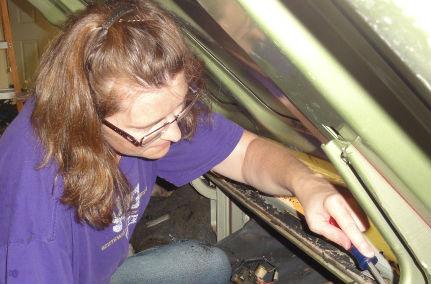 9-17-2012
Just some more pictures... Gutted and starting bodywork. Finally.
Floors and interior: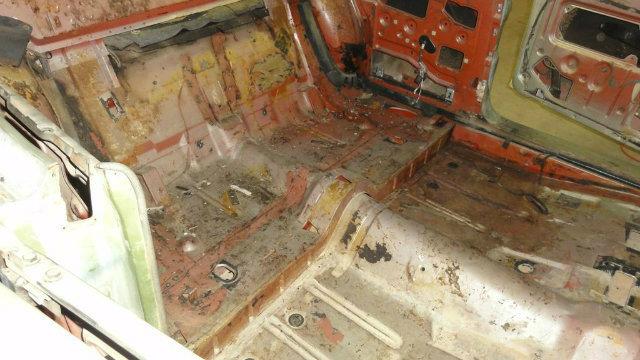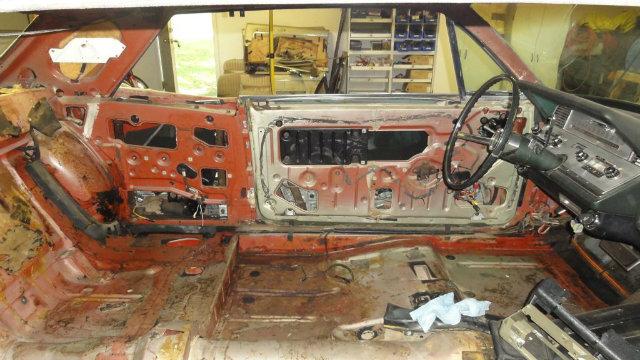 The roof and windows... I spent the better part of three days scraping and cutting butyl... YUK!: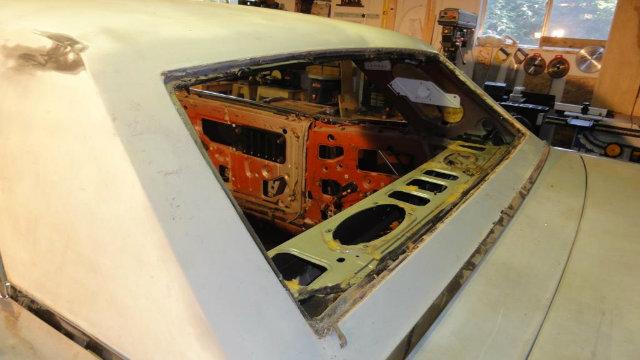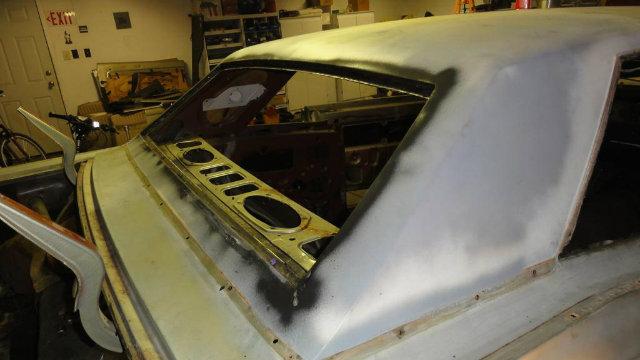 Dash: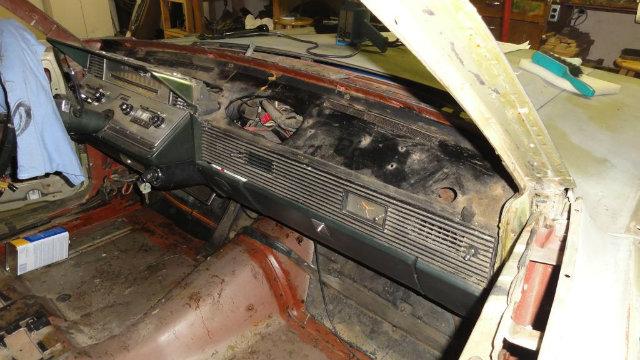 Headliner - or lack of - there wasn't much left of this just from sitting in the desert: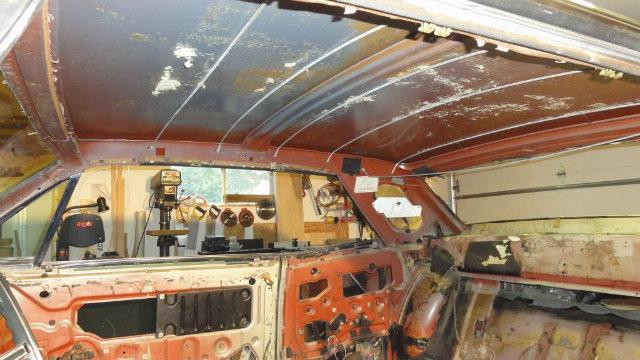 A dent I've been beating out... would have been easier to cut the skin off of the quarter and straighten it. meh: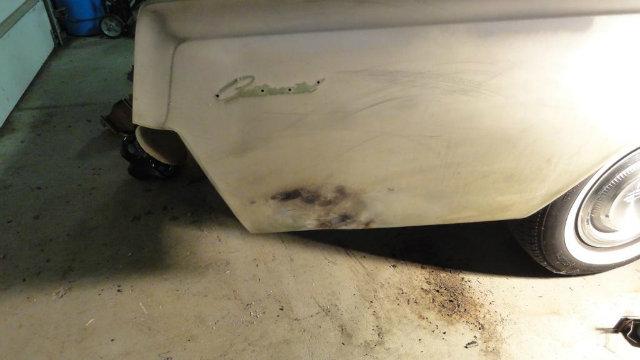 And just for posterity: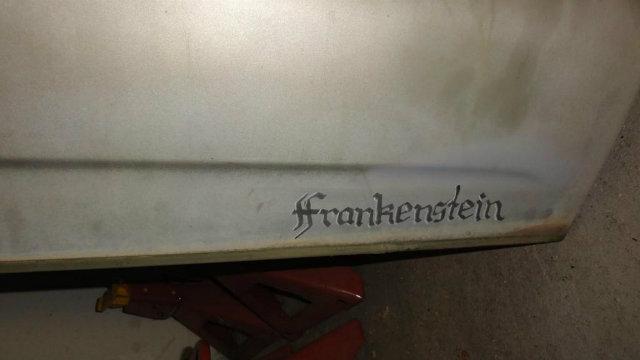 1-22-2013
Just some shots of bits I've found:
The Utica trim plant "certified" inspection stamp. My interior was born on November 4, 1965!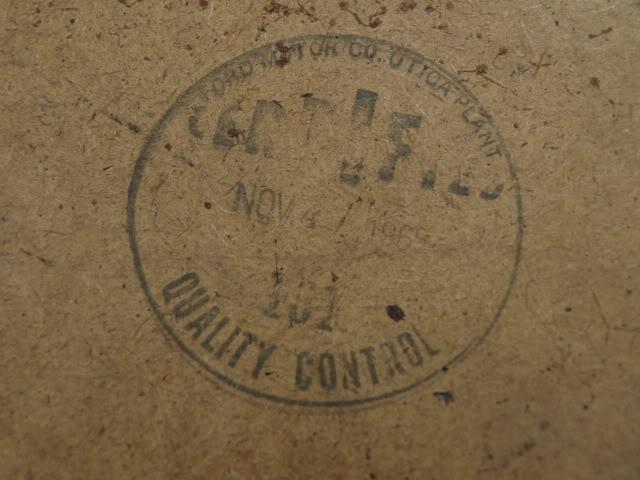 John, Here are pictures of the seals I need (and the other side, too):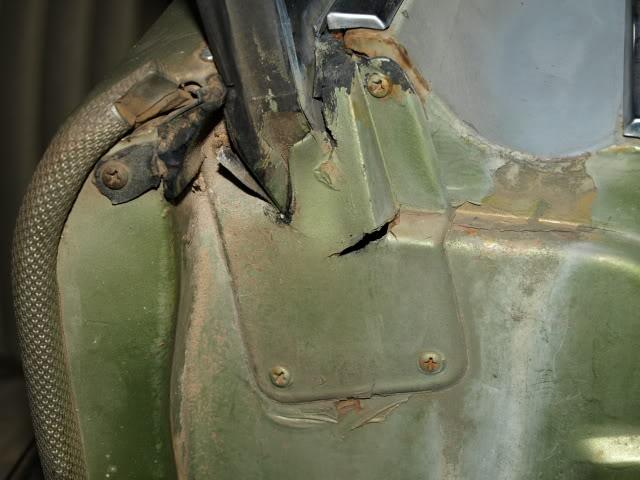 and the ones on the doors: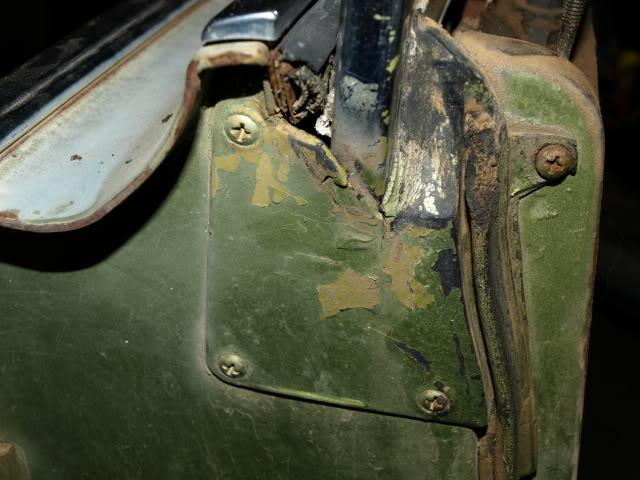 1-25-2013
I am a descendant of Henry Leland. I was thinking it might be cool to incorporate this logo somewhere on my car...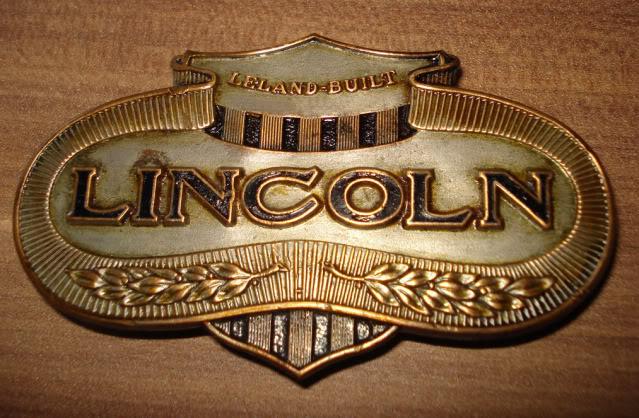 Maybe an embroidery in the center console? Or an airbrushing somewhere... I just think it's cool
3-30-2013
Well, back to work. The weather has finally become somewhat cooperative. I was able to get going on the seats. Here's the back in all it's green glory... The desert is no good for soft parts.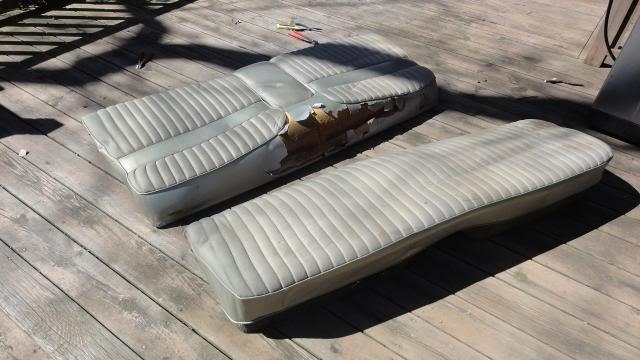 Here's my buddy giving me a hand. She's so thoughtful, keeping the seat from moving around.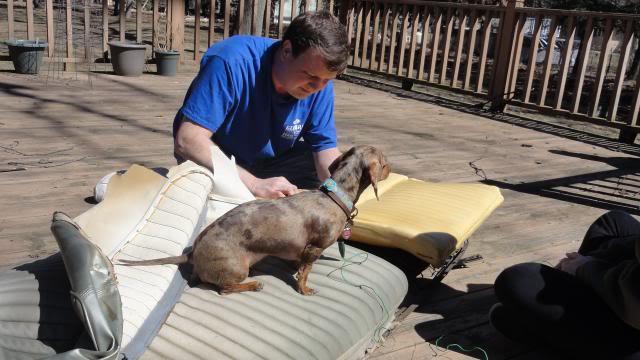 New burlap and stays. I was able to reuse some of the foam.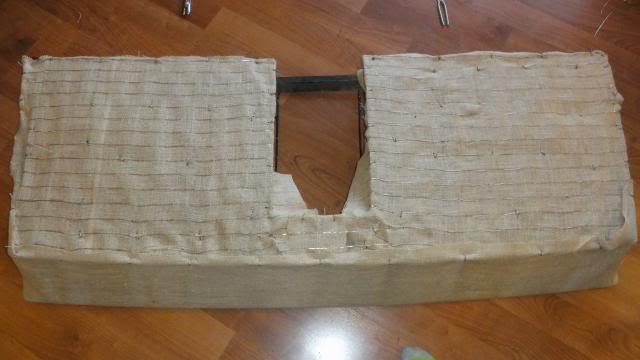 And the result.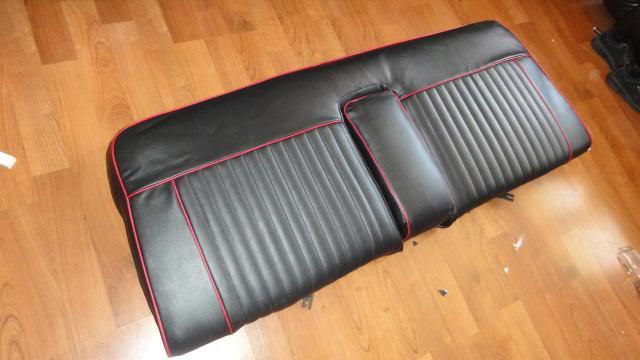 Yay... one step closer to cruising.
5-30-2013
The front seatbacks and armrest. Trying to sneak Lincoln time in where I can! The material is still wrinkly in these pics, but some heat and finesse and they smoothed out.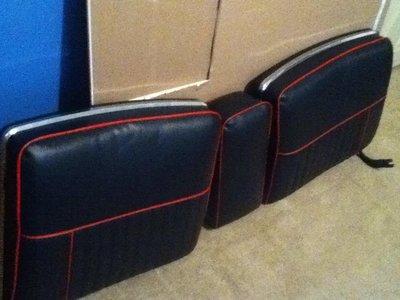 6-4-2013
Dan usually has a group there! Hopefully I can make it this year with the car. The "aheader" I think I get, the "behinder" I become. I just realized I haven't bought any trim clips yet... Grrrrrr.
But the seats are done! Well, mostly. I still have to fabricate the cover for the front armrest well and hinge area.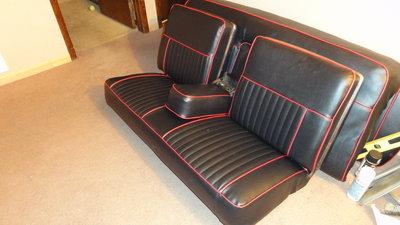 seats in storage
7-8-2013
Okay so I don't feel like doing any big stuff so I decided to paint my custom shift knob. I call the car Frankenstein so...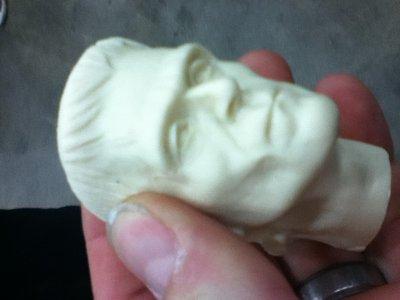 Shift knob before
And here is the finished knob atop the stock lever.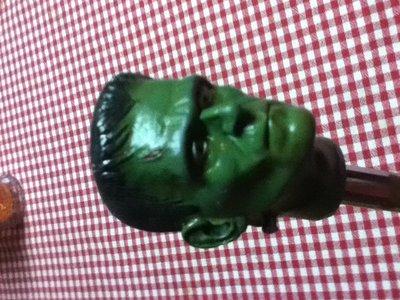 Frankenstein's monshifter
1-30-2014
So, not My Lincoln but it's kind of what I do when I'm not working on him. I have one more week of this fun in the desert and then back to the snow...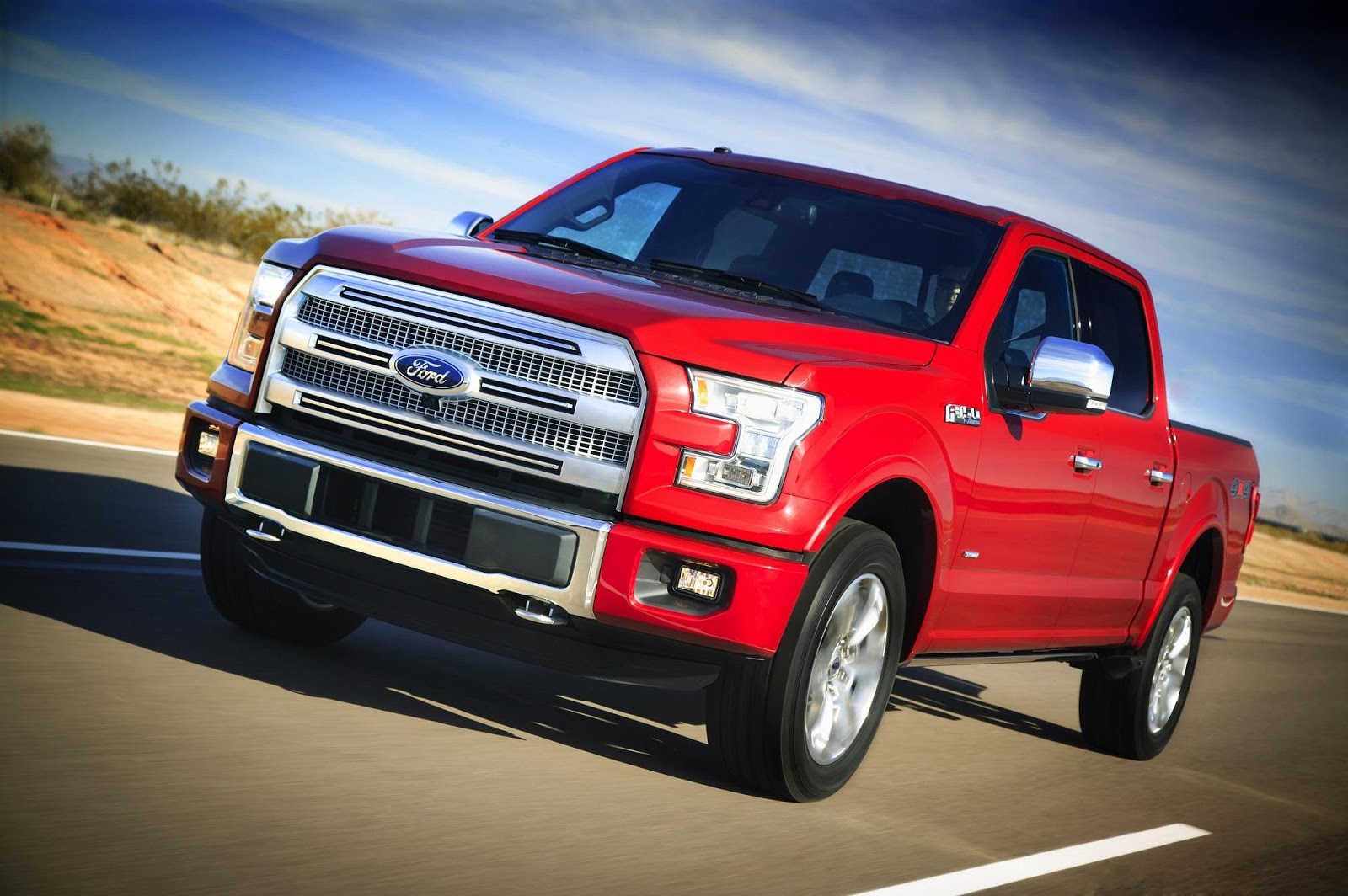 4-28-2014
Again, not my Lincoln... I am waiting on temperature so I can paint; Okay, actually I just don't have the drive to work on Frankenstein lately. So I putter around doing "other stuff"...
My daughter got her license last year and has always wanted an ElCamino. She found one and we started working on it in February but it was very rusty. I asked her to look for a parts car. She called me and said she'd found one. Turns out the "parts" car is better than the project. So we're swapping a bunch of parts over. This car is still rusty, but nowhere near as rusty as the first one.
I got the floors in for her and the seams sealed, then I will undercoat or truckbed liner coat the floors top and bottom. I still have some wire brushing and resealing to make it a good driver but at least now her feet don't drag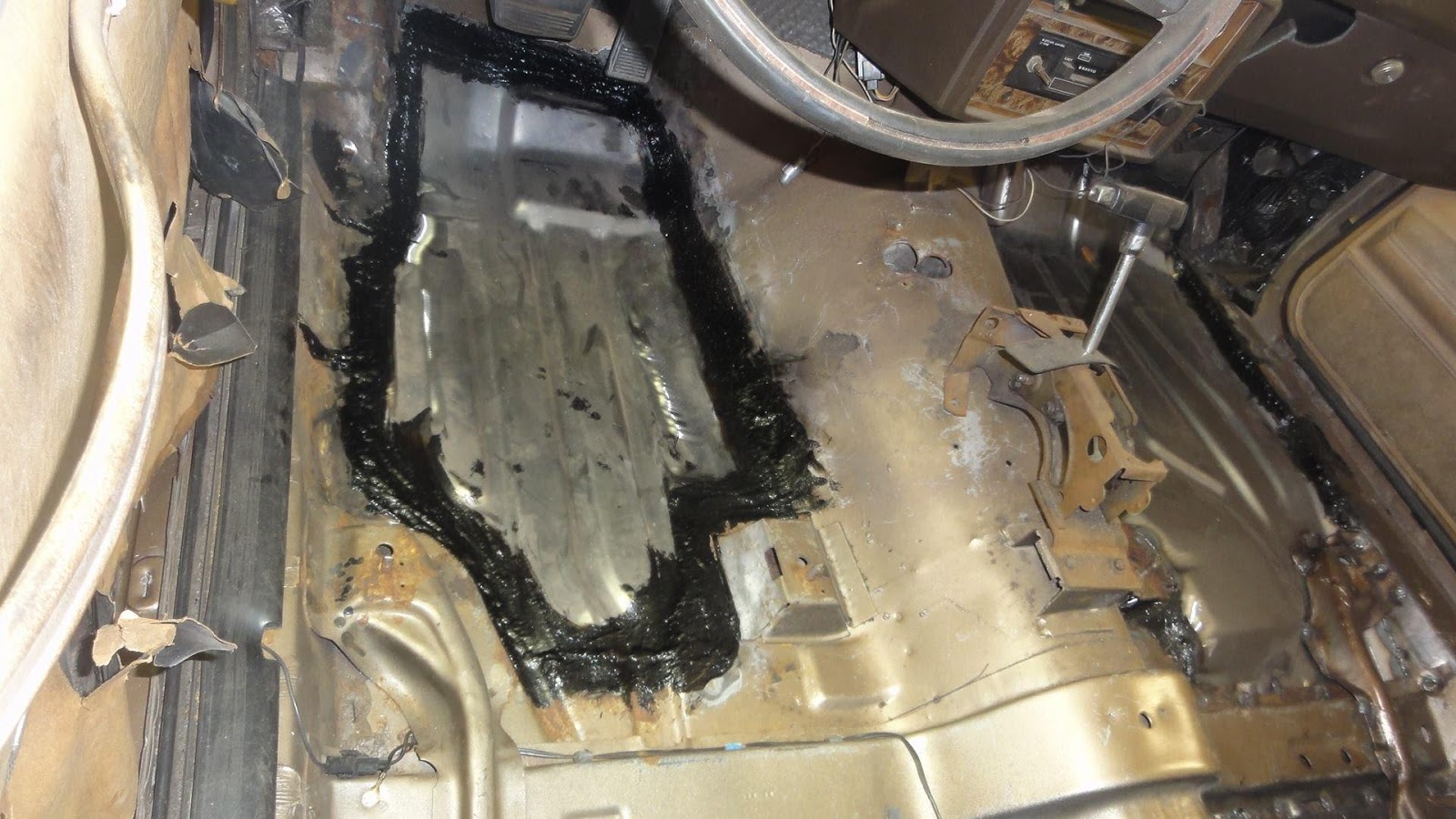 Yes, this one is an SS. 1981, but at some point in its life it got hurt or something because it has a 1979 front clip. I grew up with G-body GM cars so this is like a second youth!! I used to put different front clips on rusty or crashed ElCaminos. The shop truck I used when I had the hydraulics shop was a 1979 with a Grand Prix front clip, dashboard and interior. I'm trying to find pictures, but that was back when it took you a week to see if the darn pics came out!!

Her original project car is a 1981 also, we had already installed a cowl hood and built the engine and transmission and were starting to cut away the rotted parts which didn't leave us with much car afterwards. This one after about 9 hours of labor is almost ready to drive. A couple hours to install the engine and I can send her to the parts store to pick her own parts up!!
6-10-2014
My Lincoln is completely gutted for interior and paint except for the dash base and column and has been sitting in primer in the workshop since August of last year. We've run into some family issues and some exciting work issues which may leave this project unfinished for another year. Hopefully things will work out but just in case I have inquired about some storage in the interim.
While cleaning the workshop I bumped the car with my hip and the door came ajar slightly (just bungees keeping it shut right now) and the underdash map light came on. I had forgotten to disconnect the battery when I stopped working on it last year. Curiosity got the better of me and I tried the key. Frankenstein fired right off after three or four revolutions... I backed him out of the shop, got a milk crate and drove him around the neighborhood until he warmed up. While not exactly a "cruise" it was satifying to get to drive him again after so long!
I had considered selling him again so I didn't have to pay for shipping but my wife (who is NOT a car person) said "Frankenstein is part of the family, you can't sell him". To use the words I use and personify the car after years of saying "the Lincoln" shocked me to say the least.
Pics in a while!
6-23-2014
Well finally off to paint... It has been a long road, but I think this is the downhill side. Not going for stellar, show winning stuff but a fun driver that I'm not afraid to park at WalMart.

Okay, maybe not that...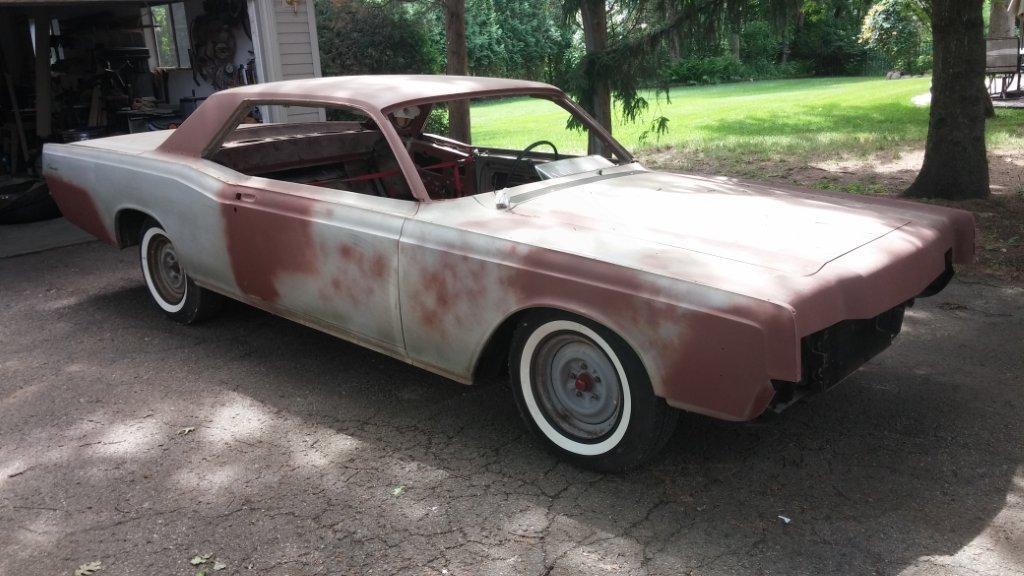 Out in the driveway waiting for the tow truck.
It started off as a great morning Saturday. I grabbed my trailer, got the car out of the barn and started to load it onto said trailer when all of a sudden "SCRRRRAAAAAAAPPPPEEEE"... the wide part of the car doesn't clear the fenders on my hauler anymore. When I lowered the car it brought the wide part of the sides down low enough to just scrape the fenders. You can just make out one of the scrapes in the photo.
Sooooo... After another 4 hours of metal work and some frantic calls to the shop Frankenstein is ready again. This time on a flatbed hauler.
Thanks Reijer! I haven't made a final paint decision yet but am leaning toward Ford Tuxedo Black. It is a metalflake black. But Ford RedFire is very appealing, too!
Since a lot of the body repairs went through the e-coat I used an etching primer. for the first coat it will be a high-build etching primer and then a guide-coat to get all the little stuff flattened out (again, not perfect but presentable) then a urethane sealer and then base/clear for finish. I was going to paint it myself, but the weather here is so OCD I can't get enough days in a row with ideal temperature and humidity for a successful paint job. And no one will rent a booth that is local. So I'll let a reputable shop have at it!
7-3-2014
Here are the photos!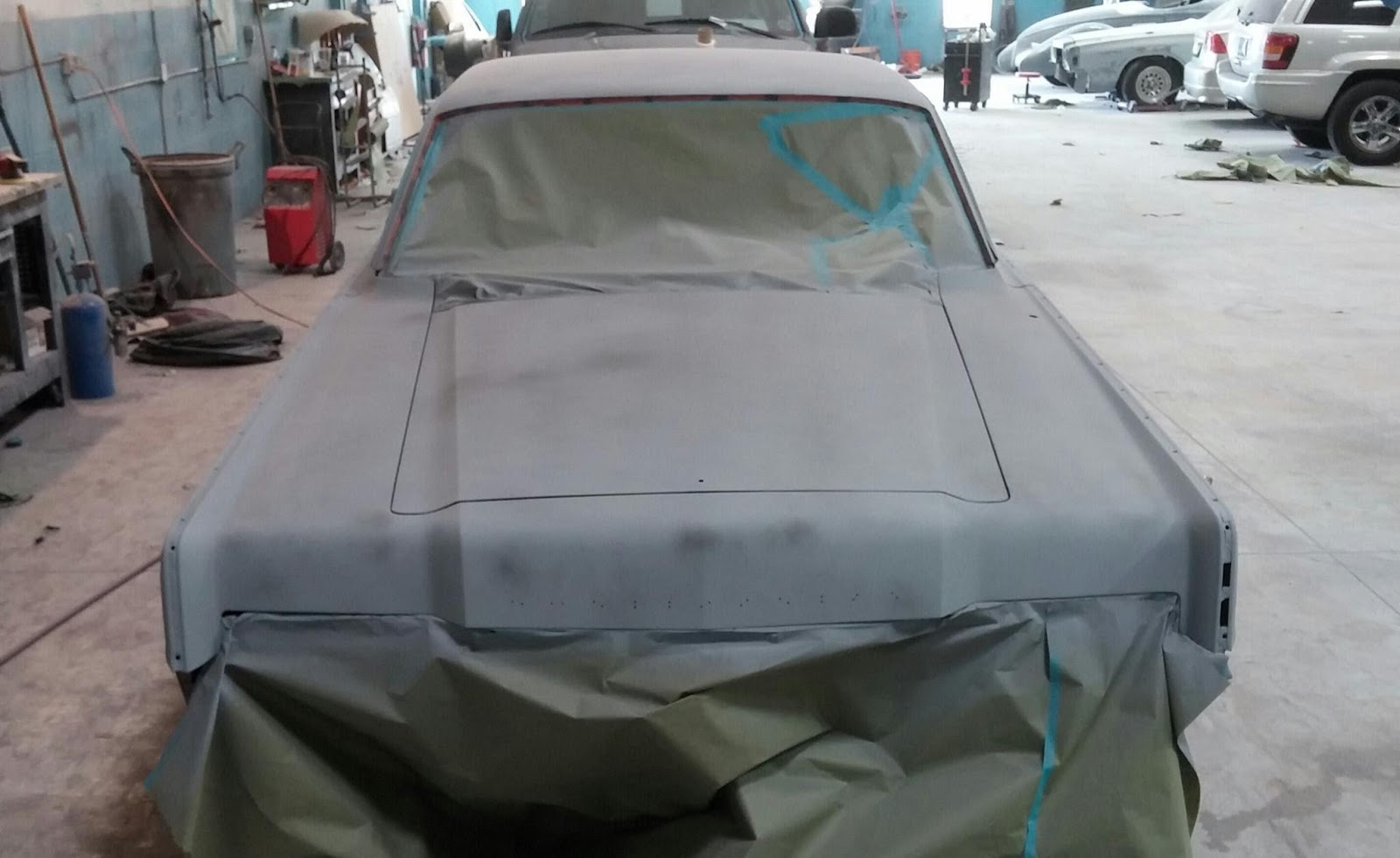 Waiting to be blocked out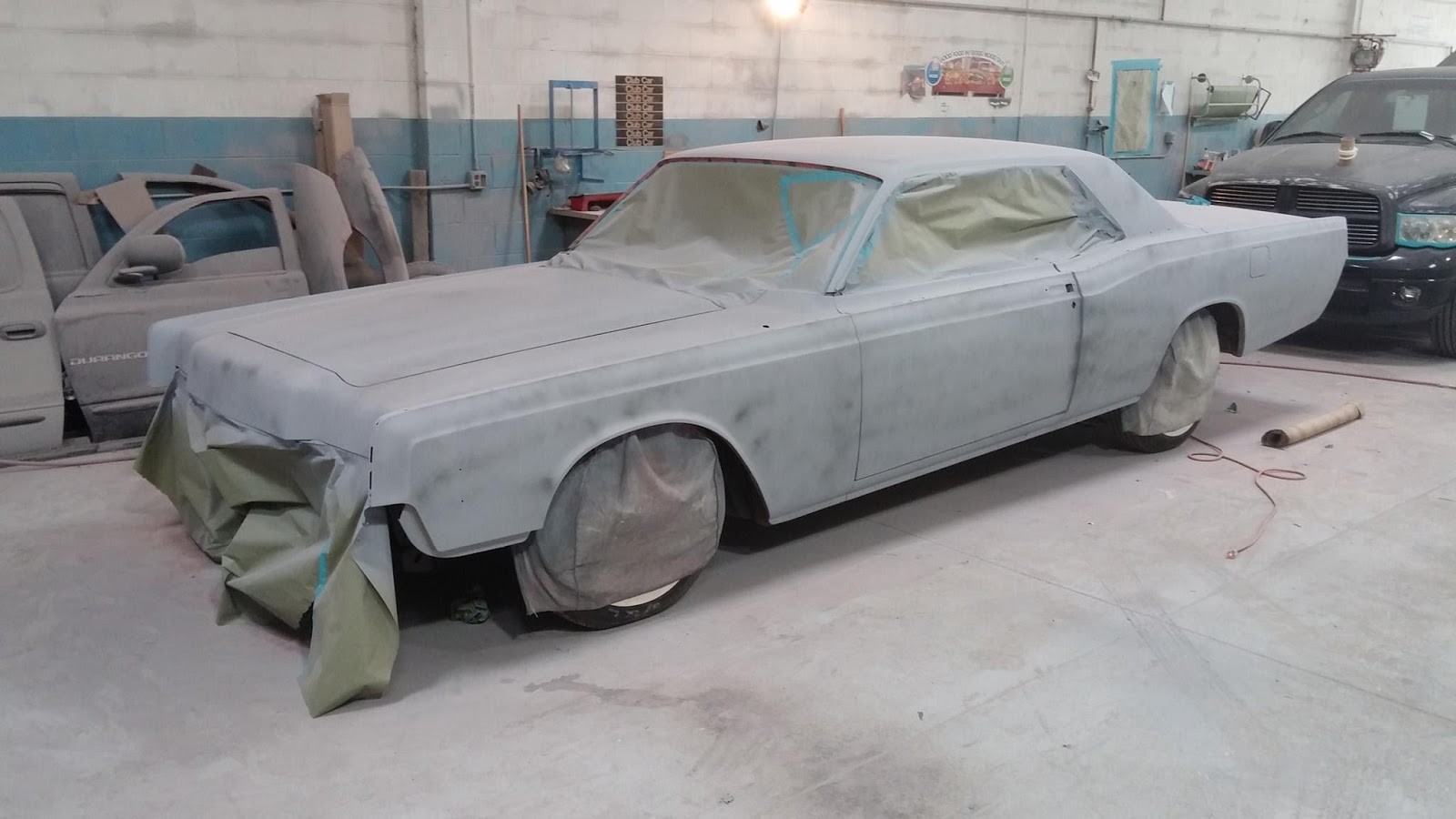 Waiting to be blocked out
7-11-2014
I went down to check on progress and they're moving along. (well, considering it took me six years to get where it is today it's moving along - everything's relative)
They have finished blocking - unfortunately I don't have any photos between the photos I posted last and these to show the work.
I did go over the car and it looks straight enough to go black. It certainly won't be perfect, and I have no intentions of ever showing it where it has to be, but it will be very presentable!
They told me they'd have the jambs, hood and decklid cut in last night and painted today! I'm getting stoked!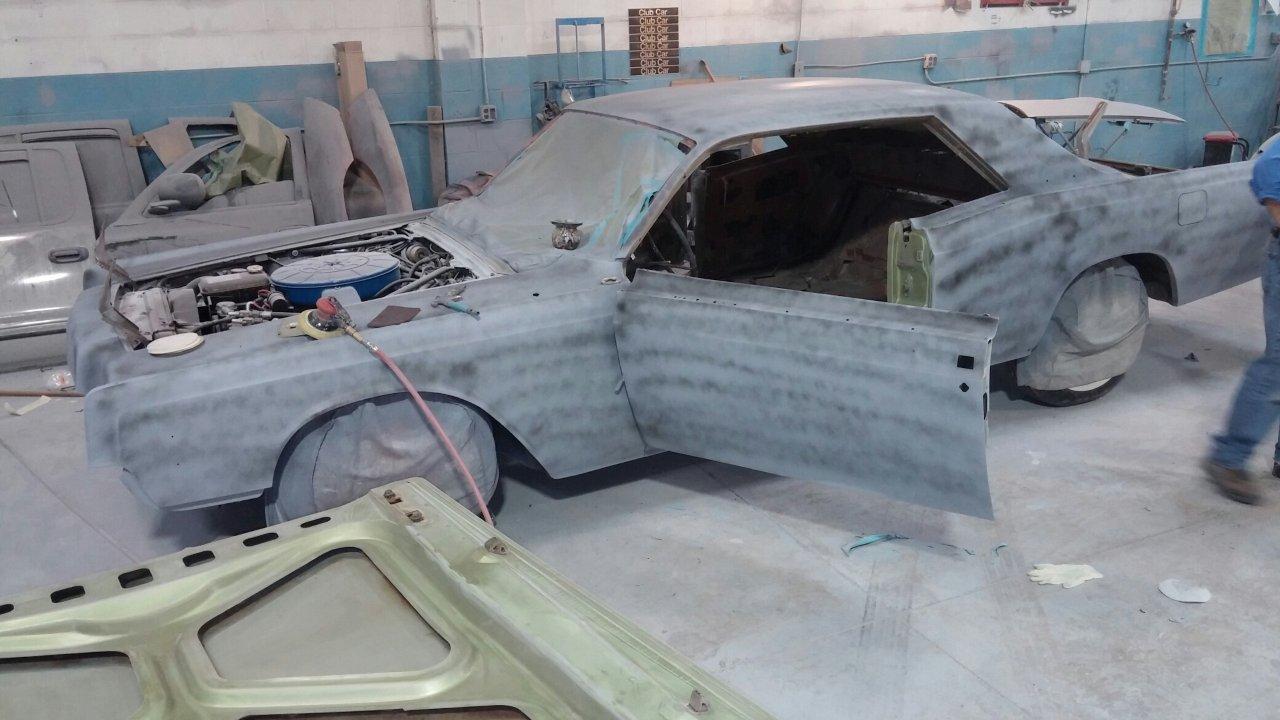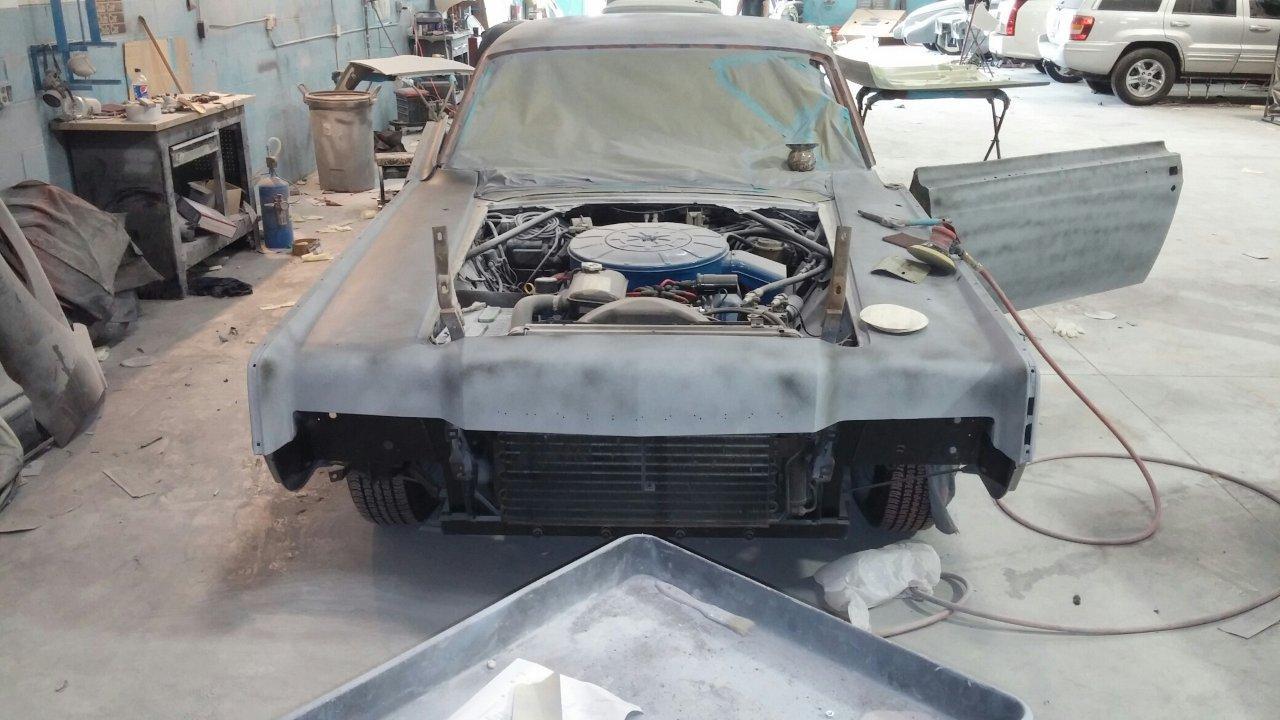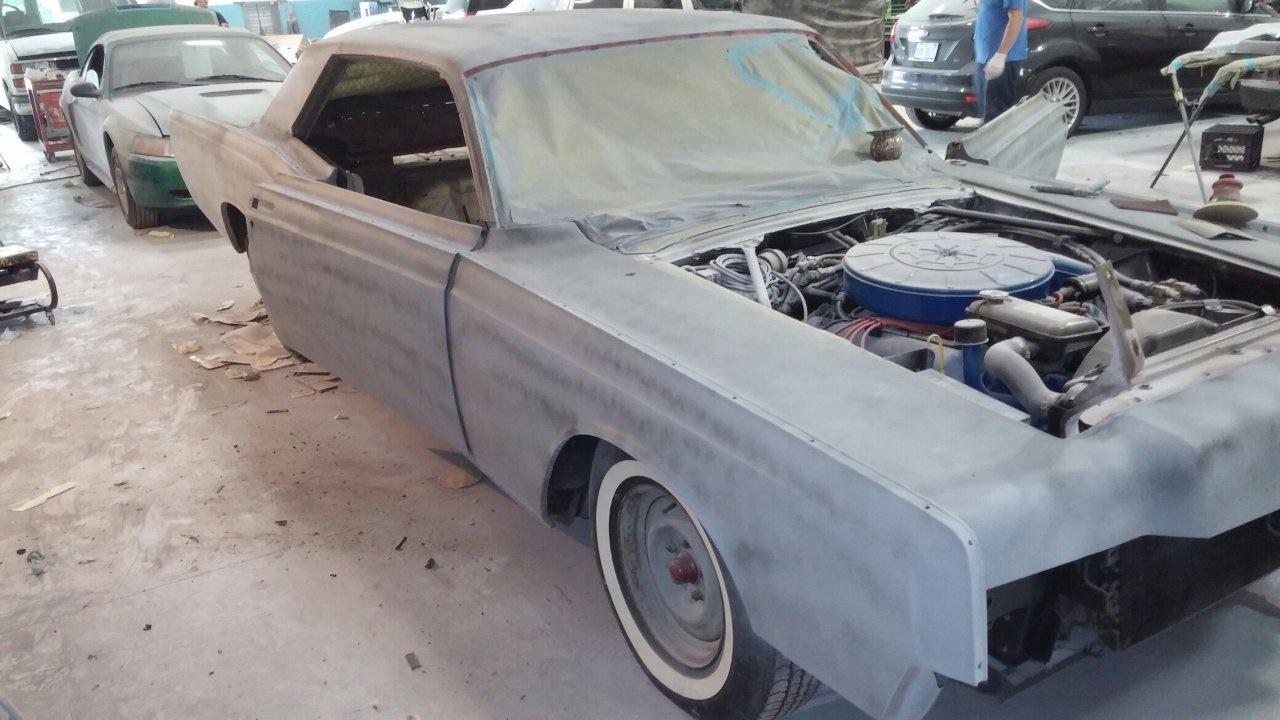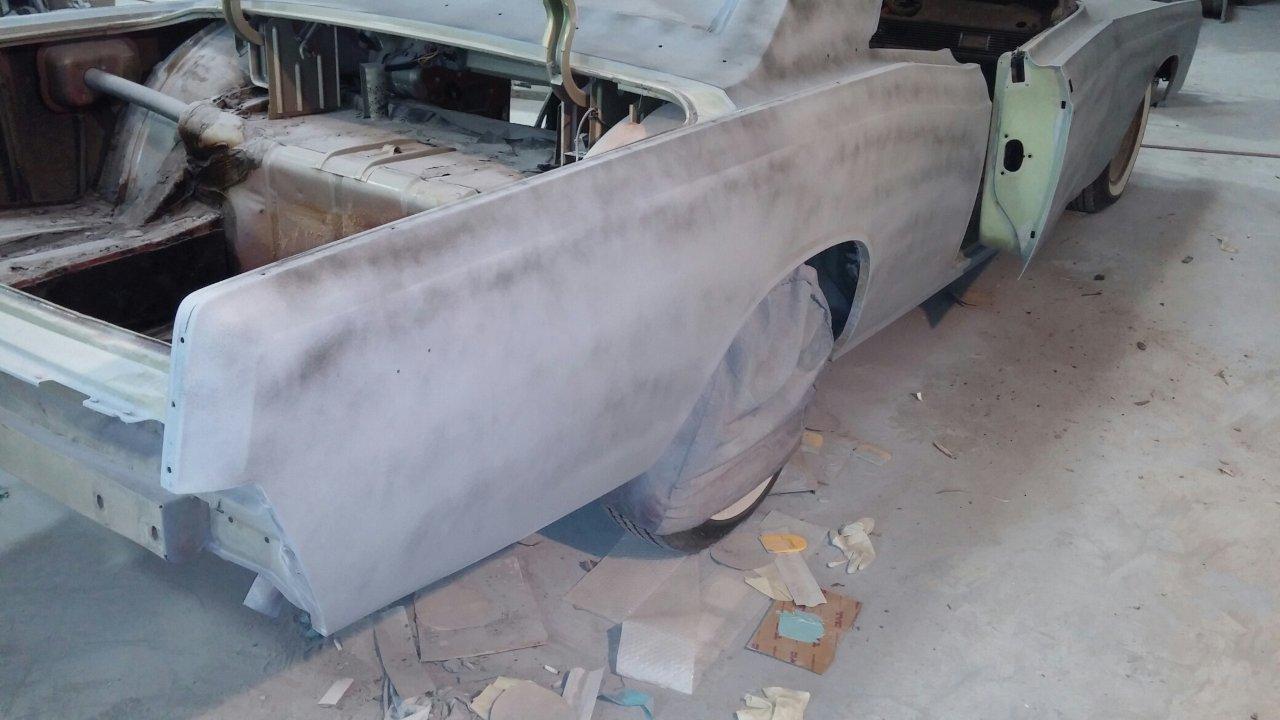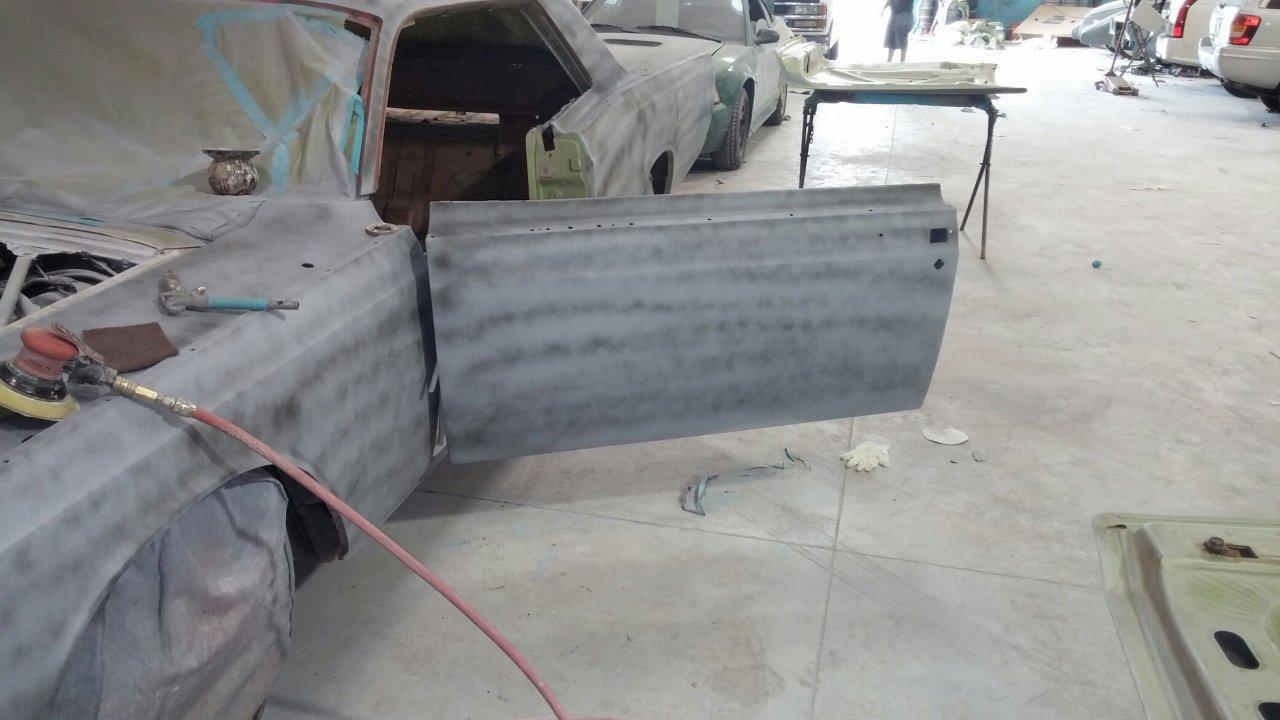 7-17-2014
It took longer than they anticipated, but the jambs are done, final sanding is done and before I left last night they pushed it in front of the booth for paint this morning!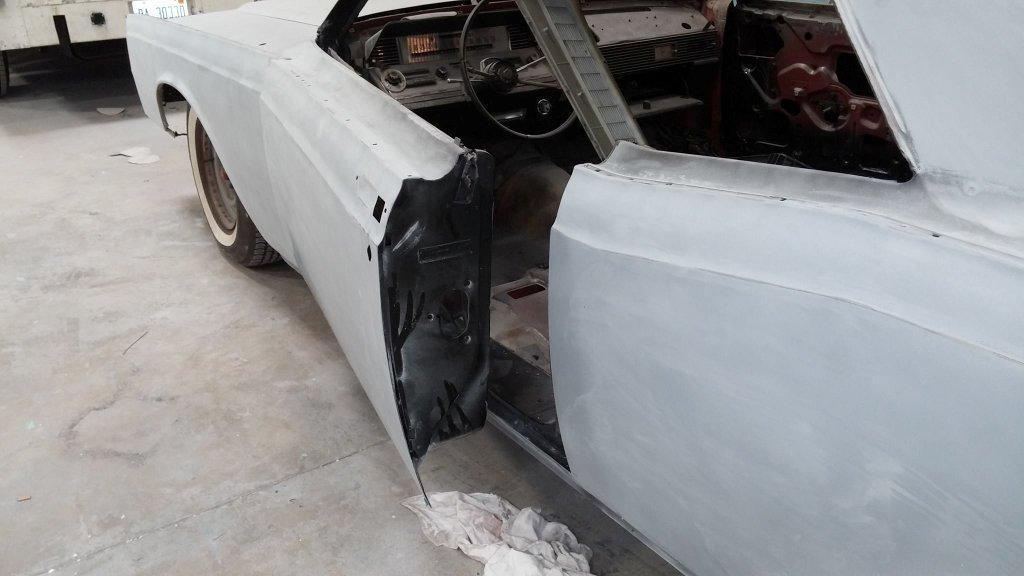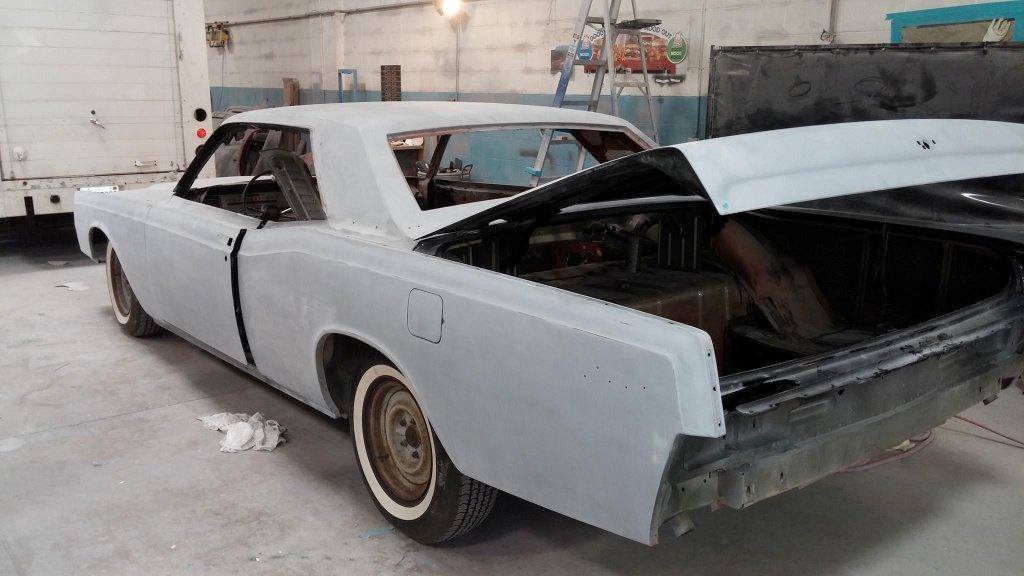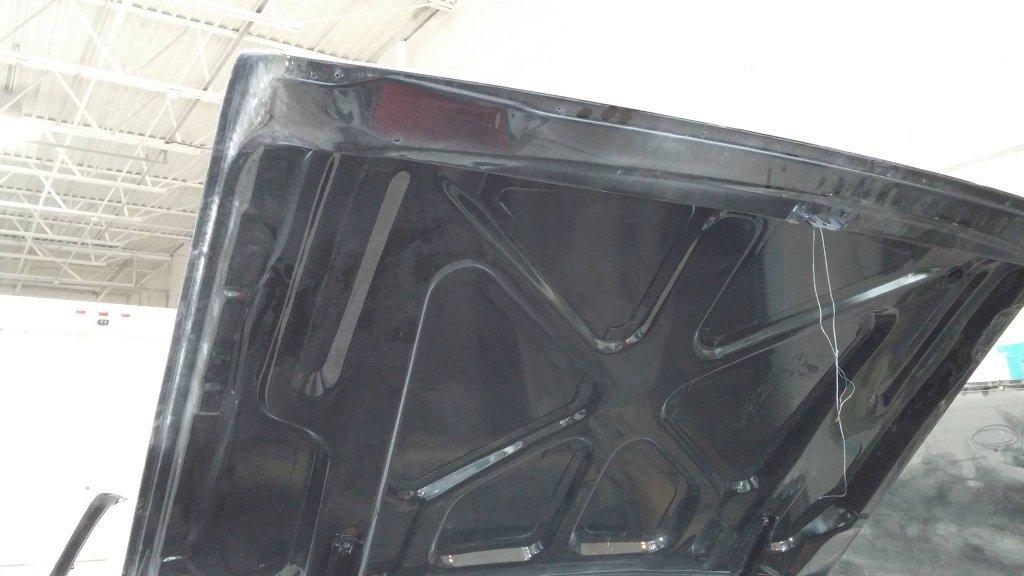 I didn't get any photos of the stuff cleaned up, but the jambs looked great!
7-23-2014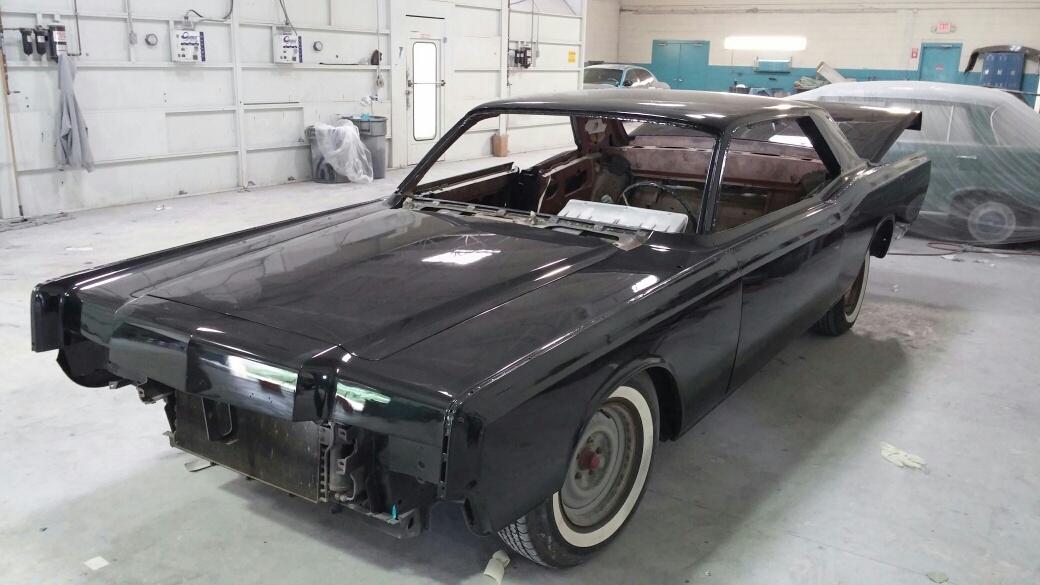 Looking like it's downhill from here!!
7-24-2014
The right rear quarter was crushed when I bought the car. Trying to find the before pic but not having any luck. There is no filler here, just metalwork. I pointed out the spots I worked and the bodyshop just made sure they were ok. I think it is better than ok!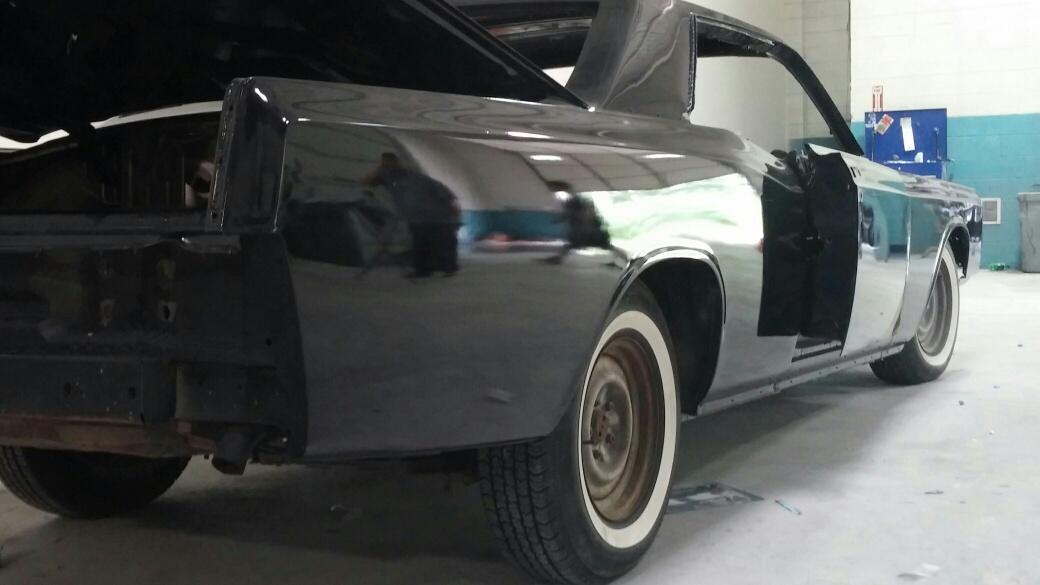 rr quarter finished
Home again! Thank you Bill!!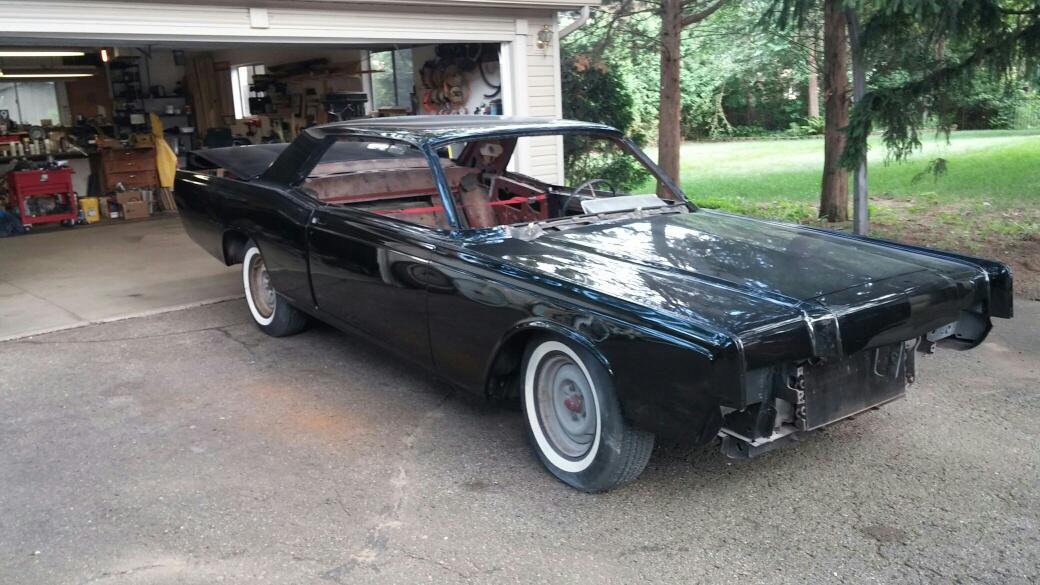 Home at last
7-28-2014
Starting to put on the shiny bits! I forgot to order exterior belt weatherstrip so I am trying to kill time while I wait for it to ship... Getting what I can done like blacking out behind the grille and the wheelwells (which were undercoated but are now gray primer lol)...
Here is the rear bumper and chrome. The bodyshop misplaced a piece of trim for the trunk-lock-flippy-thingy so I am witing for them to find it so I can reinstall the star. Otherwise the rear trim is on.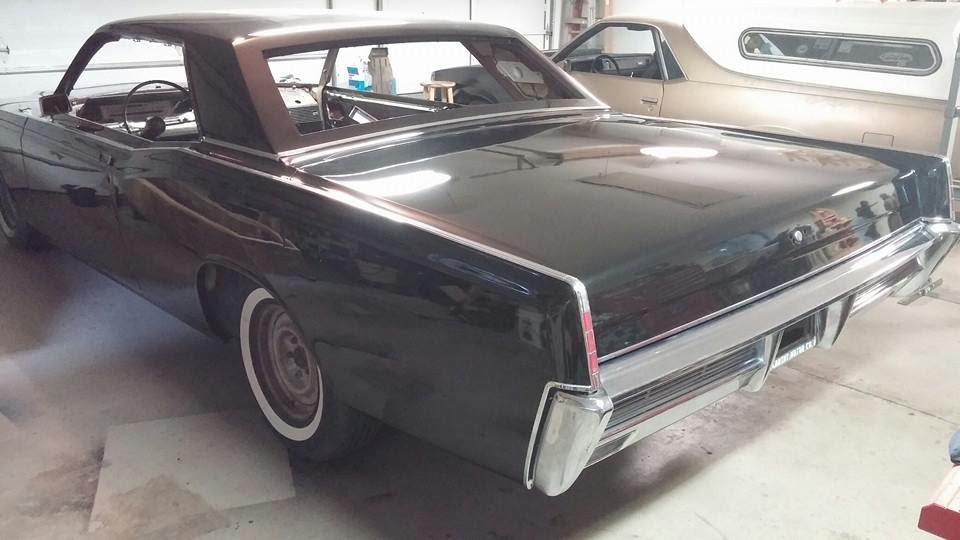 some more...
Tape and rags were everywhere and nerves were high but so far no oops moments!
8-2-2014
Some more blingy stuff... I'm having trouble finding the barrel clips that hold the letters on the nose. I found the bigger ones for the fender stars and the Continental script on the flanks but the smaller ones seem elusive!
The bumper tomorrow. These things are freaking heavy - or I'm getting older - or tired this is 20 hours now (not on this car). I could've sworn when I took it off it didn't weigh as much.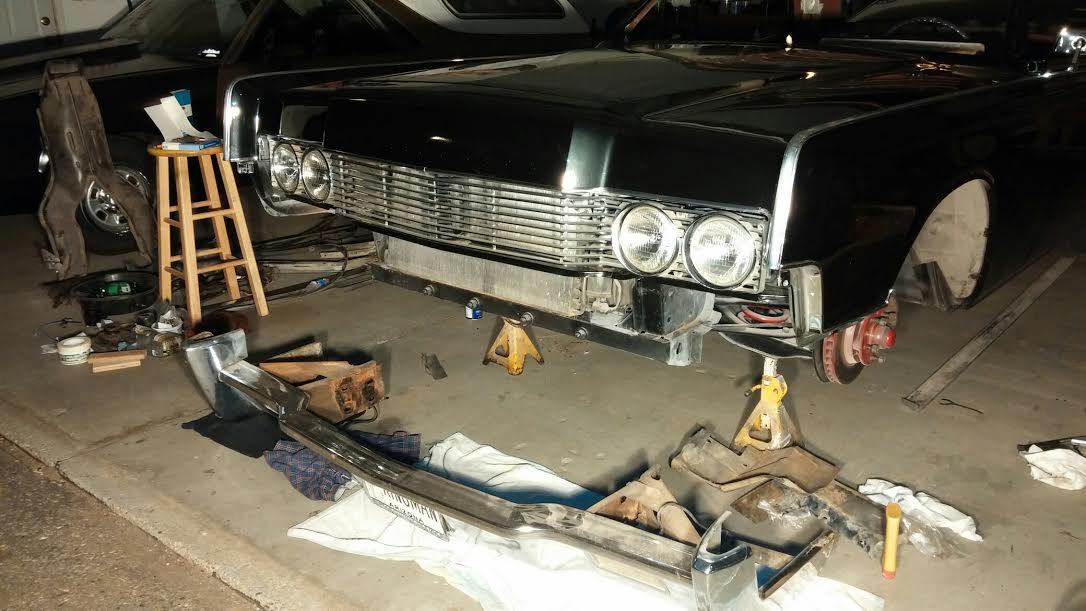 8-4-2014
Got all of the peak moulding on, and the front bumper and grille. Got the primer overspray off of the tires (my only negative from the entire paintjob), threw on the front hubcaps and drove around the block!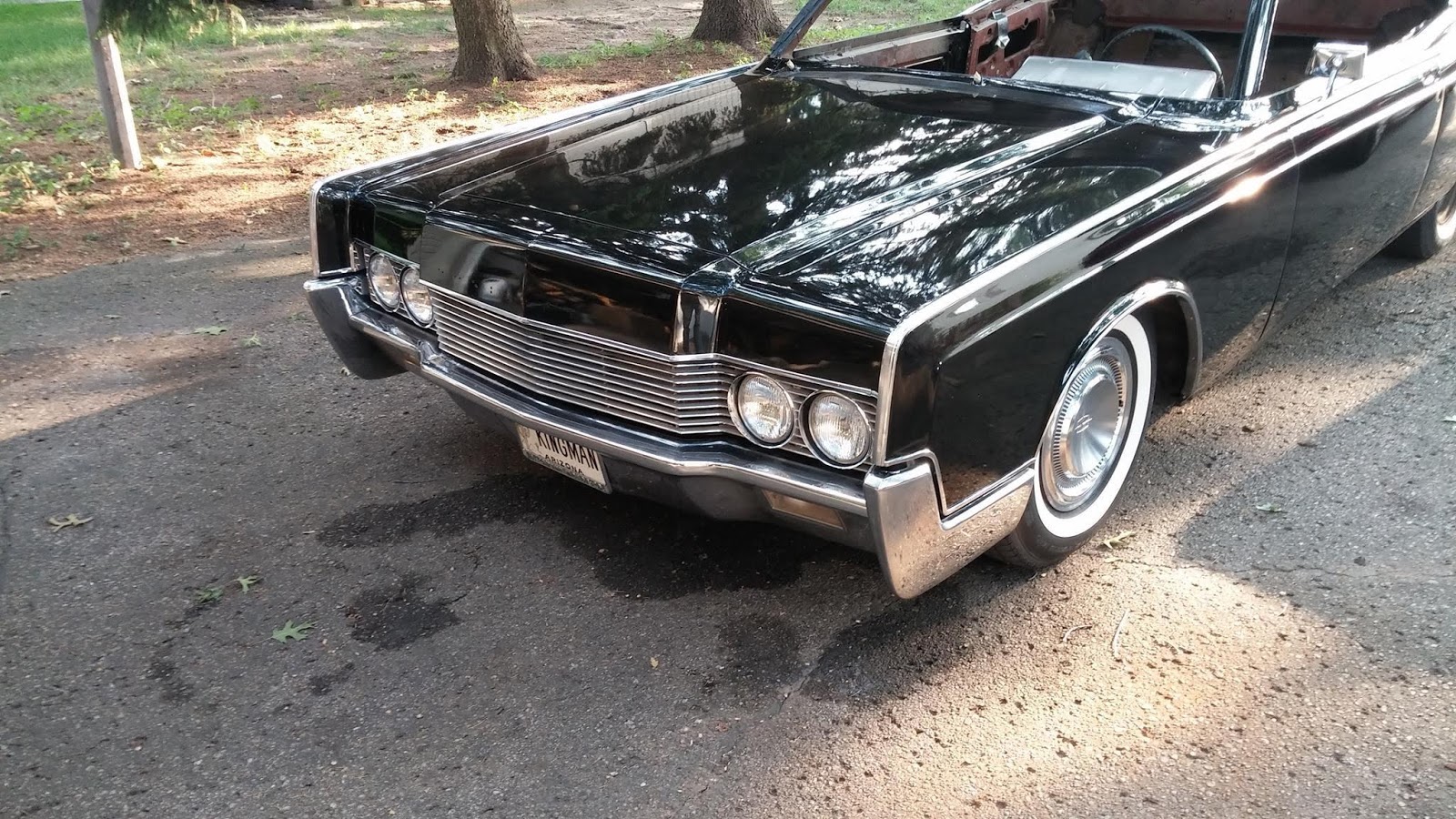 Maybe I can make Woodward!

Not a chance. Trying to find someone to install the windshield and back glass... I've called all the locals and no one want to do it. So it looks like I get to be the glazier!
8-8-2014
After looking at the car as I add weight I decided the rake was a little too aggressive so I decided to look into lowering the rear a bit to level the car out. I have read through a couple threads that mentioned speedway parts adjustable blocks. After asking a few questions I determined that because I'm not going extremely low I could use a straight block. Unfortunately, I didn't know where to start since the Lincoln and Thunderbird springs (and Fairlane) use rubber isolated perches and thus have a weird centering arrangement. I found I could retain the isolators by modifying the clamshell and building some blocks from aluminum. Here are the blocks I fabbed up today.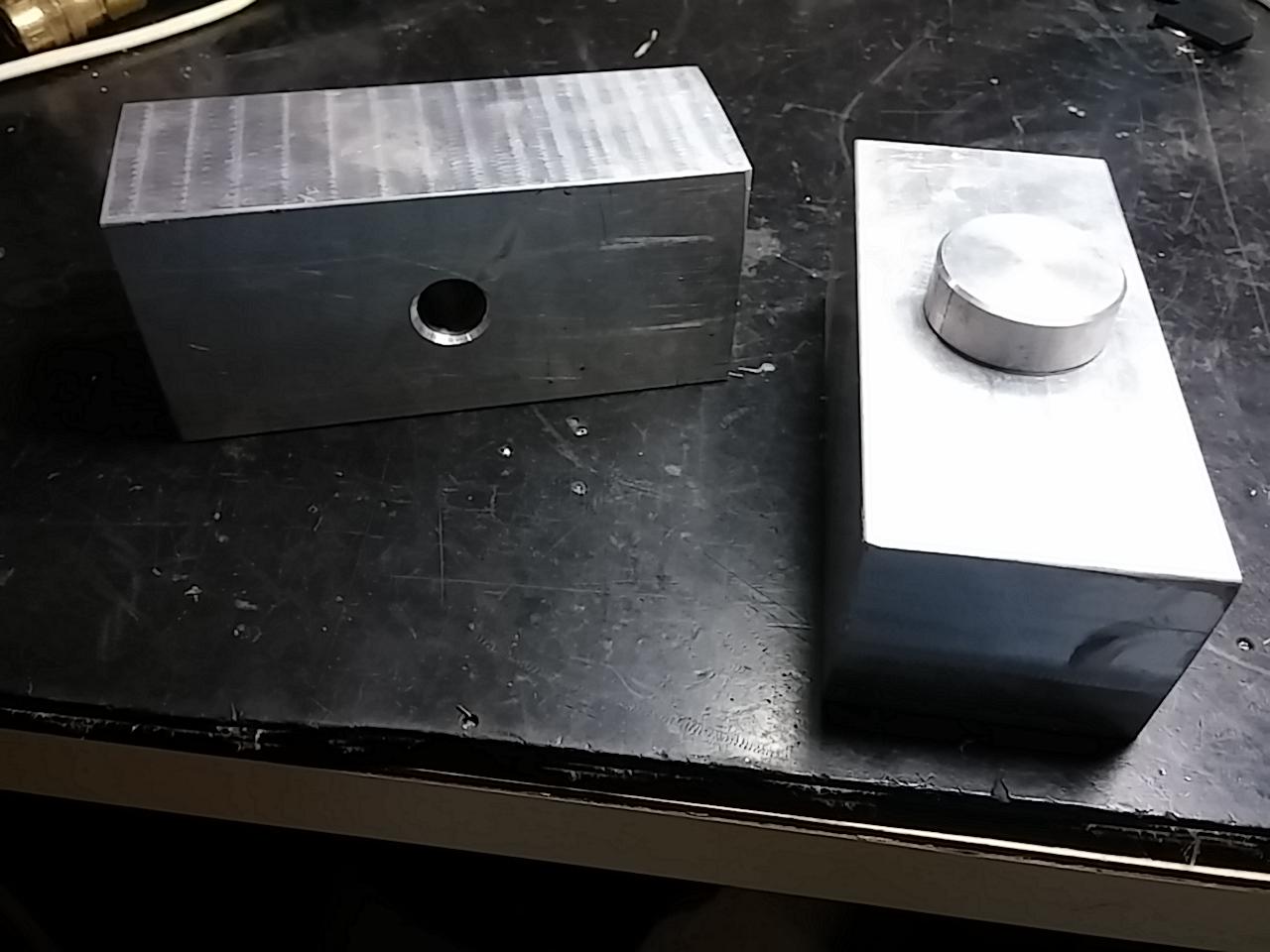 They're in the car now and I am on my way to get some new U bolts... Pics when it's back together!
7-28-2014
Starting to put on the shiny bits! I forgot to order exterior belt weatherstrip so I am trying to kill time while I wait for it to ship... Getting what I can done like blacking out behind the grille and the wheelwells (which were undercoated but are now gray primer lol)...
Here is the rear bumper and chrome. The bodyshop misplaced a piece of trim for the trunk-lock-flippy-thingy so I am witing for them to find it so I can reinstall the star. Otherwise the rear trim is on.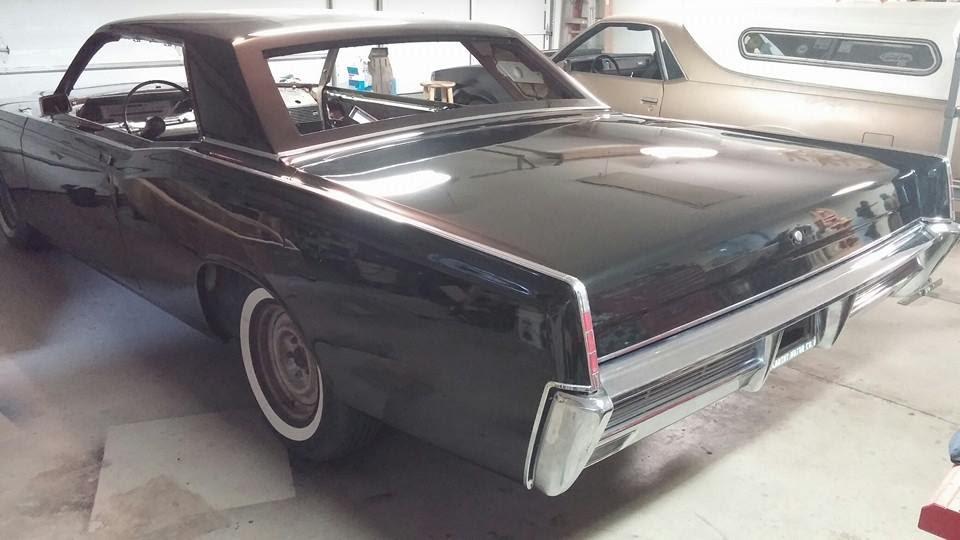 some more...
Tape and rags were everywhere and nerves were high but so far no oops moments!
8-2-2014
Some more blingy stuff... I'm having trouble finding the barrel clips that hold the letters on the nose. I found the bigger ones for the fender stars and the Continental script on the flanks but the smaller ones seem elusive!
The bumper tomorrow. These things are freaking heavy - or I'm getting older - or tired this is 20 hours now (not on this car). I could've sworn when I took it off it didn't weigh as much.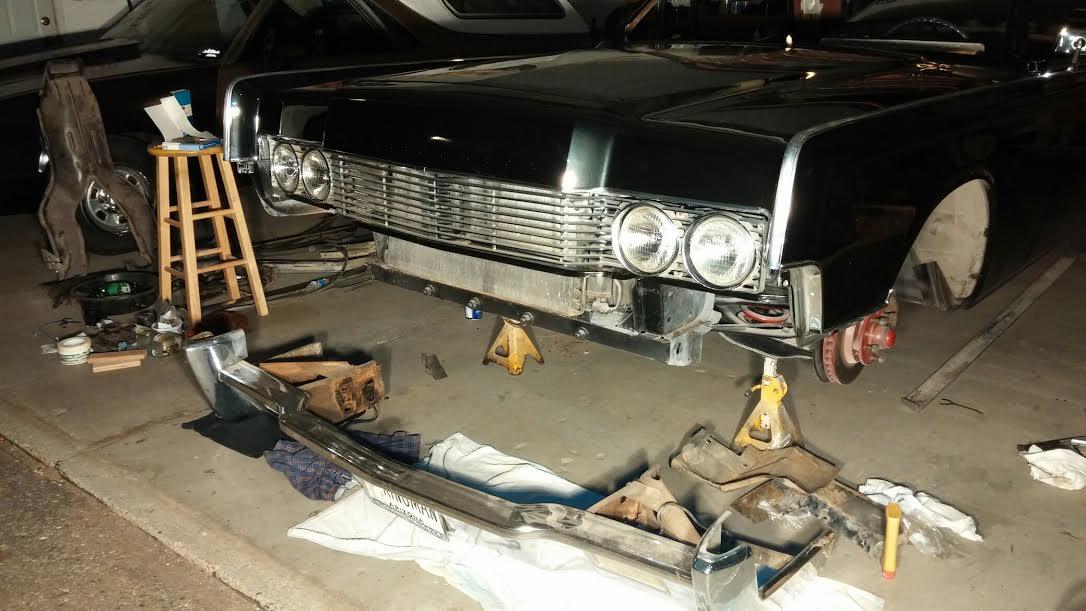 8-4-2014
Got all of the peak moulding on, and the front bumper and grille. Got the primer overspray off of the tires (my only negative from the entire paintjob), threw on the front hubcaps and drove around the block!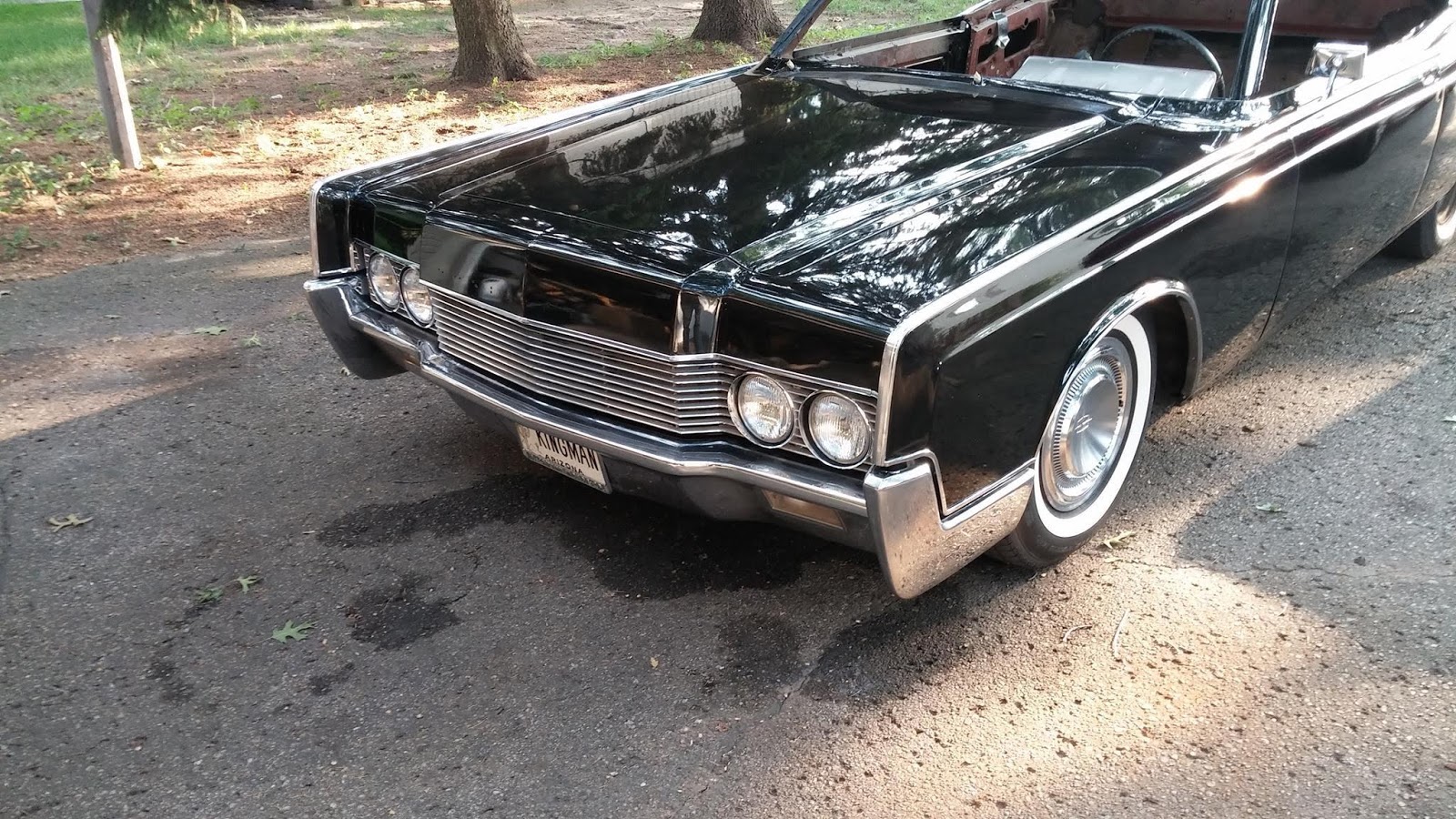 Maybe I can make Woodward!

Not a chance. Trying to find someone to install the windshield and back glass... I've called all the locals and no one want to do it. So it looks like I get to be the glazier!
8-9-2014
Two inches is perfect! Still has a rake but it is much more subtle!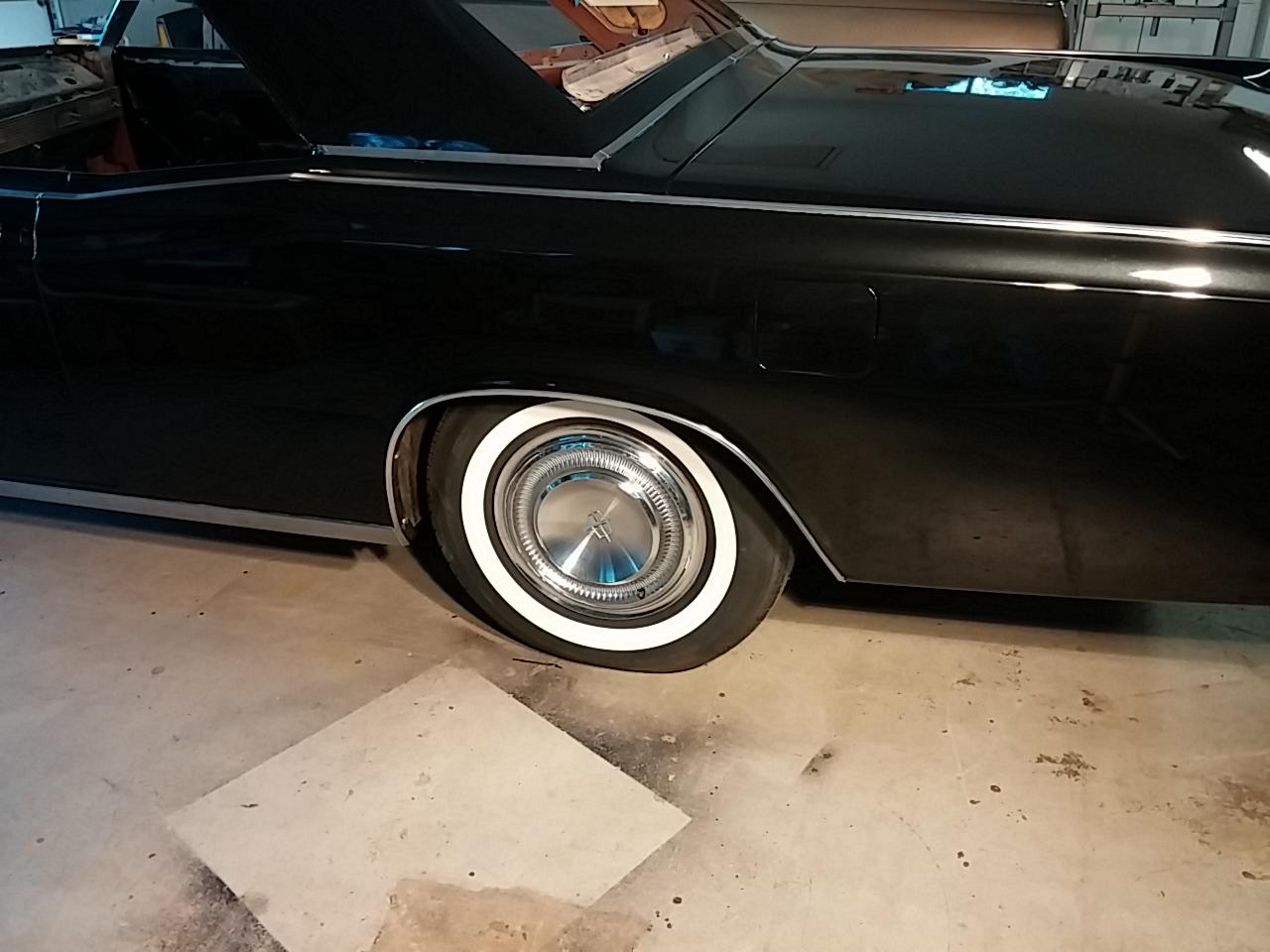 8-10-2014
Front and rear glass in and my version of Dynamat (HUGE saving) laid down... getting closer!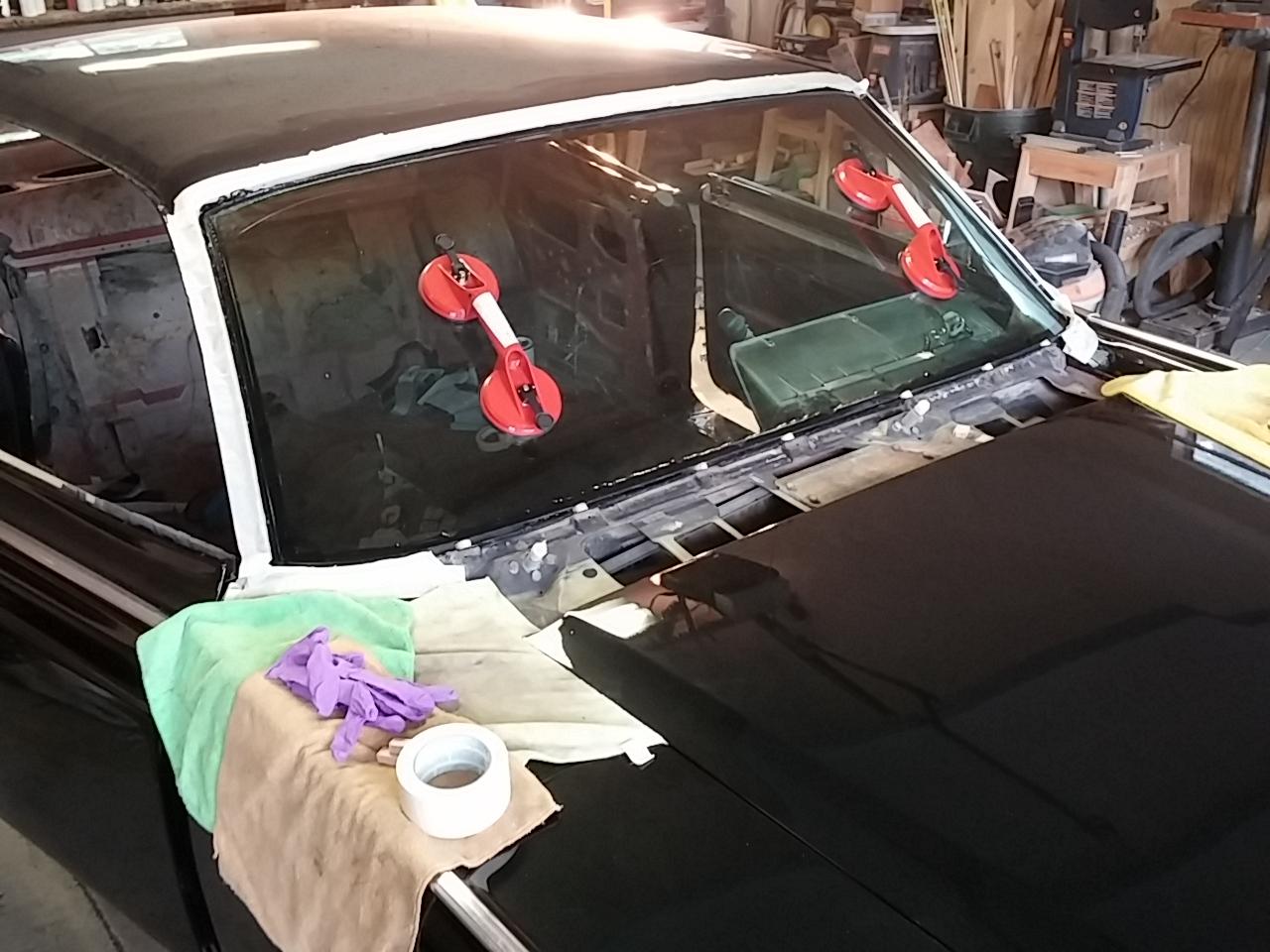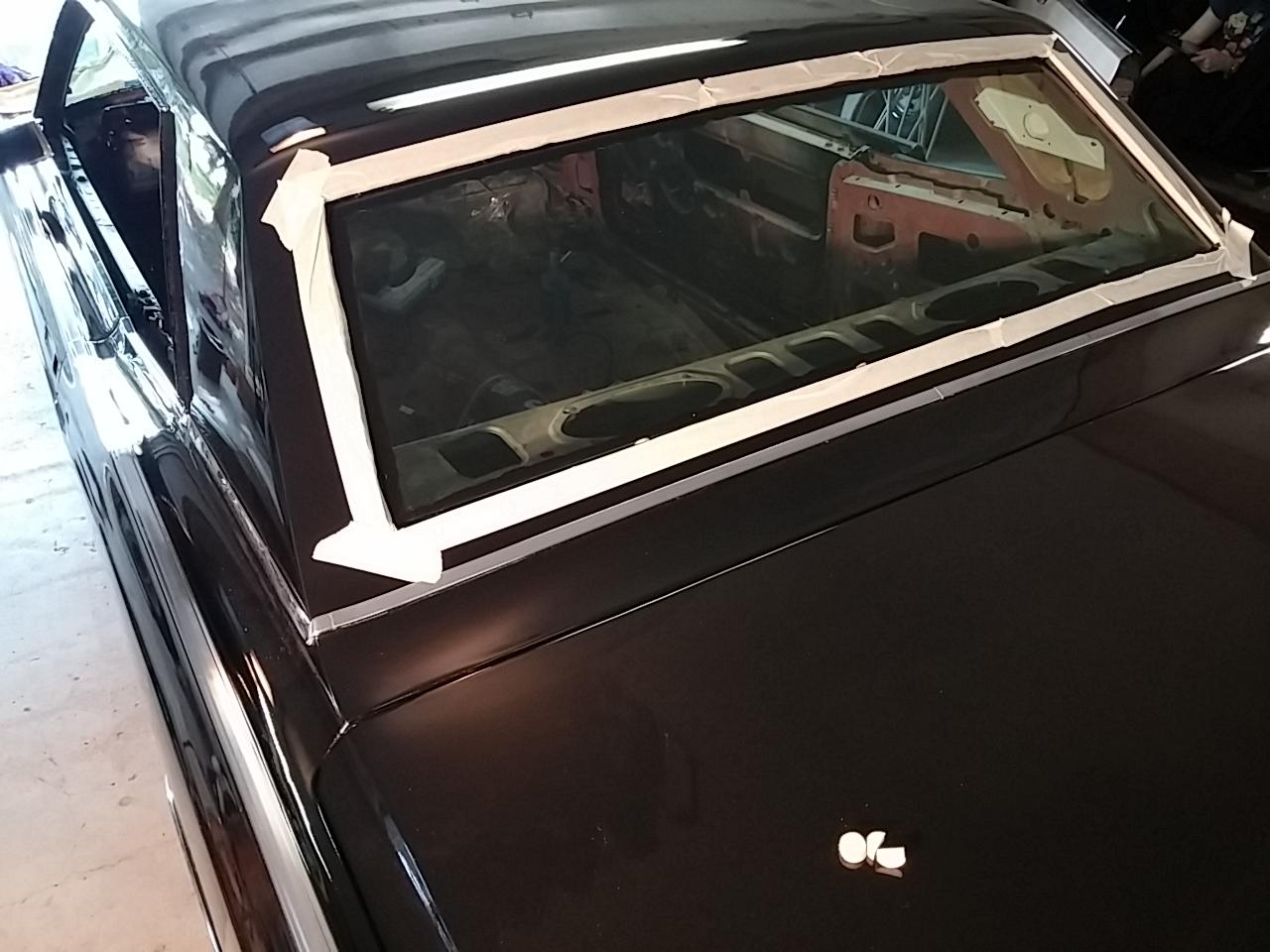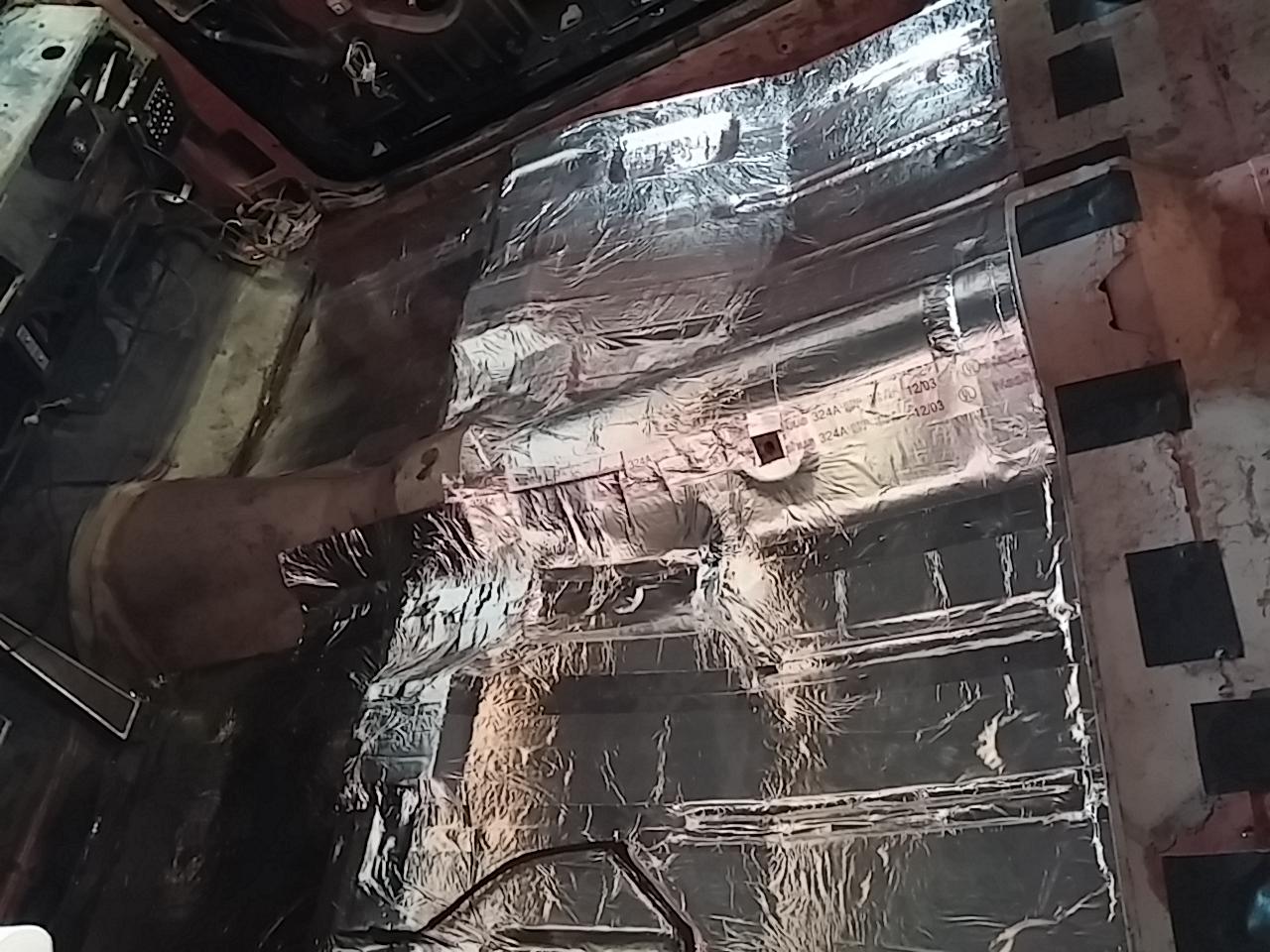 8-11-2011
Thanks, Reijer... I like to try stuff myself first. Maybe I make it worse, maybe I end up with the result I wanted. But in the end I come away with more experience and knowledge. And after all of my fretting it was way easier than I imagined. I have installed glass in Volkswagens with the gaskets and they are very simple. The early Lincolns are gasketed in also but with the big curve I don't think I'd tackle it without some help!
For the "ghetto Dynamat" I use this stuff: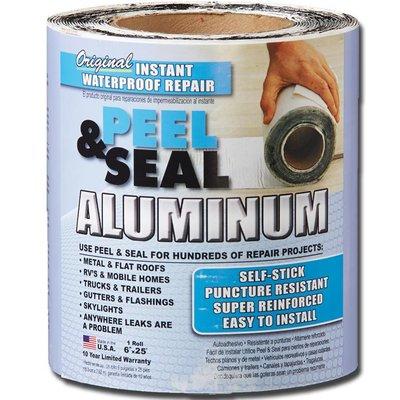 I did the entire area in the photo for 32 dollars. I need to get one more roll because I want to cover the area under and behind the rear seat also. But for the same square footage it is less than 1/3 the price of Dynamat. The materials are the same. The thickness is the same. The only thing missing is the Dynamat stamping on the aluminum.
8-15-2014
Putting the winow jigsaw puzzle back together... big prints from the service manual help a lot! And a home full of IKEA furniture and the experience from that pays off!!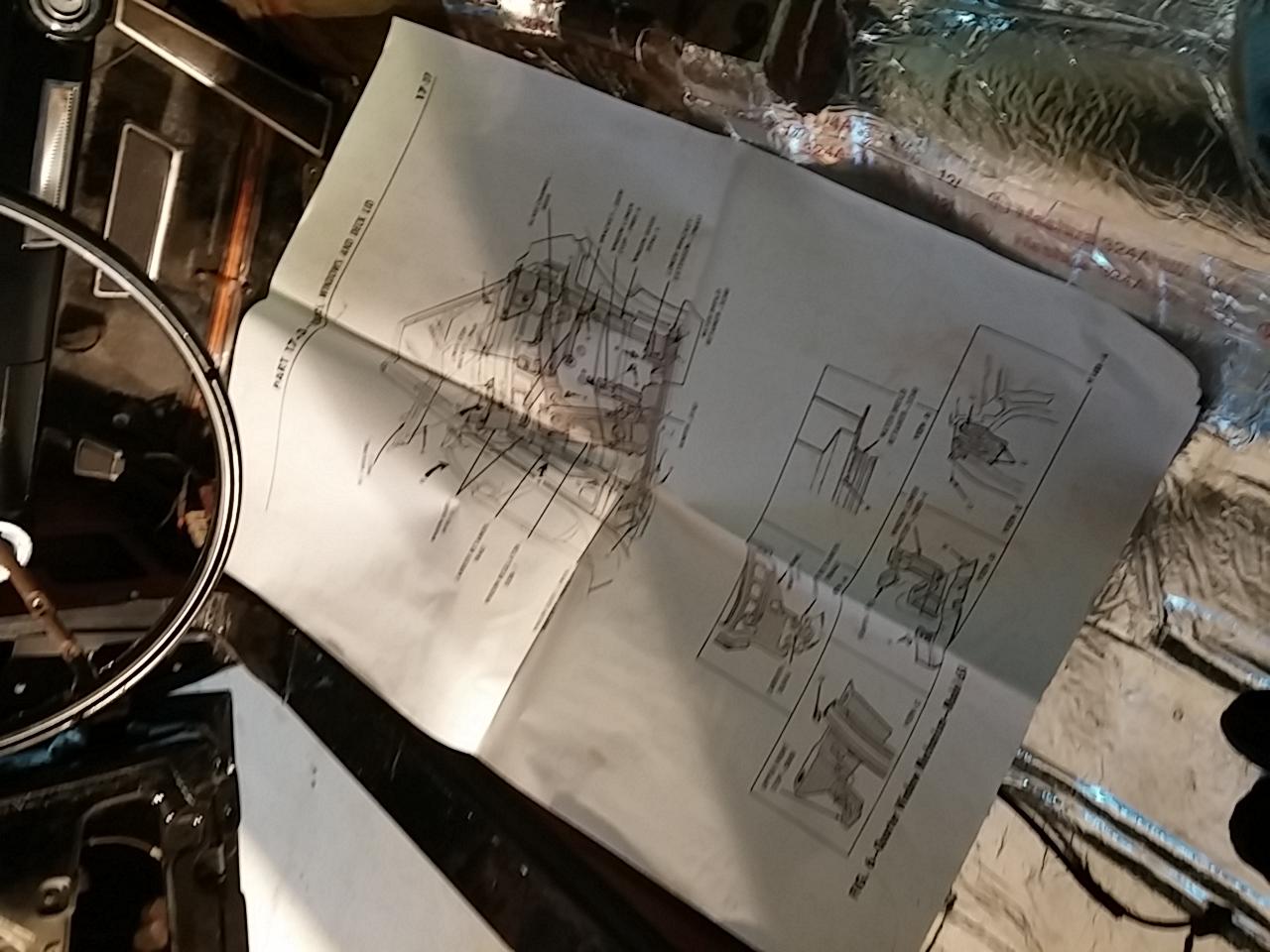 8-19-2014
Milk crate on the floor, windshield and rear glass in, most of the chrome on where it should be, headliner in... TEST DRIVE! I have been a bit frustrated with re-installing the quarter glass and my service manual CD quit working (Thank you Dan for your help! You're a lifesaver) So I went for a ride. Use the sunshine while it lasts.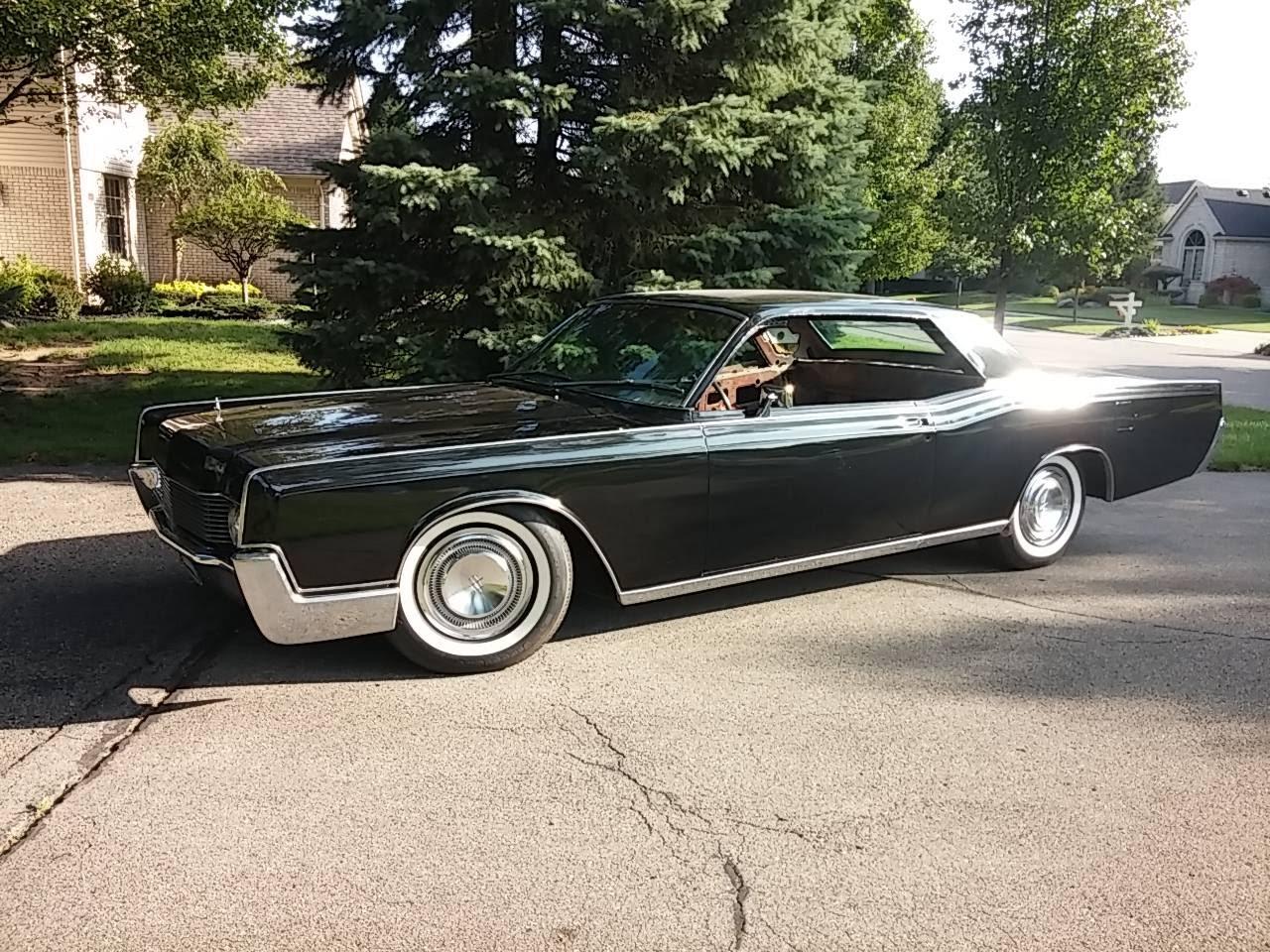 8-24-2014
I started repairing the steering wheel today. It was pretty rough and it was green. My interior is black with red trim so I wanted a black wheel. I figured I could fix what I have.
I started by cleaning the cracks and getting to he core so there would be a good bond for the epoxy I am using.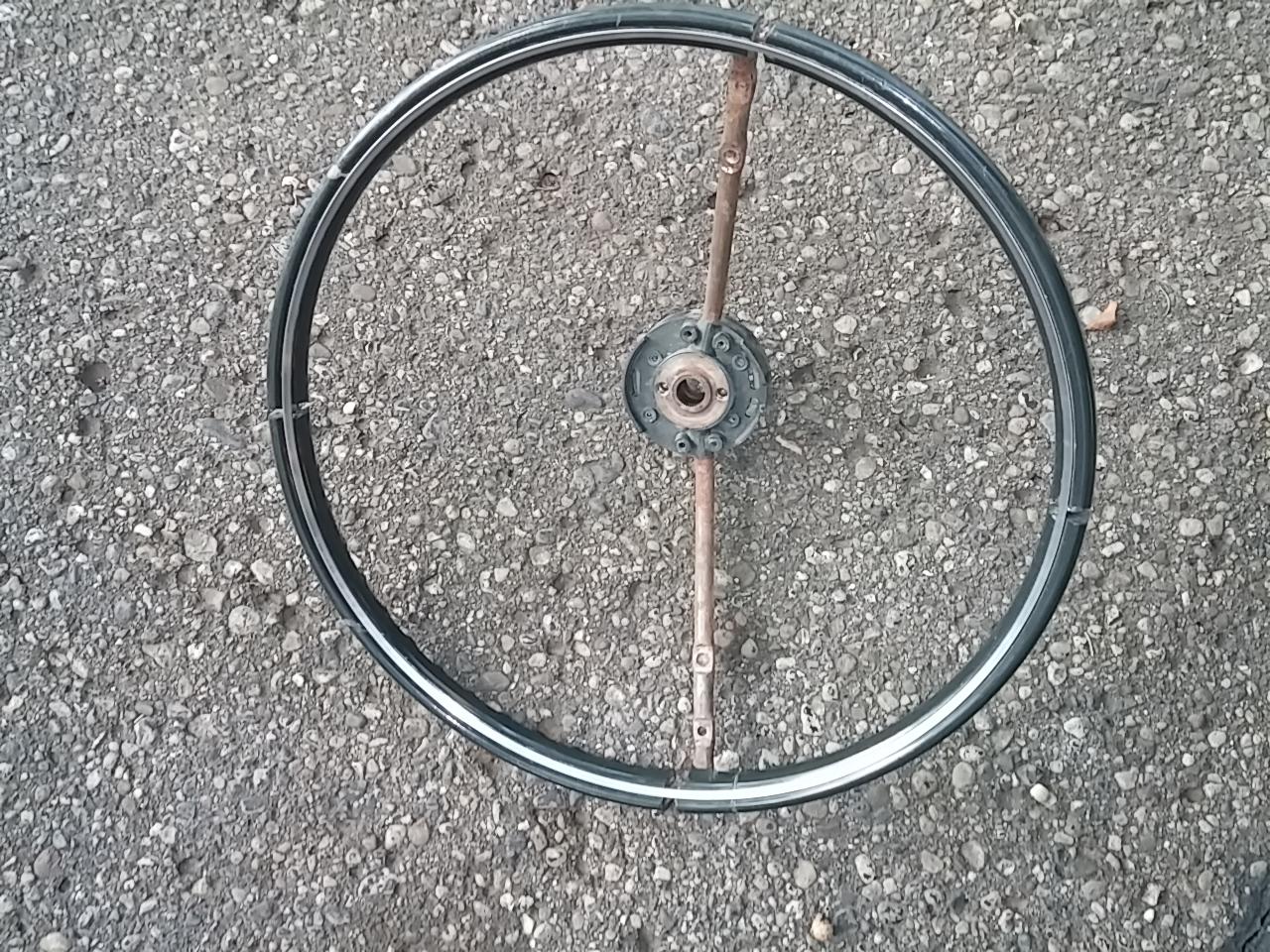 I didn't get any pics of the filler, but I used a fast setting kneadable epoxy to fill all the cracks. Then I went over the wheel with auto body glaze.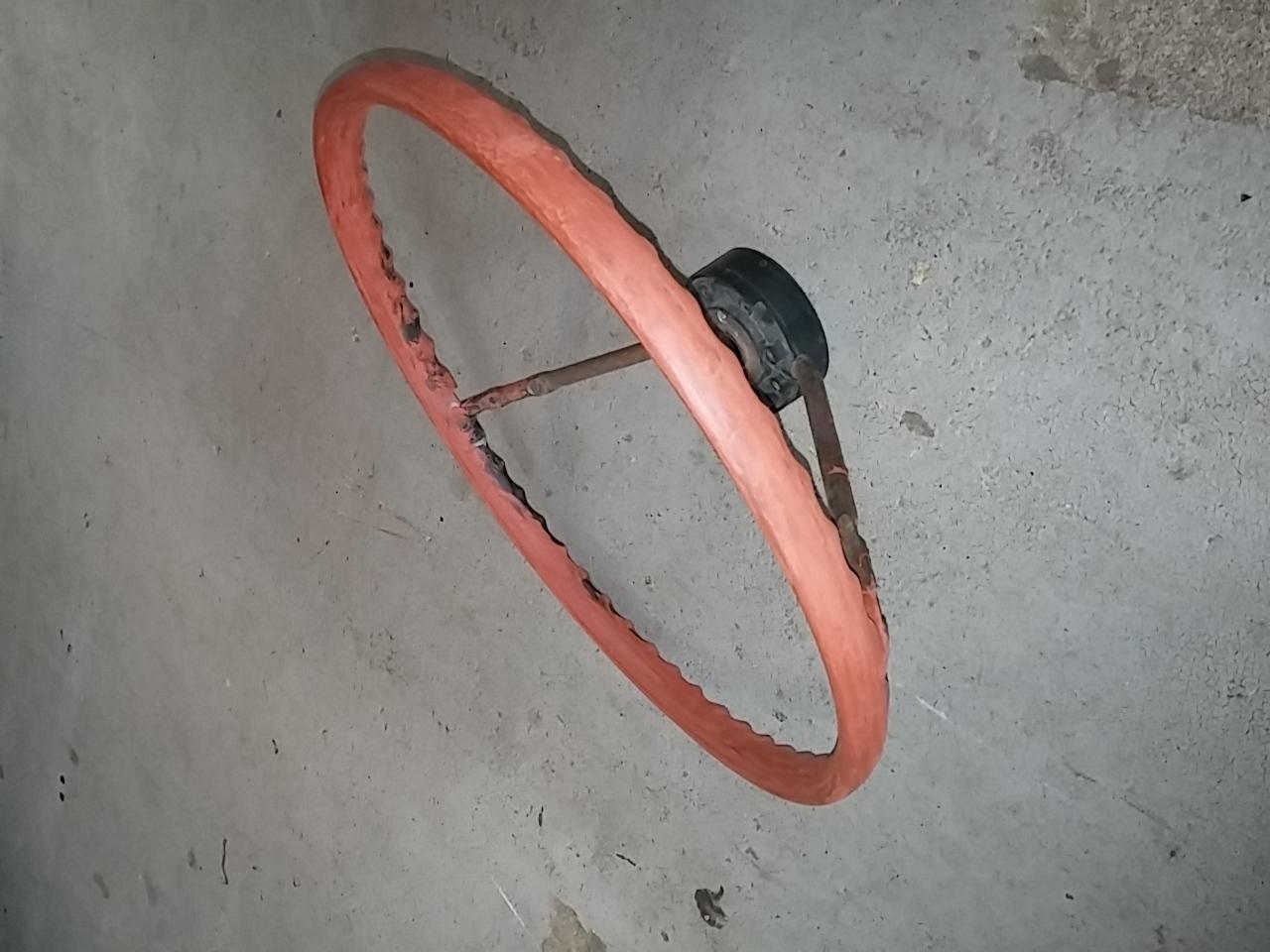 Then I sanded and smoothed until I was satisfied with he result.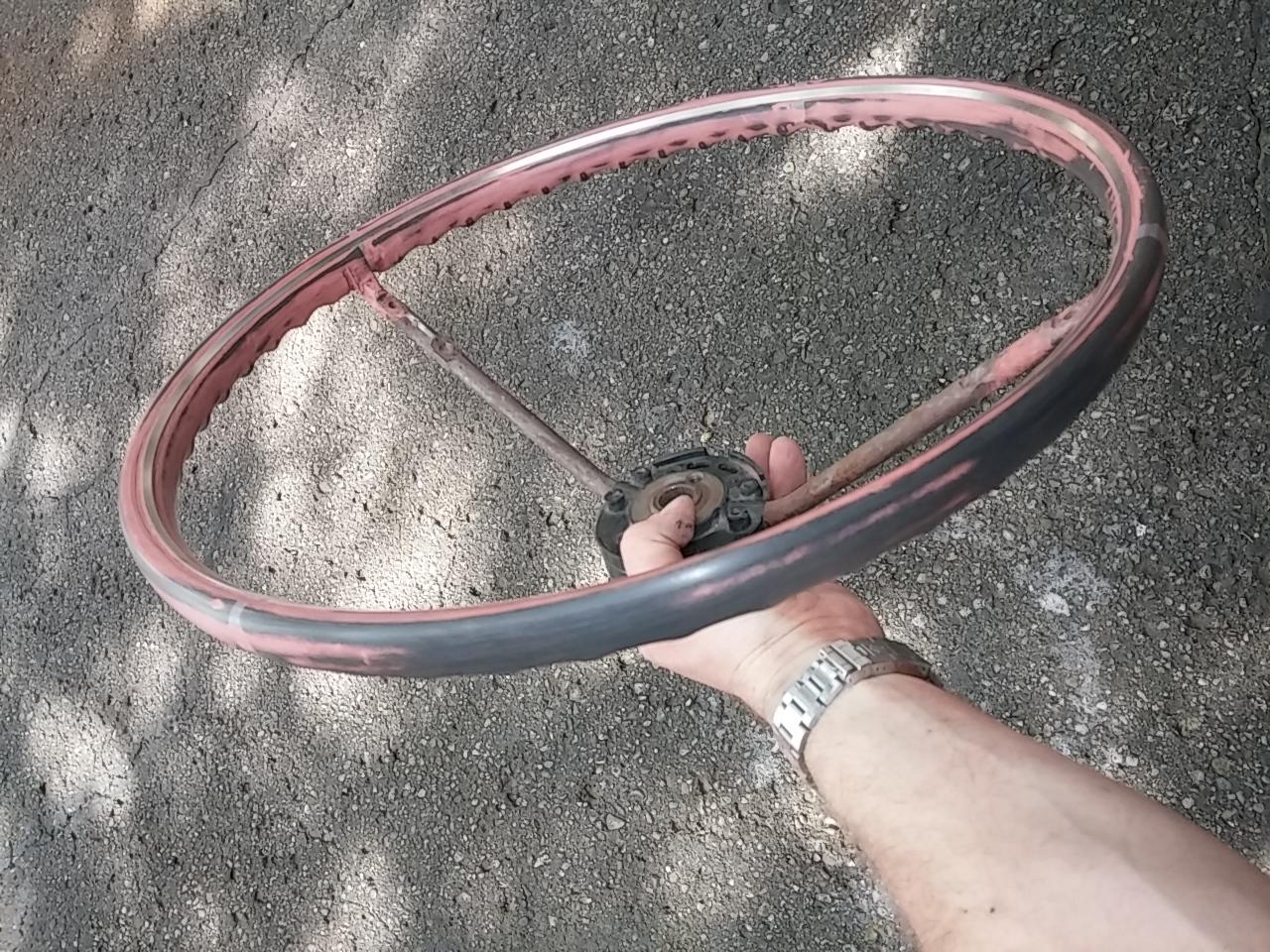 Then a bunch of coats of paint. I'm not done yet, but here's where I left off.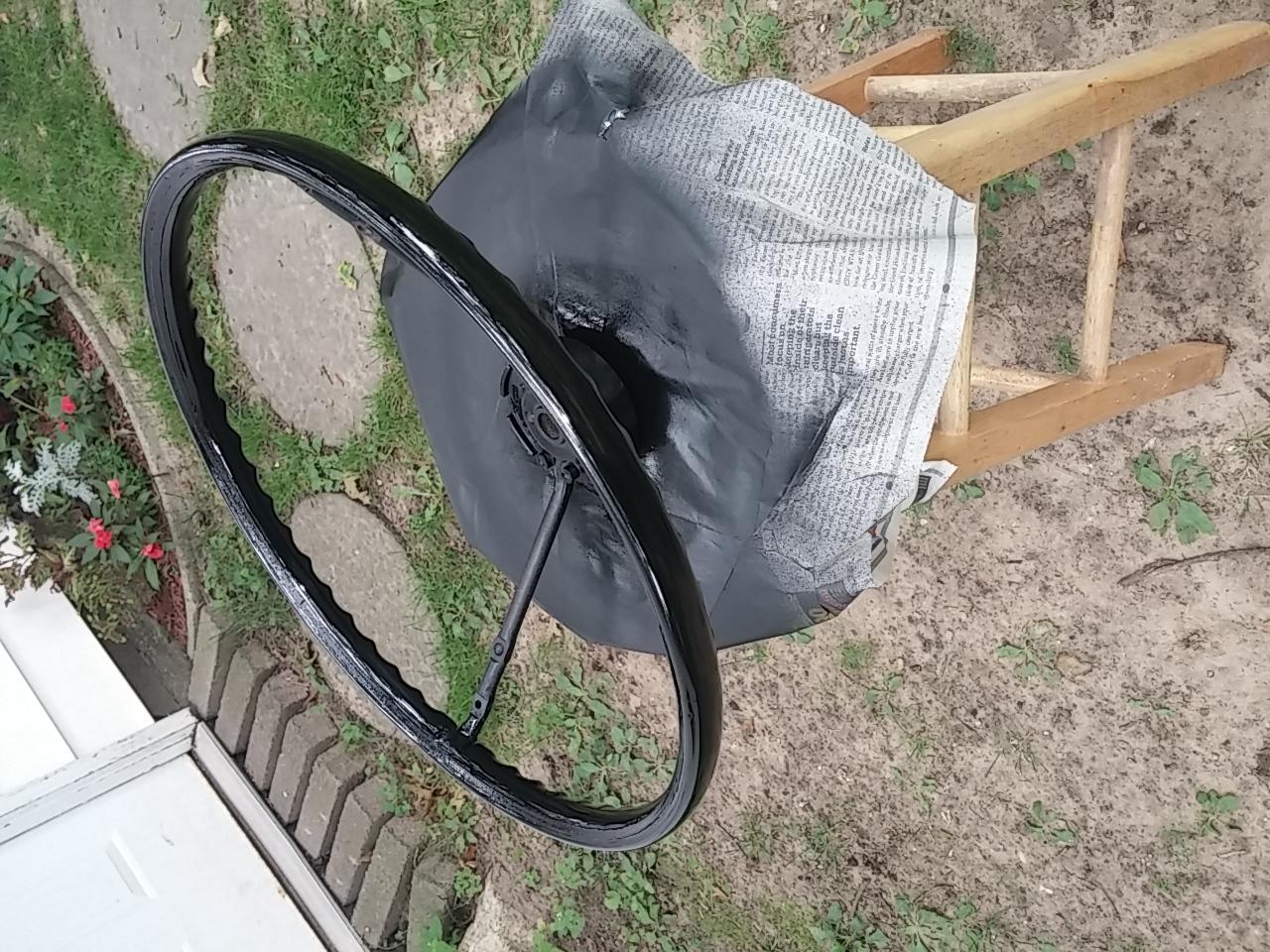 8-27-2014
Set in place and the blingy stuff screwed on...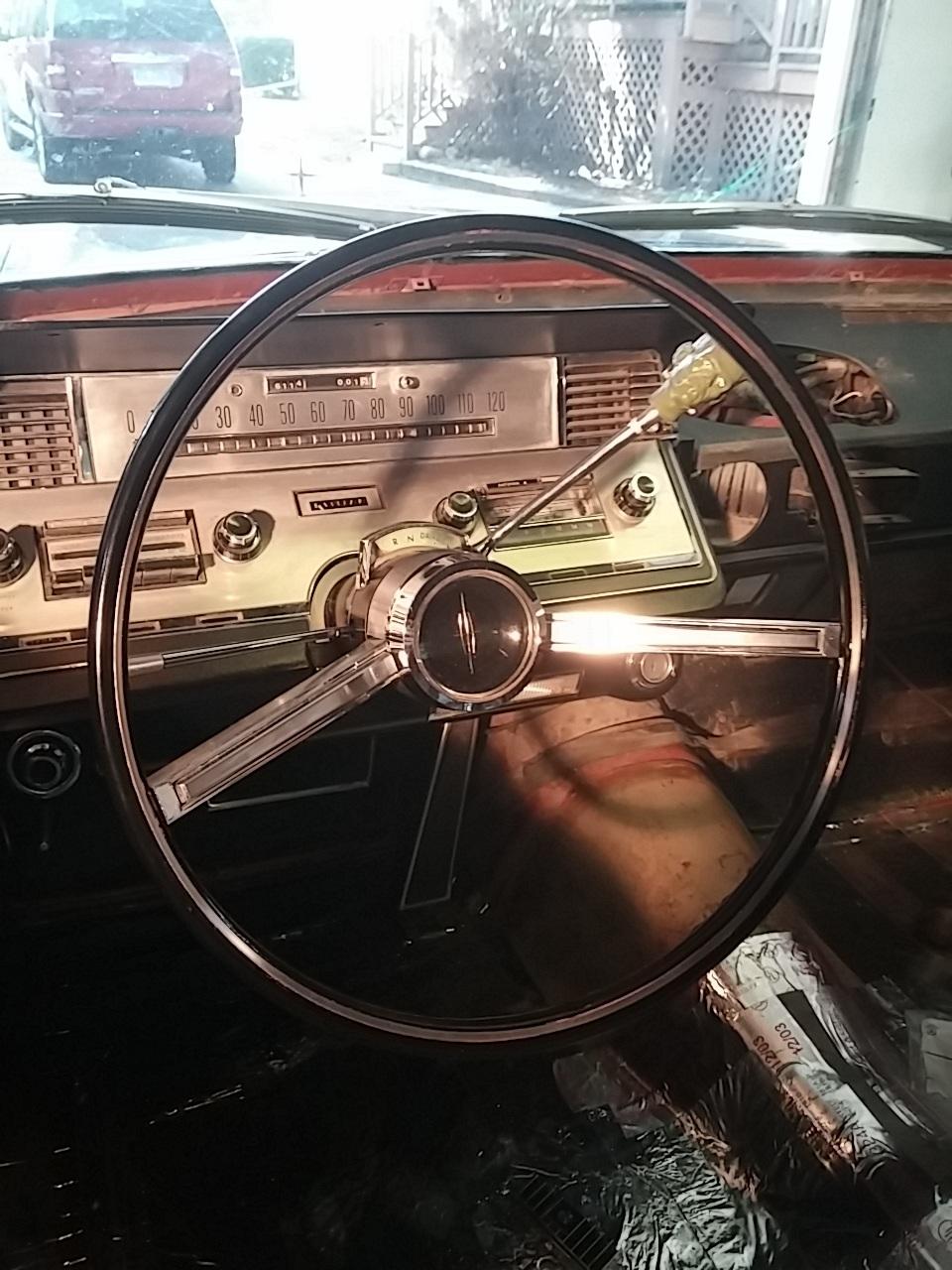 9-1-2014
I started the upholstery a while ago. The seats are finished but the door panels aren't. I have a huge pile of interior to install and I need to hustle because Im moving back to Arizona in October.
My pile o'parts
Pile of parts
The door panel (door card) stripped and the carpet rough cut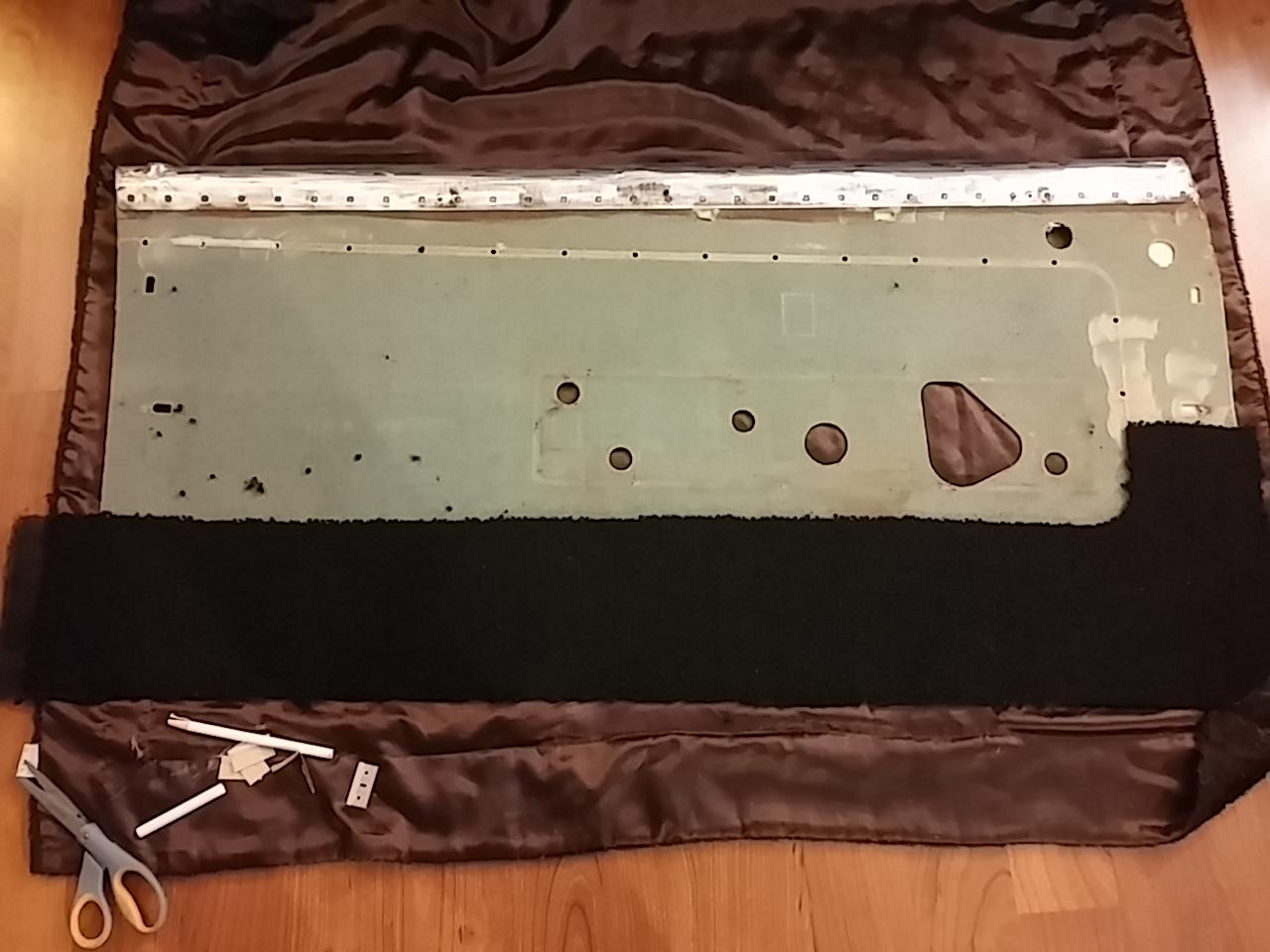 stripped door card
The old vinyl for patterns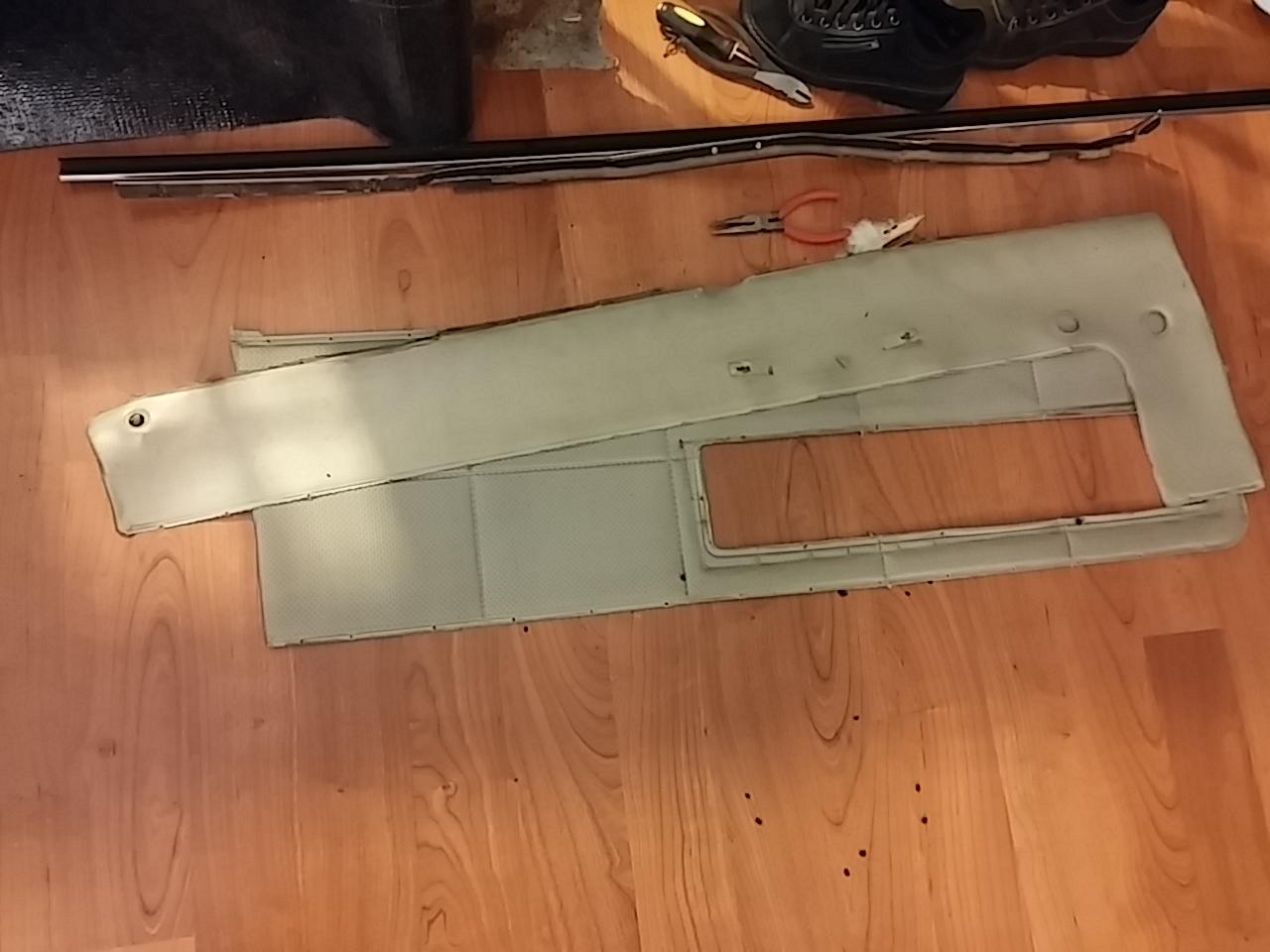 Old stuff for patterns
What it is going to look like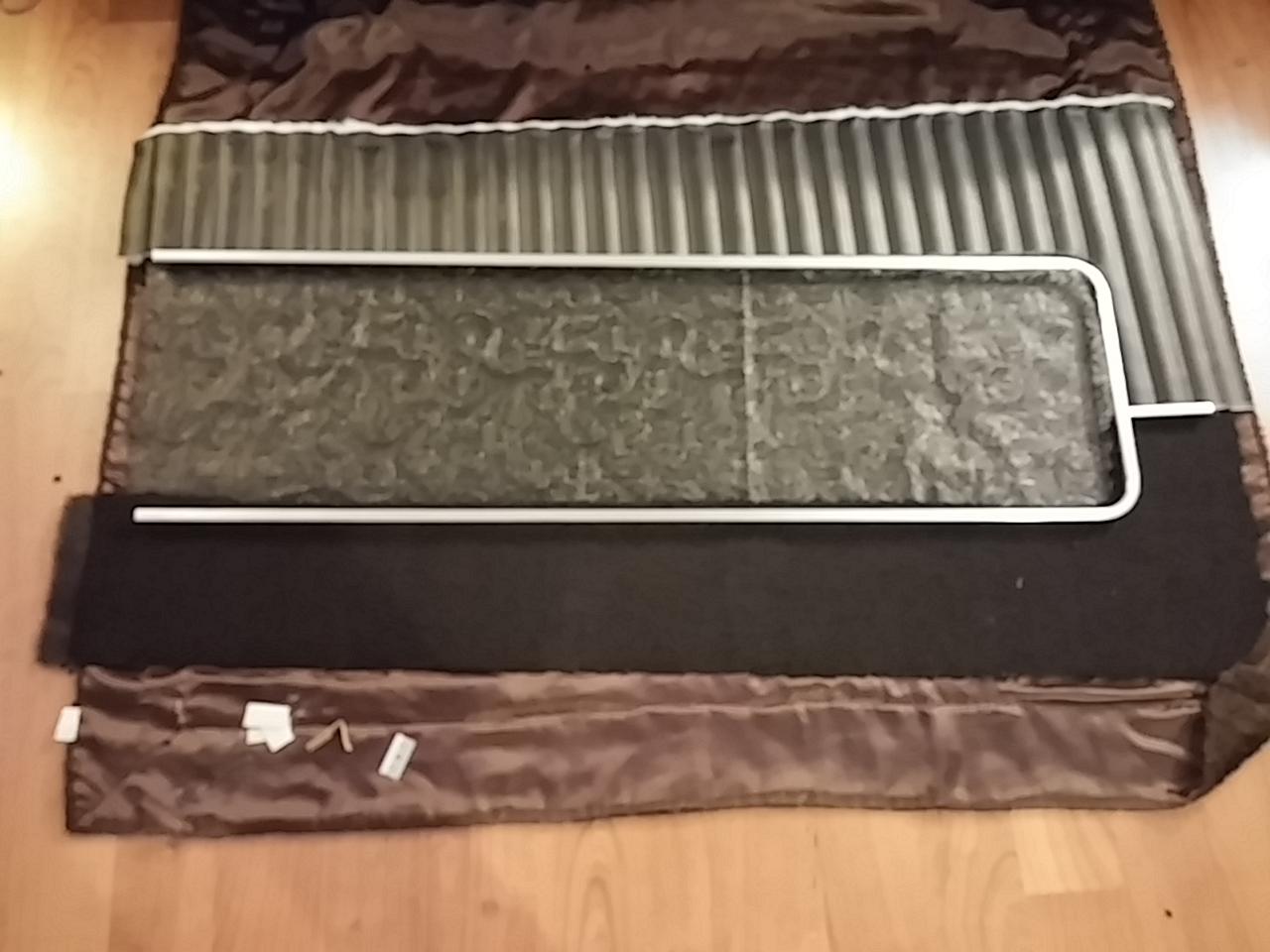 Layout
And the saddle or tooled leather look material for the insert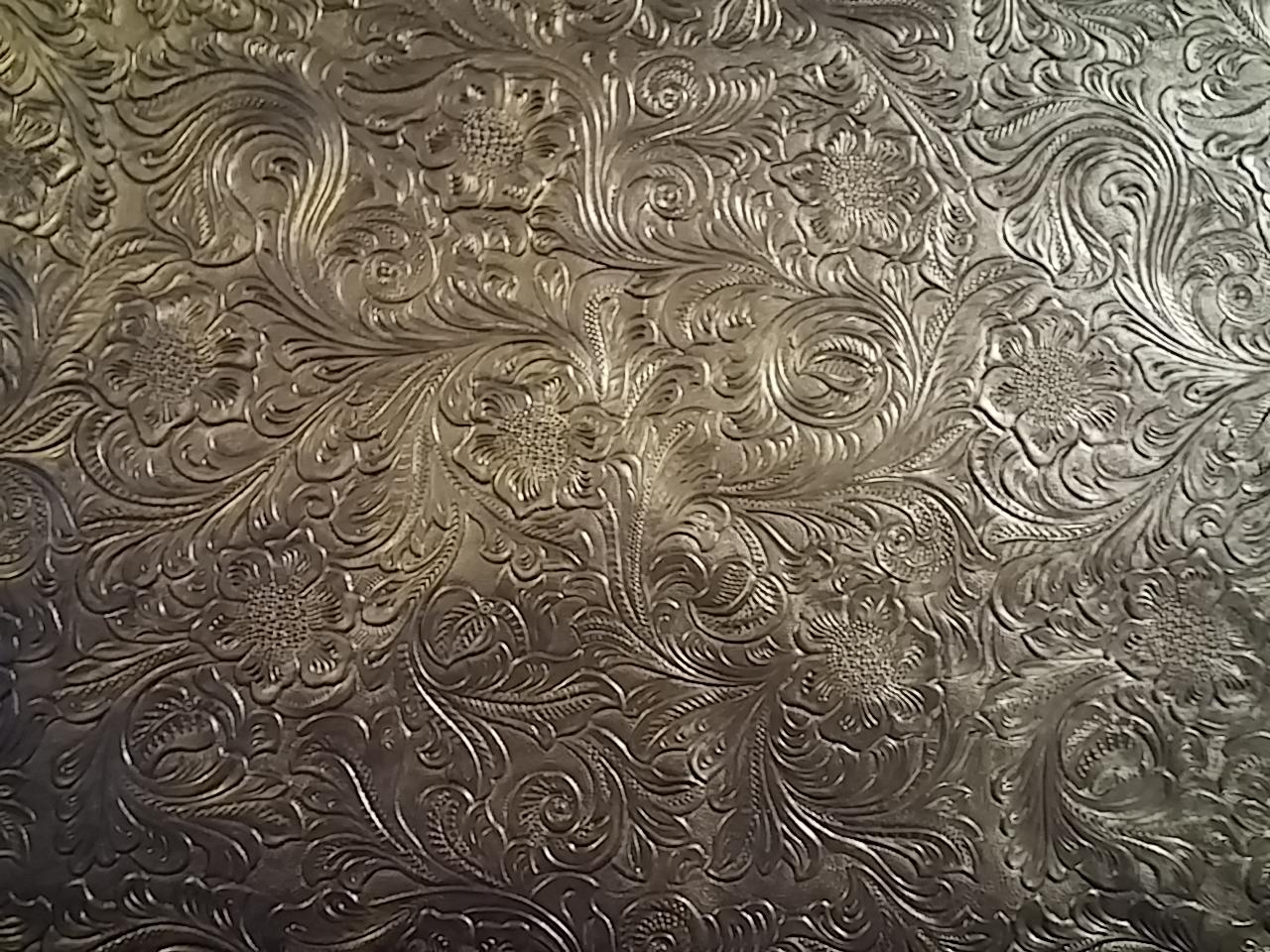 Closeup of center material
9-1-2014
One down. Just final trimming and then holes for the jewelry!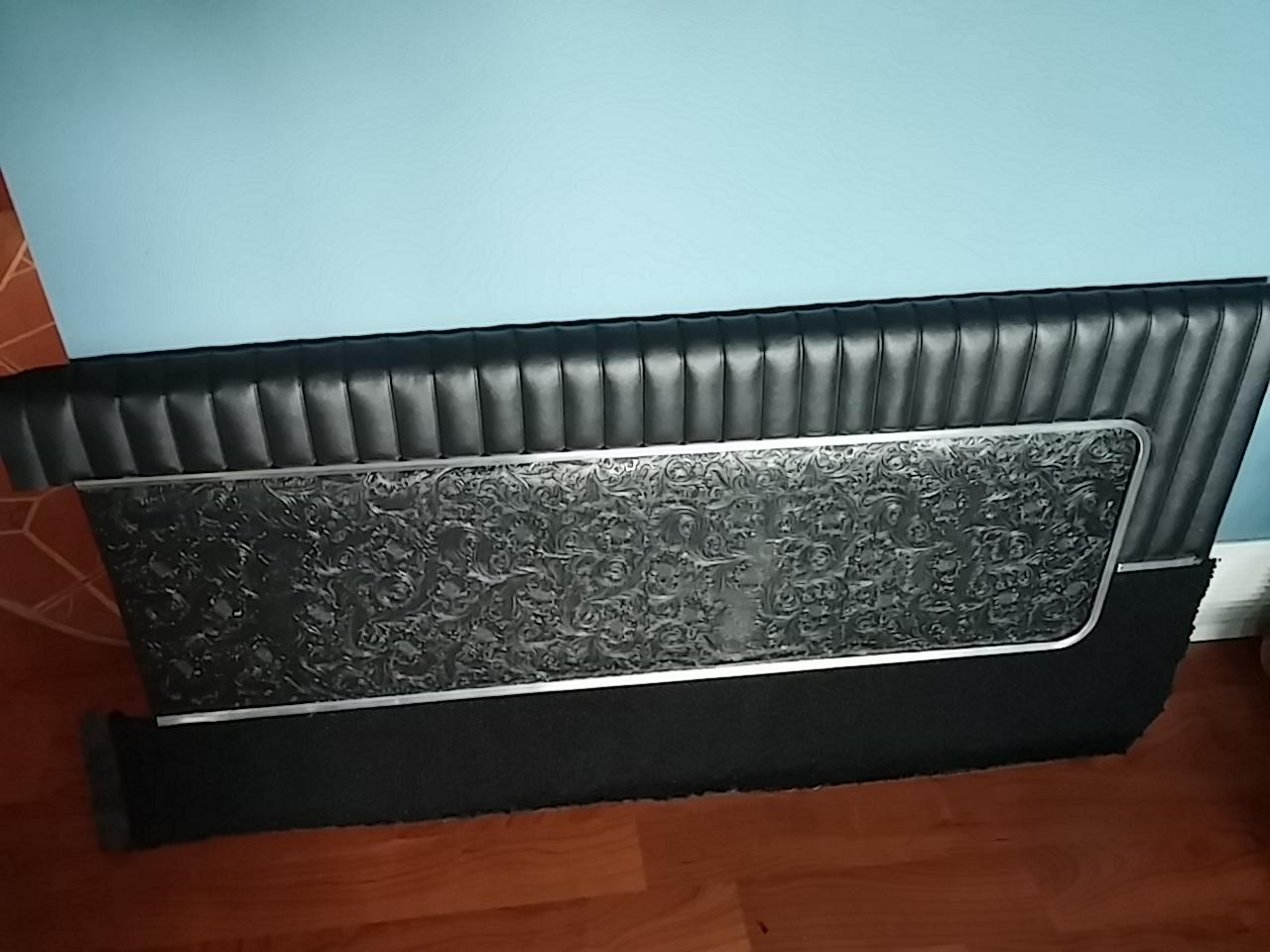 9-5-2014
I found that the hardboard for the passenger panel was not in the greatest condition after removing the vinyl and carpet. This material is available from several auto suppliers but they tend to think it's made of platinum. The Home Depot and Lowes sells the same 3/16 inch thick stuff in 2 foot by 4 foot sheets for less than 5 bucks a sheet which is perfect for what I needed.
I started by prying off the metal cap that gives the door panel its curved shape. The steel is perforated and the sharp edges form points that secure the steel to the hardboard. I had to straighten each of the 124 points (31 holes, 4 points each) so that I could secure the new hardboard to the cap. This worked well and the door panel was a sturdy as I would expect it to be but I reinforced the seam just to be safe.
Here's the old panel with the cap removed. It was so brittle it was almost crumbling in my hands.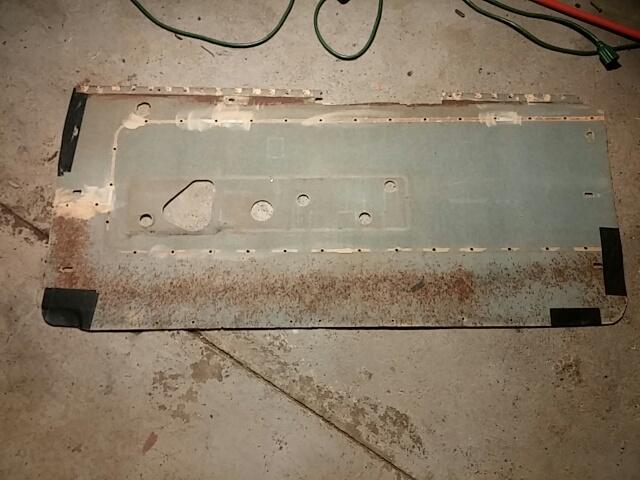 I used tape to recreate the missing bits around the edges. I left the chip in the top because I don't have to cut that edge.
Then when the new panel core was assembled I flipped the old panel over and marked all of the cutouts that need to be drilled and cut. That's tonights project!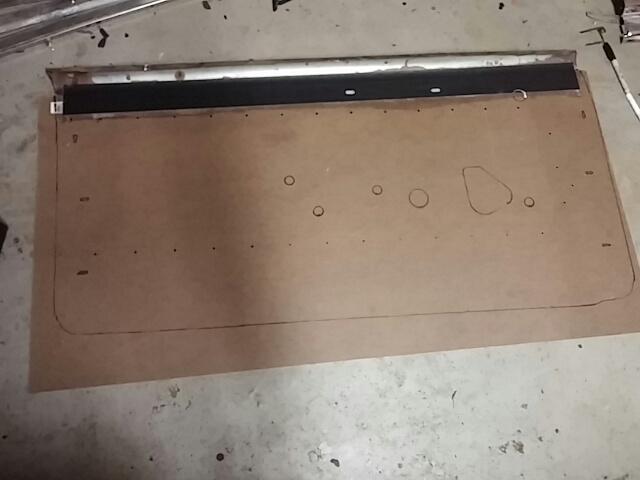 9-7-2014
Well, the door cards are done. On to the quarters. Here's the starting point. Faded gold/green which wasn't a pretty color to start with, but somebody loved it... And the weird biscuit pattern with the weave is not my favorite.
The hardboard on both of these was damaged - either water because the passenger window was down outside for nearly 25 years or heat cycle damaged from being in the Arizona sun or both - so I fabbed up some new ones. Then I got called in to work so these will wait until tonight.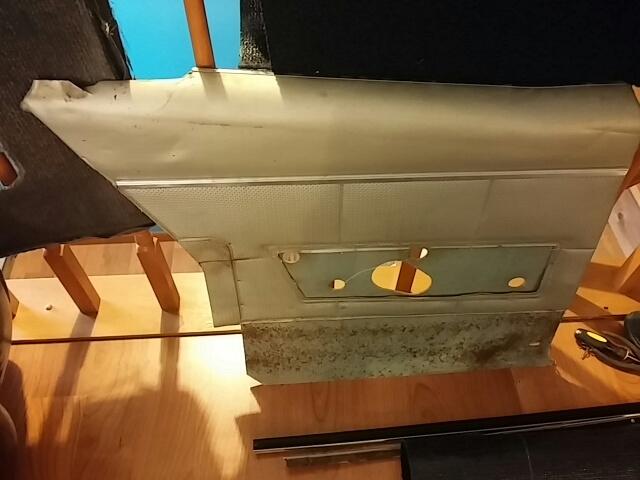 before
The cut and shaped new boards...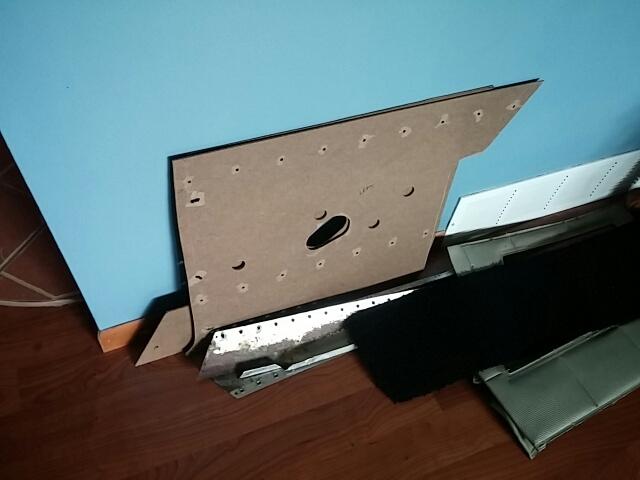 hardboard cut
9-8-2014
Aaaand reassembled and reinforced.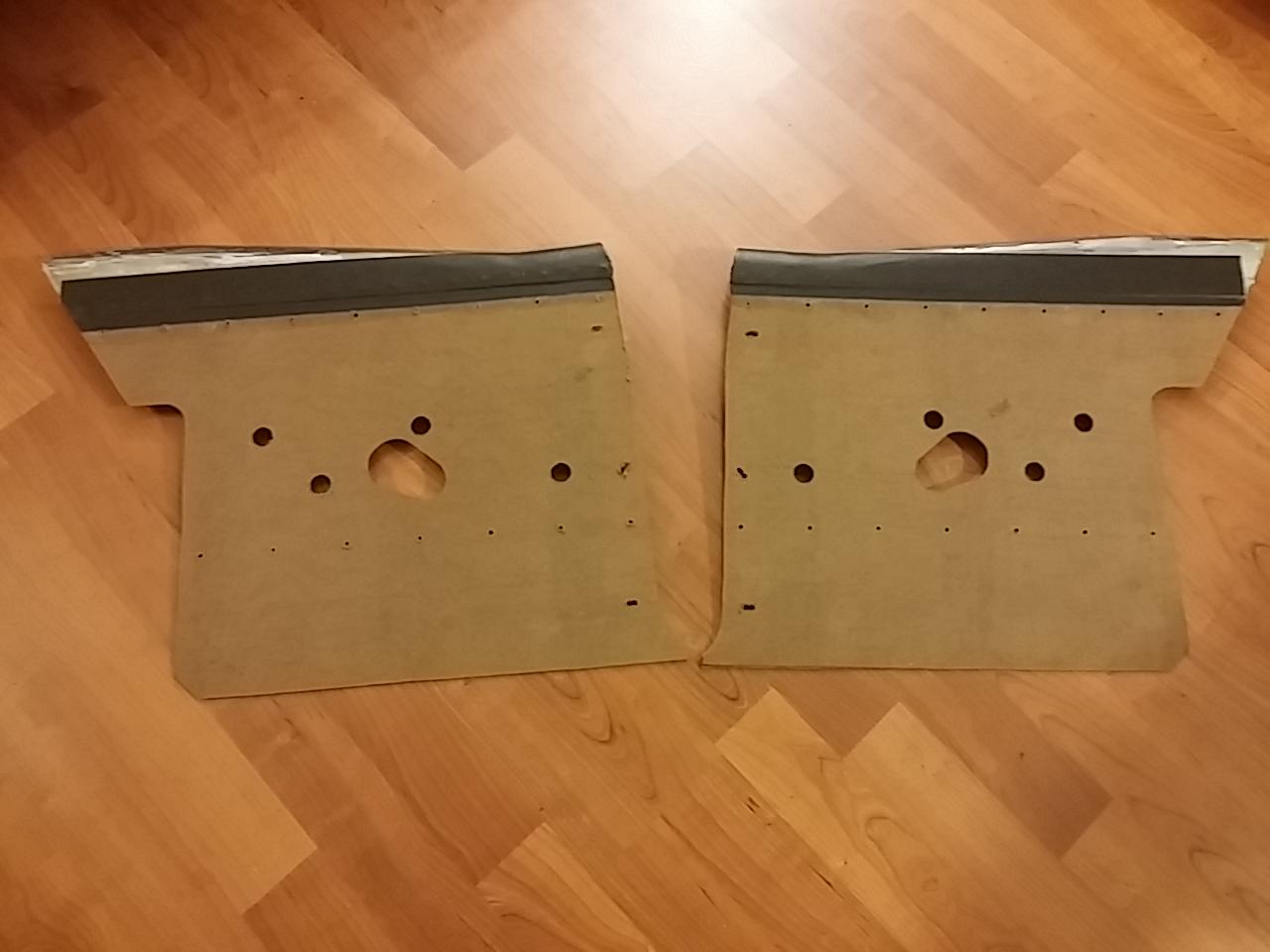 9-23-2014
Fitting the carpet but I wanted to get an idea of how it's going to look... overall I'm happy and it looks way better than it did!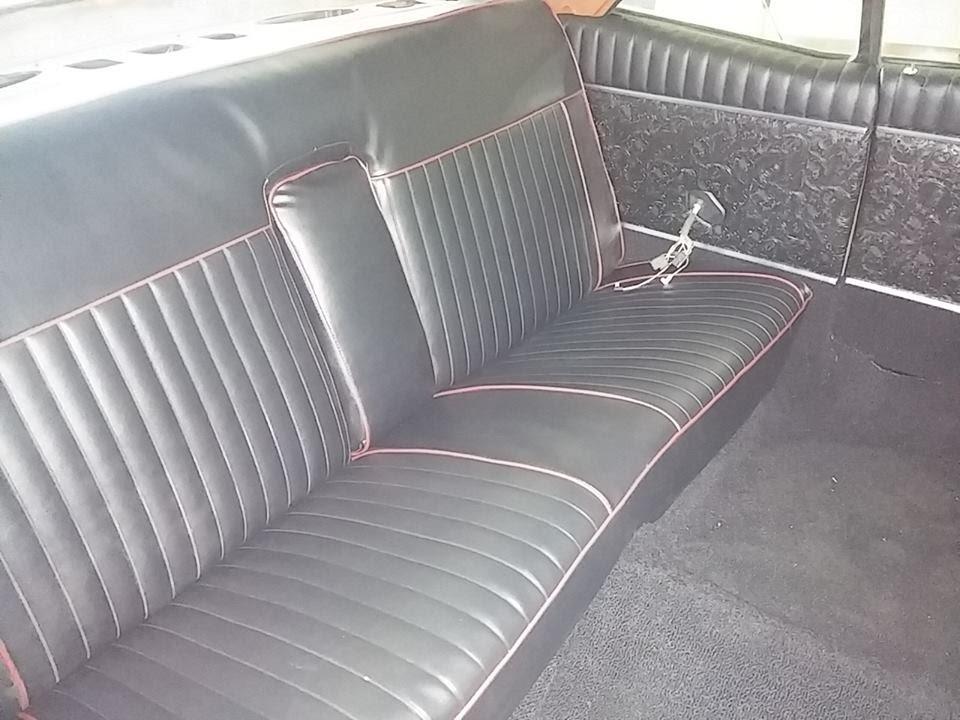 Now back to heating and gluing the carpet. Some windlace in the same material as the insert in the doors and the center cabin will be done. I need to figure out a dash, my plan was to tuck and roll like the seats and tops of the doors but the material isn't as flexible as I'd like so I am looking for alternatives. And a package shelf - I think I've got this one but first things first!
For the first time since I bought Frankenstein I feel I can approach him without getting a tetanus shot!
9-26-2014
Seats are in, glass is in... its maiden voyage was last night to get fuel. I ran out of fuel - I thought - so I ran home because I was still close, grabbed the truck and a daughter and pulled the car back to the garage. Turns out the fuel filter had pulled apart so the pump was pumping air. I replaced the custom Mr. Gasket chrome filter with an OLD Mr. Gasket chrome filter that is all metal rather than half plastic half metal. Started and ran to the gas station.
But the fates have frowned upon me. The power steering pump failed. It is now groaning loudly and I'm sure it is on its death march to oblivion.

so once again I have a garage queen until I get a new pump. On the bright side it looks good!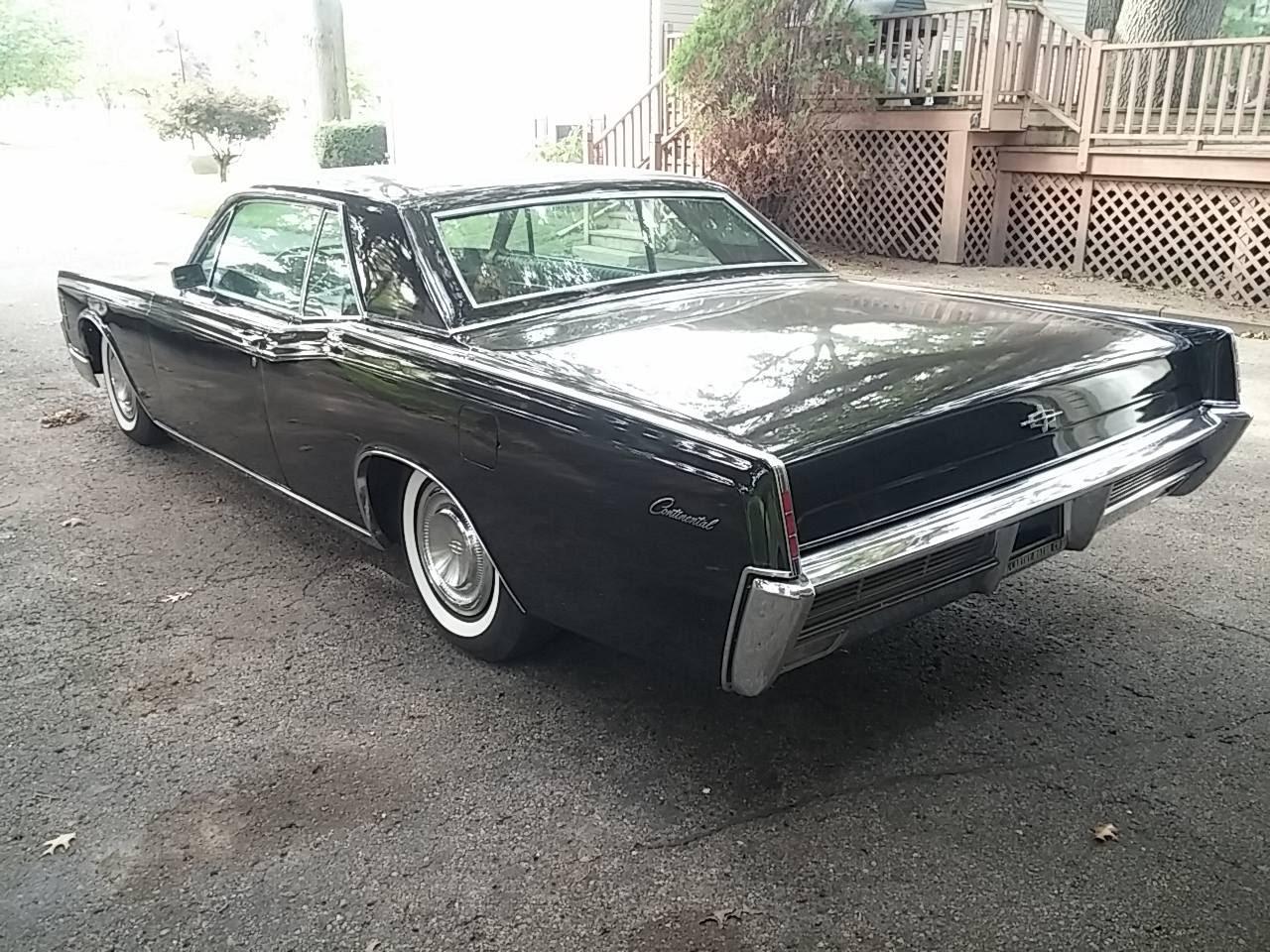 9-28-2014
All but the parcel shelf and dash are done. The little stuff takes forever! I like the look of th 67-8 coffin pull trim so I used them. They make the handle look less tacked on.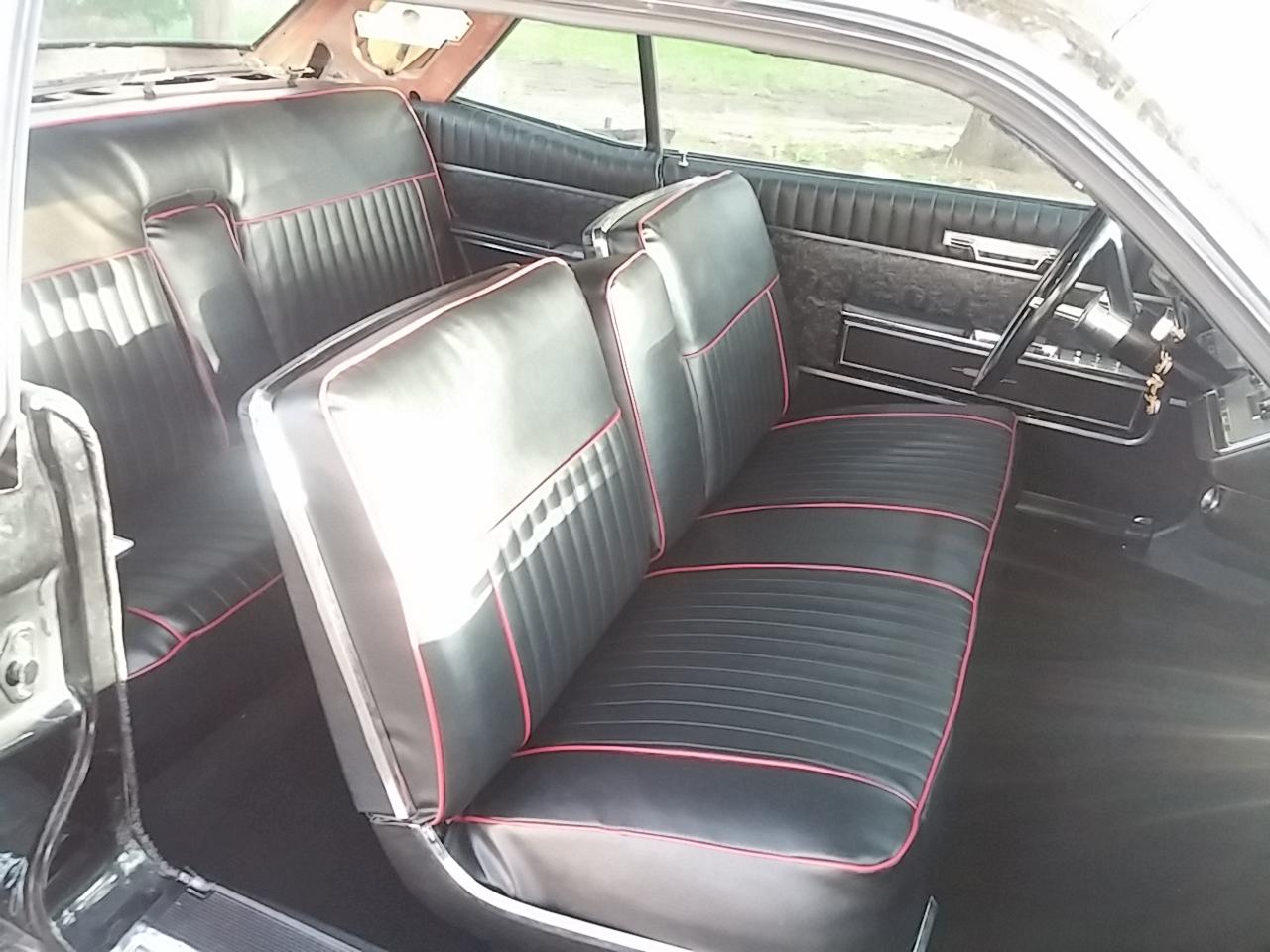 Overall
And the armrest panels. I used a metallic black that looks amazing in the sun and my daughter painted the star backgrounds red to match the piping in the seats! Looking cool!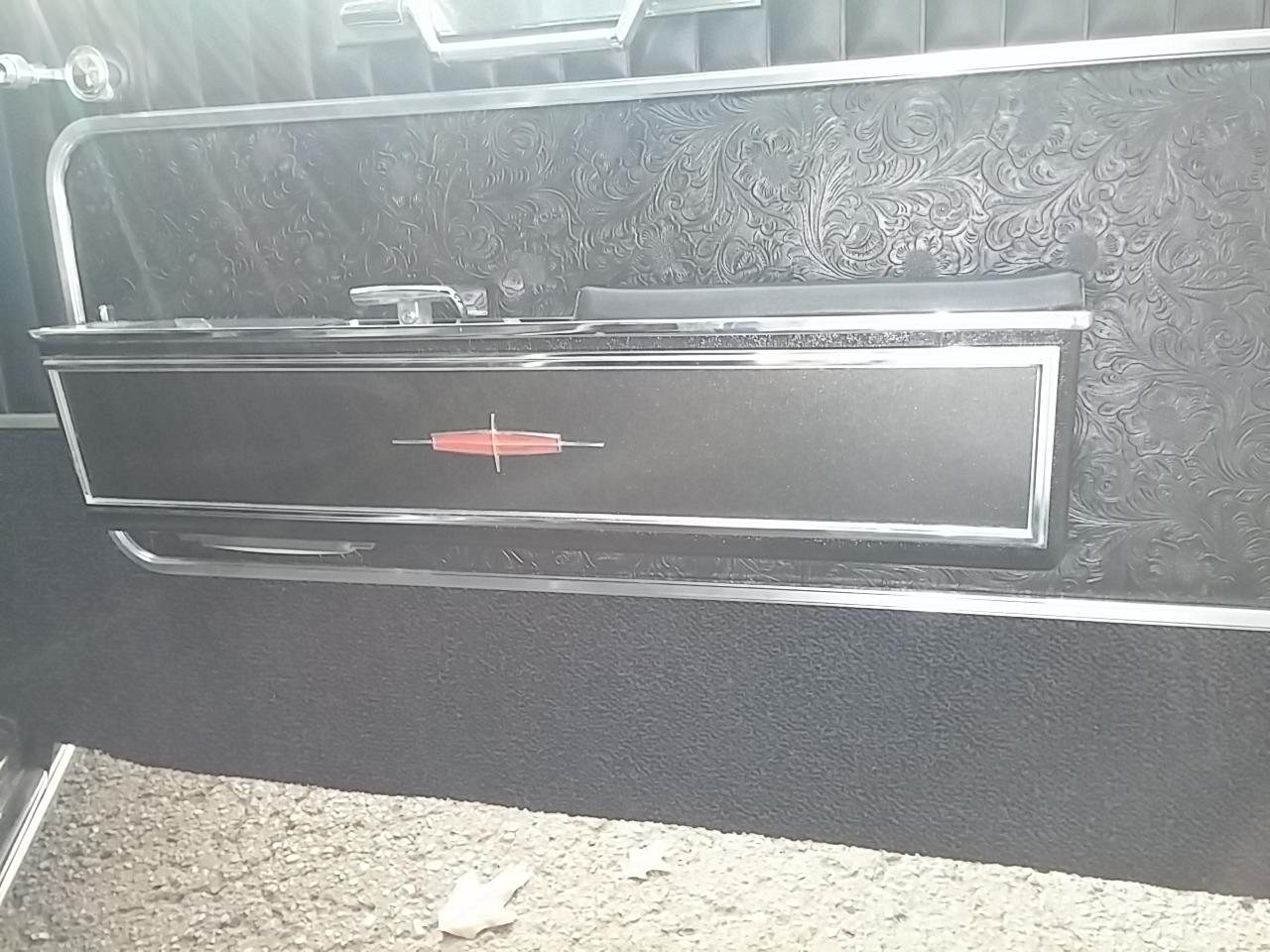 Armrest
10-15-2014
Well, I have moved across country back home to Arizona. No work on the Lincoln other than loading it onto a little truck so it could go onto a bigger truck to come across too... Now Frankenstein is sitting in the employee parking lot here at work until the house closes - It was supposed to close early but we all know how "supposed to" works. Luckily the weather is nice so he isn't sitting in a hailstorm or other yuck!
And I found that the glue I used to trim the headliner isn't strong enough to hold the headliner. TIme for some 3M 90!!!
When I sent him away: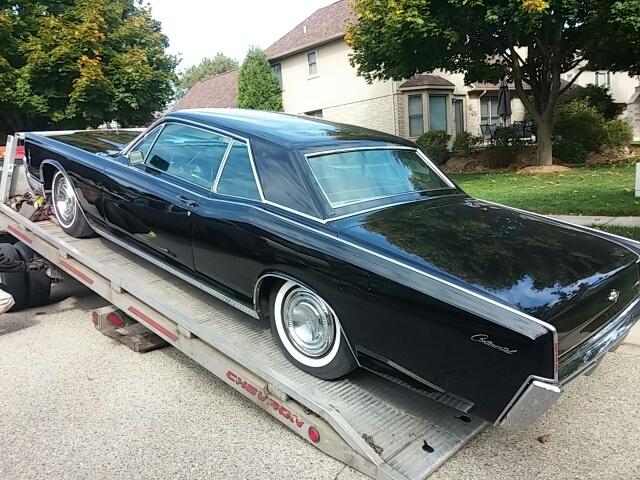 And a fun tidbit... I had built the car to run on E85 or E100. So when I added 18 gallons of premium unleaded he ran horribly rich. I couldn't figure out why - then I remembered... DUH!
So re-jet the carb, re-tune the engine got him running beautifully and then proceeded to back over the wheelchock I had been using to hold him in place while I set drive idle. Said wheelchock shattered into a hundred razor-sharp shards. One of which went through the sidewall of the LF tire...

So now I am looking at new tires! yay!
oh well. every day can't be roses.
10-16-2014
Thank you for all of the kind words!
Sitting waiting for a drive... Sunrise in Arizona!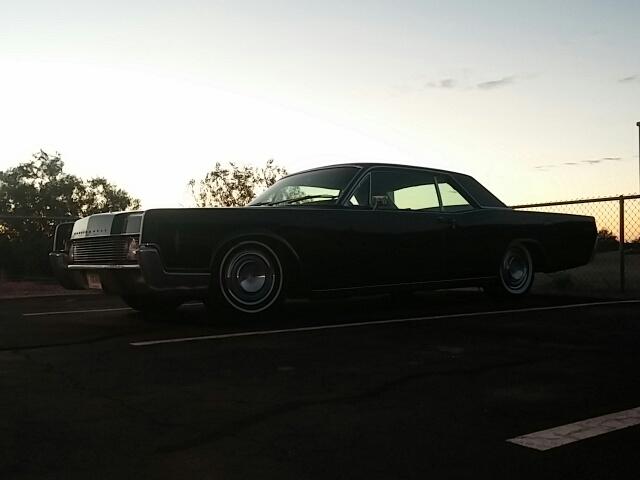 9-28-2014
So I was cleaning Frankenstein up a bit; getting the dust from sitting outside these past few weeks off and just getting ready to start working on him again. I started taking a look back... I bought him in December 2006 so eight years ago he looked like this... leaking every fluid, seized brakes, mismatched tires and just generally yuck: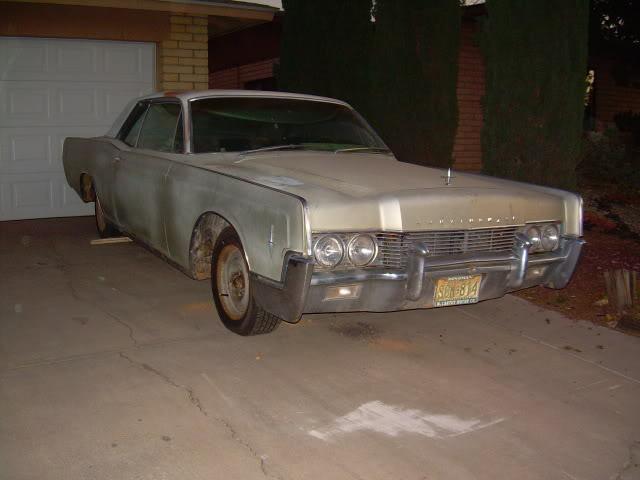 12-1-2014
Well, I have my first big project planned. My A/C stopped working (it was a functioning R12 system) and in Arizona with a black on black car A/C is not a "don't really need" option. The compressor seized but I was half expecting something with the system to come up as I hadn't really done anything except check and top up the refrigerant and oil... Sooo I am going to go with the Sanden compressor R134a conversion. I have used the Sanden compressor 134a conversion on a couple classics I had here before and was more than pleased with the function.
As soon as parts arrive I will detail the build here.
2-26-2015
No A/C yet, just enjoying the mild temperatures and perfect driving weather.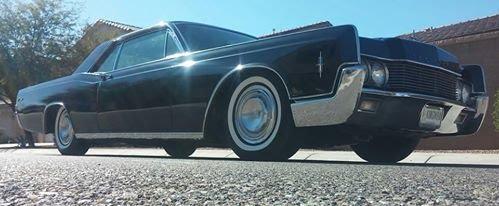 "All" that needs to be changed is the compressor (the Sanden is more efficient), the receiver/dryer, and the expansion valve (TXV). Then while everything is apart the lines, evaporator and condenser need to be flushed. If you have the line with the big "muffler" it will need to be replaced with straight line. The Sanden doesn't produce the same pulses as the York compressor so it isn't as noisy and won't cause unwanted vibration through the lines so the "muffler" isn't required. With the Sanden you won't win points for originality so losing the weird parts of the system isn't a big deal in that area. All of the original controls will work the same as they do now. If your system works electrically then the swap is gravy - just exchanging parts (and adding appropriate oil and refrigerant).
I had a Sanden conversion on my '66 Cadillac and it was wonderful. Maybe not as cold as the R12, but it was cold enough to be comfortable here during monsoons and really nice on those 110 degree days.
2-27-2014
I realized looking through your thread that I did the exact same "tooled leather" in my interior.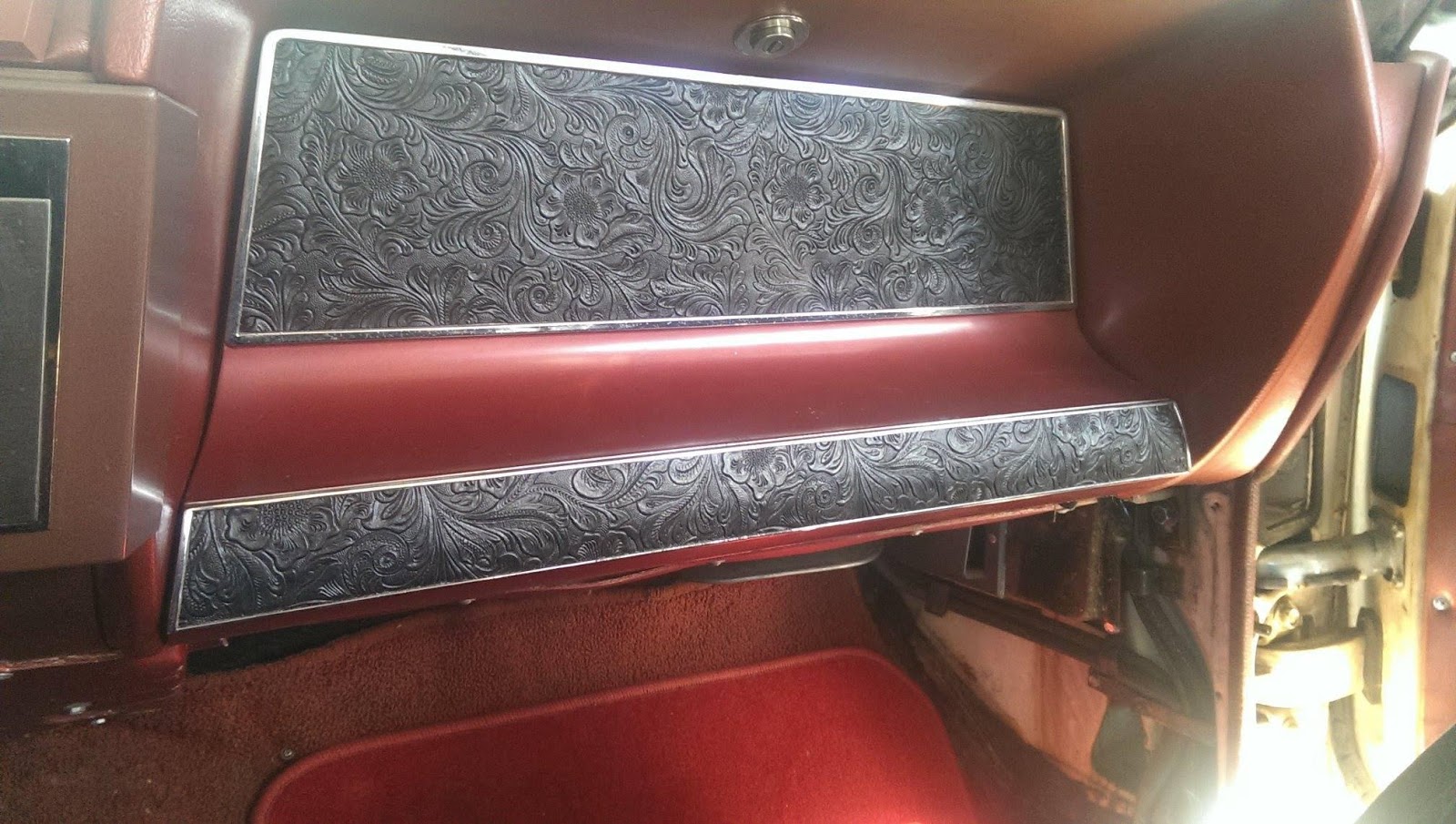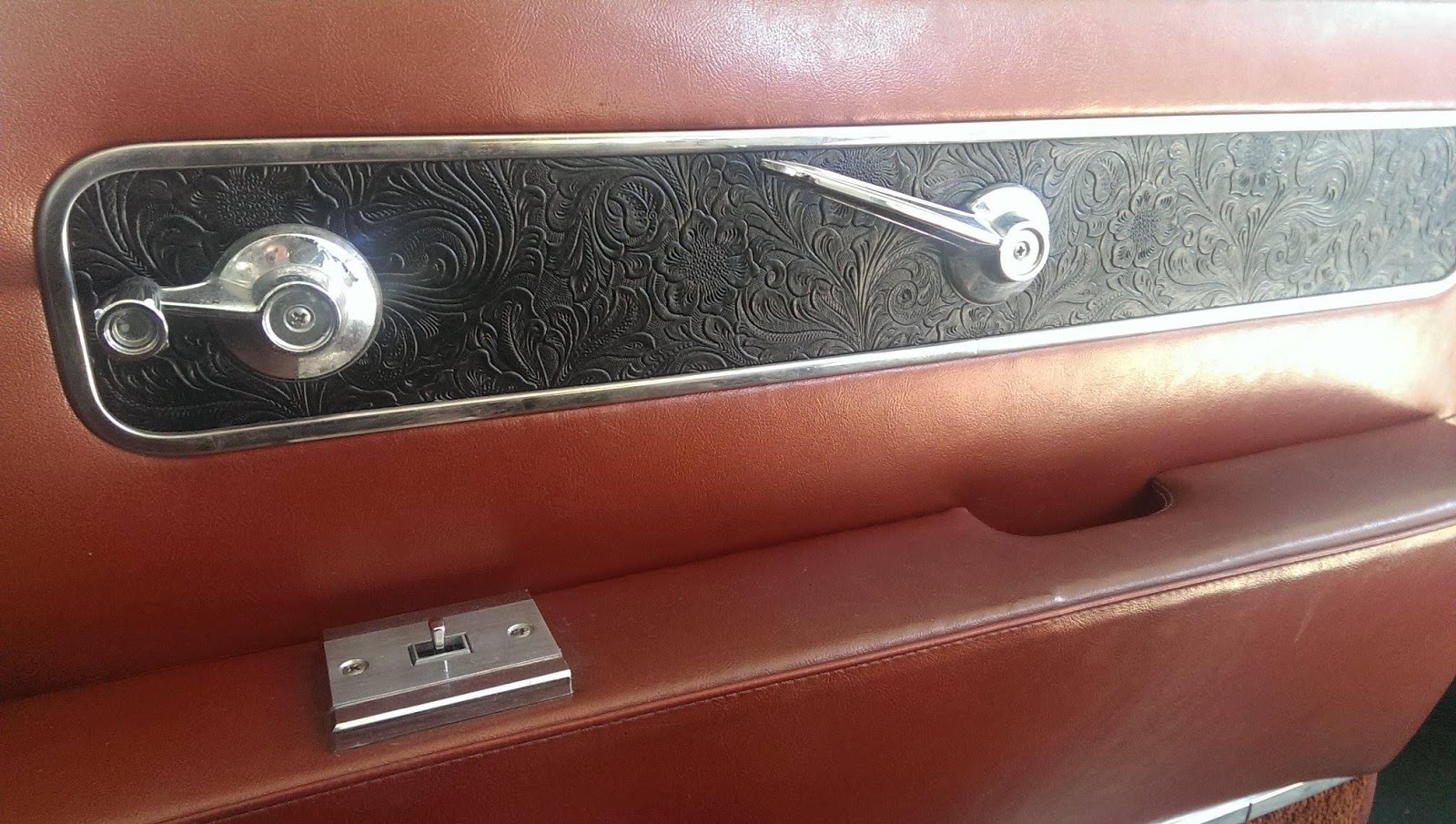 3-17-2015
Went to our first outing... A local parking lot show not a lot of cars and Frankenstein was the only Lincoln. That being said I have seen a lot of coupes popping up on enthusiast sites and Facebook. Maybe there will be a lot more.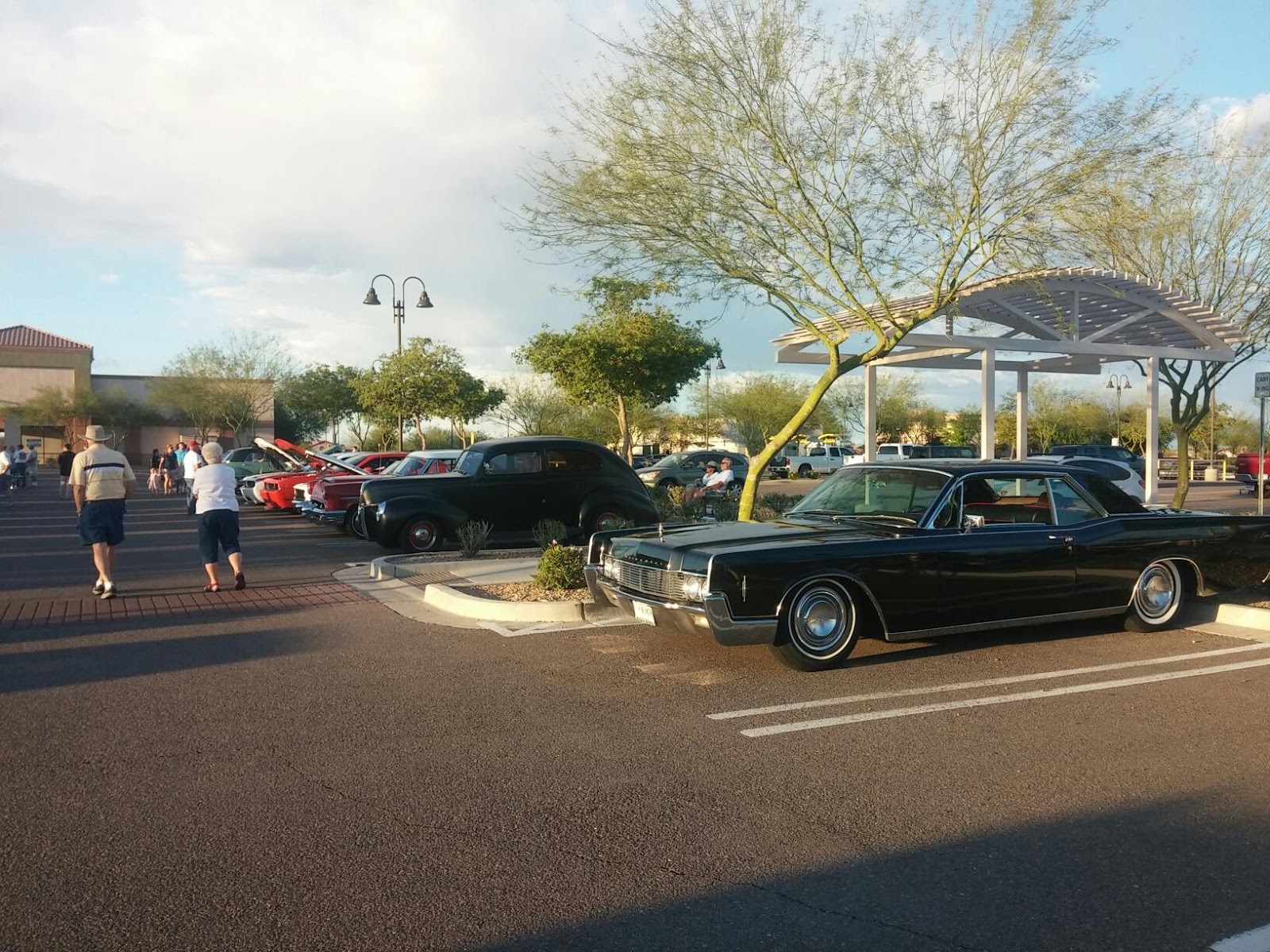 3-23-2015
New tires - 235/75R15 with 1.48" whitewalls. The brand is Sierra. $440 with free shipping in the US.
The tires I had were 1.625" (1 5/8) Firestone FR721 but Firestone no longer makes them. Another choice was American Classic with a 1.625" whitewall but they were 220 each. And for a consumable that a tire store won't touch after six years that is a bit high for me...
The smaller whitewall isn't really that drastic (it's only .145" so the difference is minimal) and I am pleased with the quality. They also have a touring tread so they are very quiet. I put 130 miles on the car yesterday driving at nearly 90 degrees ambient and they seemed wonderful. Tire pressures stayed within reason for a tall tire (deflection causes heat so I generally increase pressure by a couple PSI in the desert so that deflection temperature rise is less of a factor) And the compound didn't seem to vary with temperature - I wasn't picking up stones like a soft compond tire would after reaching temp.
Overall and so far I am happy with them!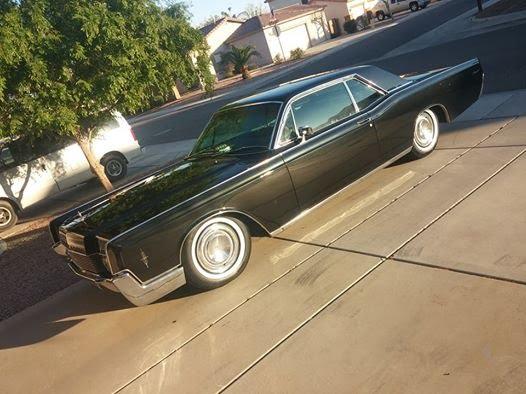 3-28-2015
Finally getting to the fun part. I like these little details. This will make the pinstripes pop once it's all said and done!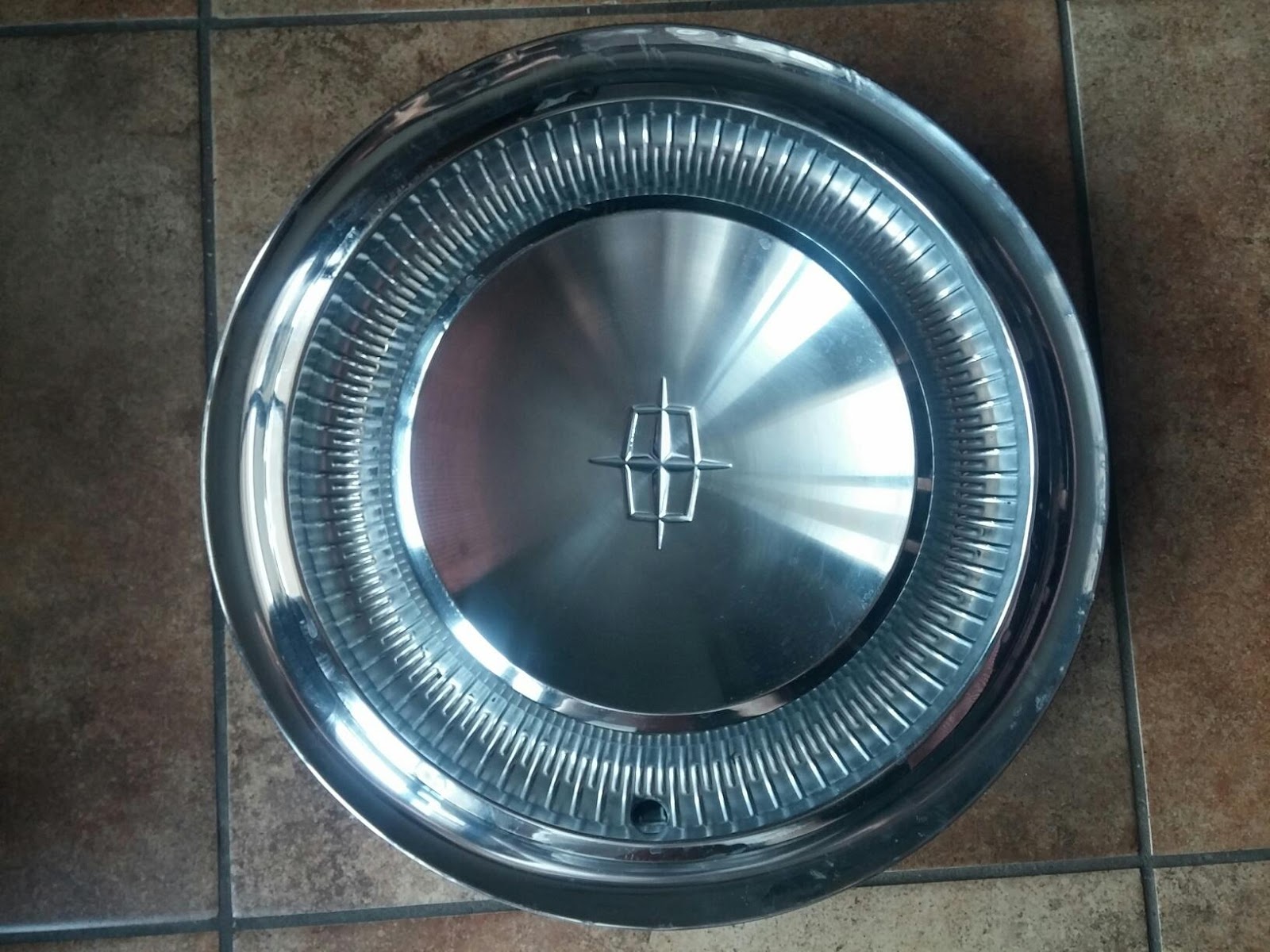 Before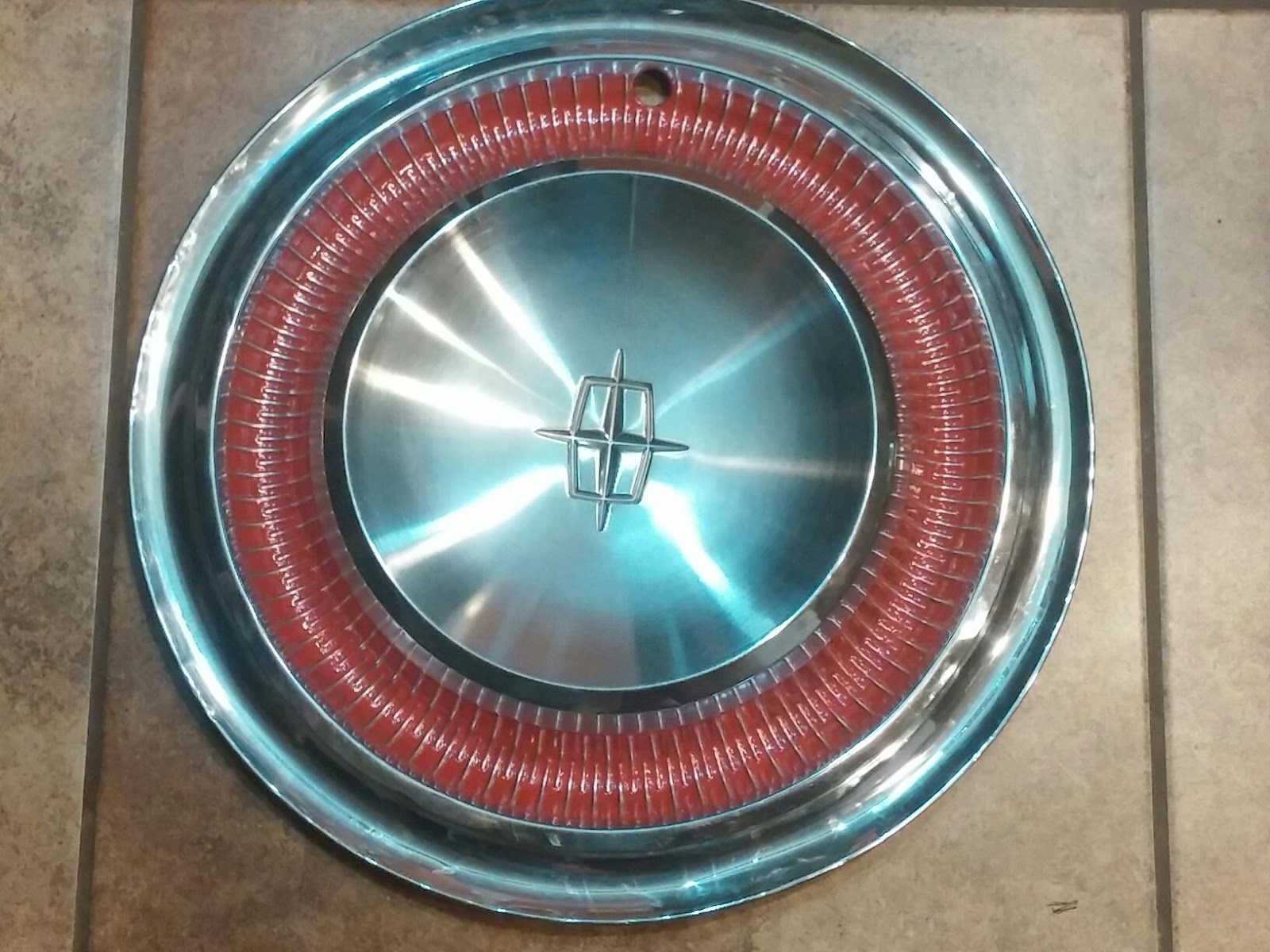 After
4-3-2015
My car doesn't handle noticeably different than it did before. I do drive it more carefully over undulations so I don't risk strike through. I cut one complete coil from the springs and it gave it a very deep rake. Somewhere early in the thread I have a photo next to a stock 66 so you can see the change.
4/14/15
So, life has happened. The end of July I had a heart attack. I'm okay and there was no damage to my heart. I eat well and, while not a fitness guru, am not out of shape. My cholesterol has been out of check for a while. I had it controlled with diet and exercise, but haven't had it checked in a while. The cardiologist said I was lucky because where the blockage was and my lack of day to day symptoms it would have killed me silently. I feel great and will be back up and running here in no time. This was a huge wake-up call though.

Work on the Lincoln will be a little slow since I have two daughters driving and both of them love classic cars. #1 just bought a 1964 Riviera with the Super Wildcat (2x4bbl) 425... it's a project, but needless to say, I am a bit jealous. #2 is on the hunt for a 1965 Ford shortbed fleetside pickup. If there is anyone on the left side of the country that happens to know of someone with a project shoot me a note.

10/19/15
Feeling better... Making some progress with Frankenstein. Got some new shoes:
And got some sounds going. What good is a classic without tunes? I bought a JL Audio MBT-RX Bluetooth receiver, And I had a used pair of classic Pioneer GM-X312 amplifiers, and Pioneer speakers in the stock locations in the kick panels 5.25" (AM 8 track) and the package shelf 4x10" - I used 6x9s with 4x10 adapters from Crutchfield. Super simple and completely invisible -
This attaches with 3M tape which is tenacious.
From the side
11/20/15
Thank you Dan! I like exercise so this was a total shock. But feeling way better!
Some work on the car yesterday. Finally finished the package shelf - It was easier than I thought it'd be. And I like the results:
Still kicking... Not on here very often.
Won a couple of awards with the Lincoln. Pretty cool to build something I liked and have it recognized!
Also got a people's choice in April... That was cool.
Don't know how many times I heard "My ____________ had one of these... except it was a 4 door and a Cadillac" ;P Still fun!
5-11-2018
I don't get on here as much as I'd like. work, work, work... lol.

Still bombing around the desert!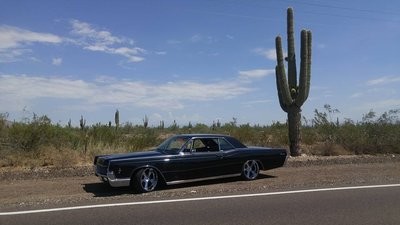 12-13-2018
A little bling for the MEL...