Builds
Bob's Garage Lincoln Premiere Build
By Bobs Garage
You must be logged in to rate content!
8 minute(s) of a 14 minute read
Needed a new shop cruiser. Checked everywhere but couldn't find the right one. Decided to concentrate on other projects for a while.
Shortly later a car appeared for sale at the gas station down the block from me. It was in rough shape but I quickly became enamored with it. It would catch my eye every time I drove by.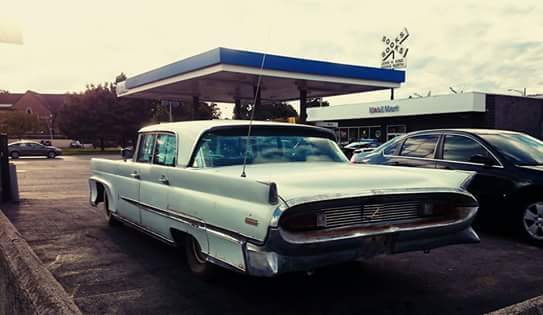 After seeing it multiple times a day for a month I called the guy and made an offer. Ended up getting it for just over a grand. Its a 1958 Lincoln Premiere, the longest car ever made at just over 19 feet. One of the first uni-body cars, these came with a massive 7L MEL V8 engine. There are 7 ash trays and just as many cigarette lighters. The owner was never able to get it to start, just crank over. It needed a new ignition cylinder and a resistor and was able to start and roll back and forth. There are no brakes at the moment so I haven't actually driven it anywhere yet. I have all the brake components, just waiting for some nice weather to rebuild them.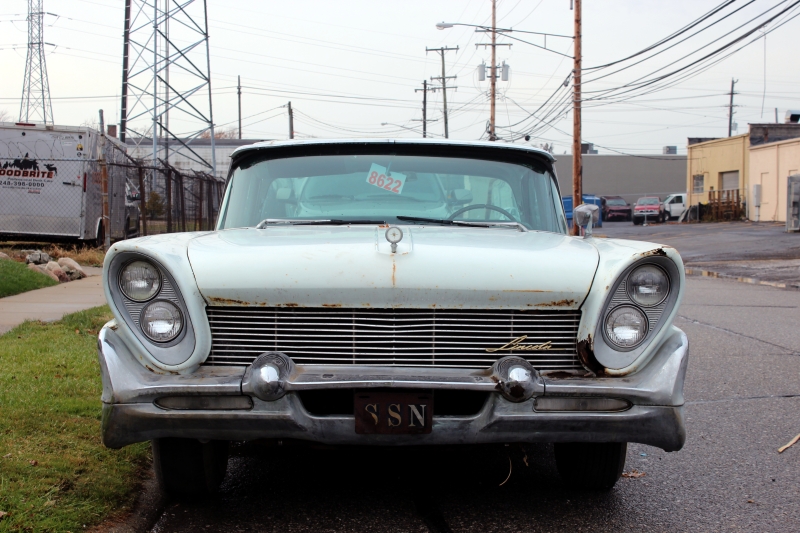 It needs a tune-up, ignition system, etc. There are rust spots appearing in a lot of places, and the front driver fender is bad, but the floor pans are solid. My current plan is basically to get it running well, throw a mexican blanket over the seats, and cruise as is. Bodywork will come eventually, as well as reupholstered seats, maybe an air suspension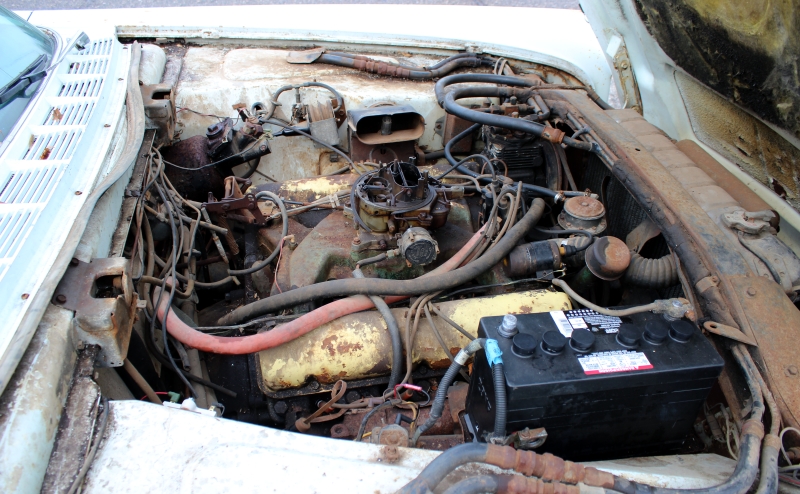 I tore all the old carpet out, while the floor is scaly in places it seems fine. I'll grind all the rust/glue/etc off and repad and carpet it.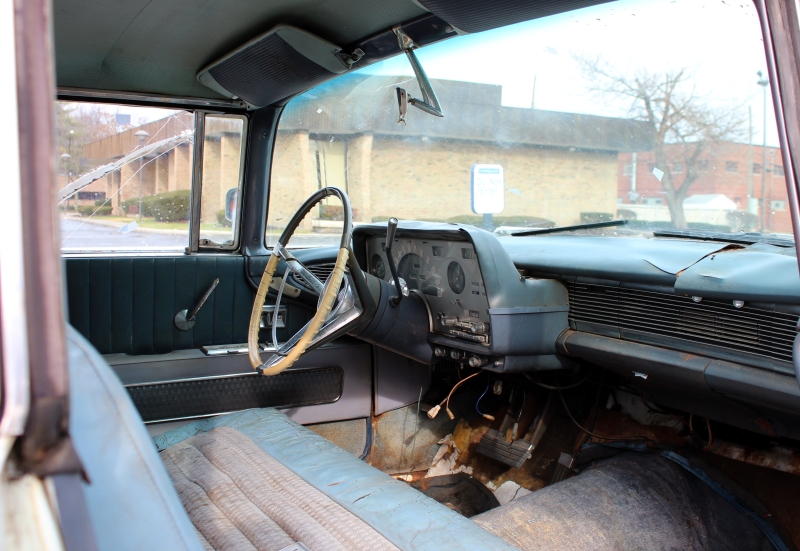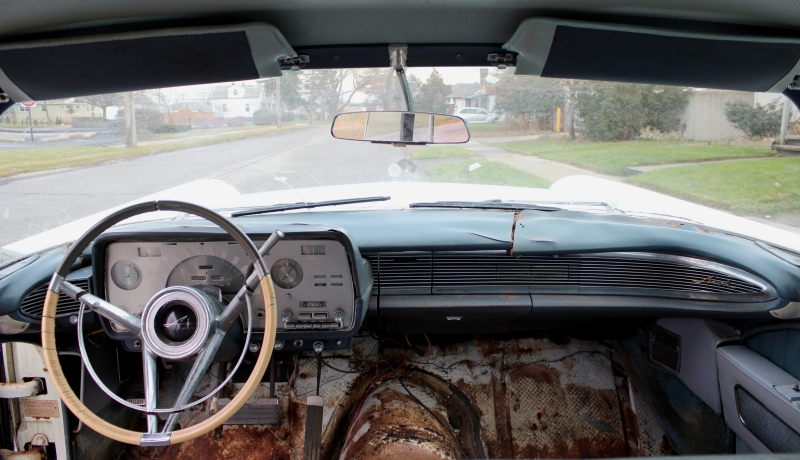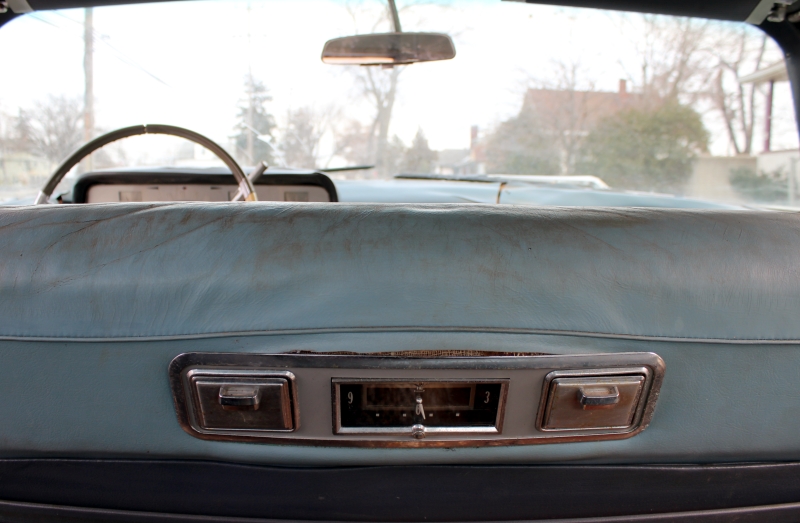 Why did I replace the Miata with the most un-miata like car ever? I've owned several great handling cars, and some fast ones. Due to the roads around here most of the fun driving I do is simple cruising. It was fun to have the potential to beat someone at the light on Woodward with the Mustang but it was overkill most of the time. I loved driving my Dad's 76 Eldorado, it made any trip fun and interesting, and this will provide a similar experience. It will be a blast going for a spin with up to 6 of my friends comfortably seated in the huge cabin.
Even though it is ratty it still has a grandeur about it. I saw one of these driving down Woodward and it is one of the few cars that stopped me in my tracks, it had so much presence. Its not beautiful, and some of the styling seems overly ornate, but the overall effect embodys big 50's American luxury. The rear end in particular looks like a spaceship. I've been reading the Kustom and Delux hot rod magazines since I was a kid. This will be my first car I've had that can be in that style.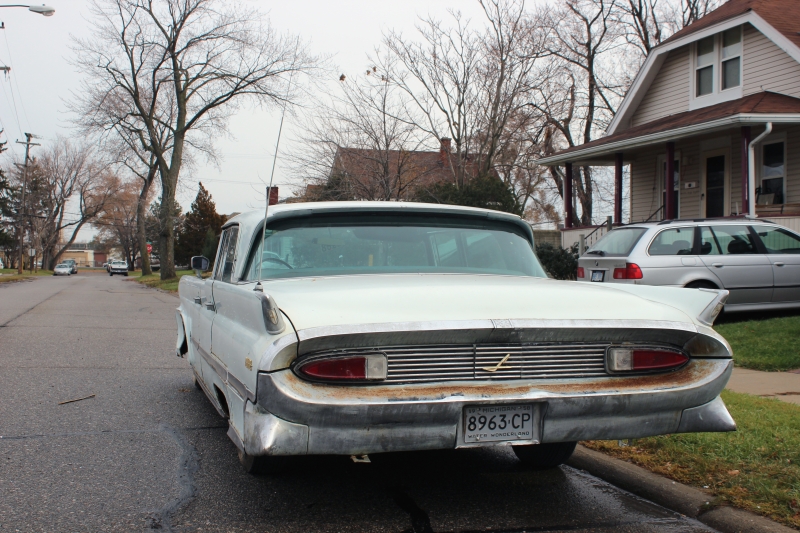 One thing I found out is how quickly styling changed in those years. The 57 Premiere is totally different, and the 59 has different fenders and taillights, grille, and probably other things I'll discover.
Here is a couple videos, one is a walk-around of a pristine 2 door example, the other one has giant wheels but you can see how it looks in motion.
To Do List:
Install brake parts already ordered - lines, wheel/master cyl, pads, drum springs and clips.
Ignition system
Get the correct carb (a cadillac one is currently installed and isn't great)
grind floor clean, coat it, install carpets
Replace tires/wheels
bodywork
recover seats
etc
etc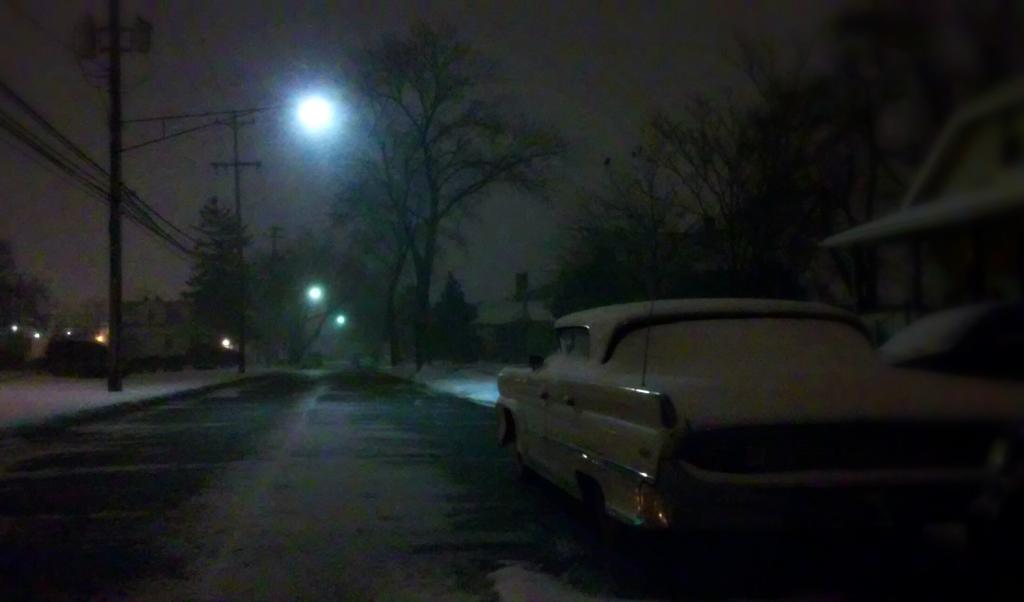 2/14/2015

Got some parts in the mail! The -30 wind chill is going to be keeping me inside this weekend though. Warm weather needs to get here soon.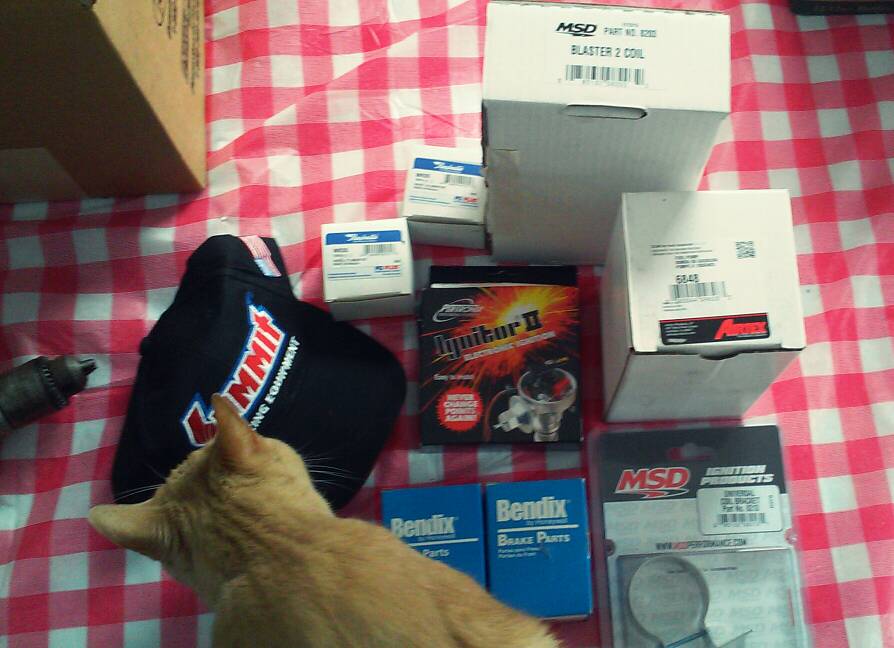 3/18/2015

Took advantage of the nice weather last weekend. Game plan is to tackle all the things that are keeping it from running/driving safely first then expand to any restoration/refinement work.
Tires are really bad and mismatched so I had them taken off and the rusty wheels sandblasted. Found some slightly used whitewall tires for $300 on CL. Picked the wheels up yesterday and they look great. Plan is to paint them, don't want to put a lot of money into new wheels when the car isn't drivable yet. Should have pics of those this week.
The brakes are totally shot so I started dis-assembly. Although things are pretty crusty and some of the bolts were tough to get started I was able to loosen all the bolts without braking them.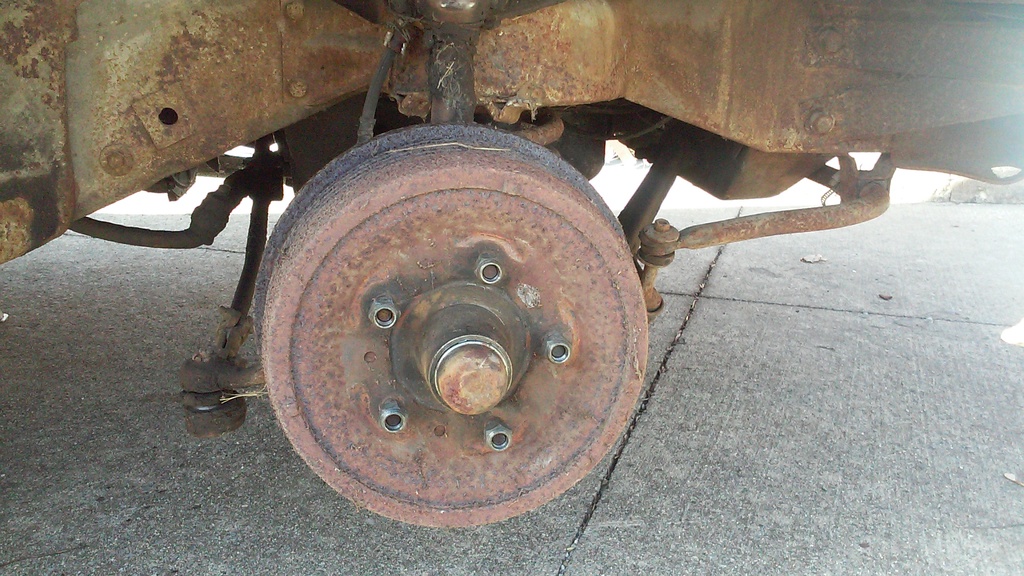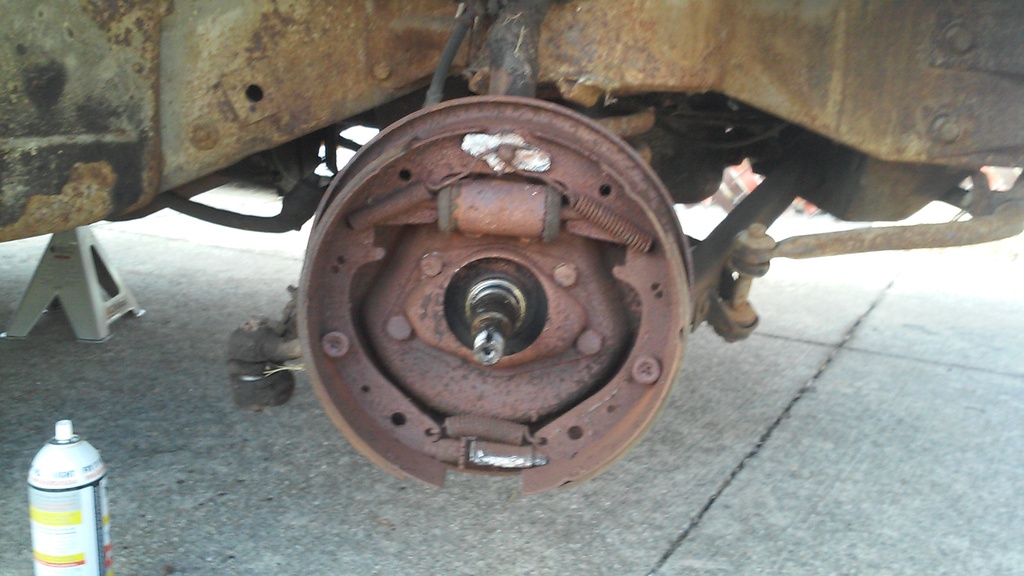 I have all the replacement hardware/springs/pads but new drums are hard to find. I'll have to see if I can grind the rust off and refinish these.
Rear wheel cylinders are less than $10 on rockauto. I couldn't find front ones at the time so I bought rebuilding kits. Doesn't look like these are worth rebuilding.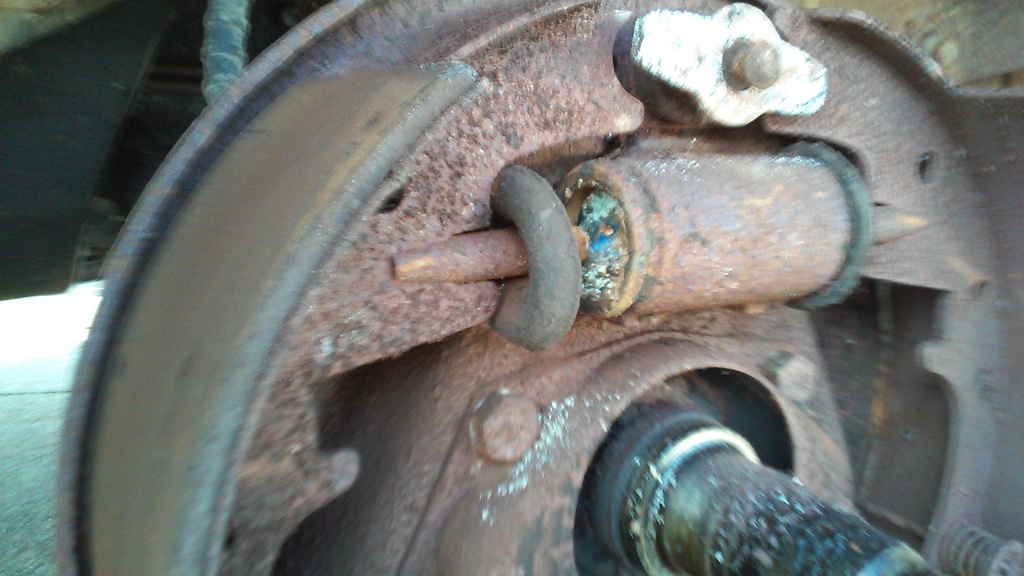 Found a site with old Lincoln parts, surprisingly new front cylinders are $75 :eek: what makes them worth 7x the rears? who knows. Looks like I'm buying them though.
Stripped the rest off.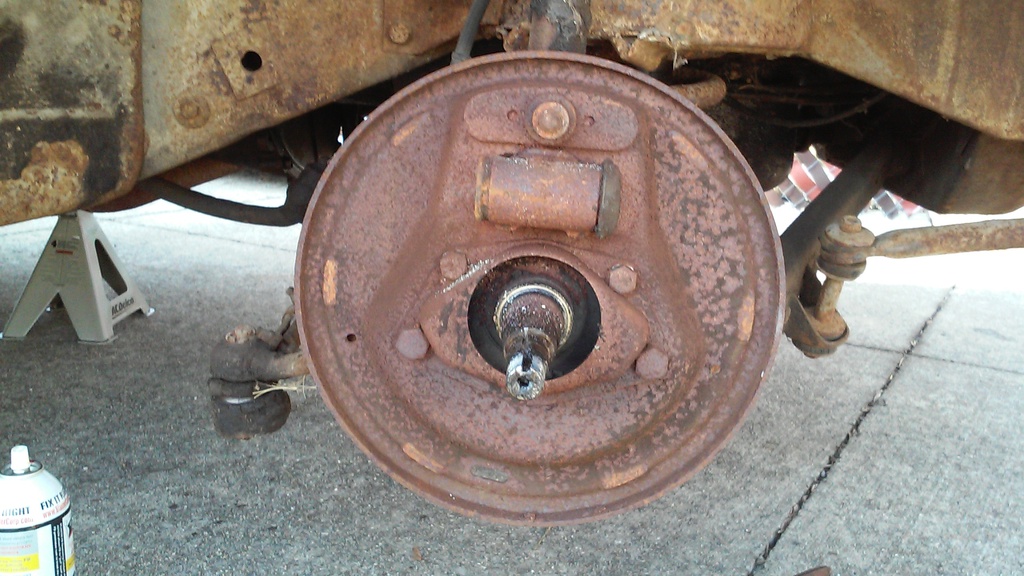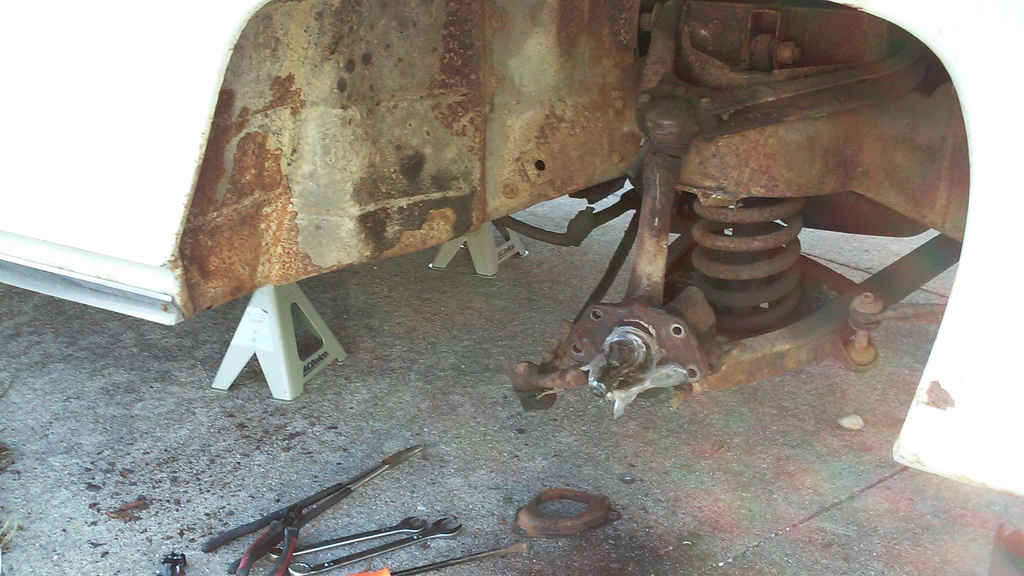 Suspension parts are covered in crud but don't look too bad. Bushings are there but most probably have to be replaced. From what I've seen the bushing costs are similar to other cars. I'll strip/clean/repaint the suspension parts eventually. I read the car was originally designed for airbags. It looks like they'd be easy to install as far as I can tell, but that is a ways away.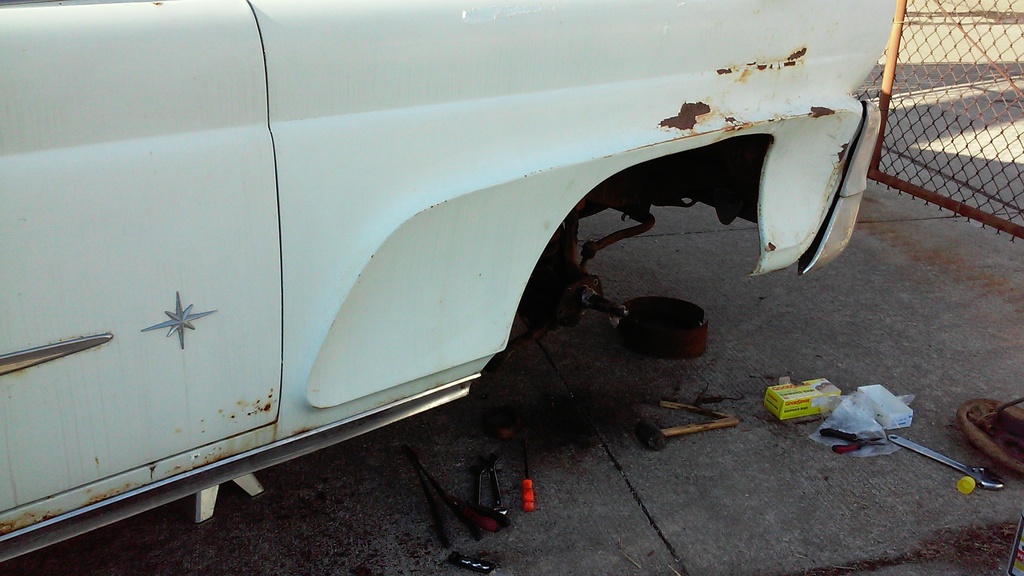 I did the door test (jacked up one side, opened/closed a door on the other) and it worked which was a relief. One of the front jack points was a little crunchy so I lifted by the "frame" on the other side.
Current short term plan:
Prime and paint wheels, have "new" tires mounted
Disassemble rest of brakes, look into restoring drums/brackets
Order new front wheel cylinders
Have shoes relined, hopefully they can check the drums as well
Install new master cyl which I already have in possession
Re-assemble brakes
Hire someone to run new lines, seems like a pain to do myself
Fill/bleed system
Parts I have that need to be installed:
Ignition system
plug wires
uncracked driver side window
Fuel pump
Oil change
Other stuff:
grind and seal floors, dynamat, pad and carpet
grind and seal undercarriage, potential rust repair
refoam and cover seats
Found a guy on ebay with a "new" driver fender (worst one on this car) shiny rear bumper, and uncracked steering wheel. I could potentially get them all for about $1g but I don't want to get too far ahead of myself. Parts don't seem to be in demand so hopefully they will still be there when I'm ready.