Builds
LS1 Miata Build Thread by fourwhls
By stevegolf
You must be logged in to rate content!
5 minute(s) of a 64 minute read
LS1 Miata Build Thread
Compliments of fourwhls @ http://www.roadraceautox.com
I have discussed this build quite a few time on here, but I figured it was time to get off my ass and document it. I'm not even sure this is the appropriate place for a build thread, but since there is so much fabrication and design going into it, it seemed appropriate.
My build started in November 2009 and is still not done.
Procrastination and having a great co-drive for autocross has slowed down the progress significantly. My autocross season is from March to November, note the lack of progress in those months.
My goal is to have it done for my first local autocross in March 2011. I am off work the next week and hope to get a lot done.
The following posts with dates at the top are to get everyone up to speed. Here we go....
11/30/09
***THE OLD***
Chassis:
1992 A-package (Sunburst Yellow with Black Stripes)
131K miles
Hardtop
Autokonexion Fender Flares
Garage Vary Front Lip
APR GTII Wing
'99+ Brakes and Rotors
Suspension:
Ground Control Coilovers (750/450)
Koni Race Spec Shocks
Racing Beat Hollow Front Sway Bar
Stock/No Rear Sway Bar
Polyurethane Offset Bushings
Wheels/Tires:
275/35-15 Hoosiers on 15x10 Keizers for AX
225/45-15 Toyo R888s on 15x9 6ULs for Track/Street
Interior:
17in Ultrashield Rally Sport Seats (Driver and Passenger)
350mm Momo Mod 78 Steering Wheel
Harddog HCDD Roll Bar
Willians 6pt Harnesses
Soft top removed
Previous Driveline:
Coldside Supercharged '00 1.8L (225 RWHP)
5spd Transmission
4.3 Torsen Differential
Starting weight (as described above with the 6ULs):
2264 Lbs without driver
Weight Distribution- 51%F, 49%R without driver
***THE NEW***
New Engine/Transmission (V8R Kit):
ASA Spec (stock car) LS1 5700 engine (Built by Lingenfelter Performance Engineering)
(430HP/430Tq)
GM Raceshop Bottom End
Lingenfelter reliability/performance head work
ASA Spec Custom Cam
Complete Dry Sump Oil System (Peterson pump, filters, tank, Moroso pan)
ATI Super Damper
T56
Clutch/Flywheel (TBD)
Willwood Clutch Master Cylinder
Here's a video of this cam in a F-body LS1: [IMG]http://www.youtube.com/watch?v=uL1OhyPw9Sw
Rear End:
Mazda RX7 Turbo II Carrier
Mazda 929 Differential (3.73)
Mazda RX7 Turbo II LSD (clutch)
Mazda RX7 Turbo II Half Shafts
Miataroadster Hubs
Brakes:
Wilwood SL-6R 6 Piston Front Calipers
Brembo 4 Piston Rear Calipers
11.75in x 1.25in Rotors Front and Rear
Mazdaspeed Miata Master Cylinder/Booster
Wheels/Tires:
23.5 x 11 x 16 Hoosier Radial Slicks (R75) on 16x11 Real Wheels for AX
Track tires TBD
Here's a couple "before" pictures of my car. I have some in-process tear down pictures that I will add later.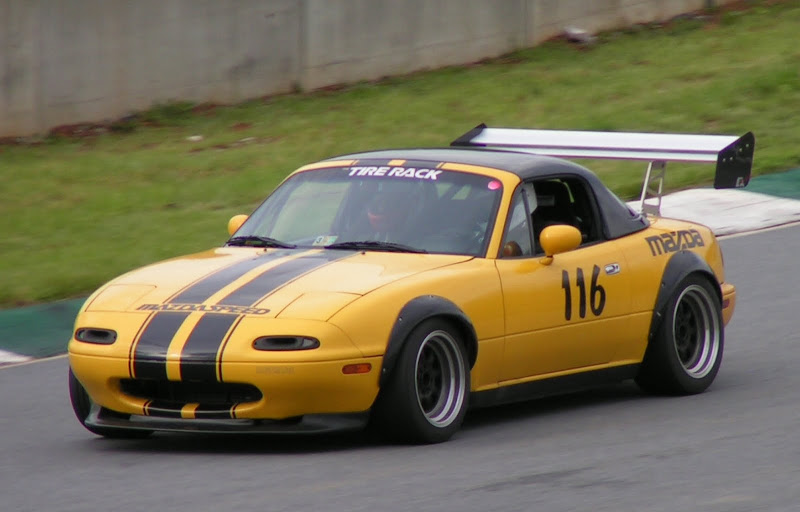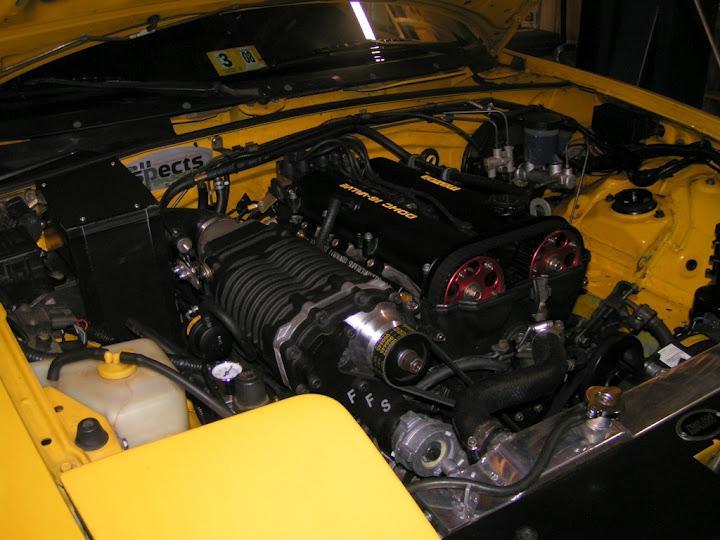 I will try and document the progress here: http://picasaweb.google.com/fourwhls/MiataV8#
Hopefully I will keep the camera handy this time. I said I was going to take progress pictures with previous projects and never kept up. I always got the start and finish, but missed quite a few in between.
12/7/09
The tear down begins....
Now you see it...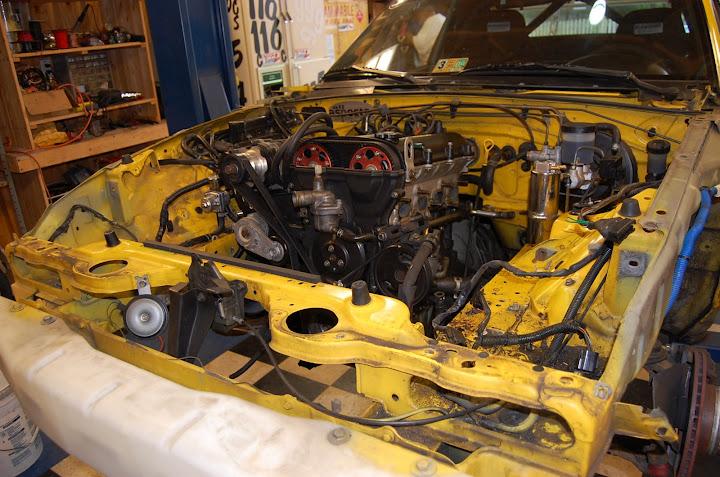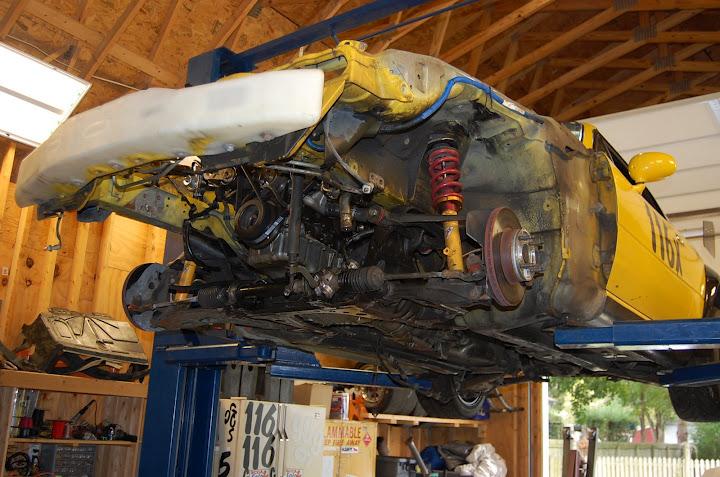 Now you don't...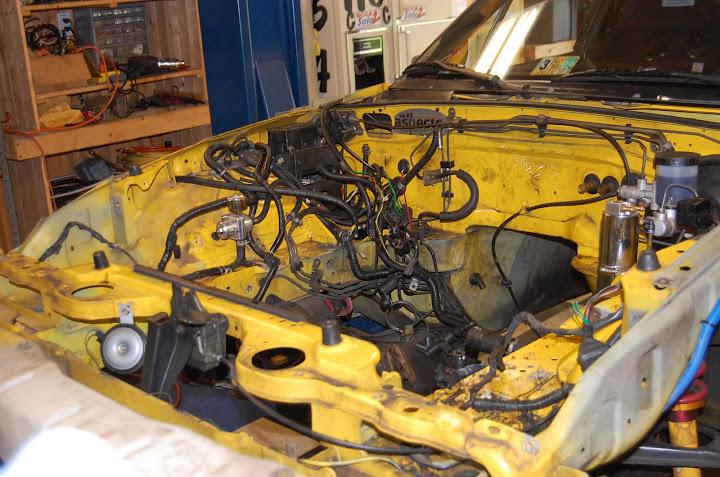 New engine...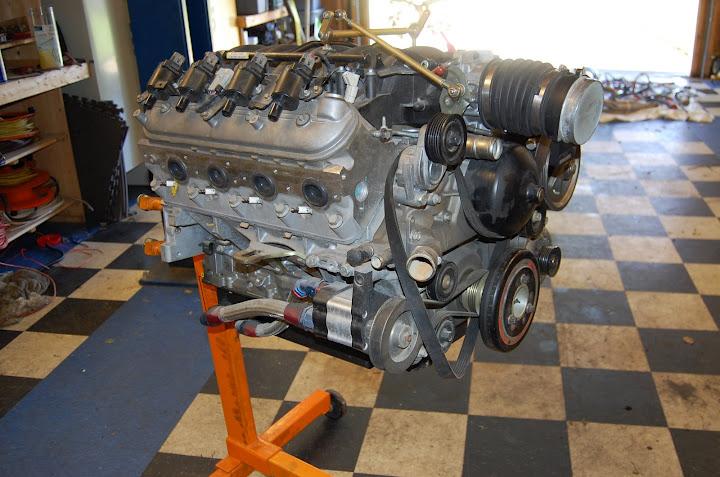 12/7/09
Engine accessories....
I gutted an ASA Stock Car. Stand alone harness, every hose, switch, wire, gauge, oil tank, etc.
I left an empty chassis.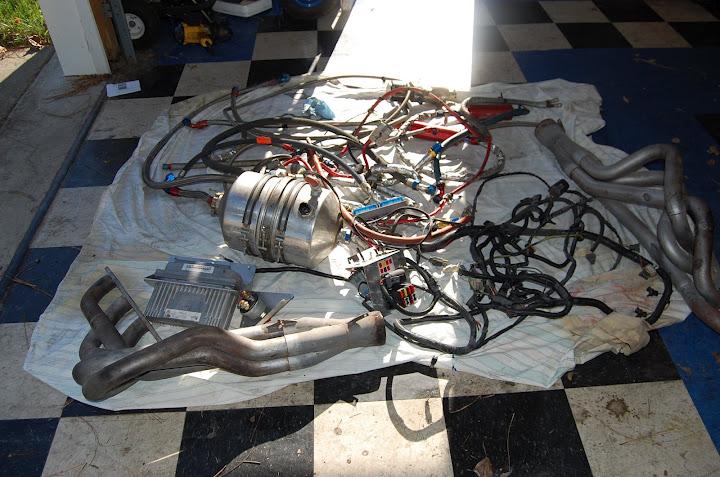 Donor rear end (only housing, limited slip, and half shafts will be used)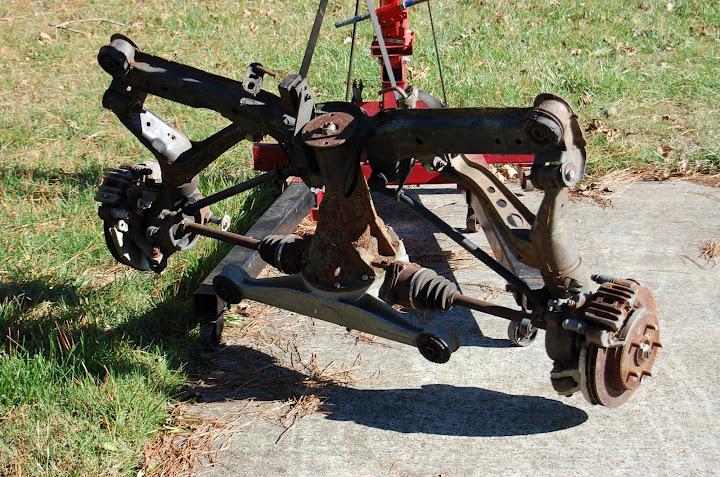 12/27/09
I had a few hours to mess with my car this afternoon.
I drained the gas tank, then removed all the fuel lines. I then starting cleaning up the last few items in preparation for starting the tranny tunnel cutting and got completely side tracked.
I decided I wanted to get rid of the trunk release and gas cap release from inside the passenger area. I had a set of hood pins sitting in the garage, so I pulled out the drill and went to town. I completely removed the trunk latch as well as the release cable.
I then got a little creative with the gas cap release. My initial intention was to leave the cable in the trunk and open the trunk and pull the cable to release the gas cap. I thought it through and decided to go a different route. I built a custom mount and put the gas tank release where the driver's side license plate lamp would be. I can now release the gas cap from the outside. Kinda overkill, but fun.
Here are a few pics.