Hill Climb Car - Converting Into - Tarmac Rally Car by warning634
By diyauto
You must be logged in to rate content!
Hill Climb Car - Converting Into - Tarmac Rally Car
Compliments of warning634 @ theminiforum.co.uk
11-30-2009
Hi all

Well i thought it was about time I put up some details of my new project. i have bought an Ex-steve harris hill climb car. It competed at the gurston hillclimb in 1994 and won the championship. it was then sold and came to jersey in 1997

here it is on the Bouley Bay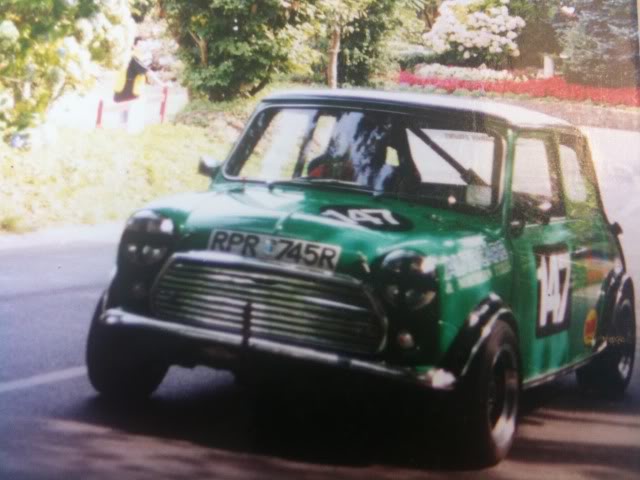 And here it is at a local mini show (can any one tell me what carbs are fitted?)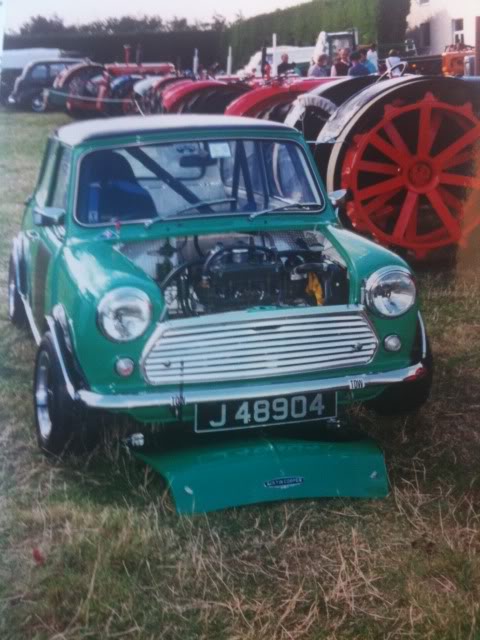 I will be making various changes to the car so I can compete in Jersey's 2 day Tarmac rally, the car is fitted with a Harris Motorsports engine which i have removed from the car along with the fron subframe. The engine and gearbox will be sent back to Steve Harris for a full rebuild.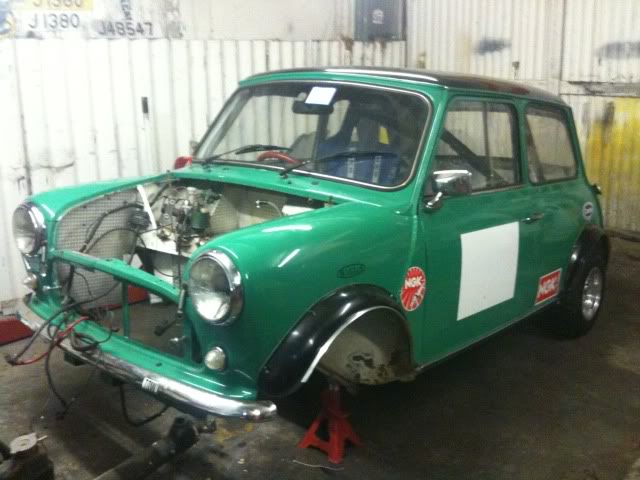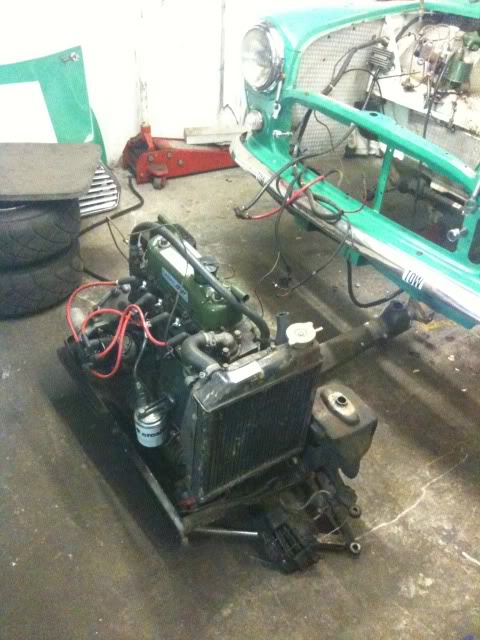 I will be making some upgrades like mappable igintion, alloy raditor, fully ajustable fron suspension, Spax motosport shocks, full multi-point cage, front and rear subframes to be gusseted and welded, heated front screen and a few other bits



Any way this weekend i started to clean up the front floor pan (as it seems either the clutch or brake master clyender was leaking), so i used an angle grinder with a twisted wire brush to strip back the paint, i also removed all of the metal tags which use to hold the wire loom in place.

Front floor pan cleaned up and in primer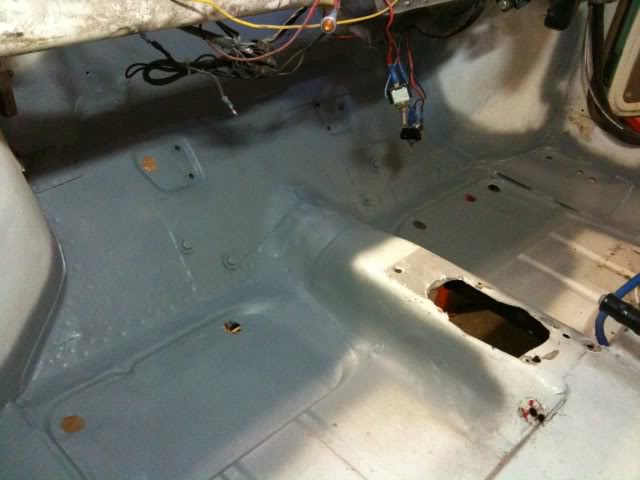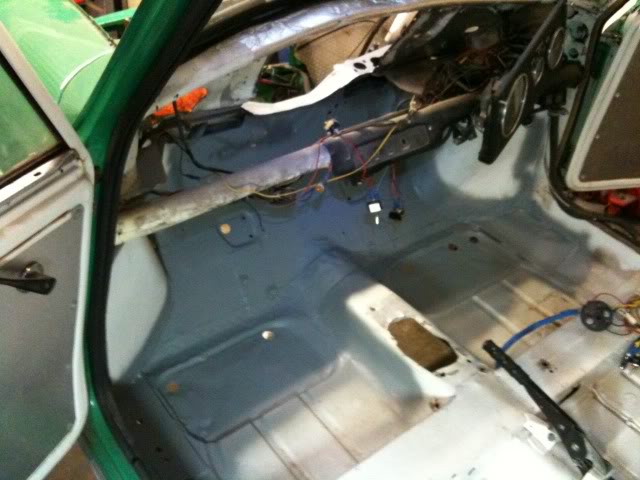 I was no too happy with the weber box which was installed (a home made job) so I decided to rip it out, once i had drilled out the rivets which held on the diamond plate, i could then start to remove the weber box. i though I would have to use an angle grinder, but it was only held in place with 4 large rivets

, so the bulkhead was no way sealed from fulids.

Old weber box removed, no idea why there is a fiber glass patch??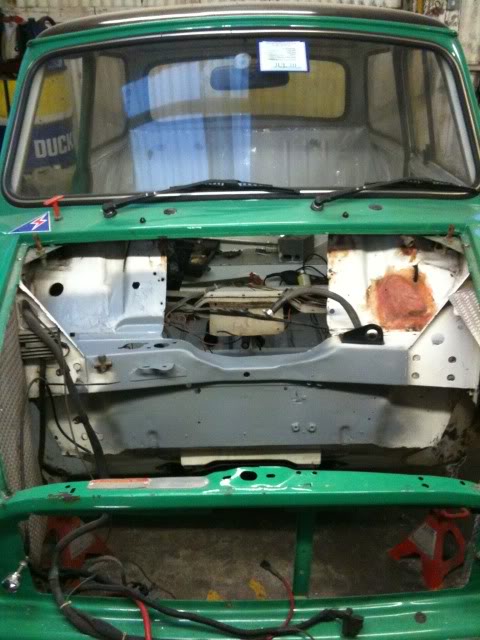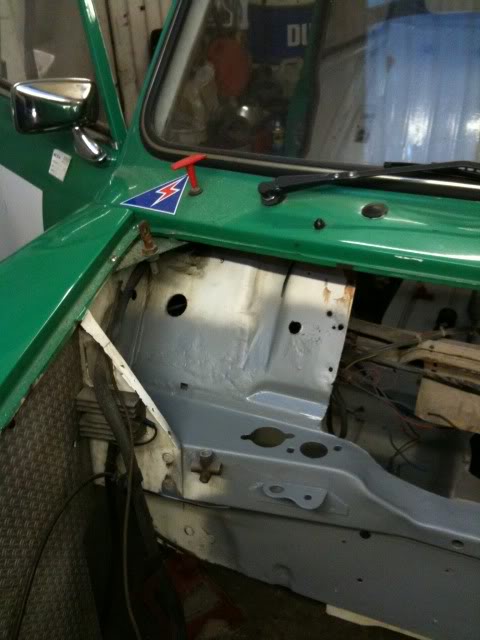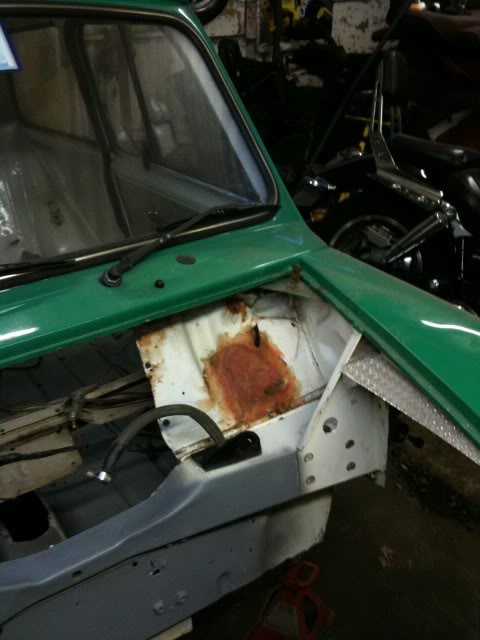 What i'm thinking about now is whether it fit another weber box, or to construct a miglia style bulkhead?? any one done this conversion before.

Any way thats about it for now.

Let me know what you think, on my new project.
12-2-2009
Hi all

So i have started to cut out the bulkhead, so i can make a new miglia style bulkhead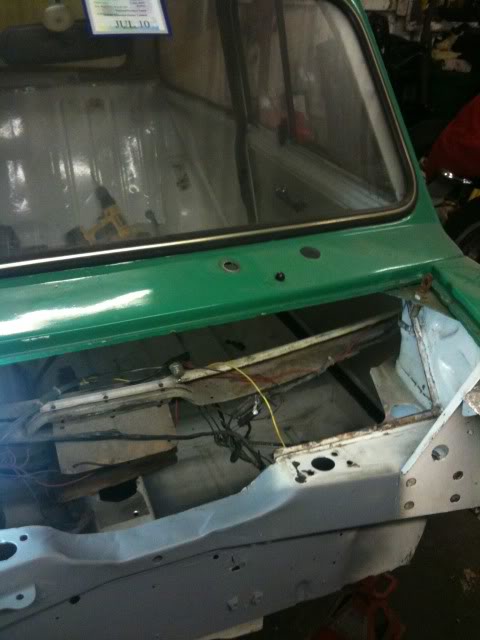 Next I will start to make a template for the new bulkhead



Any one know where i can get hold of new bushes/mounts for a rear antirollbar, i have been told it's a janspeed antirollbar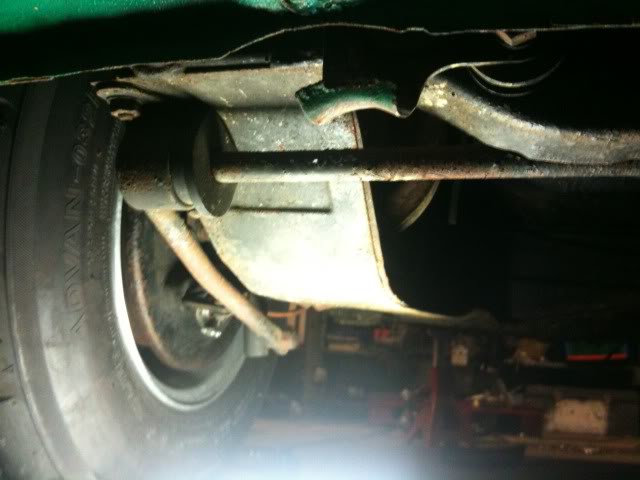 And check this out, what the hell are these bolts sticking out of the head (next to the spark plugs)??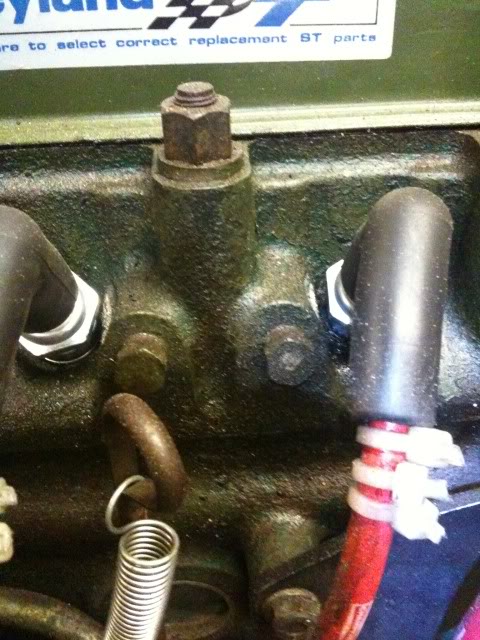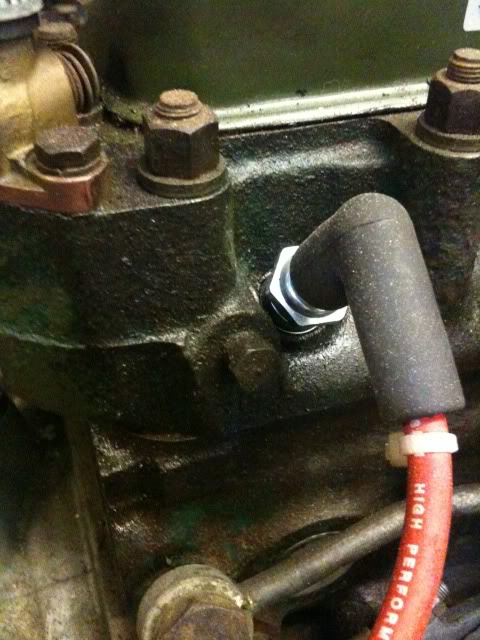 oh and some new bits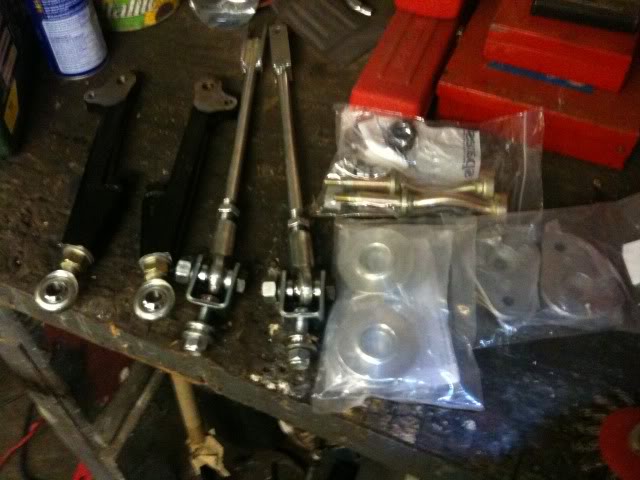 2-18-2010
Not much has happened of late, I do now have the multi-point rollcage to fit and I just need to remove some bracing that was welded in and I have a very good mate who will make my custom full length air box, I also picked up a nice dash as well cheers Lewis.

I have also received in the post two large orders from minispares and Peterlloyd rally, we are talking:- yellow spot suspension cones, uprated drive flanges, uprated steering arms, carbon metalic pads, seals and S.S brake pistons, revotec electric fan kit, uprated lower suspension bolts, lowered top shocker mounts, 2x Corbeau sprint seats, nicky grist 4 point harnesses, side alloy seat mounts, 2.0ltr hand held fire extinguisher and 2.25ltr plumbed fire extinguisher, I think thats about it



I will be at my garage tonight so I will take some pictures.

Nexted on the order list a ETB Digidash, Longacre switch panels, ETB circut breakers, alloy rad, spax motorsport shocks, revotec hoses, heated front screen.

Things are going to shift into high gear now.
2-19-2010
Hi guys, thanks for showing your interest in my project, here are some pictures.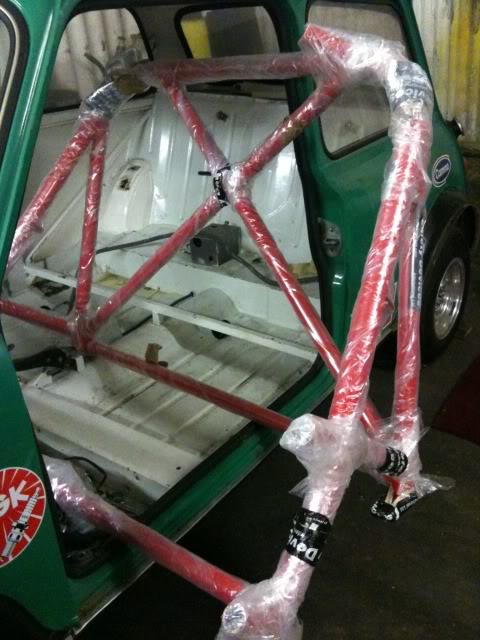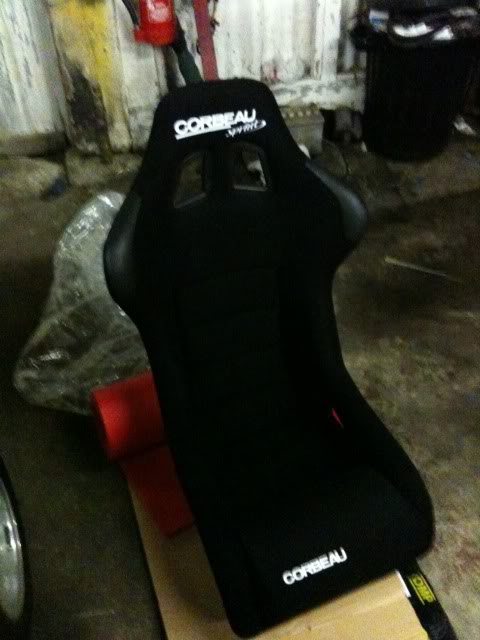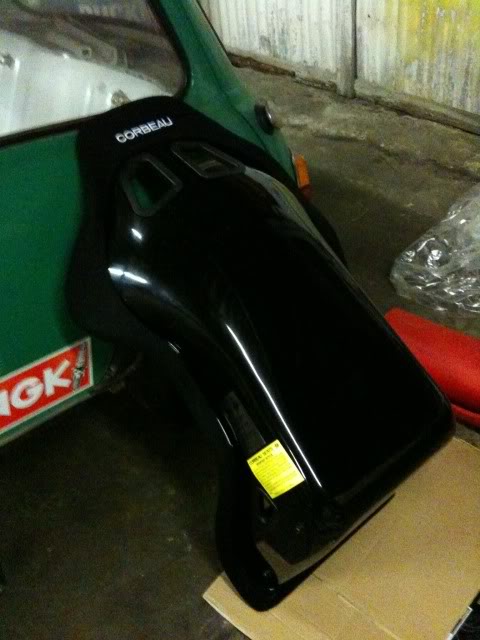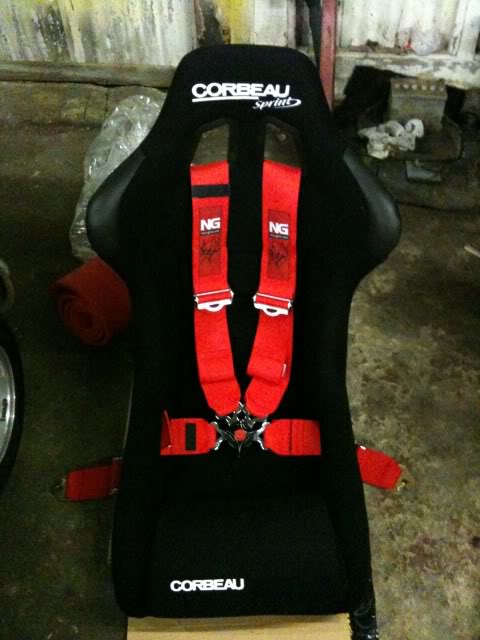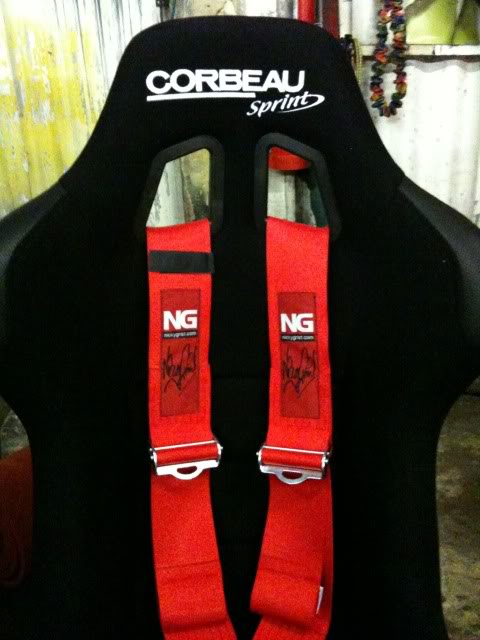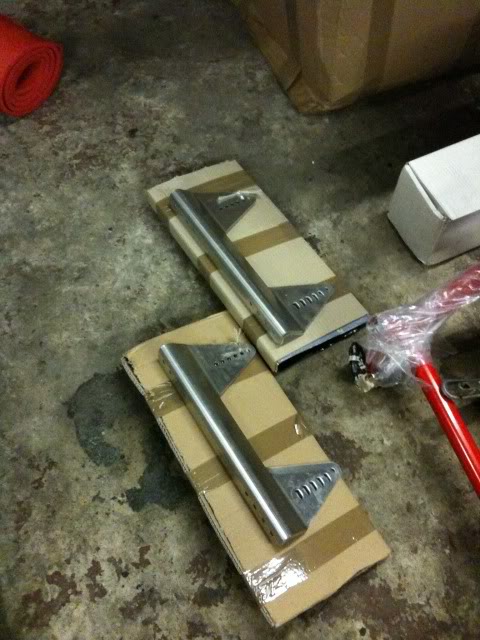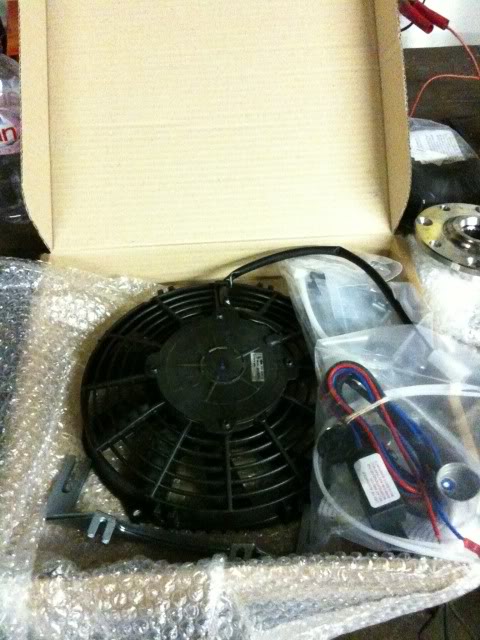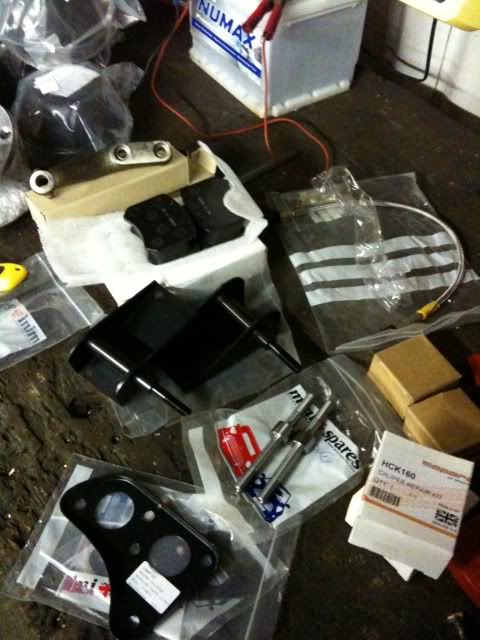 2-20-2010
I did a dry run of fitting the roll cage, oh man I had no idea how much work was involved in fitting a multi-point roll cage. Has any one got any advice or things to watch out for when fitting.

Any way here are some pictures,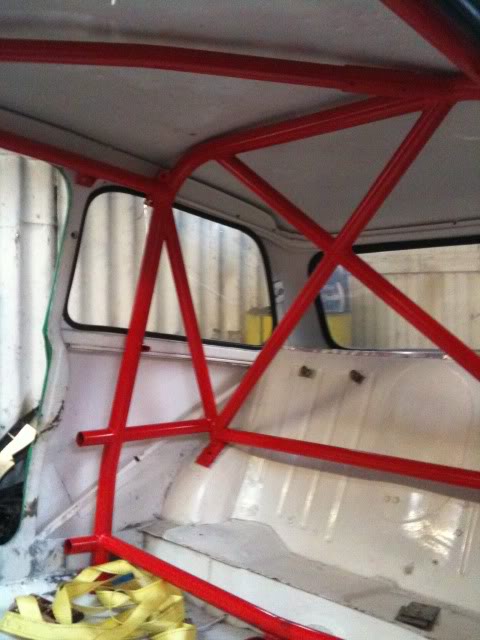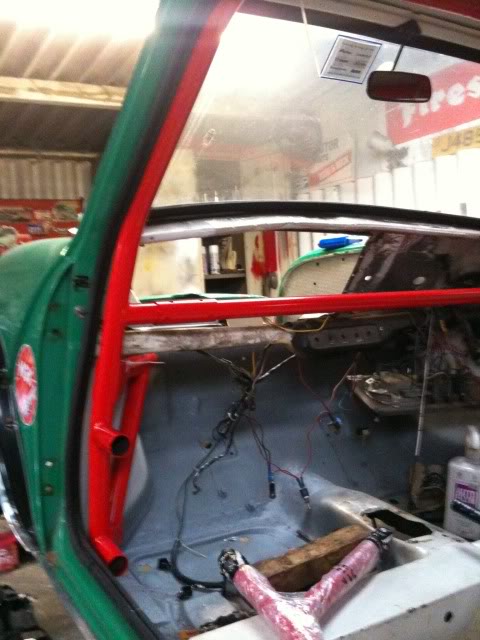 2-24-2010
Should be doing some more work over the next fews days. I think I will go and purchase a Mig welder as well...

I have also ordered some more bits today from MiniSport and Rallynuts:-

Monte Carlo heated front screen, grooved hi-spec cooperS discs, sportx rally exhaust system, weld in OMP seat mounts, OMP spare wheel holder, ring eye bolts and FIA spec plates for the 4 point harnesses.

So I will mock up the rest of the rollcage and get that ready to weld in the plates and the other multi-point sections, then I should be ok to get the seats in to get the seat mounts welded in

3-7-2010
A bit more work carried out on the mini thhis weekend, got all of the cage in place ready to get every thing marked up for drilling and welding.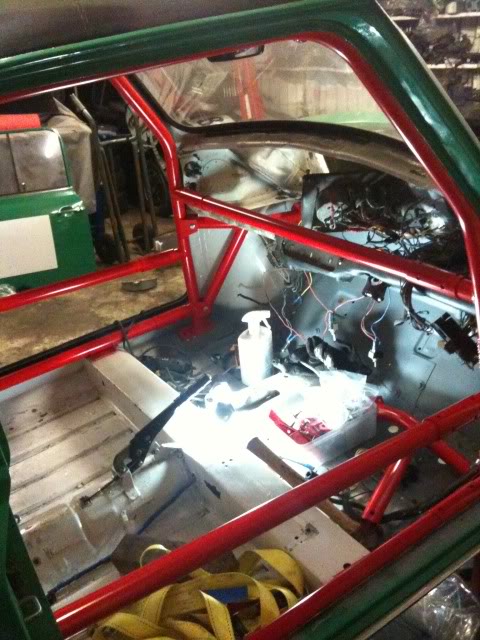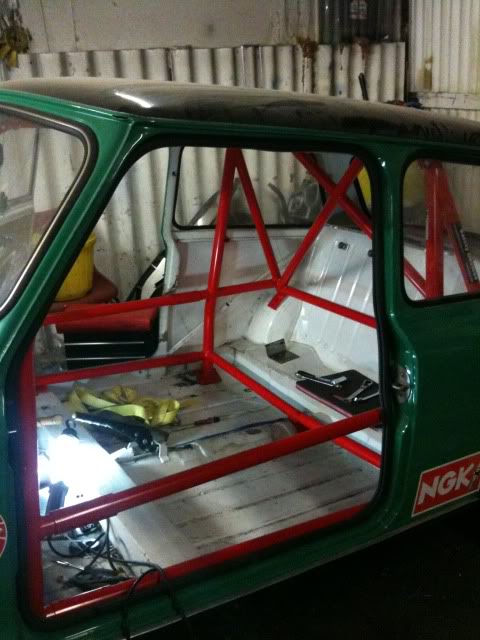 I'm not looking forward to drilling all of the holes in the door/dash bar sleeve's, thats about 44 holes I have to drill



Thanks to Mark for the subframe. I did a spot of welding this weekend as well, I copied some of the subframe strengthening pictures from the Bill Sollis book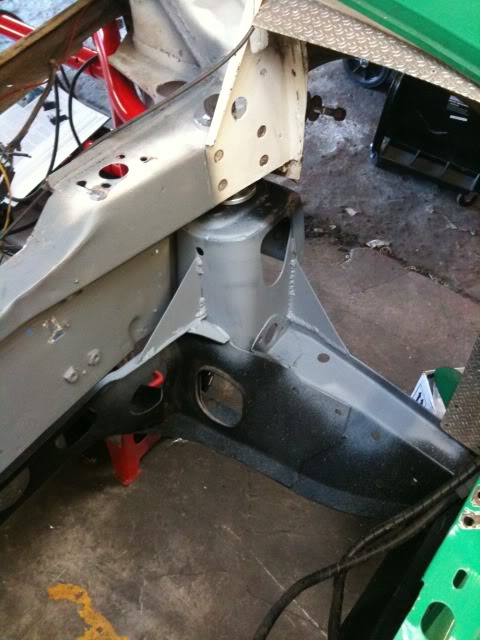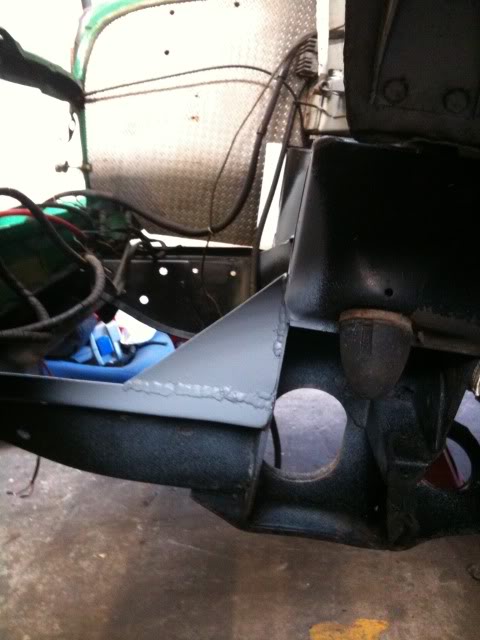 (please not comments on my welding lol)

A few more bits turned up, like these weld in seat mounts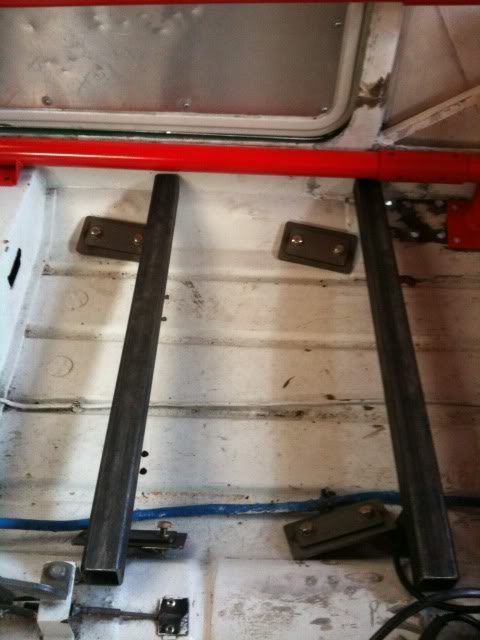 Any way cheers for now.
4-19-2010
right then I have now completed the subframe and toparms, finished off in tough coat black paint. I also rebuilt my hubs and calipers.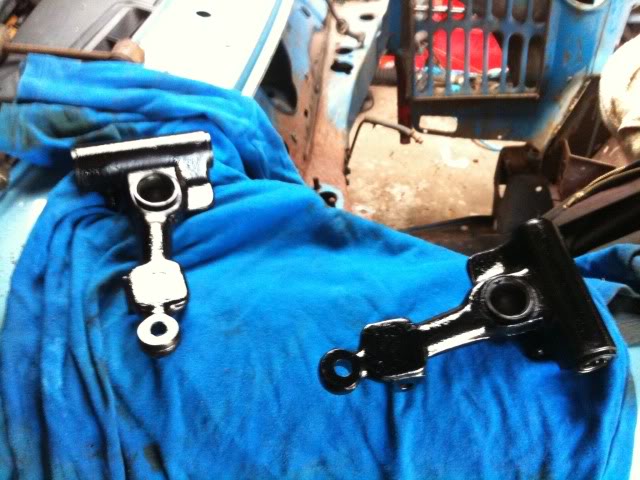 I should have it as a rolling shell by this weekend.

Then I will rip the rear subframe out!
4-22-2010
Hi everyone

right I have now welded extra metal plates onto the tie bar mounts, thanks GraemeC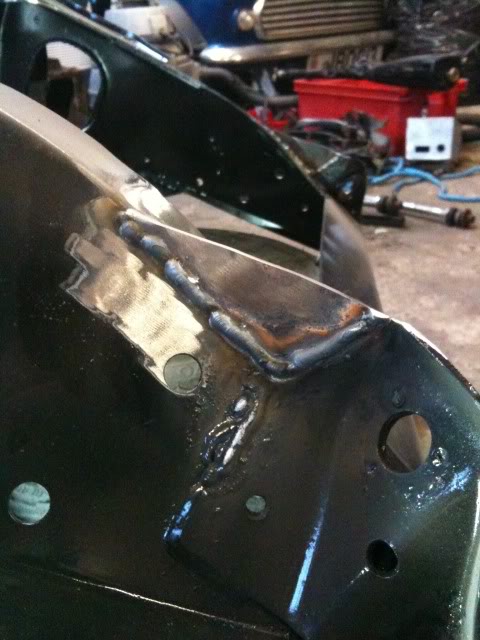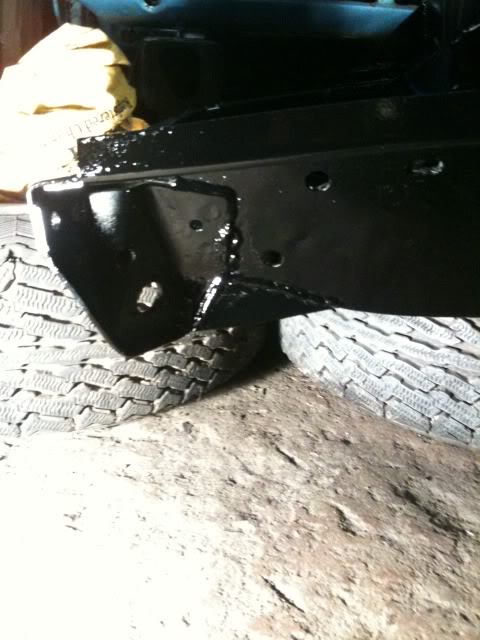 I also started to play with my new Kad bias assy, also almost finished off my hubs, just need to order some new bolts and wheel bearings.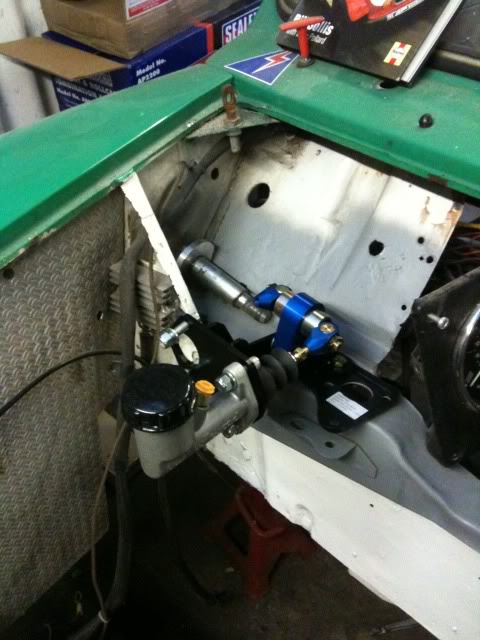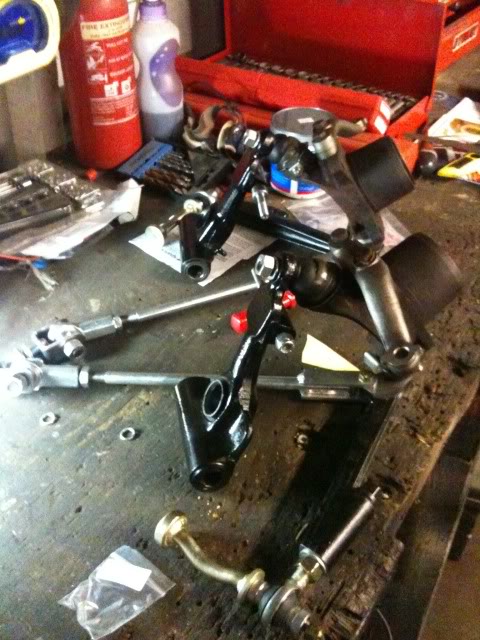 any way many thanks for your comments.
2-16-2011
Well it's been some time, and this has been due to purchasing a house so money and time are both in short supply.

But don't worry I don't have to sell the mini! Right update then, well the front subframe is now bolted on, with the front hubs with suspension temp in place. On replacing the top shock mounts I found rot behide the drivers side shock mount, so that will need to be repaired:( the rear sub frame is out stripped, gussets and seam welded just needs a coat of paint. I bought all new stainless bolts gor the rear subframe and uprated bushes. While on the subject of rear subframes one of the bolts which locate into lower part of the sill has snapped off, I have tried an easy out, with no joy. So what is the best way to remove either the snapped bolt or the rusted nut (oh by the way I have also removed the outer sill on ge same side which the bolt has snapped)

Yer I noticed that the l/h sill was looking a bit iffy, so I took an angle grinder to the under body seal, and found rot! So I'm now replacing my first mini sill, so any handy hints you can pass my way would be great.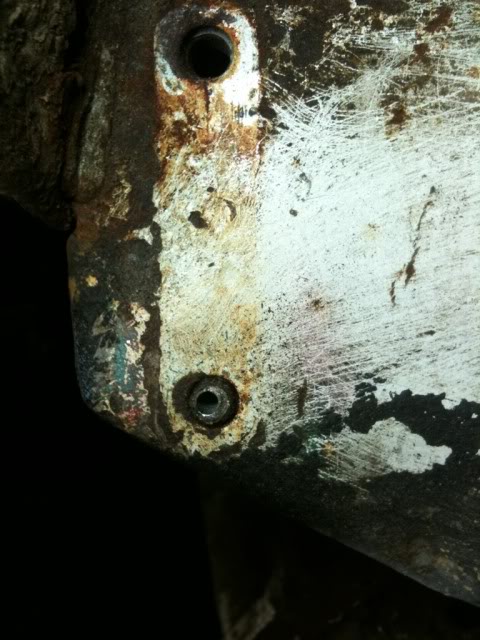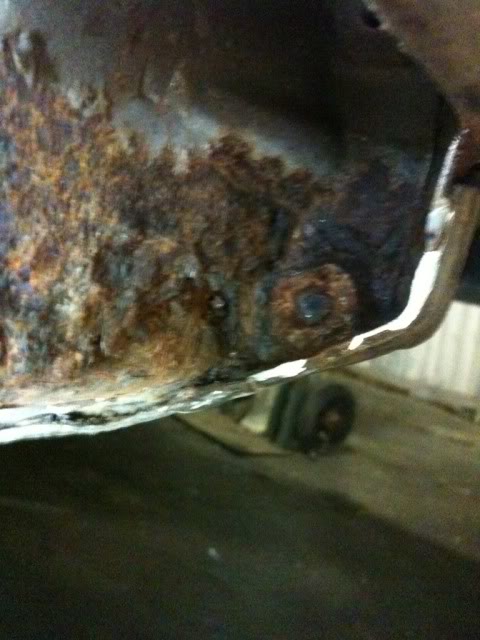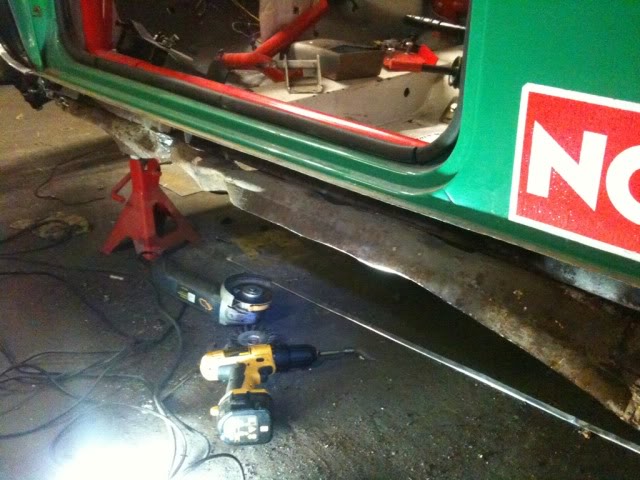 Any more updates to follow.
3-5-2011
Hi all

Right then, well after buying some correct tools for the job (spot welder drill bit, aviation metal snips)

I have now managed to remove the sill. I also cut out the rot on the inner sill near the heelboard, and welded in some new metal. While I was attacking the rot near the heelboard I removed the lower subframe nut (as the subframe bolt had snap), I then welded some new metal to the inner section of the heelboard. I then welded a new nut to a repair washer, and then welded this to the inner section of the heelboard.

Then I fixed into place the new sill for a trail fit, and all is good.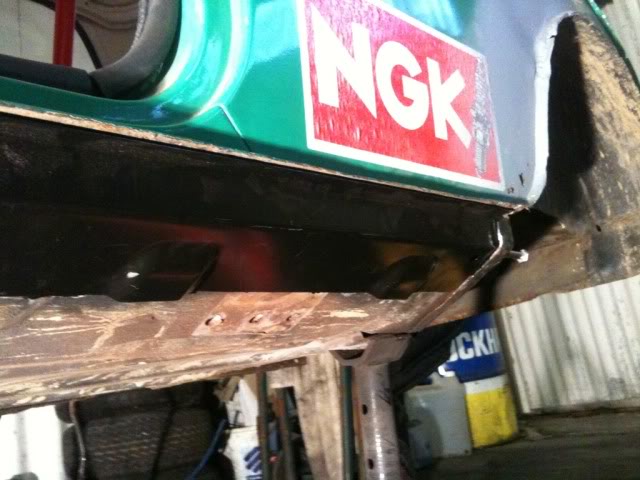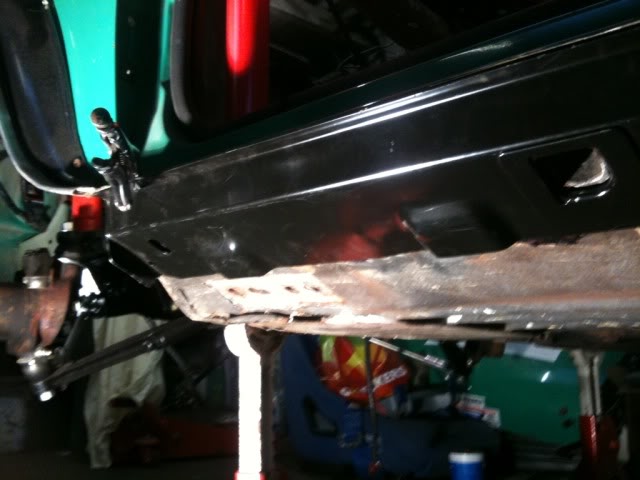 I will be ordering a few more panels, clutch parts, head gasket etc

More updates to come
3-24-2011
Right then, I have almost finished fitting the sill, I just have a little bit more welding to do, then grind down the plug welds, prime it then stone chip it. I also cut out the rot in the inner wing and inner sill.

This is the repair on the lower section of the inner wing, the welds have been cleaned up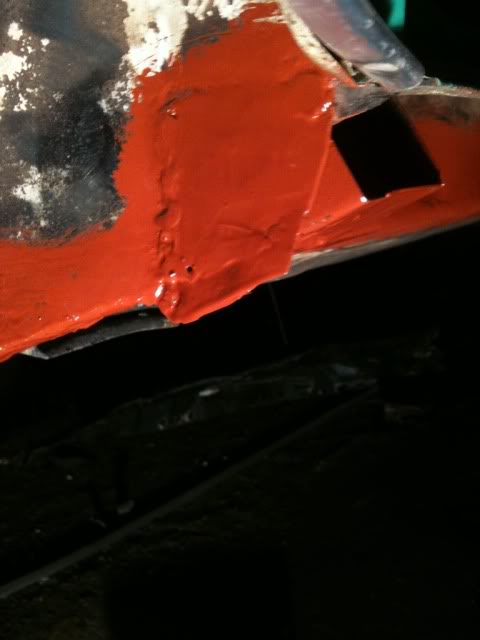 Here is one of the brackets I had to make.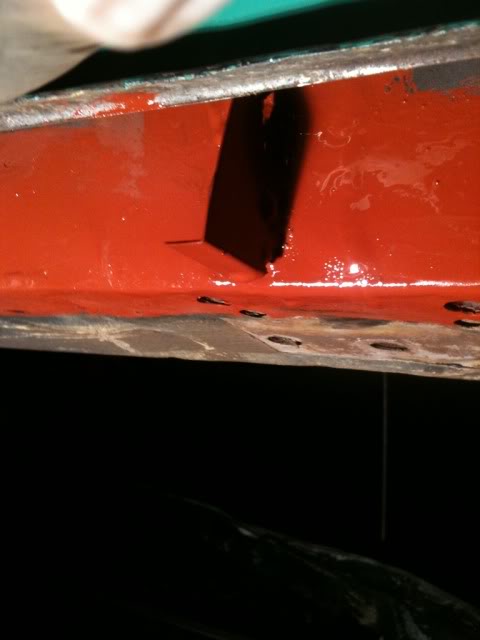 And here is the new sill all plug welded in place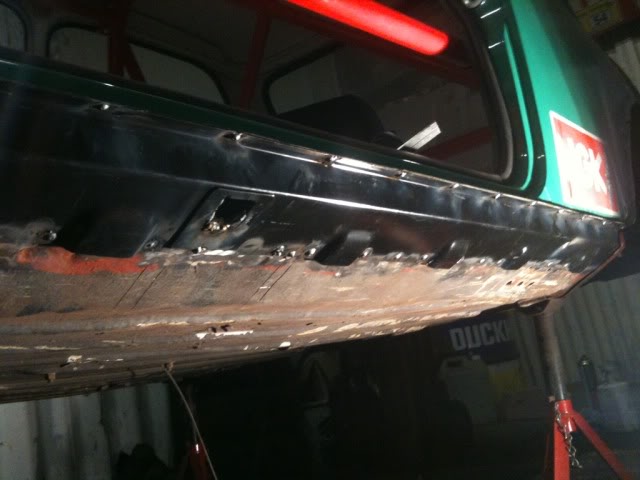 And the rear subframe is now ready to be built up and fitted back on


Any way that's it for more updates soon.
4-12-2011
Hi all

Right then I have finished off the sill, and if I do say so myself for my first time in changing a sill I'm really happy with it.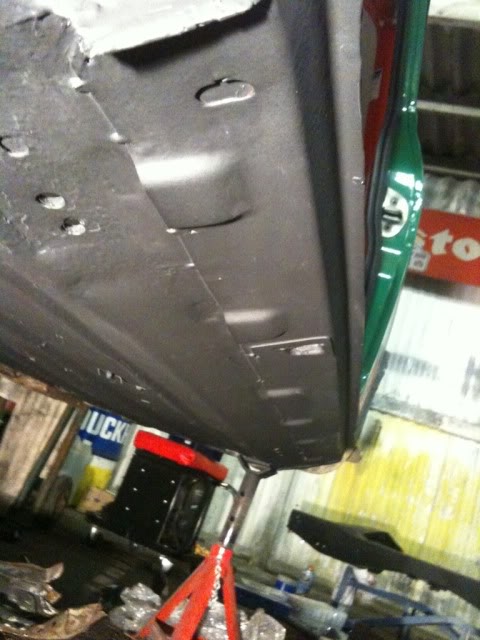 Next on the list is the rear subframe which I have now seam welded and added some gussets.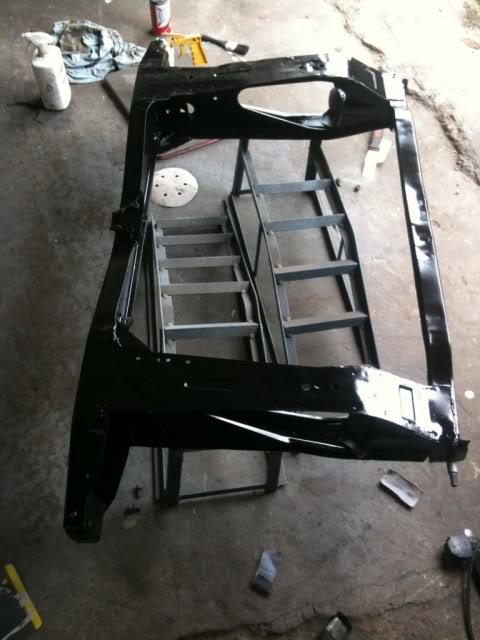 I have bought a full stainless steel bolt kit from eBay. The rear arms I have cleaned up added new braided hoses.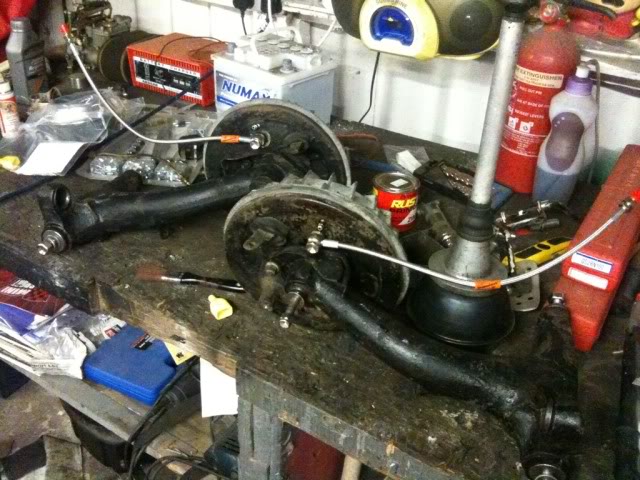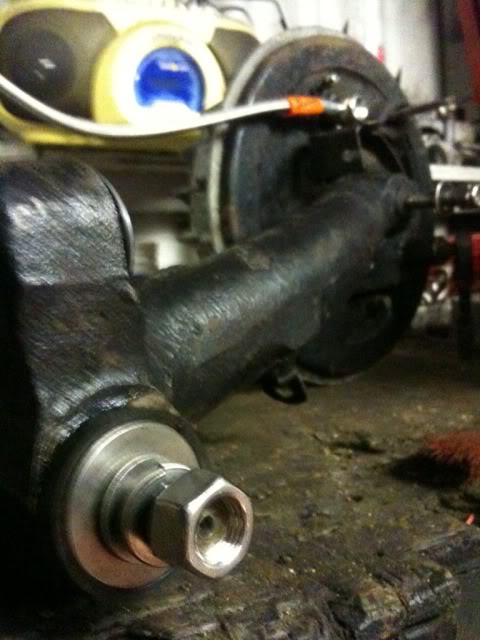 I'm now just waiting for some alloy billet rear subframe mounts from DSN Classic.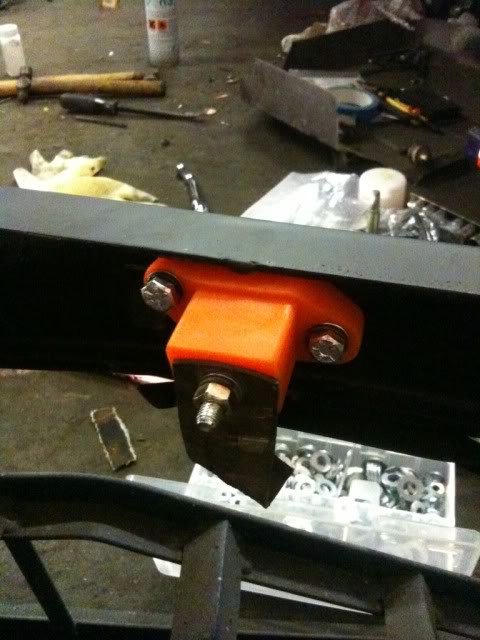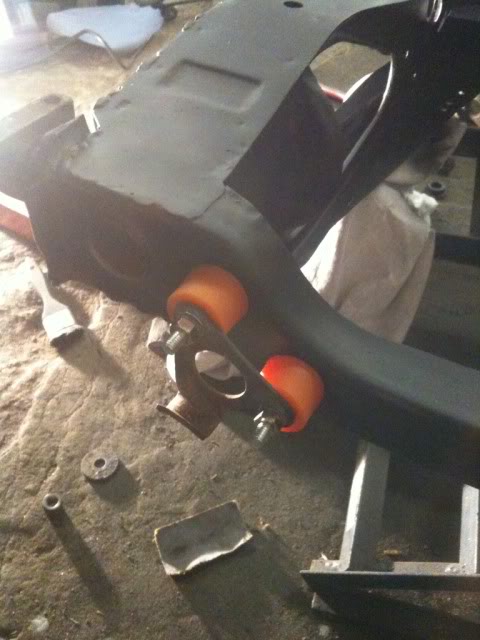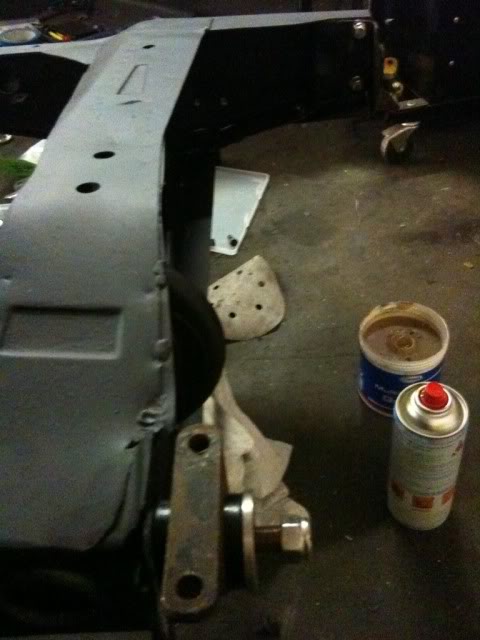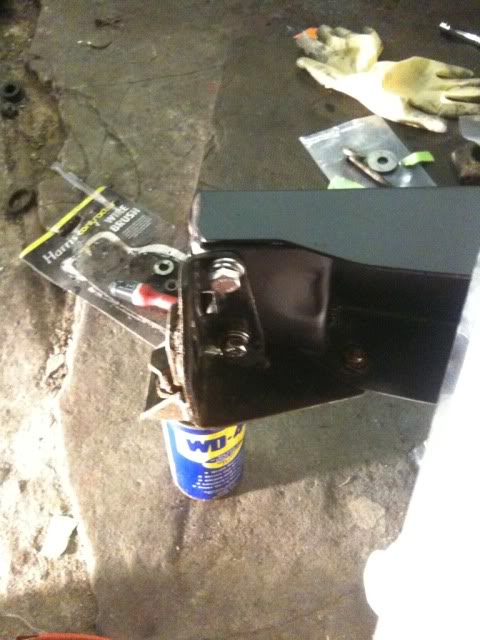 I also fitted my grp A tie bars, so the ones I have removed will be for sale.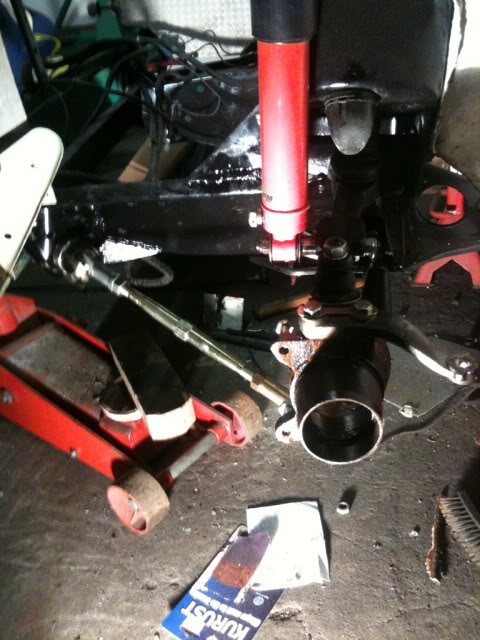 So it's these tie bars that will be up for sale.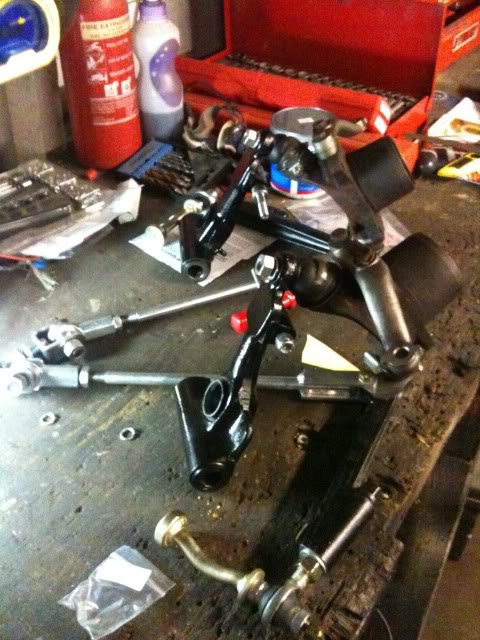 That's it for.
7-16-2011
Hi all

Details to follow;)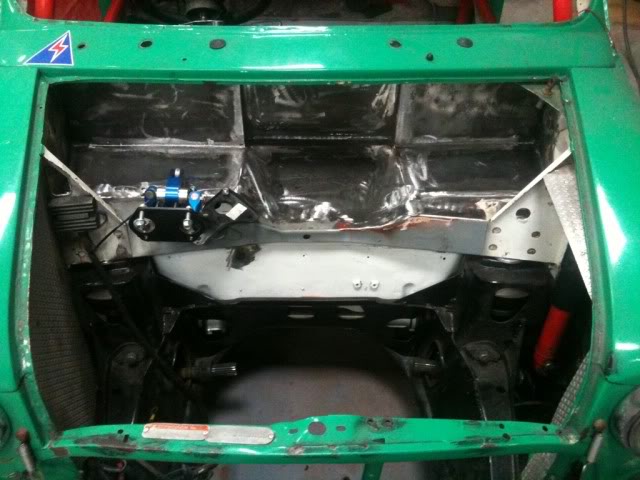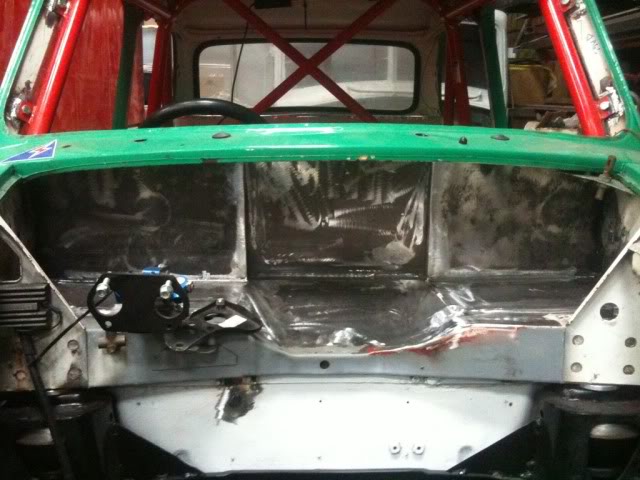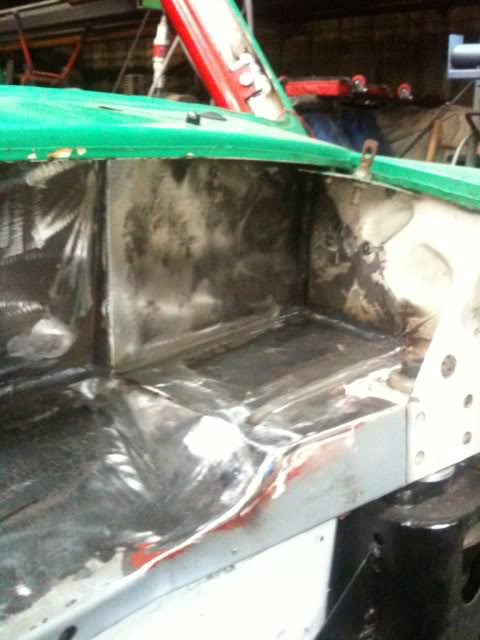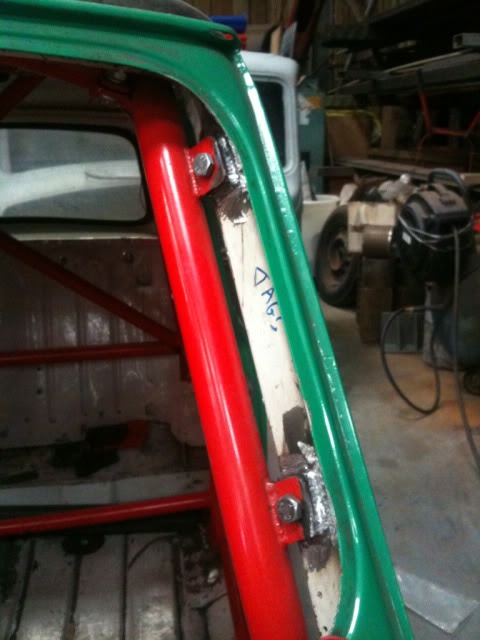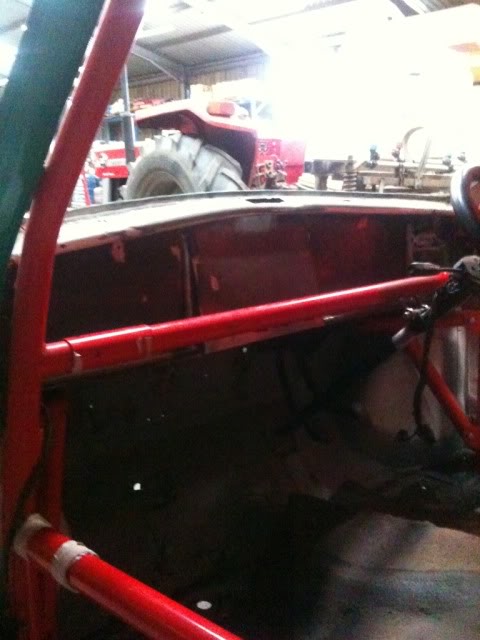 9-27-2011
Hi all

More work has been carried out, I removed the rear subframe to fit new rear adj brackets. Once done I then refitted it and started to fit the new brake lines.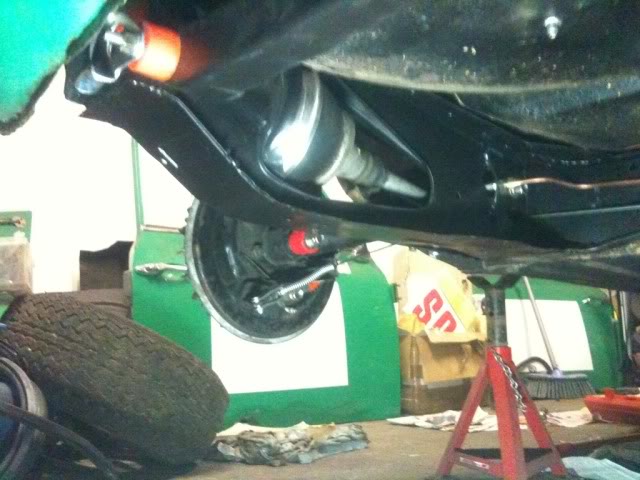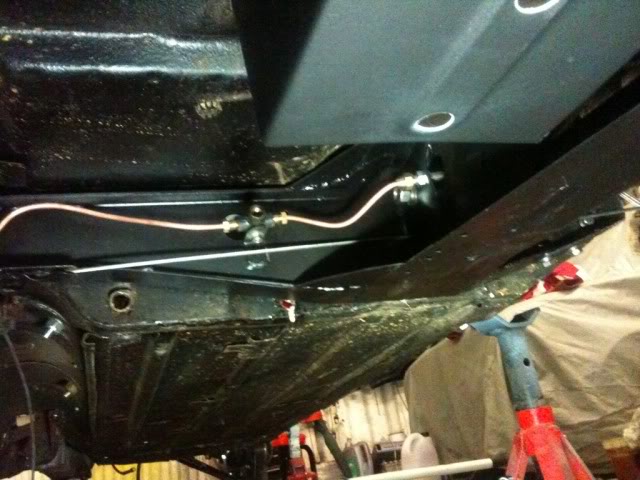 I have now welded in the wiper motor support and sprayed the new bulkhead.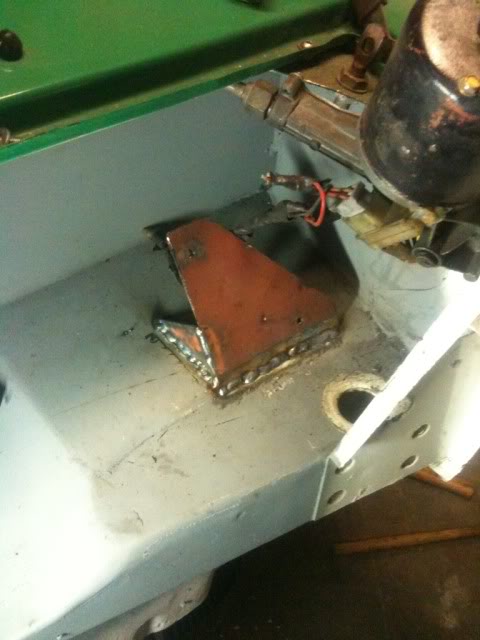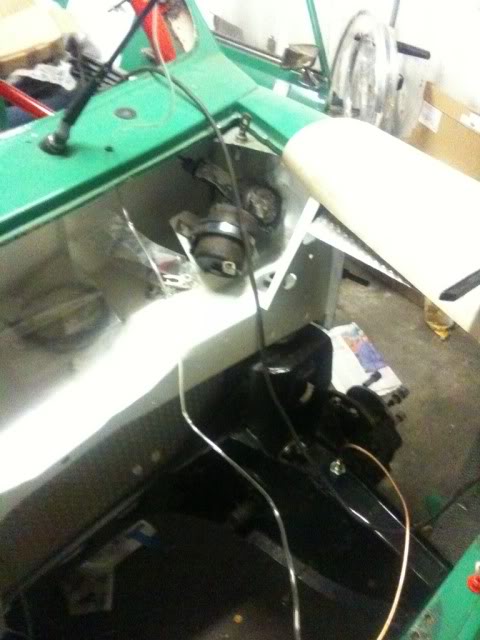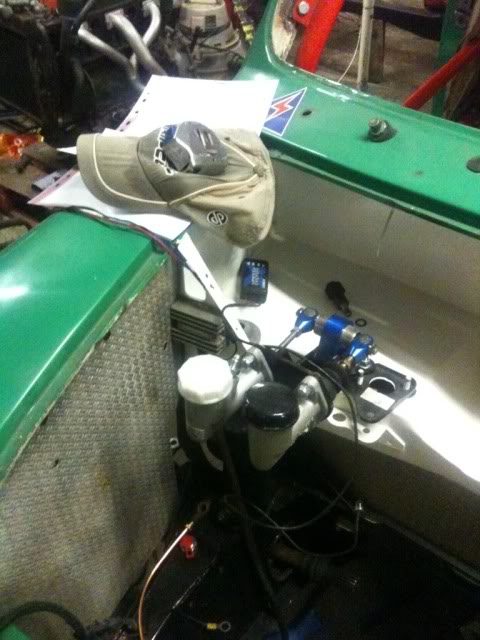 And the dashboard and inside of the car is now taking shape.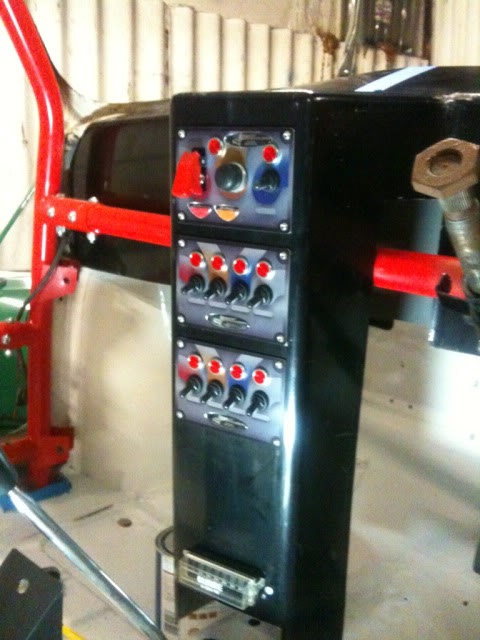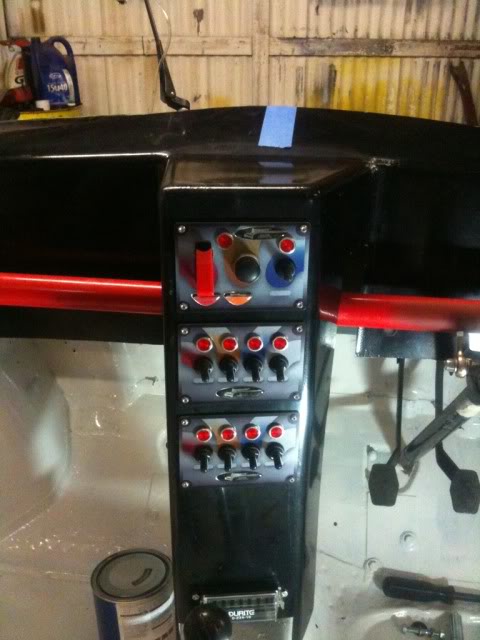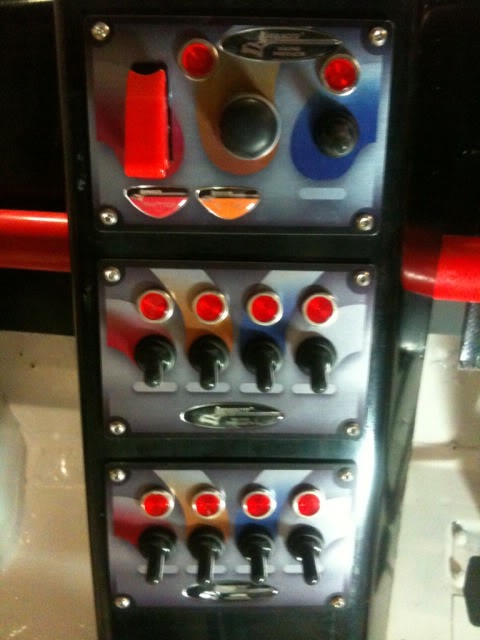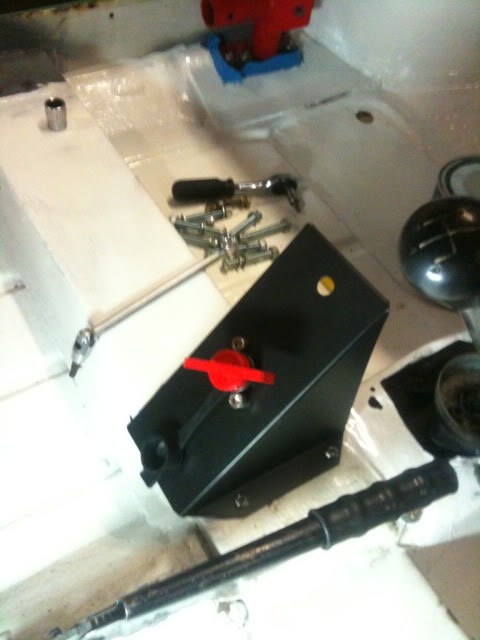 Going to order a flocking kit for the dash, I now also have a megajolt system to fit as well.

More updates soon.


2-5-2012
Hi guys

Well it has been a long time since I have updated my mini build.

First thing is that I have now brought my mini home:)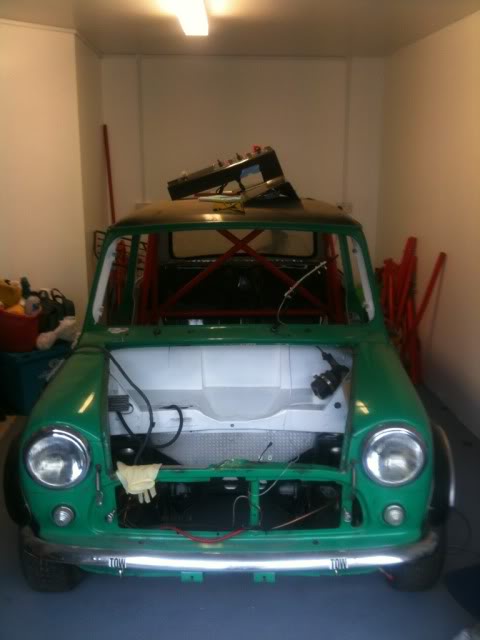 So, I pulled the entire rollcage out so that I could reprint the inside of the car and do some tidying up the interior of the car. After it was all tidyed up i fitted my new rear carbon fibre rear panel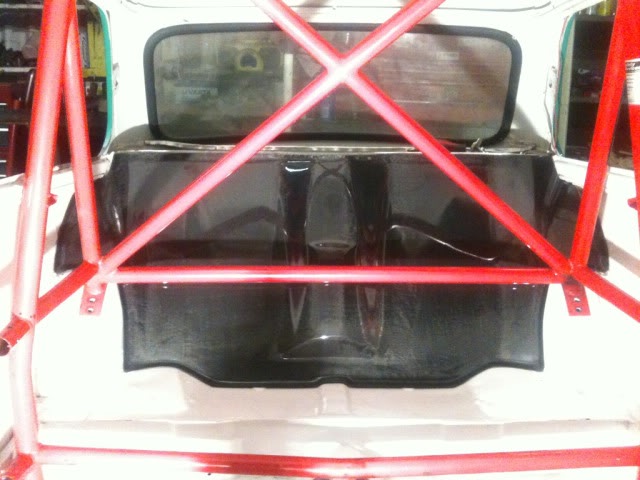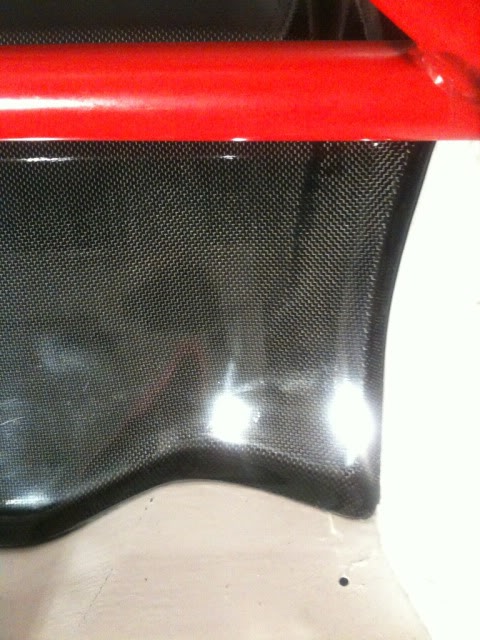 looks pretty sweet :)
Once fitted, I then bolted in the rollcage, which took some time.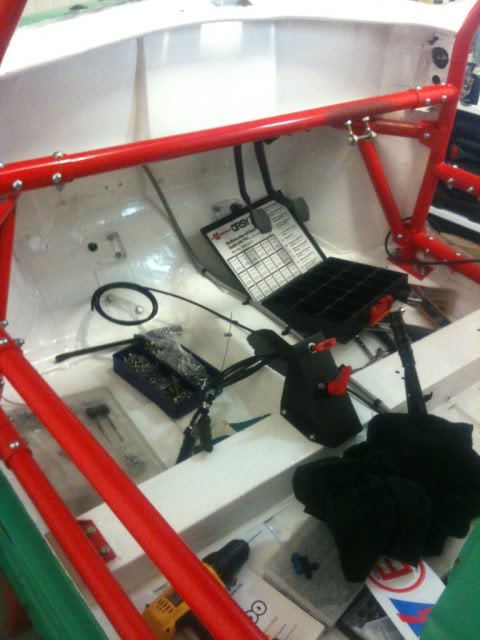 I then started the job of fitting the fire extingushers, fuel line and pull cables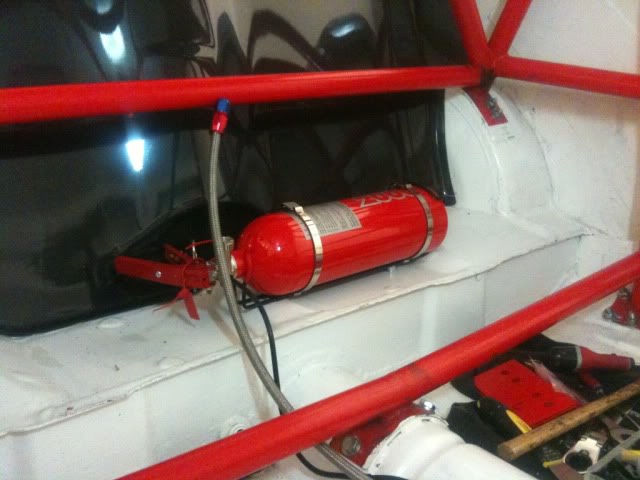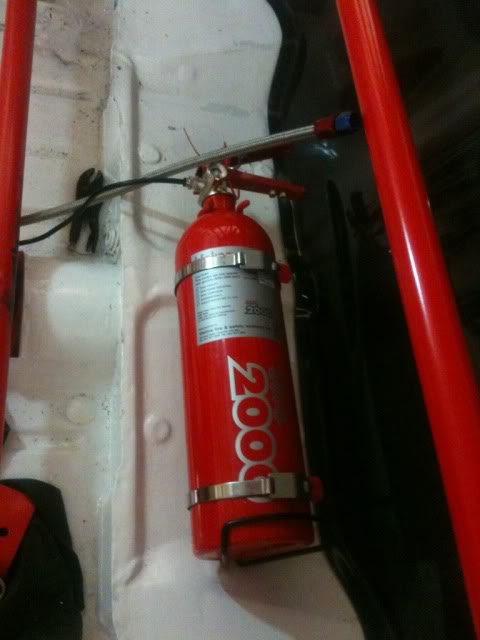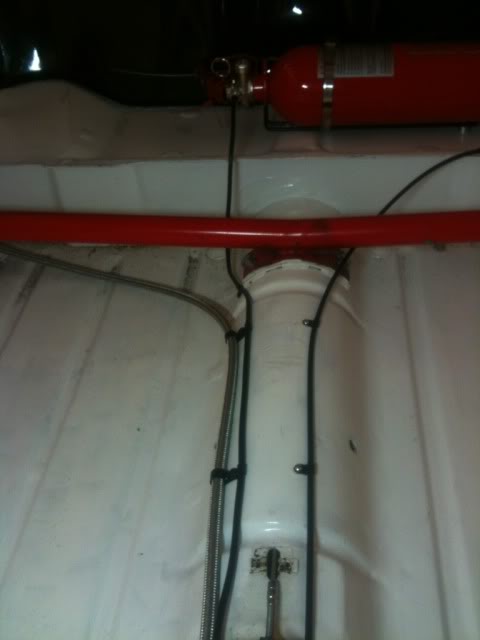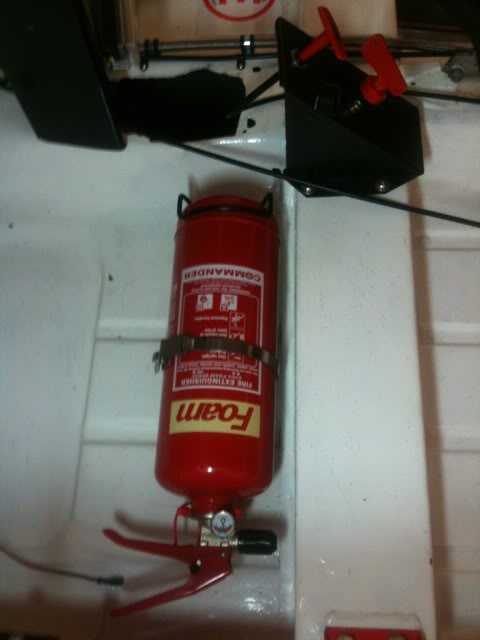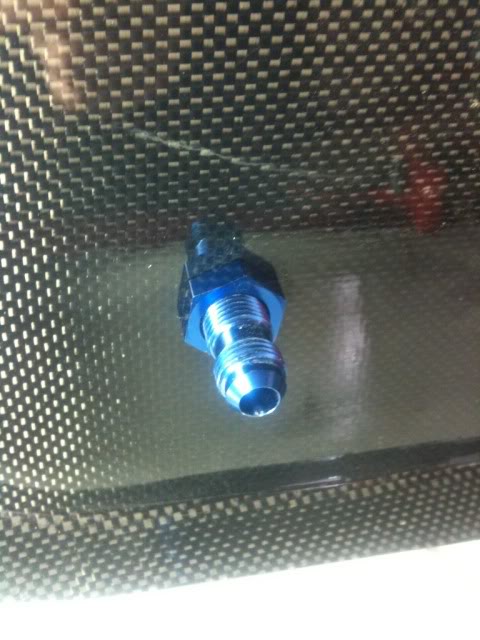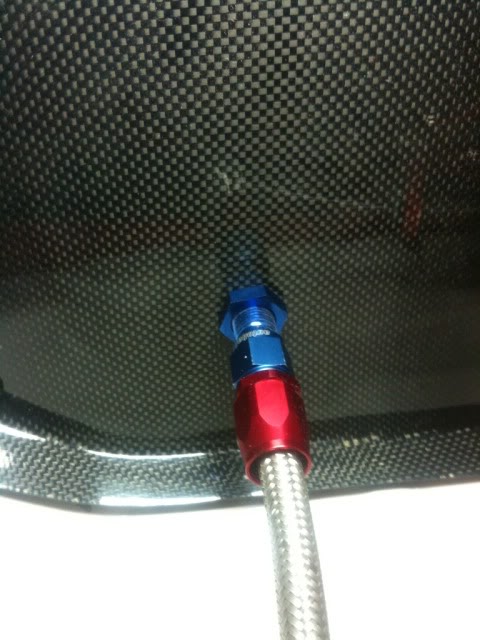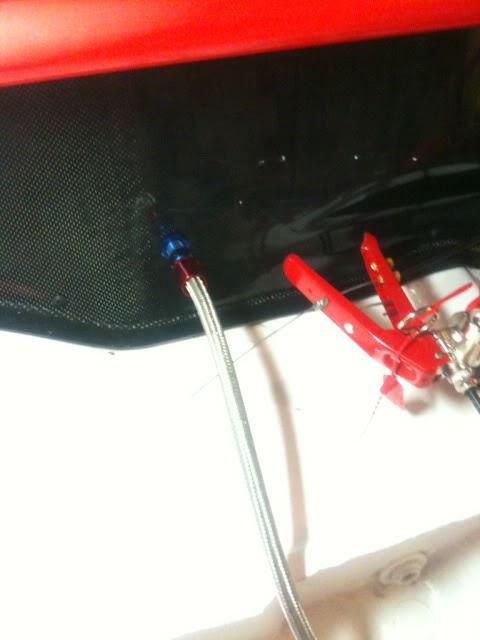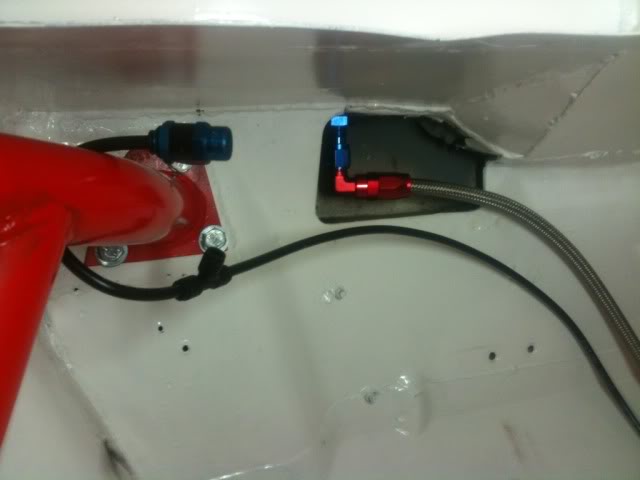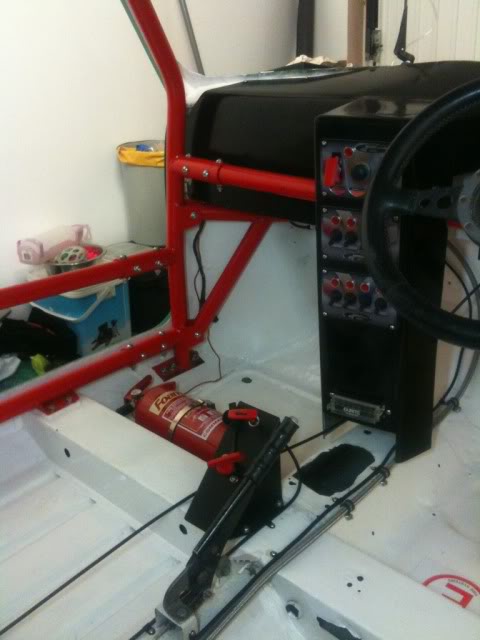 So i just to finish tidying up the plumbing of the extingisher into the engine, so i have ordered a bulkhead adaptor. (along with a whole load of other items)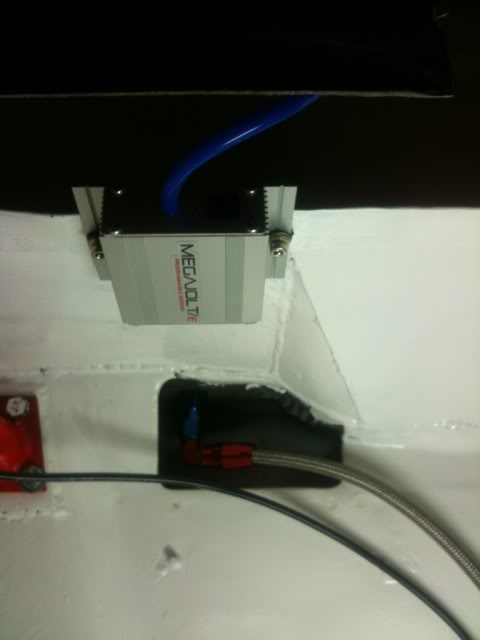 Going to be placing a few large orders :) more updates to follow
2-7-2012
Look what turned up today




6 - 6x10 minilites from minispares, so I will soon be fitting some rather nice Dunlop D93J to these wheels

Cheers
2-19-2012
Well I got some more work completed on the rally car today, I finished fitting all of the pull cables for the cut off and the extingusher, I also test fitted an eBay AP racing clutch master cylinder, I just need to change the fitted ends from straight to 90" ends.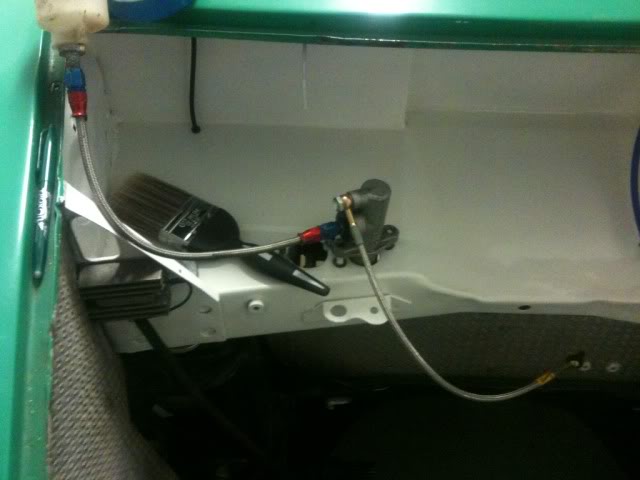 I finished off the plumbing of the fuel lines in the boot and mounted the fuel pump, oh and fitted the intercom (not much work involved in that one)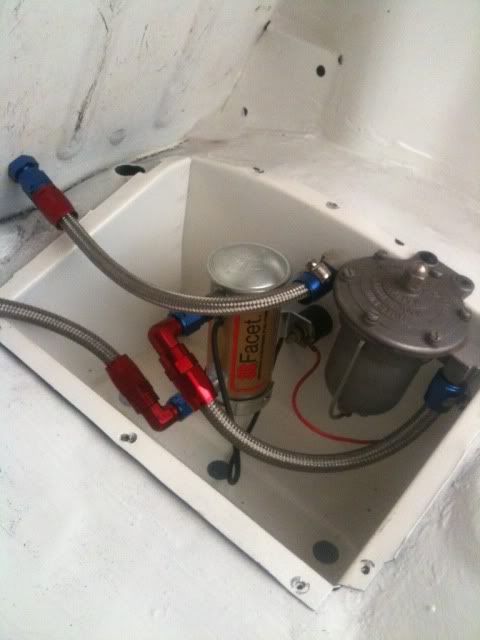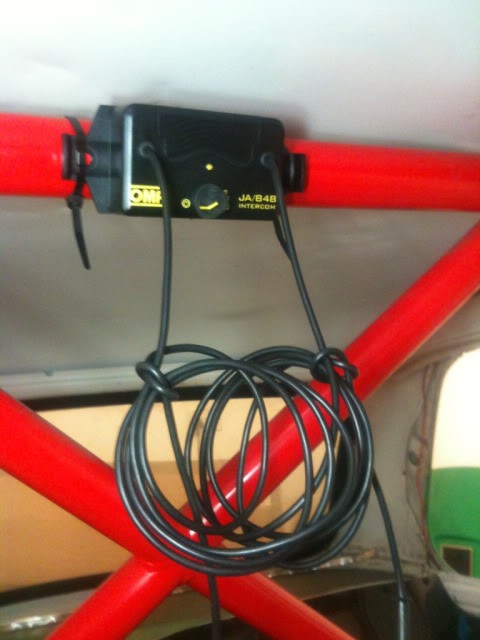 Decided to wrap my maniflow lcb, I thought it was going to be a right pain in the arse, since I did not have a vice to clamp the lcb in. But it turned out to be pretty easy to do.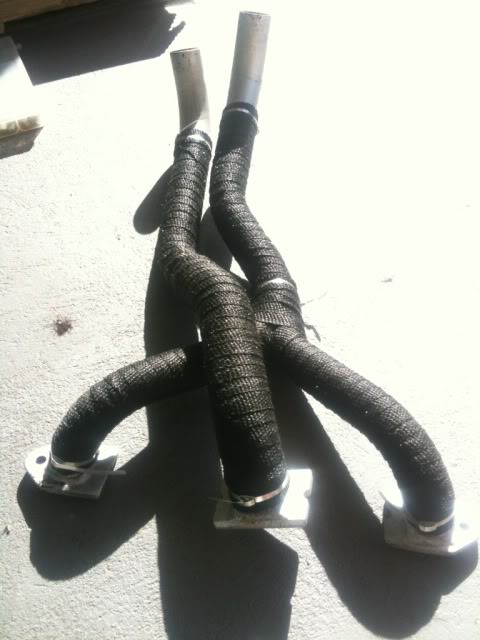 Now need to pack up my callipers and send them away to get refurbed and I need to place an order for my digi-dash. Oh and I must make a start on plumbing my brake lines....question do I stick with cooper hose or go for braided? I'm thinking of sticking with cooper brake line as the cost seems massive for all of those braided brake ends!

More updates to follow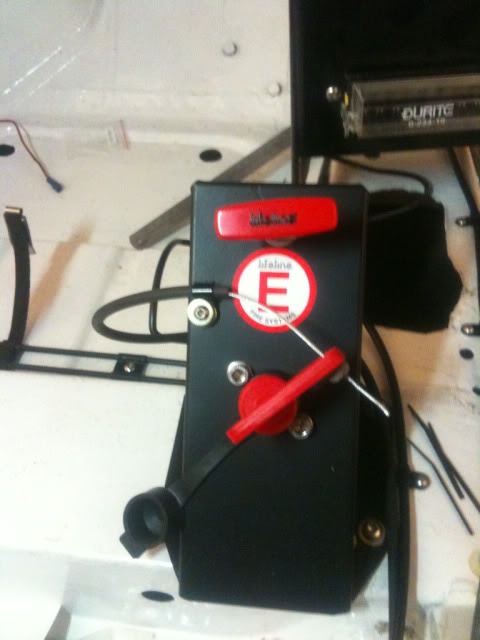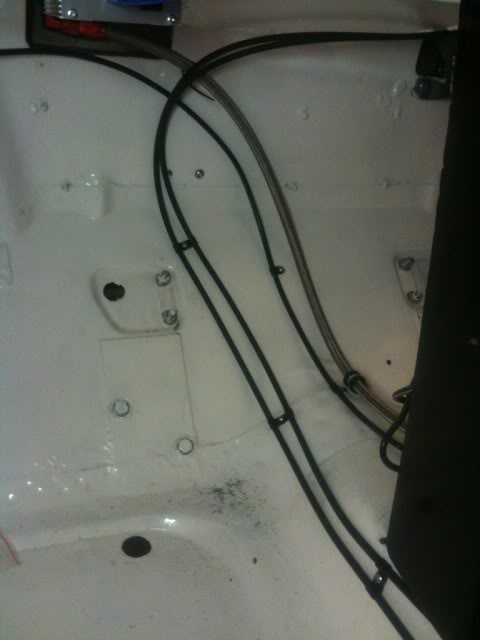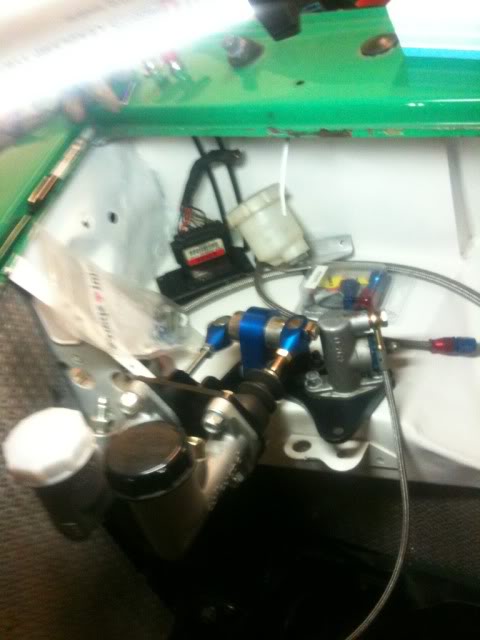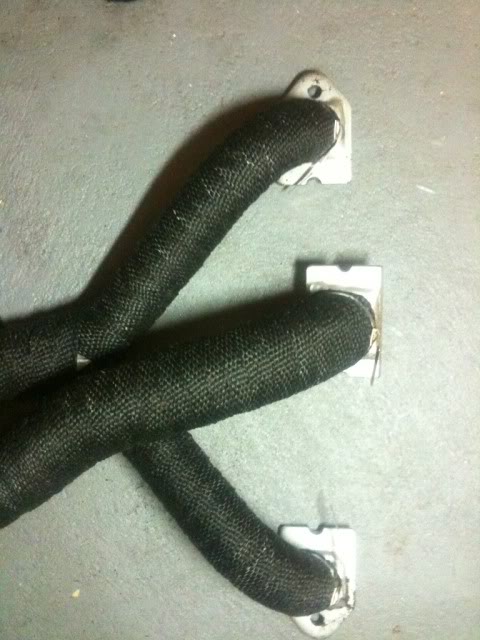 Just a few more pics.
3-1-2012
Time for an update.

Well I managed to get the engine from my old garage to my garage at home:)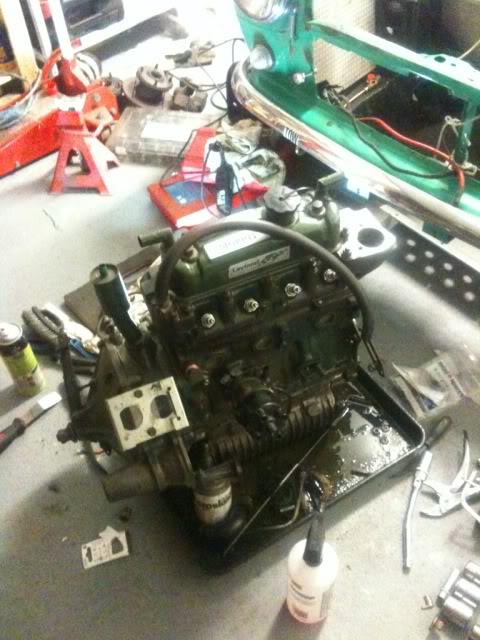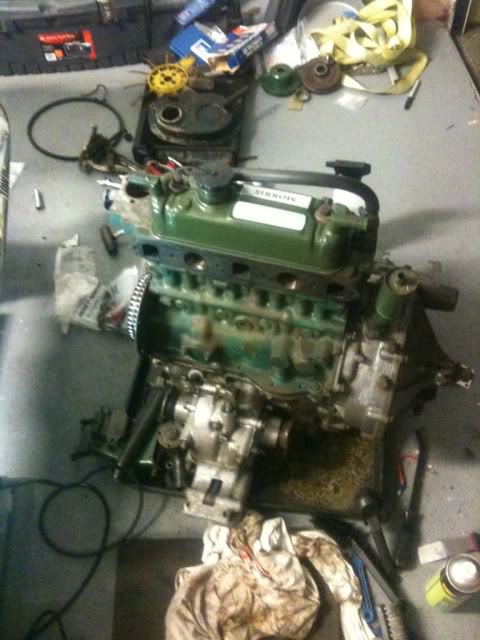 So I have started to strip it down, I have sent the timing cover and rad coweling to powder coat and have started to prep the engine for painting. Going to paint it bmc green.

Carried out a compression test on the motor 180 - 170 - 130 - 180 so I have an issue to resolve. I have taken the head off to replace the head gasket, head bolts I will remove the valves clean them up and lap them in. I have also got stainless steel mainfold studs and thermostat studs:)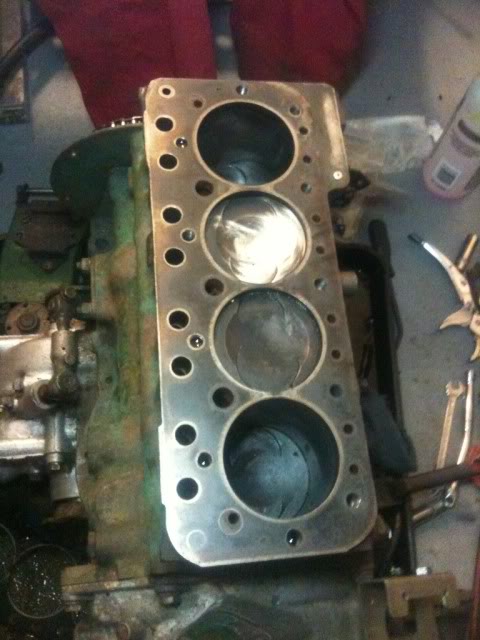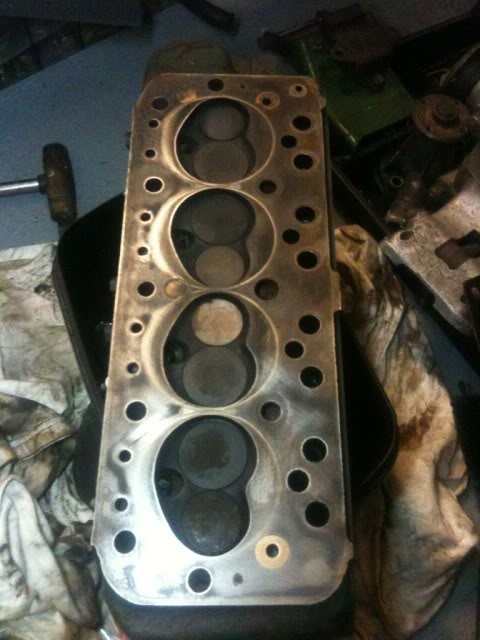 Also a few new bits turned up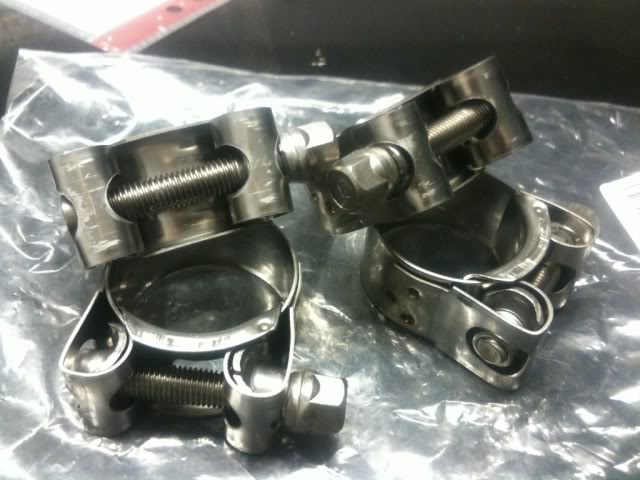 Weber spring return

Bulkhead grommets for wiring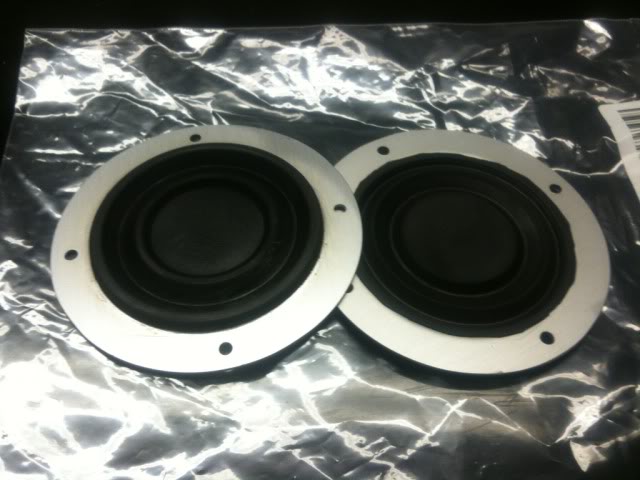 Cheers
3-2-2012
My orders from mini spares and rally design:) so I've got a busy weekend.

I also picked up my timing cover and cowling from jersey powder coating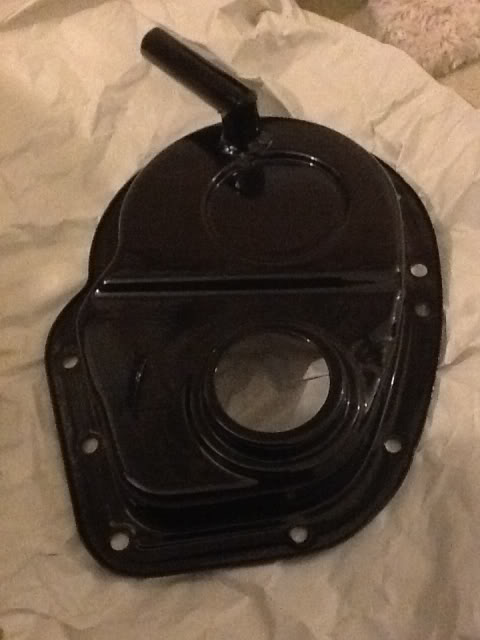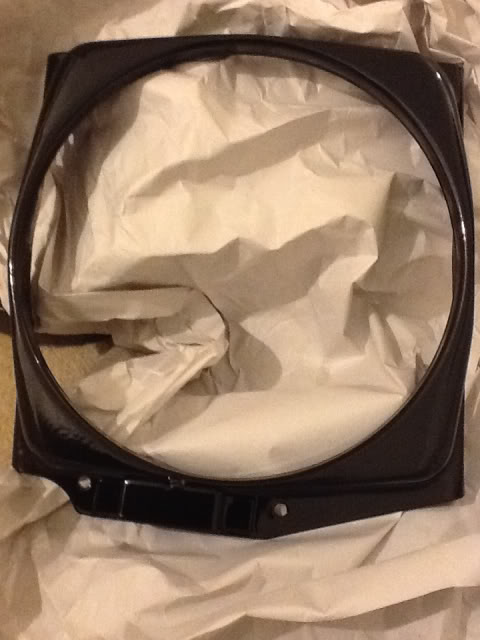 These two items came out fantastic.

Oh and my nice new oil catch tank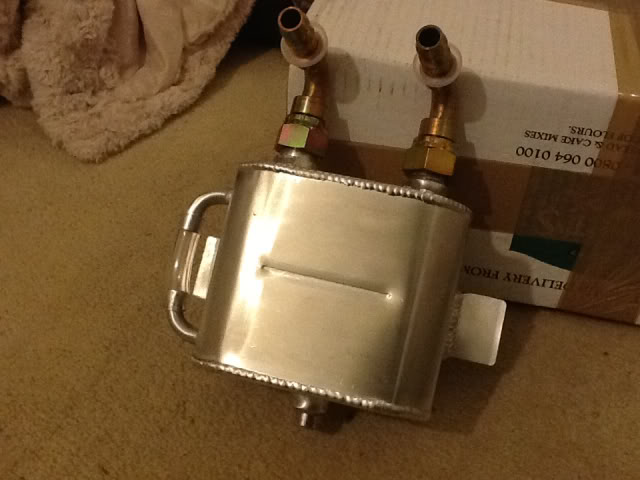 More updates this weekend, should have the engine painted and start to rebuild it.
3-4-2012
Hi all

Well I did some more work on the rally car, most was done on the engine. And while I was waiting for paint to dry I pottered about.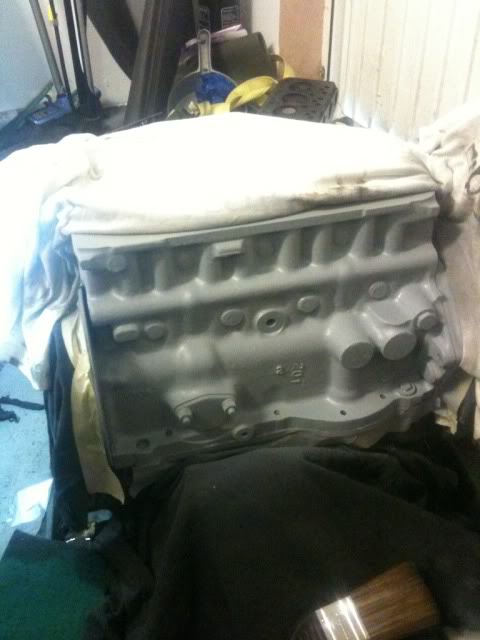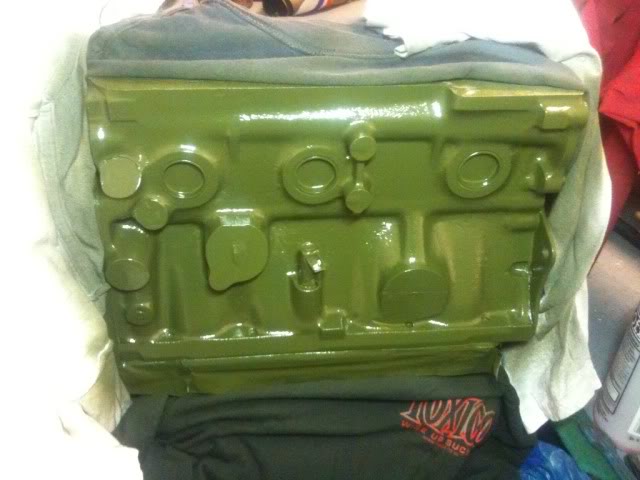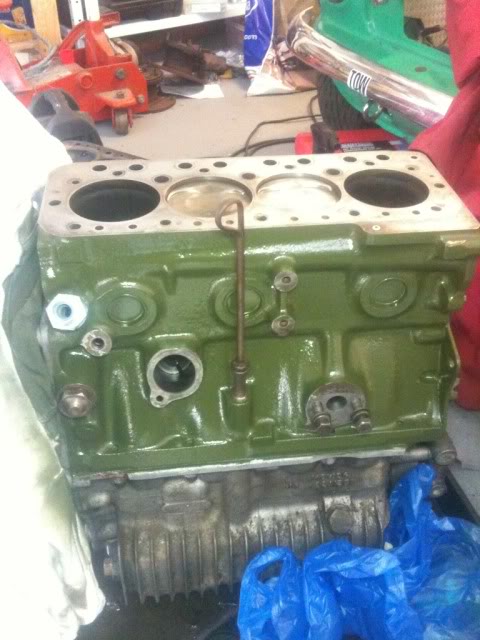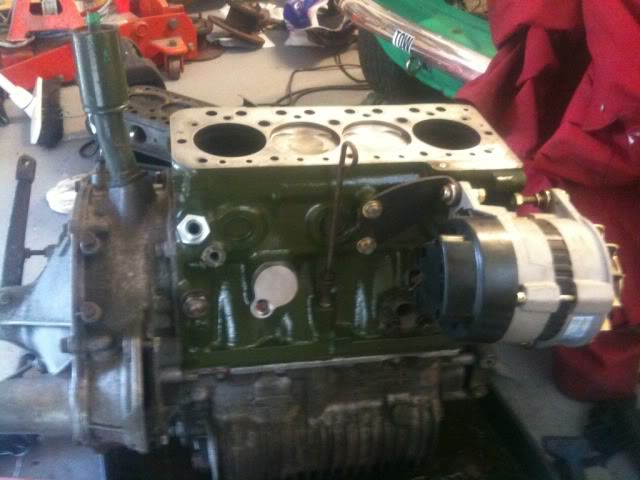 I used etch primer and then three coats of paint, turned out quite well.

I built up my rad and fan assembly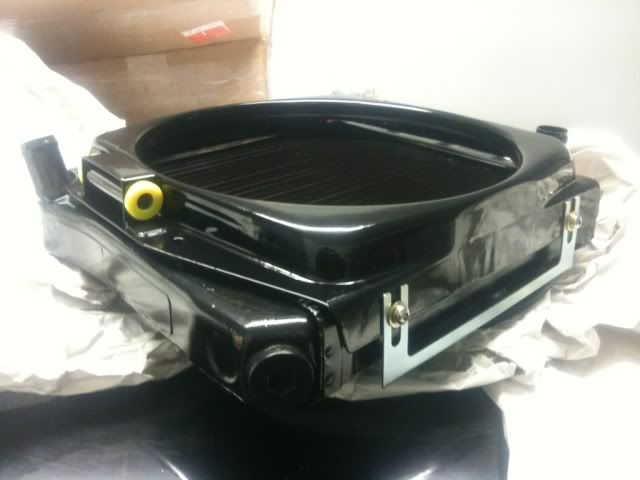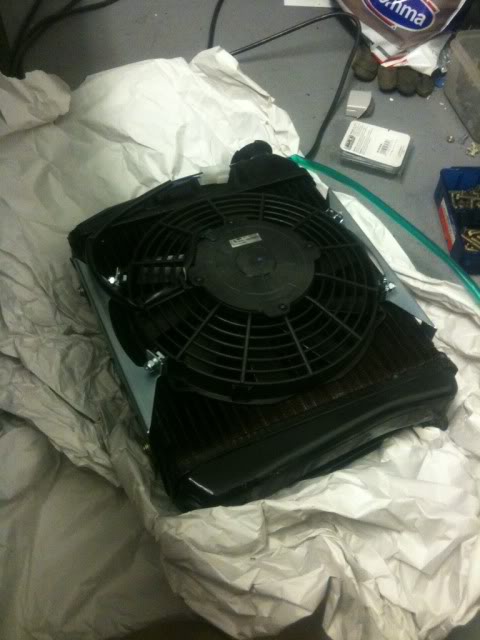 And this is where I'm going to fit the oil catch tank.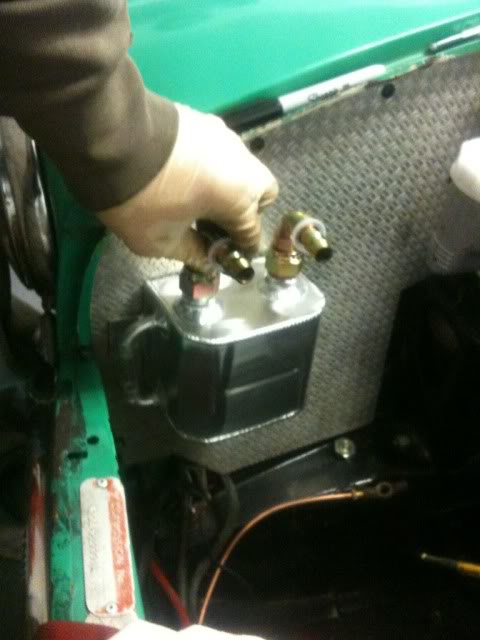 Next will be the strip down of the head and then prep and paint the head, one that is done I can then start bolting the head back onto the block.

This will mean another order with minispares
3-10-2012
Hi guys

Here's another update.

Ordered some more items from minispares, mainly oil seals and gaskets etc so I can rebuild the engine. My calipers have been received by biggred for a full overhaul.

Before I stripped down the engine I thought it would be wise to do a compression test on the engine 180-170-125-180, so I have an issue! Once I took the head off I could not see any problem with the piston or the bores, so today I thought I would remove the valves from the corresponding problem area and this is what I found!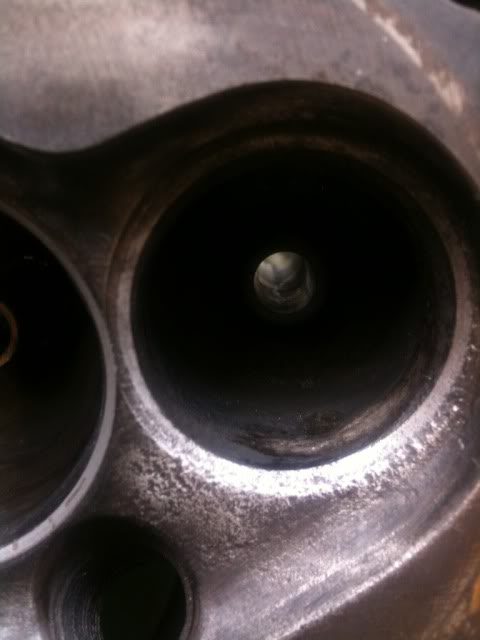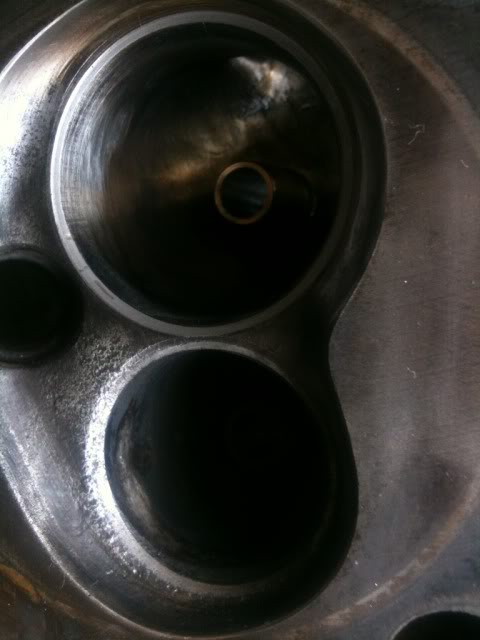 Part of the head and exhaust valve seat are pitted!!! Any ideas what would of caused this and is it fixable and how would it be fixed. Well at least I don't have to change the piston rings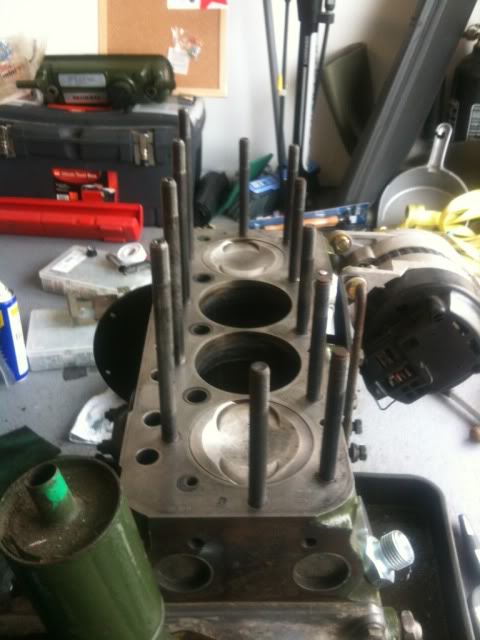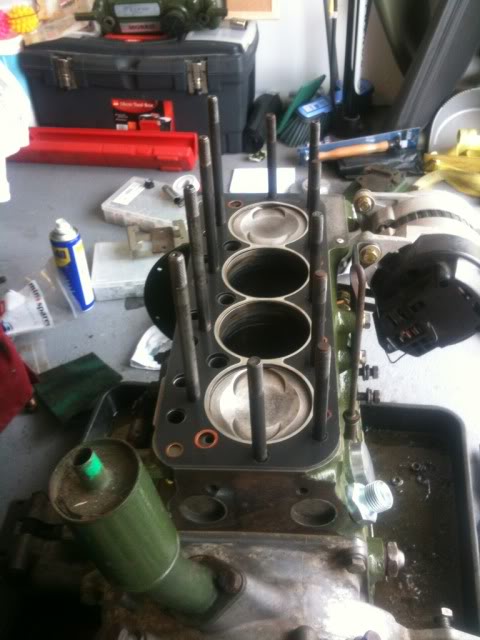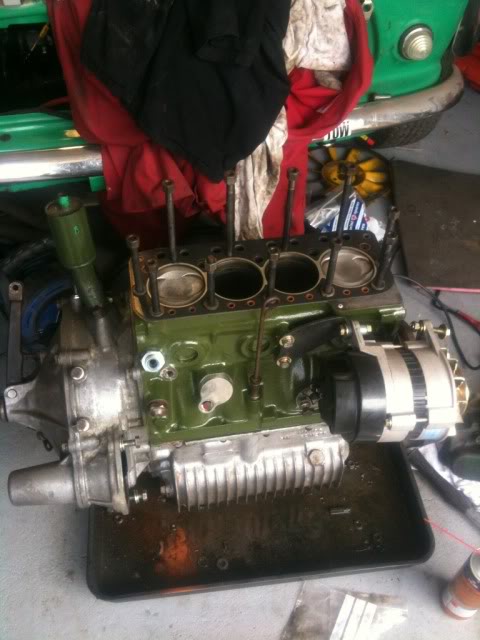 So I have started putting head bolts back into the block and I noticed that one of the bolts has a much shorter thread on it compared to the others (so 3-4 threads shorter) any reason why this would be??
3-13-2012
Hi danny1

Yer it looks like I will have to send the head away to have the valve seat re-cut, I've decided to use Rob Walkers Engineering firm to carry out this work. So I will pack up the head and send it away in the next few days, still lots of work to be getting on with.

My package from minispares turned up, so I fitted a new comp water pump with new bolts along with a steady bar kit which fits onto the water pump.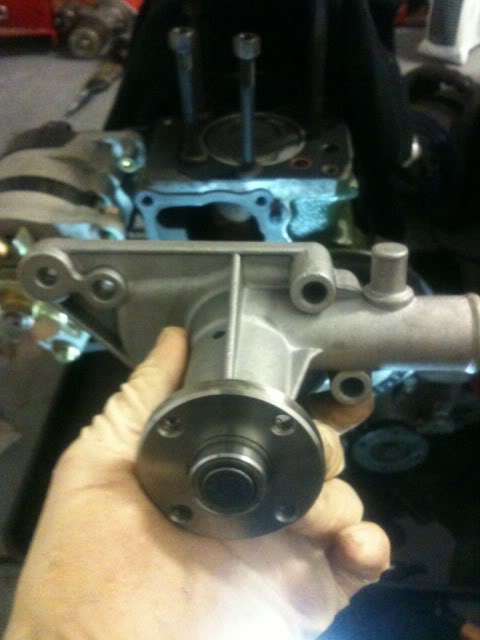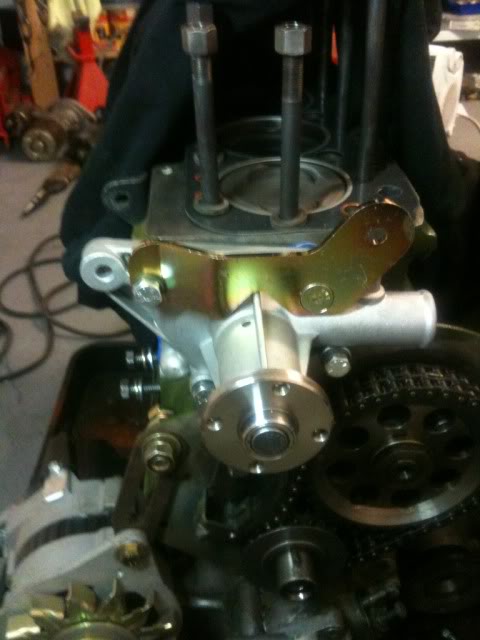 Fitted the timing cover oil seal (what a pain in the arse) I think the powder coating on the timing cover did not help, after a lot of swearing trying to get the dam seal in place I sanded the area around where the seal fits, that couple of mm made it possible to fit the seal.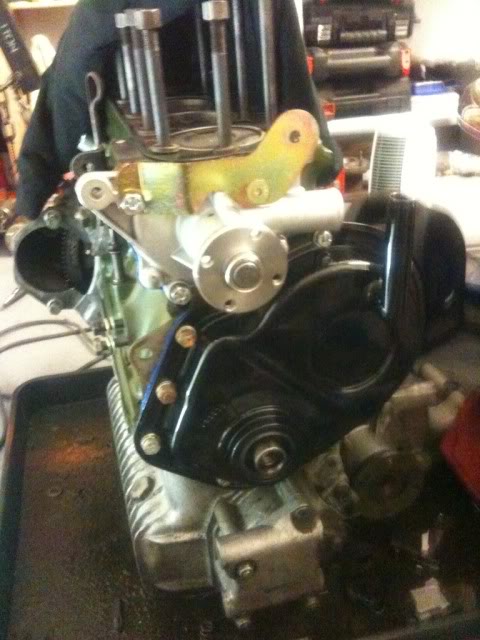 I also test fitted the support for the sensor bracket on the timing cover and fitted the alternator, as well as fitting solid engine mounts.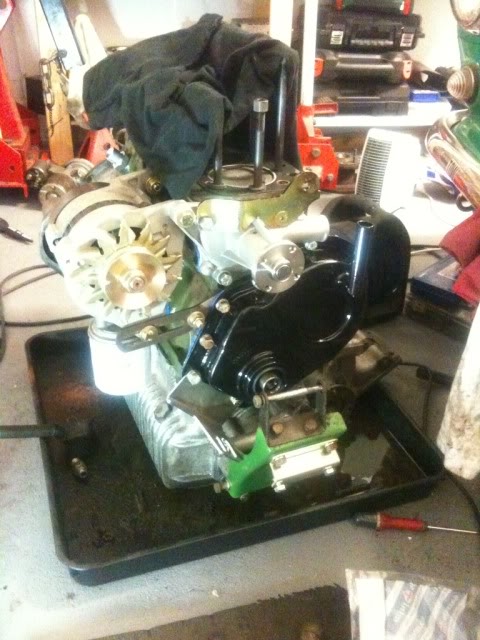 I thought that since I had the kad bias set up I could do with a bit more clearance, so i fitted a different breather.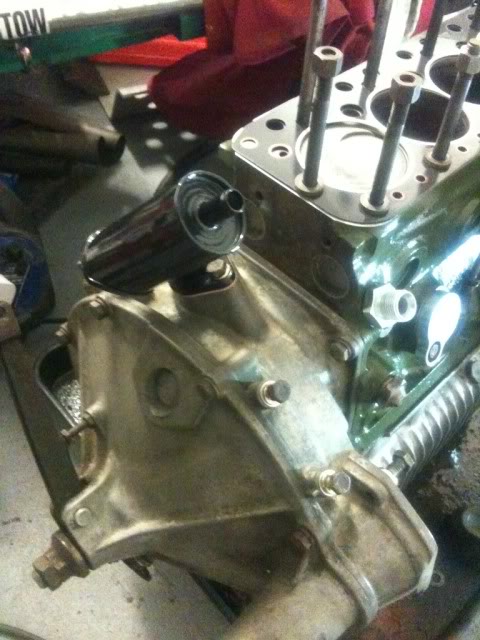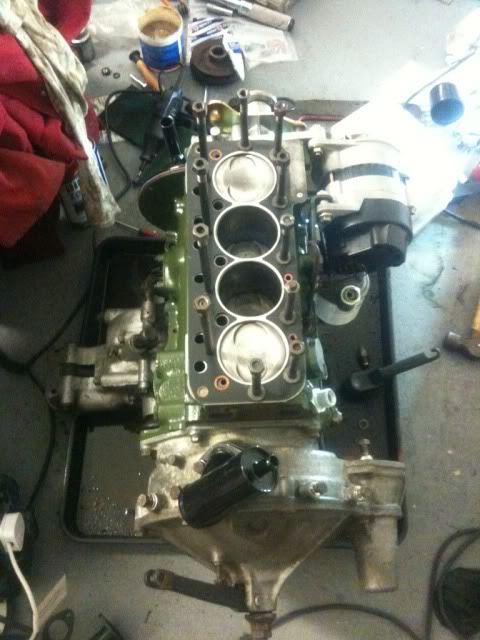 Picked up my inlet manifold which I had asked my mate Adam to fit the barbed fittings for the Megajolt.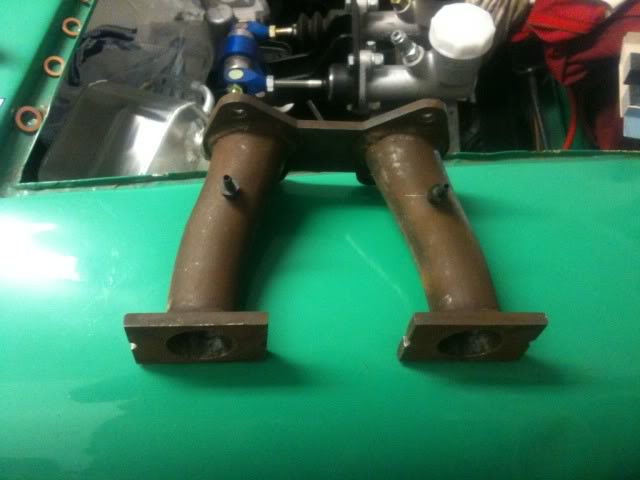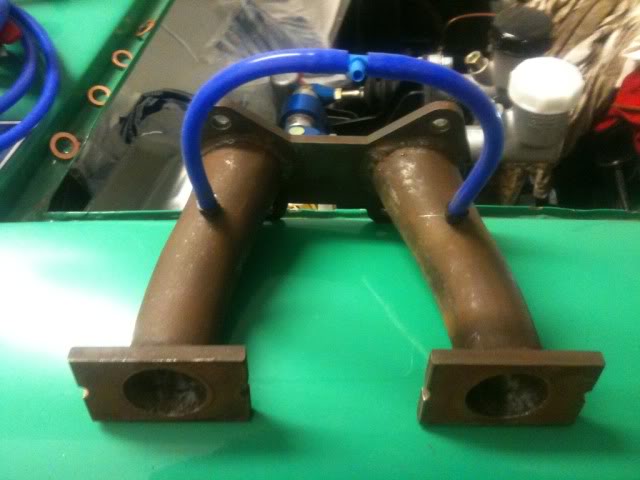 Adam is a star when it comes to even thing to do with metal, I have had theses stainless steel clamps kicking around for years, they came off an Aston Martin exhaust system, I kept them as I could not see them go to waist, of course these clamps were far too big for a mini exhaust system, so I got Adam to alter them so they would fit :)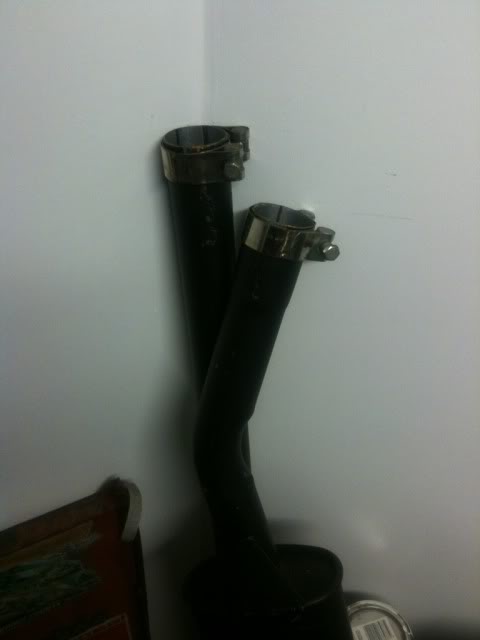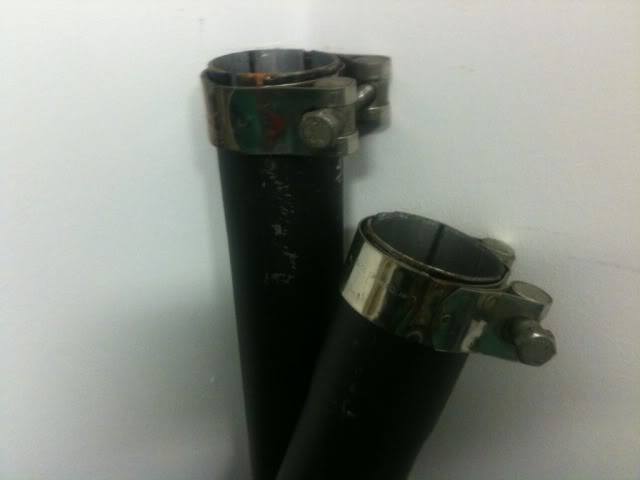 I should be fitting the engine (minus the head) back into the car this weekend, so expect some more updates very soon.
3-24-2012
Some more work carries out on the mini today.

I decided just to go for it on that valve seat and I lapped the hell out of it, so I will just have to wait and see what the compression test says when I bolt it all back together. I also cleaned up the head ready for painting today, and here it is.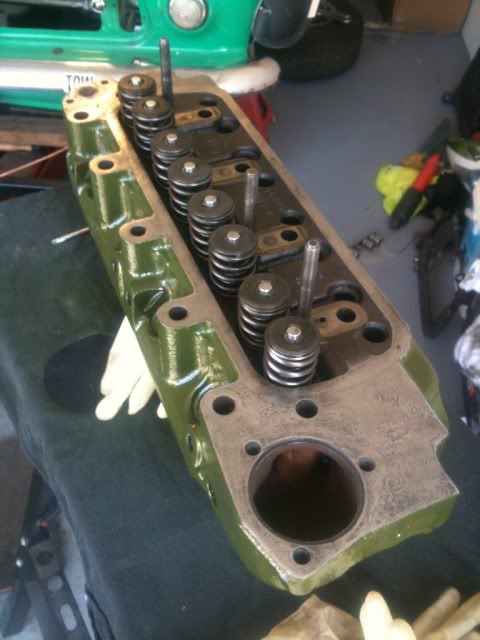 Once the paint had dried, I then fitted all my stainless steel goodies ;)

Mainifold studs & nuts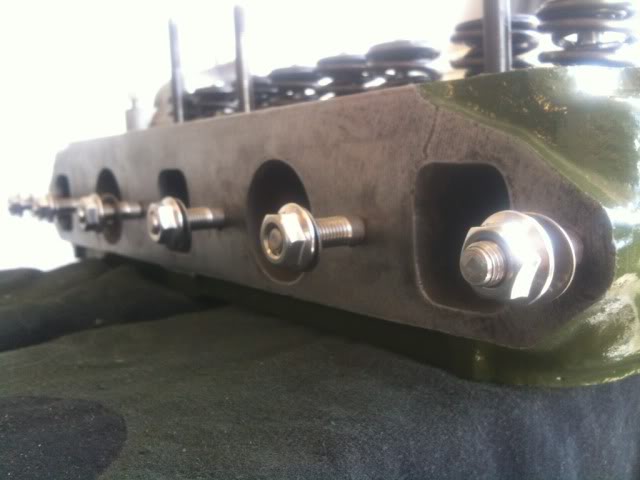 Thermostat studs & nuts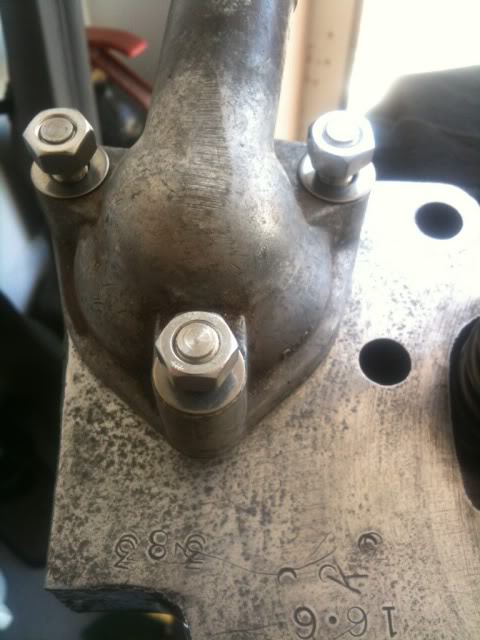 Water outlet bolts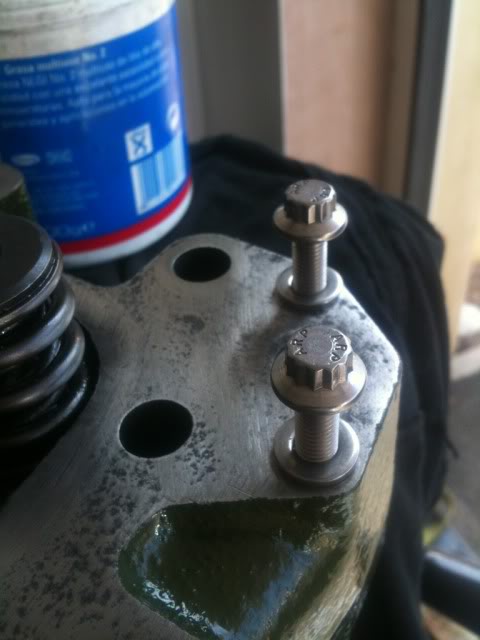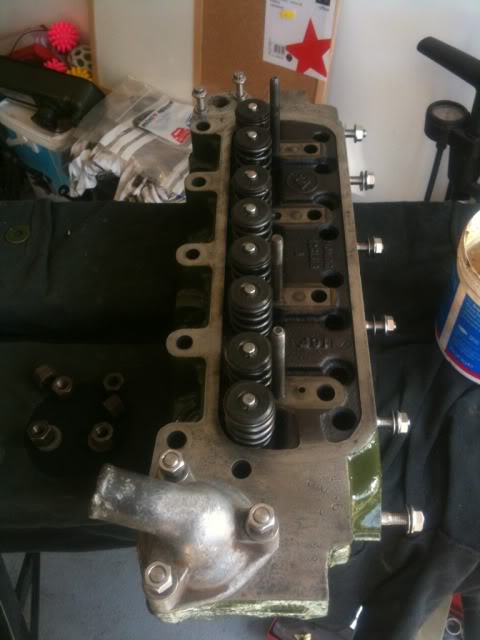 But, not all good news today, I needed to replace one of the hardy spicer output shafts as it is missing a chunk! Once I had figured how to remove the darn thing (by removing the diff side cover and then the circlip) I then replaced the oil seal and inserted the new output shaft into the diff cover (all well so far) I then tried to slot the shaft back into the diff! And this is where I hit a snag! See if u can spot the difference (old one l/h new one r/h)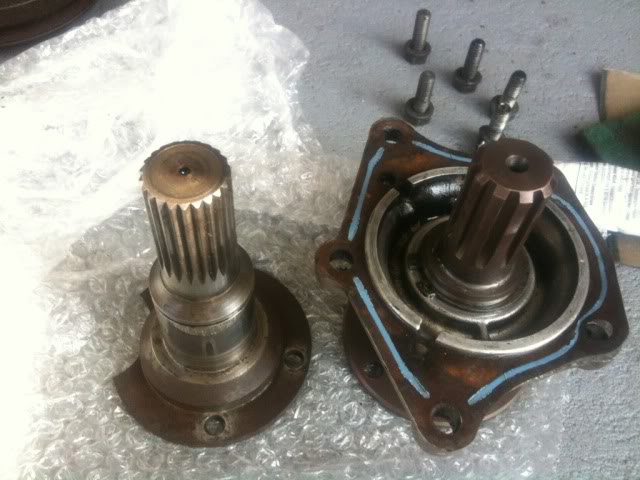 If you didnt notice the splines of the new output shaft are completely different to the old one.

Old one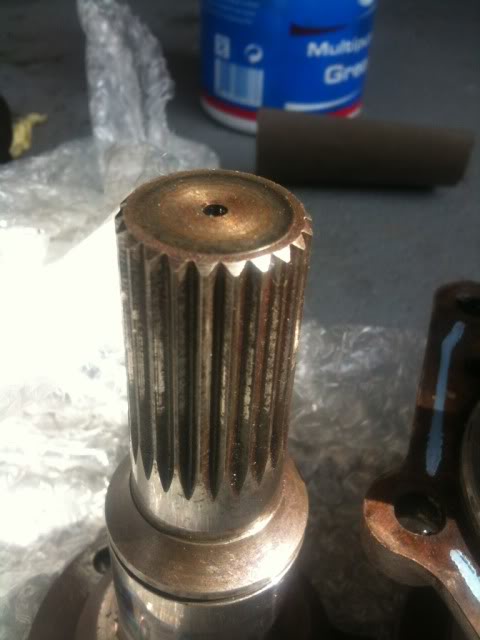 New one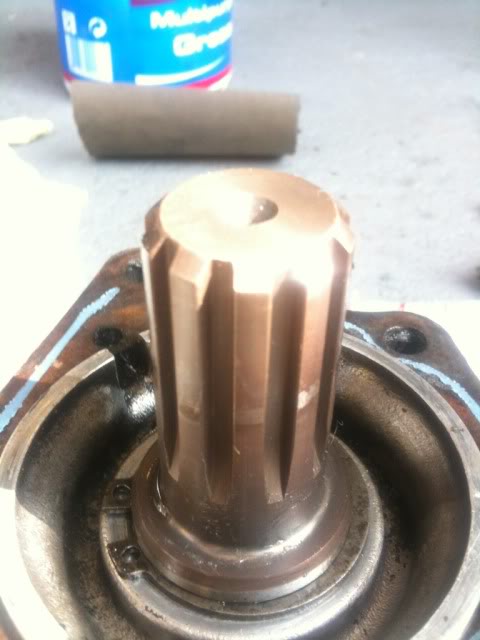 Any ideas of where I can get a replacement from? The one I tried to fit was from mini spares, I'm sure that there was only one option when I ordered it.

Help, help help
3-25-2012
I'm glad you are liking the thread mini 360

Did some more work today, bolted the head on, inlet manifold, carb, exhaust manifold, rocker cover it's all looking good.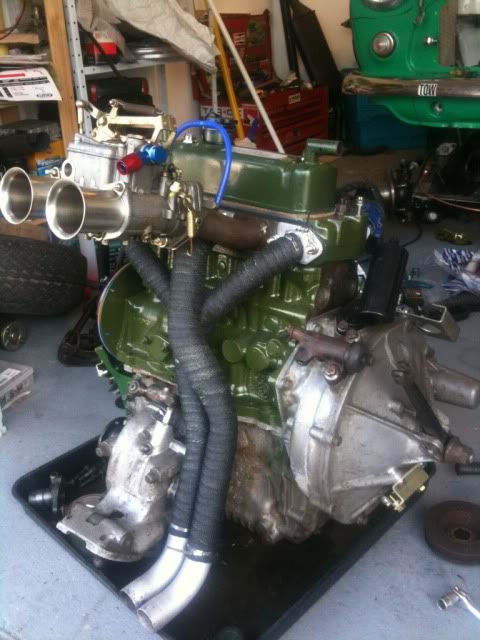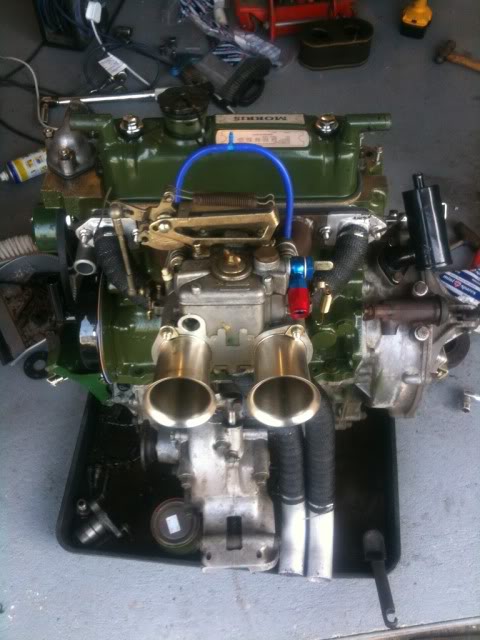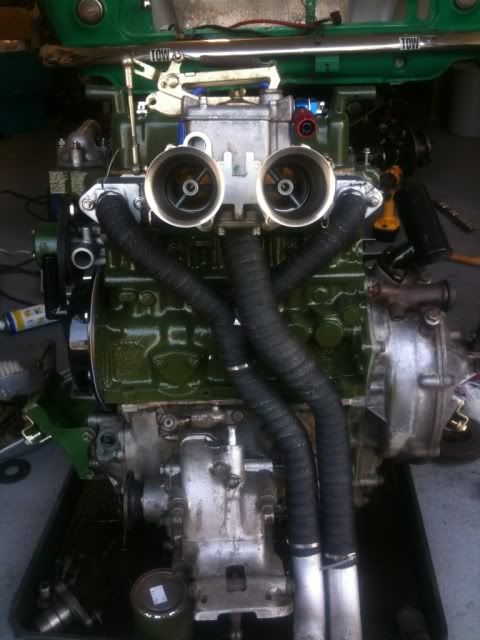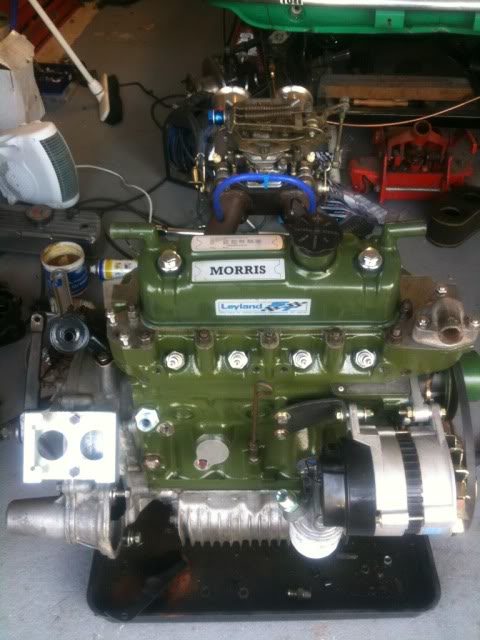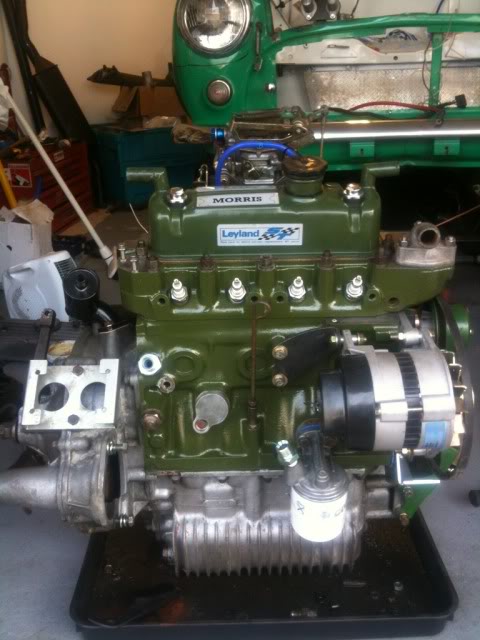 Fingers crossed I may even fit the engine today:)
4-2-2012
Hey danny1

No I did not get the engine back in, I thought it would be wise to have a look at the clutch while the engine was out, and I'm glad I did. The first thing was the bad oily grim which greeted me when I took the cover off, so of course a new clutch oil seal is needed. I then bent back the 2nd lock tab, locked the engine ready to unbolt the flywheel bolt......well I think I could of un-tightened it with 1/4 drive racthet! It must of only been at least finger tight!!! Once I removed the flywheel with the tool, I realised I would have to do some work on the tapered end of the crank and the flywheel as there was some scoring! Any way I have ordered some parts from minispares, do once I have these bits I can then put the clutch assy back.

Also look what turned up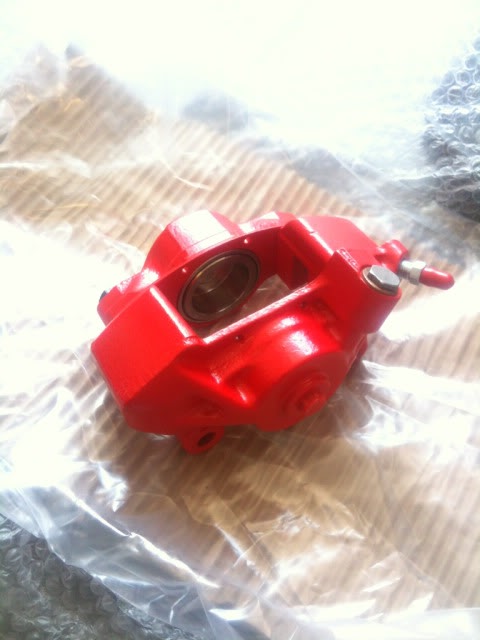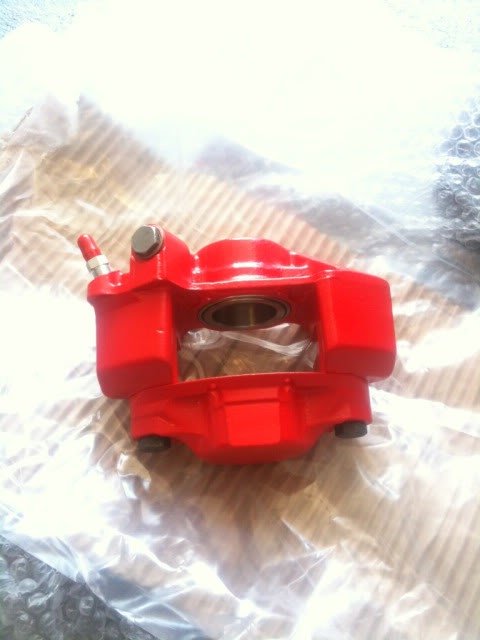 My refurbished calipers from biggred, they have done a fantastic job on them, I'm well pleased.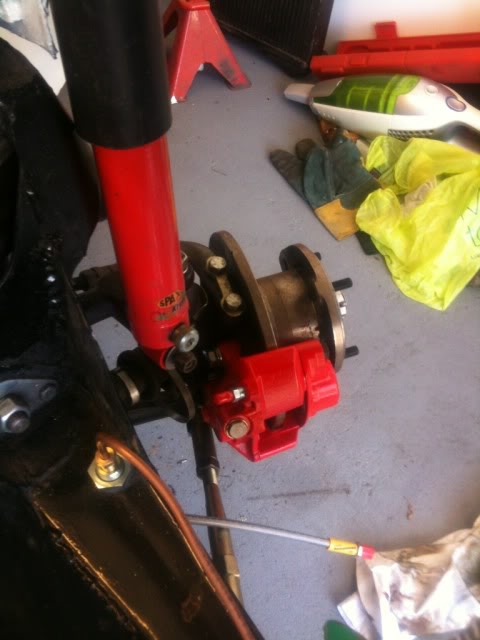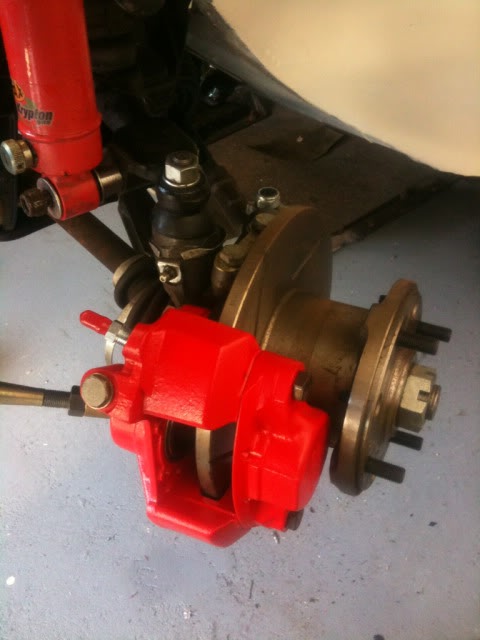 But its not all good news, I went to fit the driver side caliper and noticed that both of the threads in the hub for the caliper bolts are completely shot! So it now looks like I will have to replace the hub, unless you guys have any ideas?

Cheers
4-7-2012
Hi guys

Carried out some more work on the mini yesterday. I started overhauling the hardy spicer's fitting new needle bearings and updated bolts. It was a struggle to remove the old ones, but hey I got there in the end.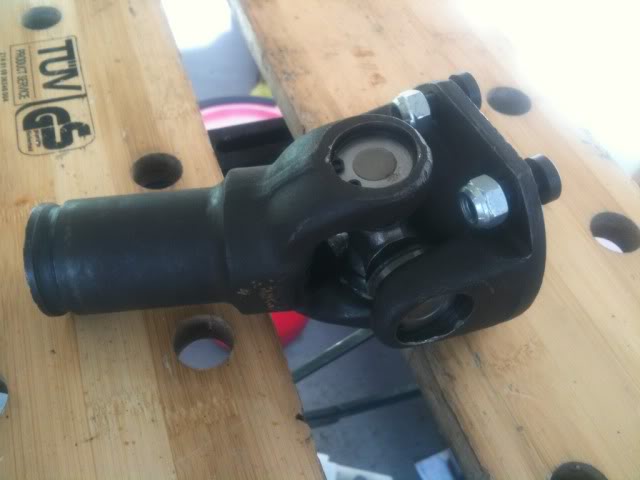 All my clutch parts turned up from mini spares, clutch plate, updated bolts, straps, lock tabs, oil etc so I could get all of the clutch assy back together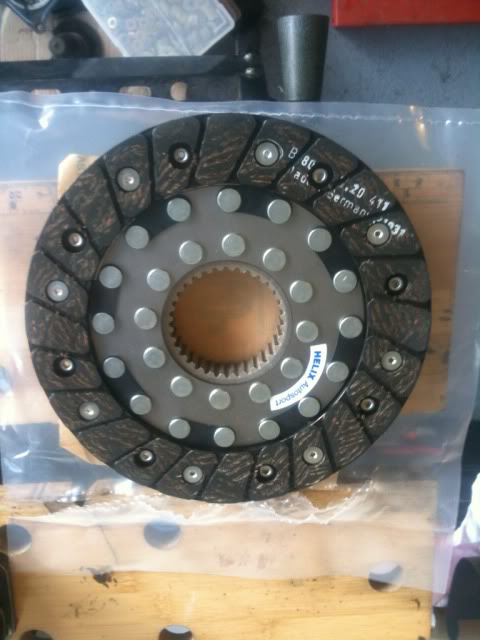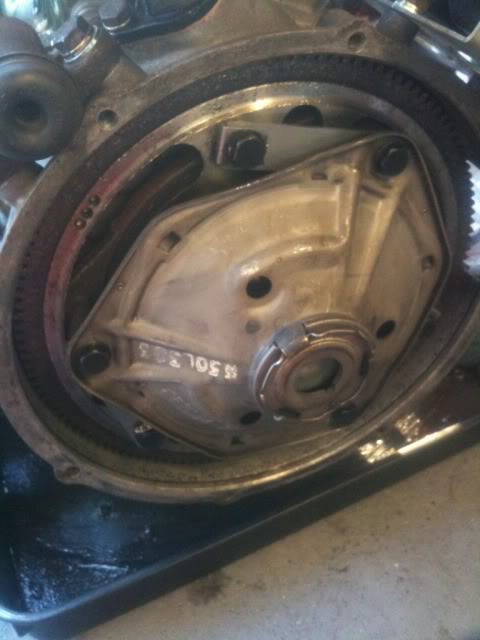 My coolant hoses also turned up along with some other bits and bobs, so the engine is now ready to be refitted.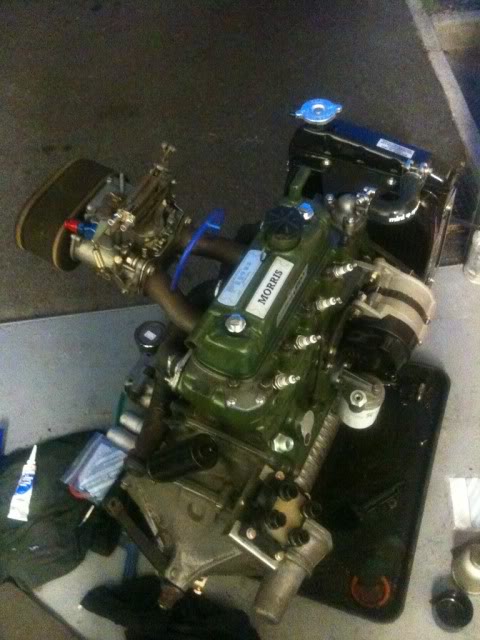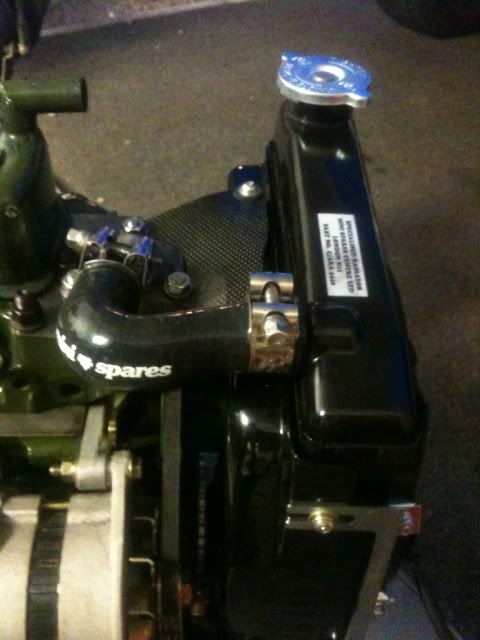 More updates coming over the Easter hol's
4-8-2012
Well it's in the engine bay:) just got to do some altering of the engine mounts so I can get the holes to line up, then I can start bolting everything in place.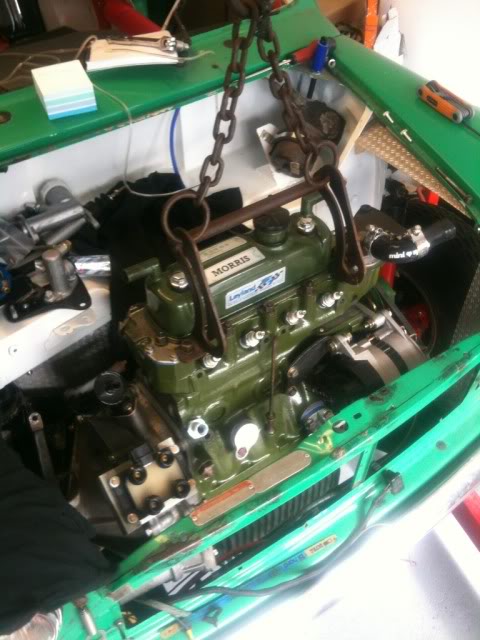 Cheers for looking
4-27-2012
Right then for the 2nd time, here is an update....

I fixed the threads on the r/h hub, as it looks the thread bolts were used! So I bought a helicoil kit and it worked a treat!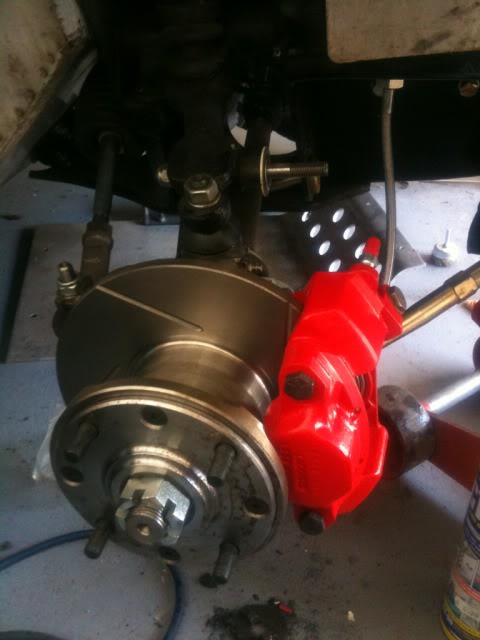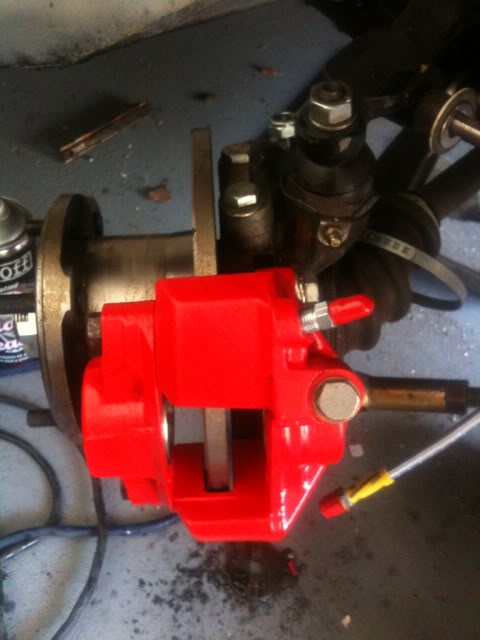 I ended up changing the solid engine mounts to two piece poly mounts, so I have now finally fitted the engine;) so I have started bolting every thing on.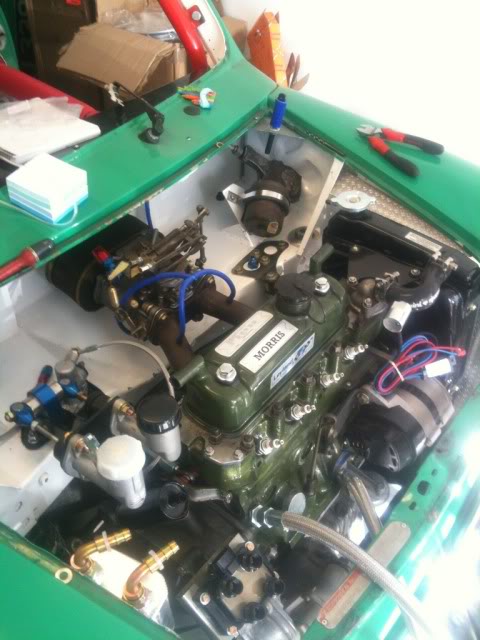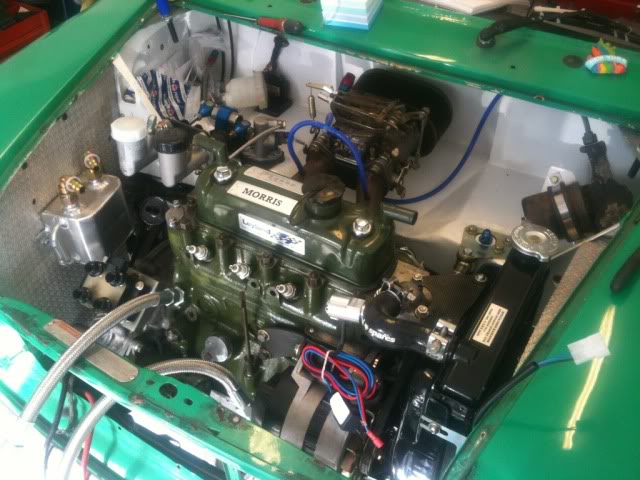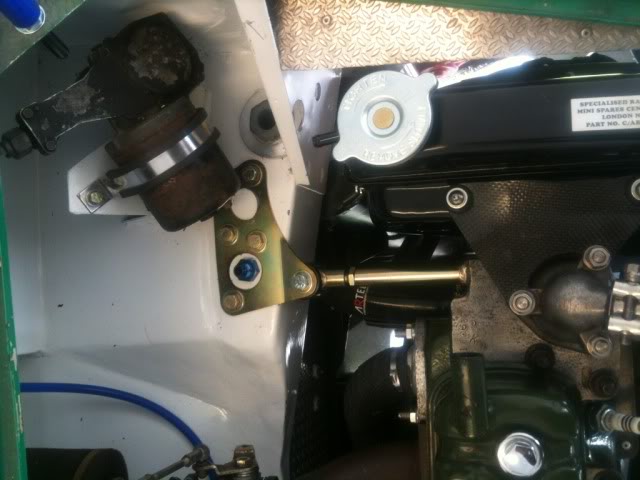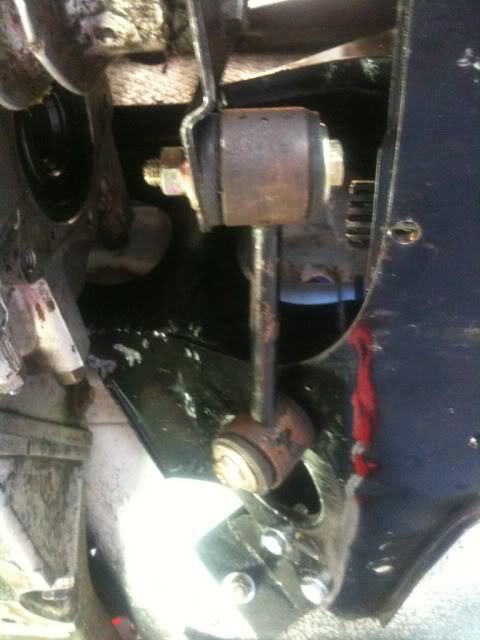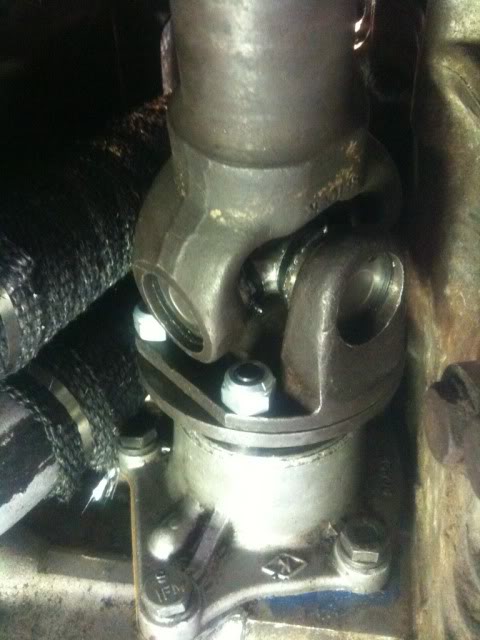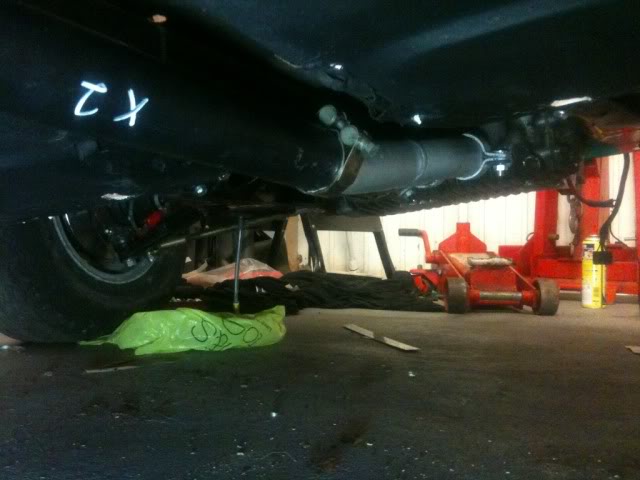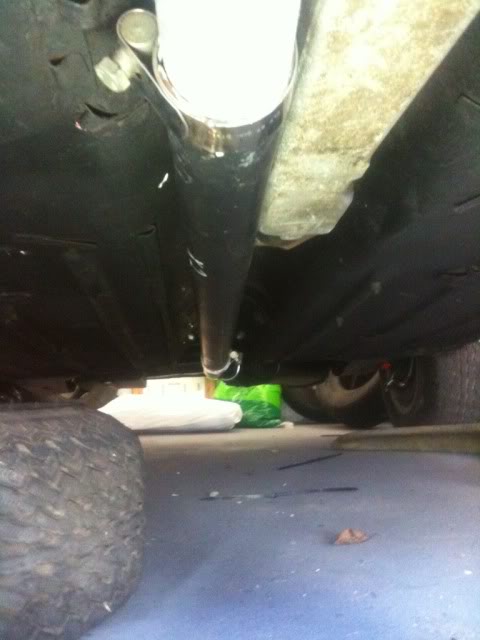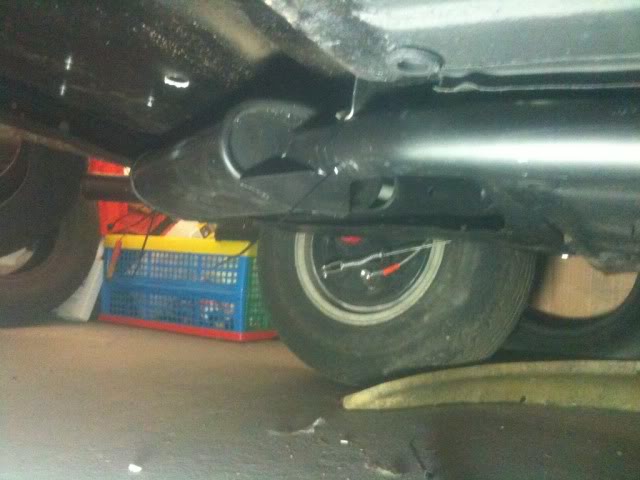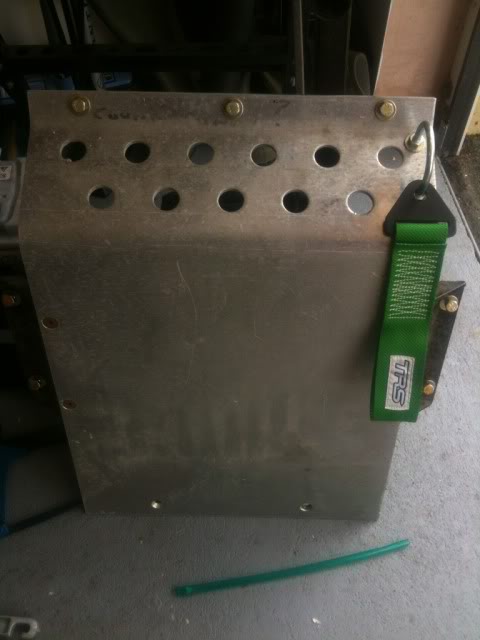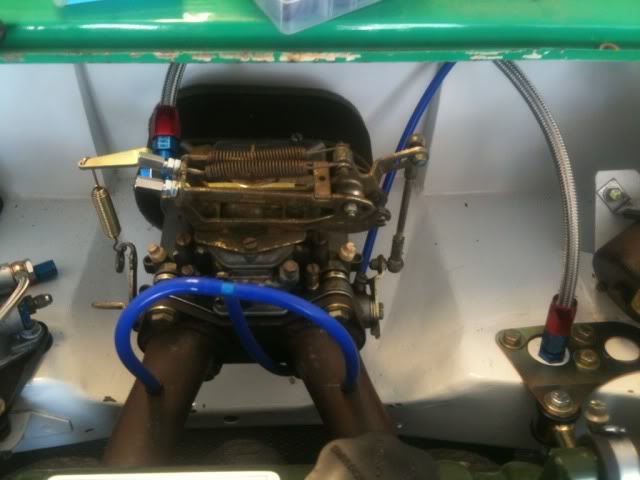 I'm going to have to move the oil catch tank a bit further back now, as I have fitted the oil cooler to that inner wing. Also does any one know where I can buy nylon T piece but with one of the ends a different size so like 16mm 19mm 19mm

So things are now moving along nicely now, starting to see light at the end of the tunnel.
I thought I would post some pics of my previous mini rally car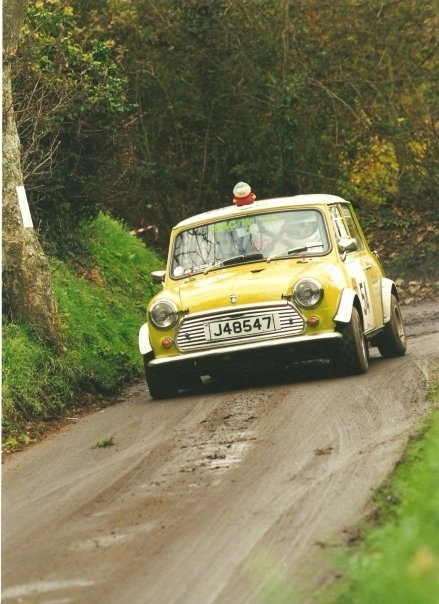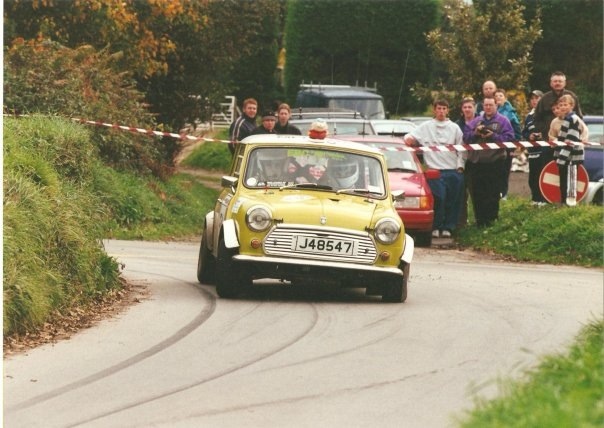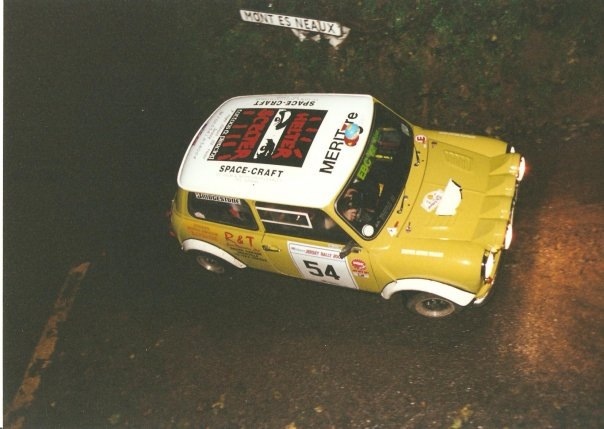 Ended up stuck in a granite wall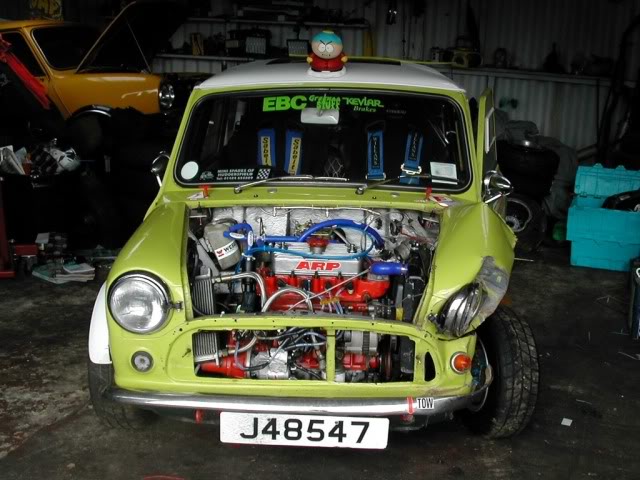 This mini is still alive though ended up fitted with a full race z-car set up.
Retro??? Do you think! lol

I managed to locate the oil cooler and i re-fitted the oil catch tank.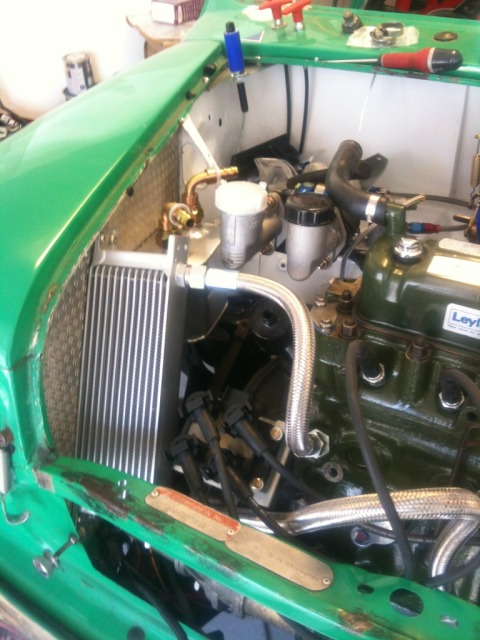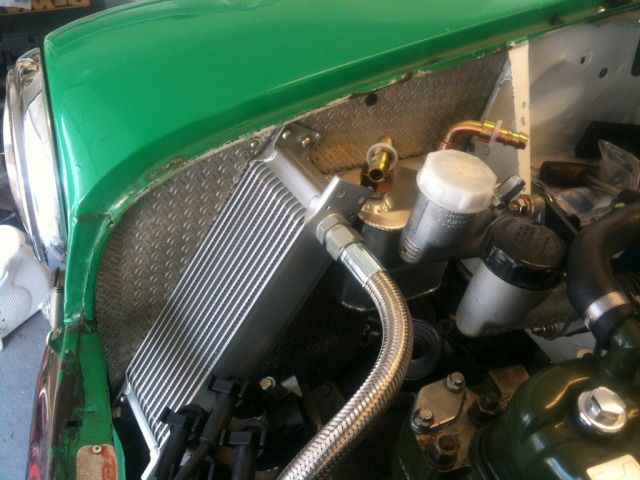 Any way enjoy the pics
4-30-2012
Hi all

Small update, located and fitted the clutch master reservoir (thank you to Retroracer 1275 http://www.theminifo...05#entry2409859)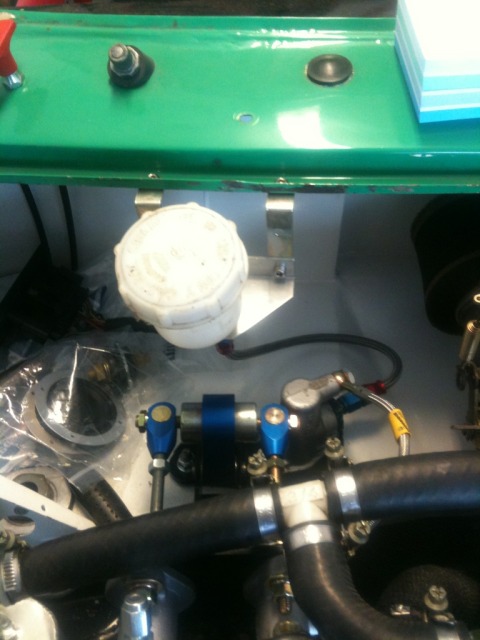 And I plumbed in the oil breather pipes, just need another 19mm 3 way connector to finish it off.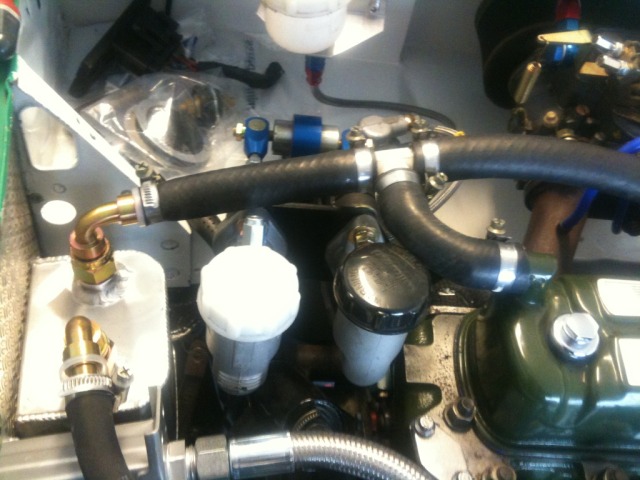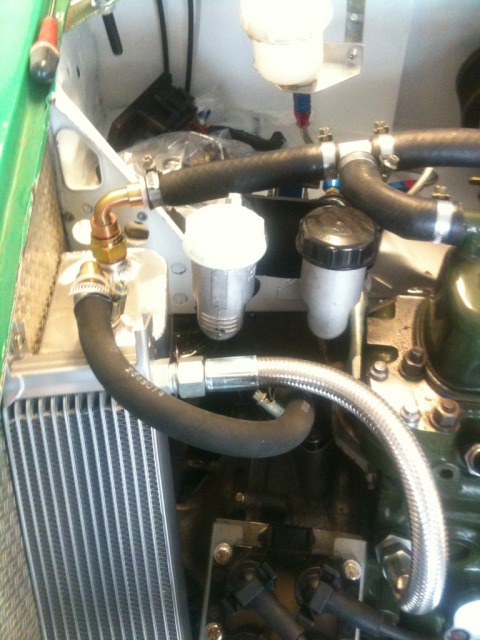 5-1-2012
Hey there Tahiti Joe, I'm very glad you have been enjoying my build. I can't wait to see your rally mini when you start your build.

Well I'm based in Jersey in the channel islands, I need to have ready before July for a Multi Surface Rally, this rally is part of the criteria so I can ensure I get an entry into the main jersey rally in October
5-3-2012
Hi all

Carried out a bit of work today.

A tool I ordered turned up, so I was able to secure the clip which holds the cv boot in place, I then toruqued up all of the bolts for the suspension and caliper.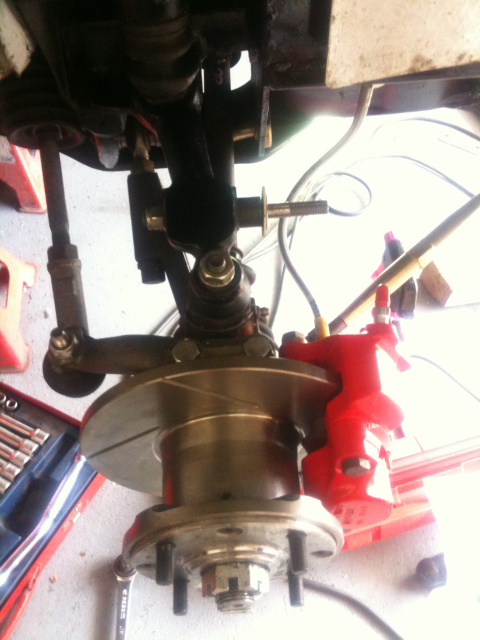 Fitted the flexie brake line to the caliper and fitted the carbon metallic pads.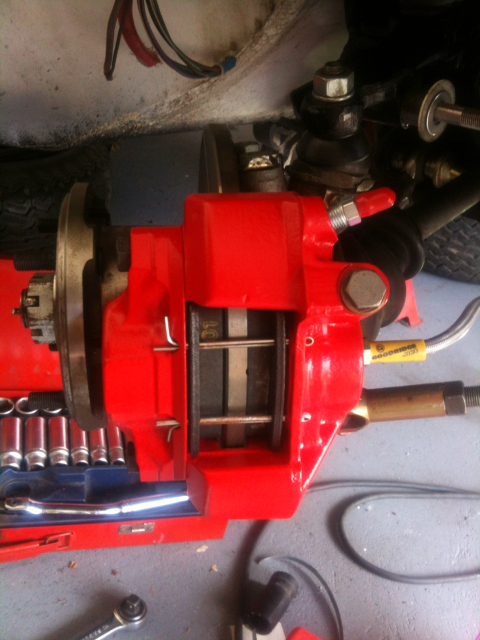 I took apart my other hardy spicer and replaced the uj part of it and cleaned it up, all ready for refitting with uprated bolts.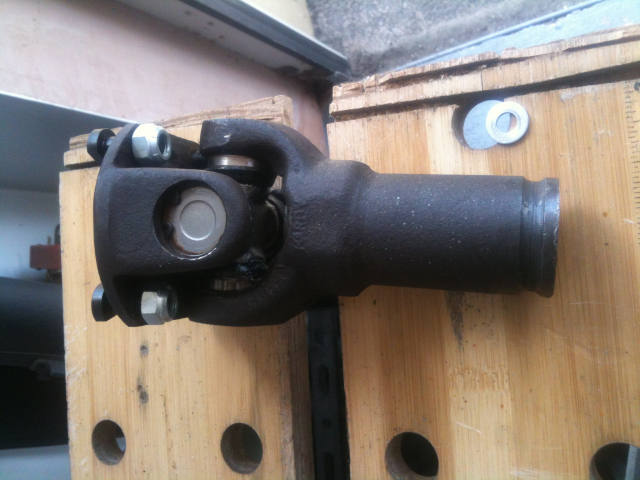 I have got next week off, so expect some more updates.

Cheers
6-3-2012
Prep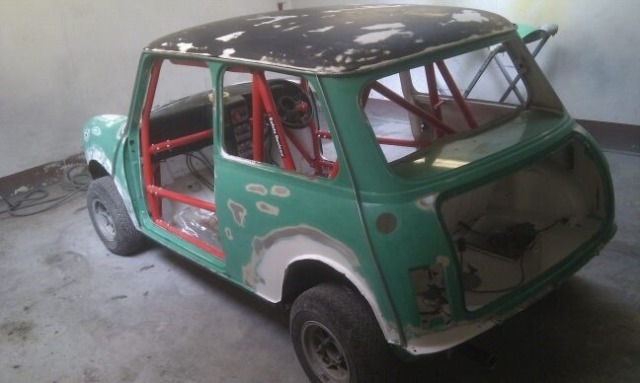 Primer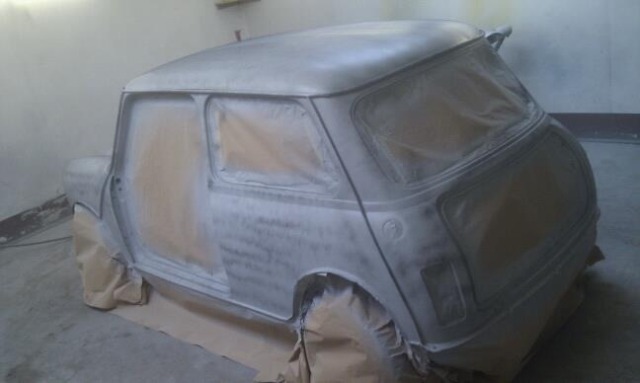 Ok some paint updates

It now has a white roof




And here with its new coat of java green:)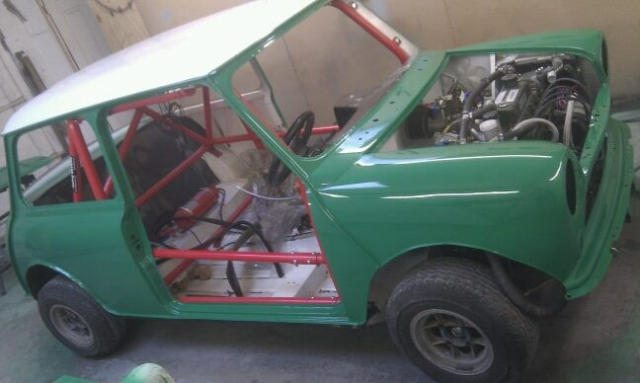 Can't wait to get it back!
6-11-2012
Well guys it's back in the garage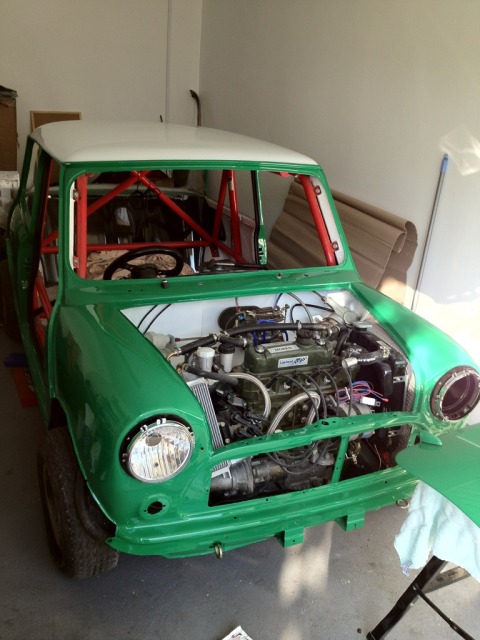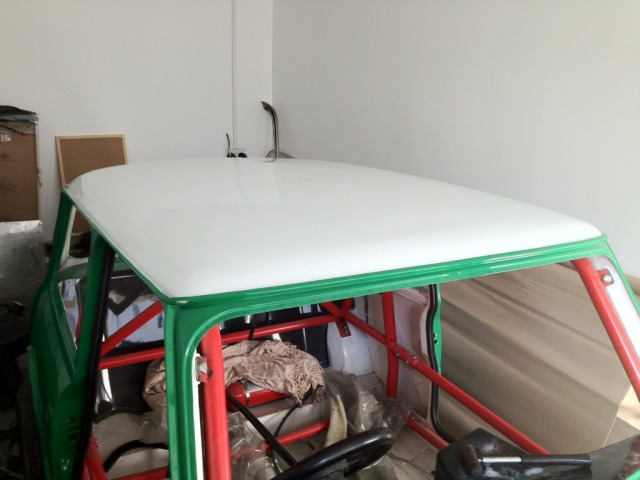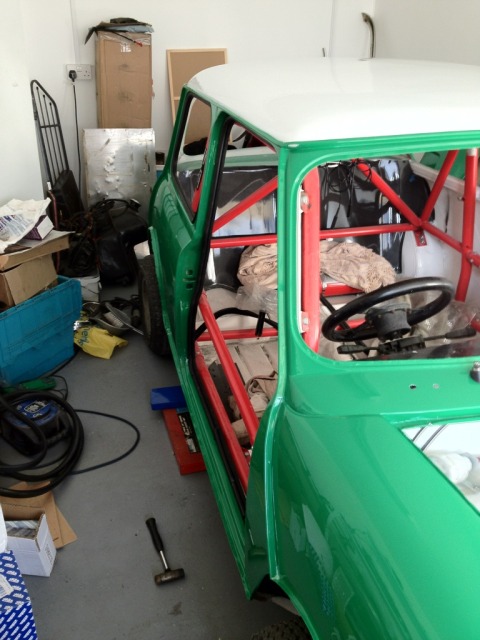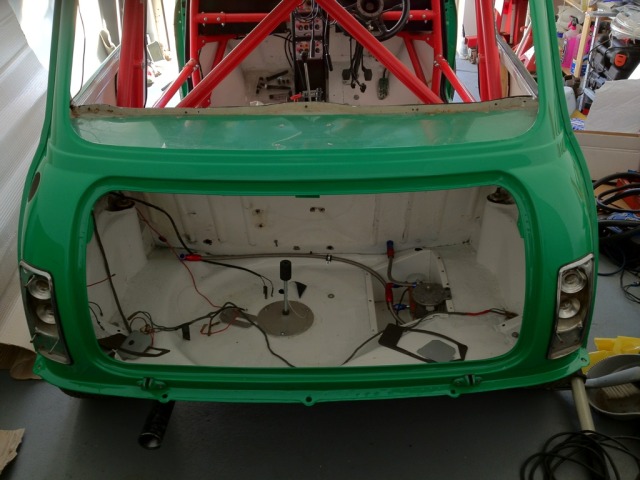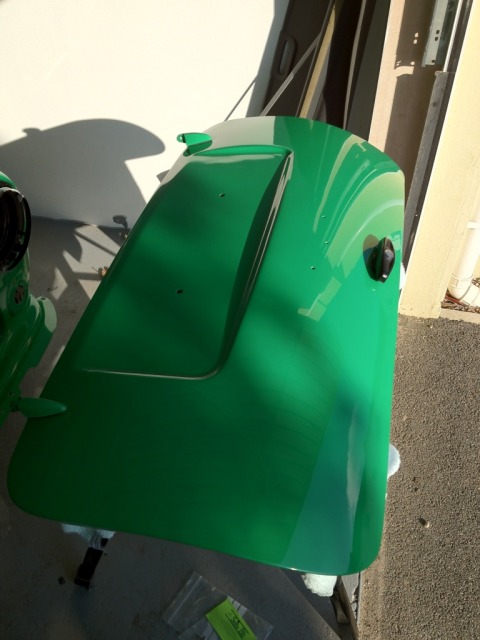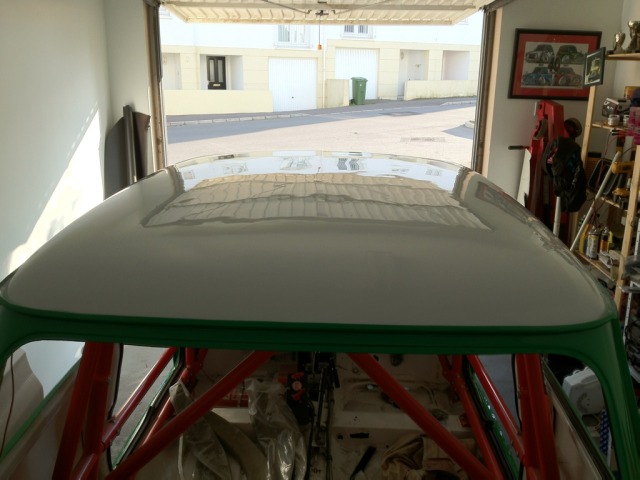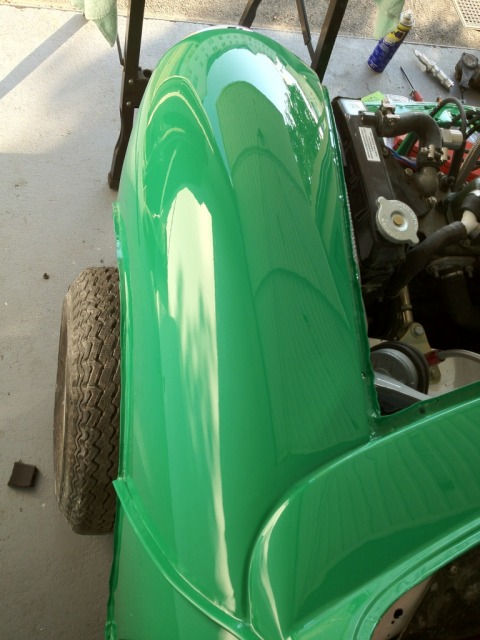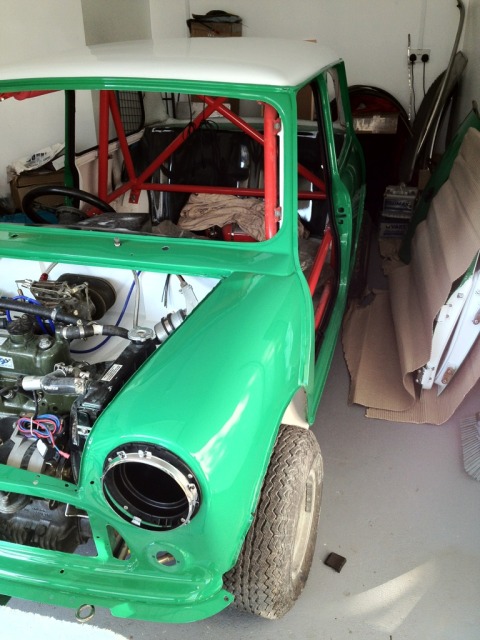 I will have to give it a month, before I can really get stuck in, as I have to study for an exam.

Any way enjoy the pics
6-14-2012
Managed to do a bit if work on the car after college ;)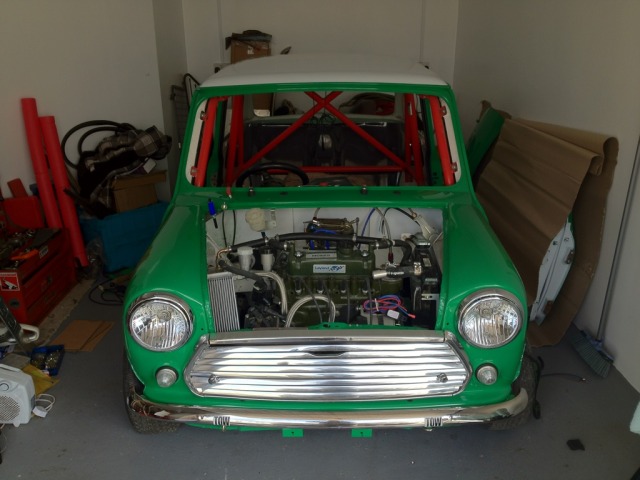 And can some one tell me what type of arches theses are and if they will cover 6x10?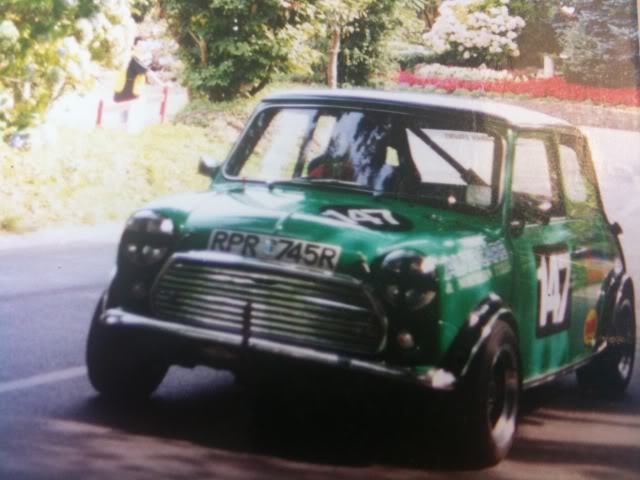 And are they the same arches as these?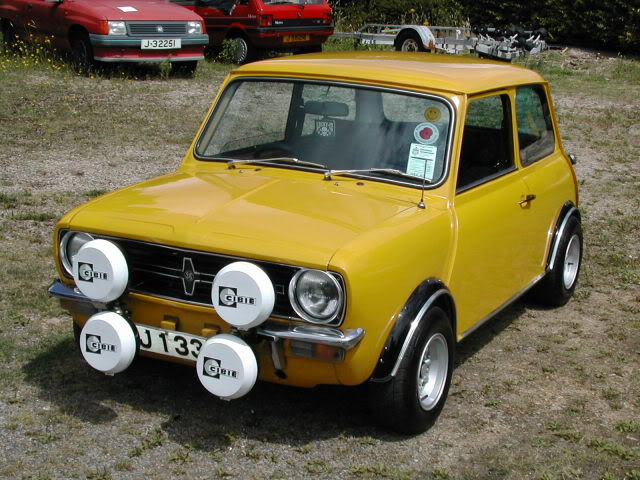 6-20-2012
Cheers guys

I thought that was the case, who sells the best group 2 arches?

I also did a test fit of my lamp pod on my old bonnet, looks great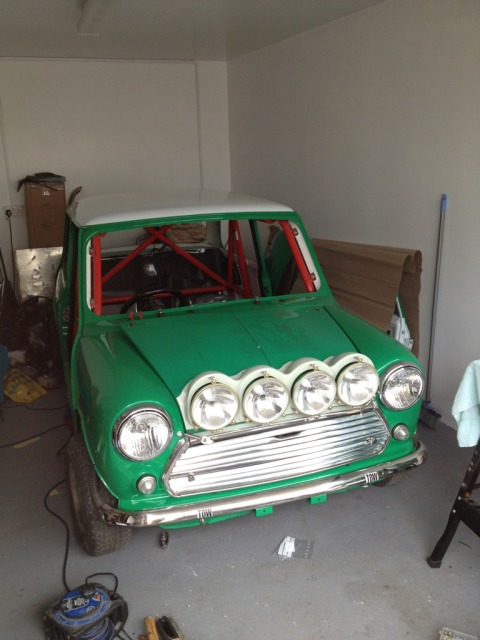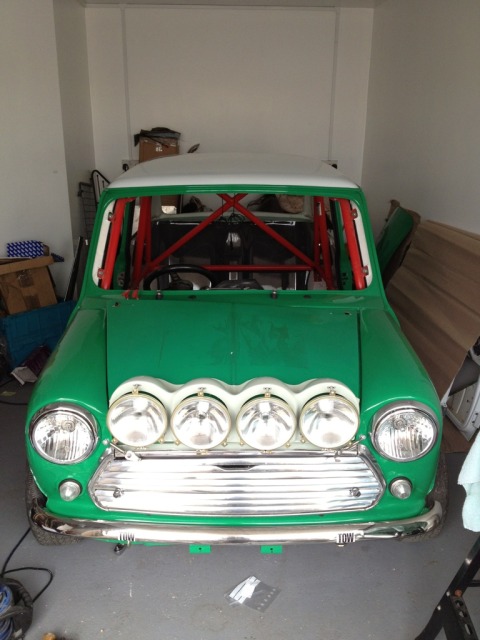 6-21-2012
Right

These are the arches that I have had kicking around for years. The fit seems to be rubbish! The rear ones I can't get the arch the line up with the sill section.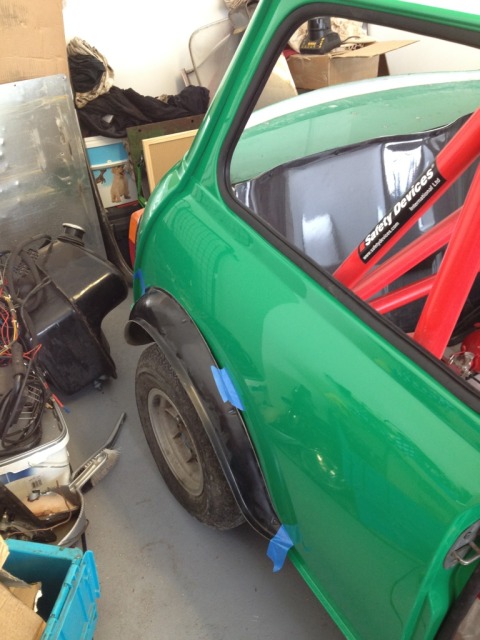 And the fronts don't seem to have the correct curve to fit round the front panel.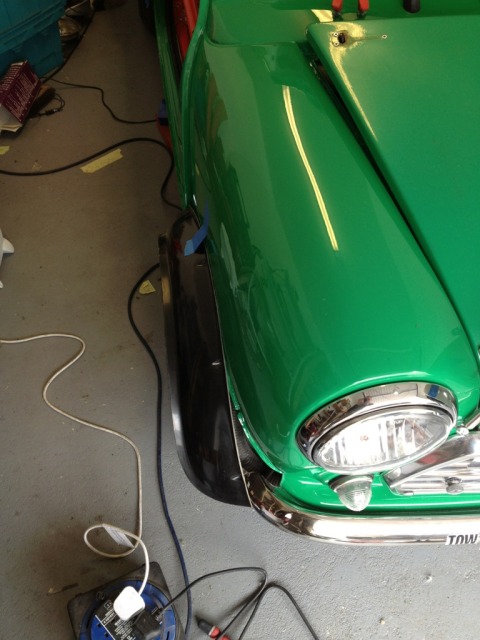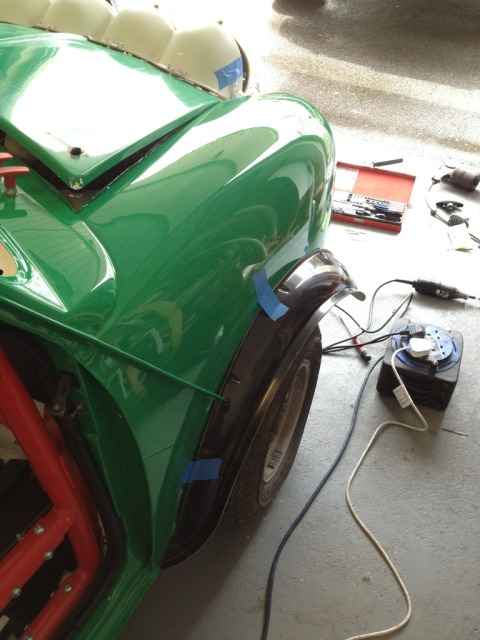 And are these arches group 5???

And here's another pic of the lamp pod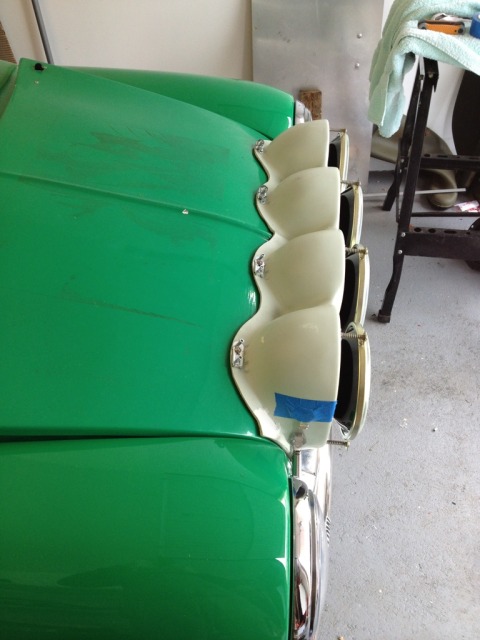 7-16-2012
Right, well my exam is now over, so I can now start back on the mini.

My new carbon layered bonnet arrived, so I have now drilled all the holes for the bonnet pins and lamp pod.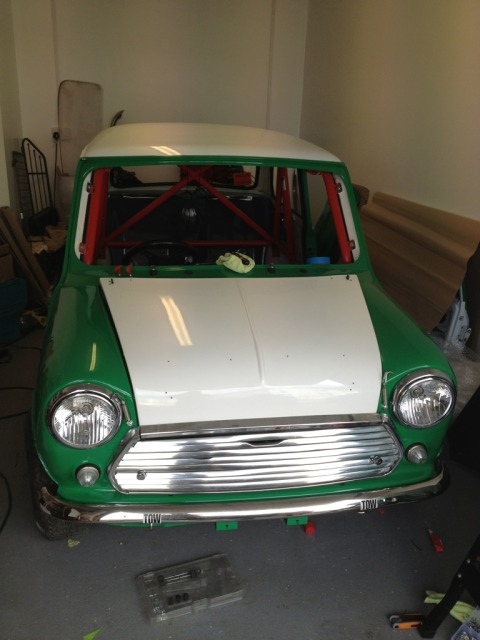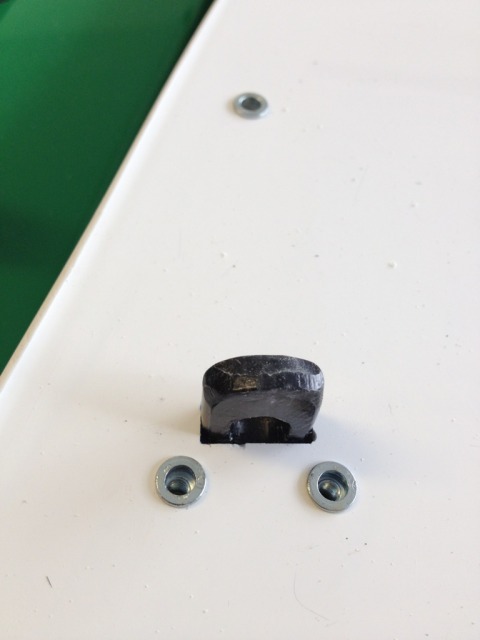 So I will be dropping the bonnet, lamp pod and arches to get a lick of paint.

I thought it would be a good time to start routing the cables etc, so I started drilling the bulkhead to install my bulkhead grommets.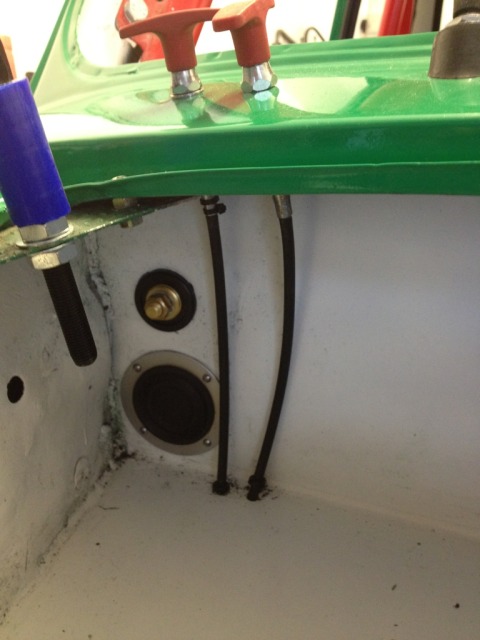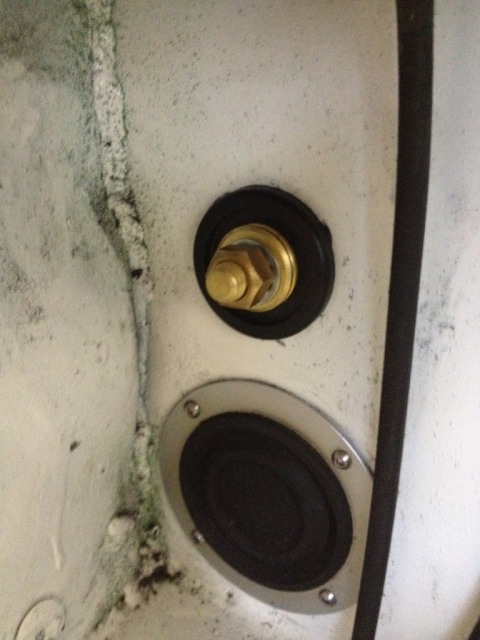 I also started to look at the wiring loom to tidy it up etc where can I get these from?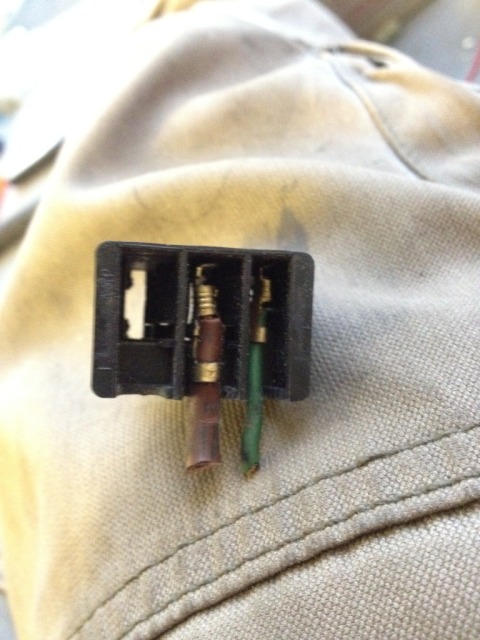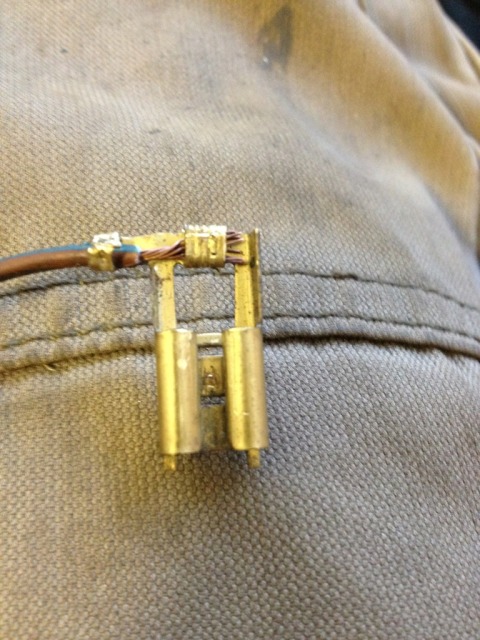 Here is the wiring loom for the lamp pod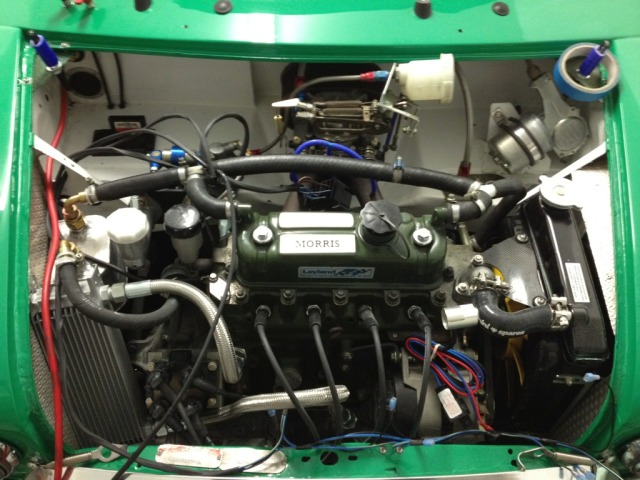 So more updates coming soon
7-21-2012
Hi all

Got round to getting my tires fitted.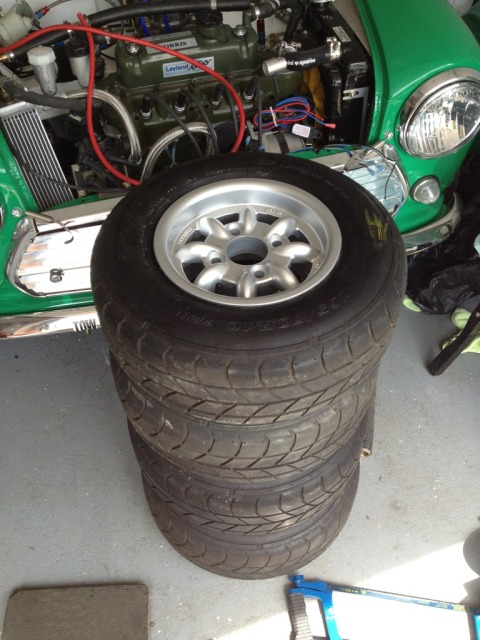 Nice Dunlop D93j on 6x10 minilites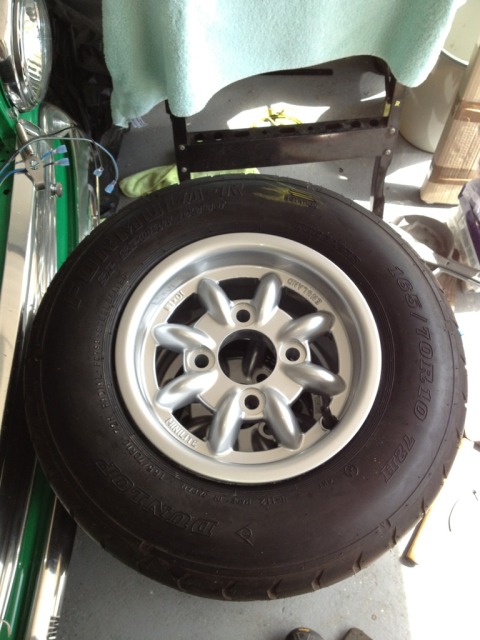 Wheels fitted to the car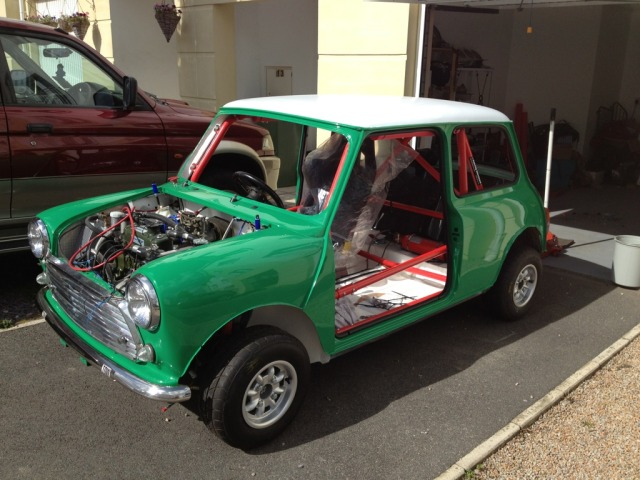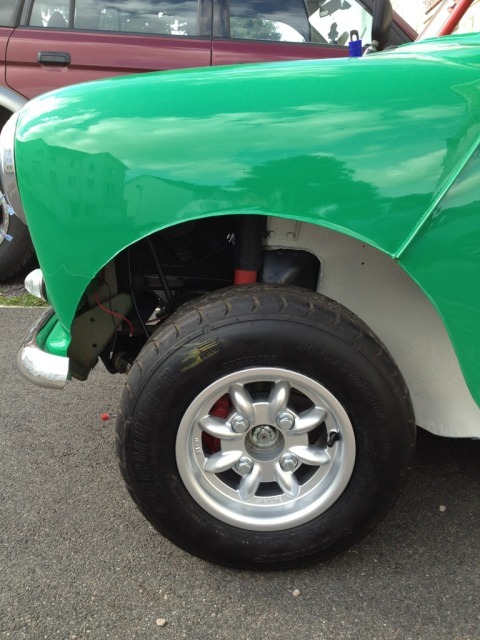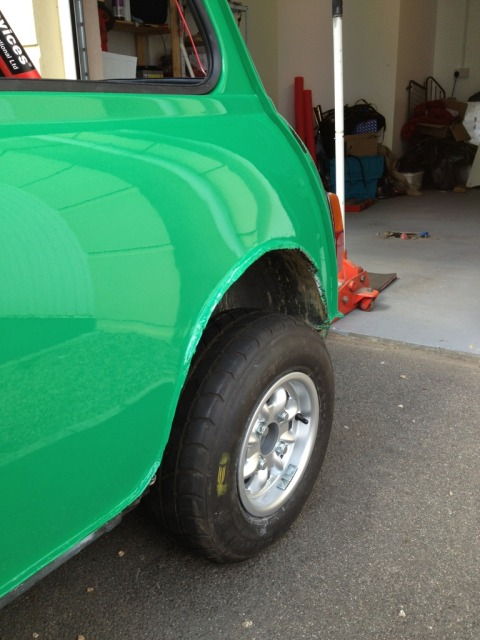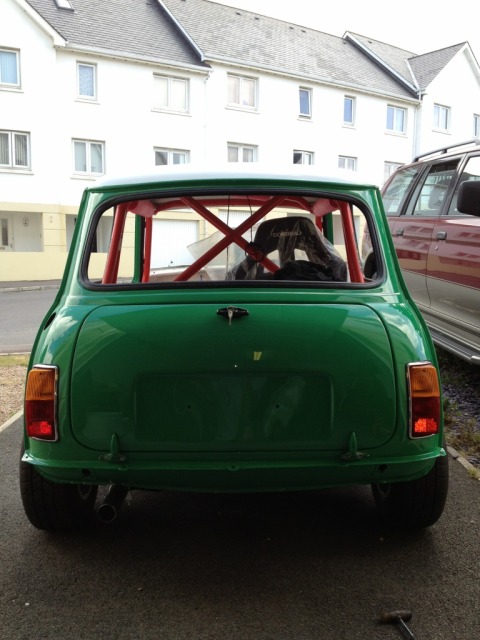 7-25-2012
Managed to get a few little jobs done this evening.

Located and fitted my washer pumps




And my cage light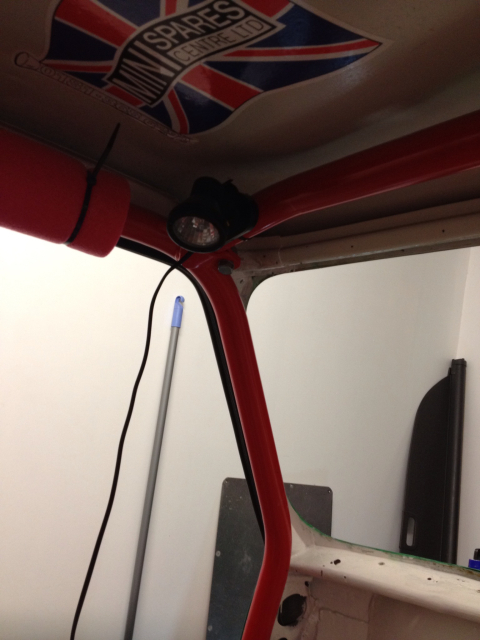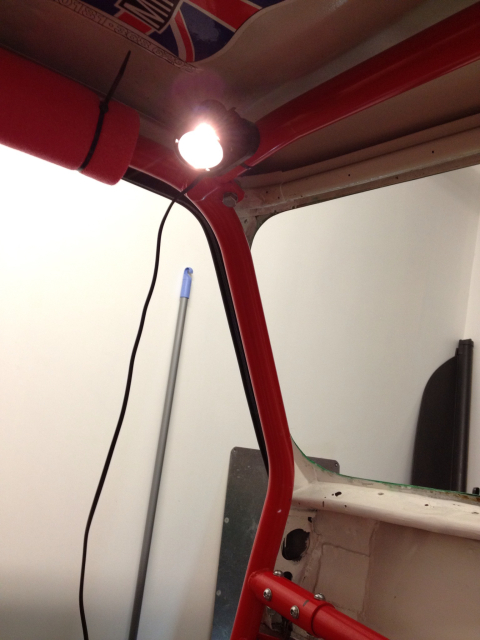 I also riv-nutted in the battery/fuel box in place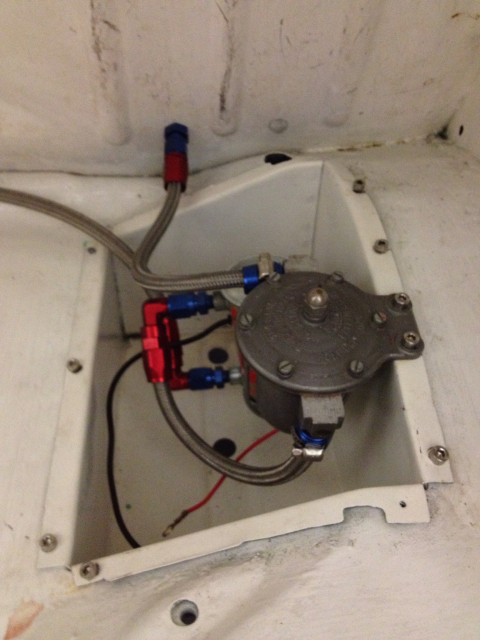 Next on the list is to order all of the electrics that I need, so I can get my new wiring installed.
7-28-2012
New bits turned up today from

https://www.spiyda.com/magento/index.php/classic-mini-mk-ii-iii-led-lights-bundle.html

Really easy to fit and they look great:) here are the pics.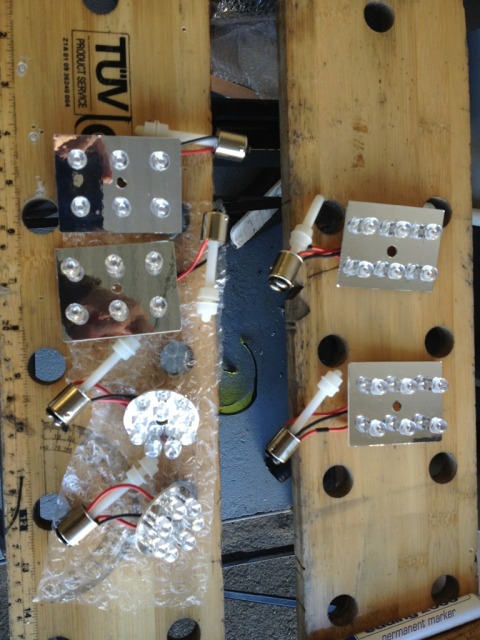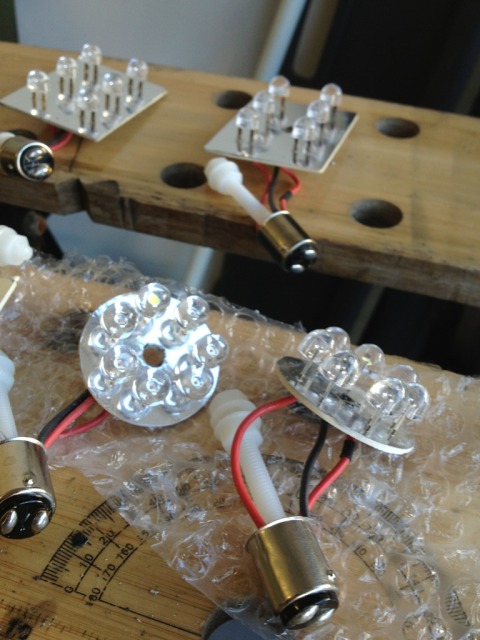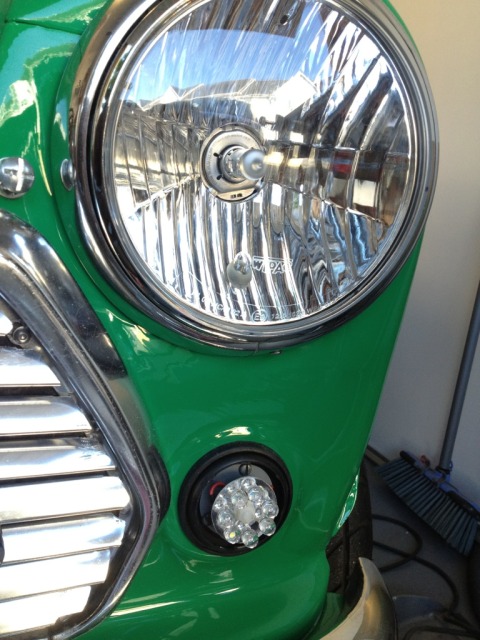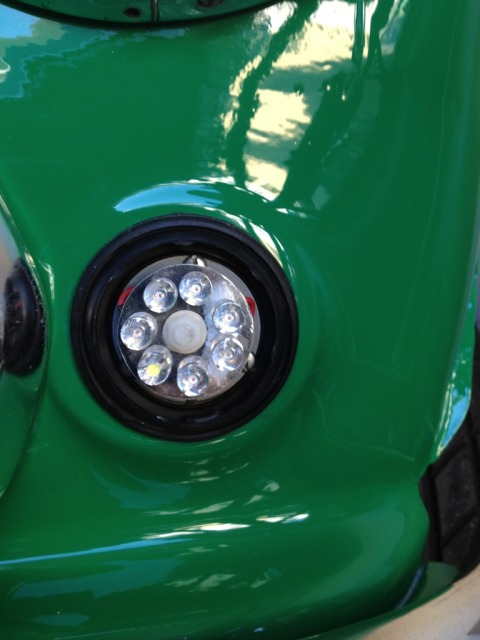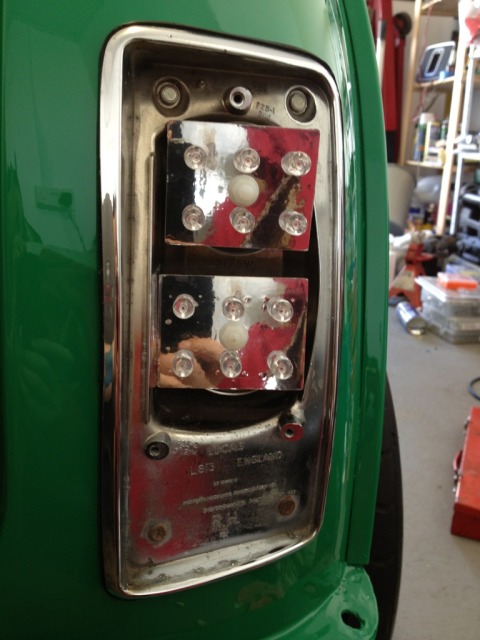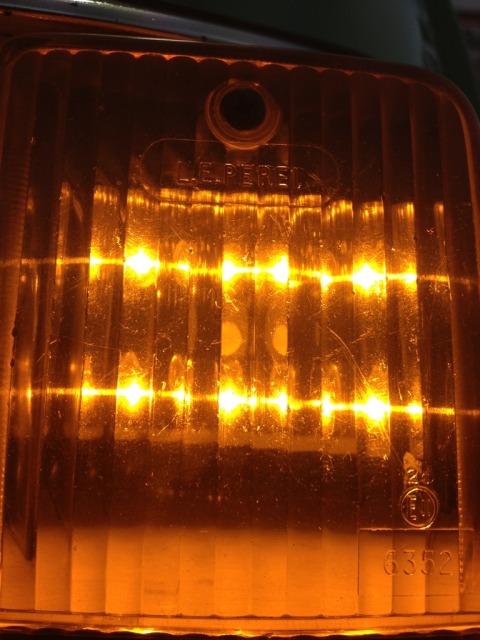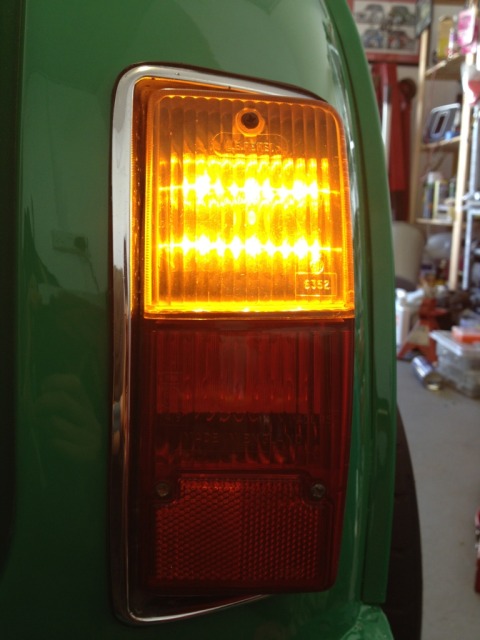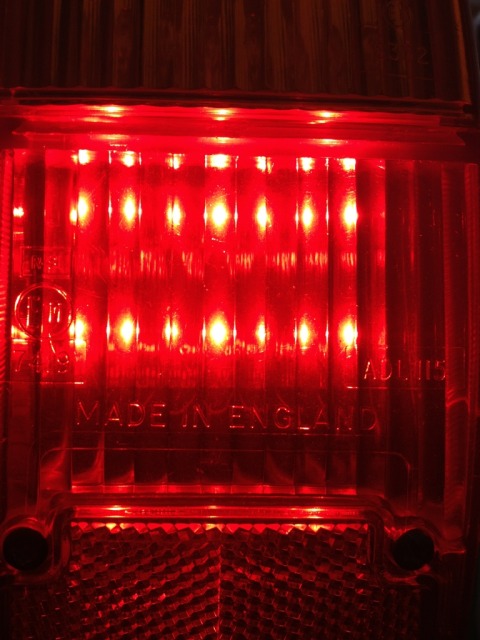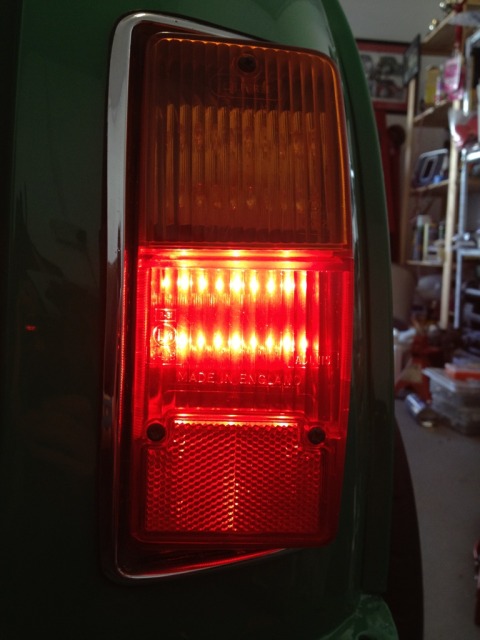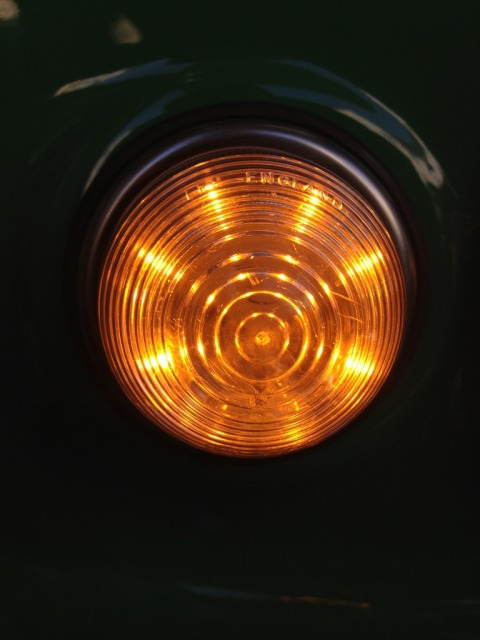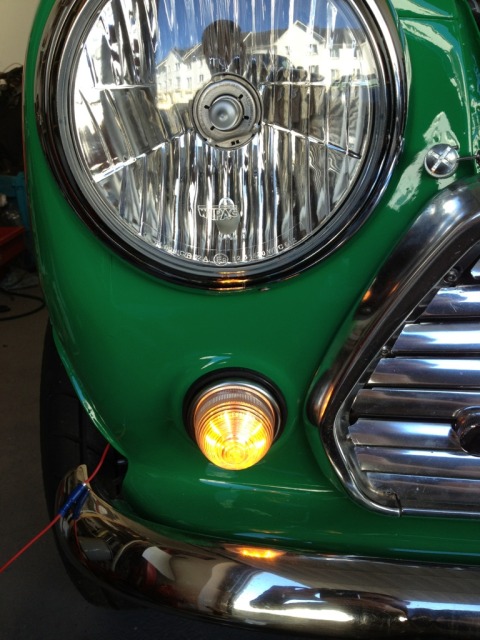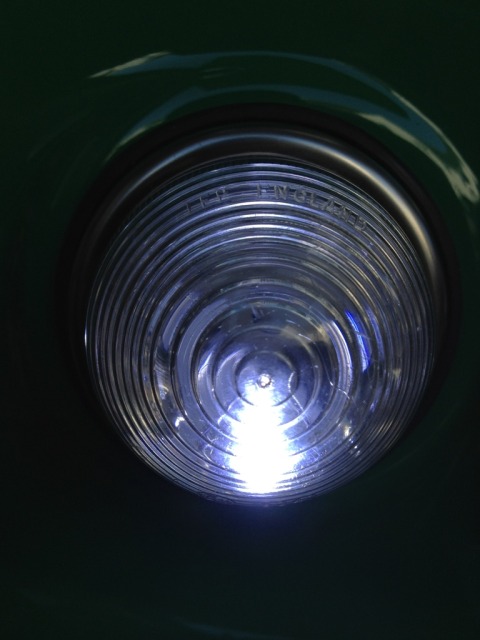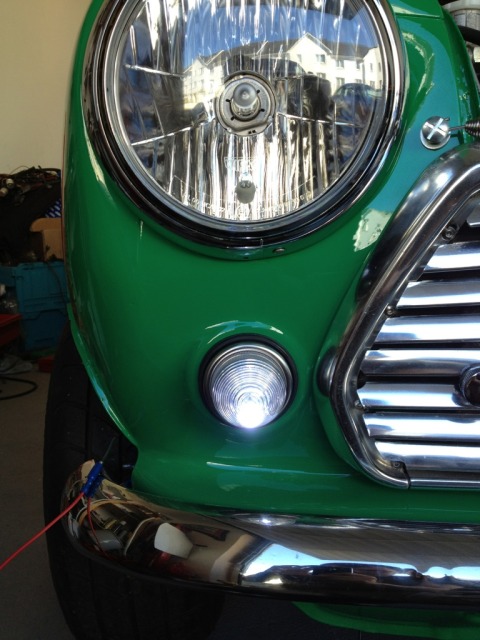 8-1-2012
Well a few parts turned up today:)

New 70amp alternator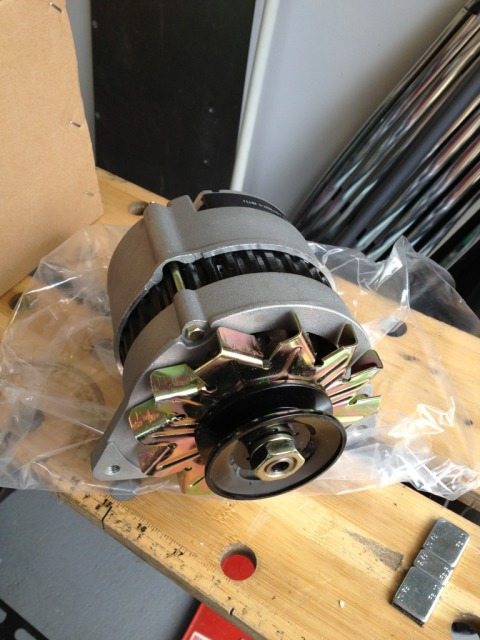 Fitted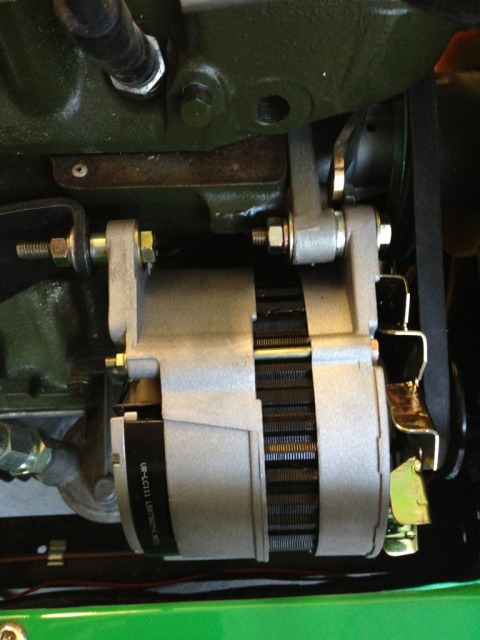 Uprated starter motor


Fitted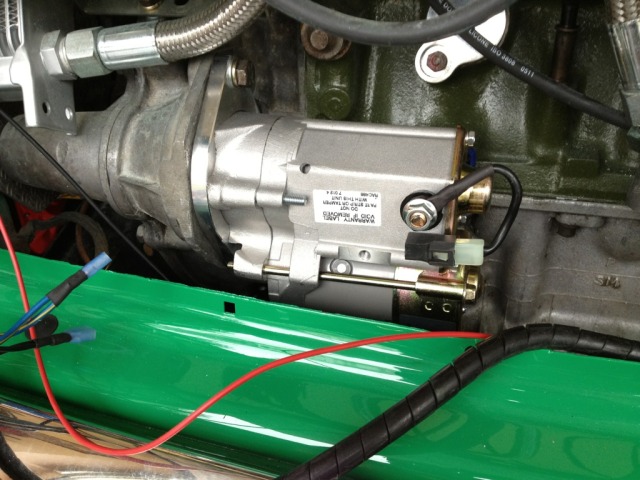 New mirrors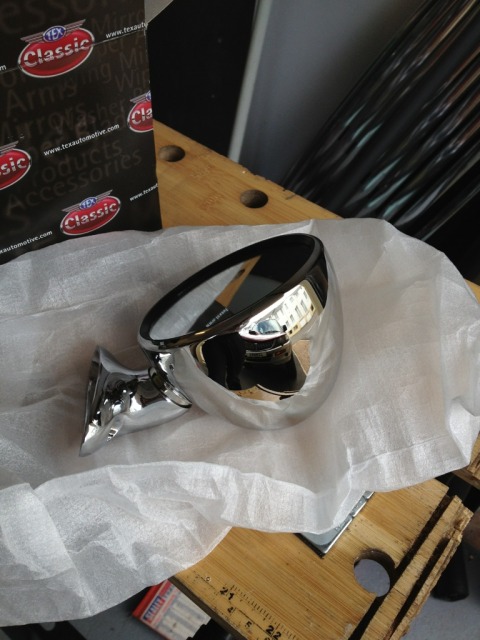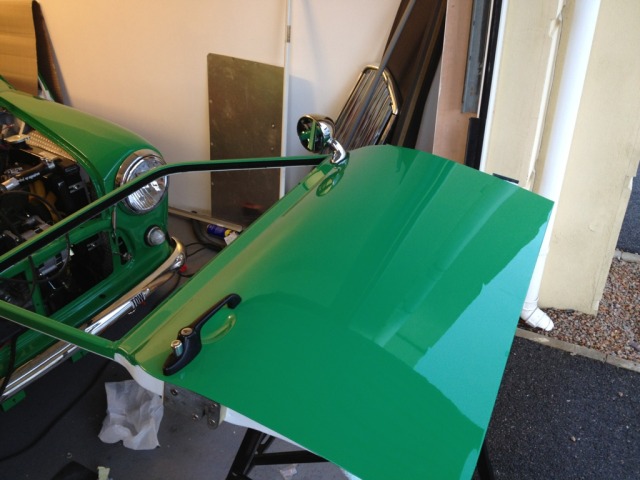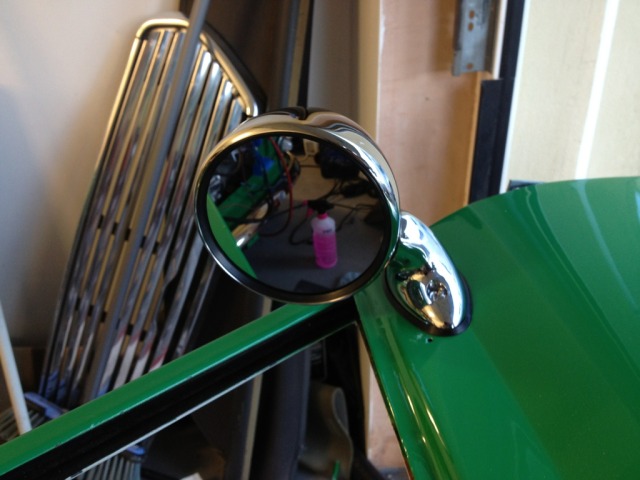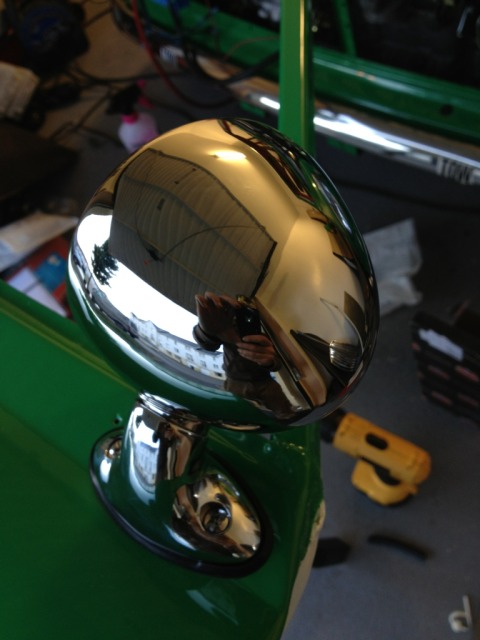 Nice led number plate lights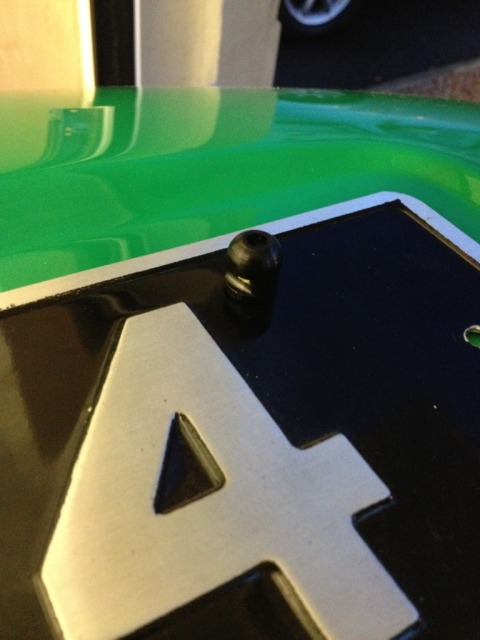 But, I went to fit my new speedwell gear knob, but the bloody thing was already cross threaded!!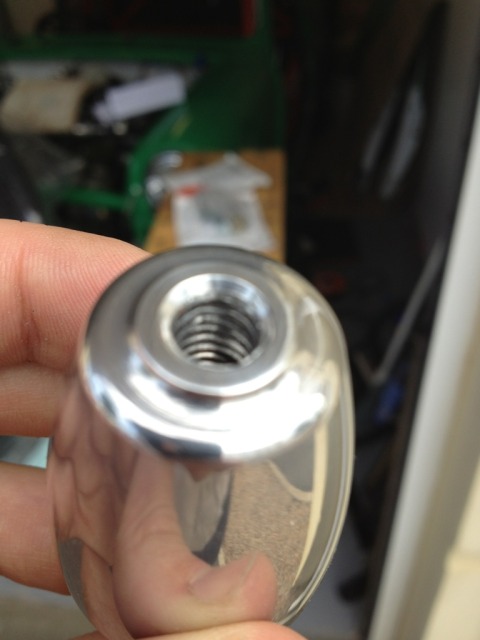 That's it for now


8-5-2012
Hi all

I spent a few hours on the mini today, got the following little jobs done:-

Wired up my new led number plate lights.

Plumbed in the washer jet pipeing.

Made some adjustments to a spacer on my alternator.

Elongated some holes in the passages door so I could fit the exterior handle and then fitted the door.

Changed the weber throttle linkage for a much cleaner one a had floating around.

It crazy how long it takes to get these little jobs out of the way.... Oh and I ordered my new polycarbonate windows;)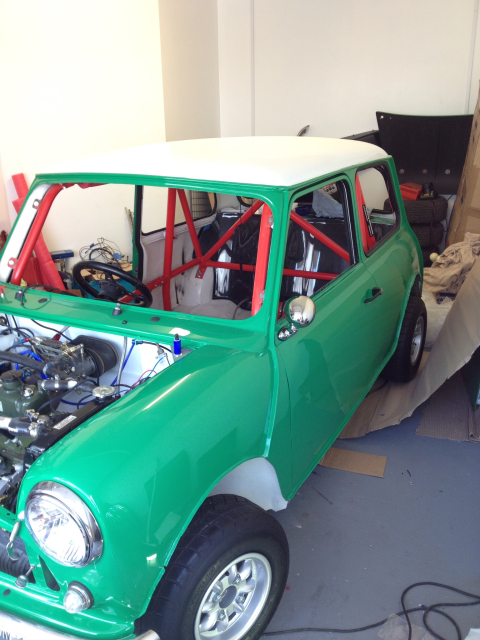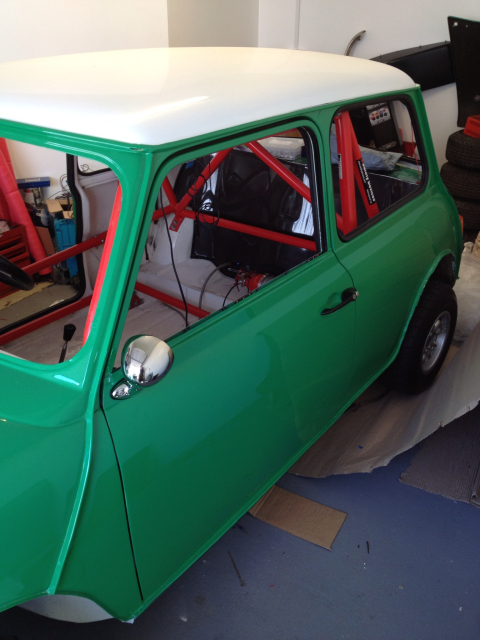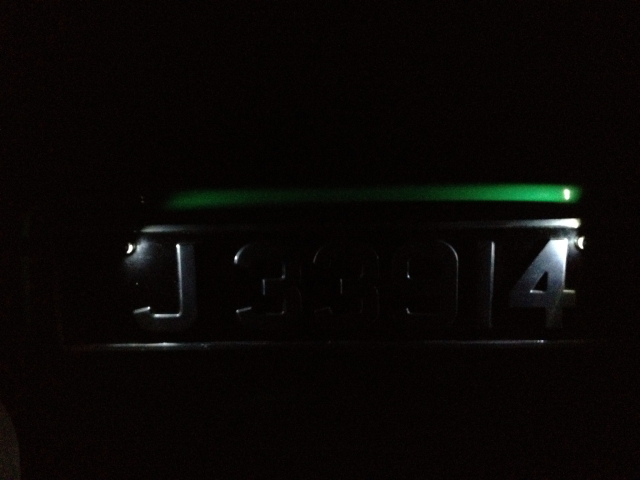 Cheers
8-26-2012
Hi all

I have been in holiday mode for the last two weeks, but I did managed some work on the mini.....but I really need to pull my finger out know!! My entry for the rally has been sent in.

I ordered a few bits for the remote gearchange, as I was having issues with a very tight gearchange. So I removed the selector section stripped it down, re-greased and rebuilt it. So I installed a new kad quick shift and remote gear lock out unit,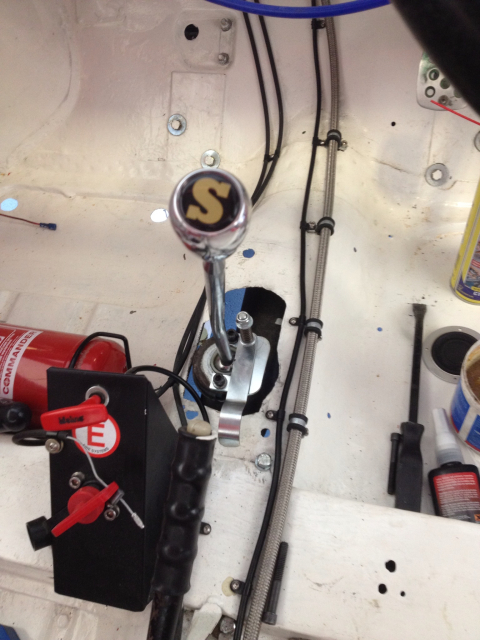 My new polycarbonate windows turned up, so I got to work fitting them.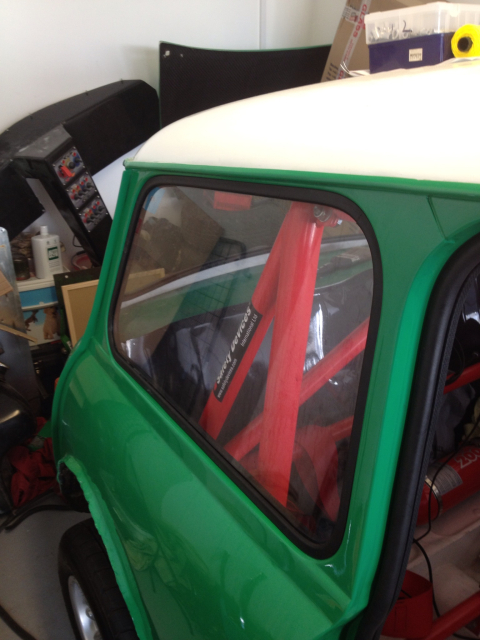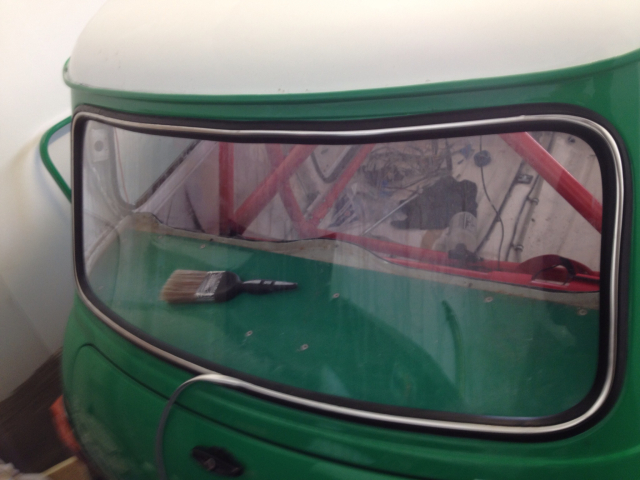 Be ready for many more updates.
8-29-2012
More work carried out, got the bonnet, lamp pod and arches back from paint.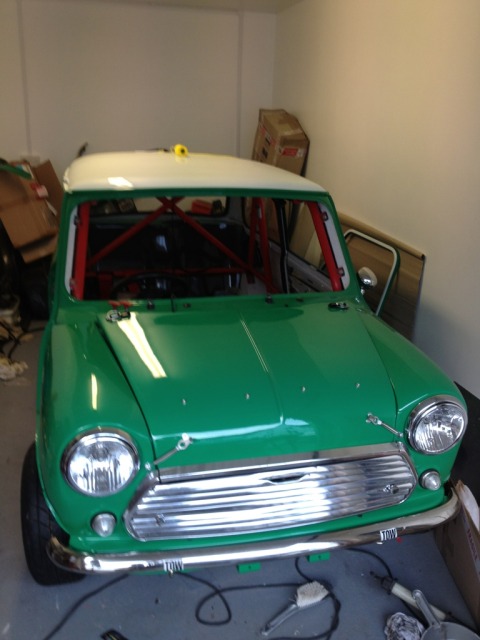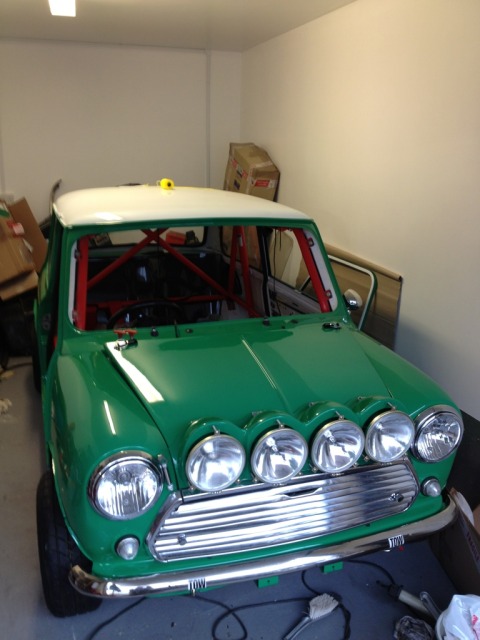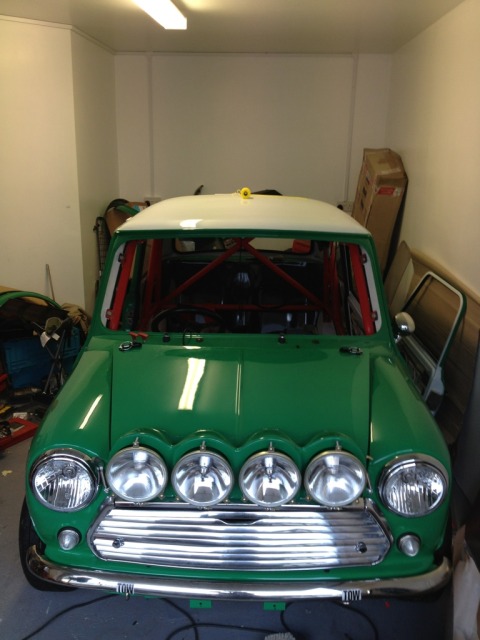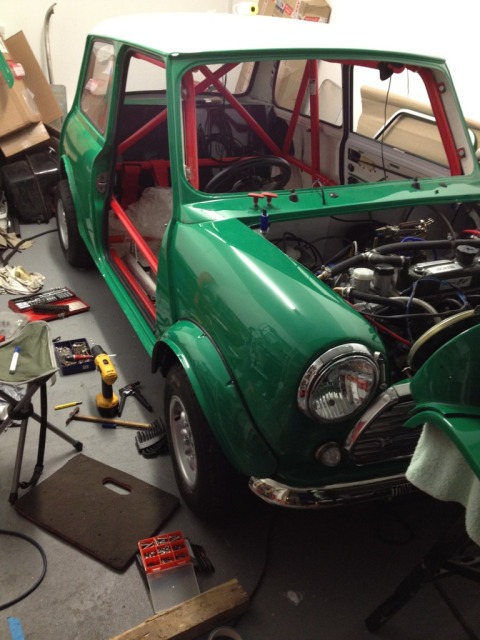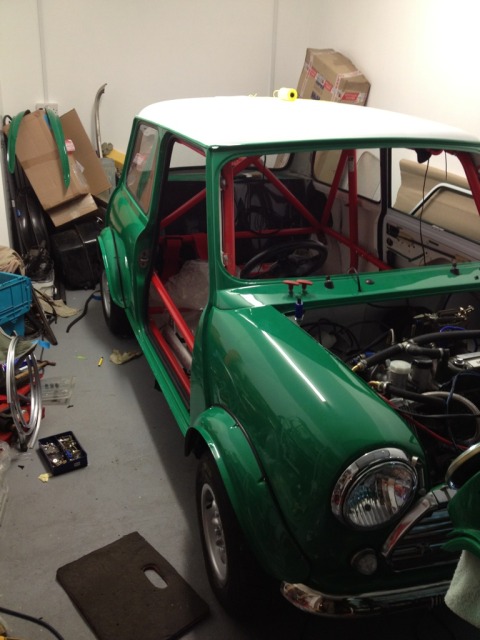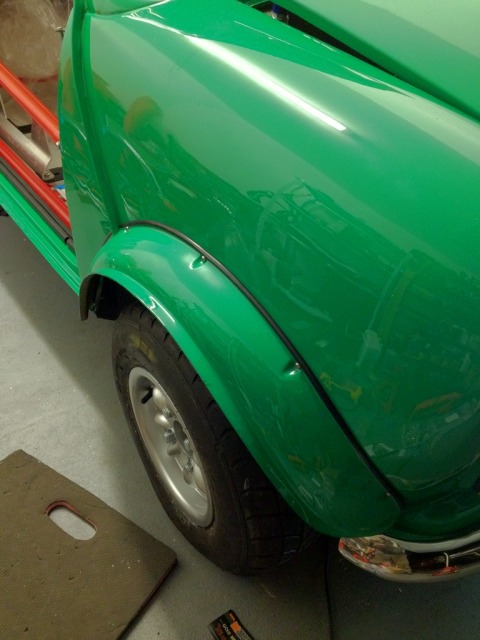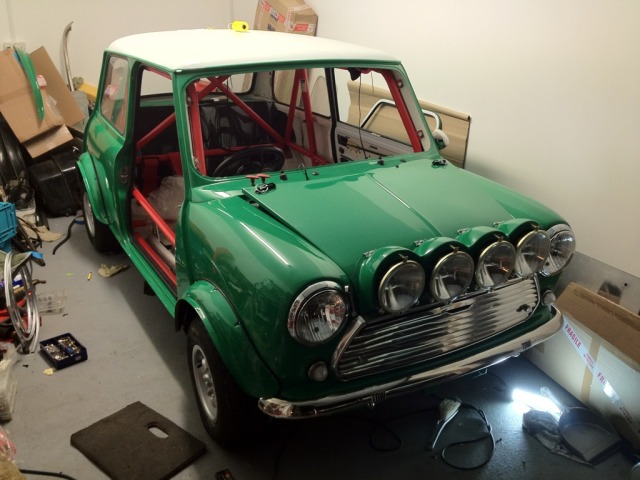 9-7-2012
:) well at least I'm not the only one that is put off by electrics.

My new steering wheel and boss, turned up and you can see a start on the wiring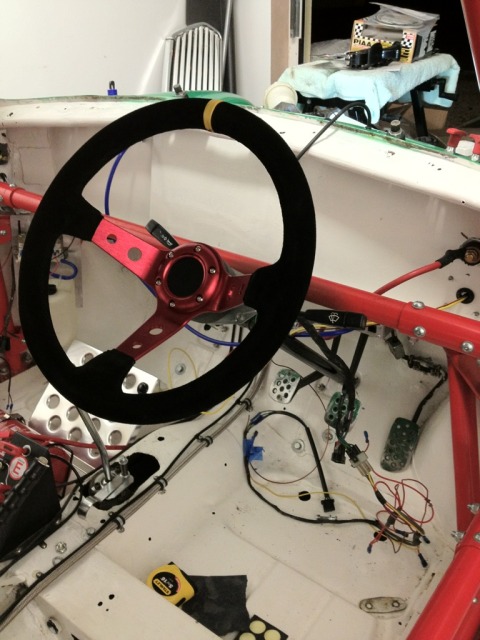 Wiring un the engine starting to take shape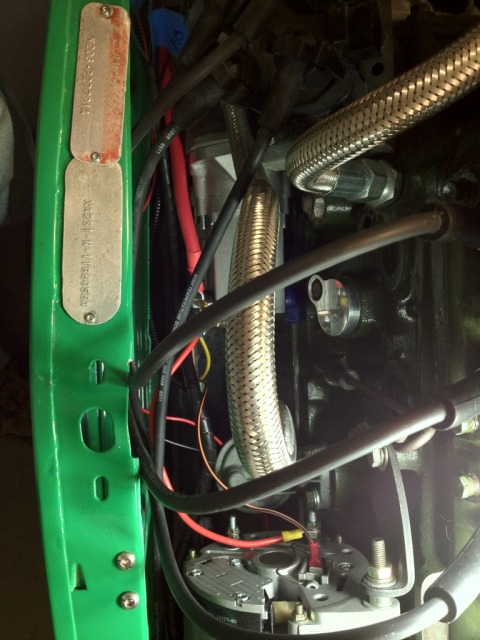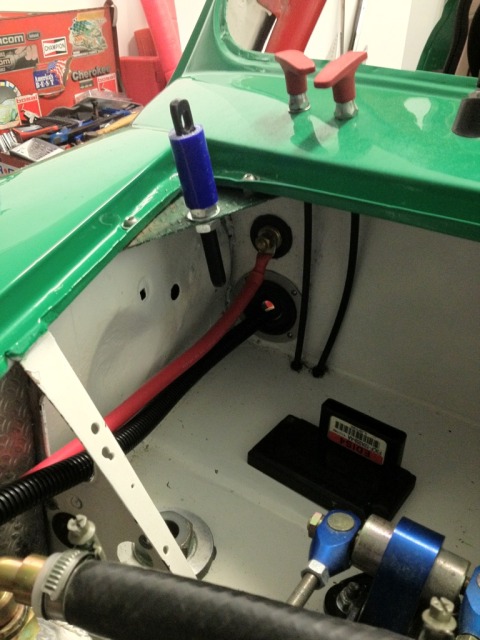 My friend has taken the Megajolt wiring so he can make the loom.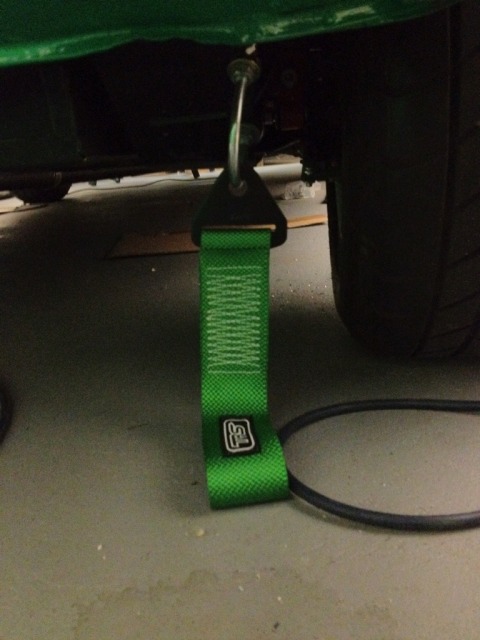 I will be working again on the car both sat & sun, as my entry to the rally has been accepted:)
9-8-2012
Same here lol I can't wait for the rally, only a month away!

Oh and look what turned up today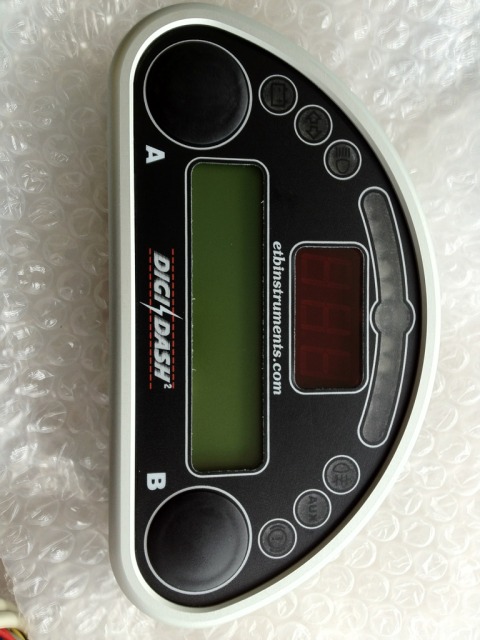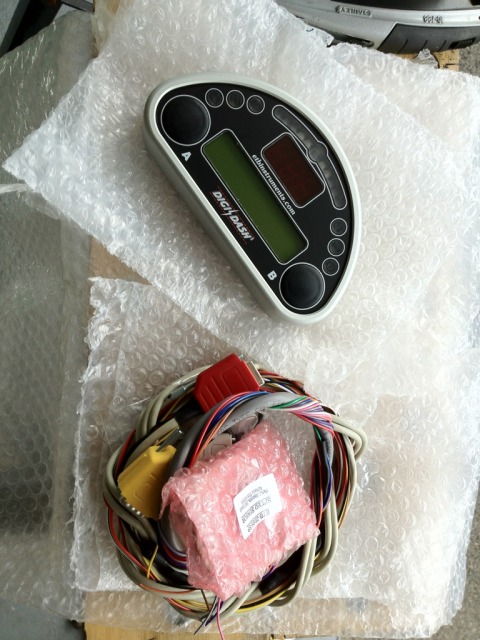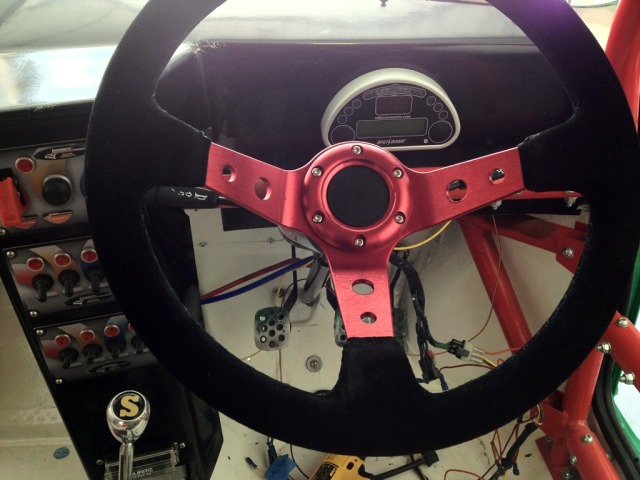 9-11-2012
Hi all

Another job done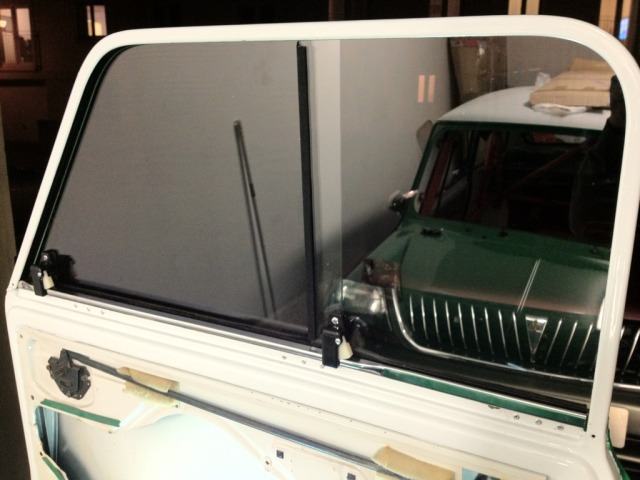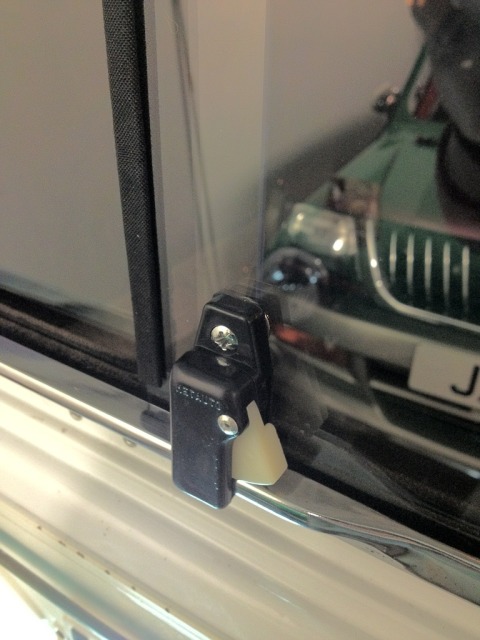 I fitted my sliding polycarb windows and new catches. And it all works!

This evening more work on the looms, I have dropped off my broken output shaft to be repaired as I can't find a 2nd one. I will fit the other sliding window kit tonight as well.

So all going well I should be able to firing it up this weekend, fingers crossed.

One month to go to the rally!!
9-12-2012
Yer just lots of little jobs now, and fingers crossed at the end of the rally, it does not look my previous car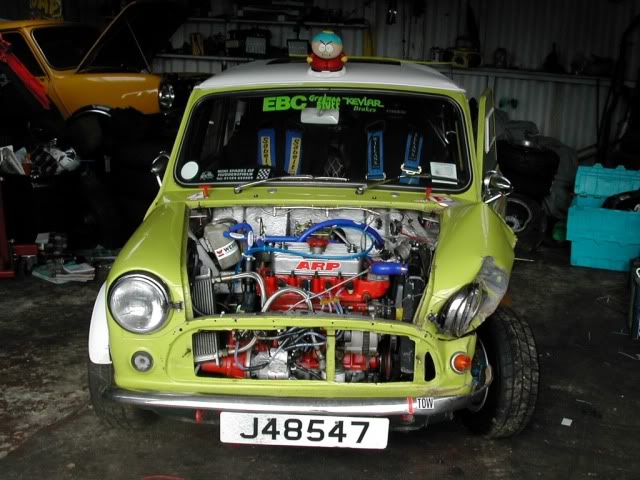 I managed to fit the other polycarbonate sliders and more work was done on the wiring loom and some other bits. I will be on the car most evenings and fingers crossed the loom should be finished!
9-17-2012
More progress, I got my hardy spicer repaired so it's now installed along with the speed sensor;) engine is also filled up with millers oil and coolant system is filled up and I don't have any leaks!

The wiring for the Megajolt is now complete, I made a little heat sink to mount the edis unit and the spotlight relays.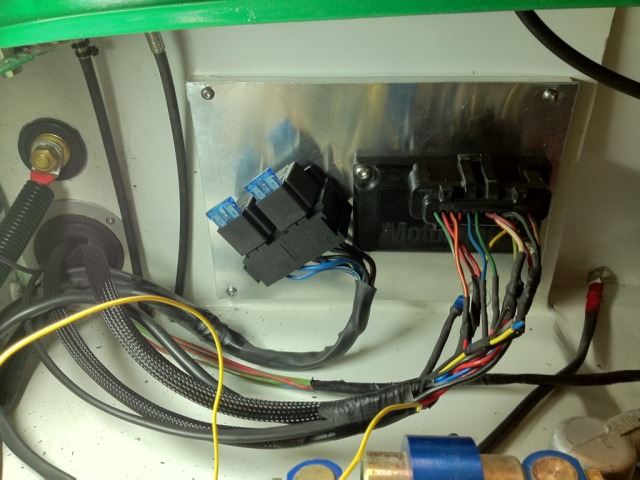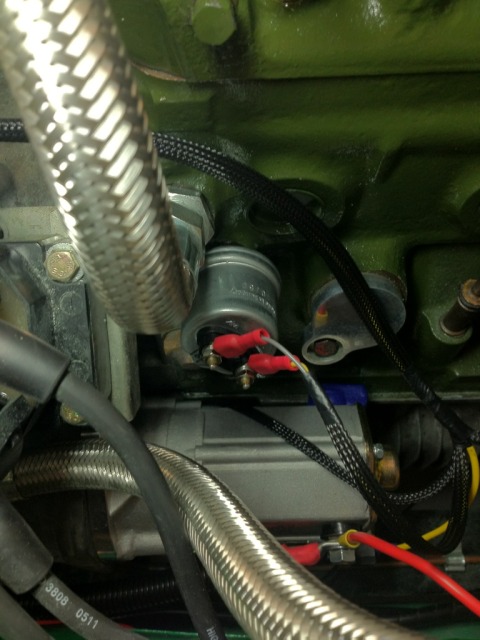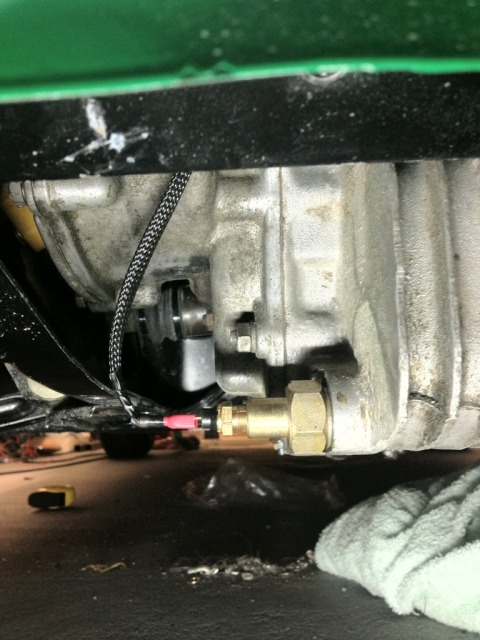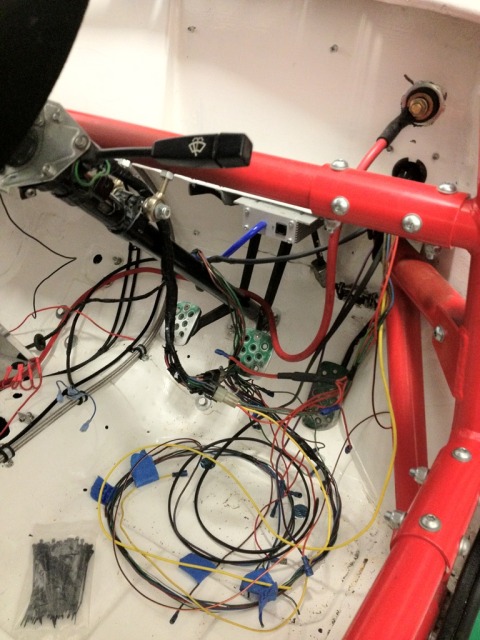 Passenger side door is now built up, with map pocket and map light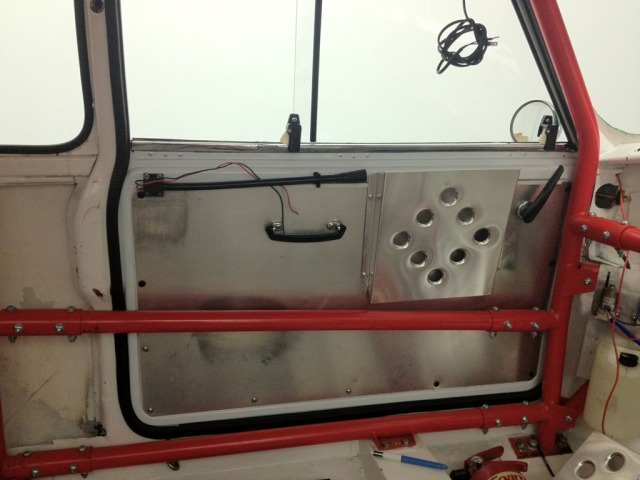 Lamp pod done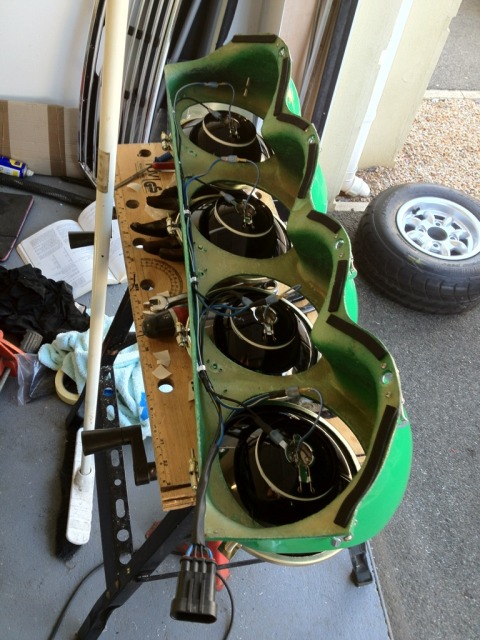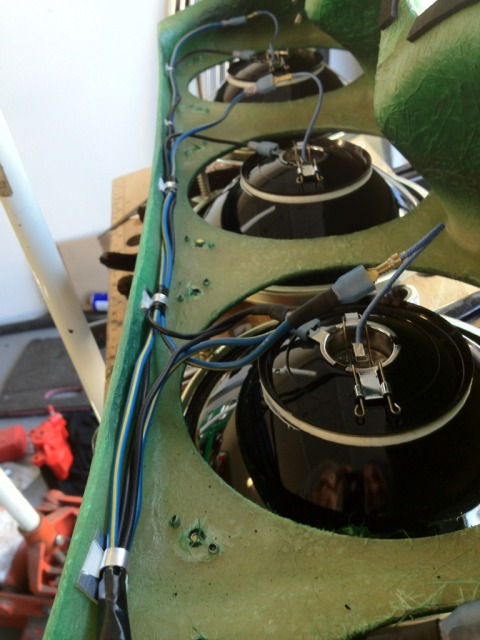 Will be working on the car for the rest of the week!
9-20-2012
Thank you for all the great comments guys :)

Only 20 days left! Aaaaaahhhhhhgggggg

Well last night I fitted the fuel tank and the new fuel cap, engine bay wiring is almost done same as all the internal switches.

Tonight I will fitting the cv boot clips and once that is done I can then torque all the bolts on that side.

Pics to follow.
9-26-2012
Well it turned over :)

But as yet no oil pressure, so I will have to play around with the engine tomorrow.

Just have a little bit more to do on the wiring ( headlights, washers etc)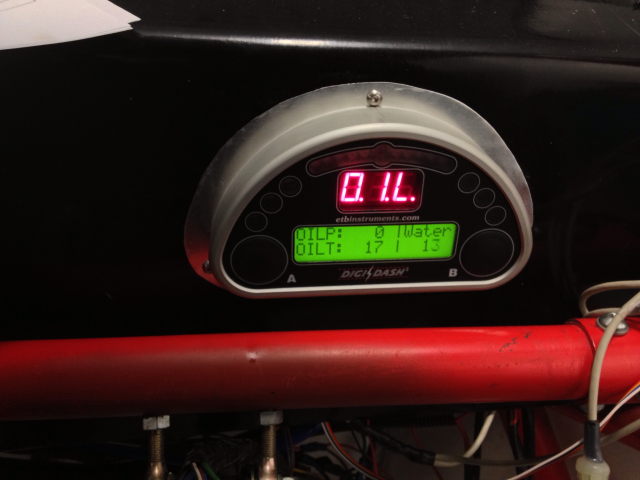 I also changed the clutch arm and I'm so glad I did!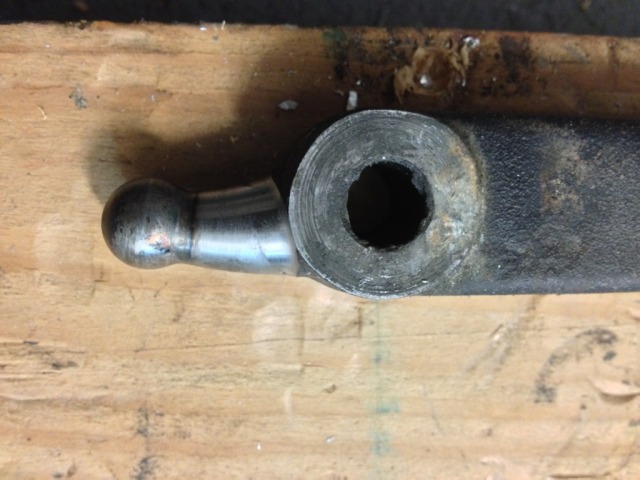 I noticed that the clutch adjuster bolt was pretty much fully adjusted due to the bent arm and as well as that check out the extended pin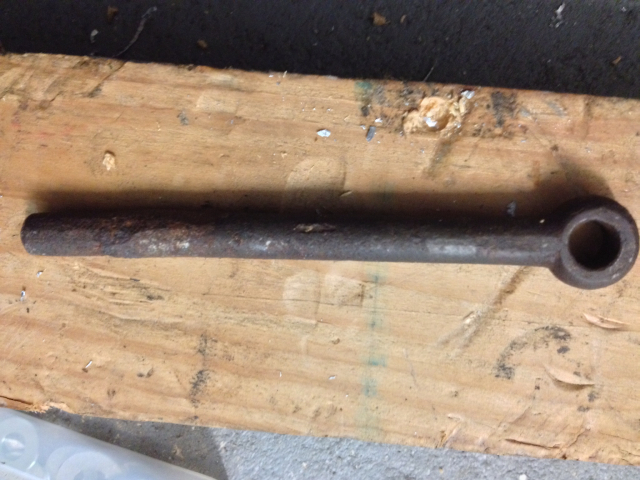 I'm guessing that this was done due to the fact that the arm was bent and the pin was not long enough to operate the clutch.

Any way when I get oil pressure tomorrow I will be starting it up.
Great news! I have oil pressure, what a relief!

It was around 64-70 psi while I was cranking it over.

So lets see if it starts;)
9-27-2012
Well it's alive :)

Took a bit of cranking over to fill the carb up but it finally sparked into life;)

No it does not need running in, I only changed the head gasket and the clutch, so I jut got to run it up to temp re-torque the head bolts and do the tappets.

Time to plug in the laptop now, wish me luck

I have tomorrow off work, which is great as I now got loads of stuff to do.
9-29-2012
What a session!

Right where to start, all of the wiring is now done and every thing works. Here is a list of what I've fitted:-

Heated screen
Seat bars
Red top 25 battery & cover
Drivers side door
Bolt check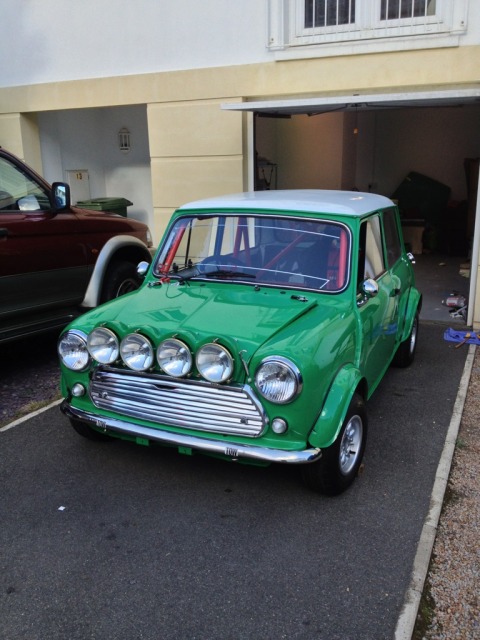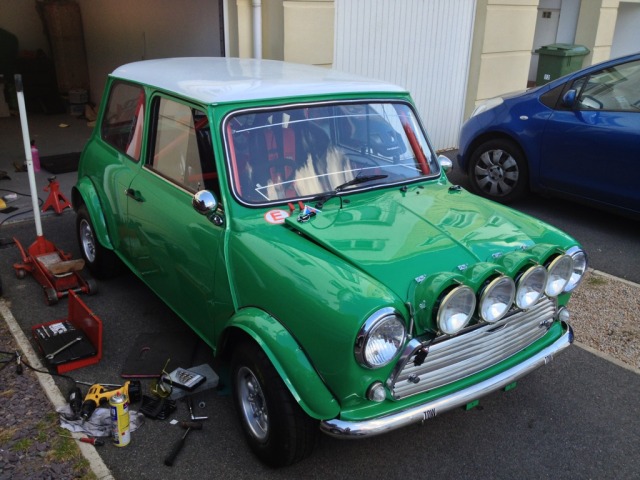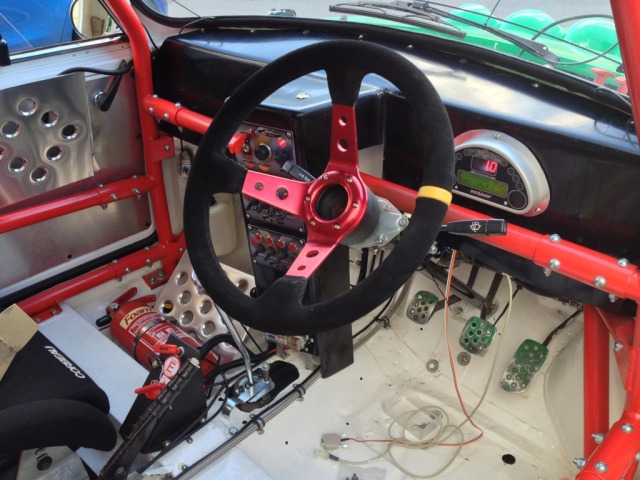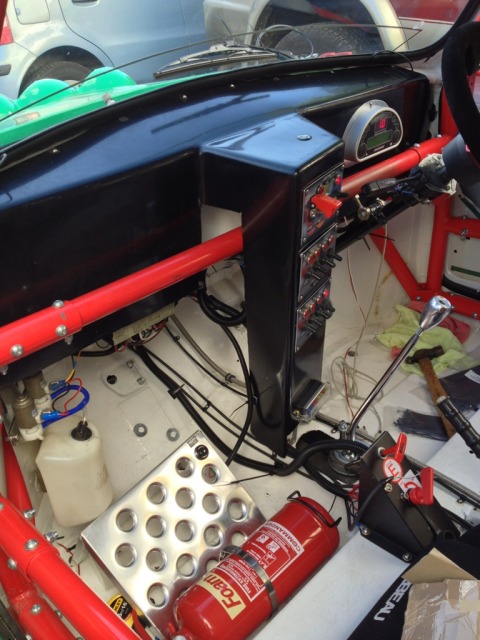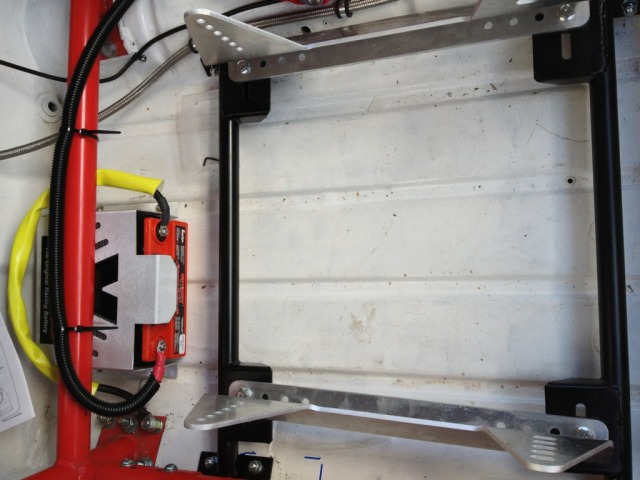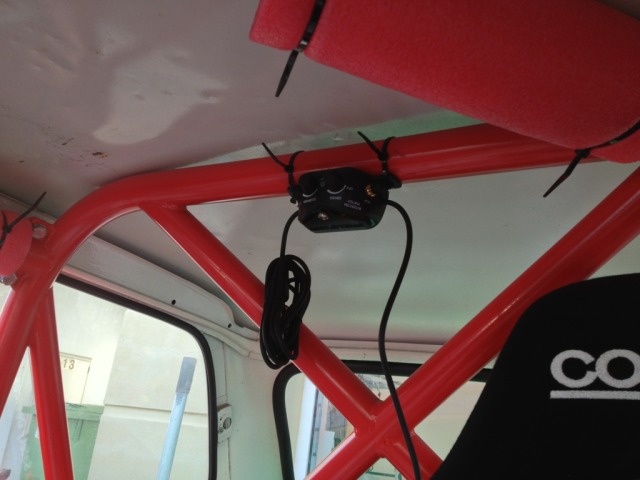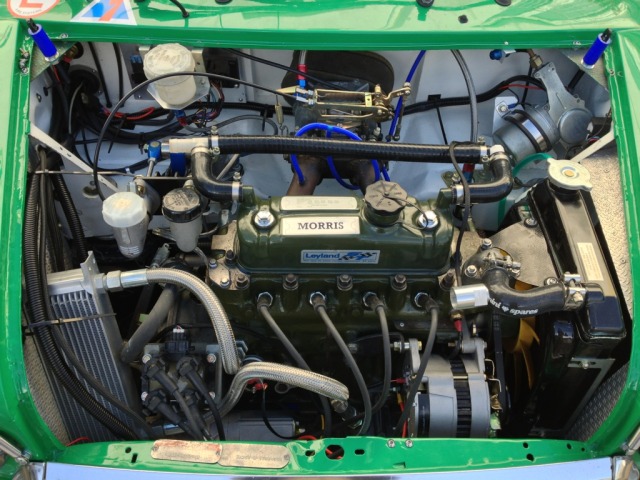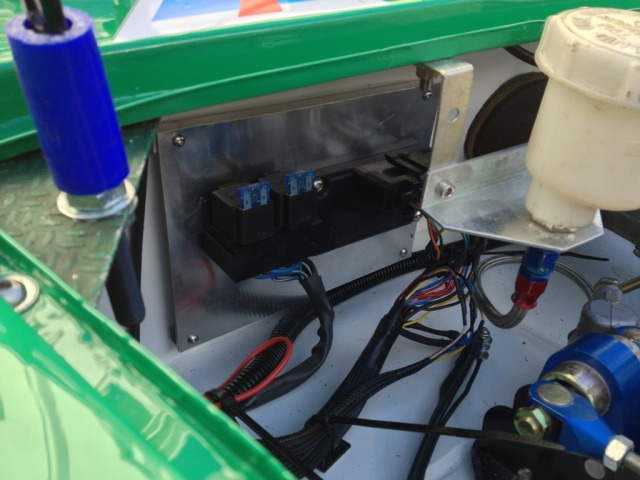 So tomorrow I will fit the mud flaps, adjust and bleed the clutch. Then I need to get two brake lines made and then get the suspension set up. Less than 2 weeks to go.
10-17-2012
Hi Keith

Some good news and some not so good news.

The mini is now fully ready:)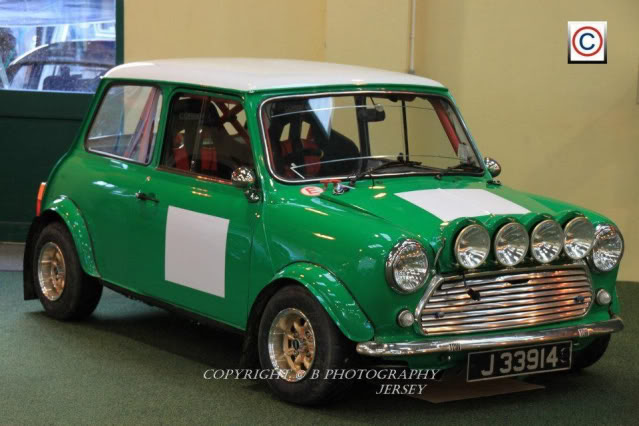 I had a few little teething problems, but apart from that all is well.

But the rally, I was placed on the reserve list along with 6 other crews, the event only aloud 86 cars to run, so I could only get to run if a car pulled out or failed scrutineering and no one did! So we did not get to do the event.

So my first event will be next year.

Already have a few ideas of some upgrades:)
9-13-2013
Jersey rally 2013, here we come :)

http://www.jerseyrally.com/entries/
9-16-2013
Carried out some work on the mini today. I wanted to check the jetting and choke size of the weber carb, so I removed the carb and stripped it down.

Choke 40
Main jet 200
Air correction 180
Em tube F9
Pump jet 55
Idle 50 F8
Aux vent 3.5

From looking at the Vizard book this set up is listed for full race, I noticed that the pump jets where missing their gaskets, so I have ordered some. With this set up I have noticed that it bogs down below 2500 3000 and it has an erratic idle.

I'm going to try a lower setting/set up from Vizard on my weber and see how it goes, I also have on order a MED stub stack kit :)

I have just asked this question, but does any one know where I can purchase some Dunlop D93J tyres from?
9-21-2013
Here's my new med stub stack for my weber dcoe 45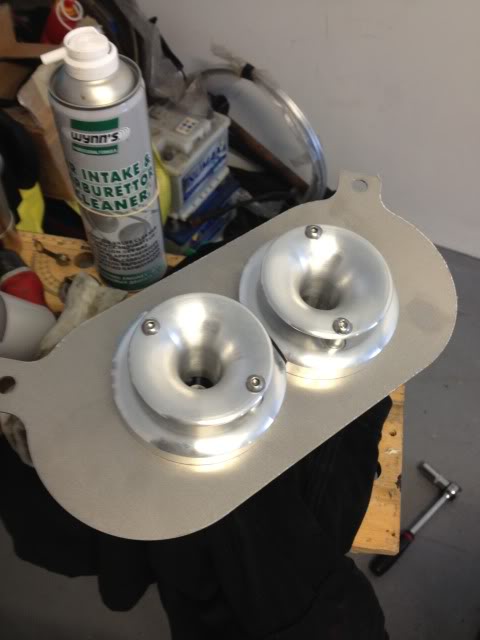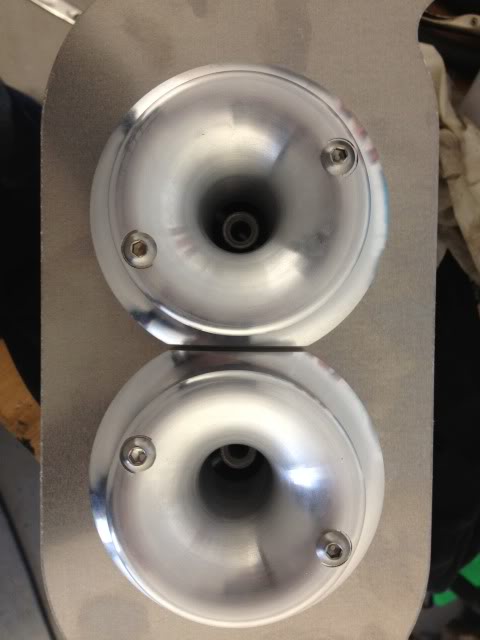 9-24-2013
Hi guys

What could be causing this
I changed none of the settings (jets etc) in the carb, I only took it apart to check what the set up is. The only thing that has changed is the med stub stack.

It starts idles, but as soon as I try to rev it, it dies.

Any ideas?
10-5-2012
Problem solved, nothing to do with the carb set up or air leaks, it turned out to be a fault with the stub stack itself.

On the itg back plate with the kit u can clearly see the larger hole for the float chamber.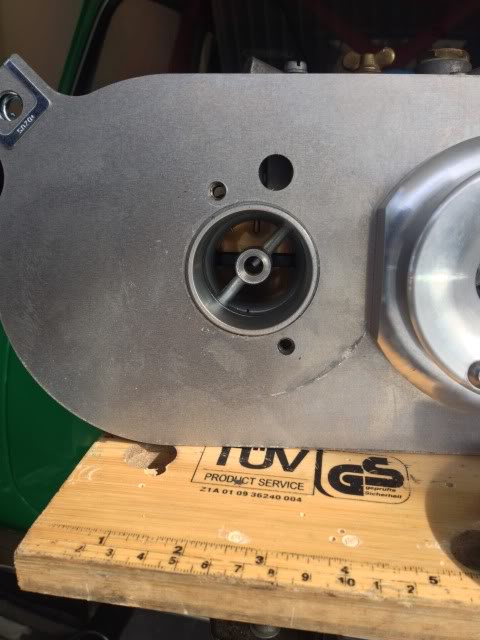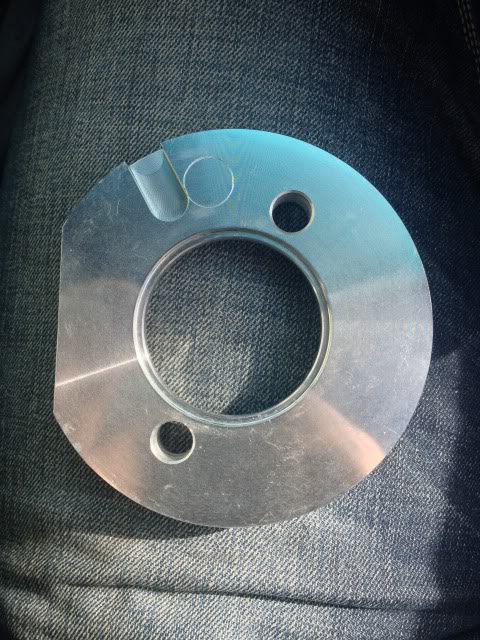 When I lined up the lower section of the stub stack, you can see that the cut out had been milled in the incorrect position, which ment it blocked off the supply of air. I therefore had to take it to an engineering firm to mill it out correctly and with that it now all works :)
10-9-2013
Yes the firm in question has been informed of the issue.

So the rally is almost here, tomorrow we are setting up service, noise test and the dreaded scrutineering! Then on Friday at midday it kicks off.

If you like you can keep track of my progress here
http://www.jerseyrally.com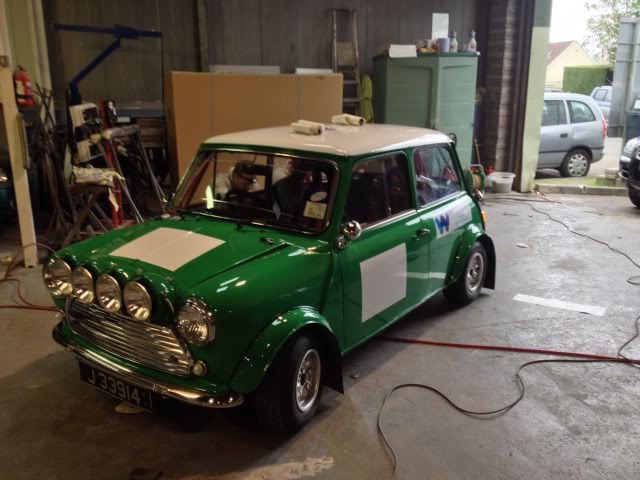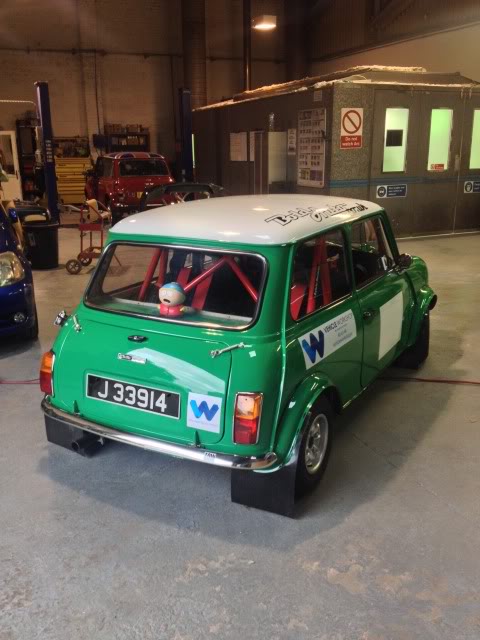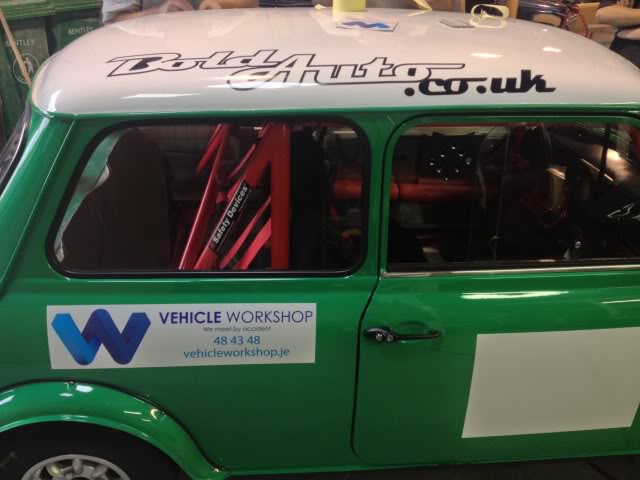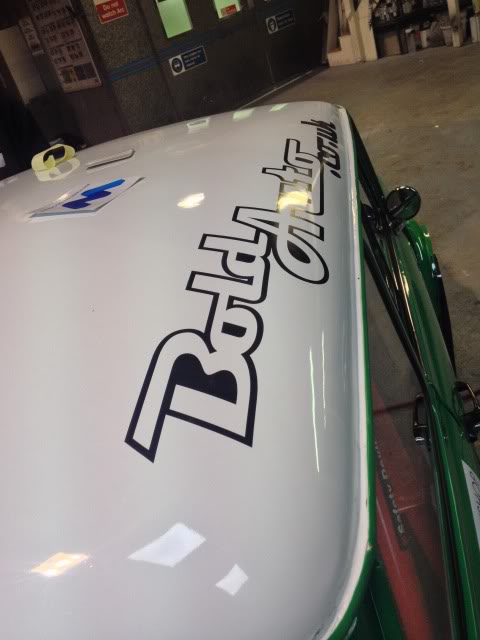 I will try and keep you updated on my progress and some pics.
10-10-2013
Thanks for your comments:)

So all of the stickers have been applied, serivce set up, noise test and scrutineering all passed:)

When I got home I noticed that the rear exhaust hanger was looking very low! And yes I had caught the exhaust pushed it back and broke both of the cotton reel exhaust mounts lol so work to do even before the event has started.
10-12-2013
Well there's your problem!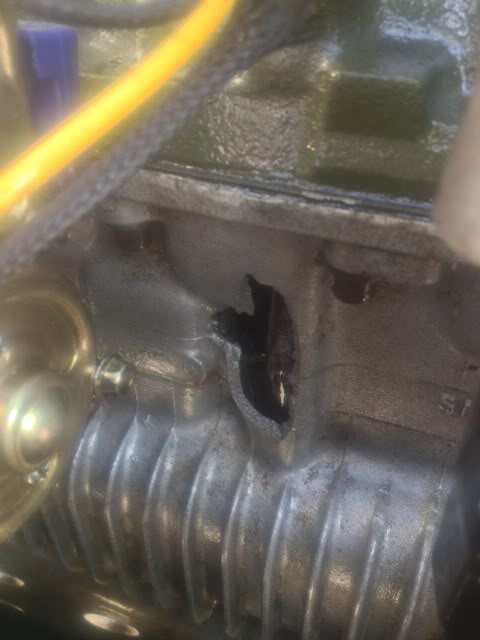 10-13-2013
Well I have figured how this happened! And what makes it worse it was my ******* up!!!!!

I left the frigging dizzy shaft in place when I installed the blanking plug for the megajolt system. So it shifted from its correct position into the gearbox and then out the casing:(

I'm sure I'm not the first and won't be the last. At least I have another gearbox:)

So let the rebuild commence.
We completed 18 stages. We did all of the Friday evening and night stages and 4 stages Saturday morning and then we holed the gearbox on the end of stage 18. On the stage before a wire snapped to the coil and we only had 2 cylinders, so we had to do an on stage repair:)

It was great while it lasted, and was getting into the swing of things, but hey ho.

Bigger and better for next year, at least the rest of the car is ok.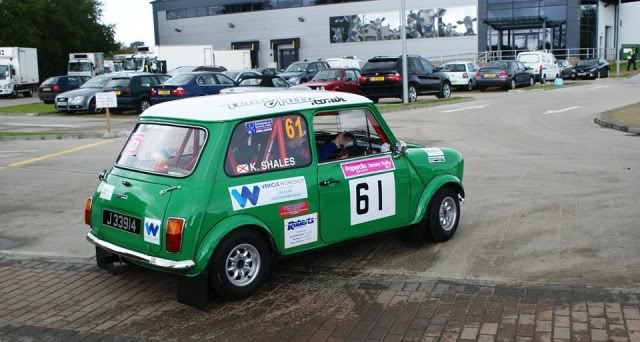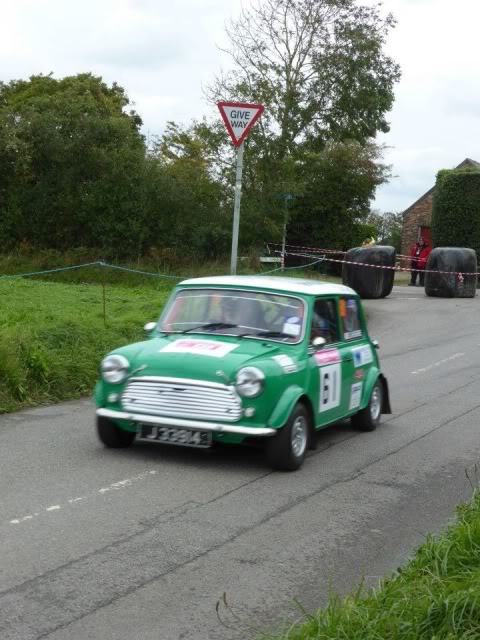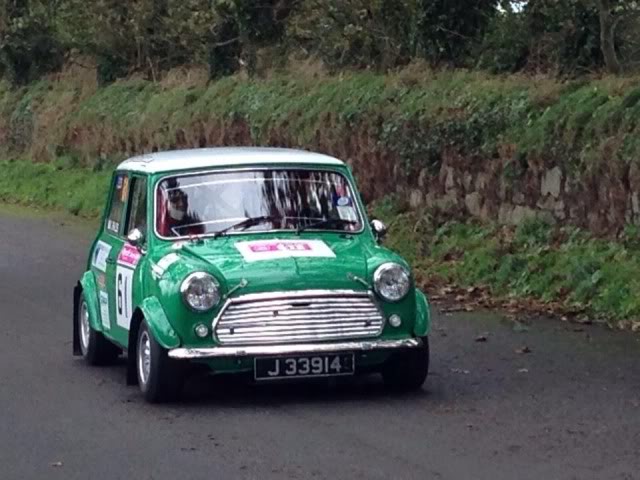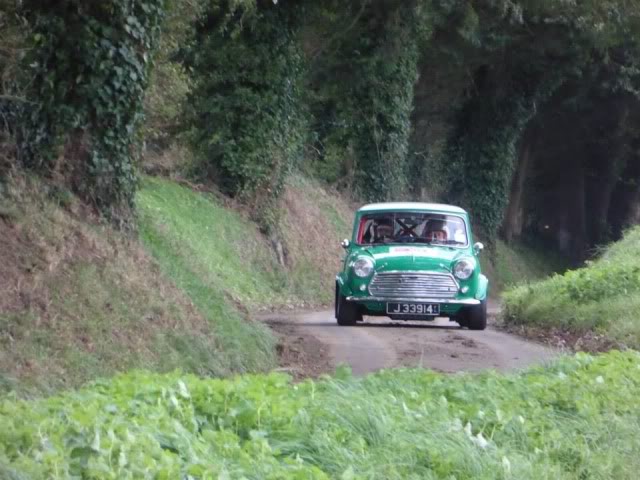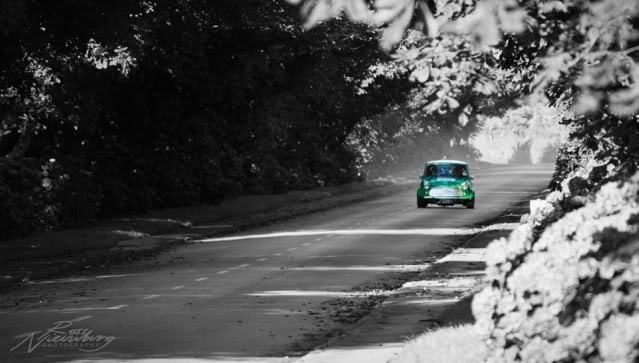 10-16-2013
Not sure what damage has been caused inside te box. Not that it matters as I have a quaife dog-box to fit now and I think I will send the entire unit over to swiftune for a re-build this winter.
2-27-2014
Hey guys

Looks like I'm going to need a new motor



I pulled the motor out and stripped it down and I was thinking that I only damaged the gearbox........nope.

There was more fretting on the crank and flywheel, damage to the con-rod, piston and block which was caused by the dizzy shaft. So with all that needing replacing, I think that a new motor is on the cards!

Who to use, I'm thinking of a short list MED, swiftune, Selby engineering or Harris Motorsport?

Can I have your thoughts on these builders, and maybe some recommended spec for around £3,000
2-28-2014
Here are some pics of the damage.

Crank fretting.....scrap


Damage to piston skirt and block


Damage to conrod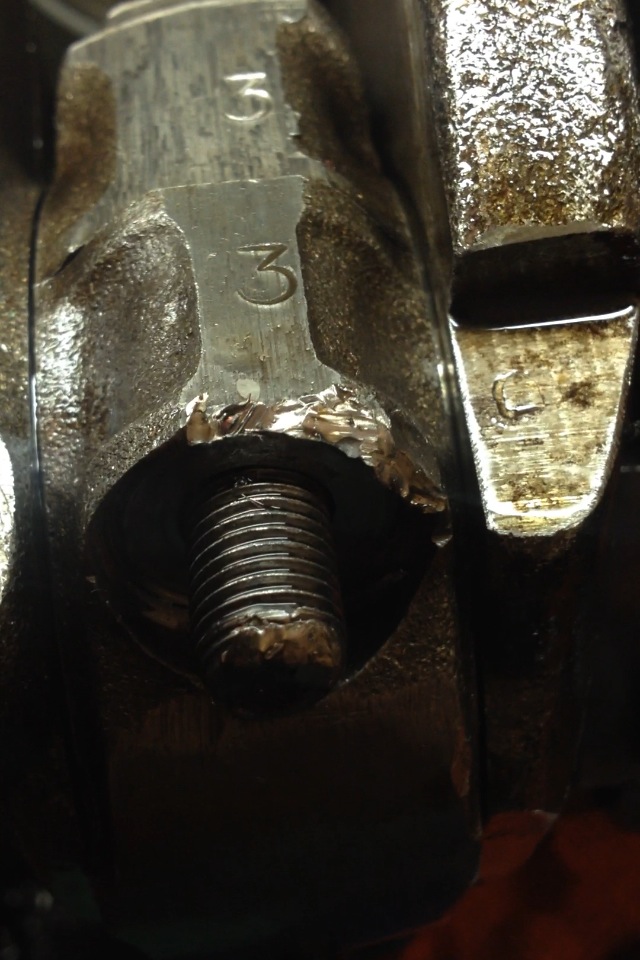 Now I know that I will need to replace the pistons and conrods, but what is your thoughts on the block and crank
7-16-2014
Hi guys

So here is the spec of my motor which I'm picking up in a few weeks :)

1380 MED race engine complete with Jack knight dogbox
Richard Longman custom split 45dcoe carbs
7cc dished pistons
MED offset rac e38/31 cyclinder head,11 stud, sccr springs, titan roller rockers,AGSP cam and belt conversion.
1275 gt Crankshaft, 1505 Ni-temp/cross drilled/bladed/wedged/ Balanced
cooper s 521 polished/lightend/balanced rods
Ultra light flywheel and back plate

Gearbox
jack knight evolute DOGBOX, cam & pawl LSD, straight cut gears, jack knight equal length drive shafts...
7-27-2014
Right guys, I've been over to guersney and collected the motor:) and a shed load of spares.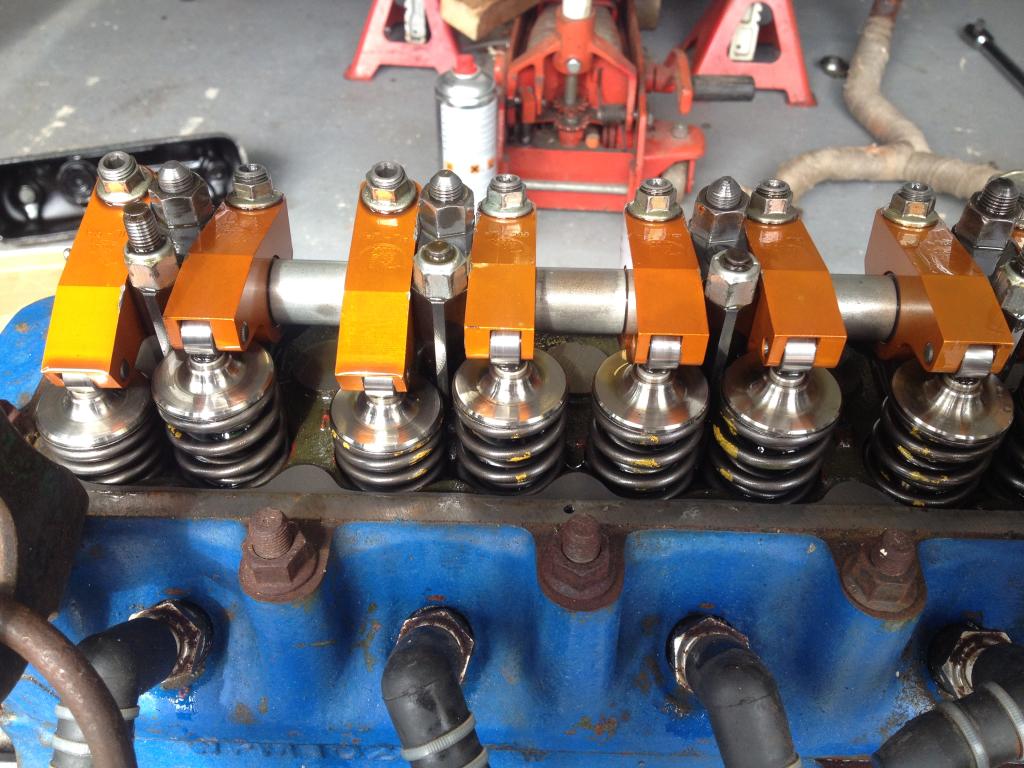 Massive ports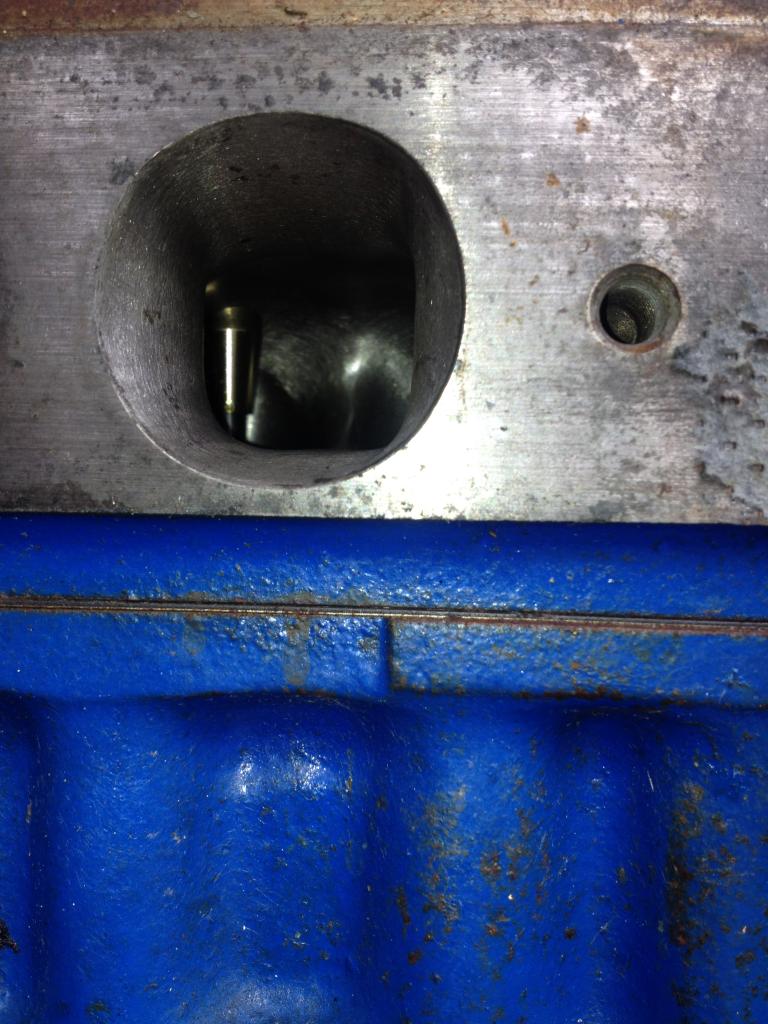 Equal length driveshaft kit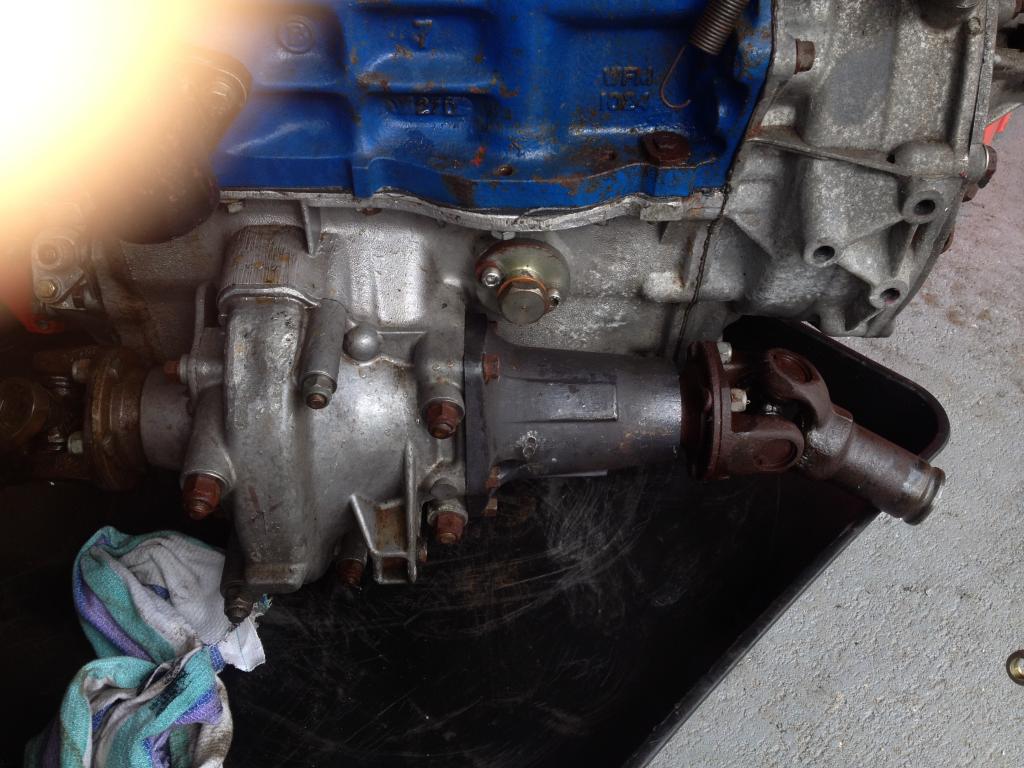 Every thing is looking good about this motor:) the carbs will need to be overhauled, who would you recommend?
So I will now start to look over a few things, it has a cam belt kit fitted C-AJJ3328 but it seems that no one stocks the cambelts:) replace the head gasket, check the clutch oil change etc.......oh and remove the dizzy shaft this time round.
11-21-2014
Hi yes, lots done since July.

New motor was fitted, along with head gasket, clutch etc. had issues with the engine running, so took it to claydon motors to sort it. The carbs needed rebuilding (air leaks) and jets needed changing. Still had issues as it would not rev past 6000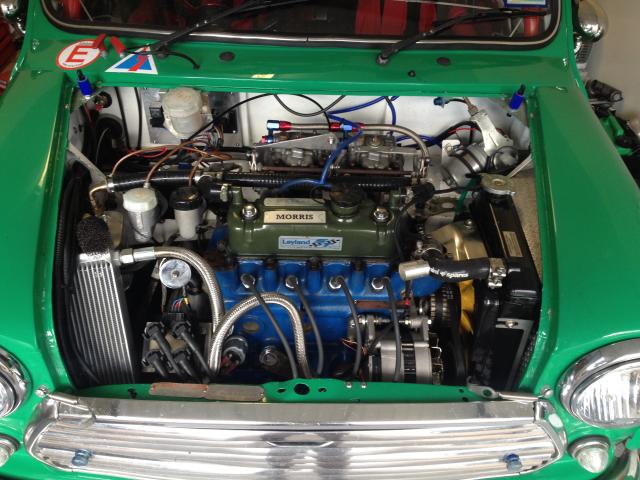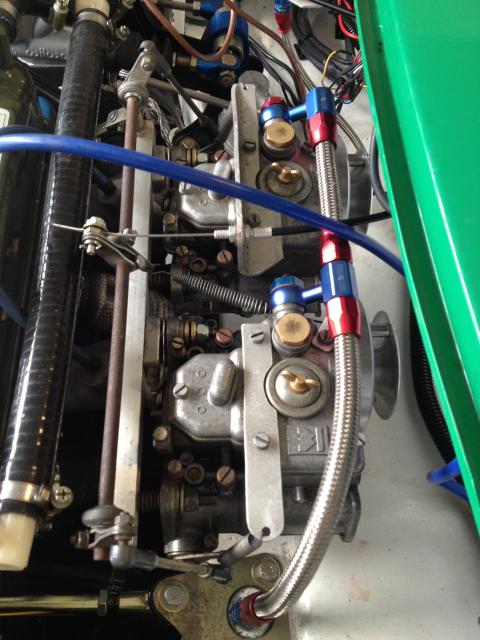 I only sorted that problem just before the first stage of the rally :) I changed the main jets from 170 to 185 which helped a lot, but it was not 100%. But the motor did not miss a beat, with the only problem being the offset valves wearing a hole through the rocker cover.

Next year I will take the car to the uk to get it on the rolling road, we managed 35 overall and 3rd in class.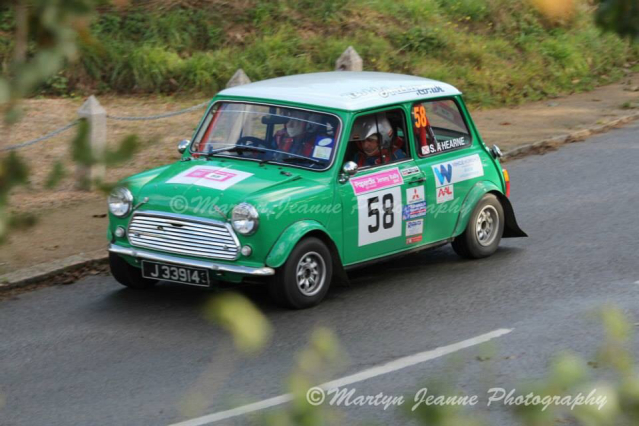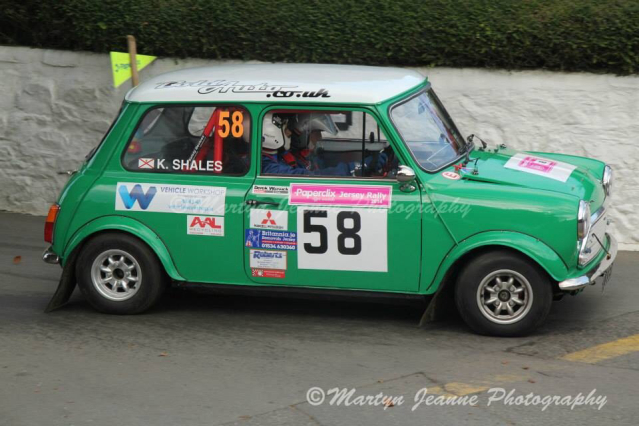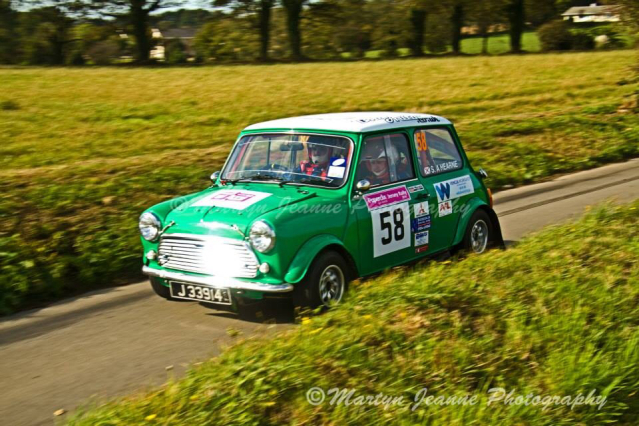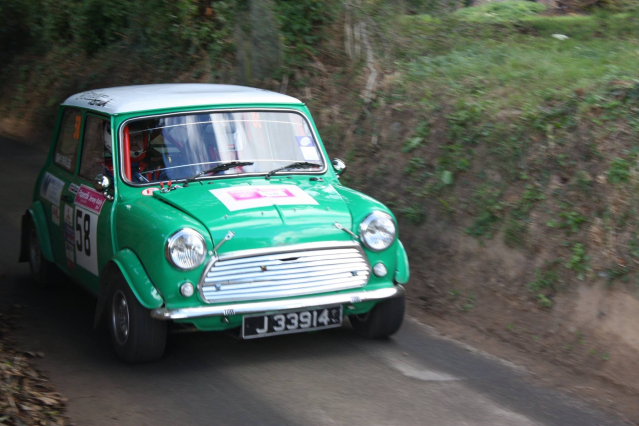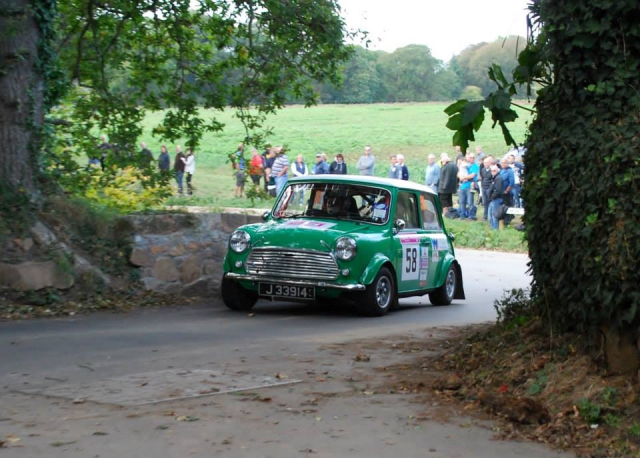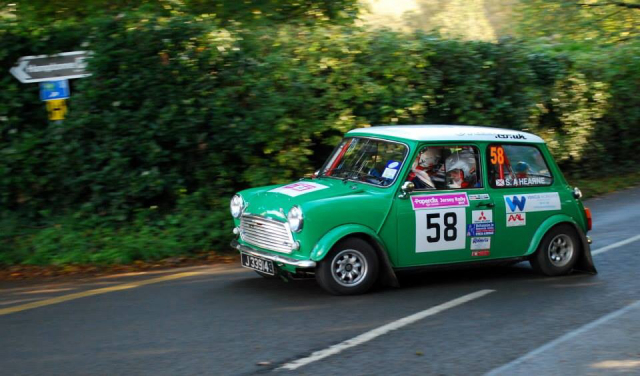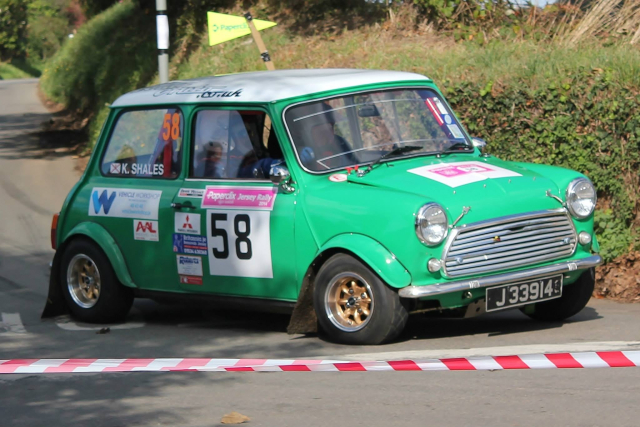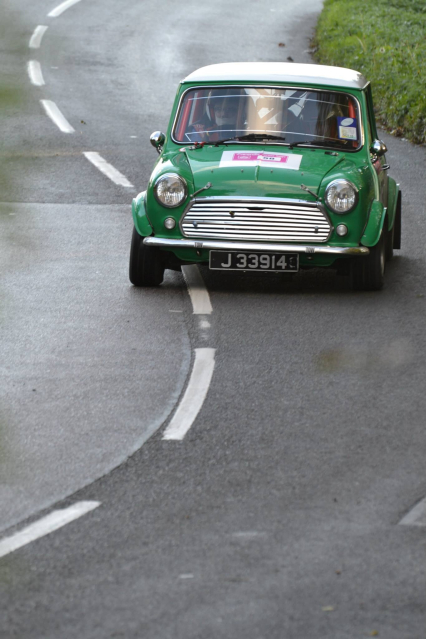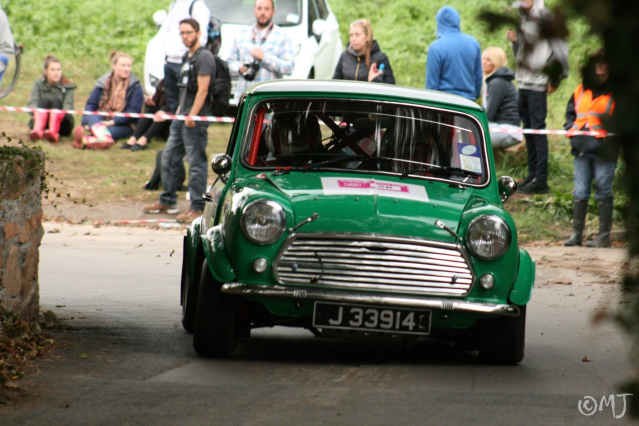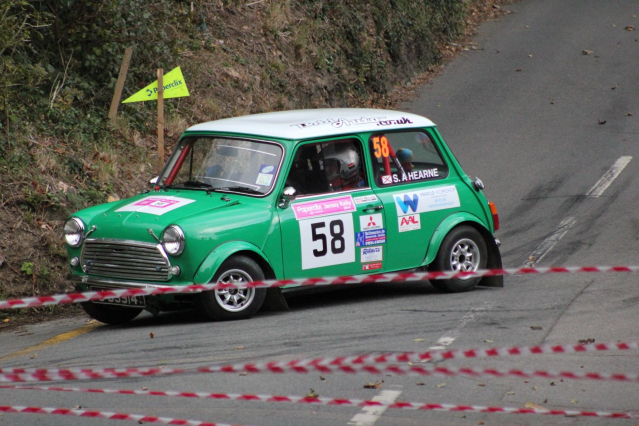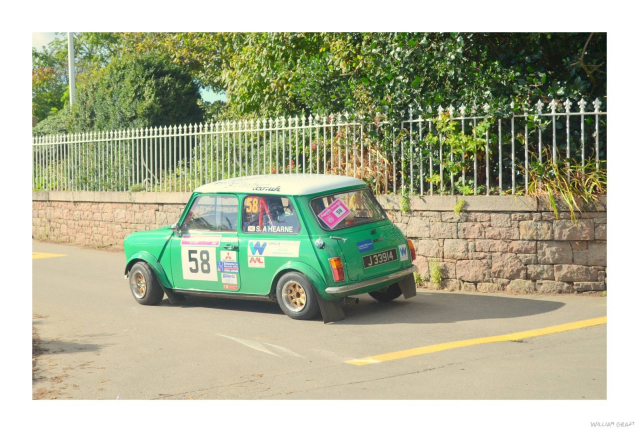 Bring on 2015
9-26-2015
Hi chaps
Well its rally time again :)
A few things have been changed/upgraded. I have fitted new seats, as the previous ones were now out of date. Maniflow Large bore stage II lcb manifold, a Maniflow Megaphone exhaust system, 4x AVO shocks and a Corsa power steering kit. And I'm just waiting for 4 Avon CRZ66 tyres to arrive
I also have a few settings to try with the carbs, to try and sort out the running issues,so we will see how that goes....
pics to follow
9-5-2016
So David Wells of SH Engineering has stripped the motor.......and.........the crank is scrap, thrust washers were onto the steel backing & ground their way into the crank, and the crack test revealed it was covered in tiny cracks.
The crank stroke is curiously 79mm with big end journals are 1.625 inch, so will be hard to find (and I have a tight timeline) So we are are going race spec crank with standard stroke, Saenz con rods, Omega lightweight pistons, camshaft, followers, light weight clutch plate, grey cover, bearings, oil pump, water pump, gaskets, seals etc.
So let the rebuild start :) can't wait
9-6-2016
Parts have arrived today:-
2 x sparco 6 point harnesses
full set of 4mm black mudflaps
2 x cable pulls for the cut offs (need replacing)
So 37 days to go!!!
9-30-2016
https://www.facebook...41332689265454/
136.3hp @ 6700 rpm
Just got to fit it now :)
Cheers
10-20-2016
Well this years rally, was as they say character building!
The motor was absolutely spot on, pulled out of corners, no bogging down....and does she rev!!
So the issues where other items, the fan lost all of its blades on the first stage and took the rad out, so that was it!

But we managed to fix the mini for Saturday's trophy rally, which runs be hide the main event. But, on our forth run through the stage the inner hardy spicer, gave up!
I will post up some some pics, for now here are some videos.
10-29-2016
So I will be ordering uprated hardy spicers and drive shafts from swiftune.

Also time to replace wheel bearings, ball joints and a few other bits

Cheers
11-8-2016
Don't you just love it when new parts turn up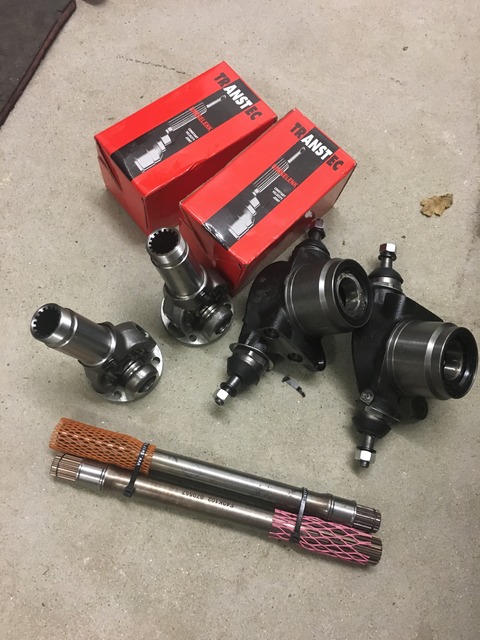 11-19-2016
Okay so I fitted one side (the bust side) with my new swiftune hardy spicers, drive shafts and new hubs.

So here is the bust hardy spicer, once removed from the car. I was worried about any damage to the gearbox case, but luckily no such issue.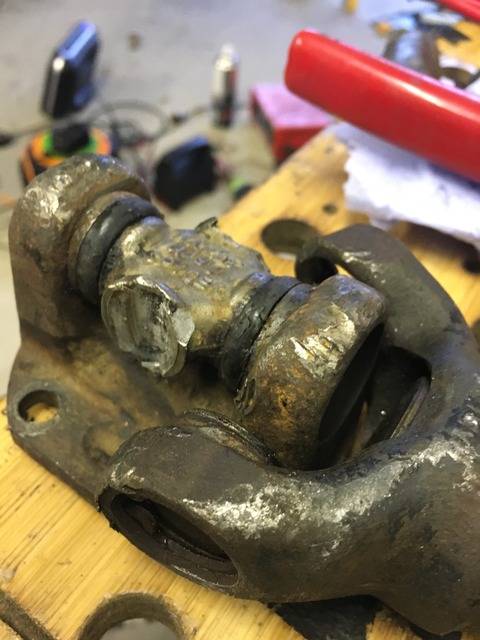 I then started building up the shafts to the new cv joints and hardy spicer joint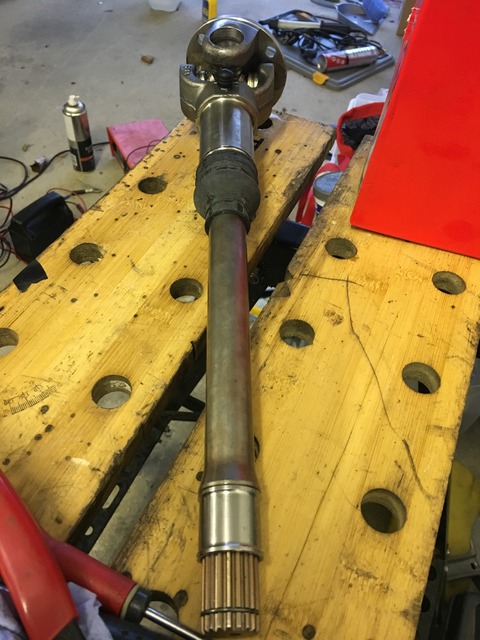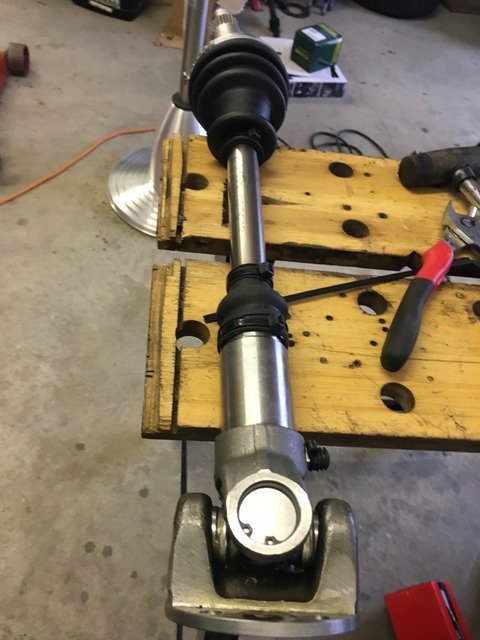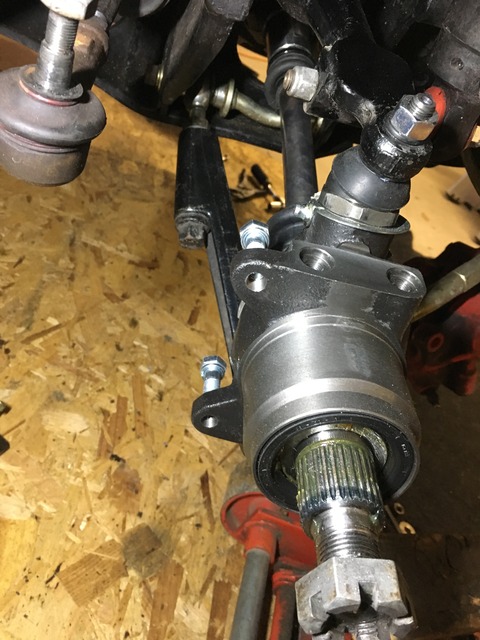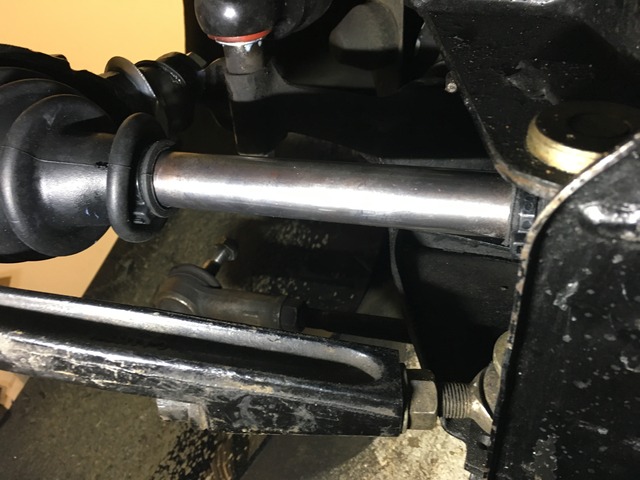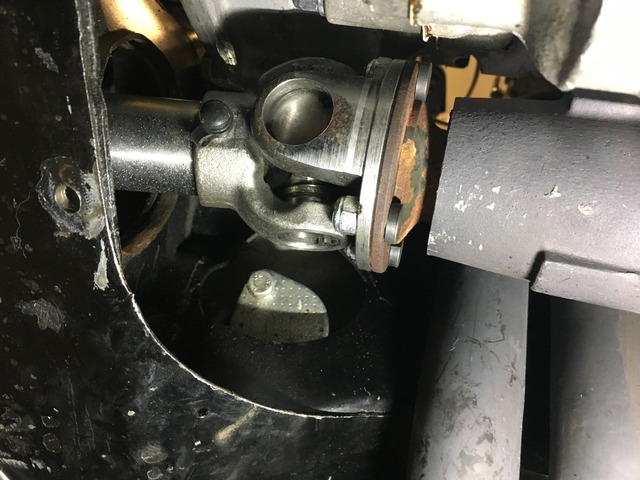 Not going to break these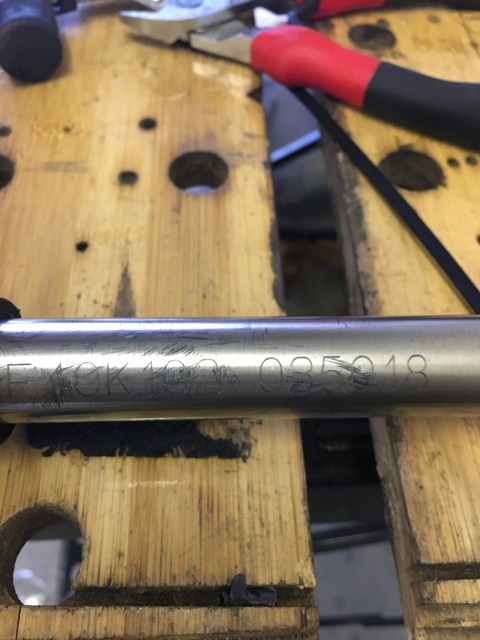 Just need to order some new steering arm bolts and dowels and I can button this up!
3-15-2017
Hi all

A few further updates, I decided to replace my radiator to nice radtec alloy rad with an updated rad cap, along with that a carbon fiber 2 bladed fan from carbon weezle.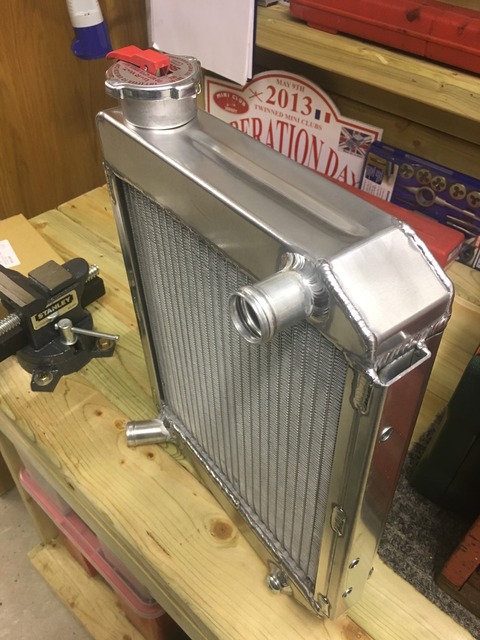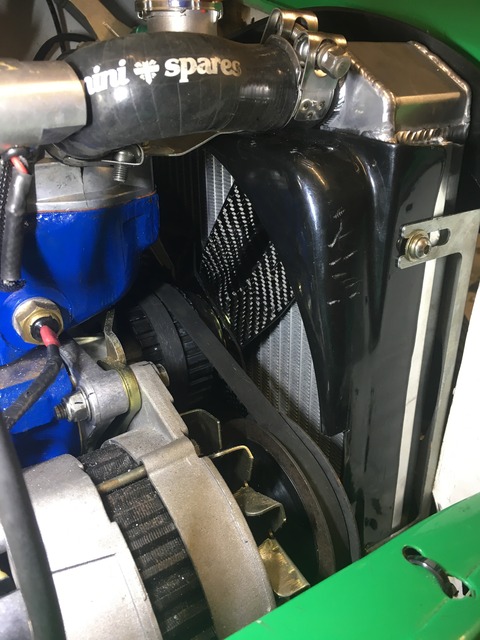 I have also ordered some tarox drilled discs, mini spares 4 pot calipers and new carbon metallic pads, so I will keep you updated when they arrive. I will be also replacing my rear wheel bearings as well, as my front ones have just been done.

Cheers
5-11-2017
Hi all

So I have replaced the rear wheel bearings, which I was shocked to see were still the very old ball bearing type! And very nice color of grey for the grease😫 So we know have brand new tapered rear wheel bearings in place.

Along with these I also upgraded the front brakes to mini spares 4 pot calipers, carbon metallic pads and tarox discs.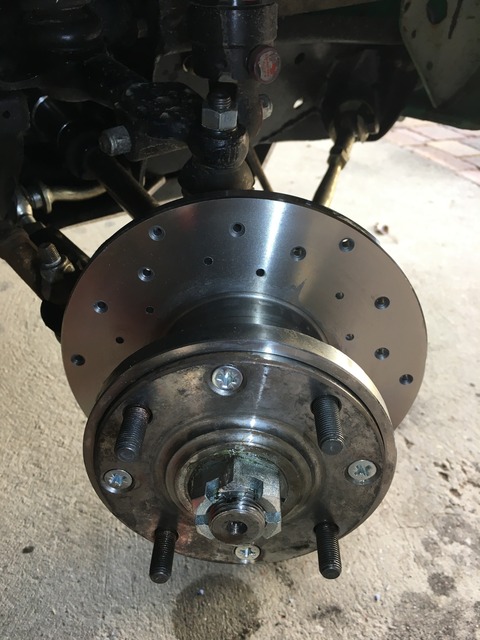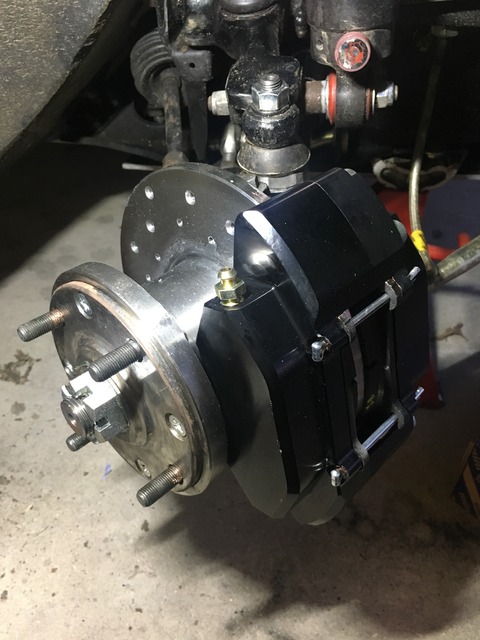 The h3 spotlight bulbs have had an upgrade to a nice HID racing kit from demon tweeks, bit of a faff as I thought I could squeeze the ballasts under the lamp pod, but they are too big, so I have mounted them to the underneath of the bonnet with no issues.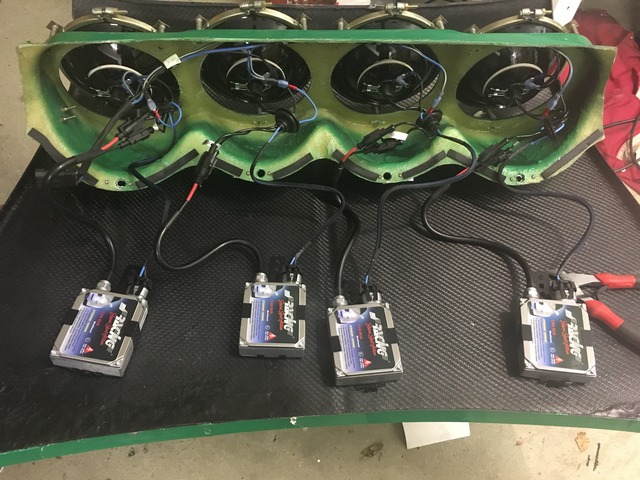 Going to have a look at the idle jets on the webers, as the plugs are fouling up when on idle but no issue when giving it some beans.

I have a few events coming up, a night time classic sprint and hill climb, and then a one day rally.

Cheers kev
7-17-2017
So a few weeks ago we took part in the L'etacq attack rally, only 8 stages which were changed after 2 runs, it was very relaxed 😎 and great fun.

We ended up 17th overall and we won our class, the mini ran like clock work.

Here are a few clips for you to enjoy
9-7-2017
Hi Guys
Well its just over a month away until the Jersey Rally. Pretty much every thing is all in order, but you always find work to do on mini's
I really noticed how bloody hot the exhaust tunnel was getting, so I have fitted a heat shroud which clamps onto the exhaust, so I hope that will soak up some of the heat.
I have also removed the steel rear boot and fitted a single skin carbon one and I have ordered some carbon/Kevlar door cards, which have the inserts cut in, so you can fit carbon levers directly onto the door latch. So they should be down in 3 weeks along with some new DSN retro door handles. 6 Avon Cr6ZZ will also be ordered once my money comes in from a sponsor.
Fingers crossed we have ironed out any niggles, as we had no issues in our last event in July.
Oh does anyone know if the whole photobucket thing has been resolved, as I'm wondering how to link/show pictures.
Cheers
1-10-2018
Well its been a while.

Our last rally did not go quite to plan 😜 we put the mini on its side, backwards down a tight lane, while bouncing off the banks. Which put an end to that rally!

But fear not, repairs have started, parts have all been ordered and its going to the bodyshop in a weeks time.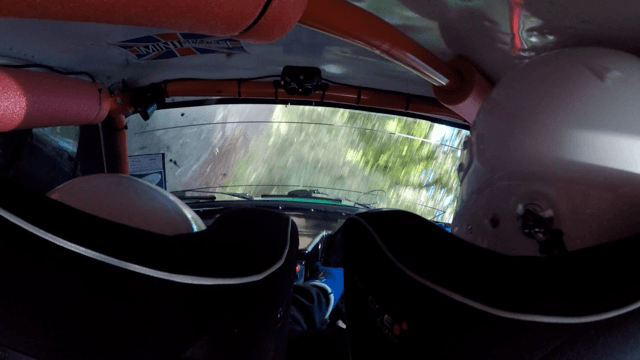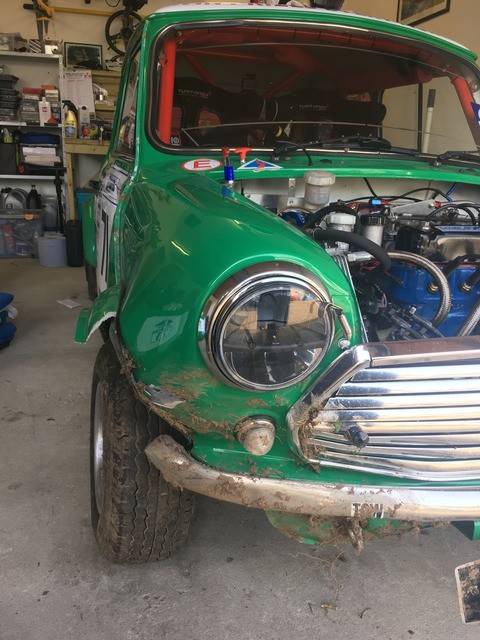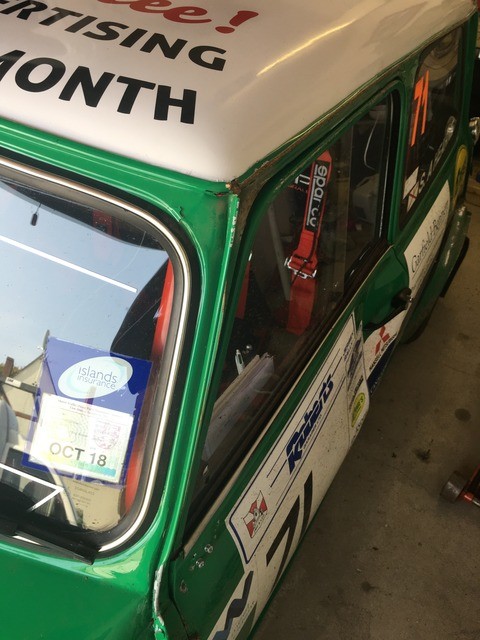 2-26-2018
Hi guys

Right then so lots of things going on, motor has been pulled and front subframe, pretty much every thing on the left hand side (and right side) has been changed, tie bars, bottom arms, hub, flexible brake lines, shock absorber, front subframe, steering rack, track rod ends, track rod arms etc etc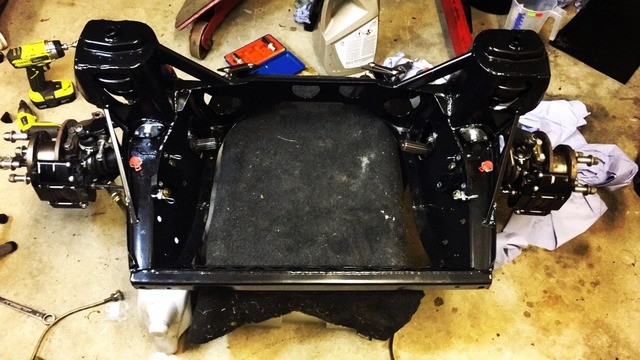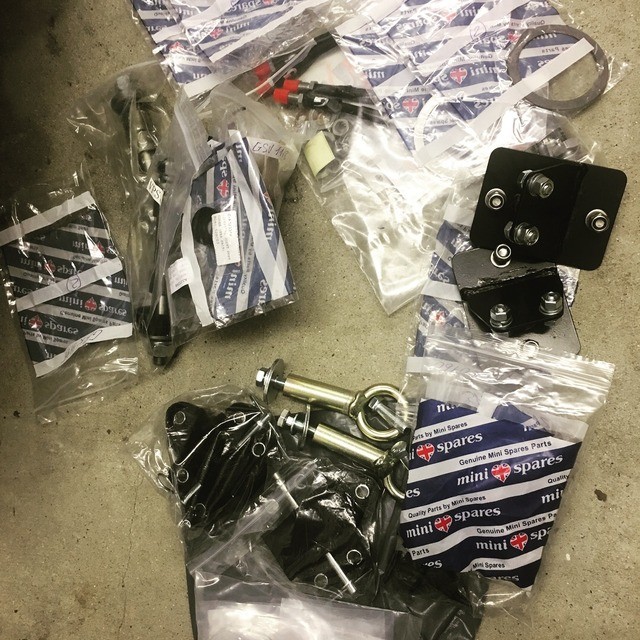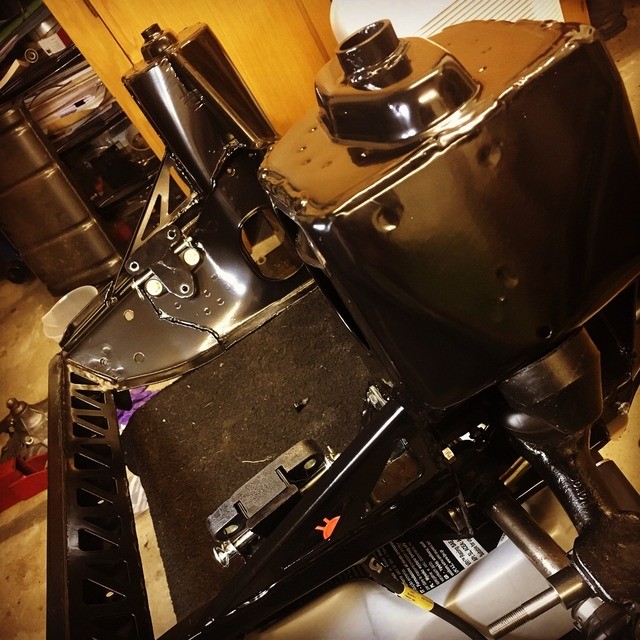 Also while the engine was out I decided to swap the old jack knight lsd to a much more modern MED NXG lsd, however once stripped down I also noticed that the pinion was pitted so a new crownwheel and pinion was also ordered from MED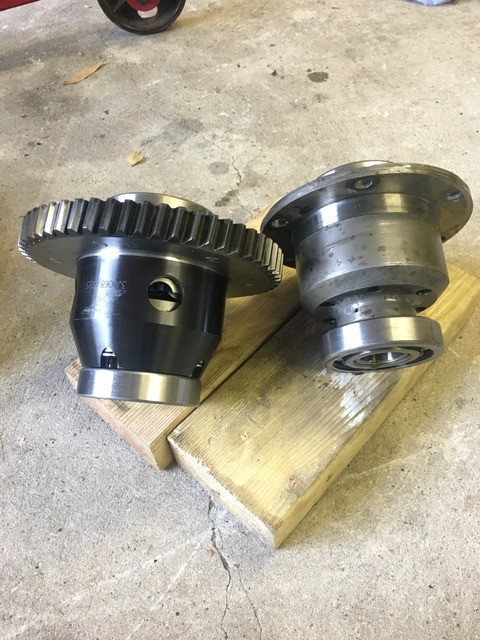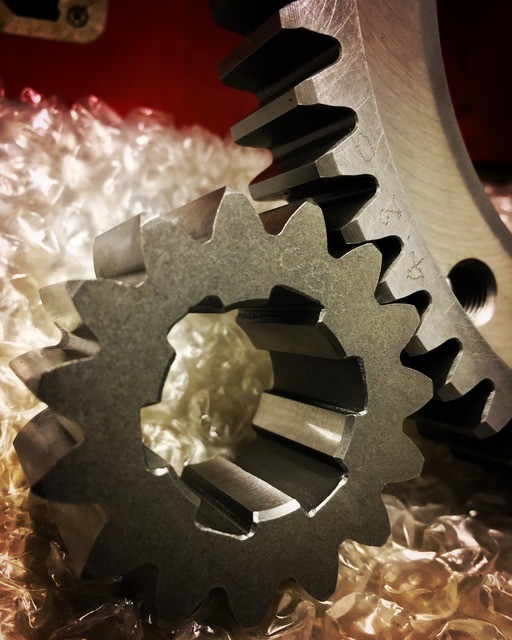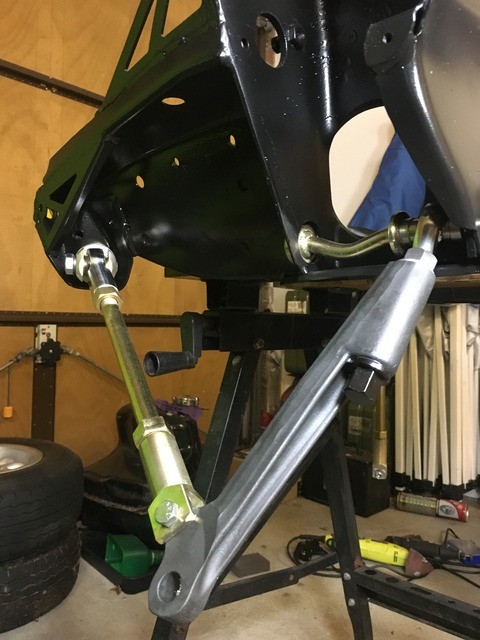 I also took the time to rebuild the rod change, fitted a new rod and linkage stabilizer, rear bushes and upgraded the mounts to pilot ones to reduce the flex, I also installed the mini spares spring change.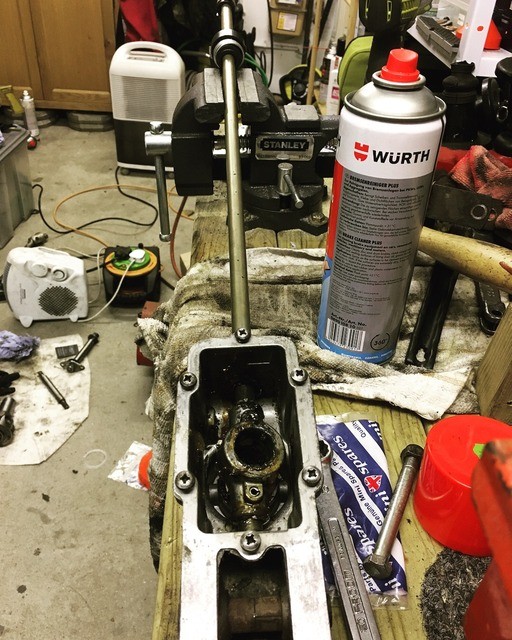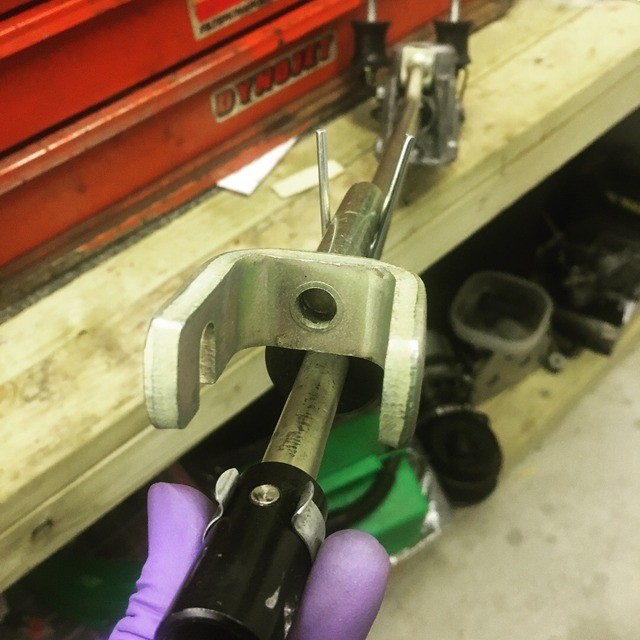 Some nice new titanium bolts have been fitted 😊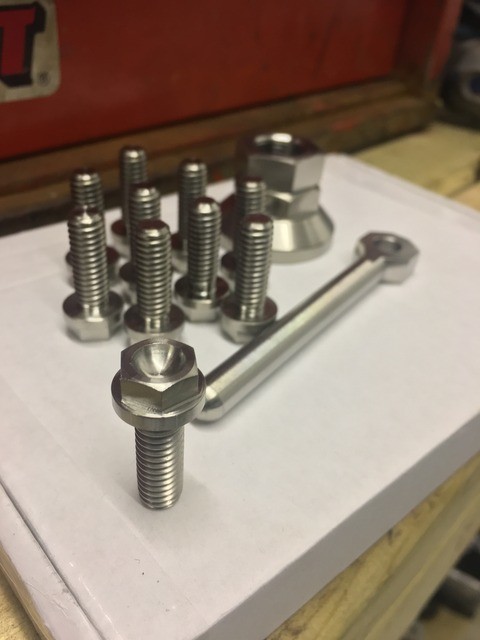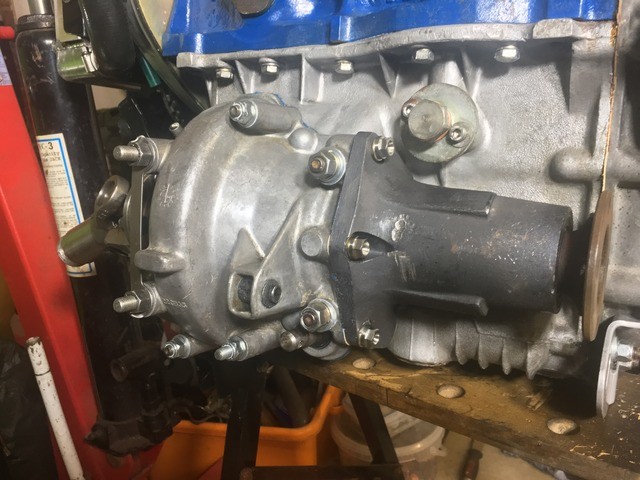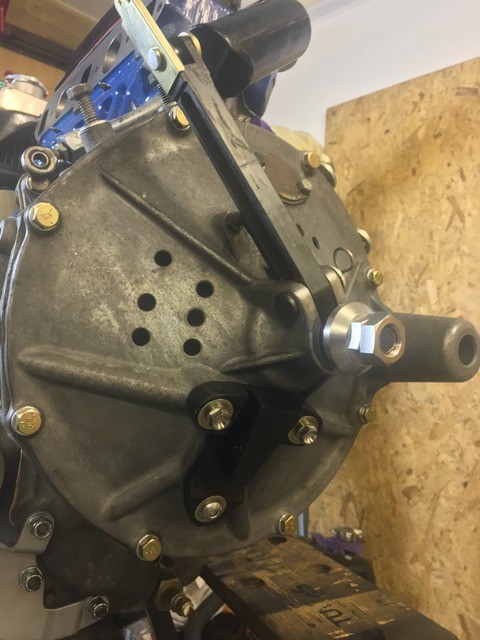 And lastly on Saturday the mini was taken to the body shop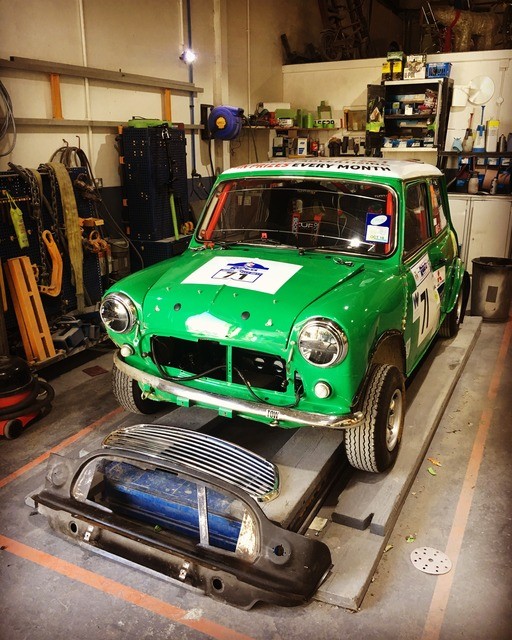 So it wont be too long and it will be all back together and better then before

Cheers
3-21-2018
So things are moving along at the bodyshop, these are from a few weeks back.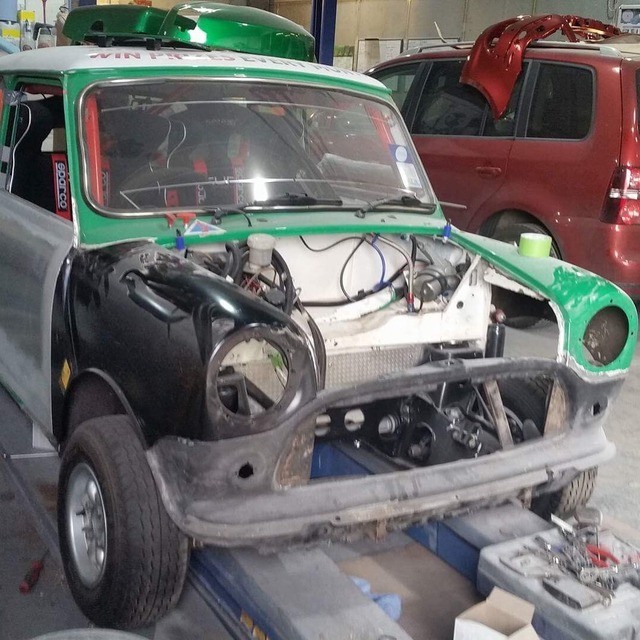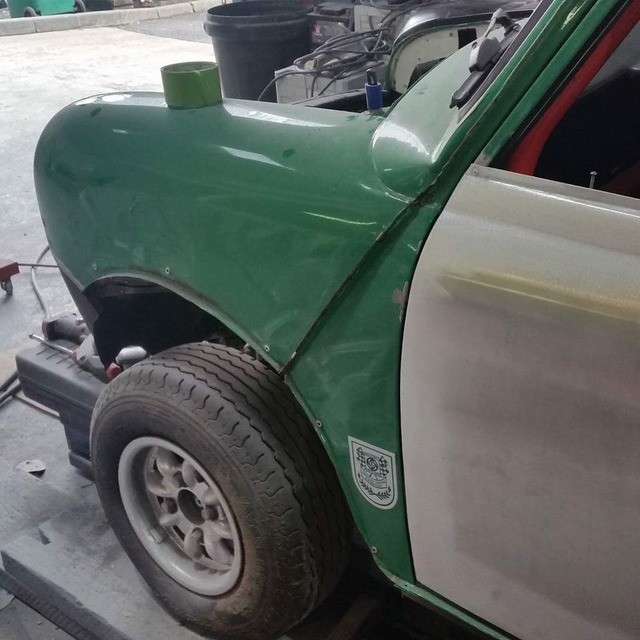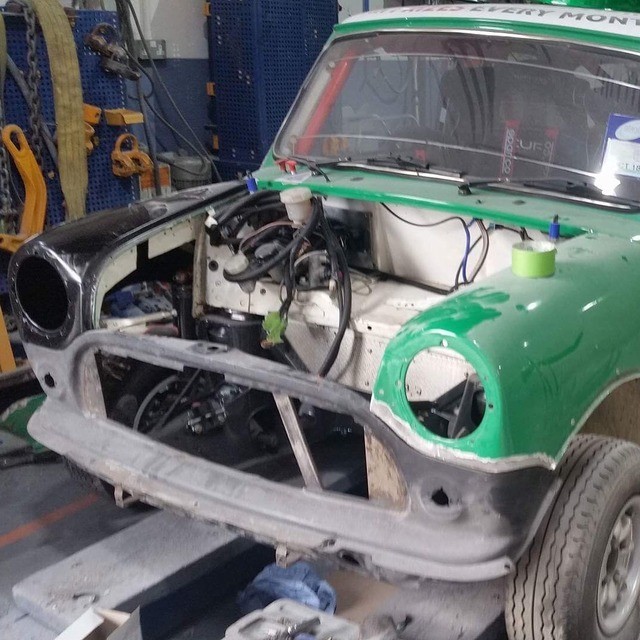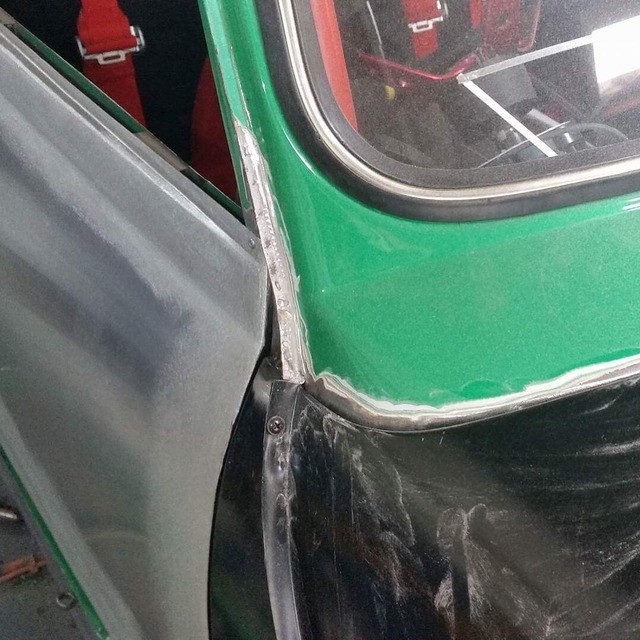 And the other great thing is Im completely overhauling my garage, painted the floor and walls, and Im ordering a this lot with a corner section 😊

https://www.workshop.../APMSSTACK01SS/
4-26-2018
Not actually used it as yet, Ive heard mixed reviews on it, so I dont know if its staying.

So the mini is about to be painted 😊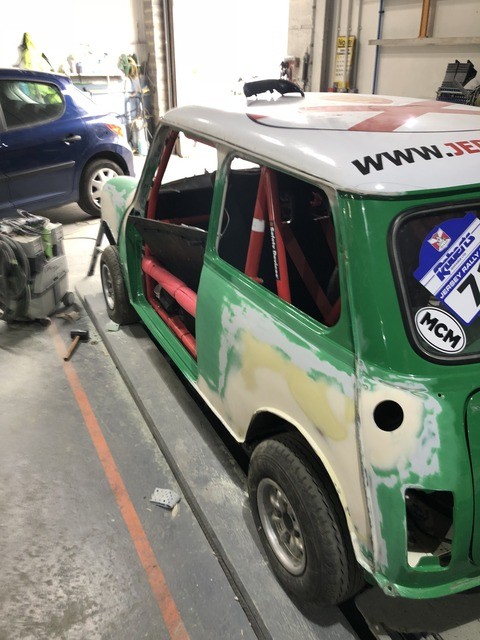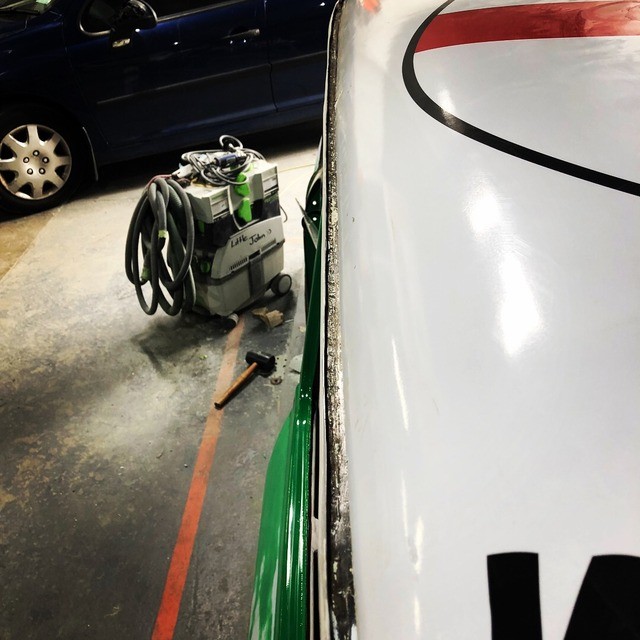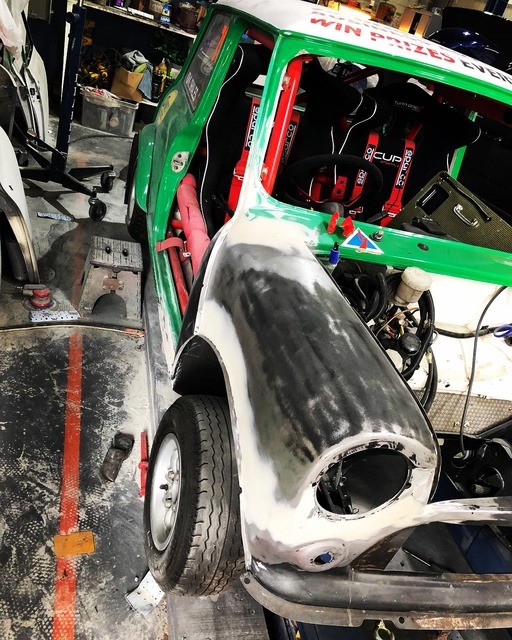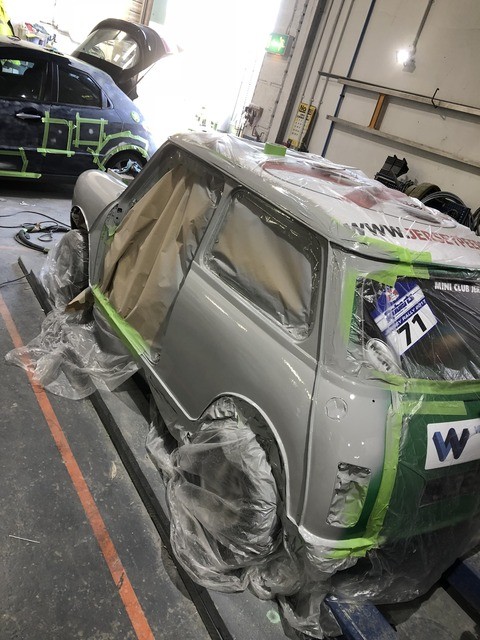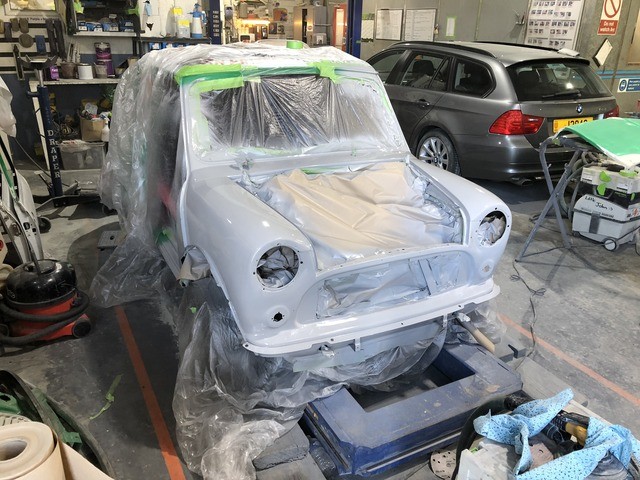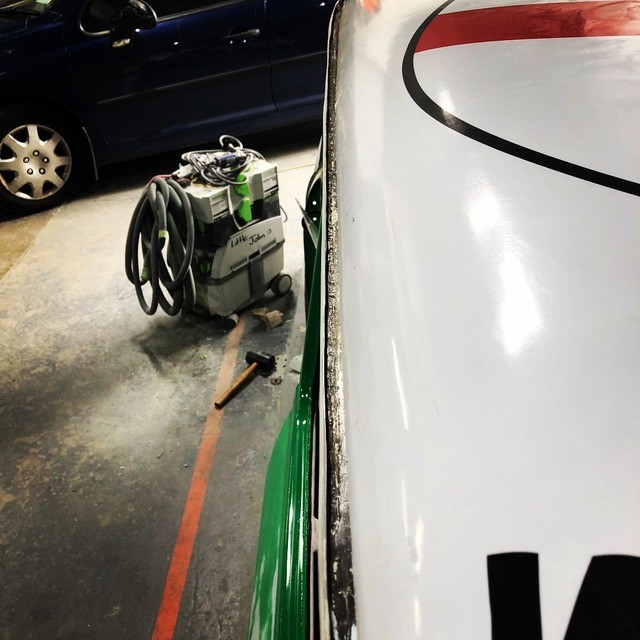 I also have a new rear subframe, kad rear arms, so I can ensure that the rearend is all straight
5-1-2018
Wont be long until the mini is back, I got some more pictures from the bodyshop.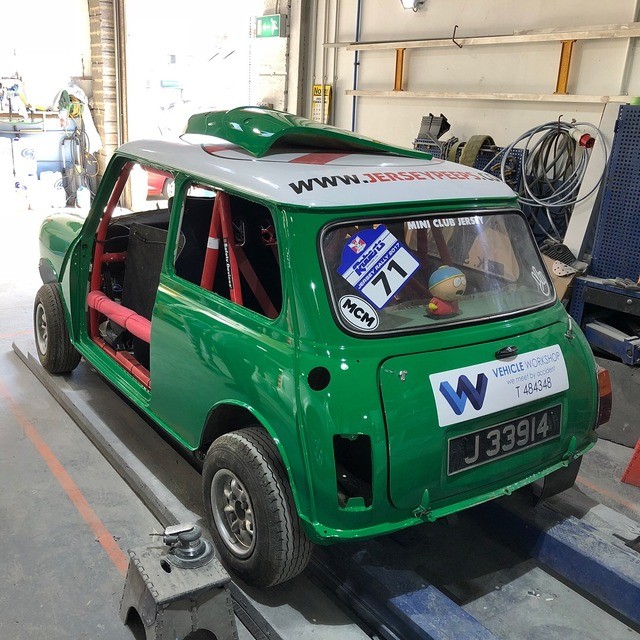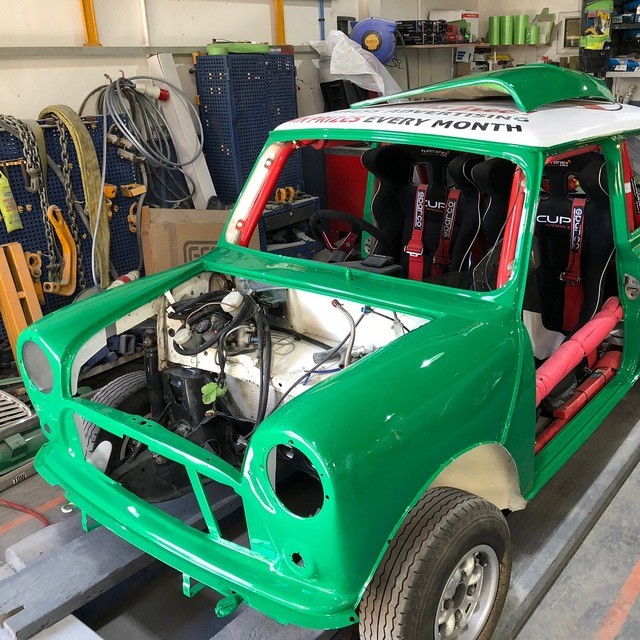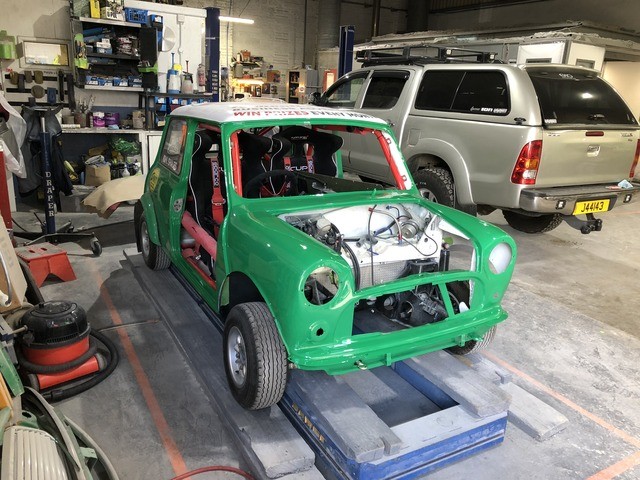 And what do guys think of my new garage storage system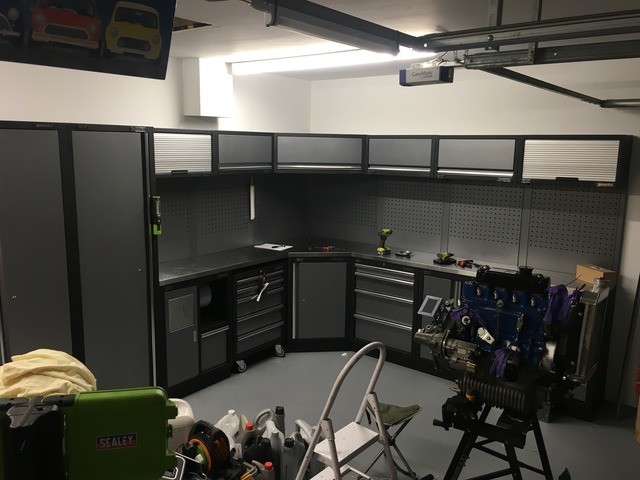 So once its back I have a shed load to do...
6-28-2018
Okay

So it's been a struggle but it's all back together, completed a few events which have been hit and miss.

Follow my crash the first thing I change was the fuel tank, as it ripped open as we crashed and was spilling fuel not good.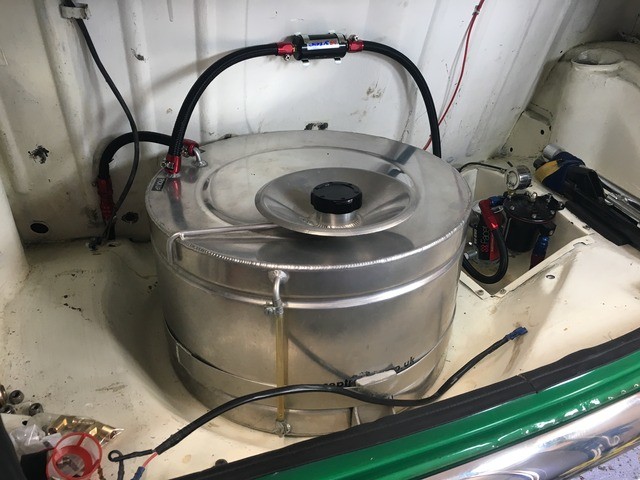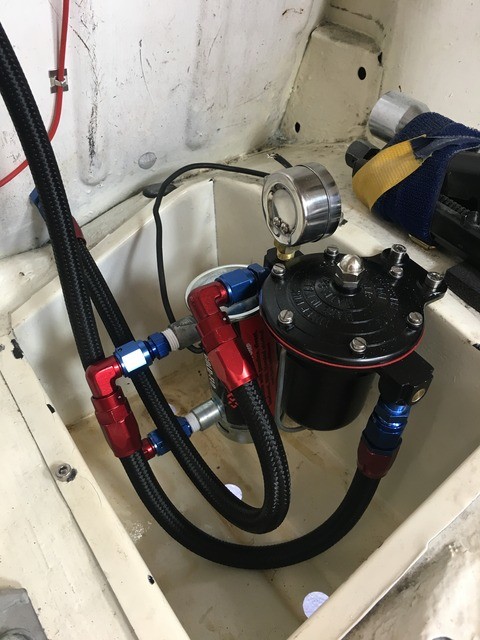 Just have to remember to check the fuel levels, decided to replace the whole fuel system from MED.

Also change the position of the oil cooler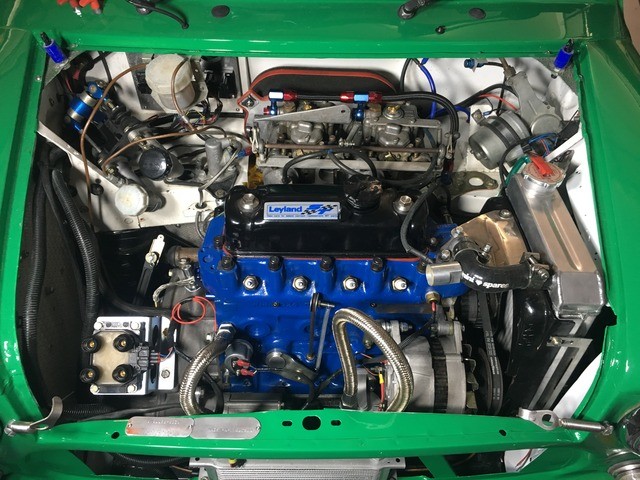 To cover the fuel filler hole I got an arcangels carbon Kevlar blanking plate along with a parcel shelf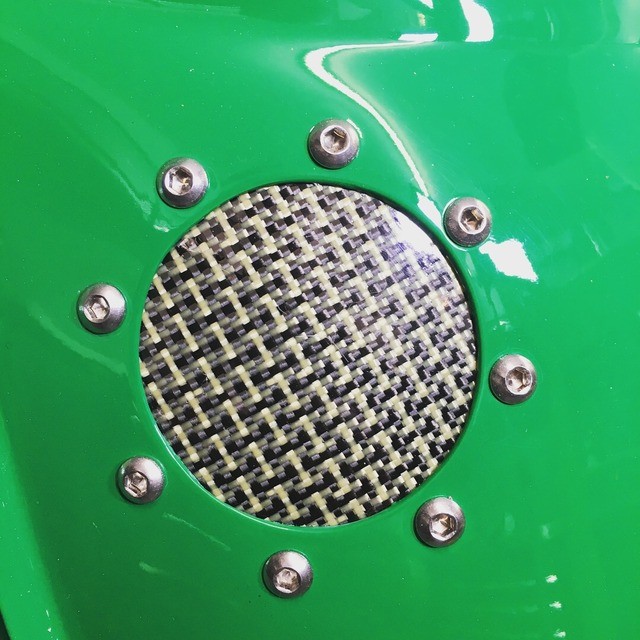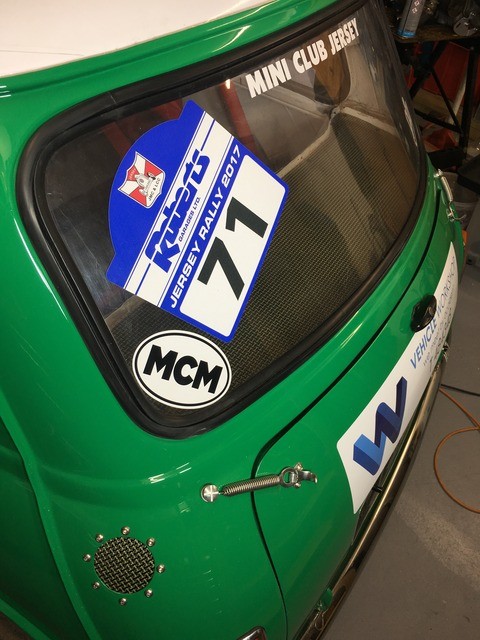 New fire extinguishers fitted as well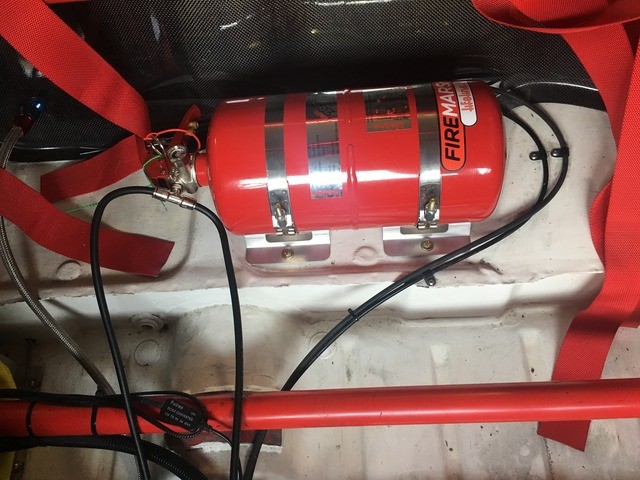 Here are some pictures from the JIMF moonlight sprint and hillclimb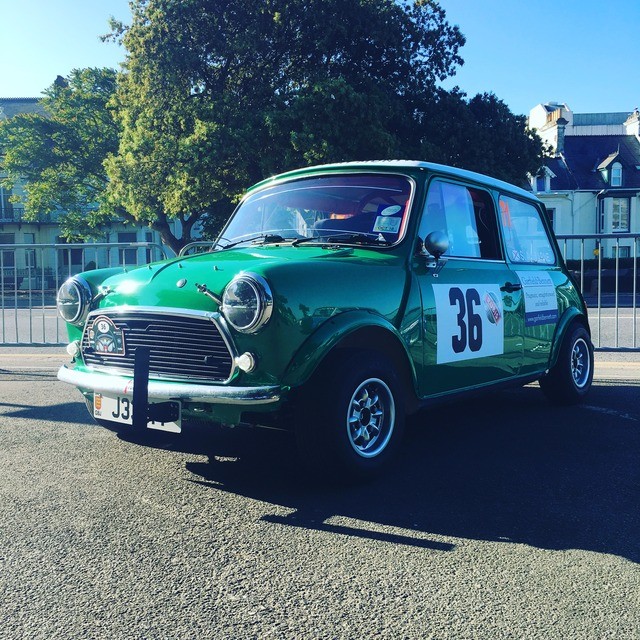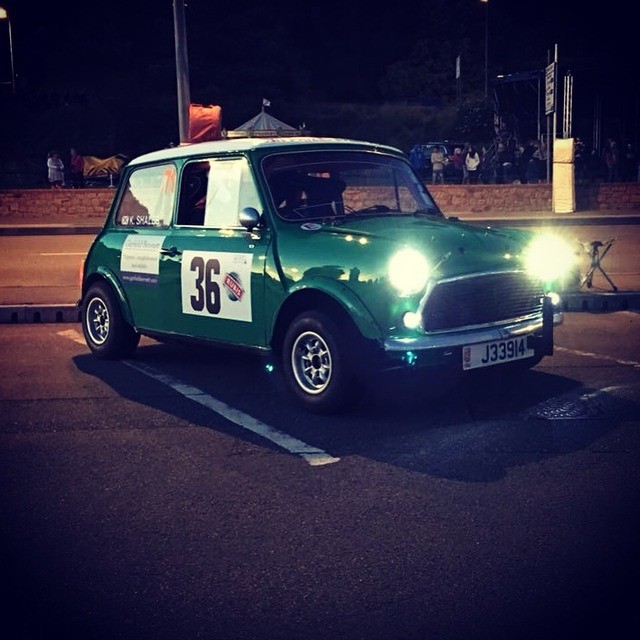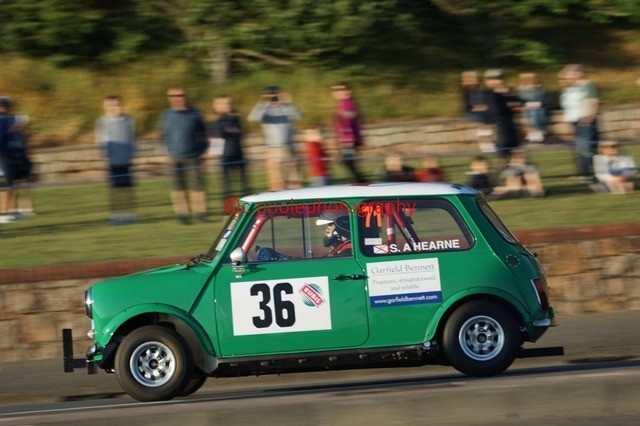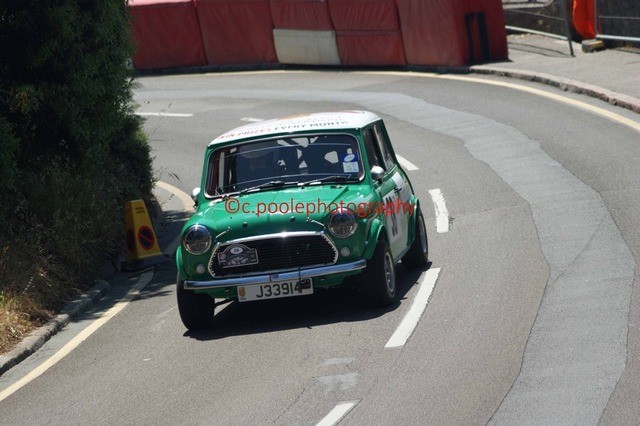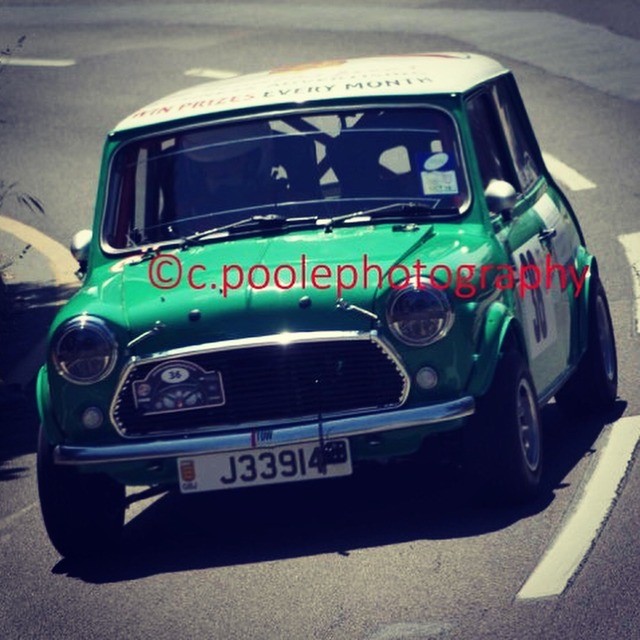 Then a few weeks back we had the l'etacq attack rally, and things did not go so well. Before the event I had a play with the hand brake and rear brakes and I must have just slight over adjusted the the rear brakes. On the first stage long uphill straight into a left 9 on the brakes and the back end locked up and it all got out of shape, held on and just clipped the front l/h arch and wheel which put the steering out 😫 got back to service de-adjusted the rears much better.

Pulled the wheel off at a longer service could not see what was bent so we adjusted the tracking. But the cars handling was bad. At lunch I thought I would have another look, and I spotted the bottom arm rose joint.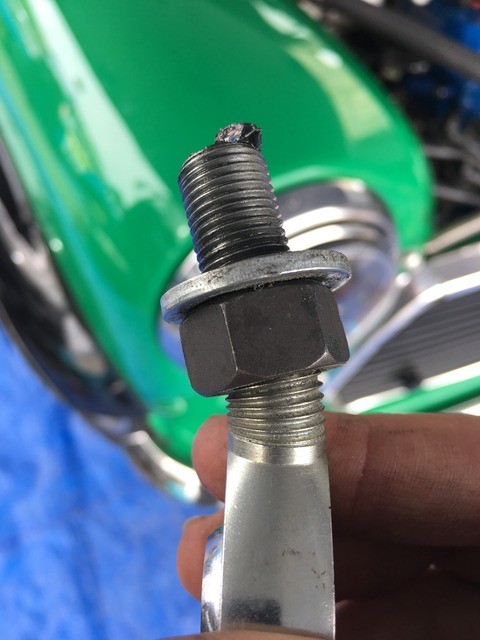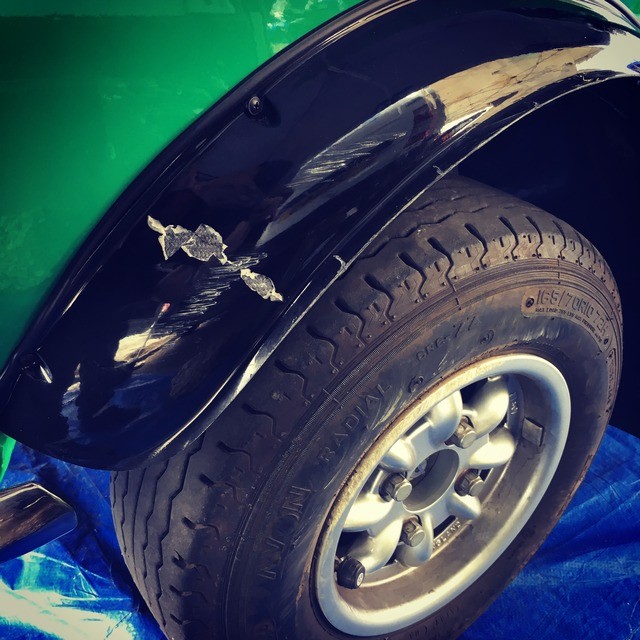 Did not have a spare and I did not fancy it snapping so called it a day.

So I have gone over the rear brakes and the kad bias and made some adjustments ordered some parts and will get to work once they arrive.

So hopefully things will get better and I will stop poking.
9-11-2018
Here you go guys, the chaps from special stage are going to be live from the Jersey Rally this year via their Facebook page 😊

https://www.facebook...87460798739417/
9-18-2018
So with the 2018 Jersey Rally fast approaching, things have been happening on the mini.

A couple of things I had noticed, the battery (red top 25) was going flat despite on a trickle charger, so I pulled my seat out removed the alloy battery holder and the battery was totally bloated and leaking!!! I don't think this was going on for too long, but it had made a mess of my rear brake line etc.

So I have replaced the battery and also fitted new Hel performance black carbon brake lines, so I just need to re-bleed the brakes.
Another issue was with my Grp A mini sport tie roads, when I was replacing my lower arm rose joint, I noticed that I had play in the tie rod area which bolts to the front subframe (even though the bolt was 100% tight) I could grab the rose jointed end and could wiggle it, not good. At first I thought that maybe the bolt had bottomed out so I inserted two washers, but still the same. So what it seems to be, is the large stepped washer which is inserted and sits in the subframe is too wide and once tightened its not clamping on the subframe, but the face of the washer and the head of the tie rod are making contact first. So I'm having these washers slightly machined down.

A new WiredByWilson headlight loom has also been fitted, as the one fitted was messed up by the body shop, David was more than happy to make some adjustments to suit my needs, and its an awesome bit of kit, which each headlight fused and relays.
And in other news, there is another classic mini taken part in this years rally :) pretty sure its this one, it last did the Jersey rally in 2006

https://www.bonhams..../15345/lot/774/
3-13-2019
Box of goodies turned up from MED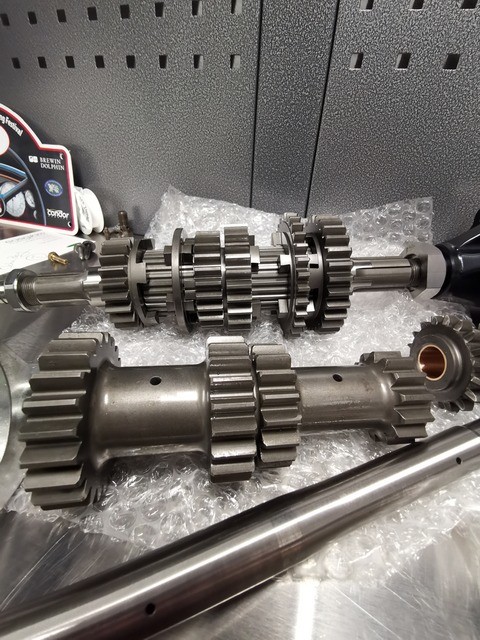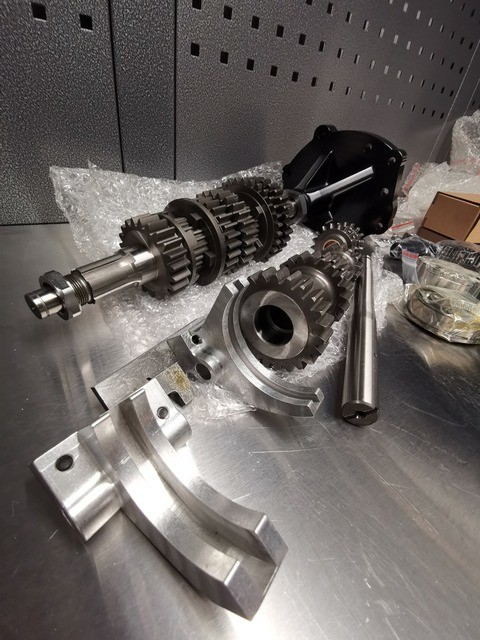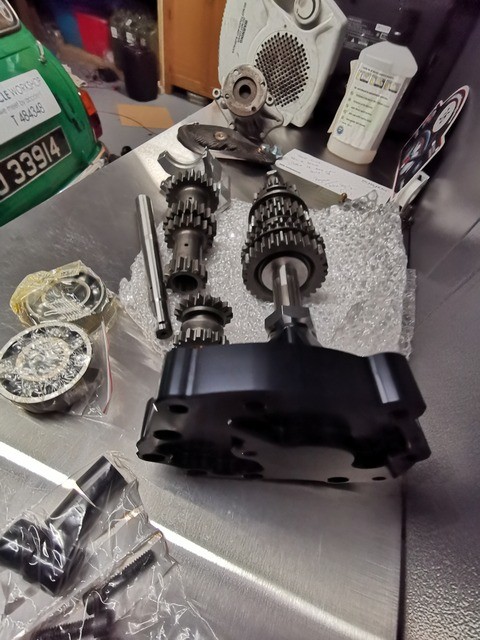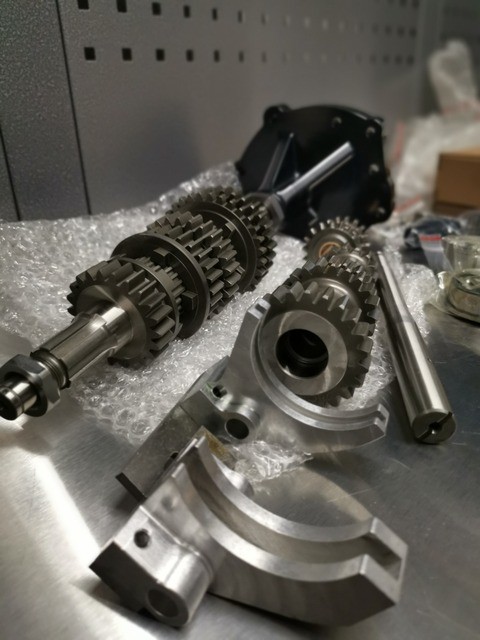 So time to pull the motor, split the gearbox and I may as well completely strip it down before I send it off.

I may do a few more improvements on the motor while it's out👍

Keep you guys posted