Builds
240sx Coupe Track Car by noname7198
By stevegolf
You must be logged in to rate content!
10 minute(s) of a 65 minute read
240sx Coupe Track Car
Compliments of noname7198 @ www.zilvia.net
1/27/08
My friend and I are building a 89 240sx coupe track car. The car will be used for drifting and maybe some autoX. The purpose of this thread is to give people some ideas for building their cars and for people to give us their ideas and constructive criticism on this build.
Here's the basic plan:
strip and stich weld the chassis
install a 6 point cage, fire wall, fuel cell, fiberglass dash, gauges and seats
install coilovers, 2-way diff, 5 lug, bushings, RUCA's & tension rods
install sr20det (basically stock for now), v-mount, 3" exhaust
silvia front end, some light body work, and paint
As of right now we have stripped most of the car. I already have the following parts:
silk road coilovers
kaaz 2 way lsd
front & rear 5 lug
180sx front brakes
ES polyurathane bushings
silvia front end (we still need a hood)
Corbeau racing seats
fn01r-c wheels 17x8 & 17x9
sr20det (need to be rebuilt)
apexi power fc
I also have a gt2871r, but I'm waiting for more $$ and more seat time before that goes on.
What I still need to get:
RUCA's
toe arms
Traction rods
tension rods
spl subframe bushings
fuel cell and plumbing
piping for exhaust, cage and IC
We spent this weekend taking the car apart. I now live 306 miles from my friends house where the car is, so updates to this thread and the car will probably only come 1 or 2 times a month. On the next work weekend we will finish stripping and start cleaning and preping the chassis for seam welding.
The budget recently got a little tighter, but I still would like to get spl tie rod ends and possibly sway bars and traction rods. To the people who track their cars, do you have or think I need bigger sway bars? Let me know what you think and why.
This is the car last week when we towed it home. It was not running and cost $550.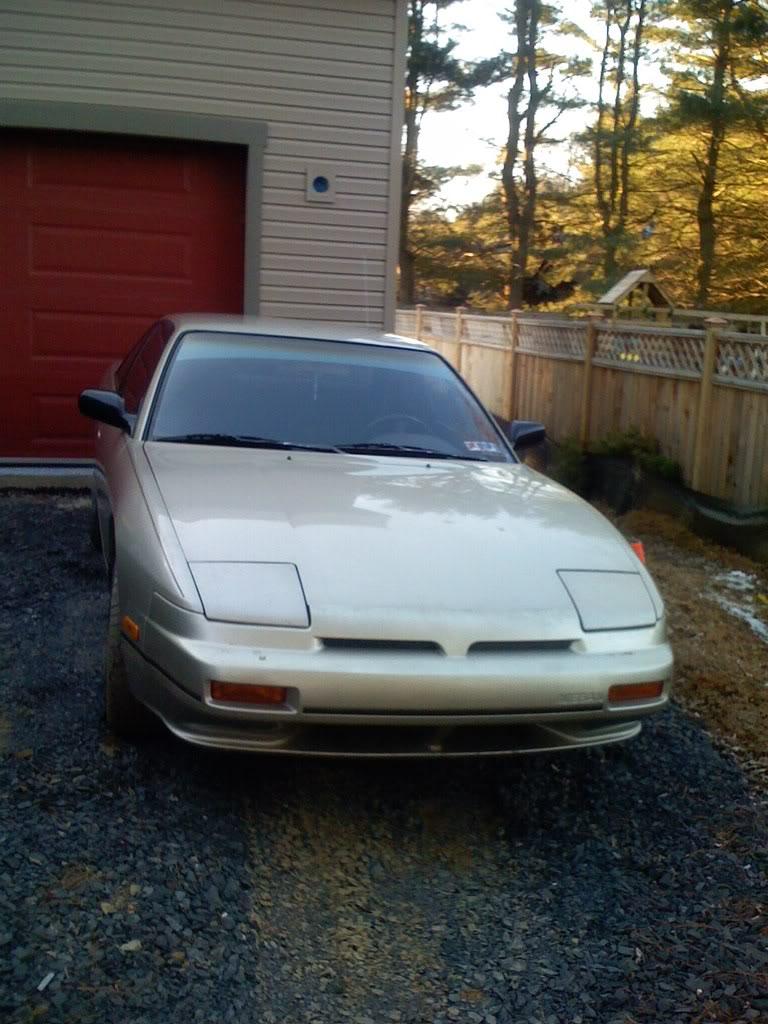 So I open the door before we move the car into the garage and this happens: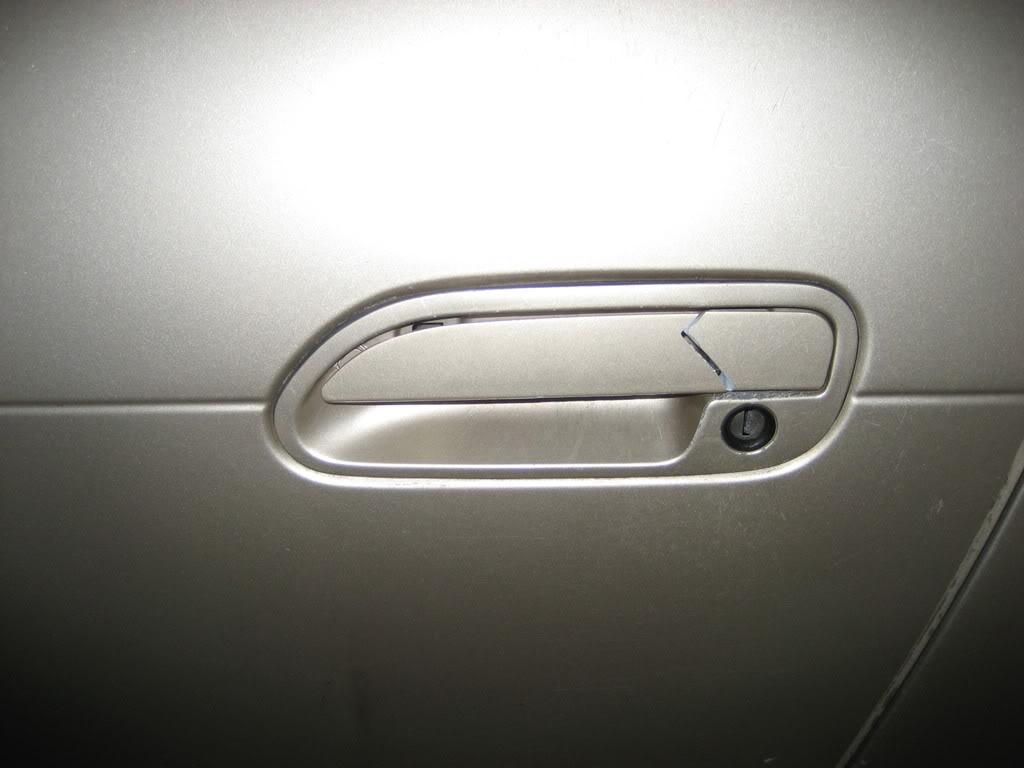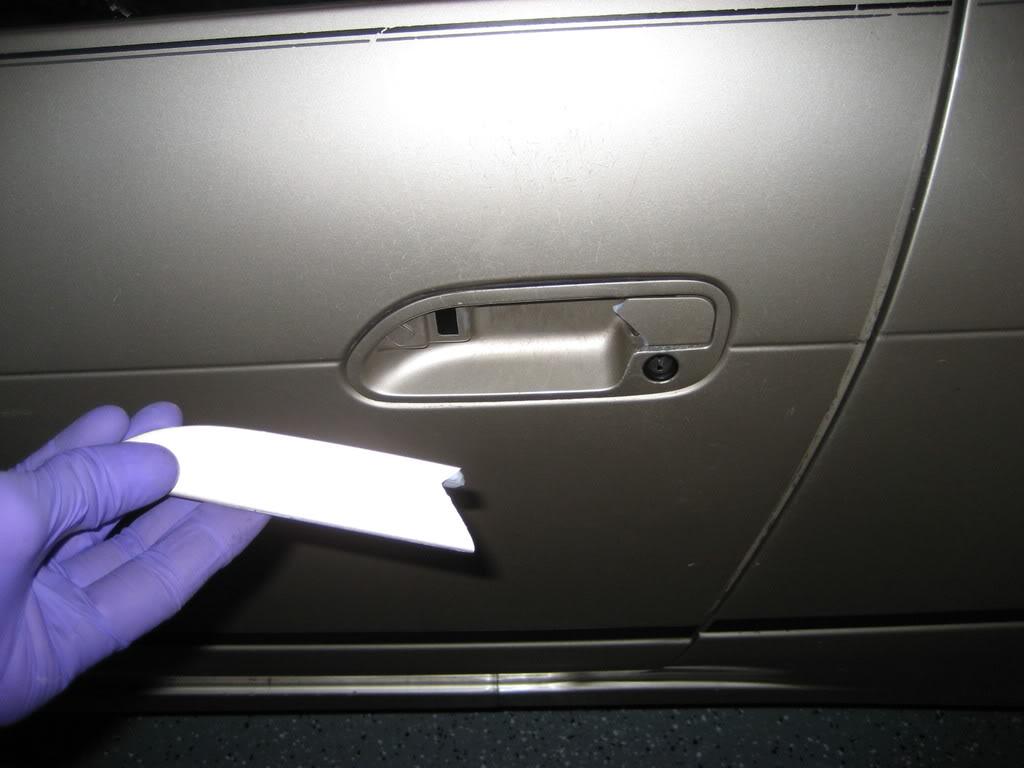 Anyone have a door handle for sale?
Here's friday Pictures: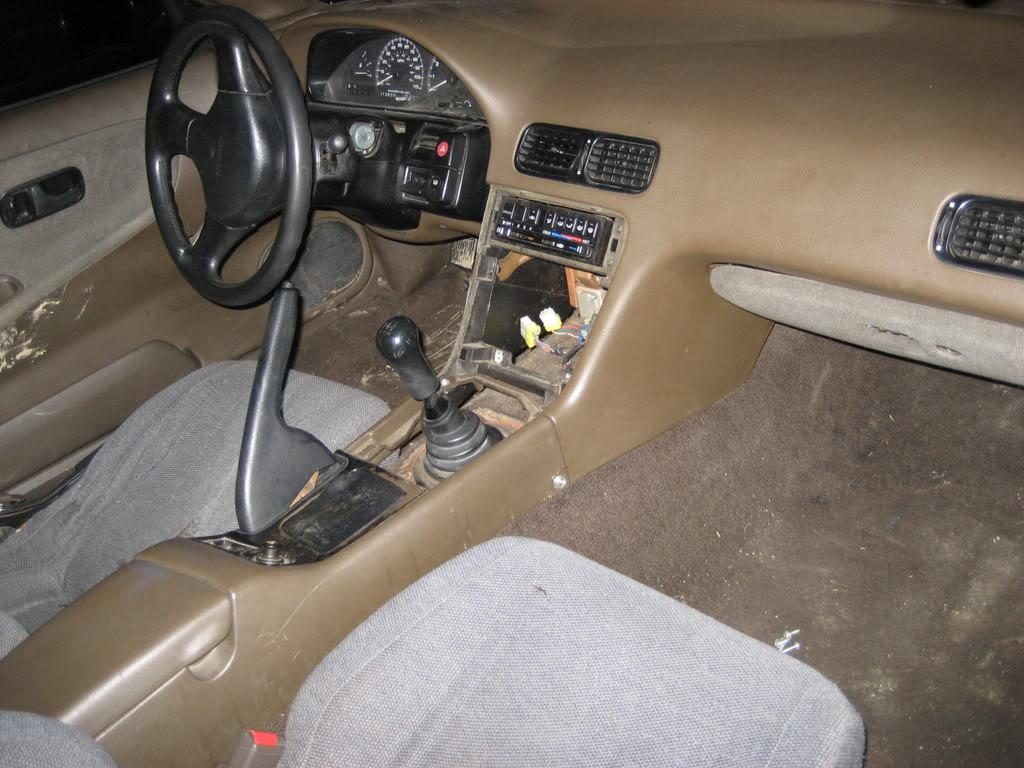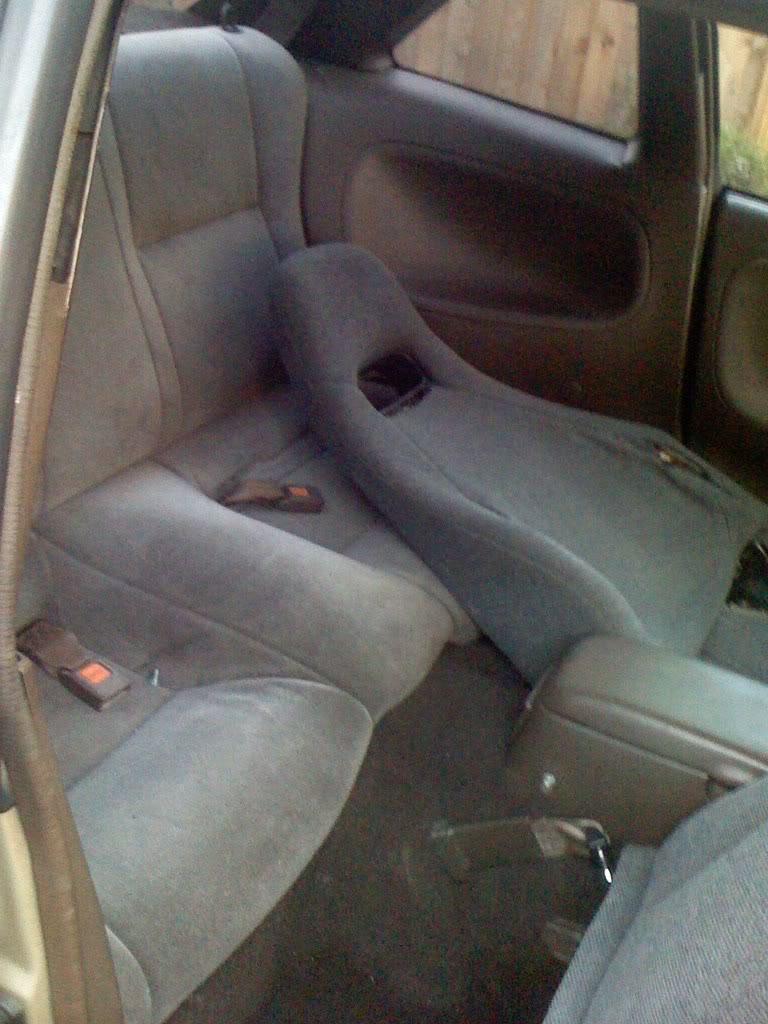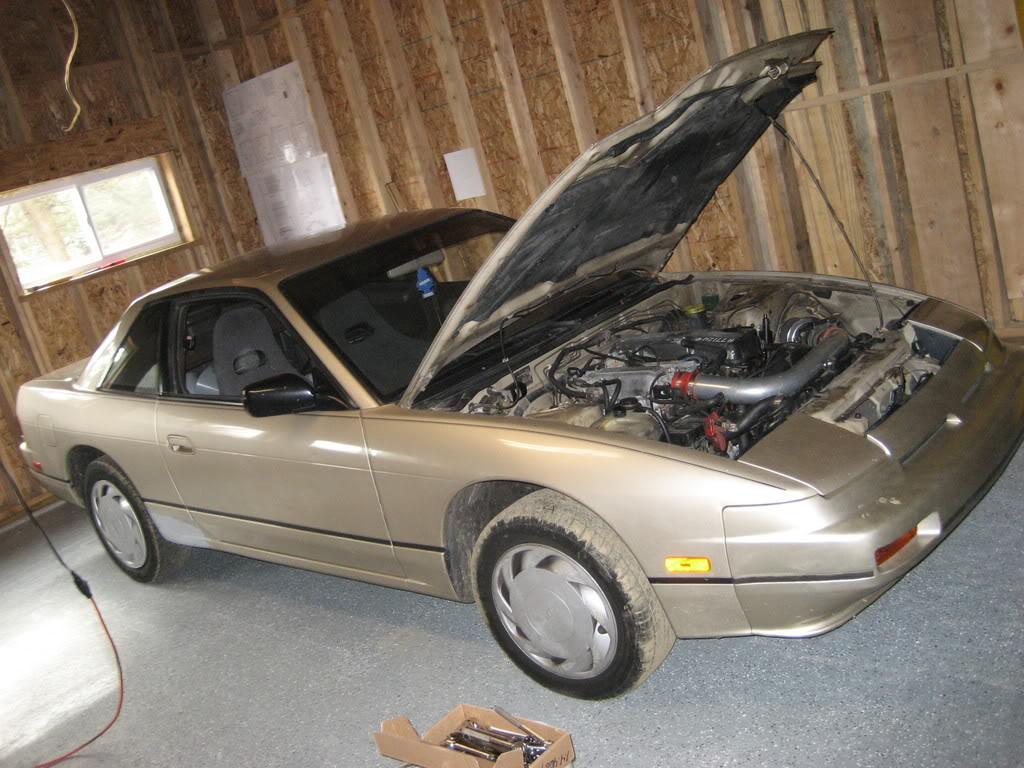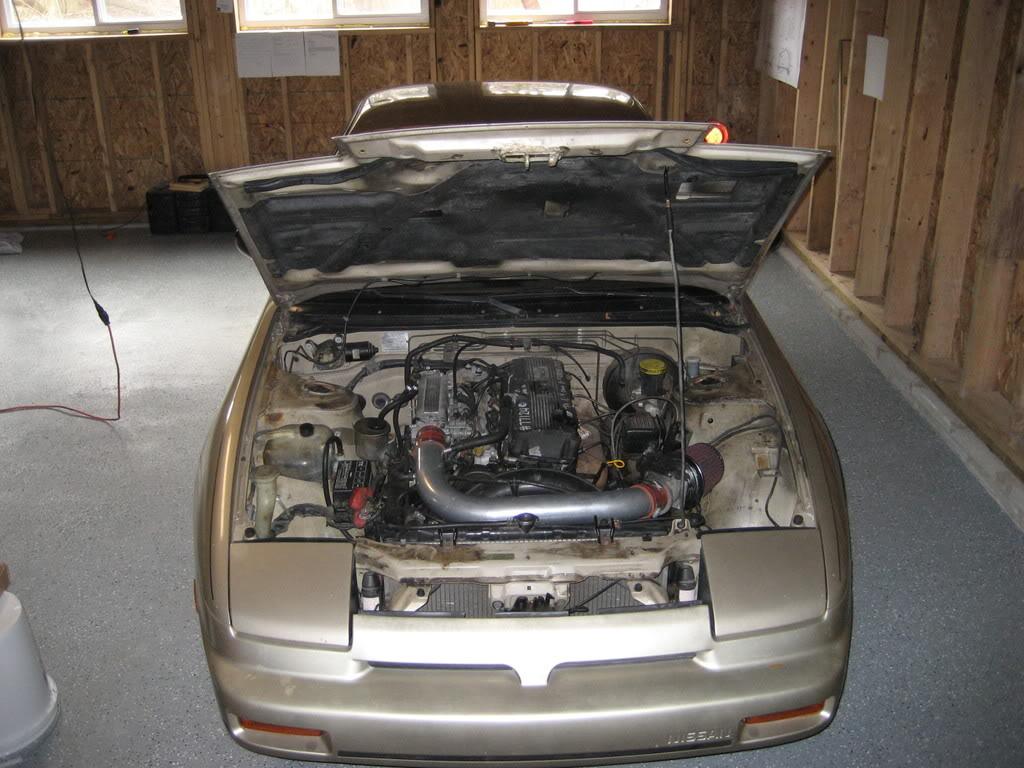 Saturday: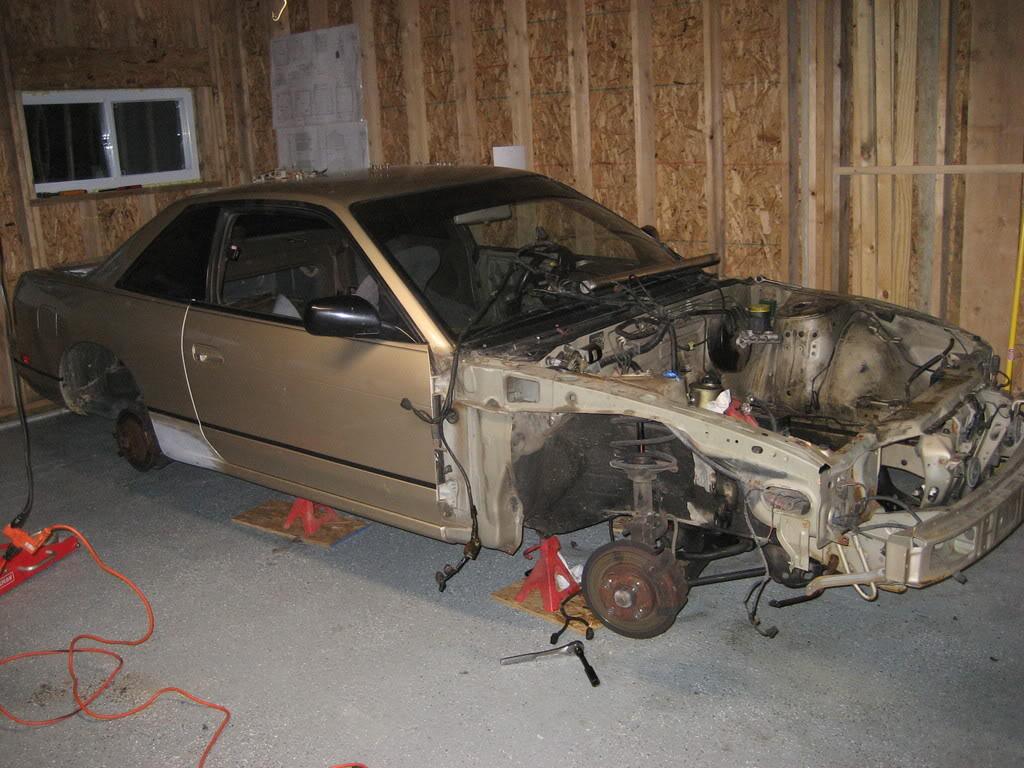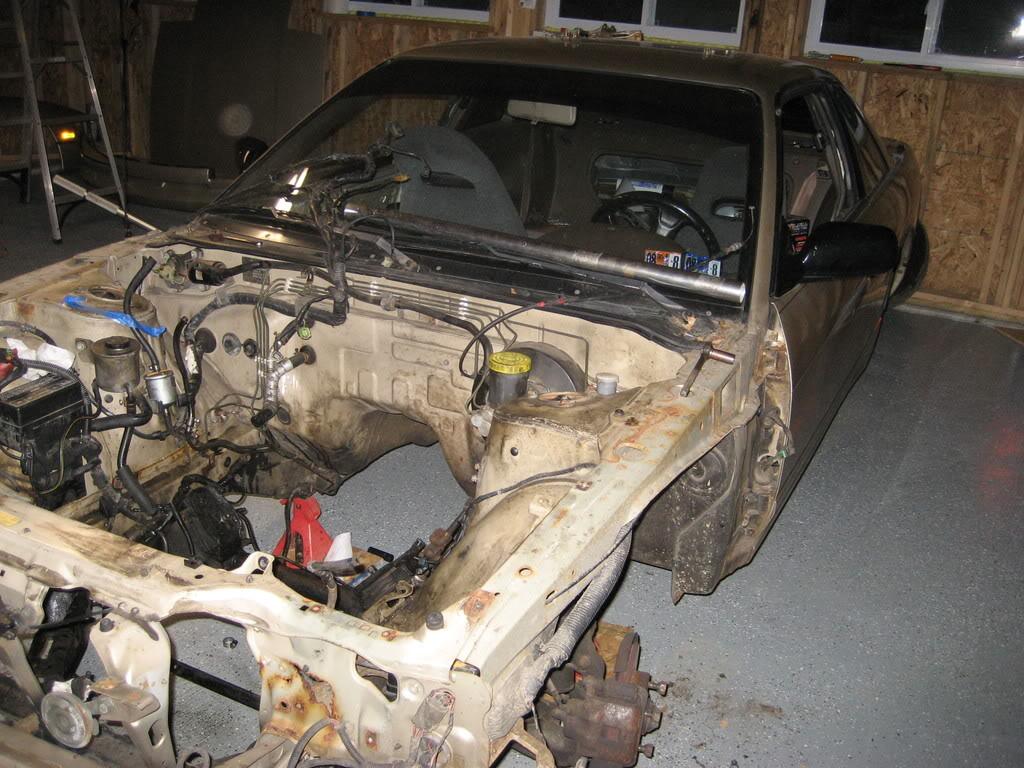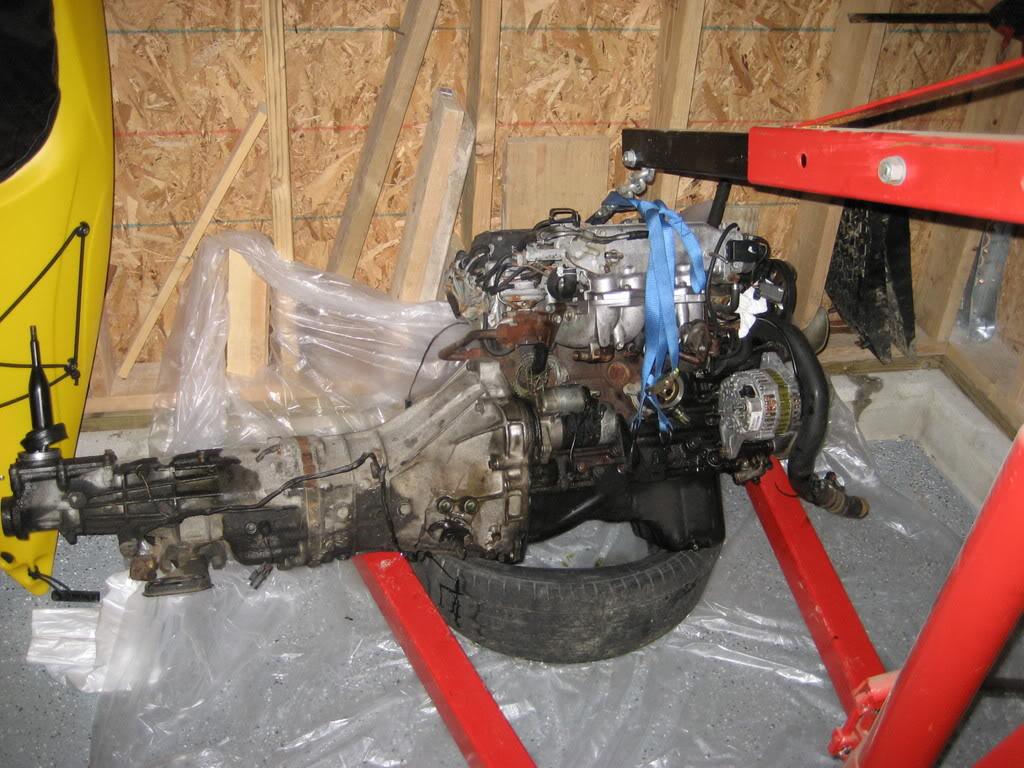 Sunday: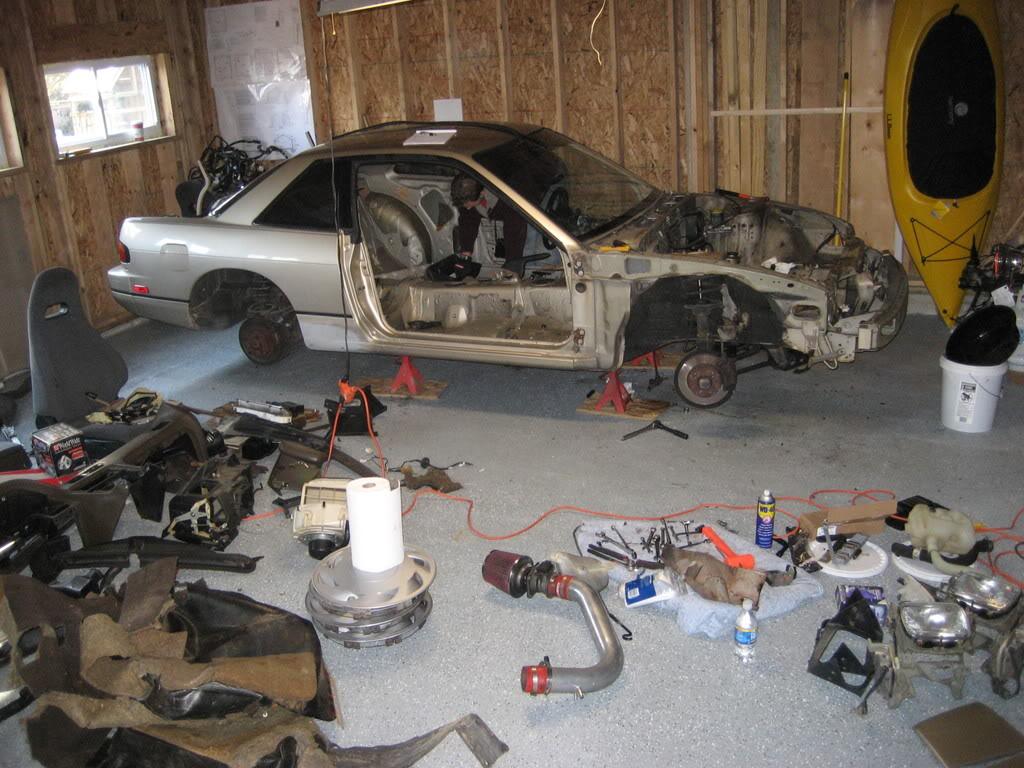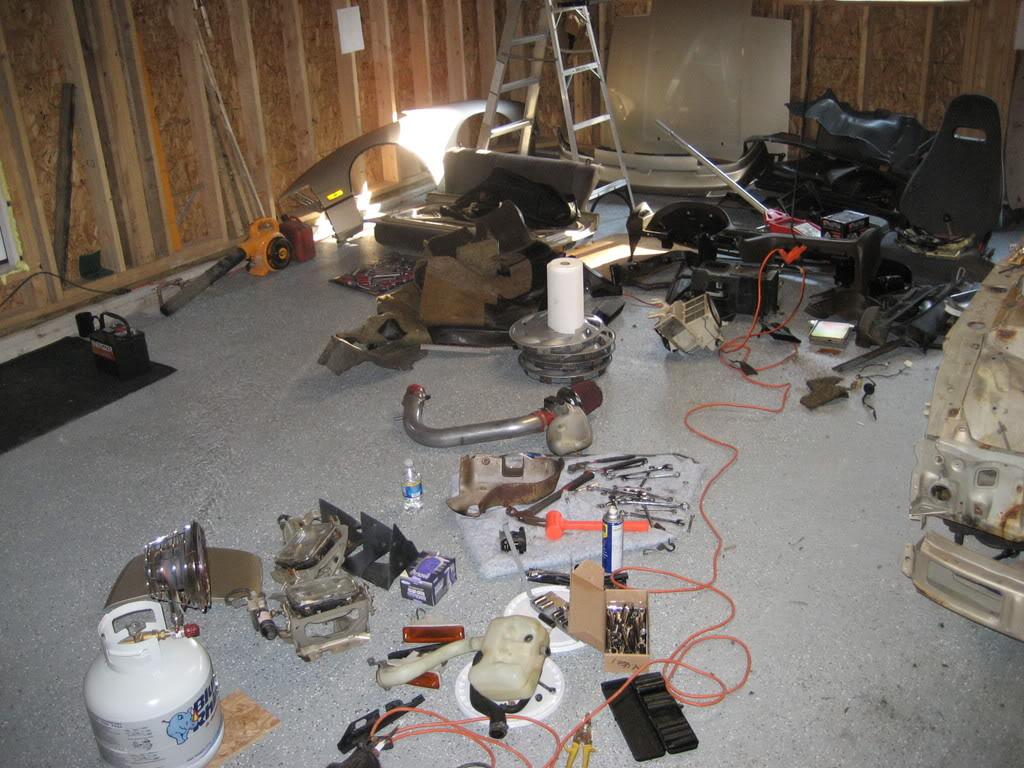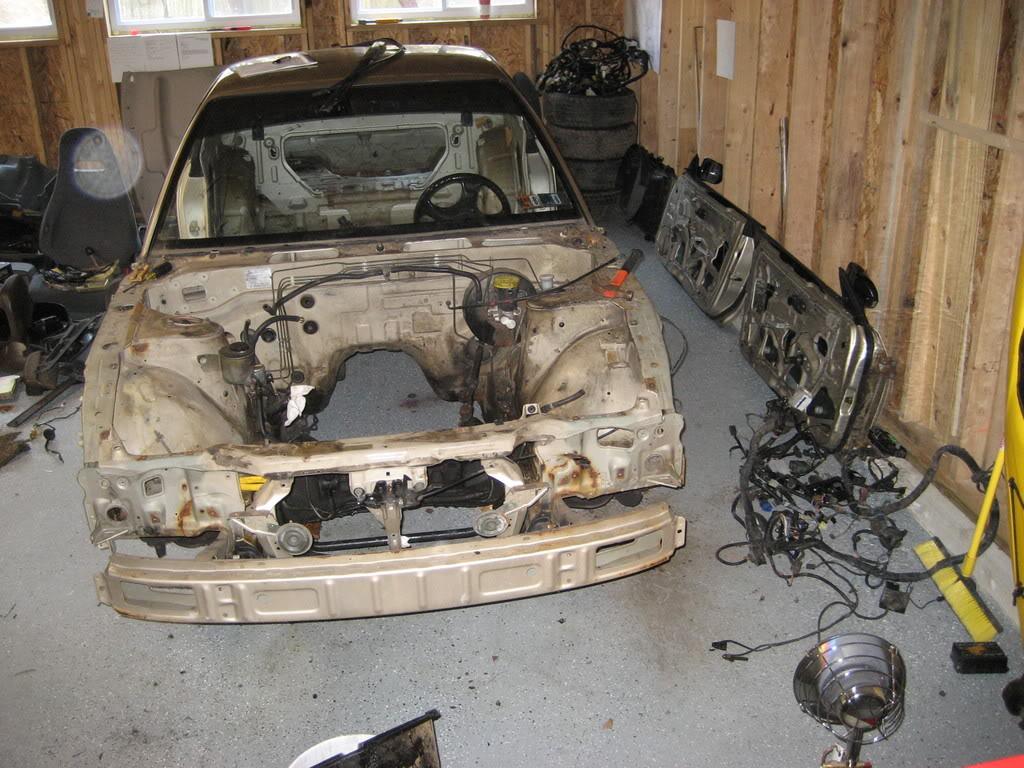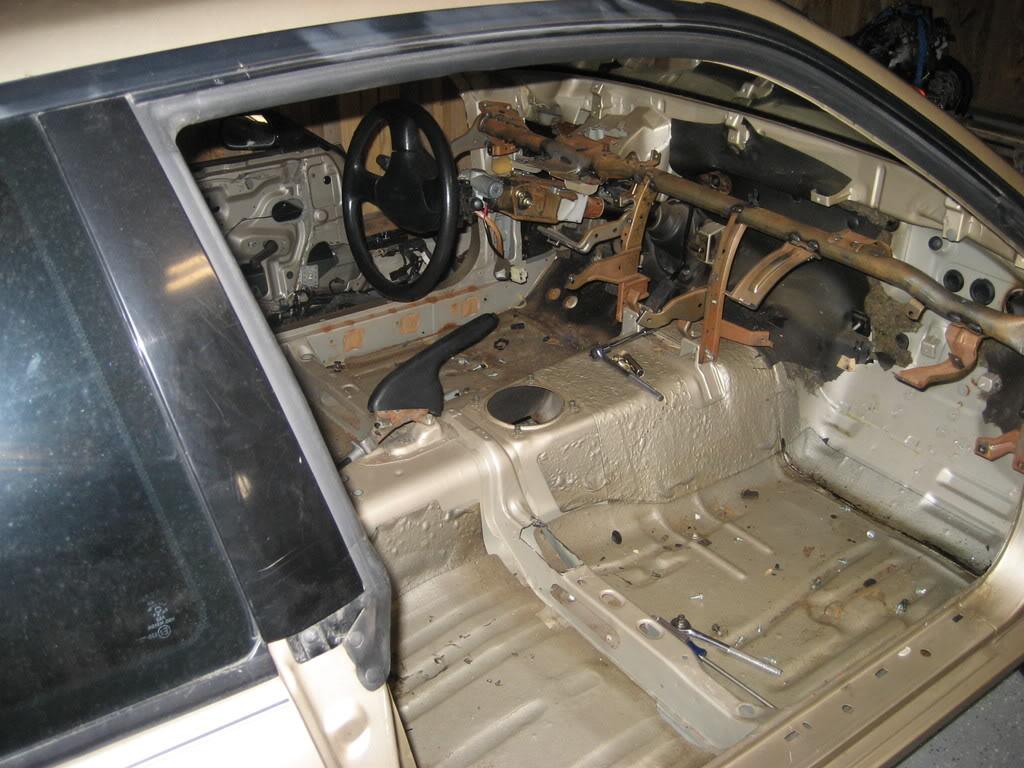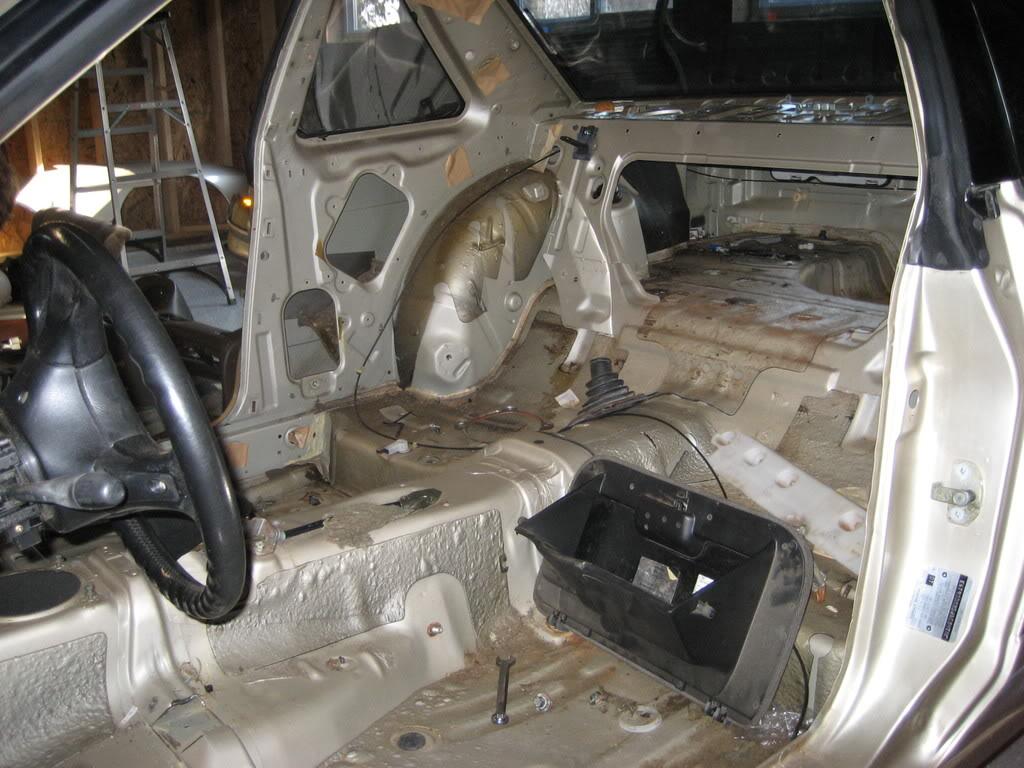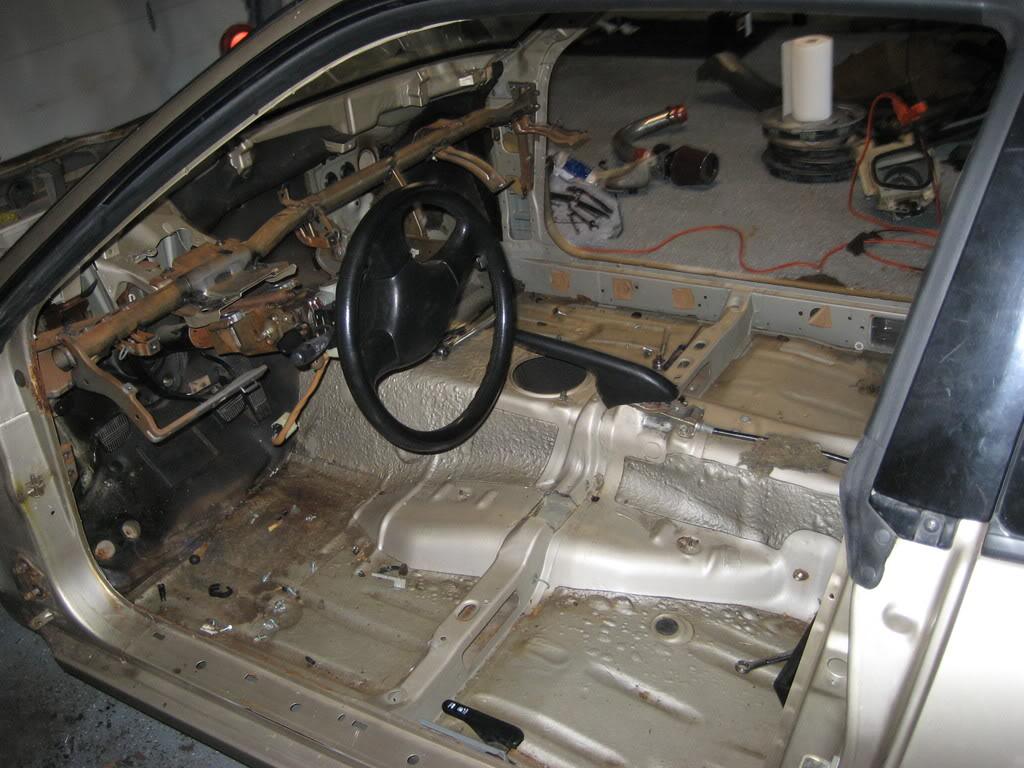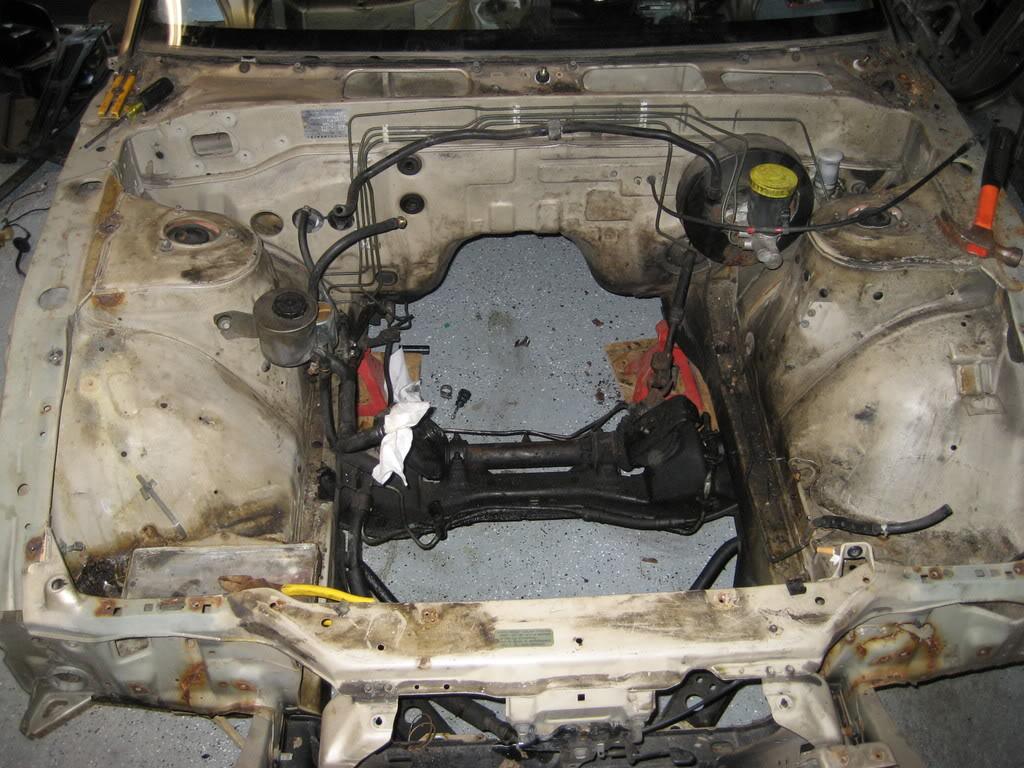 and just for fun: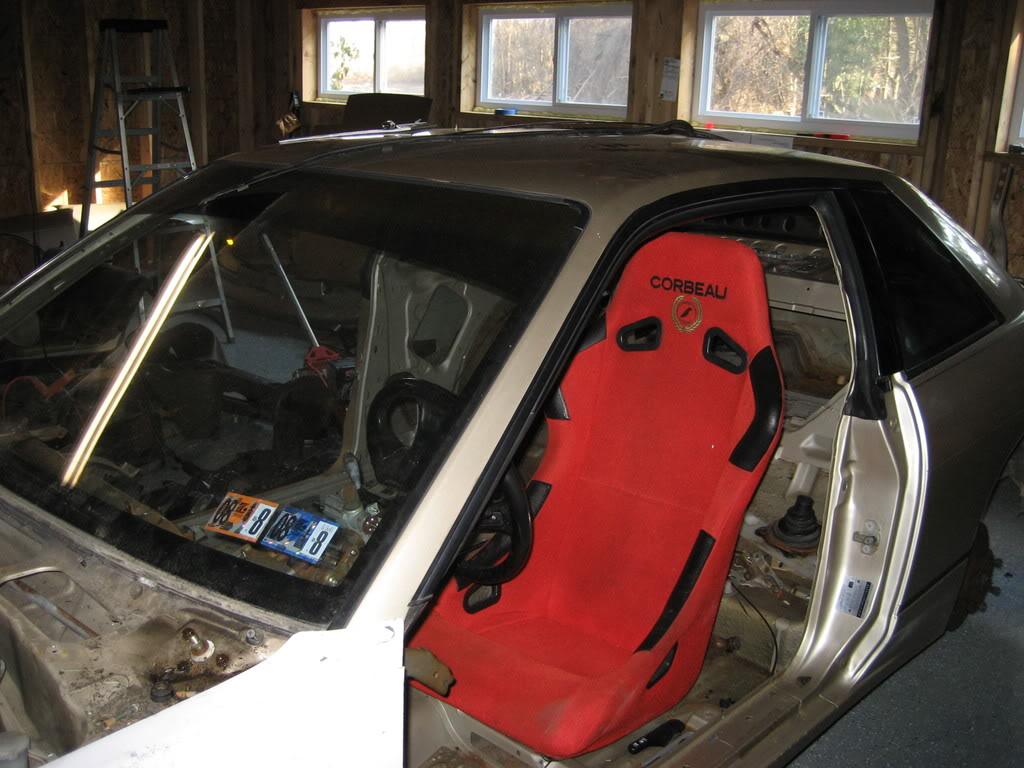 Quote:
Originally Posted by PoorMans180SX
180SX brakes are Maxima brakes, just to let you know
Go to www.splparts.com and order 17x9+20 FN's for the front and rear. No reason to run an 8 inch wide wheel on the front a track car.
Looks pretty good. Looks like what I did to my fastback, hahaha. Just make sure you're organized. I totally have one of those heater-on-the-propane-tank things too.
I know the brakes are the same, but they actually came from a 180sx and they were only $20! I'm going to use these wheels while on the stock turbo. Then next fall or winter when the gt2871r goes on I'd like to get 17x10 rear and 17x9 fronts.
The heater's nice when you stand next to it, but no insulation and openings between the roof and the wall keep it about 30 degrees in there!
I finally got a long weekend to go down and work on the car. First problem, one of the sub-frame bushings froze to the stud. I cut the bushing out while it was on the car so we could drop the sub-frame, but now the inner metal sleeve is still stuck on the stud. Does anyone have any ideas for getting that off? I'll try to get a picture of it, I forgot before I left.
So we dropped the subframe, took all the suspension off of it and sand blasted so it's ready for paint.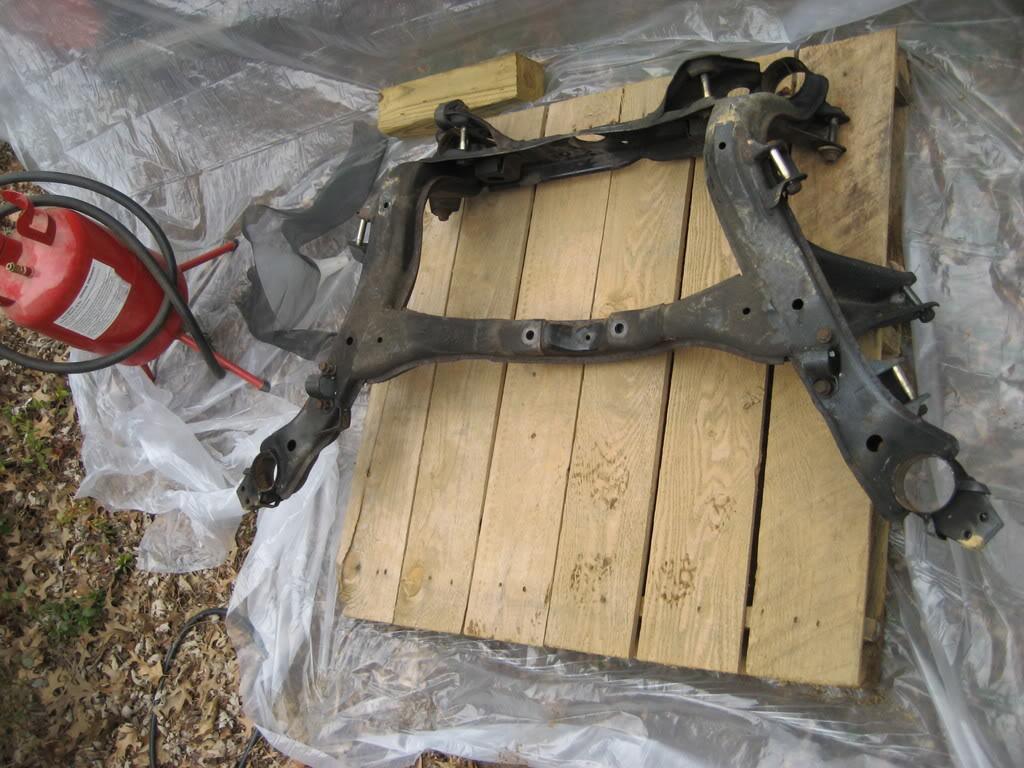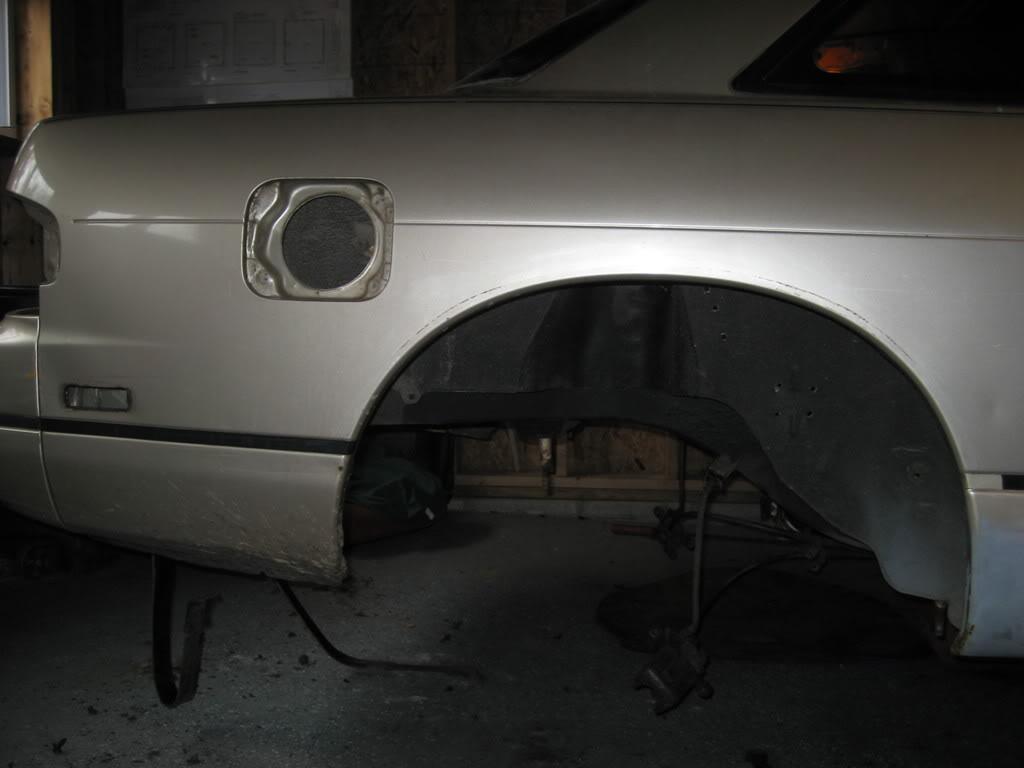 We also took out the front corssmember and started cleaning the engine bay for seam welding and paint.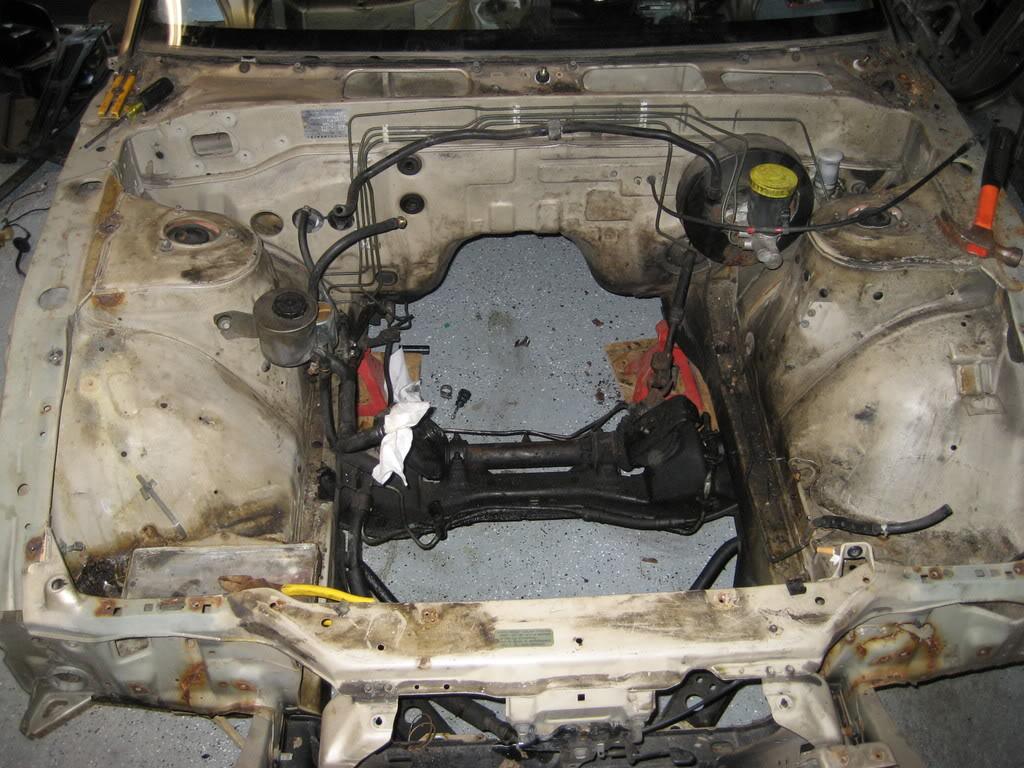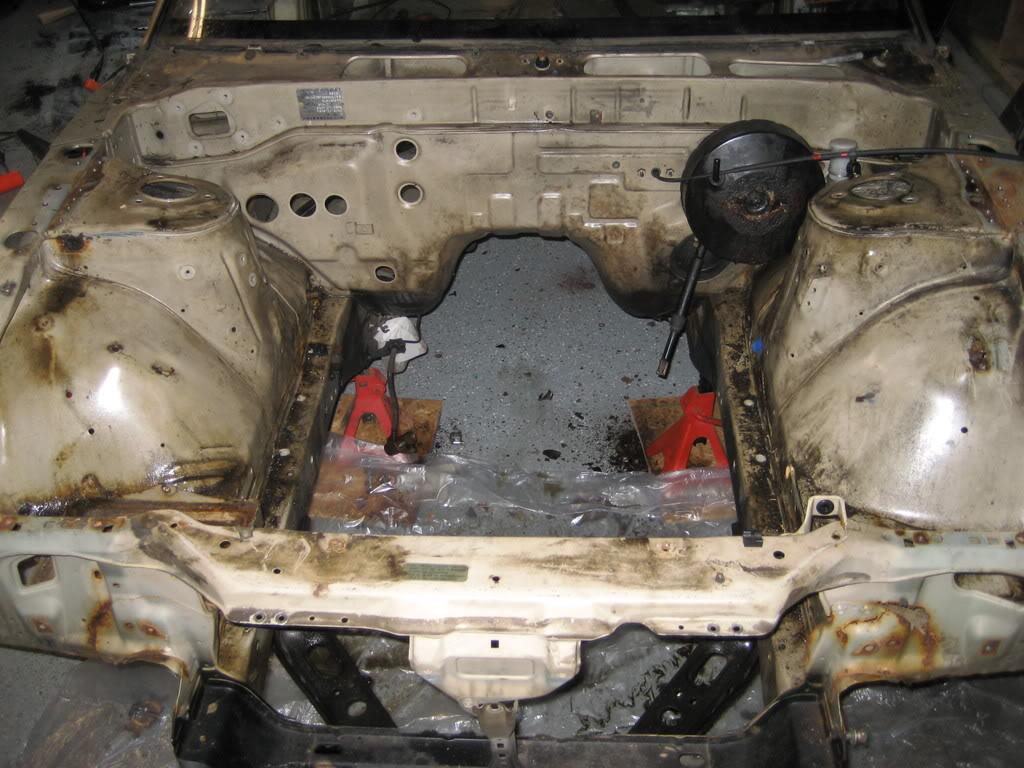 We also removed the sound deadening. That was a bitch. We used dry ice,
which helped a bit for the big flat sections, but it took a lot of work to get that out. We still have to clean it up some more and then we can stich weld and install the custom cage.
Then came the fun part. We took out the windshield. We tried to take it out in 1 piece so we could put it back in. It broke, that was fun. Then we started cutting out extra metal. We cut out the spare tire well. We are going to square off the cut and weld in a flat piece of sheet metal to mount the fuel cell to. We also cut out the rear seat suports, that will give us more room for the cage and rear firewall that's going in next.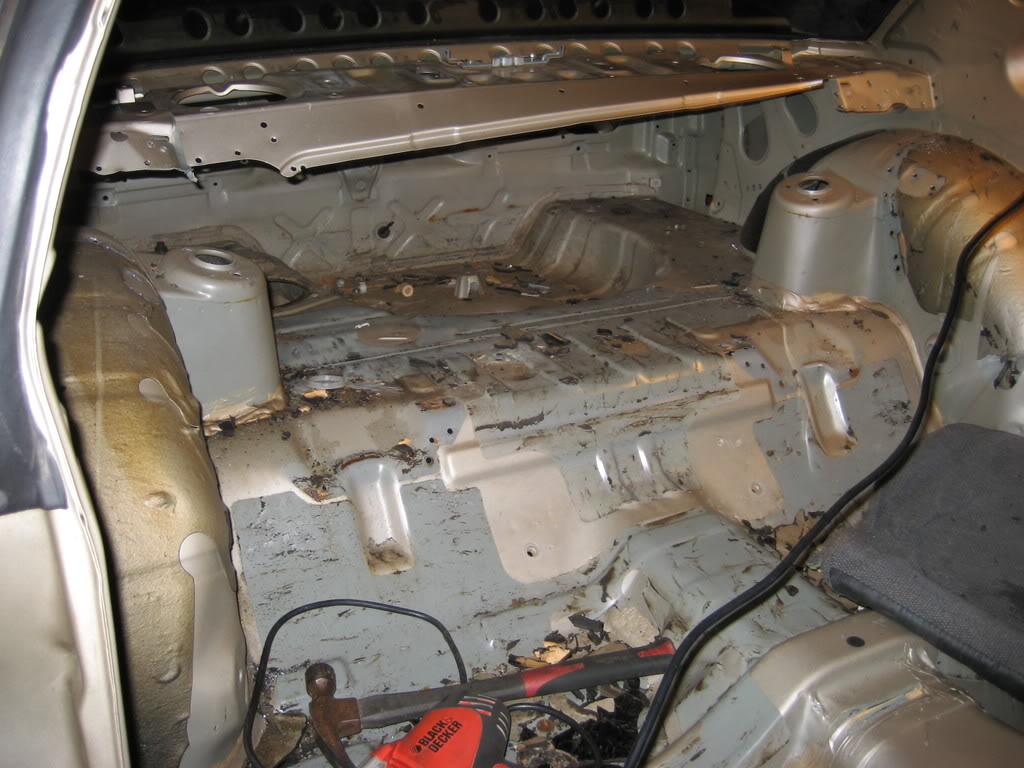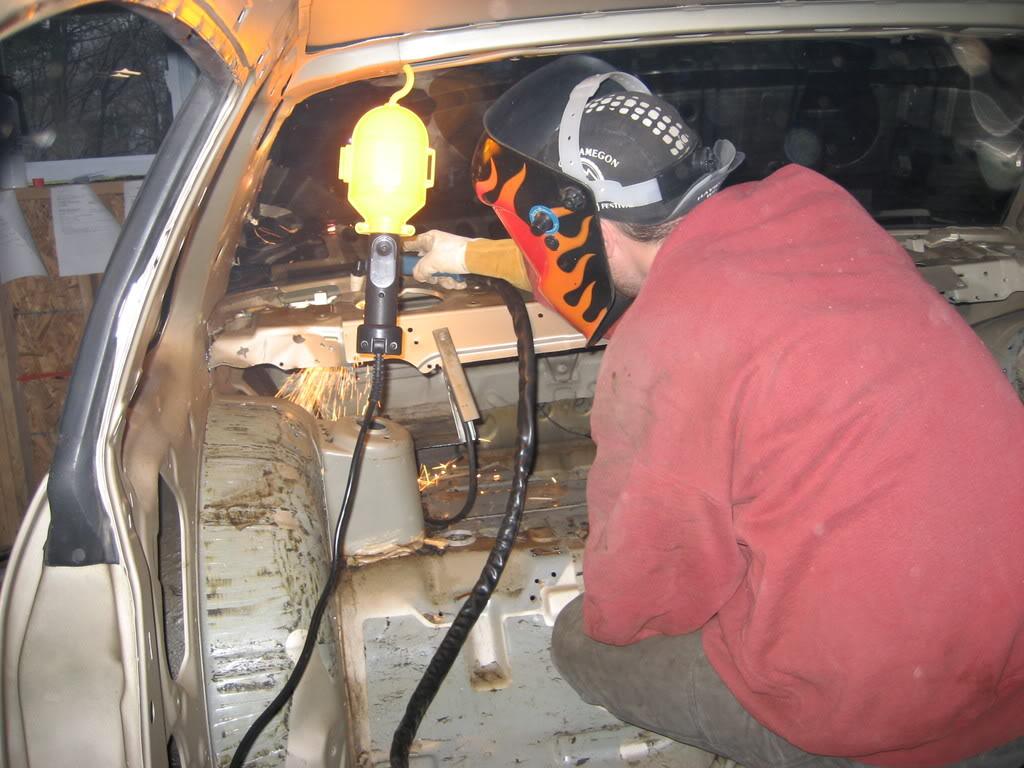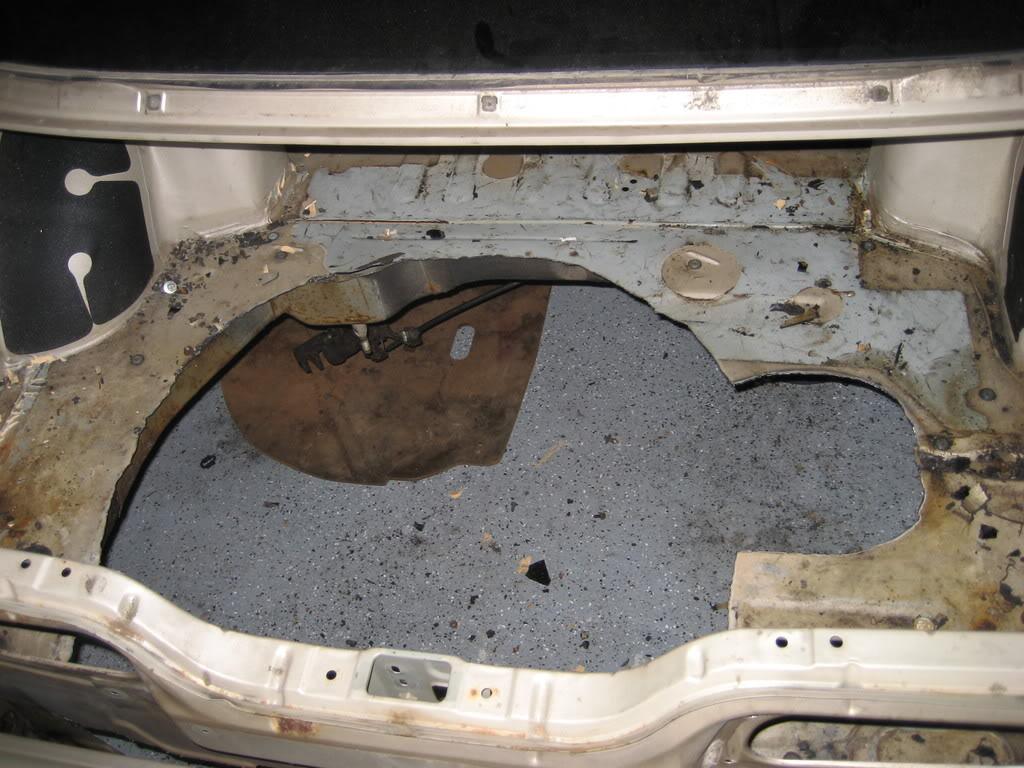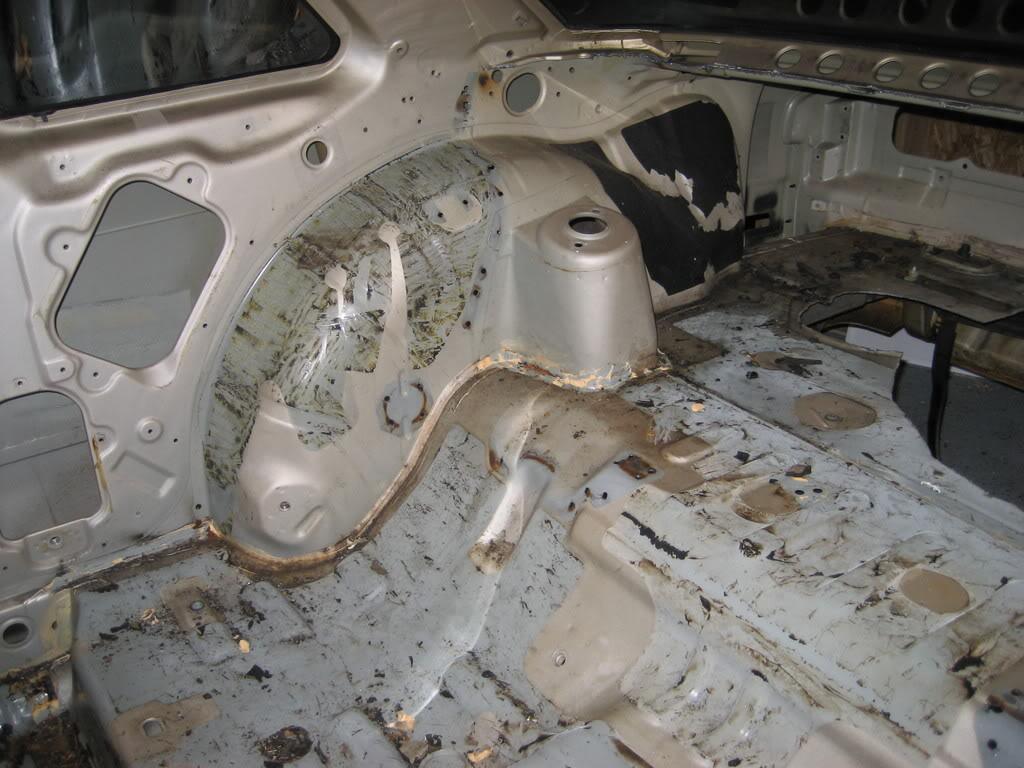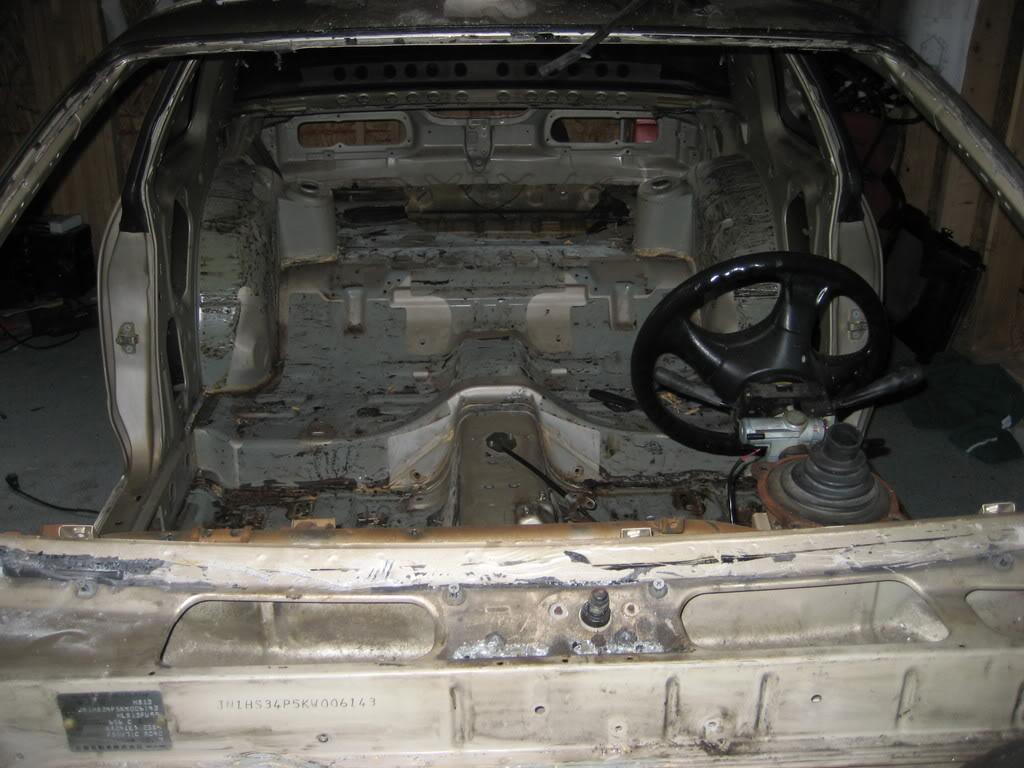 Over the next 2 weeks my friend is going to start seam welding and also take the block to the machine shop. Next time I go down we will start some of the fabrication. Now that we're done ripping it apart we can start putting it back together.
For the rust in the engine bay, it's just surface rust so we're gonna grind the rust off, then prime and paint. We have a couple spots on the floor where it's rusted through. For that, you want to cut out all the rust, then weld in a patch pannel (cut a piece of sheet metal to fit the hole in the floor then weld it in place).
If yours is rusted through and you don't have a welder, just take the car to a body shop and see how much they want to fix it for you, probably won't be too expensive.
My friend and his buddy (a professional welder) stich welded the chassis this weekend and started filling holes in the engine bay.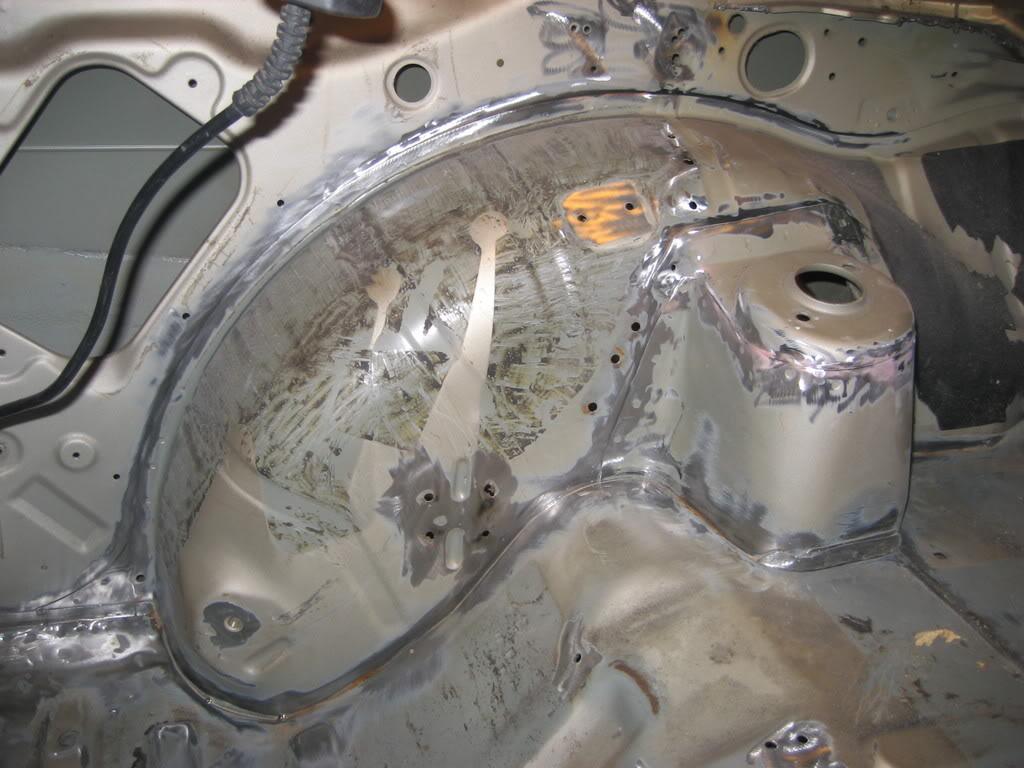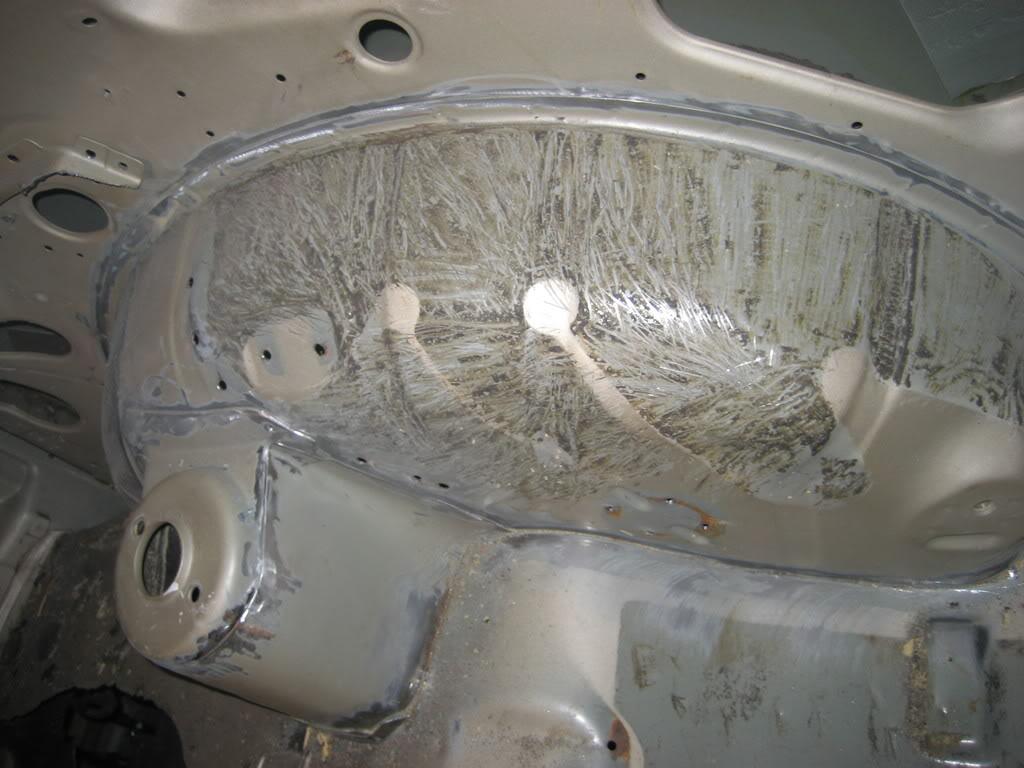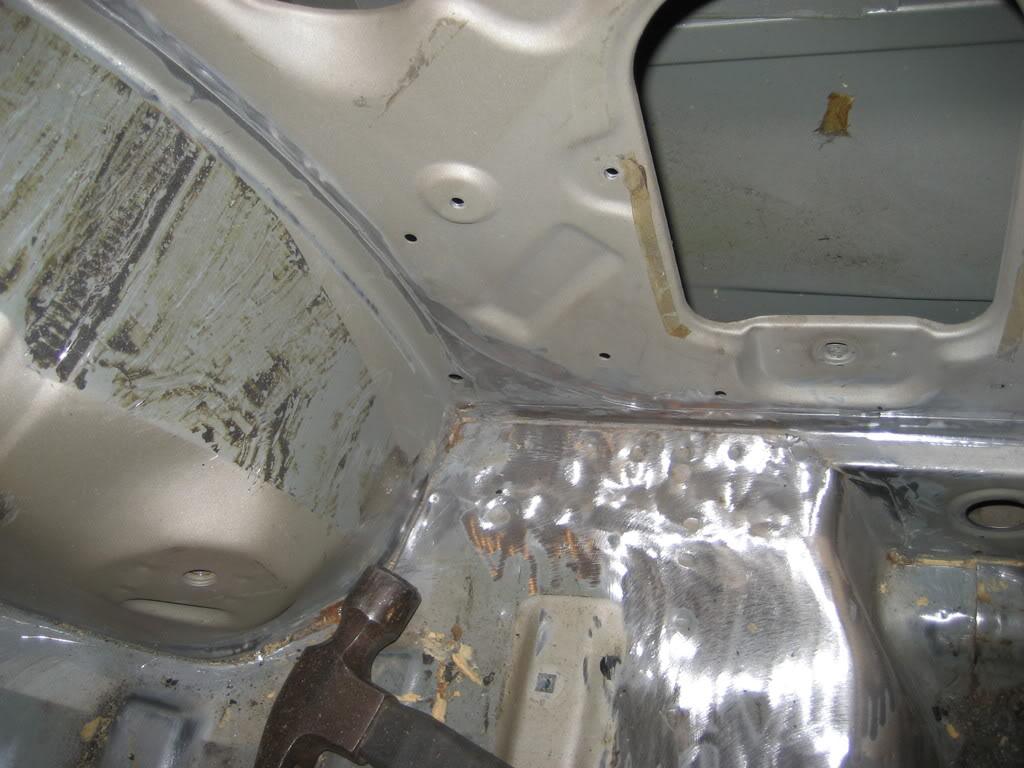 This guy is awsome: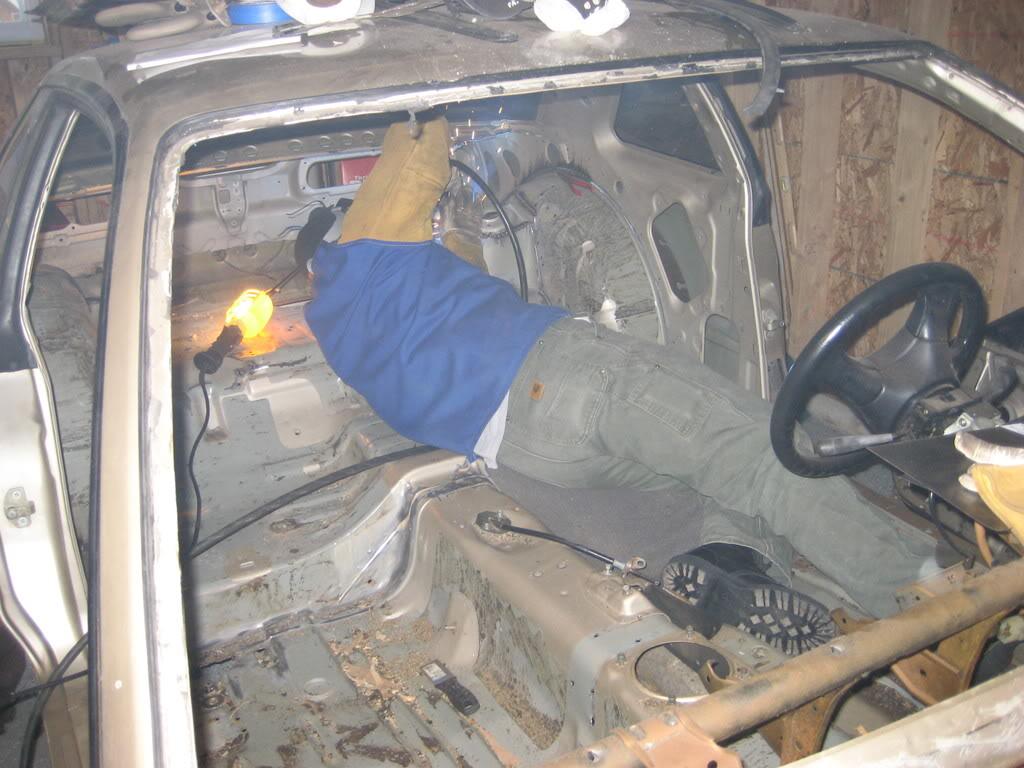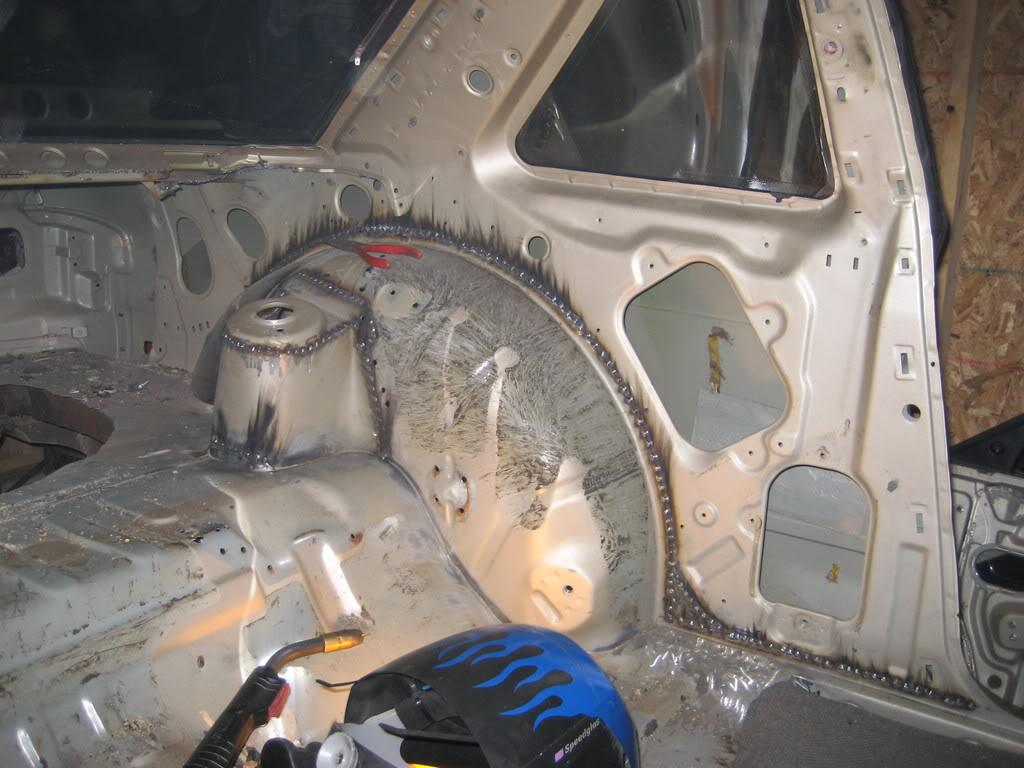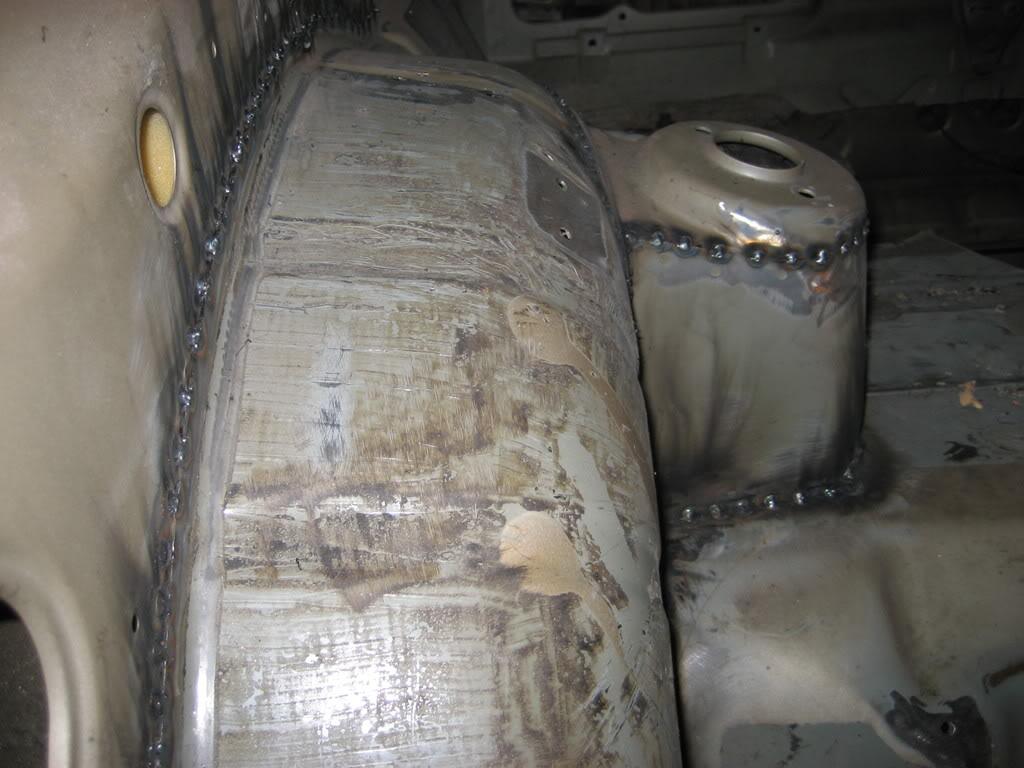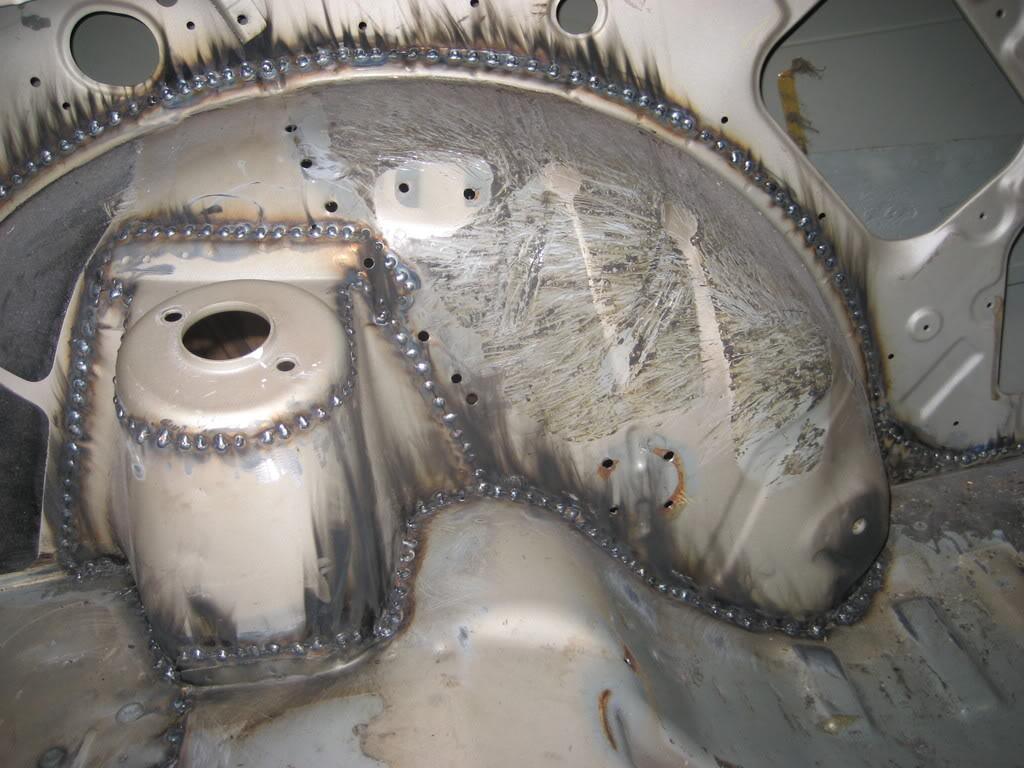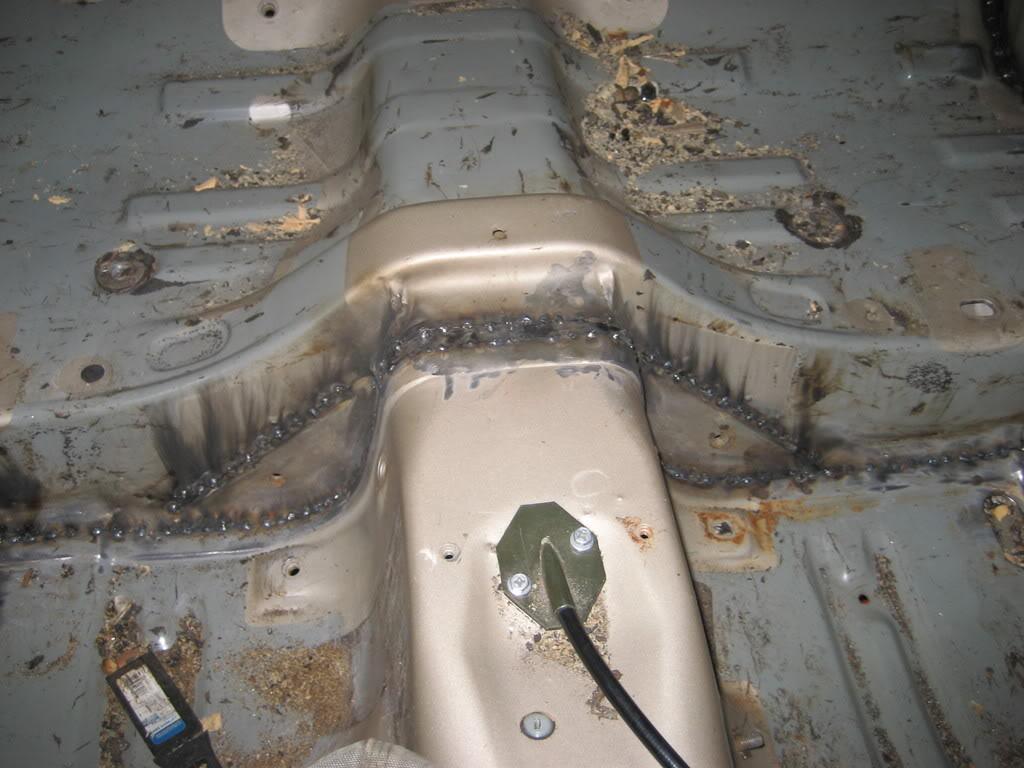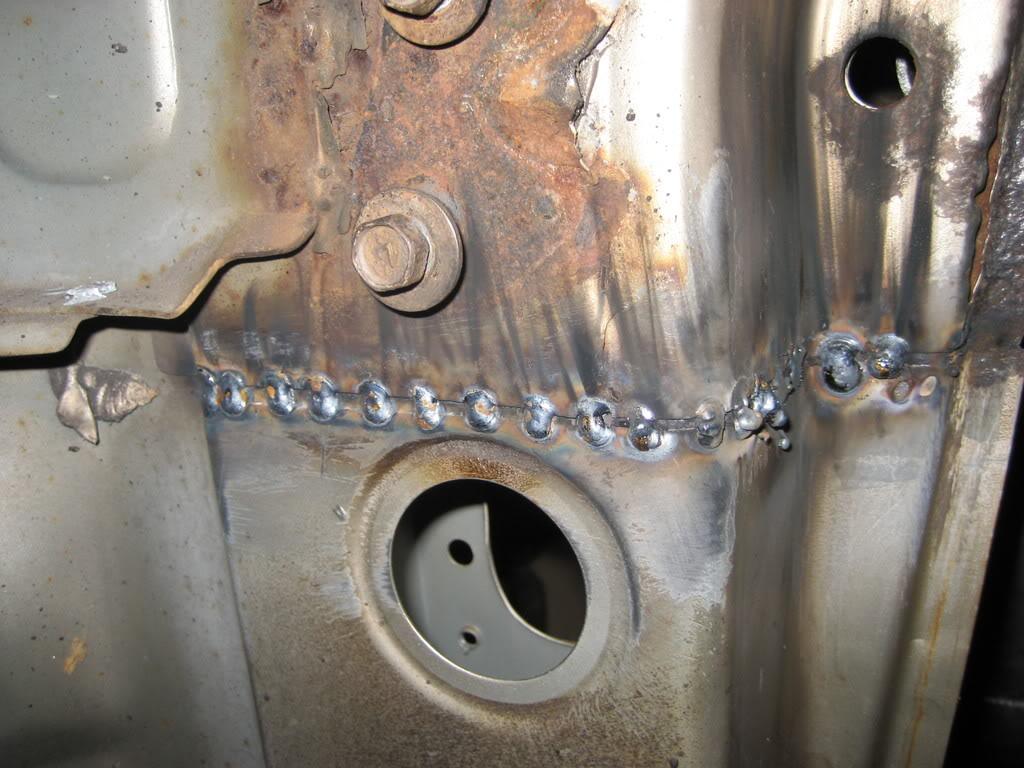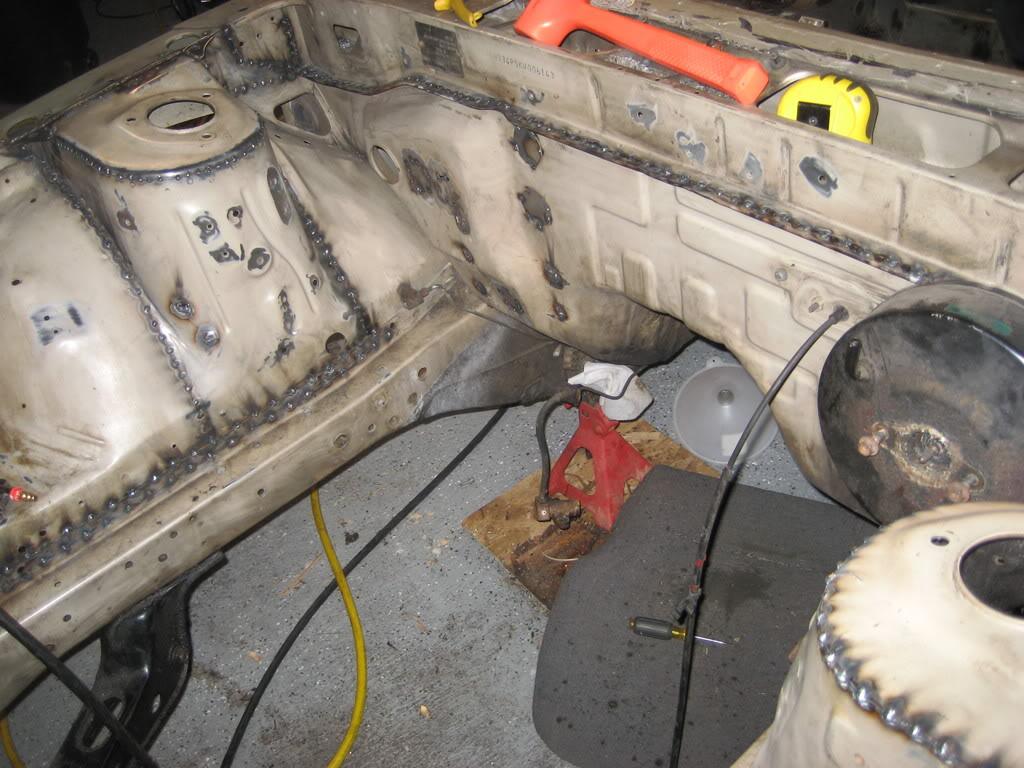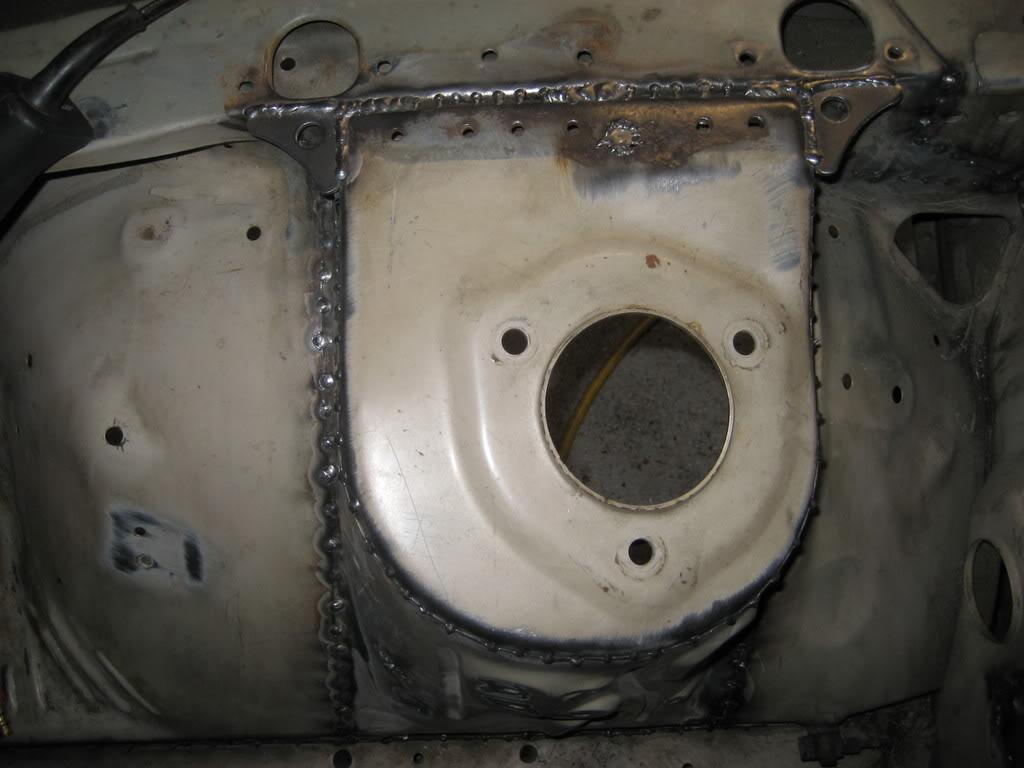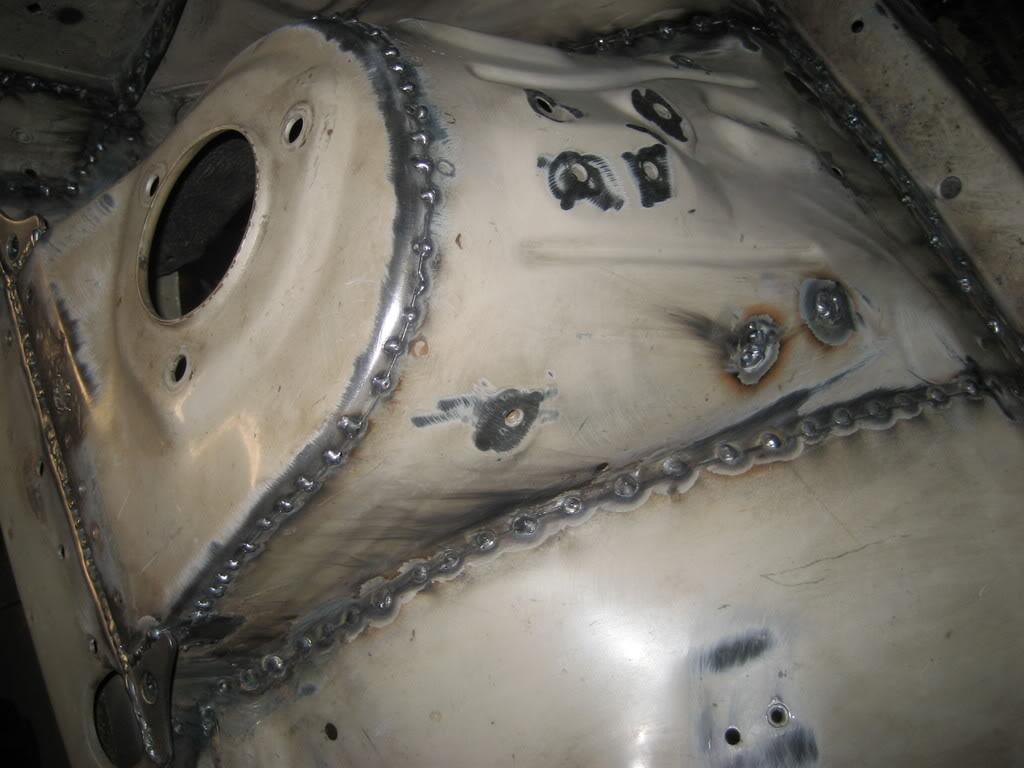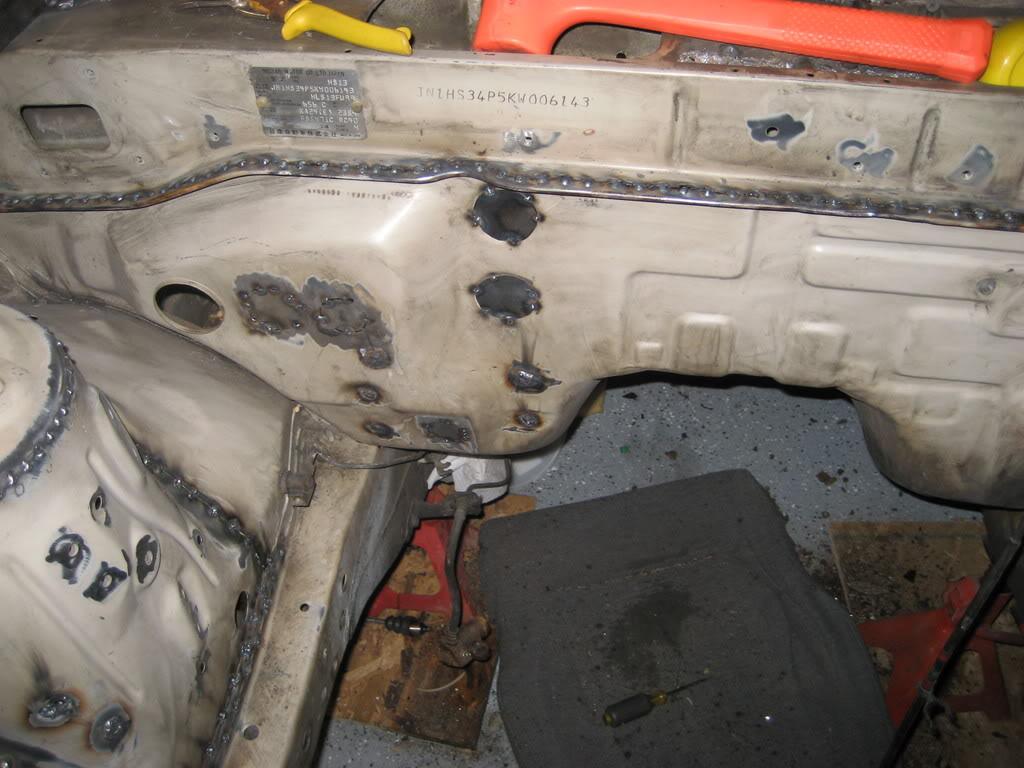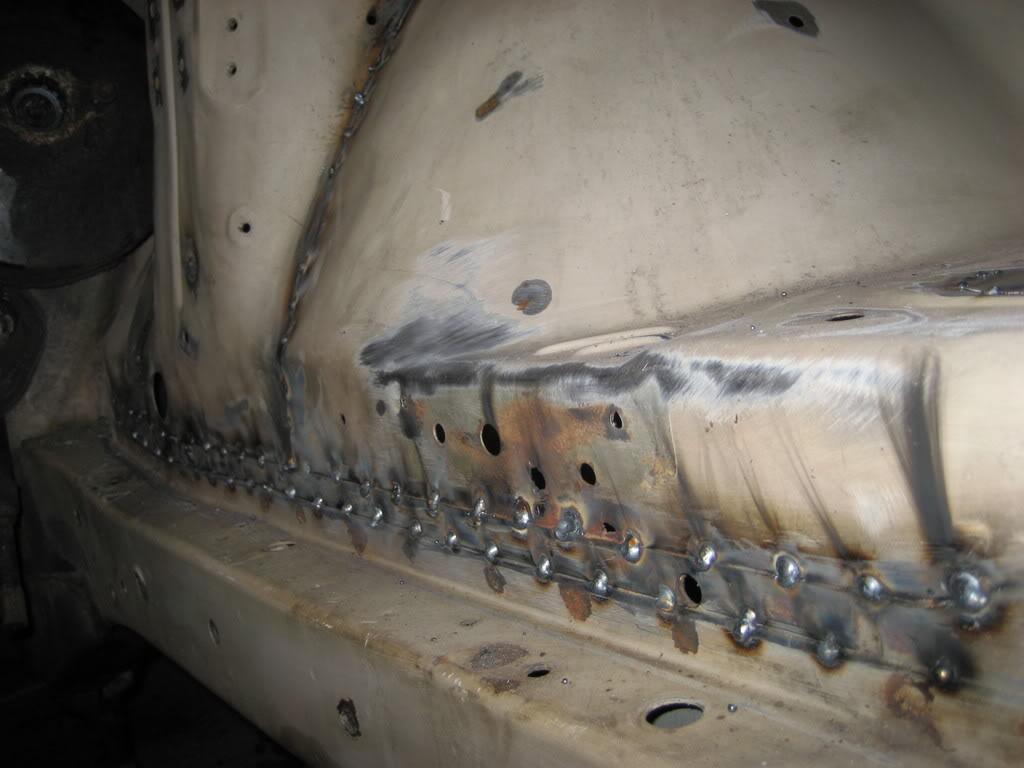 It took us about a day to get everything prepped and another day to get most of the welding done. Then my friend has been working on it an hour or 2 a day after work here and there. We're going to prime it this weekend, then hopefully get it painted in march.
Quote:
Originally Posted by Landers
Excellent build, do you plan on racing any scca events at all in the northeast??? Stitch welds look amazing BTW
Right now we're just focusing on getting the car done. I'm going to start looking for events once it's ready to drive.