240sx Coupe Track Car by noname7198
By stevegolf
You must be logged in to rate content!
240sx Coupe Track Car
Compliments of noname7198 @ www.zilvia.net
1/27/08
My friend and I are building a 89 240sx coupe track car. The car will be used for drifting and maybe some autoX. The purpose of this thread is to give people some ideas for building their cars and for people to give us their ideas and constructive criticism on this build.
Here's the basic plan:
strip and stich weld the chassis
install a 6 point cage, fire wall, fuel cell, fiberglass dash, gauges and seats
install coilovers, 2-way diff, 5 lug, bushings, RUCA's & tension rods
install sr20det (basically stock for now), v-mount, 3" exhaust
silvia front end, some light body work, and paint
As of right now we have stripped most of the car. I already have the following parts:
silk road coilovers
kaaz 2 way lsd
front & rear 5 lug
180sx front brakes
ES polyurathane bushings
silvia front end (we still need a hood)
Corbeau racing seats
fn01r-c wheels 17x8 & 17x9
sr20det (need to be rebuilt)
apexi power fc
I also have a gt2871r, but I'm waiting for more $$ and more seat time before that goes on.
What I still need to get:
RUCA's
toe arms
Traction rods
tension rods
spl subframe bushings
fuel cell and plumbing
piping for exhaust, cage and IC
We spent this weekend taking the car apart. I now live 306 miles from my friends house where the car is, so updates to this thread and the car will probably only come 1 or 2 times a month. On the next work weekend we will finish stripping and start cleaning and preping the chassis for seam welding.
The budget recently got a little tighter, but I still would like to get spl tie rod ends and possibly sway bars and traction rods. To the people who track their cars, do you have or think I need bigger sway bars? Let me know what you think and why.
This is the car last week when we towed it home. It was not running and cost $550.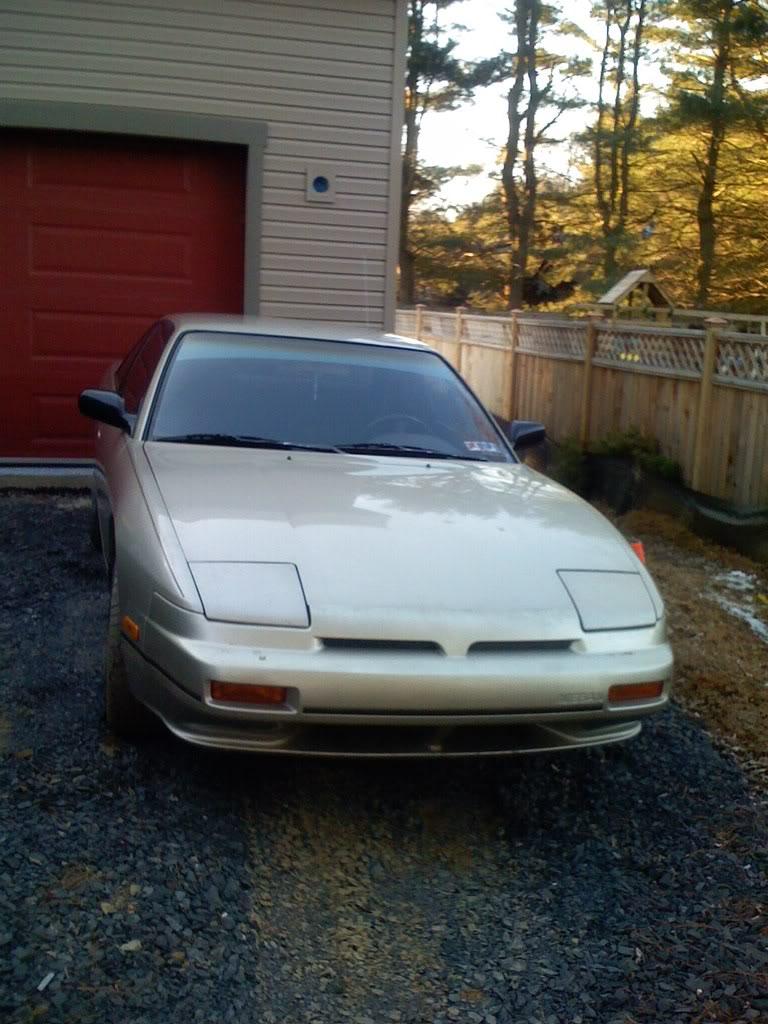 So I open the door before we move the car into the garage and this happens: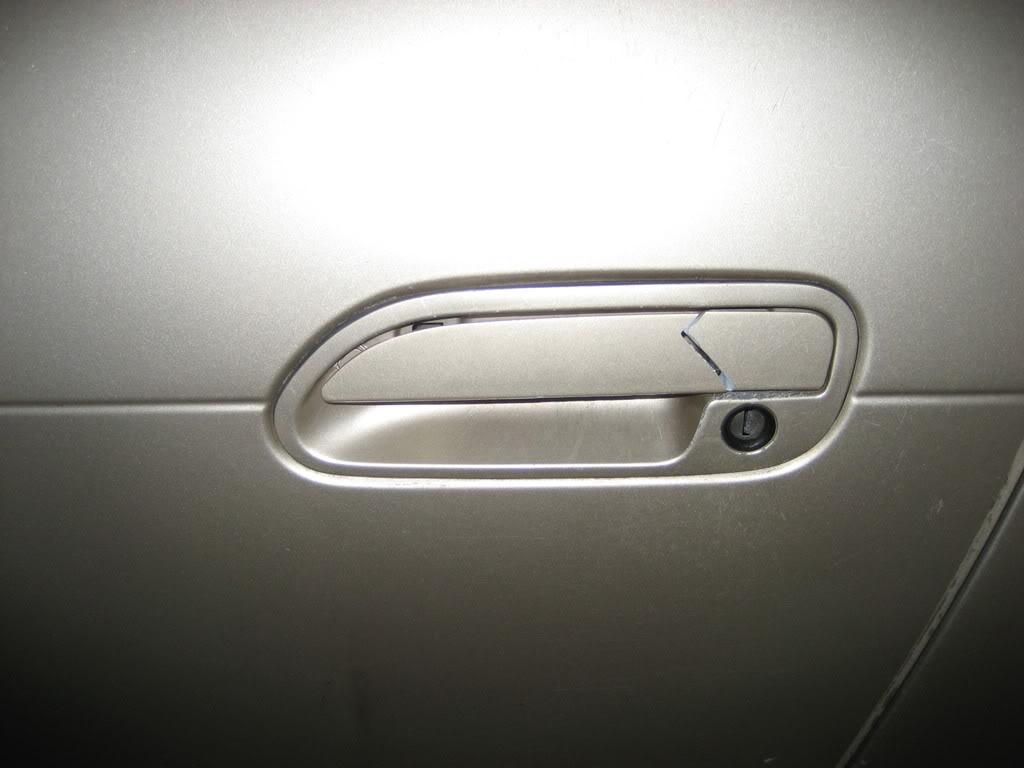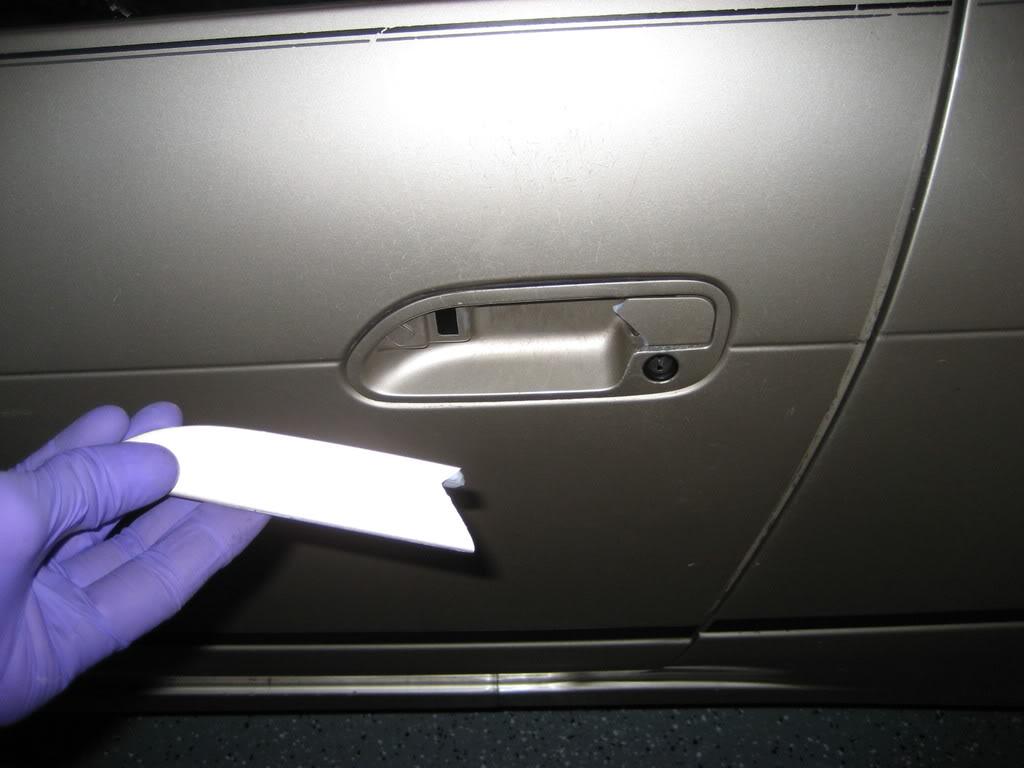 Anyone have a door handle for sale?
Here's friday Pictures: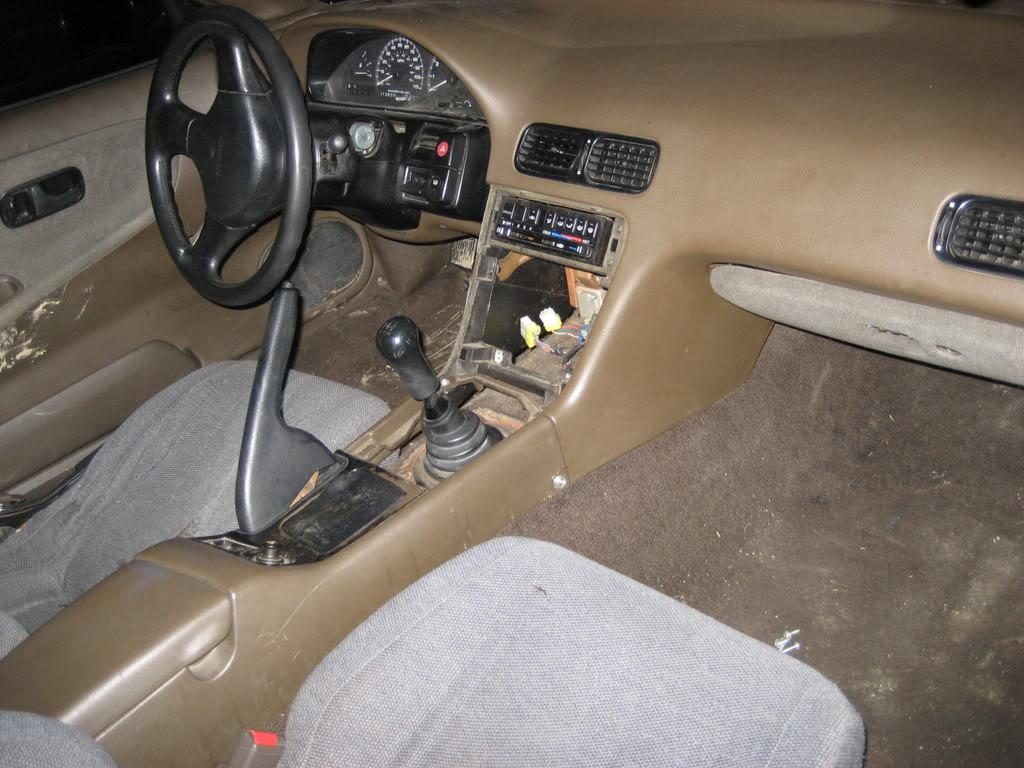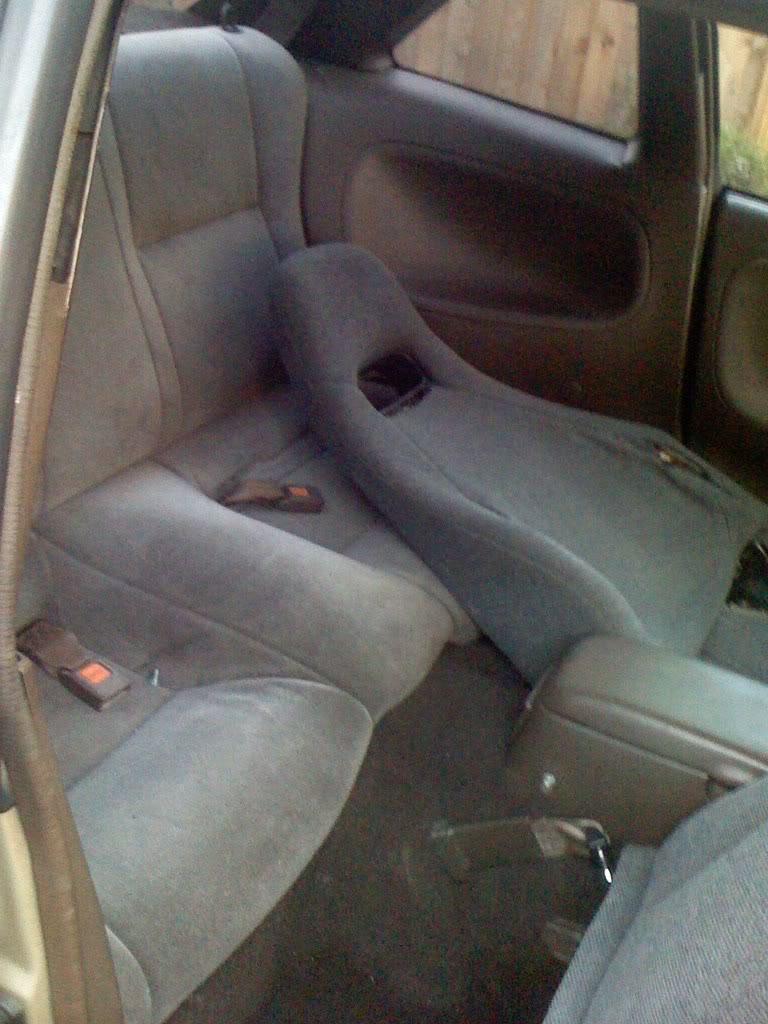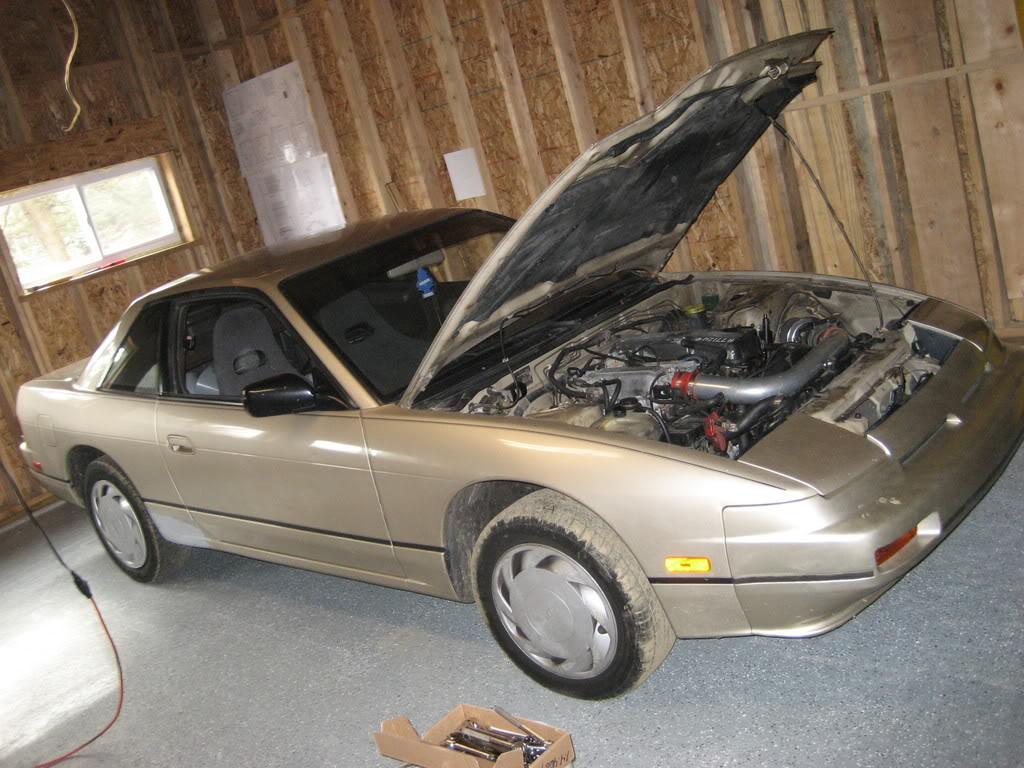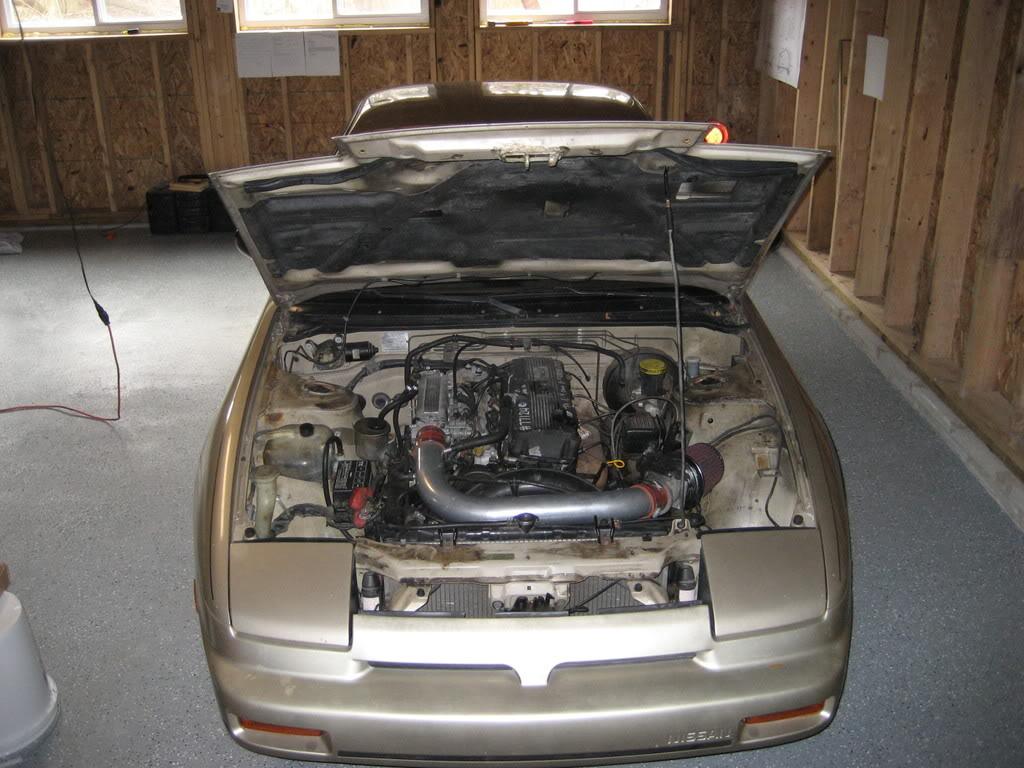 Saturday: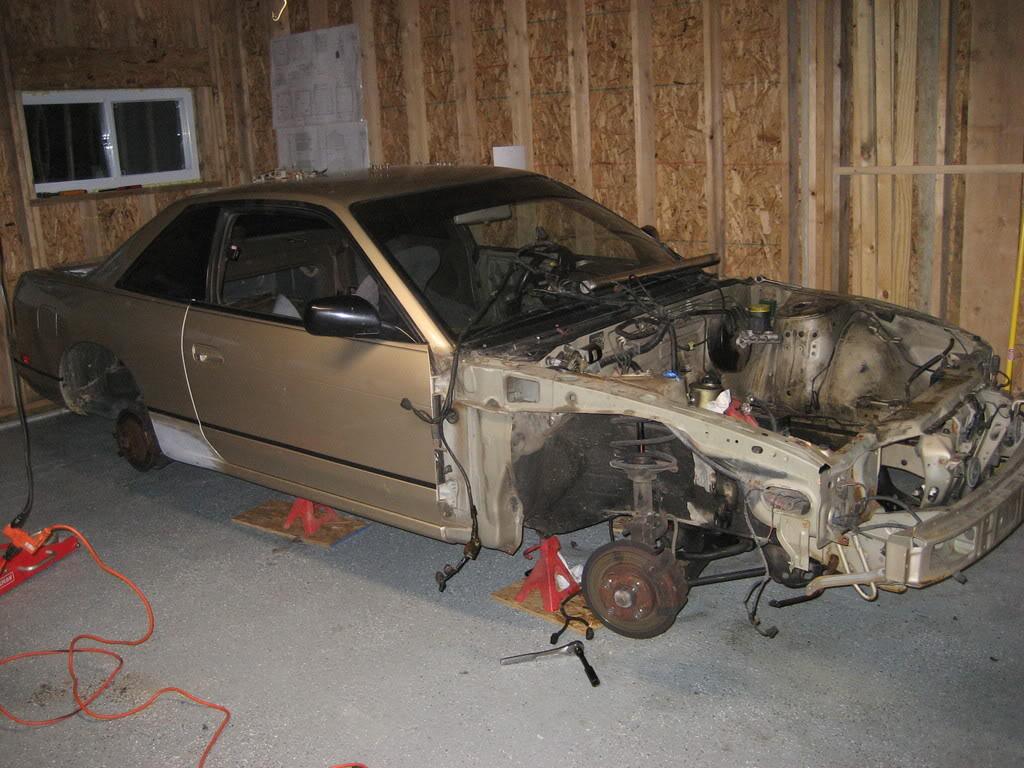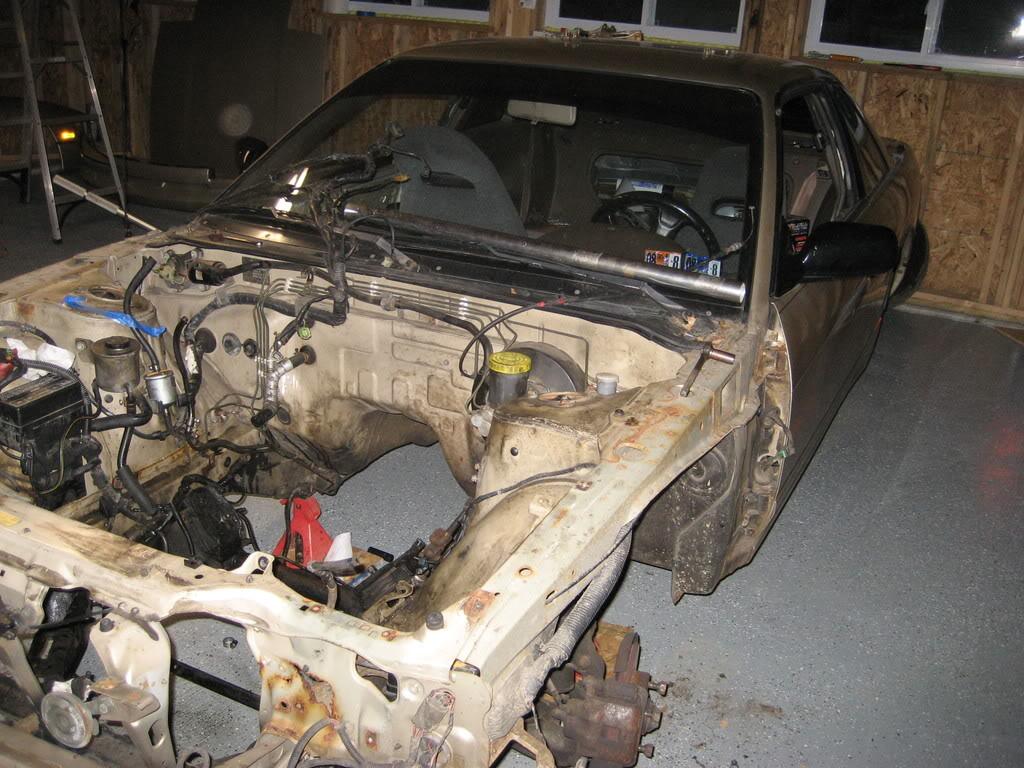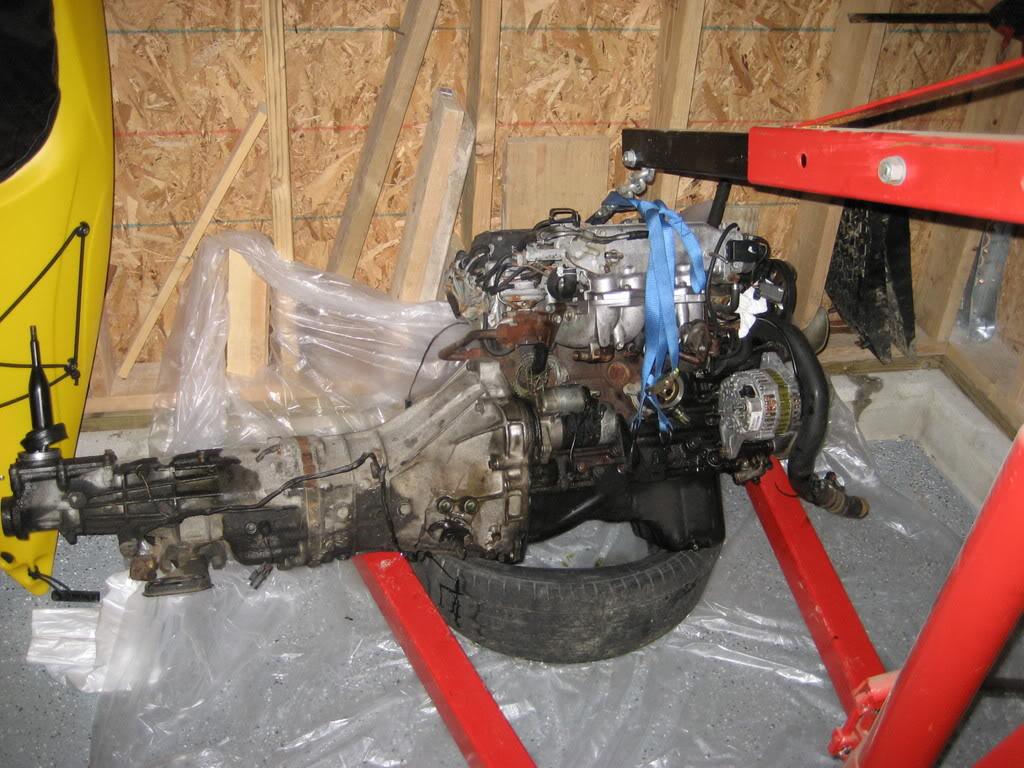 Sunday: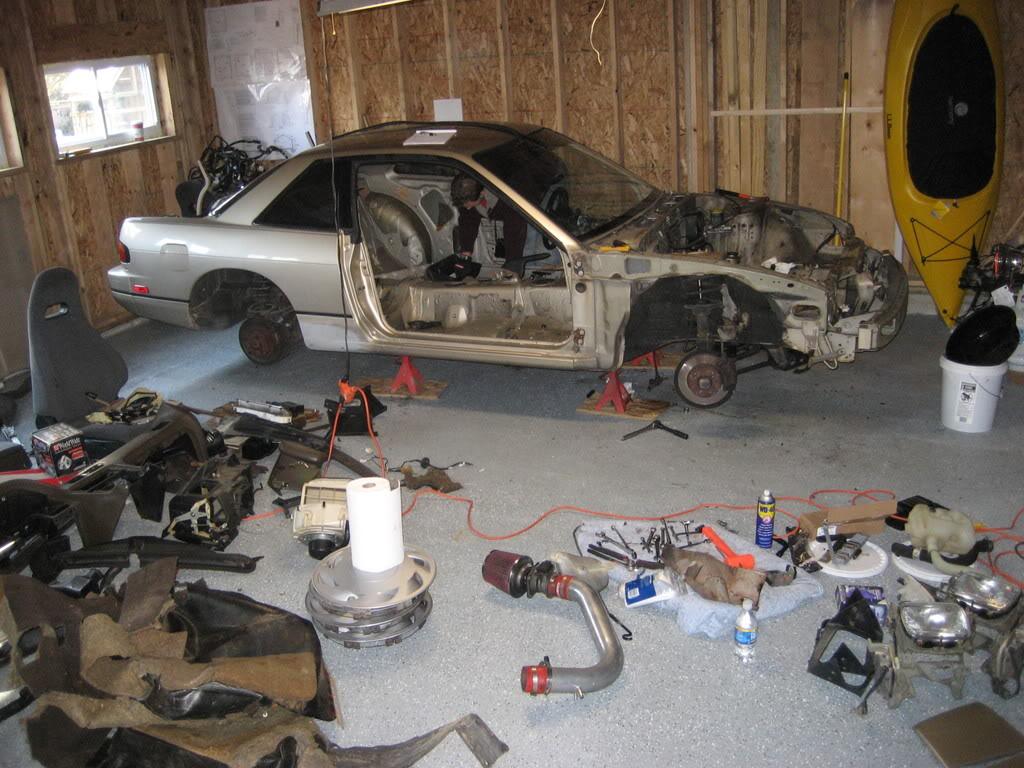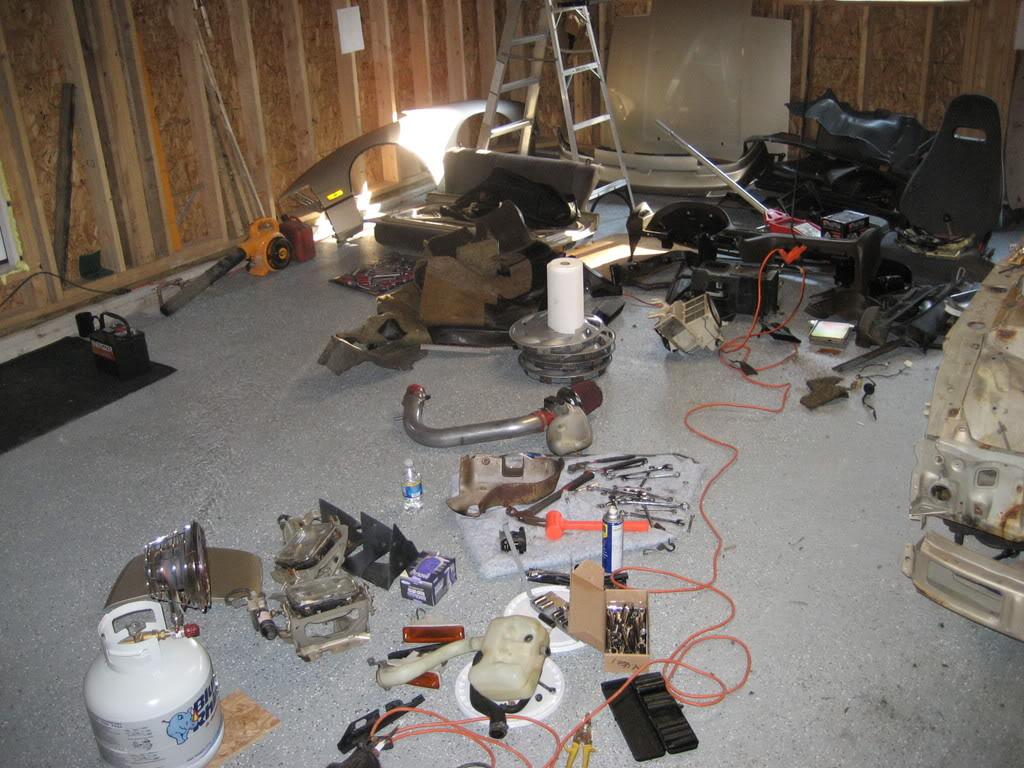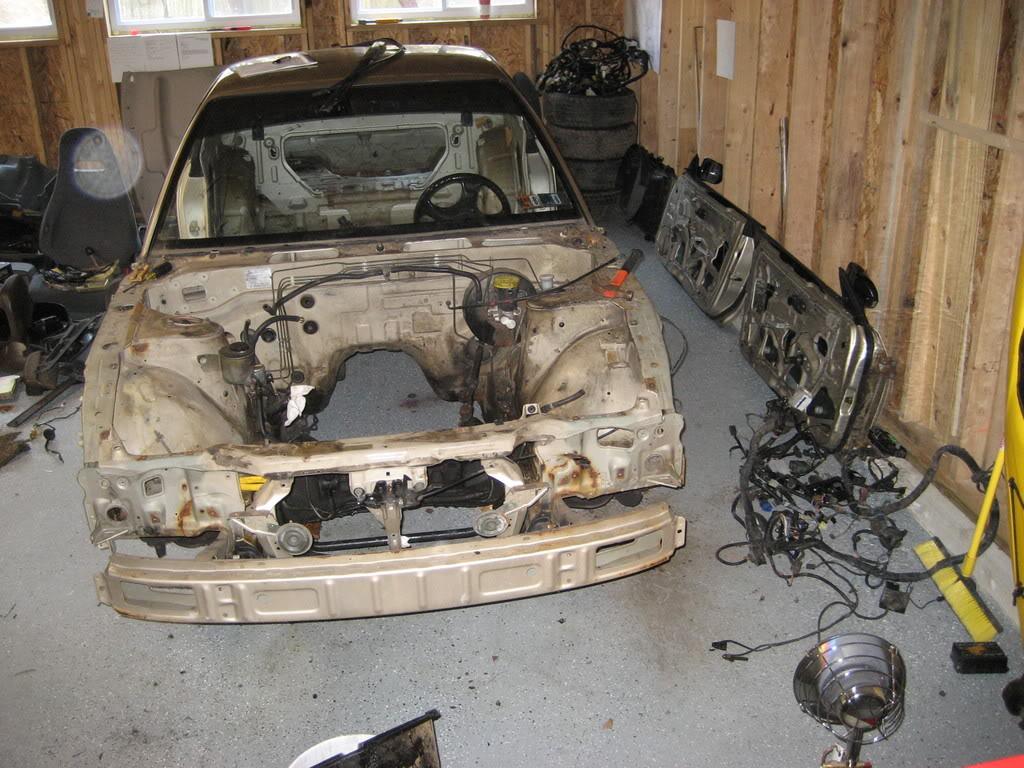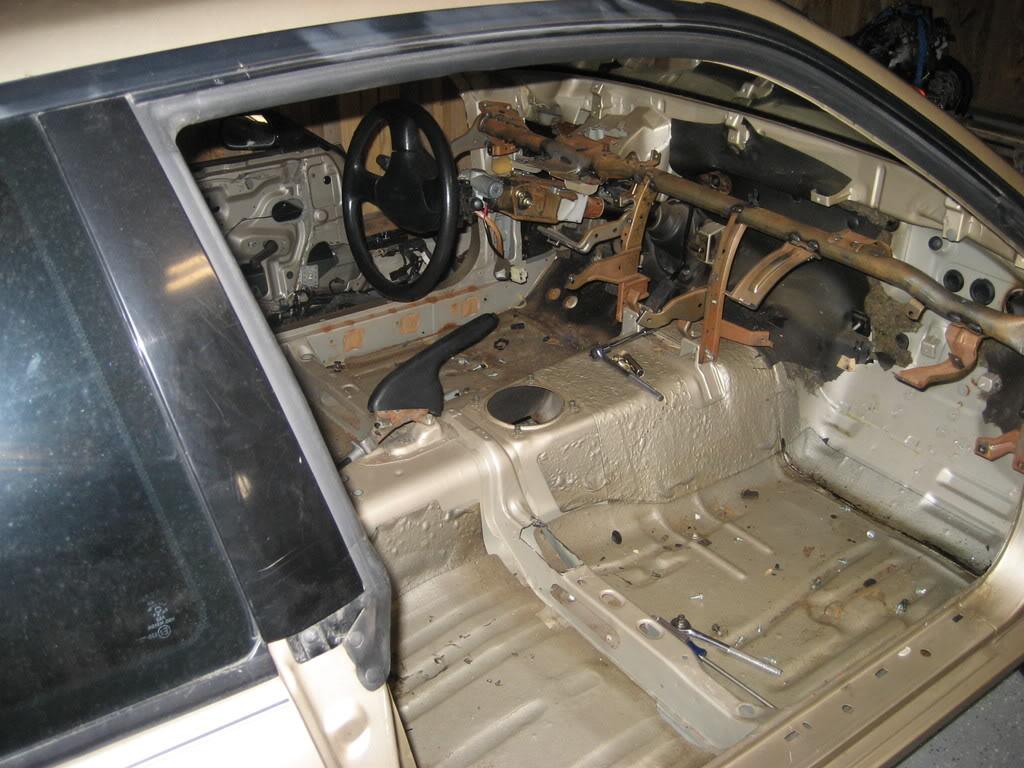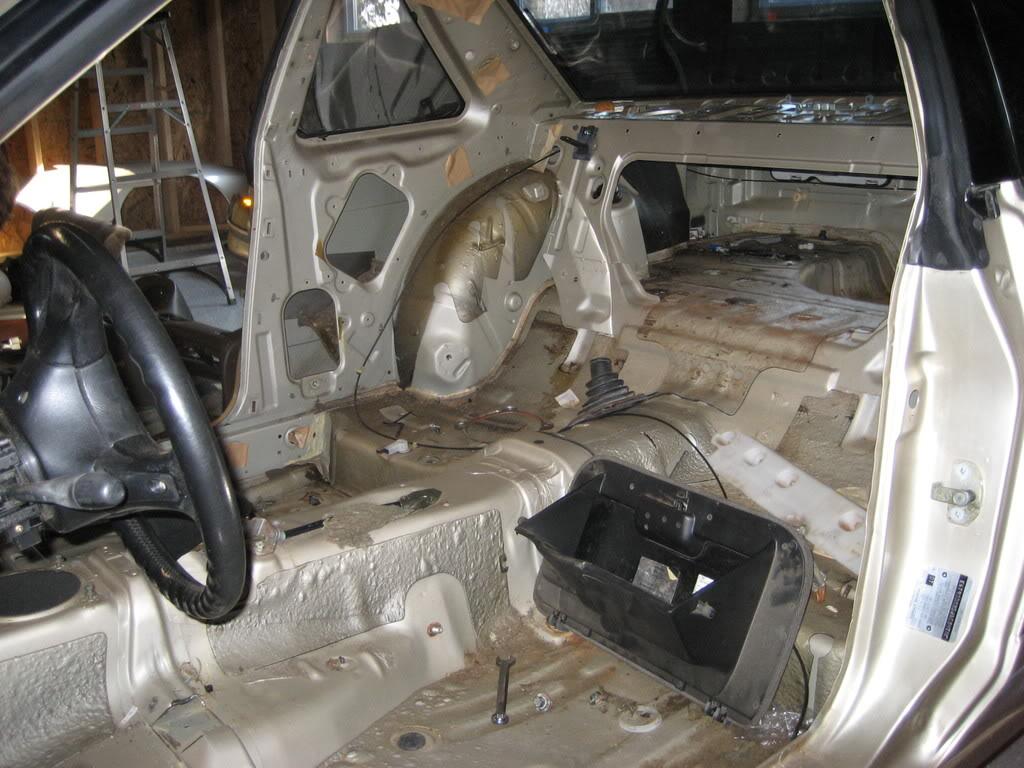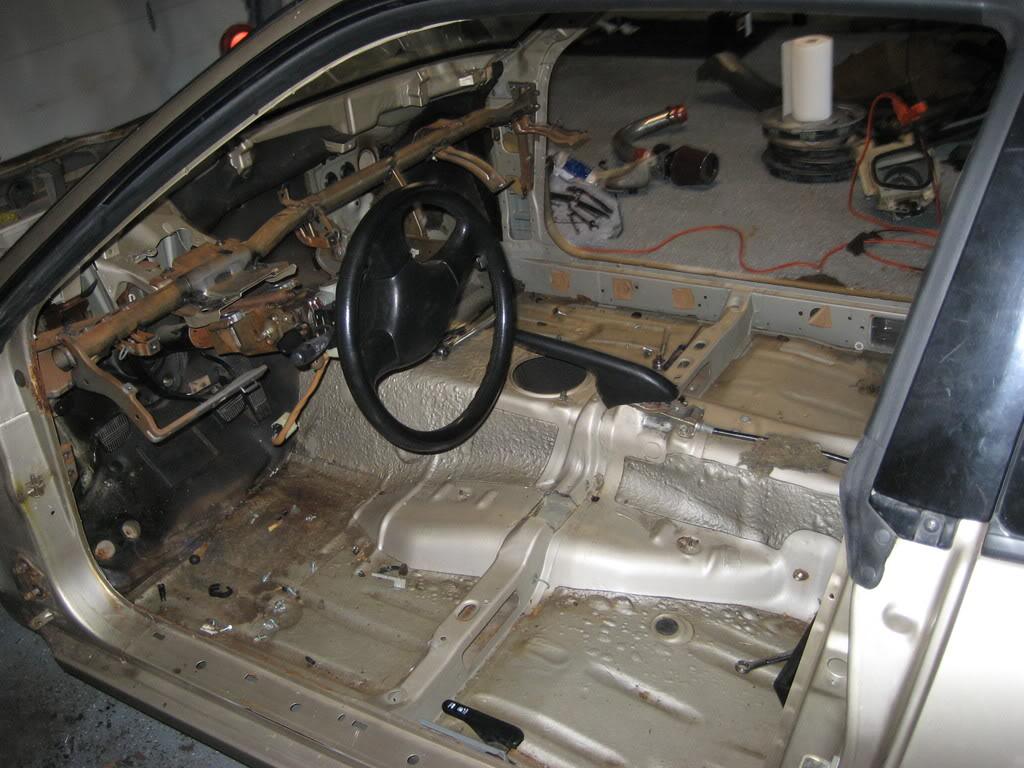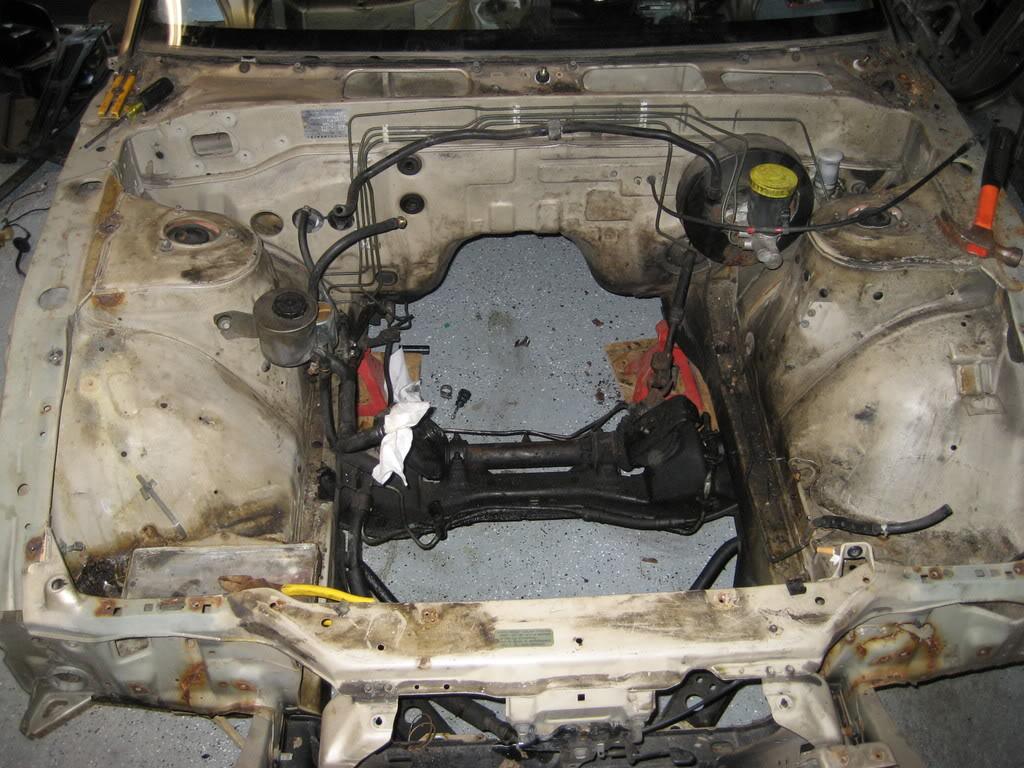 and just for fun: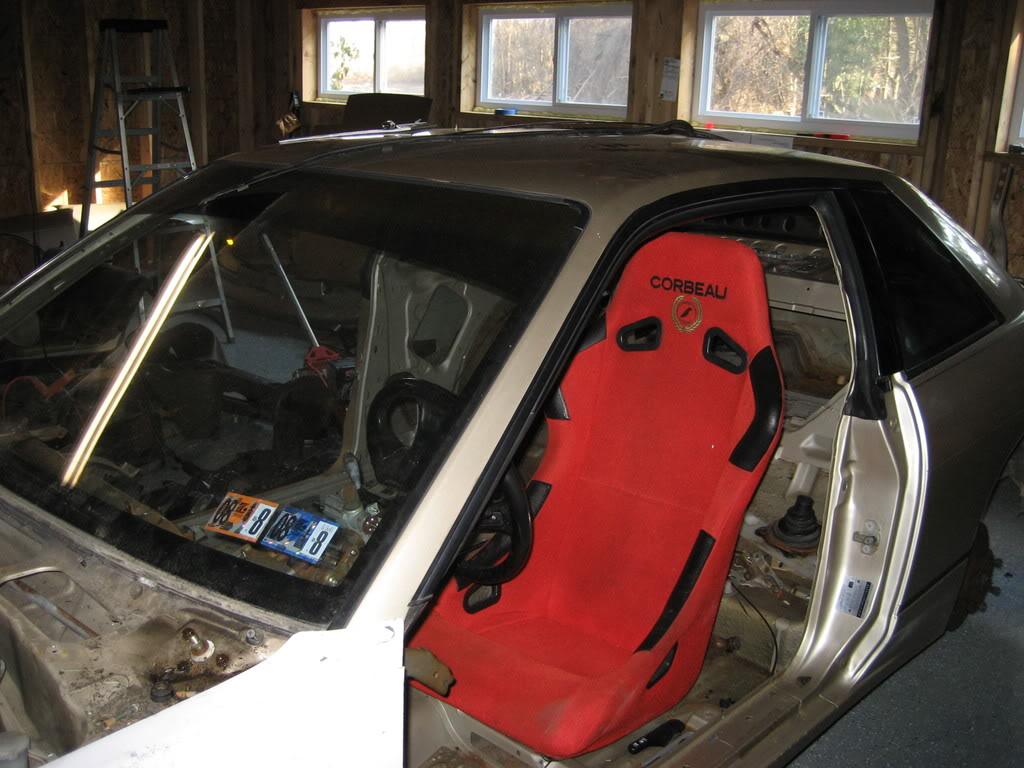 Quote:
Originally Posted by PoorMans180SX
180SX brakes are Maxima brakes, just to let you know
Go to www.splparts.com and order 17x9+20 FN's for the front and rear. No reason to run an 8 inch wide wheel on the front a track car.
Looks pretty good. Looks like what I did to my fastback, hahaha. Just make sure you're organized. I totally have one of those heater-on-the-propane-tank things too.
I know the brakes are the same, but they actually came from a 180sx and they were only $20! I'm going to use these wheels while on the stock turbo. Then next fall or winter when the gt2871r goes on I'd like to get 17x10 rear and 17x9 fronts.
The heater's nice when you stand next to it, but no insulation and openings between the roof and the wall keep it about 30 degrees in there!
I finally got a long weekend to go down and work on the car. First problem, one of the sub-frame bushings froze to the stud. I cut the bushing out while it was on the car so we could drop the sub-frame, but now the inner metal sleeve is still stuck on the stud. Does anyone have any ideas for getting that off? I'll try to get a picture of it, I forgot before I left.
So we dropped the subframe, took all the suspension off of it and sand blasted so it's ready for paint.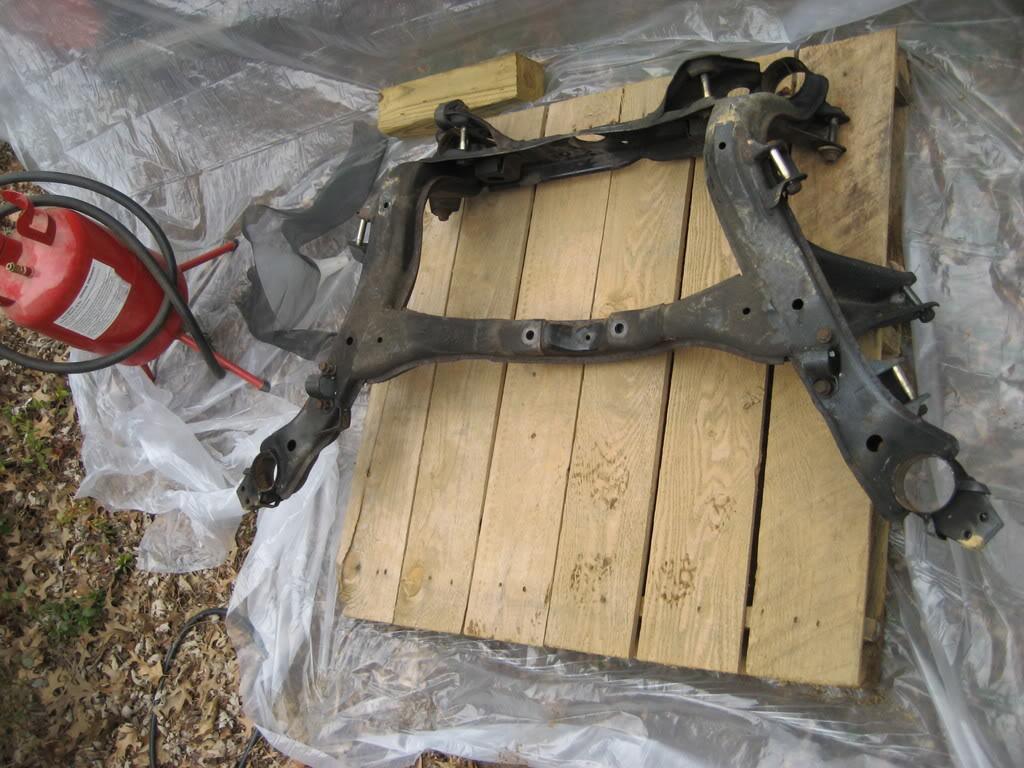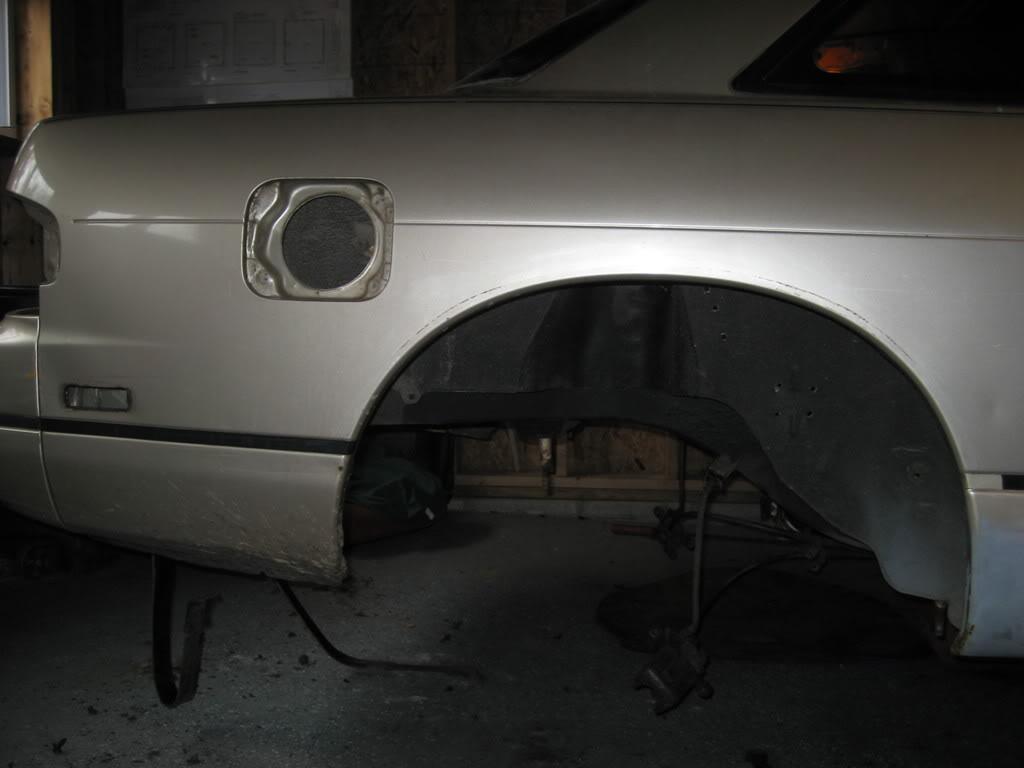 We also took out the front corssmember and started cleaning the engine bay for seam welding and paint.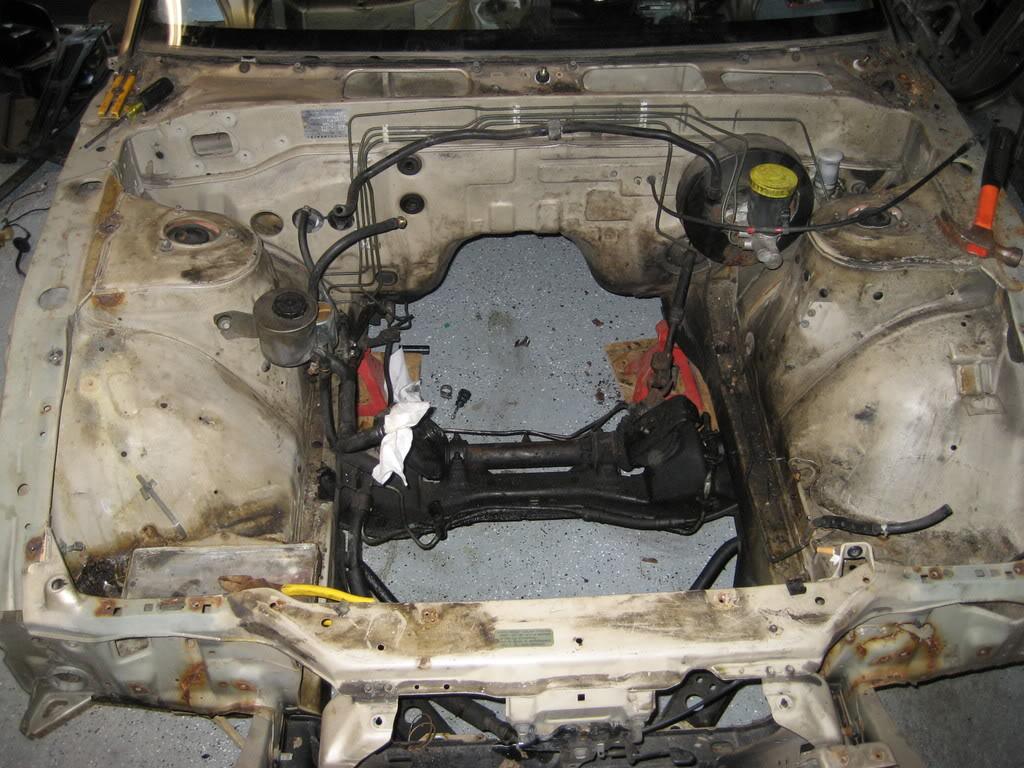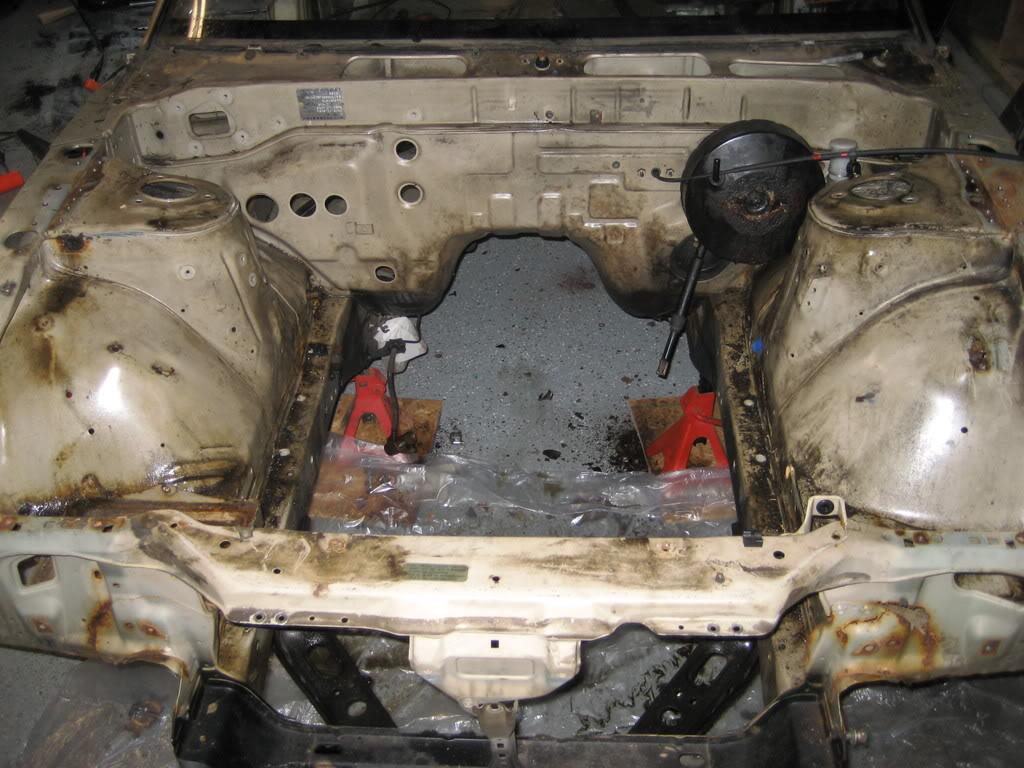 We also removed the sound deadening. That was a bitch. We used dry ice,
which helped a bit for the big flat sections, but it took a lot of work to get that out. We still have to clean it up some more and then we can stich weld and install the custom cage.
Then came the fun part. We took out the windshield. We tried to take it out in 1 piece so we could put it back in. It broke, that was fun. Then we started cutting out extra metal. We cut out the spare tire well. We are going to square off the cut and weld in a flat piece of sheet metal to mount the fuel cell to. We also cut out the rear seat suports, that will give us more room for the cage and rear firewall that's going in next.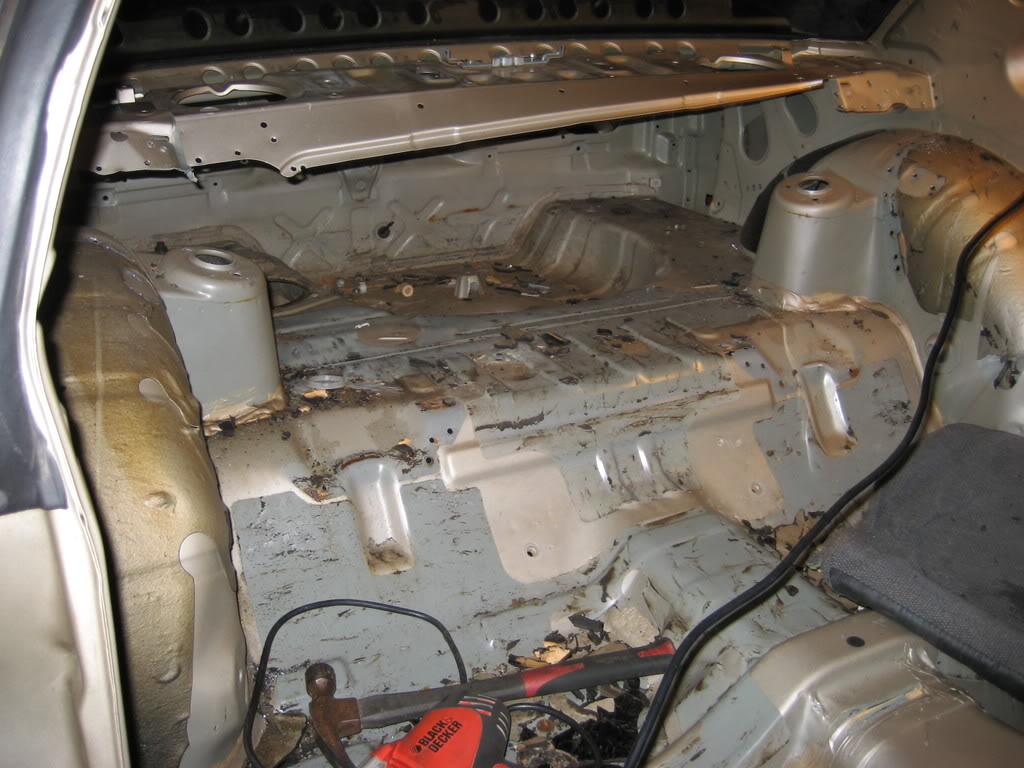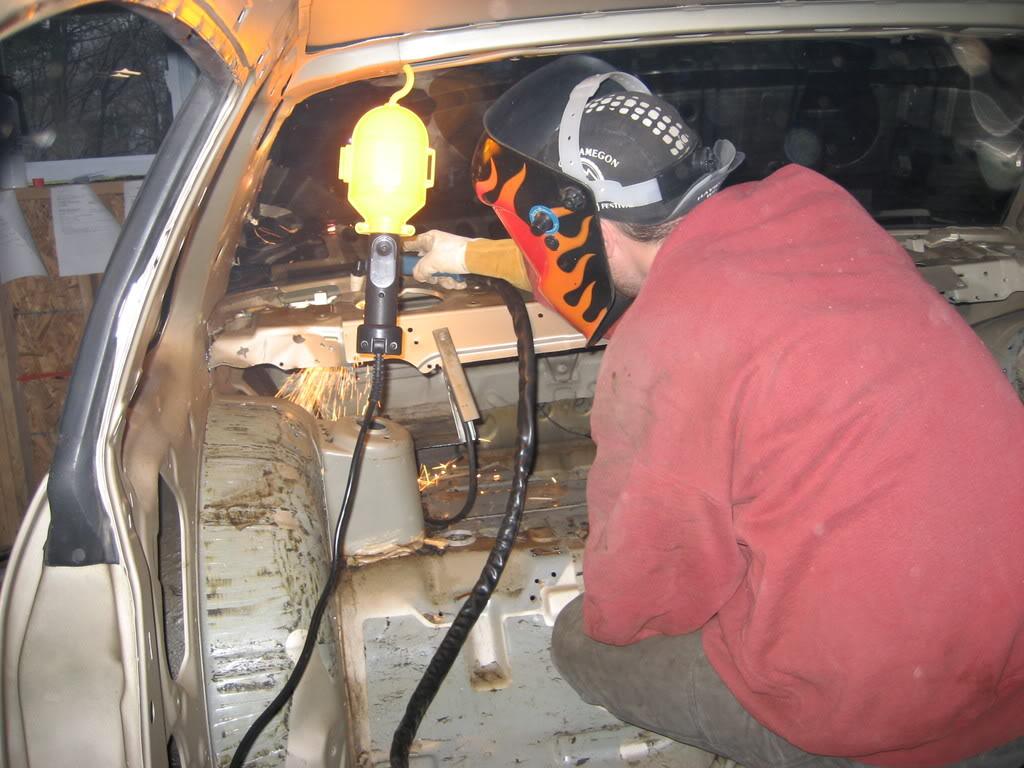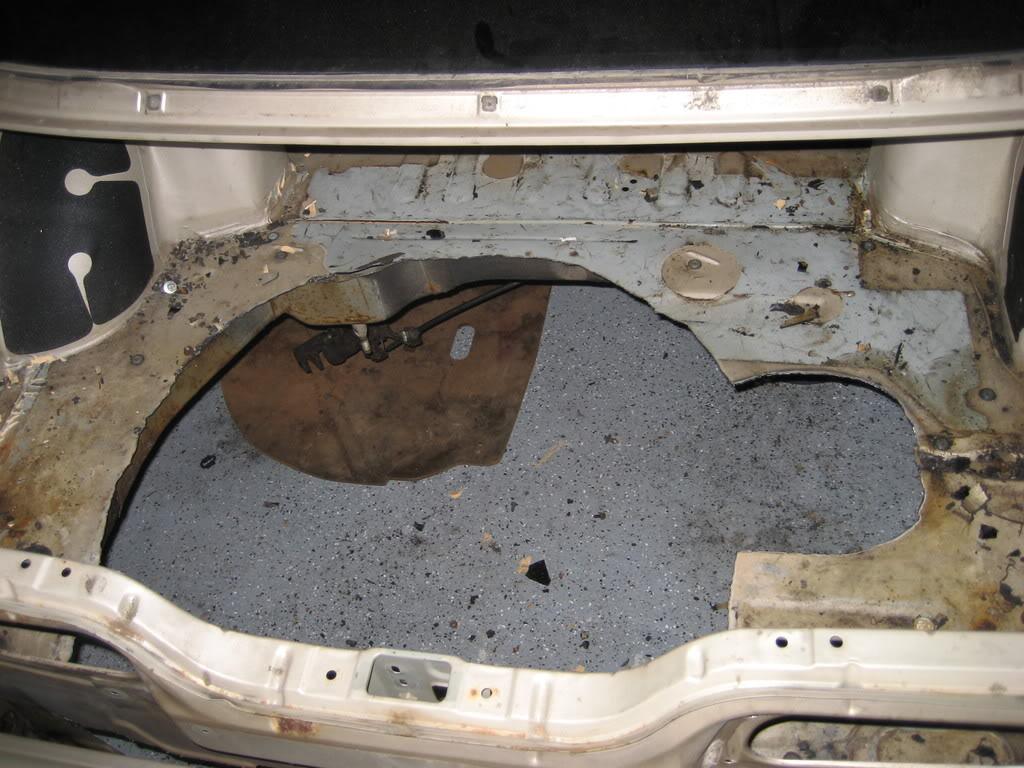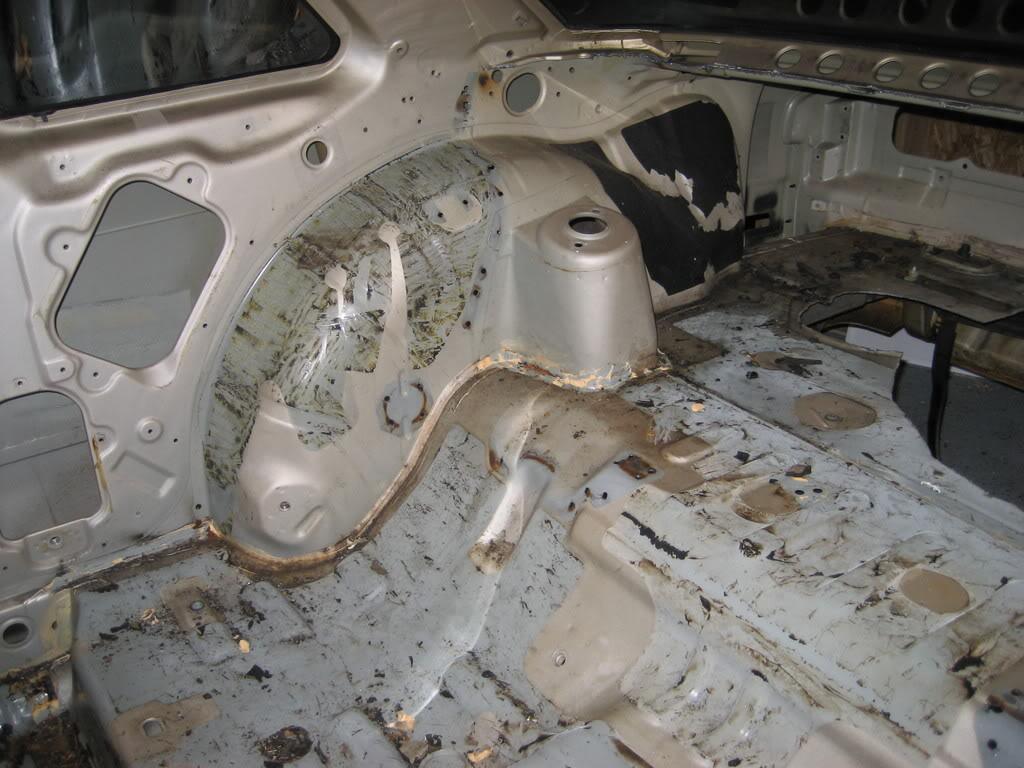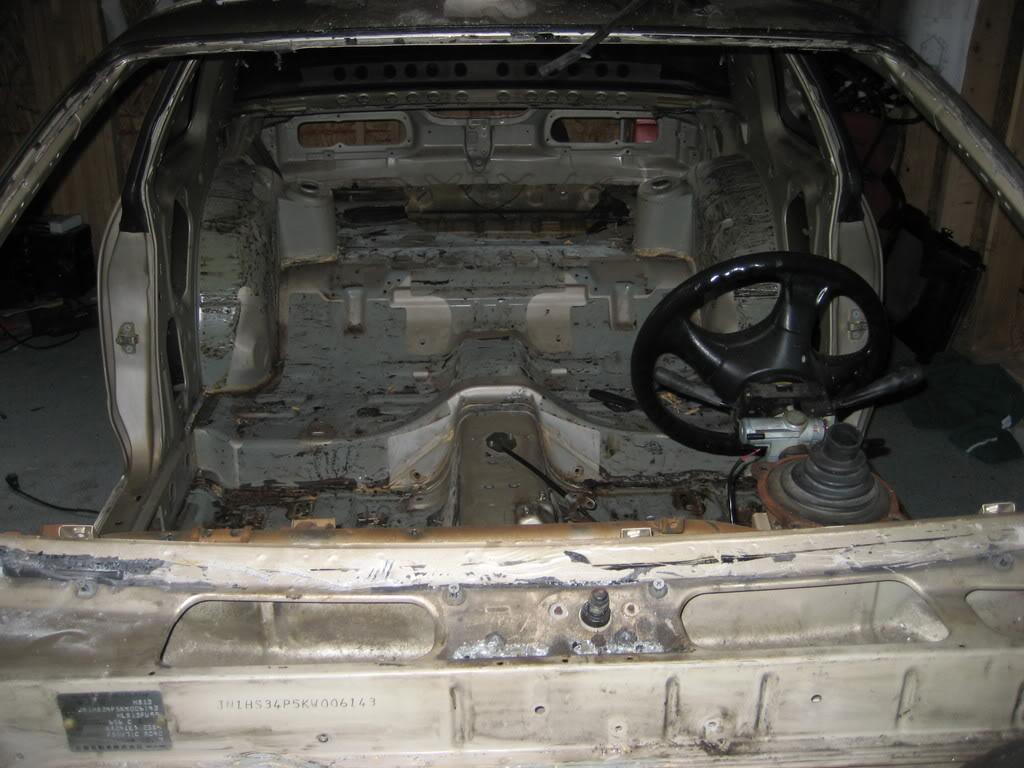 Over the next 2 weeks my friend is going to start seam welding and also take the block to the machine shop. Next time I go down we will start some of the fabrication. Now that we're done ripping it apart we can start putting it back together.
For the rust in the engine bay, it's just surface rust so we're gonna grind the rust off, then prime and paint. We have a couple spots on the floor where it's rusted through. For that, you want to cut out all the rust, then weld in a patch pannel (cut a piece of sheet metal to fit the hole in the floor then weld it in place).
If yours is rusted through and you don't have a welder, just take the car to a body shop and see how much they want to fix it for you, probably won't be too expensive.
My friend and his buddy (a professional welder) stich welded the chassis this weekend and started filling holes in the engine bay.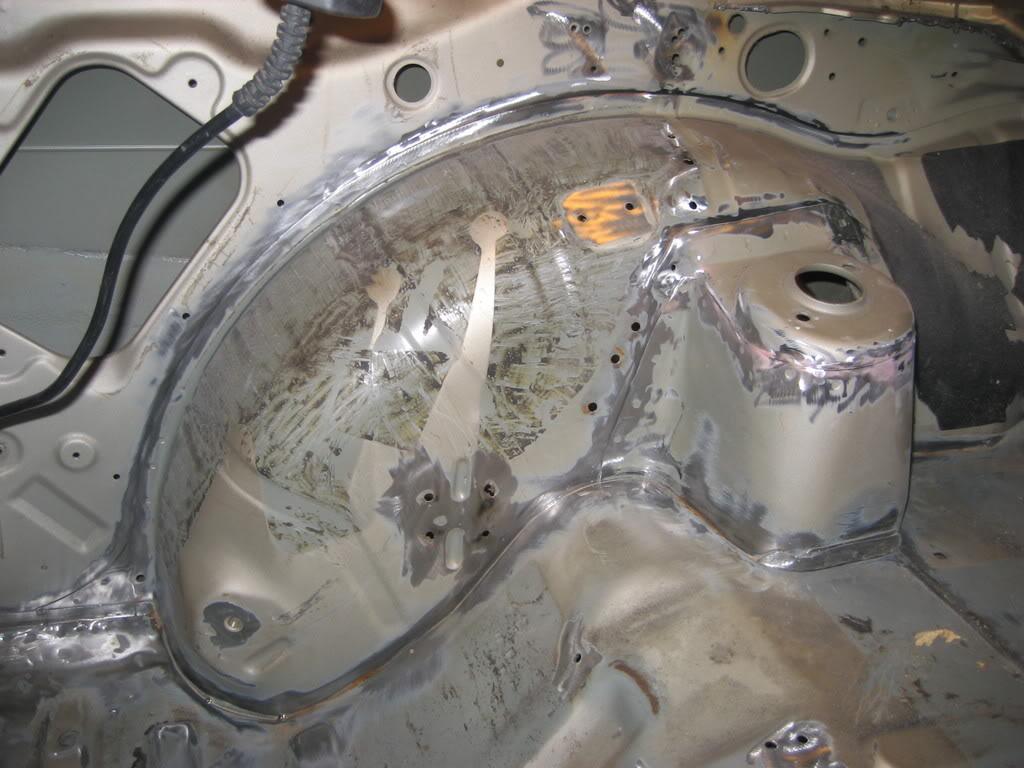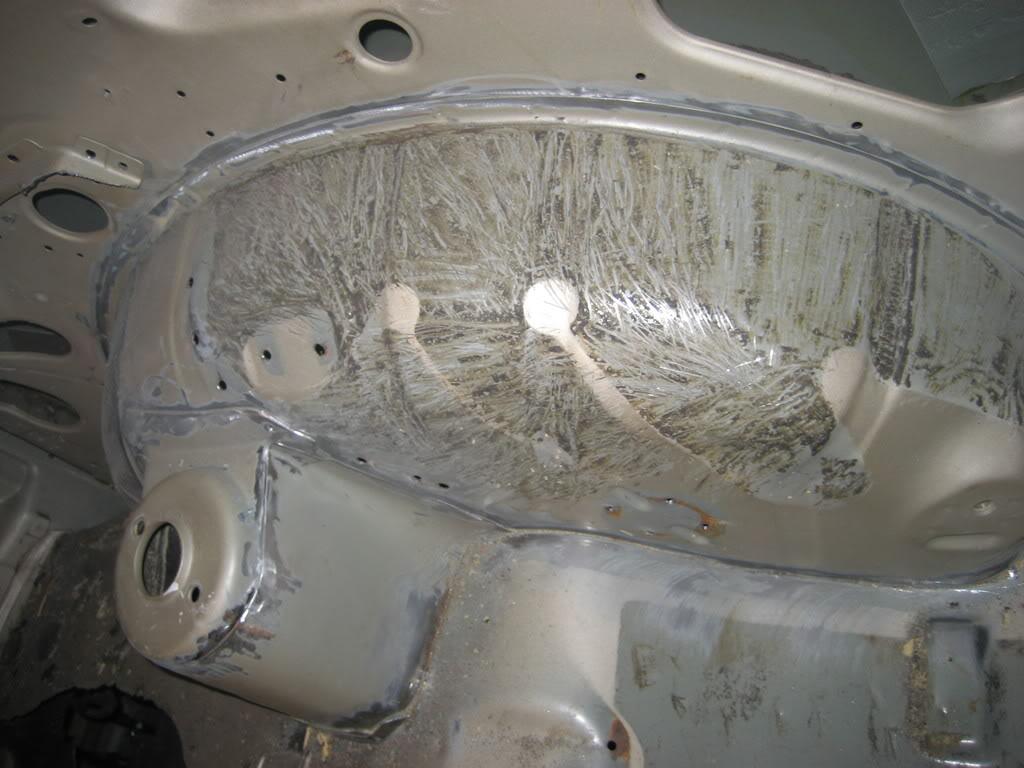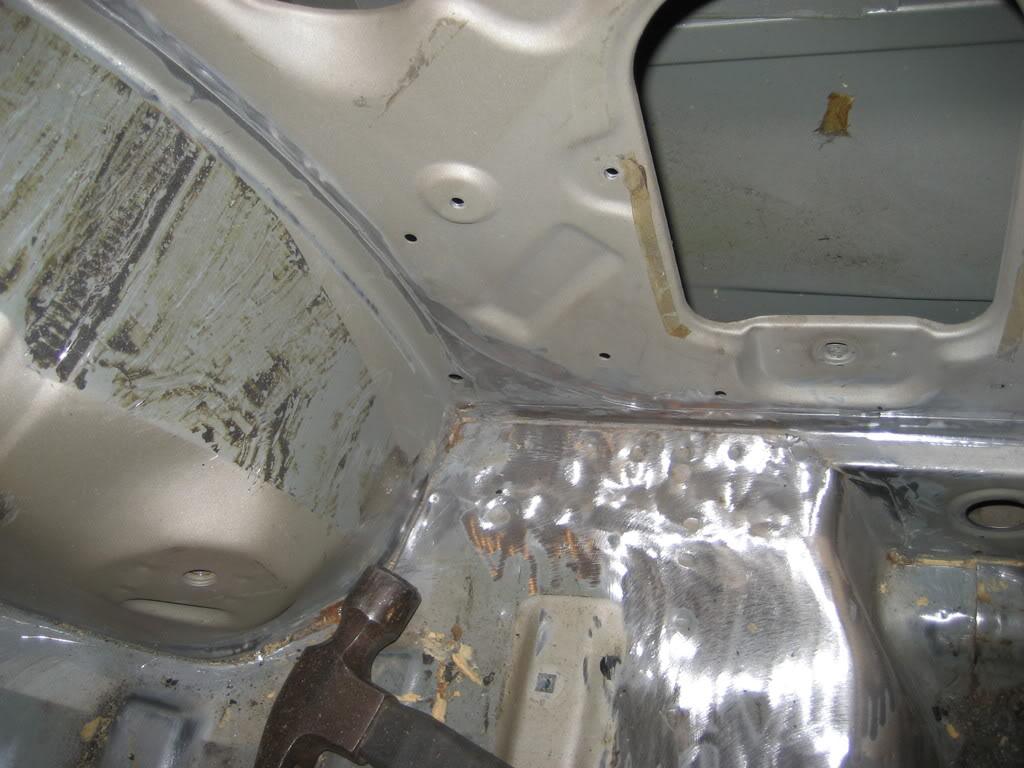 This guy is awsome: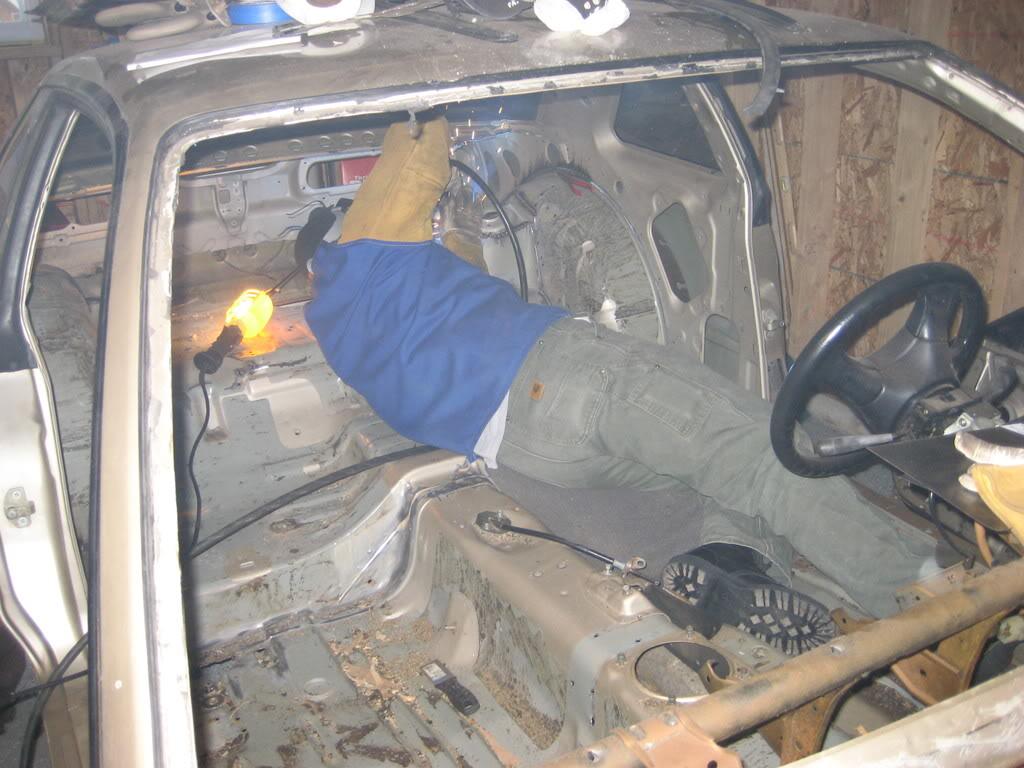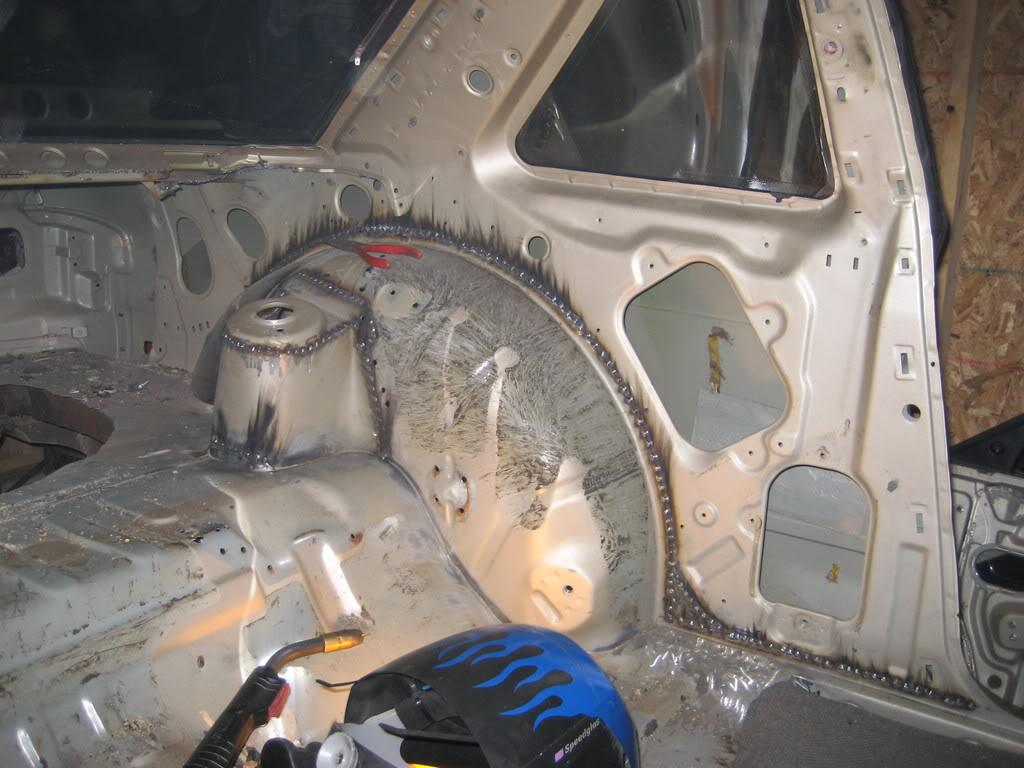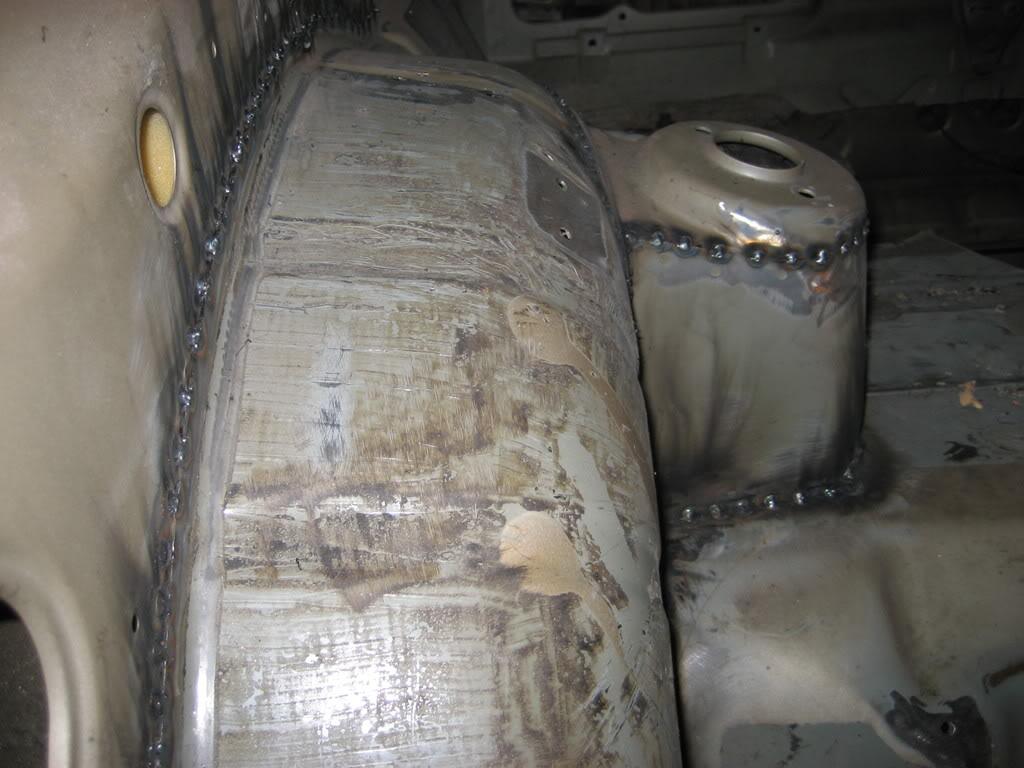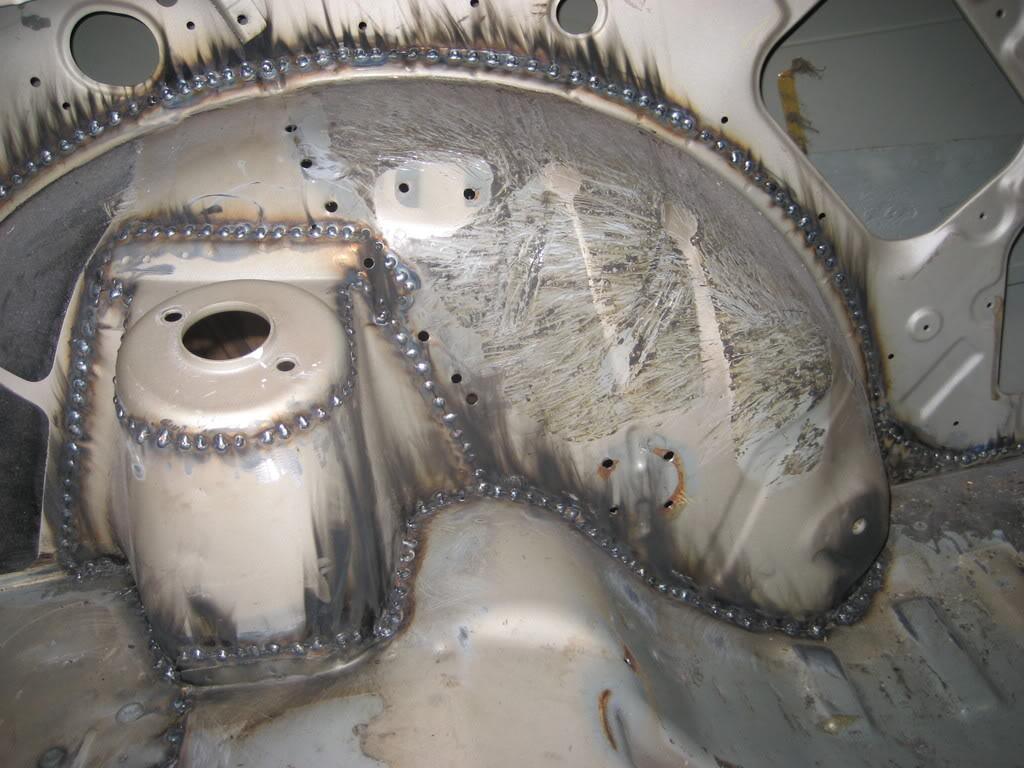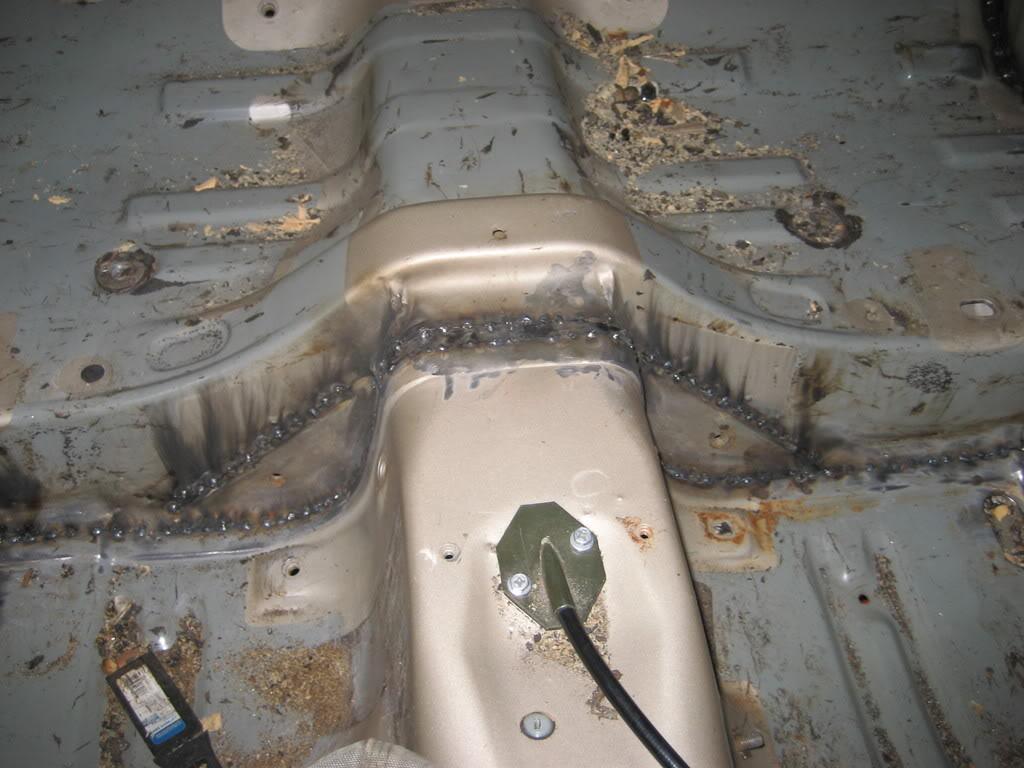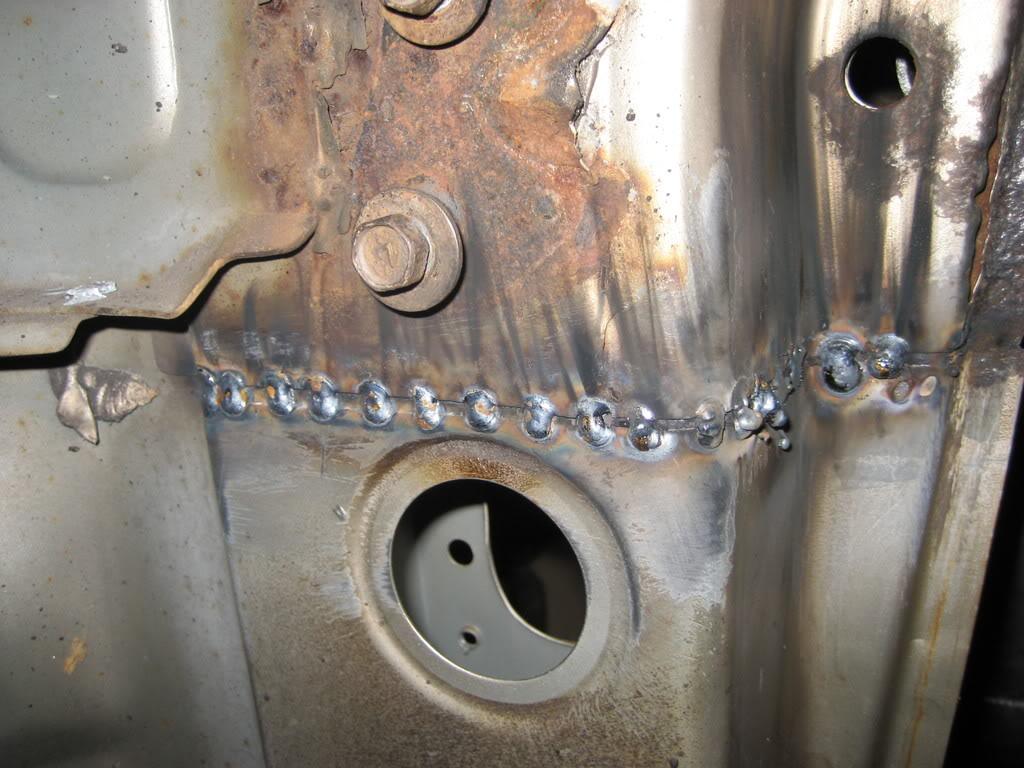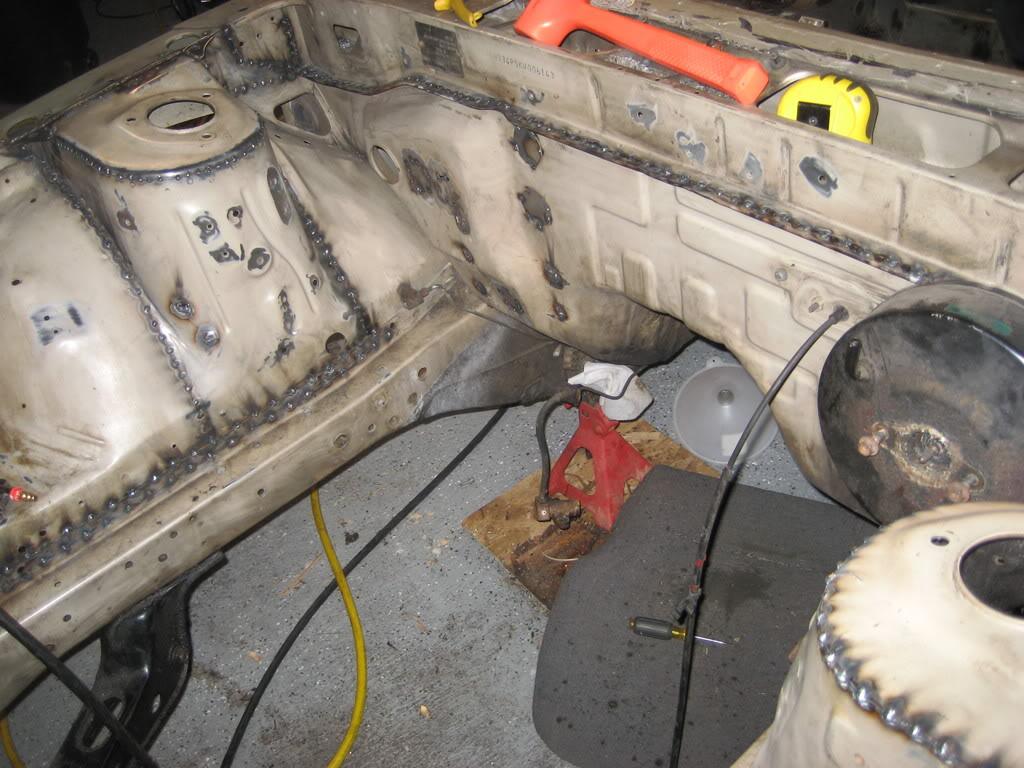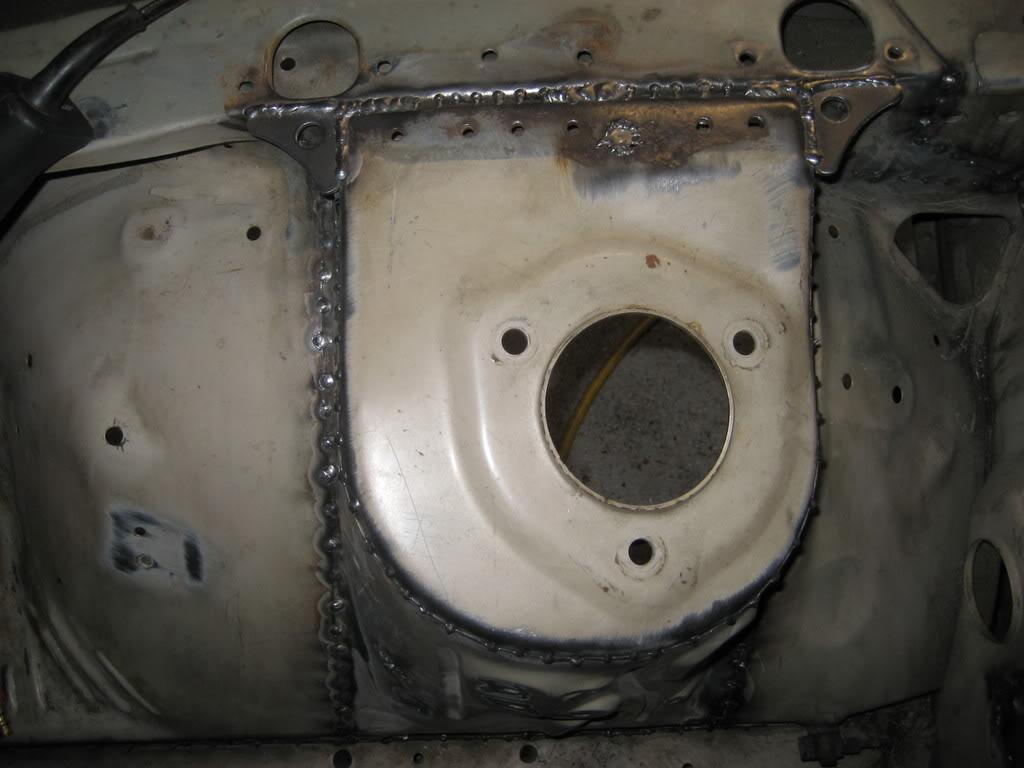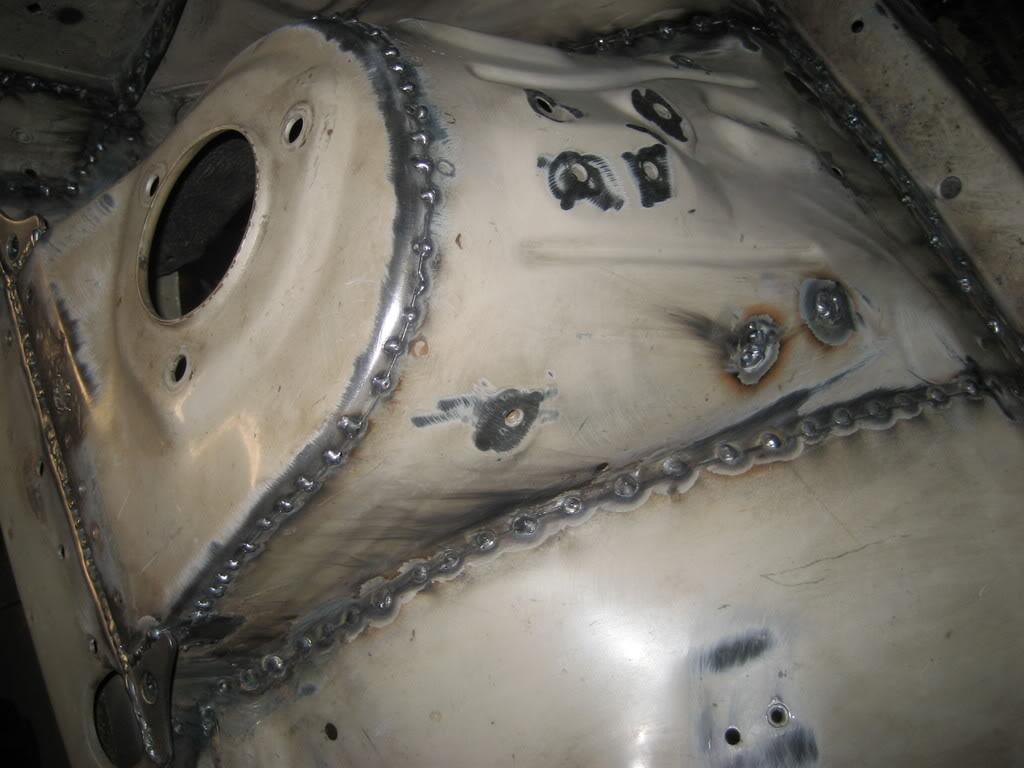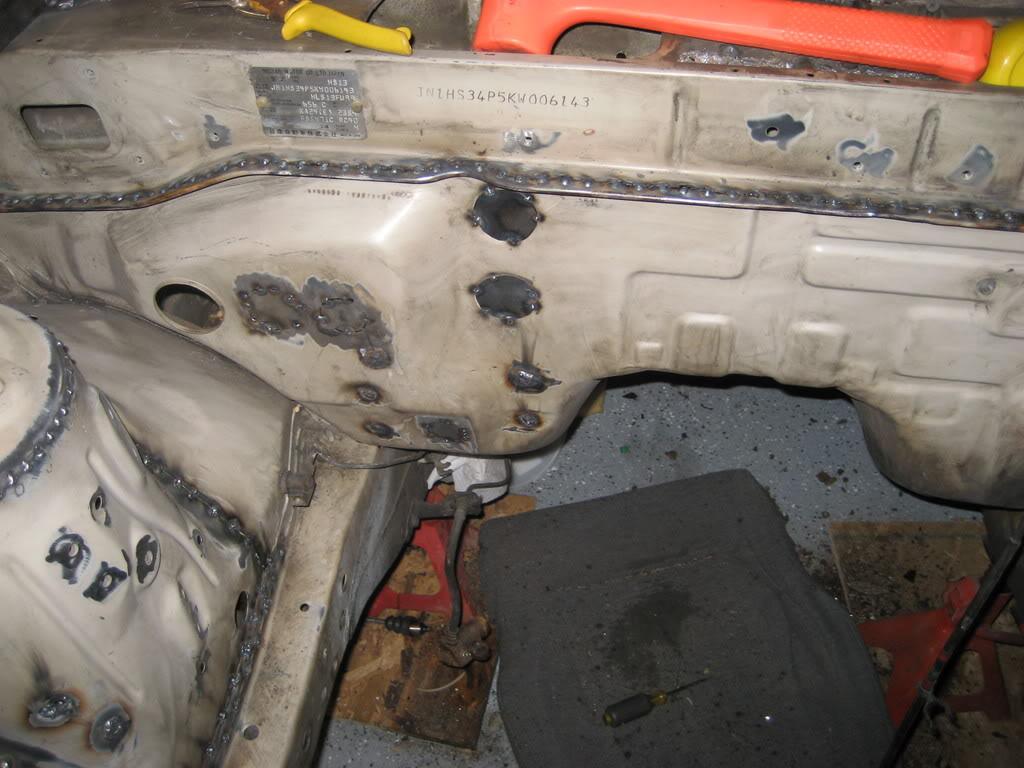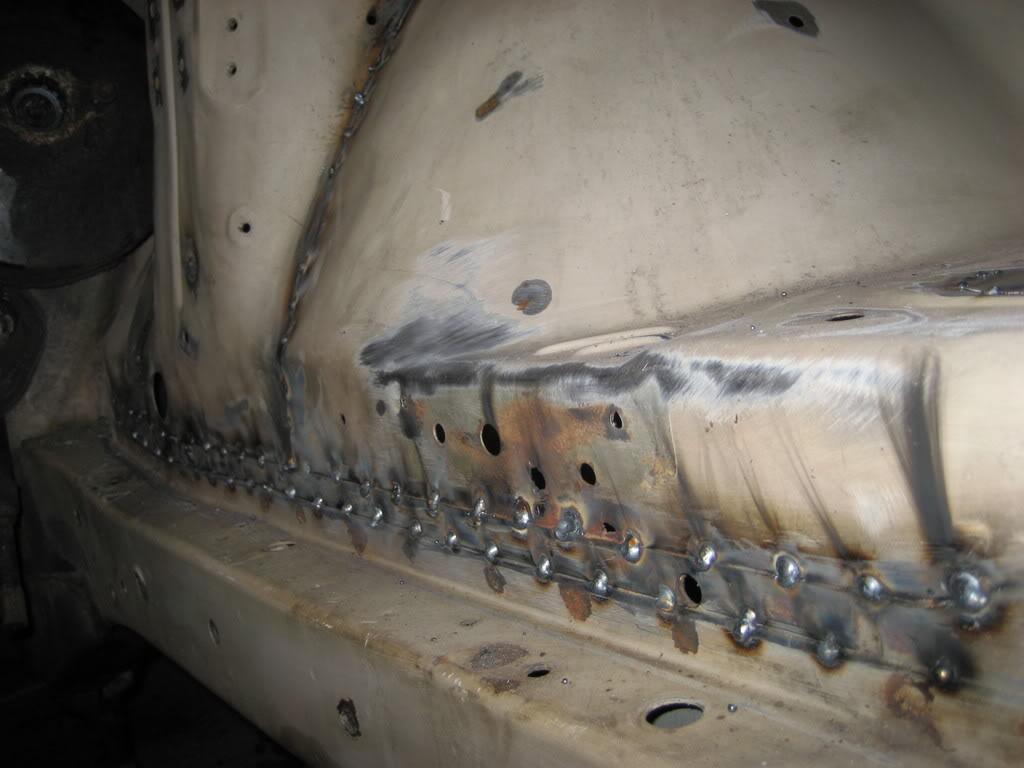 It took us about a day to get everything prepped and another day to get most of the welding done. Then my friend has been working on it an hour or 2 a day after work here and there. We're going to prime it this weekend, then hopefully get it painted in march.
Quote:
Originally Posted by Landers
Excellent build, do you plan on racing any scca events at all in the northeast??? Stitch welds look amazing BTW
Right now we're just focusing on getting the car done. I'm going to start looking for events once it's ready to drive.
3/4/08
We spent last weekend getting the new trunk floor and rear fire wall fitted and welded in.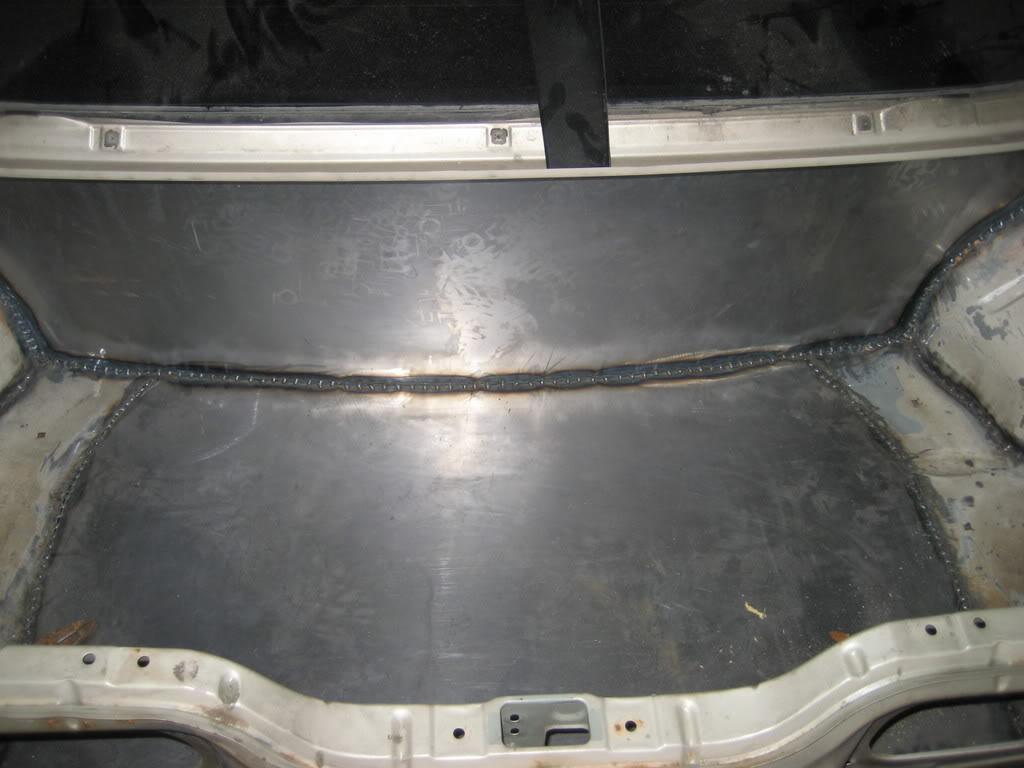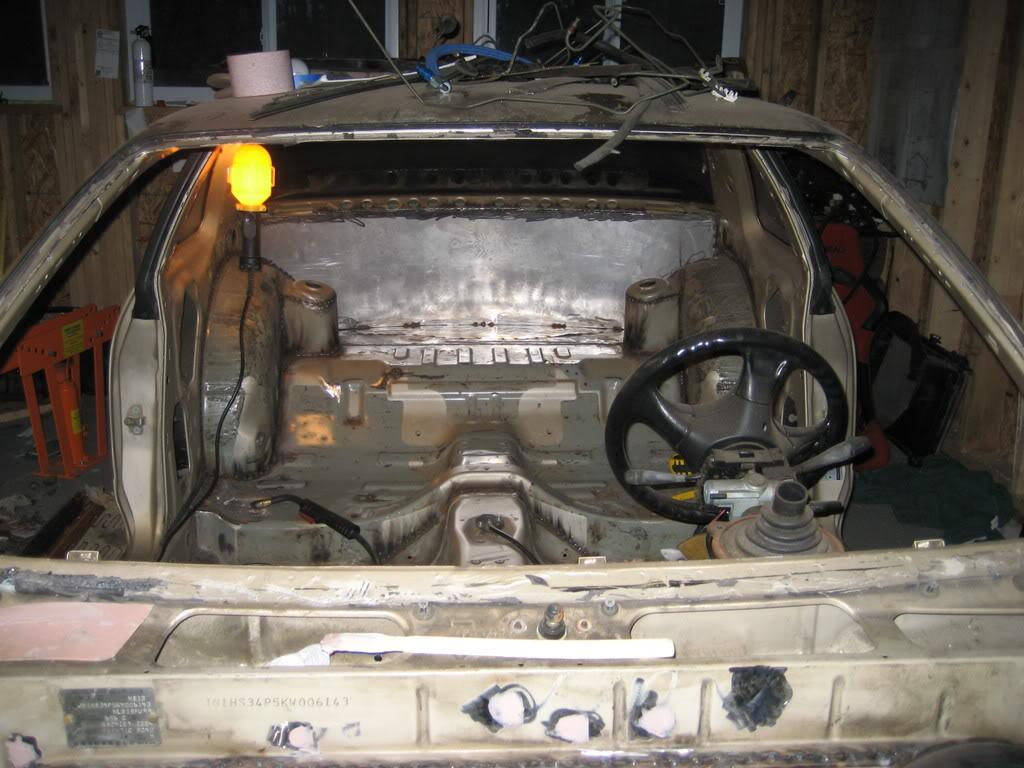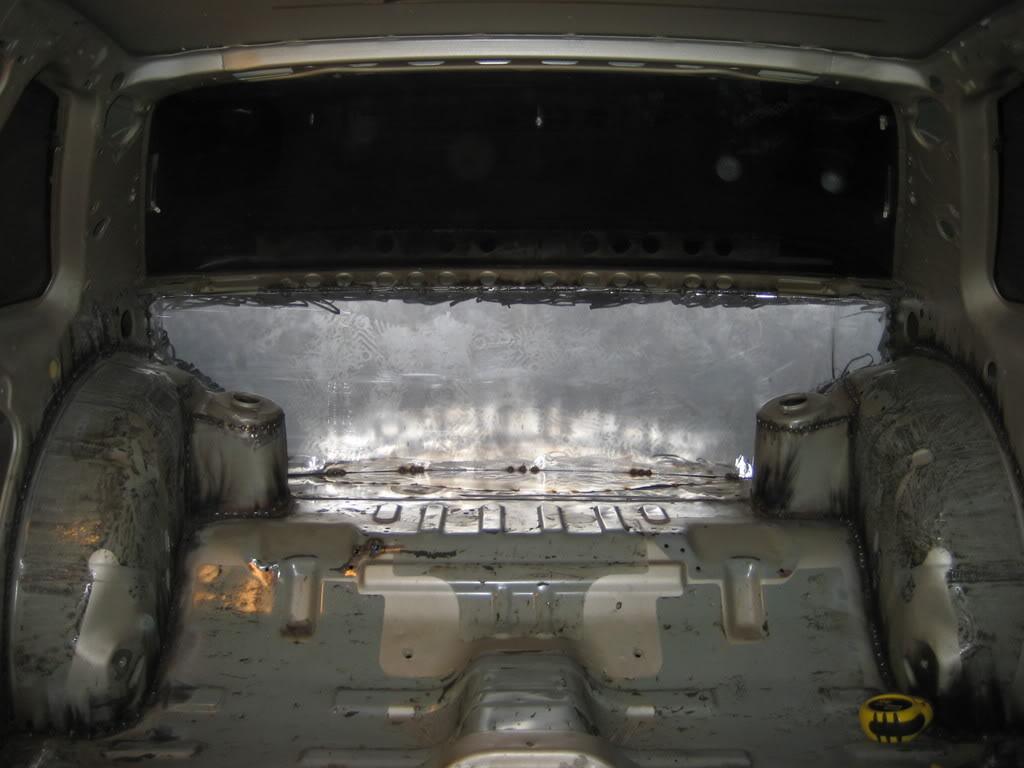 Then started on the cage. Our pipe bender didn't really work (it crushed the pipe) so I had to pay a shop to make the bends. It doesn't fit as perfect as I would like, but it's coming together nicely.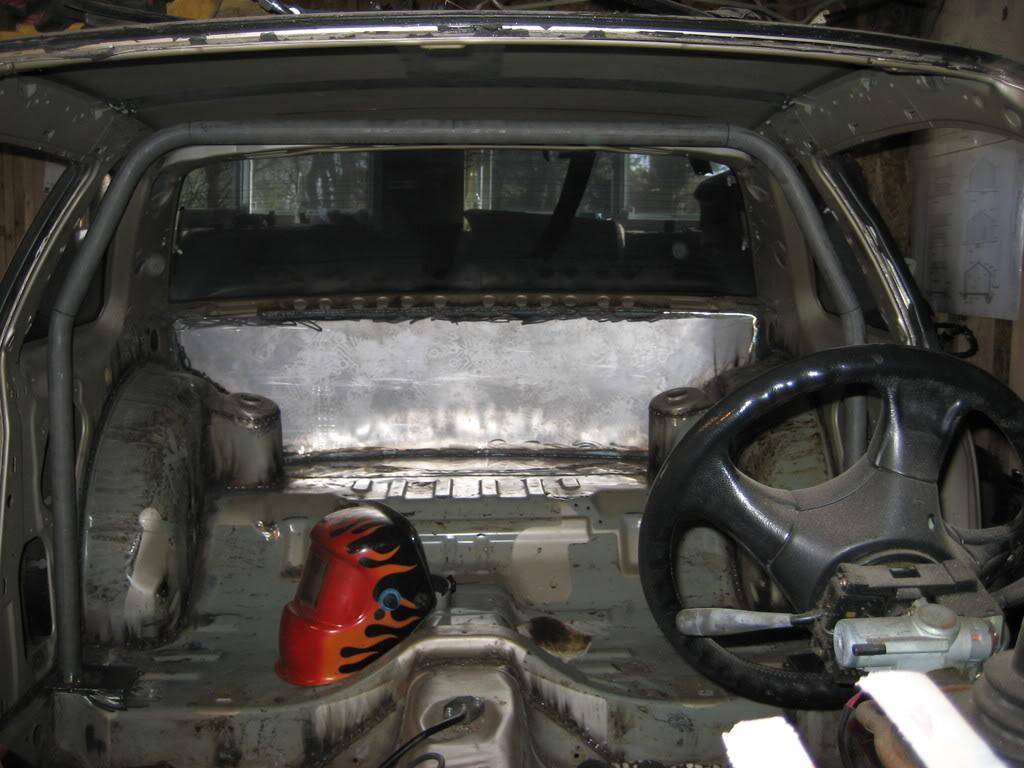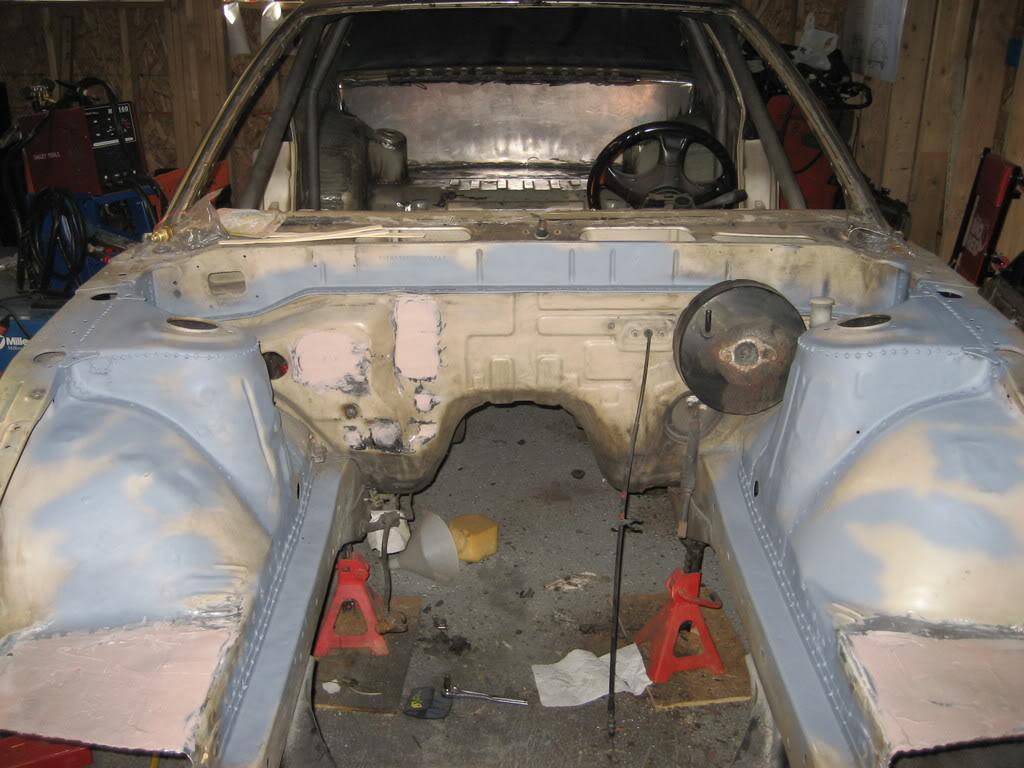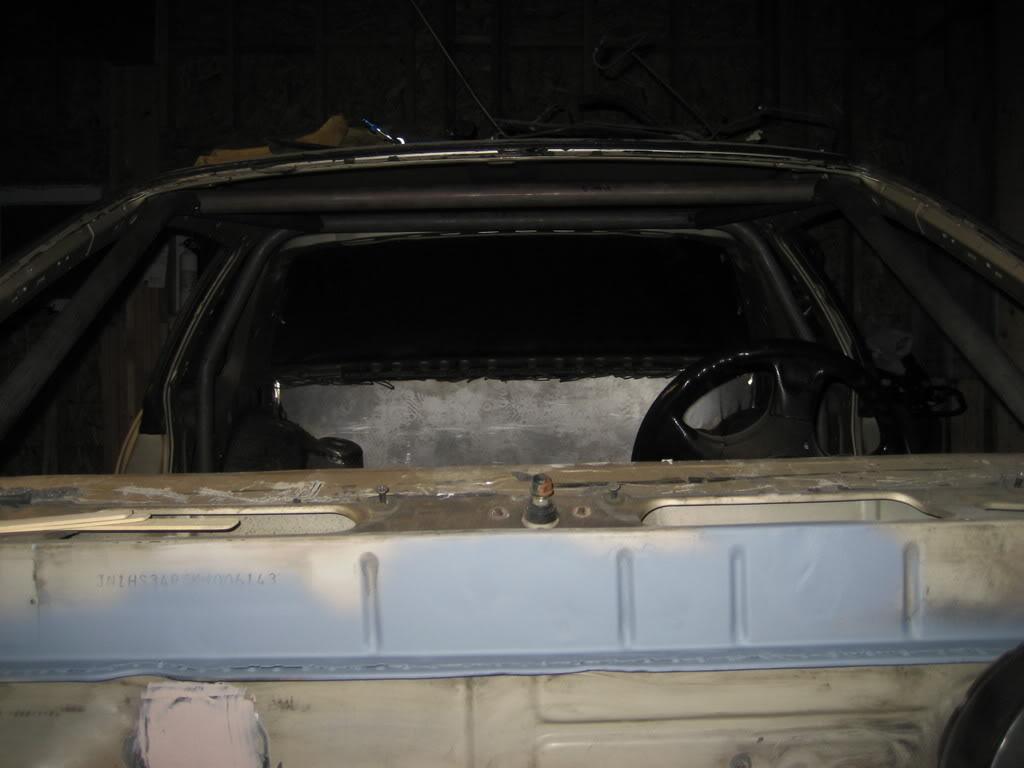 I started to prep the engine bay for paint. We welded over all the unused holes, ground them down, then used filler to smooth them out. It's still a work in progress, but it's starting to look better.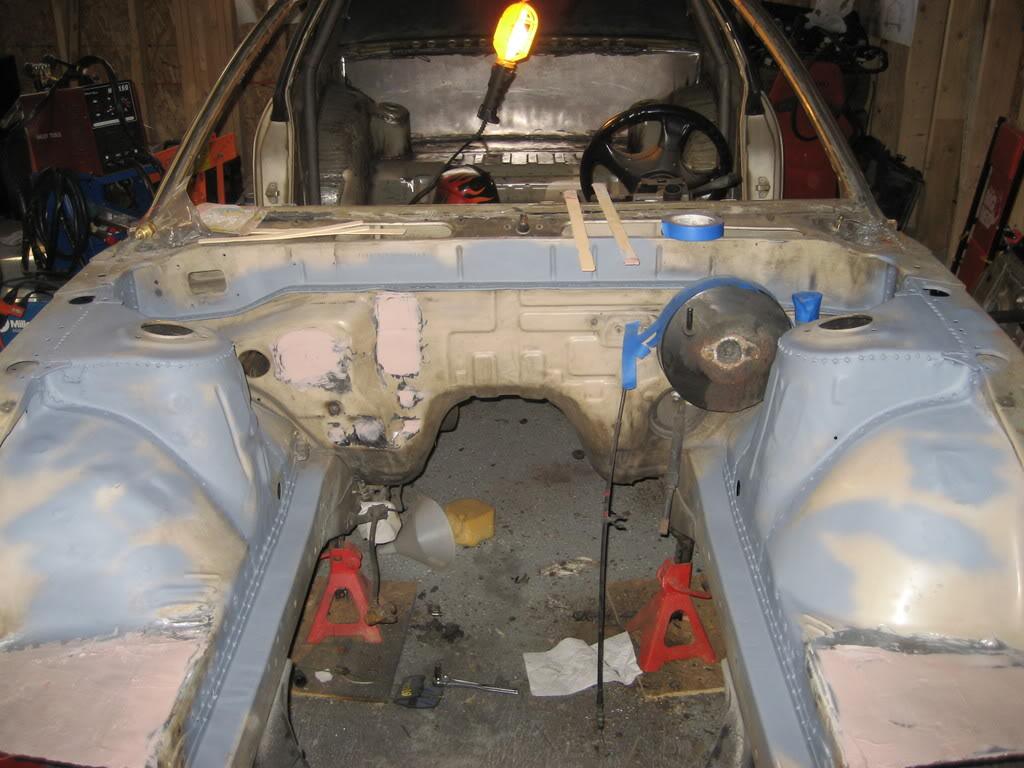 And since I don't have any money left over for adjustable traction rods, this will have to work for now.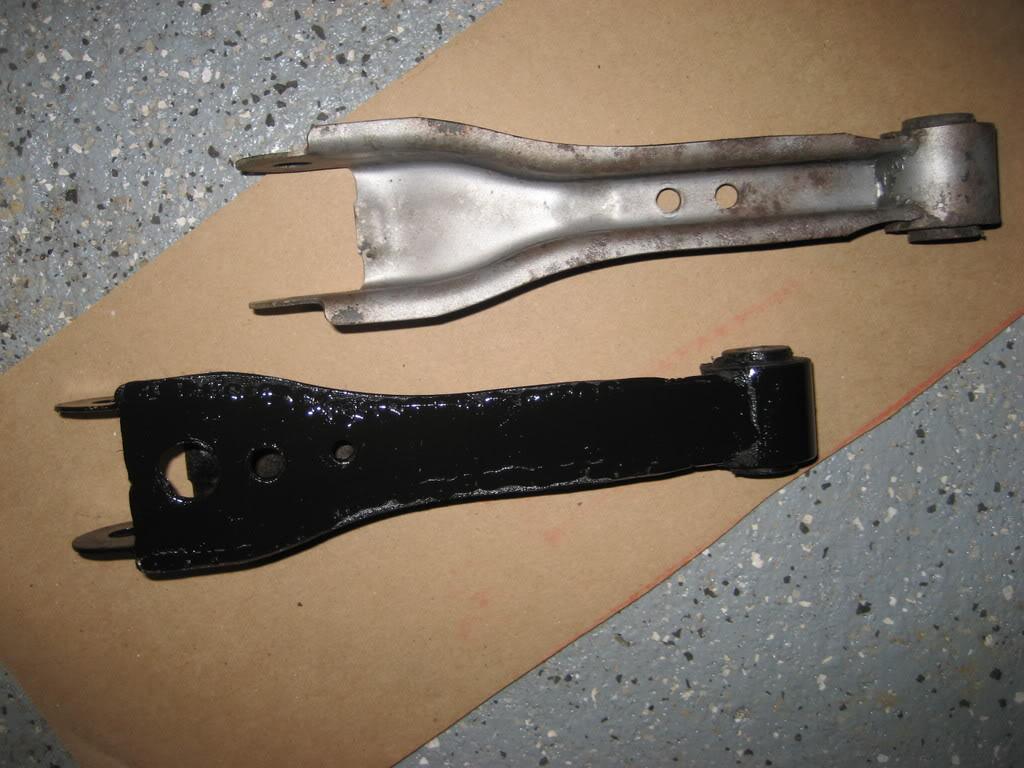 no ac or heat or any other luxury's for that matter. It's a track car, so nothing extra.
I'm not sure about the welder, it's not mine.
The cage is just tacked in right now to make sure everything fits. It'll be a little closer when it's all done. It looks worse in the pictures than it really is. More pics will come as we get more done.
Quote:
Originally Posted by kognition
Looks like a good project car for 500 bucks.
Off the top of my head:
FIBERGLASS DASH" Don't get overly exotic making one. Pre Fabbed flat panels are the way to go for good weight loss. I think my dash is 3lb's.
FUEL CELL: Not necessary right now until you start running race gas and need to control your weight (racing and TA anyway) But a good upgrade.
2 WAY DIFF: For drifting is fine. Not for racing or TA. For that you should stick with a Helical like a Quaife Helical LSD if you are serious about racing.
SWAY BAR: For drifting you want a good rigid setup front and back. For race and TA you want a rigid setup in the front, and softer setup (stock) in the rear.
WEIGHT REDUCTION: Plenty to be had starting with that sound deadening (30lb's) on that alone.
Good luck and keep us updated.
Do you have pics of your dash? I was planning to mold the stock one (just the top part). Then add flat pieces on the sides around the cage.
The cars main purpose is drifting, so that's why the 2 way.
I'm looking for a hicas rear sway bar, and thinking I'll keep the stock front for now. I'll try that out and see how I like it.
As for weight reduction, all the sound deadening is gone, pretty much everything is gone at this point. Is there anything else you can see in the pictures that you would remove?
We got some more done last week. Still finishing up the cage. Put the subframe back together and back on the car. I'm almost finished prepping the engine bay for paint. I painted under the new trunk and primed the inside of it. We also cut out and adjusted the floor for the fuel cell sump. Here are a couple new pics. I'll post more when my friend puts them up on photobucket.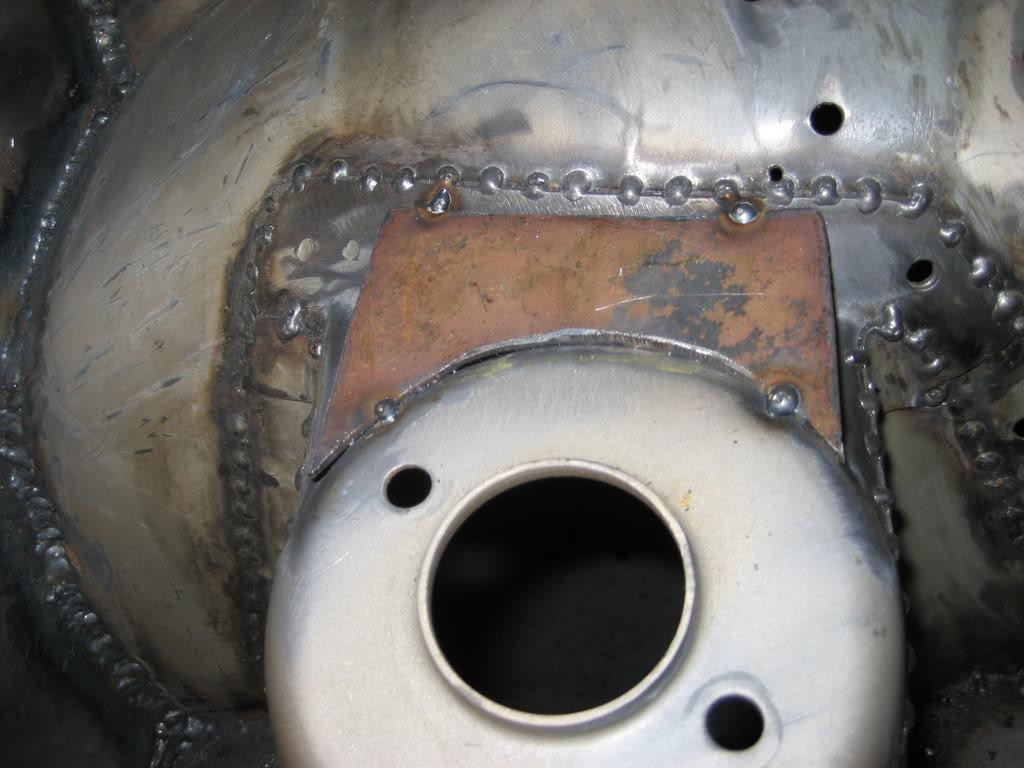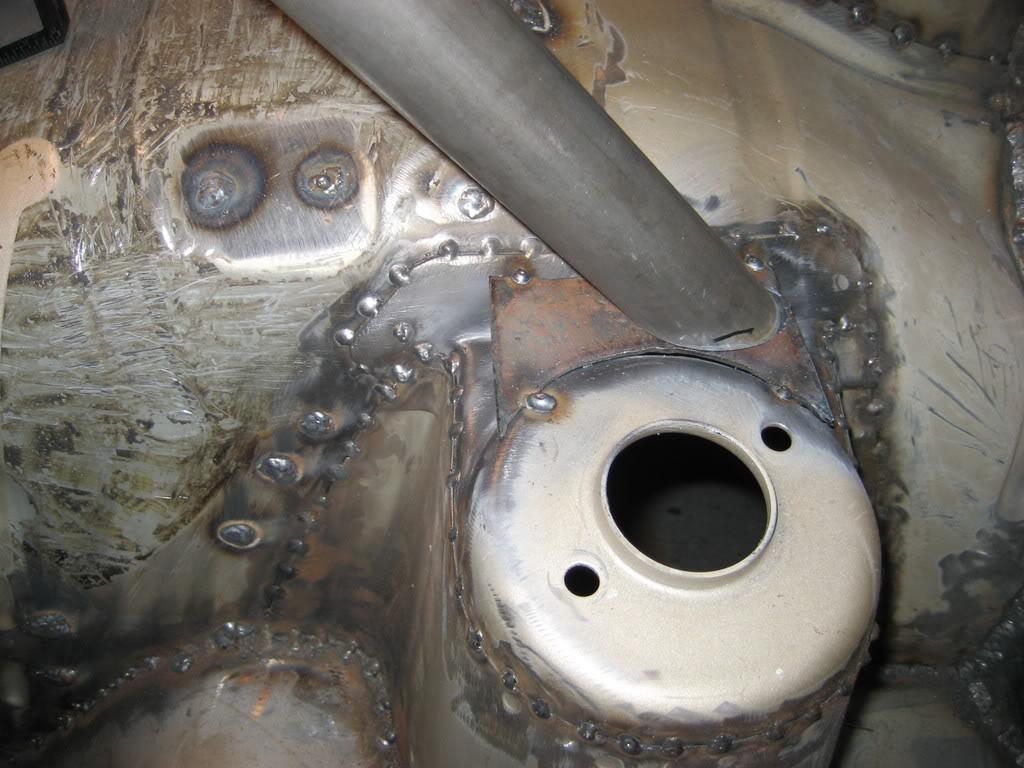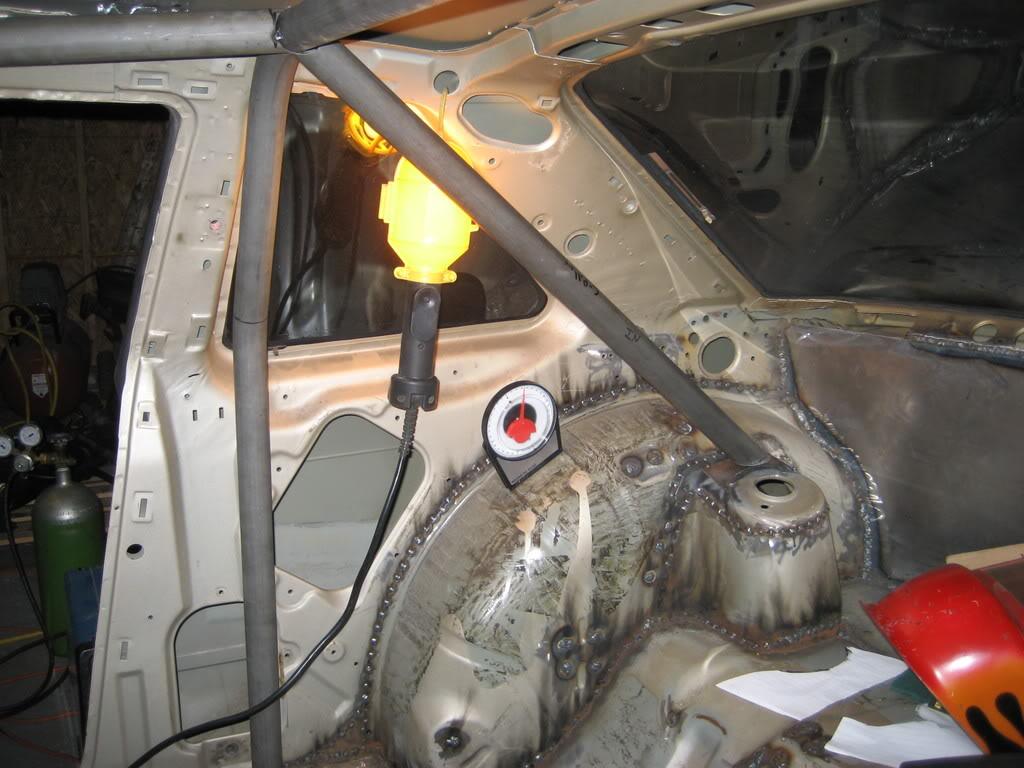 engine bay almost ready for paint: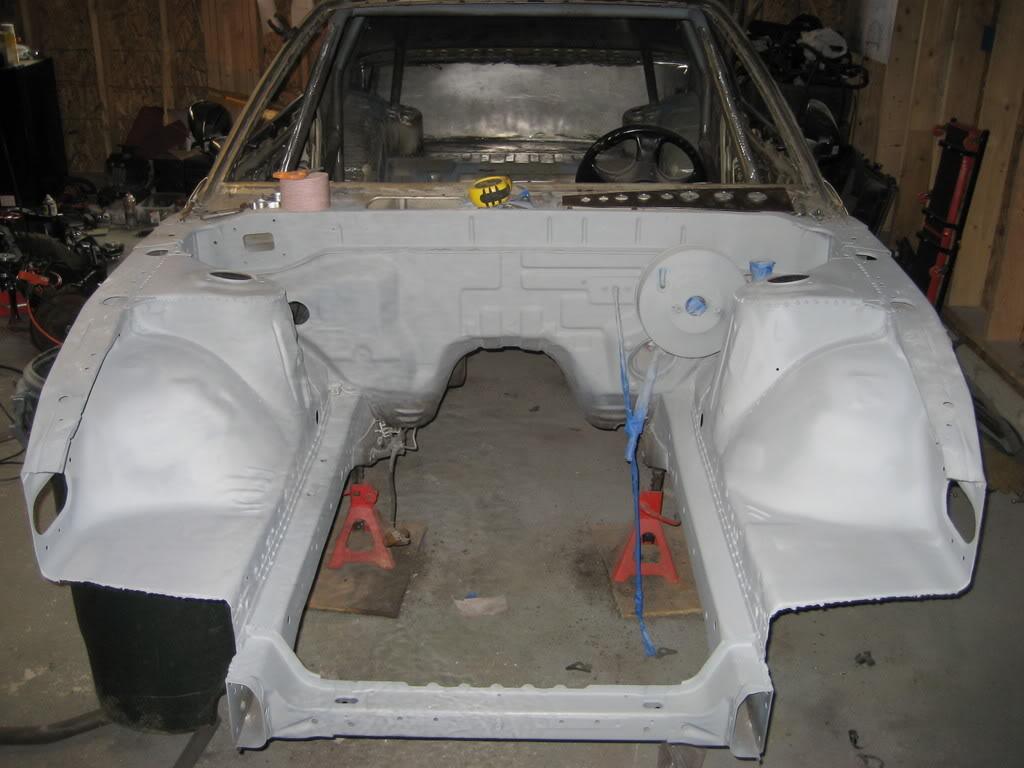 fuel cell: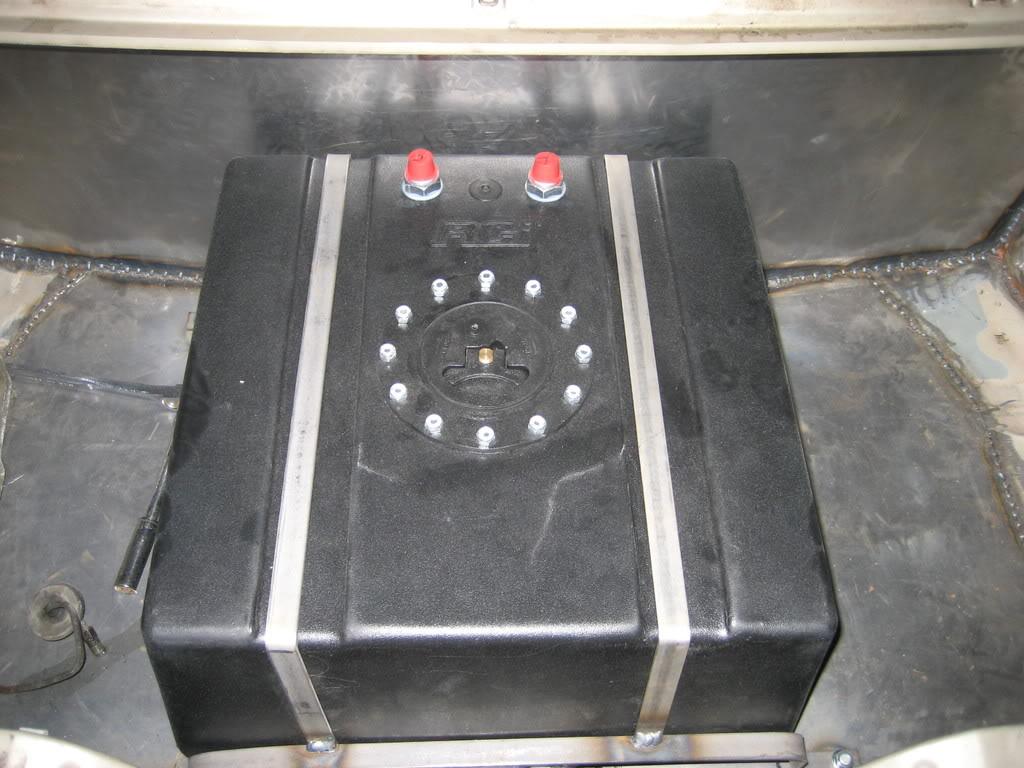 Under trunk floor: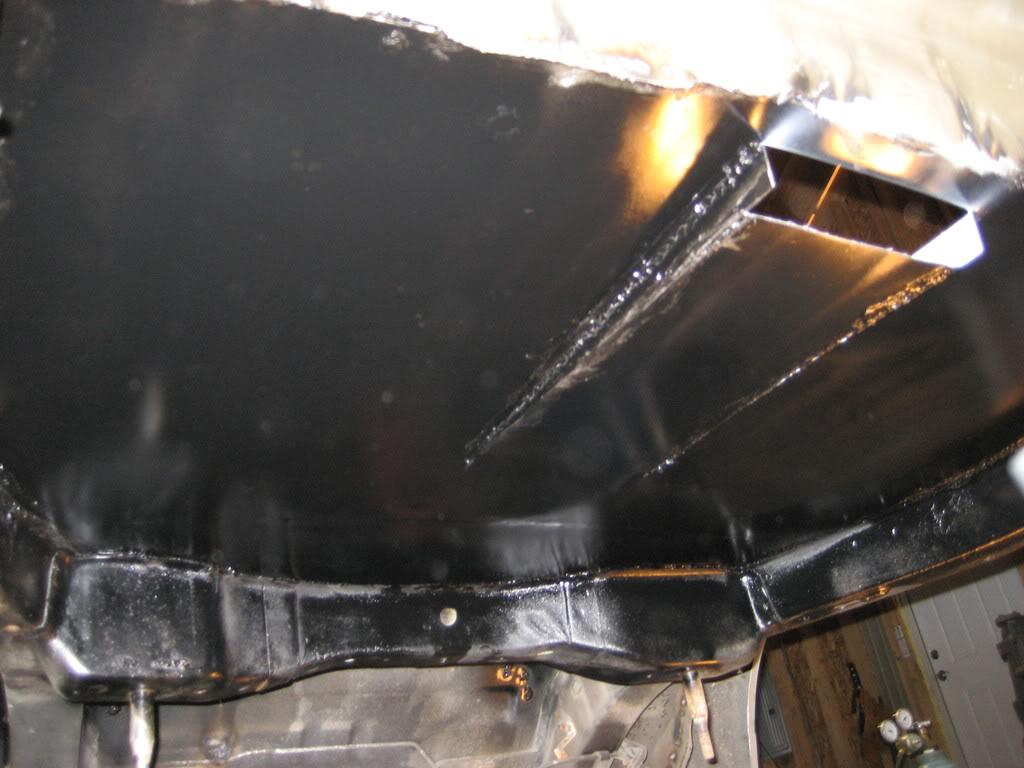 Trunk ready for paint: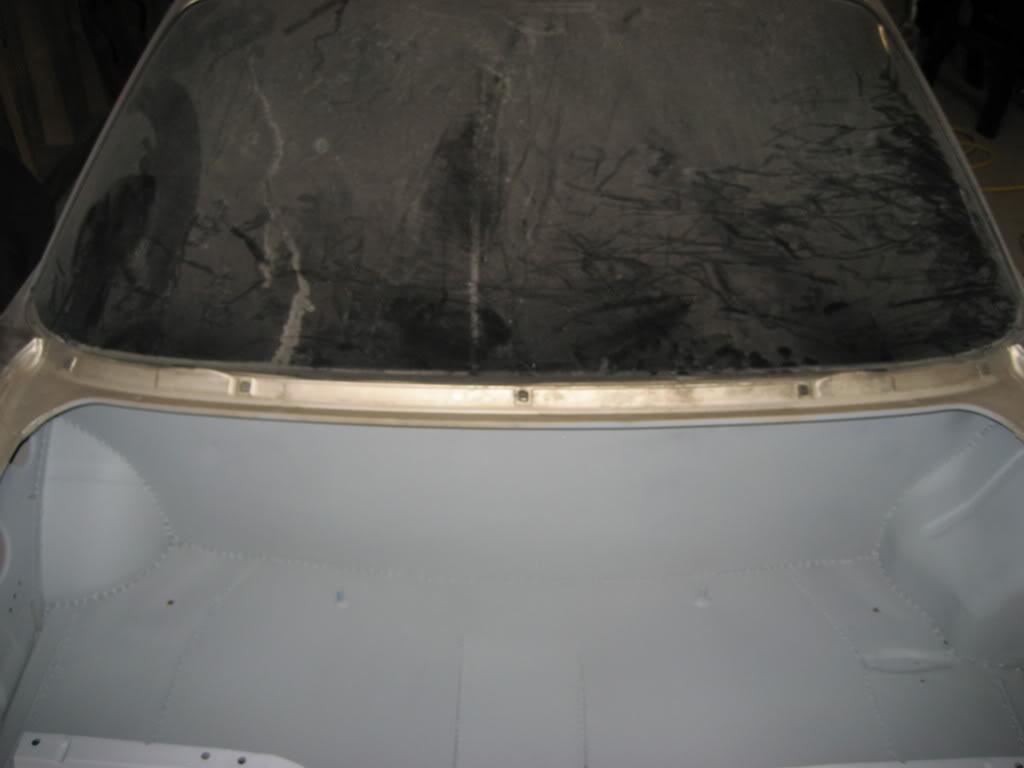 Trunk lid: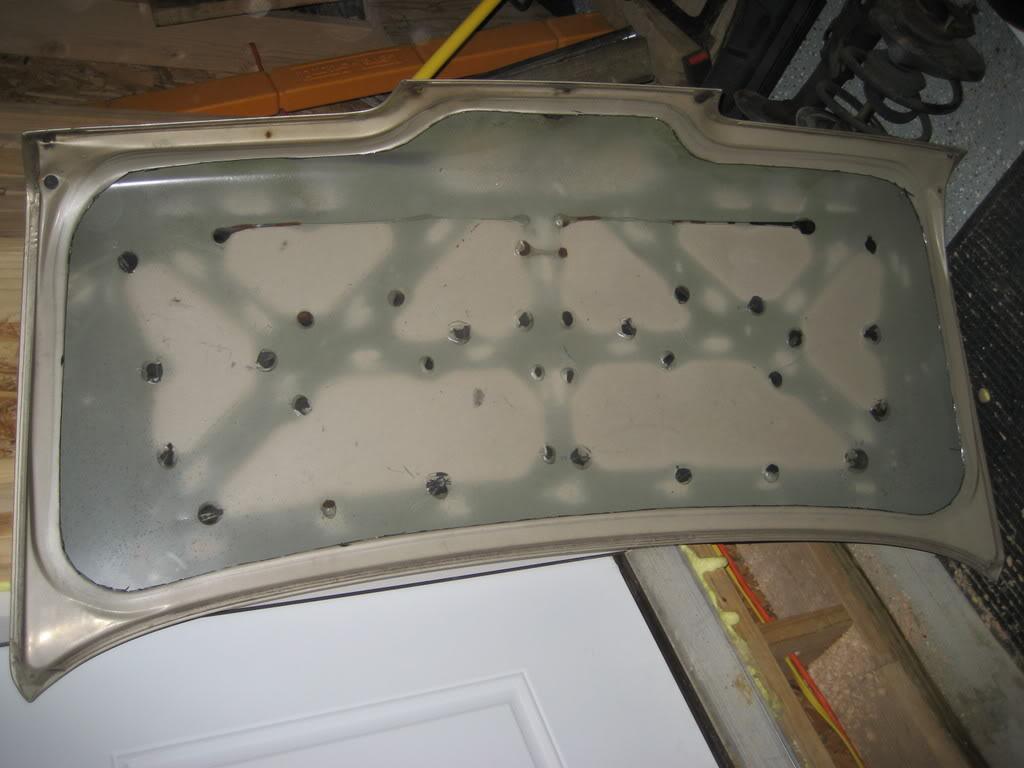 Our custom knock off nismo brace: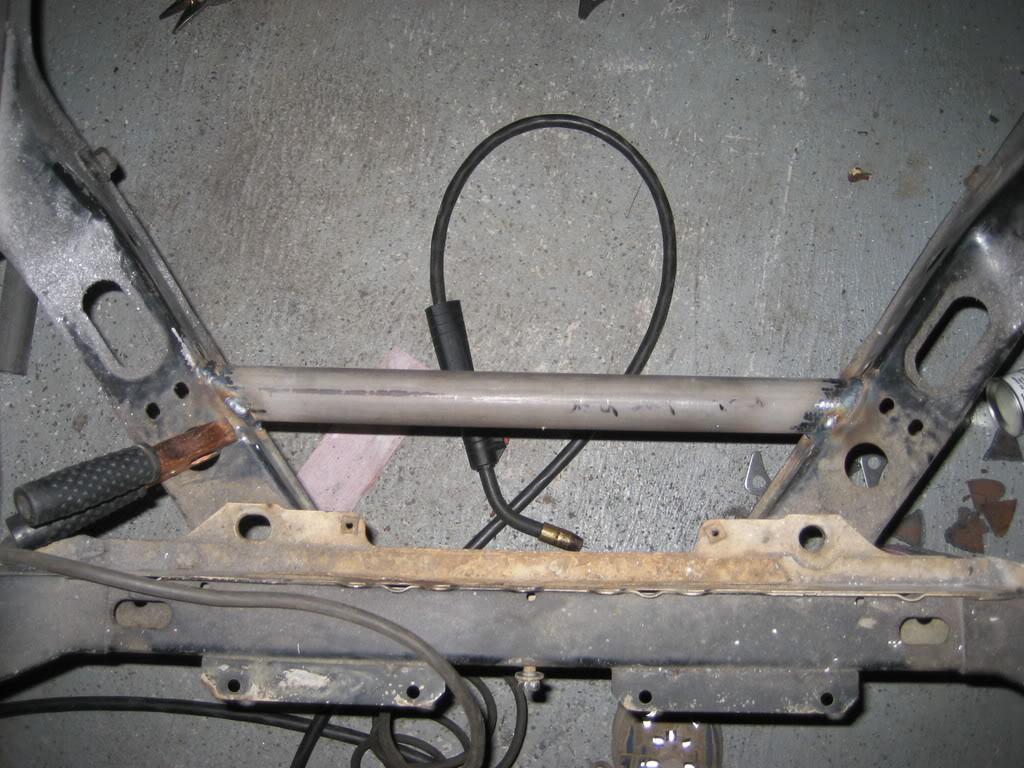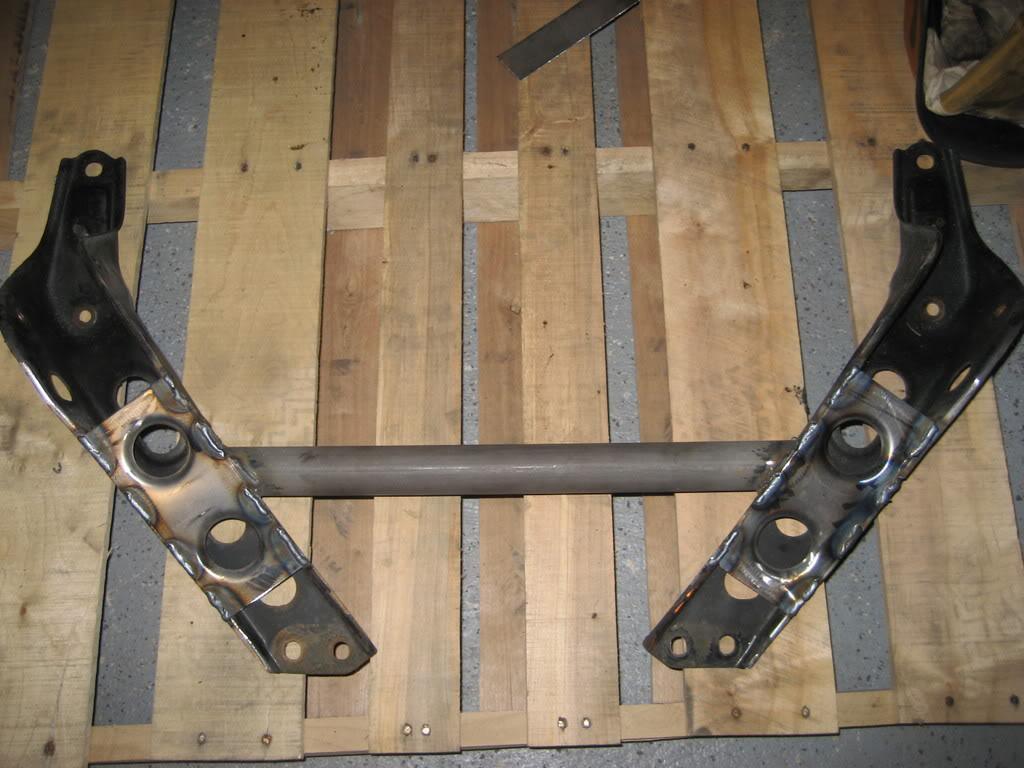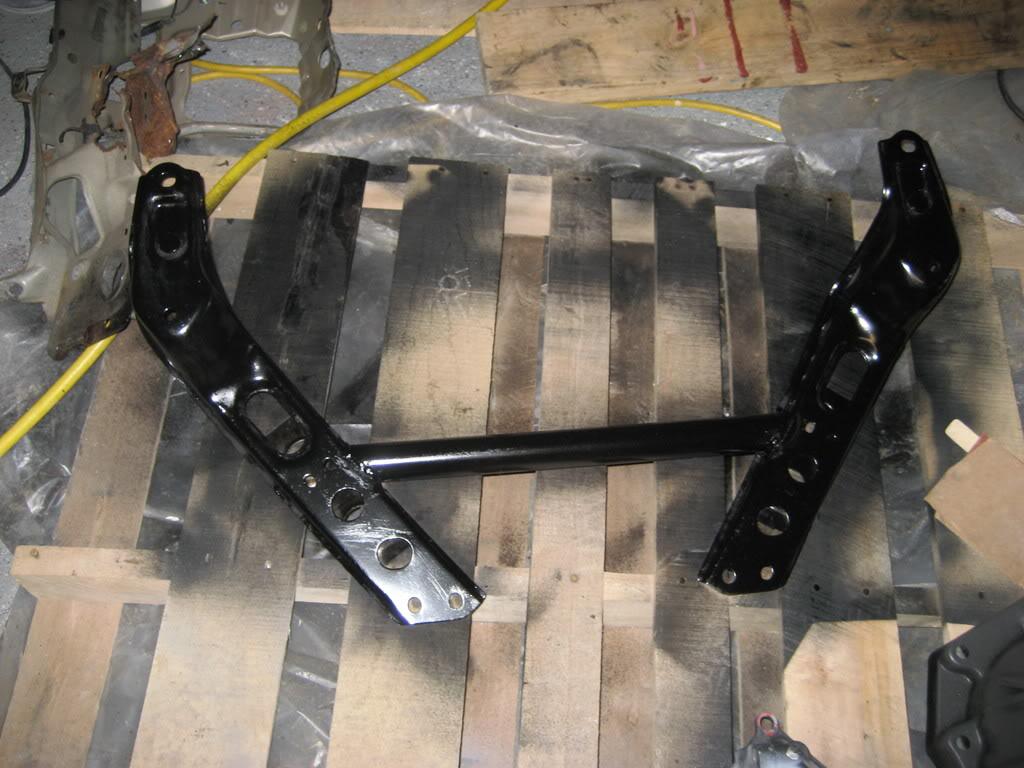 Sub-frame ready to go back in: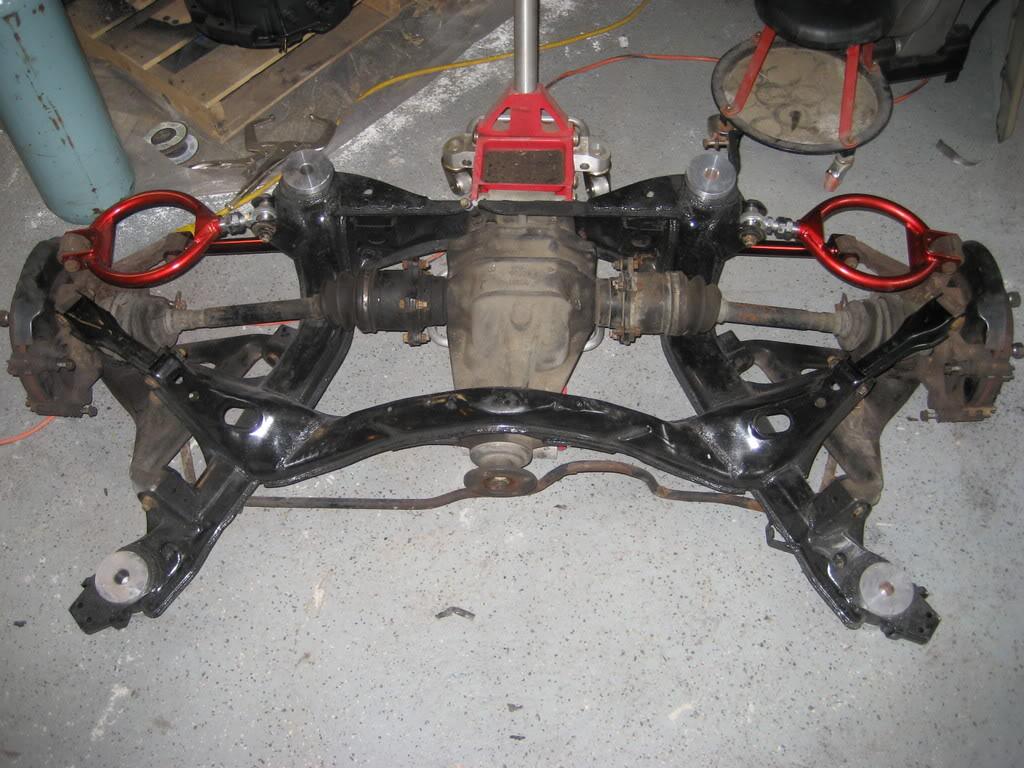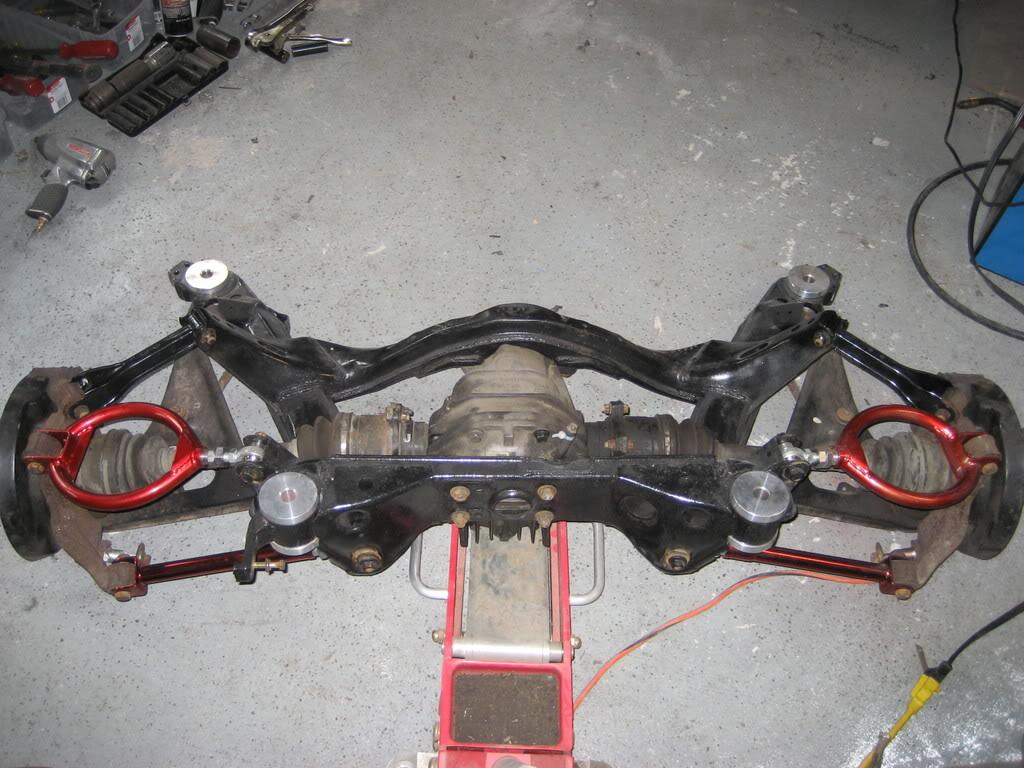 Roll cage: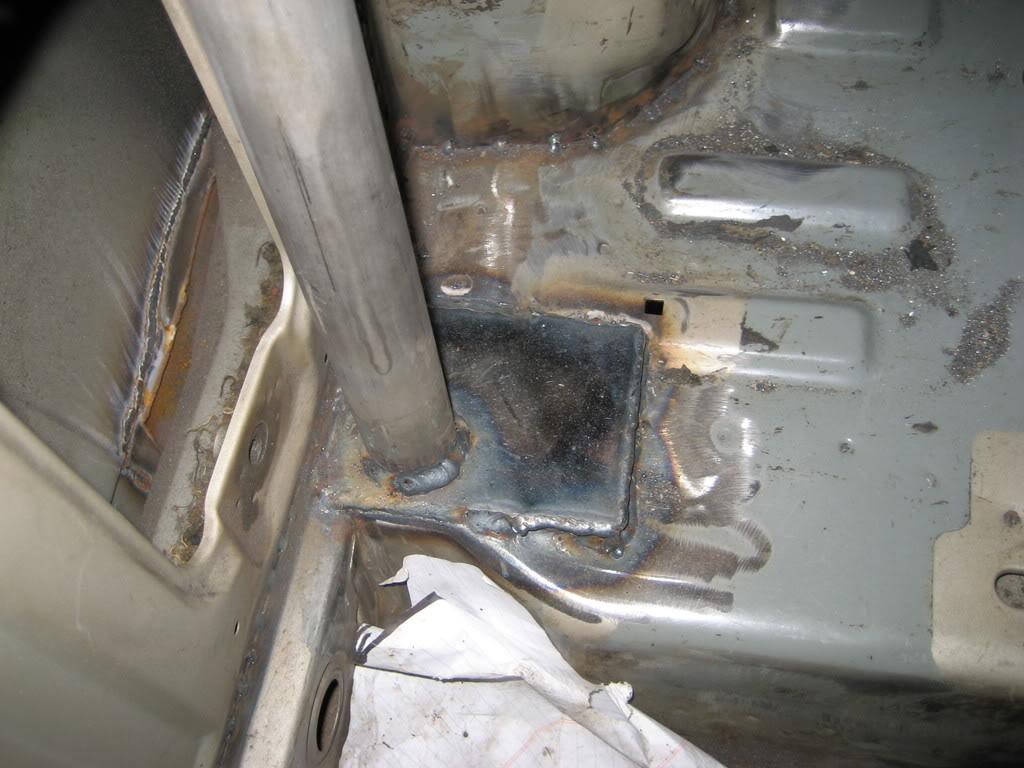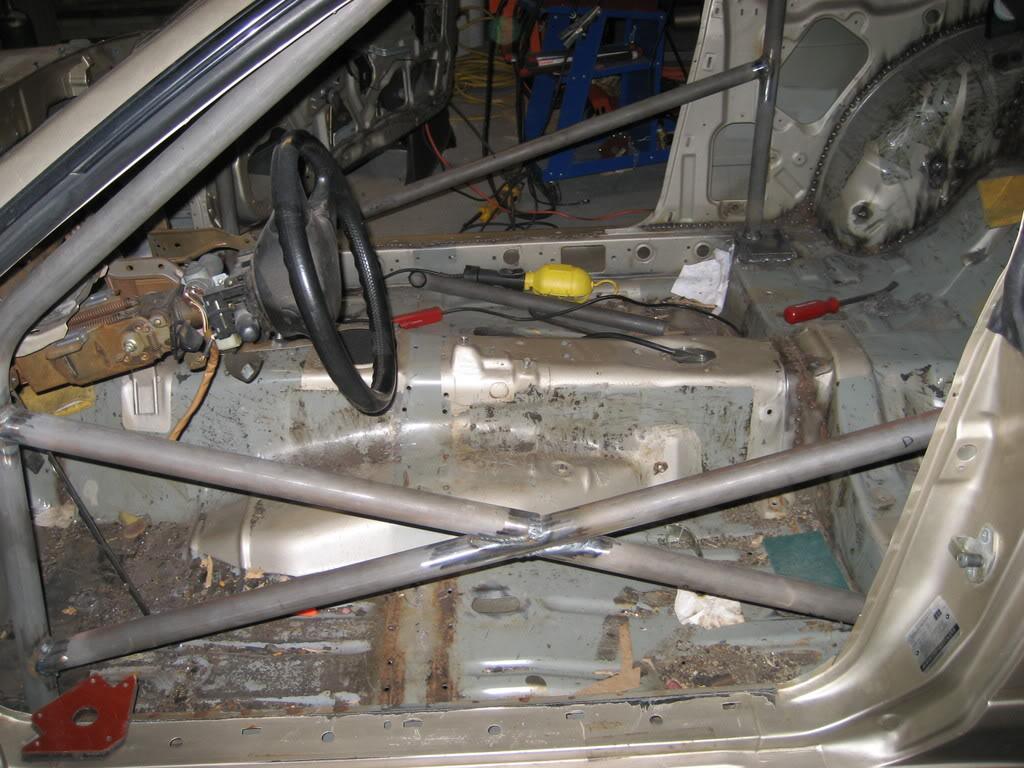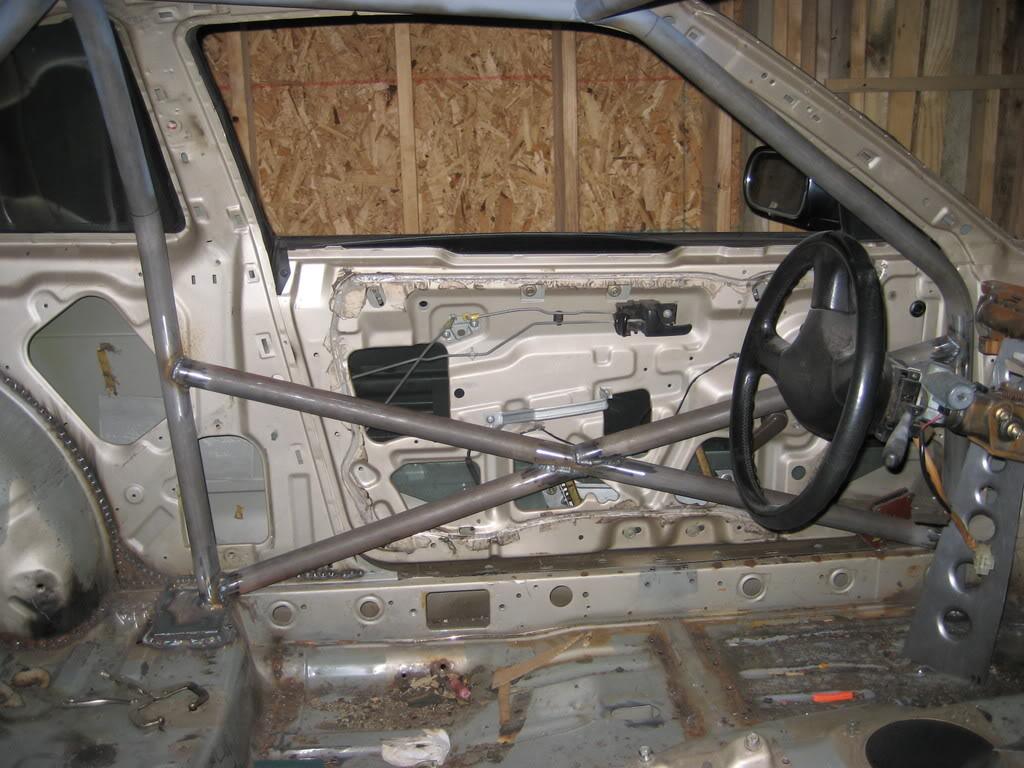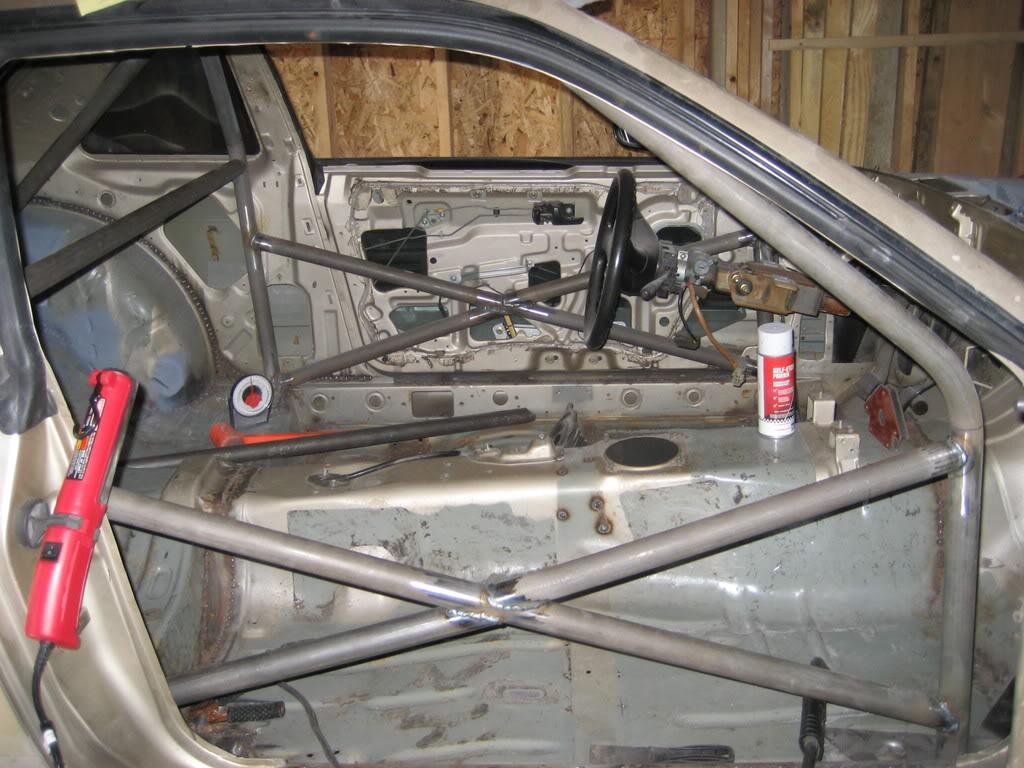 Apperently Jason doesn't sleep and just works on the car. Last weekend he finished the cage and fabbed the new radiator support.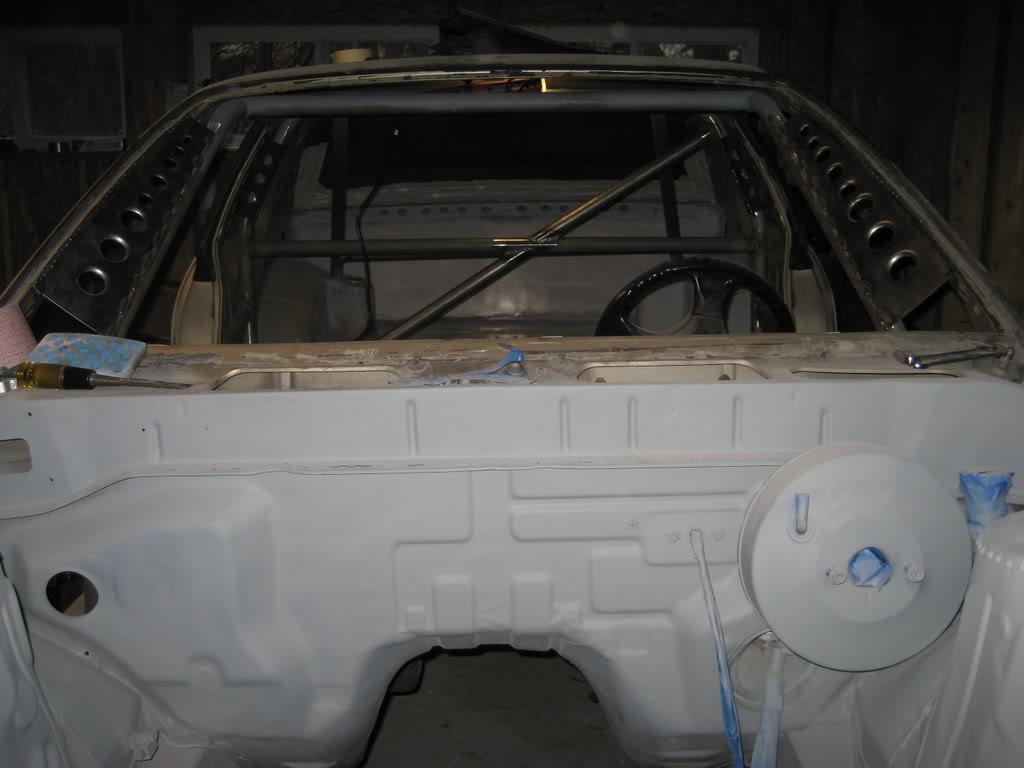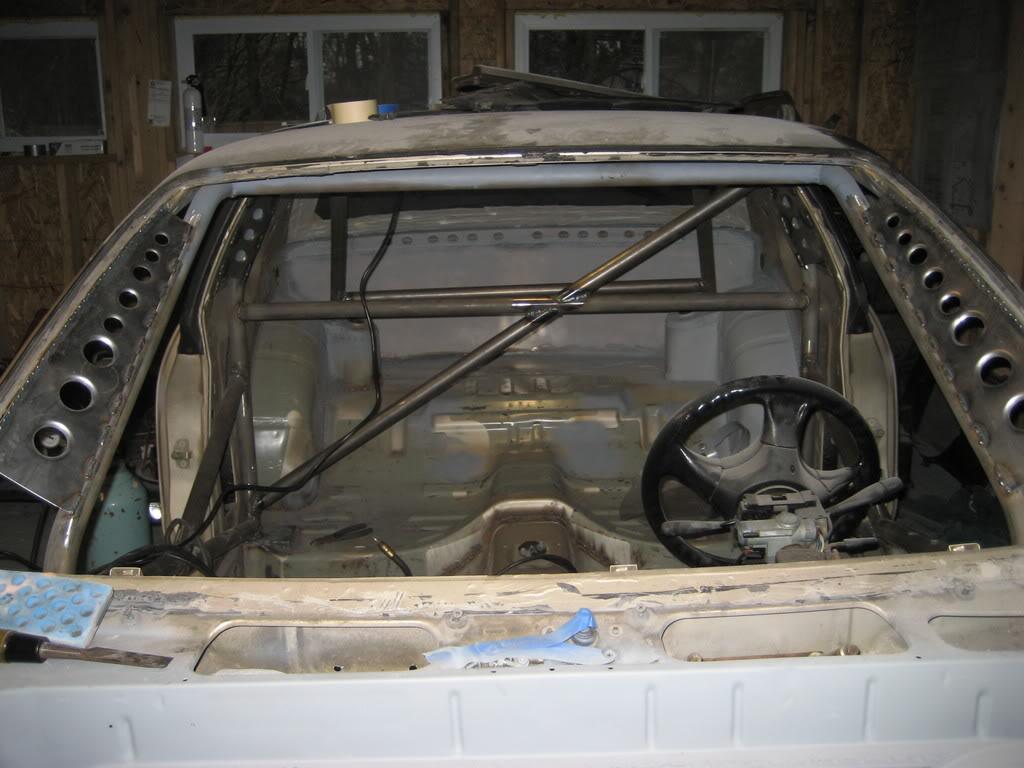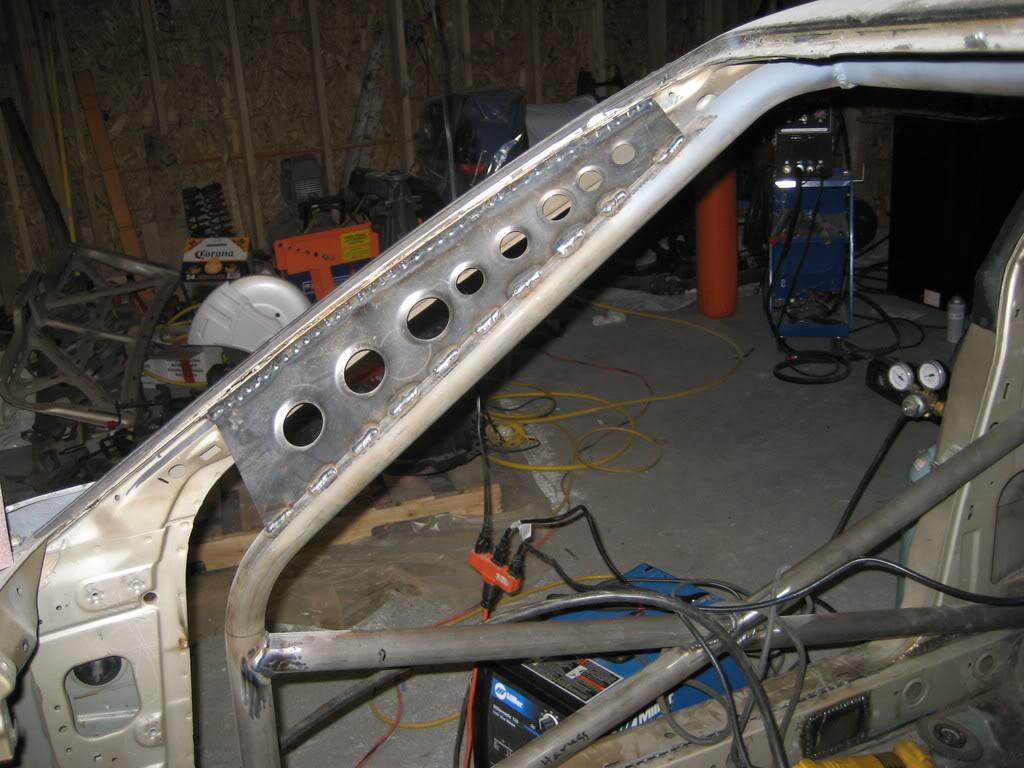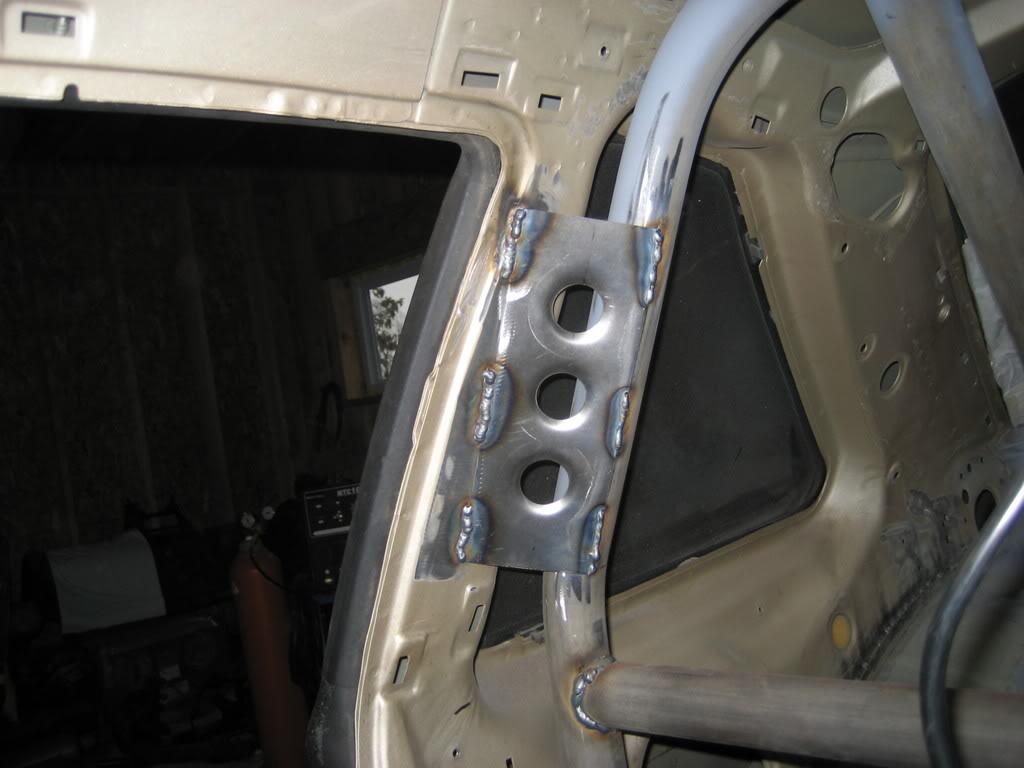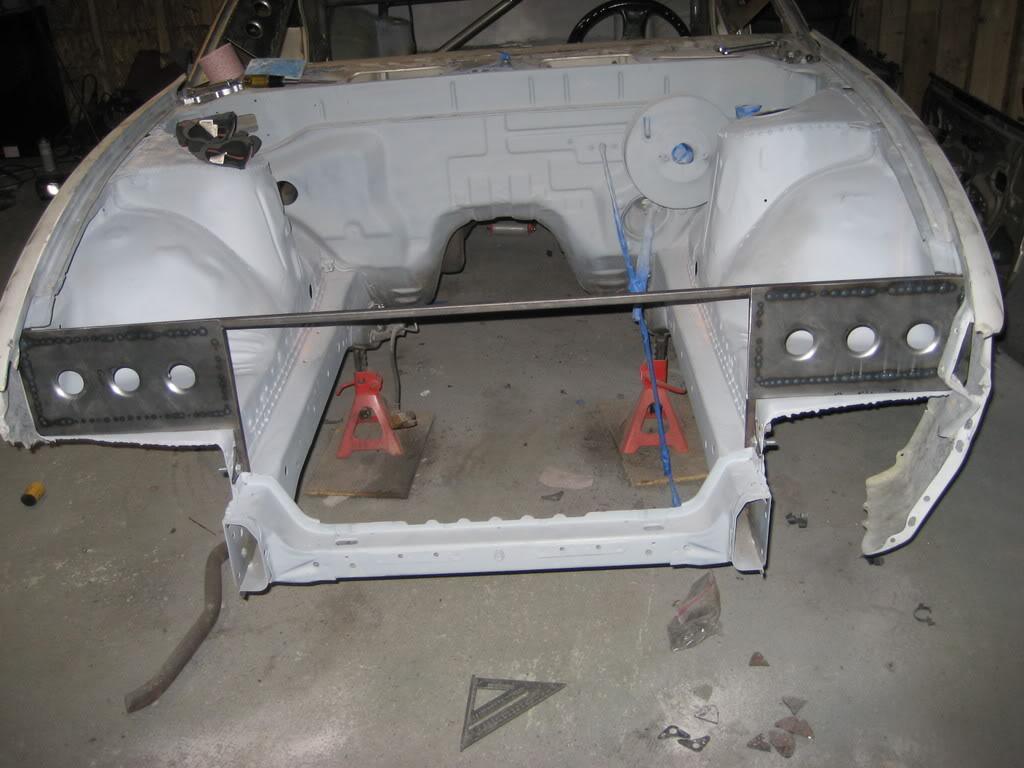 He's gonna finish prepping and prime the interior so we'll be ready for paint this weekend. Then all we have to do is fit the front end, re-install the front crossmember, make a dash and door pannels, plumb the fuel system, rebuild the motor, fix the harness and a whole lot of wiring and hope it runs. Then a shit ton of body work and some suspension tuning and we're done... For now.
We fabbed up the new seat brackets. Here are some pics of the seats bolted into place.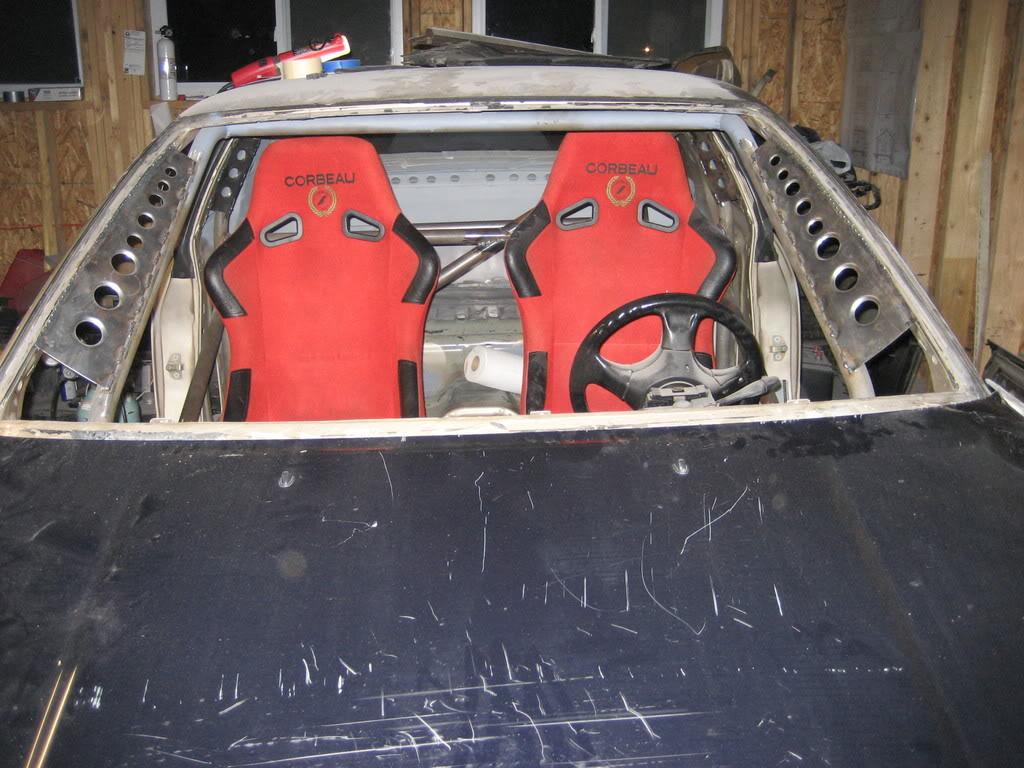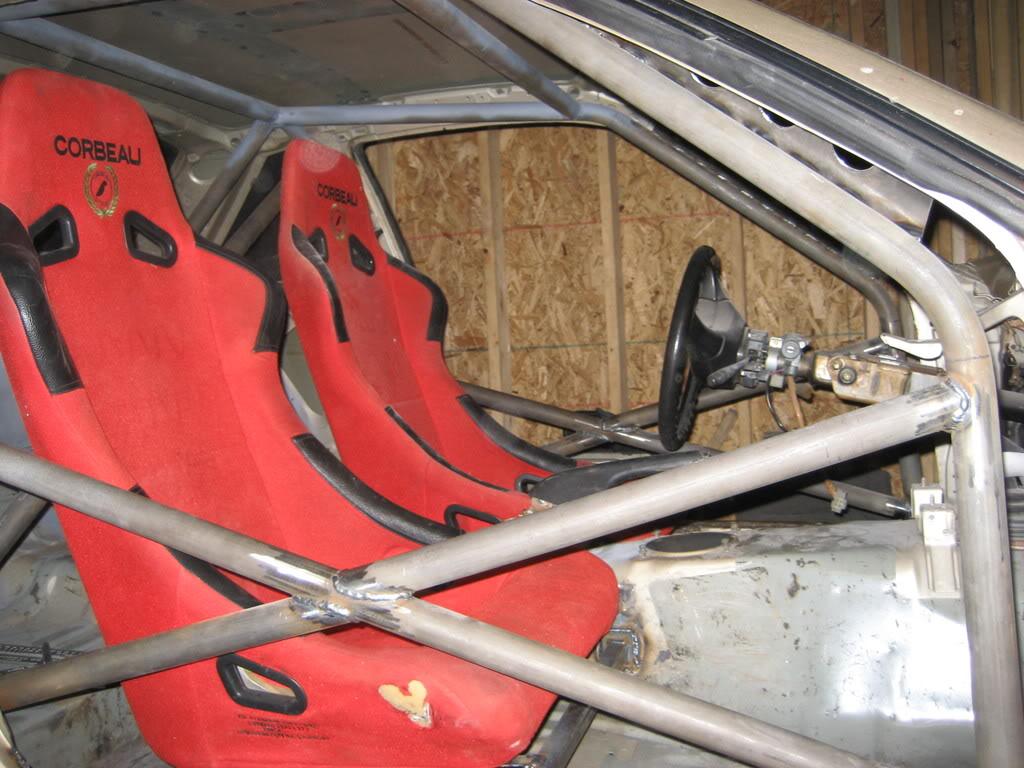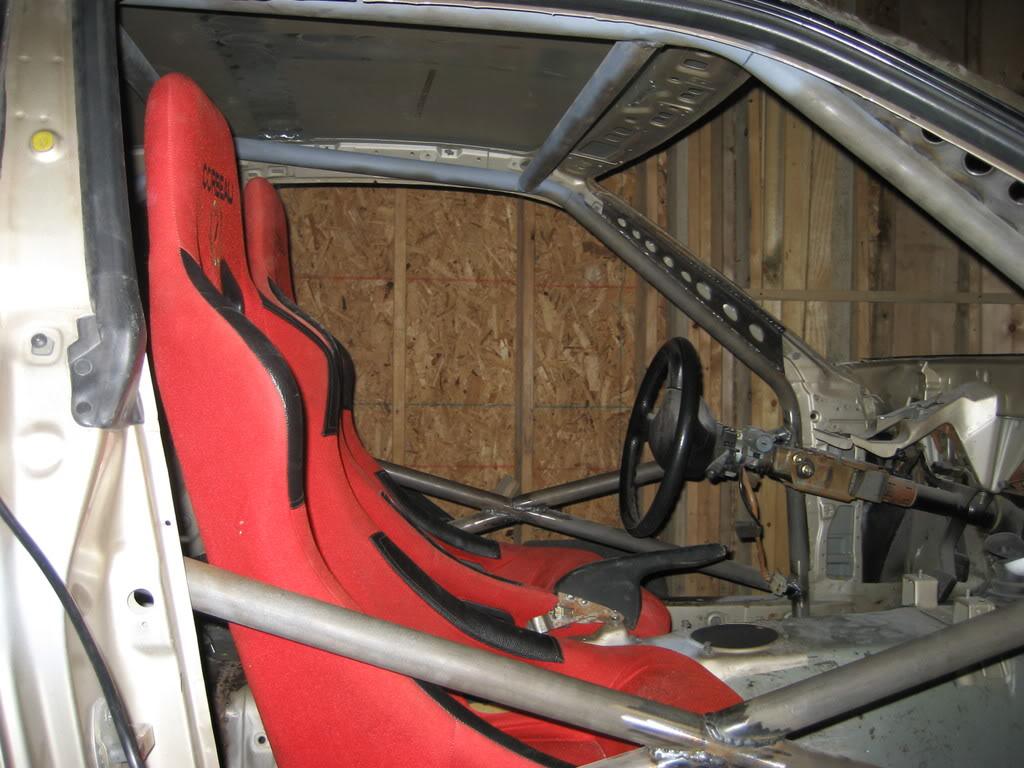 We painted the trunk, interior and engine bay this weekend.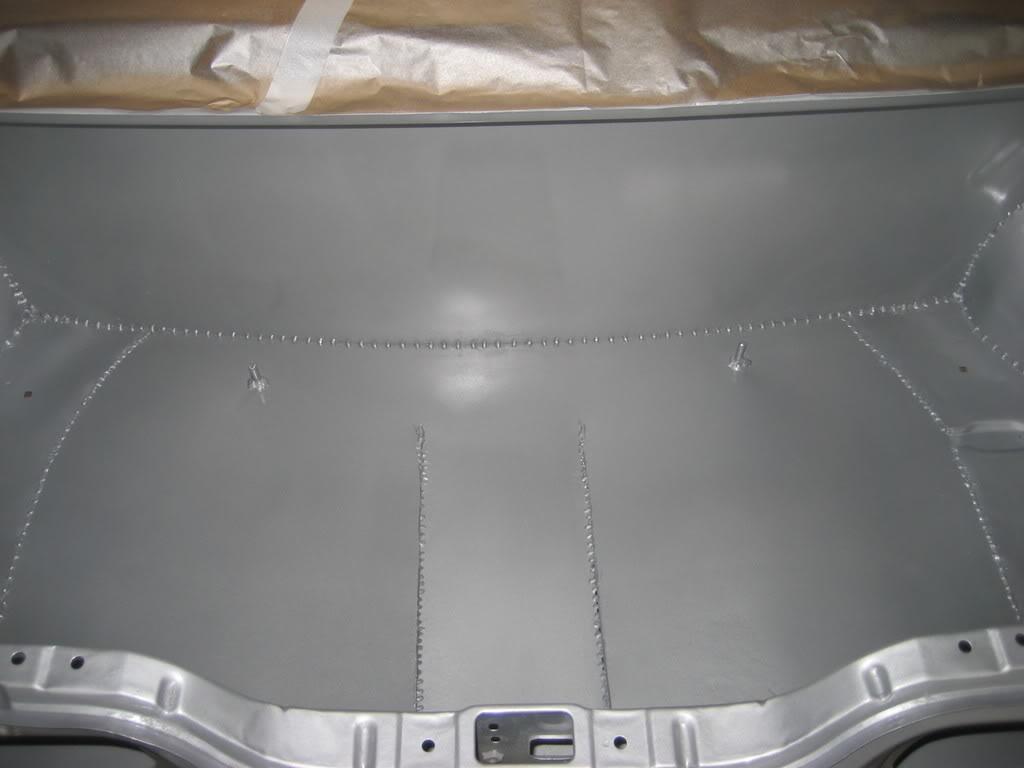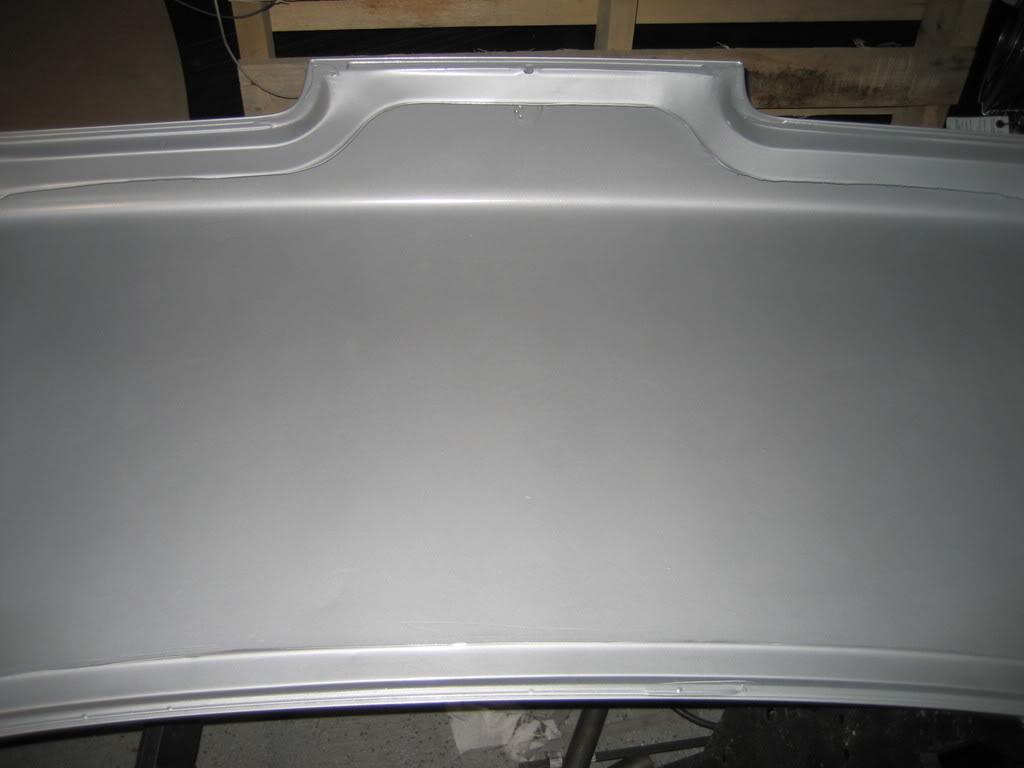 Painting around the cage was a huge pain in the ass, but it turned out really nice.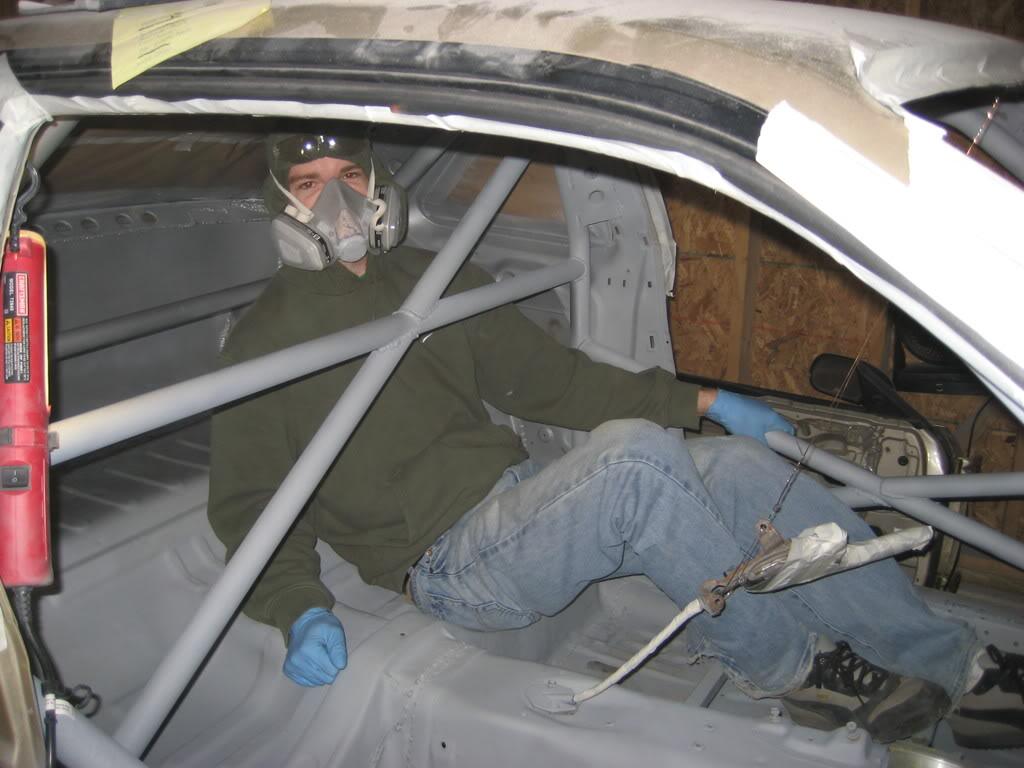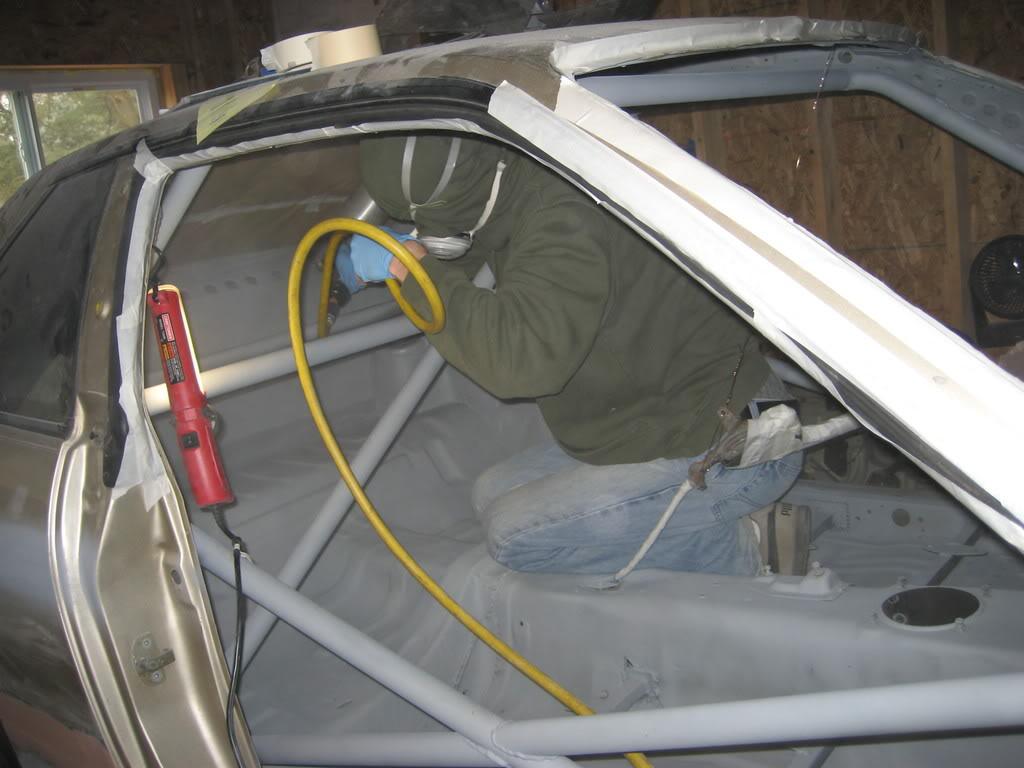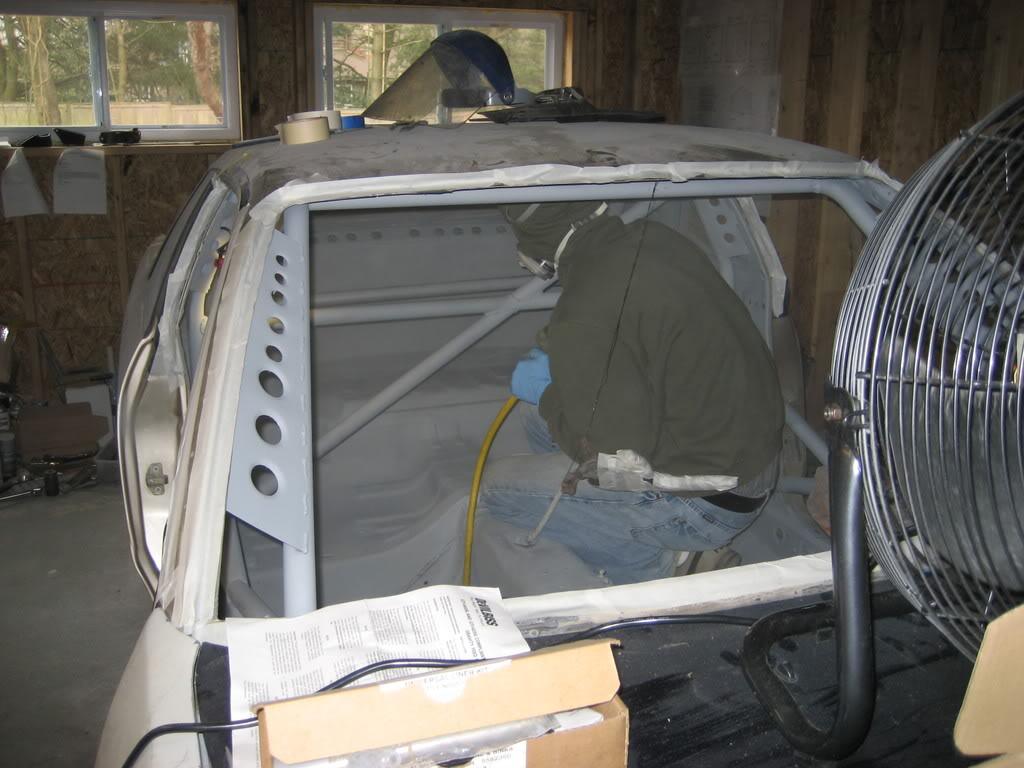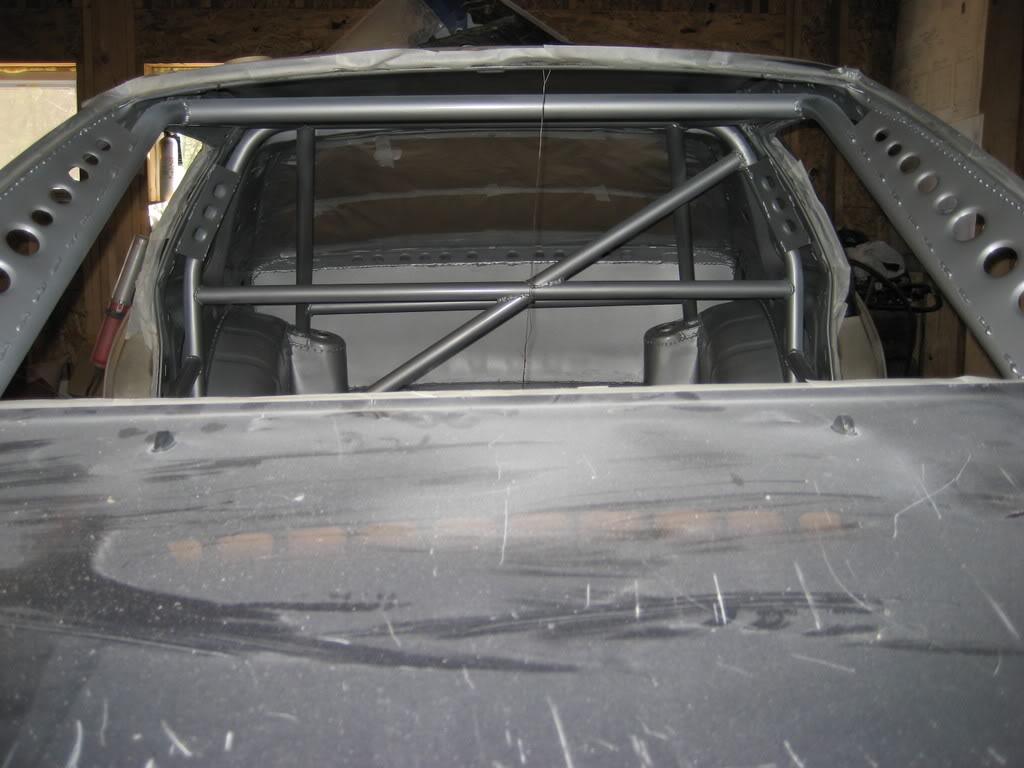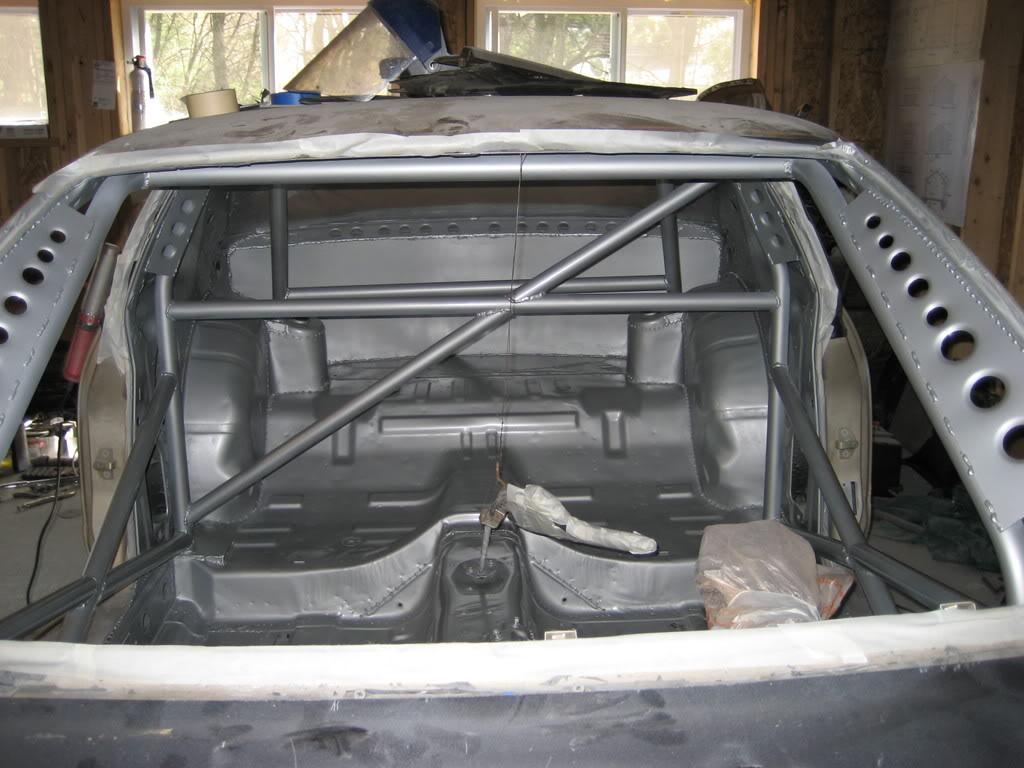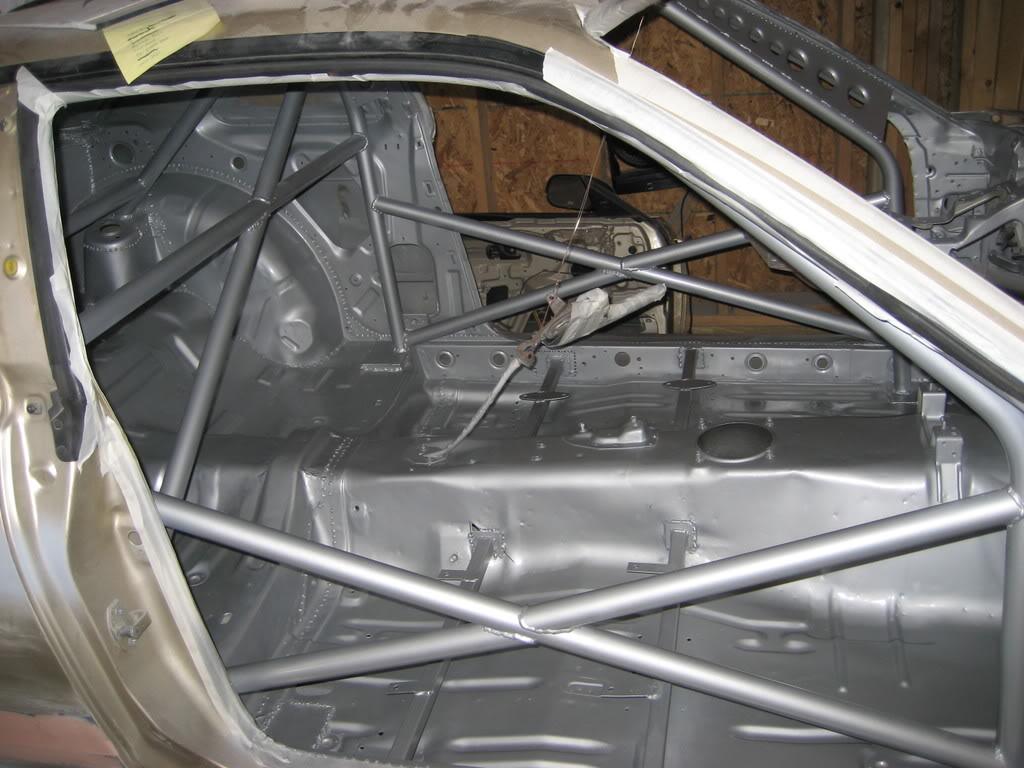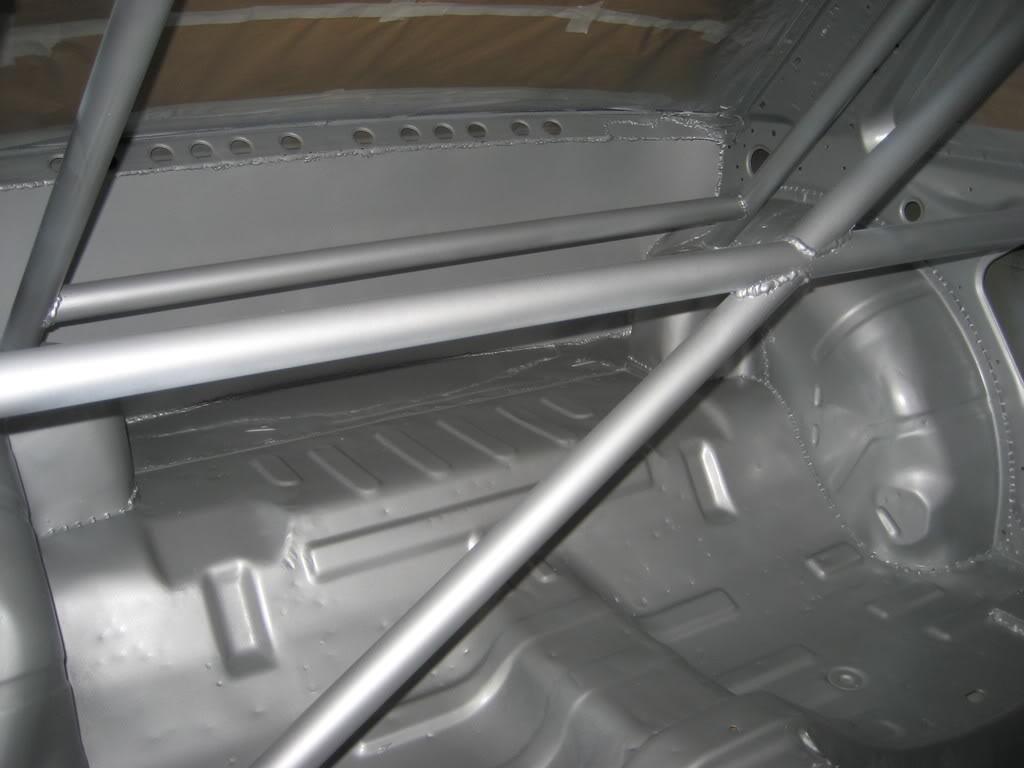 and the eninge bay: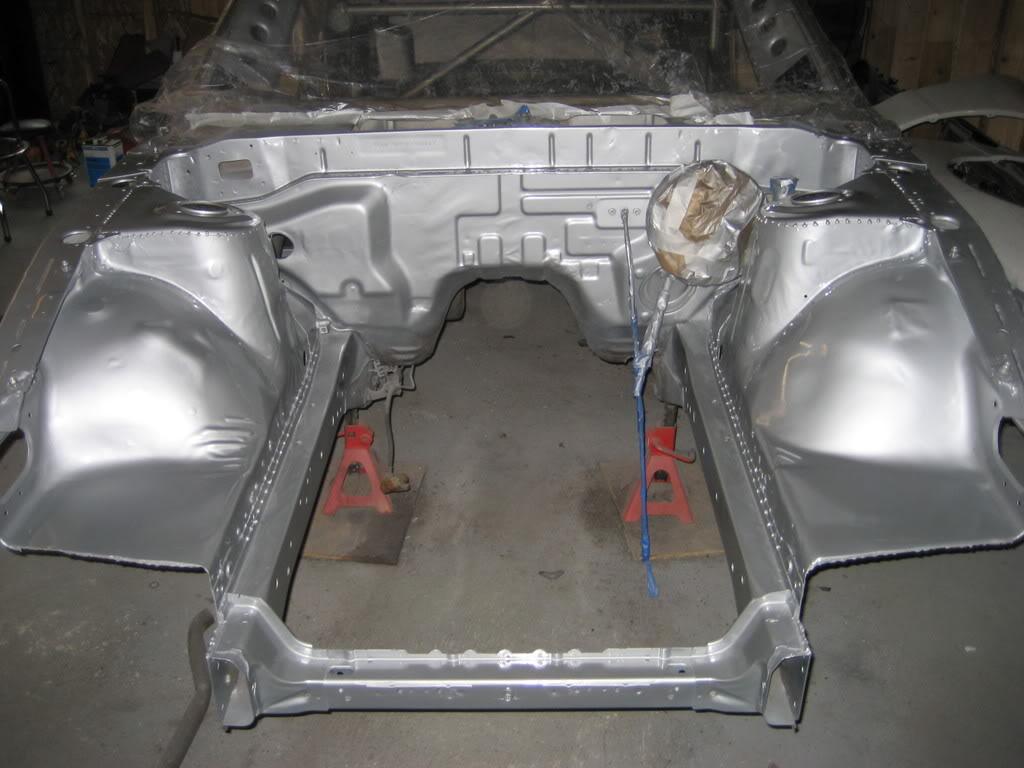 We also started fitting the front end: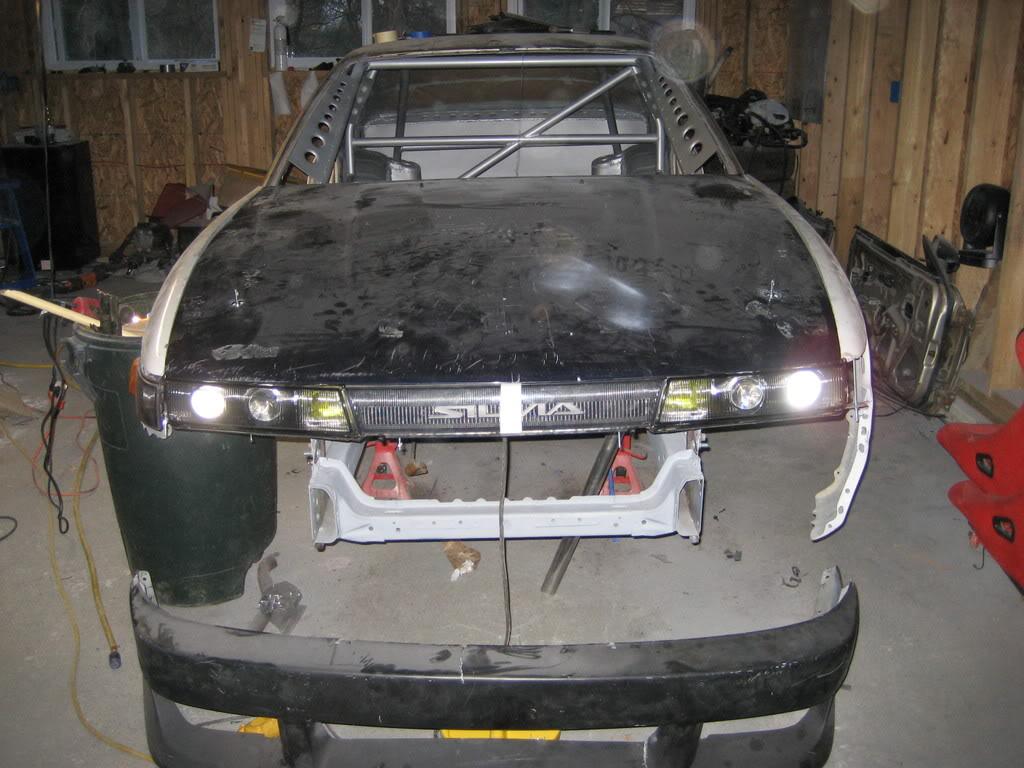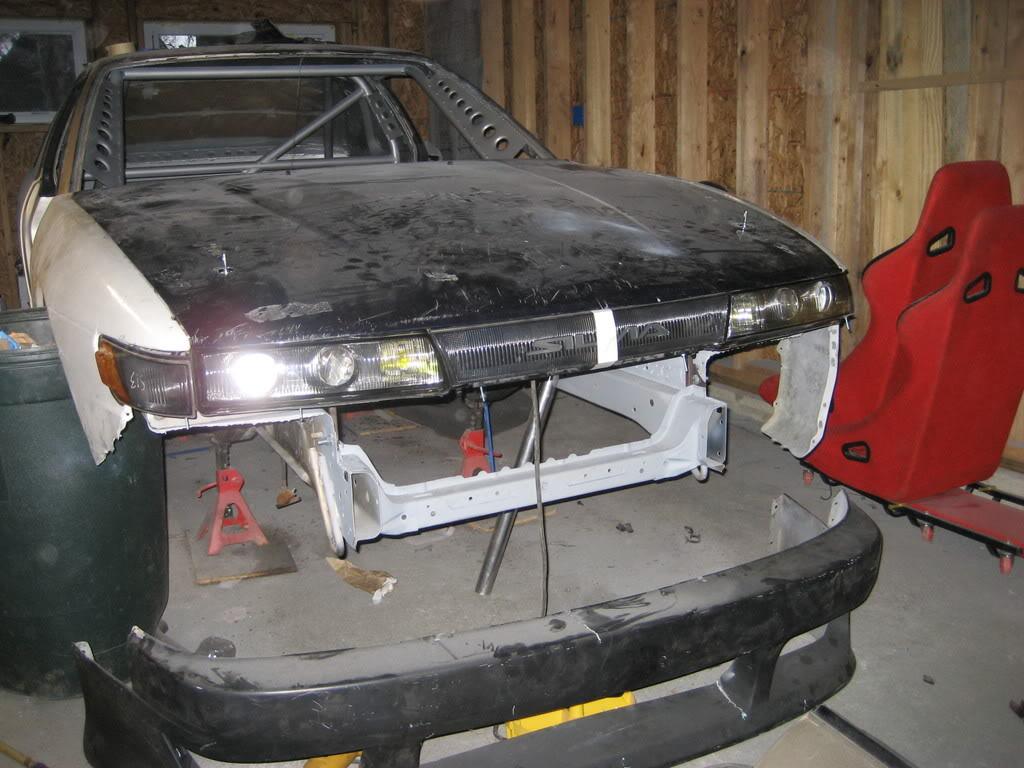 The exterior is going to be blue. I'm leaning toward Daytona Blue (factory 350z color) or maybe something a little more metallic.
4/12/08
Fit the front bumper: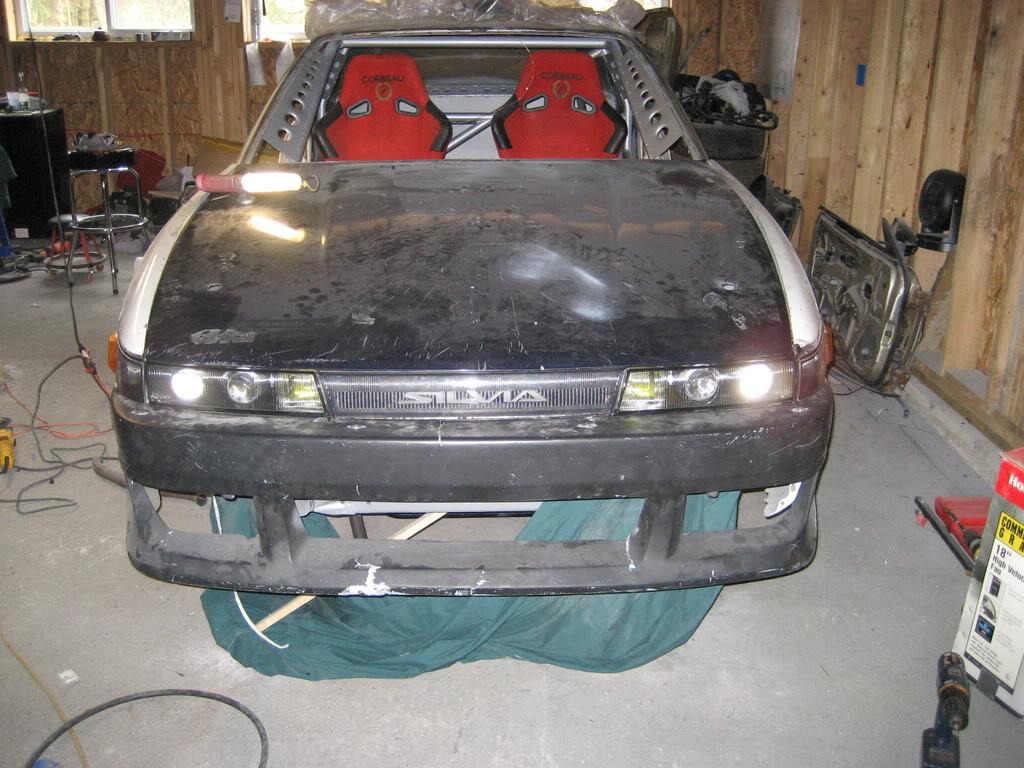 I know the front end looks pretty banged up, but it was only like $350. It's all repairable, and will look great once it's fixed and painted (or I'll hit a wall and completly trash it first)...
On to the V-mount: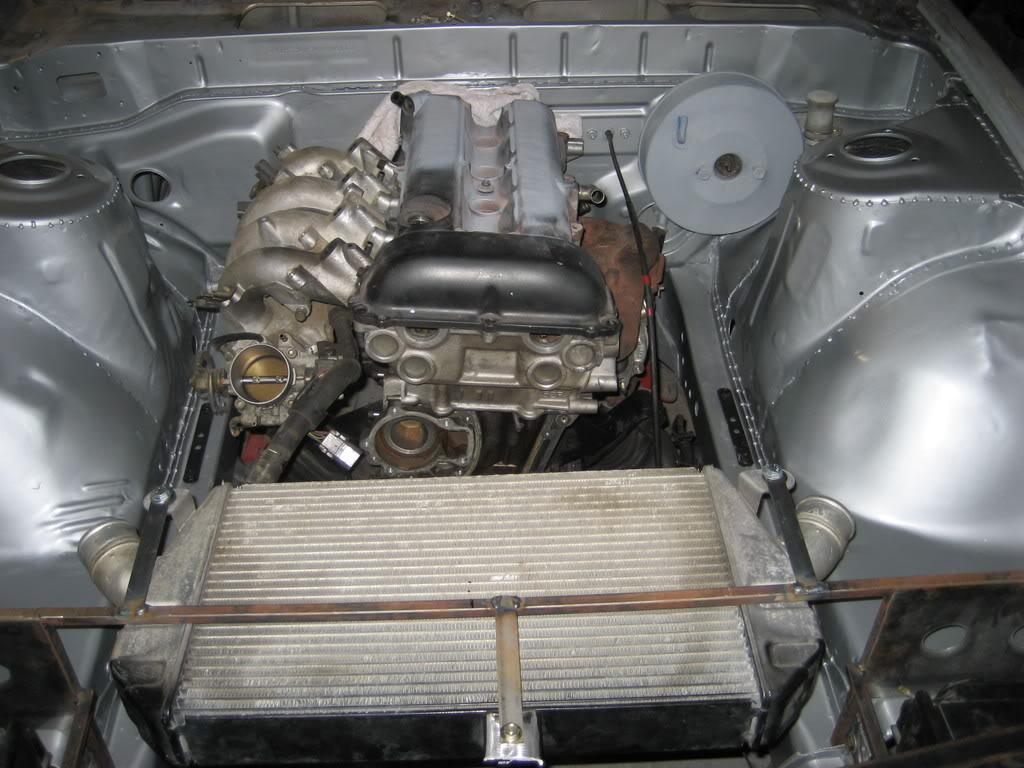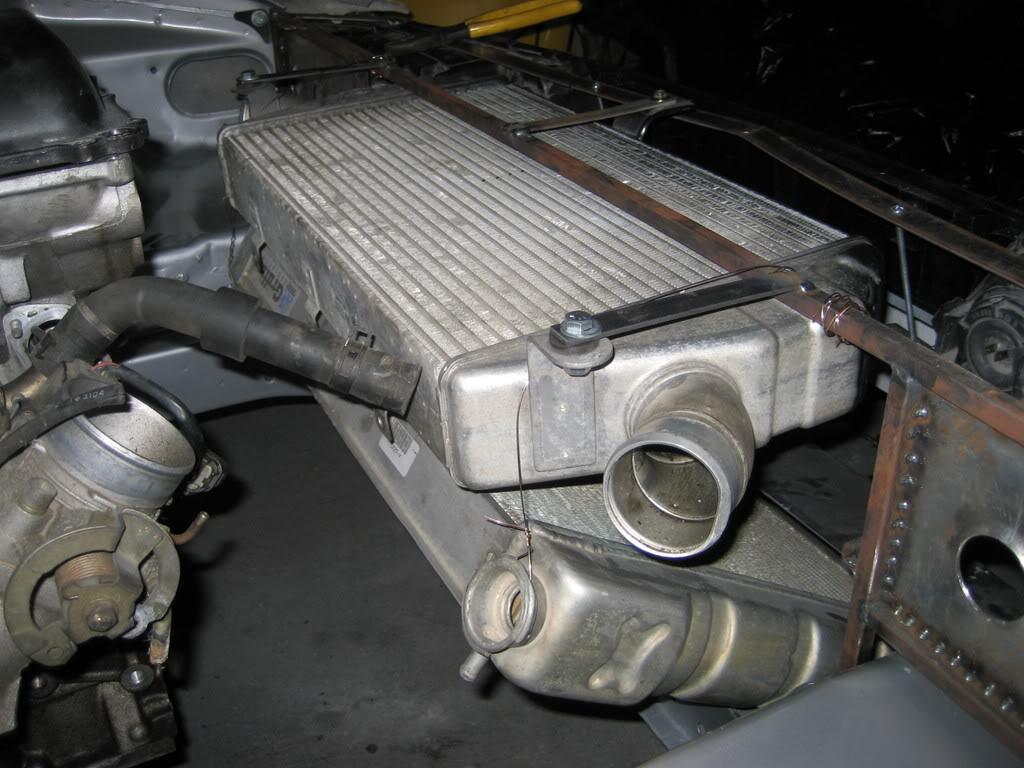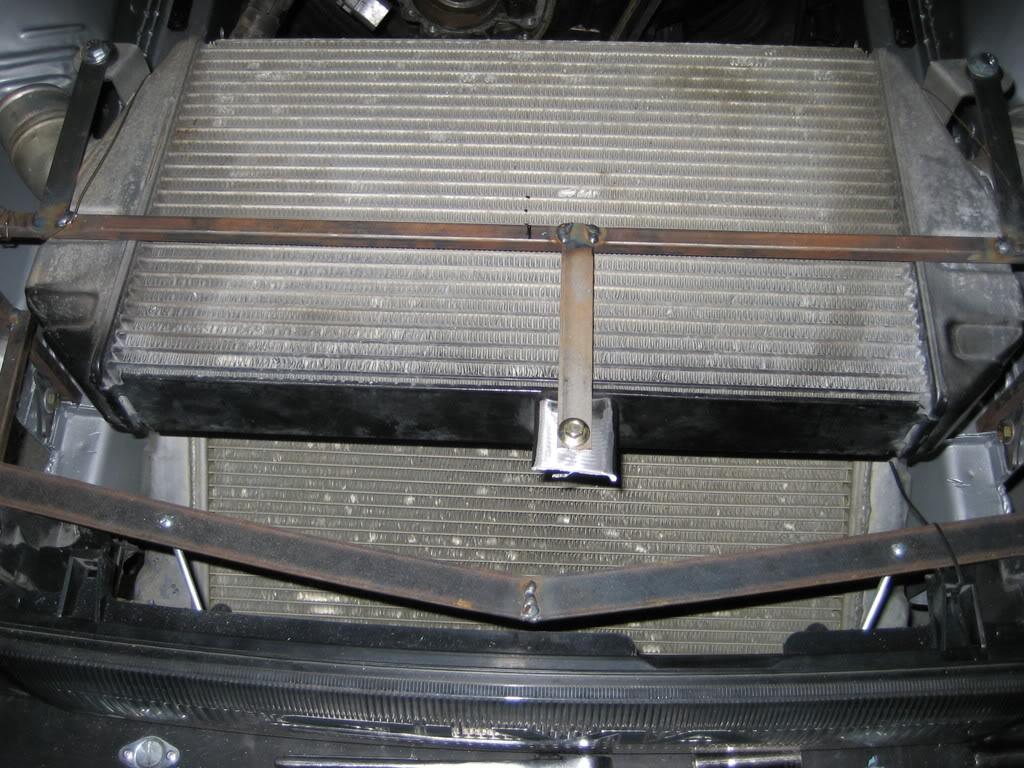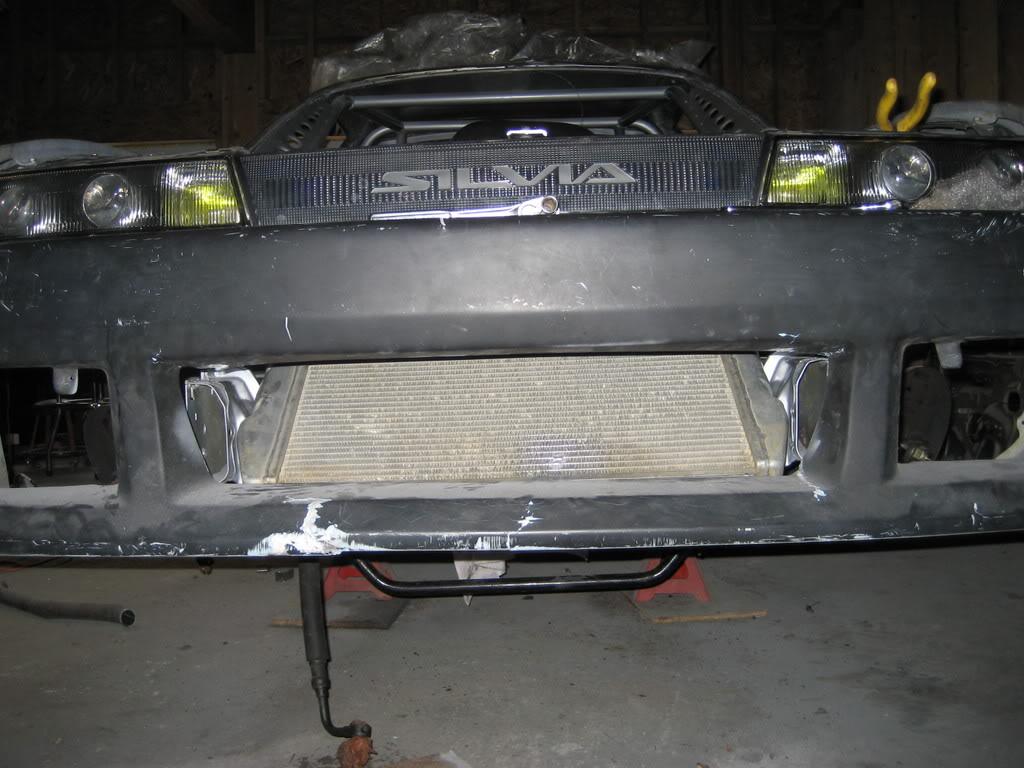 4/22/08
We got a lot done this weekend. Here's a few more pics of the progress.
First a couple more interior pics: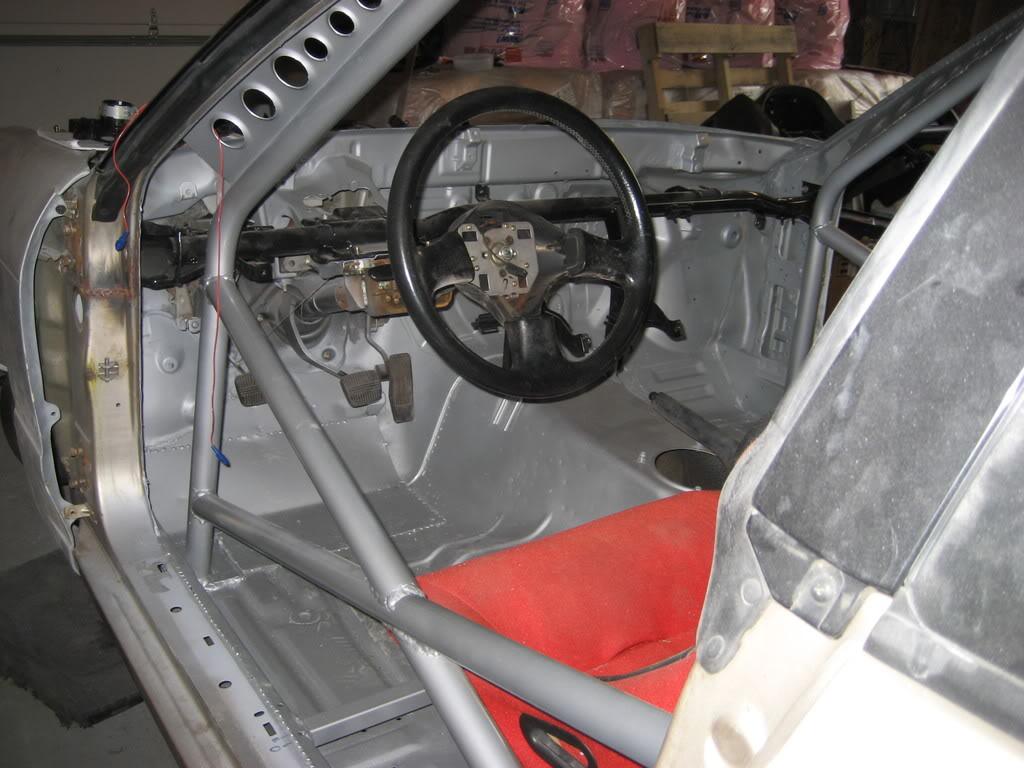 Radiator modified for V-mount and AN fittings, V-mount mounting and duct work: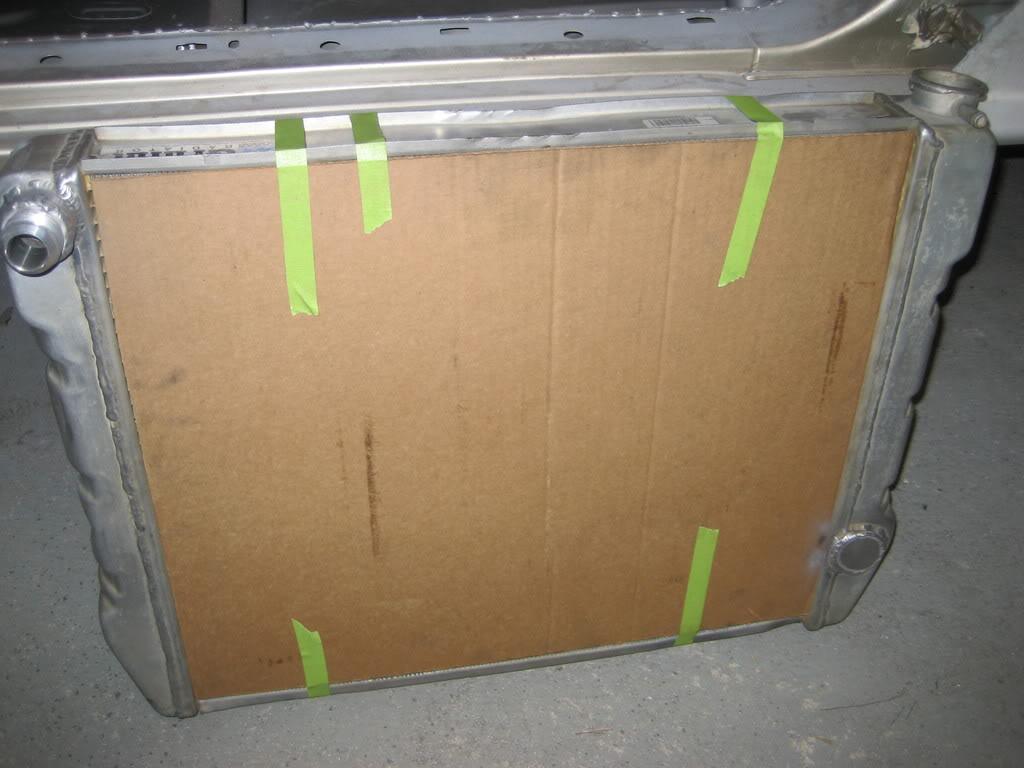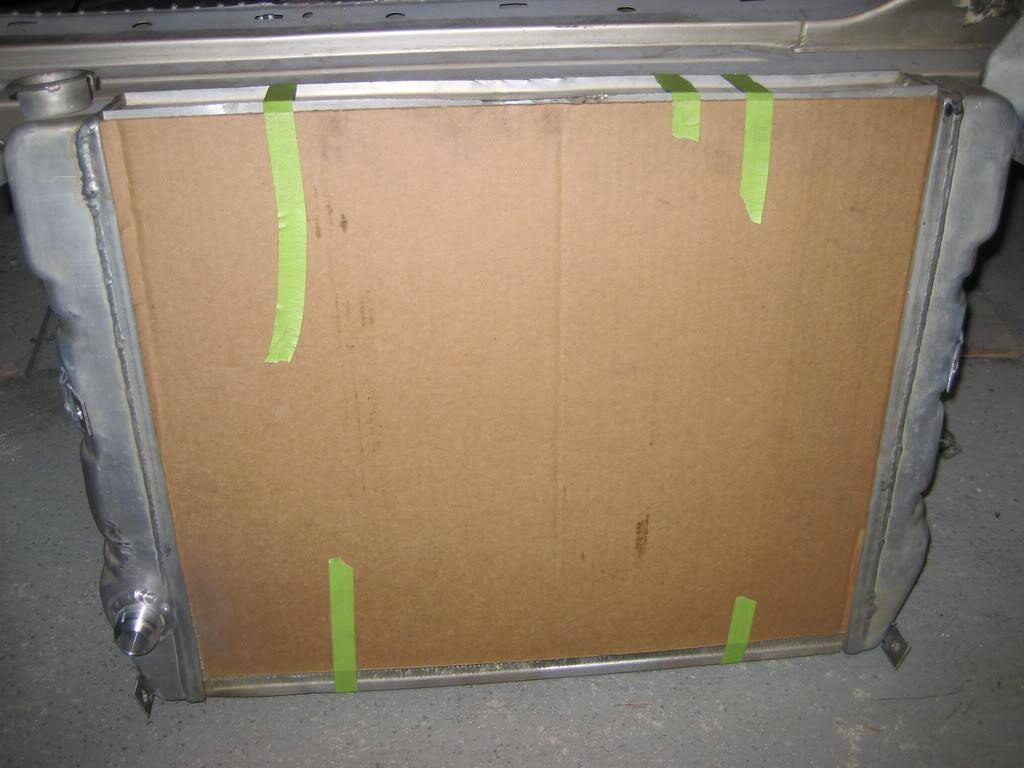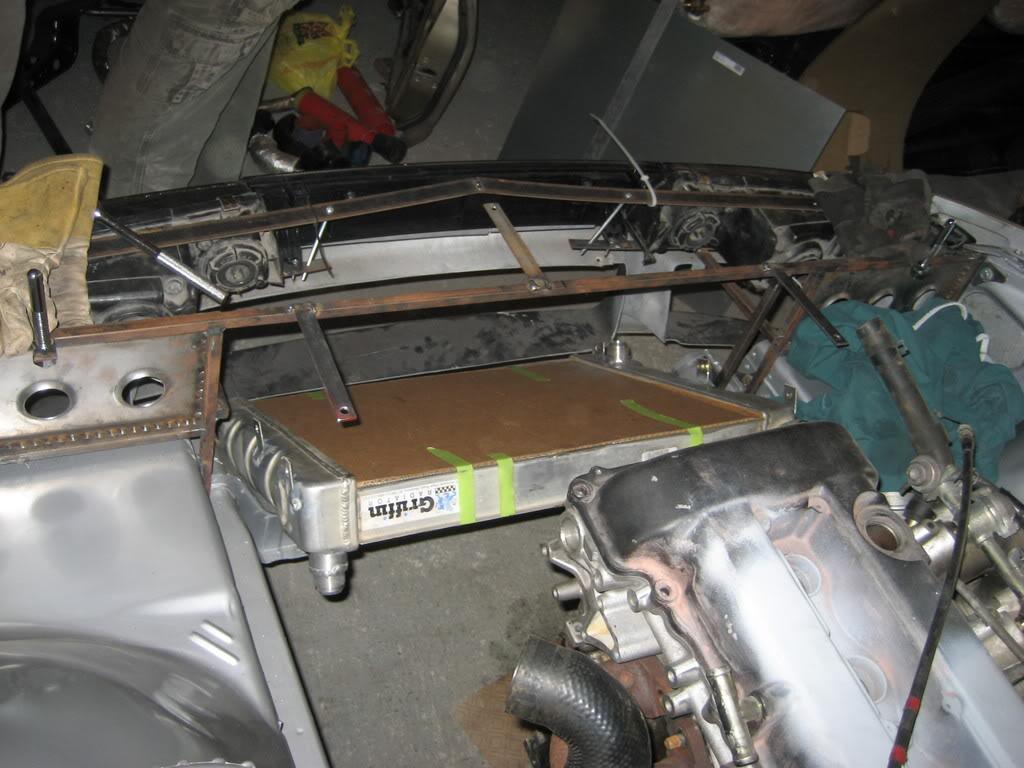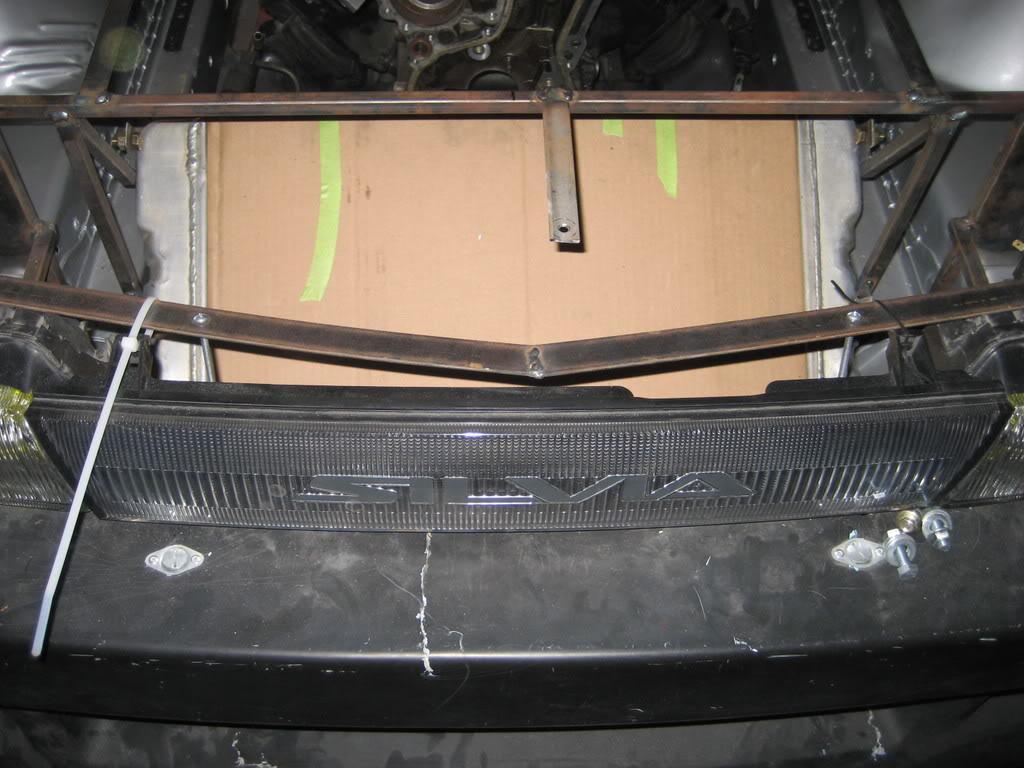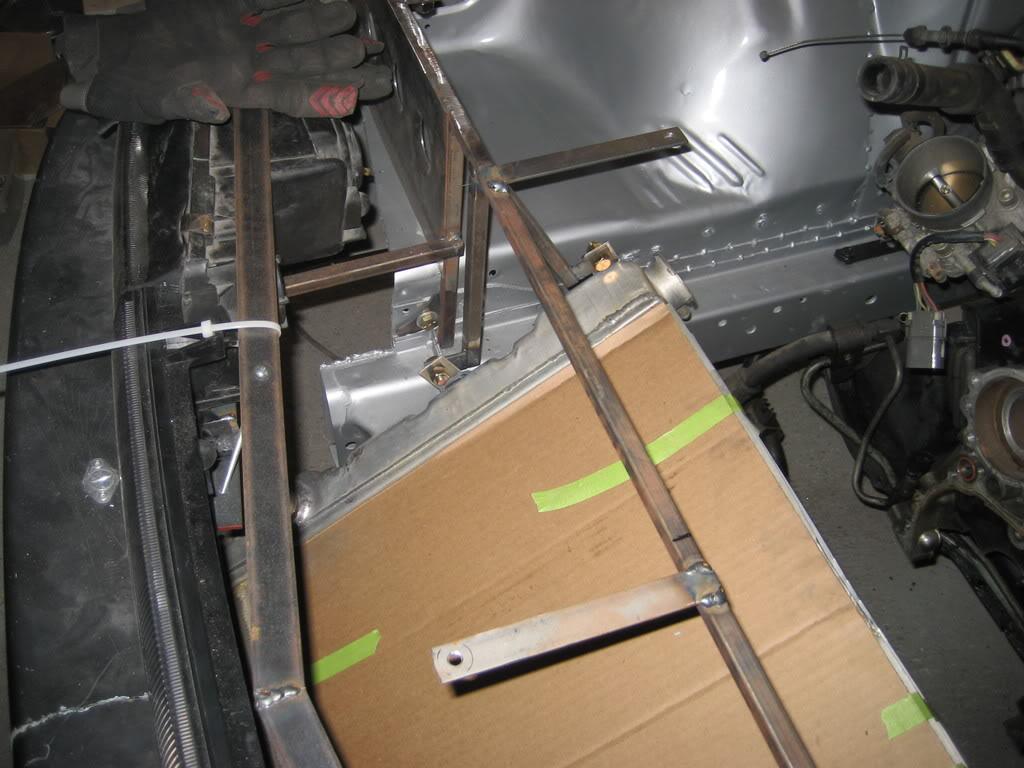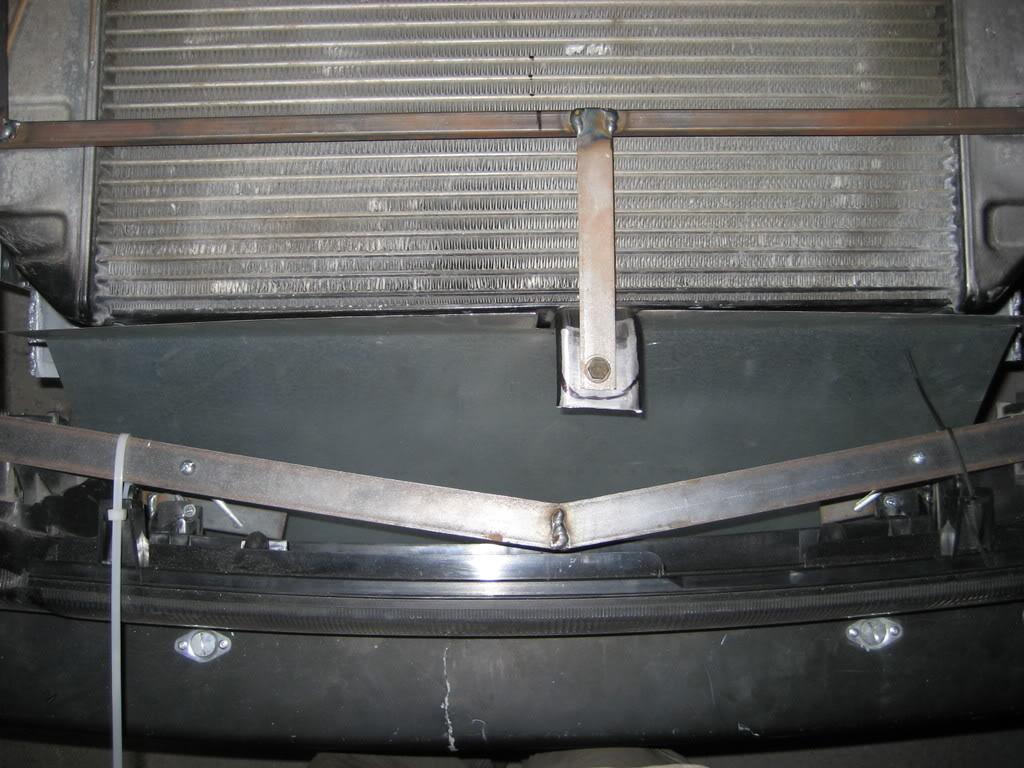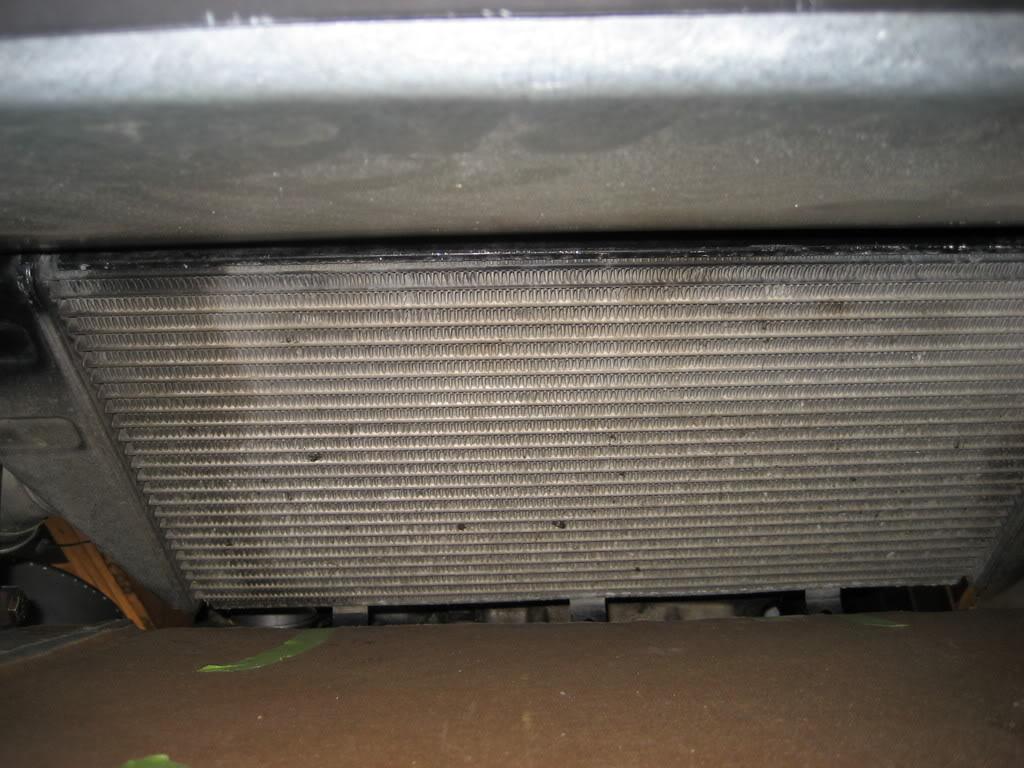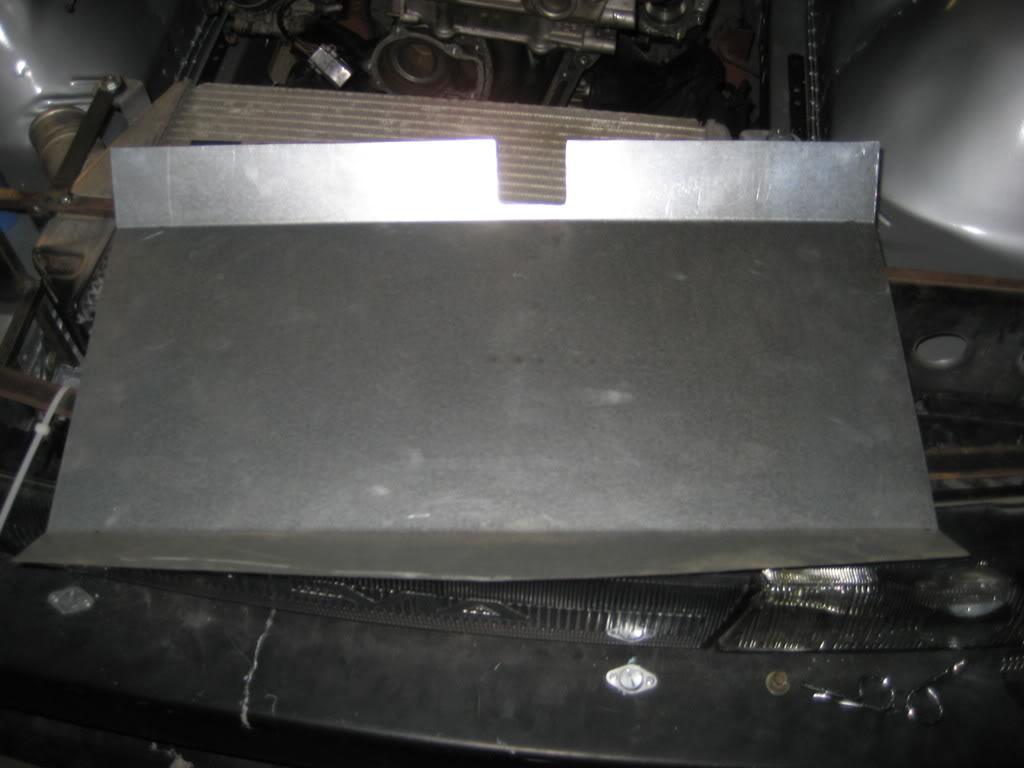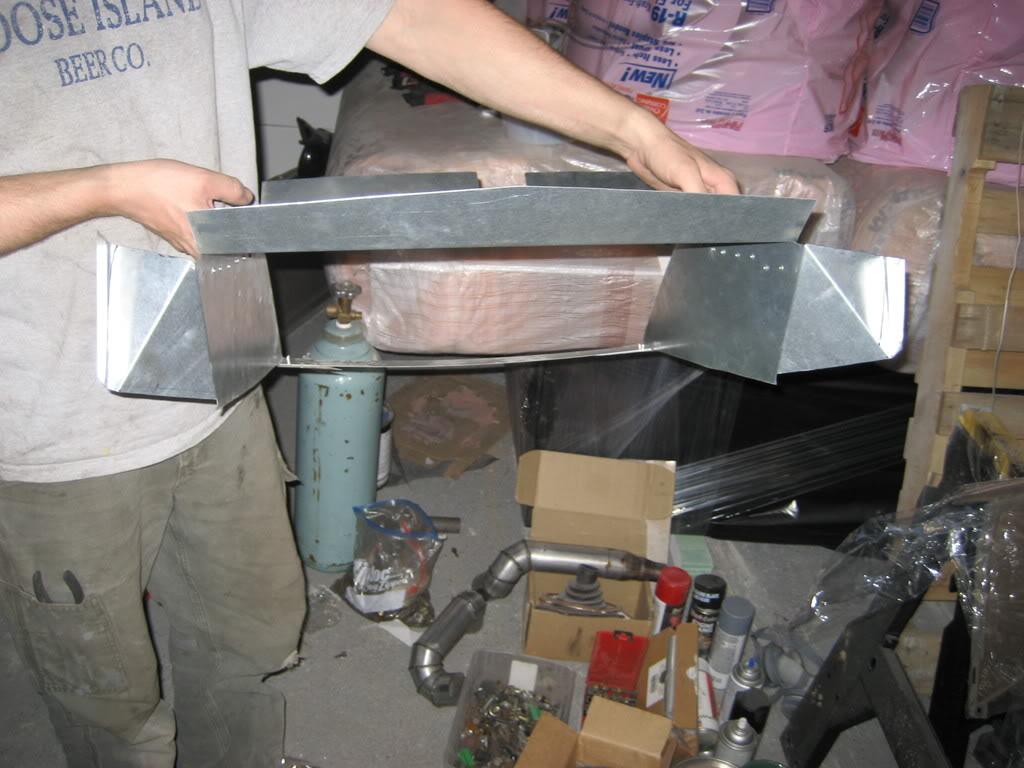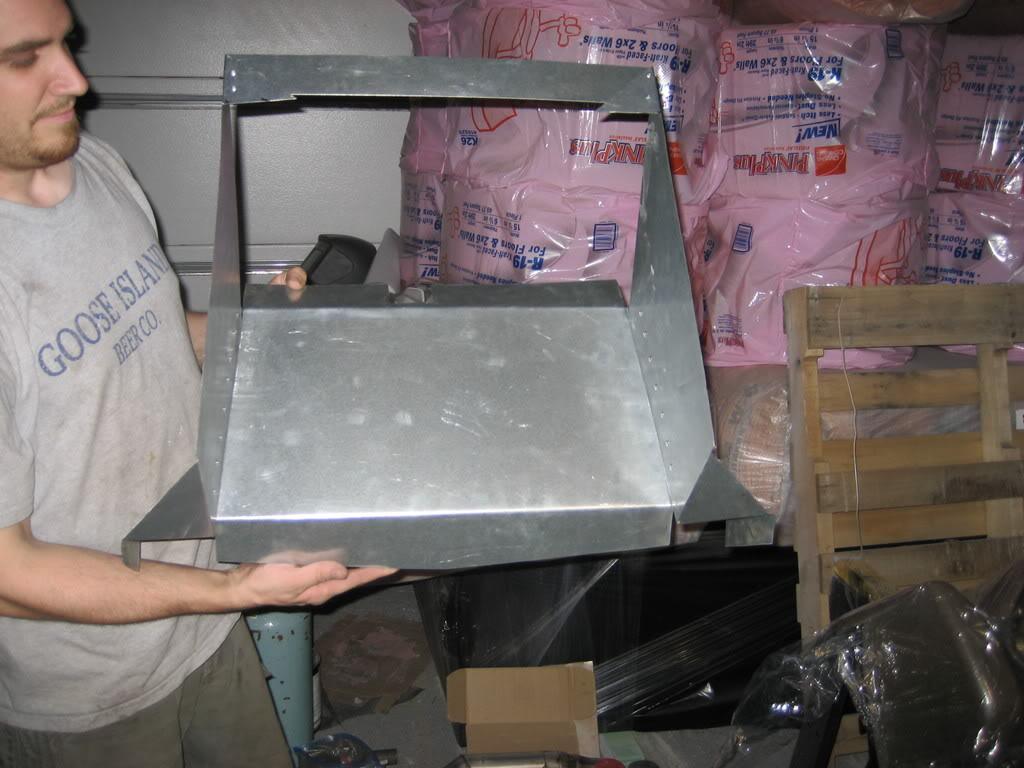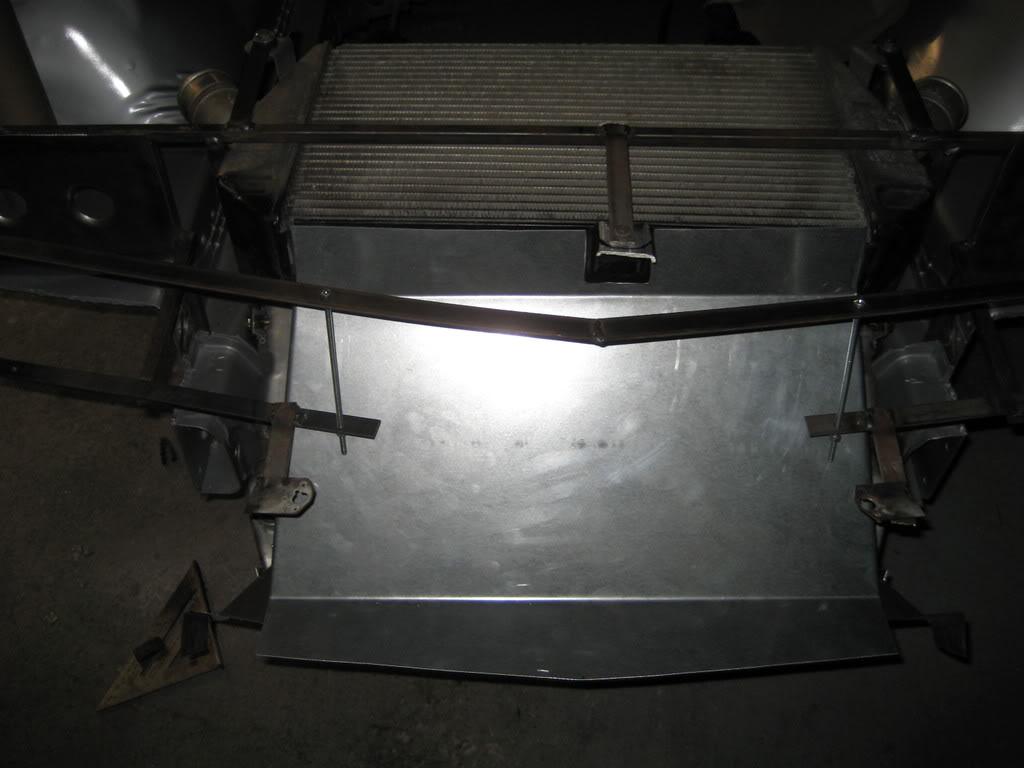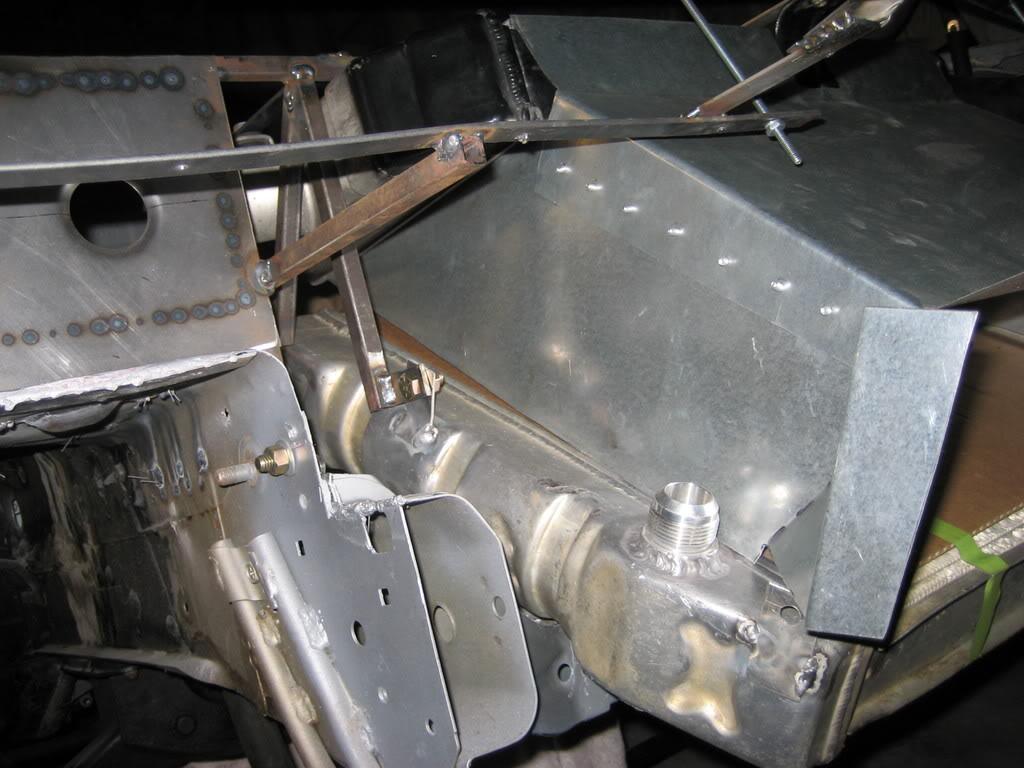 I'm not sure why there are fingers in there, this actually seals at the top: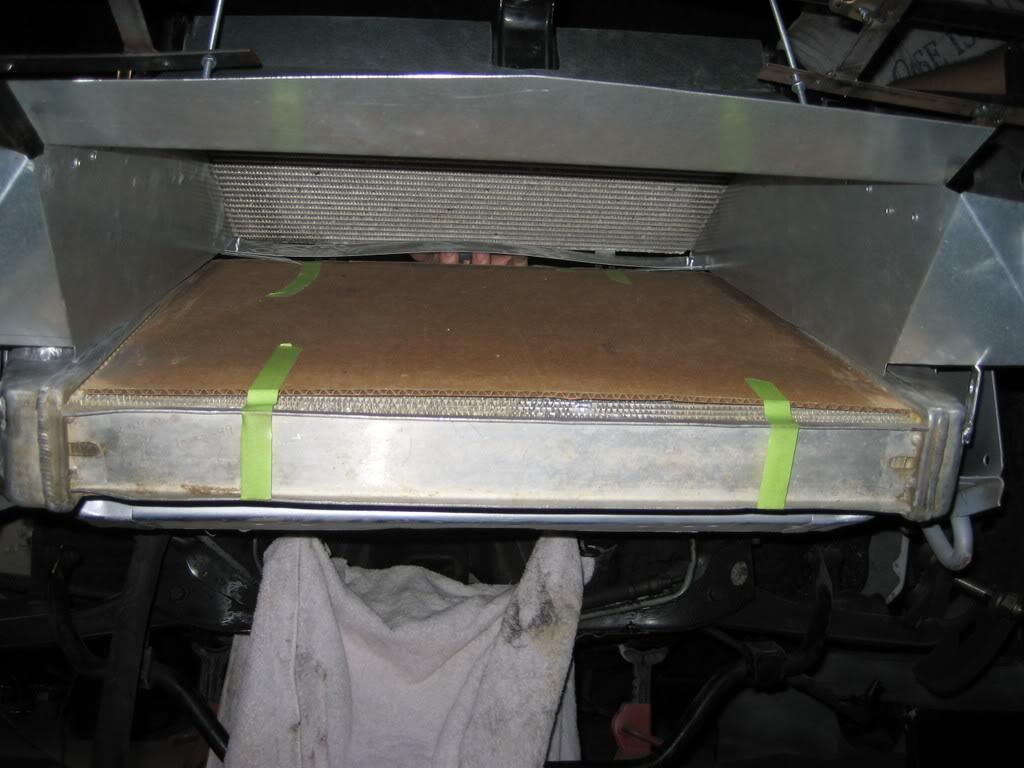 And a big hole in the hood: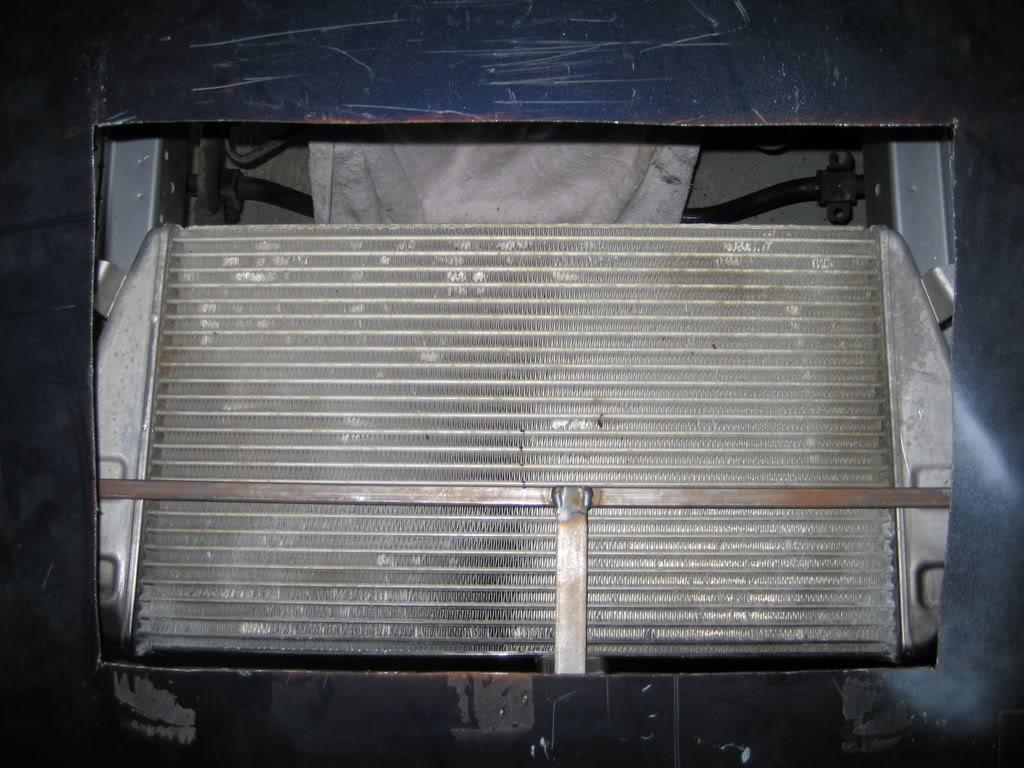 Old, crappy tie rods: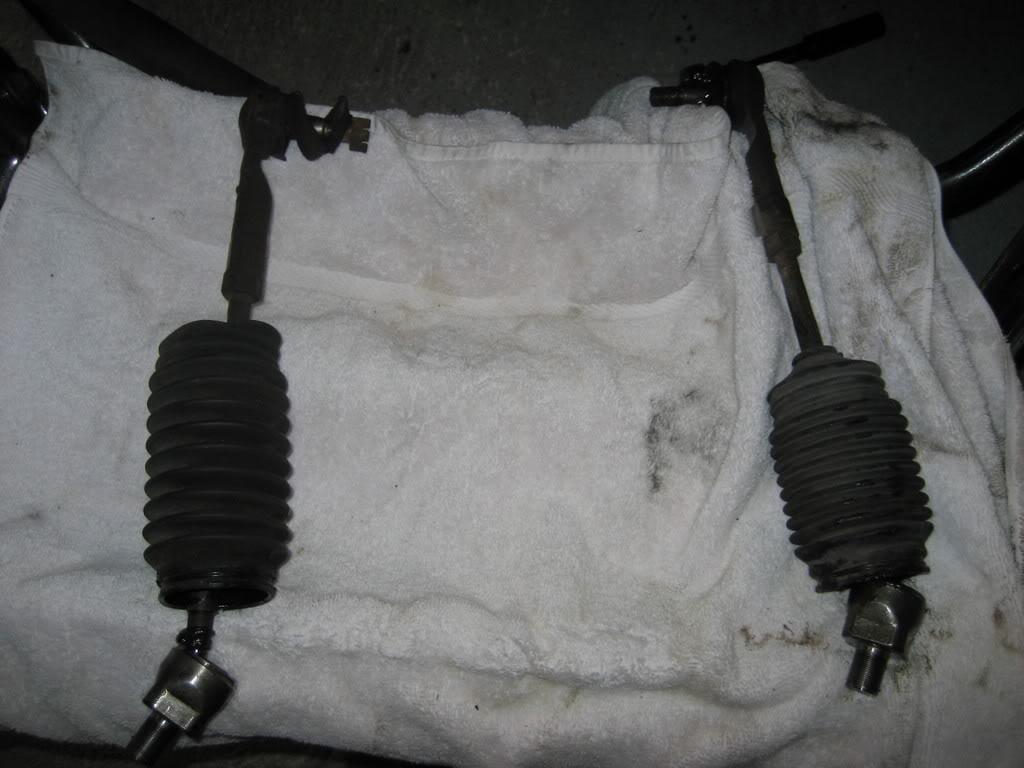 Shiney new tie rods: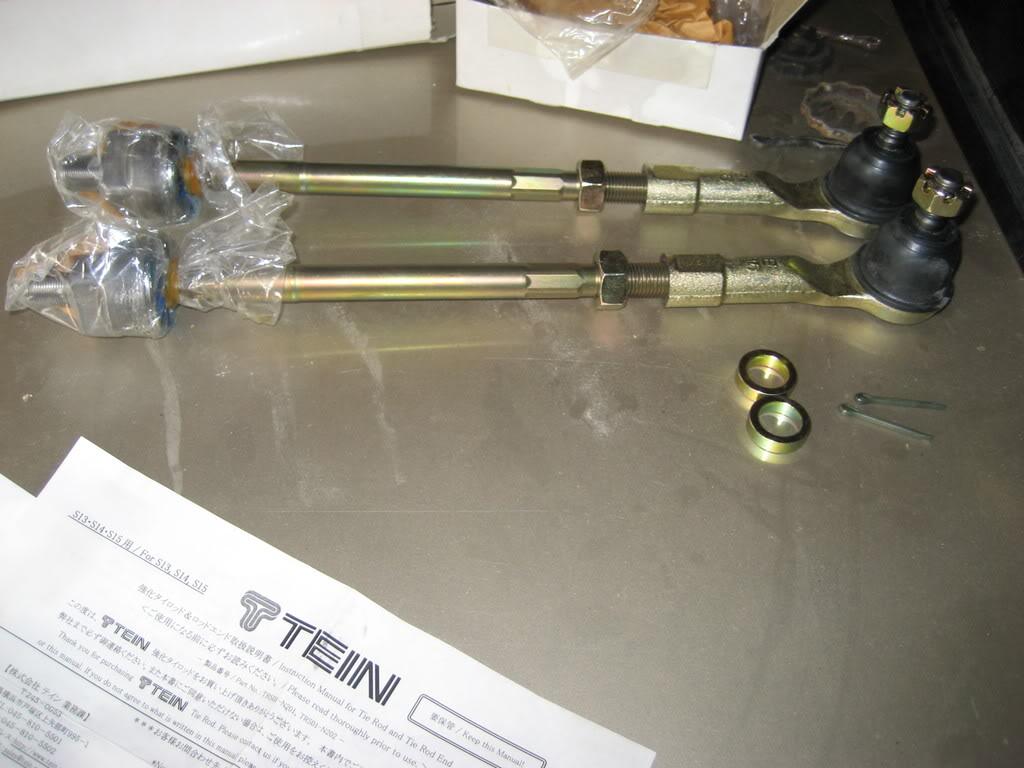 There should be a pic of them installed coming soon.

Steering rack bushings: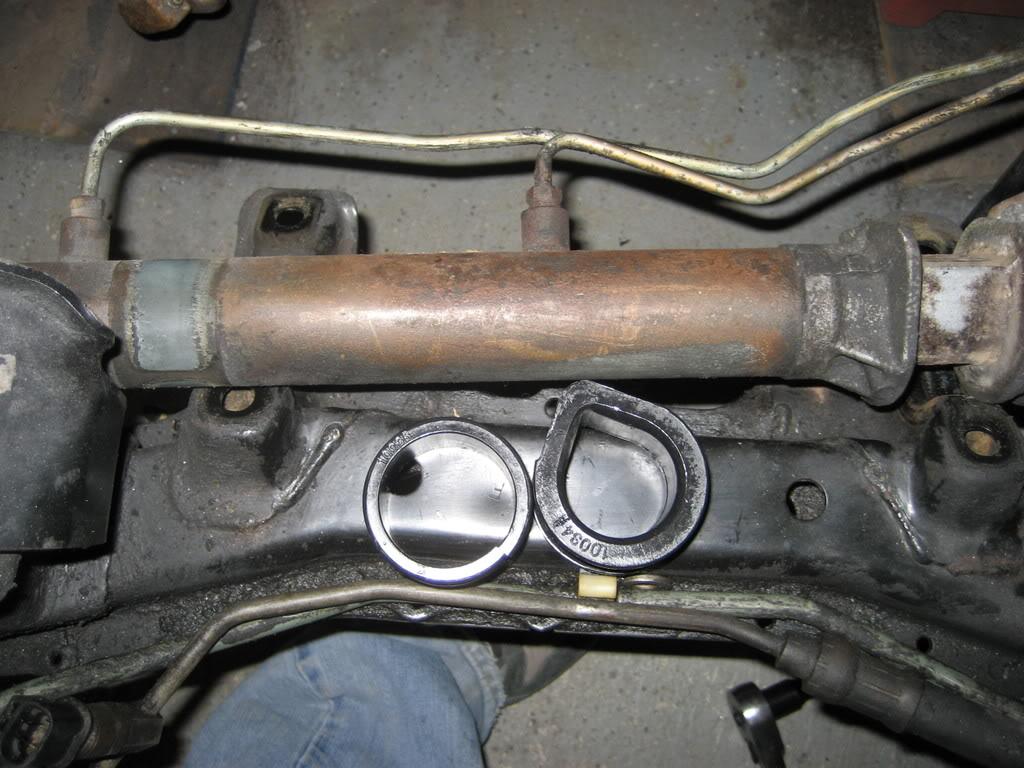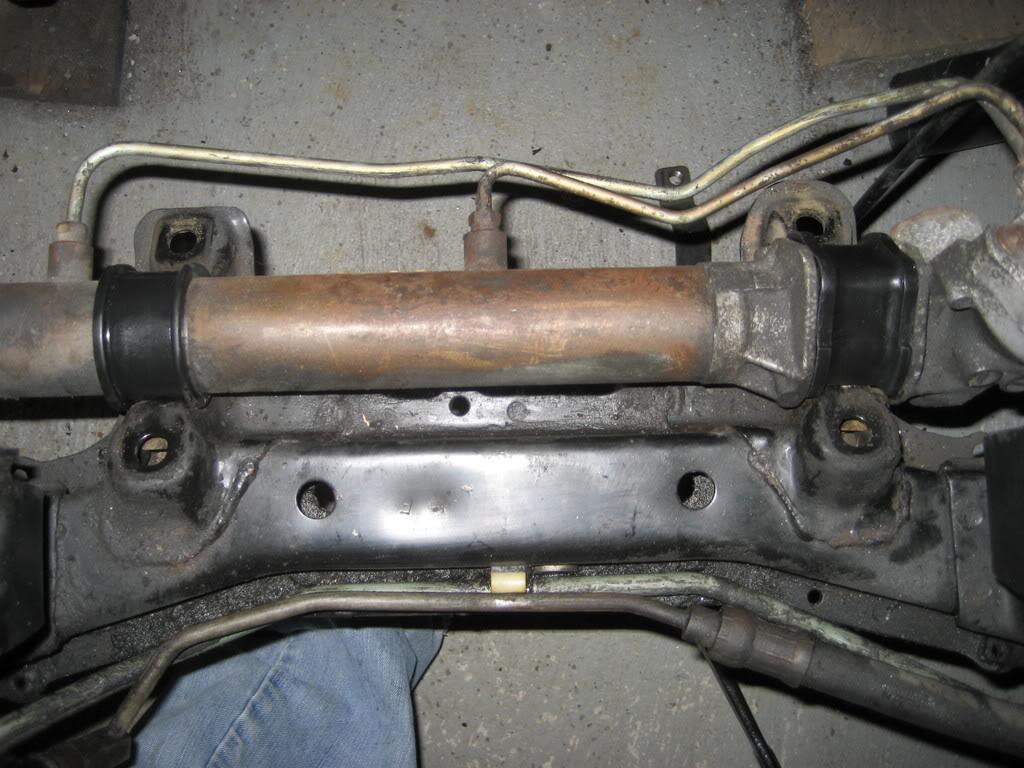 Rusty 180sx brakes and new 5 lug: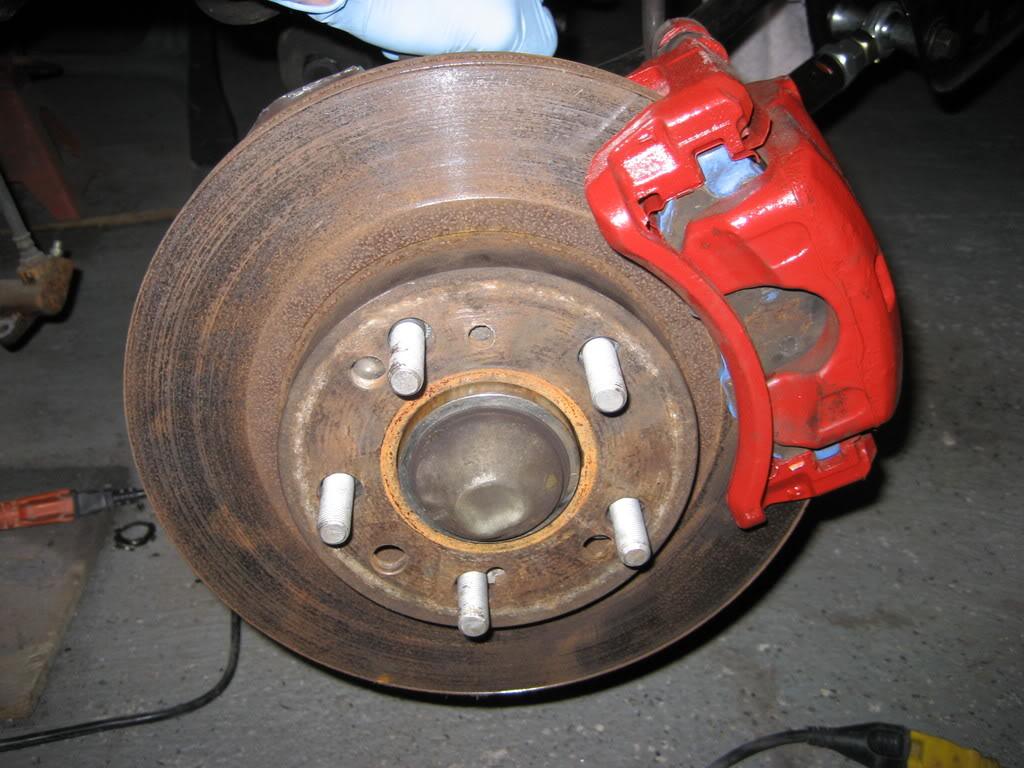 With tension rods installed: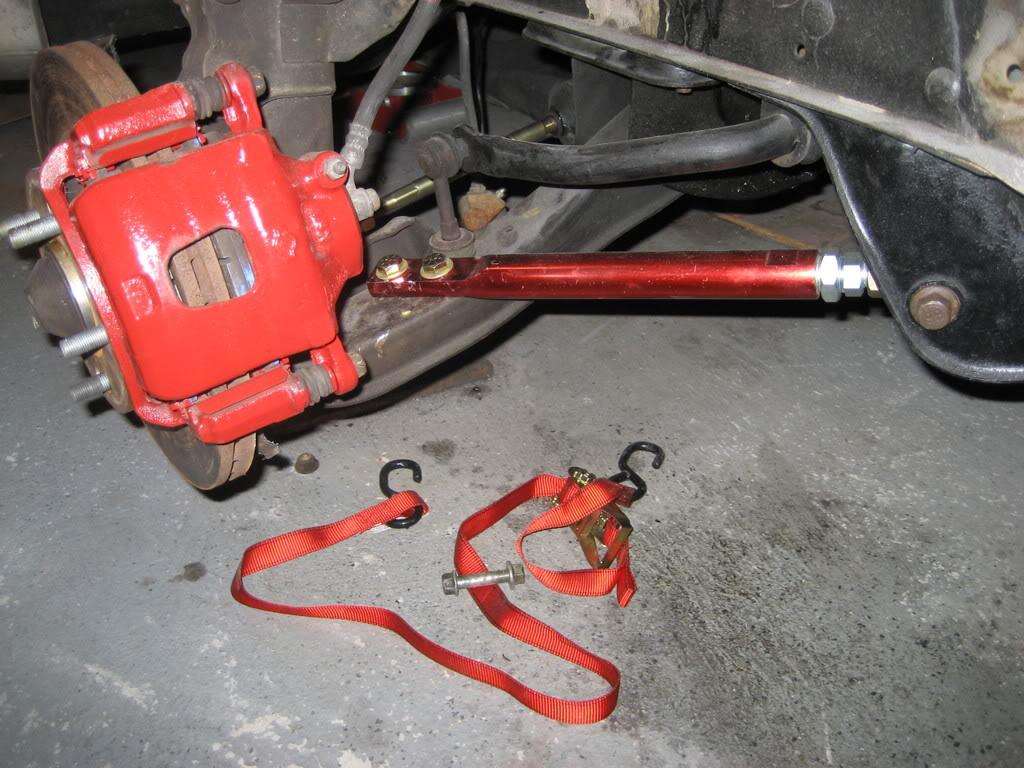 and cause I'm cool: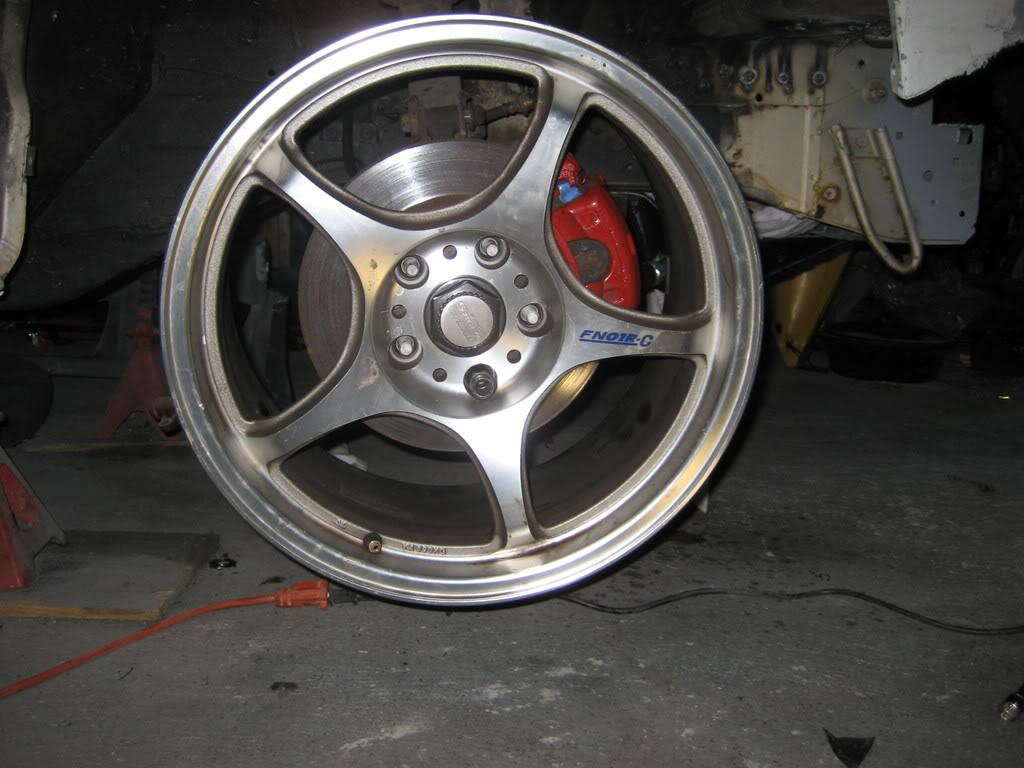 nice and clean: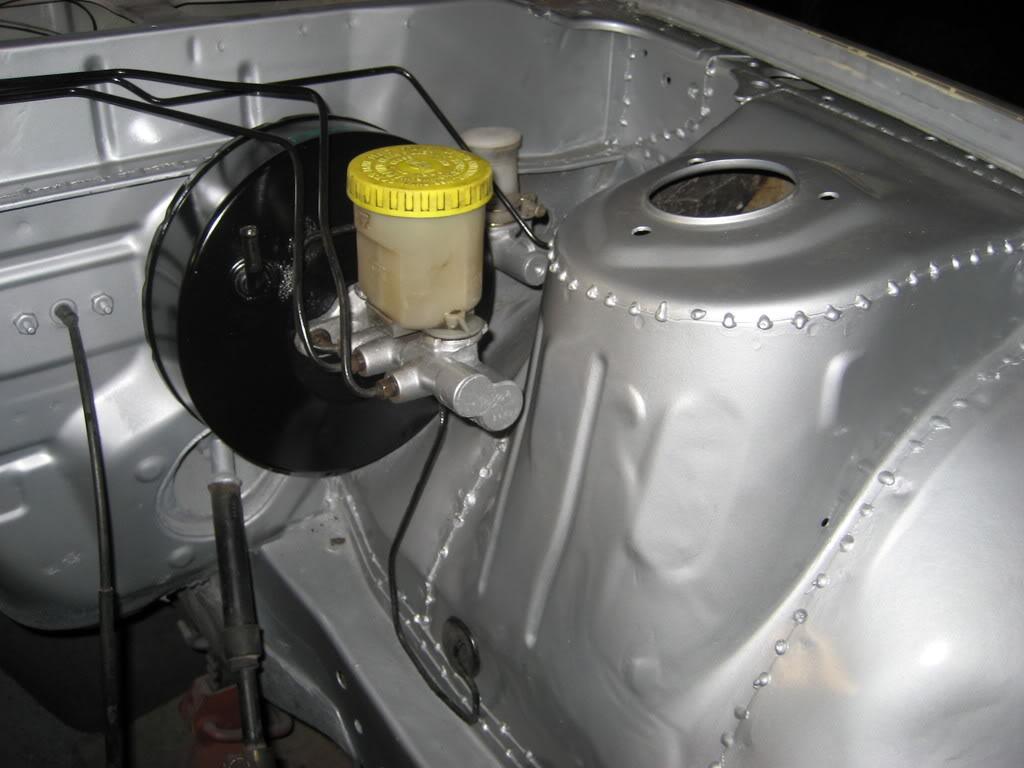 Block coming together: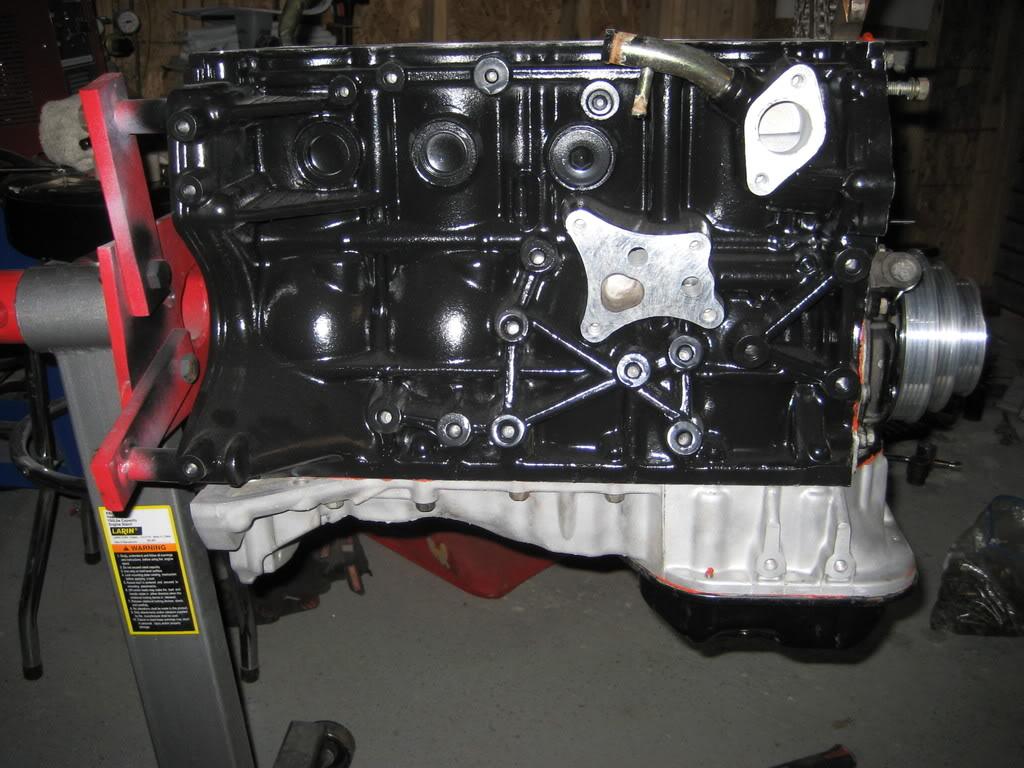 The block and trans are in the car. We still need a s13 head gasket.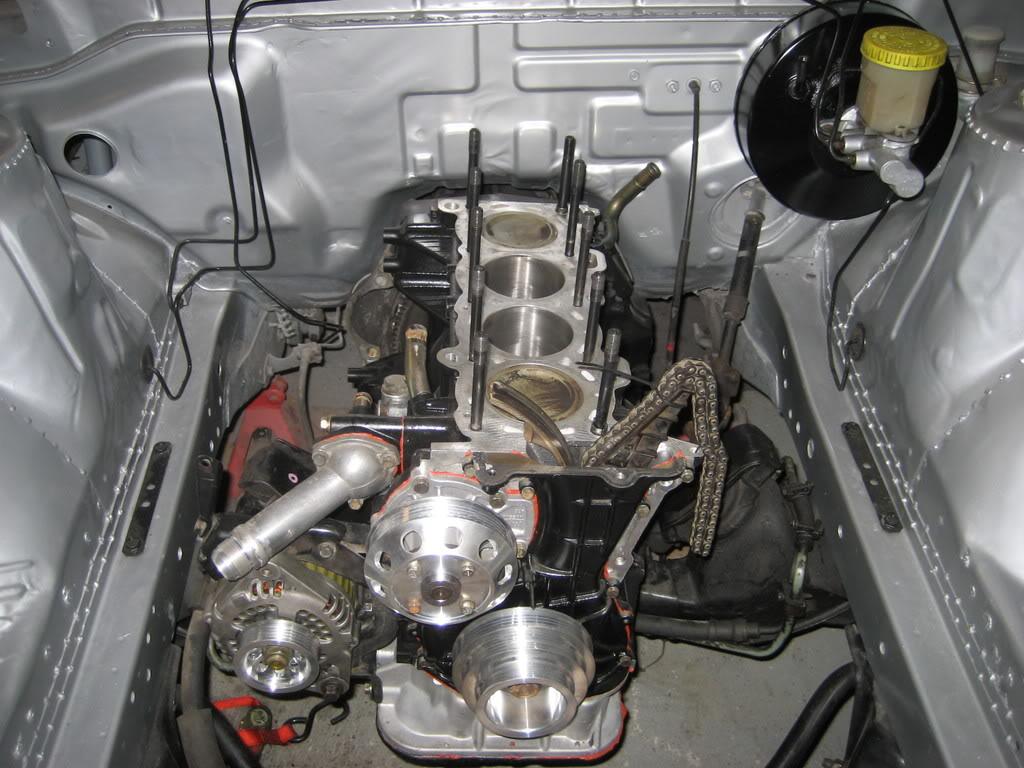 My first attempt at a fiberglass dash. It needs a lot of work, but should be pretty sweet when it's all done. It weighs about a pound right now, I'm hoping to keep it under 5.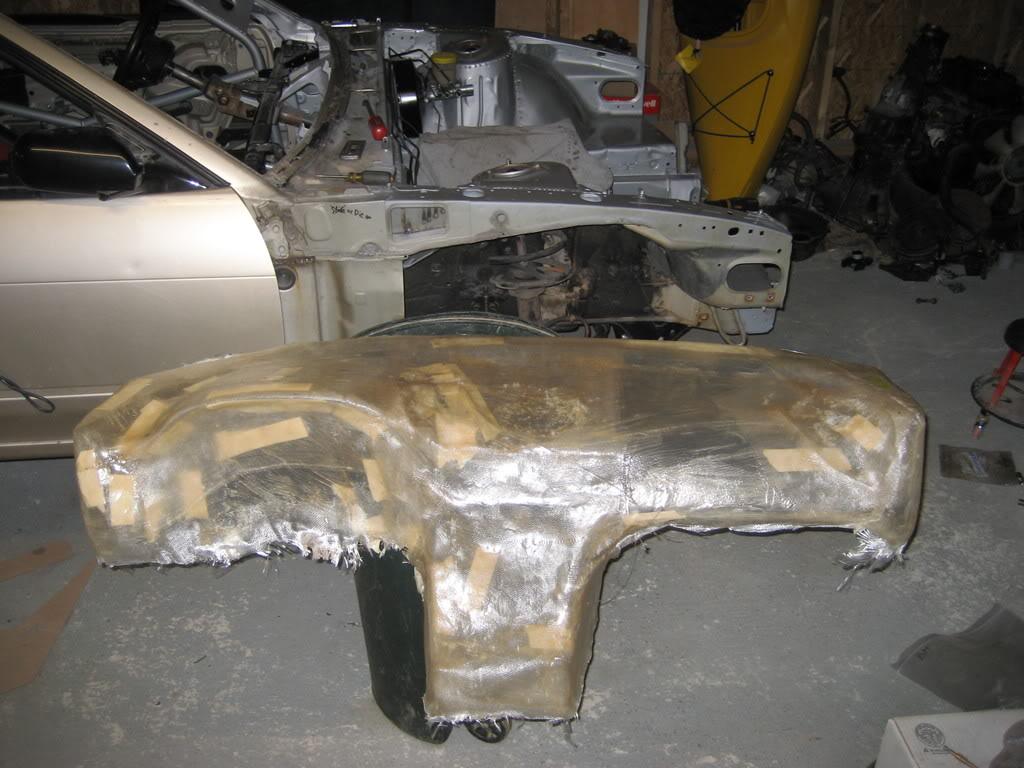 We also installed the new windshield. I'll post a pic when Jason uploads it to photobucket.


5/20/08

test fitting the new dash: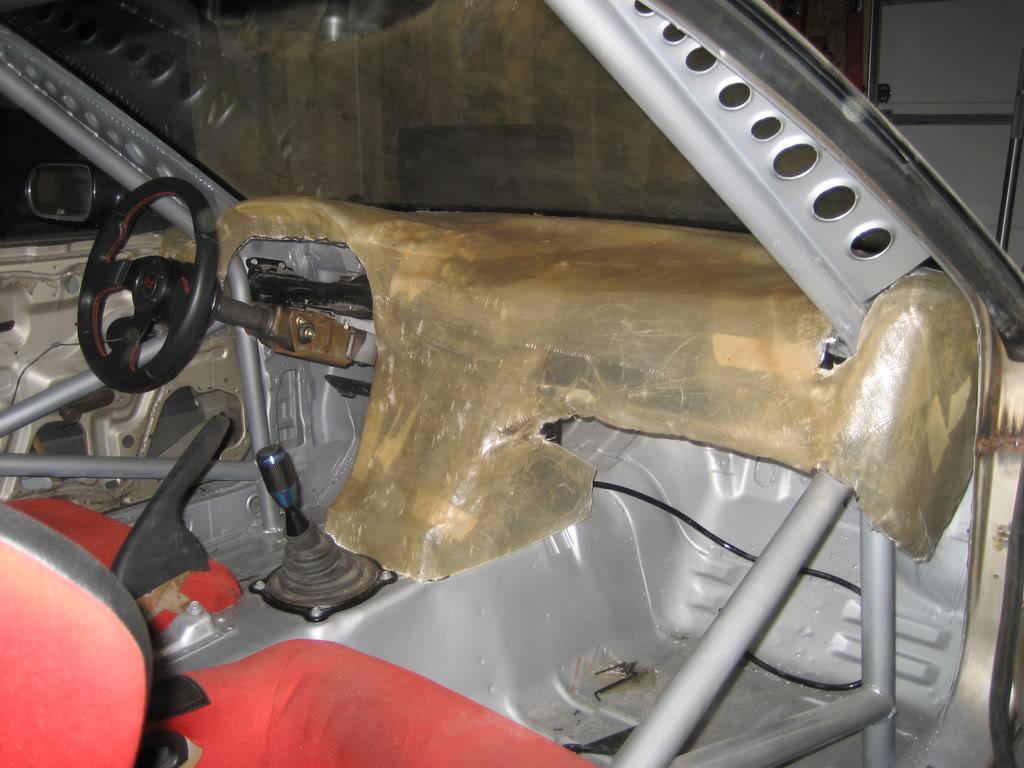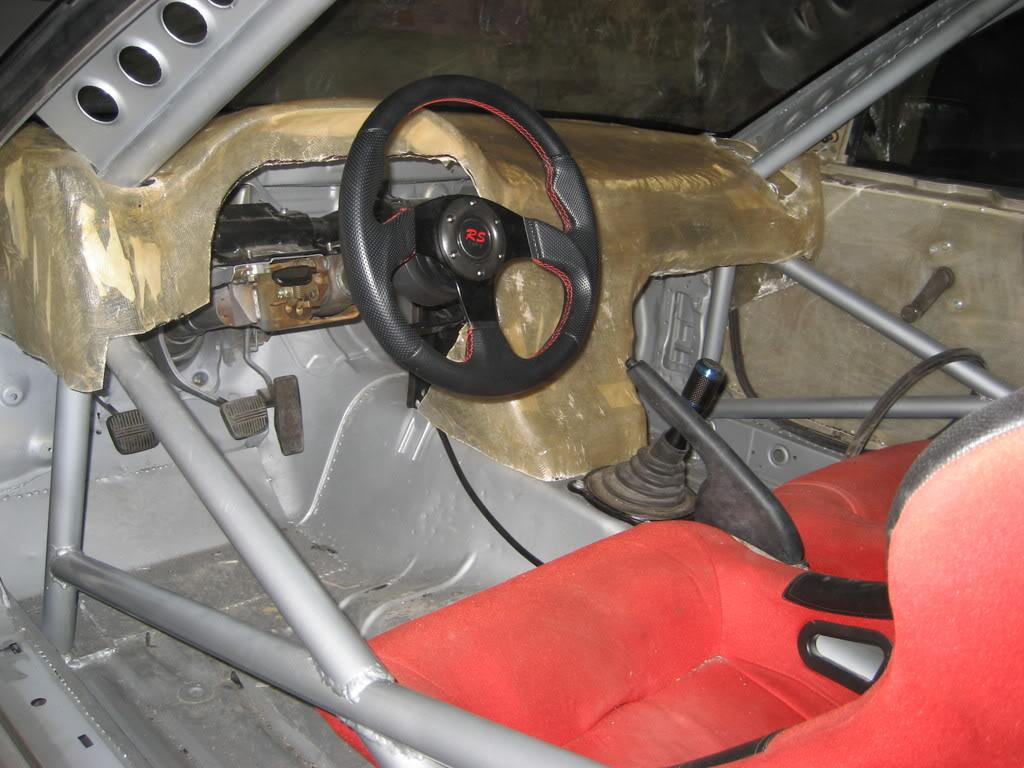 fiberglass passenger door pannel: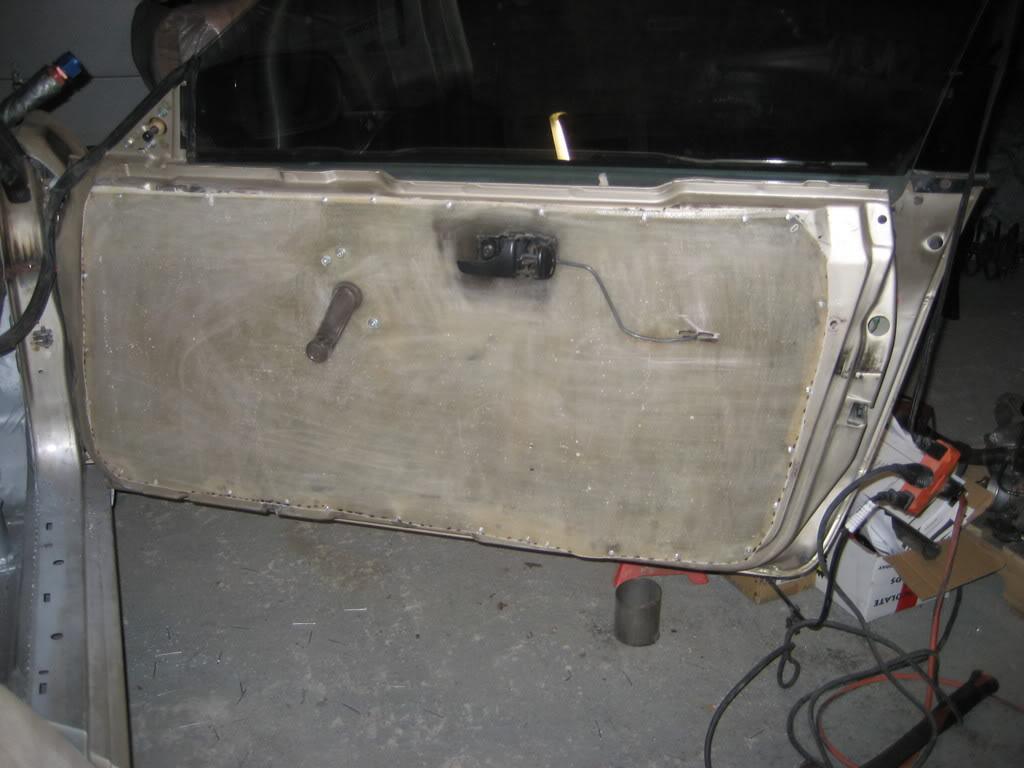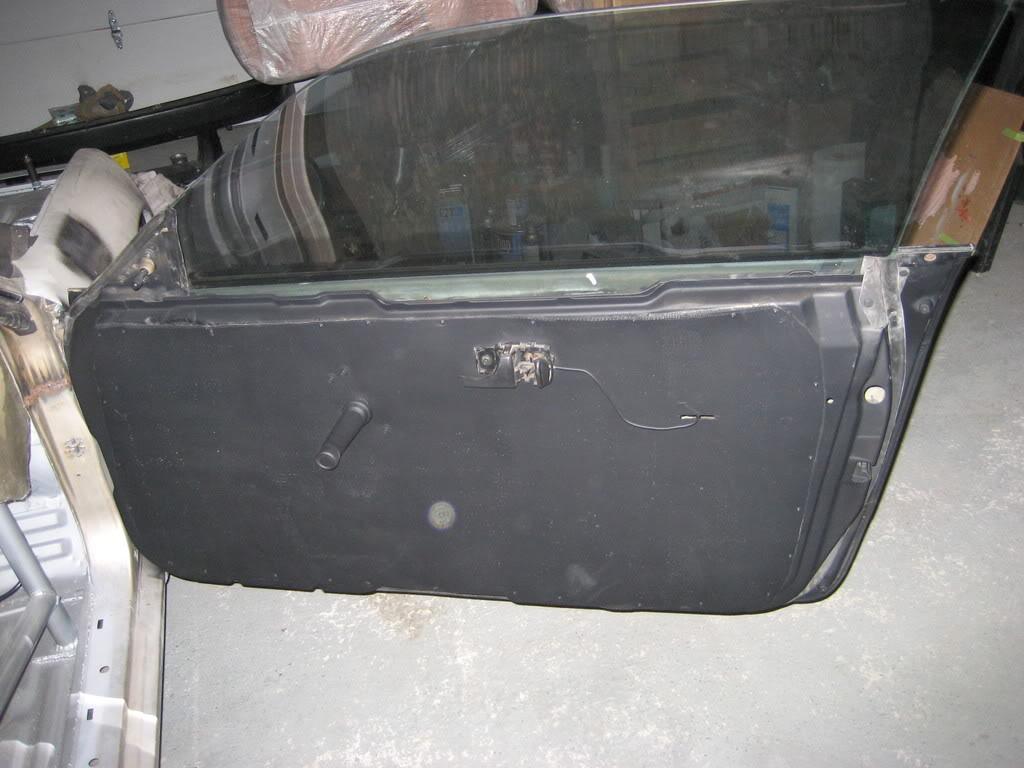 3" turbo back exhaust.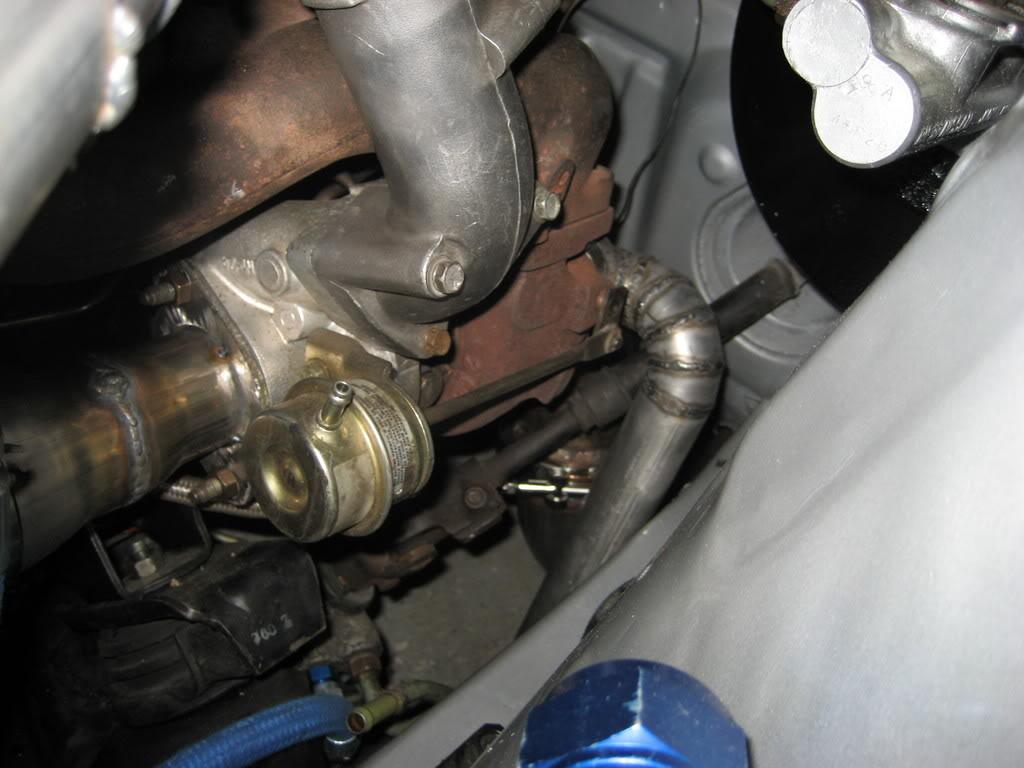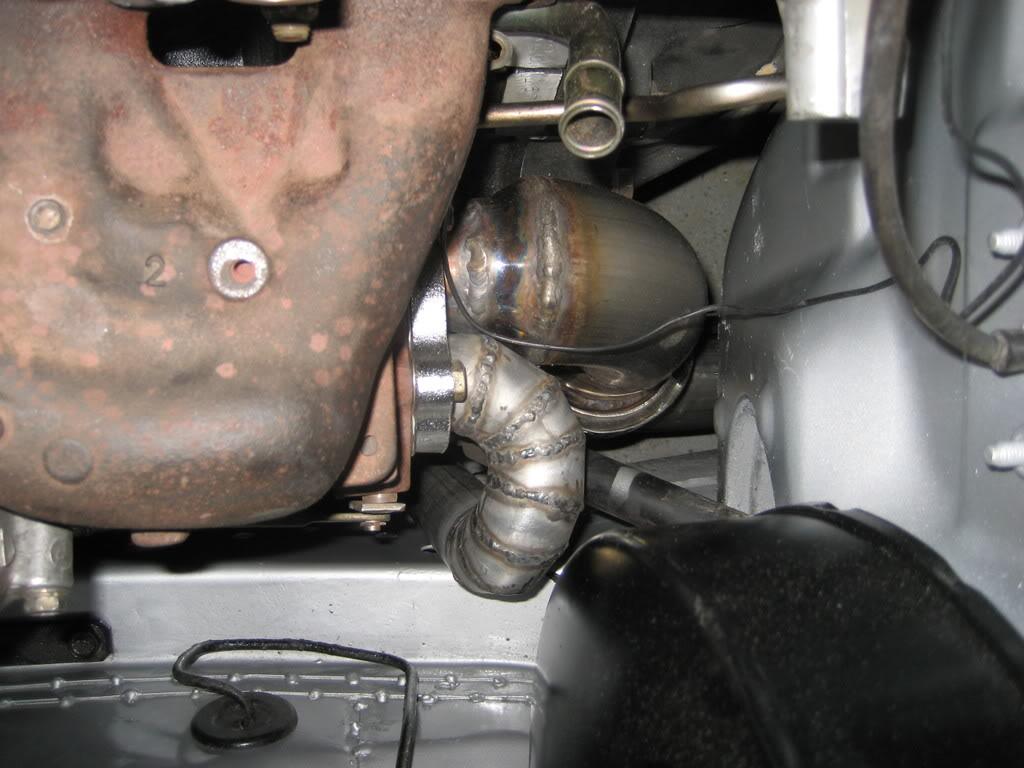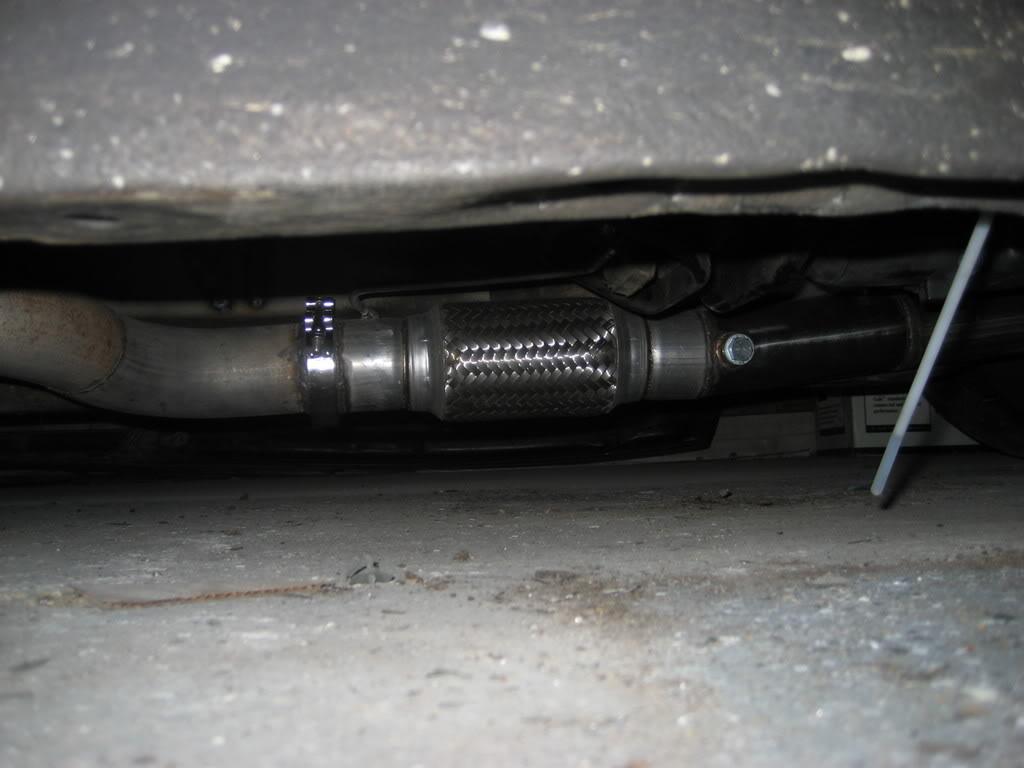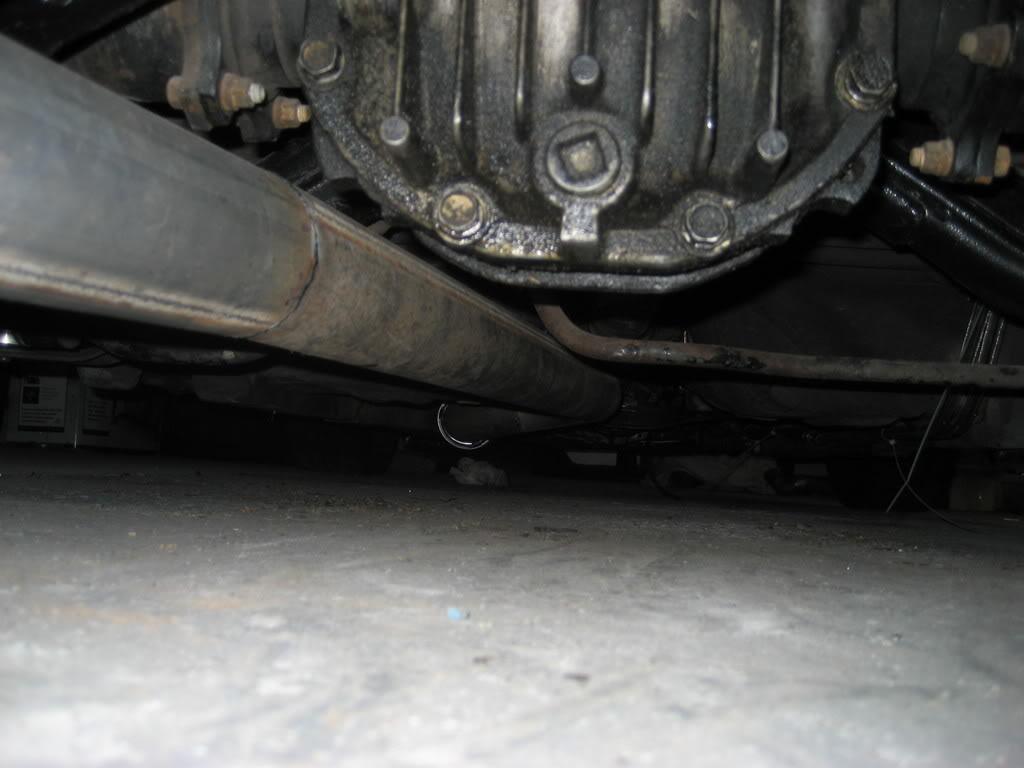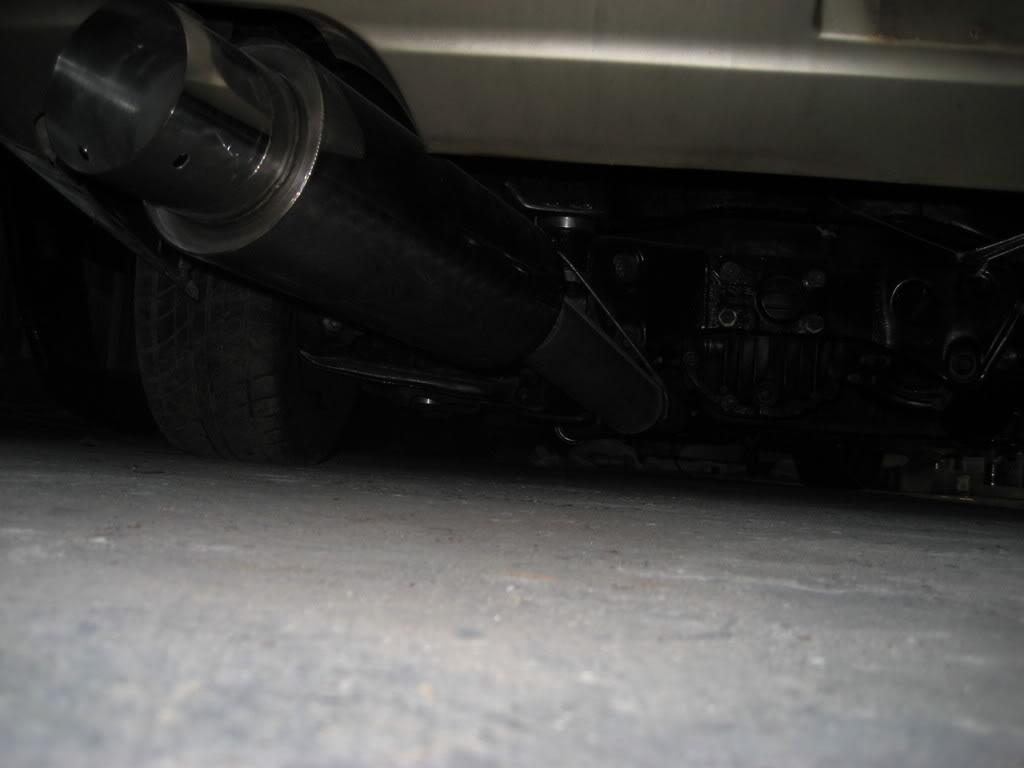 Intake: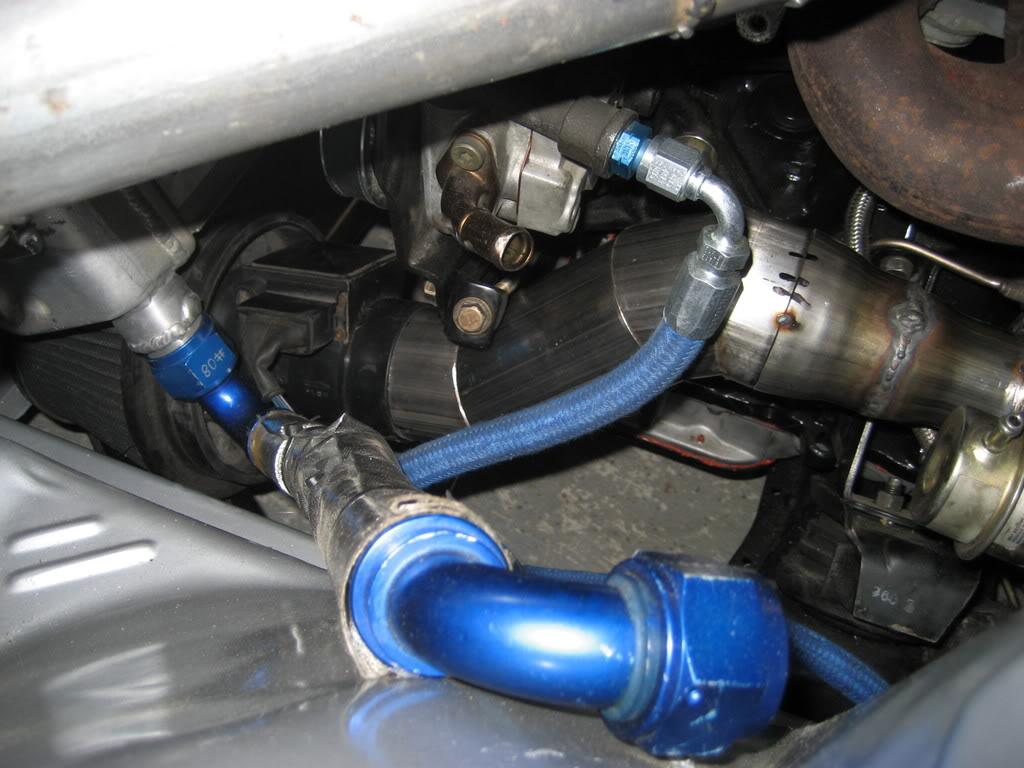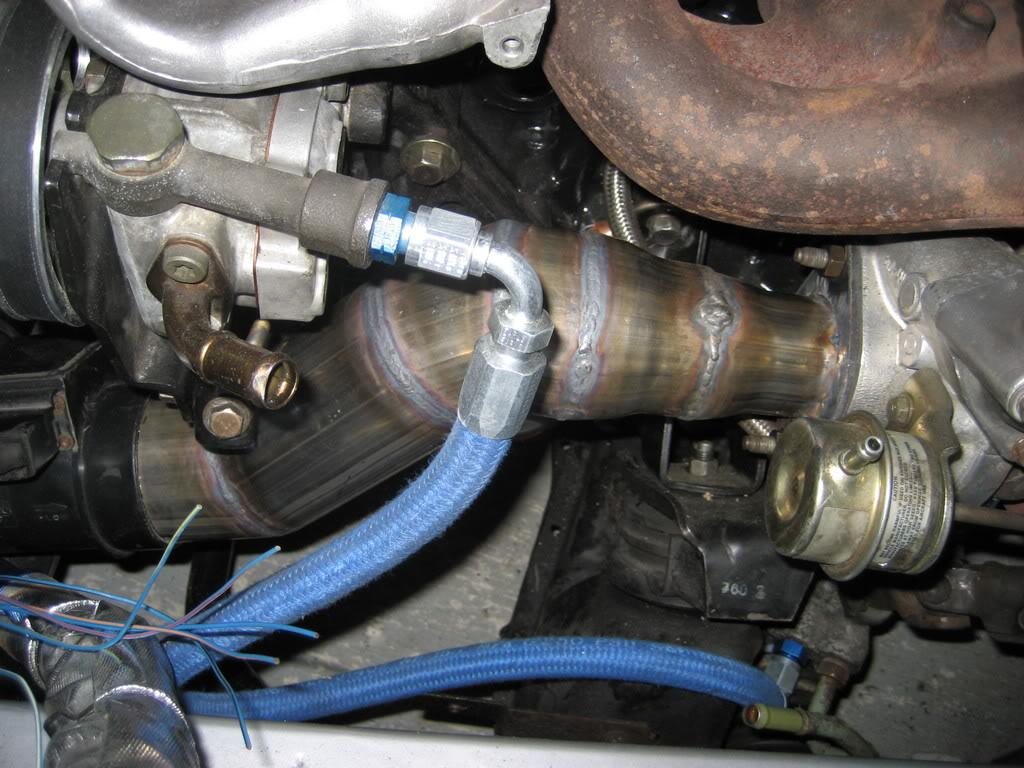 Trunk pins and latches: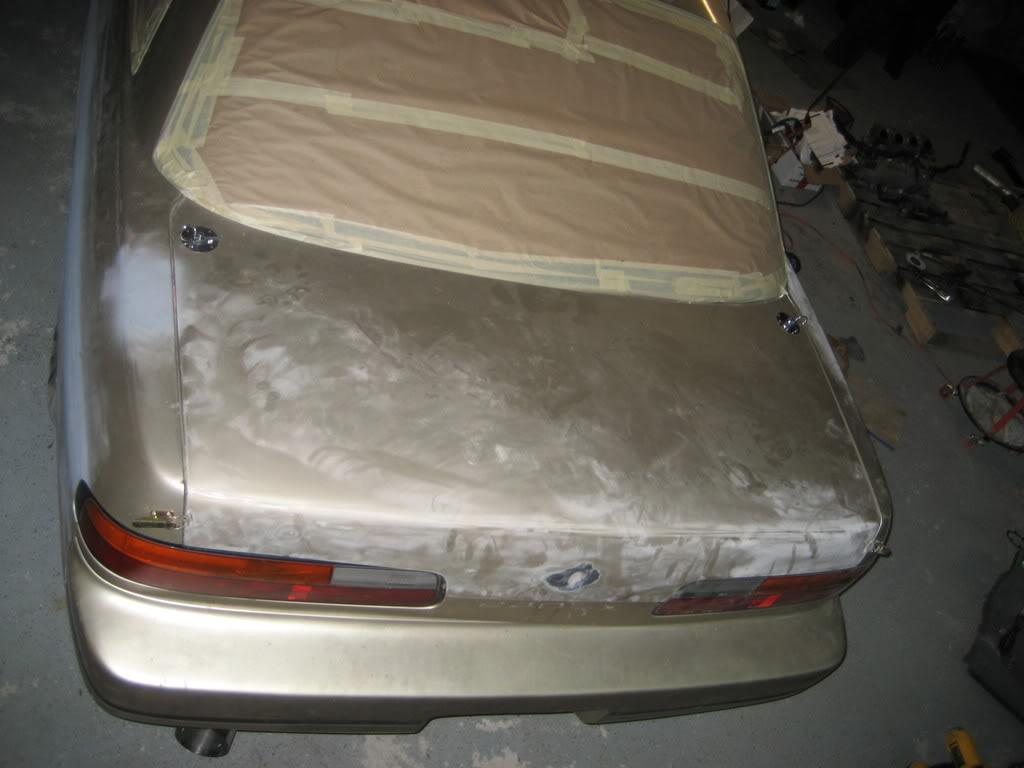 fuel cell, lines, pump and filter: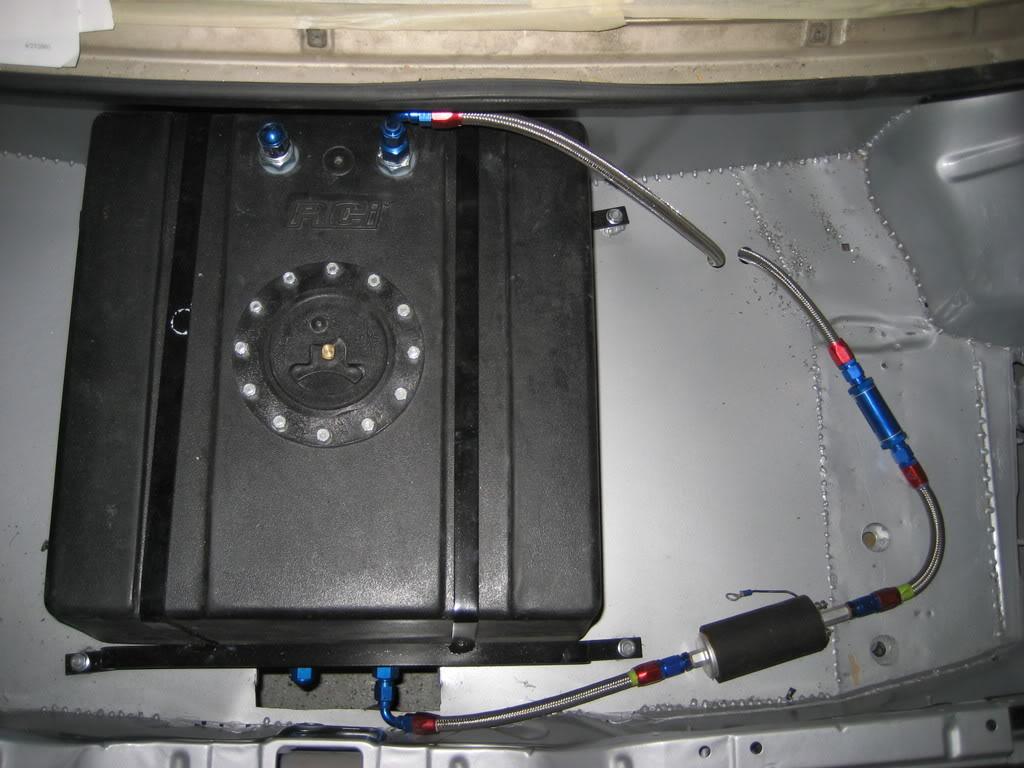 Painted radiator support: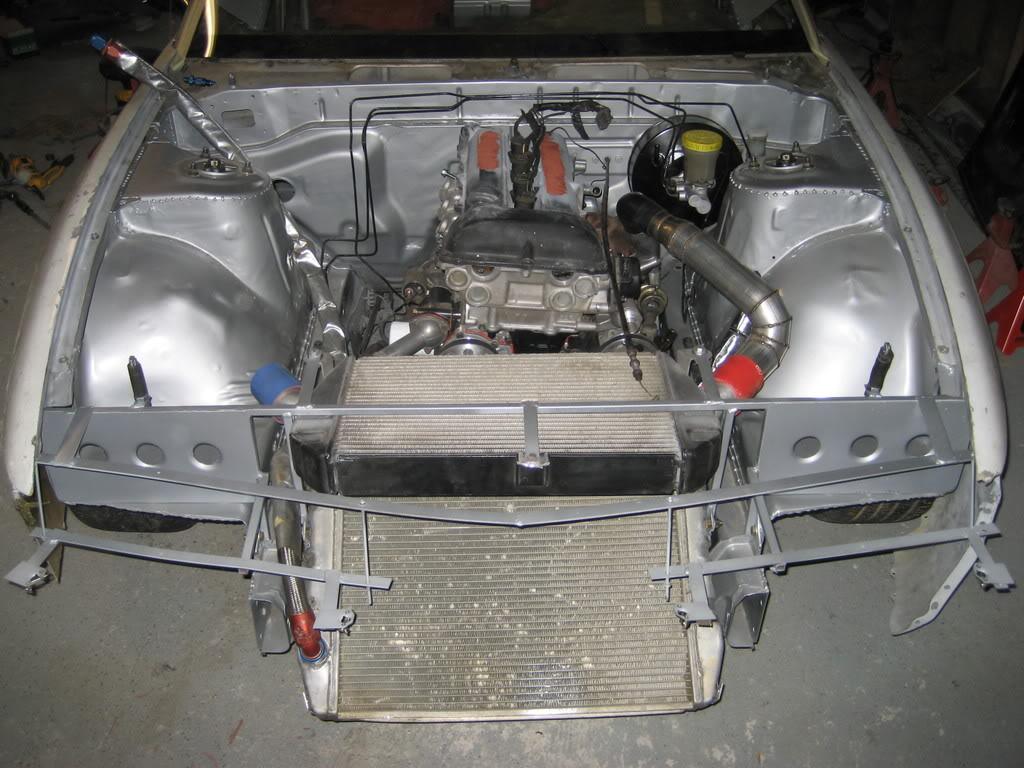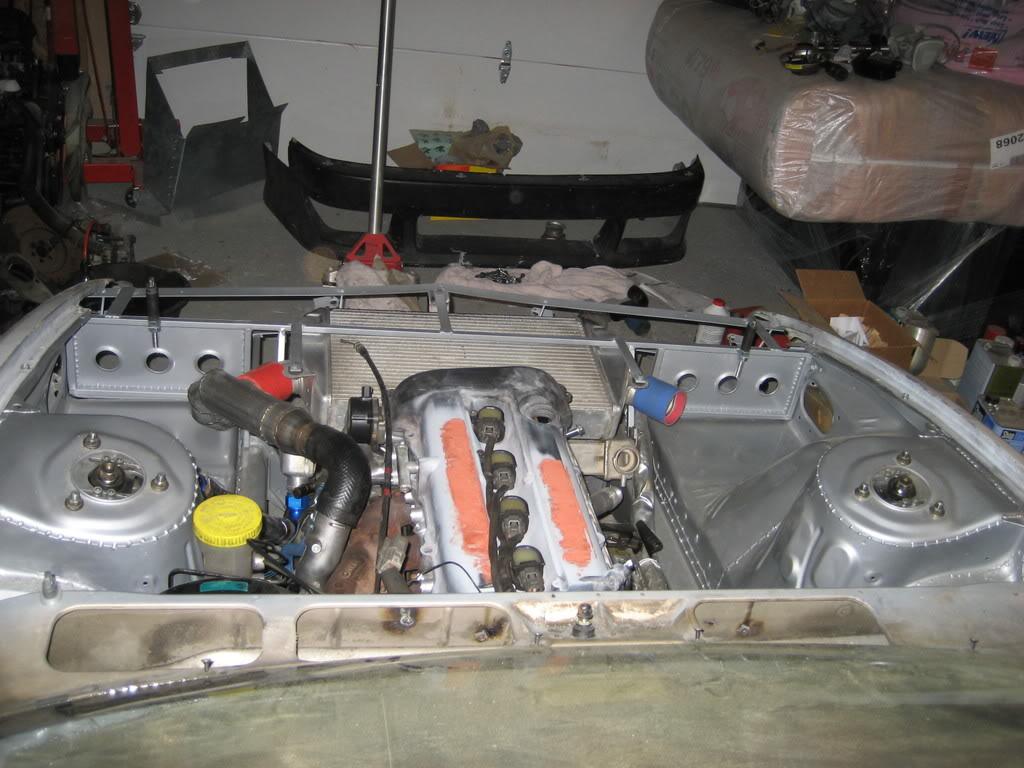 And she's back on the ground: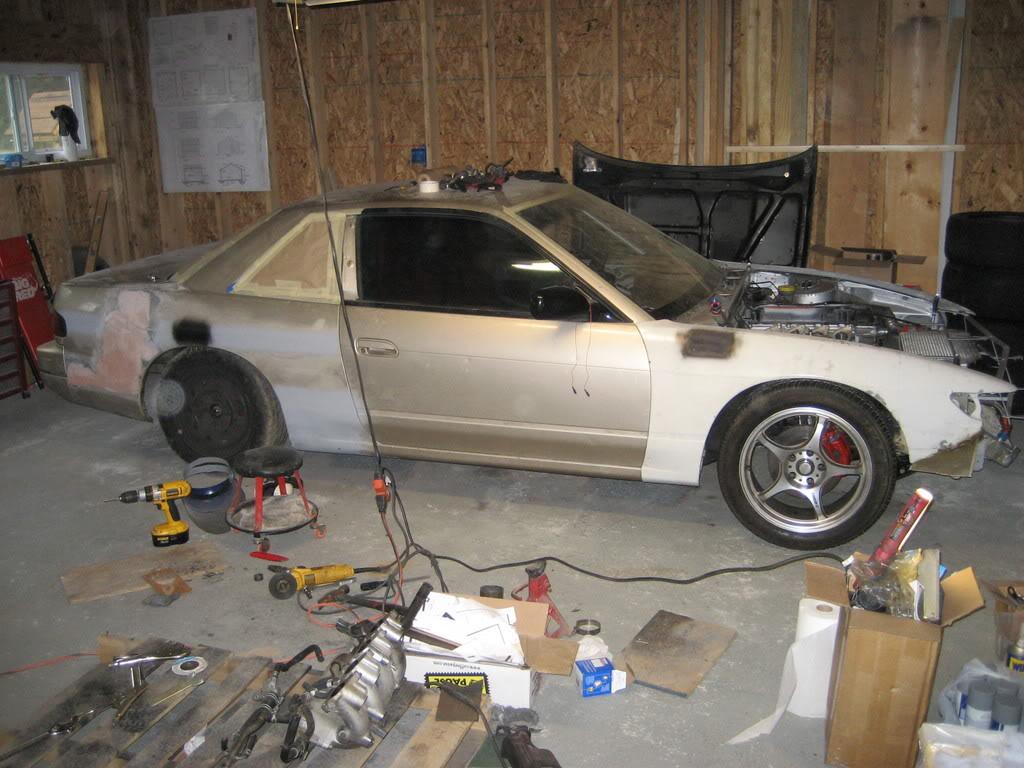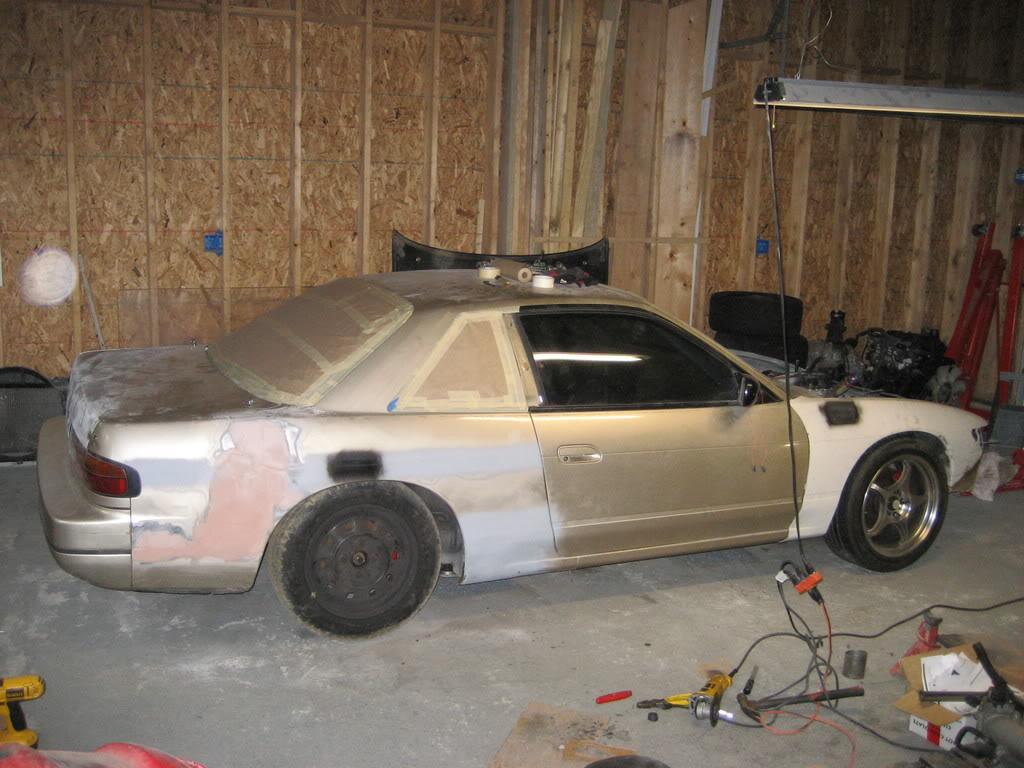 7/18/08

Well, it's been a long time since the last update, so I figured I'd give it one. Not a lot has changed. You may have seen our other threads about trying to get the car to start. Basically the wiring is done (though it needs to be cleaned up a bit more). The car cranks and backfires, but just won't start. I ended up selling my bike and buying a running sr powered s13 hatch. We've been using parts off that to test and eliminate possible problems with the coupe. We were having problems with the power fc, so that is gone as well as the z32 maf. Now the car is on a stock ecu and stock maf (for now). We're gonna mess with it a little more, but I'm trying to save some money in case I have to pay someone to get it running. We found a race shop close by that's going to do the alignment. If we can't get it to start I'll just tow it there and pay them to figure it out.
We are also working on the dash and body. Trying to get it all primed up and ready for paint.

Sorry I only have a couple new pics:

Engine bay: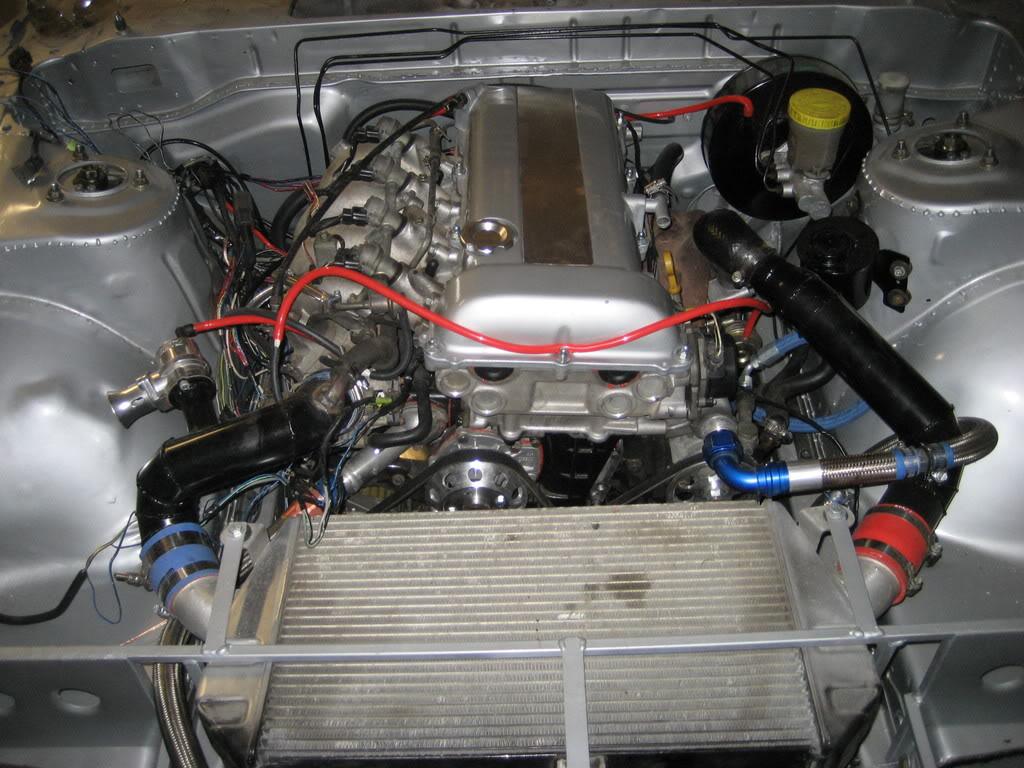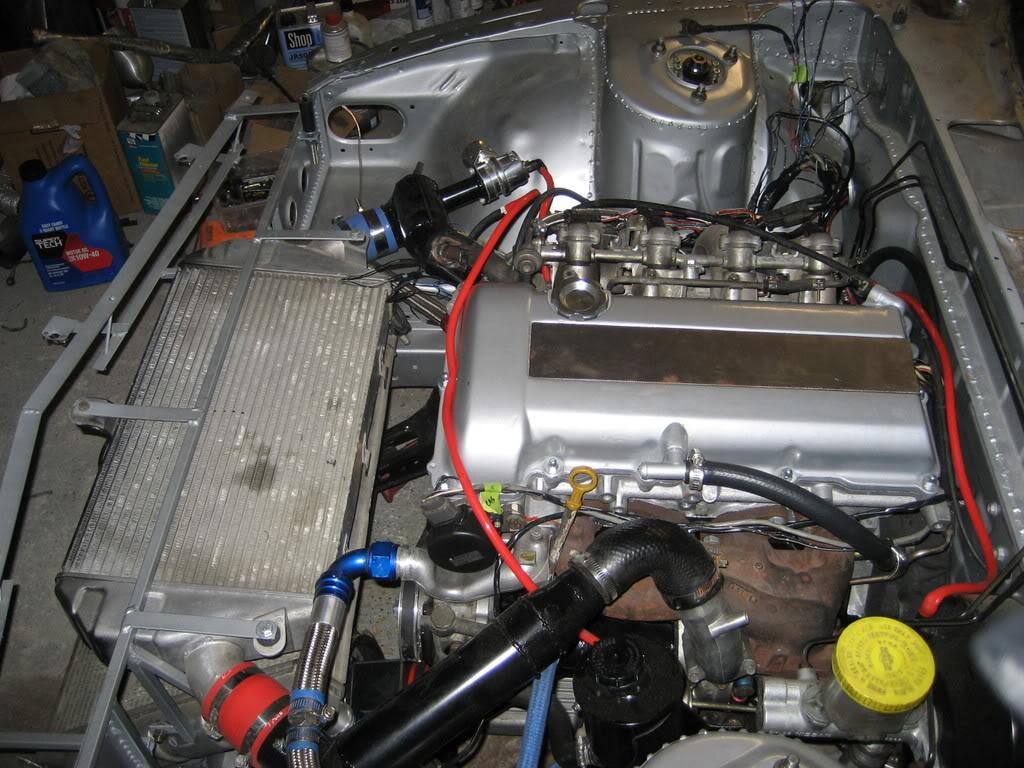 5 point harnesses installed: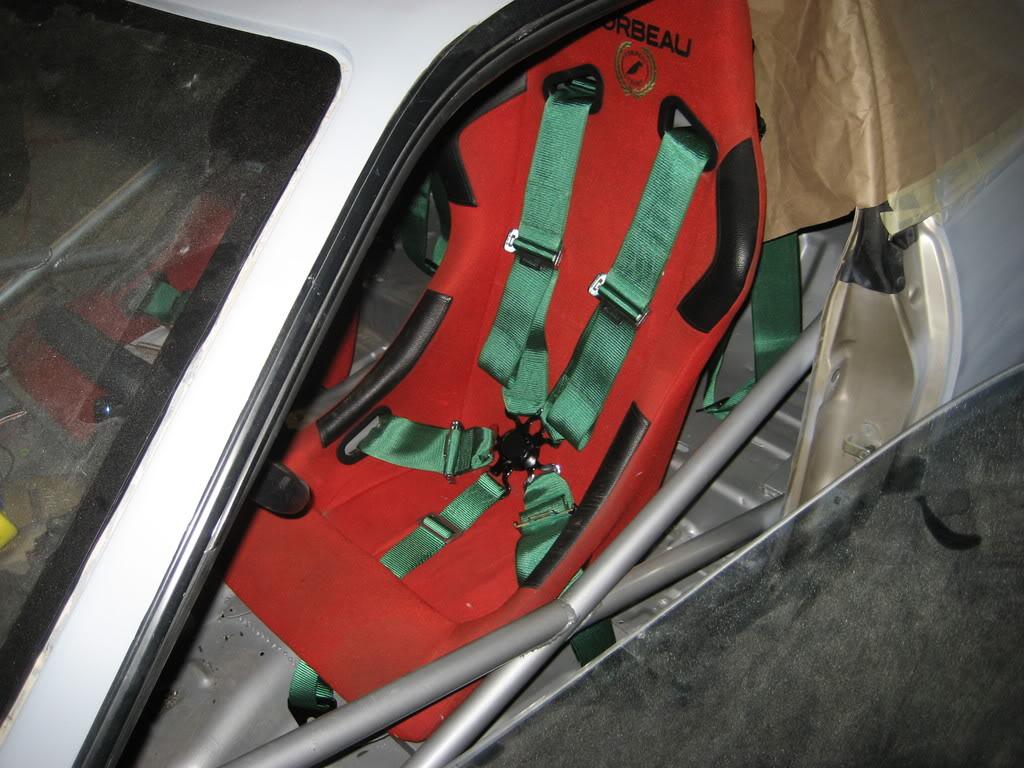 Welded the stock open diff. The car has a Kaaz 2 way on it now, but I want to try this at some point.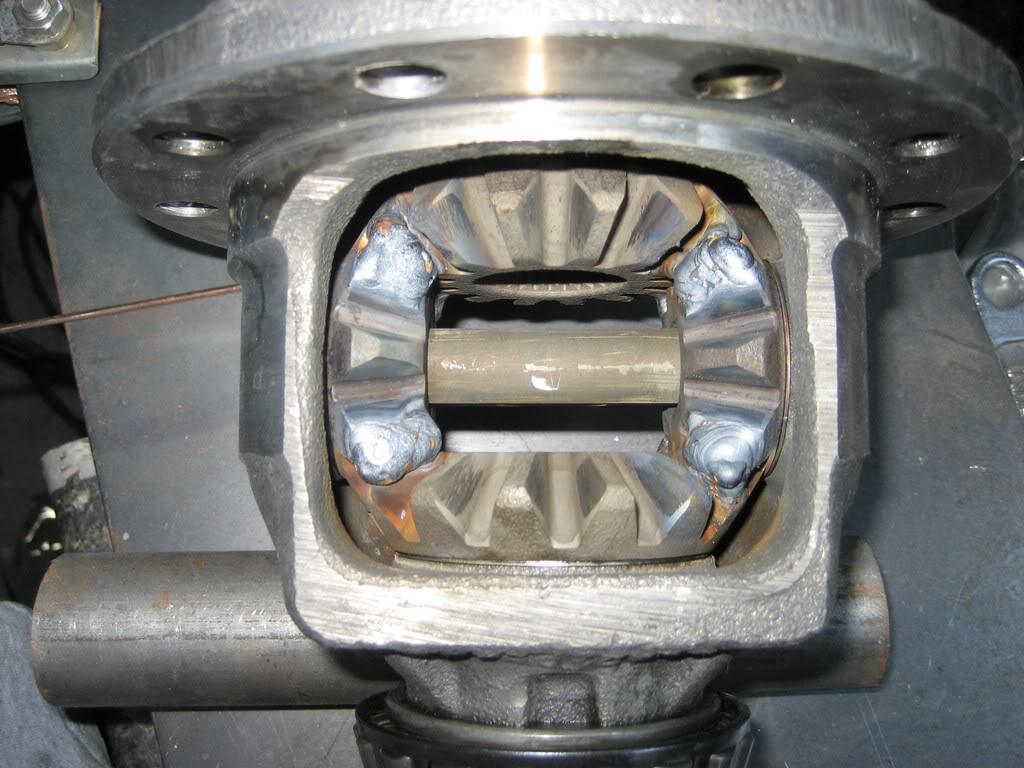 9/8/08

The guys at RT Tuning have found the problem. One of the connecting rod caps was bent by .0024" and put too much pressure on the crank so it couldn't turn fast enough to start. So the motor came out again: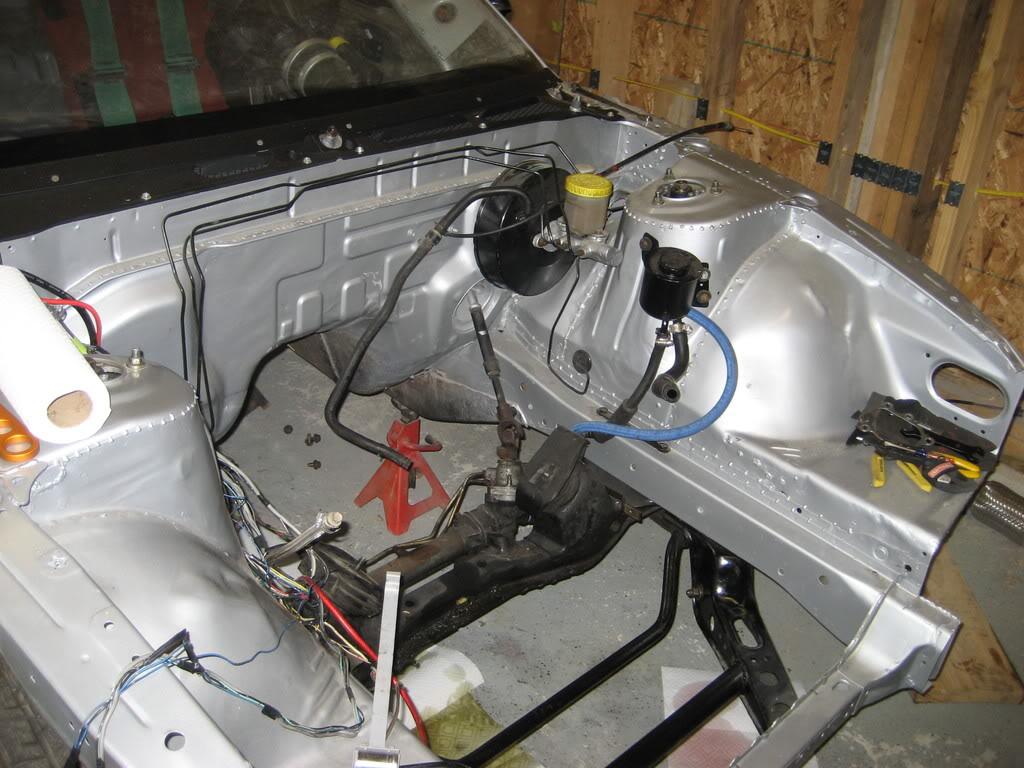 Good thing the whole front end comes off with 4 bolts.

Here's the problem: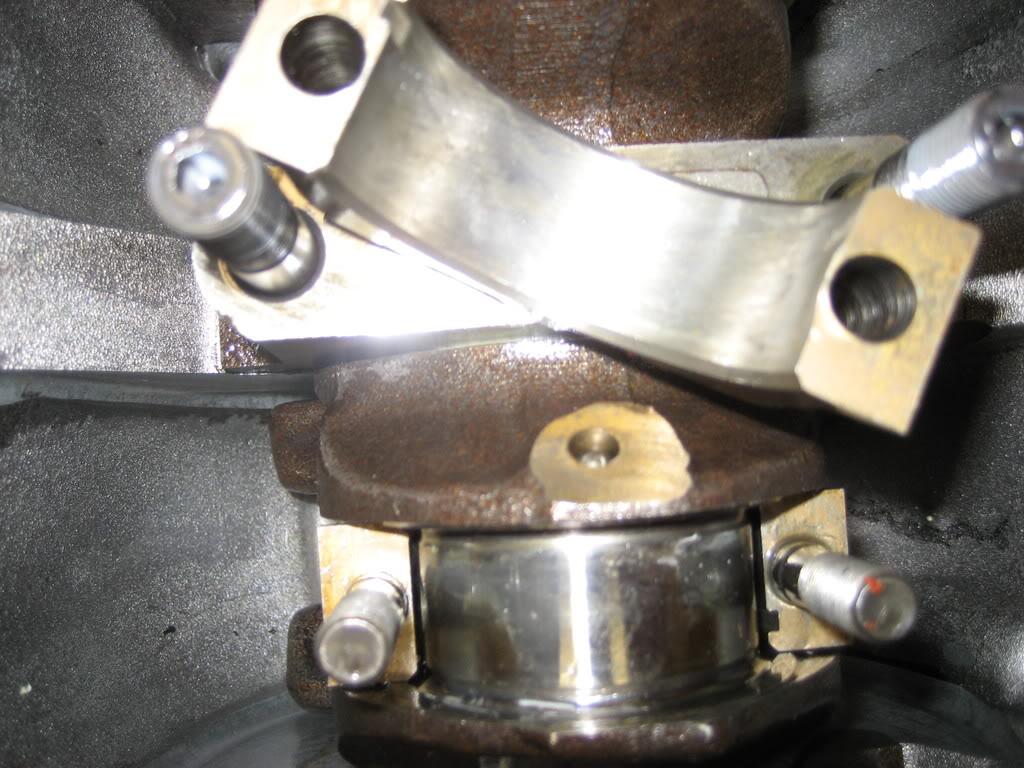 So the motor is torn down again. The crank is back at the machine shop. When the new bearings get here, the motor will get put back together and go back in the car. And then it WILL START (capitalized for optimism).

Once it's running RT Tuning will do the alignment and we should be good to go.


11/4/08

It's been a long few weeks, but the car is finally running. There are still a few minor things to work out, but it's almost ready to drive.

We put the rear 5 lug on and mounted the body kit: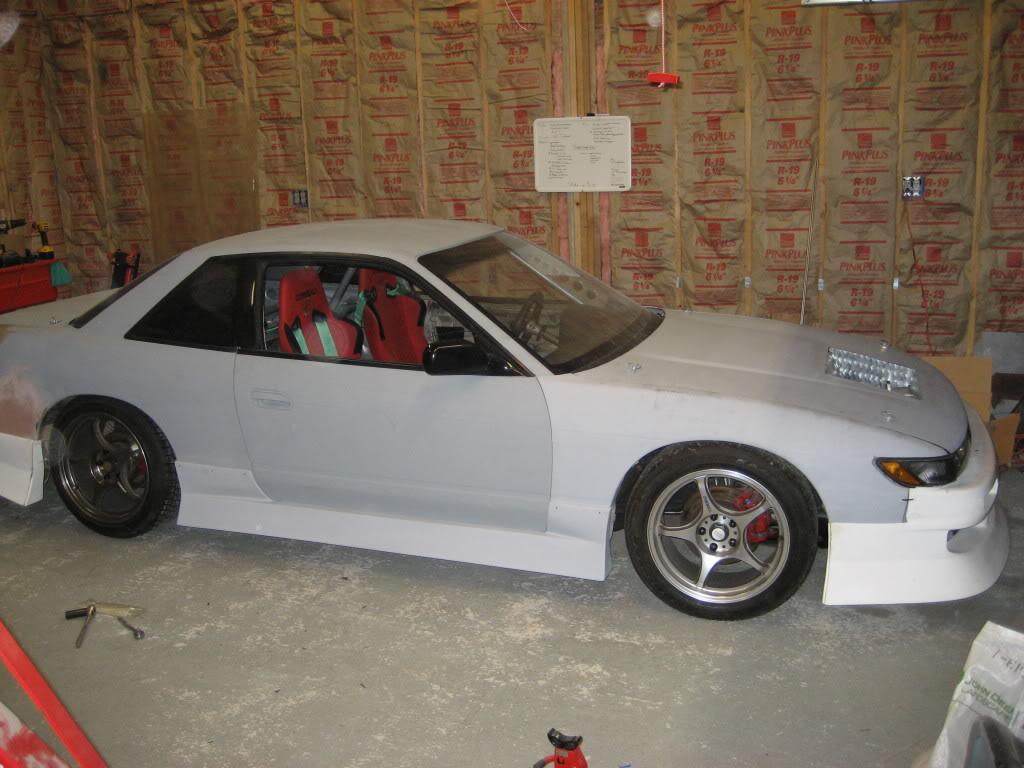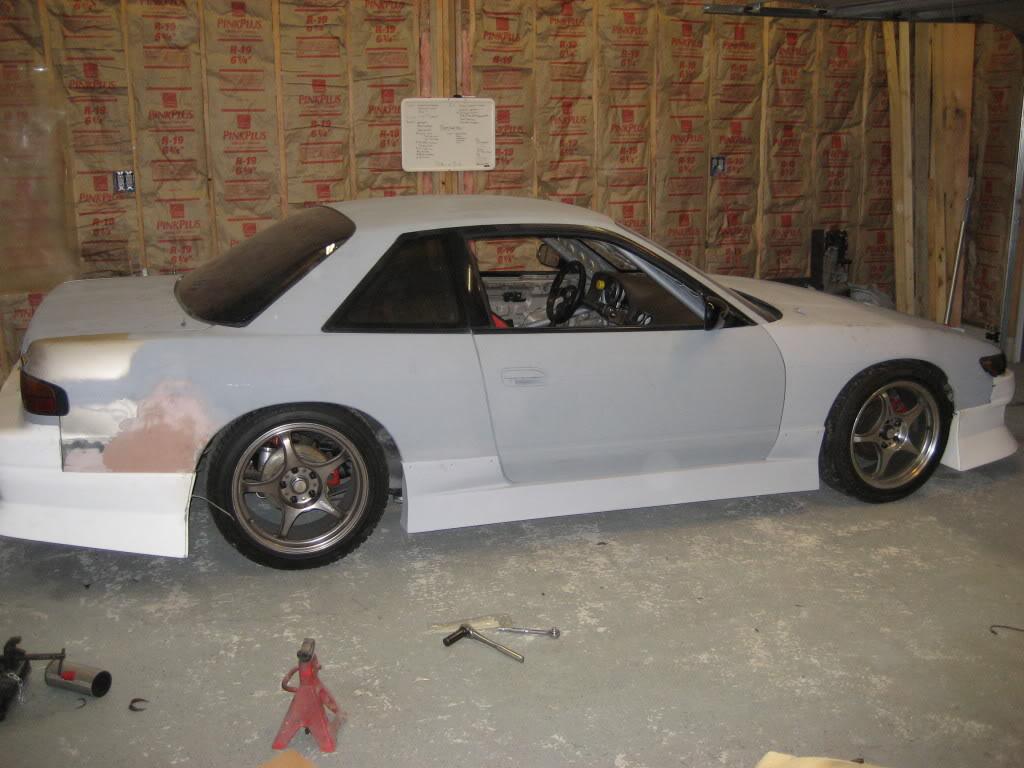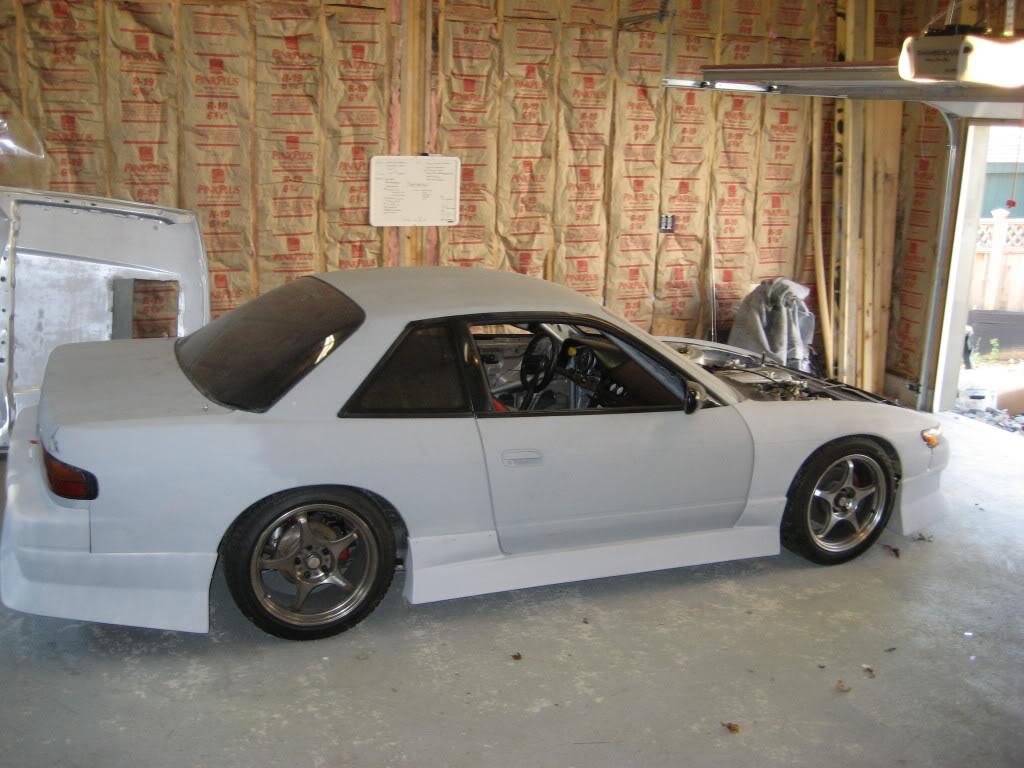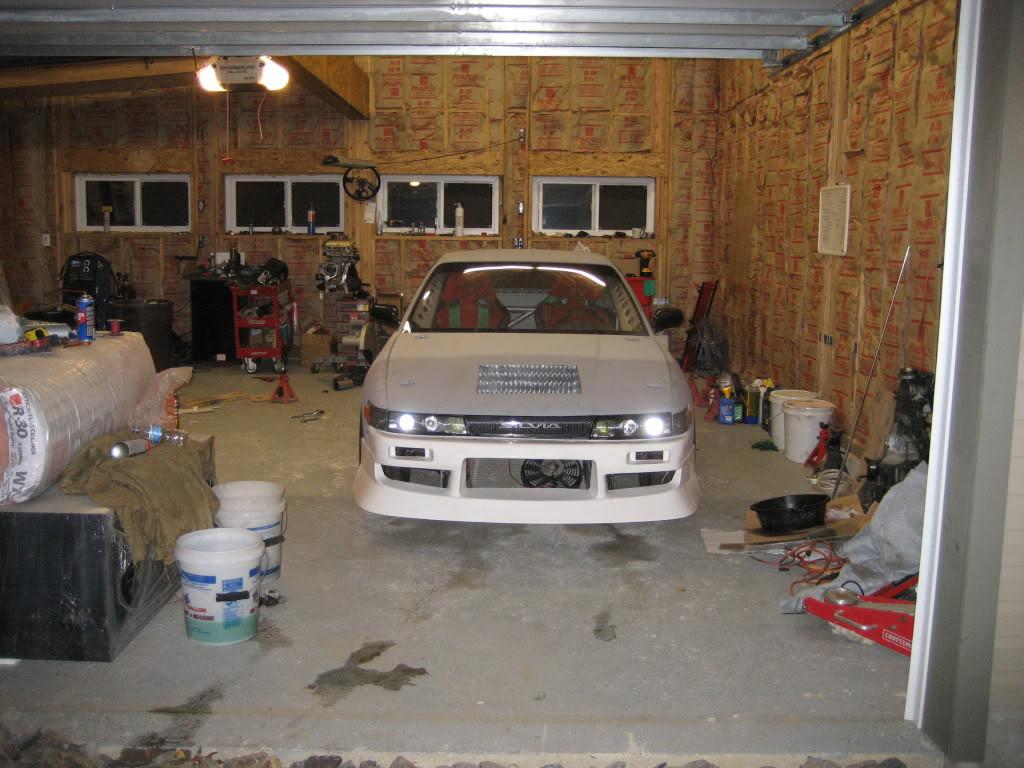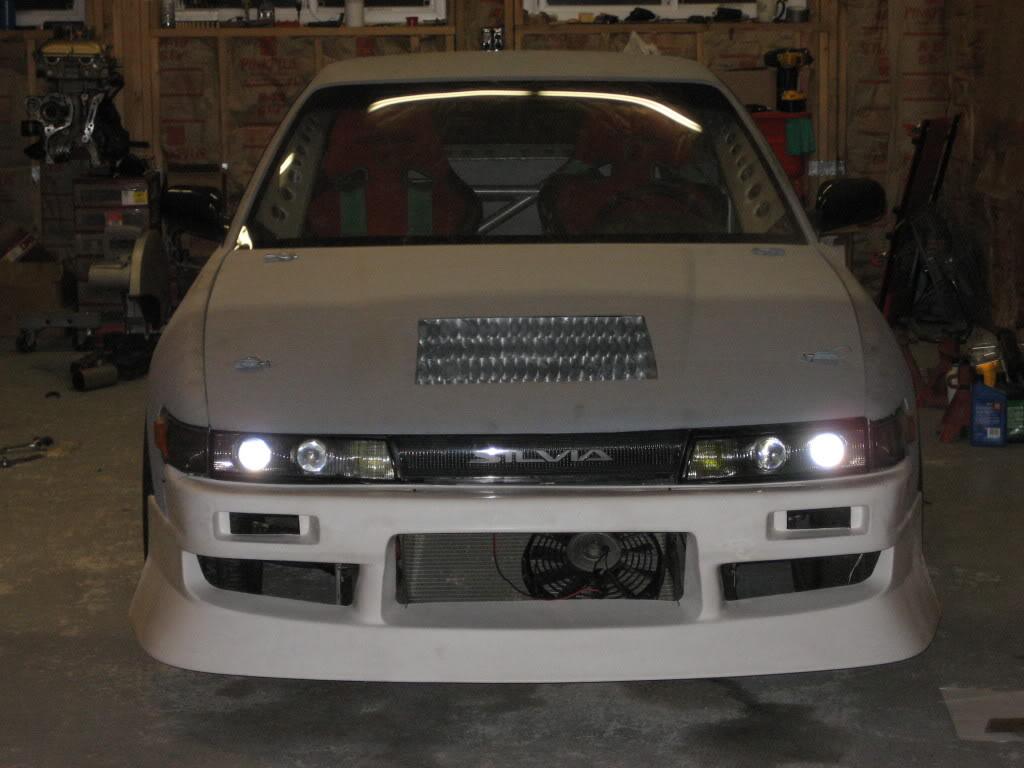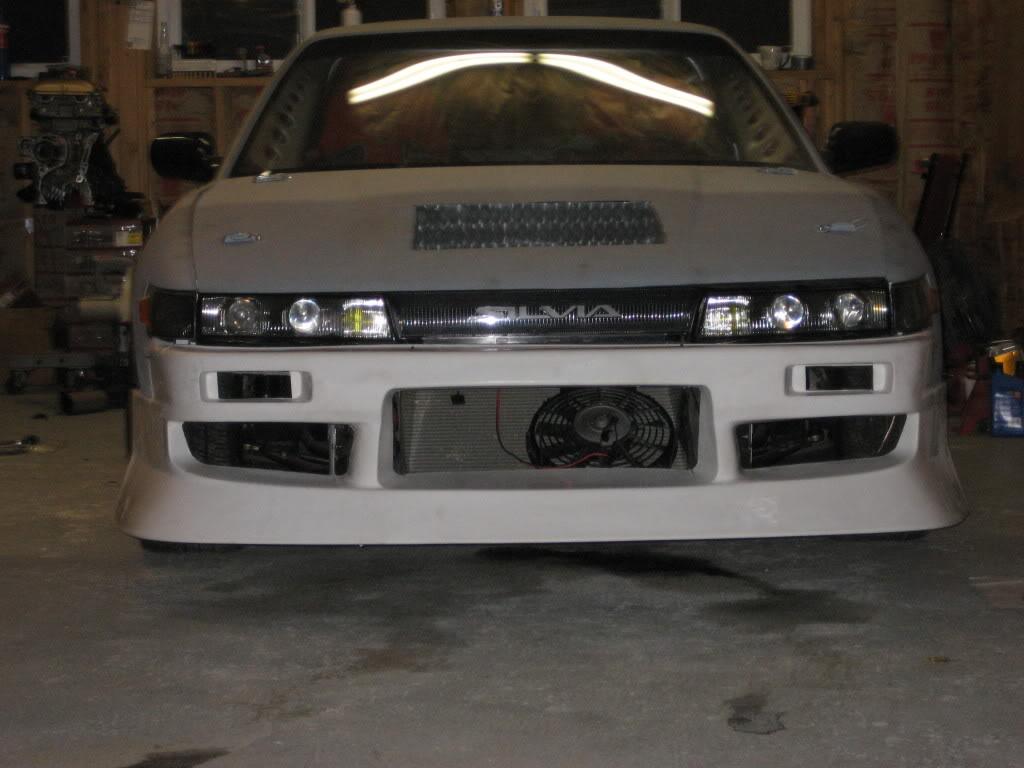 The lights work: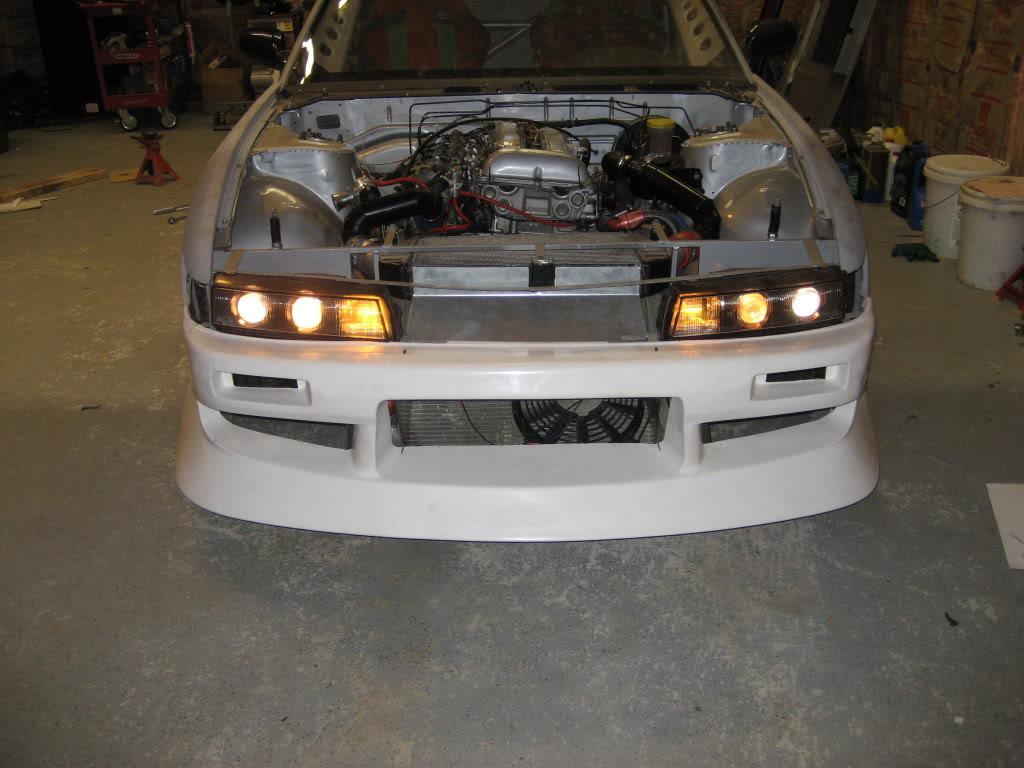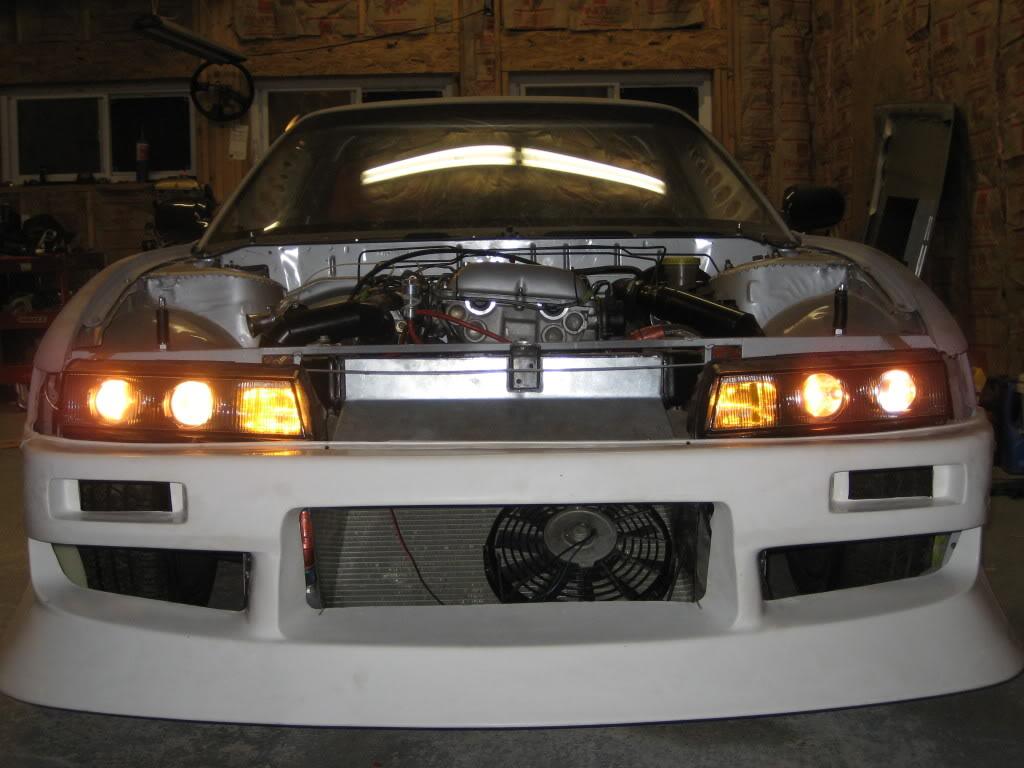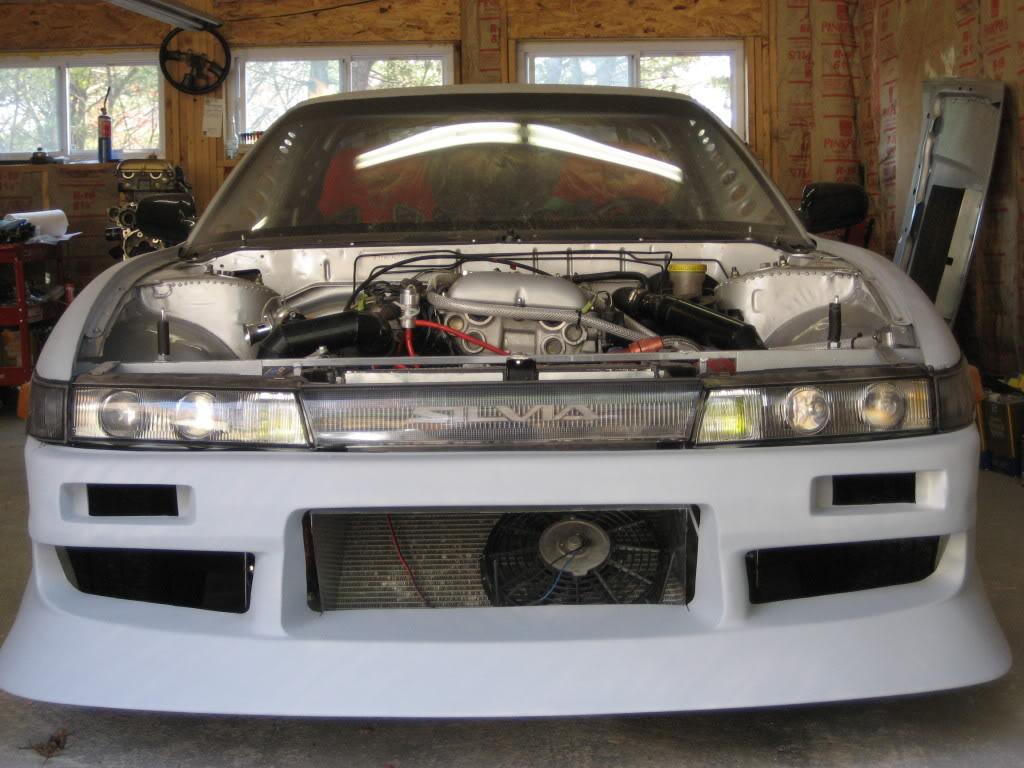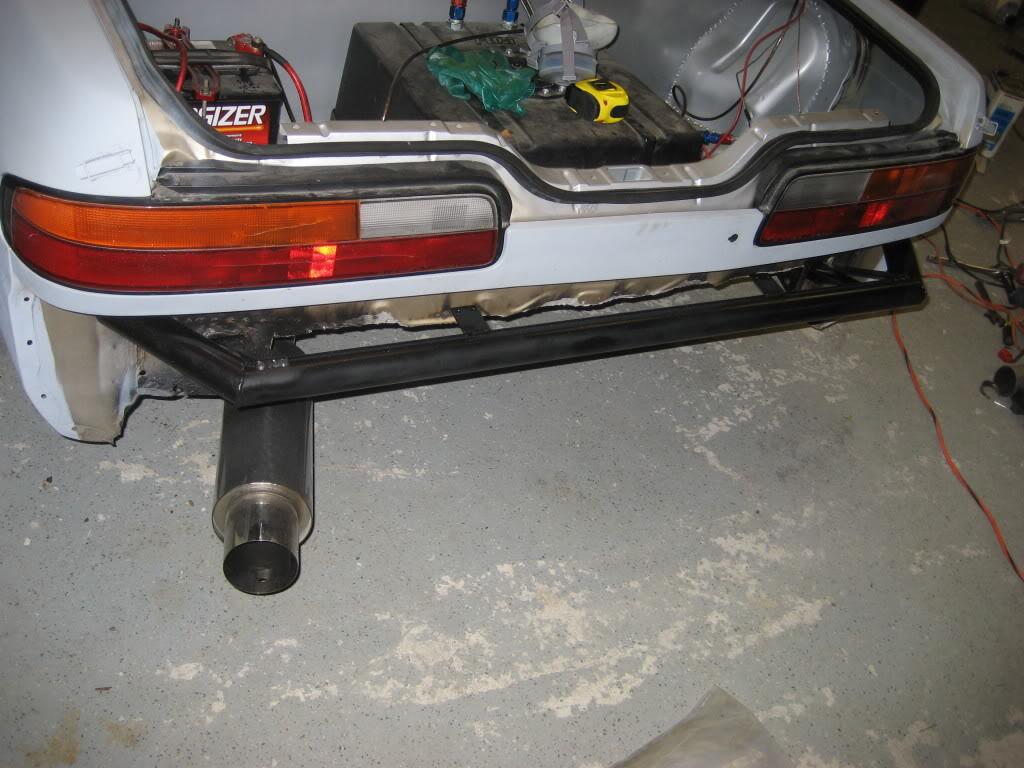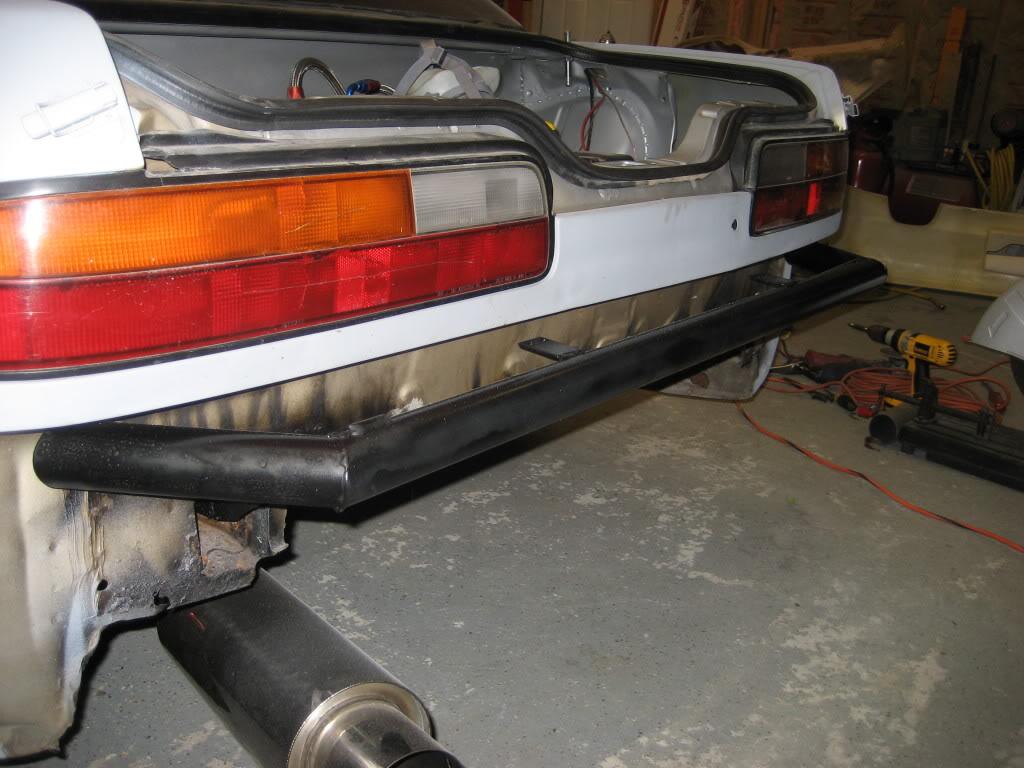 We are giving up on the fiberglass dash for now. It doesn't really weigh much less than the cut up stock dash, so that's what's going in for now.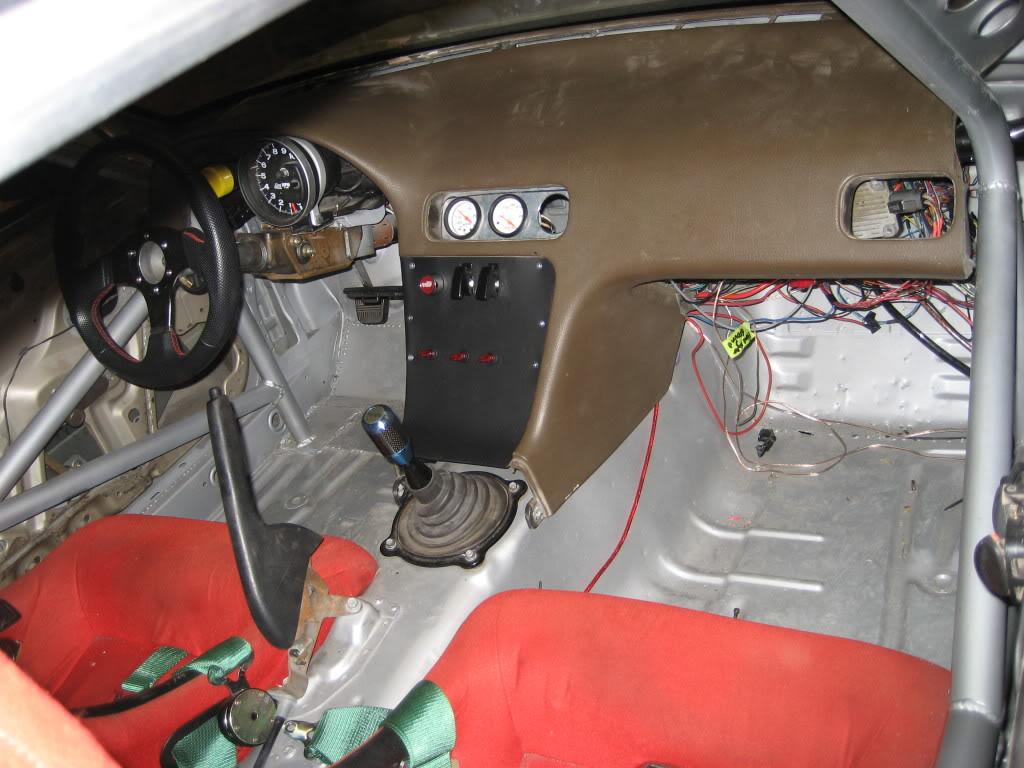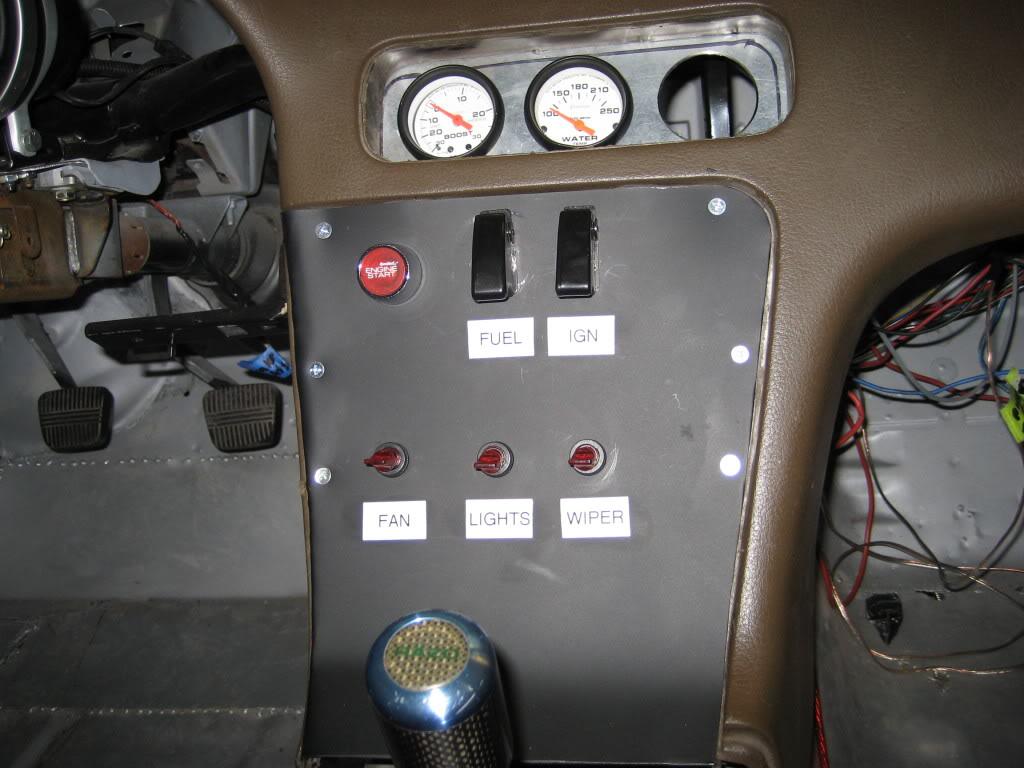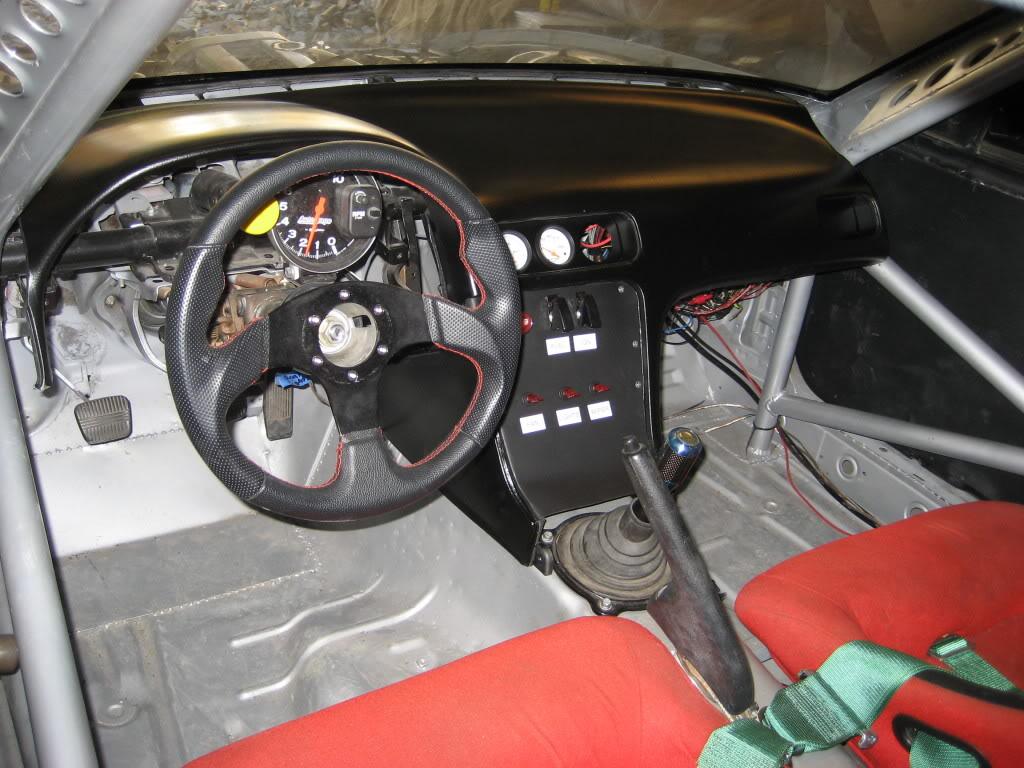 And yes, we still need to clean up the wiring under there.

and the latest motor shots: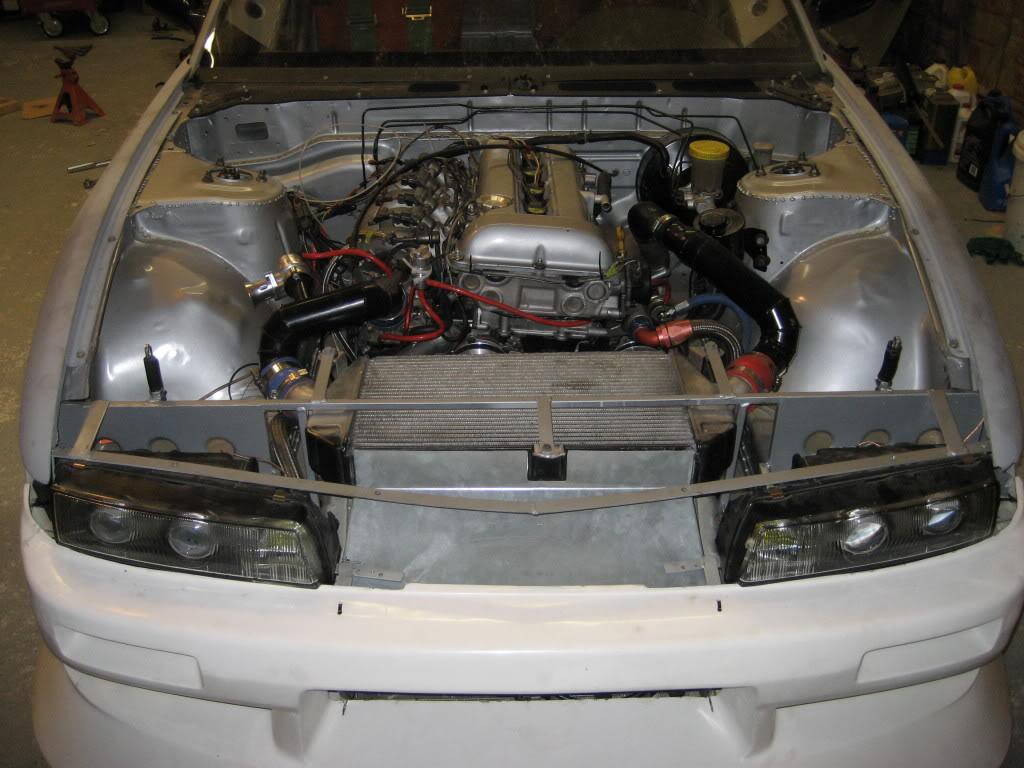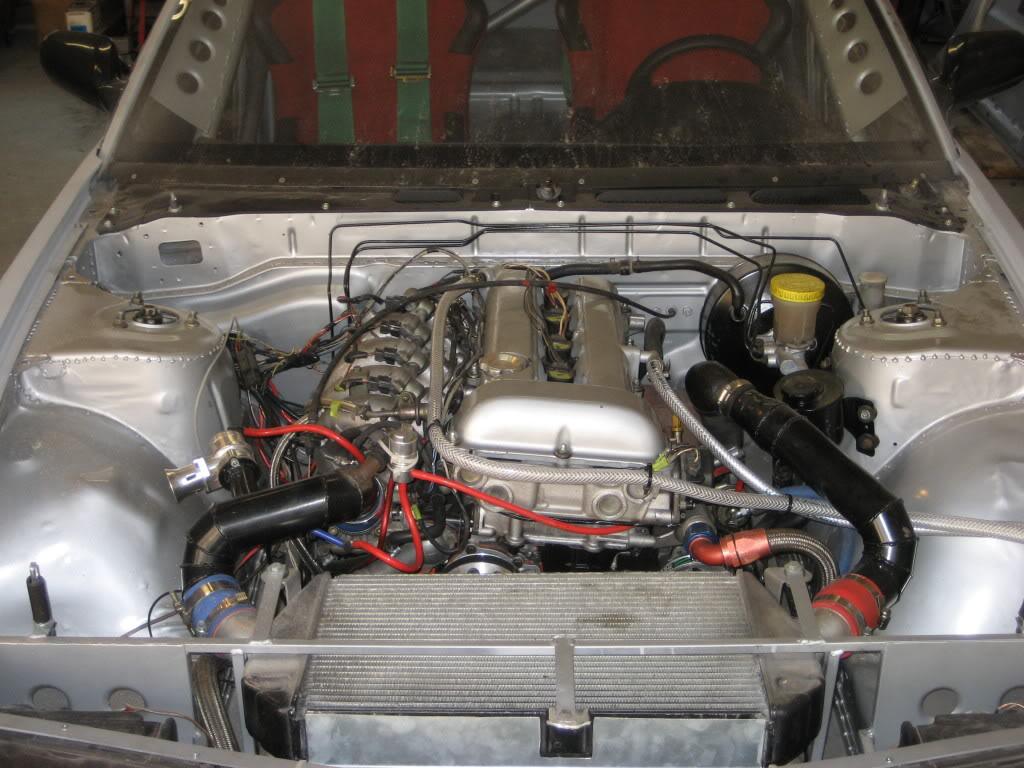 11/24/08

Not much has changed since the last update. We installed a catch can, put on the tow hooks and made and installed a water neck spacer tapped for a water temp gauge sensor and a fitting for the expansion tank.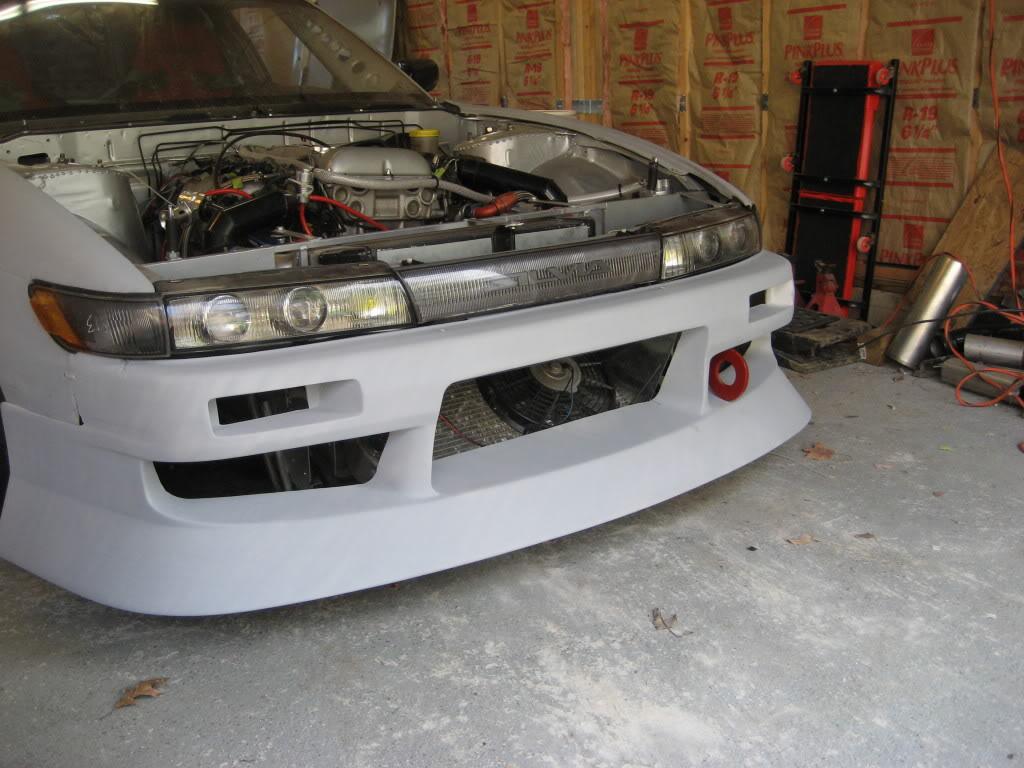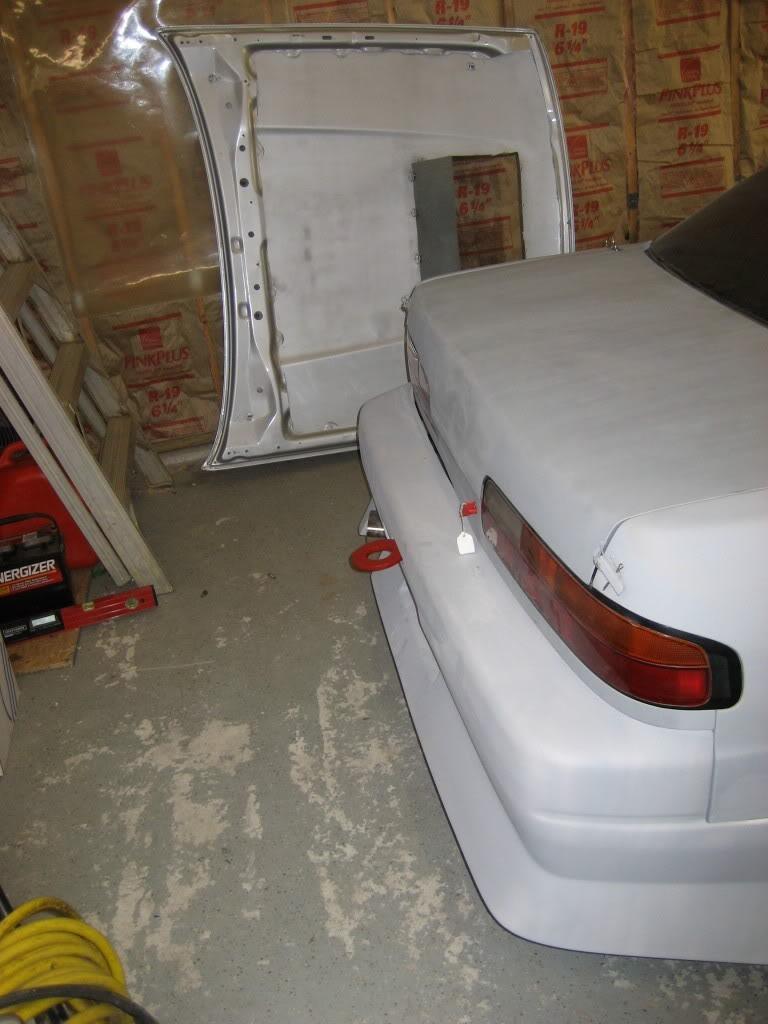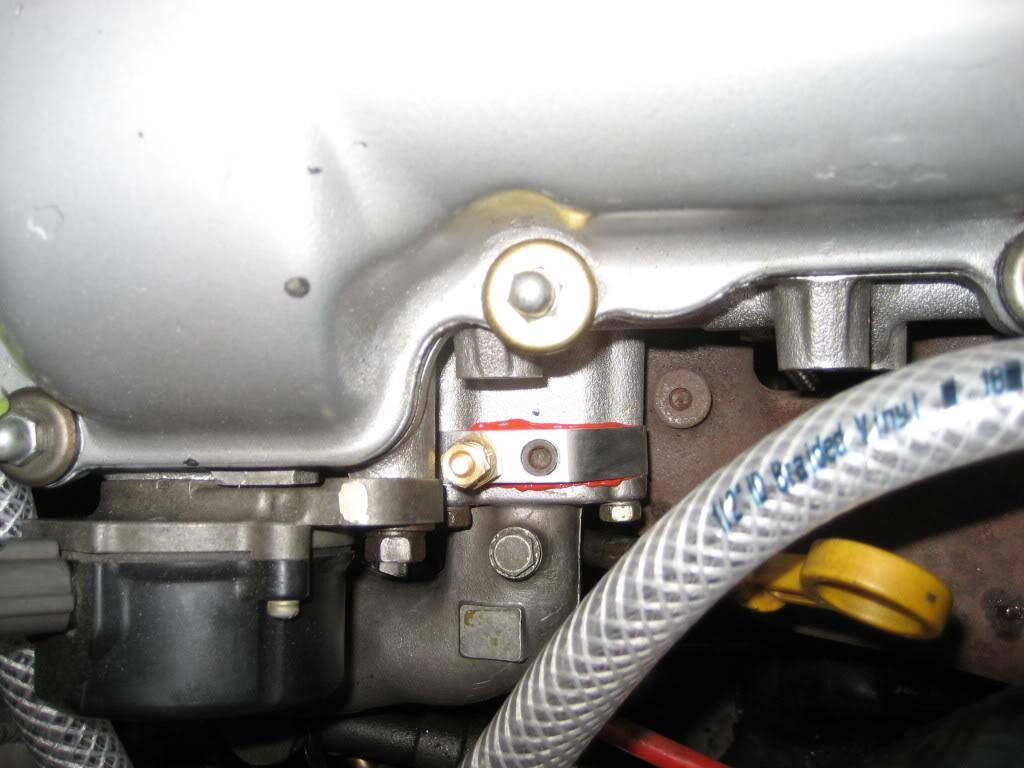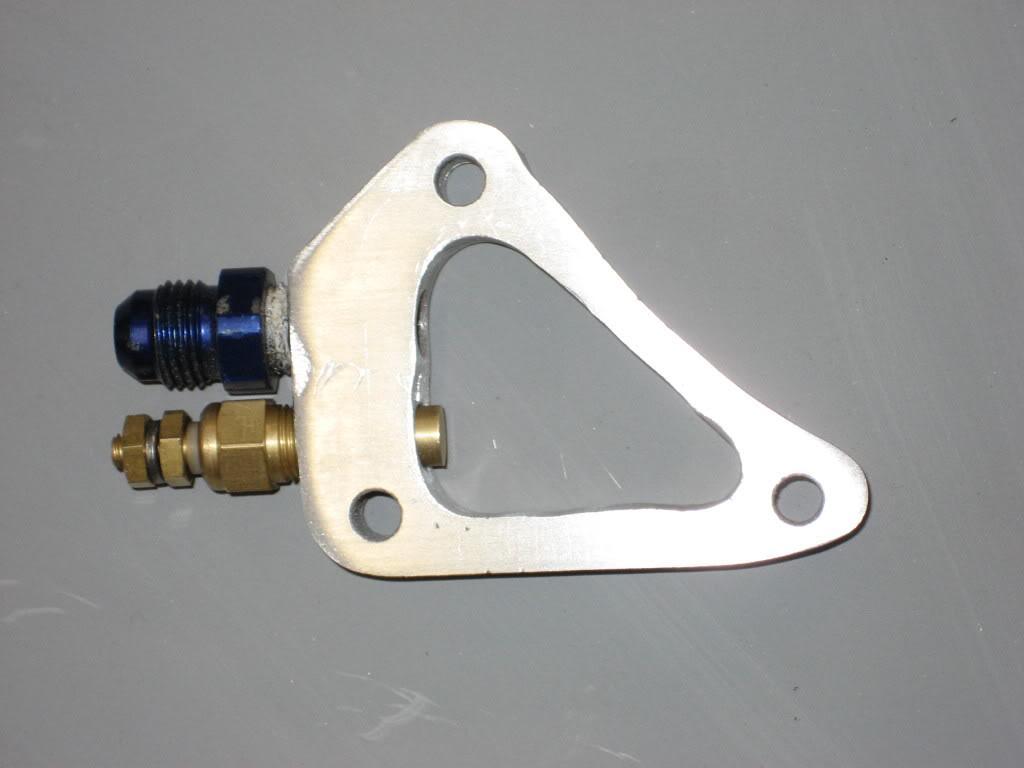 We also shot a teaser video that was supposed to lead to some drift action. Unfortunately, we didnt make it to the event... A series of small problems the day of the event almost stopped us from going, but what ended up stopping us was the freakin tow dolly! The car is too low for a dolly and will require a trailer, so if anyone local has one for sale cheap...

Anyway, here is the video that includes a nice slow ride around the neighborhood instead:

YouTube - race car teaser

So it looks like the car will be getting torn apart again this winter without seeing the track this year. Next on my list of things to do is finish the body work and paint the car. Weve also got this to work on: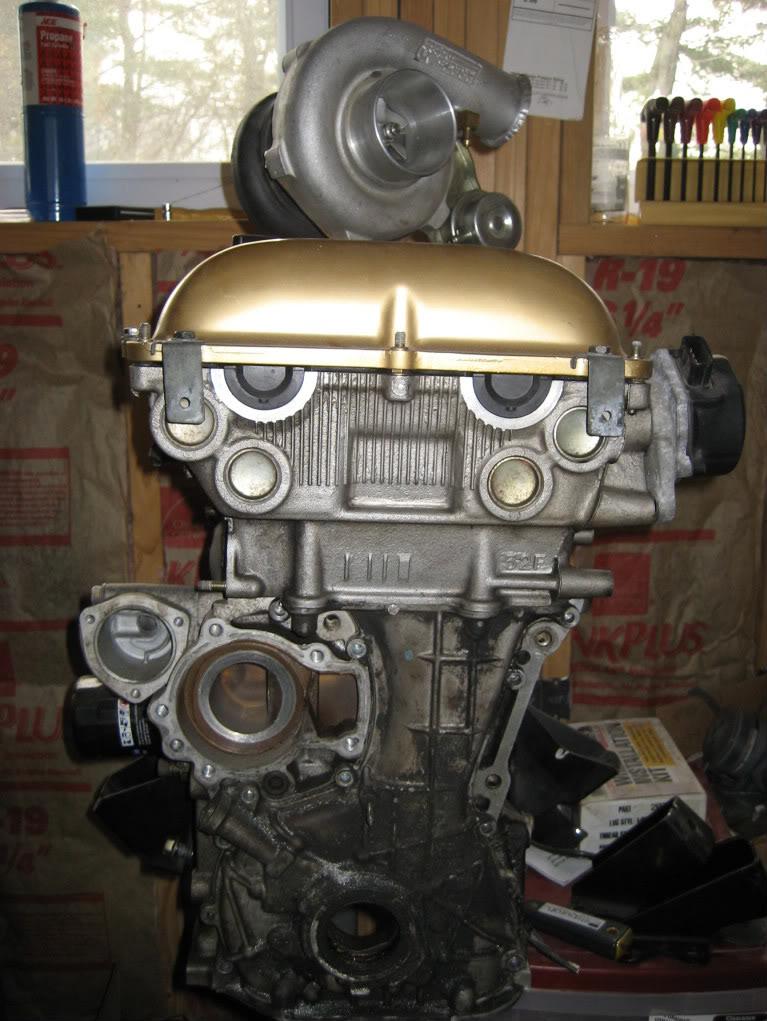 2/9/09

We spent the weekend doing body work. All that's left is wet sanding and fixing minor scratches and imperfections in the primer, then it's ready for paint. We decided to shave the upper body line because it looks a lot cleaner that way. Here is how we did the doors:

Here is the stock door: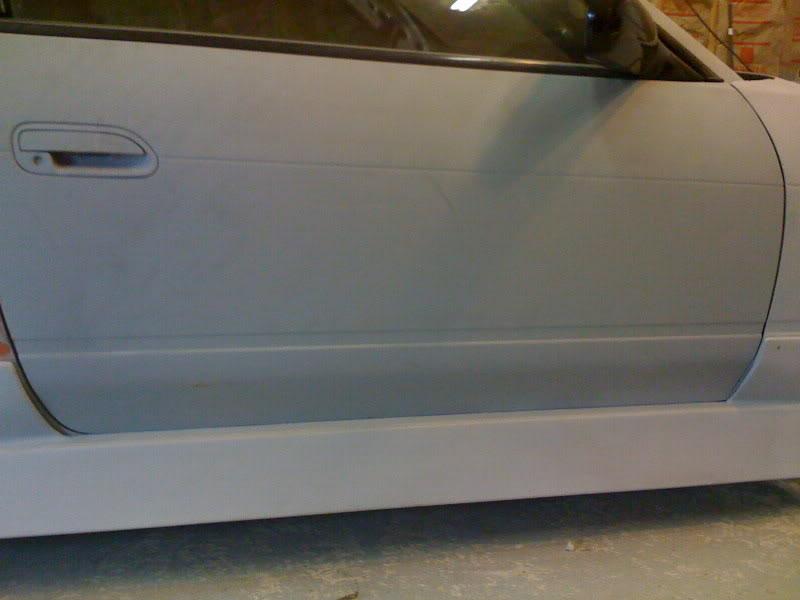 First grind the line down to bare metal, then feather the original paint to keep it smooth: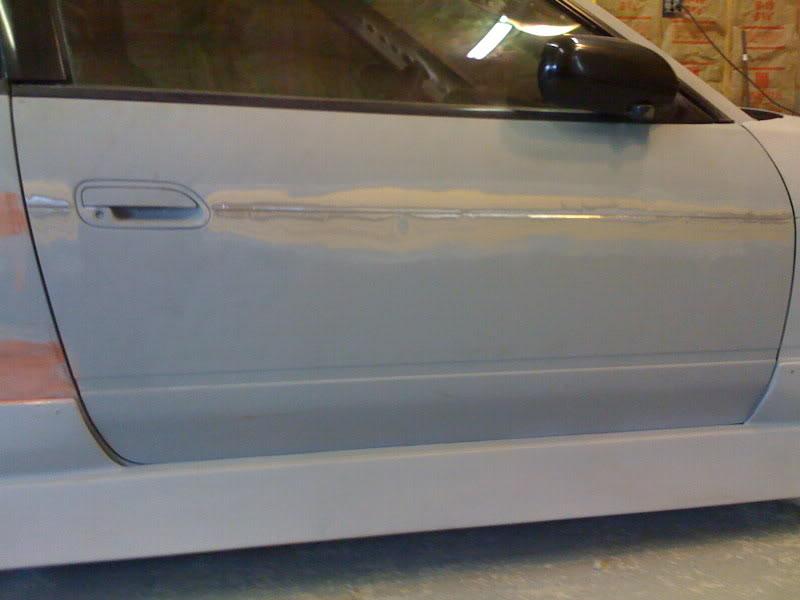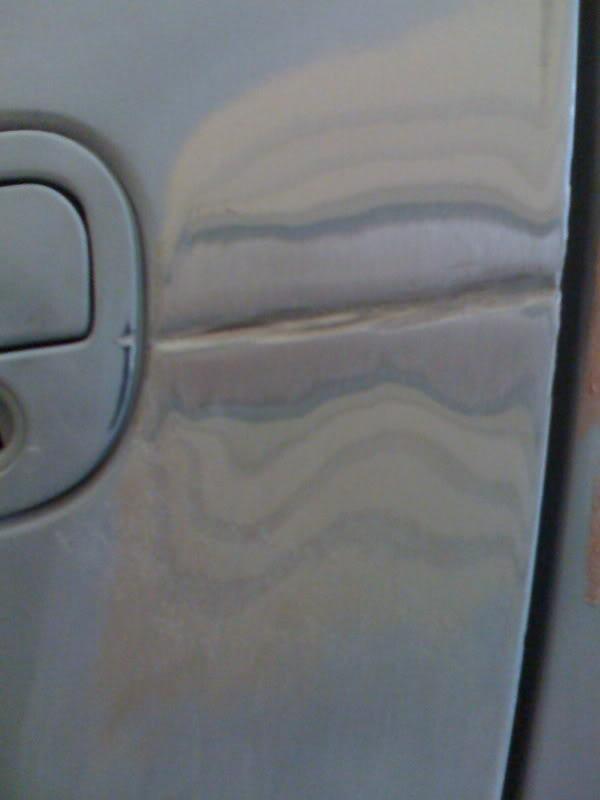 Then add filler (pink), sand smooth, and use spot puddy (red) to get the minor imperfections: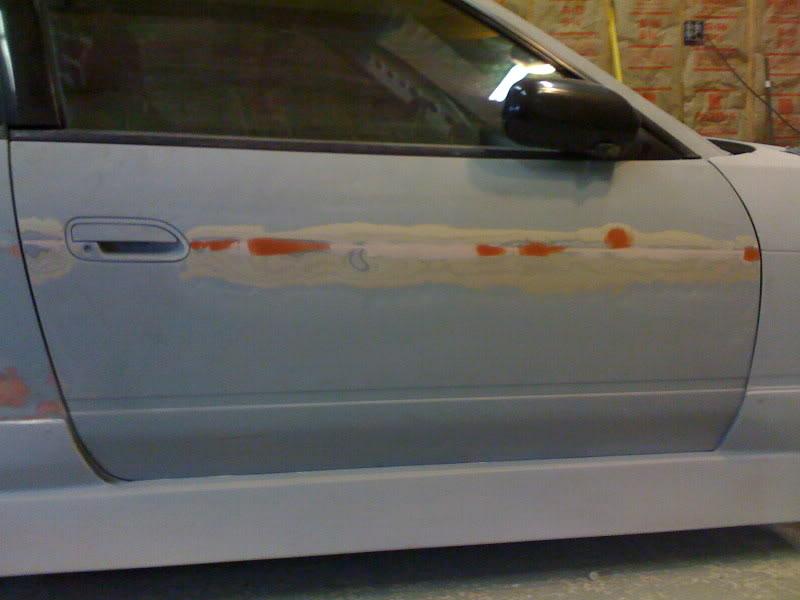 Sand smooth and prime it and it looks like this: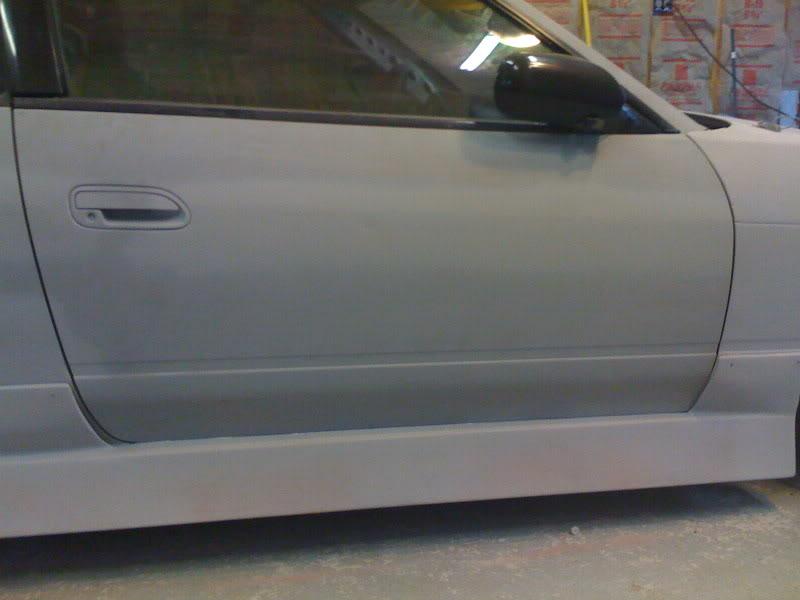 I don't have any pictures of the process, but we used fiberglass resin to fill the line on the fenders. Since we plan to run wider wheels this year we decided to get 20mm wider front fenders and 50mm over fenders in the rear.

First we cut the stock fender to make plenty of clearance: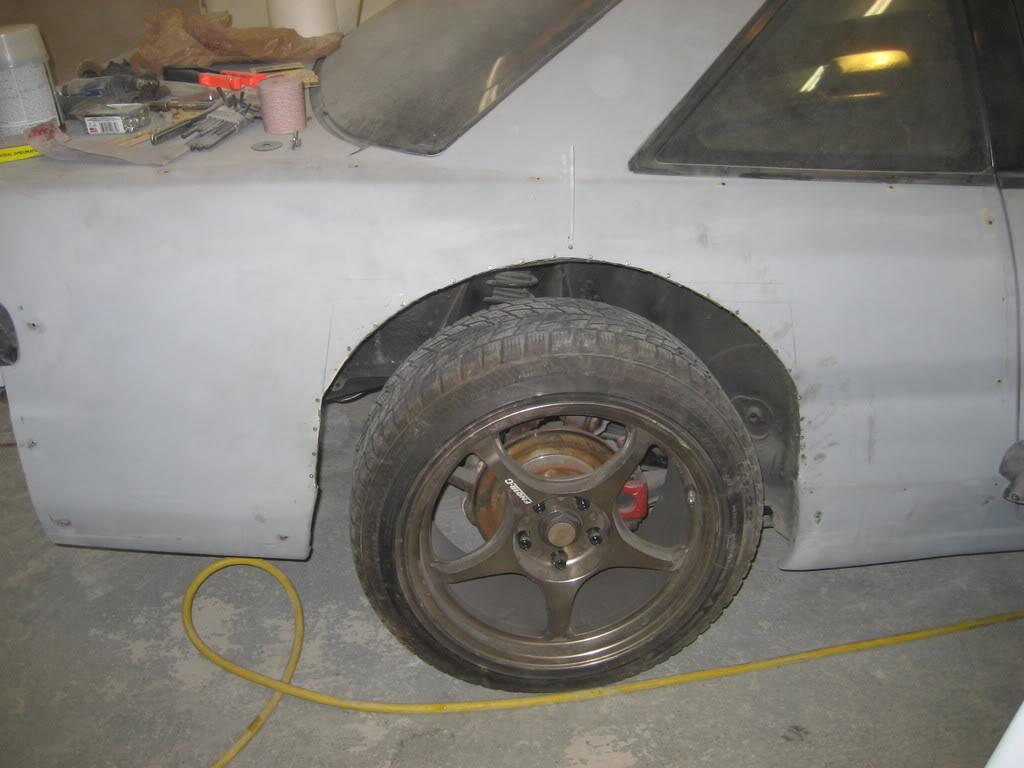 Mounting the rears (the bumper is not all the way on):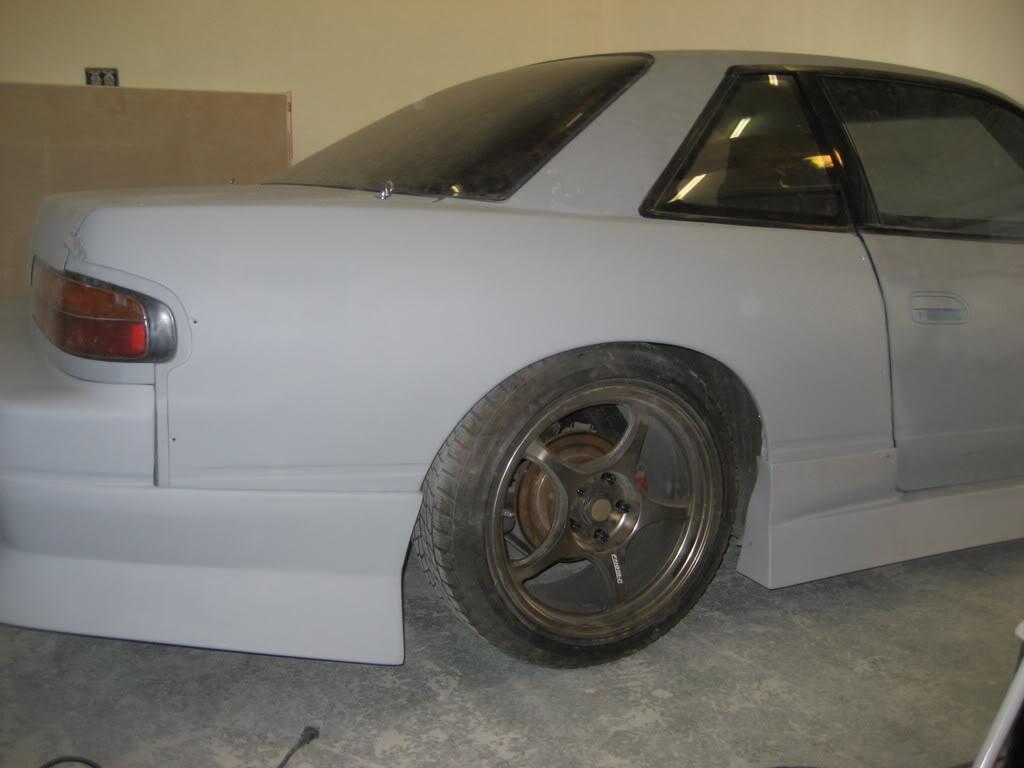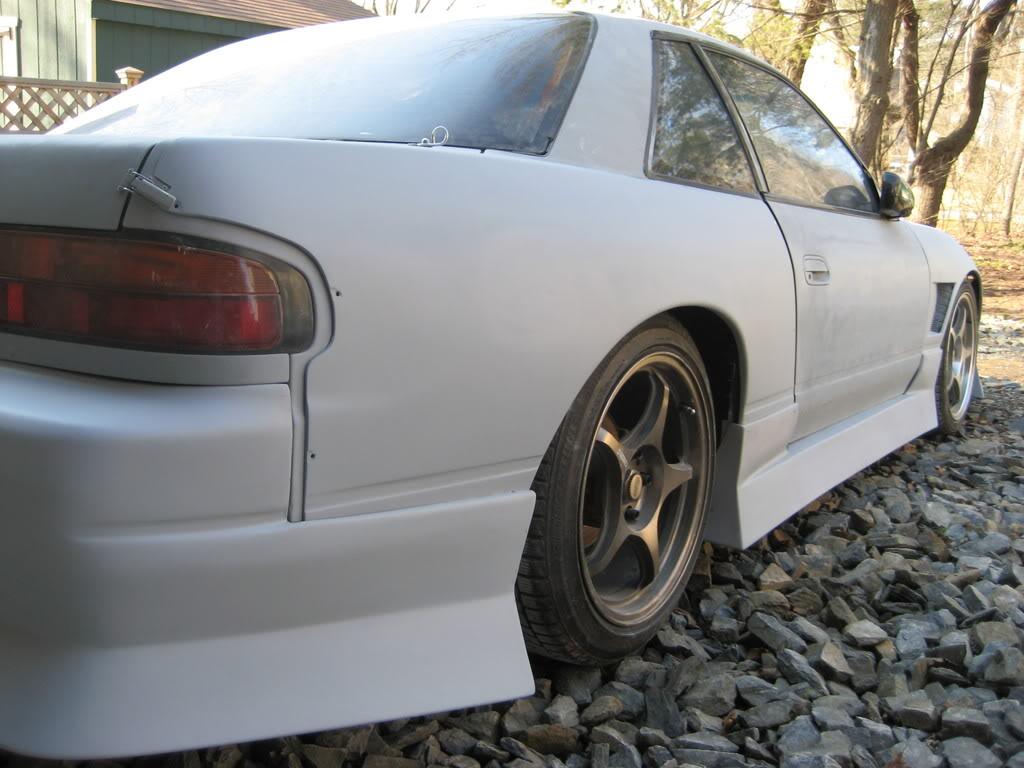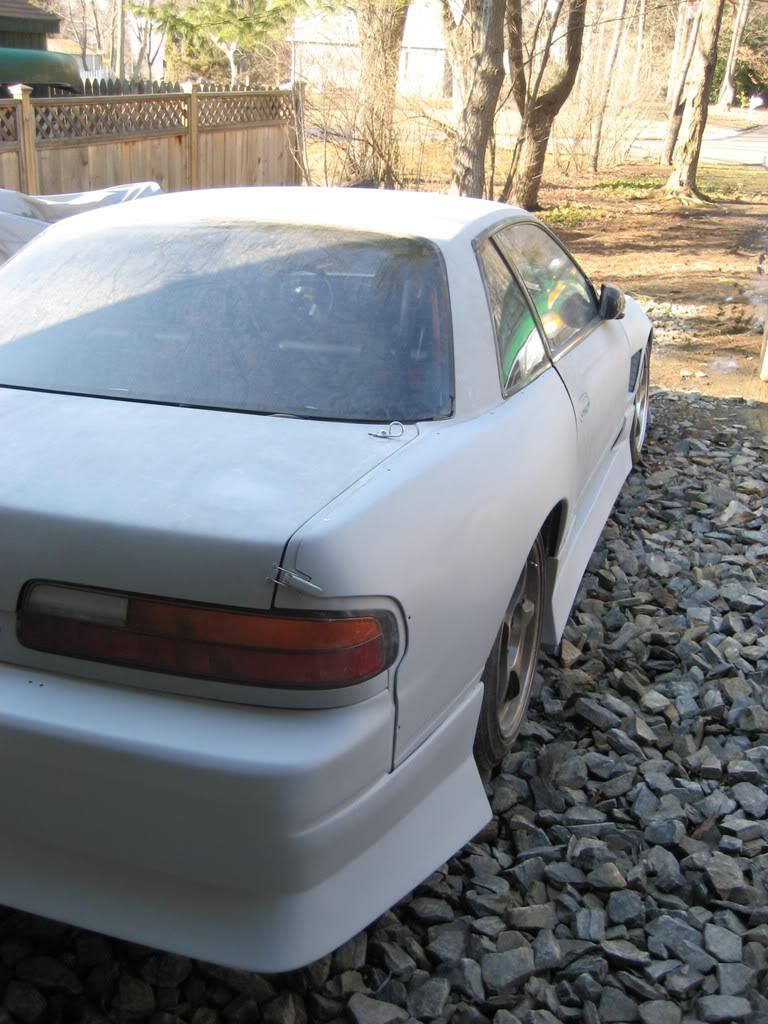 The fronts: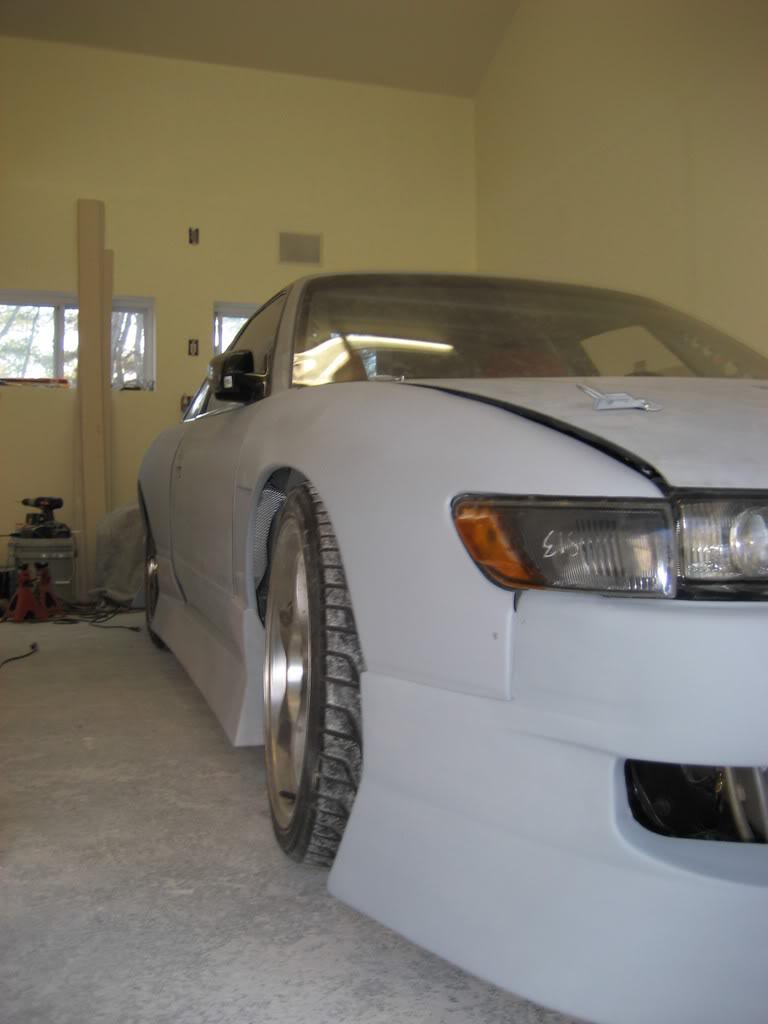 We also shaved the front turn signal holes.

Before: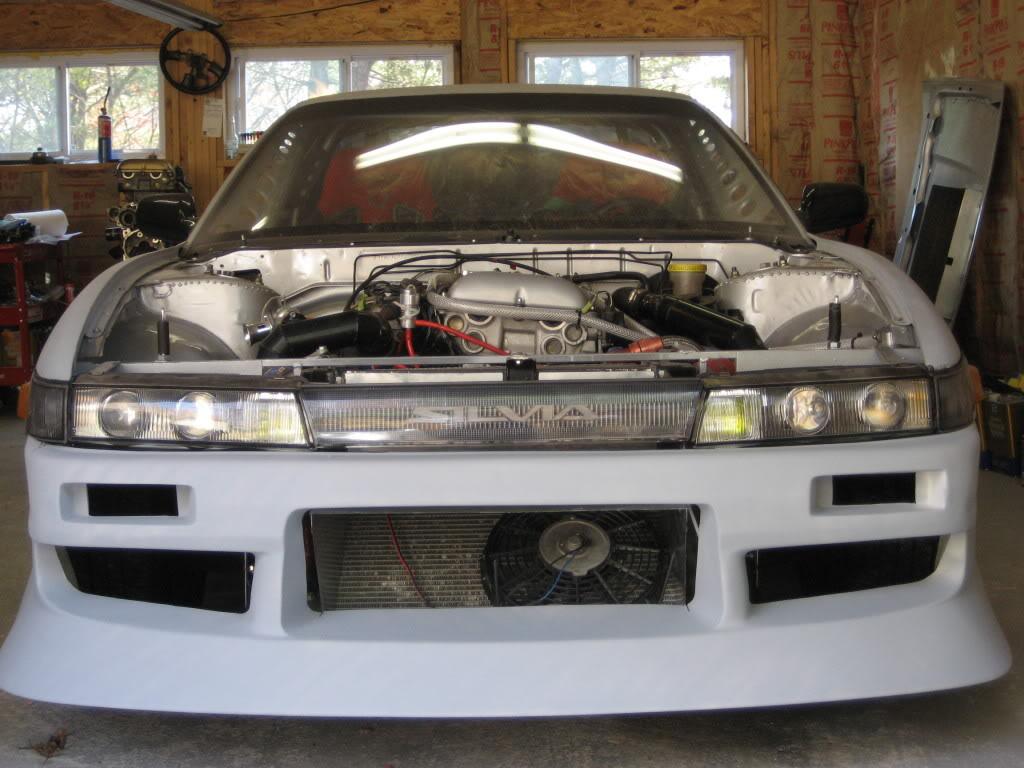 After: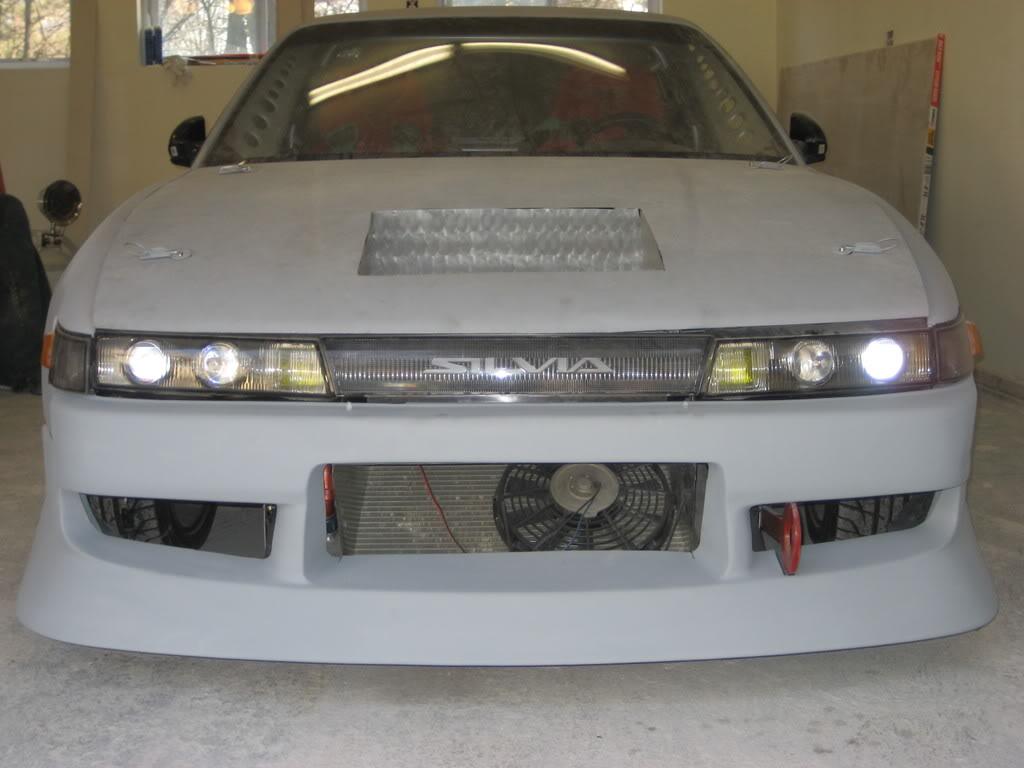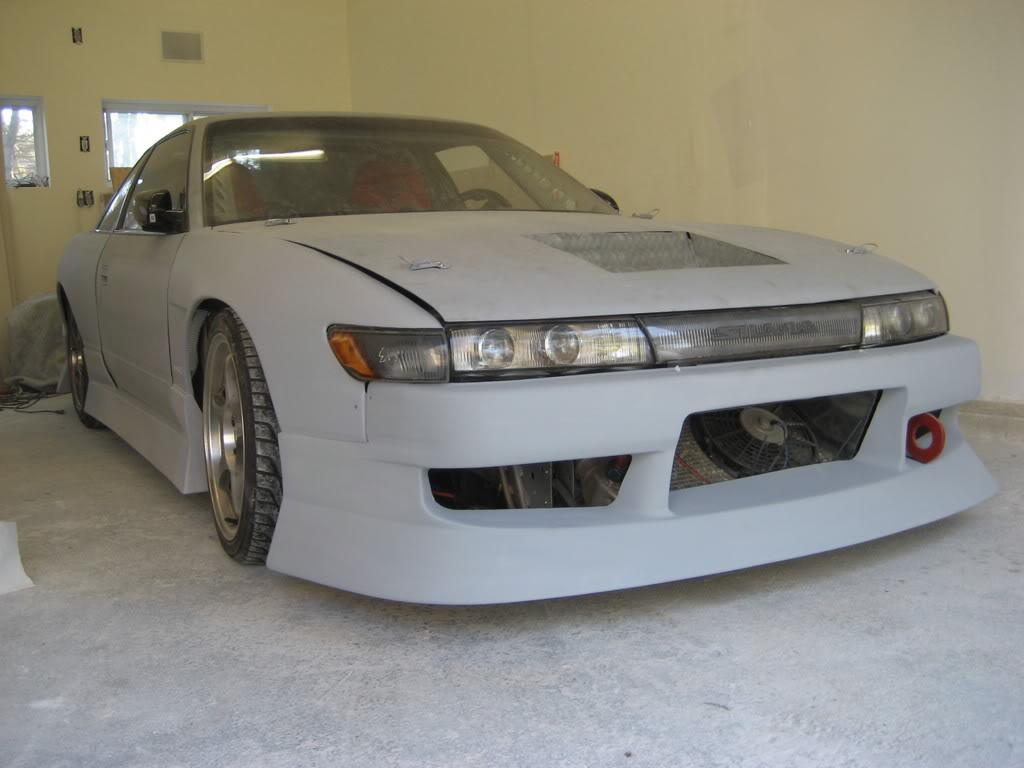 So that's it for now. Hopefully the next update will include pictures of a painted car. I'm tired of looking at primer grey...

2/24/09

The car is finally painted! I spent last Thursday and Friday wet sanding and masking, then Saturday we painted. I decided to use a single stage because I thought it would be easier to work with and touch up when I hit things. I've sprayed several cars before this, a couple base clears and one 3 stage, but this single stage was the most difficult I've ever worked with. It took a while to get the gun set up and was tough to get it to lay a consistent, even color. I did the doors first and was still playing with the gun so they didn't come out that great. We will be re-spraying them. Everything else came out pretty good. Some imperfections and dust, but after we color sand and buff it should look great.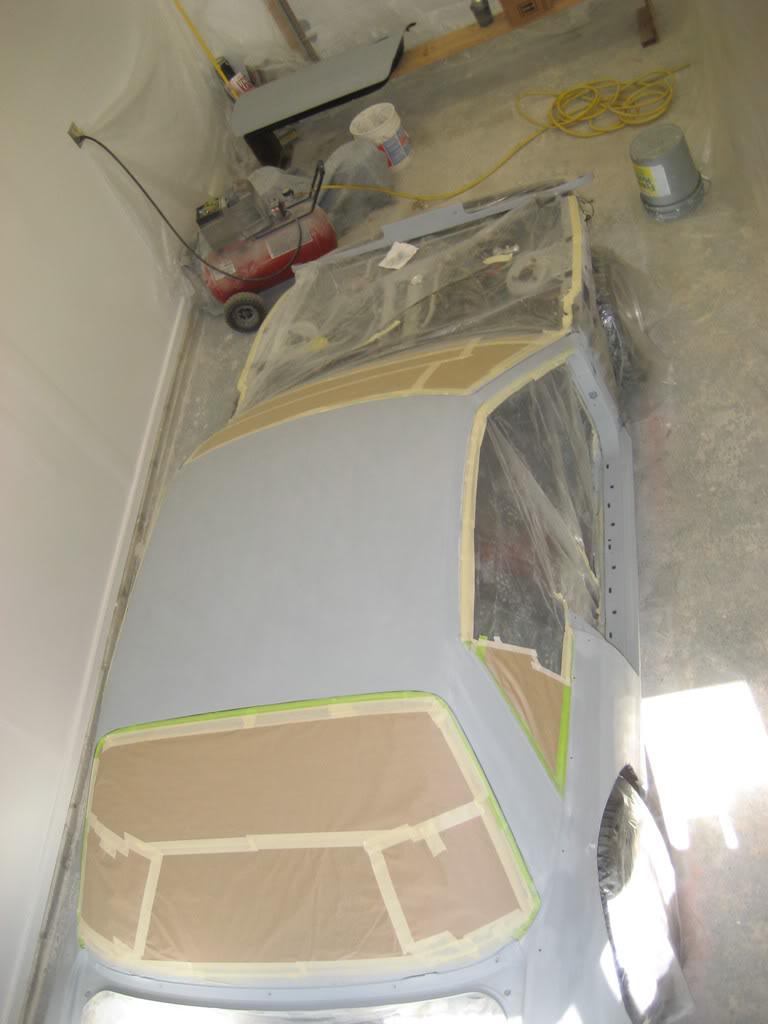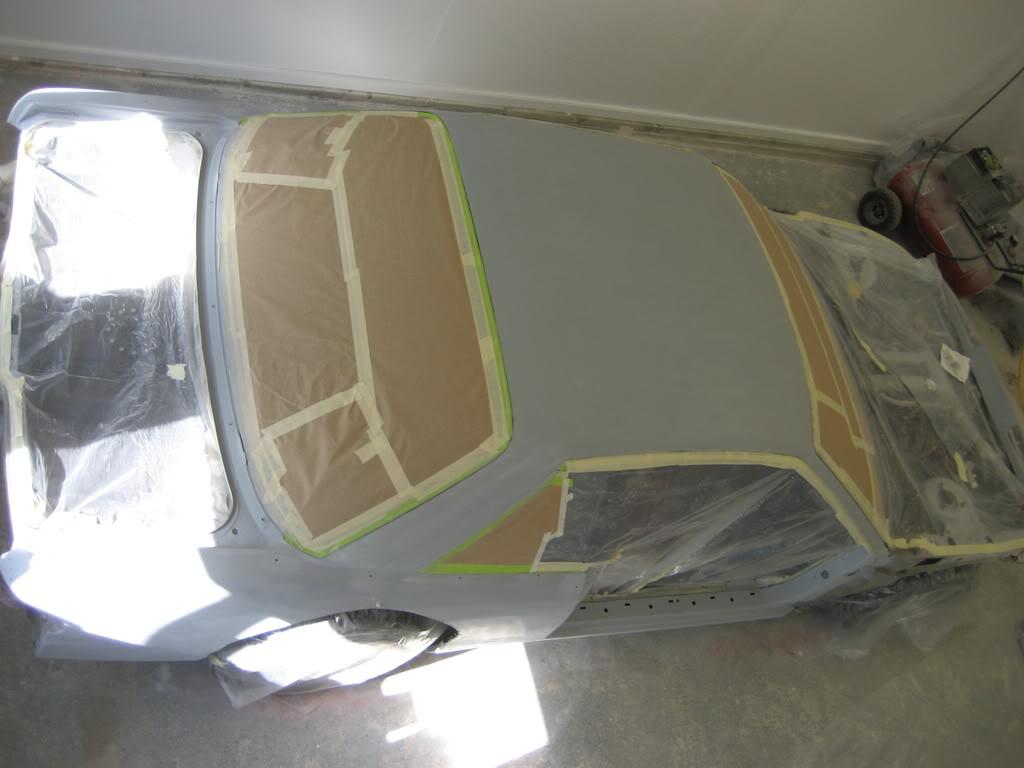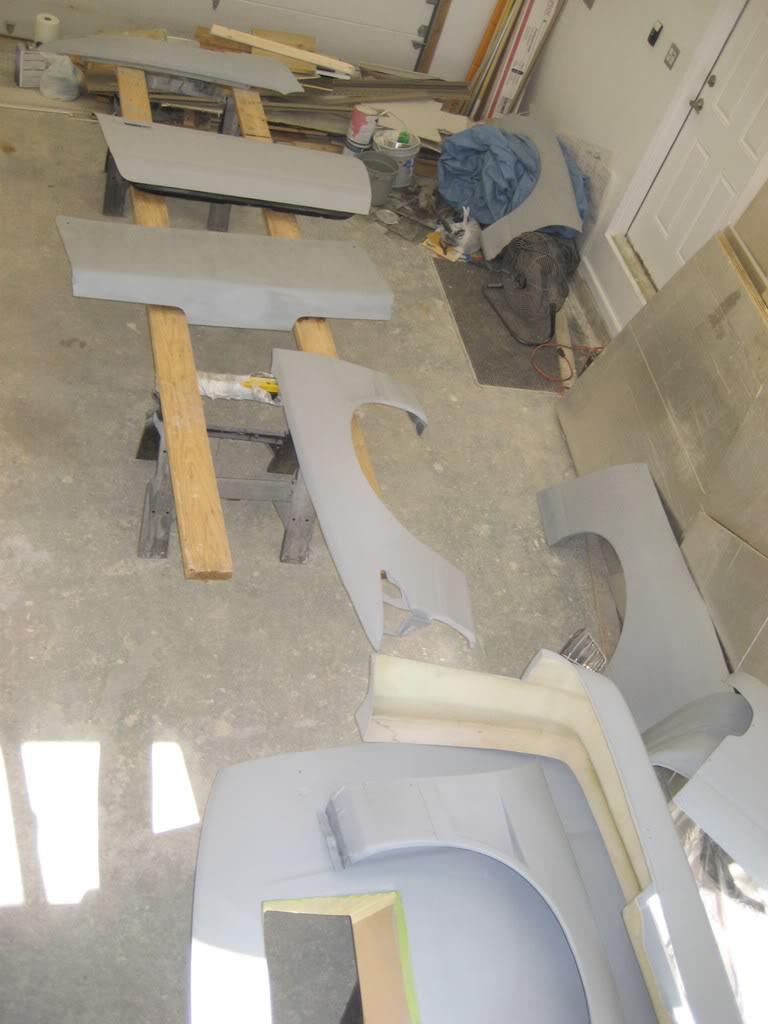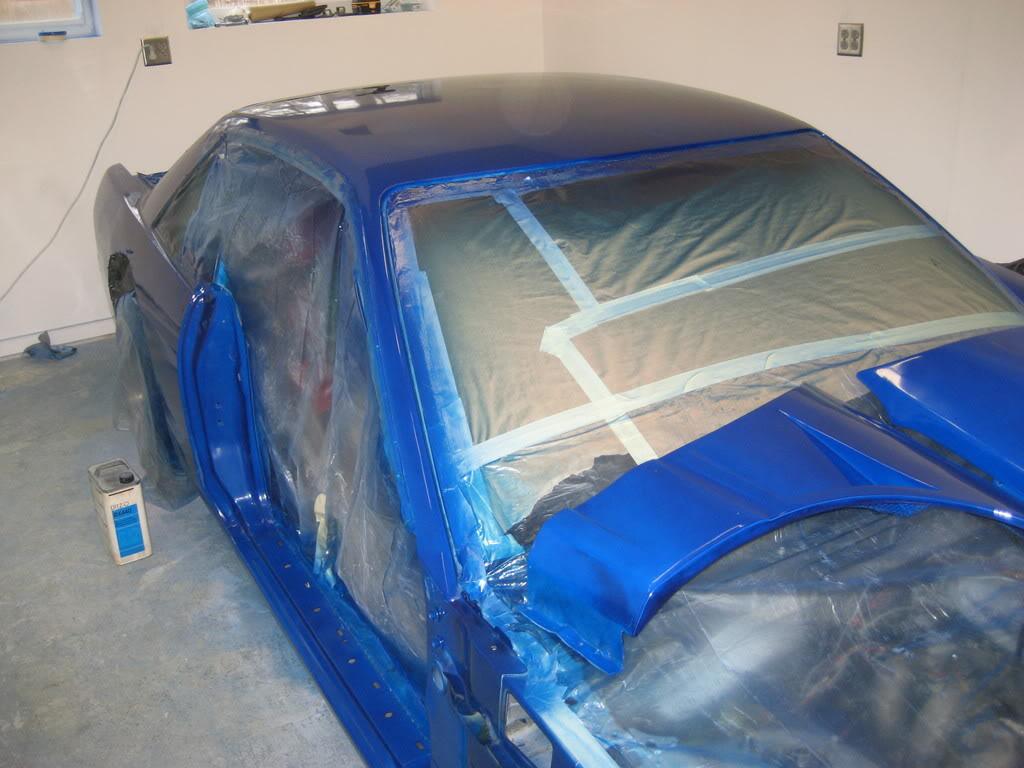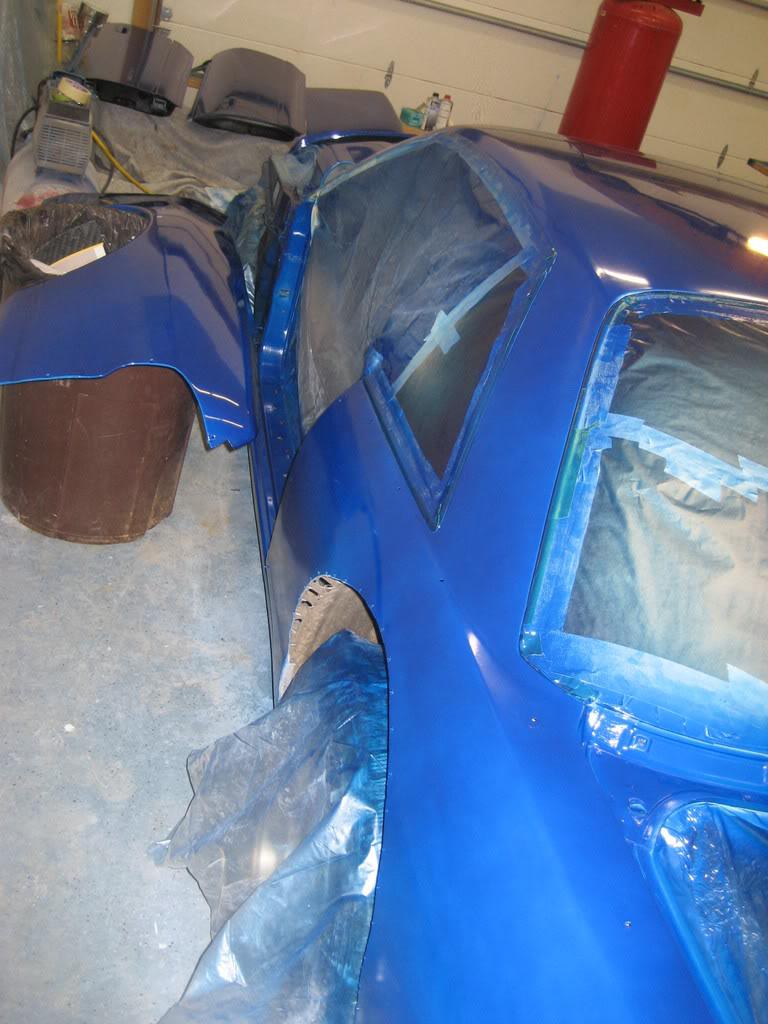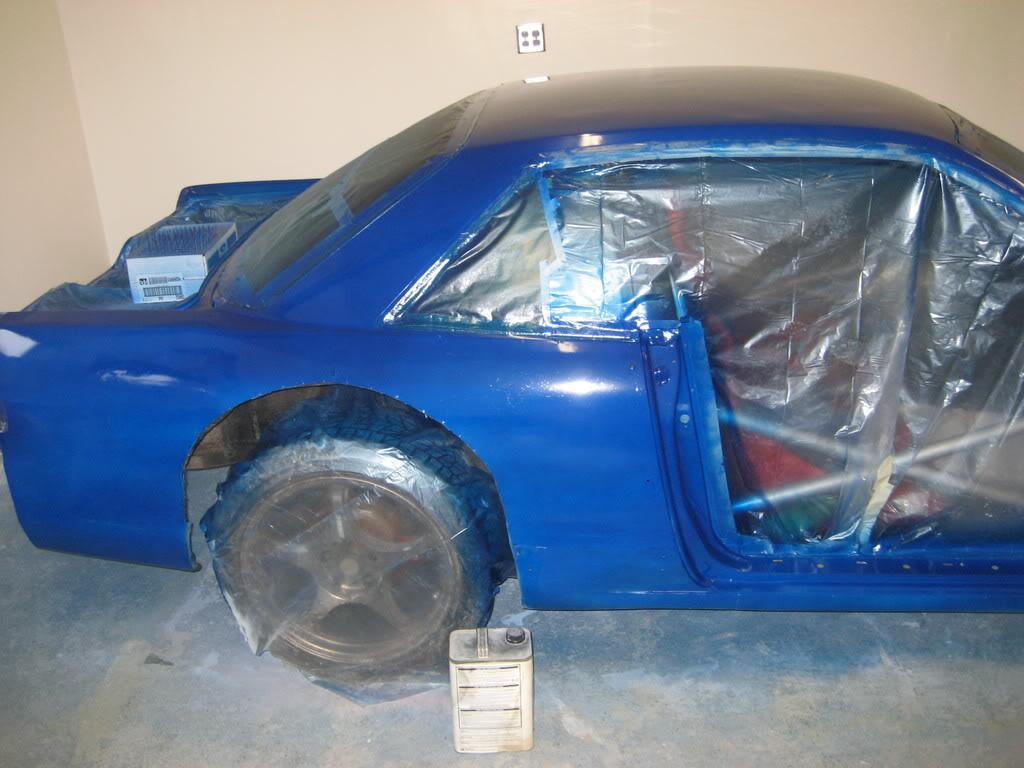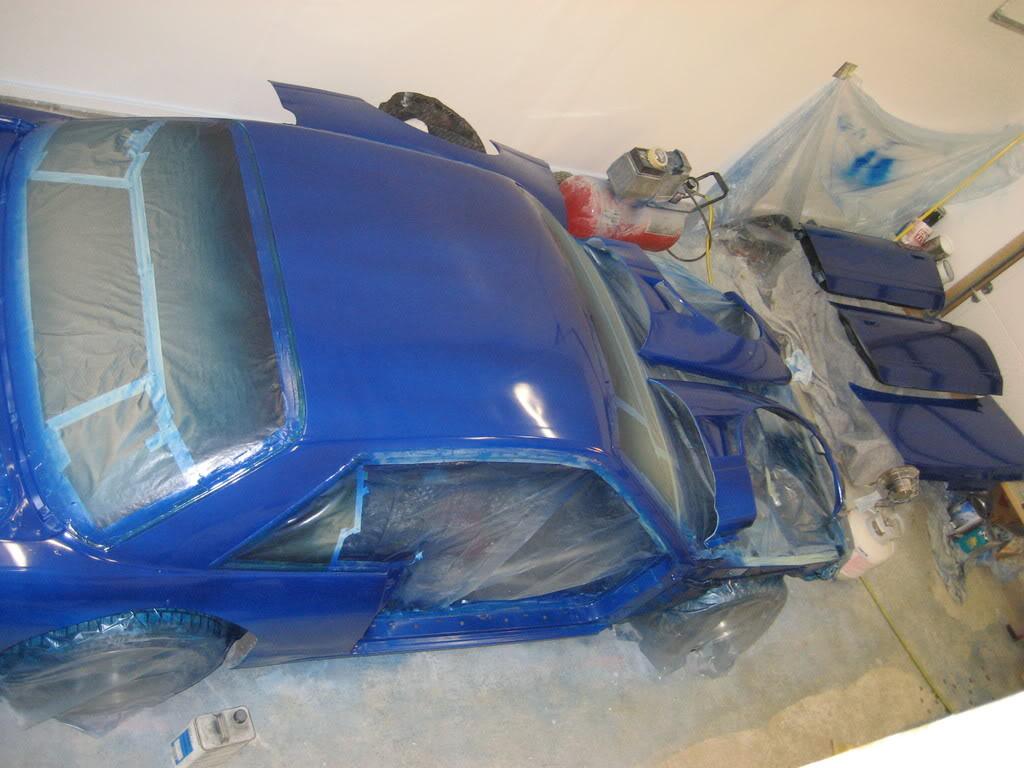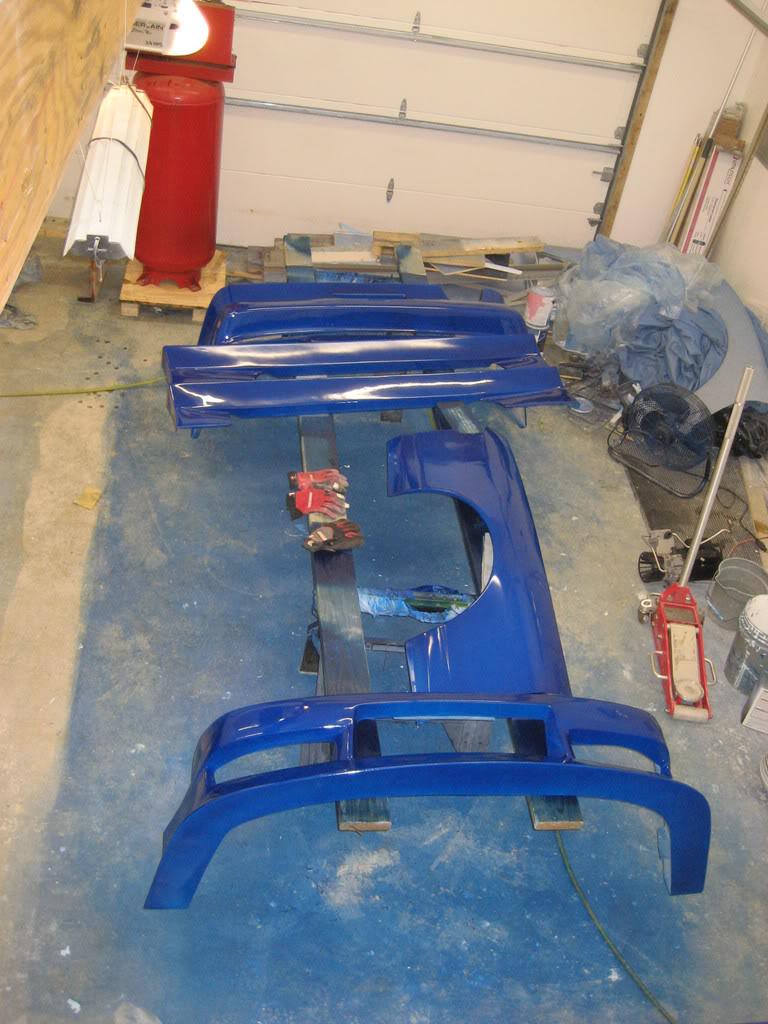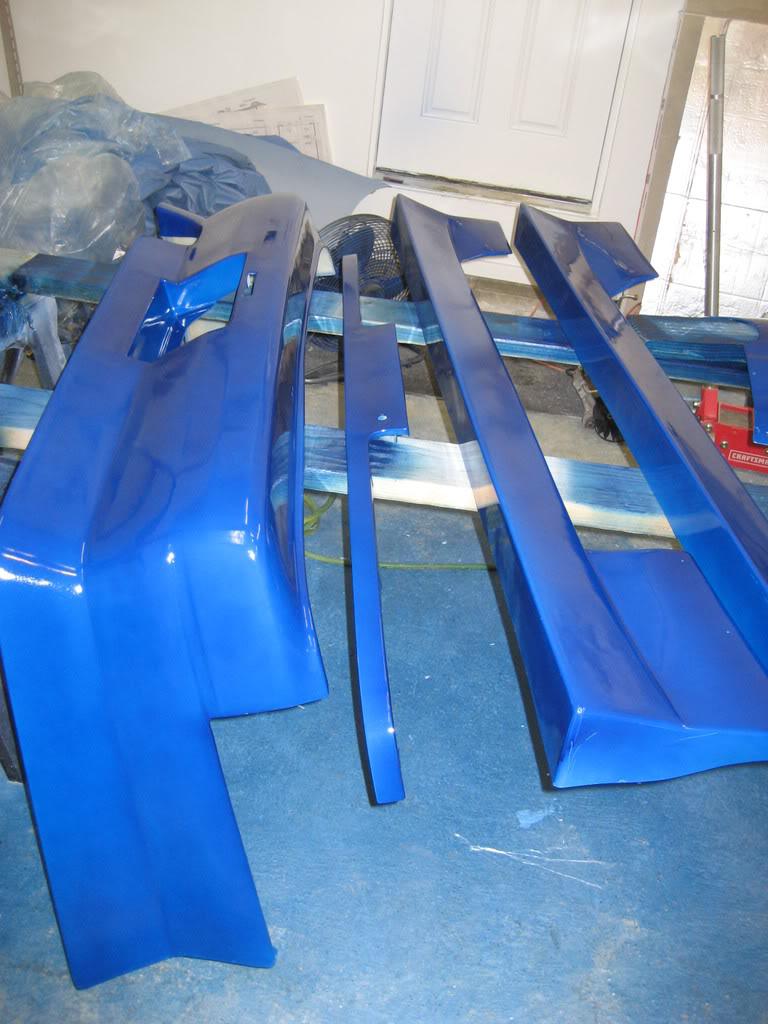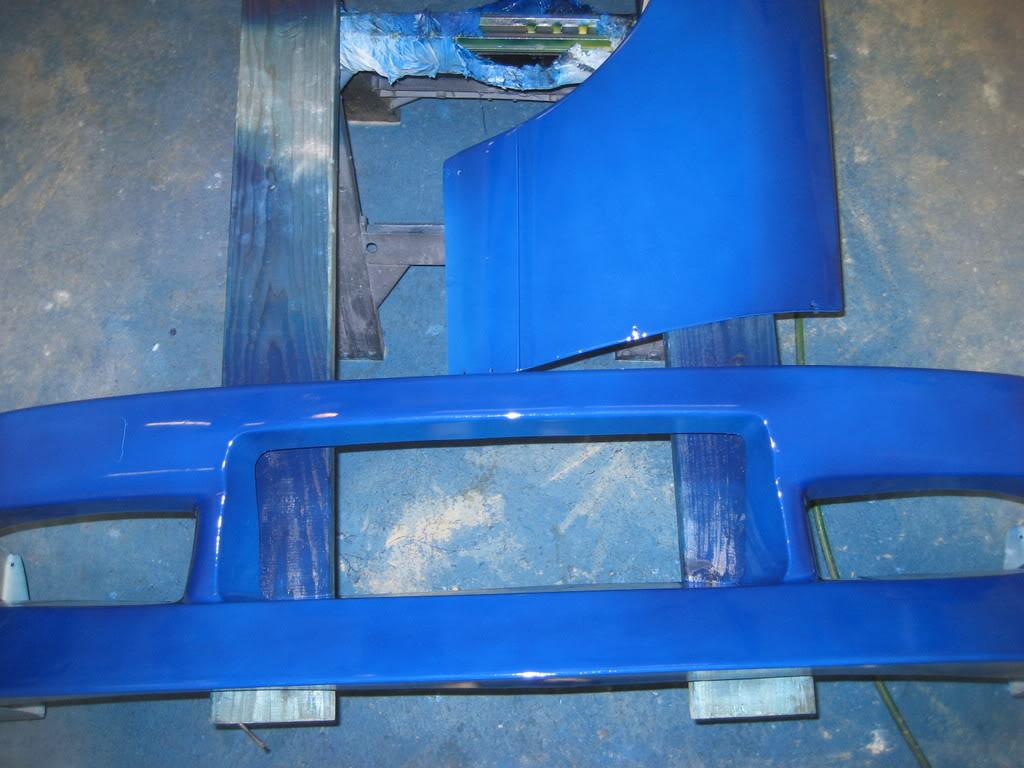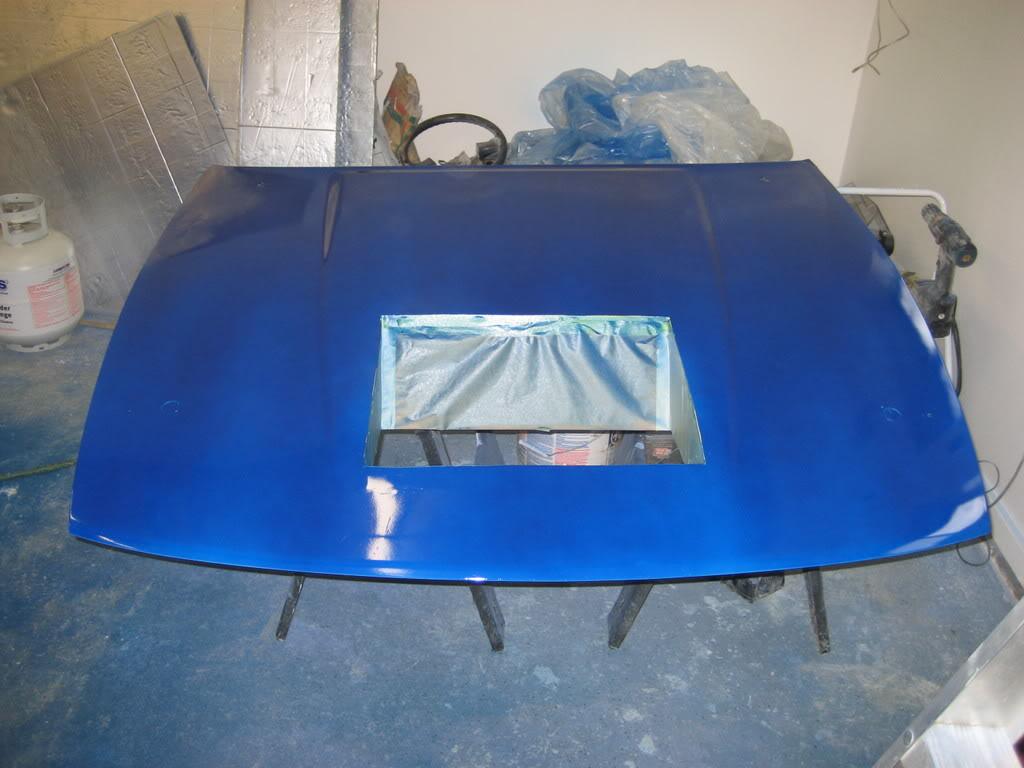 The color is called intense blue pearl. Jason is going to re-paint the doors this weekend and then we will put the car back together in 2-3 weeks when I can get back down there.

edit: 3/1

Jason repainted the doors yesterday. He also did the valve covers. Everythings looking good.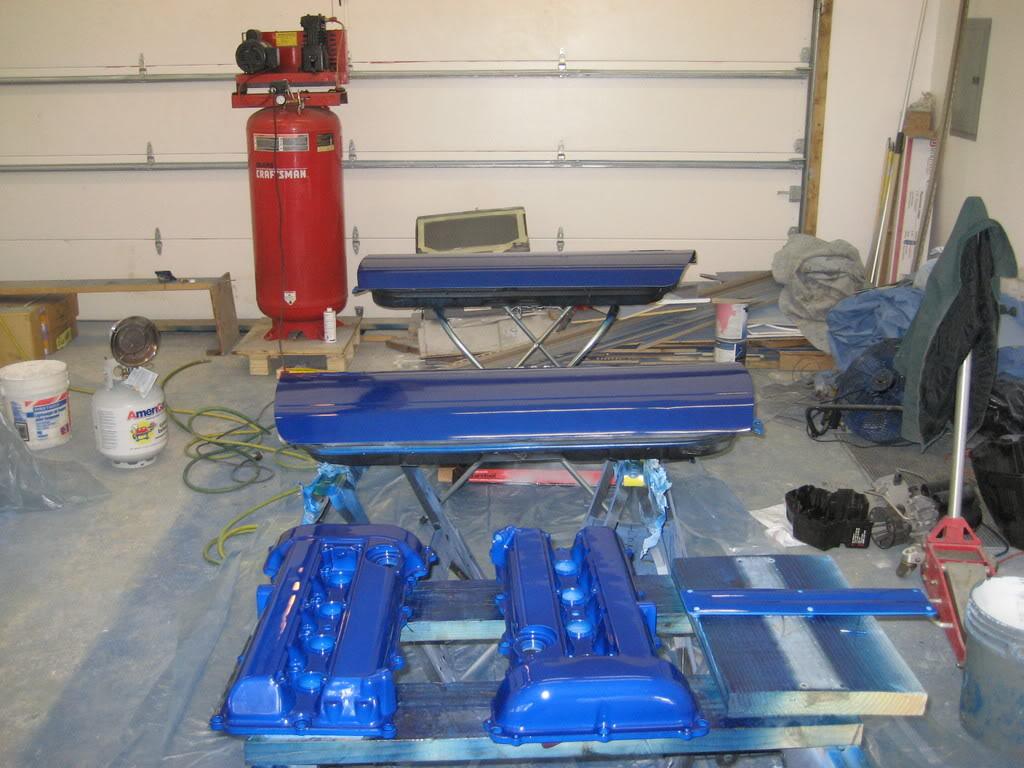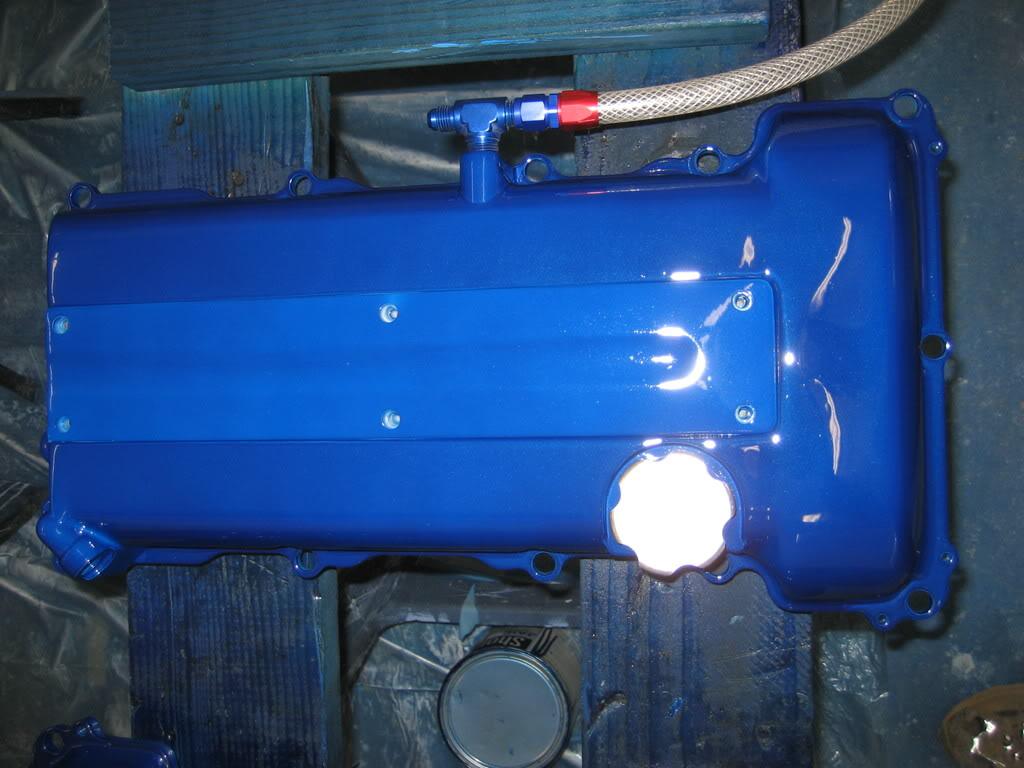 3/24/09

The car is finally back together... Almost.

Tinted lights: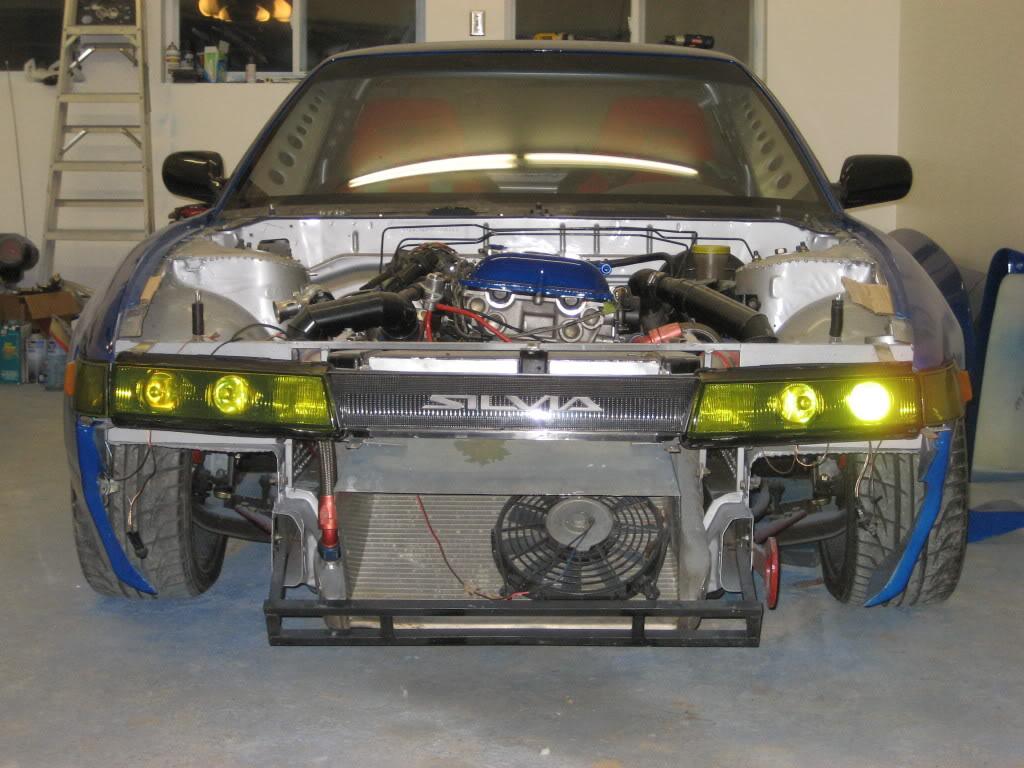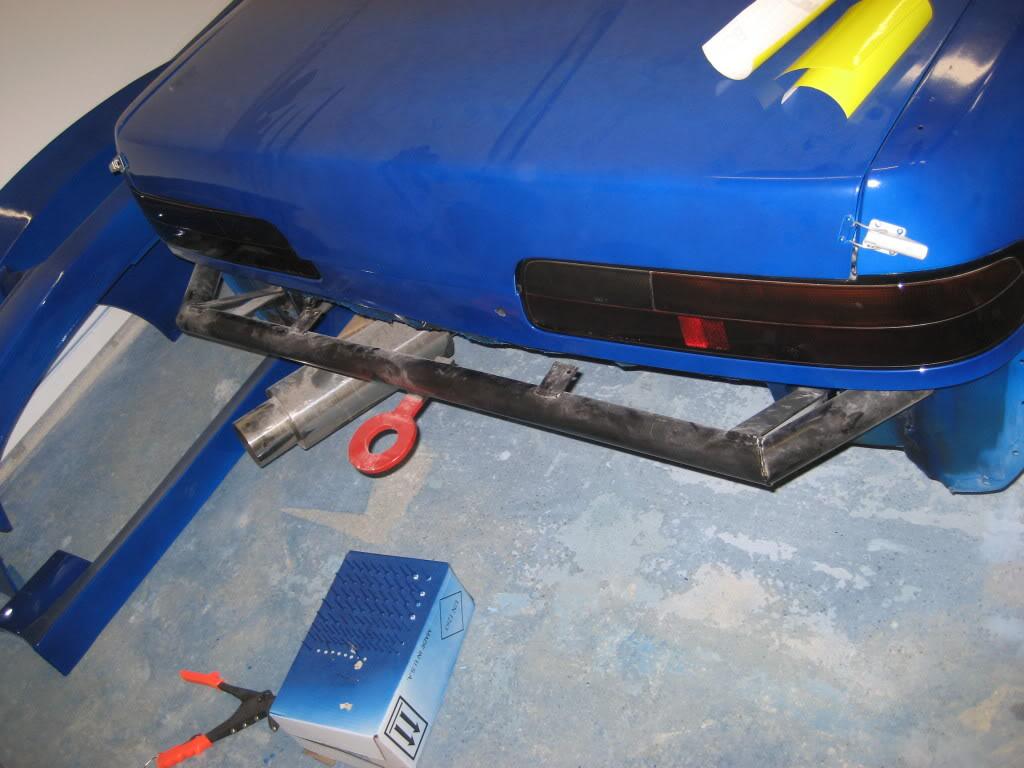 I finally got wheels in the correct size. The huge sidewall on these tires raised the car about an inch, so don't mind the ride height. Originally I wanted black wheels, but the white is kinda growing on me.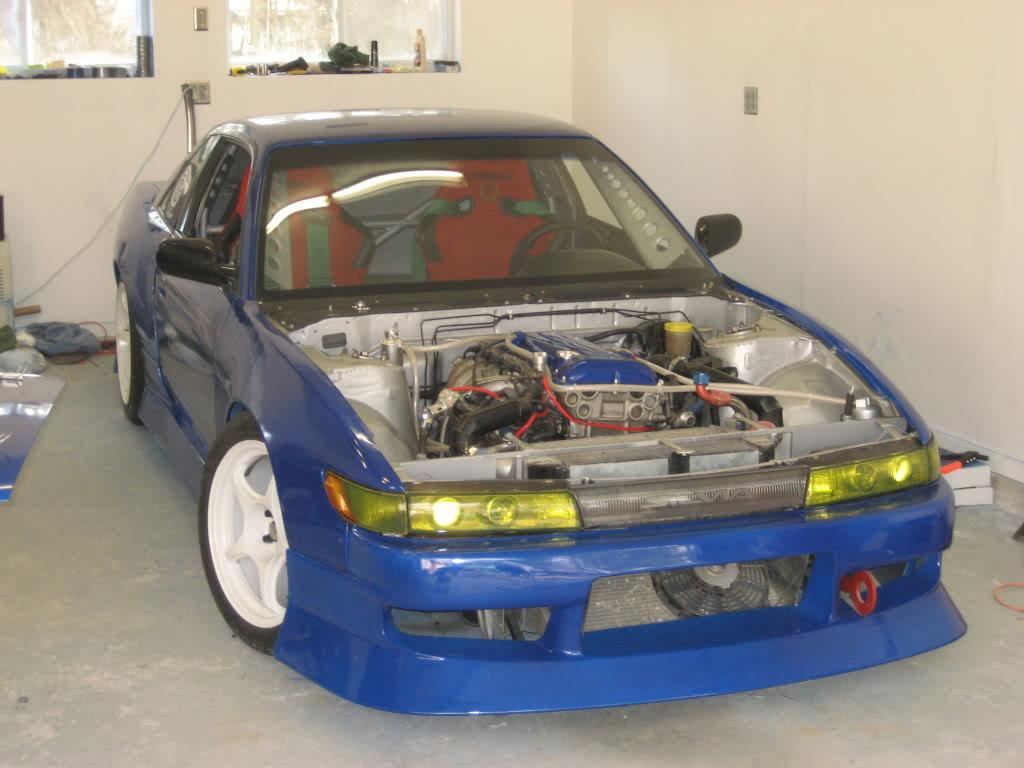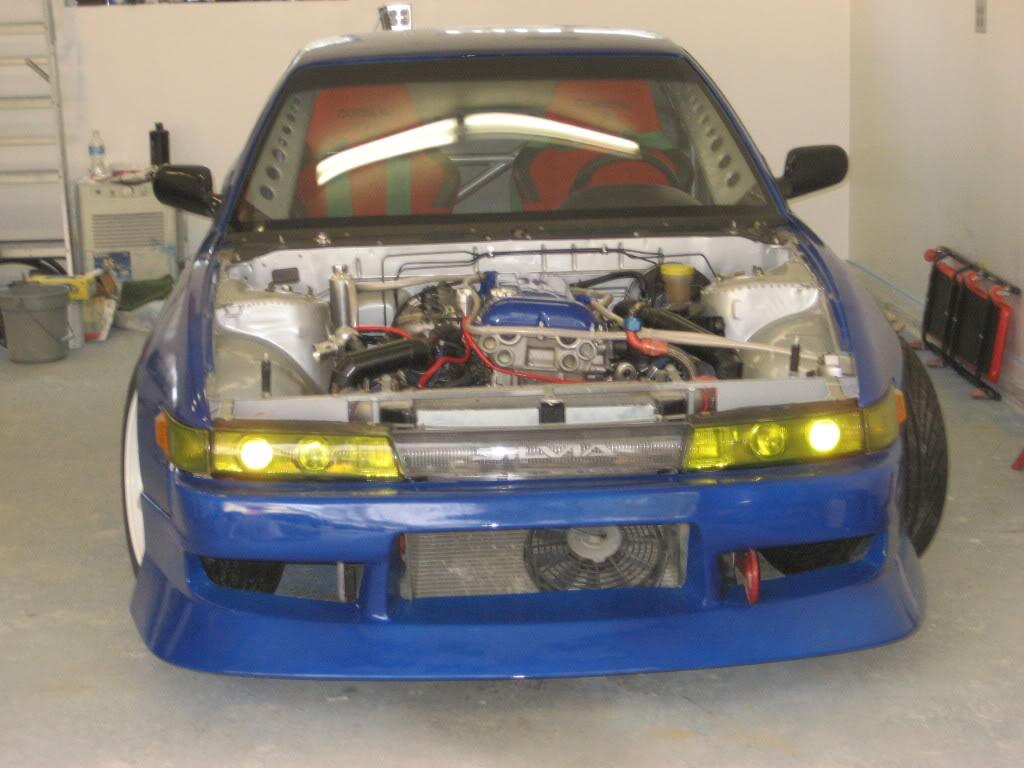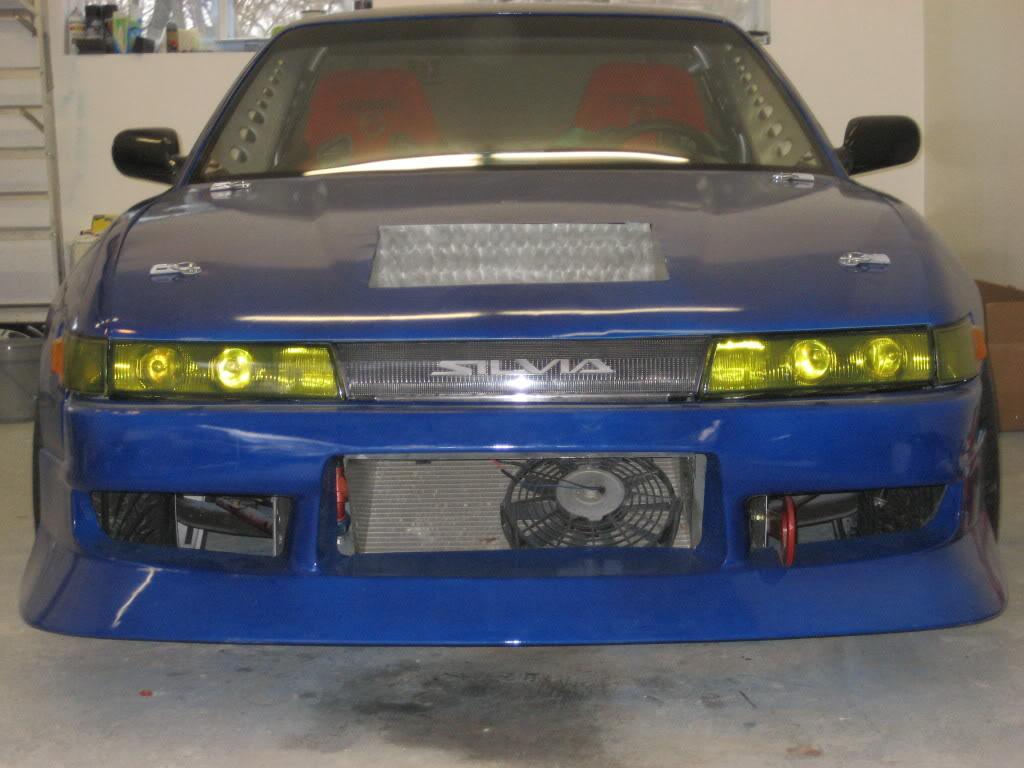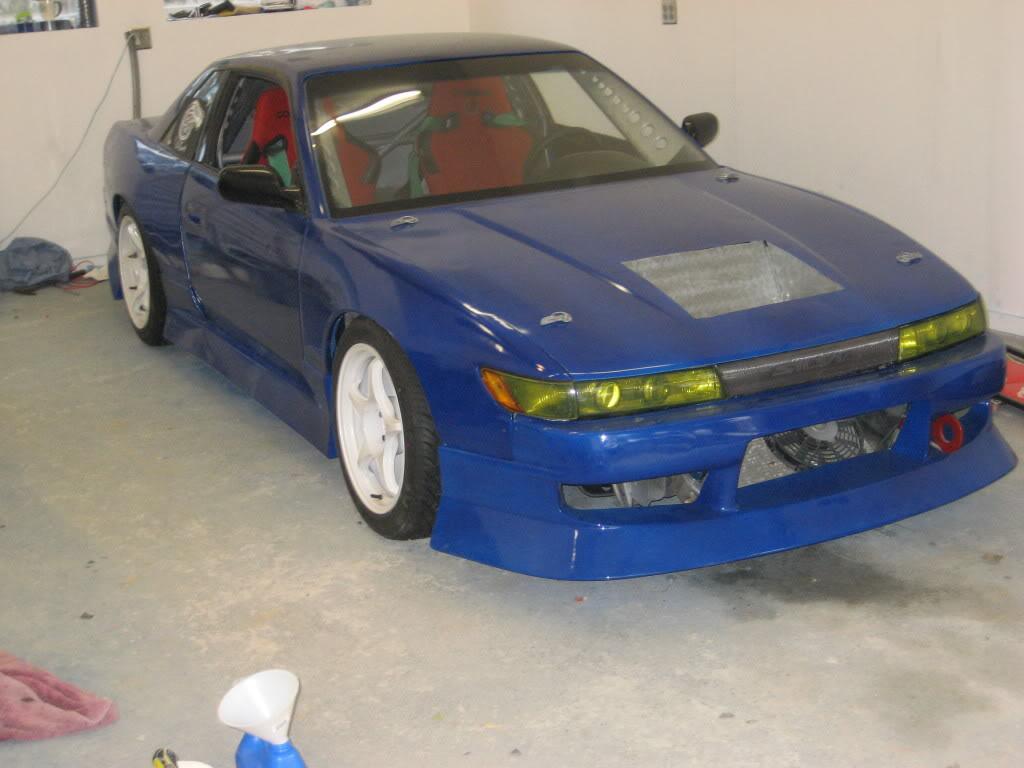 Those are the only pics we have right now because we can't drive the car. It sounds like a bad starter so as soon as we get a new one we'll get the car outside and pic-whore the crap out of it.


4/15/09

Last week we got our P.S.I. Racing coil pack covers and stickers in: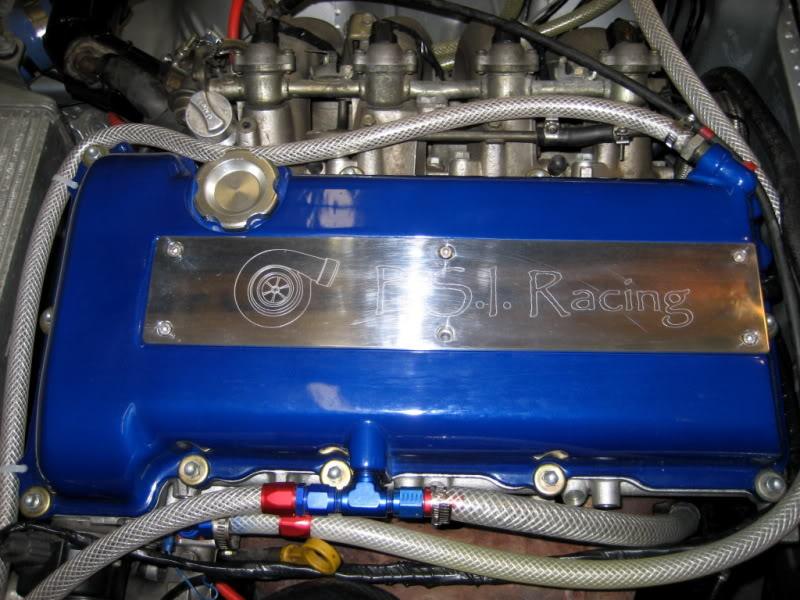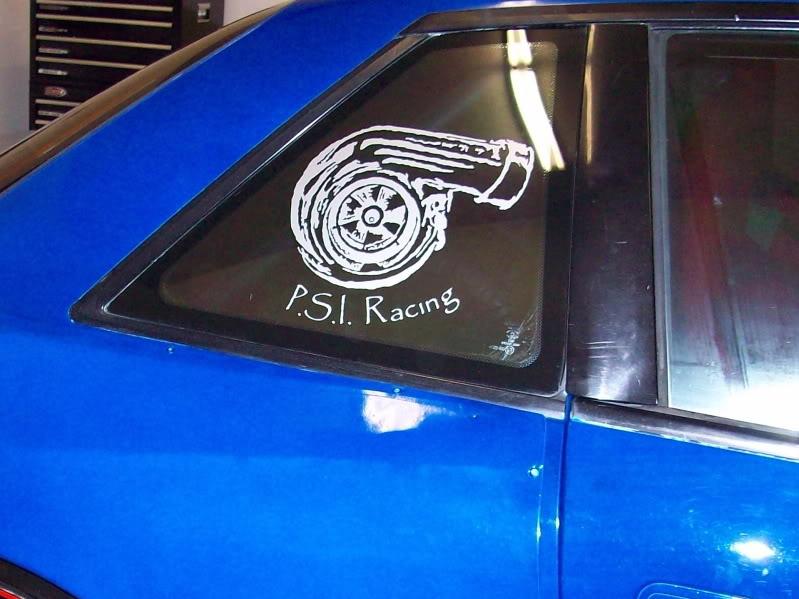 Last Saturday was the first Clubloose event of the year. It only took us 15 months, but the car was actually ready to drive. We worked on it until 11 pm Friday night, but did manage to get loaded up and ready to go. Then Saturday at 7 am it was pouring rain. Luckily, they still had the event (thanks Clubloose).

When we stripped the car Jason thought we needed to remove the wipers and wiper motor to save 1.5 pounds. Unfortunately we didn't get new ones before this event... Yeah. I drove the car in the pouring rain with no wipers or defrost.

Driving to the track: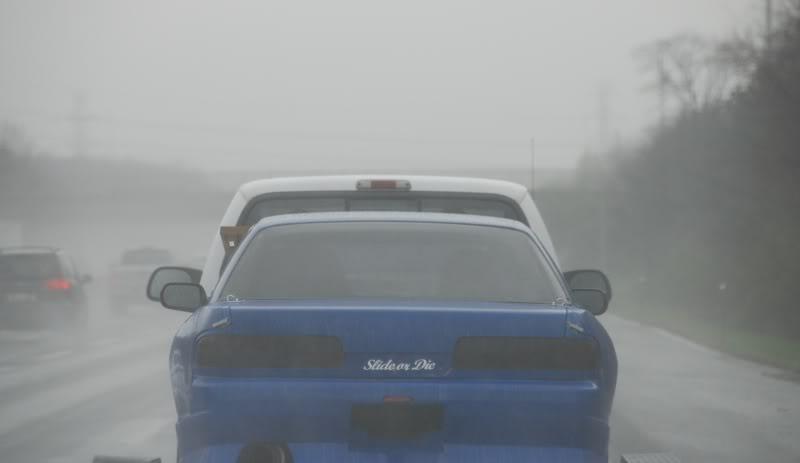 About to go for the first run: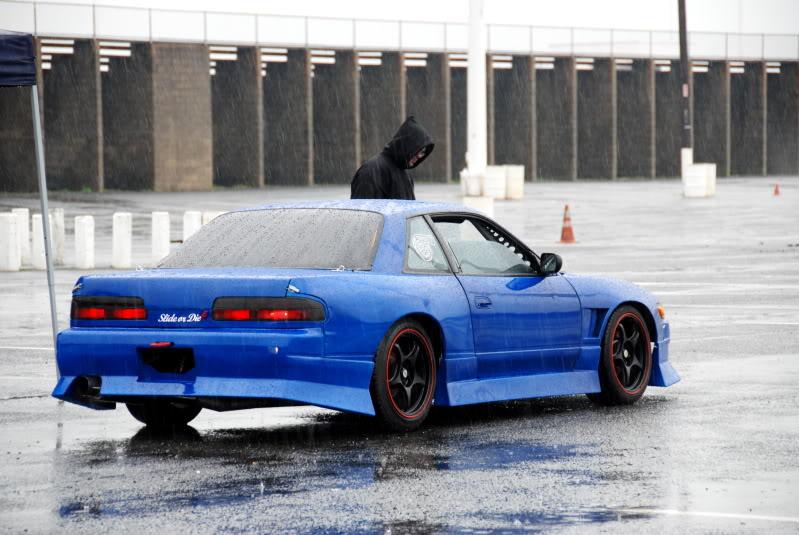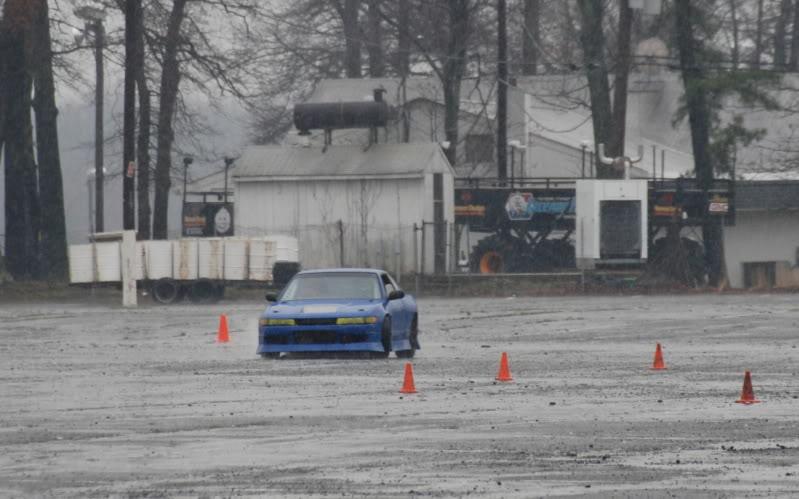 Back in line: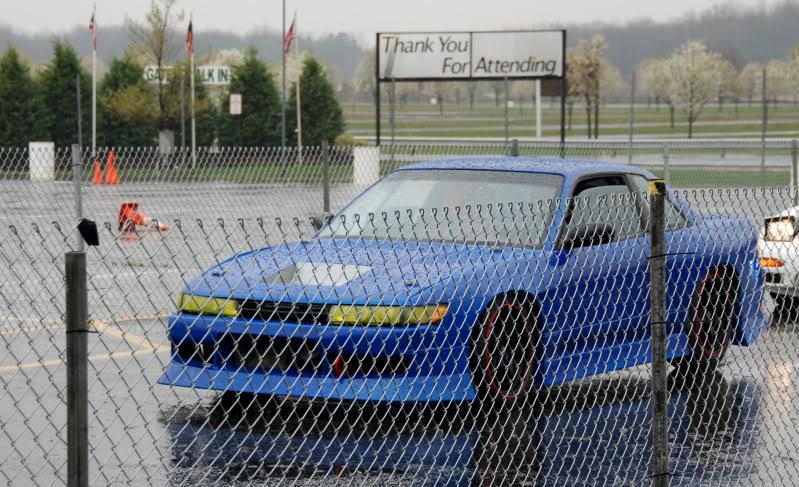 Still in one piece ready for another run: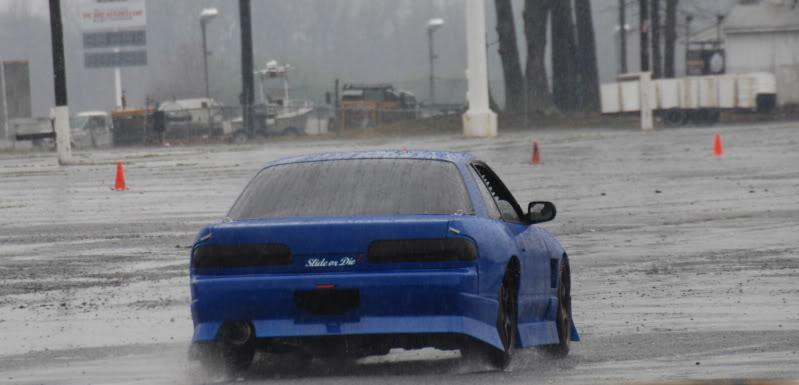 More on track pics: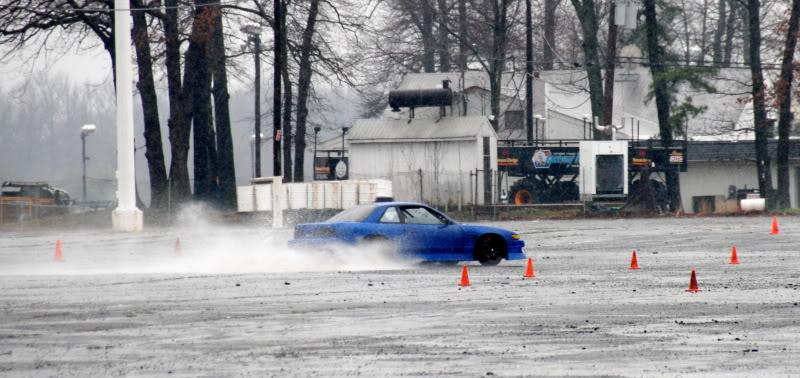 I wish we got the whole "Sorry RAINED OUT" sign in the background: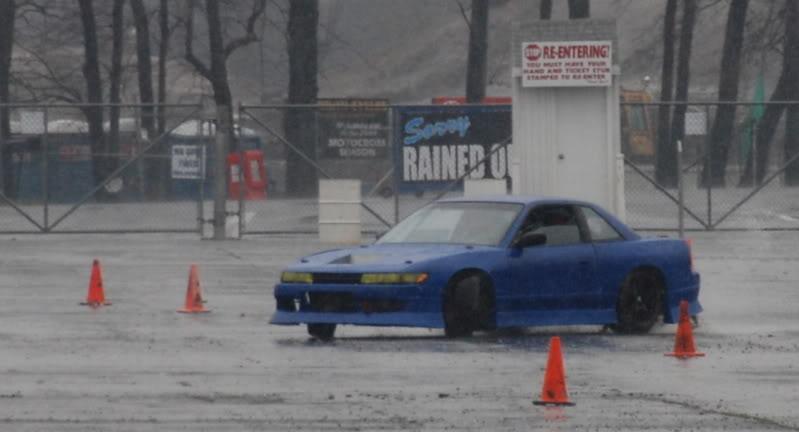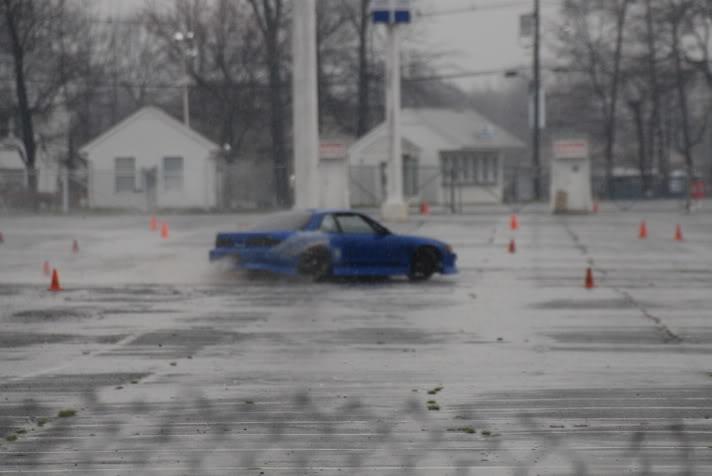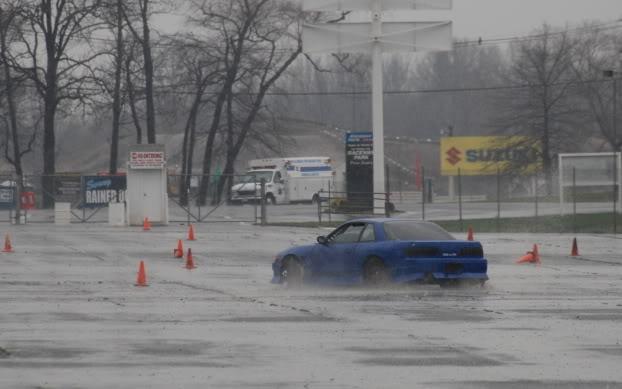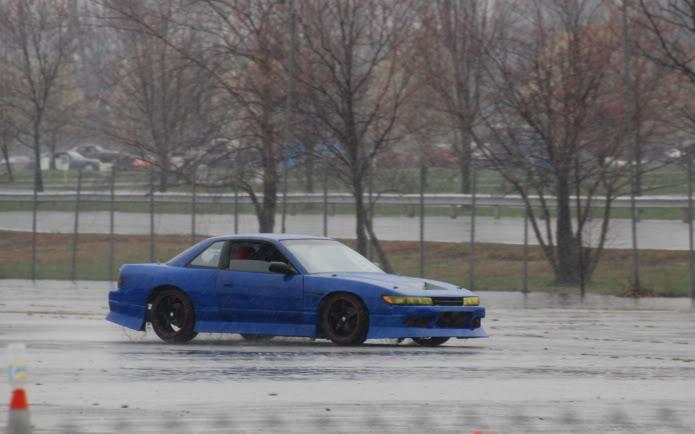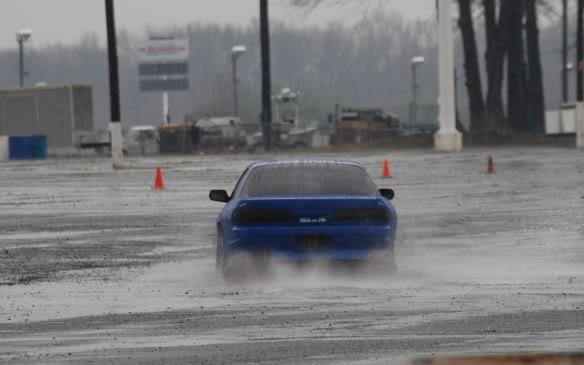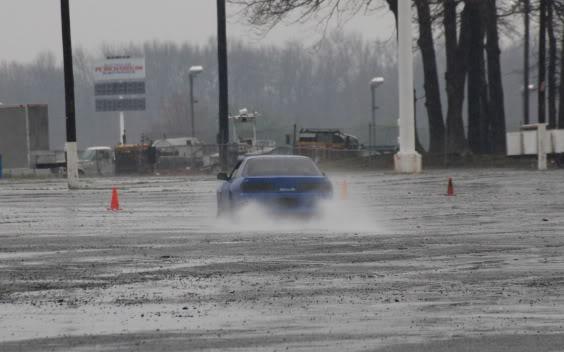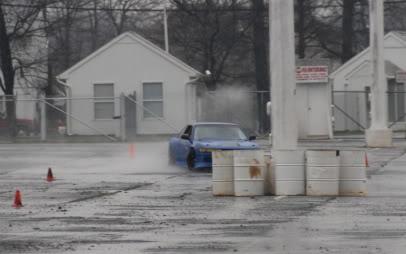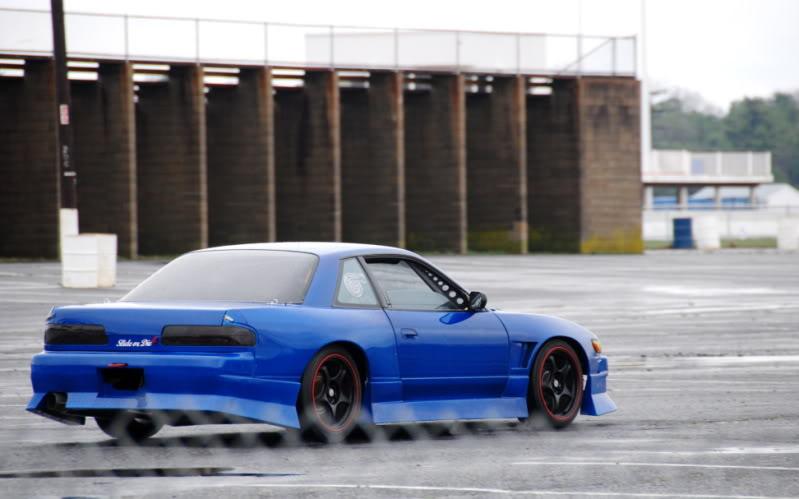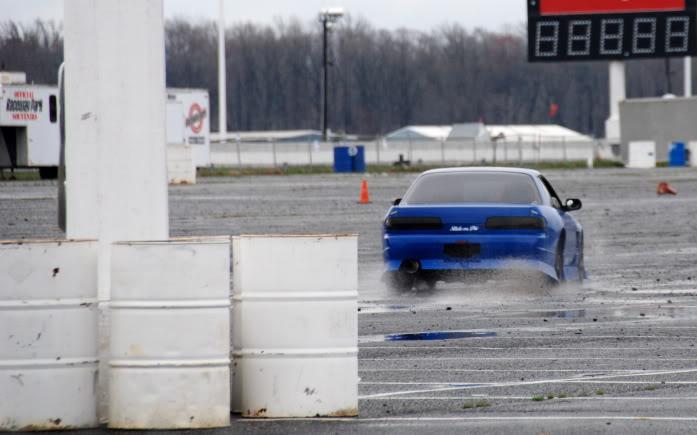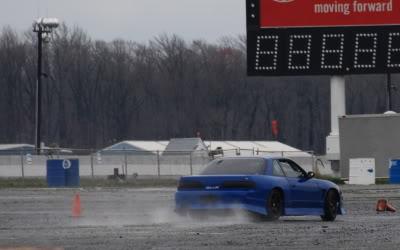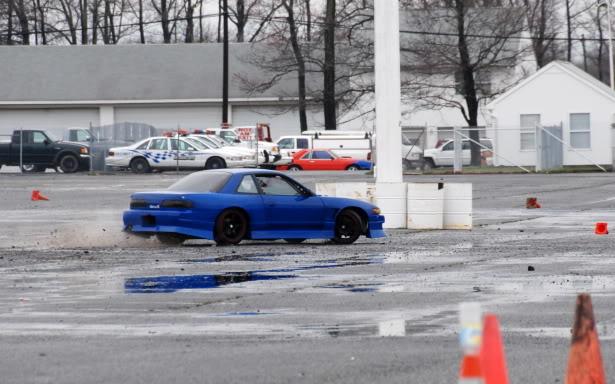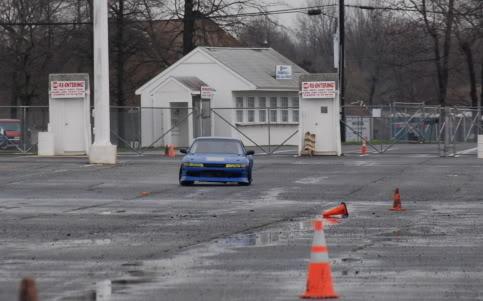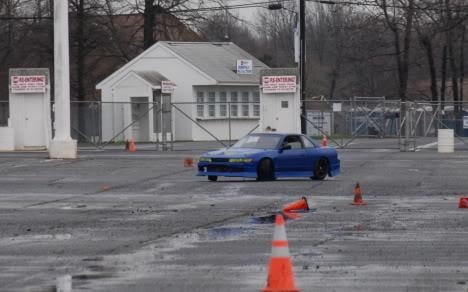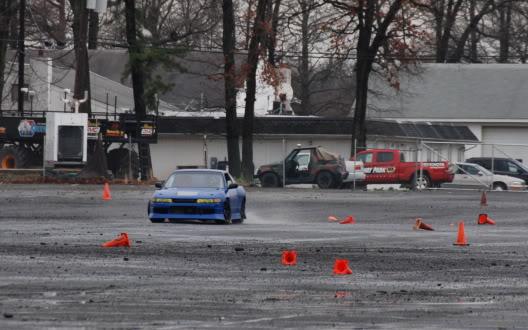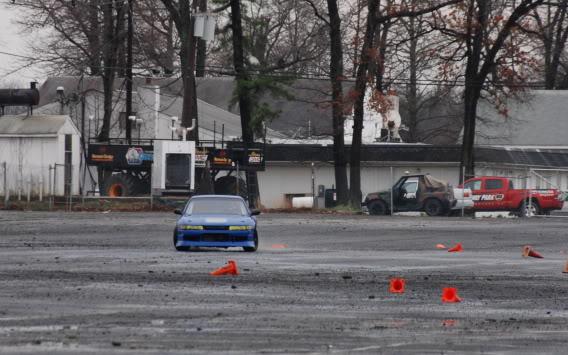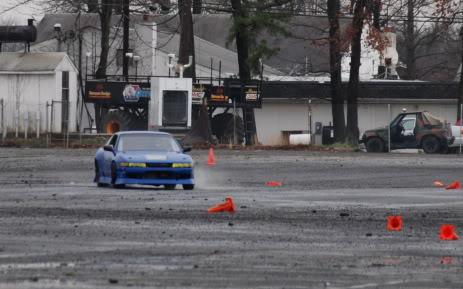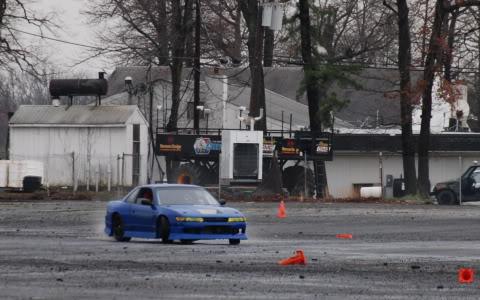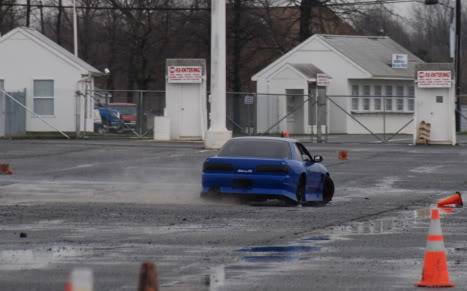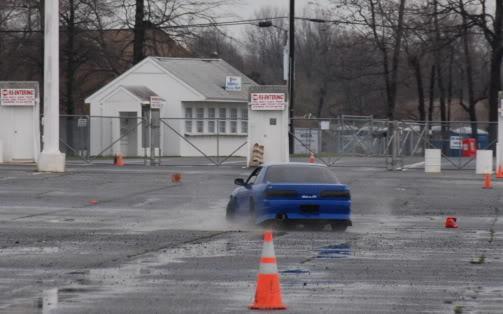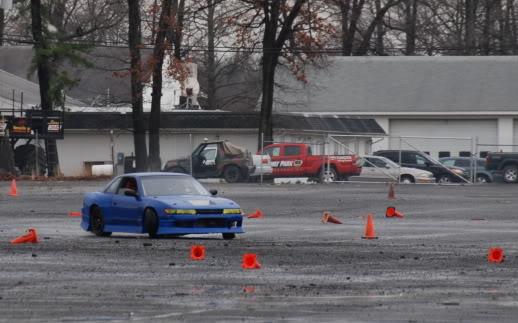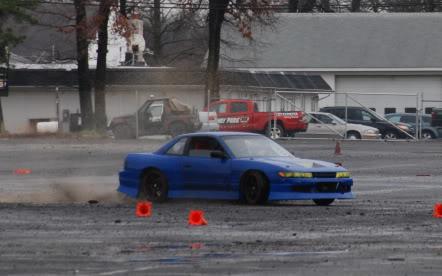 And of course the sun came out as soon as we left: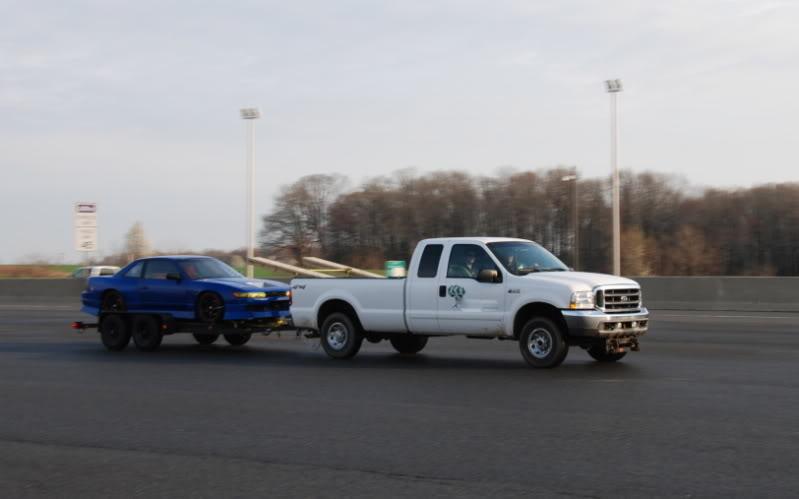 All in all it was a good day. We're still working on the new motor and I'm looking into new suspension. Obviously the thing I need most is more seat time...


11/3/09

Sorry it's been so long since the last update. Not much has changed on the car, but I have some pictures from our last event. Unfortunately the only run we got pictures of was when I spun out.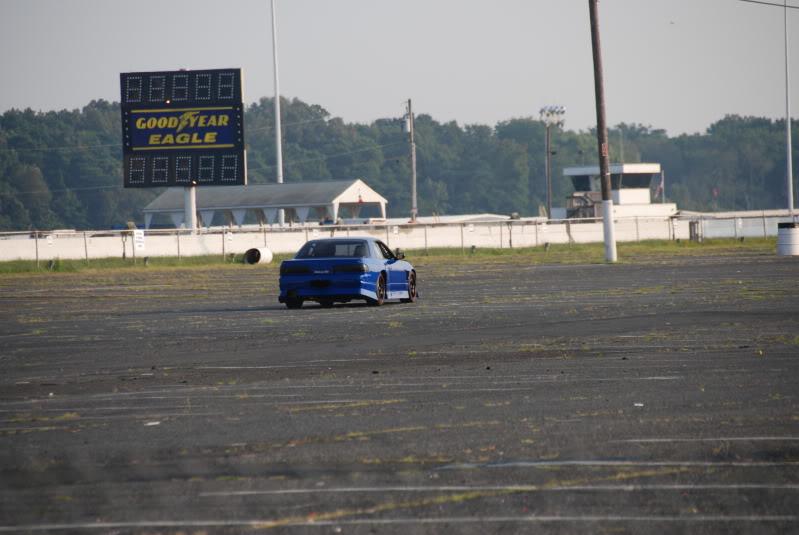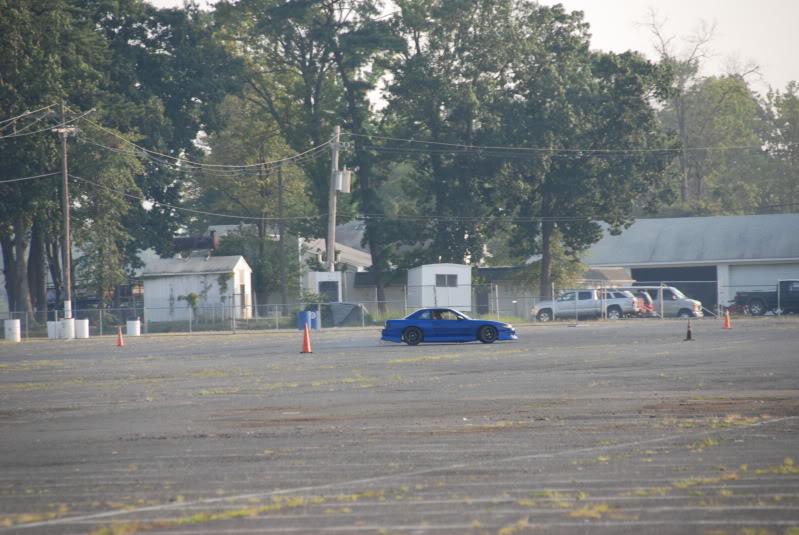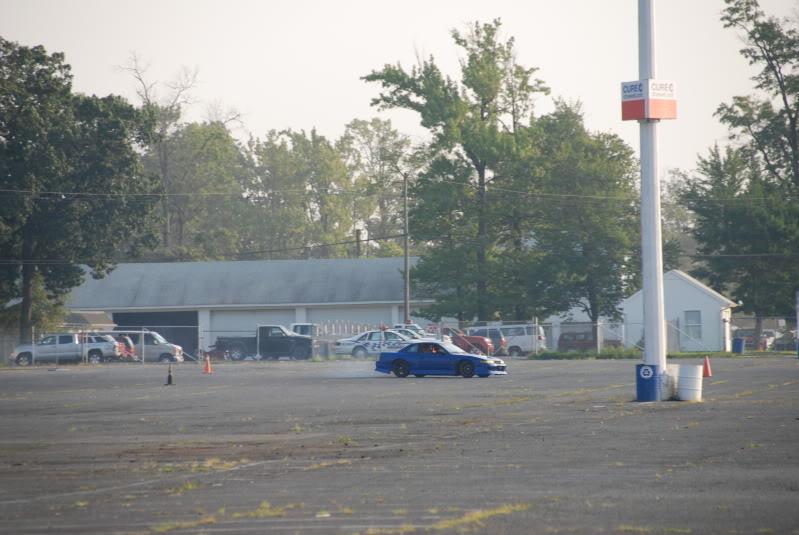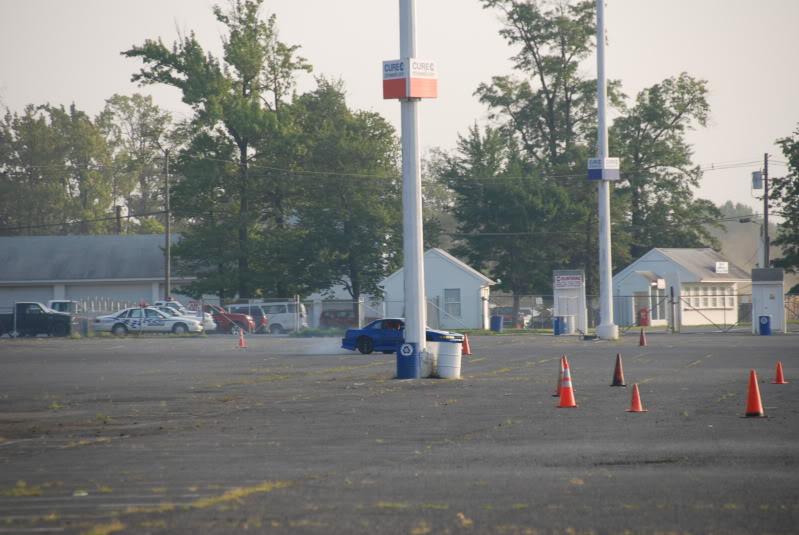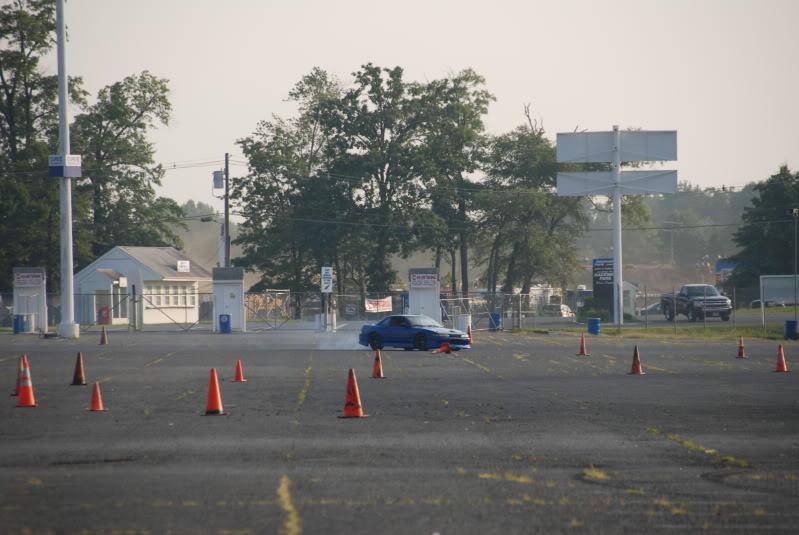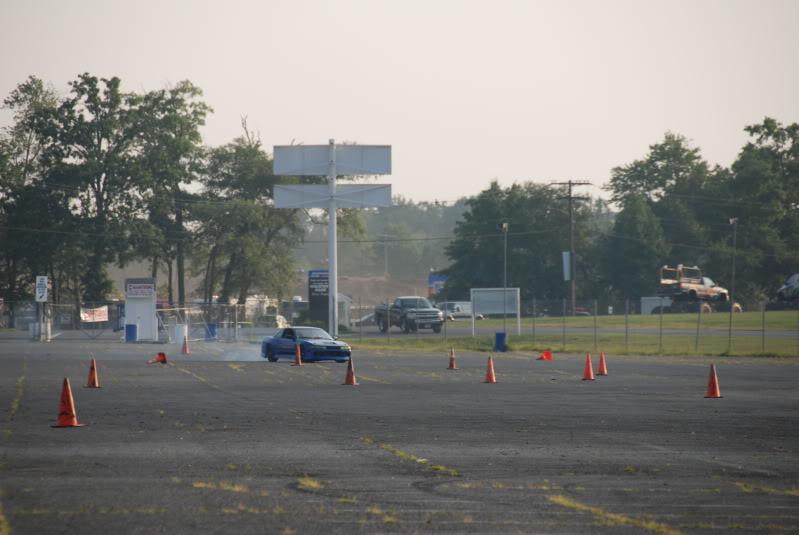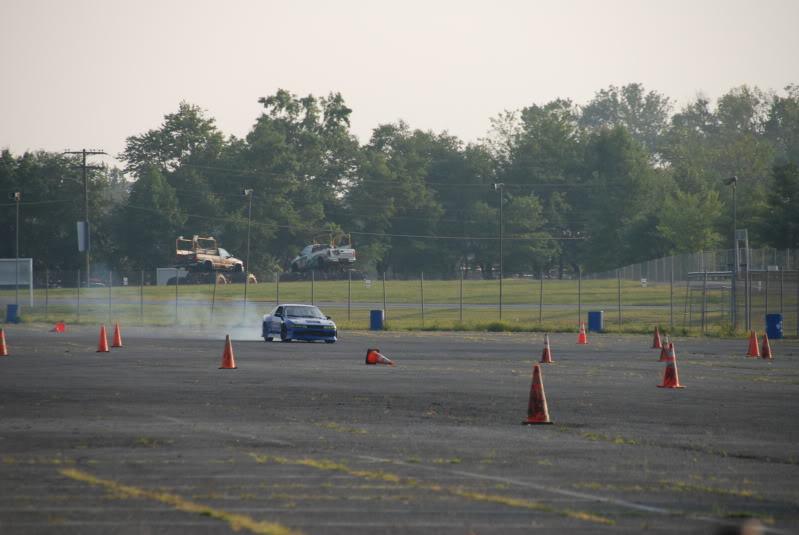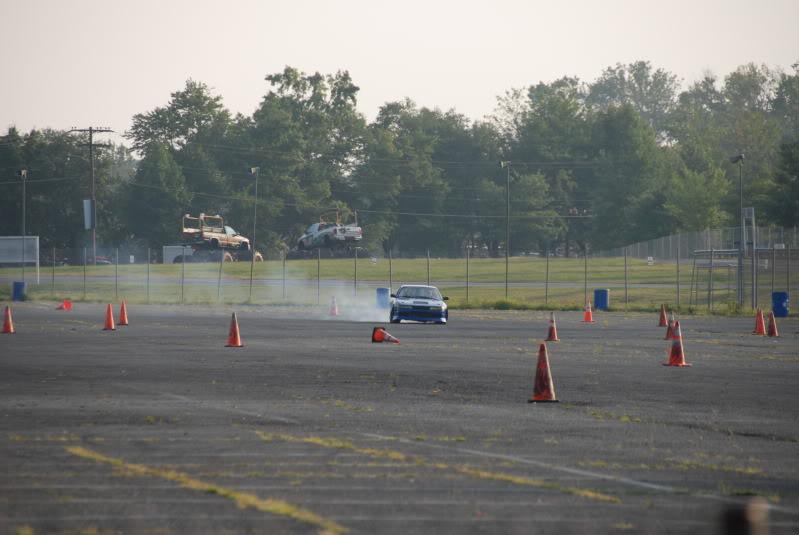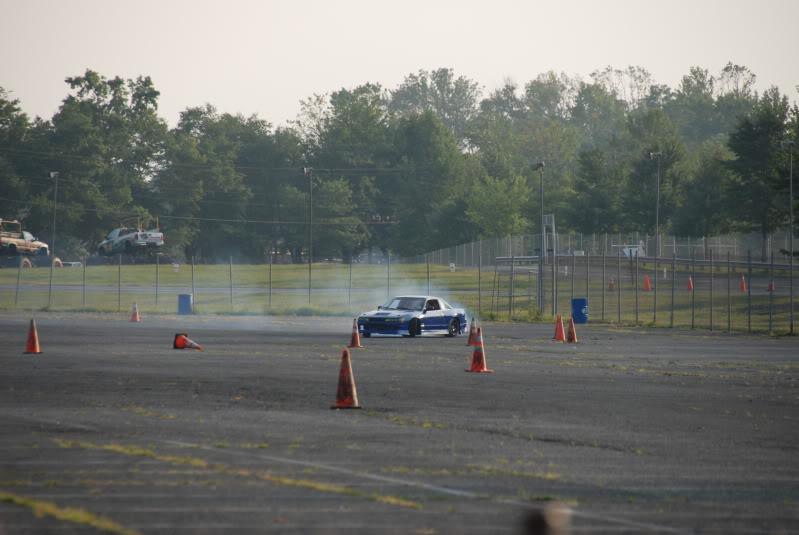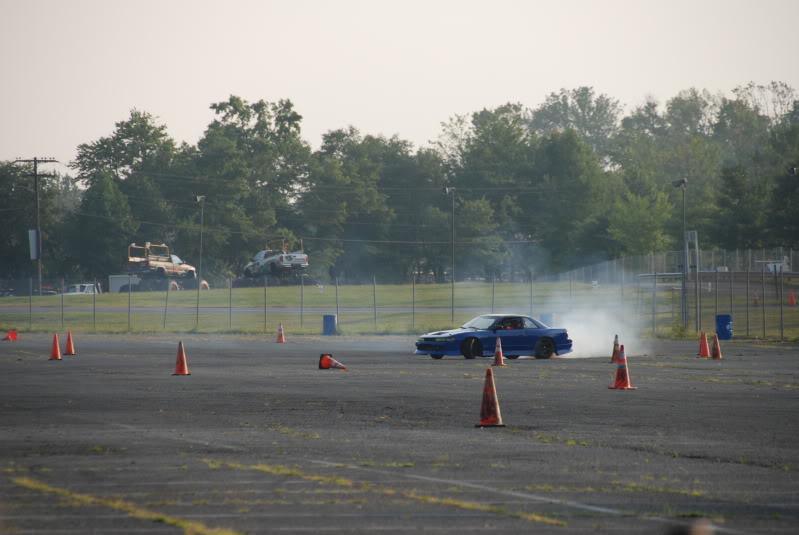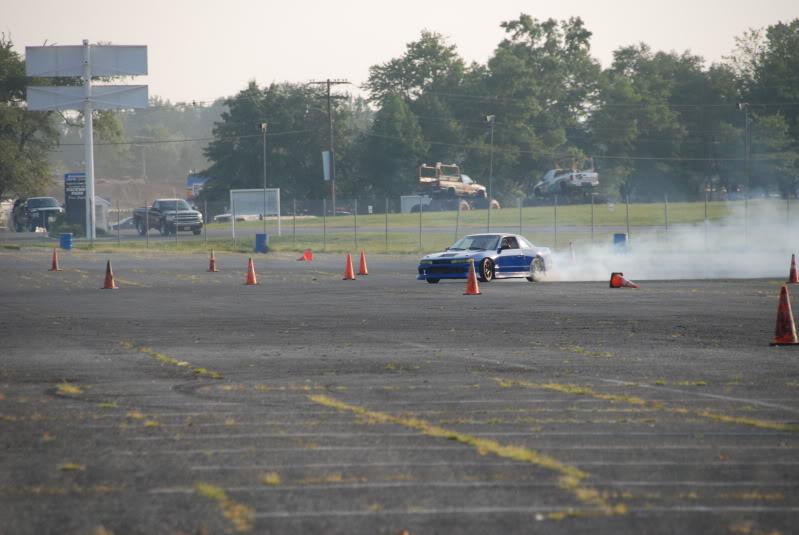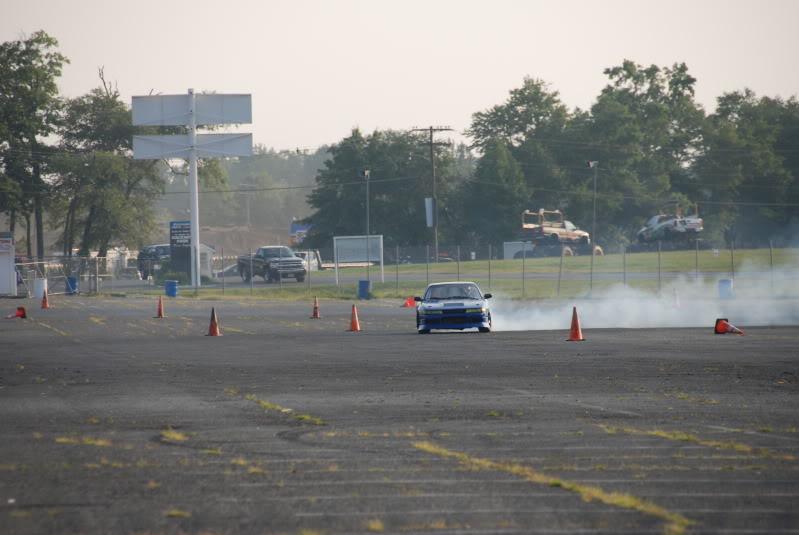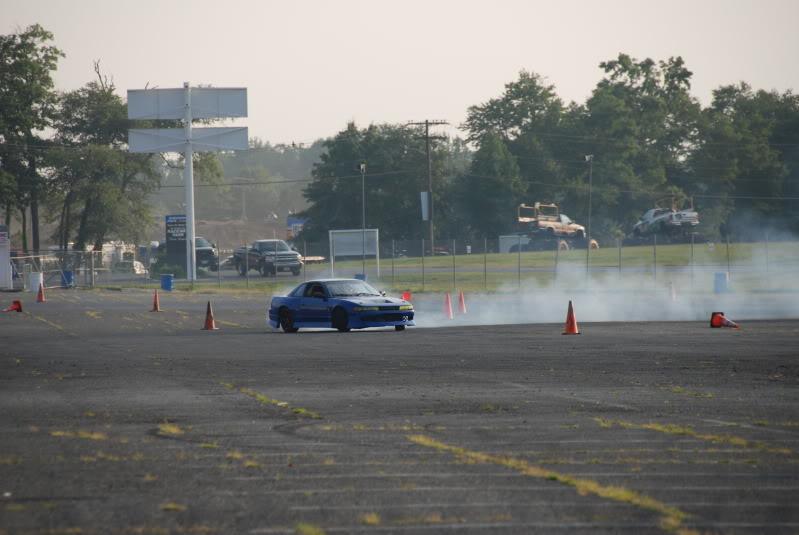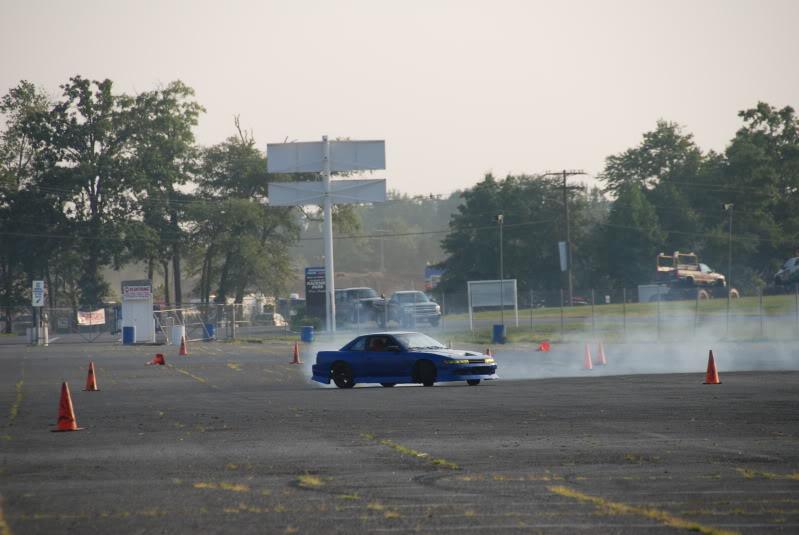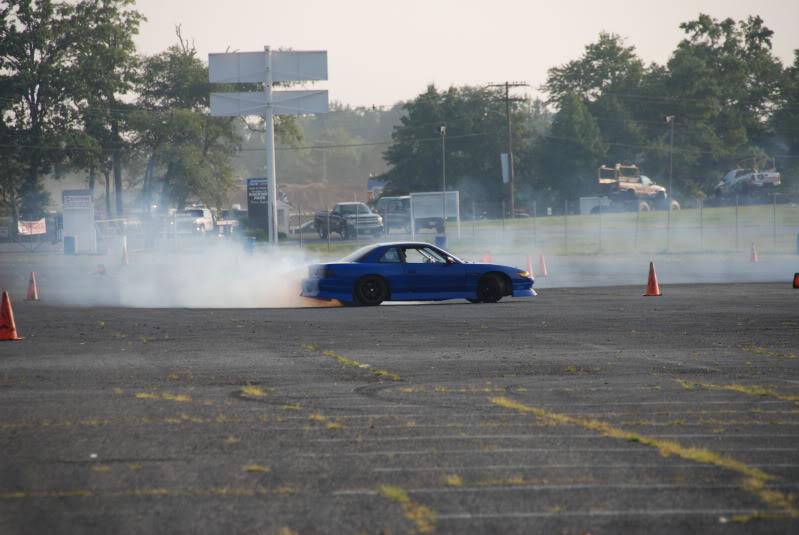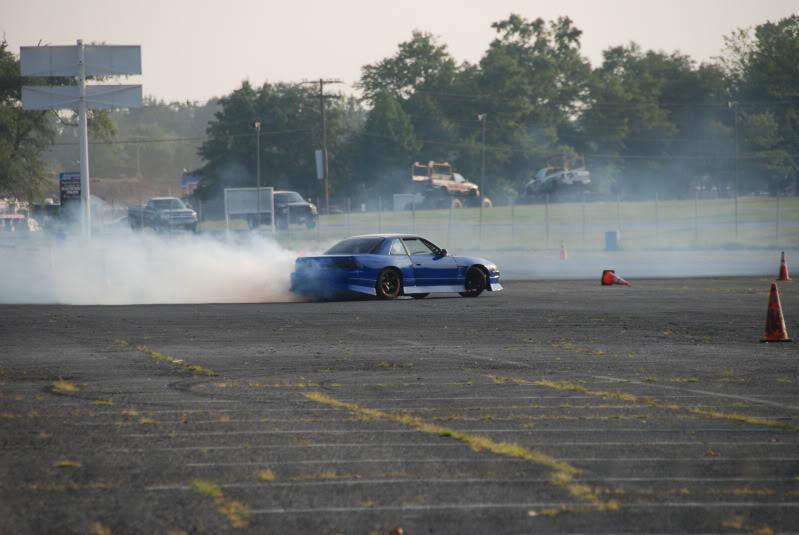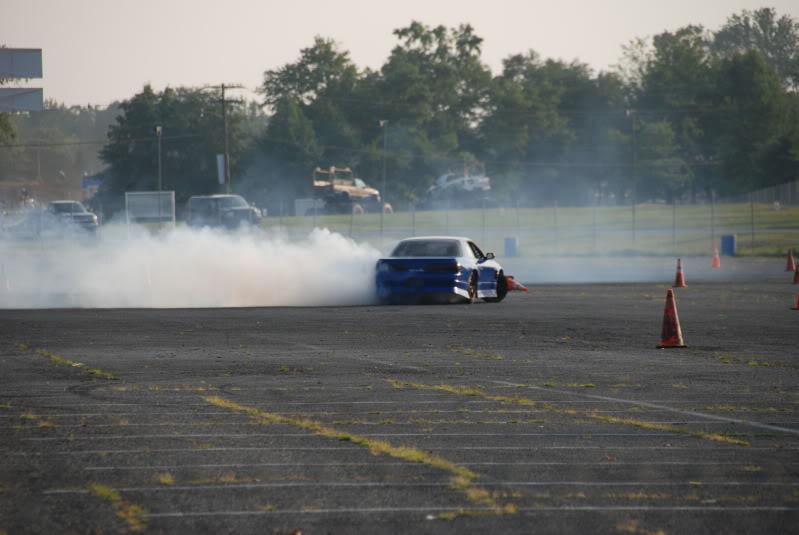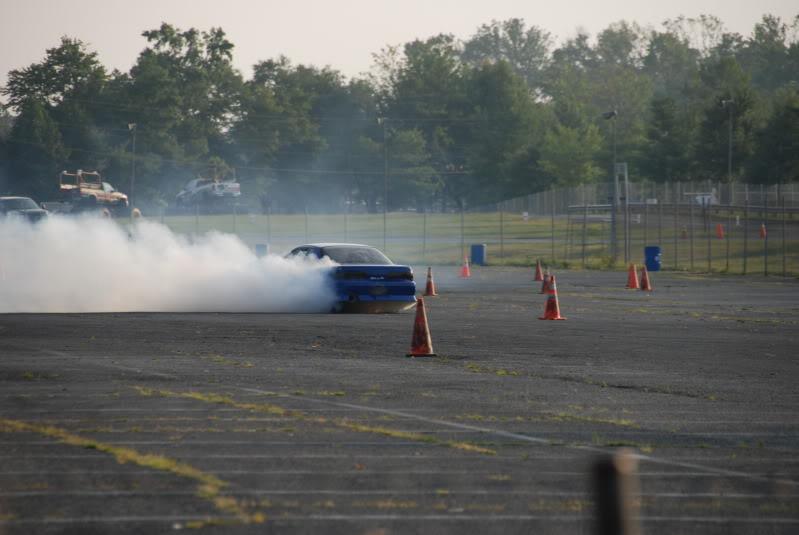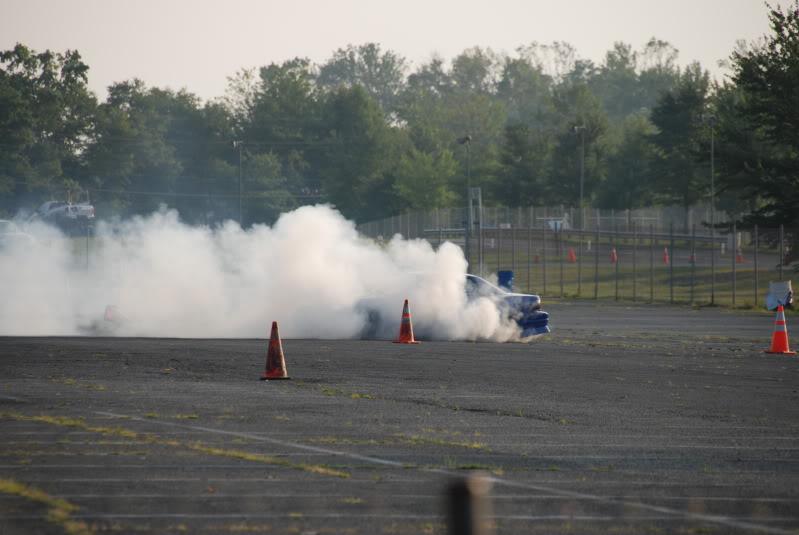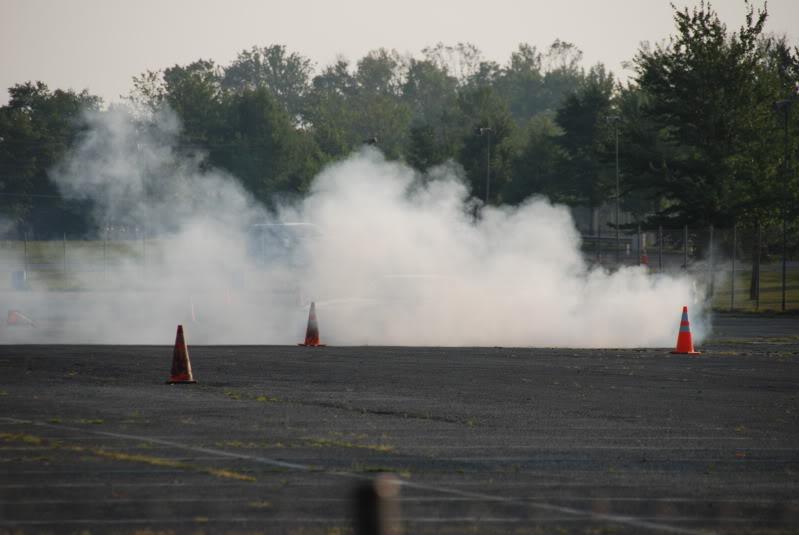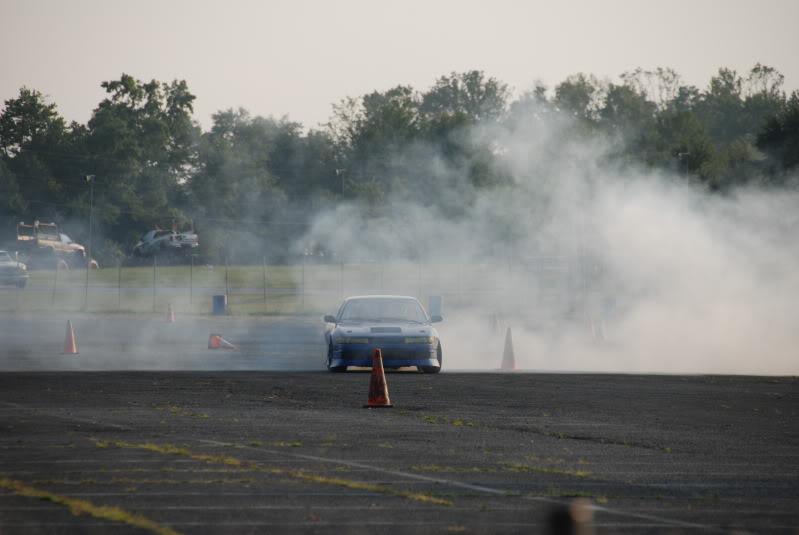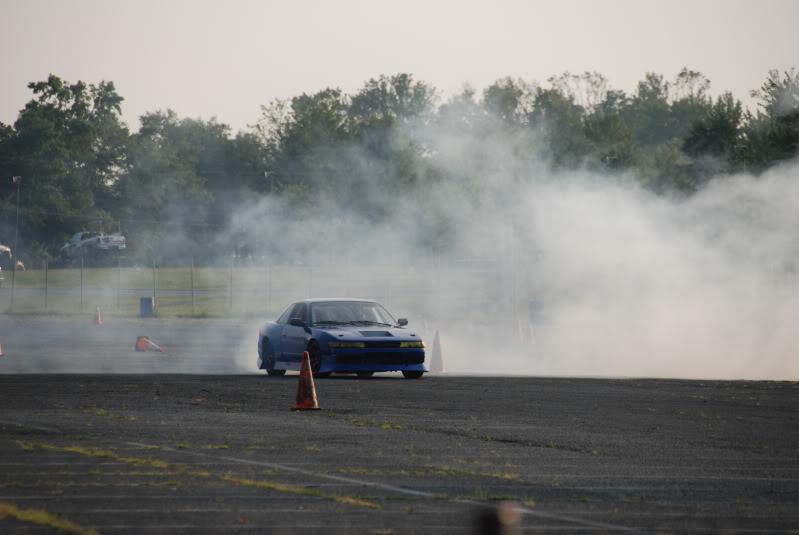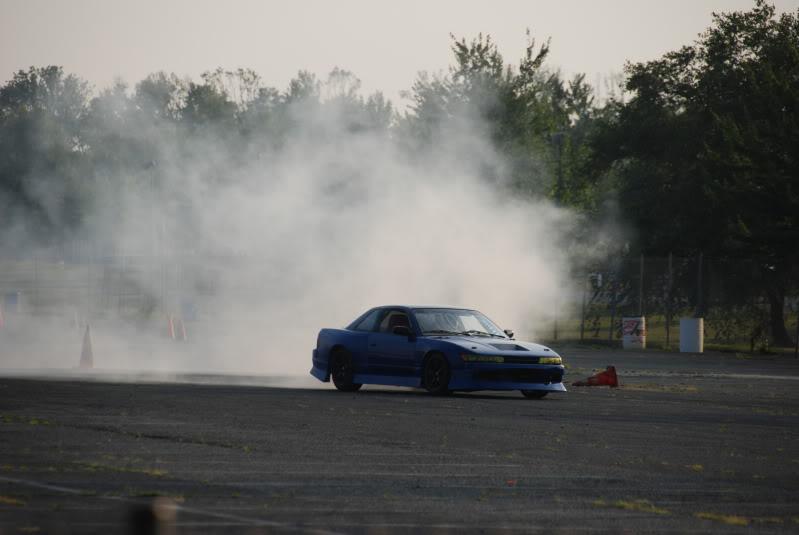 Also a really short, soundless video:



Aside from a coolant line exploding (one of the annoying ones under the intake manifold) the car ran great. Unfortunately I haven't found any more events around here this year, so it looks like we're going to be starting on the top mount manifold soon. We got some flanges cut out of 1/2" stainless and got the collector tacked up. The next step is to take some measurements and make a jig to hold the flanges so we can weld the runners. It'll probably be a few more weeks before we actually get to work on this, so I'll post more detailed pictures then.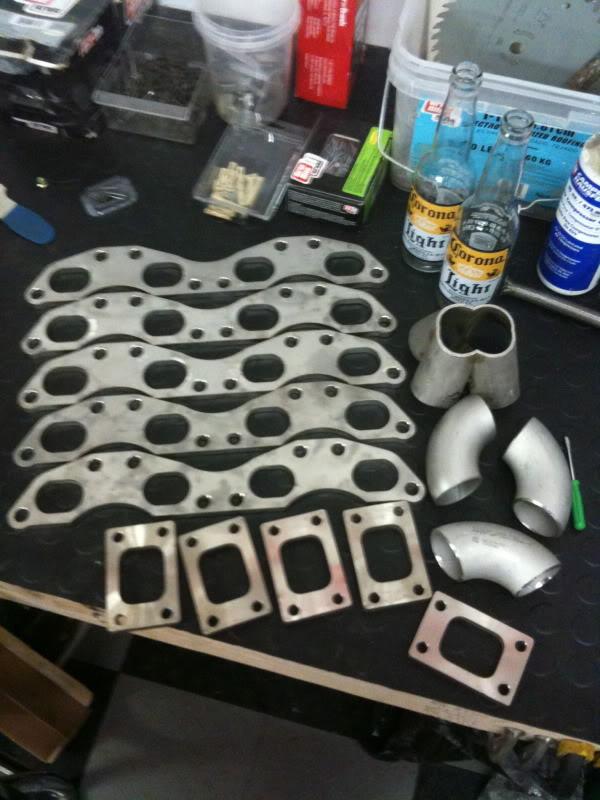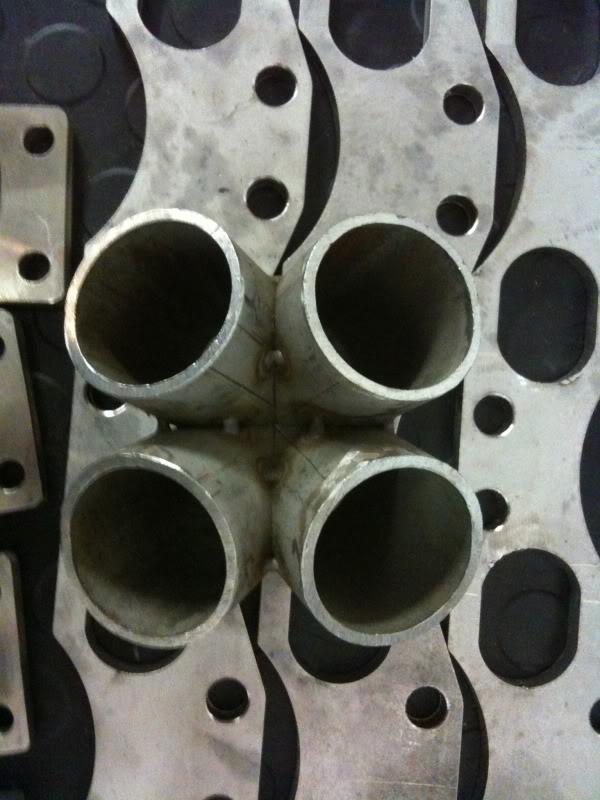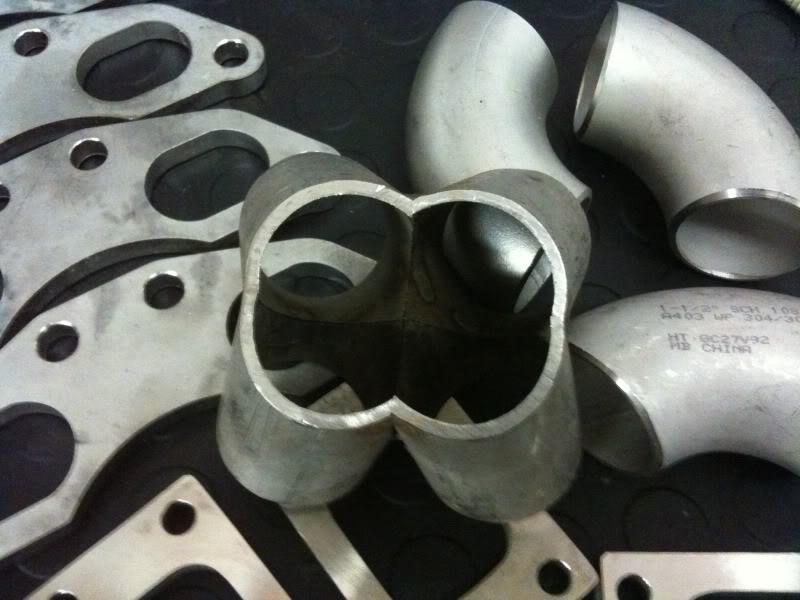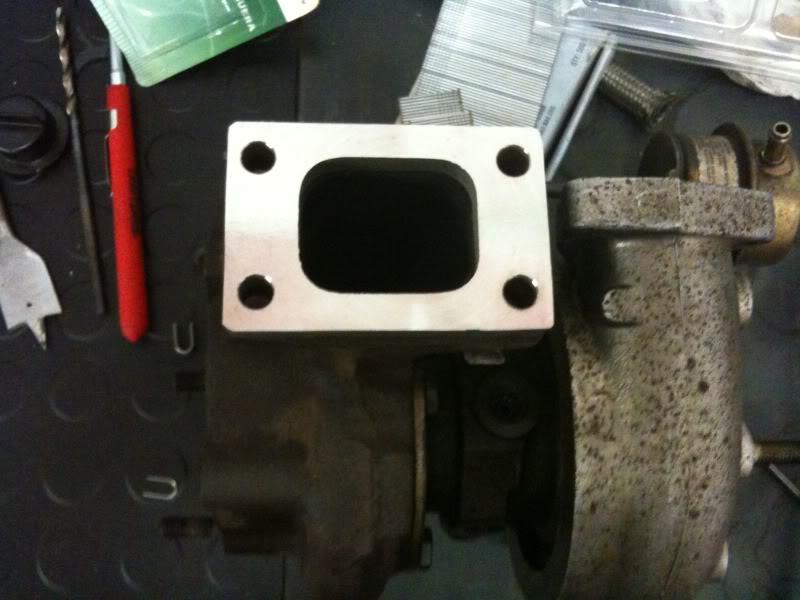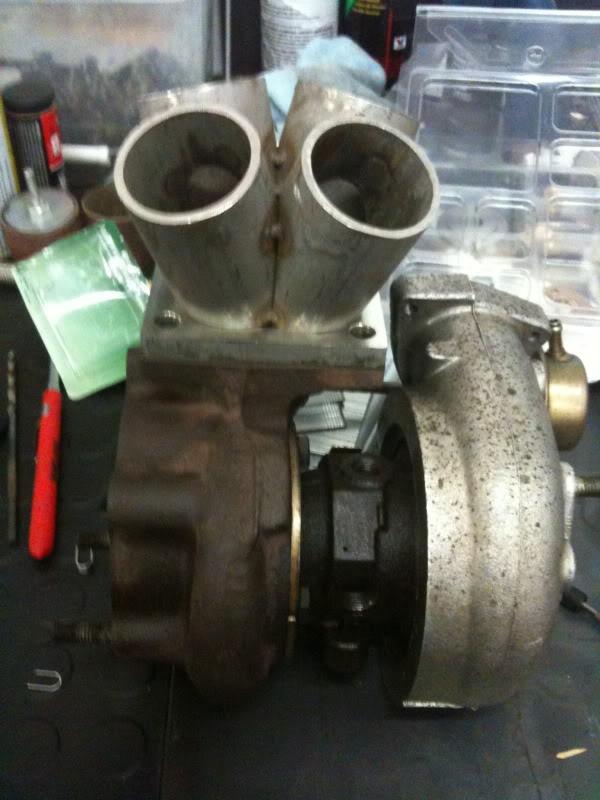 12/8/09

We started getting ready to fab up the manifold. We are making a stainless top mount for the gt3071r turbo.
We started by bolting on a head flange and taking some measurements for the turbo flange (the steel flanges are only being used for mock up, stainless will be used on the actual manifold).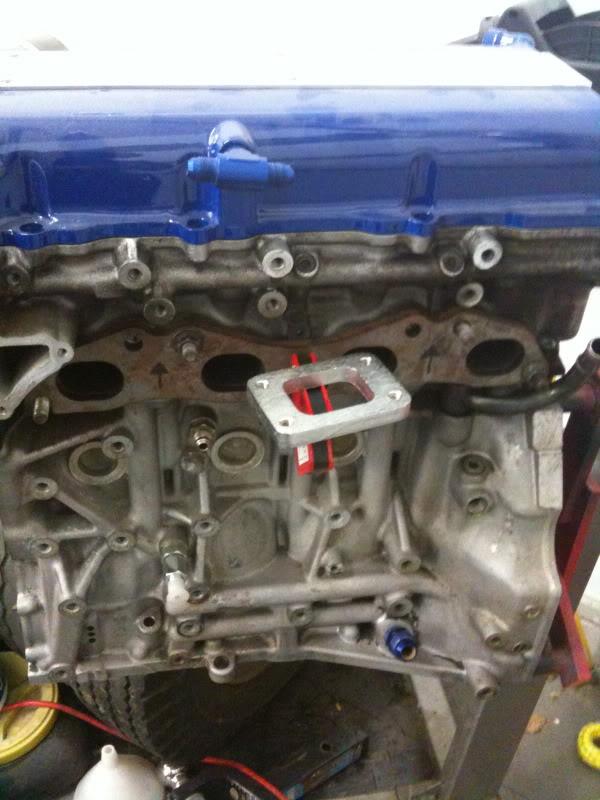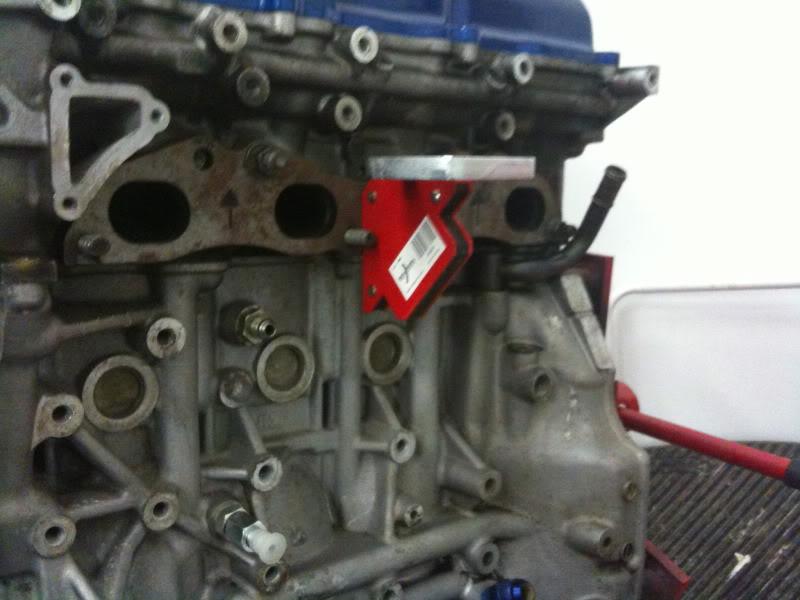 Then we set the turbo flange and welded supports to hold it in place.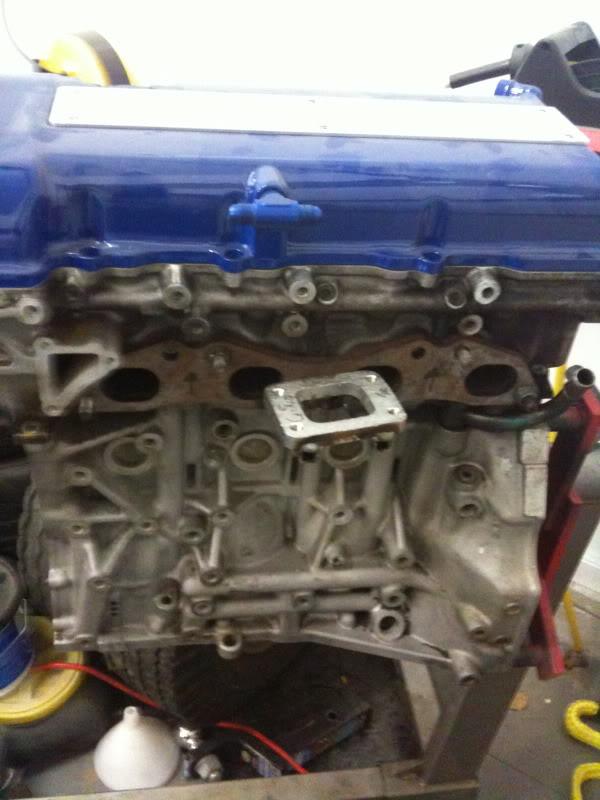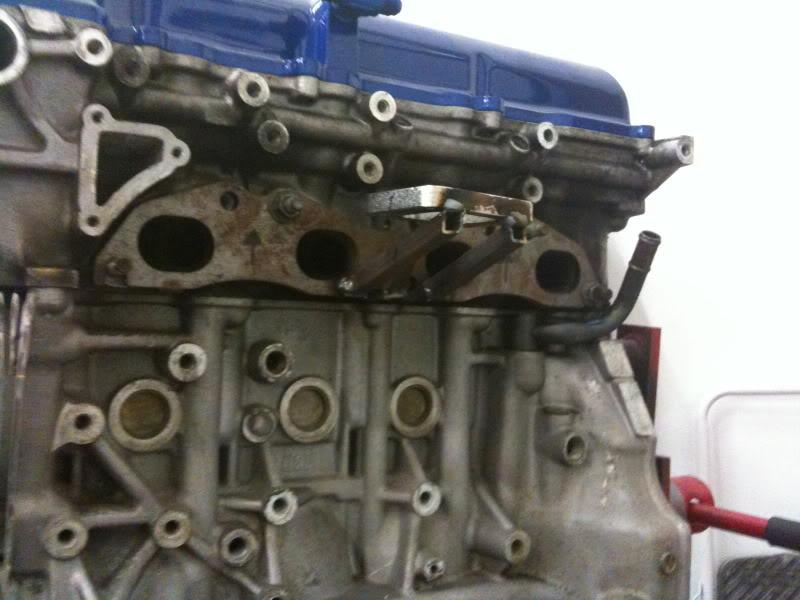 We bolted on the turbo and everything looks good so far.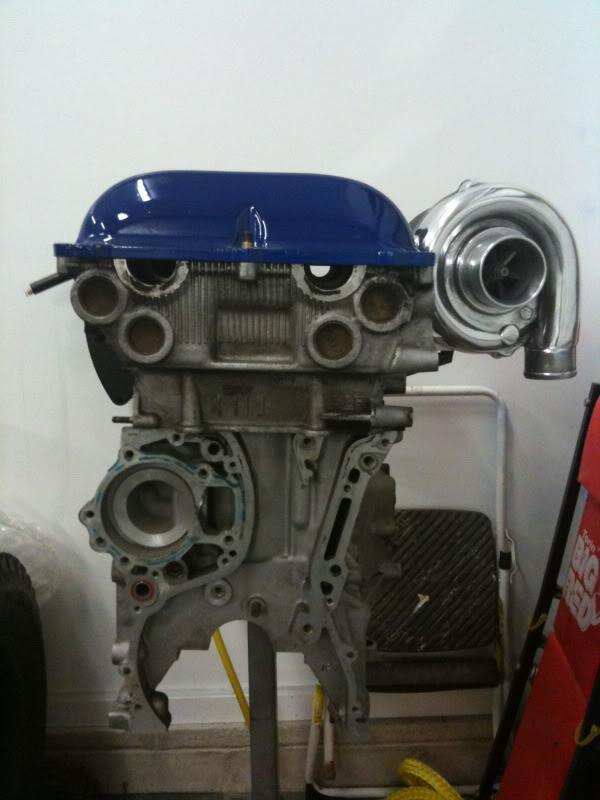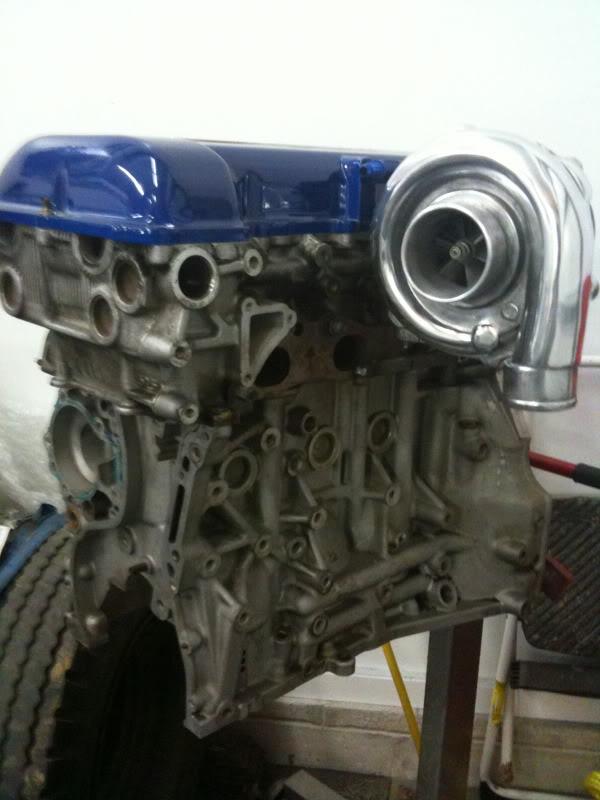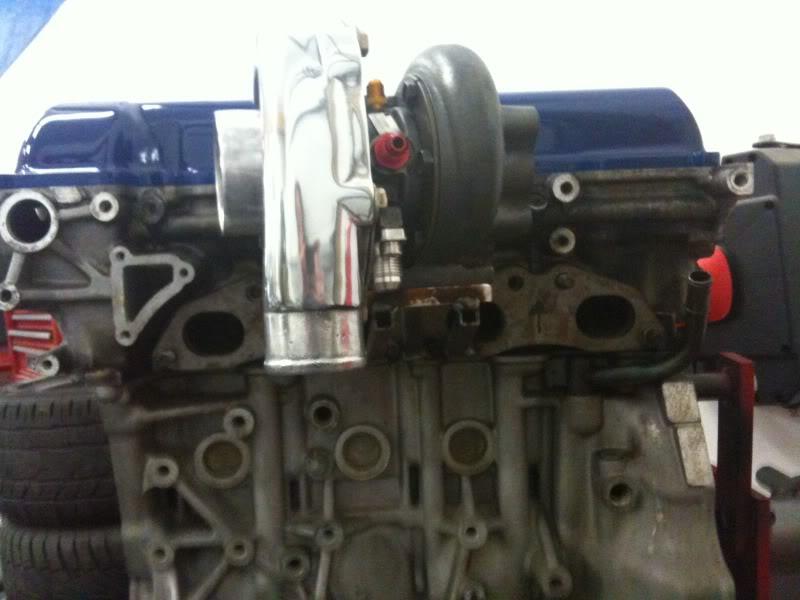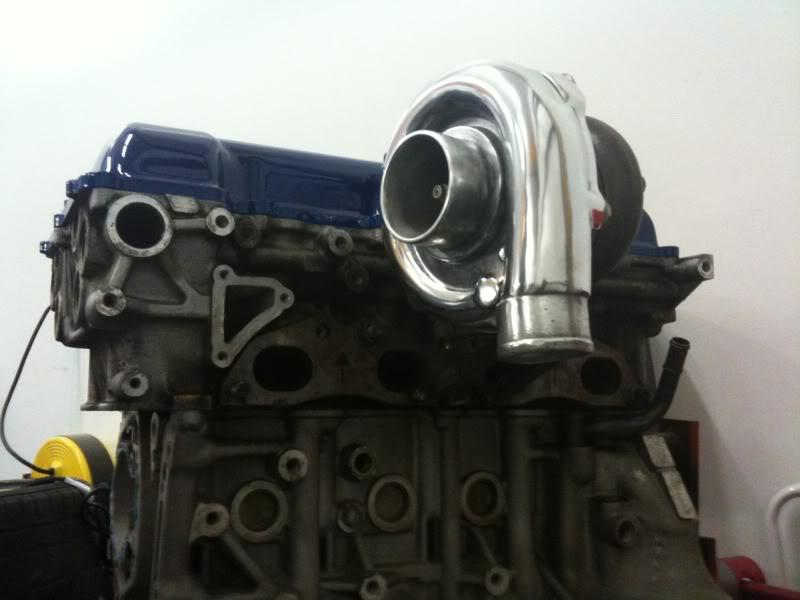 The next step is to make a jig and fab up the runners.


10/15/10

I realize it's been almost a year since our last update. My excuse is that I moved to california for a couple months and when I came back I just drove the car and fixed it when it broke. Here's a quick recap of 2010:

January through March 2010: I was in CA. Car sat with a leaking sr.

April: I drove 2800 miles from San Diego to Philly in 2.5 days, spent the next two days getting the car ready, swapping in a new SR and installing a K-sport hydraulic hand brake. We literally started the car for the first time Friday around 5pm and finished bleeding the brakes at Maple Grove Saturday morning before taking the car out for it's first drift event of the season.

Crappy vid of the maple grove event and some pics: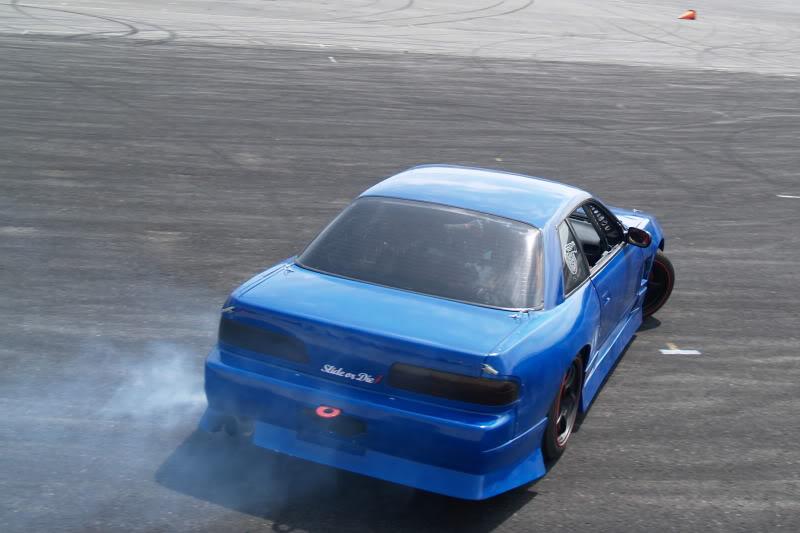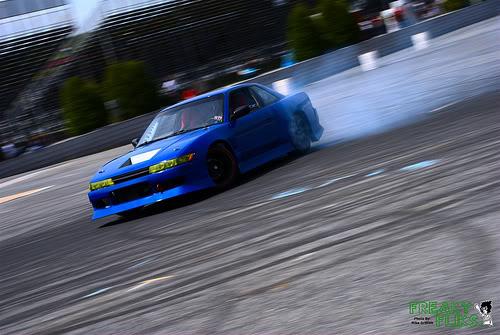 In May, at ECB, I slid of track and ran over my front bumper, so that's missing in most of the pics. I spent the rest of the year driving and breaking stuff.

In June we finally put the bigger fn's on with spacers and got an alignment at RT Tuning.

Looks so much better: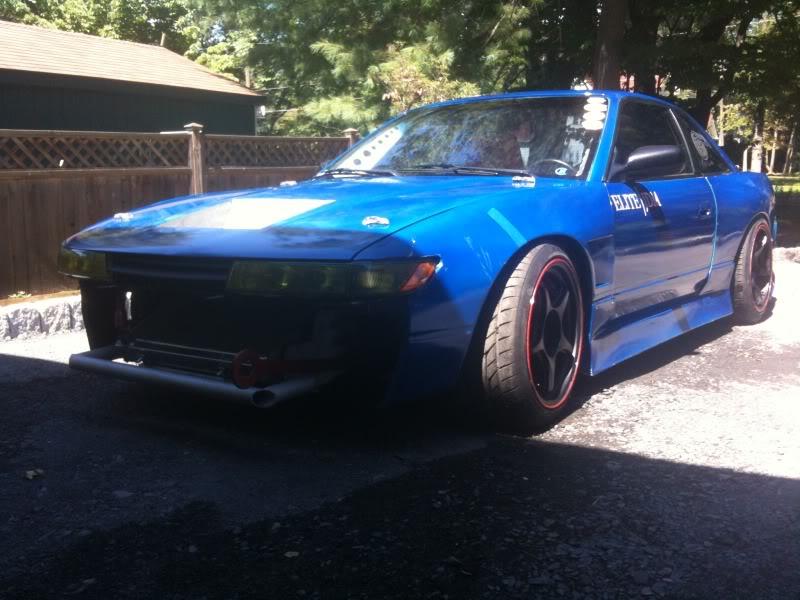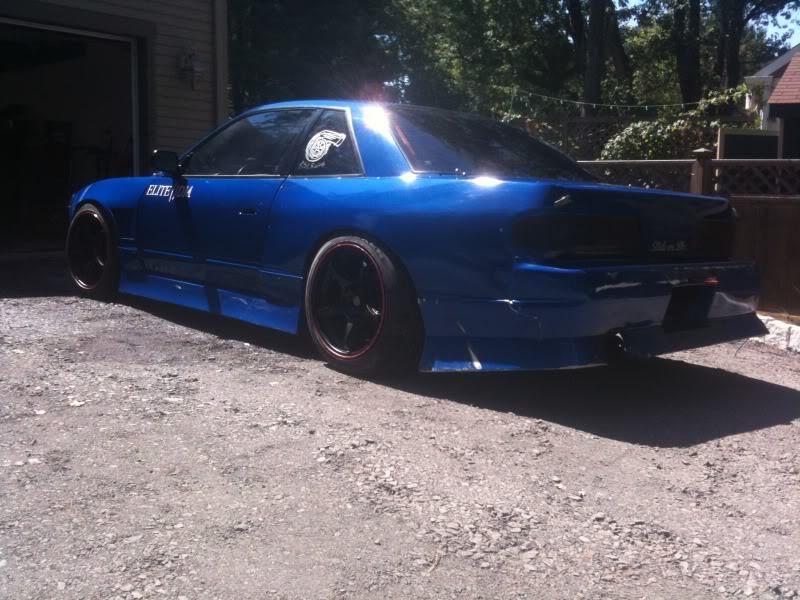 Overall the car ran much better this year. Had some issues with over heating early in the year. Replaced the radiator with a new one from megan racing and haven't had a problem since. I broke 3 cheap toe arms so I replaced all the suspension arms with PBM stuff. I don't have any pics of that install, but I'm sure we'll get some up later.
This is a straight cheap toe arm, the 2nd cheap ebay one that almost cracked in half, and the pbm arm for comparison: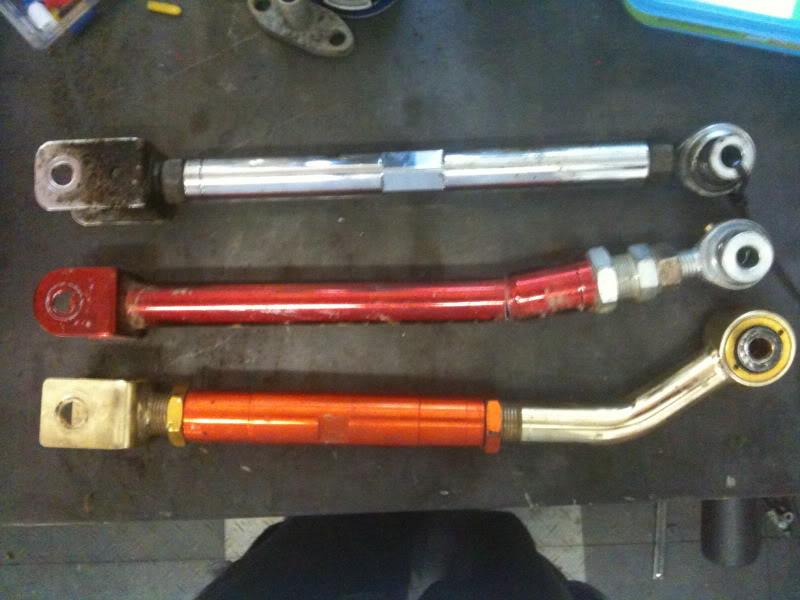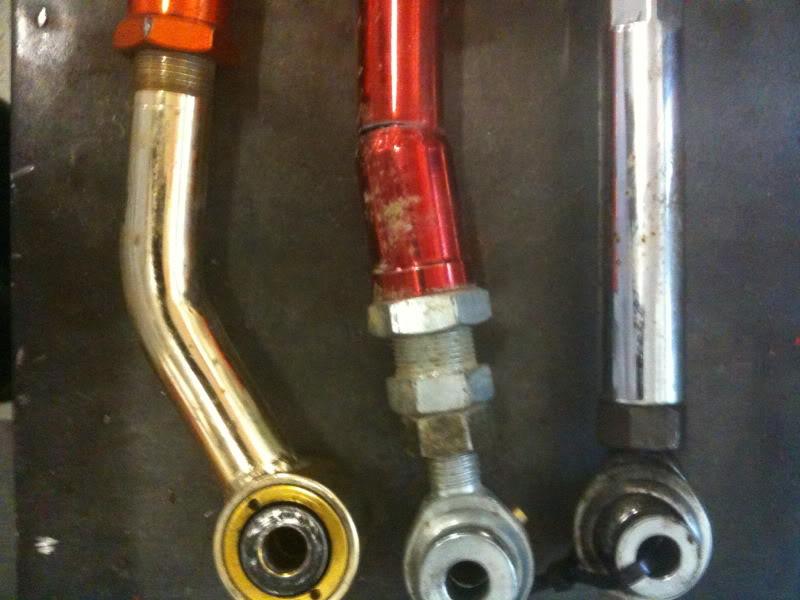 The last event I did was at the Allentown Expo center at a BMW show. Not my finest moment: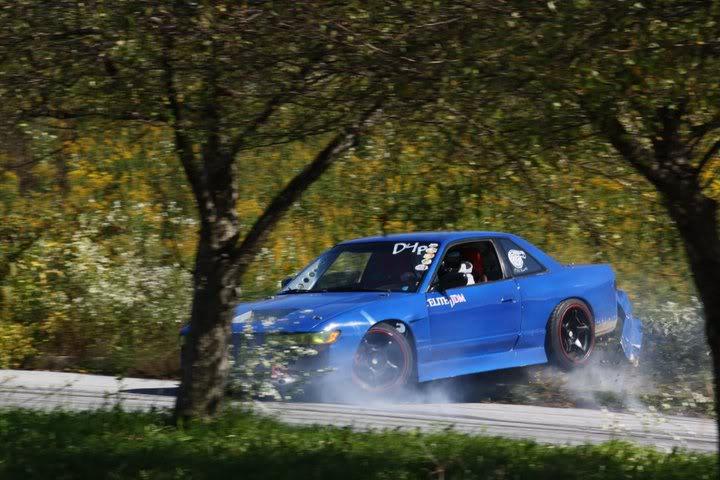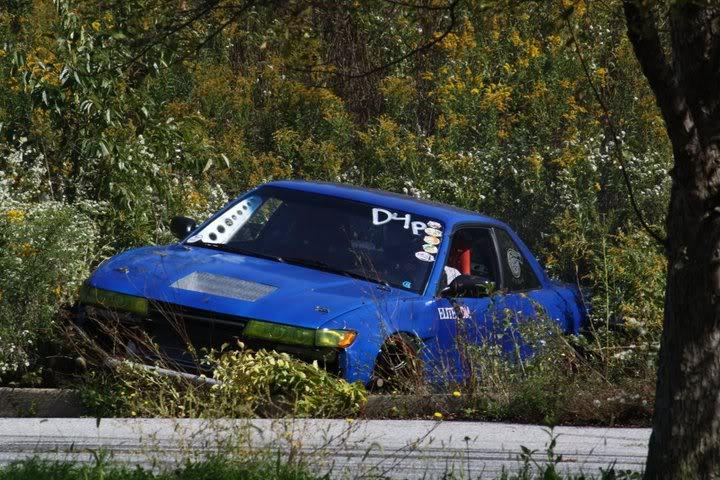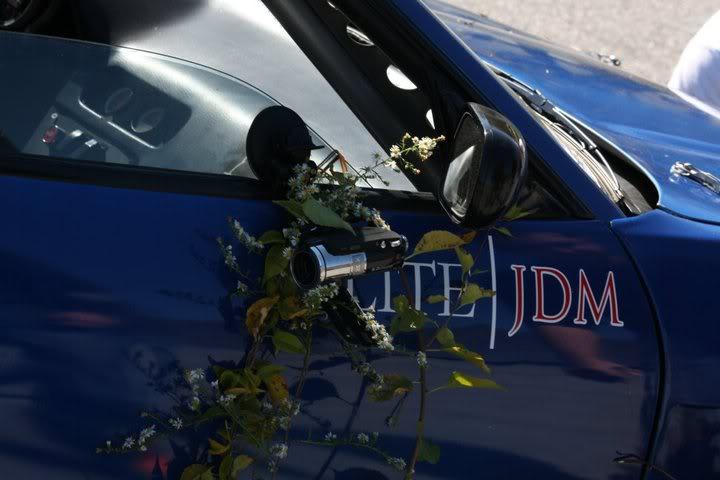 Basically I hit a curb and landed in a ditch. Ripped off the body kit, broke another toe rod, bent the quarter panel in a couple inches, and a coolant line tore when the motor slammed back into the firewall. This happened on the first turn of my first run, so we were able to get it back together enough to get it back out there. My shot at redemption:



The front right wheel was shaking pretty bad after that too. I replaced all the adjustable arms with PBM parts and now the car is at RT Tuning getting knuckles (more angle) and an alignment.

So that's about it. We're going to start a new thread for the winter rebuild (probably gonna wait until we actually start the rebuild). The plan is a new motor, gt3071r, and, thanks to ChaserAero, a new body kit and hood. I'm sure there will be some other changes to come as well.

Some pics from this season:

Drift Car pictures by noname7198 - Photobucket

And a couple videos:

May night moves:



September Freedom Moves:




11/21/10

This will be the last update before the rebuild starts.

Here's a couple shots of the PBM suspension arms installed and the RT Tuning knuckles: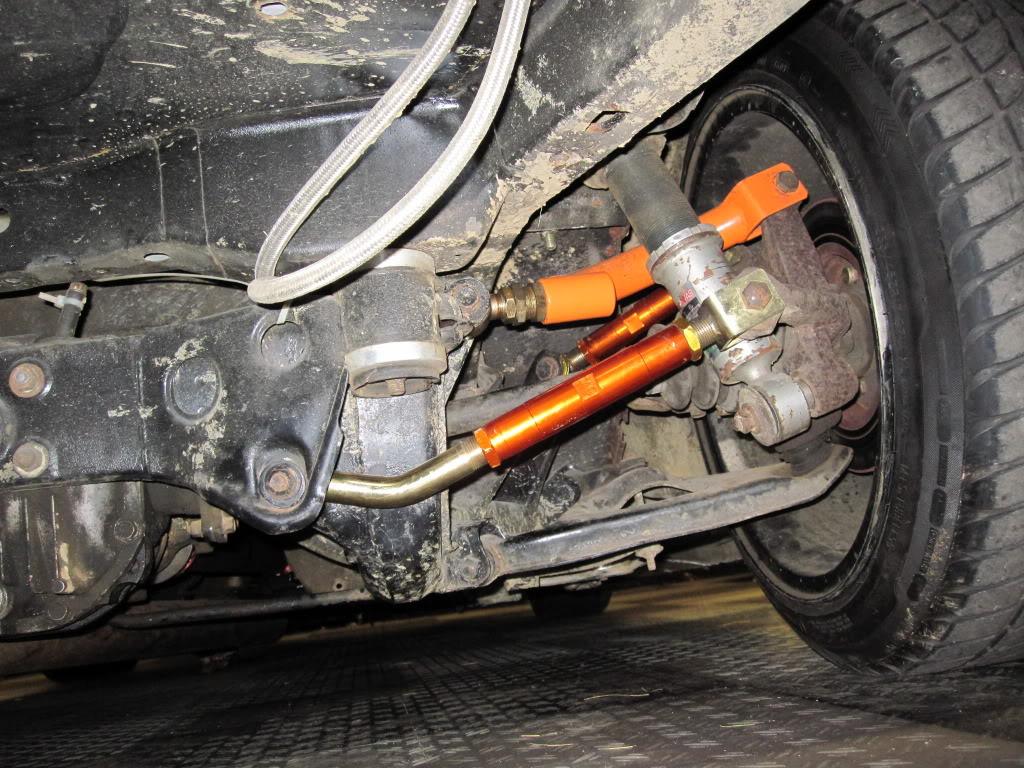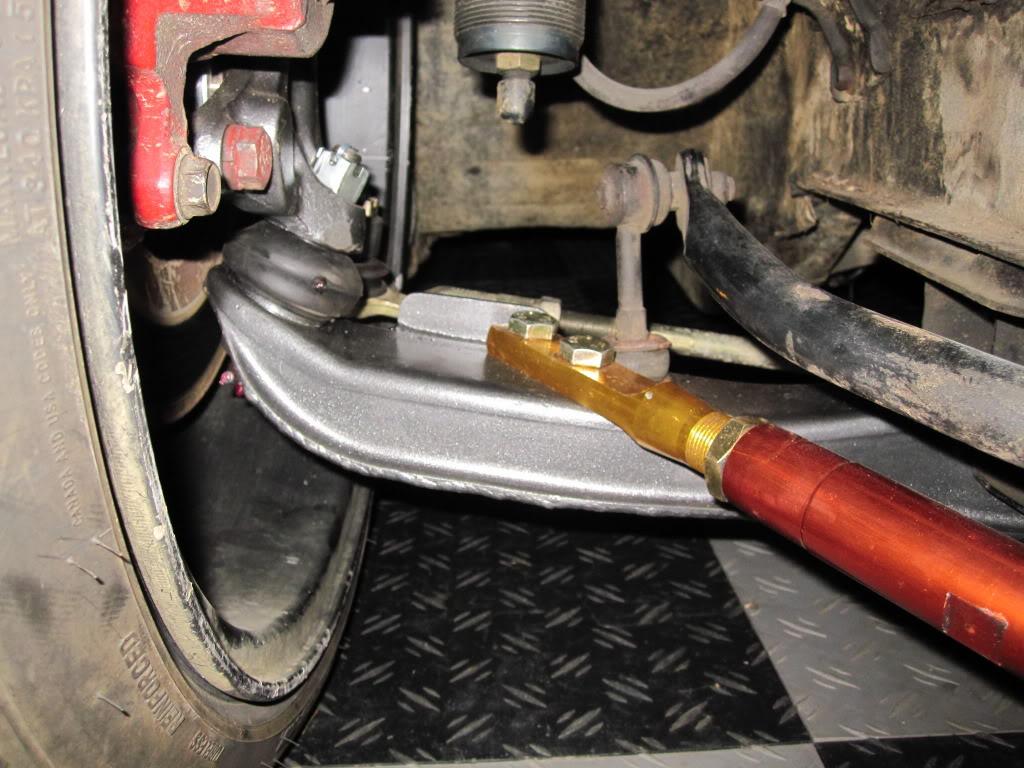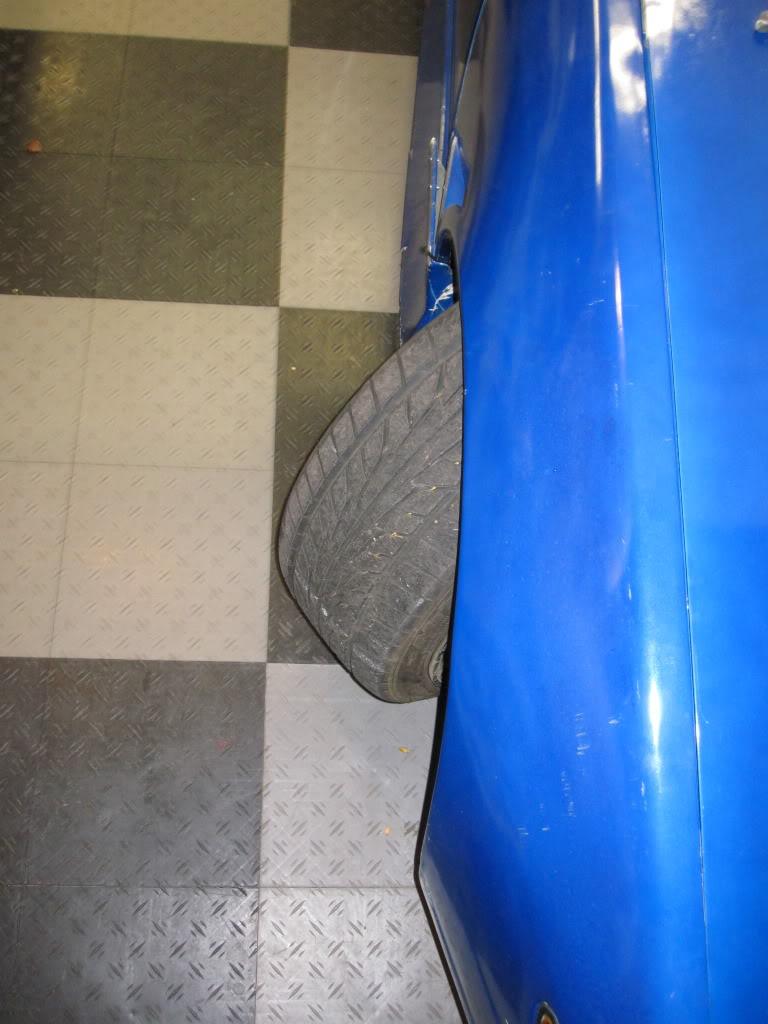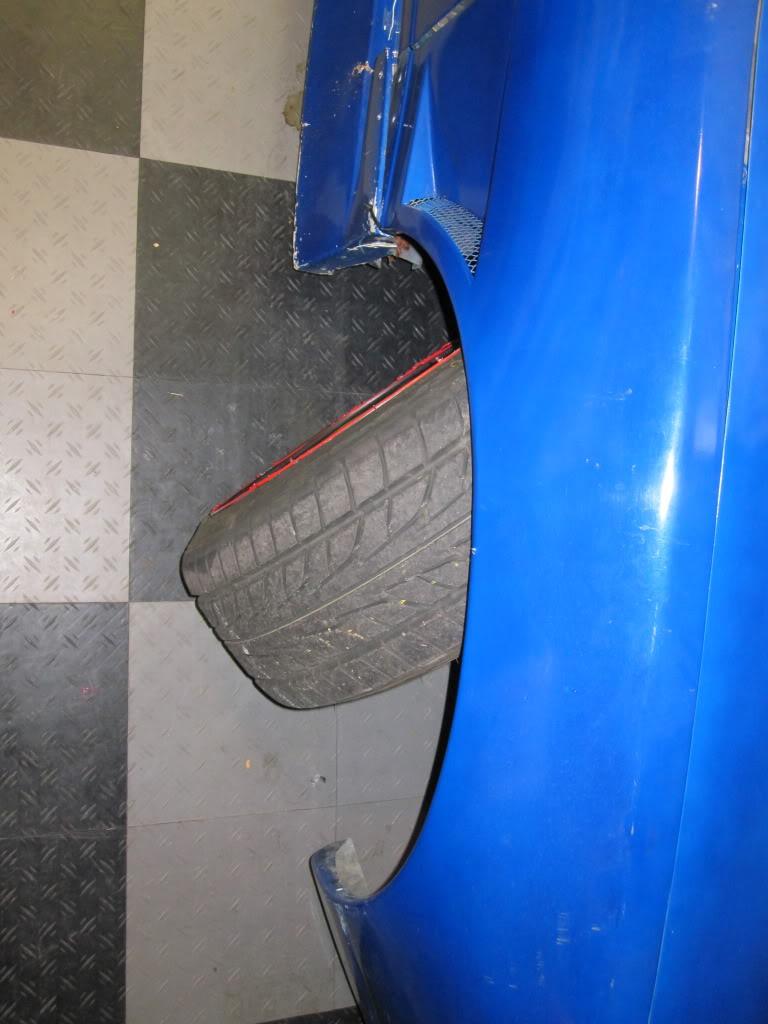 Club Loose is awesome and decided to put on an end of the year clinic, so I got a chance to try out the new knuckles. This was my favorite event of the year. I got a lot of help from some really great drivers and got a lot more comfortable in the car. This was also my first attempt at tandem drifting. Here's a couple pics and a video from the clinic: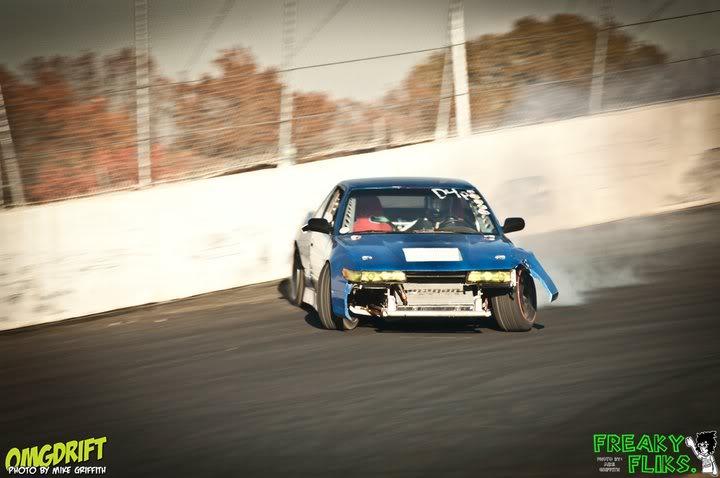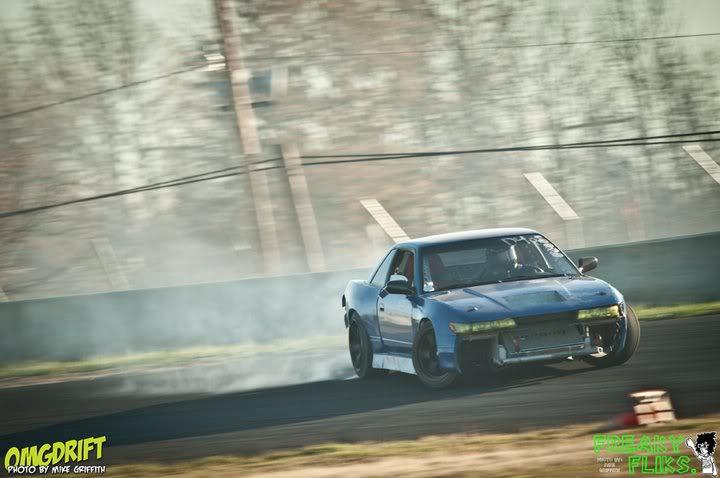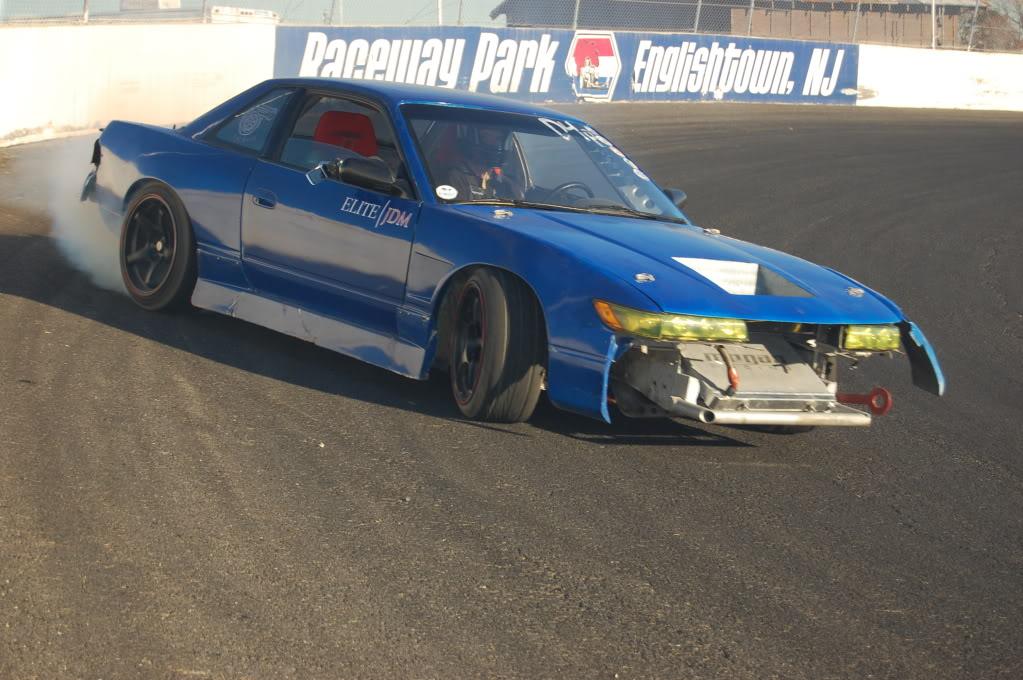 You may have noticed in the video that the back of my car is a little banged up. Basically the guy in front of me spun and since I'm a noob my natural reaction was to slam on the brakes. That left the guy behind me with no where to go and this happened: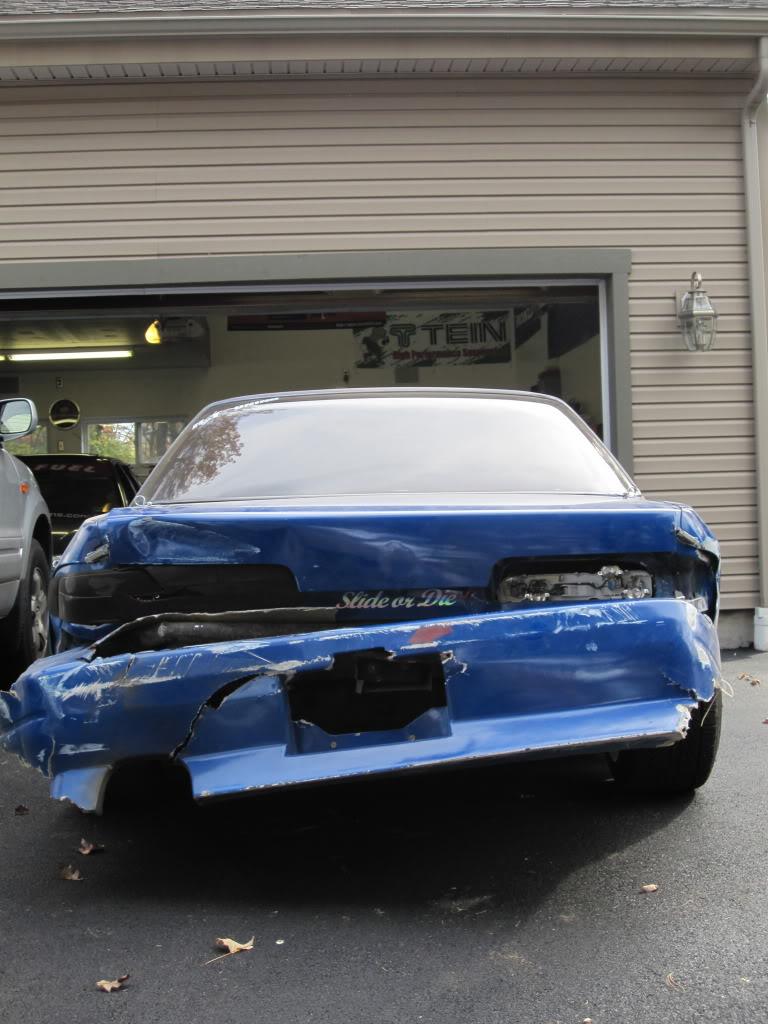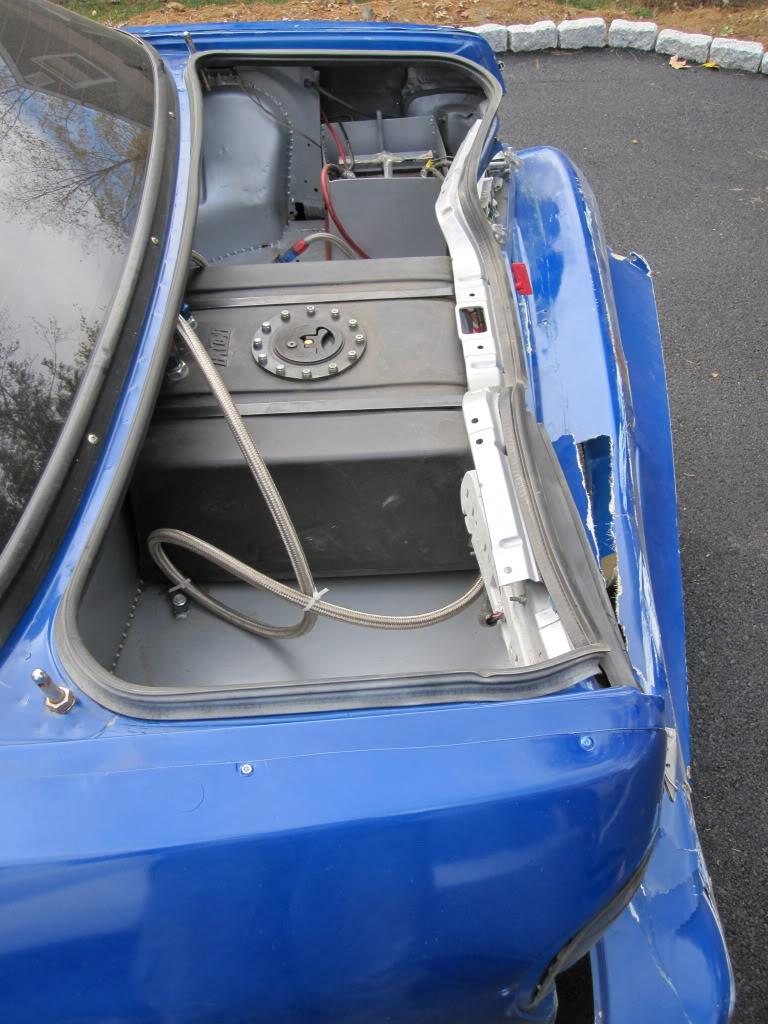 So now it's time to tear it down and start the rebuild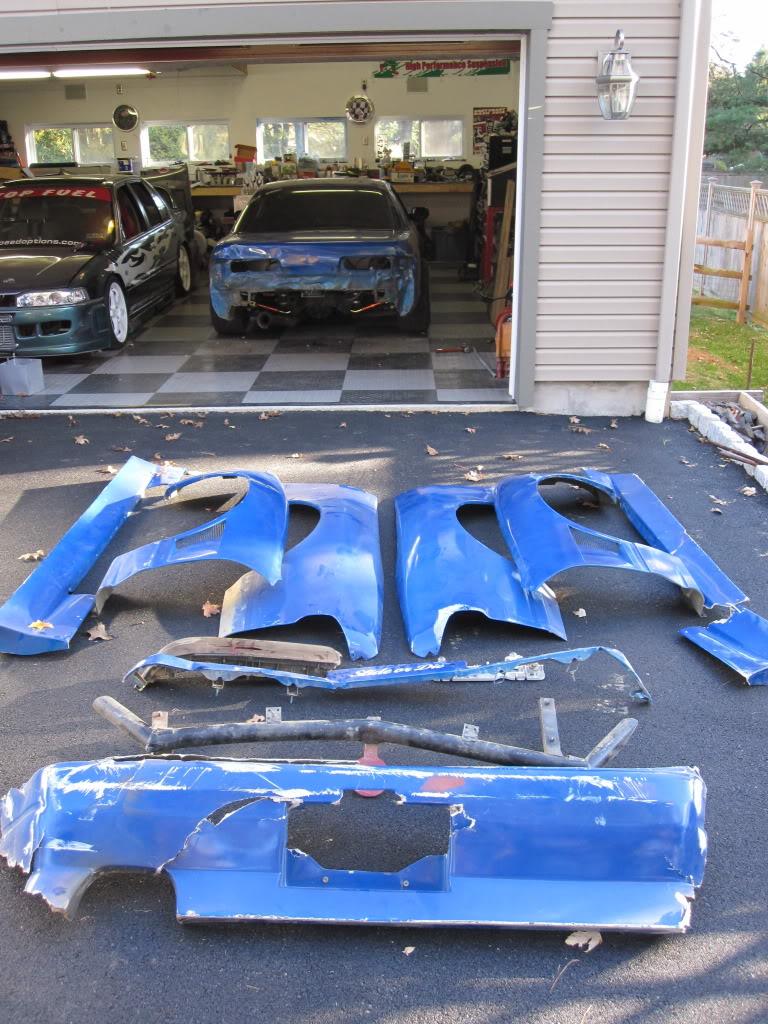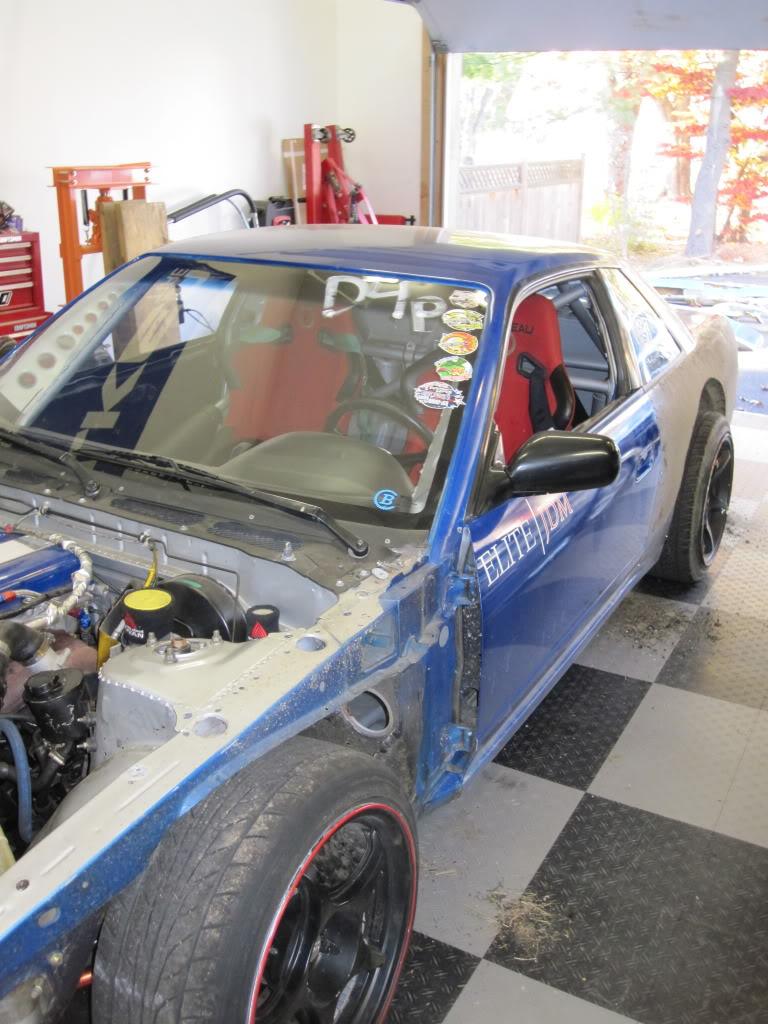 1/3/11

We're starting the winter rebuild. I want to post our plans and progress, so guys can offer feedback and opinions on how to make it better.

Chassis:
Fix smashed rear end
Bigger rear crash bar
Tub front fenders
New rad support
New v-mount
Clean up wiring

Motor:
Rebuilt stock bottom end
Brian crower 272 cams, springs and retainers
Arp head and main studs
Apexi .8 head gasket
S15 oil pump
Top mount turbo manifold
Custom intake manifold
Gt3071r .86 a/r
Power fc d-jetro for tuning

Body:
New body kit (same one just with a front bumper and not all fucked up)
Fiberglass doors
New paint

Before the season starts it'll go over to RT tuning for tuning and an alignment.

I'm sure there's a lot more little stuff that needs to be done too, but that's the basics. One thing I'm not sure about is those cams. I think 264's might be better for my setup, but I don't have any first hand experience with either cam. Anybody using a similar setup have any opinions or advise for me?

We couldn't get the passenger rear quarter back into place so we bought a used one. We also replaced the truck, center panel, tail lights, and made a stronger rear crash bar: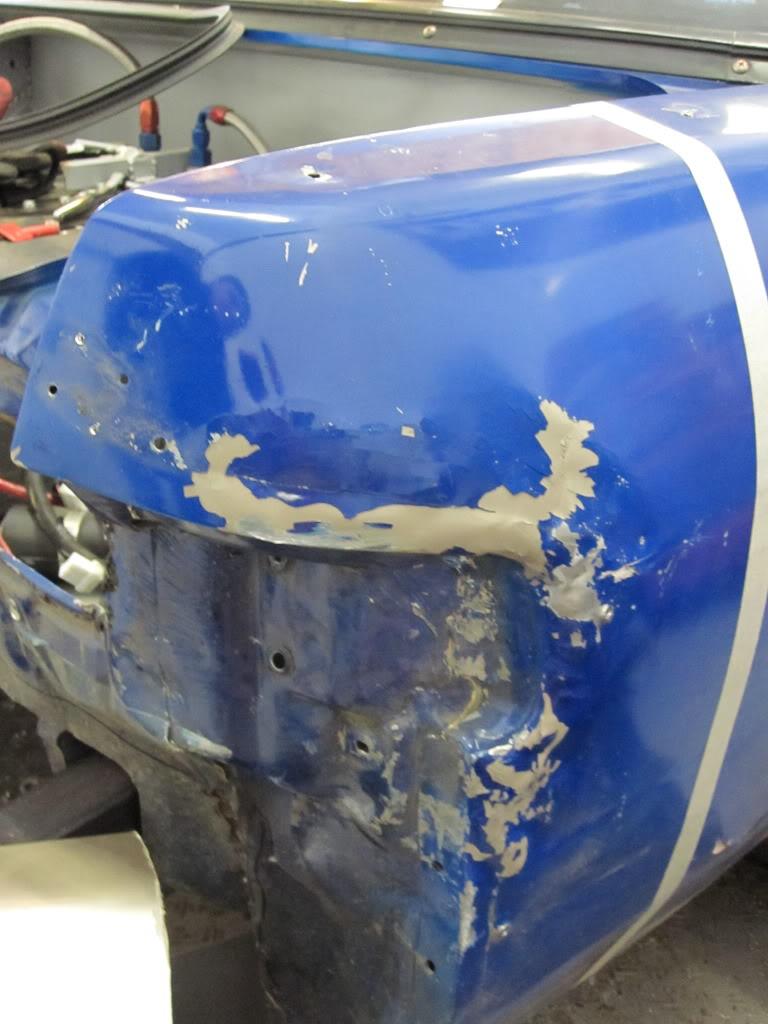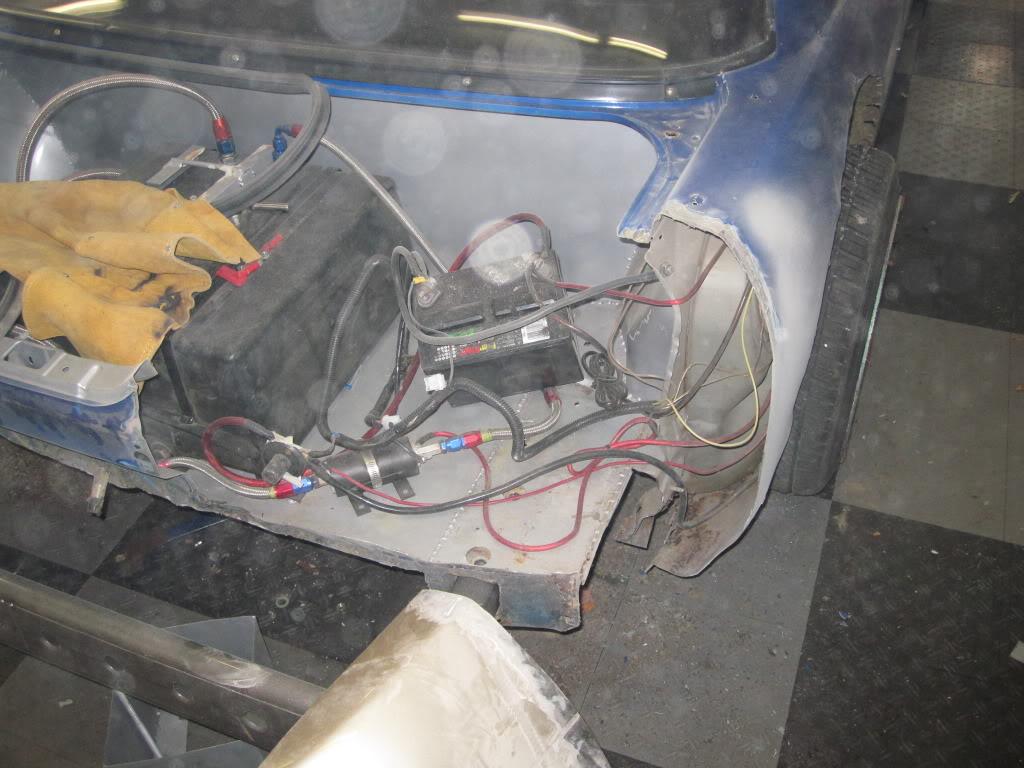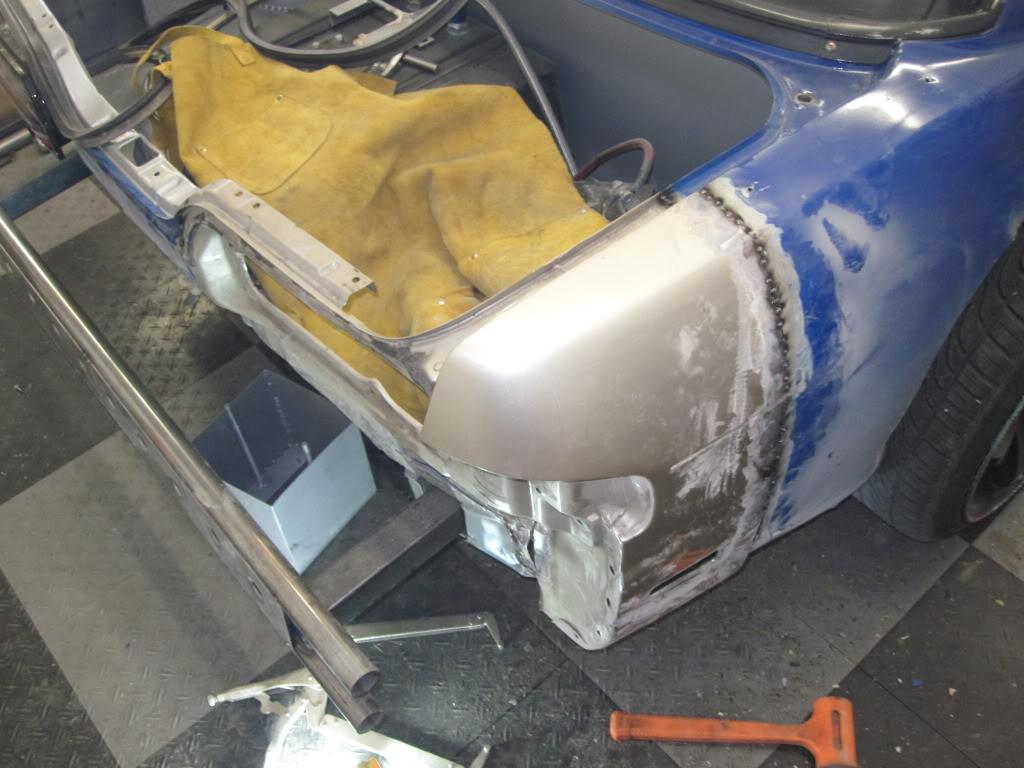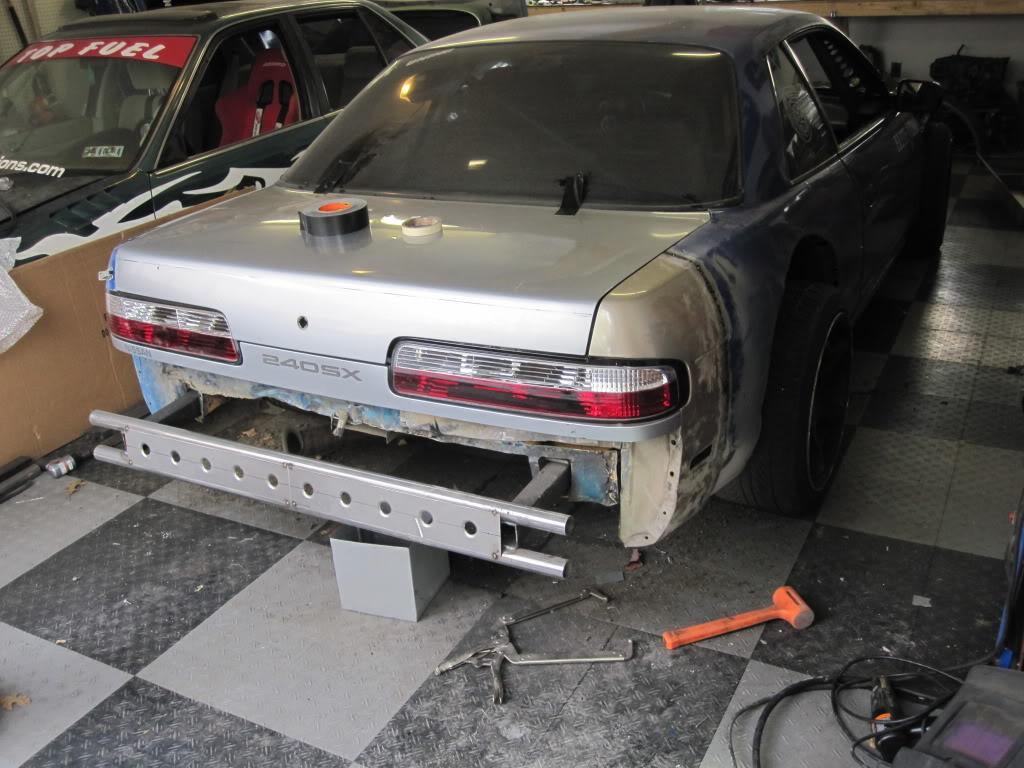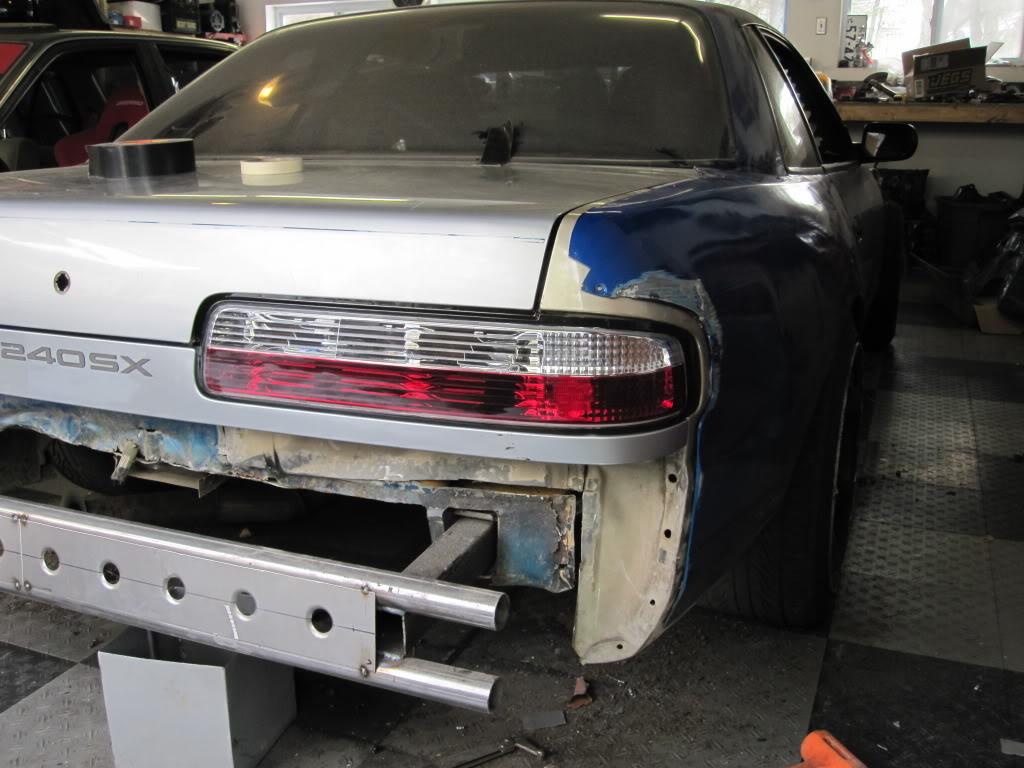 And started working on the tubs: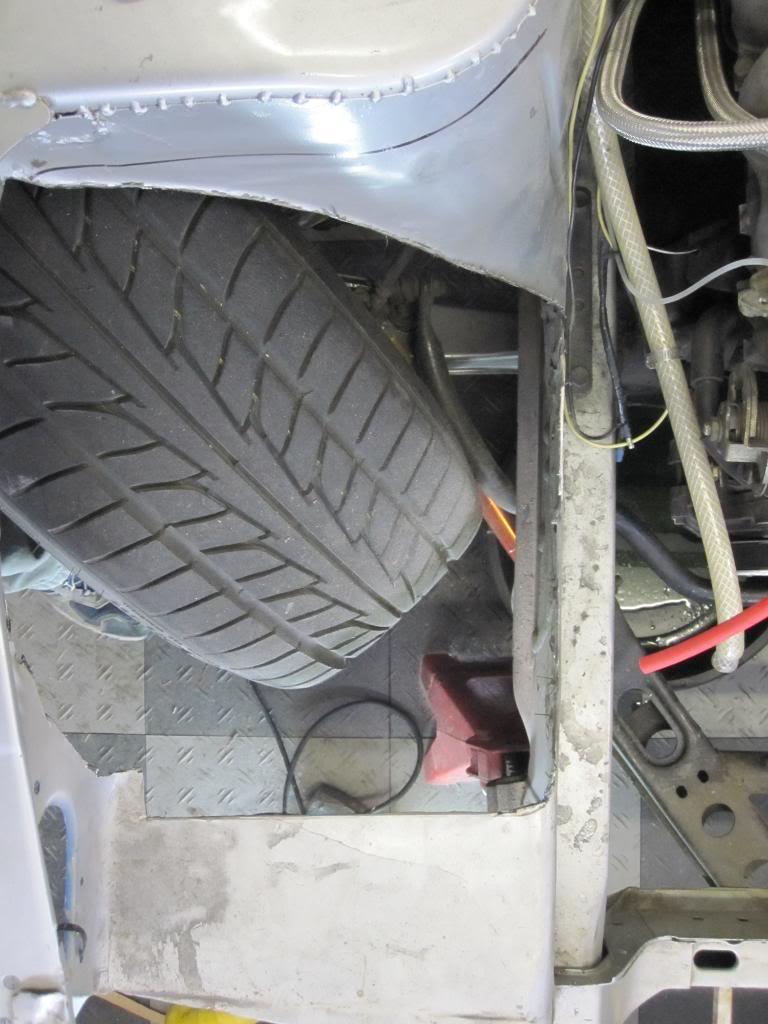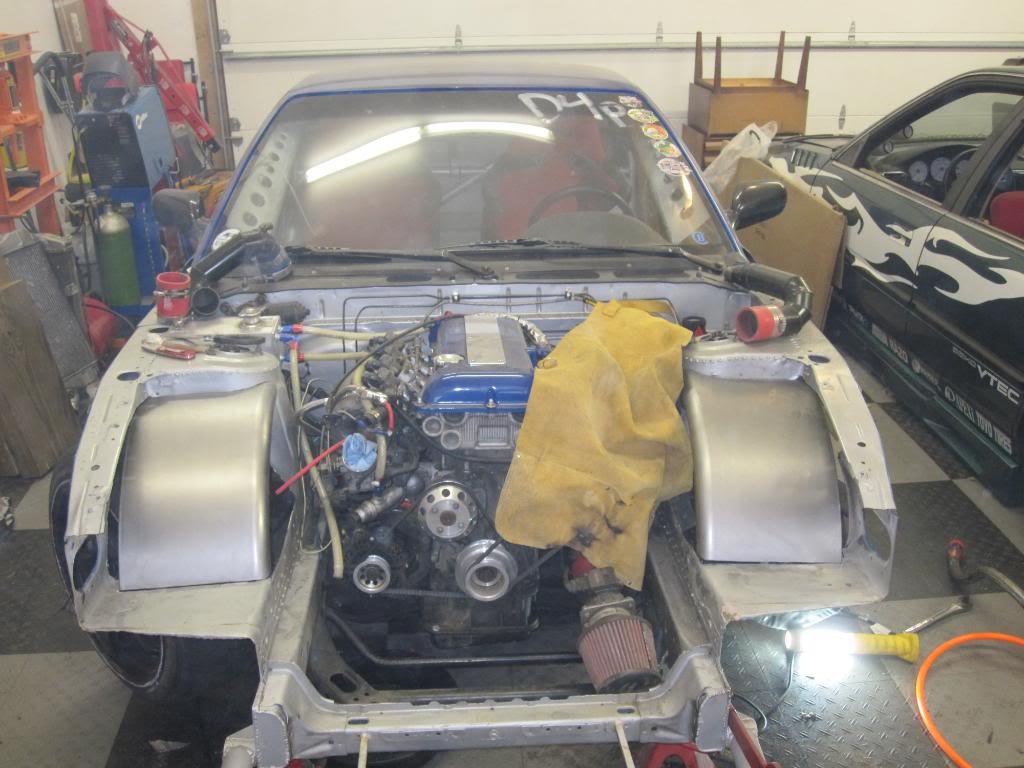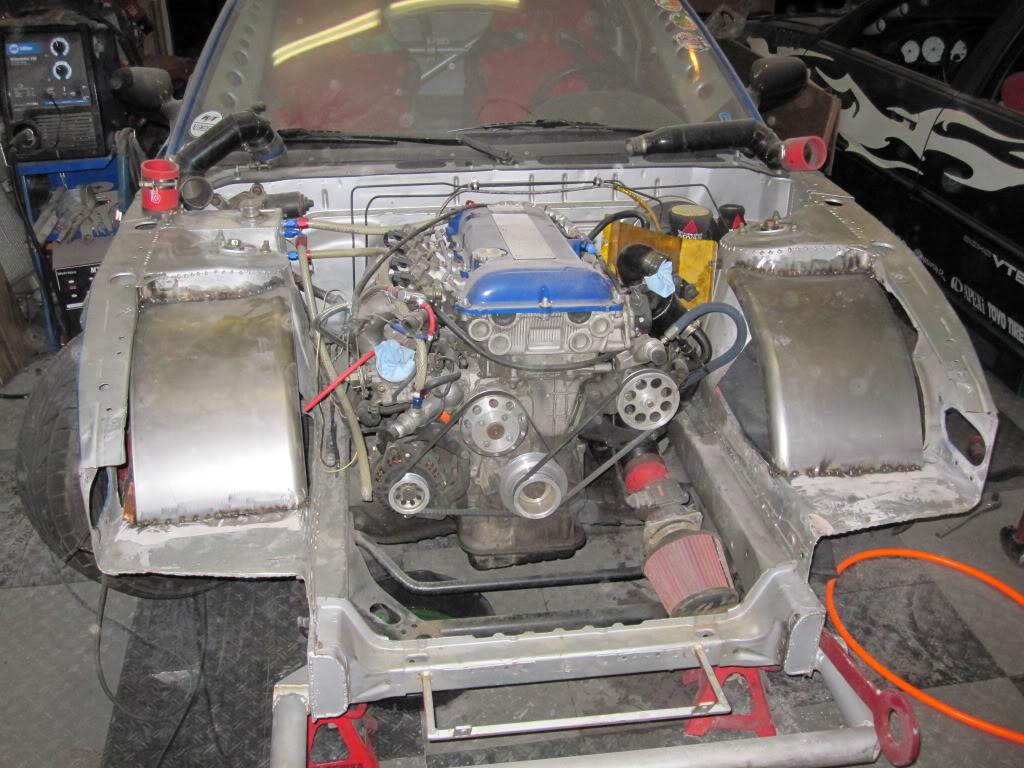 1/11/11

Got a lot done this weekend. First we started on the new radiator support. It came out really nice.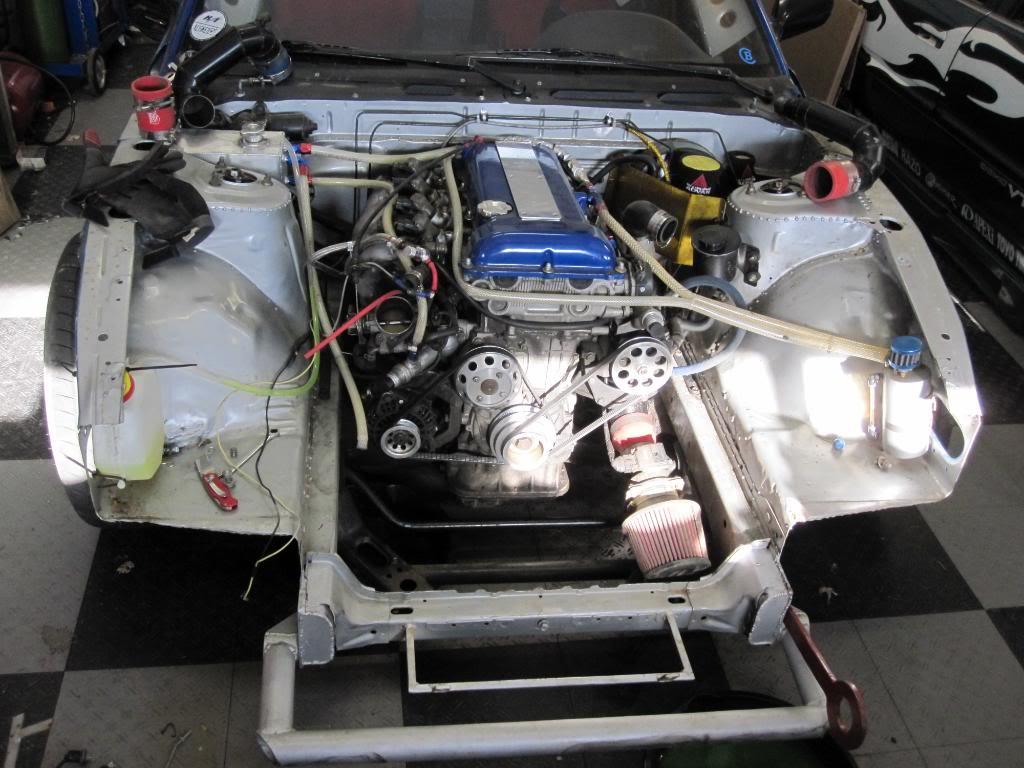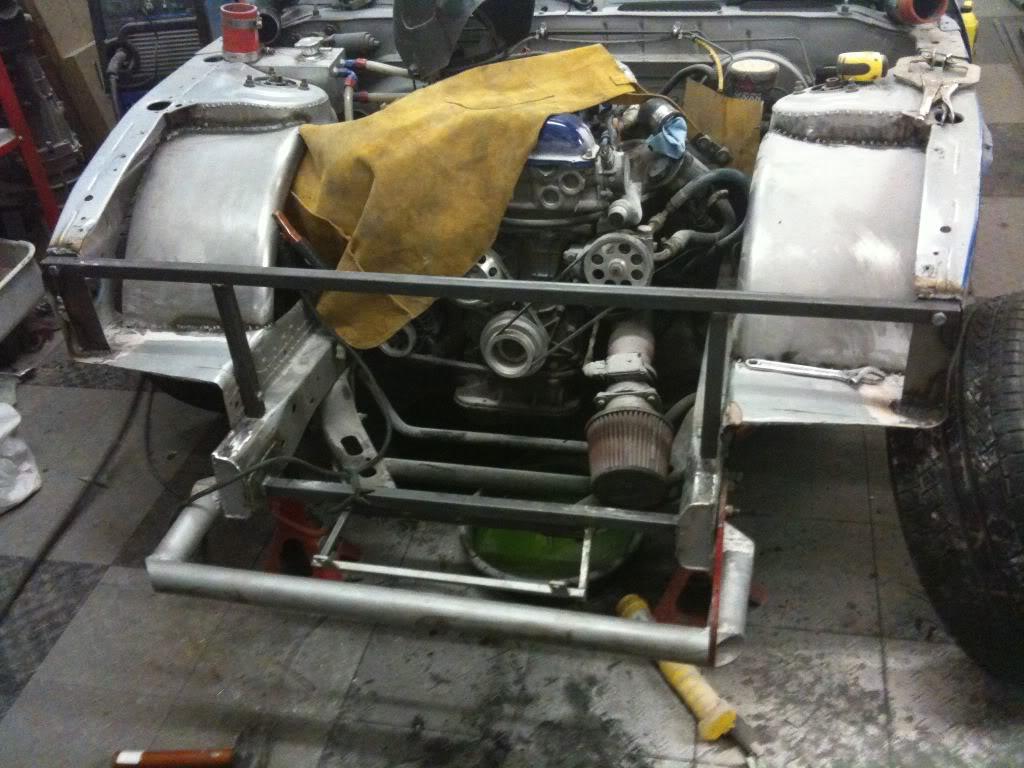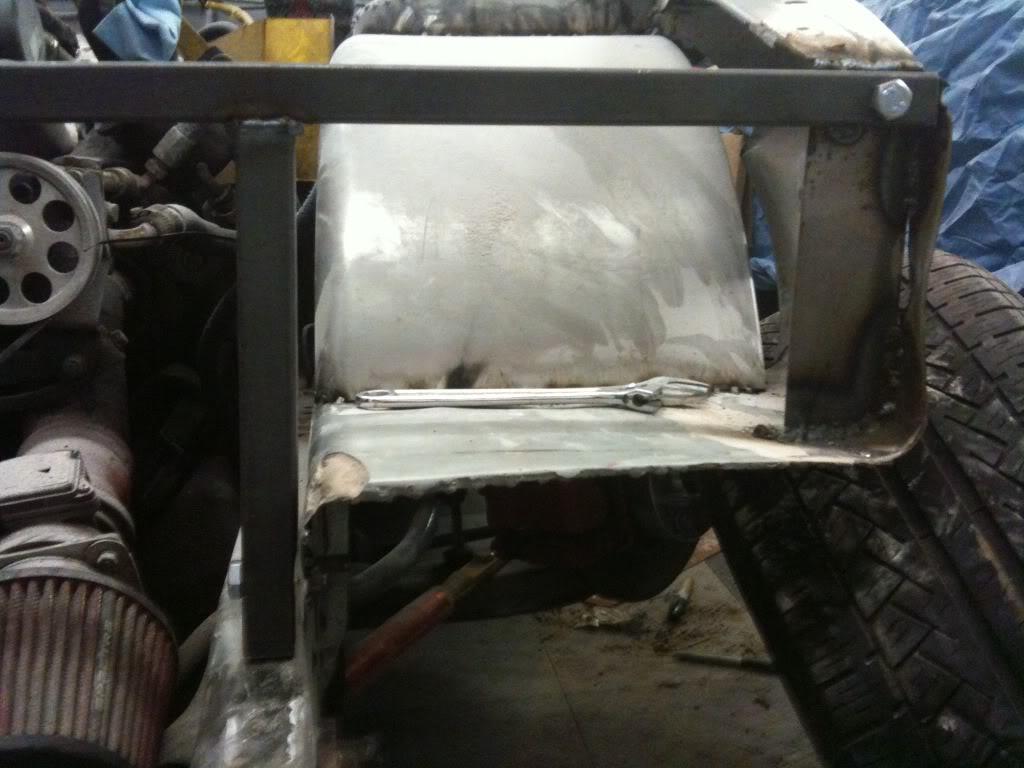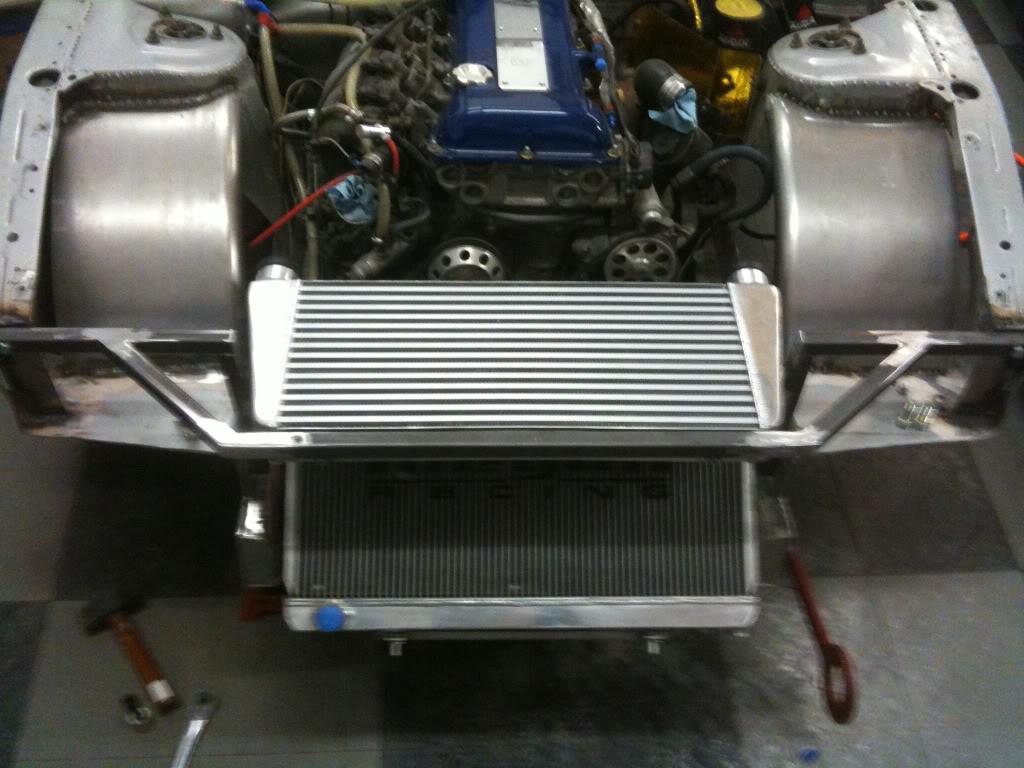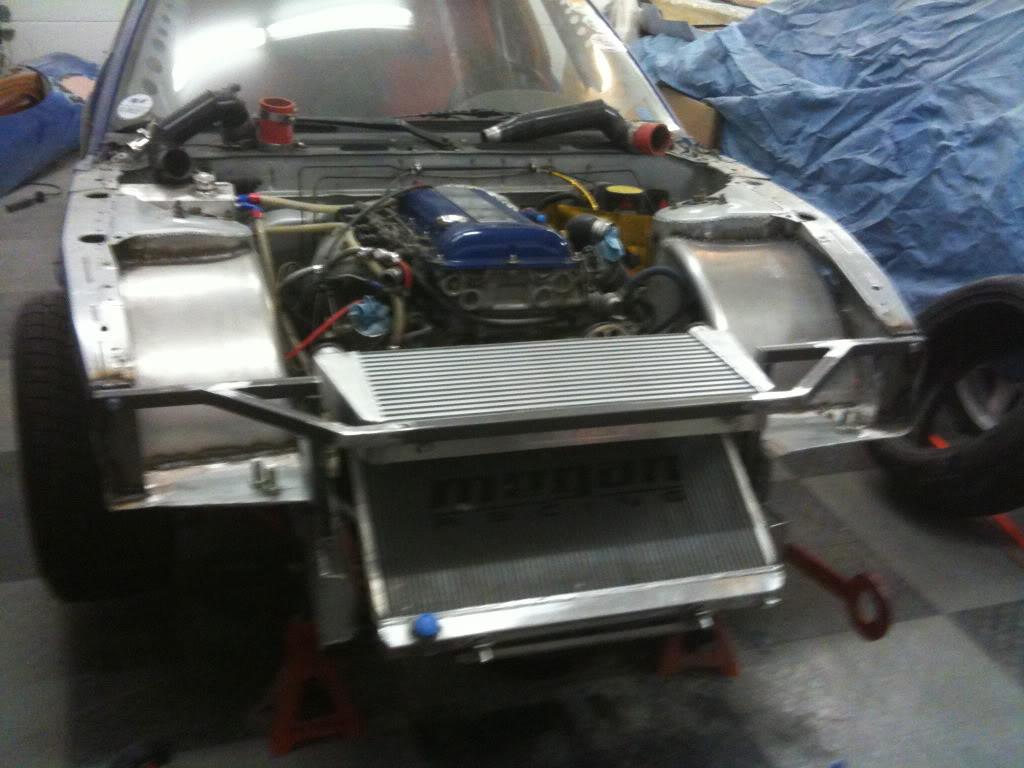 Test fitting the front end: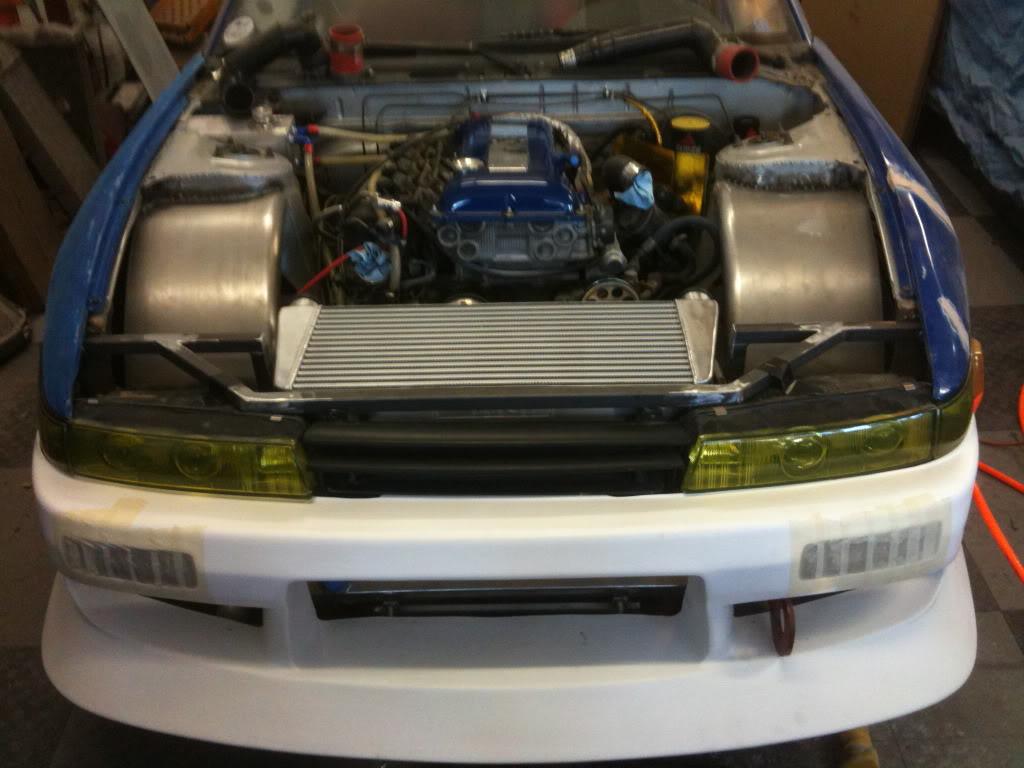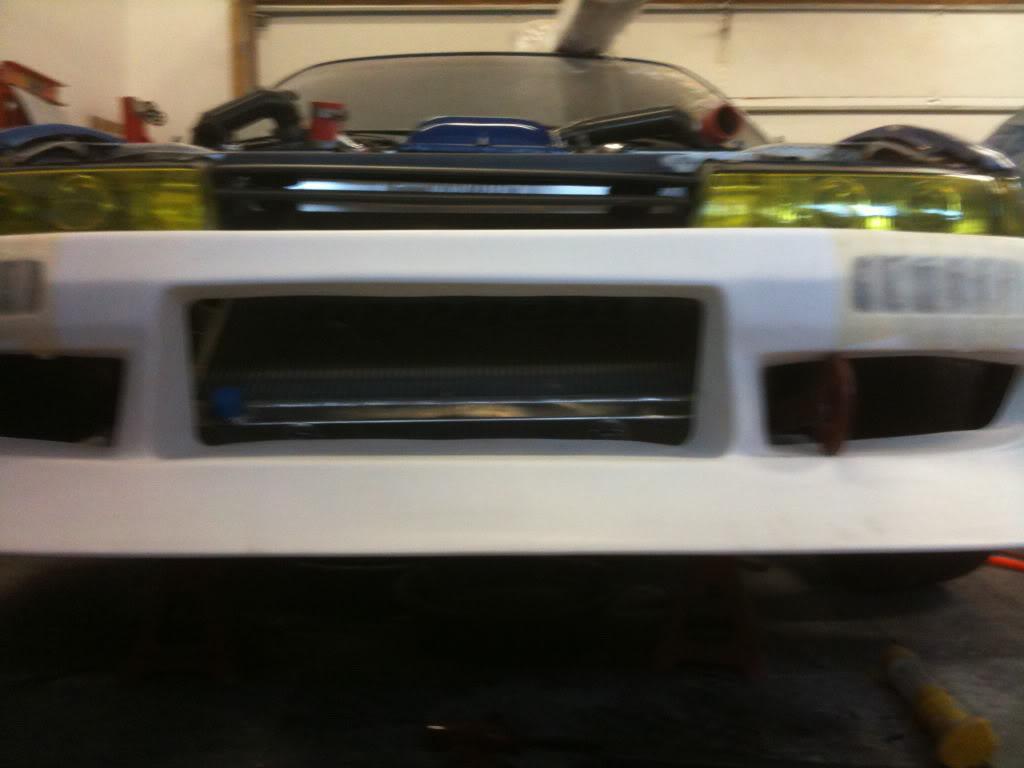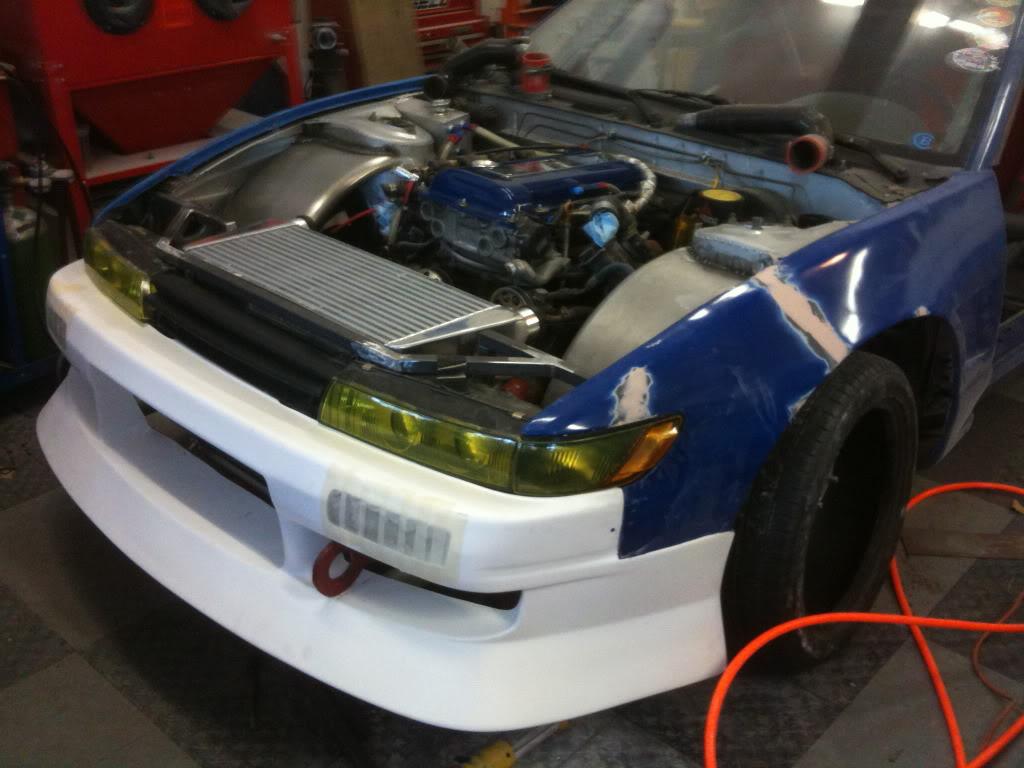 I also started on the body work. I messed up pretty much every body panel on the car this year so I had a lot of stuff to repair. I bought a new kit since both bumpers were trashed and the sides were pretty banged up too. They gave us the wrong rear bumper so we gotta wait on that. I was able to get most of the panels in primer, but there's still a lot of little shit to fix.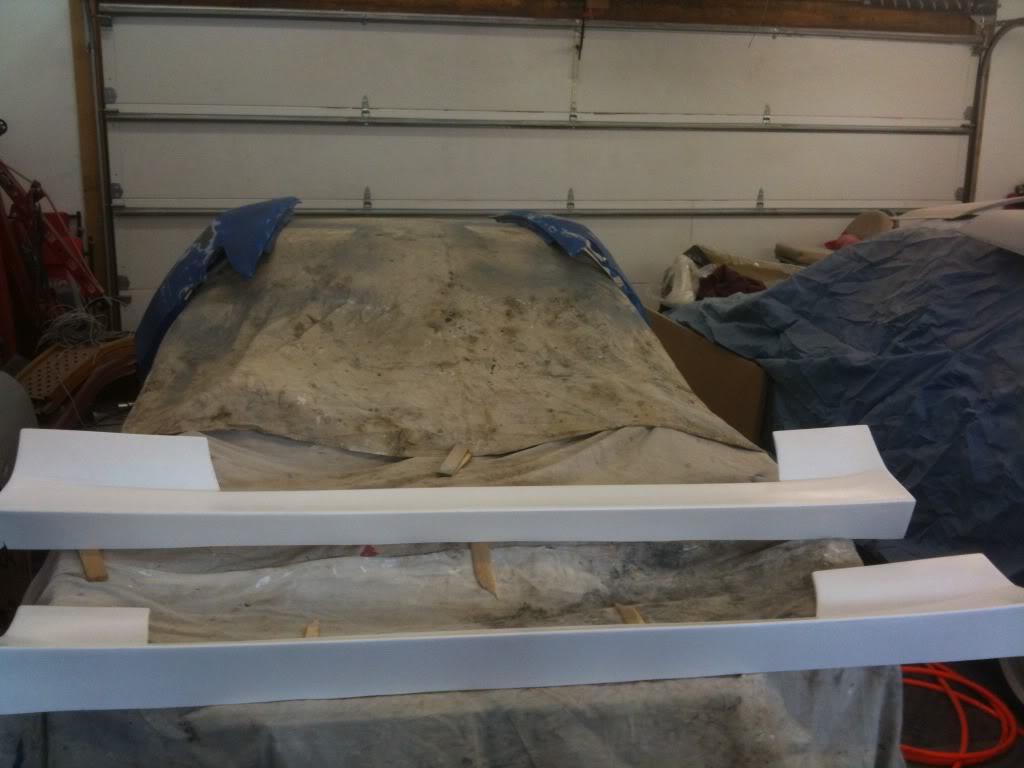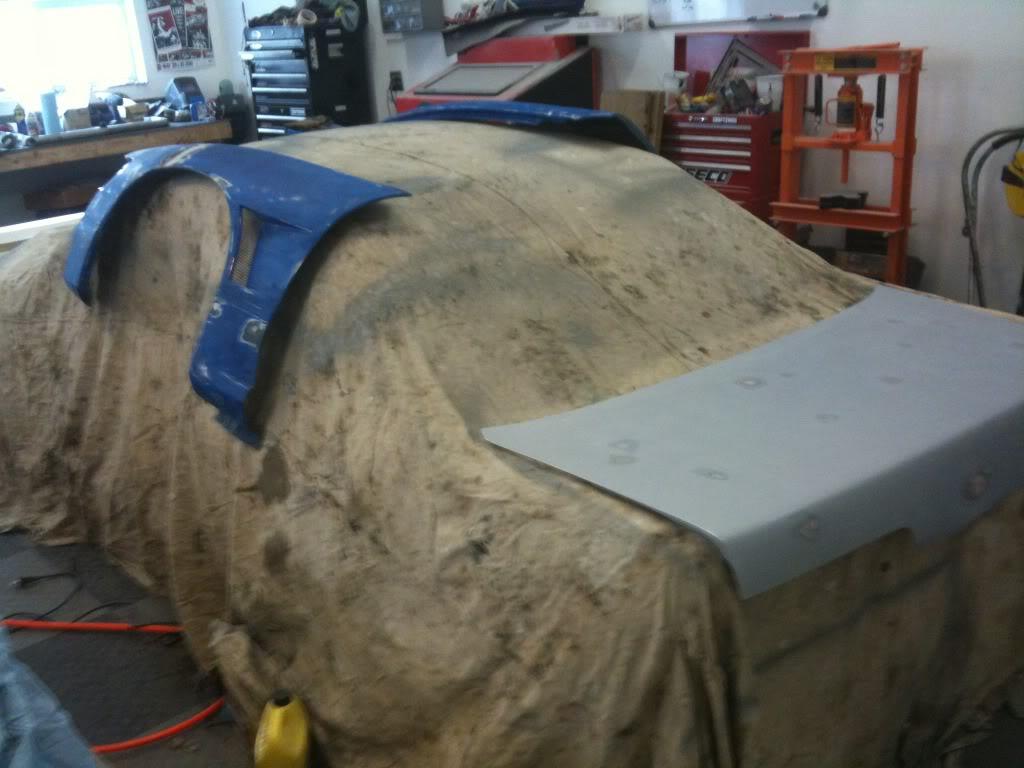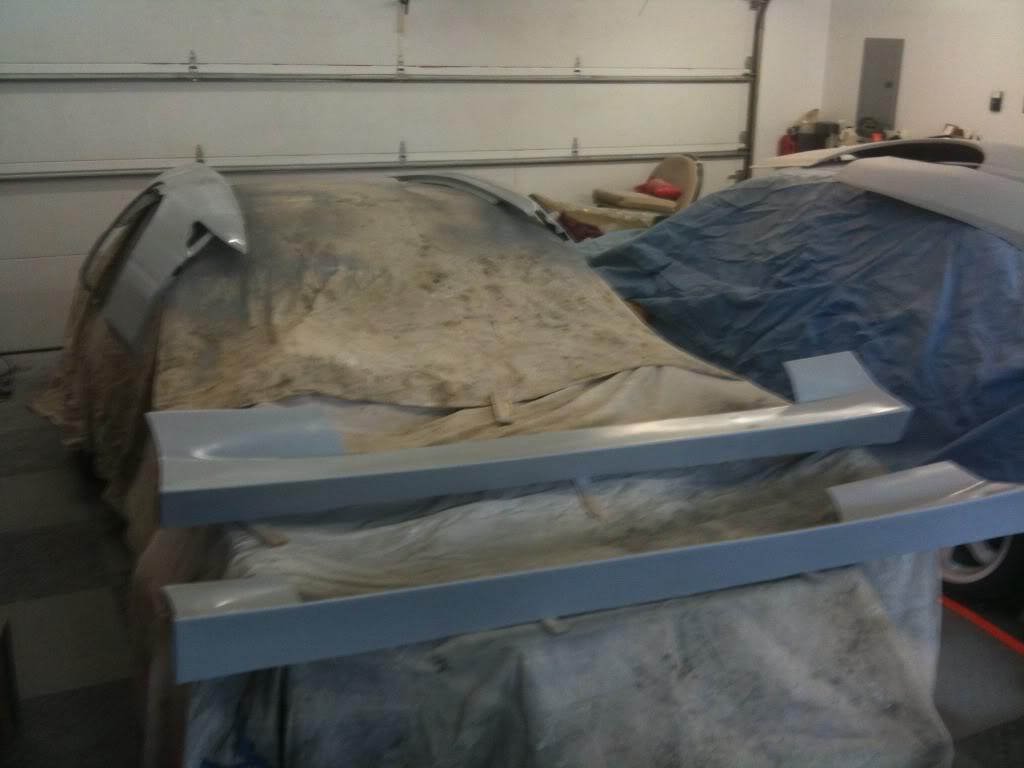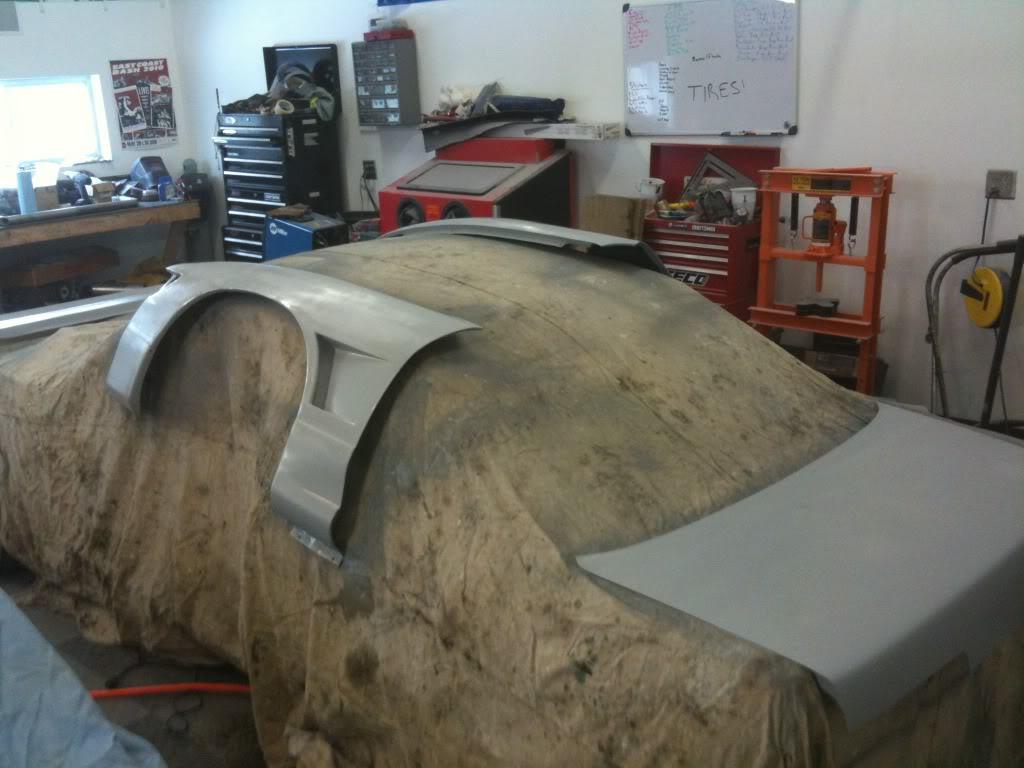 We picked up a set of fiberglass doors and started swapping parts over to them.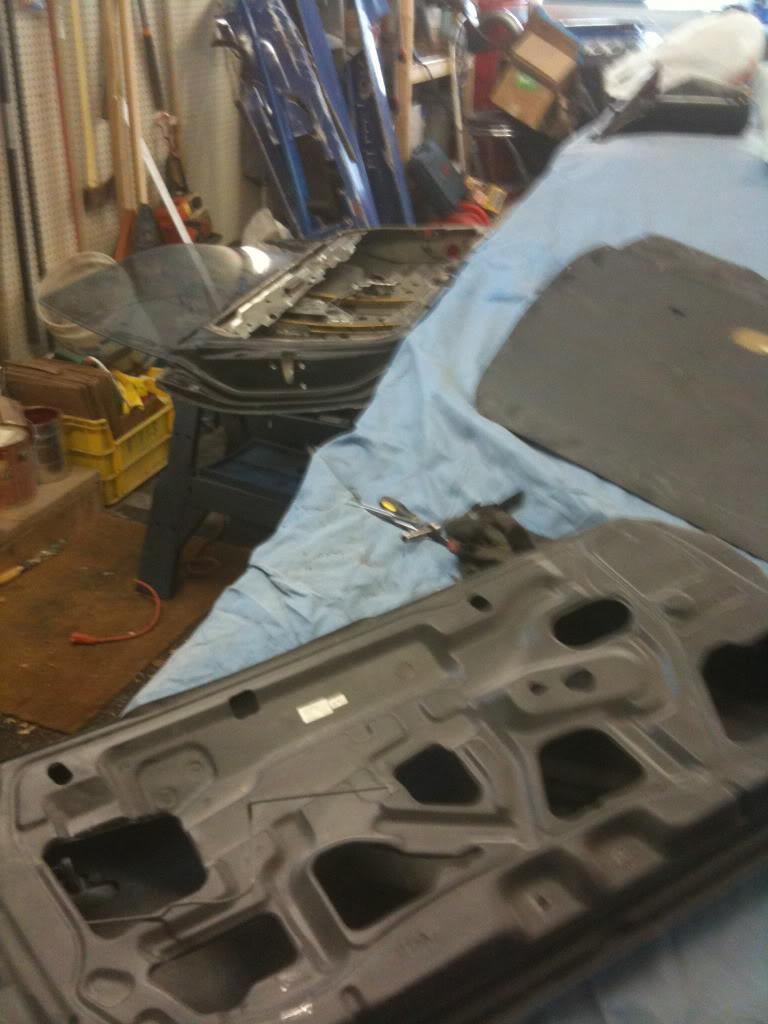 Since I'm shaving the upper body line and our locks don't work anyway I decided to have a little fun with the door handles: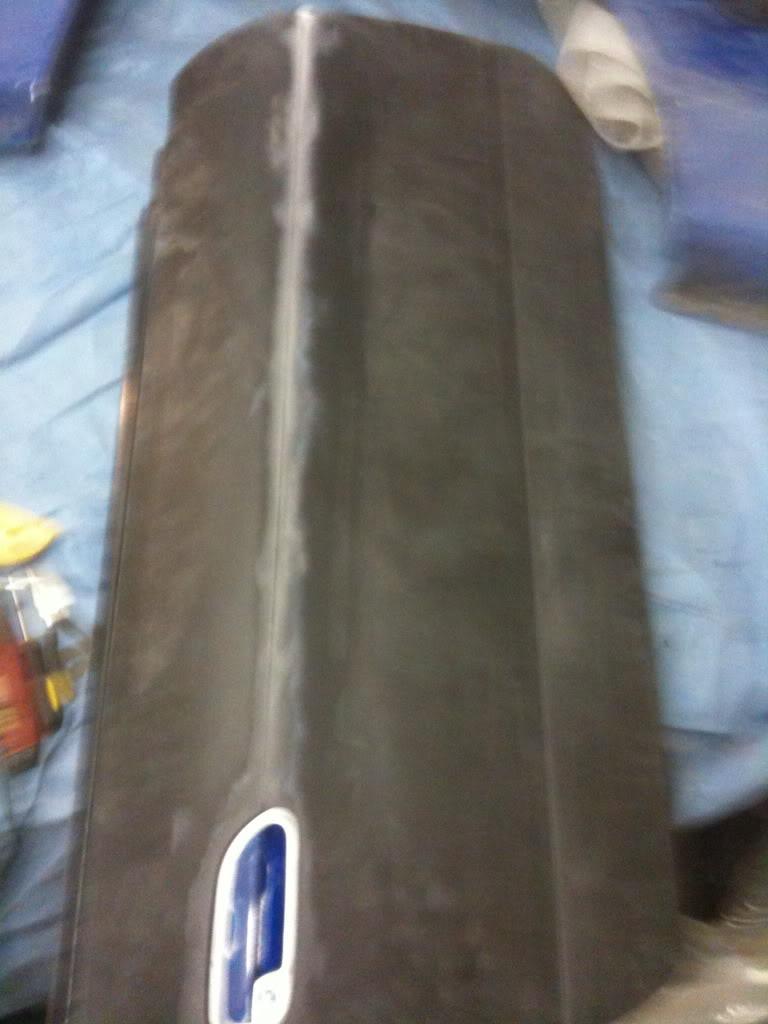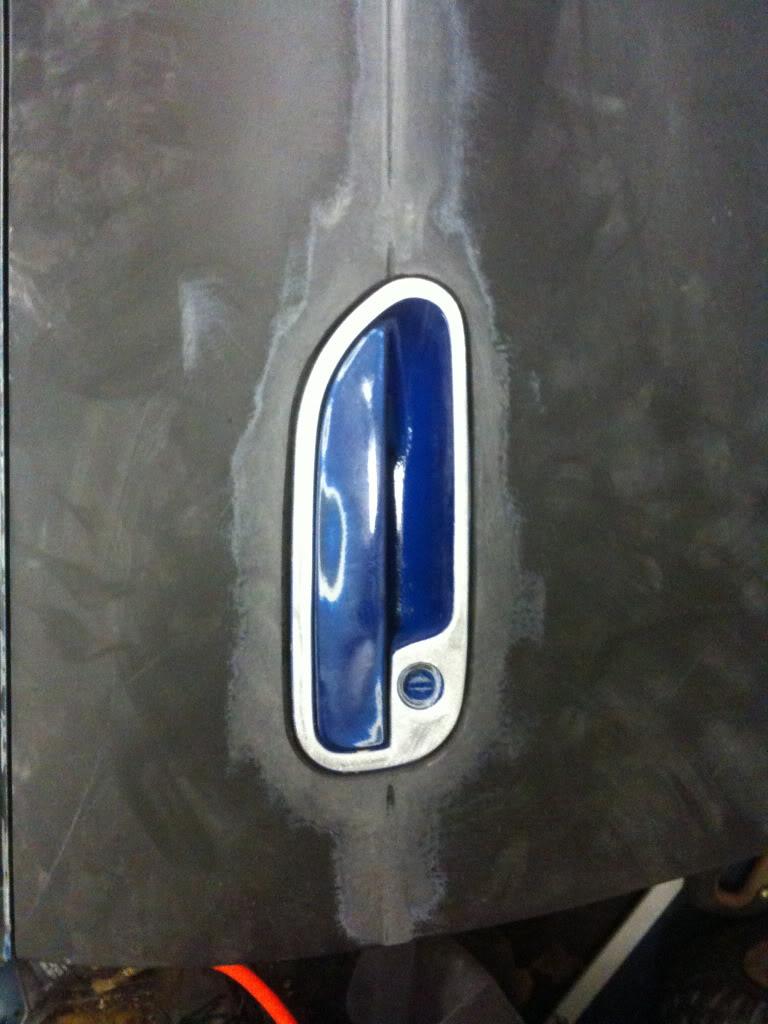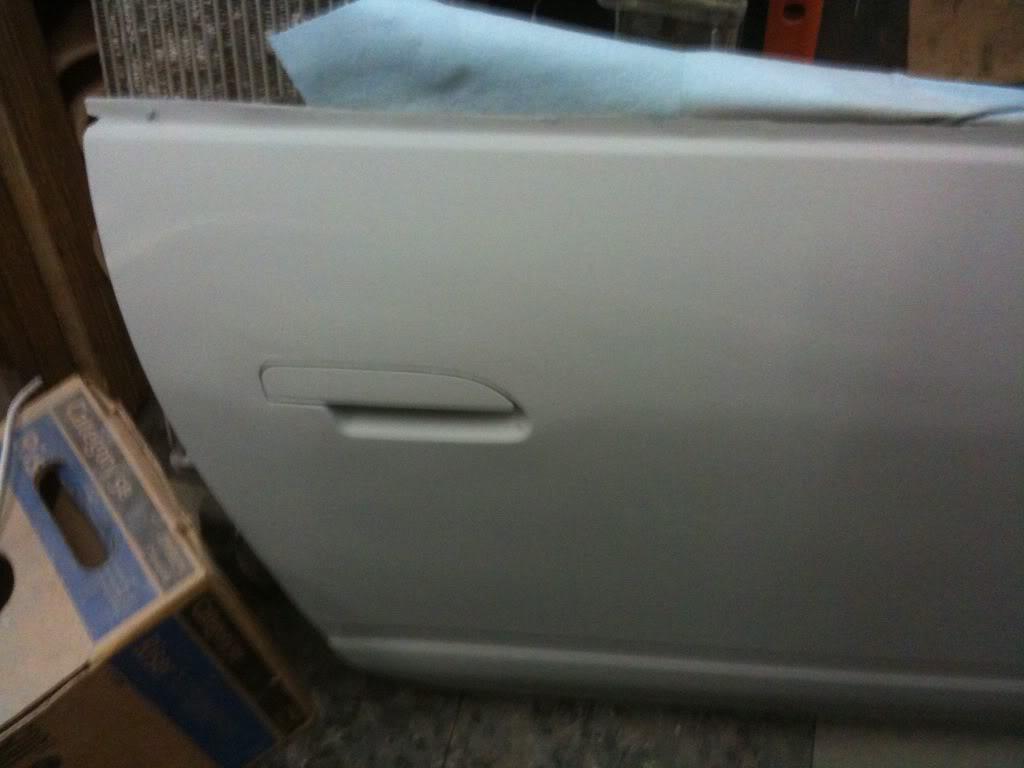 And I sprayed a test panel for our new 2011 color. It's called cobalt blue metallic.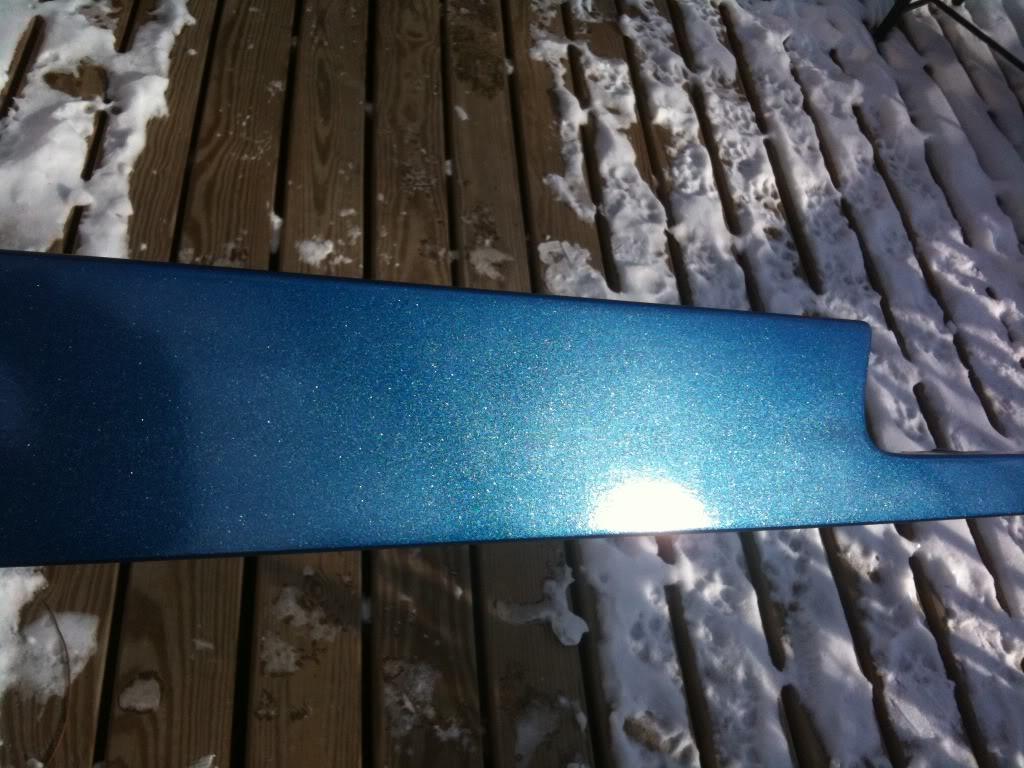 1/23/11

So have not had time to do much recently. Had our first child last weekend and surprise surprise that takes up some of my time. Got a chance this weekend to spend a little time in the garage. brad came over and finished boxing around the tubs. Now we just need to pull the motor to finish them. We also test fit the top mount manifold we made and the gt3071r turbo. We will start working on some of the aluminum fab next.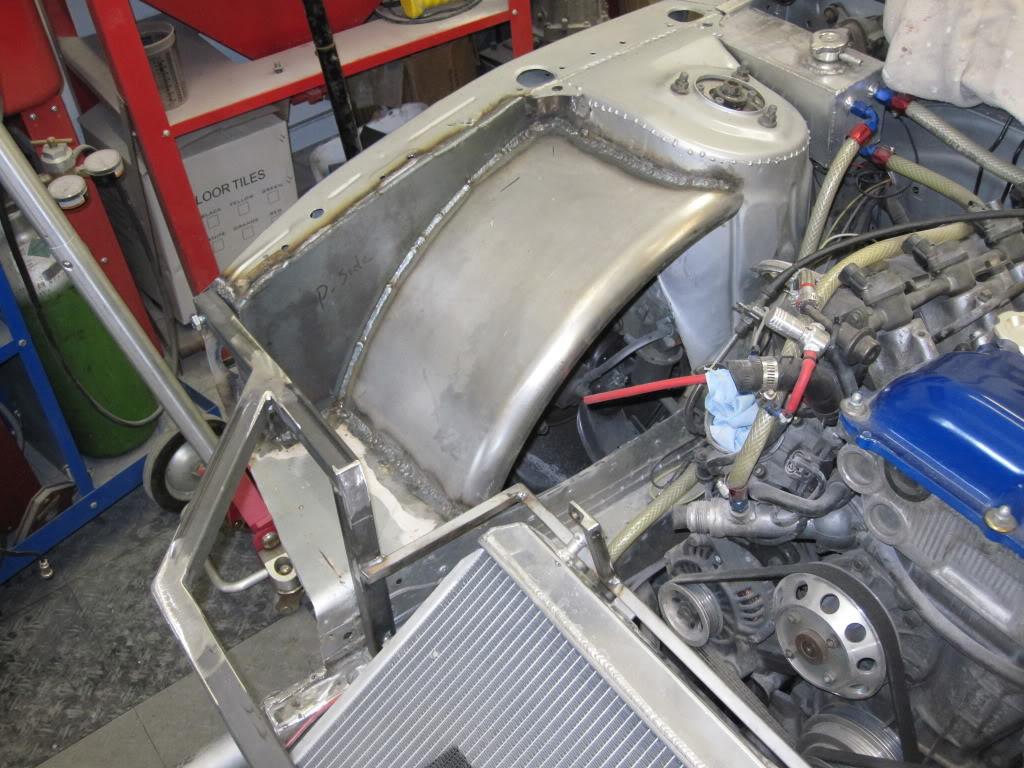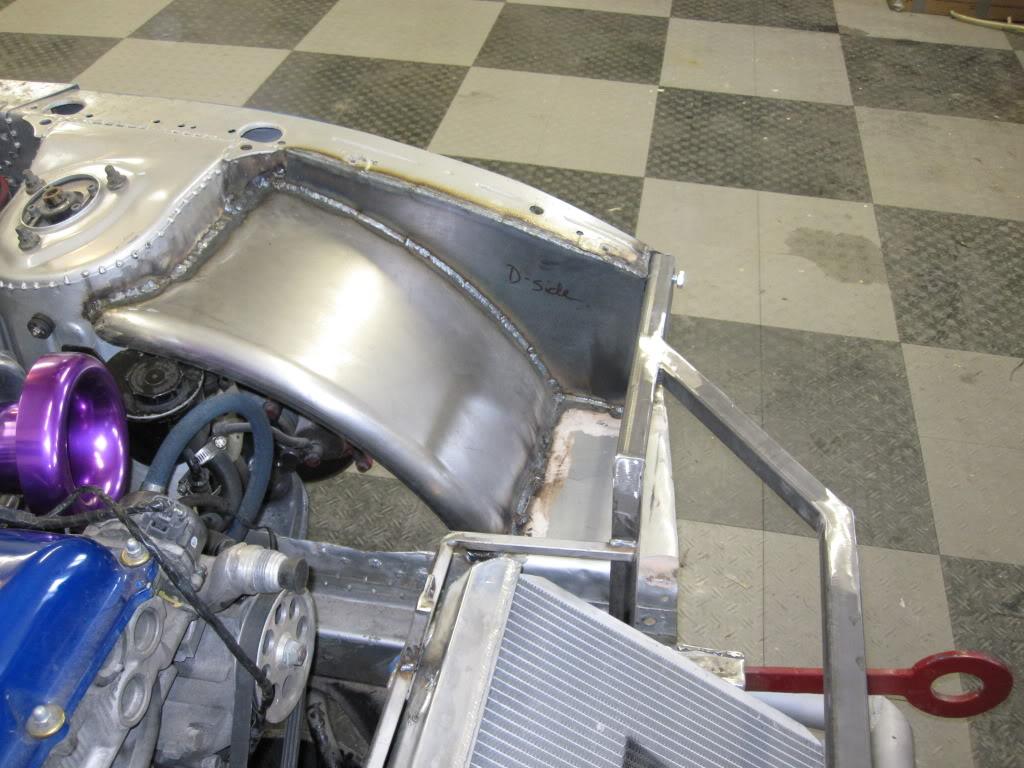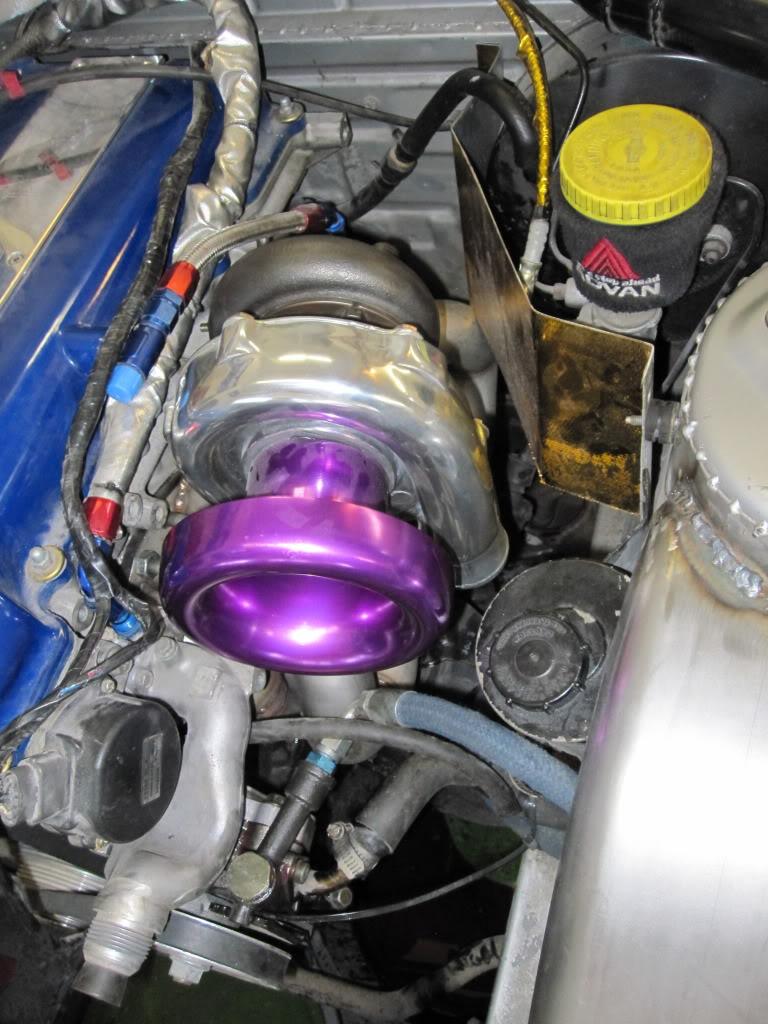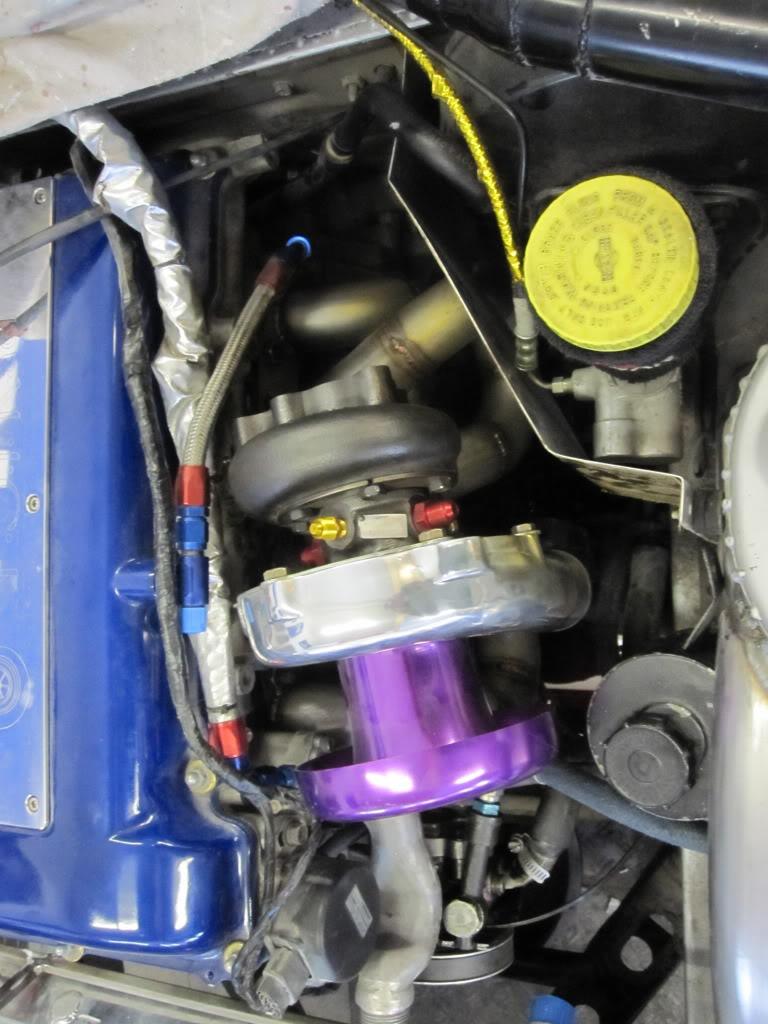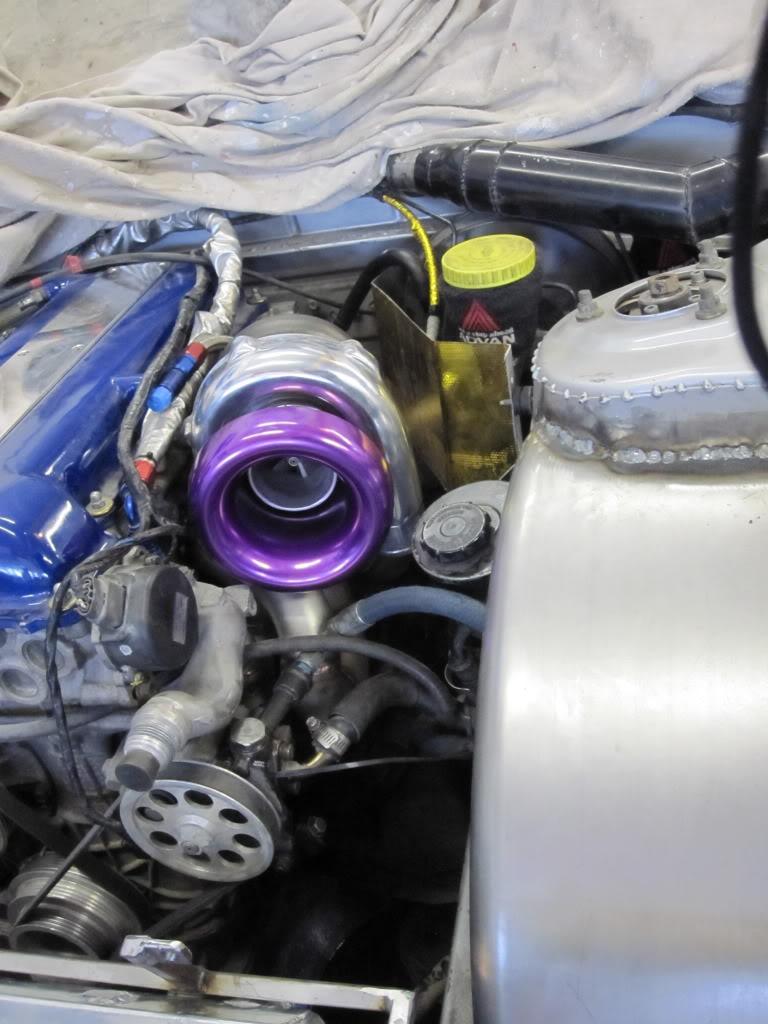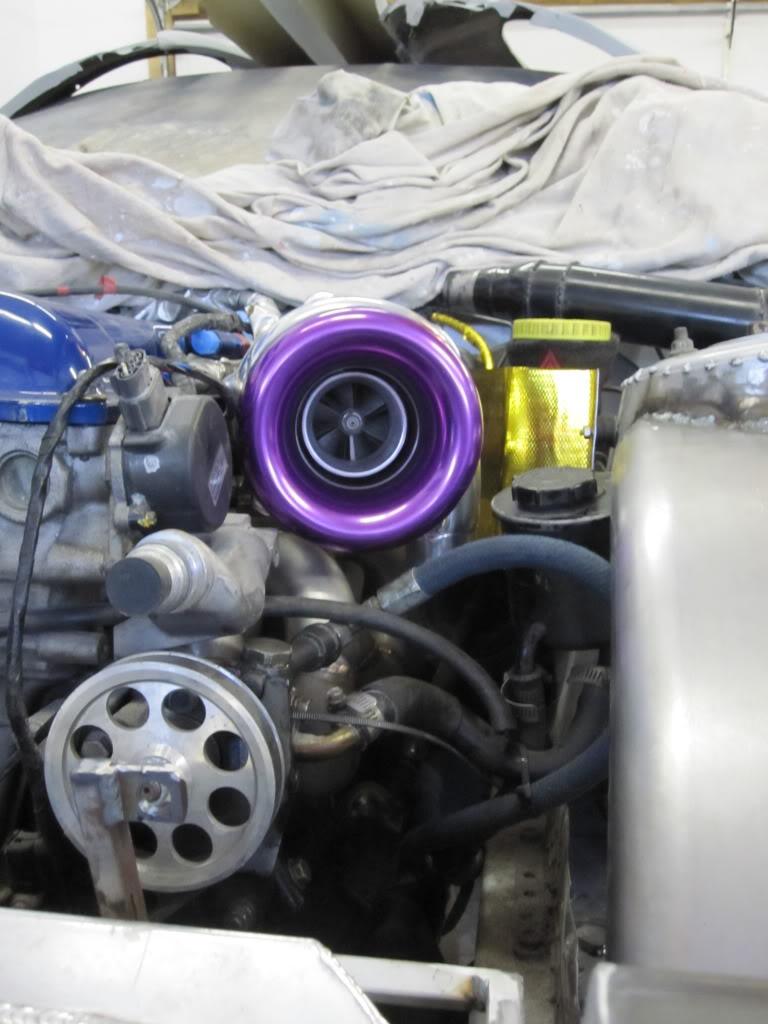 2/21/11

I got most of the car painted this week. We still need a dmax style hood and uras type 4 rear bumper though (pm me if you have one for sale). The color is cobalt blue metallic.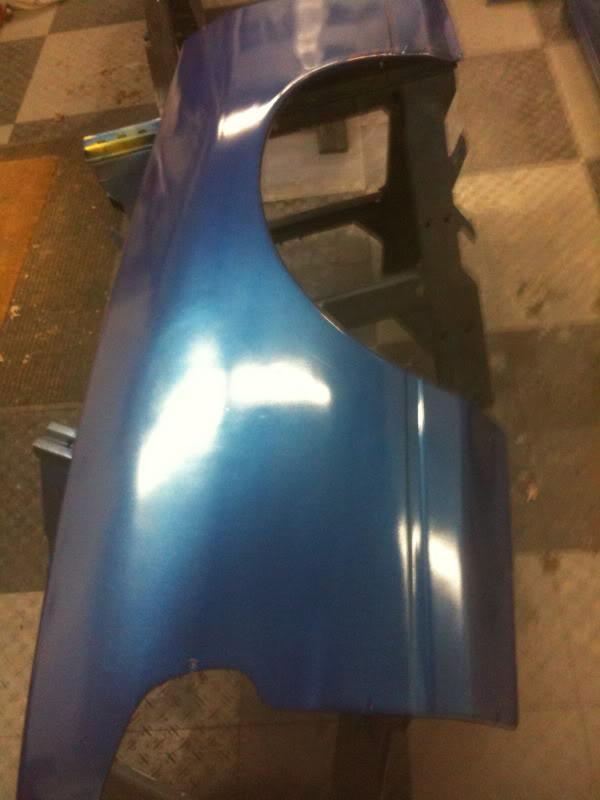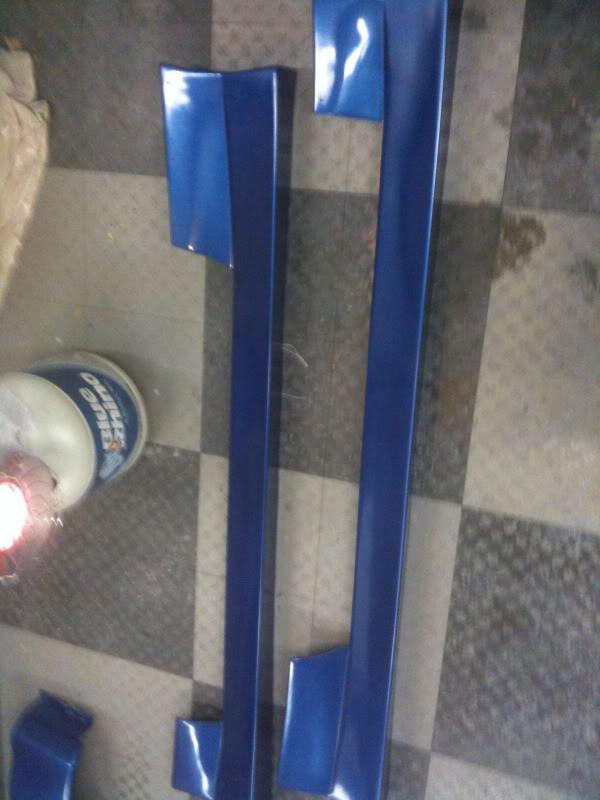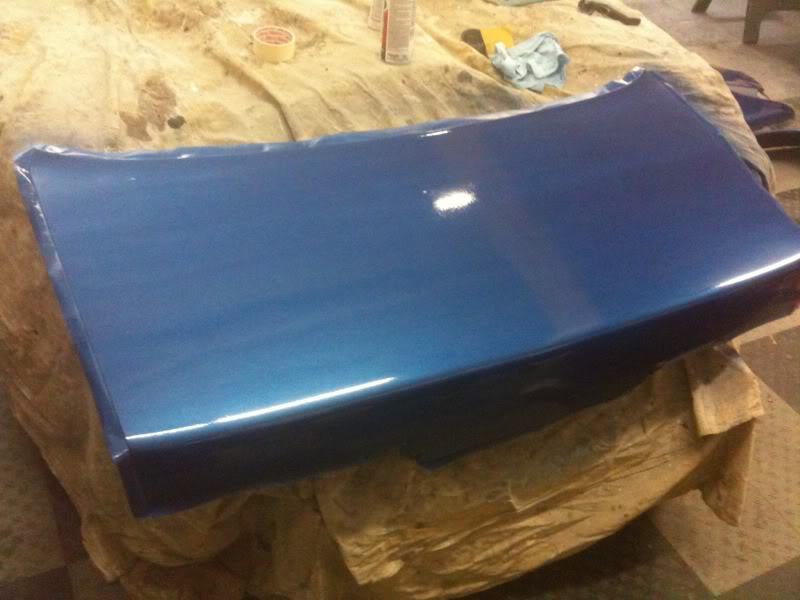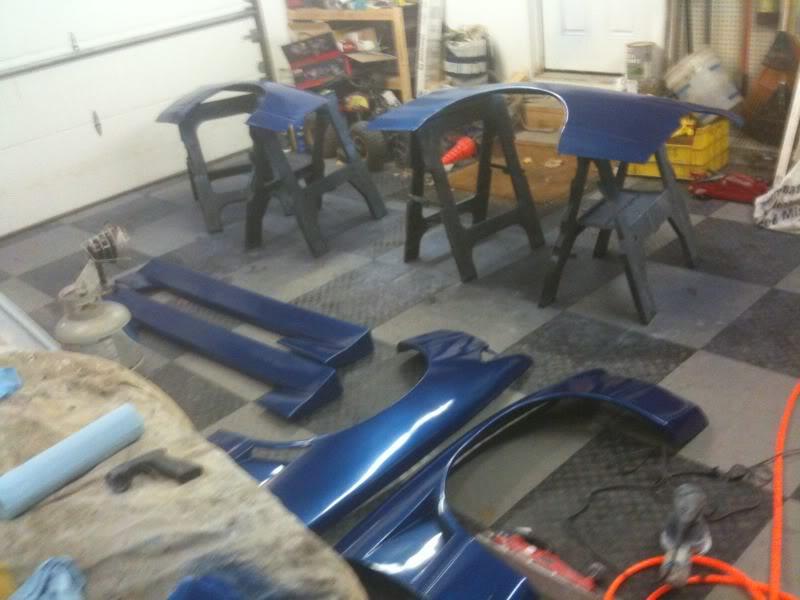 This is what it looks like in the sun: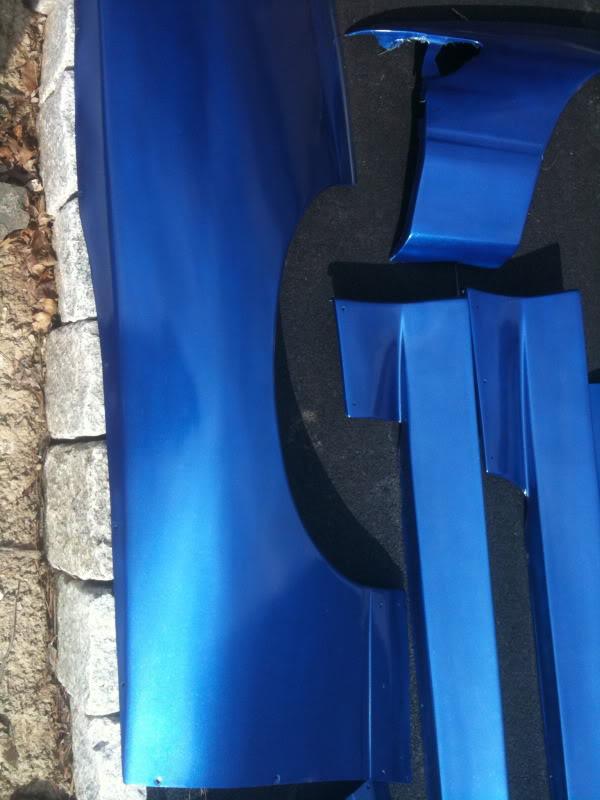 Spraying the chassis: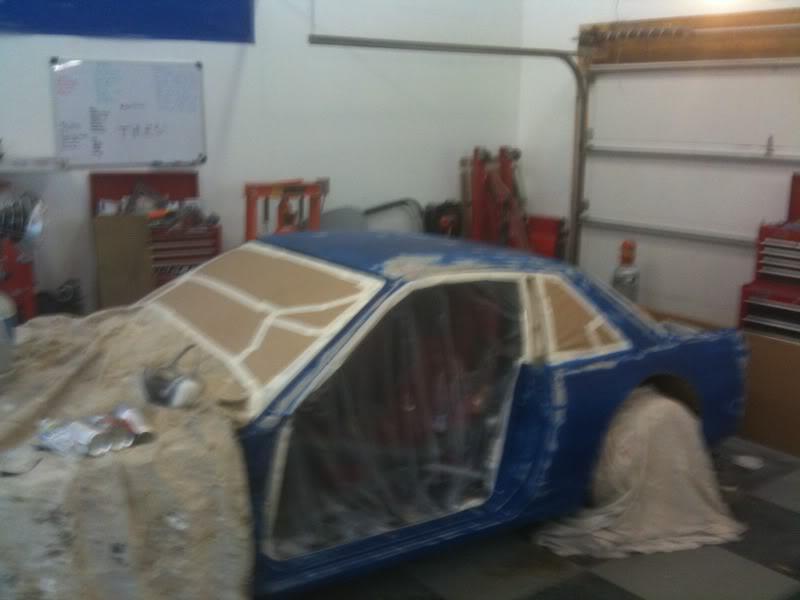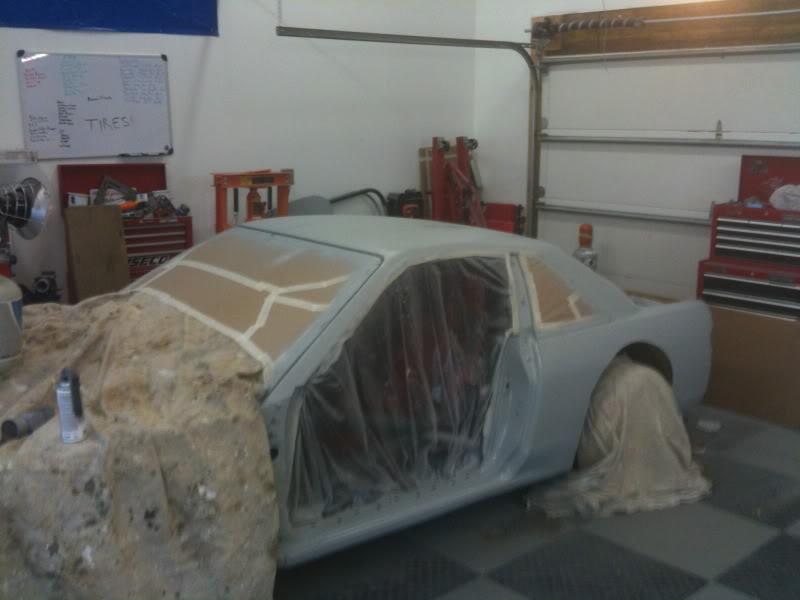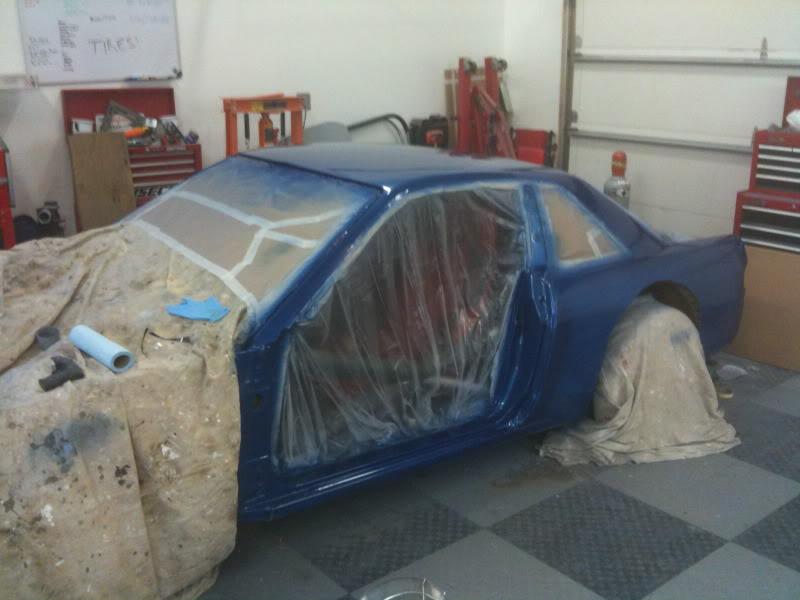 Finally fixed the rear end: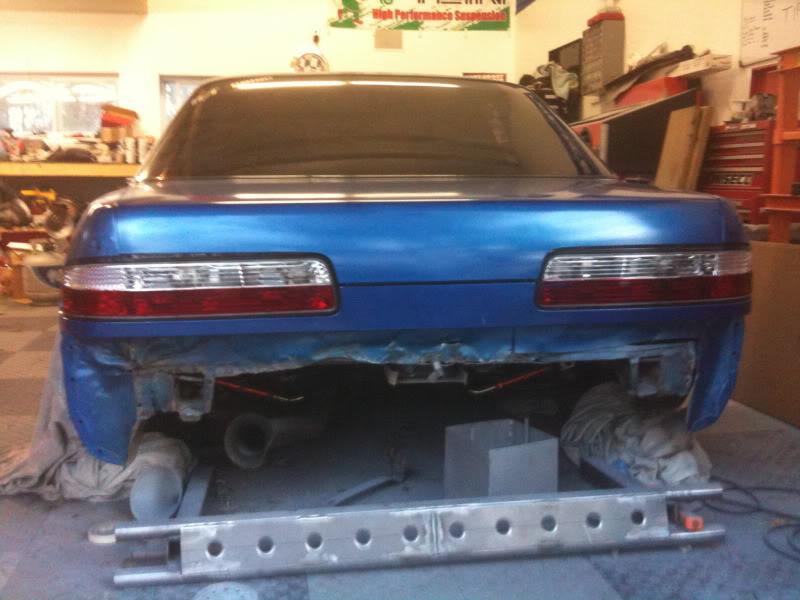 Mostly back together: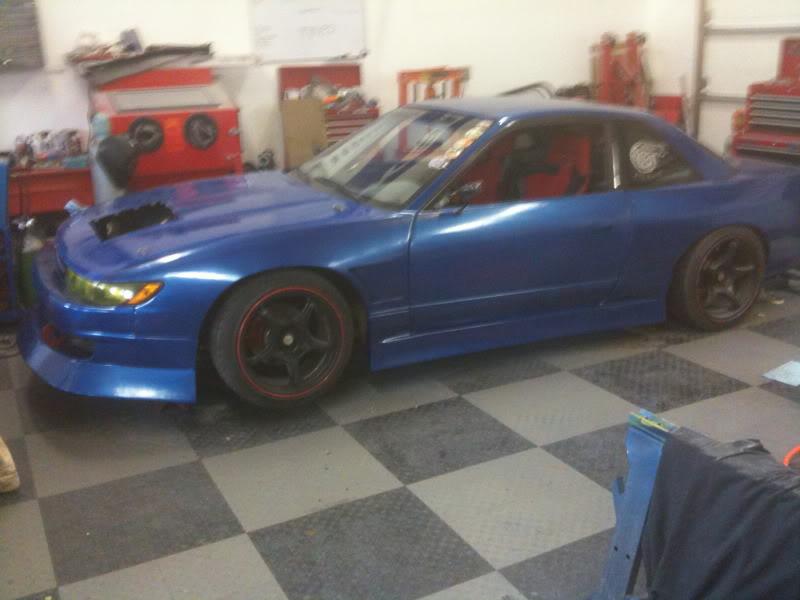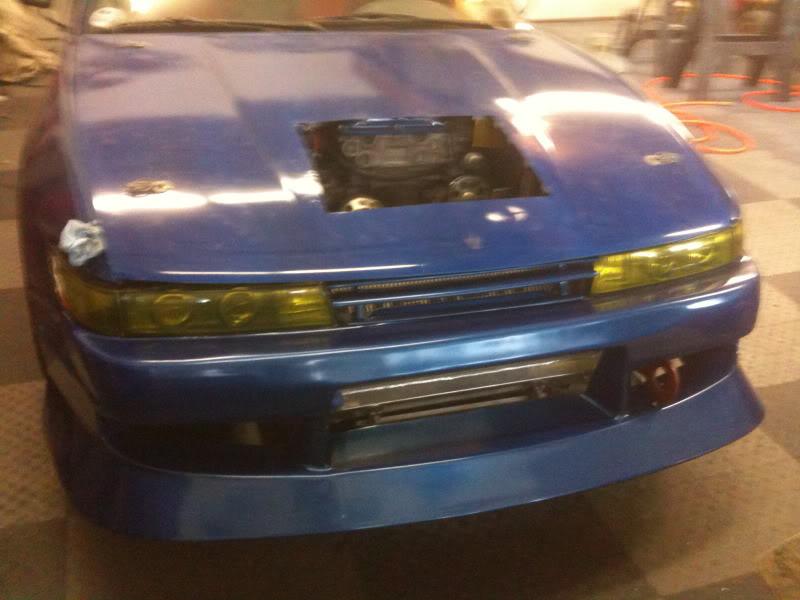 3/23/11

So my updates on the fab/engine/chasis stuff suck I know. Been really busy and haven't had time to post. Just got some bad news from R/T that the new engine won't be ready for April 2nd. So I am going to throw last years engine back in for the first event. Here are pics of the new setup almost done. Also found this when pulling the motor. New urethane mounts are going in.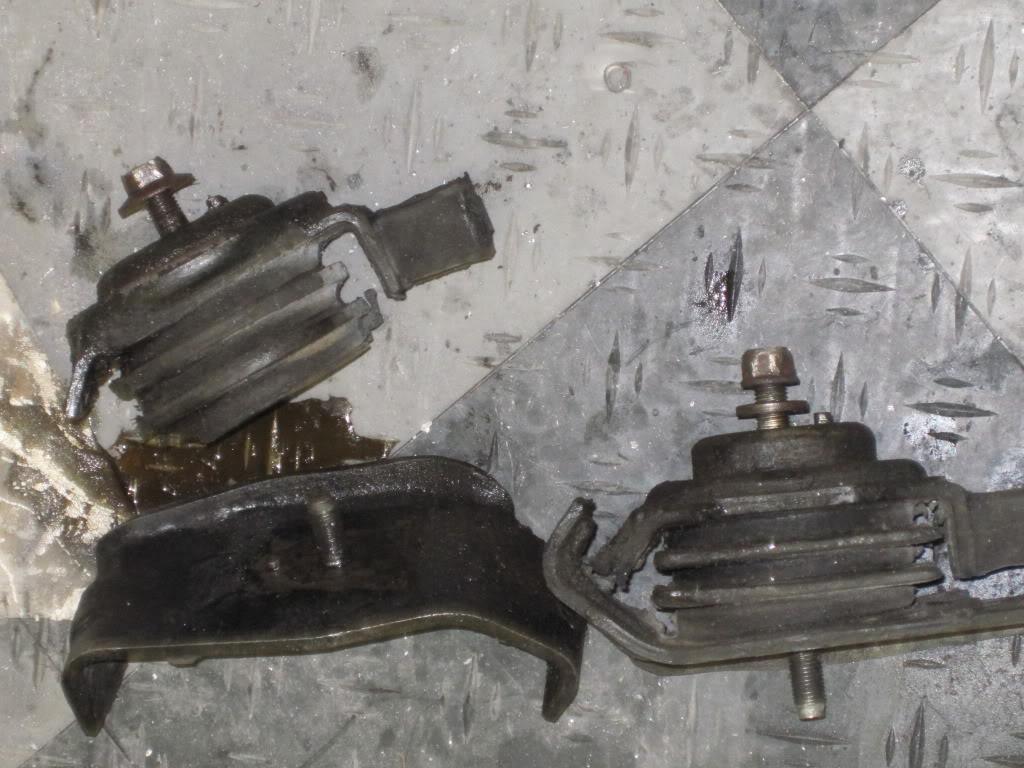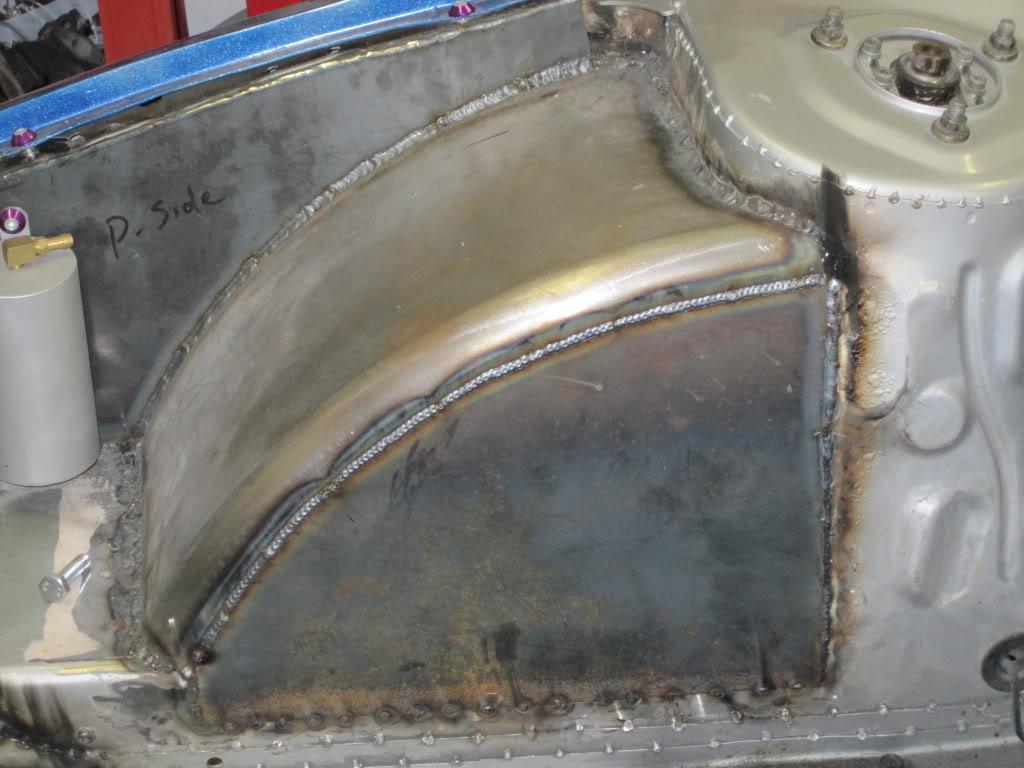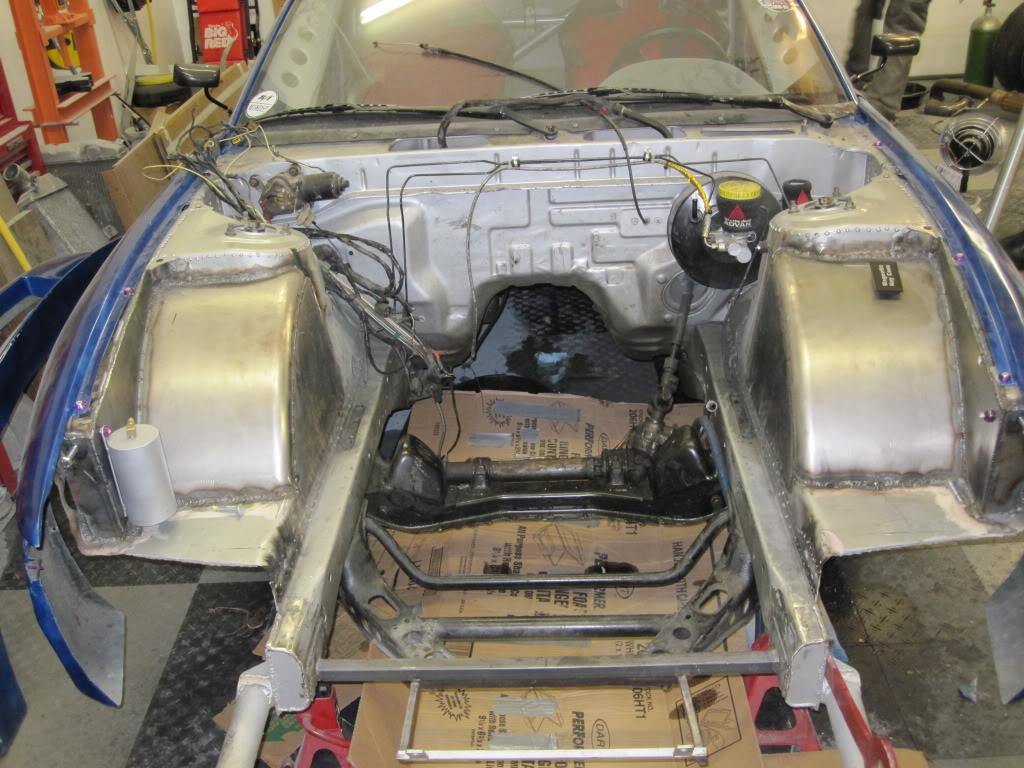 Front end bolts off with 4 grade 8 bolts headlights, grill, and intercooler included.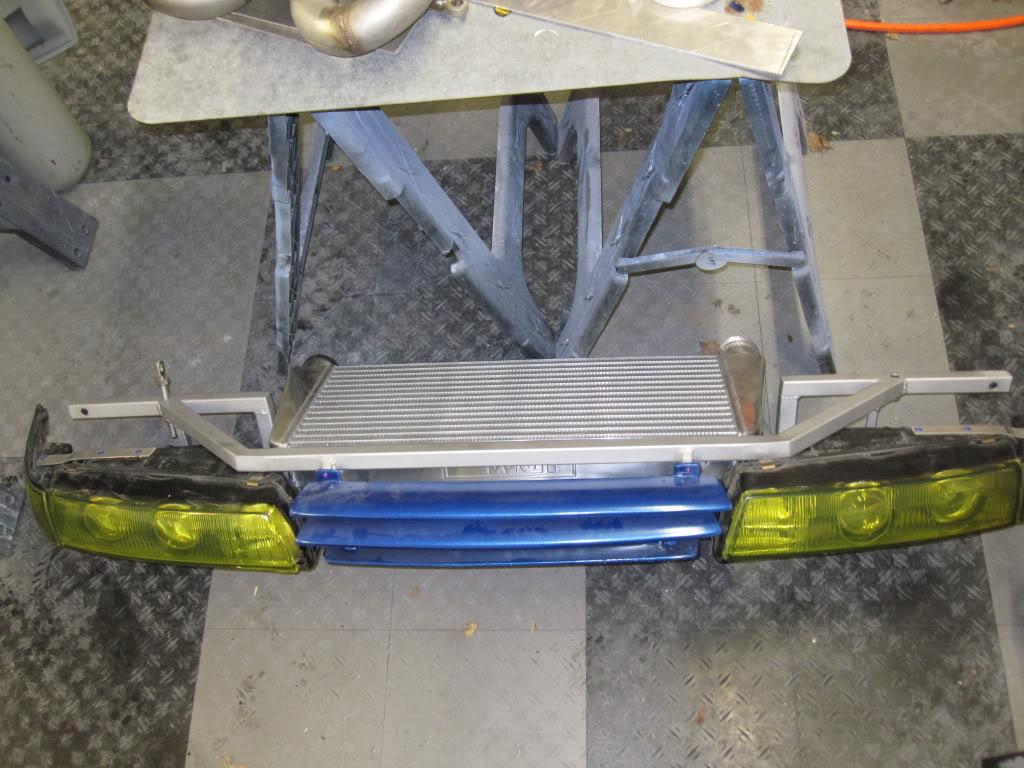 Custom turbo manifold off car.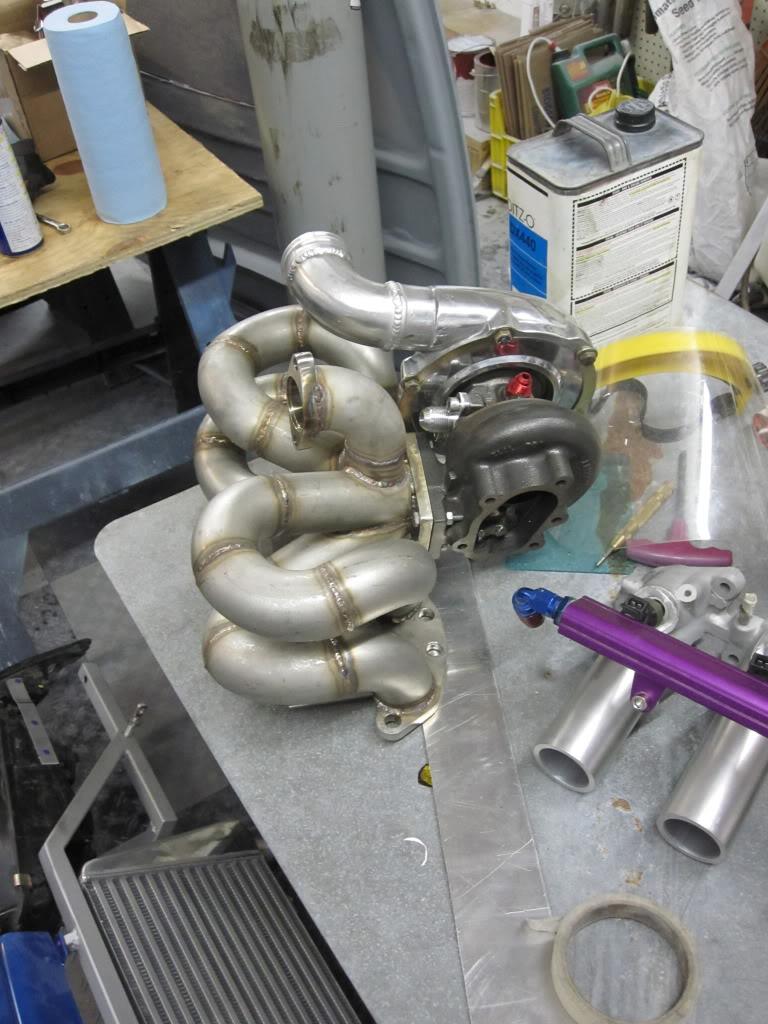 Hot side piping complete, custom intake manifold complete, just need cold pipe.