Builds
'76 280Z 283-Glide Conversion by Kingnothing616
By stevegolf
You must be logged in to rate content!
18 minute(s) of a 18 minute read
'76 280Z 283-Glide Conversion
Compliments of Kingnothing616 @ www.hybridz.org


I have not posted that much yet, but I am cruising this site and searching on the daily. I know how much I like to read and look through the fully documented conversions so I figured I would introduce myself and share my experiences. My name is Coye, I'm 22, married to an amazing woman and I work as an ASE Master Technician at a small shop in Tyler, TX.
I bought this car in May of last year for $1000 from a youth pastor. 54,000 original documented miles, and had sat up for the past 15 years in the sun which destroyed everything in its path, paint, dash, seats, etc. I had intentions of rebuilding the motor that was in it because of low compression on one and six, but I ran across an already rebuilt turbo motor for only 300, after much anguish and wiring problems with all of the straight six stuff i decided to drop in a 350 HP small block 283 with a powerglide that i had already built when i was 14. Never been on the street, just cranked up every couple of months to op temp.
Here is what I started with back in May.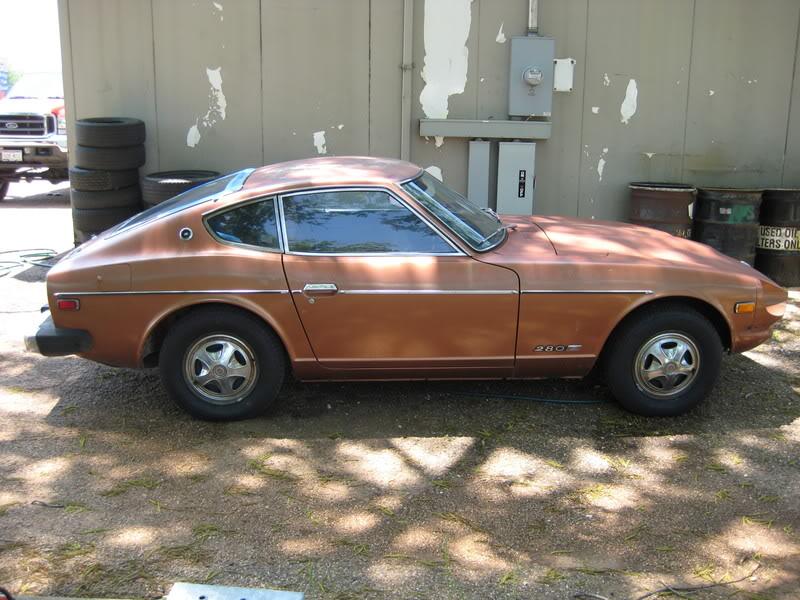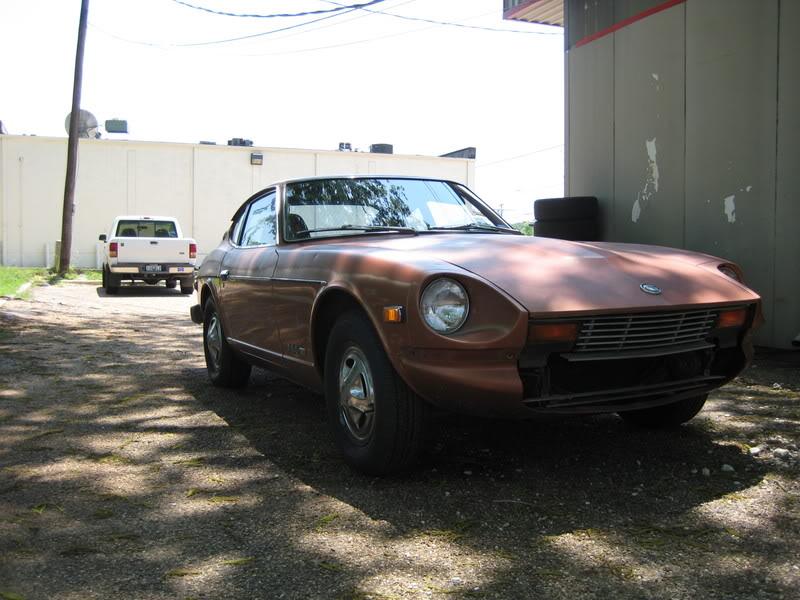 christmas present to myself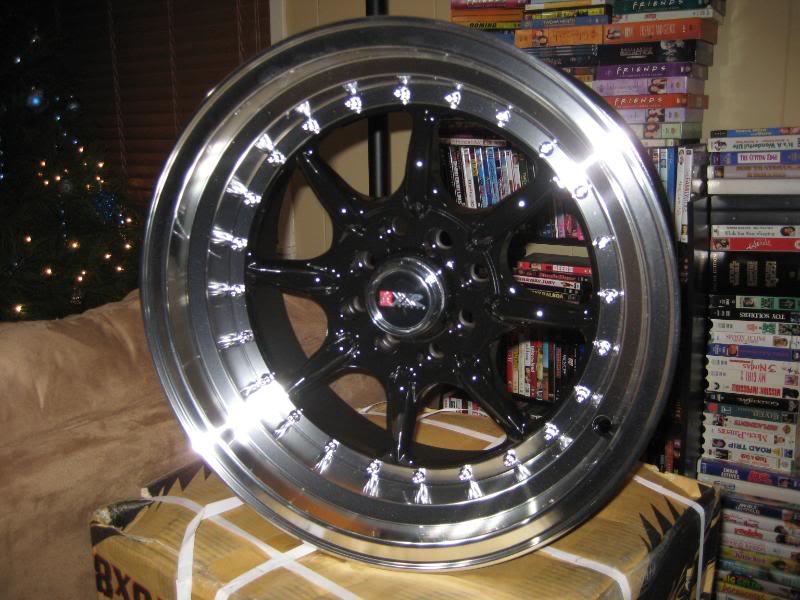 On car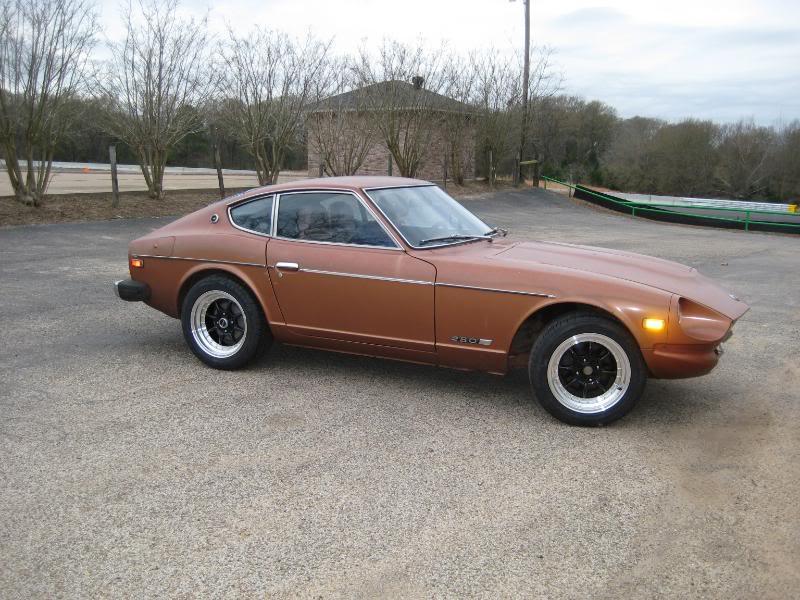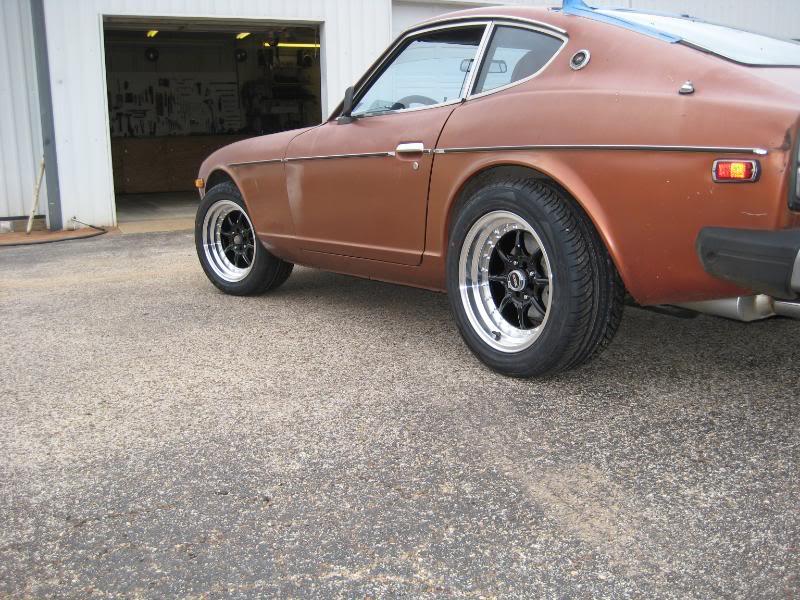 Pulling the Motor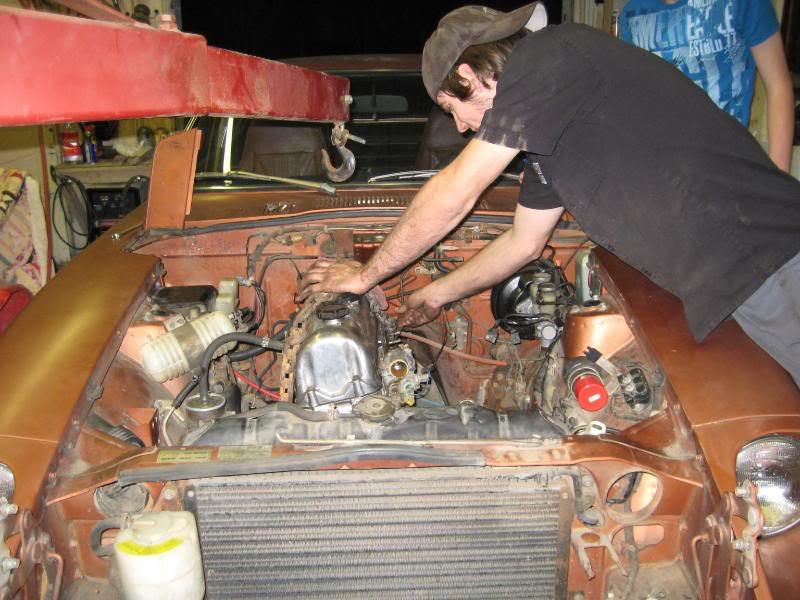 Nasty engine bay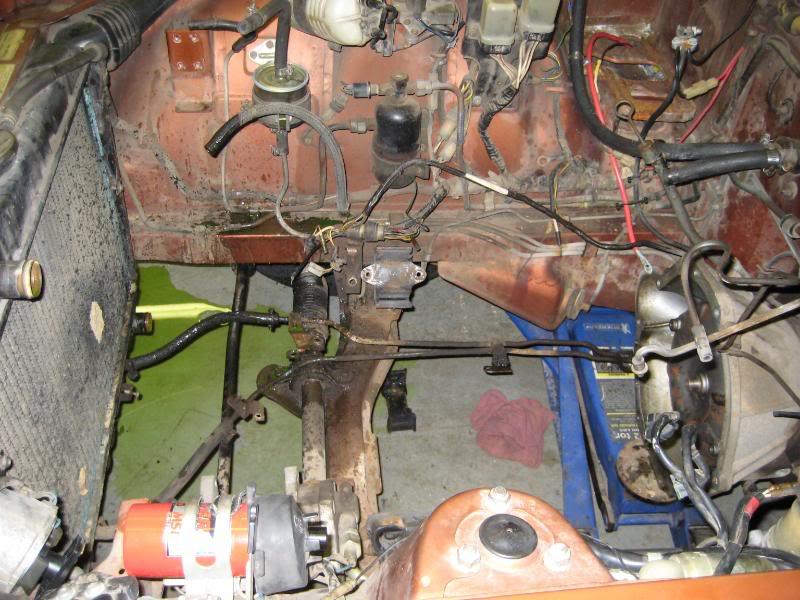 Sans Auto Trans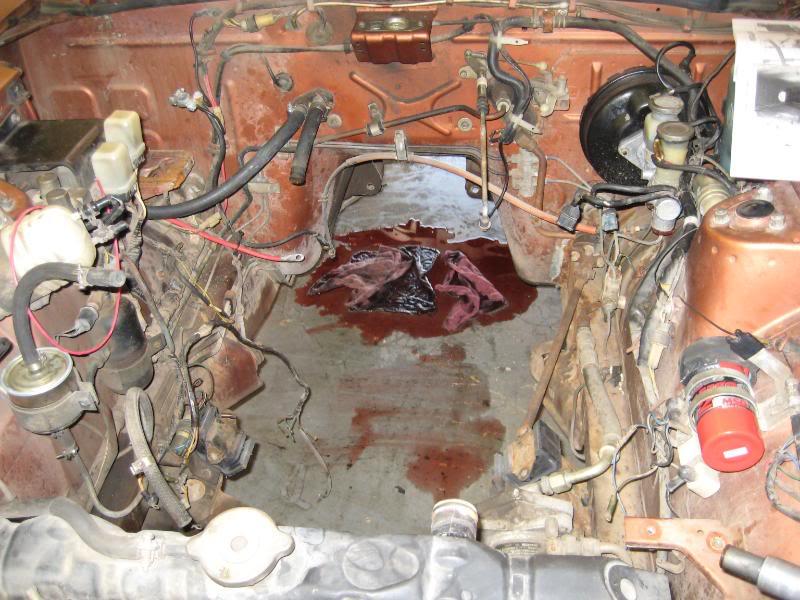 Stripping the Old wiring down to only headlights, horn, Alternator, starter etc.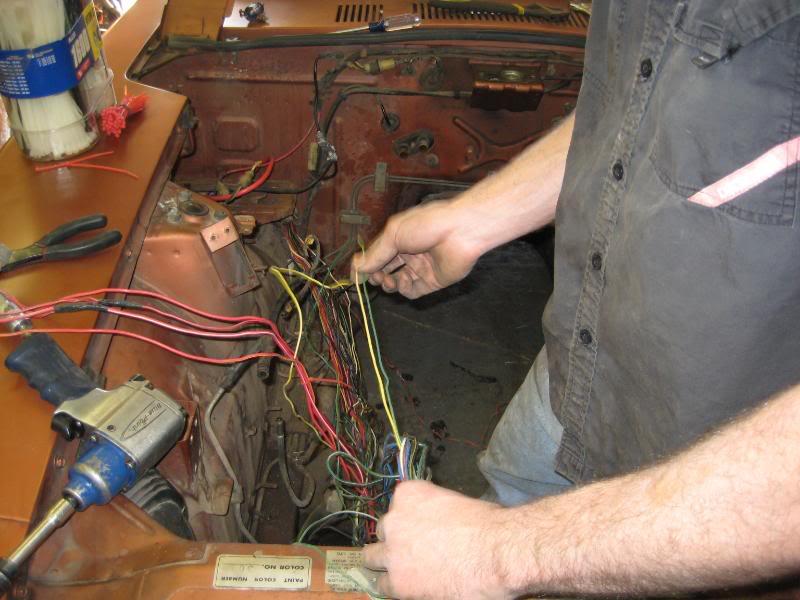 And now on to all the engine bay Cleanup
2/22/2009

Ok Cleaning up the engine bay correctly is definately the key to getting your coating to stick. I do a lot of front end and alignment work for antique car restorers, and they all use POR 15 Products, and they really work from what ive seen. I started out using the marine clean that they sell mixed 50/50 with water and kept it soaked for about 30 minutes and then hosed it off. After that you can soak it with the metal ready, because the paint will not adhere if the metal is not etched. Hose that off and let it completely dry to get these results..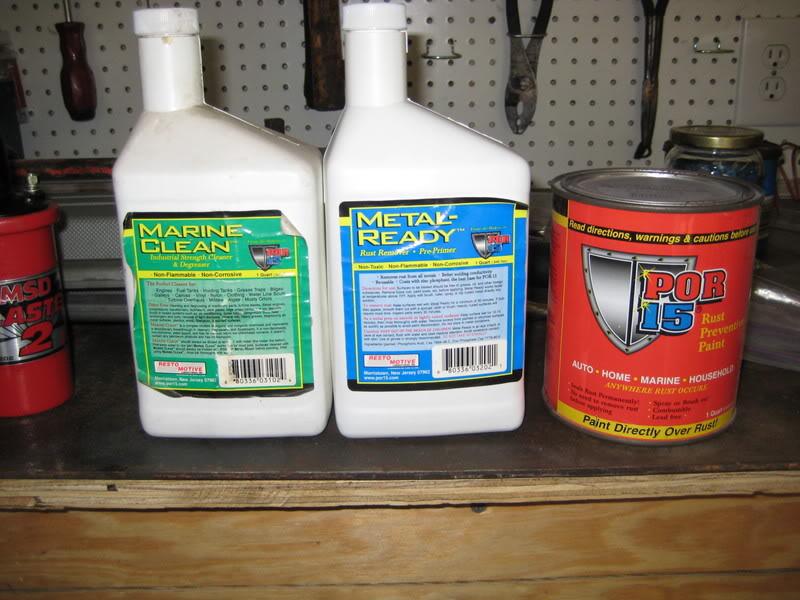 Before..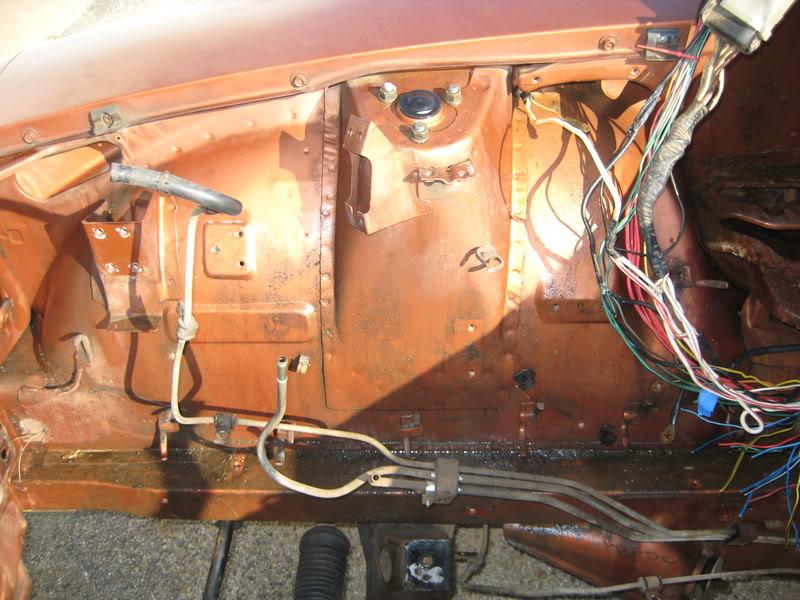 After..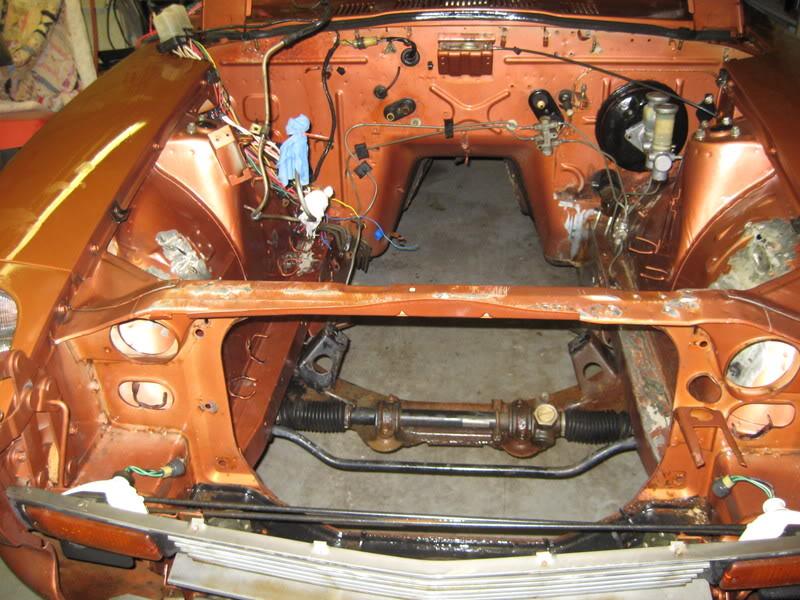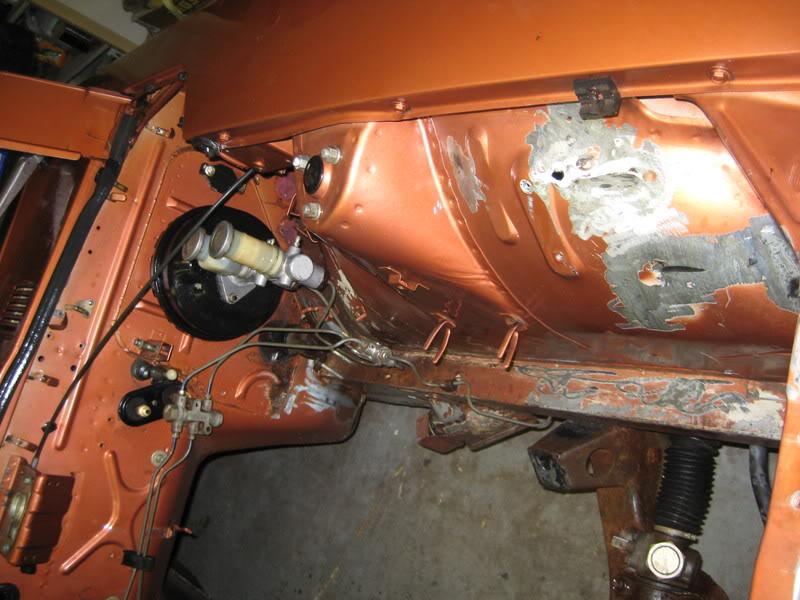 The POR 15 Black paint is pretty sweet you can just put it on with a brush, it is self leveling and has a nice gloss finish. Make sure and wear gloves though, because there is literally nothing that will get it off your skin if it dries, not even paint thinner, you just have to wear it off. haha.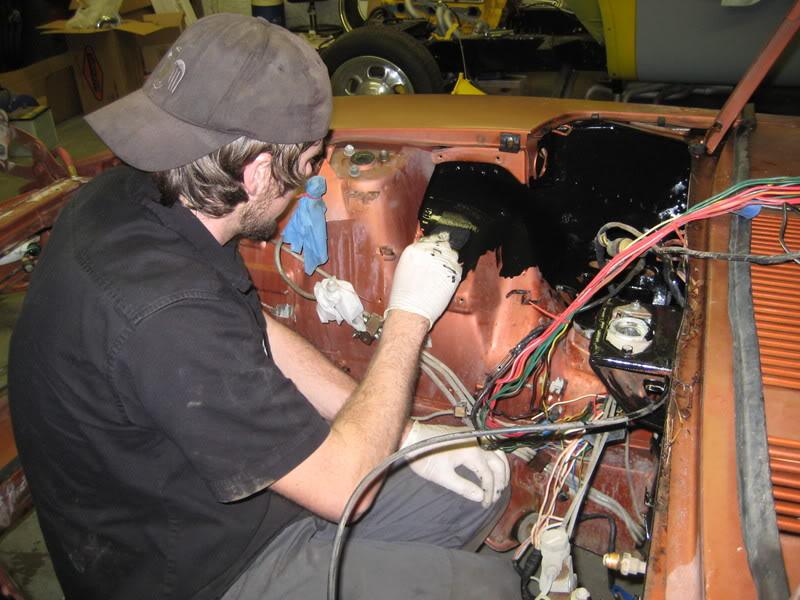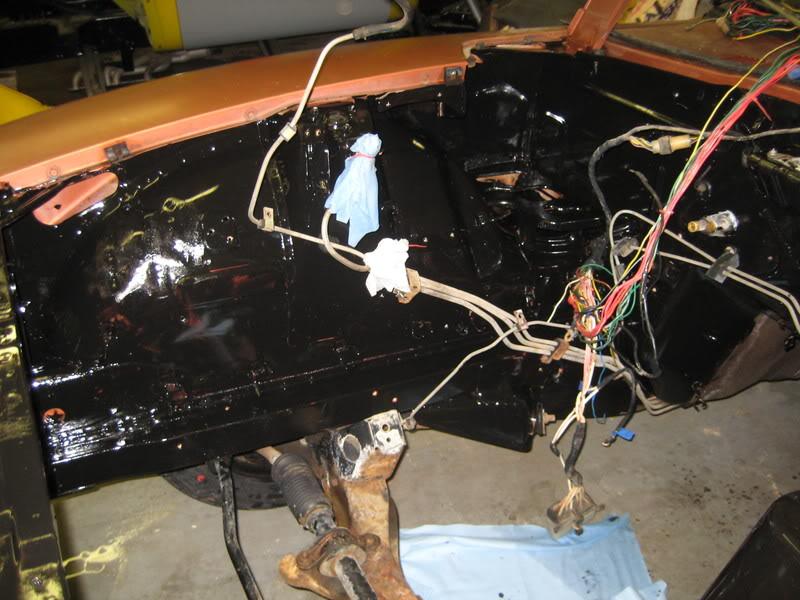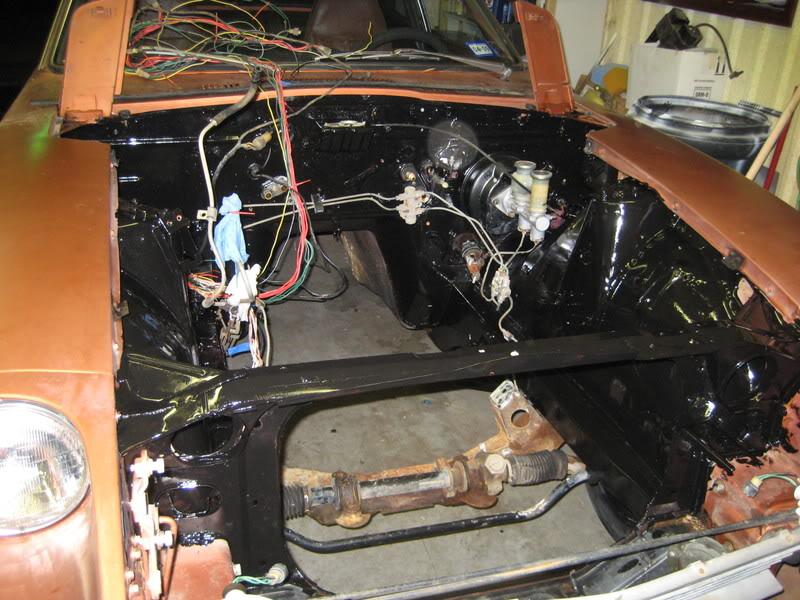 The 283 that I built was going into a 1950 GMC, chopped top, shaved, etc. but i lost interest in it. It was a father son thing, and my dad kinda picked it out without a choice for me.
This is the truck.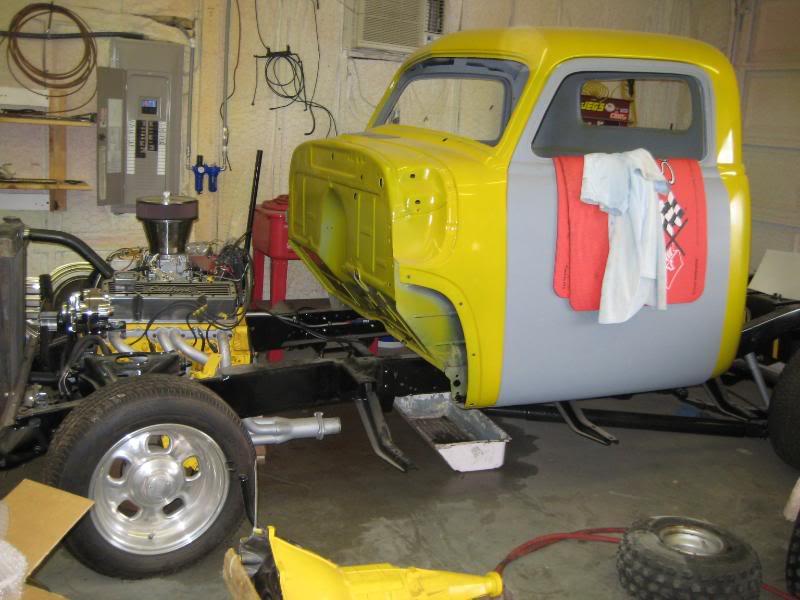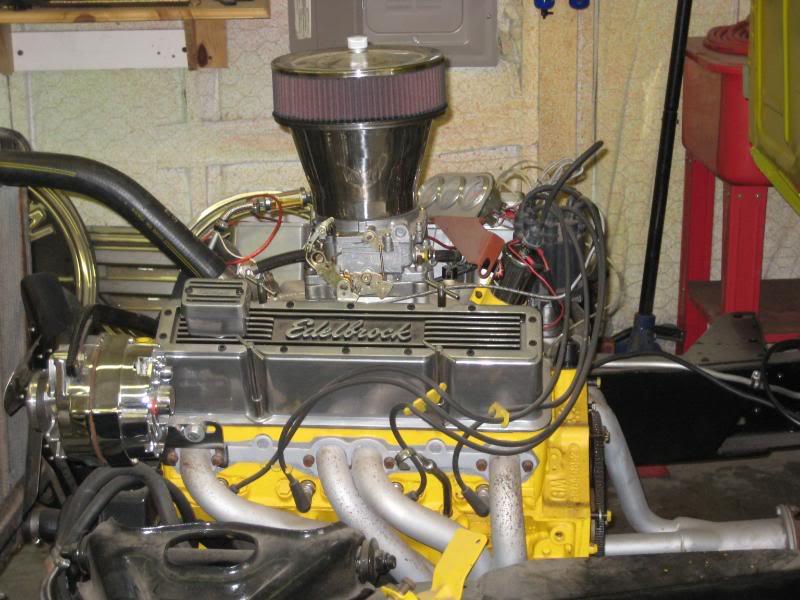 Motor out of the truck and being painted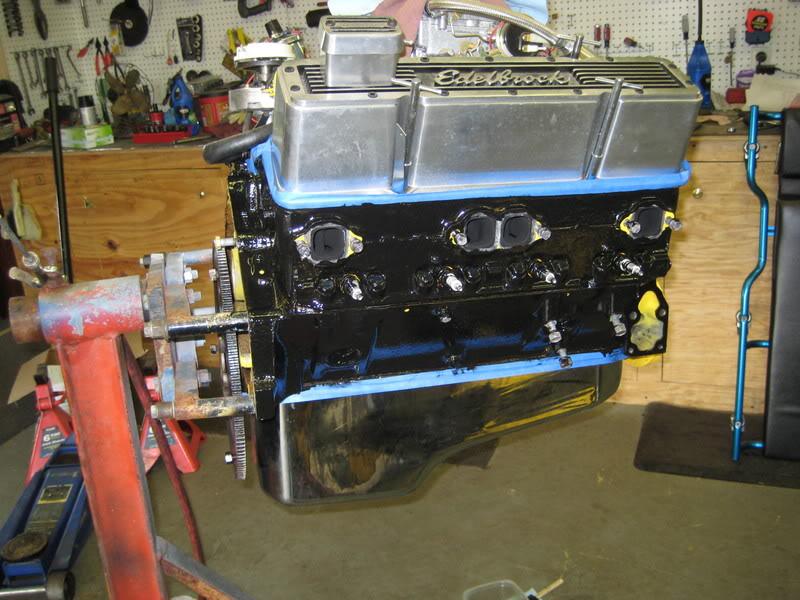 I ordered the JTR Book and Full swap kit with mounts, radiator headers, and all, everything was perfect and great quality.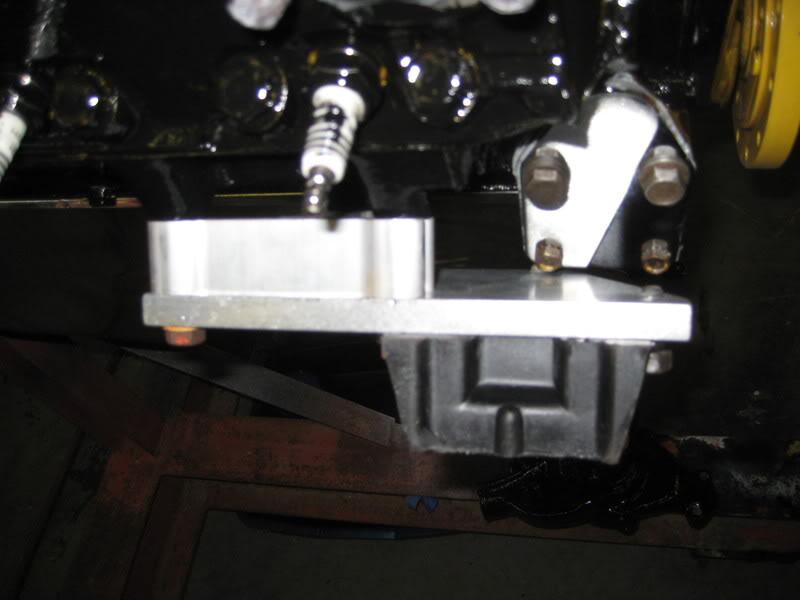 Notched Motor mount to have access to the bolt hole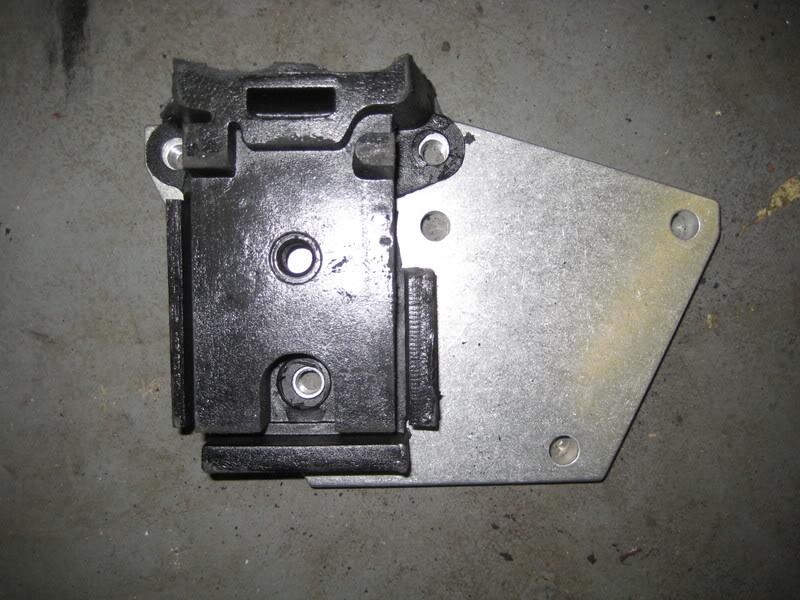 Very Impressed the the quality of the Sanderson Headers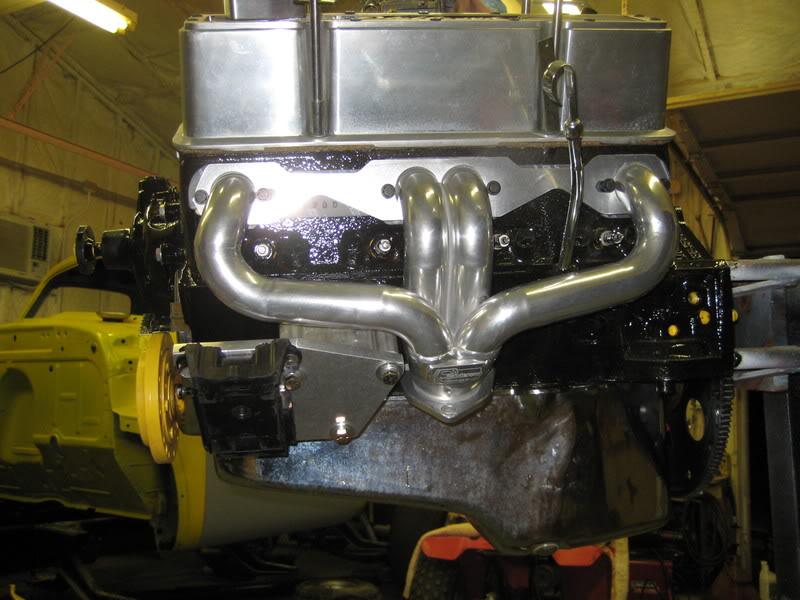 While I was in the mood for cleaning and painting i figured i better go ahead and do the cross member which turned into the whole front suspension. So I decided to go with the Tokico HP Struts, Eibach Springs, Poly bushings, Lower A-Arm Camber kit, MOOG ball joints, Stock Rotors with Toyota Calipers.
Here is the stocker befores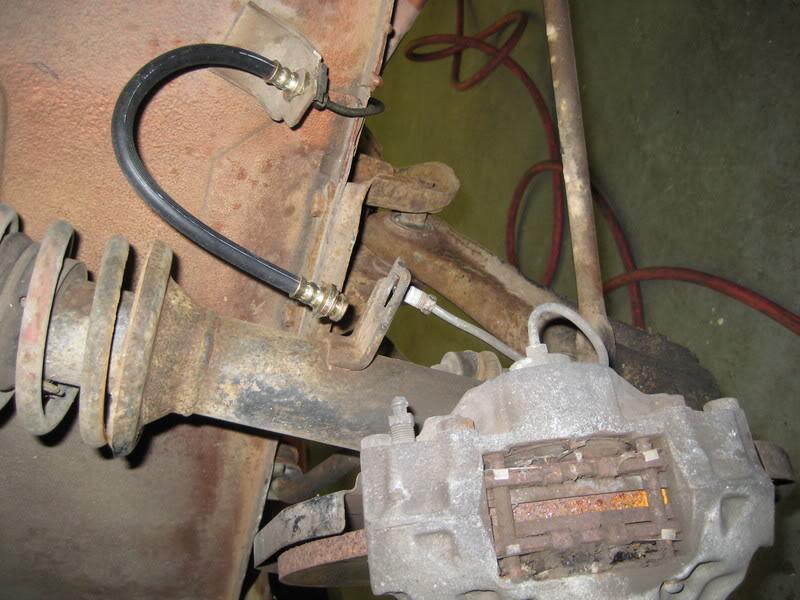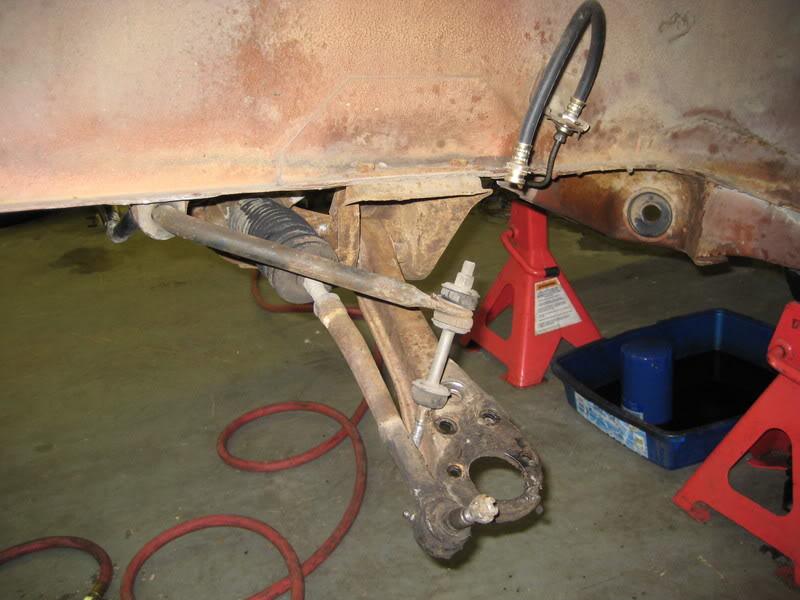 New Parts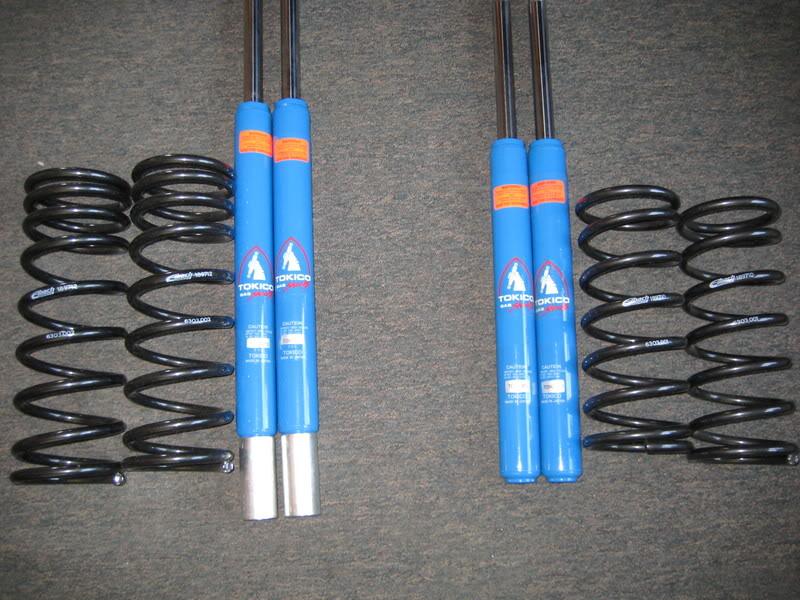 POR 15 On others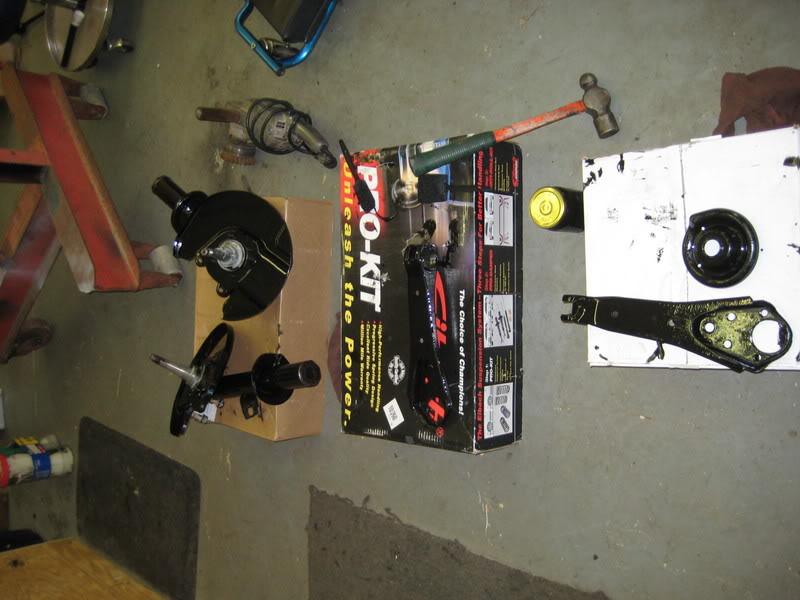 Cradle Spacers Installed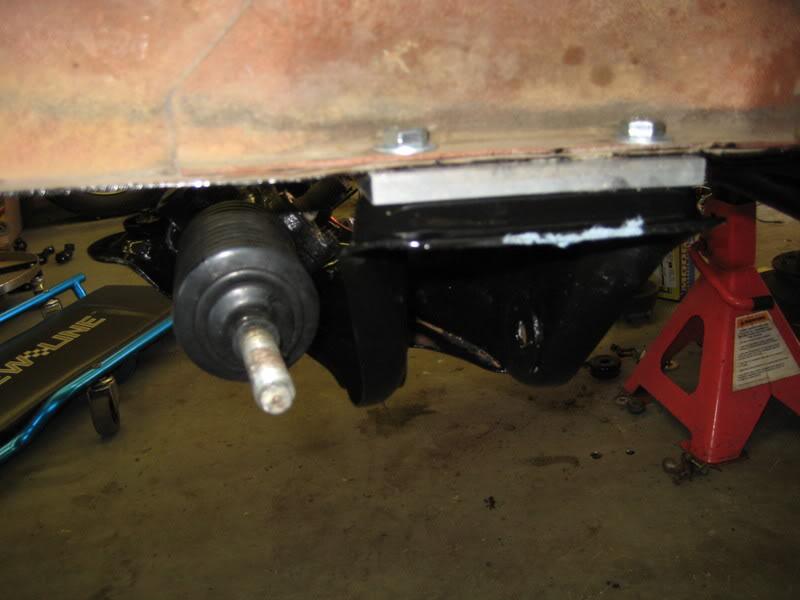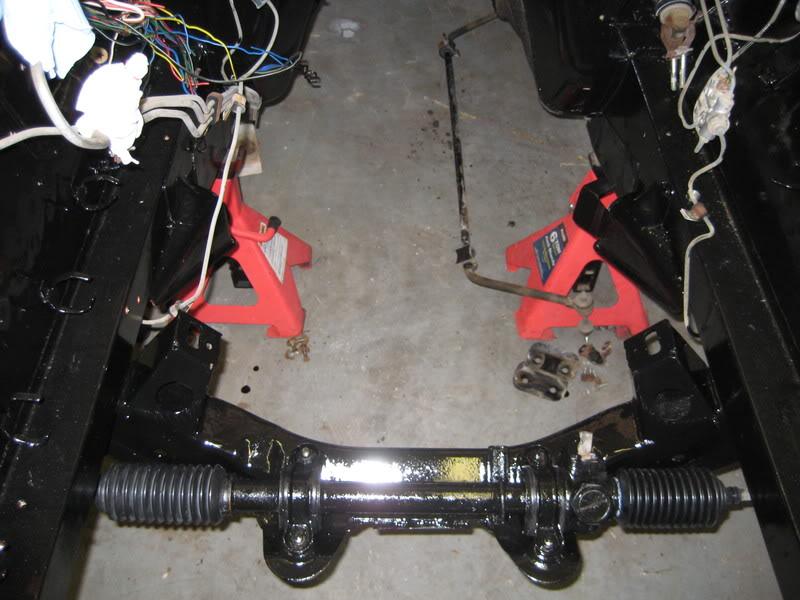 Decided to paint my strut rods red till I have time to build some adjustable ones for Caster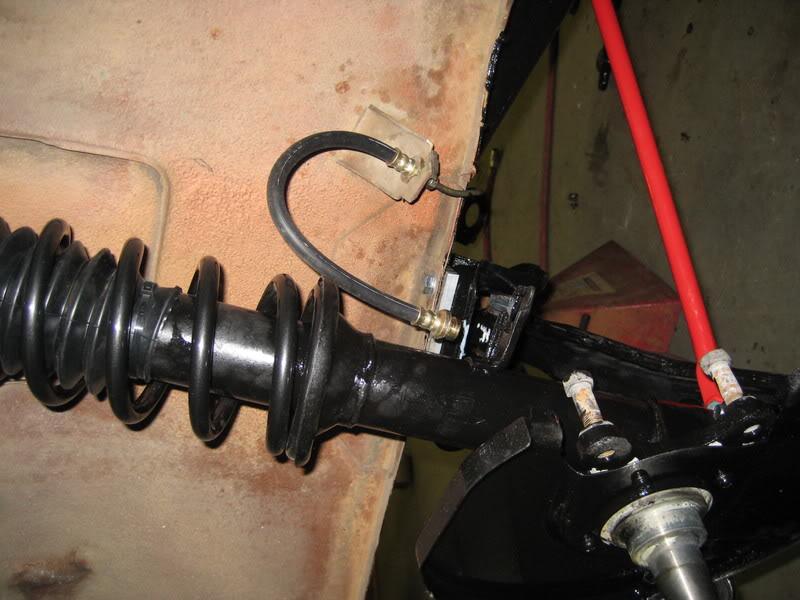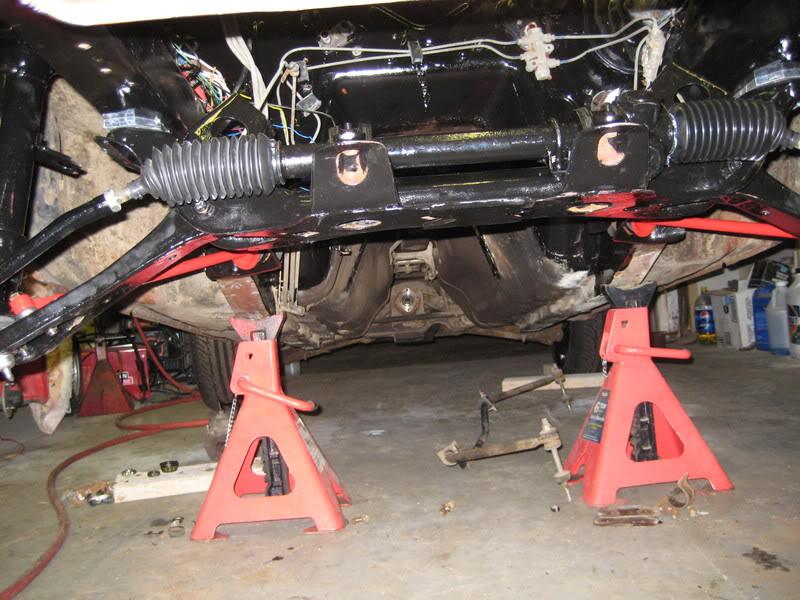 Transmission painted and buckled up, went ahead and replaced the front pump seal and the rear seal since it had been sitting for so long.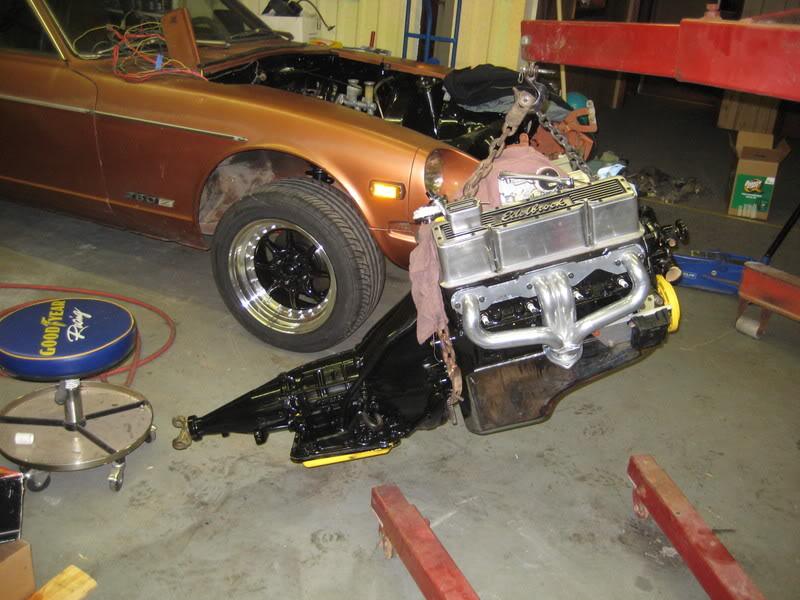 Mocked up first time before removal to resolve brake line and other clearance issues, also wanted to see if distributor was going to clear, which it did not.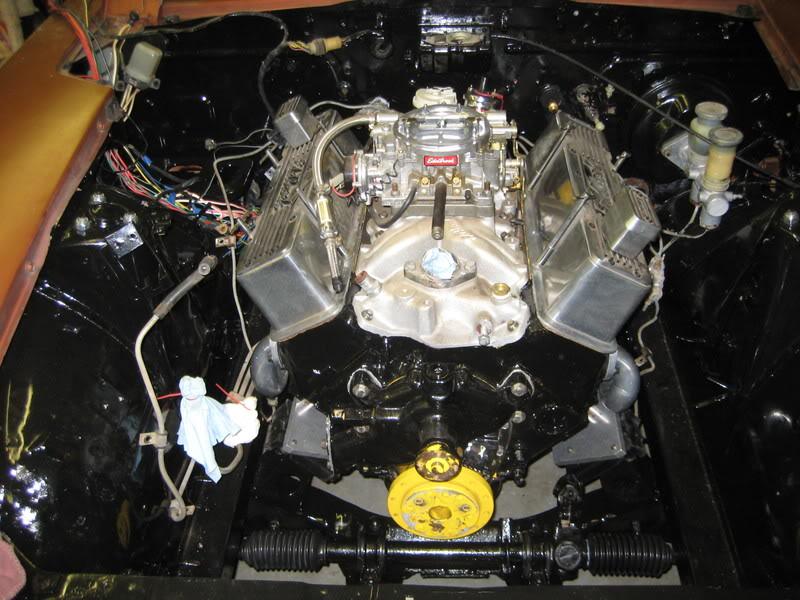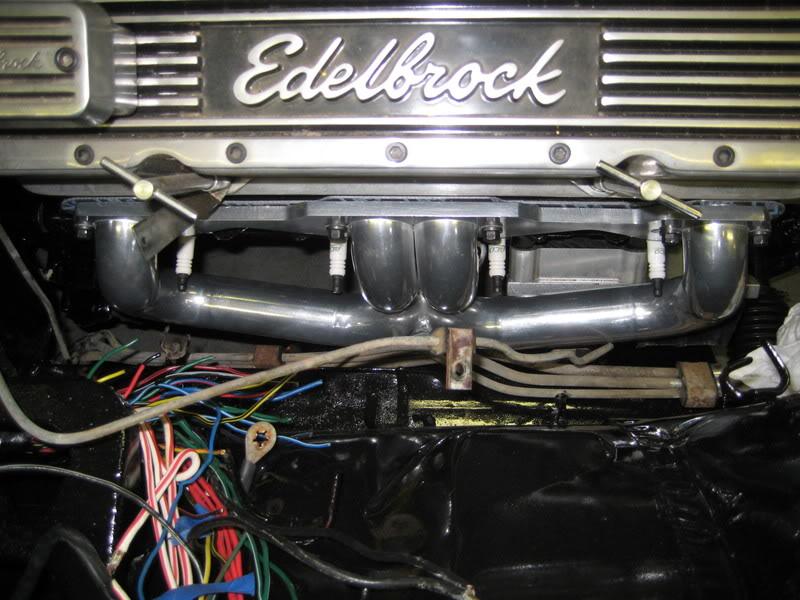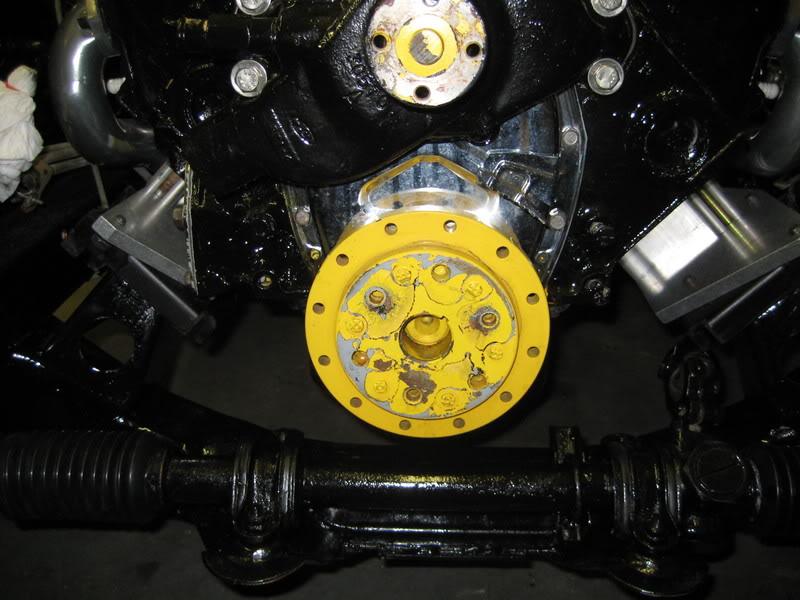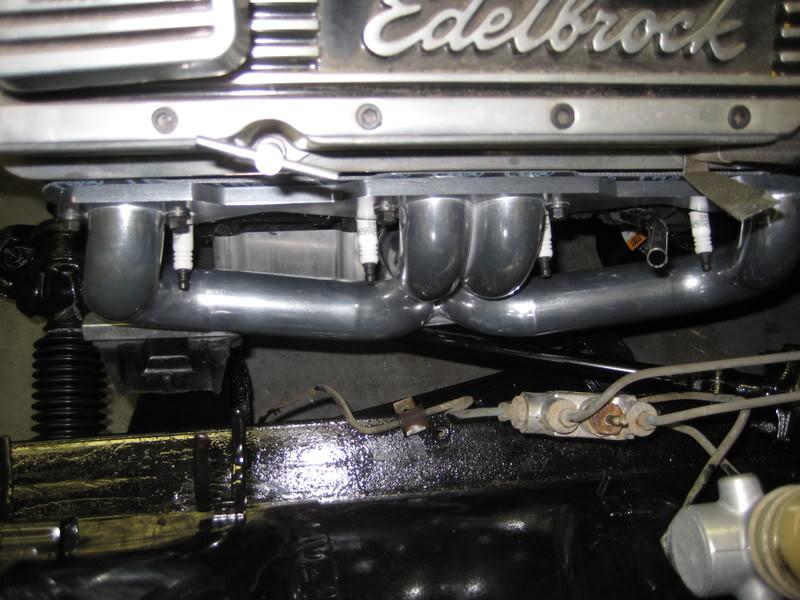 This is all I have for today, I worked on it for about 4 hours this morning trying to figure out my transmission linkage, and kickdown cable. Mounting the Powerglide turns out to be a little tougher than the 700 or the 350. Have to bring my air hammer home from work tomorrow to take care of some space issues.
Well the Drivetrain was out of a 66 Chevy Impala, The 283 Was Bored .030 9.5-1 Hypereutectic Pistons, Heads redone, and valves were oversized by about .015 if i remember correctly, its been a long time. Stock springs and rocker arms. .465, .488 Cam shaft with 290 ish duration, and the overlap makes it lope like you wouldnt believe. 265 SBC crankshaft, edelbrock alum. intake, edelbrock 600 CFM carb, stocker dizzy with pertronix electronic conversion. It raps up really quickly, its going to be extremely peppy, cant wait to drive it. 350's are a dime for 2 or 3 dozen, I've always liked the 283, underrated IMO.
Update: My driveshaft was finished today, went with the beefier tranny yoke instead of the thin one, spicer Ujoints, 22-1/4 from center to center of the u-joints. Only charged me $80..i thought that was a smokin deal.
3/1/2009

Well I got to spend a little time with my Z this weekend, things are always slower than you want them to be, trips to the auto parts, hardware store, etc... you know how it goes. Got the Radiator installed, hoses ran, spent many hours trying to hook up transmission linkage to the glide. I wasnt able to use the stocker shifter, so I went and bought a B&M Z Gate. Had to fab up a little bracket to get the angle right on the cable. Hooked up the starter and started working on my wiring. The driveshaft that I had made fit extremely perfect, and looks great. Also figured I better drain and fill the oil since its been the same since around 2001, was still fairly clean, but I decided to go with the Valvoline VR-1 Racing oil because of the ZDDP factor and all of that stuff that i have read about.
I think I have everything figured out except the fuel pump part. I have no idea how oil pressure sender that i have adapted is supposed to tie in with the starter, and the fuel pump. Any help would be extremely appreciated. I can't seem to locate the correct wire that I am supposed to splice into coming from the tank.
I picked up some parts last night to get my throttle linkage hooked up, so I will probably get on that tomorrow night after work.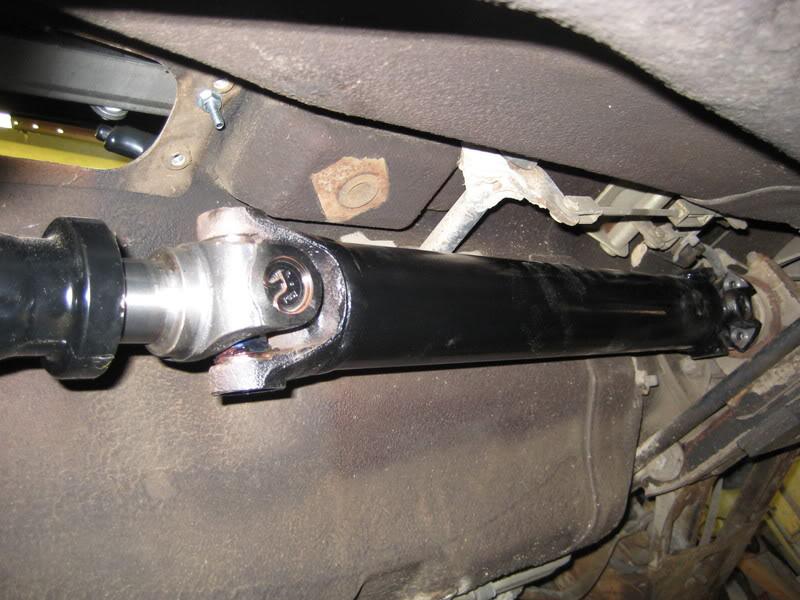 Oil pressure switch mounted with the adapters per JTR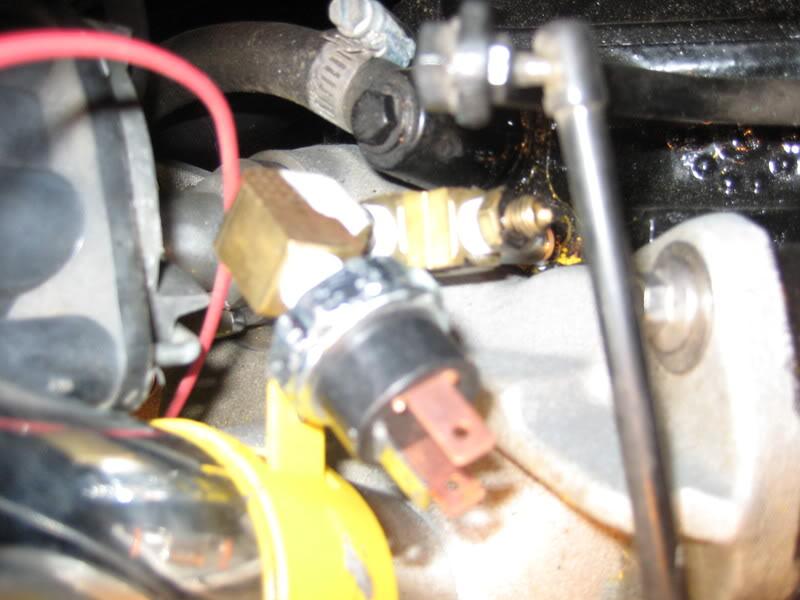 Dont worry a chrome pan is coming.. haha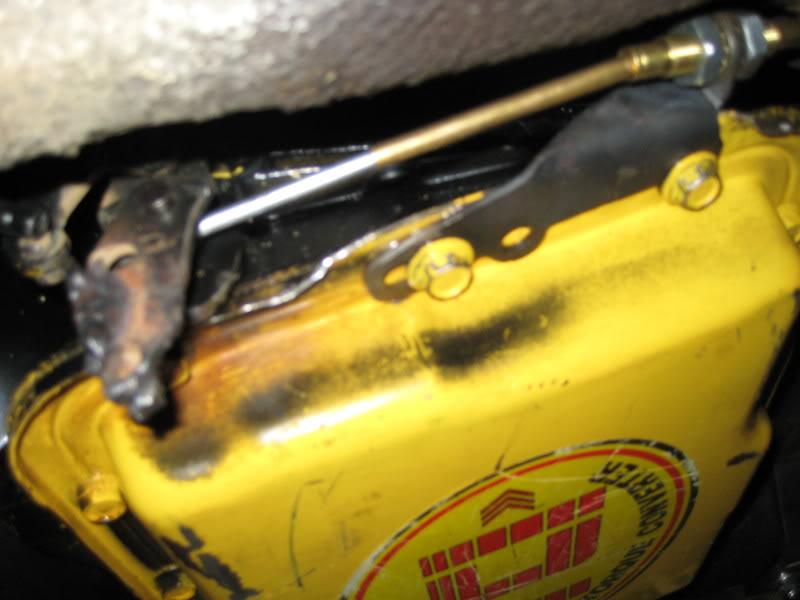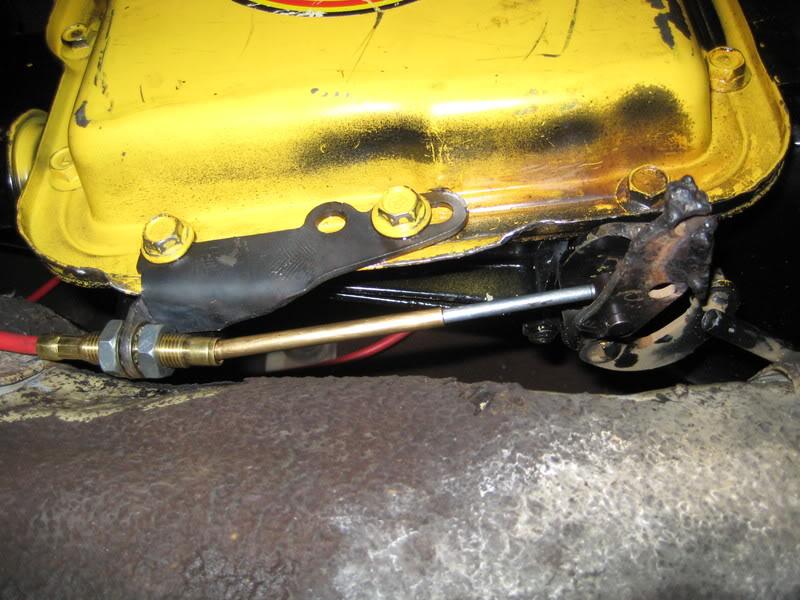 My Dad had an extra set of MSD Wires so I kinda stole them.. lol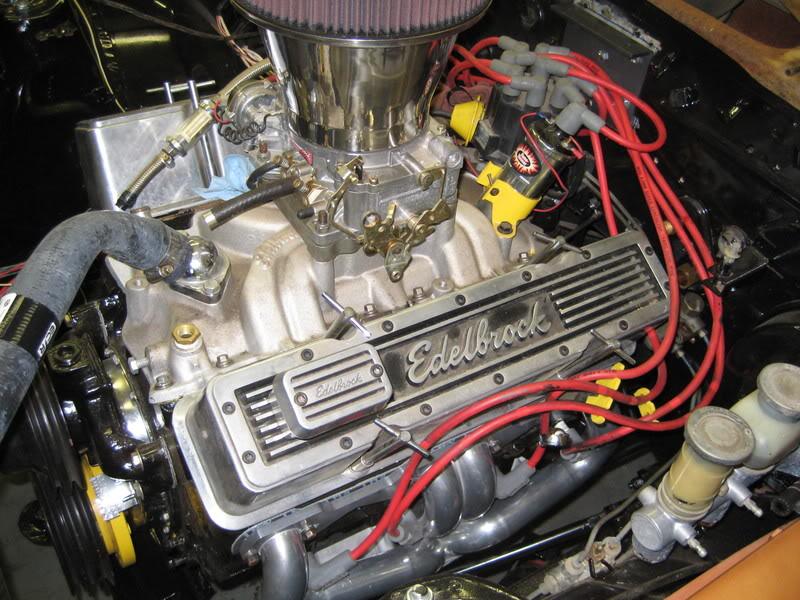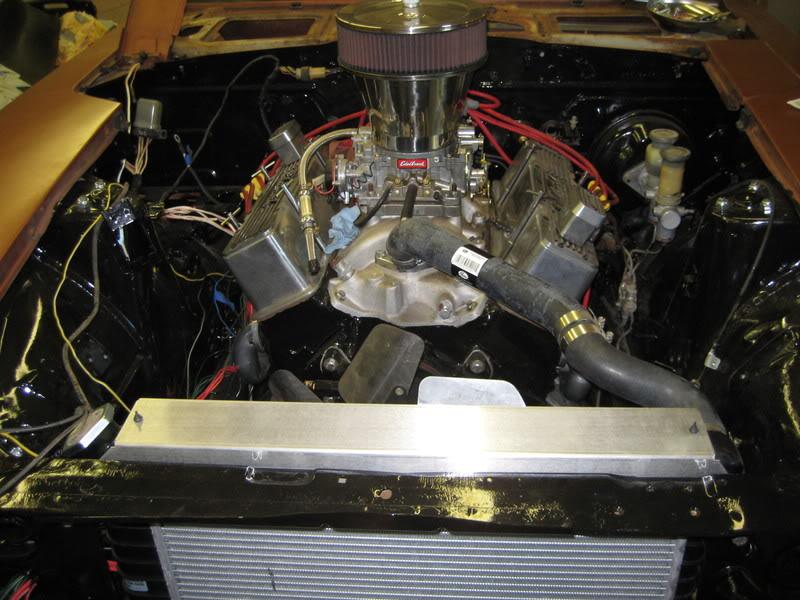 1/15/2009

Well I got the beast fired up this morning after finally figuring out my fuel pump wiring. I decided to go cheap with one of the MR Gasket pumps from oreilly. I got it all wired up pretty easily, but took a little while on the other stuff, because the JTR manual contradicts itself about 4 times. I have it wired from one post of the 3 prong switch on the top of the motor to the hot side of the coil, then the parallel post of the switch is tied in with the R post of the starter, then it goes throught the firewall and splices in with the GREEN wire right under the passenger side seat. The book also says the black/yellow wire is the one that goes to the S terminal for the ignition signal, but it is not. there is a yellow/black wire right beside it that is the correct one. I had to mount my alternator basically on top of my water pump, because i have a short nose and there wasnt space to put it anywhere else. I should be able to get some video to you guys later this week. It sounds amazing and Revs like a pro-street sbc.
I bought the POR 15 Black Paint in a quart size container, and it covered my entire engine bay, cross member, suspension parts, engine block and heads, and I still have about a pint left, so it goes really really far. The marine clean and metal ready both come in single sized containers, and they are so potent that you should dilute them down or they might marine clean the skin right off your hands.. haha, always wear gloves. When you get throught using the paint, NEVER, try to put the lid back on, even with saran wrap or anything, the only thing that works to re-seal it is to put it into a glass jar with an airtight lid, and even still if you get the paint around the rim and dont clean it off it will never come off. You will get really mad because the stuff is expensive and you cant use it. To apply I just used the disposable foam brushes from walmart, get like one of those 15 packs with different sizes, because they tear up really quick. I purchased my stuff from a local dealer who my dad and I have known for a long time, he actually did the cab work on the truck you see in the background of the pictures, chopped the top, shaved the handles etc. He coated the entire inside of that cab with POR 15. You can go to www.por15.com to get it for a little bit more than I paid for it. Hey I noticed you are in the DFW area, im going up there next friday to spend the weekend with some friends and go to the Mudvayne - Nonpoint Concert at Palladium.
3/26/2009

Here is some video from tonight, got a few kinks worked out and started her up for everyone!! Enjoy!!
3/31/2009
Took the Z up to my work on monday and did an Alignment, and tightened up a few things, and just thought I would update on a few things that I have done in the past week or so. Got my 1983 Toyota Pickup 4x4 front calipers with S12 stamped on the side. Painted them red, trimmed my backing plate and they bolted right up. I replaced the master cylinder with a stock one when i first bought the car because it was bypassing fluid, and when I went to bleed the brakes again after I put my front calipers on, I got to the rear and there was no pressure back there. CRAP! bad master cylinder, so i got Oreilly to warranty it and I ordered one for a 1979 ZX with 15/16 stamped on it instead of the smaller and stocker 7/8.
4/11/2009

Well I had to run my exhaust out the side for now, I dont have the funds for a full setup yet, but i wanted to drive it without shooting fumes all over the oil pan and smutting up teh chrome.
Okay and for all you guys looking for your electric inexpensive fan solution I have found it. I went to talk to my commercial guy at oreilly about what i could get for this car, and he found me this Hayden PN 3700 16" Electric fan for 62$. and then i asked him if he had a temperature probe so that i could hook it up the right way with a relay etc. and hayden also sells a kit with everything you need to wire it up, relay, temp probe, wires, everything. 25$.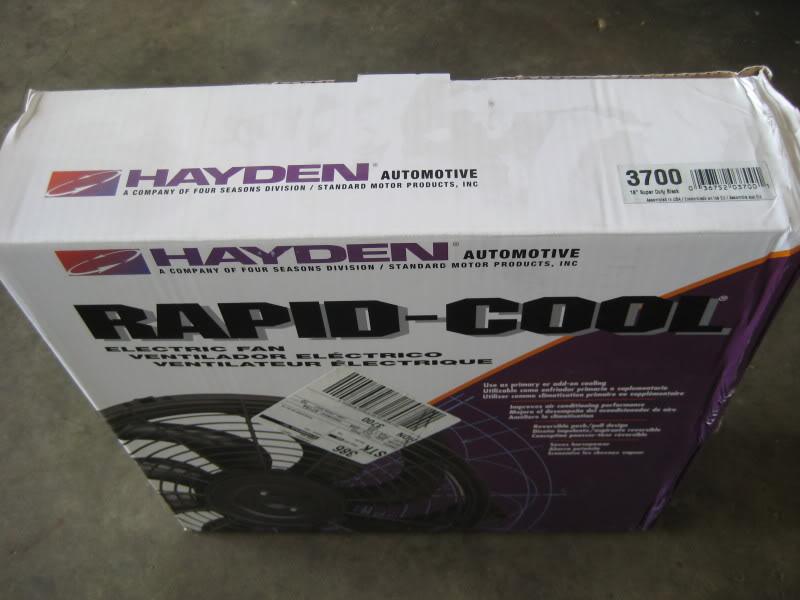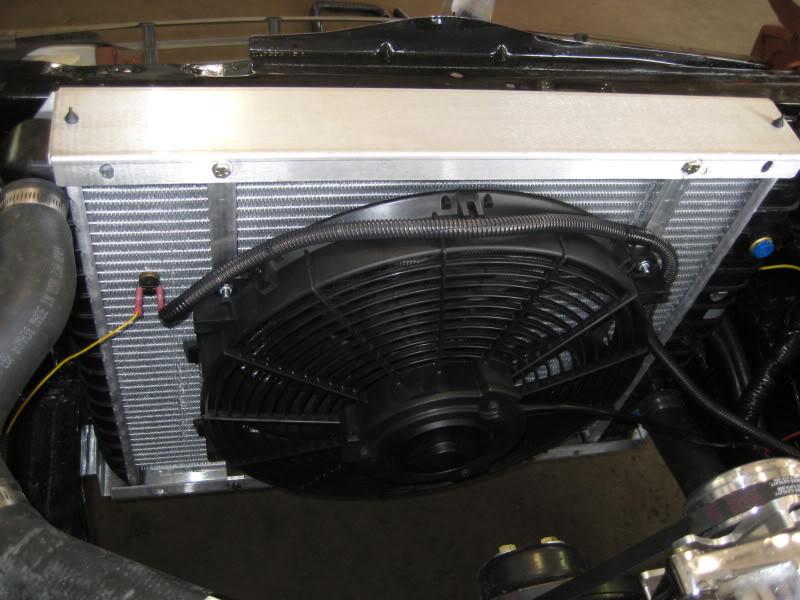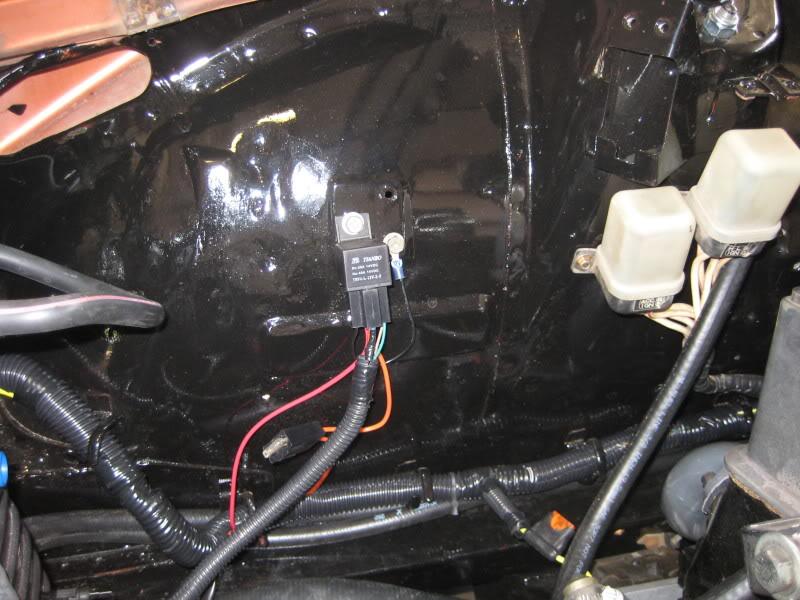 TCI Trans cooler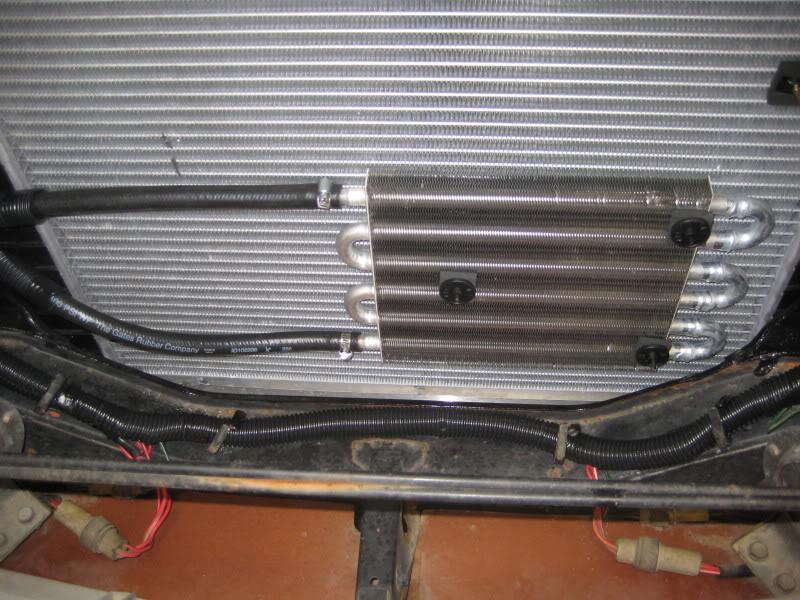 Had a brake fluid leak at the master cylinder so i got to use my trusty new 3/16 brake line benders and my blue point double flaring set.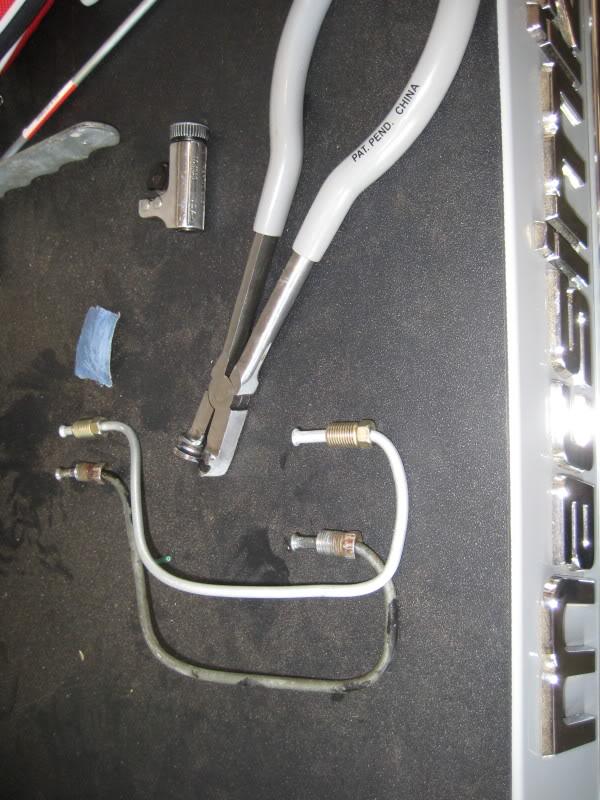 Brakes!!!!!!!!!!!!!!!!!!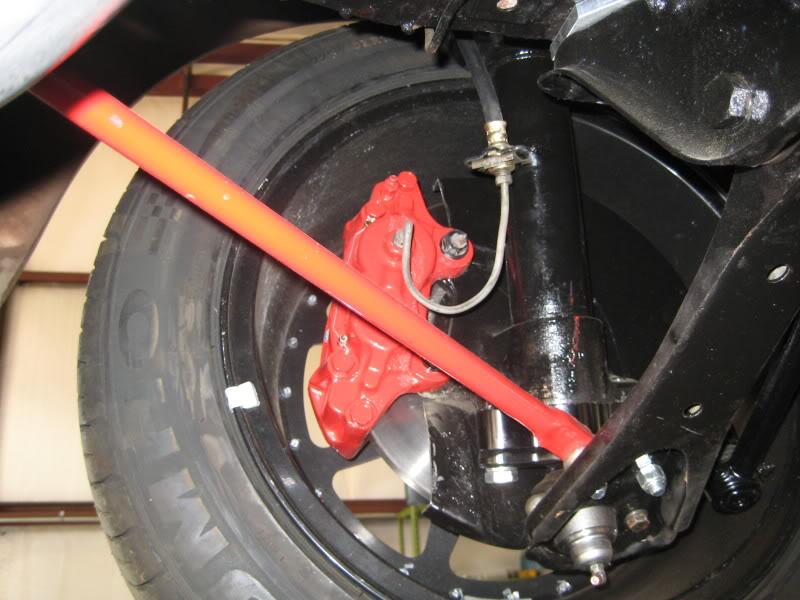 Clearance.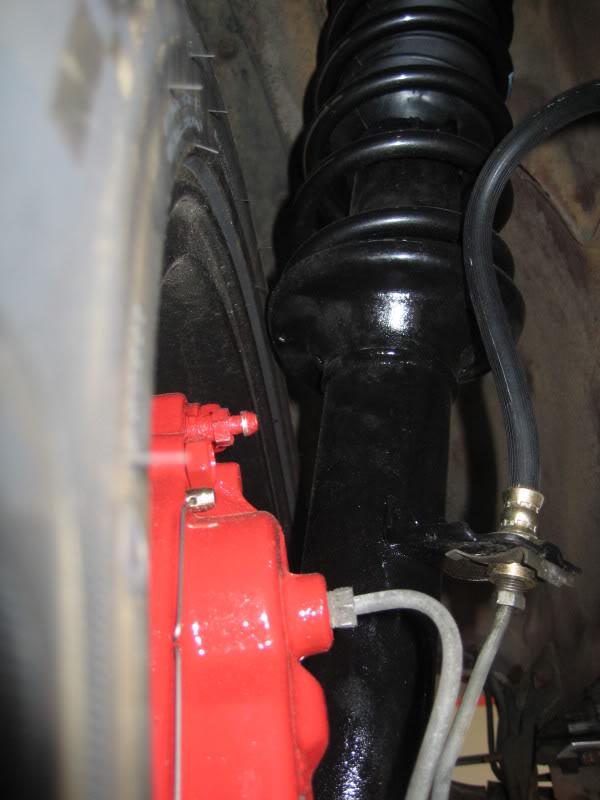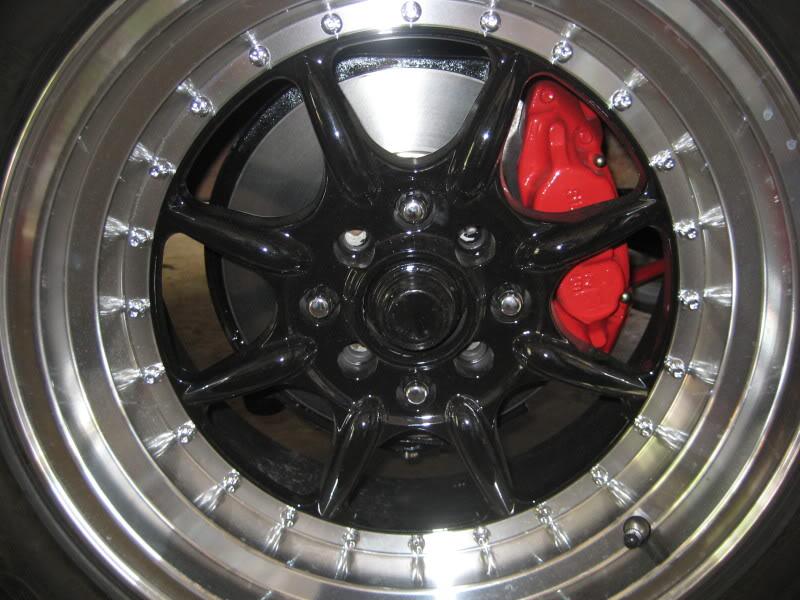 5/3/2009

Update: After breaking in my engine a little bit and getting on it a few times i was really really dissapointed in a dead standstill takeoff, it was like taking off with a 22r in second gear. So i swapped a buddy my powerglide with shift kit, and 2200 stall for a rebuilt turbo 350 with a shift kit. Just needed a new kickdown and the pan was really nasty. After talking with grumpyvette a little bit he really steered me in the right direction as far as stall and such with my motor combo. So i ordered a 3000 stall converter from jegs for 199.00. Got it all in yesterday and should do the install tomorrow.
5/28/2009

Just got back from a car show with my dad and his 69 Stingray, thought I would share some pics.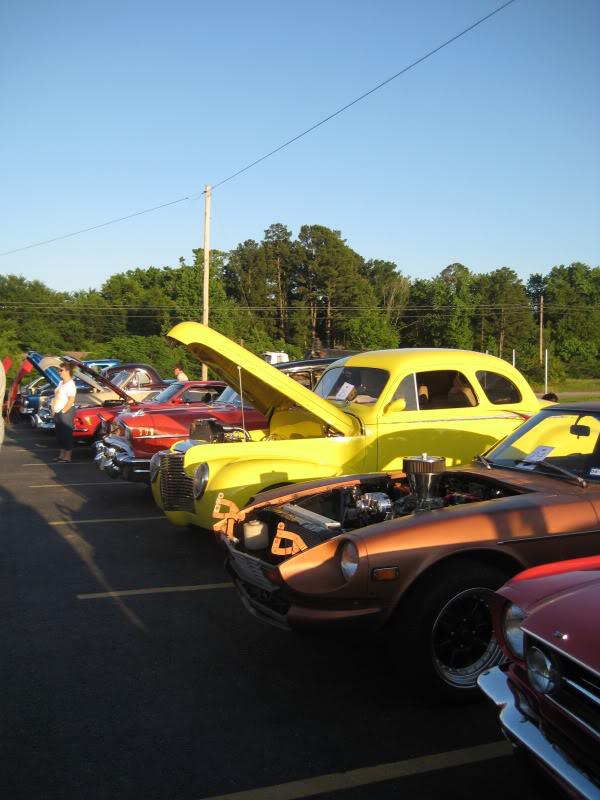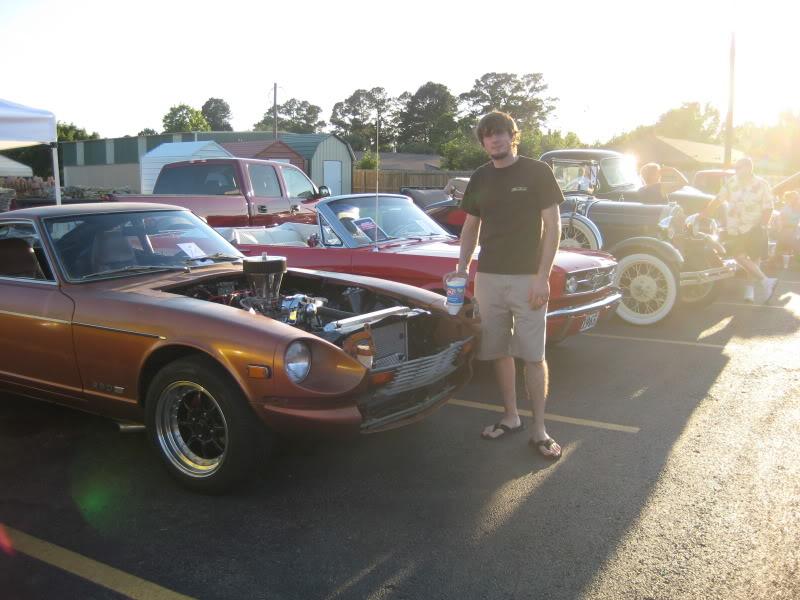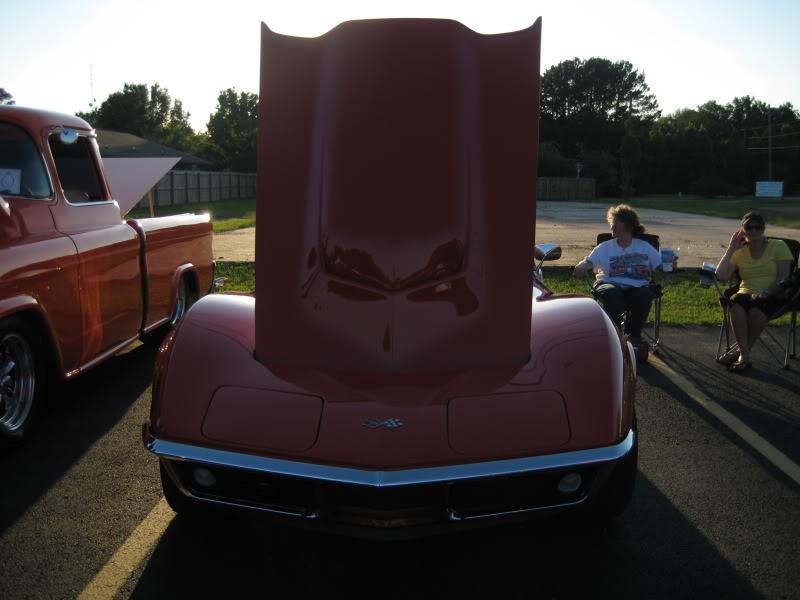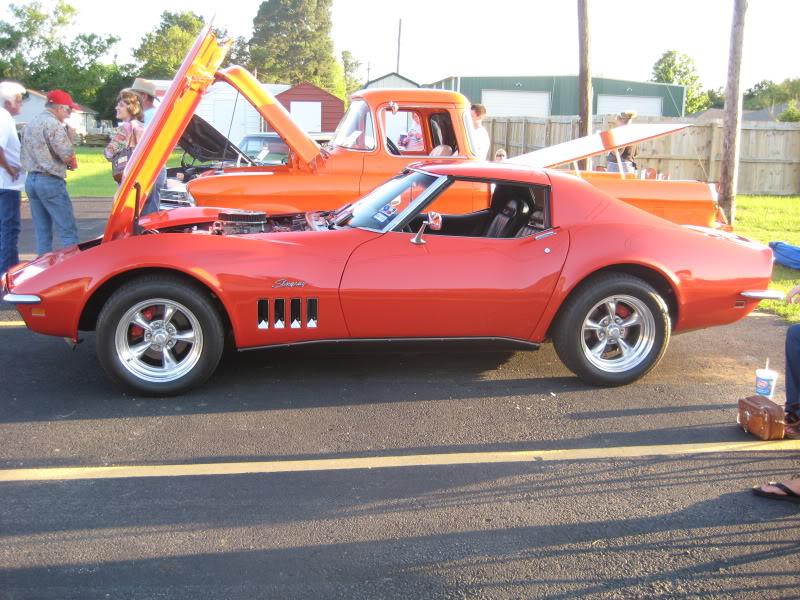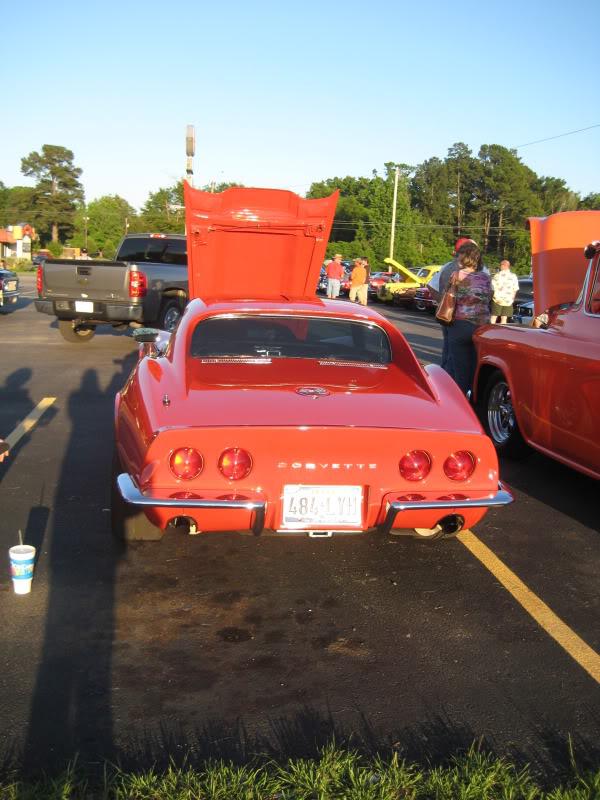 10/3/2009

Update:
Car has been running pretty good lately, took it to another car show a few weeks back and everything did fine on the way home. Started the car up to take it to town the next day after work and anything over half throttle it started backfiring out the carb. Thinking it was probably a fire issue because of the old cap and rotor, probably carbon tracking, I put a new cap and rotor on it and checked all my wires. Everything looked good and the old rotor was a little oxidized. Cranked it up and took it down the road...... same thing. So I pulled all the plugs out and they were a little carboned up, so I put a new set in, and ran my valves down again while looking for even lift on the rocker arms while running. Same problem. I haven't had a chance to take it to work because of all the rain and put it on the scope, but it is driving me nuts. So I thought I would post it and see what people think.
11/4/2009

Well I have been extremely busy with starting a new job, house projects, side jobs, etc. I tinkered with the Z a few days ago and here is what I found with the time allotted. Hooked up a fuel pressure guage and had the right amount of pressure with good volume. Hooked up a vaccuum guage and found a problem. at idle it was bouncing between 10in down to zero very quickly back and forth, and would hold steady at about 13 or so off idle, which I know is wrong, question is, why? I pulled the valve covers off to check for a hammered cam, but running all the rocker arms seemed to have about the right amount of travel, and I re-adjusted anyways while I had them off. I know this may not be enough info to inquire for help, but I only had about an hour... so.