DZ's "Nobody Likes z31's" by DeleriousZ
By stevegolf
You must be logged in to rate content!
DZ's "Nobody Likes z31's"
Compliments of DeleriousZ @ www.zilvia.net
2/9/10
This is a brief overview of my build that's been ongoing for about the last 2 years give or take. I stopped counting the amount of cash that's gone into this thing, but I still feel it's all worth it!
We'll start at the beginning. The car was first picked up from Vancouver and driven the 3 hours home. This is my 2nd Z, my first being an 86n/a that was sold in summer of '06.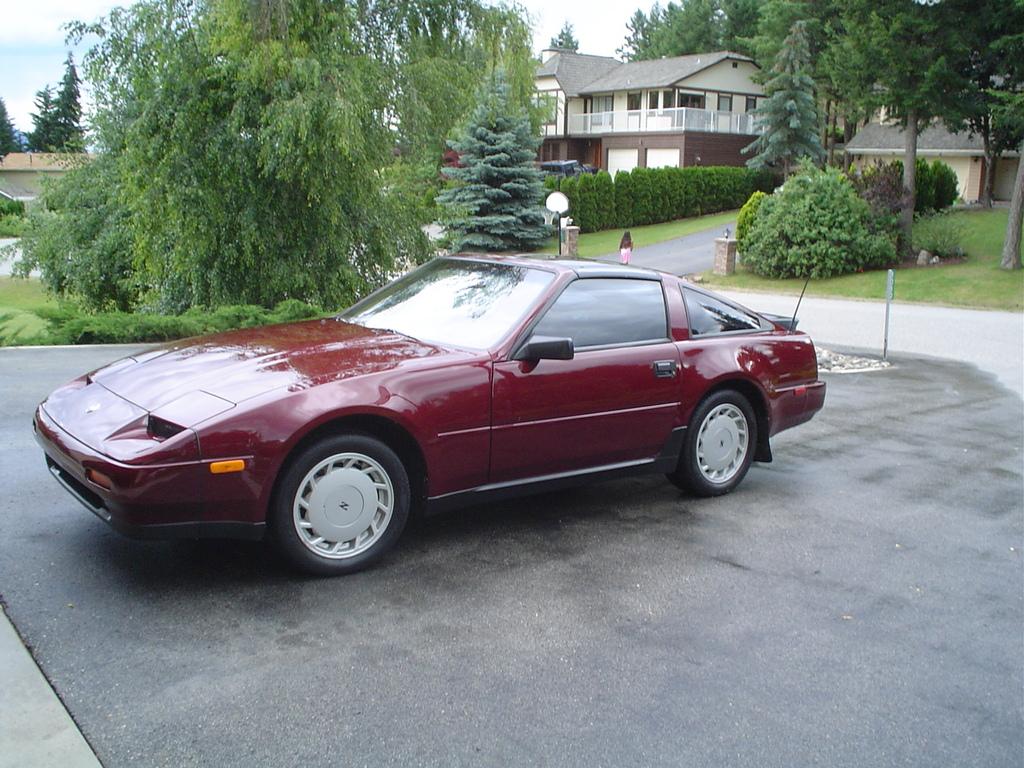 This is one of the very first pics I have of her. Fresh from Vancouver (to Kelowna at the time)
What the interior looked like: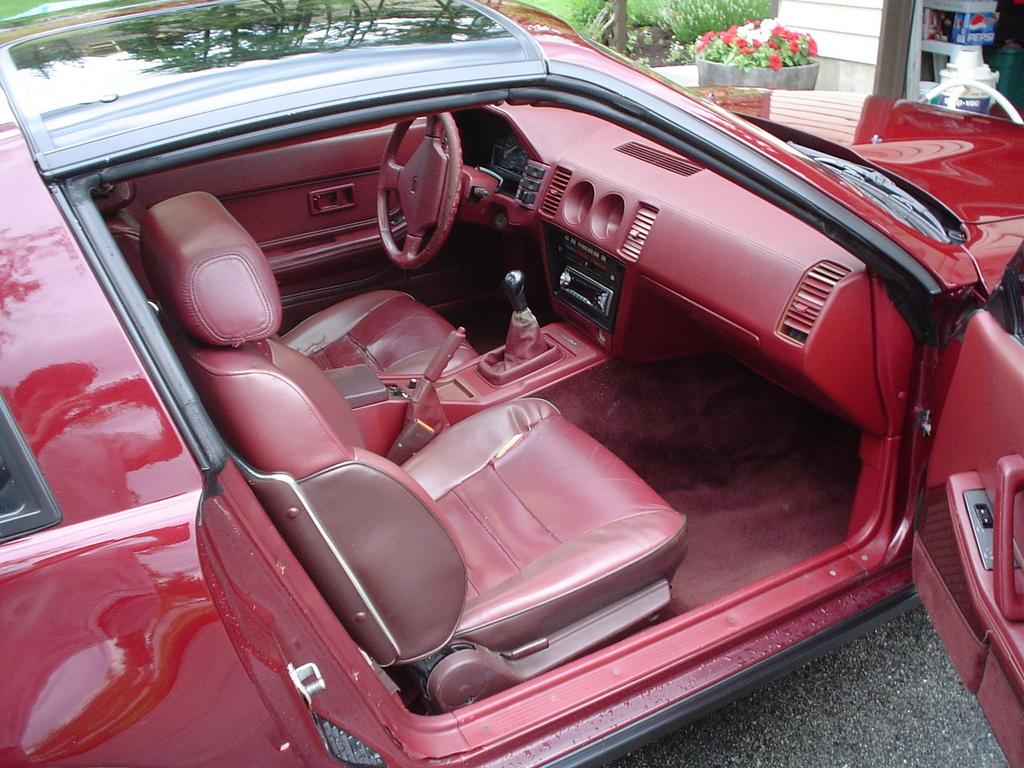 If your eyes are bleeding, don't worry, it's a natural reaction to that interior.
Engine shot, nothing special.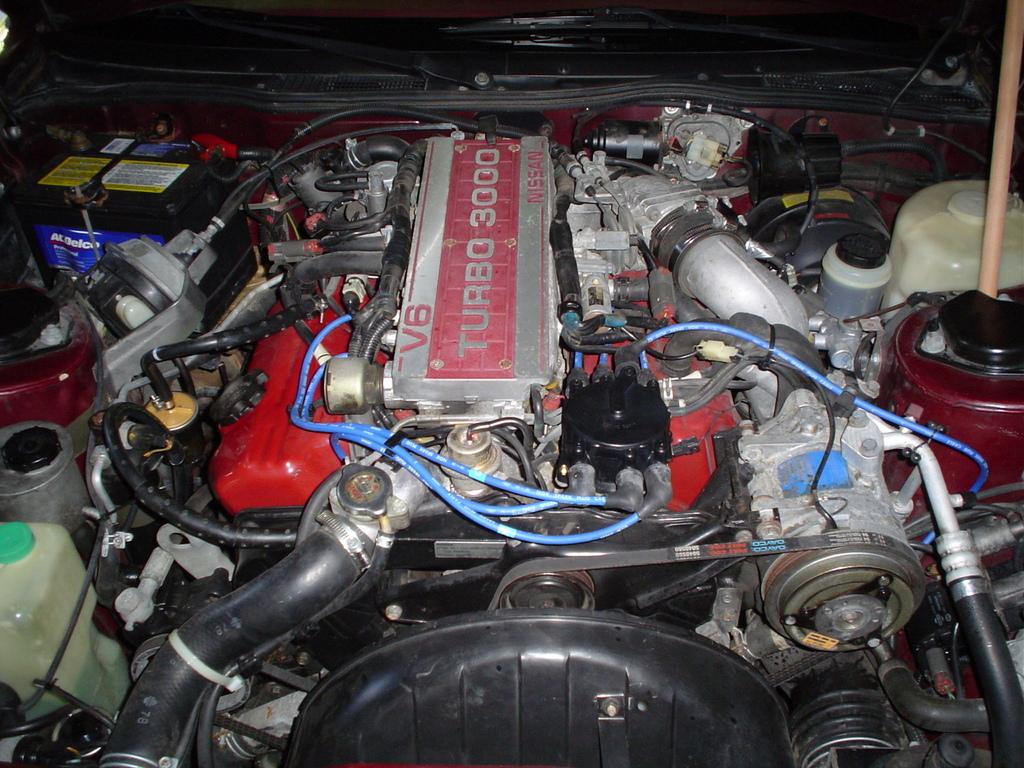 After a few modifications here and there. At the time was running about 8.5psi on the stock (itty bitty) t25 turbo.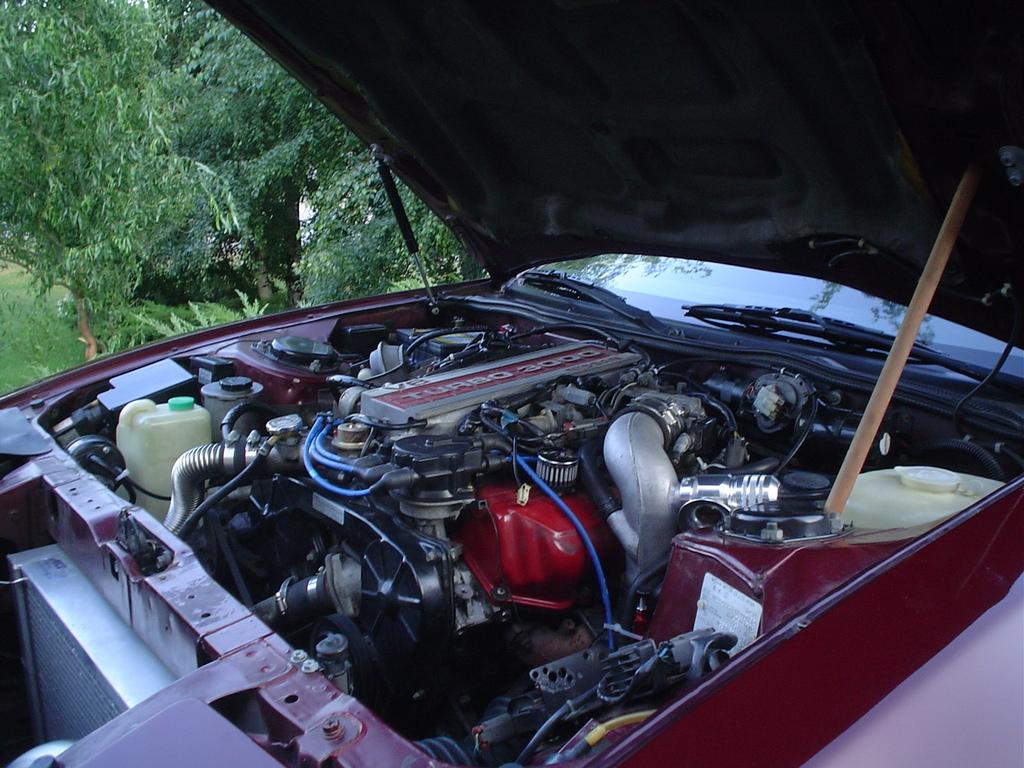 Started to pull apart the shitty red interior piece by piece replacing it with what I could find locally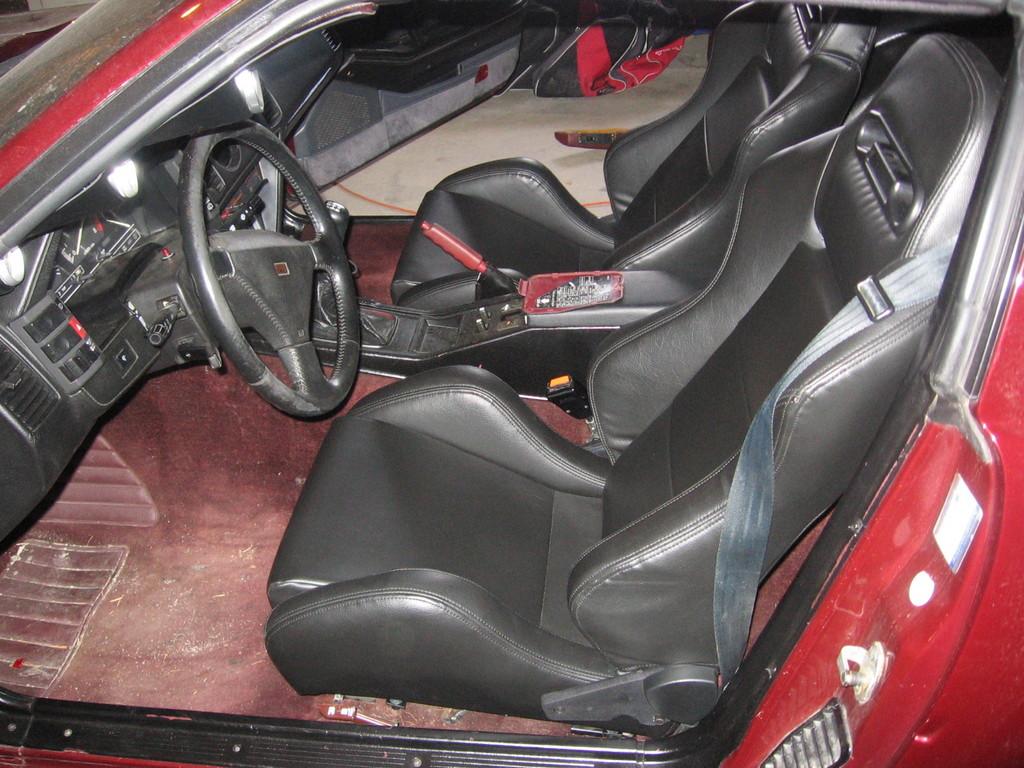 The turbo finally gave up the ghost on a trip to edmonton (leaving me with a $700 tow bill, nice)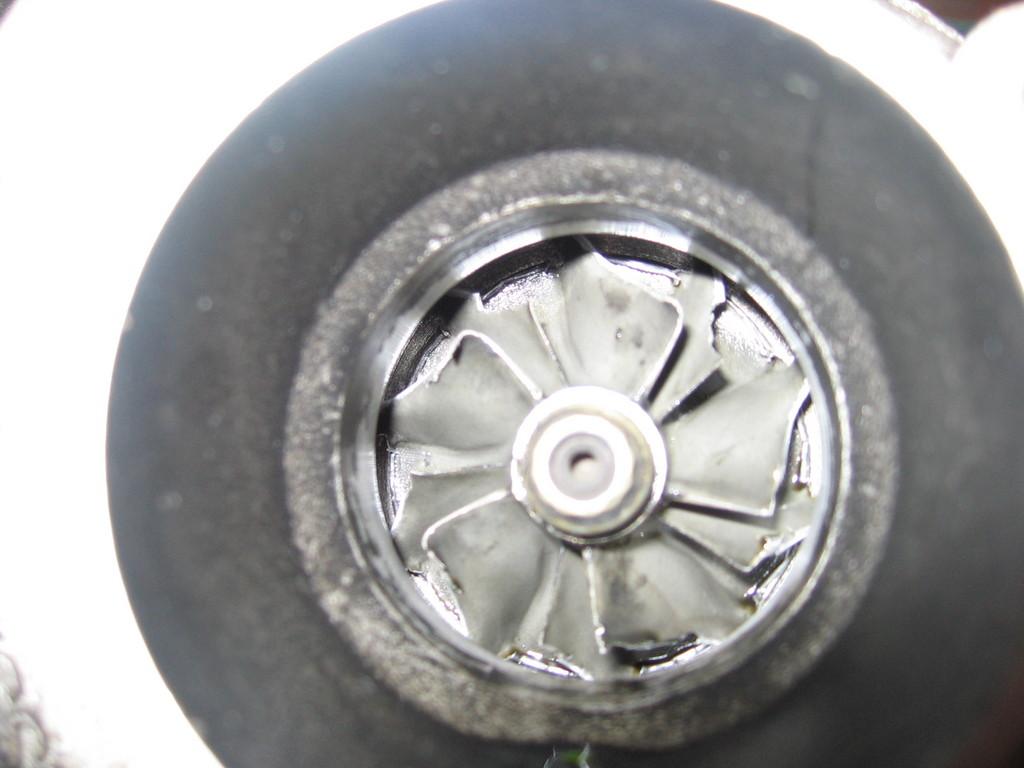 I got the car home and pulled the engine apart, luckily there was no damage to the lower end at all. I had the heads ported and had a 5angle valve job done. Put on a bunch of other misc goodies and packed it away for the winter again (back to school)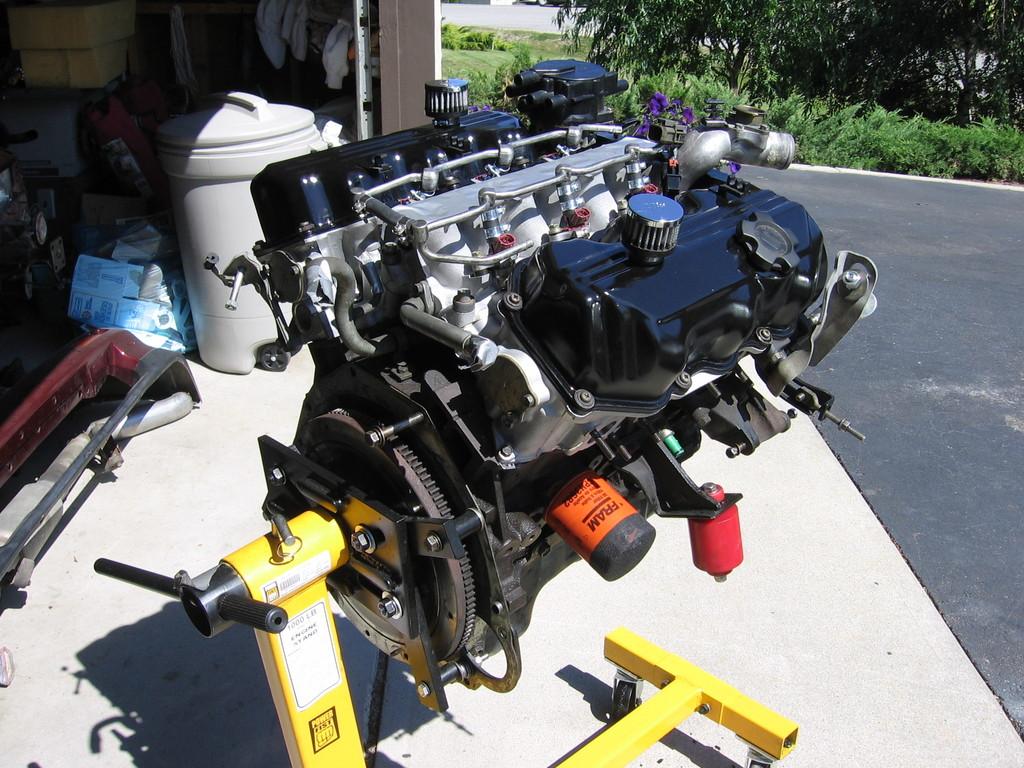 After winter was over I finally brought the car to Calgary after I found a place with a garage for it, and did a few suspension mods to start with (polyurethane bushings everywhere)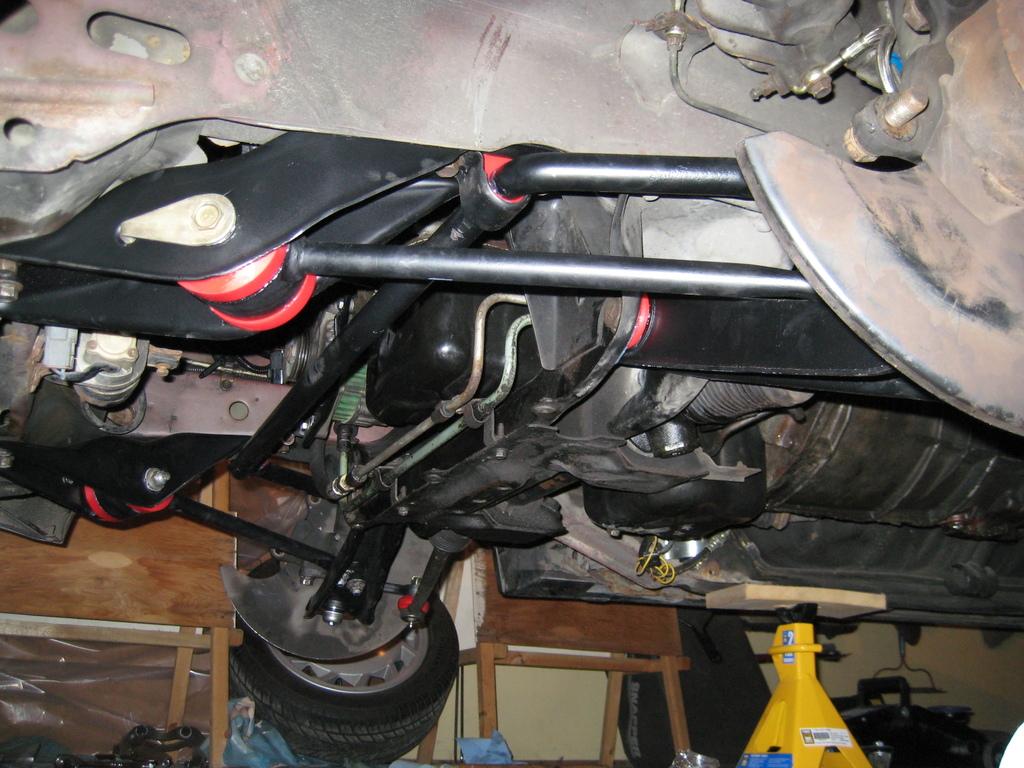 A little paint to make it look nice and clean.
I then proceeded to drop the rear subframe to replace the bushings back there, turns out that the control arm bolts like to rust into one solid lump, so that took some doing to get out and proper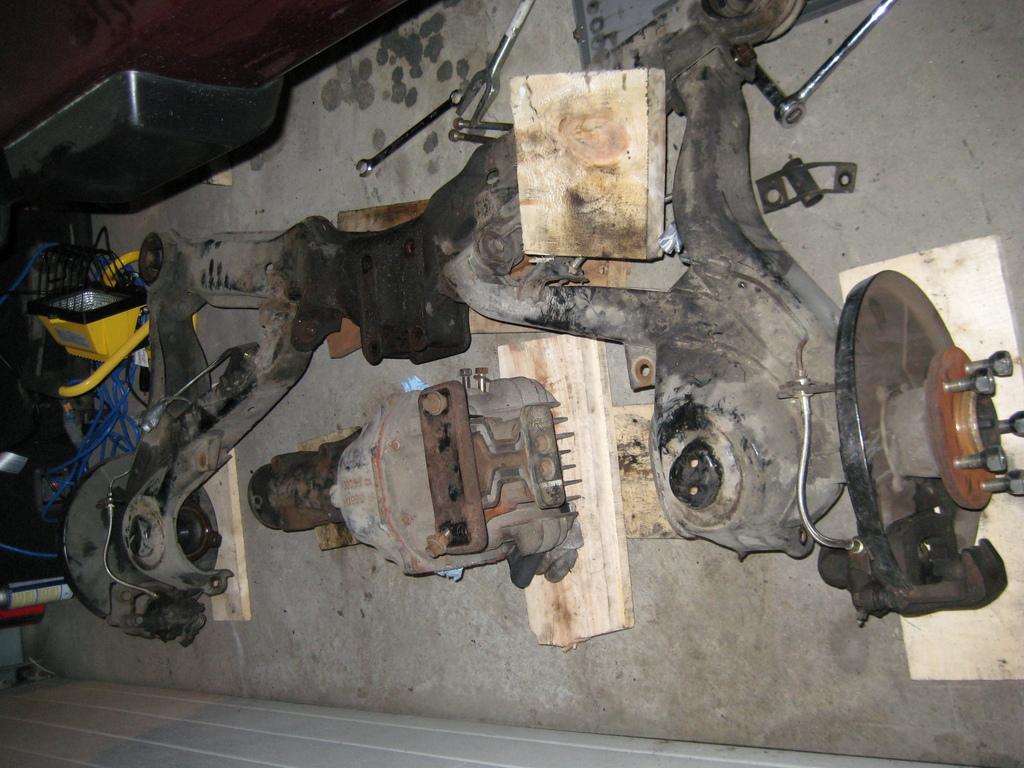 I then found some of my most favoritest thing in the entire world, Cancer.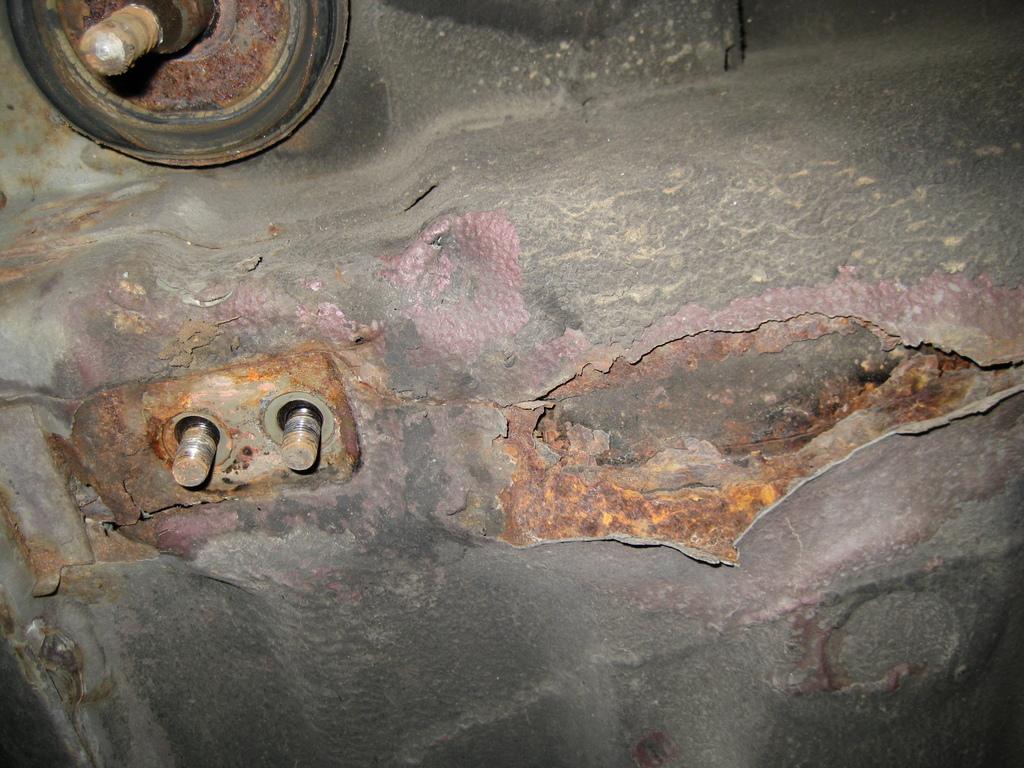 Made a 3" downpipe out of some 304 food-grade stainless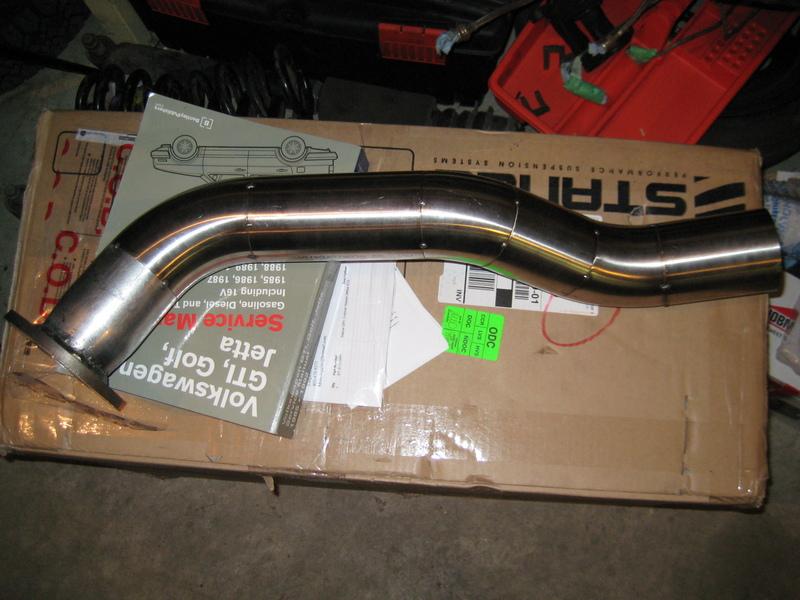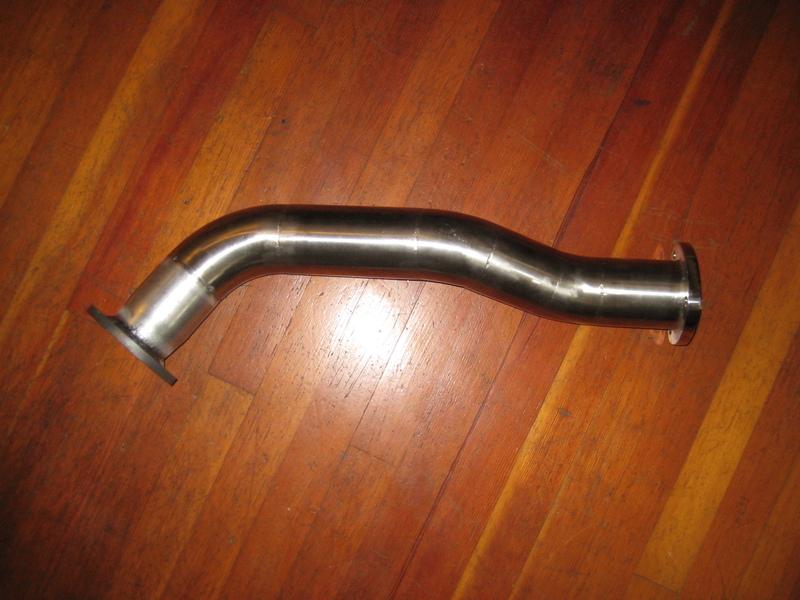 Got the rear end stuff cleaned and painted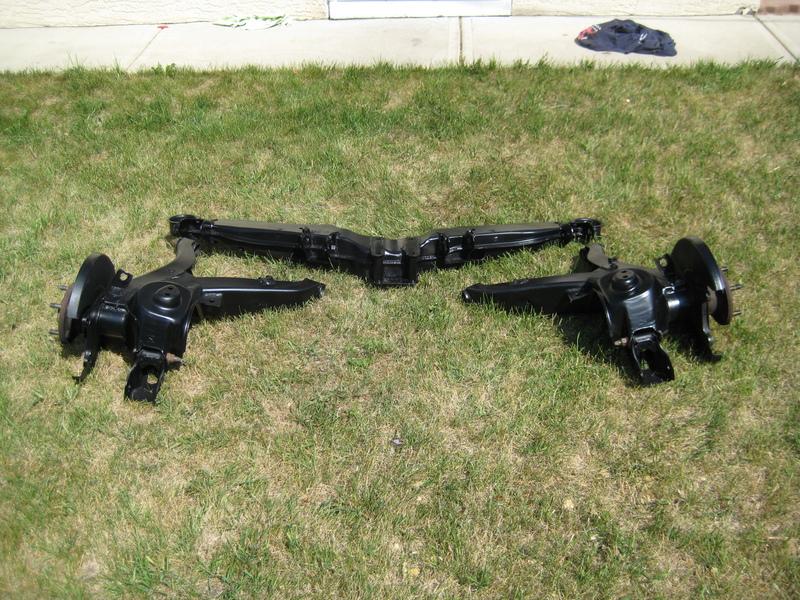 Screamer pipe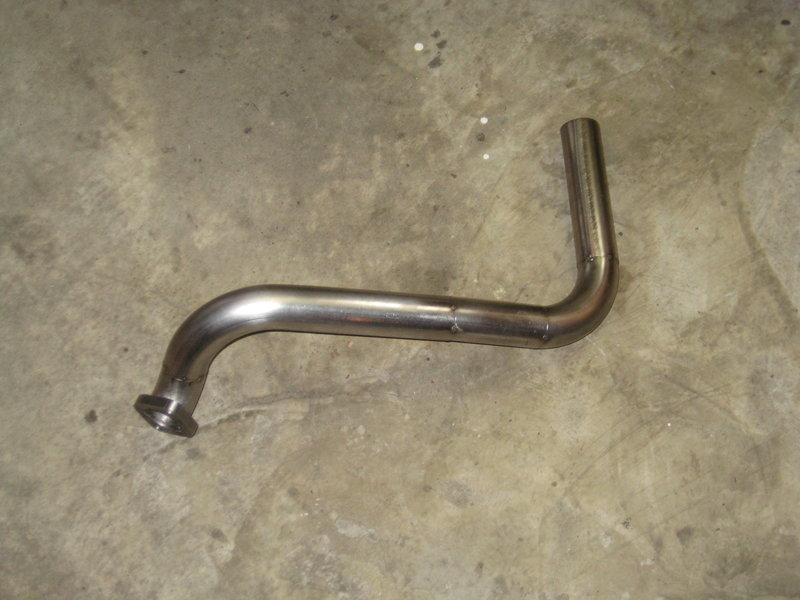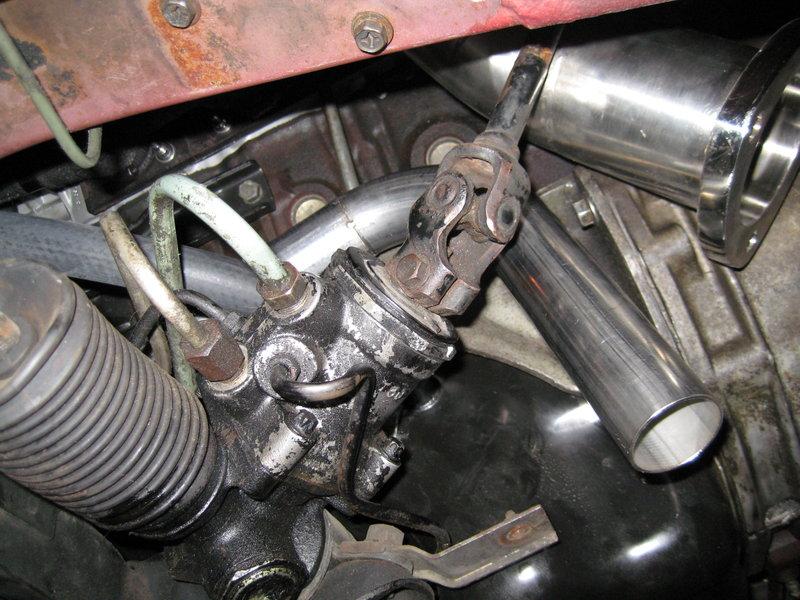 Decided that my stock, busted ass suspension needed some work dearly, so I went ahead and got some custom stuff done up to work with s13 GR+ Stance coilovers. The amount of z31's with a proper ride height is Severely lacking, stance = moar low.
Custom rear upper mount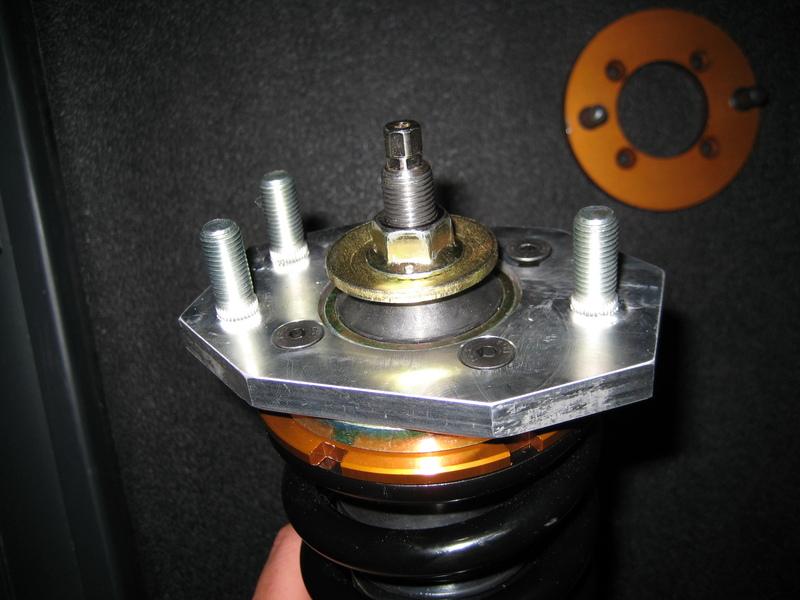 Serialnine weld-on collar adapters installed onto cut down stock strut tubes, powder coated beautifully.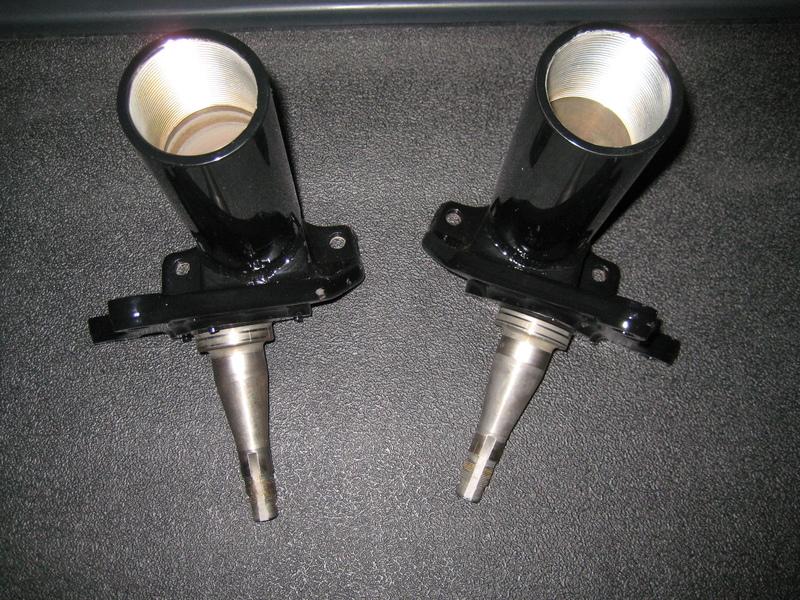 Fronts installed with z32 30mm iron calipers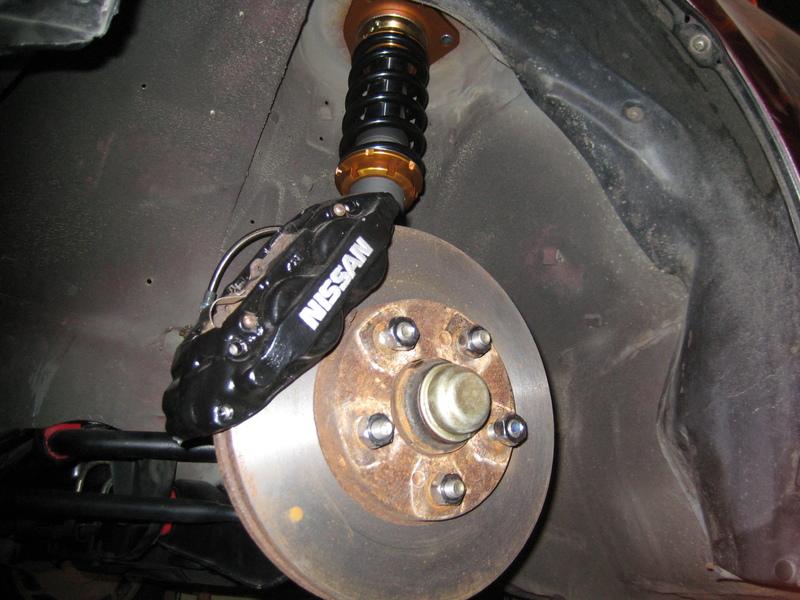 Fuel pressure regulator on custom mount.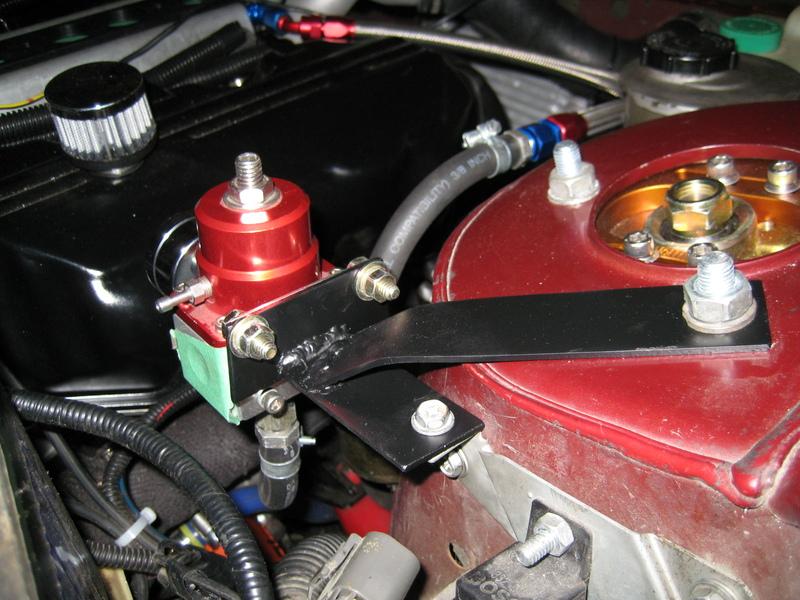 Halfass engine bay shots, sans plenum and piping: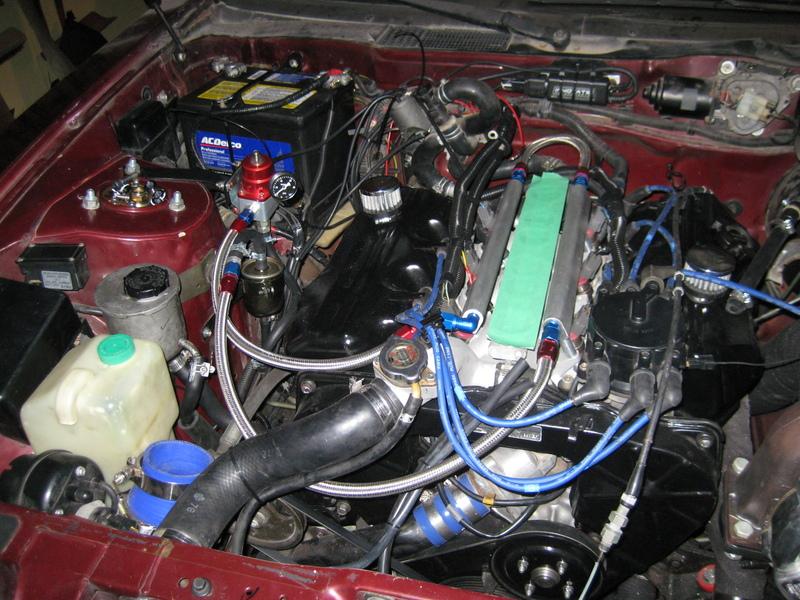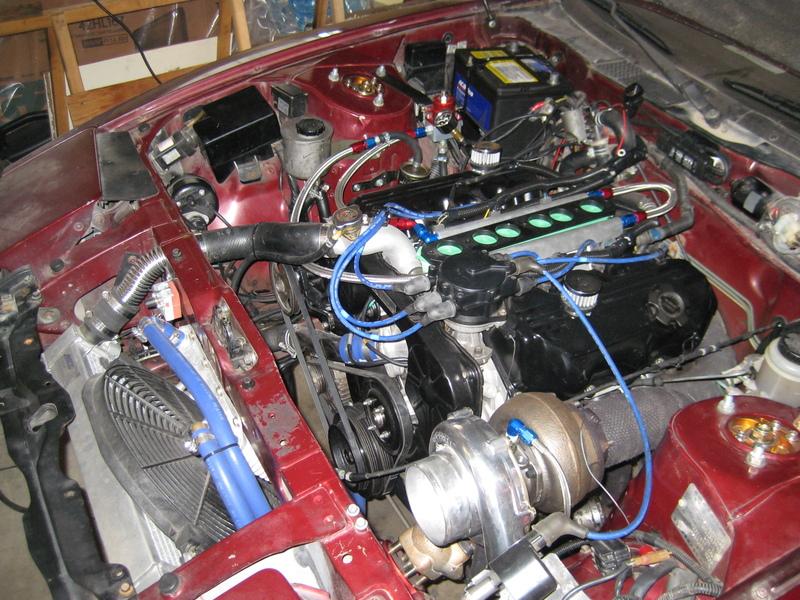 Custom made intake plenum.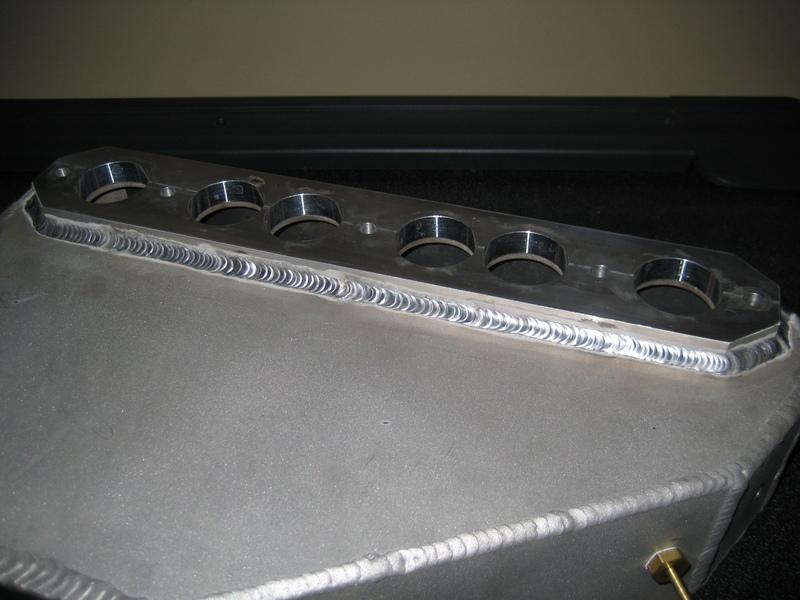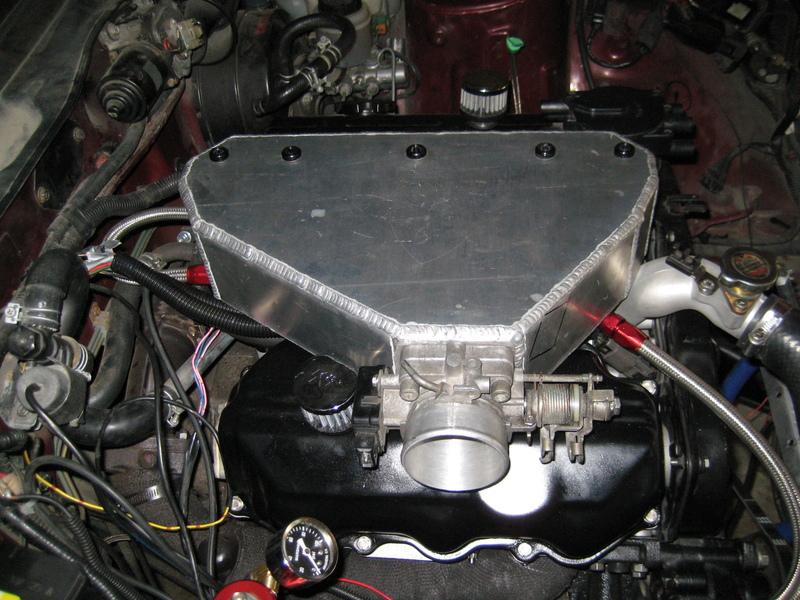 First startup video, ignore the last few seconds :dunno:
A very dusty, Very battleshipped Z31.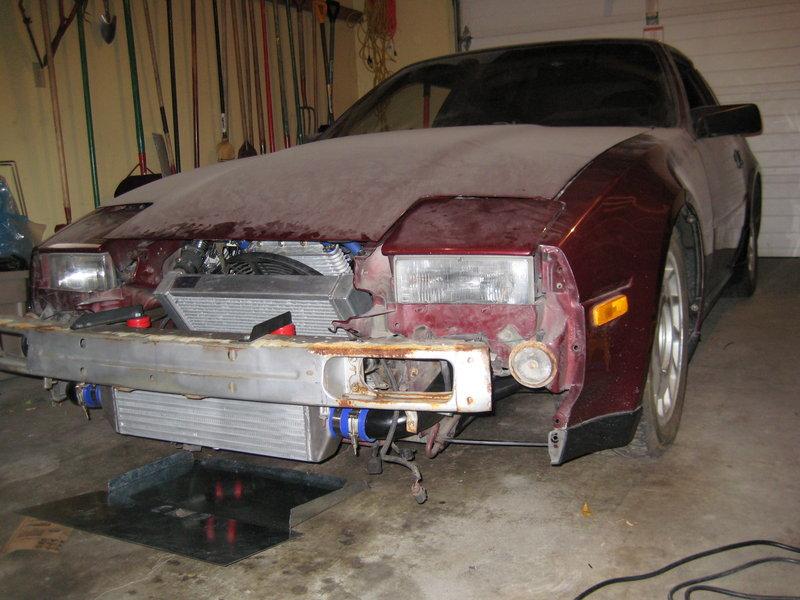 New wheels were planned for before the layoff, now she sits on stock shoes looking silly.
I've given the car a very very base tune, taken it about the block a few times, it runs, drives on its own power which it hasn't for 3 years, and sounds mean as hell. The plans now are to take it back to Kelowna where it'll sit for another 3 long years whilst I get my degree in Mechanical engineering.
Oh, and the entire interior is all black now, including carpet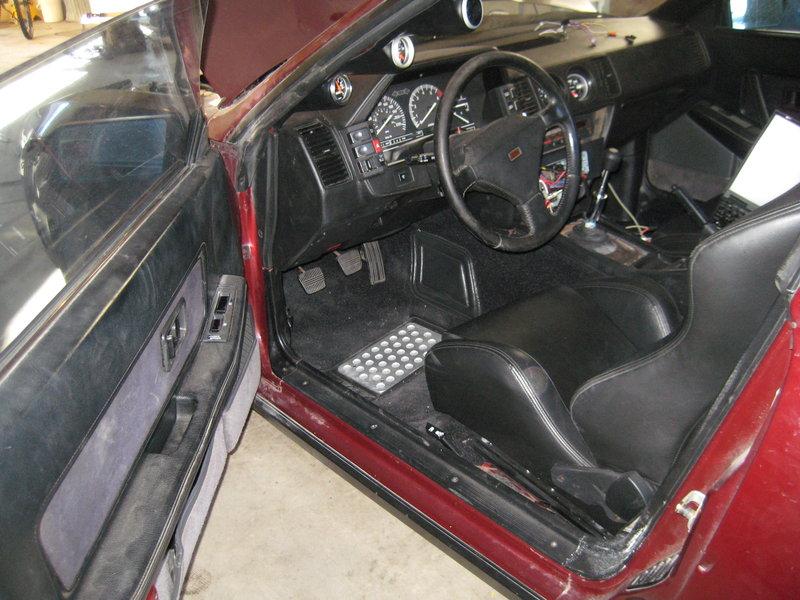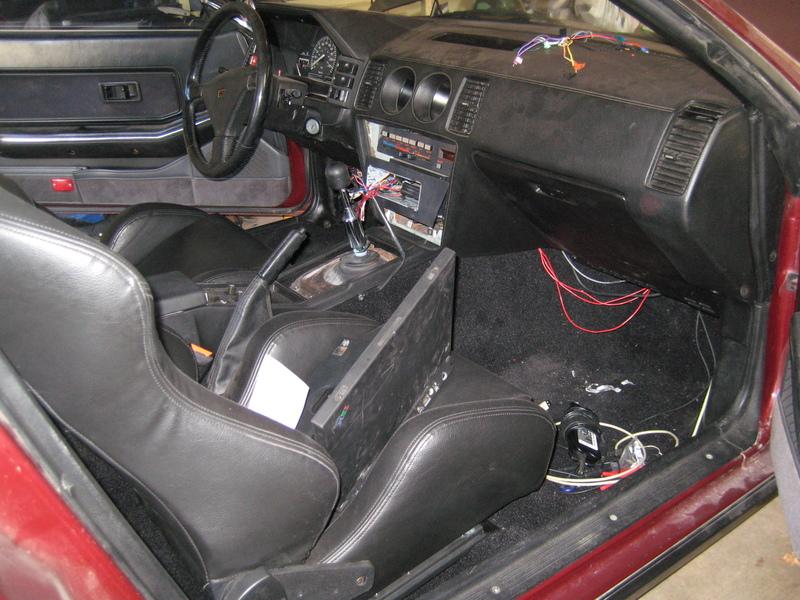 I'll do my best for a mods list, but I'm sure I'll miss some of stuff.
Engine:
GT3571 journal bearing turbo
3" thick aluminum radiator
3" thick intercooler
16 row oil cooler
42mm turbonetics racegate
custom intake manifold
3" custom downpipe
ls1 stainless steel exhaust manifold studs ($$$$)
P&P heads
5 angle valve job
Colt cams 'stage 2' turbo regrinds
SATAN turbo relocation exhaust manifold
schneider valve springs
1 5/8" screamer pipe
DEI exhaust wrap
Fuel/control:
Nistune type 1 board
Walbro 255lph pump from an s13
550cc SARD injectors (same as fc turboII)
A1000-6 FPR
AL fuel fittings all around
Billet -6 fuel rails
Innovate LC-1 wideband w/ G3 afr gauge.
Brakes/footwork
s13 Stance GR+ coilovers
Serialnine weld-on collars
custom rear upper and lower coilover mounts
MSA anti-sway bar endlinks
Prothane total kit polyurethane bushings
1990 z32 30mm 4 pot iron brake calipers
z32 front rotors
s13 to z32 brake lines from PDM
Ebay s13 short shifter
Drivetrain:
Centerforce dual friction clutch
Stock R200 LSD (clutch type) rebuild with 6 clutches (2 stock)
custom solid rear differential mount
custom solid rear crossmember mounts
Polyurethane transmission mount
Polyurethane engine mounts.
Stock FS5R30A transmission (same guts as z32tt transmissions)
Interior:
Autometer gauges all around (boost, oil temp, water temp, oil pressure)
Pleather racing seats (can't remember brand) custom mounts
2 kicker compvr 10" subs
Oldschool kenwood deck
oldschool RF amp.
Red interior converted to black, every, single, last, piece.
lo-tek 3 gauge pod
A few last pics...
Some pics of the shroud between the radiator and intercooler. Ran outta time and material to do between the fascia and intercooler, but that'll be one of the first things on the list when the work starts up again.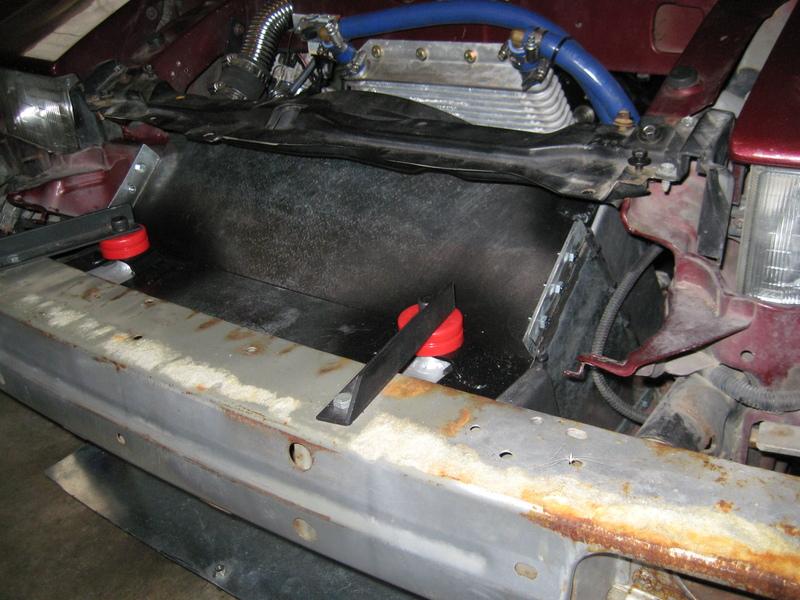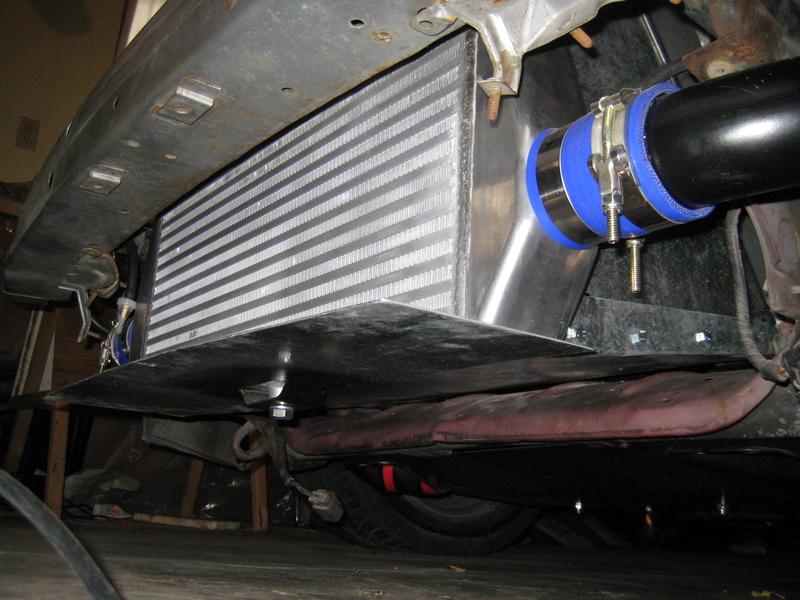 And one last shot.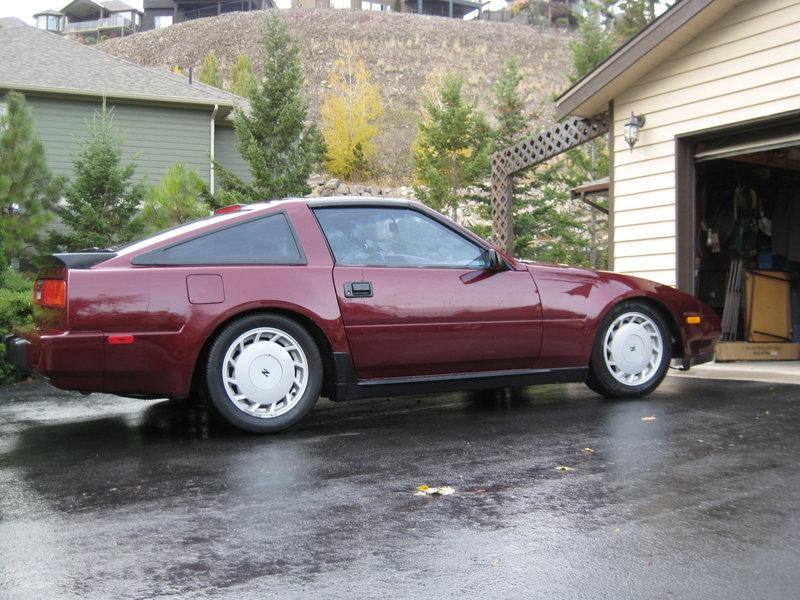 Needs new wheels badly, one of the first things to do to it before she gets roadworthy.
5/15/10
hehehe I just found this pic kicking around on the pc.
This is why semi-trialing arm suspension fails: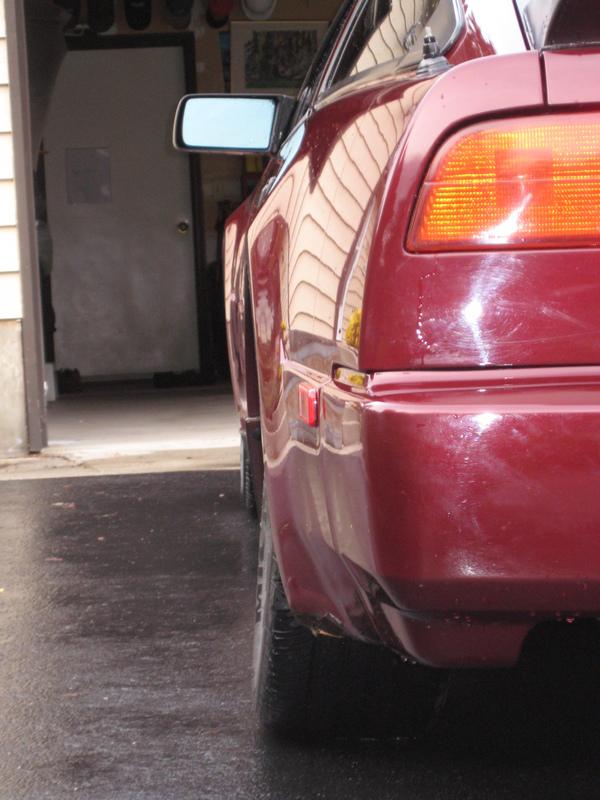 not to mention stock wheel fitment epic failure.
11/2/10
small update, finally brought the car out to vancouver so now I can get back to work on it!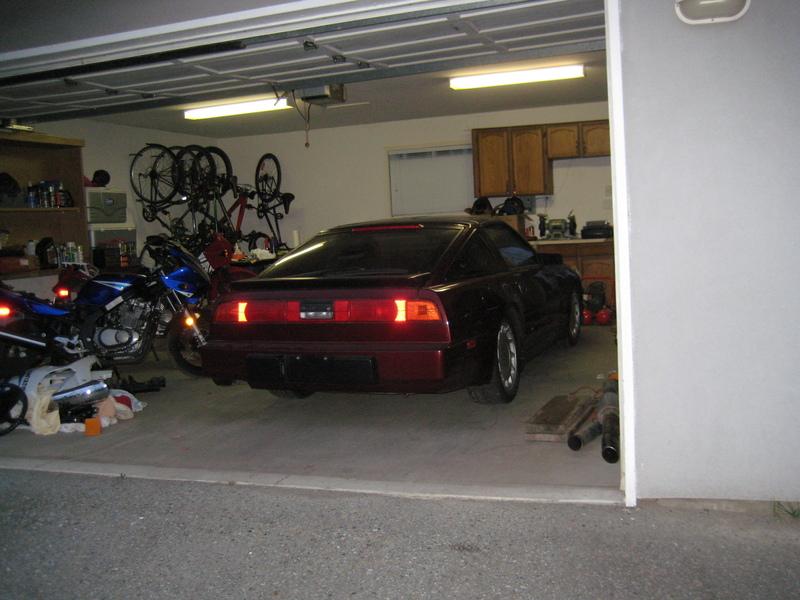 11/16/10
Old 'n' Busted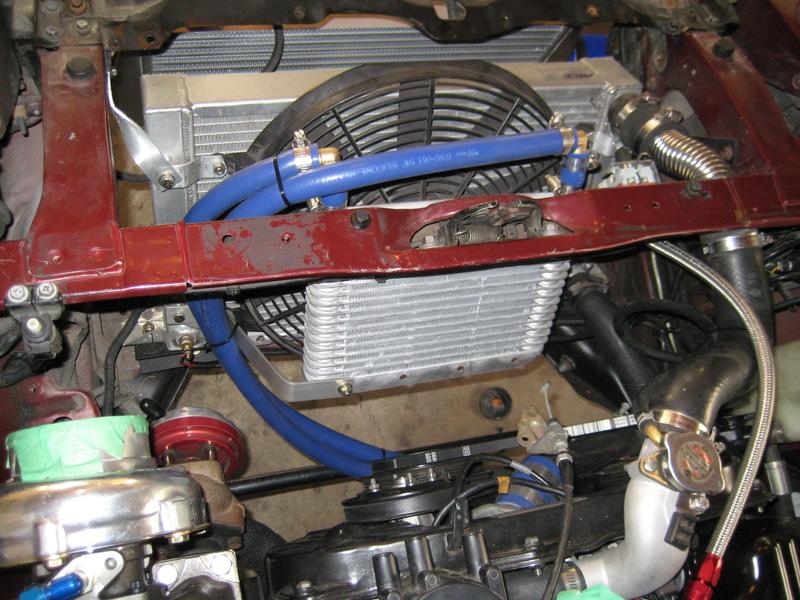 New hotness: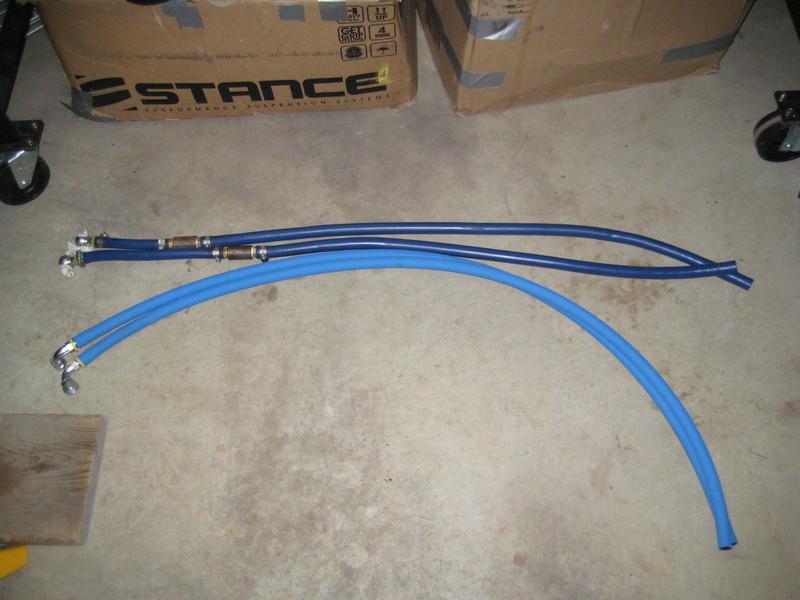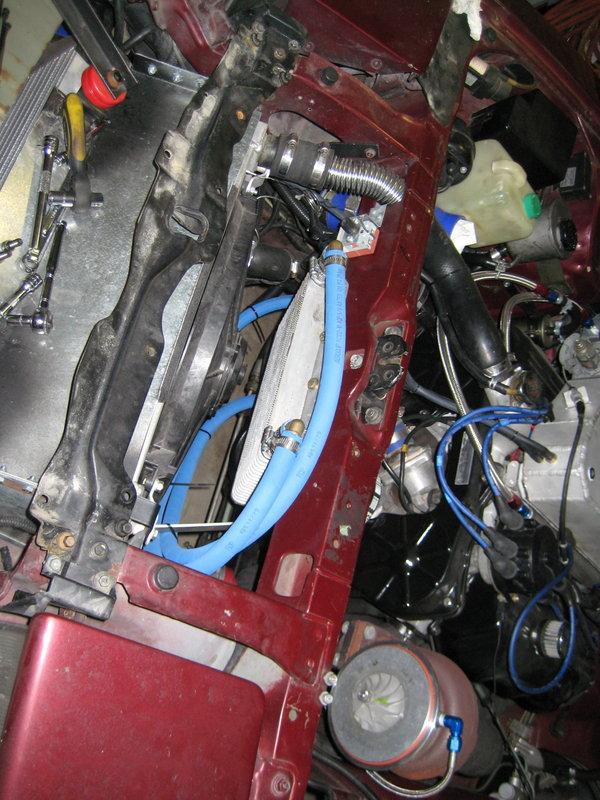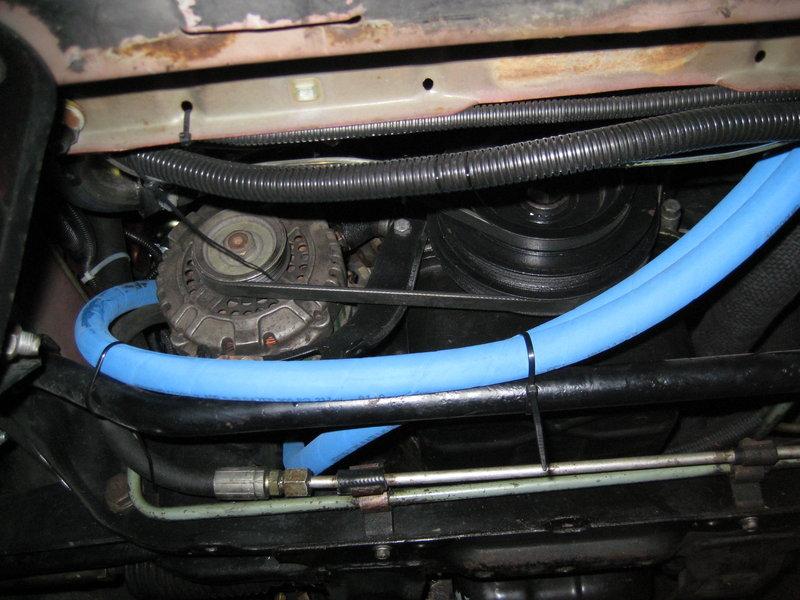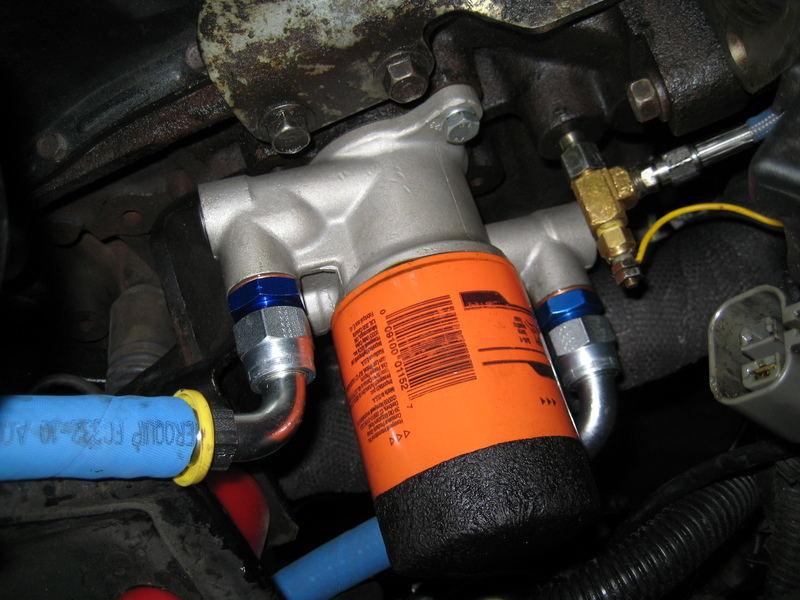 Please ignore the test-fit filter.
Decided that replacing the silicon heater hose was a wise investment, especially considering the hose had started to 'sweat' oil out of it. Nasty. This new stuff is rated for 300.f and more pressure than I could ever hope to throw at it, good and abrasion resistant too.
12/10/10
Quick startup vid..
and the IC pipe in question. Still not going to have full lock turning right, but I drive the daily with less than a full turn either way so it won't be a big deal.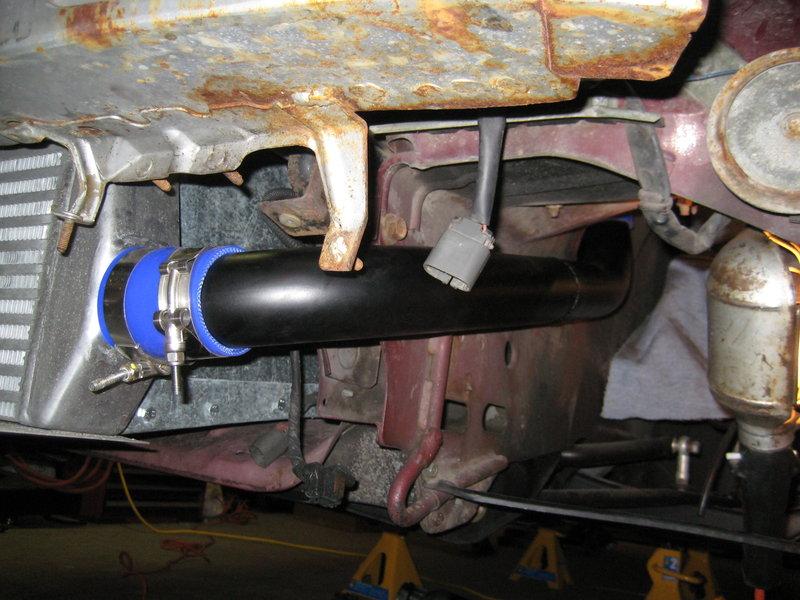 12/15/10
RJ I took a look for those specs but Colt isn't listing them on their website anymore, i'm assuming I lost the spec sheet long ago too. Maybe I'll be able to find something on 88hybrid.
Parked it outside for the weekend to get a wash and some fresh air.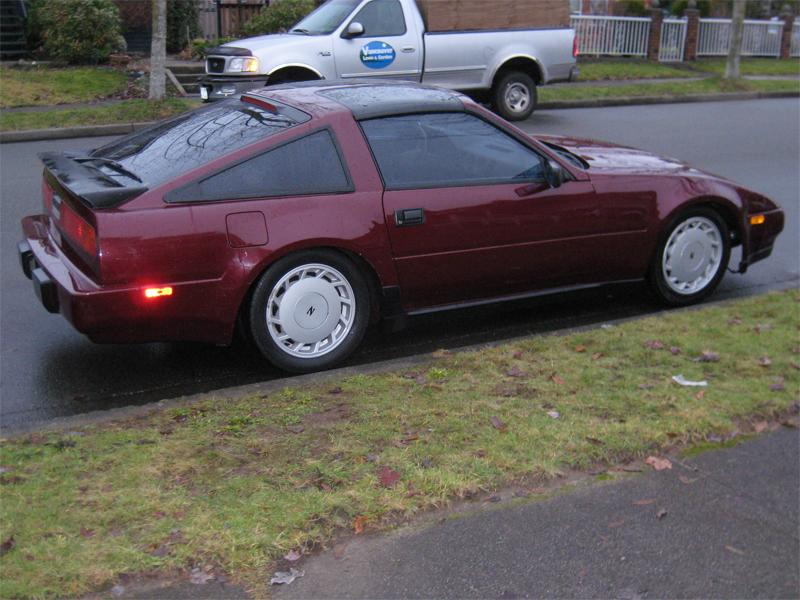 Tonight, got the new toy mostly set up...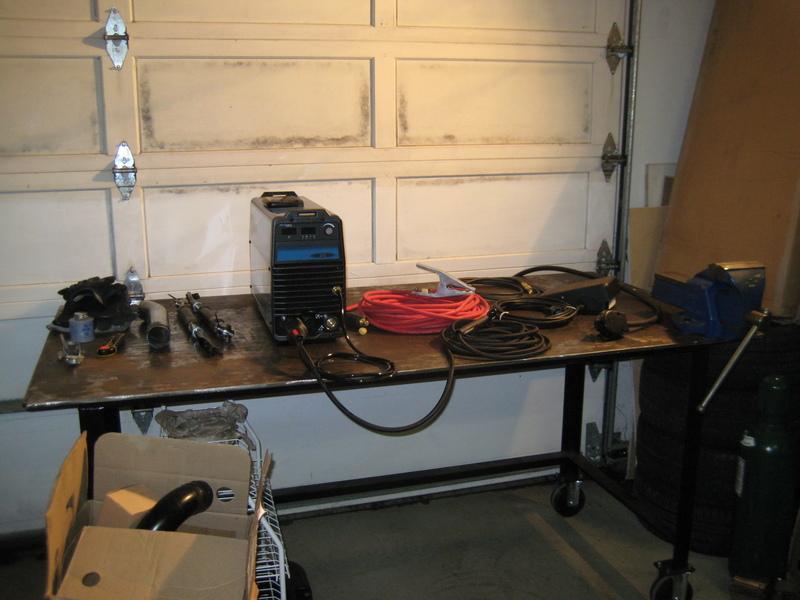 1/6/11
got a bit more work done tonight, tacked up/tested out the welder on the beginnings of exhaust. i also ground off the old welds from the tension rods to make way for new, better ones lol.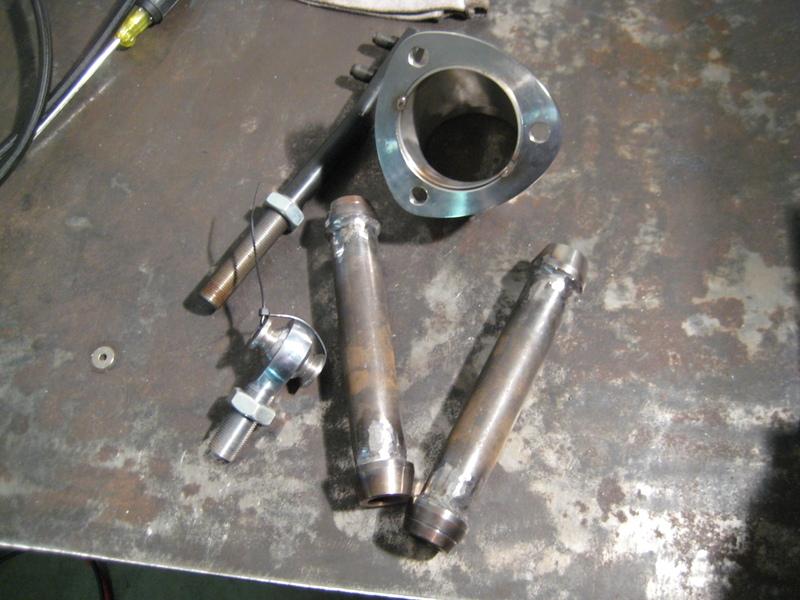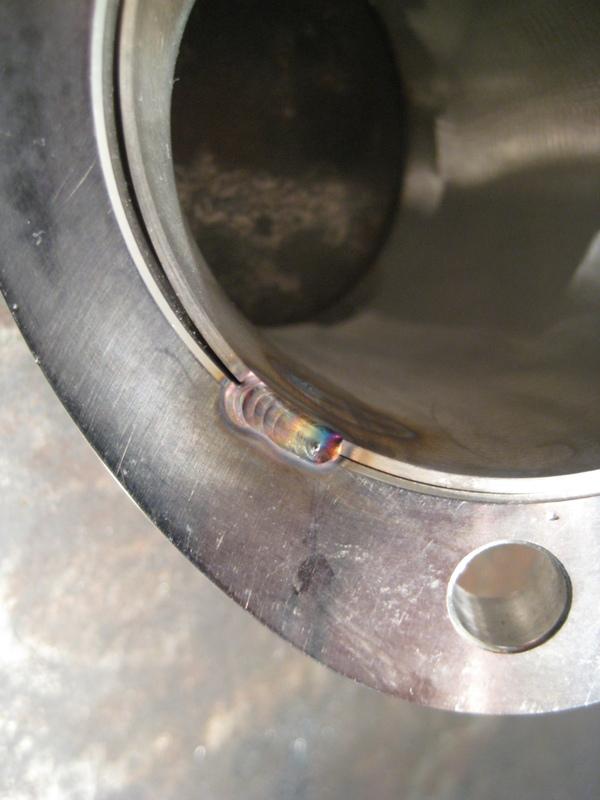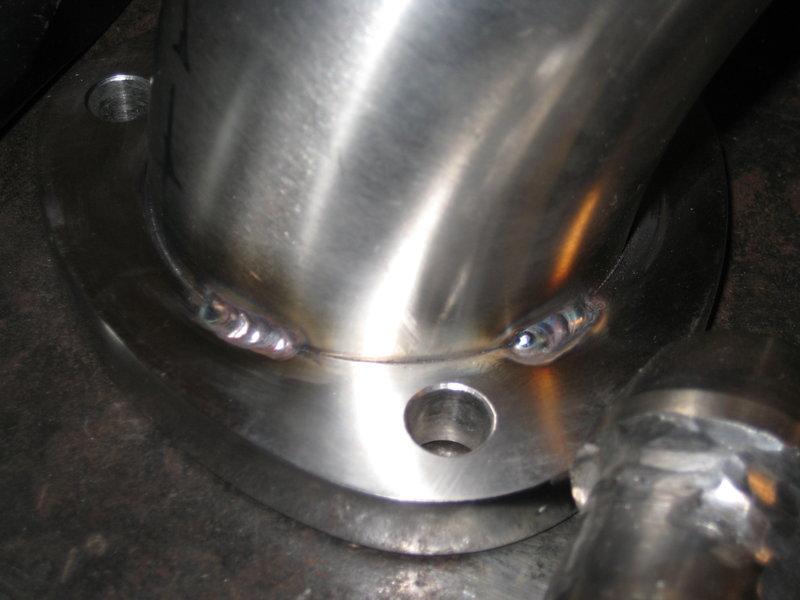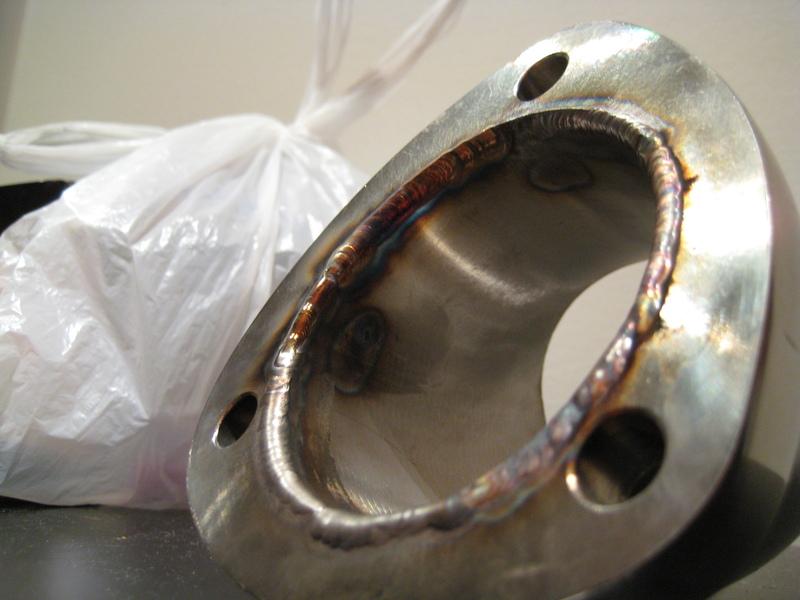 taking this into work with me today to get it milled flat again.
1/10/11
more exhaust work: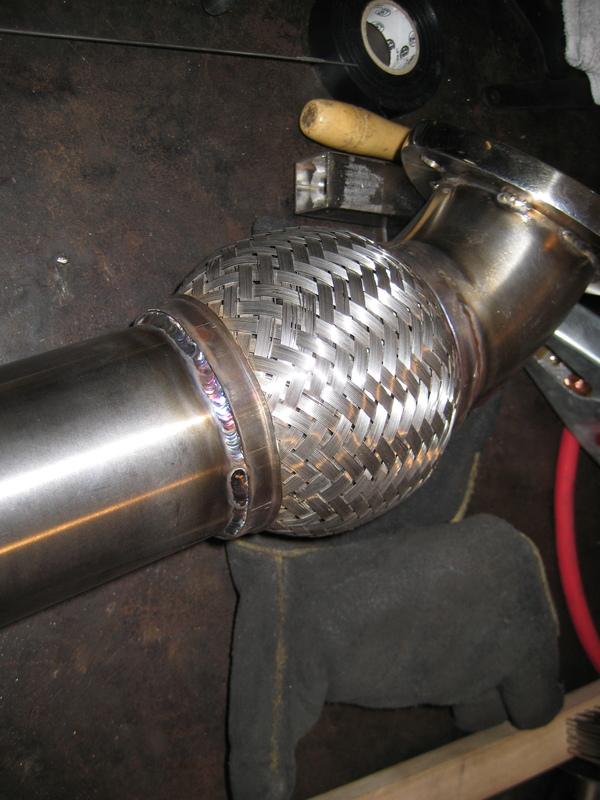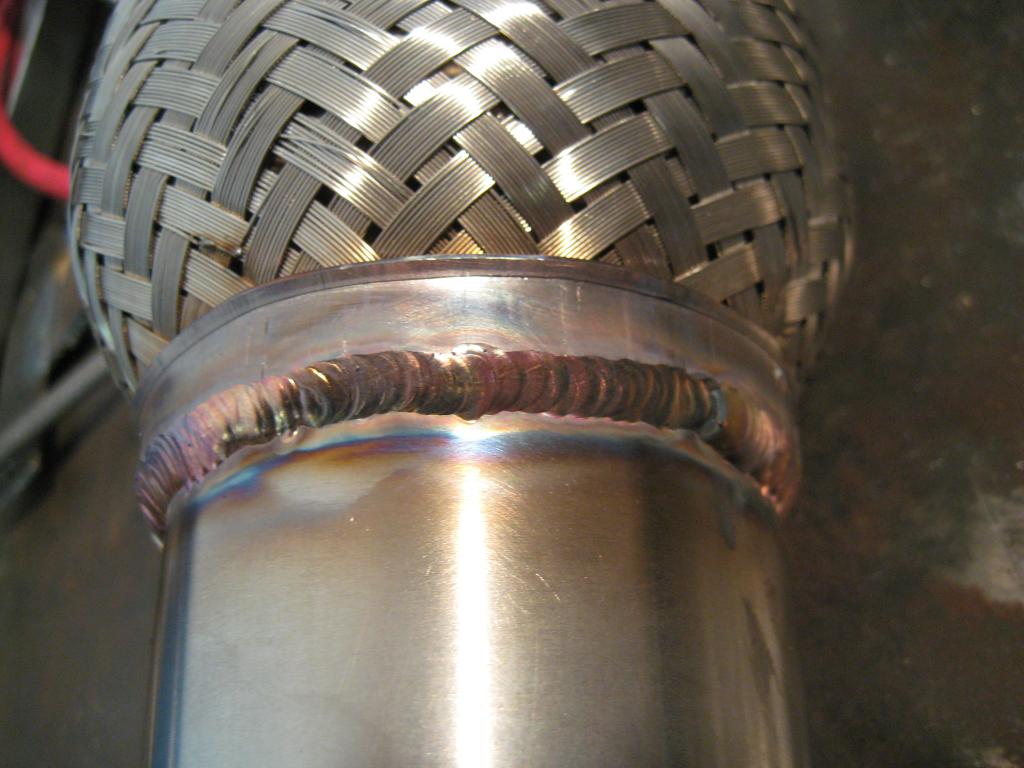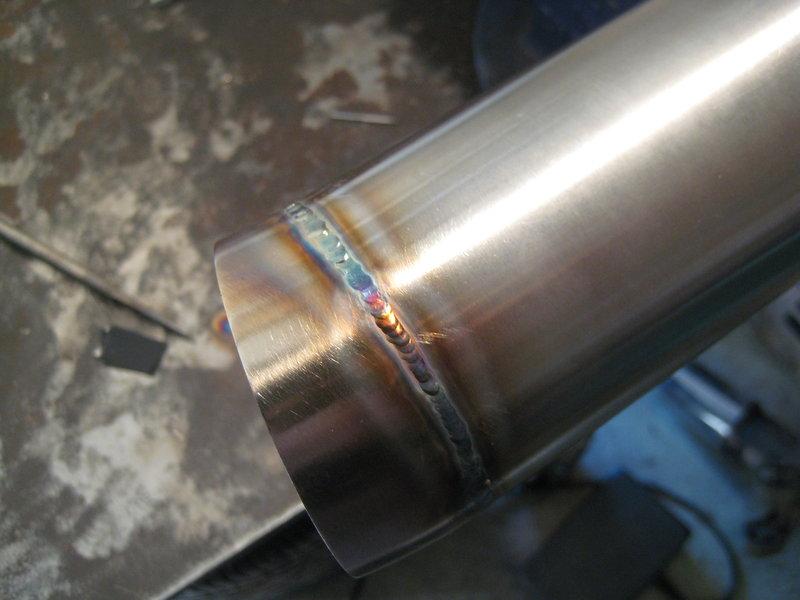 Was making good headway until I ran out of Argon this afternoon..
1/12/11
MOAR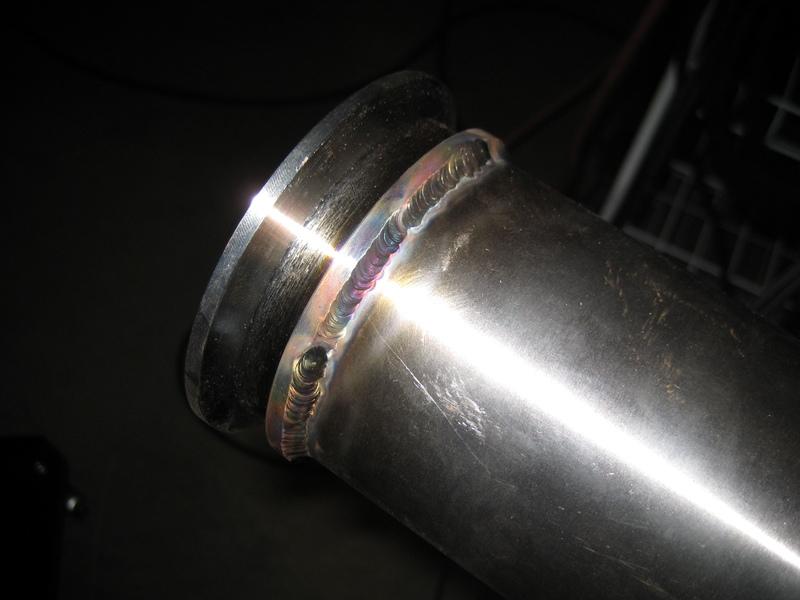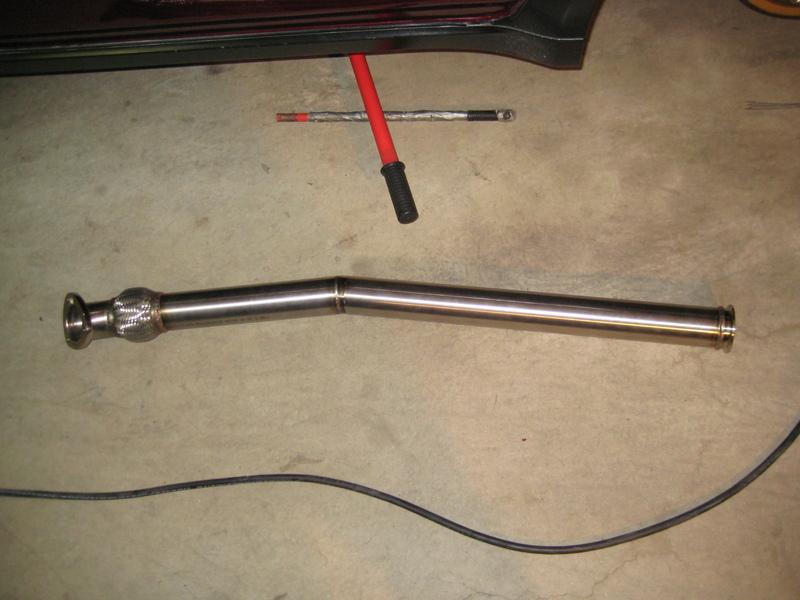 1/13/11
clean autogenous vs gummy thick filler welds lol.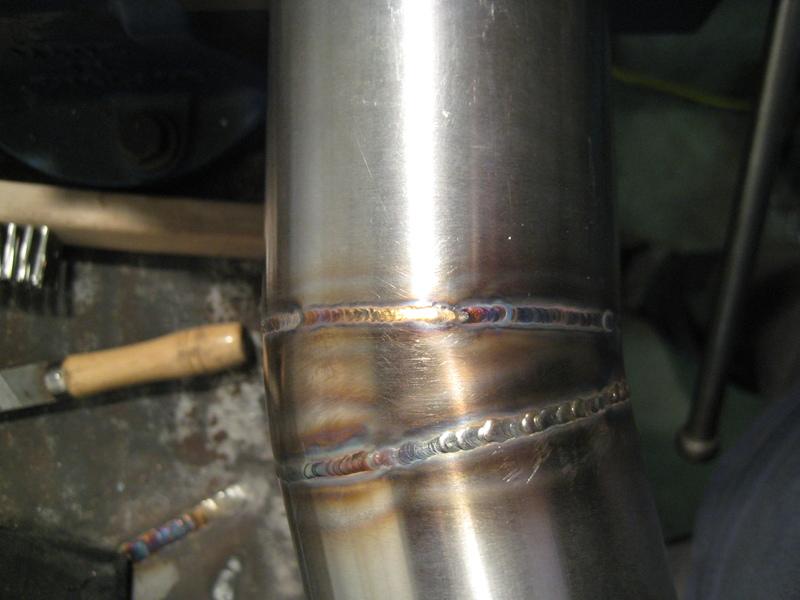 clearance: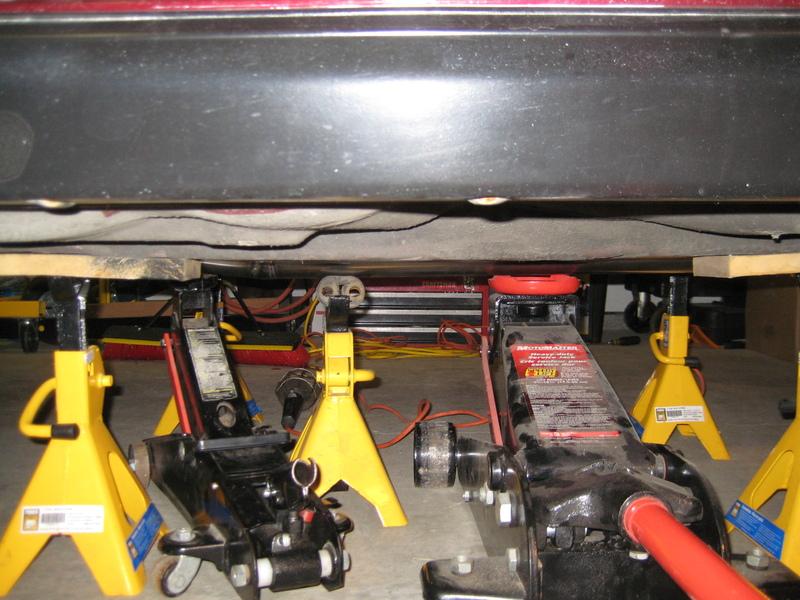 Not quite as much as I'd like, but it'll do!
1/21/11
the 'over the subframe' pipe, all welded up tonight, save the one vband side. Waiting to take the rest out from under the car to bolt the vbands together for welding to prevent warpage!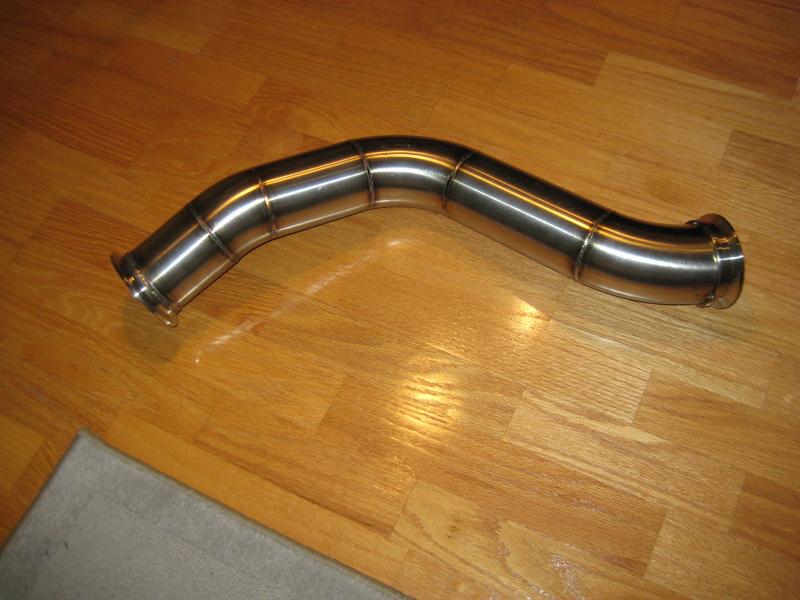 1/27/11
Got the rear section all welded up, sans tip and vband (waiting to finish hangers before welding on tip, then remove everything to bolt vbands together for welding.)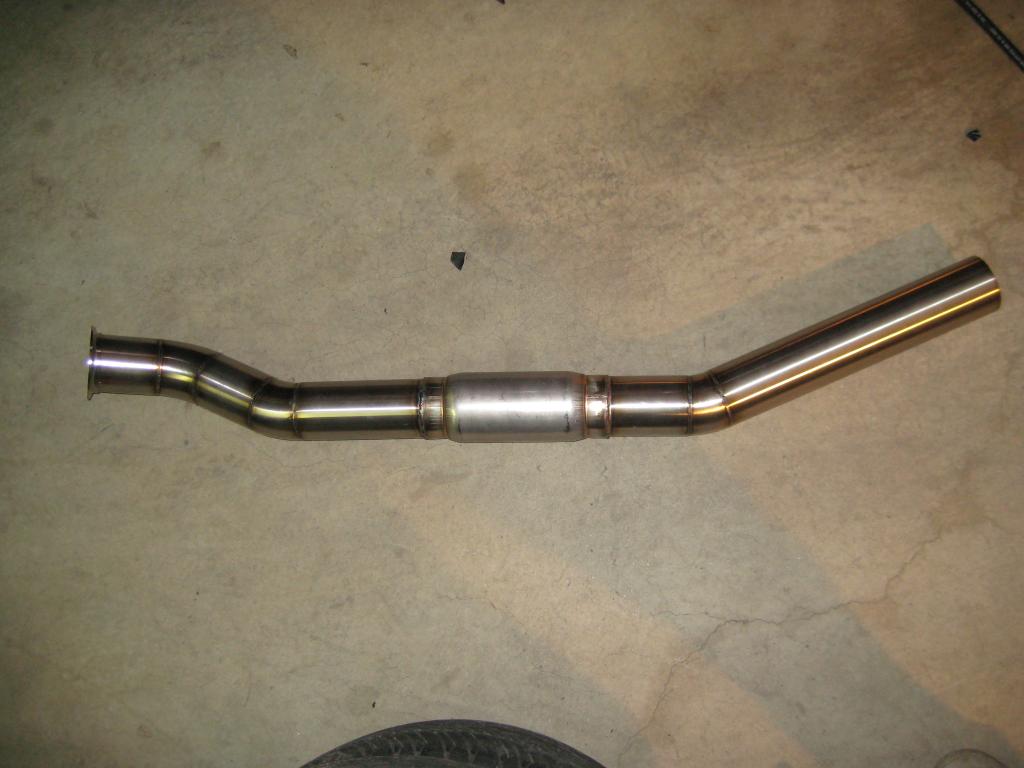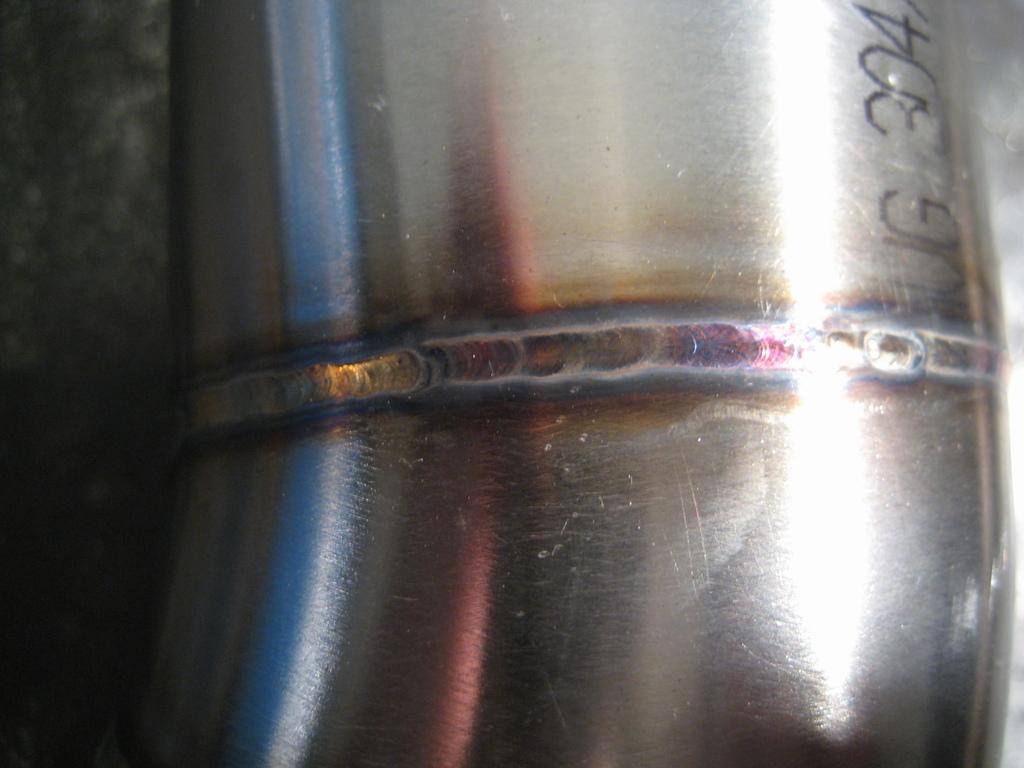 hopefully have it buttoned up tomorrow, depending how the hangers go.
Aiming for late February, It needs to be mobile so I don't have to tow it to the new house.
1/30/11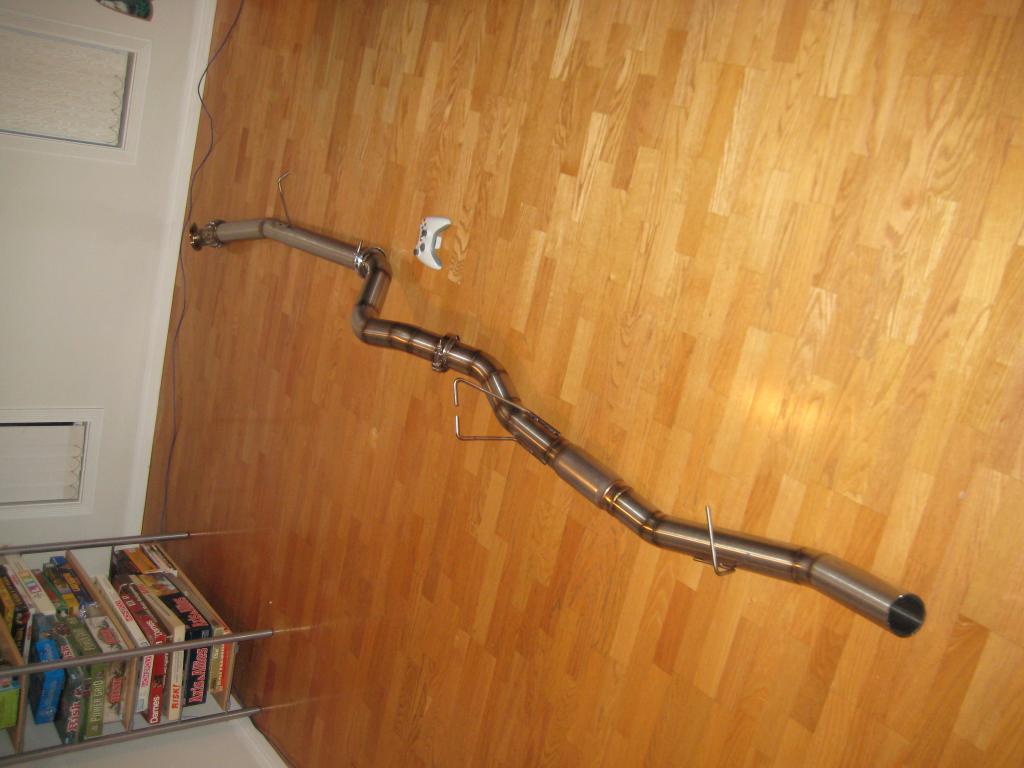 1/31/11
installed it, ran it, it's still pretty damn loud lol.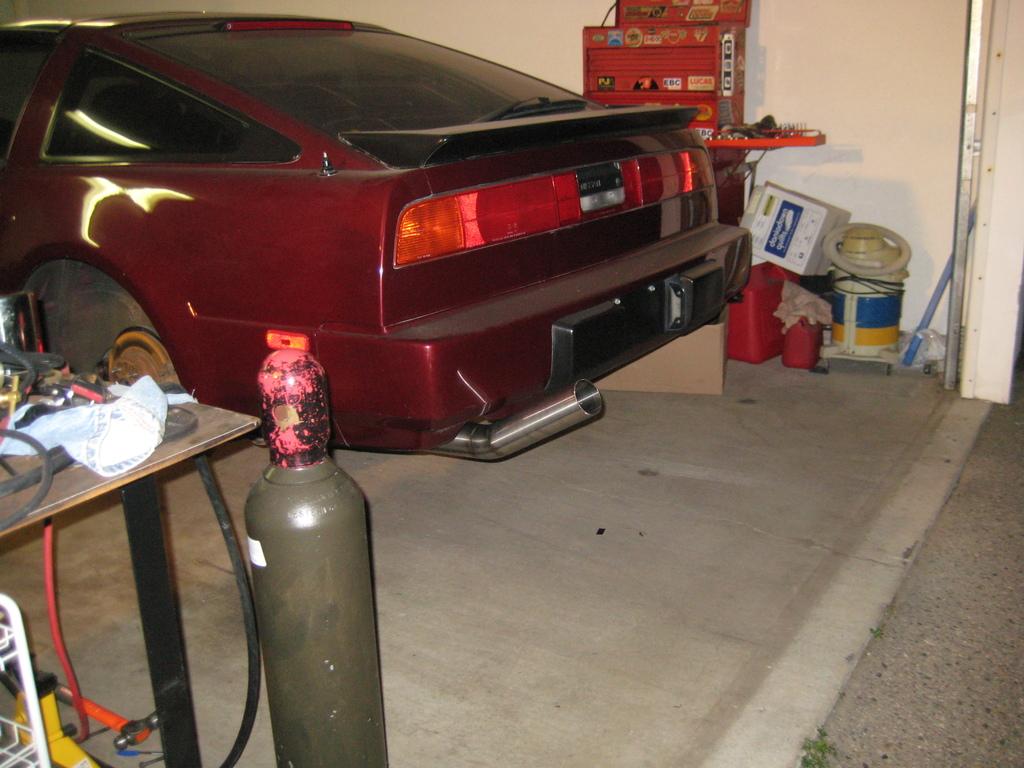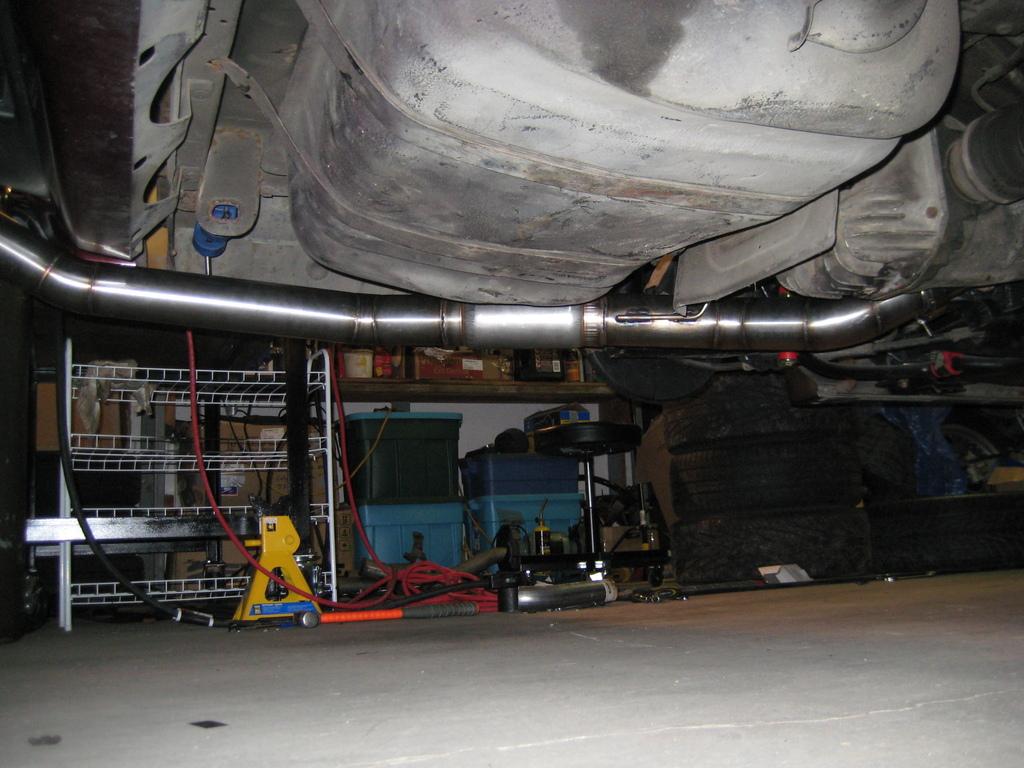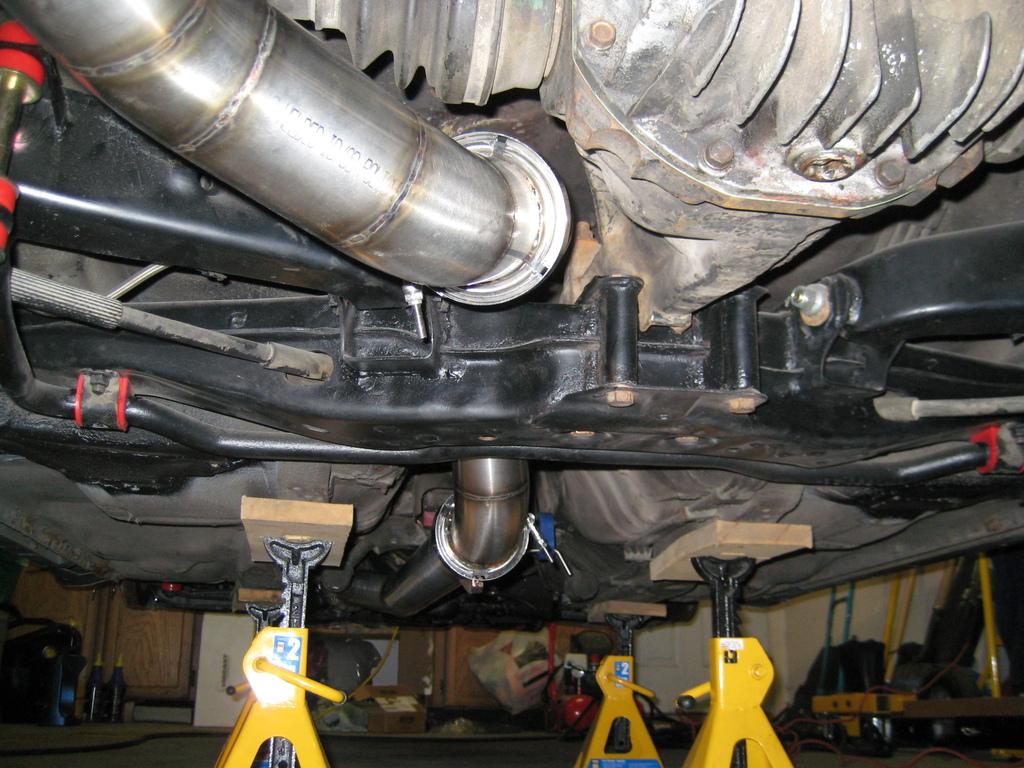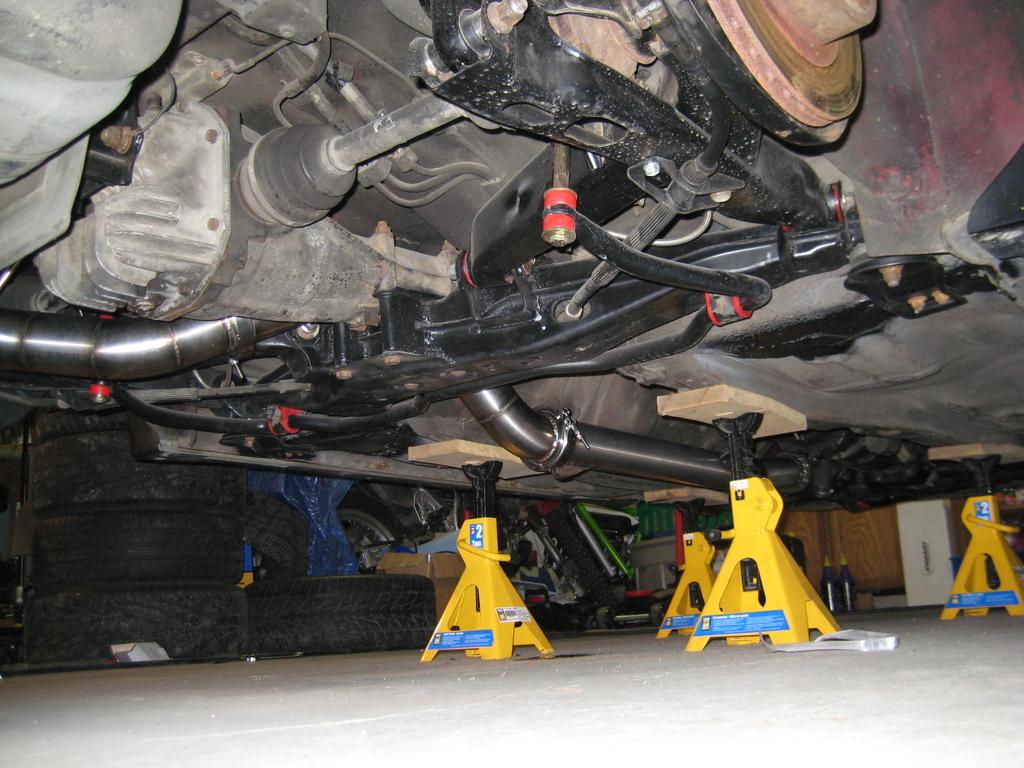 And the bash ramp, should hopefully protect it from ripping the vband apart on speedbumps and so on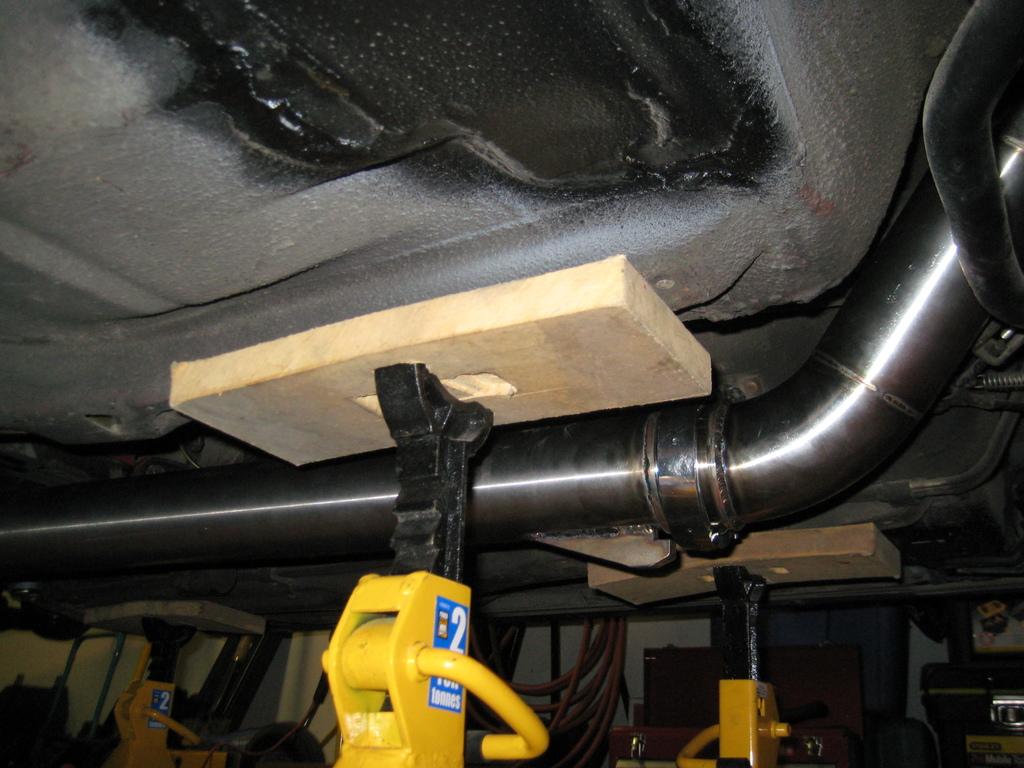 2/2/11
2/15/11
Got the turbine housing ceramic coated, then the entire assembly rebalanced to better than garrett spec.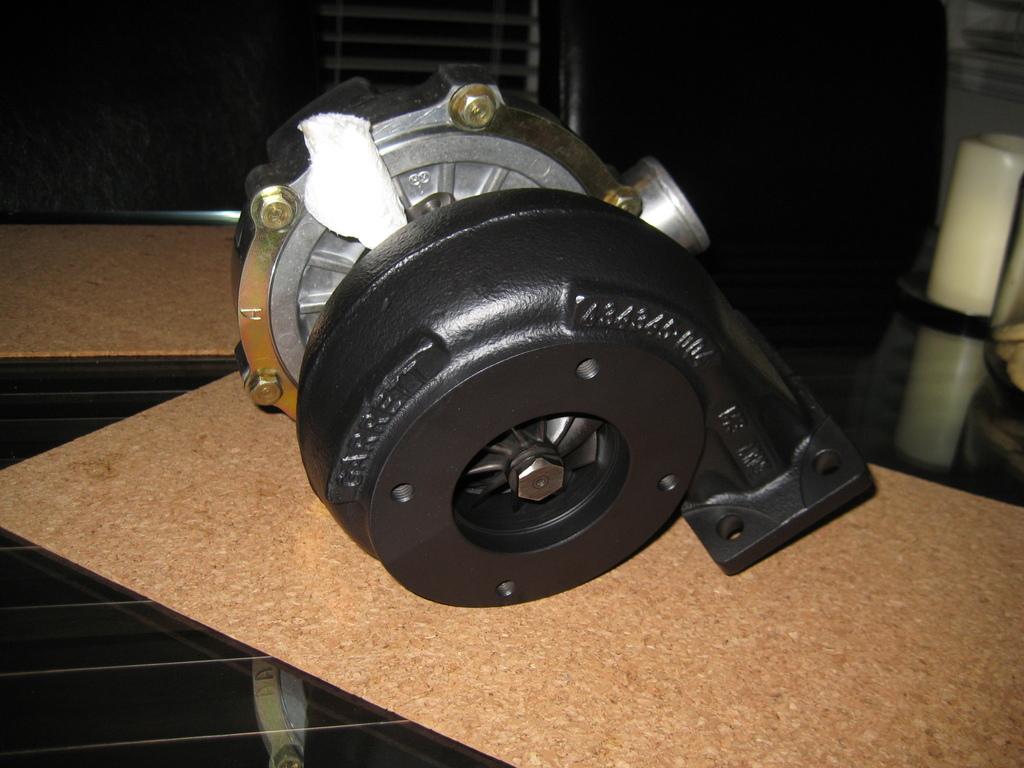 Looks much nicer in there now, matches the valve covers well i think!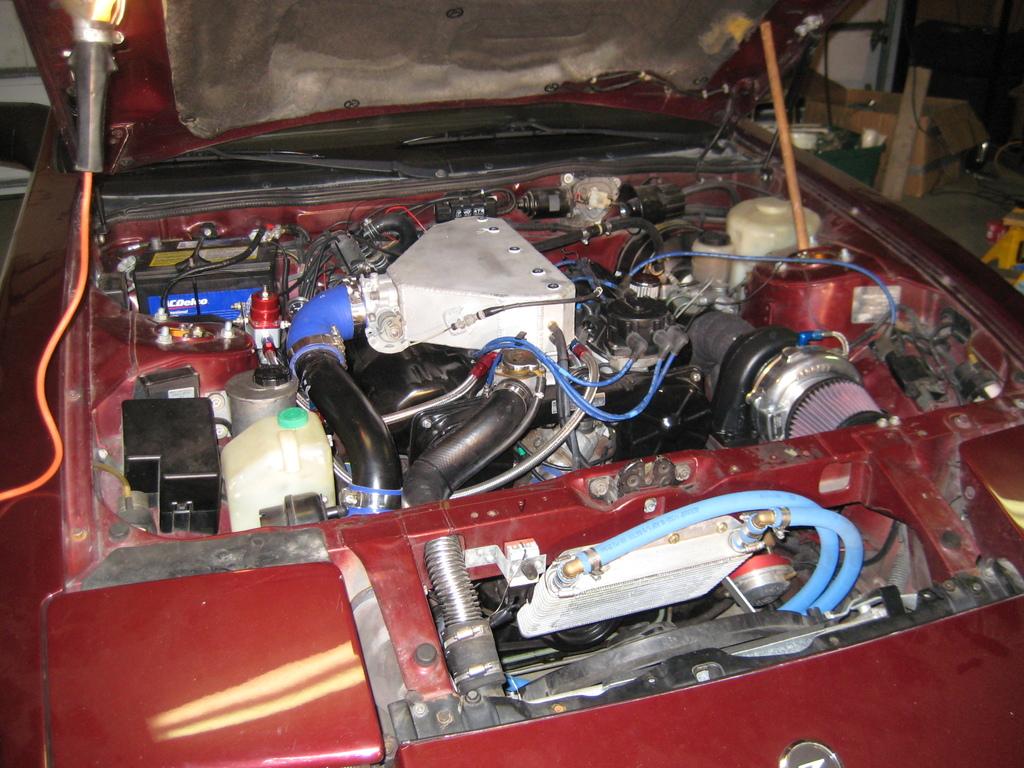 Oil change and new gas tomorrow, hopefully it stops pouring rain long enough to take it around the block!
2/23/11
2/25/11
Went to drive the car today, couldn't get it out of the garage (steep STEEP ass little driveway thing to get into garage.) The bash ramp sat about 1" off the ground, so I'm in the process of re-doing the mid pipe to gain more clearance. Would love to get it done tomorrow so i can drive teh fucking thing.
3/1/11
Took her out for her maiden voyage tonight! Got it out of the garage without much drama this time. Feels a little wiggly and pulls all over the place driving, probably needs an alignment badly, but might be able to limp it to the new place.
Pulled it back into the garage, but after busting out a bit of Mr. Plow action in the alley, it's kind of hard to look for leaks lol.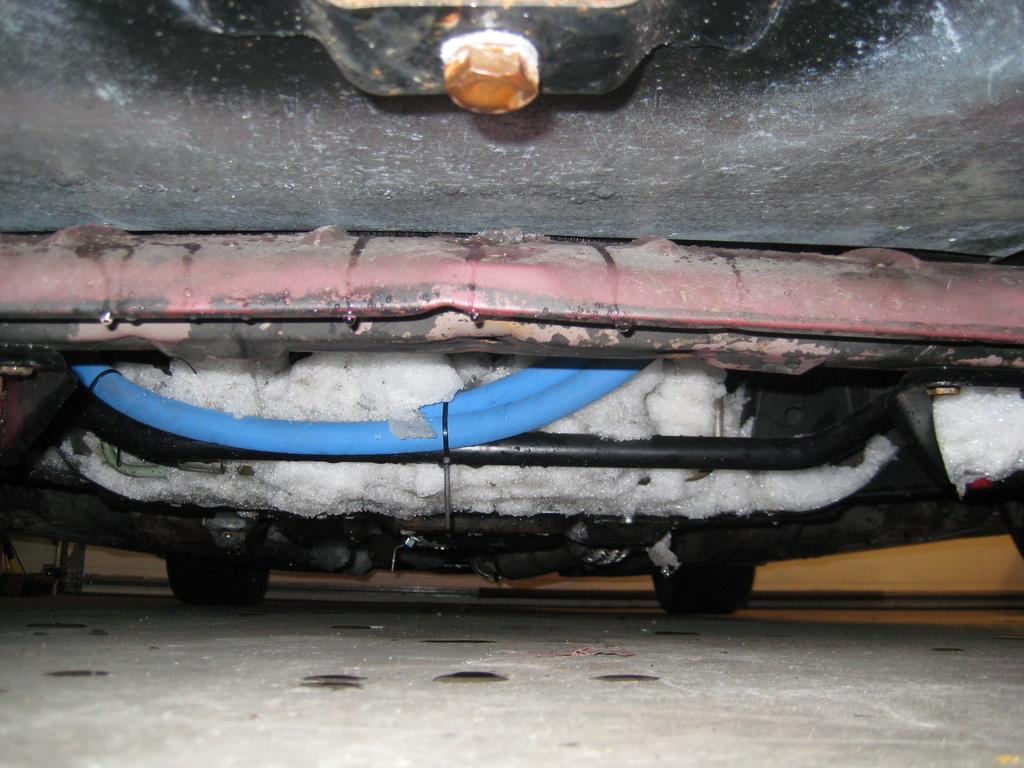 Got in half of the tires i ordered, hopefully the other half isn't lost in shipping!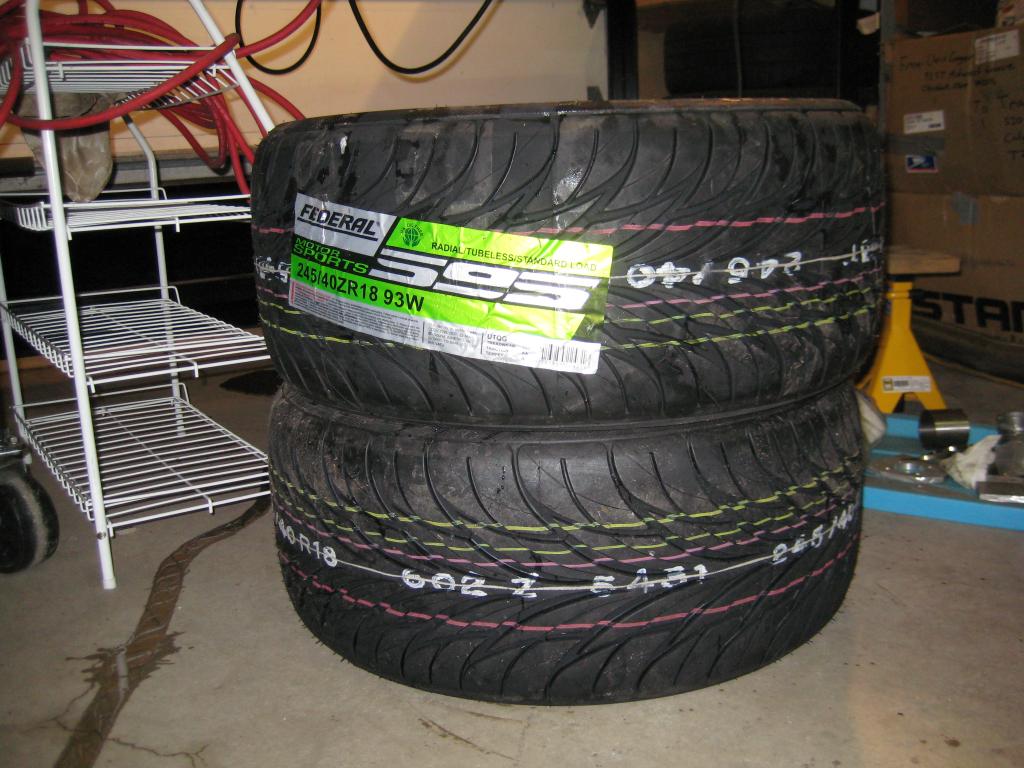 3/4/11
Sneak peak: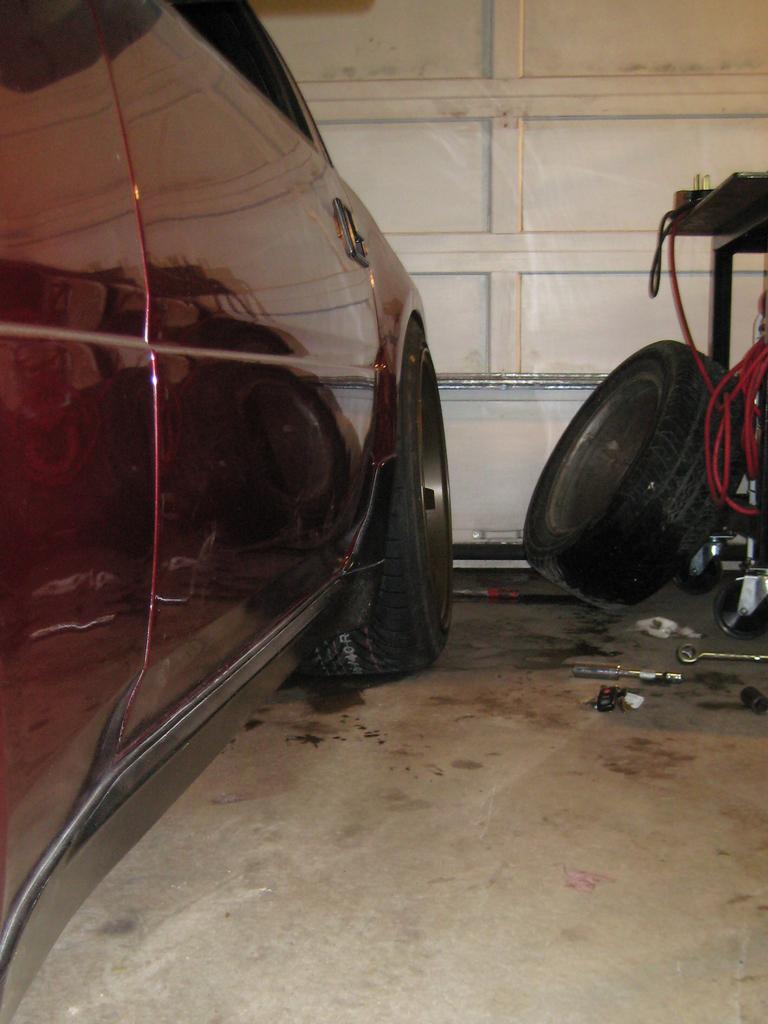 Need to aquire currency, and disregard females before continuing. Rather, roll fenders and get spacers, studs and lugs lol.
7/8/11
I need a fender roller!
Wheels will camber in significantly once I put it on the ground, but it's still gunna be mighty tight!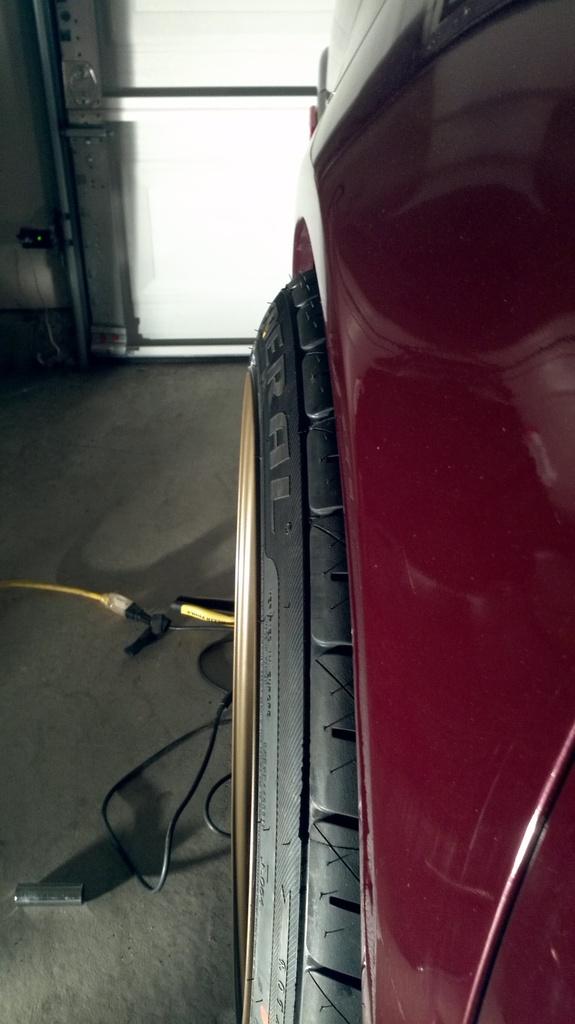 7/18/11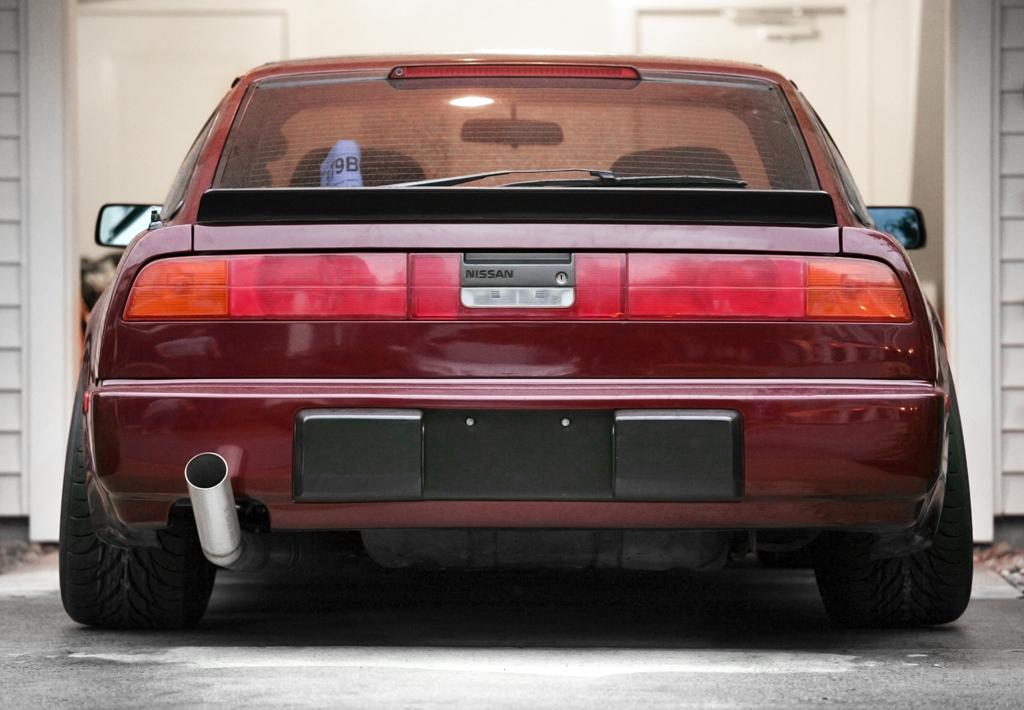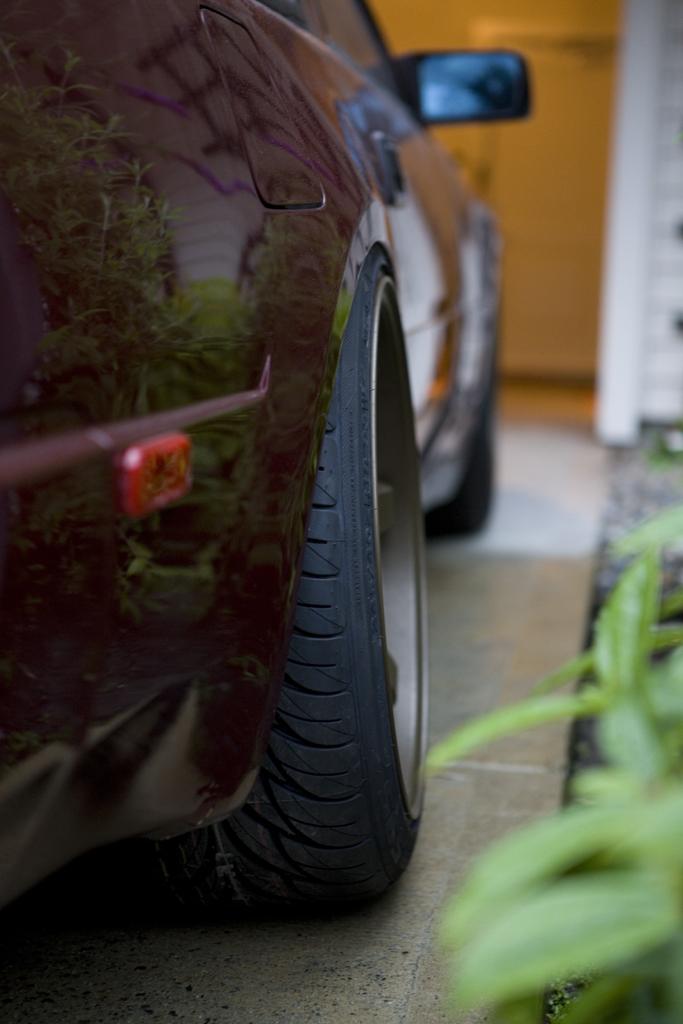 fronts still need some work!
8/15/11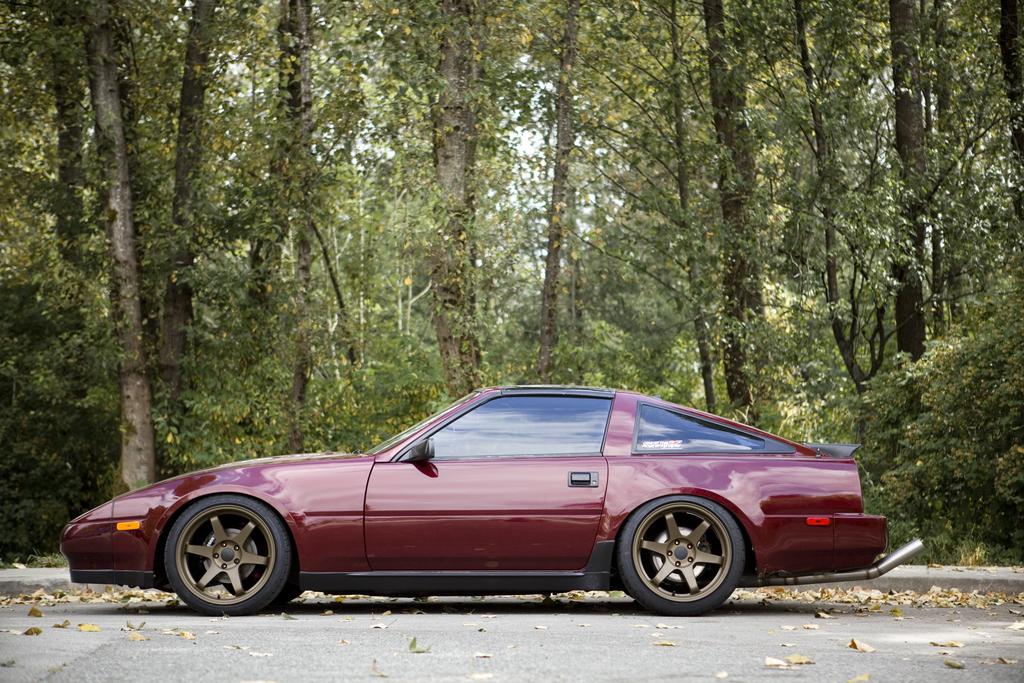 damn you reverse rake!
11/10/11
cool pic of the suspension. notice the dust on all suspension parts lol.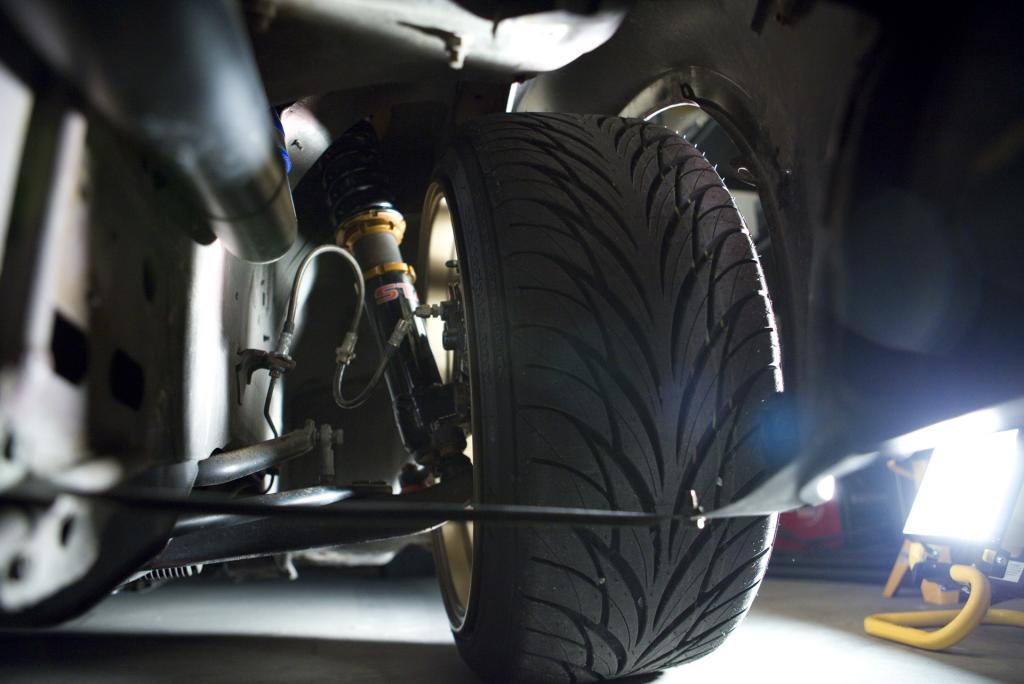 1/18/12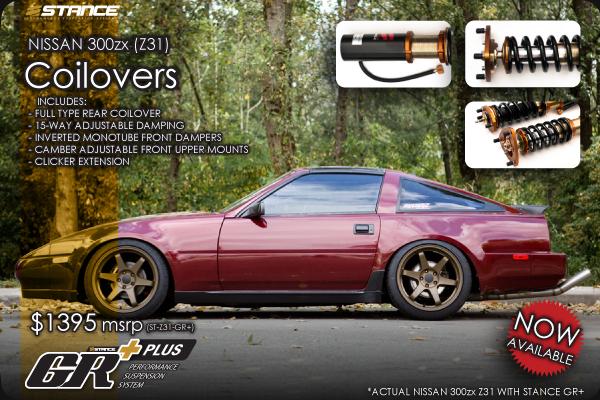 Thanks to Stance for using my car for their advertisement!
2/18/12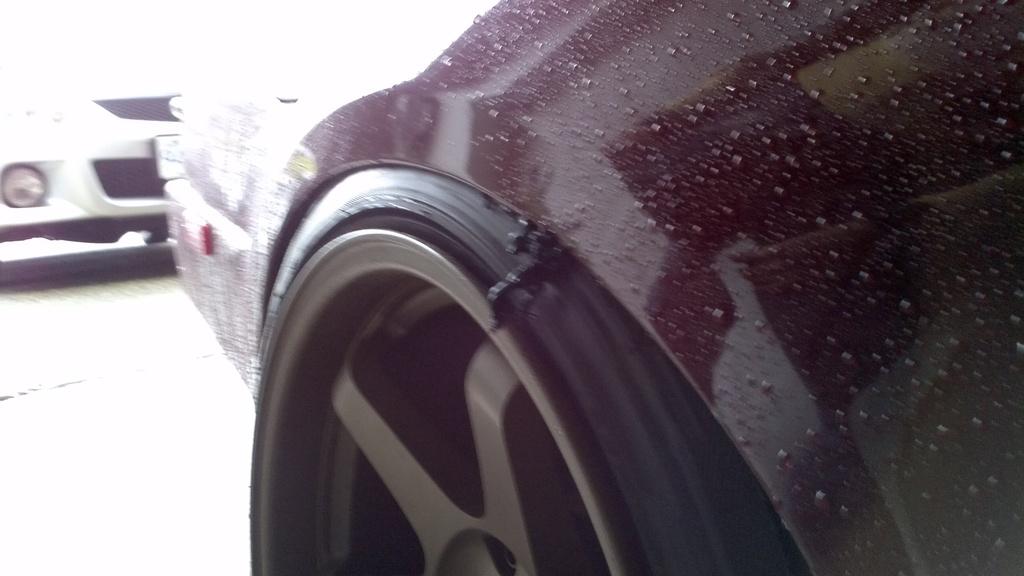 moving car from old house to new house. tires making themselves some room in those fenders lol
5/26/12
back in 'storage' again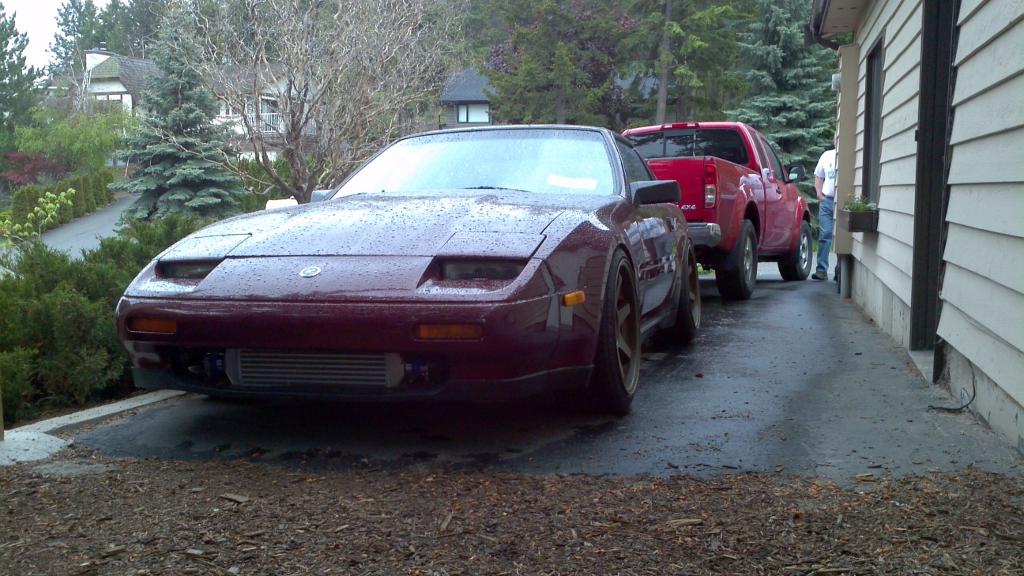 also test fitted an xxr 530 18x9.75 et20 on her for shits and giggles, going on a different car.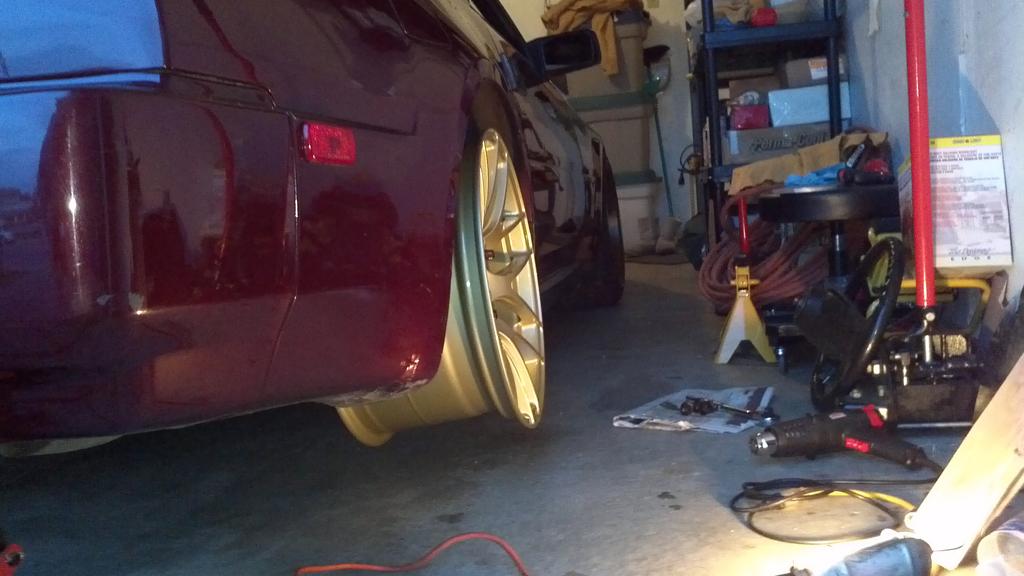 7/11/12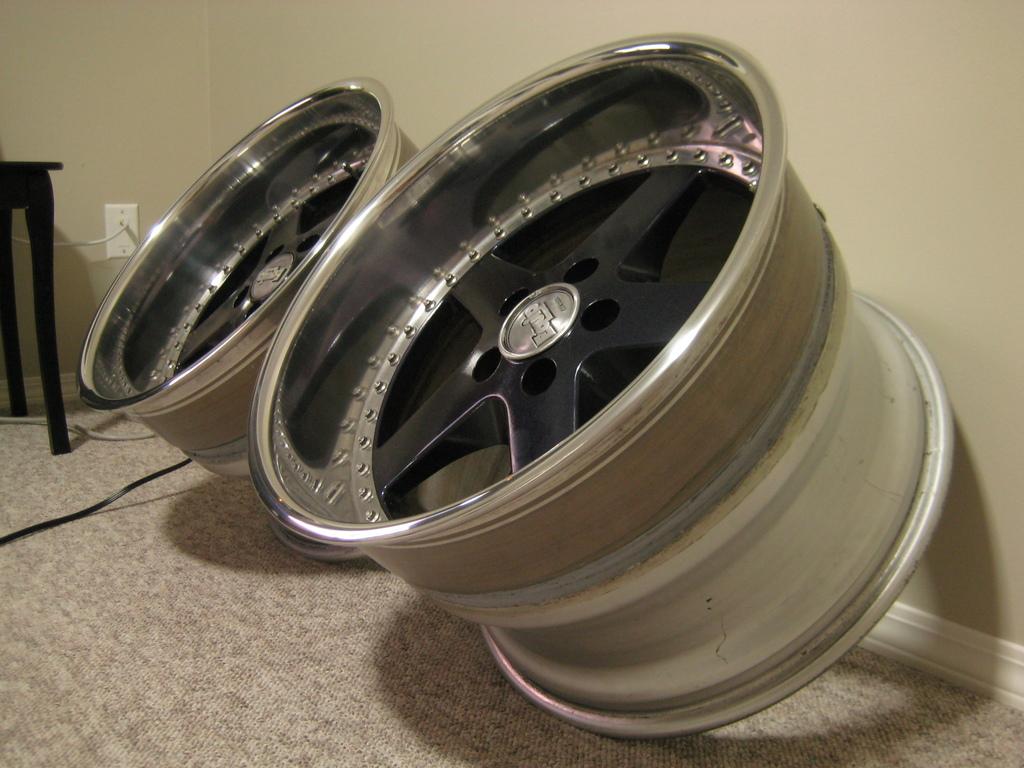 new shoes for the rear.
18x12 et22. Haven't decided on tires yet.
8/20/12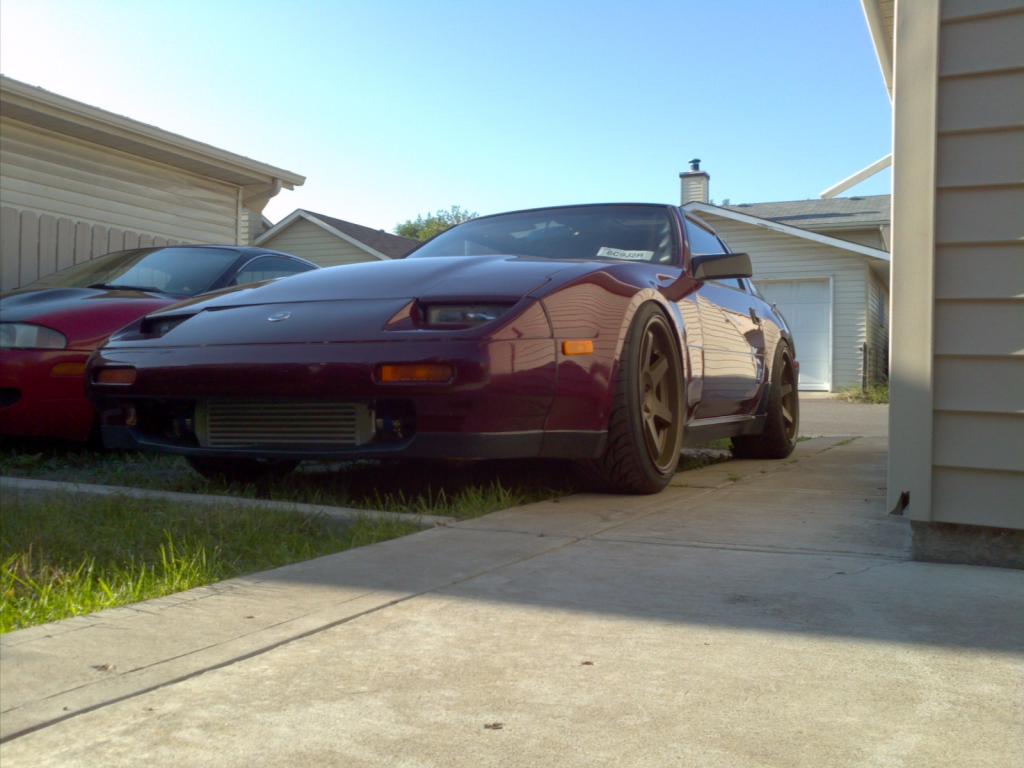 welcome home
8/24/12
Lower It!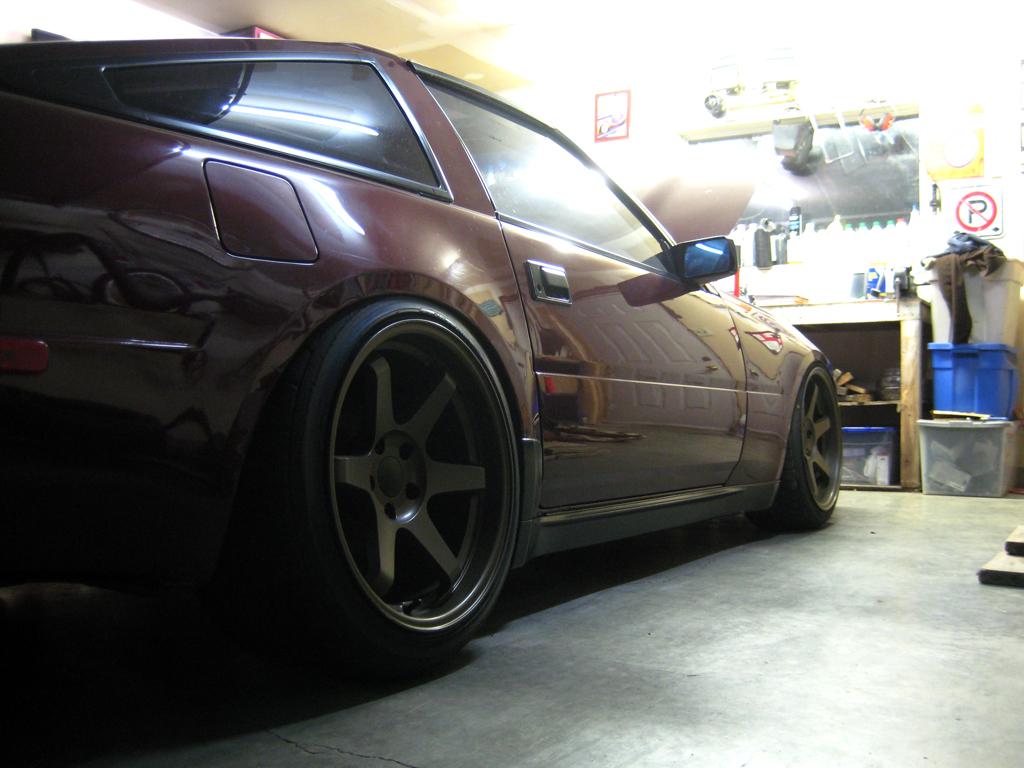 11/5/12
She's all covered in snow!!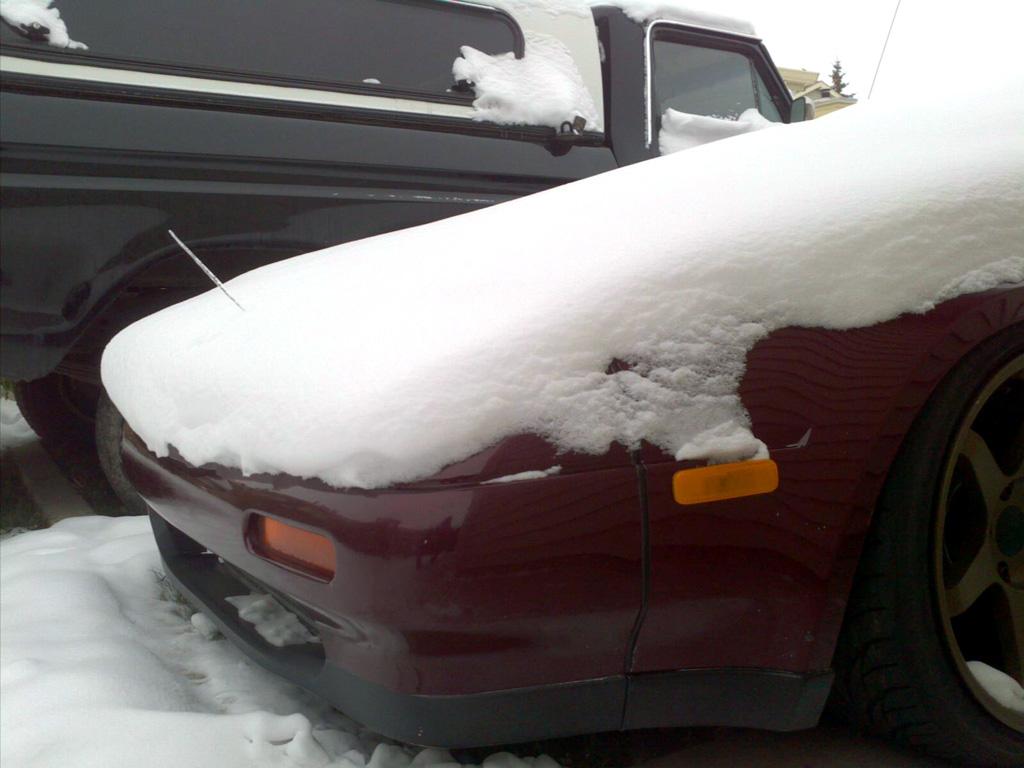 Hopefully moving her to a heated garage soon!
12/20/12
Car's been sitting around for a while while I sorted out my daily driver. Got that all worked out, just in time to find another '88 for sale out in Duchess for a grand that had a bad clutch. So I went out and picked it up and trailered it home with help from a buddy.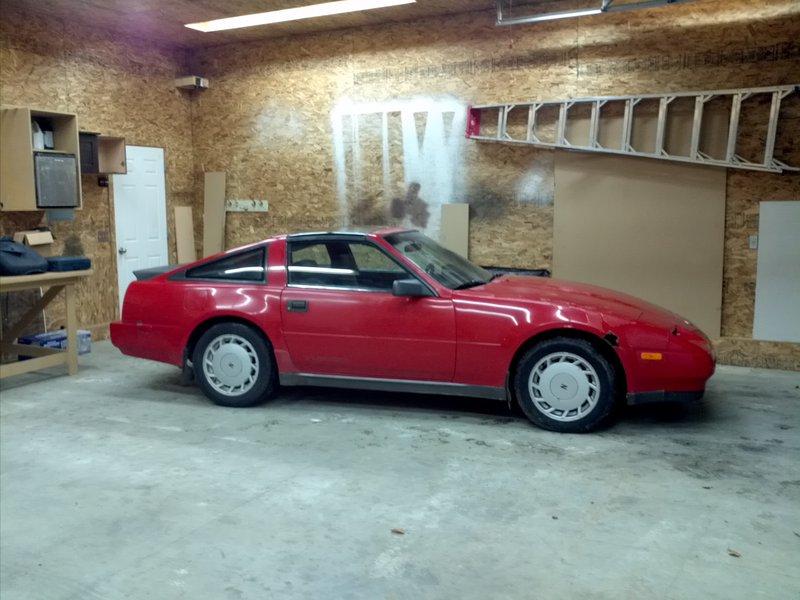 Quickly started pulling it apart to repair/replace some things.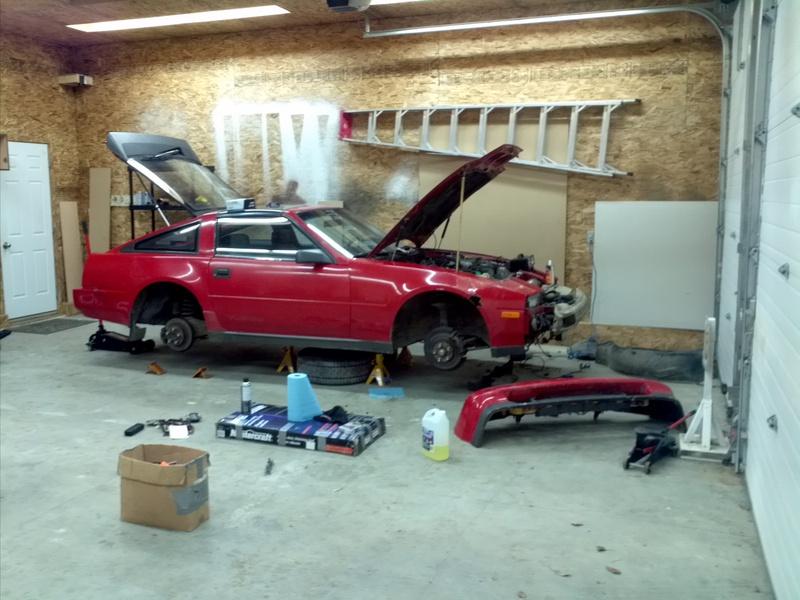 Car seems to be in decent shape aside from the standard rust issues. Pretty unavoidable with older nissan's, so I'm pretty used to it by now.
Anyway, I thought it was a great score, the car features lots of things that z31 guys get wet over, including:
Much desired factory R200 CLSD complete with finned diff cover
fs5r30a transmission, has been known to hold over 600whp at the dragstrip reliably.
full black interior, usually the red cars have the horrid red interior, but this one doesn't
Turbo front spindles and hubs, great for z32 brake conversions and everything related.
Plans for the near future for this one:
Timing belt job and fix all the little things, and the big things that are necessary to get it road worthy.
Replace completely rusted out front fenders.
Make it a fun, reliable daily that has all the creature comforts for winter including headlight washers, toasty heater and heated mirrors (in a car from the 80's, not bad!)
Minor suspension mods like polyurethane bushings to stiffen up the 25 year old bits.
Exhaust and intake, most likely just a 3" downpipe to e-cutout and mostly stock catback exhaust (sans cat)
Maxima e-fans and maxima 90amp alternator
Make use of the MBC that seems to have come with the car.
Find another TurboXS RFL bov to sit on the elbow I have that will fit on the car. Currently has an elbow with an unknown bung welded into it and capped off sketchily.
Install kick ass hks boost gauge in place of stock gauge location.
Short shifter, probably cheap ebay one. Other one has worked great in the other car
some kind of deck, has the OG stereo in there right now, crazy! too bad it's busted
Winter wheels/tires. most likely some cheap Sunny WOT-18's and Mustang saleen sc wheels in a 17x10 +20 with spacers.
That's pretty much where my current Z was before it went down and I was enjoying it quite a bit.
Future plans include:
hx40/35 hybrid in stock location, supporting mods.
toying with setting up an air to water intercooler, trying to keep things as simple as possible under the hood.
Get a/c working if it doesn't currently.
Stance coilovers (only company that makes coilovers to fit the car)
Nice summer wheels maybe. Perhaps pull the Varrstoens off the current Z when I find another pair of equips.
Been toying with the idea of a swap into the current z, and pulling that engine for this car. Will have to see how the rest of the winter plays out.
7-2-2013
Back from the dead! Not much has happened since last update. Moved again. Redid the tail section of the exhaust, installed a Greddy type R bov instead of my old RFL.
8-15-2013
Finally got the nardi wheel installed. Worked out a nice little way to make the stock horn plunger contact thing still work with an aftermarket hub, didn't get any pics of that though.


7-11-2014
Been working on a rod end conversion for the trailing arms. Mainly just getting rid of the slop of rubber bushings or the bind of poly bushings. Gaining the ability to re-center the wheel in the arch when slammed.

4-24-2015
Forgot to put these up, big thanks to Mike and Jesse from dubdynasty for the shots!