Builds
Patrick's 1986 944 Turbo by 333pg333
By stevegolf
You must be logged in to rate content!
10 minute(s) of a 137 minute read
Patrick's 1986 944 Turbo
Compliments of 333pg333 @ rennlist.com
9/24/11
So here are the specs so far. There will be the odd change made to it but essentially this is it currently or being completed now.
D9 GTS lights replacing the stock pop up system.
A couple of different splitters to choose from.
993 Oil cooler.
Custom front mount intercooler.
Engine bay seam welded and repainted.
Full carbon fibre hood with D9 vents.
A/C & heater removed.
Smaller alternator w/ CEP bracket.
Custom SFR 3.5" - 5" S/S exhaust.
Moton Clubsport 2 way adj coilovers with OEM torsion bars removed.
Motons:
The full race setup as suggested:
160 kg/cm front springs + 30 kg/cm tender spring
200 kg/cm rear springs (torsion bars deleted) + 40 kg/cm tender spring
Big Reds on CEP full floating slotted rotors.
Racers Edge A arms, billet hubs and solid bushings all round.
Tarrett adj swaybars front and rear.
LR Semi solid engine mounts.
All the stock brake system removed.
Stock fuse box removed. Replaced with Motec PDM30. Very slick and programmable way of getting rid of fuses and relays. http://www.motec.com/pdm30/pdm30overview/
All the stock wiring and harness removed. Replaced with Milspec wire.
New heated windscreen.
Full fibreglass dashboard with all the OEM 'stuff' underneath removed. (big weight saving)
Motec SDL3 Dash and SLM programmable shift light module. These are all my gauges! http://www.motec.com/sdl3/sdl3overview/ http://www.motec.com/slm/slmoverview/
Tilton floor mounted pedal and dual m/c setup.
Extended Steering wheel boss with quick release hub.
OMP raceseat moved back and down with welded in reinforced runners.
Custom control panel within reach. (Now being moved re passenger safety.)
RSR Carbon doors. These weigh something like 2-3 kgs with lexan windows installed. (not sure if these are going to work just yet. Had to have them 'repaired' once they got here.)
Fully stripped and caged and repainted interior. In a metallic silver. Cage goes through to front strut towers.
Stock roof with hatch replaced by single skin unit. Good gain in headroom.
Spare wheel well modified to be shortened by removing about 10cms off the base. 2x 044s and Surge tank to go in there.
Fully rebuilt and customised by California Motorsports 968 6 speed. Strengthened and increased cooling being the mods. See the custom billet sideplate in pics. Stayed with the stock gearing for now. KAAZ 6 plate 45/90 LSD.
LR race axles and CVs.
OEM Mo30 rear brakes for now.
Full lexan rear hatch.
Dual element rear wing from DJ engineering U.K. (Simon McBeath is a very accomplished / published aerodynamicist)
Wheels are 10.5" and 11.5" x 18" Fikse Mach V all black anodised. Either 315/18" Nitto NT01 on all 4 corners or Hoosier 305 / 320 R80 full slicks.
Broadfoot GT2 widebody flares.
Not far off:
Dry sumped 3L 8v racemotor. Motec or LINK ECU.
Any guesses how much the car will weigh?
Unfortunately probably going to move the control panel as it really doesn't work with passenger / instruction.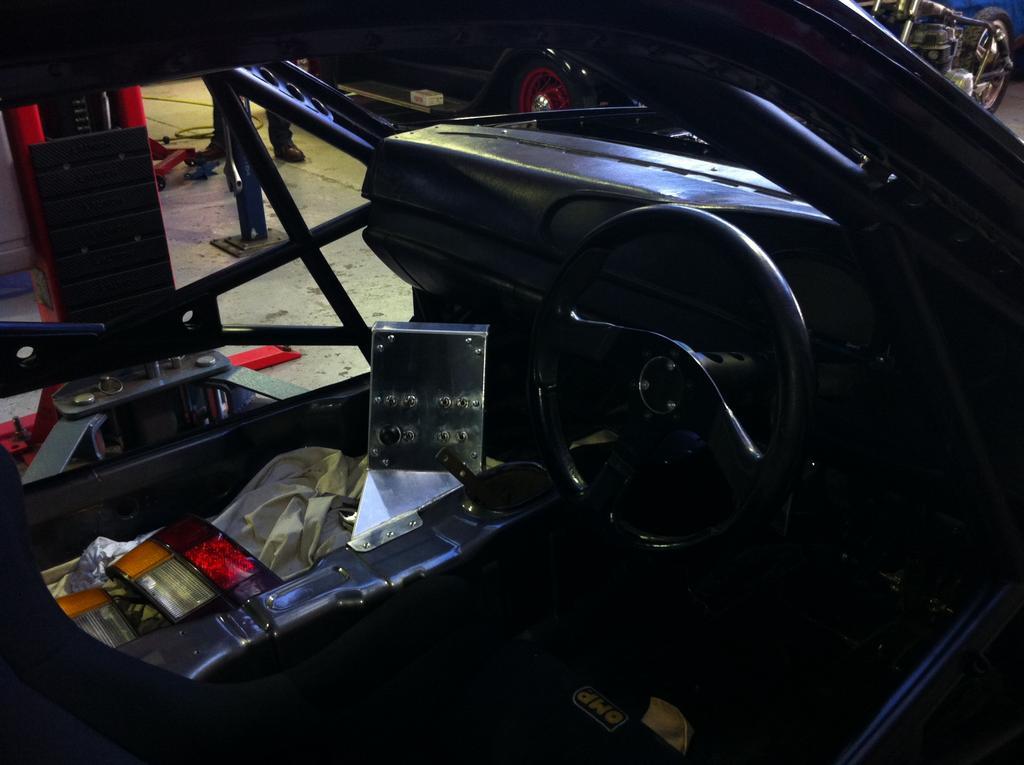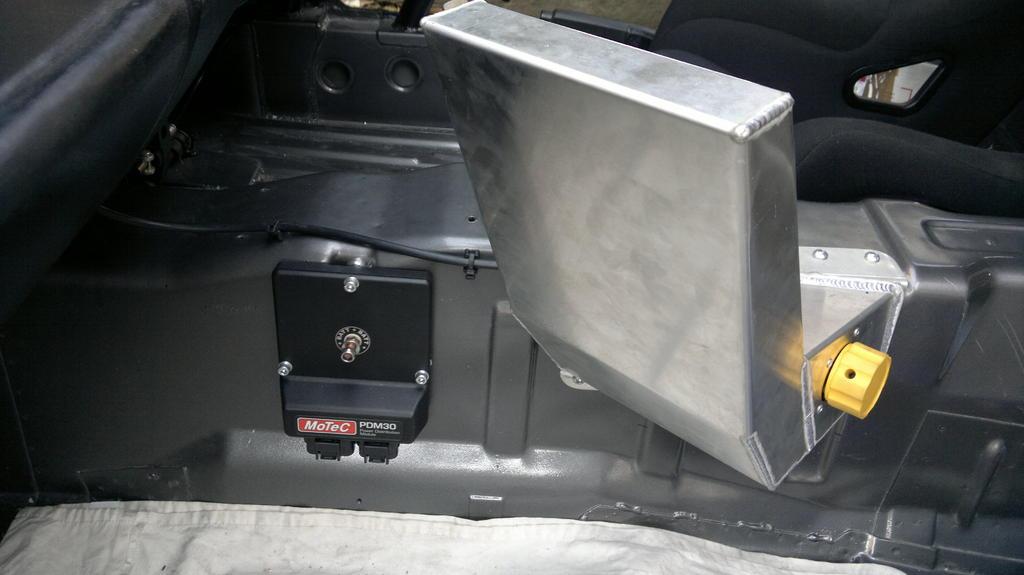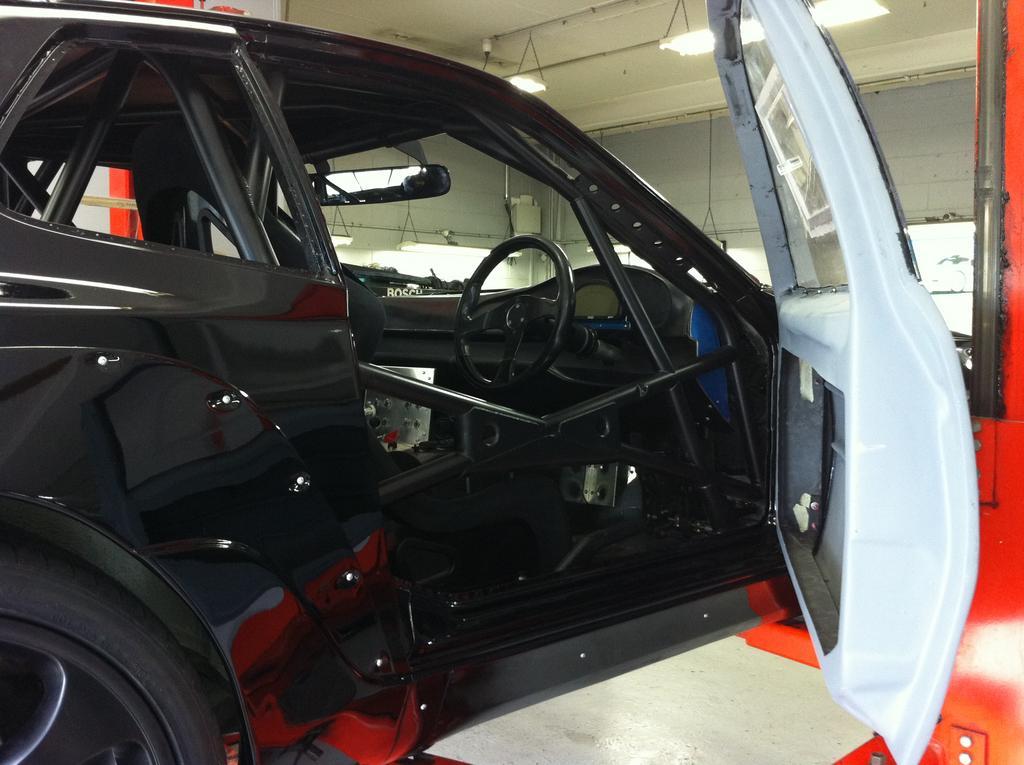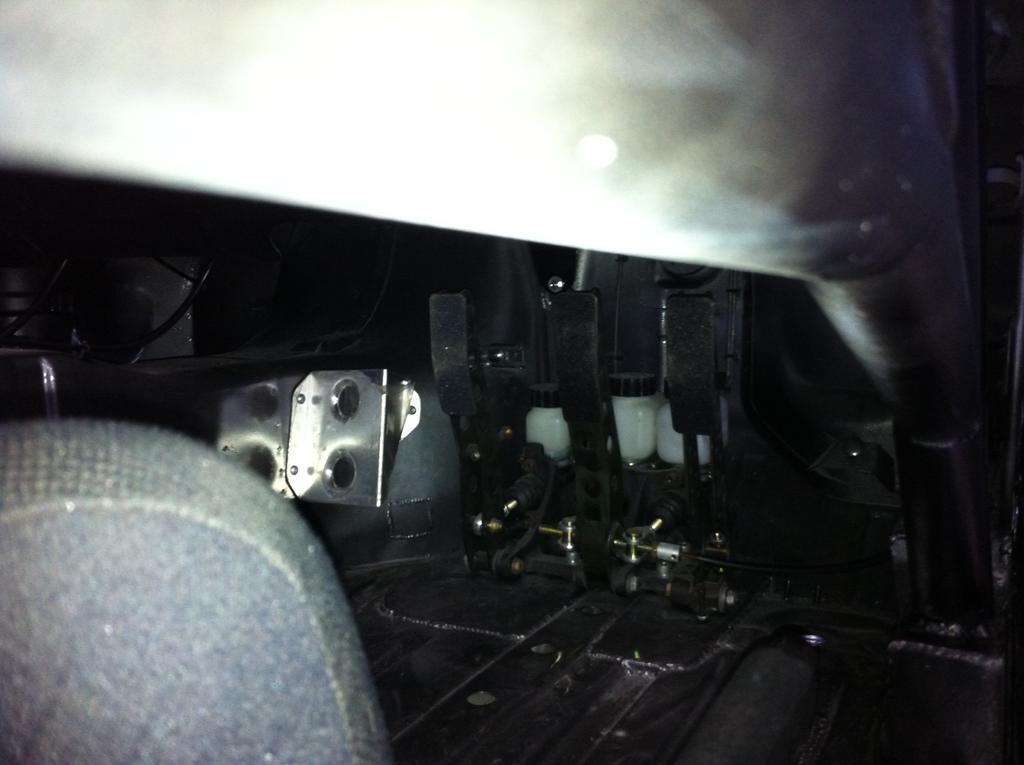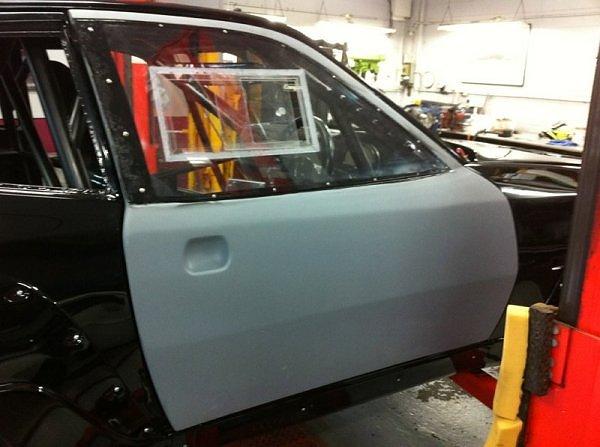 9/25/11
It's an '86 with all converted '89 running gear. I'll see if I can't get some idea if we have others like this over here.
We had to modify the wheel well to make room for the oil cooler fitting.
I know you see full Cup Cars in the Group ahead of you and maybe earlier ones in your class. What about road going GT3s converted for track use?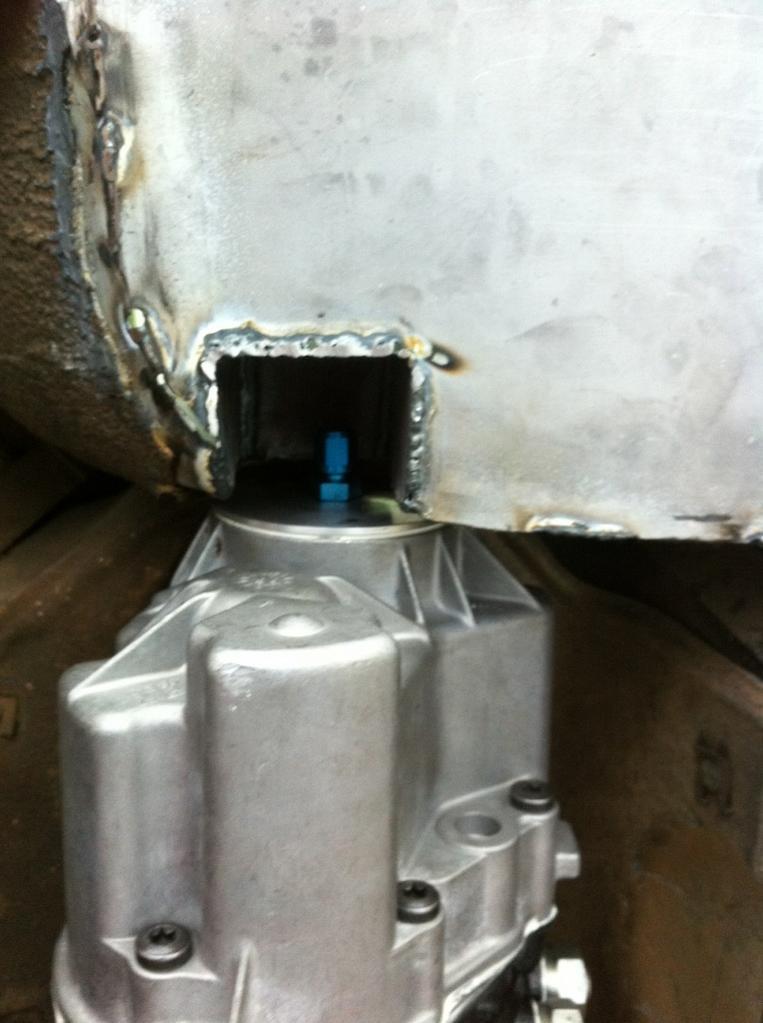 9/26/11
We did a BMW / Porsche club challenge a week or so ago. 3 BMWs were involved in accidents. One of them a pretty bad roll where they had to load the car on the towtruck upside down as it was mashed pretty badly. Some of our cars are much quicker than this one so I feel it's time to get safer. With the cage, harness, HANS, and now a lot more headroom from the non sunroof conversion, it feels like there is a lot more margin to walk away from a bad one.
Not sure which pic you're thinking of Bruce, but the car is Black, Black, Black. Actually I'm very happy with the paintjob considering it was cheap for around these parts....well cheap-ish...
As for getting back in the car soon...I guess it's not too far off being driveable. The DJ Engineering wing has arrived so that will take some work to figure and fab it to the car. Want to lean it back a bit, but am a bit concerned about too much understeer / lift as it can provide a ton of downforce. We're going to run some ride height sensors to do some data logging of the aero and suspension.
It will be very similar to the wing shown here in a local Beefy R34. I'm not looking at going up to such a large splitter...I hope!!!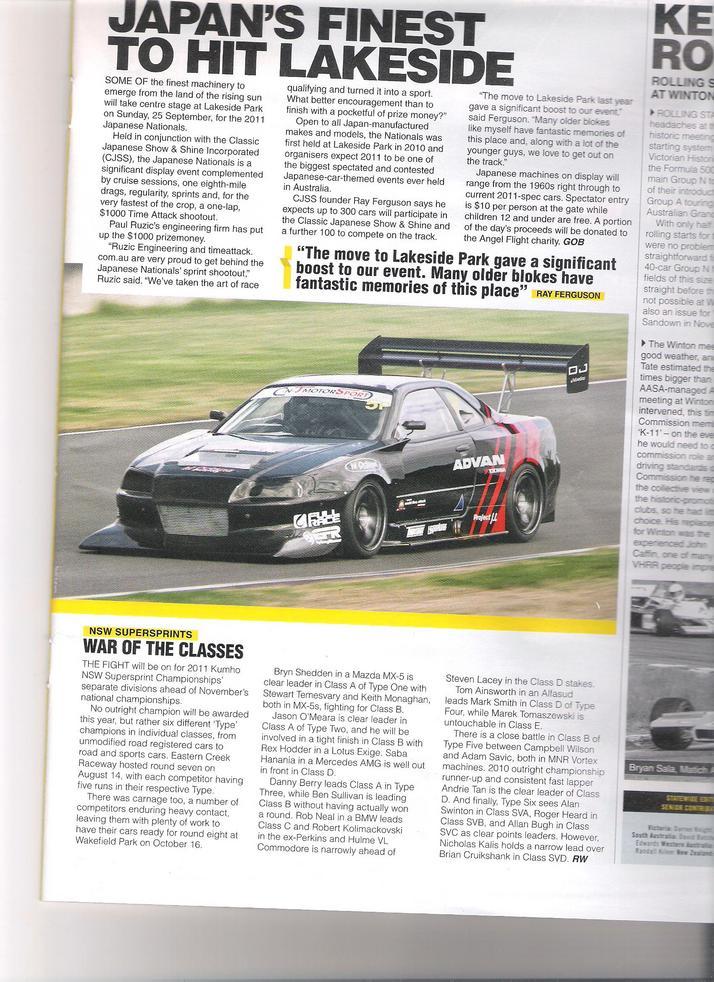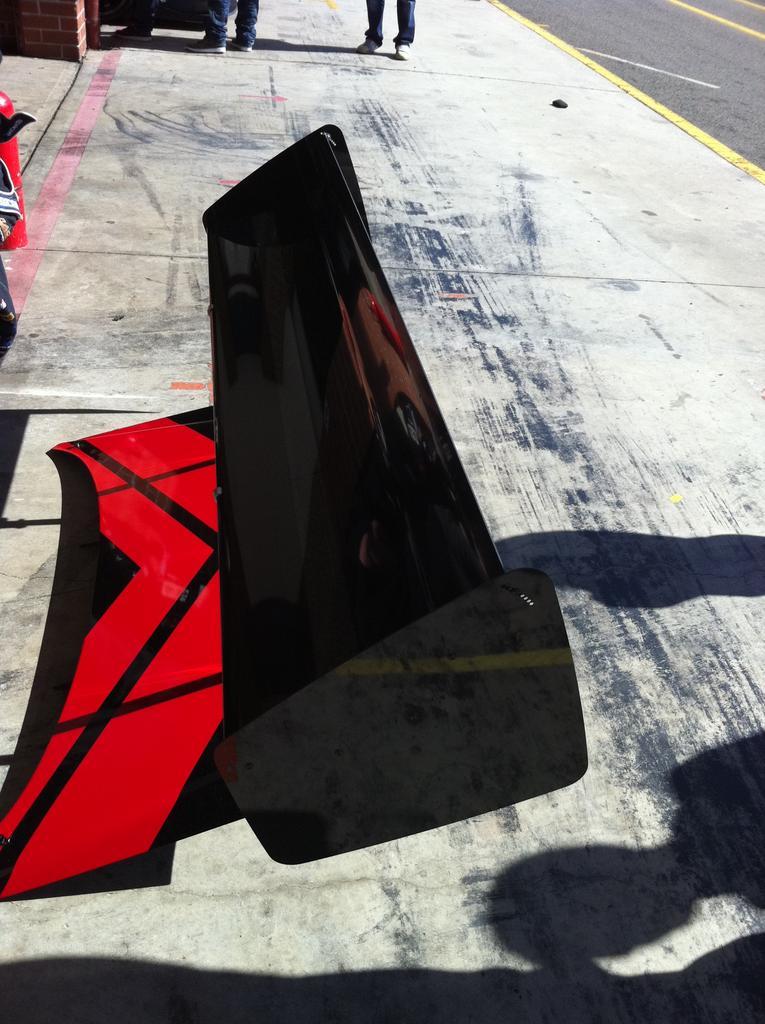 Eventually I want to work on a flat bottom setup with diffuser.
Noted on the wing. We will run ride height sensors and obviously have to play around a bit. If you're interested, I asked questions on Pelican about aero. Got some interesting answers.
http://forums.pelicanparts.com/porsc...-out-aero.html
9/28/11
My fronts are 10.5" but 18". Wouldn't have thought 18" is a problem though as the OD is about the same.
Even with stock fenders you would think that the GT2 flares would be large enough and cover about the same as yours from the front angle? I'm really curious just how much space I have on the inside. Car is in another shop getting the body wired. I'll have to check once we can get it up on the hoist again.
The rears are very tight too. That's with 320/645 slicks on there. I wanted to lower the car a bit but it's not looking possible.
10/15/11
My Broadfoot nose piece turned up last week. They were sincerely apologetic and offered a discount. I didn't take the discount even though it was well earned. I feel that despite the hassles involved, these small operators need to be kept in business. It's all we've got and should be thankful for them....warts and all.
The 944 / US market is a twin edged sword. Due to the population cars are very cheap in the US. So college kids can afford to buy a Porsche. Problem is that they often don't have the money to upkeep it, let alone modify it. So you have very few aftermarket options. The people that do give us choice are almost running charities in some cases. Mostly small profit margins and low turnover. Makes it a very tough field.
It's a shame that there have been some feuds along the way, but we should be very thankful that there are any options at all for us. I certainly would hate to see any supplier shut up shop on our little corner of the automotive world.
10/21/11
Took a couple of Phone pics of the Techart knockoffs. 10"x19" fronts 11" rears. They weigh a ton but for the occasional road use I think they look ok.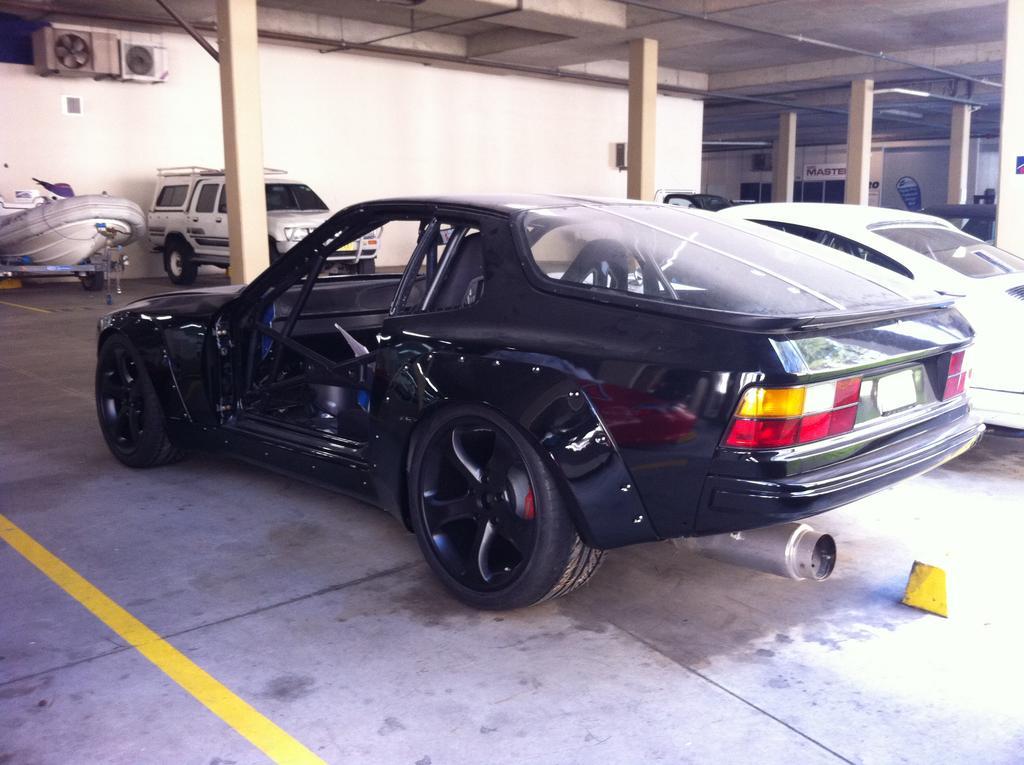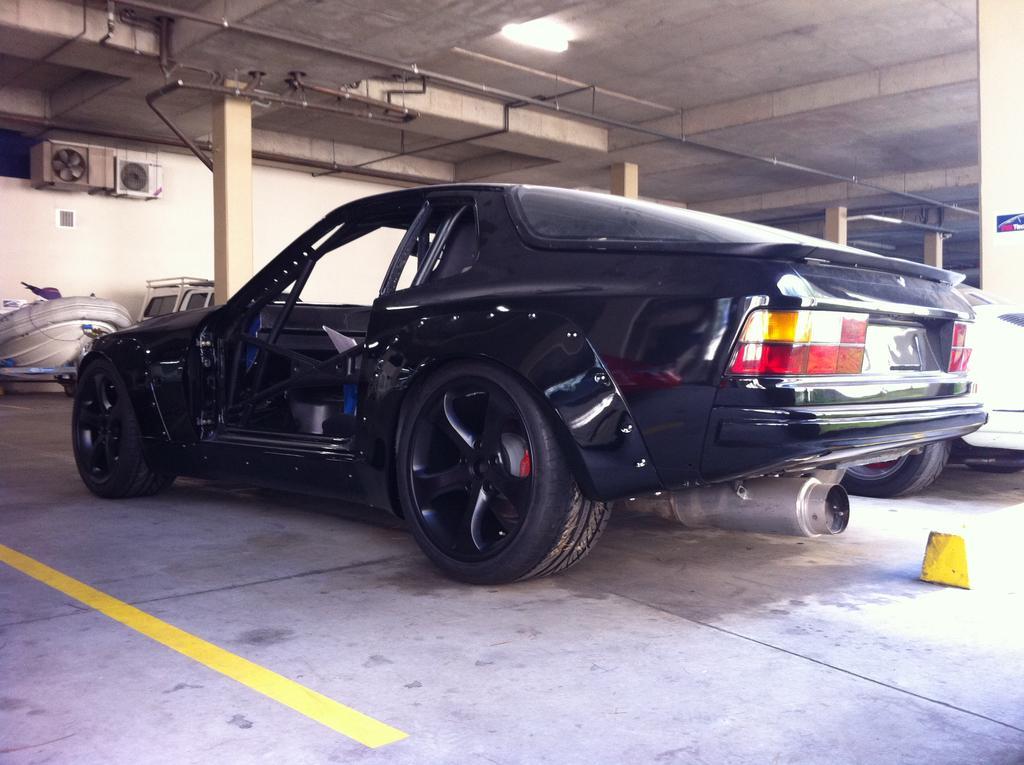 This is a custom SFR exhaust. The fart can thing is really only a nod towards silencing the noise. Would it sooth your sensibilities if we put the chrome tip that came with it on there??
Prefitted to George's car too.
Kinda sounds pretty good to me.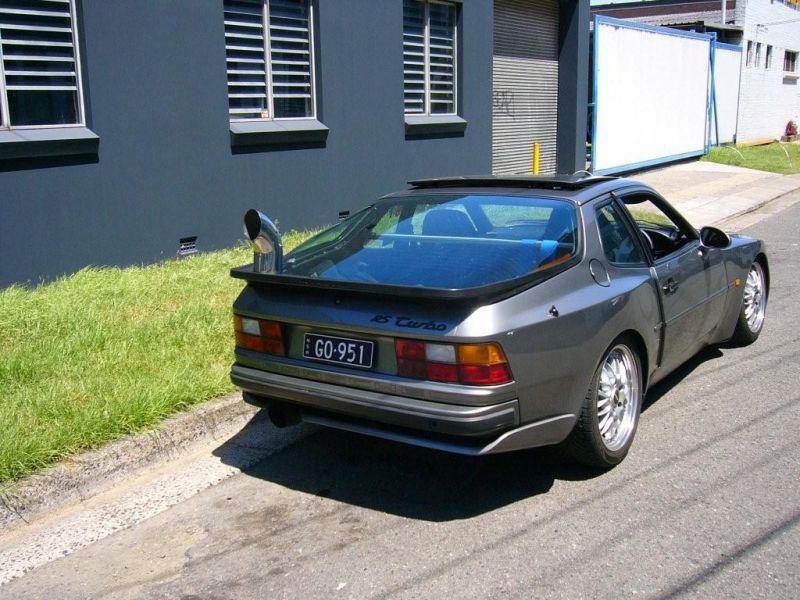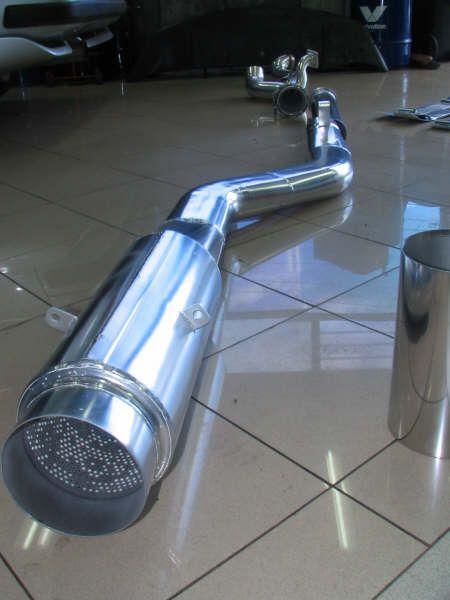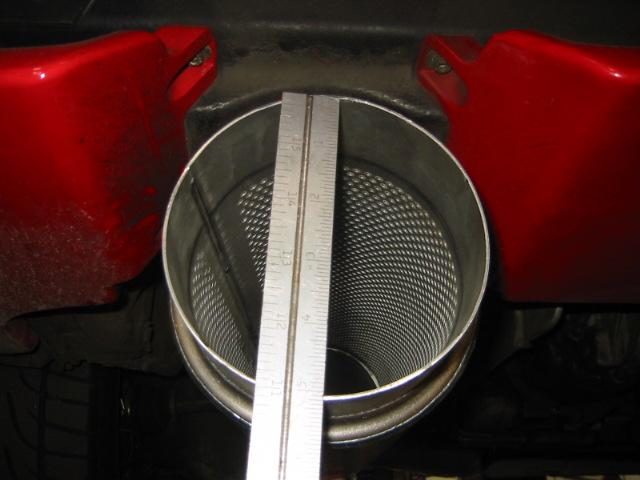 The body bits were actually mounted by the guy that did the cage and other parts. He made the nice control panel in the car which unfortunately we're going to move due to it just not working with a passenger in the car. Shame.
In actual fact I've just seen a pic of the car which makes me think that the rear flares need to be moved forwards a little but I don't think there is a lot of margin to do this as I assume the bolt holes will be revealed. The shadows make it look worse than it actually is. He also made up a small plate to on the rockers as to move the front flares forward for better wheel room. It's all still a bit tight.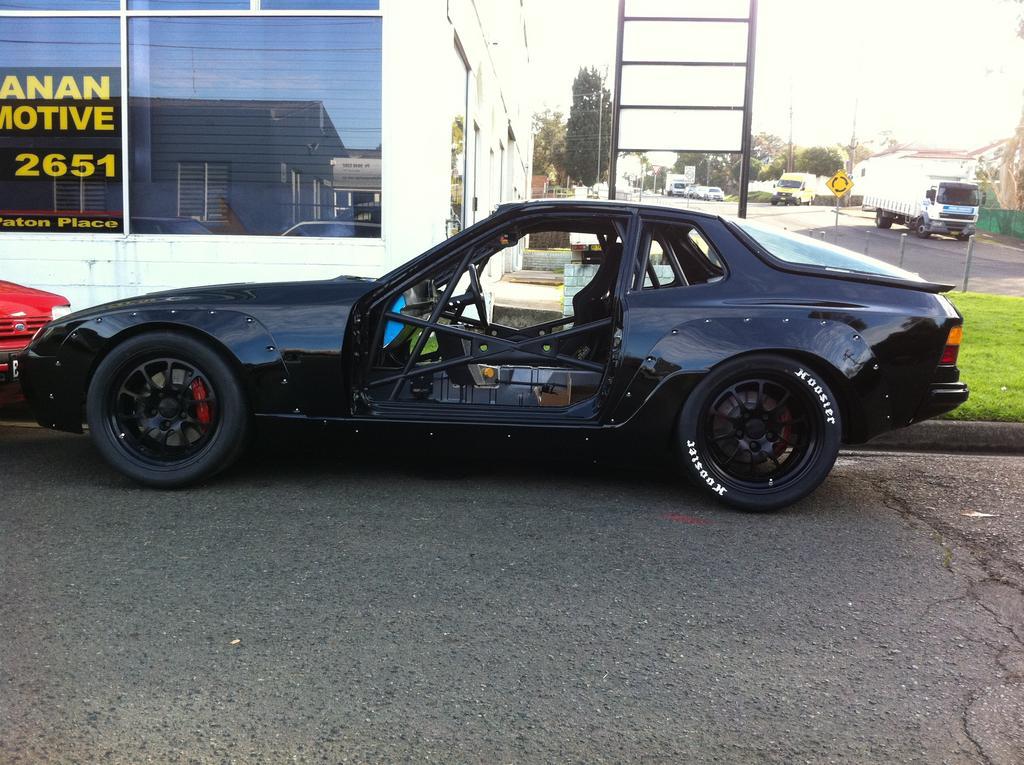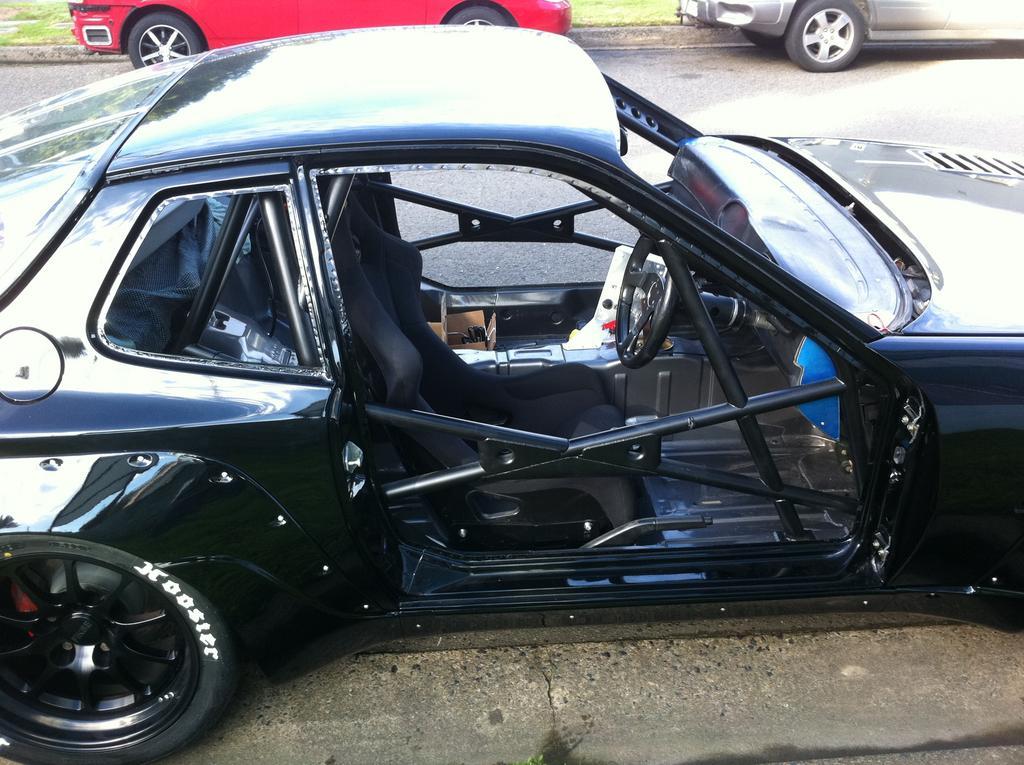 I'm happy with the all black look for now. It'll possibly morph into something else in time.
In truth, it would probably look better with smaller wheels and higher profile slicks like the GTR featured elsewhere.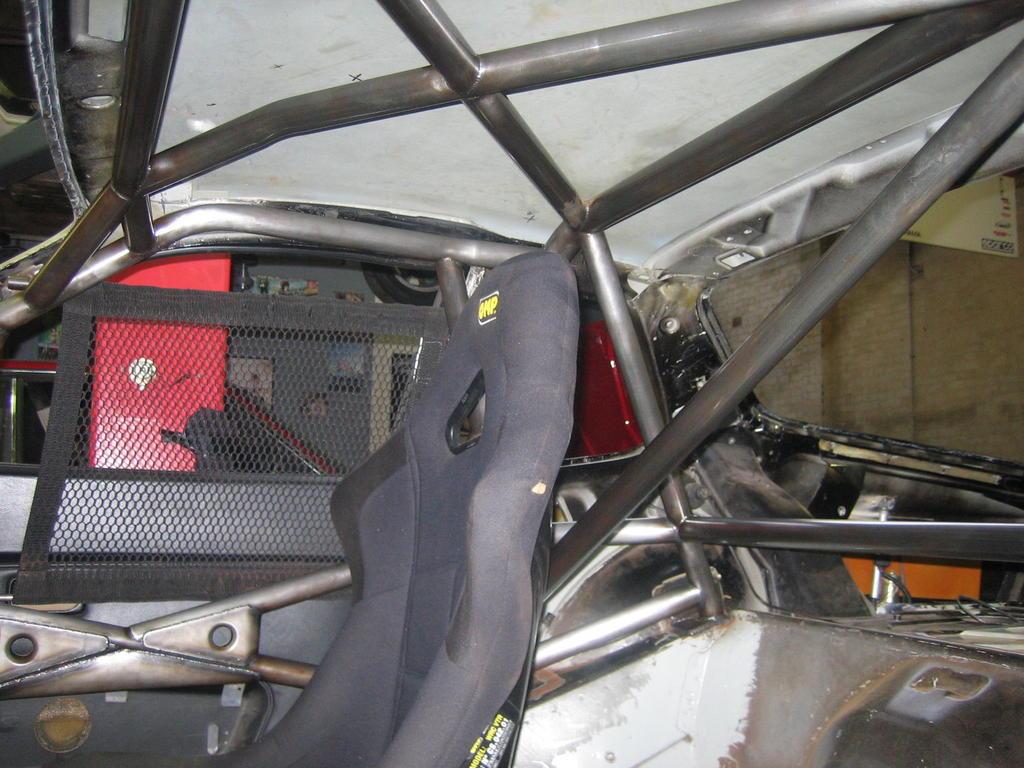 Hope this is what you'll be seeing next season!! It's going to be fun with Rod's new 3L competing as well. Can't wait!!!