Builds
2004 STi Twin Scroll 6262 by Layvon
By stevegolf
You must be logged in to rate content!
5 minute(s) of a 98 minute read
2004 STi Twin Scroll 6262
Compliments of Layvon @ www.nasioc.com
I recently decided to build up an engine for my 2004 STi. It is going to be a long road ahead, but I'm excited none the less.
This build is going to have quite a few one - off parts... made from me, a new exhaust man on the Subaru block, and a very reputable shop trying to make their abilities known in the Subaru Community. This build will be all done out of my pocket, just getting established into the real world, as I graduated school in May 2011. Have nothing better to do when I'm home than tinker in the garage, and since I got my 2004 WRX in 2009, I've wanted to have a quick car.
I don't expect this build to be done done till September of 2012, but It could be running on the new motor by the beginning of May.
Goals for the car are to have a fun car to drive on the weekends, that I can change the map at the track, and go to the 1/4 mile, go to a road course, and maybe autox... I think my turbo is going to prohibit me from being competitive... but it will still be fun to do.
Anyways - here is the mod list for the engine, along with the rest of the stuff that has been done / will be done before I consider this build to be done done.
Short Block
701

EJ257. If I use the donor block I bought - It will have to be bored to 100mm, I don't really like the idea of this, I'm going to be talking to my builder about his confidence in the stock walls at whatever hp my car ends up making. Unless I end up buying a new block, this block will be "decked" and cleaned before assembly begins.
New OEM Shortblock, 704, includes Crank, bearings, and misc gaskets, Nitrated crank
CP SC7420 Pistons 8.2:1 CR 99.5mm Bore
Manley Turbo Tuff Rods.
ARP 2000 Rod Bolts
Coated Piston tops, and possibly

skirts
ARP L19 Head Studs

H11 Studs now.
KillerB Pick up
Koyo

Radiator
Gates

Timing Belt

/ New pulleys /

water pump
Mishimoto Radiator

shroud and slim fans.
Heads - Plan on tuning to 8k, but setting rev limit to 7750 for safety. It will depend on where it quits making power.
2007 STi Heads - bought from Sean18337 here on NASIOC
Cosworth S2 278/274 Cams
Cosworth Springs and Retainers
Element Tuning Big Valve Heads

+1mm intake valves w/ 5 angle valve job
+1mm exhaust valves w/ 2 angle valve job
Air
PTE 6262 Twin Scroll .84, Vband Down Pipe
fobia WRX Headers / Down Pipe.
APS FMIC - Likely going to ceramic coat the FMIC piping.
Reverse IM
Grimmspeed TGV deletes
Fuel - E85
FIC2200cc injectors. Overkill - yes.
FIC fuel rails.
Fuel lab FPR
Custom Surge tank setup (pictures below)

W255

in tank w/ 2 Bosch 044 feeding fuel rails w/

inline fuel filter.
Suspension & Driveline
Stock STi Struts getting valved by feal / Maybe getting Feal coil overs.
Epic Engineering Springs
Whiteline Front 27mm Swaybar
Whiteline Rear 24mm Swaybar
Kartboy endlinks for all 4 corners.
Torque Solutions Motor Mounts
Torque Solutions Pitch stop
Torque Solutions Trans Mount
TiC Diff Mount Bushings
TiC Shift Linkage Bushings
TiC Pivot Bushings
Kartboy Front / Rear Shifter bushing
Kartboy Short Throw
Kartboy Shift Knob
ACT Sprung 6 Puck
ACT Streetlite

Flywheel
5*114 Hub Swap completed
2007 STi Transmission
2006 STi R180
DSS

Aluminum Driveshaft
Electronics
Junior Tuned
Vipec ECU
AEM Wideband
AEM Oil Pressure
AEM Boost
Constant Motion Performance ECBS
GM IAT
Omni Power 4 bar
Relocated battery
Brakes[*]Goodrich SS Lines[*]Grimmspeed Master Cylinder Brace
Cooling[*] Koyo Radiator[*] Samco Hoses[*] 11 Row Oil Cooler. Unsure if I'll use this at first start up.
Please please advise if you see something that isn't going to work / you have suggestions as to what could be done differently. I already know who i'm going to be purchasing all of my goods from, but if you see a part change out that could be better for my build please let me know.
11/12/2011


Heads:
Whole Album
http://imageshack.us/g/207/photo1gof.jpg/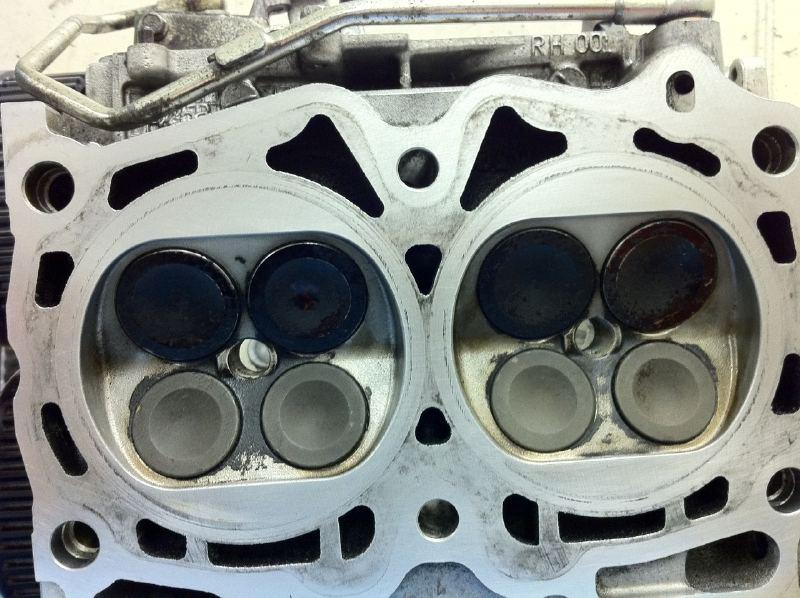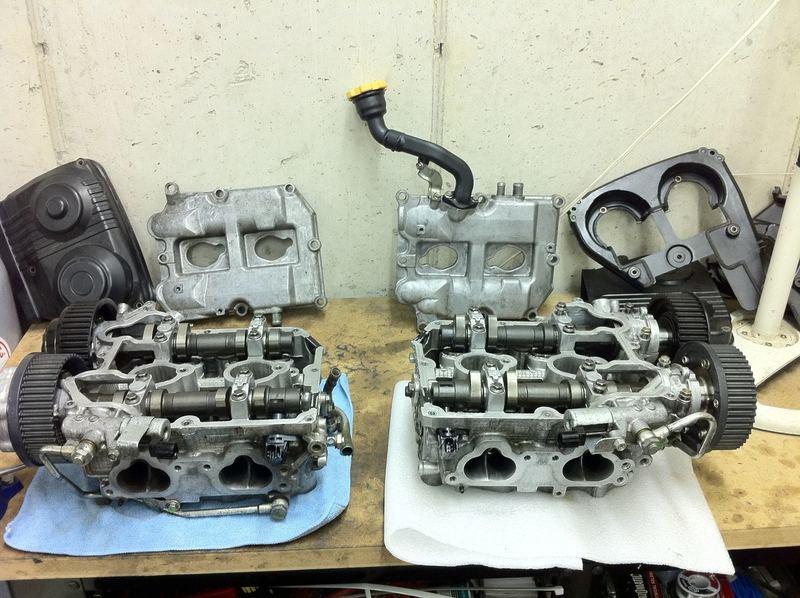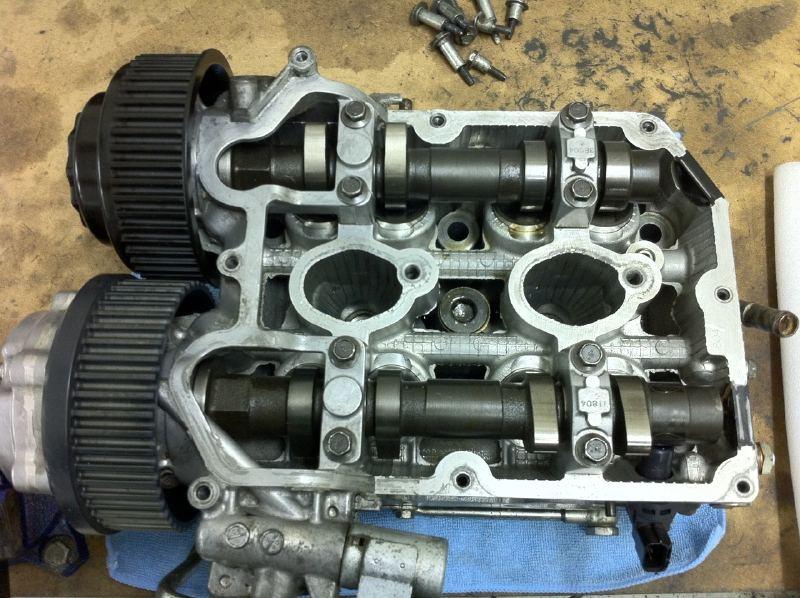 Fuel System
whole album http://imageshack.us/g/254/photo1ou.jpg/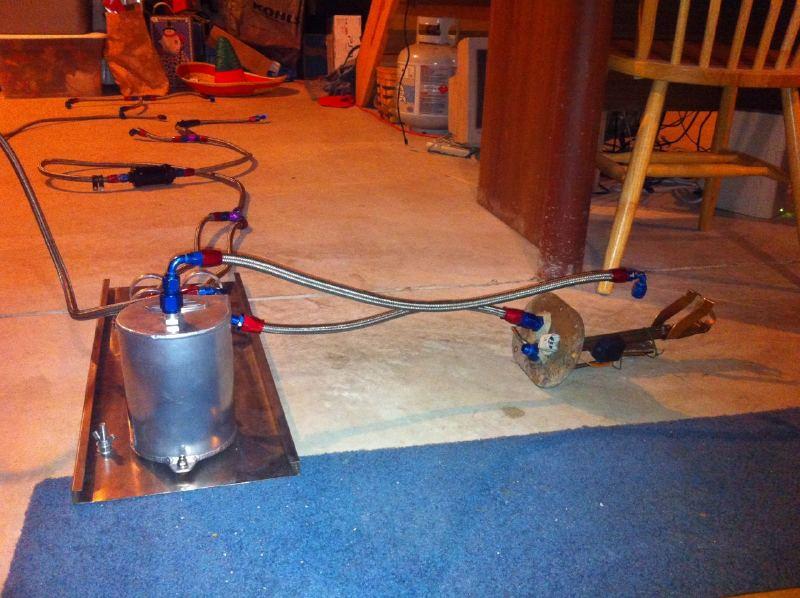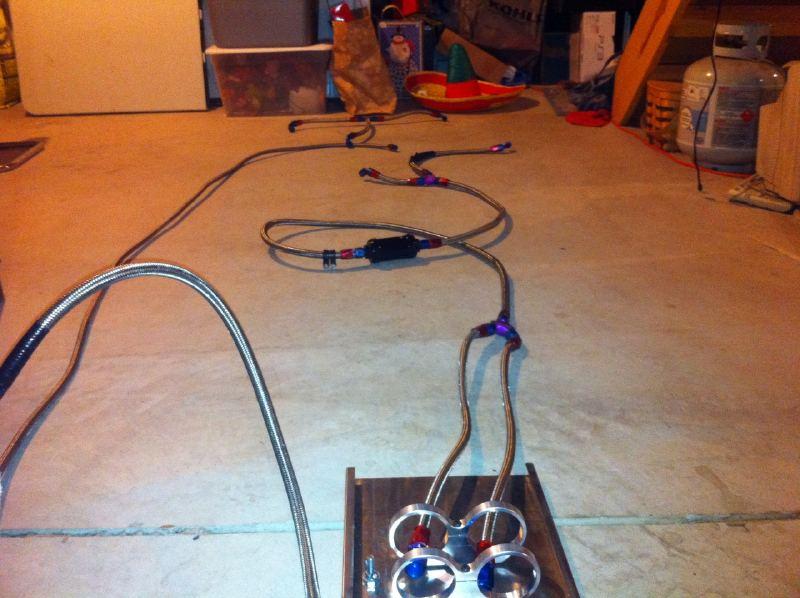 Tank close up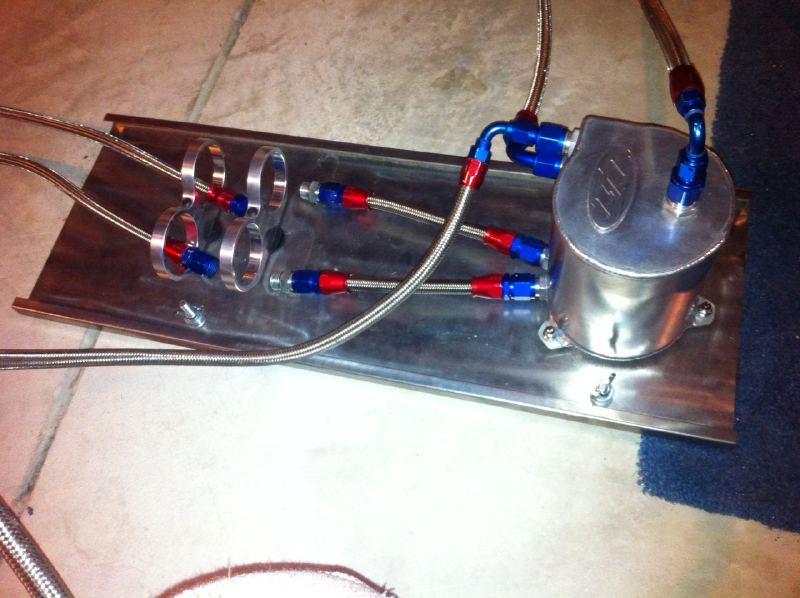 Mount using the washers to provide pressure to carpet to hold stable. I will probably rubber coat / plasti dip the head of the bolt to that it doesn't rattle / scratch stuff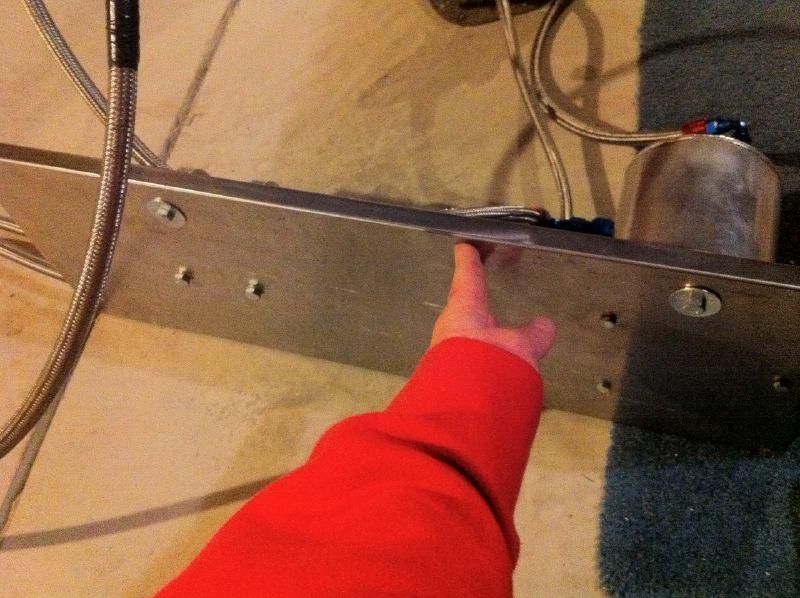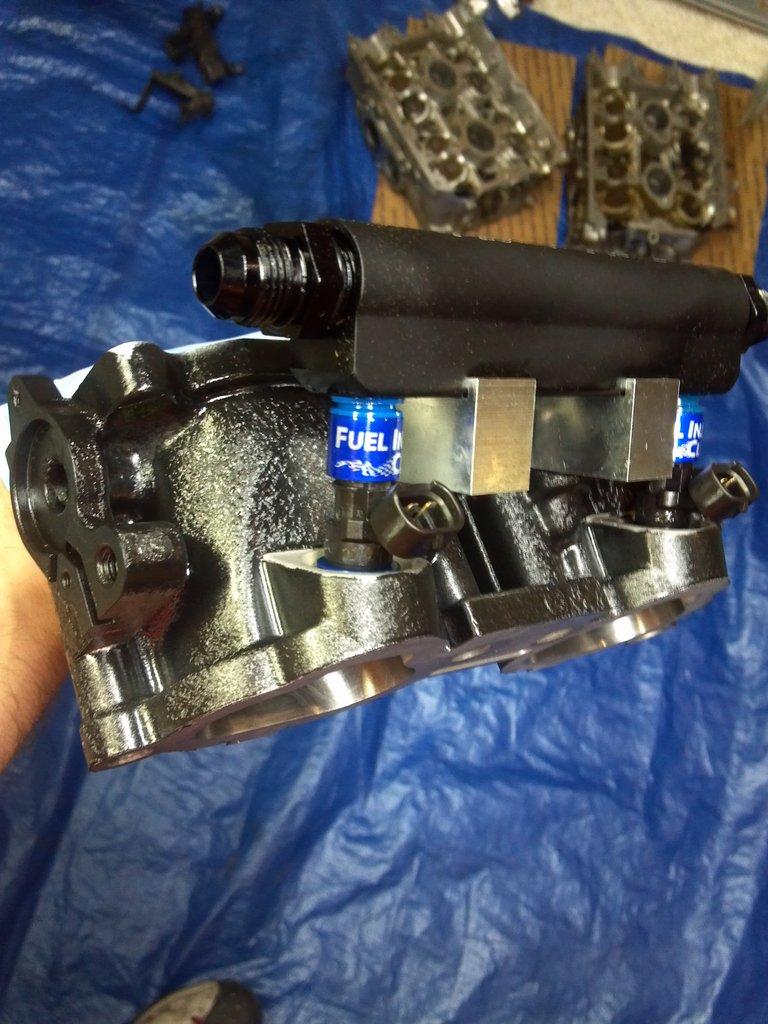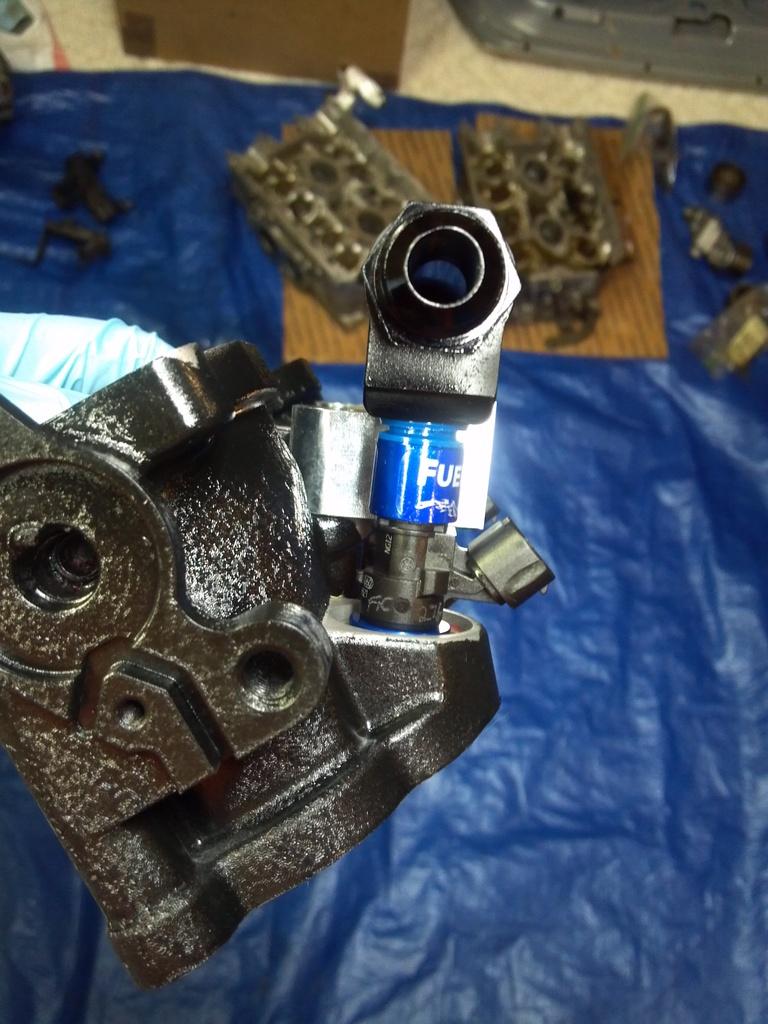 1/21/2012
Well ECU dilemma has been decided.
Going w/ an AEM EMS v2. Even though the cobb SD is appealing, I don't think I can sleep easy going that route.
Junior is going to tune it for me and get me all situated once it comes time to get everything hooked up and go.
Ran through the numbers today, still have about 10,000 dollars to finish this build so it's going to be a while yet.
Layvon