Builds
Ruby Red Revival by Ninjapants
By stevegolf
You must be logged in to rate content!
10 minute(s) of a 27 minute read
Ruby Red Revival
Compliments of Ninjapants @ www.vwvortex.com
04-15-2010
To Begin: This is to be a master thread for the work on my gf's 65 bug. Don't expect brilliant pictures of the build, I only have a point and shoot. As time passes I will continue to use this thread for updates, photo shoots, projects, mods, etc. As this is intended to be a master thread, please be civil, try to keep it on topic, and generally just don't get my thread locked please. Also don't be surprised if I forget to put **** in I'm sure I'll need to add stuff as we go.
History: It's March of 09 and my gf decides her car is a P.O.S. She was driving an early 2000+ Ford Taurus that required new calipers and brake pads every 8 months. After spending $800+ a year to fix, she finally decided the car was just not worth the work. It's at this point she tells me her dream car is an air-cooled beetle. Since I had a reliable mk4 jetta I told her she should think about selling her car and picking up a decent bug as a college graduation present to herself.
Sure enough after searching craigslist we found the perfect bug for her close by in northern New York. It had just been sent in for a rebuilt motor as the original 1300 seized. While it was getting work done pan had been cleaned and weatherproofed on the underside. There were only a few pin spot marks of rust on the edges of the fenders and a few small paint chips in the water channels above the doors. Aside from the 12v conversion, the CD player in the glove box, and the newly rebuilt 1600 (which at the time had 23 miles on it) the car was all original. She fell in love. That week she sold her car for $3k and picked up the bug for $4.5k. She had never driven stick before save the couple of times she had practiced in a parking lot with my car. Her first test was driving her new bug home. She was a natural and the smile on her face while driving that car still overwhelms me with happiness.
Unfortunately though, the gremlins came out quick. Within 2 days we were already having problems. One night it randomly wouldn't start and the battery was shot. But then the next morning without a jump or anything it started right up. Then there would be times that while shifting in to second the car would bog down like it was in 4th though the stick was definitely in 2nd (I attribute this to sloppy linkage and shift bushing). Then the car starts having issues with the carb fuel shutoff solenoid not working so it dripped fuel in to the motor continuously. After a night of sitting I'd have to crank the engine by hand to dump the fuel from the cylinders and let it drain out the exhaust, not good or fun. At this point we move here to the woods of the Adirondacks and on our drive the car overheated a bit and after letting her cool we try and start it back up. and the starter is dead. Needless to say at this point she's ready to sell the car.
I was brand new to air-cooled vws as I come from water-cooled land, and though I'm very comfortable with the newer cars and will do anything from wiring to engine work the nature of this carbureted beast was new territory. Luckily we moved into a building where our landlord was in love with old vws. There was a mid 70s in the back yard, a 67 and a 71 in the garage below the building and a bus in the barn. With the help of our new neighbor and his John Muir idiot manual we got it all sorted out. Now I keep the Muir manual in the car because of what an amazing reference it is. We sorted out the starter and the bug ran well for a while before it kept dying on us. Then comes the new battery.
At this point I learned about regular preventative maintenance on the air-cooled motors. Between some rough running and days it just refused to start I had to do some research. The rebuilt engine had maybe 1000 miles on it at this point and the fact it was having issues was bugging me. So I read and read and read that Muir manual and found myself heading towards a valve adjustment, and timing adjustment. Did my first valve job and adjusted the timing and watched the little thing start right up and run like a champ.
It's now midsummer 09 and the little bug is doing well, carting us all through the Adirondacks with the windows down enjoying this beautiful classic in the midst of gorgeous roads and surroundings. Unfortunately that wasn't to last. In early august, 100 yards out of the driveway the master cylinder failed on a quick stop and luckily at only 10mph we slammed in to the back of a larger suv. Luckily all 4 of us walked away with nothing more than some bruises, and for my gf, a broken heart. The suv had a large tow hitch the punched through the hood. The spare slammed in to the gas tank and took a good amount of the accident but there was still a good amount of damage. We pushed the poor bug back home and there she sat for a bit.
We found a local shop to do the repairs on the front apron and dropped almost $2k at Mid America Motorworks. (I won't go in to details but I had more issues with them than I have ever had with any company. I will NEVER order from them again unless I absolutely have to as their customer service and business practices were appalling.) I pulled off the damaged fender and removed the battered headlight, and we towed the battered bug to the shop. They did a great job for a great price and pulled the front end out like new. We also had him shave the antenna mount, as we never used the broken antenna anyways. With new body panels and a pulled front end we brought the bug home and she has sat in this condition since then due to the early onset of winter here in ADKs. We wrapped her up and put her over by the barn to wait for spring when I could get everything put back together and the weather would cooperate.
So here we are, spring has arrived, and the little bug is getting a rebuild so my gf can have her pride and joy back.
There should be regular updates as over the next week or two the car needs to be drivable so we can get it off to paint. Thanks for looking
Current Specs:
Engine/Trans:
Stock rebuilt 1600 dp from a 71 super
Converted to 12v
Exterior:
Original Ruby Red Paint, now with some red primer
Interior:
CD Player in glove box
The Plans:
Replace hood latch and mechanisms
Replace Brake Master Cylinder and bleed brakes
Rebuild headlights and install w/ new eyebrows
Regular maintenance valves, oil, timing
Black fender beading all around to replace the junk white ones
Full respray (thinking black or white with a red flake)
Following are some pictures from the progress of the car so far.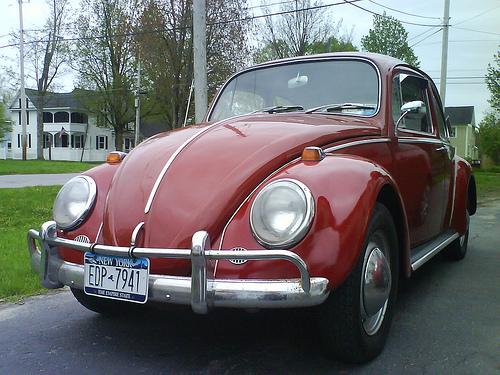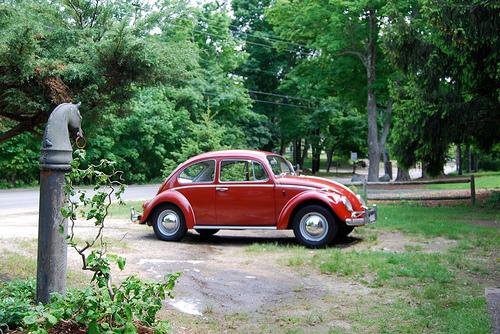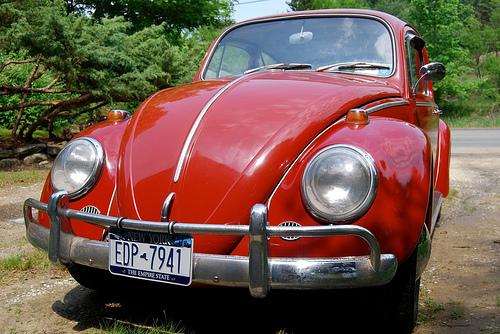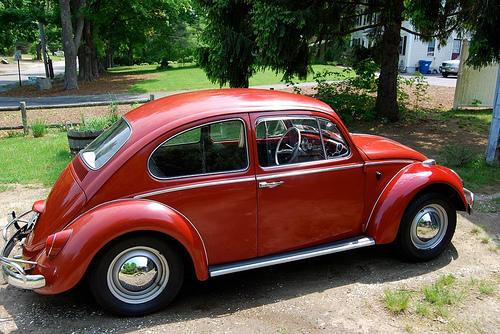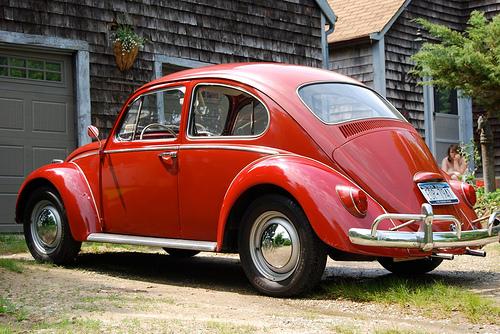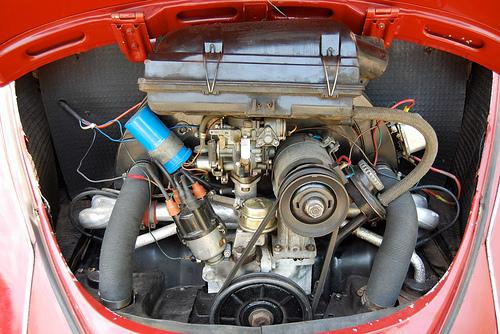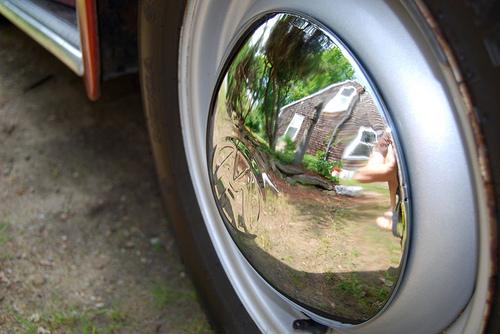 Some pics of the carnage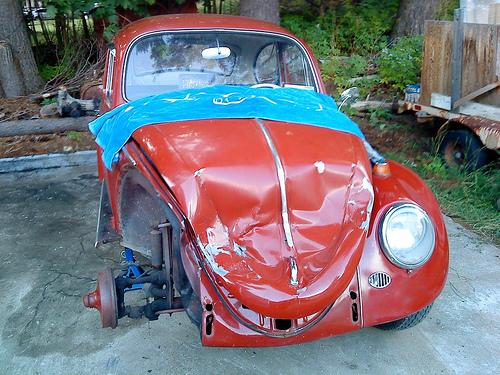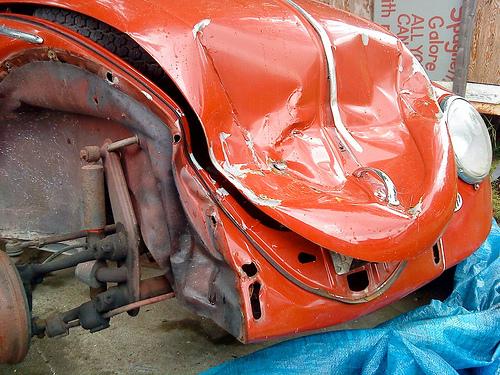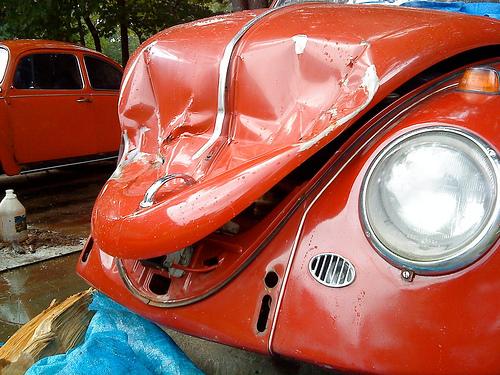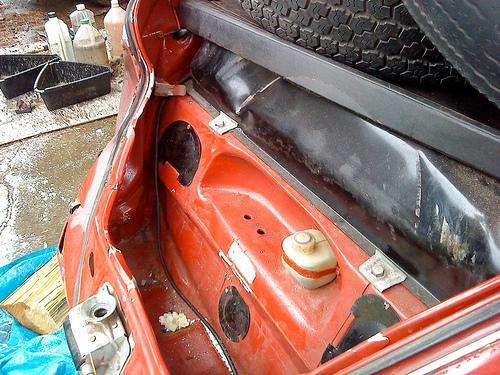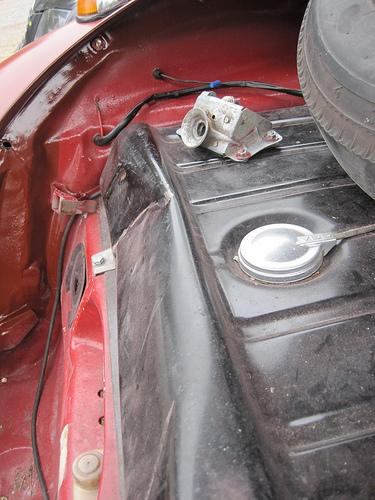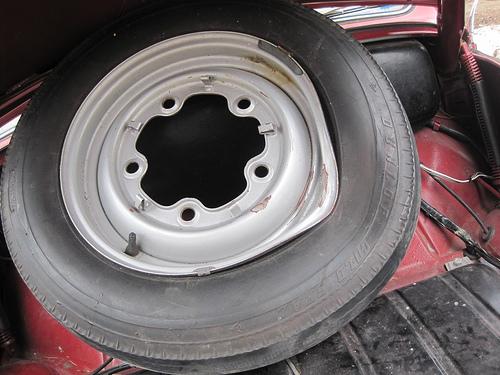 Where she sat for the winter, full of new goodies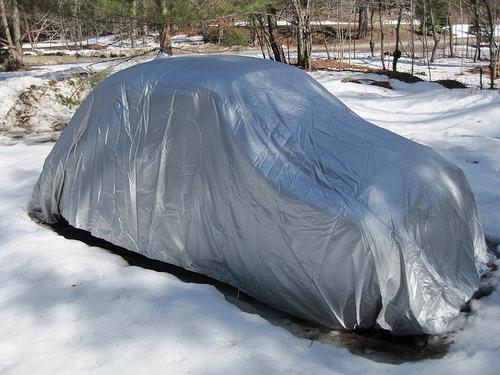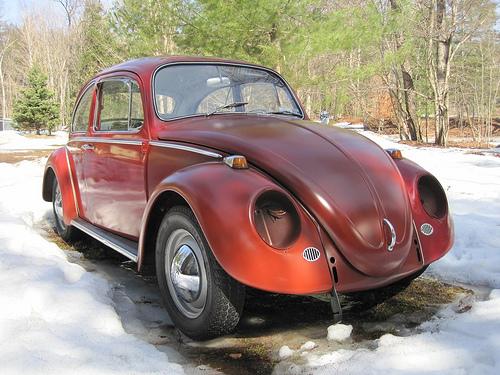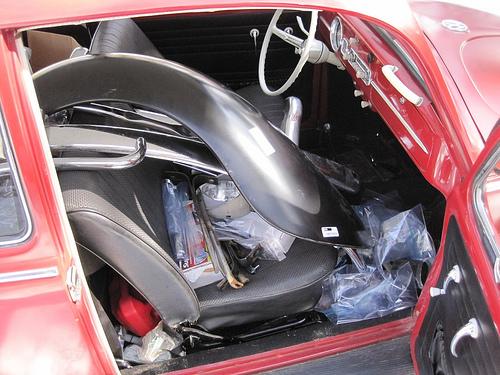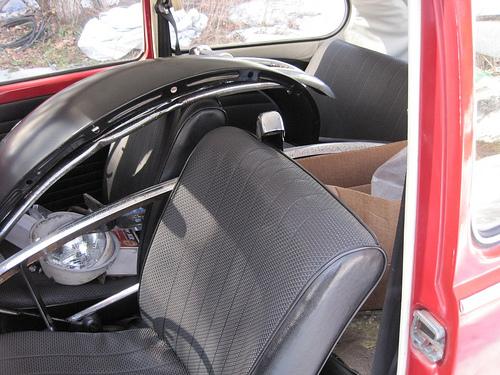 That replacement fender you see goes here on the driver's rear. Some of the last rust that needs to be taken care of.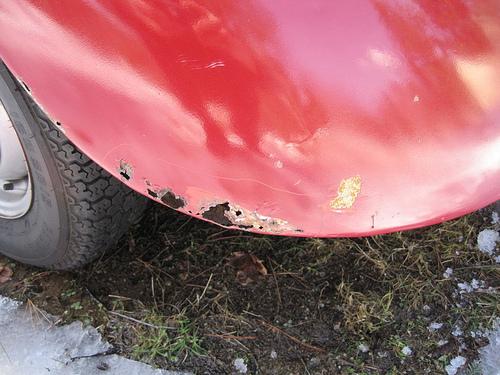 And some pictures of the current state of affairs before starting work (they are from the fall before storage but nothing has changed)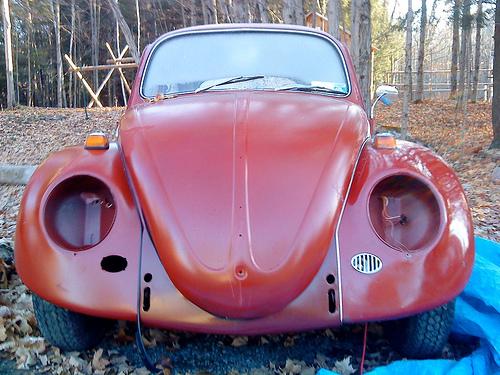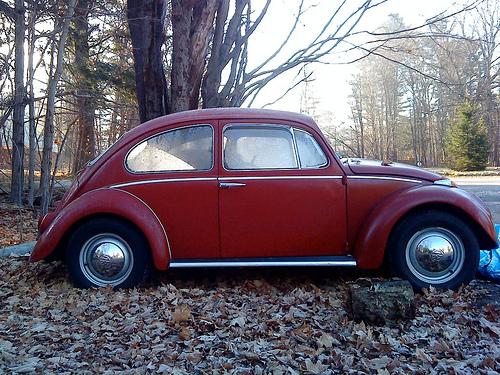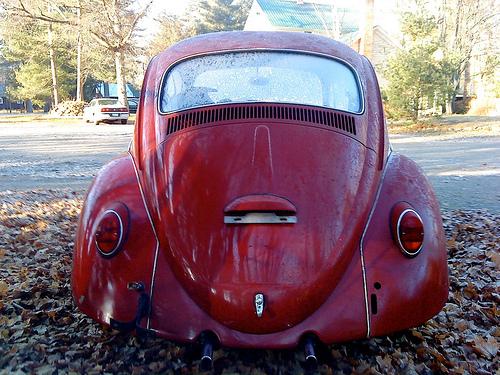 She loves the red too and we've though about keeping the color. It's still undecided but you know how I feel about black and well a nice white always gets me too. We are thinking those colors as to prevent the need to respray the interior. I need to get better pics but the interior is spotless and we'd like to keep that original ruby red on the interior so as to save some of the original paint.
As far as the rust goes we got lucky, the pan had been taken care of on the lift when they redid the motor before we purchased it and the only spots were at the bottoms of the fenders and a few pin pricks in the water channels above the door that will be done when we respray. It's amazing that a 45 year old car didn't rust to **** in northern New York but someone took good care of it over the years. Seeing the pics of it damaged make me want to cry remembering that day, but the pics of it in it's original glory make me just want to bust ass to get this thing running again for Meg. She misses driving this car so much.