Builds
Project: Cheerio..Yum Yum by joezeeuw
By stevegolf
You must be logged in to rate content!
3 minute(s) of a 35 minute read
Project: Cheerio..Yum Yum
Compliments of joezeeuw @ michiganvw.org
The story goes like this:
About a year and half or so ago I owned a little mk3 gti and I was happy. Then I just happened to stuble across a car in the VWVortex classifieds. At that moment everything changed. Suddenly, I could care less about my mk3 and all I could think about was this car. Within days I already had a pretty good idea what direction I would take it and was close to finalizing a plan to purchase the car and have it shipped from southern California.
This is that car: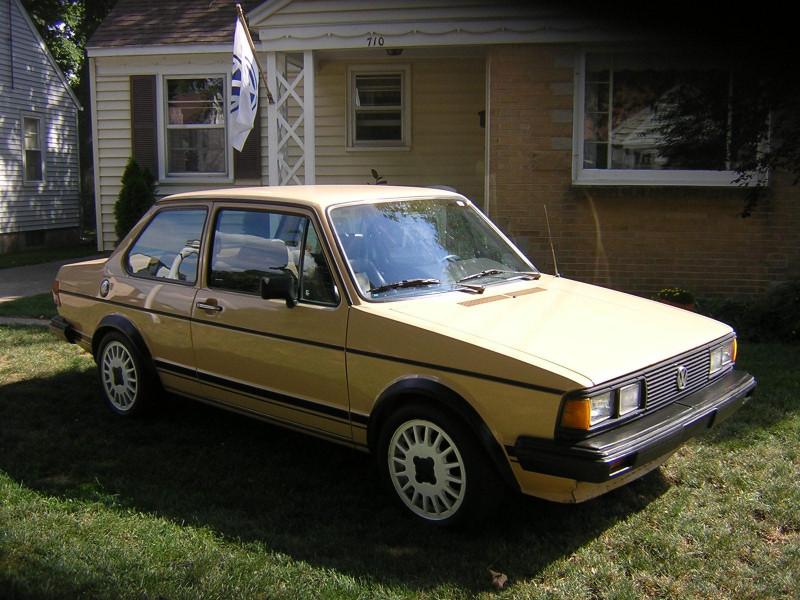 I made some cosmetic modifications and today it looks something like this: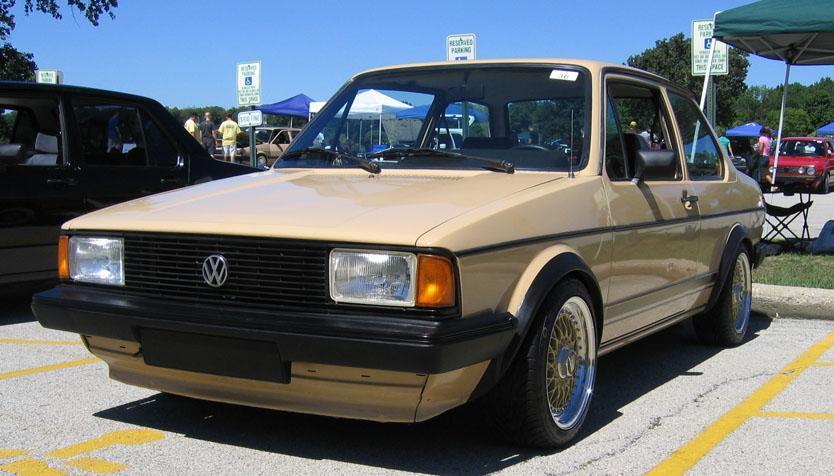 However, the engine has remained untouched: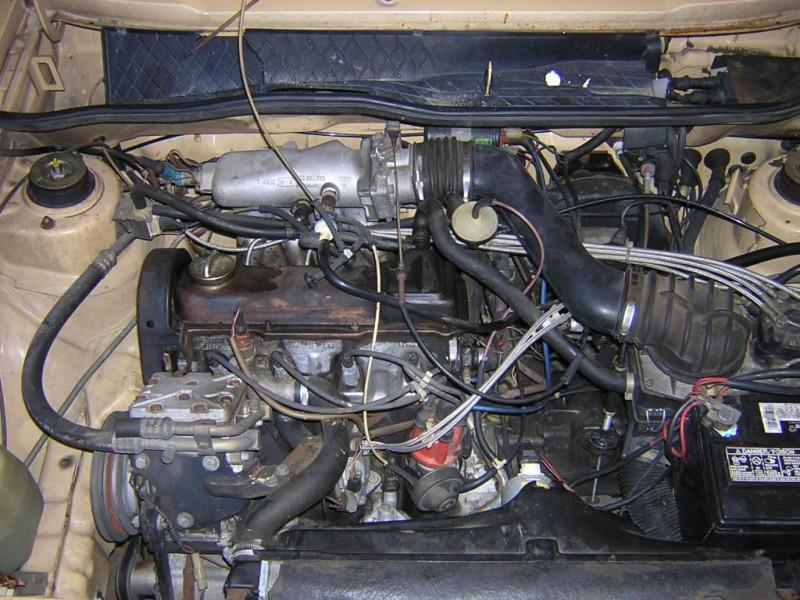 From the very start I knew I wanted some sort of carb setup. Soon I had decided on a 16v and began tracking down the necissary parts. Original plans spiraled out of control until I had planned such an all out race motor that it would be undriveable and most of all compltely out of my price range. I eventually decided I wanted something that was fun, yet reliable and would be useable both on the track and cruising around town. I had a 1.8L 16v that was in need of a rebuild. I priced what it would cost to get it up to snuff with some slight performance tweaking. Then I discovered that for less than the parts alone would cost I could have a brand new, factory relliable, 2.0L ABF 16v long block. For those who don't know the ABF is the last evolution of the 16v installed in european mk3's. There are many minor differences from the US spec PL and 9A but basically it's a taller ABA style block with a better flowing head. They were factory rated at 150 bhp. Apparently VW actually tweaked the power down to 150 via the ECU so as to not compete with the VR6. People have been able to get 170+hp out of them with some simple, bolt on modifiactions.
To me, the choice was simple. 170 factory reliable horsepower already assembled? Hell yes.
So I ordered one up and it arrived today.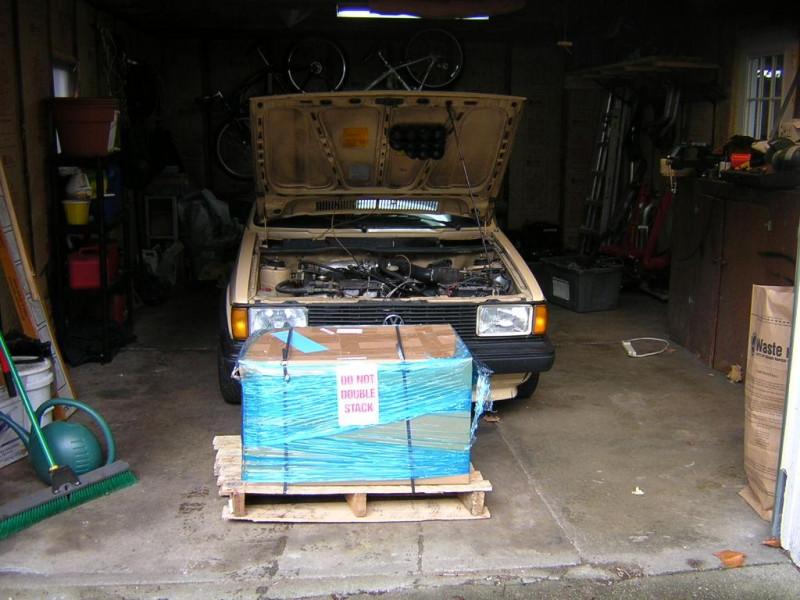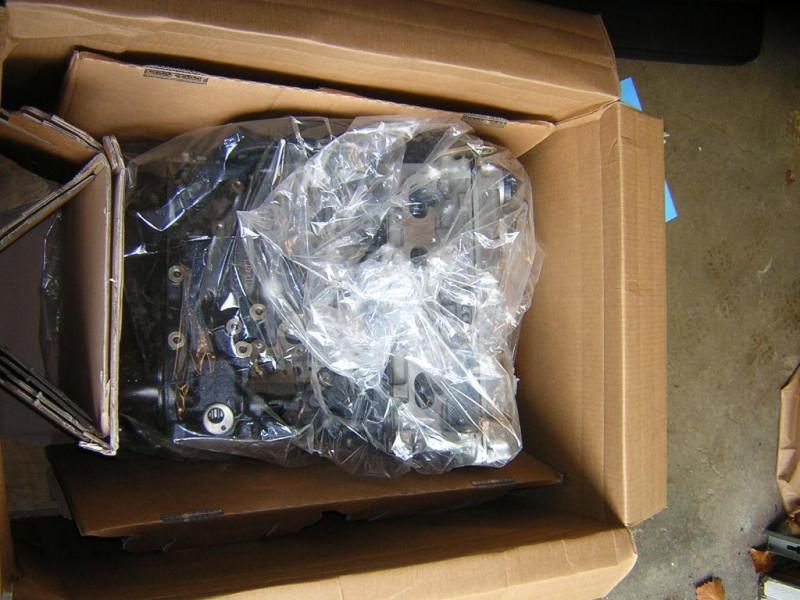 I threw it on the stand and bolted up some of my goodies I've been collecting.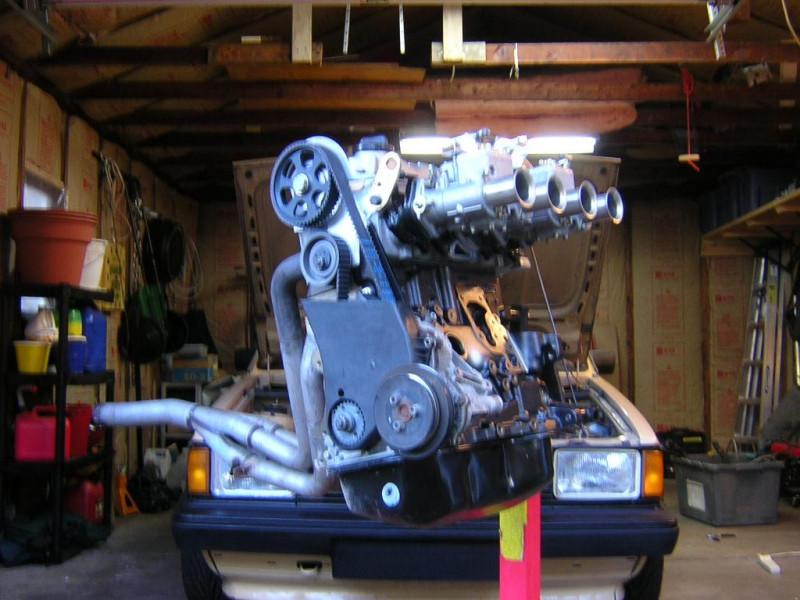 Looking at the above pic it may appear as though it's ready to slap in, but getting it all to work together is going to take quite a bit of time and fabrication. But I hope to have it all together and tuned by the track day in the spring.