Builds
Project Rally Cross Beetle: 5 days till race!! by bdub
By bdub
You must be logged in to rate content!
5 minute(s) of a 5 minute read
Project Rally Cross Beetle: 5 days till race!!
By: Bdub
So my buddy runs a shop in Milwaukee, and hes become my go to guy for advise on VW's. Anyway I been lingering round his shop for a couple months and one day he had a surprise for me. I told him that there was a rally cross going on up in Chilton, WI and he happened to have a car available for us to race. It consisted of a 2001 Beetle 1.8t. However it was missing engine, trans, and most of everything from the windshield forward. I was down for the challenge even though the race was on sunday, today was Wednesday, and we had no proper engine to put into it. Jake found an AEB block and AWP Head I believe the block was from a Passat and the head who knows where. Anyway on Wednesday the other guys got the head attached to the block and I came in later and put on the rest. Heres where we were at by the end of Wednesday.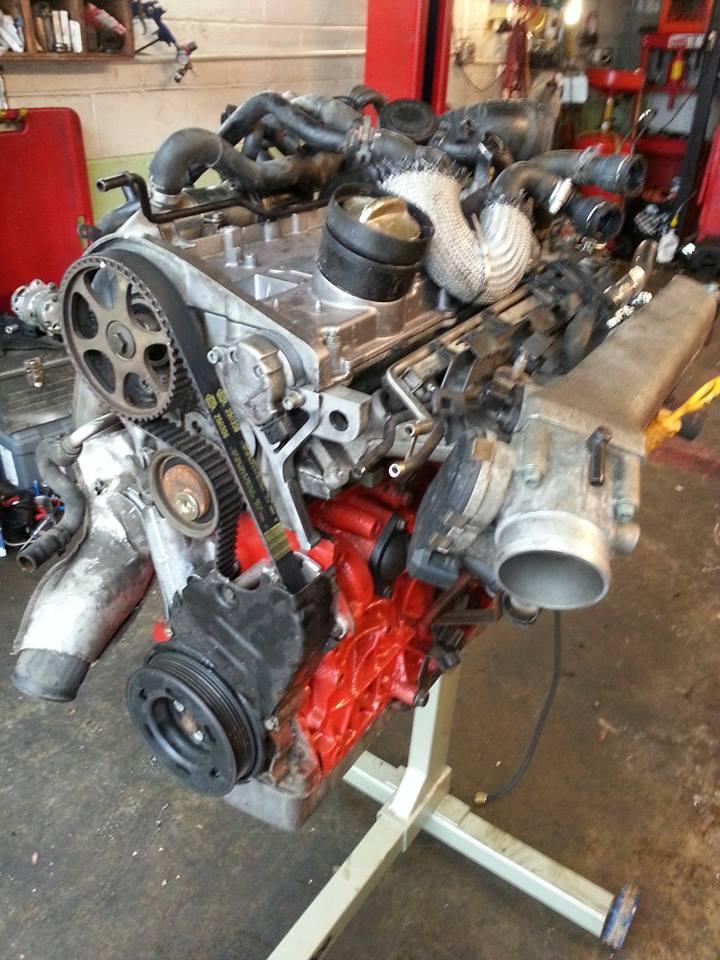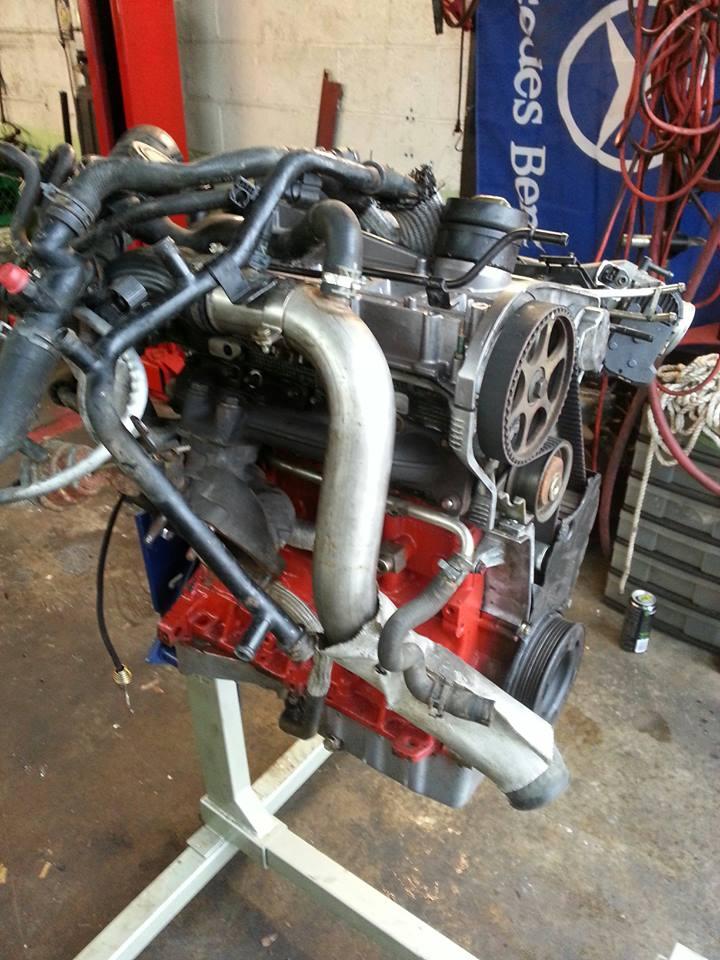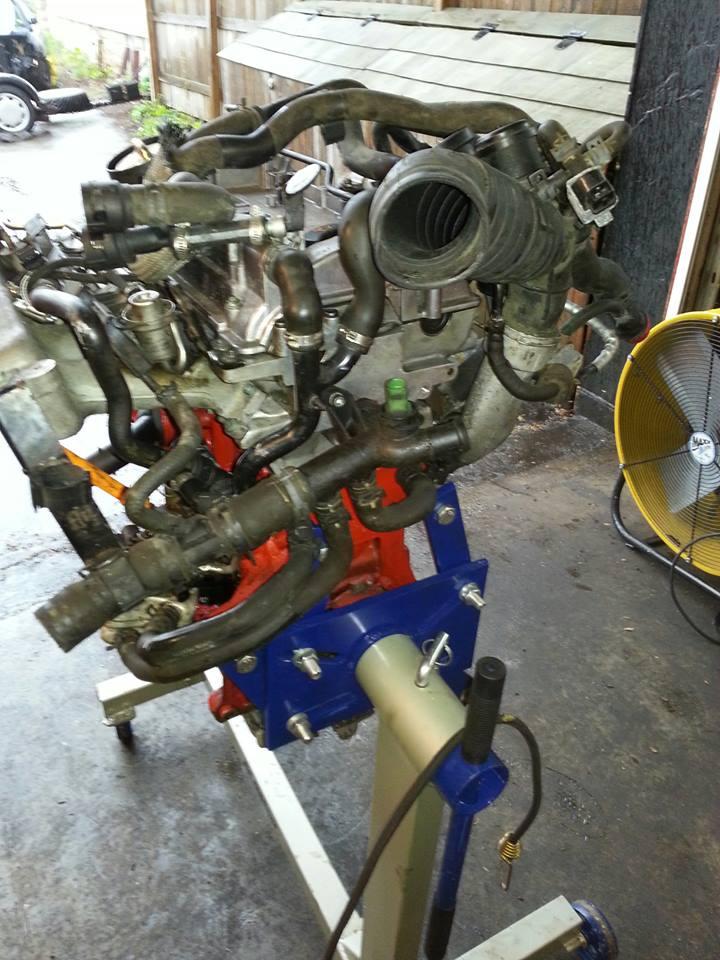 (note: I don't remember exactly what Jake told me but I believe the cam pulley was not aligned with the crank, prob because we had a 99 block attached to a 2001+ head, I believe he changed out the pulley...


So today is Thursday, the other guys get the engine attached to the trans and starts organizing all the wiring and plumbing in the engine bay. By the time I came in the afternoon they had just dropped the engine and trans in. I helped connect the wiring harness and necessary lines to do a dry start up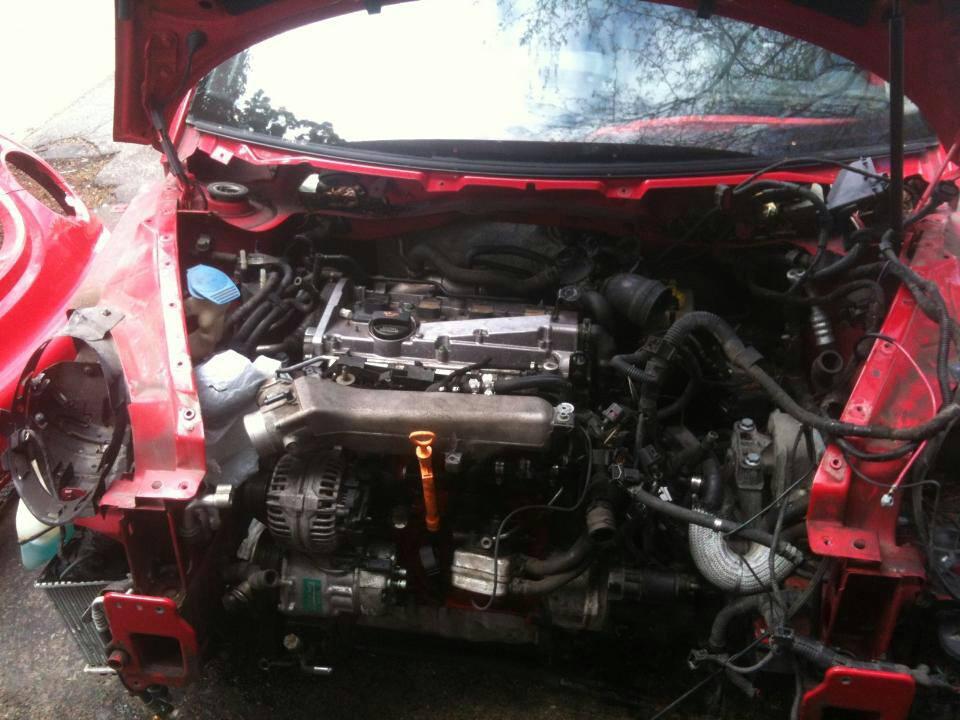 Will she start.....

Vid:
https://www.facebook.com/nick.balistreri.5/videos/vb.1599450616/2090611557096/?type=2&video_source=user_video_tab


Now its Friday. After seeing it actually was running, and seemed alright we started buttoning up the front: radiator, boost lines, etc... We installed a boost gauge, and noticed we had some problems.
First there was a leak in the vacuum system. We had to jerry rig some sort of vacuum system If I remember correctly because it was a 99 block with a 01 head. As well there was a slight boost leak, and the MAF sensor was causing the car to run in limp mode.

We solved some of the problems and realized we had more issues.. The oil pan was cracked, the dogbone mount was cracked as well, car would only push maybe 5 psi.
We needed an dp so there was another beetle on the lot and we grabbed the downpipe out of it.

So now its Saturday and today is our test day. Me and Jake hooked up his computer and did some test runs. We were running it straight out the turbo lol

Vid:
https://www.facebook.com/nick.balistreri.5/videos/vb.1599450616/2090997766751/?type=2&video_source=user_video_tab


Overall the car was running well, we had some slight issues during test runs. The backroad was crumbly to say the least and there was a patch of tracks that I would hit to try to get something to break while at least we were at the shop. Well it worked and car would spazz with the boost.

It was the end of the day, tomorrow is race day...

So we met up in Chilton, and got ready for the Rally cross. We realized up there while working on the car in the middle of a field, which was the parking lot... that we needed more strength on the cracked dogbone, and luckily Jake had some toe straps.

We got briefed for the race and I was the first one out.

The first three runs were terrible.. Boost was spazzing, car was shutting off, overall horrible I spent most of the turns fighting the loss of power steering while trying to restart the car at the same time.

So we decided to unplug the MAF and she started running perfectly, in the end we joked that we could resell it and say it was stock.

Here was the Timesheet: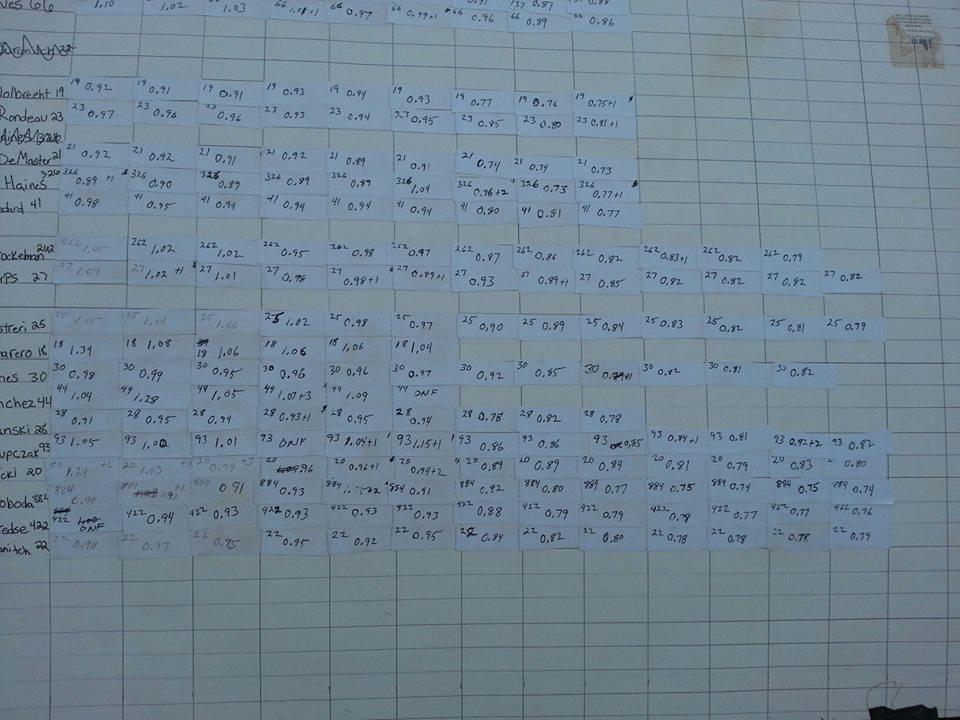 #25
Here was my times in order, kinda hard to see in pic
1.05, 1.14, 1.02, 0.98, 0.97, 0.90, 0.89, 0.84, 0.83, 0.82, 0.81, 0.79

My last lap:

Vid:
https://www.facebook.com/nick.balistreri.5/videos/vb.1599450616/2094526654971/?type=2&video_source=user_video_tab