Builds
1968 Volvo project Pure Volvocity by 68EFIvert
By 68EFIvert
You must be logged in to rate content!
9 minute(s) of a 271 minute read
1968 Volvo project Pure Volvocity
Compliments of 68EFIvert @ forums.swedespeed.com
5-31-2012
There are a few threads on here that are a take off of the Vox inspired P1800. I am new to Volvo's and was lured to them because of the beautiful lines of the cars as well as the the Vox modern interpretation of the classic. As I started to do some research about the cars 10 months ago there wasn't much info out there about putting a V8 in these cars. Most people had to cut the car up pretty bad to position the engine where it needed to be, behind the suspension.
Then I ran across some threads from Iamtheonlyreal1 and I was intrigued. Long story short I decided to pick up a good "core" to start with. My 68 had not been driven since the early 90's. The engine would not turn over because of electrical issues. I am in the process of stripping the car. The interior is out with the exception of the dash. The engine, transmission and suspension has been removed from the car. I borrowed a rotisserie from a friend which should make the removal of the undercoating much easier.
Here are my plans for the car. I have already ordered the front and rear suspension kits from Iamtheonlyreal1 or Swedish Ops. I opted for 14" front brakes with 6 piston calipers up front. The rear end will be an 8.8 from a Ford Explorer. It will be sporting 13" discs with 4 piston calipers to match the front.
The engine will be and LS. I am not sure if I will go with and LS6, LS3 crate engine or the Cadiliac CTS-V LSA supercharged engine. I am leaning toward the LS6 at this time. Just how much power do you need? The transmission will be an automatic, 4L60E or 700R4. I plan on driving the car on a regular basis and don't want to be stuck in traffic playing with the clutch. I have a T56 6 speed in my classic Mustang now and it is a pain in that situation.
Where am I at now? As I mention the car is pretty close to being stripped. I need to decide if I want to blast it or dip the car. I know both hasve advantages and disadvantages but I am leaning more toward dipping so that I can be sure all rust is gone.
I mentioned that I am using an 8.8" Ford Explorer rear end and here is why. The bolt pattern is the same as the front suspension. You can pick up a good core with 31 spline axles, traction lock and disc brakes for $175. I narrowed my rear end by 3" so that it would fit the car. It was actually easier to narrow the rear than I thought it would be. Since the Explorer has a long side and a short side axle I simple pressed out the axle tube, cut it down 3" and pressed it back in. I then went to the wrecking yard and purchased another short side axle. There are a few more steps than that but you get the idea. I have spent another $200bucks or so on wheel bearing, seals and clutch packs to rebuild the track lock. This is a very affordable option when you compare it to a 9" Ford.
I am now waiting on the front and rear suspensions before I can go much further. Robert says they are just about ready and when they show up I will post some pictures of the hot rod candy.

I am bad about taking pictures of my projects but I will post a couple I have on my phone. I hope this build thread forces me document my project better than my last. If anyone is interested here is a link to an article recent published on my last project, 1968 Mustang convertible.
http://editions.amospublishing.com/A...spx?d=20120518
Here is a tool I made to help me with wheel and tire fitment. It is adjustable from 15-20" diameter and can go as wide as 12". The back spacing is also adjustable. It should work well.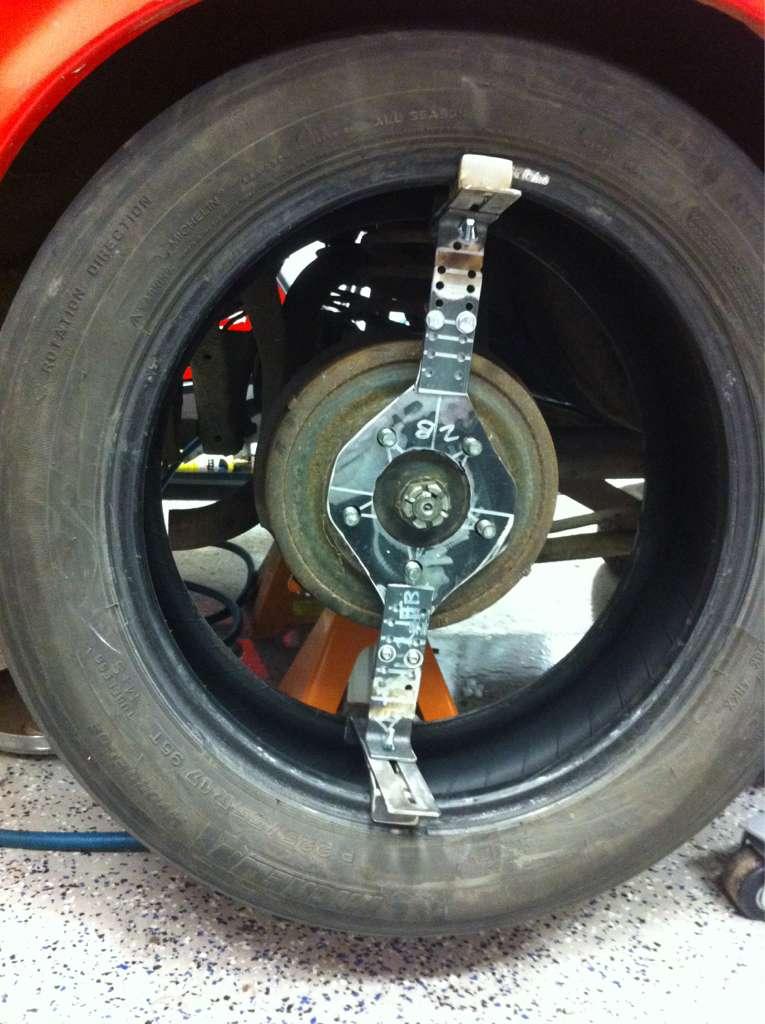 6-26-2012
Not much progress to report on the car lately. I have been doing some work on my Mustang and I am still waiting for the suspension parts to come in.
In the meantime I have been researching wheels. I saw a set on a new Lexus IS250 I liked. They didn't have a a brand on the center cap so it will require a little research. Anyone recognize them? As you can see the is a slight difference in the distance between the spokes. They alternate narrow to wider. I have also been looking at billet Specialties LeMans wheels. Nice looking but the price is not so nice......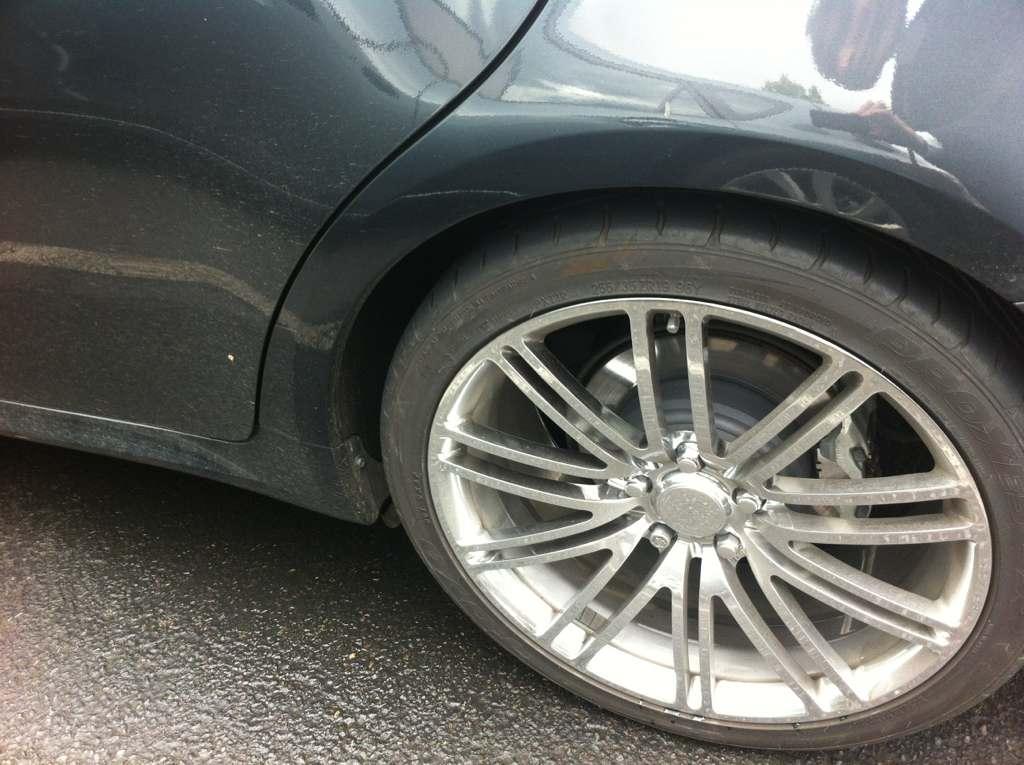 Here is another wheel I like.
http://hotrodsbyboyd.com/wheels/touring-series/t-10/
7-30-2012
I have not had much to work on this past few weeks. I am still waiting on the suspension stuff to be crated and shipped off to me. It may be on the way right now but I am not really sure. I know it is close.
While I am waiting I finished up on the rear end. As mentioned earlier I am going to use an 8.8 but want to run large Wilwood brakes on it to match the front brakes. I ran into a problem with the brake kit and using C clip axles. The factory axles use a floating caliper and the c clip's allow for a little movement of the axle in and out. Mine is pretty tight and only has about .005 backlash after I rebuilt the posi unit. Wilwood says becasue of the difference I can't use their kit. To use it I would have to cut the ends off the axle and put in ends and axles that would utilize press on bearings. Basically 9" Ford stuff. I was about the cut down the axle ends and weld on different ends when I decided to have Dutchman Axles do the work. I told them my dilemma and they said that the Wilwook kit will work if you make sure the backlash on the axles is .005 or less. Cool!
The next problem I encountered is my shortening job. I intended to shorten the axle 3" and use an original short side axle from the wrecking yard and slide it in. Well when pressing in the axle I went in .15" too far. I could either shim the backing on the housing or get new axles. I decided the latter. I figure it can't hurt and it is on $230 for new custom axles. While I am having Dutchman make me new axles I will have them increase the size of the button on the axle by .002 to further reduce the axle backlash. This should give me a little more room as the posi unit starts to wear down the frictions. The other driving force to get new axles is they just look better.

8-4-2012
I pretty much have the car ready to strip. I need to take off the doors and remove the headliner. Other than that it is simple cleanup like removing the sound deadener.
I think I will just sand out the doors to strip them. They are in pretty good shape and would be easy to do. My biggest decision right now is wether to dip the car or walnut blast it. The dipping is a little more money but not a big concern. I am leaning towards walnut blasting followed by sand blasting in the bad areas. What do you guys think?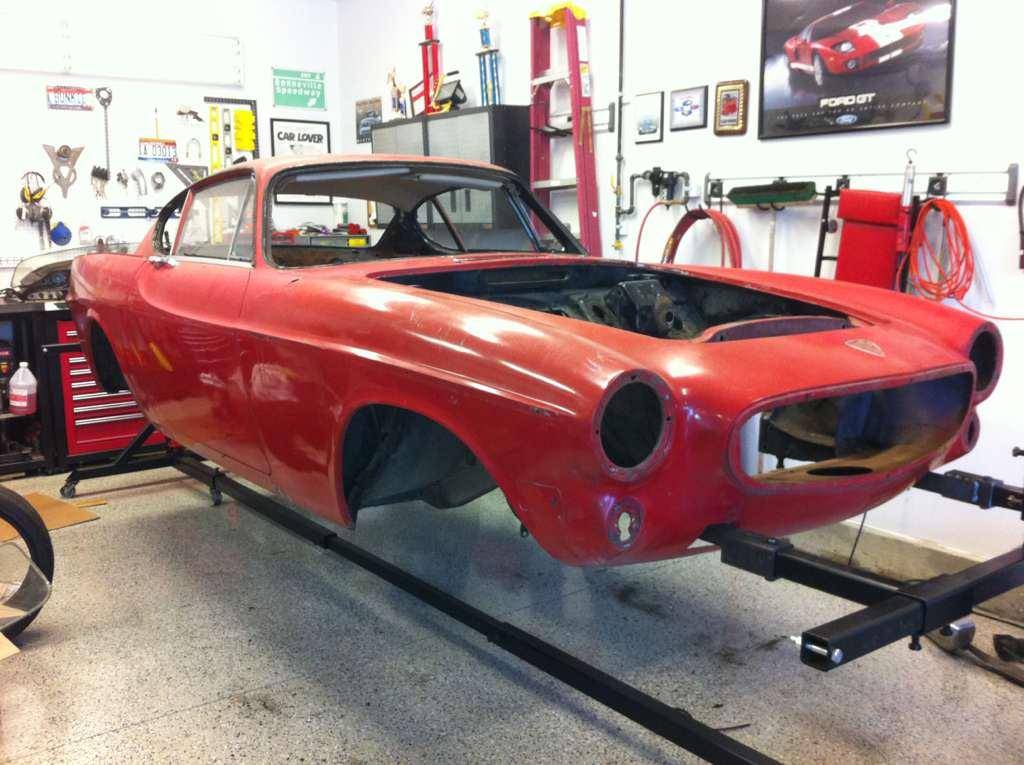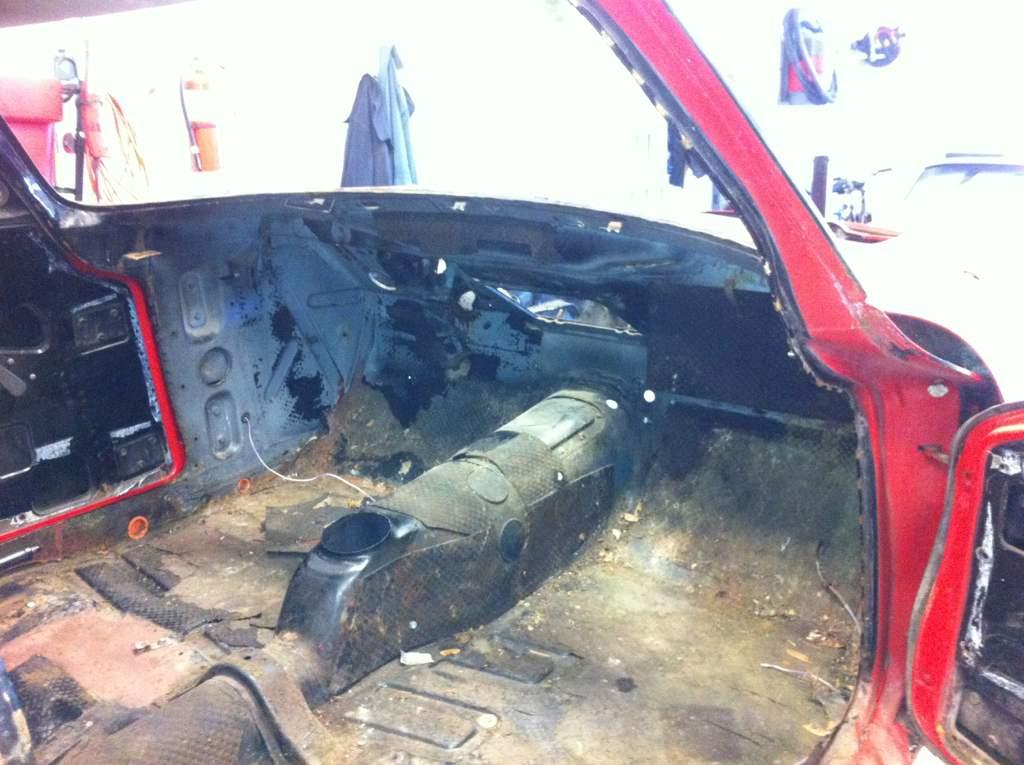 8-17-2012
I have a little progress to report. I took my gas tank down to the dippers and had them strip the gas tank. The put it in two solutions. The first removed all the debris and the second removed the rust. The results were not what I wanted to see. The top of the tank is pretty much shot and the bottome looks a bit better. The bottom look like I can save it by some welding and then sealing the tank. The top is a different story. I now have a few options. I have been searching for an aftermarket tank with a built in EFI pump or the second option is to take the top off my existing tank and replace it.
At this time I think I will take the top off my tank and see what it looks like inside. If it is not very bad on the inside I will likely pursue this path. When a new top goes on I will use a Tanks Inc. in tank fuel pump and sending unit. They are pretty neat and would feed my engine all the fuel it needs. In addition I will eliminate the in-line fuel pump and the excess sound they make. http://www.tanksinc.com/index.cfm/pa...prod/prd84.htm
It sounds like the suspension items were shipped on Wednesday but I am just waiting for tracking numbers. I will be out of town next week so I won't see them when they first come in. I hope to have some pictures posted by the 28th of the front and rear supspension.