Frankenstein C20
By Cuttyman9
You must be logged in to rate content!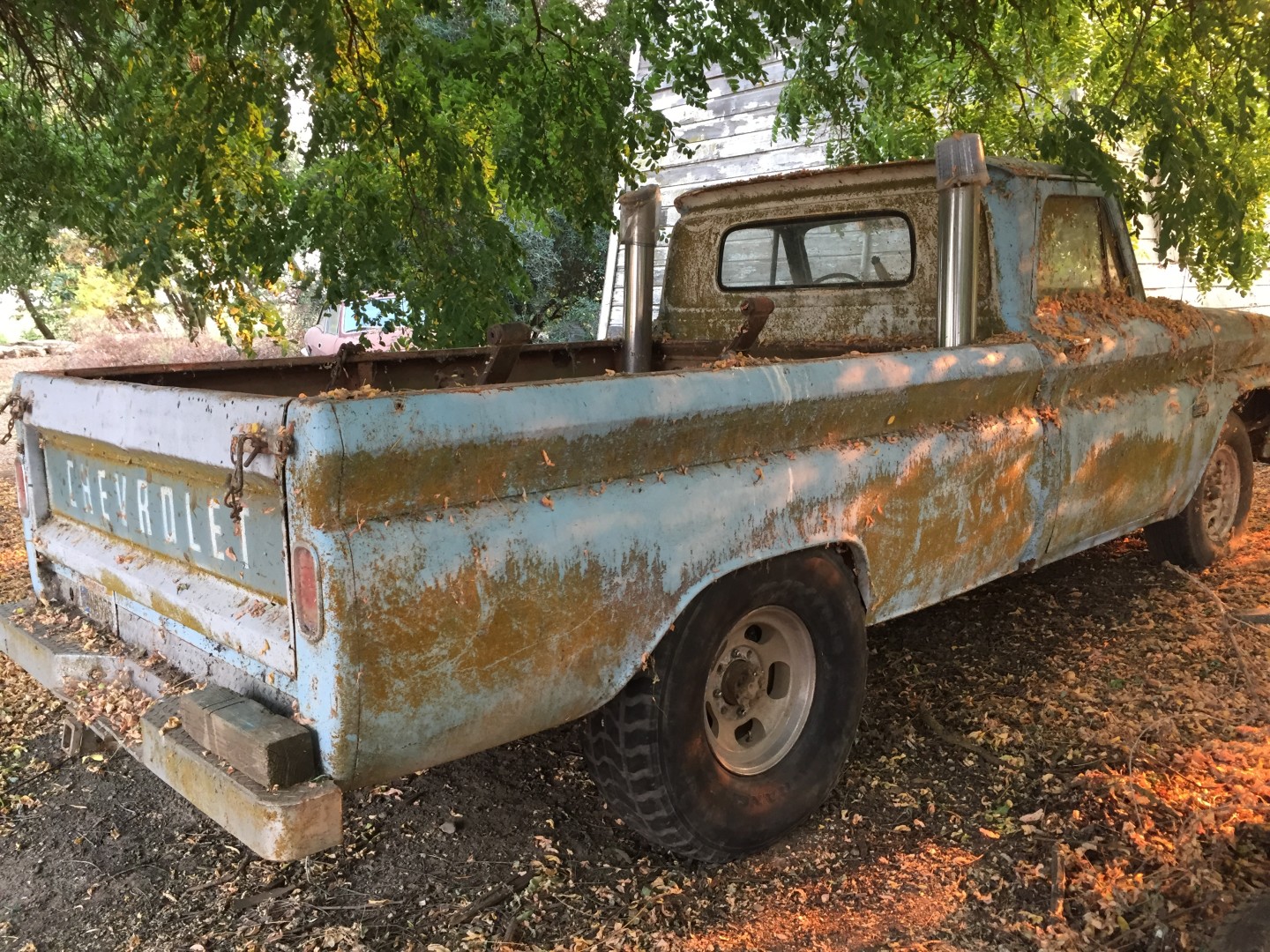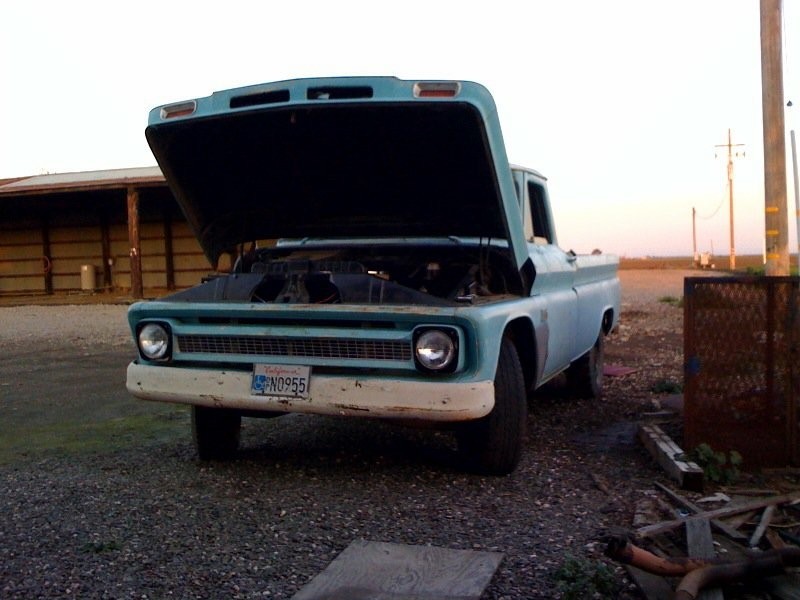 When I first got it running.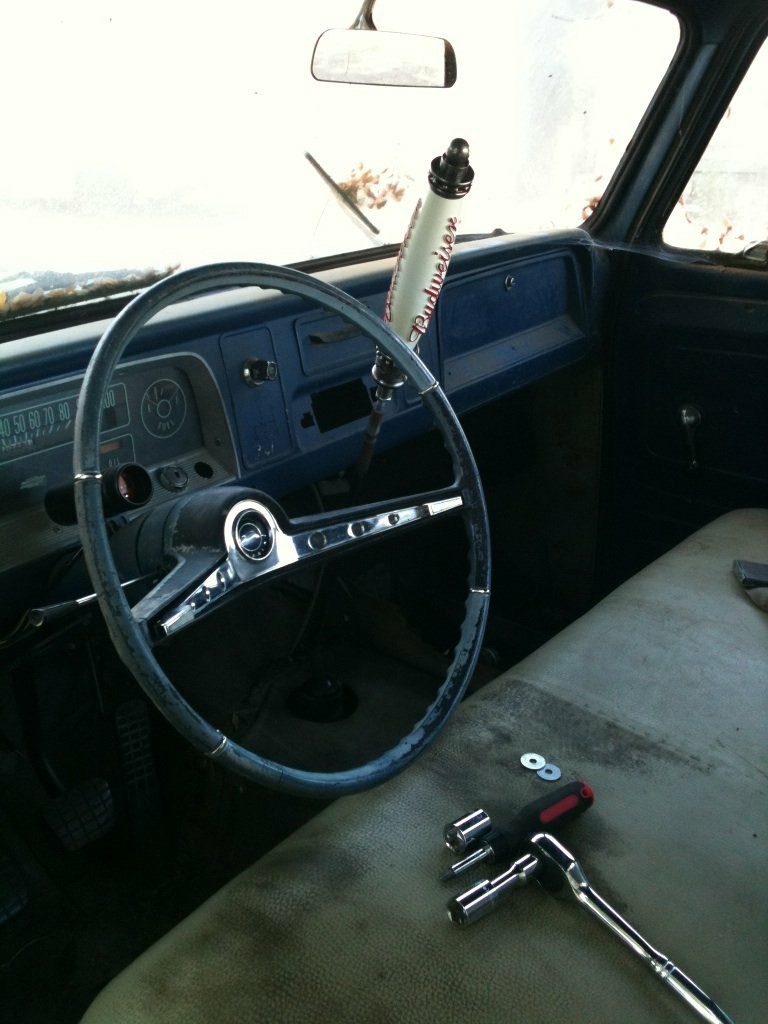 The interior, hasn't changed too much short of the Mexican blanket over the seat.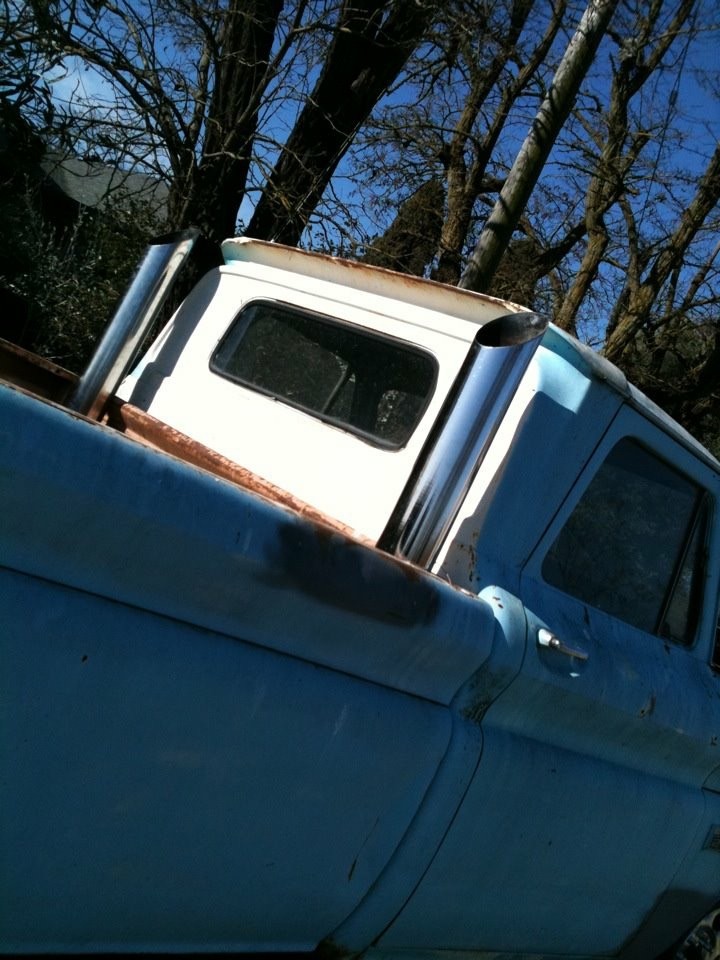 The 5" stacks, surprisingly glorious sounding straight off the long tube headers. Not sure how it'll sound with the blown V6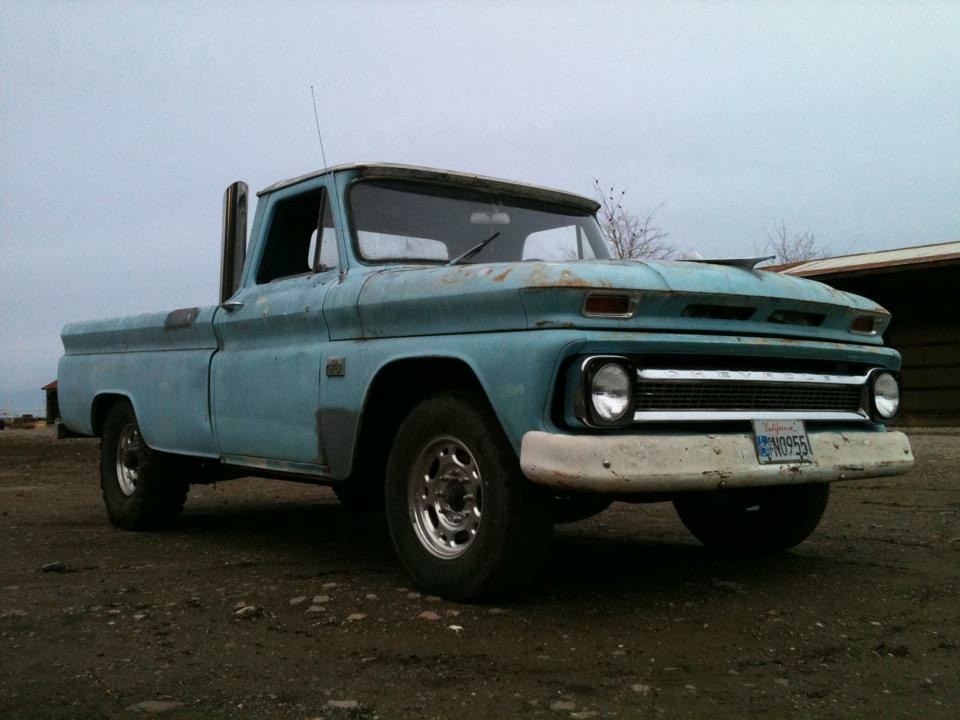 Slightly updated picture as I started upgrading parts.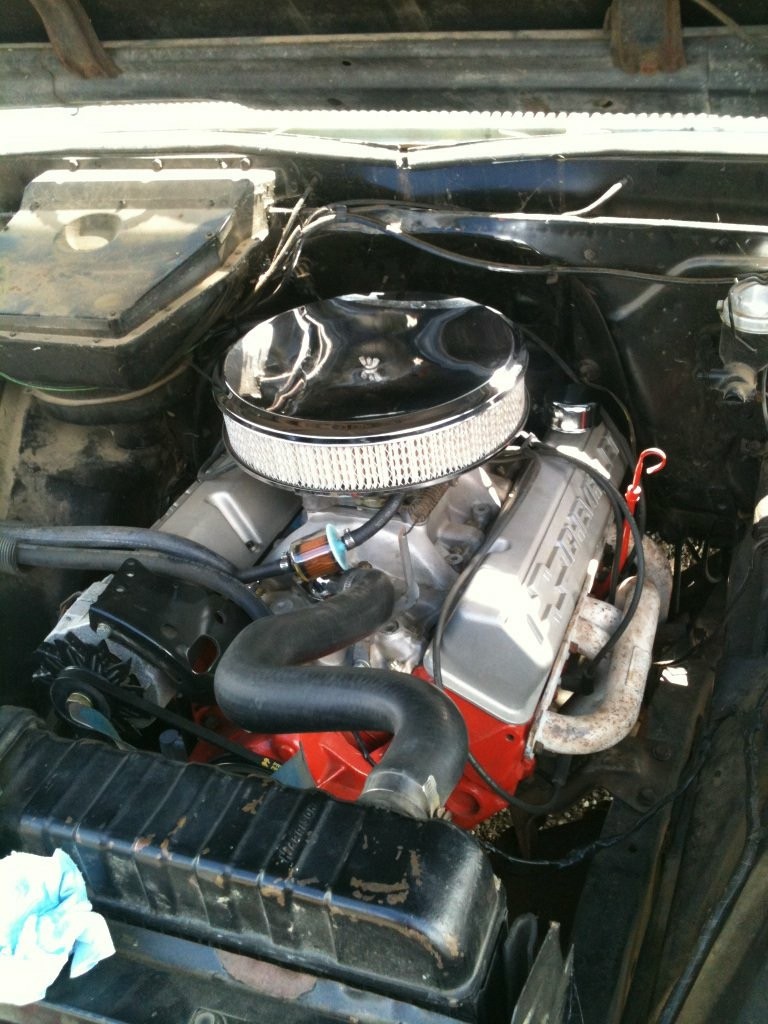 It's much crustier now but it's an outside truck. It's just a basic 2 bolt 350 Chevy with a 600cfm Holley and edelbrock intake manifold.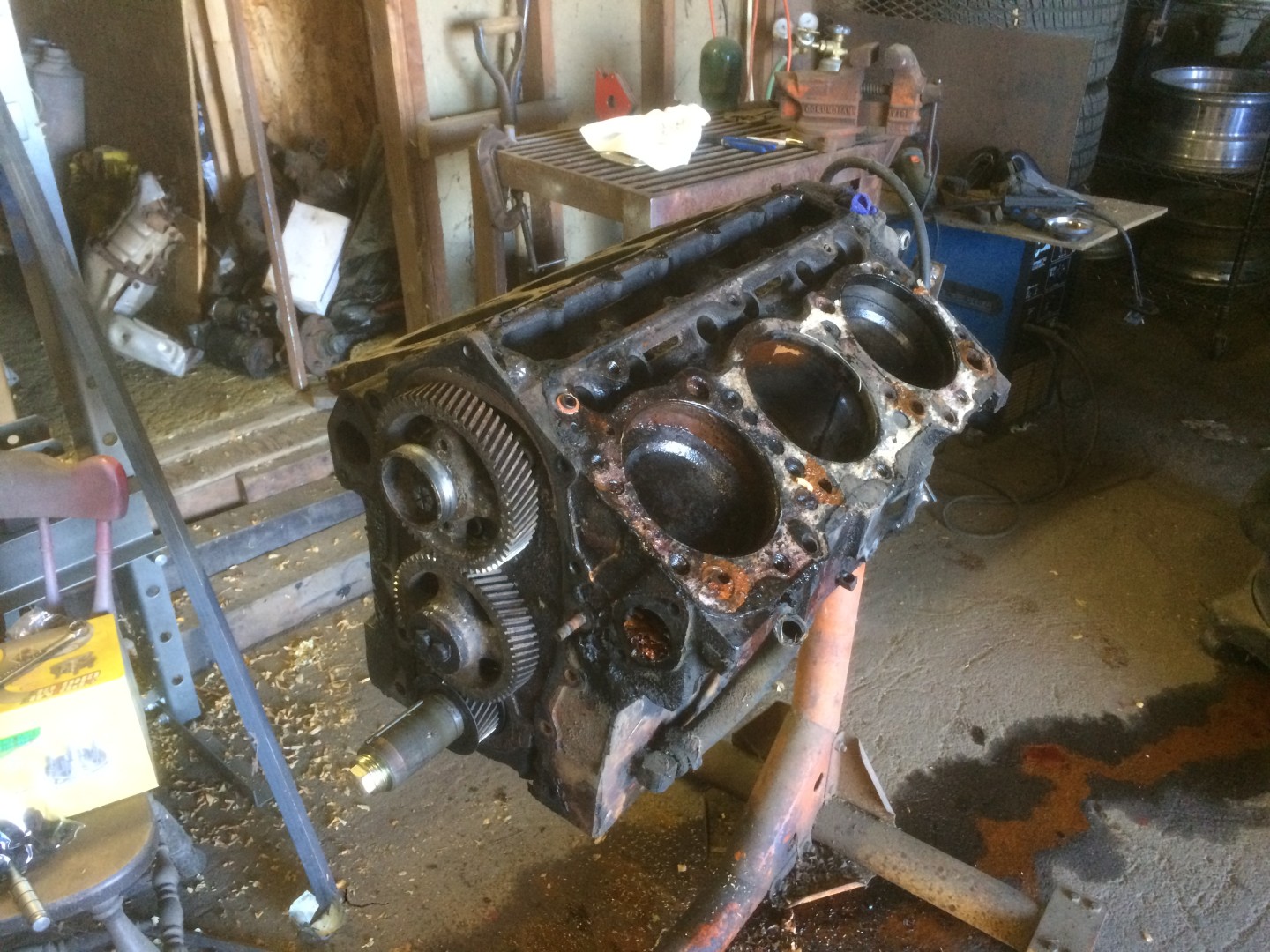 Check out the giant industrial 478 in all its glory. Factory gear drive, 5.125" factory bore (will need to go over a bit) The pistons are like 5" tall and weigh a ton, the rods are monsters too.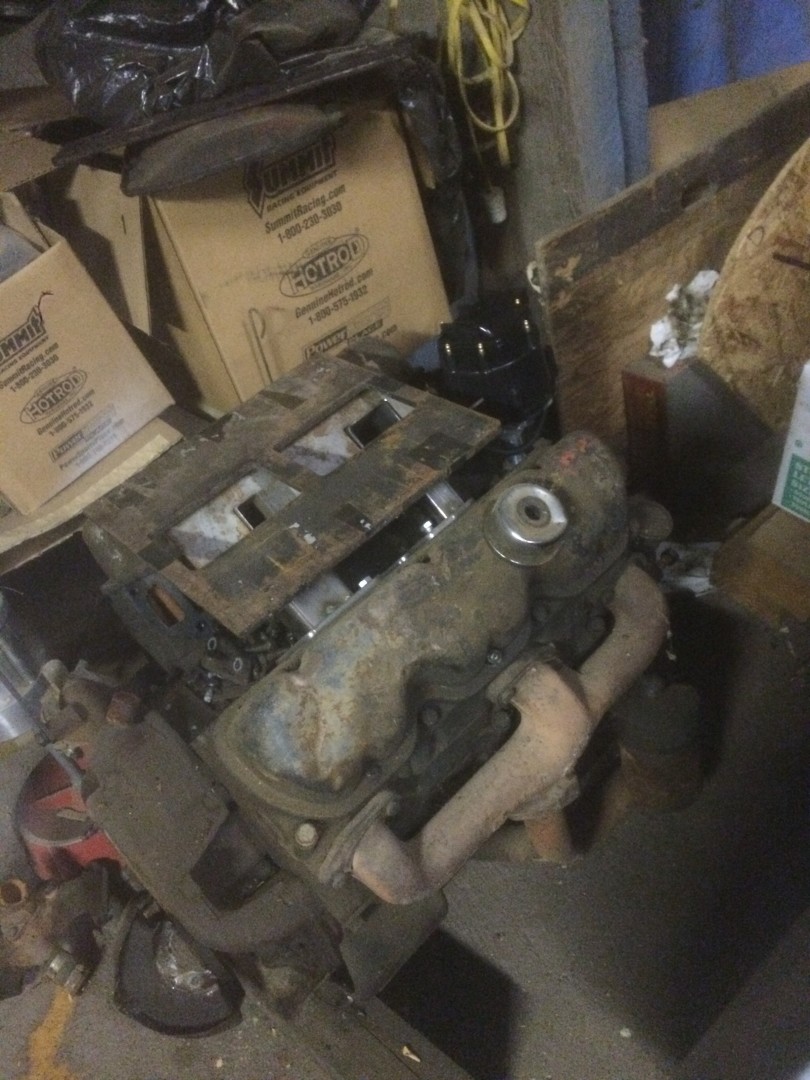 Mock up of the supercharger manifold. Waiting on the new welder at the new house.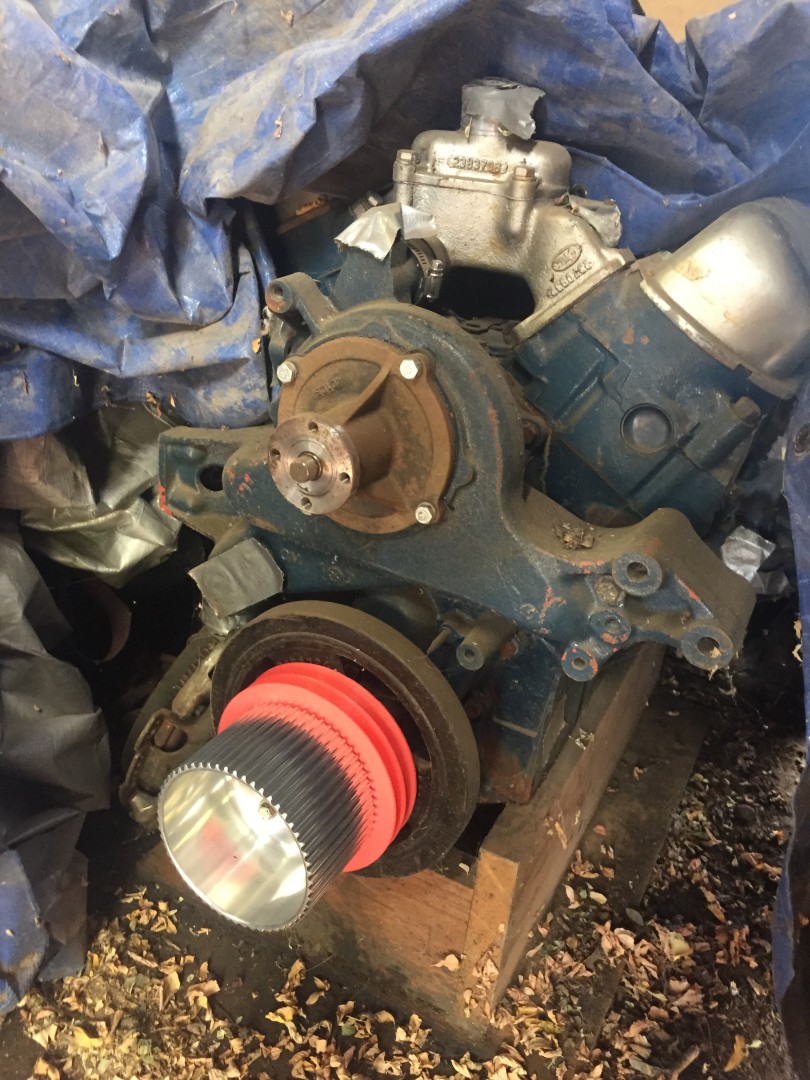 Crank pulley adapter. I'll be using an old AC compressor for an air compressor and a giant alternator to power the electric water pump.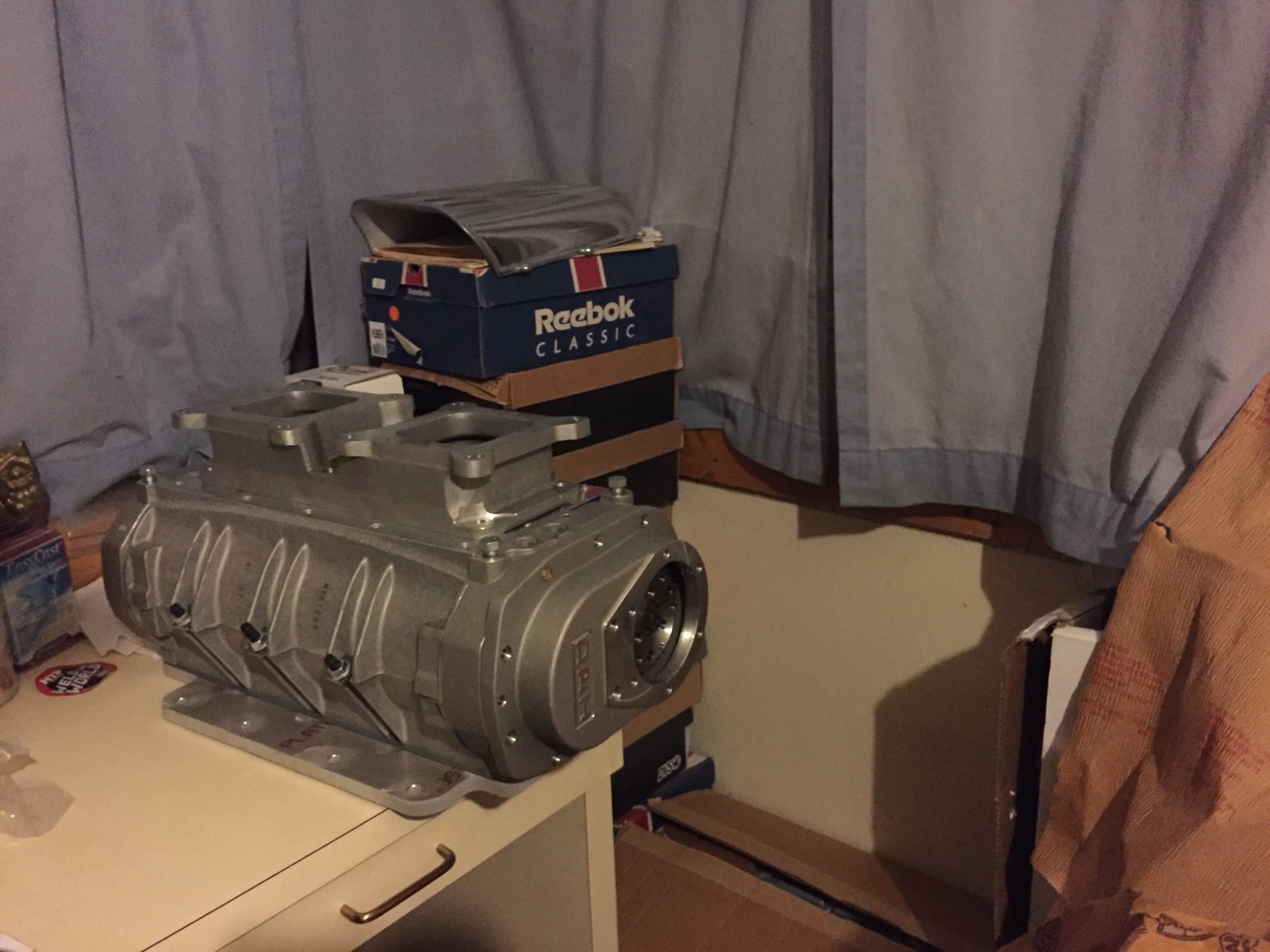 Here's the blower and adapter plate with the new front cover and carb plate. Unfortunately there's slight variance on the top carb plate so I'll need to adapt this but it won't be very hard.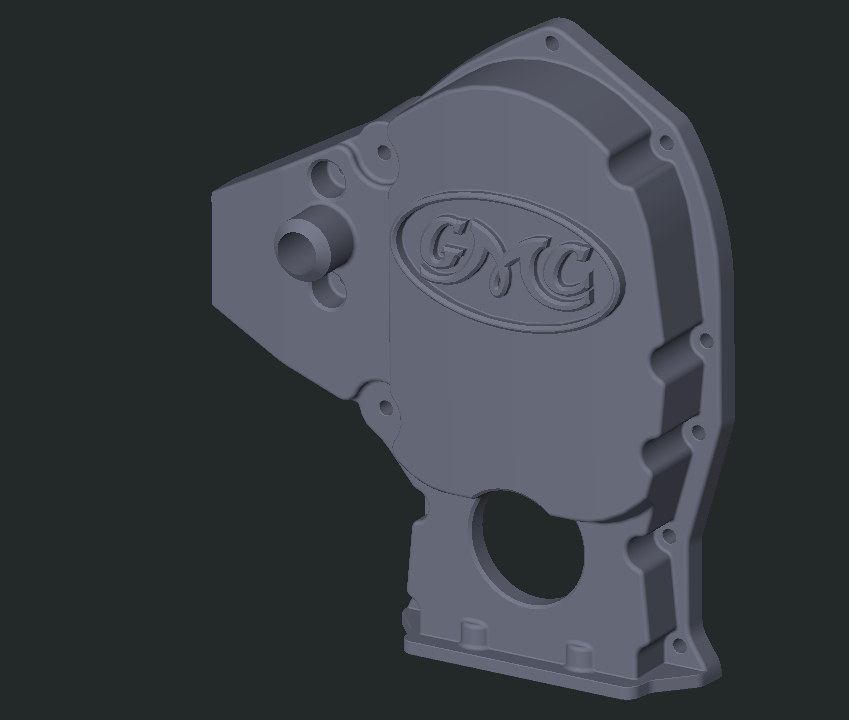 Water pump-less front cover I designed to both shed weight and clean up the front of the engine while offering more clearance for the supercharger belt.
It's crusty and it's crude but it's gonna I've big and gnarly!
It started as a normal 66 Chevy C20 (2wd long bed fleetside)
A friend gave me it because he couldn't have multiple projects and sold the engine for more than he paid for the truck.
I nabbed another 350 Chevy out of another friends derby truck. I cleaned it up, threw on some swap meet parts and rebuilt a swap meet carb and I was ready to bomb it around.
I added 5" stacks out the bed because why not, a Budweiser tap shift knob, a 61 impala steering wheel(Bent a little for character) and a 56 Chevy emblem to the hood.
It was never intended to go so bonkers.... until my friend mentioned the old GMC V6's and I learned of the biggest ones being 478ci. Coincidentally my friend had an old 305 GMC V6 sitting at his house he pretty much gave to me so then the creative juices started flowing and someone's attempt at a supercharger manifold popped up for sale.
I purchased al the steel parts that had been cut and started the mock-up. Turns out 8v92 blowers are actually the same as 8v71's and there are adapter plates made to mate those to the conventional 6-71 manifolds so I bought a new old stock 8v92 and some adapter parts to fit aftermarket parts to it (carb plate, front cover etc)
In the process I found two 478 gmc V6's in Washington state, one of which was supposedly rebuilt.
My gf and I made the trek up to get them in a weekend and returned with two monster v6's.
The next evolution was developing a water pump-less front cover to allow use of an external one and add clearance for the blower belt (as I didn't want it hung 2ft off the front of the engine) which was a task. After a lot of design time I have it 90 percent of the way there. Just need to find time to print it in sections or have it machined from MDF.
I disassembled the one 478 to see what I was working with, these workhorses are giagantic in every aspect. Gear driven cam, giant solid lifters, monster rod bearings and crankshaft. That got me thinking-what if I cut down the rod journals to fit a big block Chevy rod size (the longest I can find is a Jaguar with ~7.5") and a Giant 5.125"+ piston. Should get me in the 500+ ci range and allow me to up the abysmal 7.5-1 compression ratio.
Then came the realization I wouldn't be able to put this much torque to the ground so I decided I should convert to 4x4, but of course no ordinary swap... I had to shoot for the moon so I picked up 3 more Eaton HO72(because they have a 10.5" ring gear and a freaking wd40 can sized pinion) rear axles and a late model ford Dana 50(which is a ballpoint Dana 60 front with a small ring and pinion which I won't be using) for cheap and found a company nearby that can cut it all up and weld it all together.
And then came the next fun realization I needed to run 40's to keep this behemoth under 2500 on the freeway. So I learned of the ZF S6-650/750. Talk about a beast, but the Chevy ones are tough to find and have next to no parts availability(which would have been closer to bolt up with an old gmc adapter). I got lucky and found an affordable s6-750 in Chicago and had it shipped in.
Later I found a divorced NP205 to round out the indestructible combo for the pickup.
Currently developing parts for the GMC v6 while waiting to have parts modified for the stroker rotating assembly and modification for the ford 6.0 flywheel bolt pattern.
—7/27/23–
It's been some time but I have really been cranking on this truck lately.
plans have changed drastically due to a barn fire killing off the the gmc v6 plans in this truck for the foreseeable future.
I bought a square body to use as a donor truck to speed the process- boy was I wrong about that. The chassis was a 78 ish 1/2 ton 4x4 with a 74 cab. The axles were swapped with 3/4 ton pieces at one point (8.5" front and 14b rear) it has a 454 from the 74 cab donor.
I ripped all the square body stuff off and started swapping my cab pieces on. It took a ton of modifications to make all of this work. Had to raise the front cab mount ~6" had to source aftermarket replacement cab mounts for it to match the back of the cab. The core support mounting was completely fabricated from scratch. The truck chassis had a 4" lift roughly already. This equates to something like 6-8" lift total between the body lift and the suspension blocks/leafs. Matching the steering up took adding U joints where the rag joint was. I had to modify the floor pan opening because no 4x4 shifter would work except remote which I didn't want.
I've since resealed the NP205 along with the twin stick install.
Both ends have all new brakes (disc all around)
I've converted the clutch to hydraulic as the Z bar setup it had was backwards and the mount was ghetto.
the 454 has been mostly gone through short of decking/boring/new pistons. I went deeper into it than planned but it should be good for a while.
gas tank was relocated to the rear and the rear of the frame was extended to match my long bed bed, the bed itself was shortened between the cab and axle to match the opening.
the truck will ride on 37's, either humvee wheels or slot mags.
redid a lot of interior stuff but I'm still chasing water leaks somehow, the joy of dealing with a rusty cab I guess… fixed a giant hole in the roof already. Need to fix the cab corners and footwells as they have holes. Added speakers to all corners and a sub for good measure. i have a touchscreen stereo in the dash now too albeit my welding was far from perfect on that…
Hoping to have it running soon, it's been a long year and a half getting to this point. Having my first child certainly slowed me down.