Builds
Conversion: '02 Targa to COUPE Type-R
By diyauto
You must be logged in to rate content!
16 minute(s) of a 52 minute read
Conversion: '02 Targa to COUPE Type-R
Compliments of serialNSXer @ http://www.nsxprime.com
11-27-2005
Sorry for this lengthy post, but I thought to get it all across in one clean shot.

For over a year, I've had a project to convert a 2002 White Targa...to a COUPE...then to a 2002 NA2 Type-R.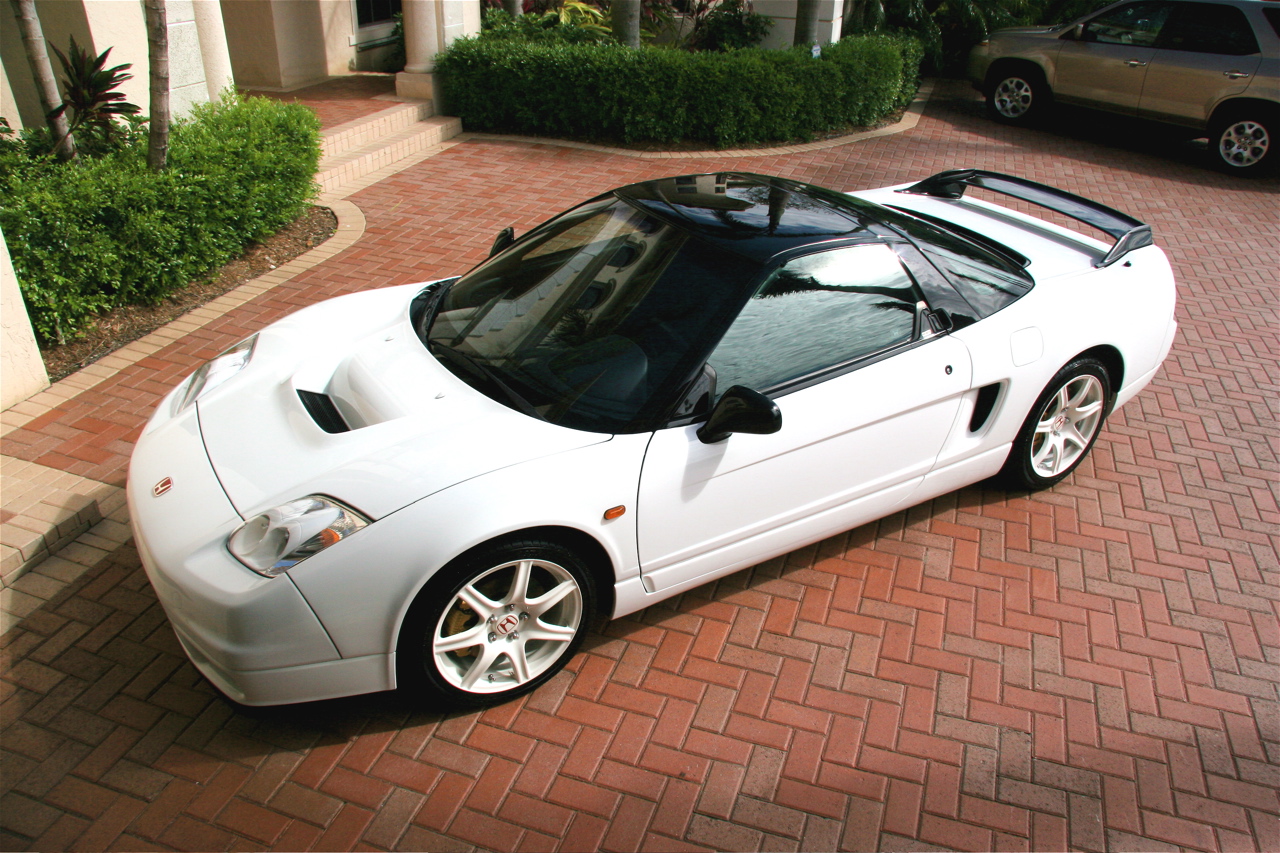 Our story is a typical right of passage for any NSX owner...jeez, I would love to have a real NA2 NSX Type-R, in LHD!

And so begins a well traveled path: post all manner of questions on prime; spend a few weeks figuring out what a real one costs (gulp); then try and import one through various means in the US (obligatory call to the the Skyline GT-R guys, LOL); and I even tried for 3 months through the UK. Sure they can get me one, a real 2002 Type-R...but I still have to bring it into the US, then get it federalized — none of that "race and show exemption" for me — I want to DRIVE it. Further, I had a UK race shop all lined up to do my RHD conversion to LHD — like I said, I want to DRIVE it — not wear it like a badge. A massive project, but doable. Living near Miami port, and all the German-spec Porsches that get imported and federalized, a LHD NSX should be a snap. Six months later and lots of letters to Honda North America, the EPA and DOT, and visits to my local importer...and I was THIS close (not).

The overwhelming recommendation to me was to buy an early coupe and upgrade the (ton of) bits to convert it to a very high-fidelity 2002 Type-R. When I looked into ALL the small bits, including all the interior upgrades, 3.2L/6-speed, cost began to add up (doesn't it always?). At the time, I was driving around my NSX #6, an IMHO gorgeous 2003 Long Beach Blue. At the same time, I was posting feverishly on NSXprime trying to get a 2002 White Coupe from Canada. That also proved fruitless.

Now I know what you're asking. Why the obsession with an actual 2002? Why not just update the early car. The answer is simple. Over the past 15 years, and six NSXs later, I've logged quite a few miles in these cars as my daily drivers. And in my opinion, Honda has made all sorts of minor refinements that make the late model cars just a hair nicer to drive. From the snick-snick shift-action, to the non-glare dash material, to the perforated seats, etc...I just like all this minor stuff about the newer cars. That's why there's chocolate...and vanilla.

Around that time, a prime member alerted me to a rare 2002 White Targa for sale in Arizona. To make a long story short, a few fellow NSX owners, as well as Chris at SOS and Mark at Basch Acura Service all checked out the car and I ended up trading my 2003 LBB for the 2,900 mile 2002 GPW, plus some cash my way. My white car arrived in September 2004, and was quickly sent over to 1st Class Auto who were going to convert this 2002 from a targa...to a COUPE...completion by Christmas 2004. Little did I know what a non-trivial project this was going to be.

My car was just completed, November 2005. I've driven it now for 2 weeks. It-is-worth-every-penny, including all the effort by a ton of folks. It is by far the nicest NSX I've owned. The roof turned out beyond fabulous, and you'd never know from inside or out that it wasn't OEM. The roof was undertaken by John Schreppel and his trusted protégé Ed (thumbs-up in the photos). John is a true master in aluminum. He worked on NSXs way before any other cars were built in this material. John spent countless weekends addressing every little detail — and I mean every little detail was checked and double checked before cutting — to make sure that the factory guys would have been pleased. It took SOO long to complete the roof this way. But in the end I have an actual coupe roof welded onto a targa, and the combination of which gives this NSX even more rigidity than an original coupe (think about that). The targa NSX is braced to be stiff without the benefit of a fixed roof. The addition of my fixed roof now creates a roll cage of sorts — in the end it aids in stiffening the chassis all the more. I can attest, there are no creaks, no flex, sharpened initial turn-in (new tires from Tire Rack), none of those rattles that plagued my other targas. This NSX is just so rock-solid. Thanks John (and thanks Kevin, the owner of 1st Class, who let the car stay a lot longer than originally planned).

We also elected to convert the fenders over to JDM lights, for that clean look. I could have bought OEM fenders, but let me assure you a fender is not just a fender. Aluminum has all sorts of distortion characteristics and one piece can fit differently from the next. It was decided to take off this car's fenders and actually weld plates in place of the lights. This also proved difficult due to heat distortion that occurs on such thin gauge aluminum — so the fenders were welded while attached to the body. Then Ed tackled the lights, and they look fantastic. No broken prongs around the seal of the bezel.

The color white is not just any old white. There are shades of white on the nose that differ from the body. Plus John had to age the white to match the current aging shades on the car. Blending, more matching, more blending...you get the idea. After the fenders were attached, John even painted each bolt head manually and around the factory stickers so that you can't tell that these fenders have been off the car. It looks factory.

The CF parts were imported from Procar Specials and Dali, who were great to work with. John commented that he had rarely seen CF parts this well made. Though we at NSXprime already know this from Procar's reputation, it was nice to hear it from a professional who sees CF parts from the likes of Lamborghini and Ferrari — which don't even compare to the Procar quality by a long shot. The hood fit well, and only needed minor work to make all the body gaps the same with the fenders re-installed (John is a perfectionist). We elected to spray the rear wing with a process that allows it to look black at night, however the CF weave shows through in bright sunlight. It is a great look and shows off the Procar quality of the CF wing.

The car has all the JDM Type-R parts I could get from Dali, who was a huge help in this process. Whenever possible, Dali got me used parts at very conservative pricing, and even shipped some items before asking for payment (I guess I am truly blessed). The complete set of front and rear OEM Type-R aero parts are installed under this NSX. At high speeds the nose is glued to the tarmac. Dali also got me an OSG 4.4 LSD that is awaiting installation. That should give this ride a bit more grip out of the corners. And the roof and all sorts of small bits were bought from Joe and Tony at ERZcar. They were great to work with. Whenever I needed some small bit I'd forgotten to buy with the roof, they just sent it along later.

What follows is a photo journal of the conversion process:

My blue 2003 NSX was traded for the 2002 White Targa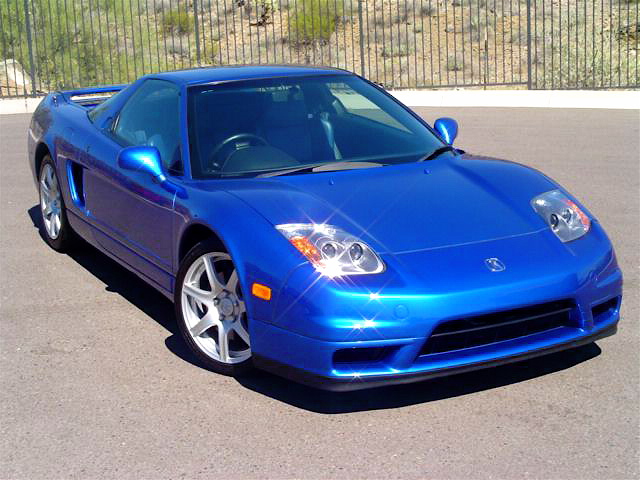 And this stock white NSX arrived a few weeks later. IMHO, the white really only looks good when decked around Type-R livery. The neighbors thought I was crazy trading the gorgeous Long Beach Blue for this White one.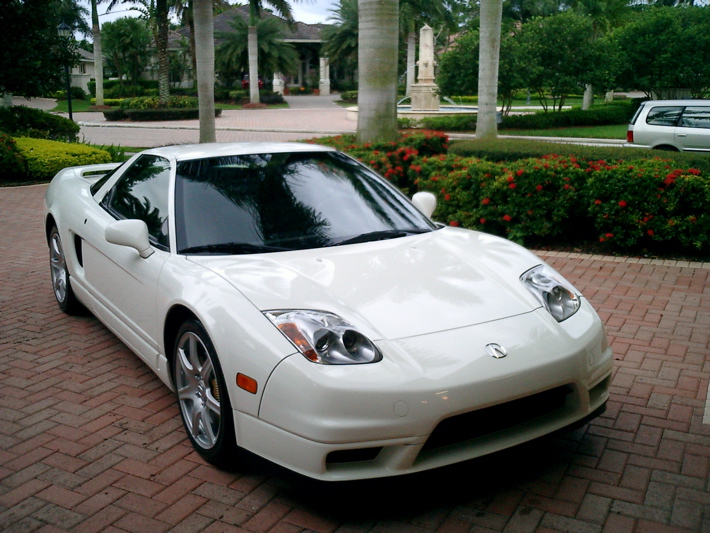 But little did they know that this was going to be how it all turned out!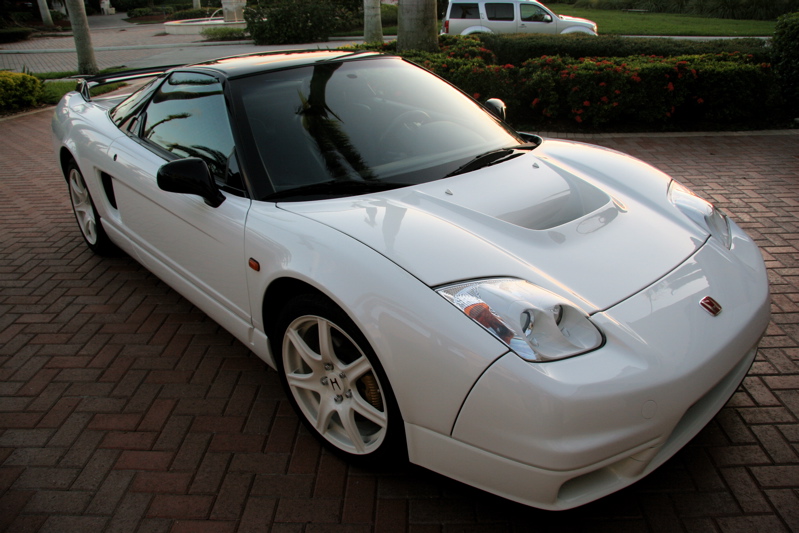 But we are ahead of ourselves here. Lets begin at the roof that was shipped over from ERZ.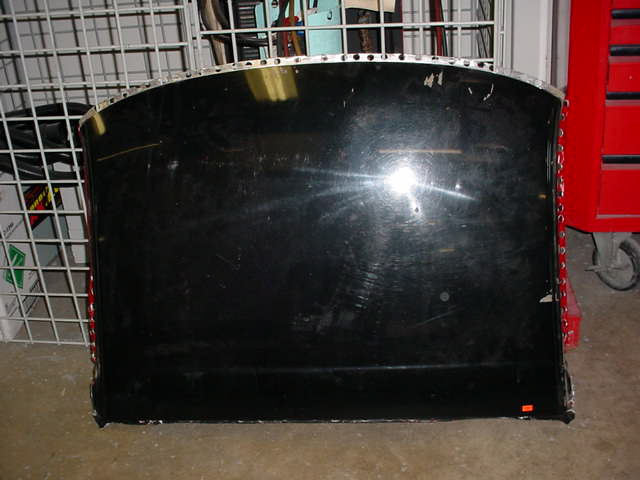 The roof is like a puzzle, with all sorts of inside, middle and outside layers of thin gauge aluminum that sandwiched together makes the roof so strong. Of course, it all had to be taken apart carefully.


The parts and pieces are now ready for cleaning and welding.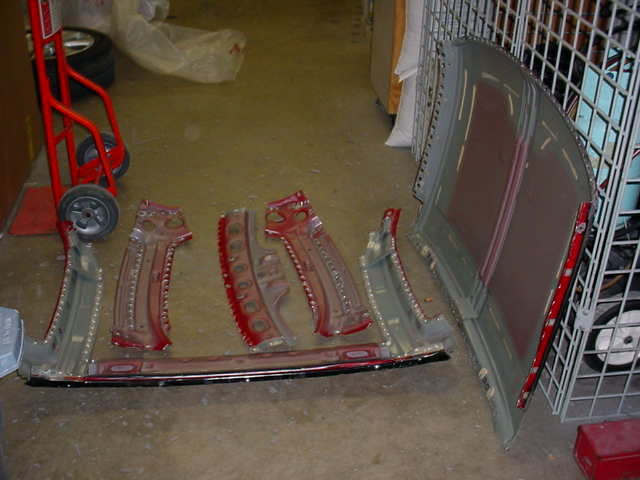 But nothing prepares you for the site of the roof cut off your NSX and just the A and B pillars remaining.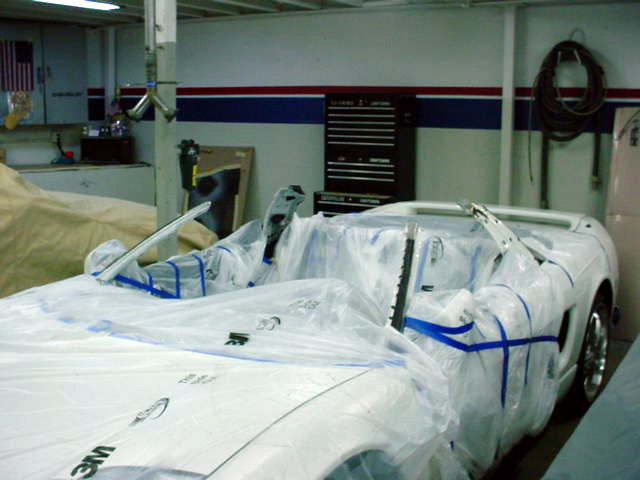 Note that the gauge of the targa pillars is thicker than a coupe's stampings, and this adds to the additional stiffness of my Type-R clone.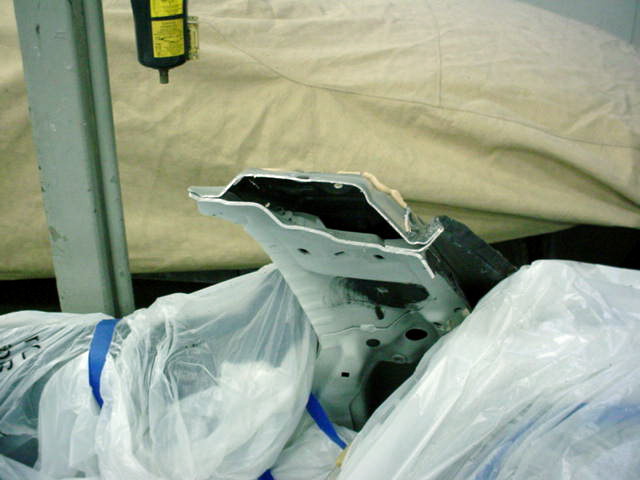 So after all that cutting, a lot of targa weight is left off the car — a welcome weight reduction.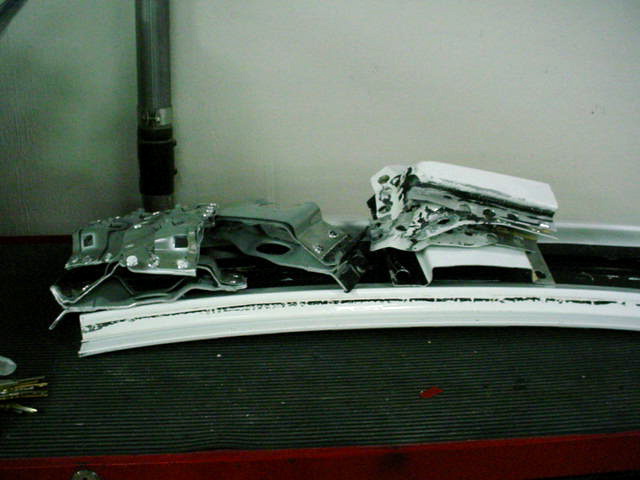 Ed begins his jig-saw puzzle. Checks and re-checks all along the way.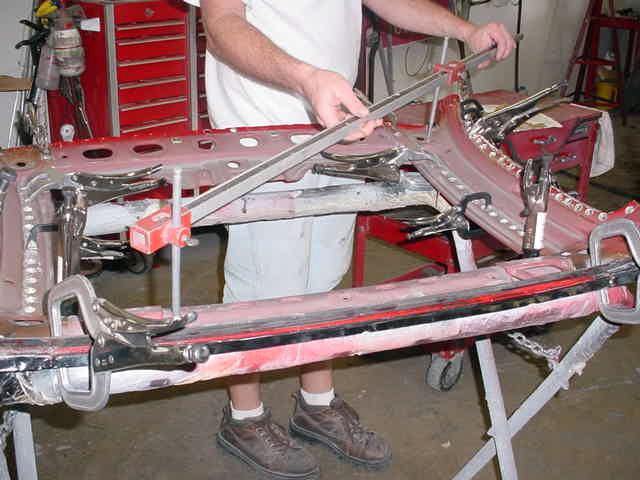 I got a lot of these pics from him...though not sure they made me feel better.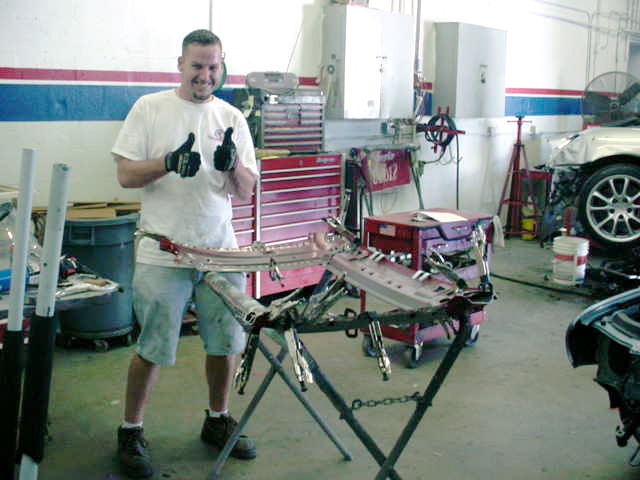 Jeez...I did this voluntarily!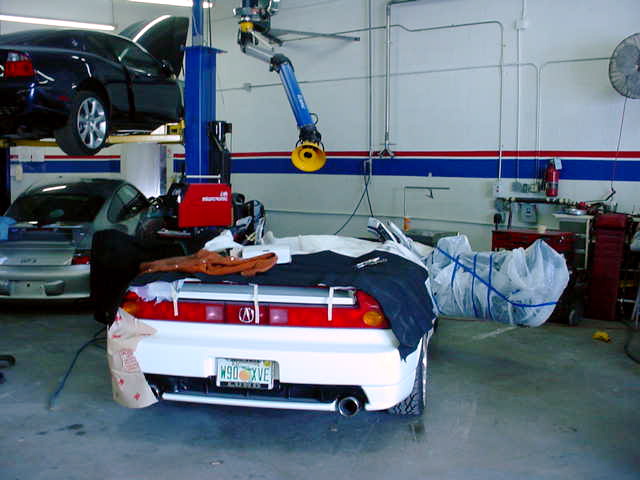 The first coupe sections are welded to the targa sections. You can't believe how long John measured and re-measured before cutting or welding anything.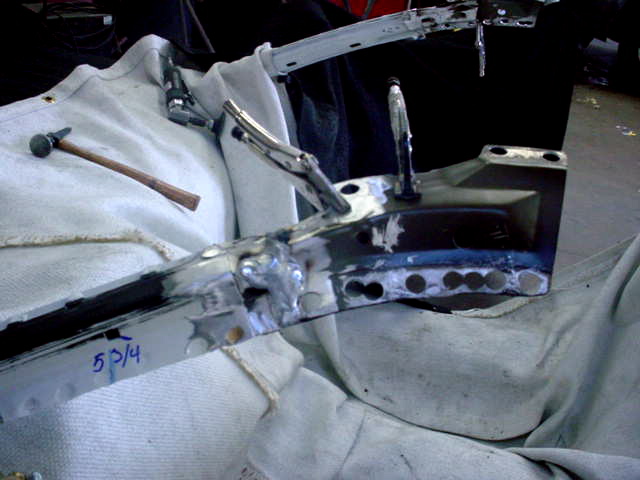 Ed, quit that!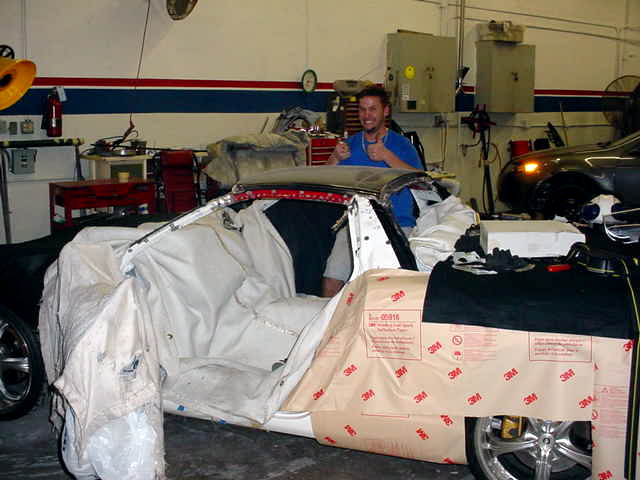 Now the welding can begin. John at work. First Class uses equipment dedicated to aluminum. And they keep separate tools that can only touch aluminum. So they have two sets of everything at their facility. An expensive operation but that's what makes them 1-of-6 factory authorized centers for Ferrari in the US.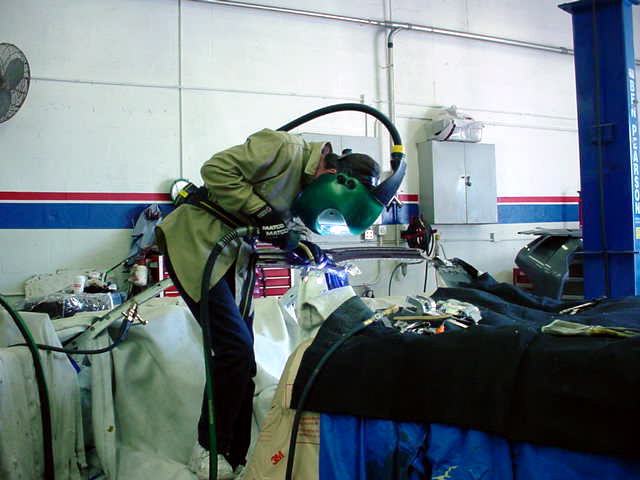 Well...it looks like he knows what he's doing?!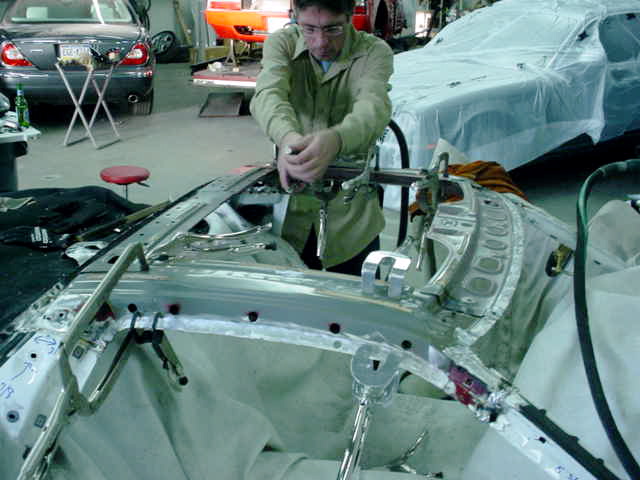 Months and months have gone by with the car in this condition.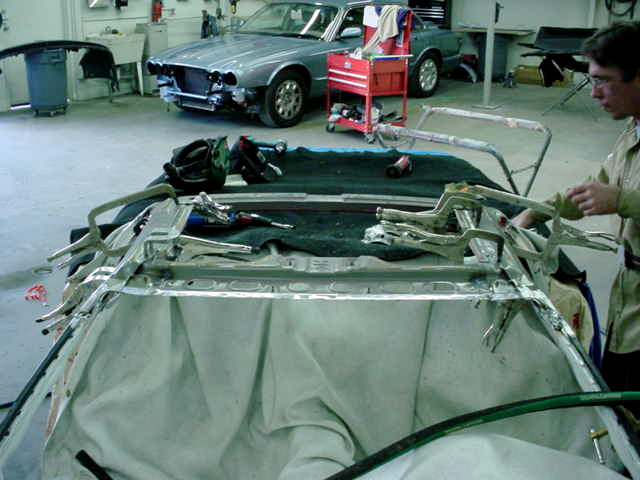 The car was squared all along the way. I can tell on the road because it tracks straight and true, even under a panic stop...no pull to either side.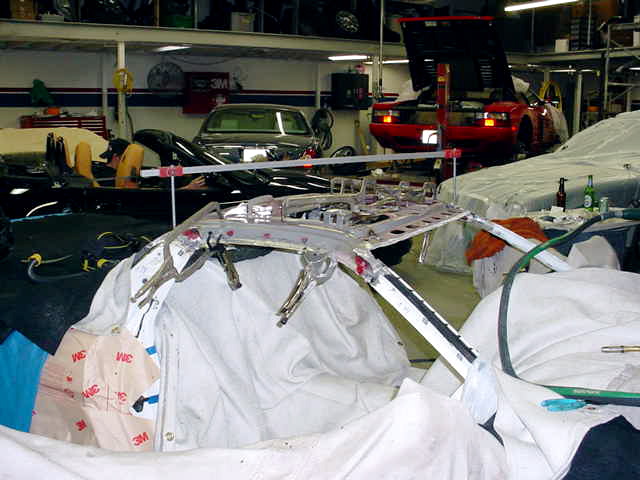 Welded, and it finally begins to look like a coupe.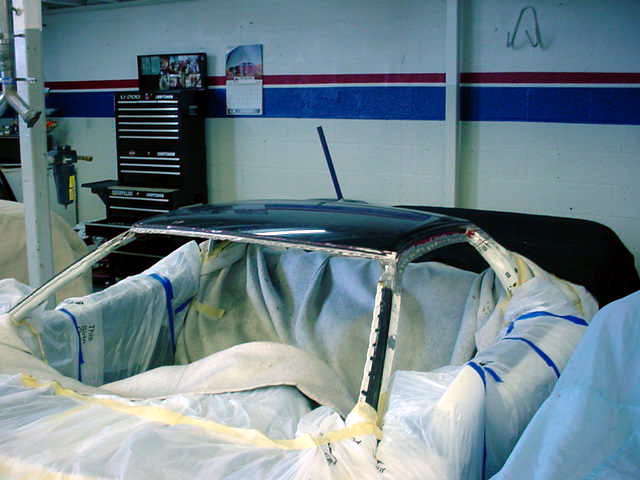 First Class works on high-end cars. There a ton of crashed 360s there all the time...most on paper tags...LOL.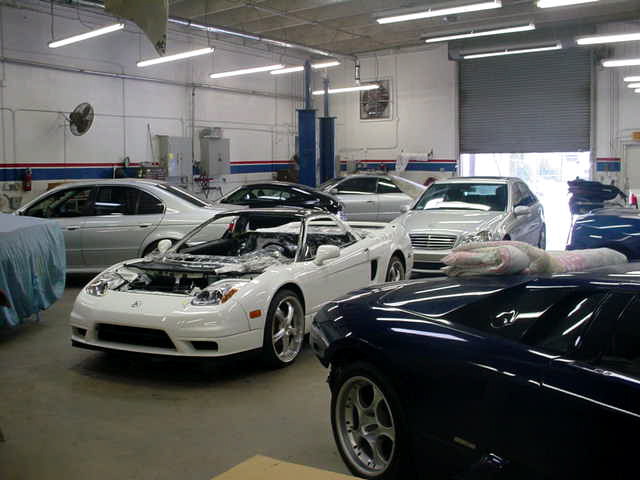 After paint, beginning to look factory?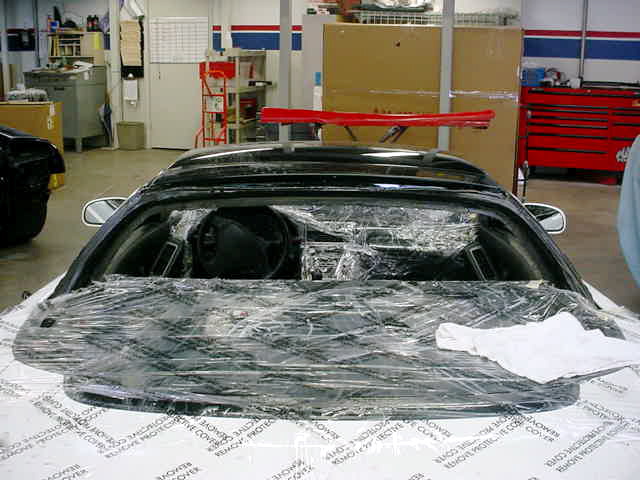 And voila, we have our COUPE. Dirty, yes, but it really does look correct.


Can't tell you how many little interior bits differ between a targa and a coupe. All sorts of minor items had to be bought, painted, customized, reshaped...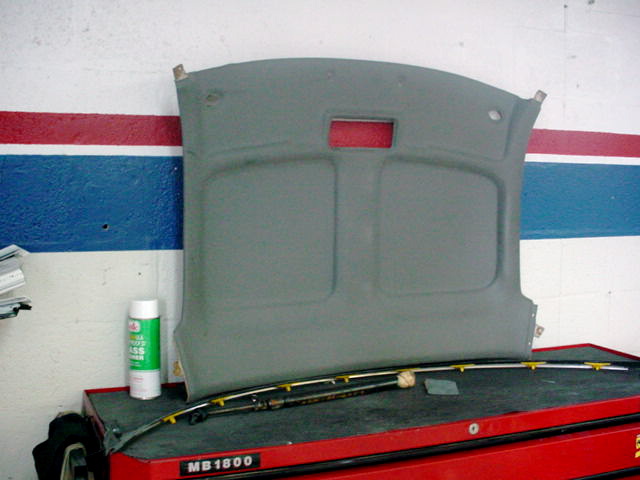 The gaps always had to be re-tweaked each time a body part was re-installed. Fender on, hood off, bumper off, fender off, hood on...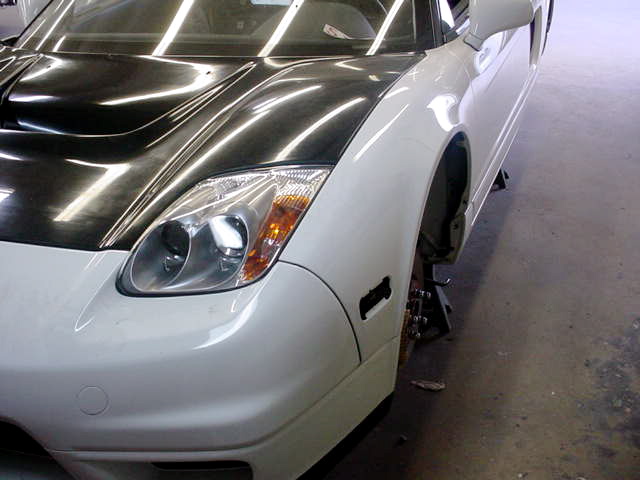 Fenders are removed in prep for the lights to come out.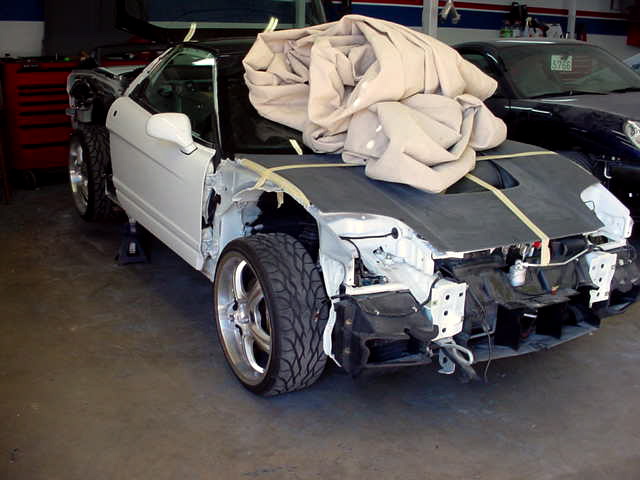 What we learned: the fenders will distort differently if you weld in plates before cutting off the prongs, compared to if you weld after cutting them off. In the end, John fixed it all.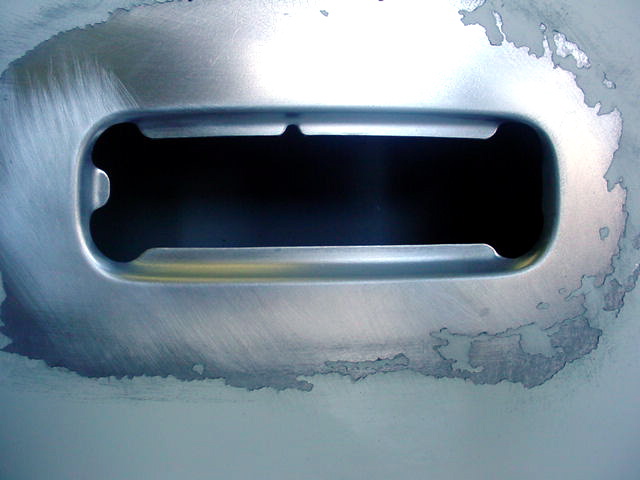 The correct type of aluminum is cut into plates and test fit before welding.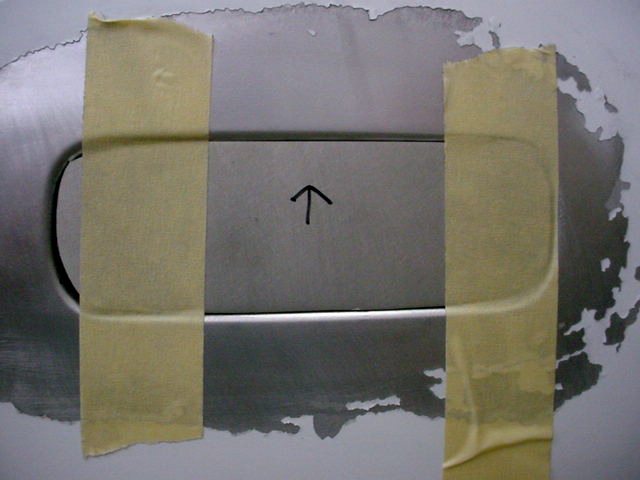 From behind, the work to fill in for the blinker lights is coming along well. Welded fender looks clean so far.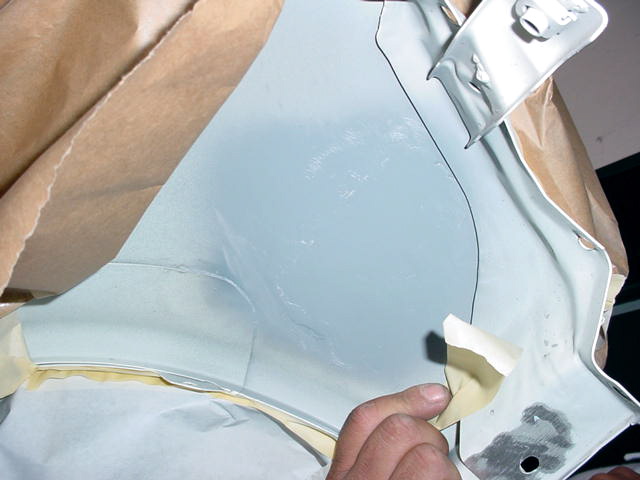 Ready for spray.


The PROCAR hood and rear wing in place, along with re-worked fenders. Lots of minor fitting to get all the gaps to a minimum. (dig those crazy wheels Armando leant me for this project)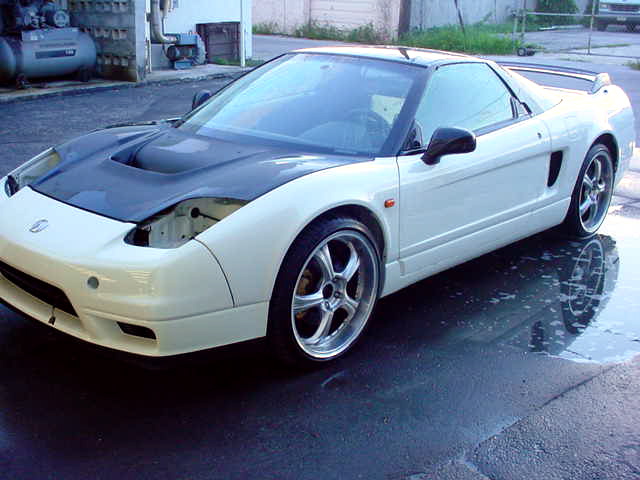 Front lights just before getting the Type-R paint treatment.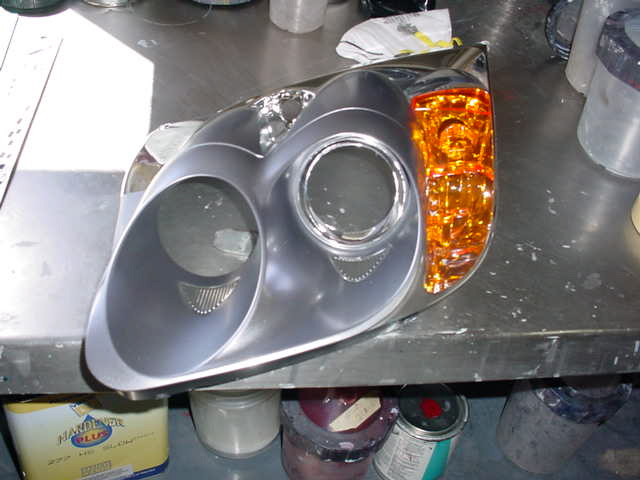 John(left) and Ed(right) pose with their creation.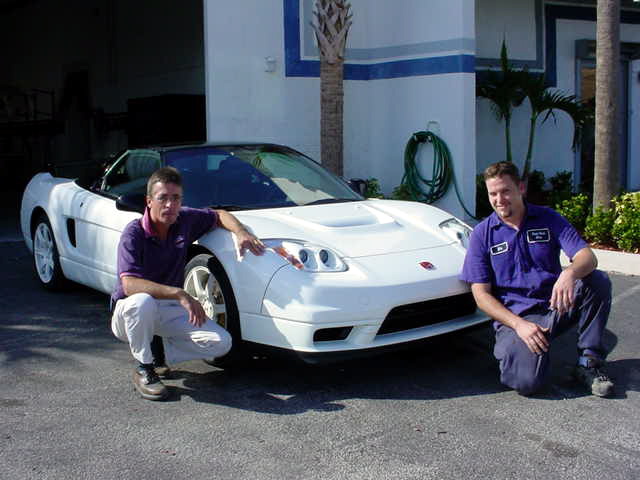 This is what I was after. An authentic 2002 LHD "COUPE."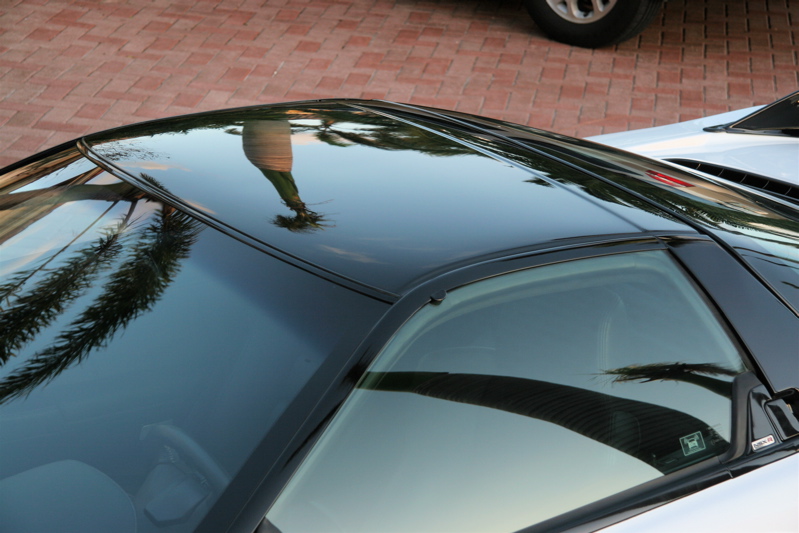 Real, JDM Type-R wheels. Yes, Type-R are both lighter and shaped different than non-R wheels. Mounted with 255/40YR-17 Bridgestone Potenza RE050A rear, and 215/40YR-17 up front.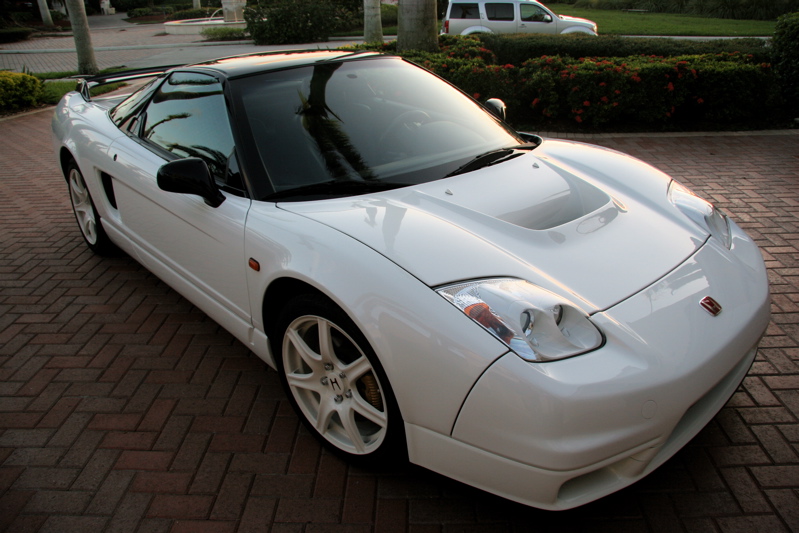 Ed did a great job on the lights.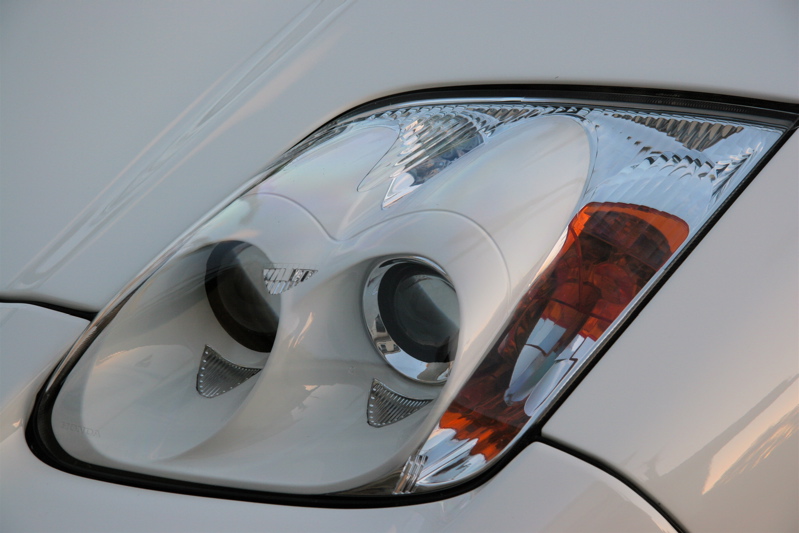 The CF on the this Procar wing only shows through in bright sunlight. And it goes opaque at night.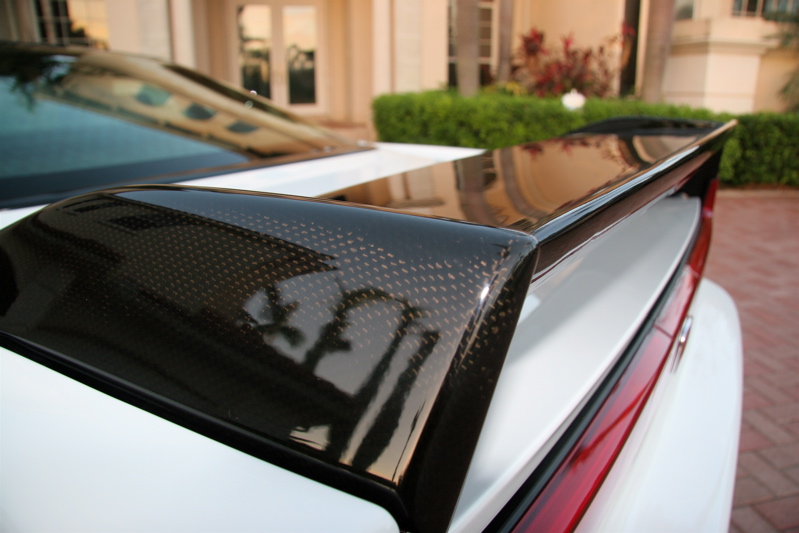 Dali helped me get a (used) real Type-R engine mesh cover. It is SO much lighter than the clamshell from my targa.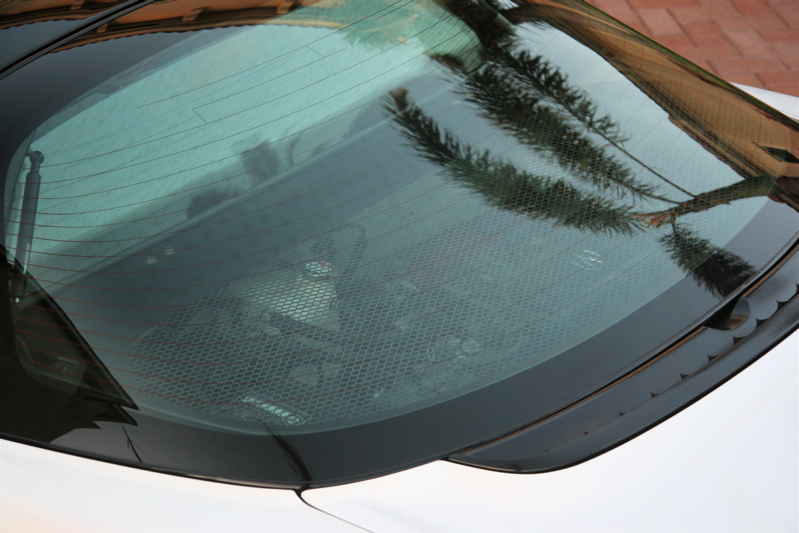 My favorite photo.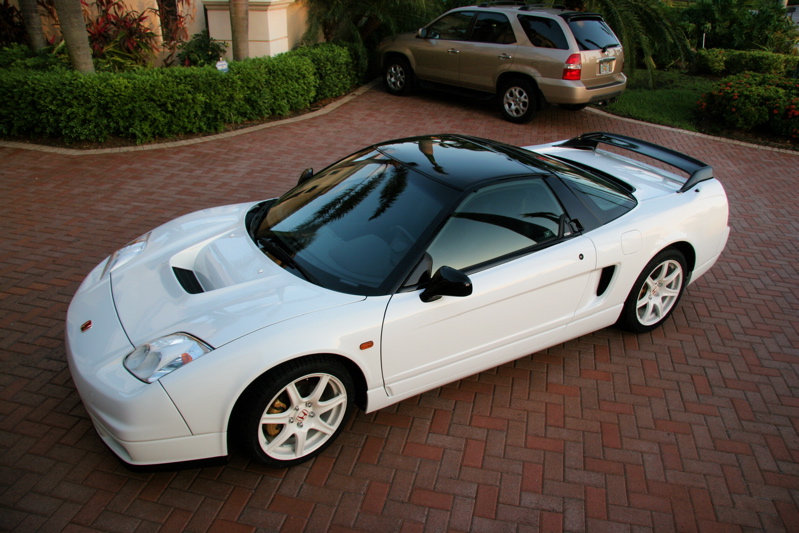 Another great shot.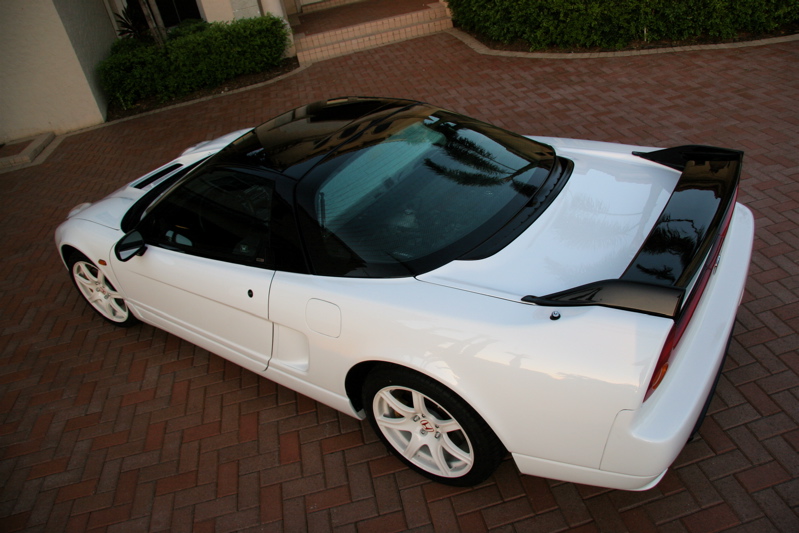 The car is now visually converted to a 2002 Type-R on the outside, though some bits like a hood shroud are still needed (Procar when?). And I have most of the stuff for the inside ready to go, less the seats. I'm perpetually searching for a used set of real Type-R seats, which very occasionally come up for sale (Dali?). The real next step is to decide on the motor build...FI or NA? Personally, I'm a fan of the NA route...punching out the block, lightening the valvetrain, B&B all the moving parts, etc...just to hear that NSX induction growl. Though after driving Armando's monster, the FI route offers significantly more HP for a lot less money. And since he's done the R&D for my project (thanks), I guess the real issue is how long I'll have to be without the car on this motor/suspension project?

But these are all good problems to have