carbonTSEX's Build & Photo Thread!!!
By diyauto
carbonTSEX's Build & Photo Thread!!!
Compliments of carbonTSEX @ https://acurazine.com
6-18-2014
Welcome everyone,

As some of you know, I use to have a TSX built for show and go. I decided to part out after my wife and I picked up the 2014 CBP Acura TL SH. I have been around but never really posted because the car wasn't ready to show. I have been stacking up a few parts over the past few months. Today, I finally found time to put the TL together. Not sure as of know what else I plan to do as I've had the car since the end of December. Sitting at 4000 miles since I only take it out on the weekend. This build wouldn't of been possible without my wife's support of my hobby. So shoutout to her and lets get on to the TL!!!

First: This was my 2004 Acura TSX 6spd that I parted out but after today, it was totally worth it!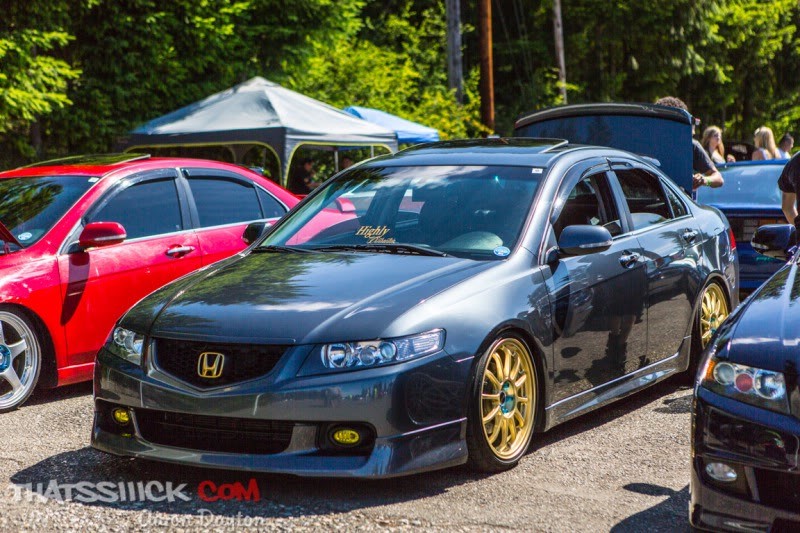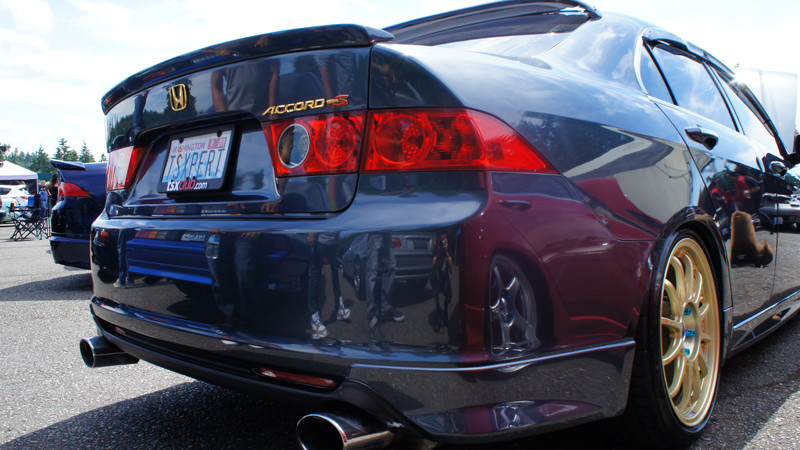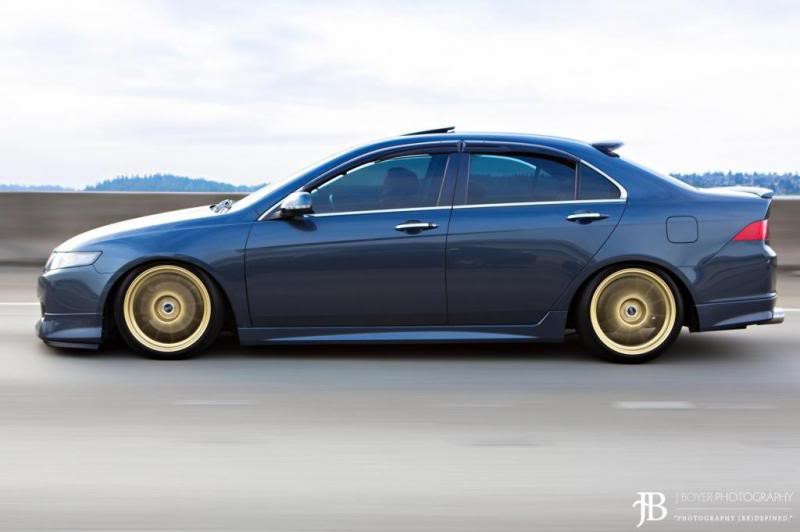 And now the 2014 Crystal Black Pearl SH AWD:

Mods:

- OEM Acura Lip Kit
- 15% Window tint all around minus windshield
- BC Racing Type BR custom built coil overs with 12k Front and 8k rear spring rates and extreme drop kit
- Work VSXX Gold with polished lip 20x9 +16 20x10.5 +25
- Nitto Invo tires 235/30/20 255/30/20 (Didn't pick these tire says)
- Ingalls Adjustable ball joint and toe arms +/- 3 degrees
- 3mm hub centric wheel spacers for front (forgot the brand)
- Spoilerking's rear window spoiler
- Aftermarket black lugs/locks
- OEM All season mats front, rear and trunk
- 6k LED bulbs for door vanity
- 6k LED license plate bulbs

Pictures: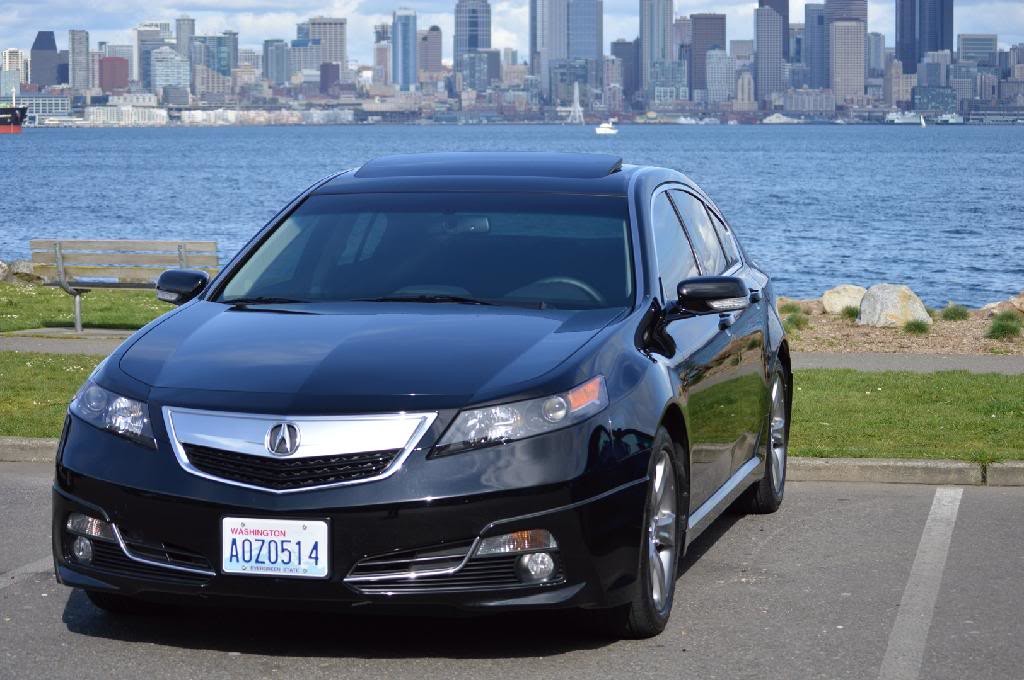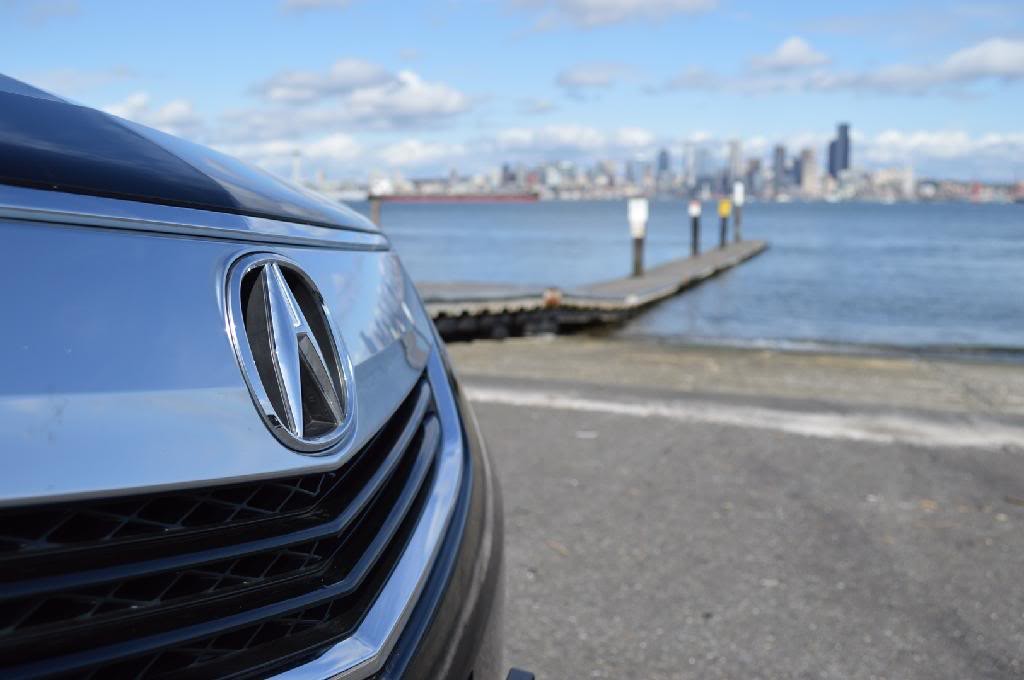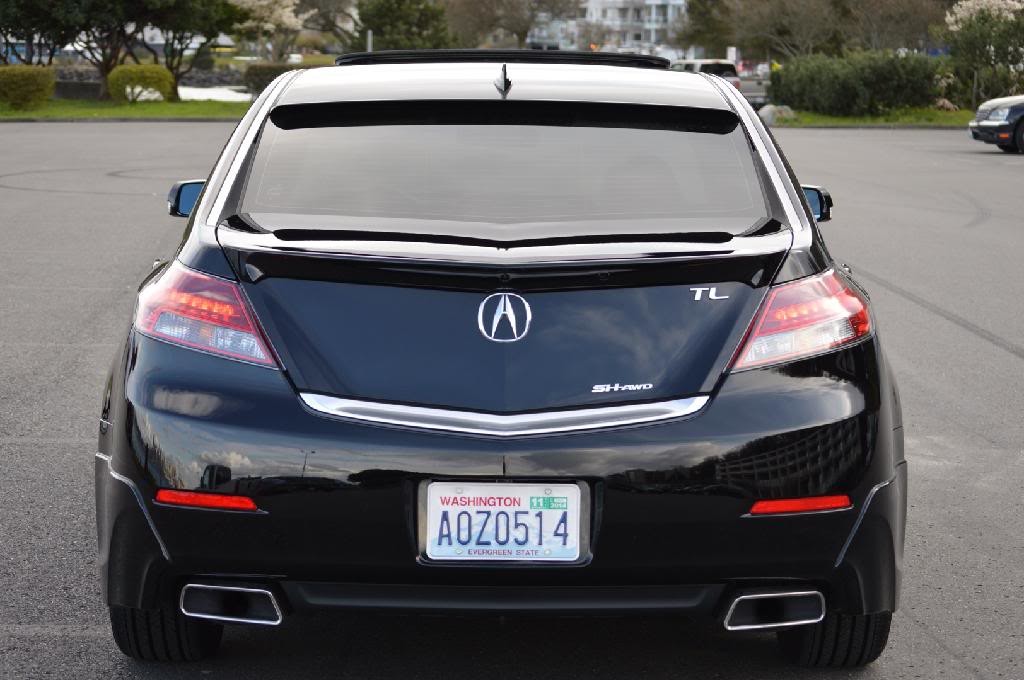 Before Suspension Install: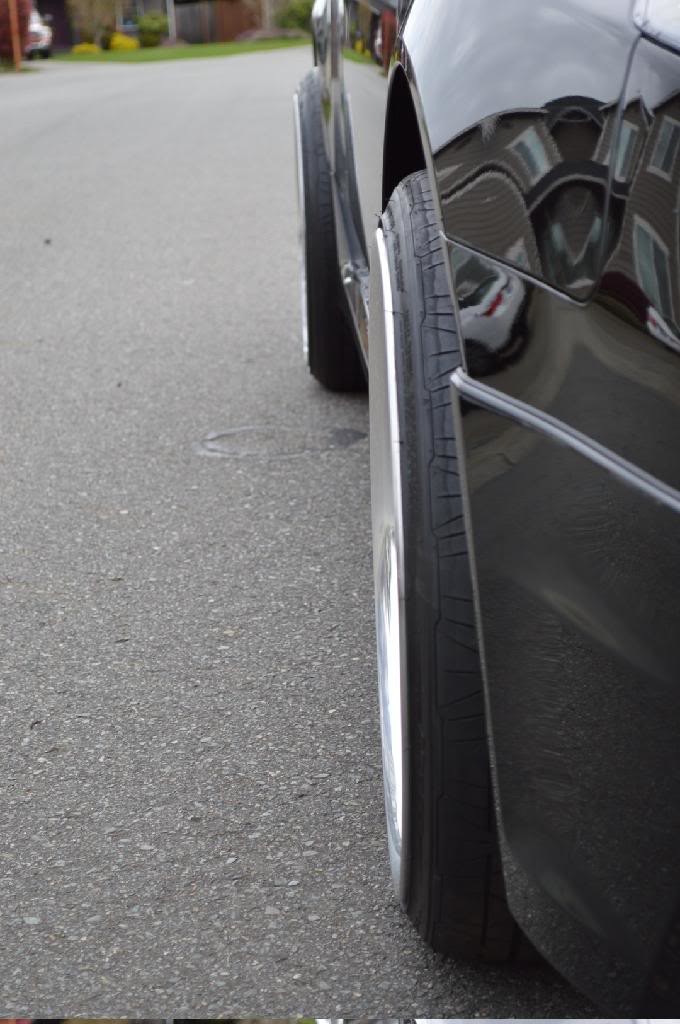 Suspension: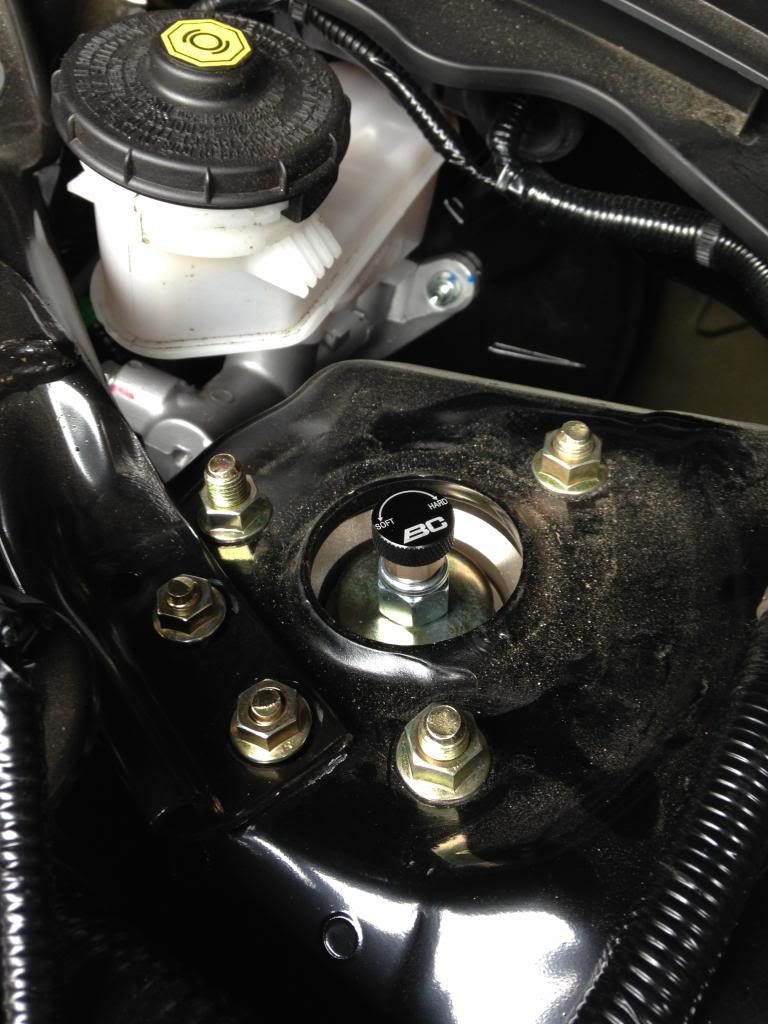 Rears with dampener extensions for rear! I have them installed so you can adjust rear damper from back seat. Best feature!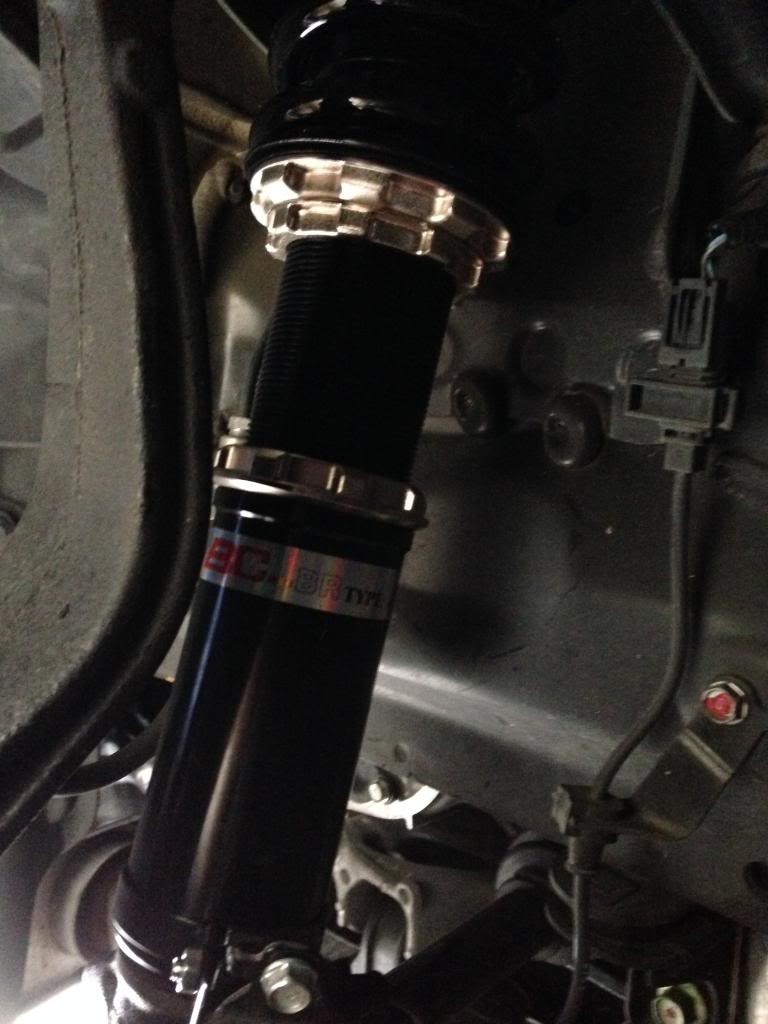 After Drop (today, June 18, 2014):

Out of the box and only half threaded: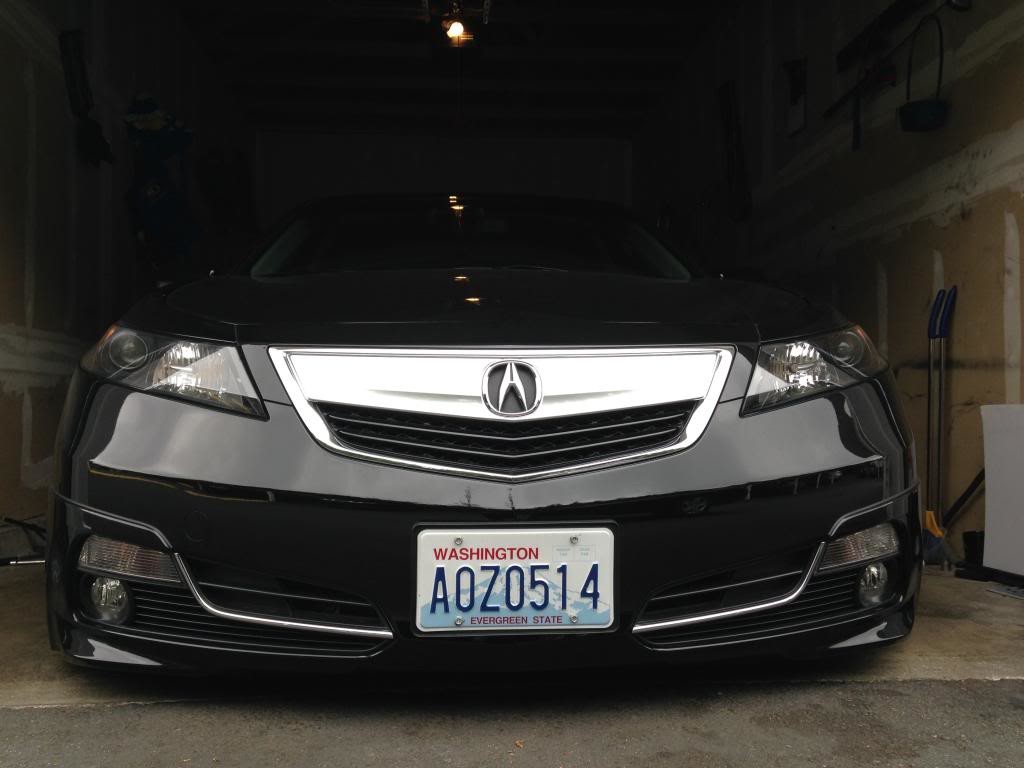 How it currently sits: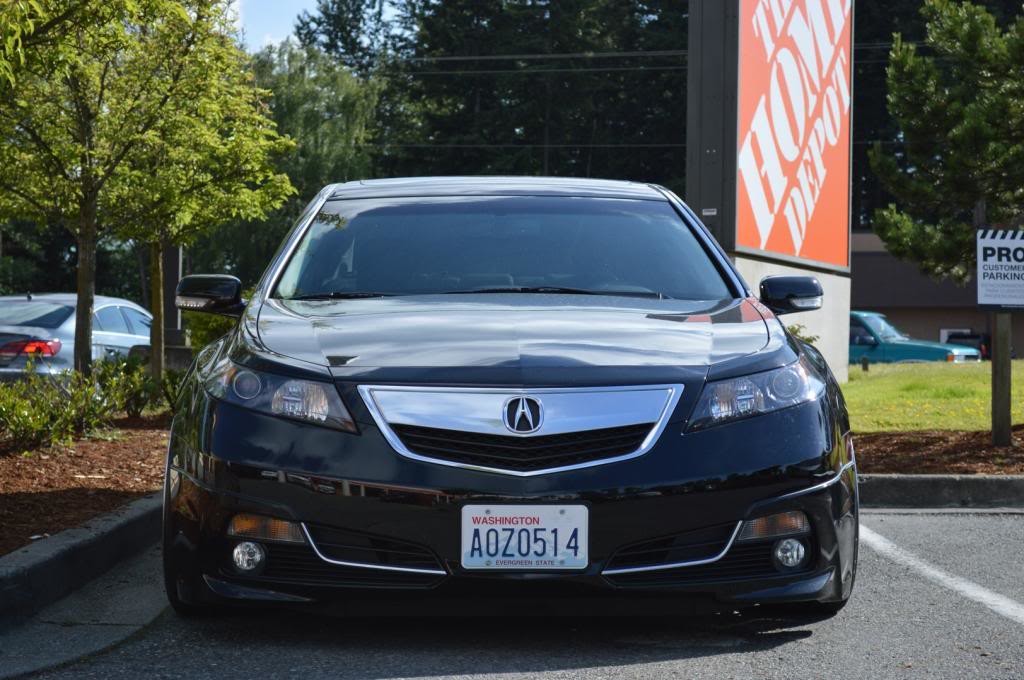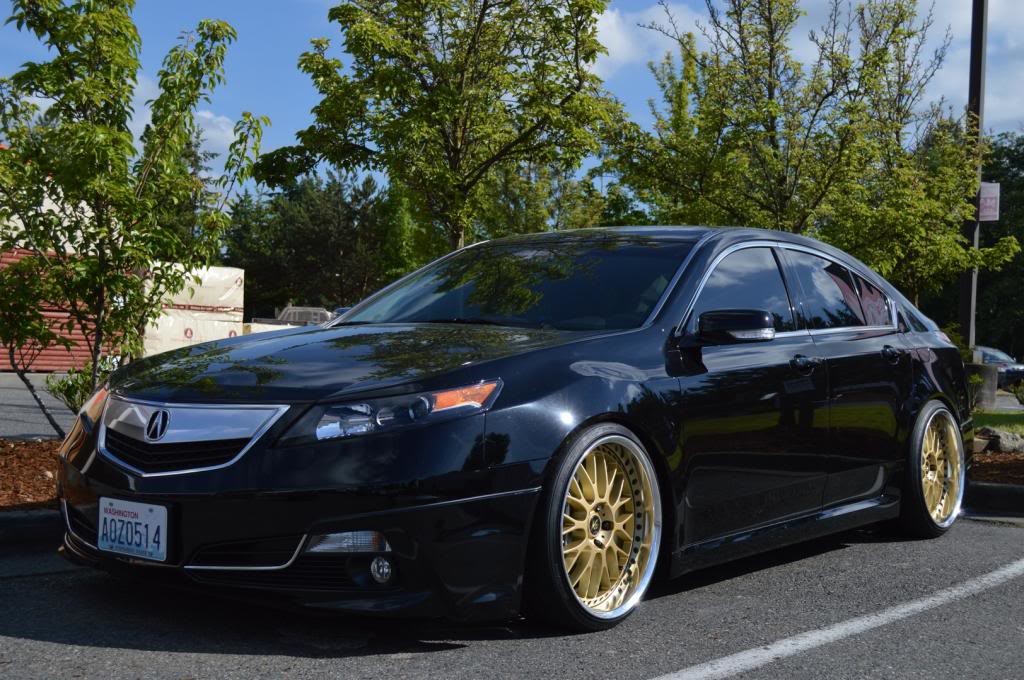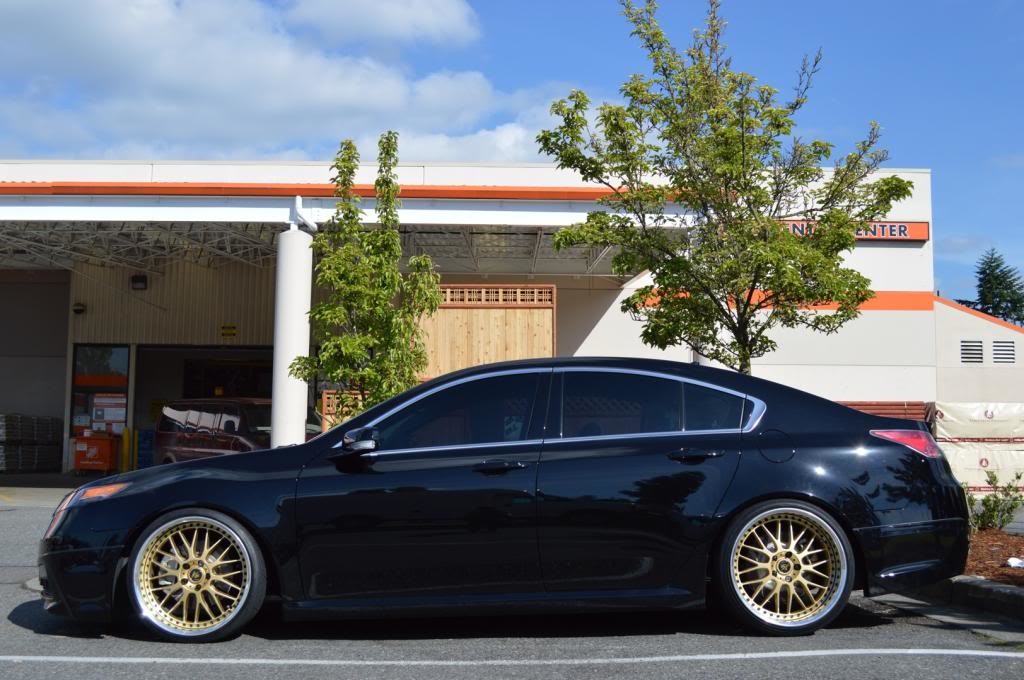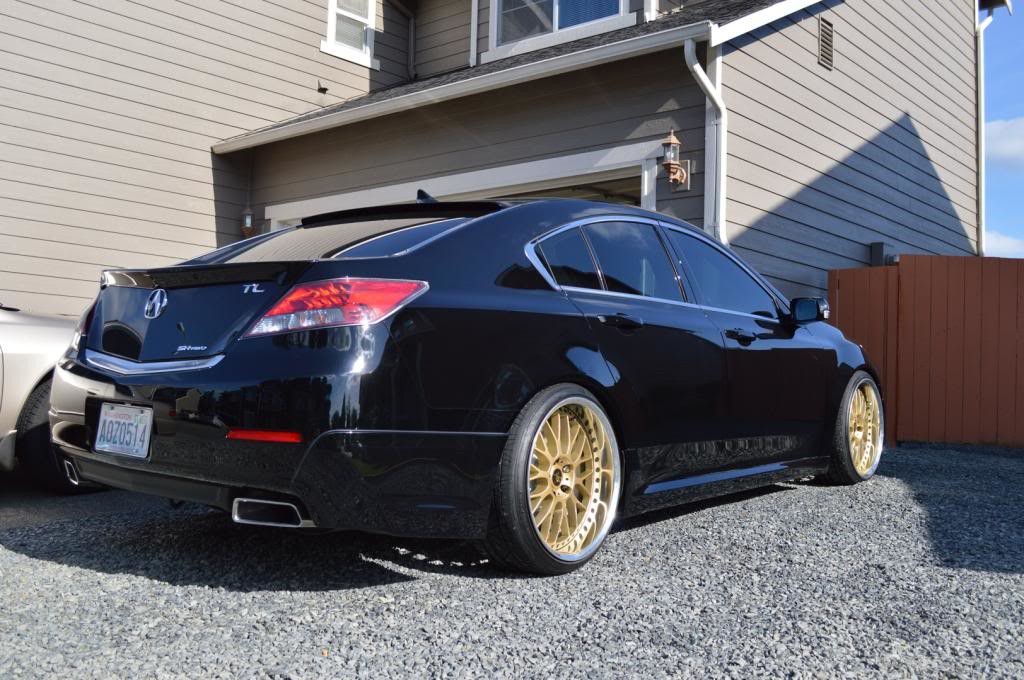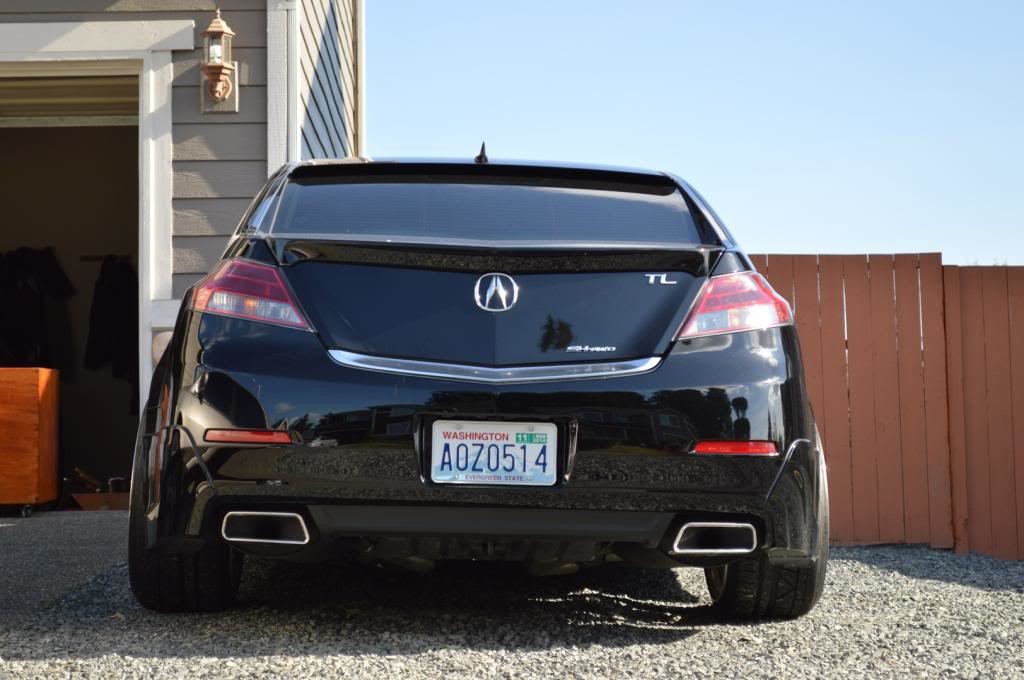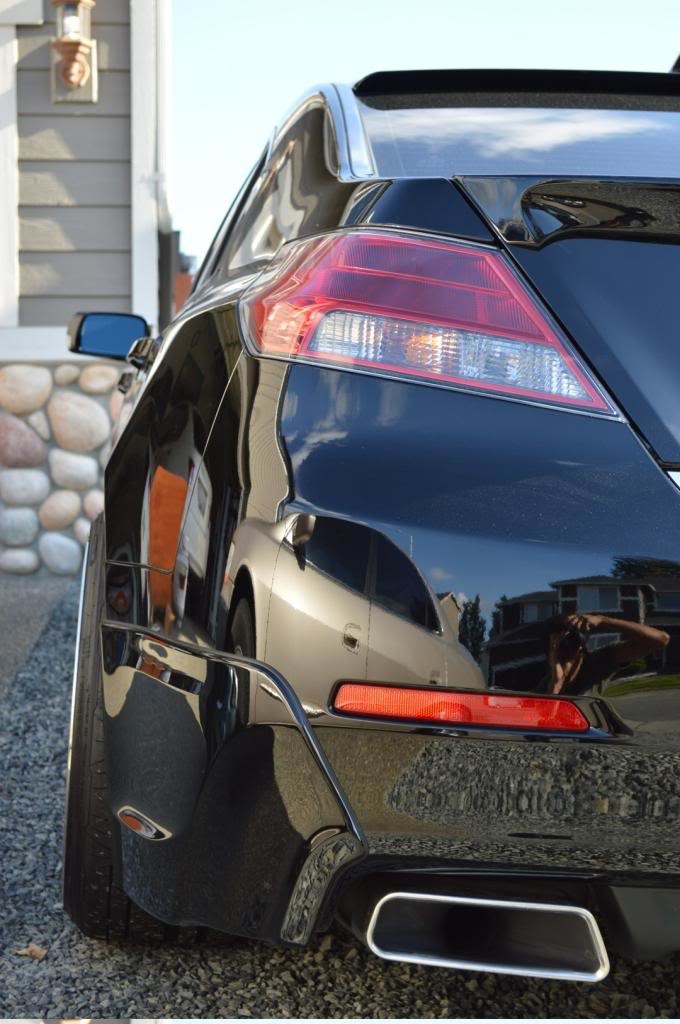 Hate it or Love it! I am extremely happy with it!
6-19-2014
Thanks Terdonal. Tsx had too many mods. Lol that's why the TL is clean and simple.

Here's a couple shots of the dampers. They have a cap that goes over the original dial that you use a alan key to tighten. Then it extends out from there and has another dial on the top. They click really easy. I could tuck them in between the seats but I kinda like how the extend out and it's not a distraction.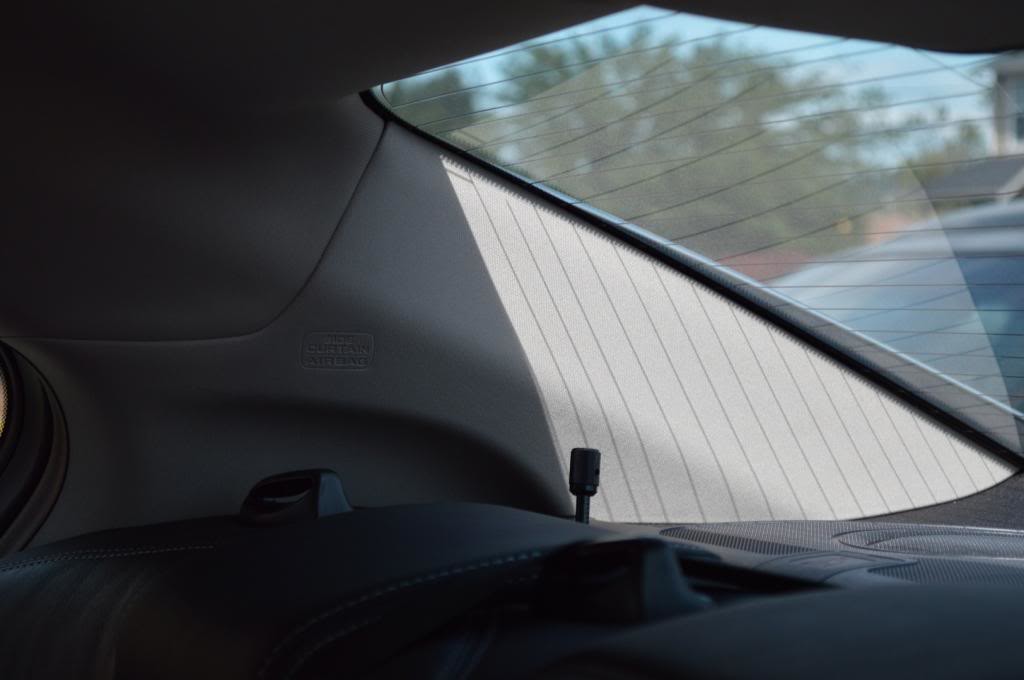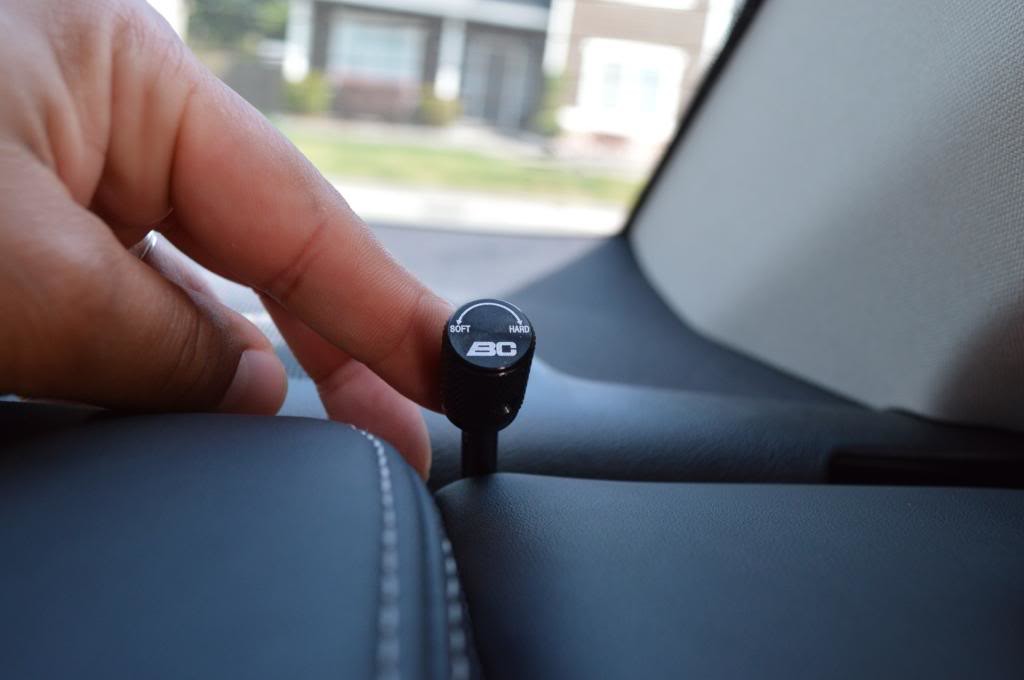 That's what you get when you run 20x10.5 +25 on 255 series. Like mentioned above. I only had enough time to install the adjustable toe bars and didn't install the adjustable ball joints for camber. It's not complete yet. Once I have those installed I will be pushing the tops in more. I like the flush look on the TL though. It needs an aggressive stance to compliment it's big body. I wasn't interested in tucking rim. Stance to make her dance! I accept all positive and negative criticism. It's still in the works.
Few shots my homie took.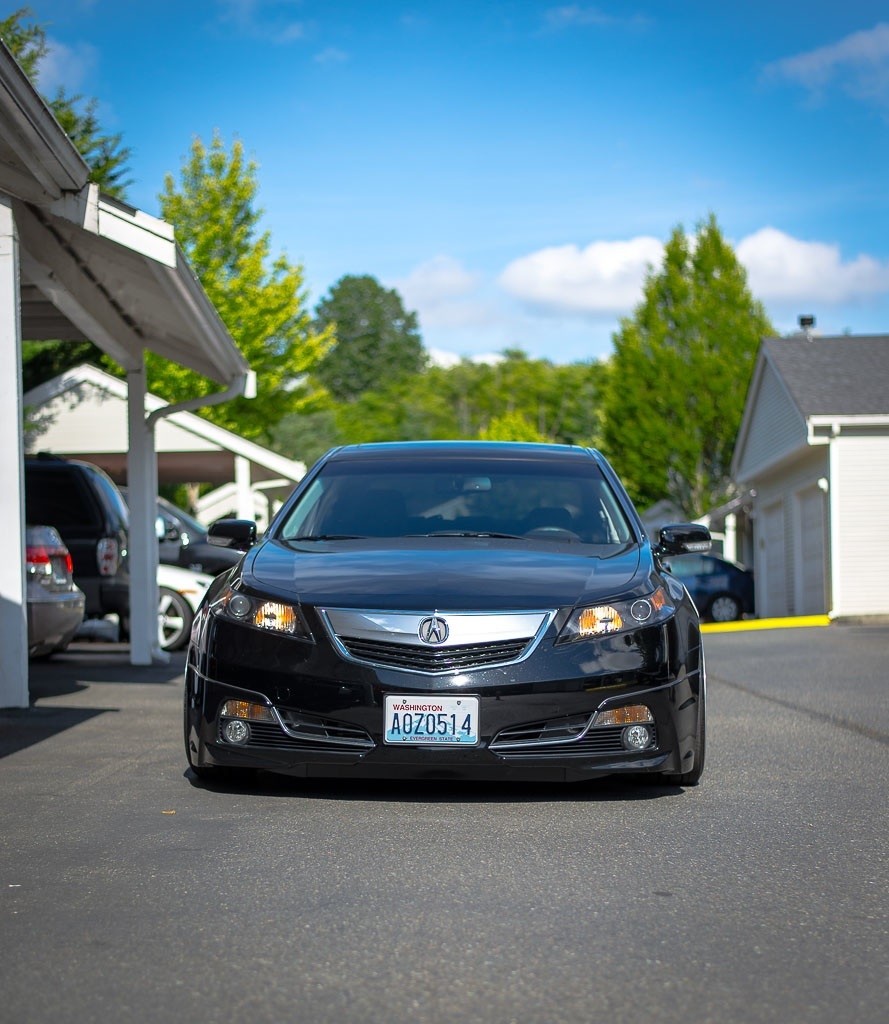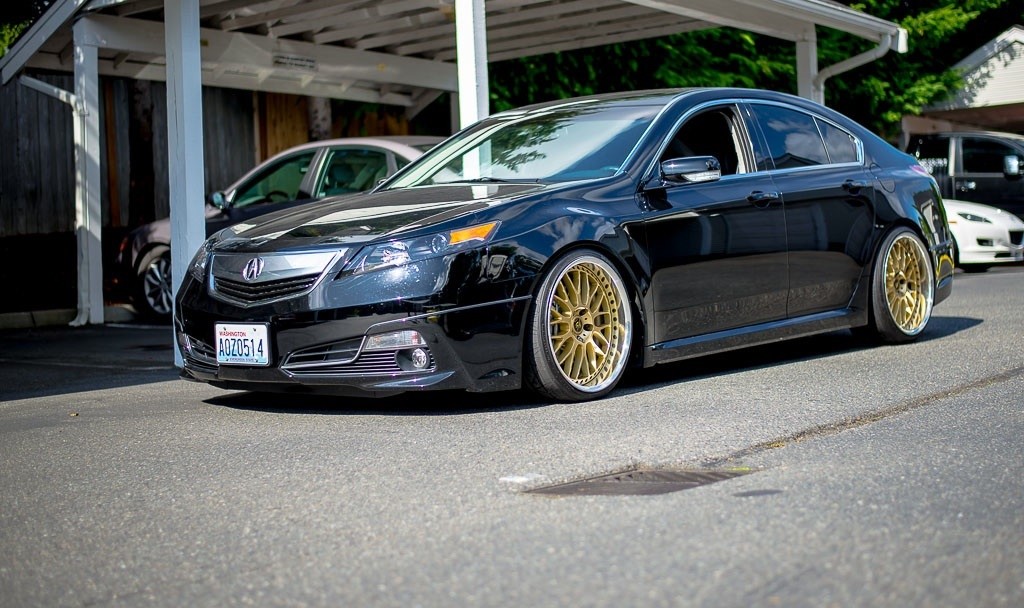 More then welcome to follow me on Instagram. @TSXPERT not only cars but enough haha
6-27-2014
Thanks. The height now isn't bad but it could use a few adjustments as soon as I find time to install my rear ball joints. It's the rear that is a little higher then I'd like. Not interested in scraping in this car since it's new. So it'll be lower for shows. Since those pictures I did remove the front air splitter to gain more clearance since that was most likely to scrape. Gotta keep everything mint.

Tsx was a different story since it was all mine haha. But until I get my wife a new car the TL is functional for her as well. Eventually this car will be bagged.
7-8-2014
Camber kit and alignment finally finishing on Wednesday. Gonna dial in some camber and drop the rear down more. Gotta get ready for the Acura of Lynnwood show on Sunday. Cars been sitting for the last couple weeks.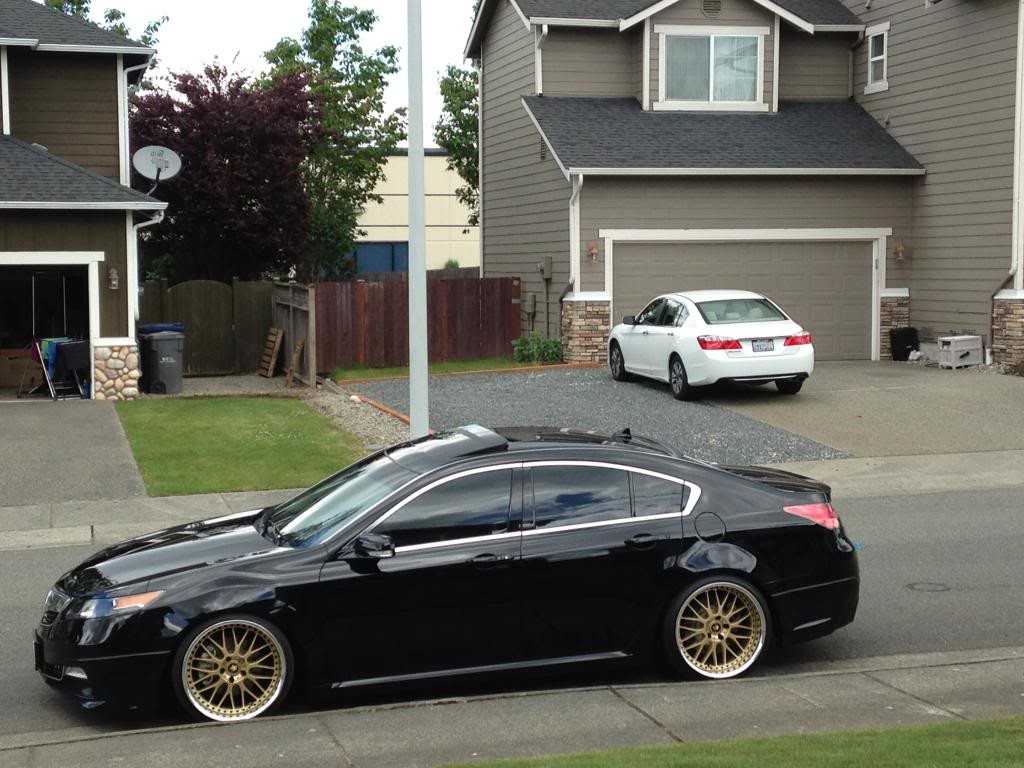 7-22-2014
Thanks guys. Been sitting for the past 3 weeks. Gonna have to bring it out soon. Nothing special but here's one from the last show I went to.
7-30-2014
Messing with my camera after a fresh wash.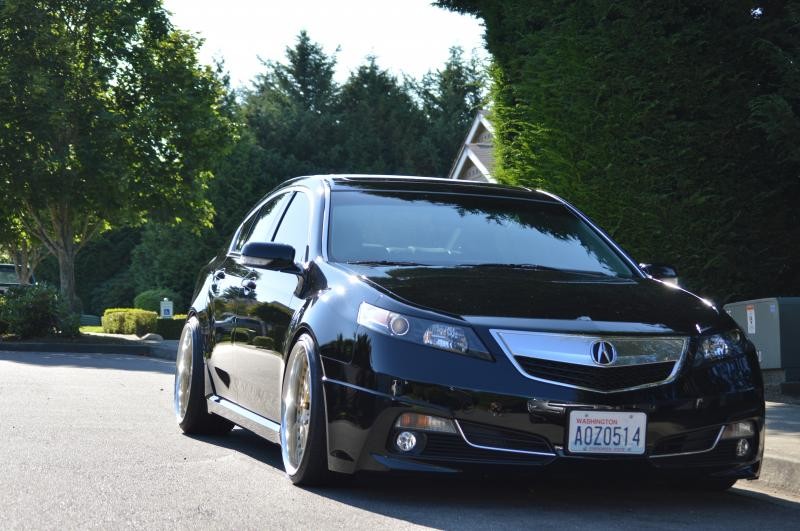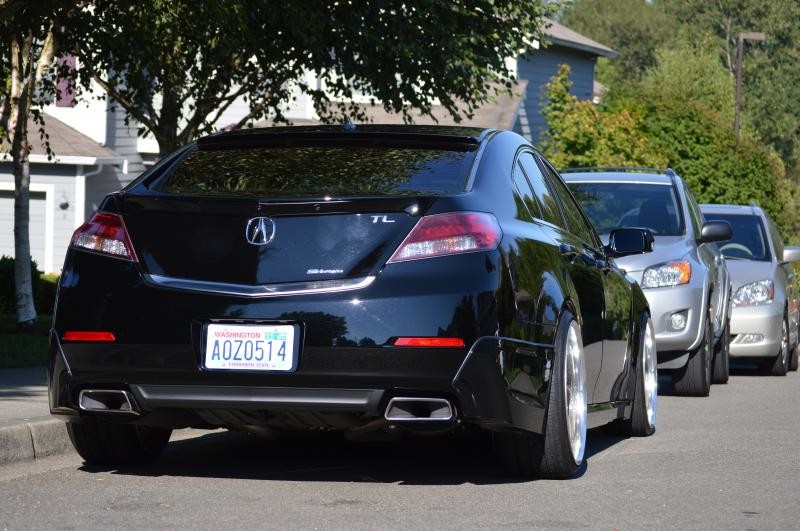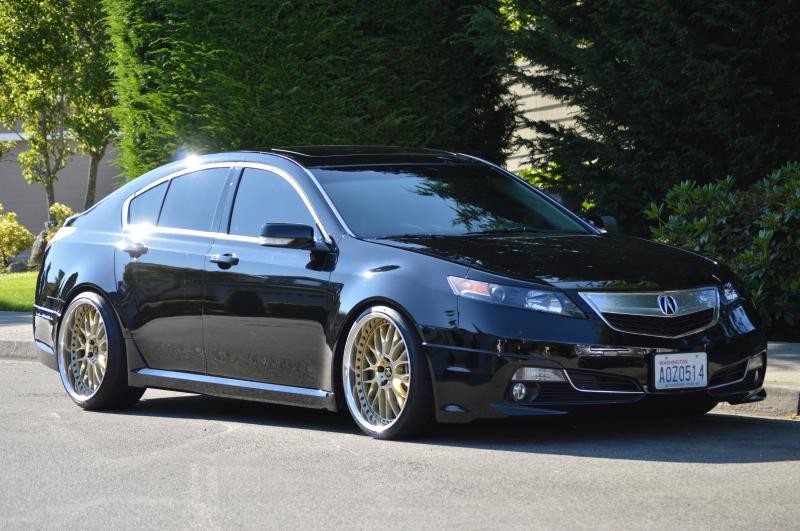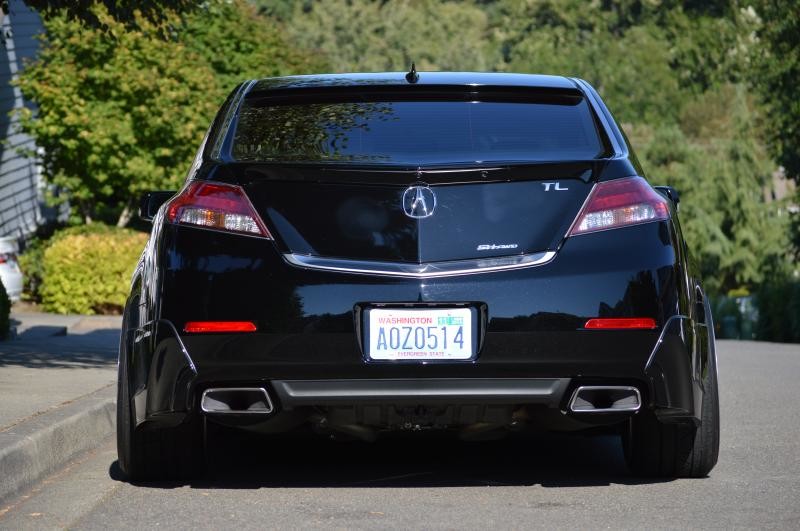 I've been debating on running 255/35 all around or 245/35 all around. Either way I have to swap all 4. Just worried about the clearance up front with the 255/35. I've seen them in person on a local here and it look like it barely fit. I'd have to get the spc from adjustable ball joints.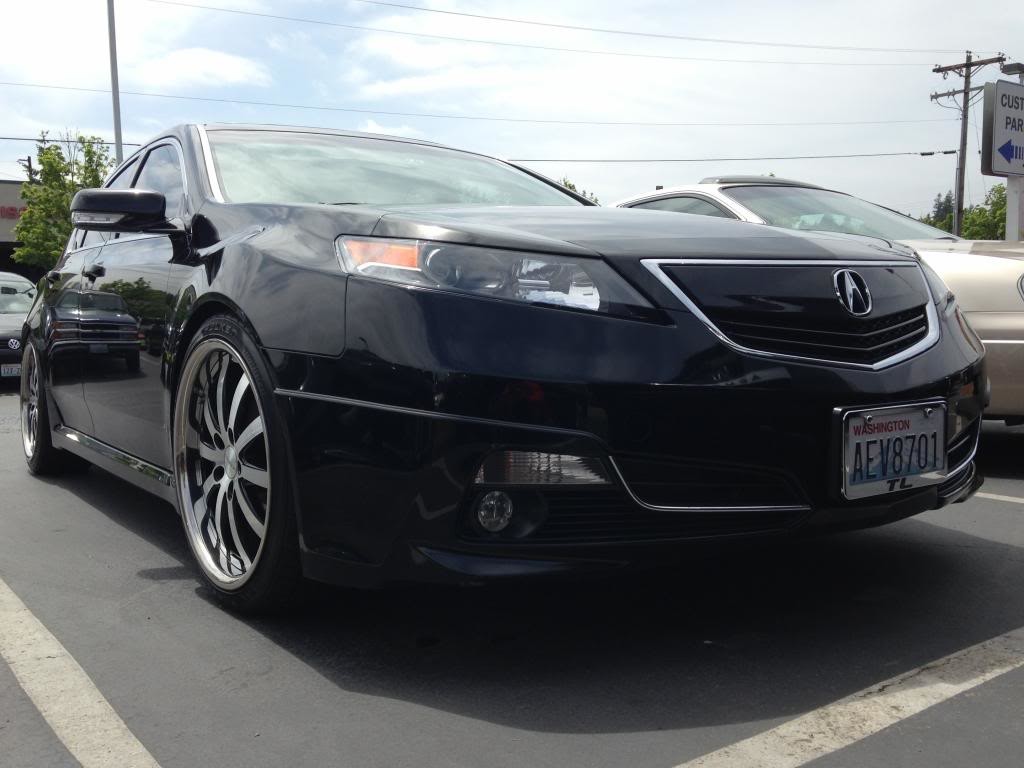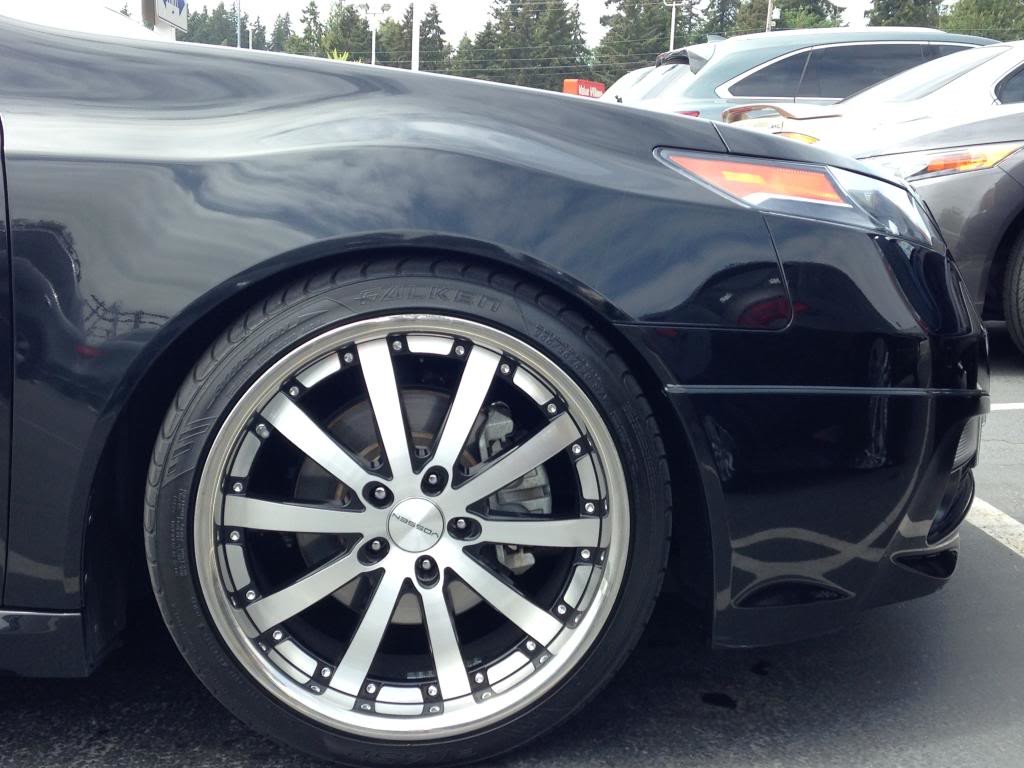 7-31-2014
Here you go JTL12. Rear still needs to be dropped. Been lazy on getting my ball joints in... Believe it or not, the back is at max height! The extreme drop kit makes it really low. Chassis laying suspension.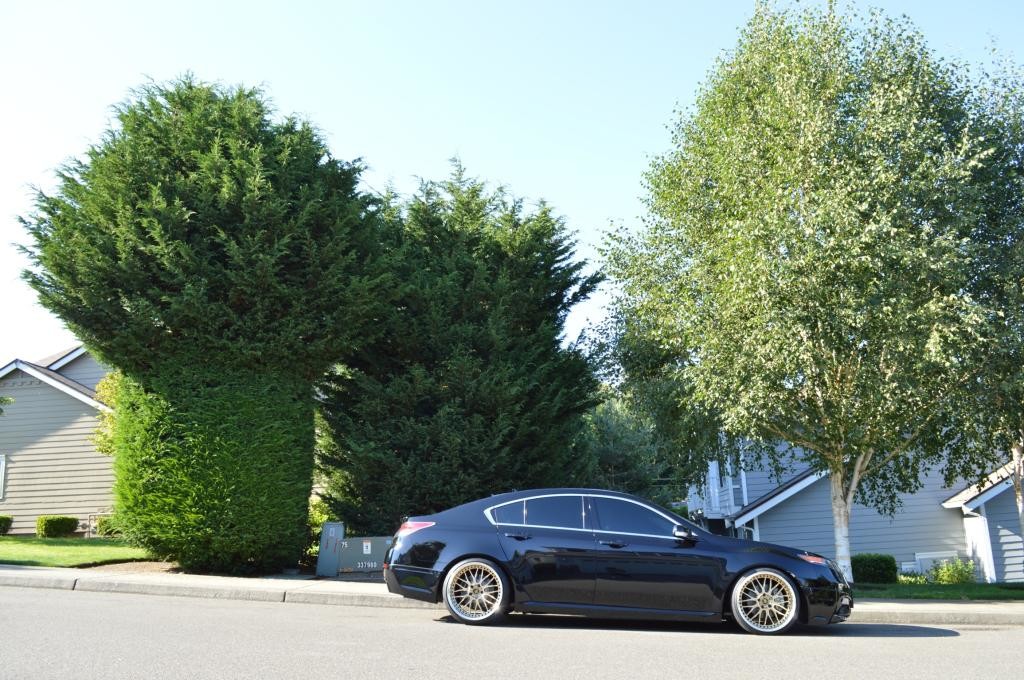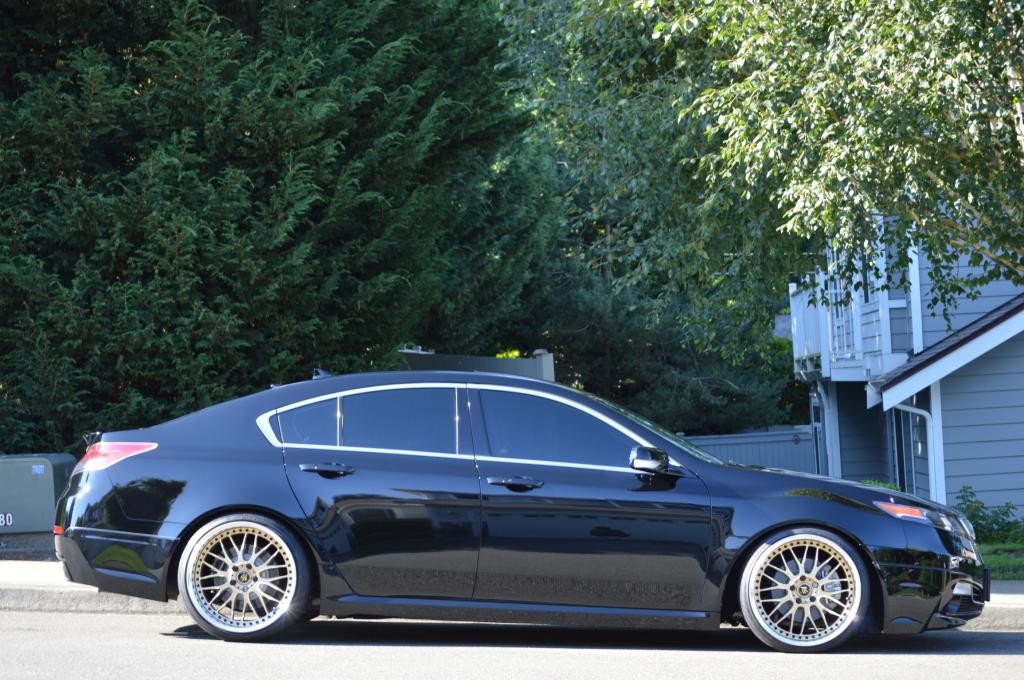 8-1-2014
Oh I can post up a side shot of that one if you'd like. No offense to anyone with Vossens but I wouldn't replace my Work VSXX with Vossens. Just not my style.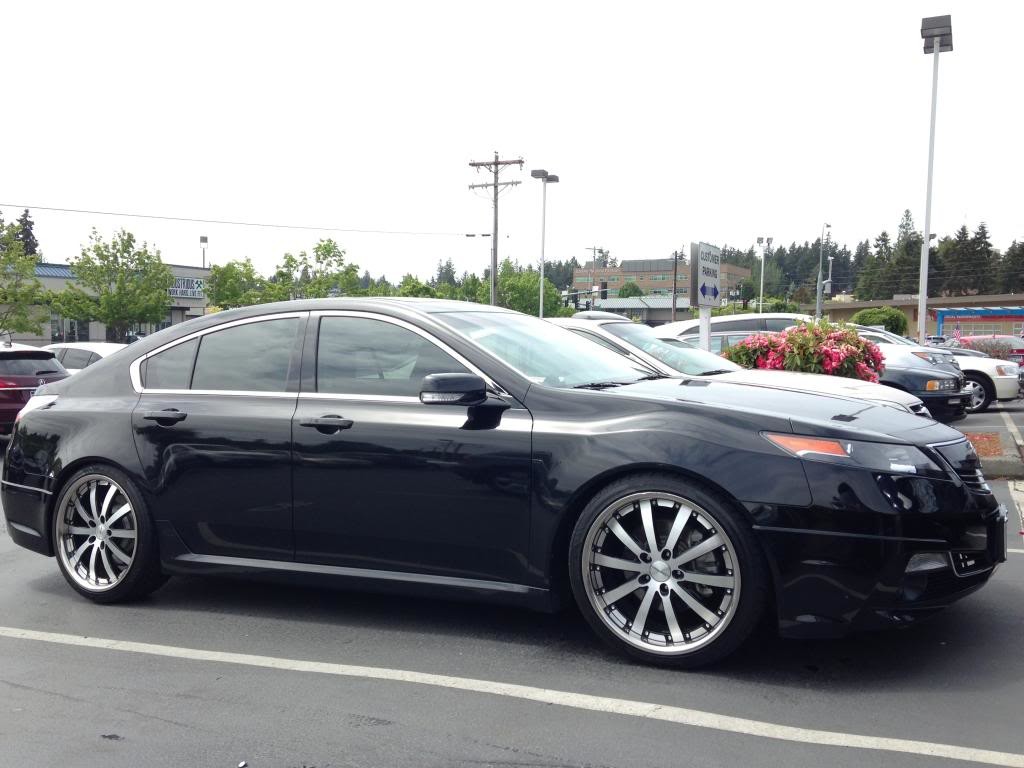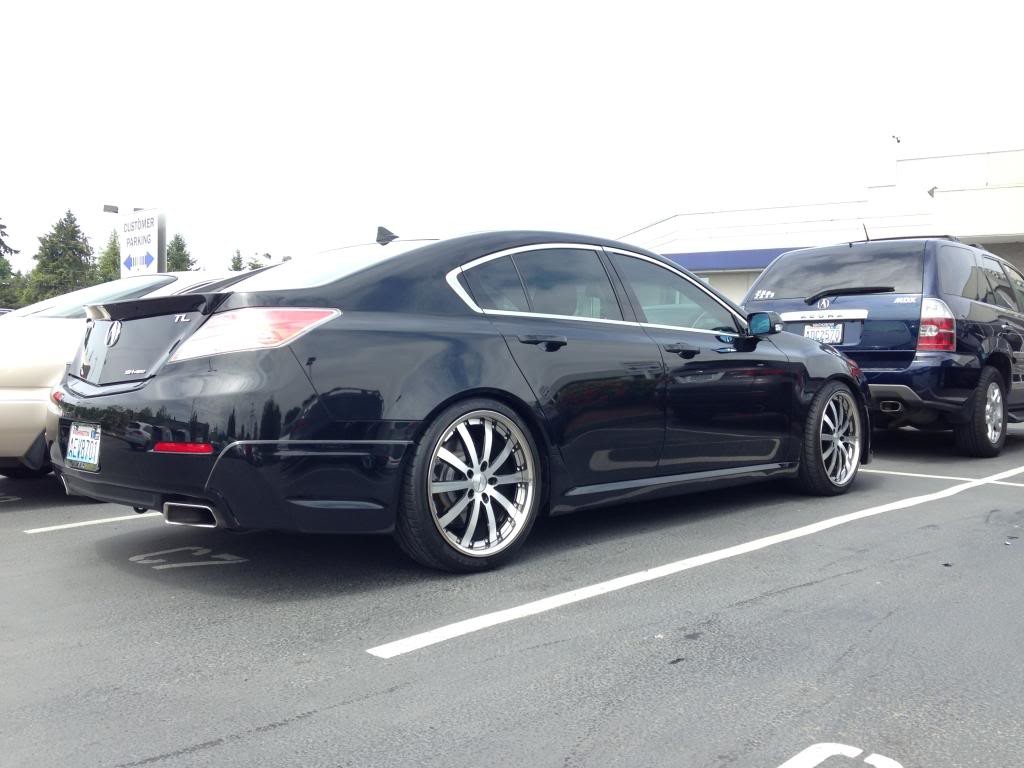 8-18-2014
I hosted the TeamHD annual bbq with my TSX crew as well as a few others off of acurazine and tsx club. Figured I share a few shots I took.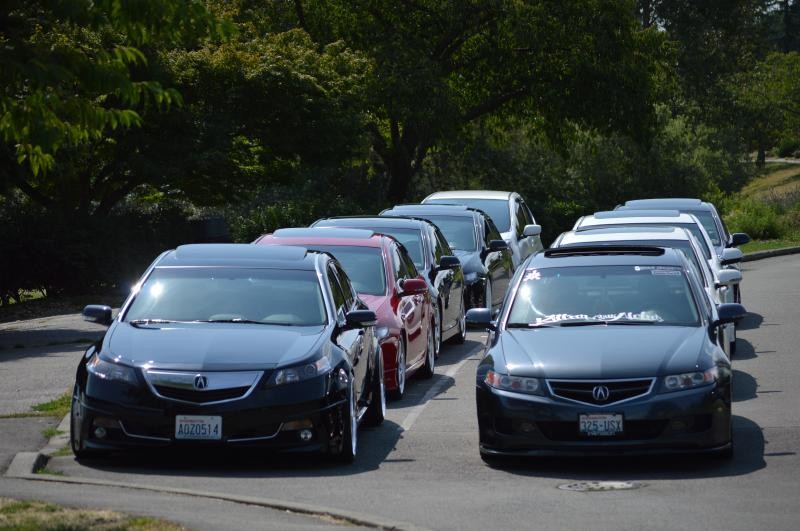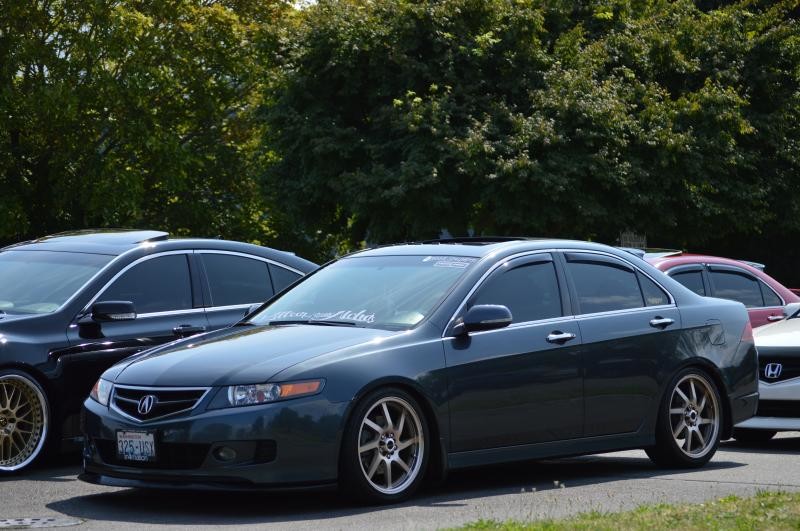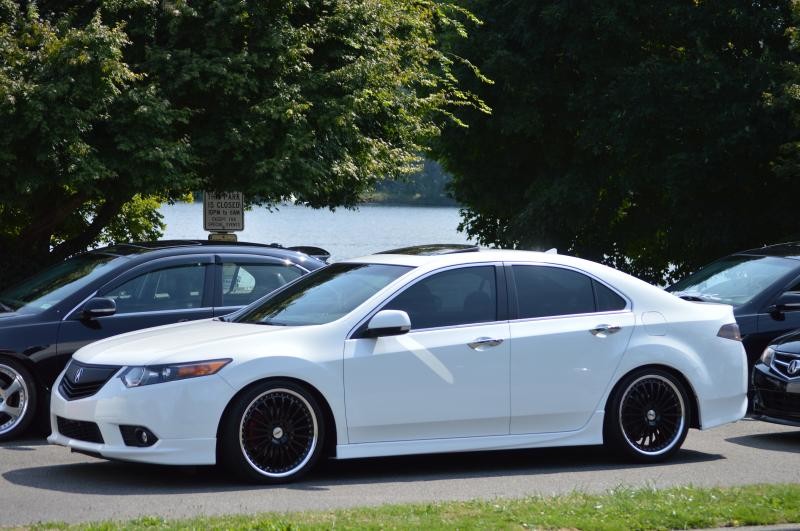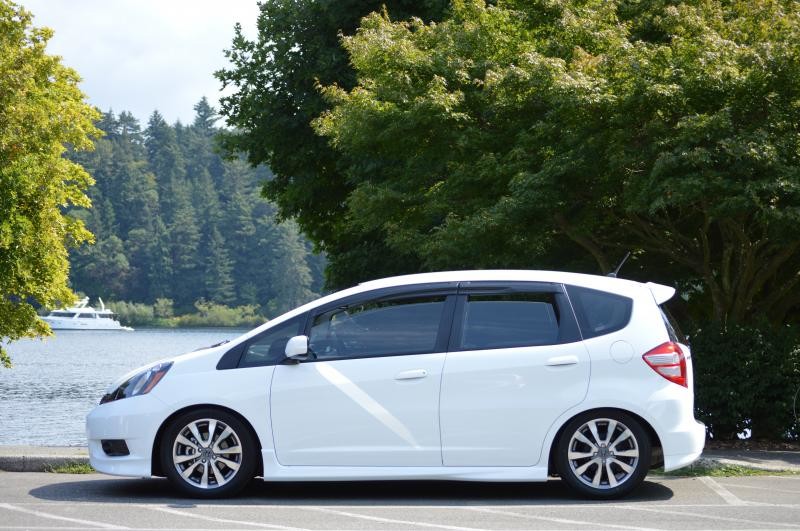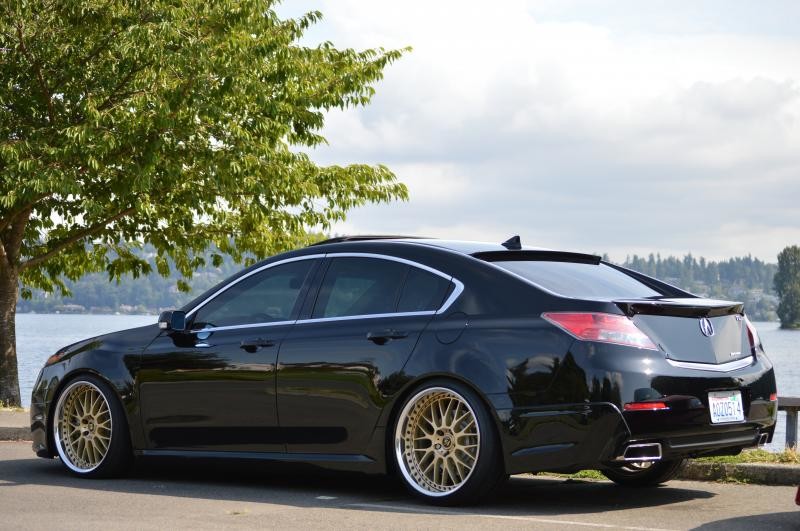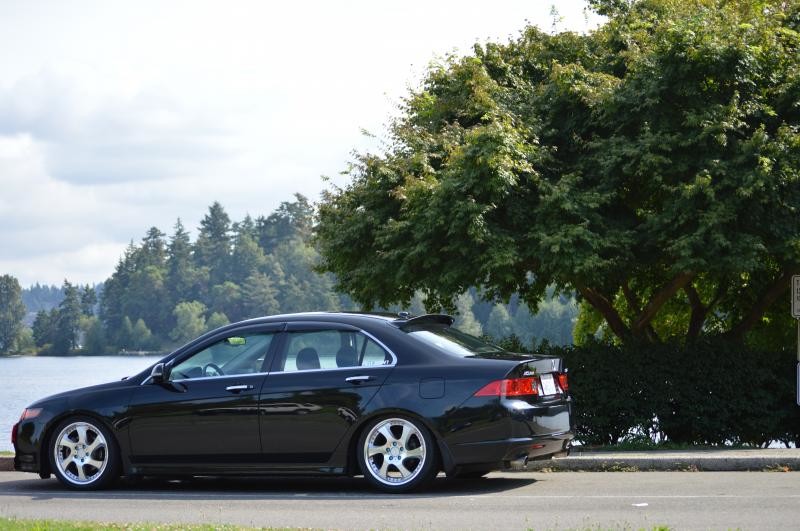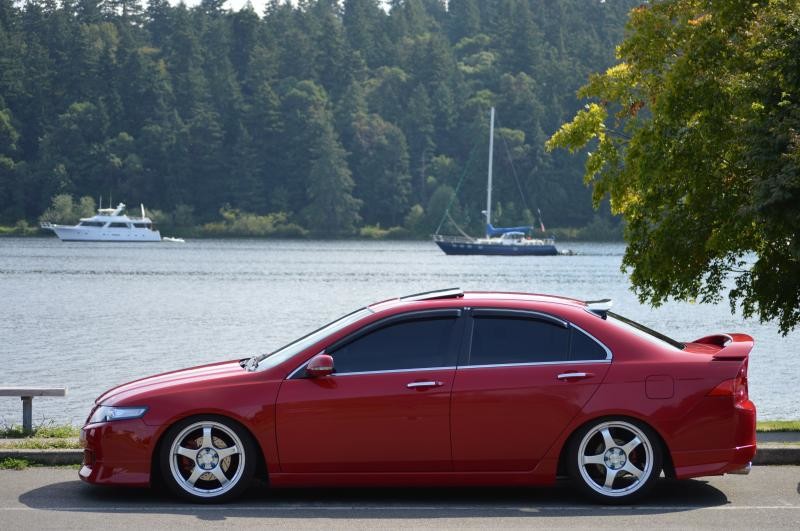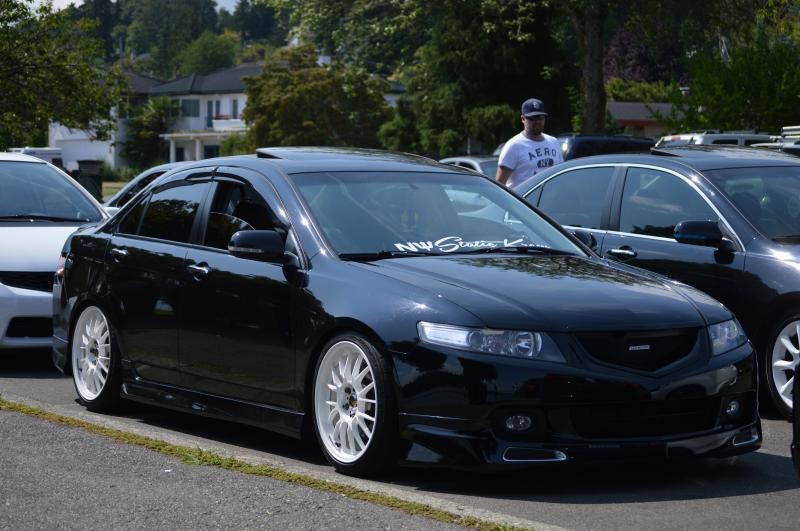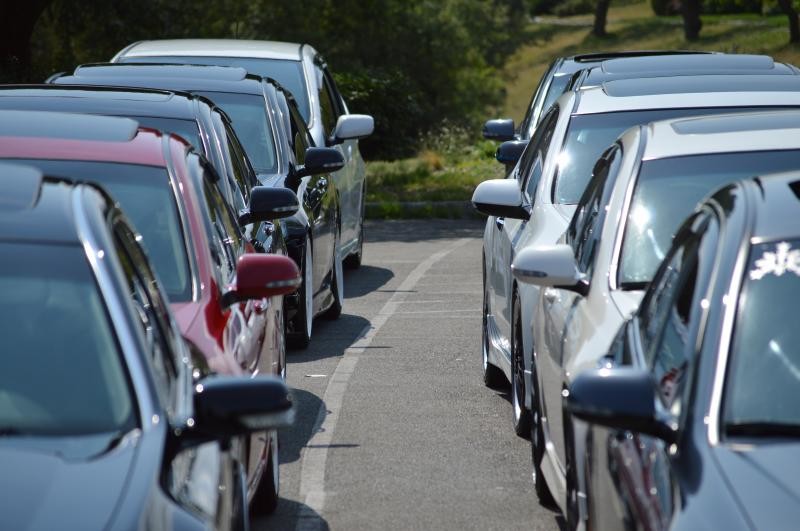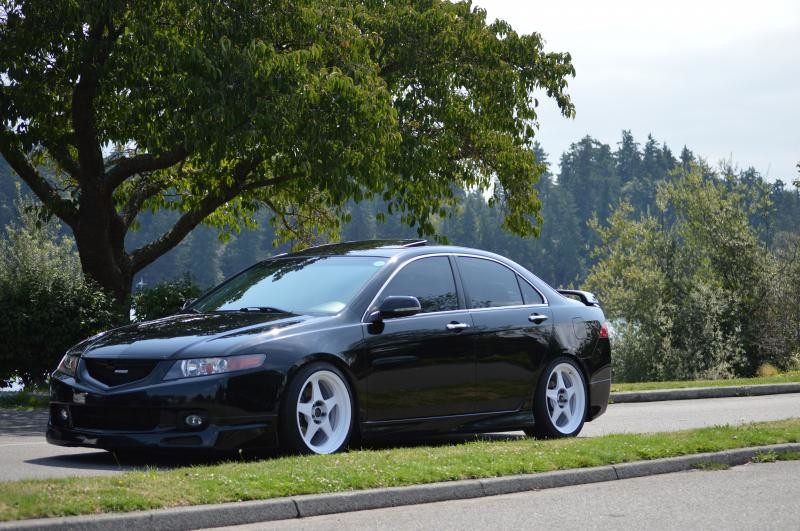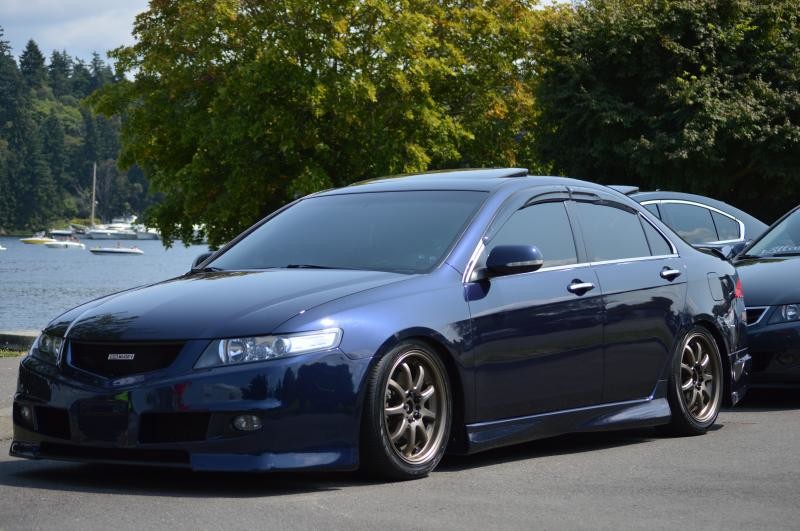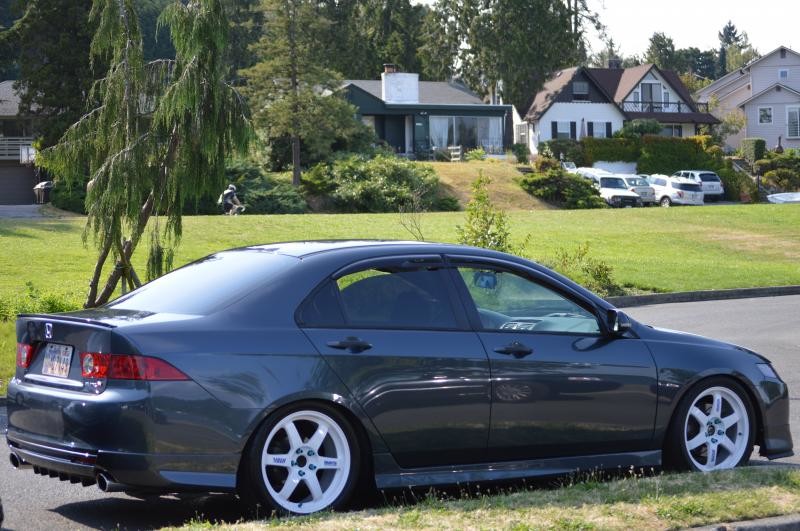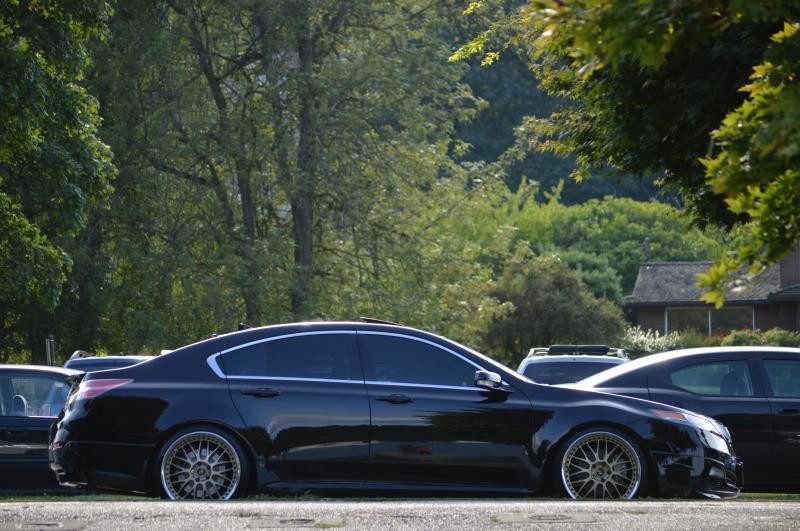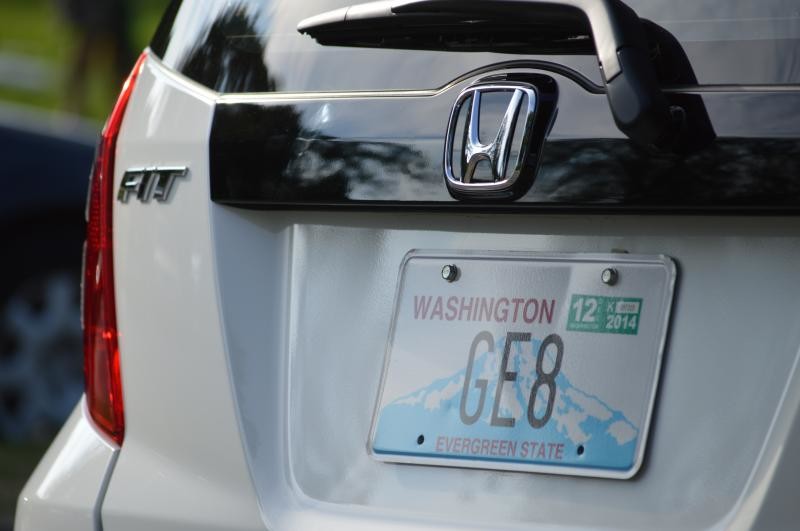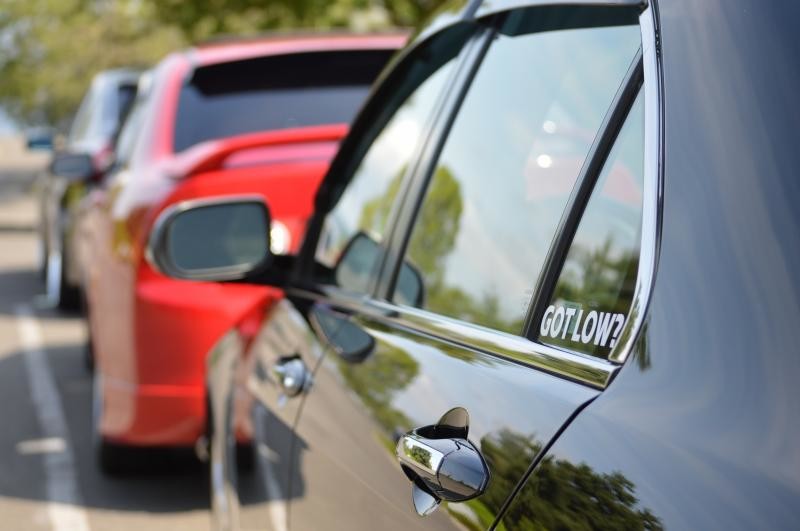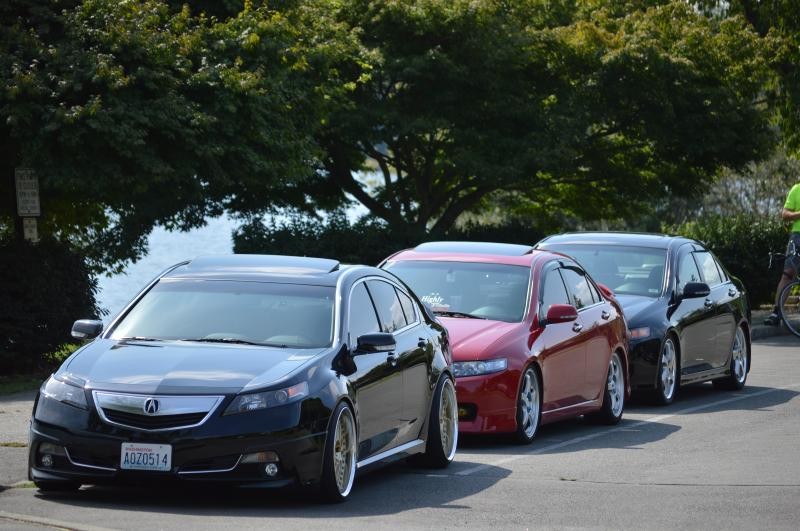 8-18-2014
Hate to break it to everyone but I decided to pull off my Work VSXX for the rest of the year as the car season is ending up here. Weather is still nice but ready to actually put my suspension to use since I haven't been able to drive the car and only cruise. I must say, the ride quality went up going back to the stock 45 series from 30's, gained a little more power from weight reduction and mpg is on the rise again. Height is perfect and handles like a champ!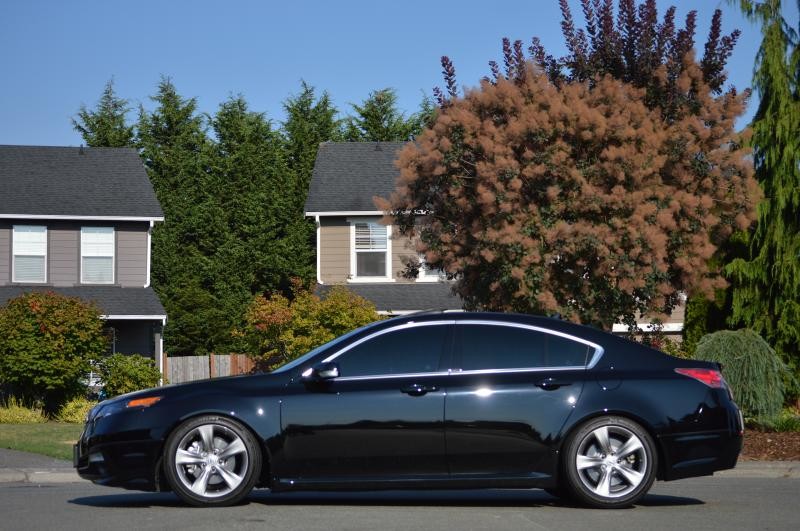 Car still looks clean and I never had the chance to see the car on stock wheels since I installed my coil overs and Works the same day to dial in the height. Got the approval for airbag suspension from the wife so next season will be a "Game Changer" lol. Ill still be active but probably not post picture of the car until I get new parts or once it's finished. See y'all around it's been a good year. Still only 5086 miles on the odometer.
Yeah I didn't have to pull them off, just want to enjoy driving it more like when i first bought it. Still love the look of stock dumped but not crushed. Grew out of that phase.

Yeah the white wheels are going hard. They are all mint too. I started that crew a few years back and they are coming up. Still missing some others too. They have looked up to me ever since I had my TSX built and now that I have moved on to something bigger and better, they love it haha. Always been the leader when cruising.

Yeah I can't wait to get bags. It was my original plan but I had to get this car ready for this years car season. It has been nice being the only 4G showing. However the wife gave me the thumbs up so I will be taking advantage of it. She is also willing to match what I throw down which she doesn't have to. Keeper!

Low miles feels great! Gonna stay low since we don't drive it much. Make's me enjoy looking and driving it after cruising in me 04 TSX on the daily haha
I wanted something more aggressive then Teins so I went with BC Racing Type BR. Always ran them and my buddy and I get a discount on them now. They allow you to pick any custom spring rates you'd like at no extra charge. I went with 12k front 8k rear. I also had them add the extreme drop kit. I got mine all for $950 with free shipping and free extreme drop kit. Dropped the price by $50 as well. Even the factory spring rates are nice for daily driving. They run $999 I believe which is right there with Teins still with free shipping.

They came with the extenders for the rear and this was the first time I've seen them in every set I've bought. They really did a great job on that. Best feature.

They ride extremely nice and smoother then stock to me. You still feel the bumps but it's not as stiff. I'm running my dampening at 8 front and 16 rear. Just tighten up the rear to 10 and it's amazing. Haven't put them to the max but they don't need it. I recommend them if you're looking for a mix between comfort, handling, and height adjustability. They drop way lower then Teins. Teins is more on the comfort side then drop and stiffness.

Couple other pluses: rebuildable in the states and they have slanted collars so they won't get stuck at a certain height if you leave it.

My brother has Tein Street Advance on his 13' Honda Fit and they ride really smooth. Just don't go as low as he'd like but he's able to make the driveway. Whatever you choose between the two are great choices.
8-19-2014
Found some more shots from this passed weekend: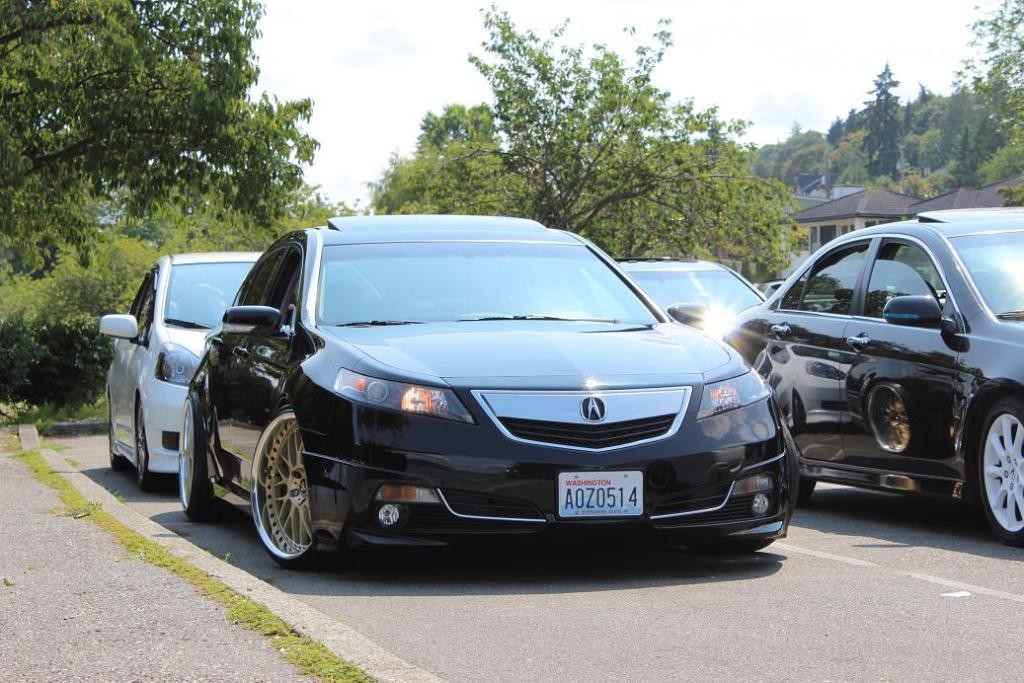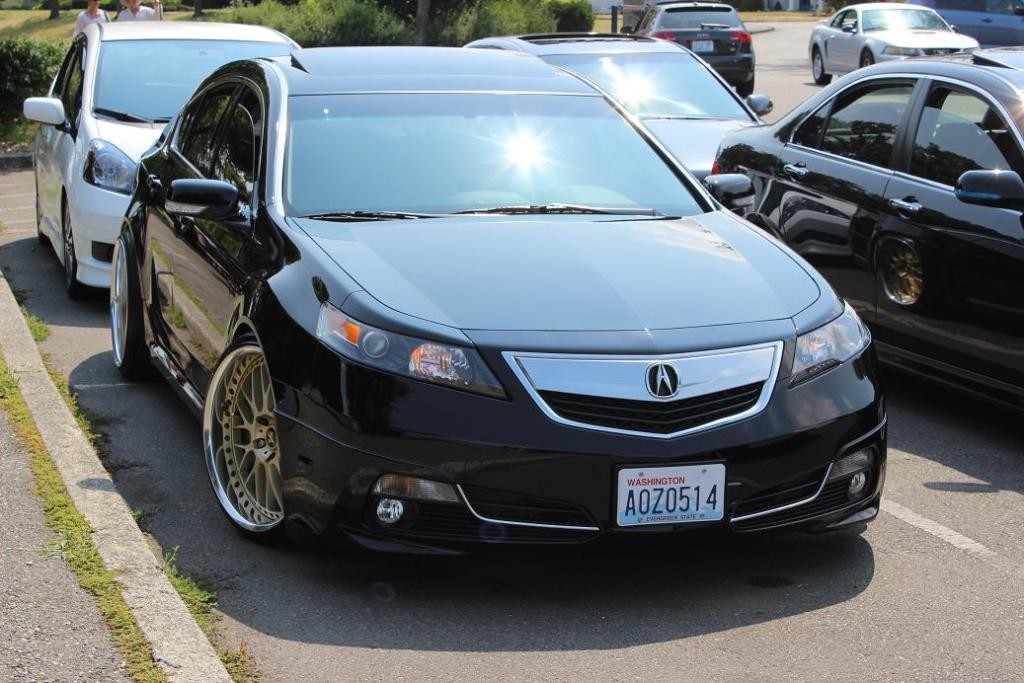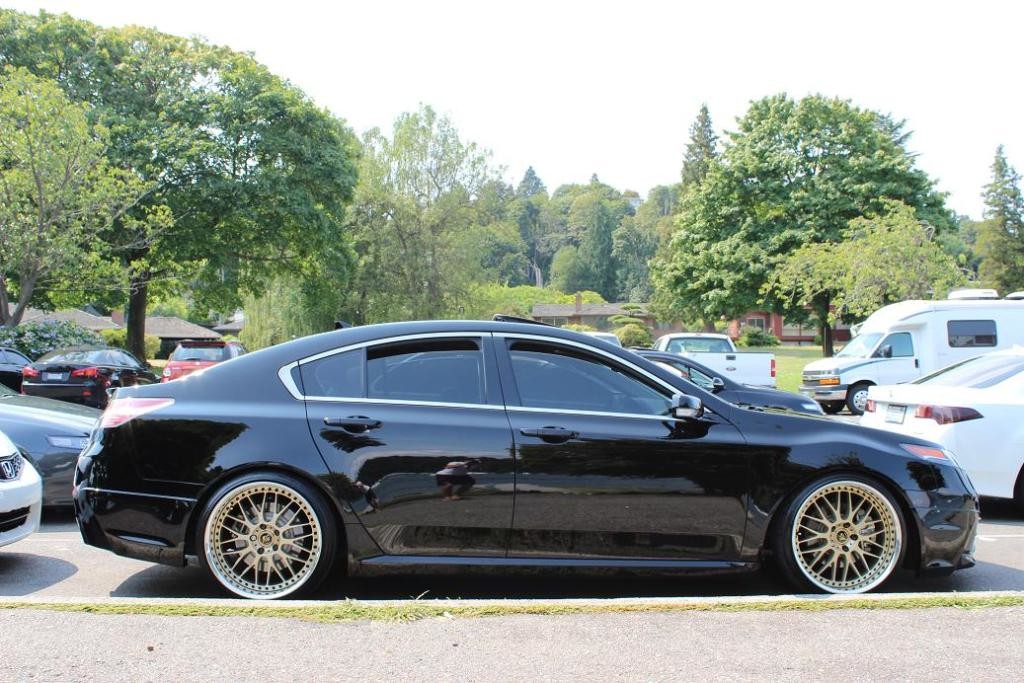 12-8-2014
Well it has officially been 1 year since I purchased the TL. So happy birthday to my SHAWDY. 6000 miles later!

Decided to get a full exterior to prep it for the winter. Looks brand new still.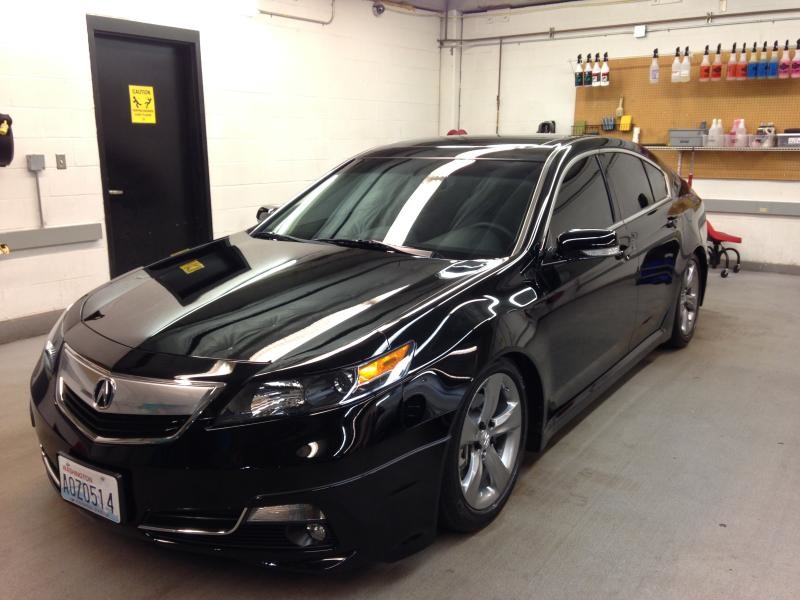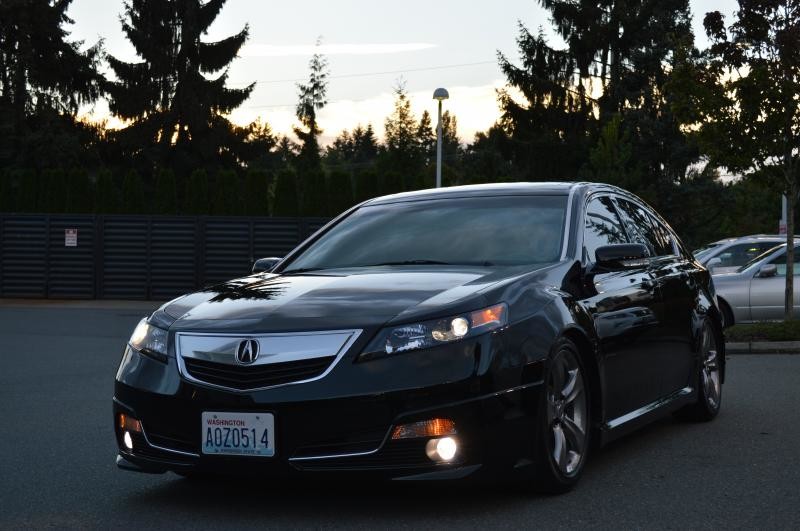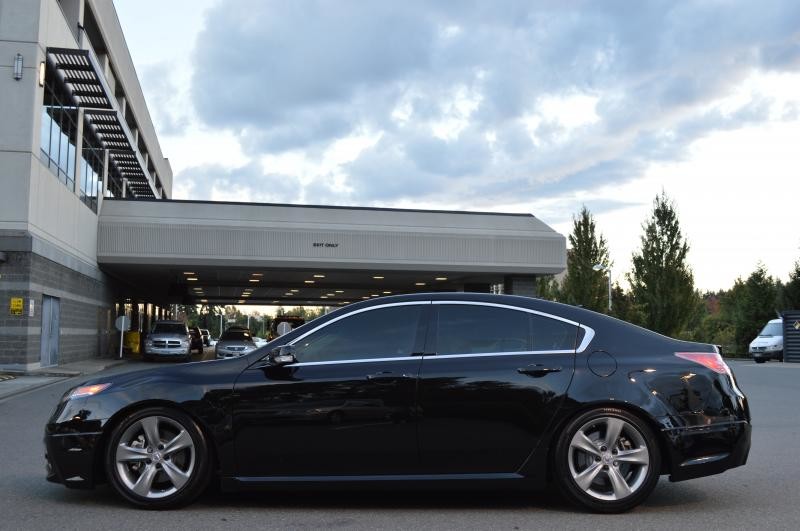 Oh also in my down time I purchased and installed the OEM rear seat cover and 5k LED fog lights which match the headlights really well. Very happy with the purchase to keep my seats mint. Prepping for having a kid in the near future. (Seatbelts are behind the seat to prevent people from rolling with me haha, too lazy to switch them back right now.)
Car is currently in winter mode. However there is a Toy Drive car meet coming up next saturday so maybe I'll bring the Works out if the weather permits. Ill post picture if I attend!
12-16-2014
Decided to pull the wheels out for the meet after all and then go shoot the TL downtown a little. Didn't have time to adjust the height from winter mode since the wheels were only on for the day. Took the front plate off for the first time and it looks a lot cleaner! I was over due for some new pictures. Enjoy.

Meet: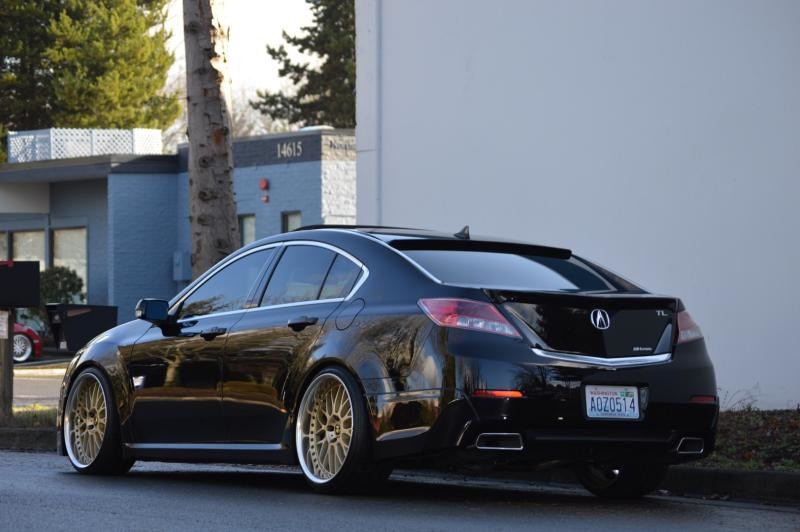 Seahawks Stadium - Century Link Feild: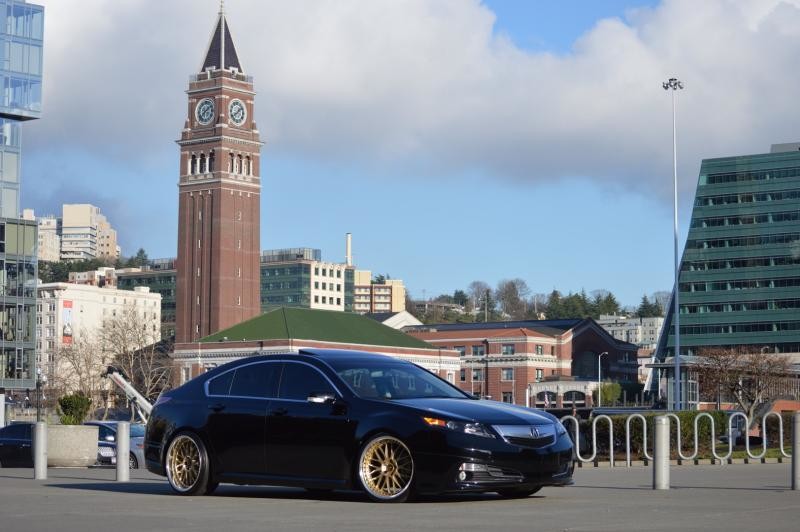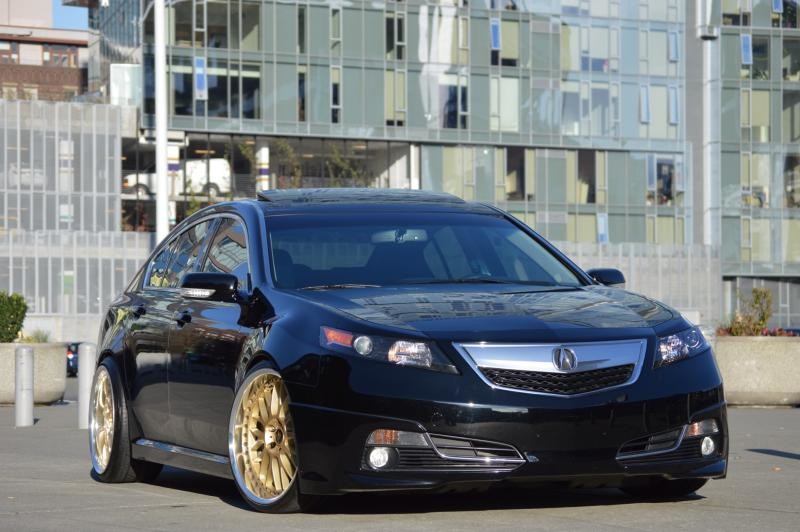 Finally headed out to Alki Beach: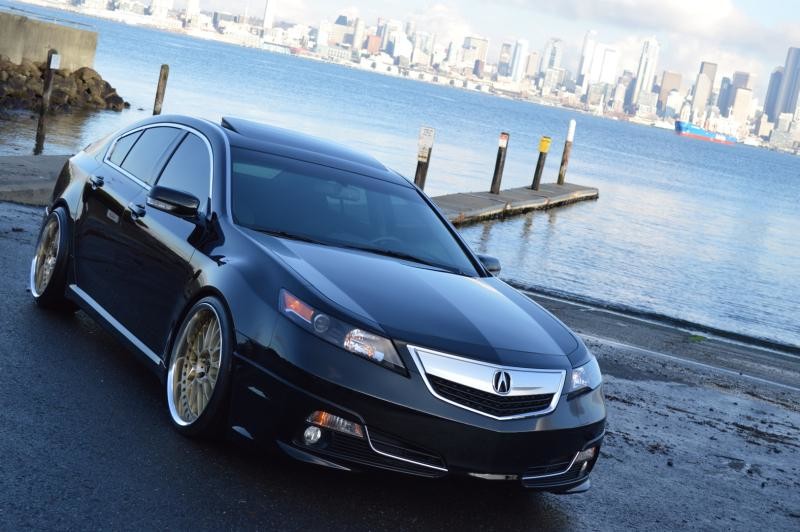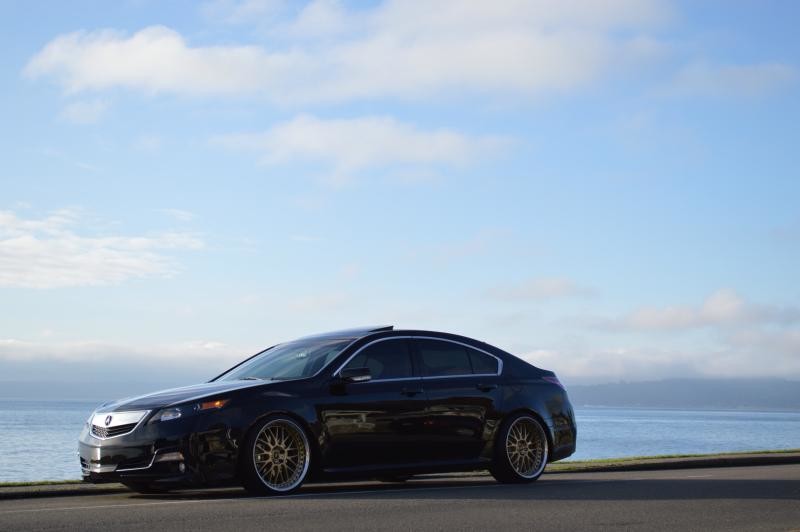 2-4-2015
Well newest update, besides the 19" advance wheels I picked up that I'll post pictures as soon as I get a chance to throw them on. Got my CT Engineering Ice Box today. Very happy and a great price like always. Shout out to Rob and Chris at Acura of Lynnwood for always returning the favor to me for all the business I have brought them and continue to do so. Ordered my XLR8 V2 Jpipe today as well so that should be on it's way.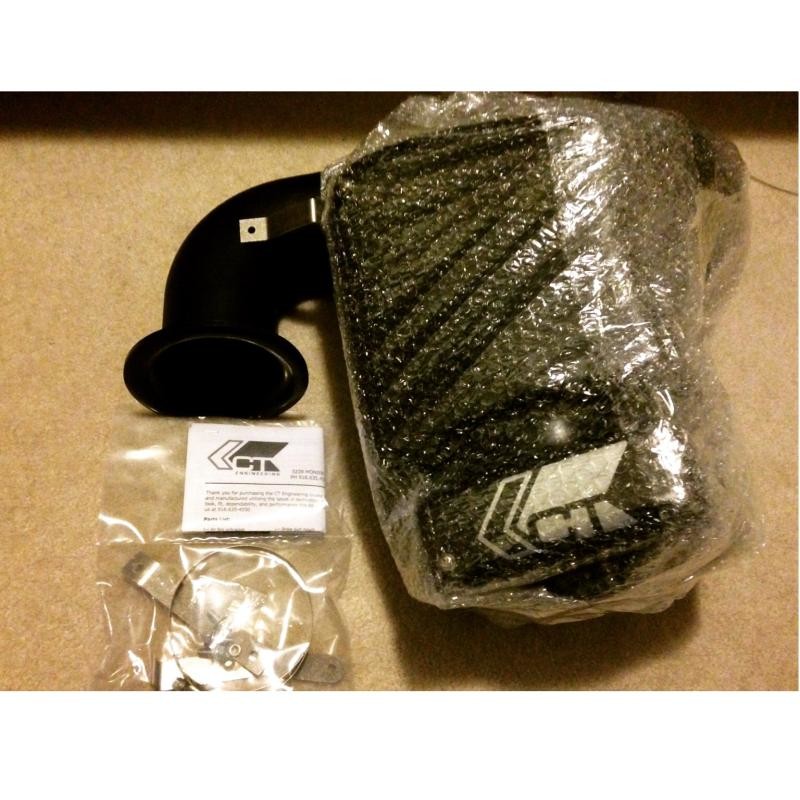 2-13-2015
XLR8 V2 J pipe arrived yesterday. Big thanks to Tom over at Excelerate Performance for saving me some money. I would recommend XLR8, they had great customer service and shipping as quick. Just need to order my exhaust and roll my fenders and the TL will be ready for this season. Parts will go on right before HondaFest which is April 13th. I'll have updated pictures around then.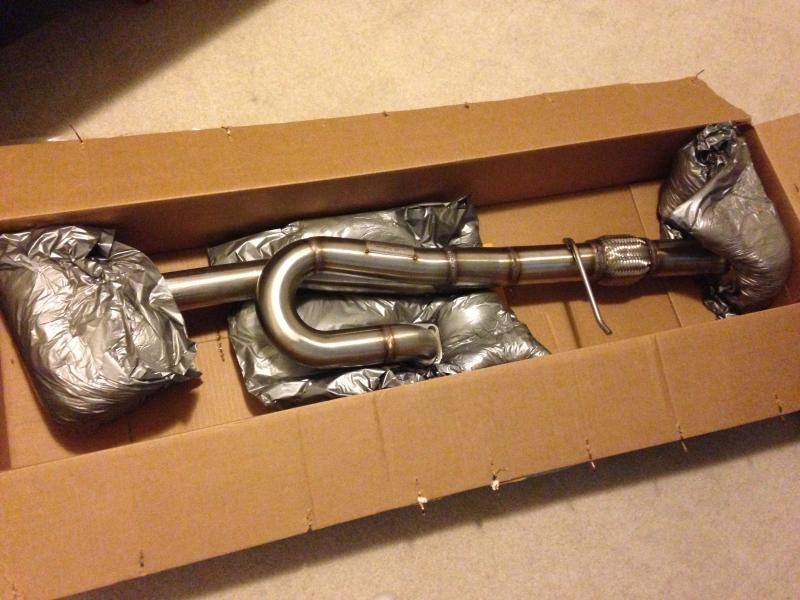 2-15-2015
Out with the 18's. In with the 19's.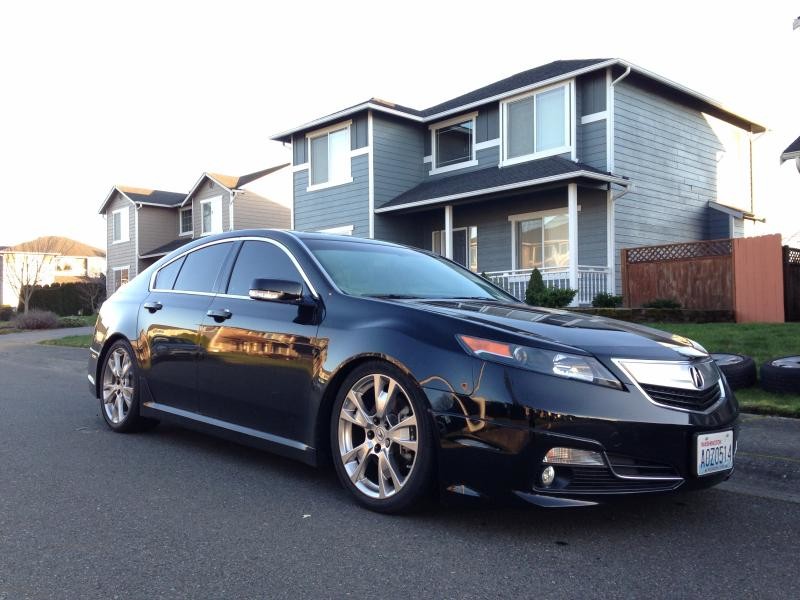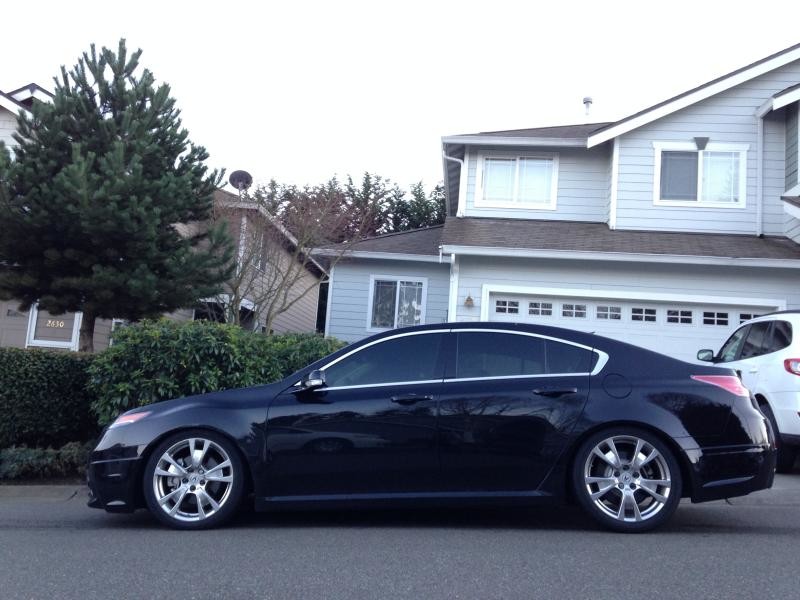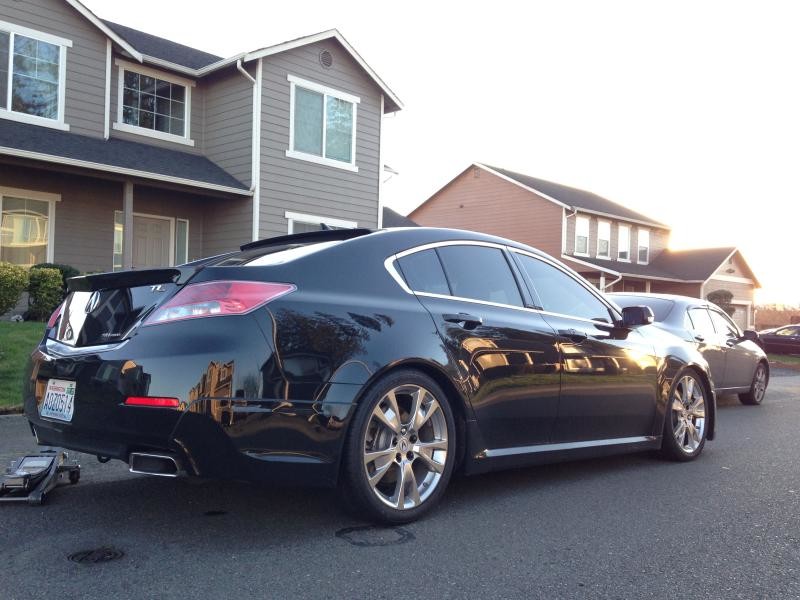 3-4-2015
From a car meet this past weekend: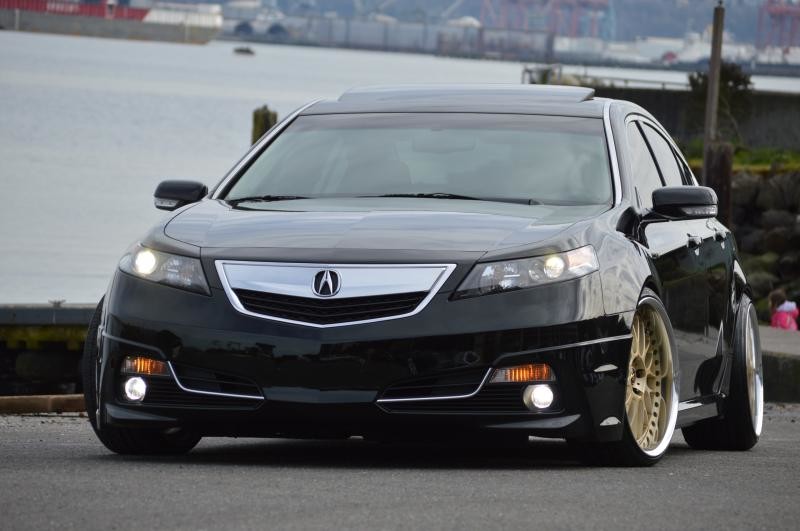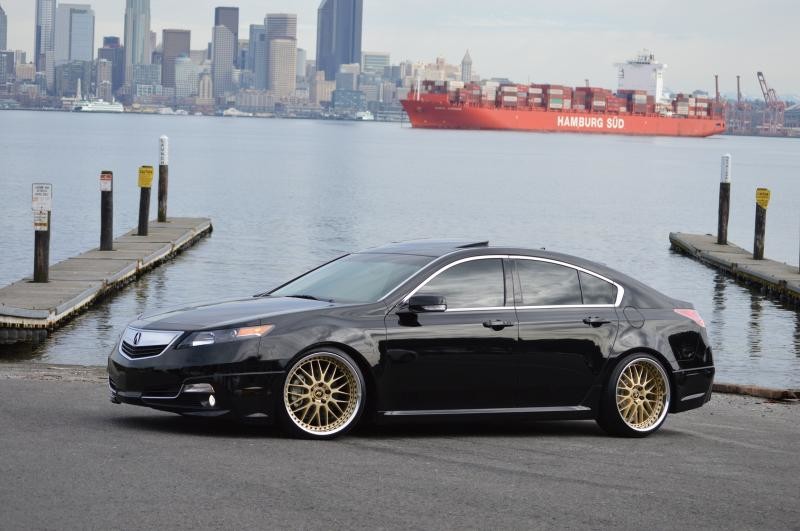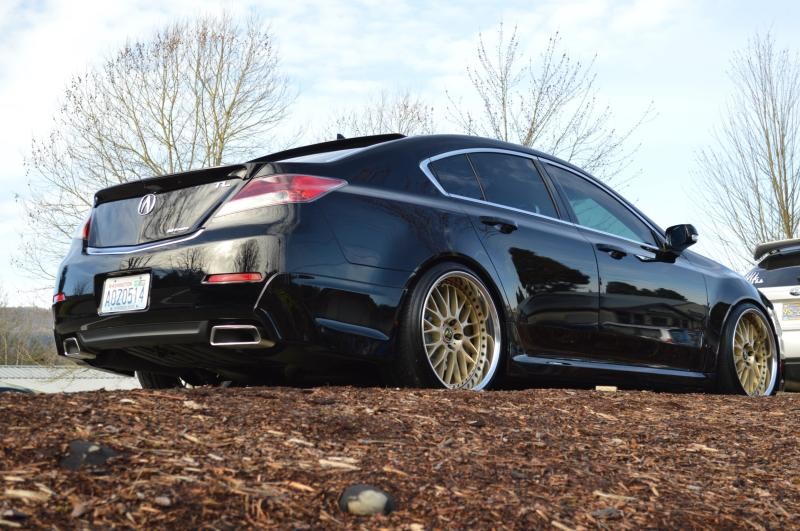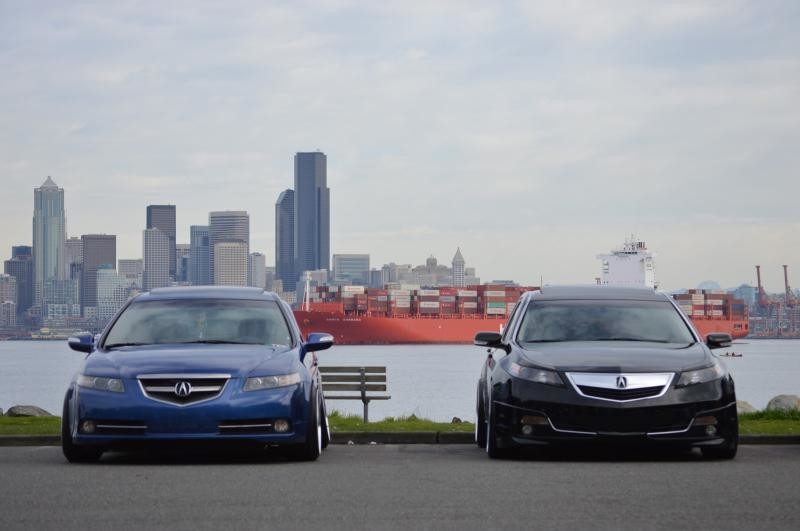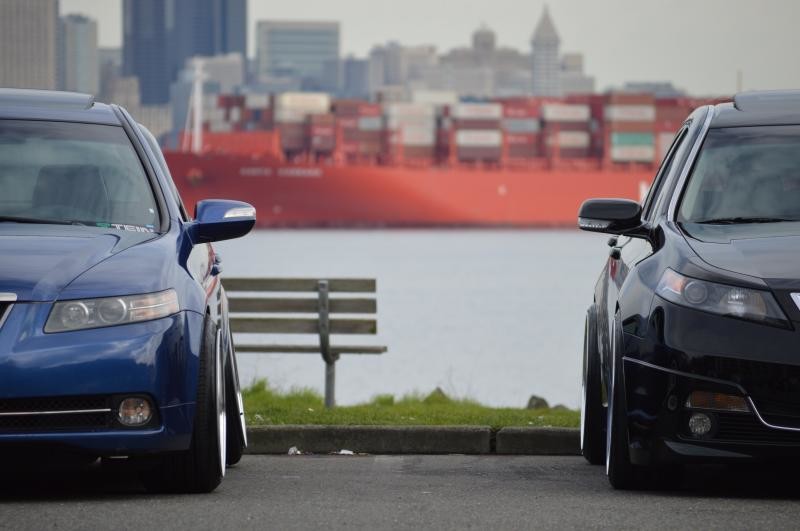 3-18-2015
Since the ATLP exhaust is currently being made and out of stock I decided to go ahead and install the XLR8 V2 J Pipe last week. After install the car definitely feels quicker and had a little more tone to the exhaust. You can hear the different when your on it. I also installed the CT Engineering Ice Box intake earlier today and it went pretty smooth for the most part. Installation on both these parts was pretty quick and straight forward. After having both installed the TL is finally coming to life. Has a strong pull all the way thru the rpm band. You notice and can hear the Vtec crack. To me the $1000 was well spent. Here's a few pictures: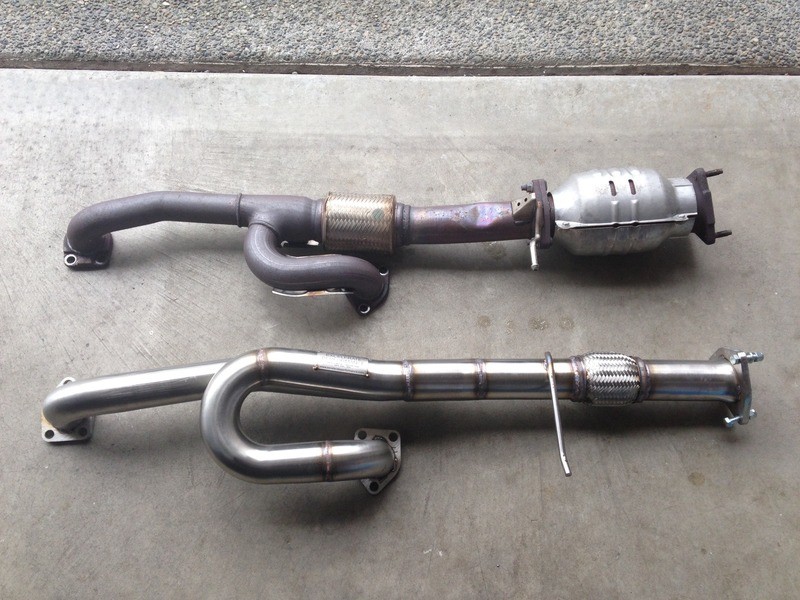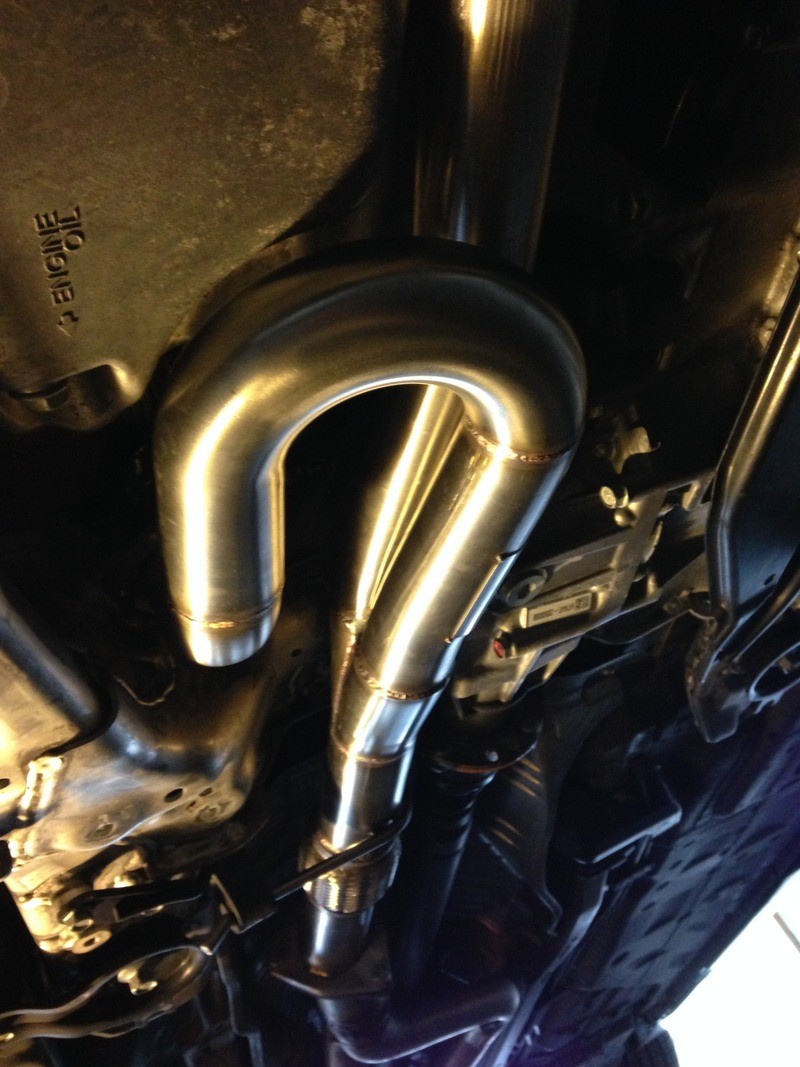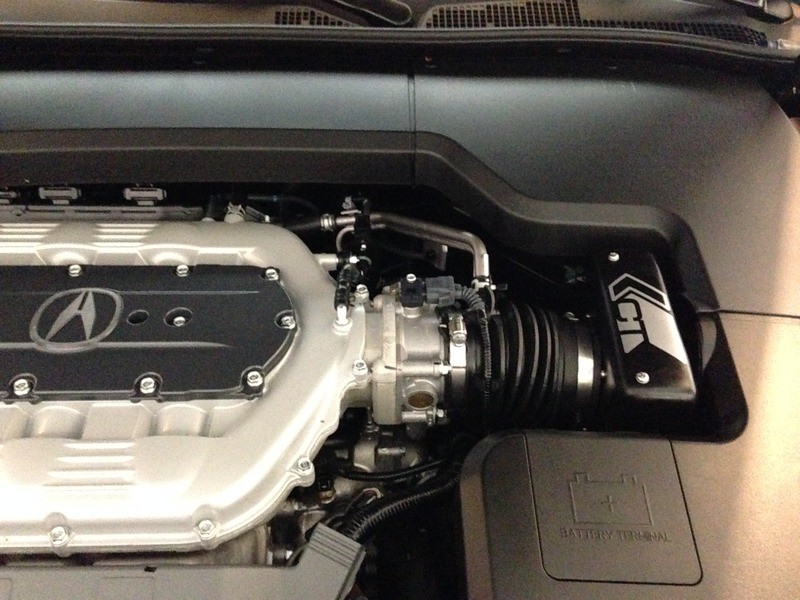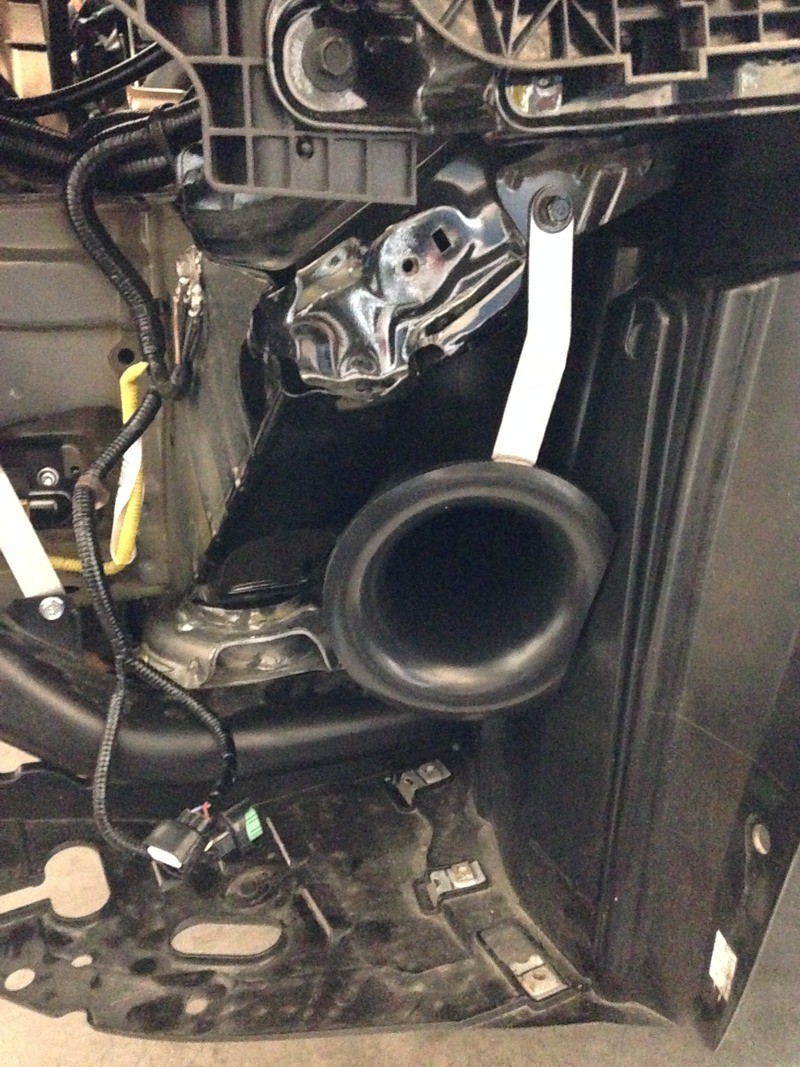 More to come...
4-1-2015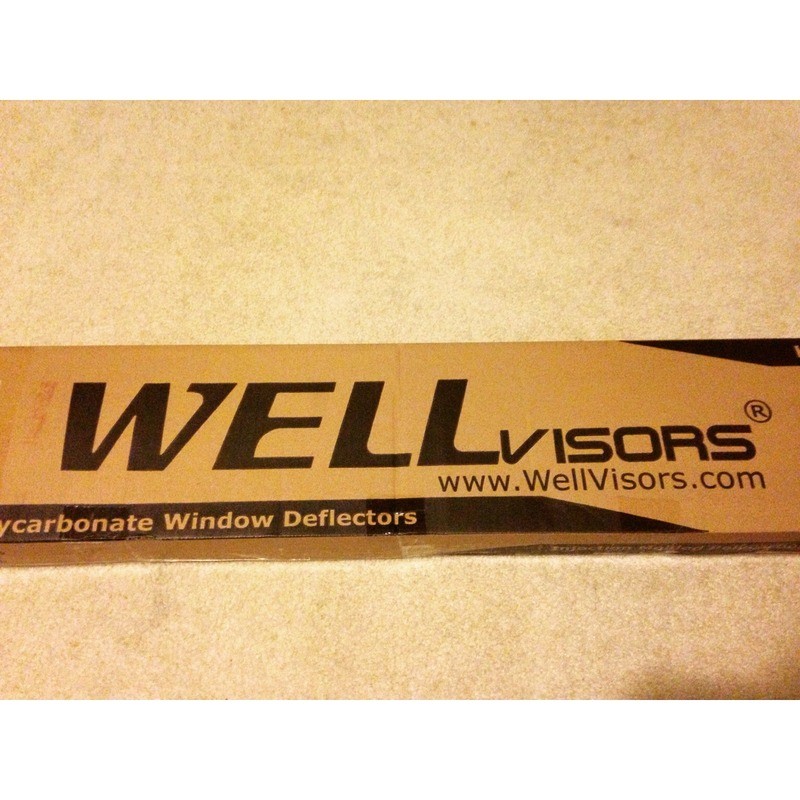 Decided to pull the trigger on the Well Visors Pots promoted. They arrived while I was on vacation so will be going on soon. Just waiting for some sunshine. Will post my review after.
4-2-2015
OK so i installed the Well Visors today.

First impression: Packaging was good, the hooks they use work great and they are easy to install in no time. For $83 and free shipping I think they are worth it for functionality as well as looks. They also included some decals if you wish to install.

Pictures after install (Sorry car is dirty from sitting for the past two weeks and used my iPhone):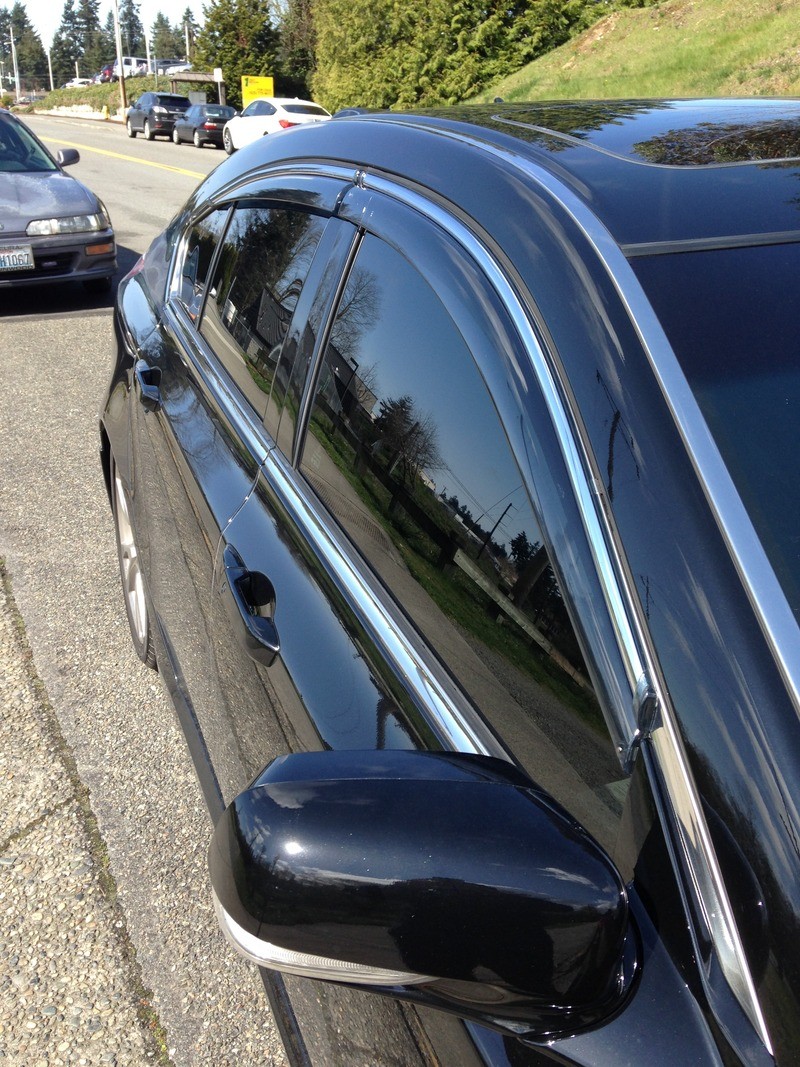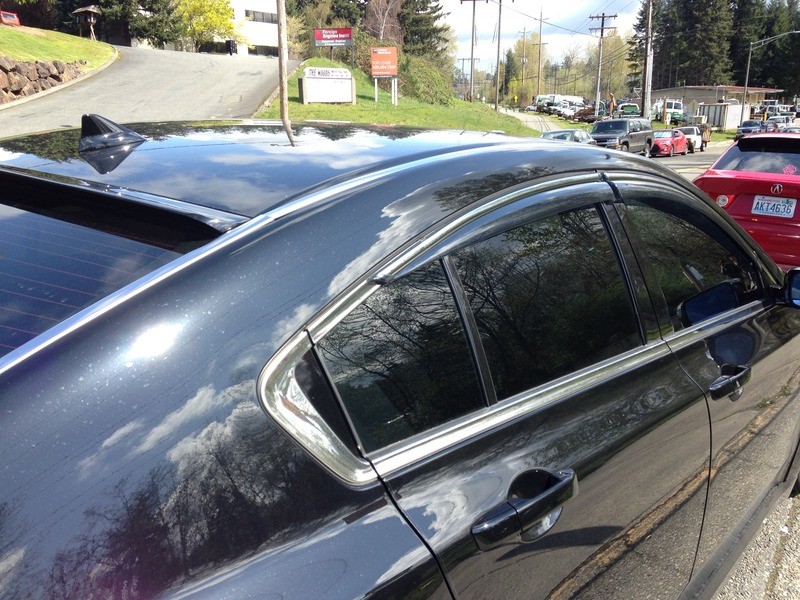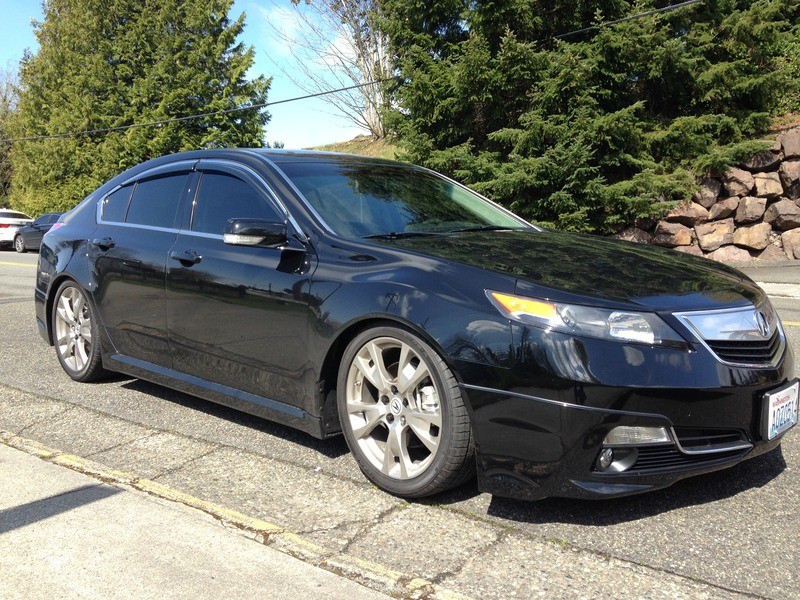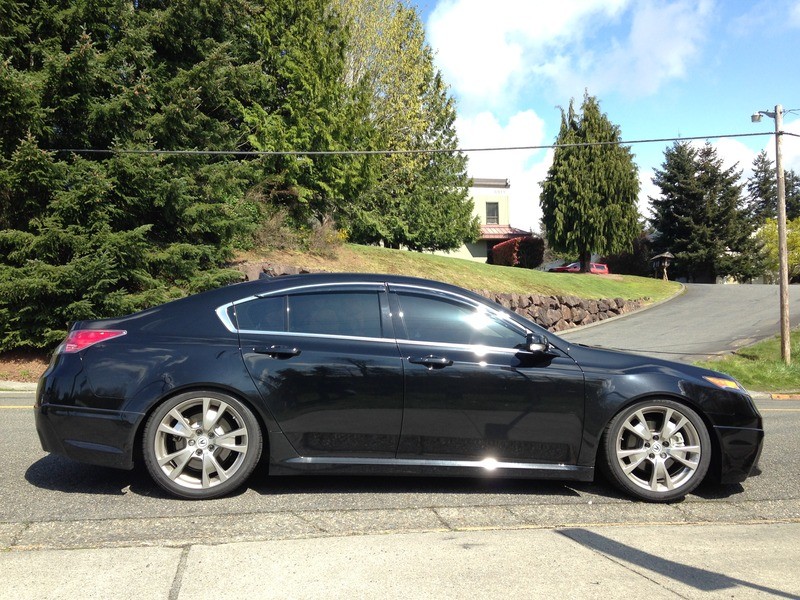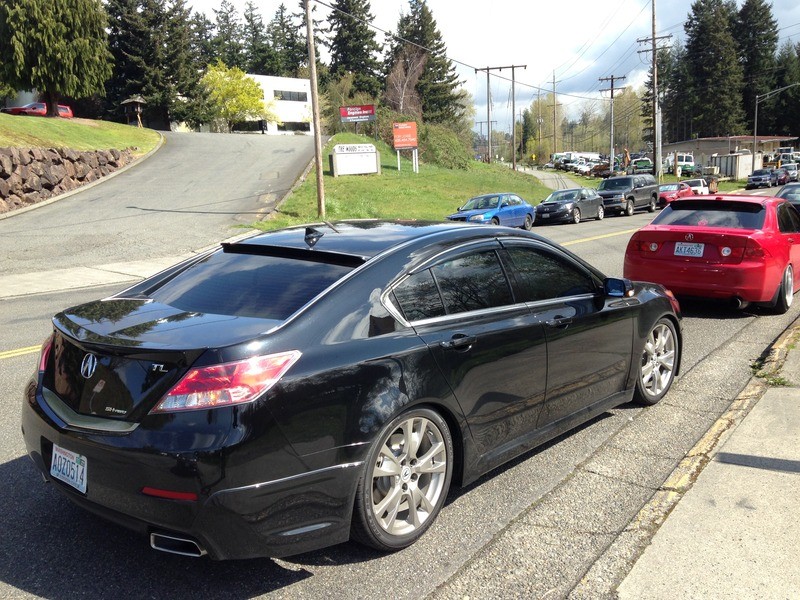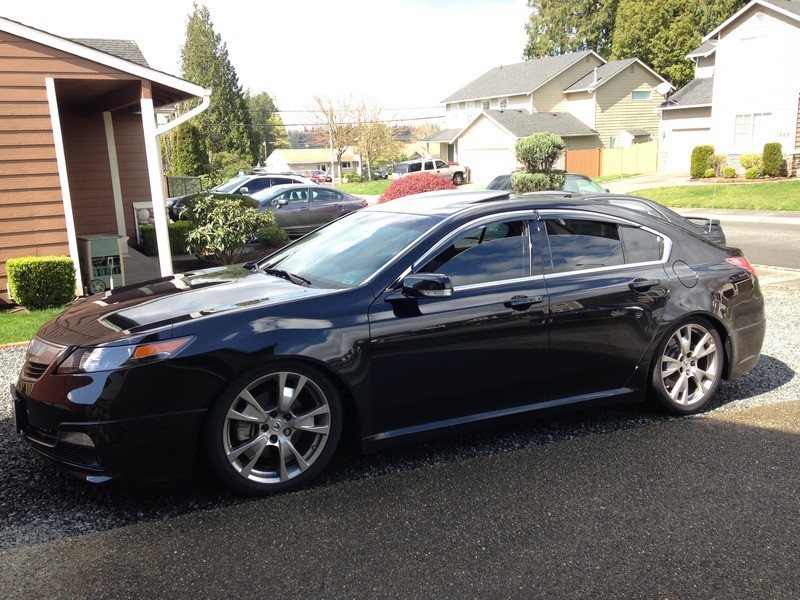 Only downside to these visors is they don't extended full to the edge of the front window so there is a slight gap. I still think they are nicer then the weather techs. Personal preference, and I will end up forgetting about it anyway. Other then that fitment is great as well as looks! The gap doesn't effect the functionality. Just an honest review.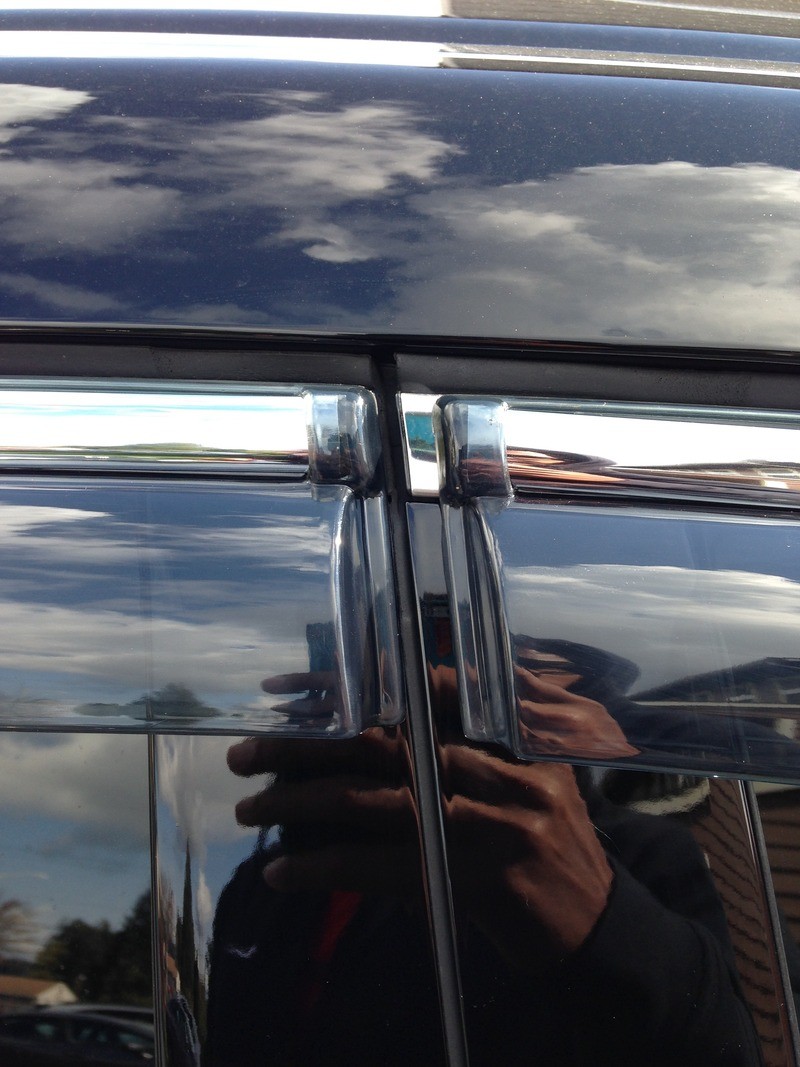 I will have better quality shots and will be in summer mode next week so check back then for updated pictures with the Work VSXX's on. All comments welcome (positive or negative) because I don't care what other's think of my car because I know it's clean. Just hear to help other's that may be interested in the visors.
Earlier today.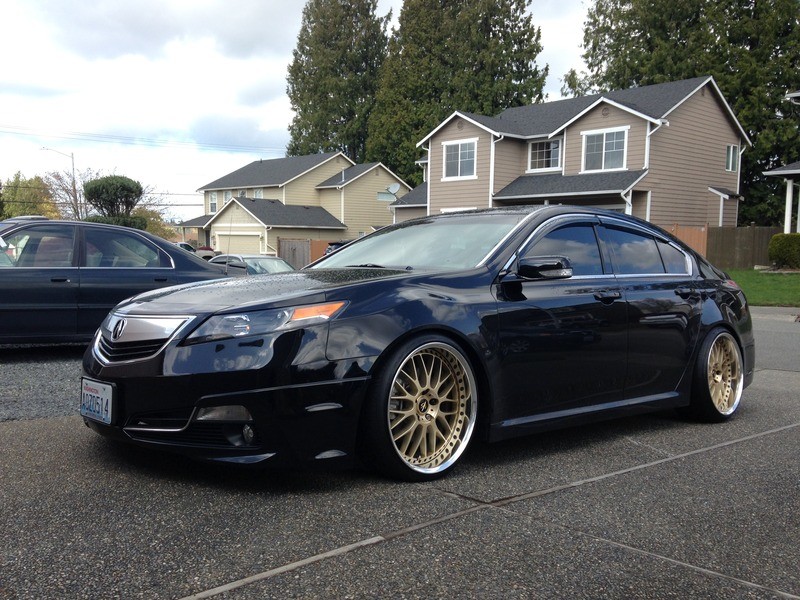 Tech day with a few members of my TSX crew: All black everything.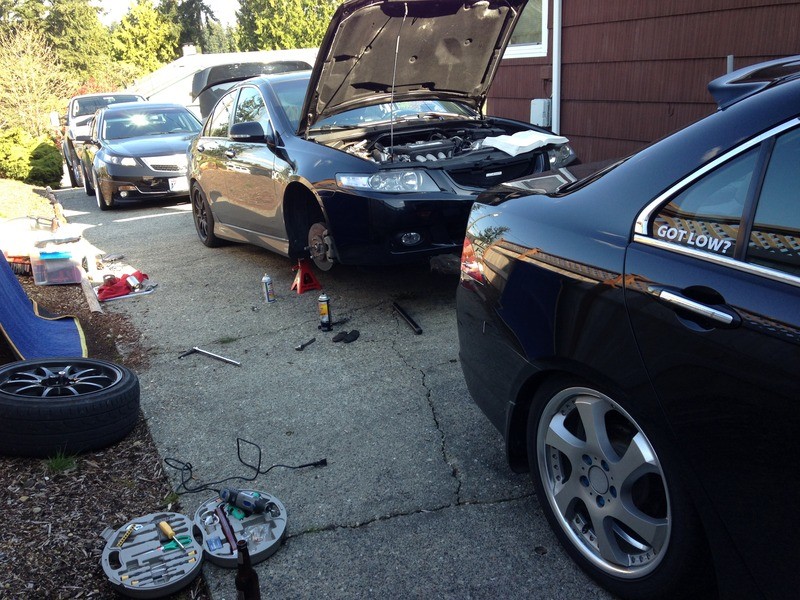 4-8-2015
ATLP exhaust arrives Friday. Will be installing it and I'll post a sound clip and pictures. TL is almost ready for the car show season. Came a long way since this time last year. I only had lip kit, tinted windows and rear window spoiler.

I have also installed Mugen license plate bolts. Nice subtle touch. Only have two so I'll have to score another pair soon.
4-11-2015
Exhaust arrived on Friday. Installed it same day. Very happy with the sounds and build quality. Easy installation.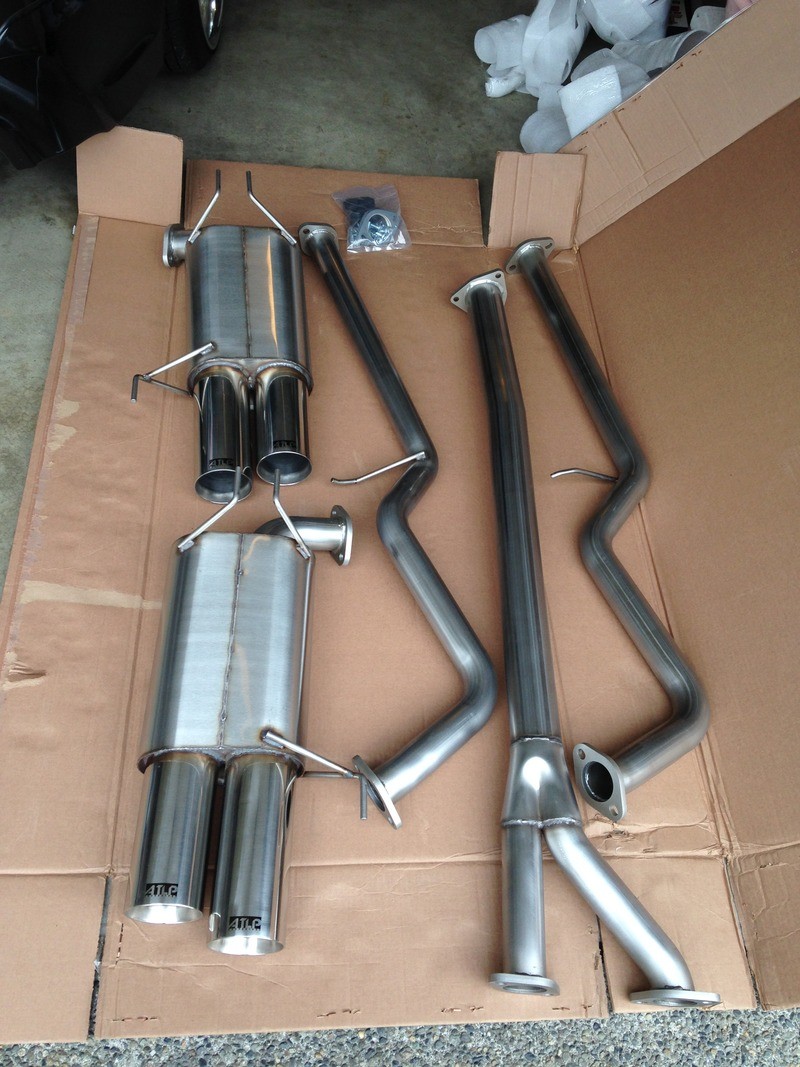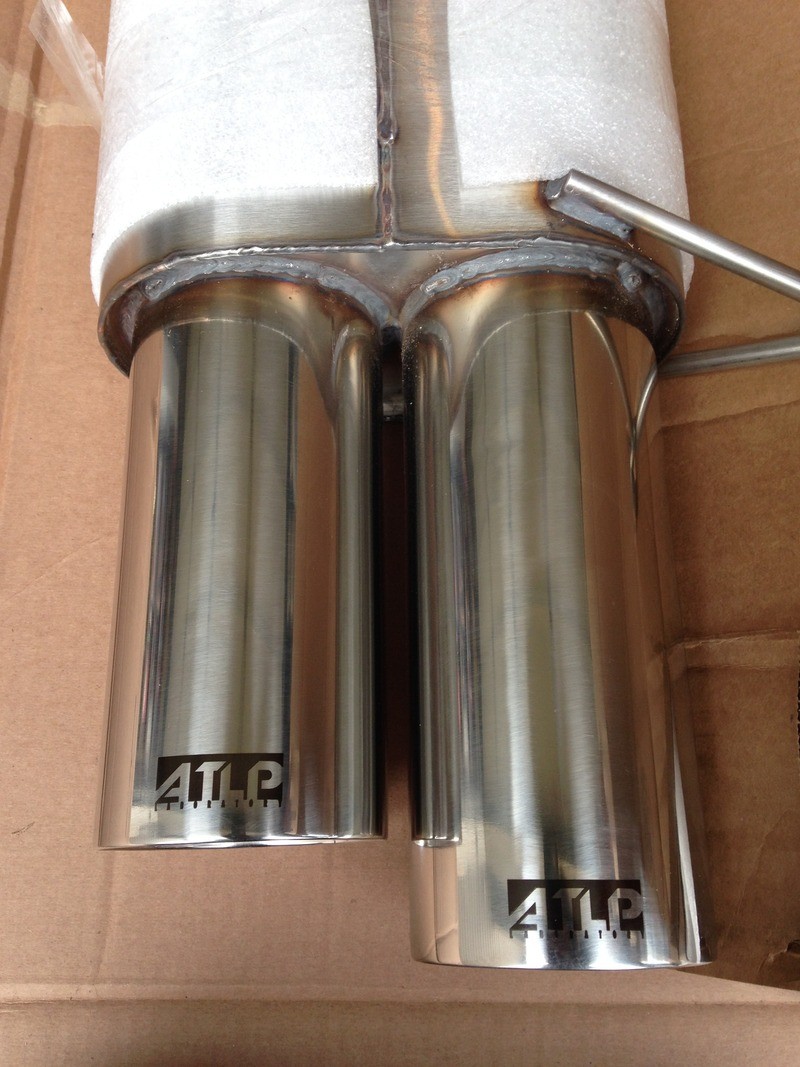 Also got my fenders rolled today. Adjusting height tonight. We will see how low I can get it and still be rub free.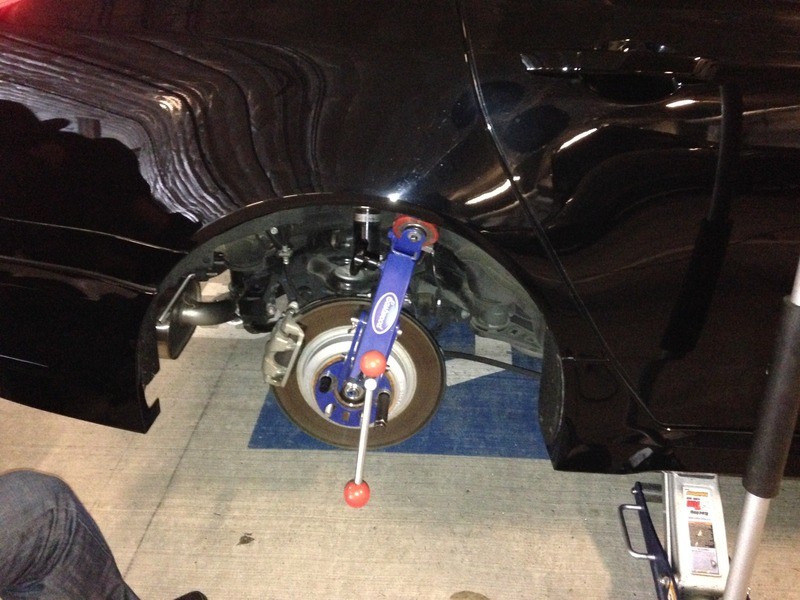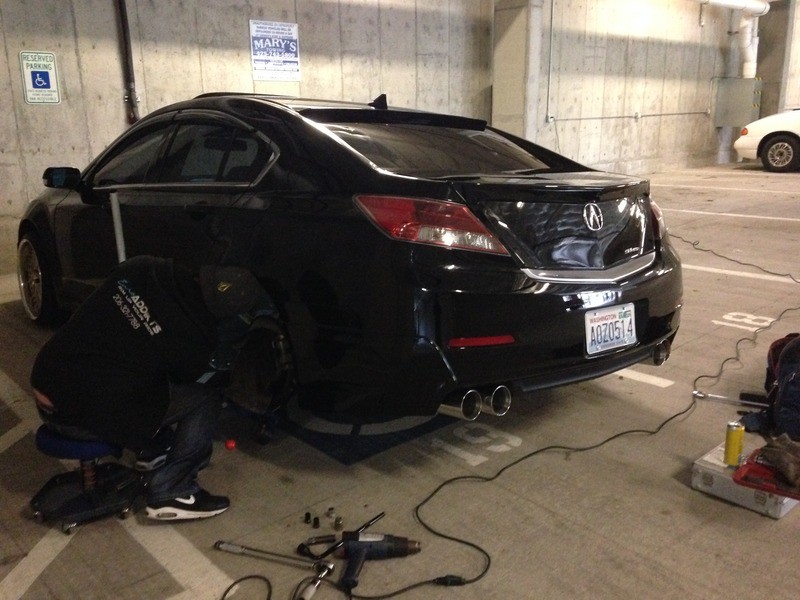 Just a shot after the roll. Height hasn't been adjusted yet.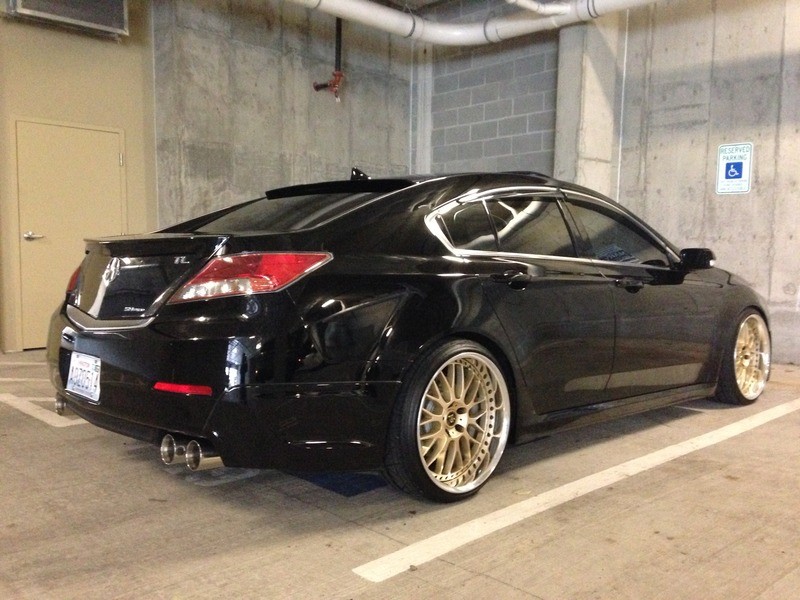 HondafestNW tomorrow. Will post up my pictures after.
4-24-2015
Been busy with school but I've posted pictures from HondafestNW in the post my TL right now thread but here they are.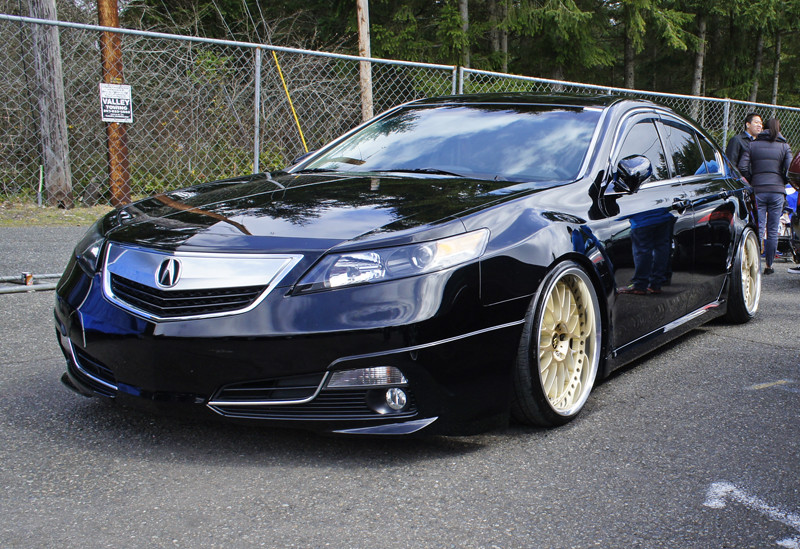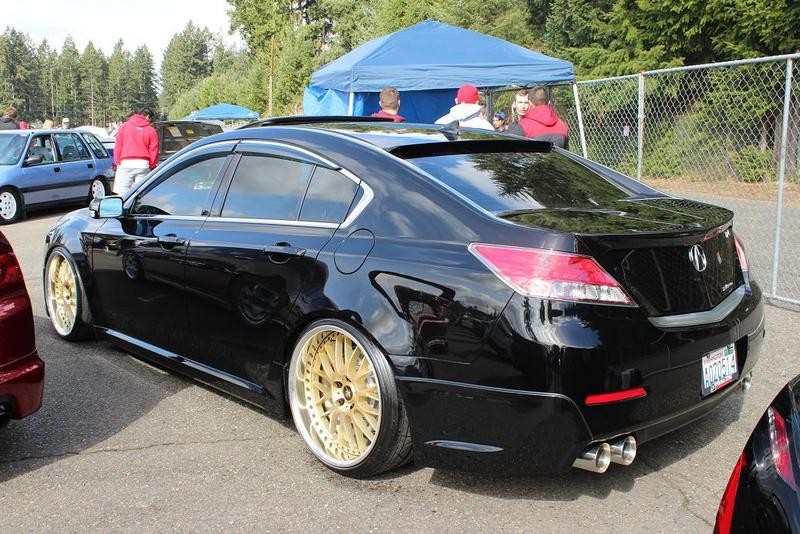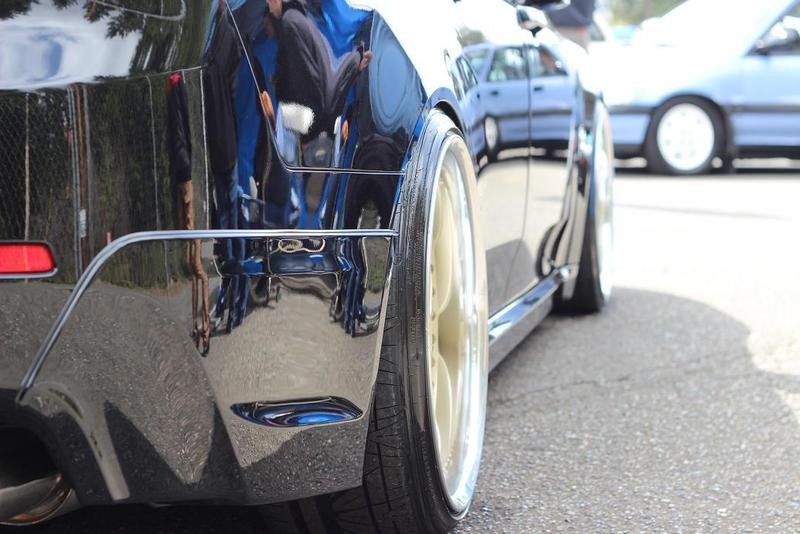 Raised it back up a little after the show and got an alignment done. Also put the Advance wheels back on. Snapped this photo of the exhaust.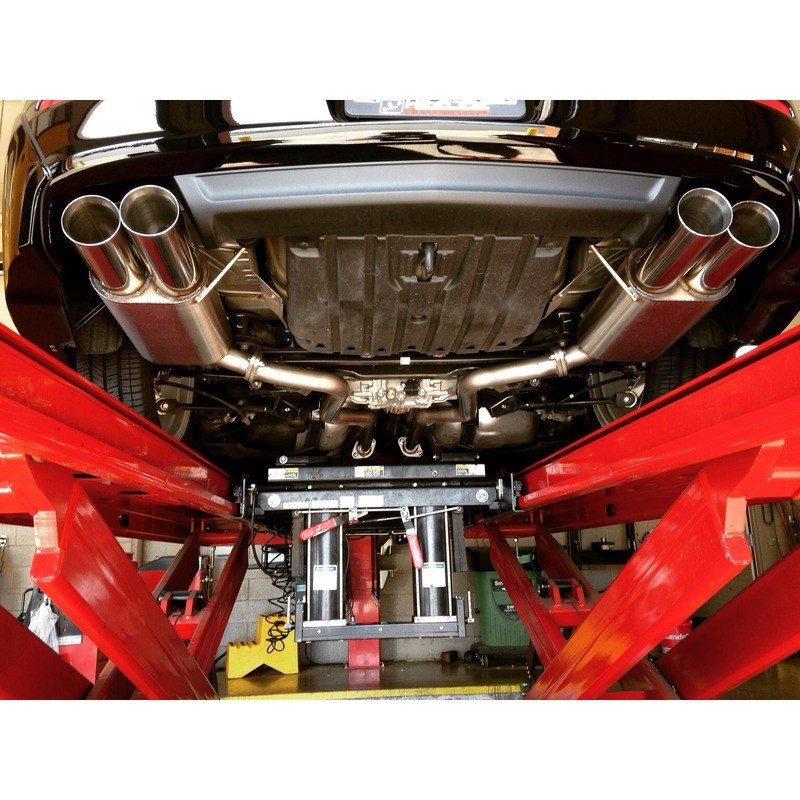 Lastly I finally purchased the OEM car cover. I regret not getting it when I first bought my TL but glad I have it now.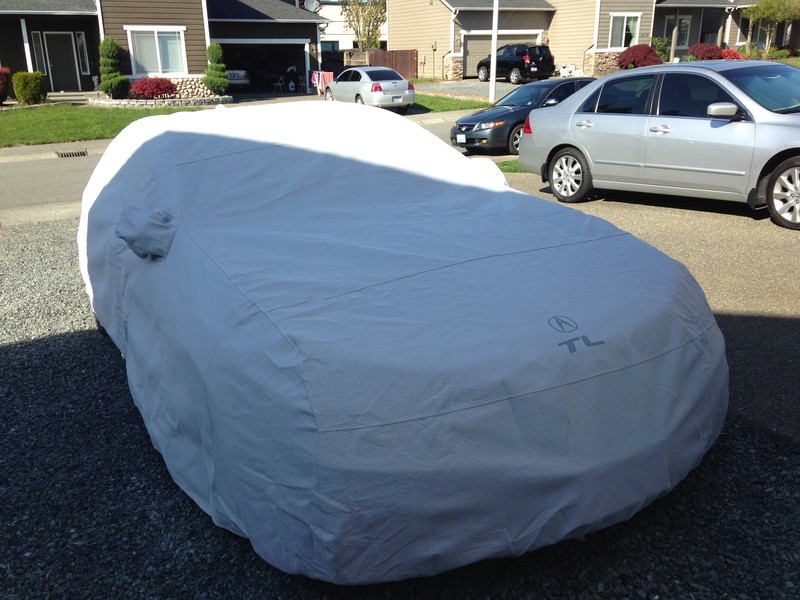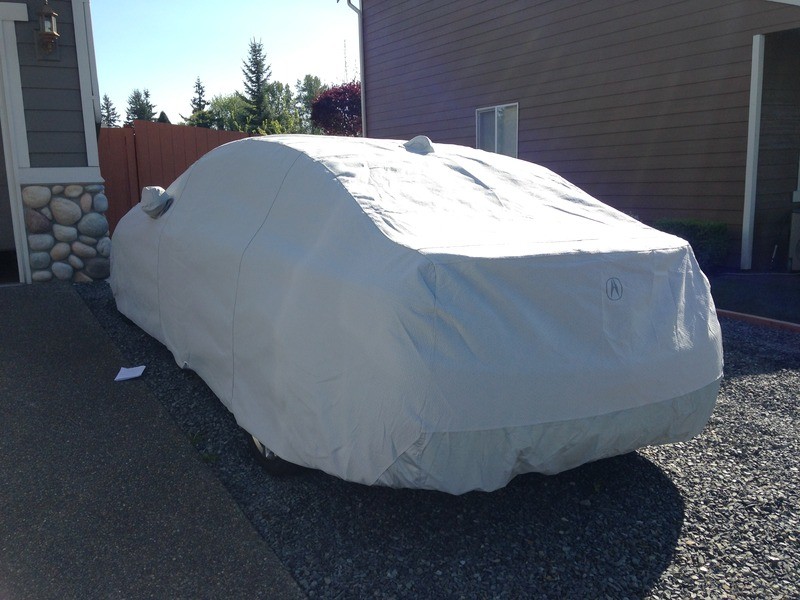 Updated Mod List:

- OEM Acura Lip Kit
- 15% Window tint all around minus windshield
- BC Racing Type BR custom built coilovers with 12k Front and 8k rear spring rates and extreme drop kit
- Work VSXX Gold with polished lip and black hardware 20x9 +19 20x10.5 +25
- Nitto Invo tires 235/30/20 255/30/20
- Ingalls Adjustable ball joints and toe arms +/- 3 degrees
- Akata 3mm hub centric wheel spacers for front (front offset is +16)
- Spoilerking's rear window spoiler
- Aftermarket black lugs/locks
- OEM All season mats front, rear and trunk
- 6k LED bulbs for door vanity
- 6k LED license plate bulbs
-CT Icebox intake
-XLR8 V2 J pipe with 3rd cat delete
-ATLP catback exhaust
-Wellvisors window visors
-Mugen license plate bolts
-Heeltoeautomotive front and back license plate frames


If you wish to follow me on Instagram I changed my name to: Tizzle_of_course
Thanks to all the others that already follow me!
6-9-2015
New addition to the family. 2016 RDX Advance AWD WDP/Parchment interior. Came with the protection package do rear trunk tray, mud guards and wheel locks include. I have roof rails, all season mats and proactive film coming in this week as well as windows getting tinted to 20%. Next will be Morimoto XB 5k fog lights which I plan to get the yellow paid for the TL also. Then shopping for wheels.

Pictures: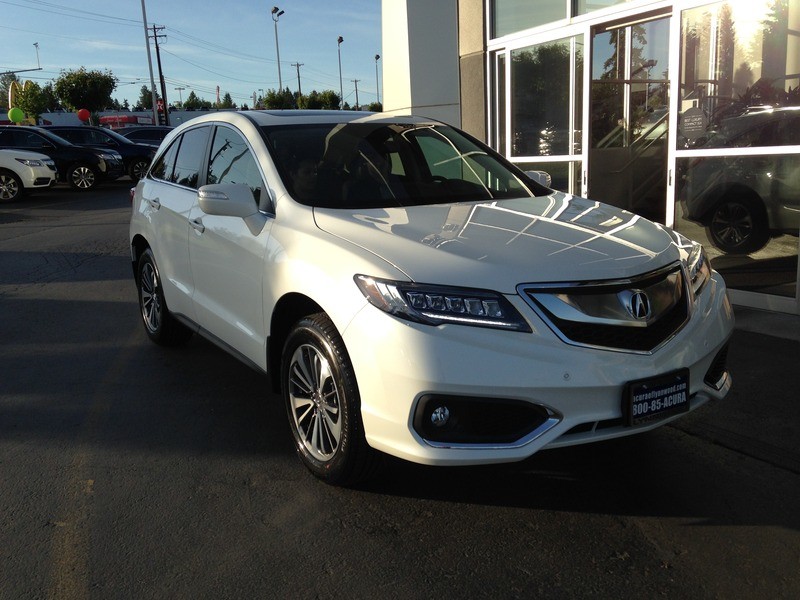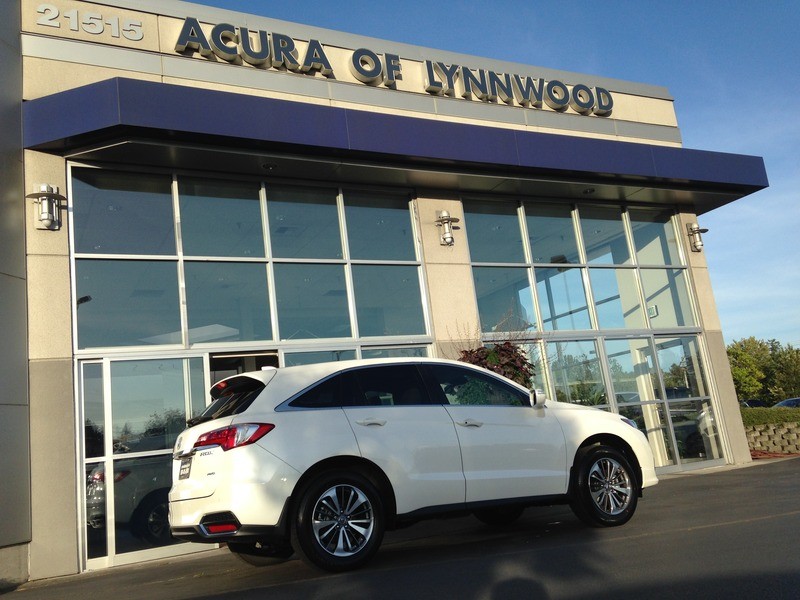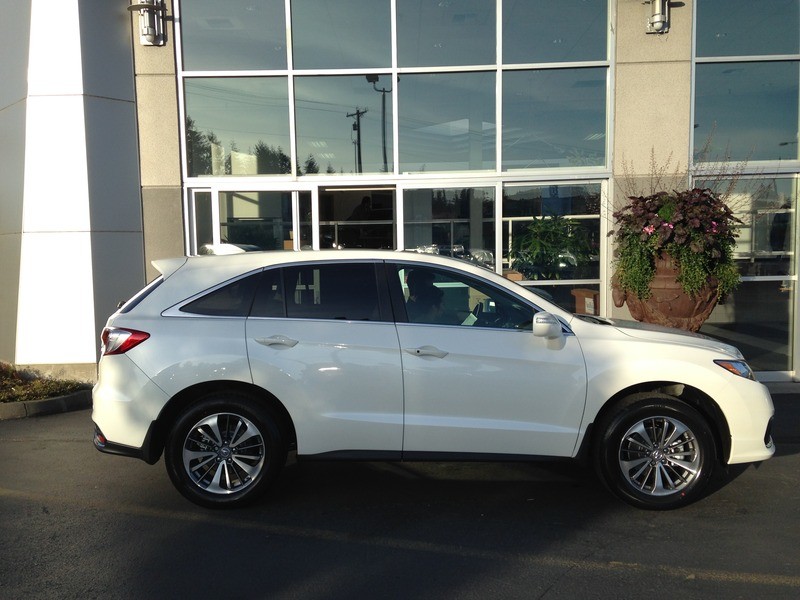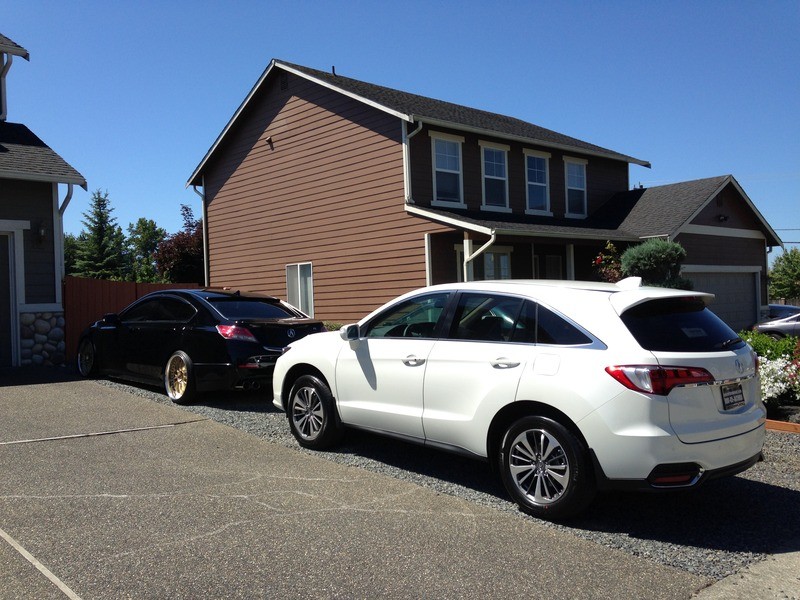 6-28-2015
Couple newer photos to add to my build thread. Installed the Morimoto XB (type S) LED Foglights in 5000k with yellow Laminx Film: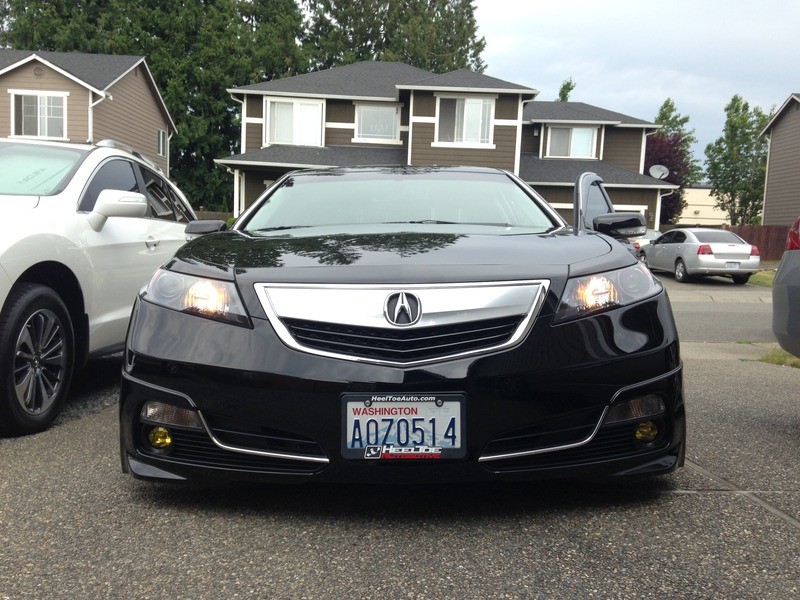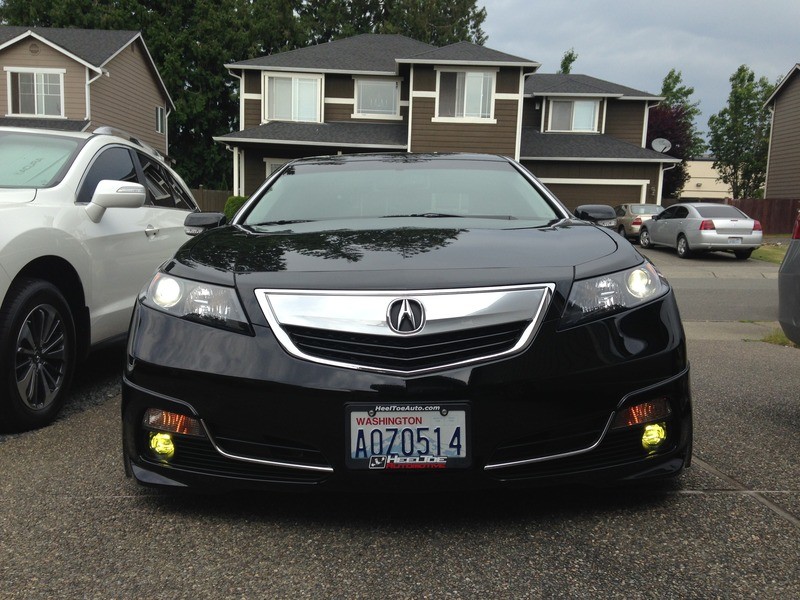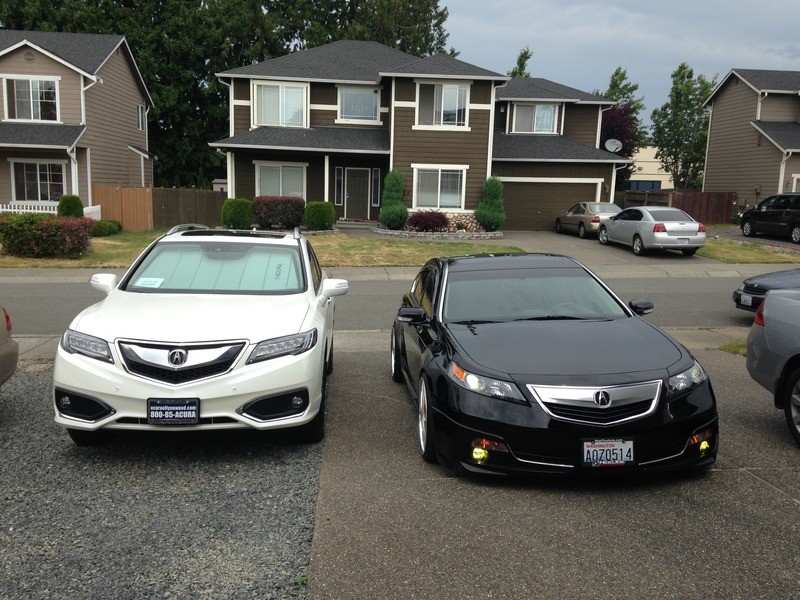 Before fog light install: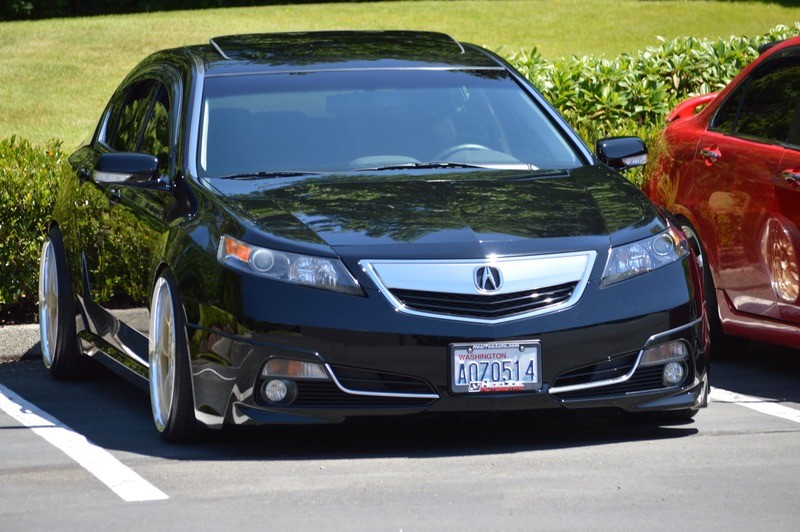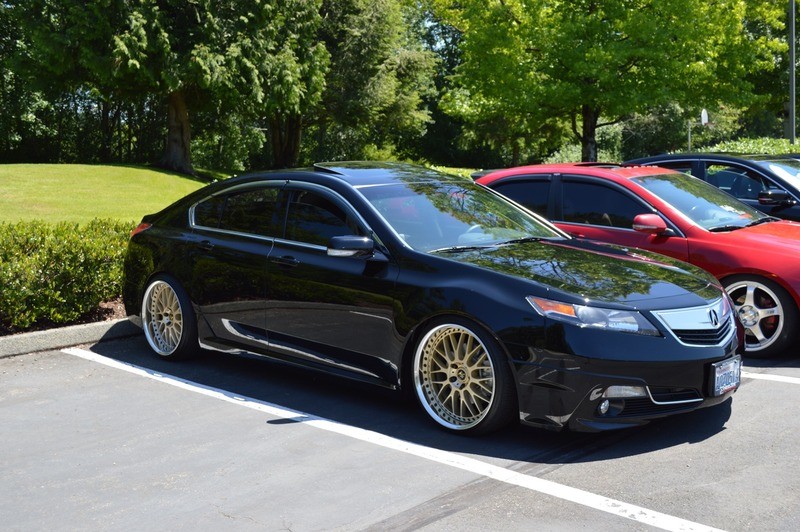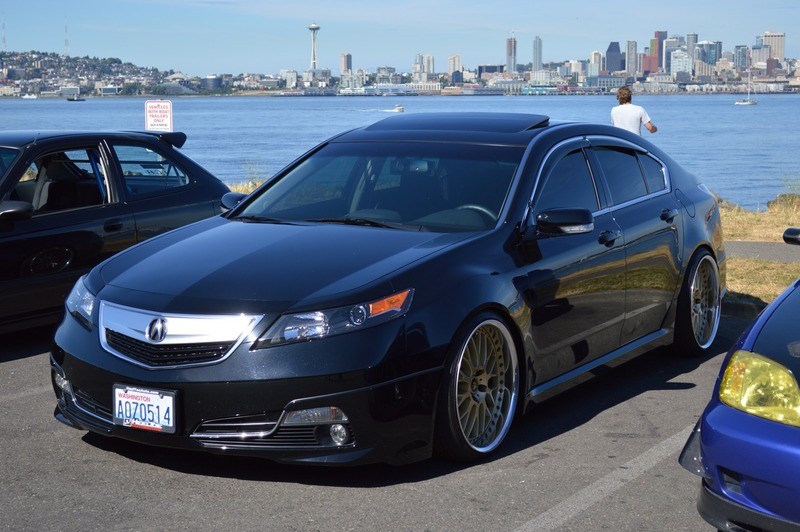 8-12-2015
Back from the dead!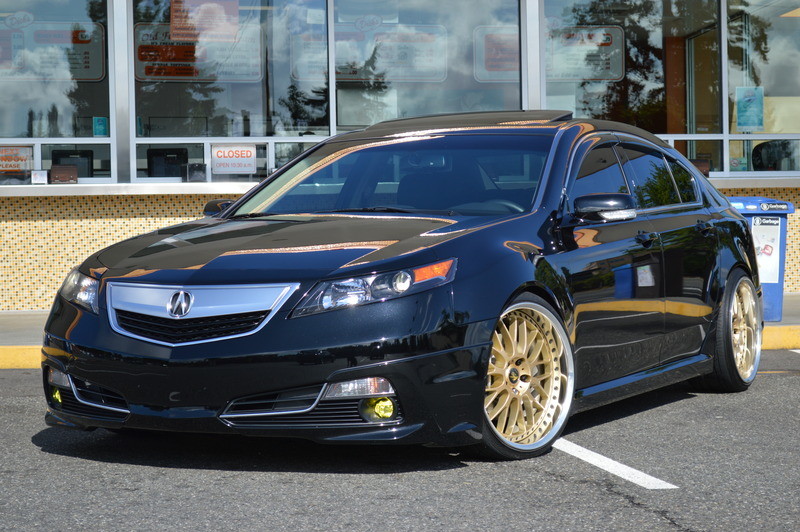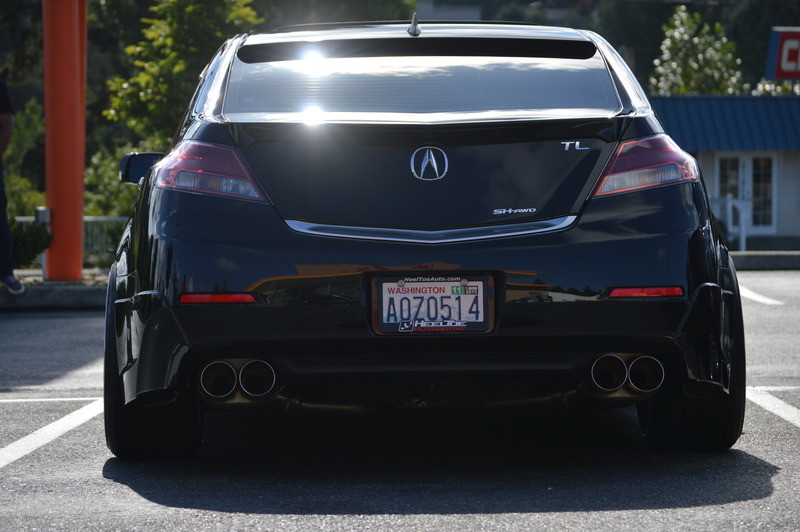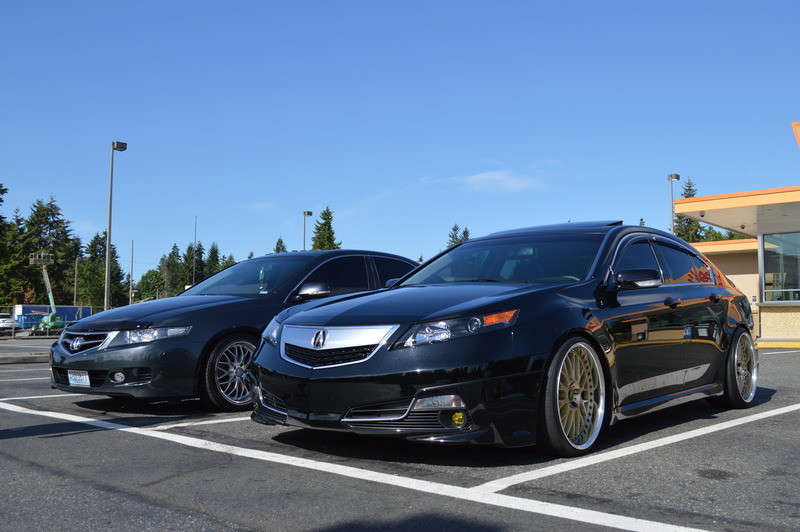 12-4-2015
get back on the mod grind. Have a few parts laying around I'll get to installing eventually but felt it was time to update my build thread.

Got my front grill shield painted, cleared and applied 3M clear bra to protect the paint from rock chips: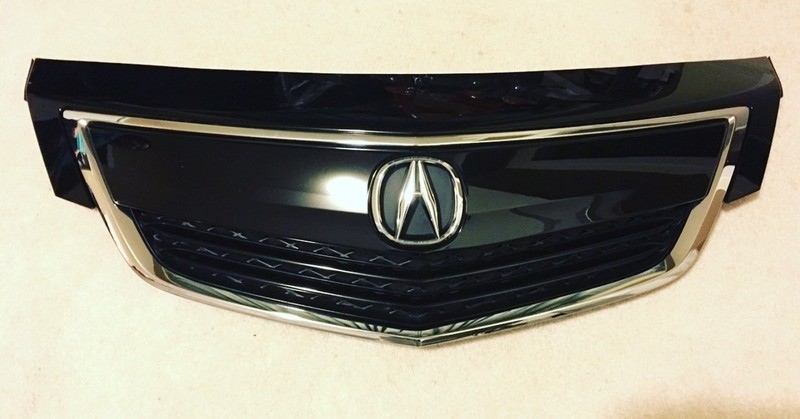 Took advantage of cyber Monday sales and ordered RV6 precat deletes: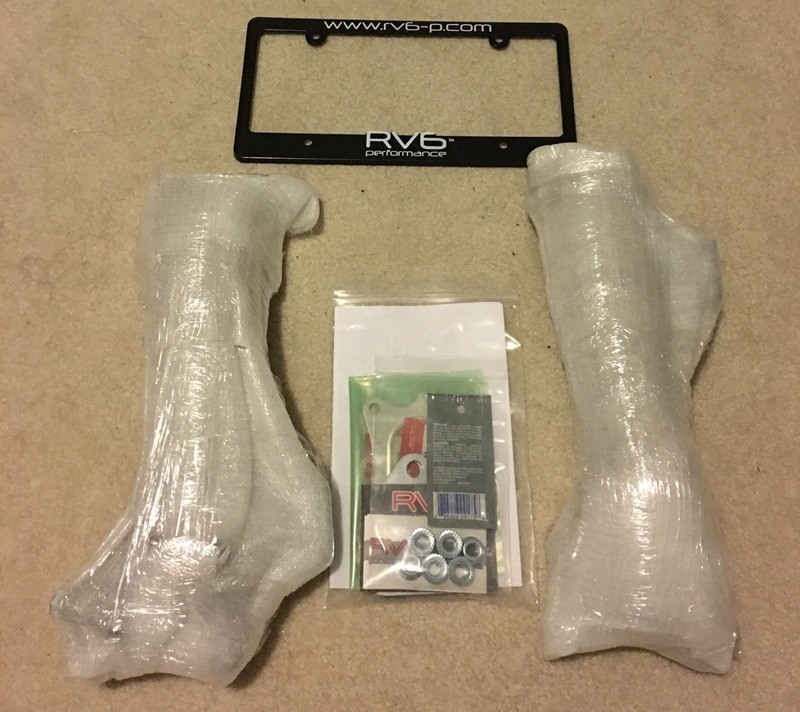 Lastly went crazy at VLEDs.com (local to me so arrived in 24 hours):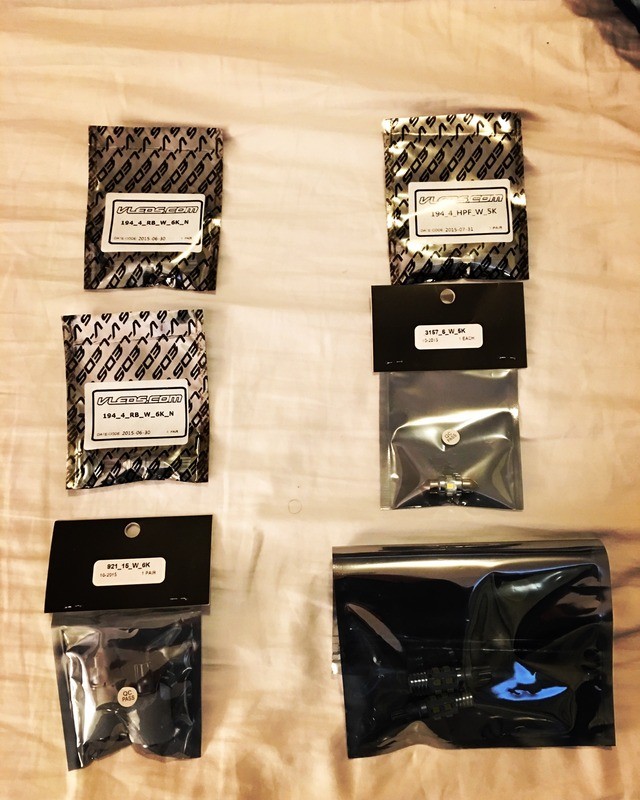 Ordered all my lights in 6K for the TL and 5K for the RDX. Still waiting on my V3 Triton Switchbacks as the controllers are on back order.

Ktuner is next on my list though I'm debating if I need any other power mods then the ones I currently have. CT icebox intake, RV6 precat deletes, XLR8v2 Jpipe with 3rd cat delete and ATLP catback exhaust.
12-5-2015
In winter mode but the mods continue.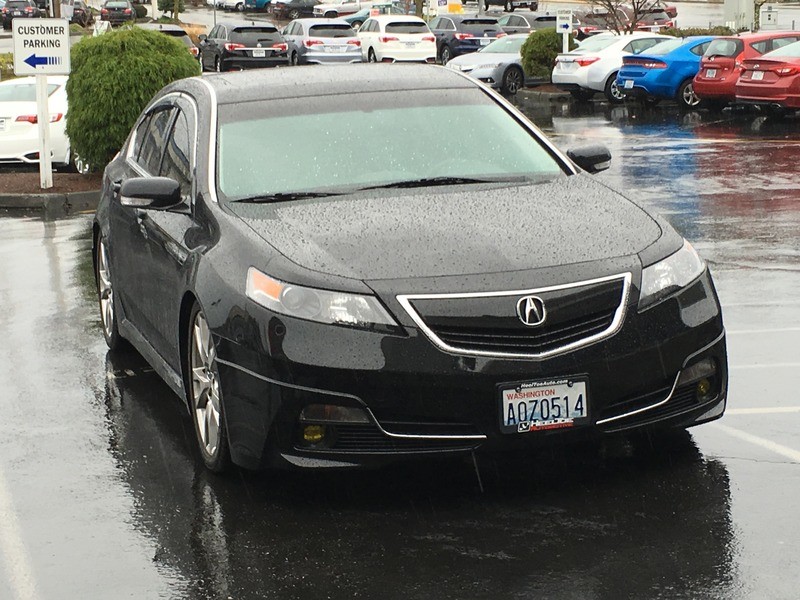 12-8-2015
I don't have any recent photos of the rear but next time I take out the car I'll snap some for you. I opted to not have the rear boomerang painted to keep the contrast in the back. There is a photo of a straight on back shot in post #128 but here's an older photo from the back quarter/side: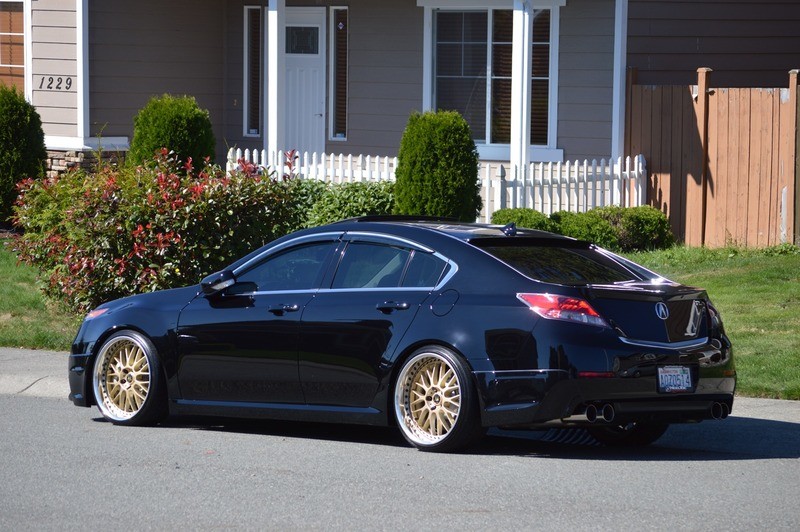 1-3-2016
I gotta say, today was a good day.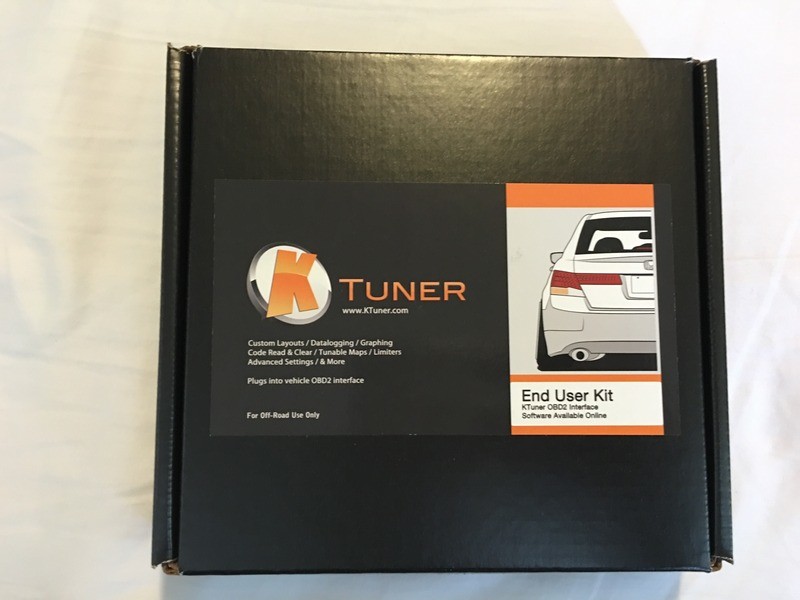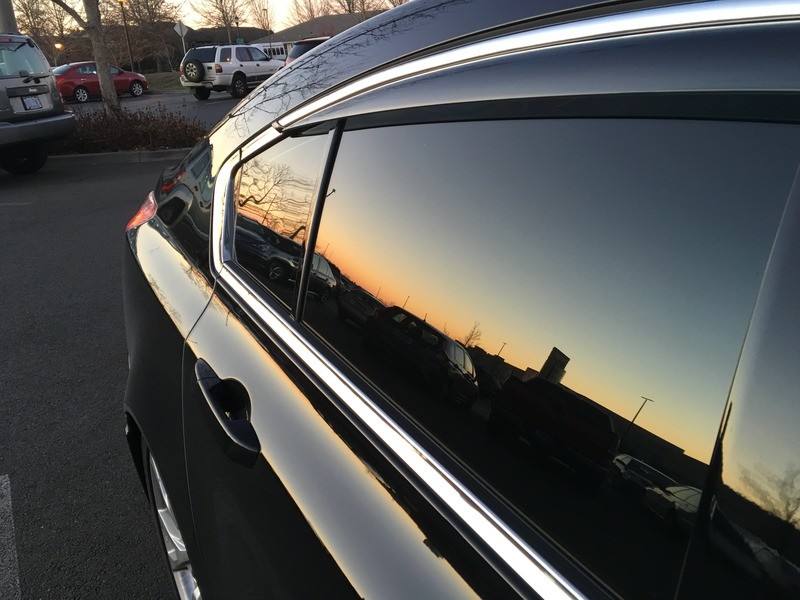 1-24-2016
Finally installed my Vleds V3 Triton switchbacks. Love them. Modding my headlights soon.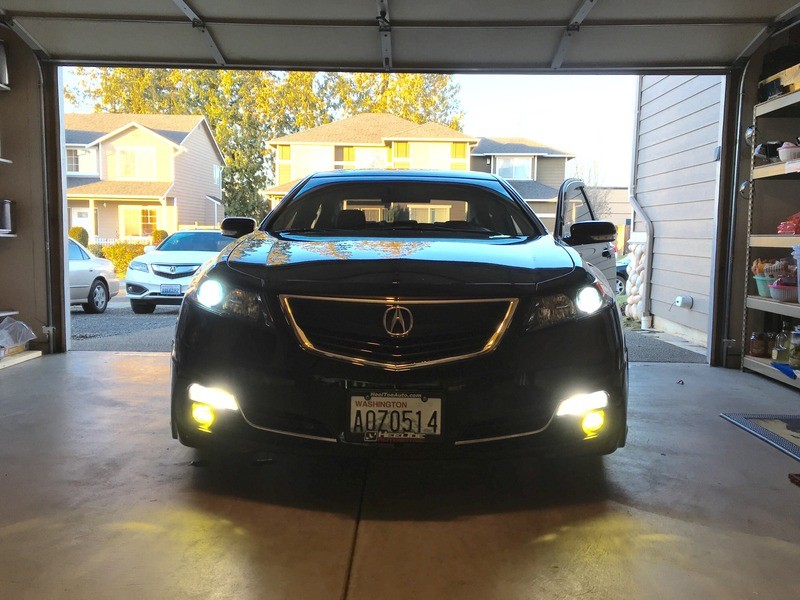 2-5-2016
More work in progress.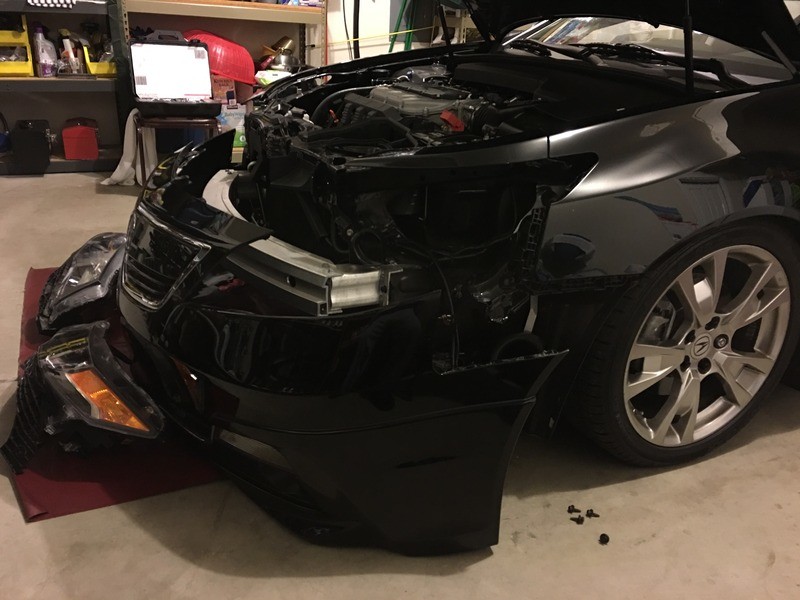 2-12-2016
Next addition just arrived in the mail. 1st I have seen.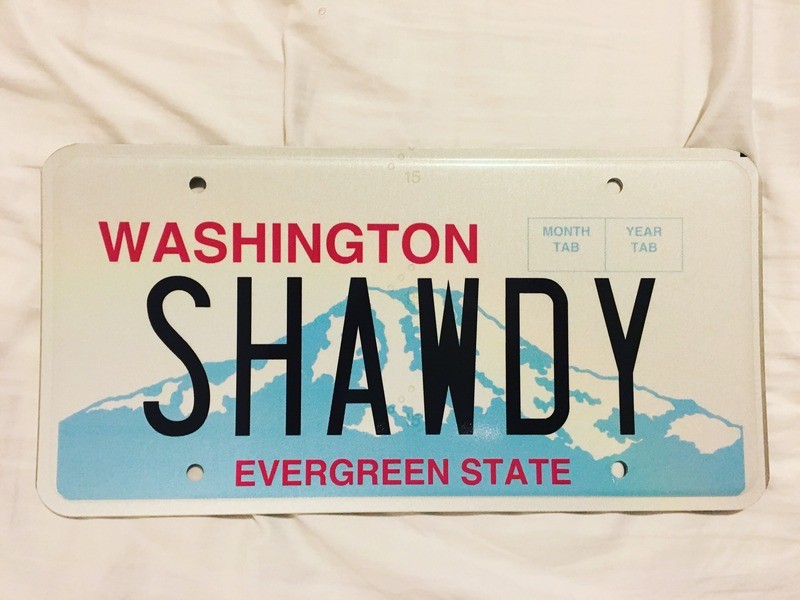 2-27-2016
UPDATE

Headlights took awhile. Should receive them this coming week. My boy at SD_Retrofits took care of me. Love the finally outcome. If you're interested in getting your headlights/taillights done. I can pass on his info. Mention me (RT or tizzle_of_course) for a great deal!

Modified oem headlights with clear reflectors, TSX clear lenses, custom rounded cutoff shields and demon eyes. They are tuned and super sharp now. Once they're installed I'll post the picture.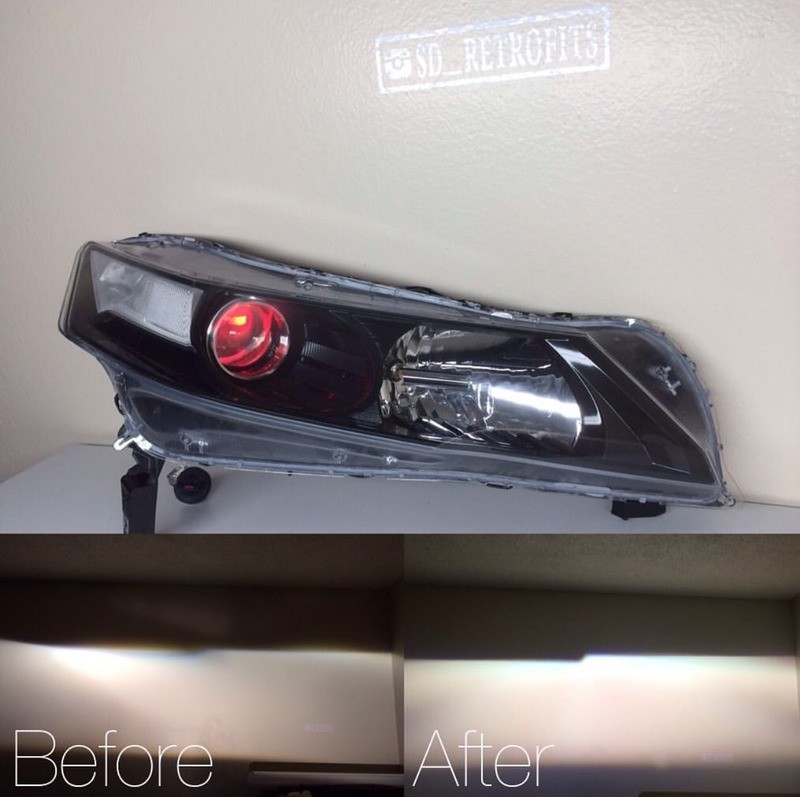 3-11-2016
Just need to install and wire up the demon eyes.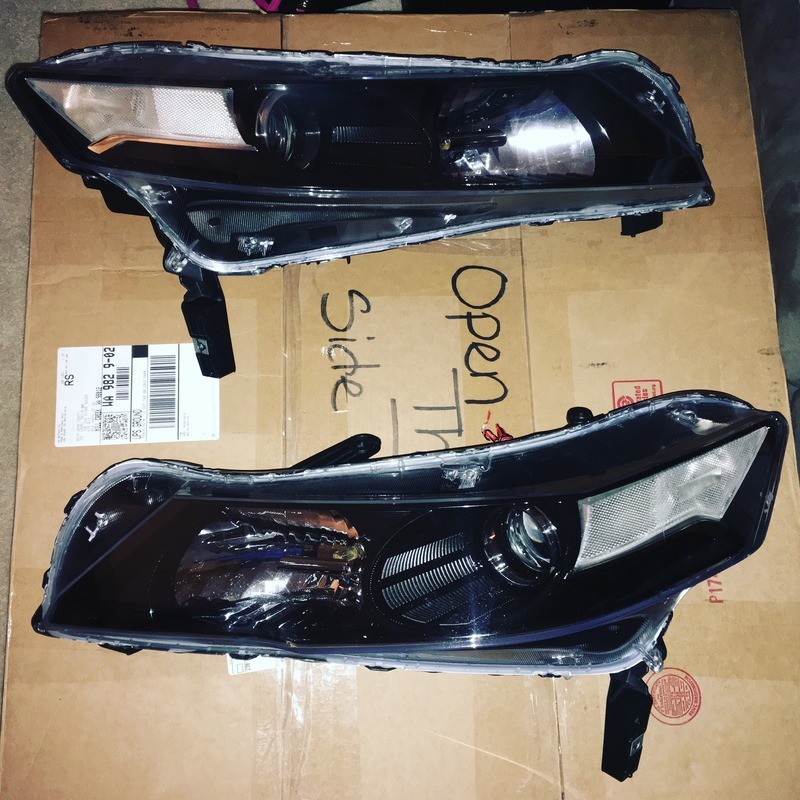 3-13-2016
Taken earlier today. Mix of Summer '15 with Summer '16. Can't wait to get my new wheels! Still need to wire up the demon eyes but I'll have it done this coming week.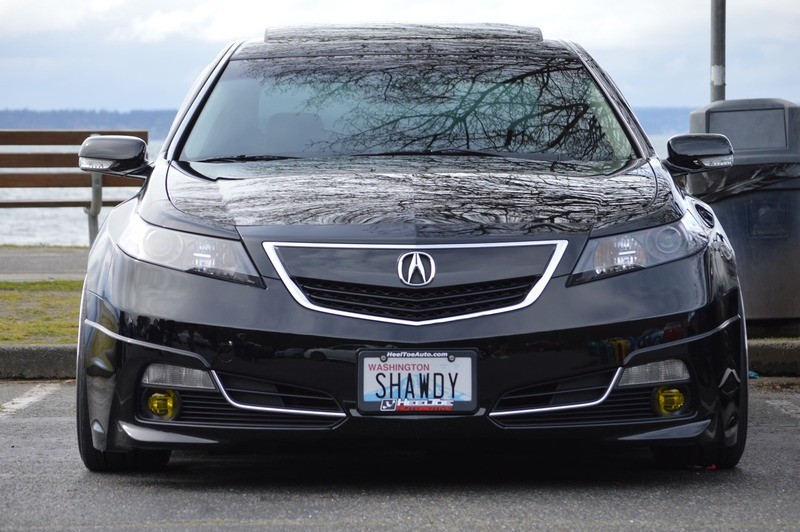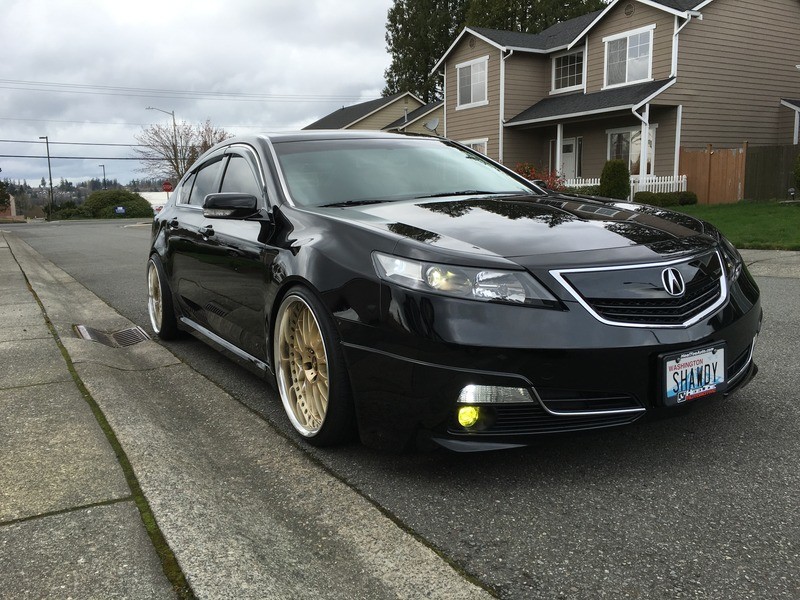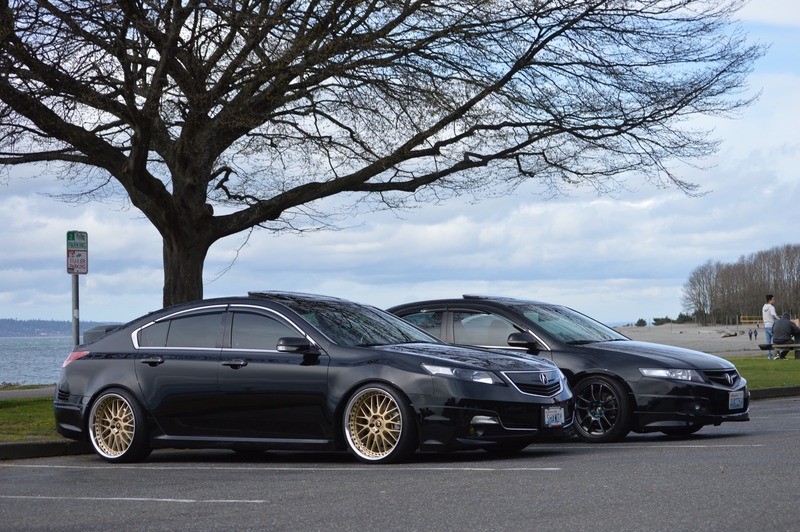 Demons unleashed: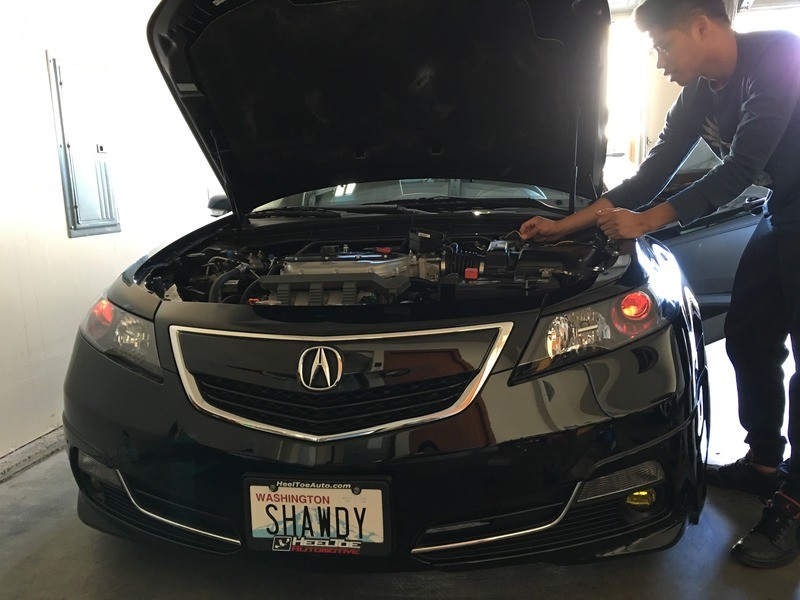 3-19-2016
Sorry guys I'm blowing up my thread but the car is back out since its spring and the parts I have laying around are being installed. So gotta keep the pictures coming.

Messing around with the demons at night. Burst time I've seen my new lights on at night. I love them! The washed out DRL's aren't too bad but it would be nice if the matched the corners and switchbacks.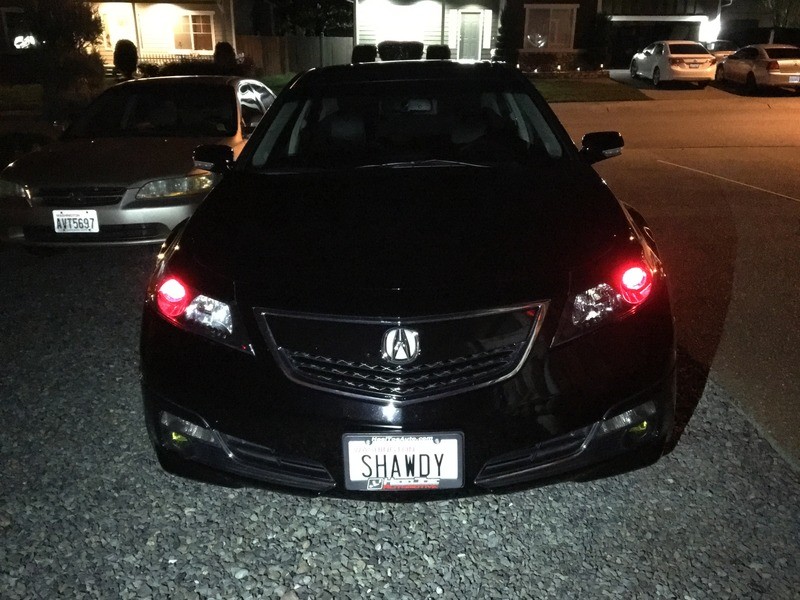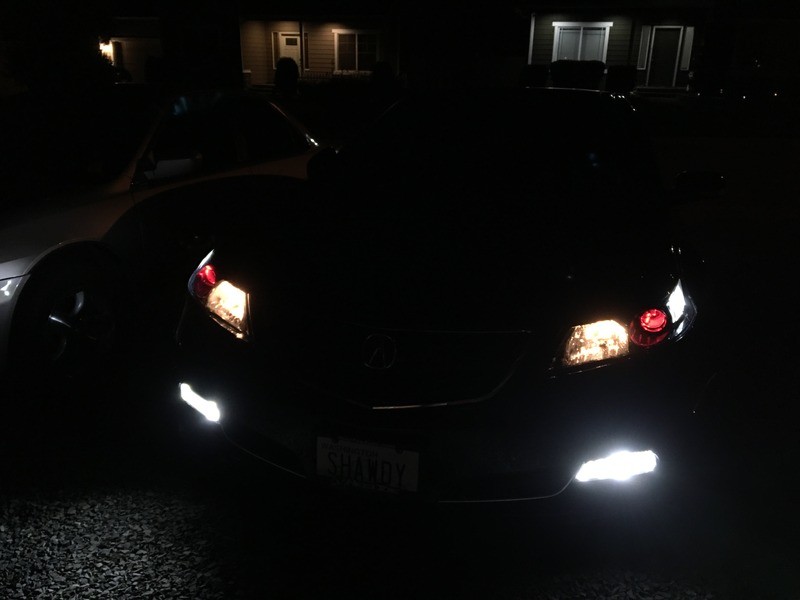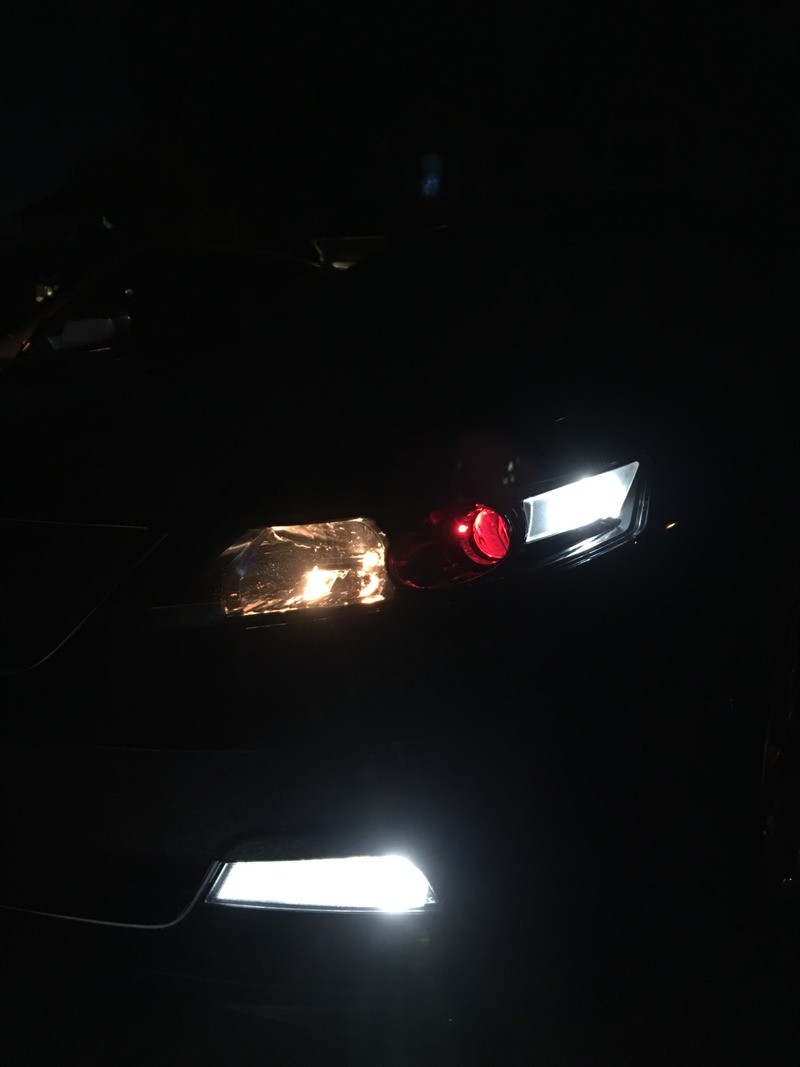 My favorite setup. No DRL's. I did snap some pictures without them but not the right angle.
The demons are pretty bright, the light up the road.
3-31-2016
Update as of today 3/31/2016:

Precat deletes installed. Was a productive day off. End result was a much louder and raspy exhaustnote. Normal while cruising. When full throttle it screams down the road. I kinda enjoy it. Next, tune.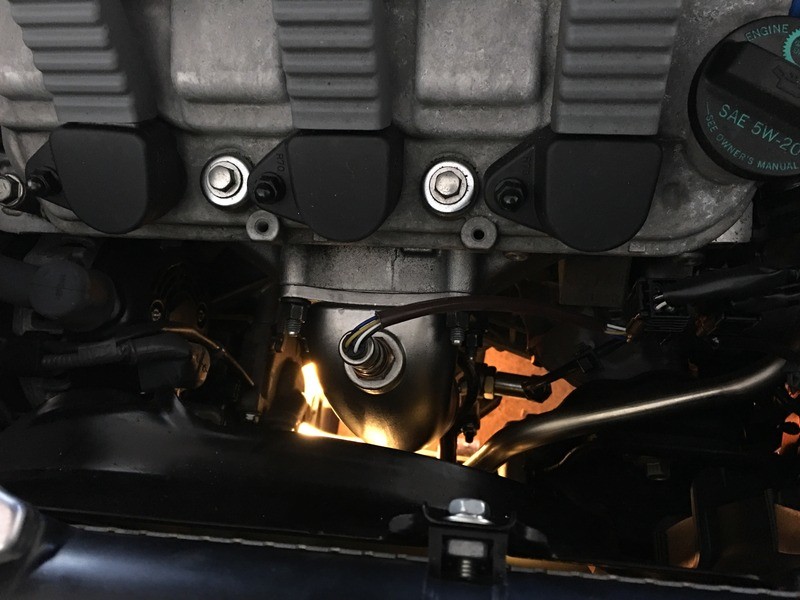 Couple random shots during install: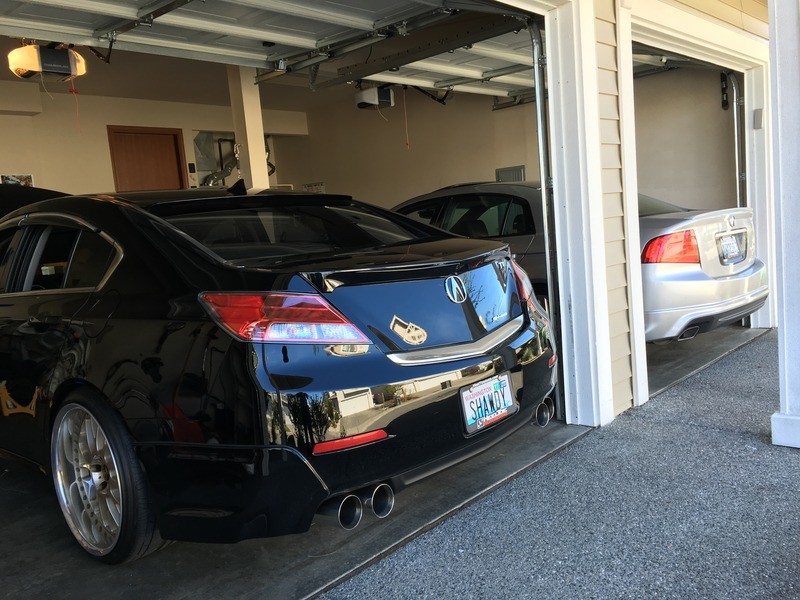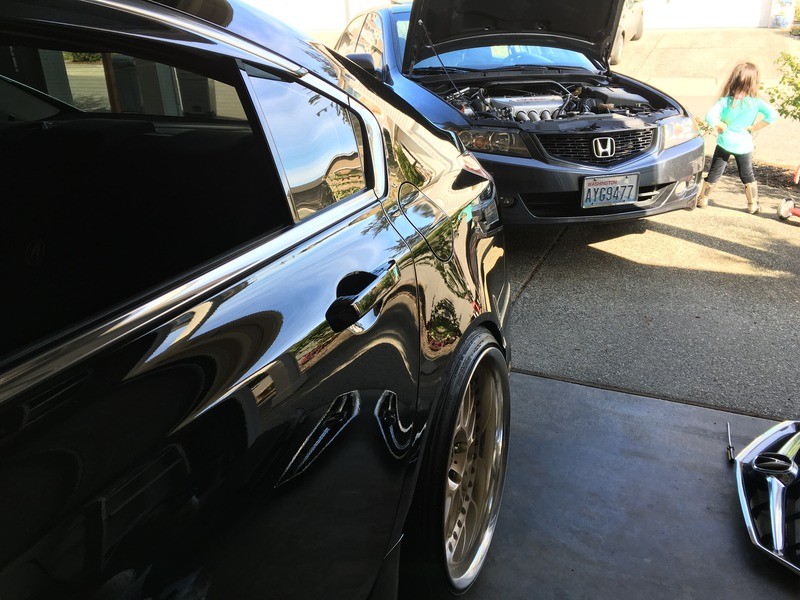 4-4-2016
Tech day with the crew as we prepare for our first car show competition of the year next Sunday. Didn't have too much to do personally but I debadged the TL emblem, installed my red LED footwell lights after cutting out the center cap and pulled out my Ktuner for the first time and flashed tune 4. Loving the car more and more.

Also hit 10k miles today!!! Bought it new in November of 2013.

On to the pictures: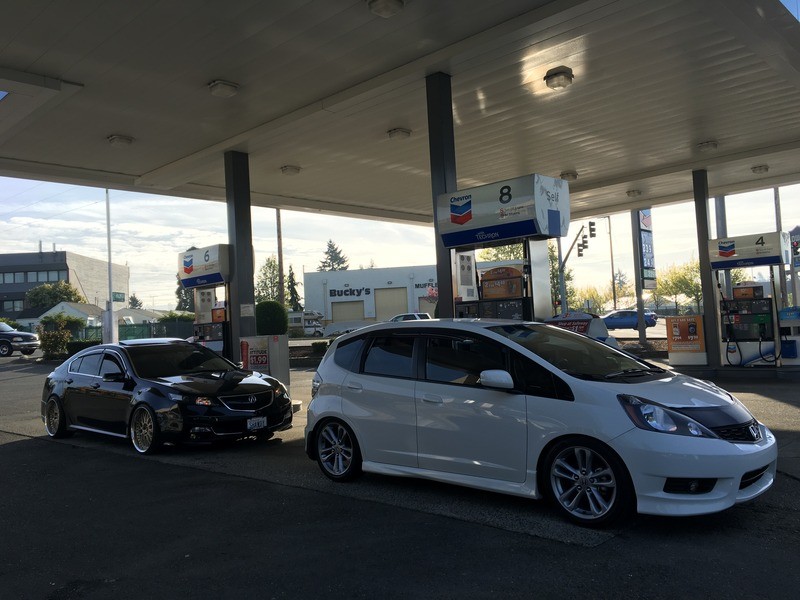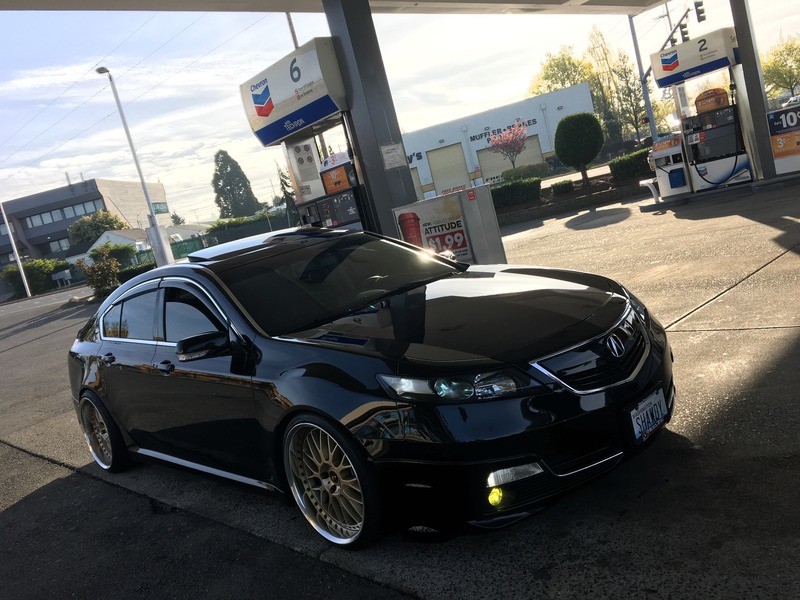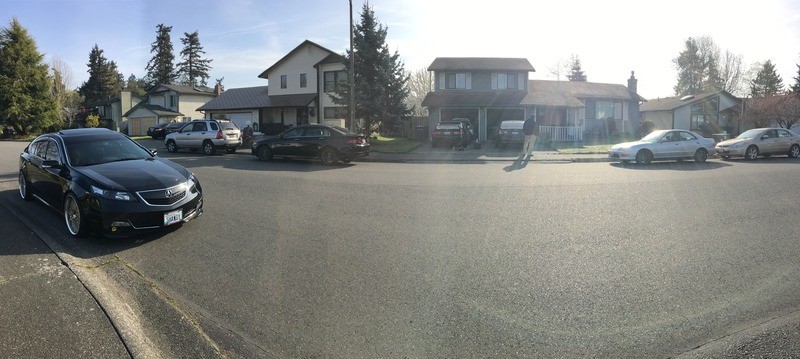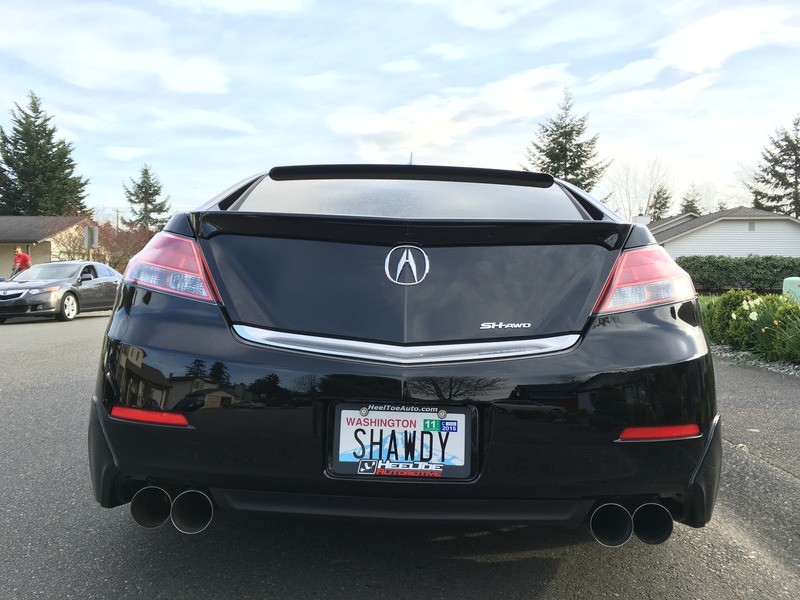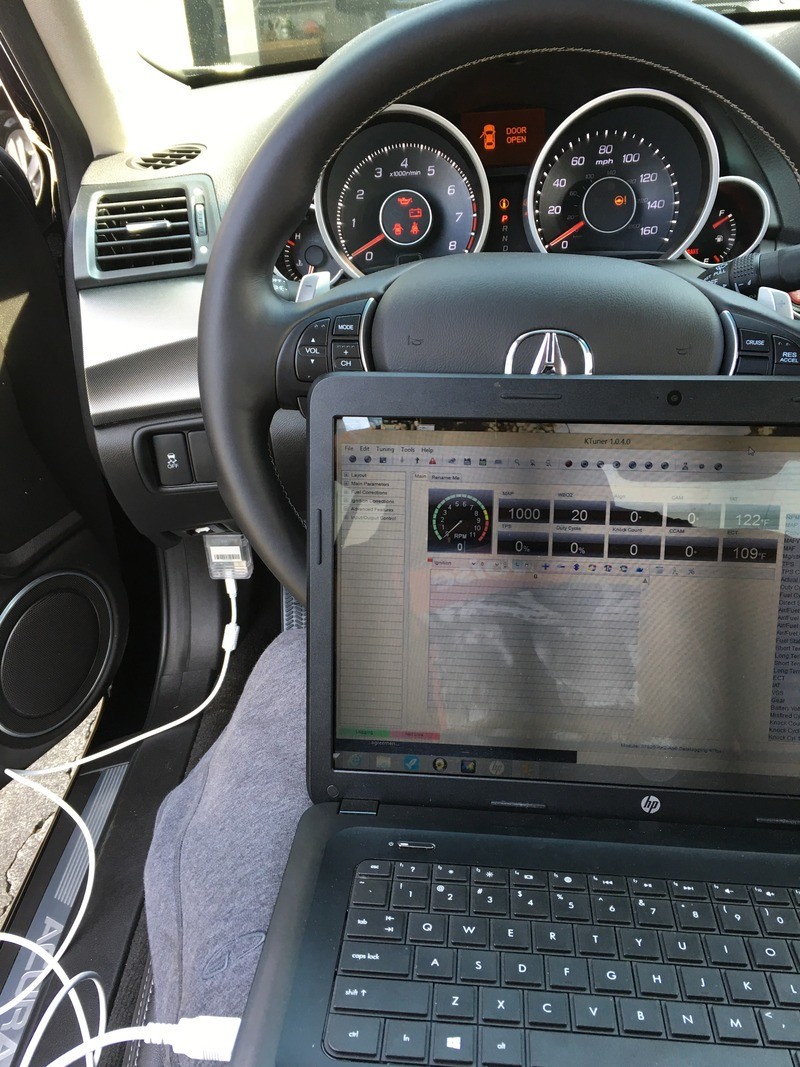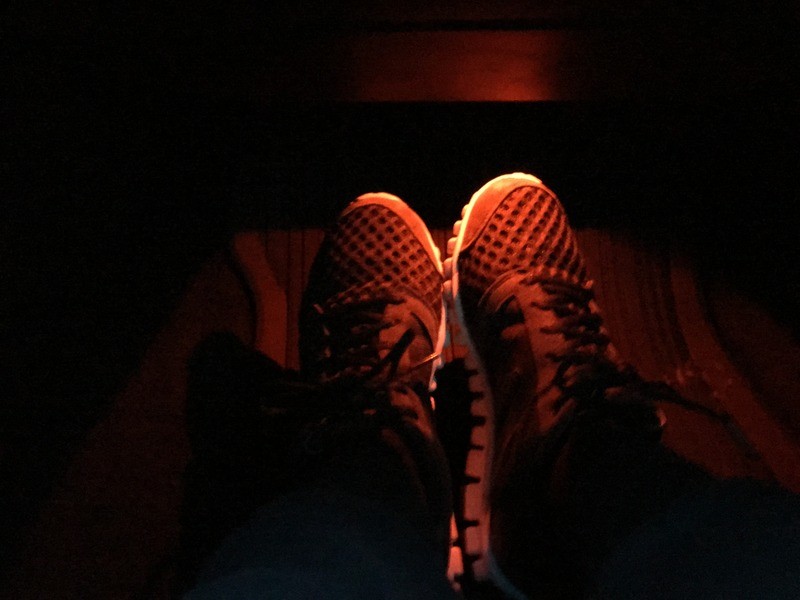 Wife's feet lmao.
4-13-2016
Competed at HondafestNW over the weekend and took home 1st Place Best Acura Sedan. Competed against 5 3G's. First time winning and first 4G TL to place at any local show. Probably because I'm really the only one that's modified to this level. Very happy with the outcome and still on my old wheels. Few pictures from the event: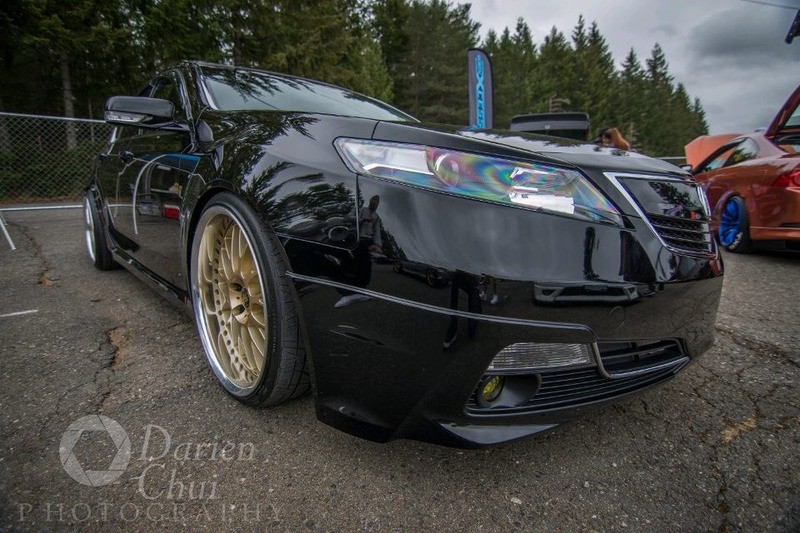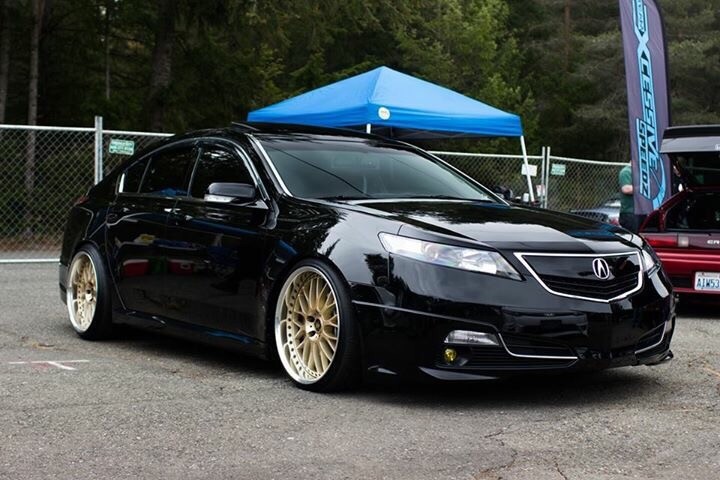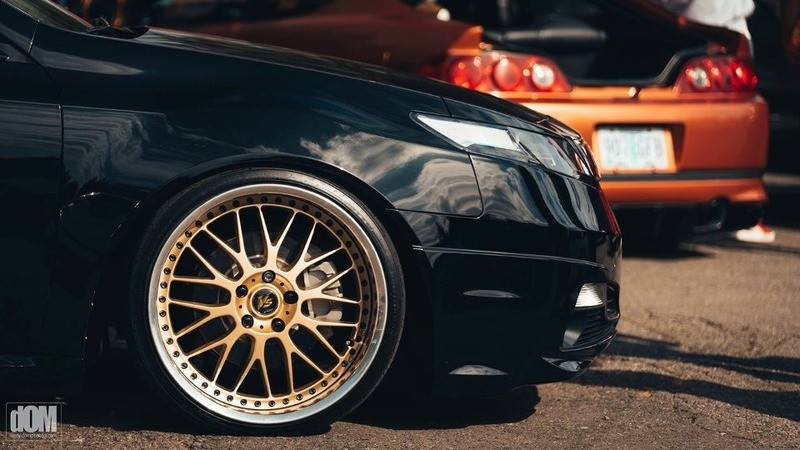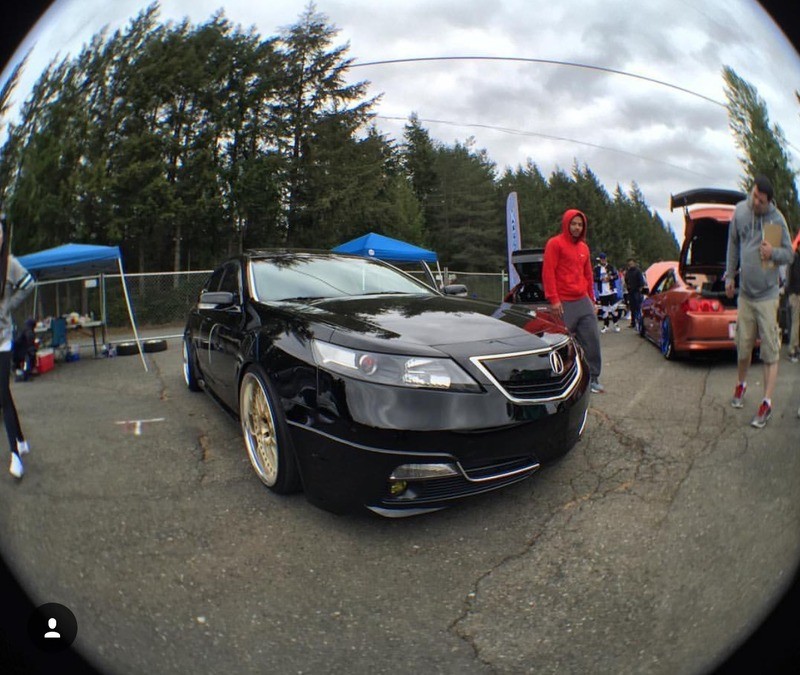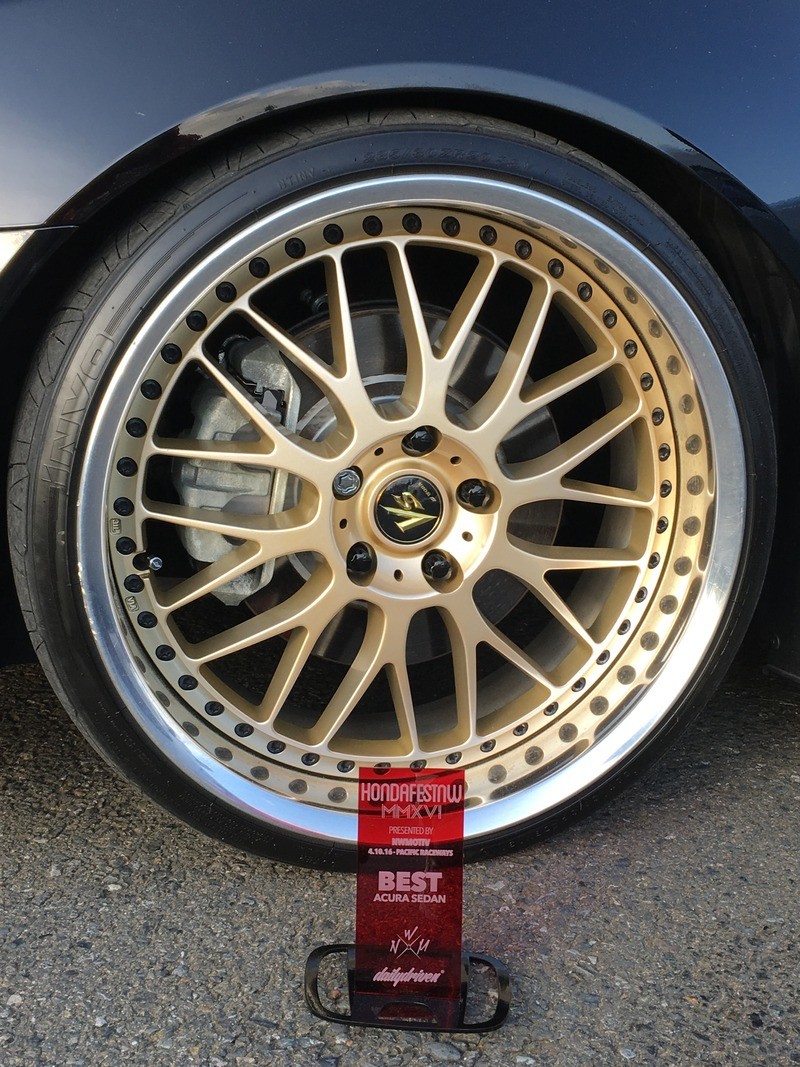 4-23-2016
Just a little update. Still currently waiting on my wheels. Should be complete next week. In the meantime I may have just landed sponsorship #2 with AirLift Performance. I'm trying to switch up my style from street to VIP so this would be a great collaboration with InfiniteWerks. I will keep everyone posted. We already got spring 2016 poppin.
4-28-2016
Well I just got approved for partial sponsorship from Air Lift Performance as of today. I placed my order and the kit will be shipped out on Monday.

I also spoke with Tommy at InfiniteWerks and they are just polishing up the lips and wheels will be complete and shipped out Monday as well.

Can't wait!
5-6-2016
Finally! Wheels arrive early next week and I'll just need to slap on some tires and I'll be ready for install.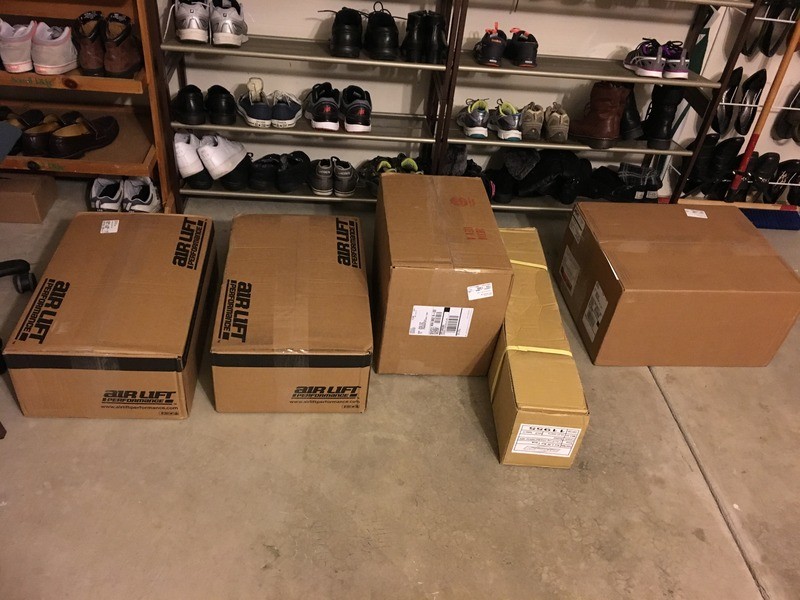 5-8-2016
Lmao thanks KarKraze.

Next big challenge is figuring out my trunk set up. Just a little mock up of the tank. Still need to pull out the compressors and module to finish the mock up.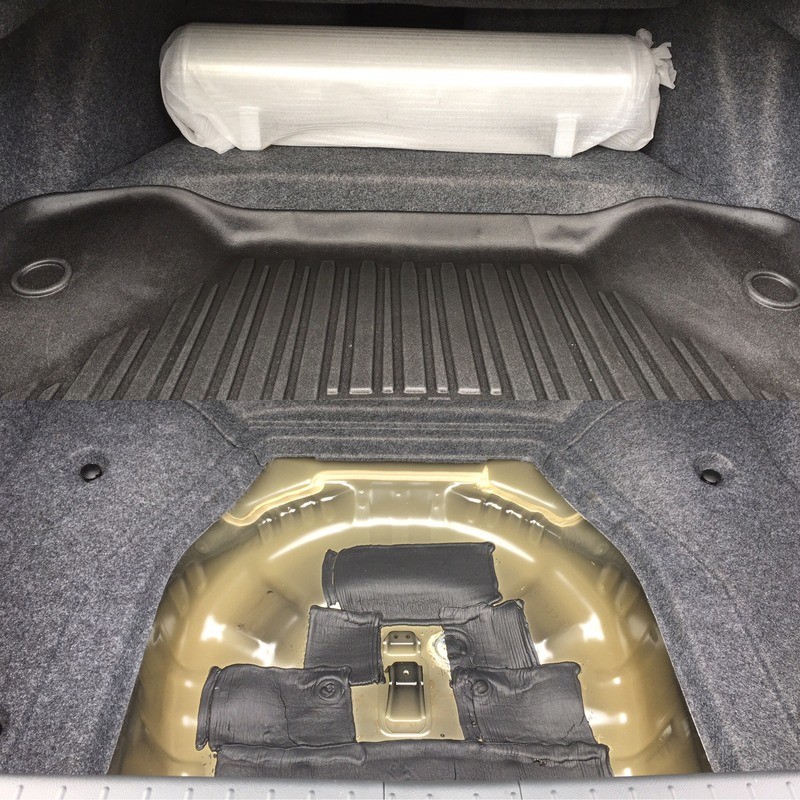 5-10-2016
Wheels finally arrived and tires tomorrow. Before anyone asks, since I know it's coming. Wheel specs are: 20x10.5 +11 squared. Tires will be Continental DWS06 245/35/20.

Wheels have brushed faces, high polished step lips, 24k gold hardware and candy red center caps.

Enjoy!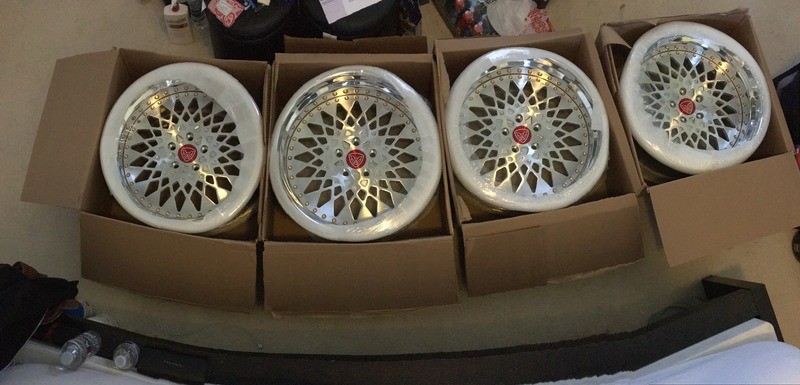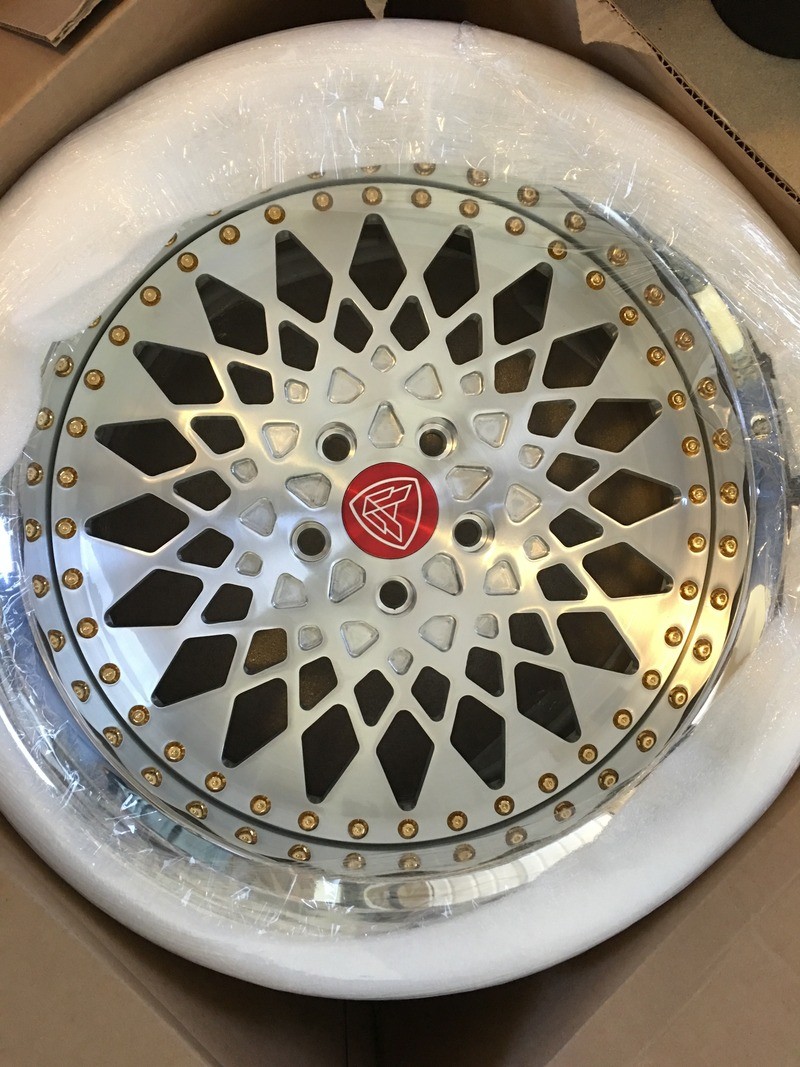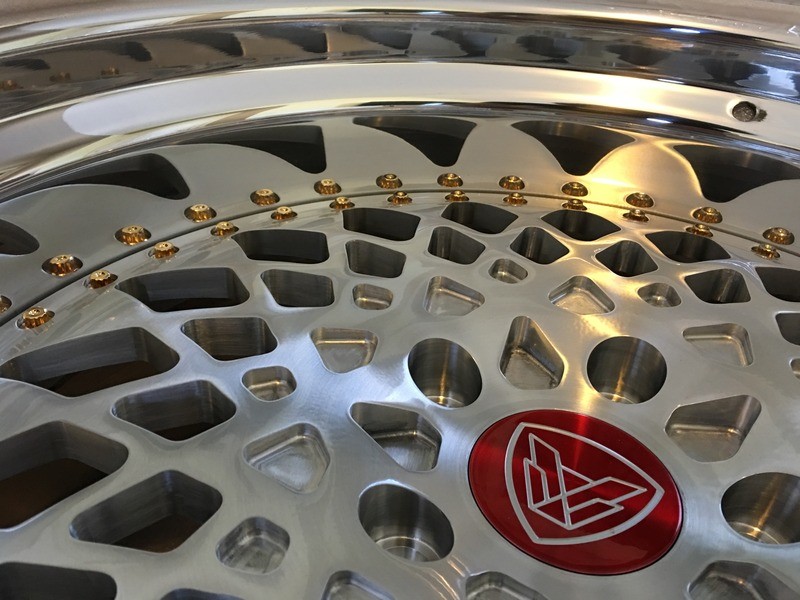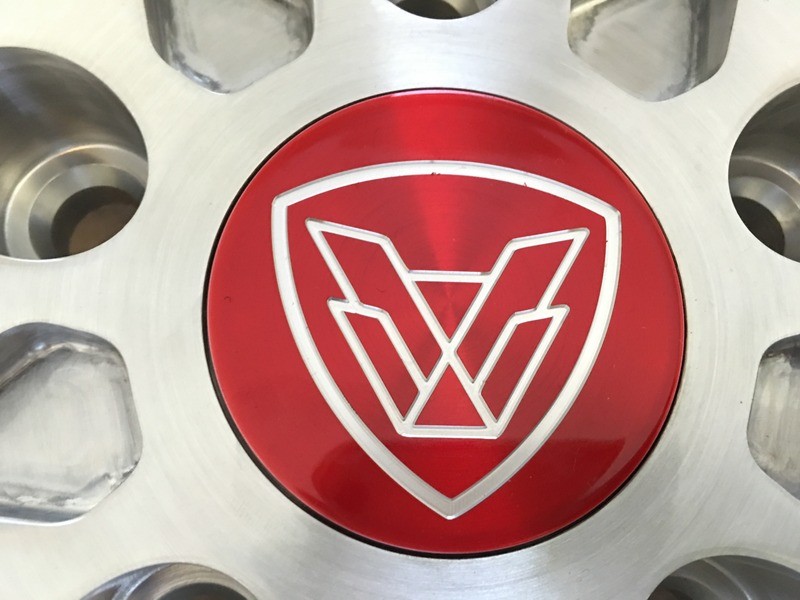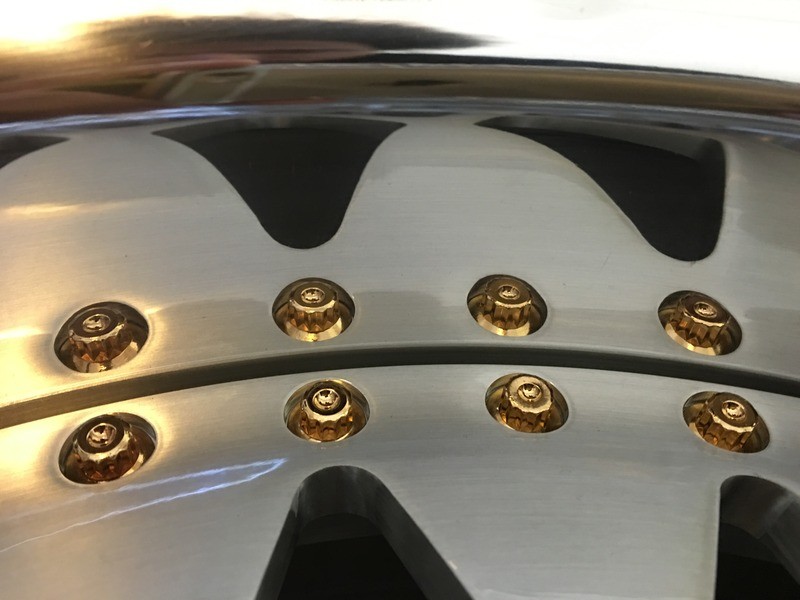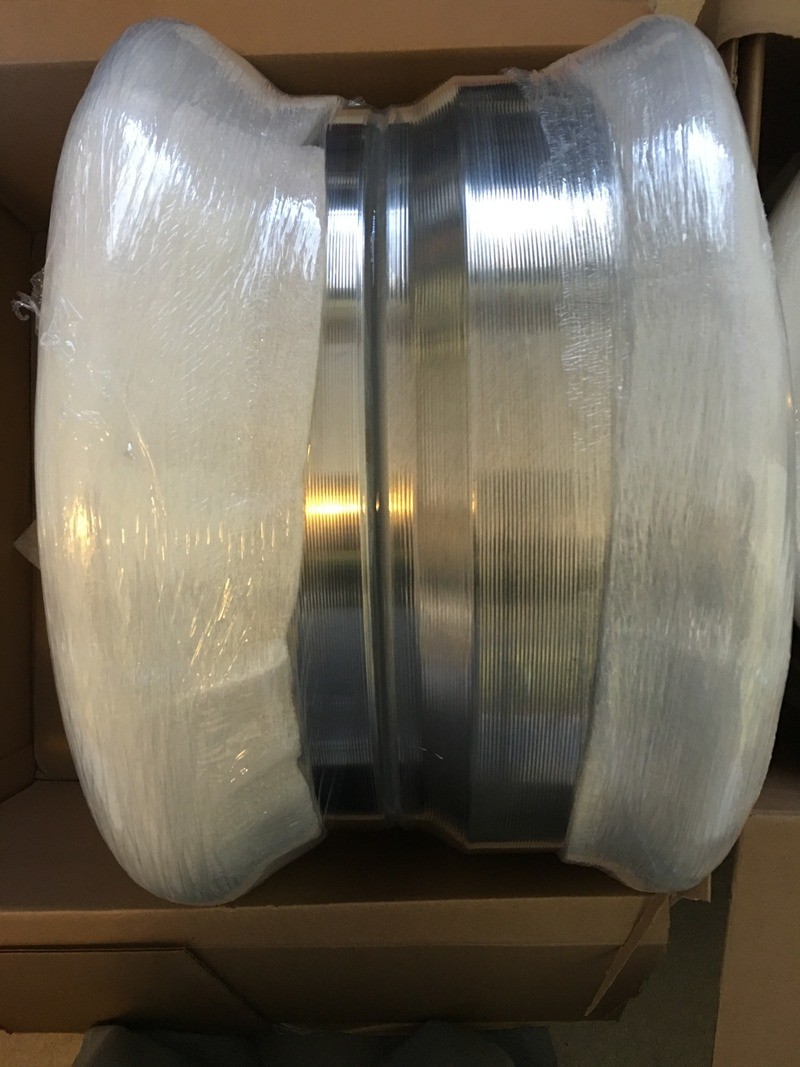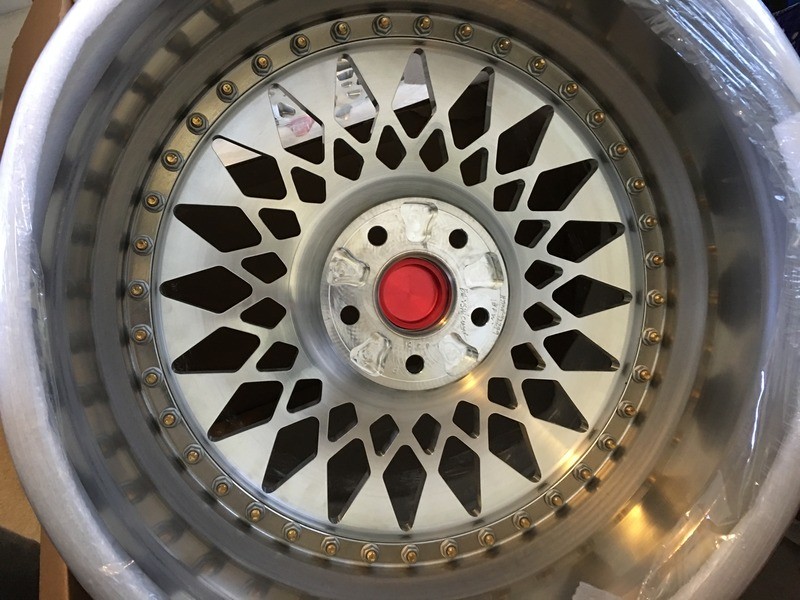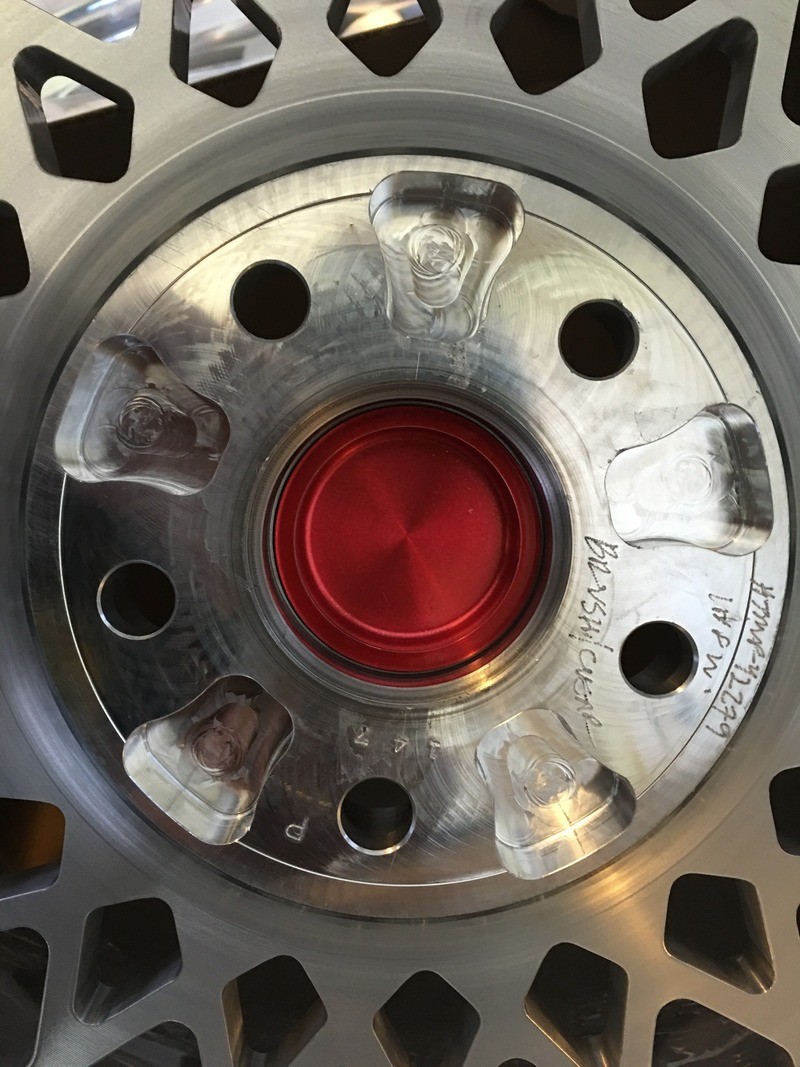 5-13-2016
Tires were mounted today. TL gets dropped off on Saturday for air install. Wanted to install myself but I'm too busy currently so at least it will get done sooner. Almost ready.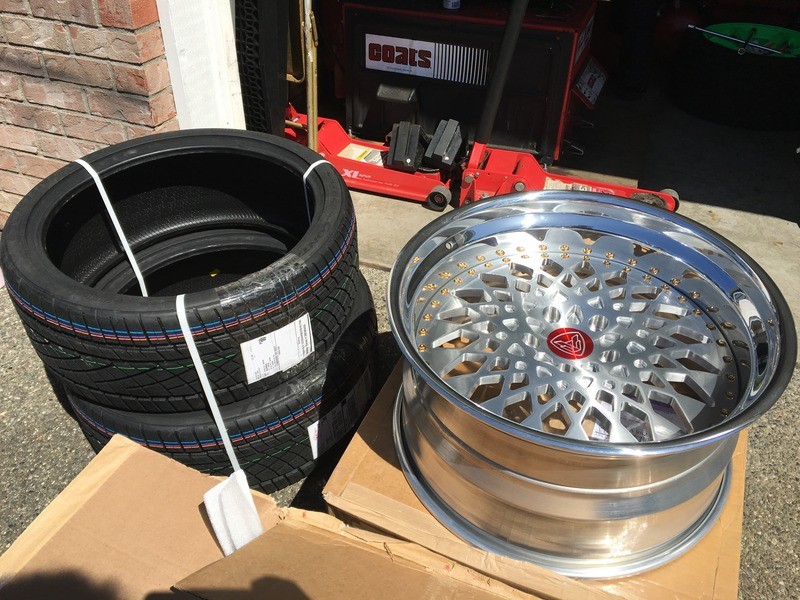 Just fuckin with the daily.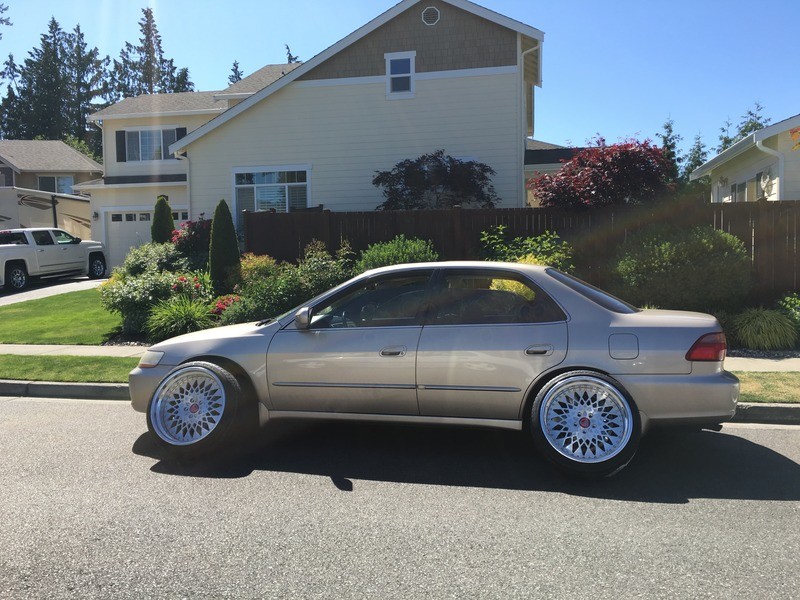 5-21-2016
Decided since the suspension is taken apart, it would be a good time for an upgrade. Ordered SPC front adjustable camber ball joints as well as 3 bar rear kit in addition to my Ingalls rear adjustable camber ball joints. I'll have a lot more adjustability now.

Car is suppose to be done late next week.
5-24-2016
Progress. Should be complete this week.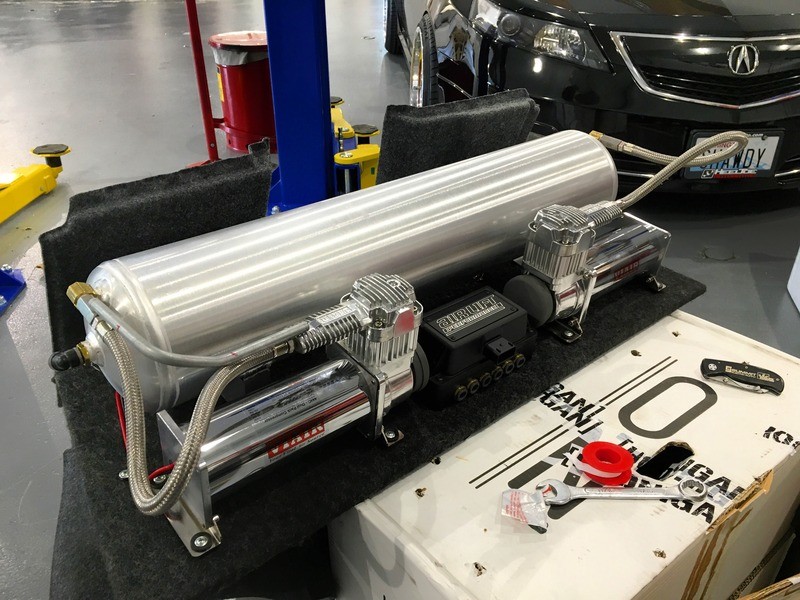 Last shots taken before suspension is swapped out: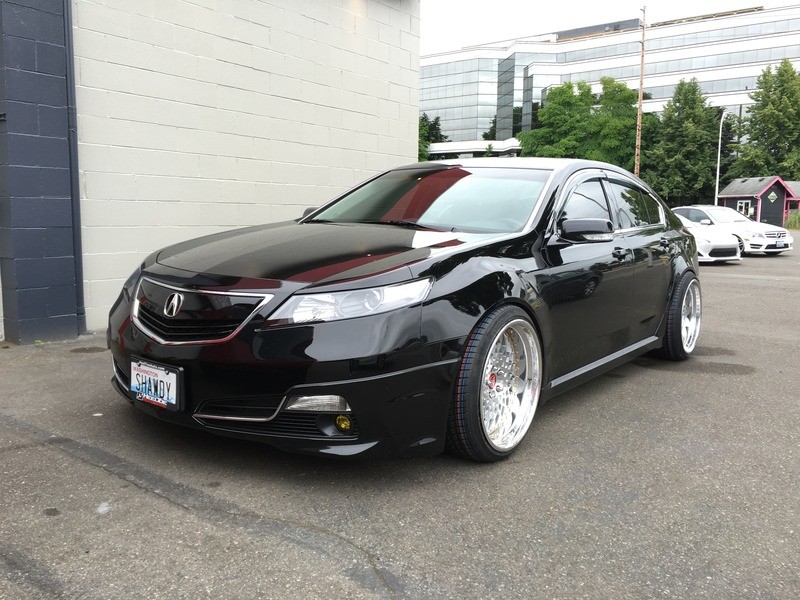 Mock up: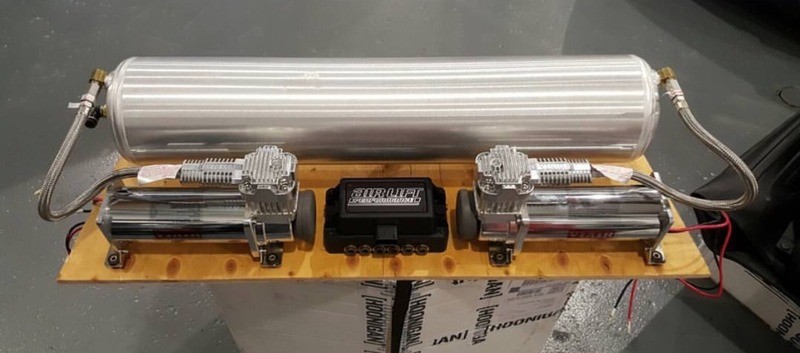 Setup with hardlines: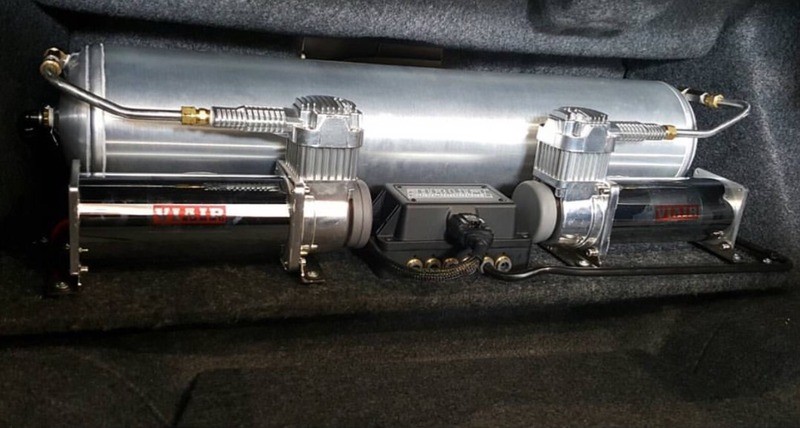 Trunk view missing one hardline: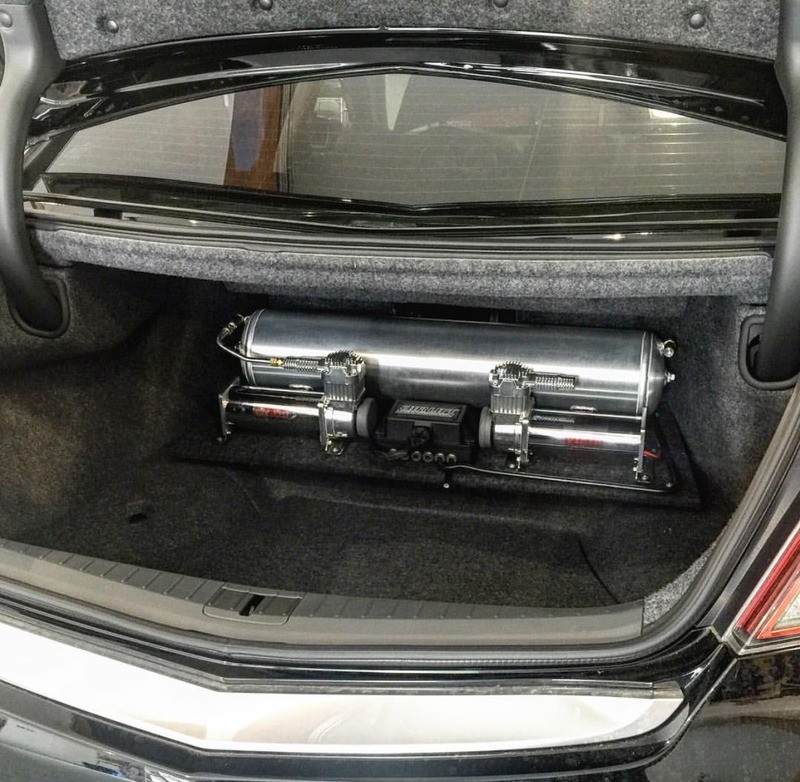 5-26-2016
Went to check on the car today. After installing the SPC front camber kit the fronts tuck but rub slightly on the way down so I'll do a slight pull and be set. Rears sat on the edge of the tire but haven't adjusted the rear camber yet now that the SPC 3 bar is in. Probably do a slight pull for the rear as well just for peace of mind. Car should be out of the shop this week!
6-1-2016
I don't remember the exact style but it's the original one not the newest version.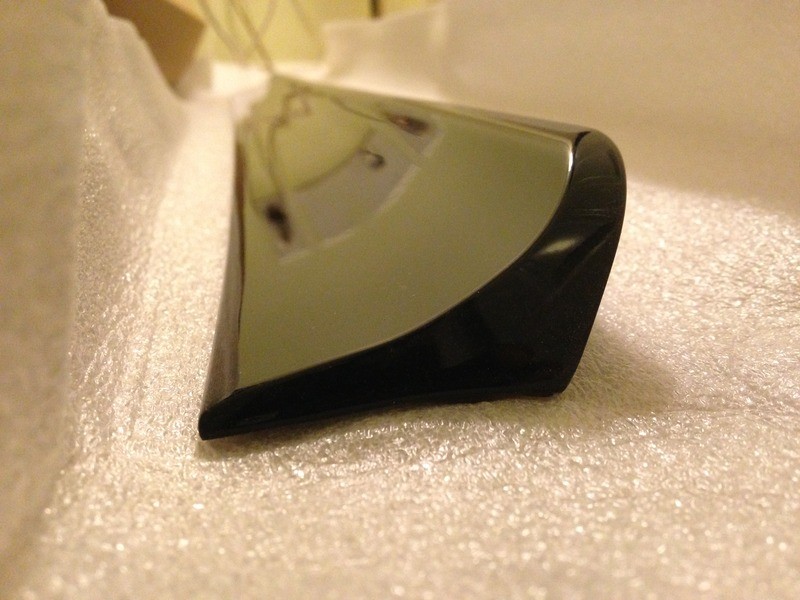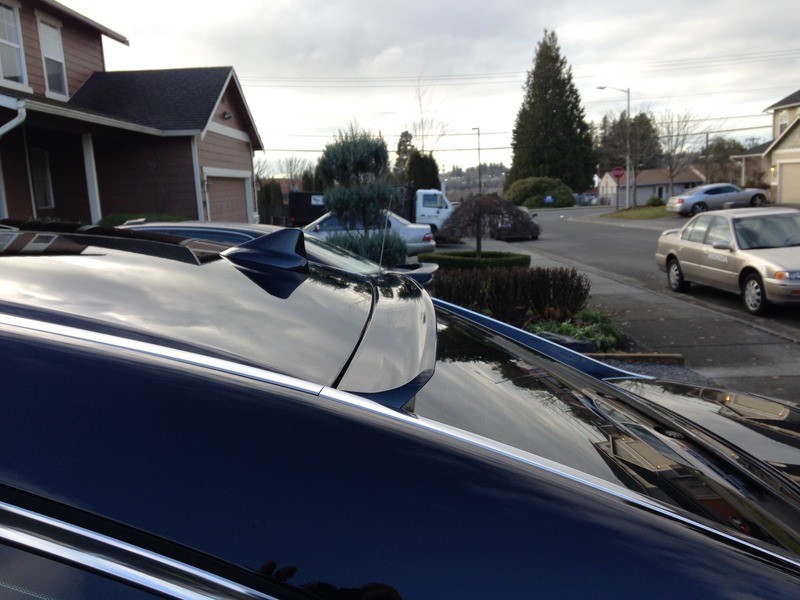 6-4-2016
Got my car back today after 3 long weeks. Had them get everything working properly on the stocks. Will be fitting my VSXX's tomorrow night for import Faceoff. InfiniteWerks will be on for the next show hopefully. Wasn't able to run the addition camber I needed in the front do to the fork coming in contact with the strut so may be downsizing tires but I'll keep my thread posted. For now, the first couple photos I took.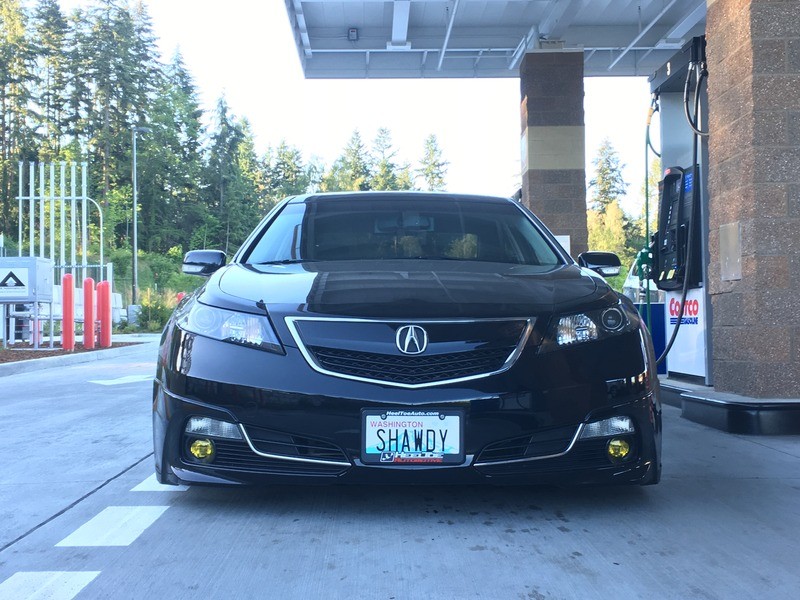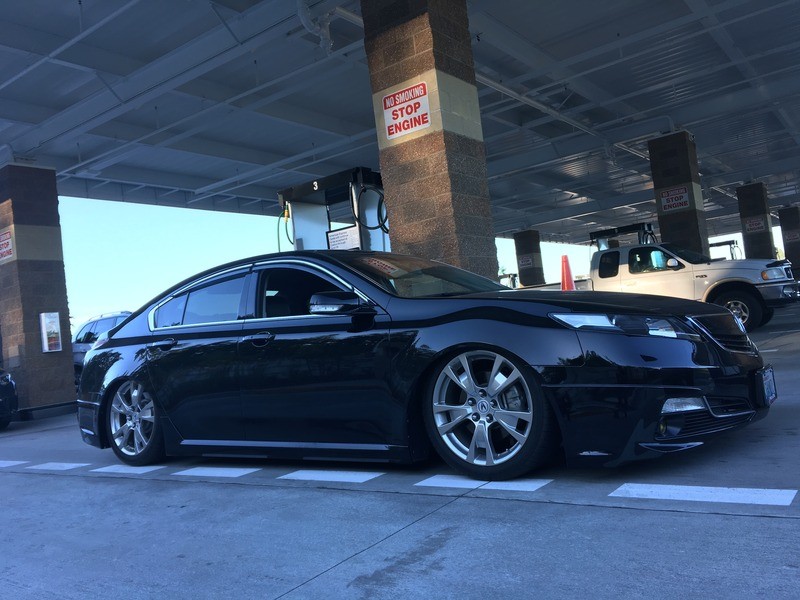 6-5-2016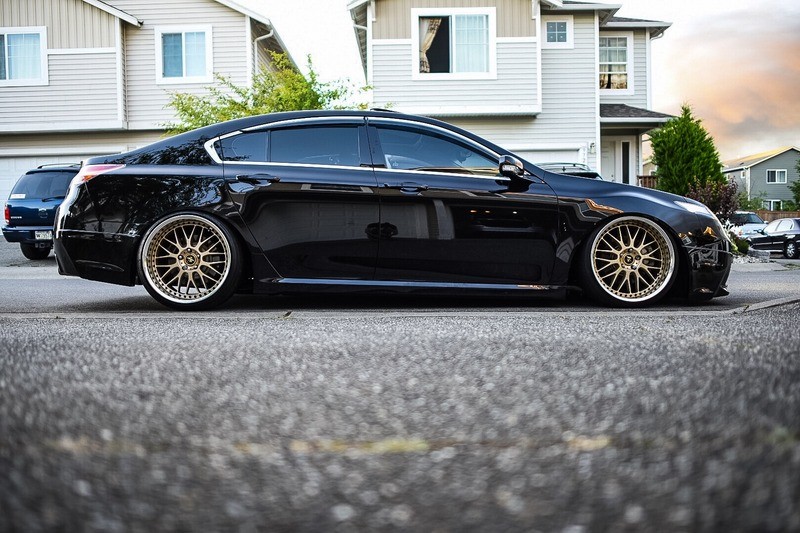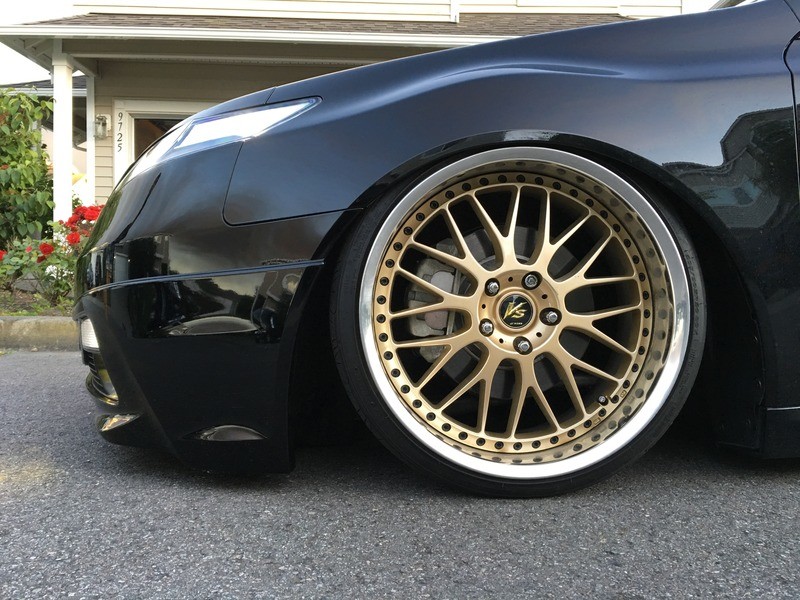 7-24-2016
It's been a minute. Too busy to put work into my other wheels so here's how she currently sits. Need to adjust my camber a little more so I can drop the rear more. Also planning to finally get her dyno tuned. Just need to call and set it up.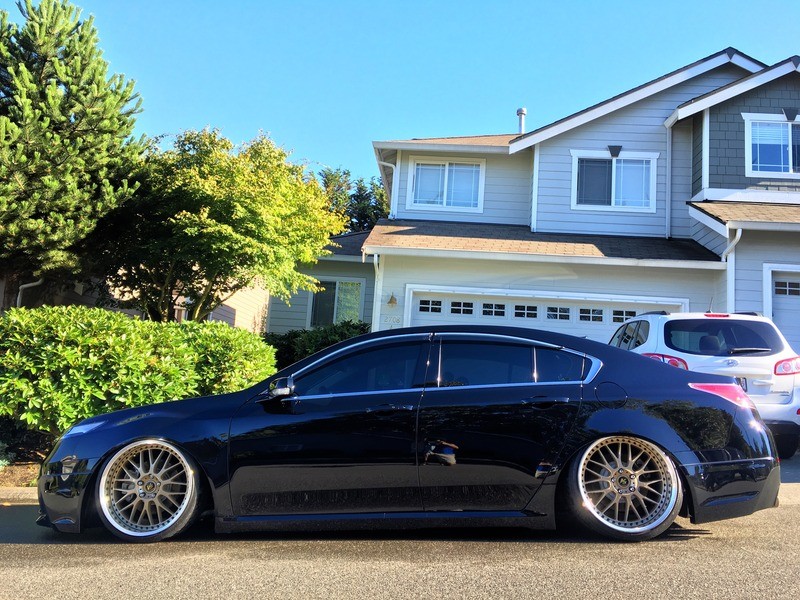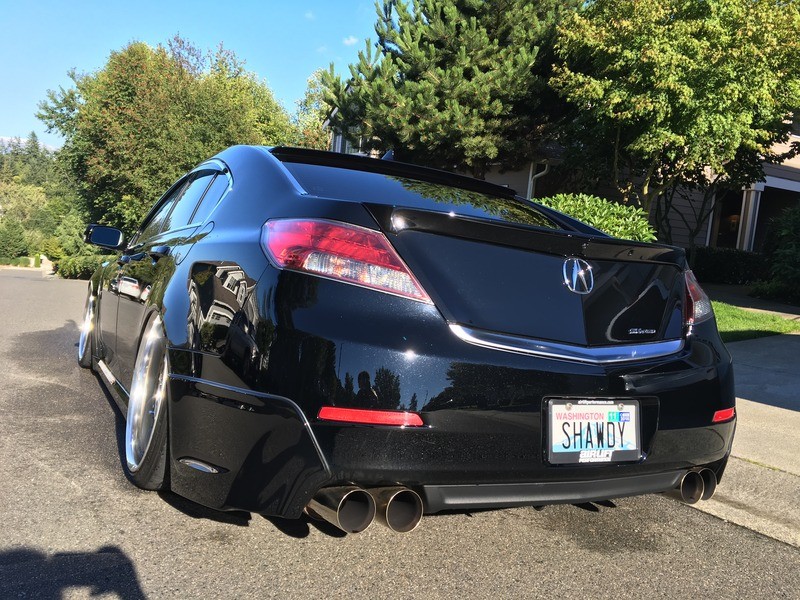 10-20-2016
Been awhile since I updated my thread.

As summer has come to an end here in Washington and Shawdy is getting tucked away until spring time (fire her up here and there), I decided to do a full 3 stage polish and do two different paint coatings: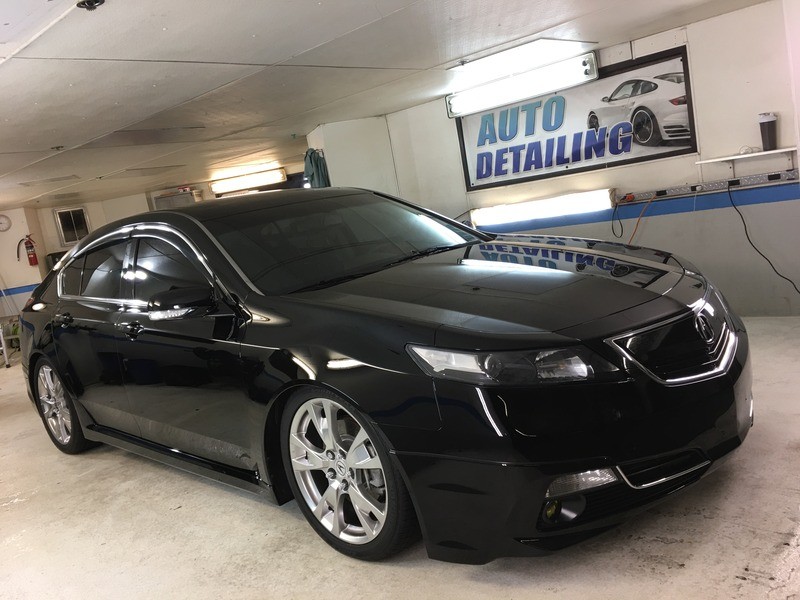 1) Gtechniq Crystal Serum Ceramic Coating (7 years guaranteed)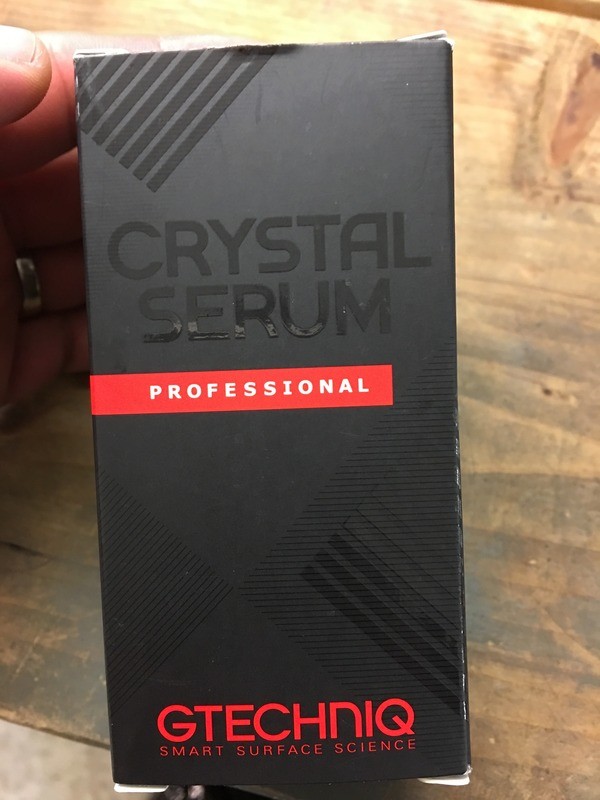 2) Gtechniq Exo Hydrophobic Coating (3 years guaranteed)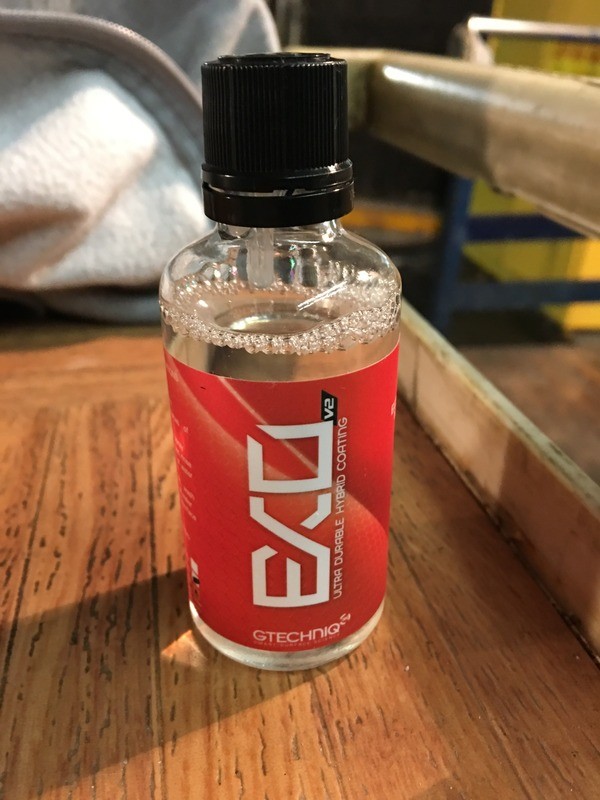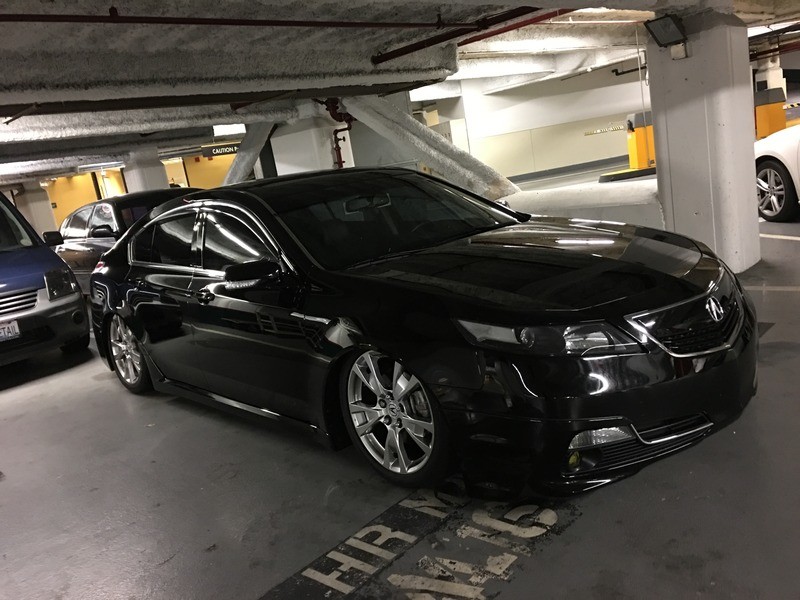 Final result was better than I had expected and the paint does need anything more than a wash from here on out. As for future mods, I did order a set of Kics iR40 Conix tuner lugs which are currently being imported from Japan through one of my homies. I do still have my Infinite Werks that I will be swapping tires to get the fitment I want. I also am looking to finally install a stereo in the trunk since I have a brand new JL Audio 600/1 amp and W6v3 subwoofer. I'm trying to hold off until I can get my custom trunk set up complete however so i am not blocking my air setup with a big box. That's about it for now. I do have plans to get the Stoptech BBK front and rear hopefully this coming spring/summer 17. We shall see.

Summer '16: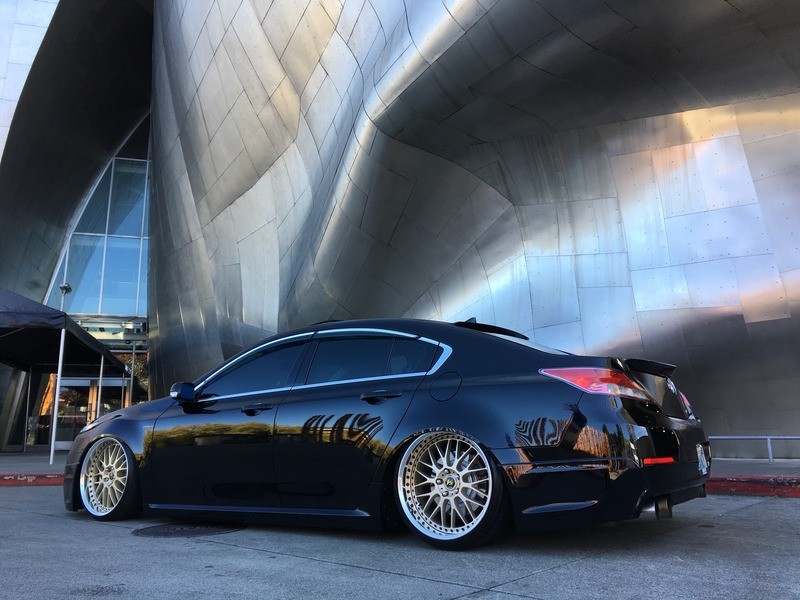 12-6-2016
Brakes arrived today. They are huge! I won't be installing until spring before the first car show of the year (April 9th) so the wait will have to continue on my build. Time to keep stacking parts.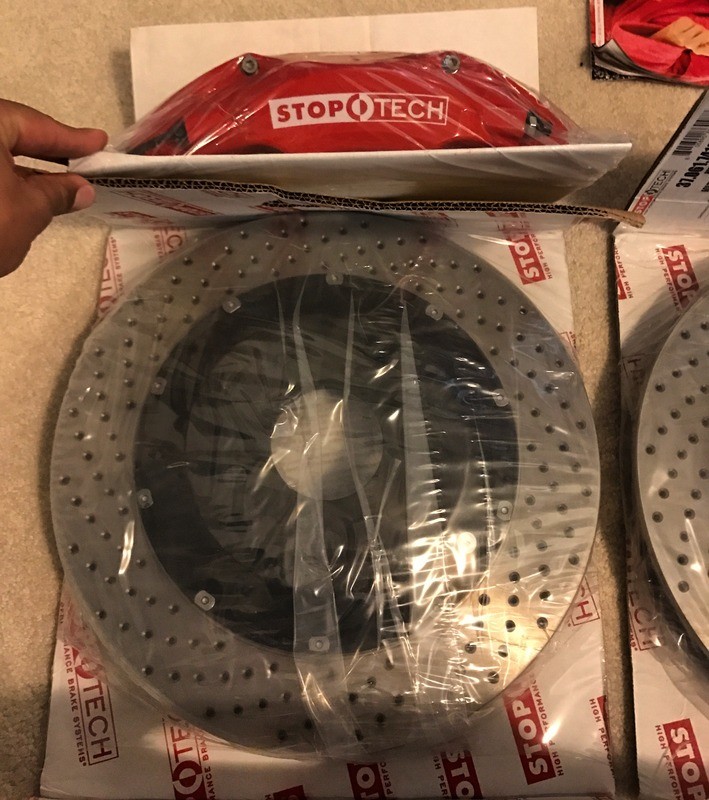 And of course I have the R40 iconix lug nuts imported from Japa to throw on the new setup as well.
2-21-2017
Meant to update my thread two weeks ago but I couldn't wait any longer. Installed the Stoptech big brake kit and I could not be happier. Install went smooth minus the rotor screws since I rarely drive the car but I installed brand new ones in the BBK. Had to cut the dust shields off for the rotors to clear but that was an easy part. Here's some photos:

Front: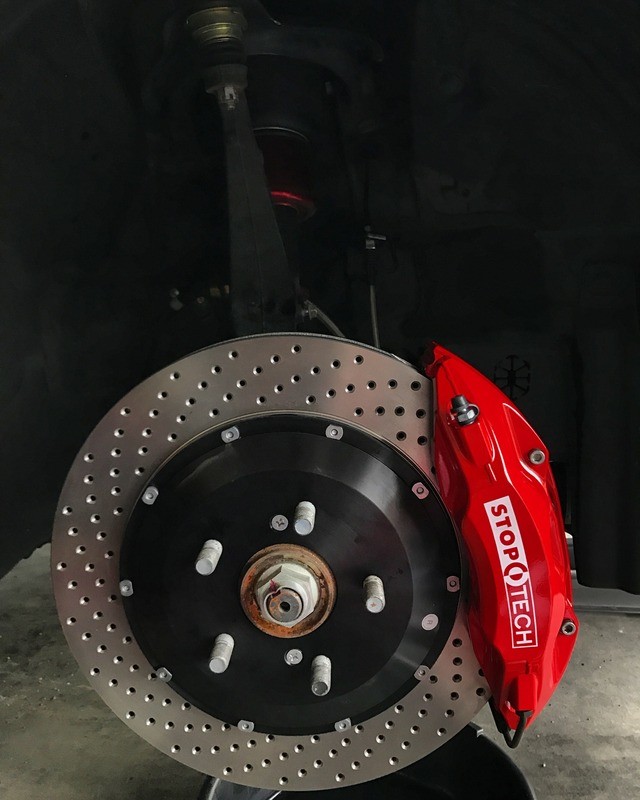 Rear: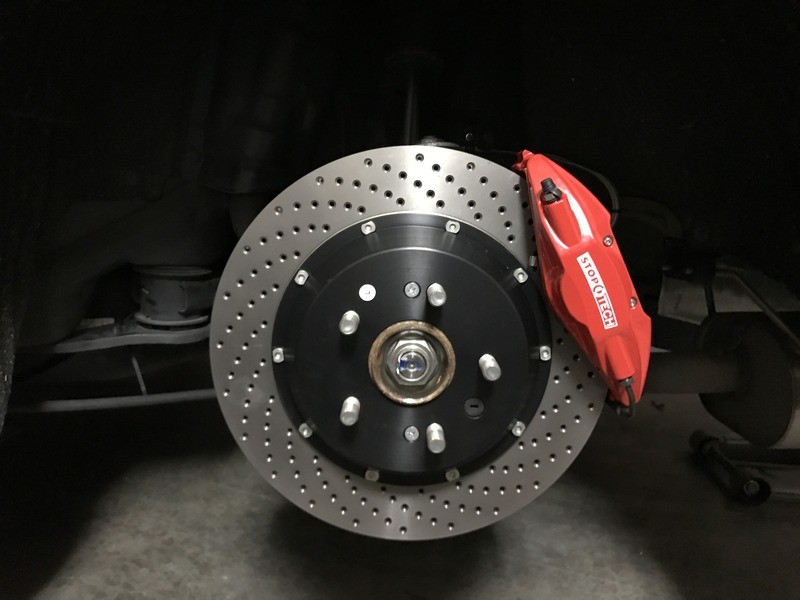 Front and Rear: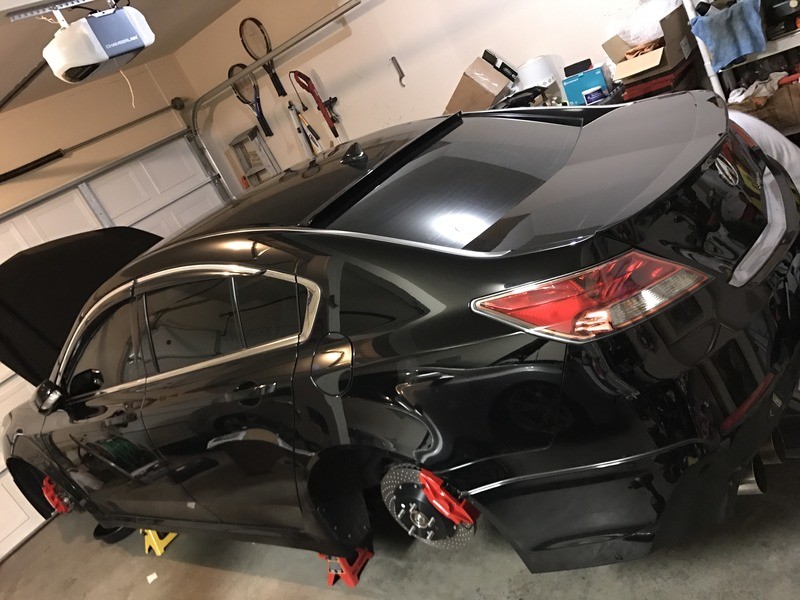 Front with the OEM 19's and 20mm spacers: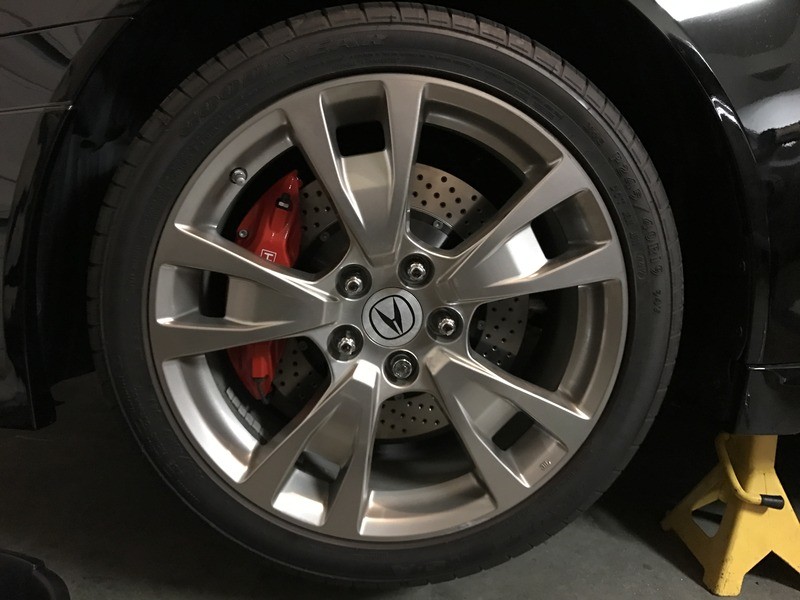 Sneak peak of the rears with the VSXX: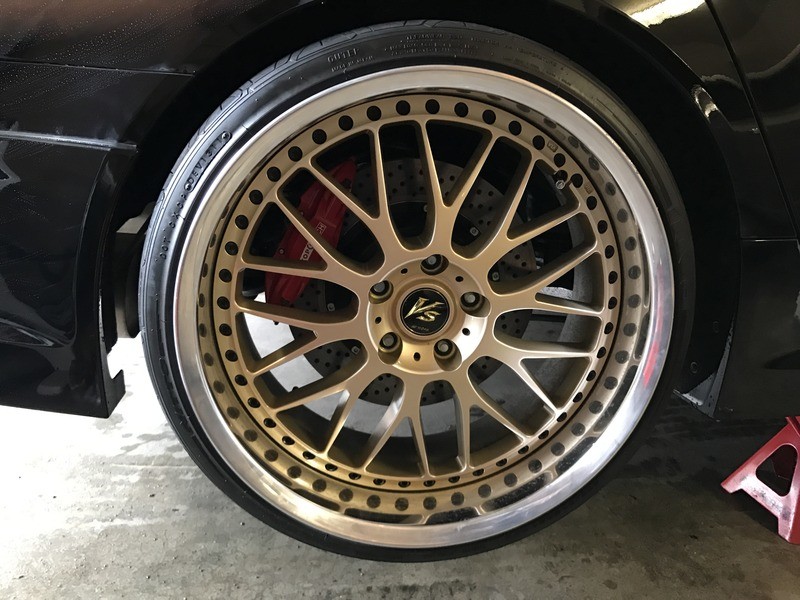 Sneak peak of the fronts with the Infinite Werks: (Wheels have been collecting dust so they appear dirty)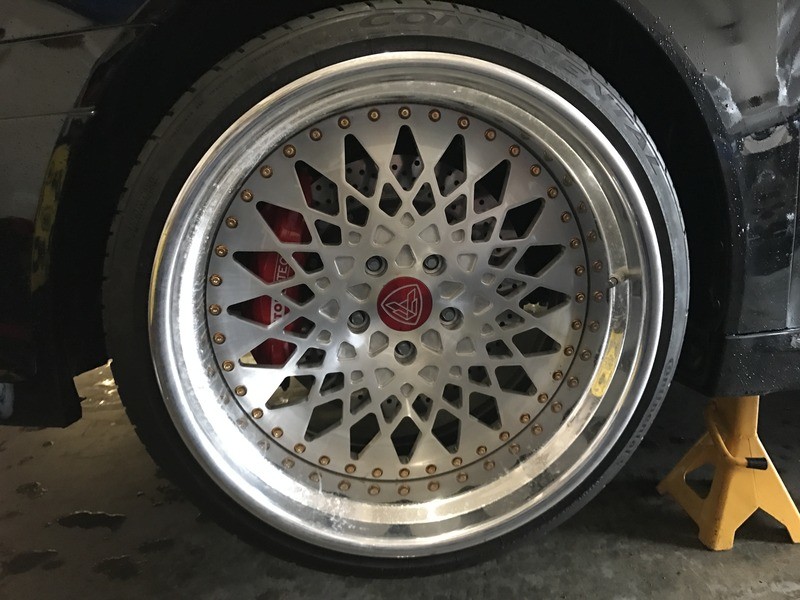 Ill take some quality side shots of the entire car next time I take it out.
Last weekend I finally installed DRLs from VLEDs. This is their newest bulb 6k 6 XTE-2 LED DRLs with their R2 DRL Warning Canceler Kit. Matches the V3 Triton switchbacks and all my other lights perfectly. Pictures do not show the crispy white and only show the brightness.

Before: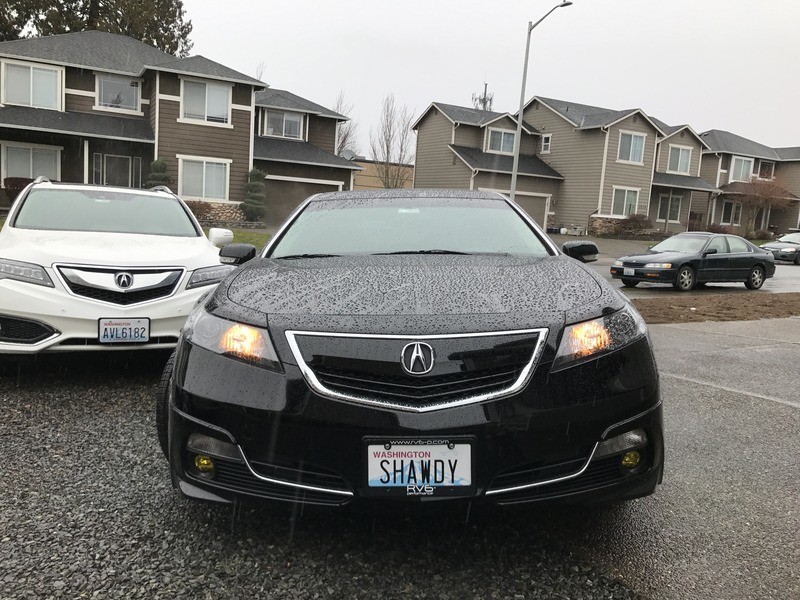 After: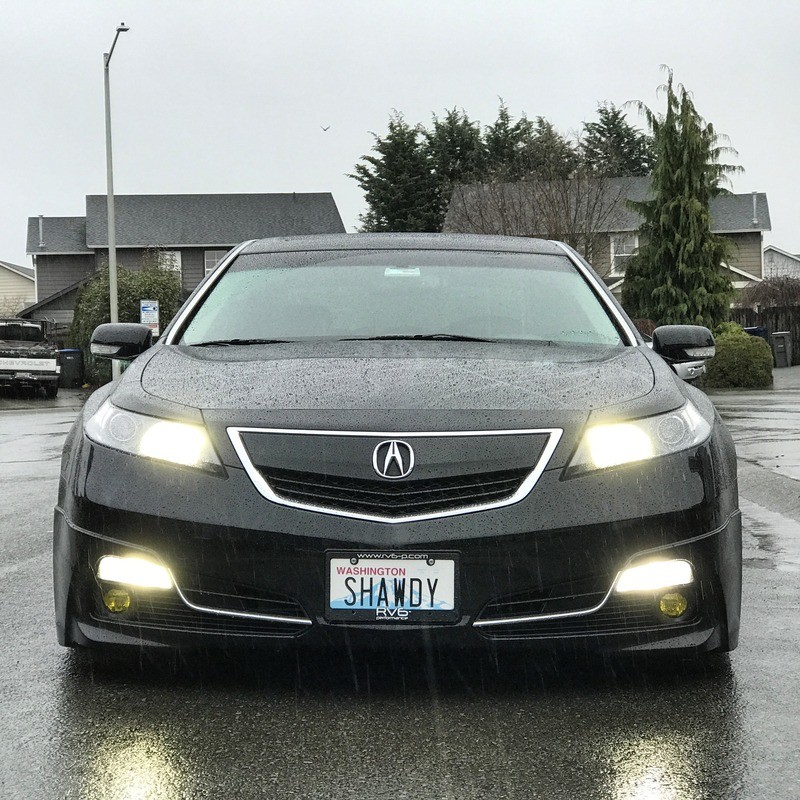 More to come!
4-12-2017
Just some new photos from last weekend at HondaFest NW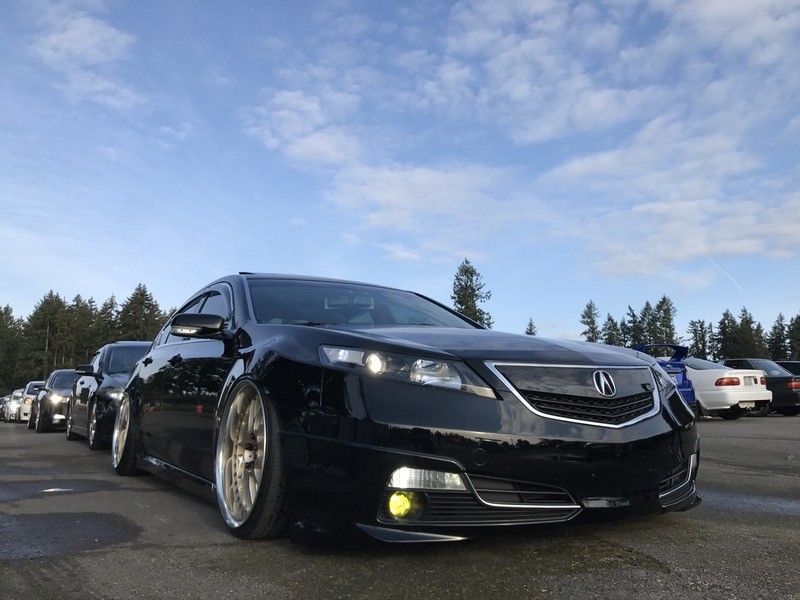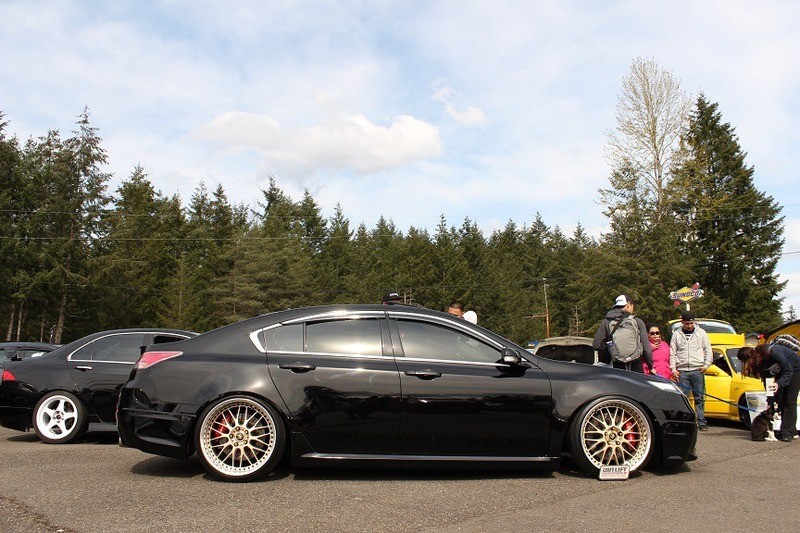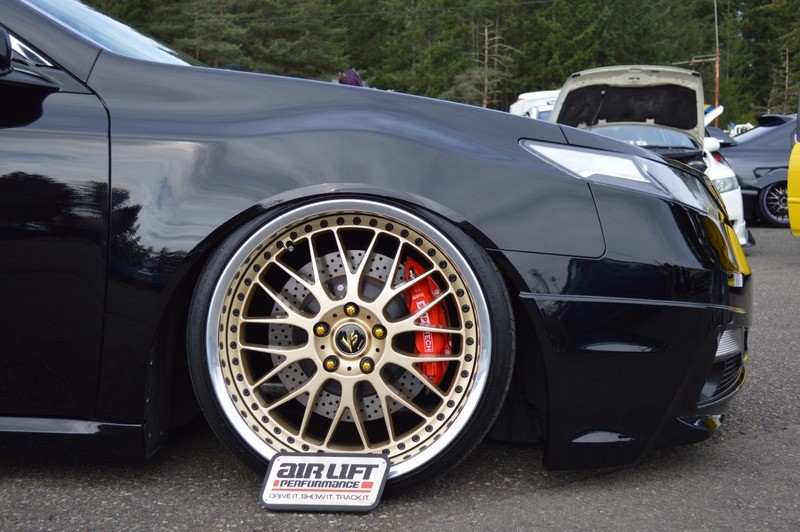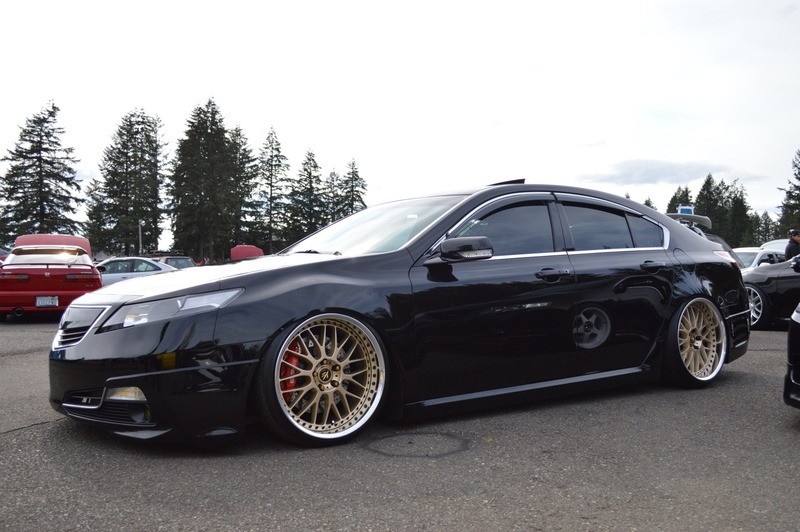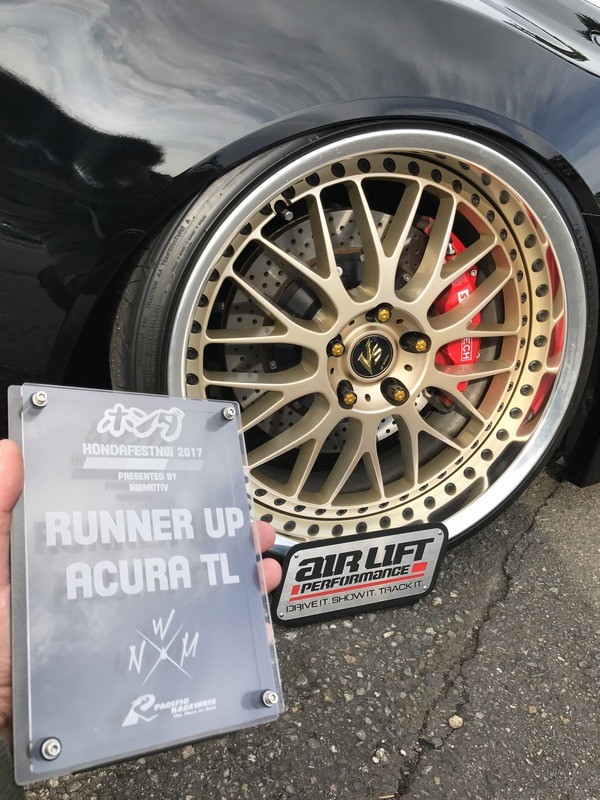 6-1-2017
I purchased a spare set of emblems from the dealer awhile back and got them back a couple weeks ago from a buddy. They are gold chrome now like the OEM set for the RL. I got the "SHawd" and both front and rear "A" emblems done since those are the only ones I use. I just need to find some time to swap them. Probably before Weakest Seattle since Ill be showing at the Heeltoe Automotive booth to support my buddy Marcus since he asked. Hoping to get some more mods in before as well, but currently too busy to mess with the TL.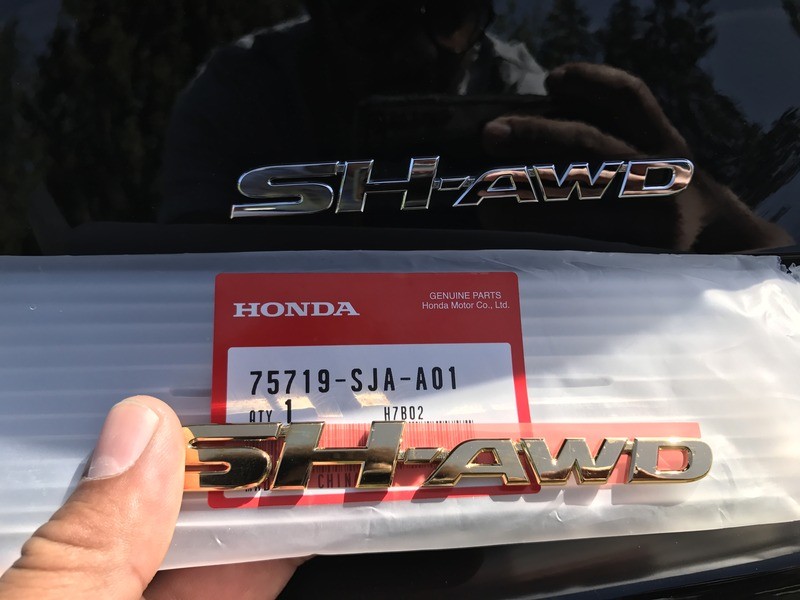 I love gold!
7-11-2017
Just some small changes for this past weekend's Weakest Seattle show where I had the honor in being the Heeltoe Auto vendor car with Marcus.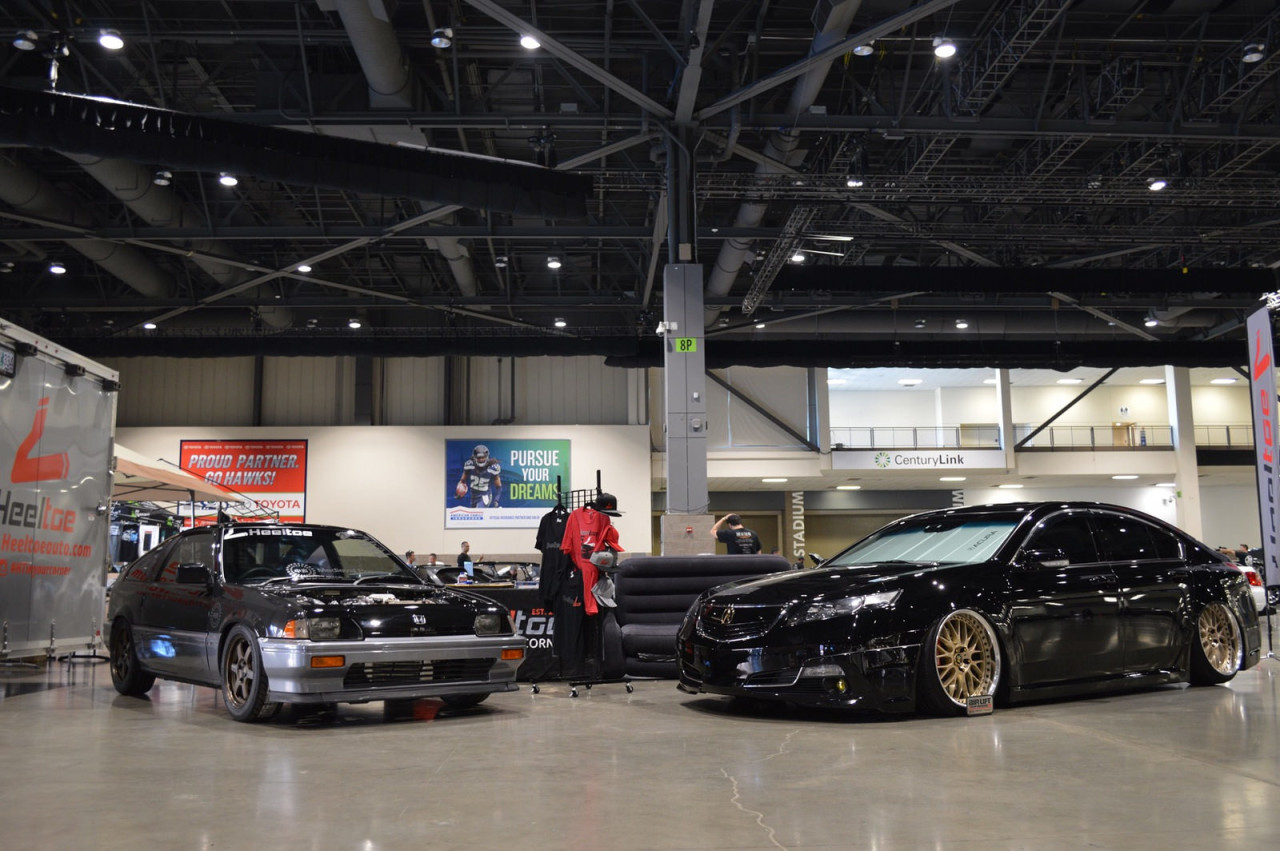 And just some better shots since photo bucket doesn't want to show my past picture due to wanting $400 for an upgrade. No thanks!