DIYs
RS6 vented fenderliners installed today, and mini-GTG as well... by Boston Driver
By diyauto
You must be logged in to rate content!
4 minute read
RS6 vented fenderliners installed today, and mini-GTG as well...
Compliments of Boston Driver @ audiworld.com
4-22-2006
So I went to visit the body shop where "East Coast Billy" is hard at work installing the RS6 sound enhanced exhaust for "bac2h." Of course, this was a mere social call, which I had hoped to turn into a brake install (the Alcon/STaSIS setup I acquired last month), but I could not source new pads in time for installing today. In addition, I had Jr. Driver with me, so I settled on just getting the RS6 fender liners installed. These liners were leftover from the 2.7T. I just never got around to cutting them to fit the narrow-body 2.7T, so I figure I'd throw 'em on the 4.2, in theory to give the brakes some more airflow for cooling, but I can also say that it might help relieve the engine compartment of some heat, which is counter to the previous brake-cooling theory...whatever...

Part numbers are:
4B3-821-171-B
4B3-821-172-B
Cost was about $75 for the pair.

So here is Billy working away at bac2h's exhaust...with bac2h in the background using the bench grinder to clean up my rusty lug bolts (thanks for that!)...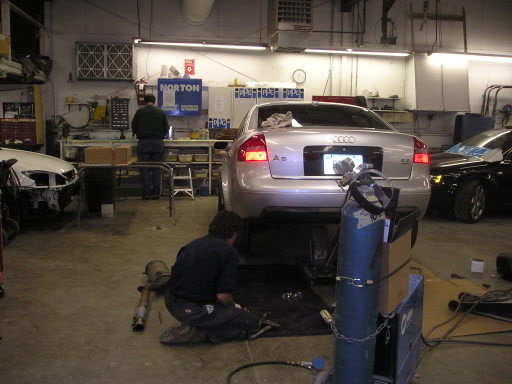 Here is a sample of Billy's workmanship...the pipe adaptor welded to the RS6 exhaust pipe, nicely finished with some zinc primer to avoid rusting in the future, and the OEM pipe clamps ready to bolt onto the centerpipe...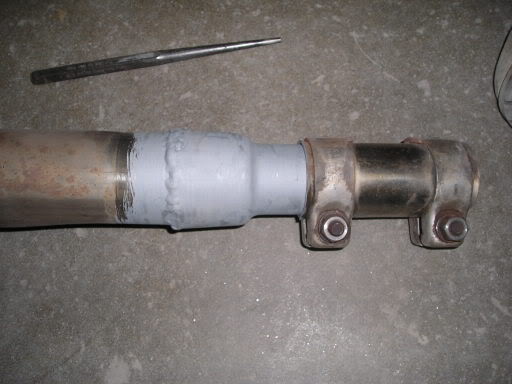 So Billy was nice enough to lend me some floor space in the shop for my project while he worked on the exhaust...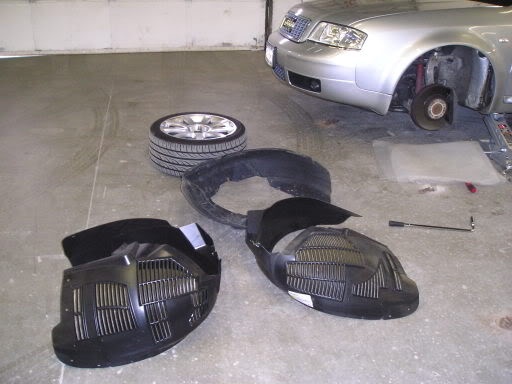 ...and the finished product...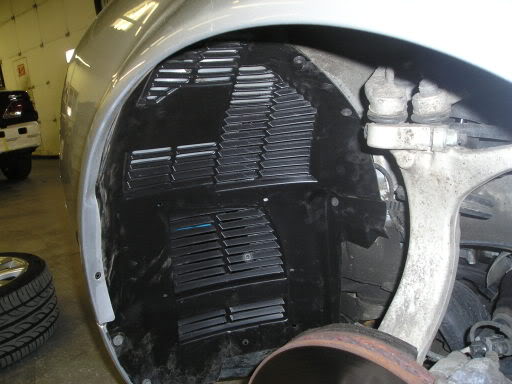 After some lunch with bach2h as well as A4AdMan (I think he is a closet C5 guy, but drives a very sweet B6 A4 3.0), we come back to the shop to find MURPH (another one of Billy's customers) waiting at the shop to deliver a pair of smoked Hella tails to bac2h, and to demonstrate his new audio system. Let me just say, I hope he puts a package together for the A6 market...it really rocks!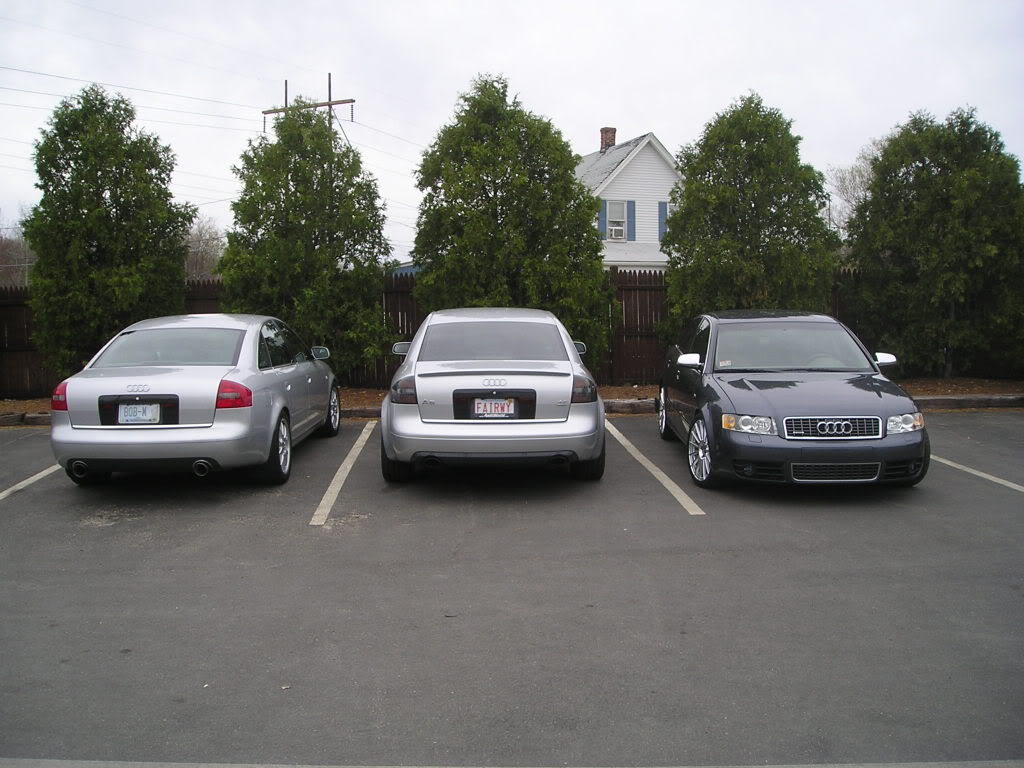 So we hung for a bit, but eventually it was time to cut loose and head home. Here are a couple of shots of A4AdMan on the highway. FYI - he snagged a set of OEM wheels from a 25th anniversay S4, and let me say those are sweet wheels! Too bad the offset is ET43. Oh, and they are 18" wheels, but they look like 19s because of the thin lip design...very elegant wheel.

Peek-a-boo...I see you...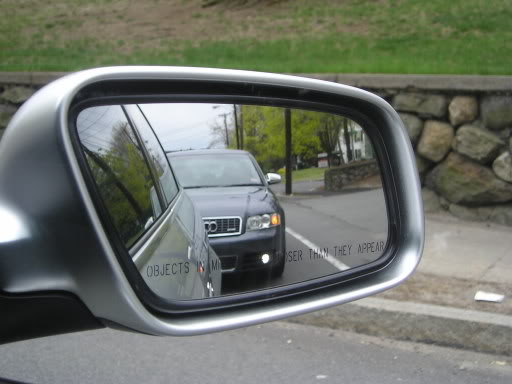 Rolling..those look so good!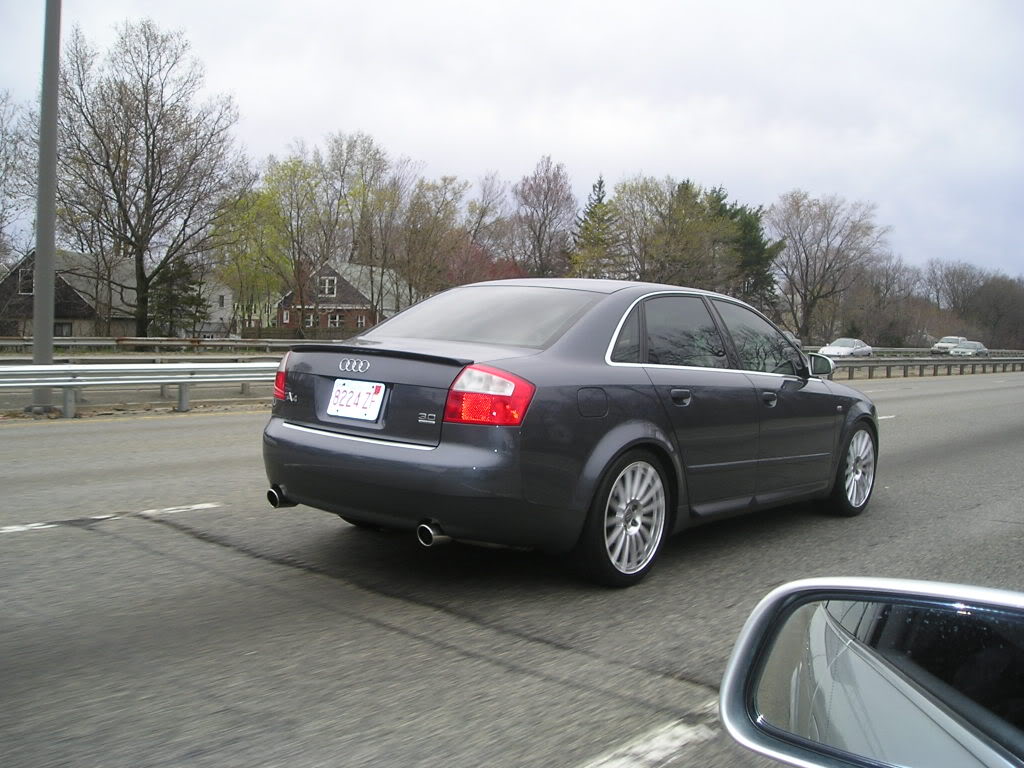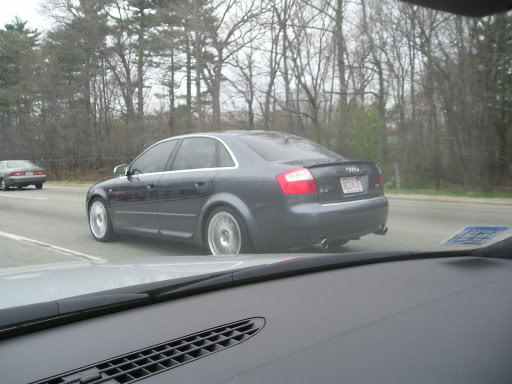 So, now I just have the front bumper to fix (still not sure if I am going to try to repair the existing or replace with new), the RS6 sides, and the Alcon brakes, and I should be done...for now...