BMW 1-series E-Brake Boot INSTALLATION INSTRUCTIONS
By diyauto
You must be logged in to rate content!

BMW 1-series E-Brake Boot INSTALLATION INSTRUCTIONS
1. Use a small flathead screwdriver (or interior tool), slide it gently between the leather boot and console frame at the back end of the boot assembly first. There is a tab that holds the boot in place. Unhook this tab first then all of the other tabs situated around the perimeter of the boot assembly are very, very easy to unhook. Pull the boot cover back over the e-brake and you will see a zip tie that holds the boot to the handle. Cut the zip tie and slide the boot off.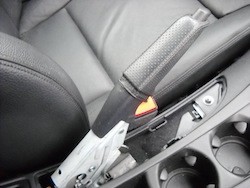 2. Your e-brake boot will look similar to this when it is off of the car. There is a plastic ring at the bottom of the e-brake boot that needs to be separated from the boot in the same way the shifter boot had to be separated. So use an e-xacto knife and a small screwdriver to separate the 2 pieces.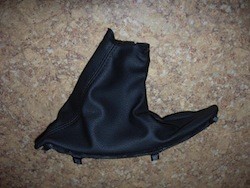 3. This is the e-brake Boot ring with the OEM leather off of it.

4. Again, use contact cement glue and clothes pins to secure the trim ring to the Redline Fabric. Make sure not to cover any of the clips.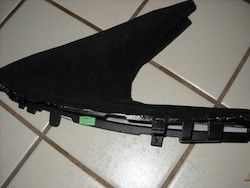 5. After your glue has dried, put the boot over the ebrake handle inside out, like this. You want to have a little excess fabric just past the edge of the actual handle.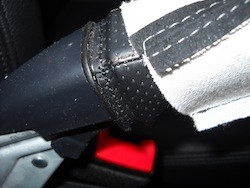 6. Next the zip tie goes into the groove on the actual handle part like this.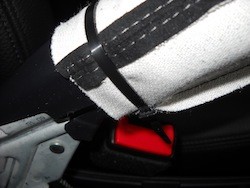 7. It should look like this when you are finished. Trim off the end of the ziptie.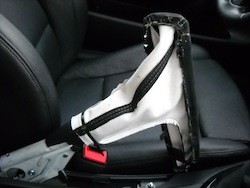 8. Then snap the boot ring back into place starting with the tab on the front. And youre done! It looks great and compliments the RedlineGoods shift boot very well.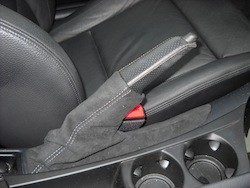 Powered by Froala Editor