Meet "Blue Nose" by DIIRTY-30
By diyauto
You must be logged in to rate content!
Meet "Blue Nose"
Compliments of DIIRTY-30 @ r3vlimited.com
8-4-2013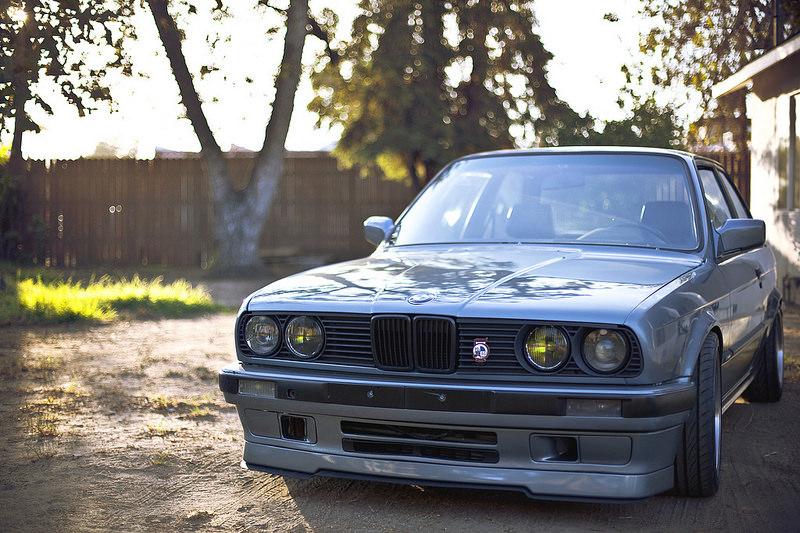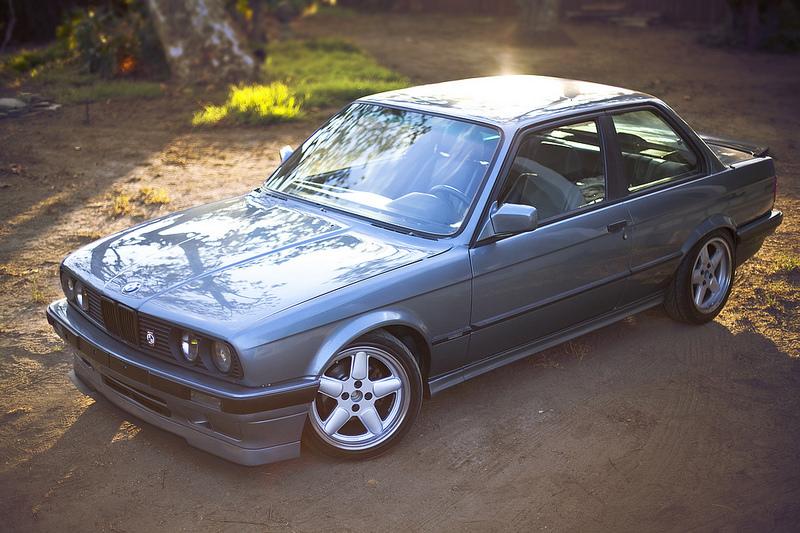 Exterior:
-Swapped Fenders
-IS Front Valence
-OEM IS Front Spoiler
-IS Splitter
-OEM IS Side Skirts
-BMW Motorsports Door Handles
Interior:
-Re-Upholstered Convertible Front Seats
-Re-Wrapped M Tech I Steering Wheel
-ZHP Shift Knob
-Maplight Rear View Mirror
-Converted Euro HVAC Panel w/analog clock
-Garagistic OD Gears
-BMW PEDALS
-Stock Shifter
-FuzzFabrics Shift Boot + E Brake
-Black Parcel Shelf
-Kenwood Headunit
Engine:
M60B40
-M60B40
-Getrag 420G
-OEM 525TDS Motor Mounts
-Rebuilt/Flow-Matched Injectors
-New Waterpump
-Walboro 255 FP
-3.73 LSD w/New Oil
-Stainless Steel Brake Lines
-New Fuel Filler Neck Hose
-Wilwood Pedals & Cylinders
-Spal Pusher
-Behr MZ3 S54 - 3 Core Radiator
-Garagistic Items
___-Exhaust Manifold
___-Motor Mounts
___-Pedal Box
-New Front + Rear Carrier Shift Bushings
-UUC DSSR
Suspension:
-310mm BBK kit
-Wilwood 6 Piston Front Calipers
-Wilwood 4 Piston Rear Calipers
-New Wheel Bearings All Around
-Rebuilt OEM Axles
-GE Coils
-Bilstein Sport Shocks
-Condor Speed Shop Items
___-CABs
-Ireland Engineering Items
___-Rear Subframe Bushings
___-Rear Trailing Arm Bushings
___-M3 Sway Links
___-310mm BBK
-Garagistic Items
___-M3 Weld On Sway Link Tabs - Strut Housing
___-Rear Shock Mount Reinforcement
___-Front Subframe + Sway Tab Reinforcement Plates
-New Control Arms
-New Sway Links - Front + Rear
-E46 Tie Rod Ends
-E46 Steering Joint
-ZF E46 Rack
-Motorsports Hardware
___-Black 90mm Bullet Nose Studs
___-Black 2pc Hybrid Extended Race Nuts w/Locks
___-15mm + 20mm Spacers
-New Sway Bar Bushings
-New Front Heat Shields
-New Front and Rear Shock Bearings/Mounts
Wheels:
-AC Schnitzer Type 1 - 16x7.5 4x100 et25
-OEM Weaves - 14x7
Perks of Purchase:
-Z3 short shifter
-OEM BMW Style 10s
-Rebuilt head
-New Timing belt - PO lied
-Crack Free Dash
-Reupholstered convertible seats
-ABUNDANCE of misc. car parts in the trunk
-Late model.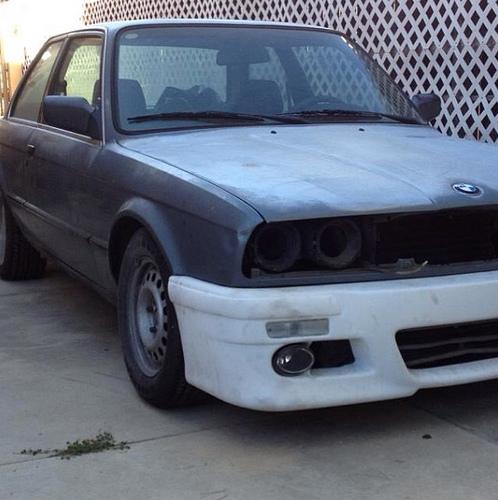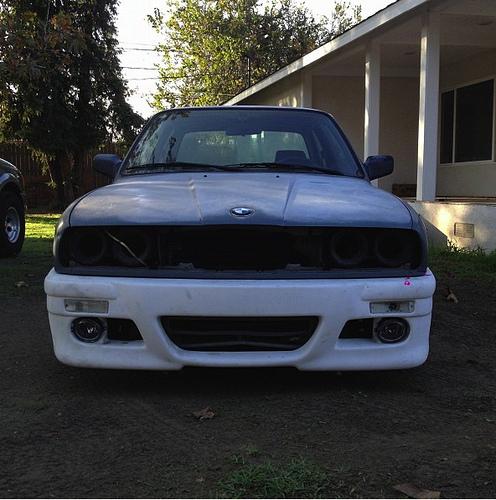 Intro:
After an unfortunate accident that rendered my early Alpine IS totalled; I decided not to take it as a loss. Four days later I came across this on craigslist; It was ugly, it was beat down, it looked as if it was junk-yard bound. I approached this not knowing what I was getting myself into at the time. Originally making one goal at a time with no specific vision of a final product just building for me. Doing this created a great love-hate relationship for the first few months of dealing with her. The dash along with HVAC panel wiring was lose, disorganized, unwrapped with no labeling. I figured trying to stay motivated and looking at the positives once its done would be rewarding. After all, I am not building this for anyone other than myself so others inputs (though I do greatly appreciate & value) are irrelevant to the product. I didn't have much money, and at the time I didn't want to have a totaled car wasting away in my driveway or sent away to the junkyard with goodies in it. So within the first 3 weeks or so I ended up stripping the Alpine to a shell. Mixing and matching items here and there where I see fit, and this thread is the results and progress of that.
It came with a trunk and backseat filled with parts, along with the god awful DTM e46 m3 front and rear bumpers..
The PO had planned to make this into an m3 clone I believe, purchasing the fender sheet metal and side skirts as well. (Mehh)
I purchased this for a little over a grand, and I'll admit the first few months were difficult deciding if I wanted to keep such a large project or not.
Now, I don't have a large background in mechanics; this is simply a personal challenge/test for myself to see if I could even do it. I have executed 90% of the work myself with the exception of the exhaust, alignment, and a tiny bit of help from a few friends..
The learning experience and piecing of the whole build together truly makes me smile, and though I originally bought this car with the intentions of rebuilding and selling to boost a profit. I can barely see myself selling it now.
I've documented much of the build over the last eight months (mostly iPhone photos), and now I feel as if its partially worthy of a r3v build thread. I'll go ahead and update it from the past to present to get it up to proper speed.
Enjoy,
-D
Photo of my 1987 325IS - RIP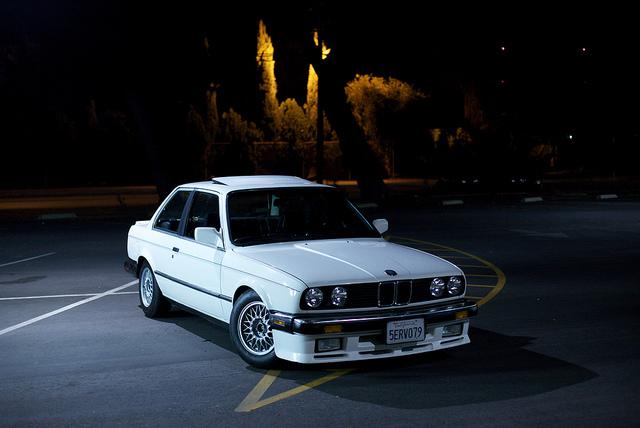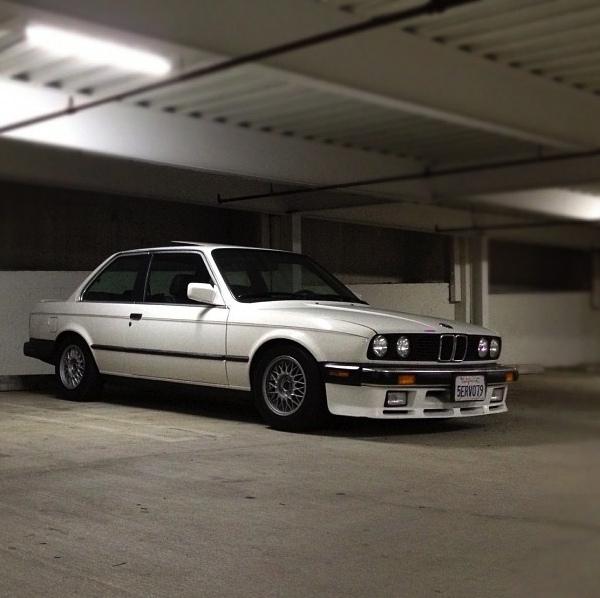 When I first purchased the car; The interior wiring harness in the dashboard was broken out of its looms. Nothing had labels (ofcourse not) so I had to go through everything and chase down a few wiring grimlins. Re-wrapped everything and put everything back together with a new cluster with new VDO garagistic gears and complimented the HVAC panel with a euro clock from a buddy across seas. I also went ahead and traded a rear ski pass with headrests for a set of vinyl seats I had laying around. Added the semi rare ski pass chute for kicks. Gutted all of the sound deadener from the car using the dry ice method.
Interior needs:
-Headliner
-Interior lighting
-New door and window seals prior to re-painting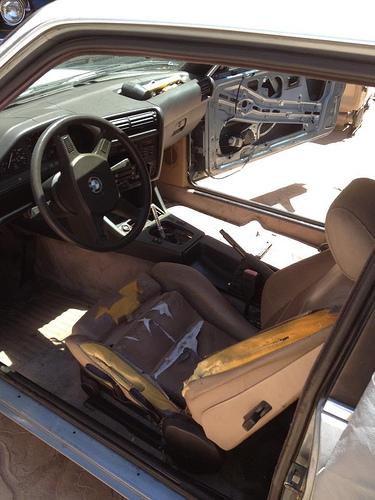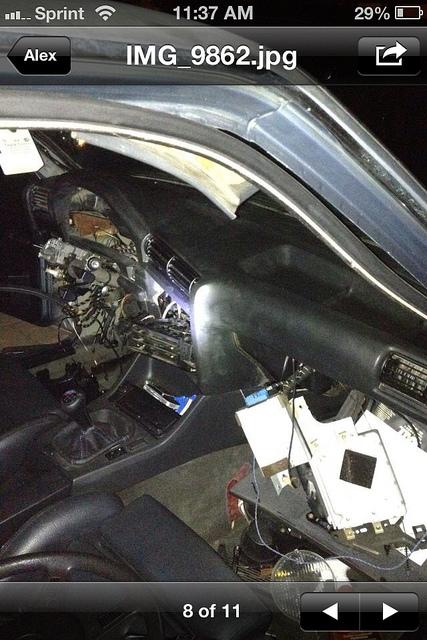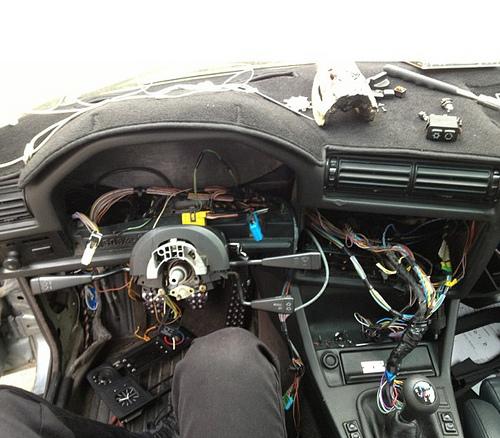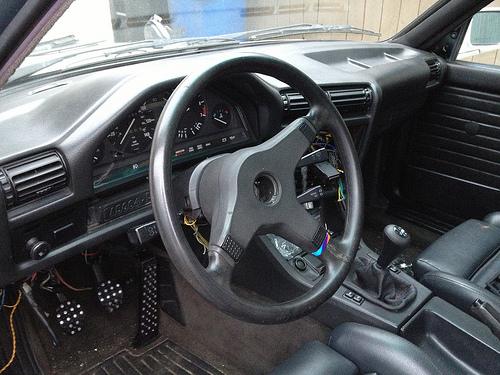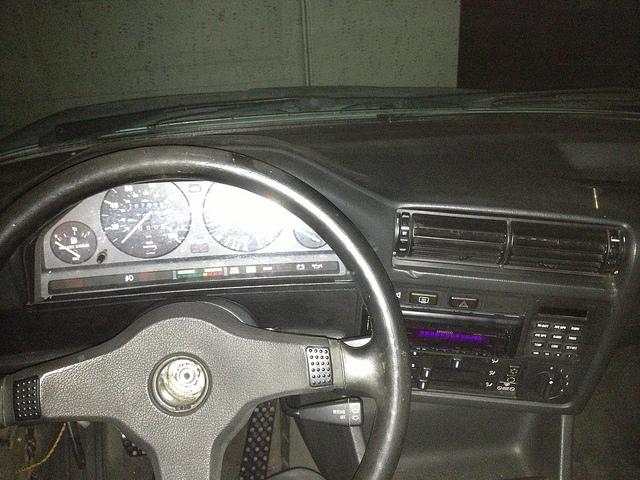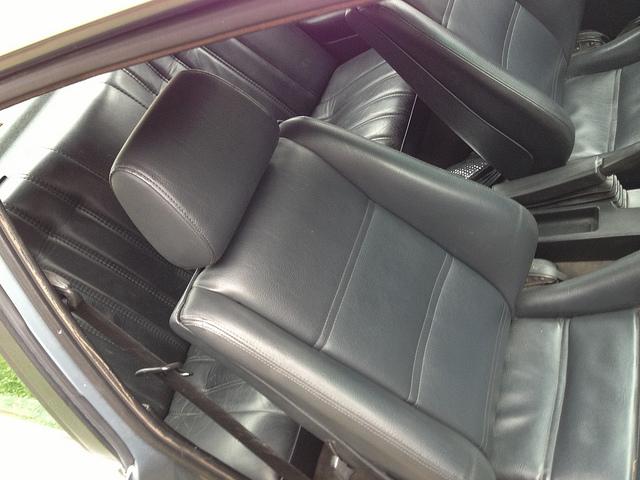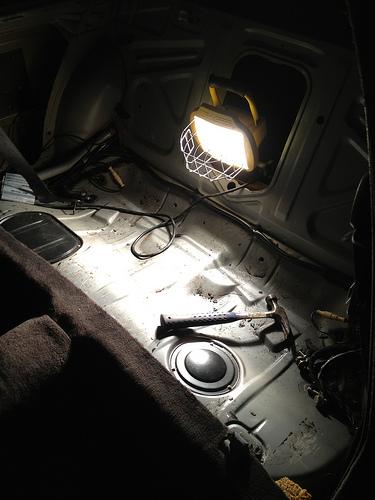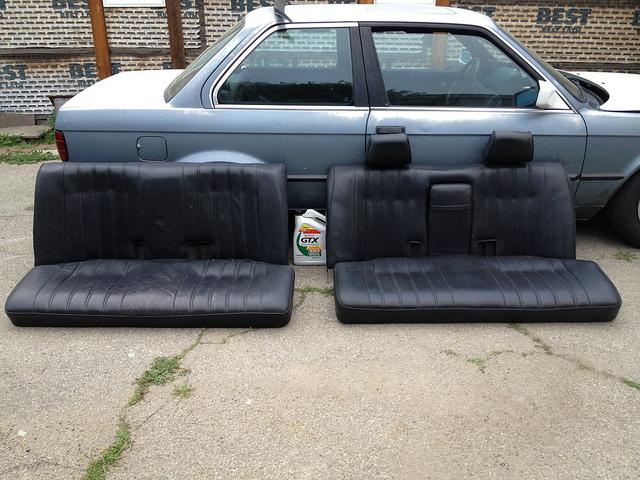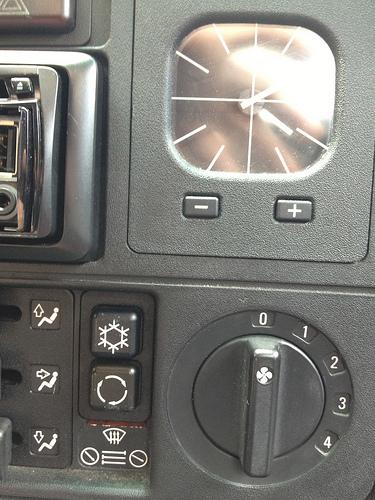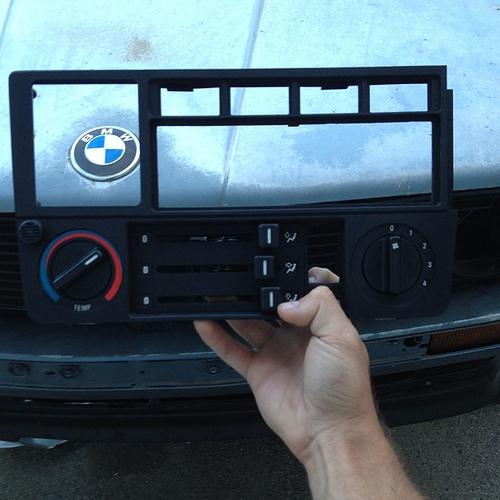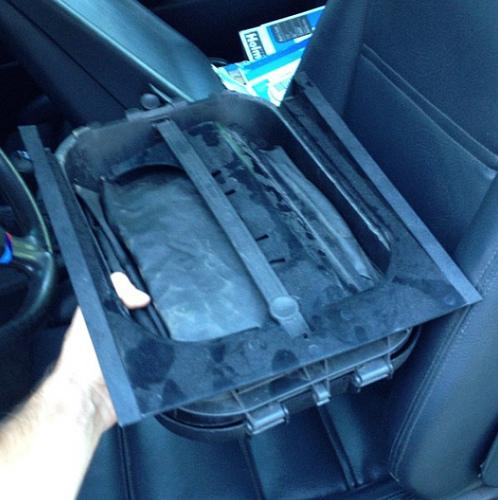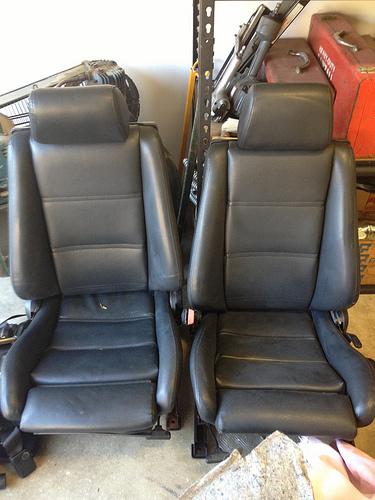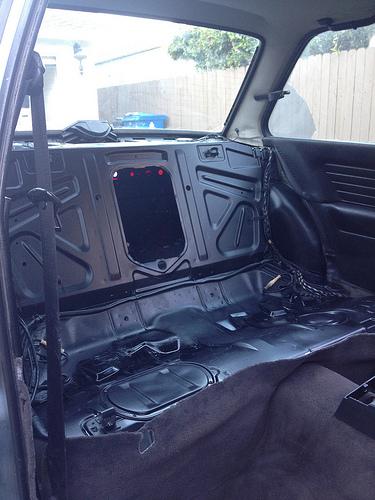 Unfortunately it was, it was severe enough it buckled the roof and rear of the car.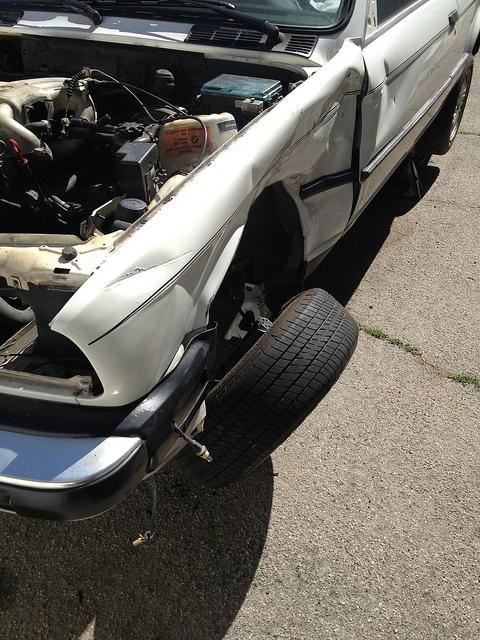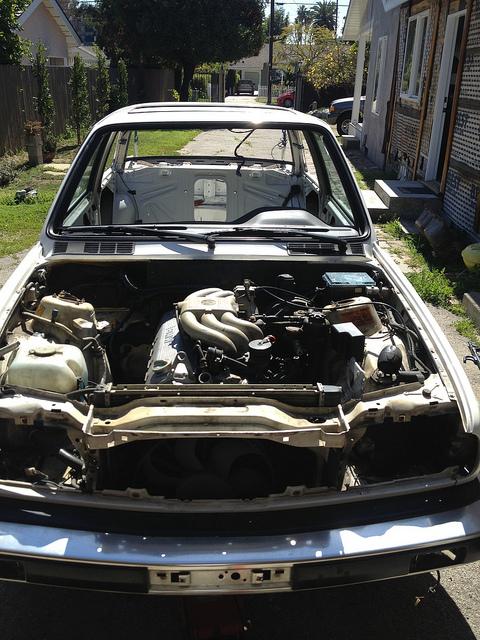 After gutting the interiors from both my cars I begun with an oil change that rendered a PO stripped head bolt. Tapped another socket on it, removed it and replaced it with a magnetic one. Continued to replace the oil filter housing gaskets and washers along with replacing the lines and oil cooler due to damage from PO. I replaced all CAB's, motor and tranny mounts, along with the Condor PS delete.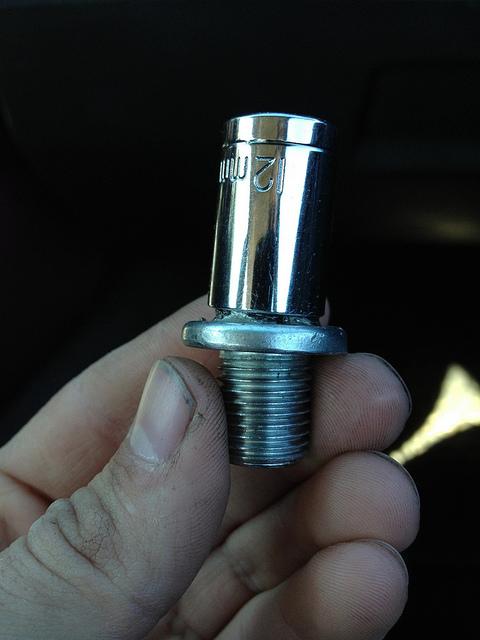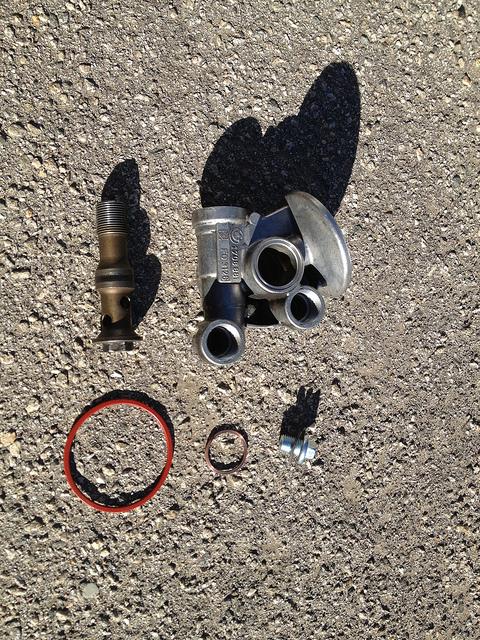 Then moved onto the control arms and bushings.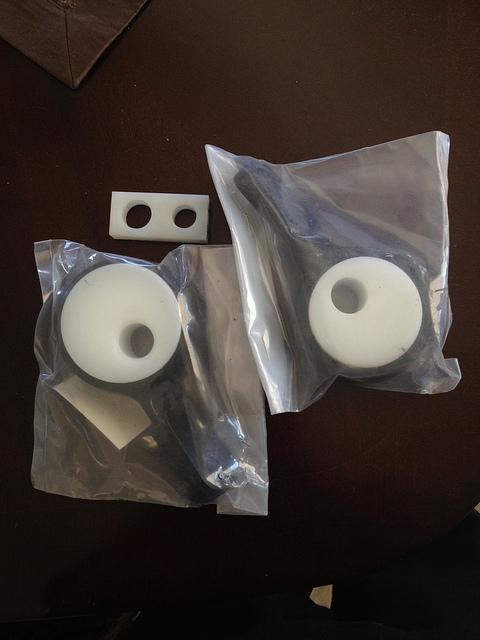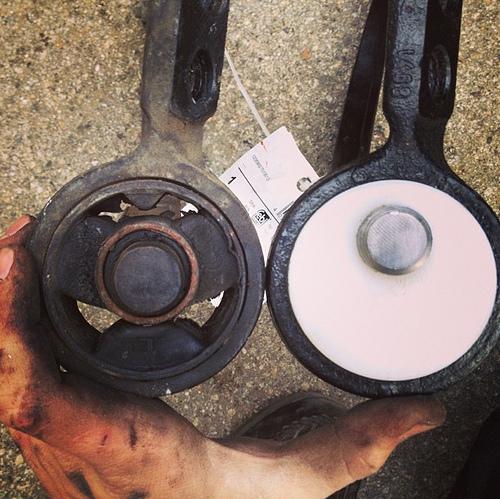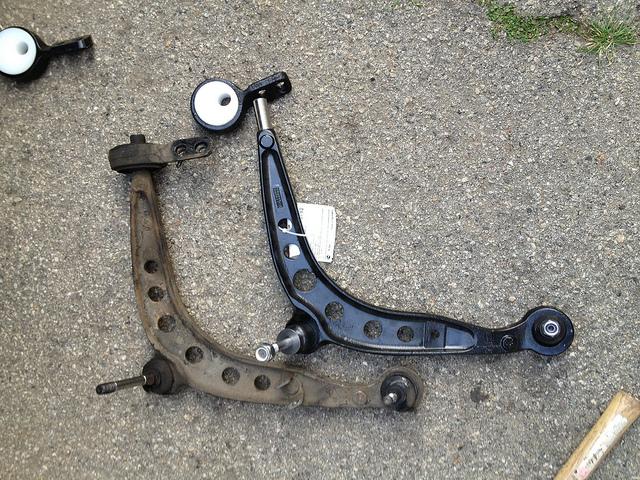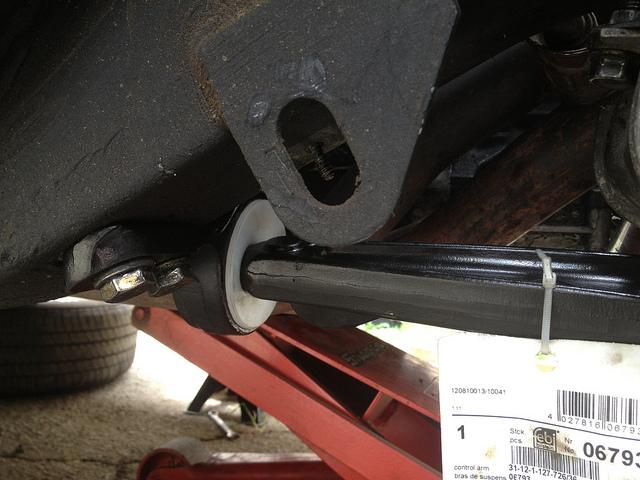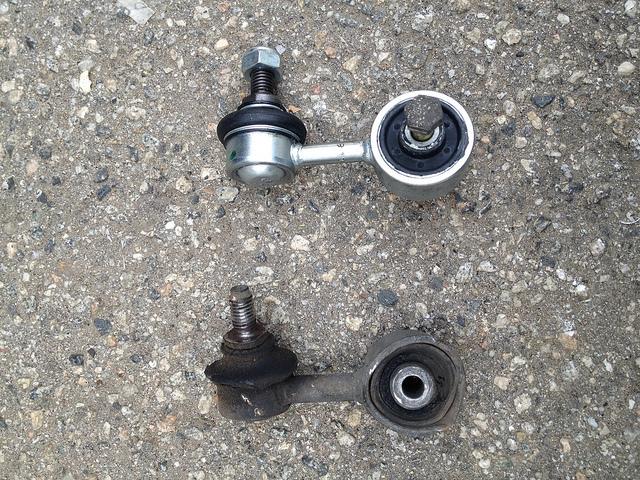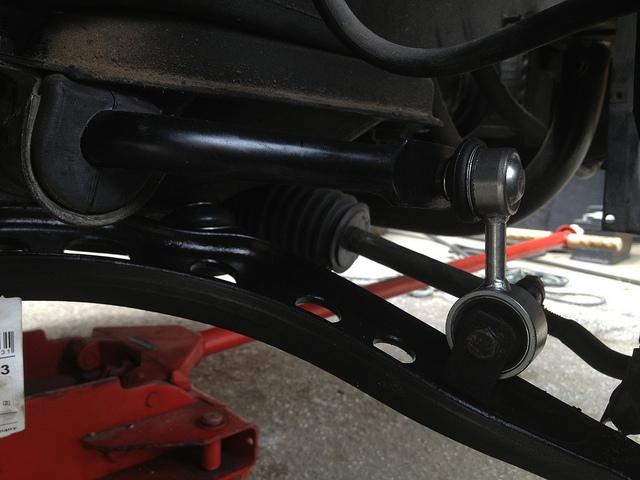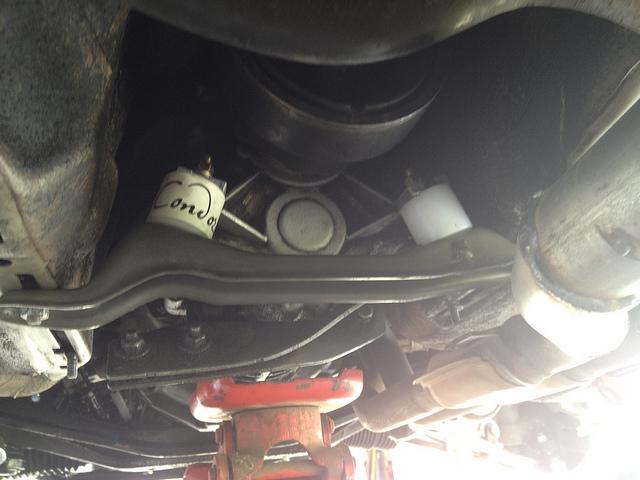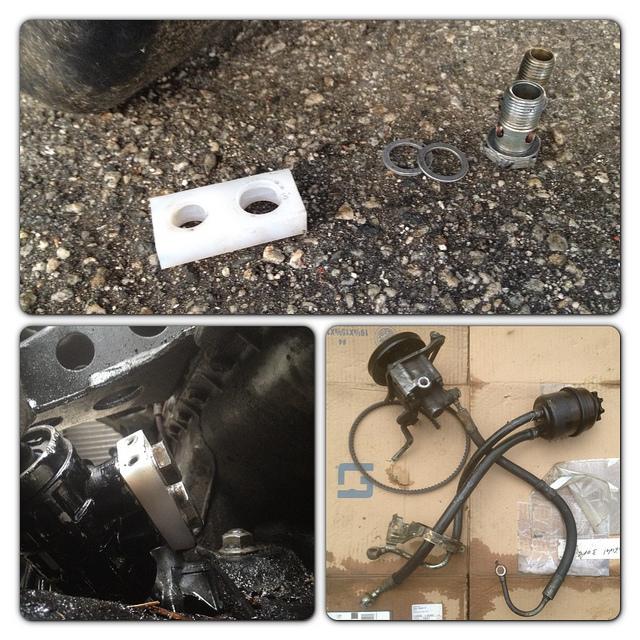 I then began on cleaning up the engine inside and out. After installing my Severe Duty Skid Plate, the radiator came off rendering something that looked like it hadn't ever been changed. I decided to replace the whole radiator to avoid any issues later on, along with water pump, t belt and tensioner, thermostat, had the injectors rebuilt and polished, sent the valve cover and intake manifold off to be professionally powder coated in wrinkle black with silver raised areas. Replaced all the hoses, gaskets and most seals while I was in there. Threw in BMW coolant, dropped the AC compressor and accessories, and cleaned up the surrounding areas. I also decided to replace the starter as one of those "While im in there" type deals just because I did not want to do it in the future. Resprayed the new sub frames prior to installing in semi gloss black.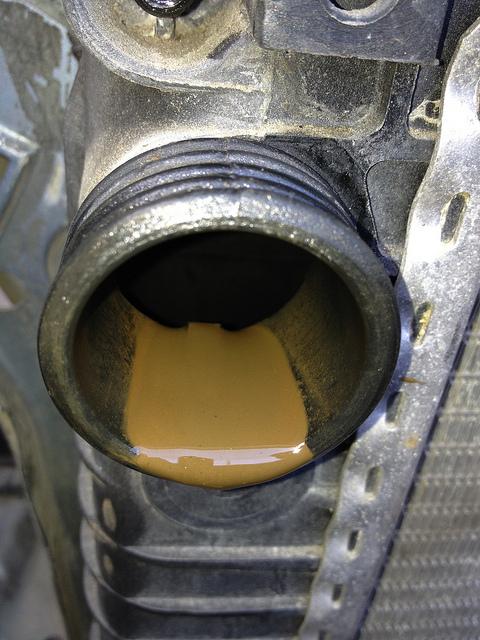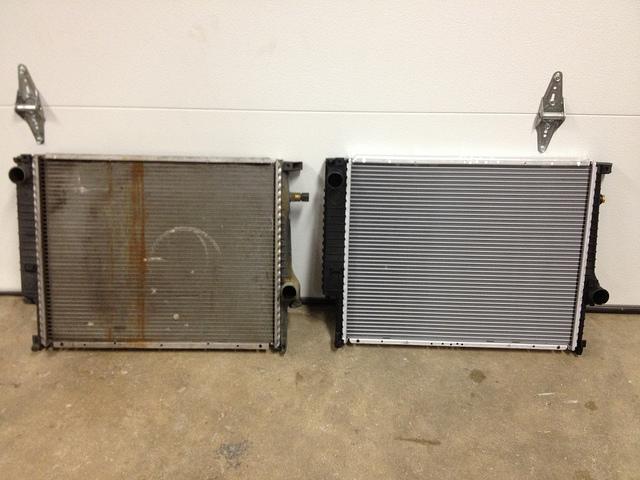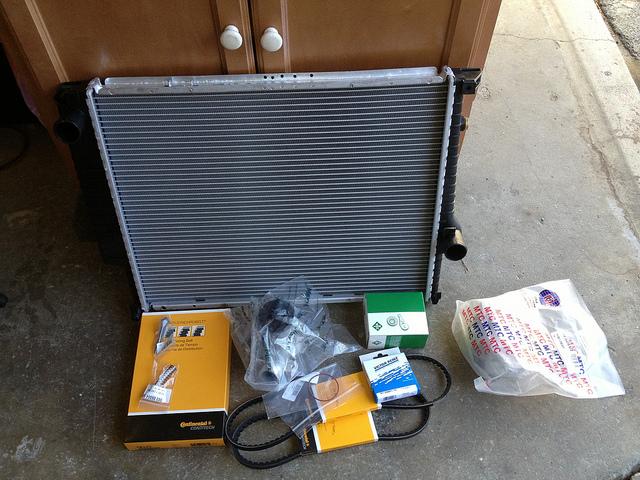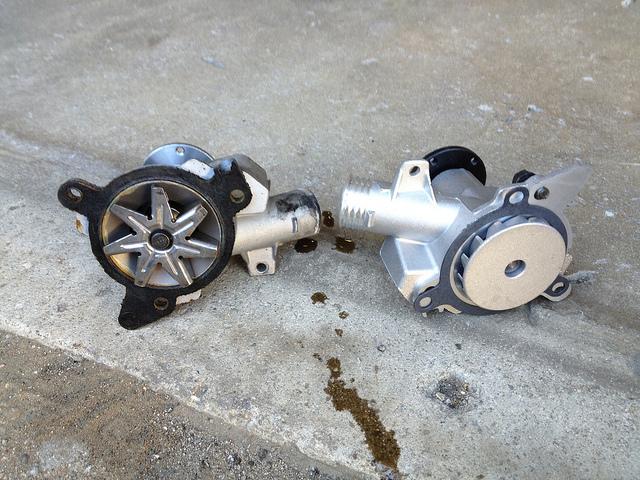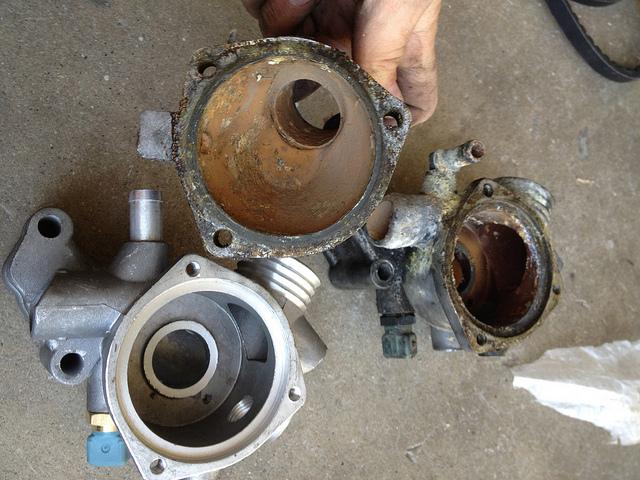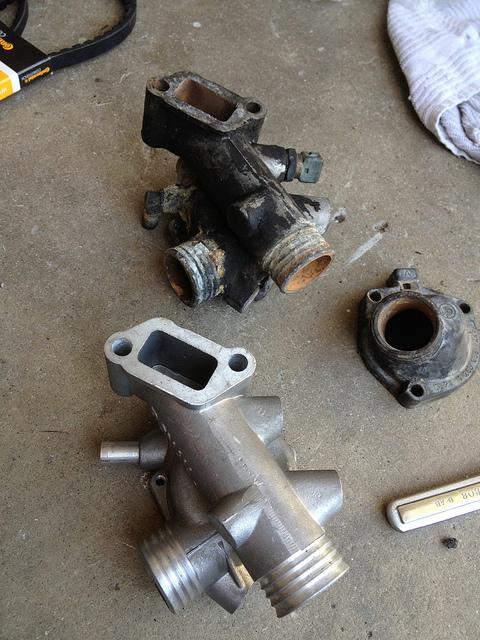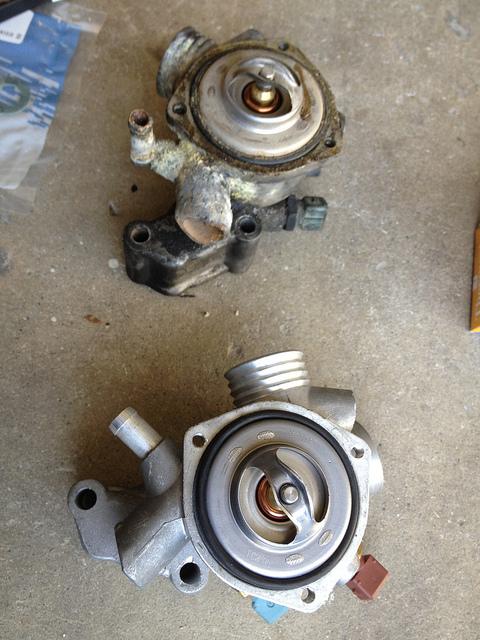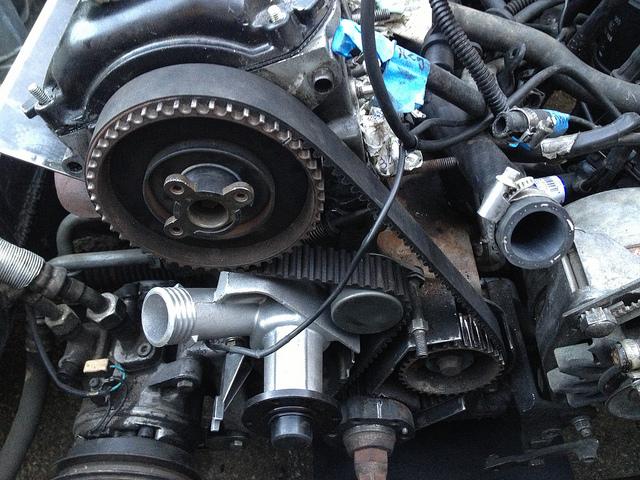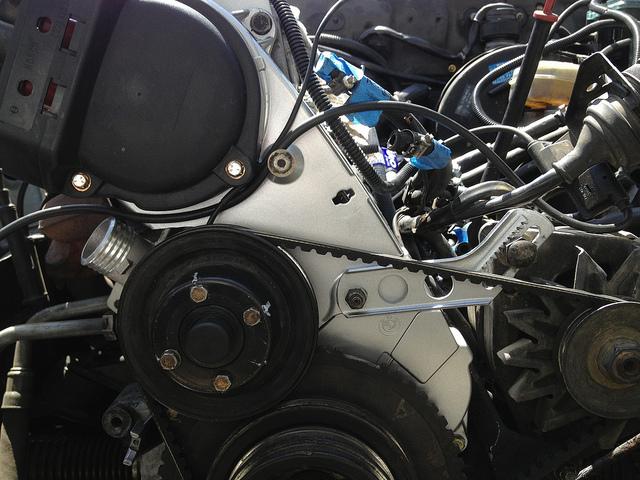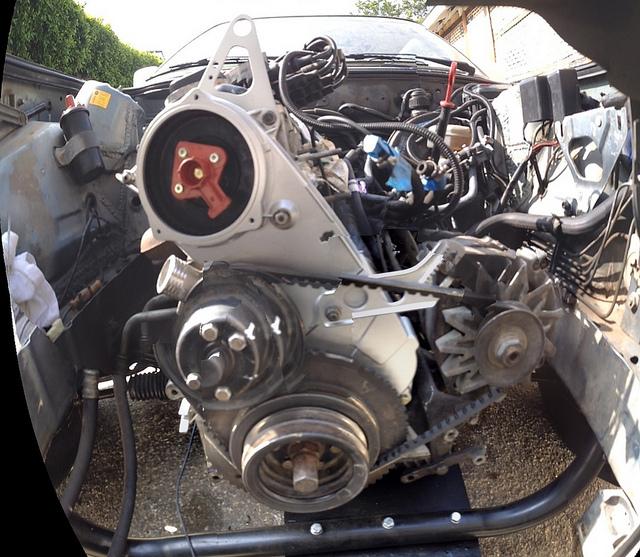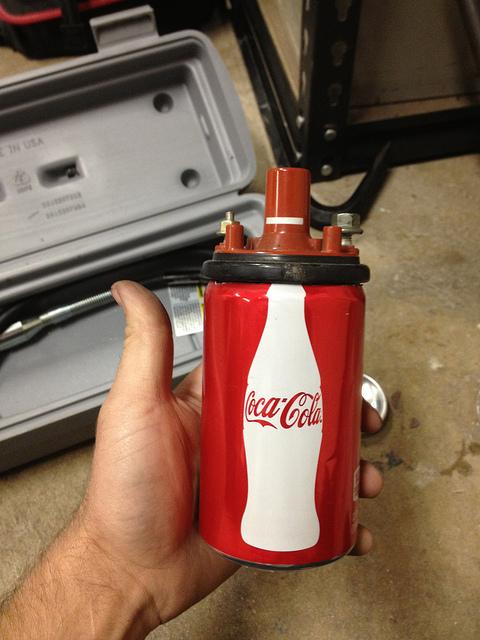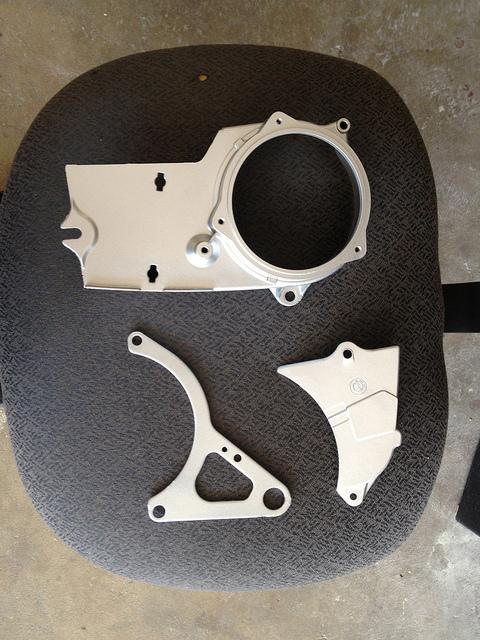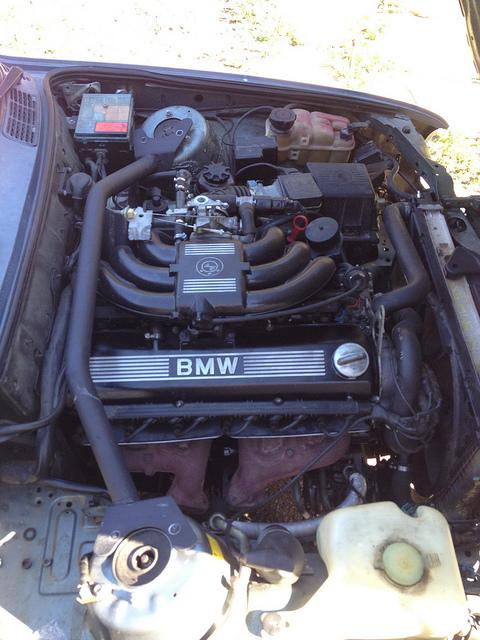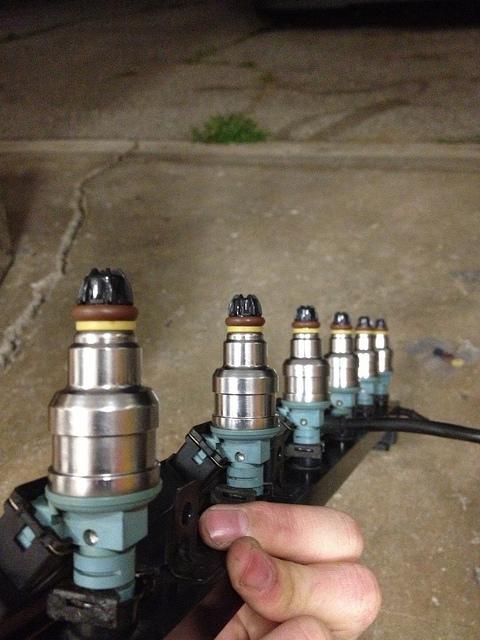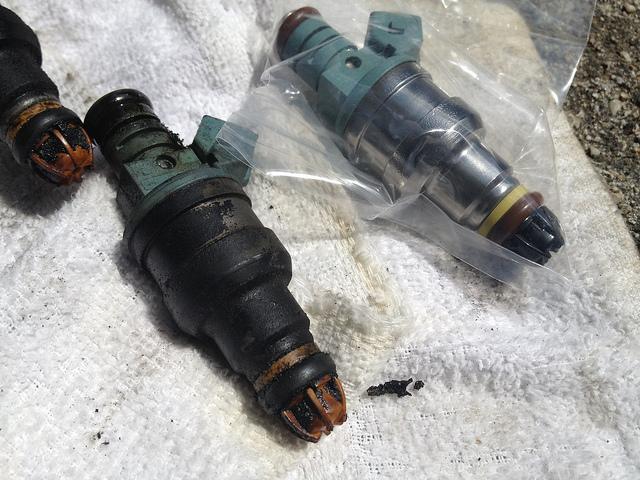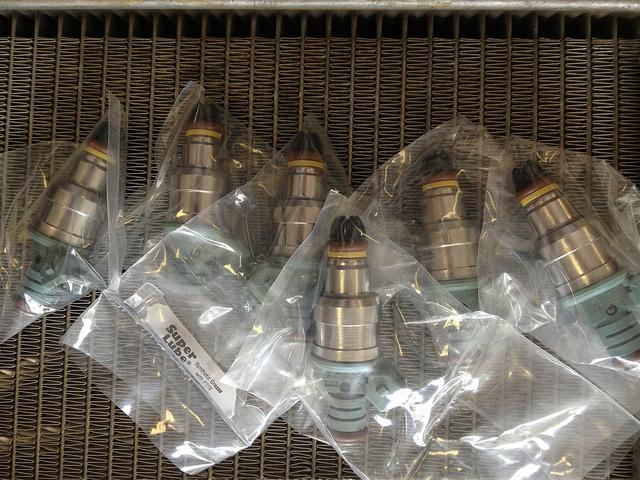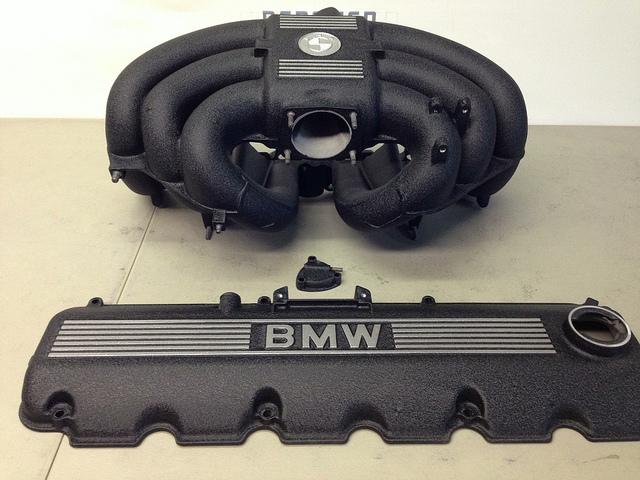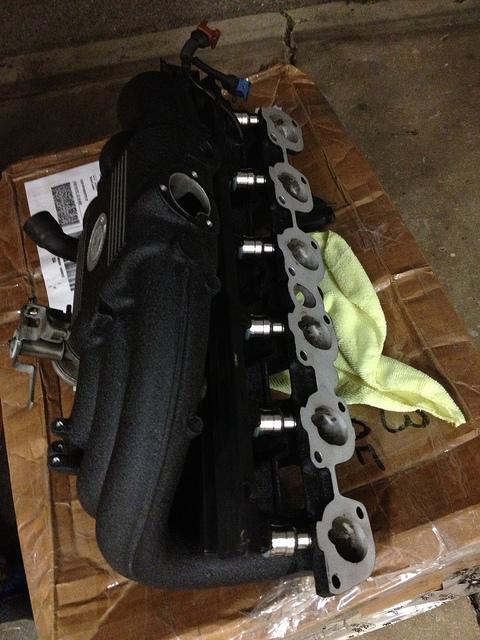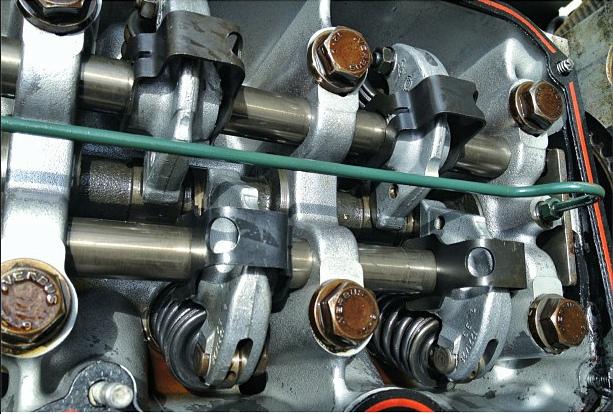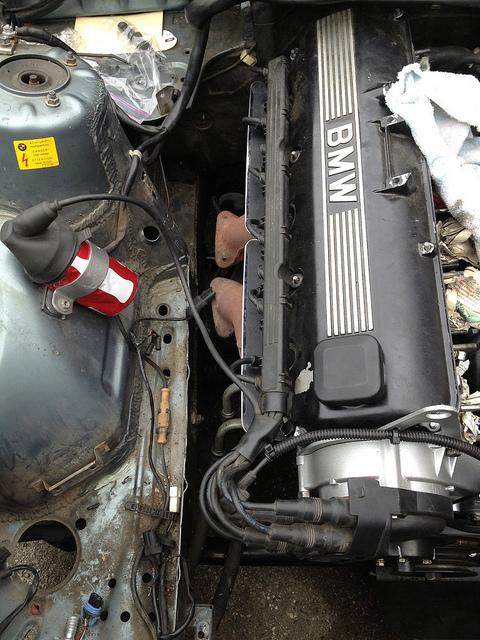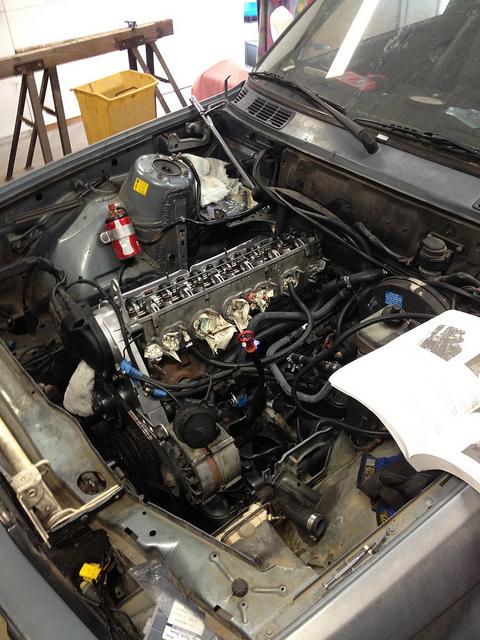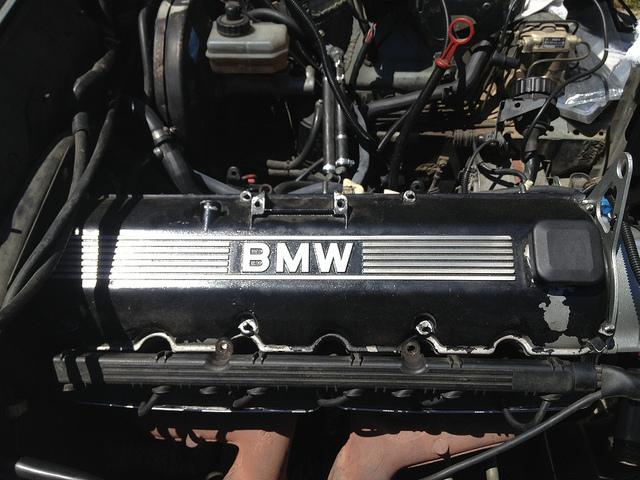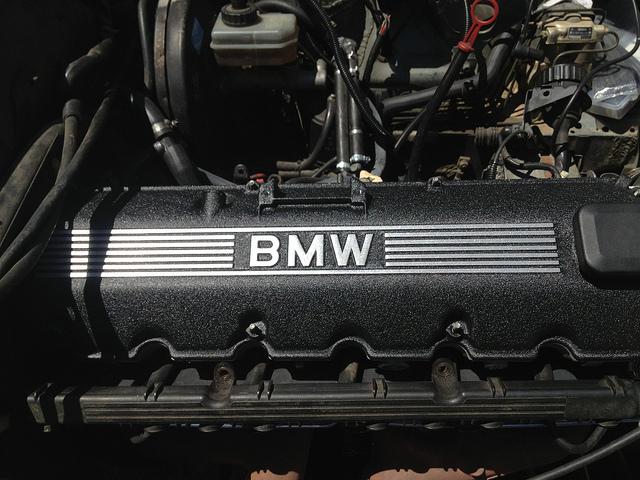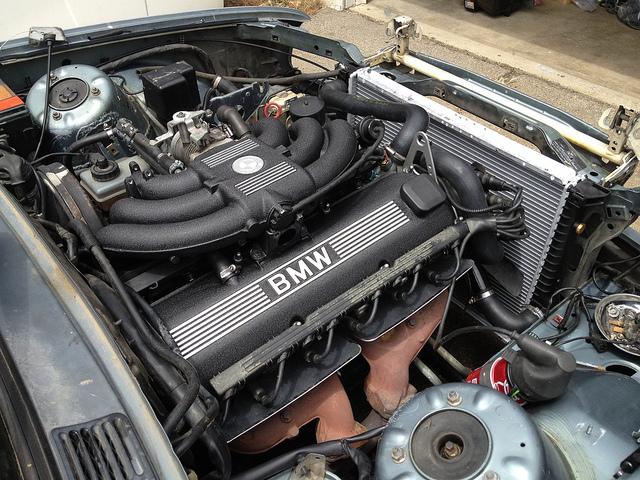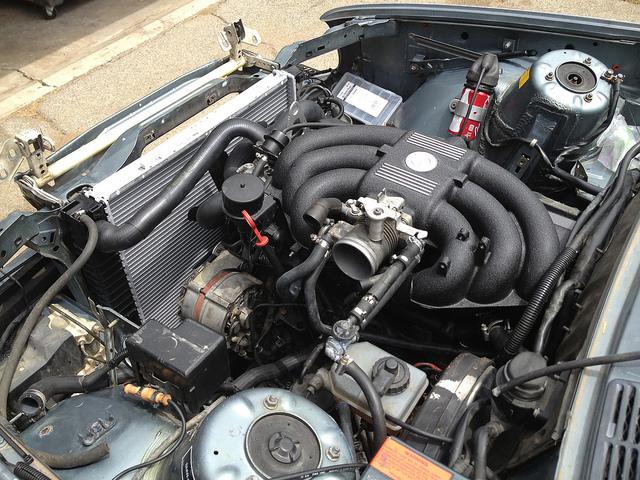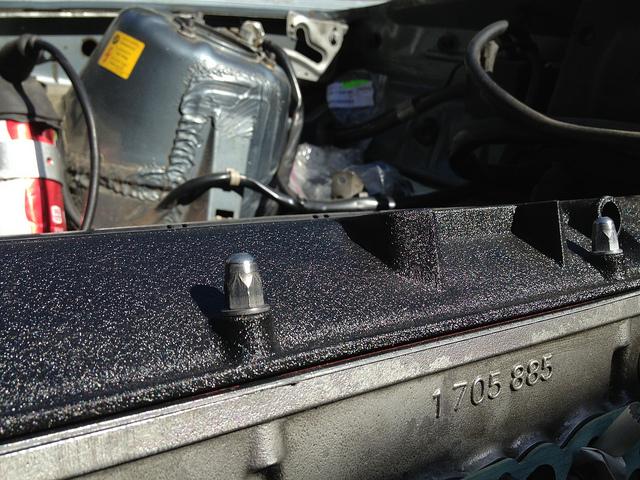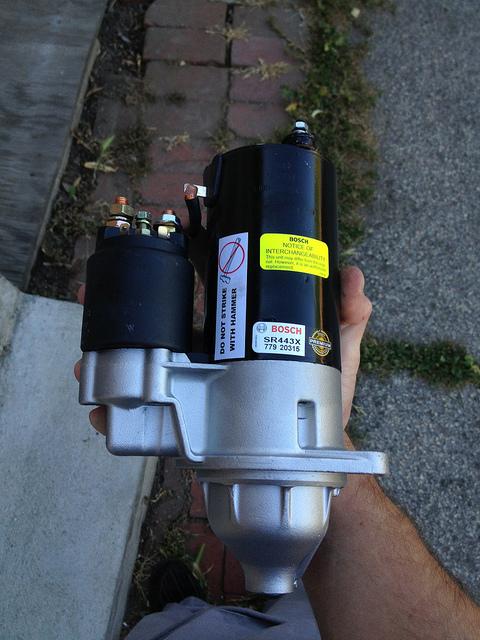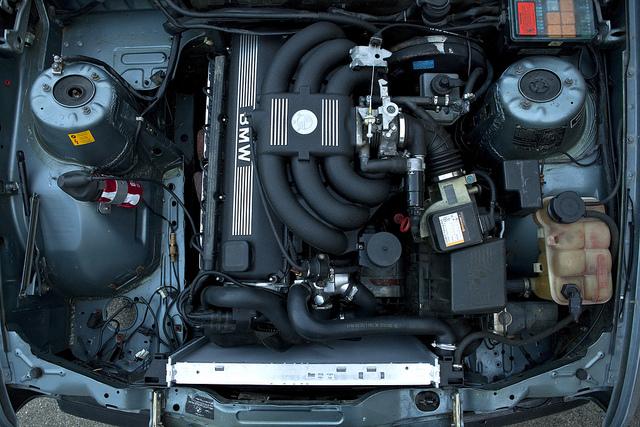 Then reinforced the front subframe with IE tabs; and added the CSS motor mounts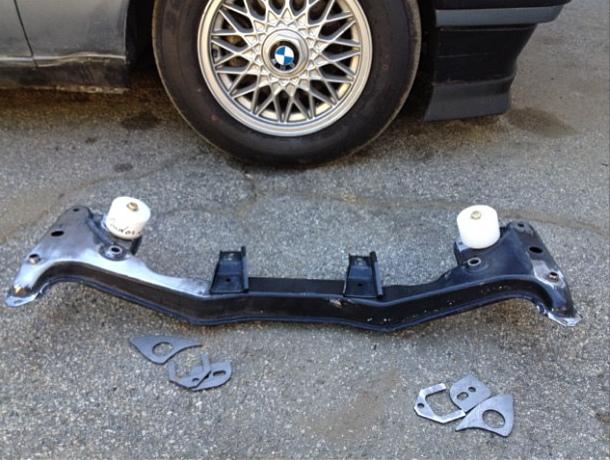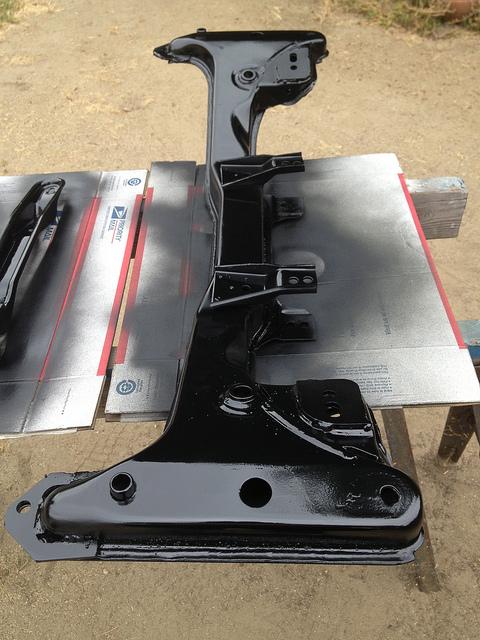 I also replaced the front and rear windshields, the front bumper core was chopped up to fit the original e46 M3 fiberglass bumper so I got one off a friend. Then I picked up a front valence off Edwin which brought the front back to how it should have looked.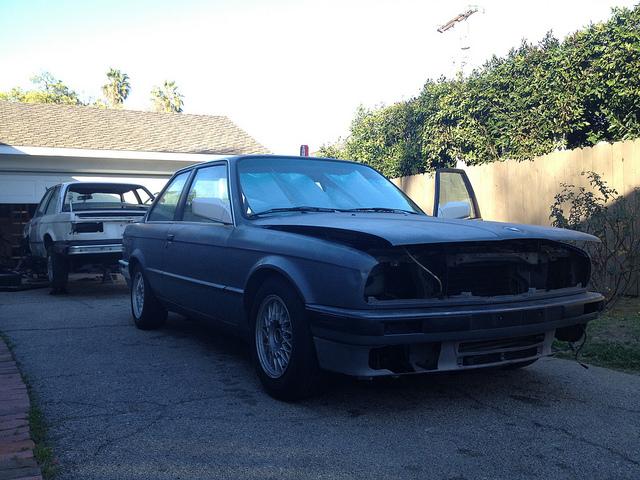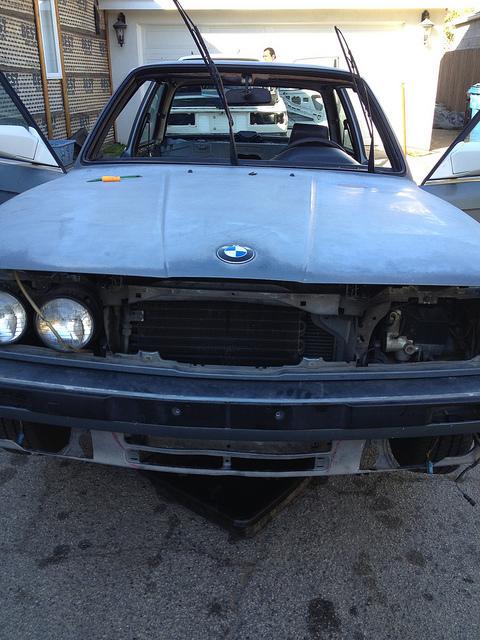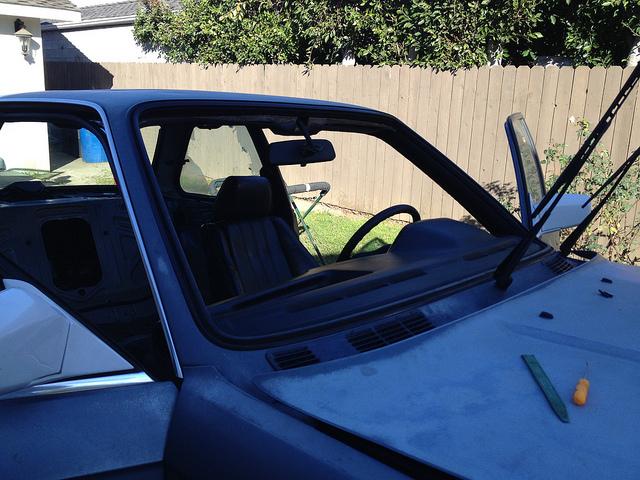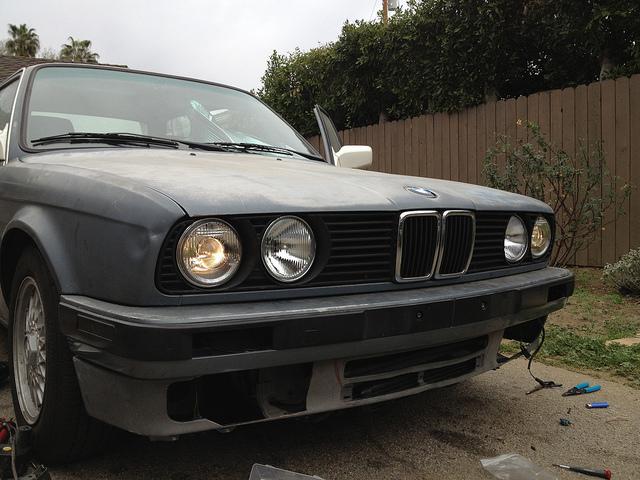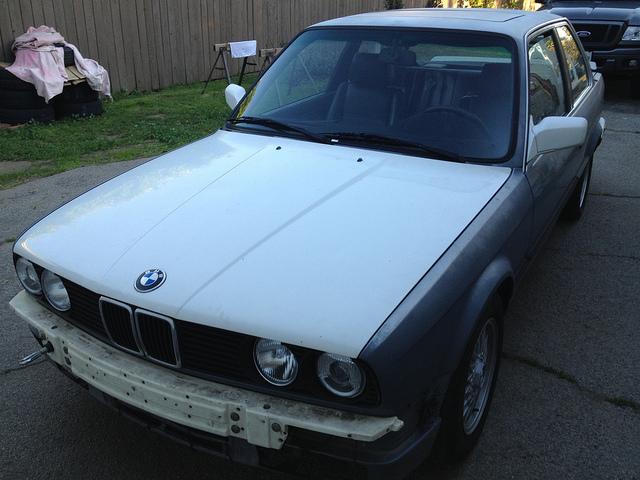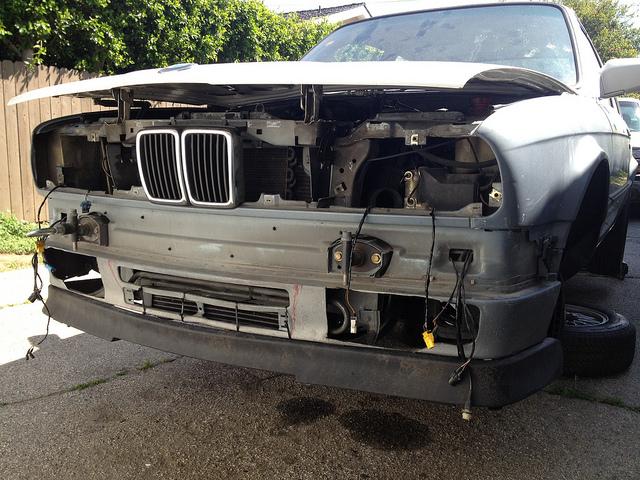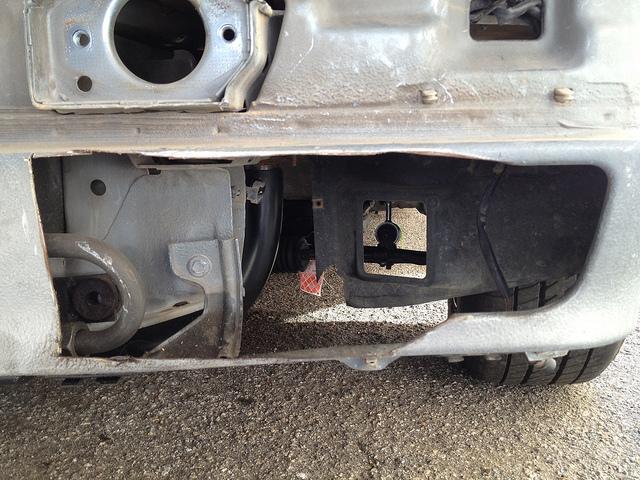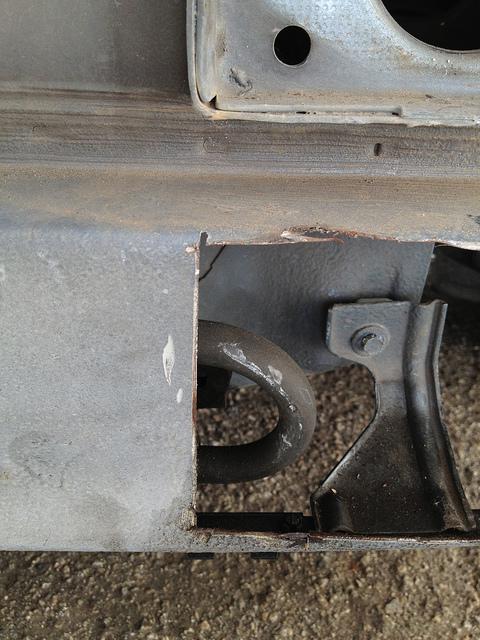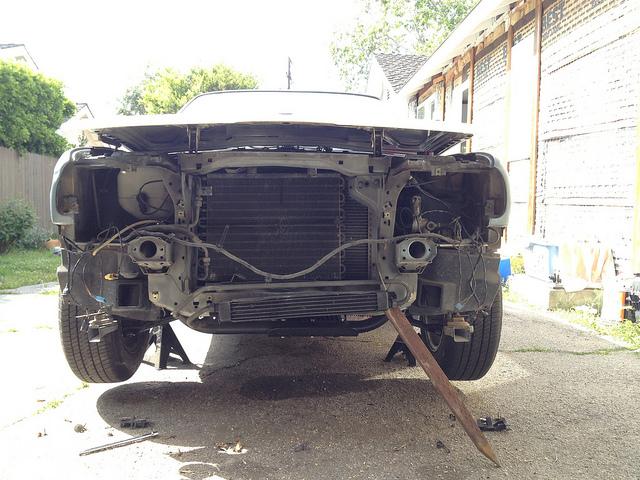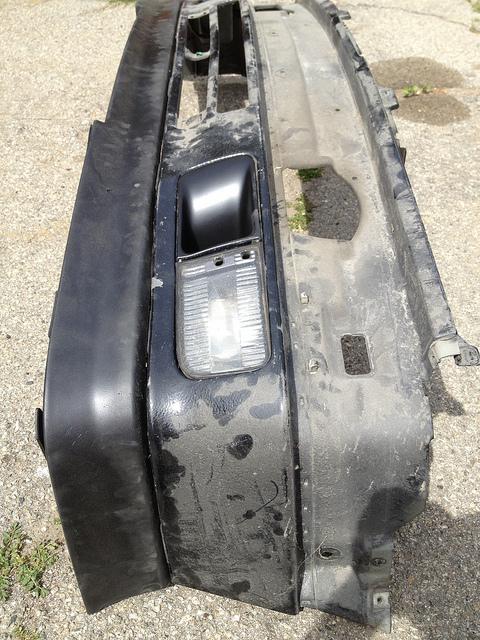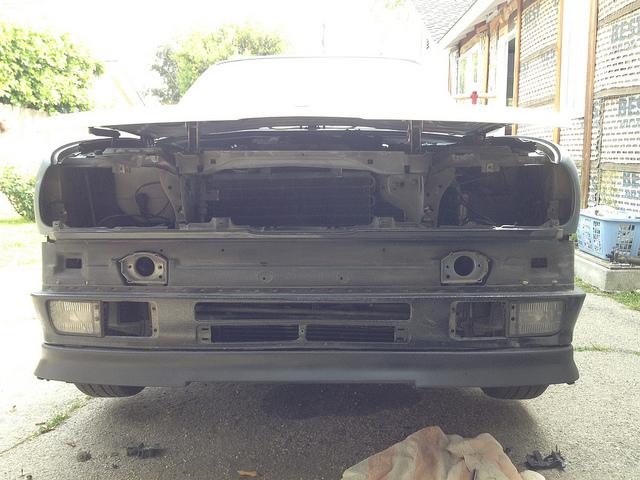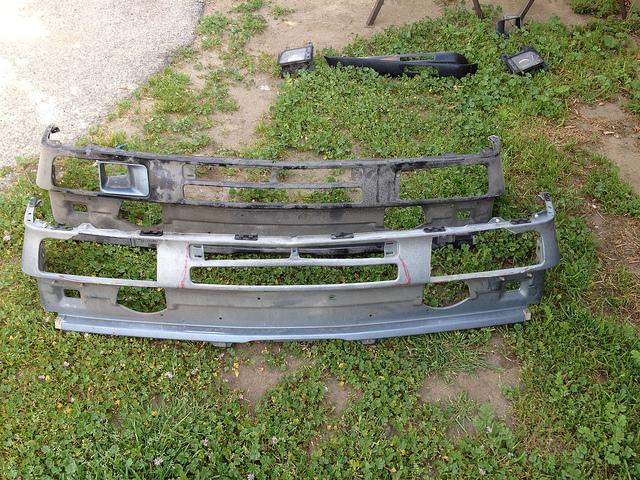 Then I got hooked up with rear bumper cover from a buddy that was cracked which i fixed, primered then plasti-derped. Found a trunk, and two matching fenders off a car at the junkyard and scrapped the damaged body panels. Added cherry tails, fog light deletes, and custom made cross hairs and french bulb housings for the headlights.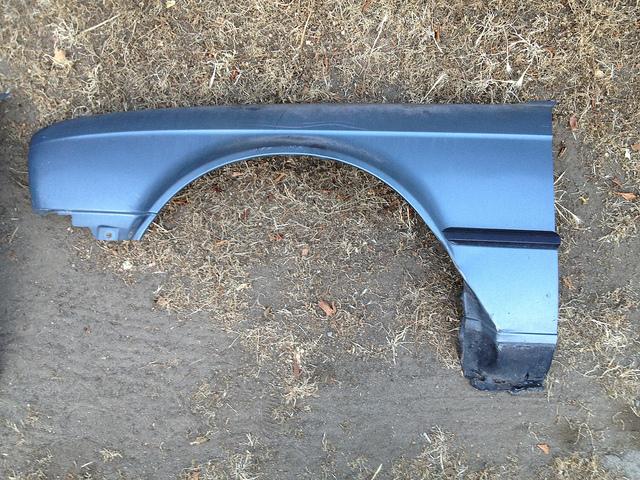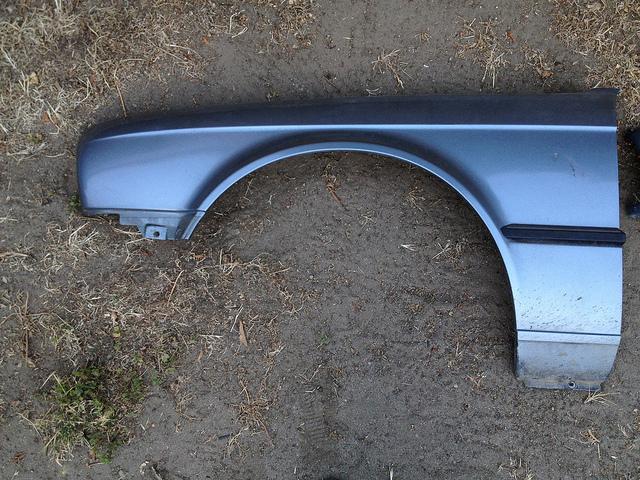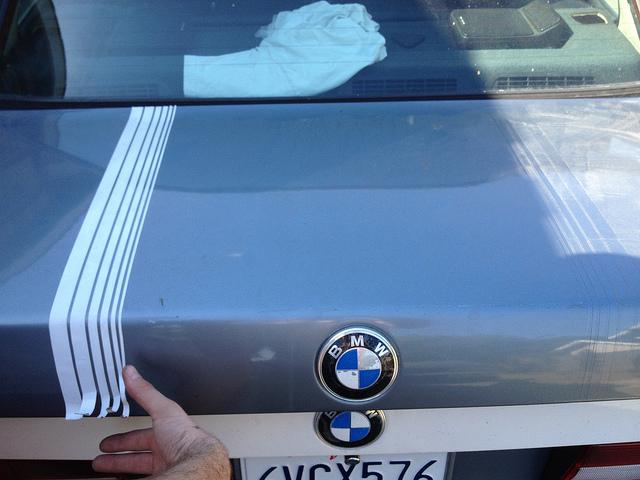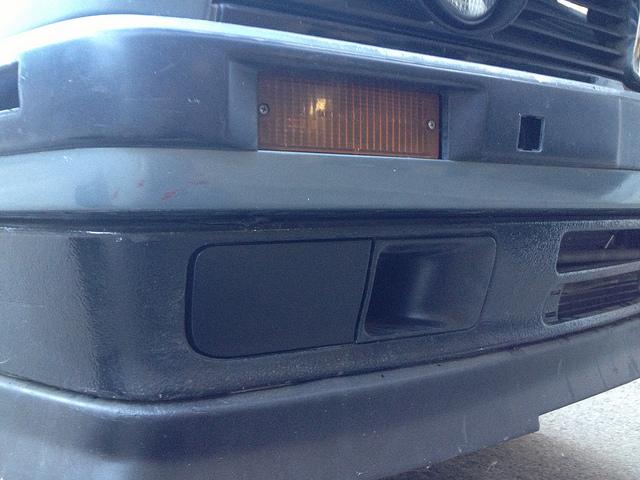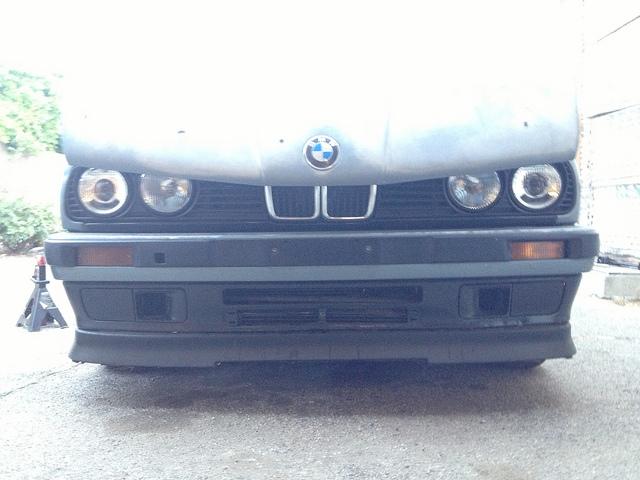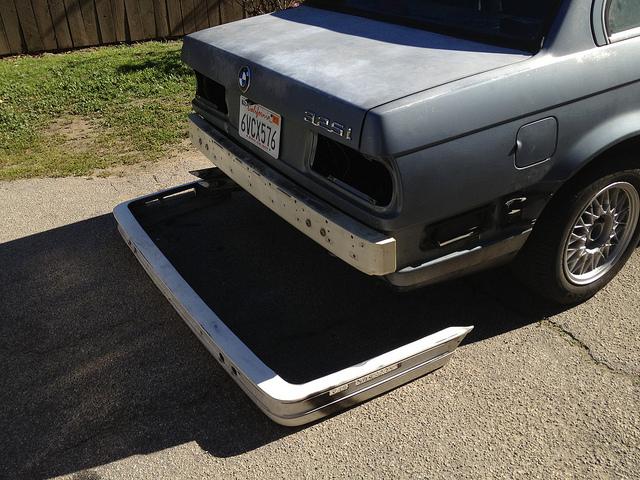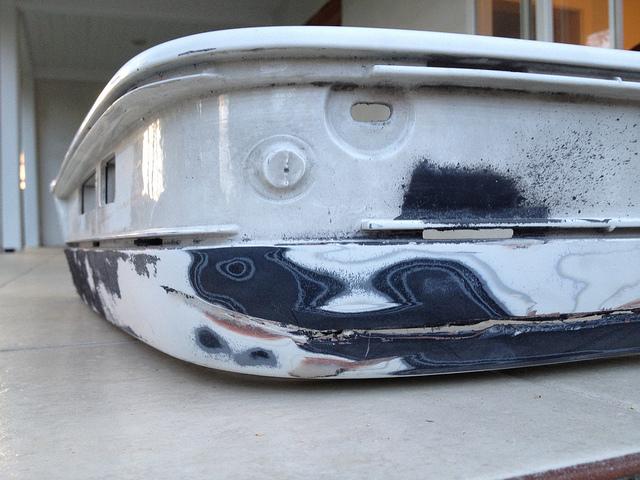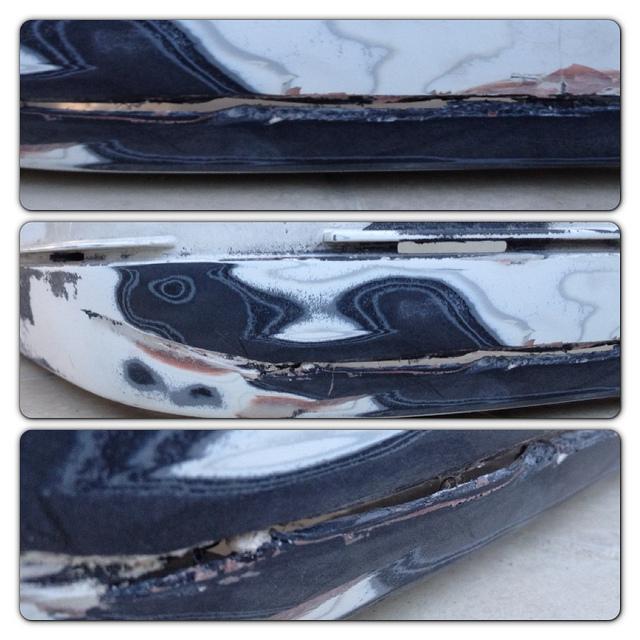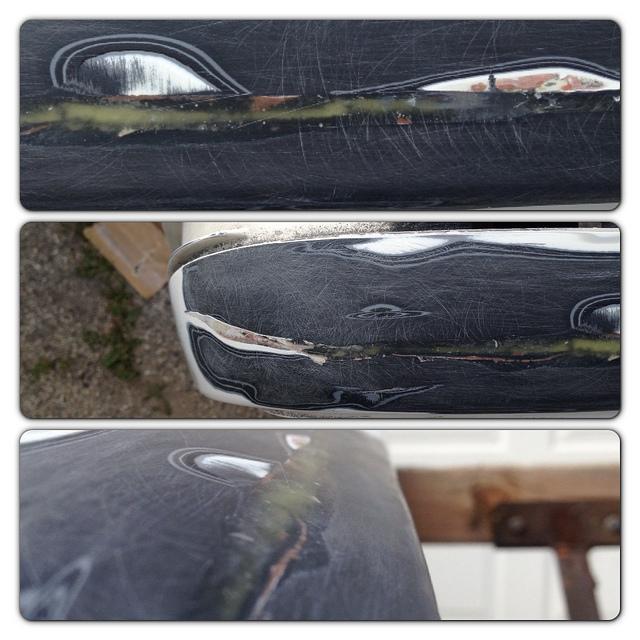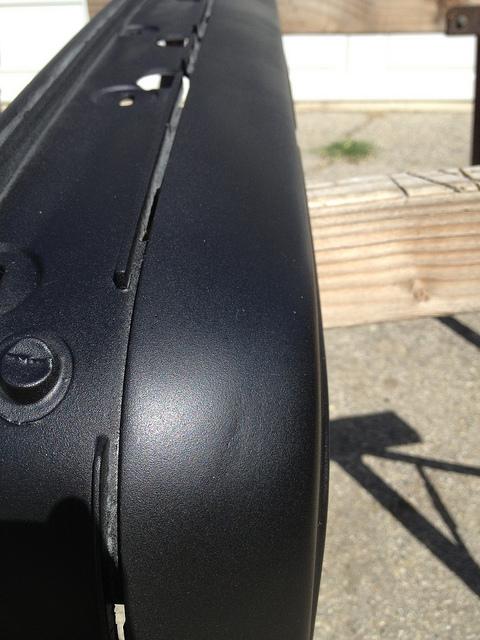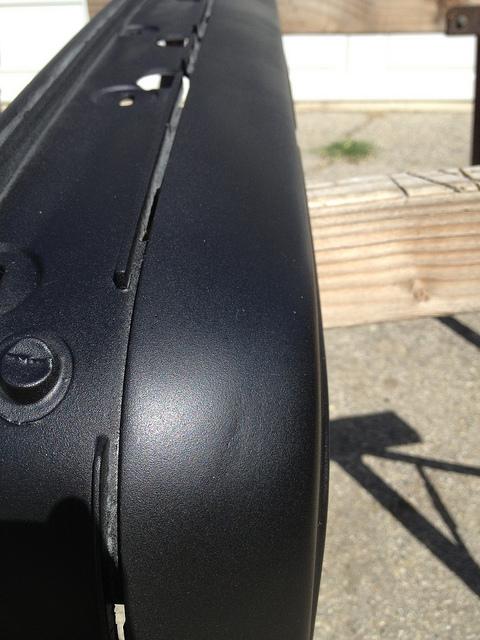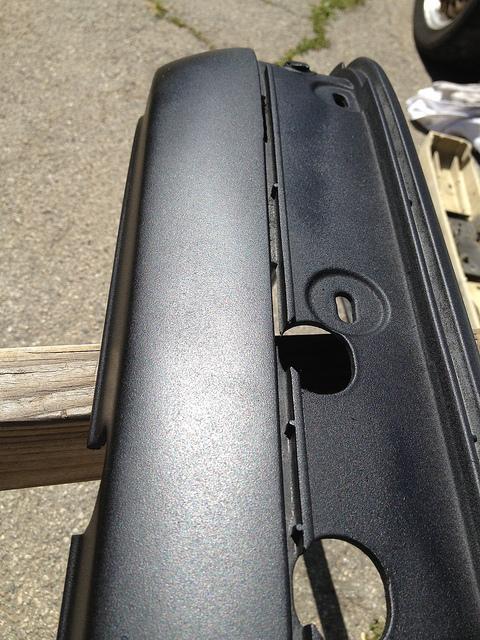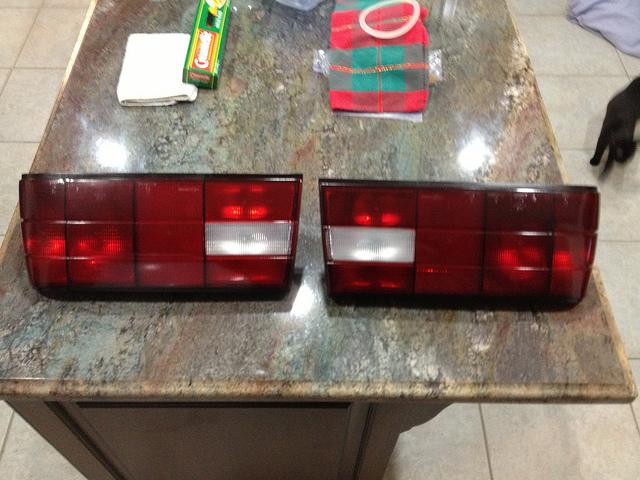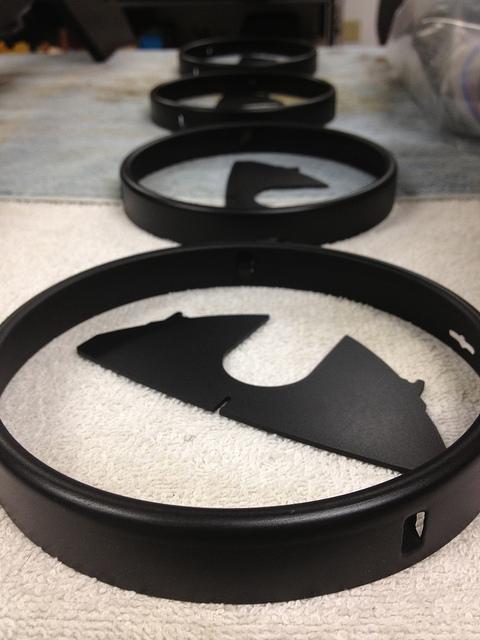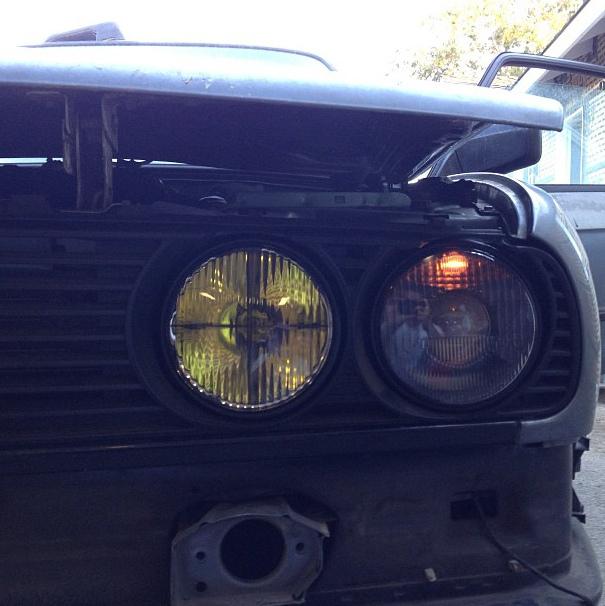 Latest project I underwent was upgrading all the rear bushings, adding stainless steel brake lines, replaced both clutch cylinders, all brake pads and rotors, slapped on my LSD off the 87 IS, built my GE coil overs, and added a UUC DSSR to the Z3 SS.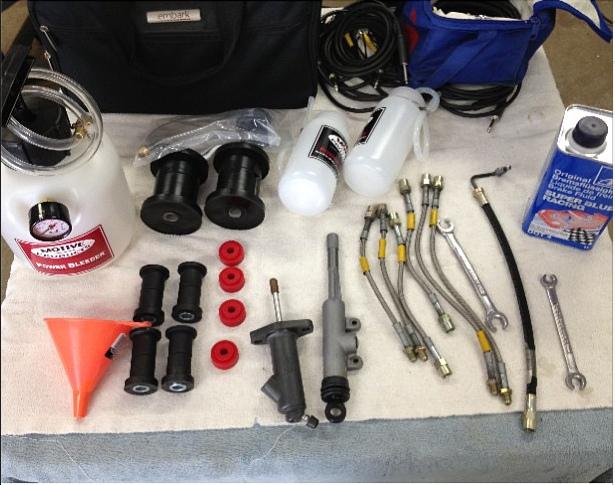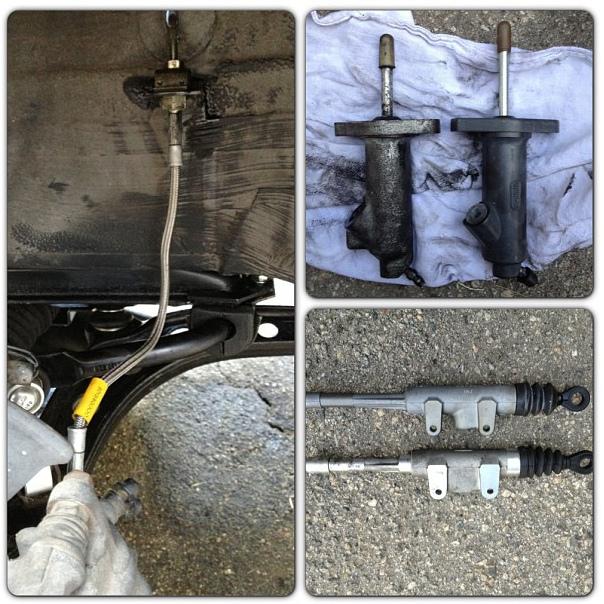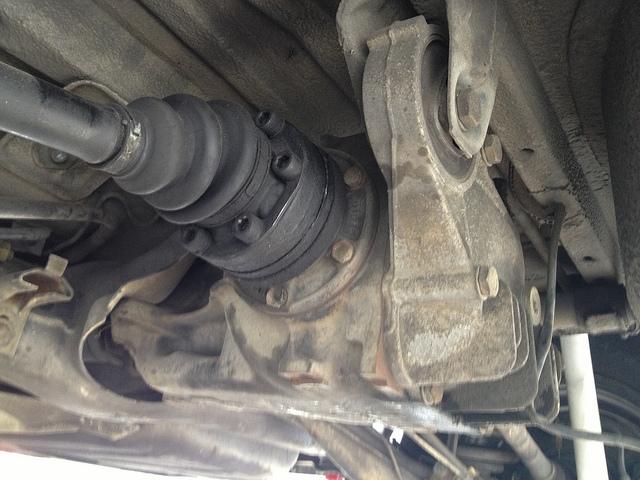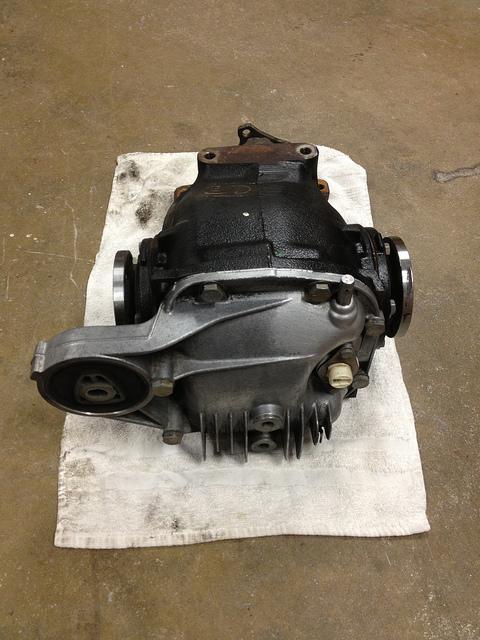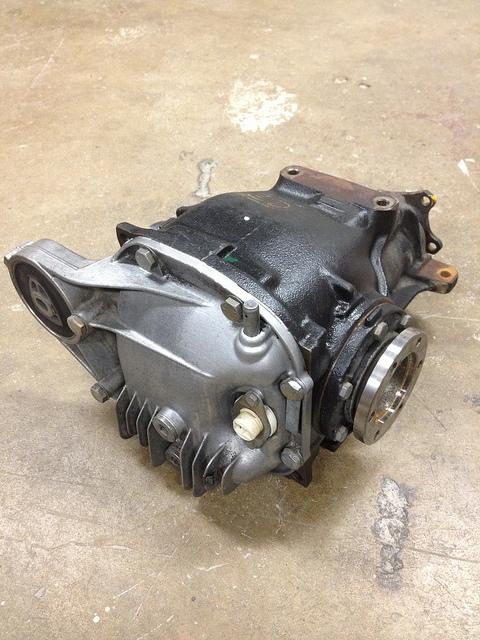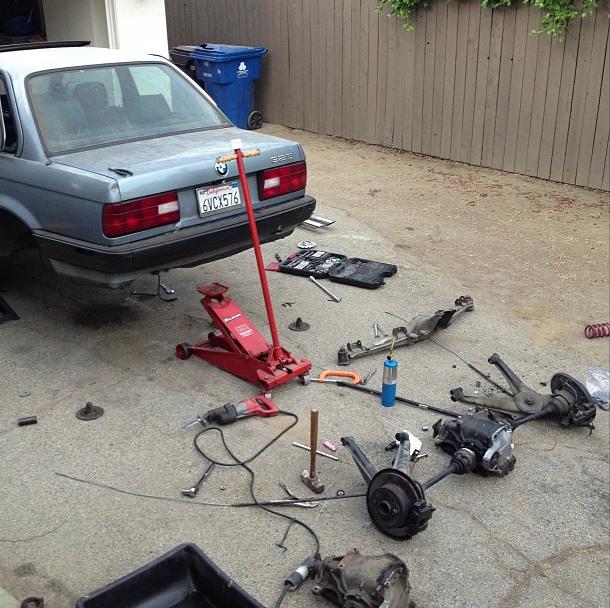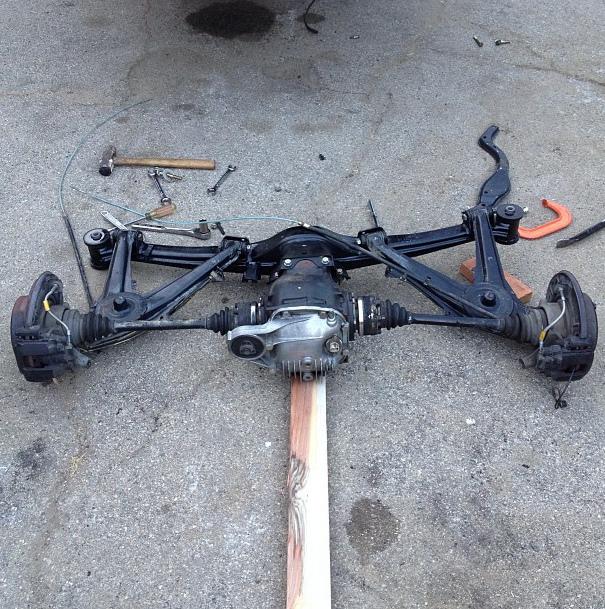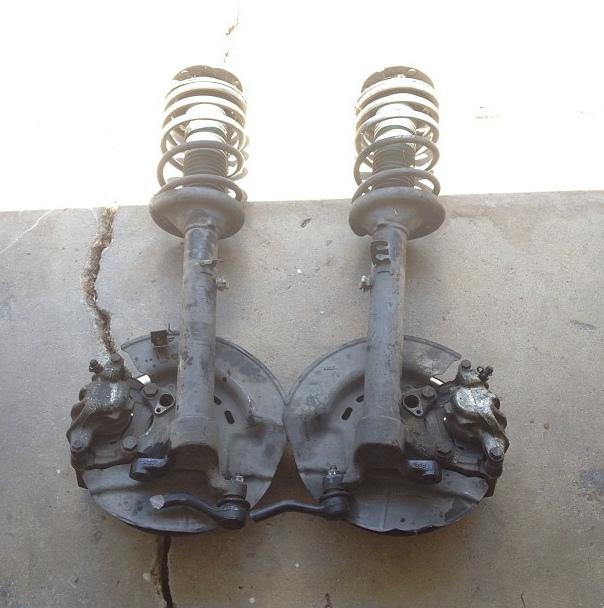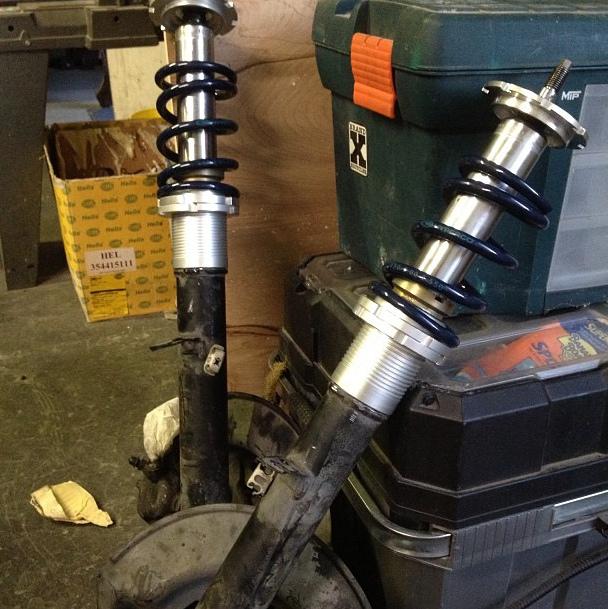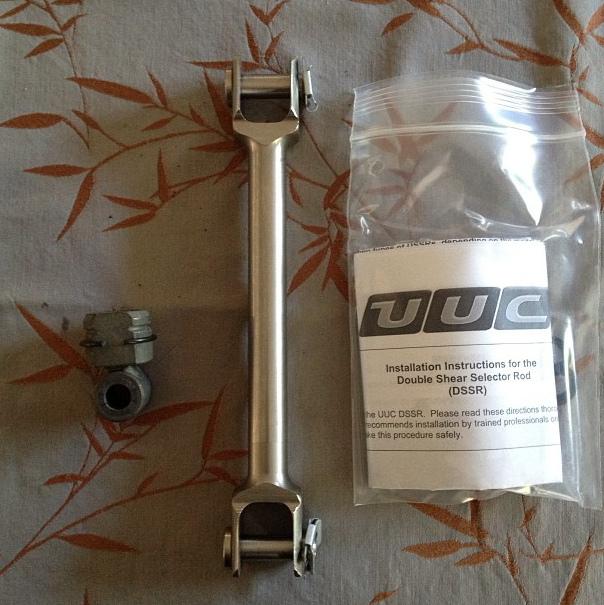 Last but not least, my rims of choice till I stack enough bread for something I really want. They are not 100% but they are acceptable by my standards..
Style 10's that I stripped, repainted, and had polished.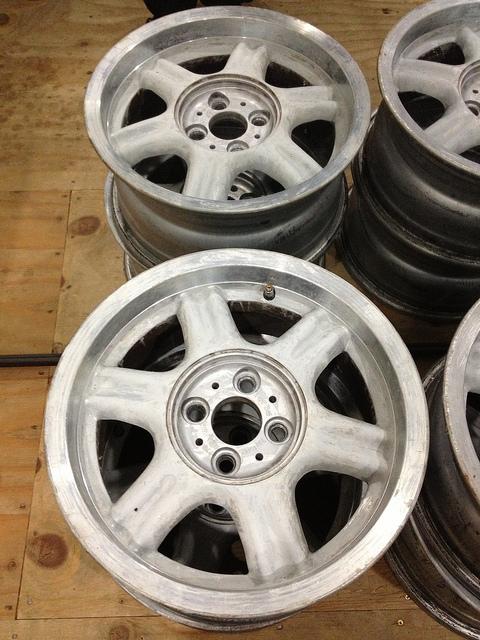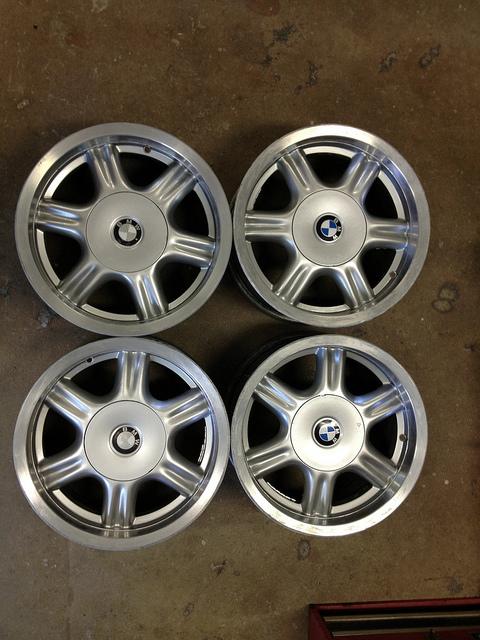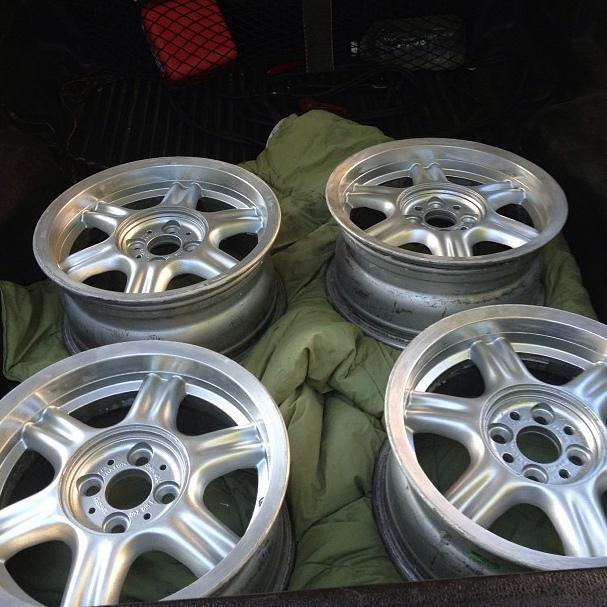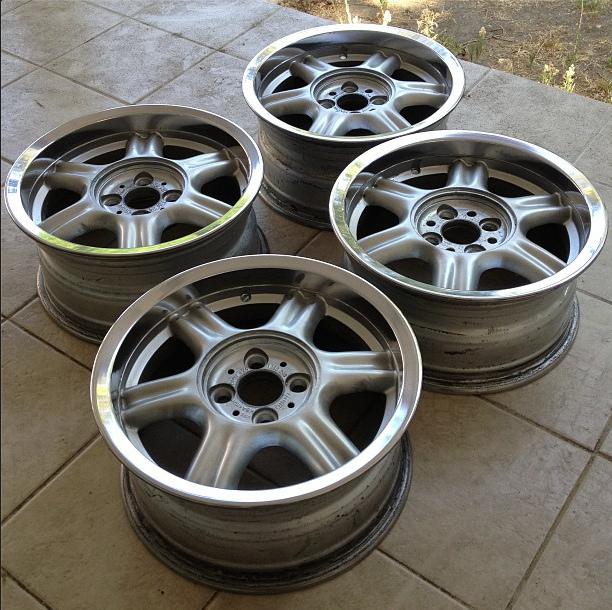 8-13-2013
8/10 Threw on a UUC DSSR a few days ago; along with new bushings, selector, and seal since I was leaking.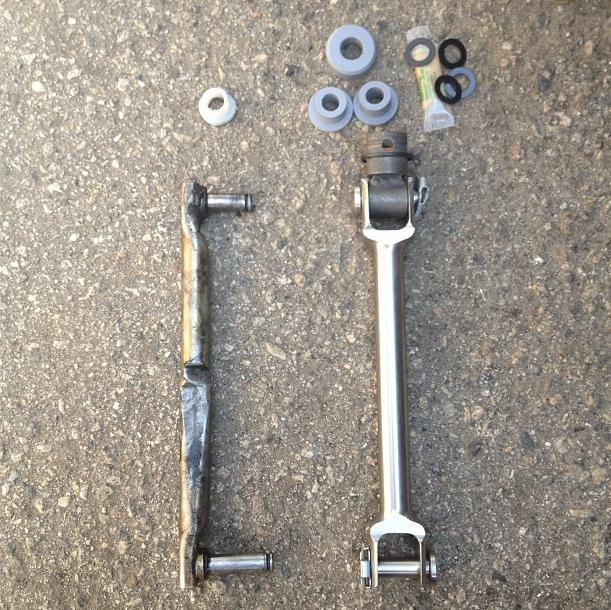 8/11 Taped off the lips on the Style 10s; going to have the faces powdercoated with clear.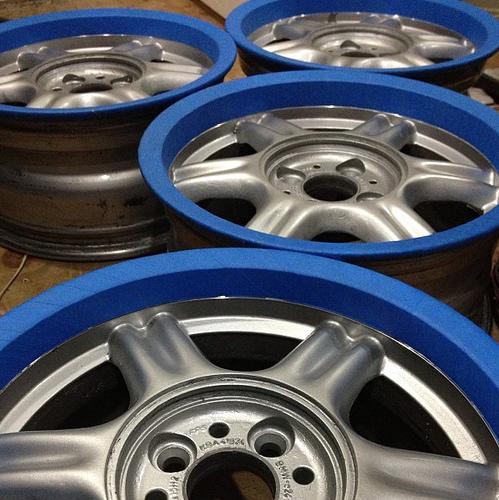 8/12 Also finished sanding down the front valence, rear bumper, brake ducts, fog deletes, and mirrors. Prepped them and shot a base coat of something very similar to Cirrus.
Looks very silver-ish inside with the lights but very light blue in the sunlight..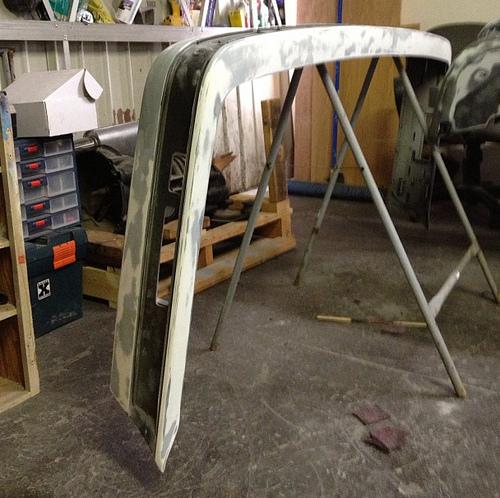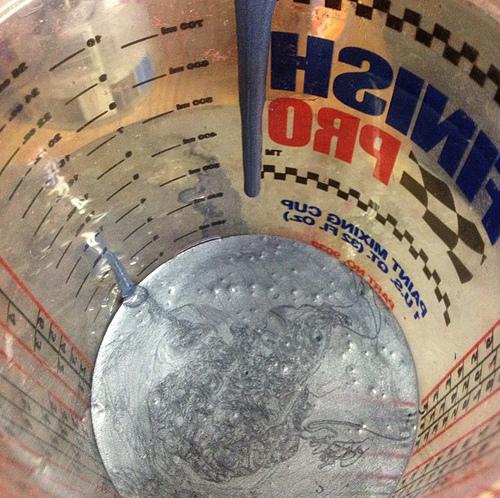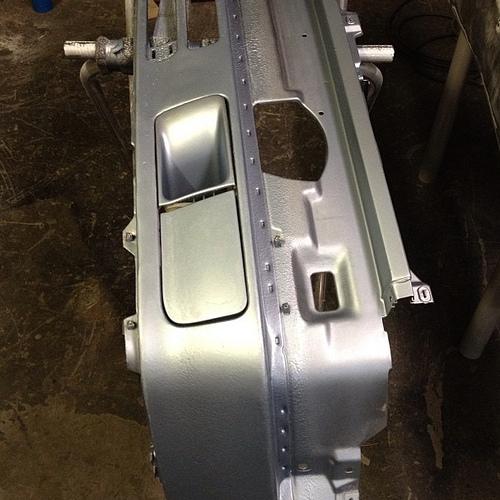 Will take a few more pics once it's installed.. (Sorry for the shitty iPhone pics; wish I carried my 5D with me)
Thank you!
Threw on the back bumper since it was easy; my buddy's finishing up my euro trim so pretty soon that should be on there..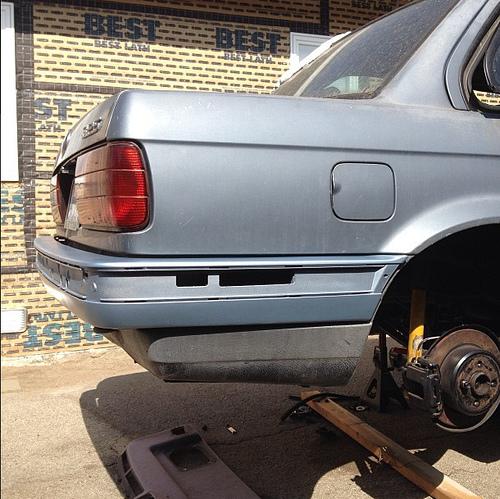 Also should have my driveshaft from TMS tomorrow along with laying the powder-coating on the Style 10's..
8-14-2013
Finally got this today with rebuild-able U joints; gonna finally be able to take the car off jackstands..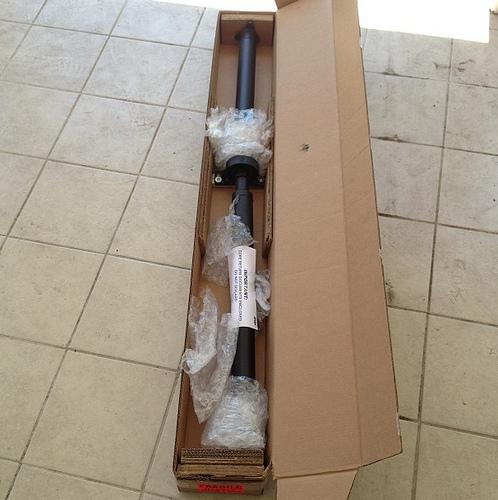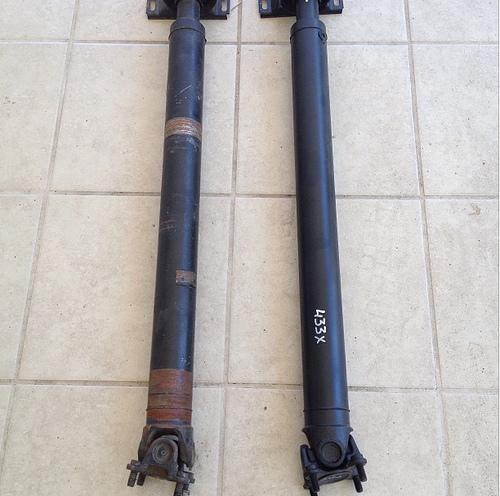 8-18-2013
Been super busy with work so not much progress this last week..
8/17 - Finished my rear shift carrier bushing - Delrin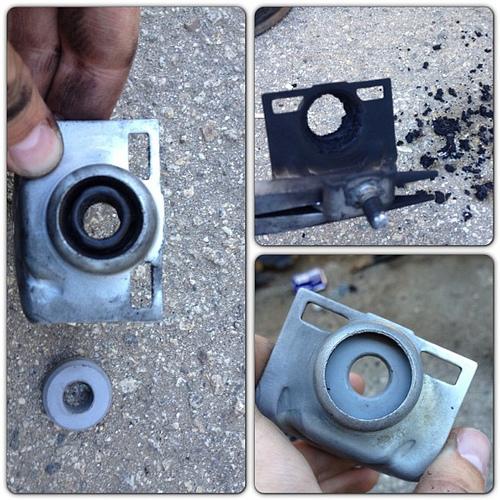 Still waiting on the shift selector seal thats leaking so I can put the driveshaft in and stop leaking.
8/18 - Picked up a set of IX side skirts and fender flares this morning off a fellow r3vv'r. Going to have some fun with these..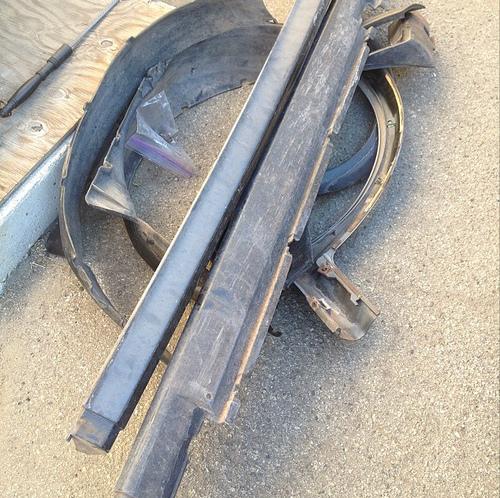 Stay tuned..
8-27-2013
Found some new shoes at the store today...
Kinda eager to get them machined and put on, might have to sell the style 10s or put them aside..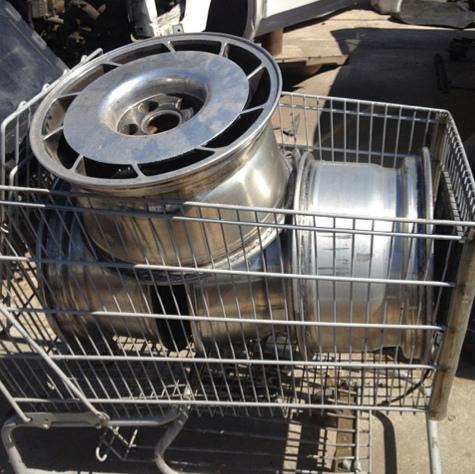 8-28-2013
Got them home..
They make the bottle cap look so thin...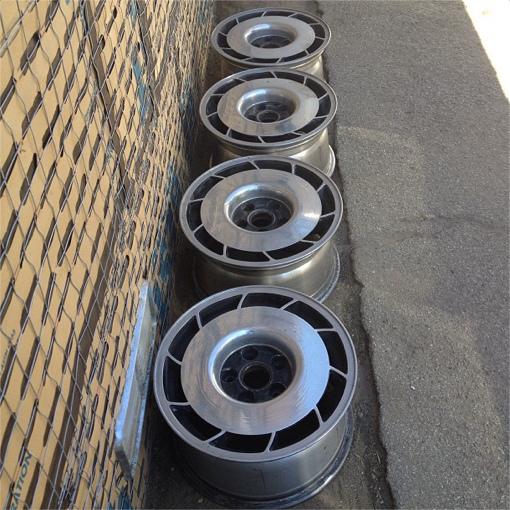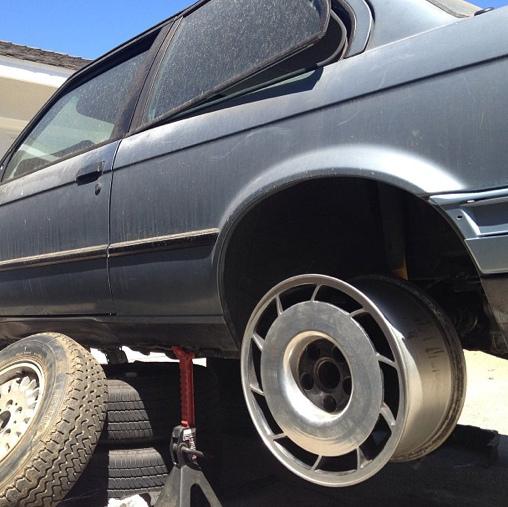 For the price I got them for, 16 x 8.5" is pretty much exactly what I wanted, might not be BMW or typical mesh but eh ¯\_(ツ)_/¯
Its been done obviously; and If you do it right it doesnt look too bad.
Plus, I like them sorta cause they remind me of the OZs' kinda, sorta, not exactly, but you get the point...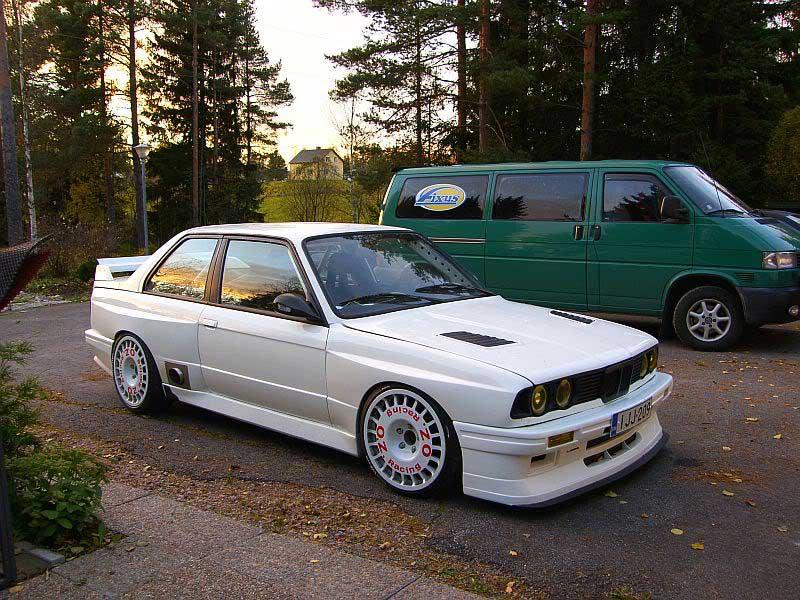 8-29-2013
I like them a lot more than the saw blades people usually use. Plus they have "fans" ha.
Just trying to piss the purists off I guess..
9-2-2013
Some progress.. Finally got the frozen dowel pin out.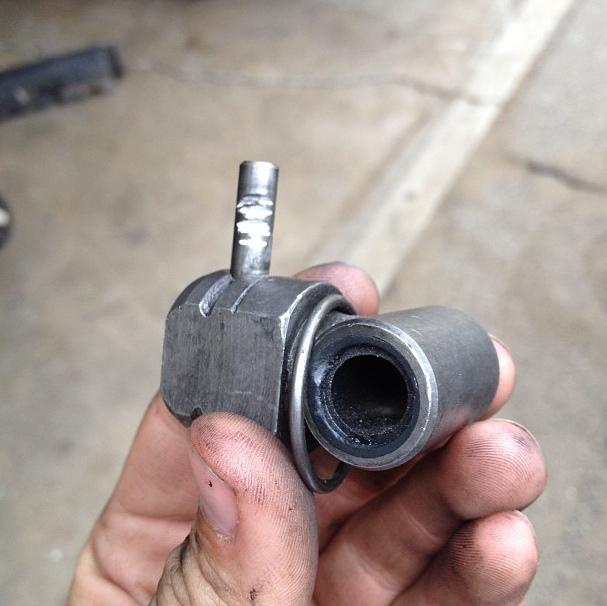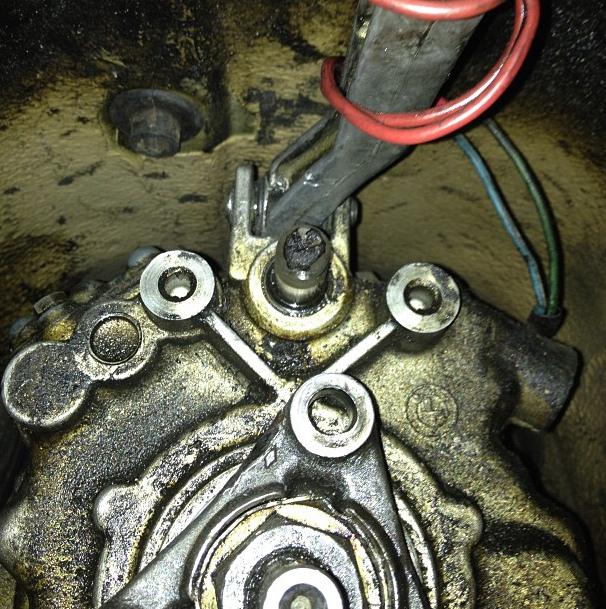 9-5-2013
Few more parts... Check out how fresh those rear mounts were....
Fuego.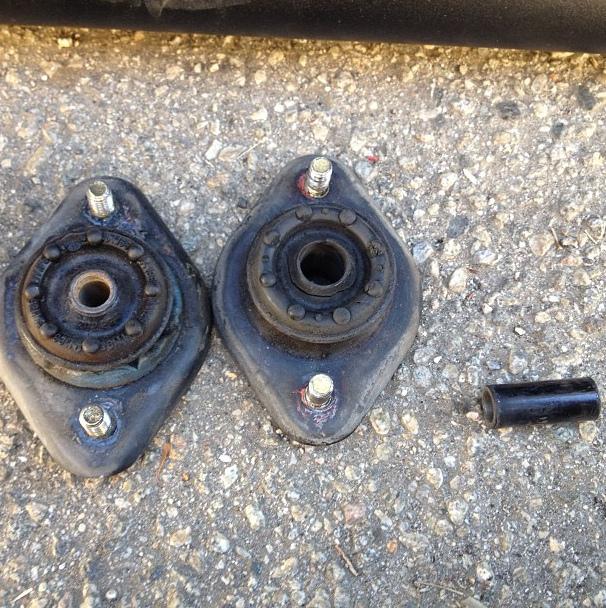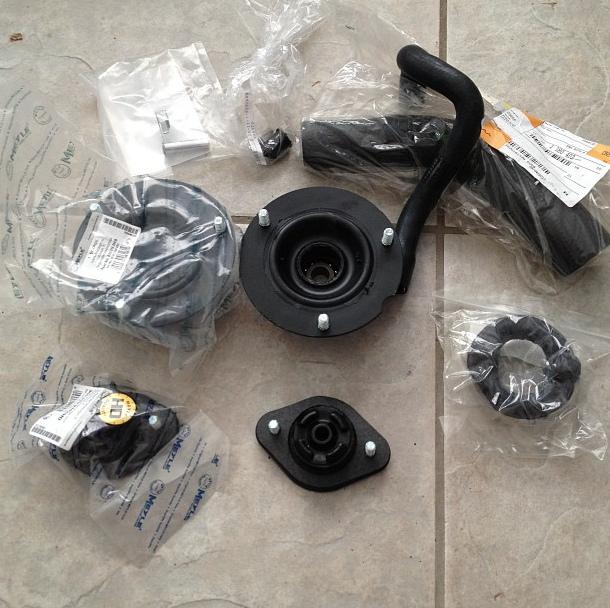 9-8-2013
9/6 - Figured I'd take a look at the rear mounts after ordering the fronts and rears just to be on the safe side.. Found the reason I kept hearing a little rattle when I'd drive from the back.. Turns out that one of them were blown and had tons of play.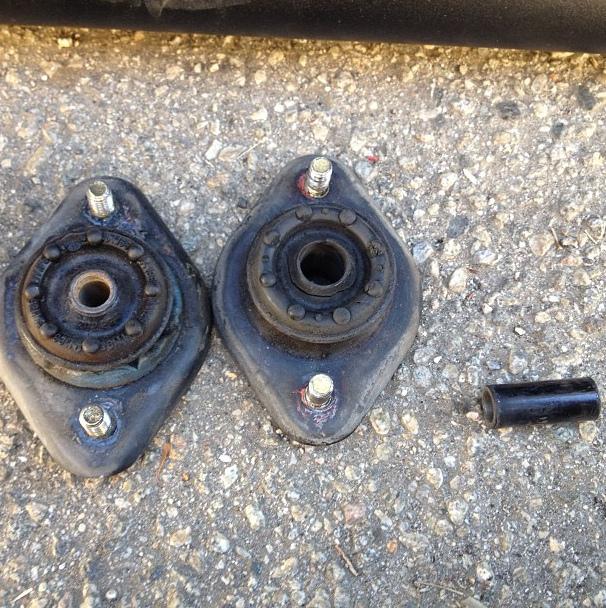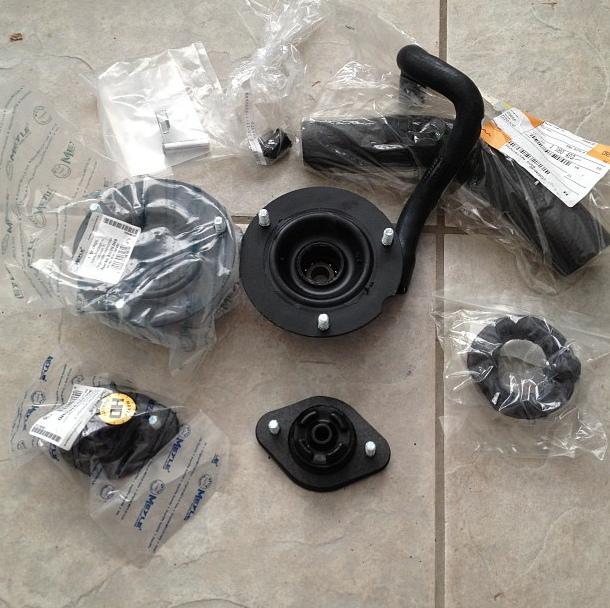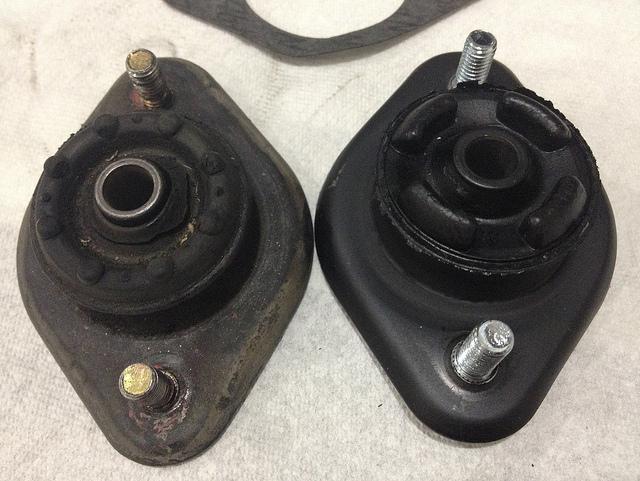 9/7 - Cleaned up the shocks with some steel wool and soap, Also took a couple side by side shots of the front bearings for shits and giggles. I believe the bearings are the original factory ones with 280mi+ on them due to the "88" stamp but I could be wrong.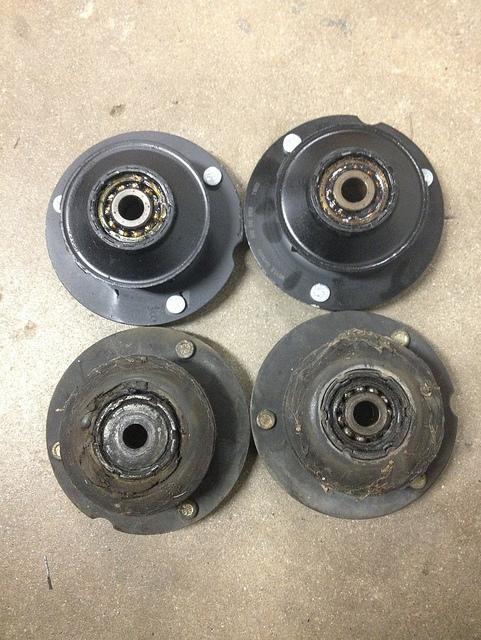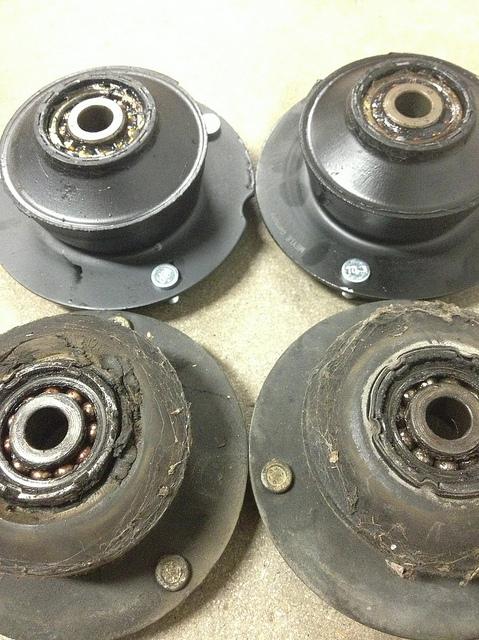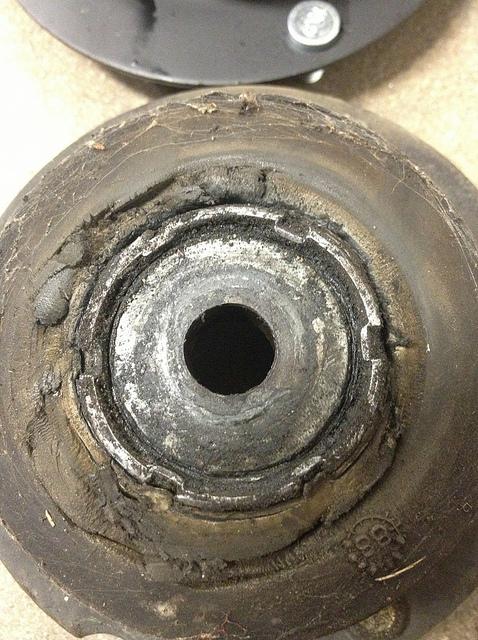 Left side is the cleaned up one..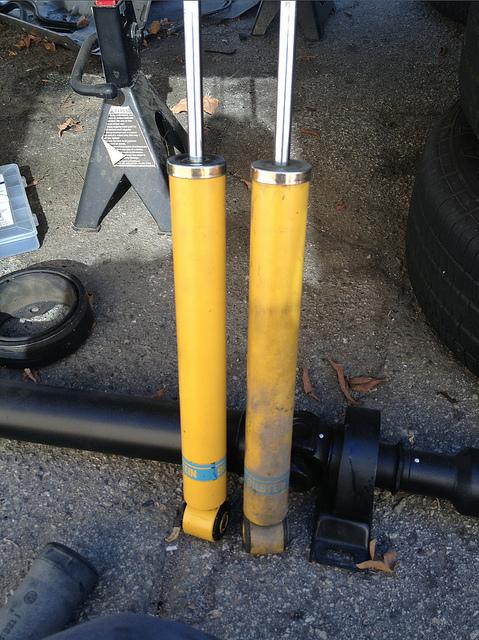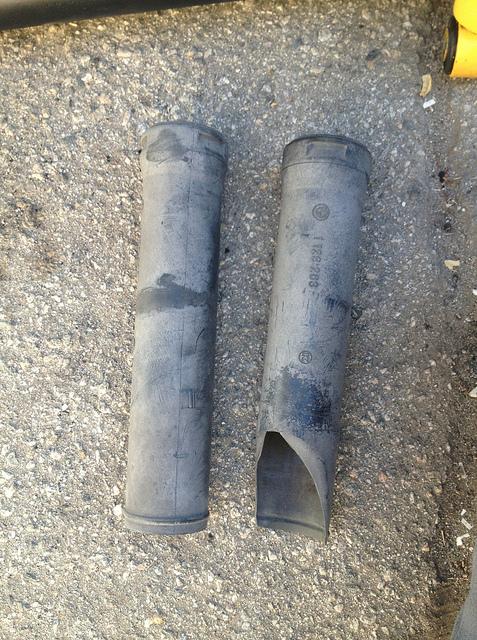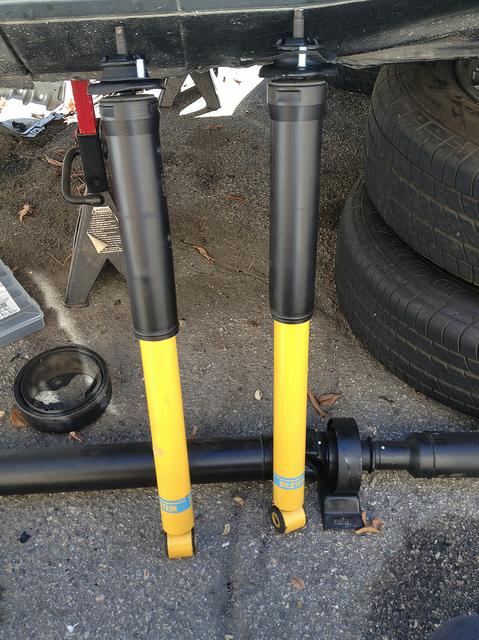 9-11-2013
My buddy retrofitted the RHD euro hvac panel for me... Looks pretty stock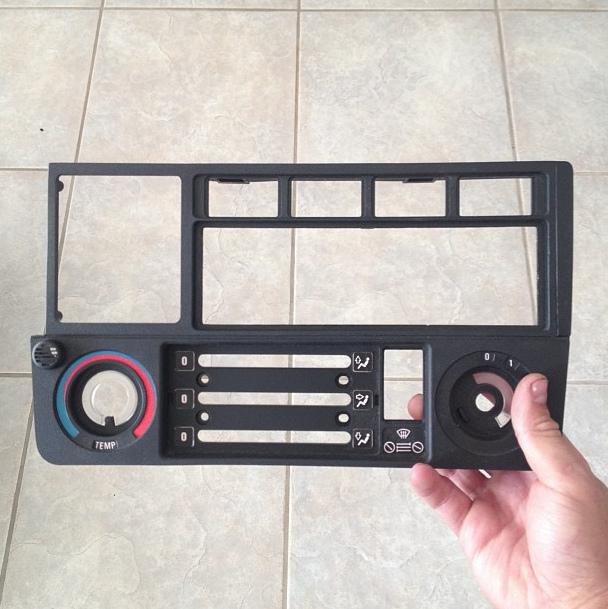 9-29-2013
Finally got my passenger fender back from my buddy dave...
Early fender (top) v.s. Late fender (bottom) //// Had to trim it up a little bit in order to make it fit..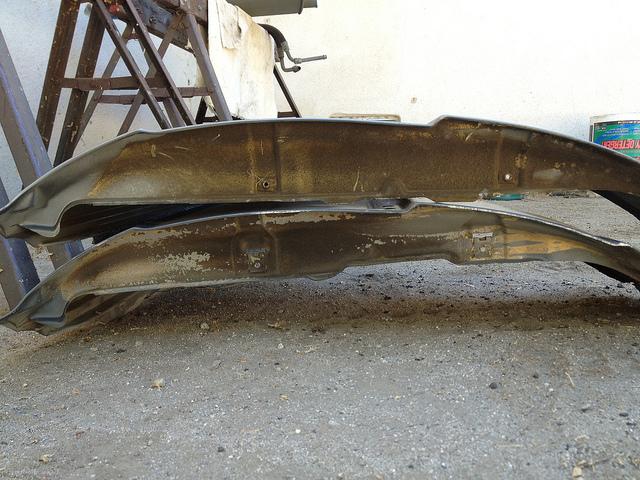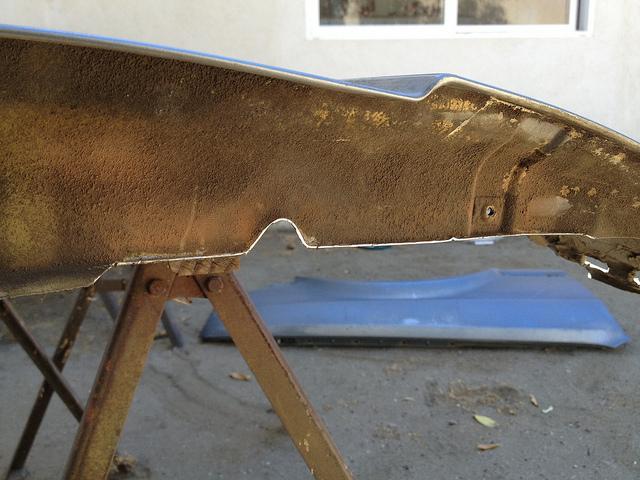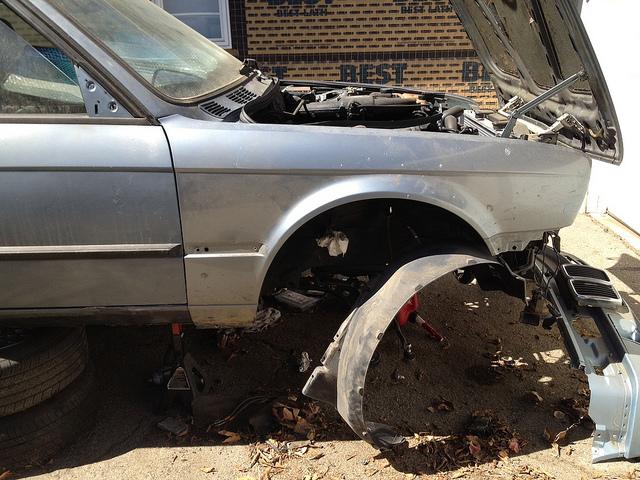 Also took off the drivers side to shave it down a little to fit a bit more flush.. While I was in there I got some undercoating and went to town on the all the wheel wells.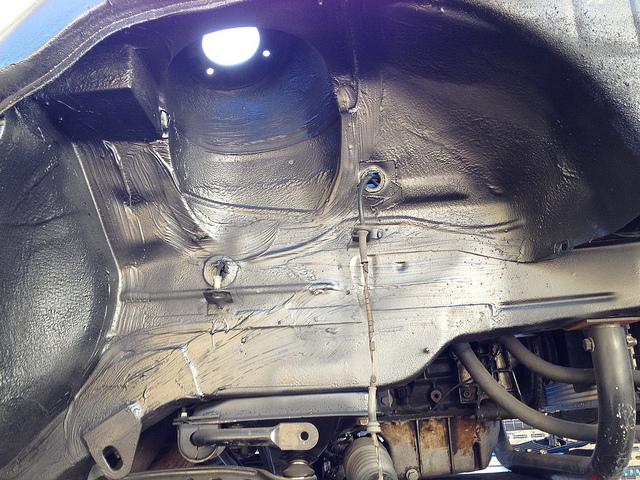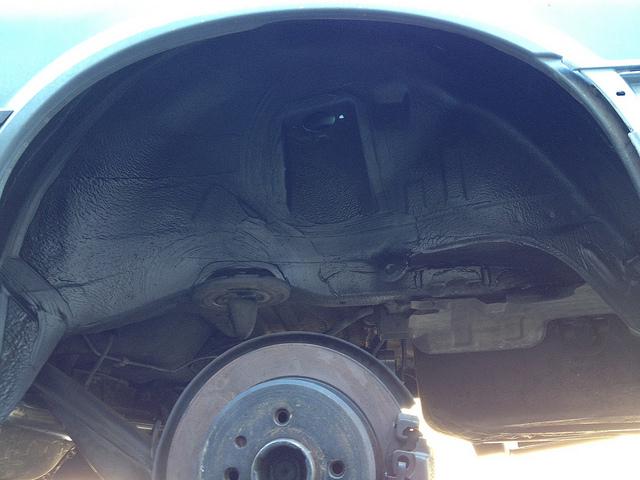 Changed out the broken hood latch for a new one...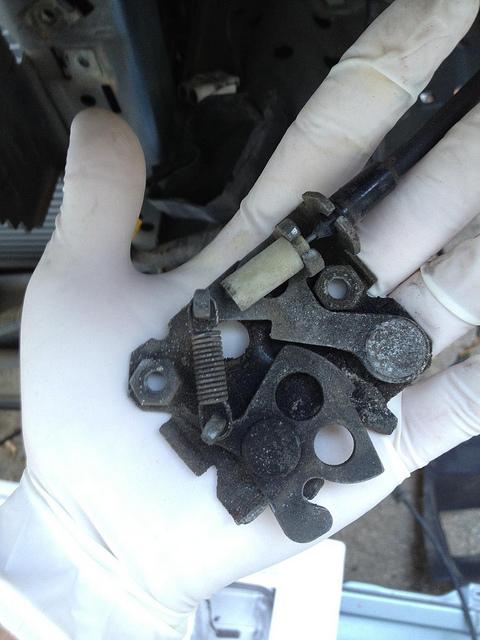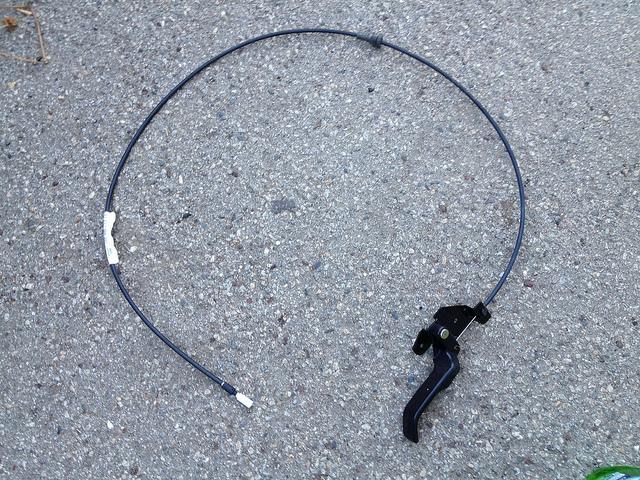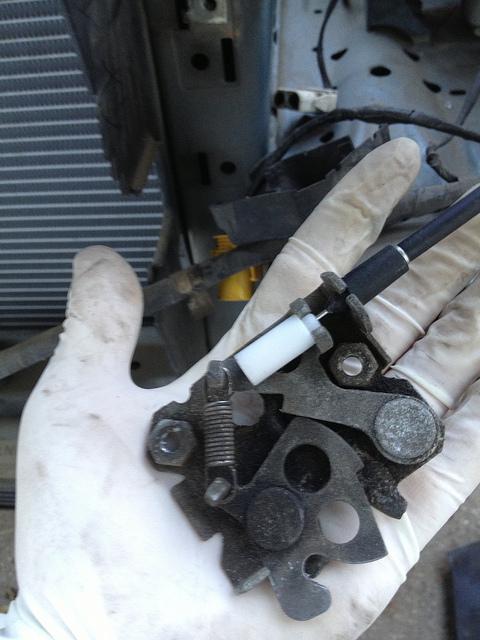 Went ahead and started the front brake pads + rotors...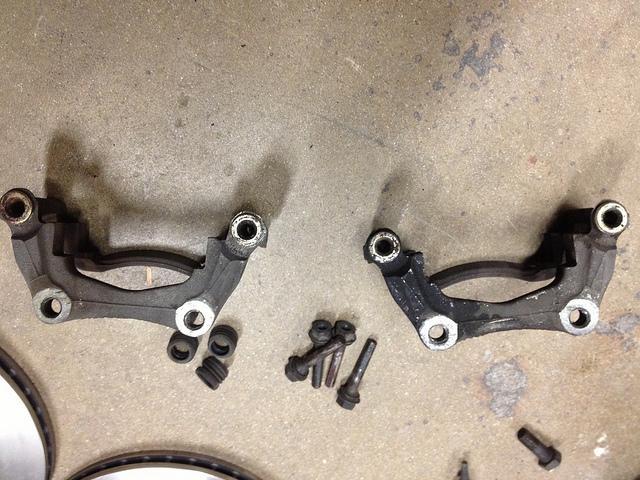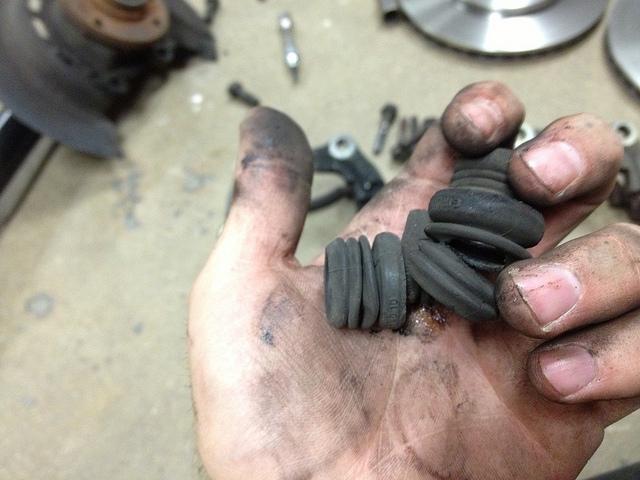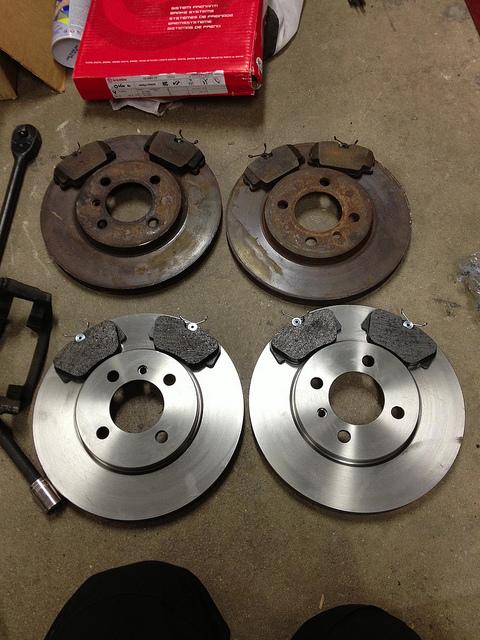 10-1-2013
Got some M3 sway link weld on tabs for the front struts along with my brake caliper rebuild kits today.. Gonna be a busy night...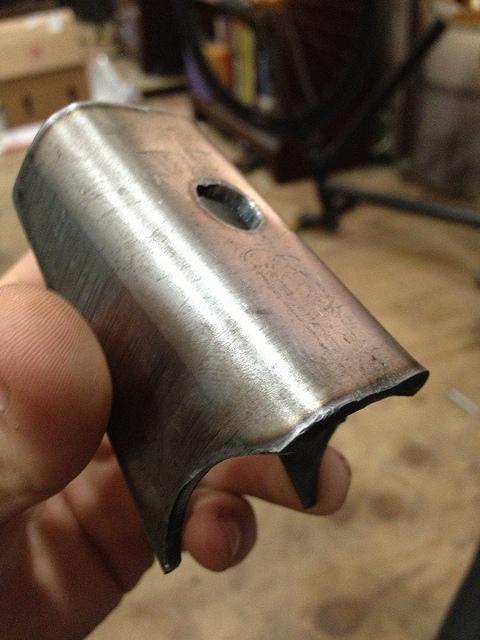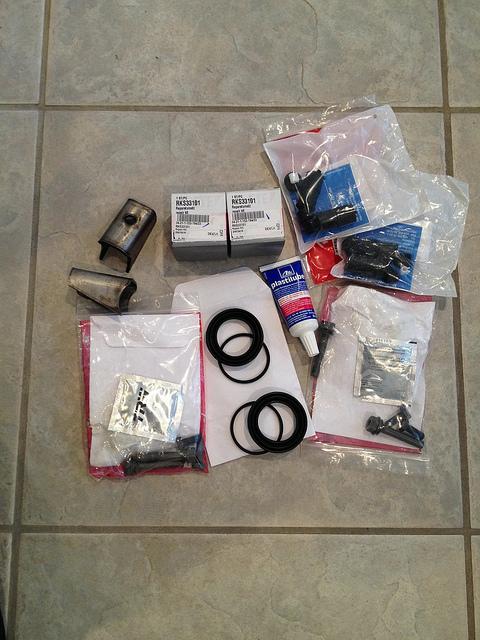 10-5-2013
Went ahead and painted the muffler and strut housing.. Almost ready to throw in.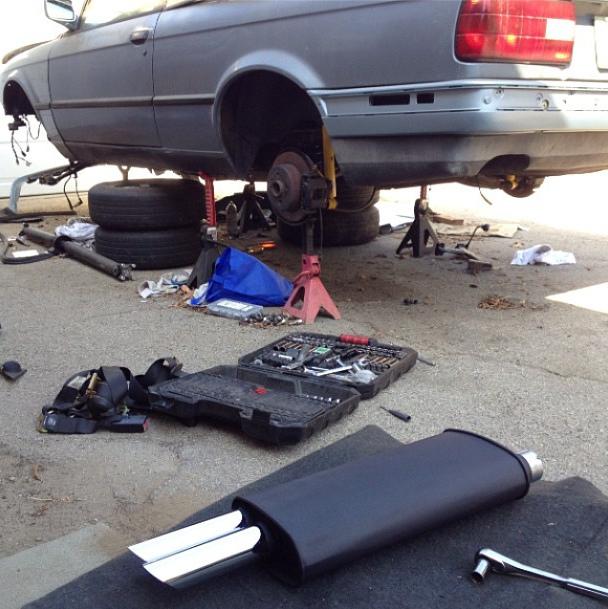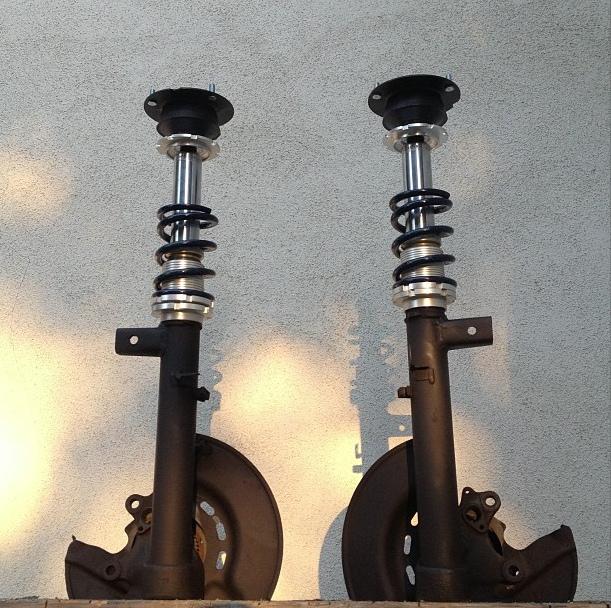 10-6-2013
Got the shifter seal out, now finally can re-install the driveshaft from Turner.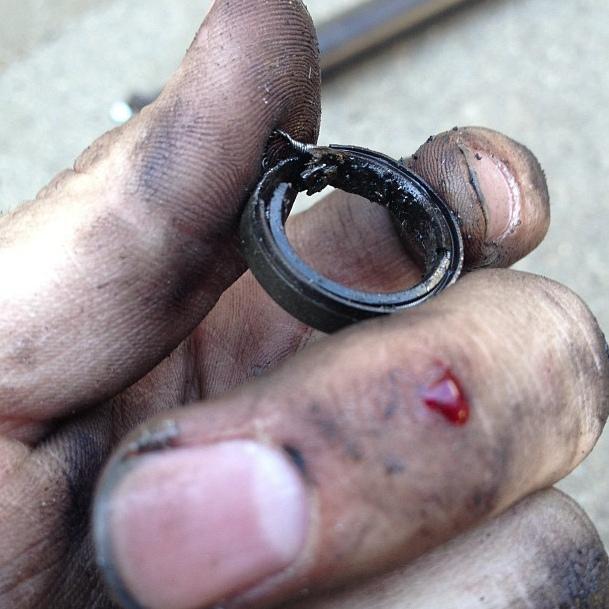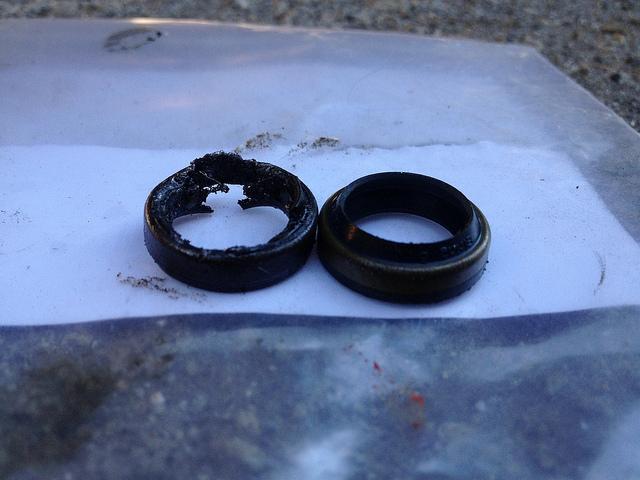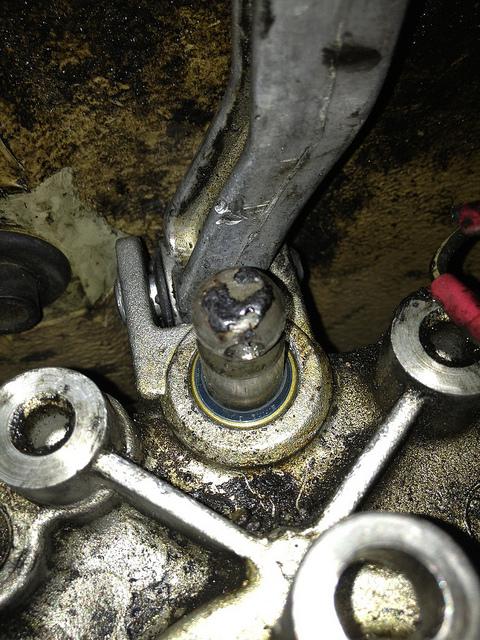 Installed the Garagistic delrin shift bushings + UUC DSSR + Shift Selector Joint.
Gonna try to knock out the DS and heat shield for the exhaust tonight.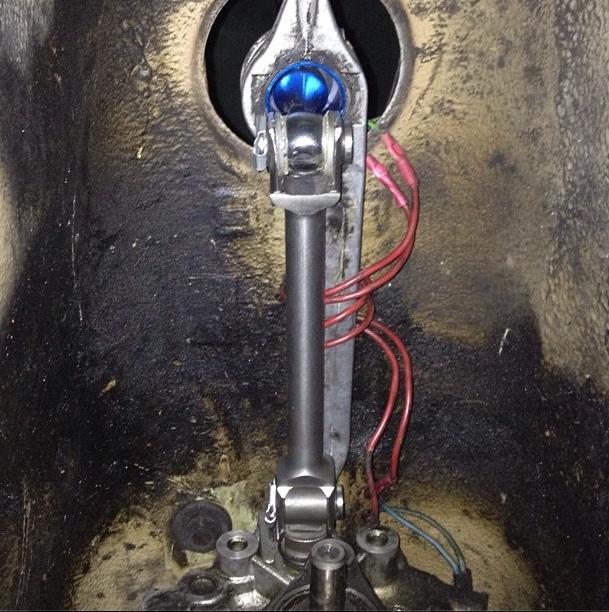 10-13-2013
Got the driveshaft in with the help of mr. ttrreevvoorr; also have the struts and rotors installed. Still need to finish up the caliper rebuild and its almost ready to be taken off stands..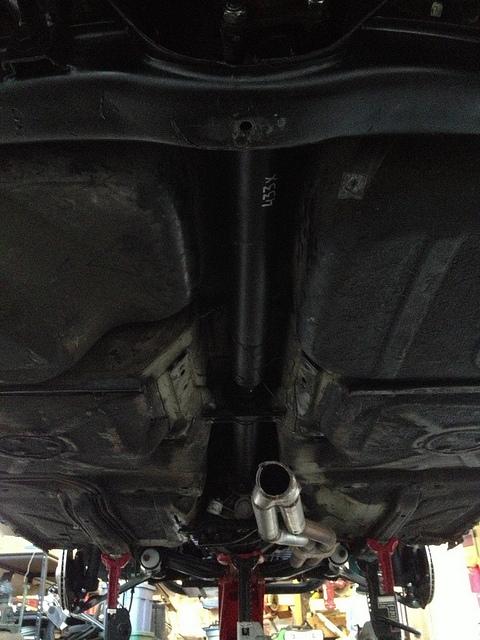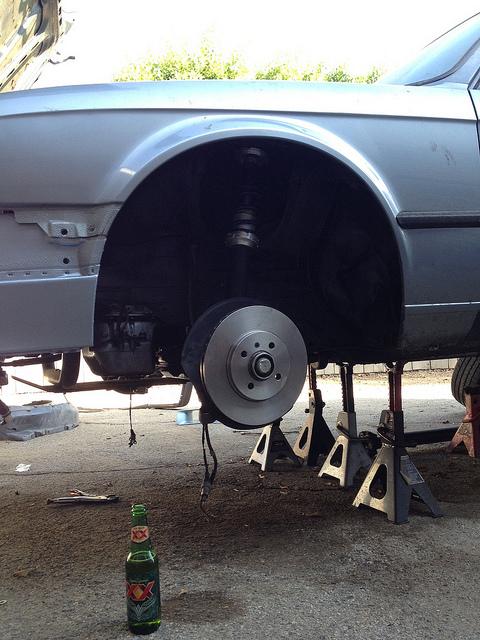 10-14-2013
Threw these on with a couple other things i didn't take photos of.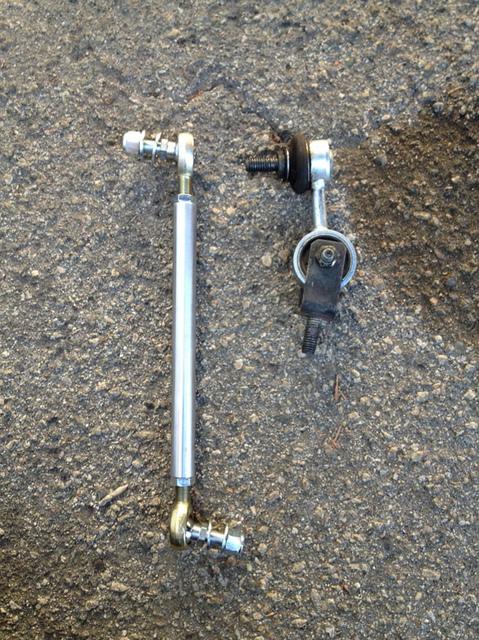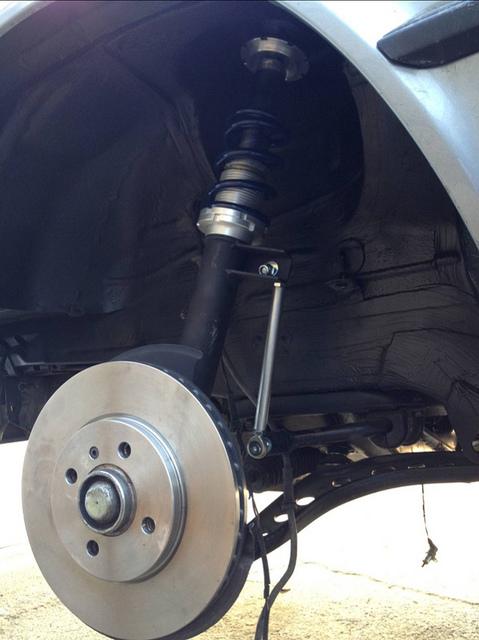 10-15-2013
Personally at the moment I can't say one way or another. From my research there is a noticeable difference once lowered due to it altering the stock dynamics of the sway link/bar's pre-load & load. I have a buddy with an m50 w/S cams running something similar installed by Castro, driven his car a good number of times and love it. Adjust-ability is what draws me in especially when you look at the differences in build quality. Thats just my 2 cents though.
10-16-2013
Yanked the last of my exhaust off, gonna freshen up the headers so they dont look like shit. Attacked it with the sawzall to get the nasty POS welding off. If anyone has an extra late model O2 sensor or wants to trade for an early model one... Holla.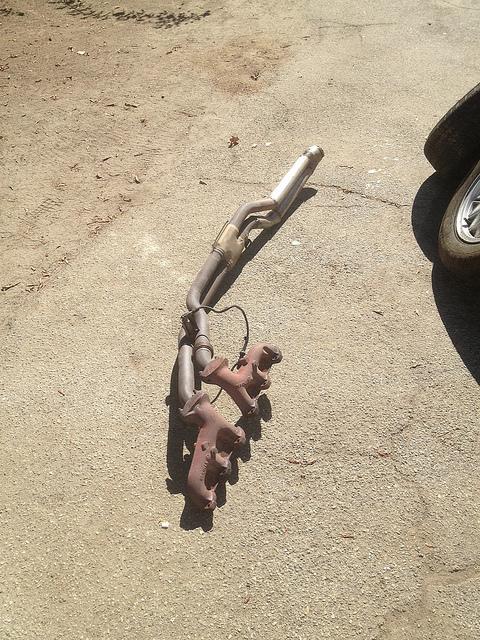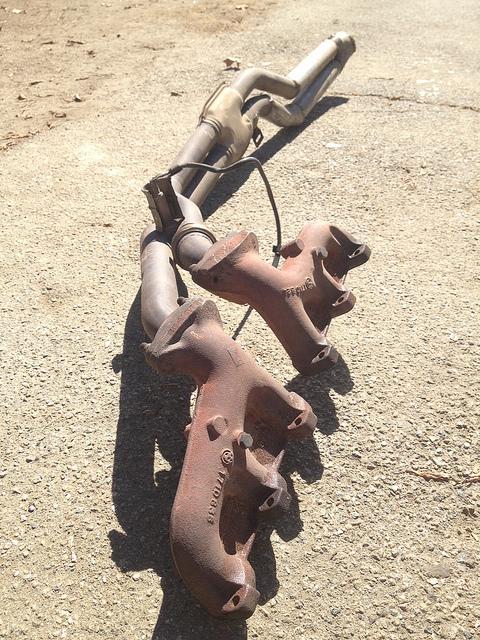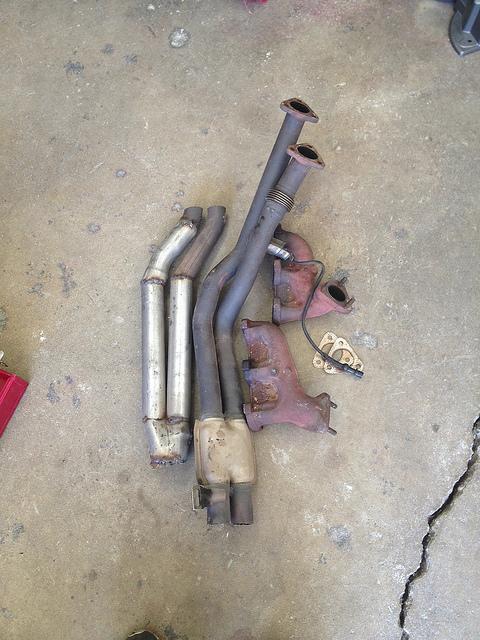 10-19-2013
Thanks man,
As far as the wheel bearings go, those are on my list still. I'm planning to do all four corners at the same time so its just a matter of setting aside the cheddar at this point and waiting. I kind of have the feeling I'd probably test drive it now and find one to be an issue haha better to just replace a 20 yr old+ part anyhow.
10-23-2013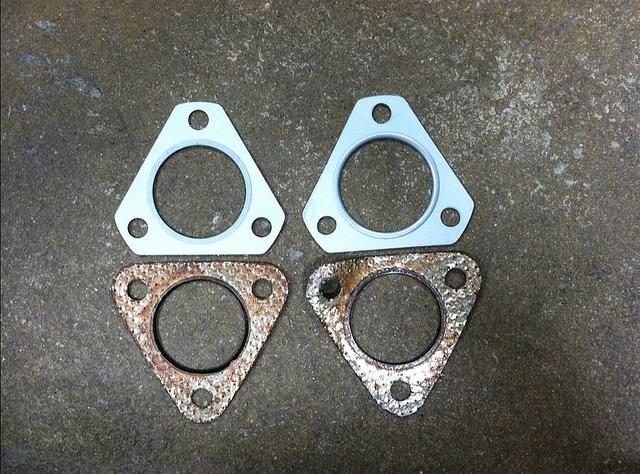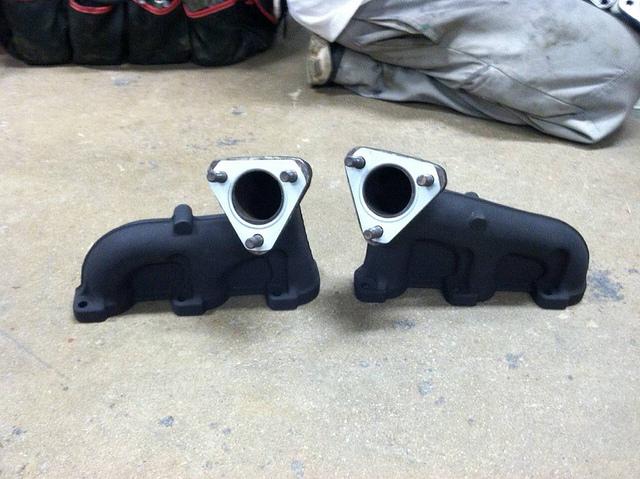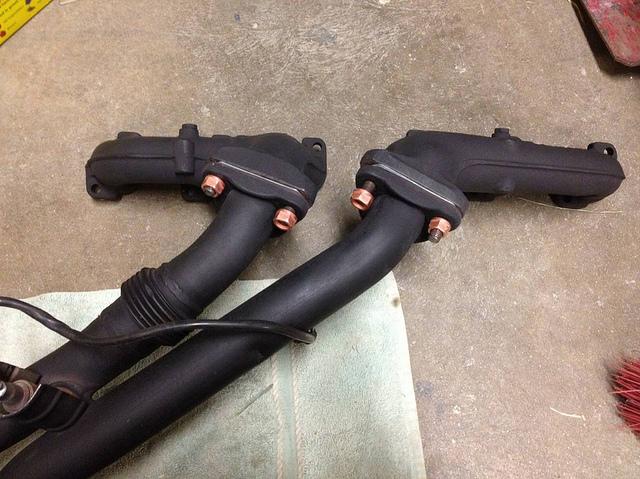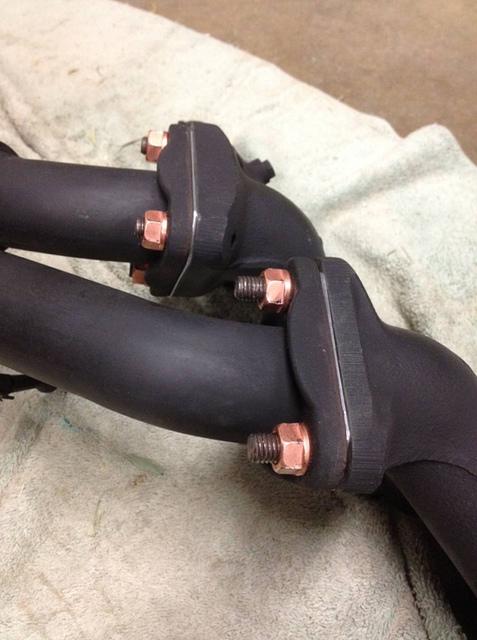 A little brew before putting everything back in..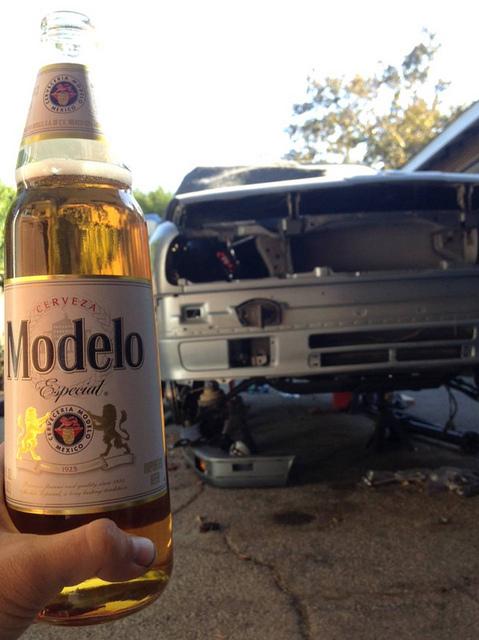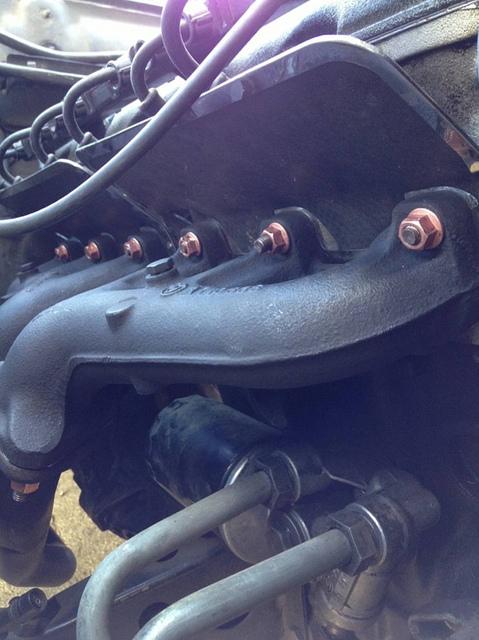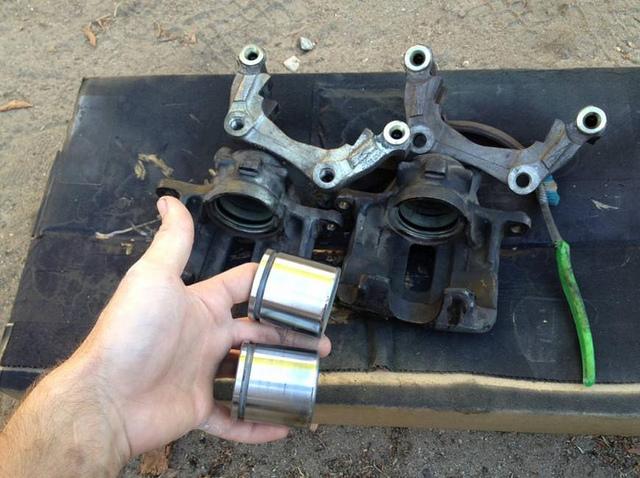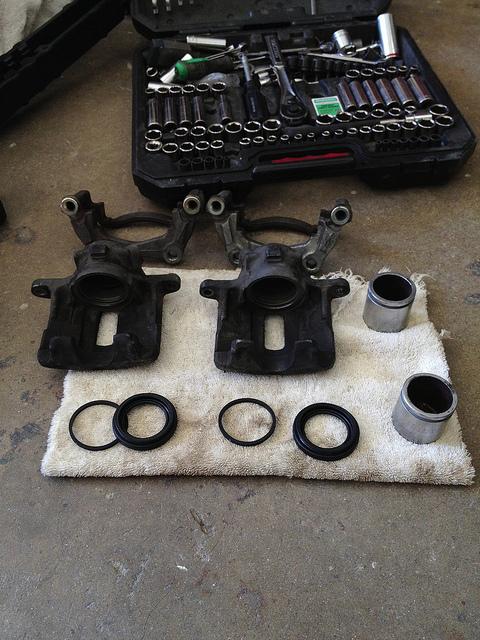 10-24-2013
Threw on the turn signals and new candied tails..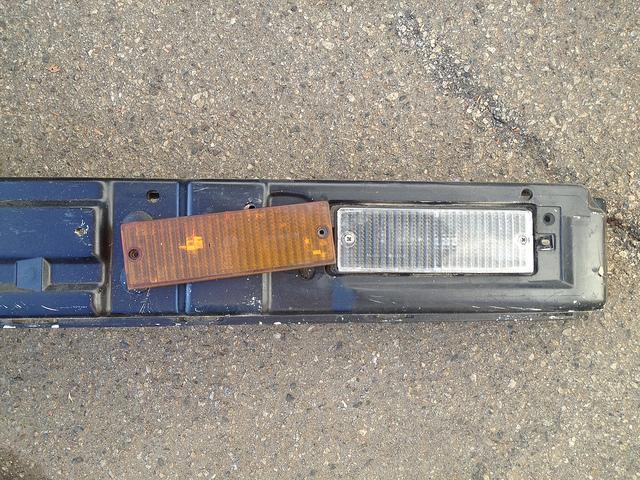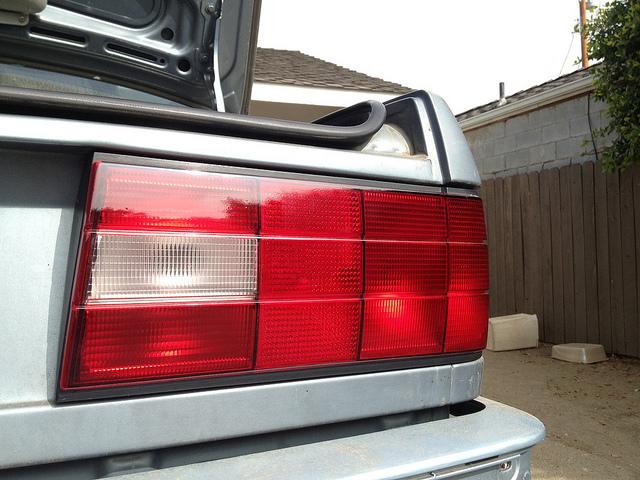 I had that exact reaction once I threw them in and was looking at how nice the copper contrast looked lol. I was just like YESSSS everything matches and cleaned it up really well.
As for the tails; I have a buddy who does custom automotive lighting so he handles all that good stuff. He makes the clear turn signals and has built my headlights as well if you look a few pages back.
10-26-2013
Picked up an IS splitter off the homie Iron-E; now time to actually get the IS lip lol.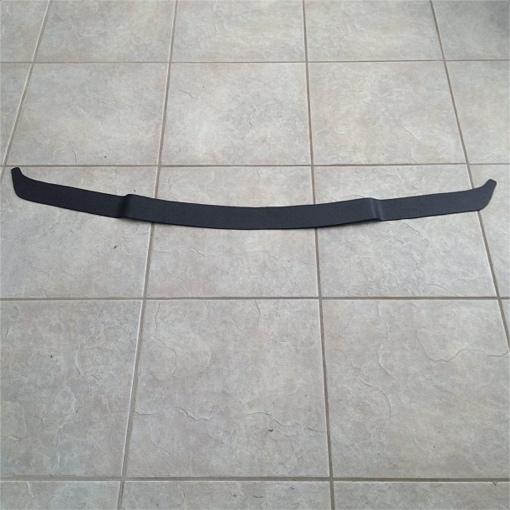 10-28-2013
Got a plate filler off e30abe89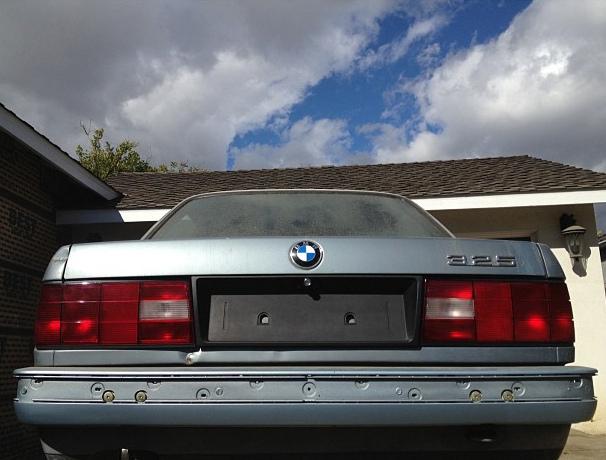 11-6-2013
After finding some pitting in the old calipers I decided to go a different route.
Fully rebuilt calipers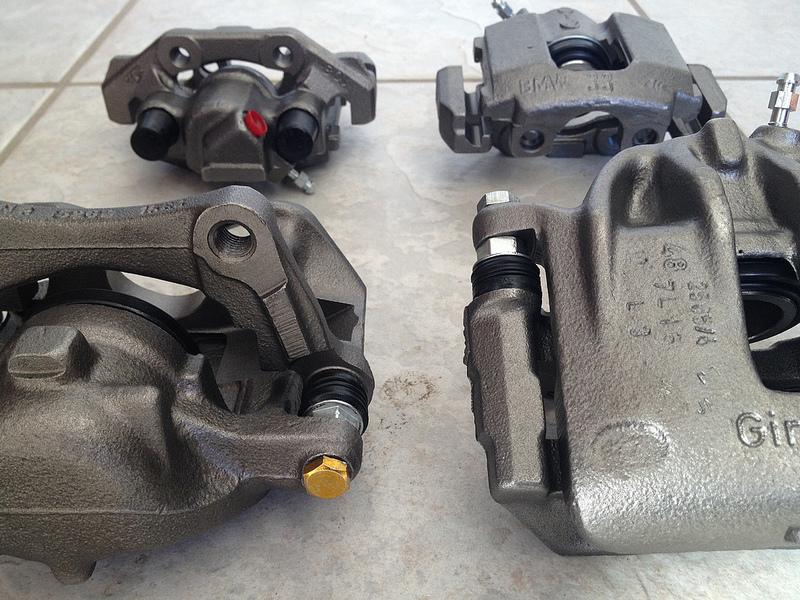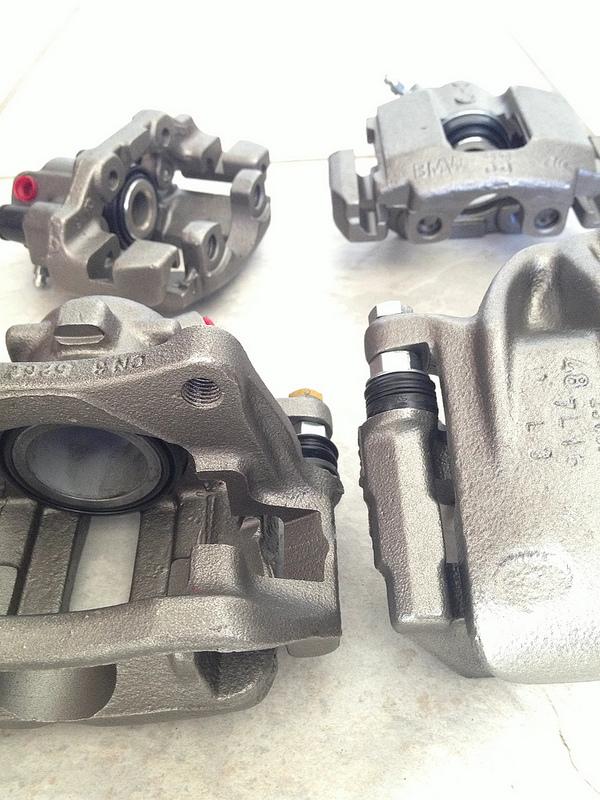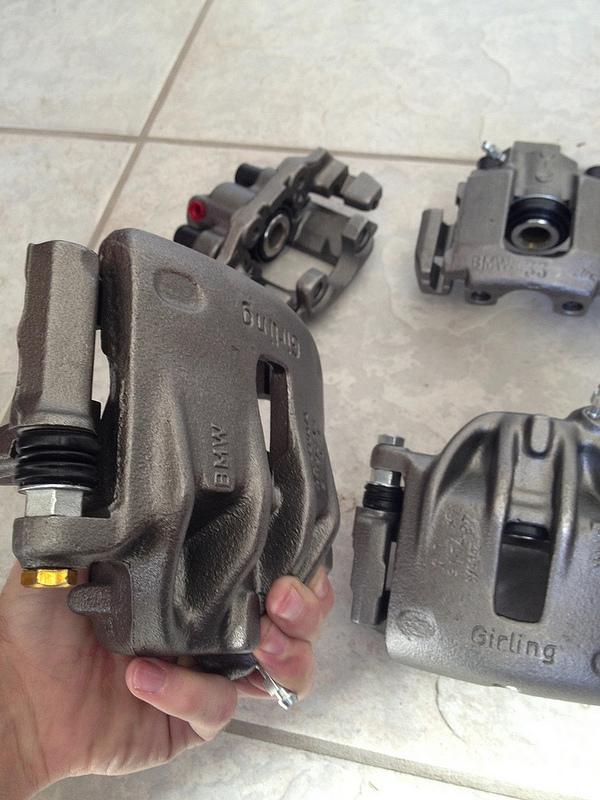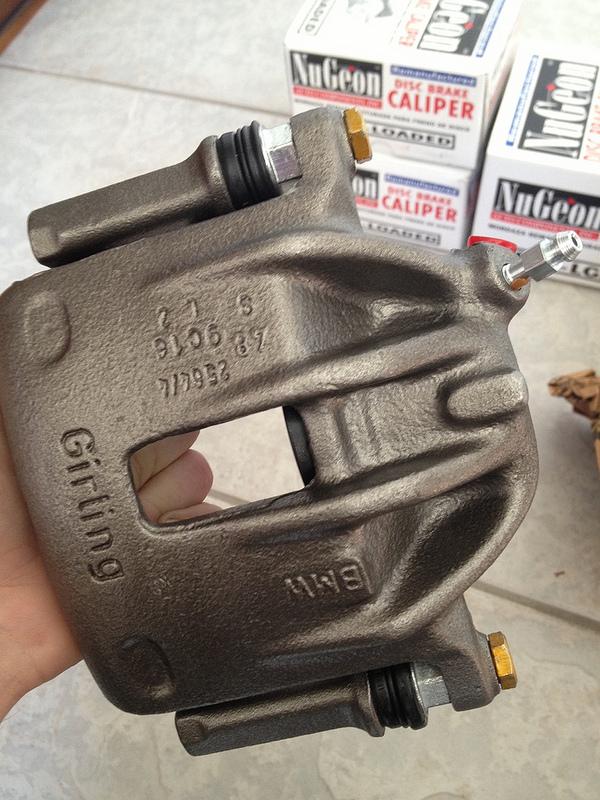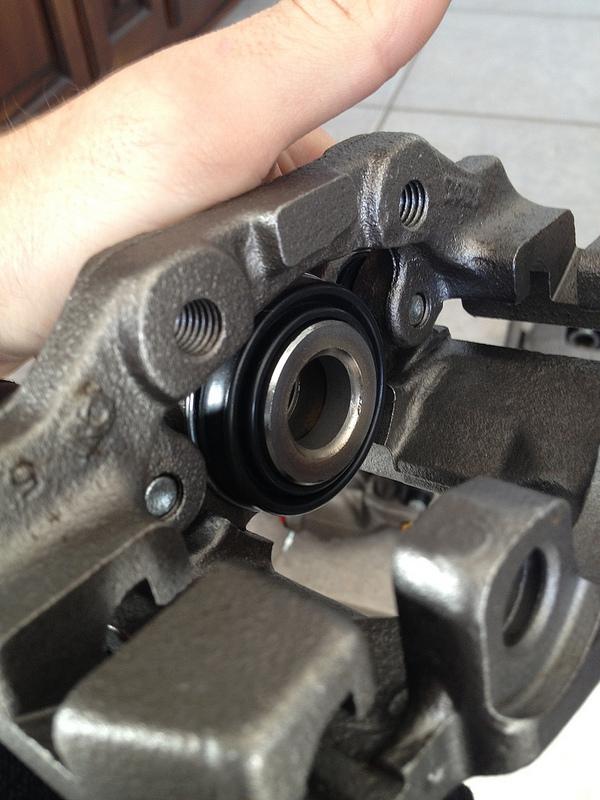 11-9-2013
Finally got my wheel bearings from Blunt! Thanks Steve!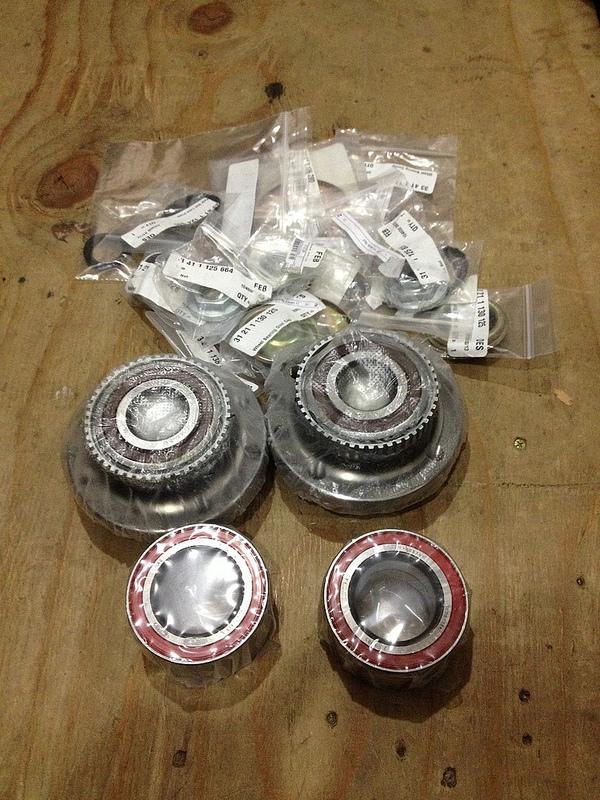 Just bought some AC Schnitzer type 1 wheels 16x7.5 4x100 et25 from QUKBMER; gonna pick them up next weekend when I get a chance... Completely re finished with fresh powdercoating + polish. My dream wheels...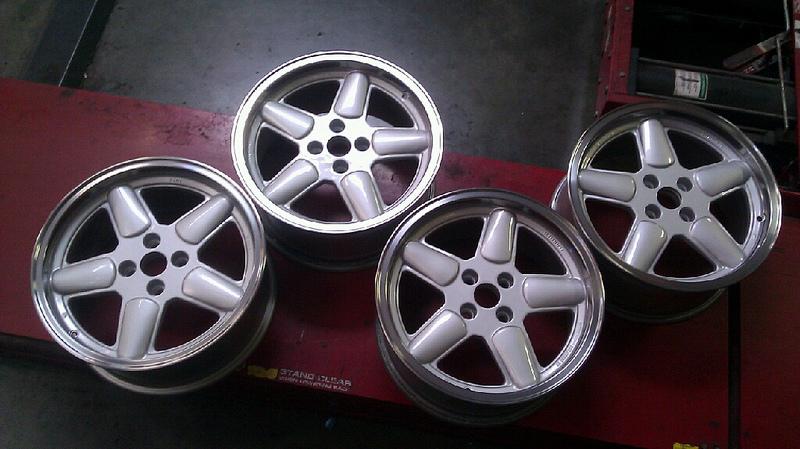 Picked up a re-wrapped M Tech I from Iron-E today..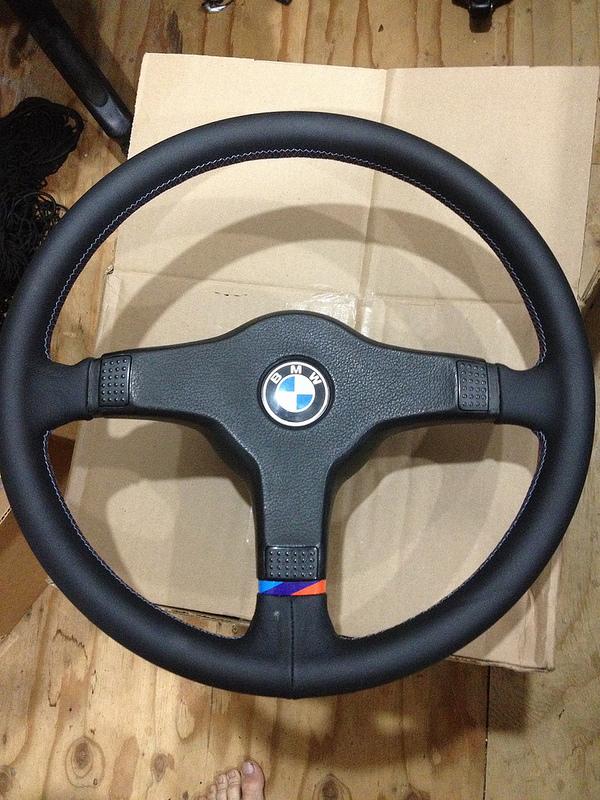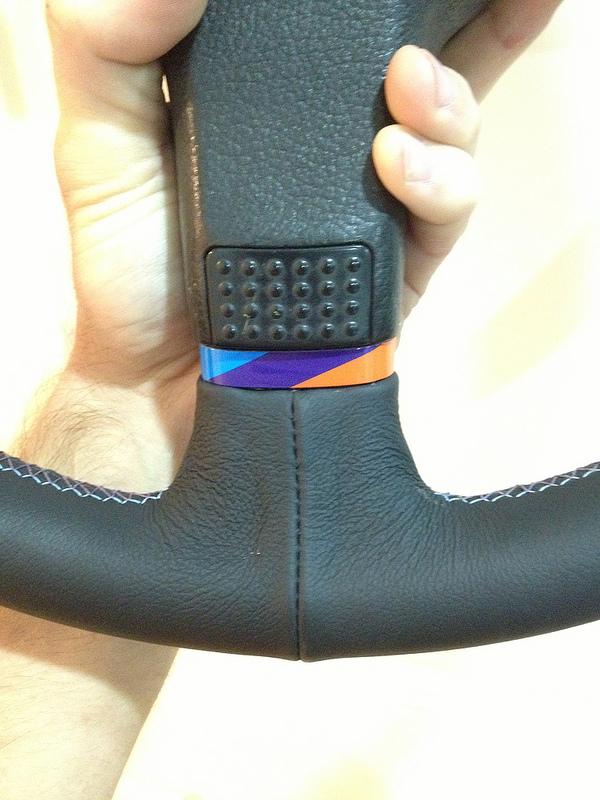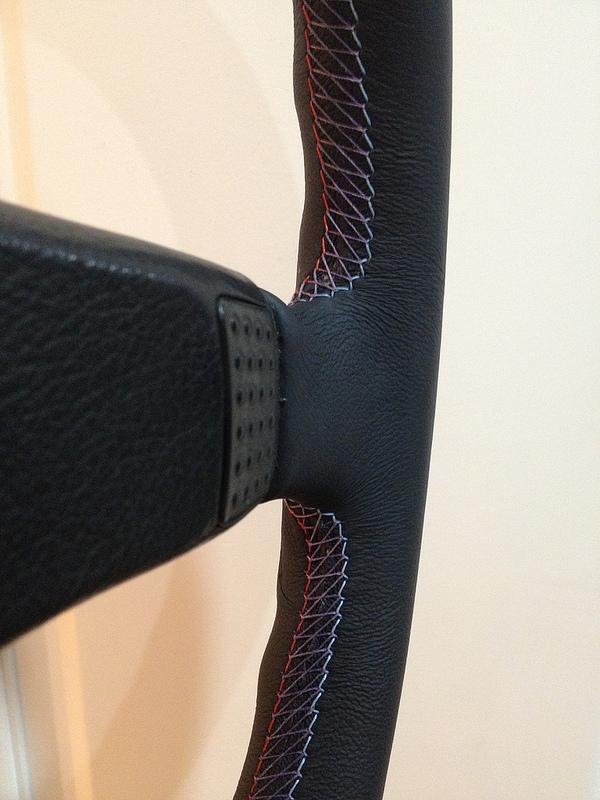 11-10-2013
The calipers once I started on the rear had pitting on the insides; not just the piston. At that point I figured I would opt out and just get rebuilt ones all around. On the plus side I don't have to worry about cleaning or de-greasing.
As for the exhaust mani, just some $8 VHT "Flameproof" paint. Wanted to see how it would actually hold up worst case it'll be unbolted and powdercoated.
Thanks man, It'll be worth it in the long run that's my primary goal. In total agreement new hardware; even just nuts and bolts make the biggest impact tying everything together.
Thanks! Same here, always wanted ACS'; almost actually bought reps not too long ago, so glad I didn't. Just need to sell my other rims to lessen the damage to my wallet

I'll trade for your Chevy! Those are baddddddddddddddddd
Just picked up a power sunroof motor, bracket, relay, yadda yadda....
If anyone has a fair condition overhead panel, vinyl condition doesn't matter much. Please PM me if your willing to sell.
Thanks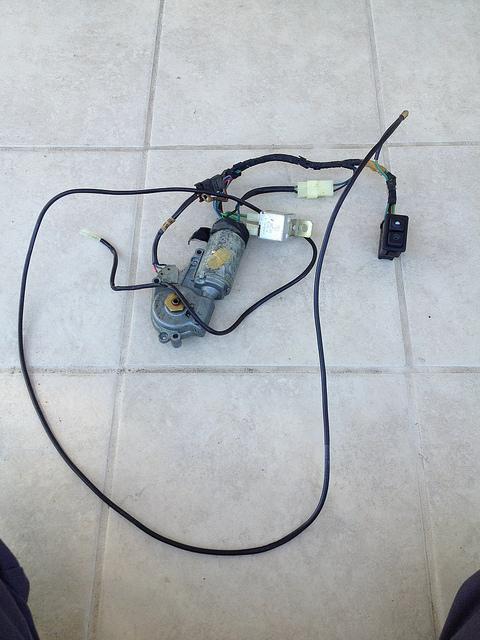 Got a refurbished AFM thanks to Gregs///M...
You can get yours HERE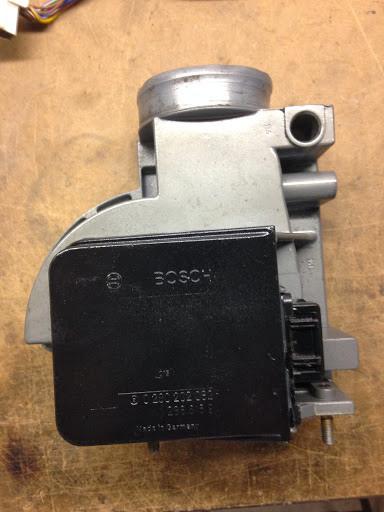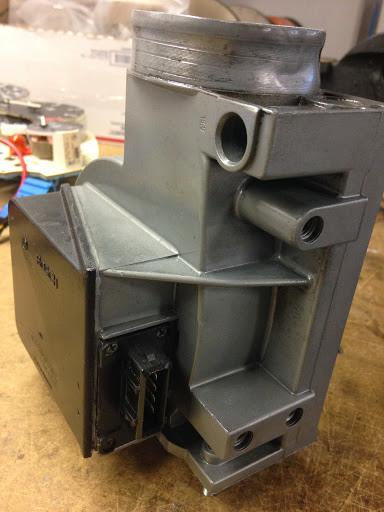 11-17-2013
Picked up some fresh AC Schnitzer's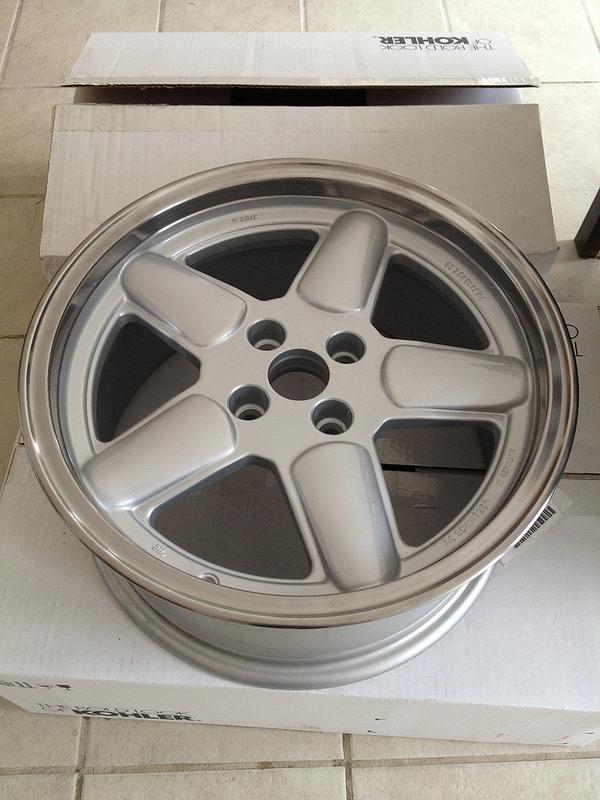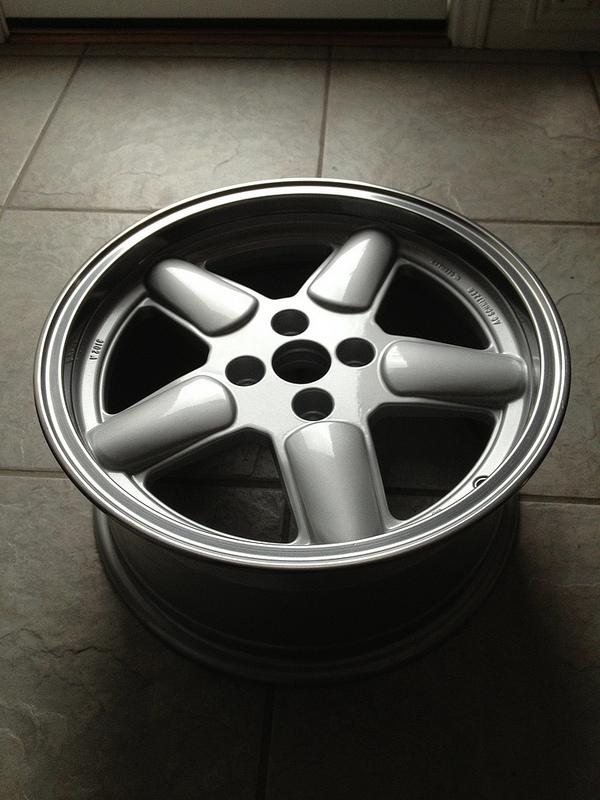 11-20-2013
Just waiting on heat shields from Blunt and things will be underway..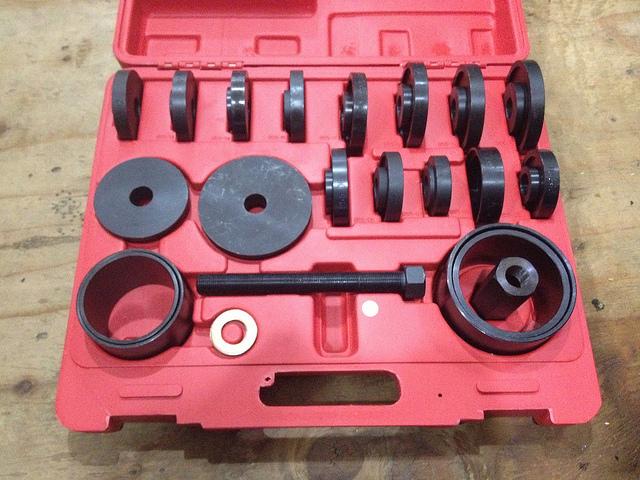 11-24-2013
Well its come time; Finally got the last of my parts thanks to Blunt. Time to get crackin..
Used a HF to pull the drivers side; Inner race stuck to the hub... So i figured fuck it and used my Snap-On air chisel on the passenger side to see how it'd work out and I'm sure you can see the difference in extraction...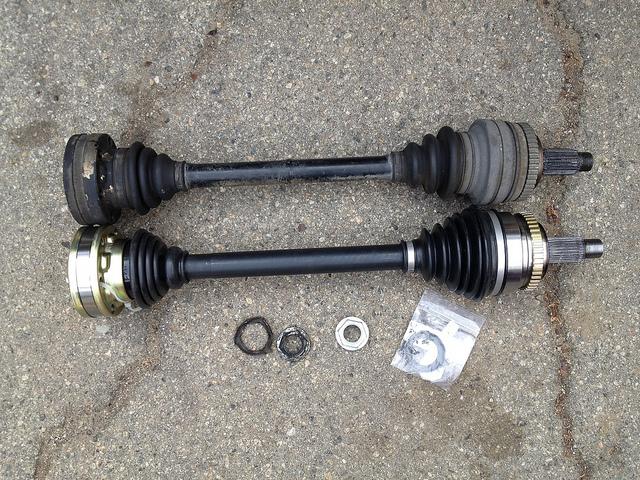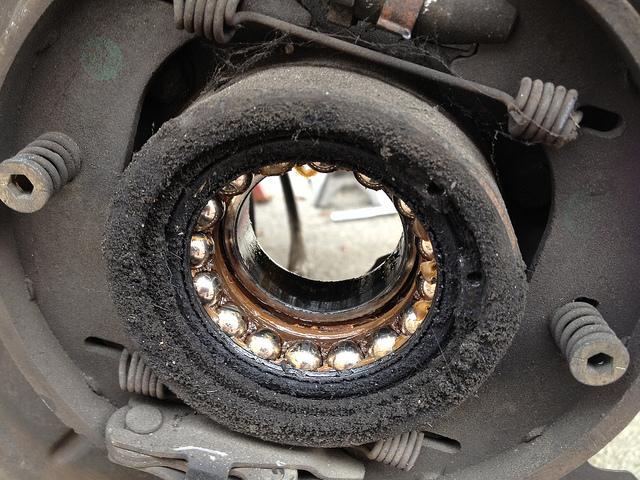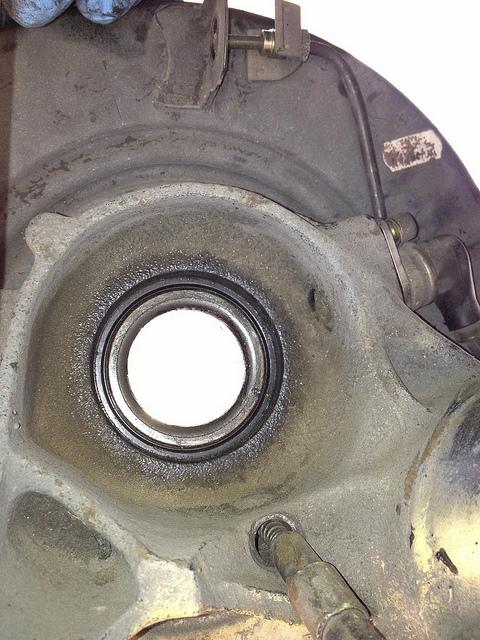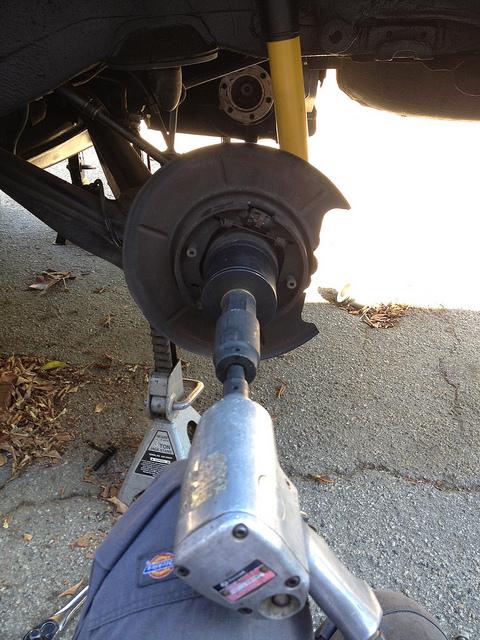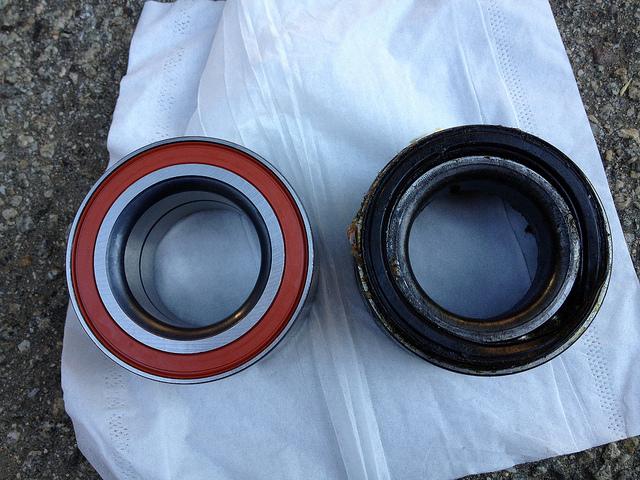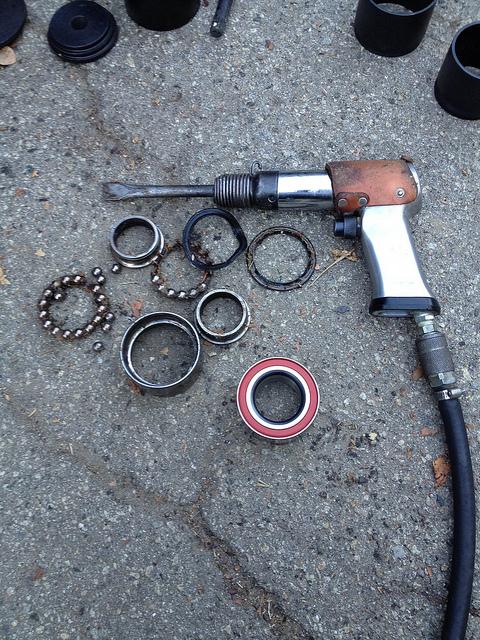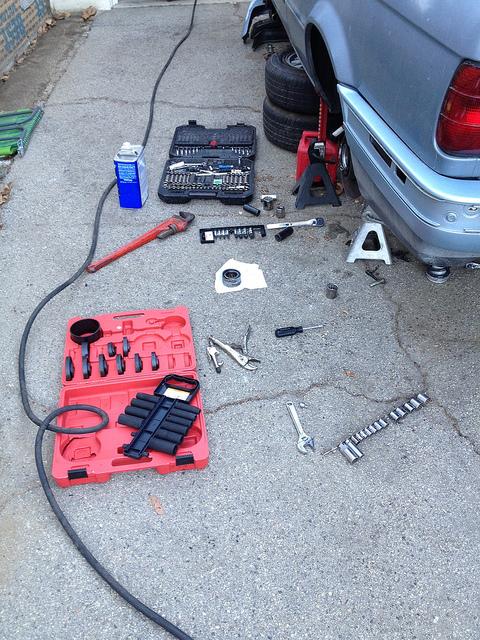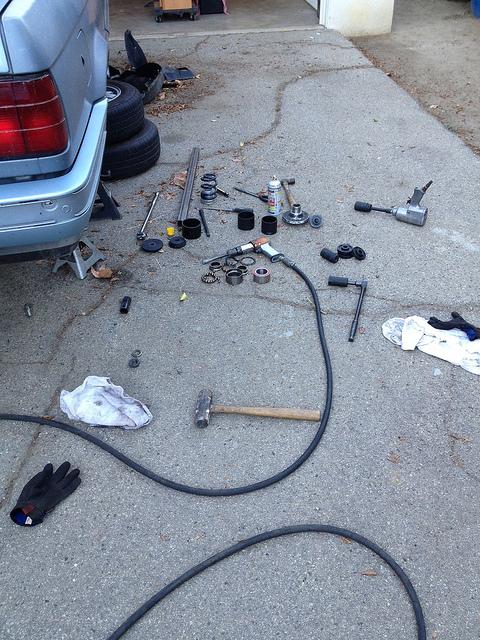 Front heat shields thanks to Blunt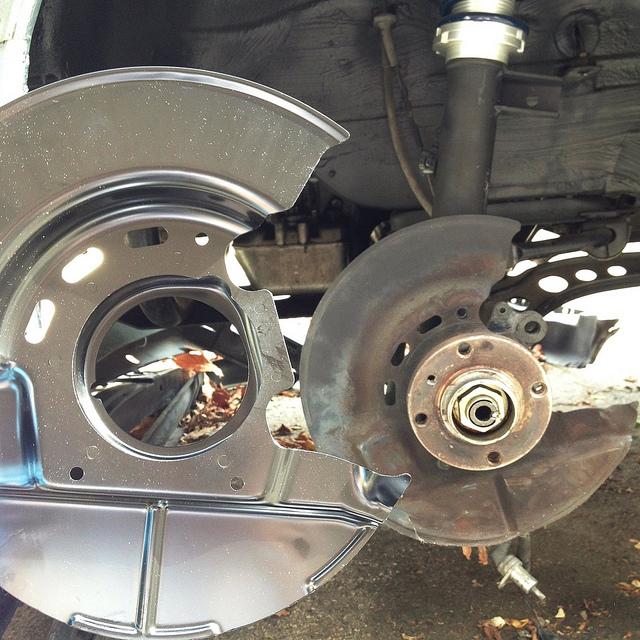 11-25-2013
Got these in today from Ryan... Thanks again!
____________________
90mm Black Bullet Nose Studs
2pc Hybrid Extended Race Nuts w/Locks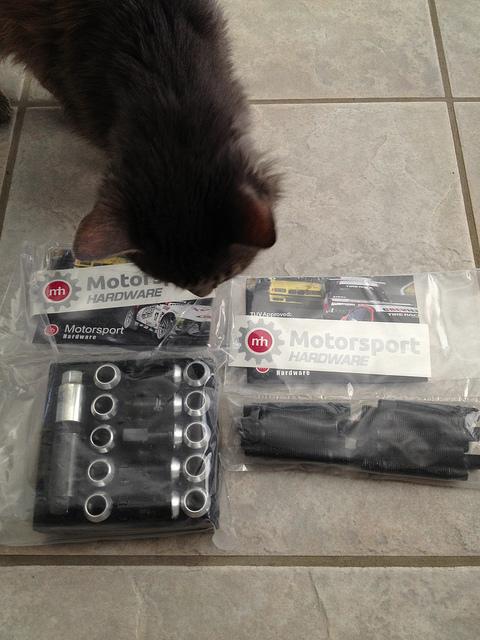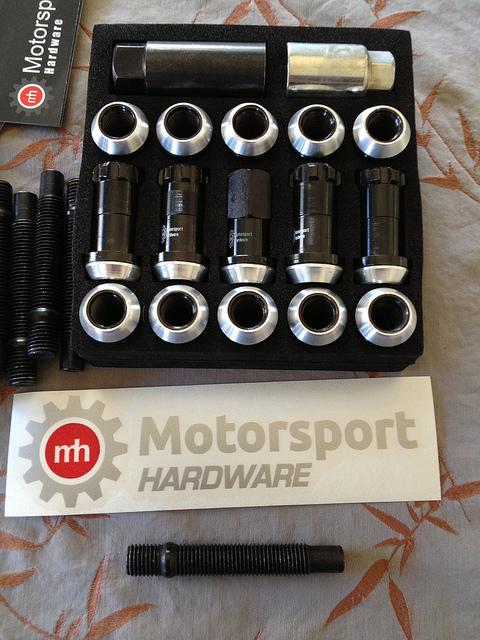 11-26-2013
Pulled the front bearings off... Passenger side looks like it was completely shot, really glad I decided to do this now. SOOOO much easier to do than the rears.
Rented the tool from Vatozone, $32 w/tax; luckily only had to use it on the passenger side. The drivers side came off with my bare hands kinda worried me at first.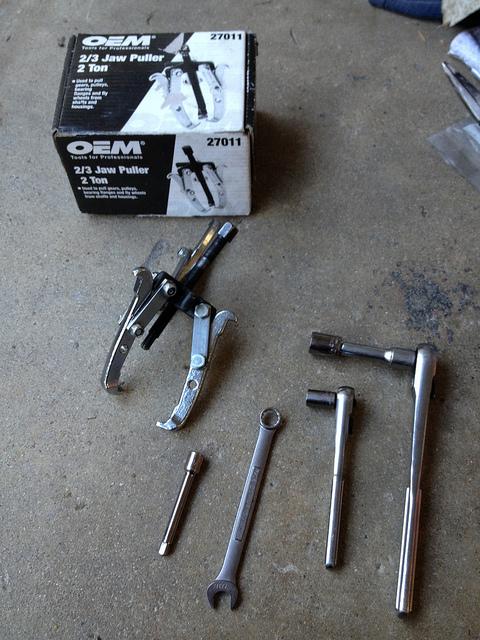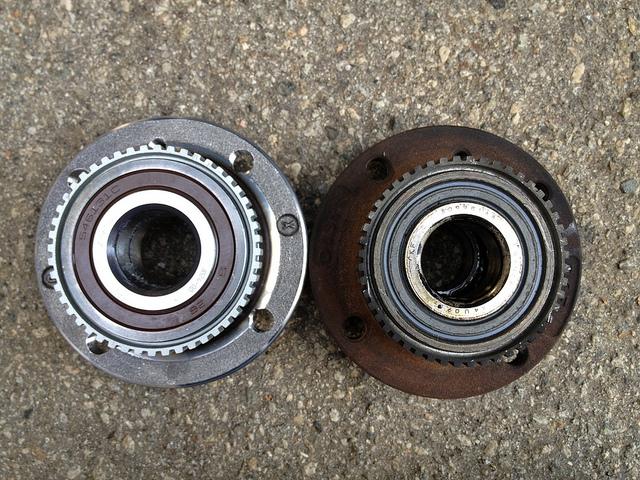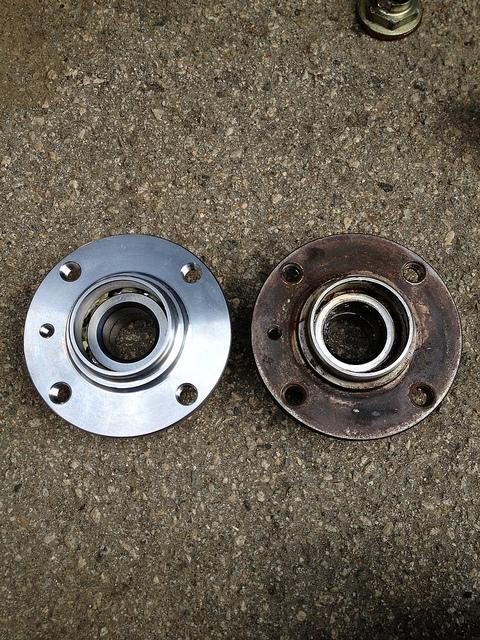 Drivers side..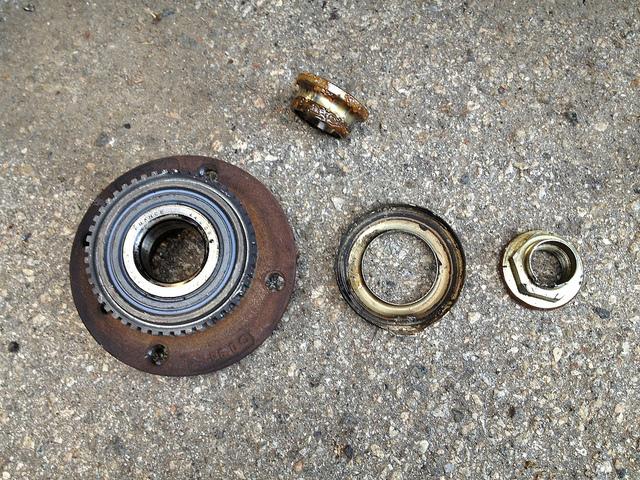 Passenger side.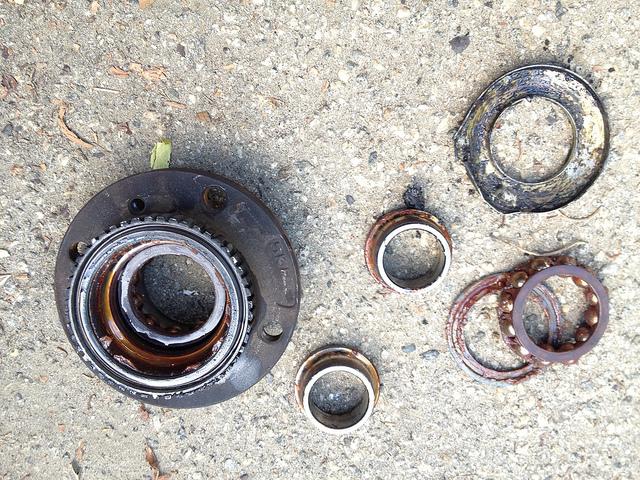 Passenger side (Top) Driver side (Bottom)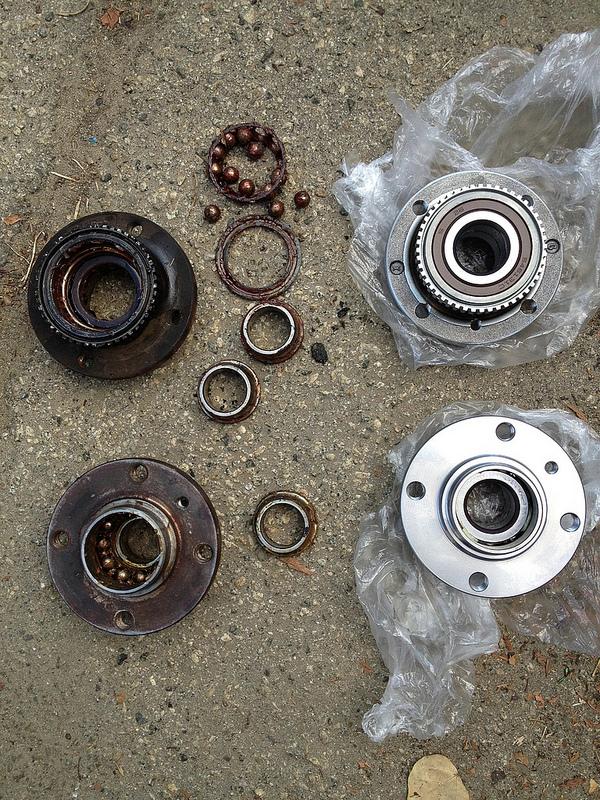 Oh yeah and the heat shields....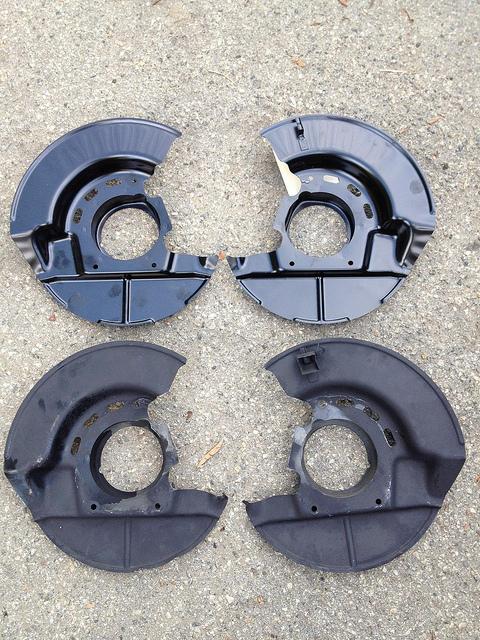 11-27-2013


Funny that link is exactly why i figured fuck it and went and bought the kit. EXTREMELY useful, more so than the actual tools themselves haha. I could tell all my bearings were shot though nothing was smooth and you could feel it when you would drive.
11-28-2013
Since my hubs were laying around I decided to see what it would look like with the studs poking through... Gave the rear hubs a nice little cleaning while i was at it.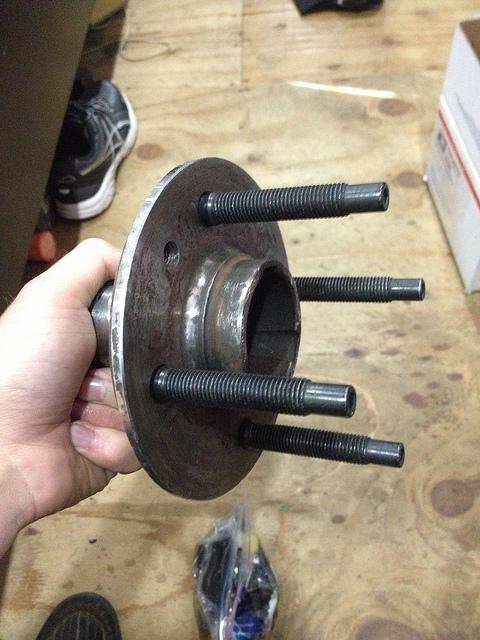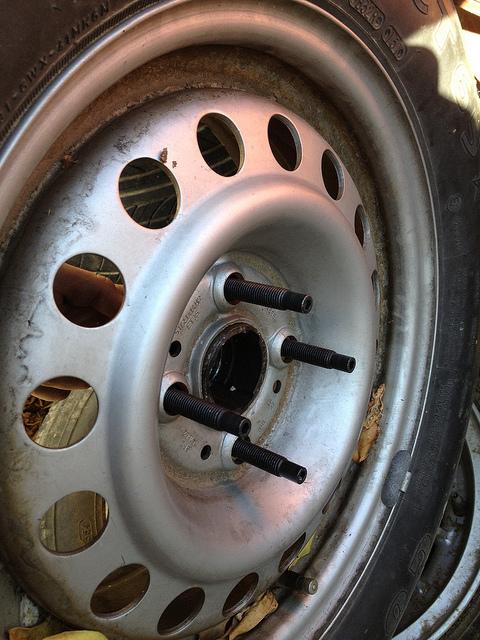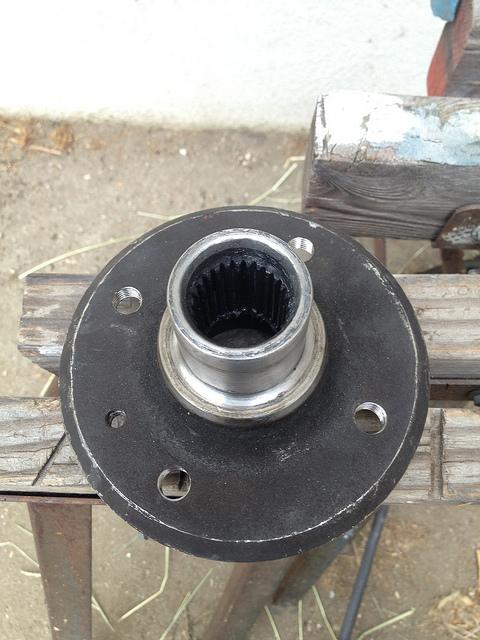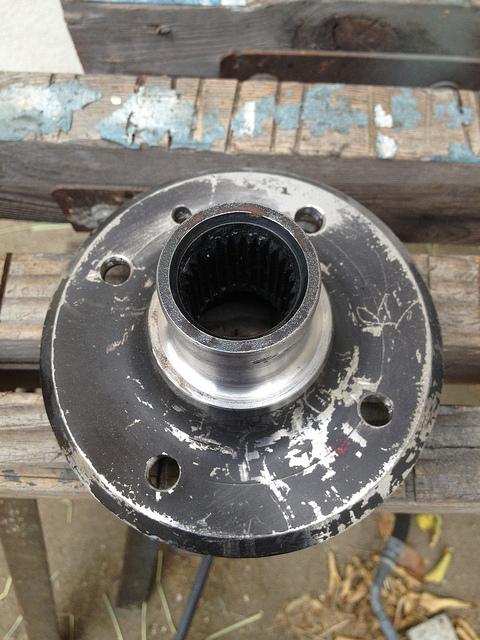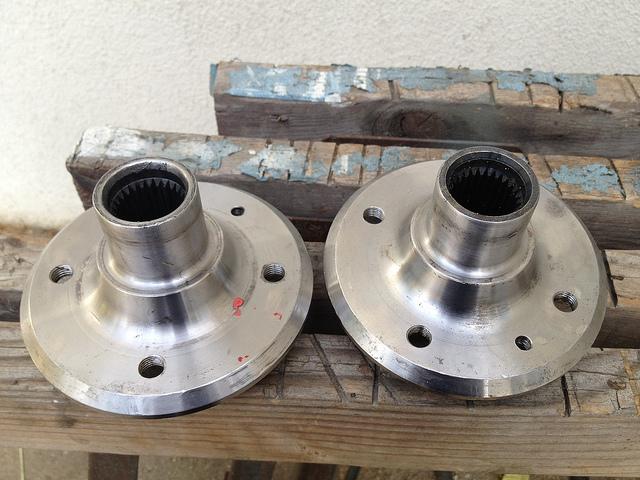 End result on the basketweaves instead of donut...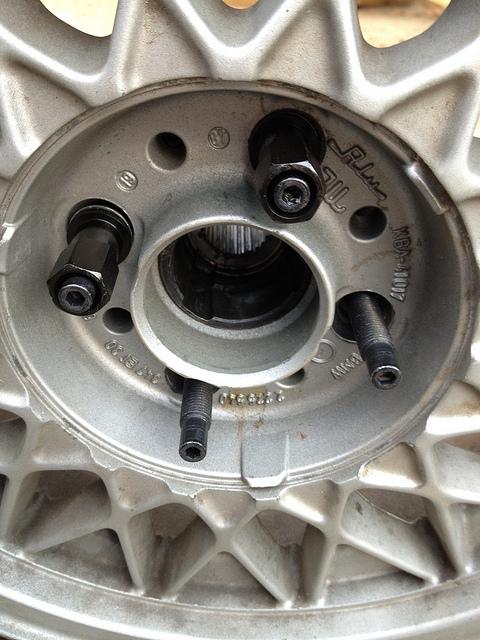 12-8-2013
Finally had some free time off work to start putting things back together.. Here it goes. Super hyped on how this is coming together can't wait to throw this thing around.
Disregard my messy room and plywood floors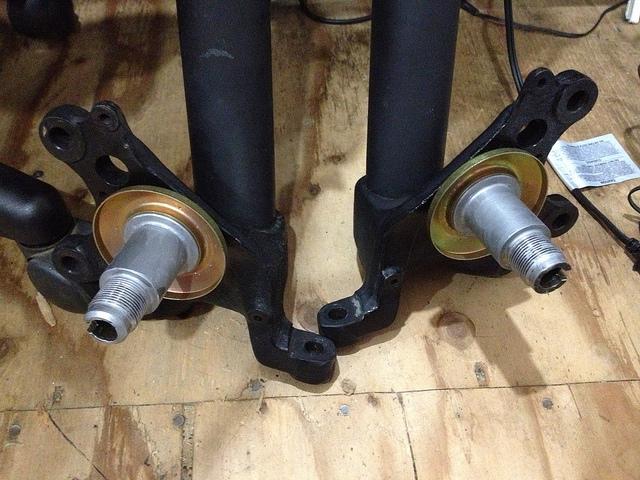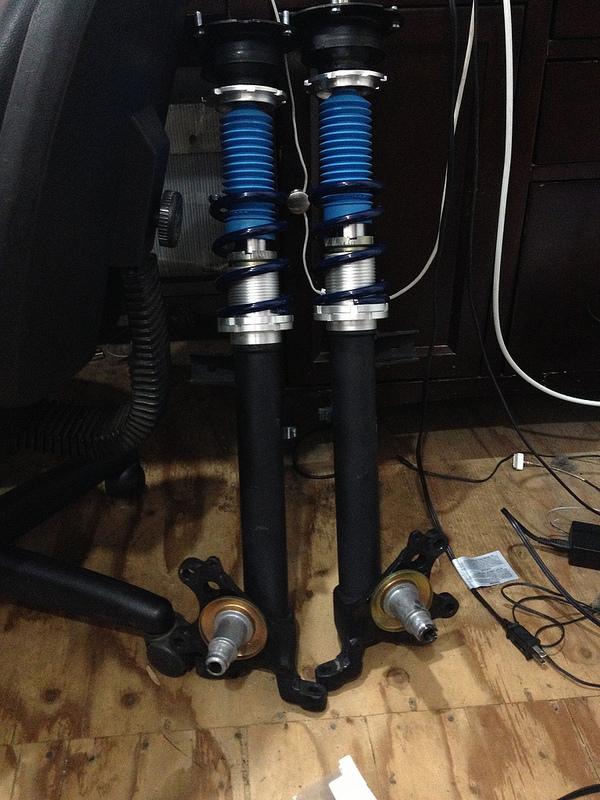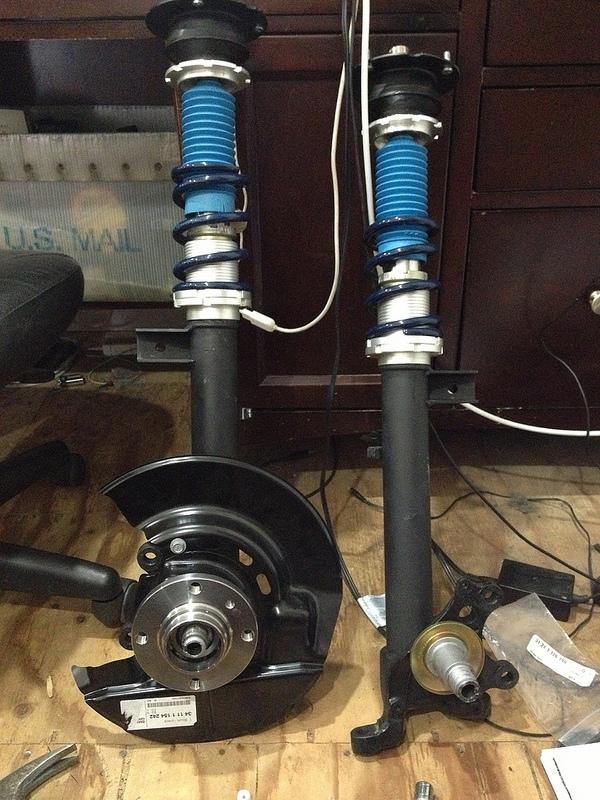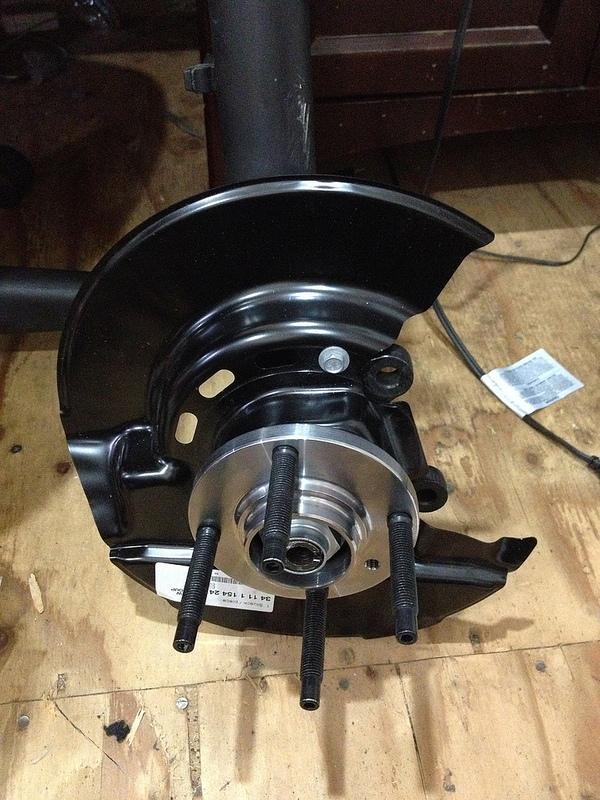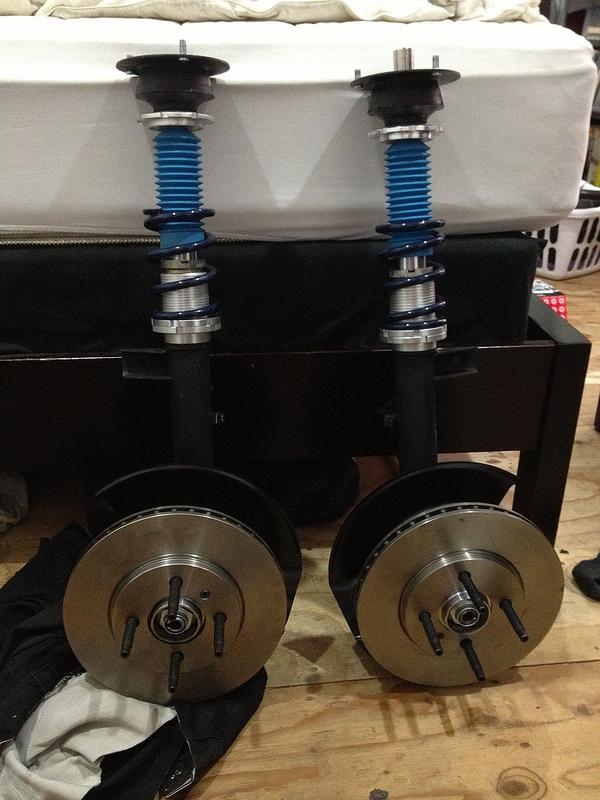 12-9-2013
Decided to go ahead and grab my mallet.. Forgot that I don't own a pair of circlip pliers so gonna have to cop some...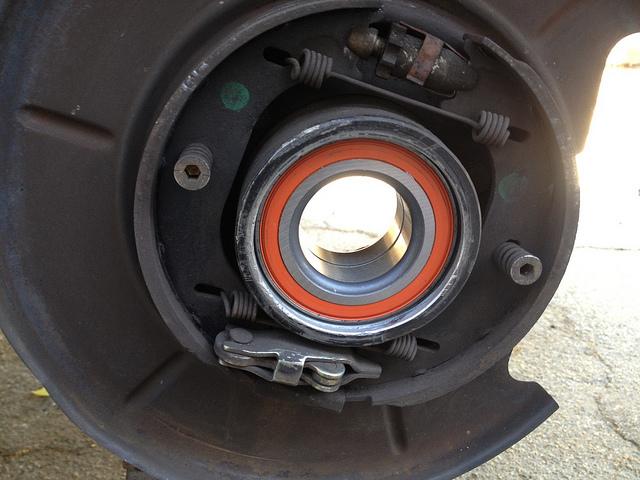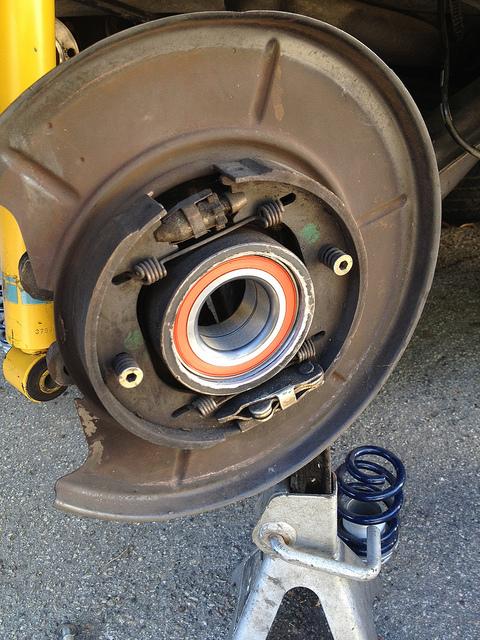 12-14-2013
Nothing textured; just flame proof VHT black for exhaust that I had it laying around.
__________________________________________________ ____________________________
Since the harbor freight tool is cheap I had to improvise and make another one for $6 to push the hubs back in.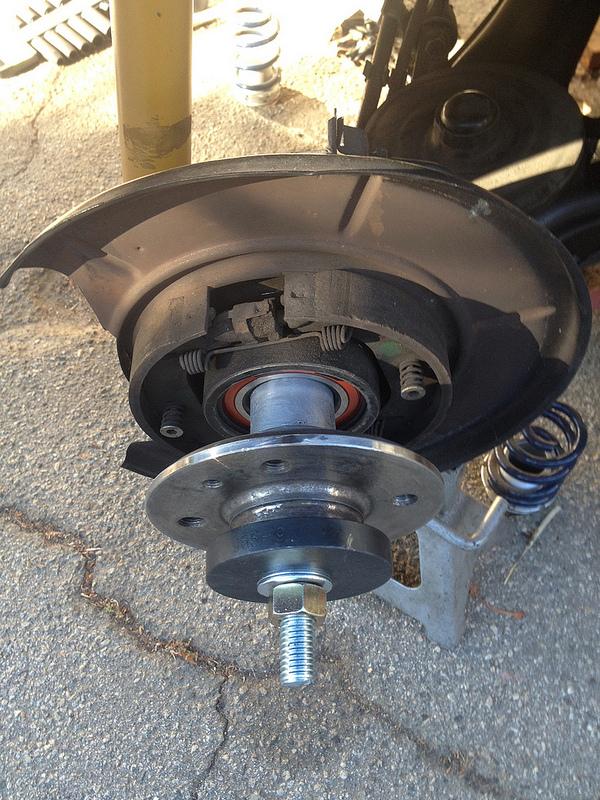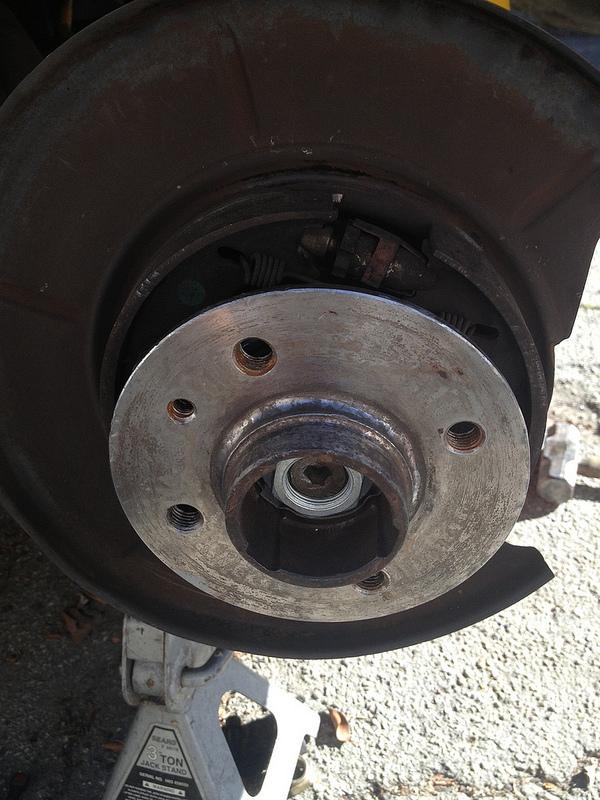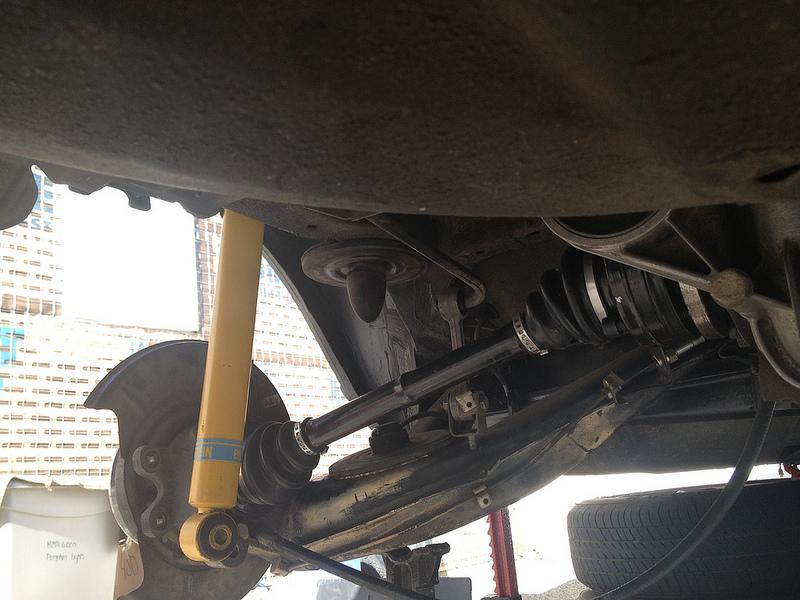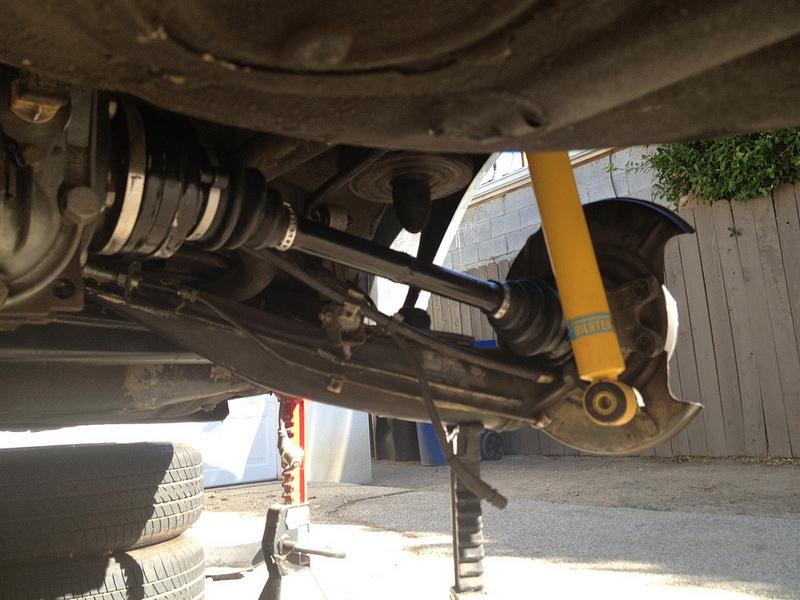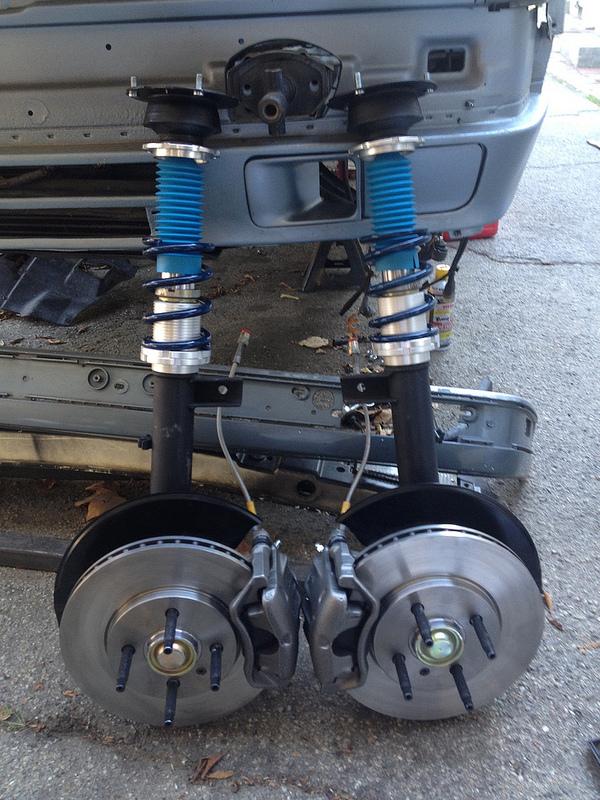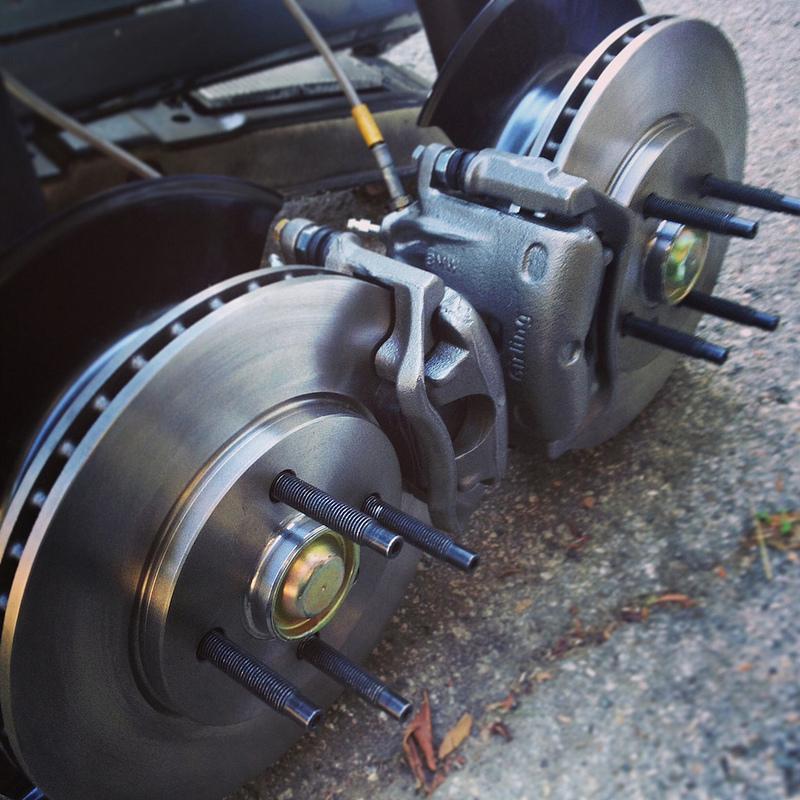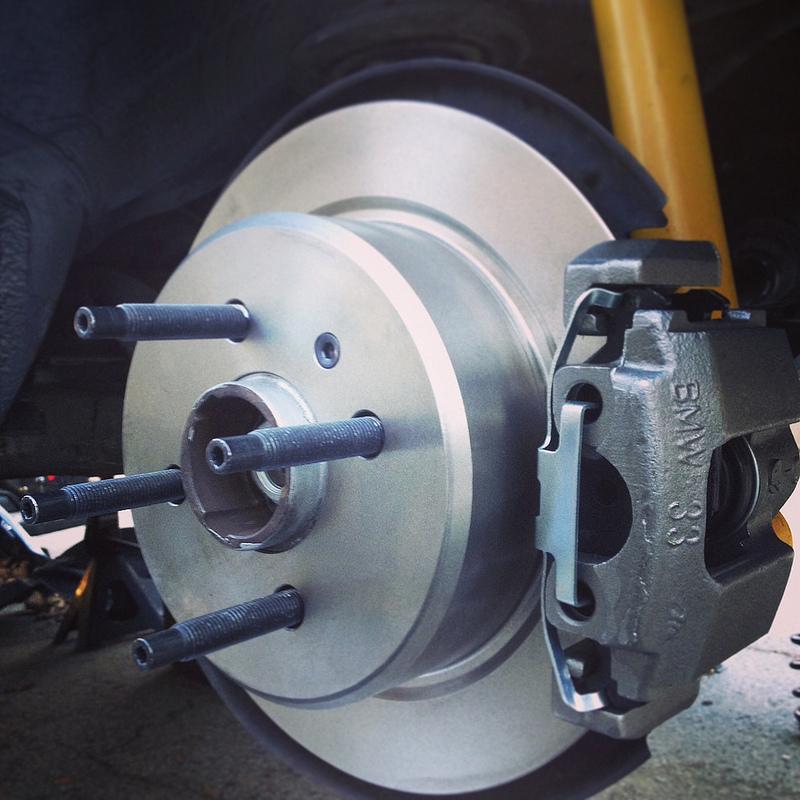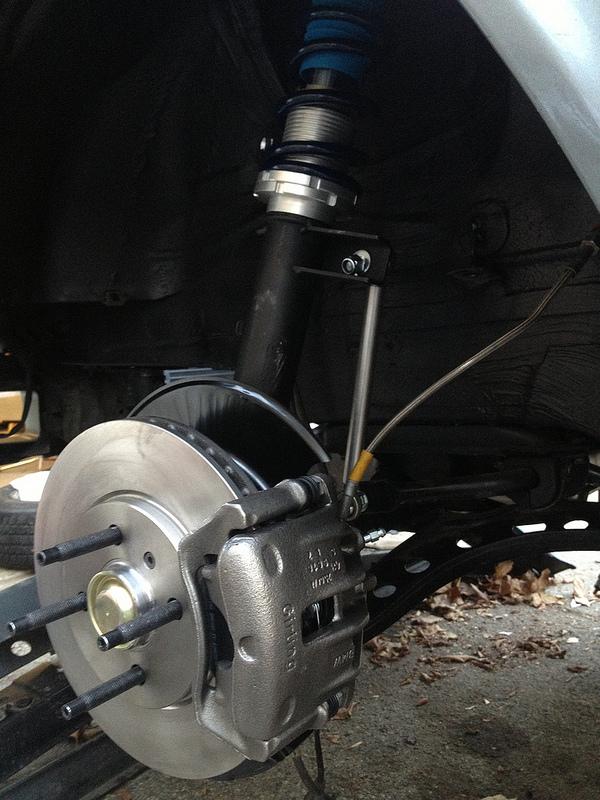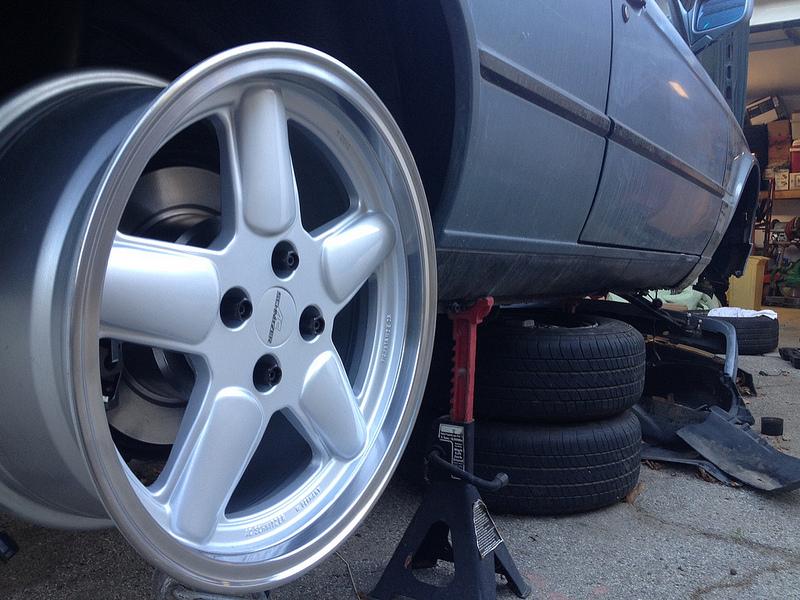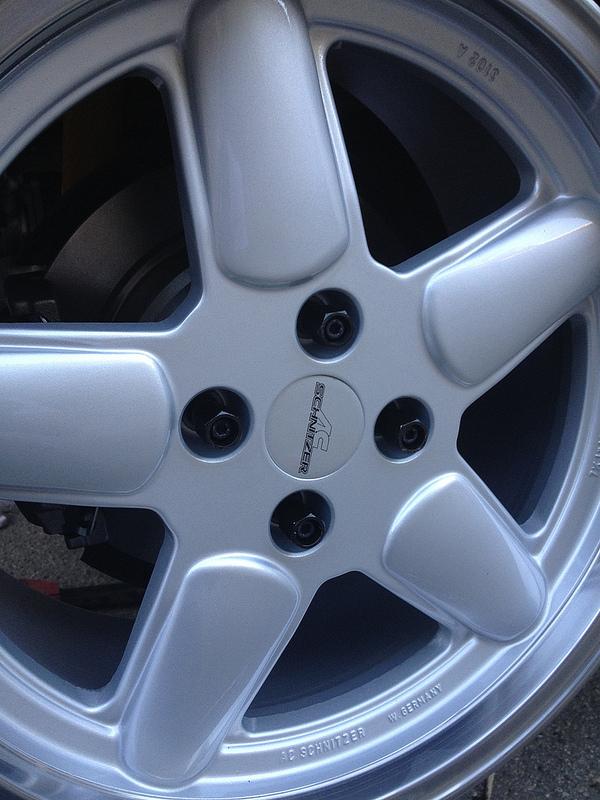 12-15-2013
Calipers, rotors, pads, 5D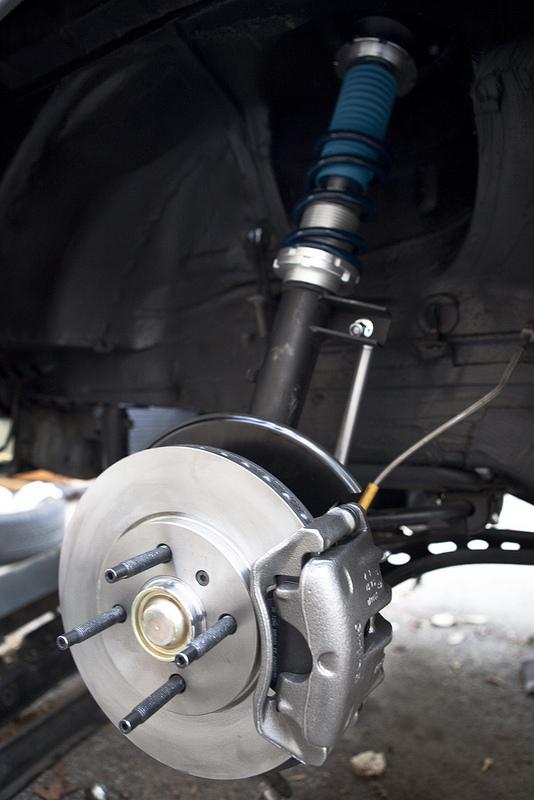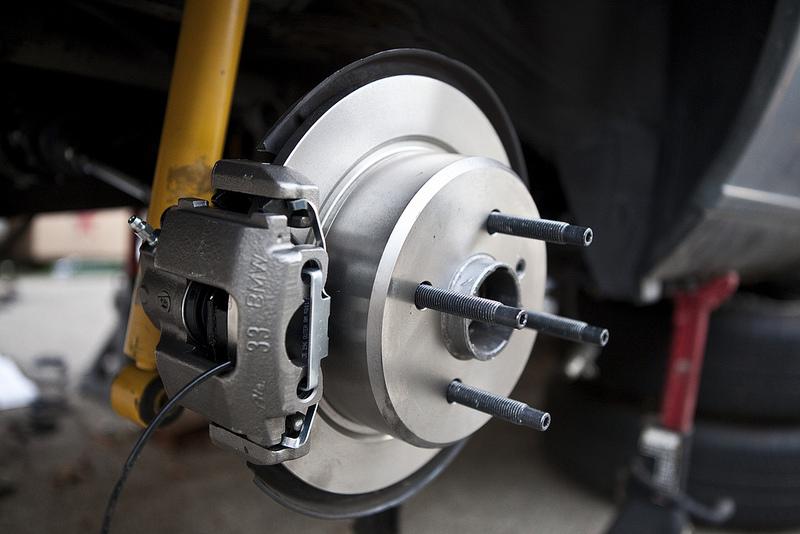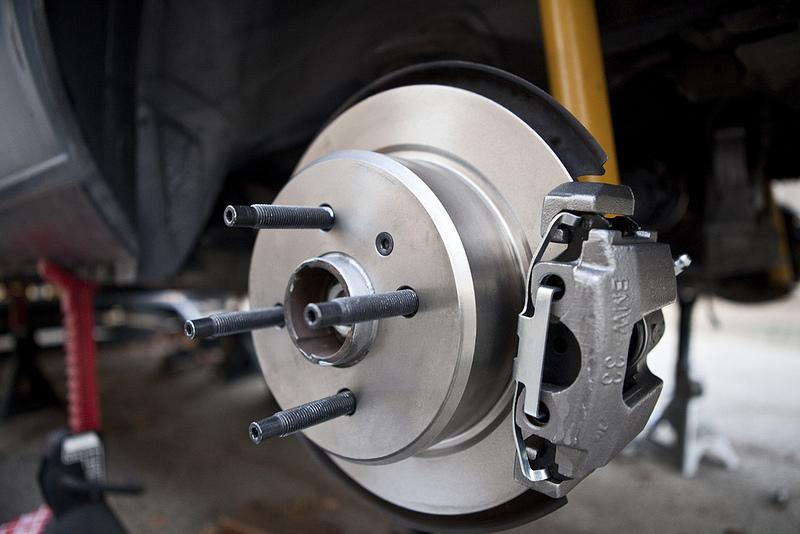 1-2-2014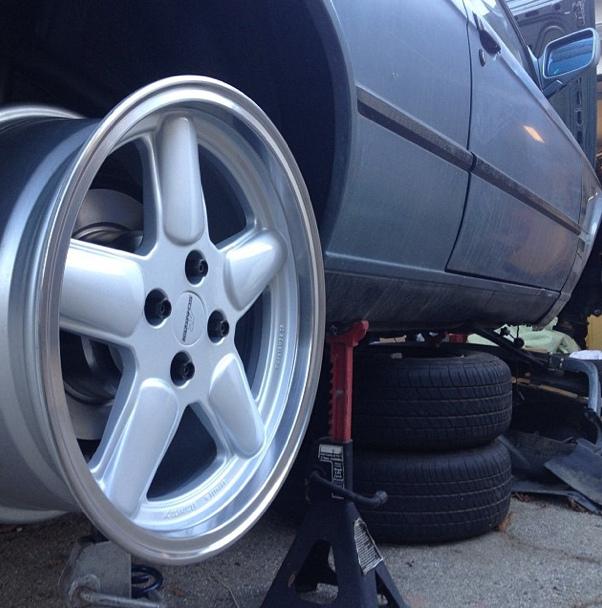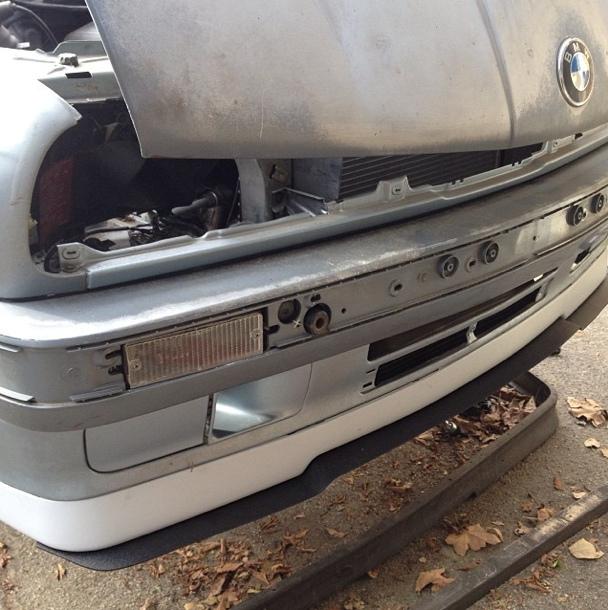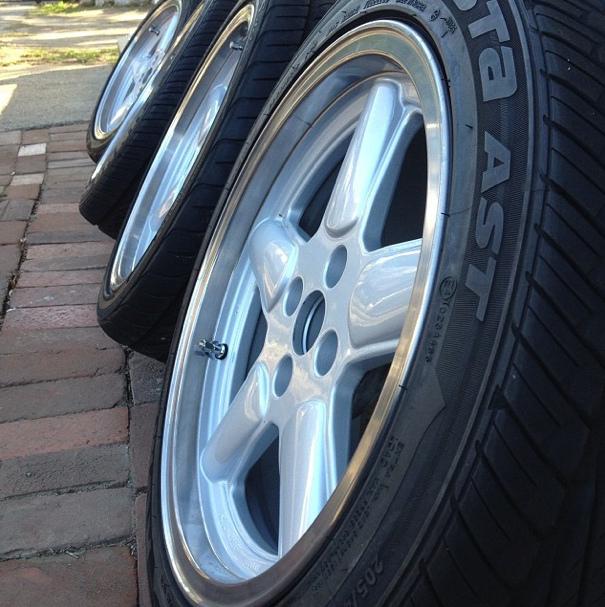 1-5-2014
Trying to find some motivation after working all week... First time its been on the ground in about 4 months..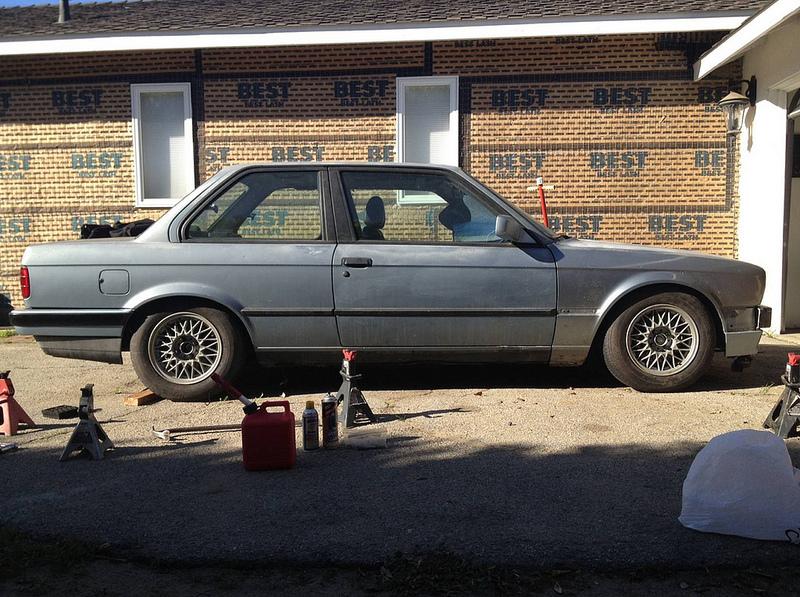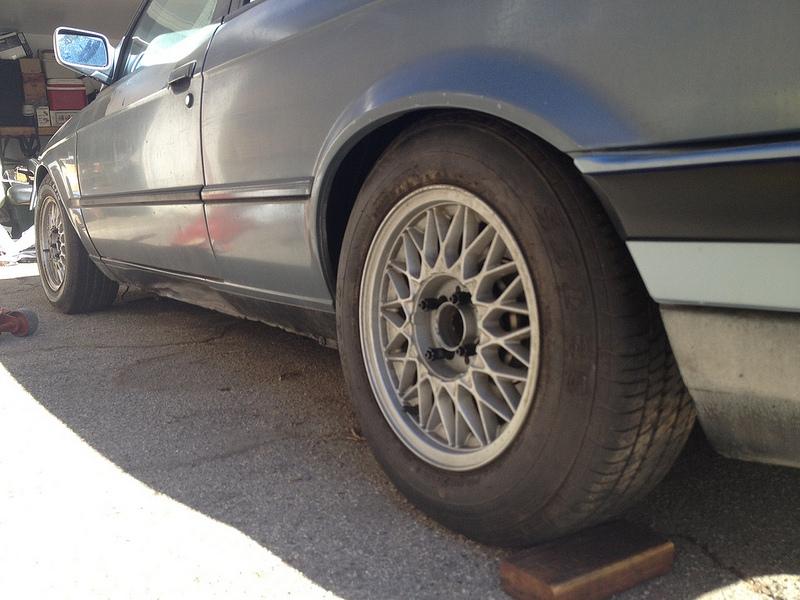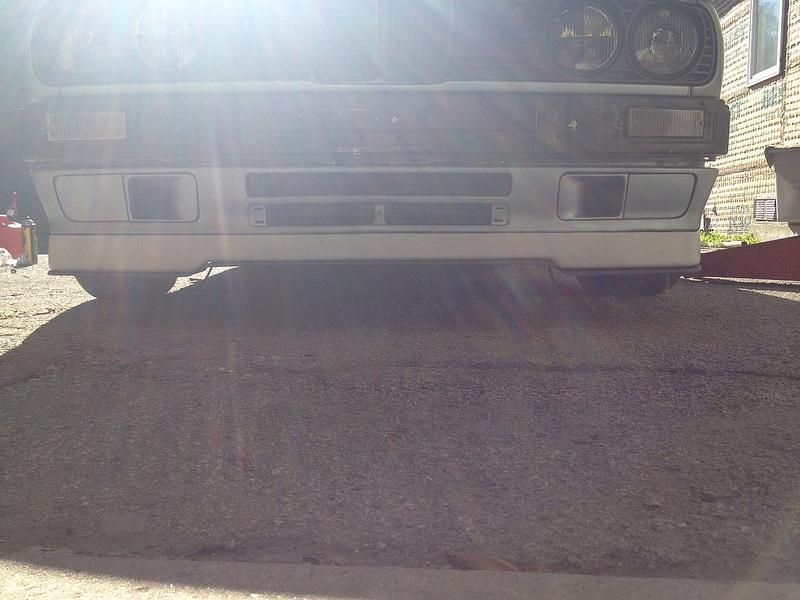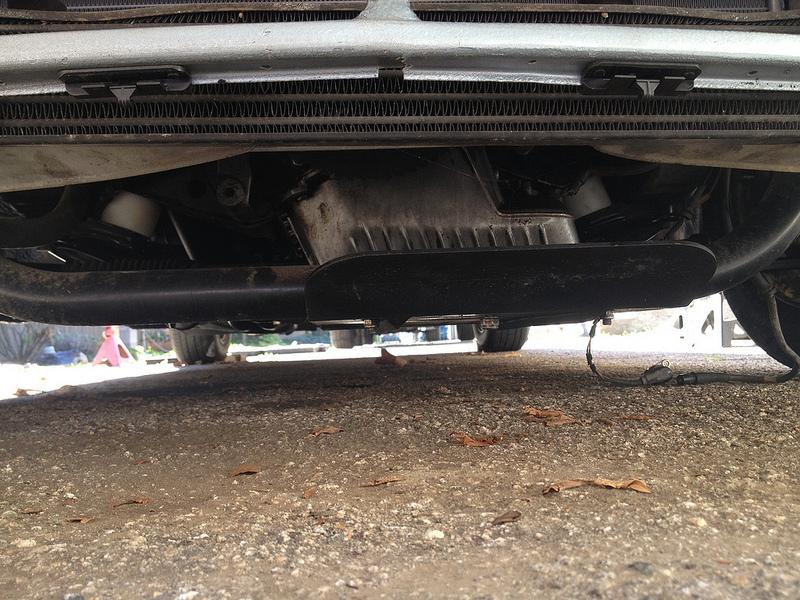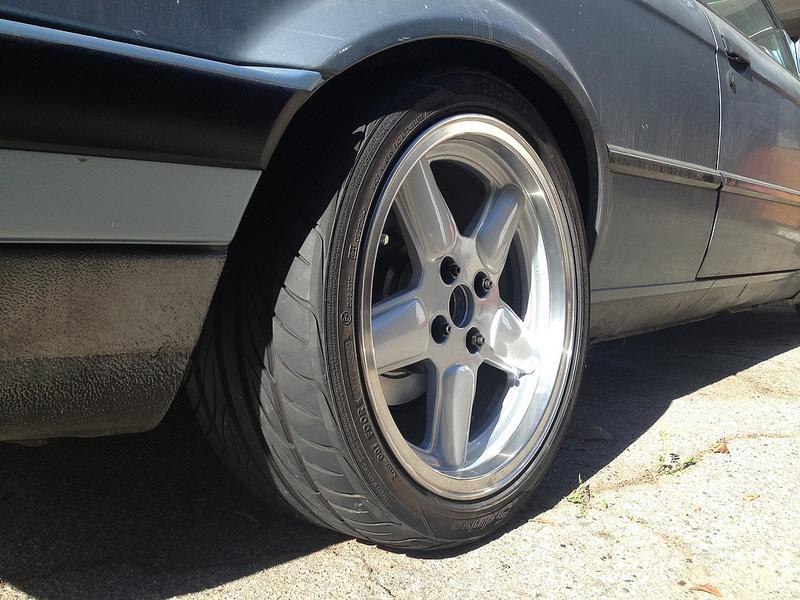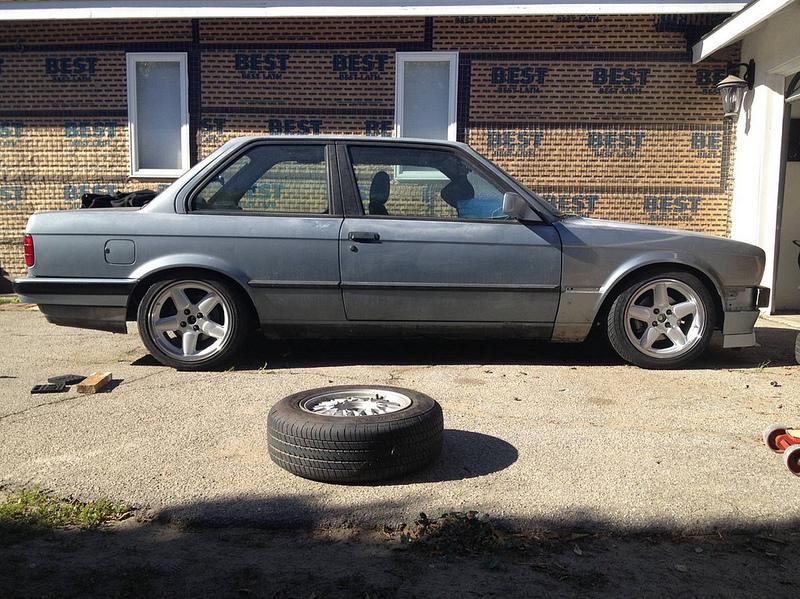 1-7-2014
Took a couple shots messing around today; keep in mind the front valence/spoiler not clipped or bolted together.
Really in love with the splitter.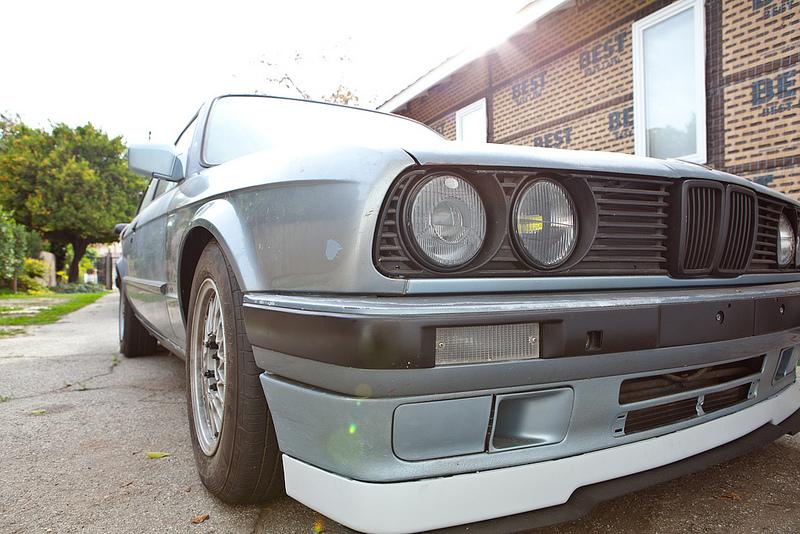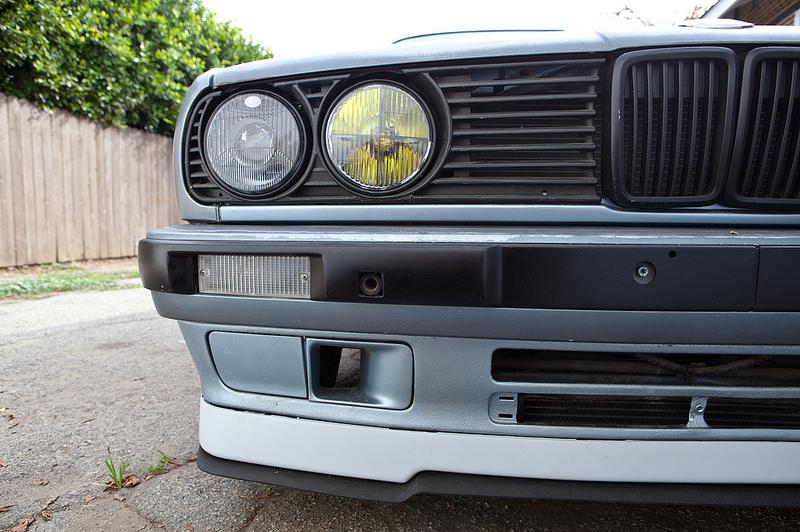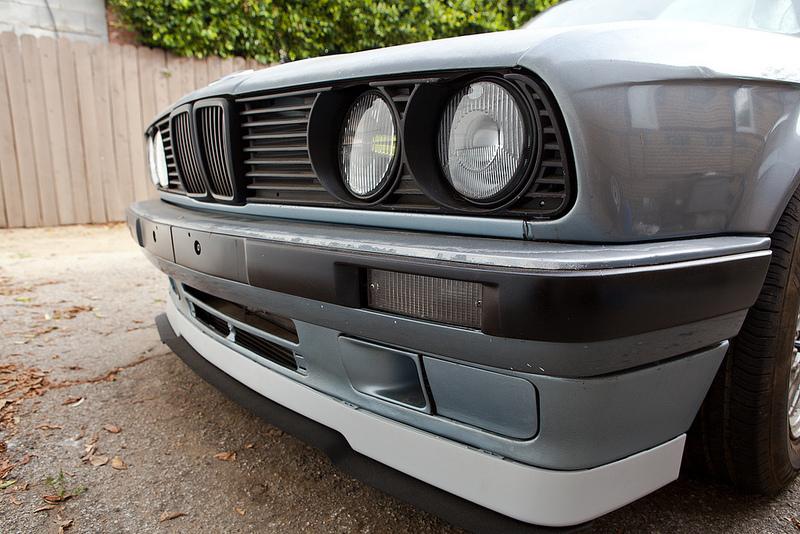 1-31-2014
Few shitty iphone videos... Cars finally rolling around with open headers. Felt great, first time driving it in almost 6 months..
3rd gear; under 3k rpm rolling
2nd gear; 5500 rpm pull
2-2-2014
Took a quicky little sound clip of the muffler I threw on last night.
Exhaust is 2 to 1 - 2.5" straight piping - 12" resonator + Dynomax muffler.
2-22-2014
Body works almost done, have to order the skirts, headlights + HIDs + Dual Filament bulbs are installed... Almost ready for primer and paint.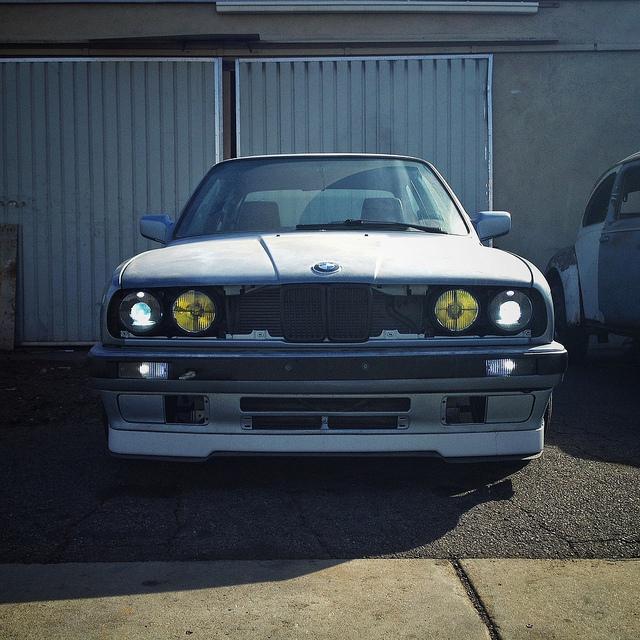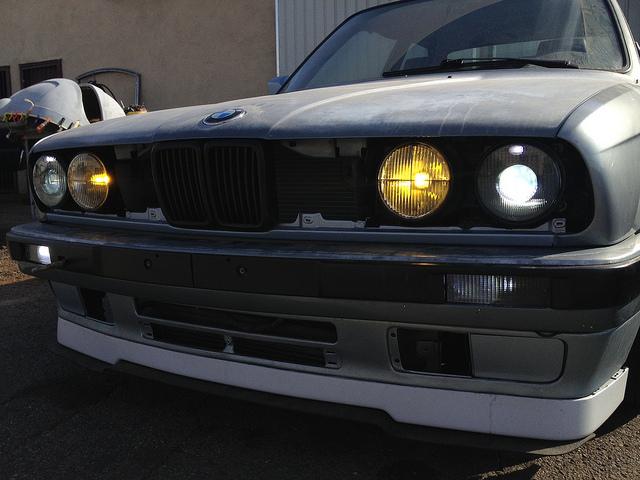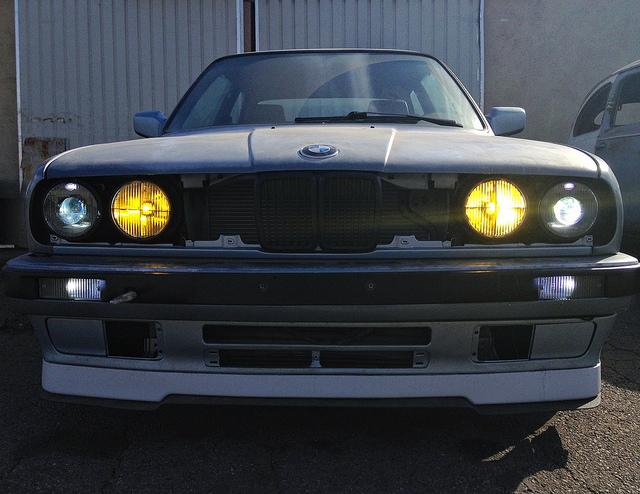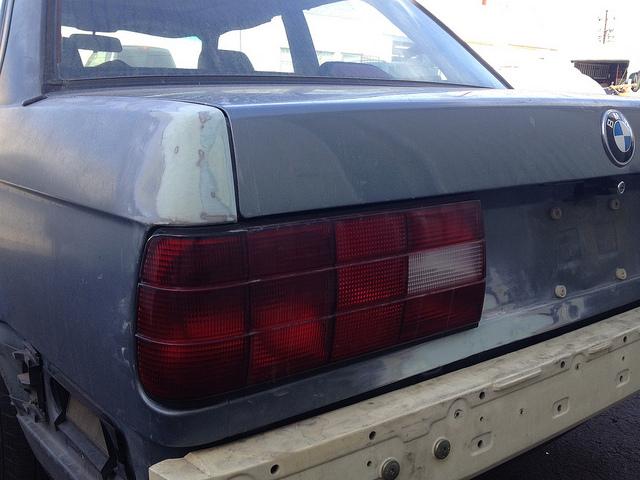 Before photo of the rocker..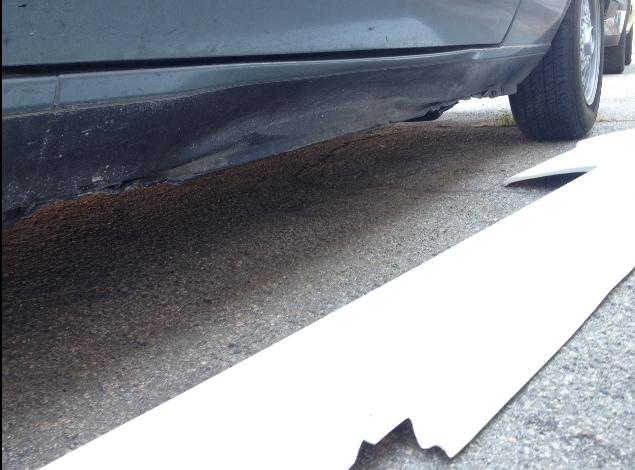 After..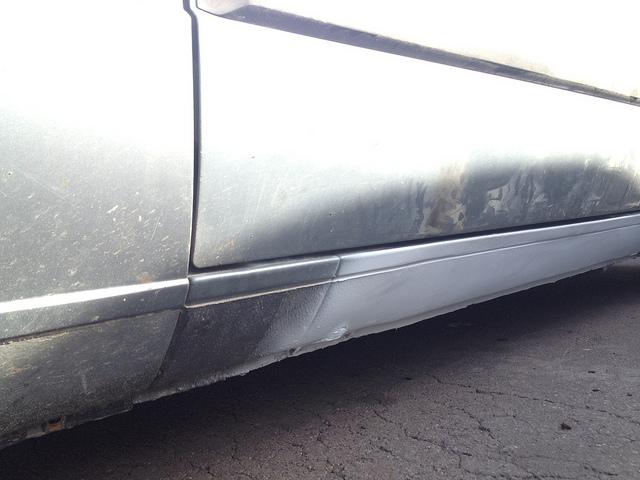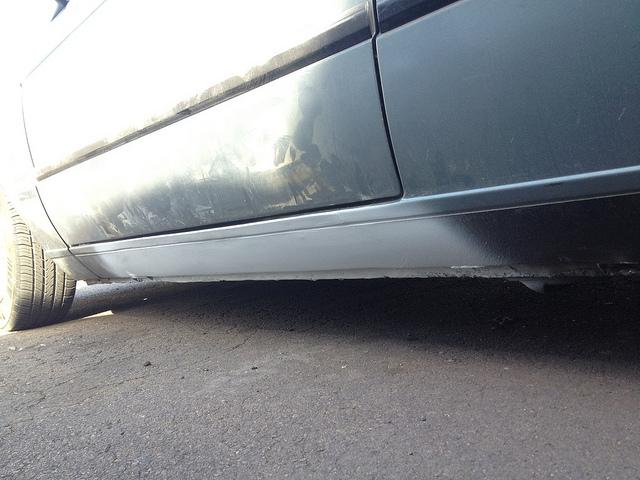 2-23-2014
Was shooting this 69 bluebird last night; pulled the e30 next to it for kicks.
Haven't washed my e30 in 14 months and it shows..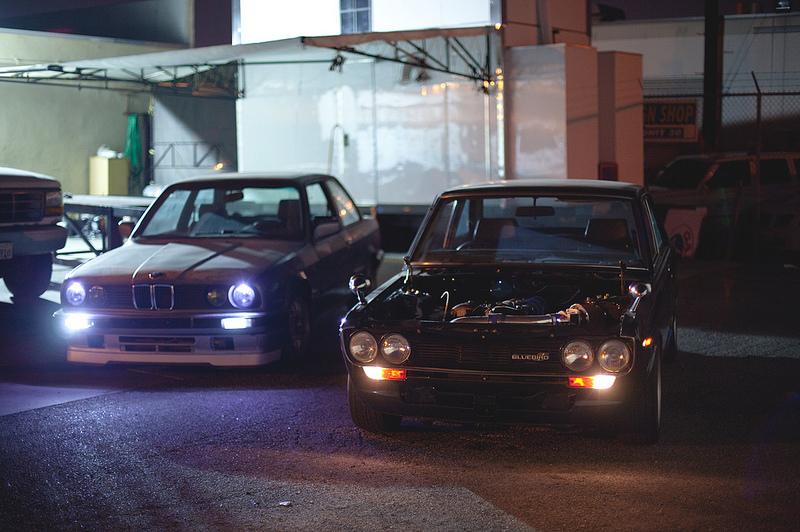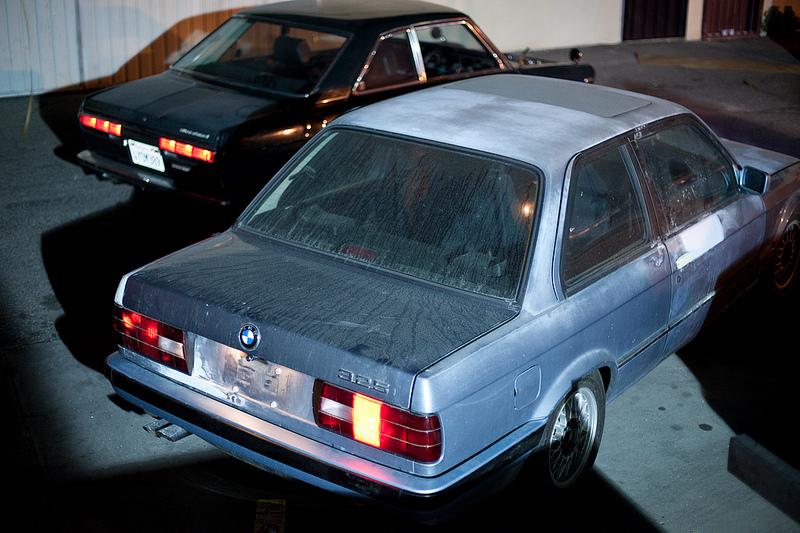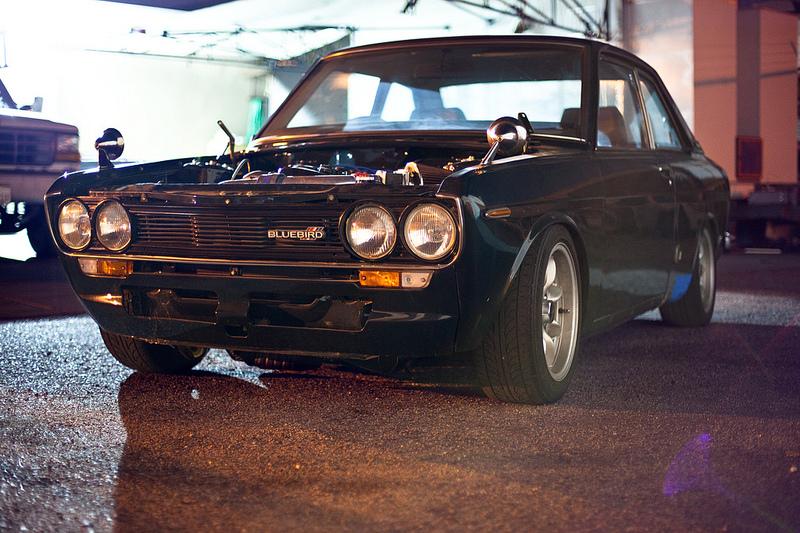 2-25-2014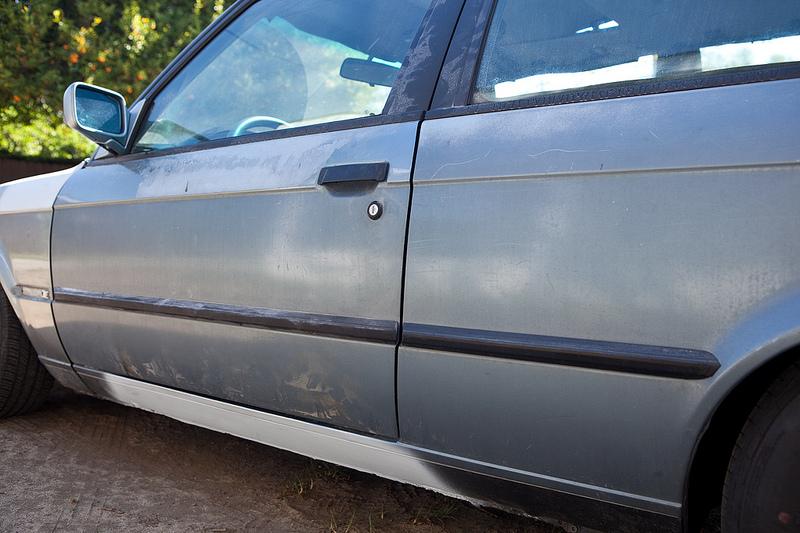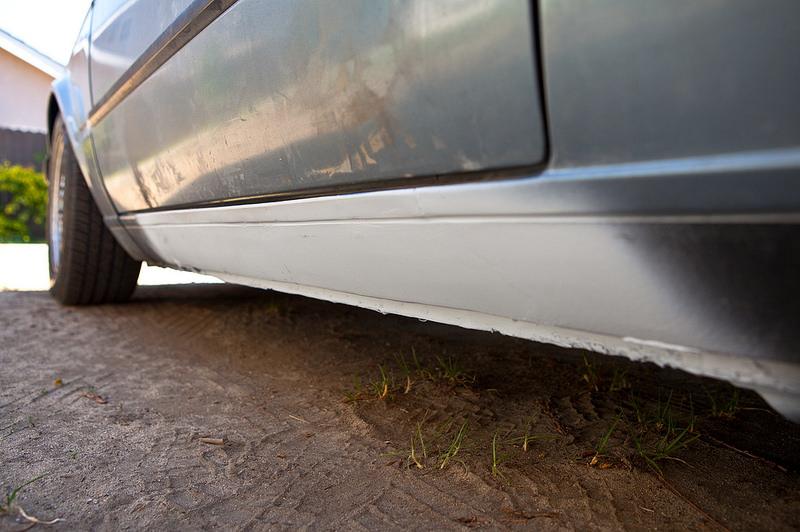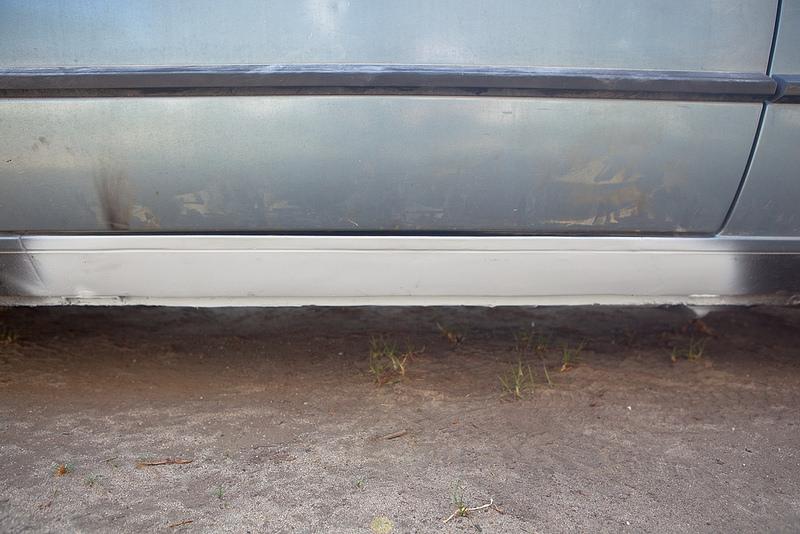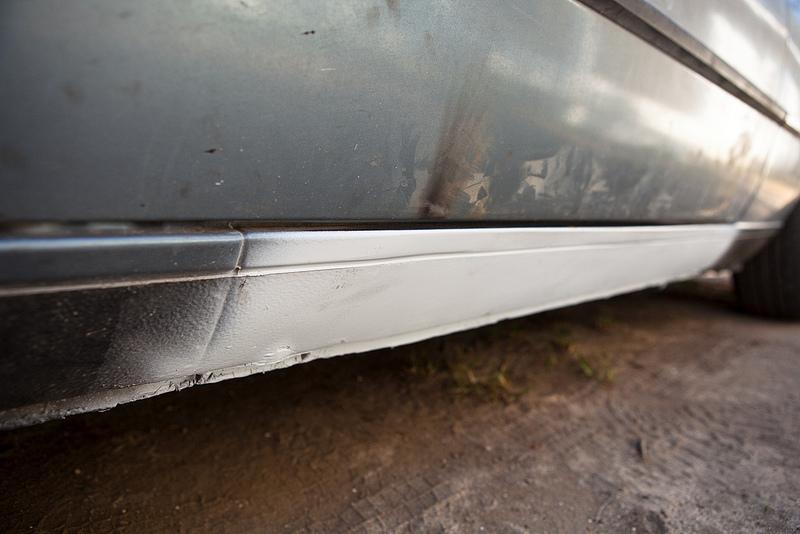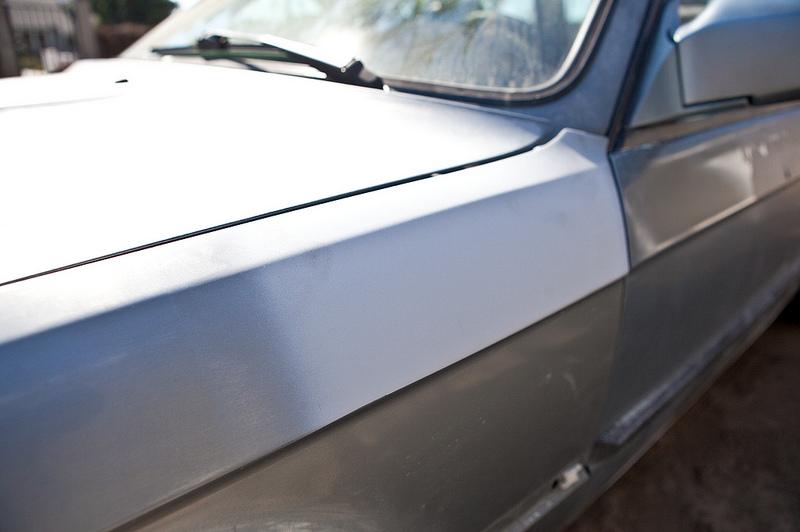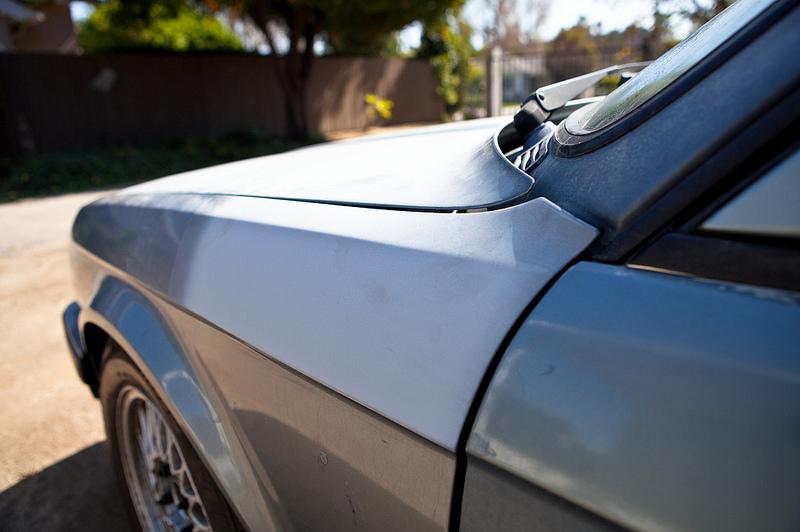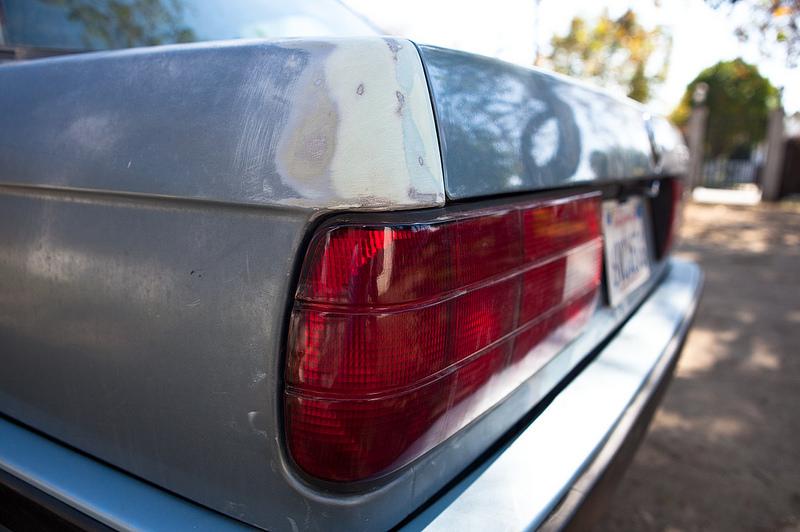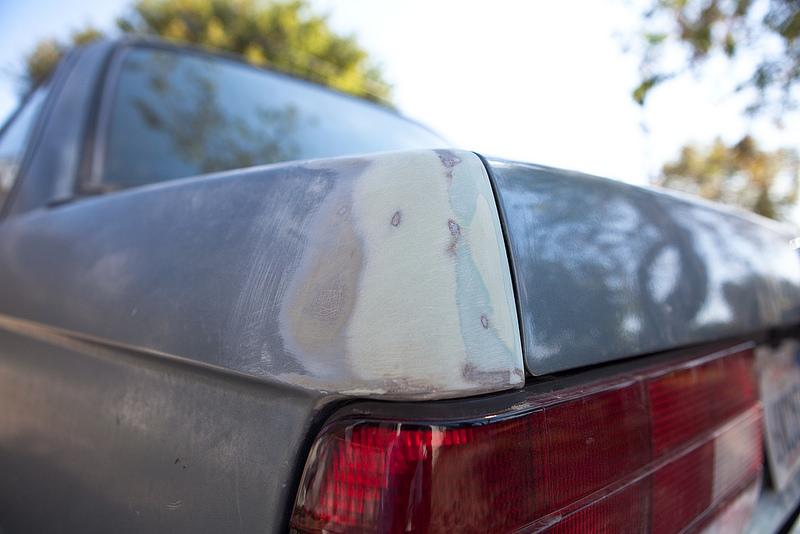 2-26-2014
Picked this up the other night from Fercy... Always wanted one of these... pretty badass.
More parts noone will really see.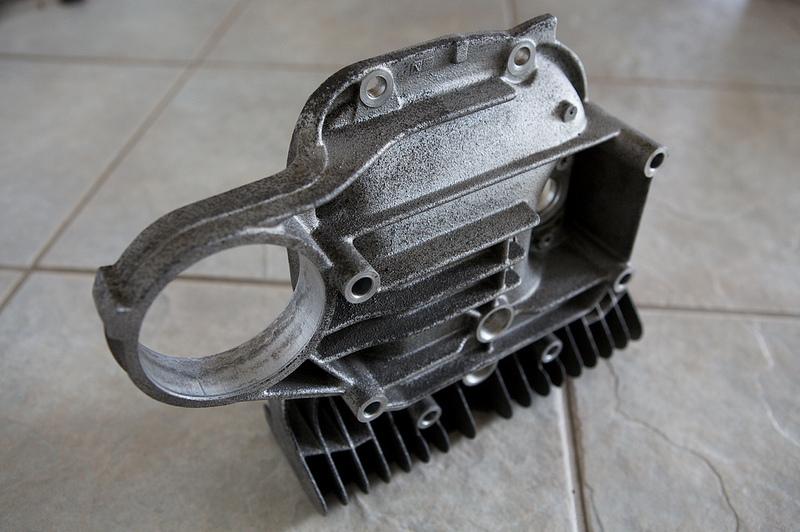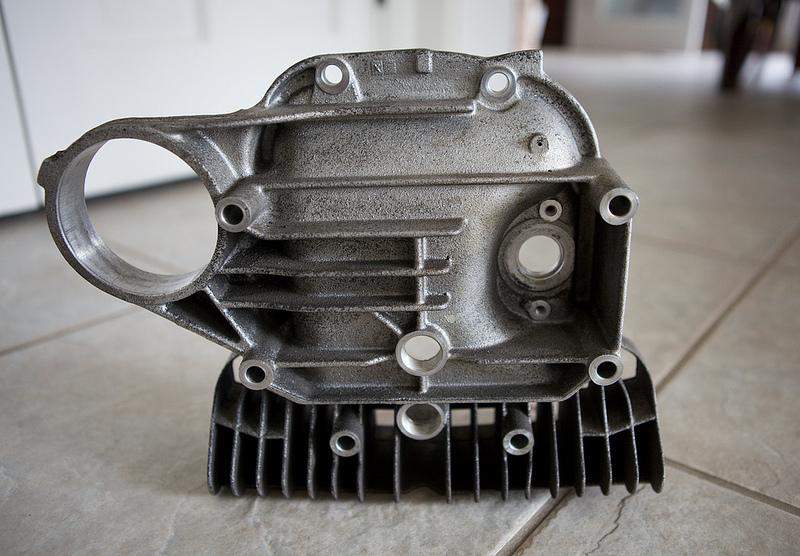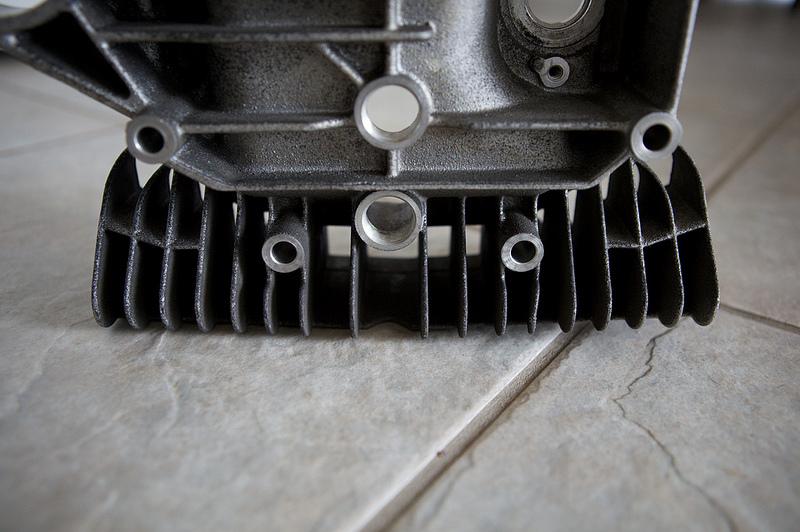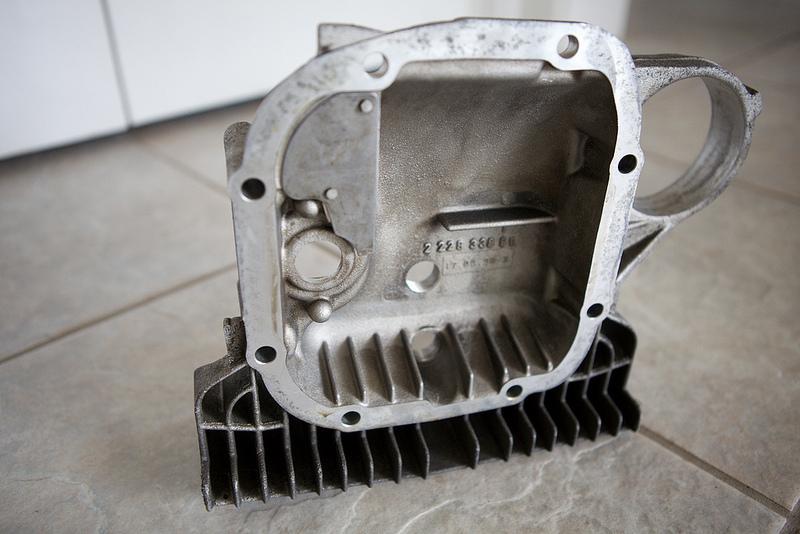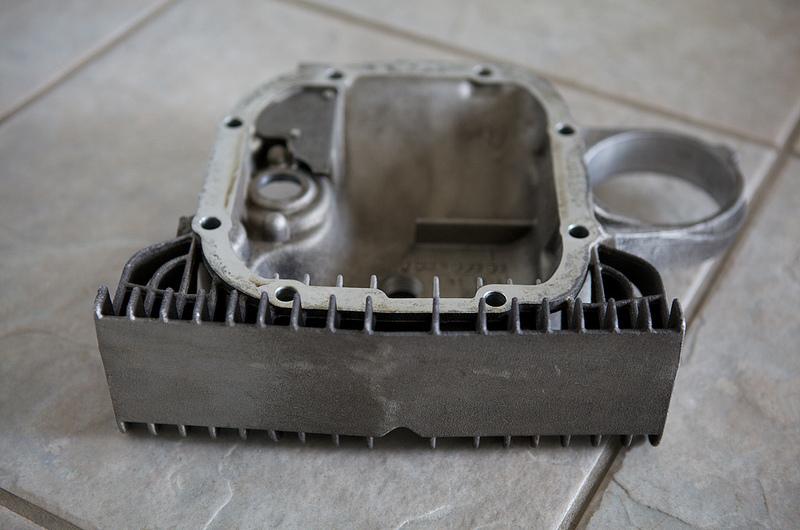 3-6-2014
Threw on some new shoes yesterday..
3-11-2014
Threw on some paint..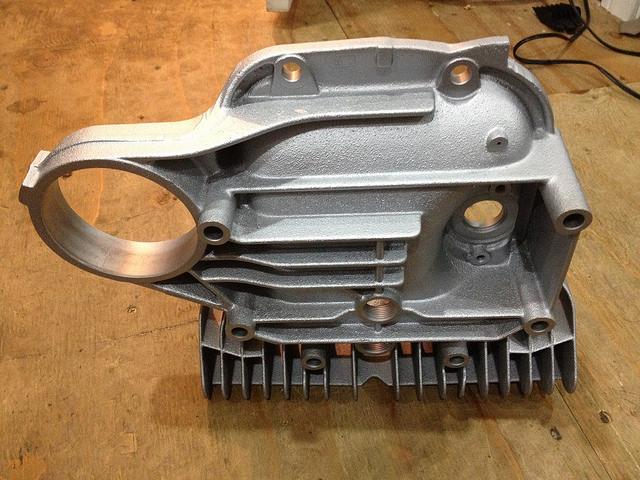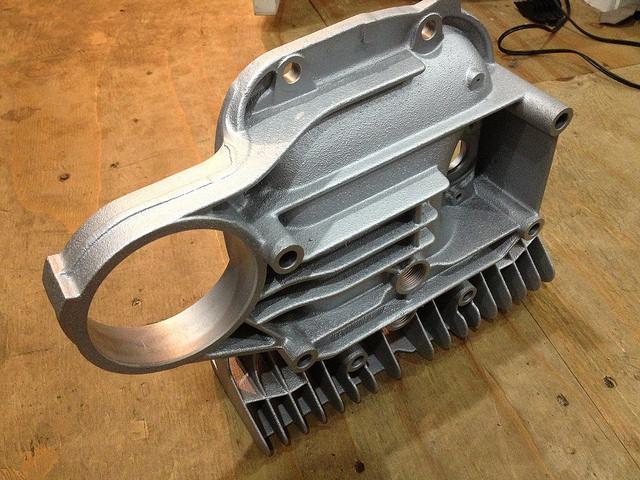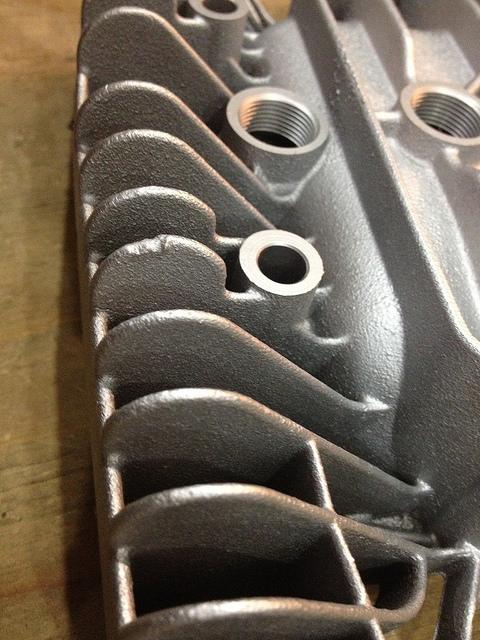 Threw on a cirrus bumper i picked up over the weekend along with changing the early model o2 sensor out for a late model one... Wasn't as hard as everyone claims.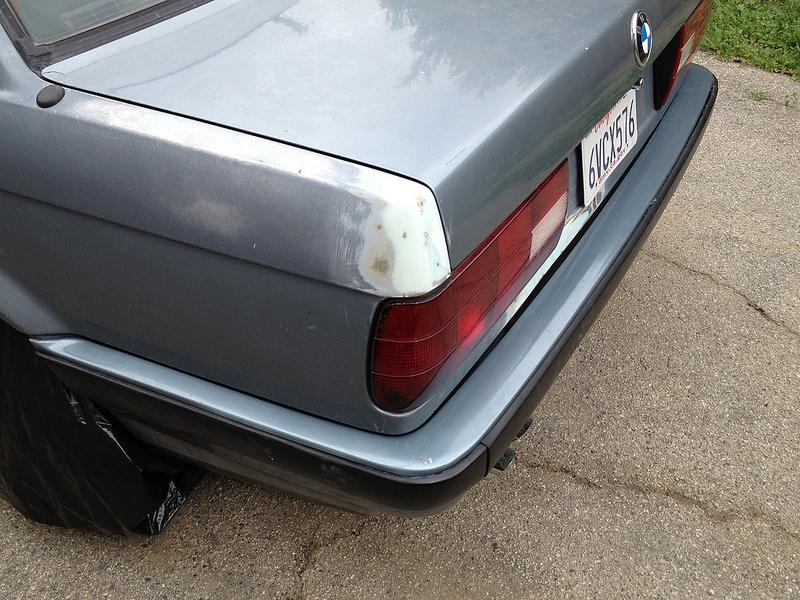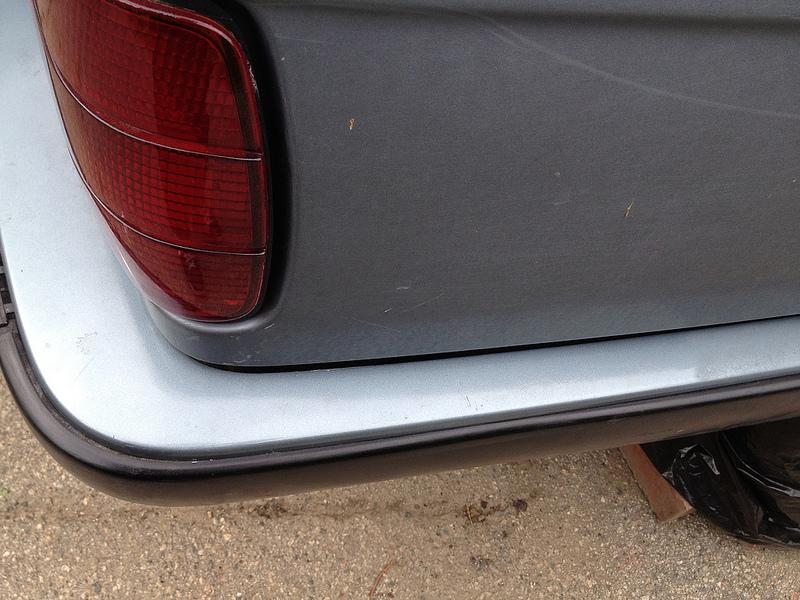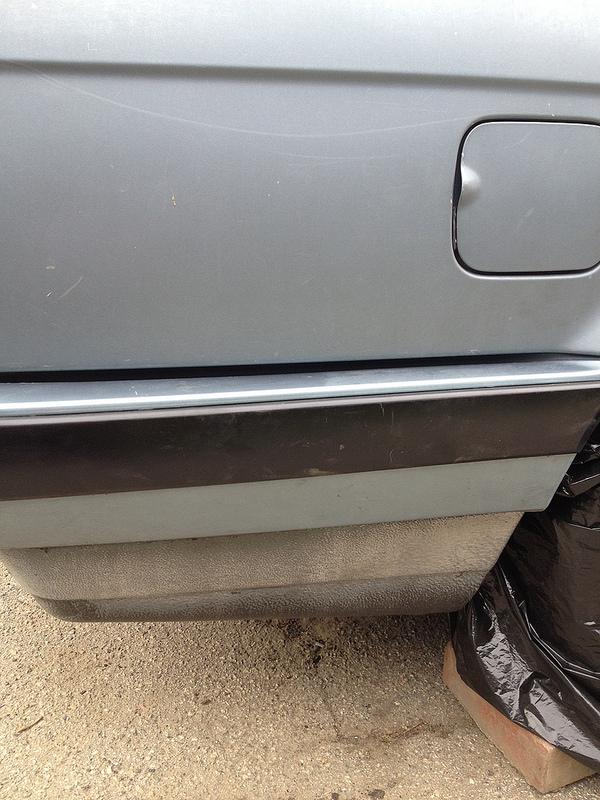 Also have this little M tech 1 on its way..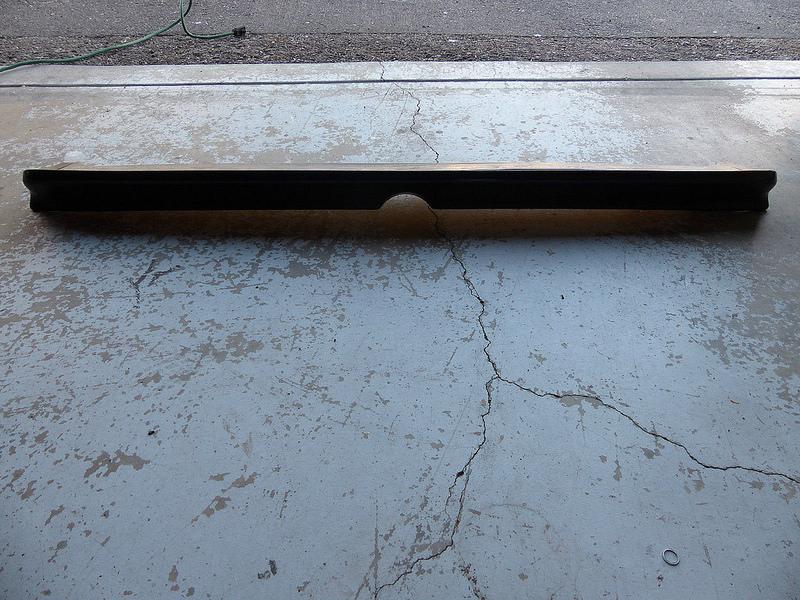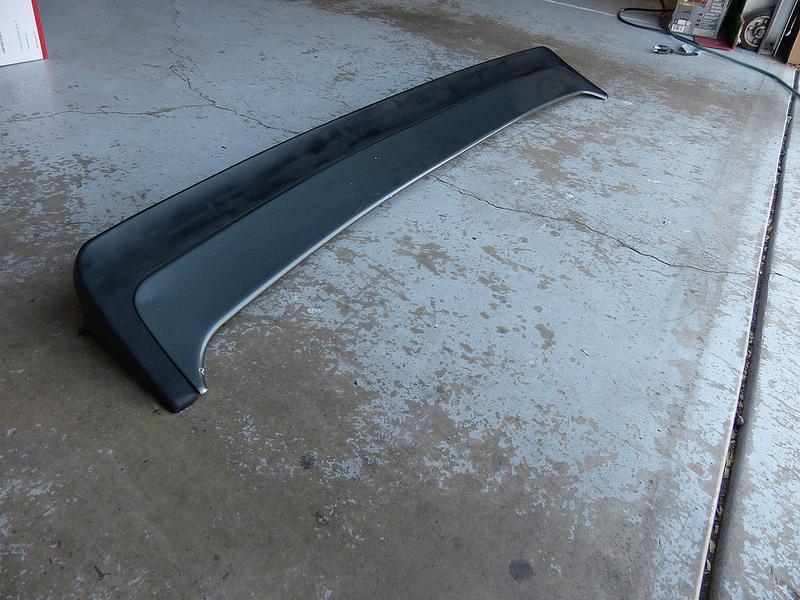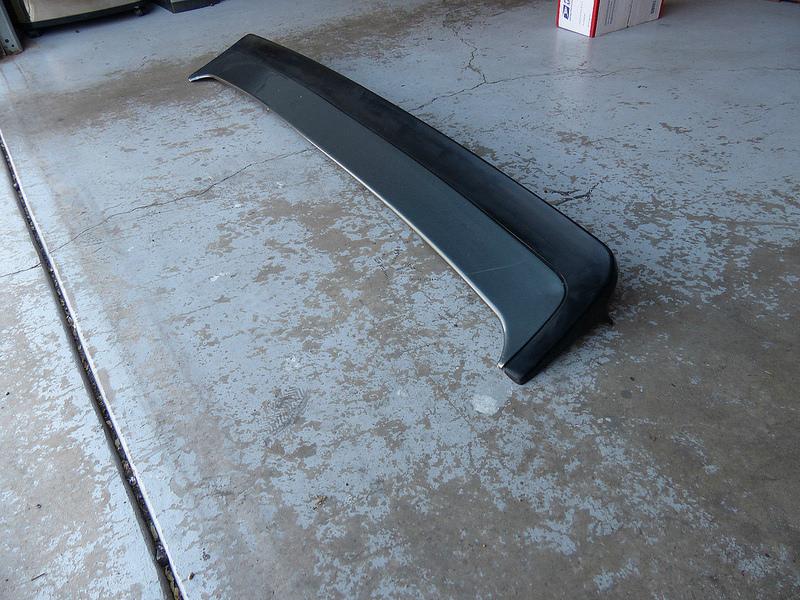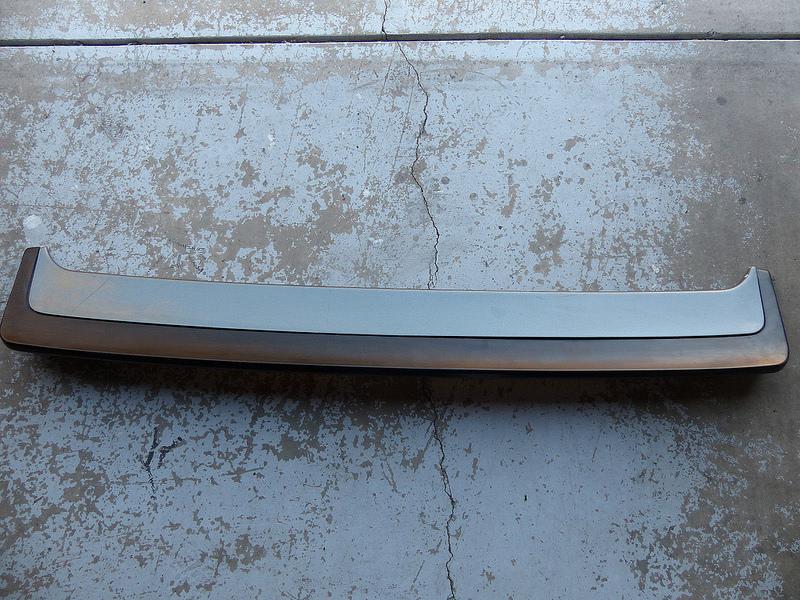 3-12-2014
Got the M tech 1 in today and installed, very happy and still can't believe it was cirrus.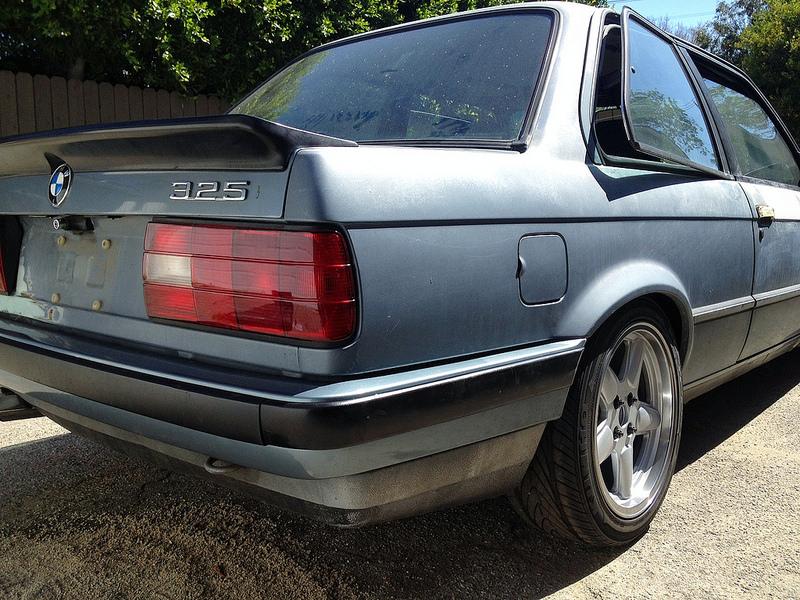 Test Fit :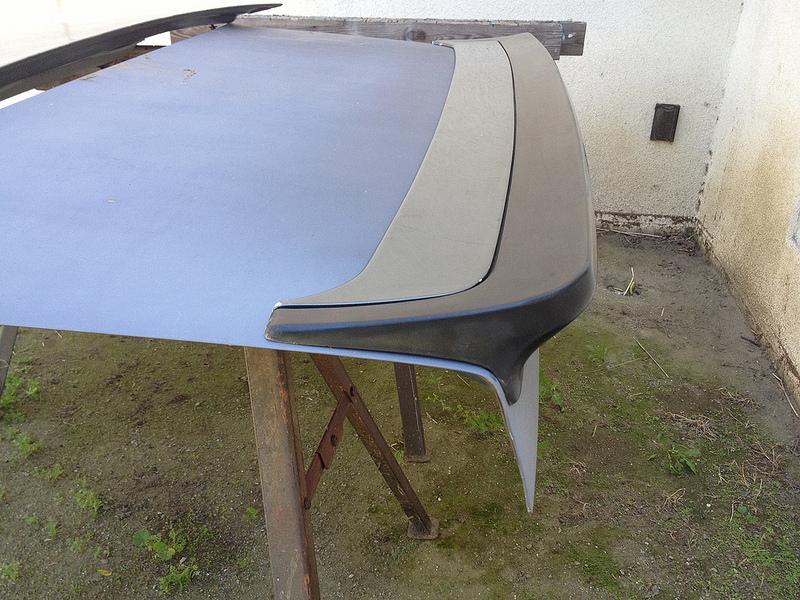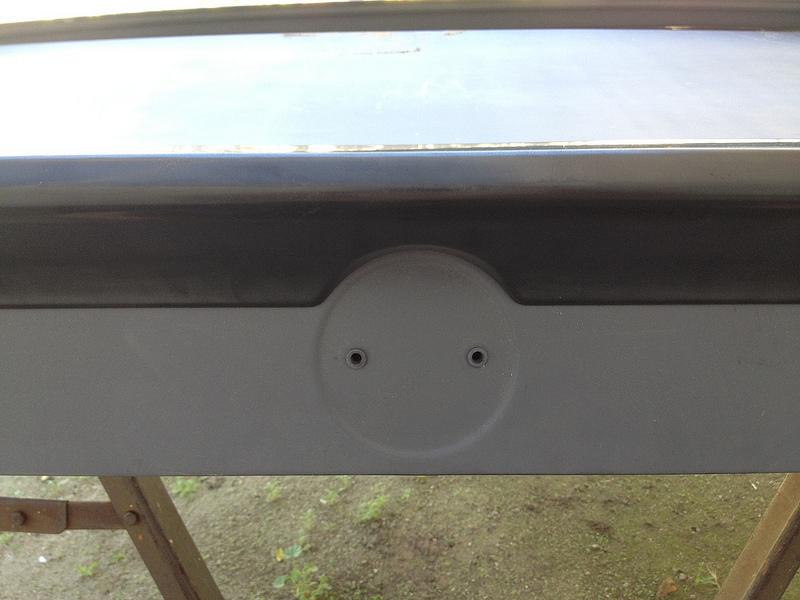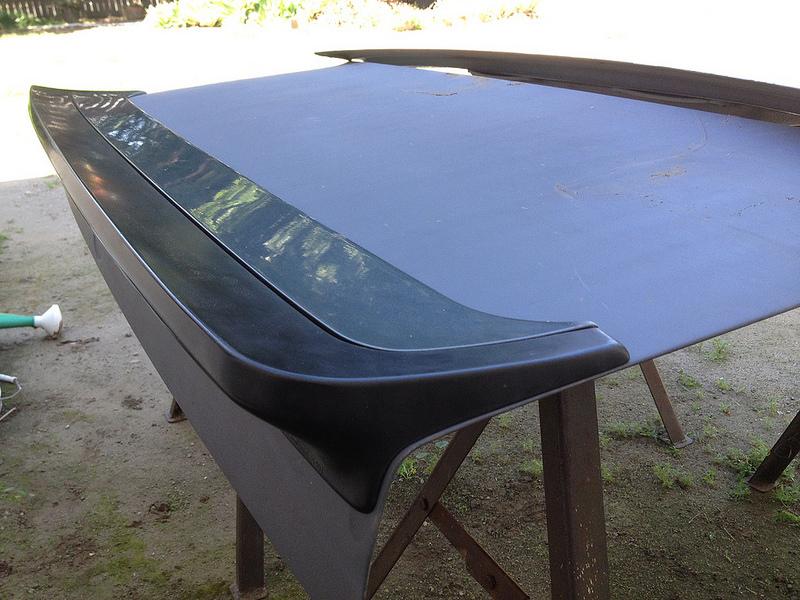 Fitted.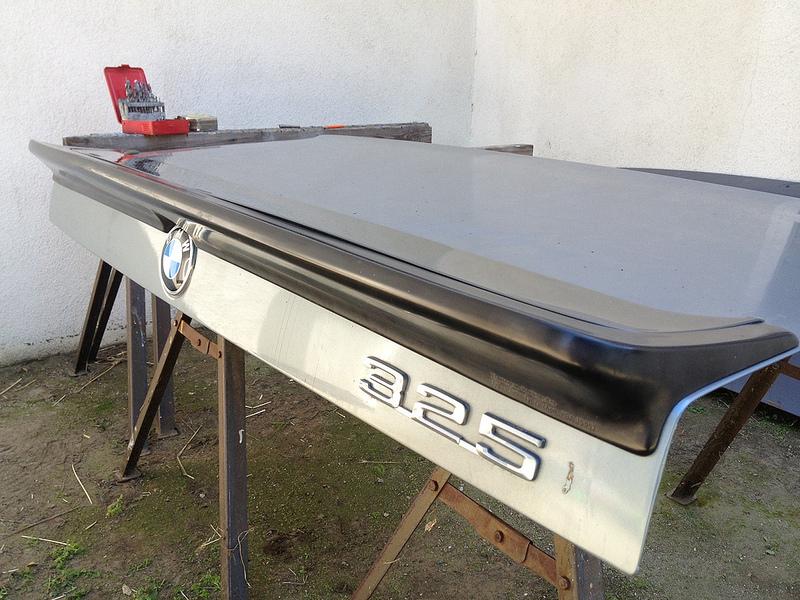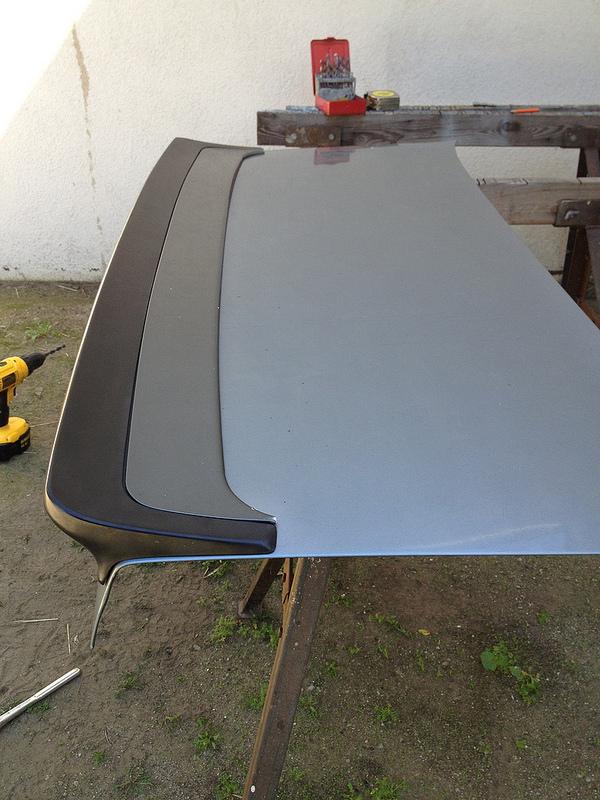 Bolted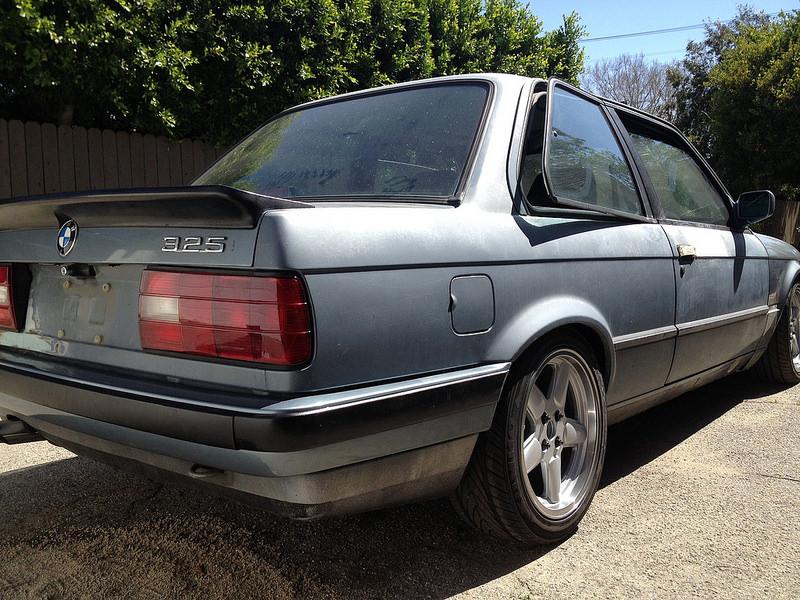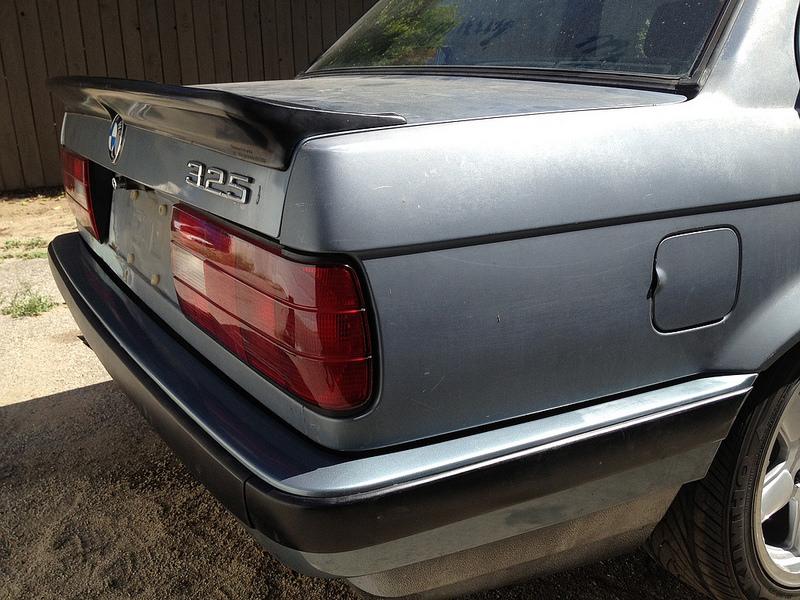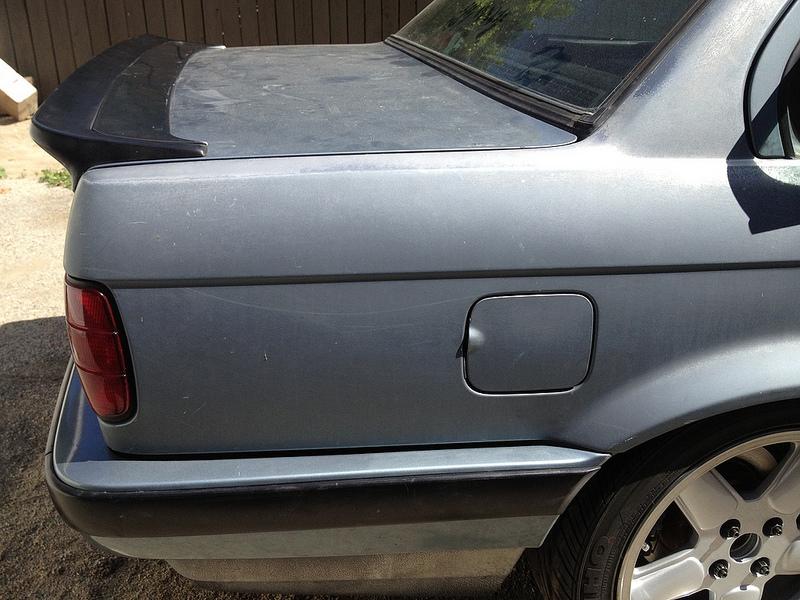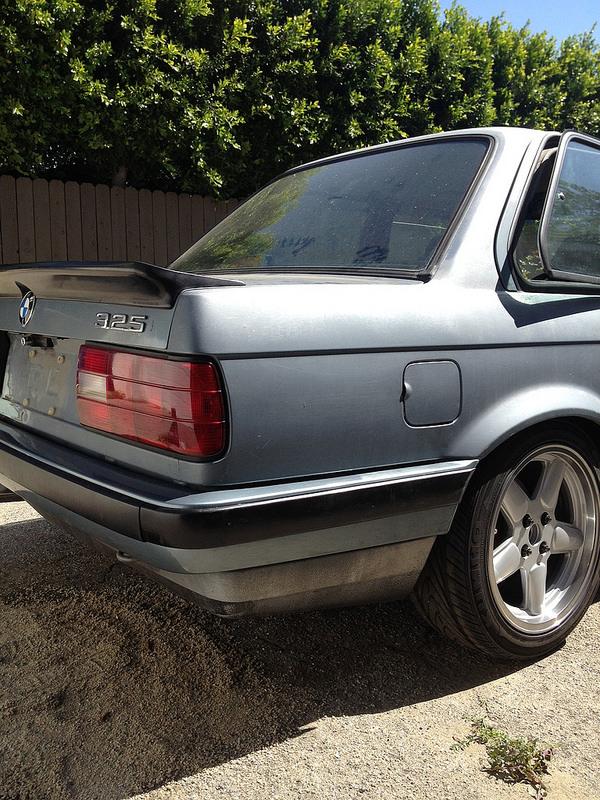 3-22-2014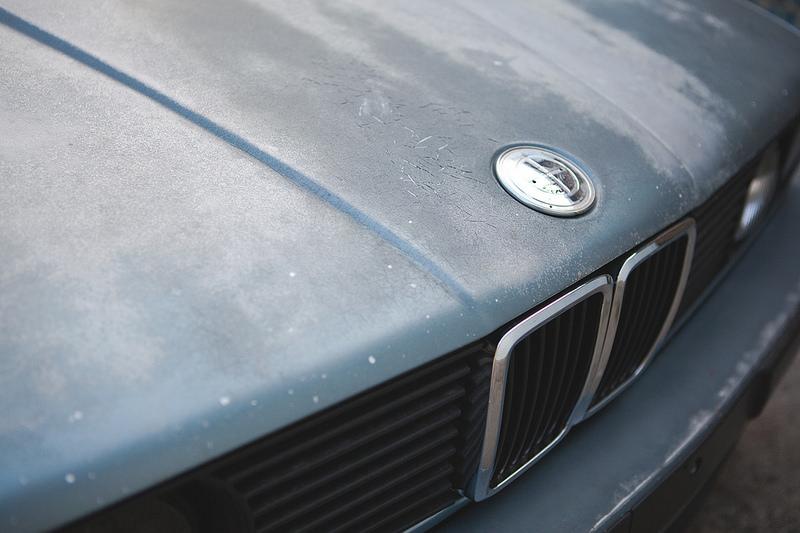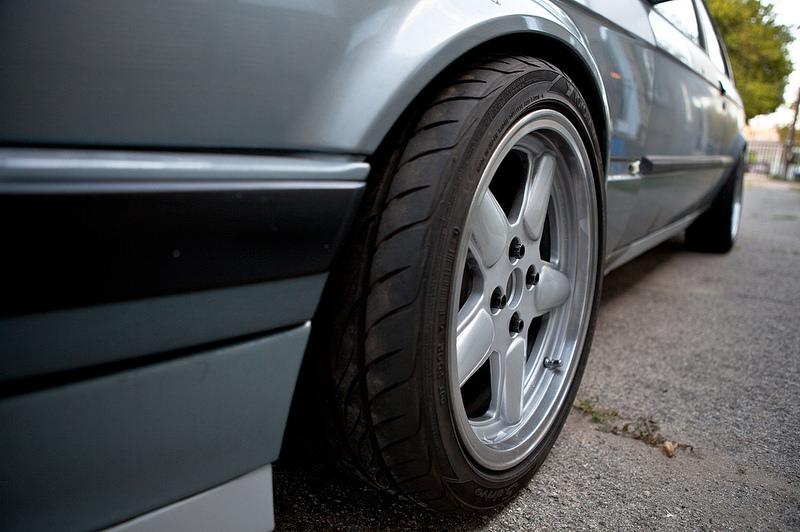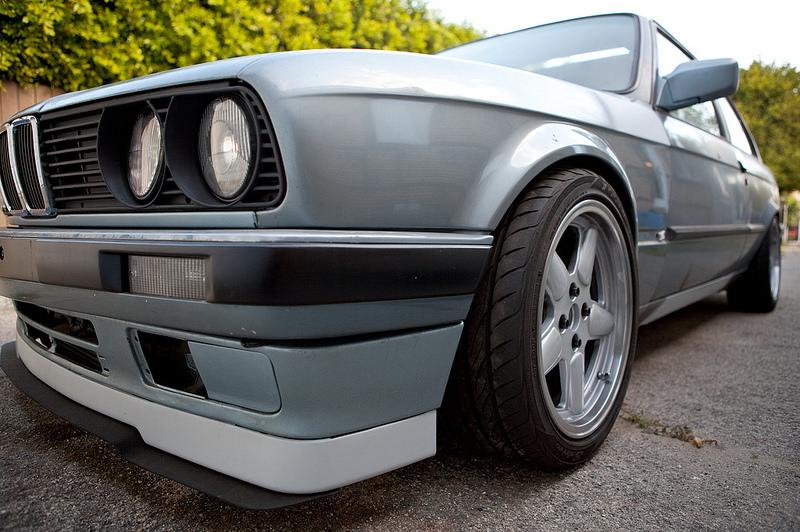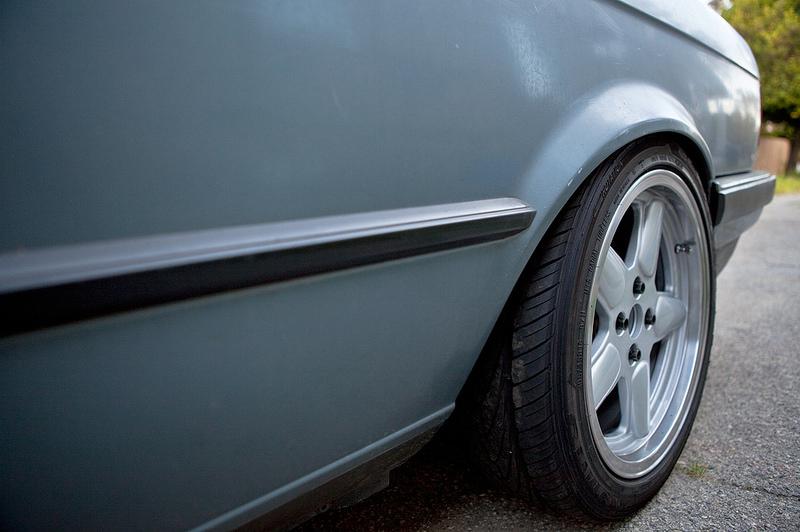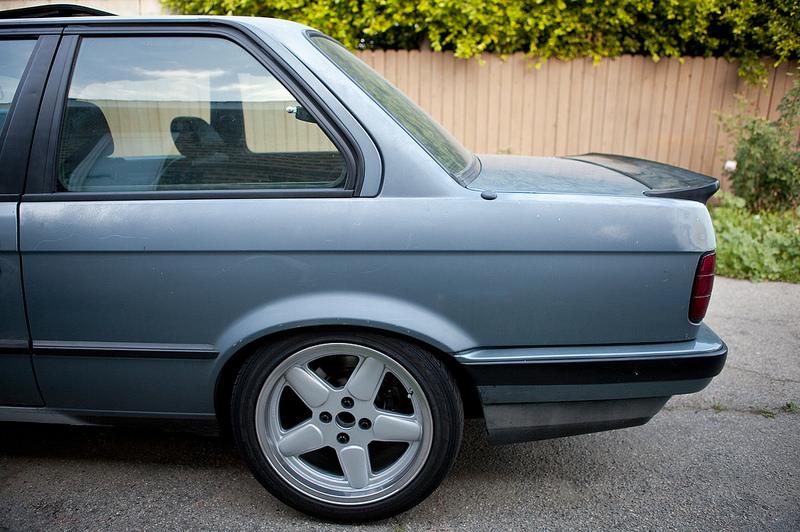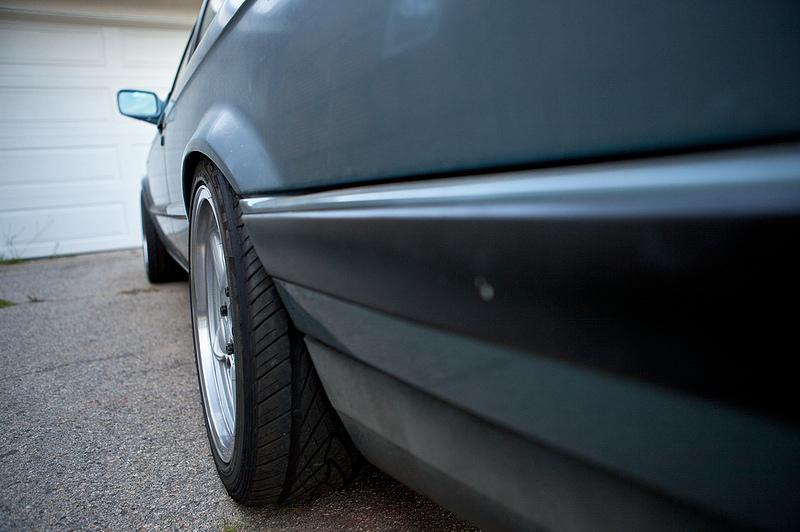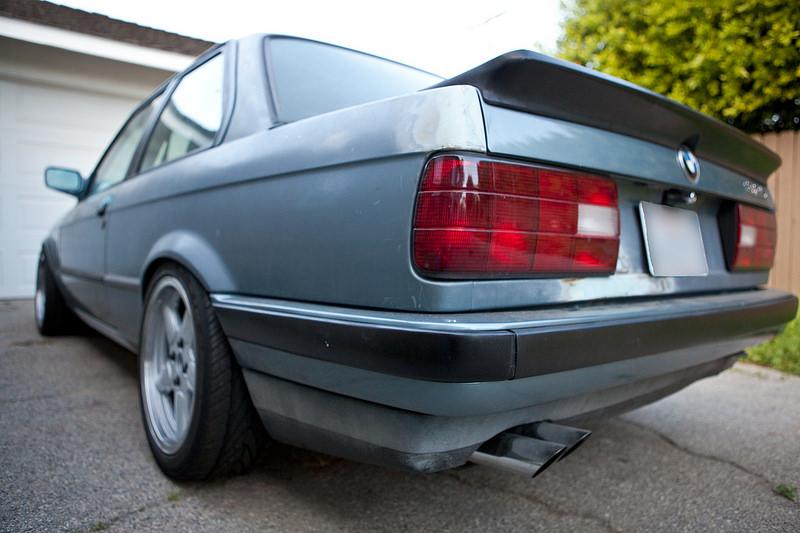 3-25-2014
Picked up a nice set of these while I'm waiting for the paint to arrive.
Not sure if I want to keep them black or color matched..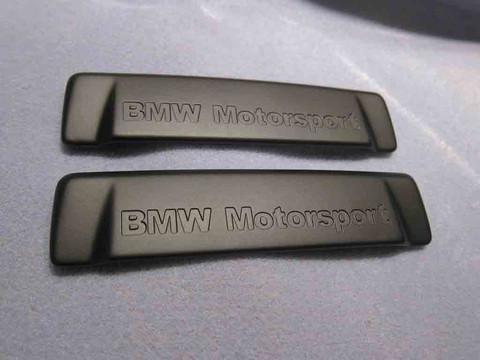 4-1-2014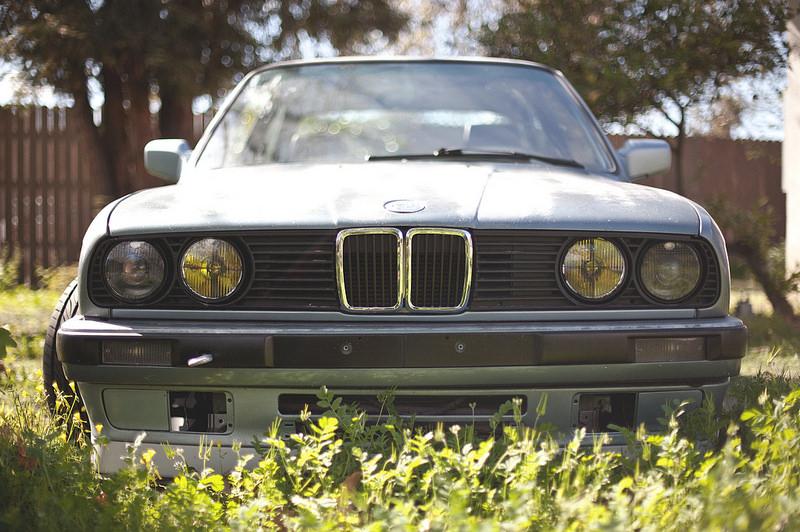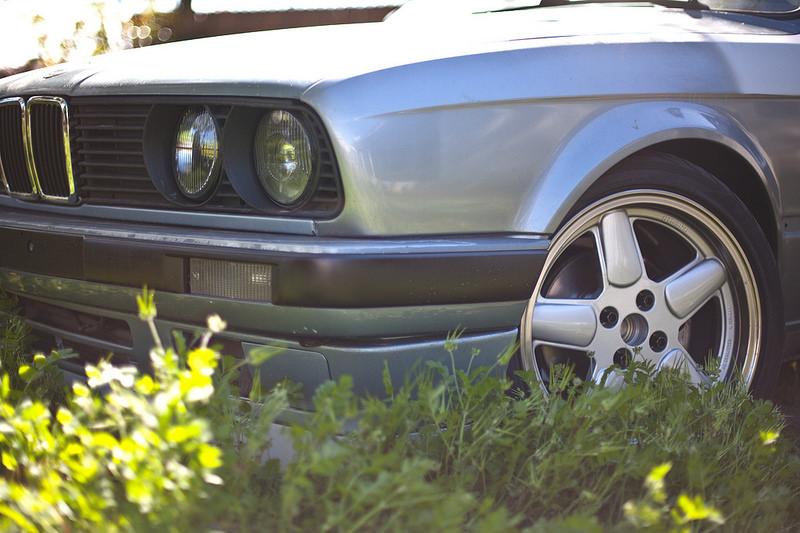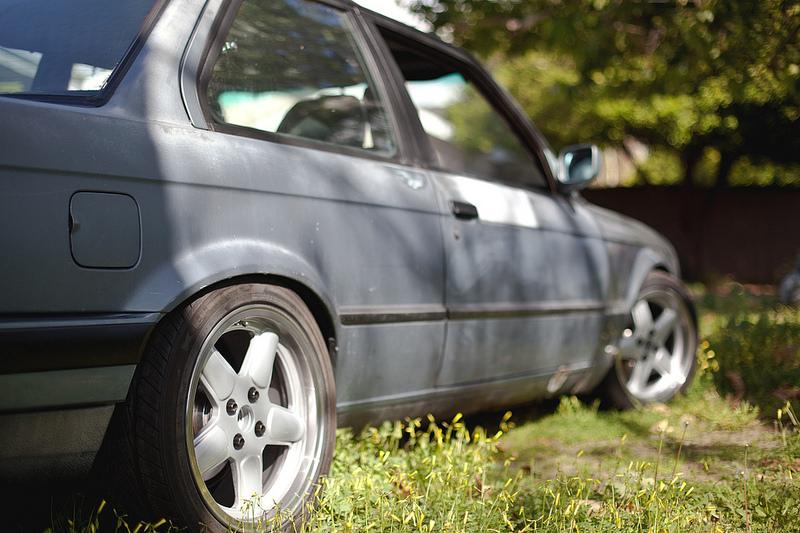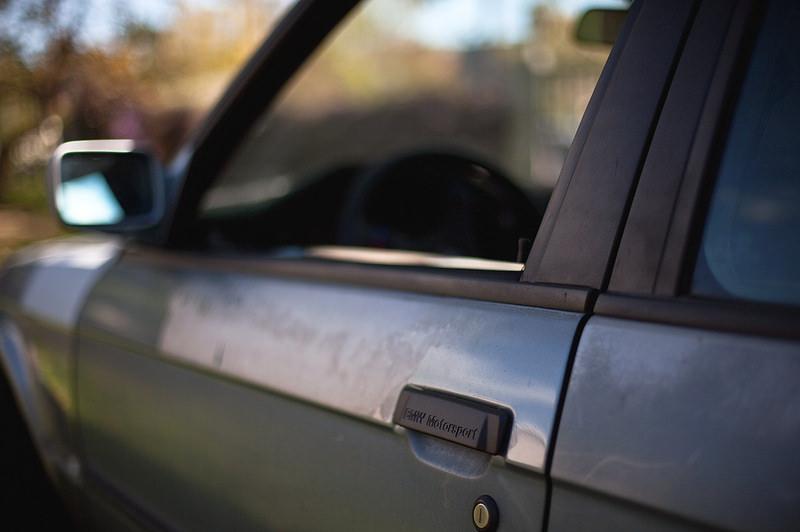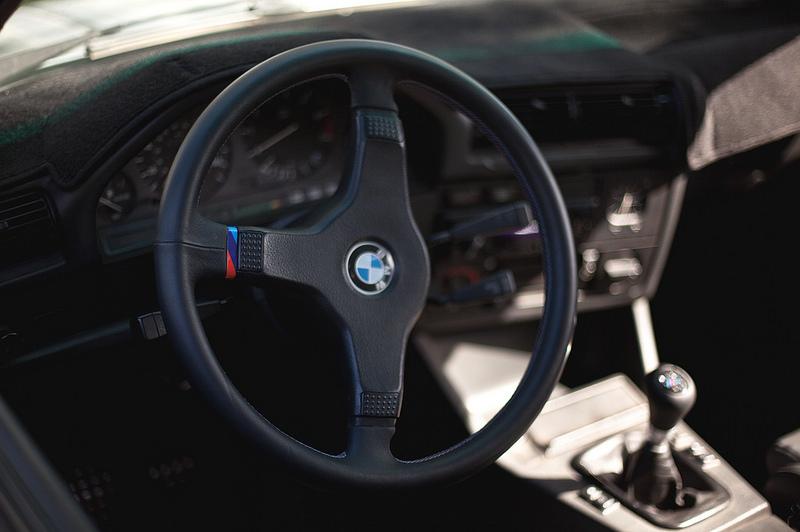 4-3-2014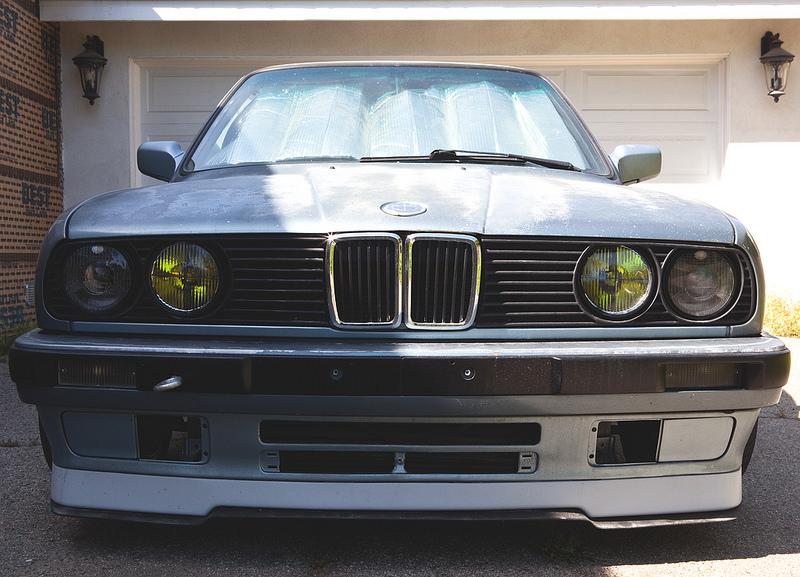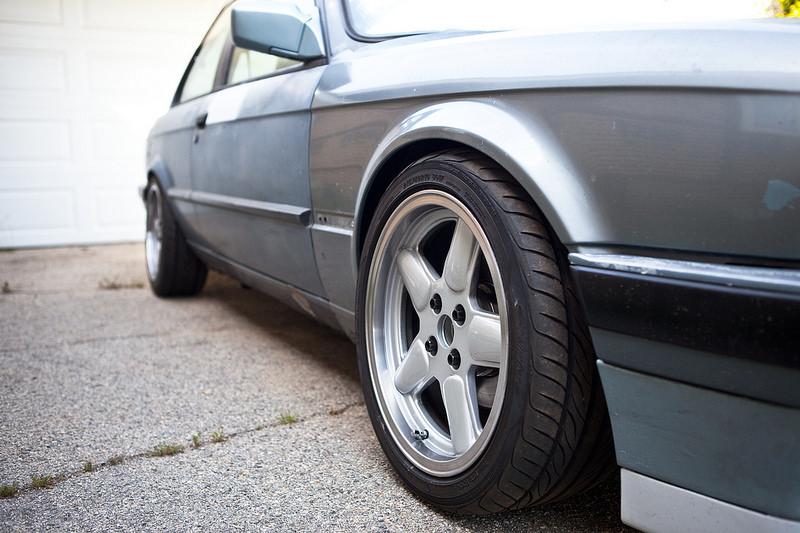 5-3-2014
Haven't updated in a while; had some time to do the side skirts..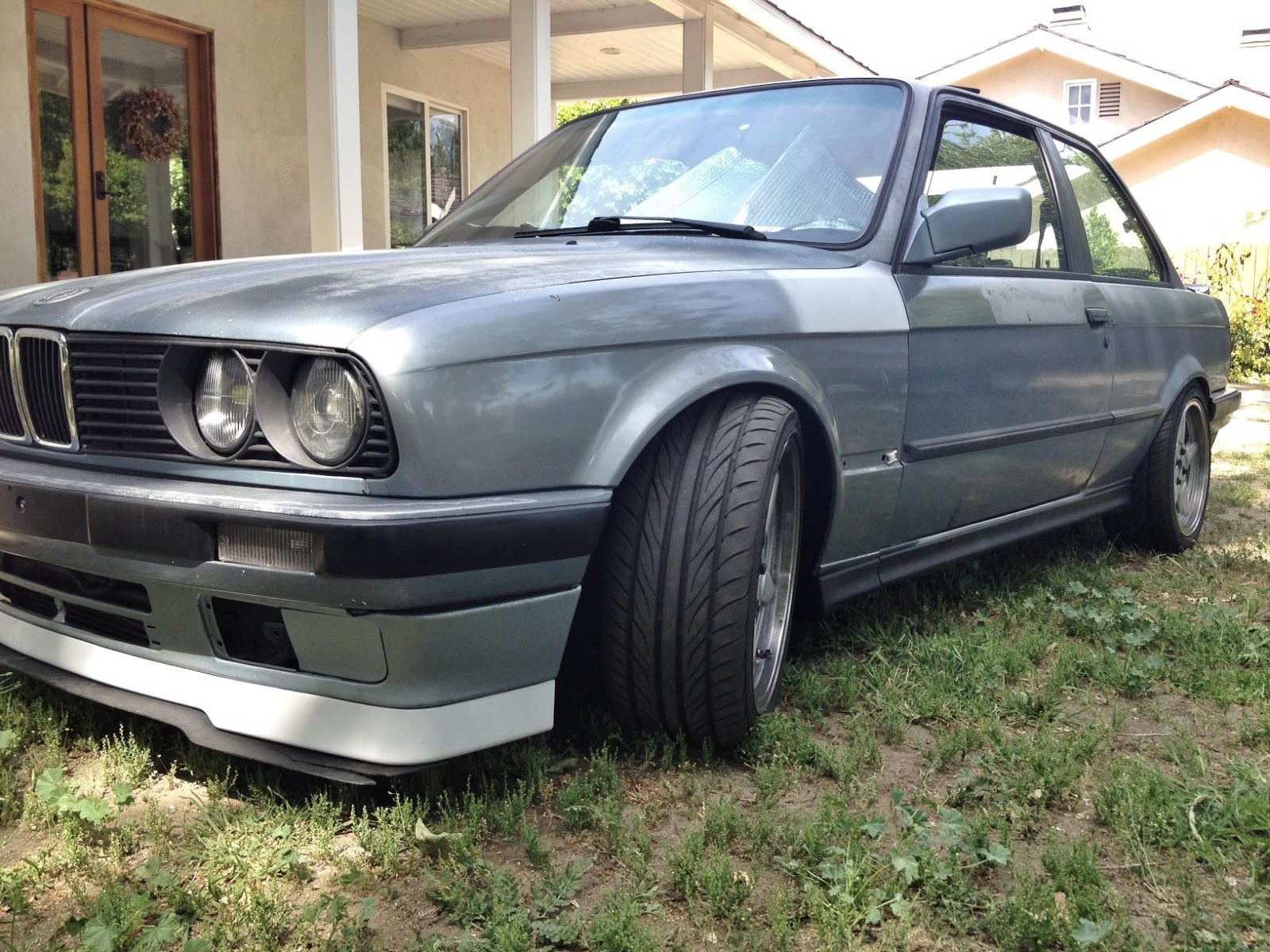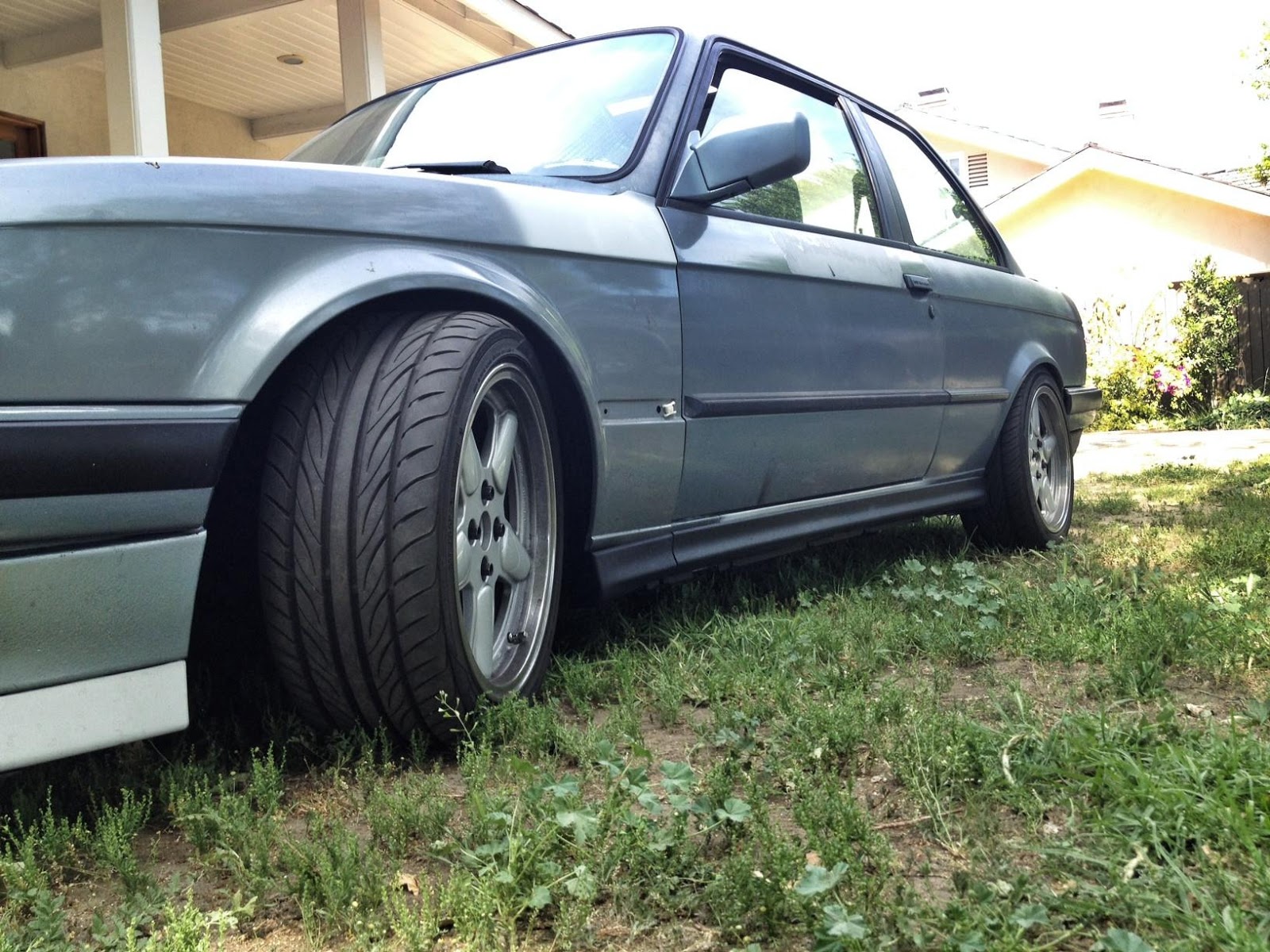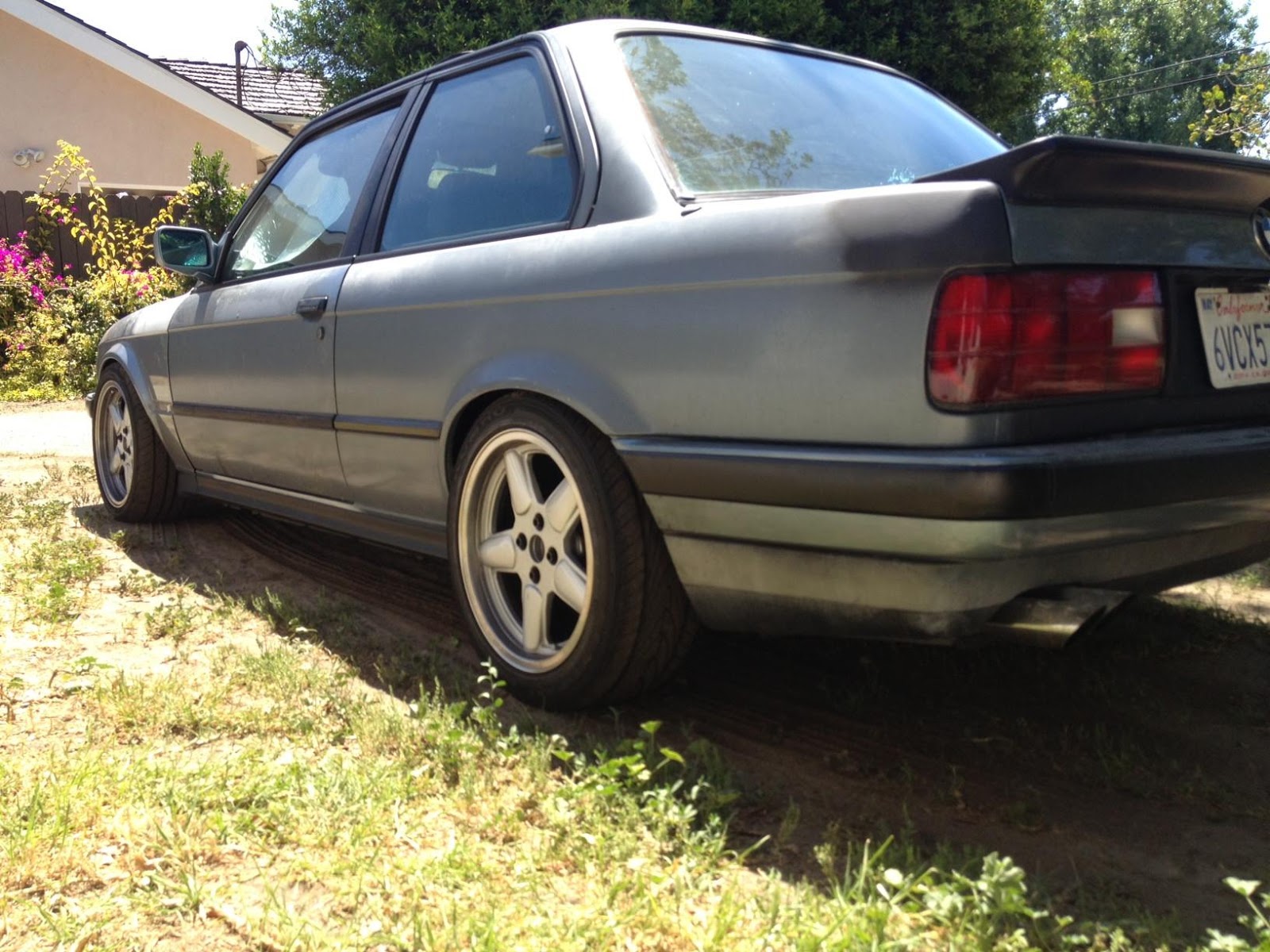 5-25-2014
Bimmerfest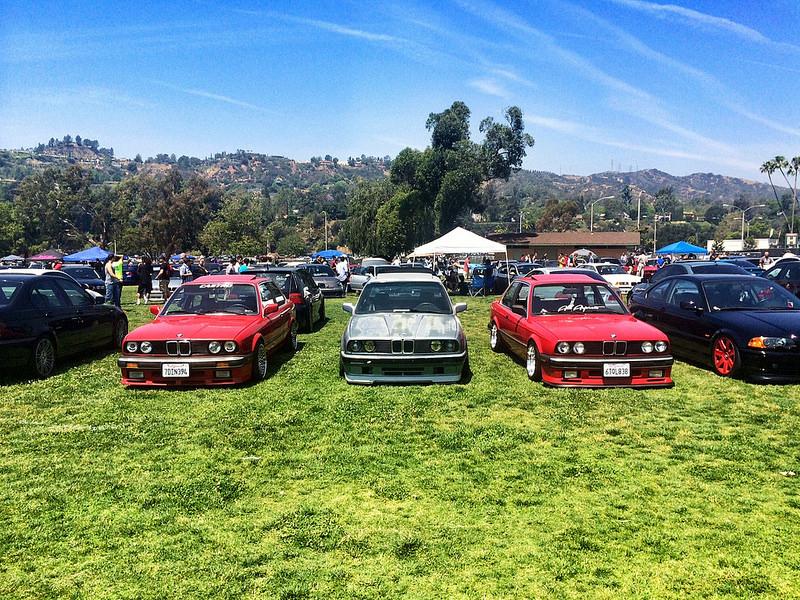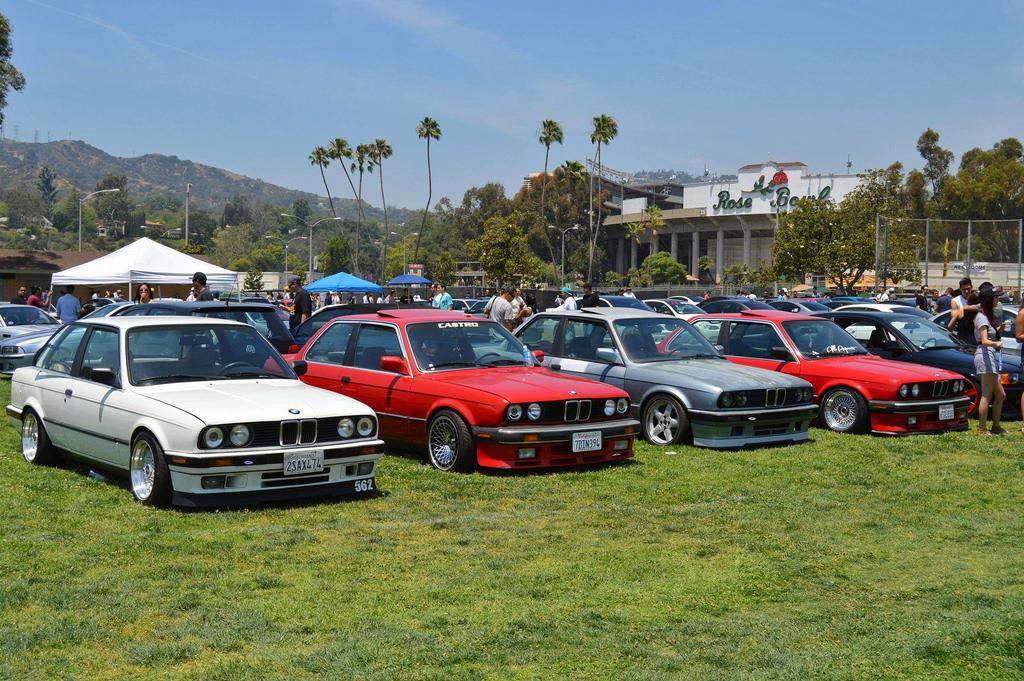 Possible engine swap coming soon...
5-29-2014
Factory color "CirrusBlau" as for whose painting it; most likely myself.
I have a few spare body panels and more than enough base coat to learn metallic.
6-28-2014
So haven't been on here in a min; work has been eating up all my time.
I ended up having to fall through on the m52 stroker swap cause it didnt solve my issue. Still looking for an m52 with low mileage or an S motor.
Started prep work officially today since all the body is finally done. Started on the larger areas and working my way into the details before stripping everything down.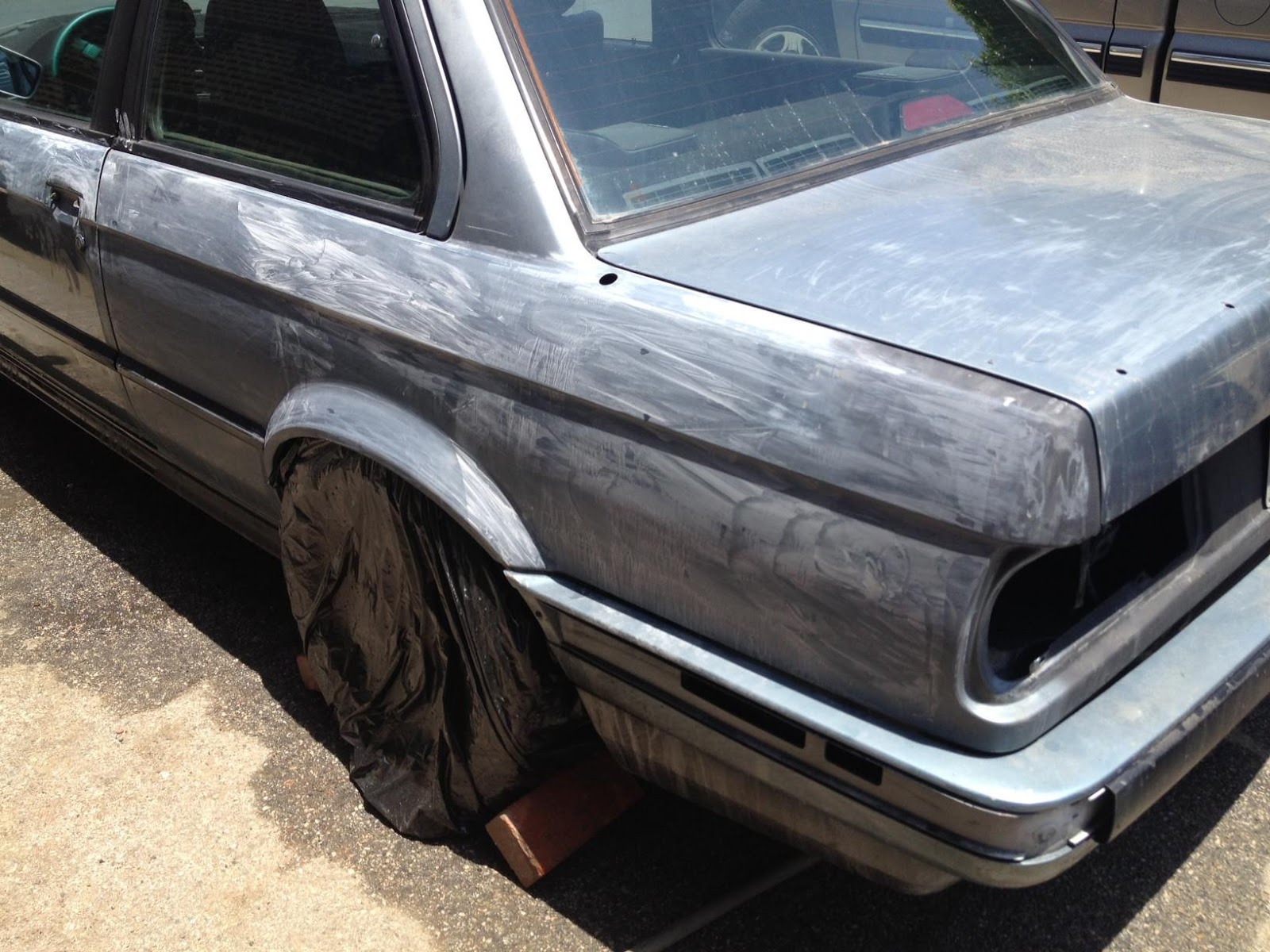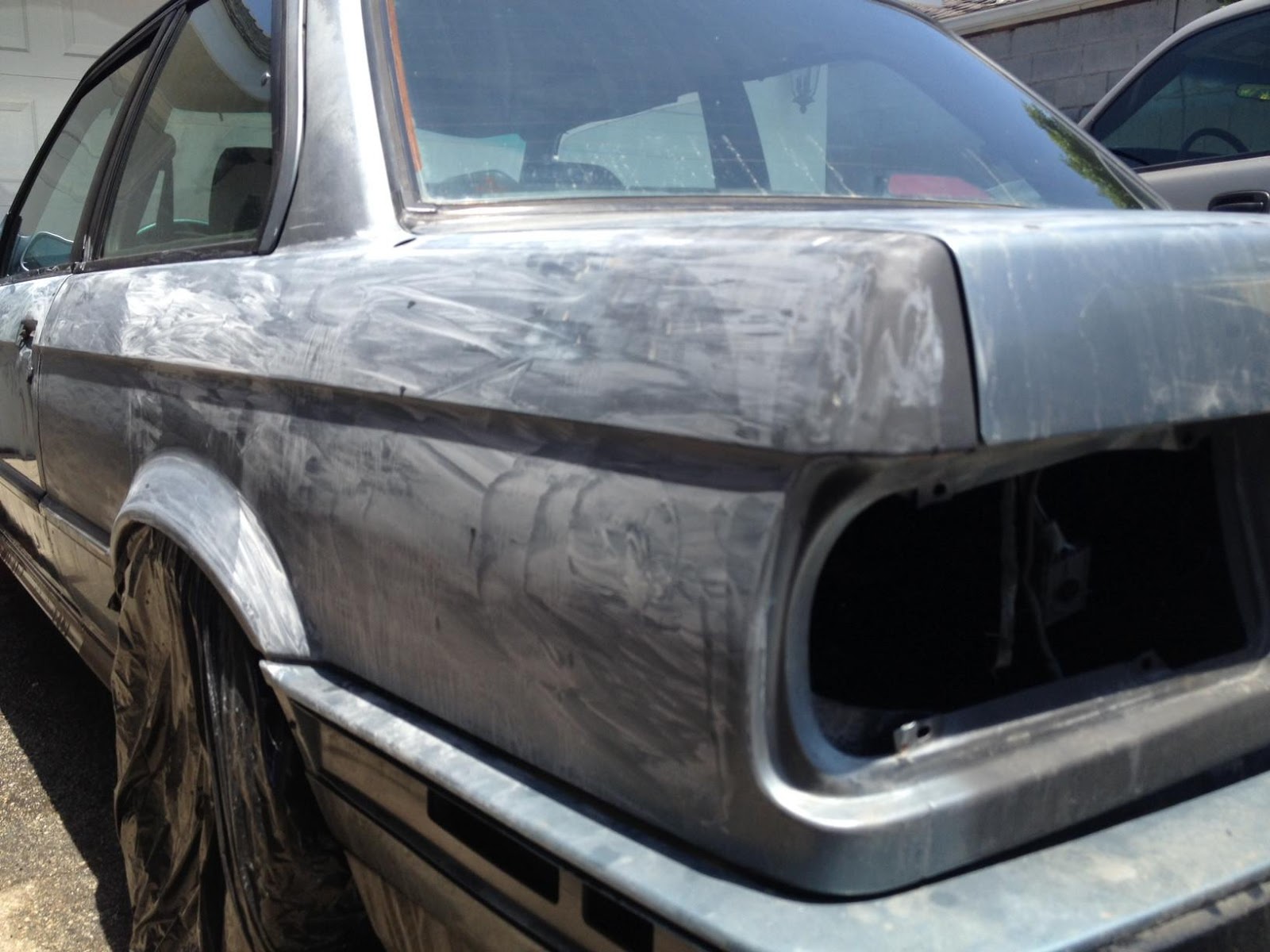 Day 2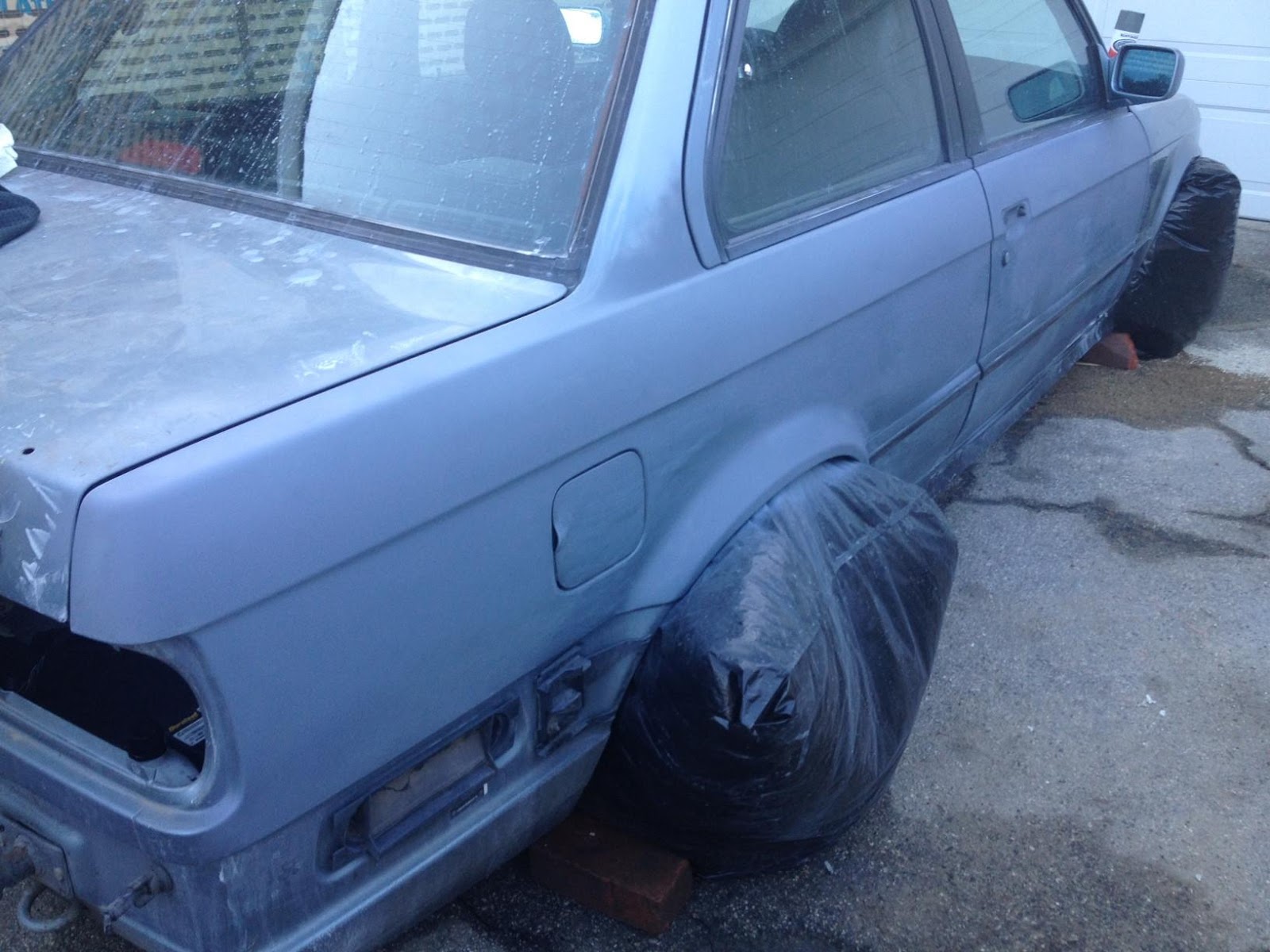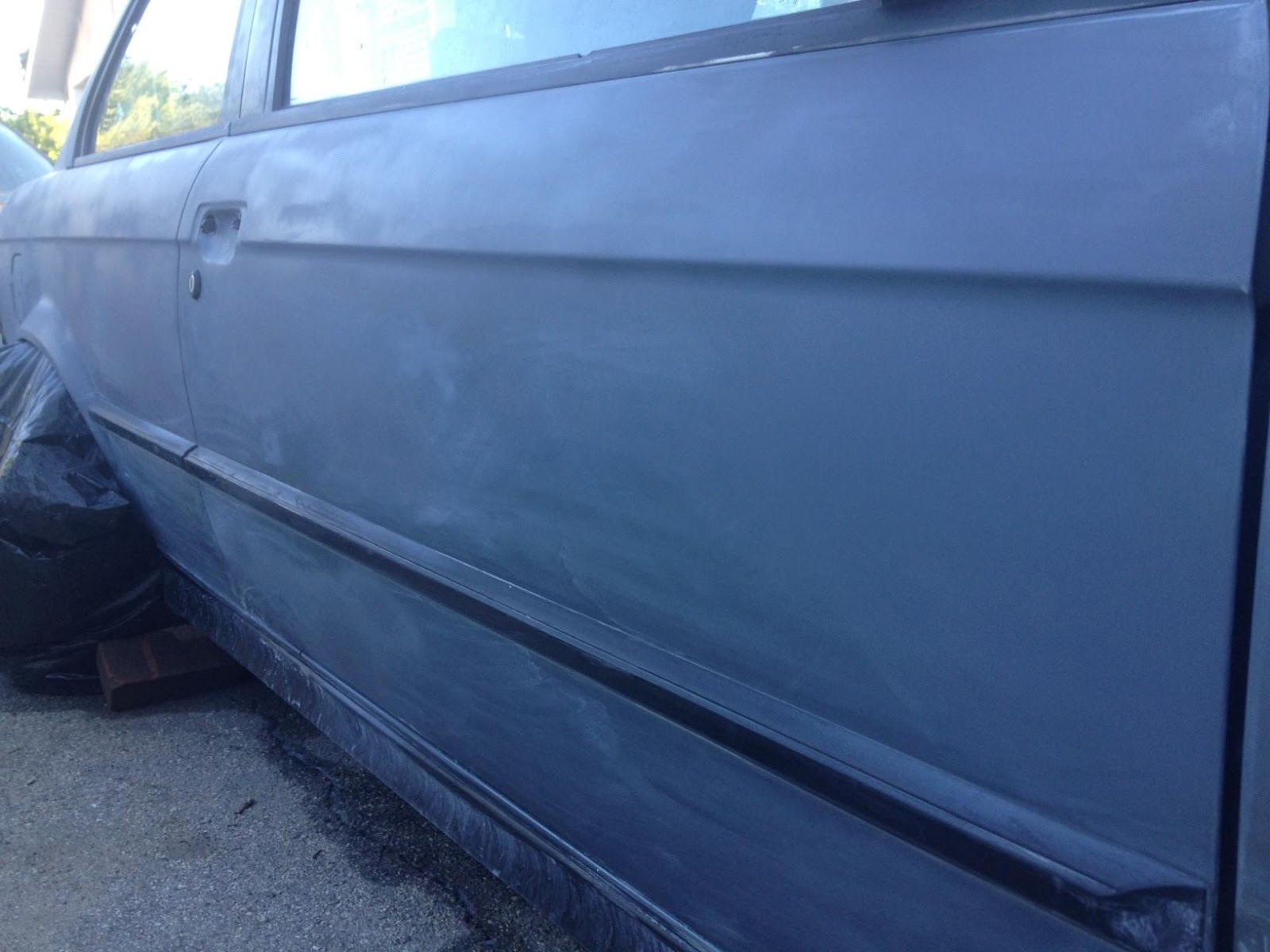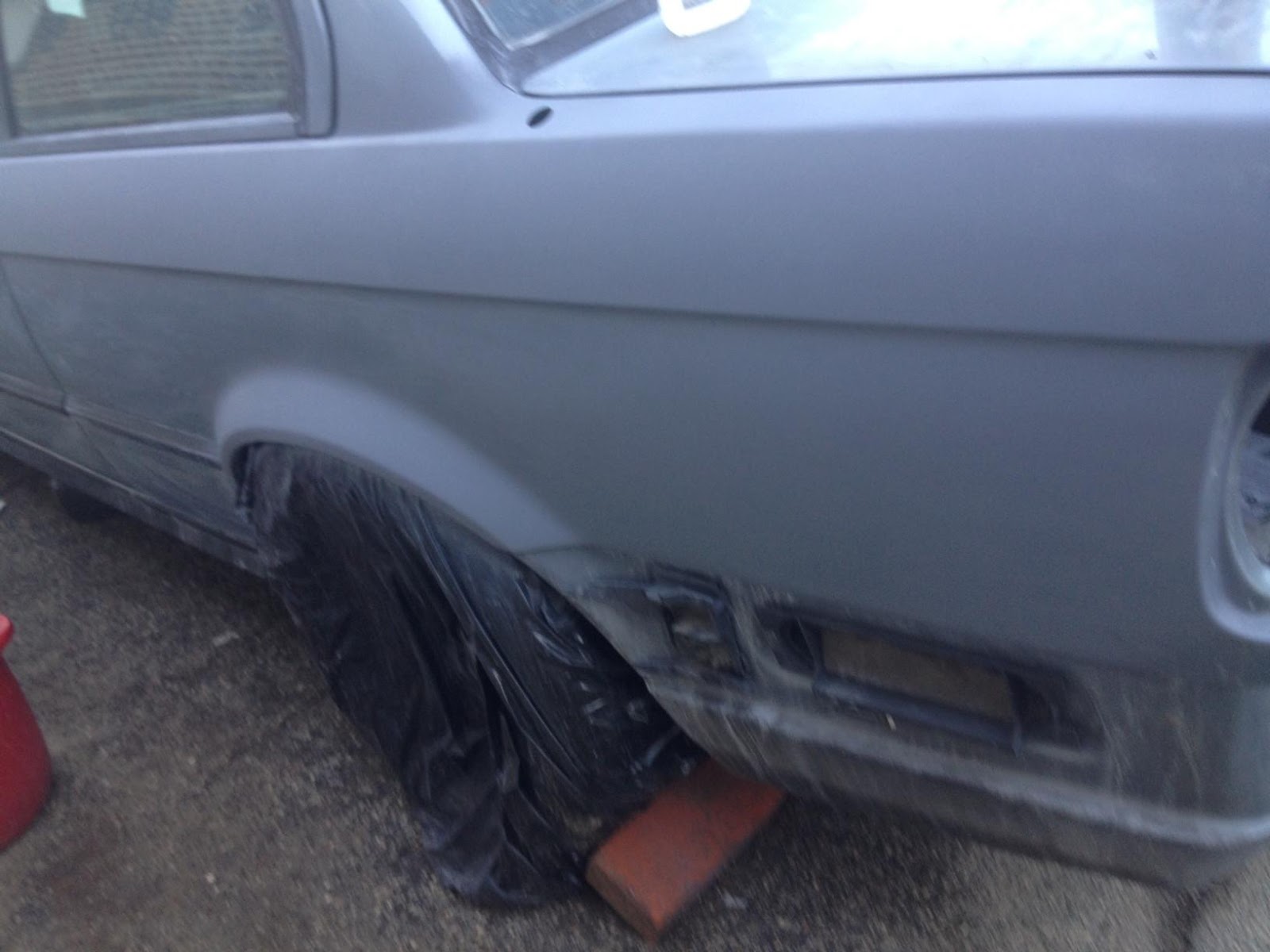 Day 3
Slowly making some progress; swapped on bottlecaps for the time being.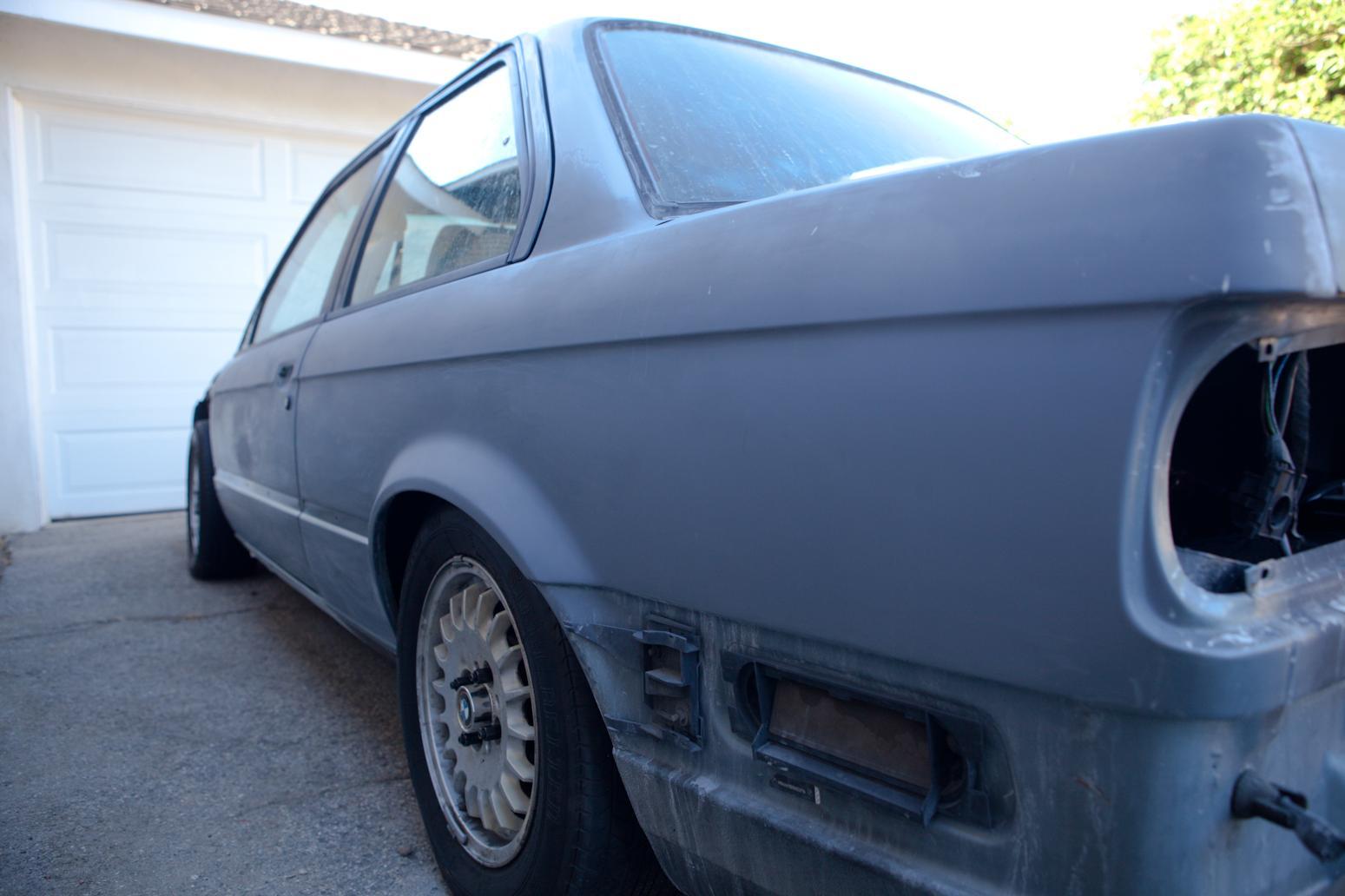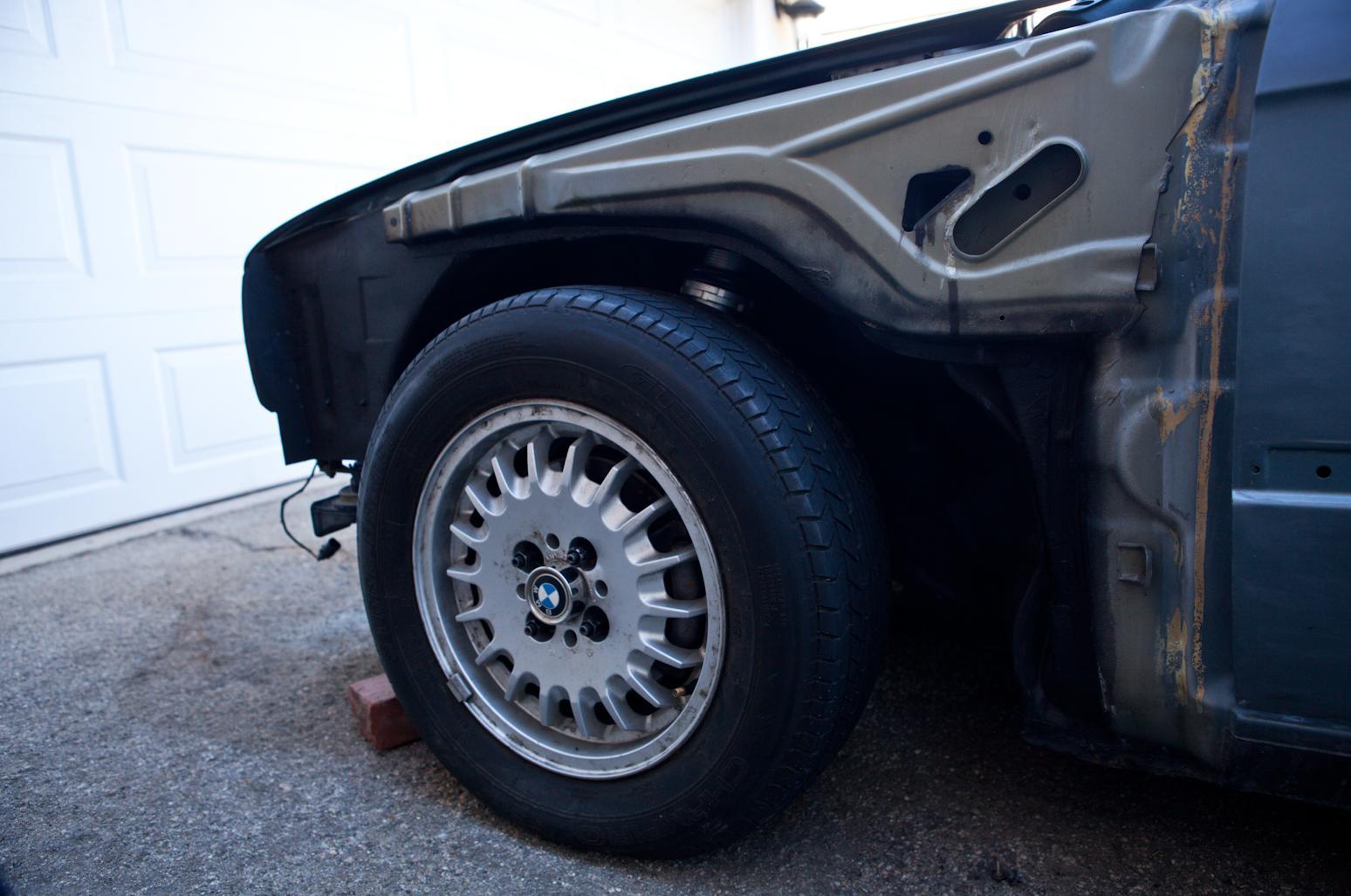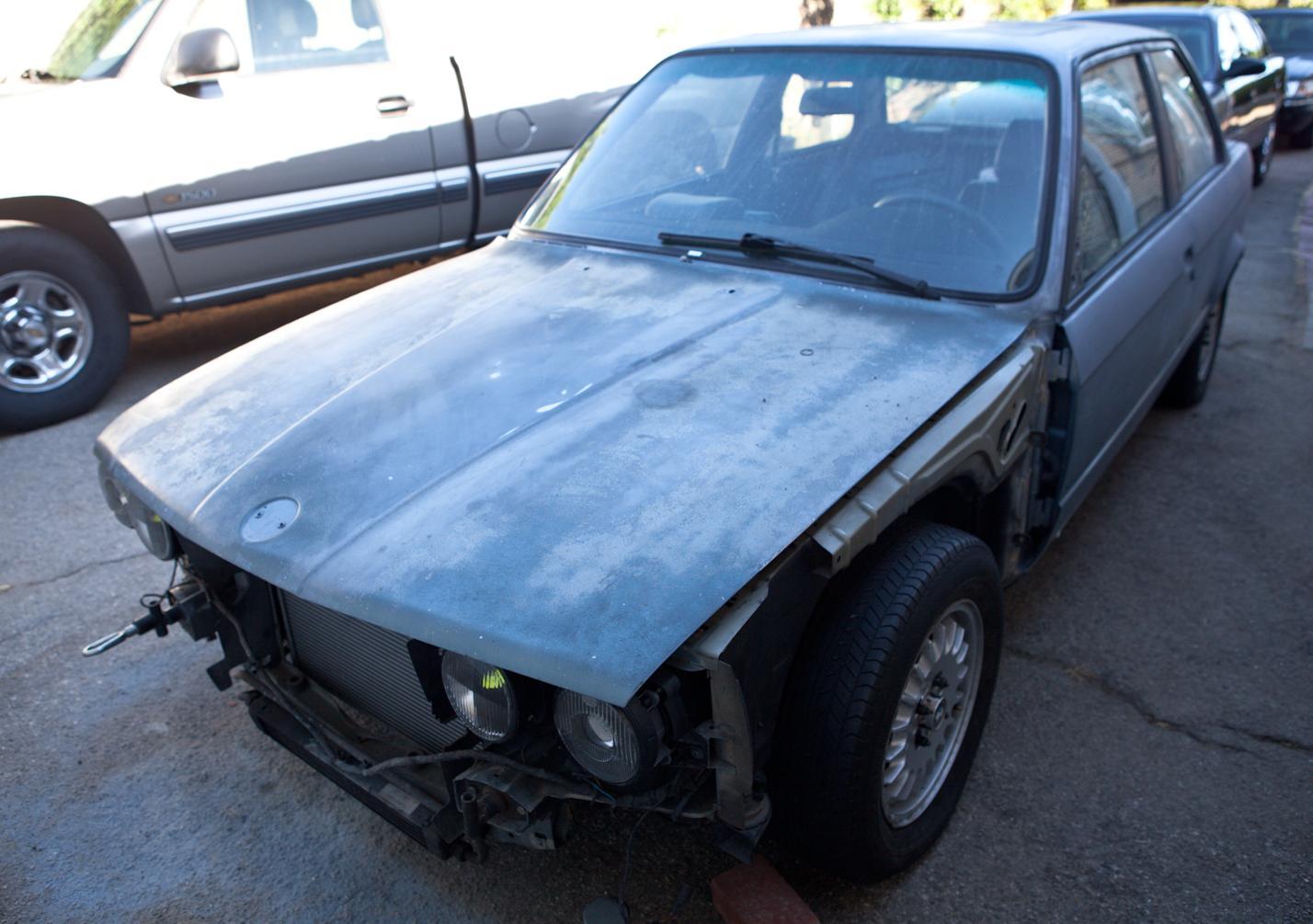 7-6-2014
To the guy who sold me the hood; I hate whomever your previous owner was who decided to re-ghetto-spray your hood. This thing has proven itself to be the toughest thing to sand down.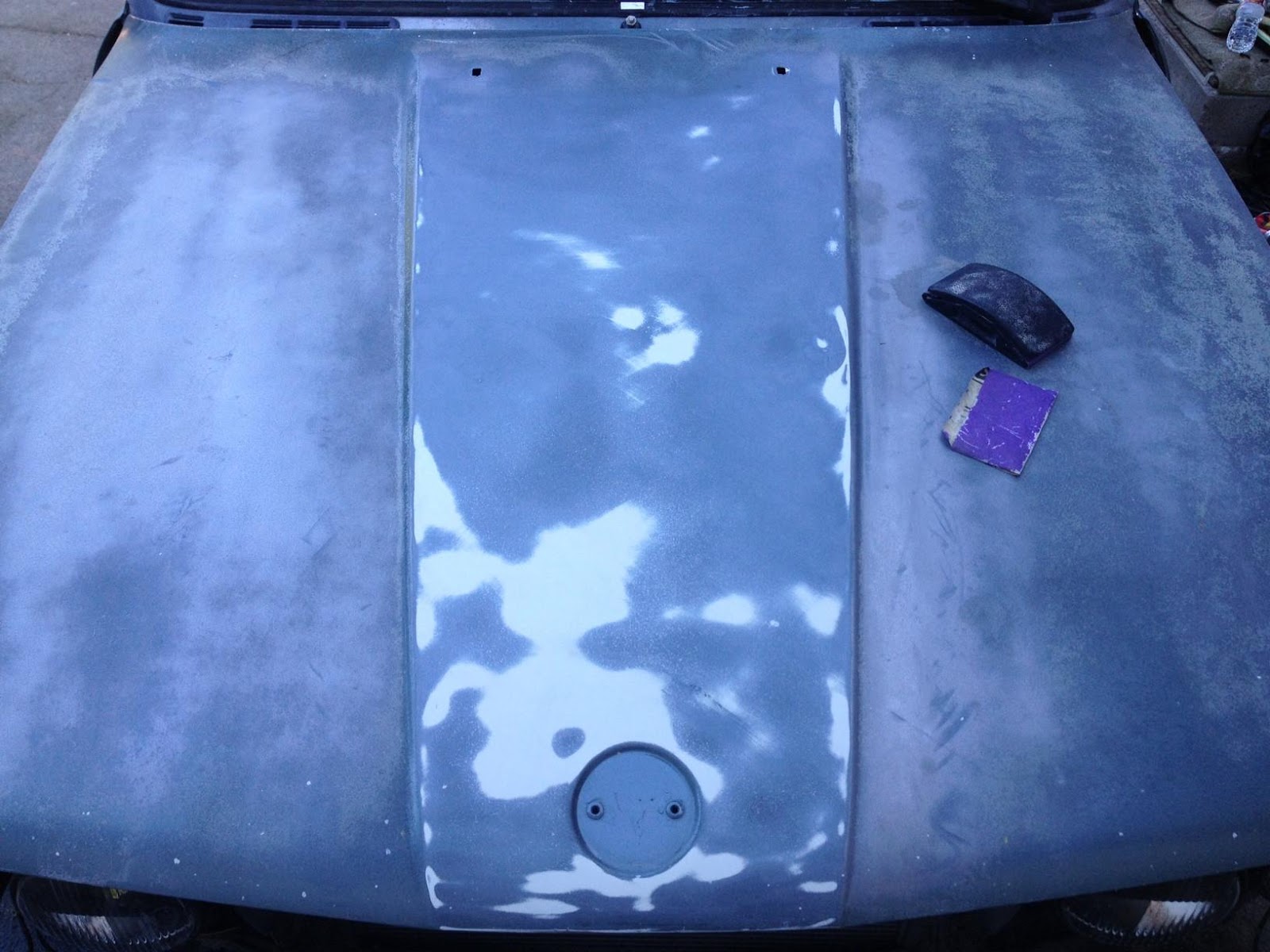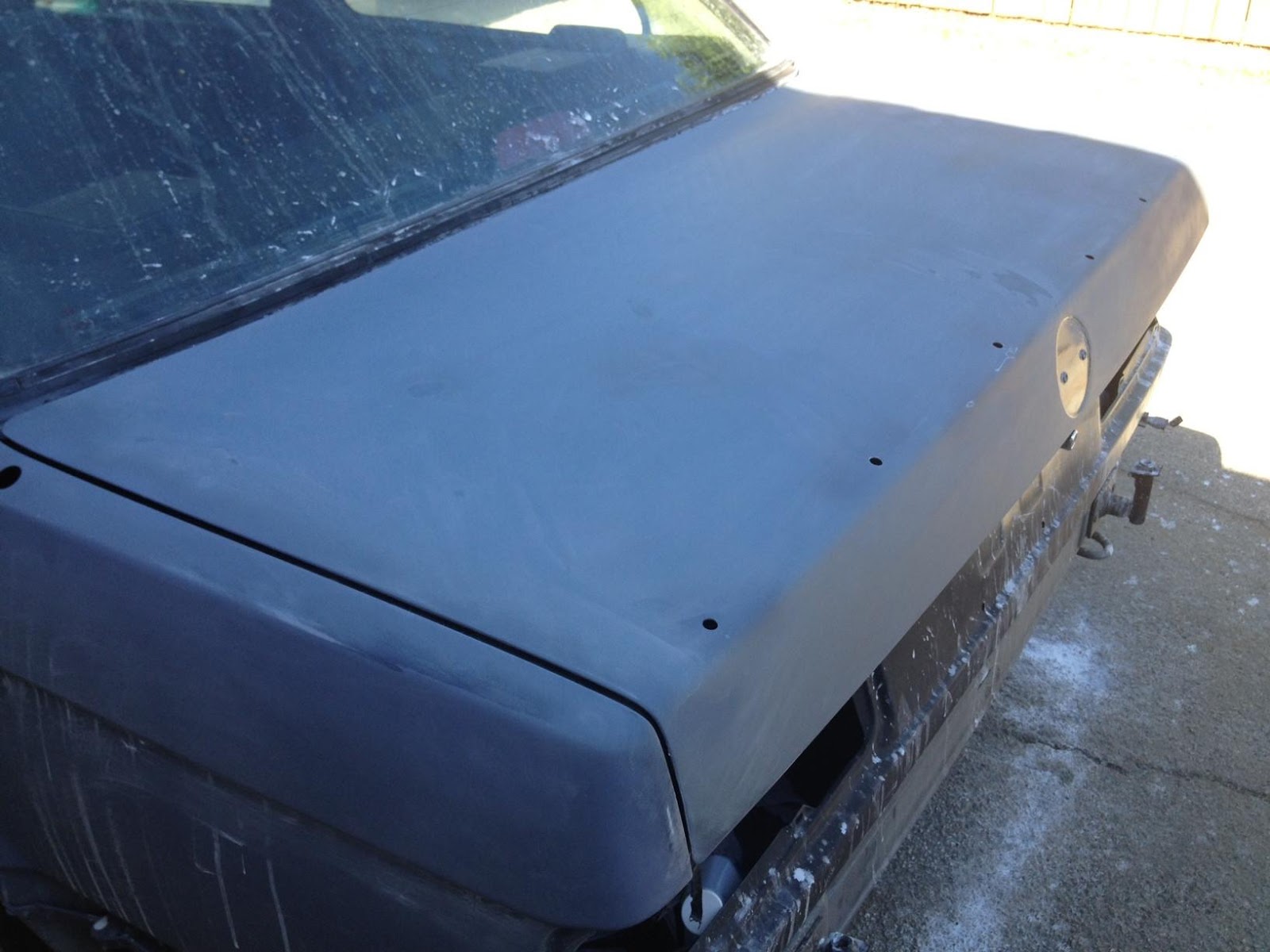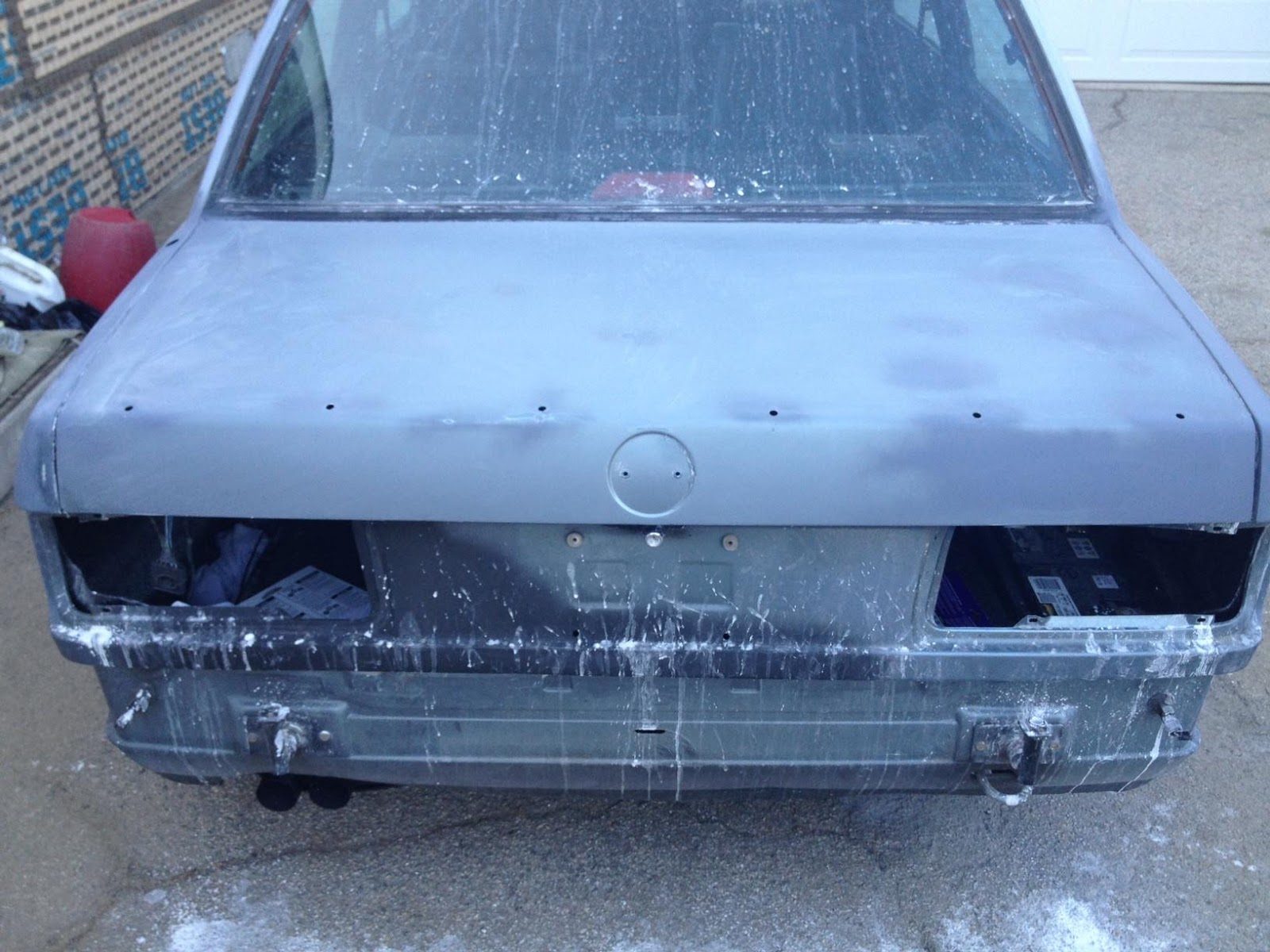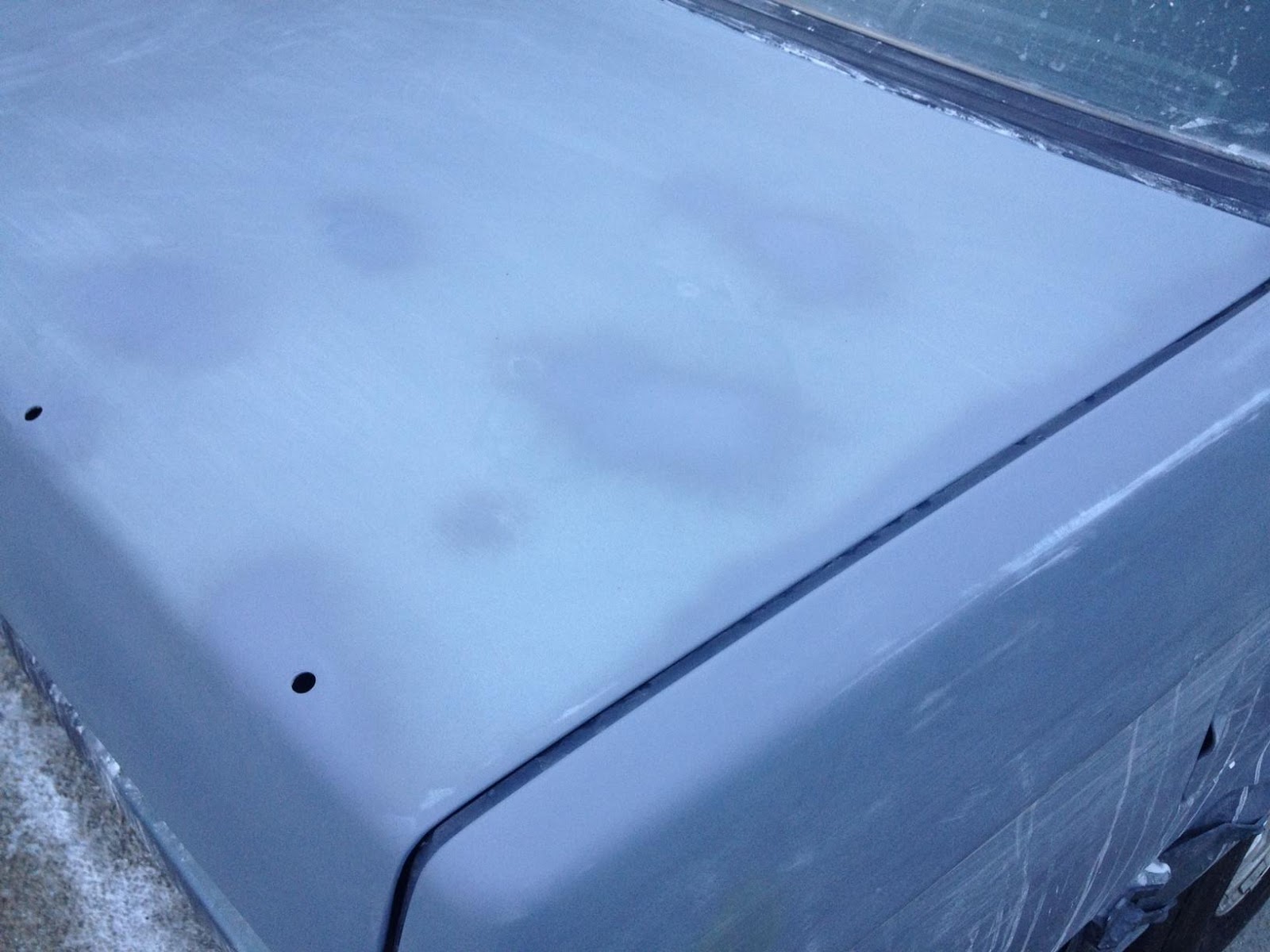 8-9-2014
Mannnnnnnnn its been a while... Finally got things situated, car passed smog, finishing up the last of the prep work...
Stay tuned

I am, but at the same time that doesn't exactly mean I know everything. Everything I've done has been nothing but pure trial and error along with a TON of research, reading, and watching videos.
Anyone can do it, it's just a matter of how detail-oriented and how determined you are IMHO. If you want something bad enough, there's no limit to how hard you'll work to achieve that goal.
8-21-2014
So now its down to the small little things;
Window trim and pop out windows are out, almost finished sanding down the door jams. Still need to pop out the front and rear windshield but I'm gonna wait till everything else is done since I'll have to transport the car via car carrier. Can't believe how bad the hood was makes me wish I used a DA instead of hand-blocking. Overall have about a good 45-50 hours give or take into prep work so I'm hoping its well worth it.
Here's some lovely shitty iphone photos lol, oh yeah and I bought a Civic for work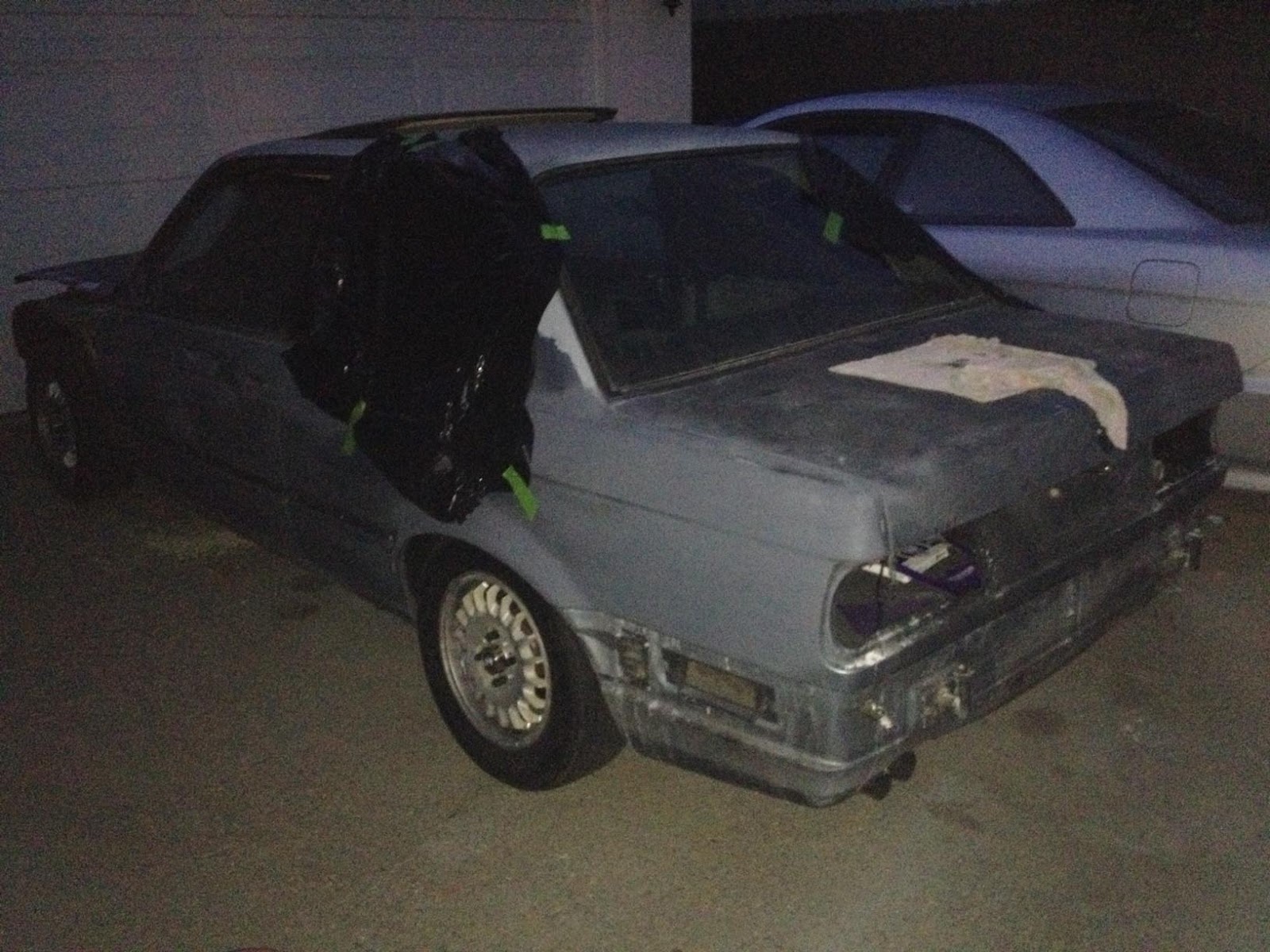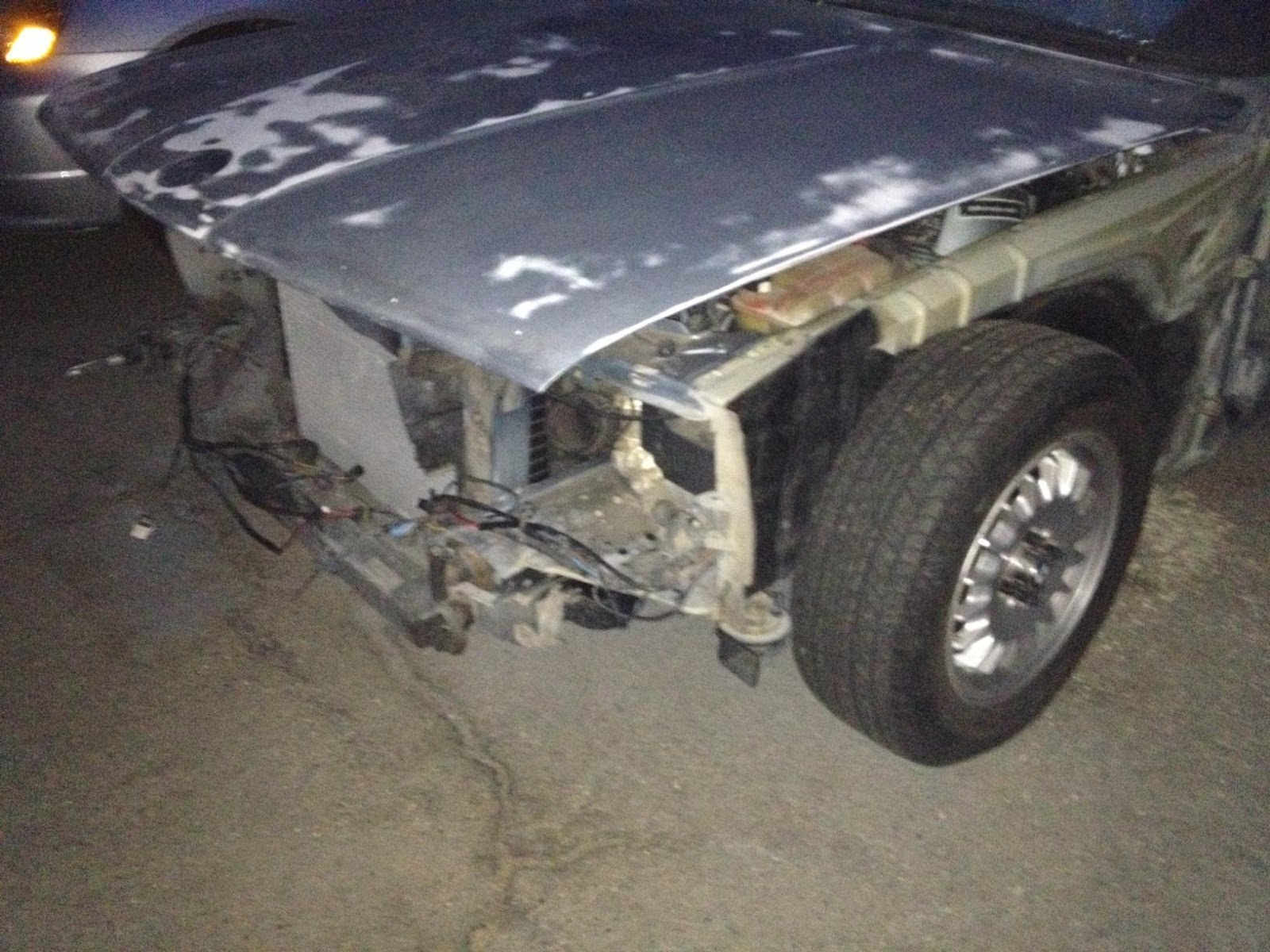 9-22-2014
Sneak peak.. (This is the color coat not a primer btw)
I was a little worried once the color coat was on; how it appeared silver. Thought it looked pretty badass as is. The color popped out once the clear was on and it baked.. I'll post a few more pics later on.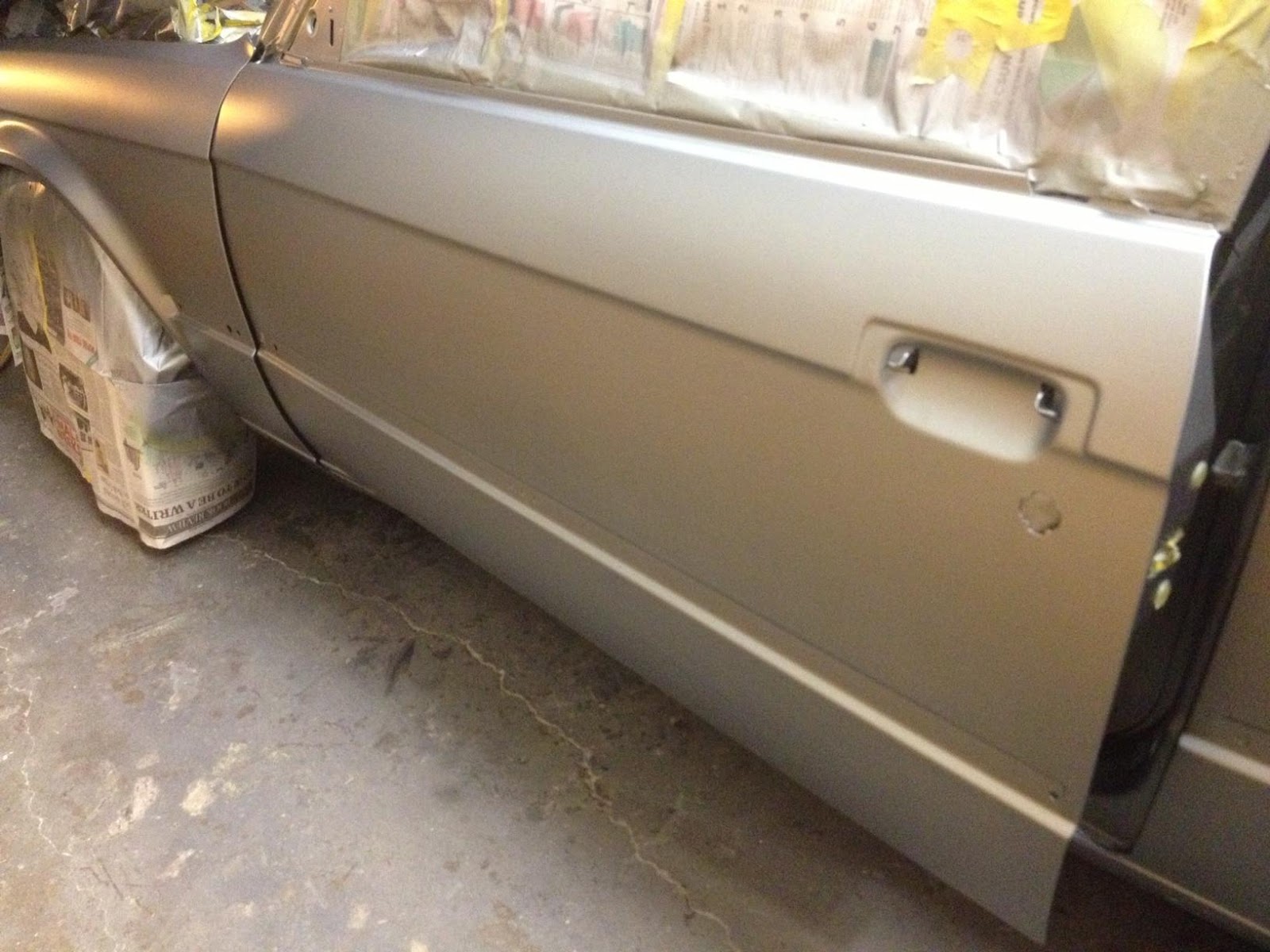 9-22-2014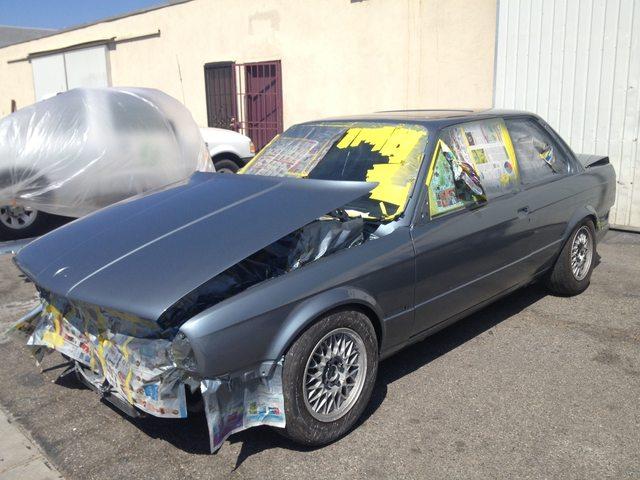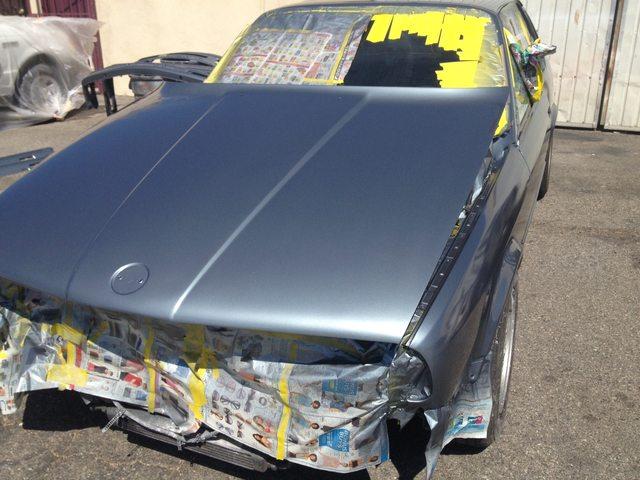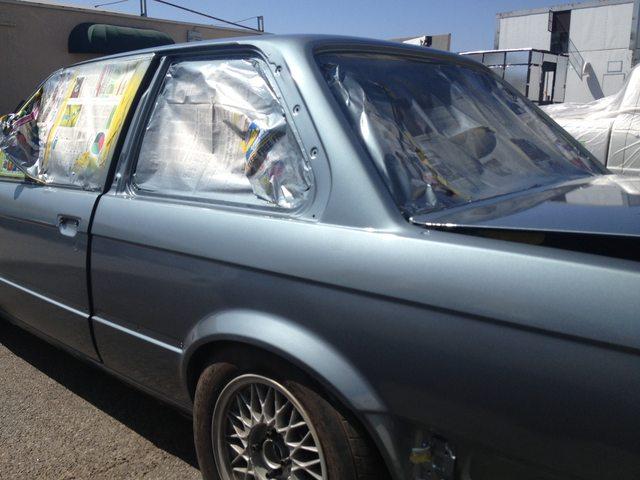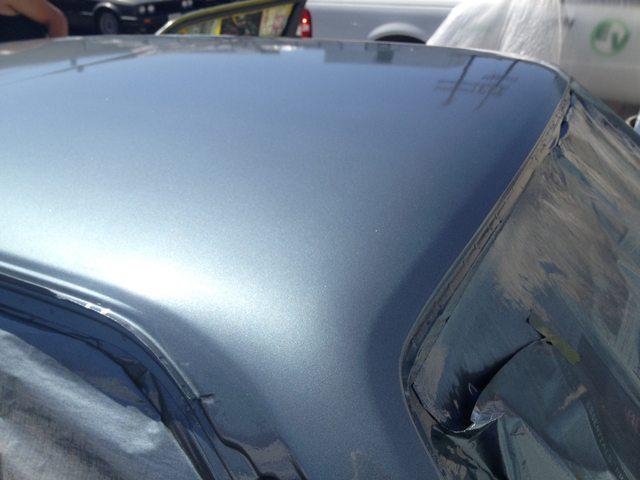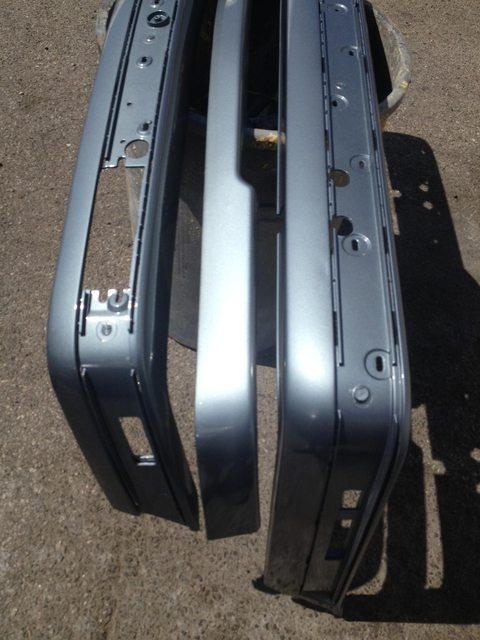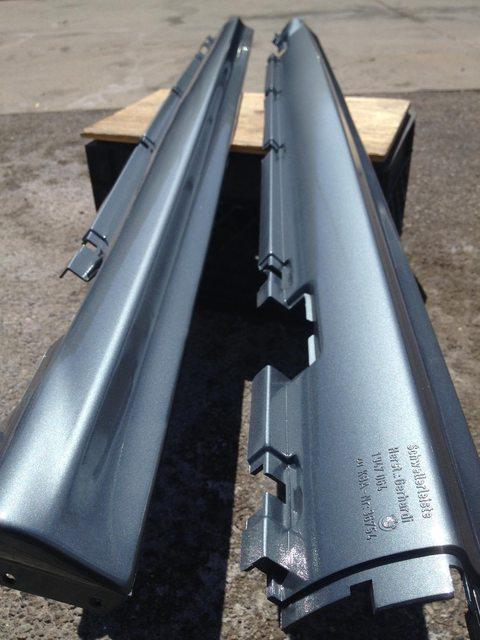 10-7-2014
Wet sanded and buffing finished up, need to give it a good wash once the glass is all back in. Headliner should be finished up tomorrow I'm hoping.
Slap some seals, grommets, and all the bells n whistles and we're in business.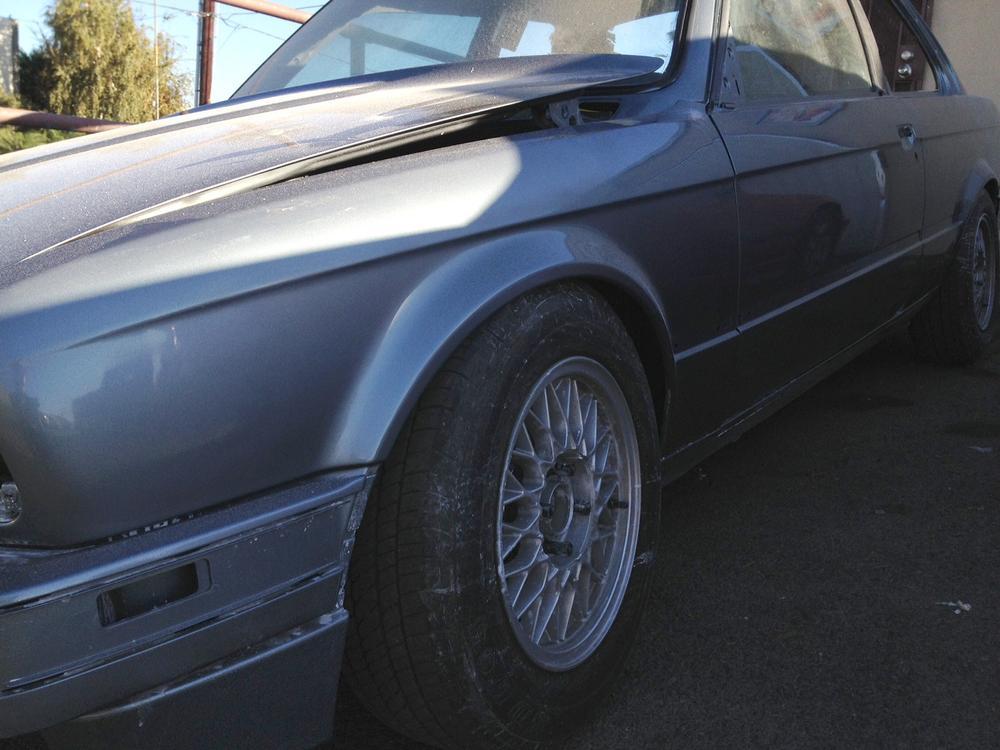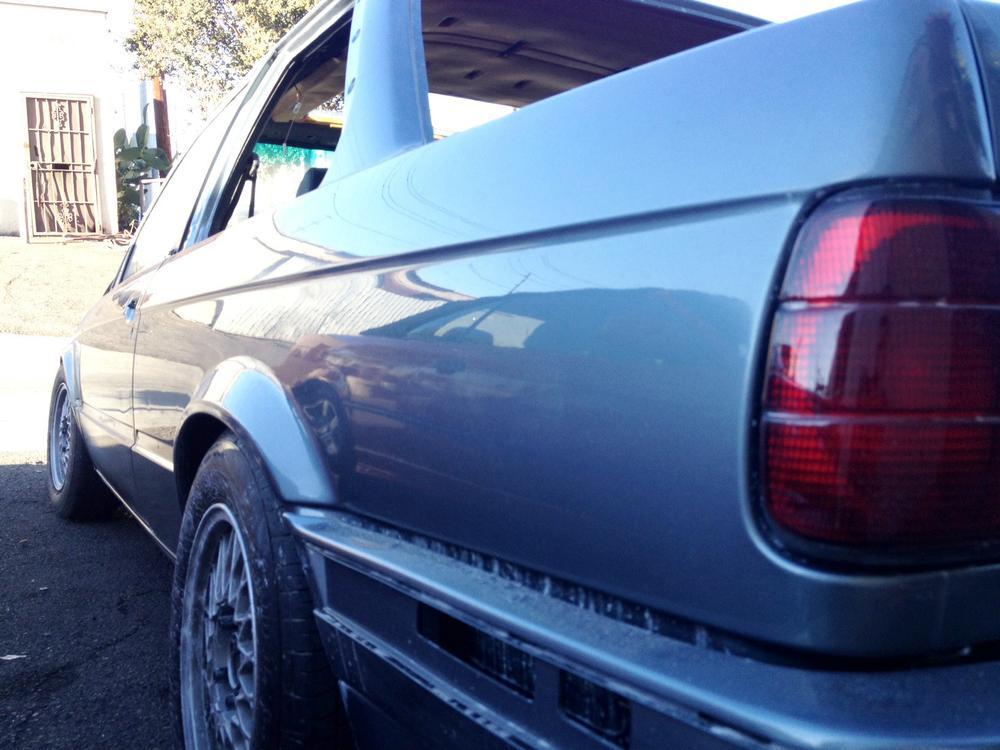 In the meantime, I've been working on something else on the side.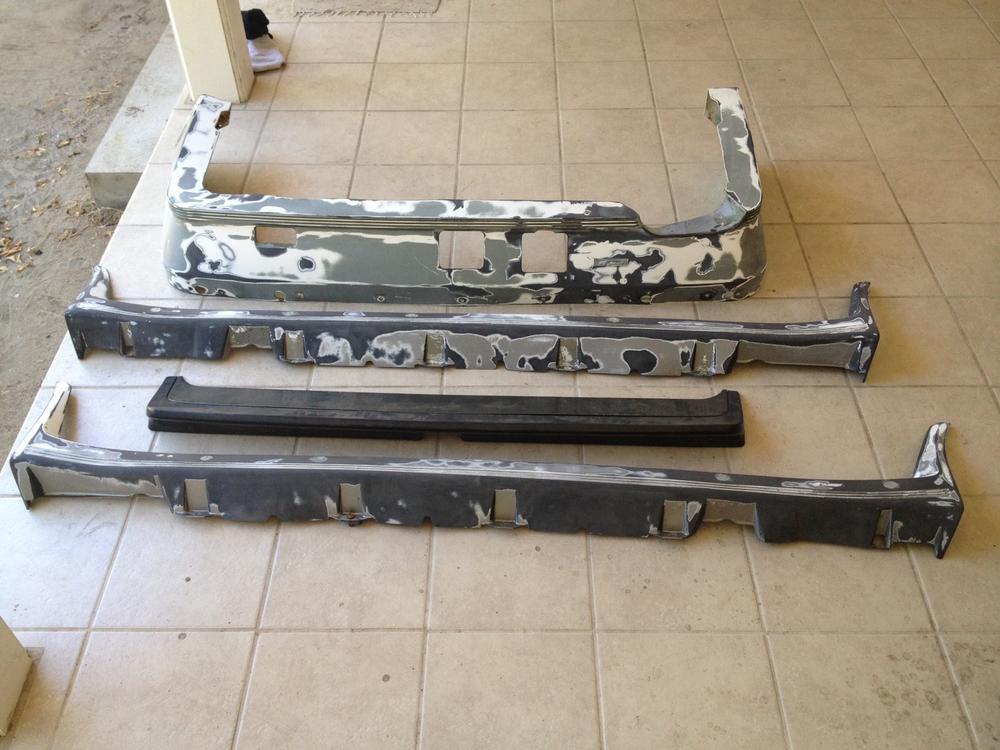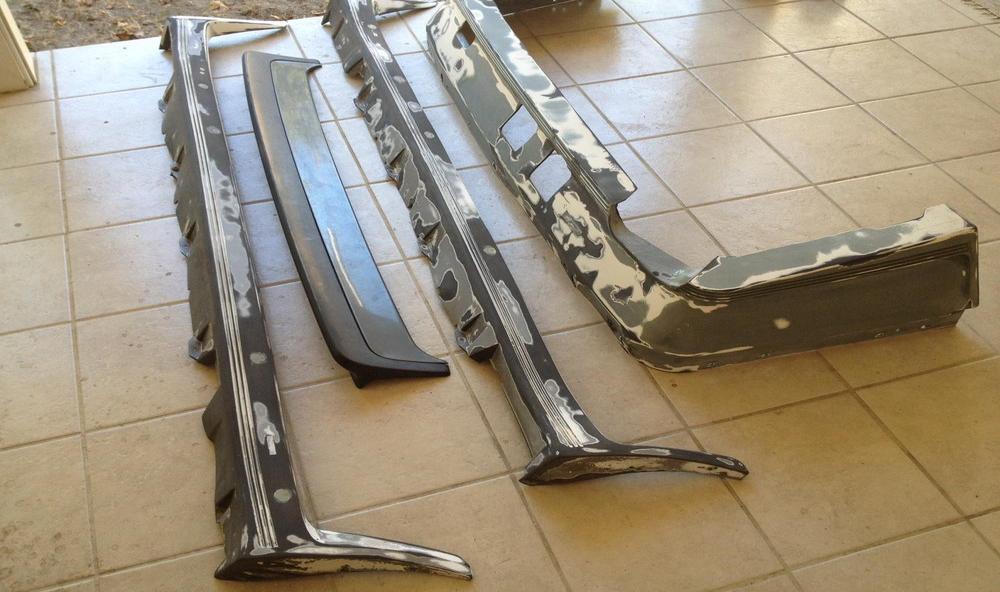 10-9-2014
It's all in the details..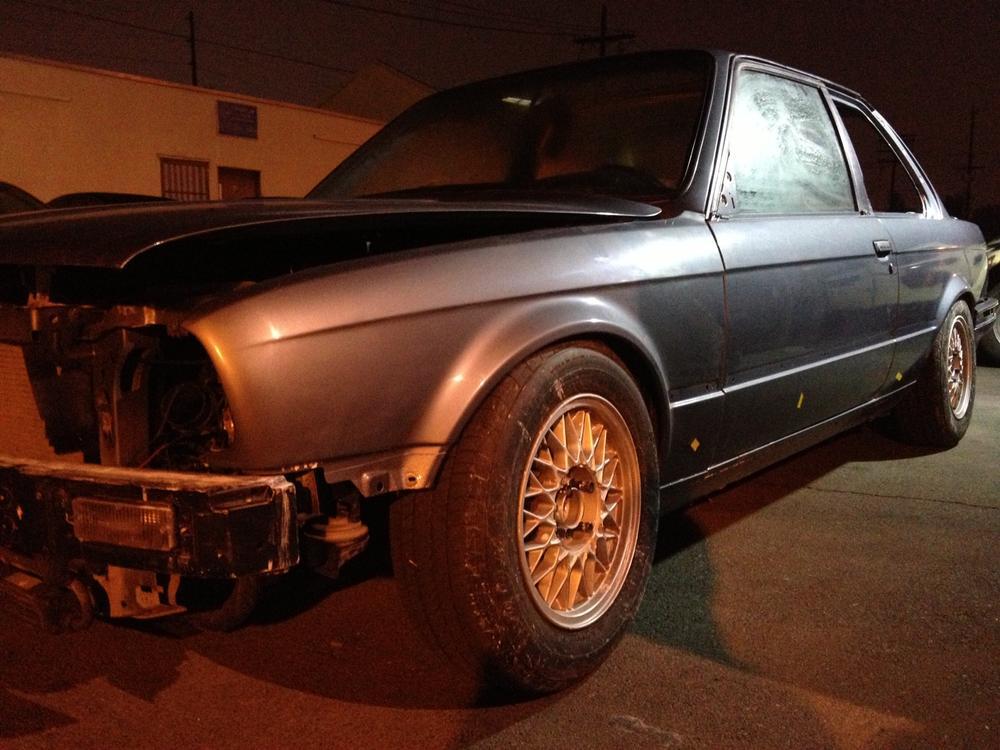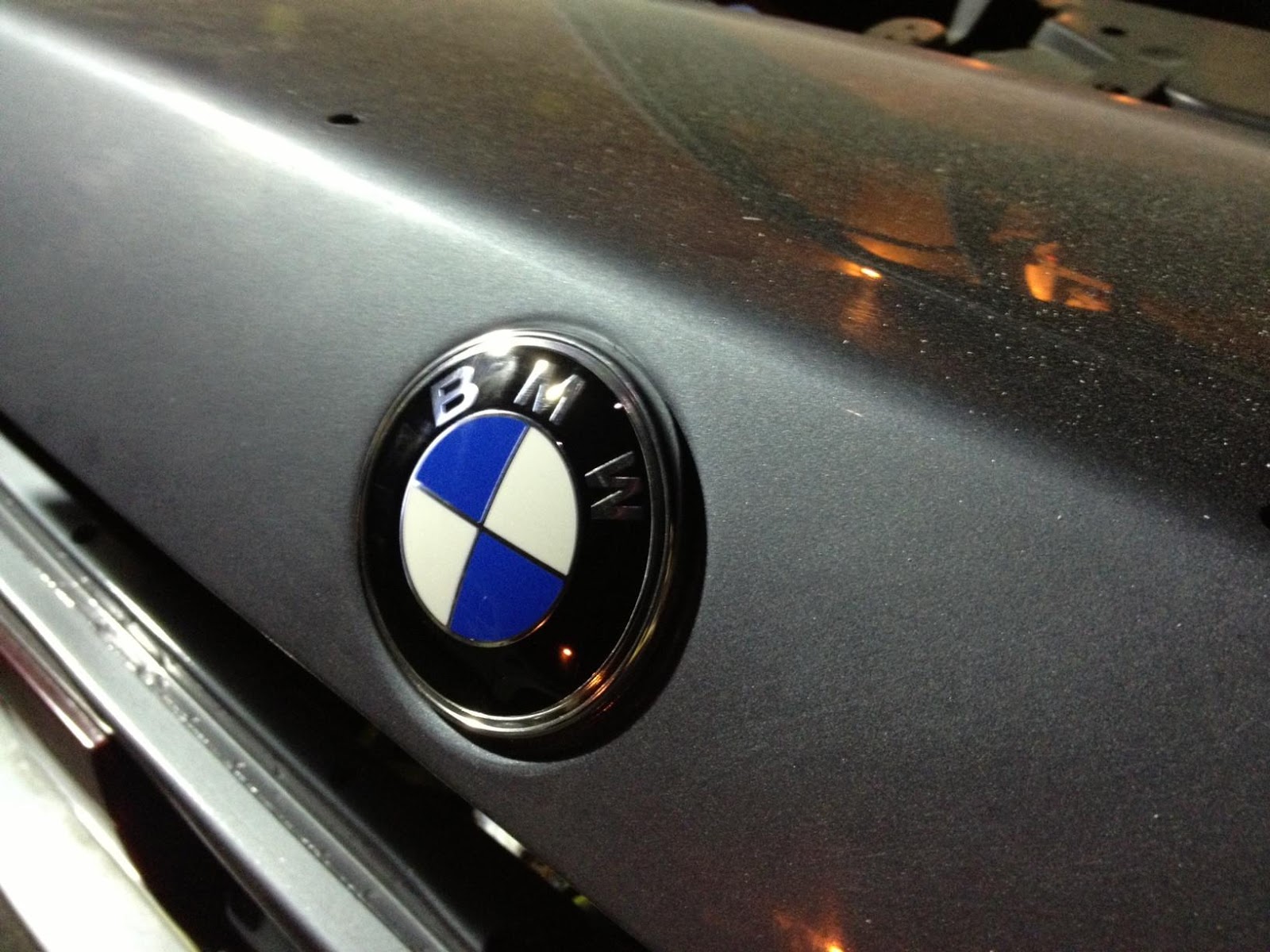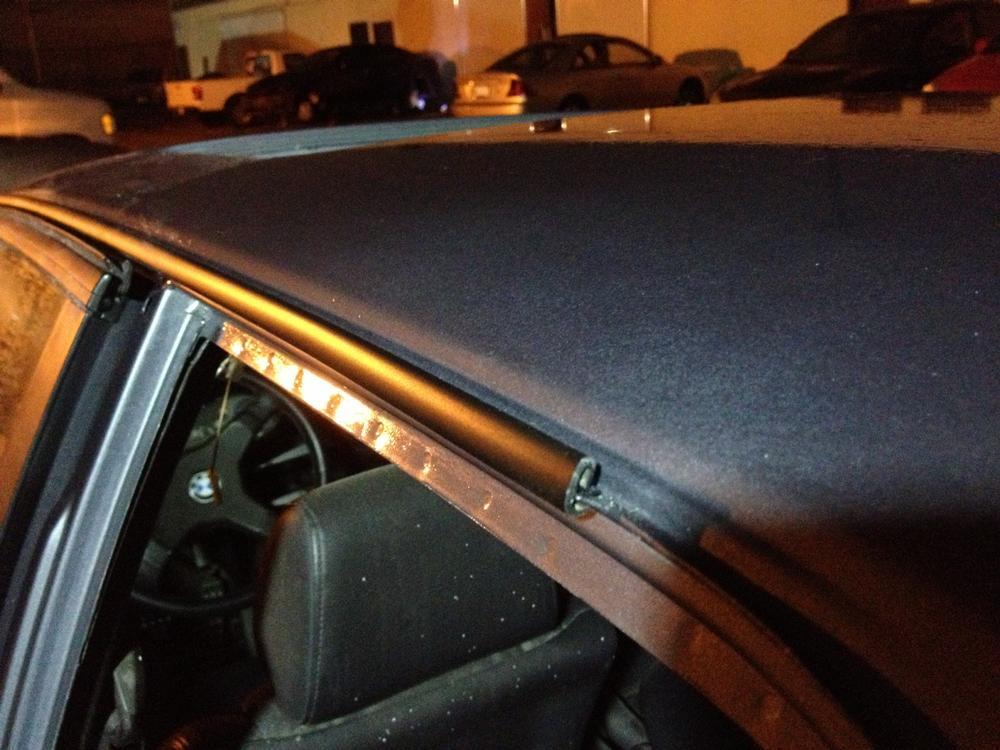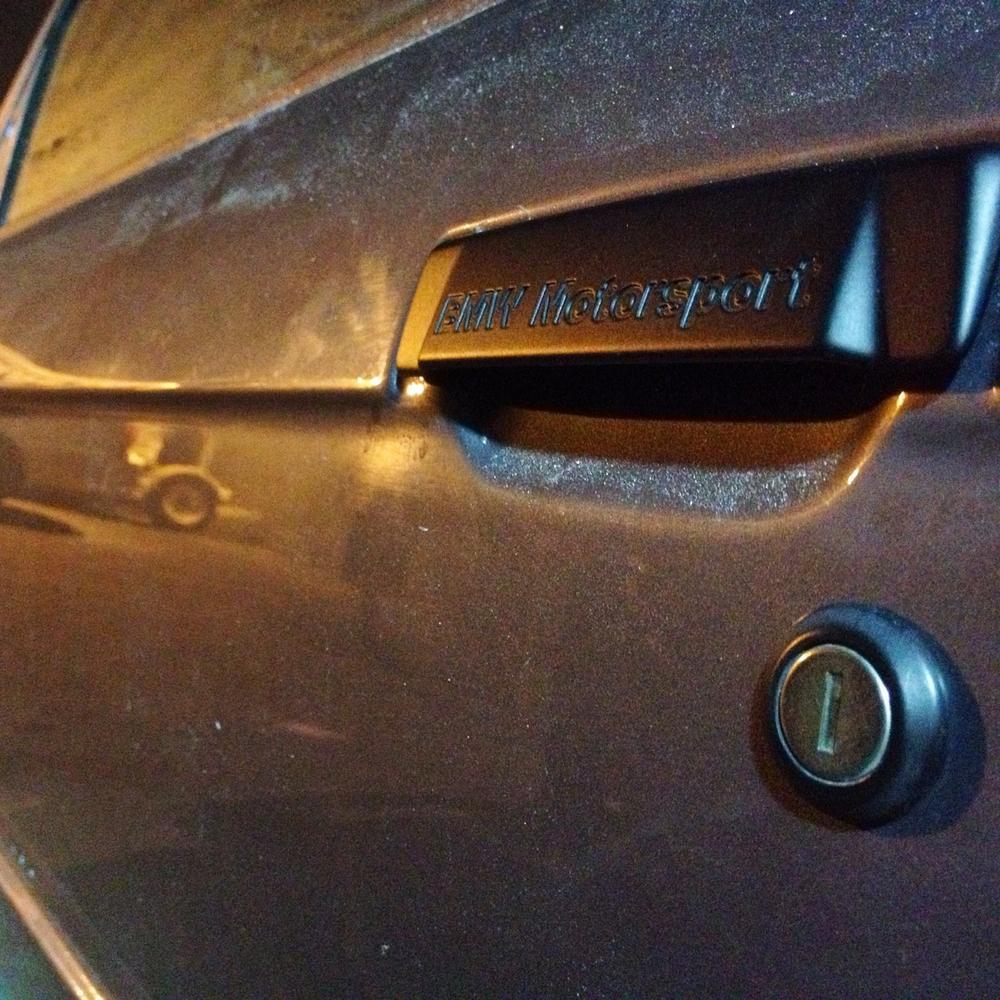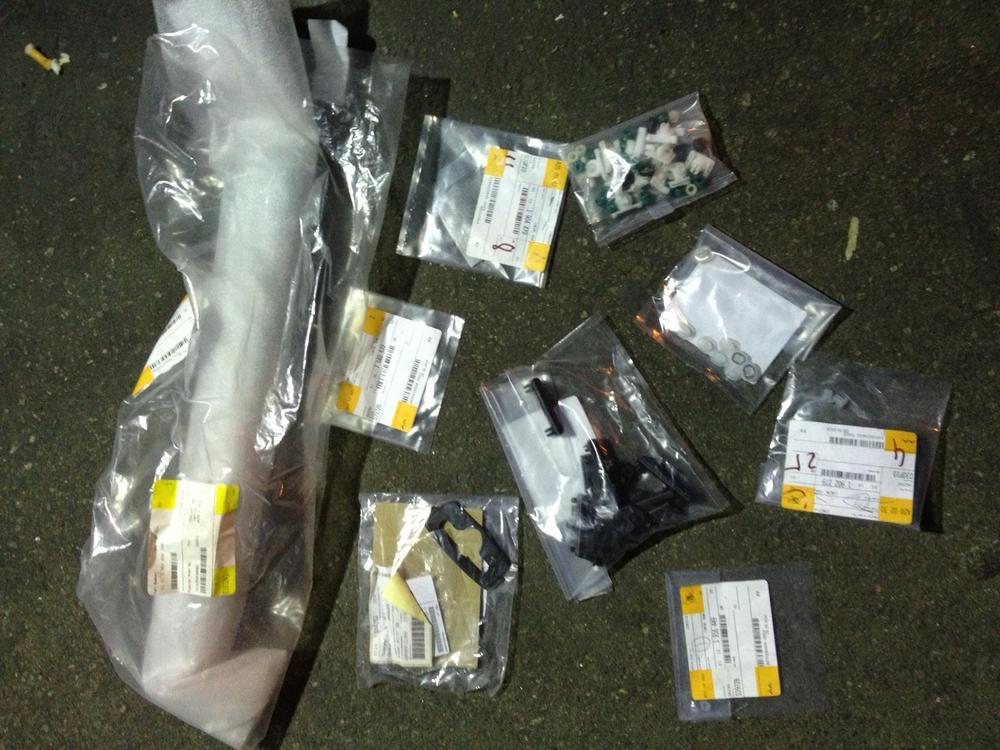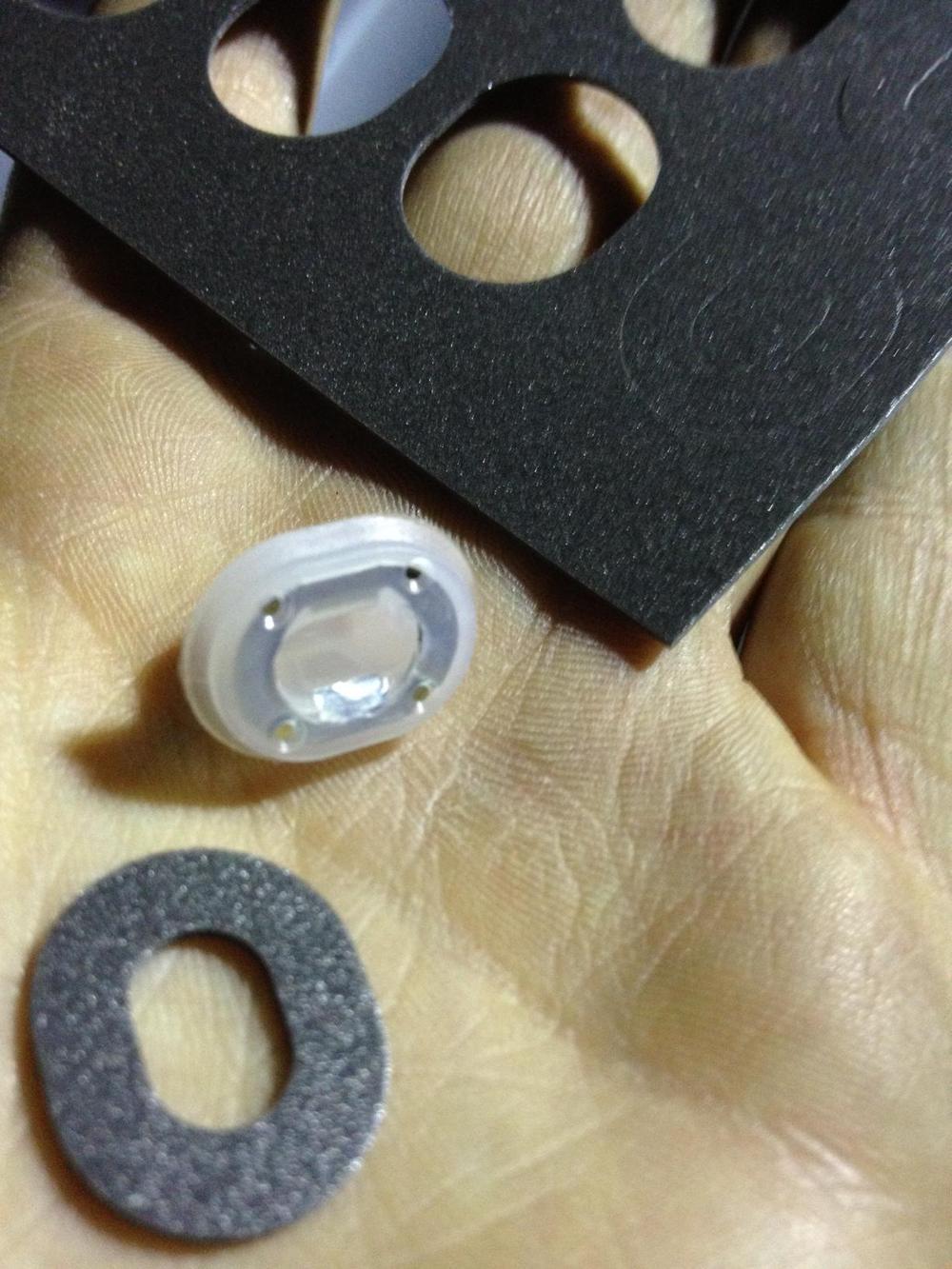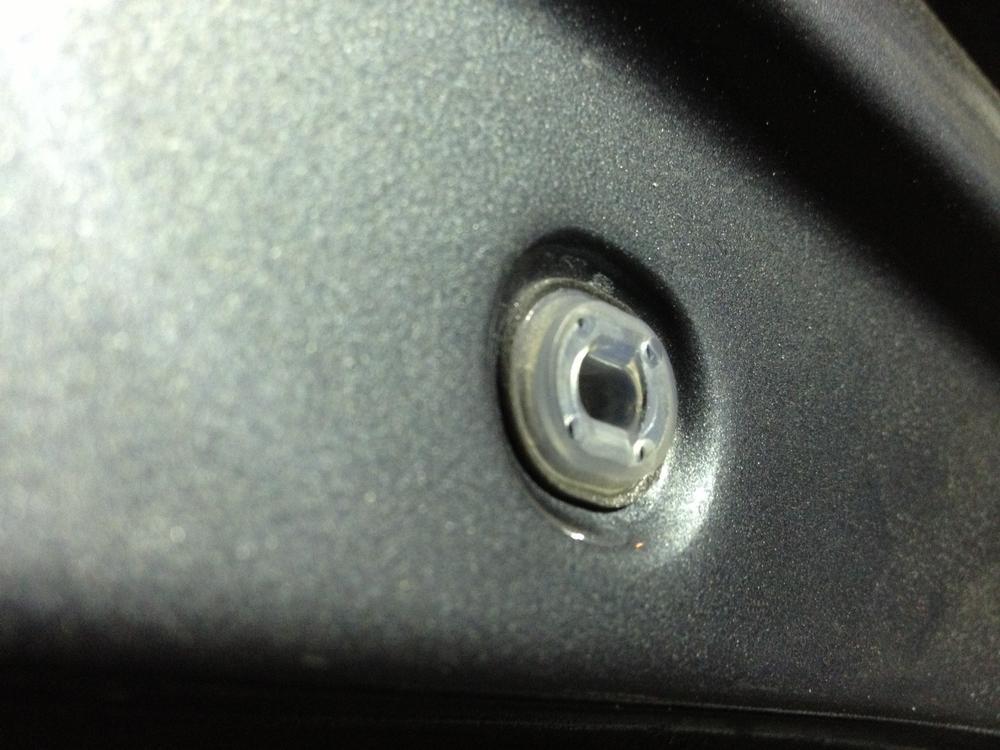 10-12-2014
So I've switched over to a Galaxy, not really feeling it compared to the iPhone. The "in the process" photos didnt really come out the way they looked on my phone when i uploaded them. So after killing myself spending about 14 hours the night/morning before SoCal Vintage heres where it sits..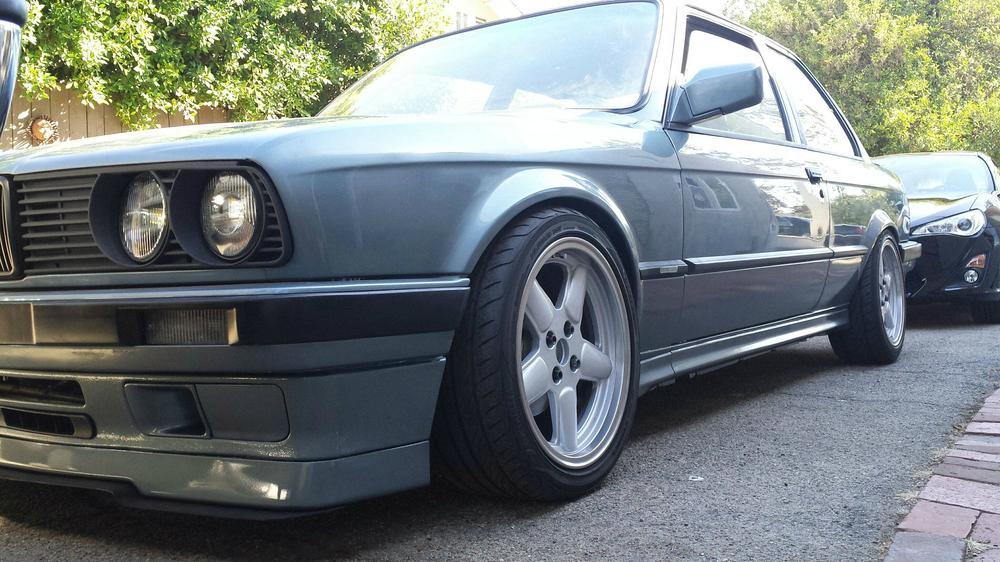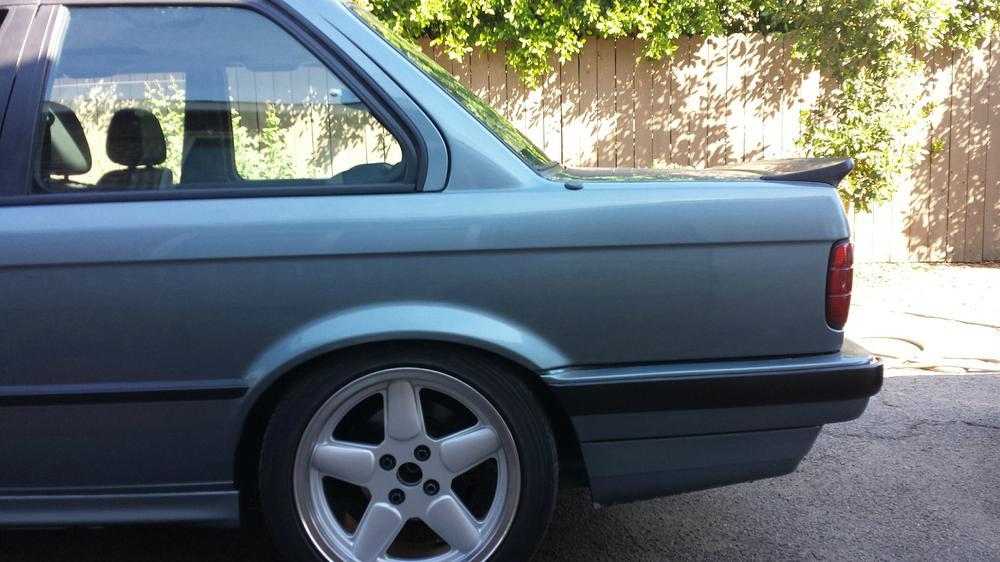 10-16-2014
We rolled in a little late to the show since I spent all night and a good majority of the morning putting it back together. I'll be breaking it out a lot more now since its almost finished up.
Disregard the buffing compound lol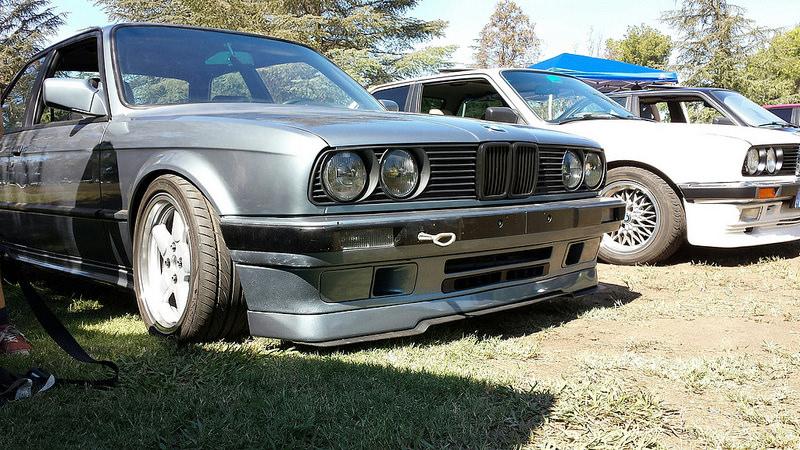 Gonna get around to doing a nice lil shoot with my 5D or my A1 when I have a bit more energy.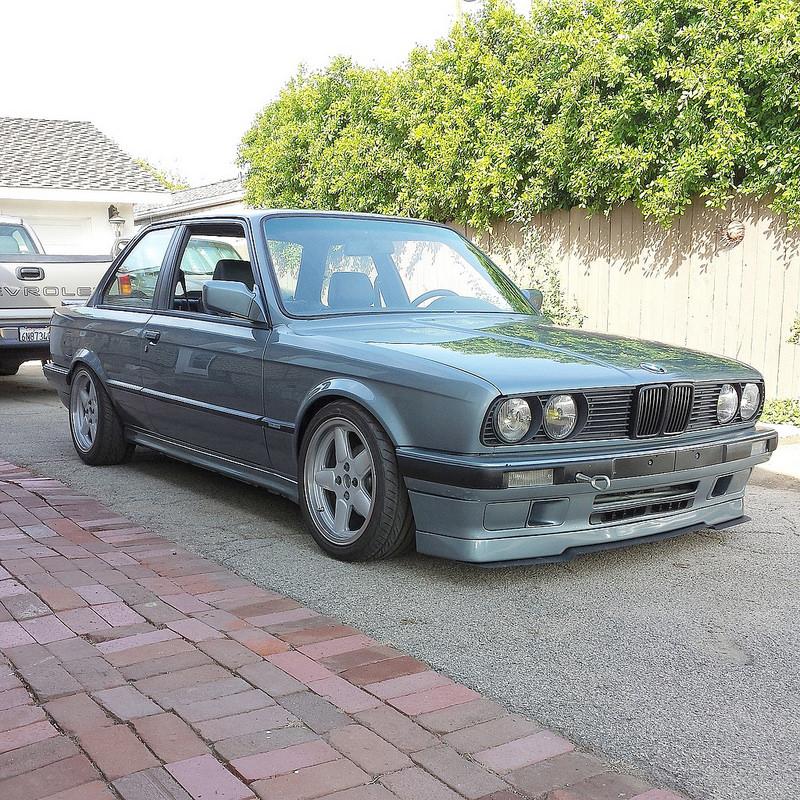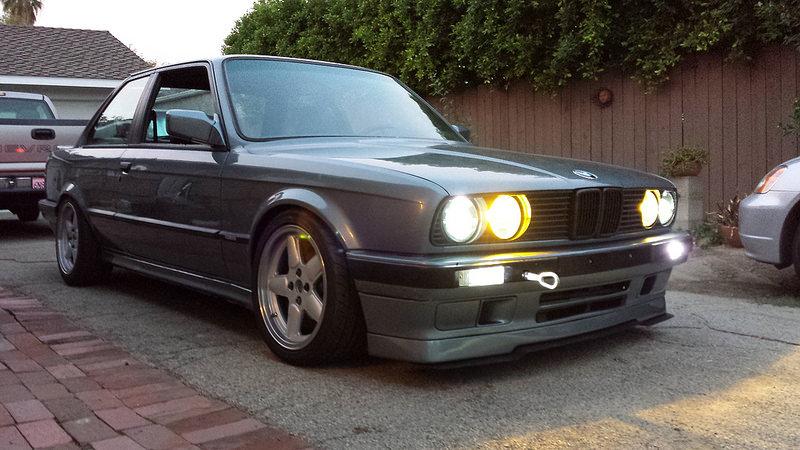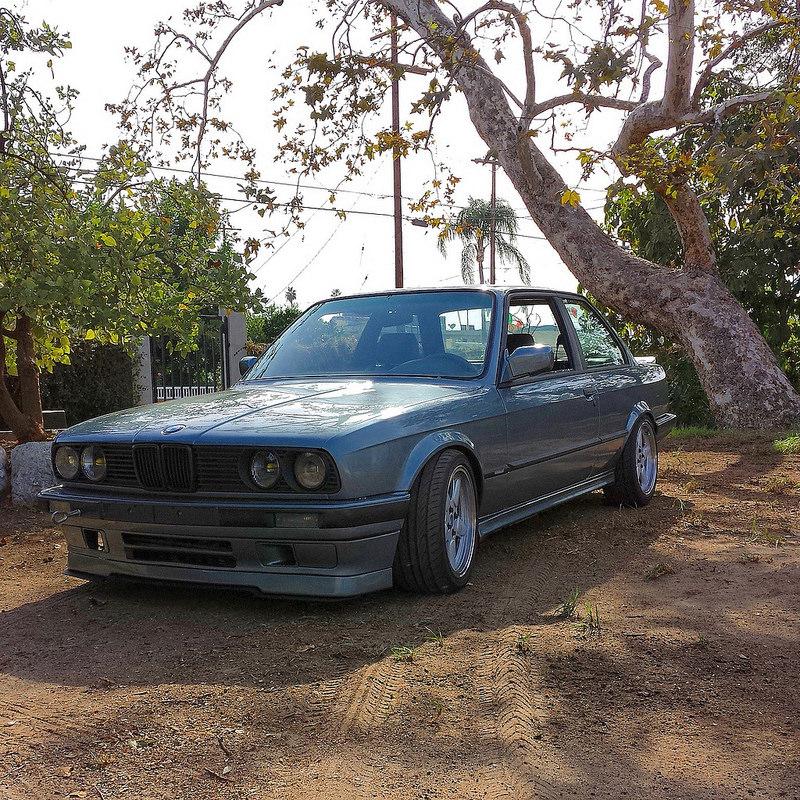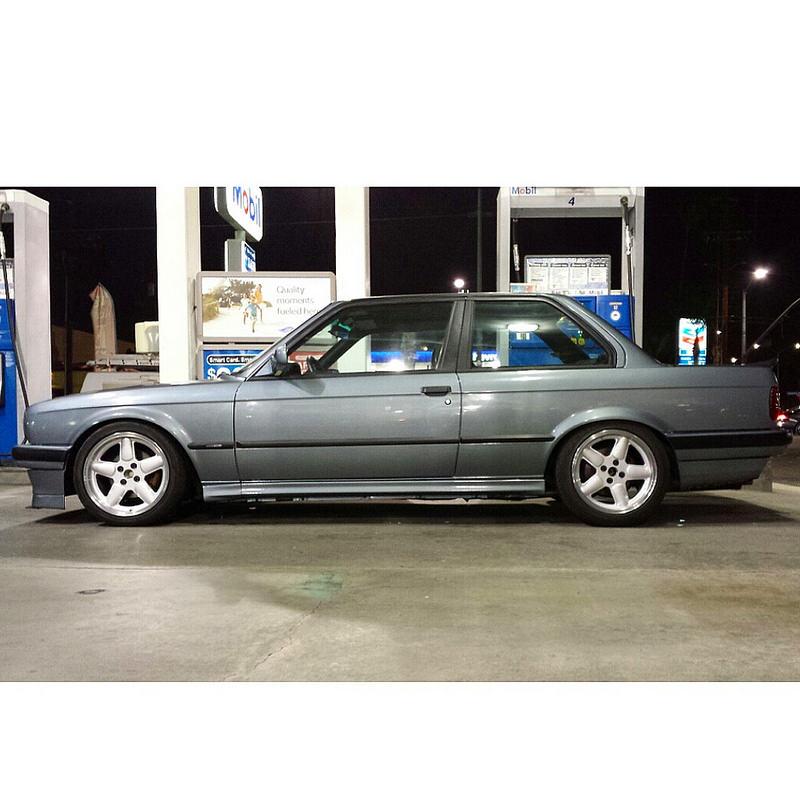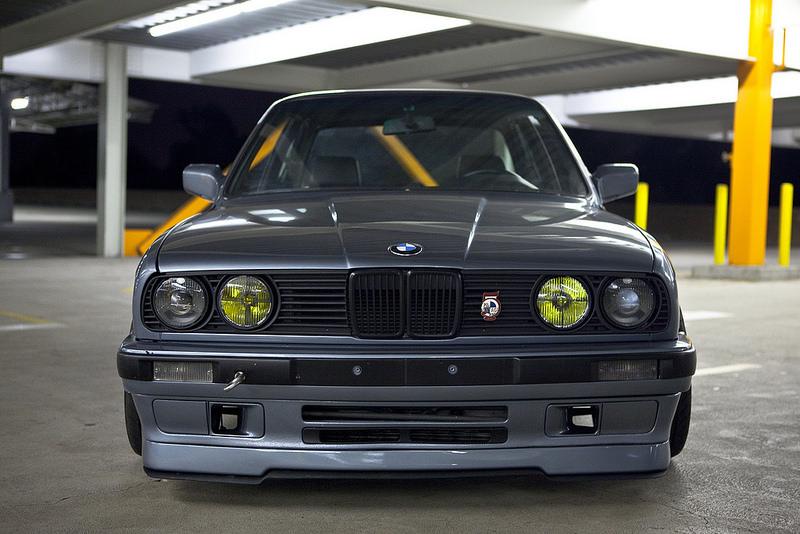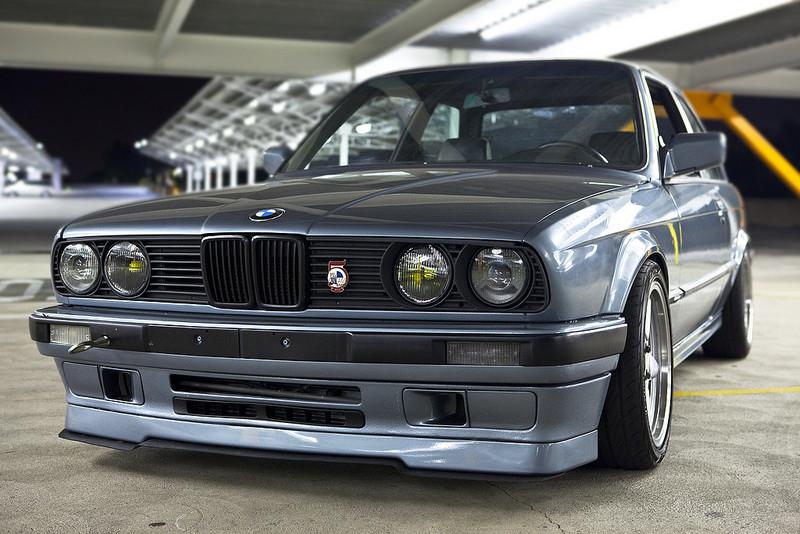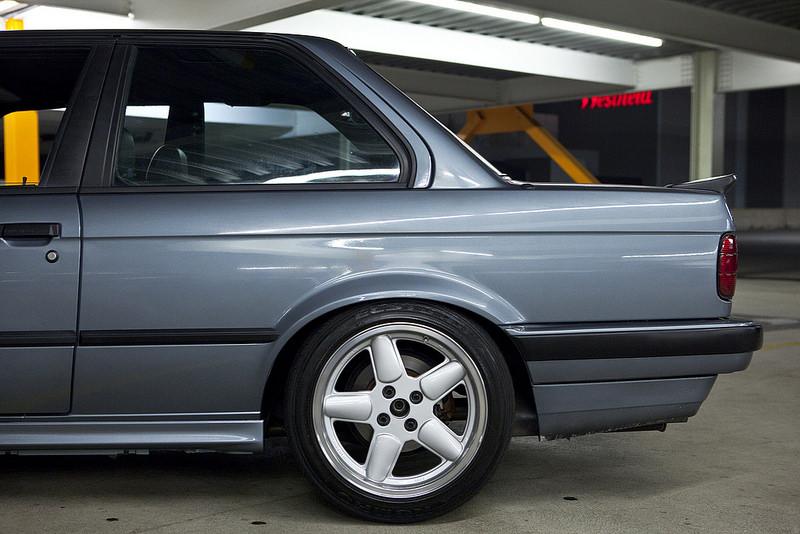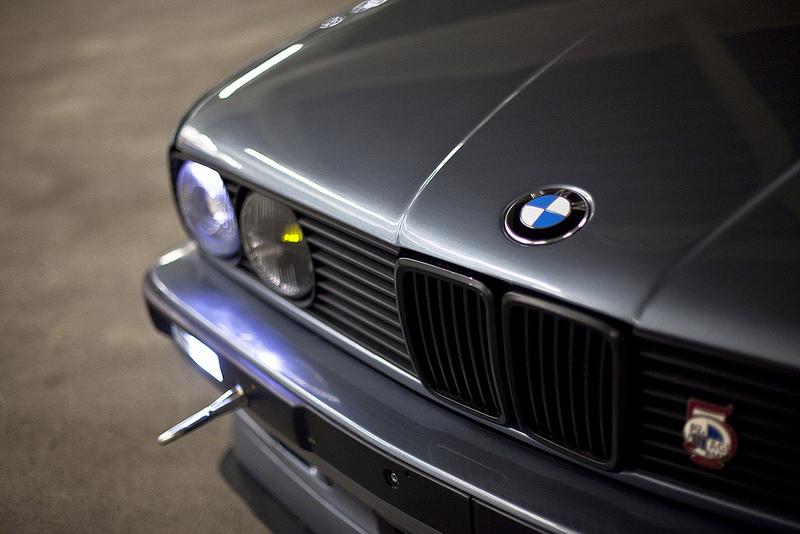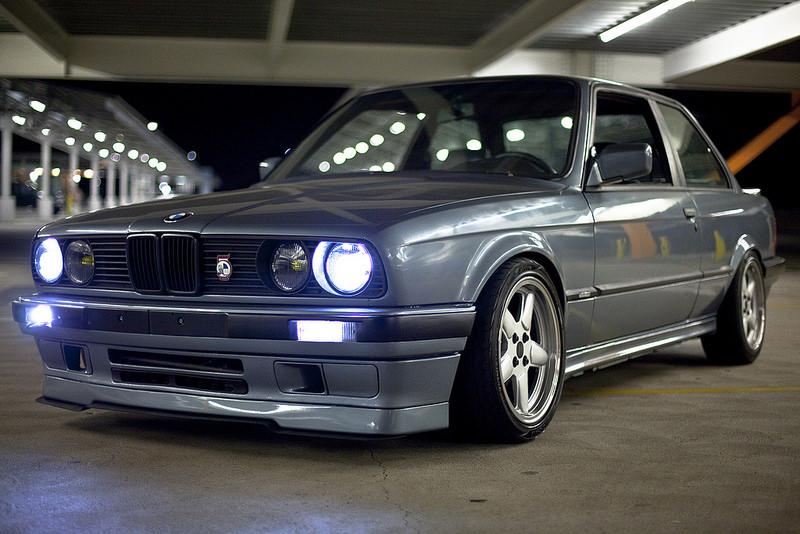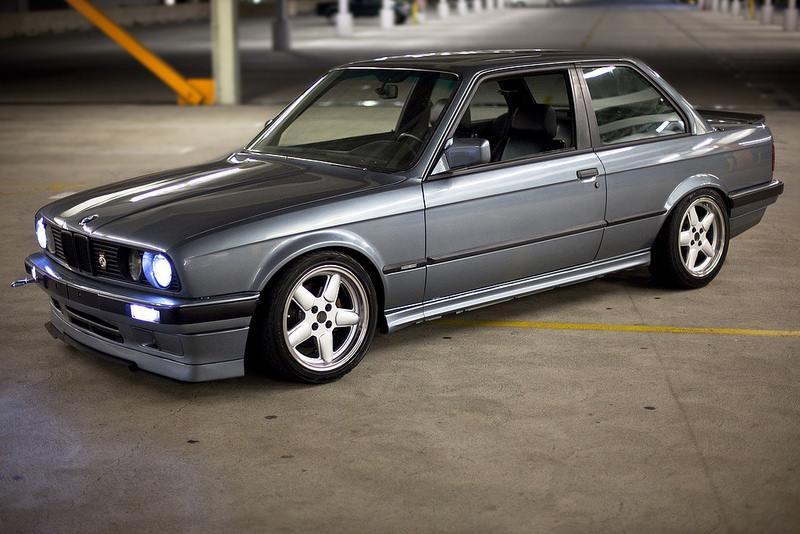 10-24-2014
Thank you guys for the positive feedback; as far as this car goes.. I'm still dabbling with a potential motor swap / light bay shaving. For the most part everything that mostly can be done I've covered.
10-27-2014
Had a bit of free time yesterday while waiting for the oil to drain out my other car. Snapped a few golden hour flicks..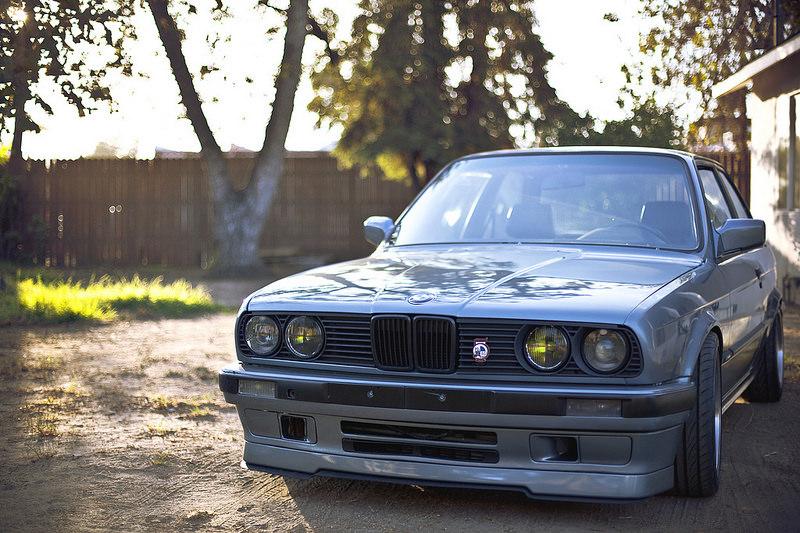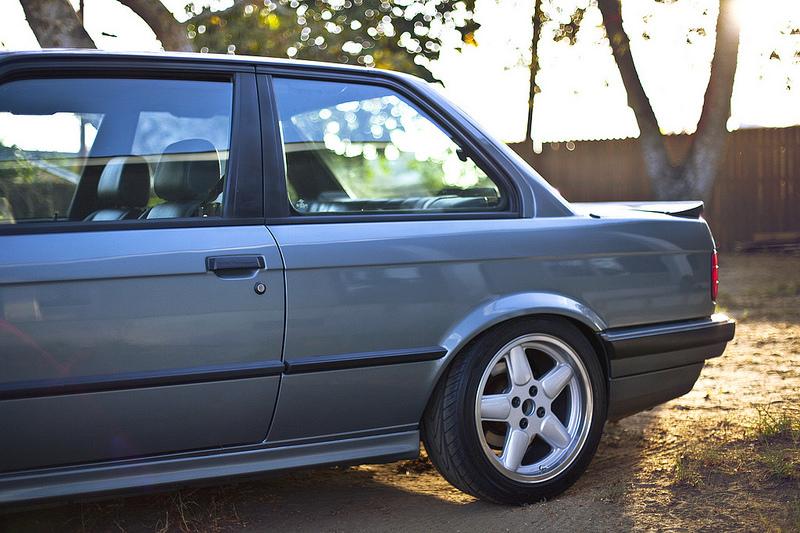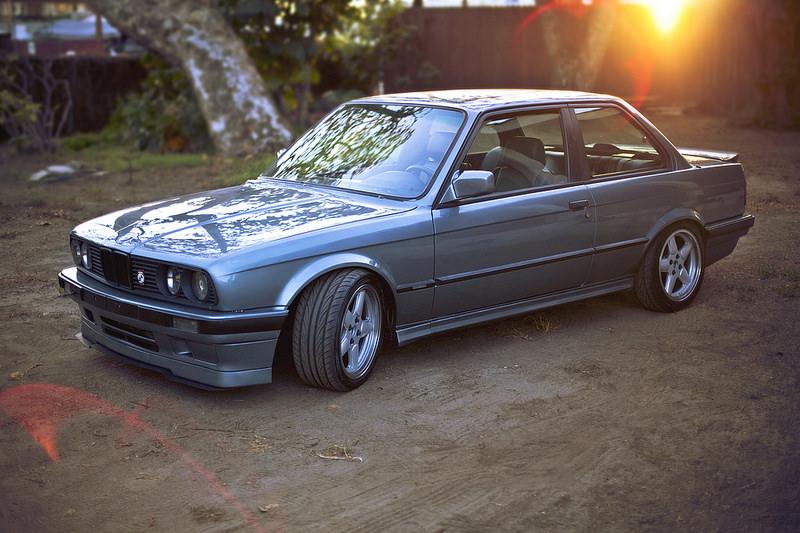 11-13-2014
They really did tie the car together, thank you again Terry!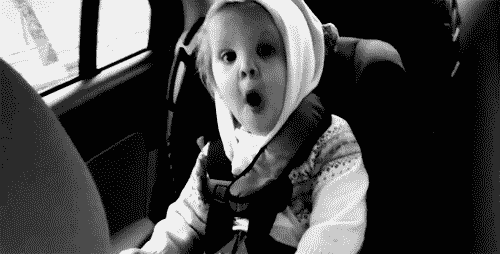 1-5-2015
Well Christmas came a little late...
Stay Tuned.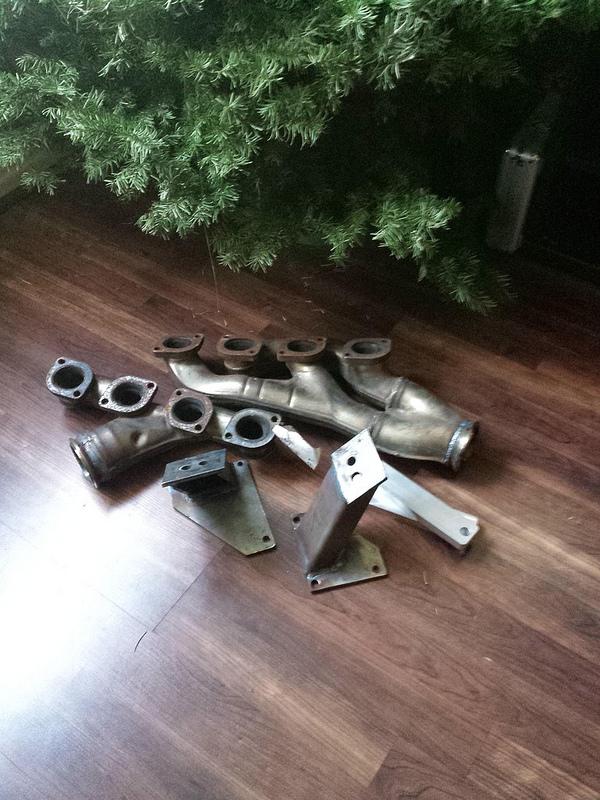 M60b40/b44
2-19-2015
My cirrus I need to start the oil pan gasket after the weekend. Got a few goodies on order. Winds are changing direction.
White one met my chop shop personality. After digging into it; I decided to go another route since it wouldn't structurally be able to hold the v8. If I had time like I used to, things may be a bit different. Currently it's not going to happen and I don't have time to make new frame rails.
Finding myself searching craigslist more and more for an Apache, miss having a truck for this shit.
3-17-2015
Guess the oil pan gasket isn't the only thing being replaced on the m20 anymore...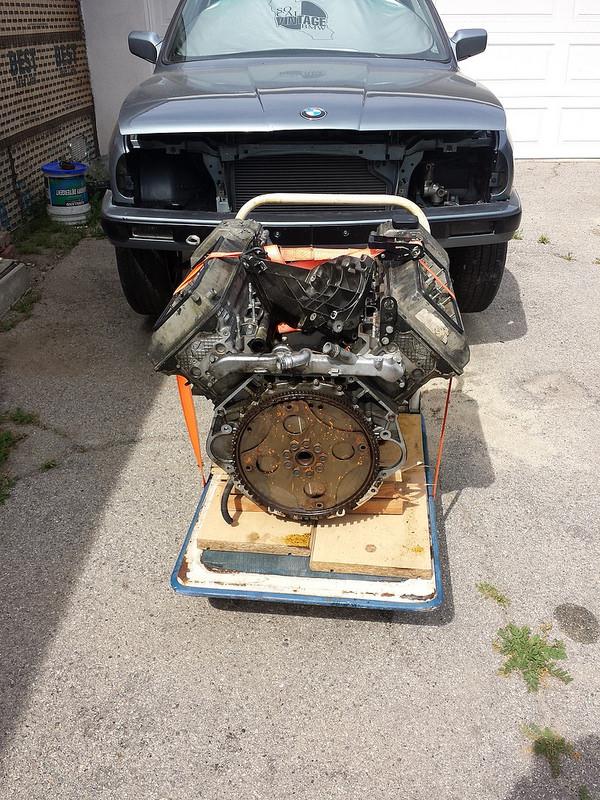 OOPS.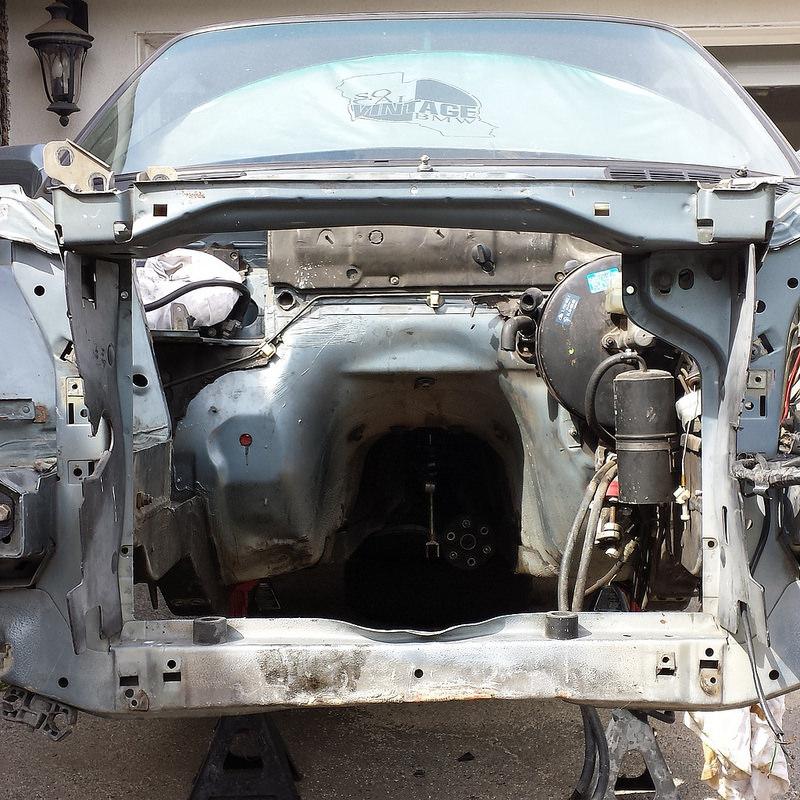 3-20-2015
Small little update;
Degreased the block and removed the rear coolant cross over pipe. Also went ahead and test fit Garagistic's exhaust mani's and mounts. Quality fit & work def recommend them.
Needless to say I'm impressed with how clean the inside is; along with the valves looking down from the intake manifold area. Not sure if its worth keeping the m62 heads w/dual vanos or just doing my original plan of m60 heads.
Anyone down to chime in and drop some pennies?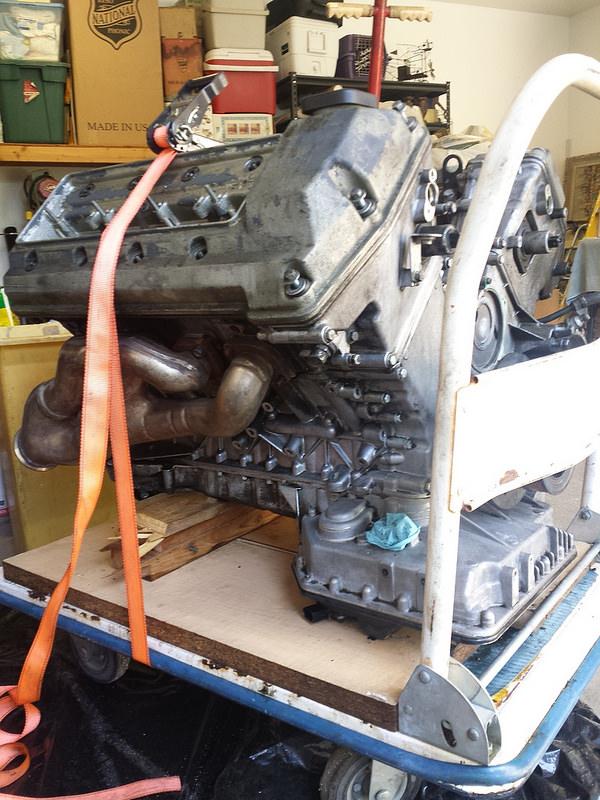 Side note; wire wheeled the radiator support in prepping for a new one; PO beat the shit outta mine and since I'm most likely gonna be solo dropping the motor in. I admire JGood/Gary's solution of making it removable.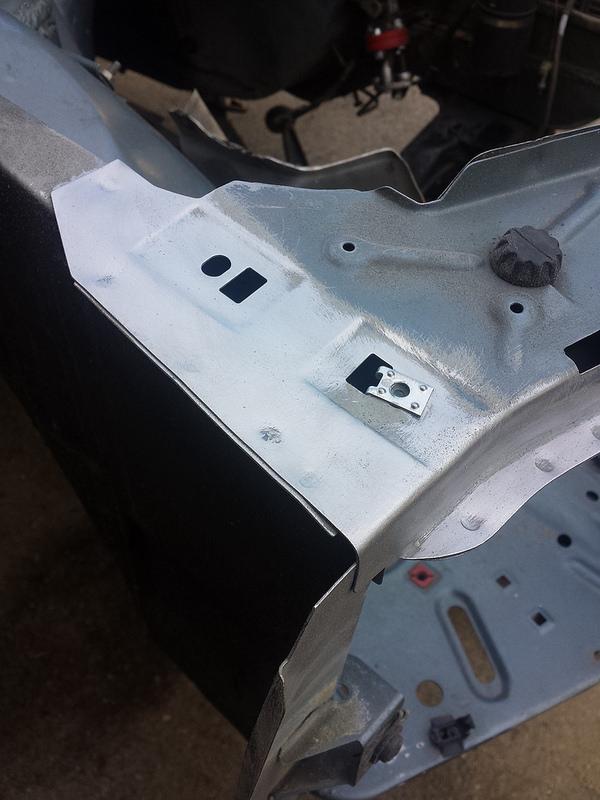 Also went ahead and put all the exterior pieces back on along with the subframe and struts.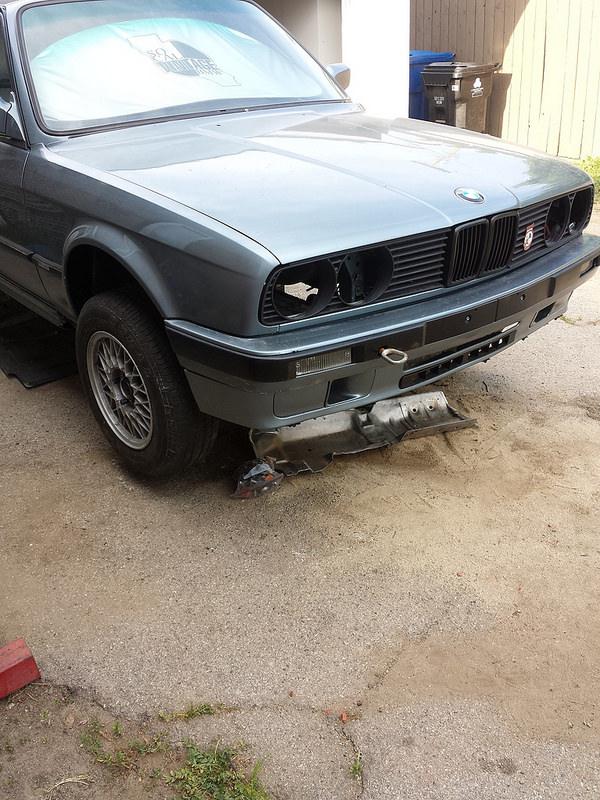 4-5-2015
Thanks guys
Haven't had much time to mess around with her lately. Been doing a little spring cleaning of my own though.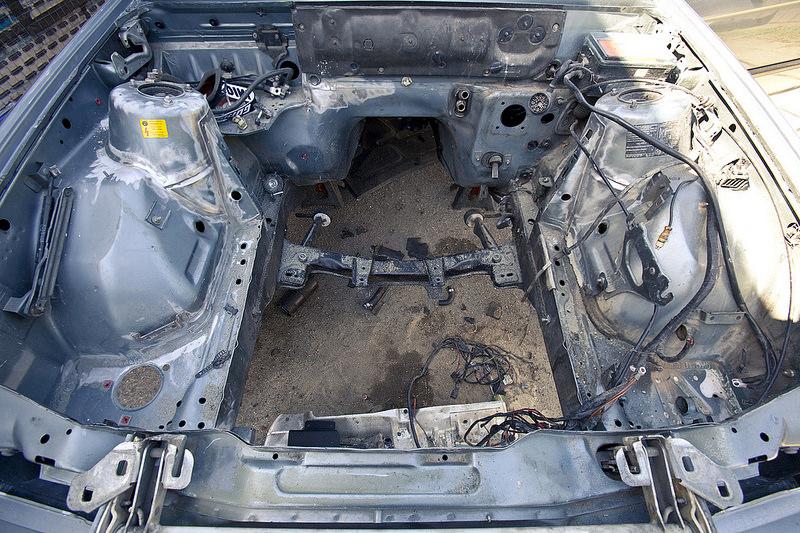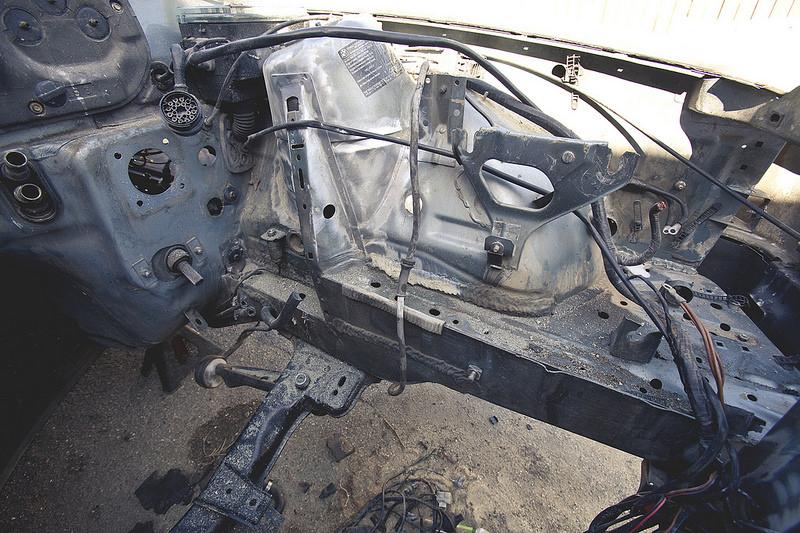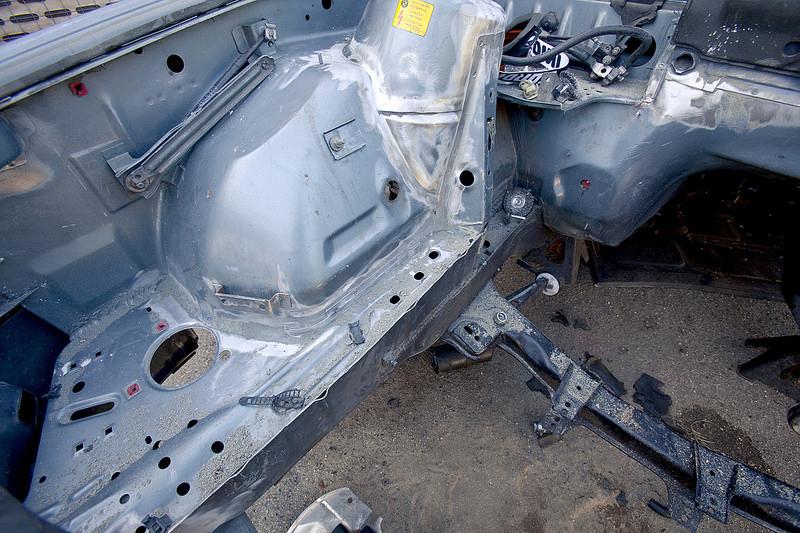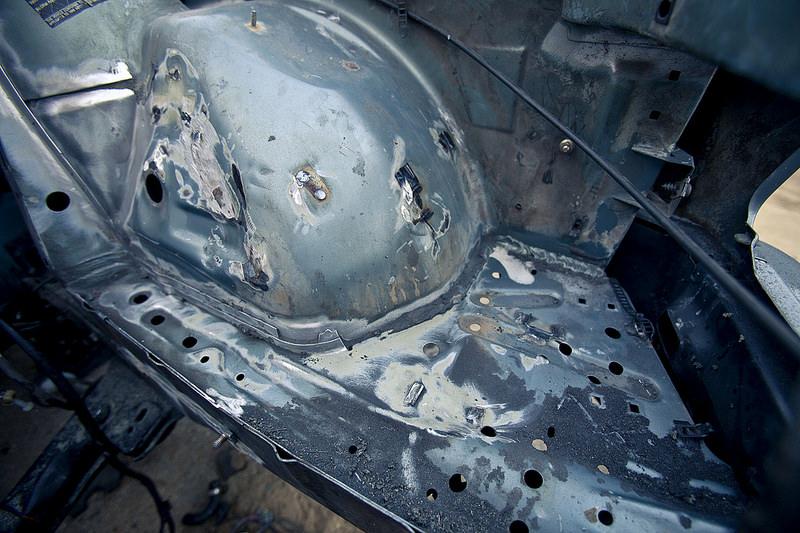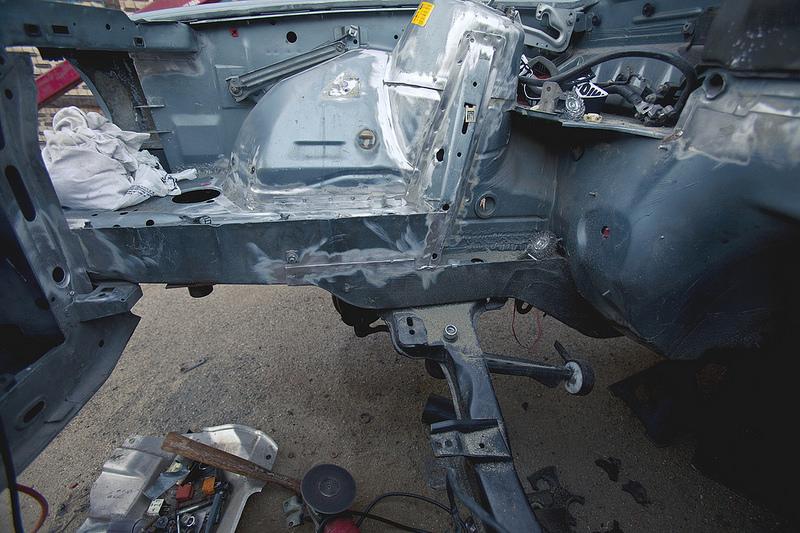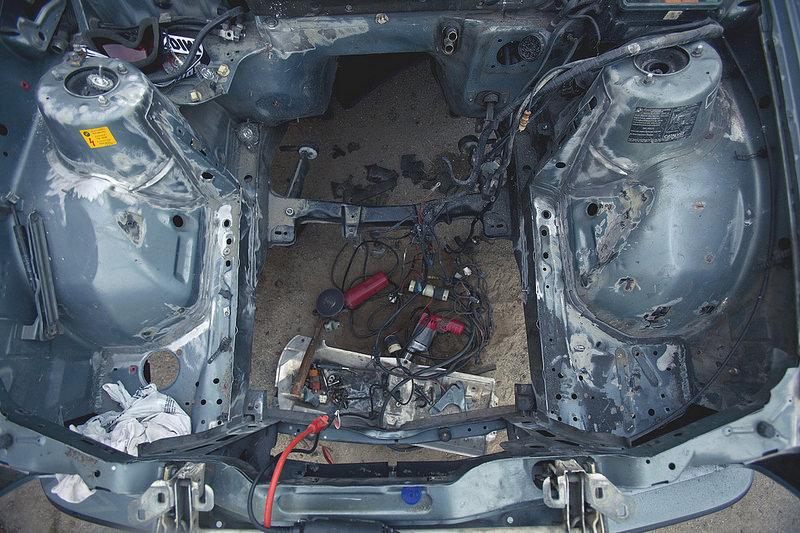 For shits and giggles...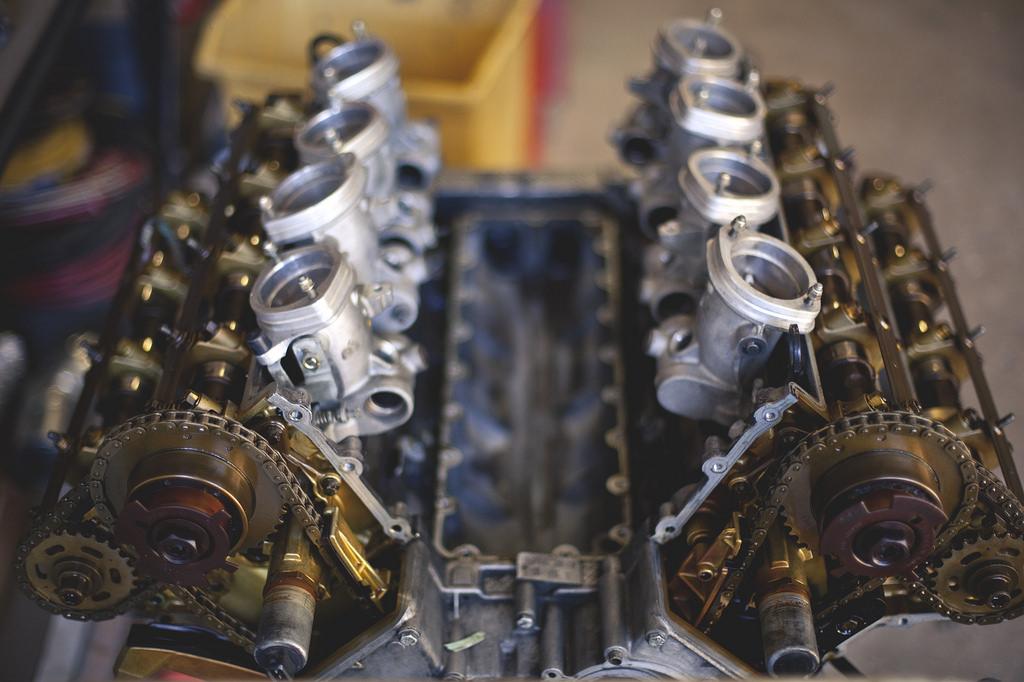 4-6-2015
Thanks guys

; addressed that issue quite some time ago, never did the rear. Been dabbling with the idea of dropping the rear, most likely will do it if I drop the diff.
On a side note; an m42 did that shit seriously? You must've been having little fun whipping it around huh lol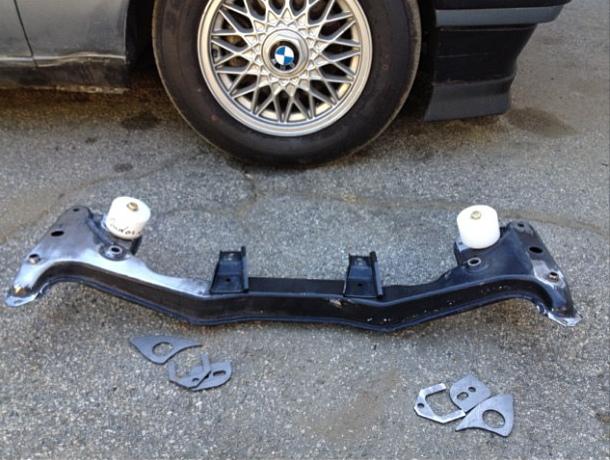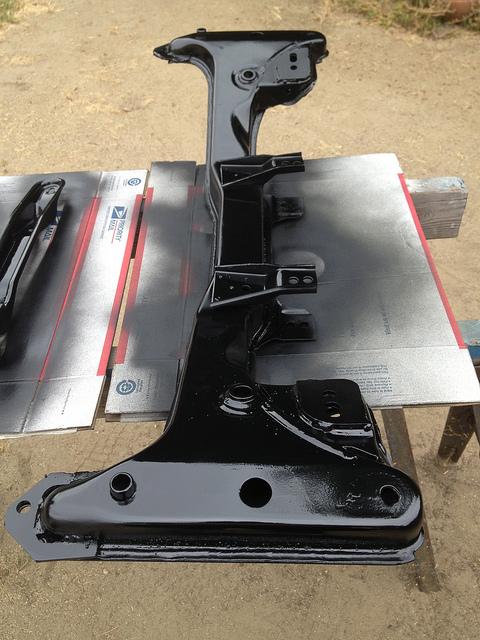 It's hard to tell from the photo but that raised area is the reinforcement.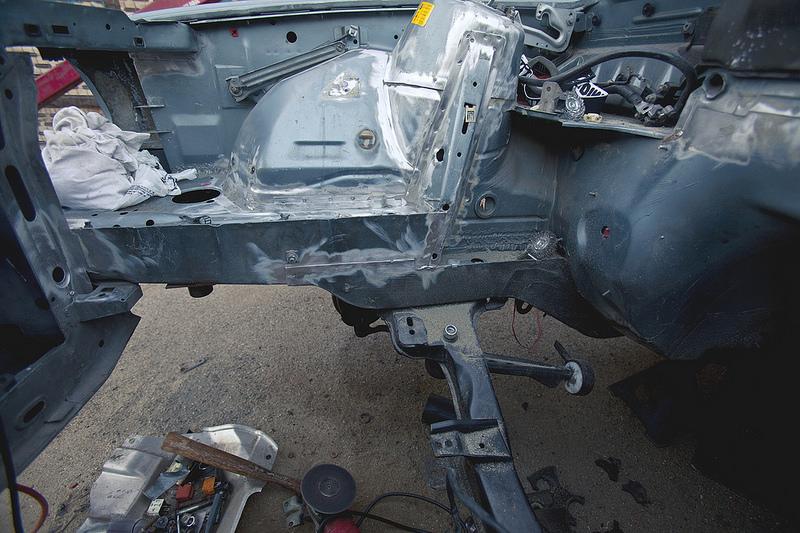 4-28-2015
Been a while since I updated... Some teasers.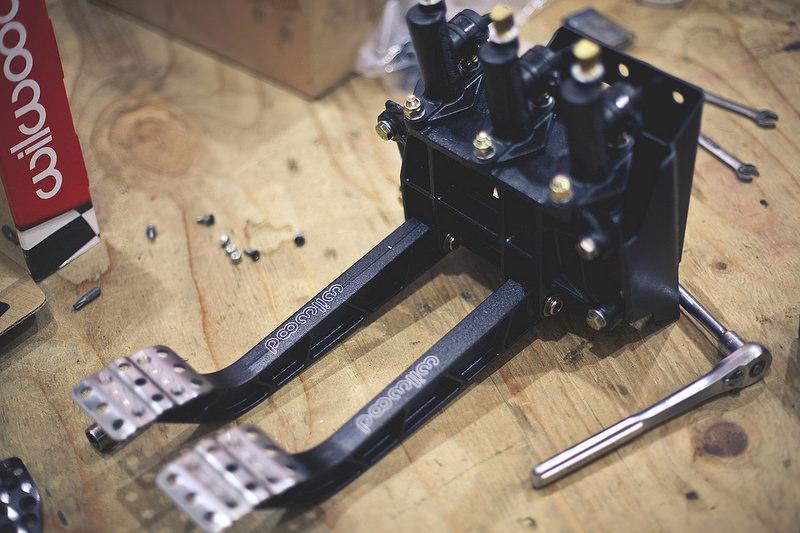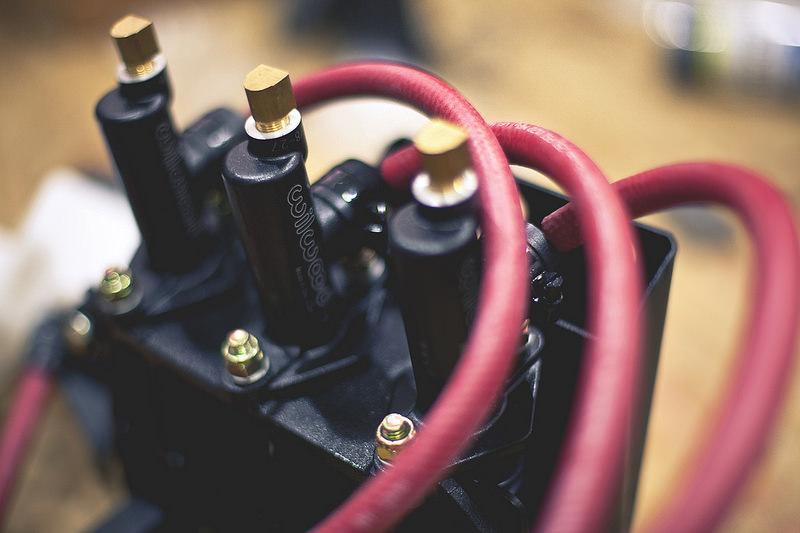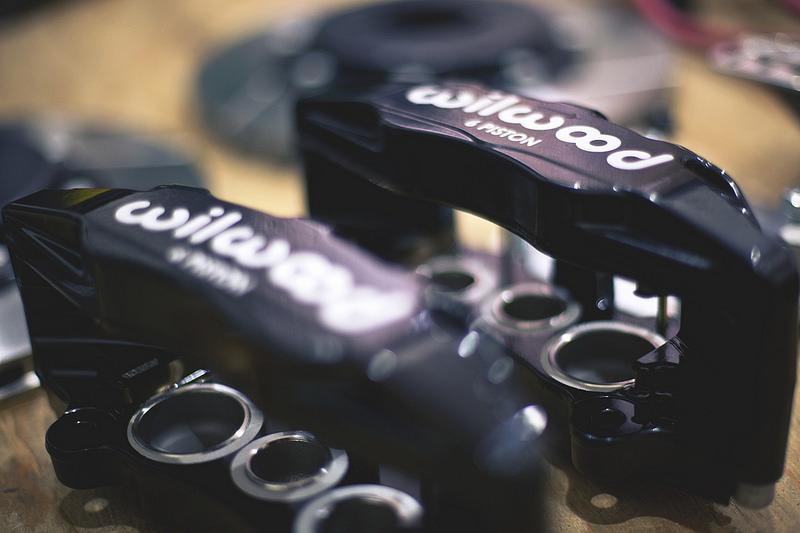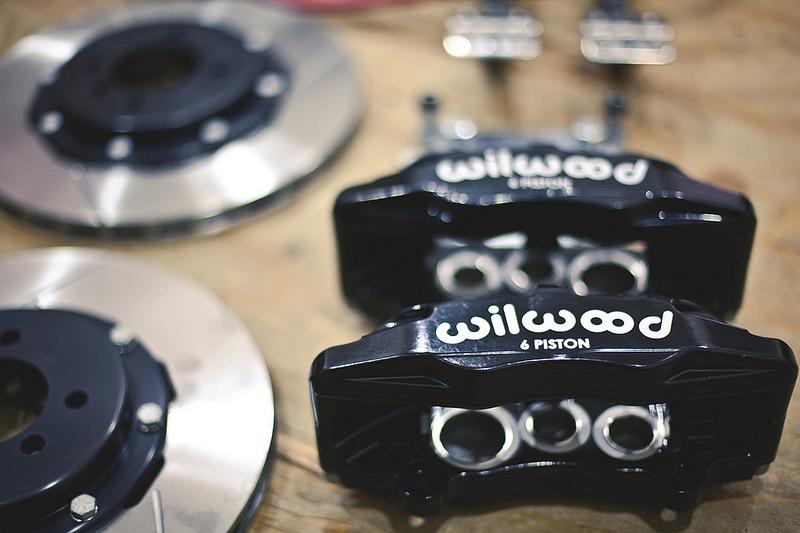 8-4-2015
Haven't been around to update this but figured I'd bring it up to speed a little.
Test fit the Wilwood's and digging how subtle its looking. Also picked up some rebuilt injectors and a Walbro 255..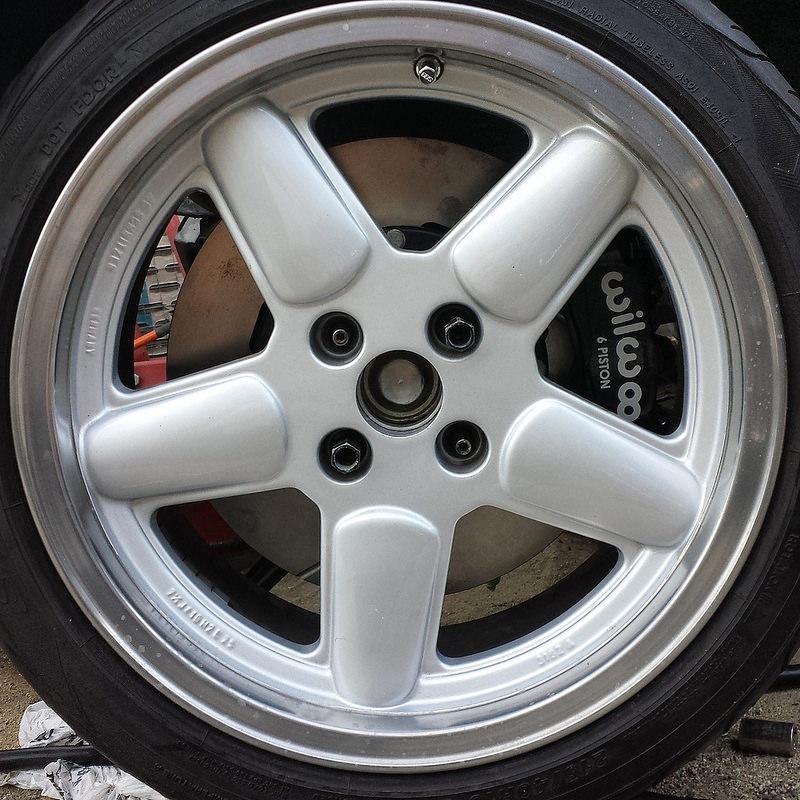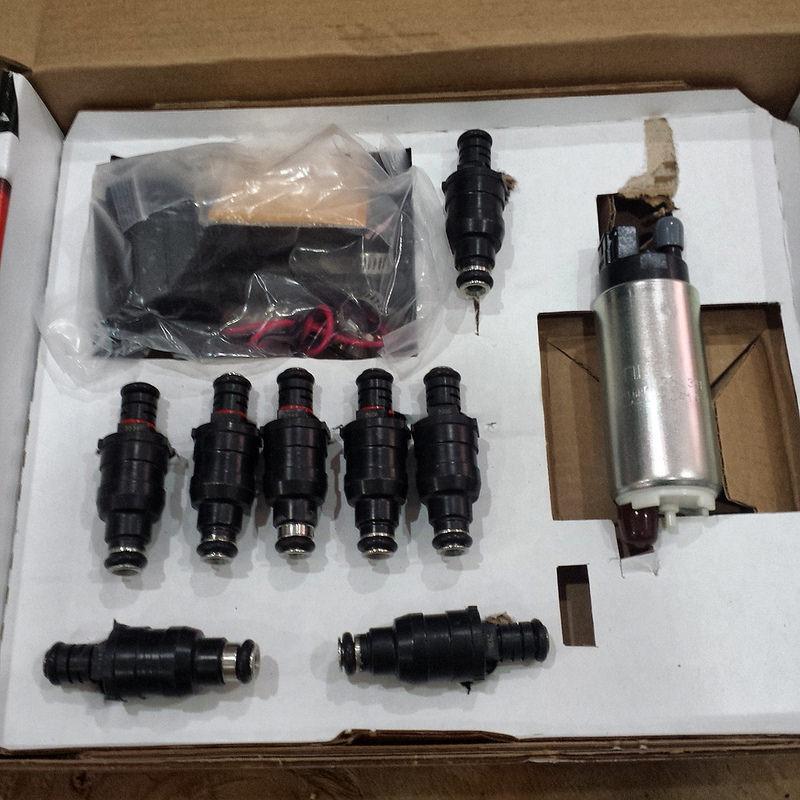 M62 timing guide snapped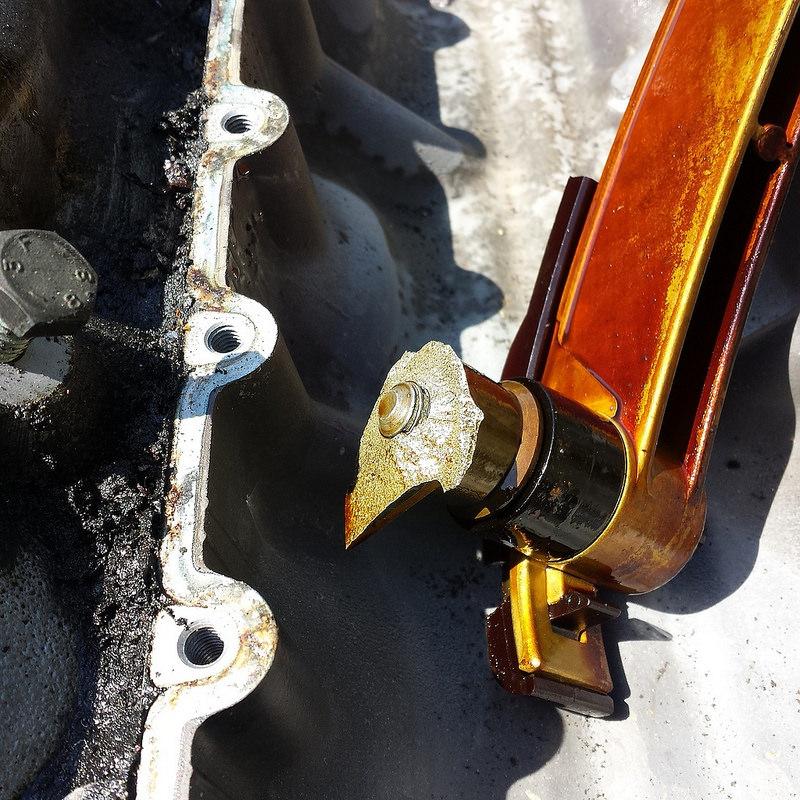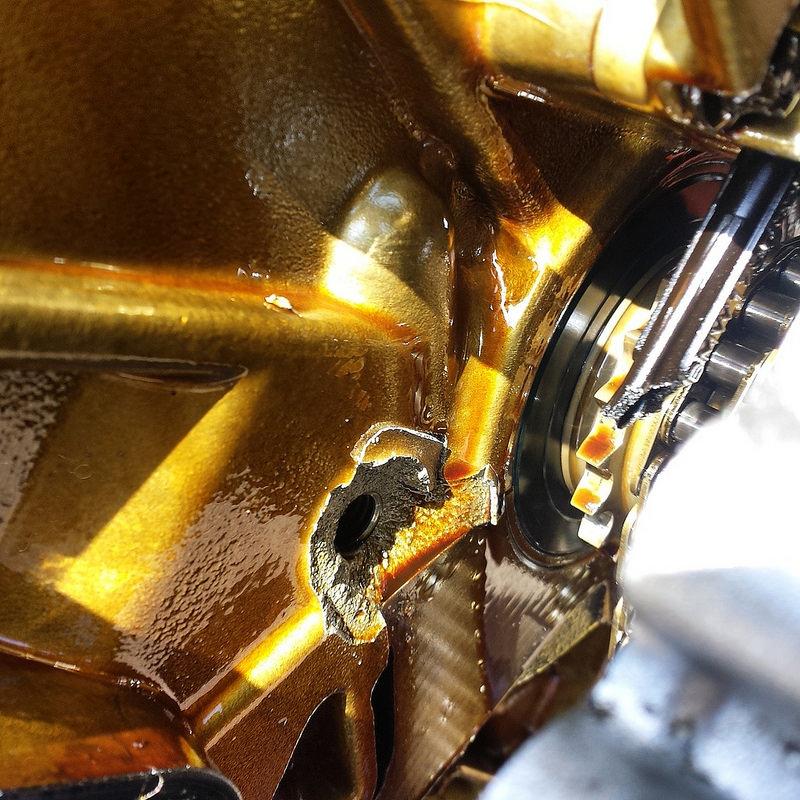 Complete 95 740I M60b40 NV with ≈80k miles. Came with the ZF 5HP30 trans.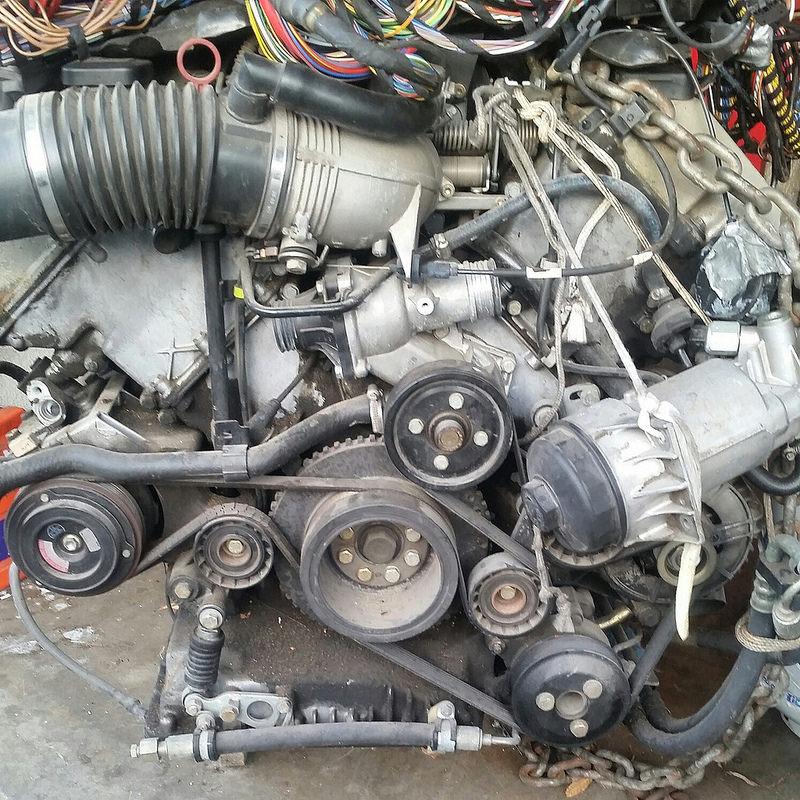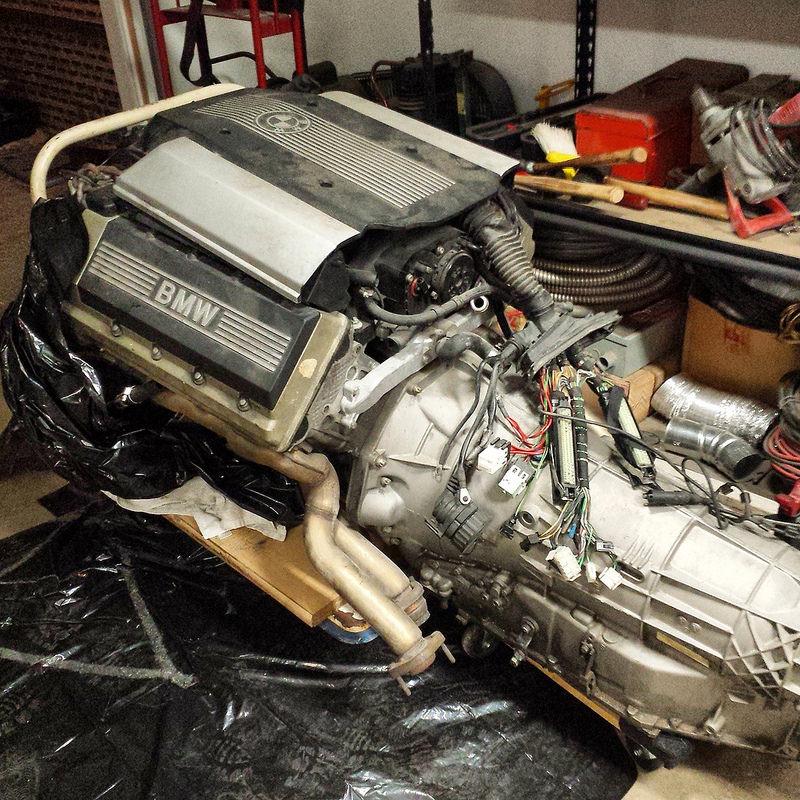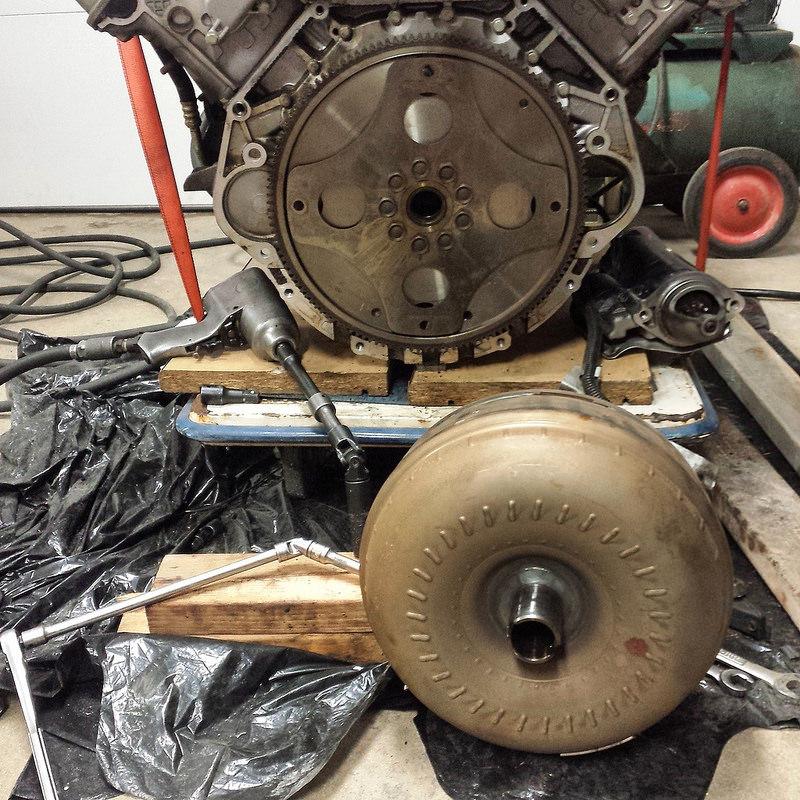 Meeting its new home..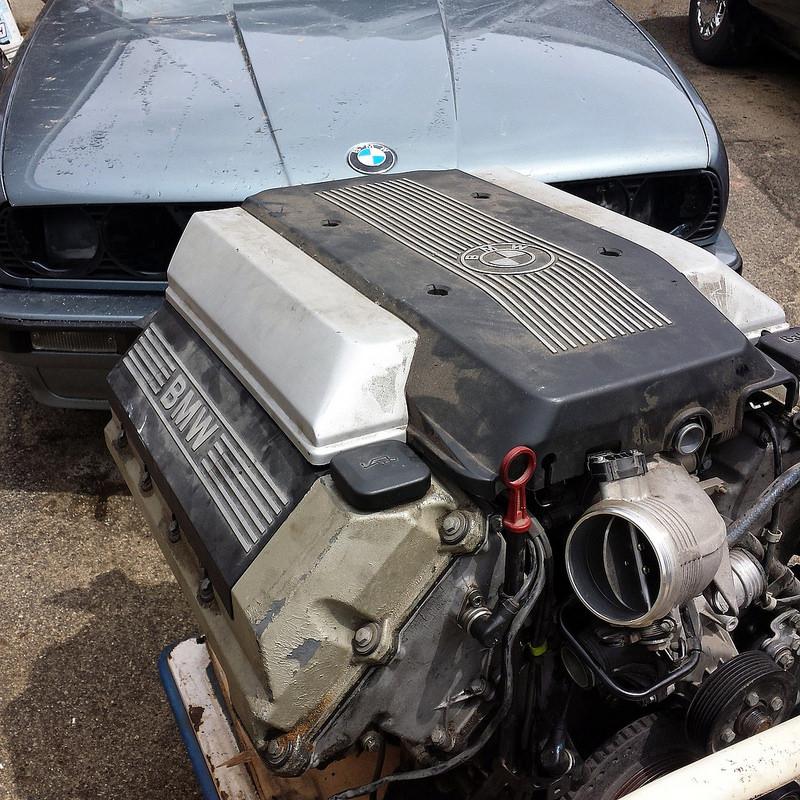 Labeling and stripping it down to replace seals.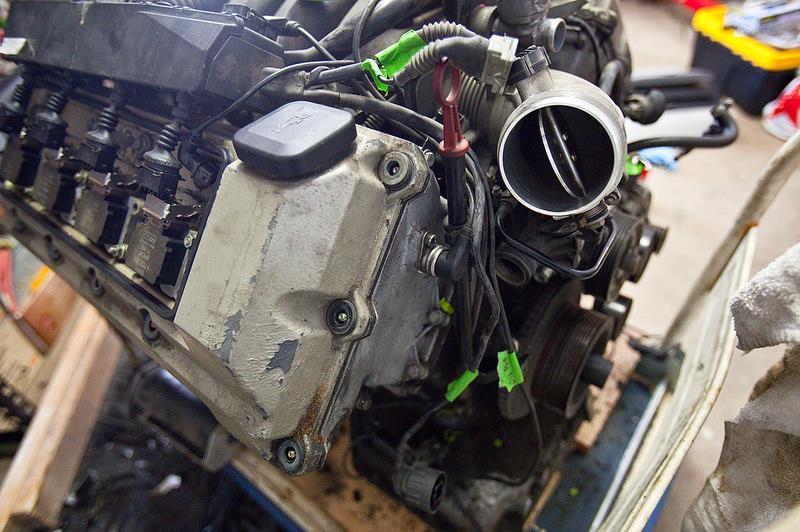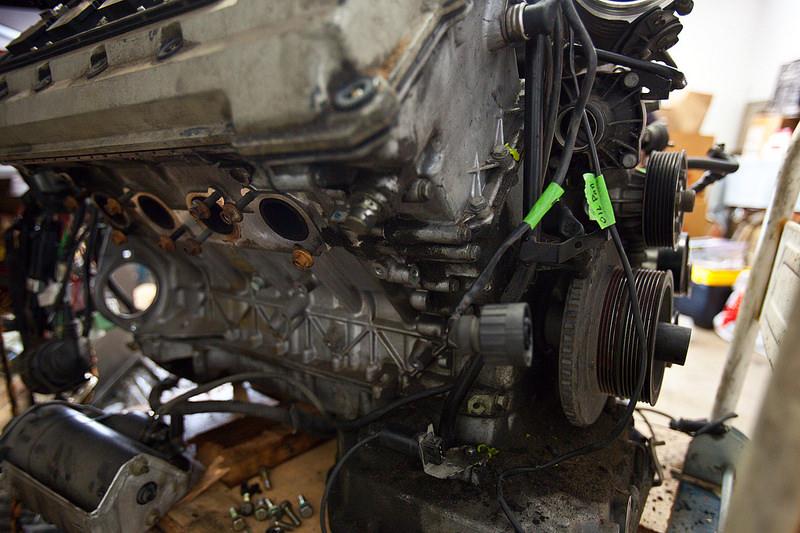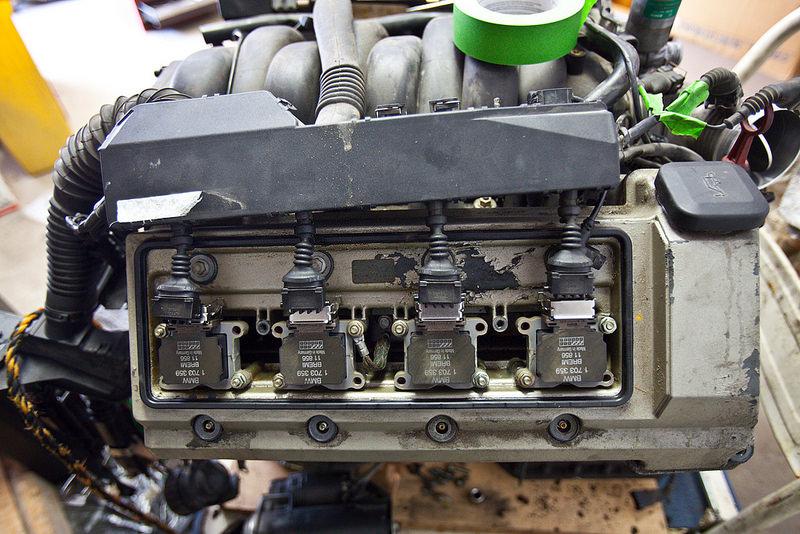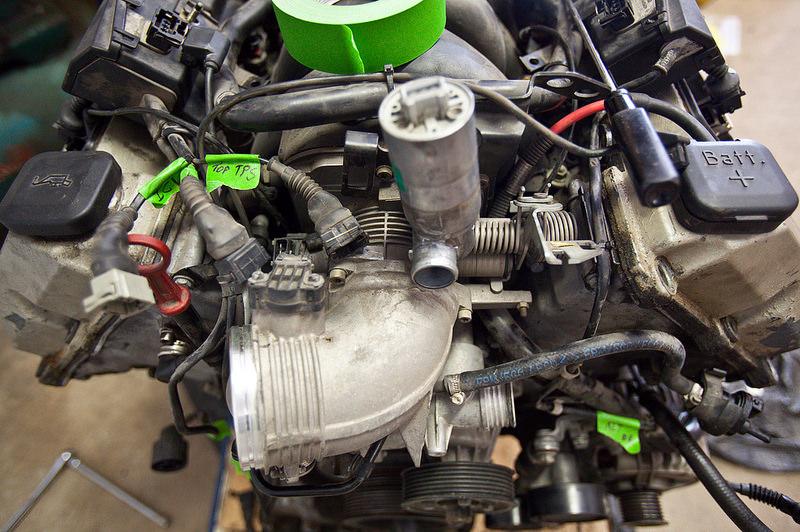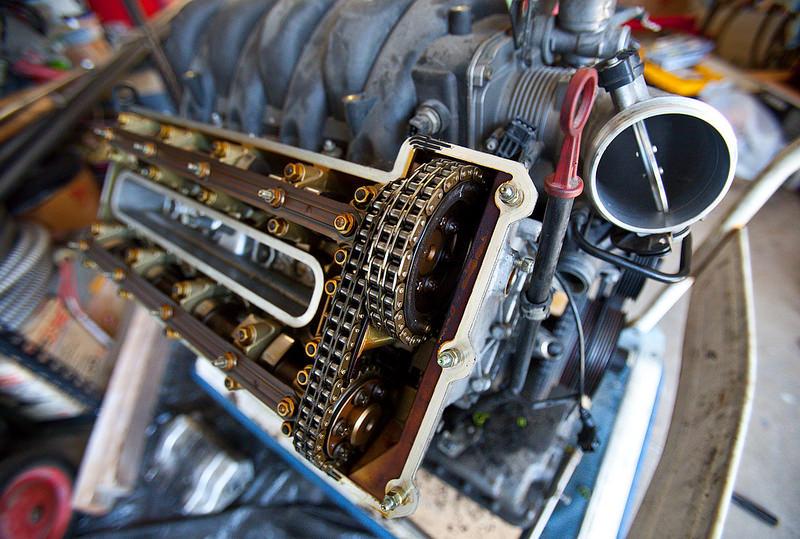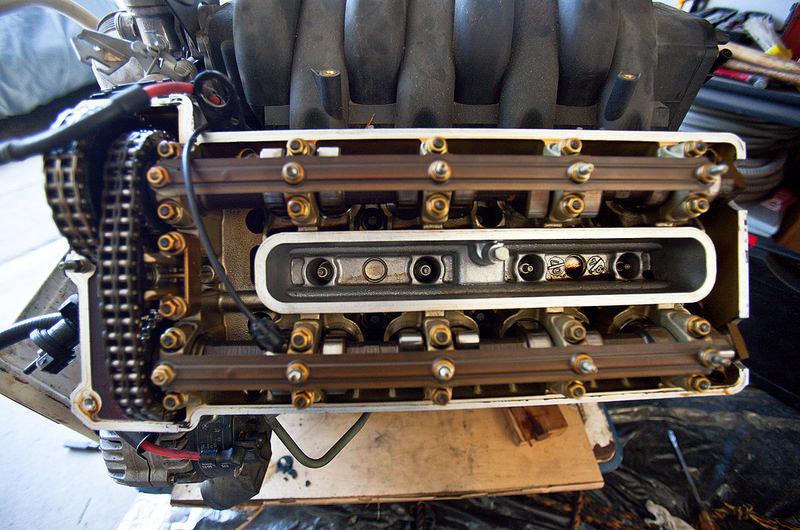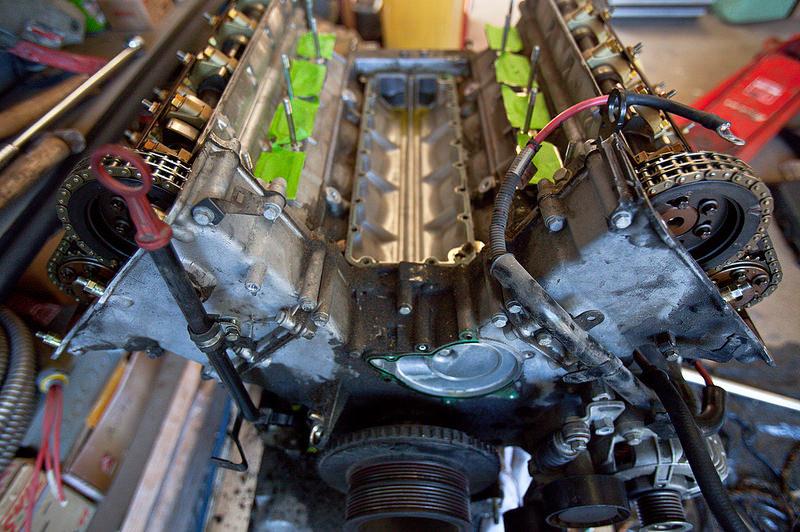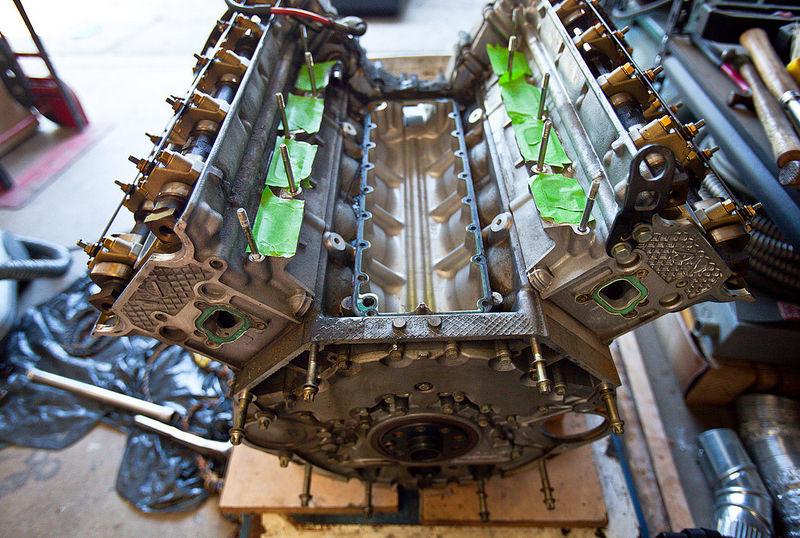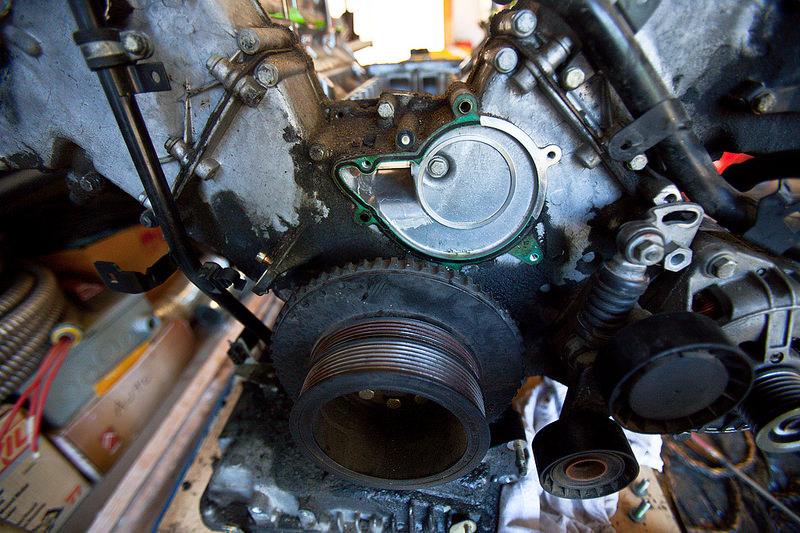 TDS mounts & OEM Gaskets..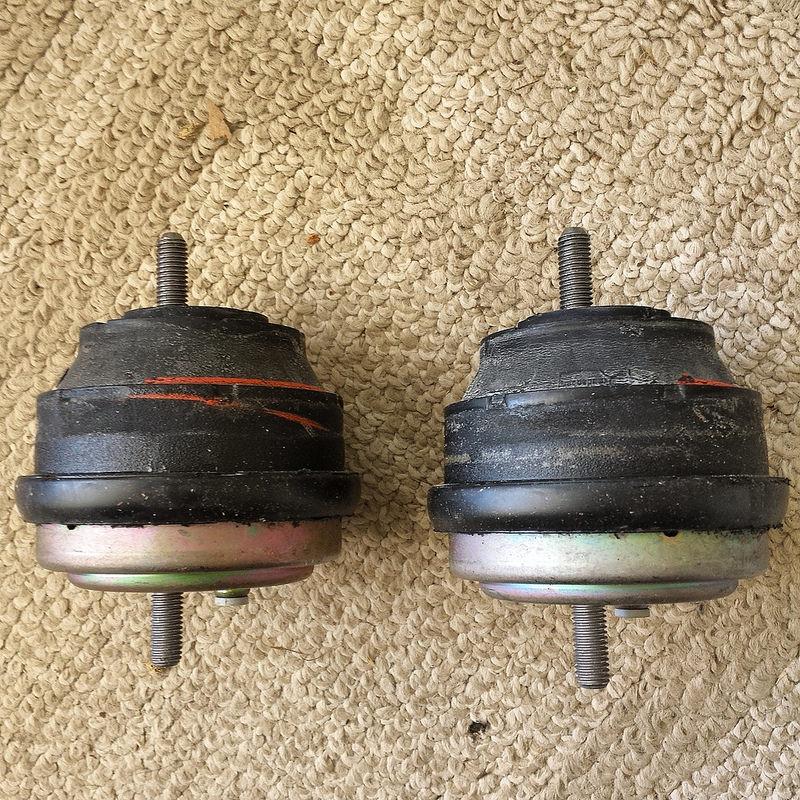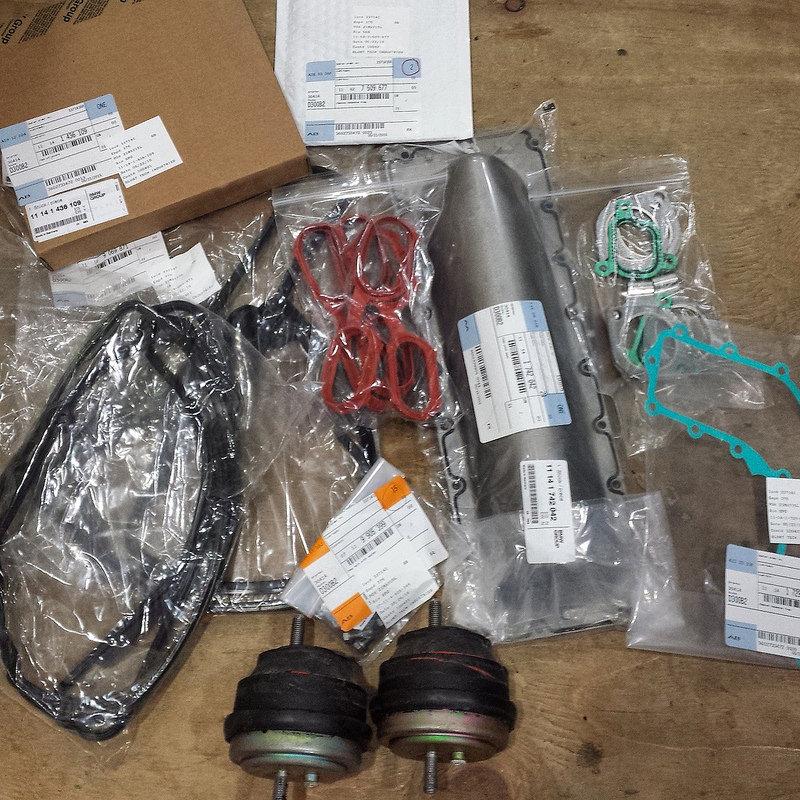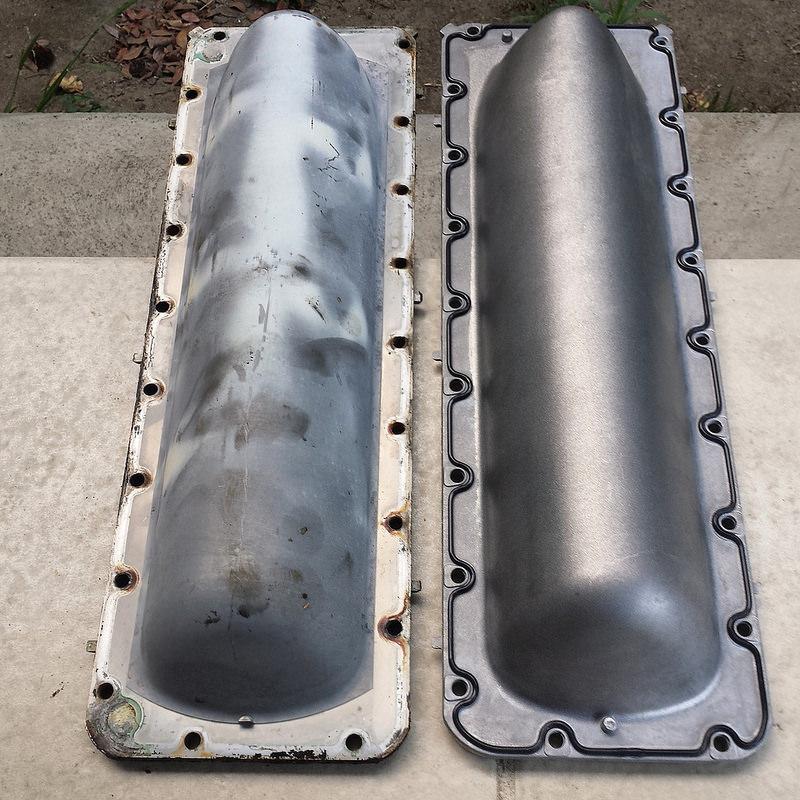 Sent a bunch of stuff to a local powdercoater; ceramic coated the exhaust mani..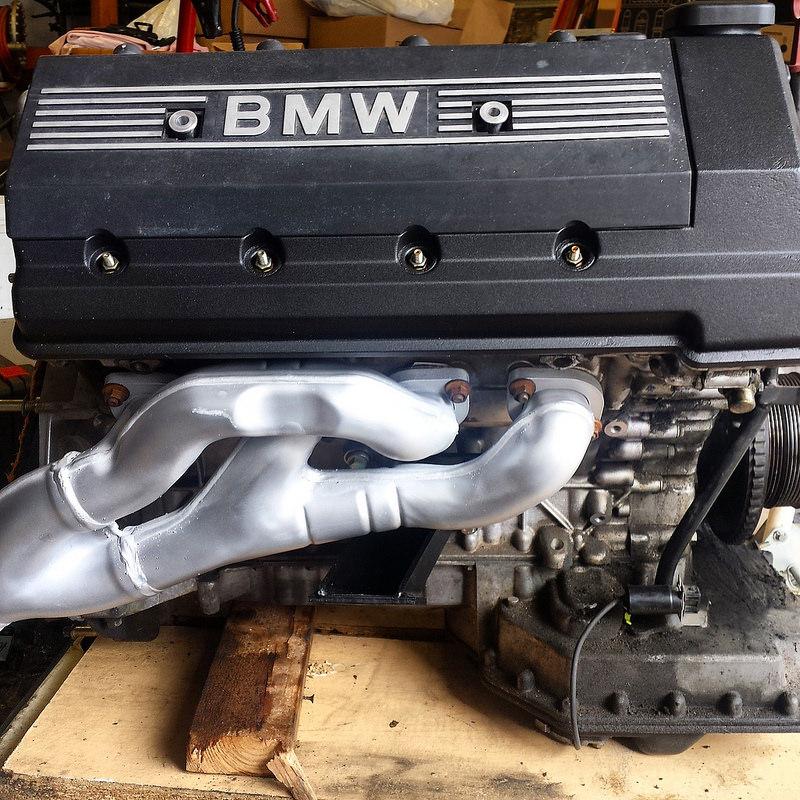 Began disassembling the rear coolant covers..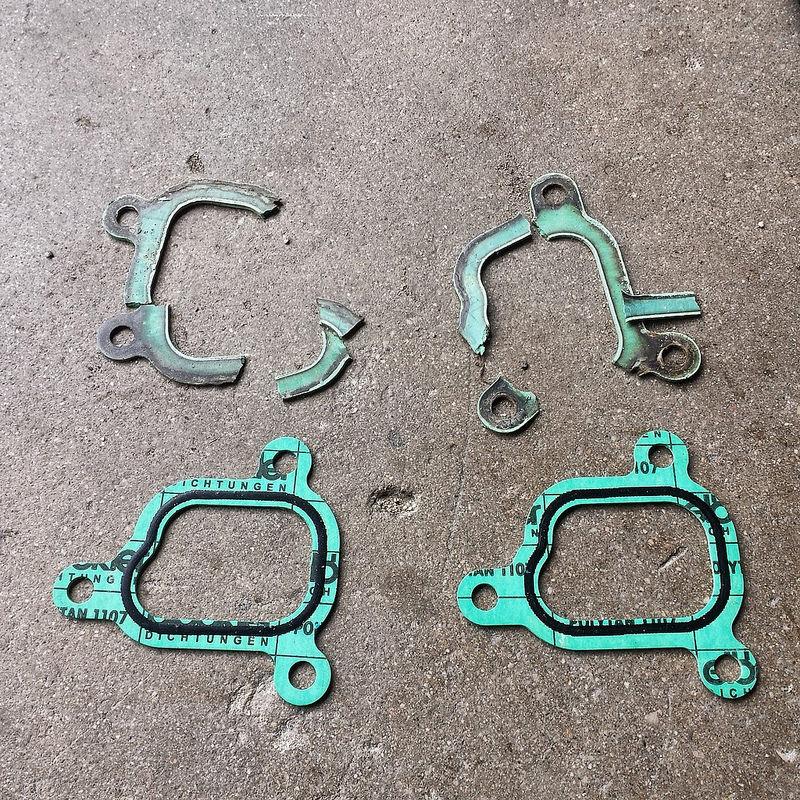 While disassembling I discovered that 10 of the rear bolts were galvanized to the block. Began to drill out the first bolt to use an extractor. Granted I didn't buy an expensive kit so hence quality of china.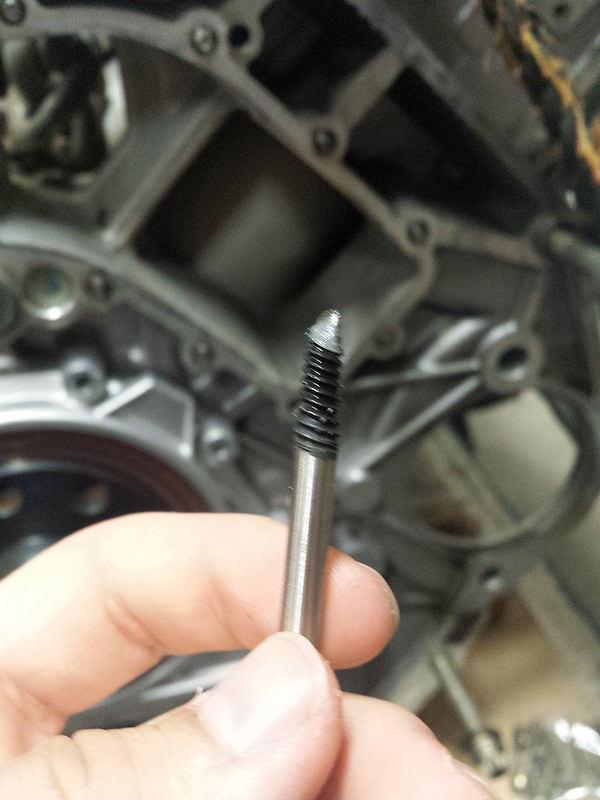 So pushing ahead I said fuck this grabbed a brew and started drilling like a mad man. My time-sert kit is currently en route, I have the 10 for the rear and two for the valley pan. This ought to be fun. In the meantime I figured I'd clean up the metal shavings and degrease a little.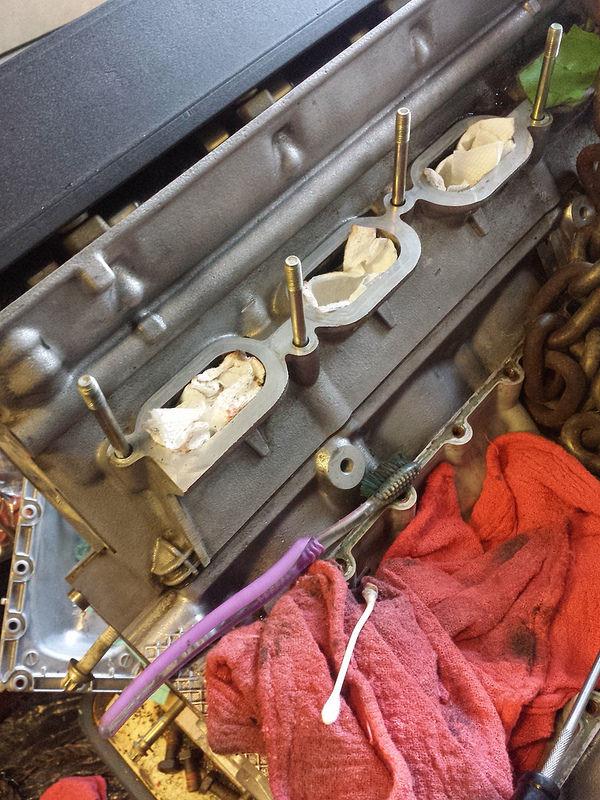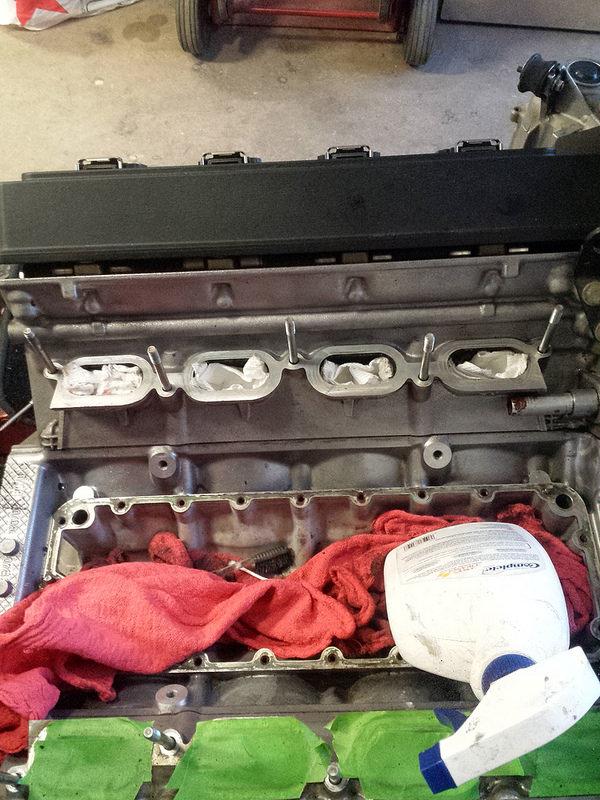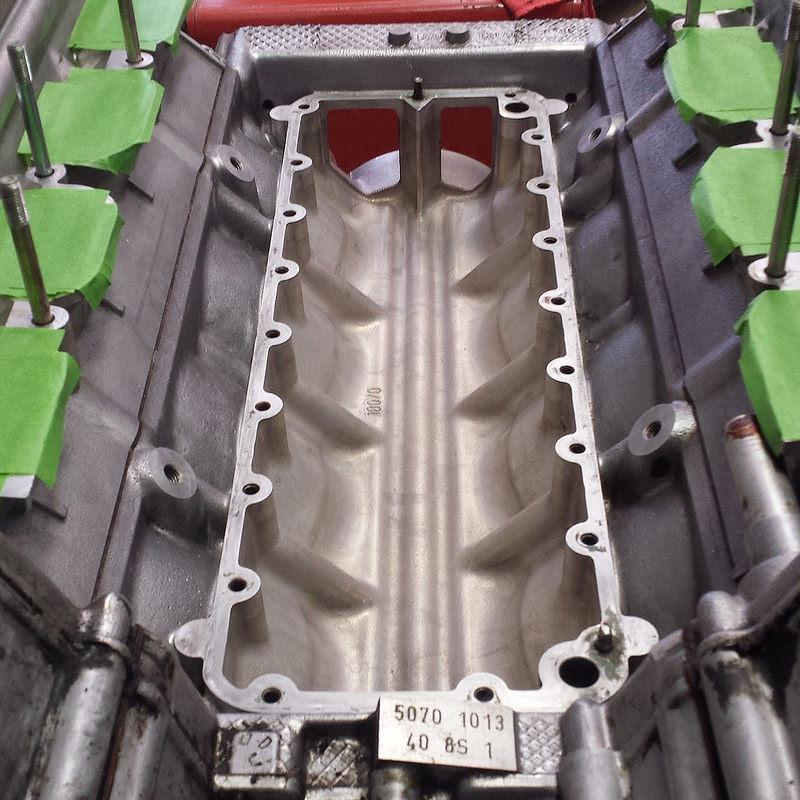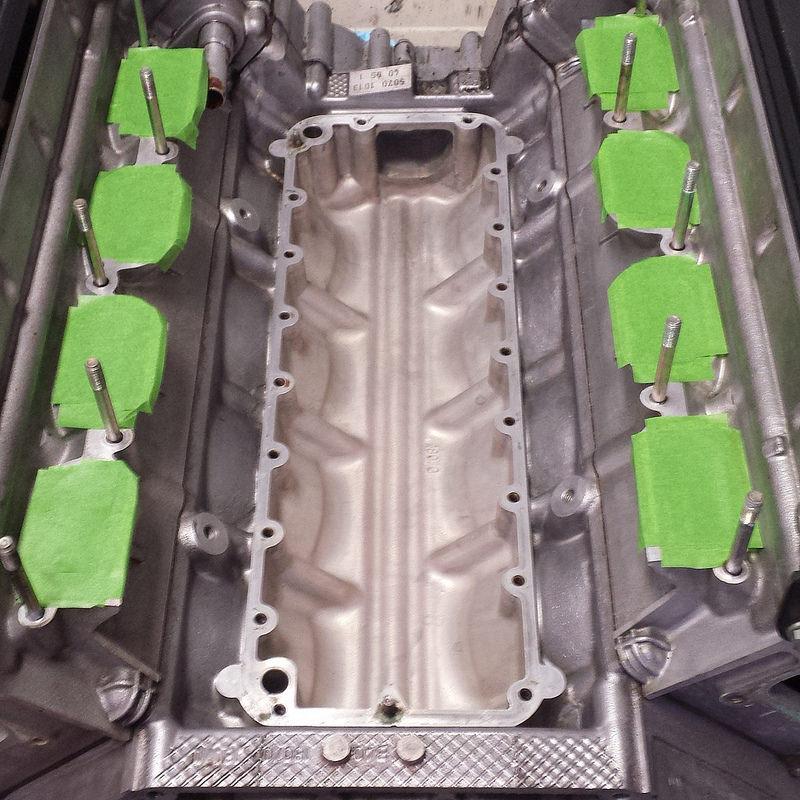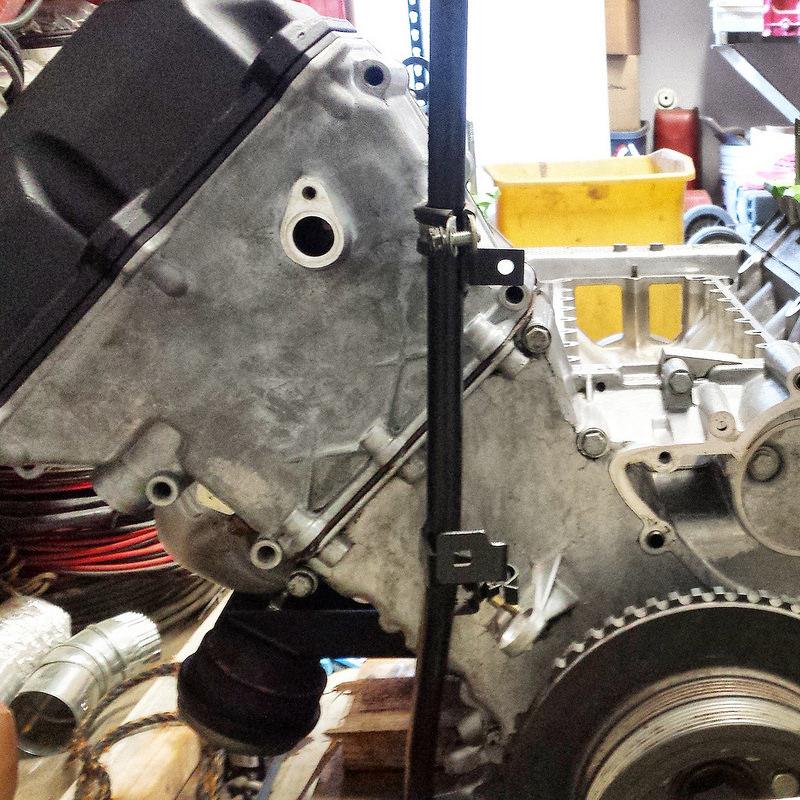 Also picked up this bad boy from a local yard guy; Pulled from a 98 540I w/94k Miles. I have no idea how the synchro's are on this so I'm hoping its not trashed.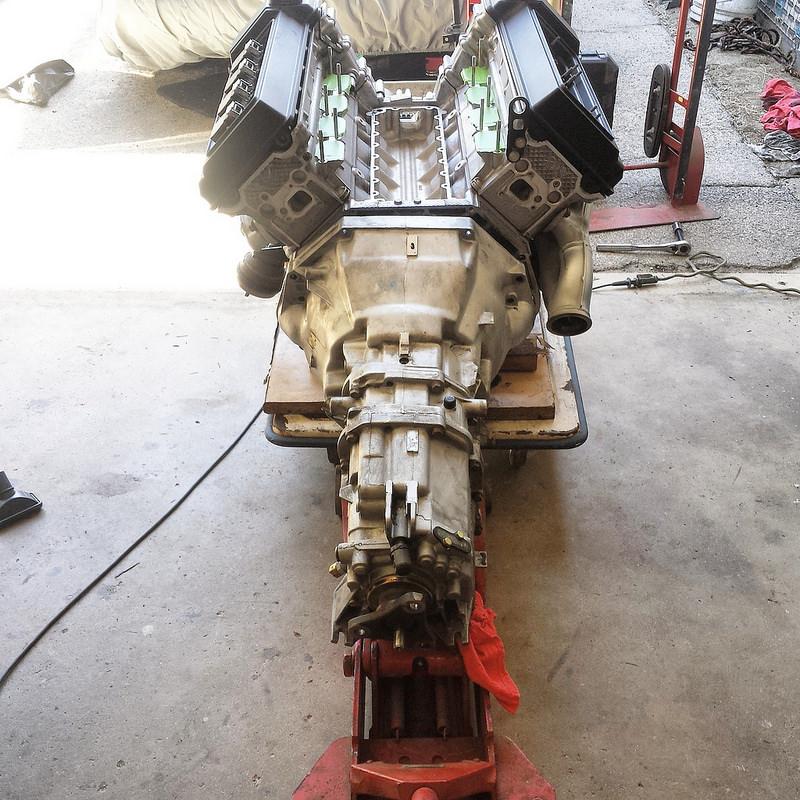 Thanks and totally agree, good things cant be rushed.
I had bits in the pan; oil pump bolts were still on there fine. The motor supposedly had 170k before it blew a headgasket. I got it without an intake runner and etc, almost a bare block and the PO removed a lot of things himself. I dont know if its the combination of moving around but as soon as i spun the motor it was a no go.
Shit happens, it was a major set back and def upsetting but gotta keep pushing. After that I kinda stopped my hunt for m60 heads and just wanted to get something going hence why I opt for the whole m60 for a killer price. Rather have a BAR'd m60 swap then work on the hybrid with possible induction.
Thanks man! Good luck with your paint job, take the time on the prep work and tack it good it'll save you a lot of time down the road. My instagram's bornography_
8-11-2015
Took a page from MonkeyMadness on this one... So I got my coolant pipe back from RJ over at IE, really happy with the outcome and quality of work.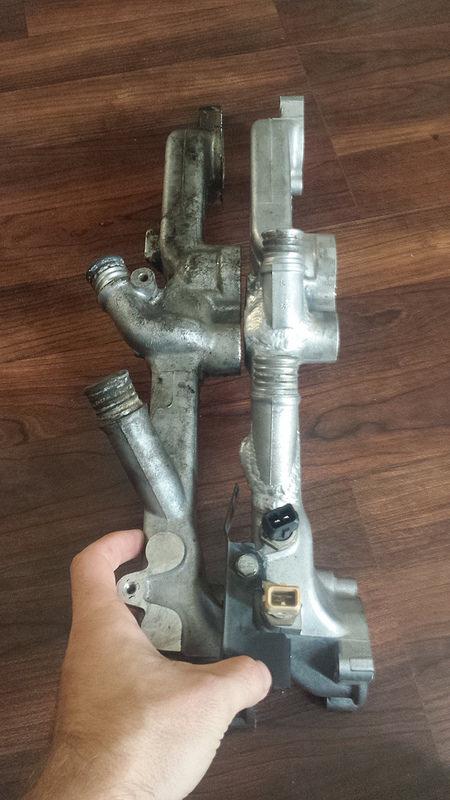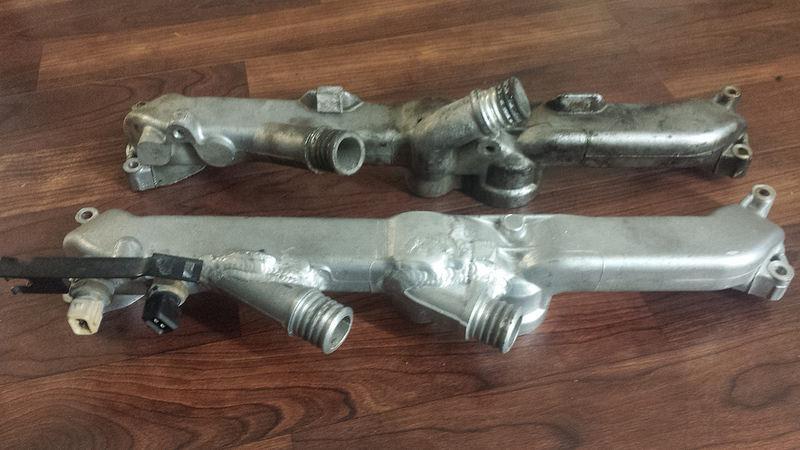 My time sert kit came pretty quick, must say I'm very impressed and happy with the outcome.
Counter-bore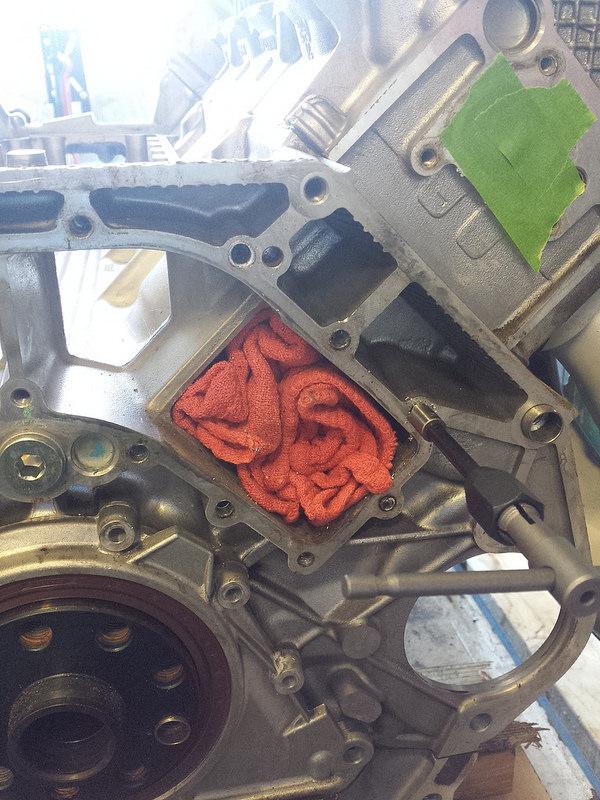 Tap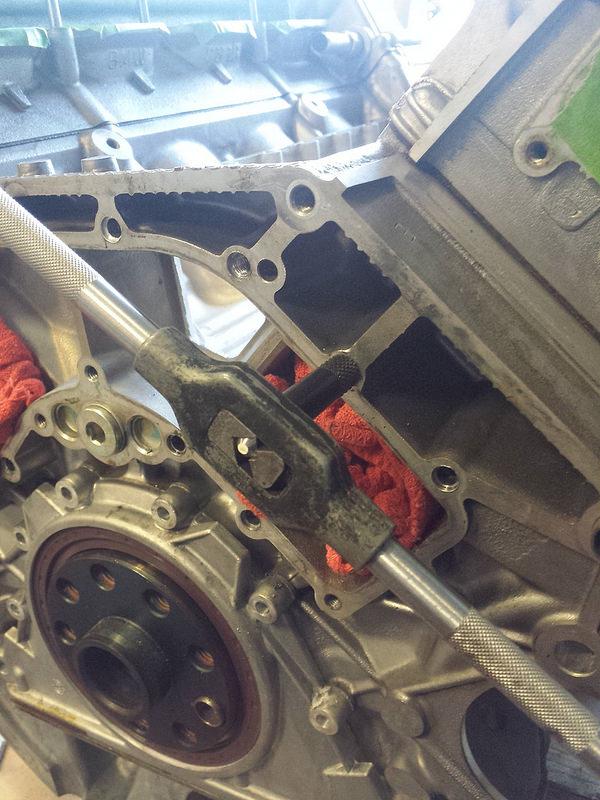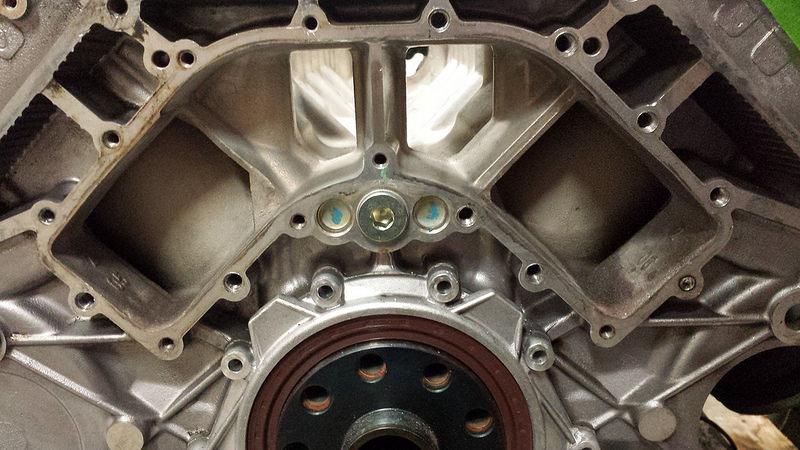 So before finishing everything up I'm still stuck with the original headache. The glorious china easy out. So I hit it with a little dremel diamond tip, worked out alright and made baby steps.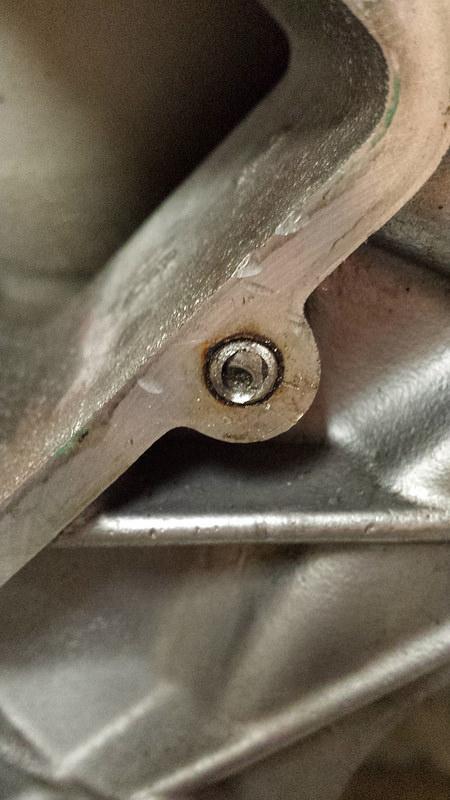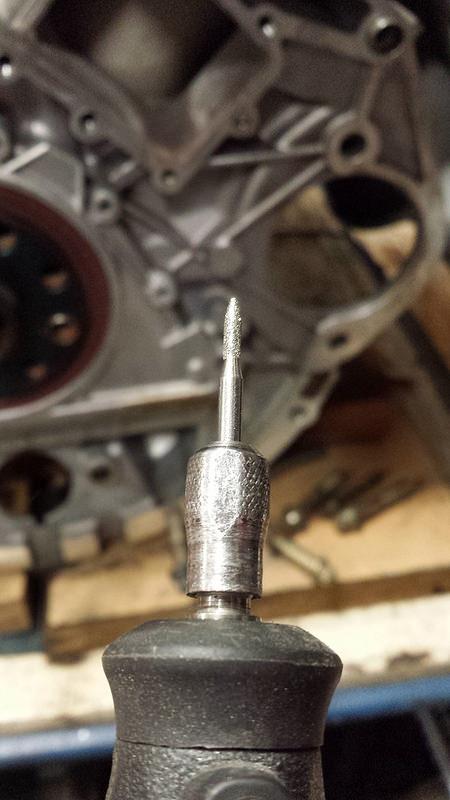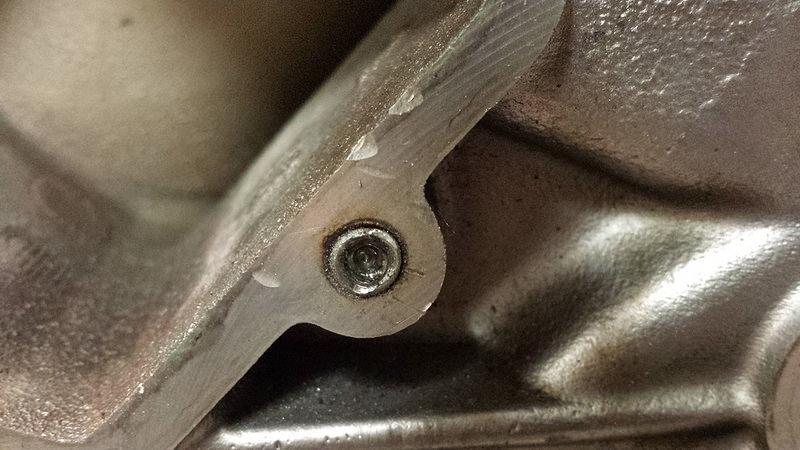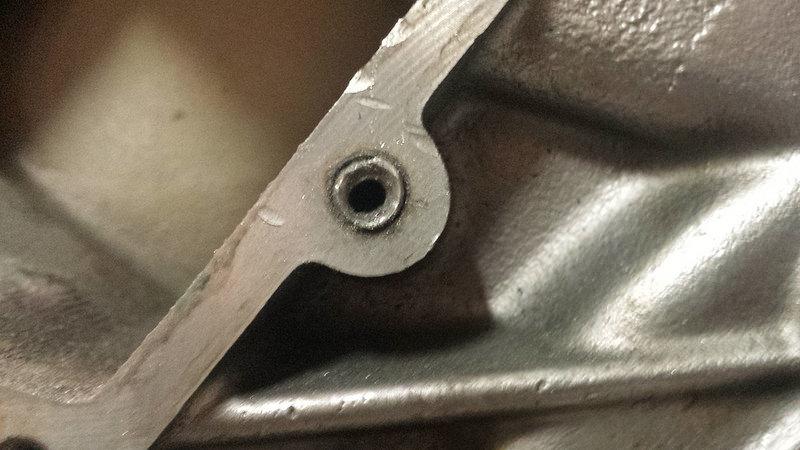 8-12-2015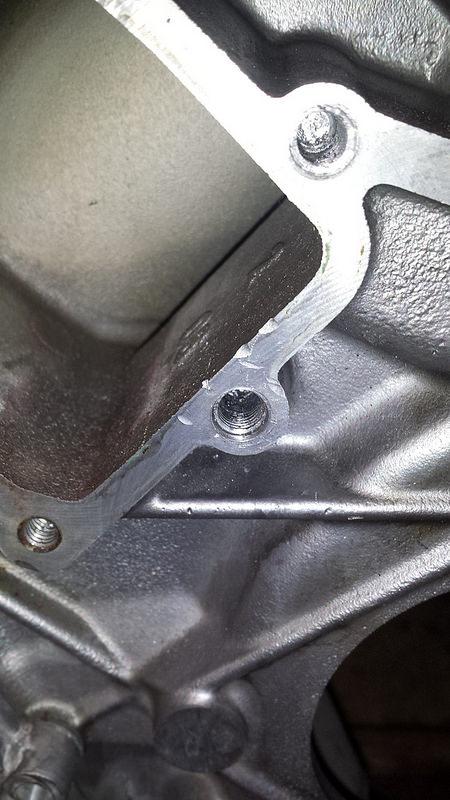 The magical kit...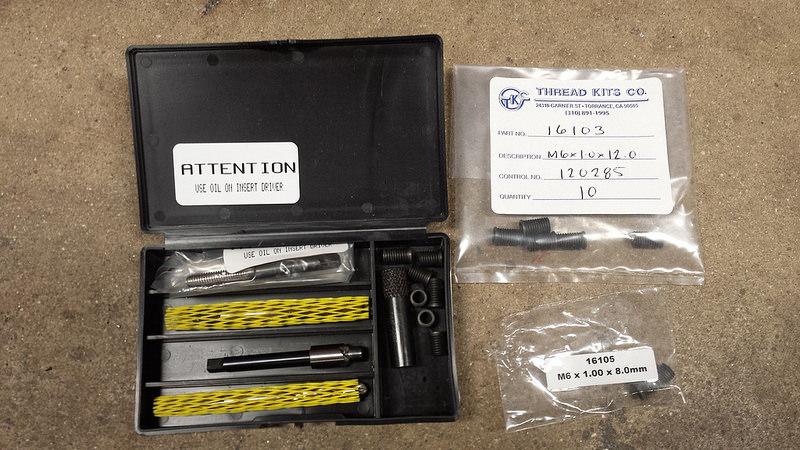 Time Serts installed...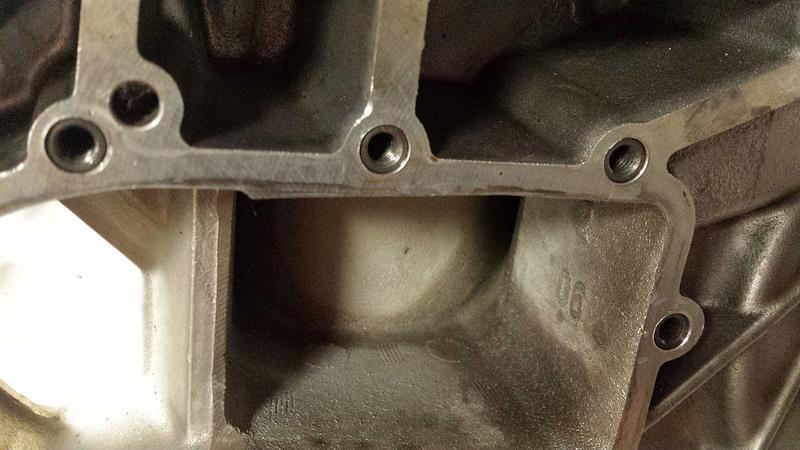 Coolant pipe clearance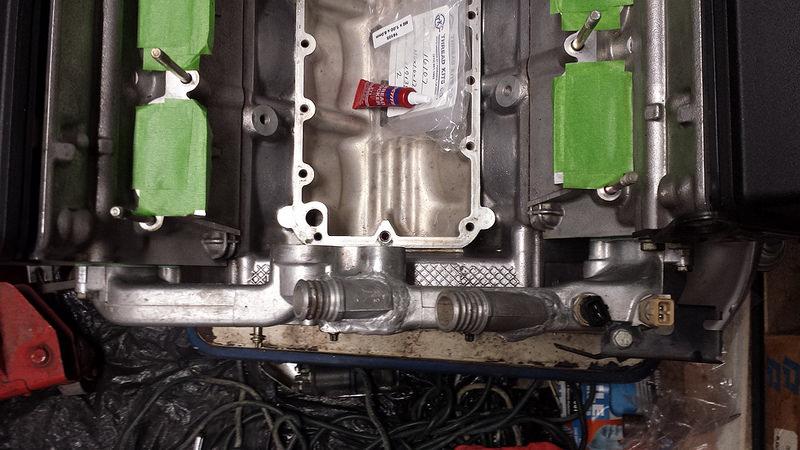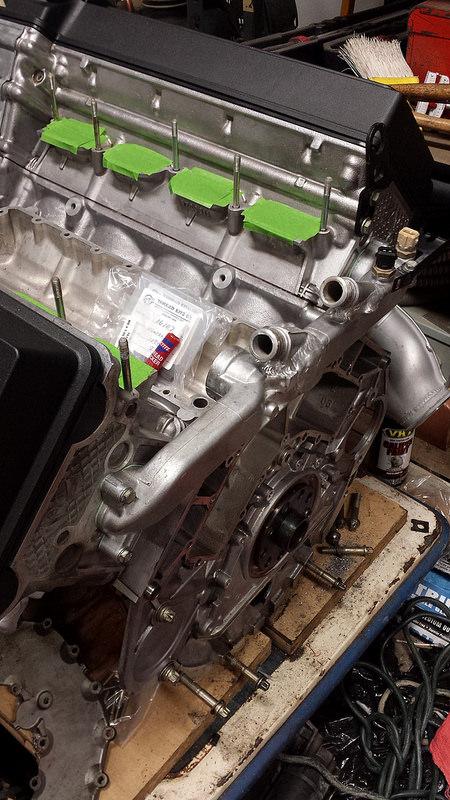 9-26-2015
Since I had someone ask about the steering joint..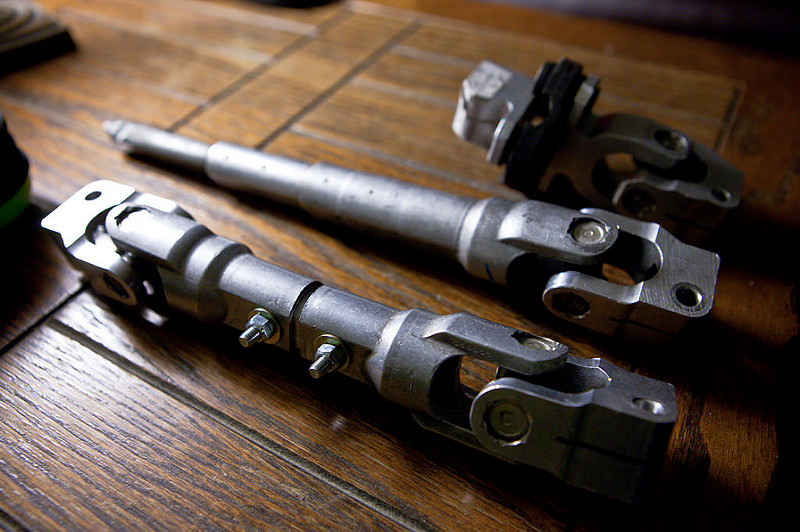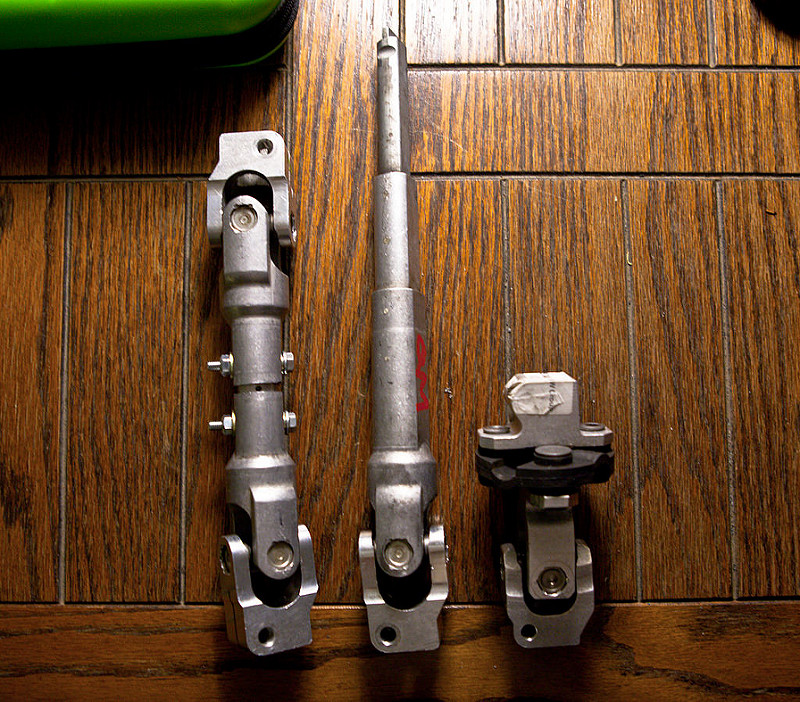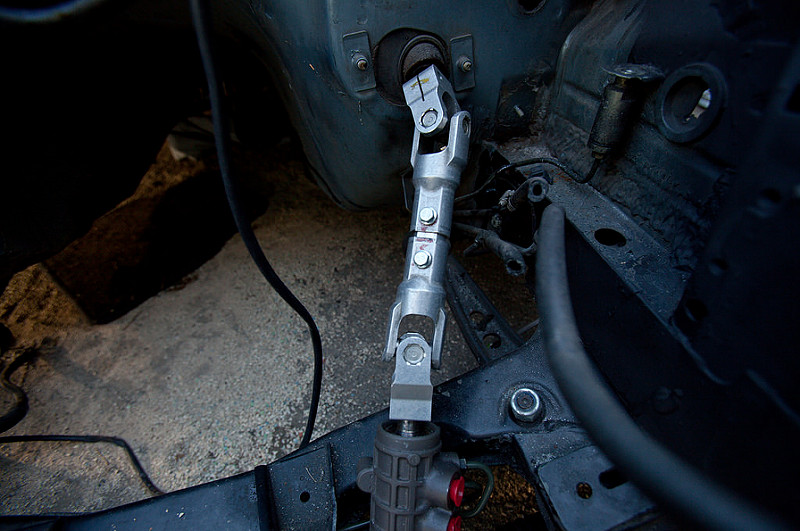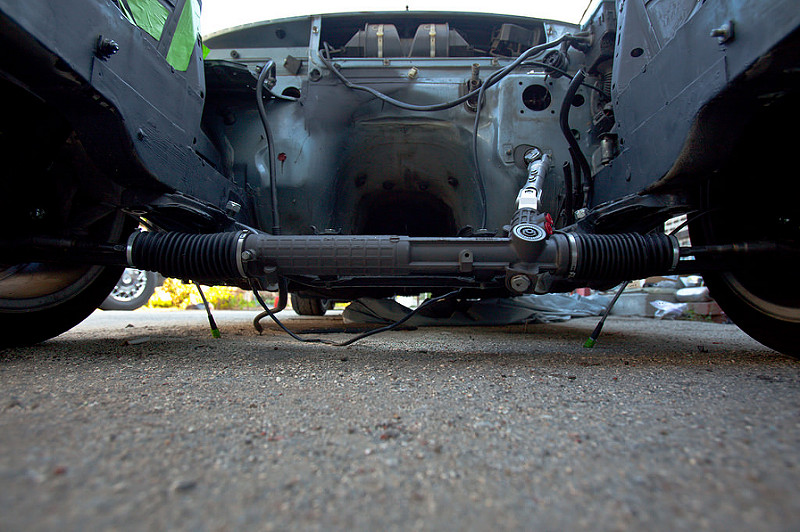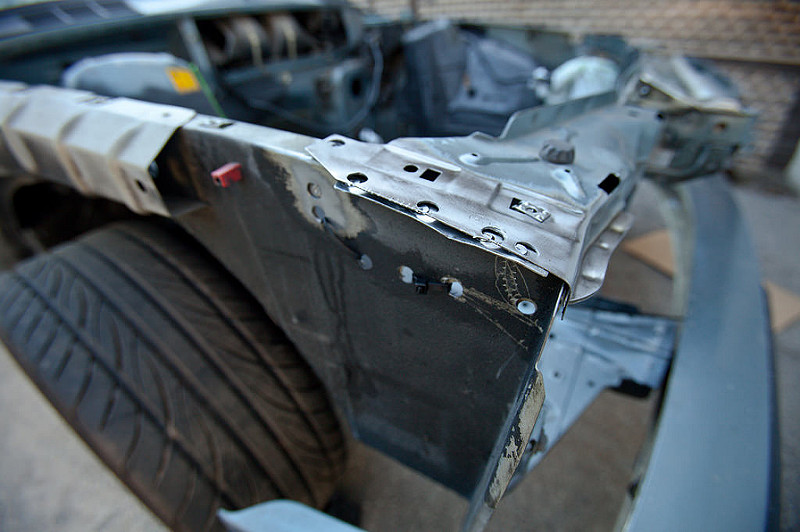 Pretty content with how this piece came out considering I have zero metal working experience or tools for that matter.

Here's the block off plate that I'll be tapping for a catch can and vacuum lines. Just waiting on the fittings to come in the mail, but figured I'd test fit it and see how it looked.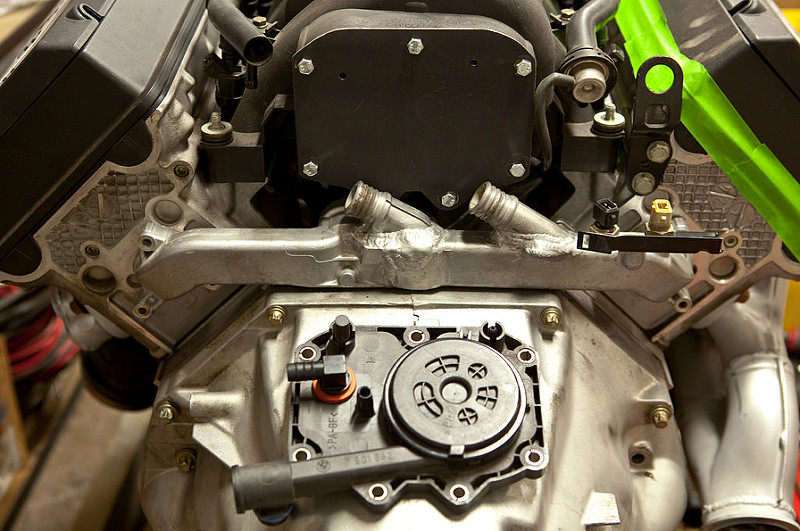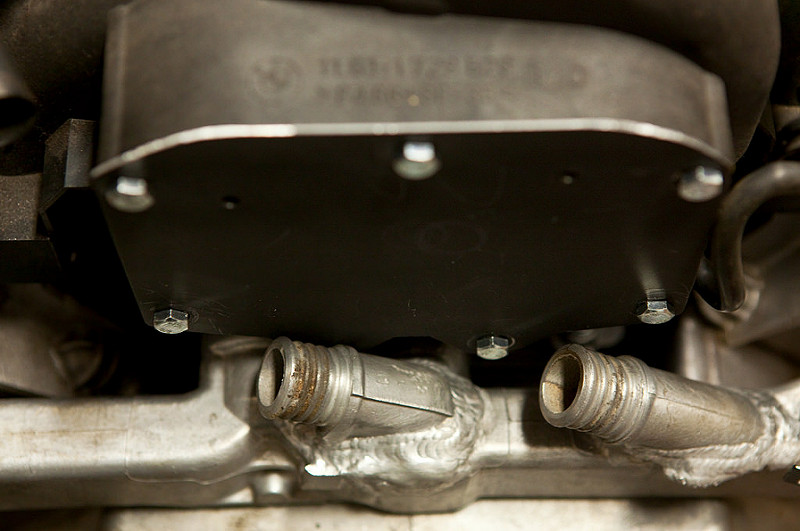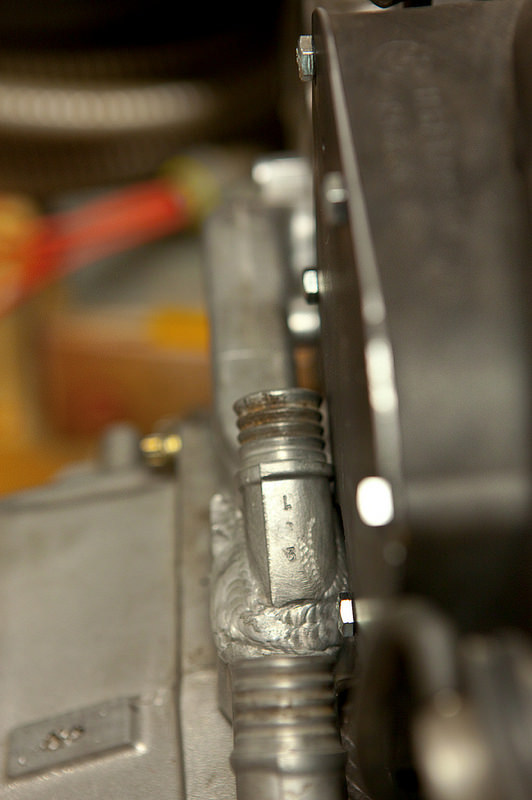 Also went ahead and chopped the airbox a little bit till I get the rest of my gaskets then take the financial plunge into the flywheel & clutch.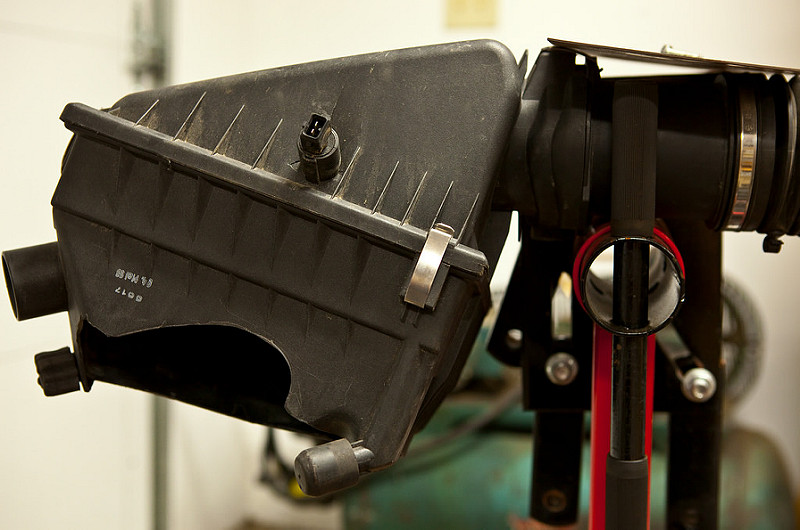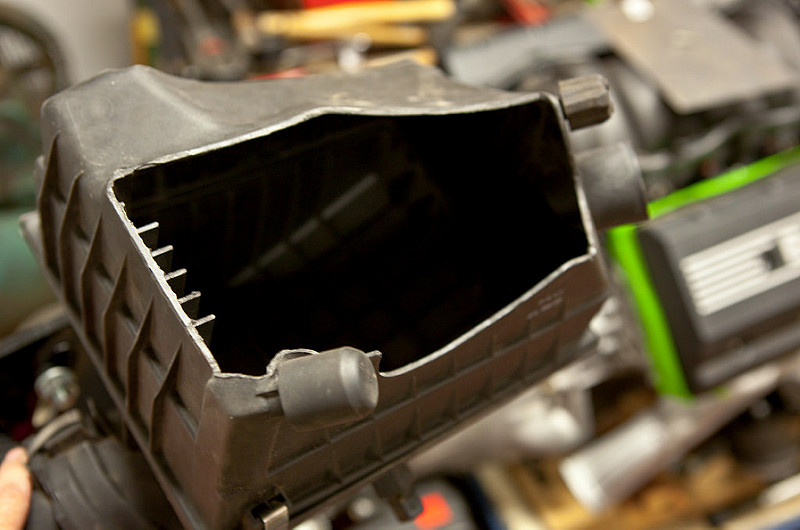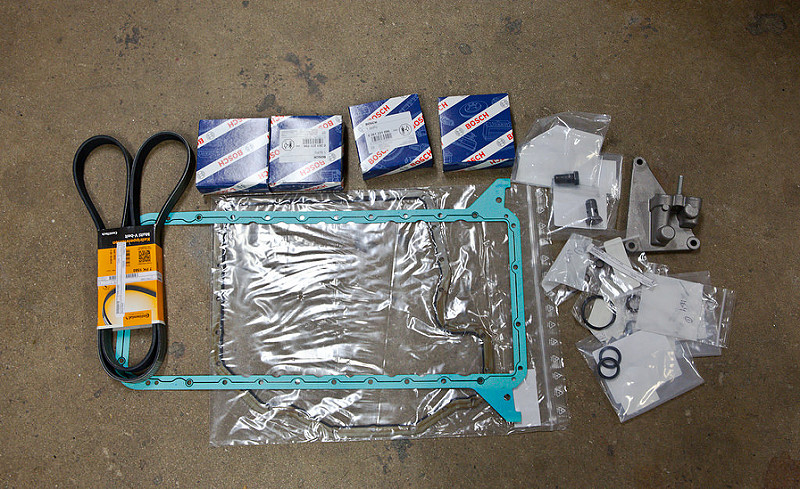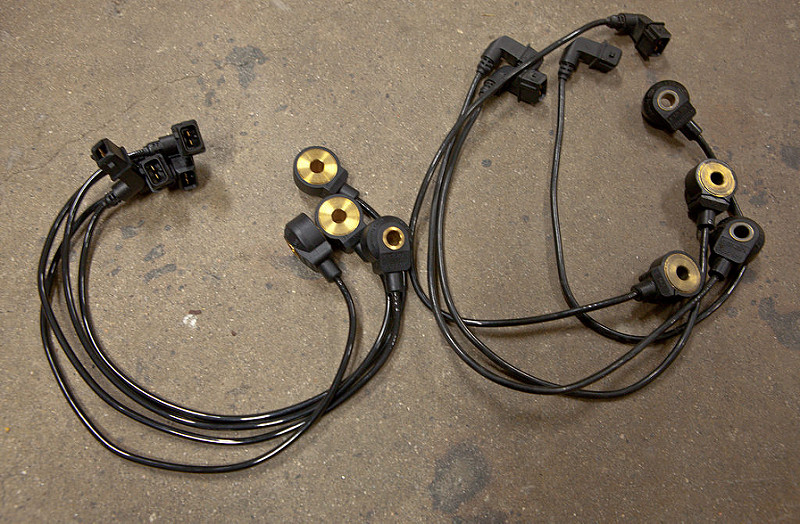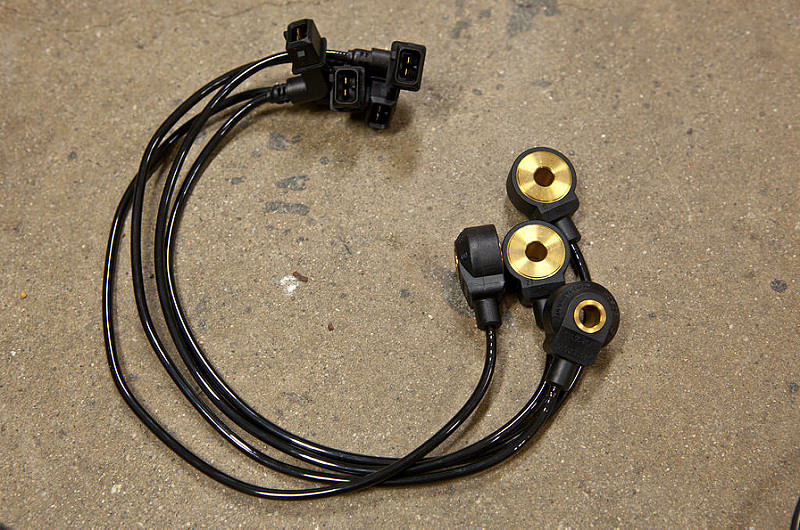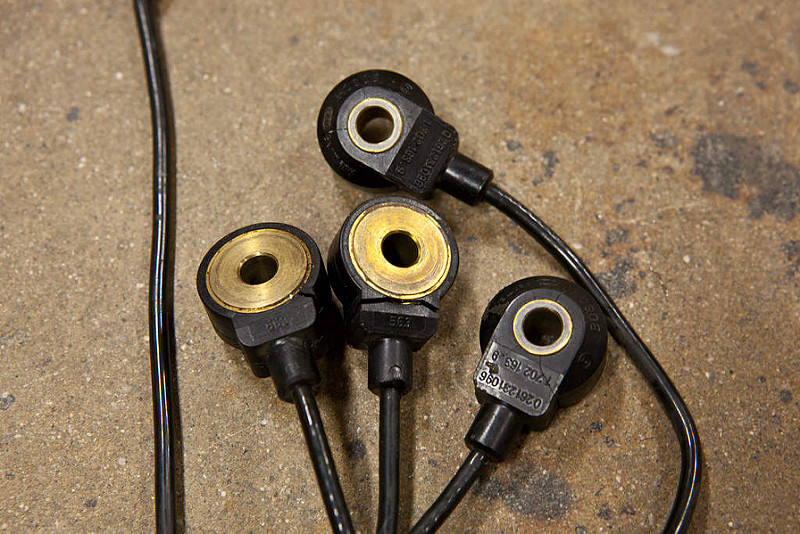 10-29-2015
Finally got these welded and back from my buddy, pretty happy with how my ghetto ass pieces ended up working out. Slowly coming together at a snails pace...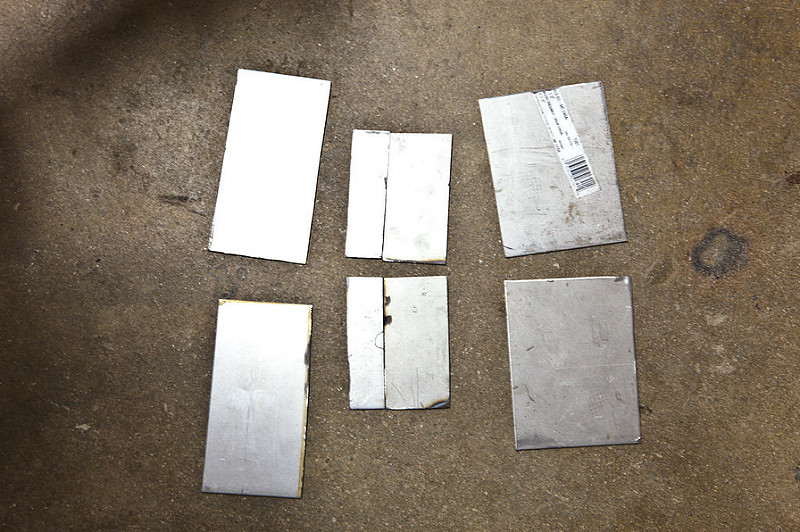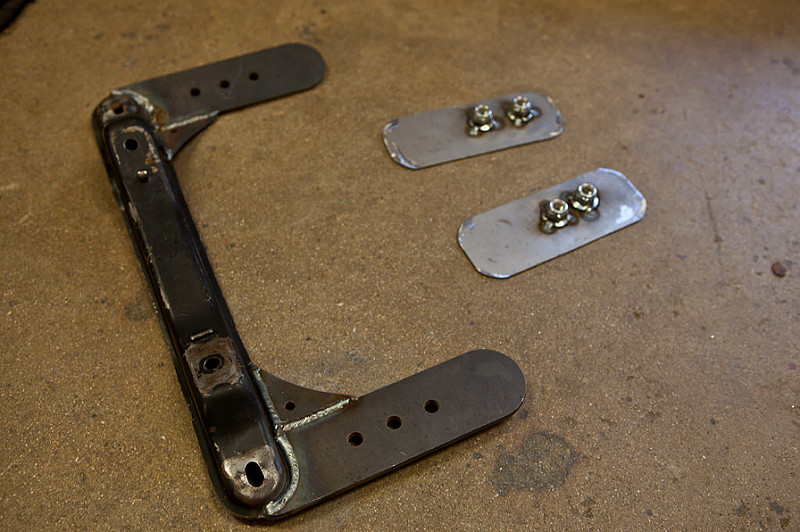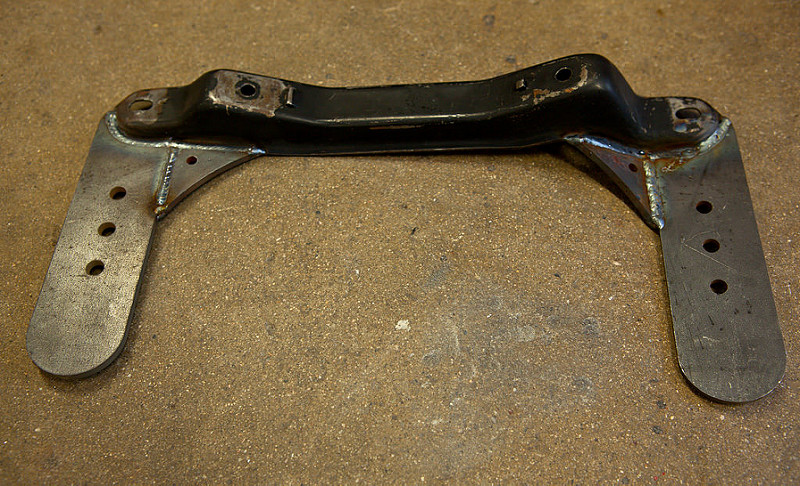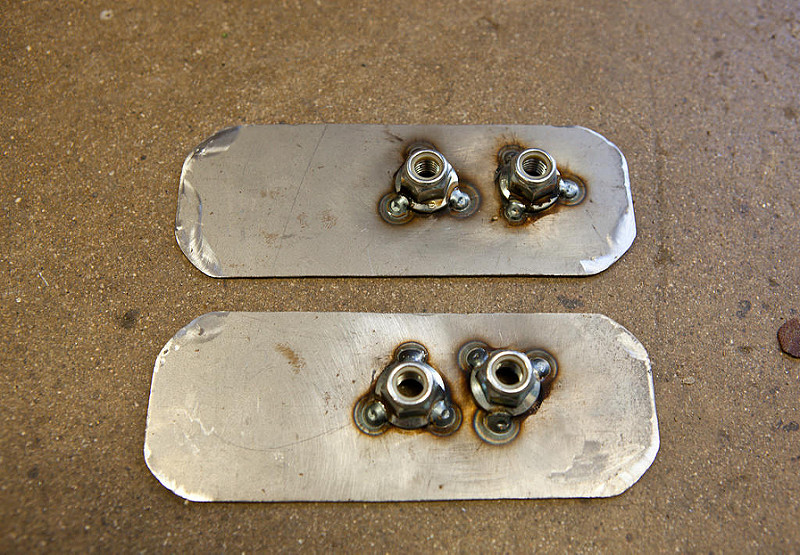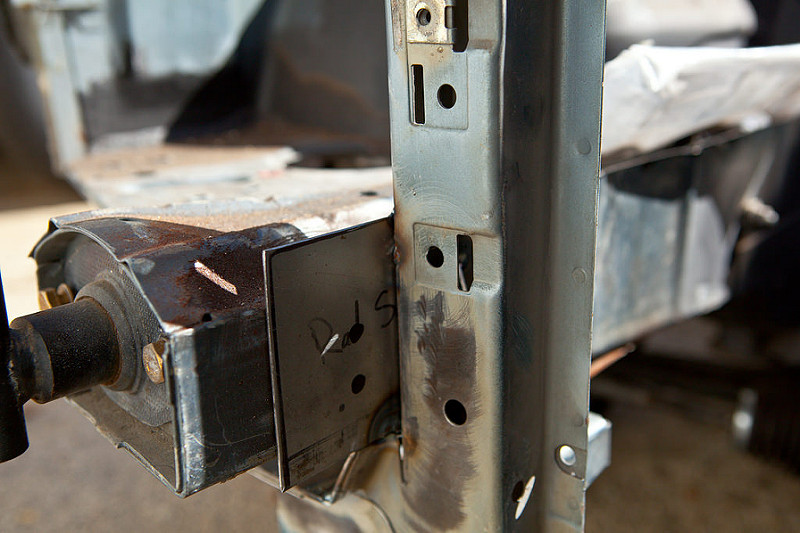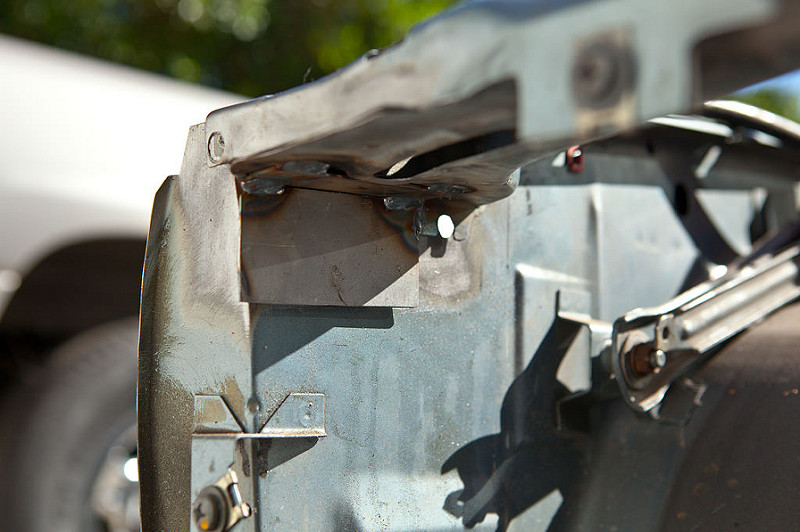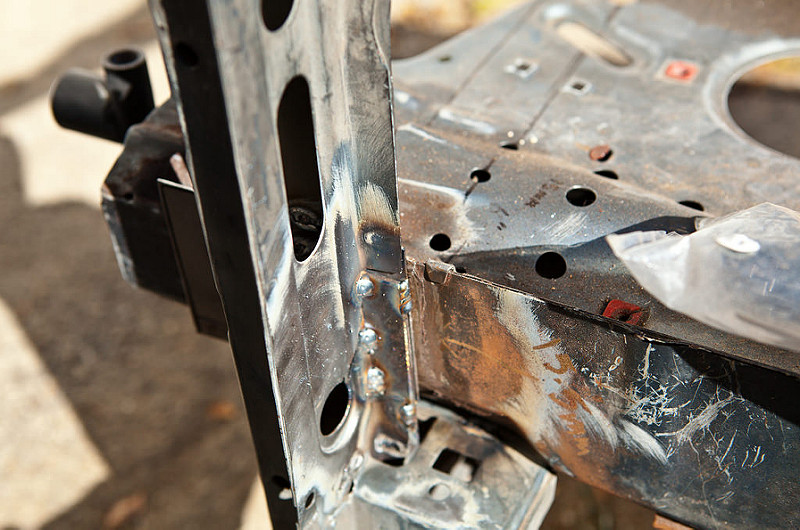 11-1-2015
Radiator supports in, rattle bombed temporarily... See how things shape up this week on my days off.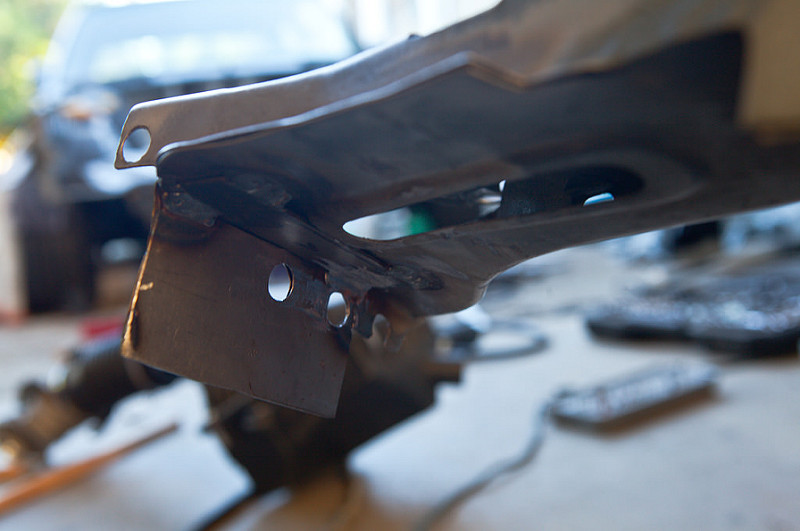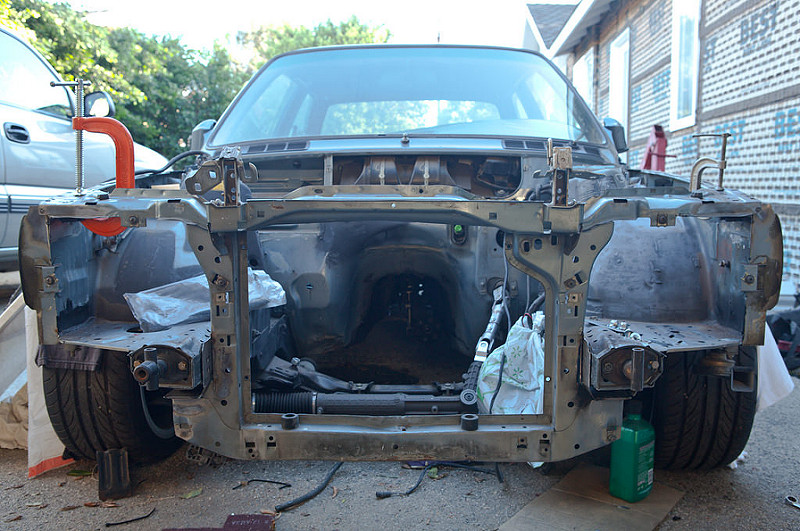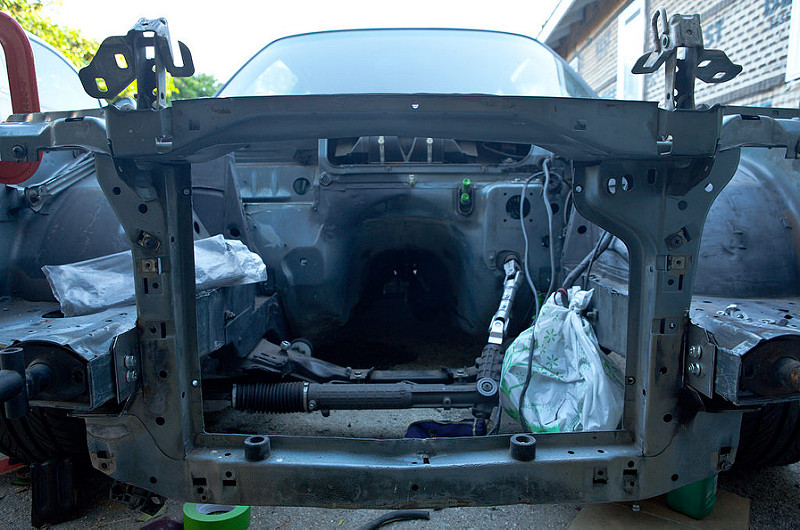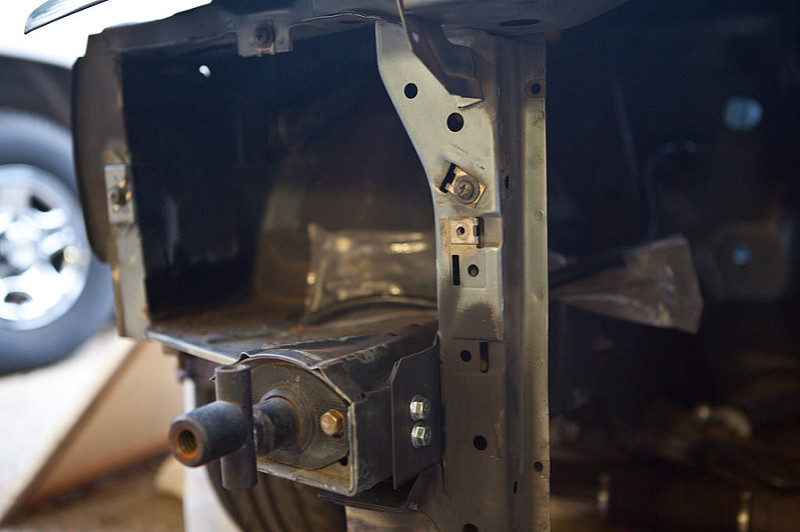 11-5-2015
Dropping an engine this big by yourself is not the shit.

I am SO HAPPY I did a removable core support now. I have no idea how anyone sane would do this without that.

Still need a flywheel, driveshaft, clutch, slave cylinder, and yadda yadda yadda. Very rewarding feeling seeing this thing when I pull the hood off.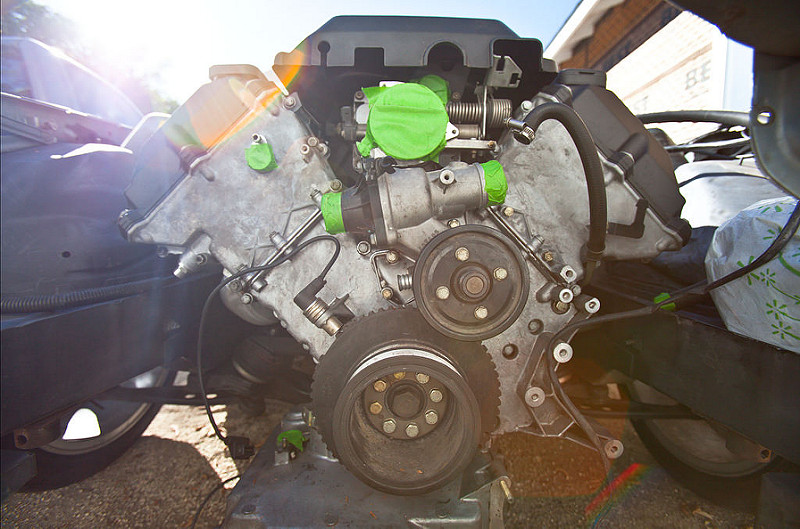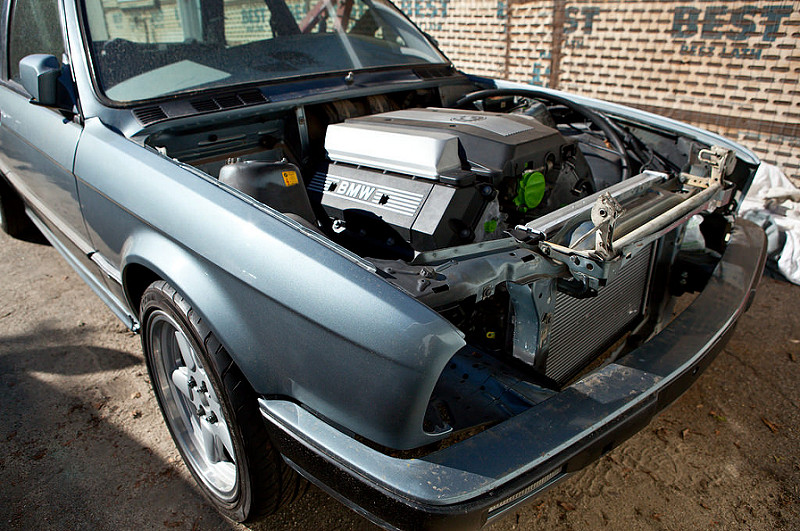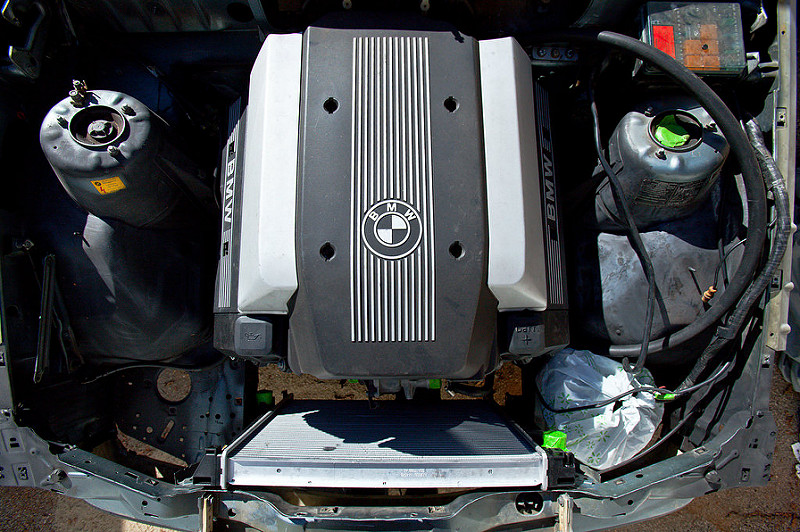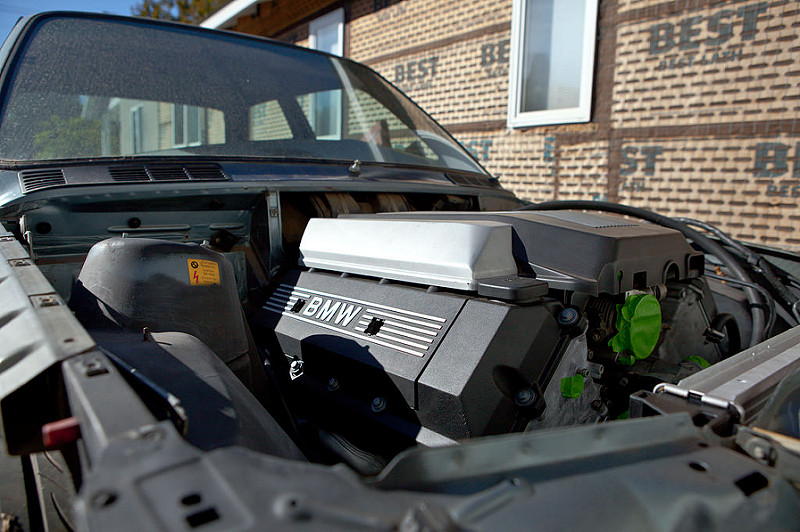 11-10-2015
Also went ahead and got this bar off Patrick from BMA, pretty damn good fit. Went ahead and stomached the plunge and bought the oem e34 265mm dm flywheel & clutch kit, just a few more things now and hopefully she'll be roadworthy.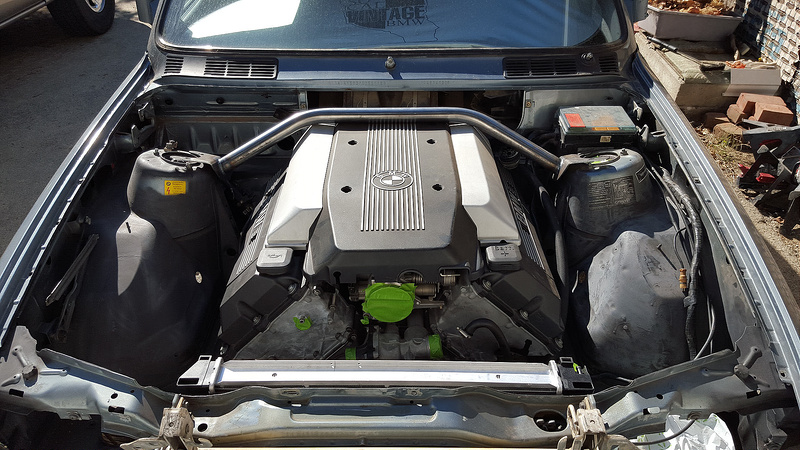 As natural as the vanity cover looks in the bay; I still can't get over how rugged the intake mani looks and ties things together.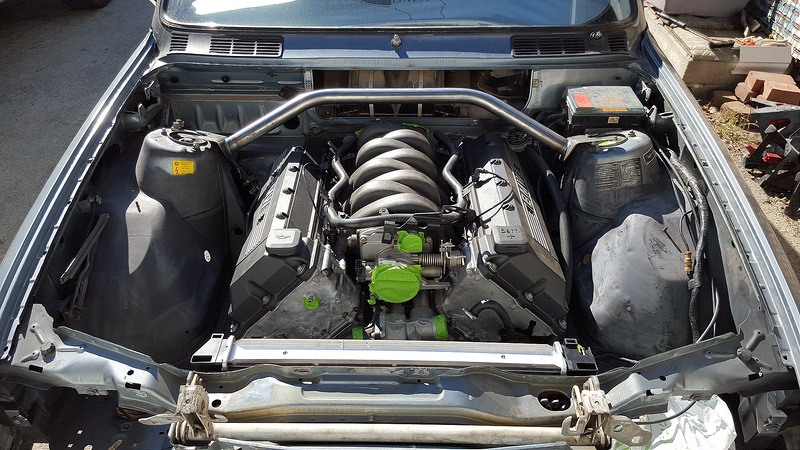 11-12-2015
Flywheel came, also got a killer deal on the 310mm rears that I couldn't pass up.





Roommate got a nice 01 740i; thing is like brand new, cell phone pictures dont do it justice at all.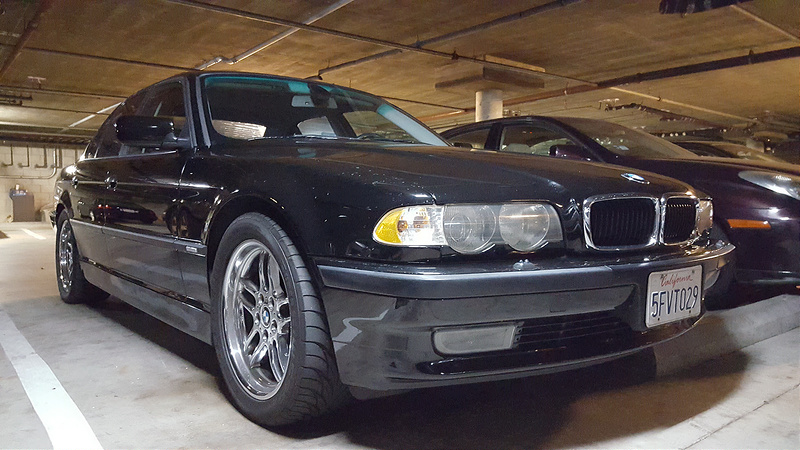 11-13-2015
Cant beat local shipping, happy to have this come before the weekend...

Can almost actually see this car running lol.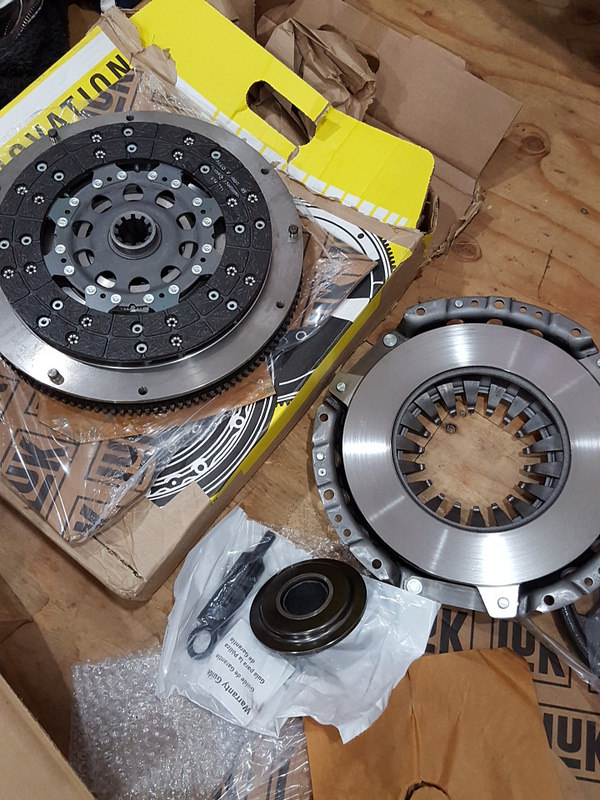 And just cuzzzzz.....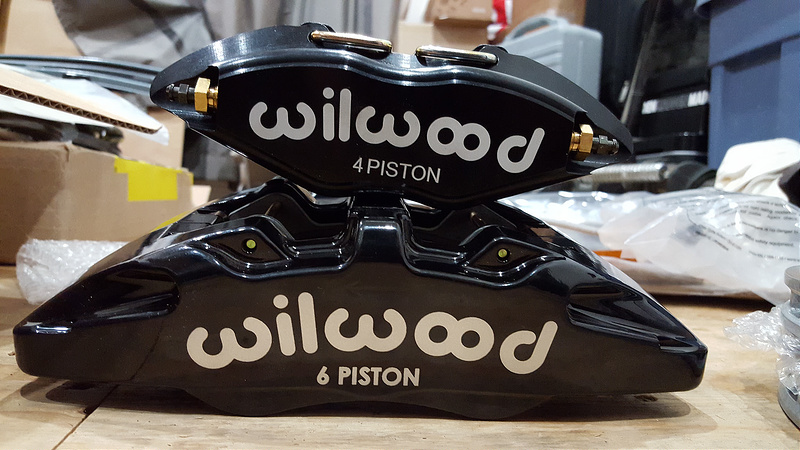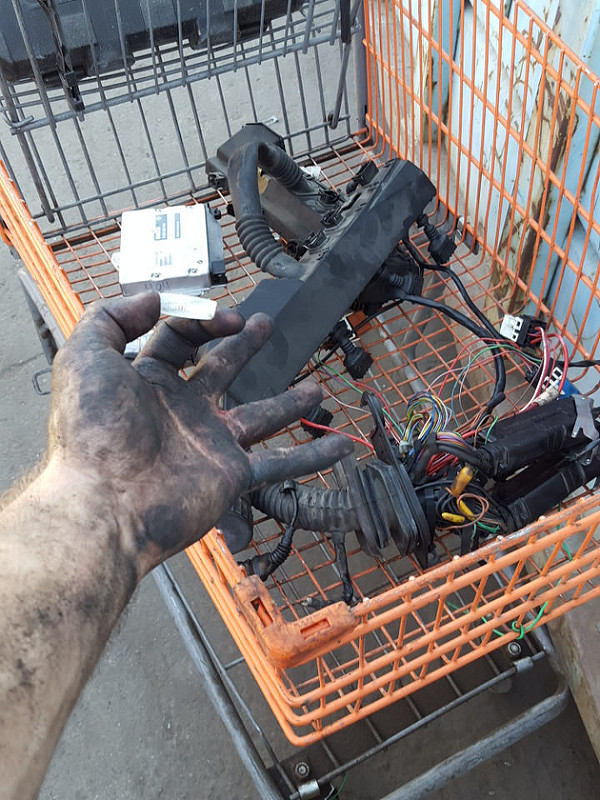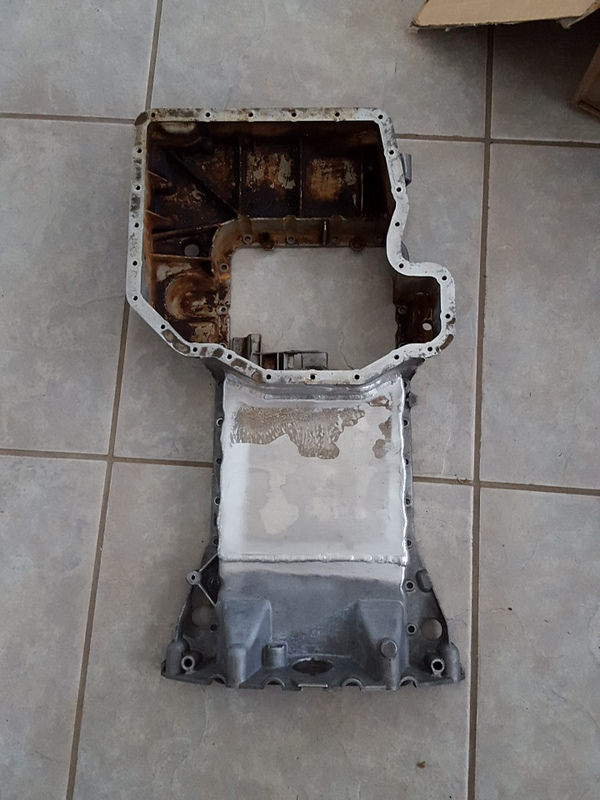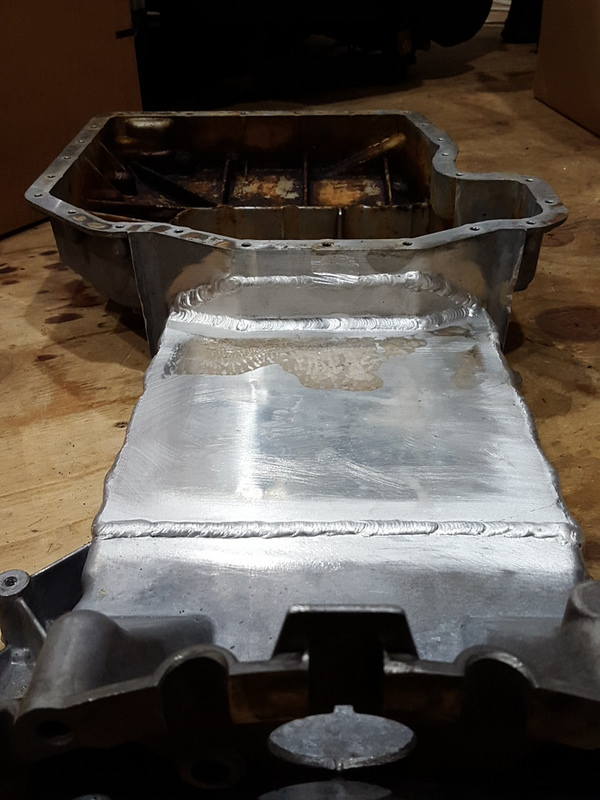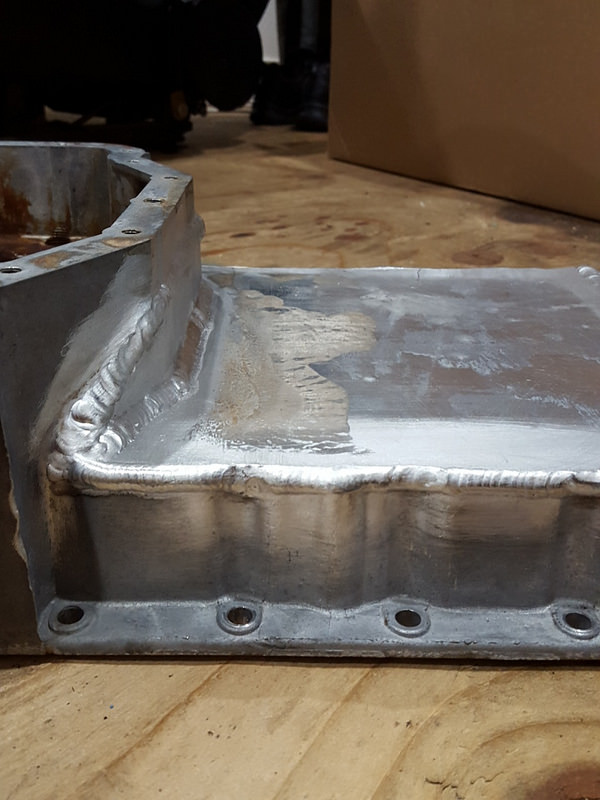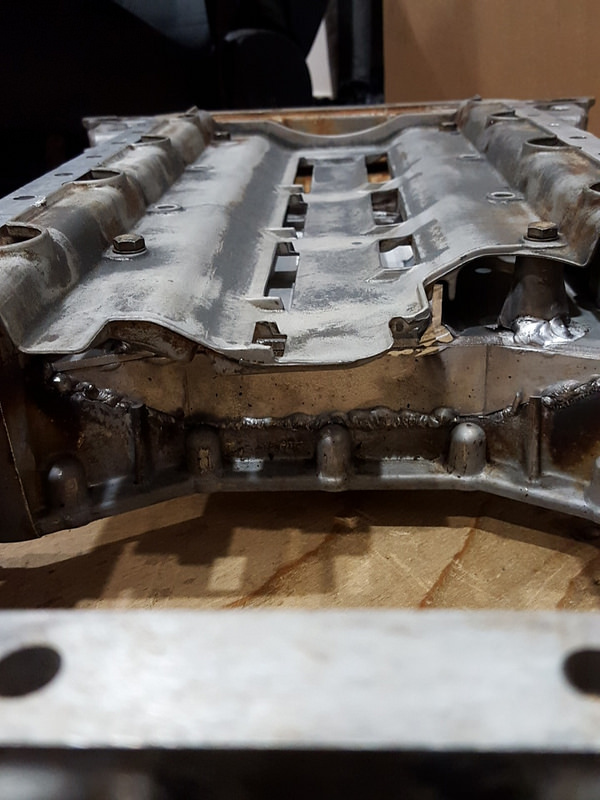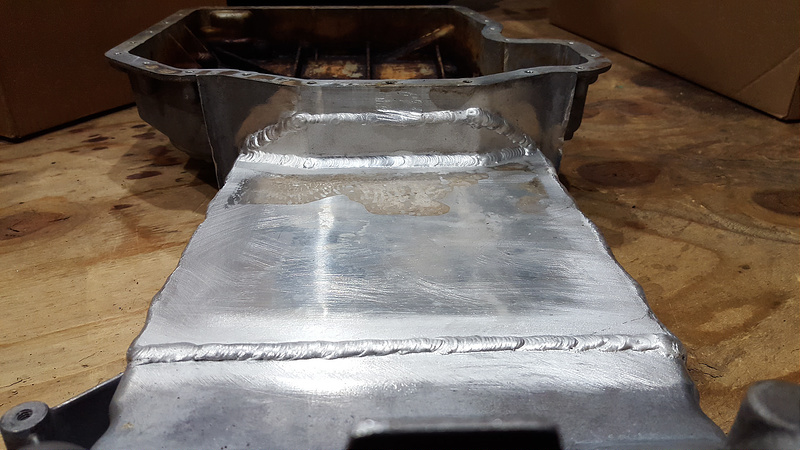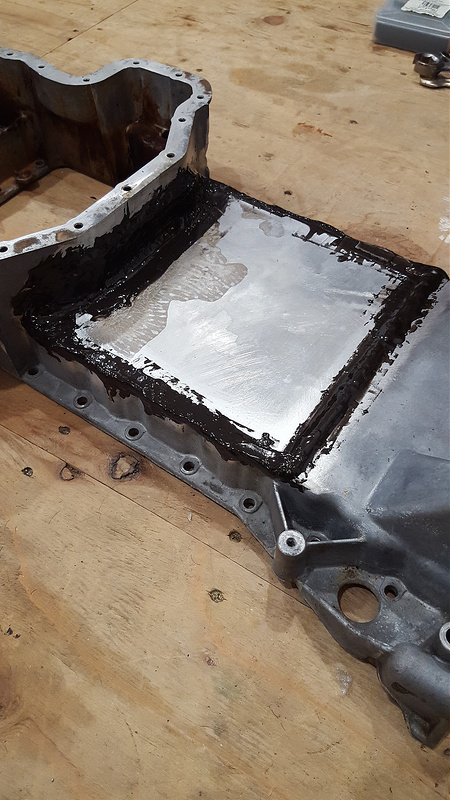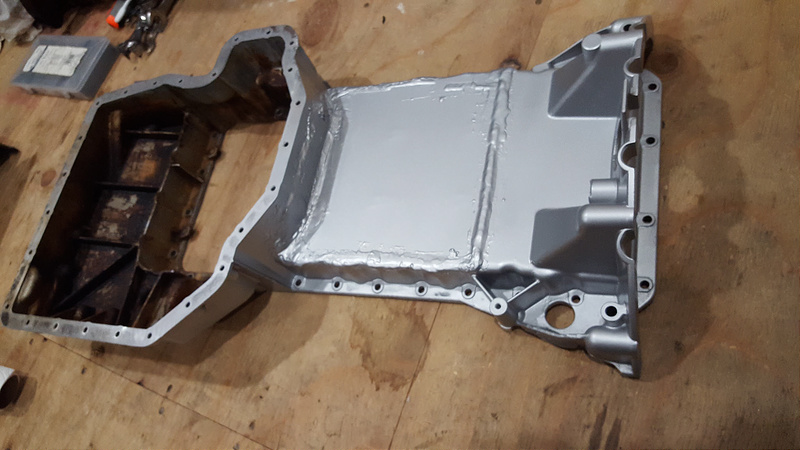 12-11-2015
Well not much in the way of updates lately.

Went ahead and started the wiring but cant test till the flywheel is in. Decided to tear out the hvac unit since I've had a leak from behind there. From the looks of it, its been leaking way longer than I've owned the car, so hopefully no more.

Got a carpet for cheap off a craiglister, pretty decent shape, had a couple burn holes from cigarettes. Decided to rattle can bomb that shit, itll do for the time being..


Also on a side note, I have an extra engine cover + the coolant tank that I might sell if anyone is interested. PM me.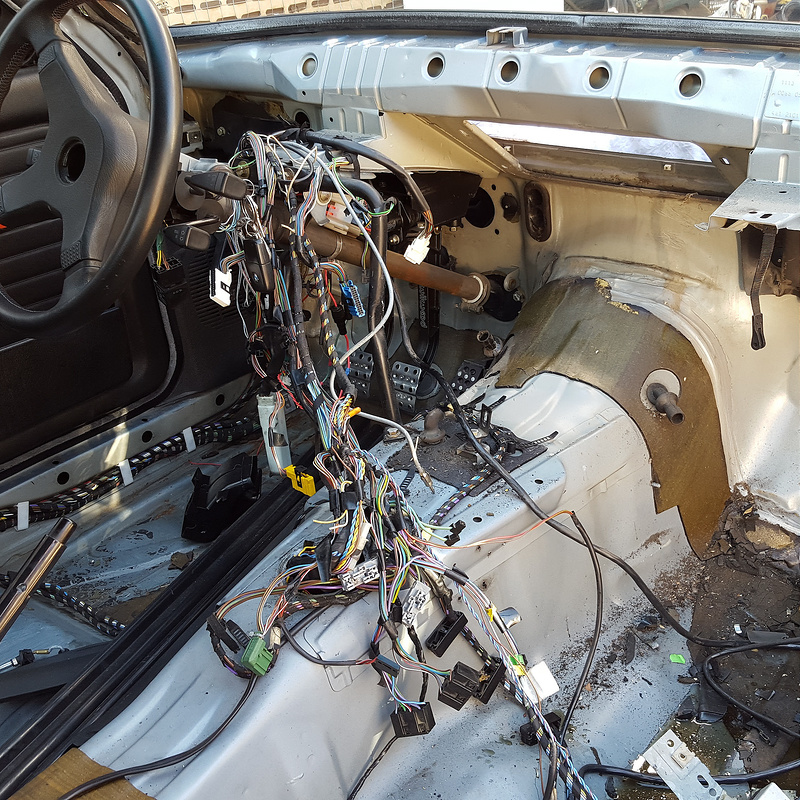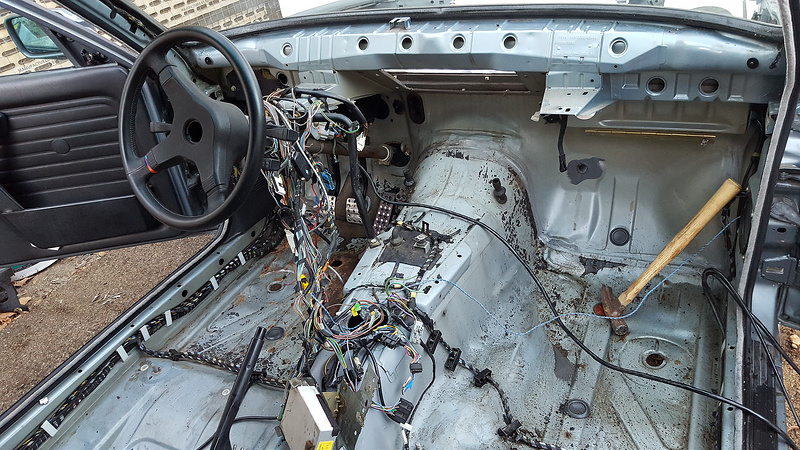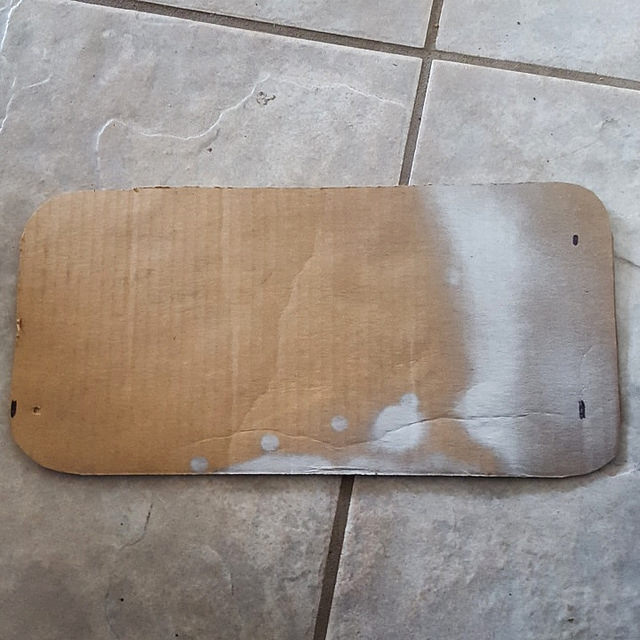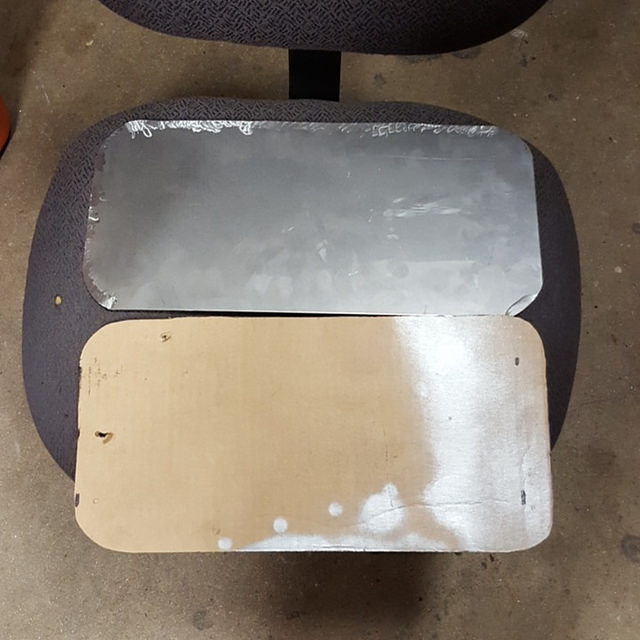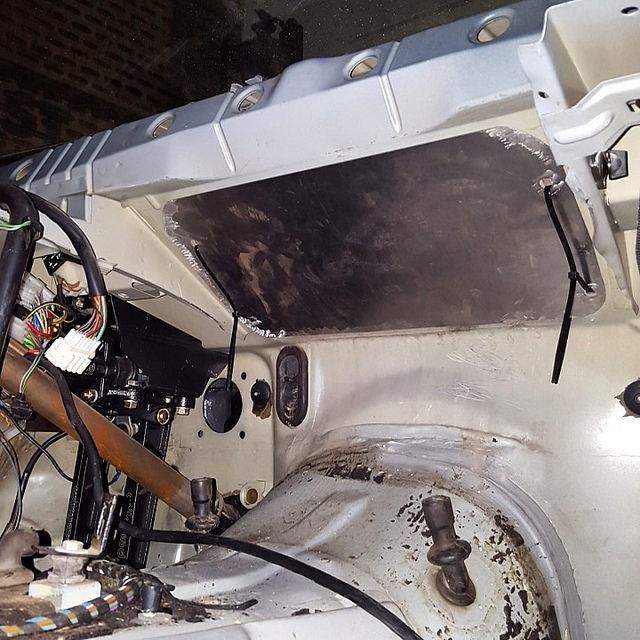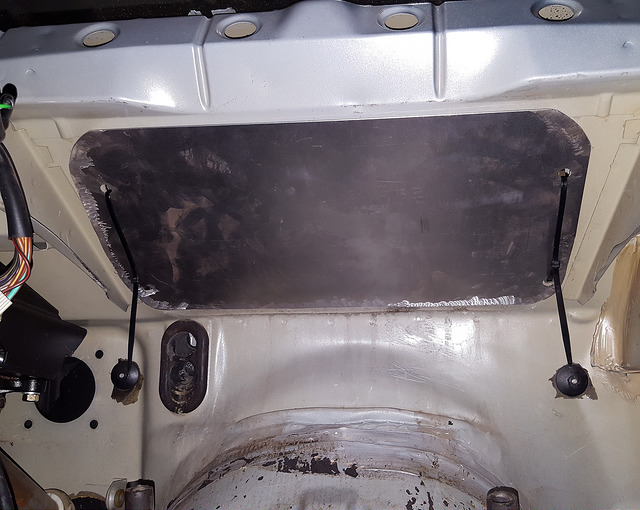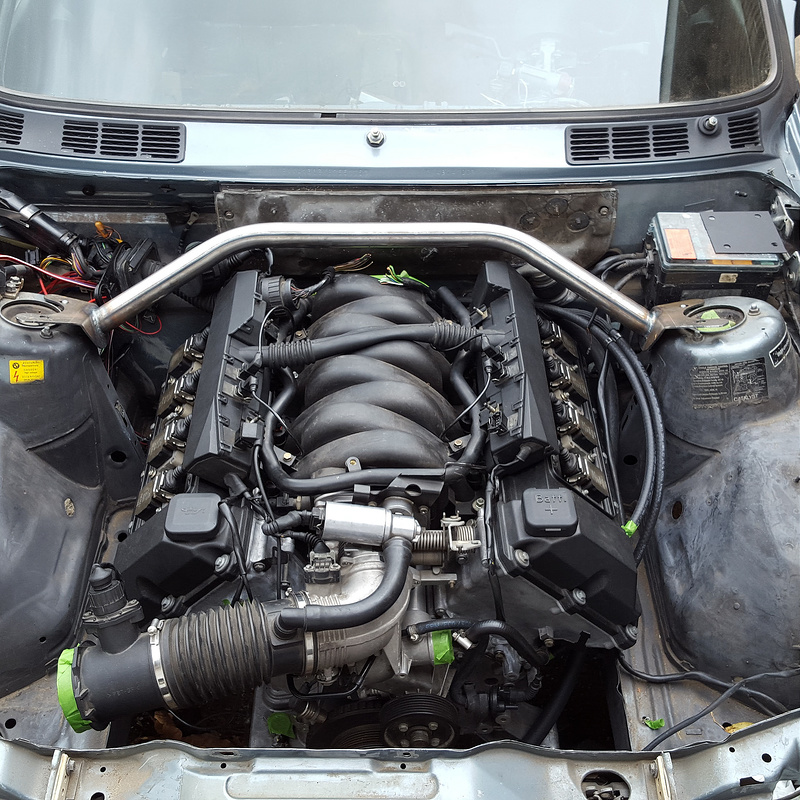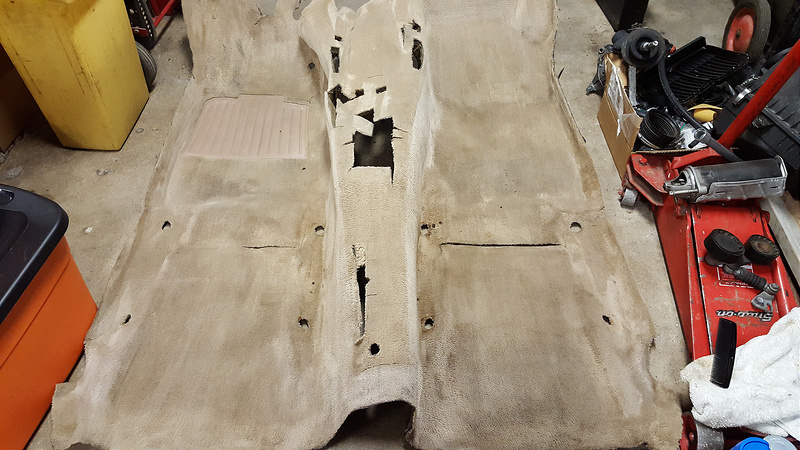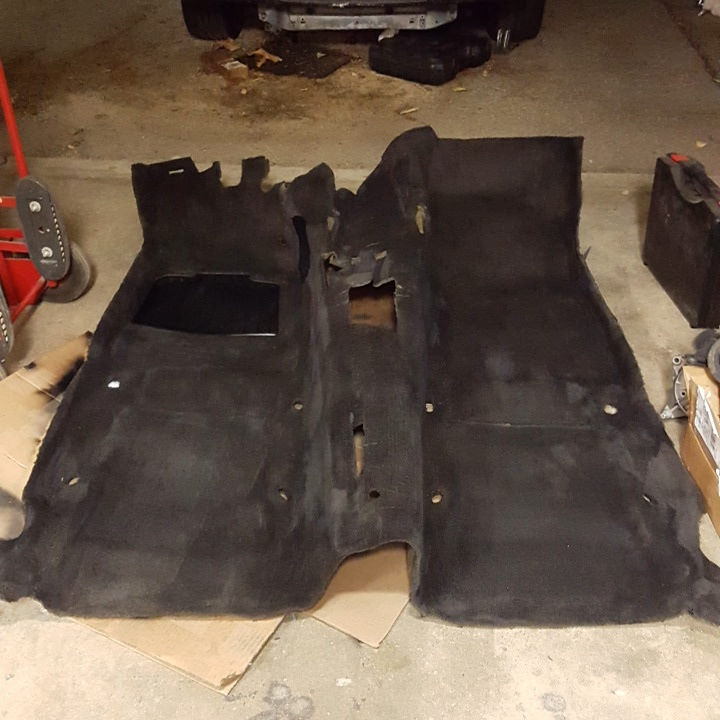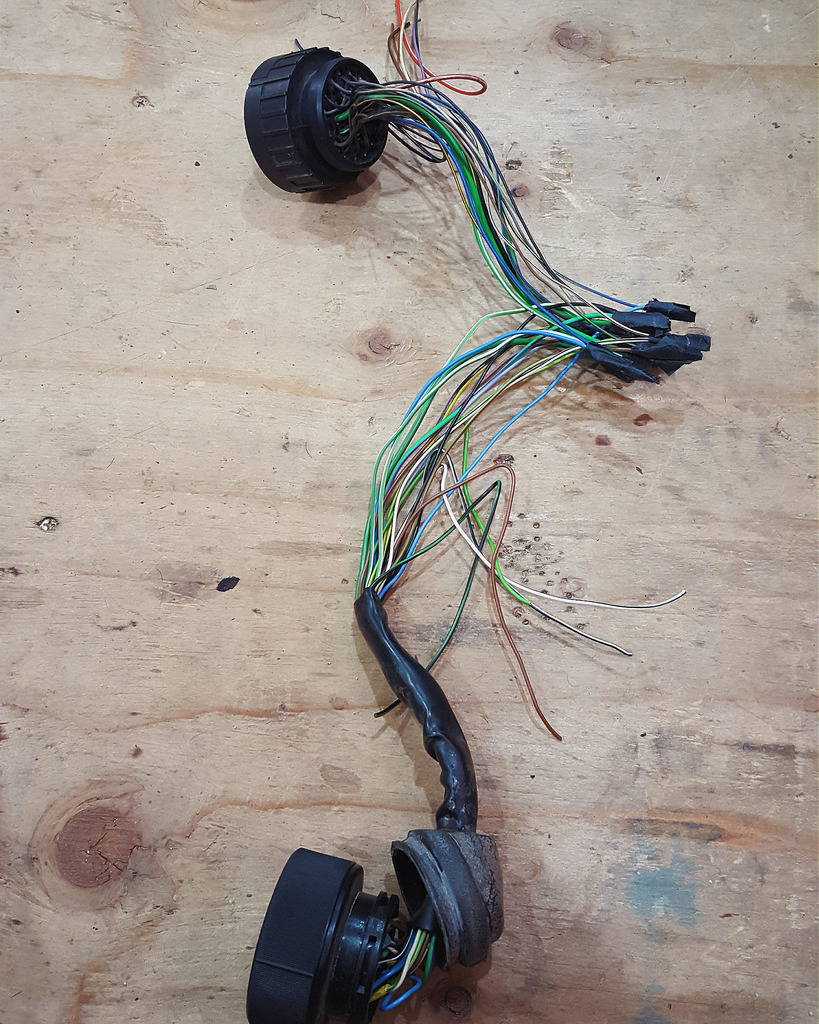 2-16-2016
Since I haven't really made time to update much since December; been moving and etc..

Bought an early filter housing & timing cover. Went ahead and fixed some issues in the wiring harness and rewrapped everything to keep it clean. Took the windshield wiper cover/firewall cover off and cut the studs and shaved it. Finished up the m60 harness to e30 chassis wiring, hope to test this soon. Still haven't gotten around to pulling the motor to install the flywheel quite yet. I'm sure there's things I'm forgetting right now but I'll edit it later..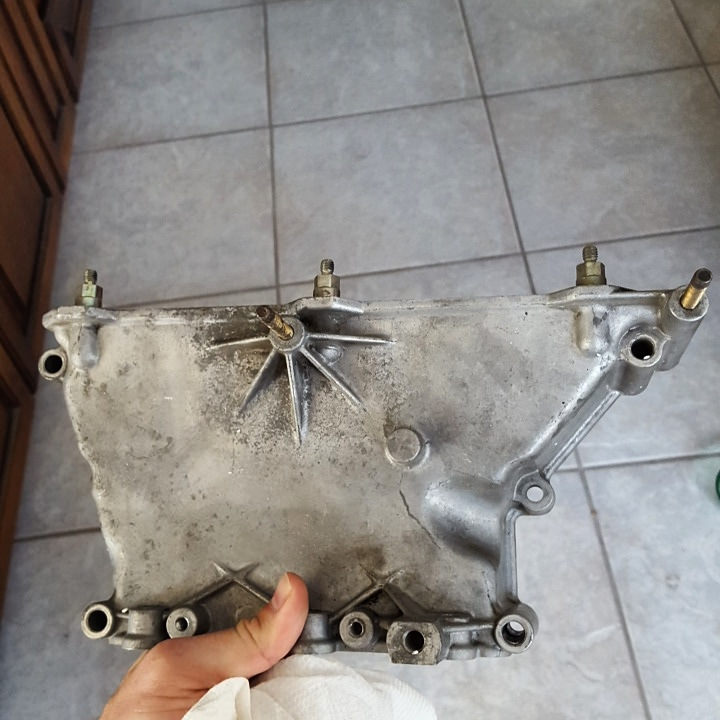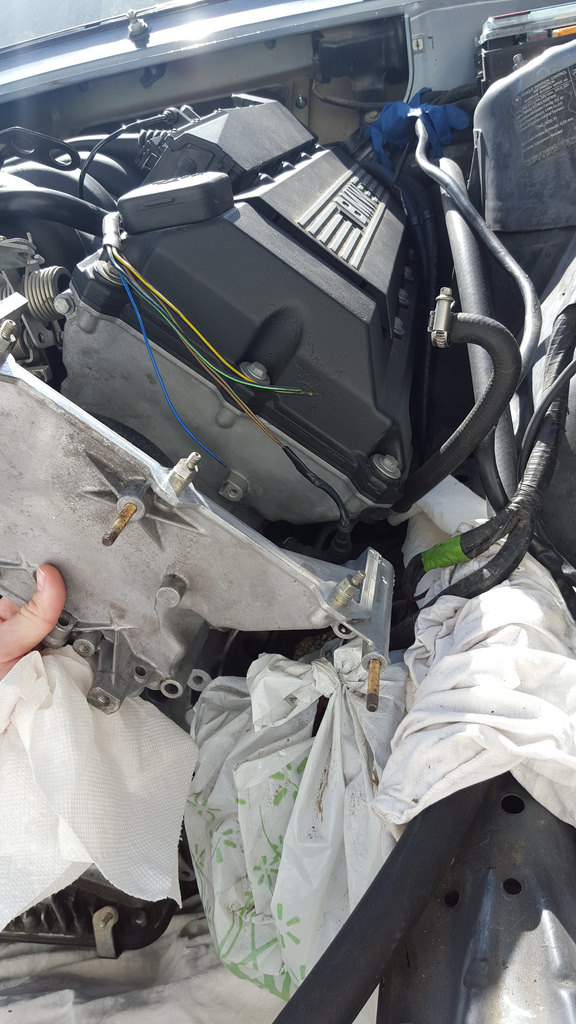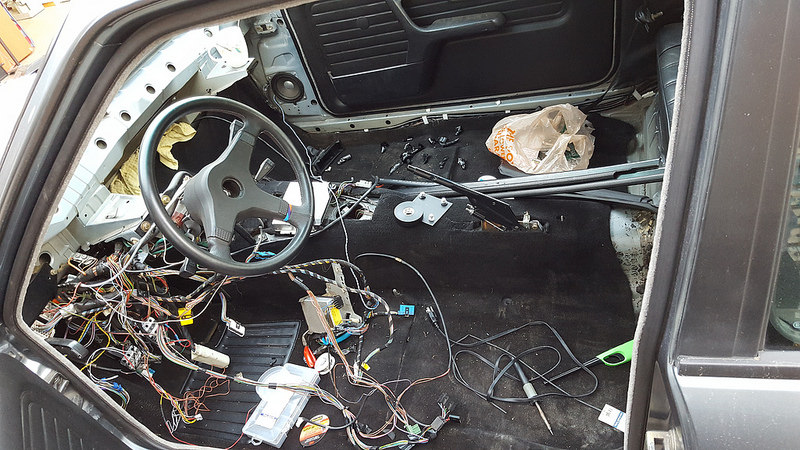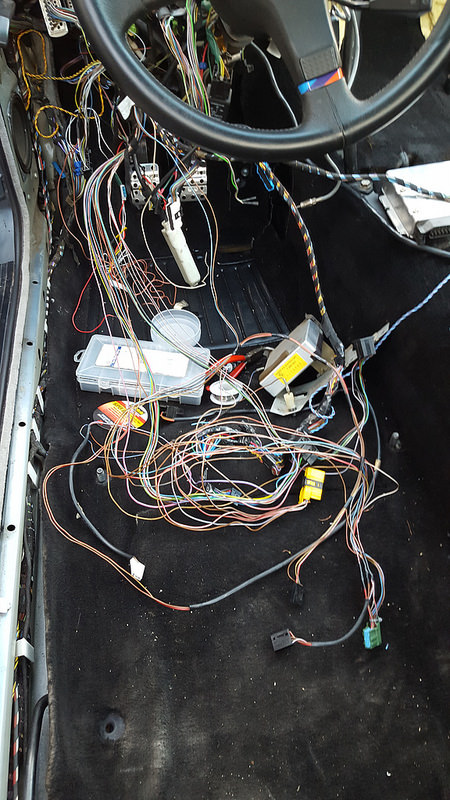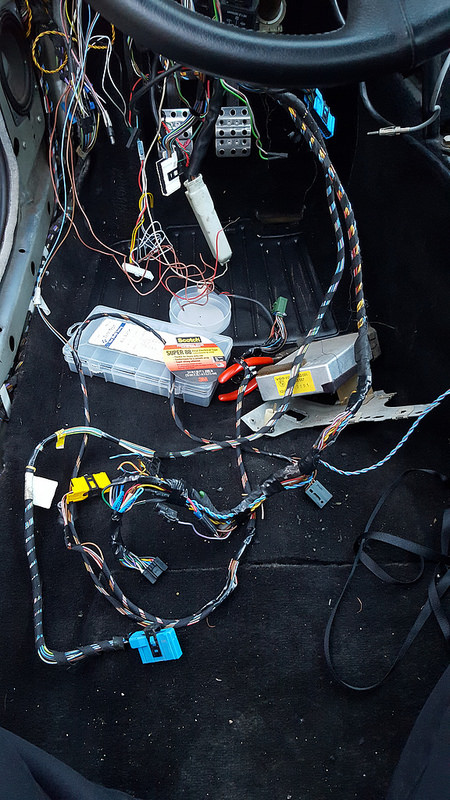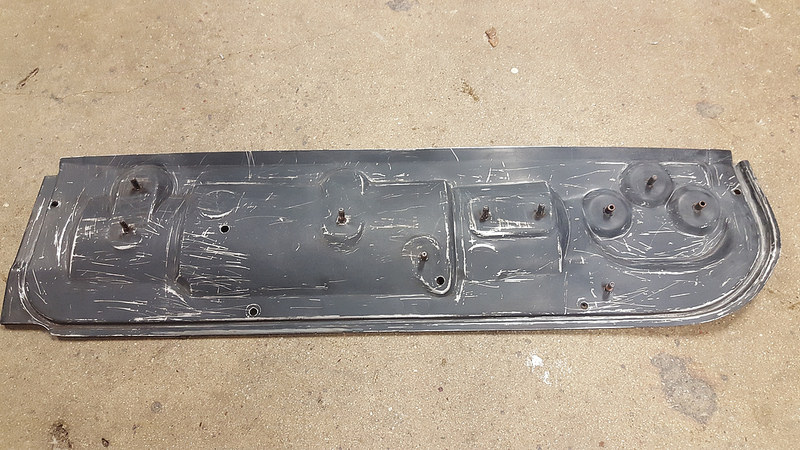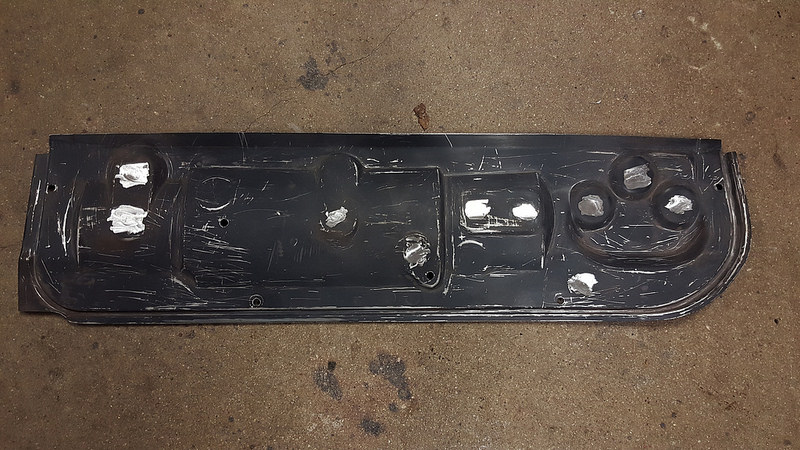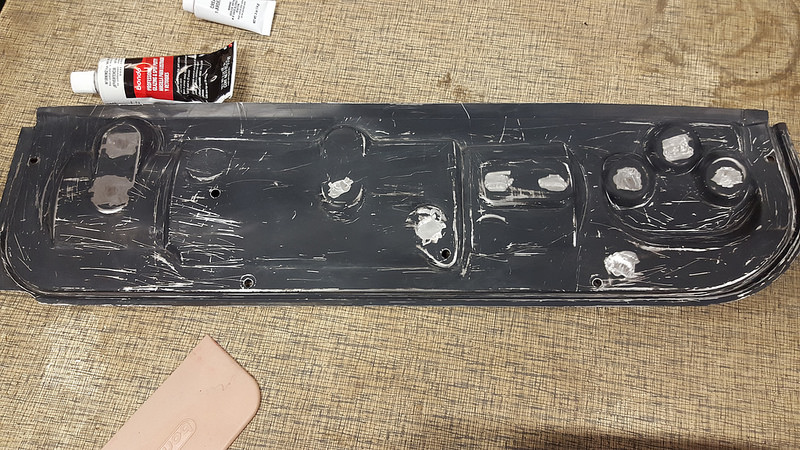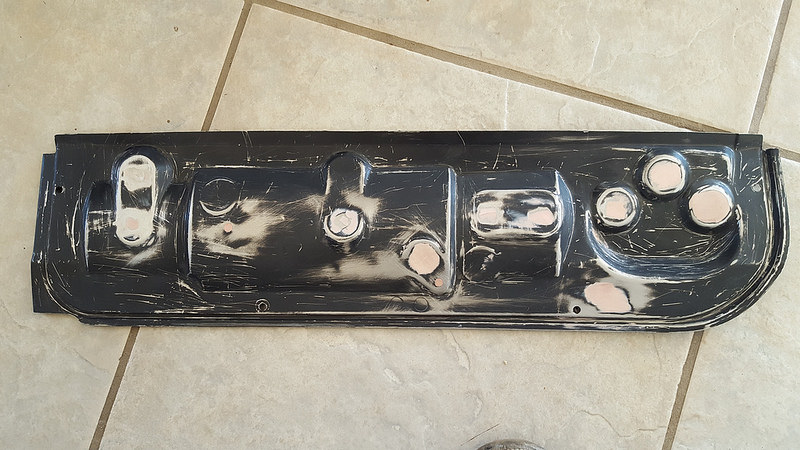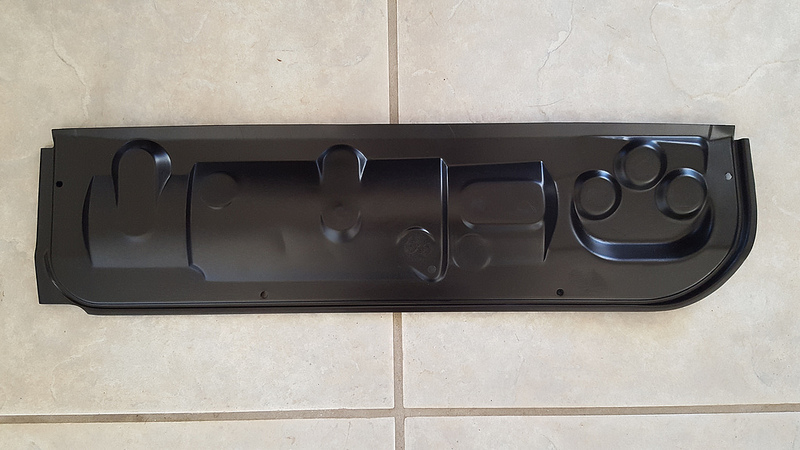 2-16-2016
MOAR PIKTURZ


________________________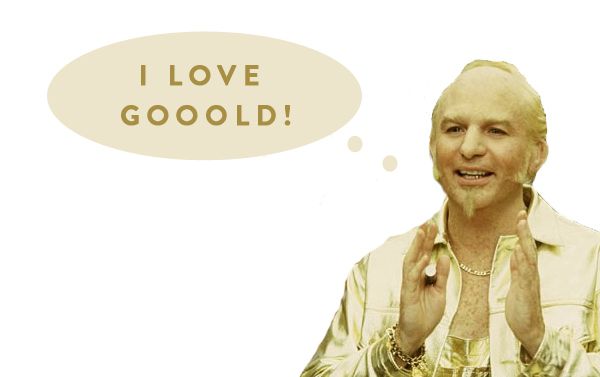 Got some fire resistant / heat reflective film for the firewall. Went ahead and threw it on the cover. Once I finally spray the bay, I'll lay the rest of it on.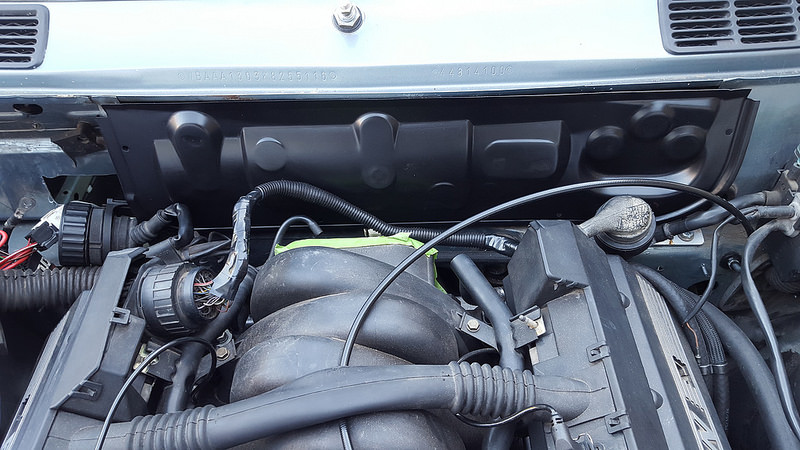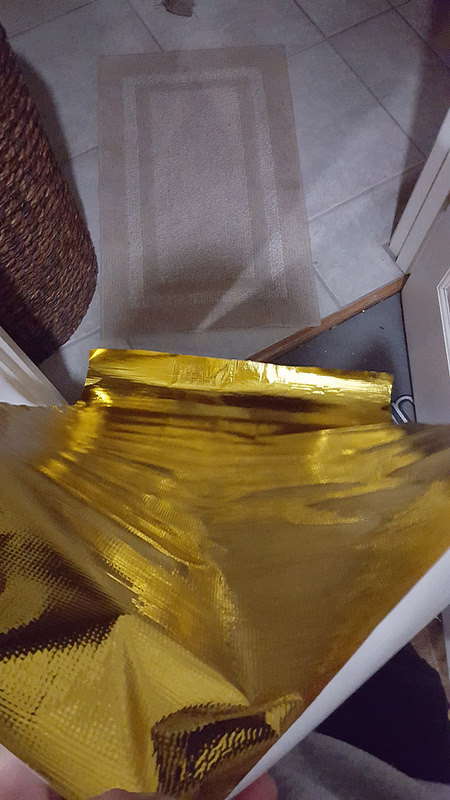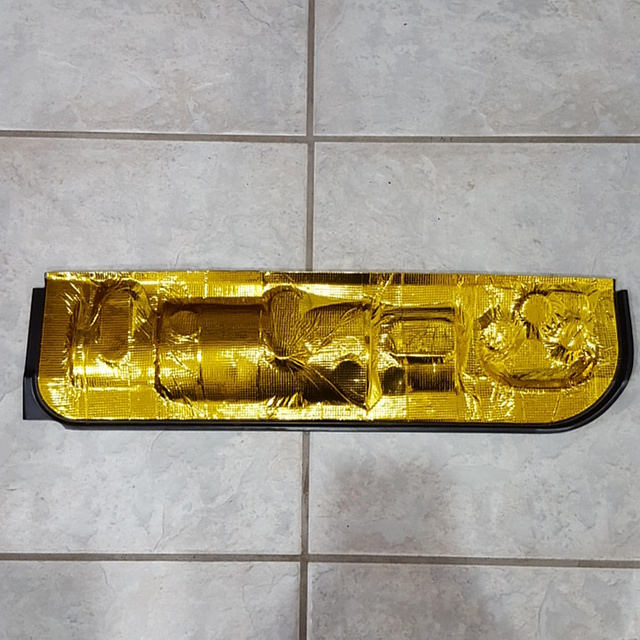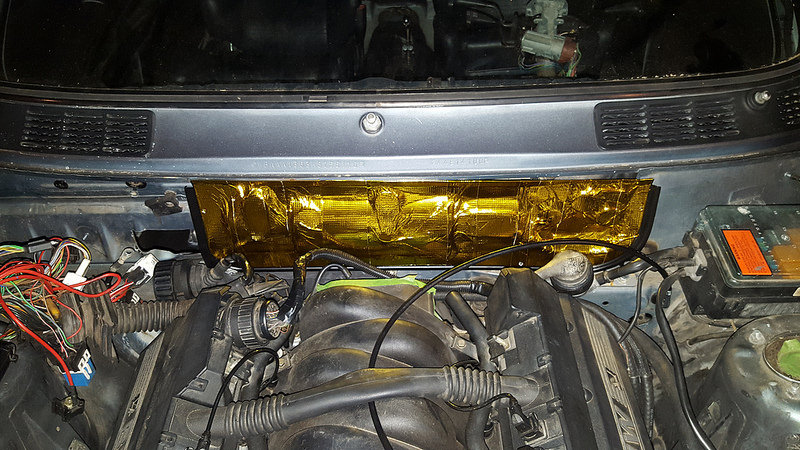 Also went ahead and bent/cut my brake res bracket & fabbed a bracket for my oil catch can...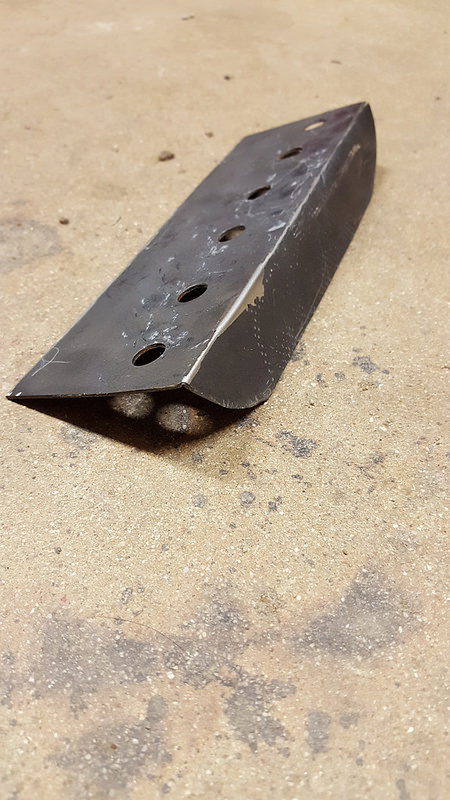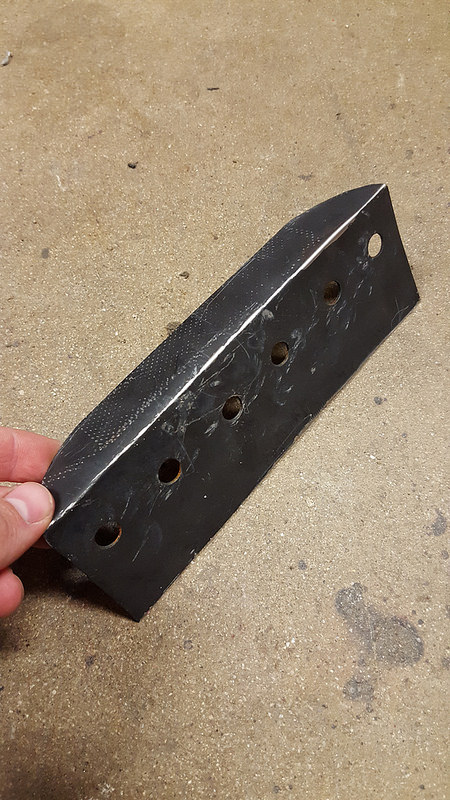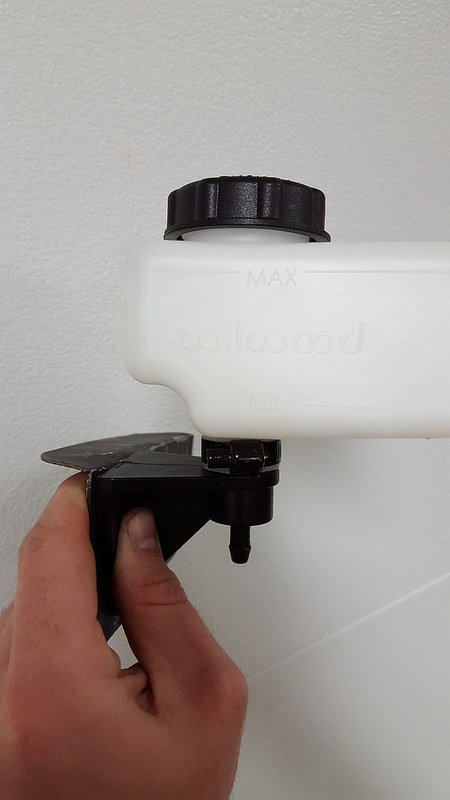 2-17-2016
I spent a lot of time staring at JGood's, Gary's M3, & pantelones' supports; this was my best solution considering how limited the access is. Stripping the paint down just to get a good weld would be such a PIA lol. I did the same piece for the outside of the fender for the top section, and made the smaller piece for inside the frame rail. Figured this would be the best solution to distribute any stress from vibrations & also easier to work with than washers ha. I considered doing riv-nuts but figured this would be a bit easier since I've had to remove it atleast 5 times now.

The part looks similar to this : (Stolen from Pantelones thread)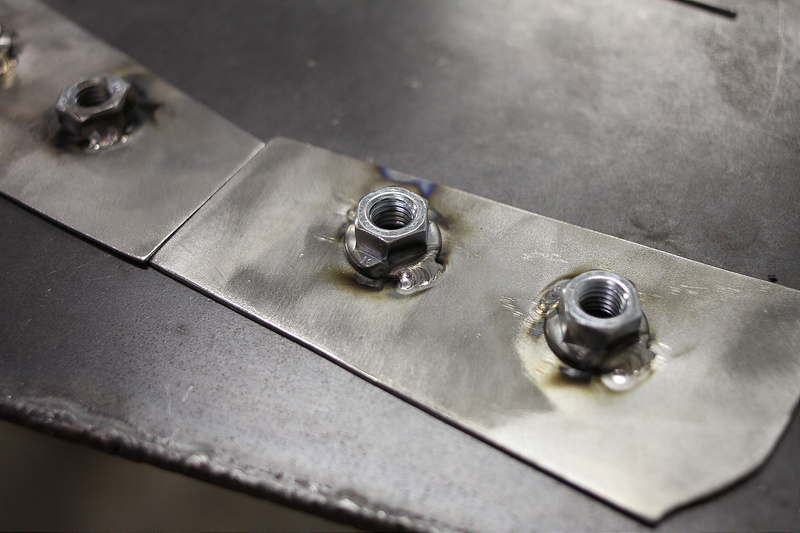 2-22-2016
Little progress update.. Went ahead and got my cut on.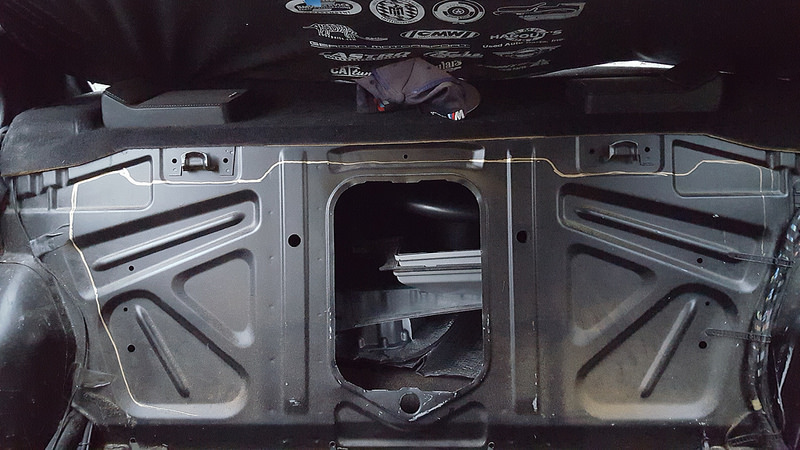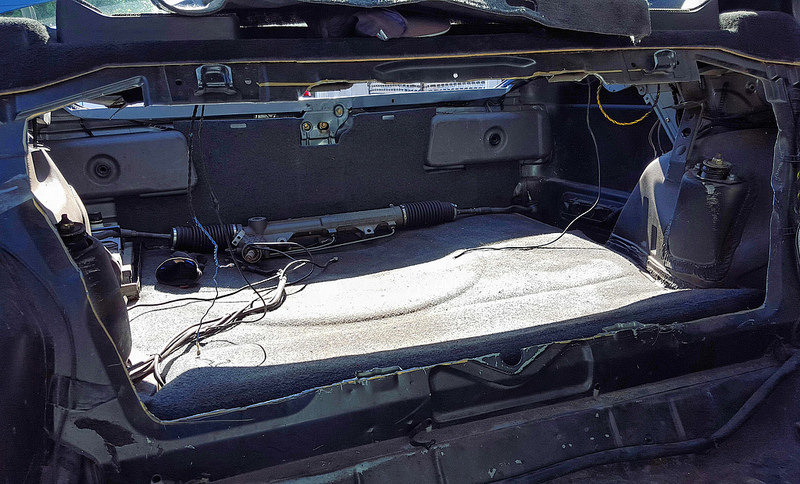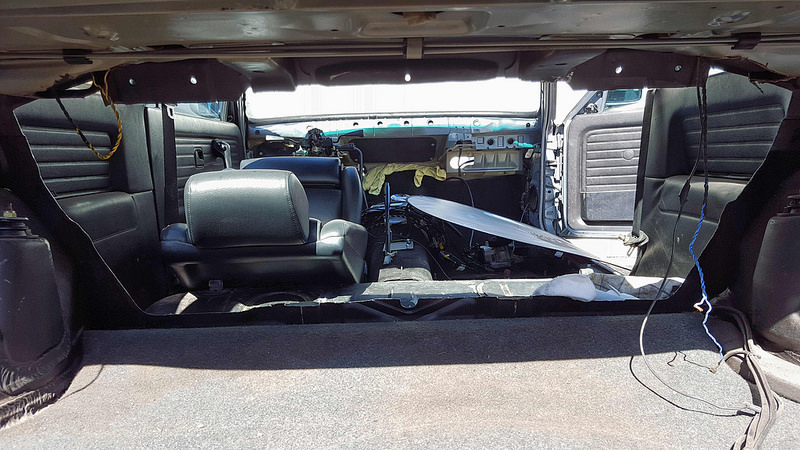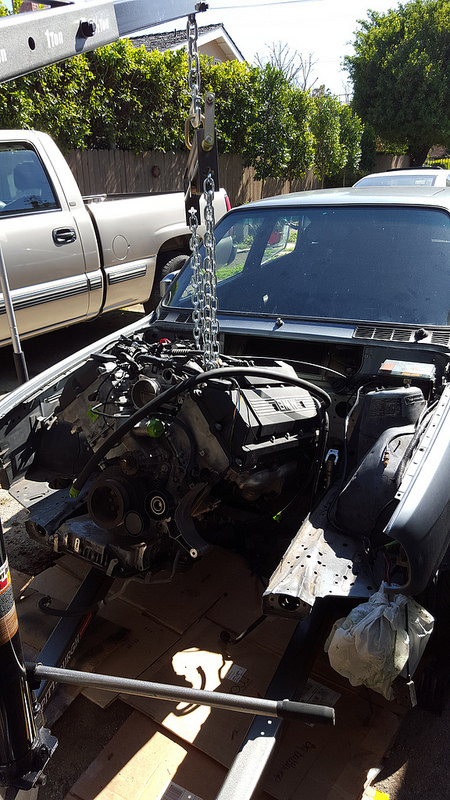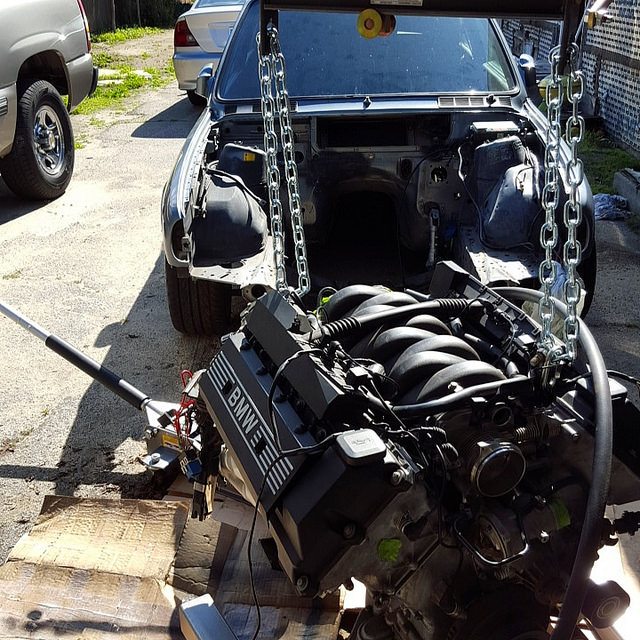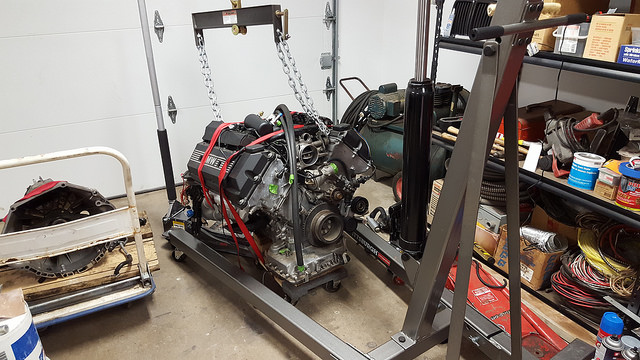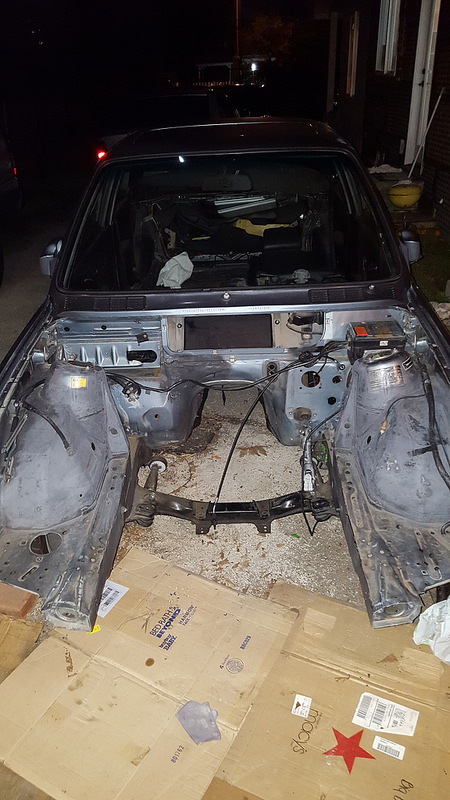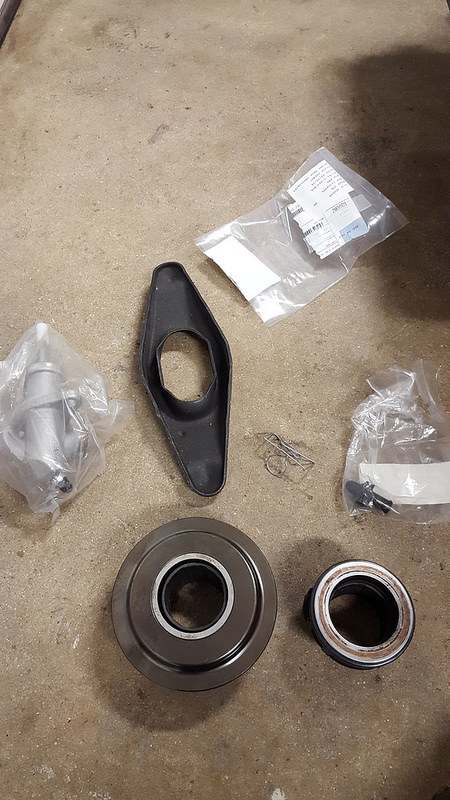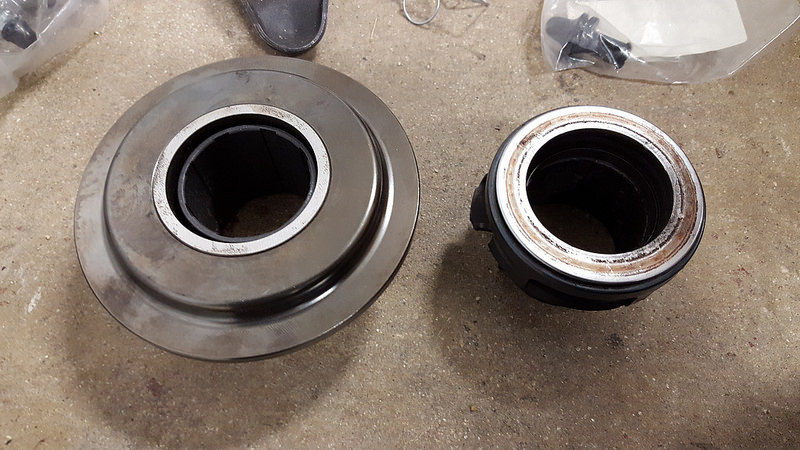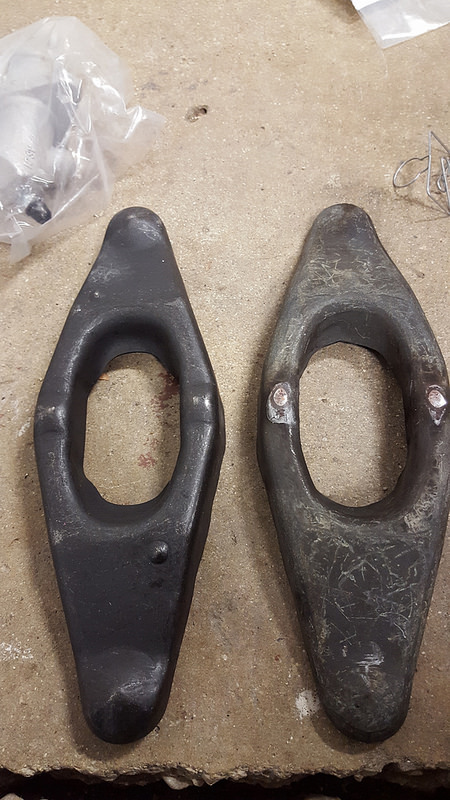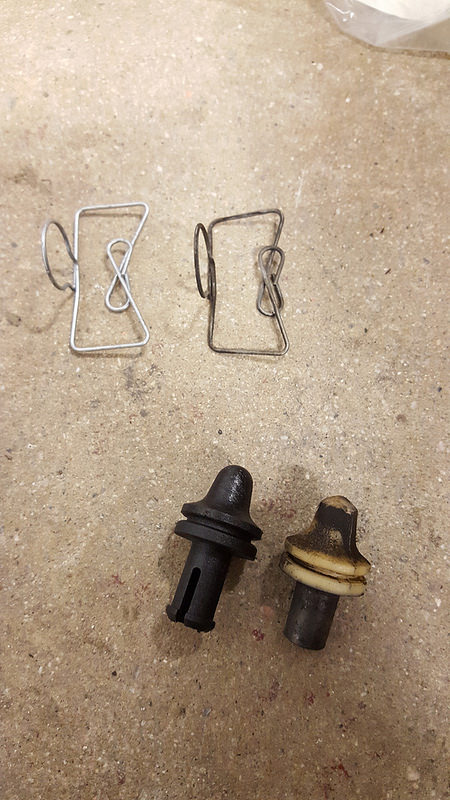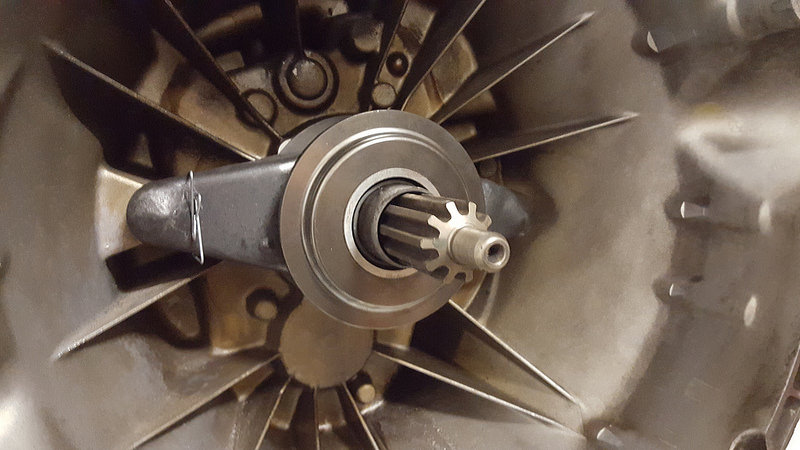 And nothings complete without bloodshed, super glue, and whiskey. Stitches would be nice but you cant have everything now can you?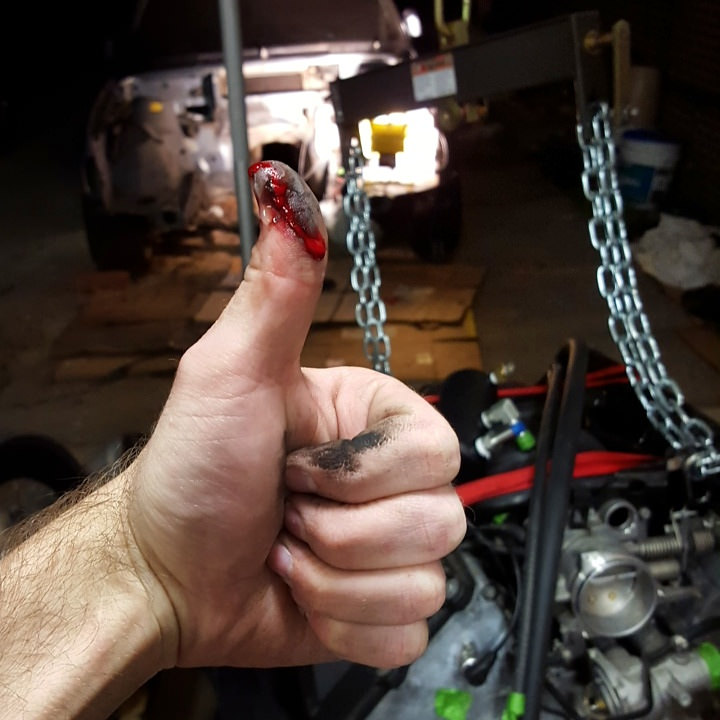 2-29-2016
Well not much in the way of updates. Won't have the car for another 2 weeks give or take. Gives me time to finish up the motor stuff.

With that being said I'll let the pictures speak for my heightened anxiety for about an hour till I could put things back on flat ground.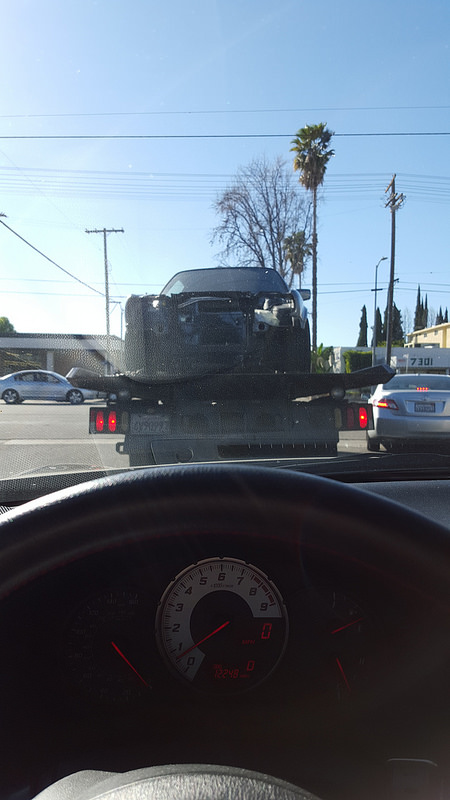 Finally swapped the pan on that Matt did for me, the clearance of before and after are crazy.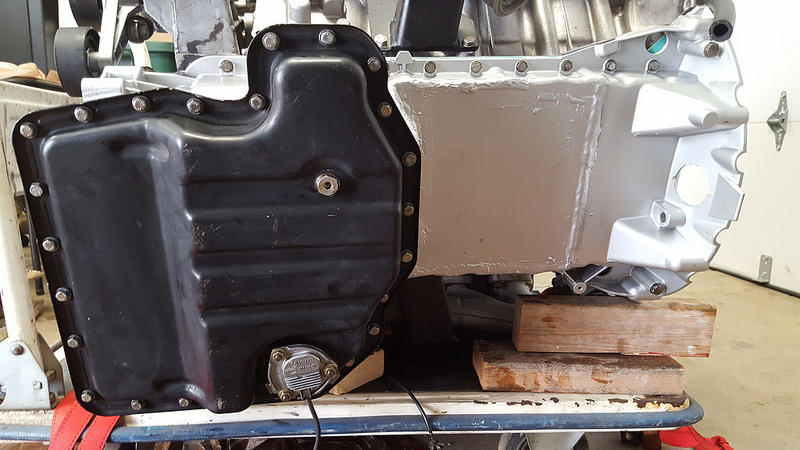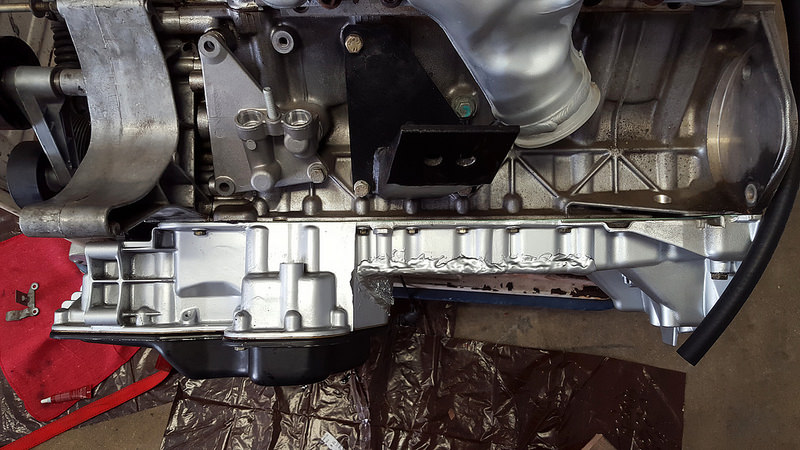 The pilot bearing I almost completely overlooked and forgot to order. Wondered why something didnt look right...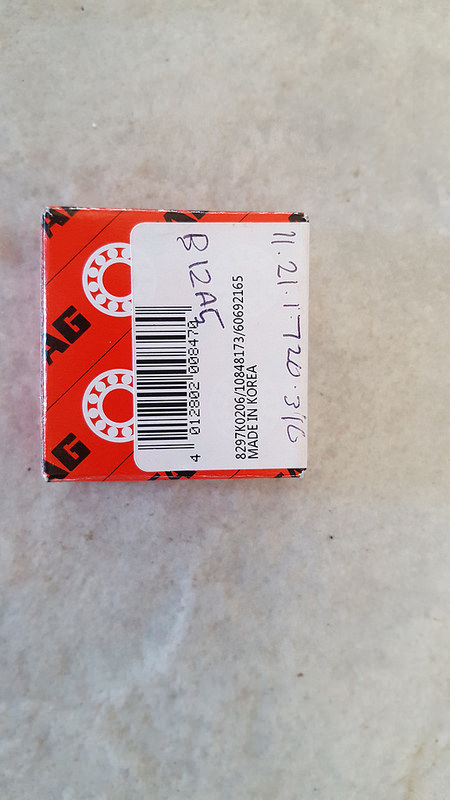 Slapped together a new thermo & water pump for good measure. Metal impellers all day baby.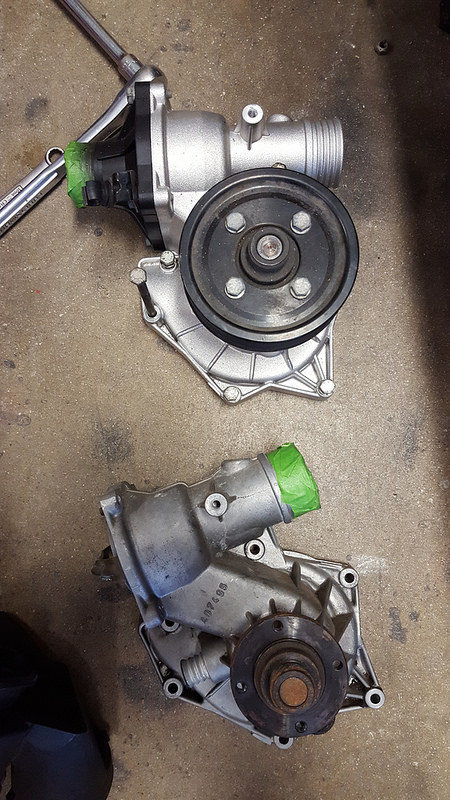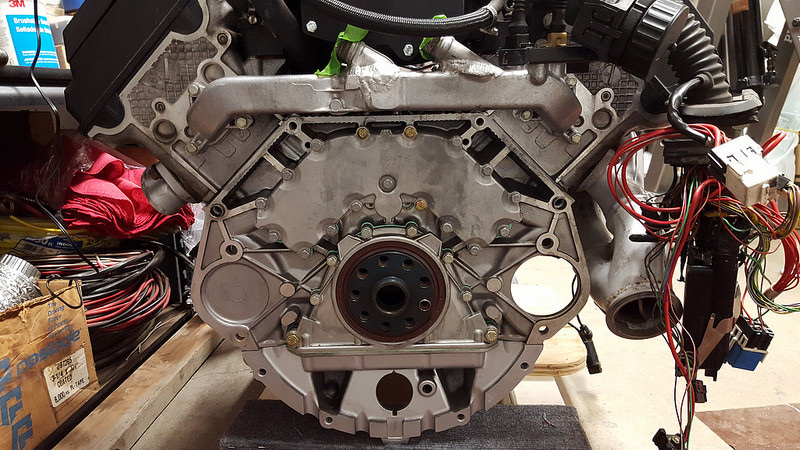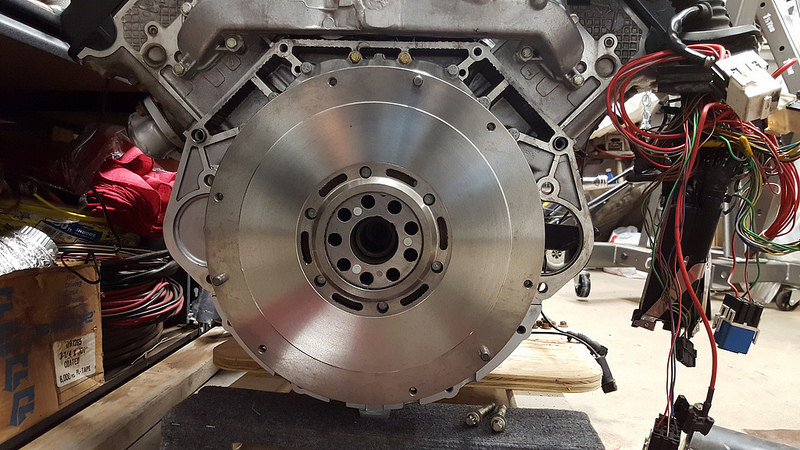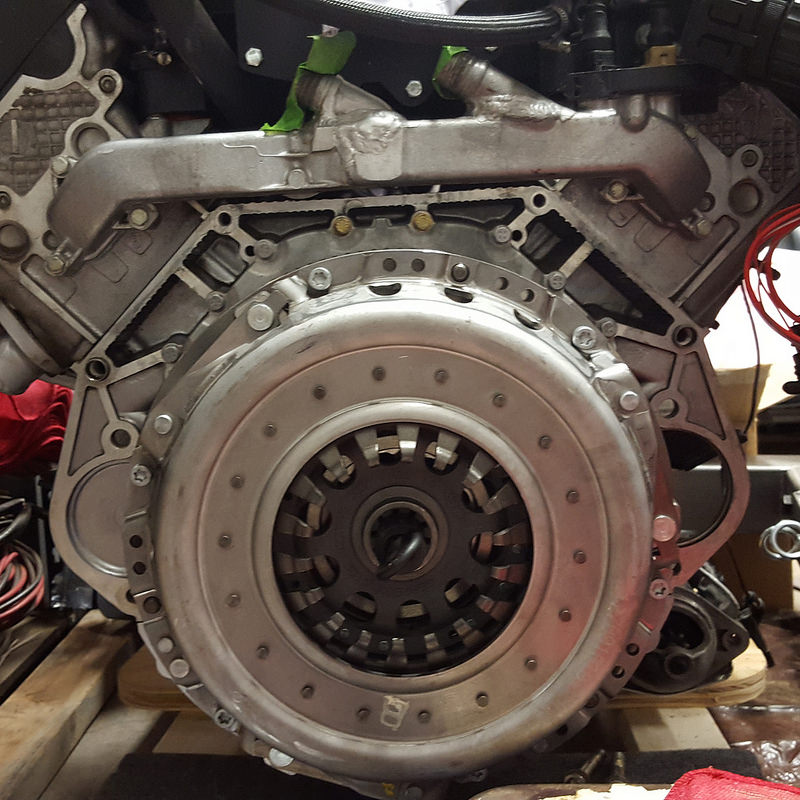 This happened the other night outside my work. Definitely a good way to burn 15 mins with my co workers. Check your fuel lines people, seriously.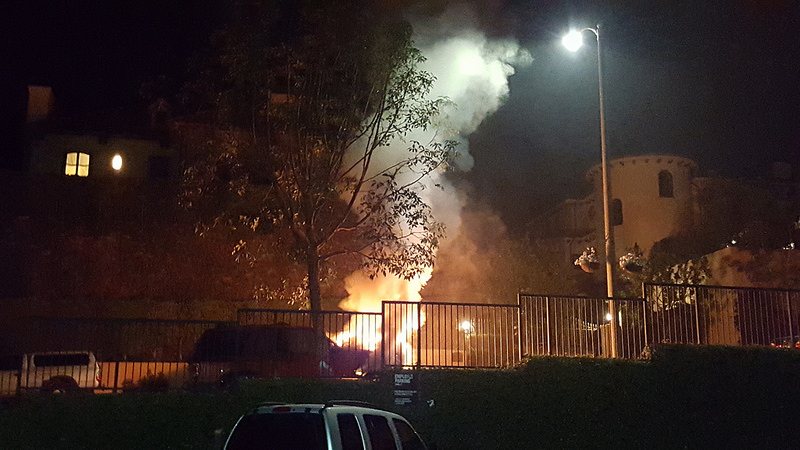 Also I'll just leave this here for now since it's not my picture. It's far from done but gives you an idea of whats to come...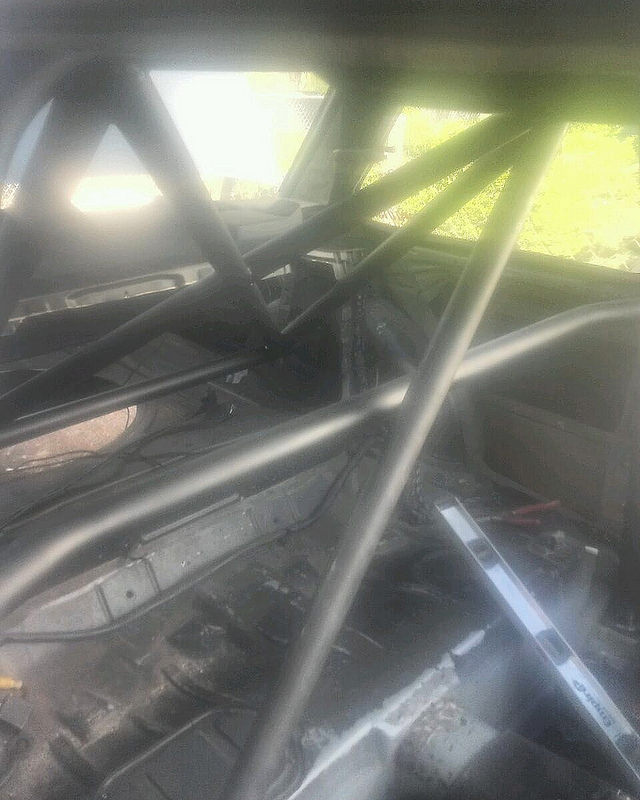 Anytime your in town once its running just hit me up. Always more than welcome to drop by Scott.


__________________________________________________ _________________________________

__________________________________________________ _________________________________



One more pic of the almost finished product. I'll snap some of my own pics tomorrow when I have a chance. Just leave this here to marinate, can't wait to drive this car again.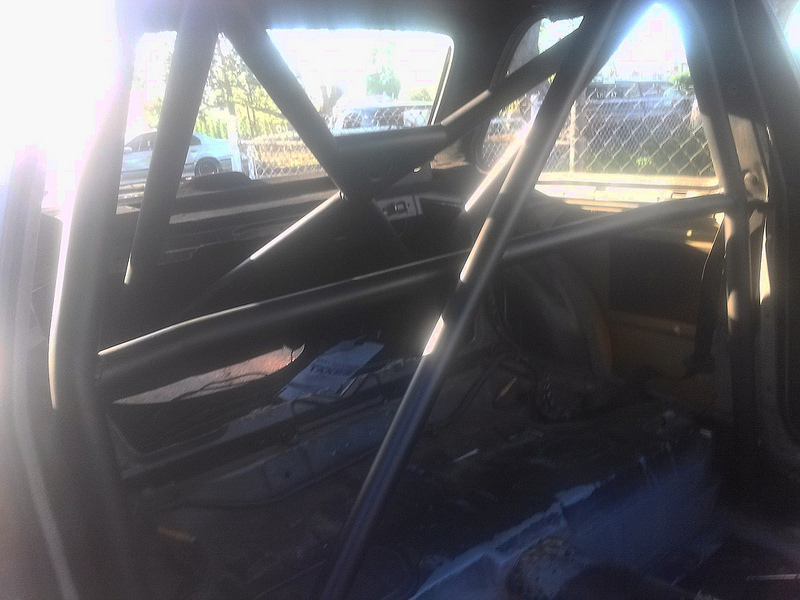 3-1-2016
The ball is definitely picking up momentum. It's in Jerrick's hands for the next few weeks so once I tow it back, we should be golden.


Heres some better (but still cell phone pics of it)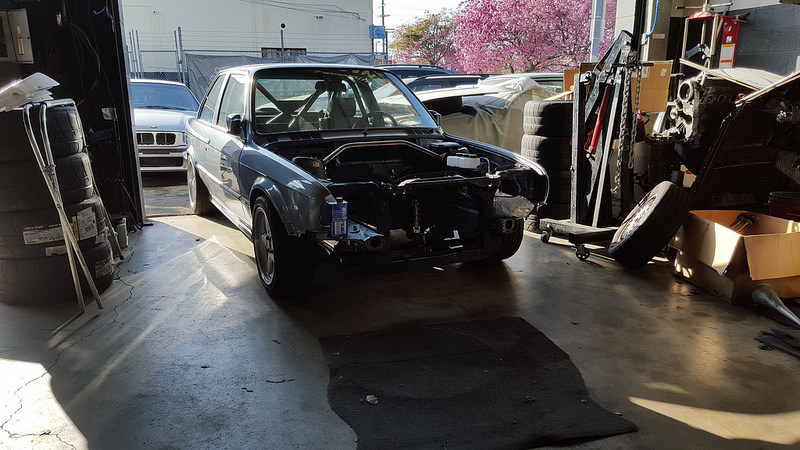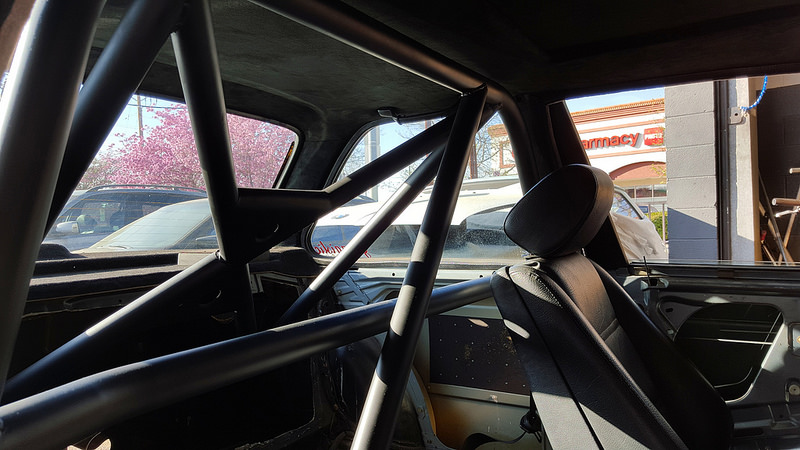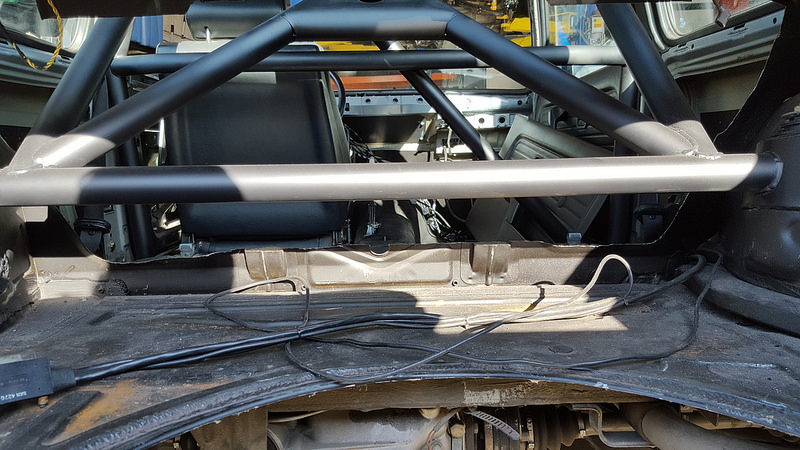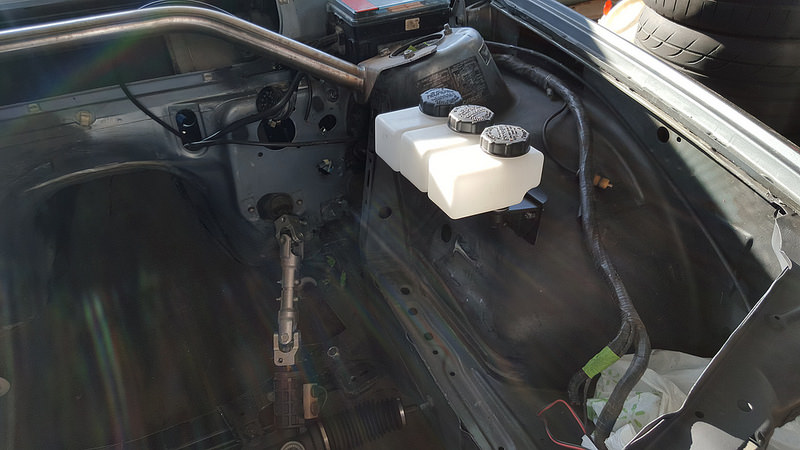 Went ahead and cut up my old hood. So one day when my pipe dream of having 8 trumpets sounding, this will be my method of drawing fresh air in.



Once I have more light tomorrow, I was going to start cleaning up the edges and rounding them better, just wanted to get the rough cuts down and finished.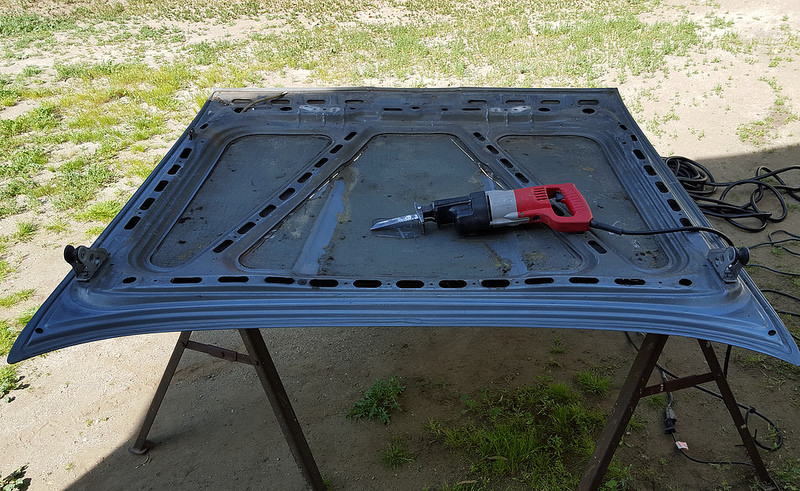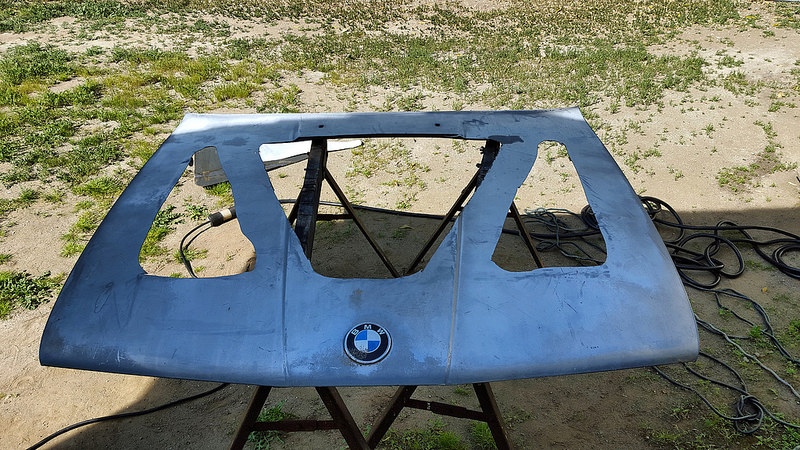 3-2-2016
JMP always has badass cars rolling through. Met the owner of this M6 w/s38b36, all I can say is holy shit. Custom TA's, 12.5 in the rear tucked into the stock body lines, full aluminum exhaust, custom fuel cell between the rear towers, stripped & caged.

Such an insane build, nothing short of inspirational.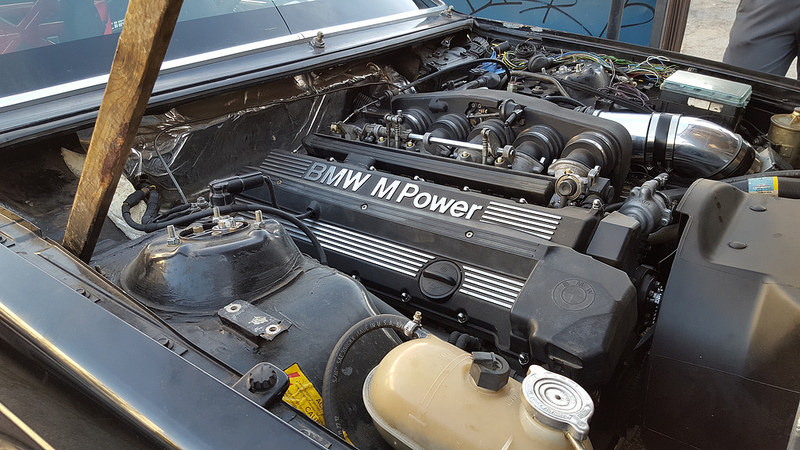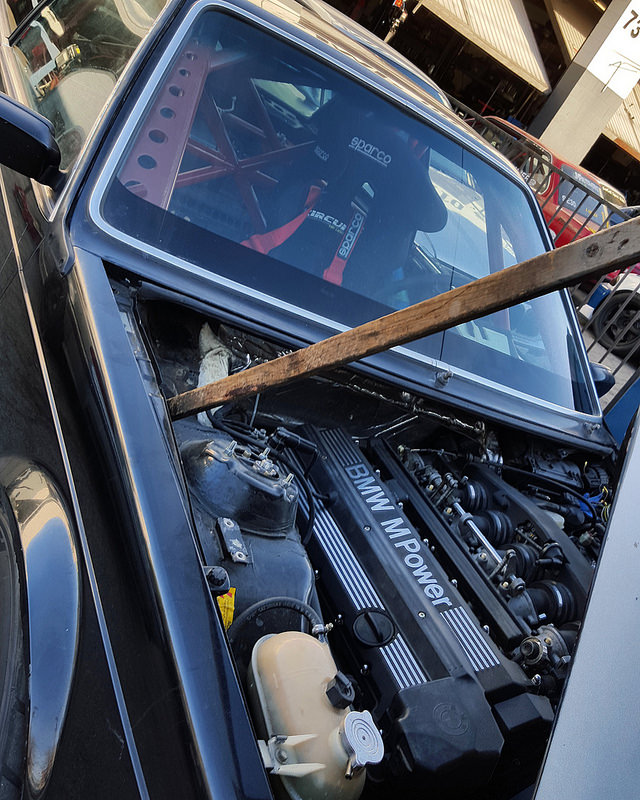 Here's a few pics he was showing me last night, gives you an idea of the exterior now. Hopefully he and I can set up a shoot sometime and really put something badass together. Hate having to steal pics but I hate when photographers code their links to clear. Obv photo cred to Caliphoto..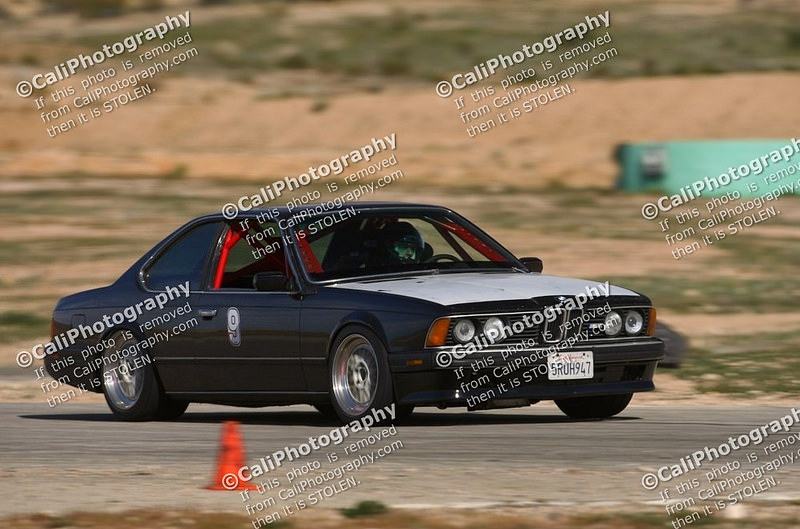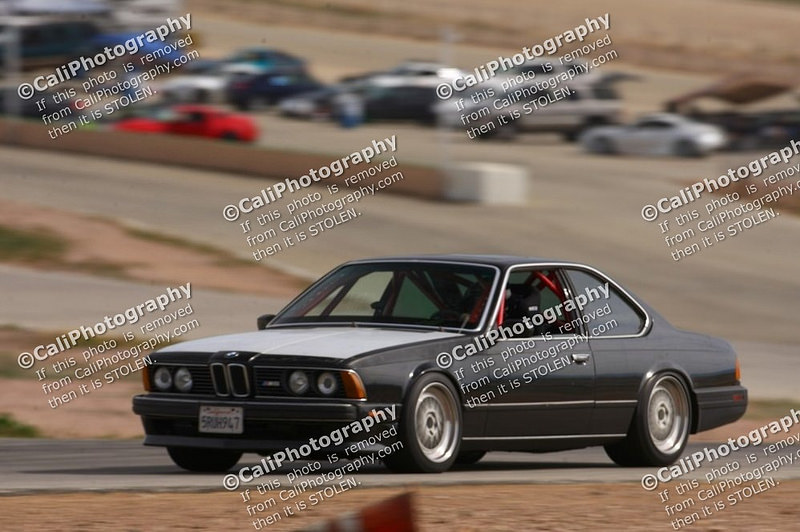 3-3-2016
This happened to the first e30 I almost bought. Caught on fire right as I was leaving my house to go look at/buy it. I remember reading you changed the lines out but didn't think it was that bad, luckily it didn't happen to you.


_________________________________



Went ahead and finished trimming the hood up. Not perfect but it's not like I'll be using it all the time.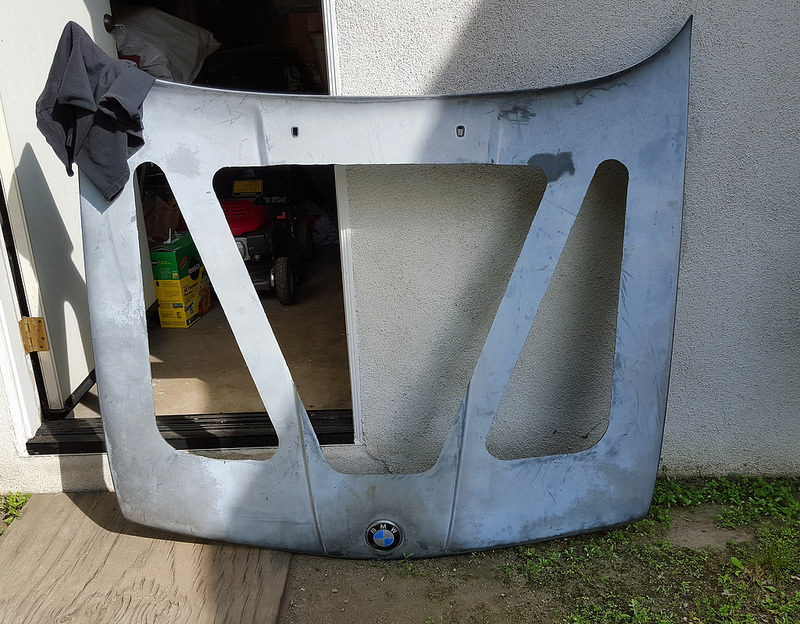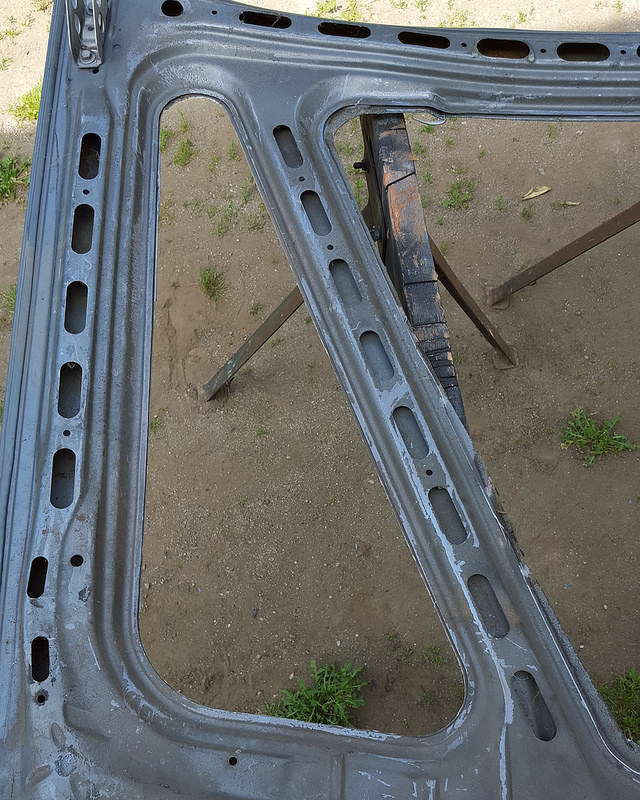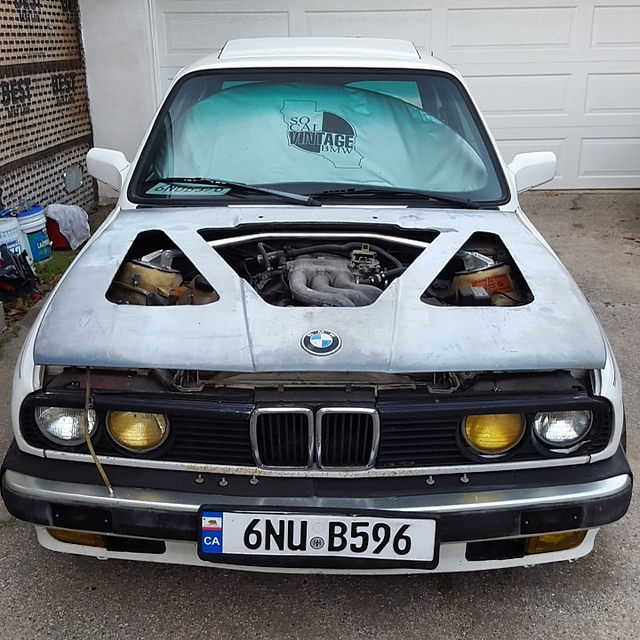 3-17-2016
Been a while since I've updated this ish... Got the serpentine belt, swapped timing covers, slapped the oil filter housing on, new water pump, yadda yadda yadda... For reference, if anyone plans to run their motor without P/S or A/C, use two smaller pulleys and belt # 7PK1388 (which turns out is hard to find according to the parts morons at autozone/o'reilly)

Busy working on breaking down my neighbors parts car for him. Successfully can say it took less than 8 hours to do the entire car all in all, which I'm pretty proud of. Let the flood of photos commence...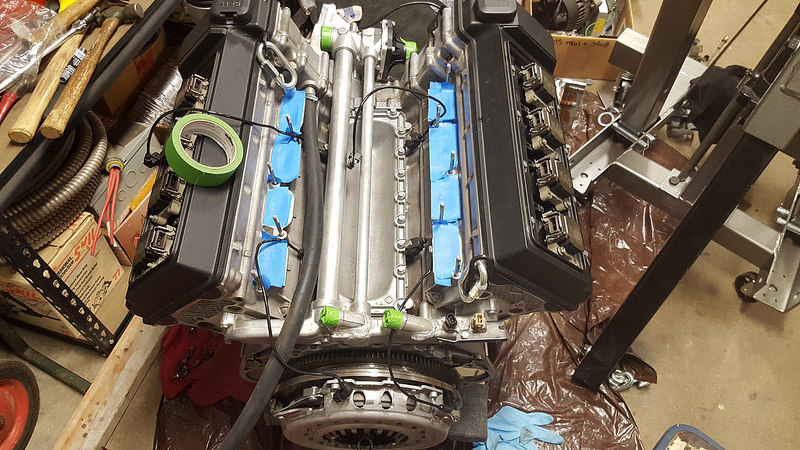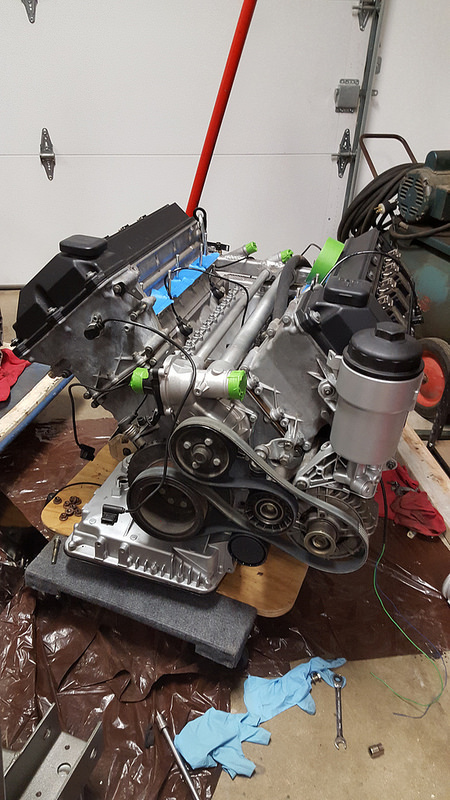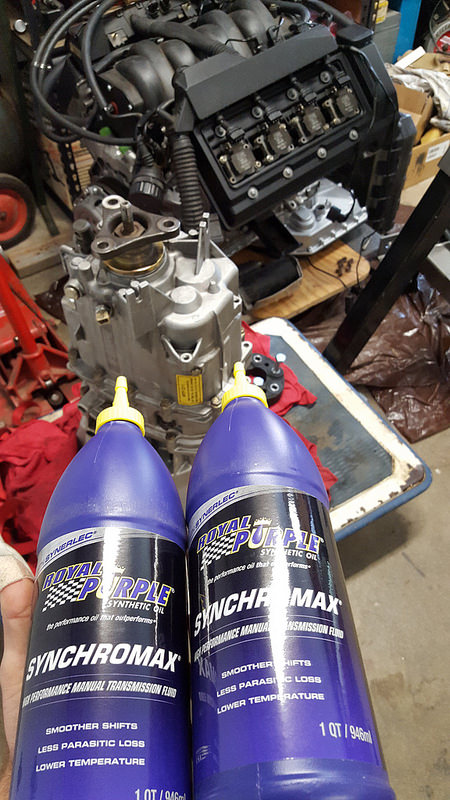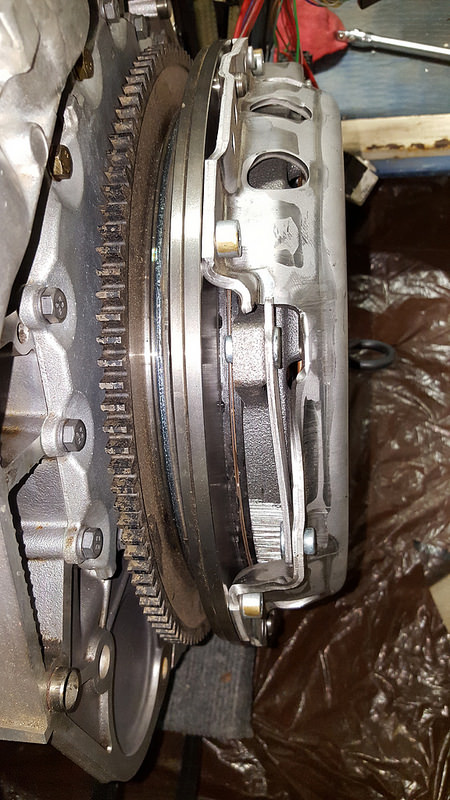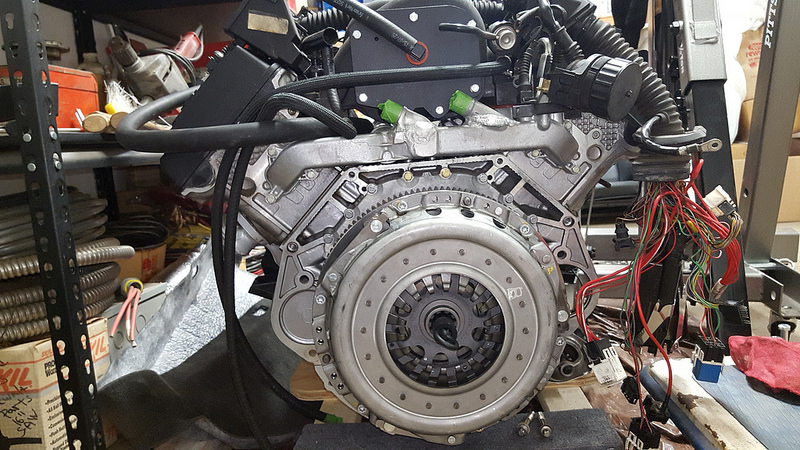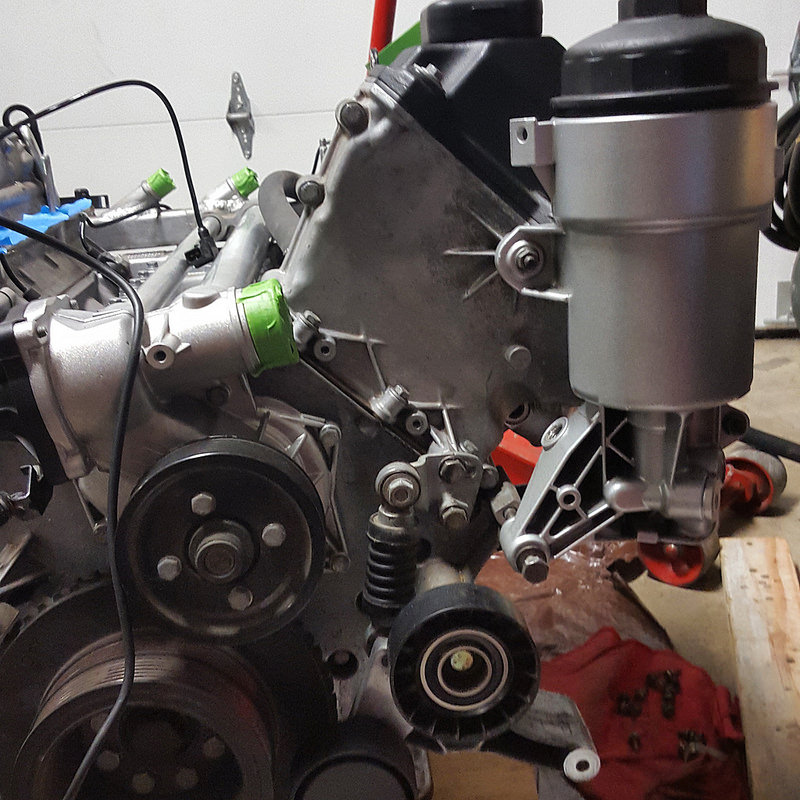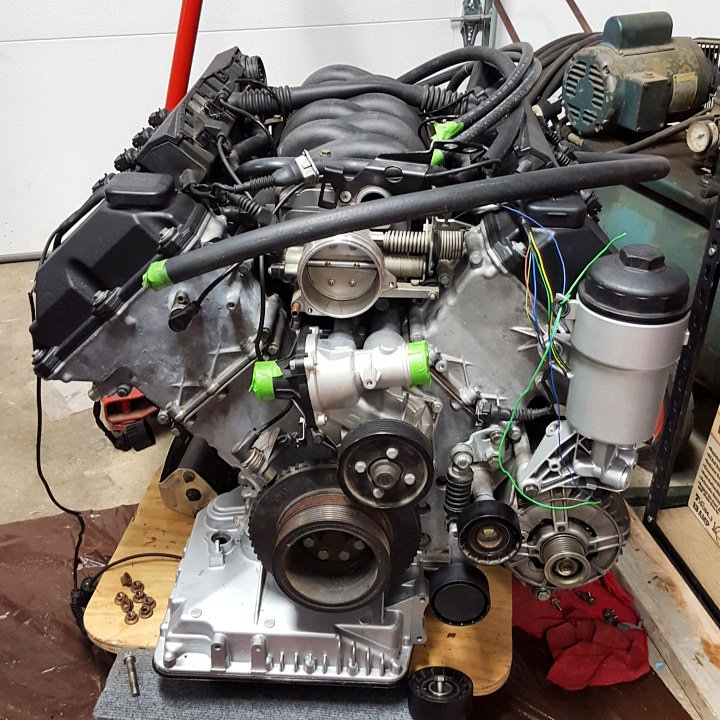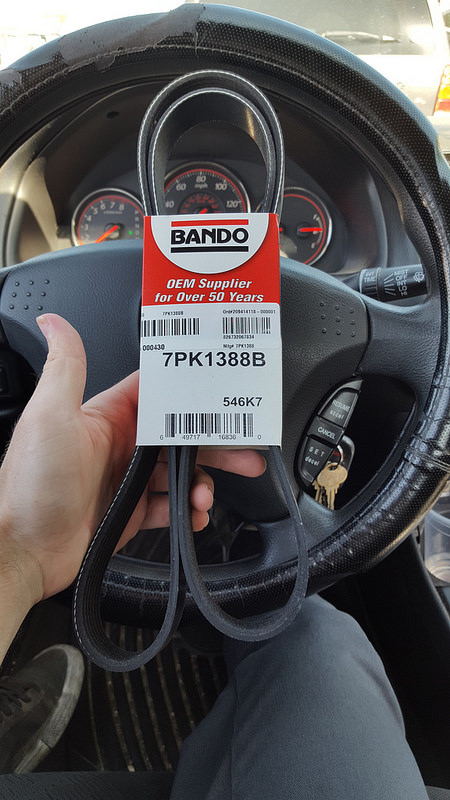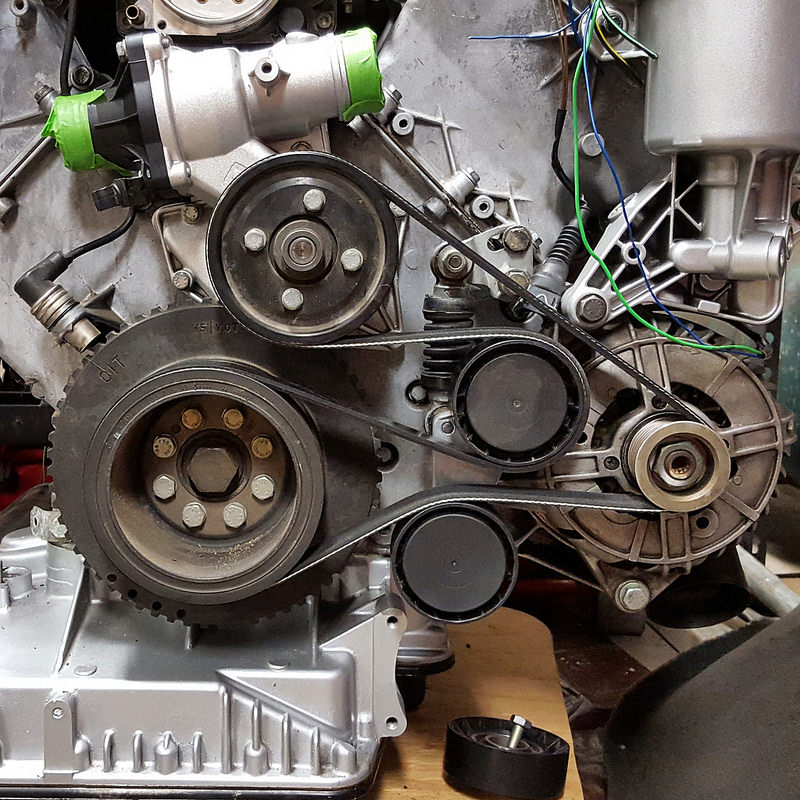 Oh and went ahead and photoshopped some apex's to see what they'd look on my car incase I decided to buy them when the funds became available...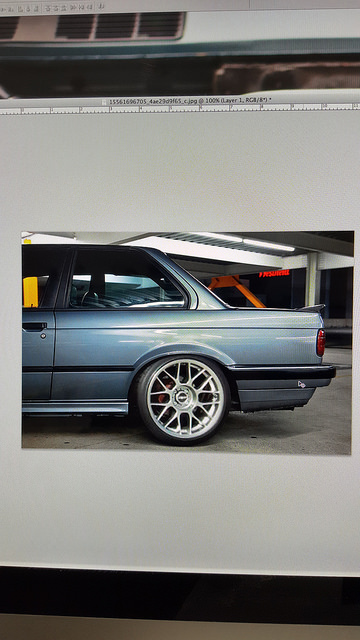 Pics of parts car after I raped it.. Was a full car before I got to it, should have taken pics of a before.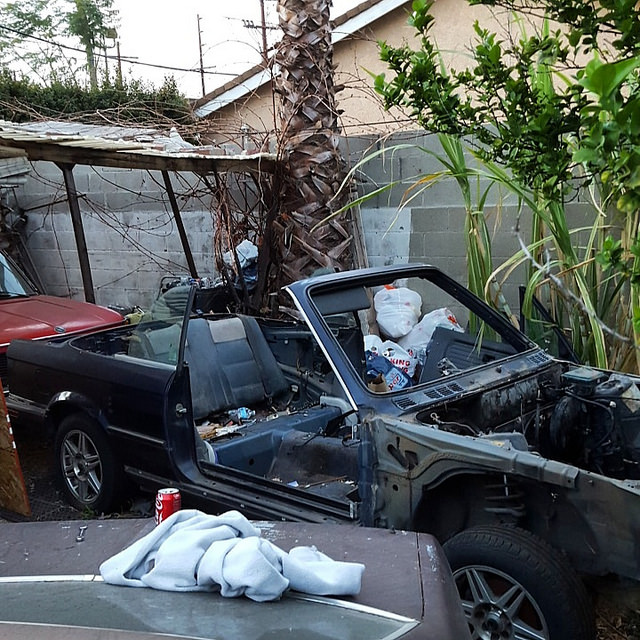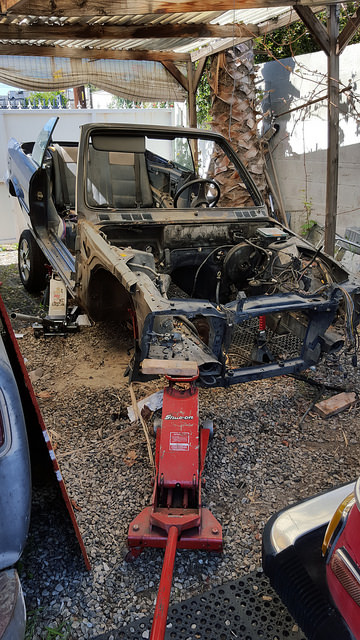 3-24-2016
Got bored the other night and decided to make a bracket for the oil catch can. Played around and came up with something I liked. Pretty happy with how it came together, gonna clean it up a little bit more and have it powdered.

On a side note, why the fuck is it near impossible to stab the transmission input into the pilot bearing? I originally thought the clutch disc alignment would be the hardest part but the bearing just aint having it. I've tried two separate times by myself stabbing it, started thinking maybe I'm just crazy. Had my good friend Gary (greanthumb) roll down and man handle it yesterday and same shit. Got maybe 1/4-1/2 from being flush but it just wont slip in. If anyone has suggestions, please and I do mean PLEASE tell me. This has become a nightmare and it just keeps laughing at me lol.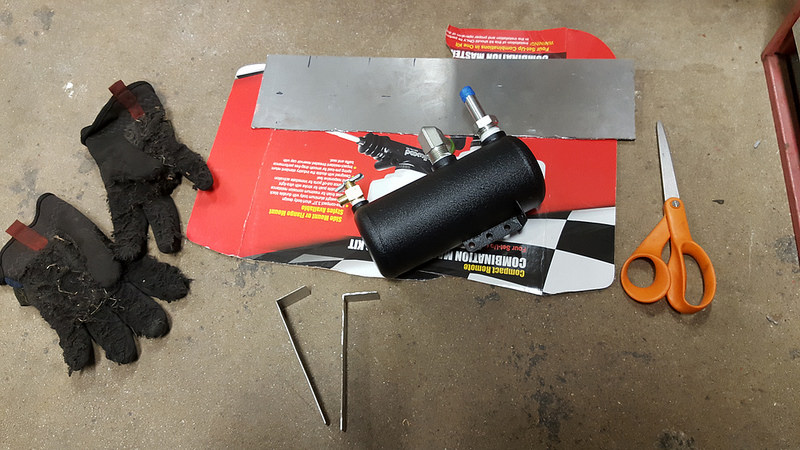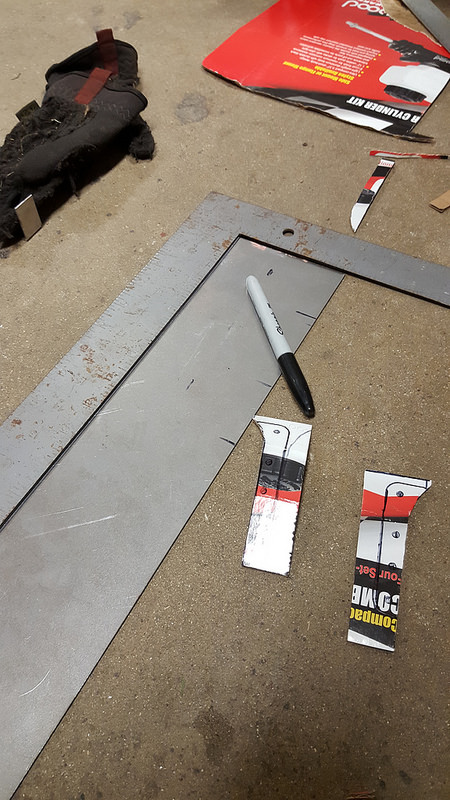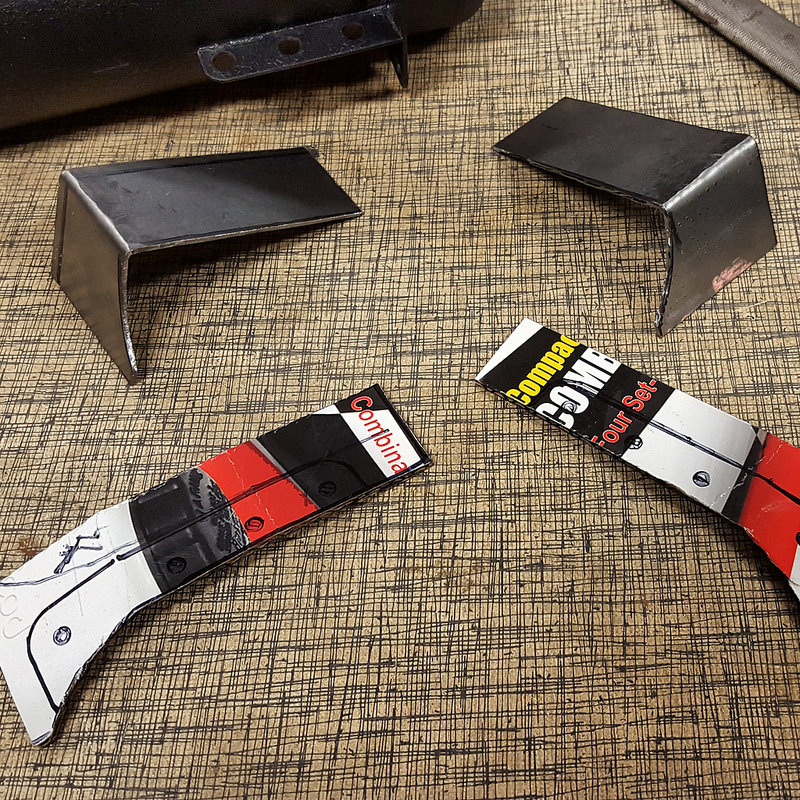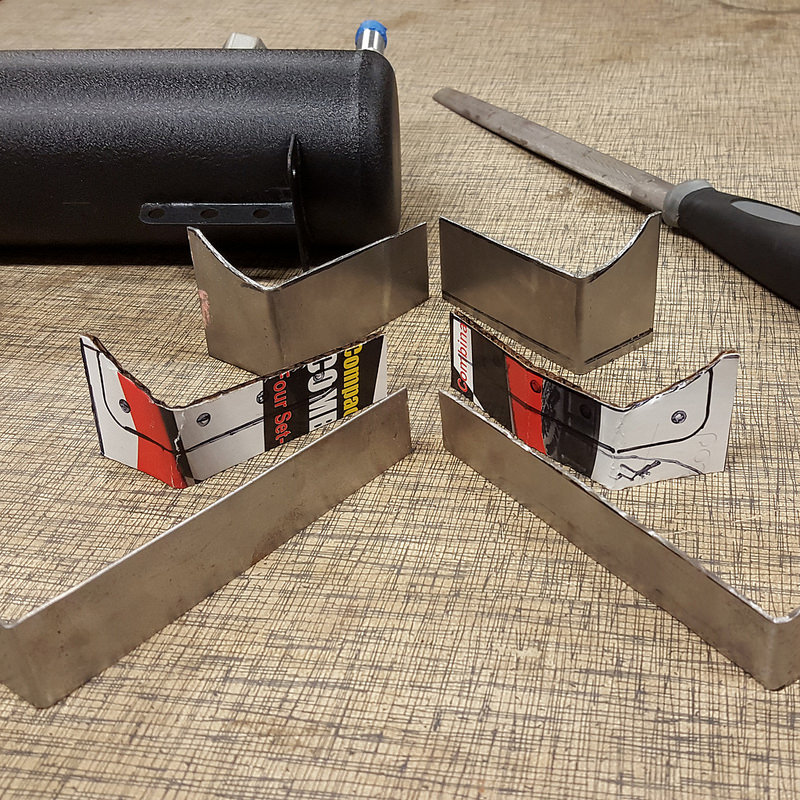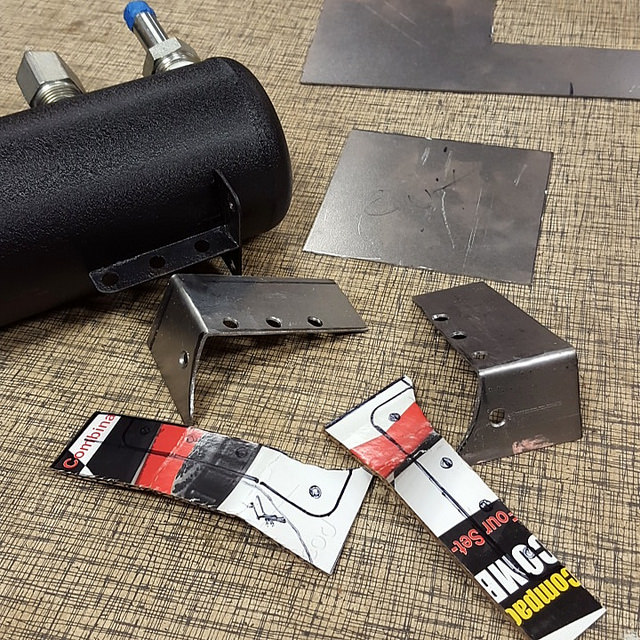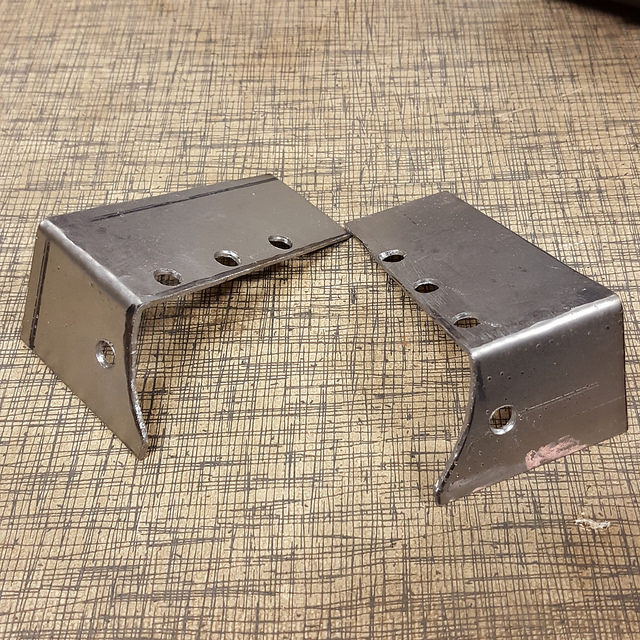 Threw in a spacer between the two ears to make the mounting a bit more solid..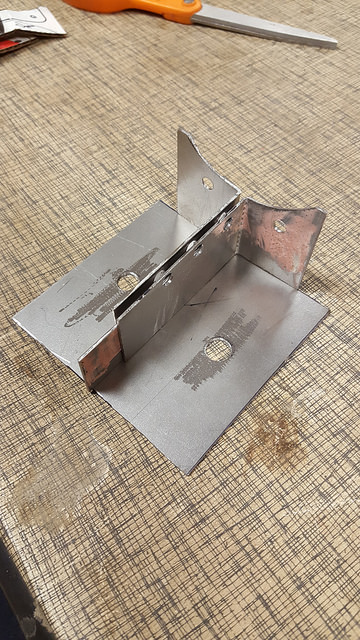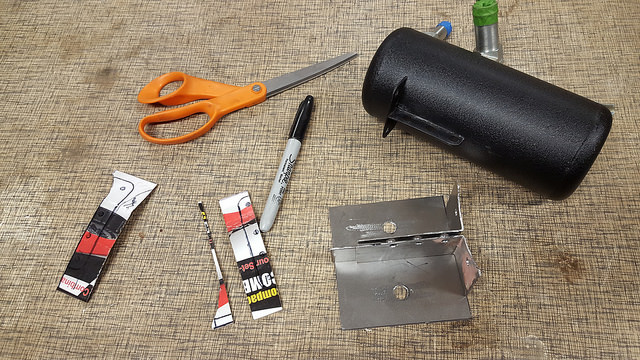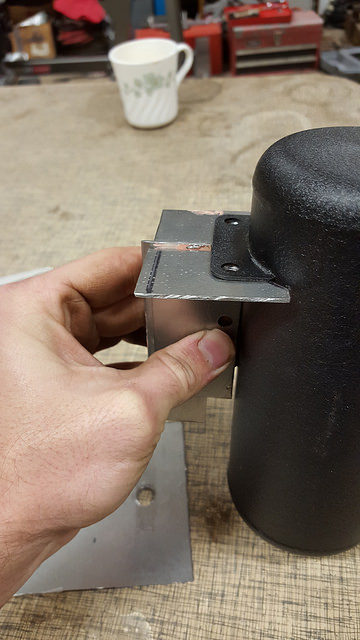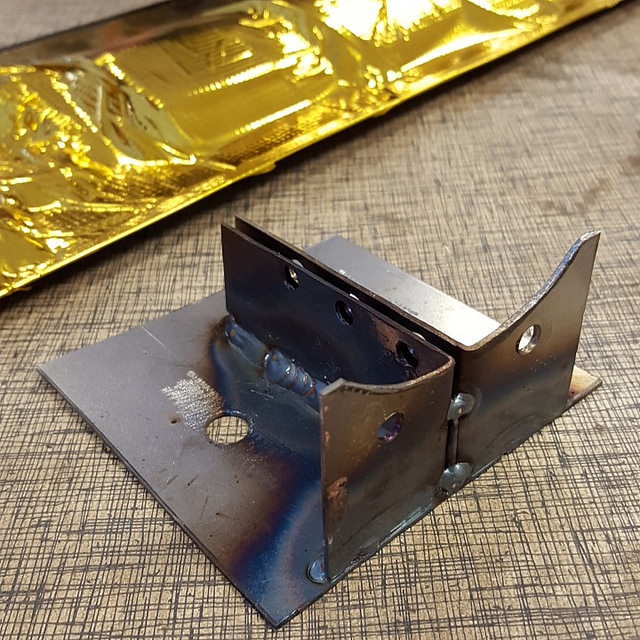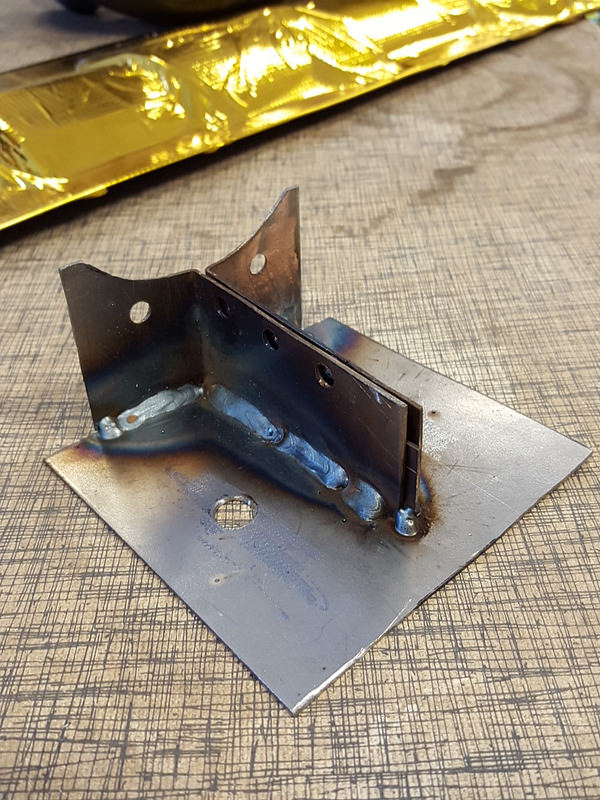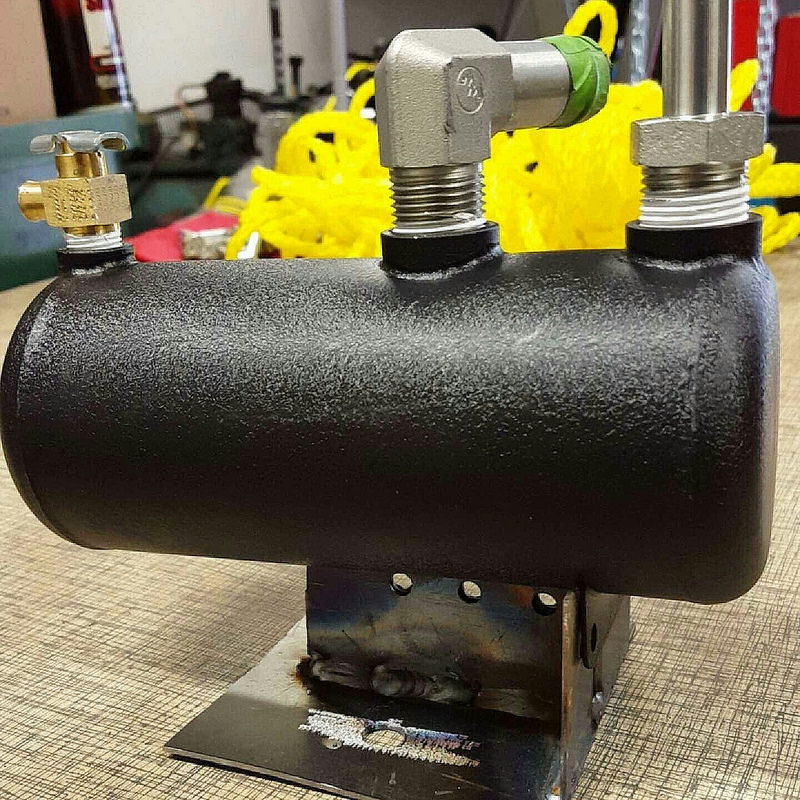 If anyone wants to sell their MIG set up and your local... Hit me up, could definitely use one.
3-28-2016
Well anyone local knows the perils of the 405 on a Friday afternoon. Decided to head down to Garagistic which I originally intended to be leaving at 10:30 and having my buddy drive me down as a favor. Well things don't always go as planned, he had a job interview which he got, and we left at a whopping 2:30 from my house. Needless to say roughly 50 miles shouldn't take longer than what? an hour? Nope guess again. So I spent almost 3 hours in gridlock to get this thing after waiting quite some time, but its done and here. Big chunk of the puzzle, hindsight my only complaint would be the U joints should be serviceable & have circlips. Similar to how Turner makes theirs which is more practical imho especially for a v8 swap that your bound to fuck something up with. Because after all... the swap isn't meant to be to get groceries.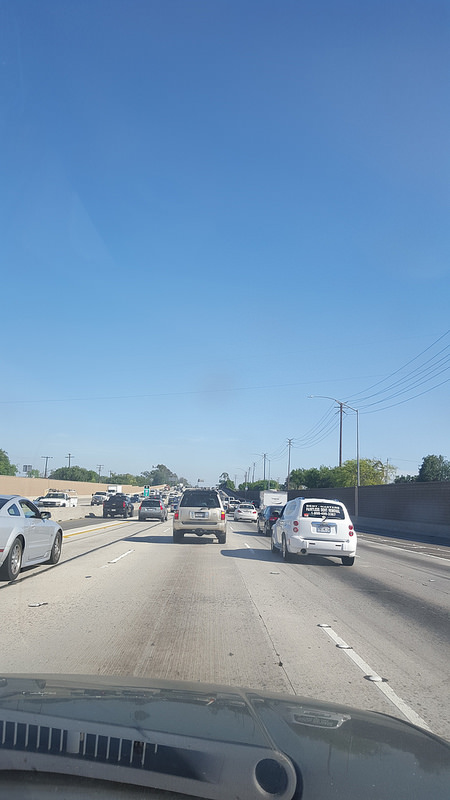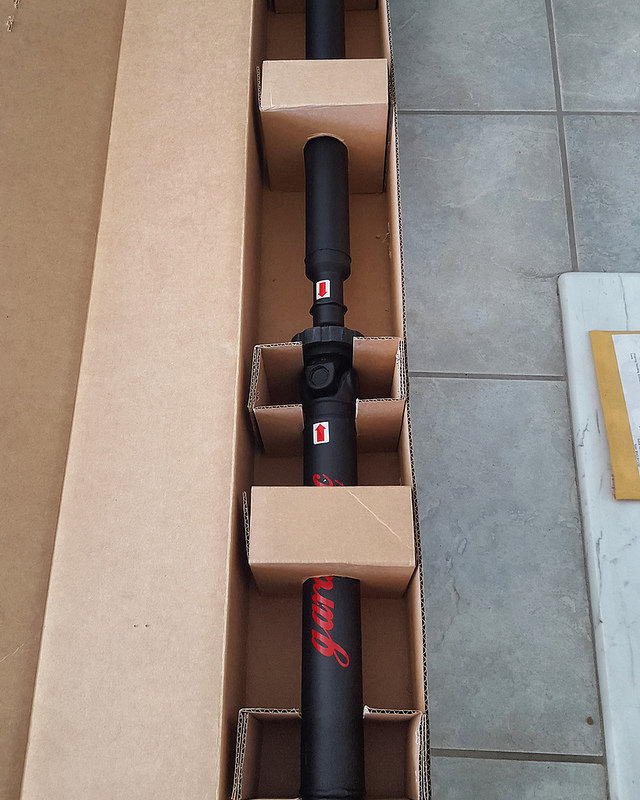 Finally brought it home, got working on coupling the engine and trans together round 29204 or so it felt. After getting it to closer to where I had previously before, also after massaging the pilot bearing and telling it stories, it decided to give in. Lucky me. I got it to the point where the dowels finally wanted to say hello. It began to look like a beautiful love story all over again. After some wiggling and no luck I sat and decided I'd use the bolts on the ear to walk it in, which wasn't at all what i wanted to do but I had no other ideas. To my surprise this worked, so slapped on the starter, torqued everything back down, slapped on the exhaust manifold and we're ready to go. Just a few tiny loose ends, a bit more welding of some things and once the car is back from JMP, hopefully it'll turn over and run. Fingers crossed.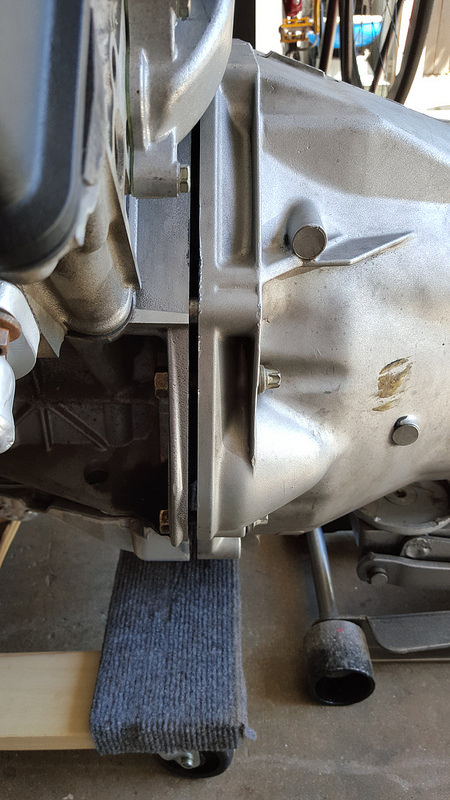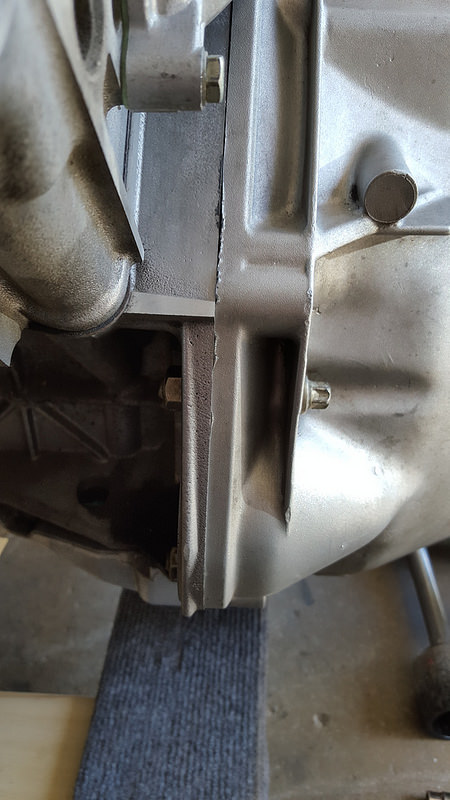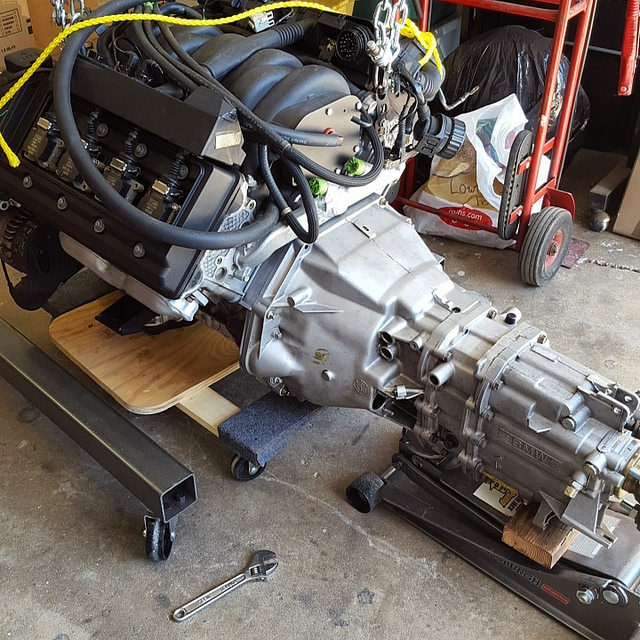 3-31-2016
Well little bits for the exhaust are starting to show up. Company sent me out the wrong X pipe but the right ones on its way... So if anyone needs a 2.25" stamped X pipe, let me know. Also have a cool little idea to piss off my neighbors in the works.

Resonators, flanges, oil cooler & oil thermostat should be here before the car comes back from JMP next week. Looking forward to getting this thing completed, getting very close.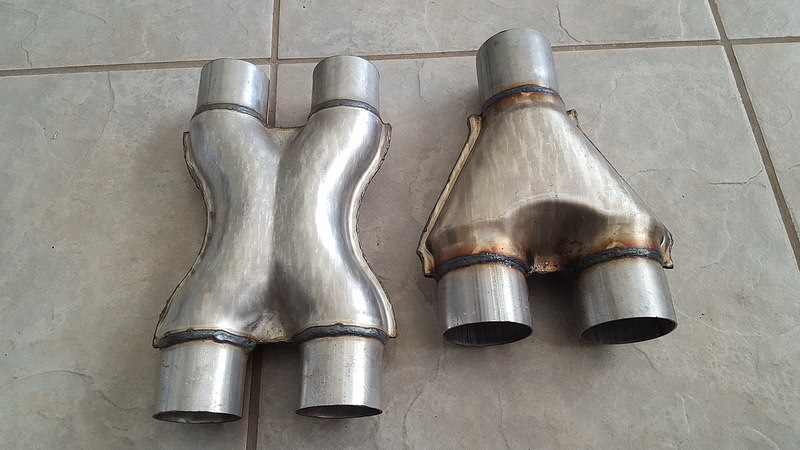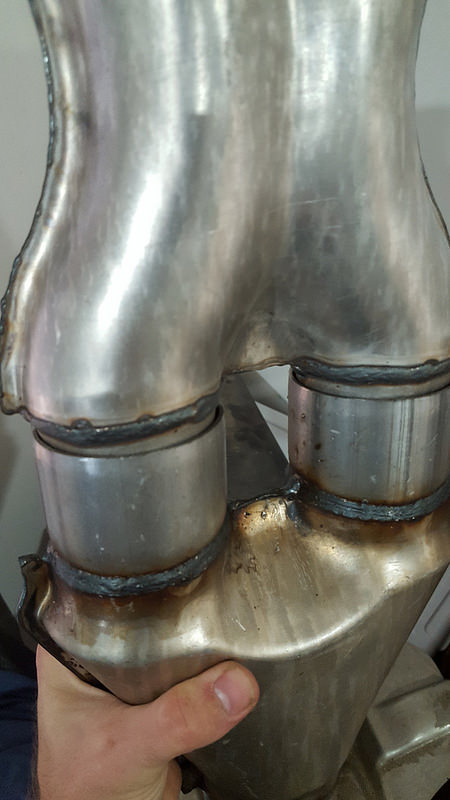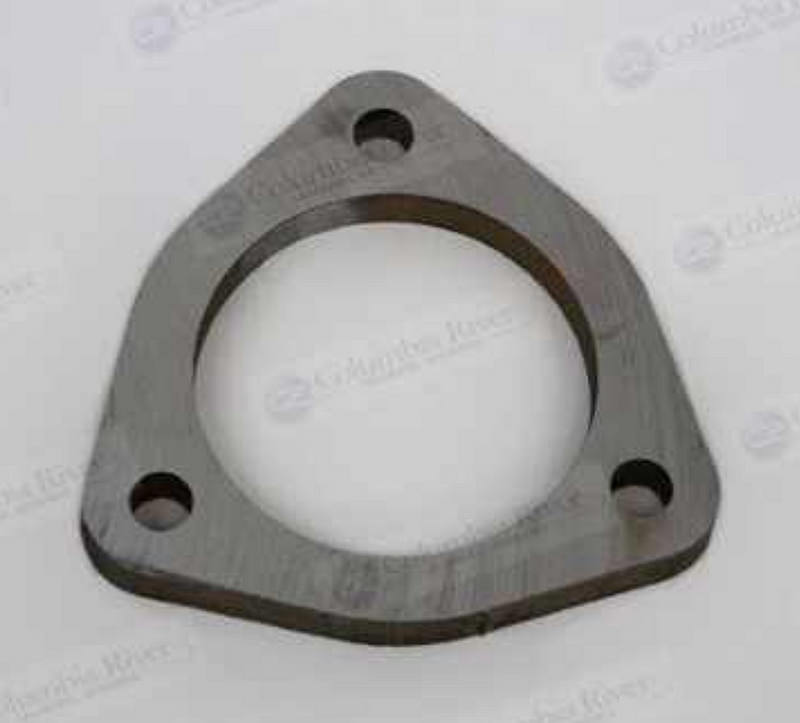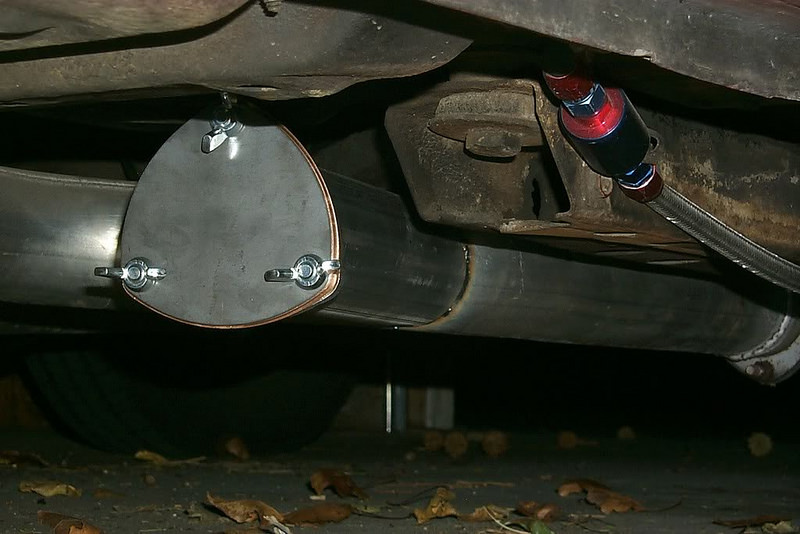 Manual all the way; I don't really fancy the idea of the electric stuff cause I've read 50/50 reviews on most of them. Seems most of the solenoids either short out or just go bad. Besides heat & electronics don't really mix too well together so don't want to waste my money. Best ones are QTP it seems, but those are close to $500 for two. I can make a set of manual ones for under $60 that'll work just as good.

If I do cable driven, it'll have to be stainless & a thick spring since the condensation from the exhaust would rust the flange. I'm working on trying to get a TIG welder and have my friends brother teach me but that's a little ways away. For the time being I was just going to get a stainless flange and and pick up a sheet of 1/4" SS and do the 3 wing nuts till I have time to fab up something cooler. That way all I really need to do is work on the hinge & cable system later on.

In my opinion this is probably the cooler custom piece i've found but I'm curious how well the seal would be. Considering you can still see that the edges don't fit flush with the inner walls, so exhaust gases still pass through...


Link : http://absurdflow.com/exhaustflapper.html


4-1-2016
Ahahahahaha thanks man, by HOA im assuming home owners association?

I don't live in that great of an area of the city to have something like that. My areas the type of area you goto pick up hookers by the liquor store and etc if you really wanted to get a idea lmao.

I'm doing it for myself cause I always like the idea of just open headers, but LAPD & CHP would greatly frown upon that. Secondly it's to piss my next door neighbor off since she owns almost half of the houses on my street, and the guy across from me always gives me dirty looks when I'm working on my cars. He's only recently moved in about 8 months ago so after the fact of when I tore my motor out. Before when I used to drive it, you'd hear me from a block or two away cause I'd ring out my second and third from stop sign to stop sign for fun; just to put a smile on my face. It was more fun when I just had the exhaust manifold on my m20 dump out before I had the exhaust re-welded. Now that was LOUD.


Yeeeeeeeeaahhhhhhh I'm that guy.





On a side note my thermostat showed up today... Anyone have suggestions for reasonably priced AN fittings?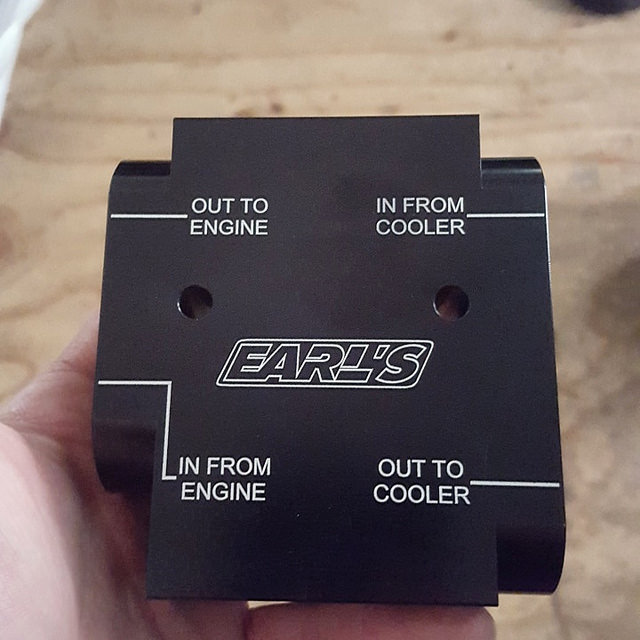 4-6-2016
Went ahead and spliced the o2 wires back together; snagged them from the same car I got the o2 sensors from. Heat shrink ontop of heatshrink ontop of heatshrink. Cleaned, capped, and wrapped all the auto transmission wiring to avoid hassle. Can't recommend using Super 88 enough, best electrical tape I've ever worked with. Eventually I'll get some wire loom and make everything look a bit cleaner/factory ish. Hopefully I'll have the car back this Friday so I can get started on dropping it back in and turning it over. Just need to figure out two wires for the alternator & for the fuel purge valve. I have these few wires that I'm somewhat unsure of because they don't match my original harness from the 740 & the 540 that I pulled from the yard. Not sure if anyone can advise me on this, wiring isn't really my forte.

Oil cooler came the other day so once the car is infront of me I can start making a bracket and buy the AN fittings. Contacted Earl's plumbing since I wasn't sure what size fittings the thermostat required. Since they're based in the UK; they use UNF fittings there. I'm pretty familiar with NPT but it looks like I need to buy UNF to NPT adapters then NPT to AN to avoid leaks and cross threading. The UNF size is 7/8" 14 pitch for future reference. Going to check out Luky's down the street from me and see if they have any of these odd fittings.

Received the 2.5" X pipe from the company and didn't really think there would be a great difference until I put them side by side. Really glad I went ahead and had them send the 2.5; looks like there's a pretty noticeable difference in the flow. Definitely looking forward to the exhaust work pretty soon.

Only things I really need to tend to at this point are the shift carrier & selector once the engine is back in. From there run a wire to the starter & alternator, and we should be in business finally. Oh yeah and I got this cool little mulholland sticket since I pretty much drive it everyday for work.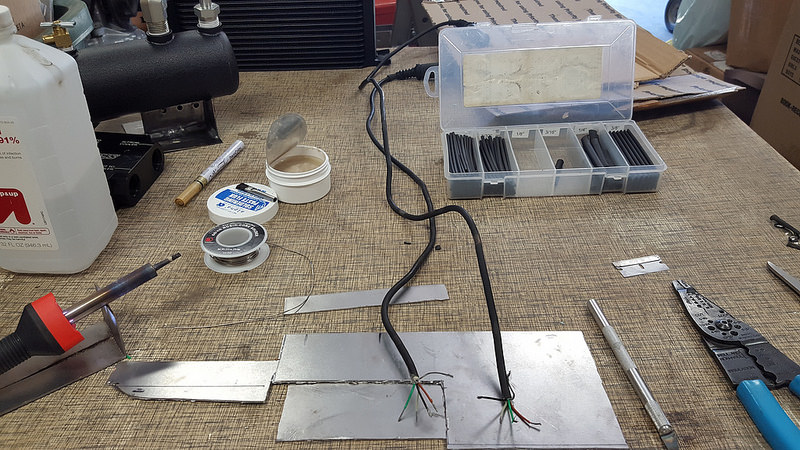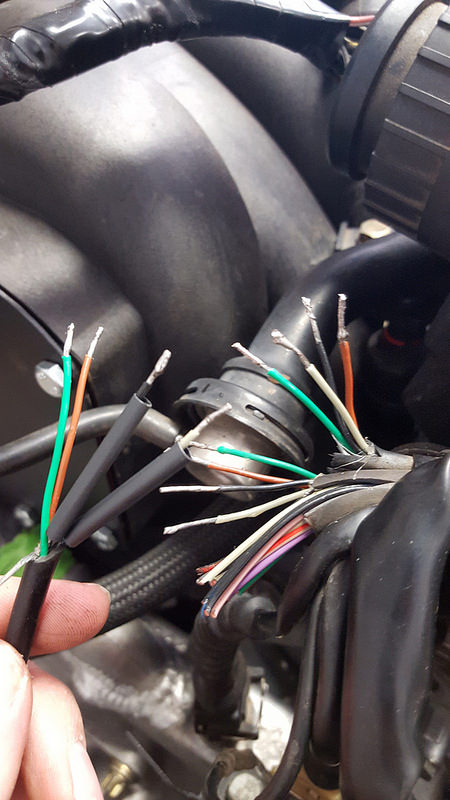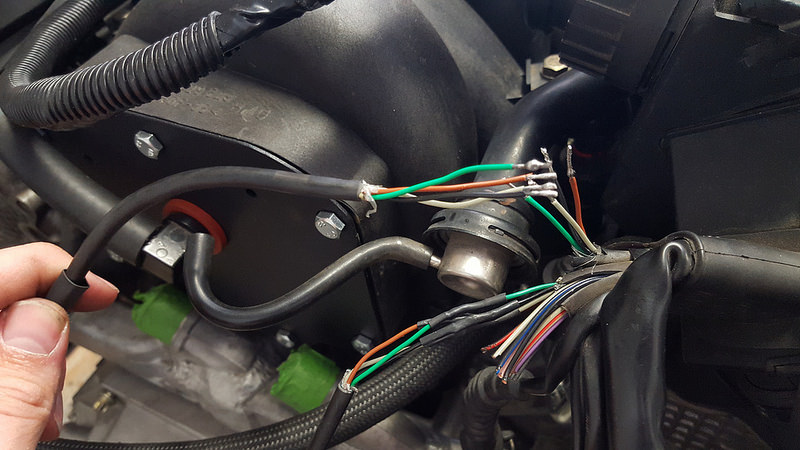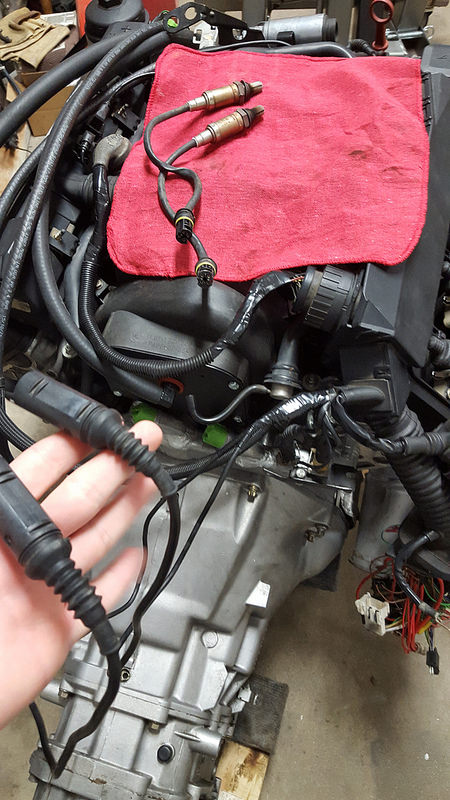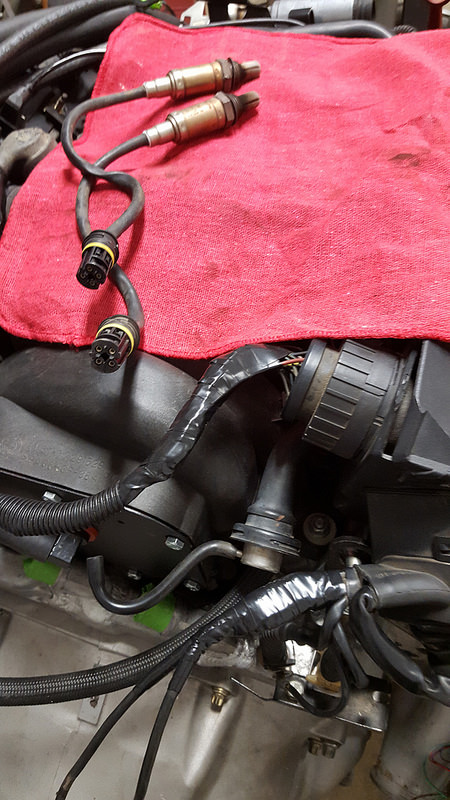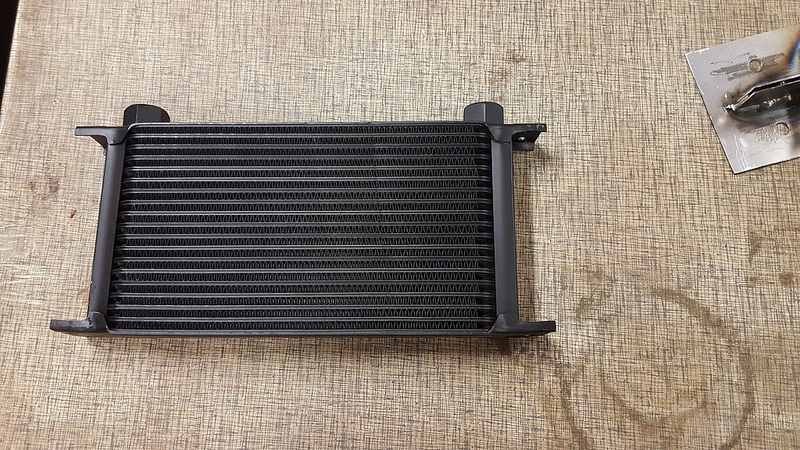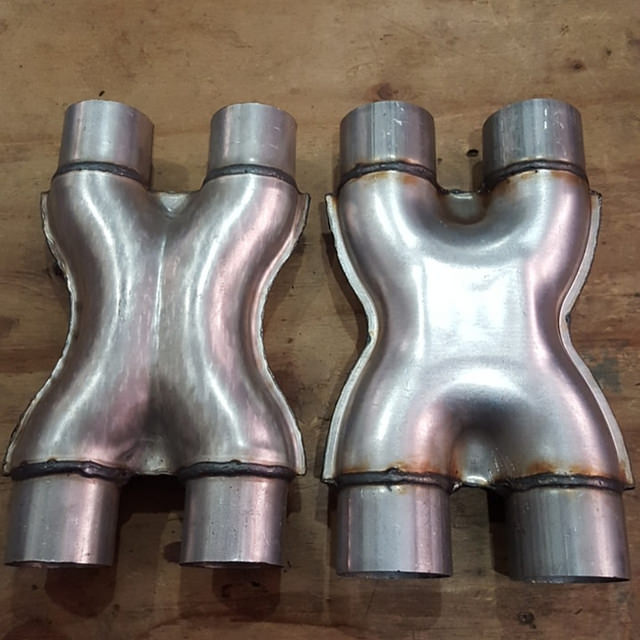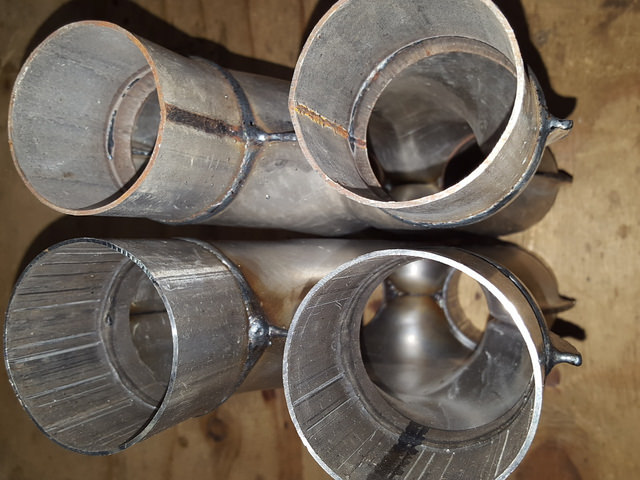 2.25"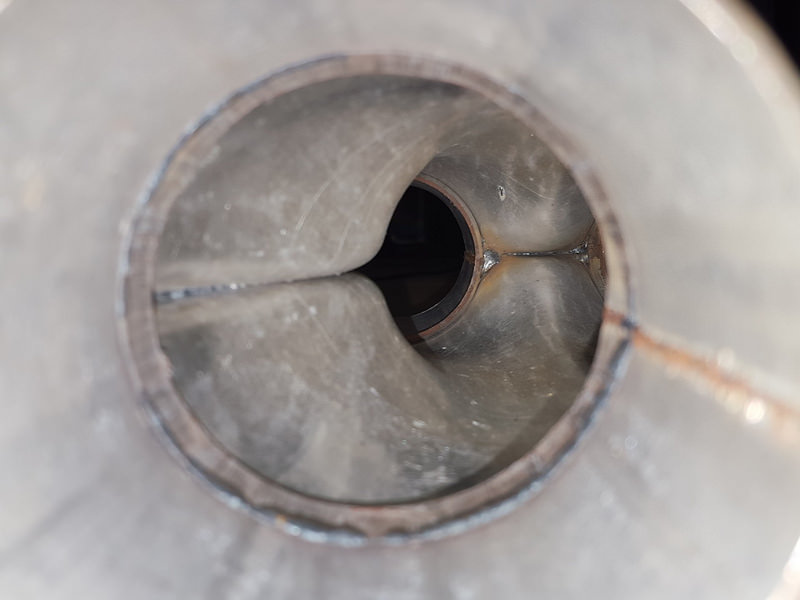 2.50"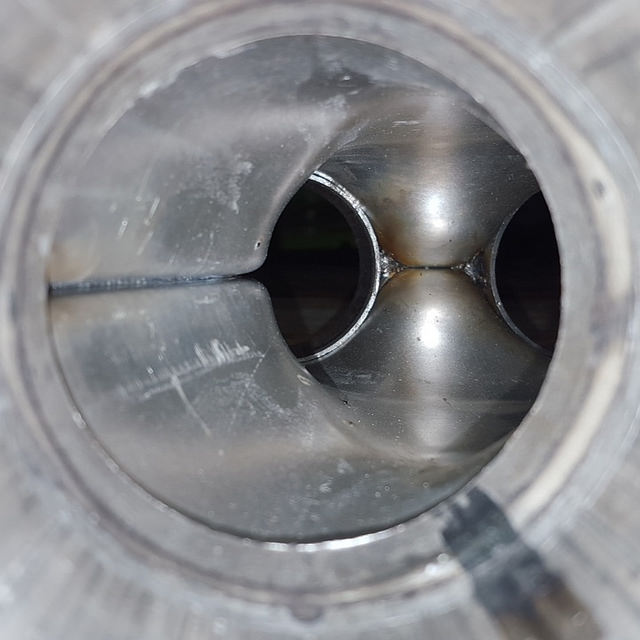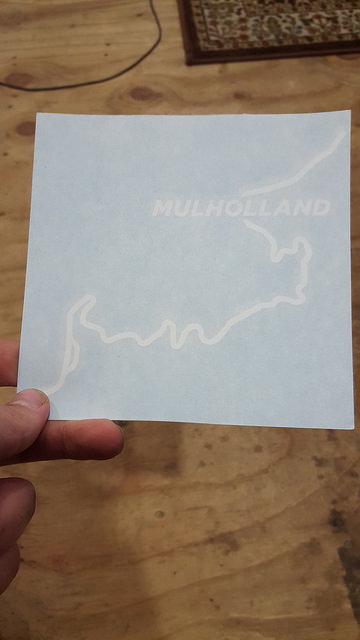 Oh and for a little humor; I keep seeing this one meme pop up on instagram since I had a few mins to burn I figured I'd make my own. Never made one before but fuqqitt.... This is the #1 most asked question from my friends and co-workers so I found this incredibly appropriate.



4-7-2016
Part 1 of my AN fittings; If anyone is local to the LA area. I can't suggest going to Luky's in Burbank enough. I would have wasted so much time and money playing what if's buying stuff through summit or online. Way easier to visit a place and be able to test fit everything before buying; beyond ecstatic. Also my mystery package now has a tracking number, so hopefully I'll be seeing it by the end of the month.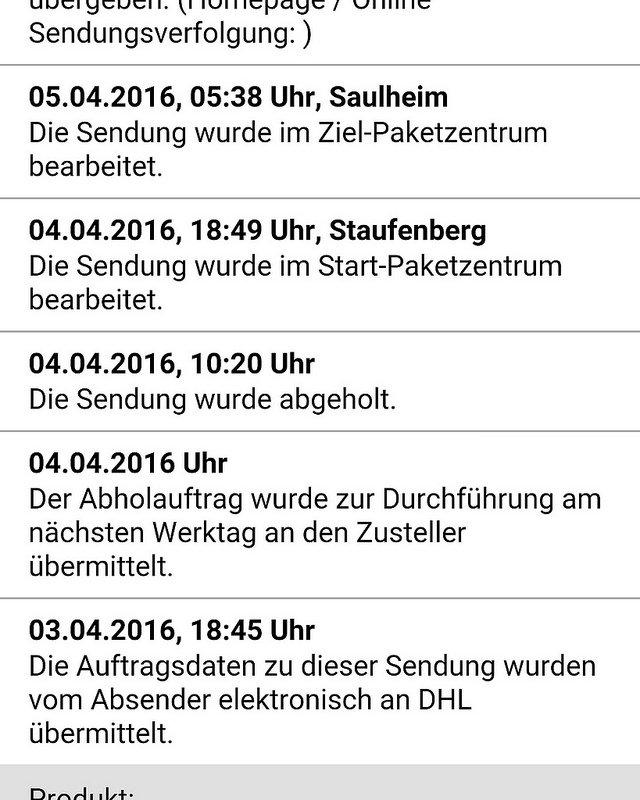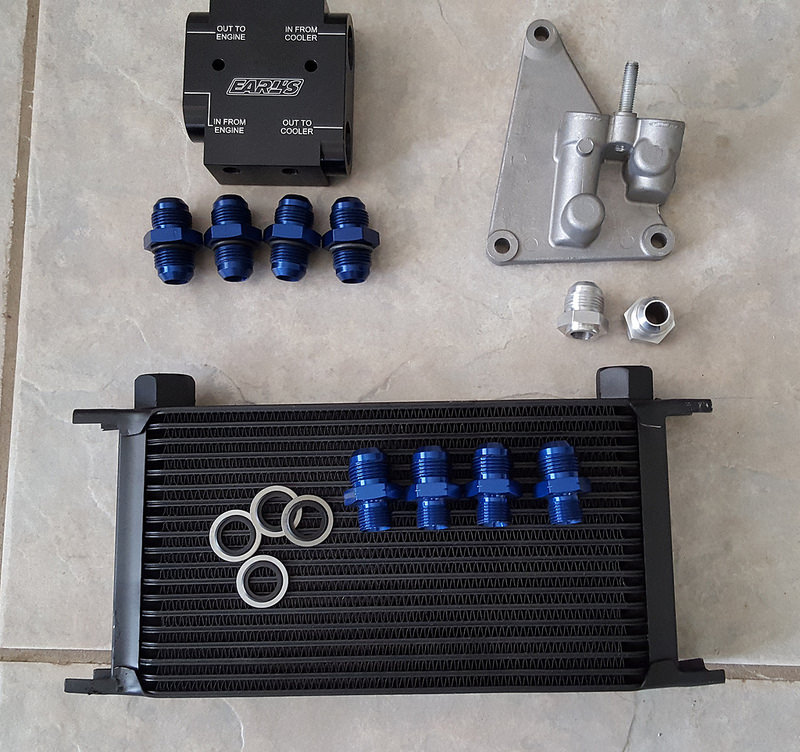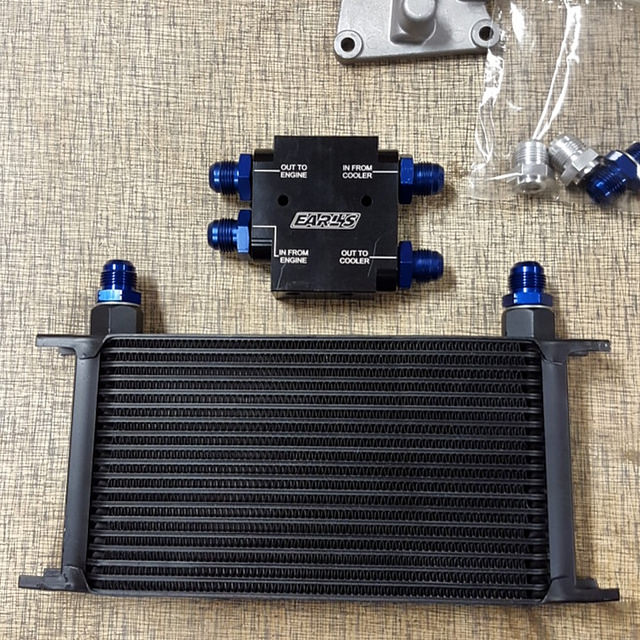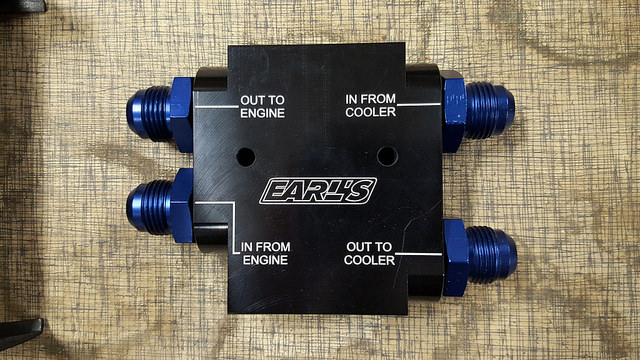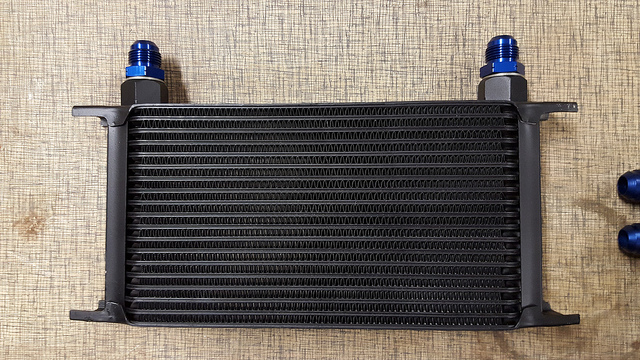 4-13-2016
Well I got the car back from JMP Saturday afternoon. Jerrick did a badass job with the brake lines, after discussing the location of the brake reservoirs, we decided to move them again. Very happy with the outcome. Allan TIG'd the weld ons to the factory housings for me, did a pretty bang up job for cast aluminum parts. Got some nice professional looking wheel covers just to keep stray cats from pissing on my wheels and nice rotors.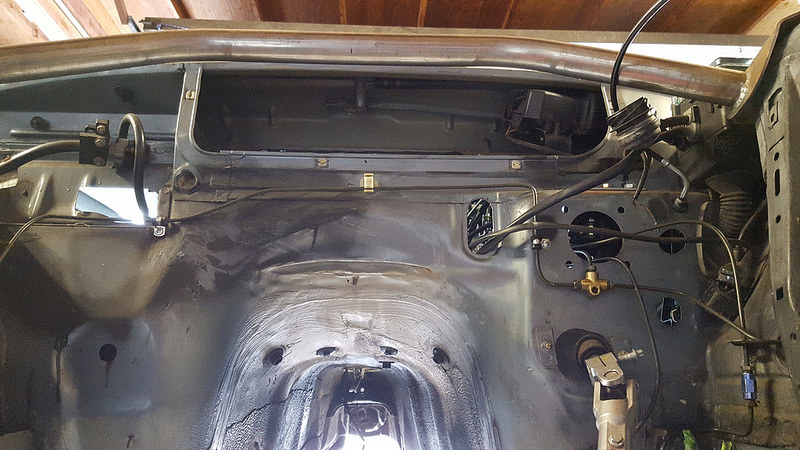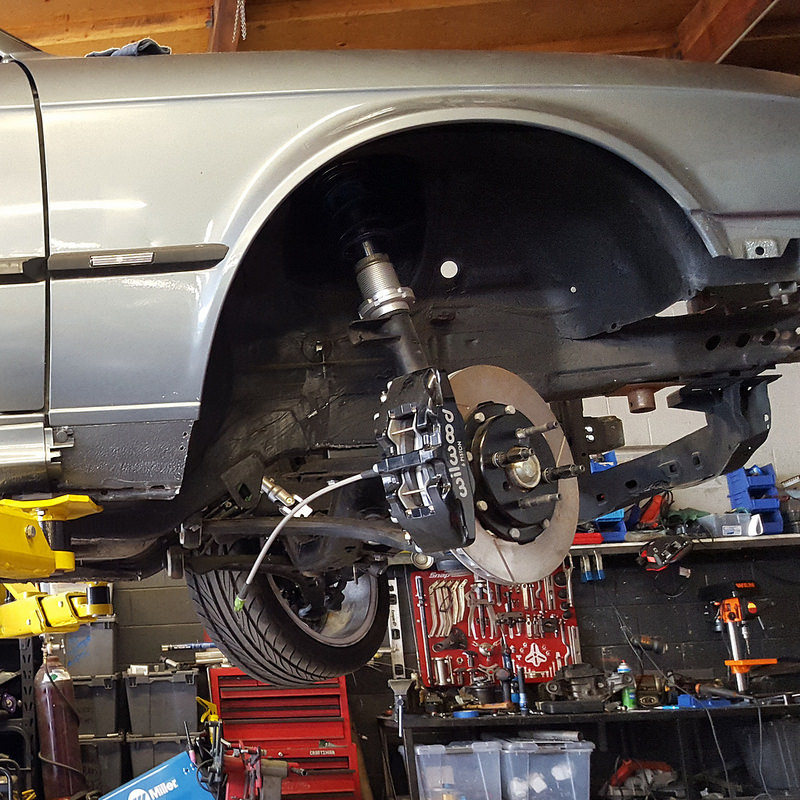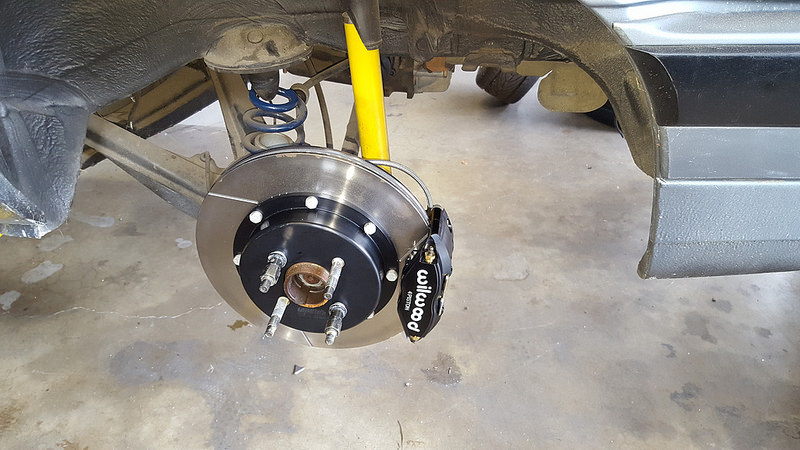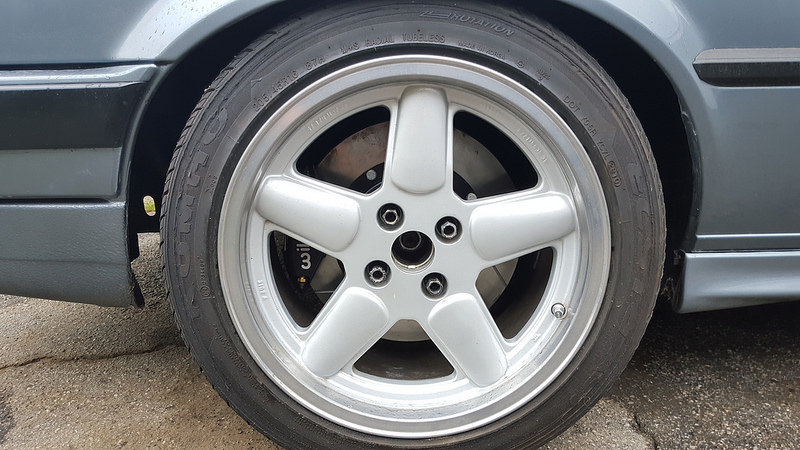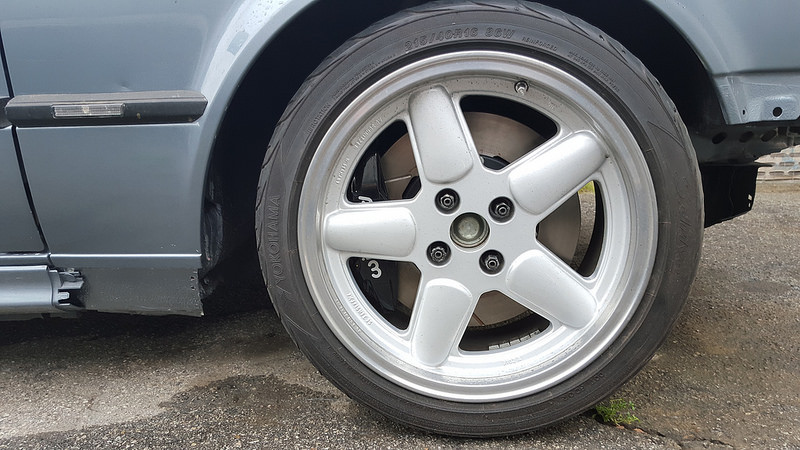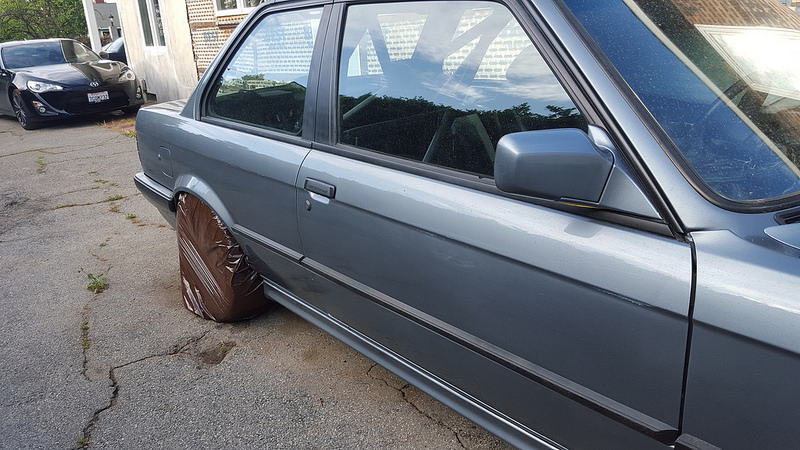 I got a call Sunday night that my friend crashed his car at around 11pm, so I had to come get it towed off to his house. Dudes so lucky not to had hit anyone or killed pedestrians. So after talking to his pops about how bad it was, this is my new project for the next week or two to get some more funds together for the e30. He snapped the knuckle, broke the shock off, bent the inner and outter tie rods, bent the axle pretty bad, smashed the control arm, and snapped the brake line off; just truly did a number...
Needless to say, curbs will always win against a car. So I've been running back and forth to Burbank a lot, hit BMA to get parts for the 00 Maxima, waiting on shocks and a used knuckle off ebay that I found for 75 shipped. Dealership wanted 380; aside from the knuckle and both front shocks, I got everything for around 380. So thats that.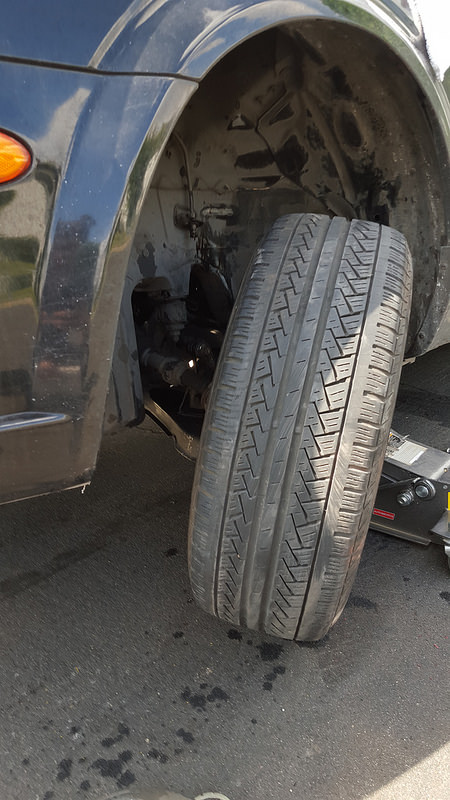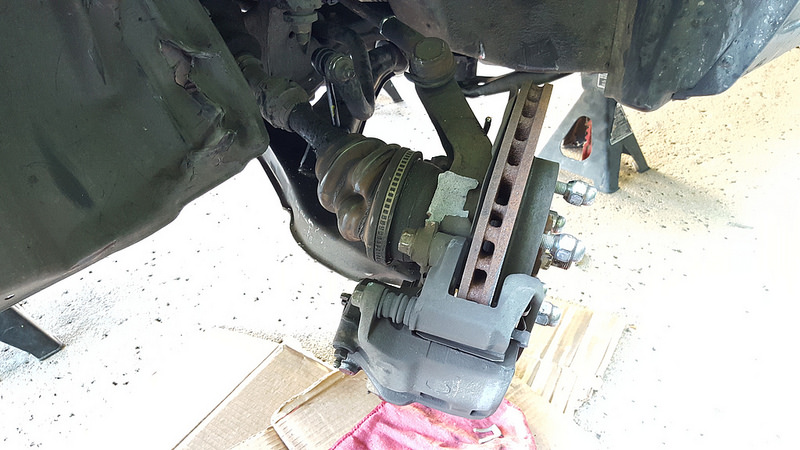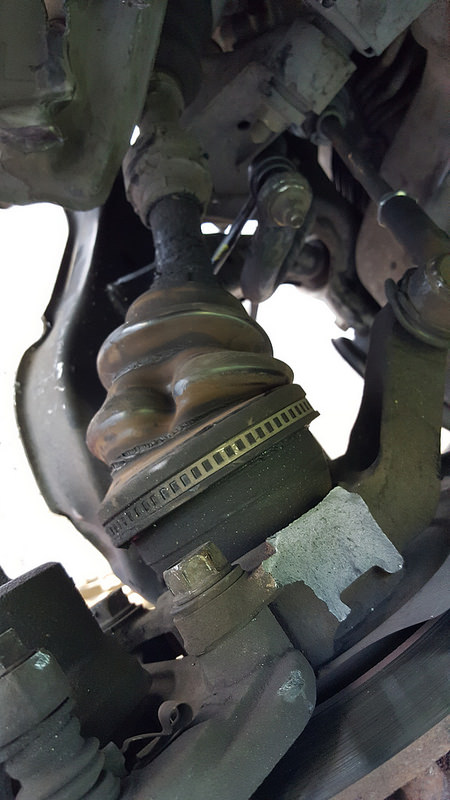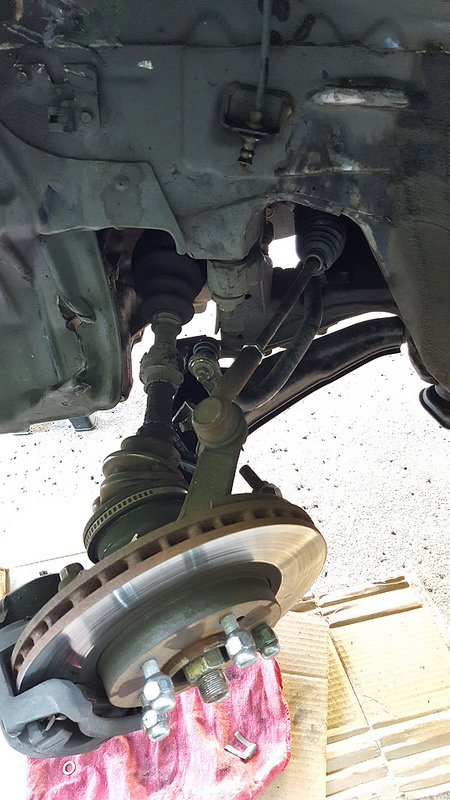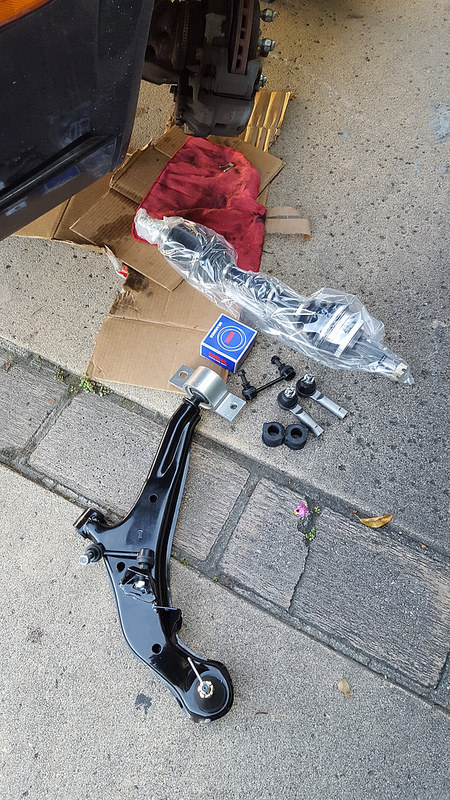 I've splurged a little bit with some AN fittings... I think I have a problem guys.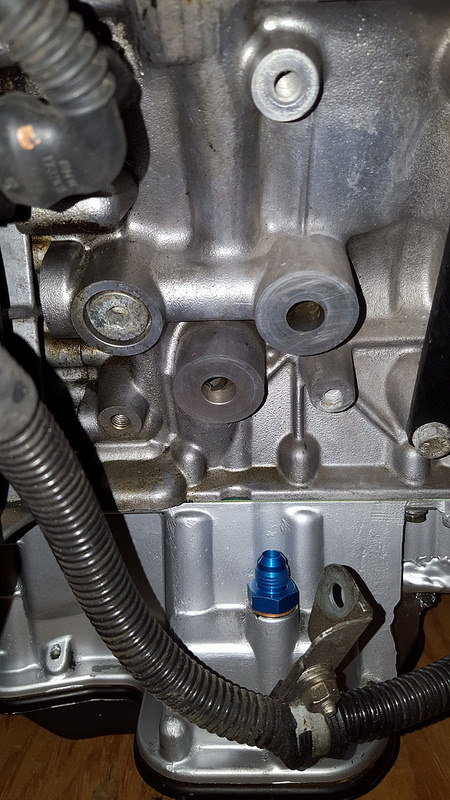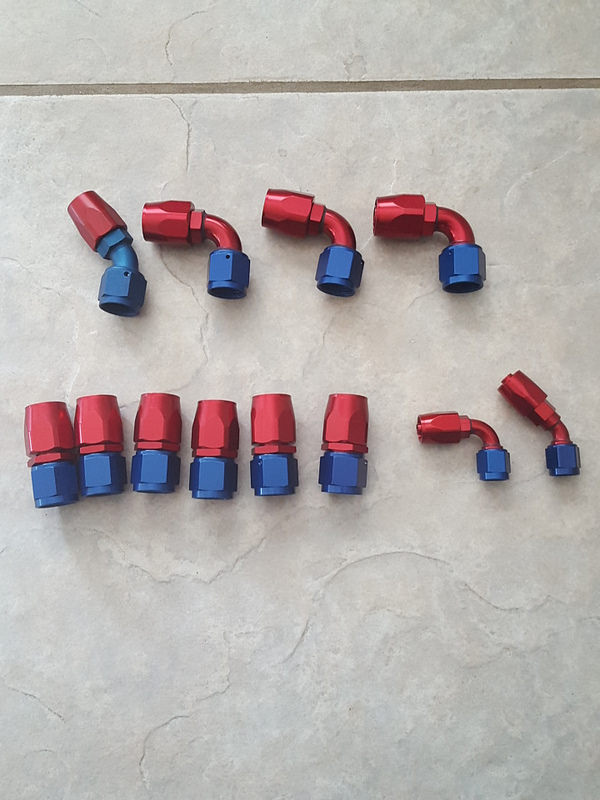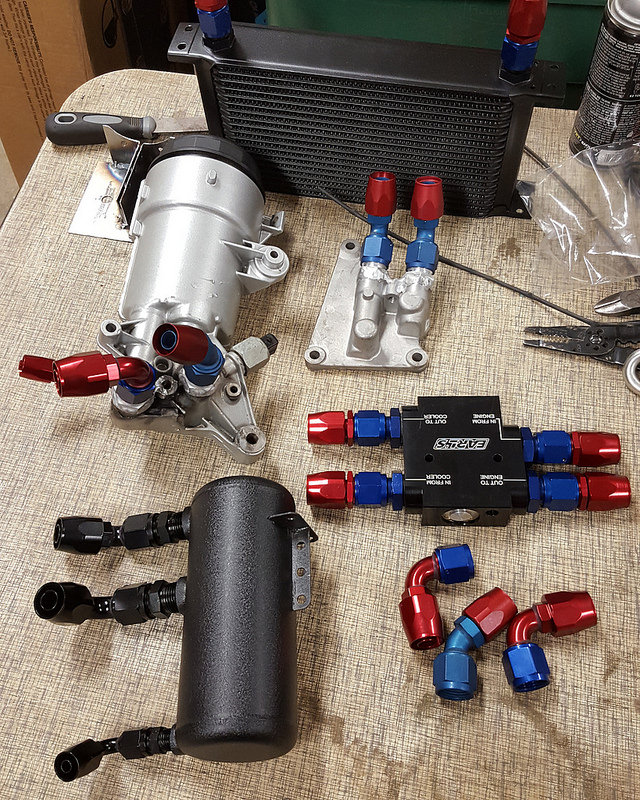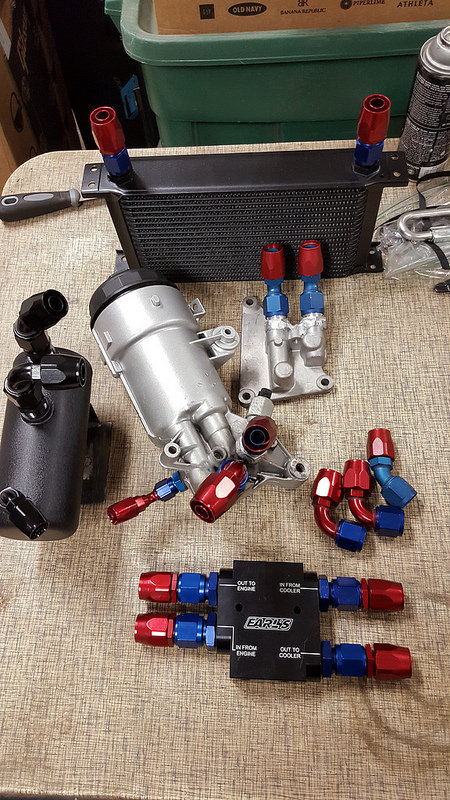 Came back last night and went ahead and did more research on my wires that I haven't looked too deeply into. Green/Black is 30h & Yellow/Black is 50 on the post. So i went ahead and spliced the wires I had from the original harness that were if I recall correctly 12 ga & 16? Grafted them onto the existing harness so fingers crossed. Spliced the alternator wire together, but I'm unsure where the green wire (igintion switch to the DME) from the 740 auto harness plug goes onto the 540 one; going to have to trace it back to pin 21 i believe and see where it is on the harness boxes. I'd think it would be with the blue, starter wires, and the oil pressure switch but nopes. Also went ahead and cut, spliced and soldered the oil pan sender to the oil plug connector since the 540 one didn't fit the connector I originally have. Found a e34 starter cable so I didn't have to go the home depot route. So ultimately as far as wirings concerned with the exception of the green ignition dme switch, everything should hopefully work.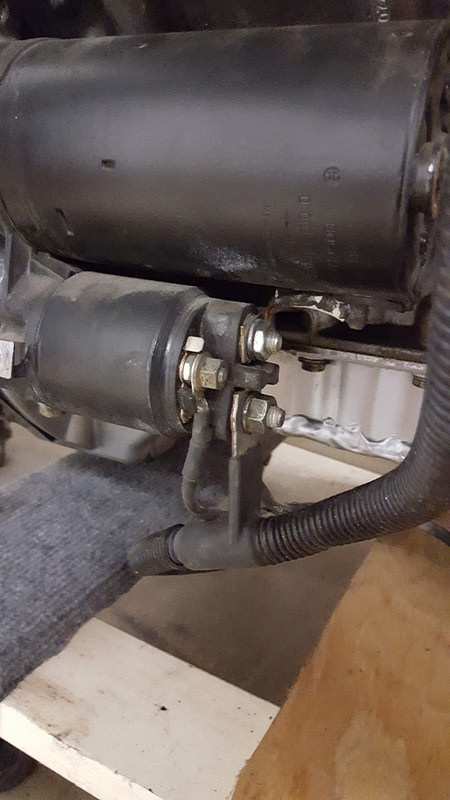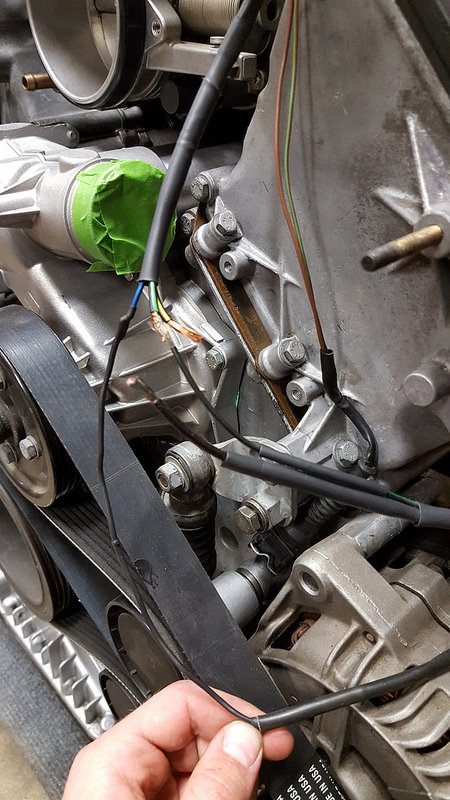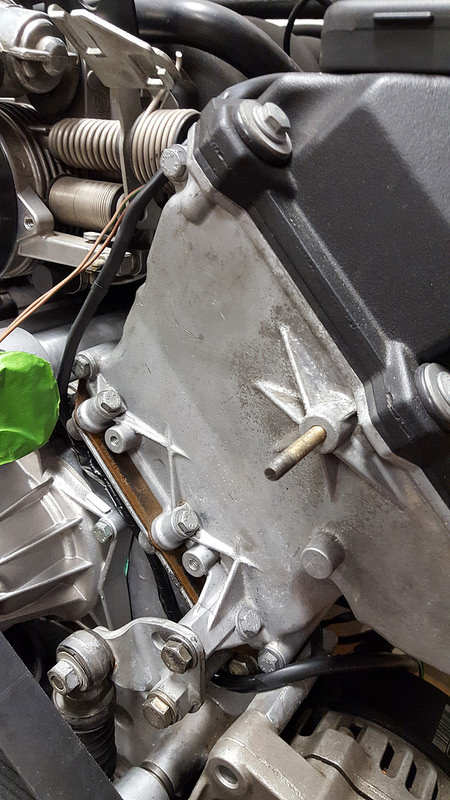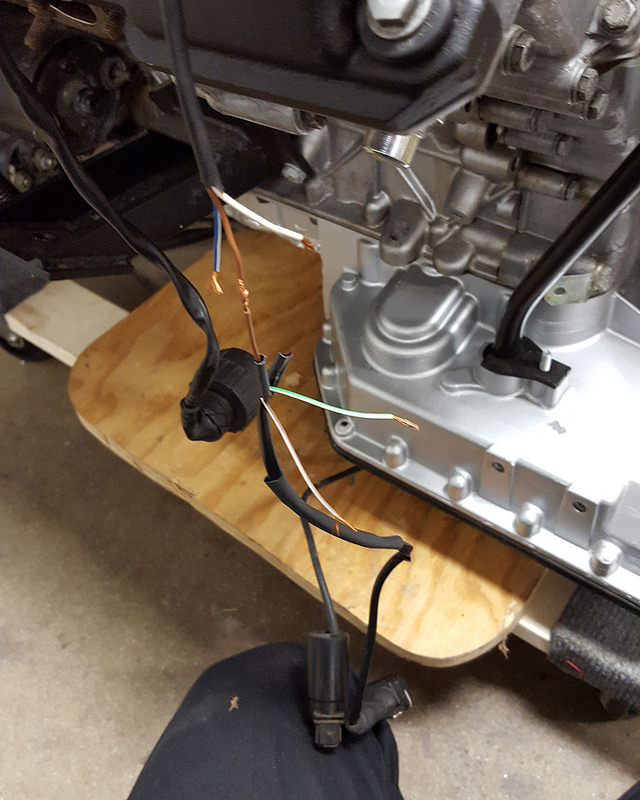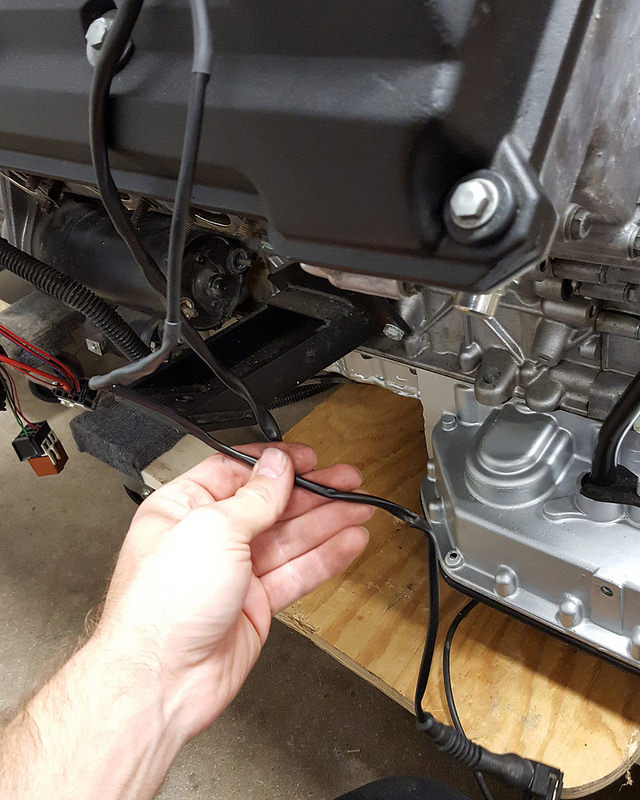 Picked up another shift at work temporarily so that leaves me with 2 days a week to really work on this so I'm gonna try to get it dropped in hopefully one of these nights. Once I get the motor back in, I can get the SS lines made for the oil coolers and start routing them and only thing left on the list is cutting and re-welding the shift carrier/selector, exhaust work, praying the driveshaft is the proper length, running a line to the slave cylinder, and turning the motor on, then coolant stuff after all that.
4-23-2016
Finished up my buddy's car & got paid finally; didn't even need an alignment after all that stuff. Eyeballed it almost spot on, bled the brakes took it around the block then on the freeway. Can't believe after what he did it drives normal still; insurance for sure would have totaled it. So now back to the E30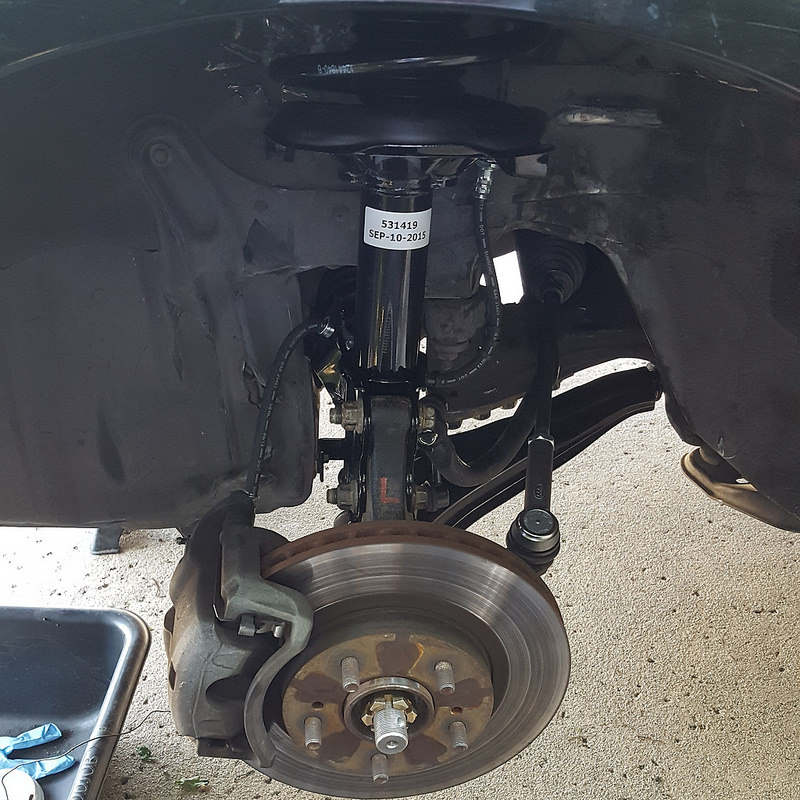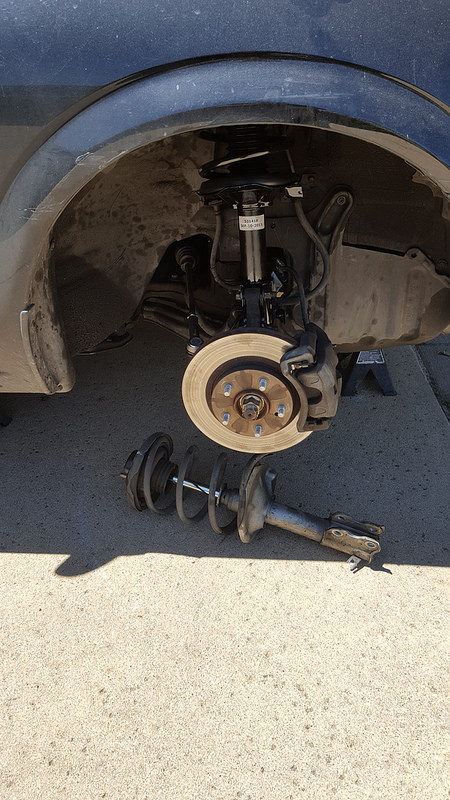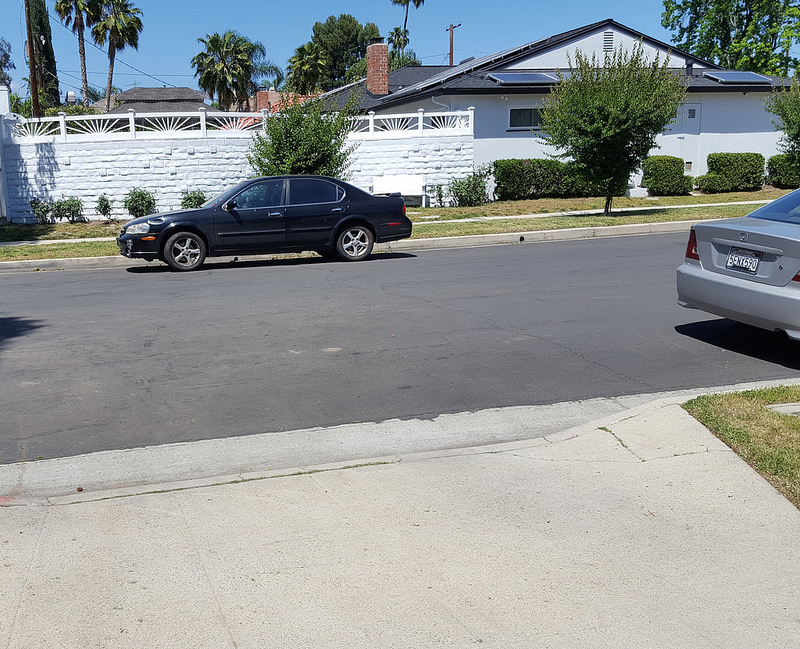 _____________________________________________


Went ahead and changed out the spark plugs out, lot of carbon.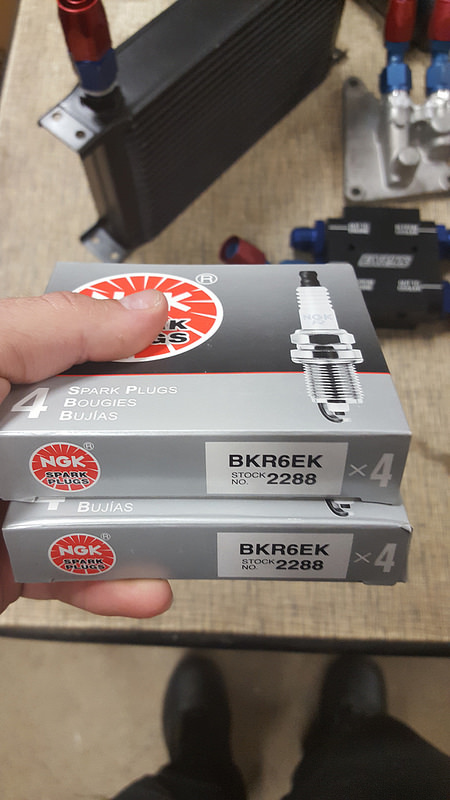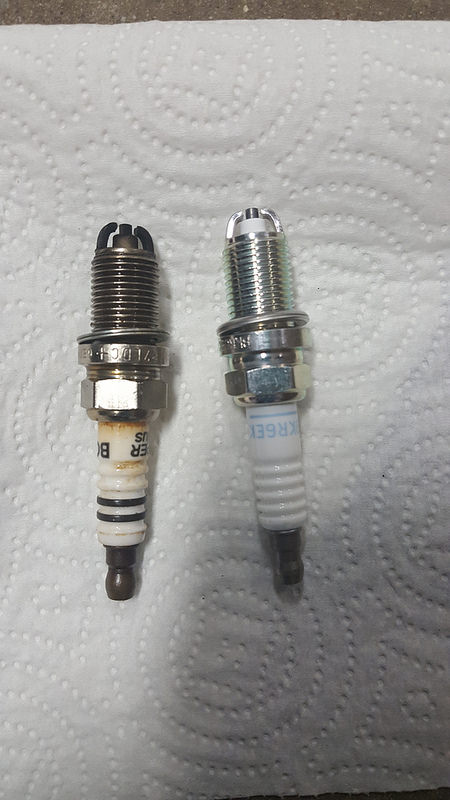 Started mocking up panels to cover the rails (just to get a rough idea); ended up getting some free sheet metal for it so saved me a good chunk of money there.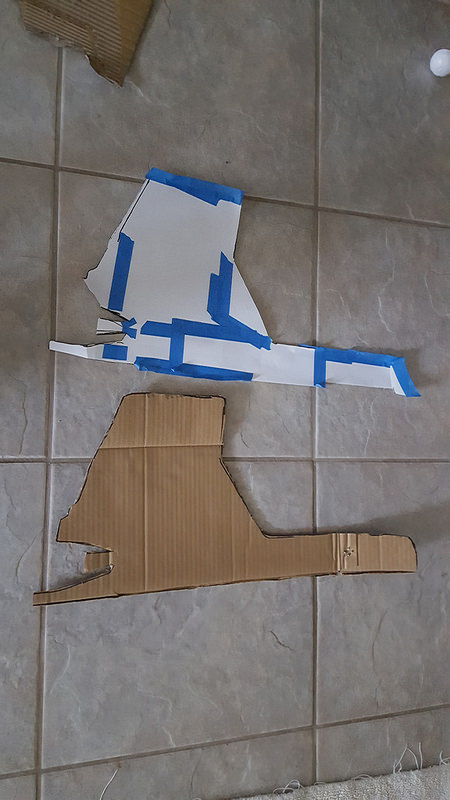 Cut off & grinded the last of the tabs off and tossed some POR15 over it for the time being. Once I get some paint together I'll block and shoot it.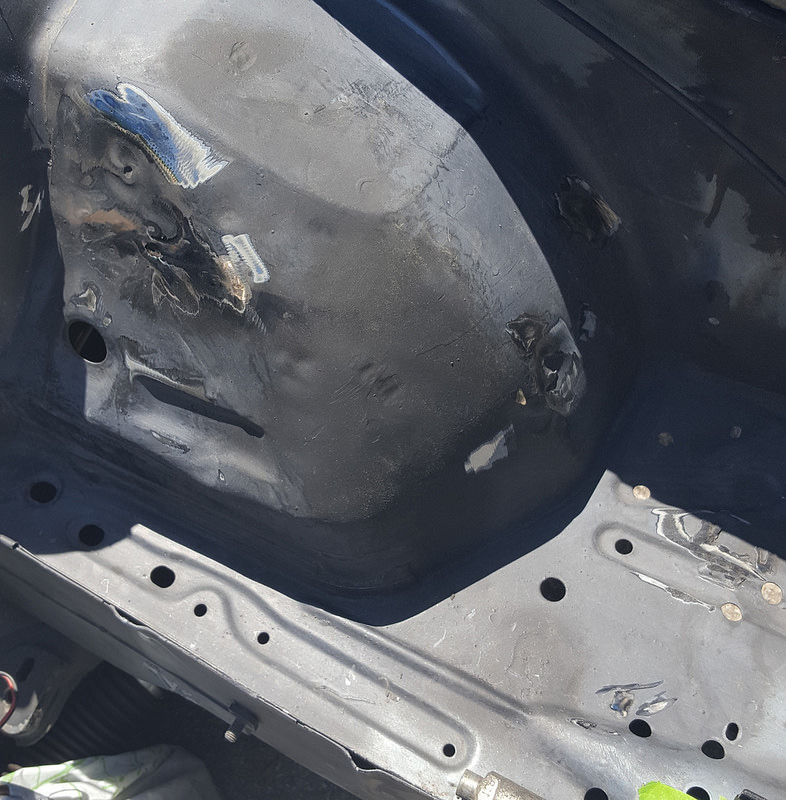 Laid out the reflective film, decided to wrap the exhaust when I tack it together for under the floor boards instead of going all out on the trans tunnel.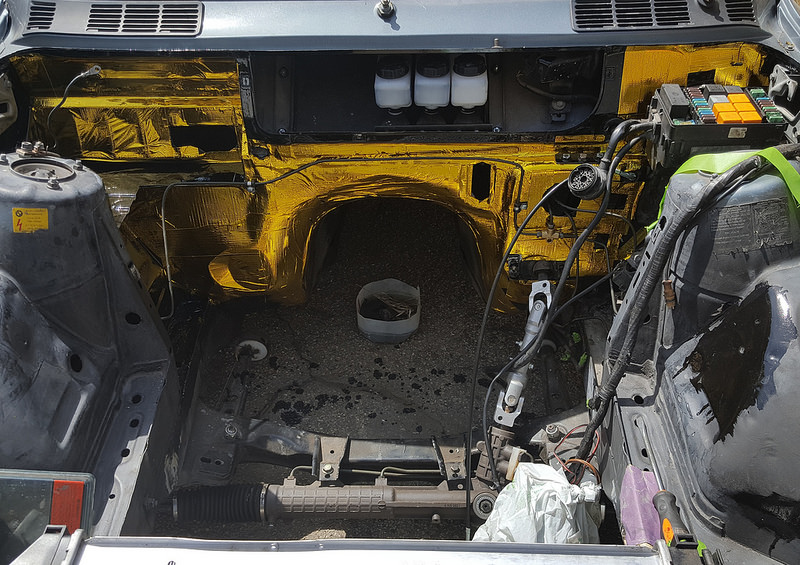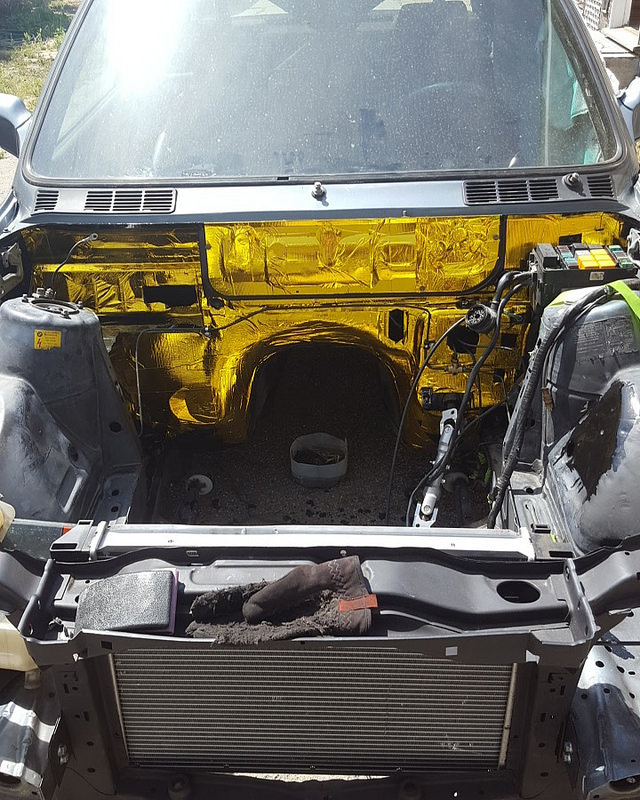 Got my two resonators finally after almost 2 months of waiting for some reason, so exhaust can be started once its in the bay again. Also started running my lines and just need to figure out where to mount the thermostat, most likely on the rail and bracket it.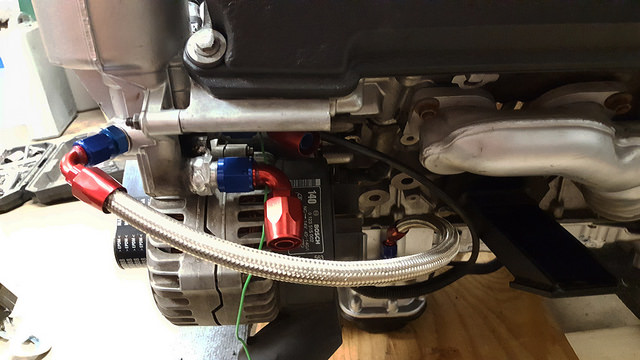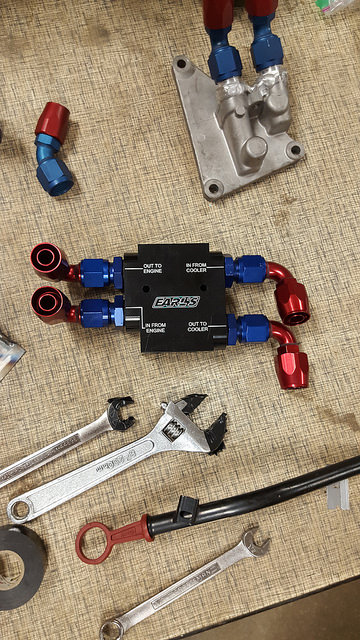 As a little teaser; my package from Germany finally arrived so this will be coming up very soon once I build them out... Always wanted a set of these, staggered 16's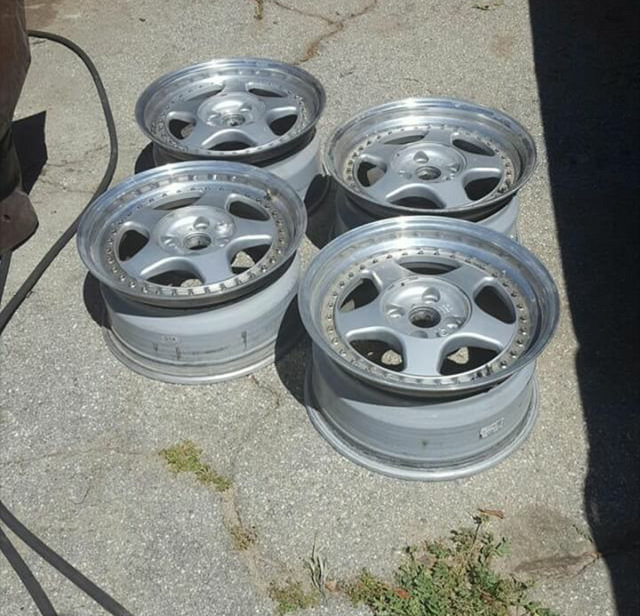 5-15-2016
Thanks Matt!

So I haven't really updated this in a while; between going to school/work/having no life I've been pretty preoccupied. So with that said my time to work on this project have pretty much been either super early mornings or late at night after 10pm. With that being said here's some pictures..


Reinstalled the dashboard after having it sit for a long time. Haven't seen a cluster in there in 8 months atleast. Kinda miss this view.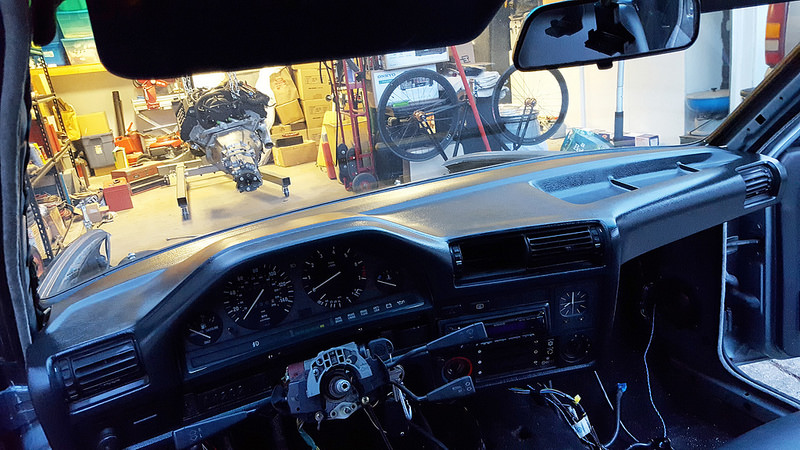 Truck bedlined the engine bay for starters.. I dig the contrast that it gives personally.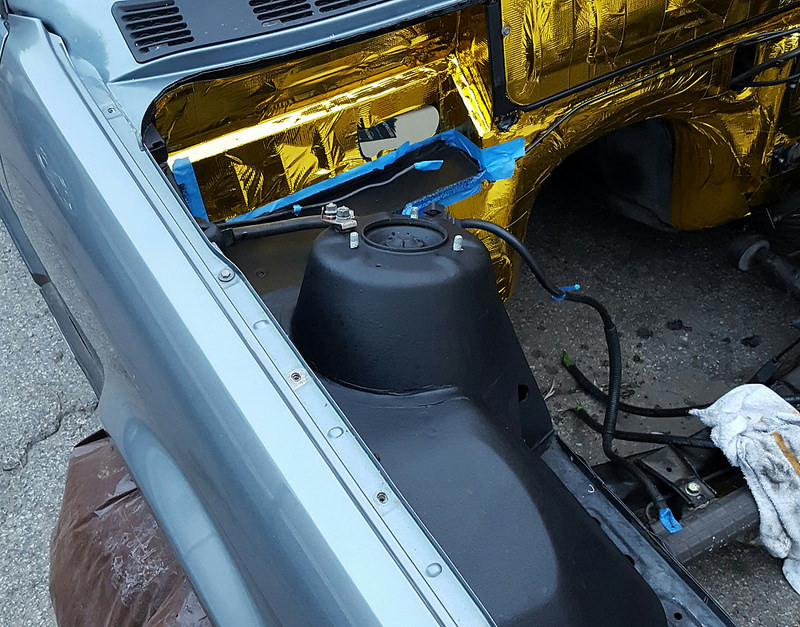 Tossed the motor back in, this time I took the exhaust manifold off thinking that I could somehow get it back on afterwards. I had an issue where the drivers side was hitting the steering joint since the rack was installed. Still need to figure this out.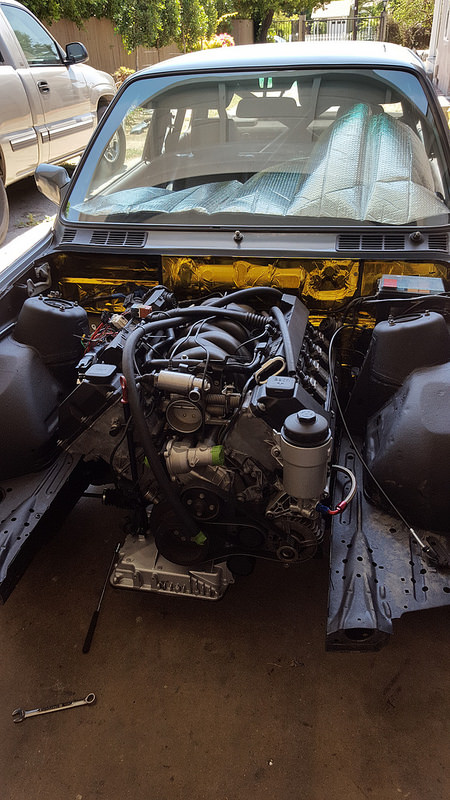 Idea of the ground clearance, almost level with the subframe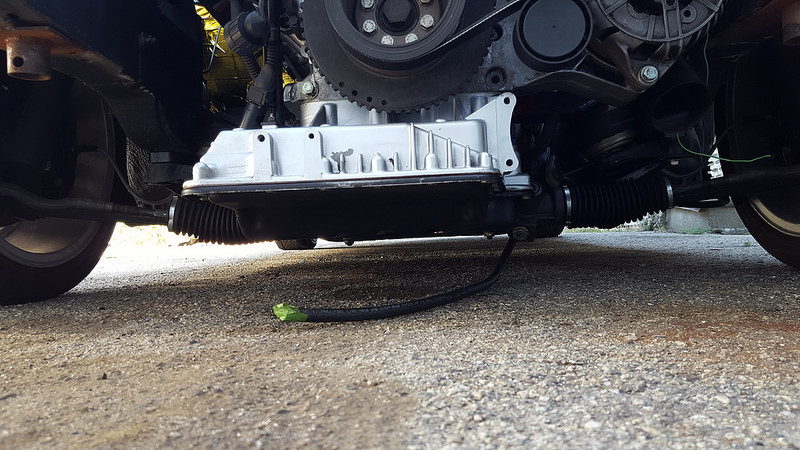 I then begun working on the bracket for my oil cooler. I wanted to mount it somewhere near the stock location, out of the way of the radiator so it didn't inhibit airflow. So I had to trim the little "airdam" plastic piece on the valance to accommodate in about half without having to remove it completely. This managed to wiggle it in and make it more stealthy while maintaining good contact.


Improvised a bracket from a strongtie that was laying around since I'm budgeting things lately. Also when I went to drill the holes for the mounts, I noticed that due to the impact my PO inflicted on the radiator support. Guess what, its not gonna line up.. So I drilled it out to about 2"-2.25" hole, hammered it out to flatten the mounting section on the bottom so everything sat flush. Then with the giant hole that I had left on the top section I cut up a piece of metal, ground out a U, then mounted with some washers. This was the result. If I had a welder, or could get my friends brother over here with his MIG I'd weld the tabs in place but for now theyre floating.

Oh I also cut up a piece of aluminum I found on the side of the road to make a bracket/template for my pusher fan. After lining it up, turns out it sat about 2" to low for my liking. So now I need to remake another one or just say F it and go ahead and just make 4 little metal tabs and move forward.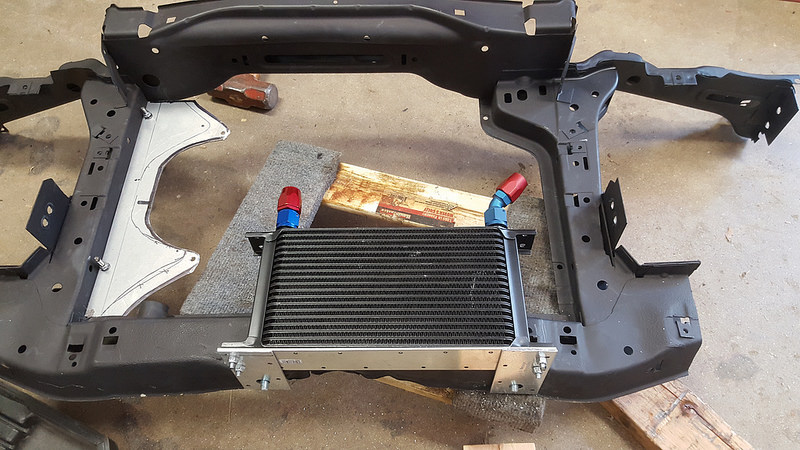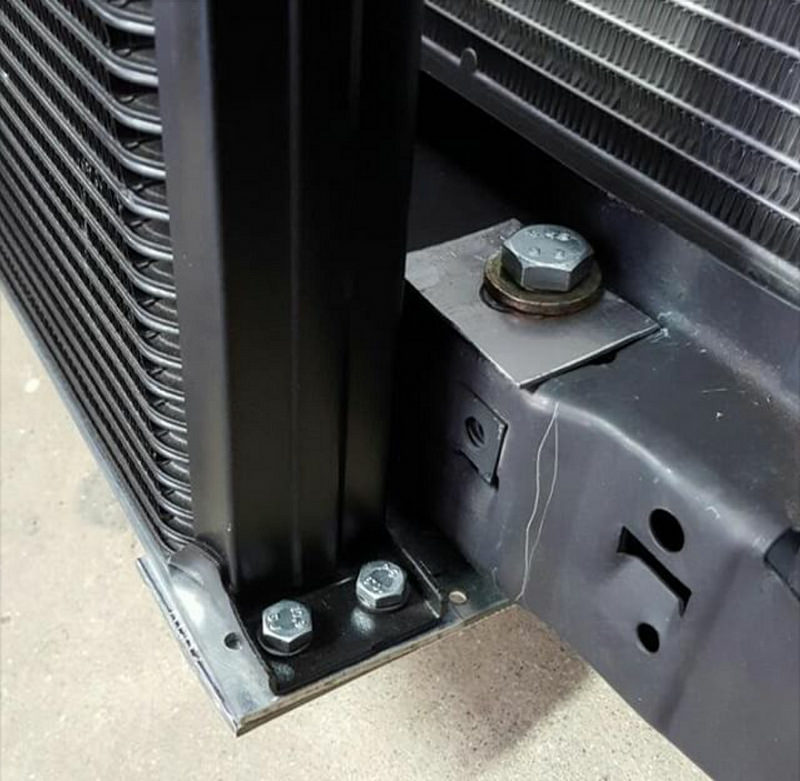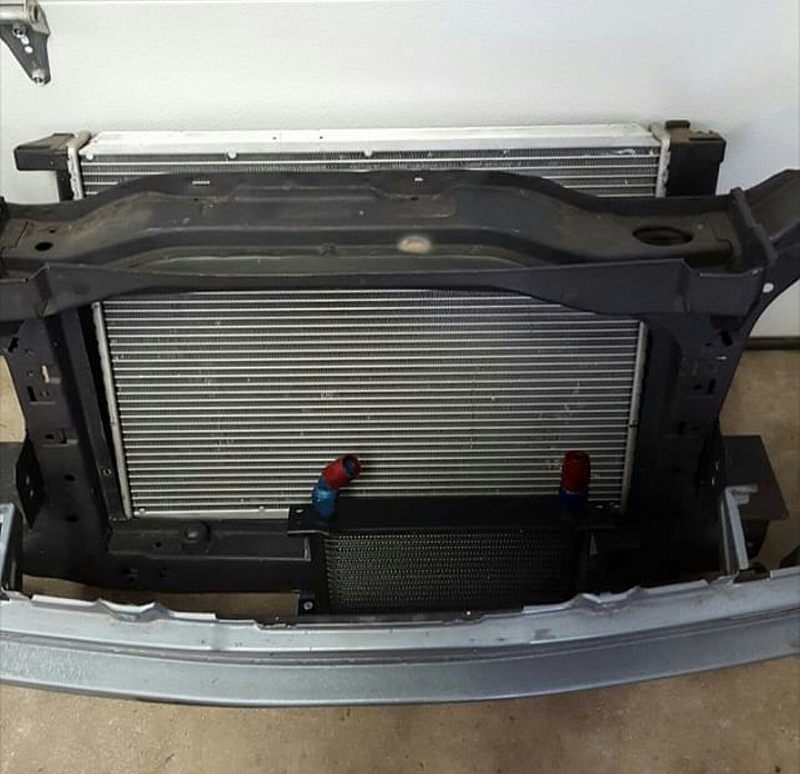 I'm extremely disappointed with the MTC intake boot that I ended up getting, as you can see it's angle is way off. Debating if it's worth dropping the money on a new OEM one considering how much they go for. Haven't found one at the yard so meh...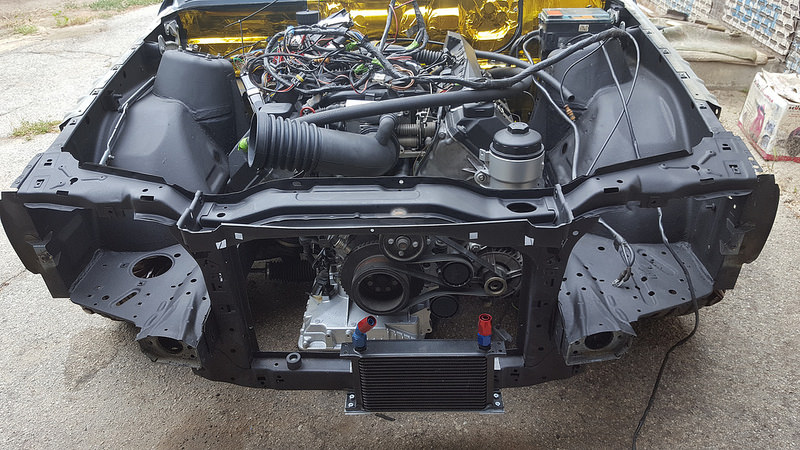 For shits and giggles I put the front back together just to see how it would look since it's been ages. I'm missing a lot of my hardware from it being moved around a lot so I need to re-source a lot of bolts unfortunately.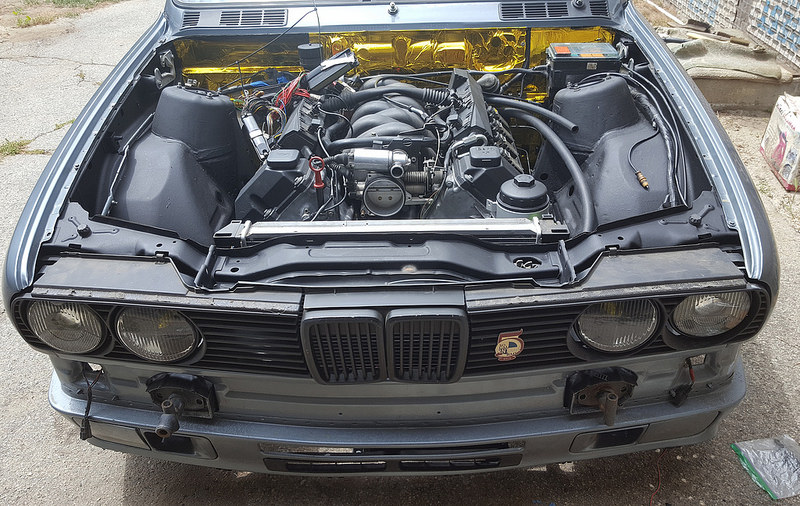 Also spent a few hours on the OZ's; used a bottle of bug and tar remover, then I had my buddy Chris come over the next day and help me smooth out some of the curb rashing on two of the lips. Not perfect or show quality by any means. Once I get the car running and have more funds, I'll do a full rebuild/build, but for now this is how they're gonna run.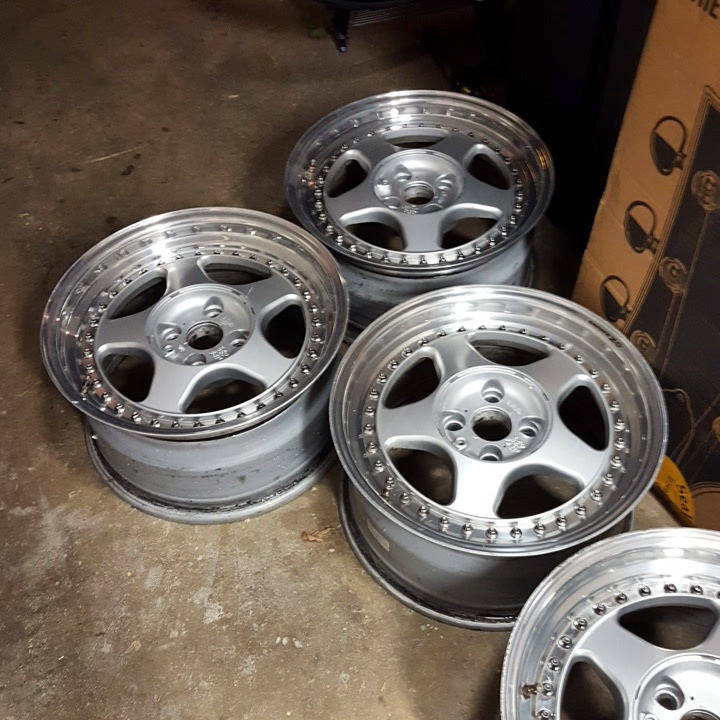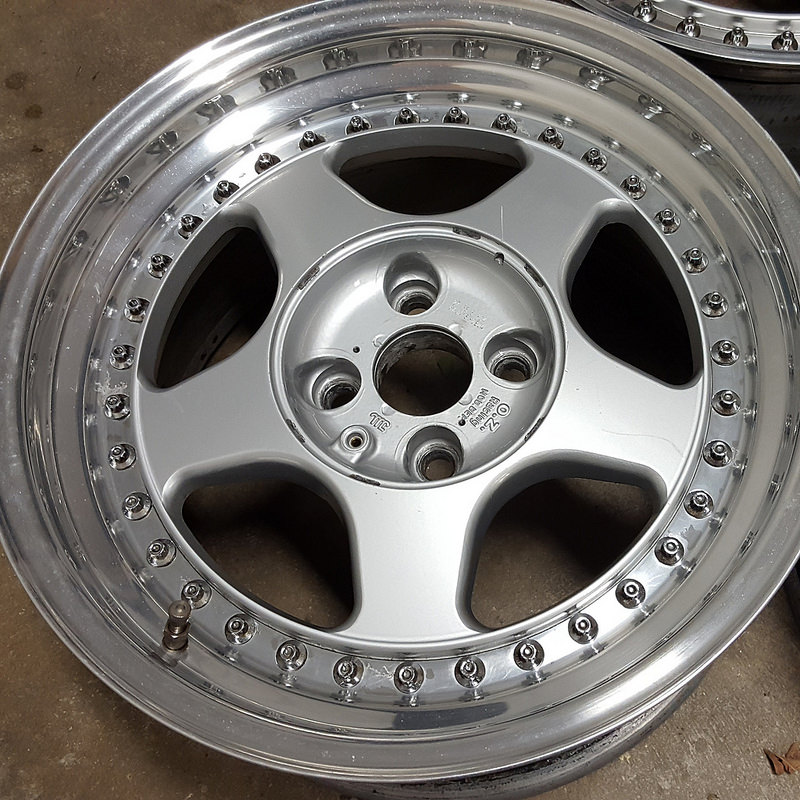 5-16-2016
Thanks buddy!

I used Duplicolor's bed armor; I wanted to get it rhinolined but that was going to cost more than I wanted to for such a small area. Overall I like the texture and turn out, gave it a few days to cure in the sun before putting everything back in. Overall for $14 worth of paint, not a single complaint. As for the wheels they're just going to be daily wheels if anything; Just re-polishing the lips a little and run them till the tires blow out hahaha. Can't remember the last time my car looked like a well... car.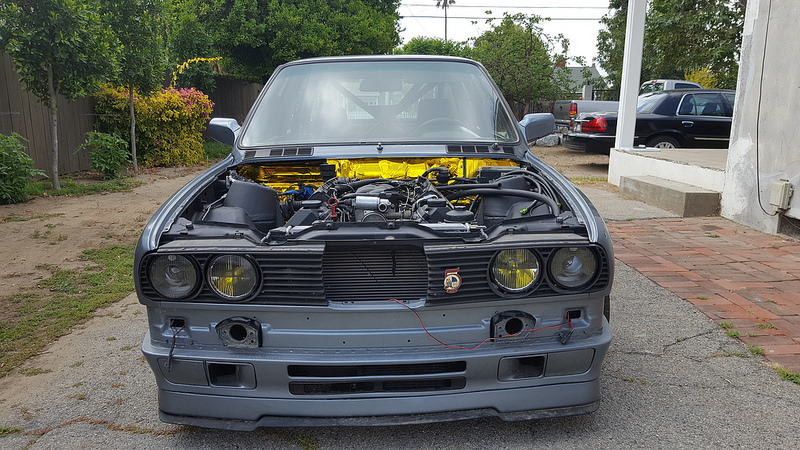 7-12-2016
Well here's some minor updates... I'll start with the worst first.

Wrist pin on Cyl 5 snapped; jetted through the side of the block putting a nice sized hole in it.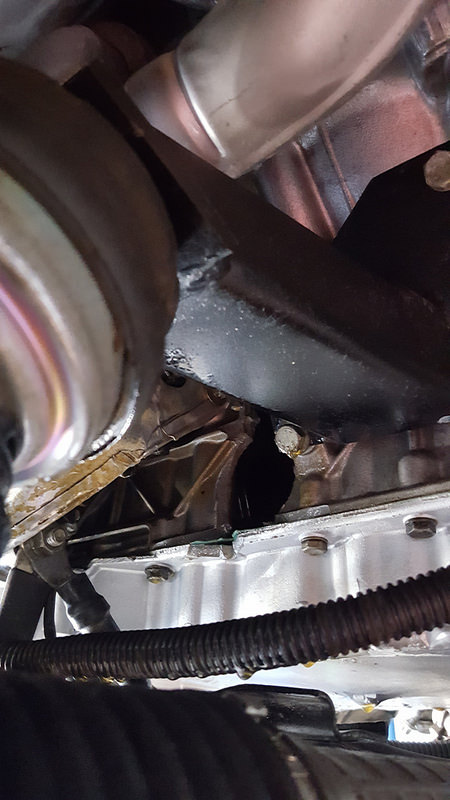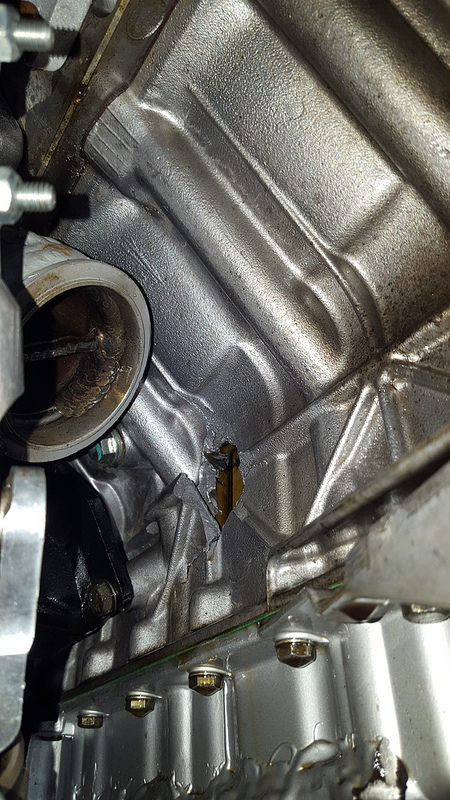 So the next day I came across a 540i for sale, went ahead and bought it and drove it home with a messed up transmission. Pulled the motor out the following day before towing my e30 back home. If this e39 was any other color than this, I most likely would have kept it.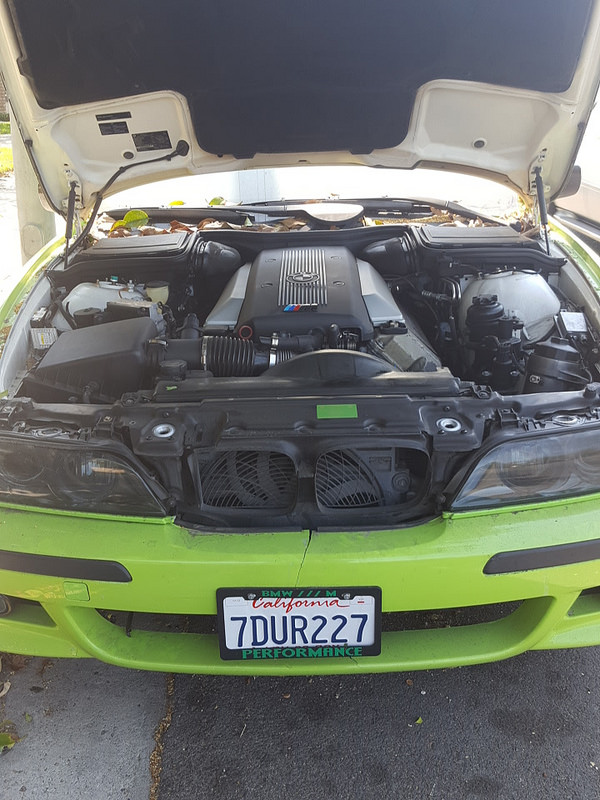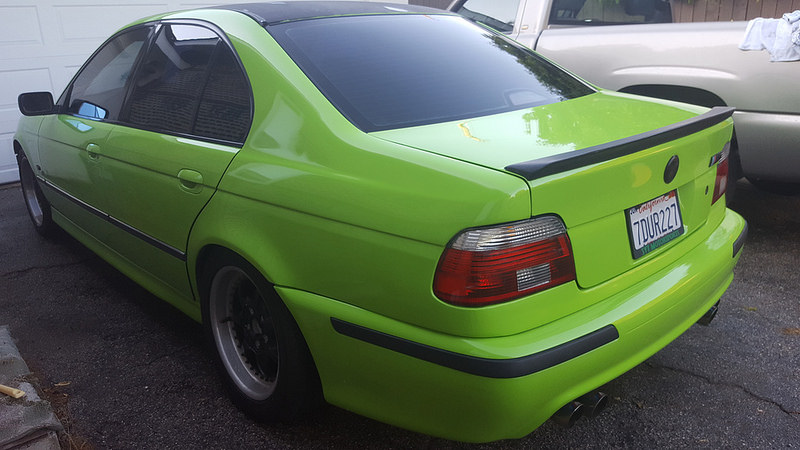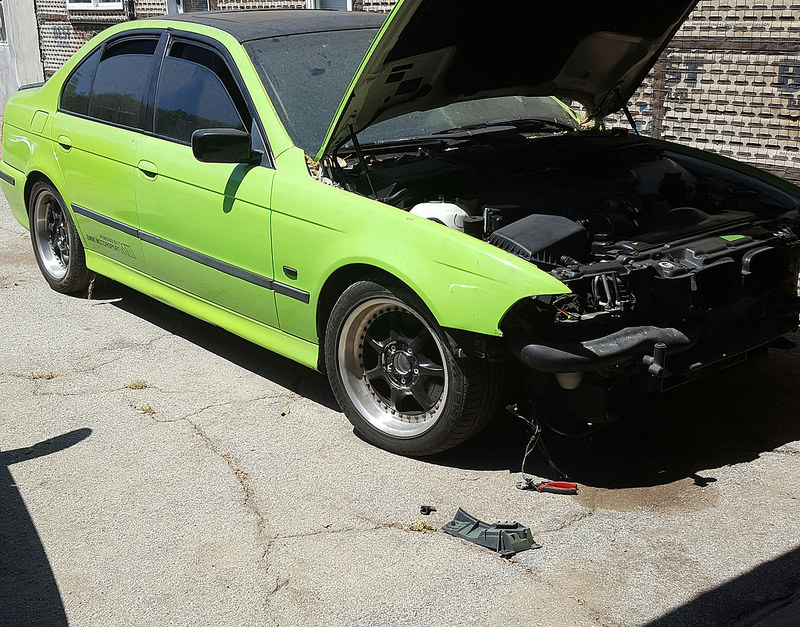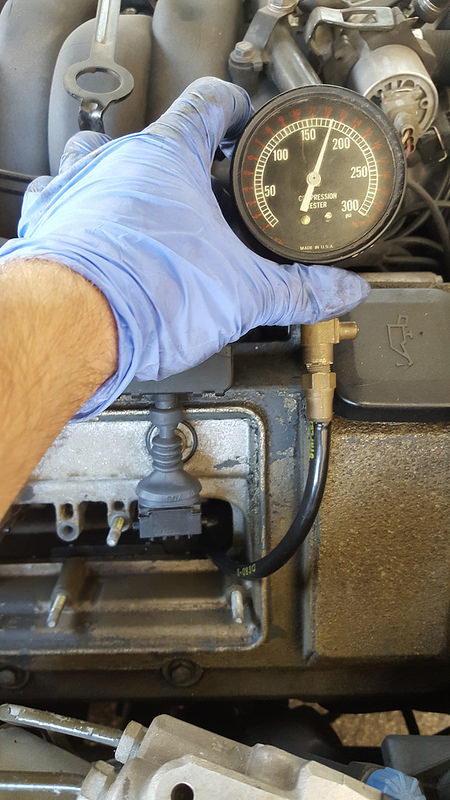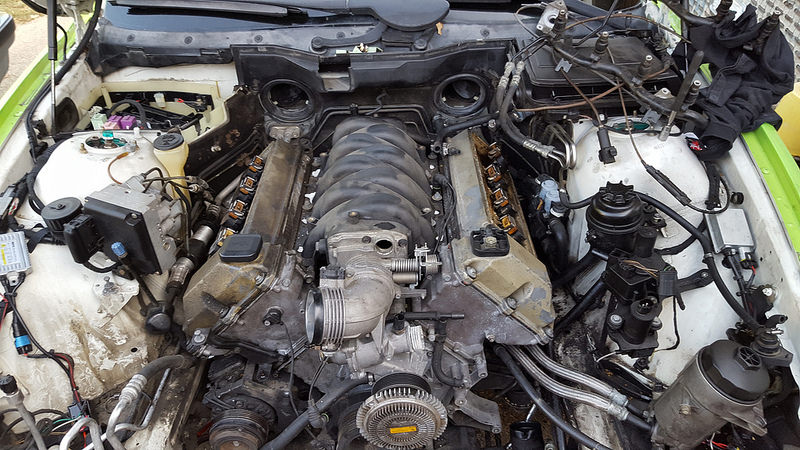 The motor had good compression across the board, motor has 149k on it, timing guides and chains haven't been done. I may pick up an m62 block and re-use my M60 heads and build something up from there. M62 is just to keep the ball rolling for the time being.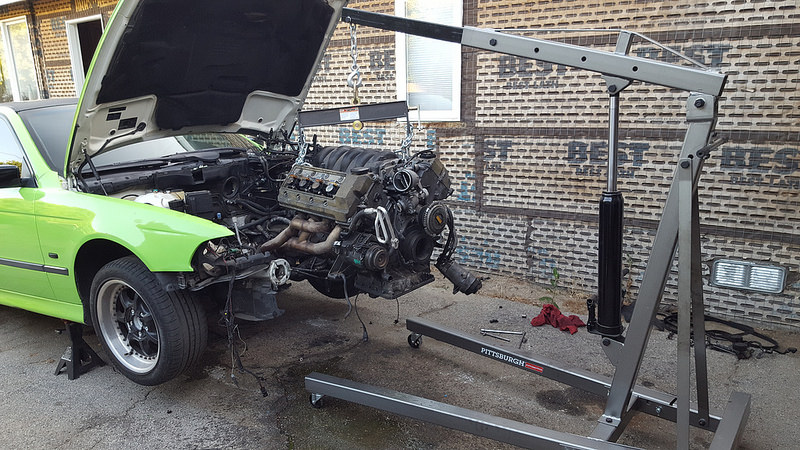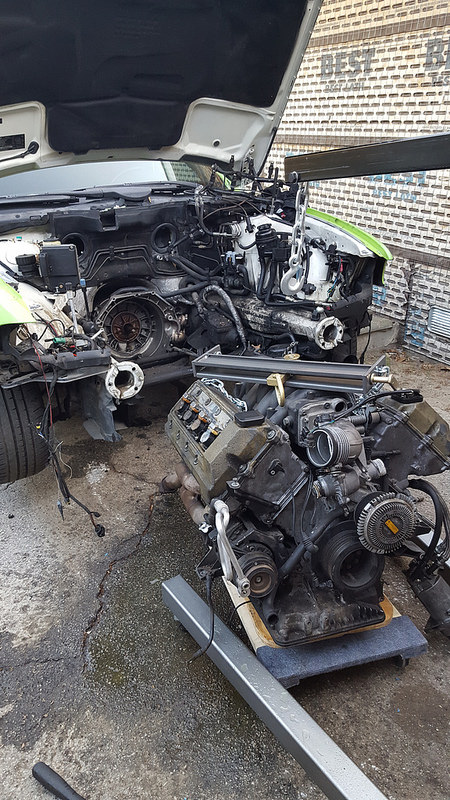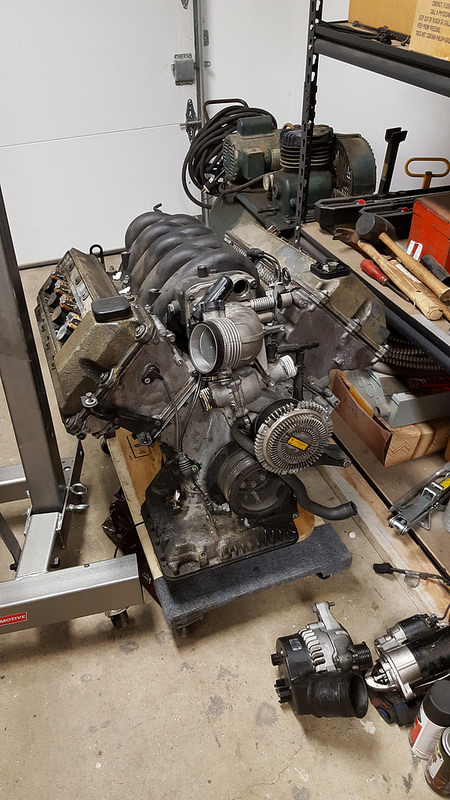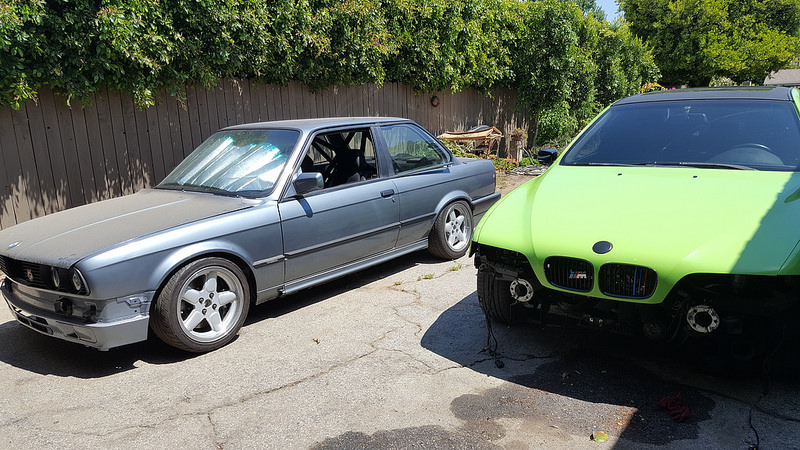 Sold the rolling chassis a few days later and got my money back went to someone whose now going to turn it into a show/shop car. Be cool to see it once it's all finished up!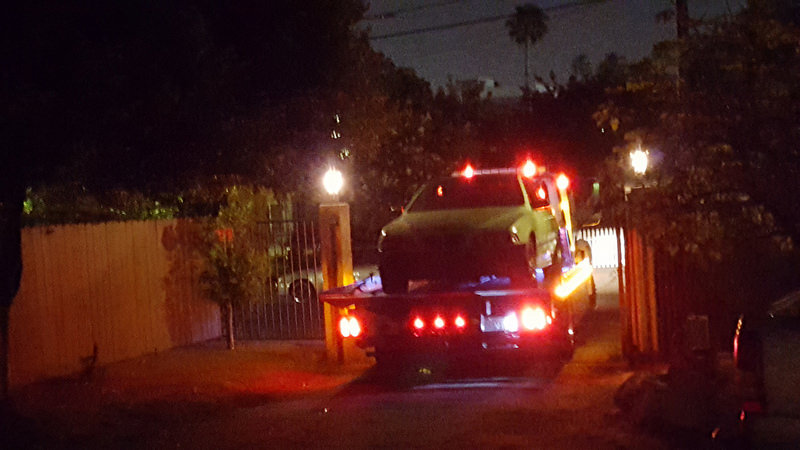 Pulled the heads off the m60 to see if there was any damage and from a visual inspection doesn't seem to be. Maybe in a few months I'll have the heads re-done and etc.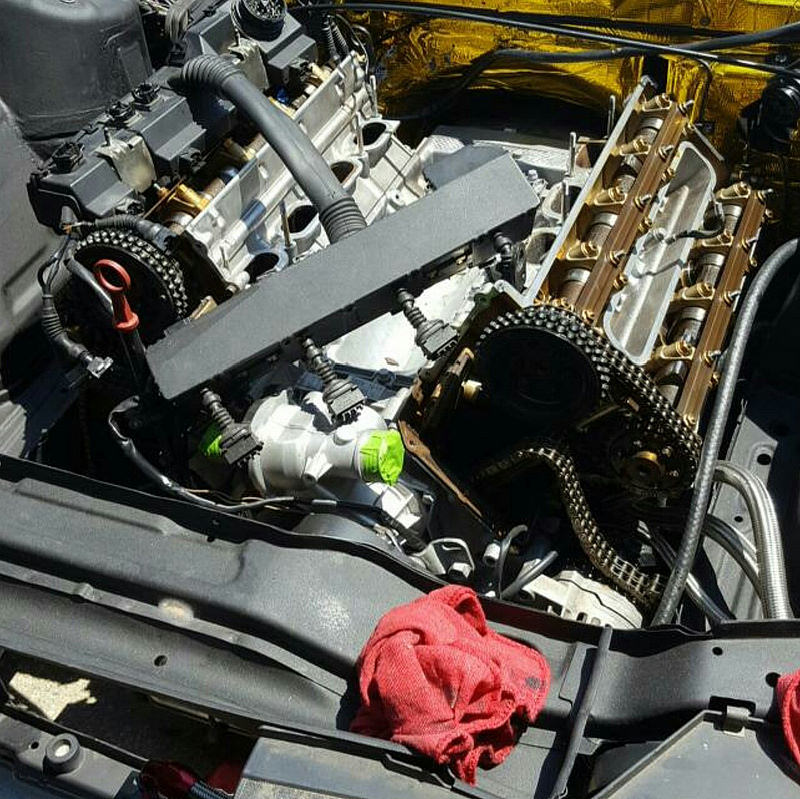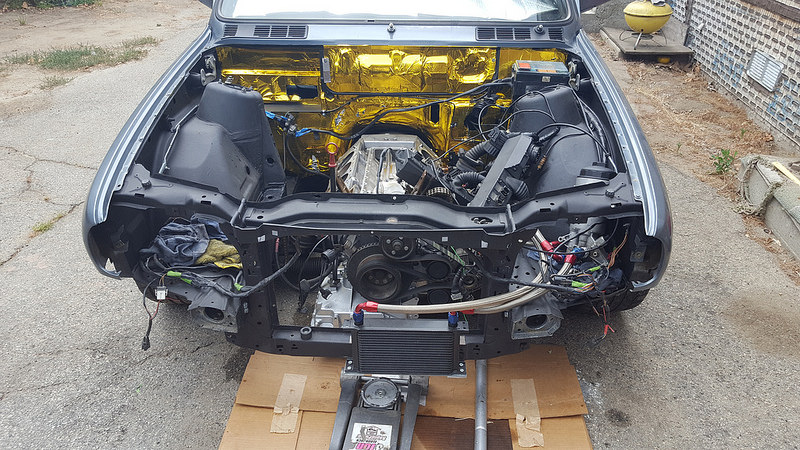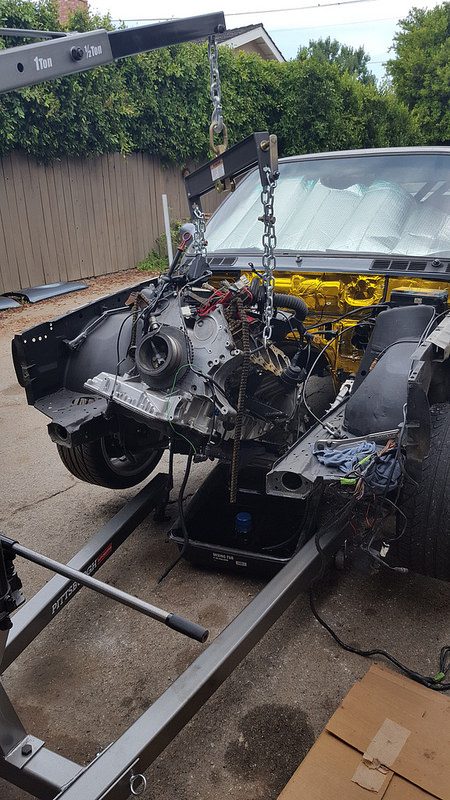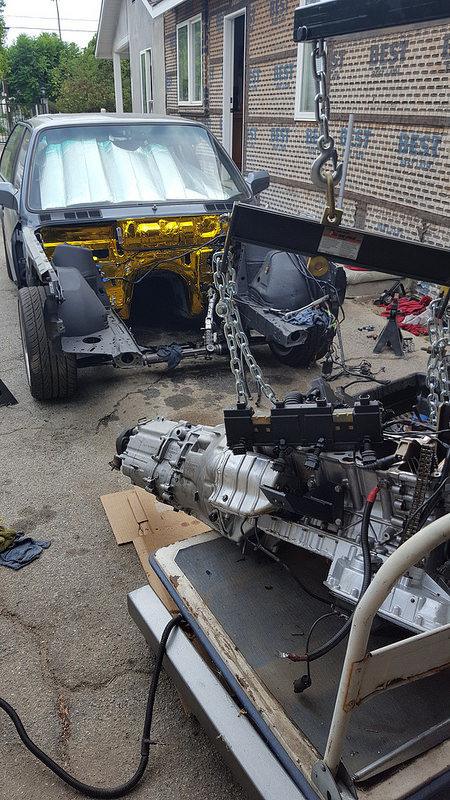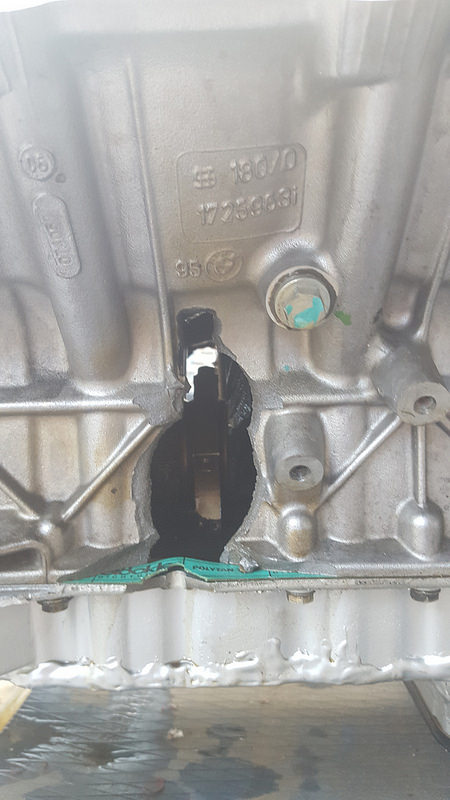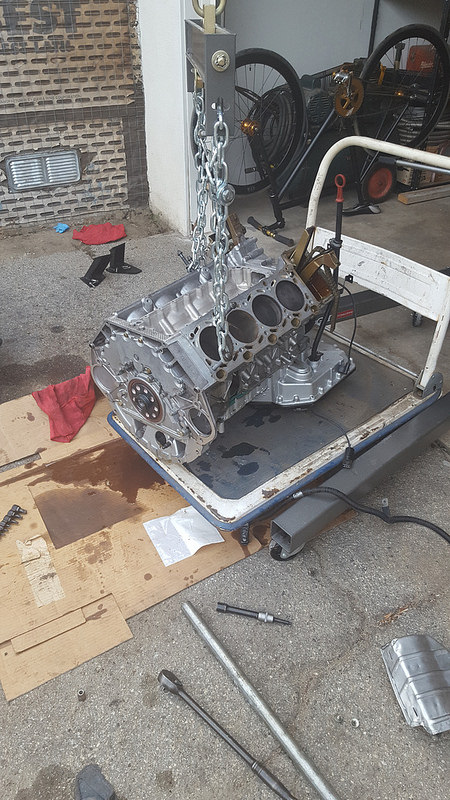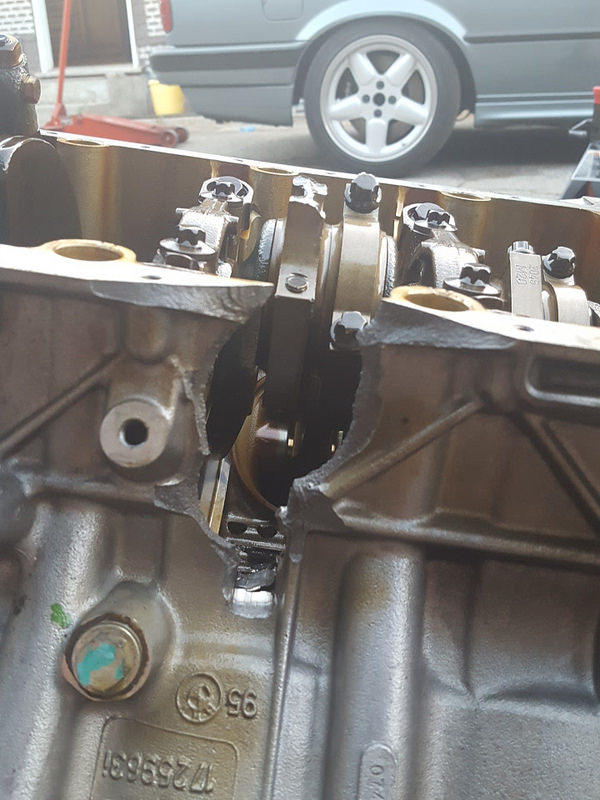 Test fitted the Futura's between breaking down the motor just to see what they look like.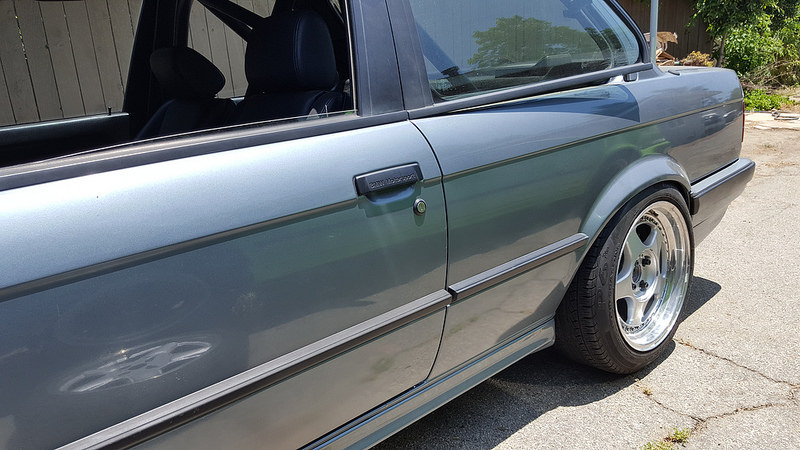 Tore some stuff off the M62 and starting to transfer over parts now... Still waiting on the oil pan to be fixed so I can swap it out and put the flywheel, clutch, and trans back on. Once that comes around this should be a lot quicker.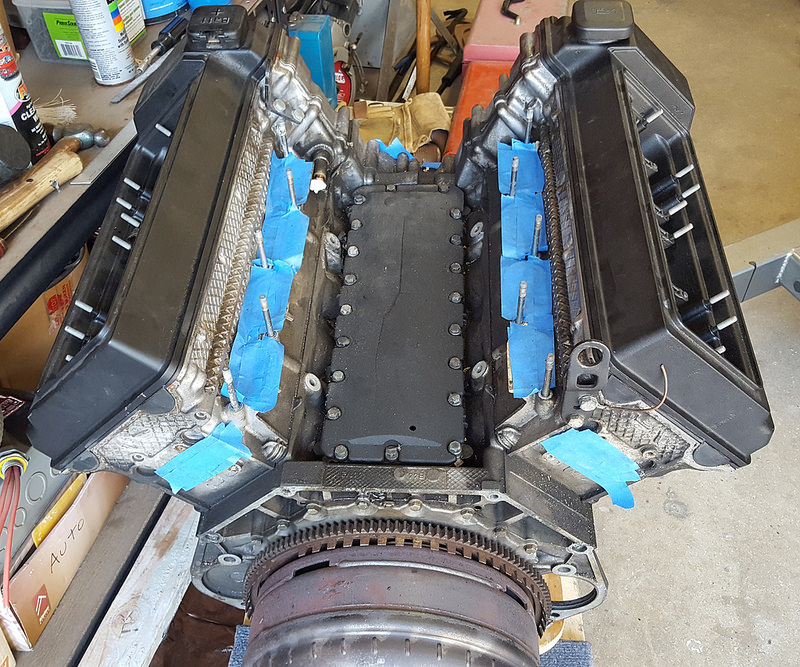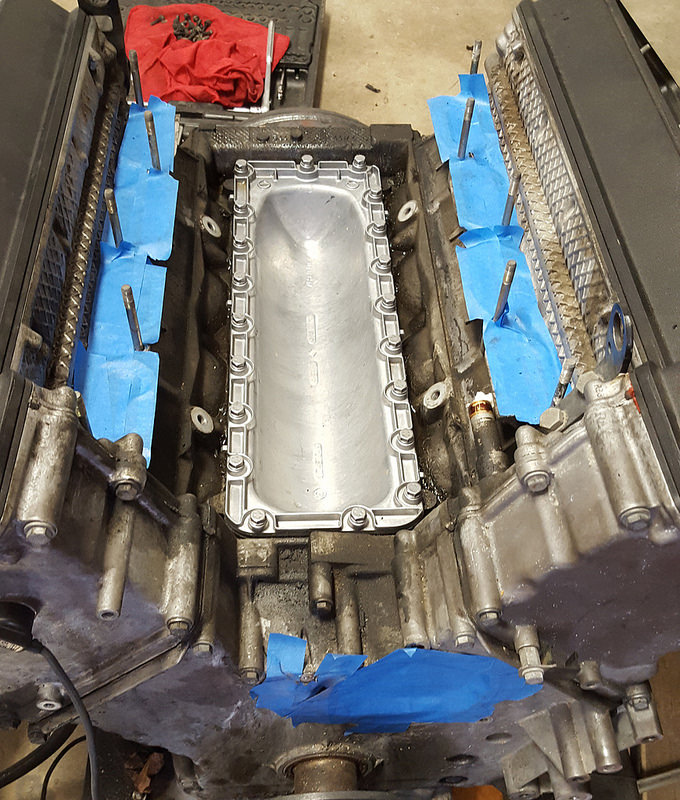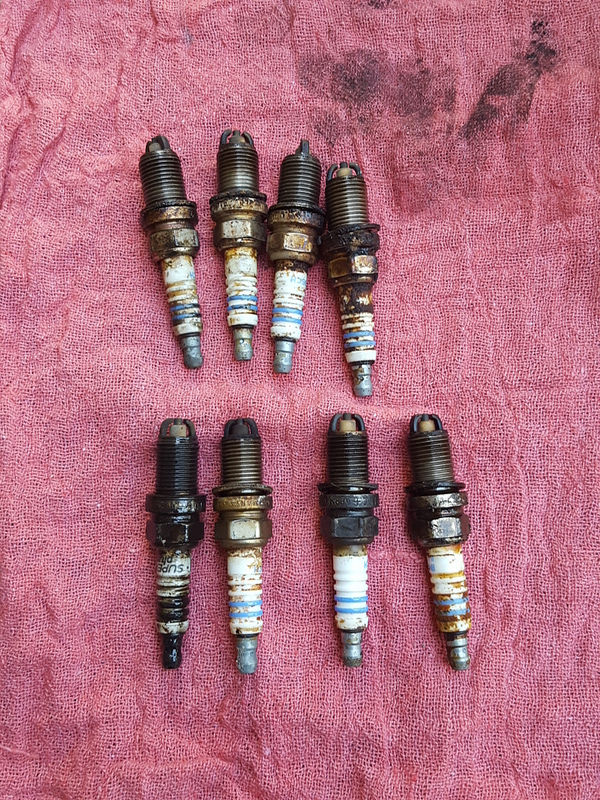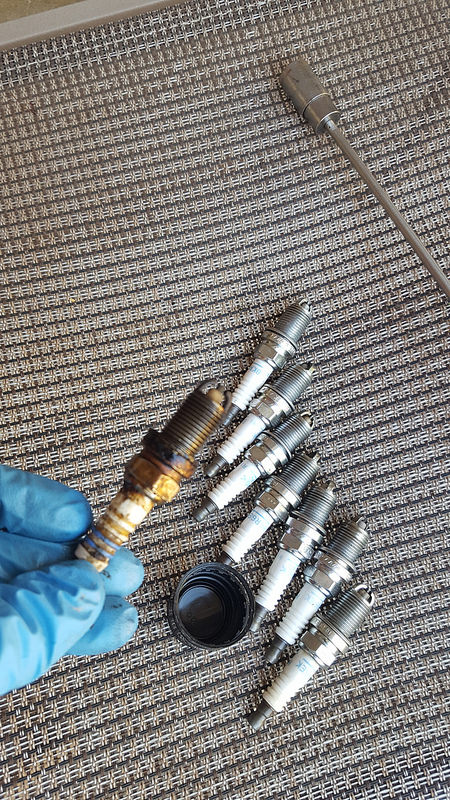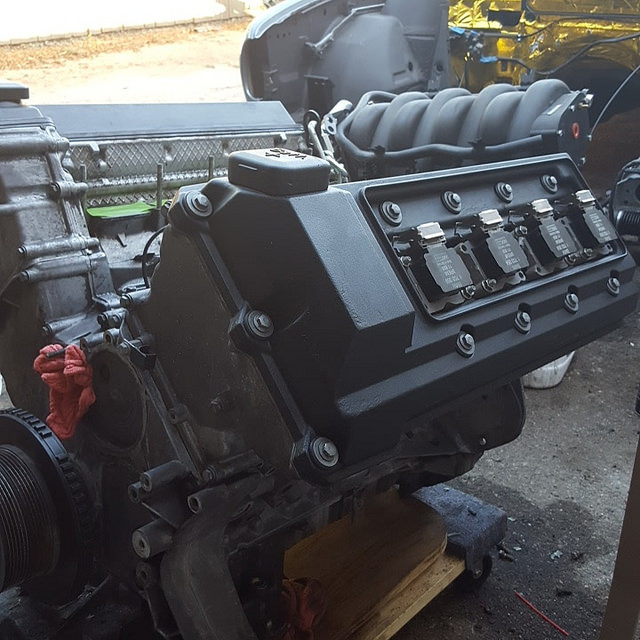 Went ahead and gave the ol gal a wash & wax since its been a while...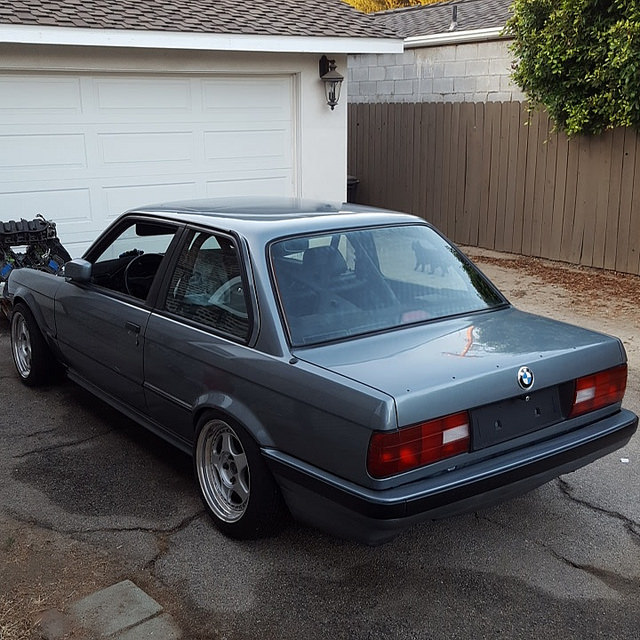 Trimmed the gas lever down & re drilled the 3/8" so it clears the pedal box, wired up my Alpina Gauge, polished my SS exhaust piping, cut outs, and the coolant piping for kicks..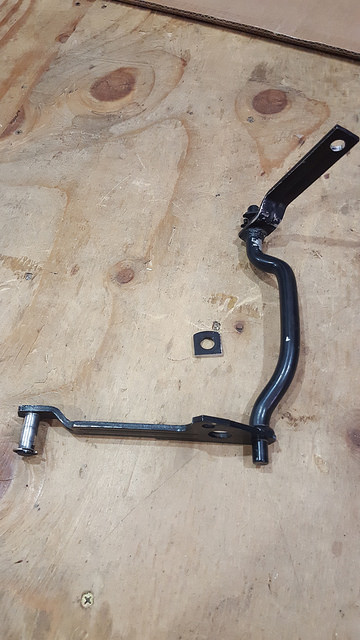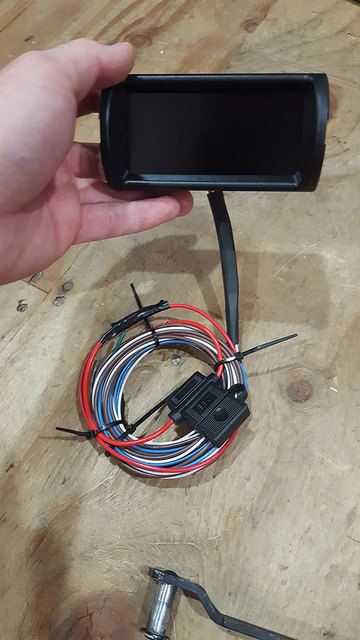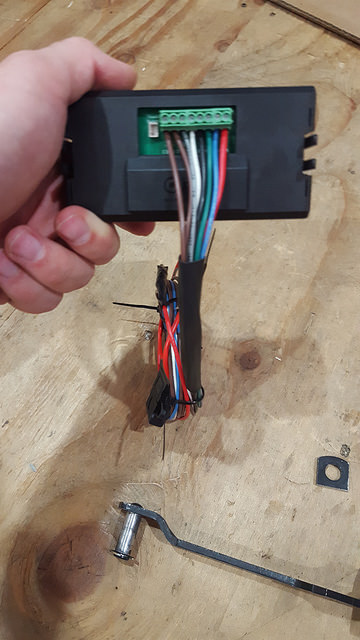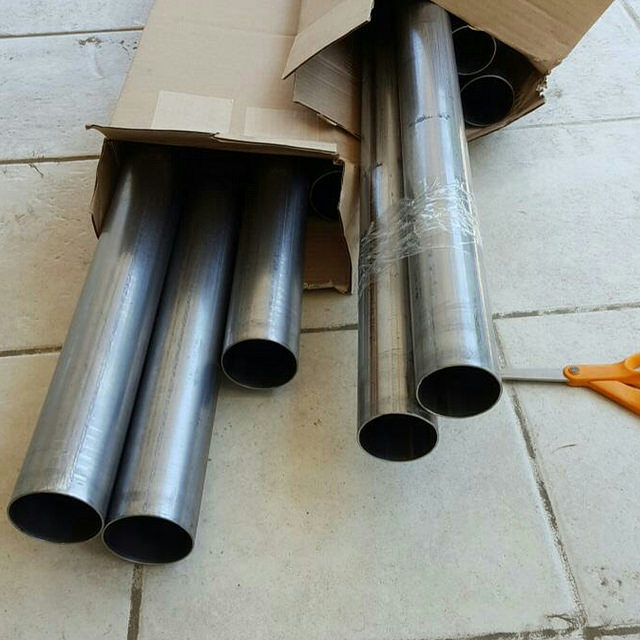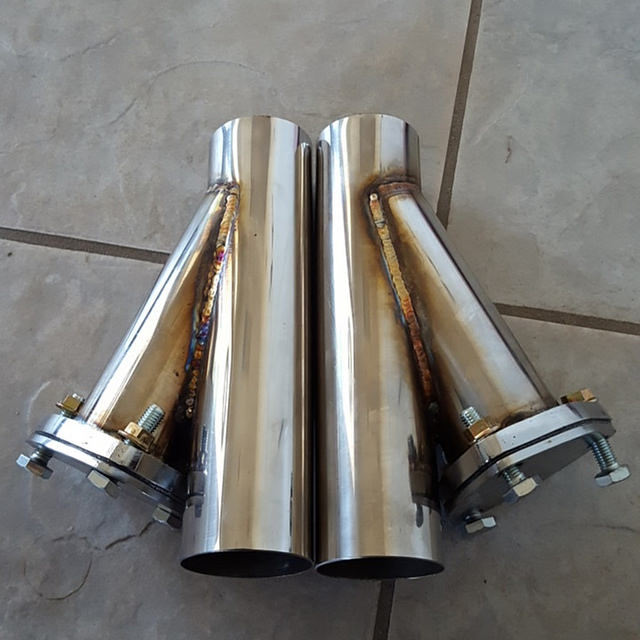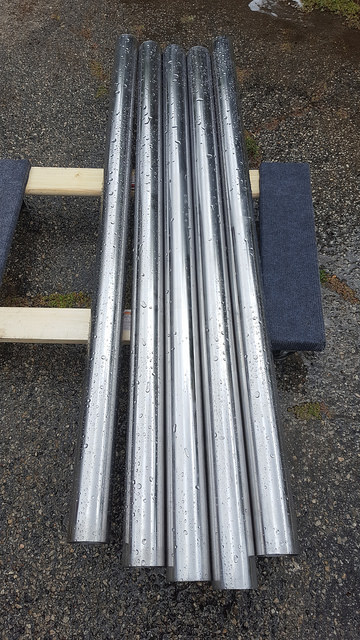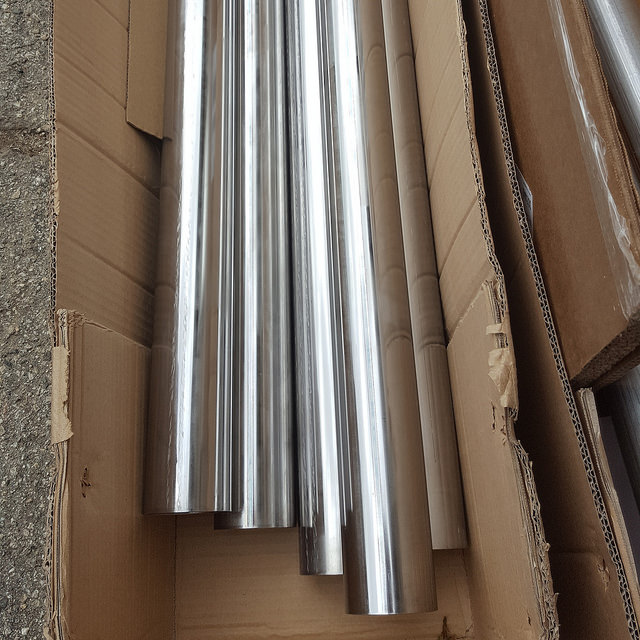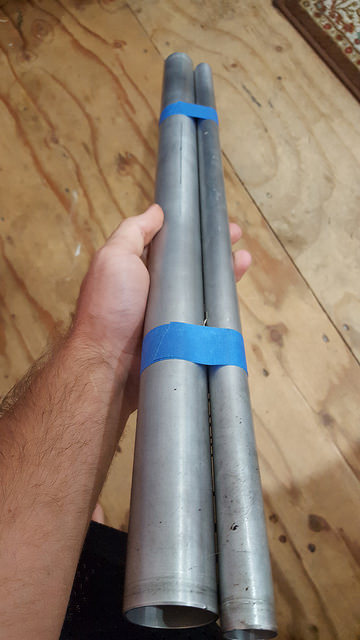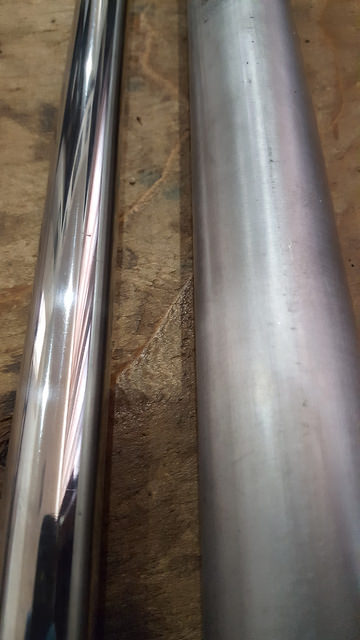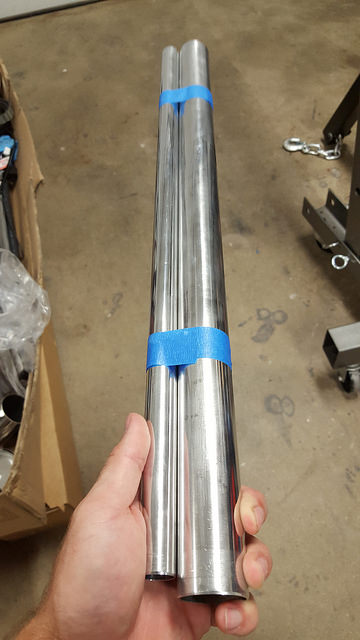 So hopefully once the oil pan is finished and I re-tap the rear coolant cross over pipe for the water temp sensor. Motor should drop back in and have less issues this time around, fingers crossed.
10-24-2016
So before my hiatus from the e30; I pieced together the AN lines for the catch can, tapped & timesert'ed the timing cover for the CPS bracket, swapped on another oil pan, notched the steering rack for the joint, wrapped the exhaust manifold, polished the exhaust nuts, and some other random stuff.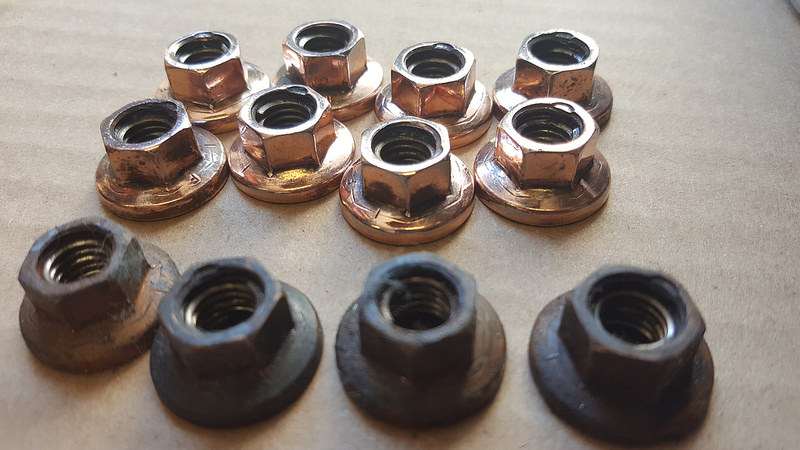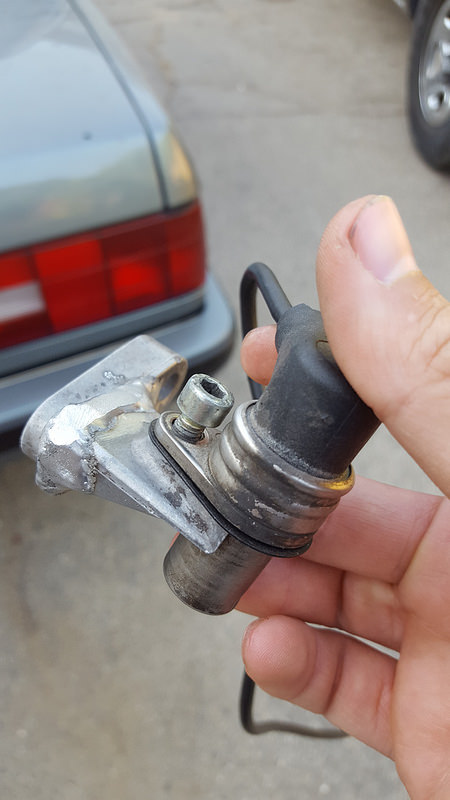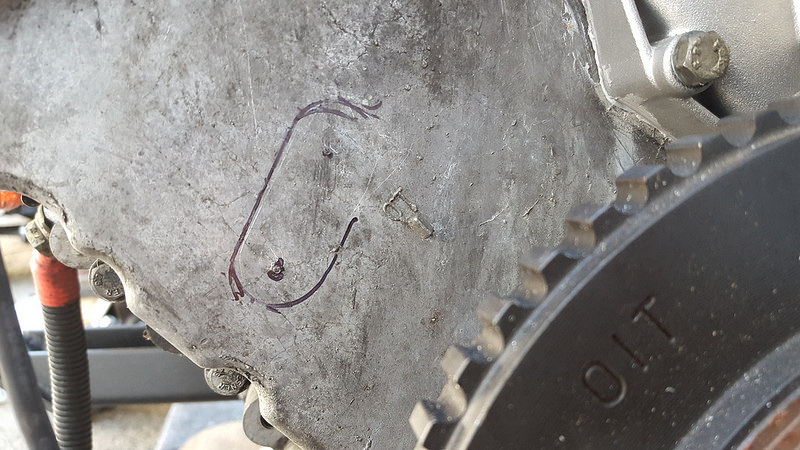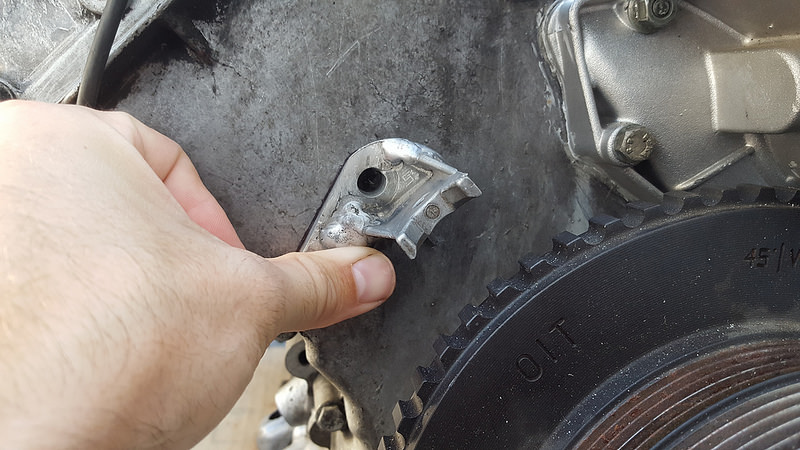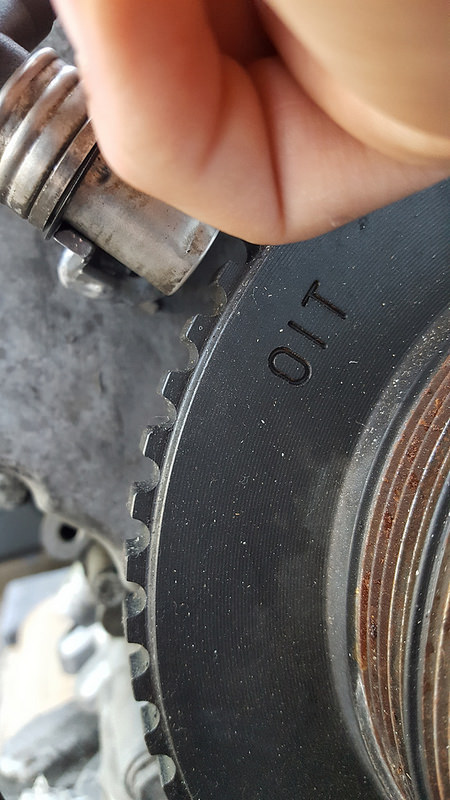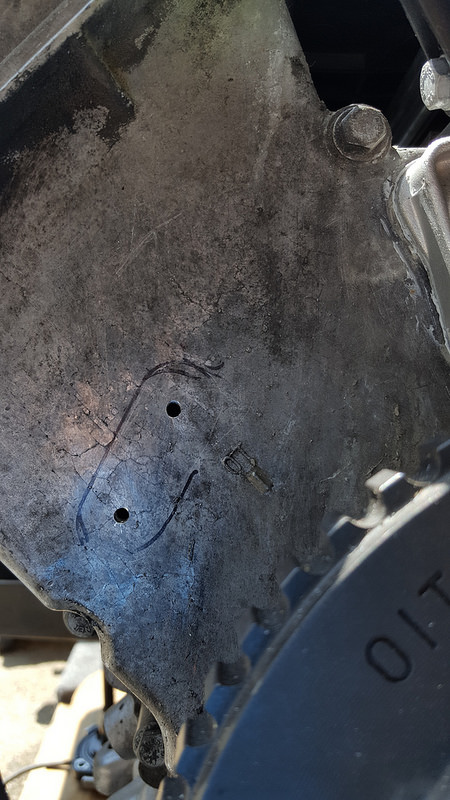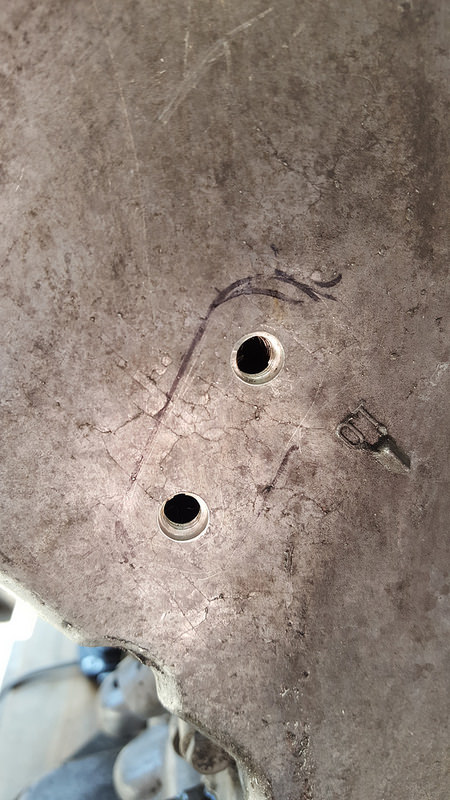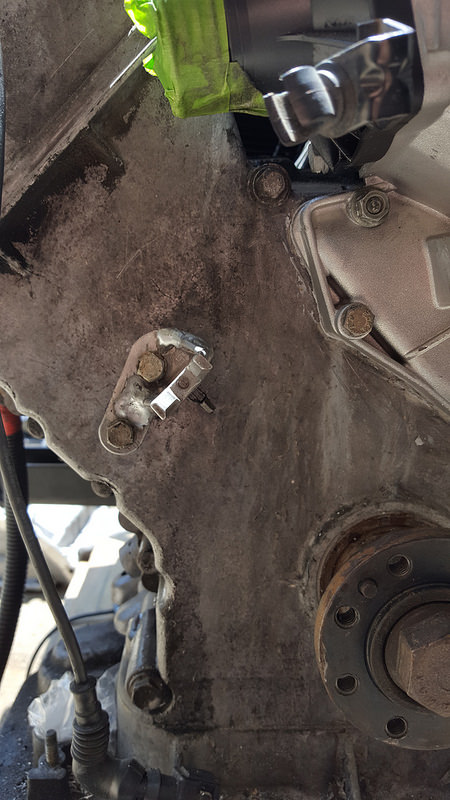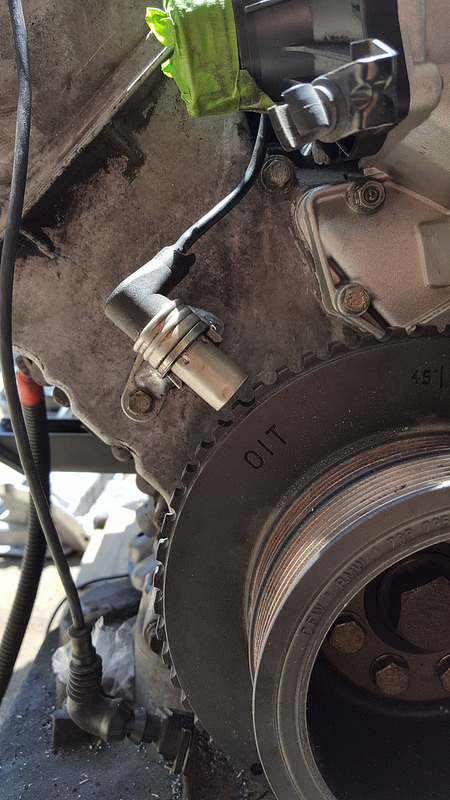 Welded a fitting onto the coolant pipe for my water temp sensor on the alpina gauge..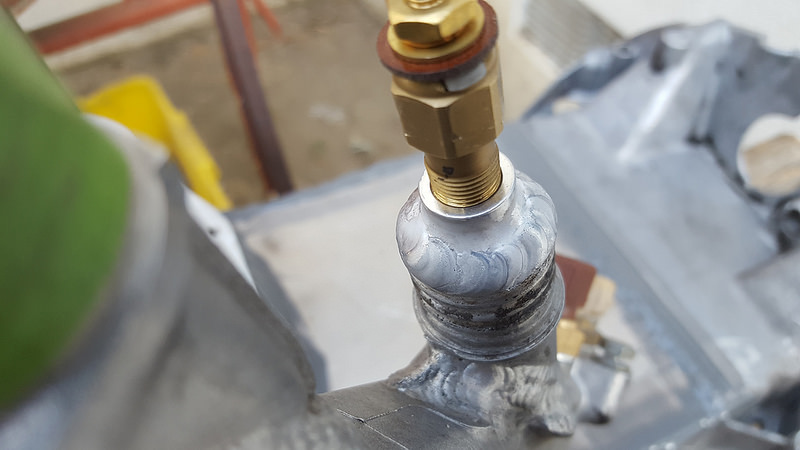 Put the AKG shifter in & made the shift selector..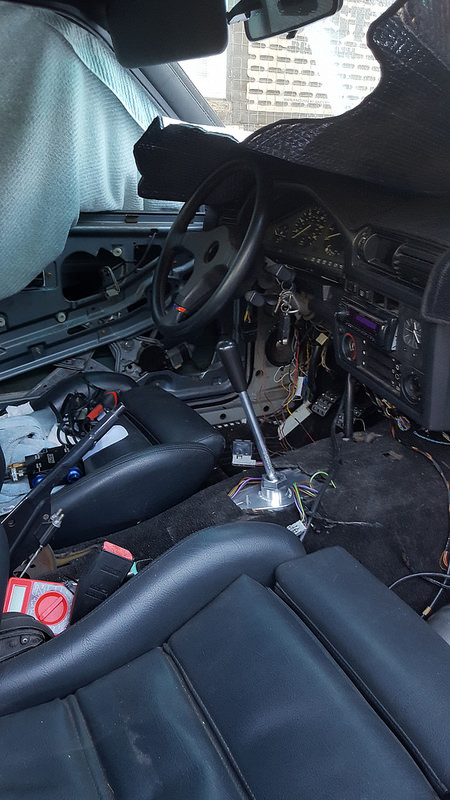 Then moved onto the OCC & AN lines..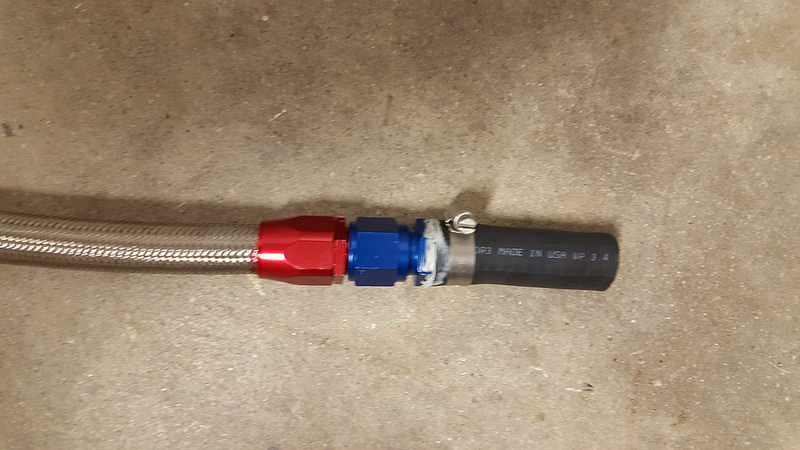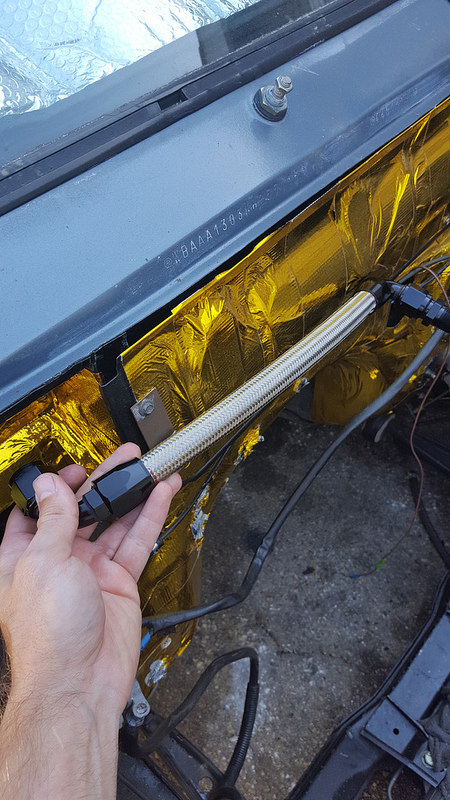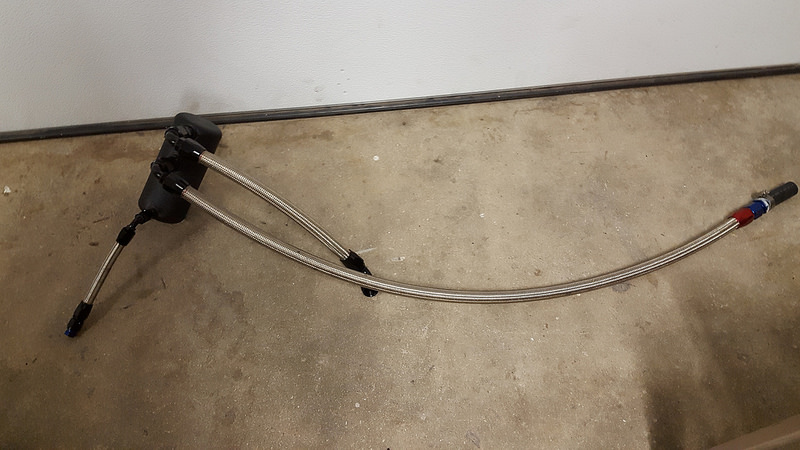 Swapped out the old oil pan for the modded one..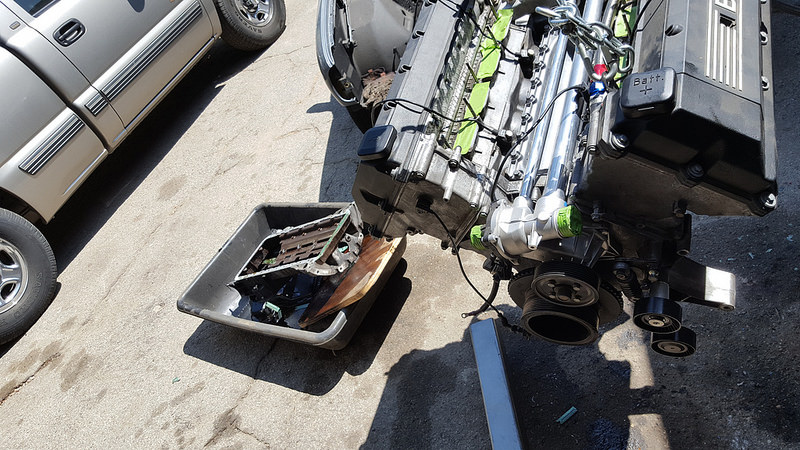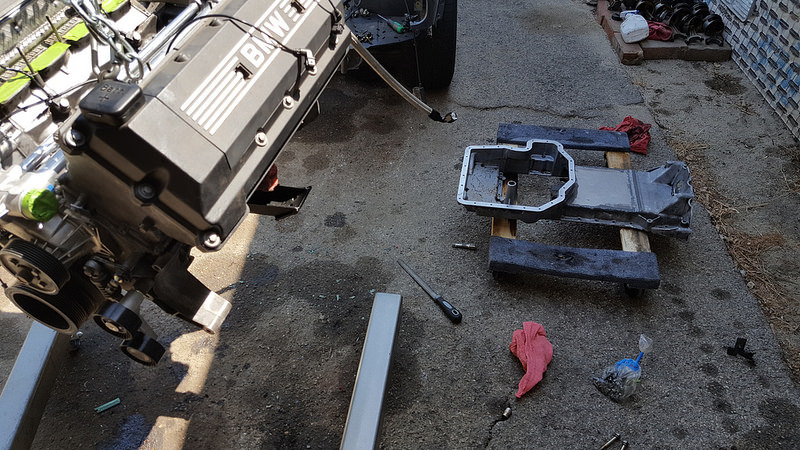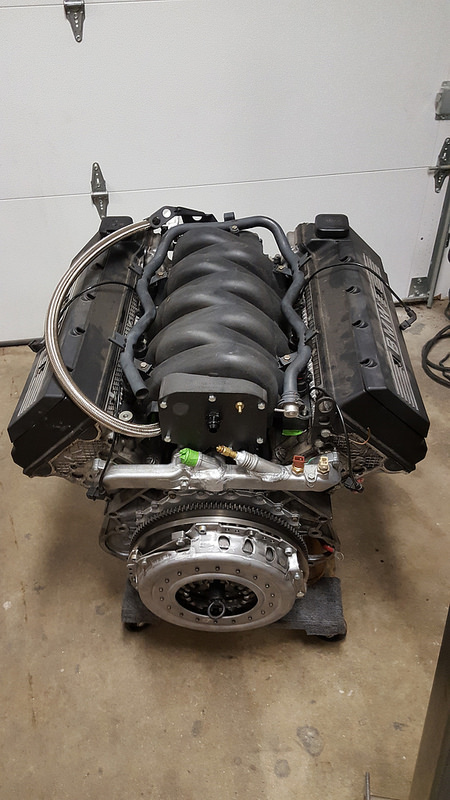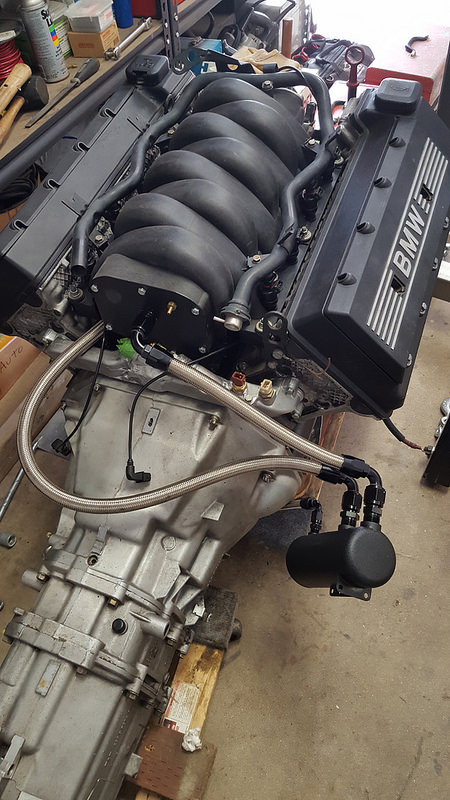 Notched the rack...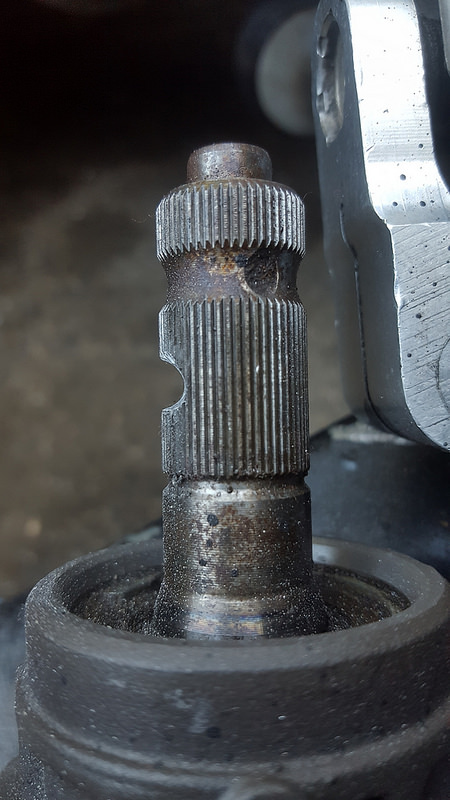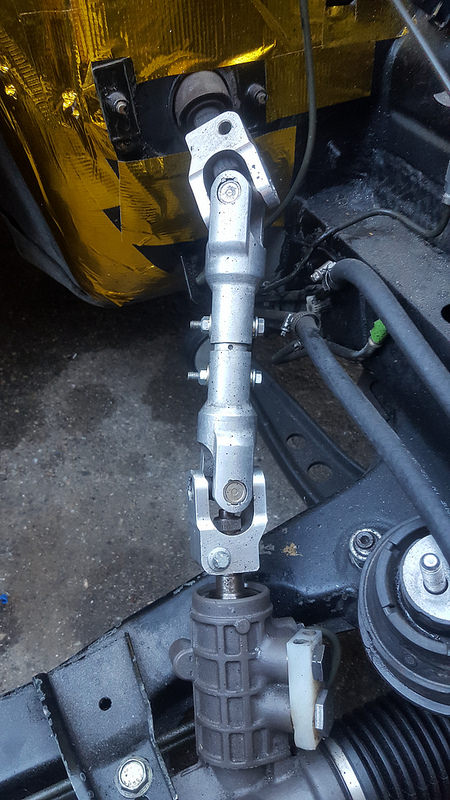 Dropped the motor back in...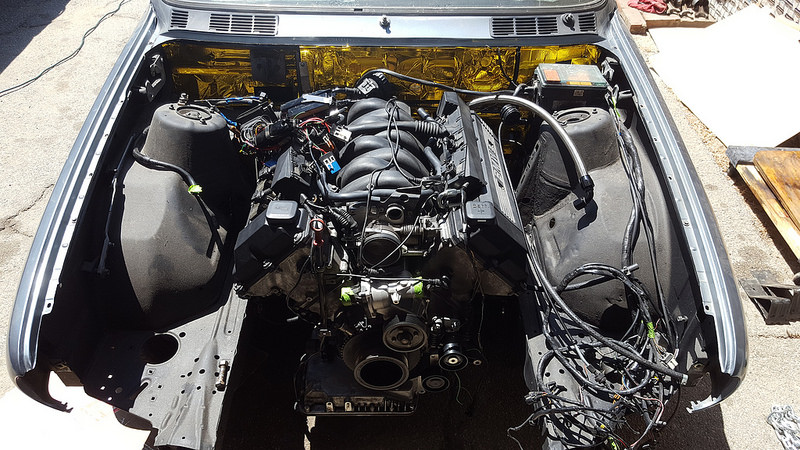 Acquired a TIG & MIG after someone who was supposed to do my welding took another 4 weeks when they promised 3 days. Got fed up and bought my own stuff to learn, still haven't gotten around to getting argon but its not priority #1 at the moment..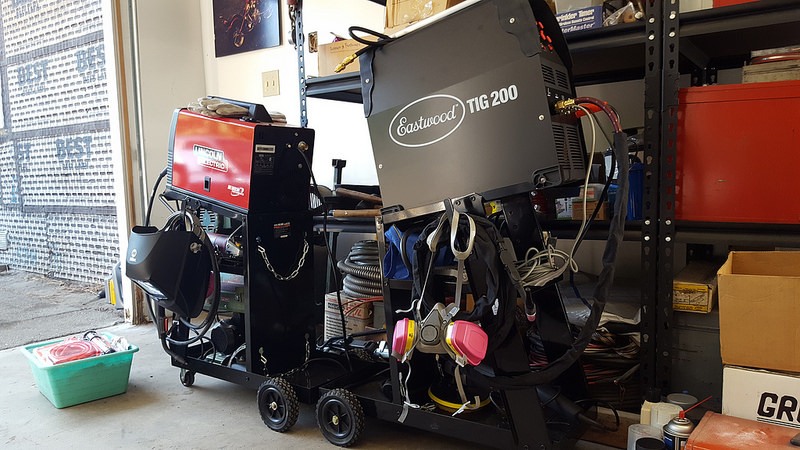 Then I picked this up off a buddy who wanted to part it out, didnt overheat just had small issues which I could handle. Got it for $700, found some ACS on clist a few days later and switched them out. Went ahead and buffed the oxidation off the headlights, candied the tails, bought an m3 bumper painted it and slapped some fog lights on it..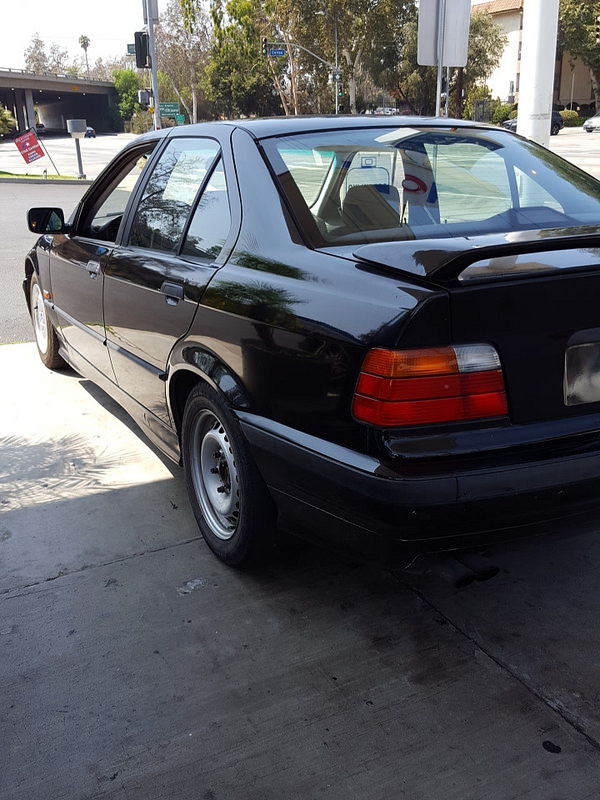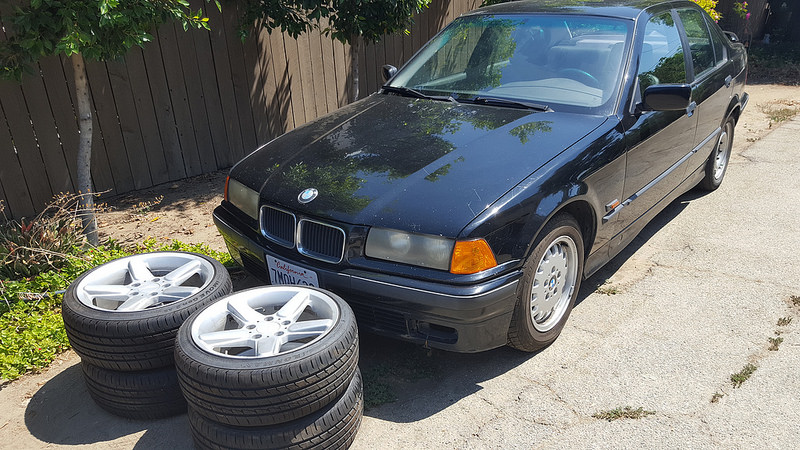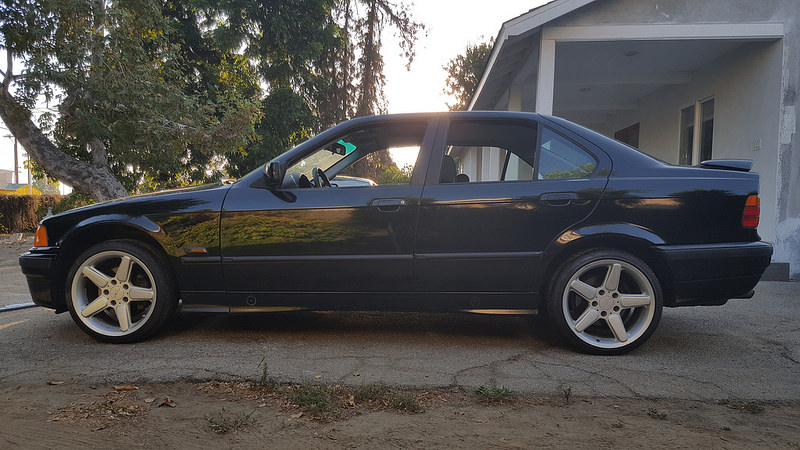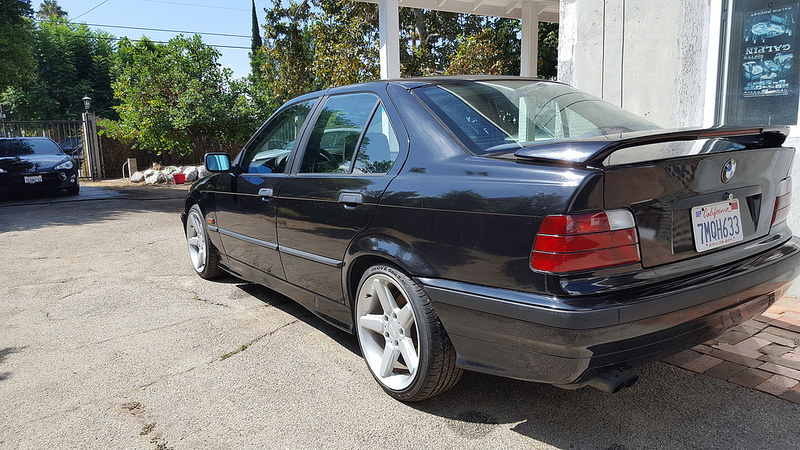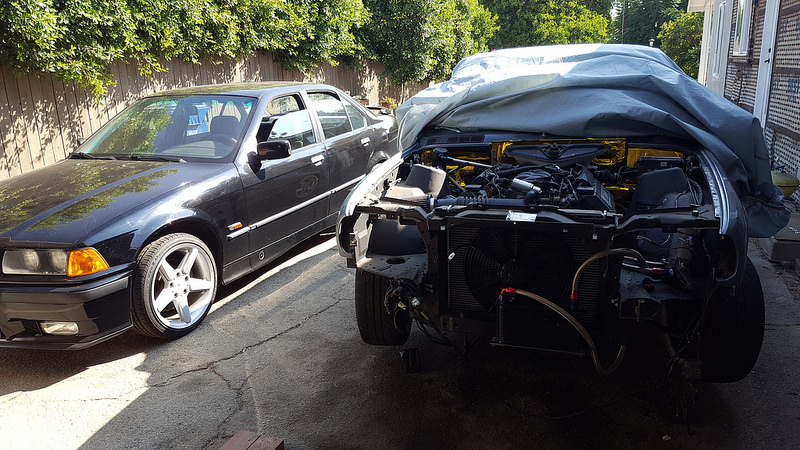 Polished up my ACS for the e30 since theyve been sitting for 2 yrs..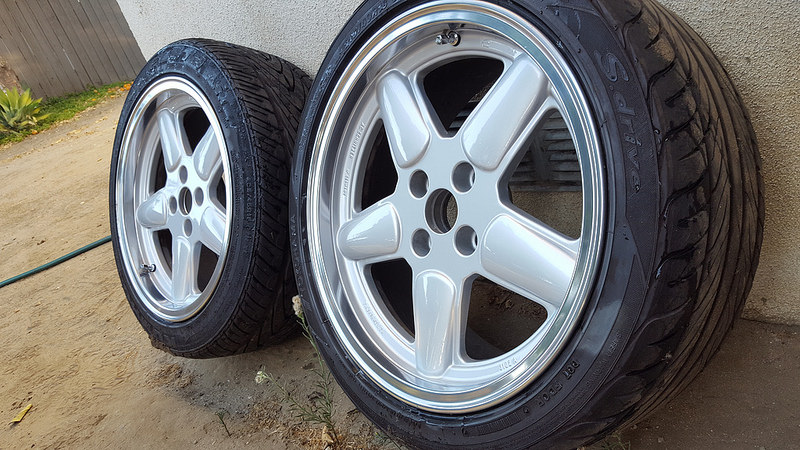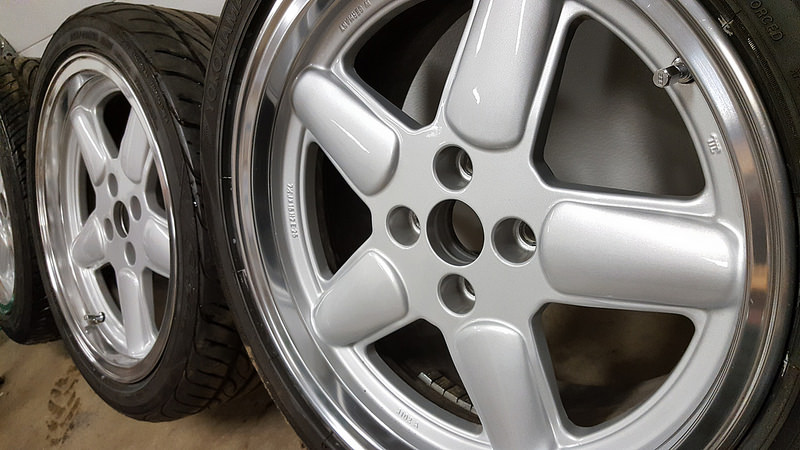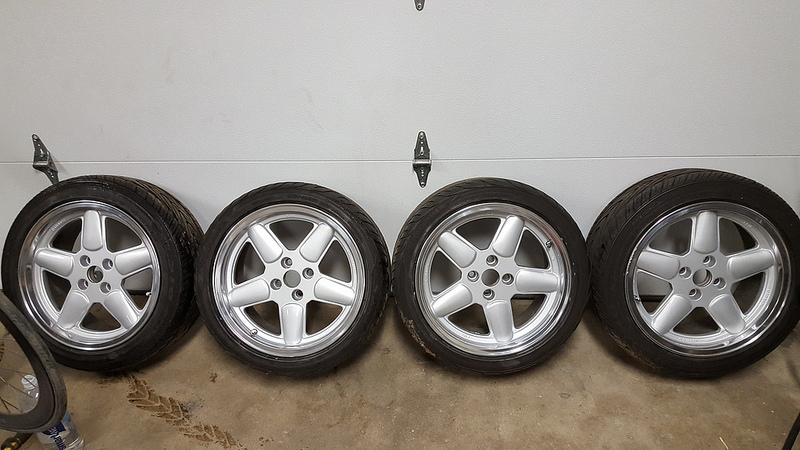 Got these ACS caps for $25 off craigslist for when i powder the 17s

))) STEAL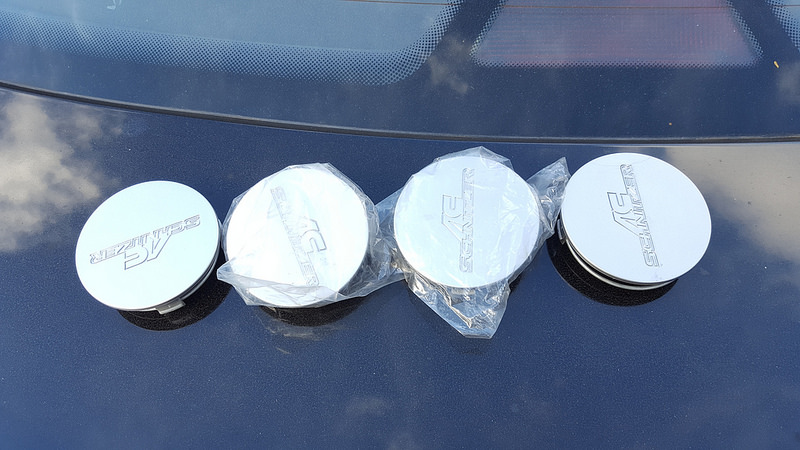 Got my tach splitter from Garagistic...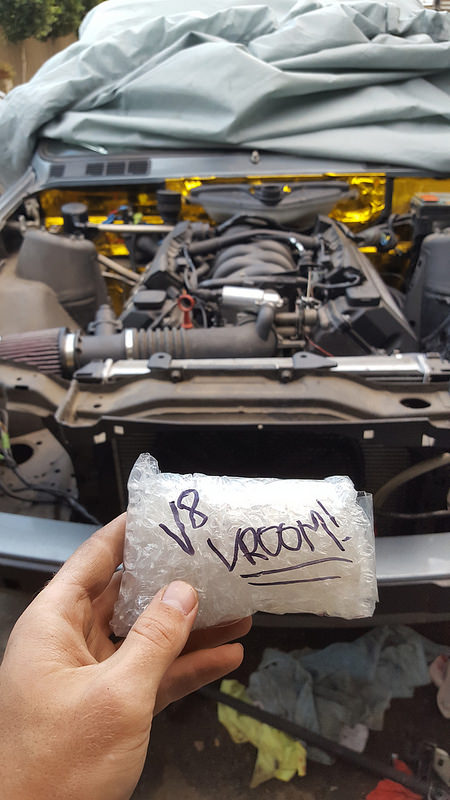 Pieced together some coolant hoses, at the moment this is where I've left off, I need a few clamps, a hose for the overflow tank, and the exhaust to be fabbed up. I'm planning to take it to Castro soon to have the final touches put on it & drive it home for my bday.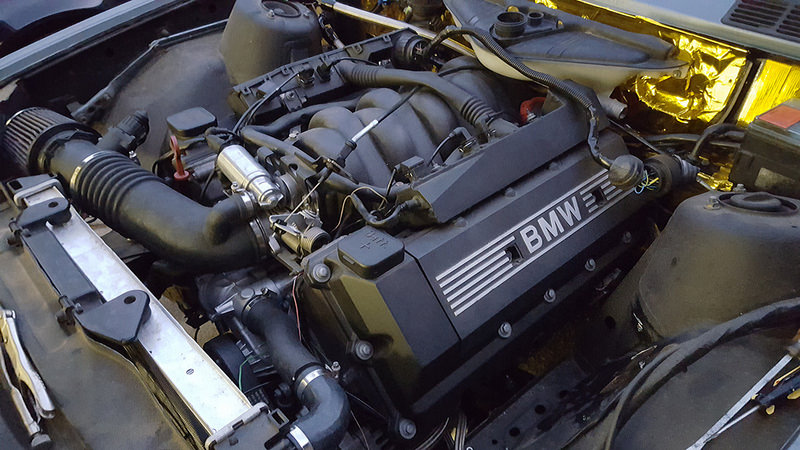 LAST but not least the moment some of you have been waiting for.... the first start up after so long. This put the biggest smile on my face, also made my ears bleed (almost) my neighbors across the street just stared at me down my driveway like "this asshole..."

I'm not sure how to embed Flickr videos so heres a link...

https://flic.kr/p/N5sdS9
12-8-2016
Finally got some new turn signals since mine cracked.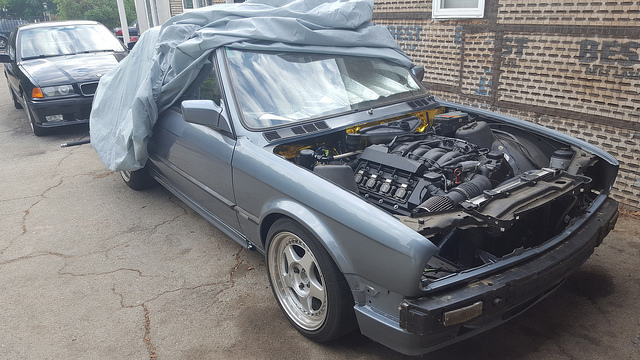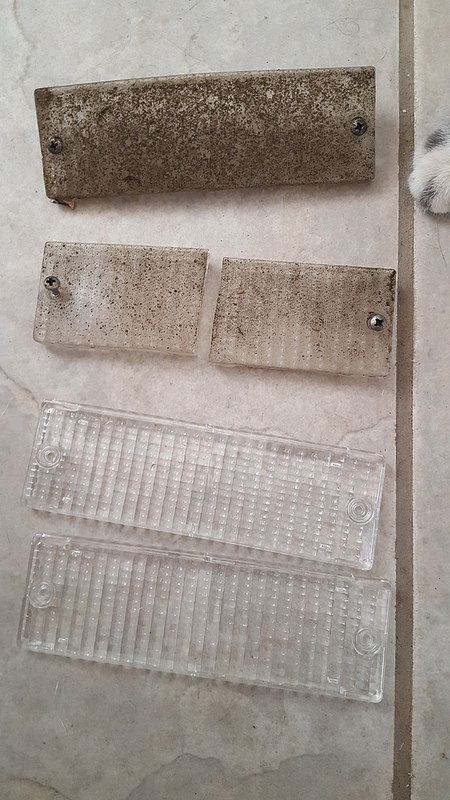 Made a panel for the backseat to clean some things up a little. Cut out of 1/4" ABS plastic, eventually cover it with a carpeting.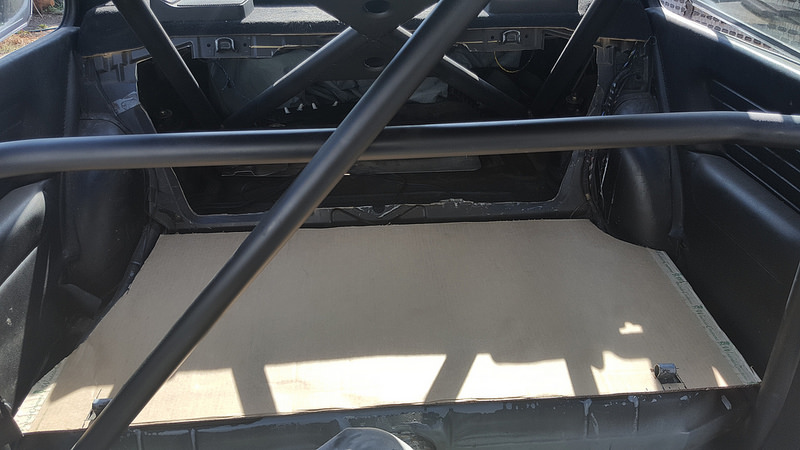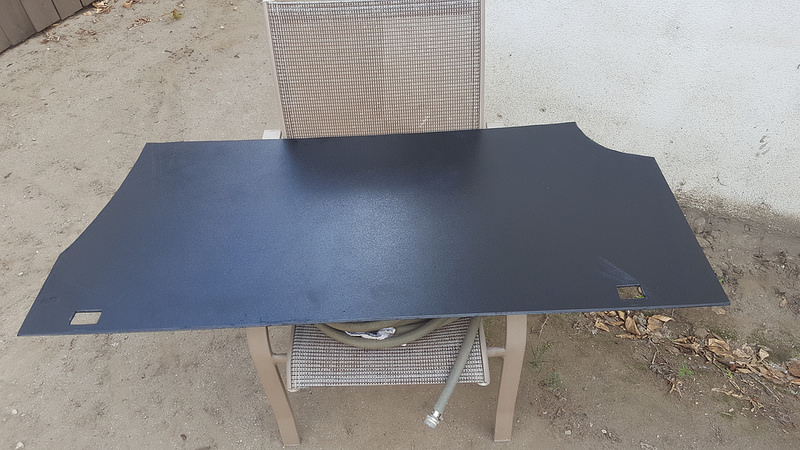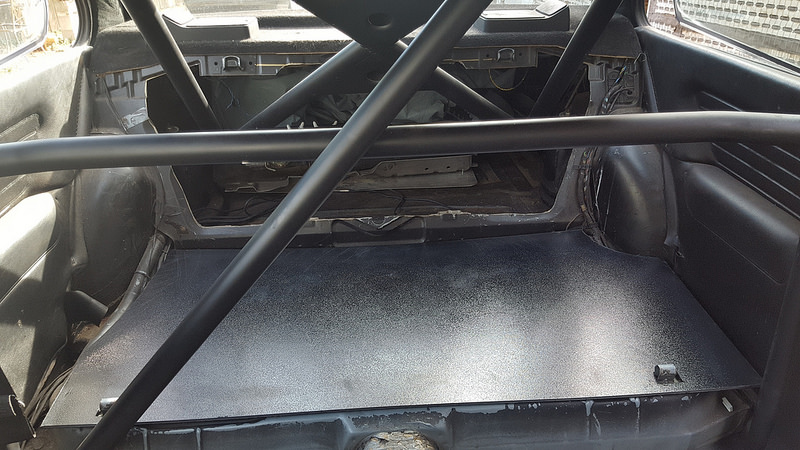 POR-15 coated the floorboards & replaced all the plugs. Picked up a grey carpet & some seats, then cleaned out the trunk seam sealer for the delete, welded it in place, coated it with POR-15 and waiting to seam seal it, and coat the trunk again. Also wired in the Alpina vent gauge none of the sensors are currently hooked up yet. Added a second light to my trunk.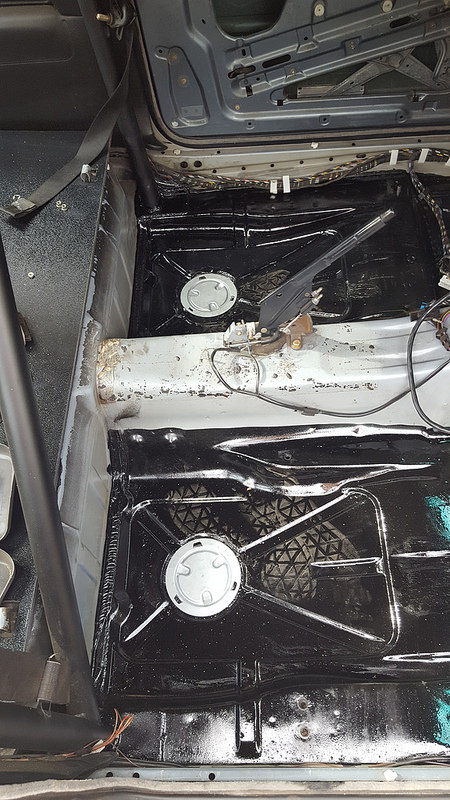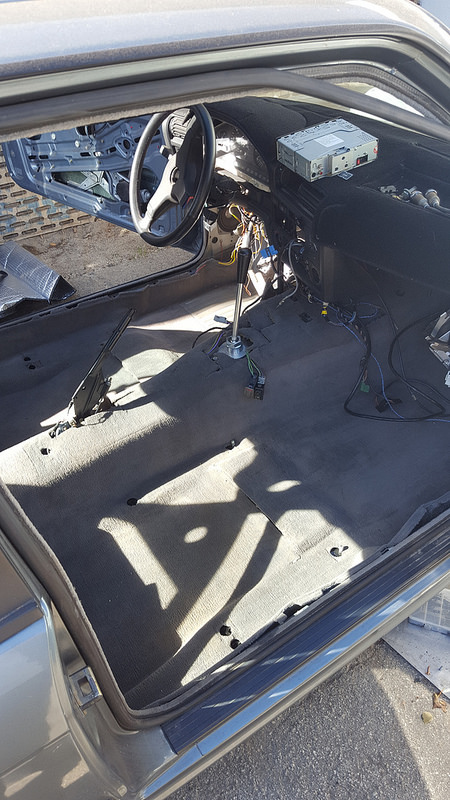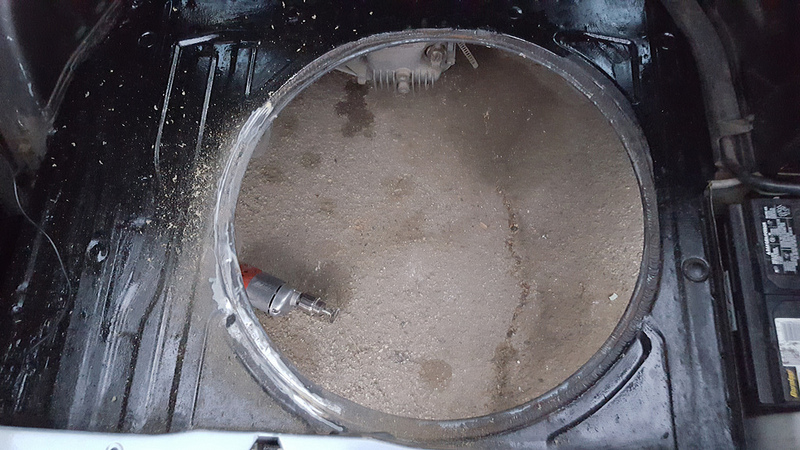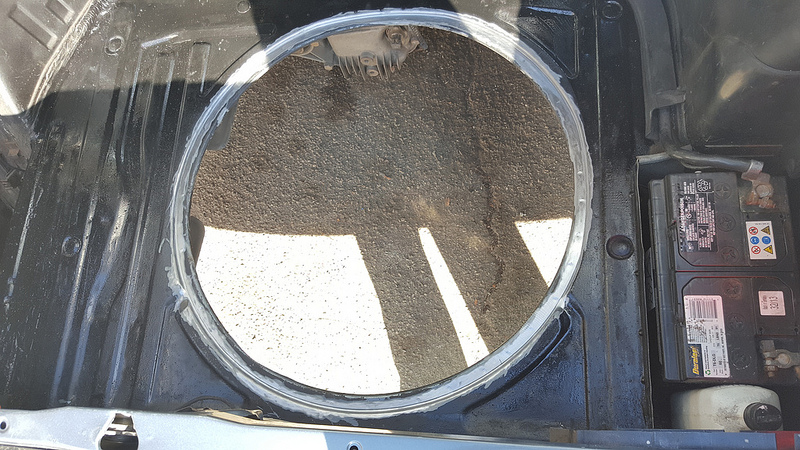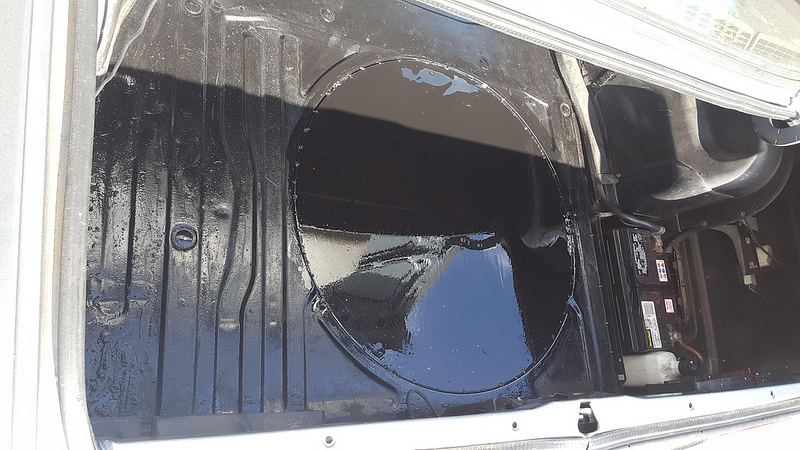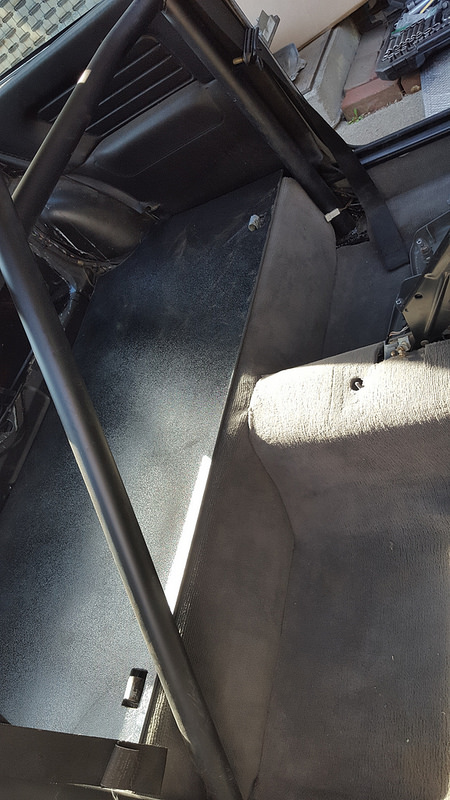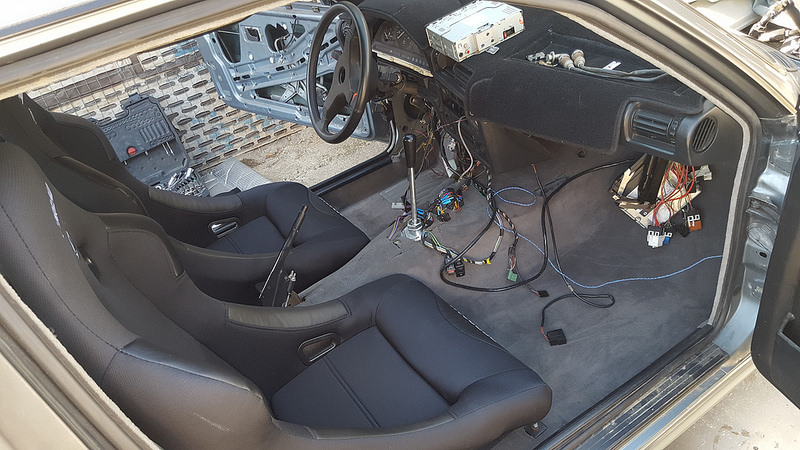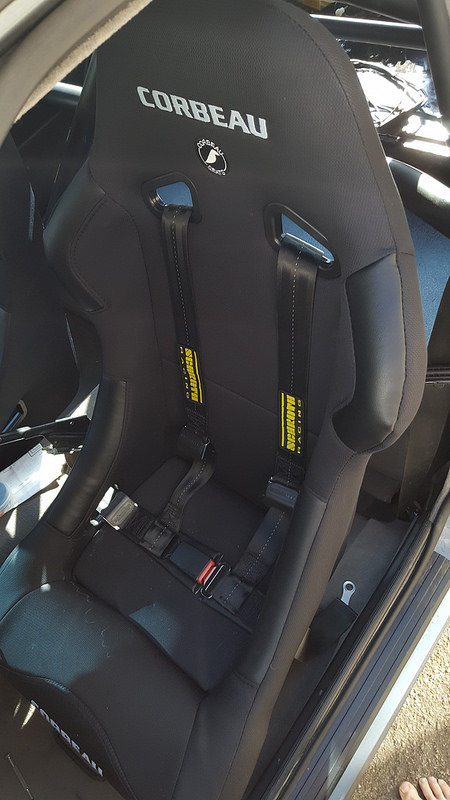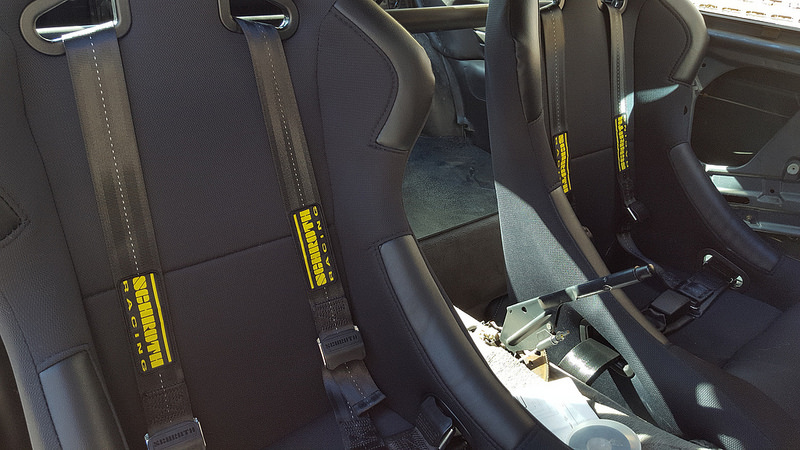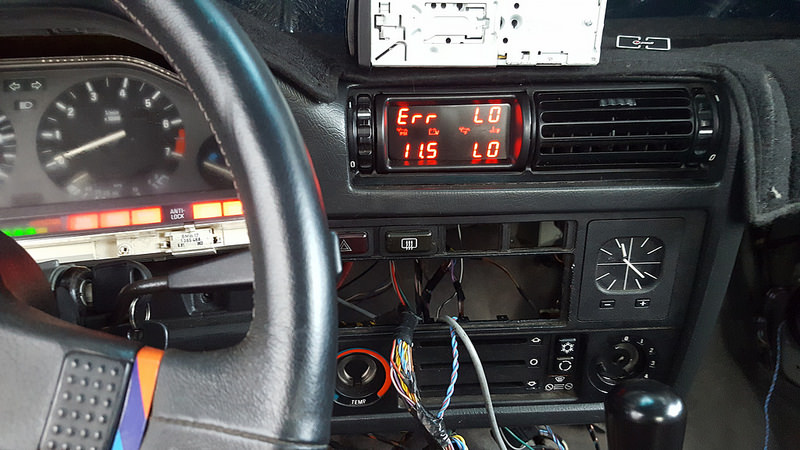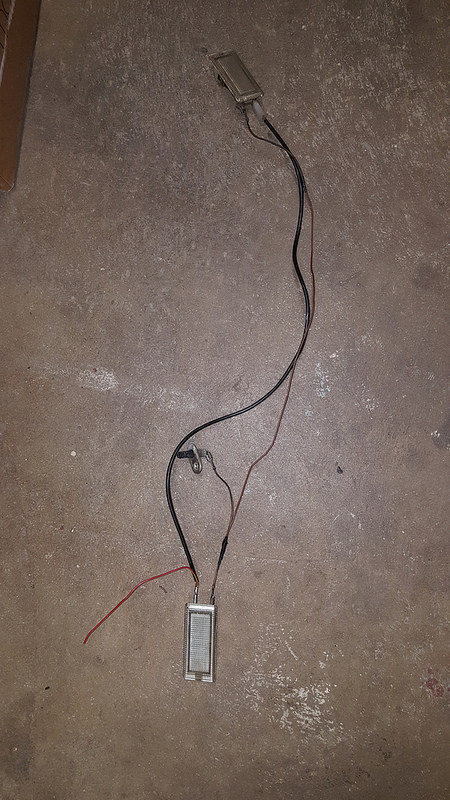 Added the M3 battery cover; had to trim it a little bit and changed the OCC lines to straights since the 90s hit the cover.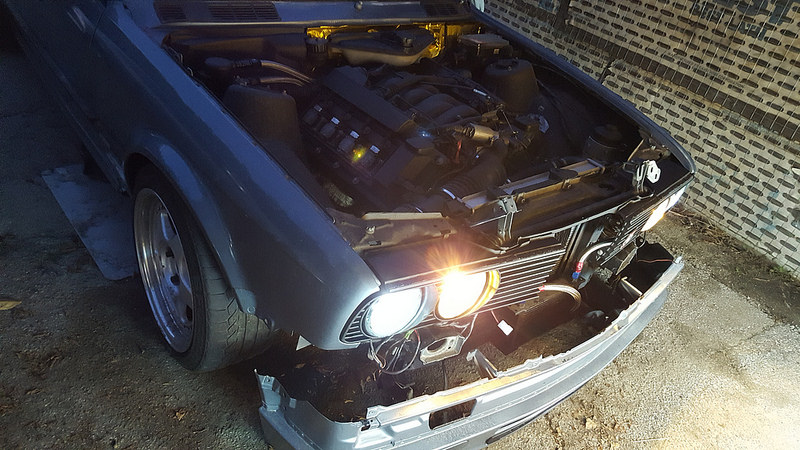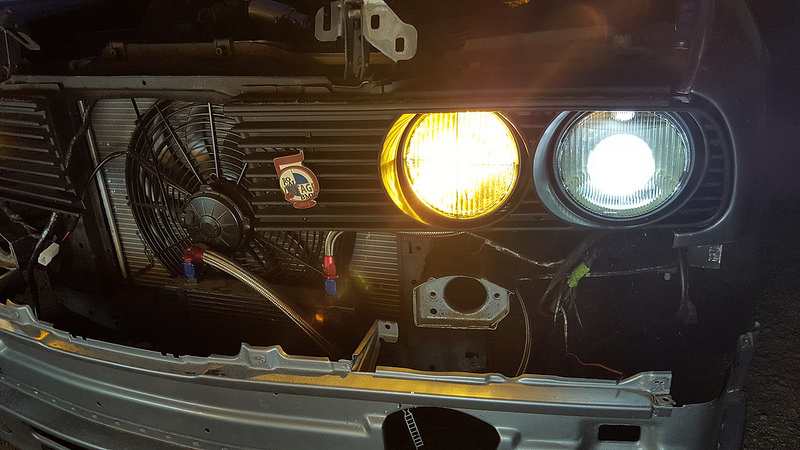 Removed the return line for the oil cooler and added my sensor block for the Alpina gauge, then made a little tab for it and mounted it along the frame rail. Wheel seems to clear the line no problem so hoping for no issues. Still haven't gotten around to grinding out the skid plate mounting plates, but will ASAP.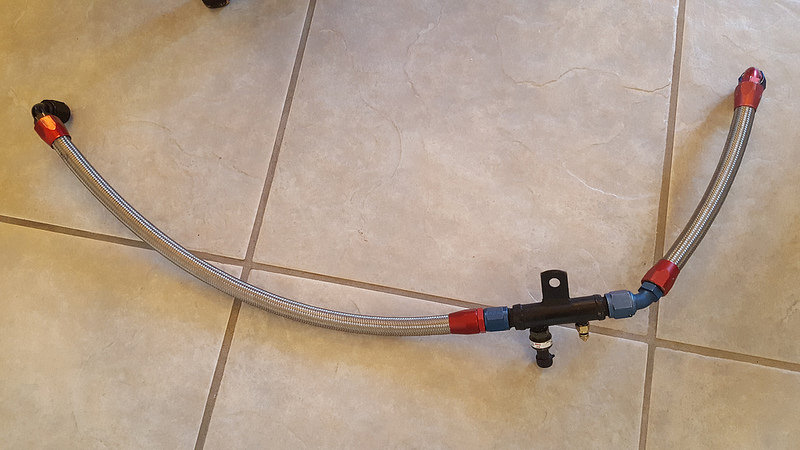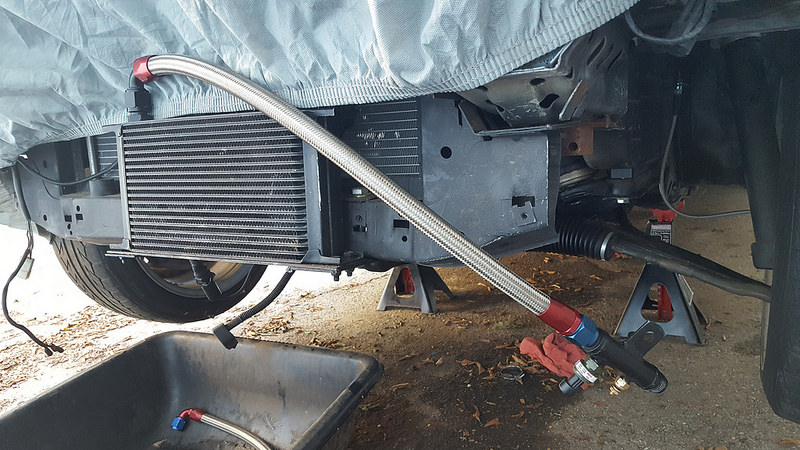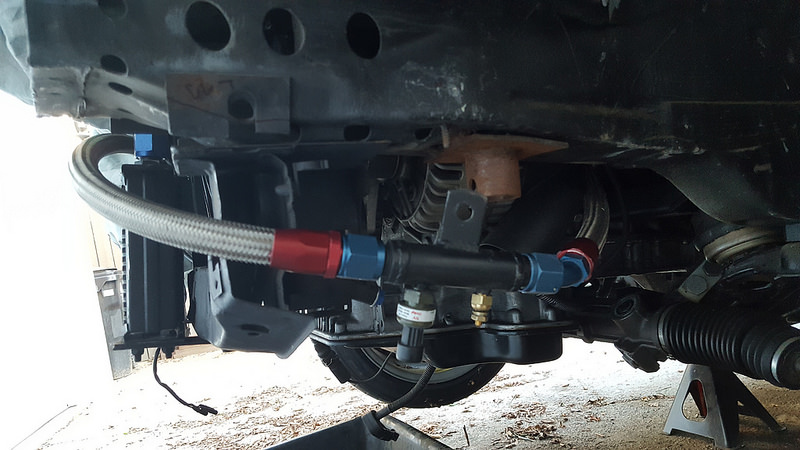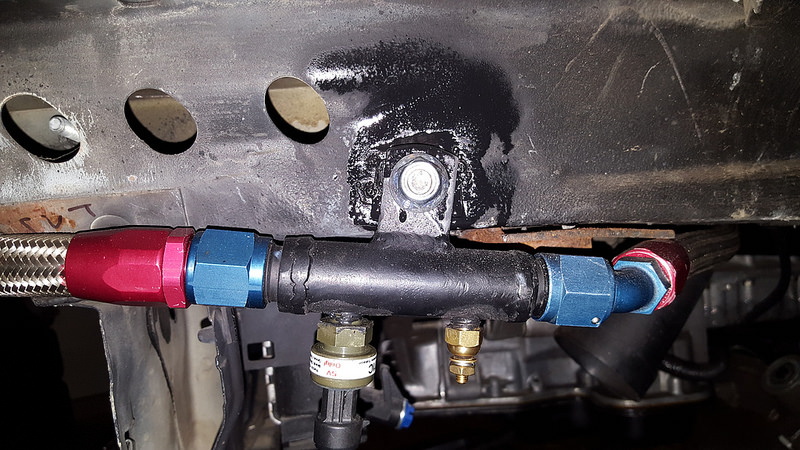 Made some seat belt guides for the harness bar out of a 4' piece of 1/8"; pretty happy with how they came out.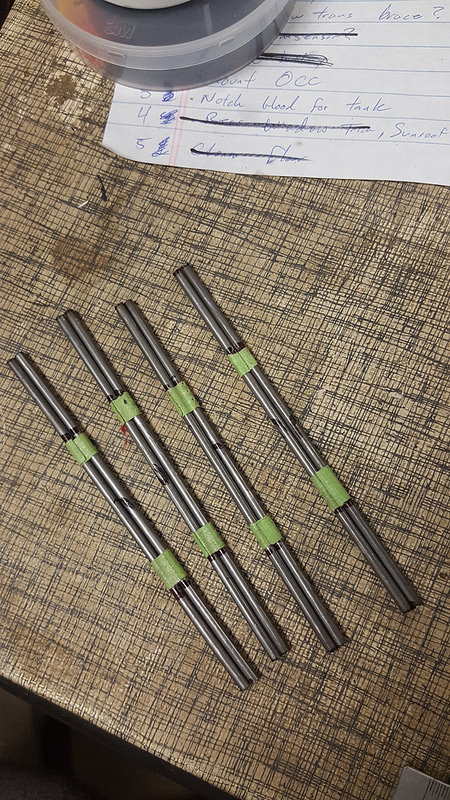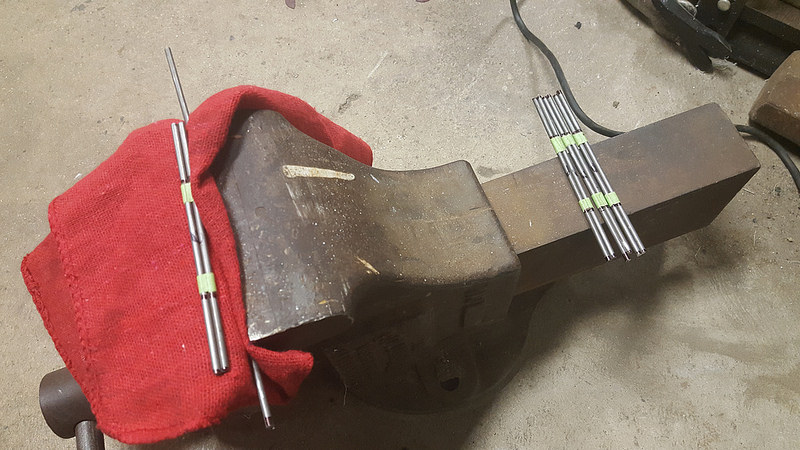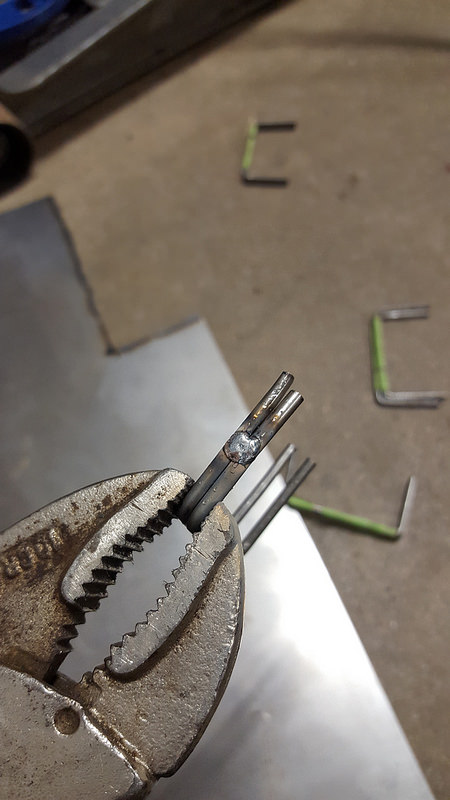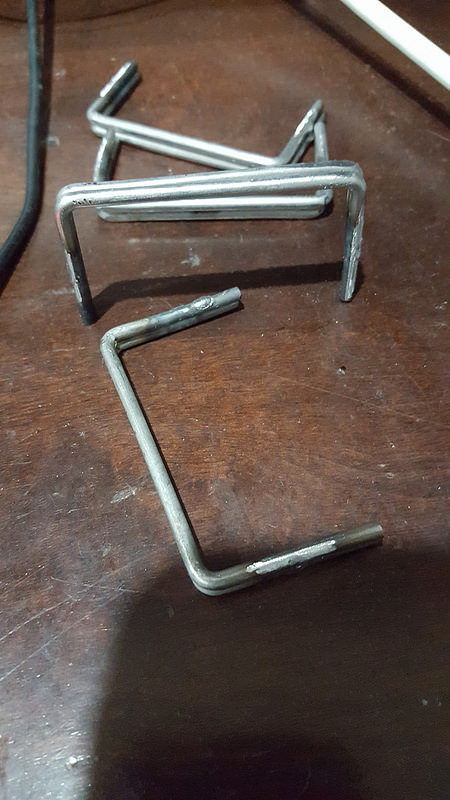 1-30-2017
Well I ended up re making the guides and scrapping the old ones. Went with a 1/8 single bar for a cleaner look. While I was at it I made a gift for my roommates bday to mess with him.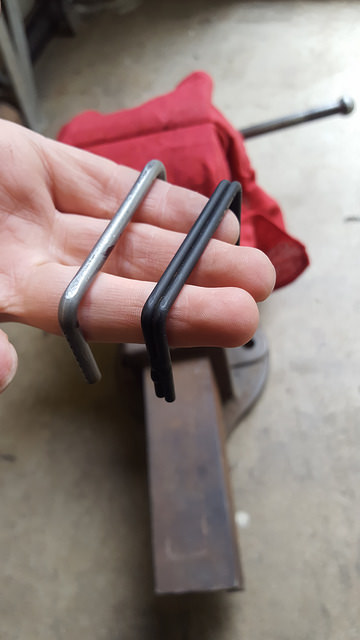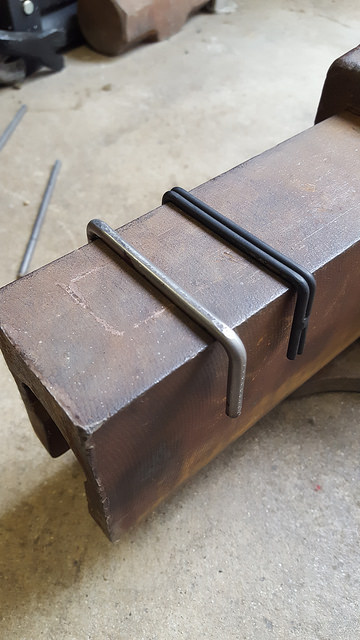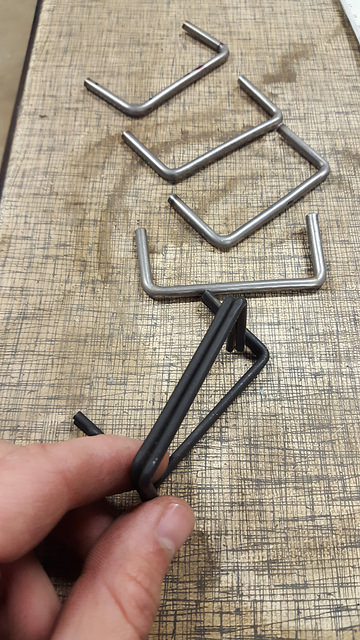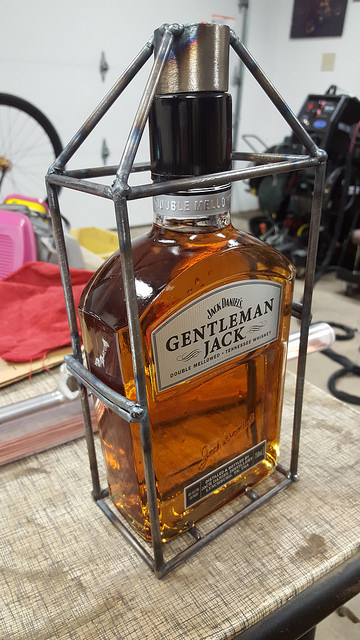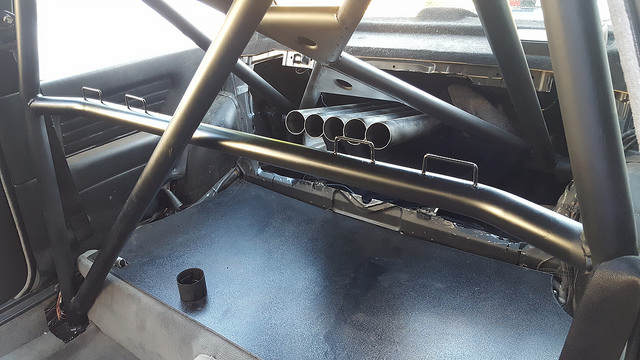 Welded the final bracket in for the OCC just been lagging on getting the proper screws for it. Also re-attached the hood, kinda nice not to have to man handle it on and off lol. Need to give it some TLC and remove the foam but meh that can come later on.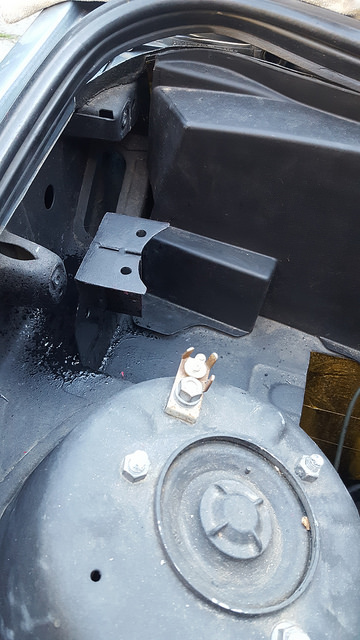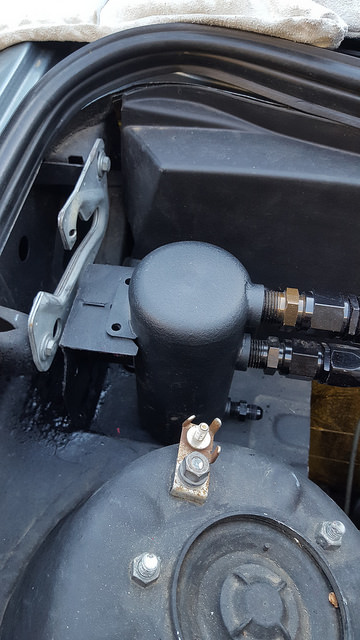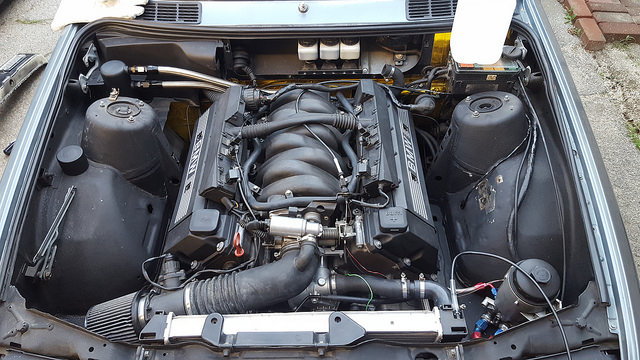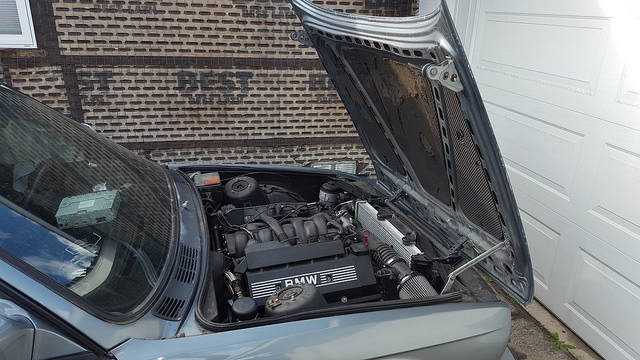 Working on making an airbox to pick up air from where the AC hole is & route it from the brake duct in the front. My buddys supposed to drop off a plastic welder to make life a bit easier. Making it out of 1/4" & 1/8" ABS then putting the heat resistant material to block the side panels from the exhaust manis.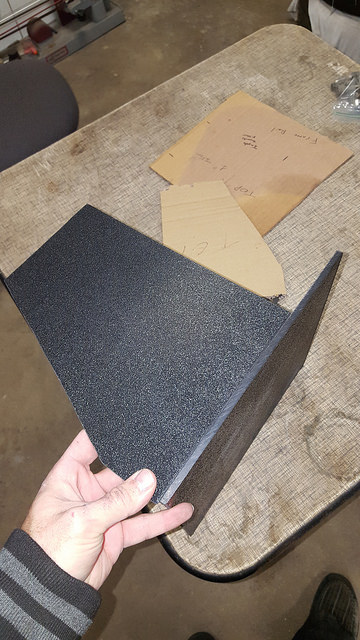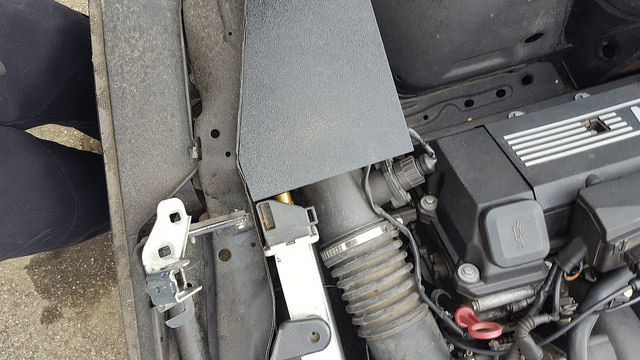 Need to make a few cuts & fill the holes on the right side of the engine bay. I got the seat harness bolted in place, need to borrow my GF to adjust the belts to a more reasonable fit but pretty happy with the outcome.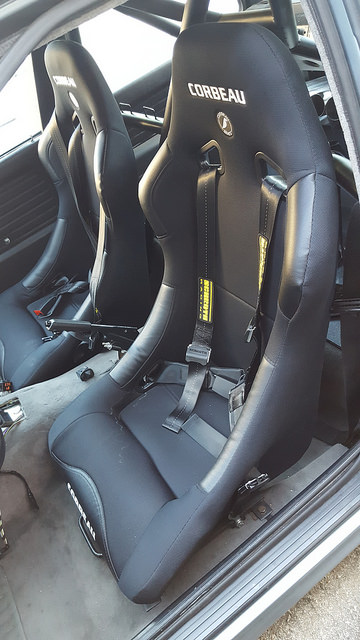 Also picked this lil guy up from Central Cali the other night... Euro import 500SEC with AMG parts on it, fairly neglected and needs a lot of TLC but I see a ton of potential. Price was something I couldn't pass up. Debating making a build thread or not but really looking forward to getting cracking on it.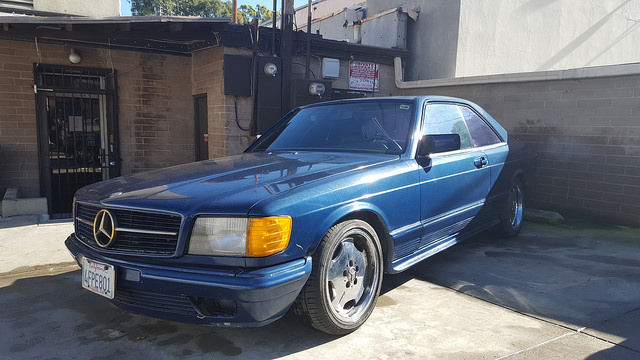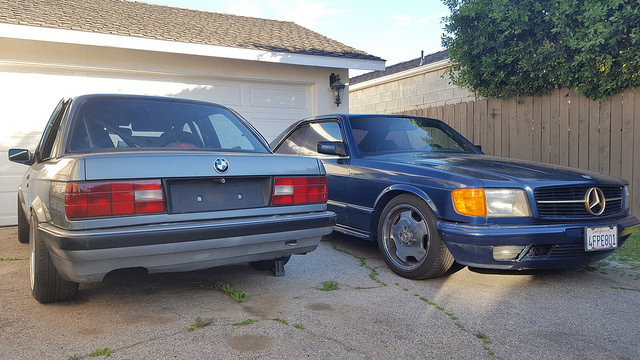 3-17-2017
Link to video of it running...

BLUE NOSE



Just down to a few things now.

Have to get the guibo out to figure out why I can only get 5 of 6 bolts in.

Reinstall the DSSR I cut & rewelded

Wire the Spal Fan

Get an early model or S38 (yeah like thatll happen) overflow tank cause the late model one is butt and the pipe still sits too high coming over the VC.. thats about it.

Had to switch the CSB from the driveshaft cause it was too wide in my tunnel & wouldn't bolt in. Re-glued the weatherstripping around the door since it sagged horribly, but I still think its a great product aside from the adhesive. Ended up ditching the e34 tank cause it made it a PIA to get to the clutch res to fill and bleed. Mocked up some galvanized pipes to just get the coolant system full so I could make sure my sensors are working. Not too happy about it but it'll do. Exhaust is done but the cut outs would have been hanging way too low to make sense using them. Got V bands throughout the whole system so I was debating making sidepipes instead that wont really be visible. Juggling 3 projects is a PIA, been pricing a lot of stuff out more for the benz lately to get it cruising. Frozen piston calipers suck. Planning to re-spray the car and strip it down to metal just need to find a garage to work out of so it doesn't turn to a rusty heap.

Now Picturezzzzz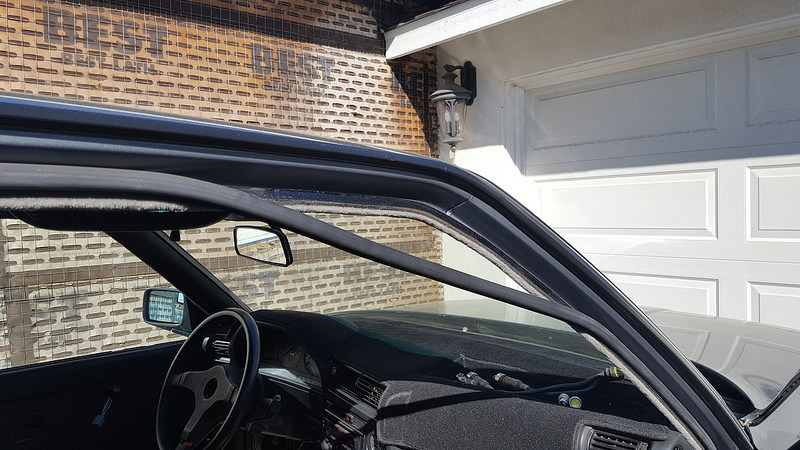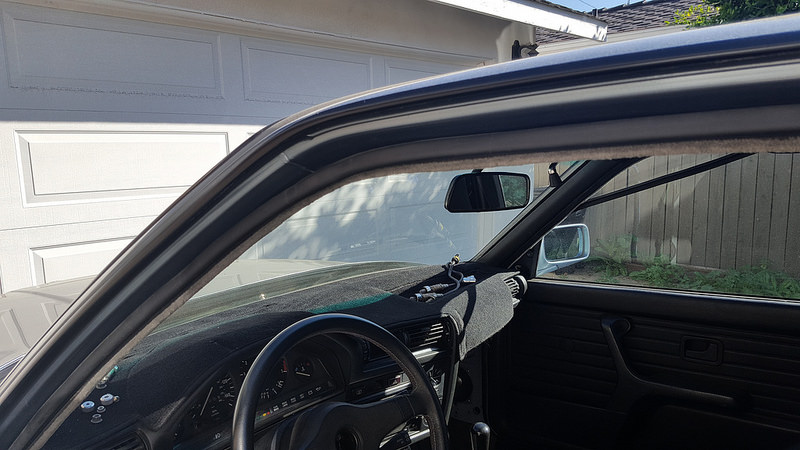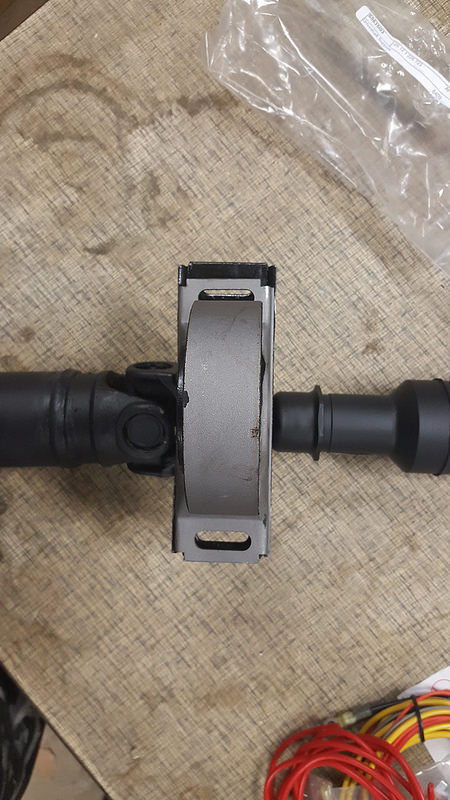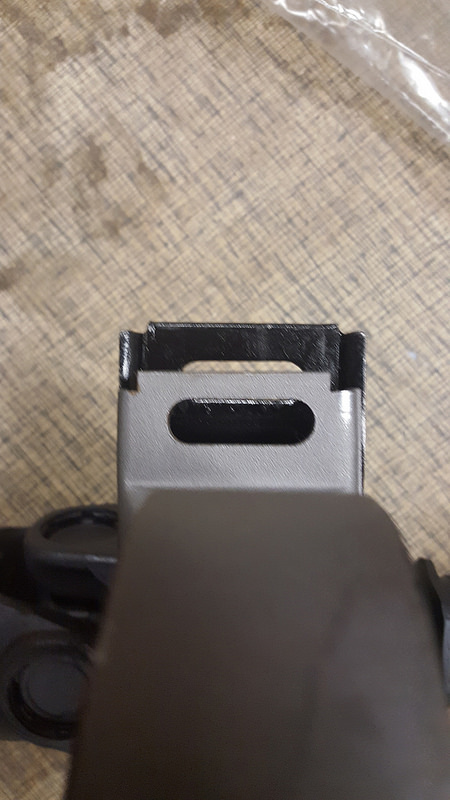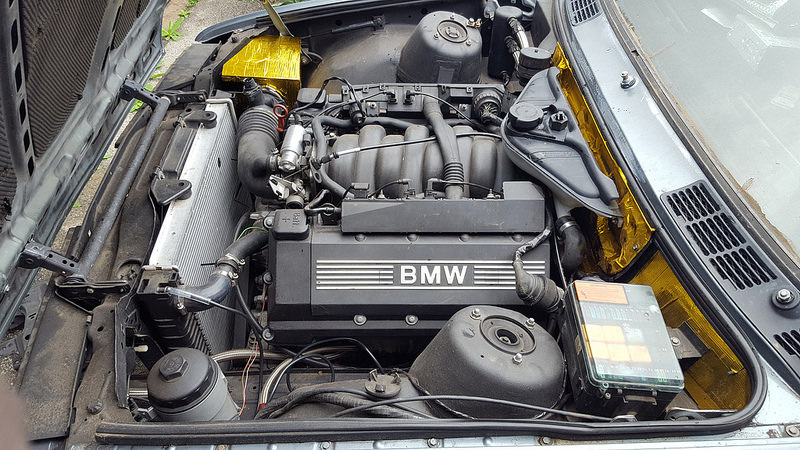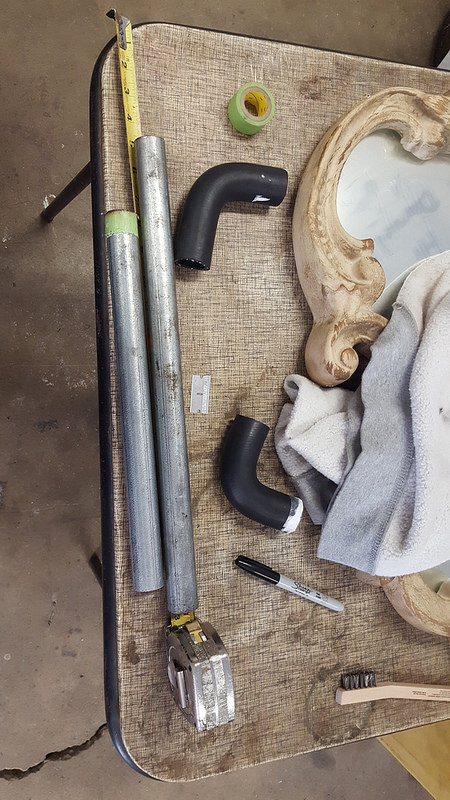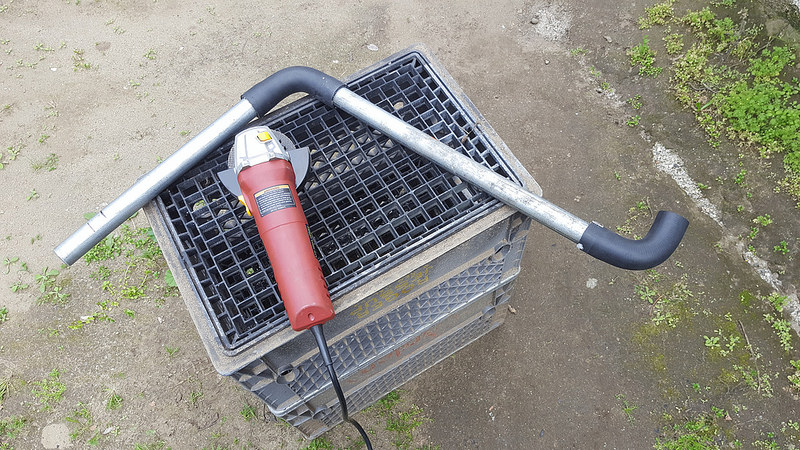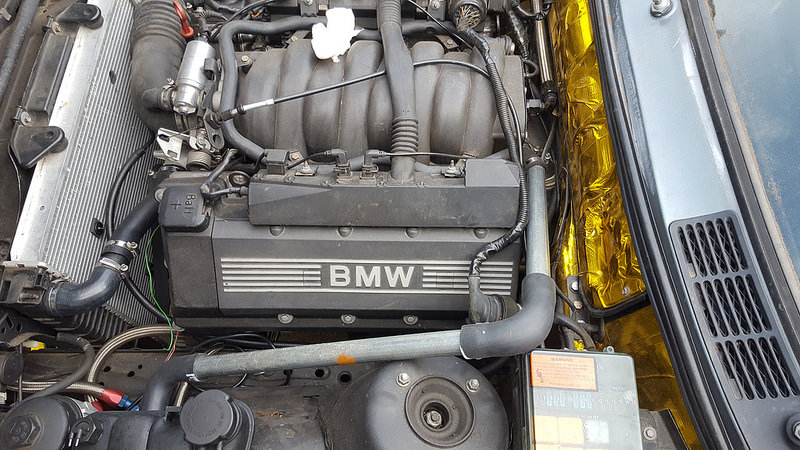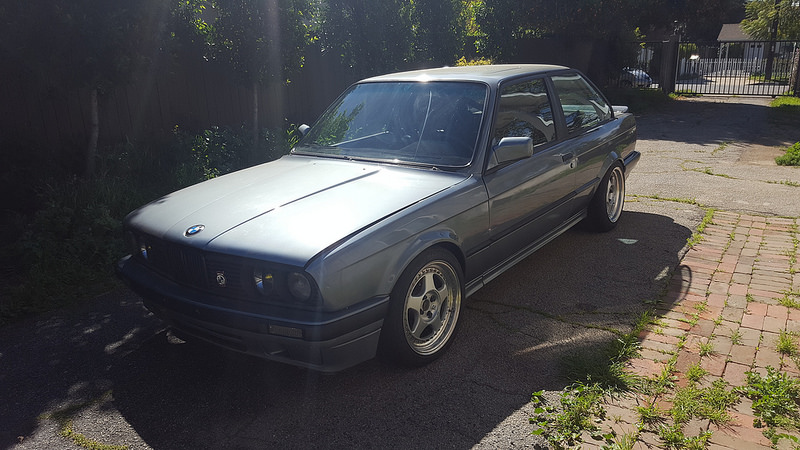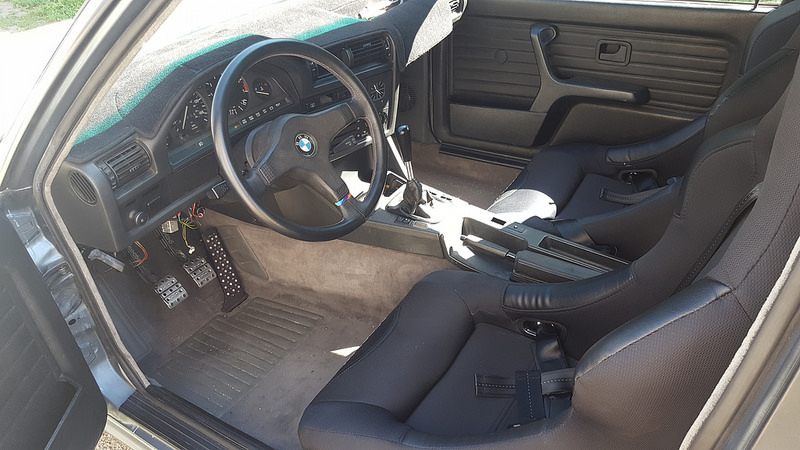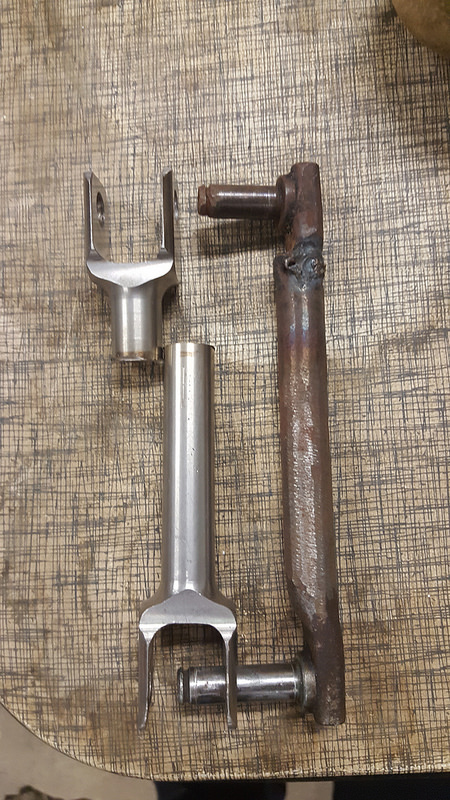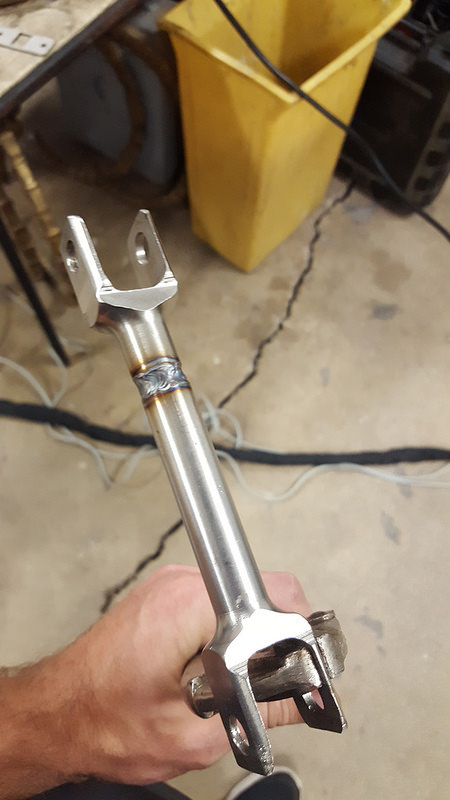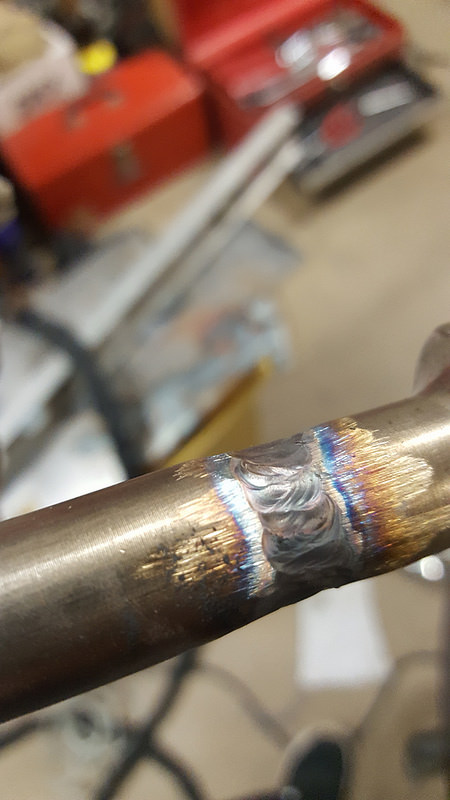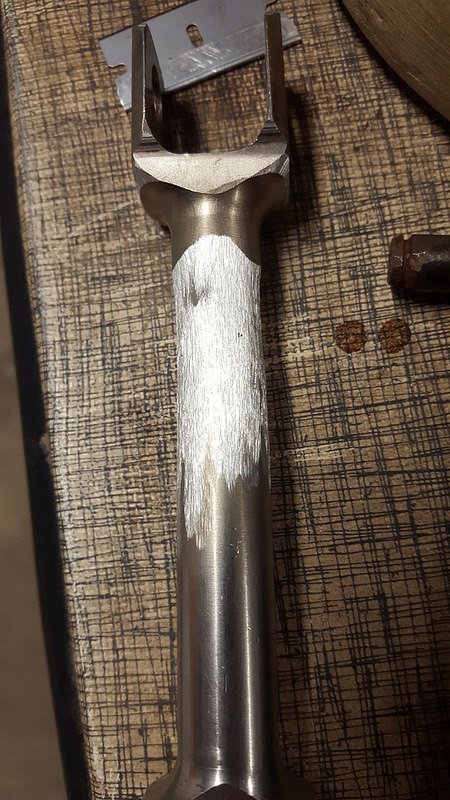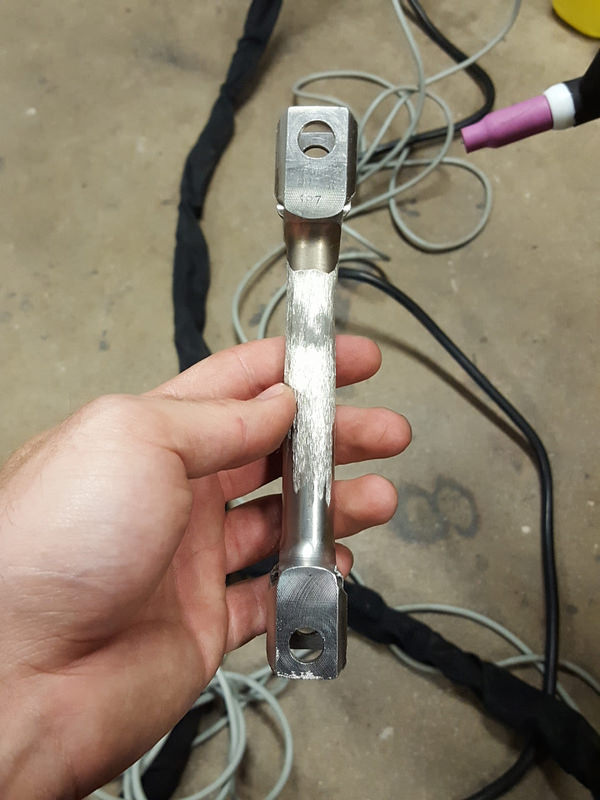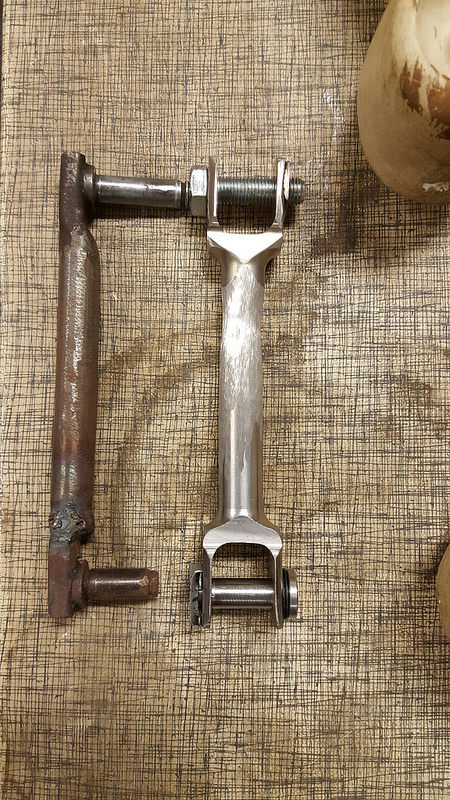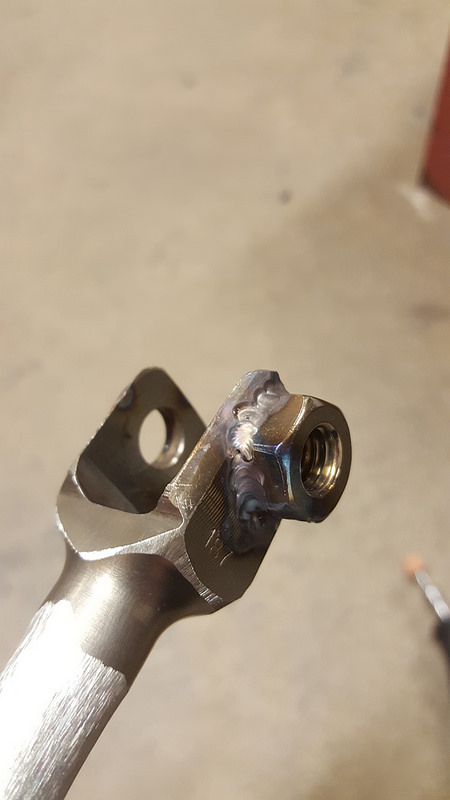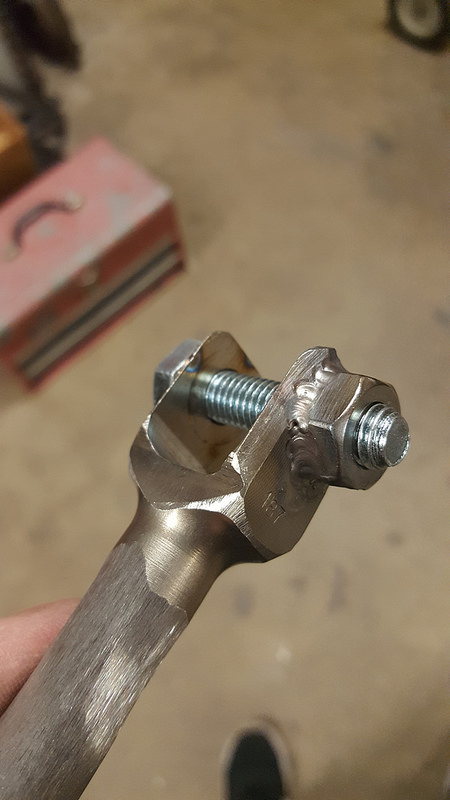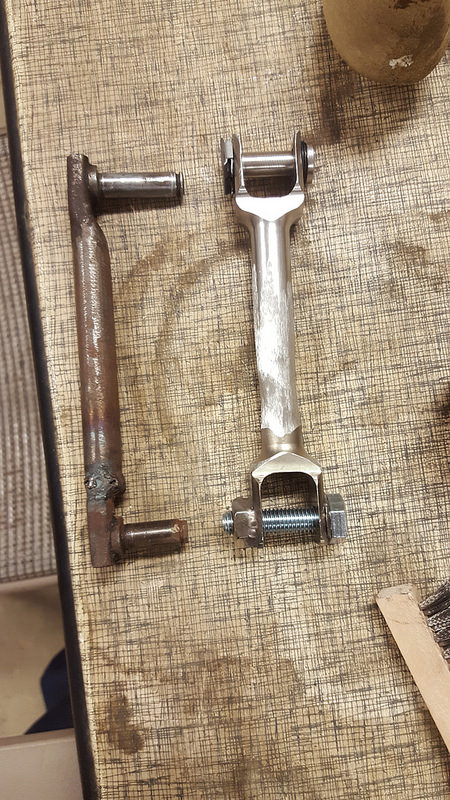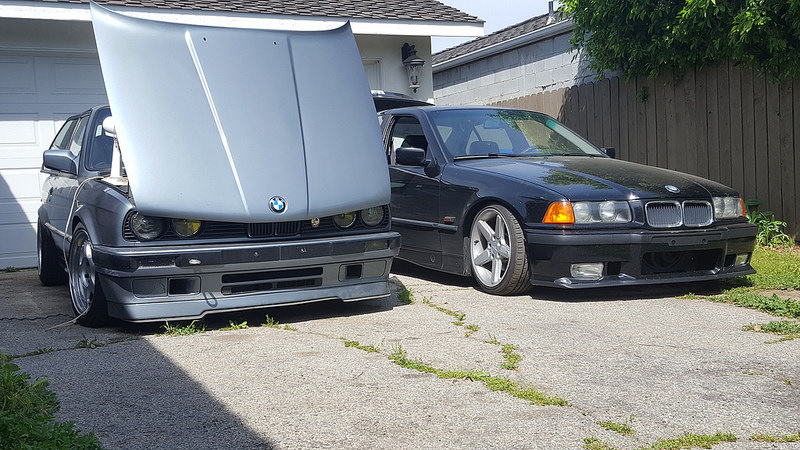 3-22-2017
Well reverted back to the E34 set up after talking to Tyler (not sure his handle if hes on here) about the late model set up. Just need to notch the hood a little to clear the radiator cap and get the two small vent hoses for the bottle since I lost em. DSSR went in no problem, got the driveshaft bolts all in no problem after dropping the whole thing and smoothing out the holes. Gotta love V bands lol.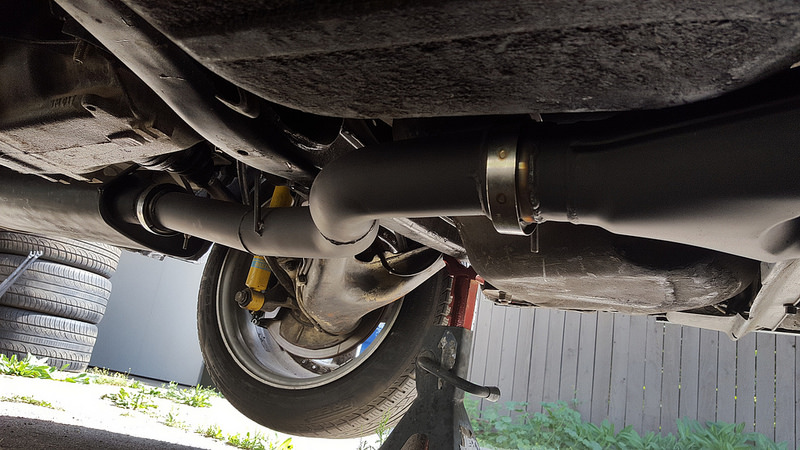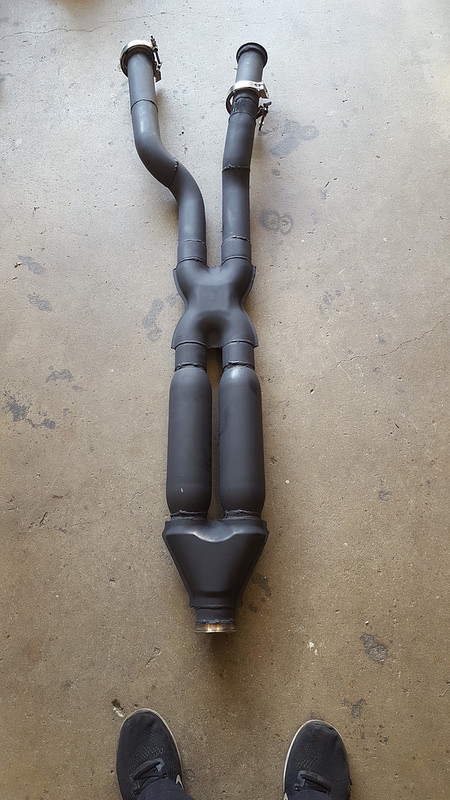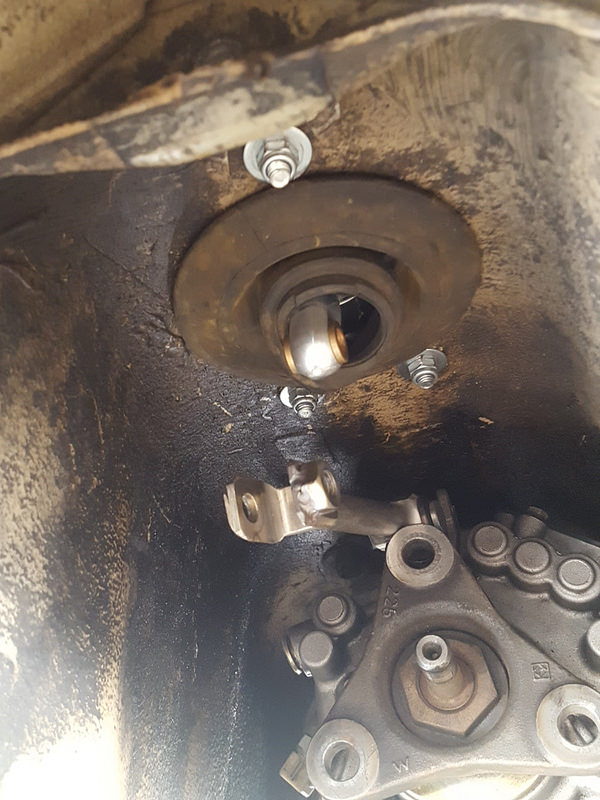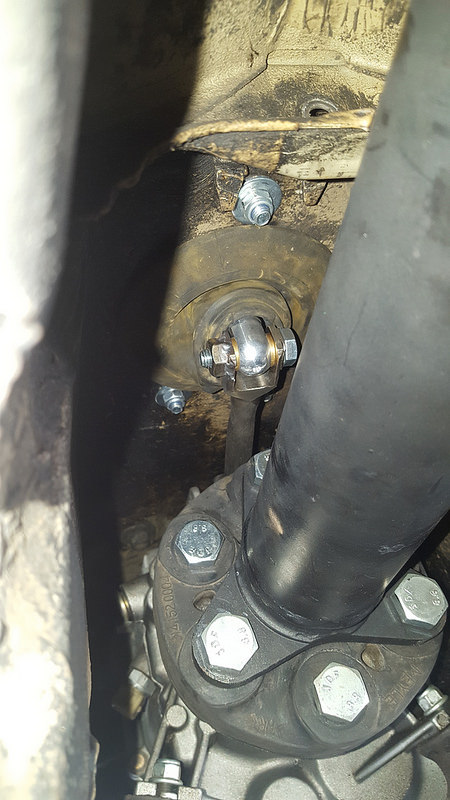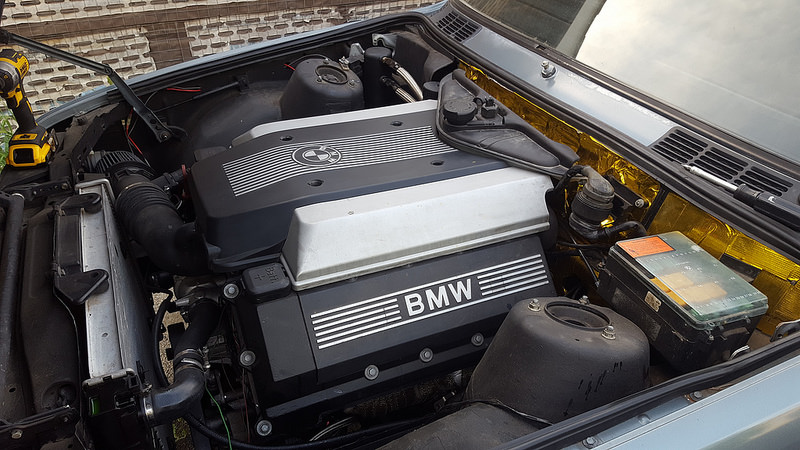 Looking forward to "finishing" up the e30 to get started on this boat.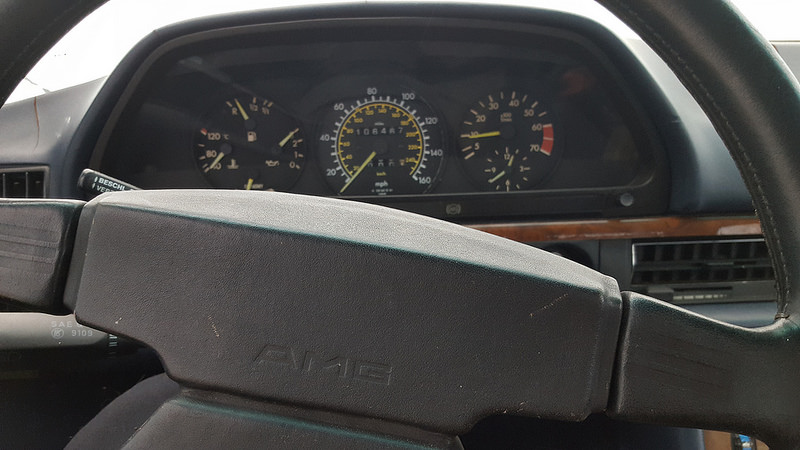 4-26-2016



Link to the second drive; first one ripped off the midsection of my exhaust.. my driveway entrance has a huge 2" hole that divides it in half, the band caught it. I also ripped off my lip so I have to fix that due to the same issue. I unfortunately had to get 3 new V band clamps cause of it as well. This is pulling out with open headers, my friend just cut the video short.

Currently working on getting a stock shifter instead of the AKG, just not my taste. So if anyone wants to buy it off me; feel free to PM. Its practically new, maybe drove it 2 miles with it... has some scratches on the base.

Also ended up selling the 500sec, took all the euro/amg goodies. I was originally planning to buy a black on black one but something else came up that i couldnt pass on...

This needs a new transmission which I'm in the process of picking up but did an even trade on the e36 for it... going to put the M pars on it once I get it home. Super excited to own an E31 in the color combo too.. very very happy.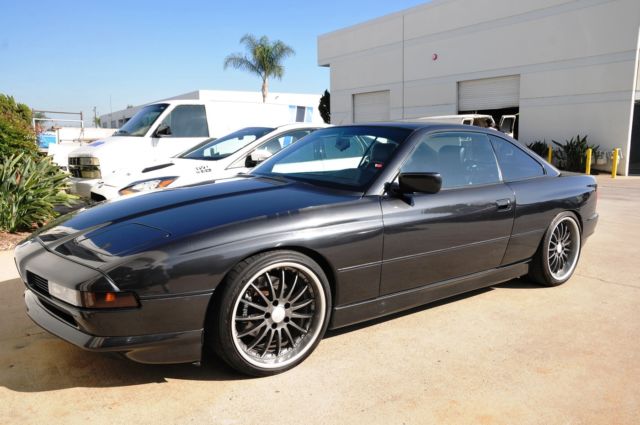 4-29-2017
Likewise! I'm very excited to get it going, even happier its not a v12 since I have a ton of m60 parts/two extra cylinder heads, oil pans etc stashed away. Makes life a lotttt easier, it's also sitting on H&R's with billys so stance is almost perfect, maybe 1/2" lower in the front if anything.

E30 I'm ditching the AKG shifter, just isn't for me. I have a buddy hooking me up with a z3 so I'm just waiting on that for now. In the meantime it gives me a chance to start fiddling around with the E31. Already swapped out the 19x9/19x10 Breytons for OEM 18x8.5/18x9.5 M Pars that I've had set aside for the e36. Glad I didn't sell these haha. The all chrome is a bit much but eventually I would like to powder the centers to match the body. Only other wheels I can see on this car would be Alpinas but thats a pipe dream.

This is probably a long shot but never know... If anyone happens to know anyone with tail lights, front signal lens, and sunroof inner cassette please get in contact with me. I'm not sure if I lost the drivers side lens when it was transported or not but noticed it when I was washing it.

Kinda sucked.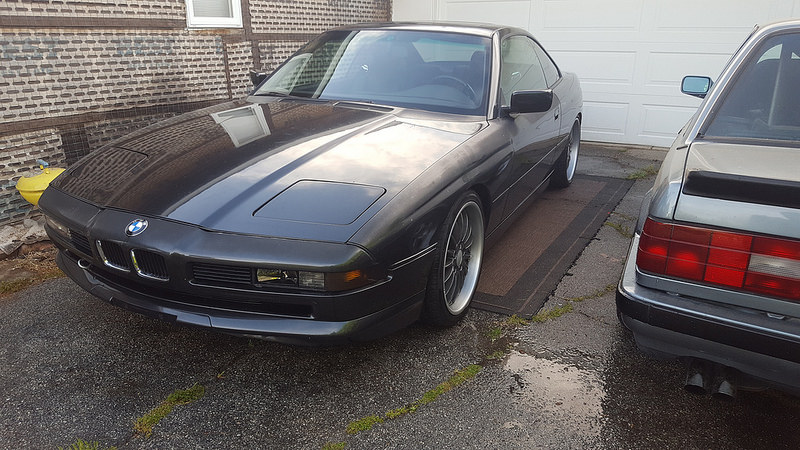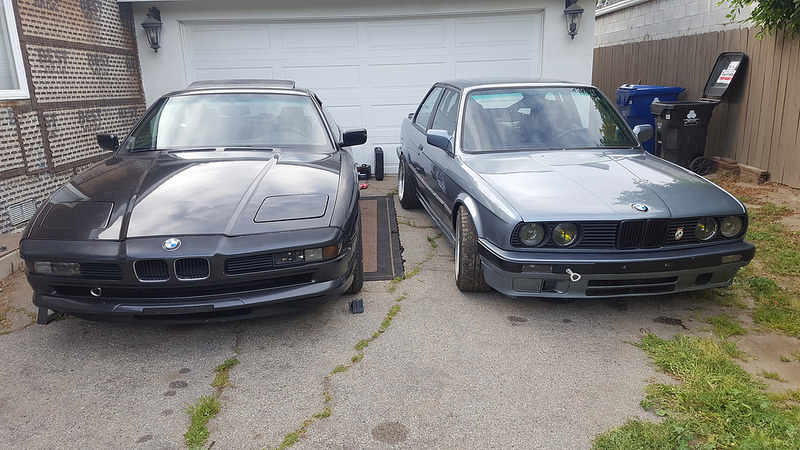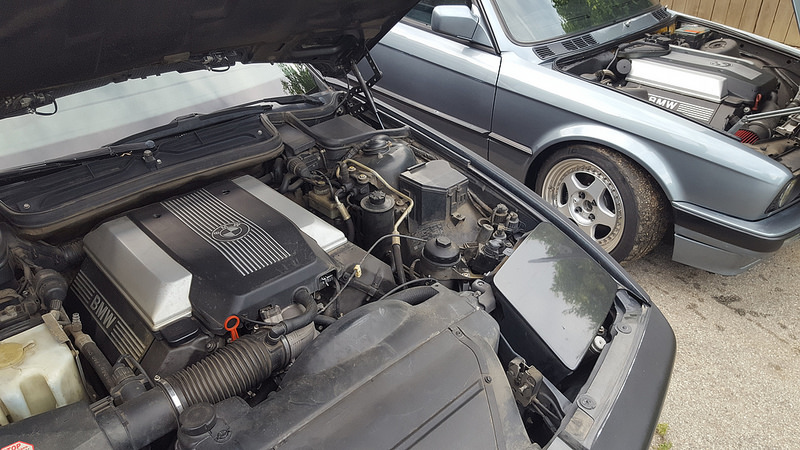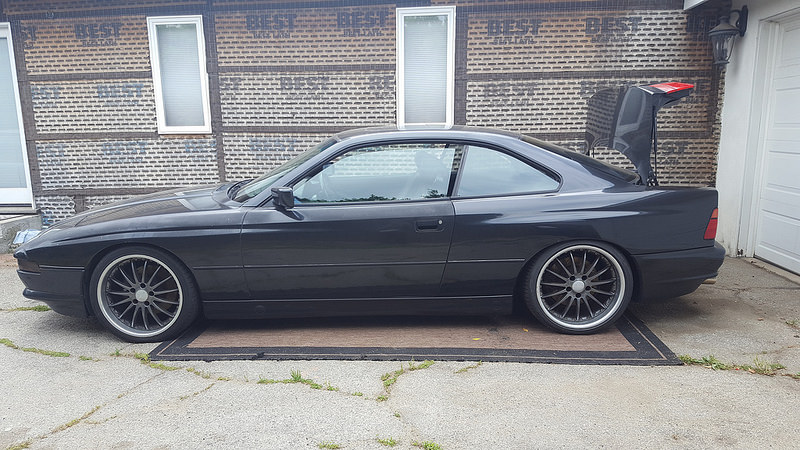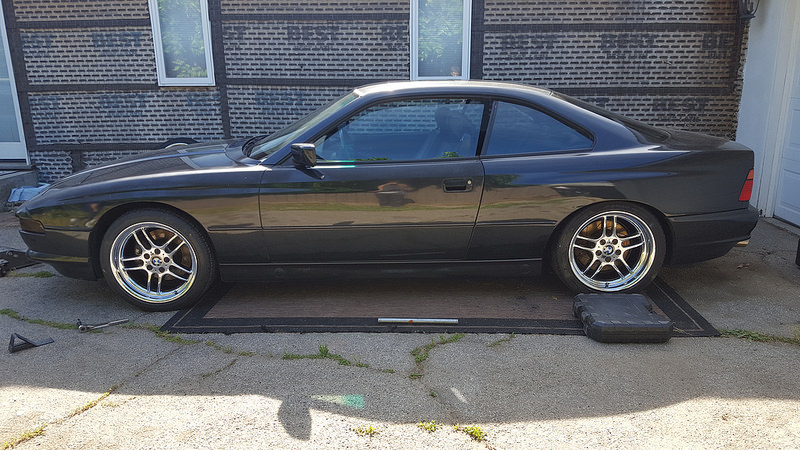 5-17-2017
I think my cars been on jackstands more than its ever seen the ground sadly. Finally got my paws on a stock carrier / shifter. Seller told me it was supposed to be a z3 then was like "oh actually its stock" bit disappointing but whatever. Chopped and sectioned it, then decided to use some 1/4" flat bar to reinforce it. I gave it a couple hammer bangs but would rather have it stronger. Getting tired of dropping the mid section of the exhaust & driveshaft. Also had to cut the shift selector another 1/4" to accommodate the stock one.

I've never welded aluminum so gotta say, way bigger fan of using stainless than ally. Even with 4043 it was hard. Also probably didnt help that the carriers very porous & grimey even after cleaning the shitt outta it. Obviously not a welder but fuggit I made it work the best that I could. Its ugly as shit, but theres no clearance issues with it surprisingly. Gets a tad bit close to the guibo but enough room not to create issues. Wish I had taken a photo of when I first got the shifter from my buddy, thing was BLACK as we all know how it gets... here's the beauty after some dawn, purp power, more dawn, more purp power, acetone.........

Also got this sweet 6 Spd ZHP for $70 shipped since I don't have any knobs. Wish I had kept the 5 spd one from the e36 but meh.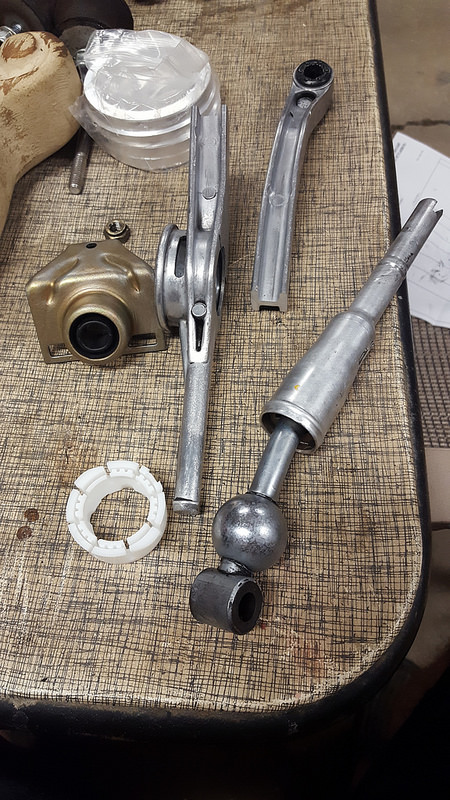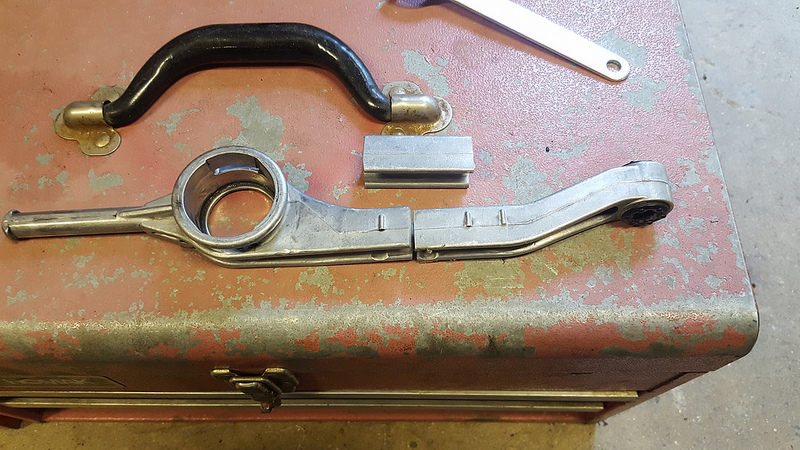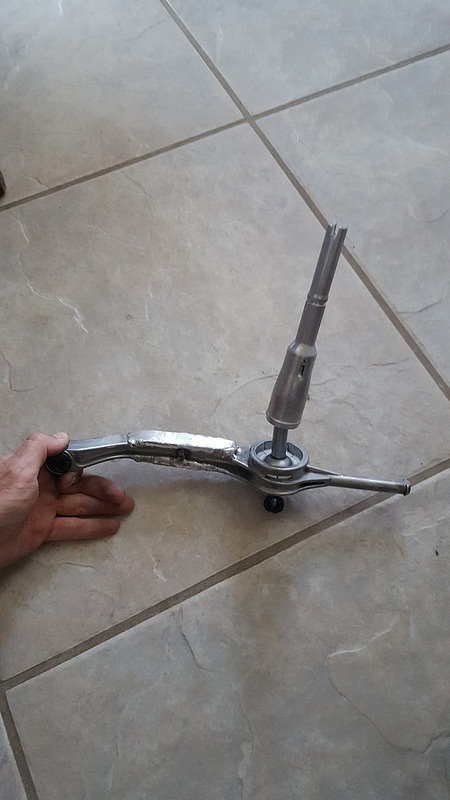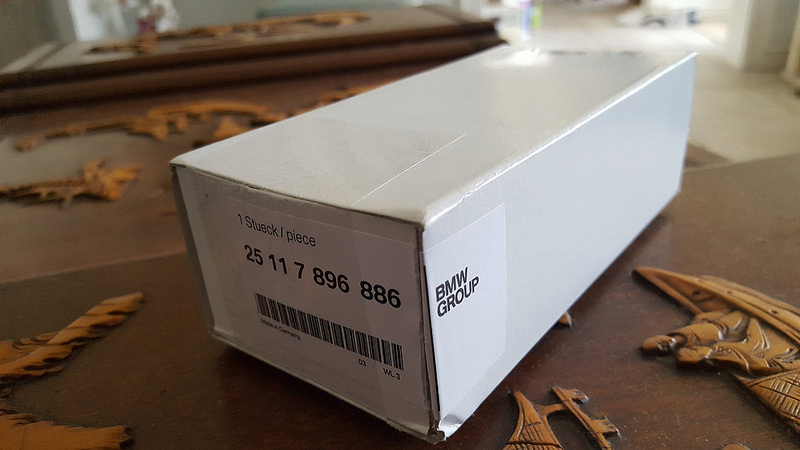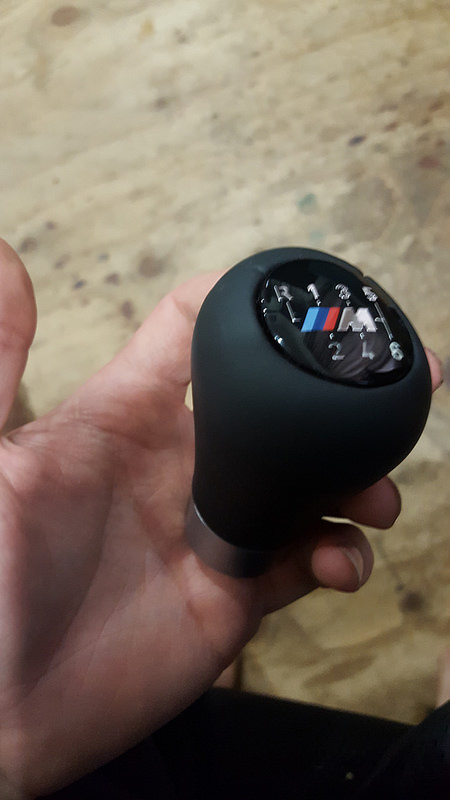 Side note : How come noone changes the cabin air filters lol. Every car I've had these things are always grimey and typically so easy to get to. Guess I should probably create a build thread for the 8 soon too once I have more funds set aside for the beast. Weighing in at almost 4,200 lbs I think it'll need a heart transplant soon even though its only clocking 152k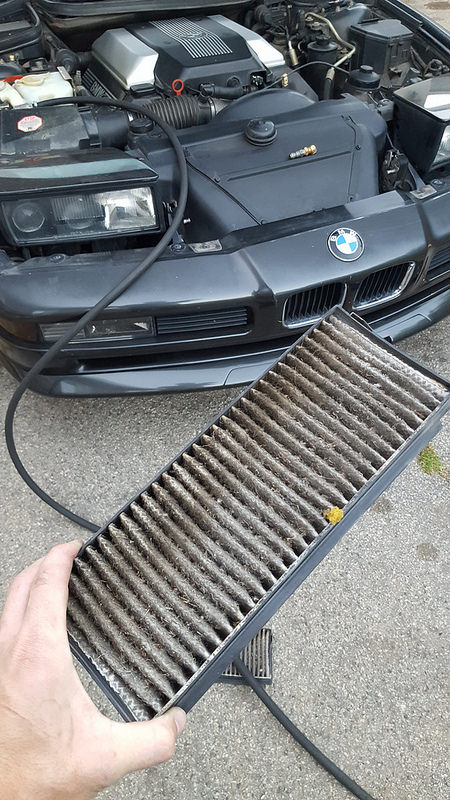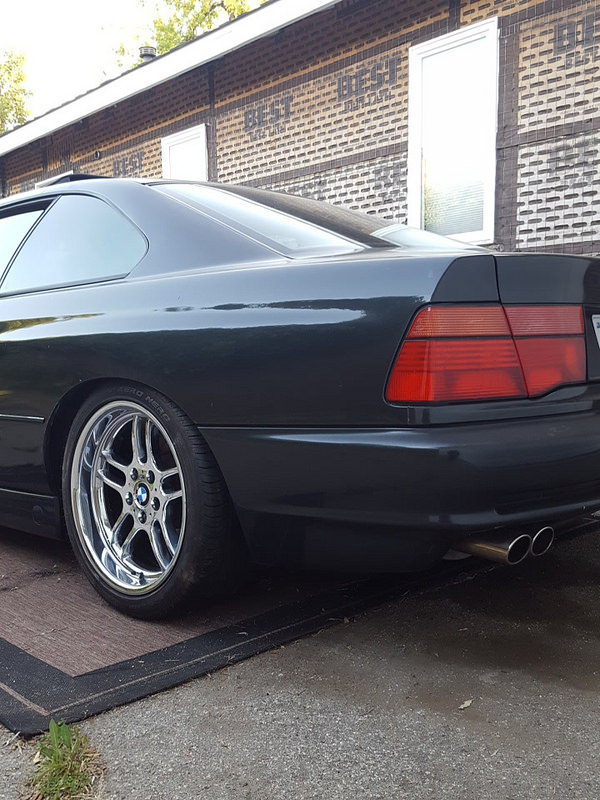 5-25-2017
Took it for a drive up the street for the first time to fill up the tank. Have two minor issues that need to be worked out, hoping its just from the 5mo+ old gas thats been in the tank. Hooked up the front signals, just need to wire the reverse lights up and re-bleed the slave and it should be solid.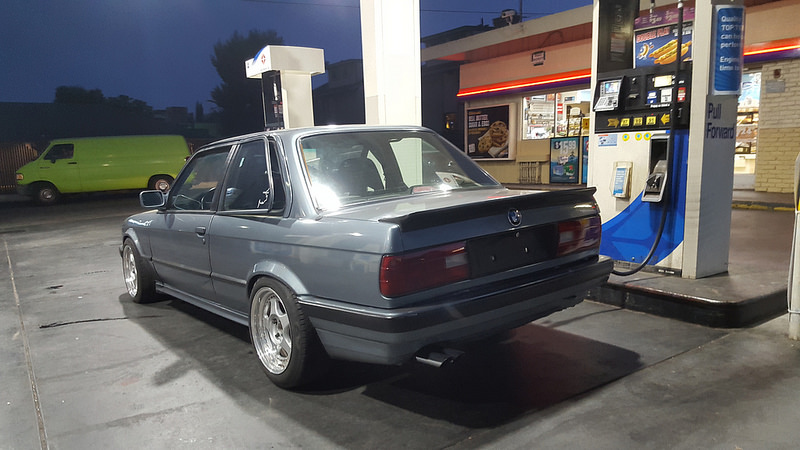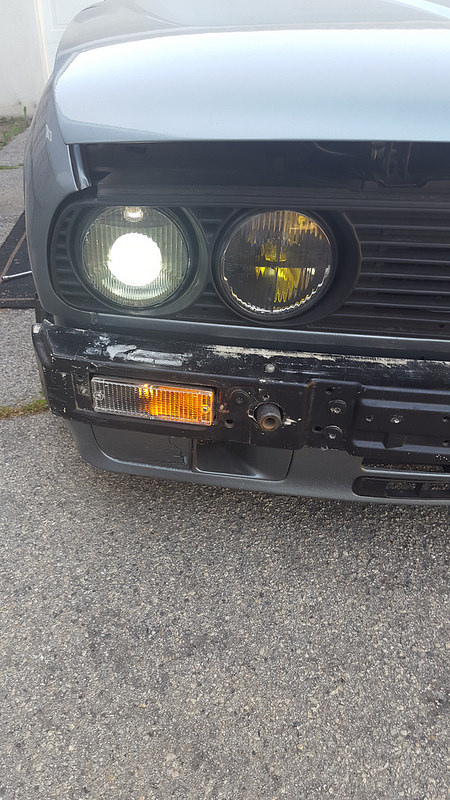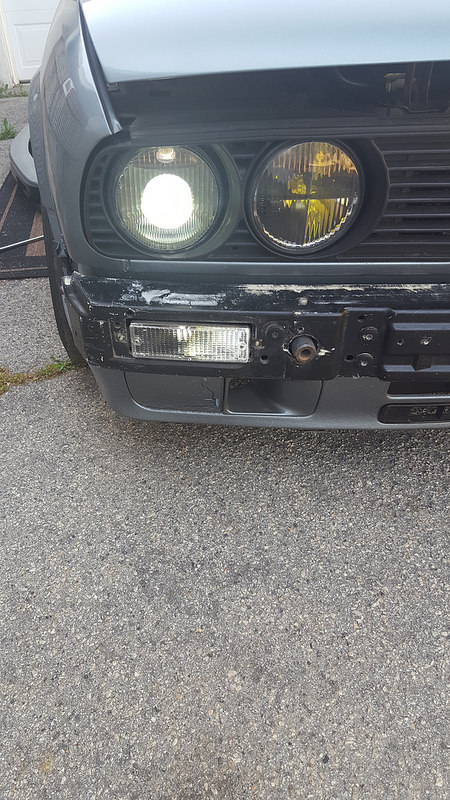 Also chopped up the hood I cut out a while back, got tired of looking at it & moving it. Figured id make a radiator panel out of it, just need to gather some paint. Patched up the back side of it with some scrap 22 ga I had laying around. Probably would have welded better if I cleaned the inside of it a bit better but its all good. No filler @ 30 amp, just kind of messing around and practicing with what I have laying around.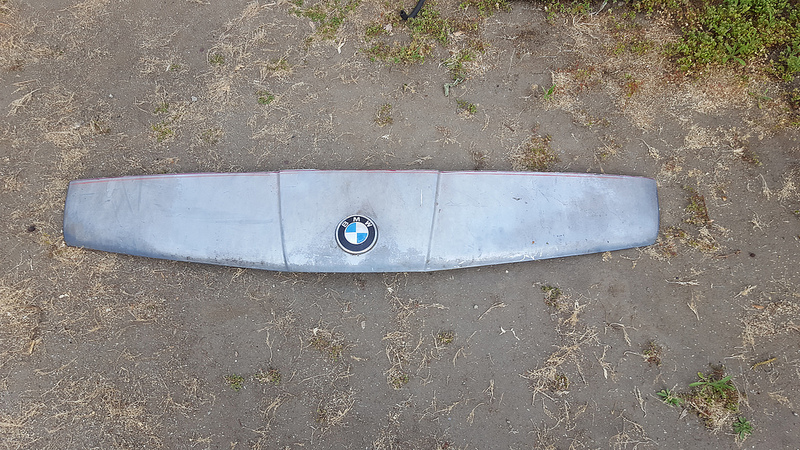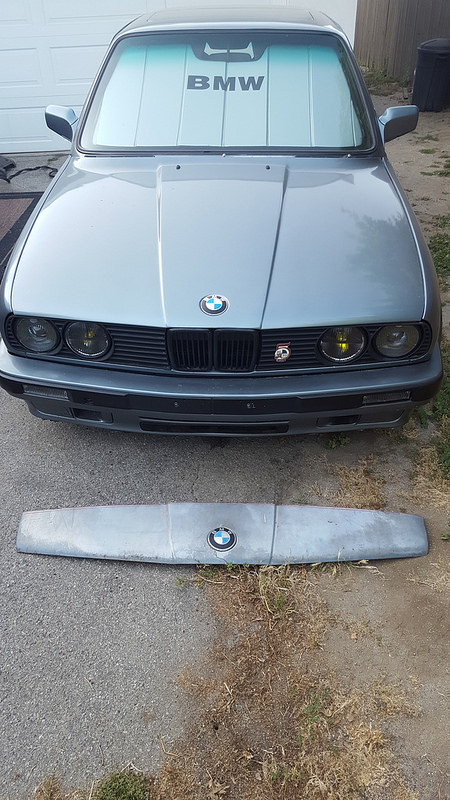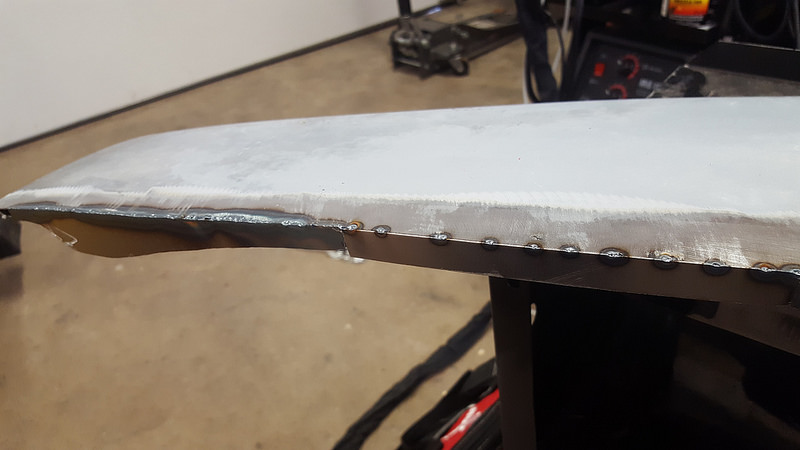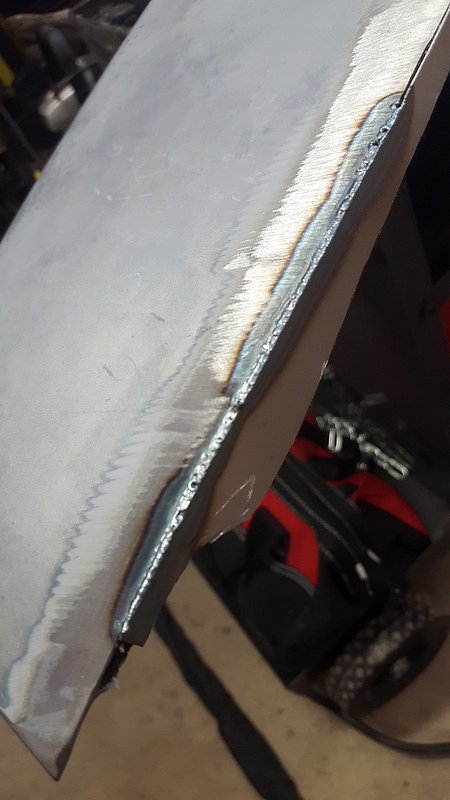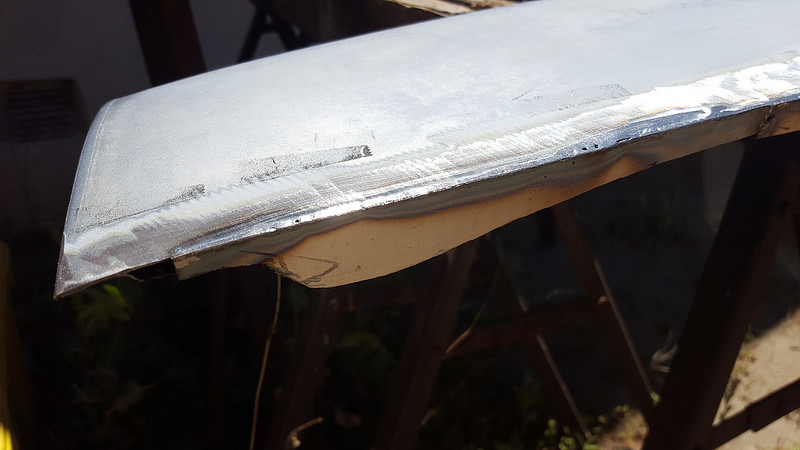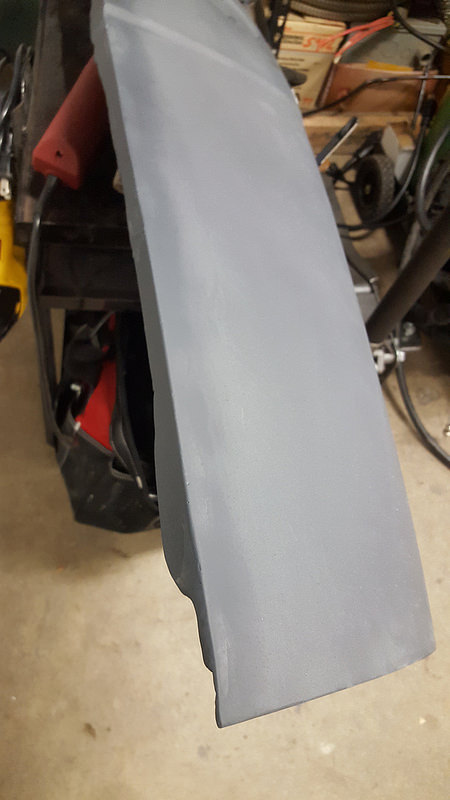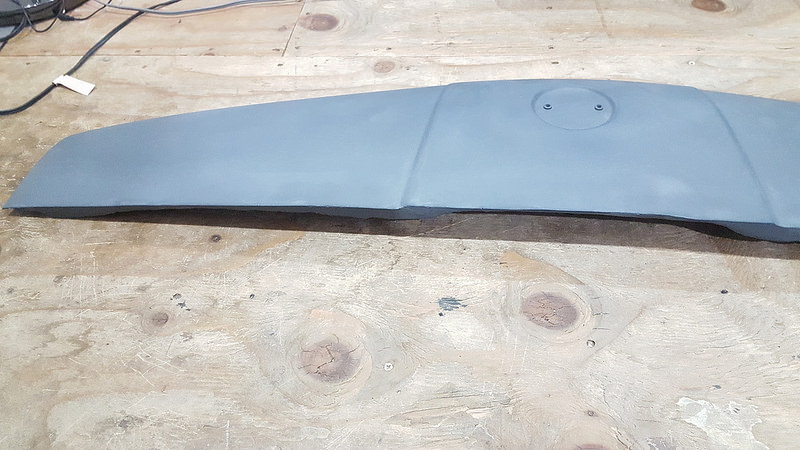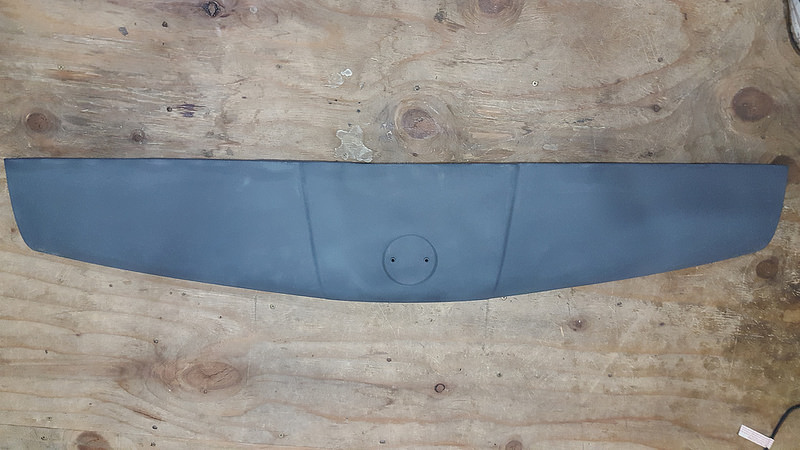 6-13-2017
Not a whole lot in the ways of updates.

Been chasing down info on backfiring, took a gamble it was between 4 different things..

1.) Voltage reg/alternator 2.) Knock sensors 3.)Bad o2 sensors 4.) Old gas/pressure

Knock sensors were brand new OEM, and torqued to spec so I was hoping I wouldn't have to re do that. My O2 sensors are straight out a junkyard for mock up purposes, so figured theyre trash anyhow so a new set will be here tomorrow. Gas, well... months old but with a fresh full tank the 1-2 gallons that were in there should be mixed now. Pressures good when I checked at the rail.

Which left me with the Alternator, which granted wasn't charging the h9 battery. I chalked it up to maybe not connecting a wire from the alternator to the ignition signal. So tapped the blk/grn to the starter, no luck. When I tested it prior to installing, it showed the alternator was good, I didn't think of testing the poles to the regulator though. Lucky for me I still had the original one off the green 540 in a box stashed away just in case. Tested it and 100% good, didn't even notice the rebuild sticker originally. So on a nice overcast cloudy day, spent the 2 hrs removed the radiator & etc and what do ya know.... swapped alt's and now getting 14.3 v when running & no more horrid back firing. Also gave me the chance to test fit the nose panel I made which I'm pretty content with.

On a side note.... working on an e55 AMG sucks. The things you have to do just to get the plug boots off are crazy. Had to improvise my own wrenches just to get them all off, firewall ones were the worst... I get the purpose of twin spark but really......

I was reading somewhere that the kick down from the TPS causes a fuel hesitation & someone suggested putting a capacitor to help fix that. I was about to wire in a 470uf as a last ditch effort but glad I hadnt. Now when the new O2 sensors arrive, it should be running way more steady than ever & perhaps even daily-driven worthy haha.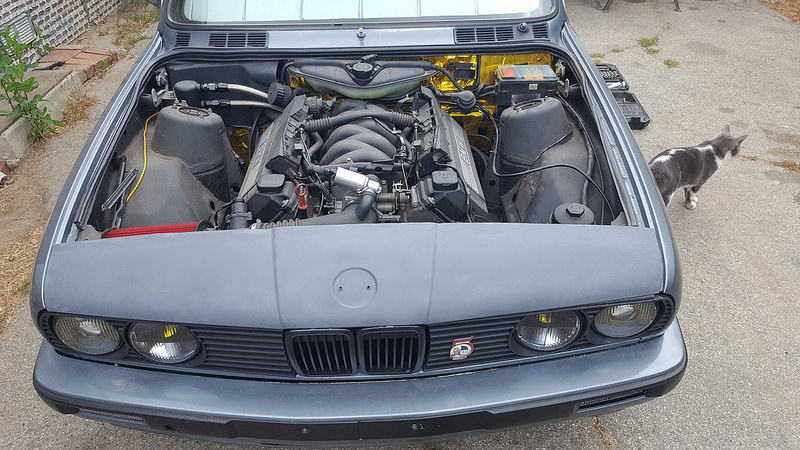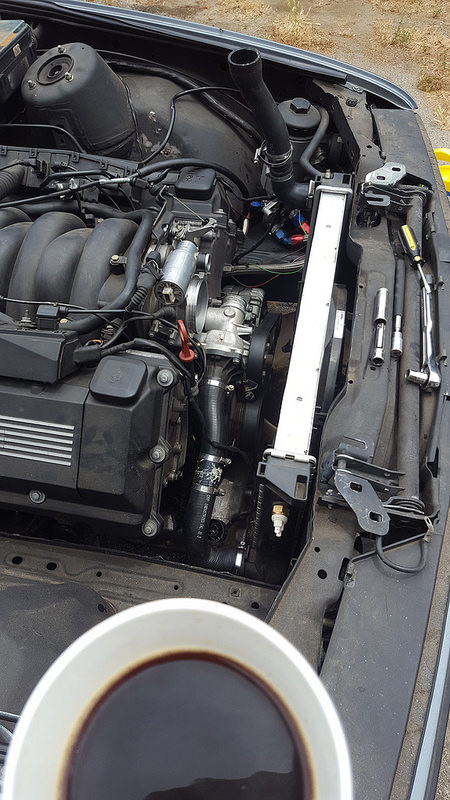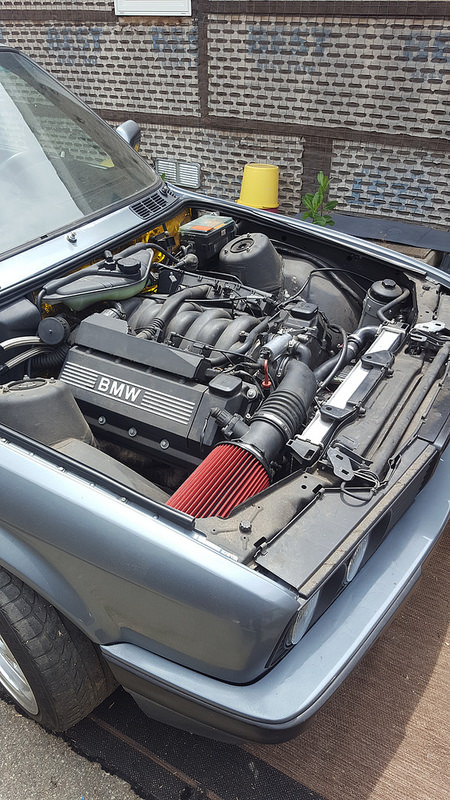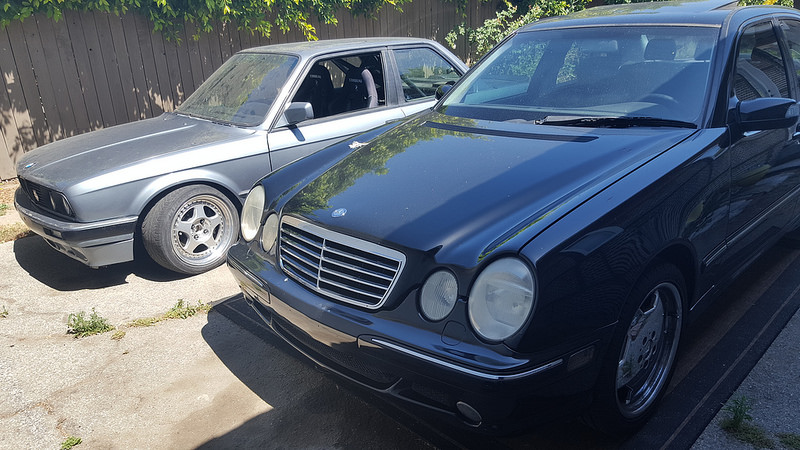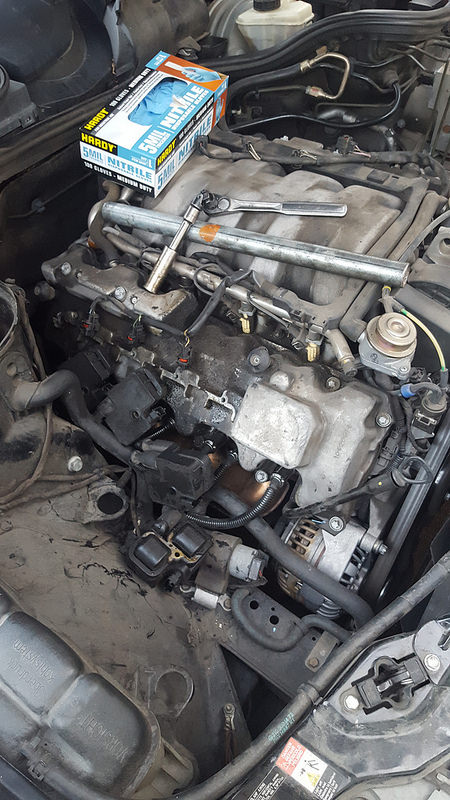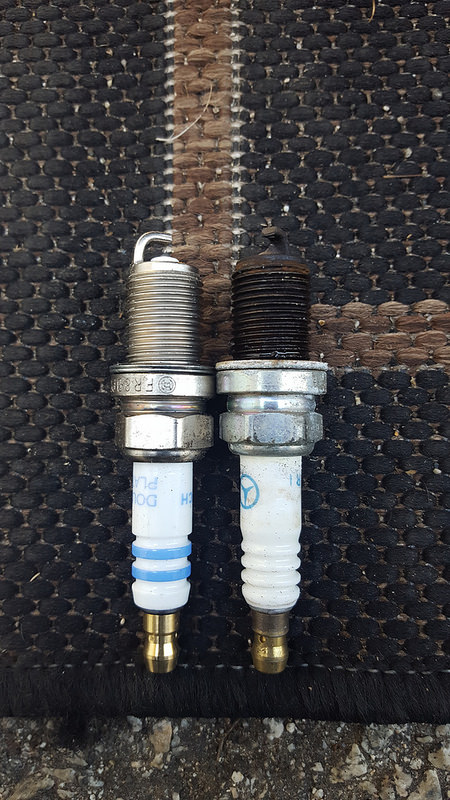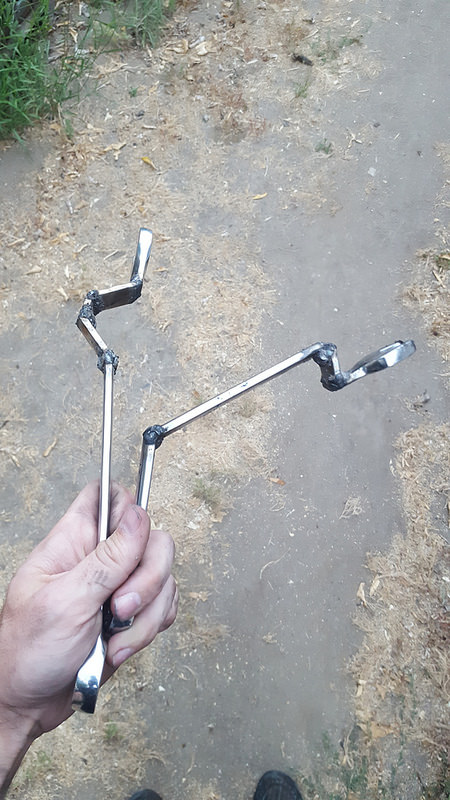 6-14-2017
Well got the new o2 sensors yesterday... need to cut & splice the OE connectors back on, got both off then noticed my DS wire was hanging low... so now I need to make a trip to the yard and get another set of connectors haha. Nothing can be easy.

On a side note... Thank god for harbor freight and their cheap tools, couldnt get the DS sensor out cause of the weird position & it was already a little rounded out when I got it from the junkyard a while ago. Nothing a little swearing couldn't fix... Made a little mount/bracket for the GE Keyless entry while I was waiting for the sensors to come in the mail. Cleaned up the wiring after the pic, just really happy with how it came out.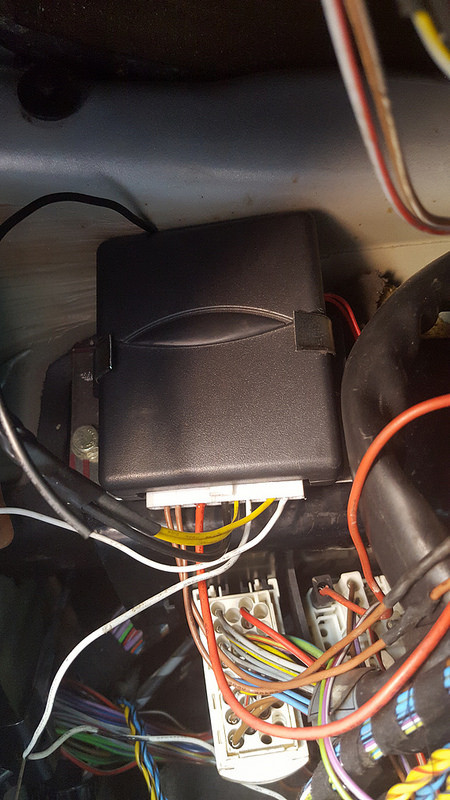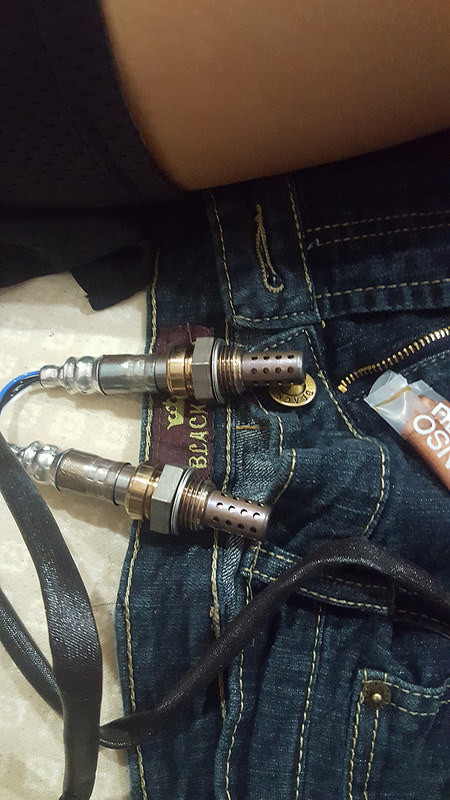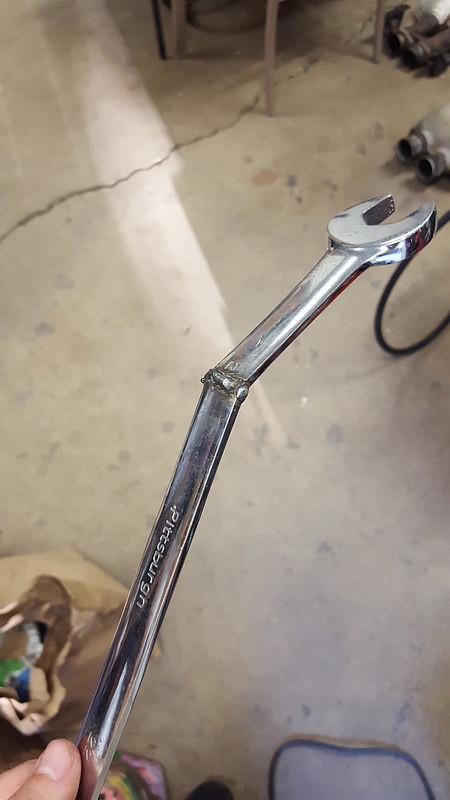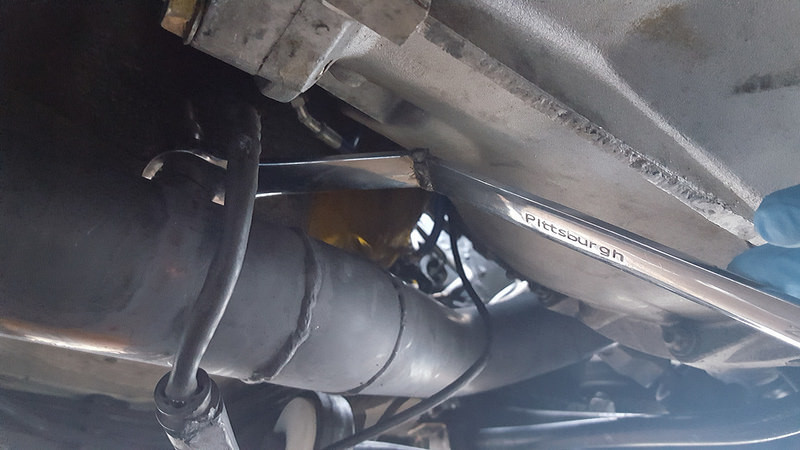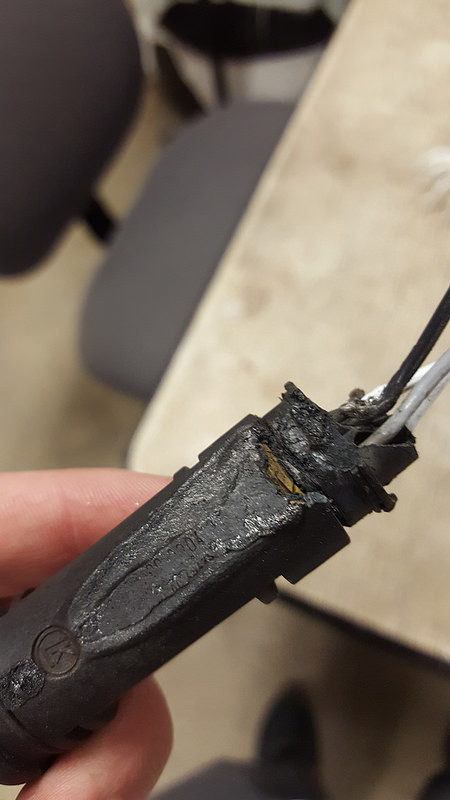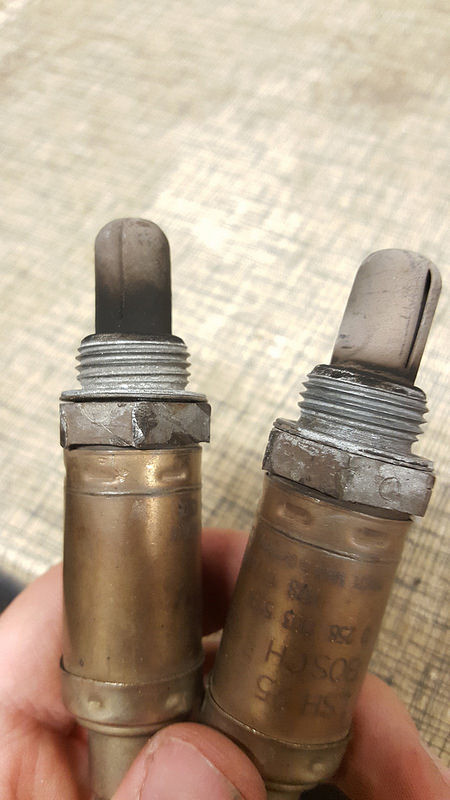 7-15-2017
Haven't really updated this since I've been working more on the 8 and put the e30 on the backburner.


Picked up some O2 plugs wires from the junkyard and wired it up. Narrowed down my fuel cut off decel, bought a Dinan chip which seems to have fixed the issue thankfully. I was about to wire in some 220uf capacitors to the TPS since I found someone fix their issue in that manner. Kind of glad I didn't need to resort to that, o2 sensors also made a world of a difference, drilled and tapped the trans case to avoid melting the wiring again haha. Denso units also heat up a lot quicker I noticed compared to when I did bosch units on my other cars. Nice not to be fumigated by gas in my driveway finally. Got the interior almost back to 100% just missing the bolts for the hood latch lever and need to make a 2 pc rear seat delete panel, so source some aluminum for that and carpet it. Eventually send out my door cards to have the M cloth put on the centers.

Overall narrowed down a lot of issues, the only thing that I really am not looking forward to is pulling the intake off again to fix the OSV connector since I have a small vac leak coming from right there that I found. FML right? I made my breather hose too long to the OCC and I'm guessing after driving around for 16 miles its wiggled itself loose.

Used my spare ECU to figure out how to remove the old chip just incase I messed up, found a ton of corrosion in the far corner of the board. So i'm not 100% sure if that was caused by the welding or just life... Everything worked great up till the exhaust was done, then boom no crank.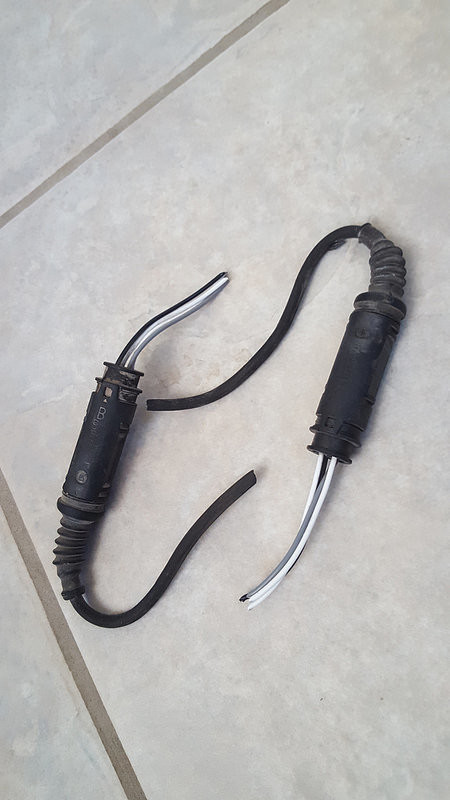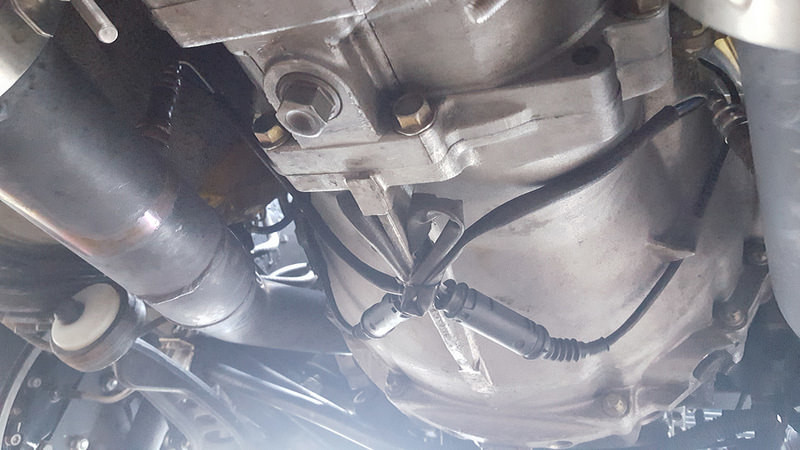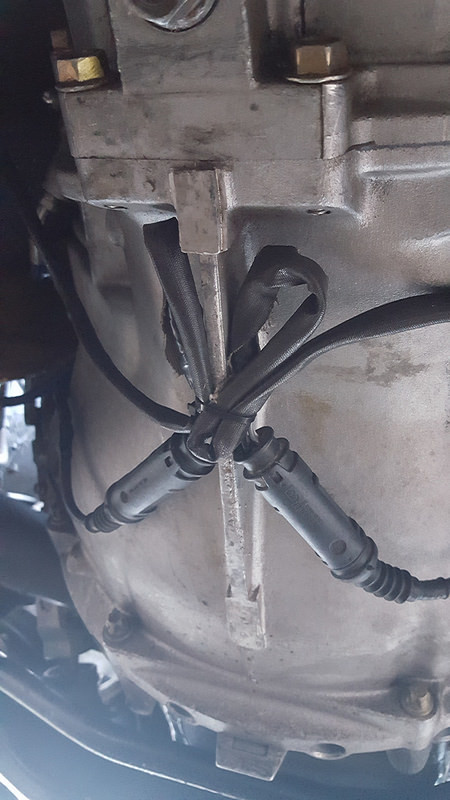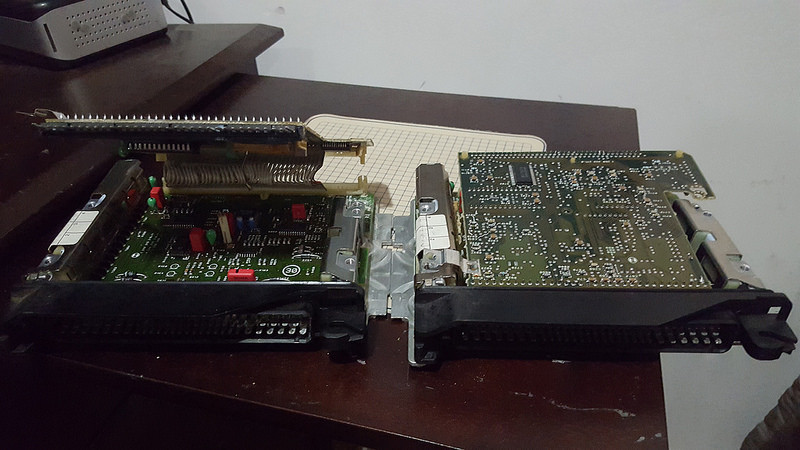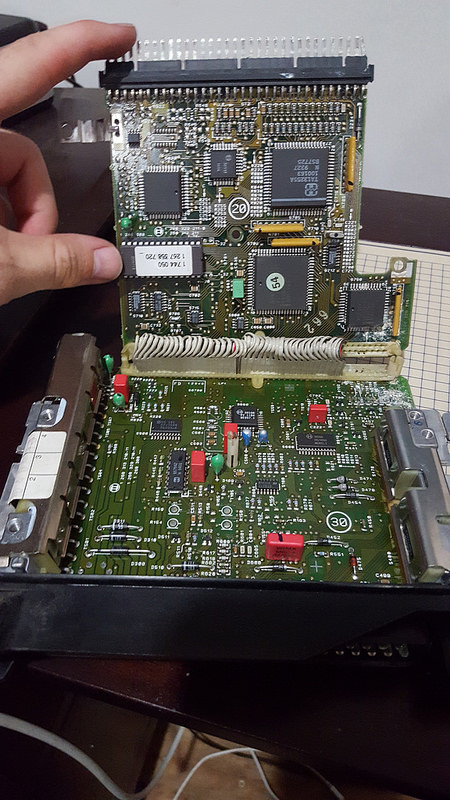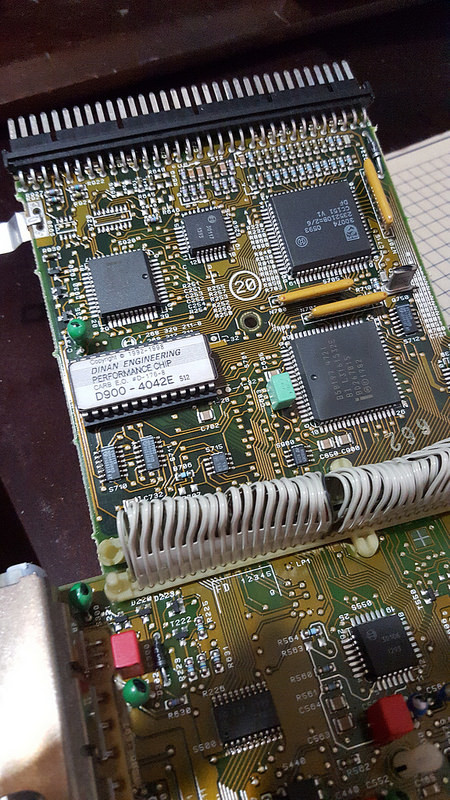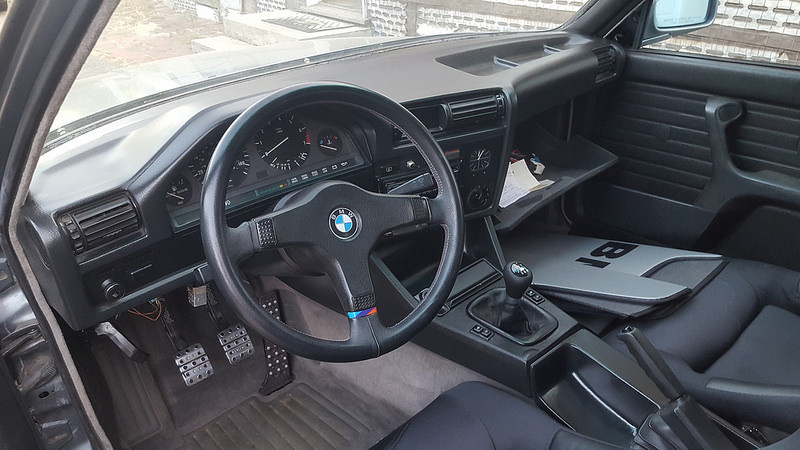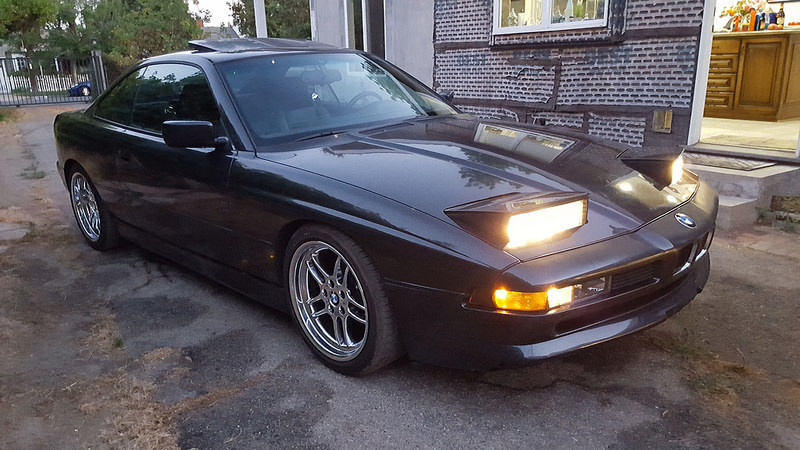 11-13-2017
Almost got most the kinks worked out, then the ICV starts acting up haha.

Gonna start relocating stuff pretty soon, charcoal canister has made a pretty big improvement instead of atmos venting. About to slap a 635i cat on there and see if that helps with my fumes.

Drove it for a good 20 mins in light traffic and had a headache from the exhaust. Finally got it to stop running as rich, needed a new FPR go figure.
11-14-2017
I'll take some more that arent in the driveway soon lol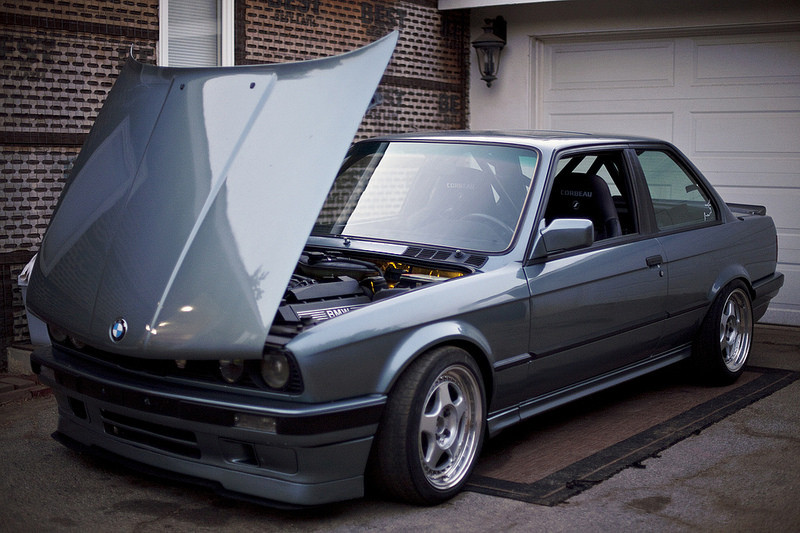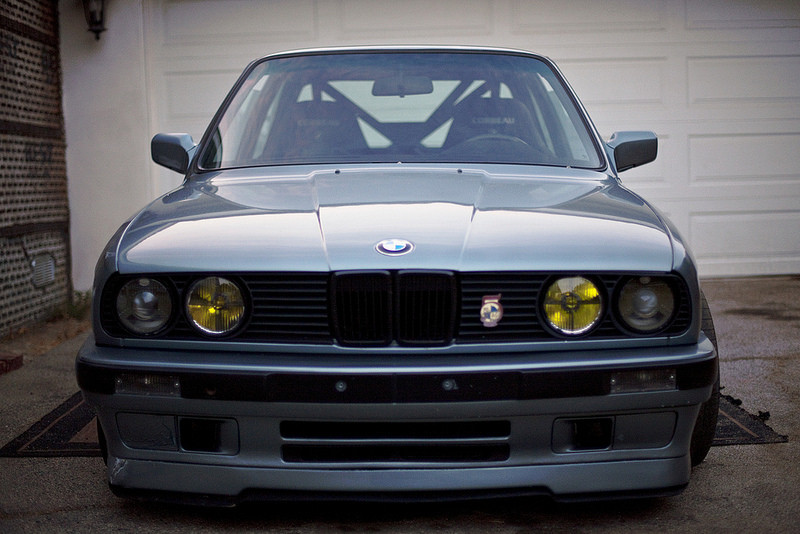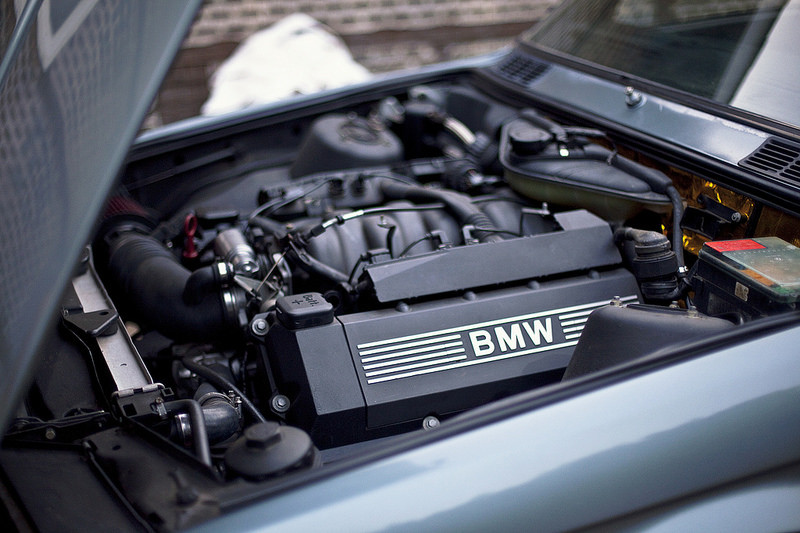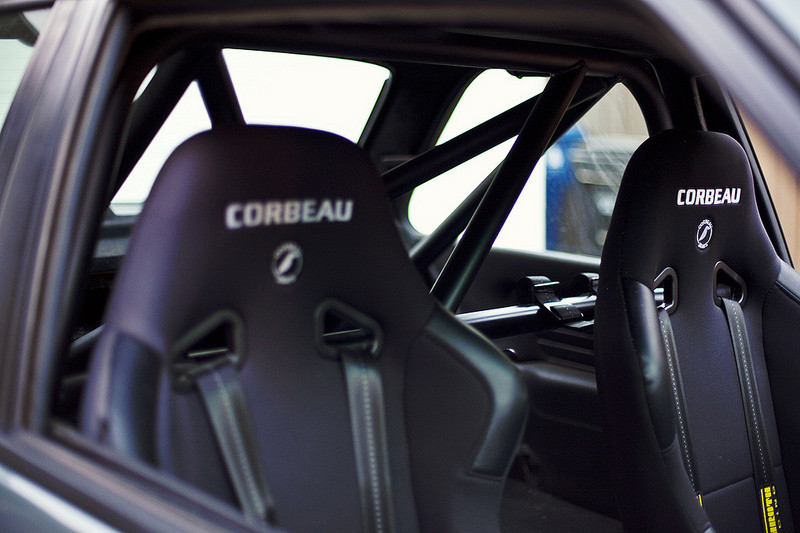 Oh, and the only pic I took of it at SoCal Vintage lol...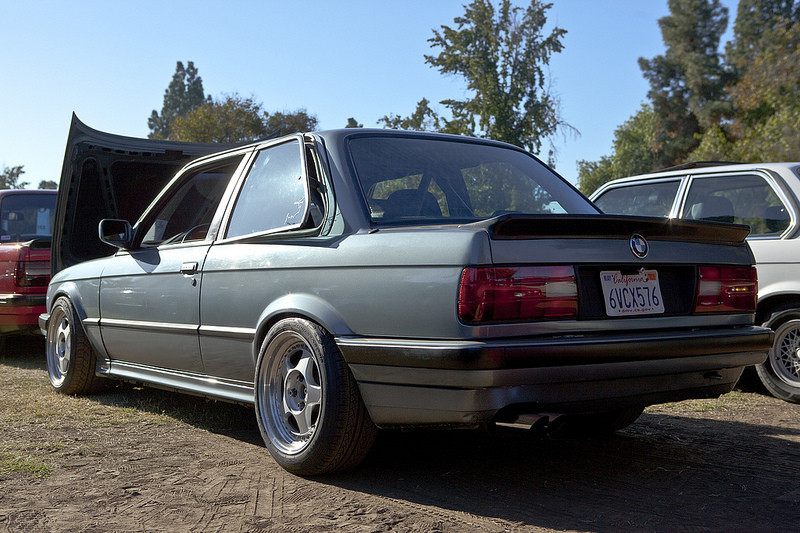 Got around to ordering another PS delete since mine was cracked -.-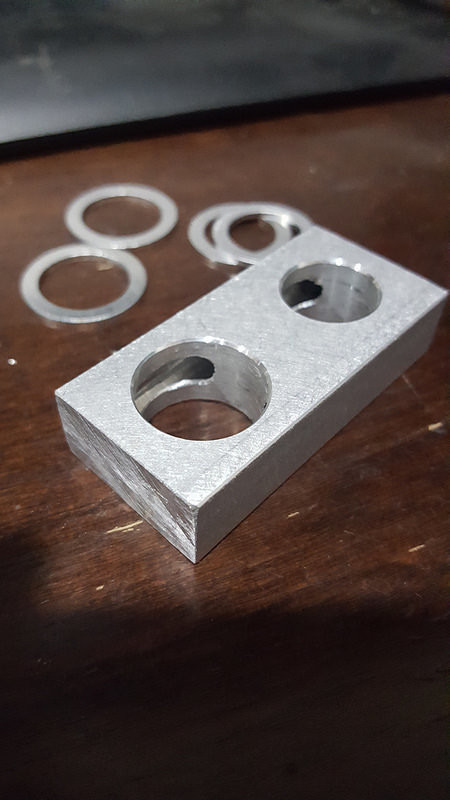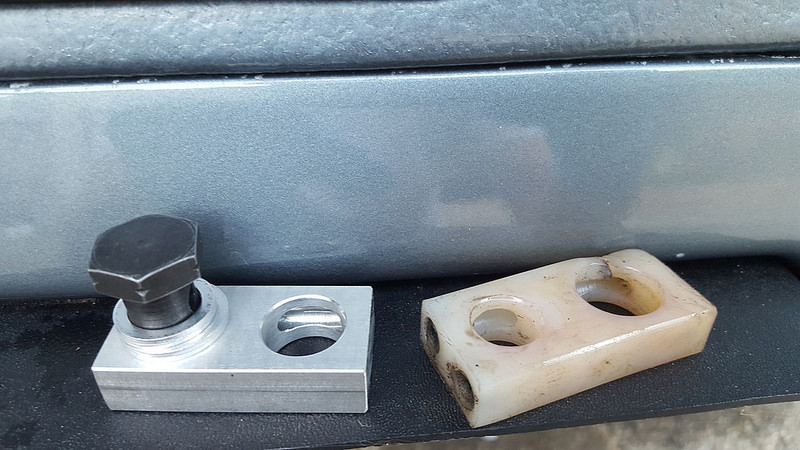 Oh and gotta throw the doggo on..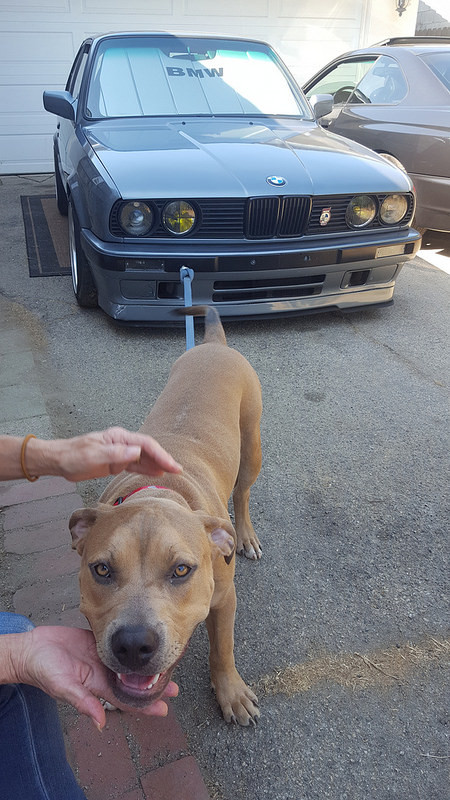 Mounted up an extinguisher after seeing my neighbors lowrider catch on fire at a car wash down the street..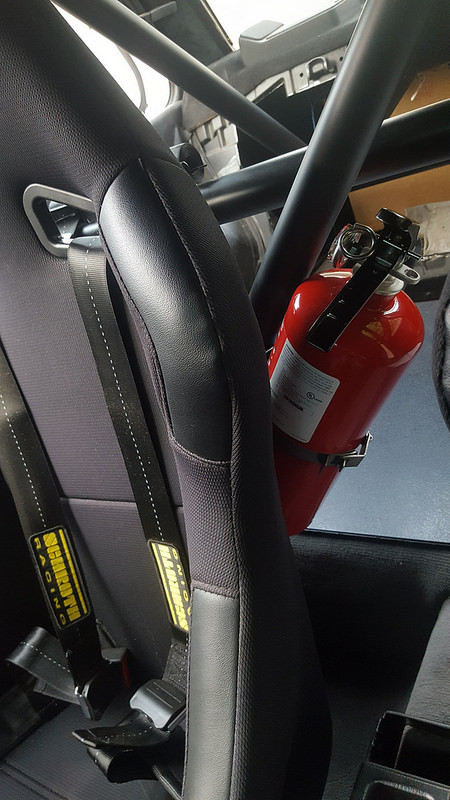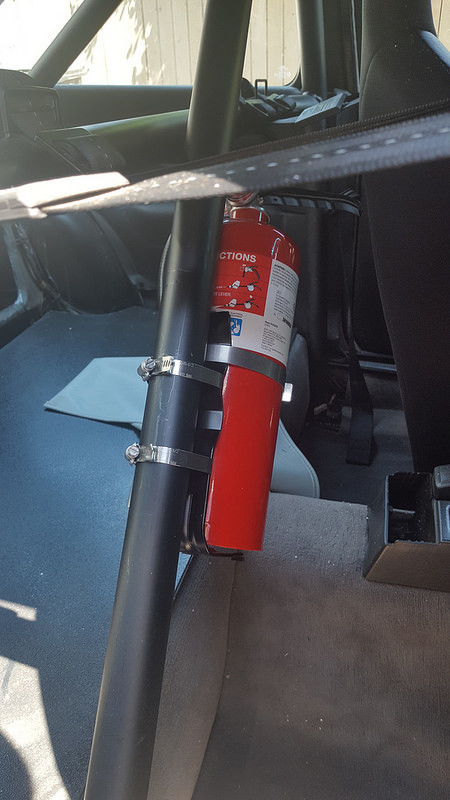 Then begun carpeting the seat deletes which I still have no clue wtf I'm doing. I was also hoping the grey would match better with the OEM carpet but can't always have everything.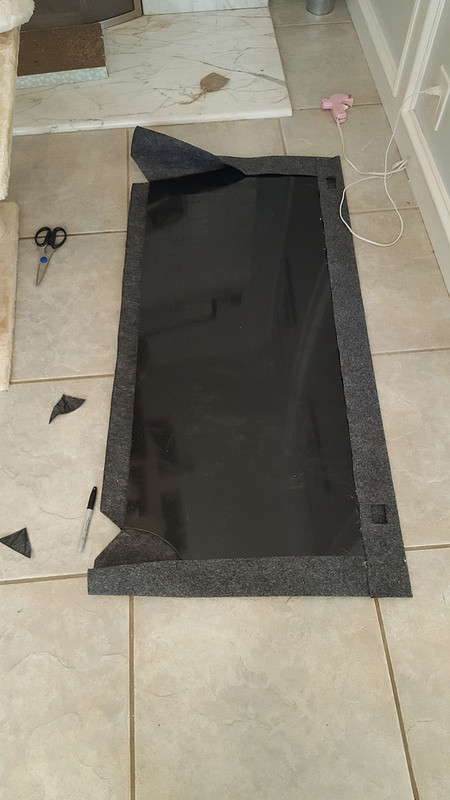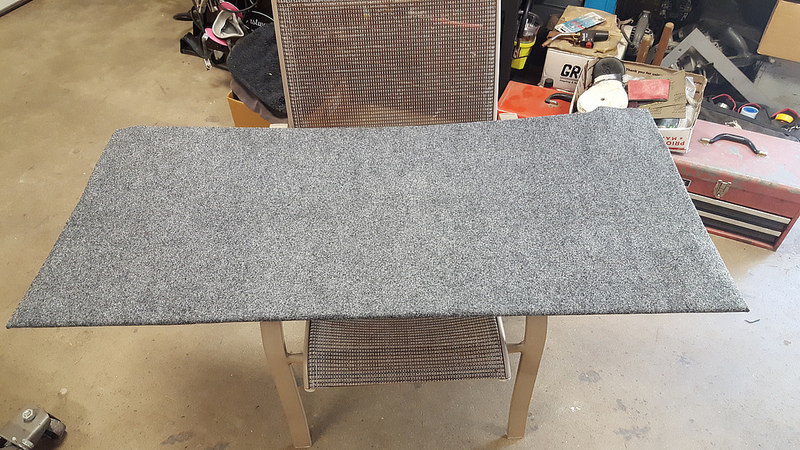 Bought a sheet of metal and began hacking away at it, hardest part I encountered was the wiring loom on the drivers side & getting it to fit just snug back there. Primed / painted so it wouldn't rust, then hit it with some Super 77 & wrapped it up. I went ahead and welded some SS 10mm studs onto the back so it bolts on through the back for a little cleaner look. After sitting looking at it, I decided to cover the wheel tubs too as an after thought which was kind of a PIA. Maybe when I have the door cards re-done I'll revisit that idea.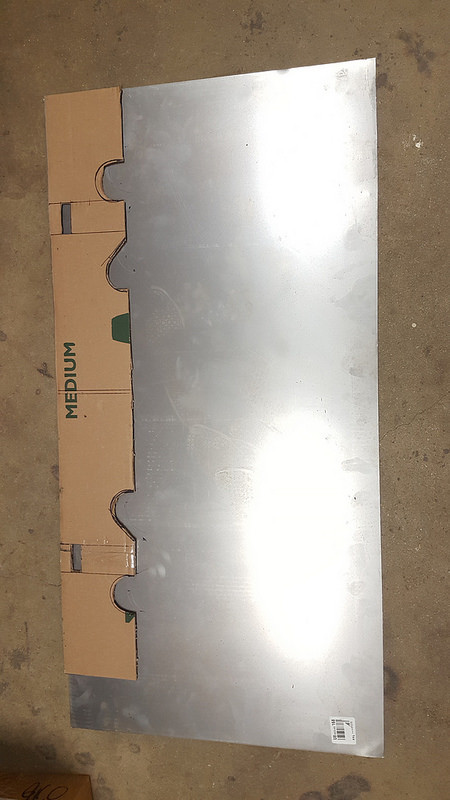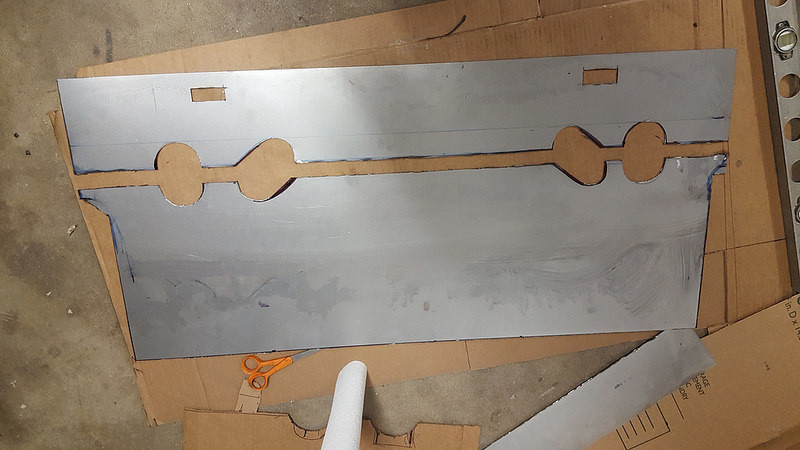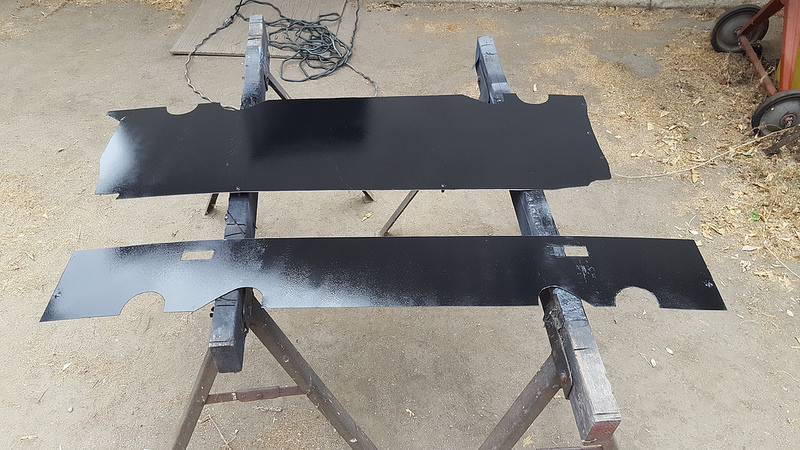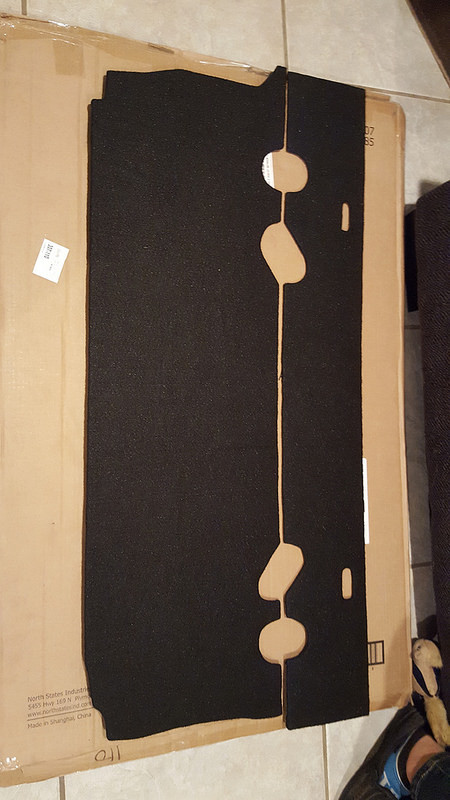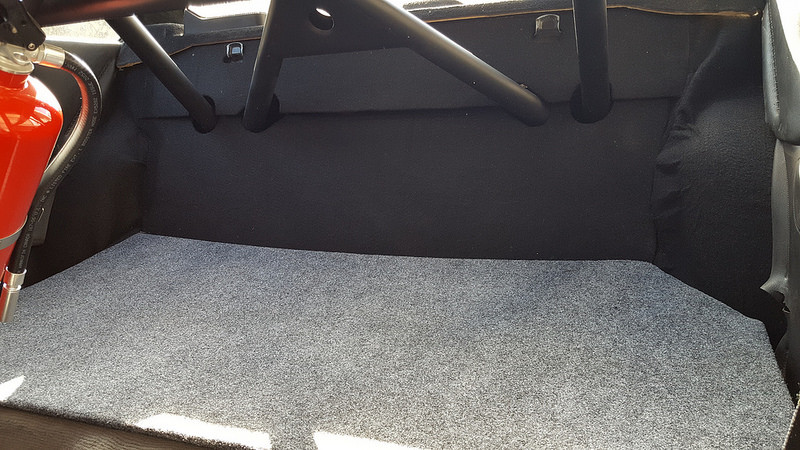 Then pulled my lip off & re-painted it before SoCal Vintage, since I cracked it pretty nasty coming out my driveway a few months back.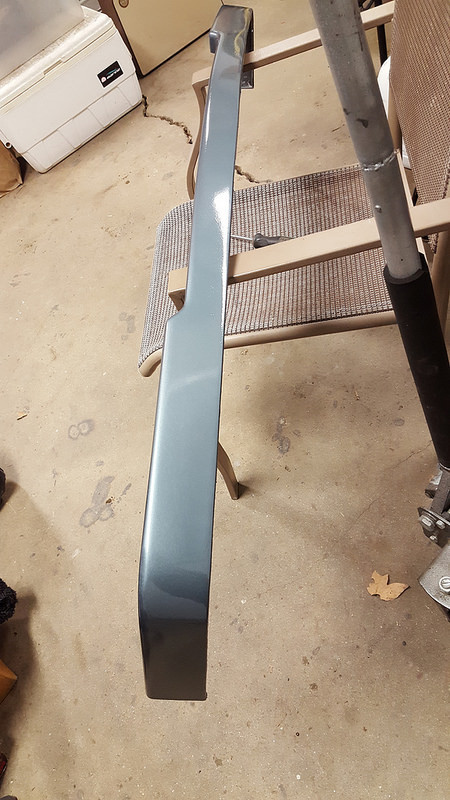 Pulled a canister off an e34 along with a purge off it and an OBDII car. Ended up going with the M62 purge since the spring sounded healthier & bigger. Did a temp job mounting the can in the bay to make sure everything worked. So far it doesn't smell nearly as horrible, so hoping the cat will clear up the rest of my headache issues.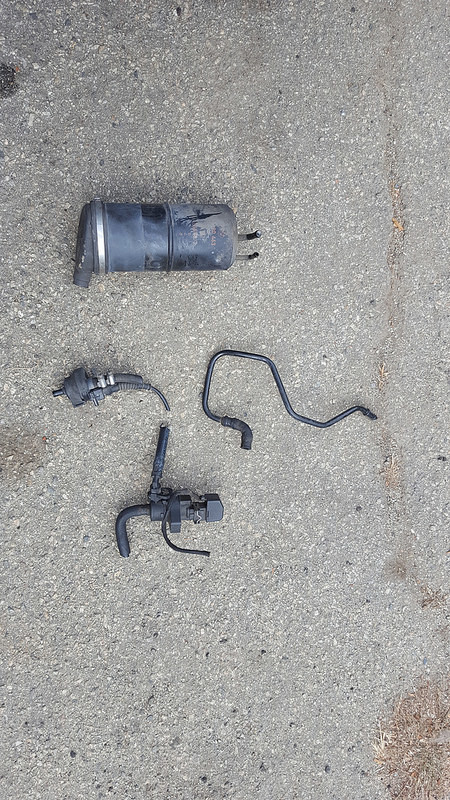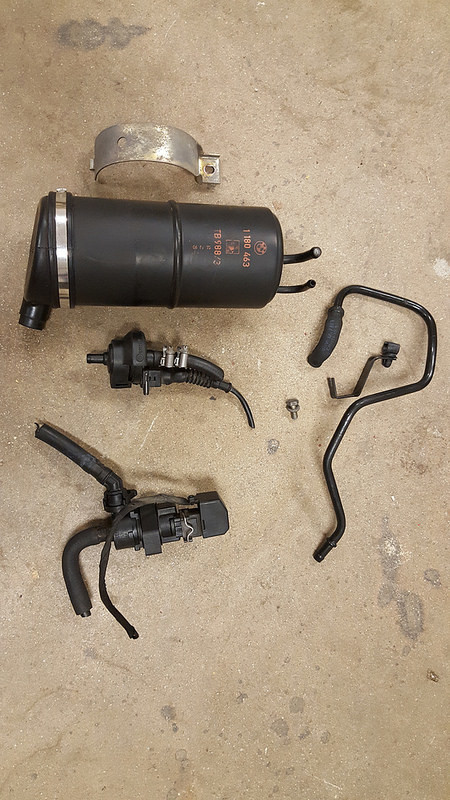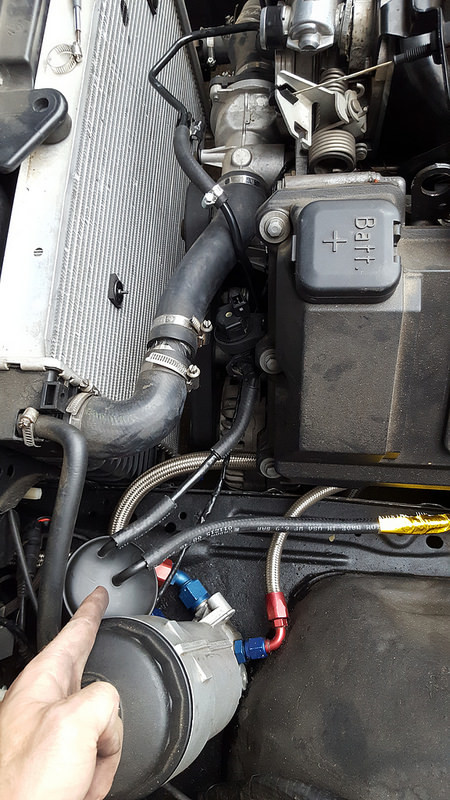 Biggest benefit of owning the 8 right now aside from looks, is being able to swap parts from both motors to verify the issues. So far my ICV has been giving me issues, not sure why, I've pulled it, cleaned it, and still having some hiccups when its very cold outside. Yet when I swap the 8 series one on, same issue, swap them back, 8 runs just fine. So I'm starting to wonder if the wiring is acting up?

I pulled some ohms readings and off the top of my head I think i had 11.5 on one terminal, 23.5 on another, then on my e30 it was 12.1 and 22.5 I believe? So unsure what the discrepancy is between those two.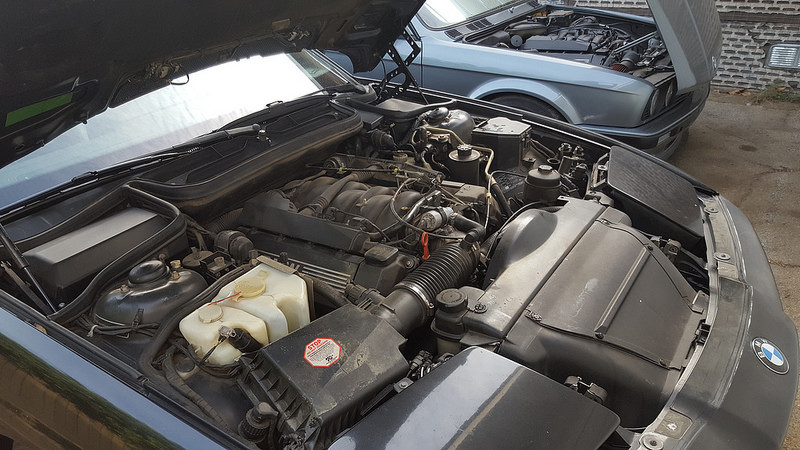 4-25-2018
Guess its about time to post some pictures since I've been a bit inactive. 2018s been an interesting one, been making more progress on the e31 above all, acquired an e38 from the original owner for an insane deal, putting that on the market to fund other projects. So with that being said, give a little peak & toss some much needed photos onto here. There's a few things I've left out, forgotten, didn't take pics of, so I'll just run down the line of photos haha.


I fixed my front spoiler, shot a rough coat of base & cleared it since I figured one of these days I'll run it over again. So instead of trying to perfect it and let my OCD take hold, I got it to the point where its acceptable to move forward onto the next.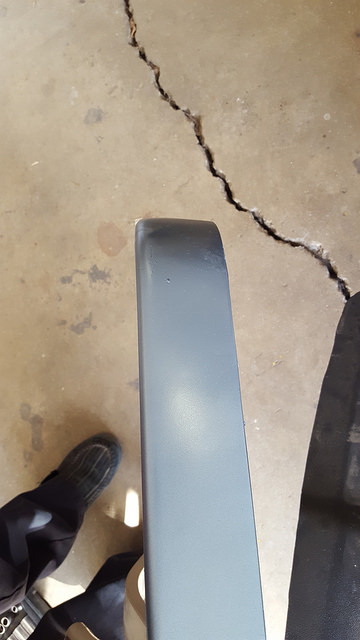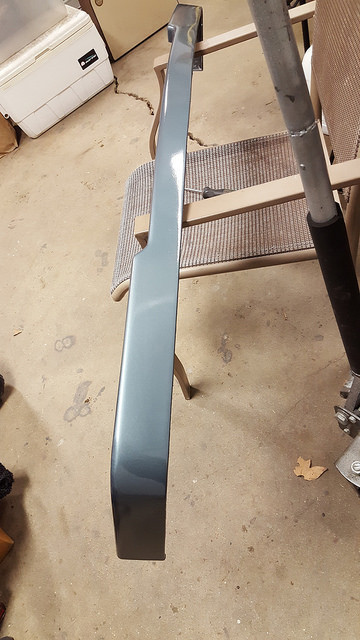 I then got tired of looking at my dirt engine bay and for the first time actually decided to detail it, which didnt last very long. Perks of living on a property with primarily dirt.... nothing stays clean, so a big woop for that haha. Hindsight should have taken photos in the daytime but eh noone cares lol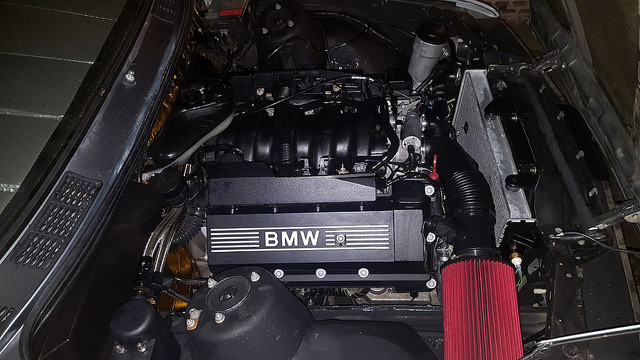 Then one day I decided to take it out and really let it loose, its funny how addicting torque is. I was having a bit of fun, you know minding my own business, then next thing i know I'm limping. So I stick my head out the window thinking "wtf did I hit, did I get a flat?!" NOPE. wheels wobbling, so I managed to make it home since I wasn't too far away. I exit the car and noticed my wheel was a bit uh sideways. Closer inspection I find that I snapped two of four motorsports studs. Shoot Ryan a text, day later have a new set & swap them out. Luckily I still had a few extra lugs & the wheel lock lug wasn't apart of the damage.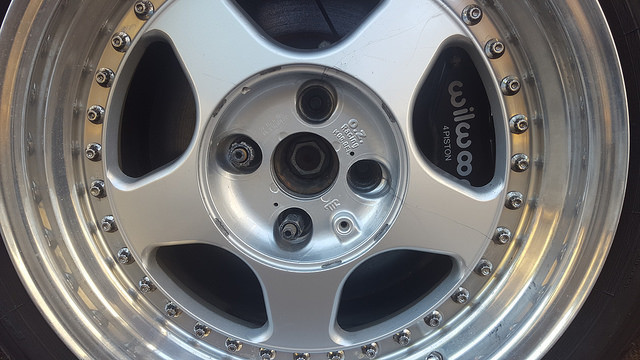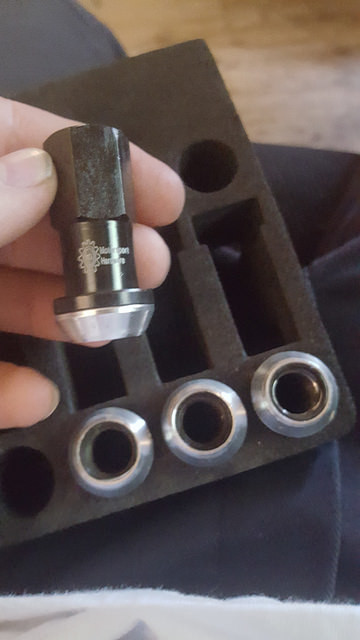 So off the wheel, rotors and etc came... I was greeted by a nice little challenge that I was hoping to try but not in this fashion. So I took a small gamble and decided I'd try a new-to-me technique, worst case I'd have to source a new hub. Grabbed some nuts laying around and got to work. By no means am I a welder, but I've been considering taking a few classes just to get a better education behind it. Knowledge is power kids.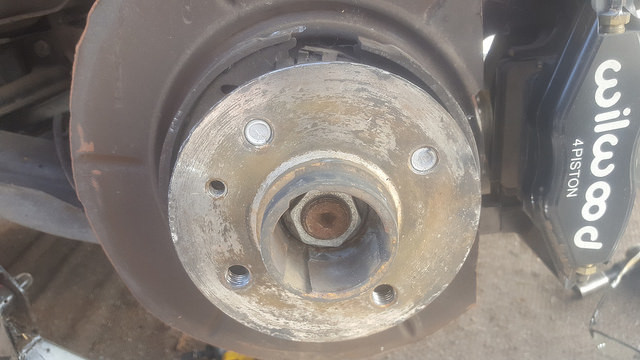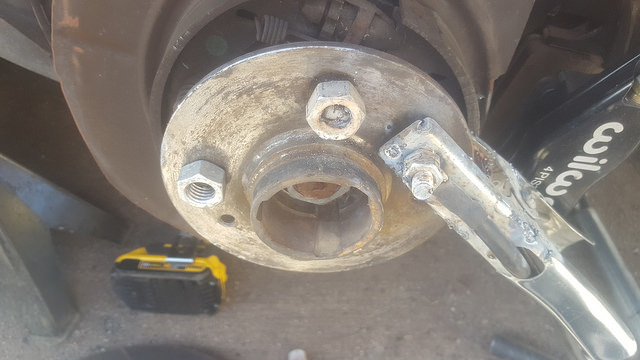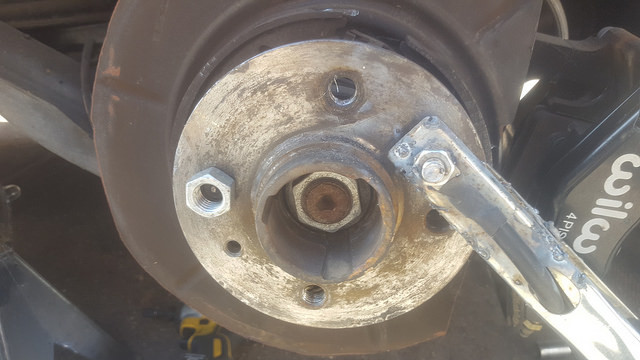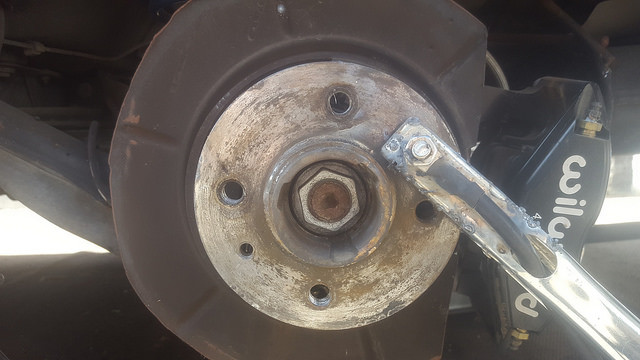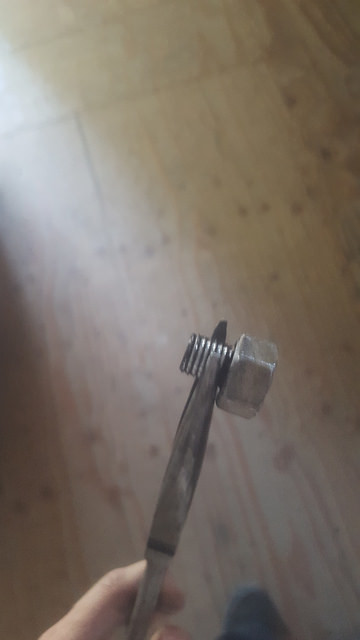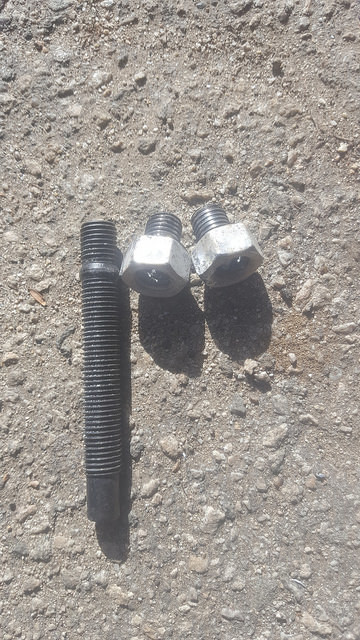 Then I went ahead, ran a tap through the hub to make sure the threads weren't all fubar'd and wasting my time. Luckily everything turned out properly, and went ahead and tossed some loctite back on and put it back on the road.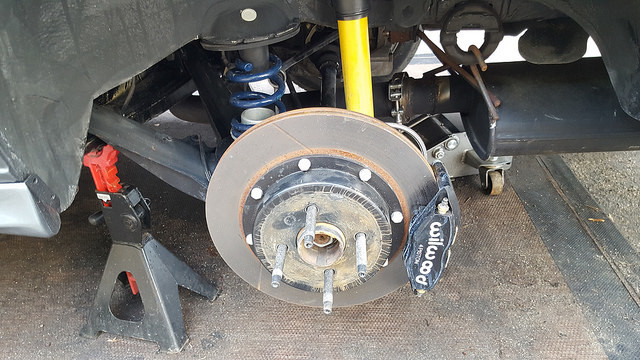 After a few more short drives followed by cleaning & organizing my misc parts in boxes. I came across my e36 brace that I never got around to installing prior to trading for the e31. At which point I kinda sat and thought to myself "hell why not give this a shot". I've seen a few people do it but wasn't sure how viable the outcome would be, some weld this, some bend that. So crawled under the car and held it in place and was like "whoa, it's almost a near perfect fit, why don't more people do this as an OEM-ish option as oppose to hundreds of dollars"

So I begun using rivnuts to secure the subframe position, couple of white out marks, and began drilling and installing the other rivnuts, took the brace down, bent the frame rail tabs, and boom, fits.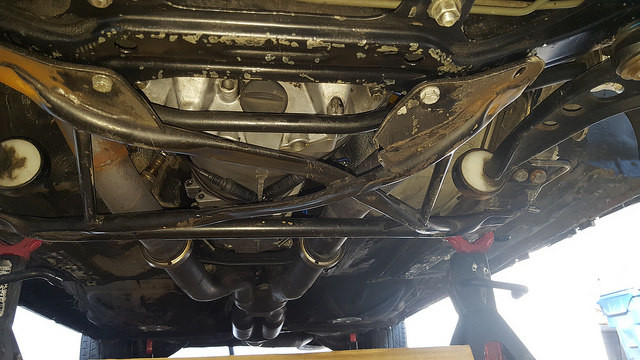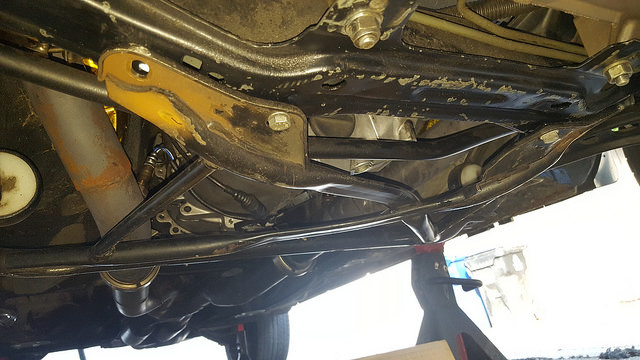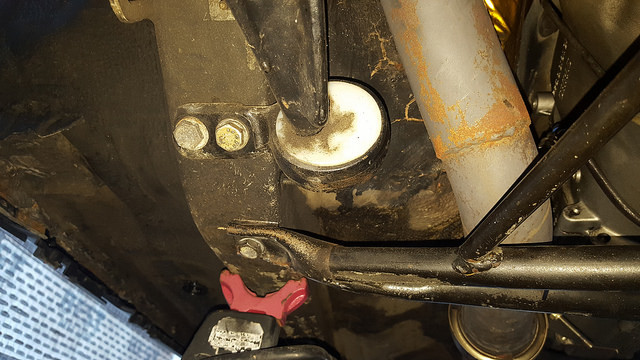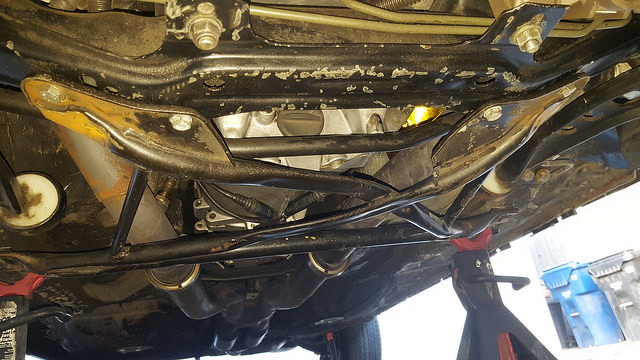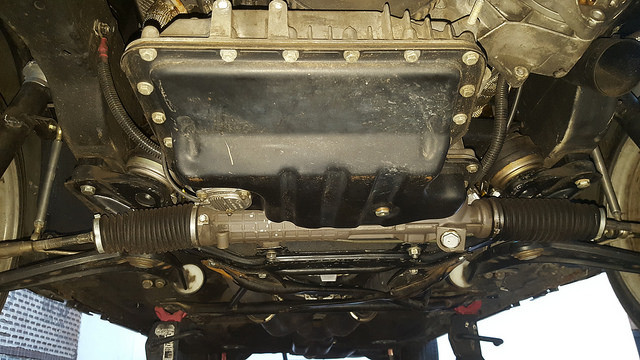 Well there you go, e36 oem X brace on an e30 easy as pie. Then I dropped a ridiculous amount of money on a bunch of v8 parts for both cars, and did the tensioners on both cars. I'm unsure if these photos were from the e30 or e31 since it's been some time, both looked very similar. I had a slight rattle coming from the e31, even after an oil change which this fixed, and in comparison, the e30 is a cakewalk to work on compared to the 8 haha.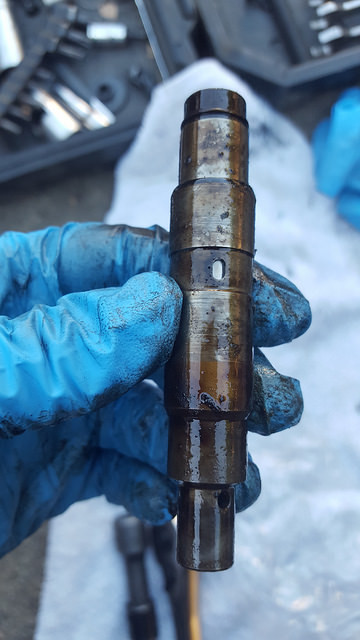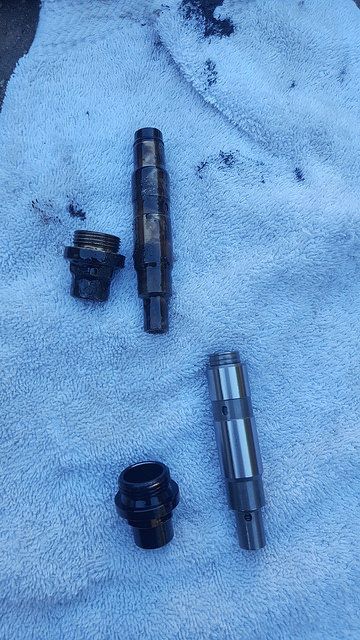 Little while later, I decided to change the FPR, intake manifolds due to vac leaks, and I added an oem m62 breather tube into the m60 manifold on the e31. Which then gave me the idea of instead of spending $30+ on another tube for the e30, while im at it, i'll make my own. So with a check valve, some ally tubing, I cut, drilled, welded, and fit a DIY tube into the e30. At which point I had an extra m62 throttle body without the plate and swapped that out as well. Cause, you can never have too many upgrades right? I added slits on top, and drilled the bottom out in a few spots incase oil decided to pool in there, which hopefully wont be the case.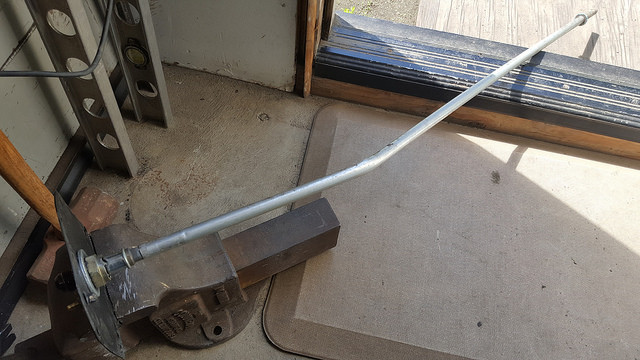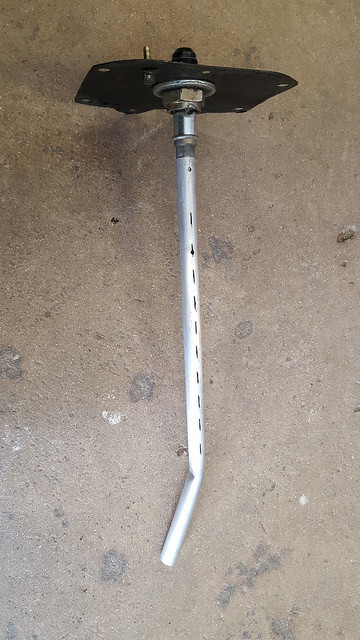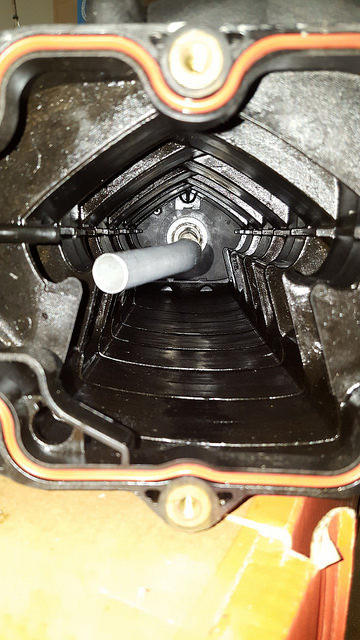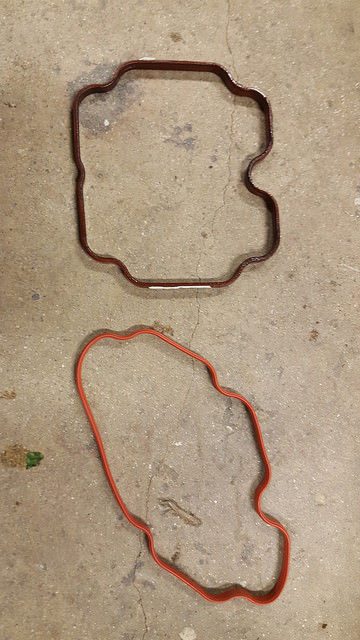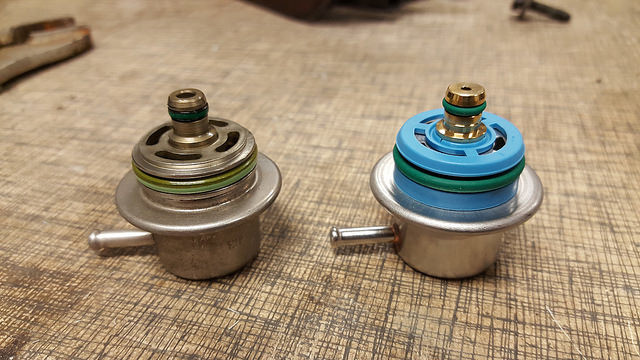 I'm sure theres a few shots side by side of these two but for anyone reading heres the major differences.


M60 w/ plates & M62 w/o plates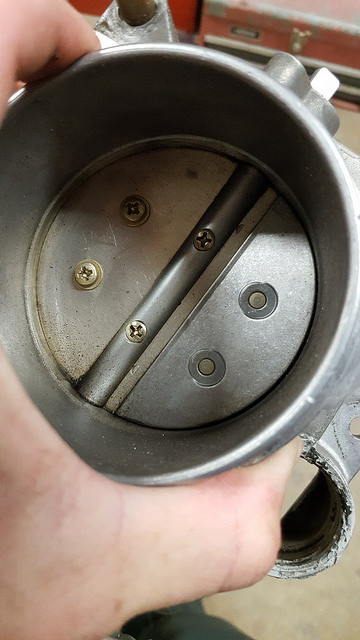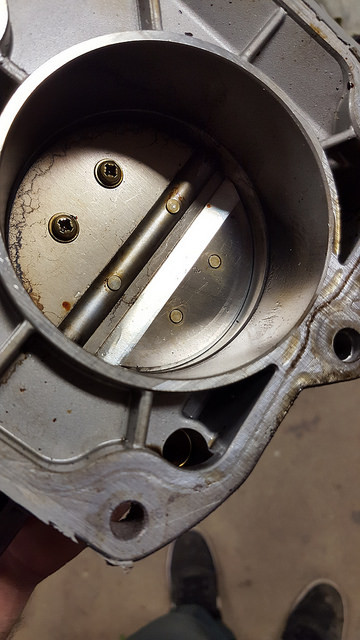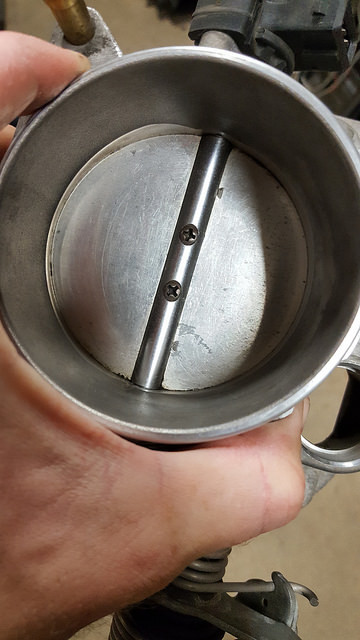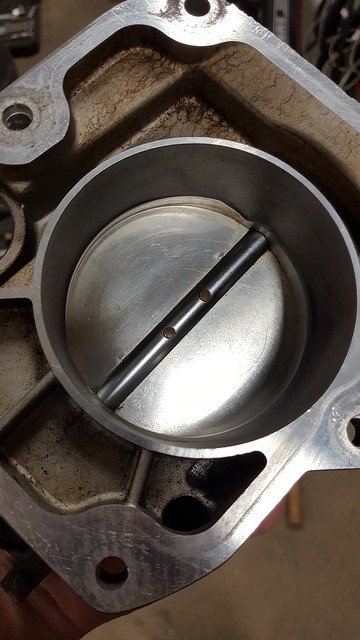 I'm waiting on the adapters for this, since the builder is moving shops currently, I'm hoping to have this on the car, functioning by years end. Fingers crossed, I originally bought this for the e31 since it yearns for more power for its weight but considering doing an s62 swap instead for obvious reasons. Which leaves me with this little gem. I met a very cool jaguar guy locally, told him what I'm doing and was able to get everything needed off his parts car. I've tossed around few ideas of how to route this and that, so far the plan is looking very solid. Car had 105k miles on it, lot of work already done, needs needle bearings but buying a kit for that, gave me most of the gaskets, insane what Jag charges.

Biggest hurtle I see, and if someone would like to toss a recommendation out I NEED A TUNER.... I have no faith at all in attempting to reprogram even with inpa/NCSExpert software. So if anyone can point me in a direction locally, I'm guessing RKtunes but haven't reached out and contacted them yet. Greatly appreciate any help in this field.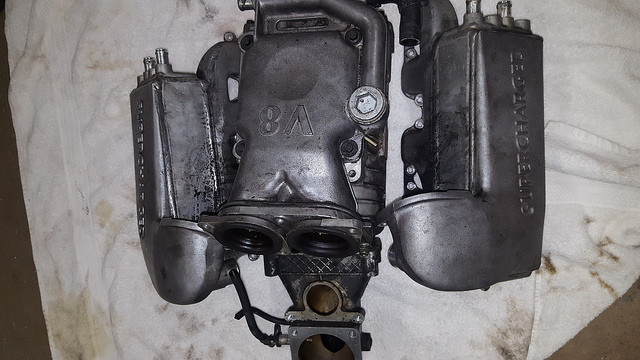 Gave everything a deep cleaning, made sure all the bolts were there & labeled. Going to pull the intake manifold off and see how to route some things, most likely going to get rid of the blower cover or make a new panel so that things fit haha. Meantime, some powder, new seals, rebuild the injectors, yadda yadda yadda, keep ya'll posted a bit more often once this comes to fruition.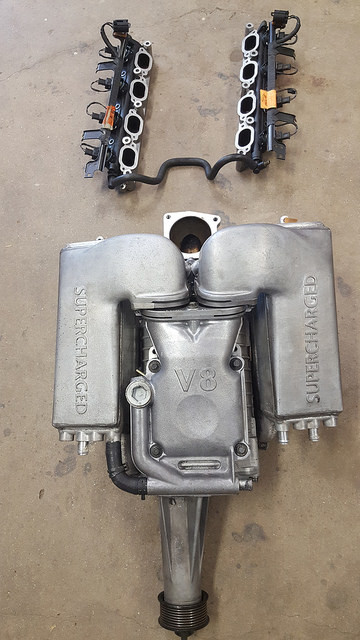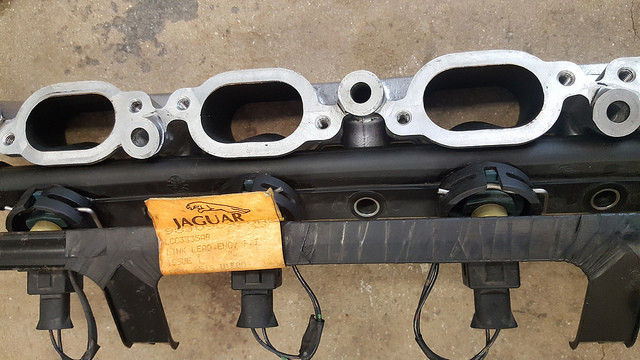 OH and big shoutout to whomever did this at the junkyard. I thought this was so funny when I walked past and saw it! Good shit reppin r3v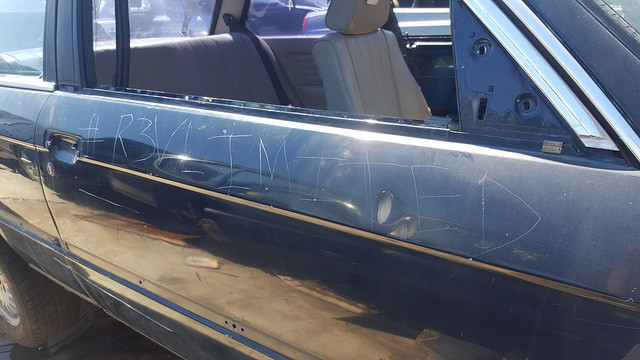 7-3-2018
Thought I had uploaded some of these pics but I guess not. Hell of a month taking care of my dog after a torn ligament/dislocated knee which has zapped a lot of funds. Along with a new job with weird hour shifts haven't really had time to work on the 30 very much.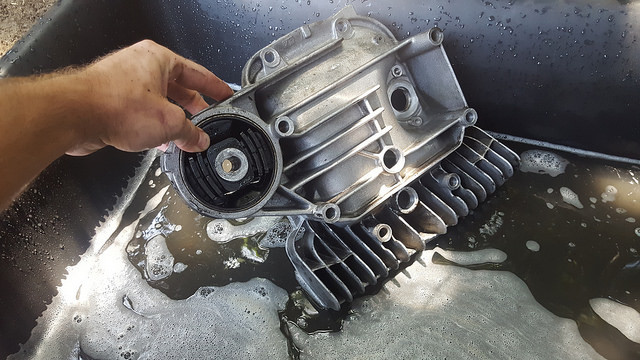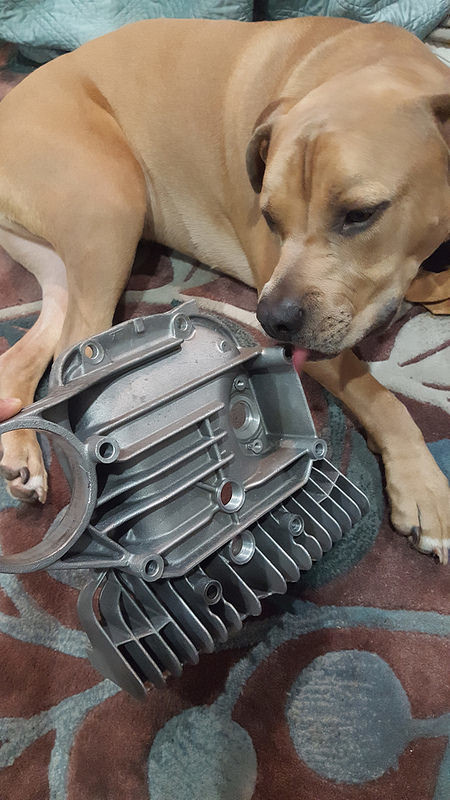 Picked up a z3m cover since I regretted selling mine a few years ago. I began to try and degrease it & figured it was a waste of time, my buddy gave it a nice hot tank bath & dog approves. Also got hooked up with a little emblem for my hood piece to complete it. Meanwhile I took my whole hood off & scraped off the foam & gave it a good scrubbing to get everything off, unsure if I should refoam it or leave it be.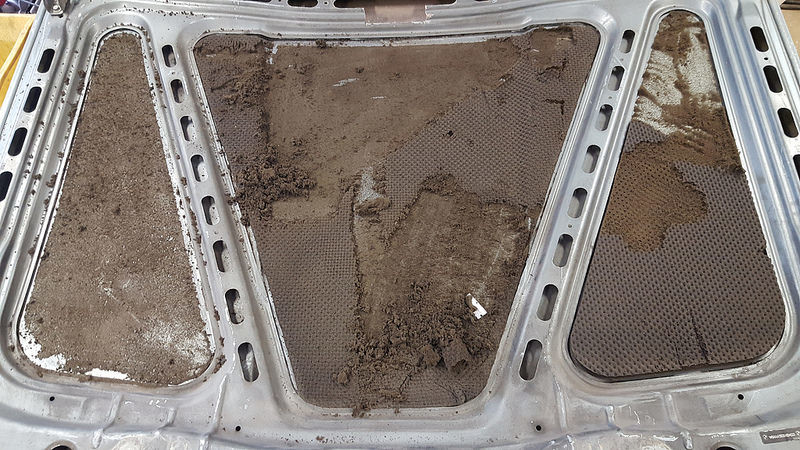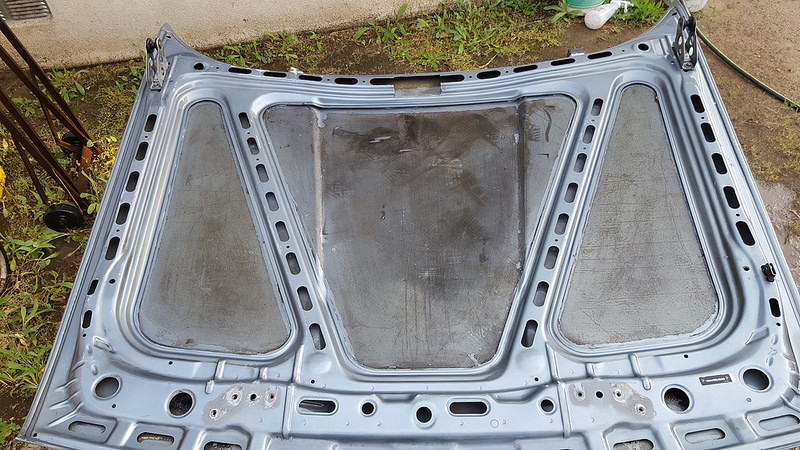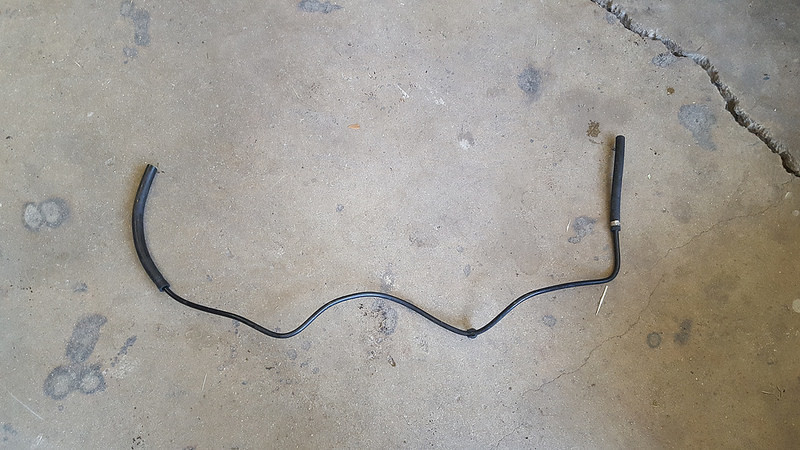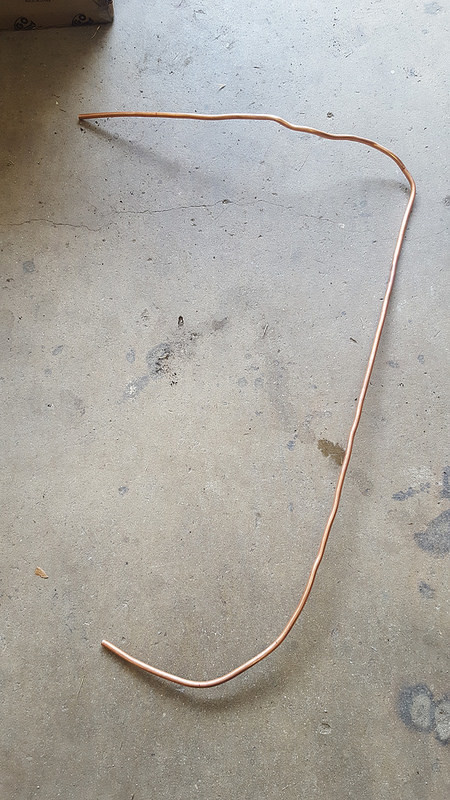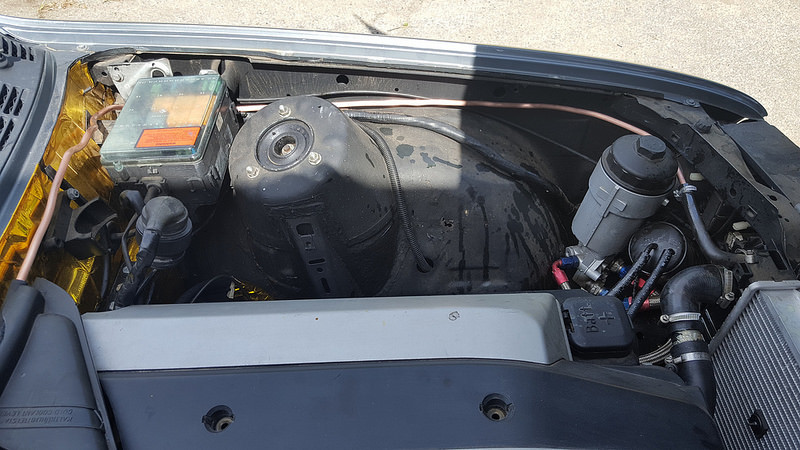 I went ahead and got rid of the ratty e34 overflow plastic line I got from the junkyard & made it out of copper instead. I realize I didn't take pics of the flares but theyre there. May just go ahead and use the left over copper for some fuel/breather lines to get rid of excess plastic. Still planning to relocate the charcoal can to a stock e34 location under the fender, gave the SC a more indepth cleaning, waiting on new needle bearings to come in. Figured I'd use up a scrap can of etch primer/high temp enamel I've had laying around to brighten it up. I had someone ask if its orange peeled but its just the texture, which will probably be a PIA to clean eventually. I know its not much of a secret but using chapstick or the likes on raised lettering will make your life easier. Wipes right off once everything is cured.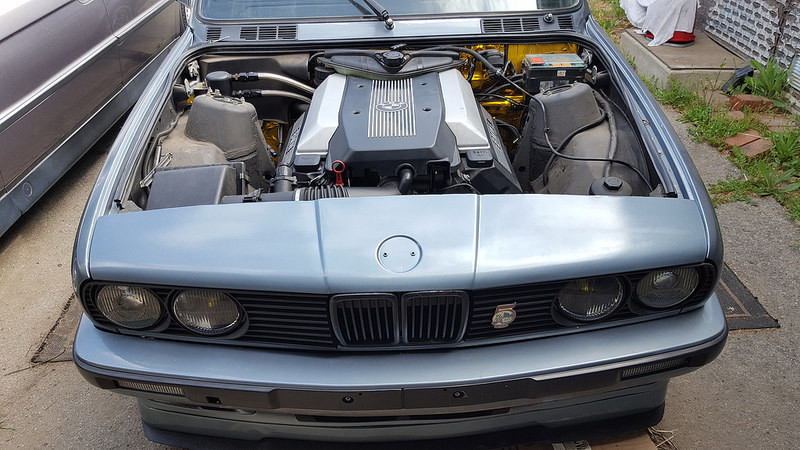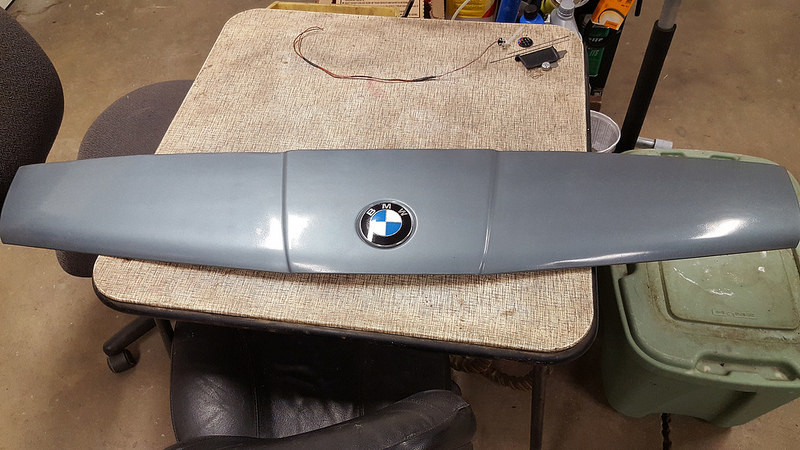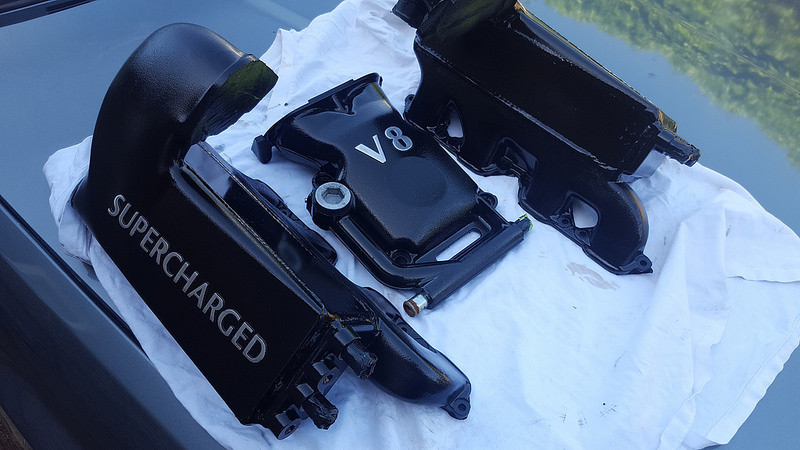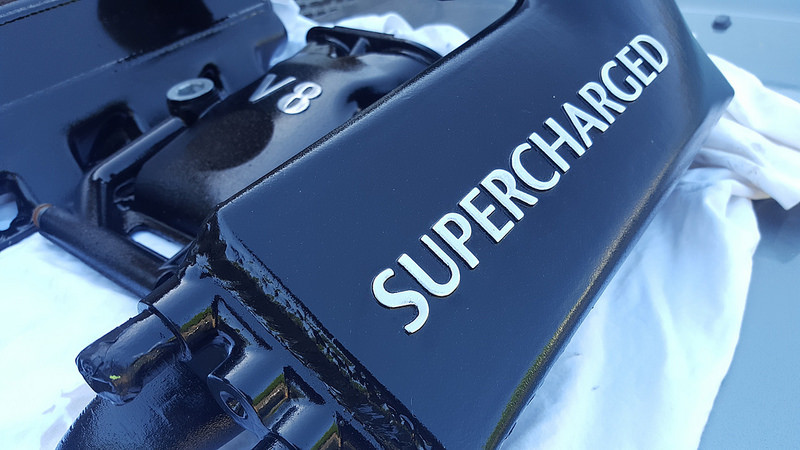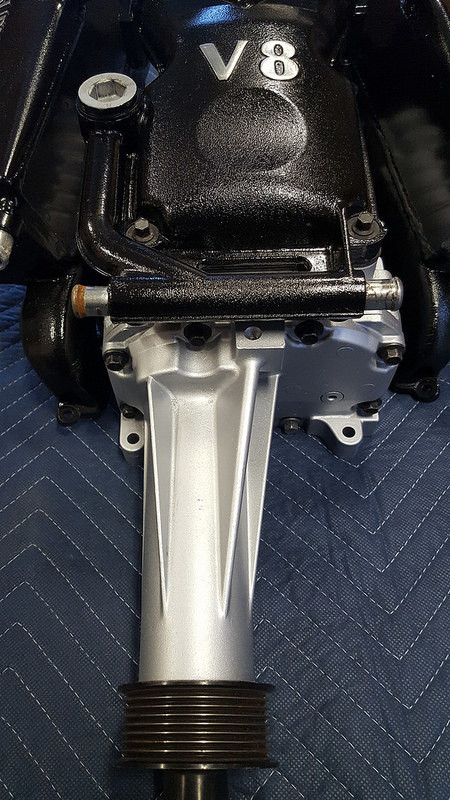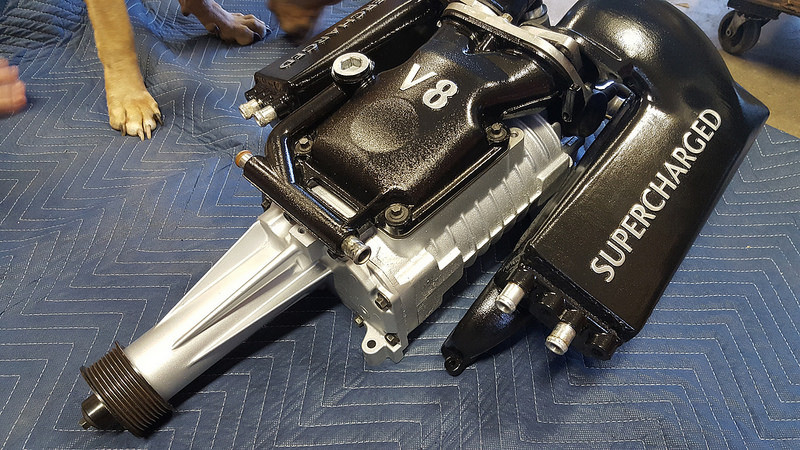 9-9-2018
I've sat staring at the car the last few days, and getting tired of seeing this sit in my driveway. So I'm gonna start back up on it and re doing a few things & hopefully push to make this a smog legal deal since cali is so laid back you know...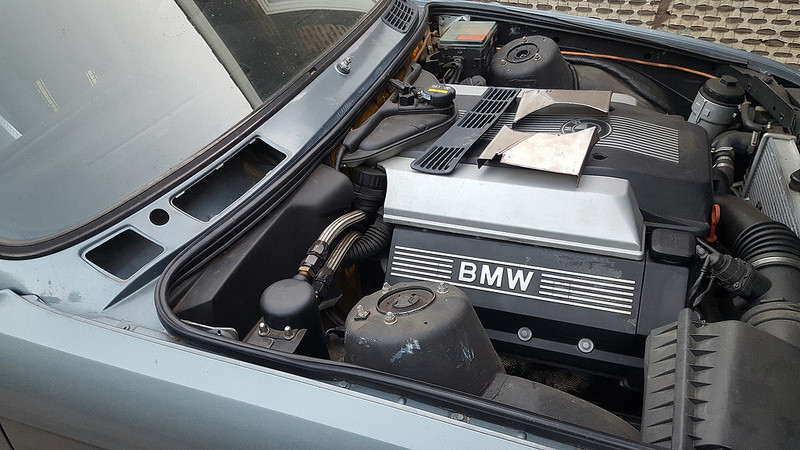 Decided to cut some sheet metal, plug the vents under the windshield, removing the wiper & gonna extend it to make a true mono wiper like the ACS kit. I haven't decided if I am gonna relocate the fluid res where the blower motor used to be, but if the catch can goes, may just relocate the coolant tank to the battery spot. Also made my own strut reinforcement plates or whatever you'd like to call them, next weekend I plan to aircraft strip the whole engine bay & spray it again in an OEM Cirrus so it flows better.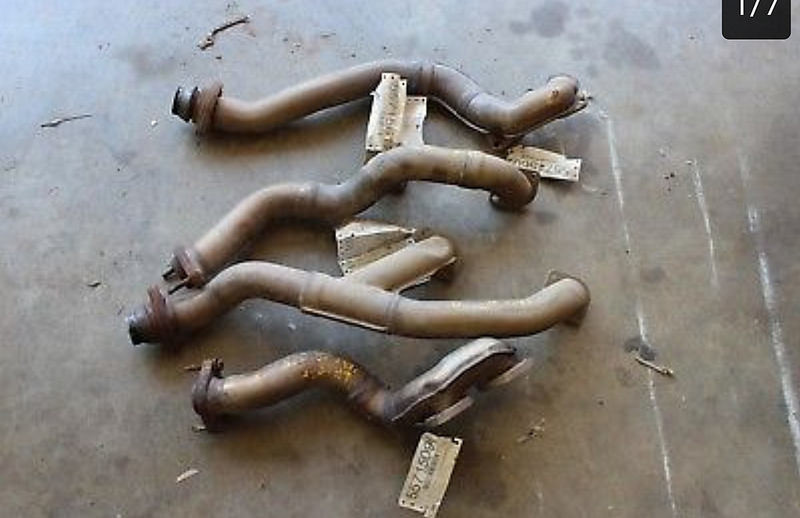 In an effort to make it smog legal, I found a great deal for a set of stock exhaust mani's (Insert crappy phone screenshot) and bought them. I seriously had two sets, and gave them away for scrap which I totally regret doing now. All I need to make this thing legal is add cats, and swap in an m60 NBD right?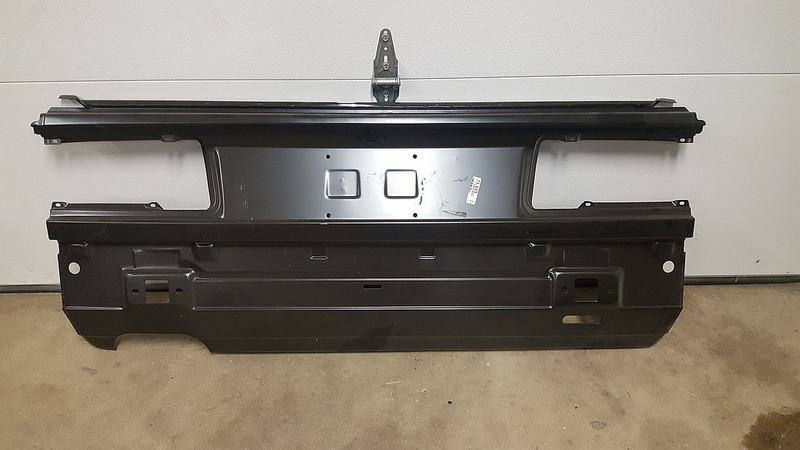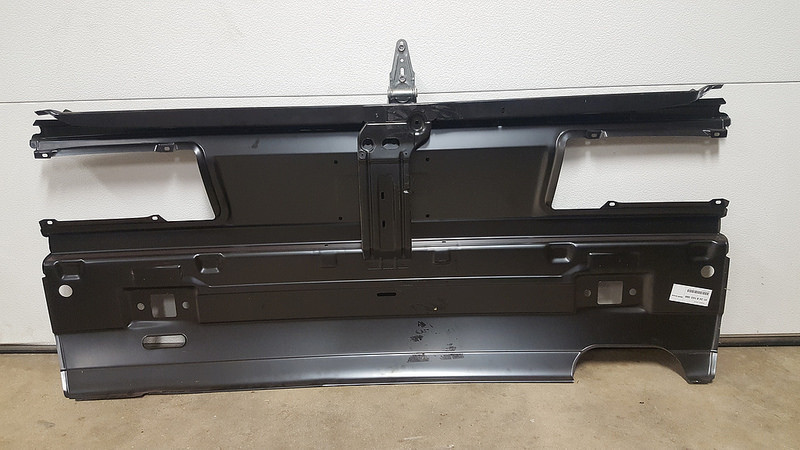 Side note I've had this OEM panel sitting in my garage for 3 years now. It's about time I fixed what the body guy couldn't straighten out, and put it to use. Been working a lot more on my tig time so pretty sure I can finally smash this out with some time and luck. Finally have a straight, correct, and flush tail light piece.
9-12-2018
I begun stripping the engine bay of the truck bed liner since all it would do is get filthy and be a PIA to clean.

I've decided to go back and change a few things, try and push to get the engine BAR'd and see how that goes & fix any short cuts I took in the previous years since the car isn't going to be sold... well.... ever.

So I started disassembling the rear & spent about 3-4 hours drilling out the spot welds, exhausting but the seam sealer was worse than drilling. Still need to run a wire wheel over a couple spots with surface rust & seam sealer. Then go ahead and clean up the few edges before tacking in the new panel and confirming fitment. Overall I understand why places charge around 1k-1500 for this kind of a job, but lucky for me wire wheels & a spot weld bit is only $10.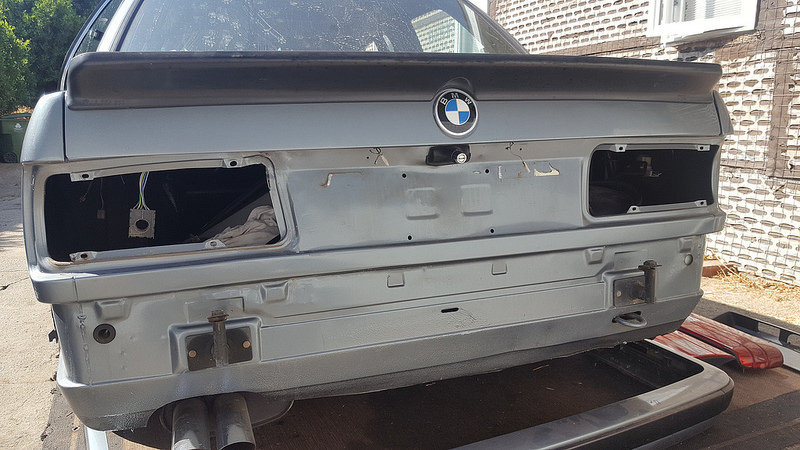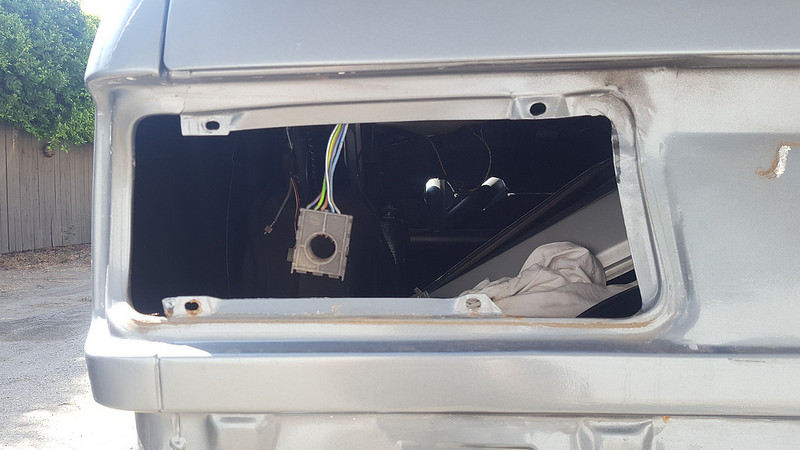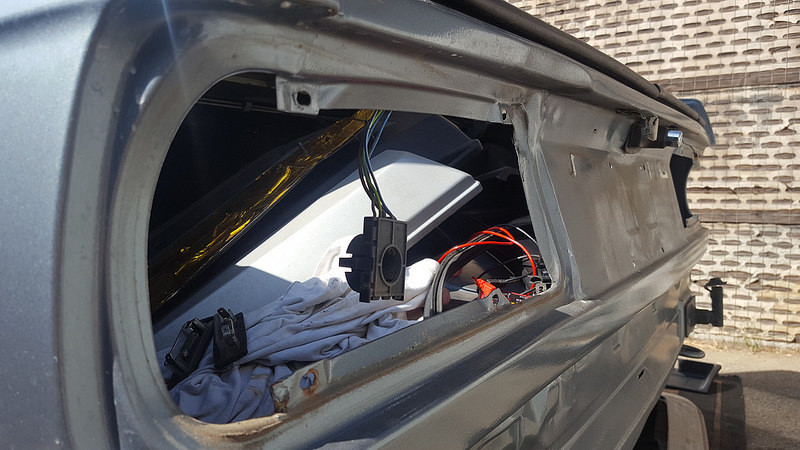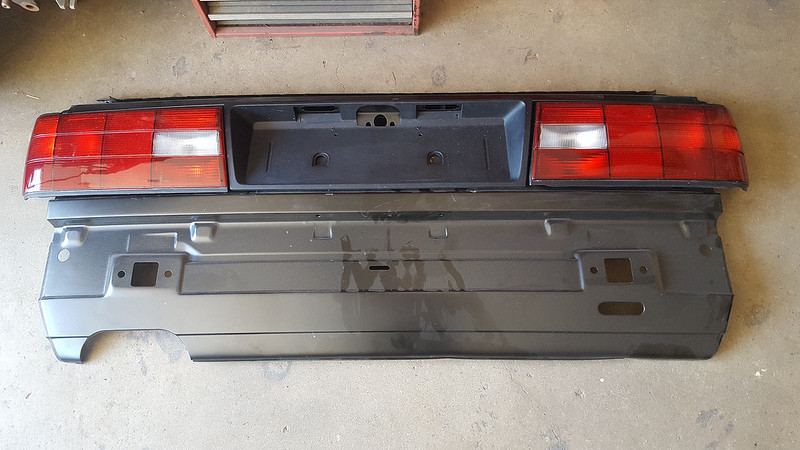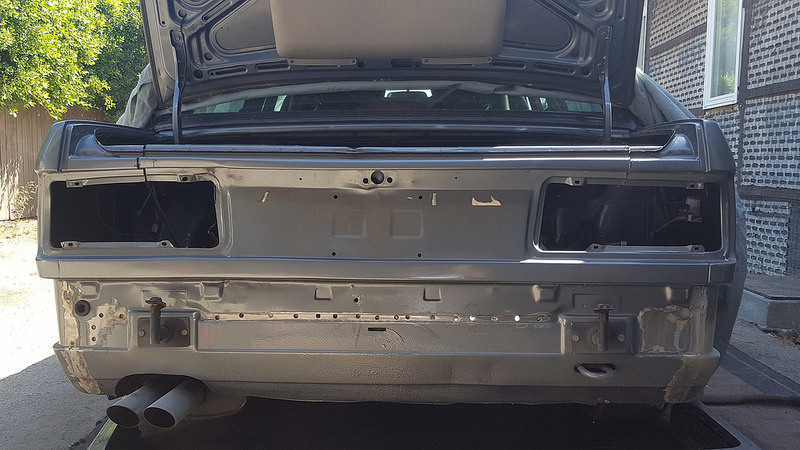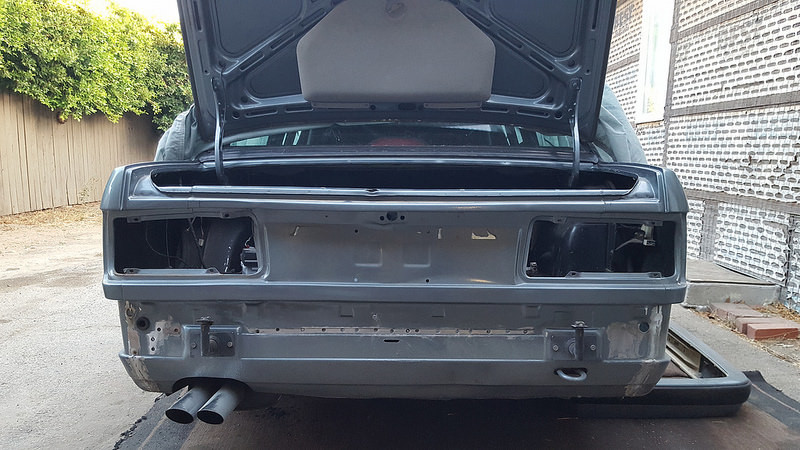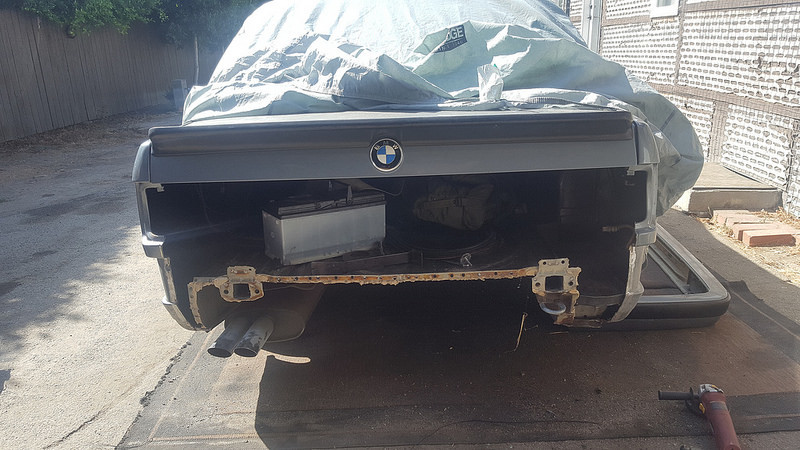 9-13-2018
Overall ecstatic seeing how well everything lined up and not too big of gaps that can easily be welded flush no problem on the sides. That was ultimately my biggest concern is not shaving off too much. Nothing is currently welded its just pressure fit in place and hanging on by gravity. Figured I'd toss the plate filler & tails in to see how it looked.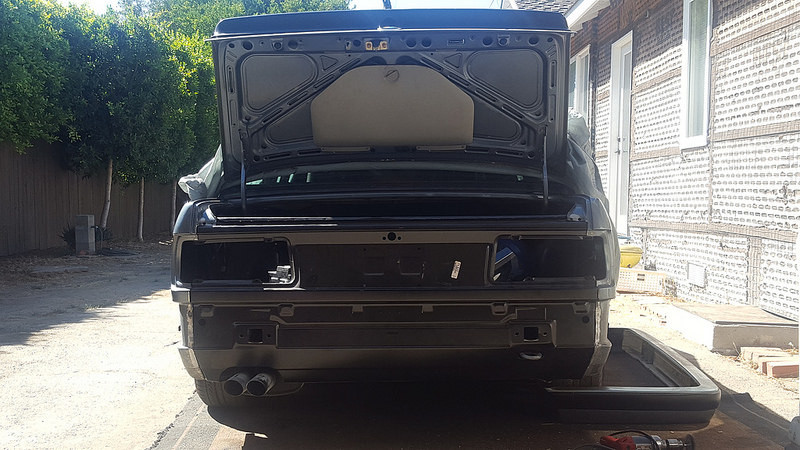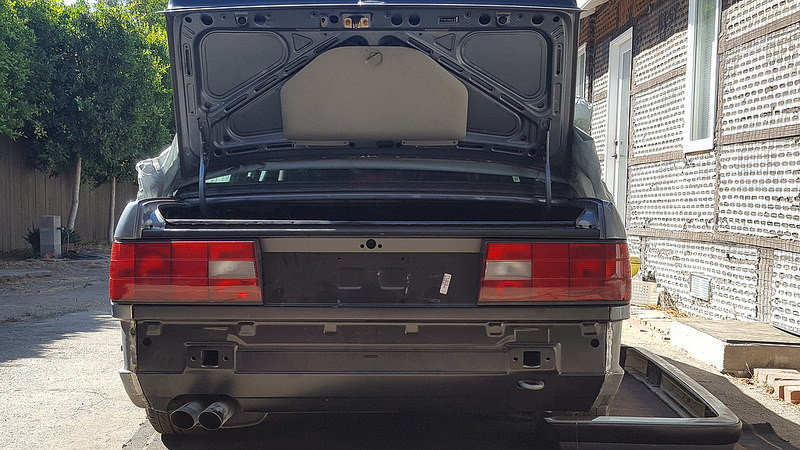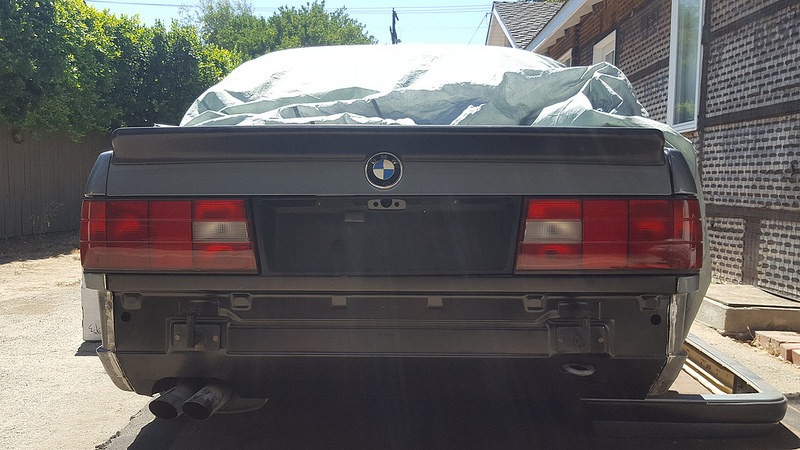 Wire wheel everything, remove all that seam sealer, spot welds are in a lot of really obvious places, theres maybe 3 I overlooked that were impossible to see. Mostly on the drivers side, separating the panel in order to not mess up the top of the body line, I chopped the tail section and pryed it with a flat head & angled flat bar to separate the seams. In total removal took about 3 hours, spot welds are a breeze its just the damn sealer that takes a while to get off.

As for fitting it up, I'm having the issue right now of only being one person. So when I line up the pass side it throws the drivers off slightly. I havent tacked anything down in place, just wanted to make sure the bumper holes lined up, inside of the panel, and tail lights aren't crooked or funky. Overall the trunk and tails line up really clean, and just gotta tap the tabs on the new panel near the bottom edges to mate flush and run a bead along the outside and grind it down.


I'm probably going to end up using 3m seam sealer, since thats a lot of peoples go-to choice but I've been looking at other options as well so I'll post when I do get around to that part once the welding finished.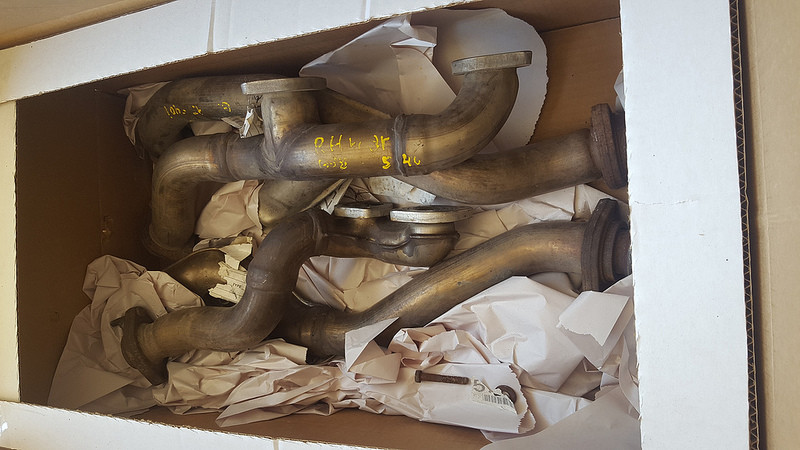 I also got these dropped off while cleaning up for the day, looking forward to trying to make something a little bit more stock for the ref.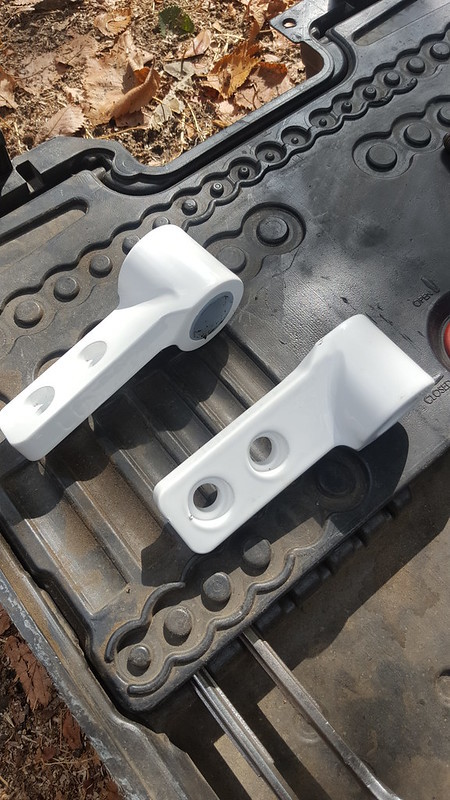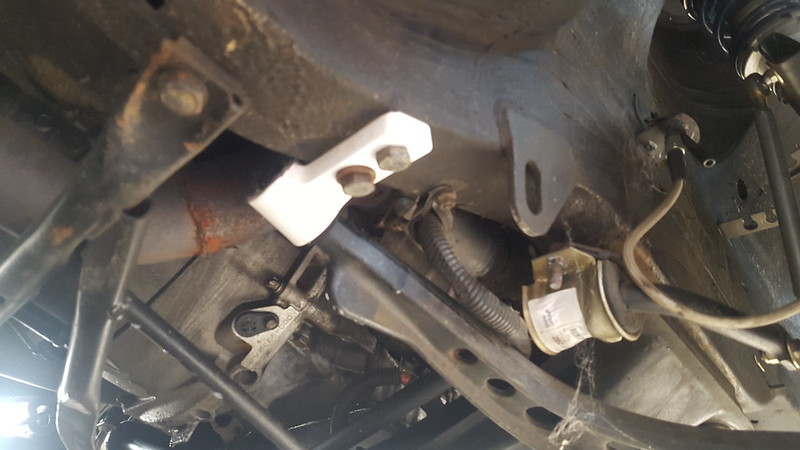 As I was working on the rear panel replacement, I did away with the undercoating & cut/welded in an antenna plug. Laid a skim coat over it to blend and eventually moved onto the engine bay. As much as I loved the look of the bed liner at first, cleaning it was a PIA. So after much deliberation, I broke out the aircraft stripper and have been going to town.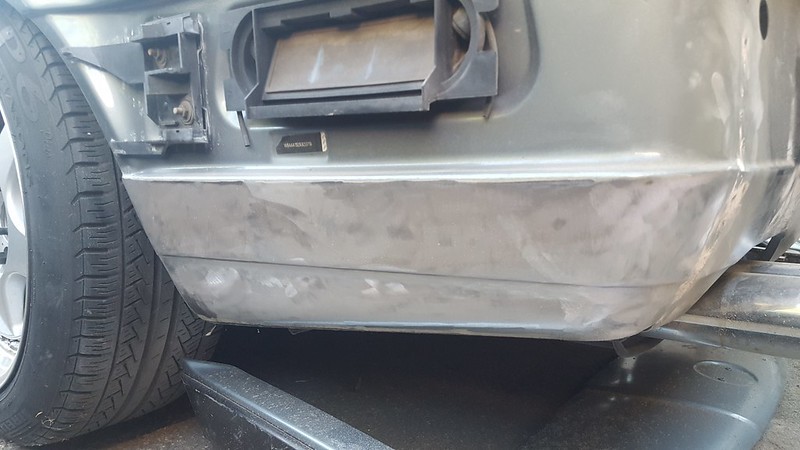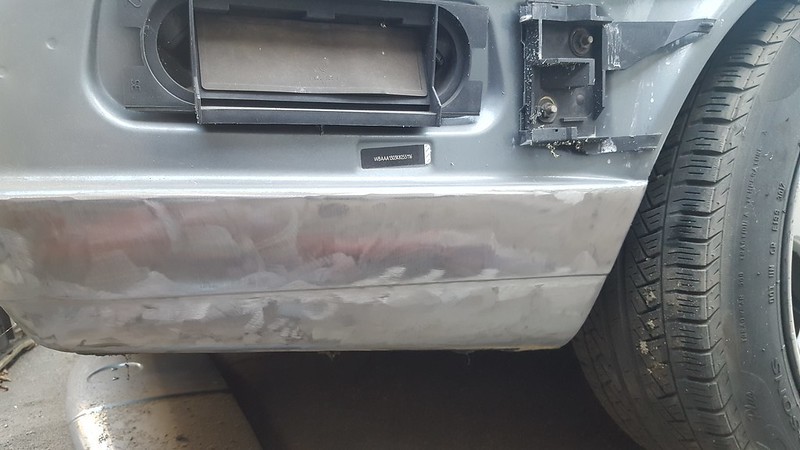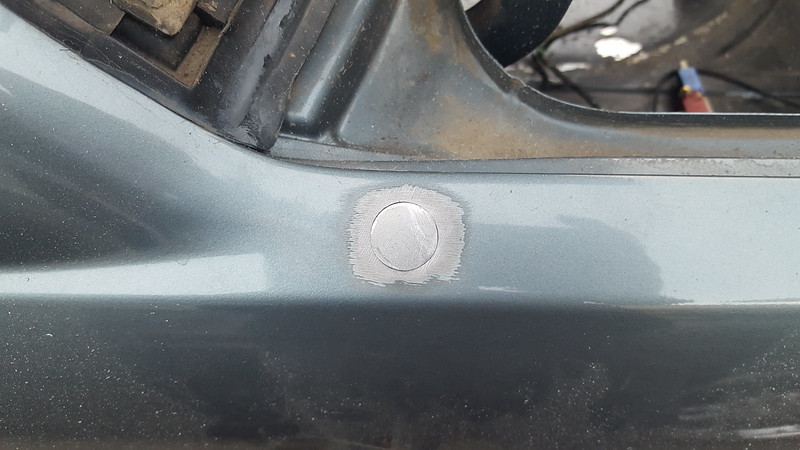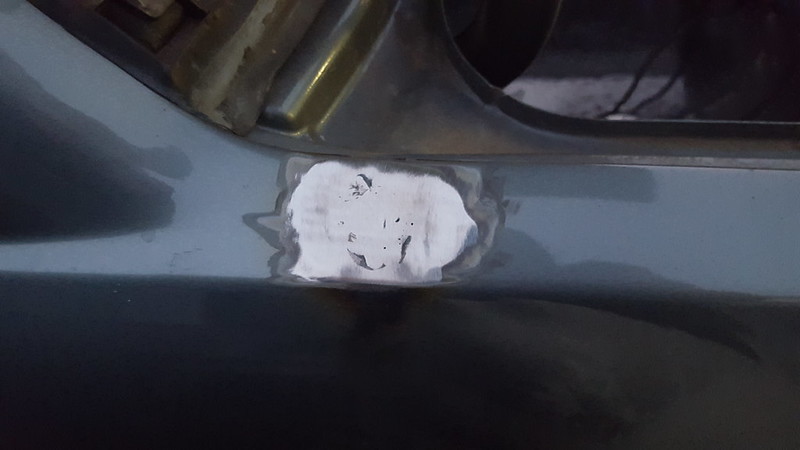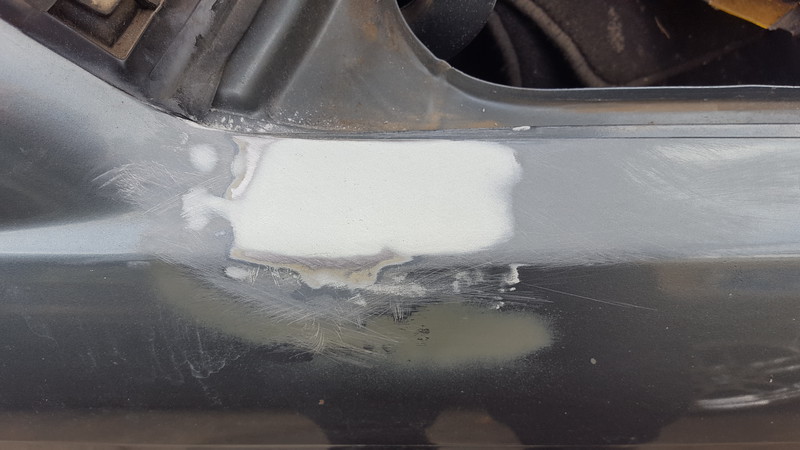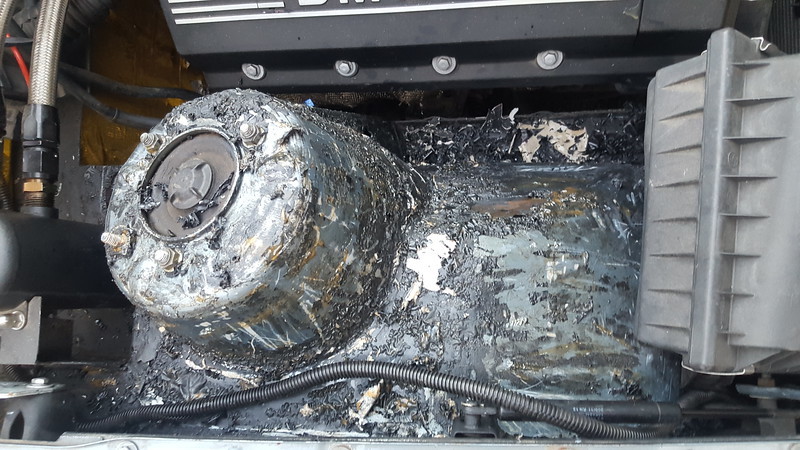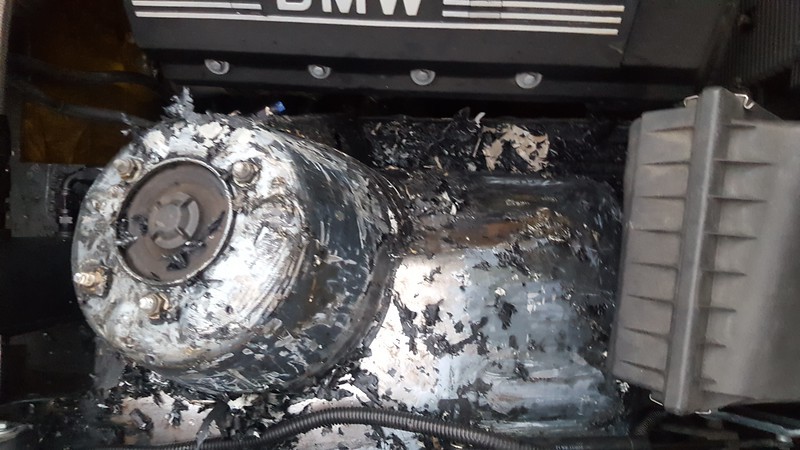 Shortly after beginning this, another project arose. I came across a CL55 AMG that I bought for under $500 with 100k miles on it. Originally the plan was to split the cost & drop the drivetrain into a 190e that a friend was going to purchase. Well... after a month or so, it didn't come to fruition so I gave him back his $200 and began selling the parts from the chassis.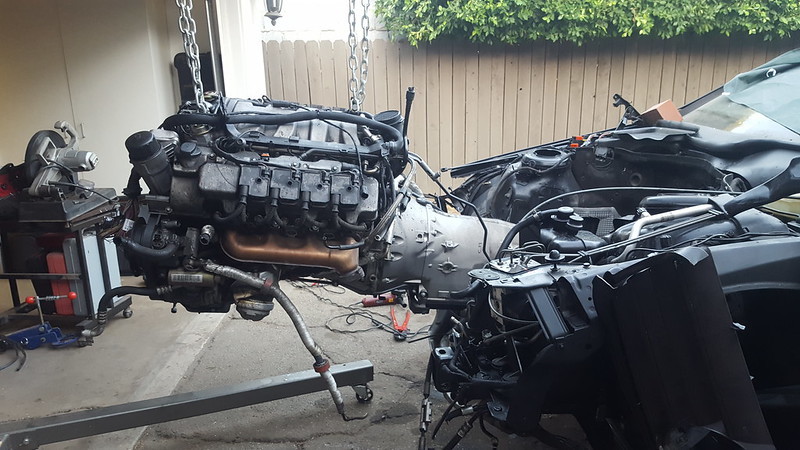 So after this chassis stat in my driveway with my e30 around the other side of the house; after picking to bare bones and scrapping the shell. The e30 finally made its way back into the driveway to be continued. Luckily I had a halfbaked idea of the braking system similarities on the w215 chassis and my e31 so I kept the rears. Which I'll leave to that thread when I update that soon.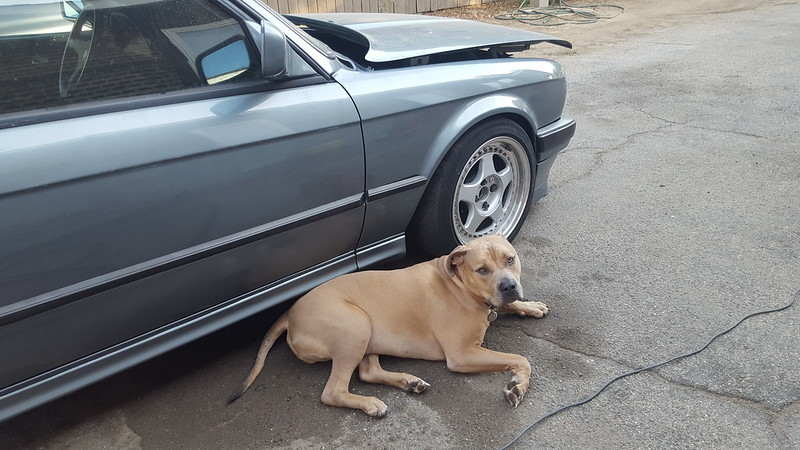 I began revisiting specific things initially I wanted to either change or clean up.

-Oil filter location
-Oil temp/pressure sensor loc
-Water temp sensor
-Exhaust for bar
-Engine bay color
-Raise hood fitment
-Windshield wiper assembly
-Access to fluid res tanks
-Clean up harness wiring both engine & engine bay
-Integrate Alpina wiring into engine wiring for cleanliness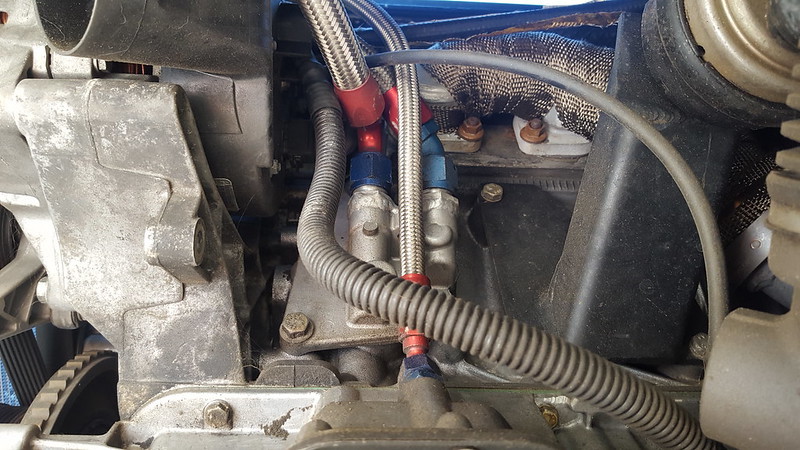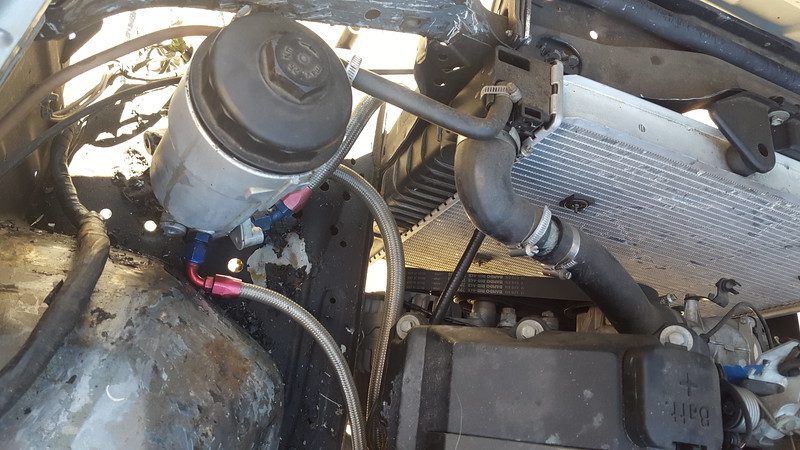 ANDDDD back on the ground as if nothing happened..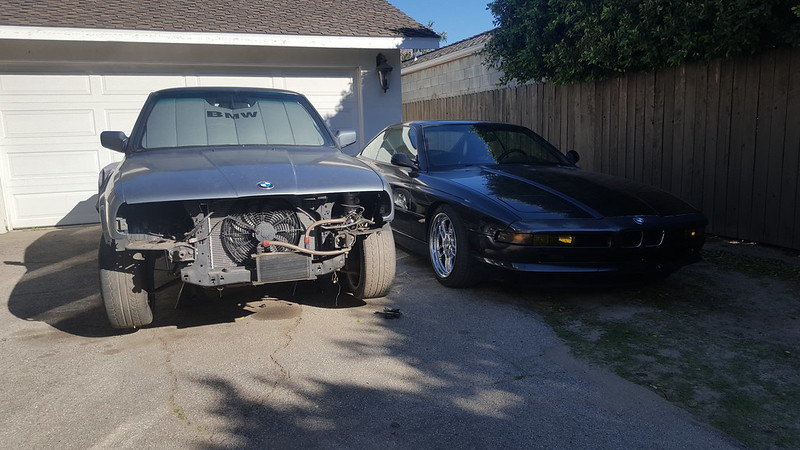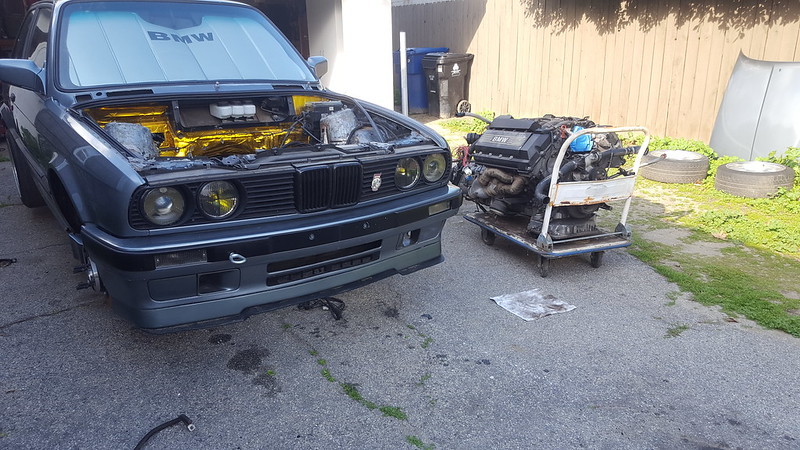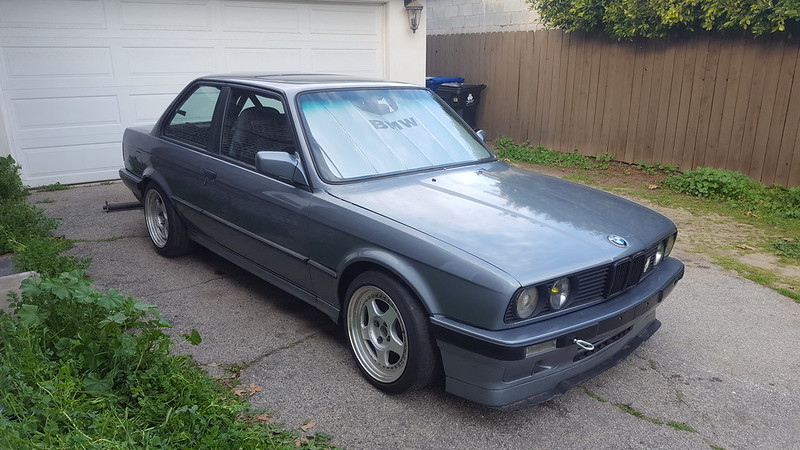 Rolled the motor out one morning and let the dog go at it while I sat back and learned..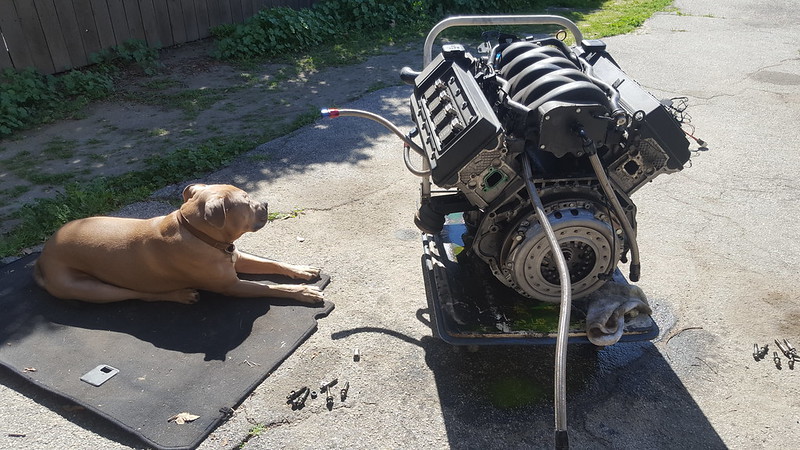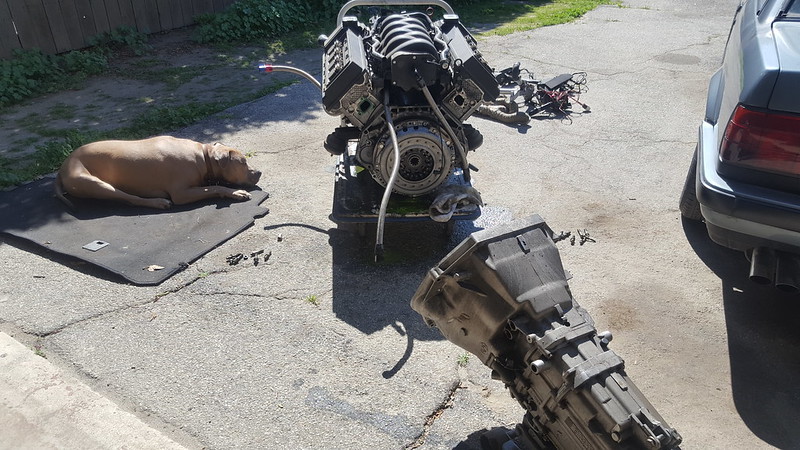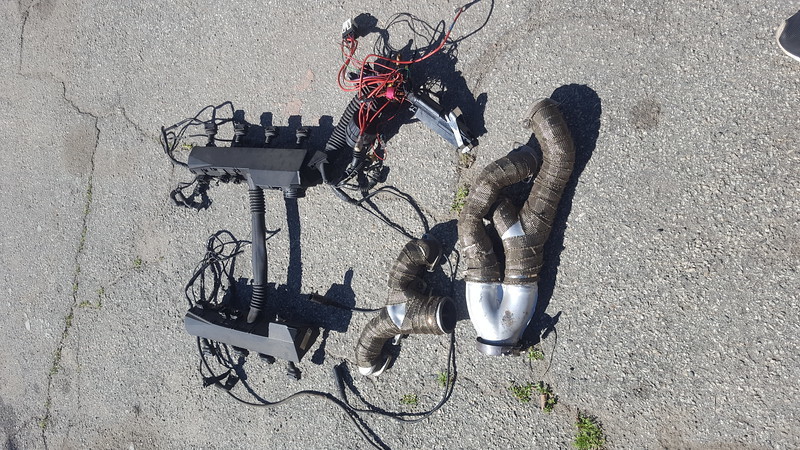 Went ahead and gave the x5 mani and e34 a side by side look and mental how tf am I going to do this... Its been a while but I believe theres two different sides for the passenger pending models. This one did not clear the motor bracket at all, but I'll make it work. Just to give an idea of the issue I photographed it of course.. As seen in the photo, the flanges can't even come close to mating with the block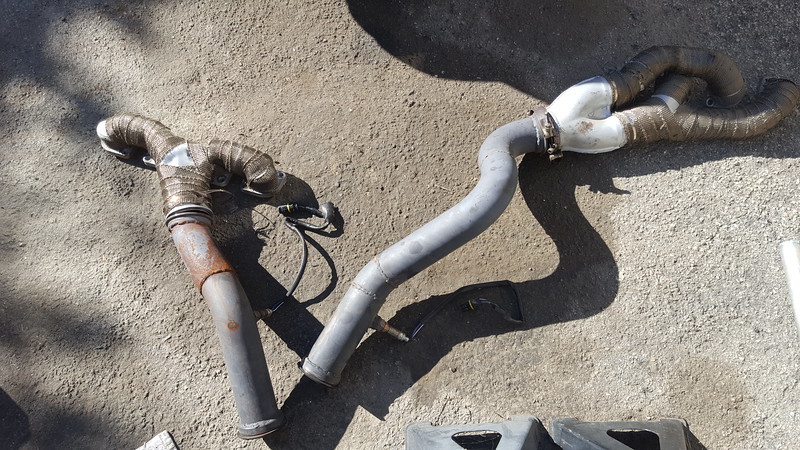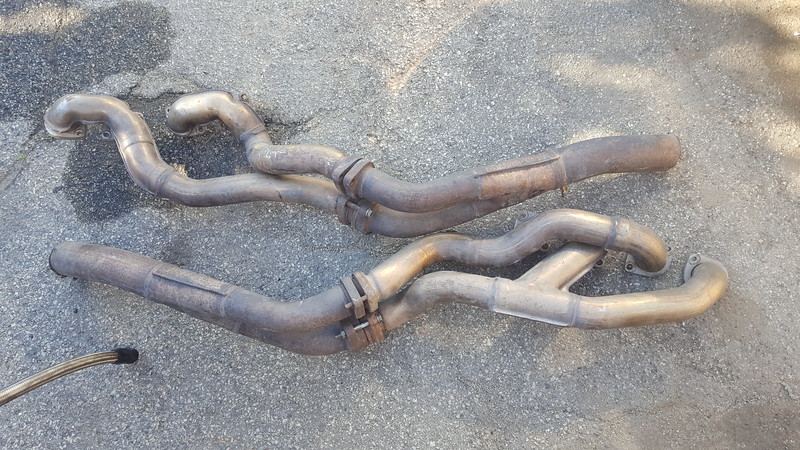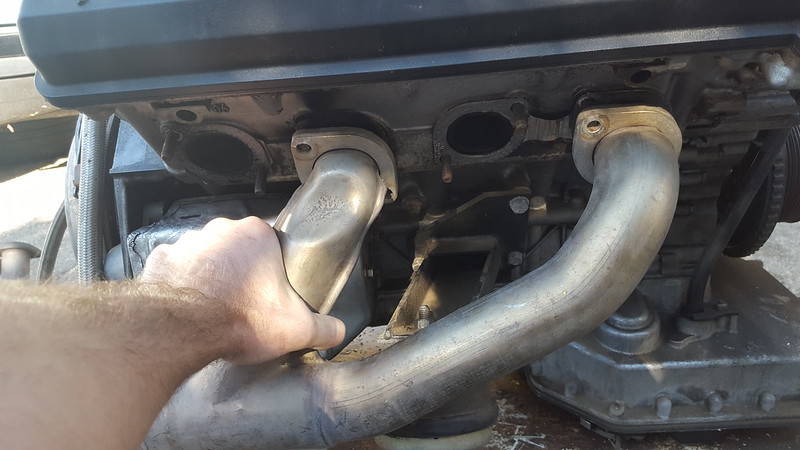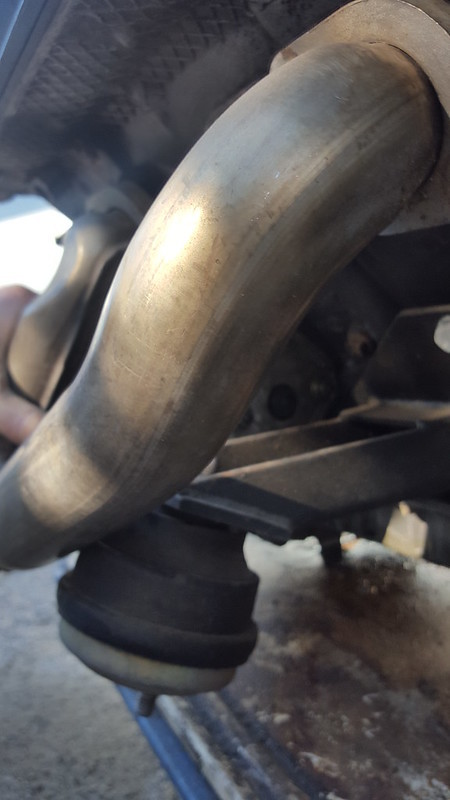 Started part washing and began ordering more parts, such as the CCV, m62 breather line, tube, and paints. Also picked up some 245s for the rear :hitler:

Decided to rid the e30 of the oil catch can and cooler so that when inspection does occur the only truly noticeable stand out items that have been "tampered" with are the oil filter housing lines. Whereas everything else should relatively appear factory as I ca make it.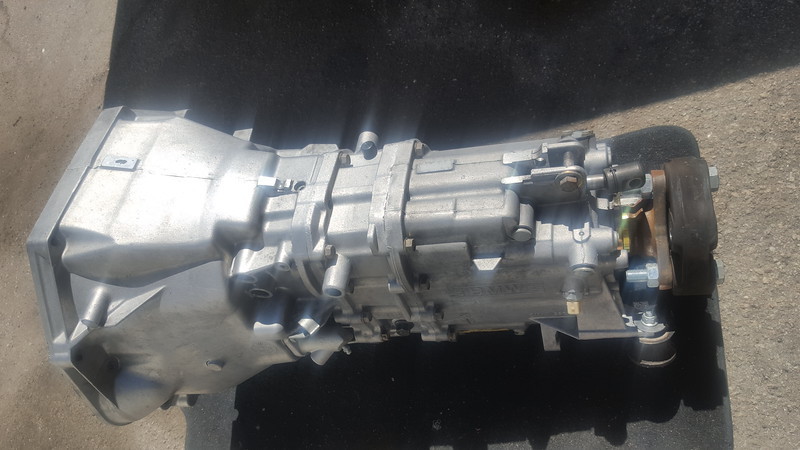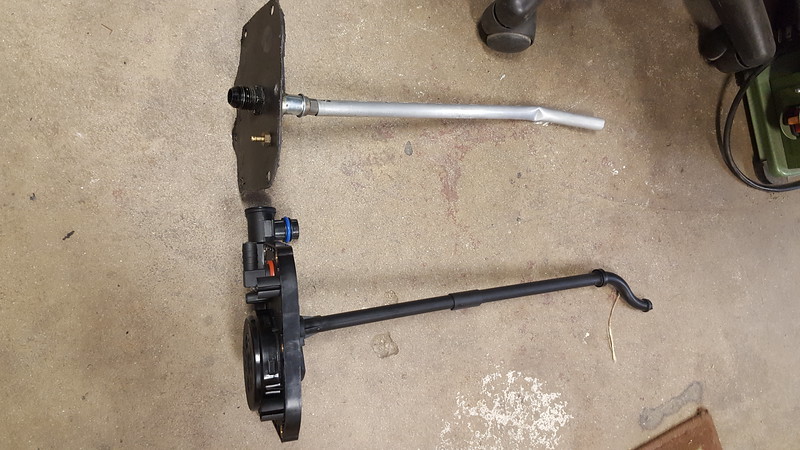 Made sure the inside of the manifold was still all nice and clean..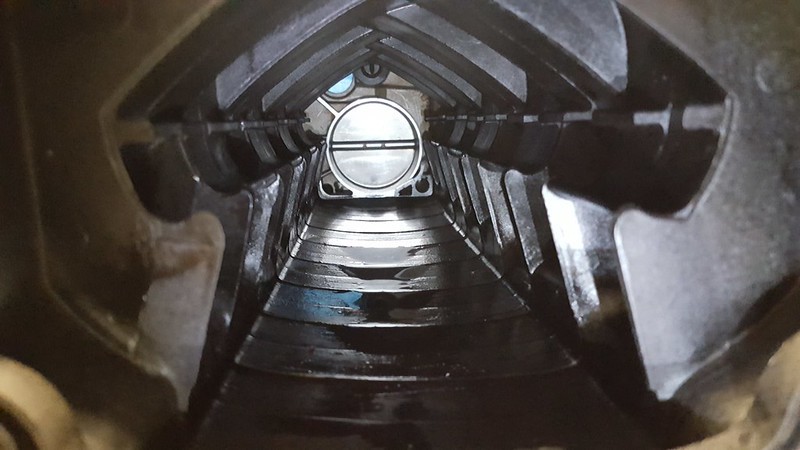 Unsure if the fuel reg line was like this prior to removing the motor but luckily theres plenty of e38s at the junkyard to harvest this stupid $15-20 hose from haha.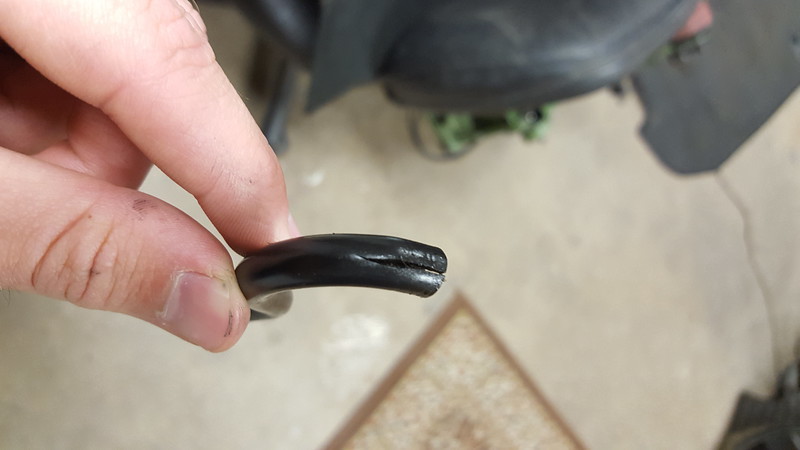 I will continue to update a little later or tomorrow after finishing a job. Though this hasn't been updated in what seems like ages, this car hadn't slipped into the crack and been forgotten. Neglected in favor of my e31 slightly but I do absolutely miss driving this. My phobia of losing it due to the ever enclosing laws CA keeps pushing & the LAPD / CHP crackdown on cars... I'd rather this be above board and not be messed with than lose it paying impound fees and what not.
7-23-2019
Thanks people! As for the question regarding the driveshaft; Turner sells them I'm sure if you get in touch with them they can work it out. My local shop I found after that purchase told me he would've done it, unfortunately he's since retired and moved.

-----

The shop who handled my headliner, never perfectly aligned or regreased my cables on the reinstall when they removed it. So I got stuck with a partially opened roof a little ways back. Fun stuff which has made its way onto the list, more so at the end but always more $$$$.

With some wiggling and force, I got it closed and managed to pop the whole assembly out. Took a good deal of time and made me begin contemplating just making it a slick top. Thing was such a PIA, but i'll eventually order new cables and stupid $10 gear once I paint the engine bay and tie up the loose ends. If theres left over paint, give the panel a whole respray while I'm at it to freshen things up.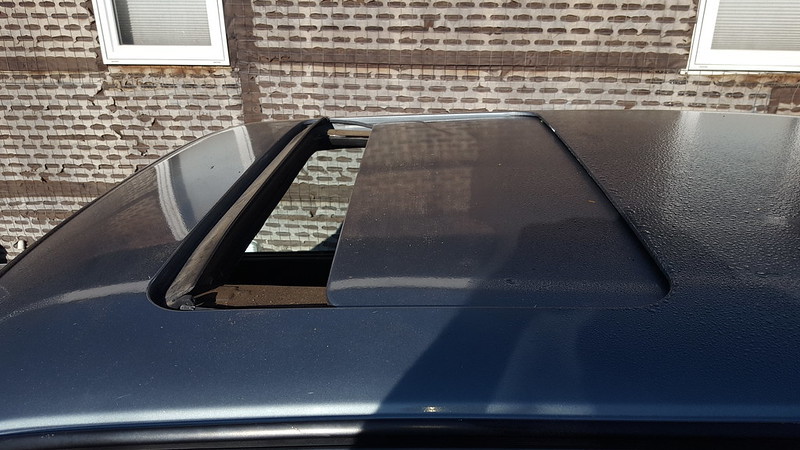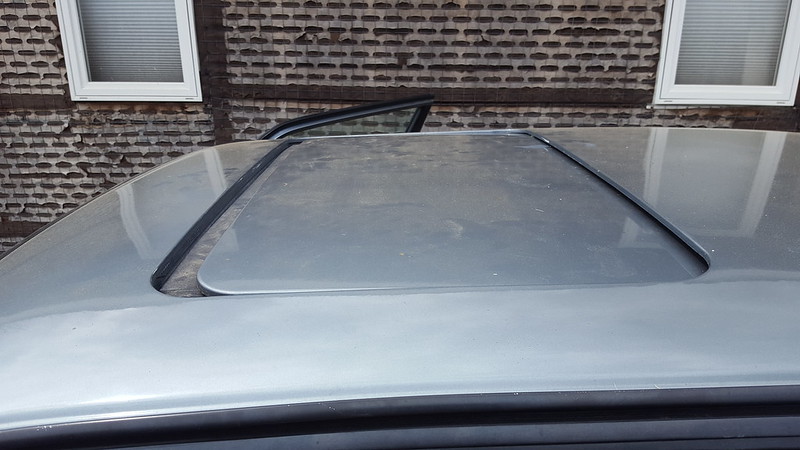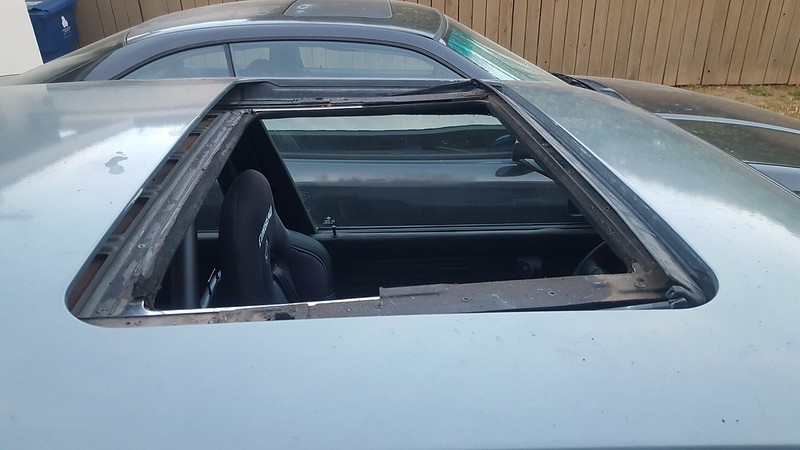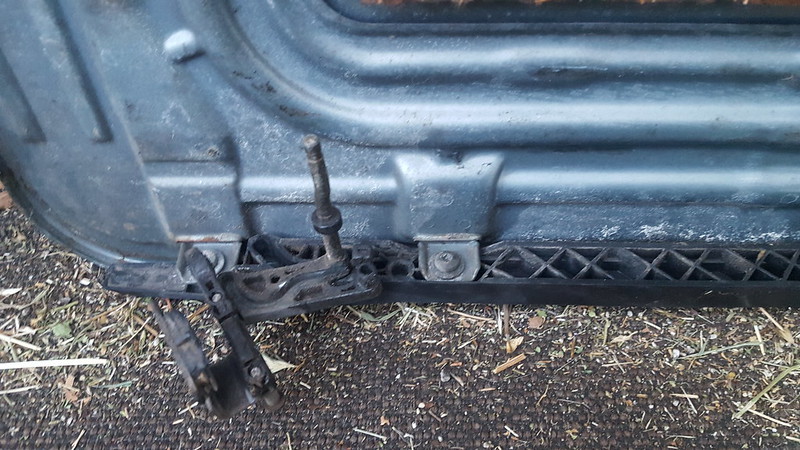 I went ahead and started making little block off plates for the firewall to avoid moisture, road debris, or exhaust fumes entering the cab. Tacked them in place just incase I was ever re revert the car. The bay itself had been sitting uncoated for a little while & sprinkle of rain so I went at it with a little wire wheel action.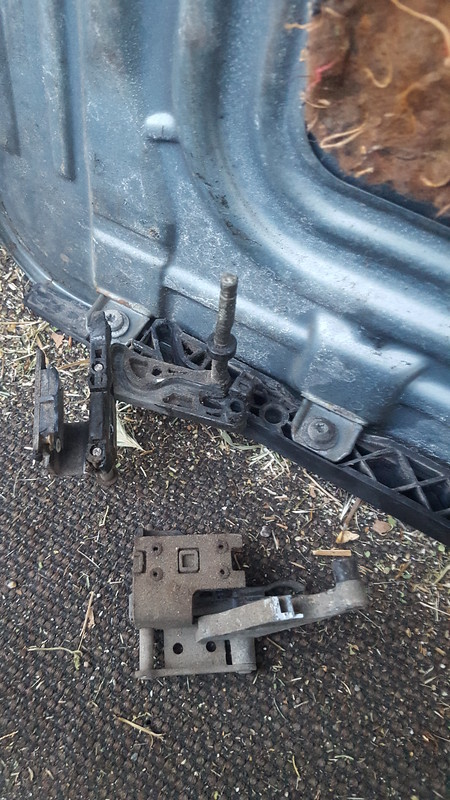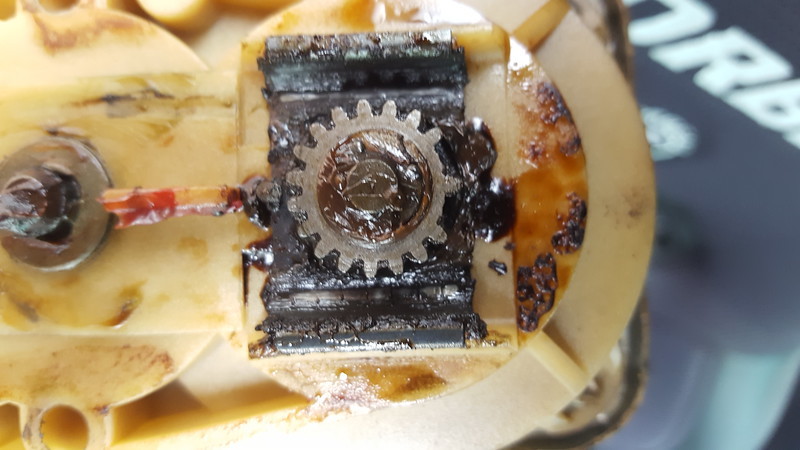 Began working on the motor again; Picking up another tube & rear cross over pipe for the coolant from the junkyard. My previous one was only sufficient with the CCV block off plate, which won't pass inspection lol. I removed one of the outlets, welding cast aluminum is extremely difficult I found. So to ensure no pinholes, I JB welded over that ish to make sure I wouldn't have eventual faults. I do have a spare m62 without temp ports if anyone wants to buy it.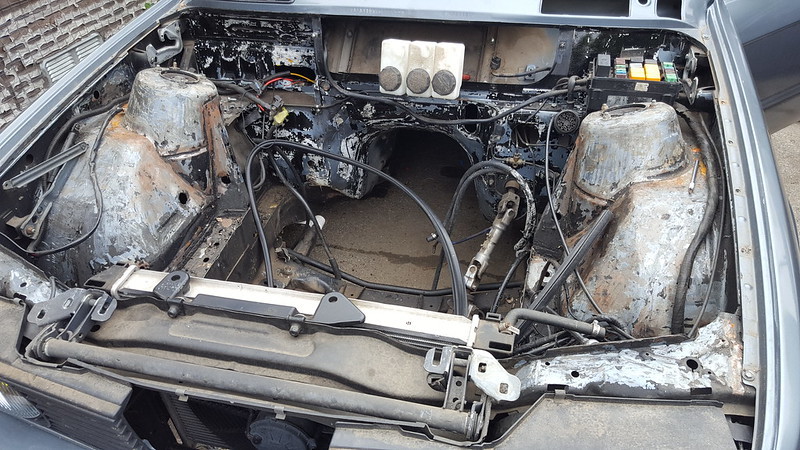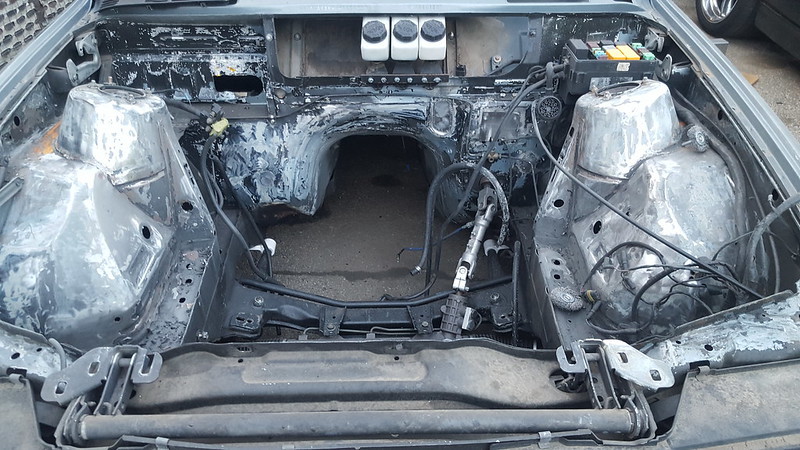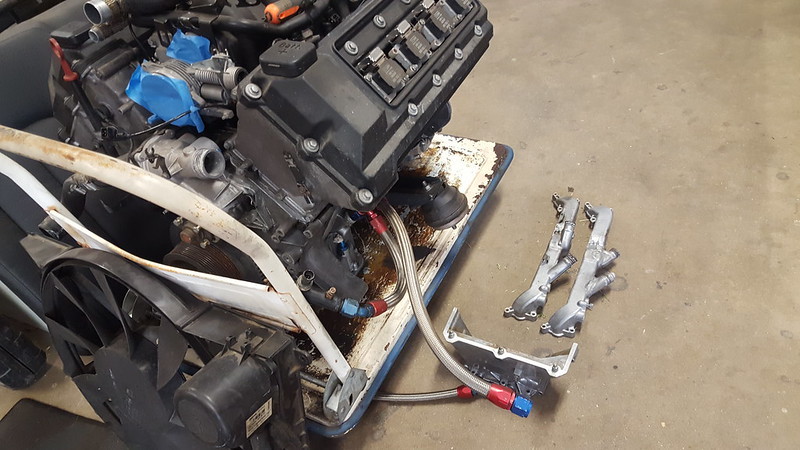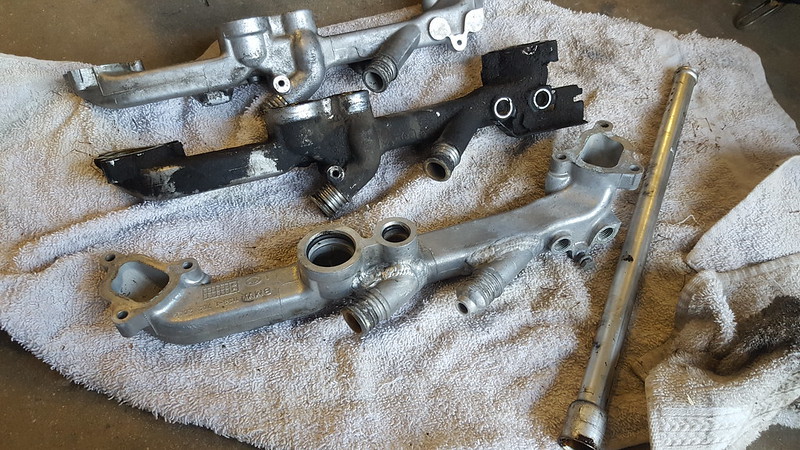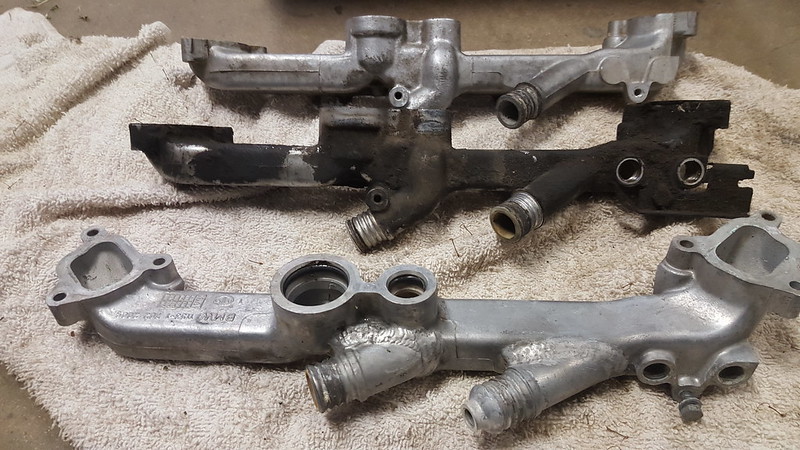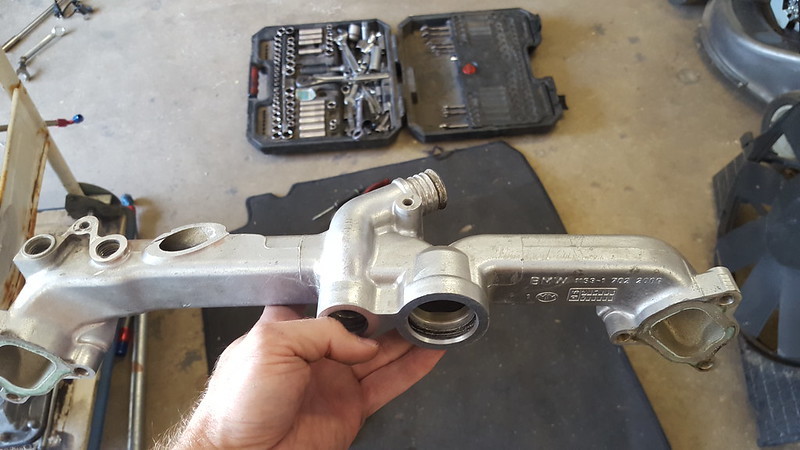 Went ahead and gave the pipes some heat wrapping to help keep temps down.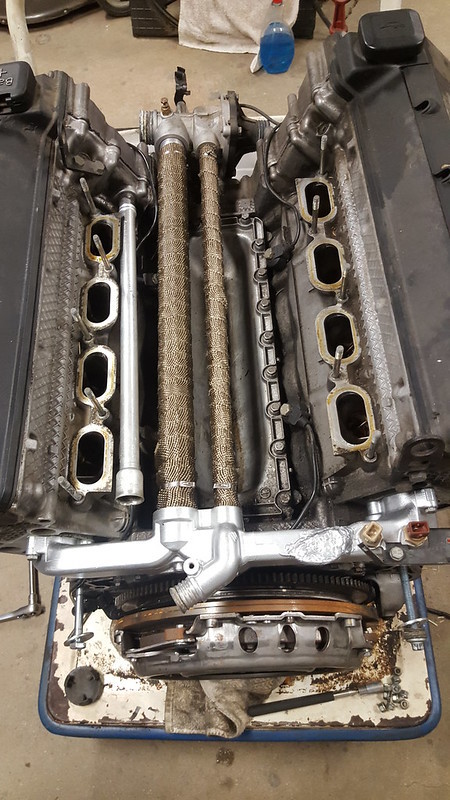 Moving forward onto the sensor ports; with the new cross over pipe I needed a new location. So I went ahead and tapped the WP and will have to slightly extend the wire (no big deal).
Clearance seems to be pretty good, and the wire can be passed along the inside of the boxes with factory harness for a cleaner approach.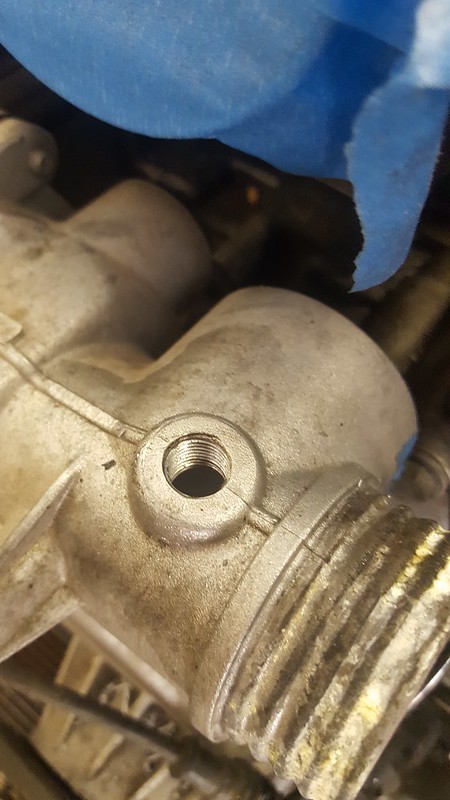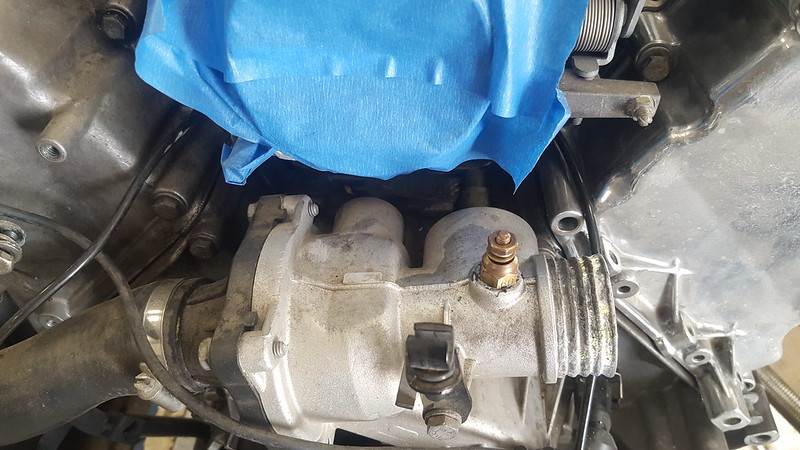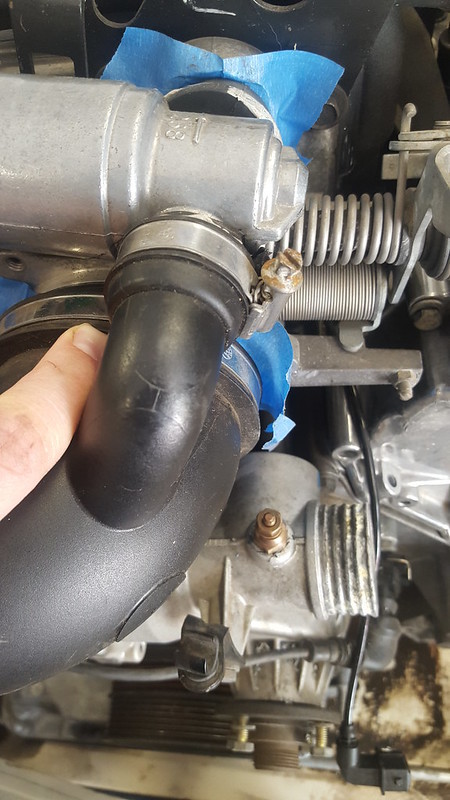 Next I wanted to remove this jankey shit that used to be run on the return line for the oil cooler. Really was never happy with this piece, but it gave me readings, and got the car running so it semi-did its job.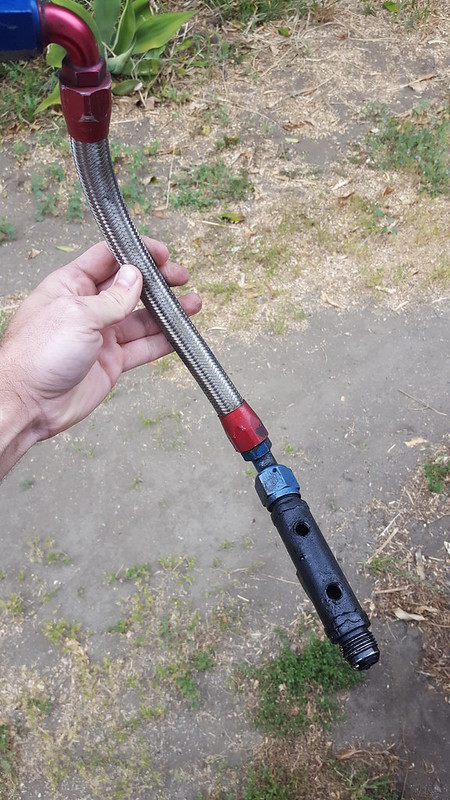 Decided to go straight to the X5 for the absolute direct readings and accuracy this time around. Quick measurement and some time on the drill press and wahlah...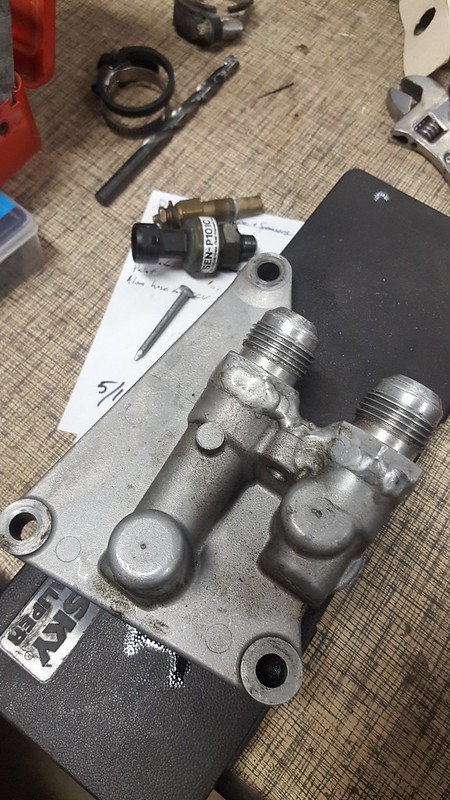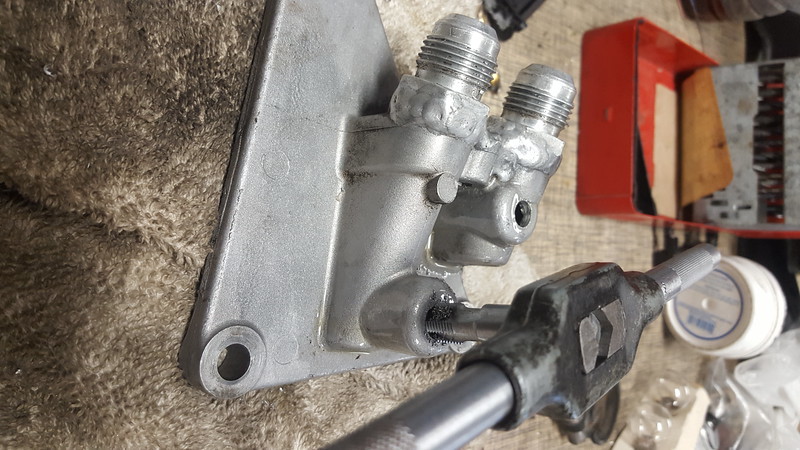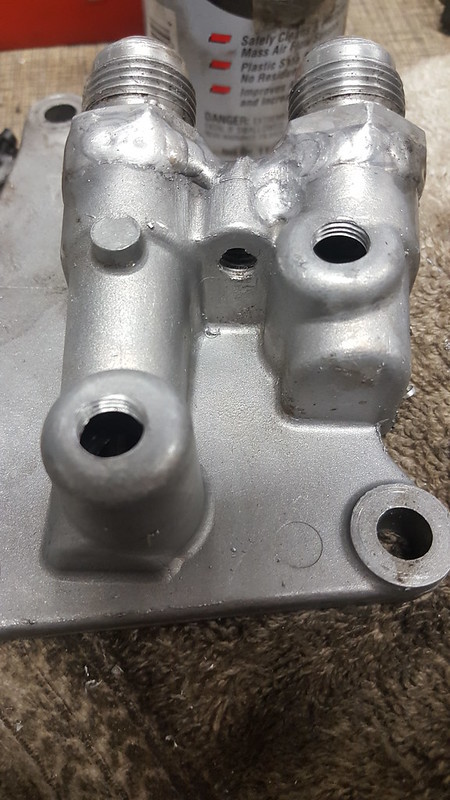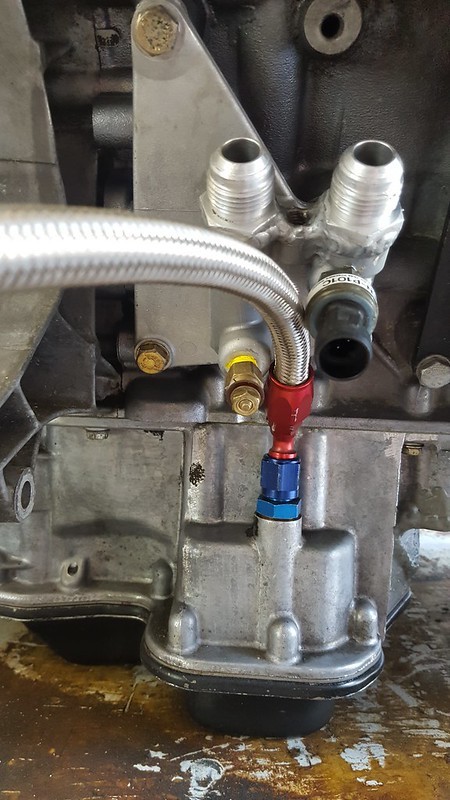 Then went ahead and spent a good part of the morning, sitting trying to figure out how to route the AN lines properly while keeping the timing cover mount appearance.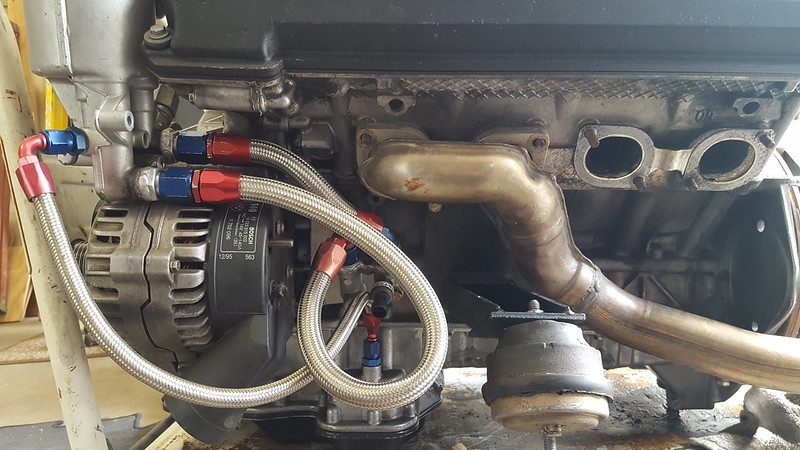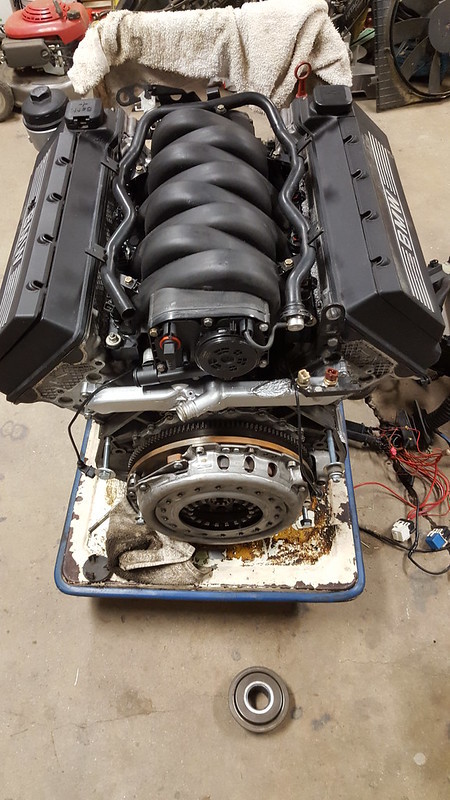 With that back together, I began reassembling the rest of the engine. I was planning to buy another throw out bearing, to have for the 420g swap on the e31 but found out the parts are NLA for e34s now. Go figure right? Ordered the m62 bearing to see what the difference was, and boy... drastic.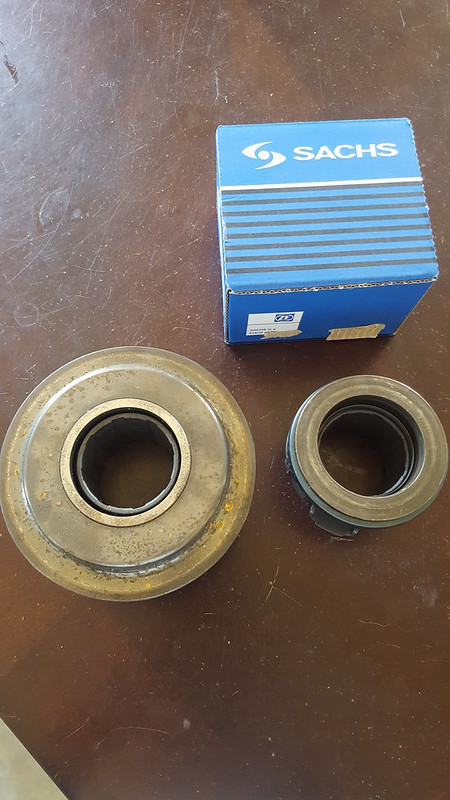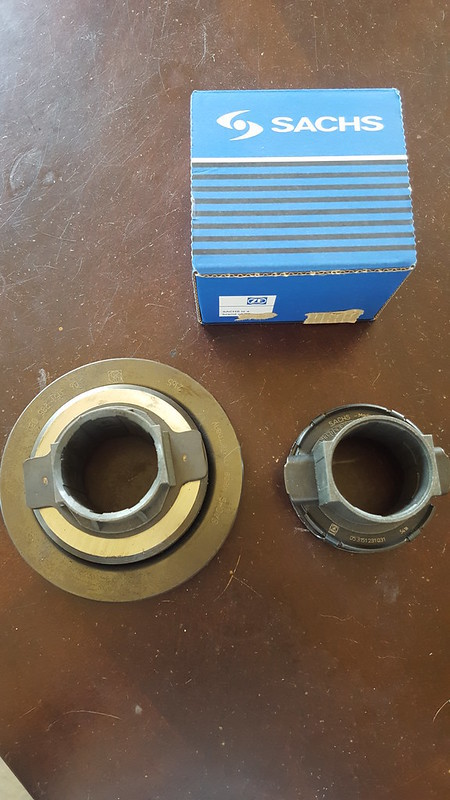 So 86'd that idea, and will eventually be going with a different set up for the e31 I suppose now. Slapped the flywheel/clutch back on, torqued, and reinstalled the transmission which I gotta say doing it alone... SUCKS.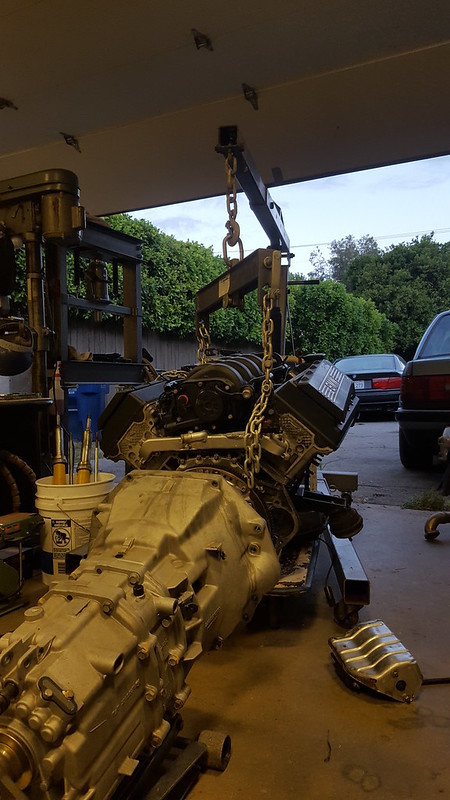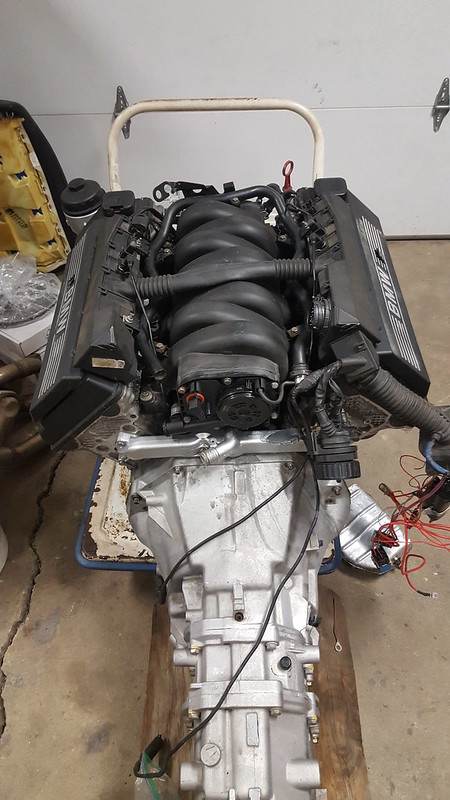 I believe I put up pics of the strut reinforcements i made (similar to the vert ones) I decided to finally weld those in before dropping the motor into place. Very happy with them, I used to have the issue of my drivers door not opening/closing due to flex when on jack stands. Perhaps from the duration, or by PO & age what have you. This completely corrected it so I was beyond happy to see the direct effect so soon.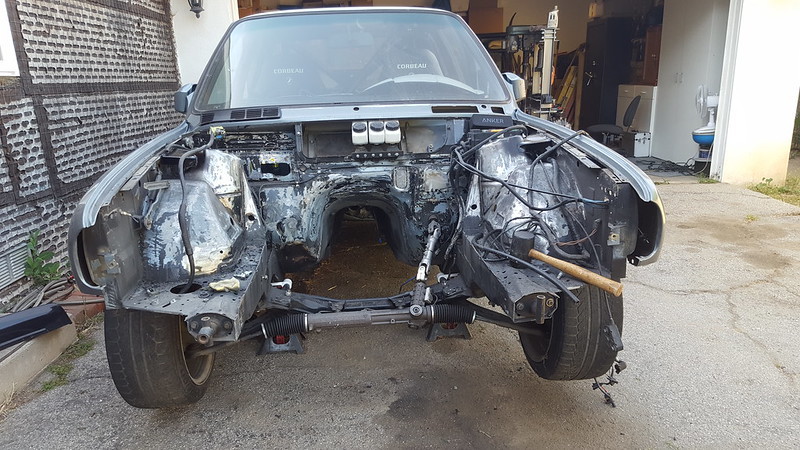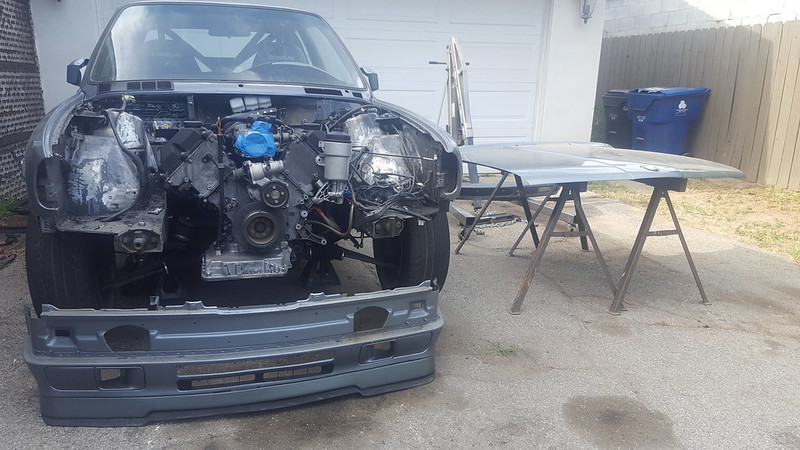 With the motor in place now I began to look for a different saw, and luckily came across this bandsaw. Guy turned out to be a gearhead as well, after explaining what I was doing, gave it to me for next to nothing. His biggest drawback he had was patience, and never adjusted it to make 100% square cuts. I went and grabbed a new blade, some research, and a scrap piece of tubing managed to get it dialed in pretty easily. Took about a good 45 mins and 4 or 5 cuts but very pleased especially given the price.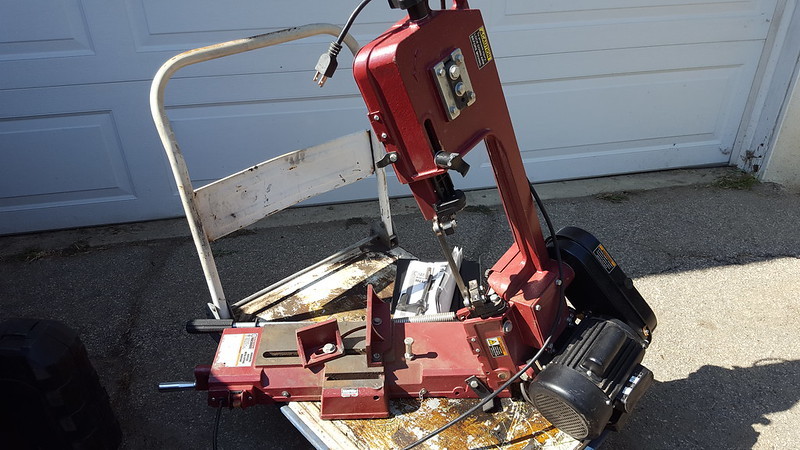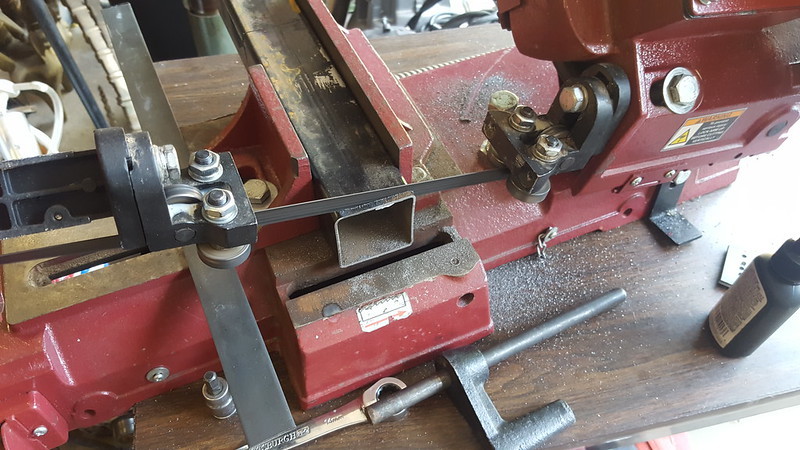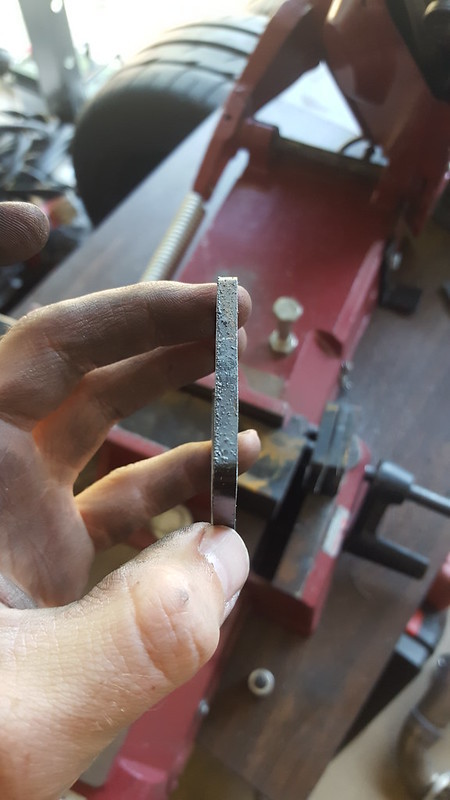 So more recently, I've cleaned up the engine wiring, running it through the fender; along with the hood cable. Have begun working the manifolds, hitting little roadblocks since this is the first time I've ever tried routing stuff. Having no guidance or brainiacs on speed dial doesn't help the cause.

I am beyond tempted to try to register it out of state to avoid this headache. Its such an unnecessary thing, but I am determined to get that stupid BAR sticker and have everything legit above board. The more I've cut and planned the routing, the more I appreciate how simple the X5 manifolds make this. My biggest qualm so far is using the e46 shafts, and cylinder 7&8's exit is RIGHT in its path. So I have two choices, restrict it, or use the 2 spare 46 shafts and make a new - even smaller unit.

With the heat cranking up and having the car outside 80% of the day till 5pm shade, I'm working with 3 hrs of daylight if I manage the time. So hoping to knock it out relatively soon and get the cats on order to finally paint & finish this up.
3-21-2020
After revisiting both build threads I've really seem to let them go unless you follow me on Instagram. Though the e31 has dominated the amount of labor I still manage to chip away at this thing but albeit I've gotten burned out and lost motivation at times. I'll leave this here to update as soon as all the photos I've compiled are uploaded on Flickr and its a lot.. I've put more effort in the previous year into collecting tools and what not in order to somewhat make things easier and enable myself more so. Learning CAD currently which is pretty badass so I'm hoping to work more with things along those lines and excited to see what can be created.

Bullet points :

--Completely re did previous shops brake lines

--Ground more of the engine bay to bare metal then said eh (i know)

--Prius column was almost finished till the motor got shorted (Im guessing i made a mistake while welding?)

--Stock e30 column install

--Z3M diff cover install

--Relocation of brake fluid tanks

--Few more things but cant think of off the top of my head


Once I update the e31 thread with some blah blah words and photos I'll hop on over here. Knock it out and hopefully keep both threads better updated since I've had a few people ask if this car is even around.
3-23-2020
Began with making the brake lines, I didnt have any fancy tools really everything I pieced together was under $100. First I got some good ol HF bender & pipe cutter, then a few rollers for the tubing. With some spare 1.5" I put together a straightener with random stuff for $8 total not including my color match patina'd paint job.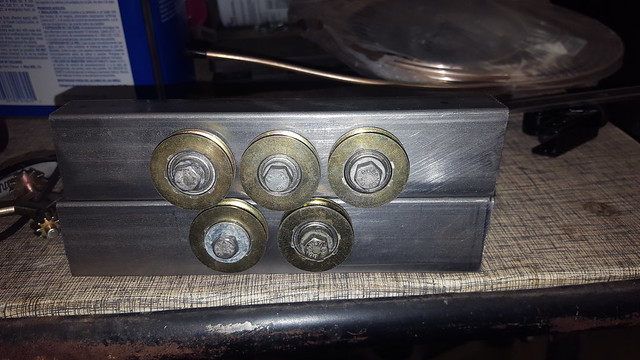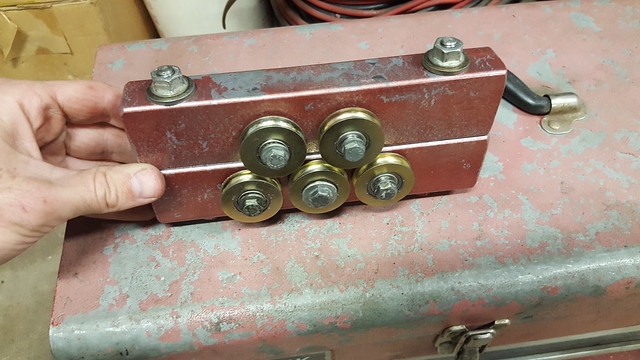 Along the way I also upgraded my press from pump to air hydro; then welded on some nuts on the ends of the adjuster rods for the shelf so it locks in easier.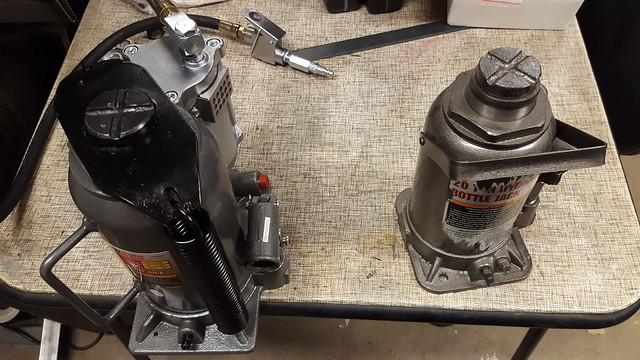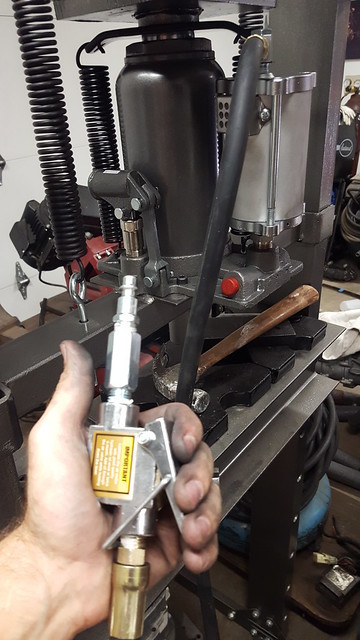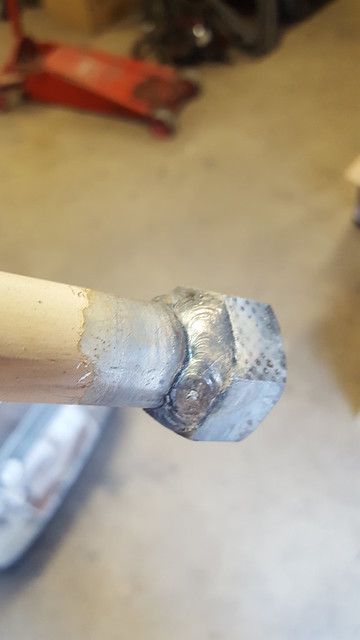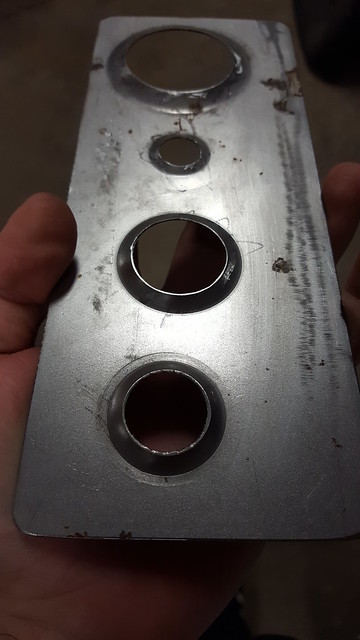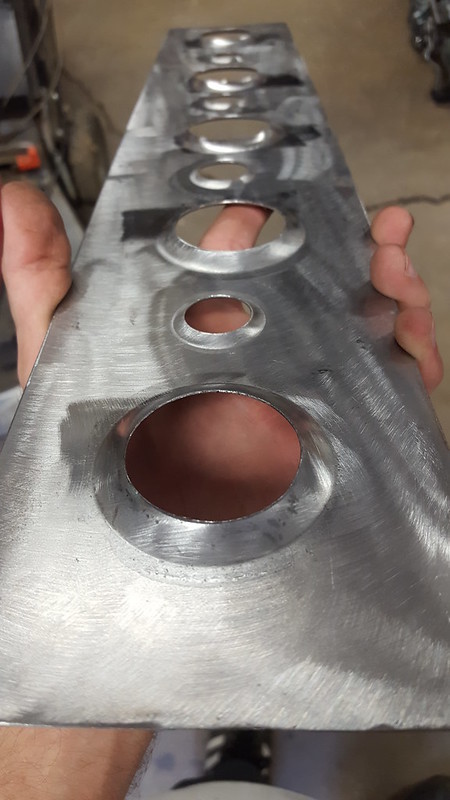 Pressed in a spare e30 diff bushing I had laying around for the z3m cover. Will just upgrade when the time comes and its road ready, most likely transfer this back to the stock cover if I sell it. In the meantime I also found someone selling some pretty nice rubber for $80 a pair, and my buddy hooked me up with a front set of tires for when this does hit the pavement again.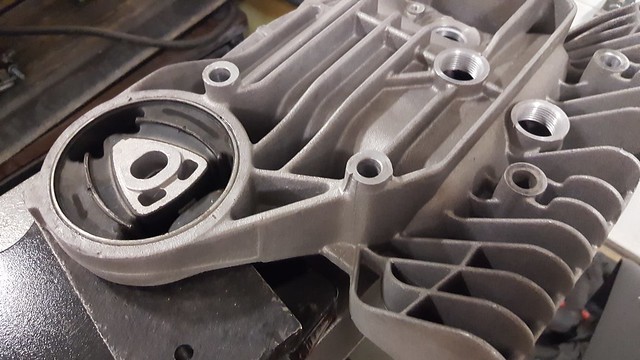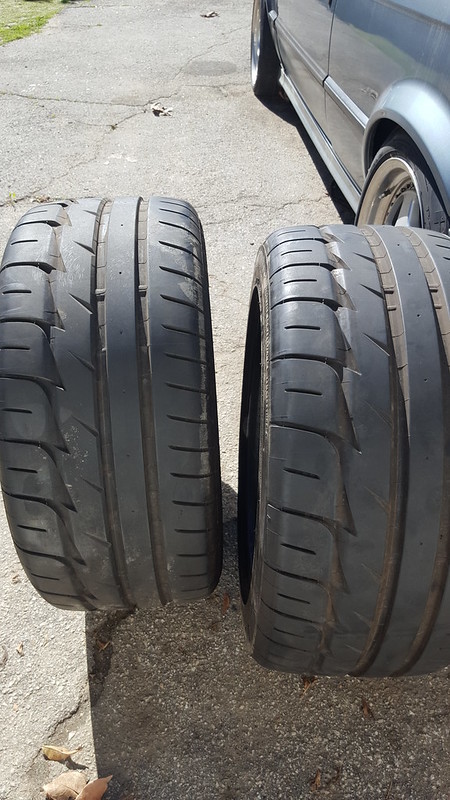 Drilled a hole and ran some of the essential front wiring through the fender and tied it off to the sheet metal so it isn't dangling. (not pictured) I chose not to feed it through the cavity incase I either need to asses a wiring issue or anything major happens requiring a back trace.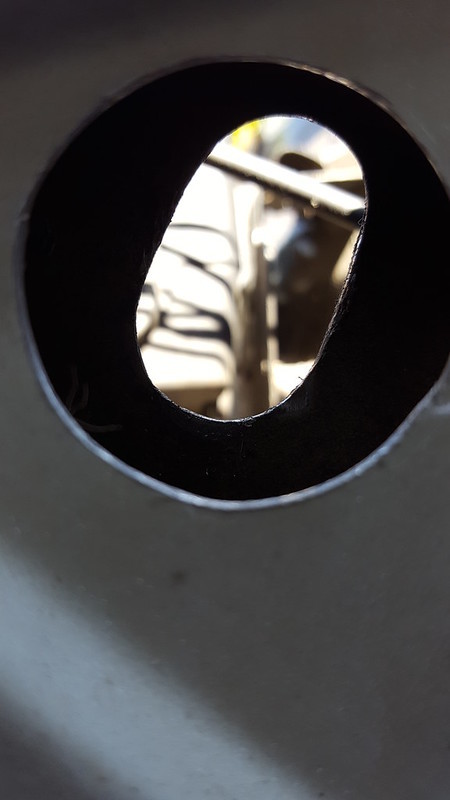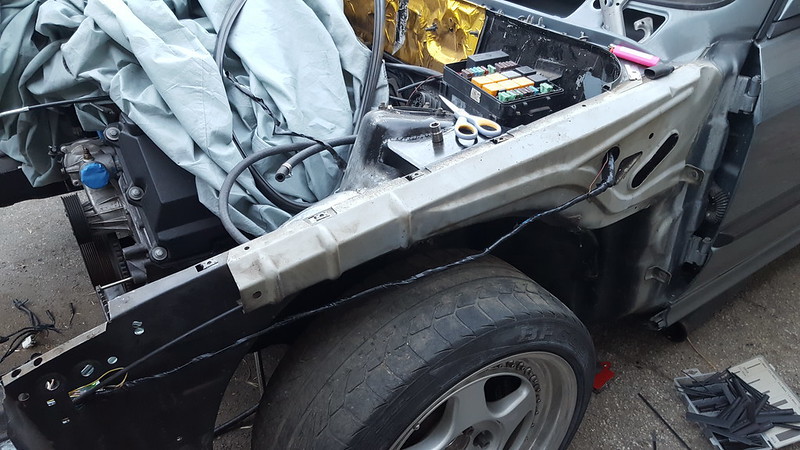 Went ahead and relocated the brake cylinders behind the wiper panel and will be making hard lines to minimize the soft lines from tanks to cylinders. Just need to make a solid bracket and will be sealing the vents on the plastic pieces shut to maintain a waterproof fit.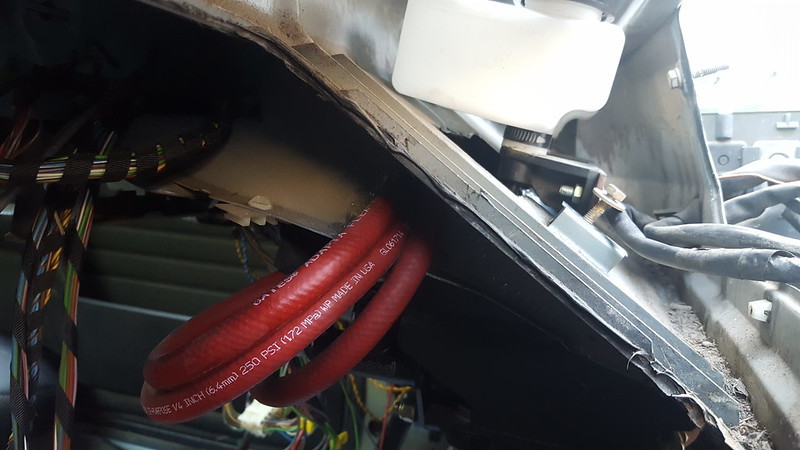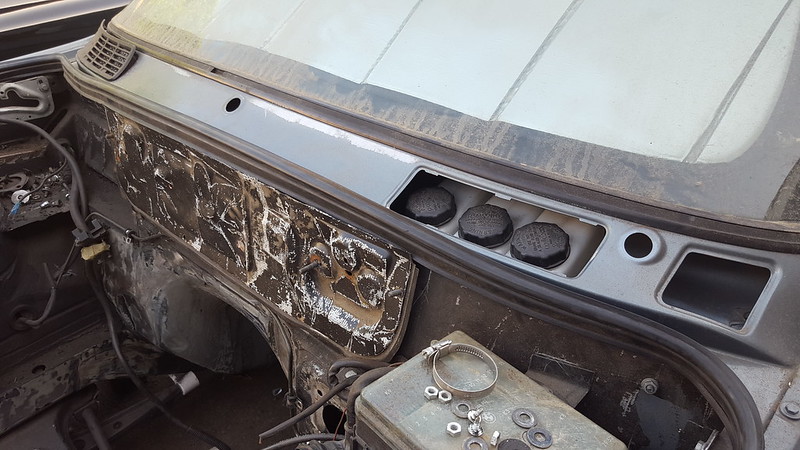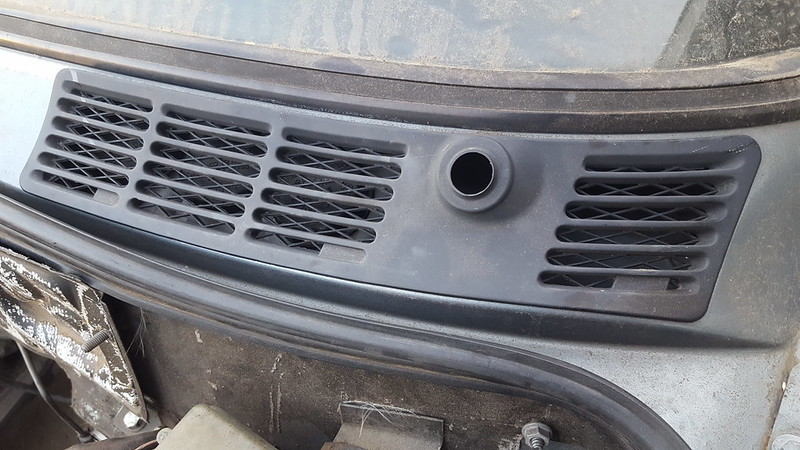 Once the supplies, new fittings, and odds and ends were set in motion I began practicing a few times on scraps to ensure the fit on my flares were solid. After verifying that everything was going to play out I began with the largest line in the engine bay first. This is what my lines looked like that were either poor fit or leaking from cylinders/fittings. Which is a major reason I decided to do anything previously to ensure my safety and anyone else driving around me since it is a braking system that I've had issues with. Keep in mind the engine bay was empty at the time these were produced for my car so the engine being in the way isn't a valid excuse.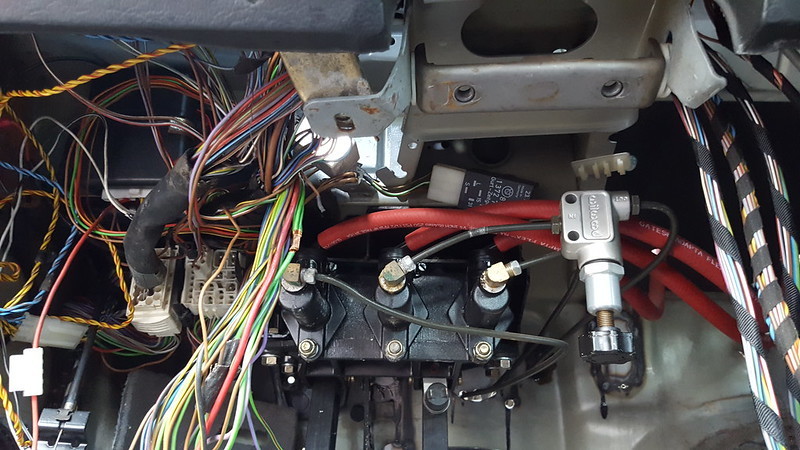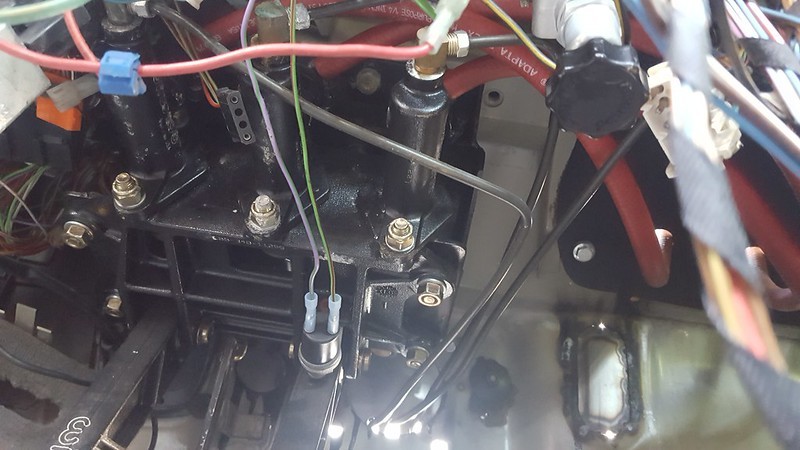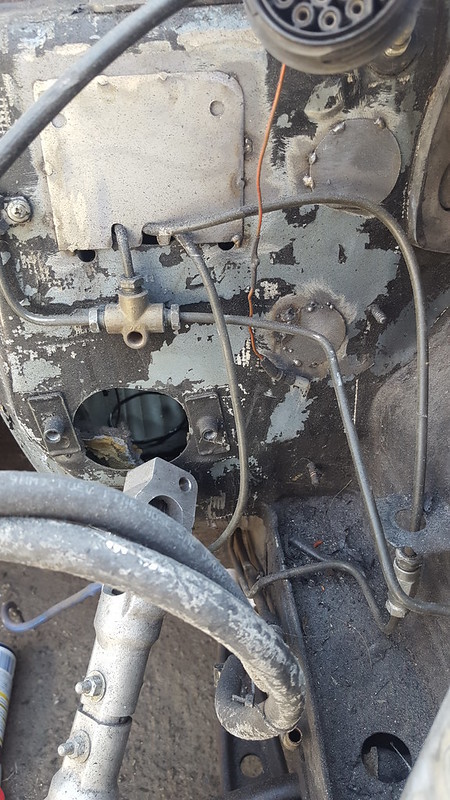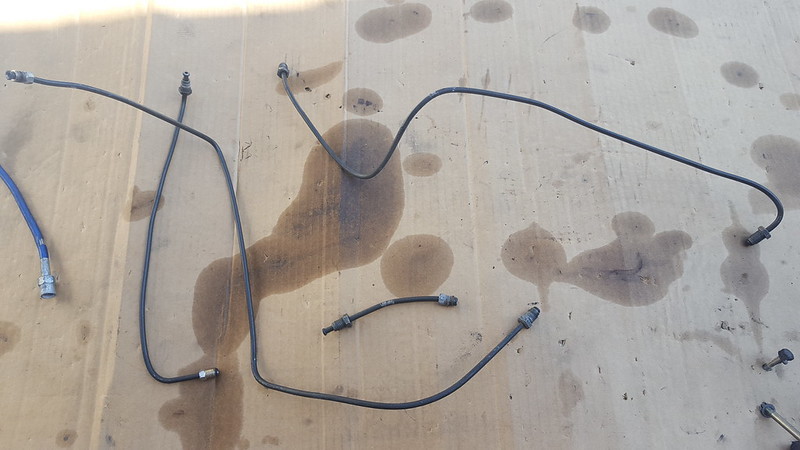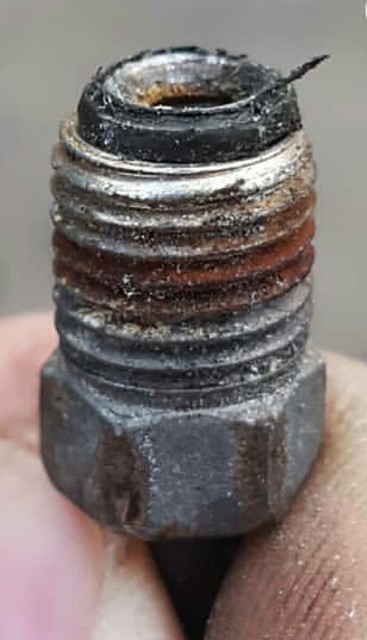 Now I'm very pleased with how these came out so with patience it all worked out the way I originally was hoping for. Heres a few samples, I cant find the finished set up on this comp, perhaps my laptop. So I'll upload the final fit of these when I upload them.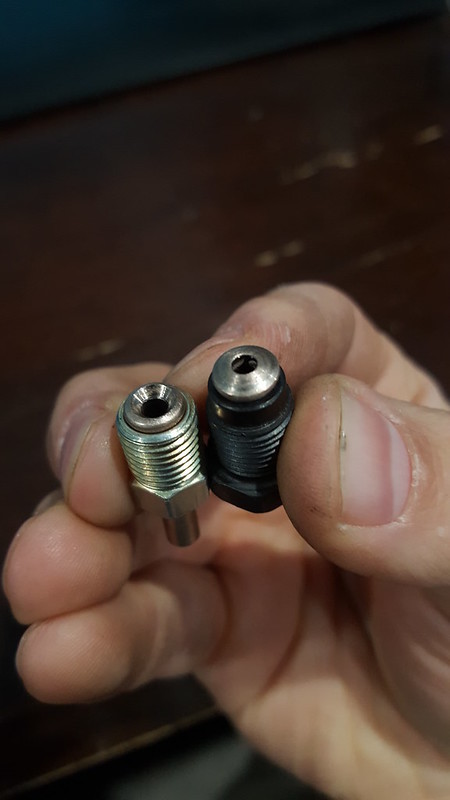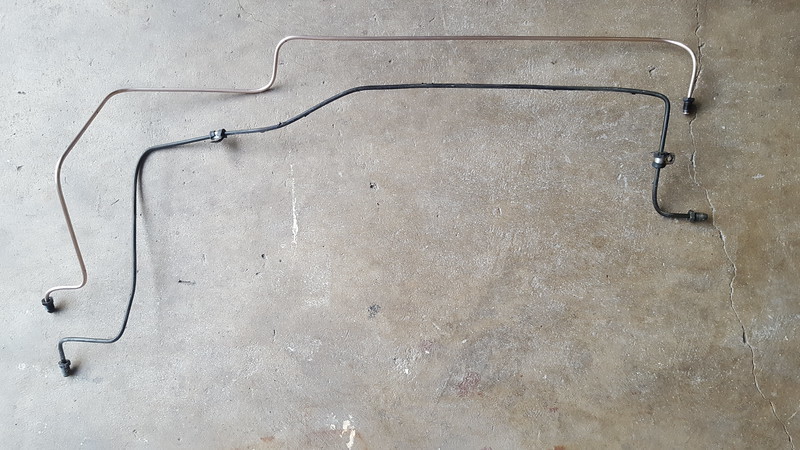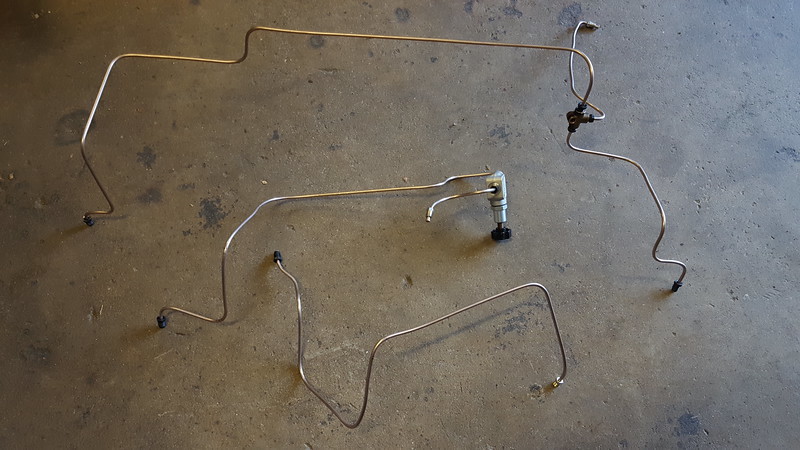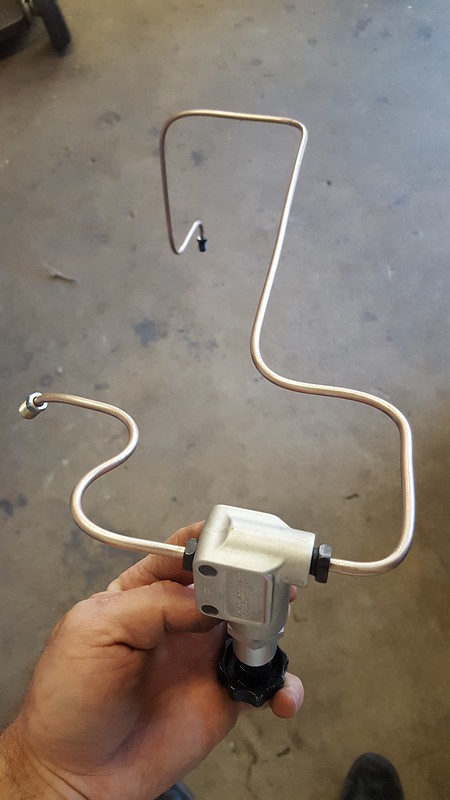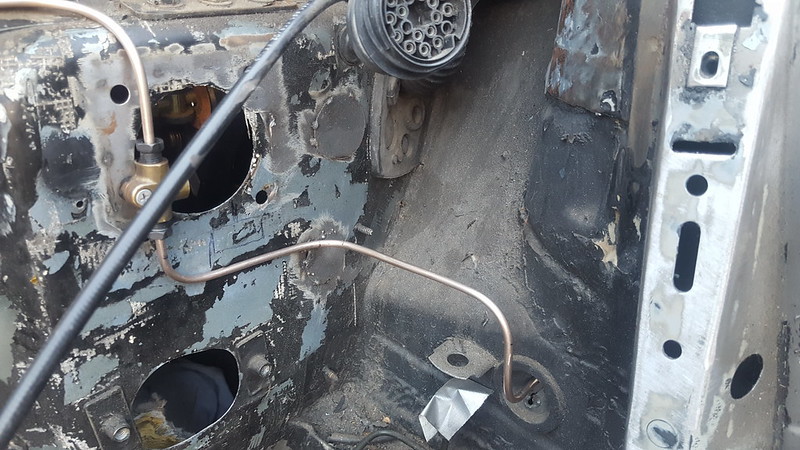 I'll leave this here for now since the e30 is a lot easier to type out on this platform. The build update for the e31 I've been piecing together on word so its better composed.
Powered by Froala Editor