Meet "Blue Nose" by DIIRTY-30
By diyauto
Meet "Blue Nose"
Compliments of DIIRTY-30 @ r3vlimited.com
8-4-2013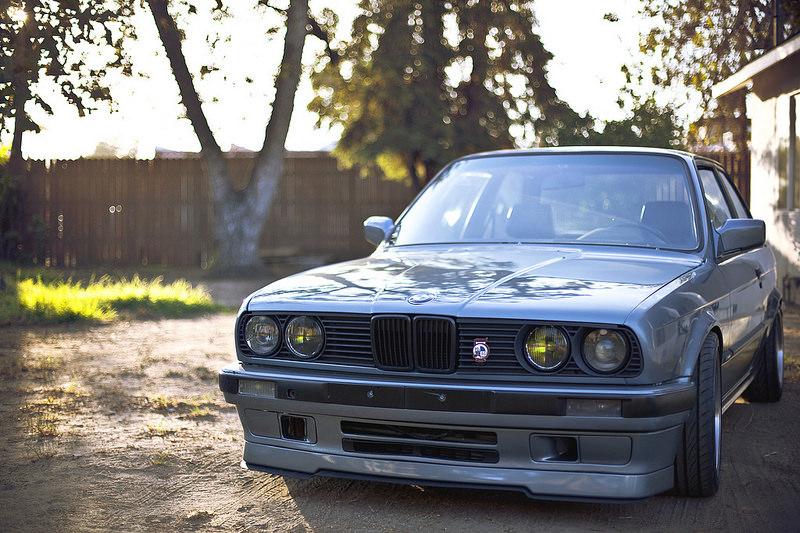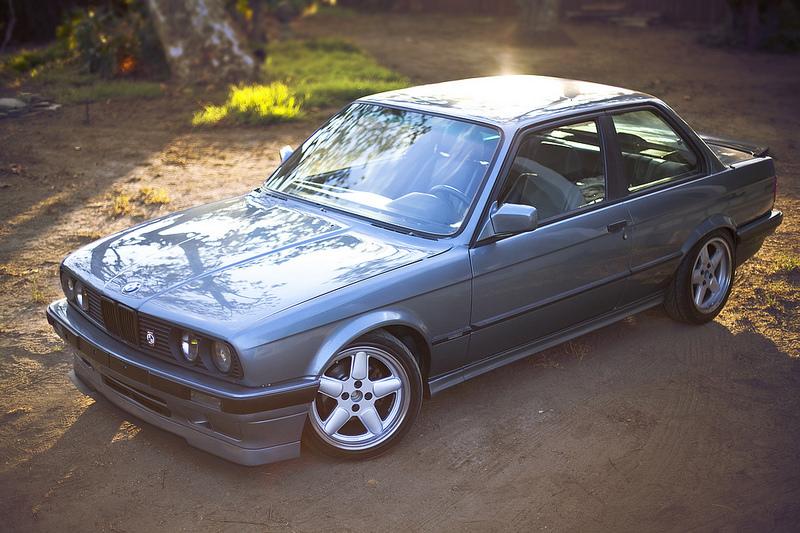 Exterior:
-Swapped Fenders
-IS Front Valence
-OEM IS Front Spoiler
-IS Splitter
-OEM IS Side Skirts
-BMW Motorsports Door Handles
Interior:
-Re-Upholstered Convertible Front Seats
-Re-Wrapped M Tech I Steering Wheel
-ZHP Shift Knob
-Maplight Rear View Mirror
-Converted Euro HVAC Panel w/analog clock
-Garagistic OD Gears
-BMW PEDALS
-Stock Shifter
-FuzzFabrics Shift Boot + E Brake
-Black Parcel Shelf
-Kenwood Headunit
Engine:
M60B40
-M60B40
-Getrag 420G
-OEM 525TDS Motor Mounts
-Rebuilt/Flow-Matched Injectors
-New Waterpump
-Walboro 255 FP
-3.73 LSD w/New Oil
-Stainless Steel Brake Lines
-New Fuel Filler Neck Hose
-Wilwood Pedals & Cylinders
-Spal Pusher
-Behr MZ3 S54 - 3 Core Radiator
-Garagistic Items
___-Exhaust Manifold
___-Motor Mounts
___-Pedal Box
-New Front + Rear Carrier Shift Bushings
-UUC DSSR
Suspension:
-310mm BBK kit
-Wilwood 6 Piston Front Calipers
-Wilwood 4 Piston Rear Calipers
-New Wheel Bearings All Around
-Rebuilt OEM Axles
-GE Coils
-Bilstein Sport Shocks
-Condor Speed Shop Items
___-CABs
-Ireland Engineering Items
___-Rear Subframe Bushings
___-Rear Trailing Arm Bushings
___-M3 Sway Links
___-310mm BBK
-Garagistic Items
___-M3 Weld On Sway Link Tabs - Strut Housing
___-Rear Shock Mount Reinforcement
___-Front Subframe + Sway Tab Reinforcement Plates
-New Control Arms
-New Sway Links - Front + Rear
-E46 Tie Rod Ends
-E46 Steering Joint
-ZF E46 Rack
-Motorsports Hardware
___-Black 90mm Bullet Nose Studs
___-Black 2pc Hybrid Extended Race Nuts w/Locks
___-15mm + 20mm Spacers
-New Sway Bar Bushings
-New Front Heat Shields
-New Front and Rear Shock Bearings/Mounts
Wheels:
-AC Schnitzer Type 1 - 16x7.5 4x100 et25
-OEM Weaves - 14x7
Perks of Purchase:
-Z3 short shifter
-OEM BMW Style 10s
-Rebuilt head
-New Timing belt - PO lied
-Crack Free Dash
-Reupholstered convertible seats
-ABUNDANCE of misc. car parts in the trunk
-Late model.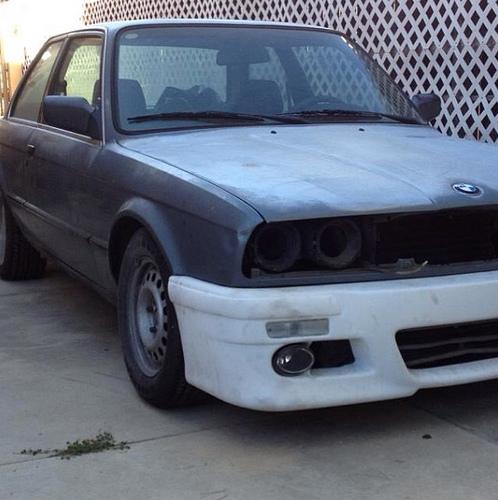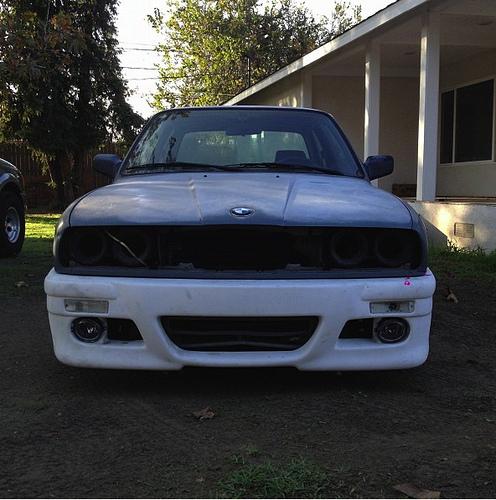 Intro:
After an unfortunate accident that rendered my early Alpine IS totalled; I decided not to take it as a loss. Four days later I came across this on craigslist; It was ugly, it was beat down, it looked as if it was junk-yard bound. I approached this not knowing what I was getting myself into at the time. Originally making one goal at a time with no specific vision of a final product just building for me. Doing this created a great love-hate relationship for the first few months of dealing with her. The dash along with HVAC panel wiring was lose, disorganized, unwrapped with no labeling. I figured trying to stay motivated and looking at the positives once its done would be rewarding. After all, I am not building this for anyone other than myself so others inputs (though I do greatly appreciate & value) are irrelevant to the product. I didn't have much money, and at the time I didn't want to have a totaled car wasting away in my driveway or sent away to the junkyard with goodies in it. So within the first 3 weeks or so I ended up stripping the Alpine to a shell. Mixing and matching items here and there where I see fit, and this thread is the results and progress of that.
It came with a trunk and backseat filled with parts, along with the god awful DTM e46 m3 front and rear bumpers..
The PO had planned to make this into an m3 clone I believe, purchasing the fender sheet metal and side skirts as well. (Mehh)
I purchased this for a little over a grand, and I'll admit the first few months were difficult deciding if I wanted to keep such a large project or not.
Now, I don't have a large background in mechanics; this is simply a personal challenge/test for myself to see if I could even do it. I have executed 90% of the work myself with the exception of the exhaust, alignment, and a tiny bit of help from a few friends..
The learning experience and piecing of the whole build together truly makes me smile, and though I originally bought this car with the intentions of rebuilding and selling to boost a profit. I can barely see myself selling it now.
I've documented much of the build over the last eight months (mostly iPhone photos), and now I feel as if its partially worthy of a r3v build thread. I'll go ahead and update it from the past to present to get it up to proper speed.
Enjoy,
-D
Photo of my 1987 325IS - RIP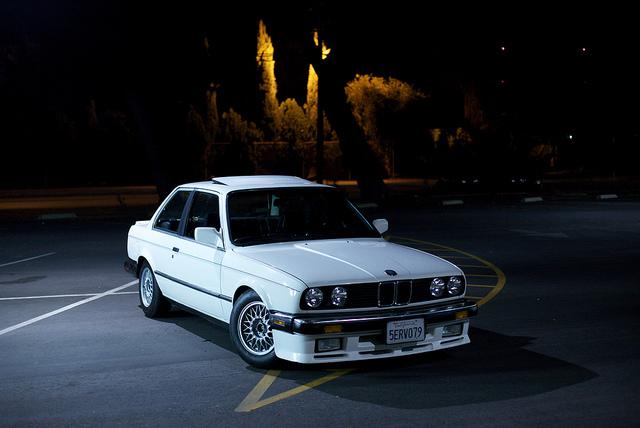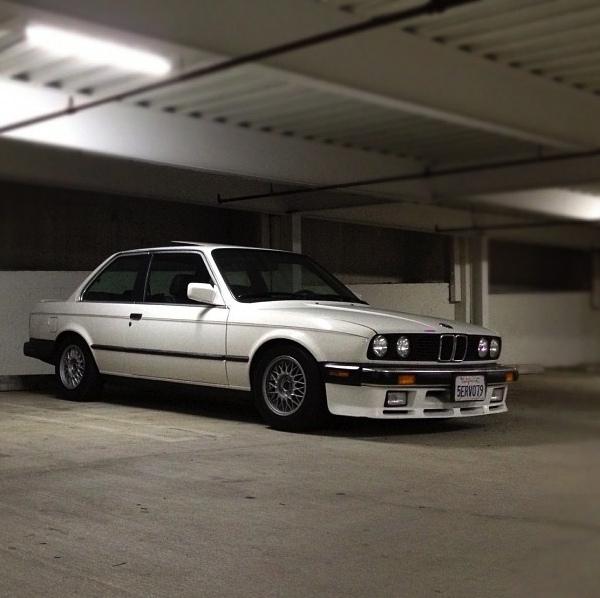 When I first purchased the car; The interior wiring harness in the dashboard was broken out of its looms. Nothing had labels (ofcourse not) so I had to go through everything and chase down a few wiring grimlins. Re-wrapped everything and put everything back together with a new cluster with new VDO garagistic gears and complimented the HVAC panel with a euro clock from a buddy across seas. I also went ahead and traded a rear ski pass with headrests for a set of vinyl seats I had laying around. Added the semi rare ski pass chute for kicks. Gutted all of the sound deadener from the car using the dry ice method.
Interior needs:
-Headliner
-Interior lighting
-New door and window seals prior to re-painting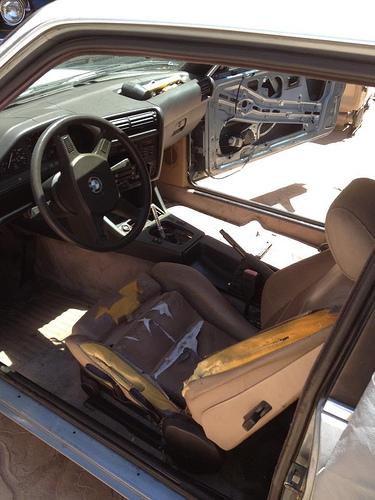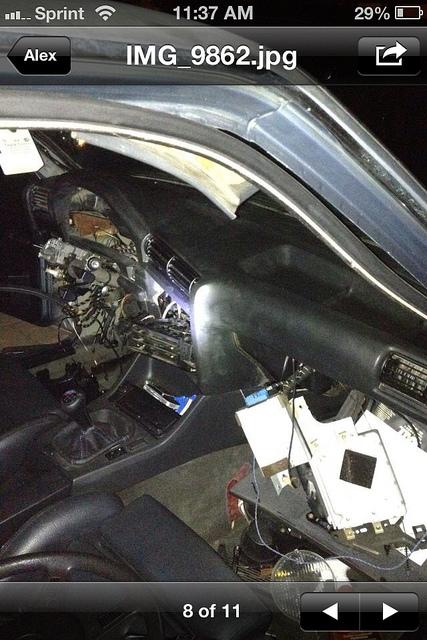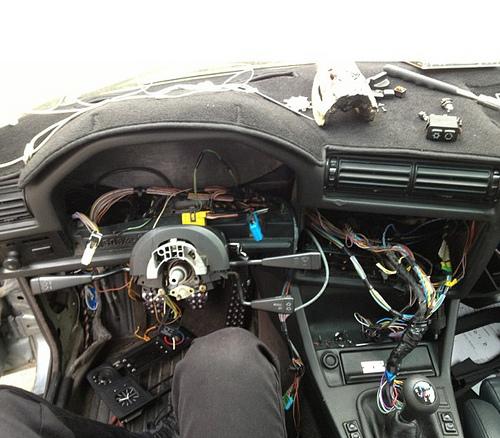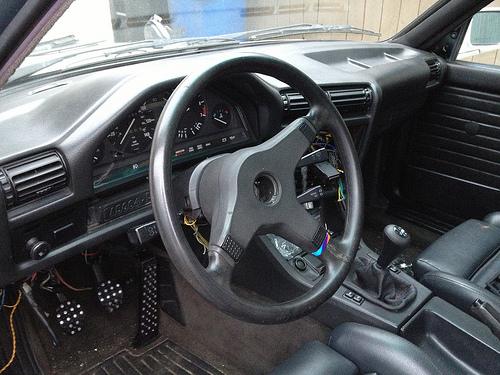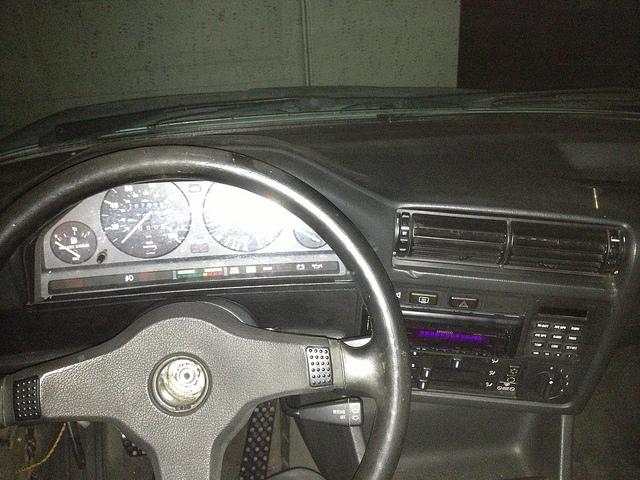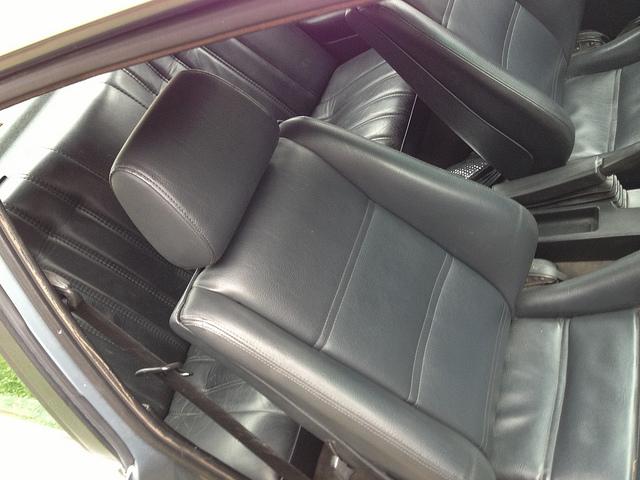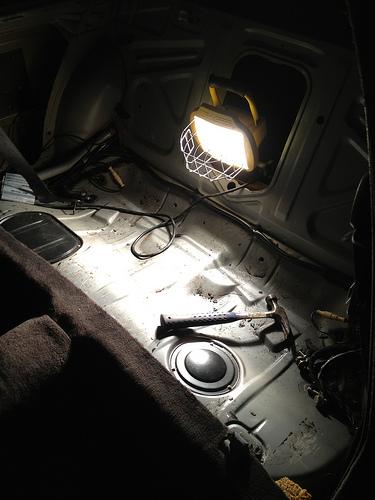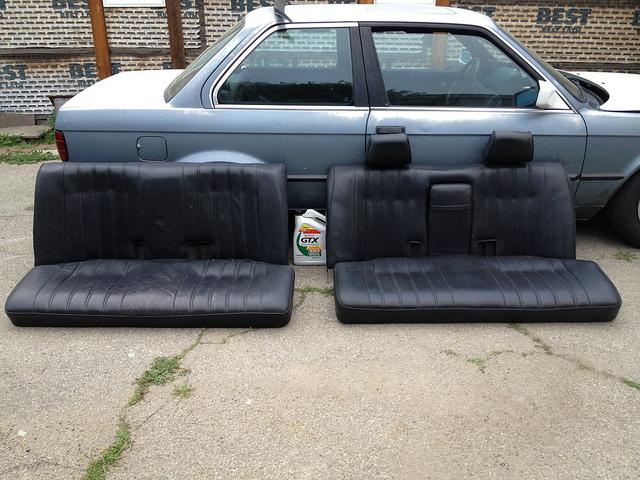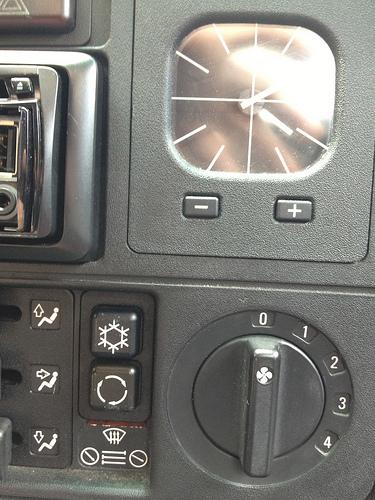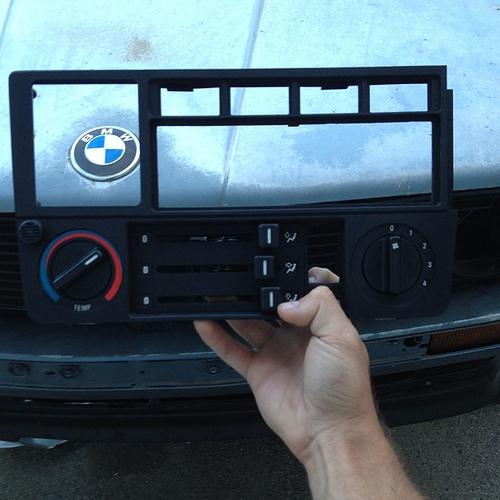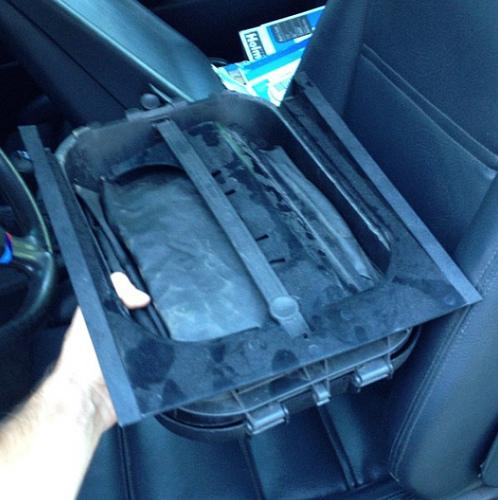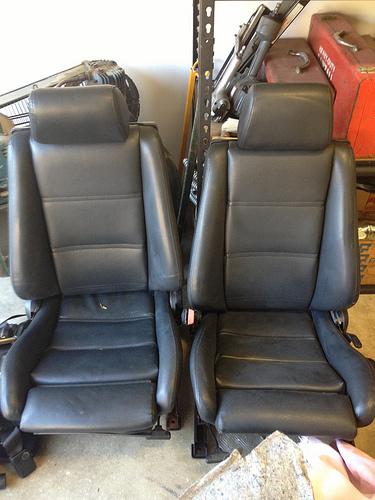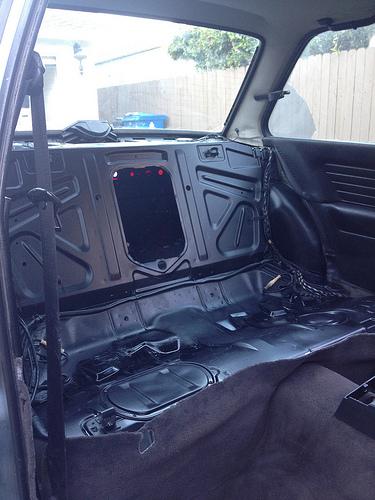 Originally Posted by
ltz Viper

sweet, Id hate to see the afterpics of the 87is it's so beautiful
Unfortunately it was, it was severe enough it buckled the roof and rear of the car.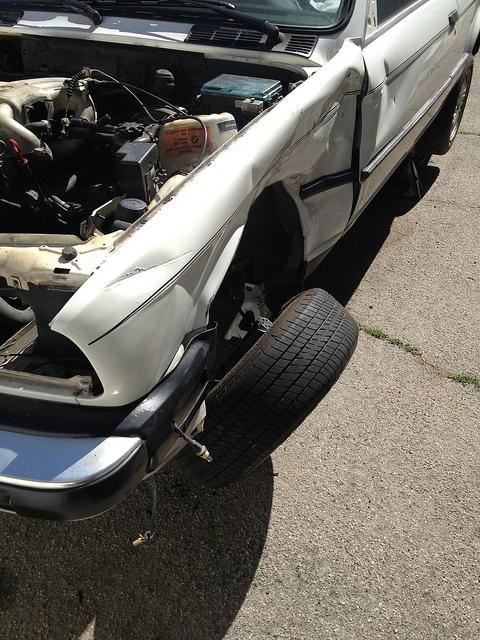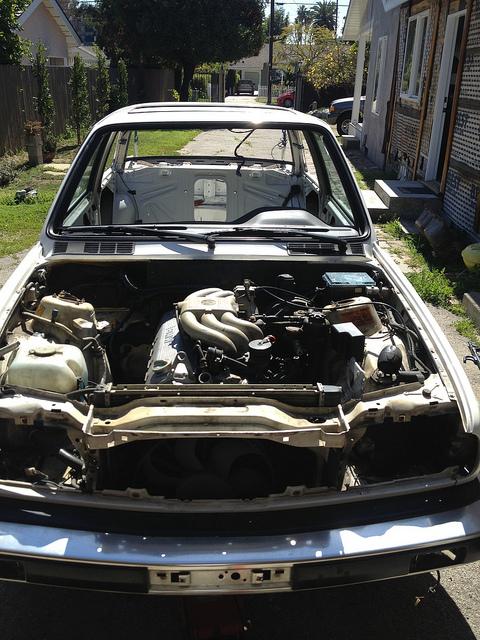 After gutting the interiors from both my cars I begun with an oil change that rendered a PO stripped head bolt. Tapped another socket on it, removed it and replaced it with a magnetic one. Continued to replace the oil filter housing gaskets and washers along with replacing the lines and oil cooler due to damage from PO. I replaced all CAB's, motor and tranny mounts, along with the Condor PS delete.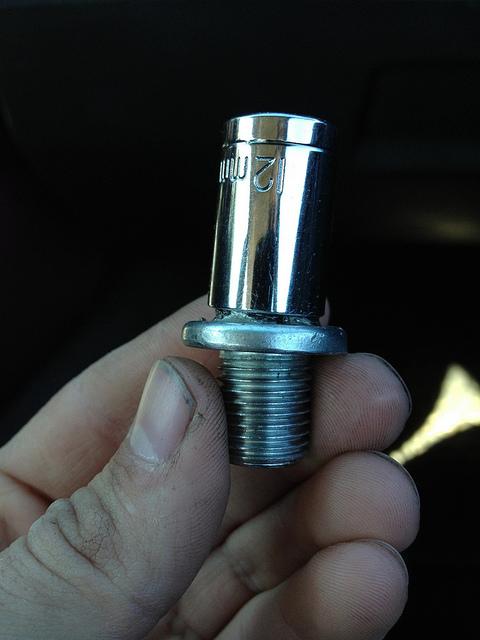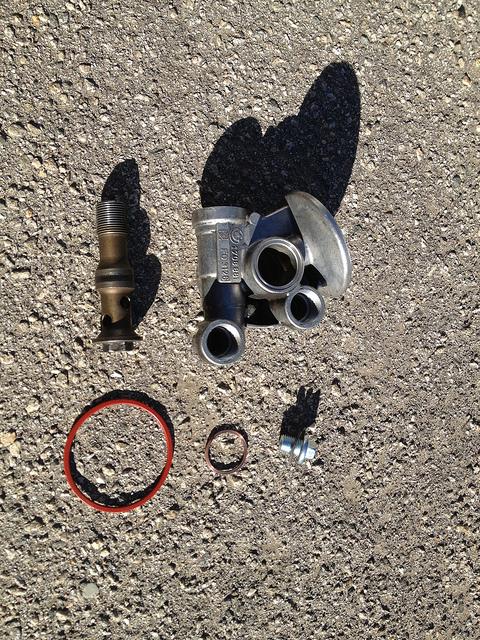 Then moved onto the control arms and bushings.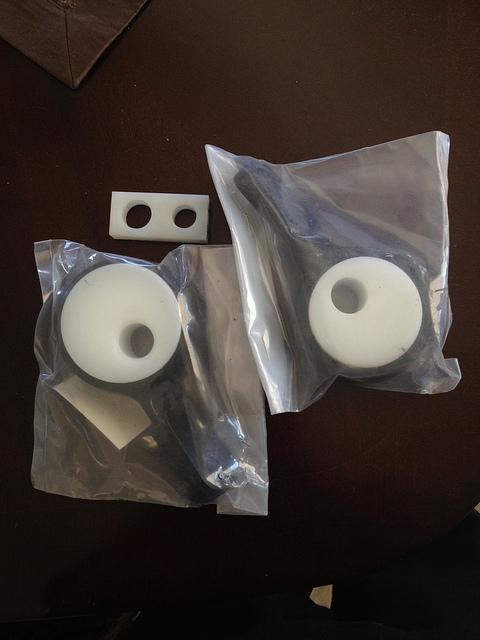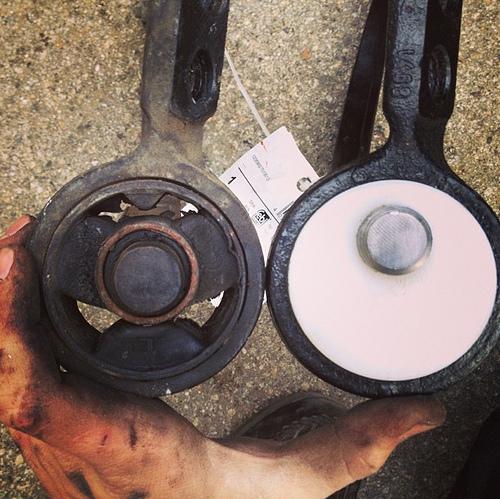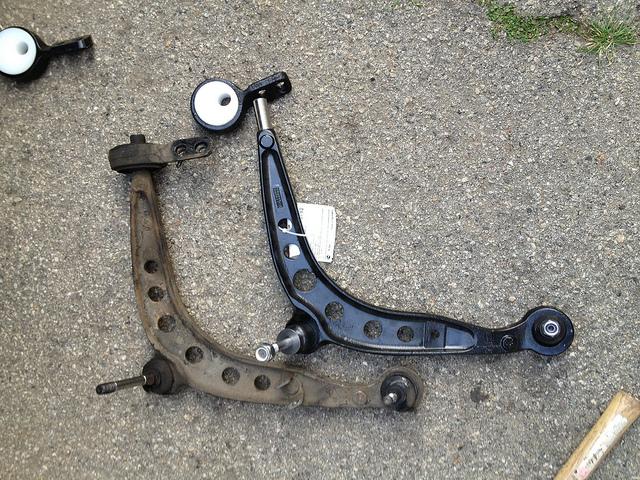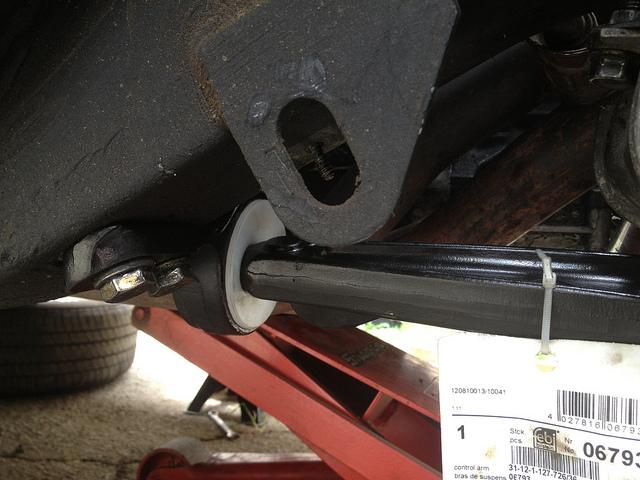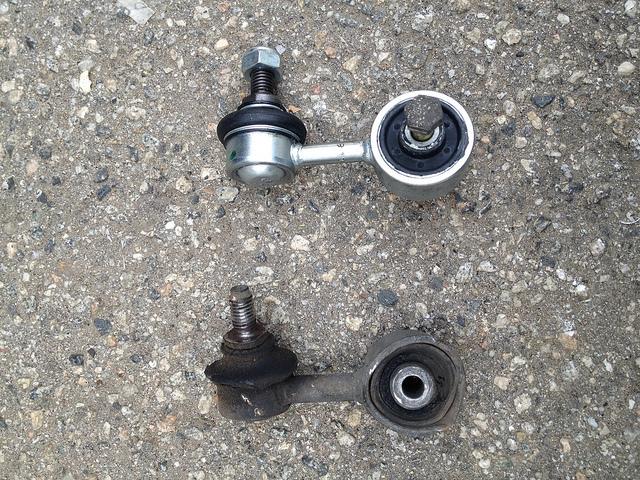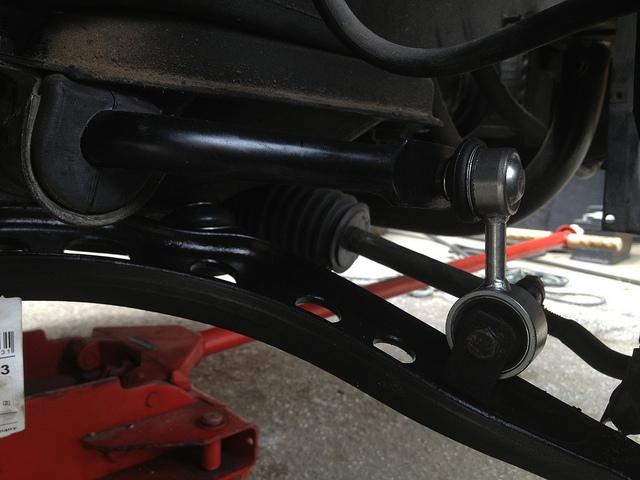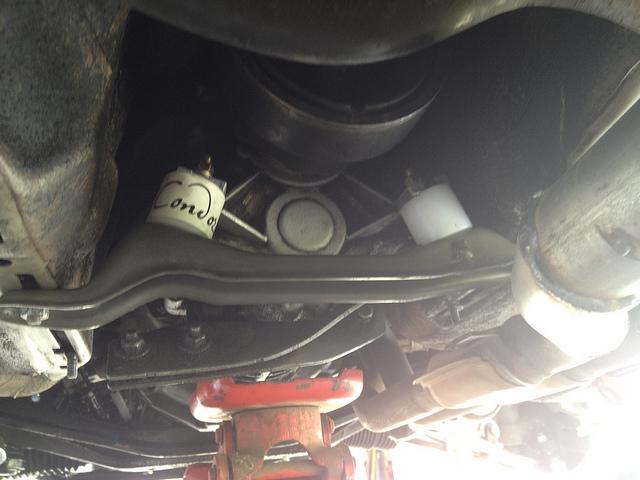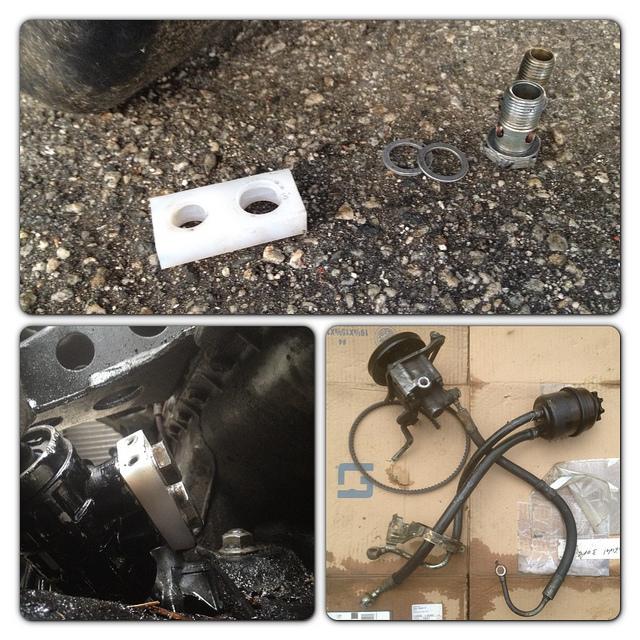 I then began on cleaning up the engine inside and out. After installing my Severe Duty Skid Plate, the radiator came off rendering something that looked like it hadn't ever been changed. I decided to replace the whole radiator to avoid any issues later on, along with water pump, t belt and tensioner, thermostat, had the injectors rebuilt and polished, sent the valve cover and intake manifold off to be professionally powder coated in wrinkle black with silver raised areas. Replaced all the hoses, gaskets and most seals while I was in there. Threw in BMW coolant, dropped the AC compressor and accessories, and cleaned up the surrounding areas. I also decided to replace the starter as one of those "While im in there" type deals just because I did not want to do it in the future. Resprayed the new sub frames prior to installing in semi gloss black.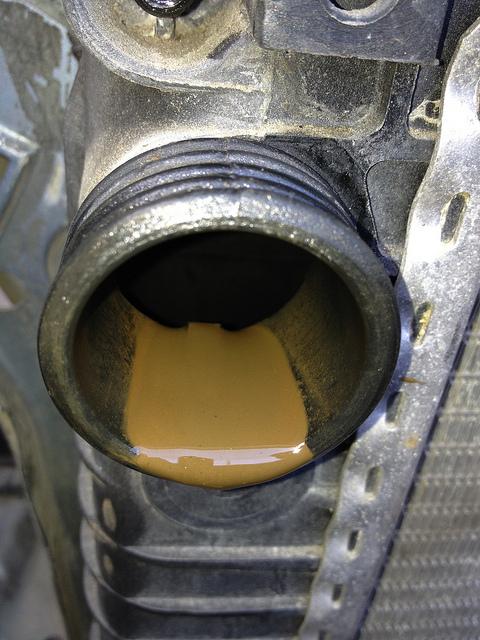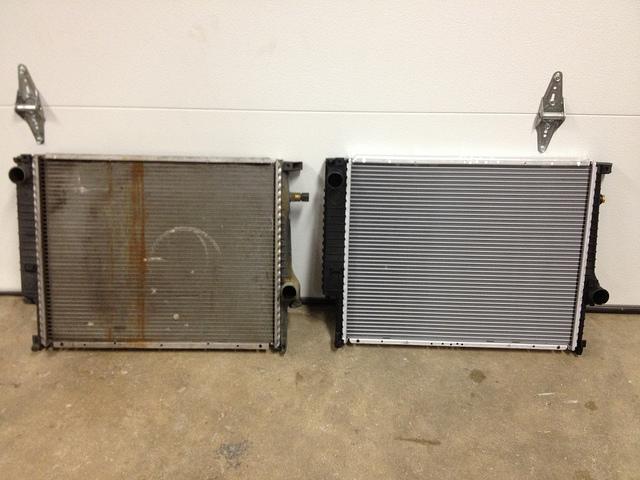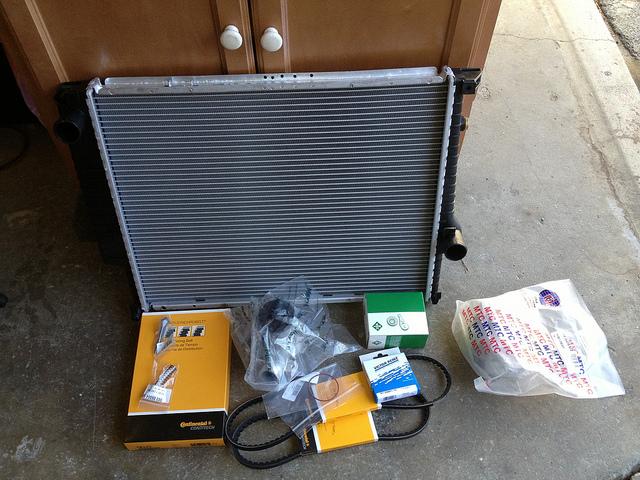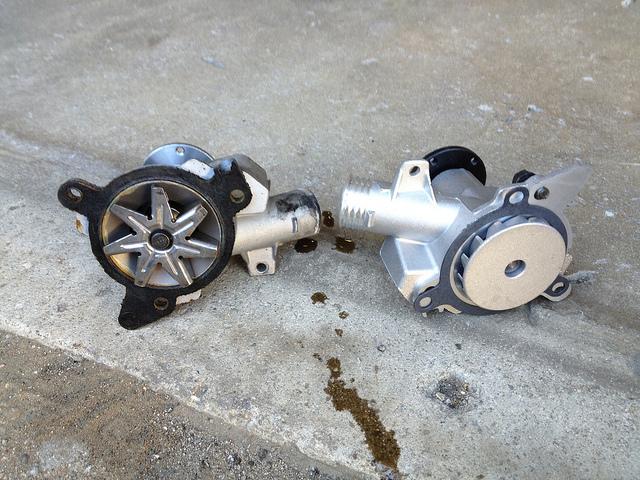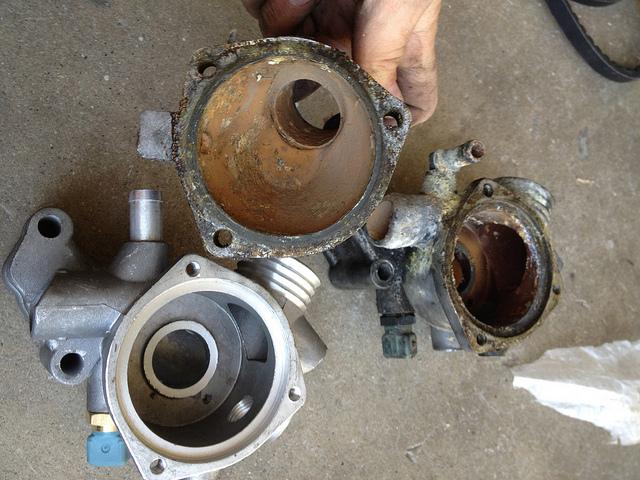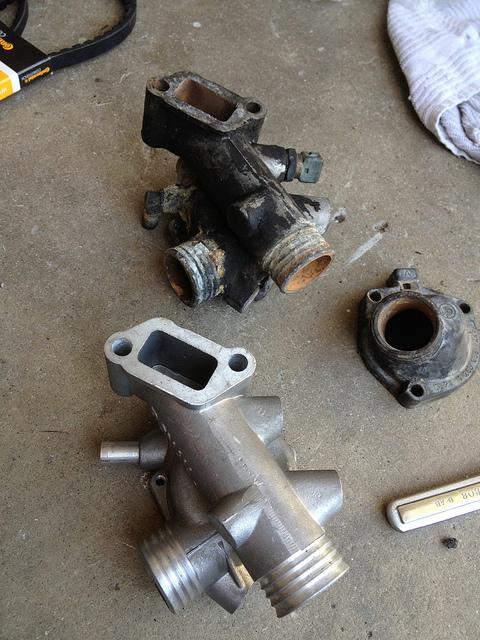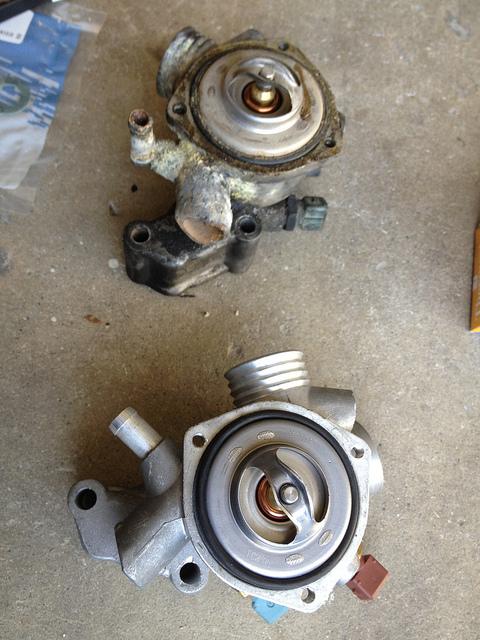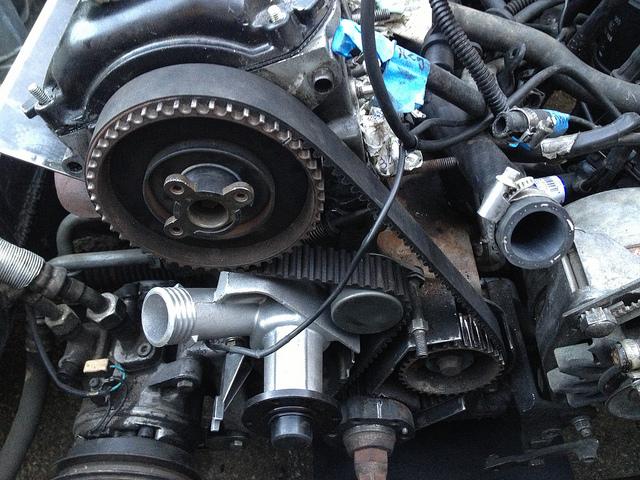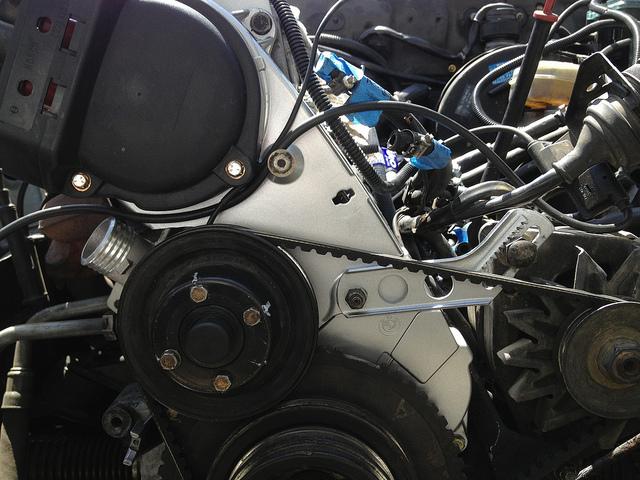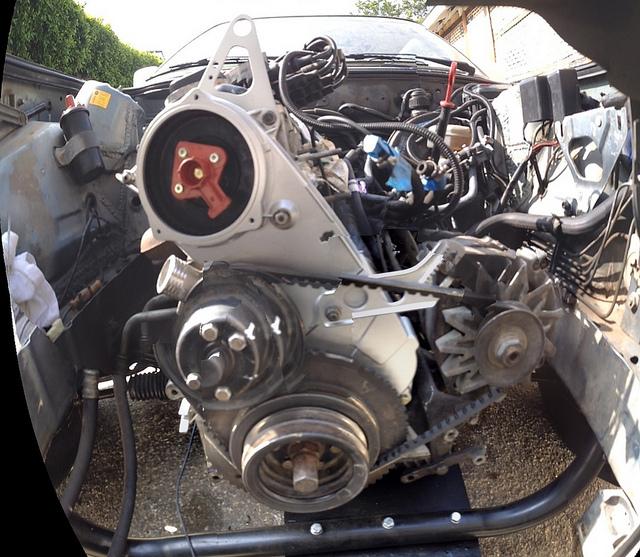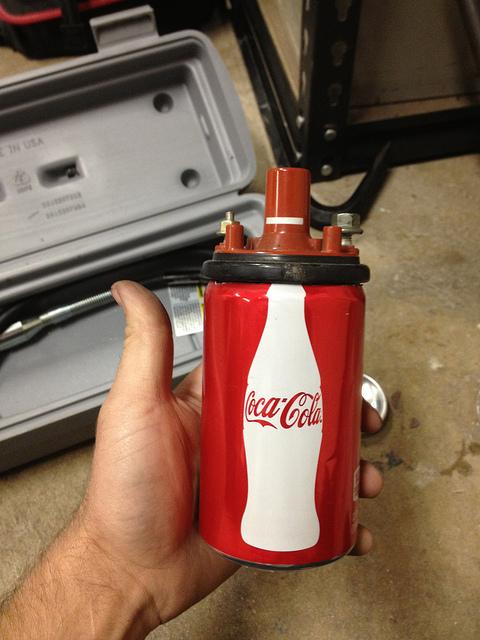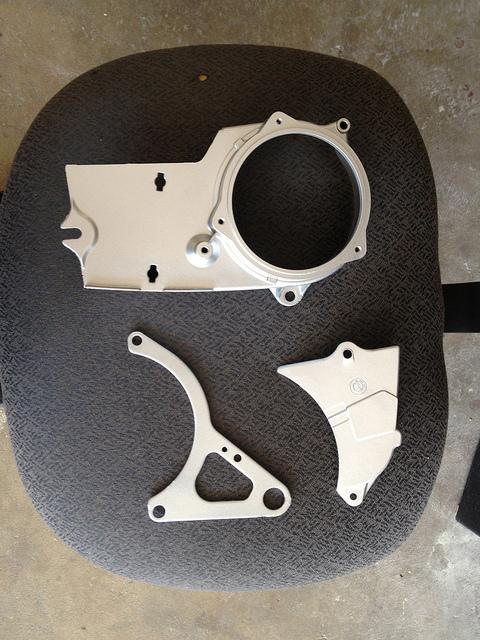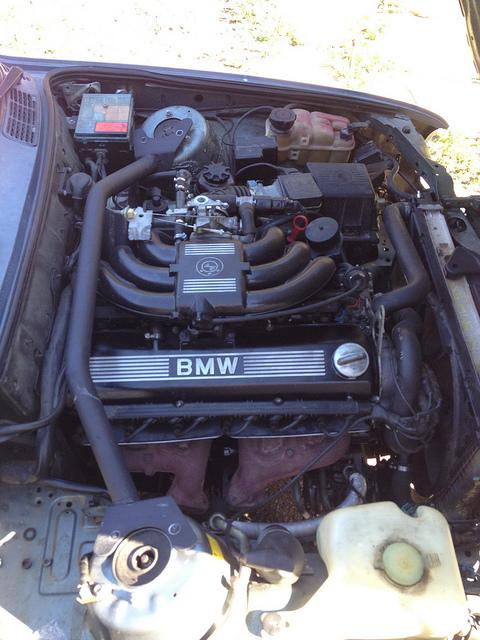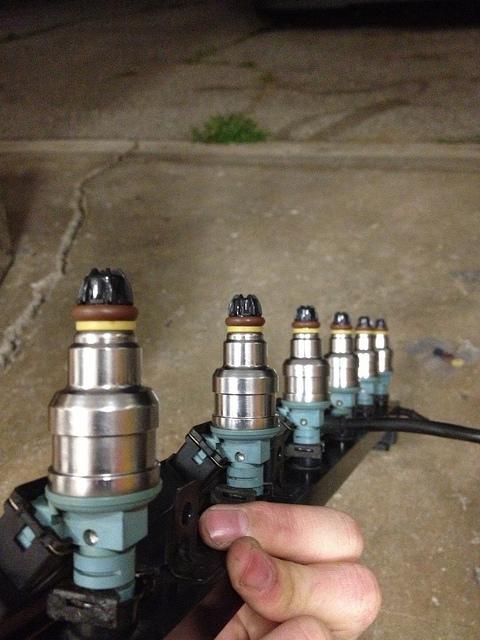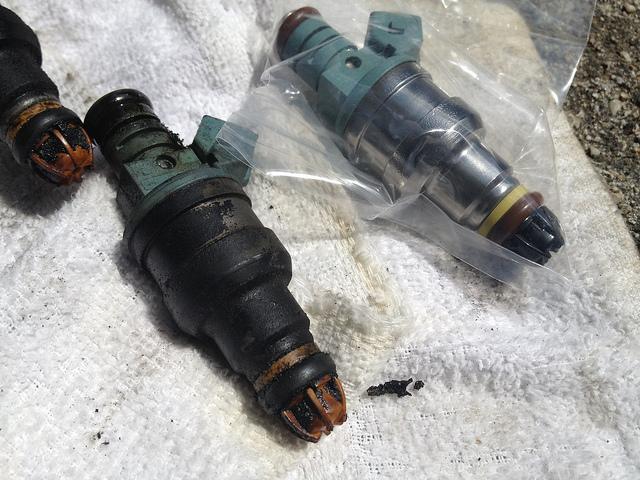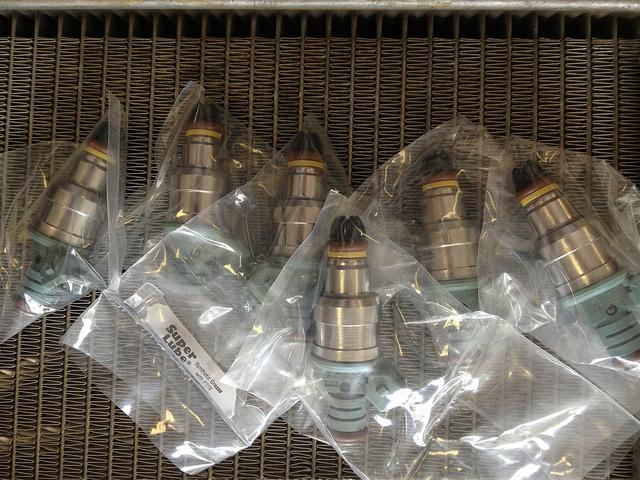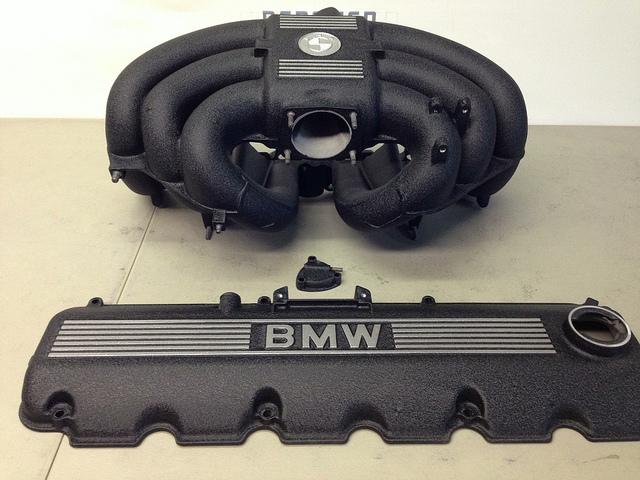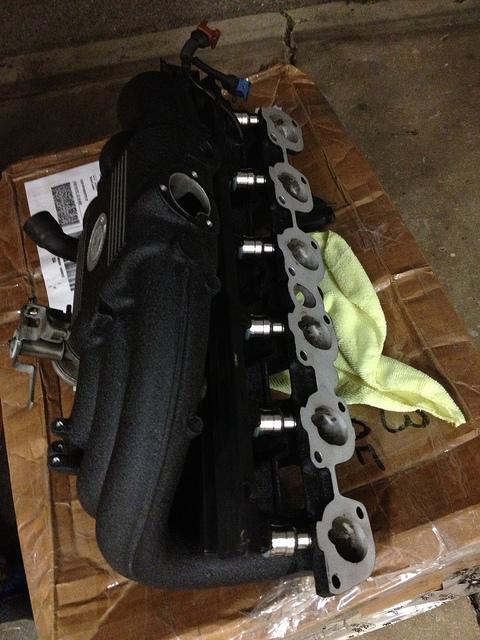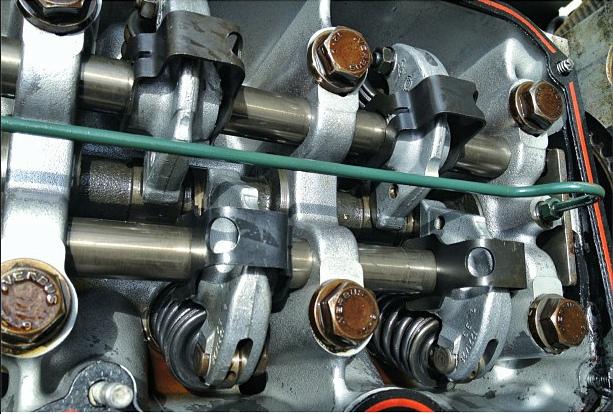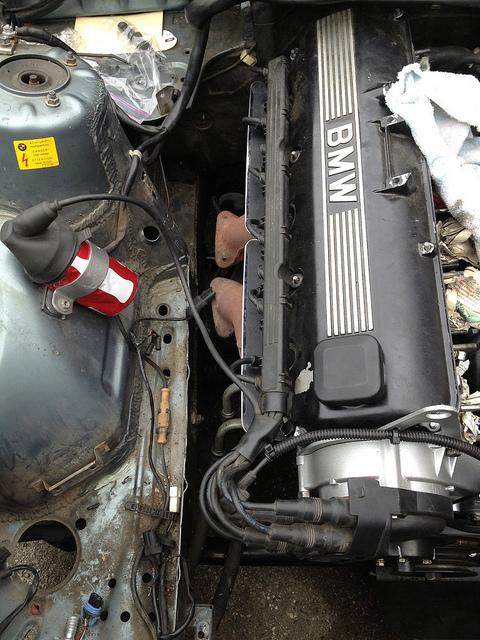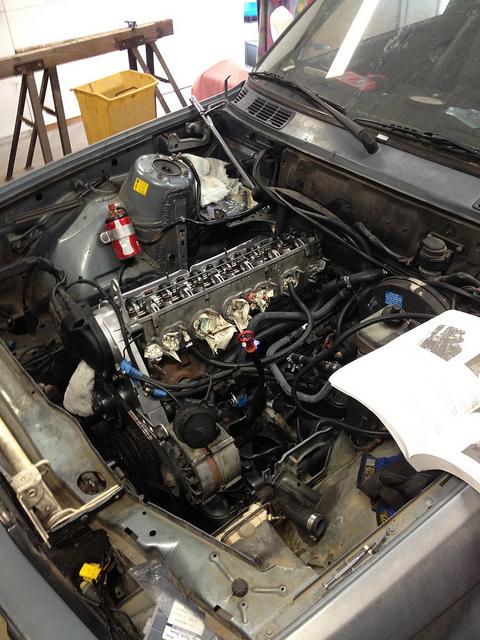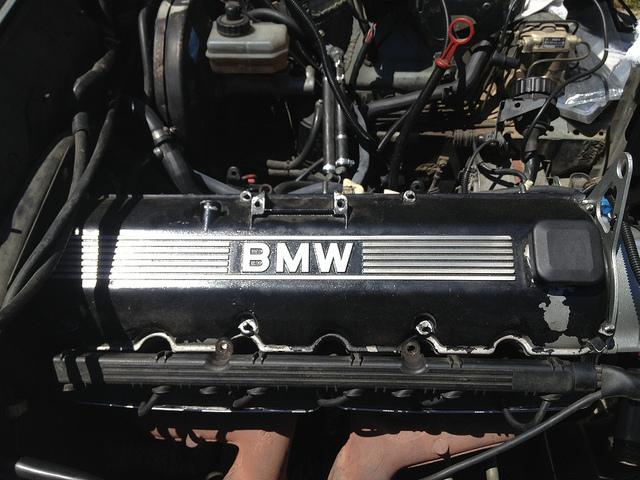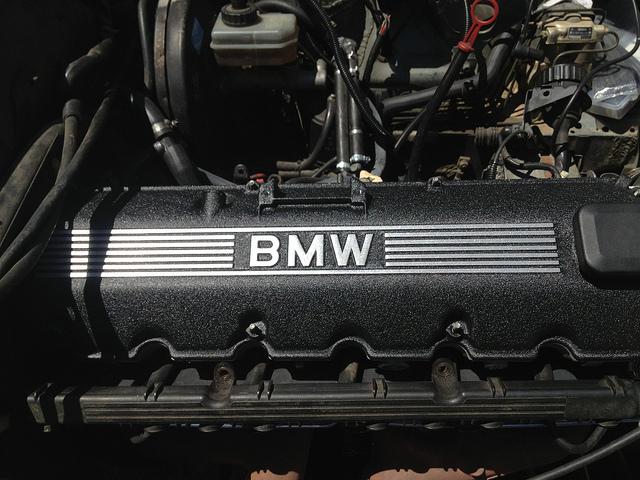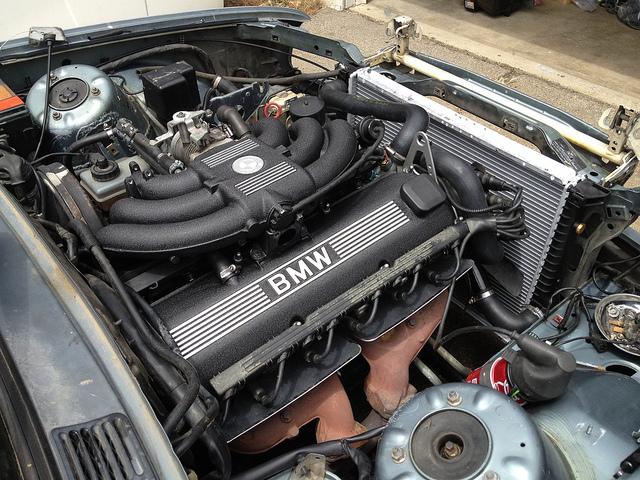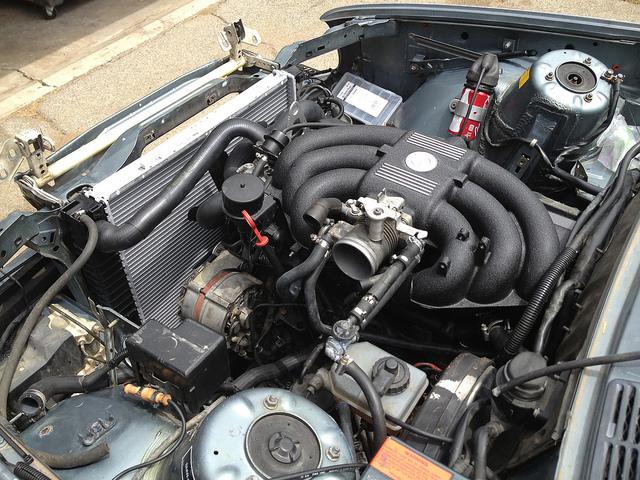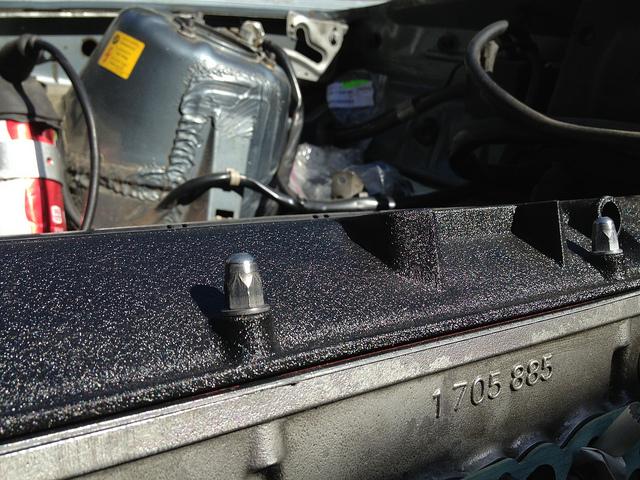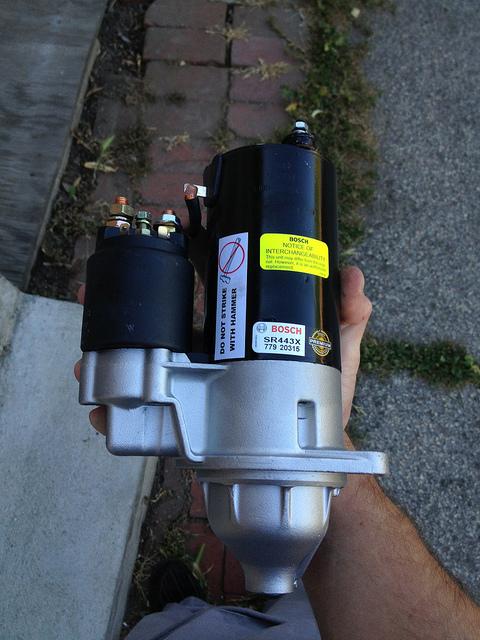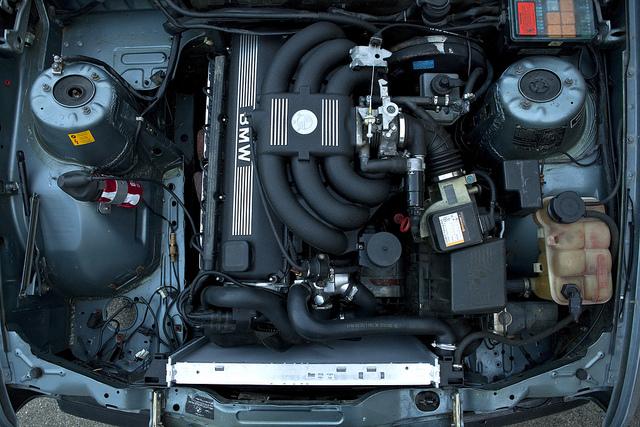 Then reinforced the front subframe with IE tabs; and added the CSS motor mounts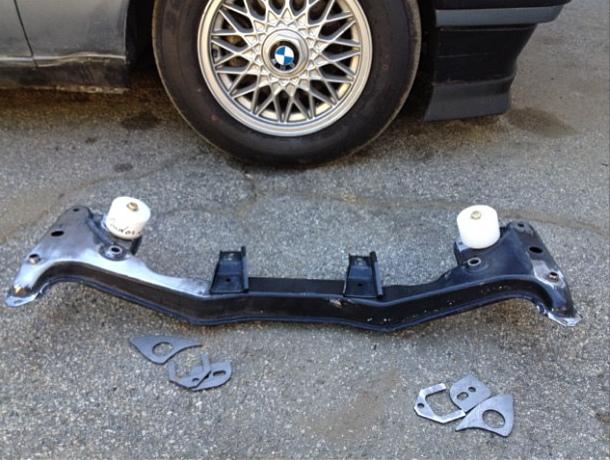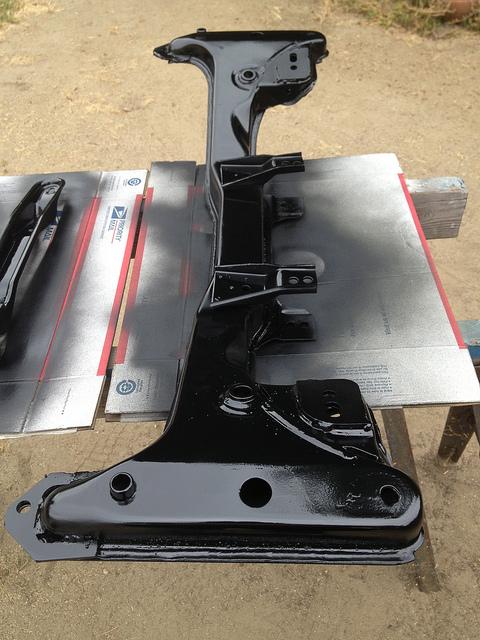 I also replaced the front and rear windshields, the front bumper core was chopped up to fit the original e46 M3 fiberglass bumper so I got one off a friend. Then I picked up a front valence off Edwin which brought the front back to how it should have looked.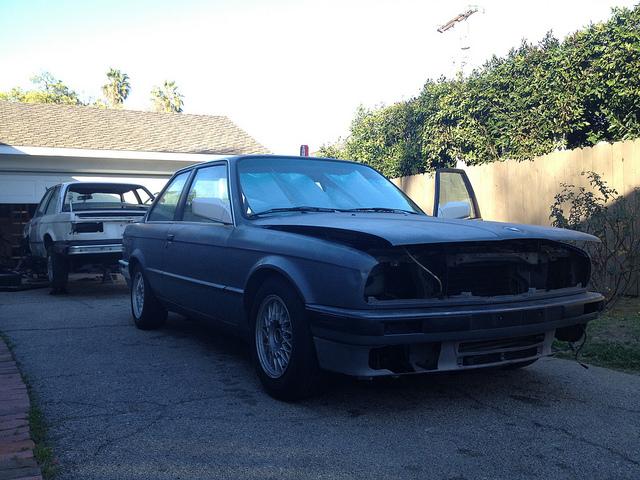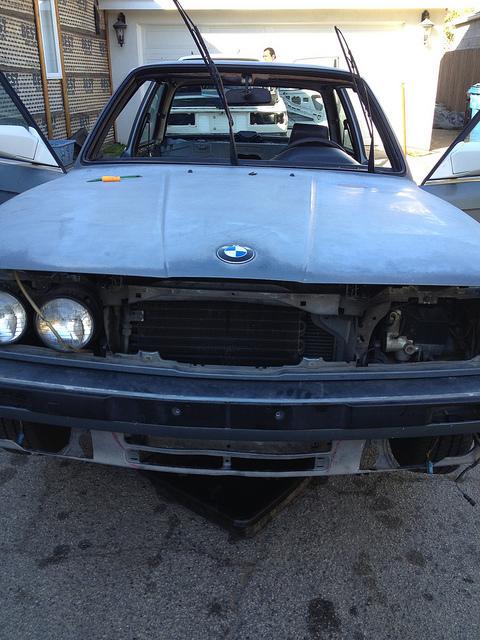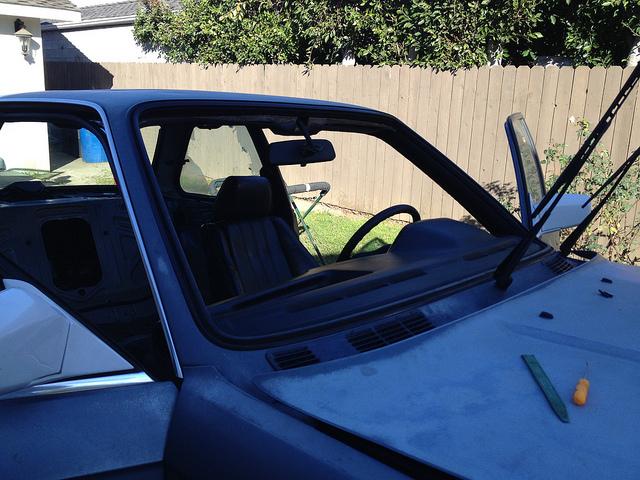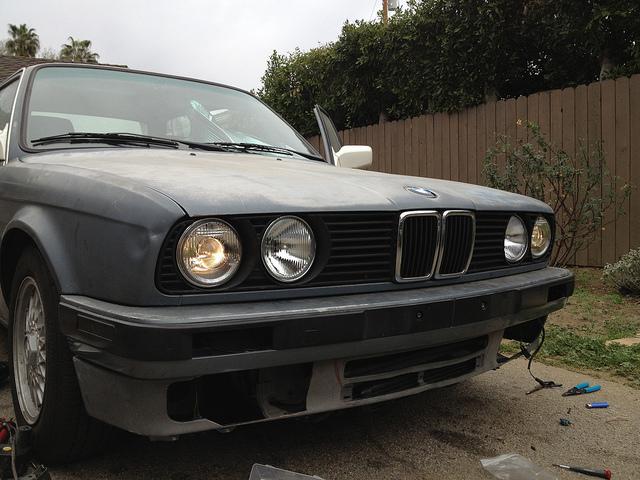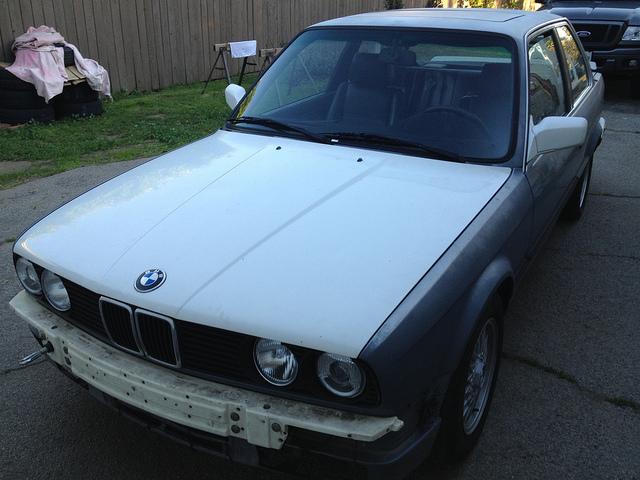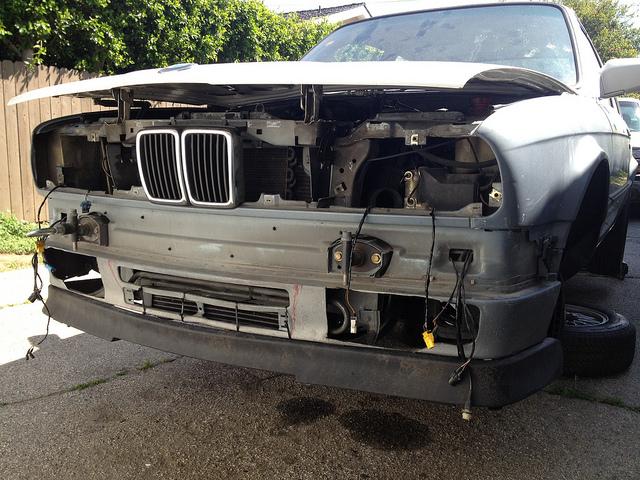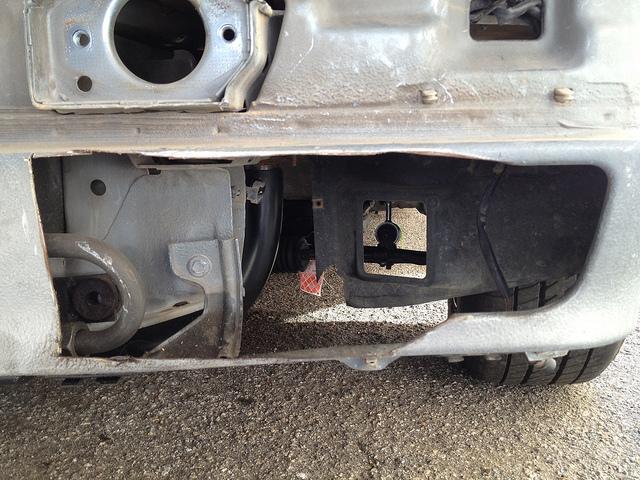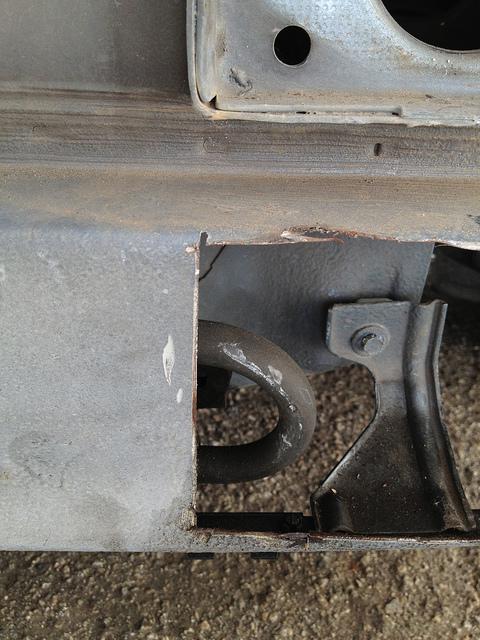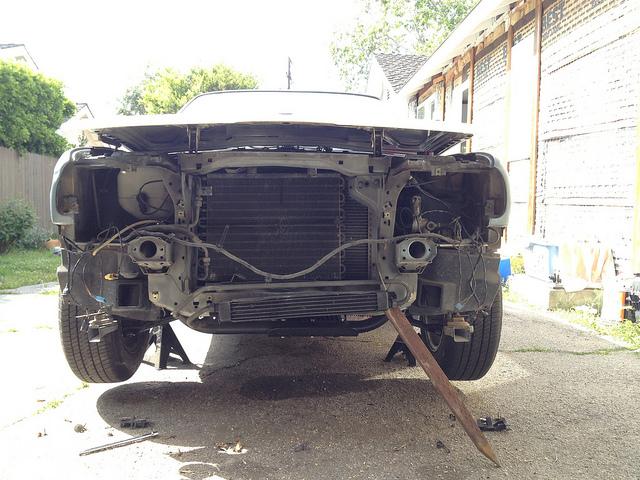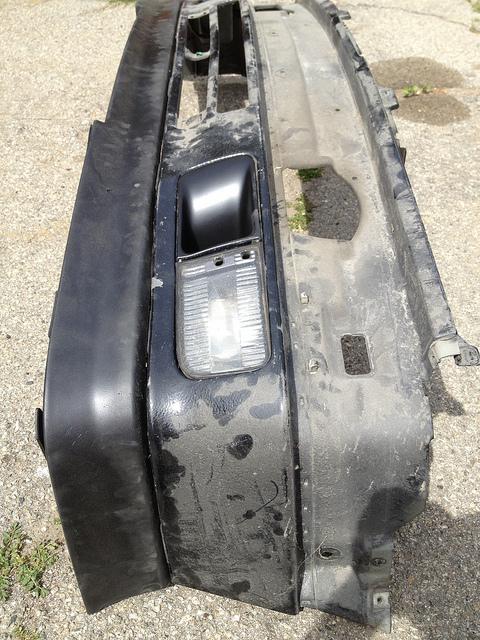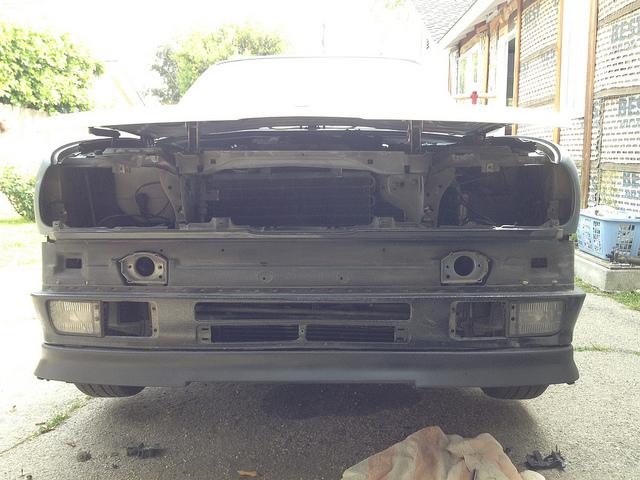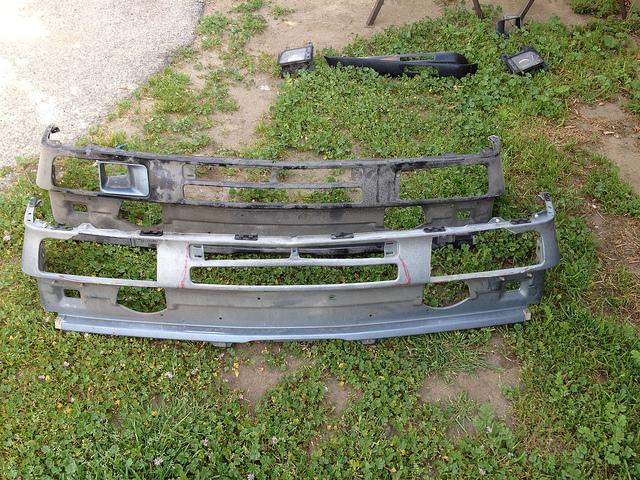 Then I got hooked up with rear bumper cover from a buddy that was cracked which i fixed, primered then plasti-derped. Found a trunk, and two matching fenders off a car at the junkyard and scrapped the damaged body panels. Added cherry tails, fog light deletes, and custom made cross hairs and french bulb housings for the headlights.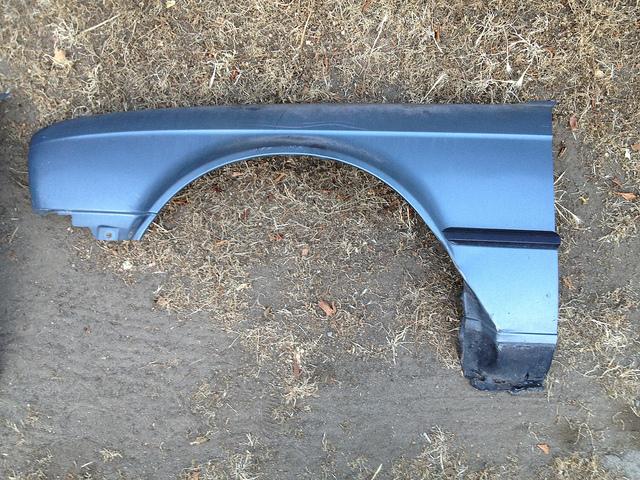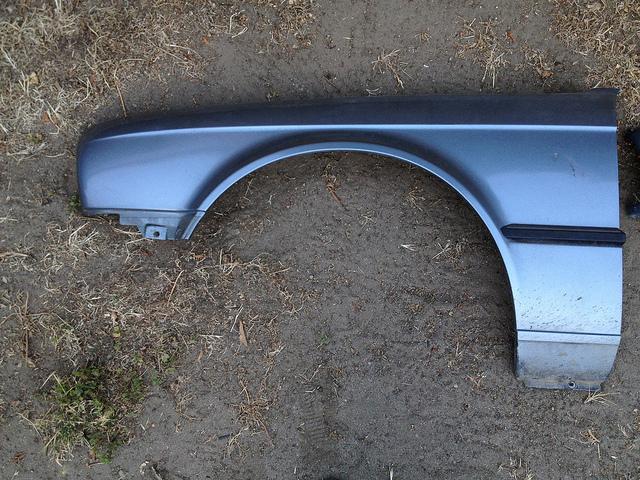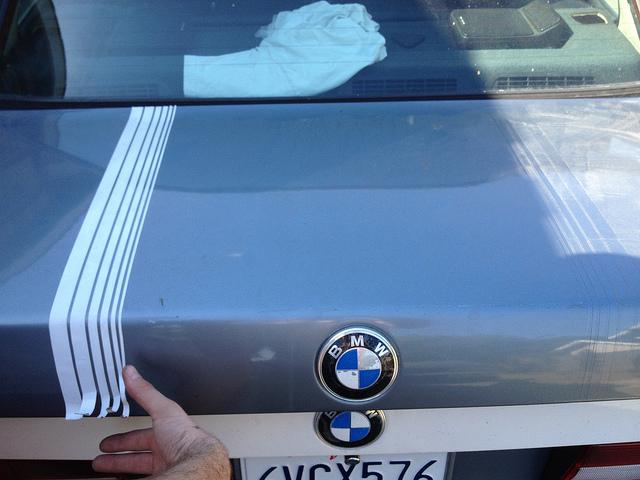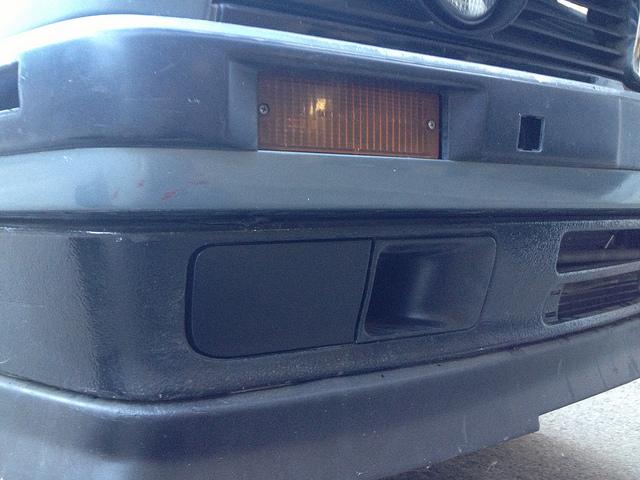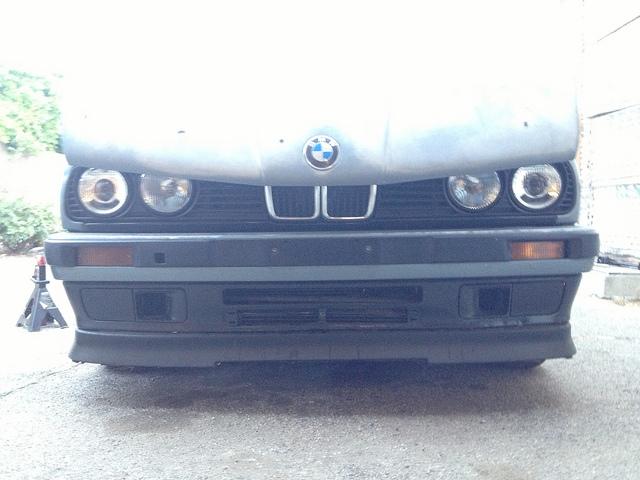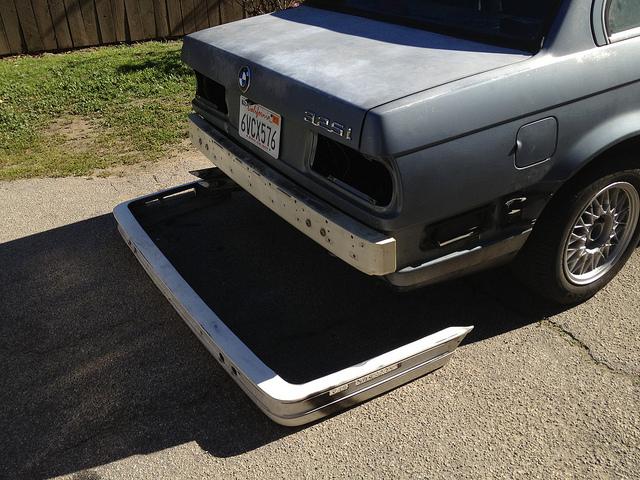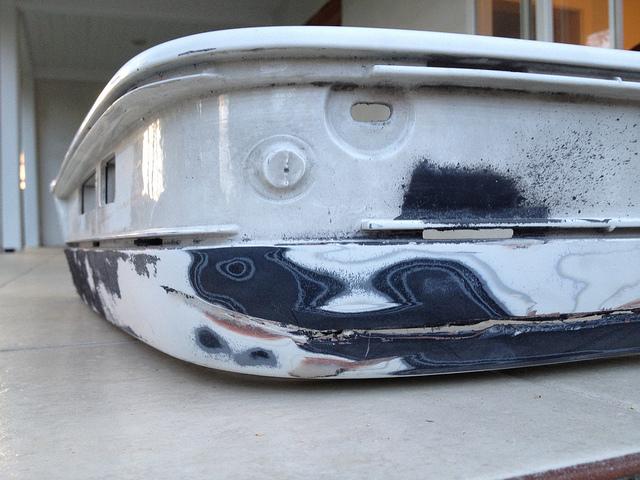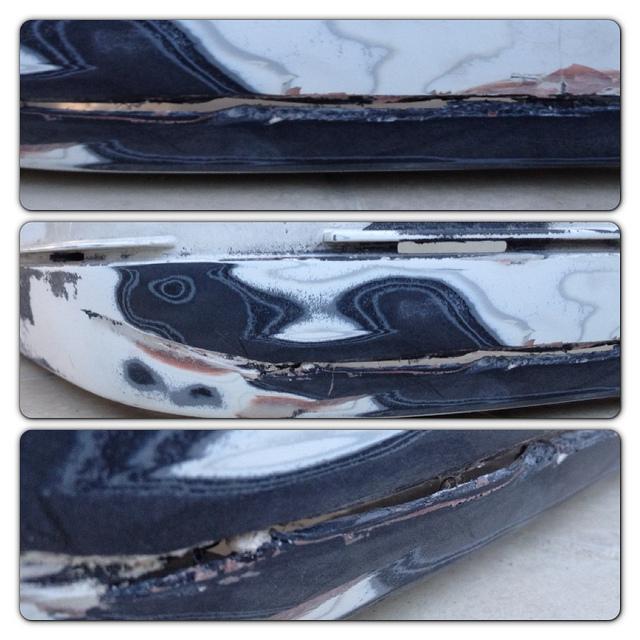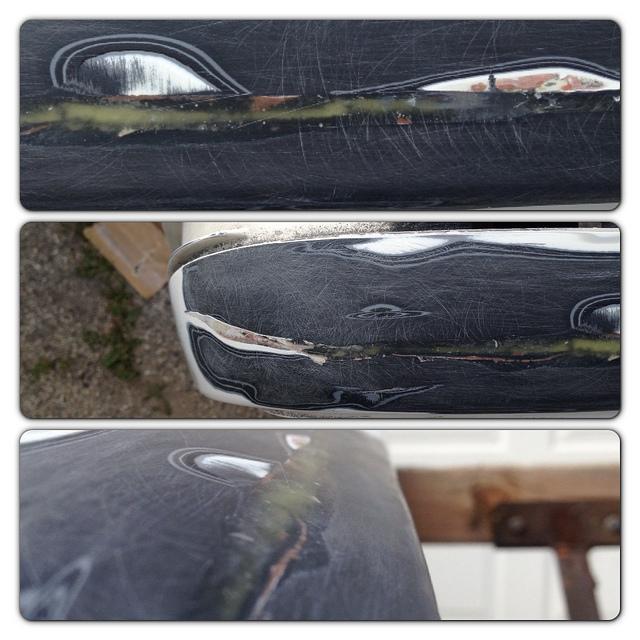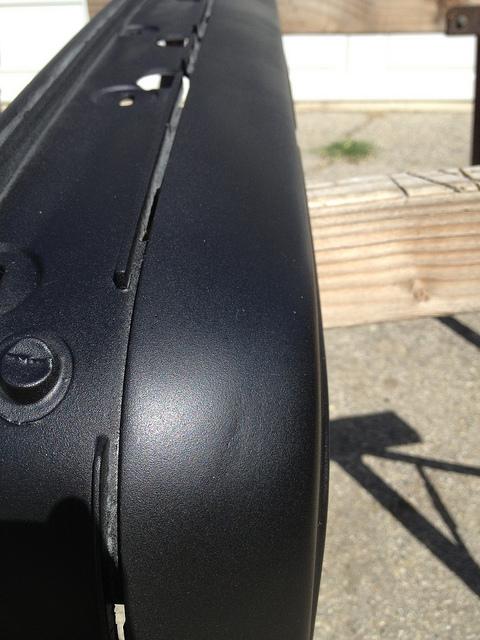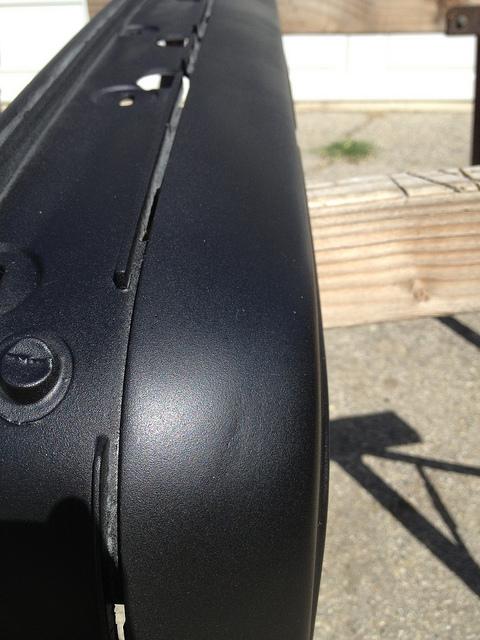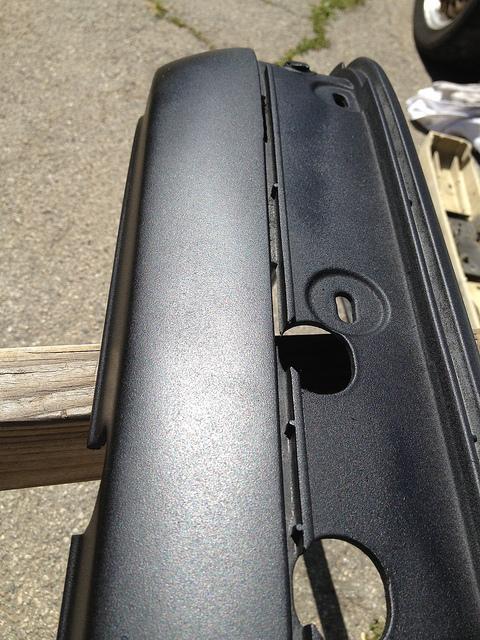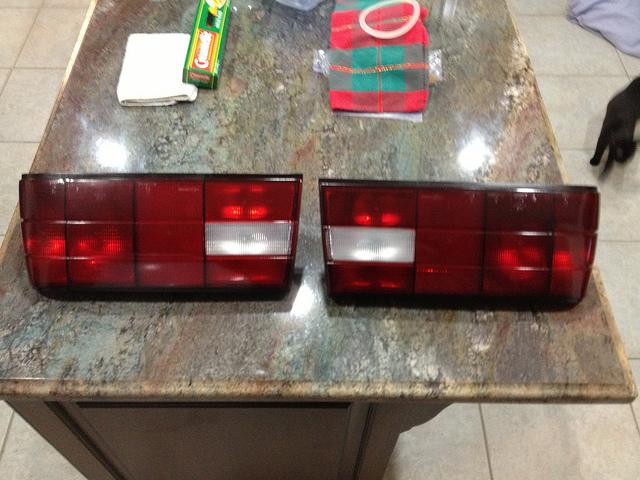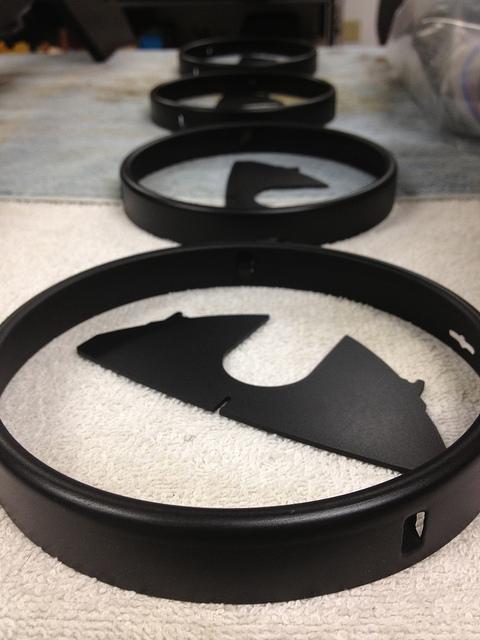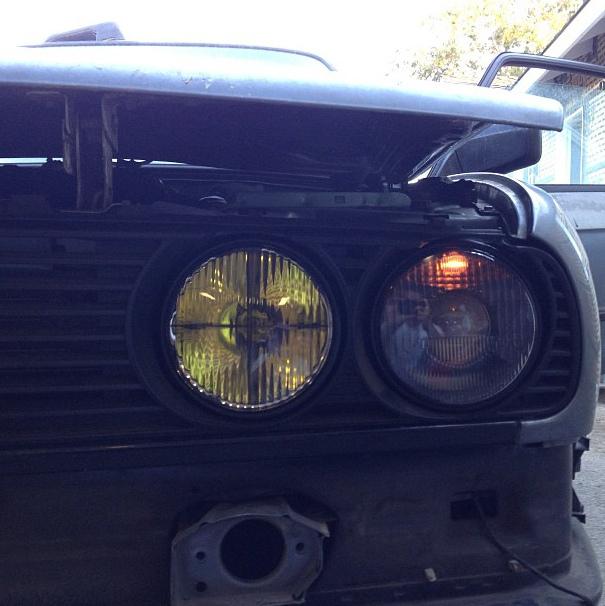 Latest project I underwent was upgrading all the rear bushings, adding stainless steel brake lines, replaced both clutch cylinders, all brake pads and rotors, slapped on my LSD off the 87 IS, built my GE coil overs, and added a UUC DSSR to the Z3 SS.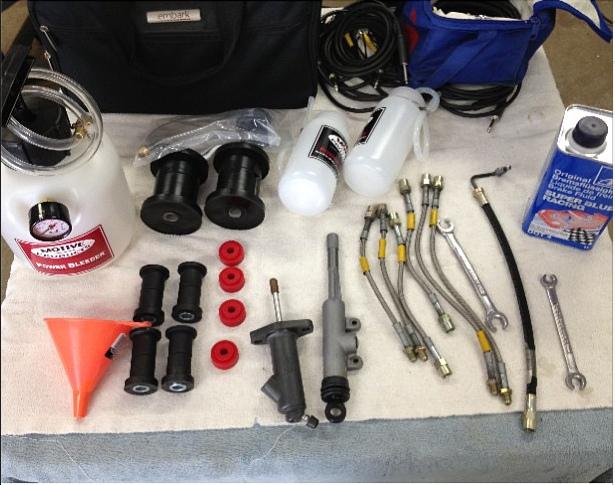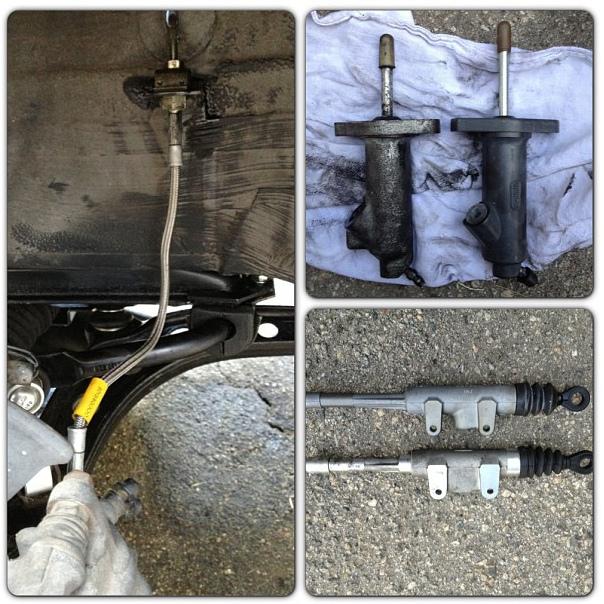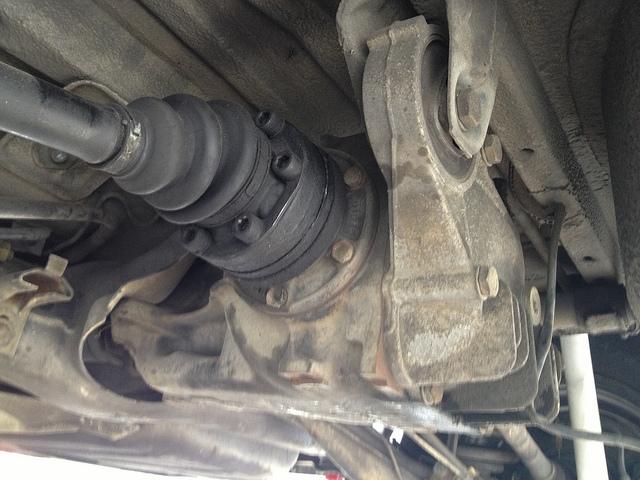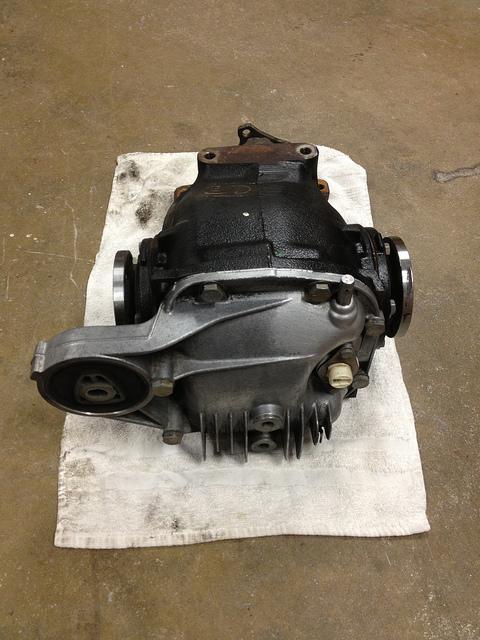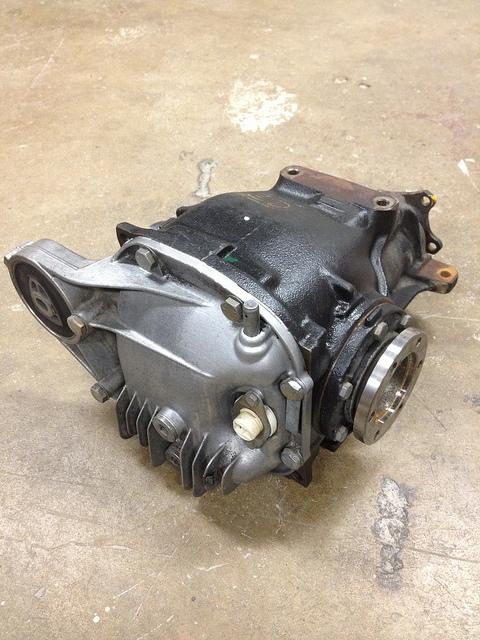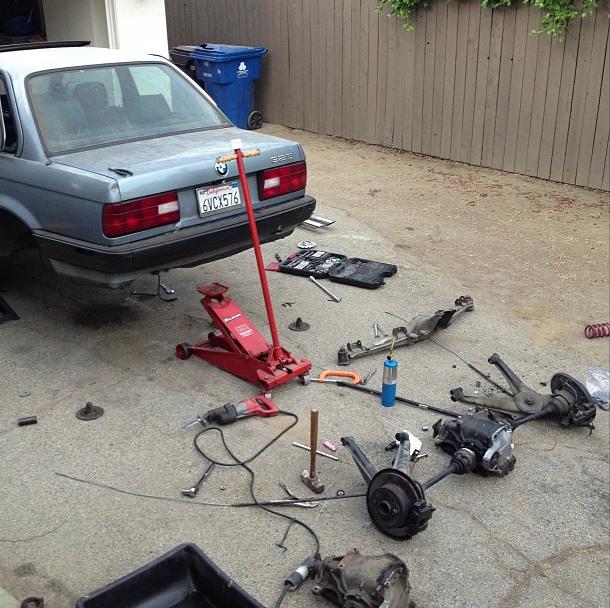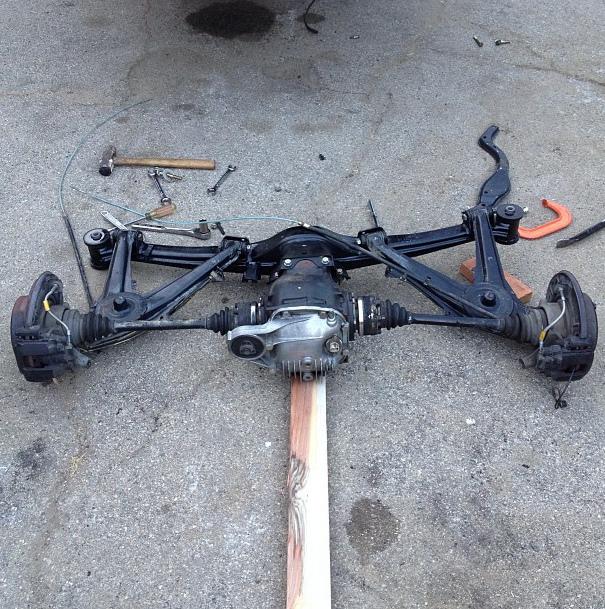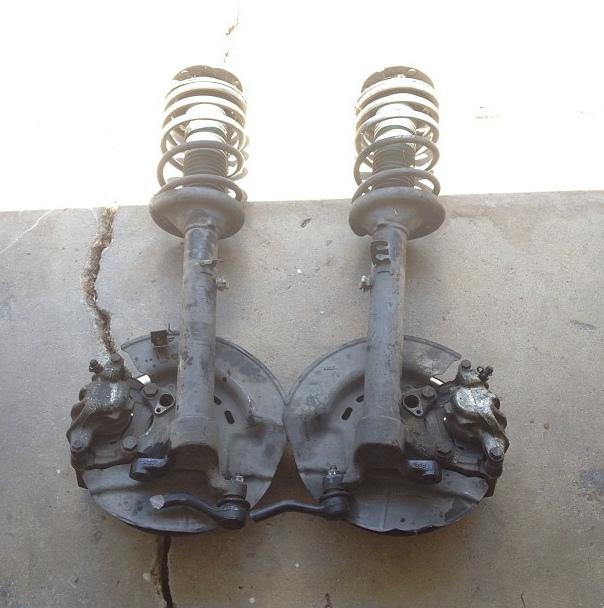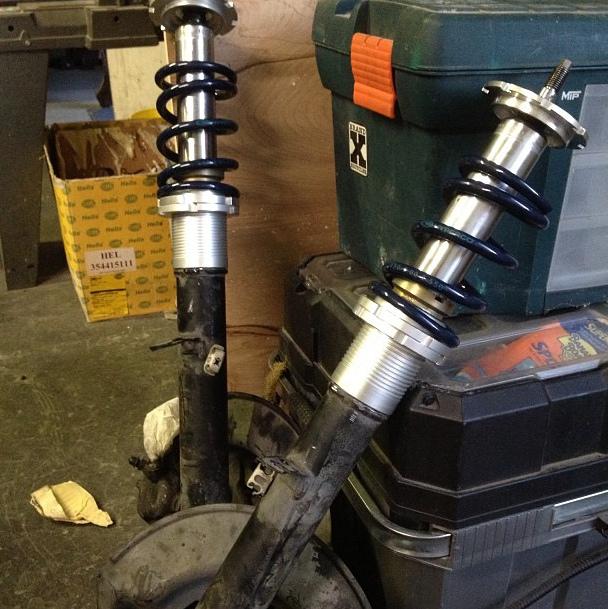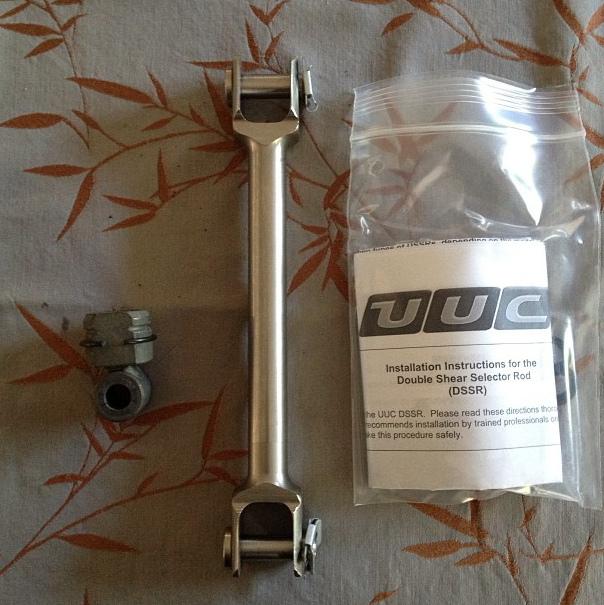 Last but not least, my rims of choice till I stack enough bread for something I really want. They are not 100% but they are acceptable by my standards..
Style 10's that I stripped, repainted, and had polished.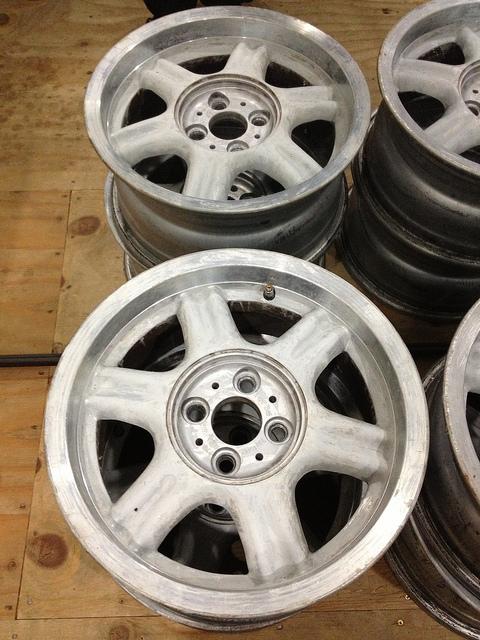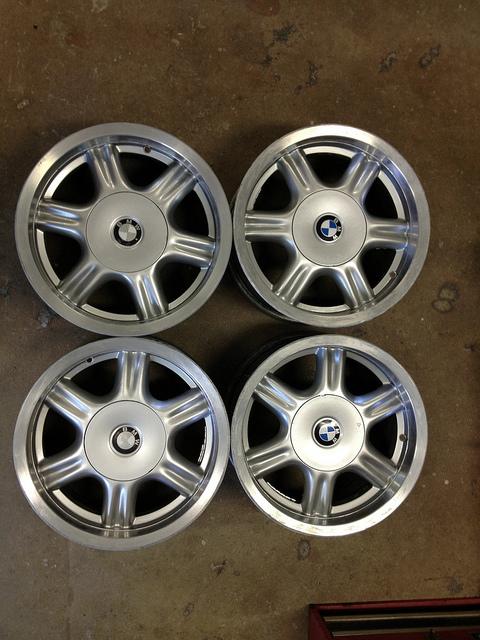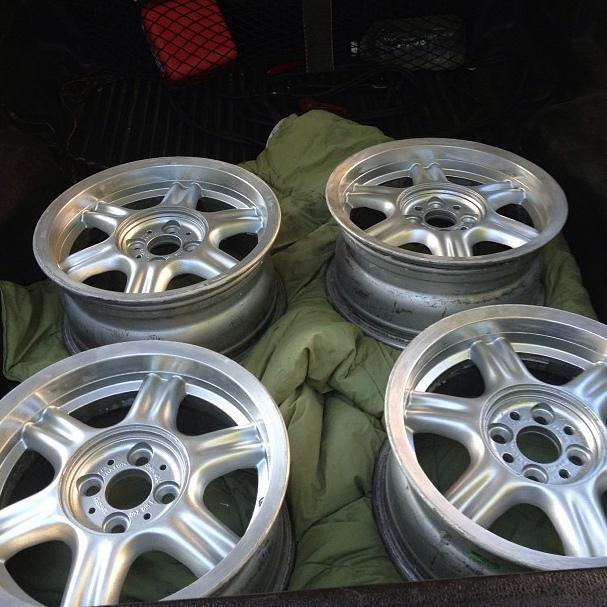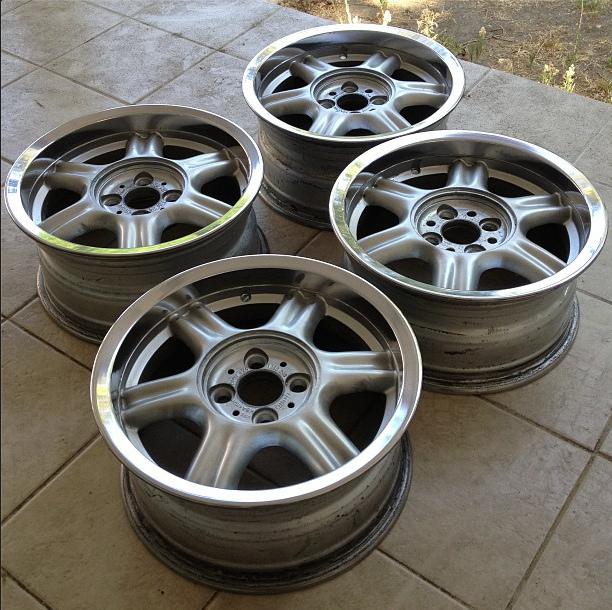 8-13-2013
8/10 Threw on a UUC DSSR a few days ago; along with new bushings, selector, and seal since I was leaking.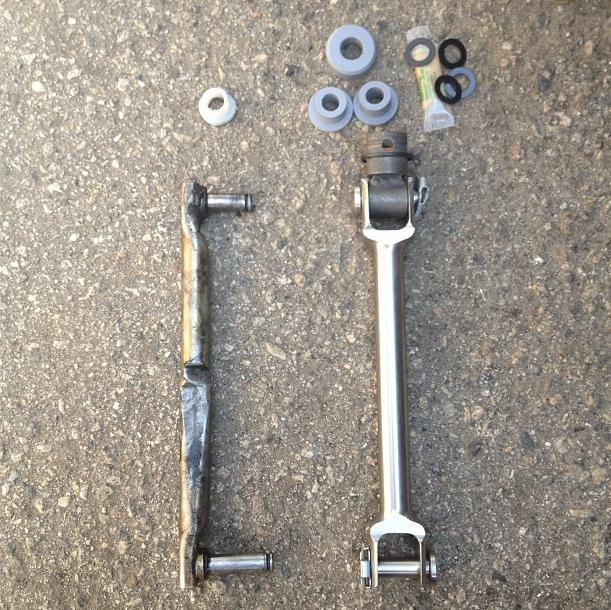 8/11 Taped off the lips on the Style 10s; going to have the faces powdercoated with clear.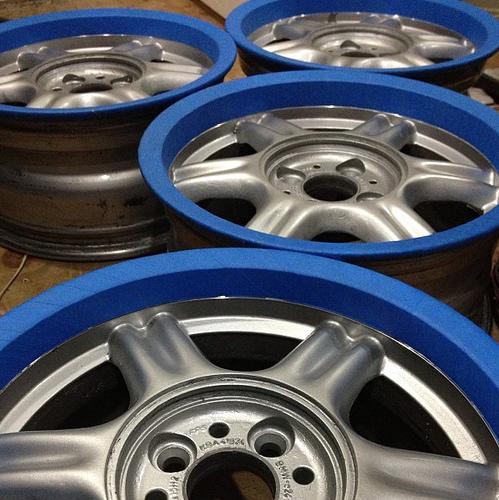 8/12 Also finished sanding down the front valence, rear bumper, brake ducts, fog deletes, and mirrors. Prepped them and shot a base coat of something very similar to Cirrus.
Looks very silver-ish inside with the lights but very light blue in the sunlight..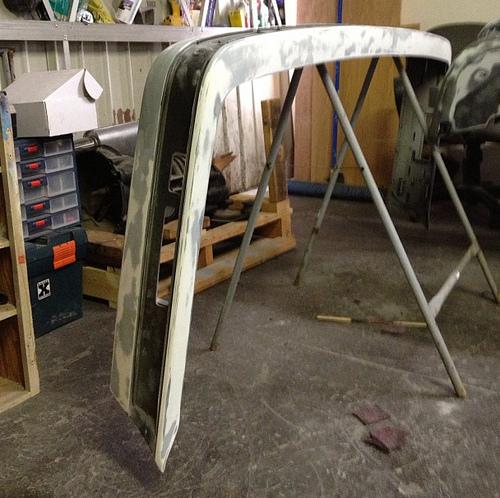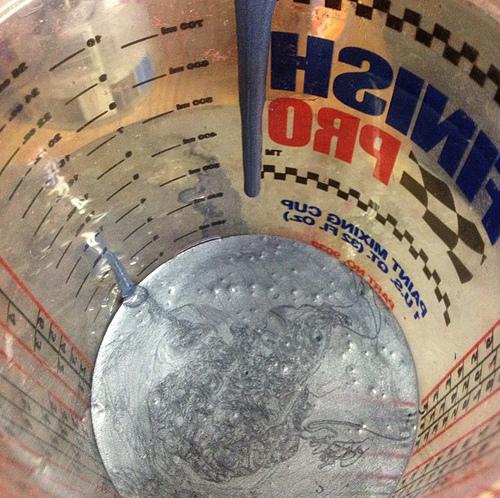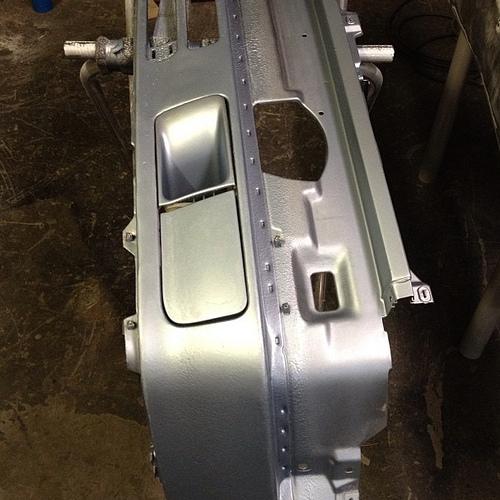 Will take a few more pics once it's installed.. (Sorry for the shitty iPhone pics; wish I carried my 5D with me)
Originally Posted by
rodrigo

great job man!
Thank you!
Threw on the back bumper since it was easy; my buddy's finishing up my euro trim so pretty soon that should be on there..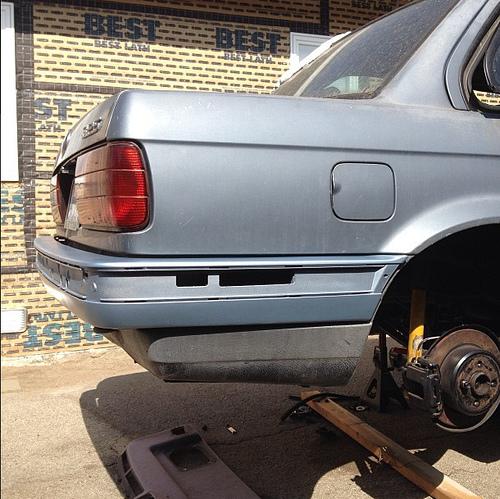 Also should have my driveshaft from TMS tomorrow along with laying the powder-coating on the Style 10's..
8-14-2013
Finally got this today with rebuild-able U joints; gonna finally be able to take the car off jackstands..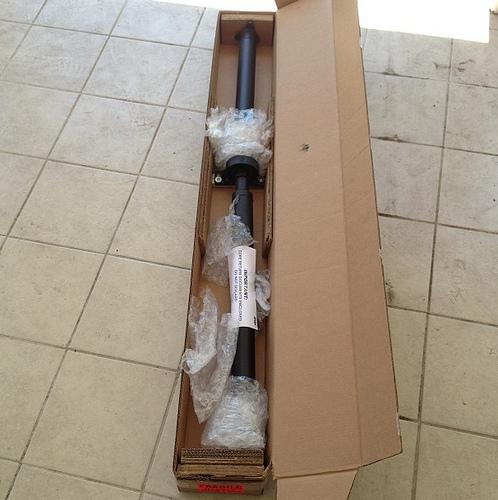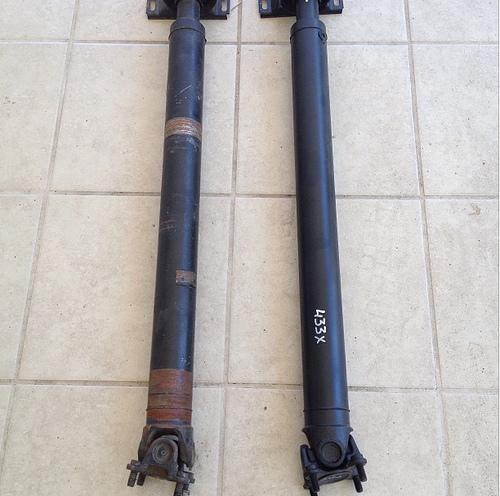 8-18-2013
Been super busy with work so not much progress this last week..
8/17 - Finished my rear shift carrier bushing - Delrin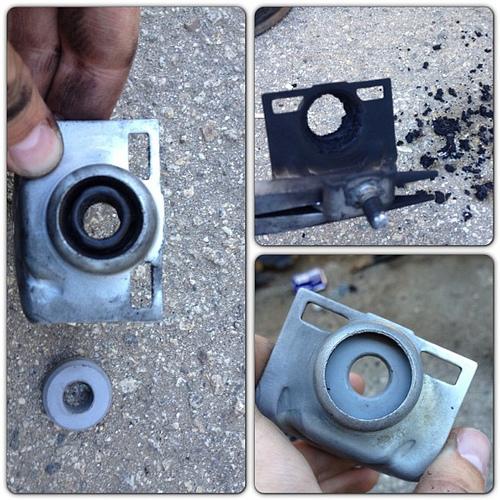 Still waiting on the shift selector seal thats leaking so I can put the driveshaft in and stop leaking.
8/18 - Picked up a set of IX side skirts and fender flares this morning off a fellow r3vv'r. Going to have some fun with these..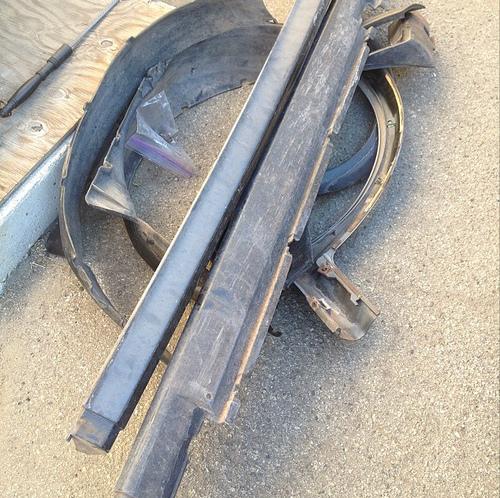 Stay tuned..
8-27-2013
Found some new shoes at the store today...
Kinda eager to get them machined and put on, might have to sell the style 10s or put them aside..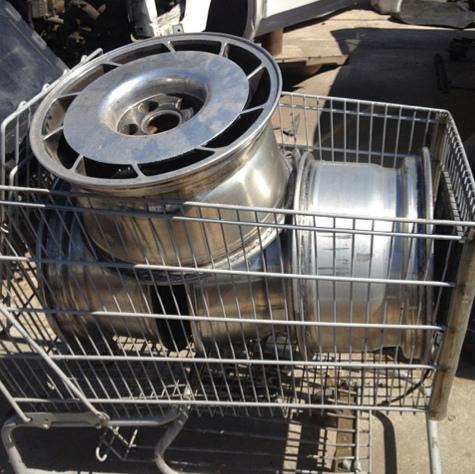 8-28-2013
Got them home..
They make the bottle cap look so thin...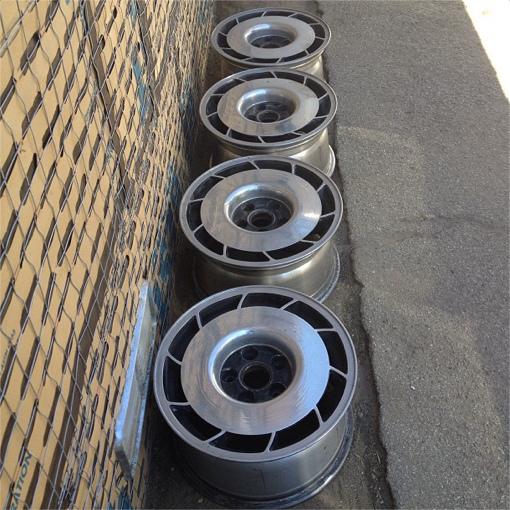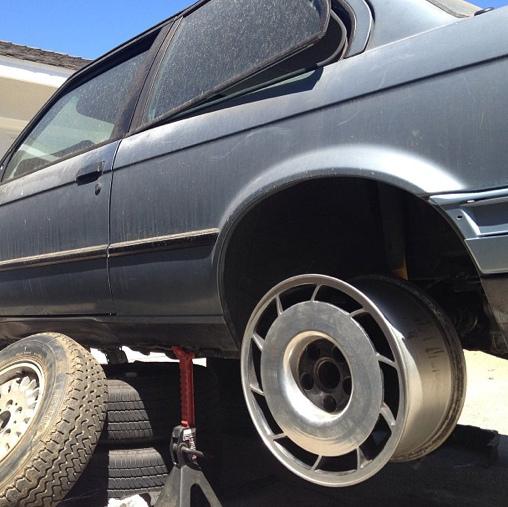 For the price I got them for, 16 x 8.5" is pretty much exactly what I wanted, might not be BMW or typical mesh but eh ¯\_(ツ)_/¯
Its been done obviously; and If you do it right it doesnt look too bad.
Plus, I like them sorta cause they remind me of the OZs' kinda, sorta, not exactly, but you get the point...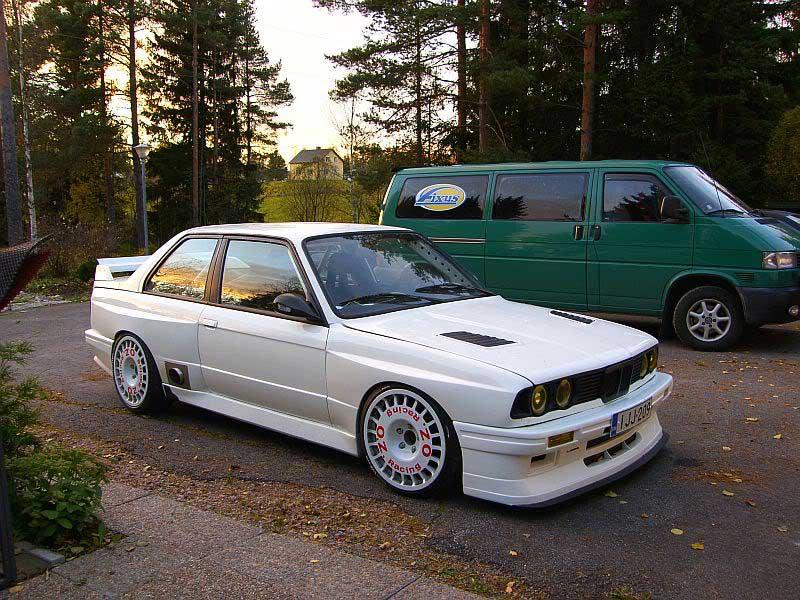 8-29-2013
I like them a lot more than the saw blades people usually use. Plus they have "fans" ha.
Just trying to piss the purists off I guess..
9-2-2013
Some progress.. Finally got the frozen dowel pin out.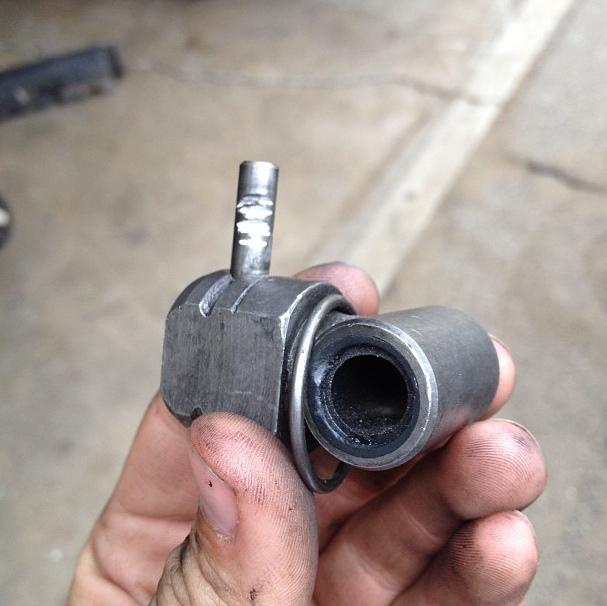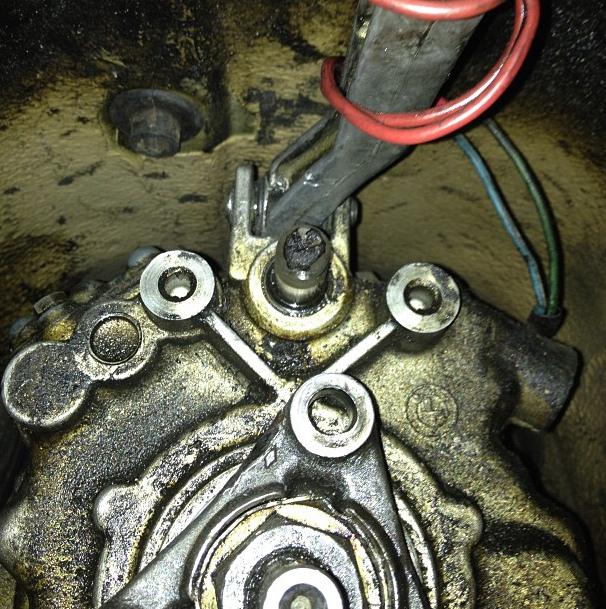 9-5-2013
Few more parts... Check out how fresh those rear mounts were....
Fuego.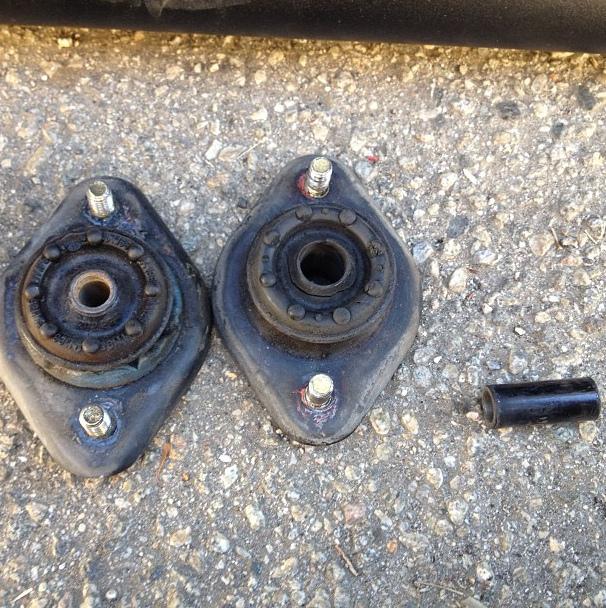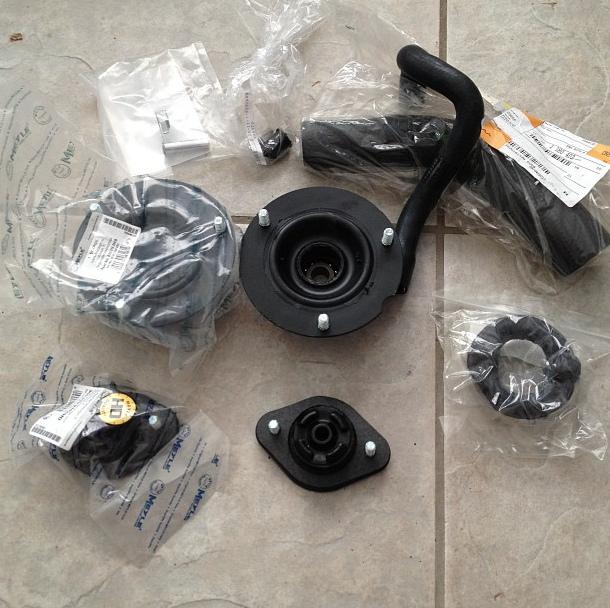 9-8-2013
9/6 - Figured I'd take a look at the rear mounts after ordering the fronts and rears just to be on the safe side.. Found the reason I kept hearing a little rattle when I'd drive from the back.. Turns out that one of them were blown and had tons of play.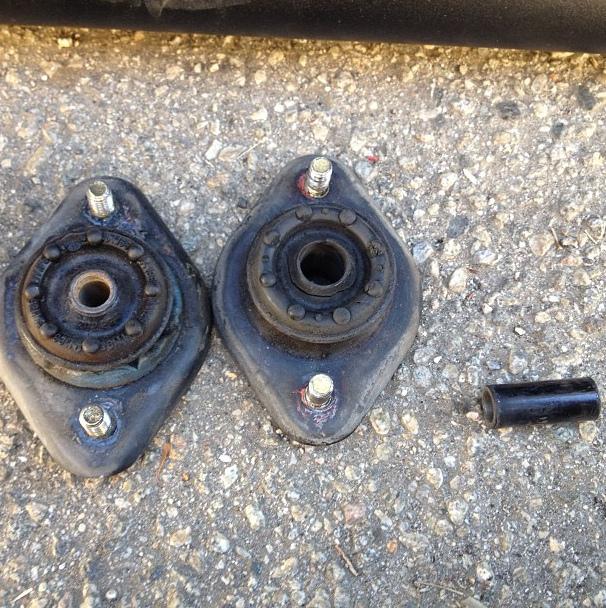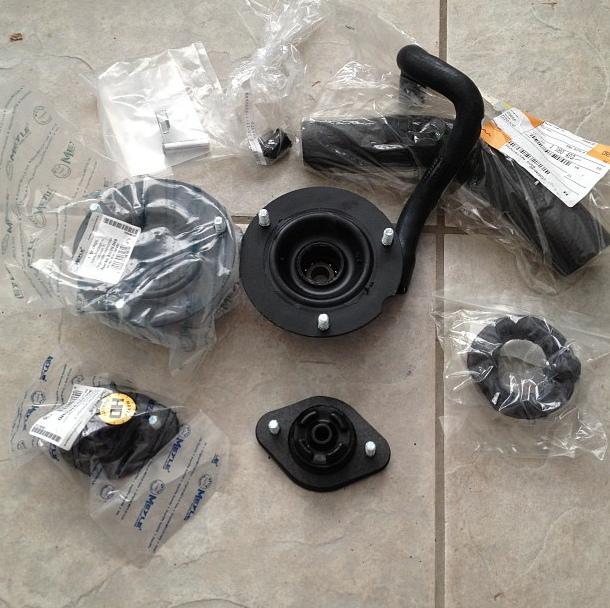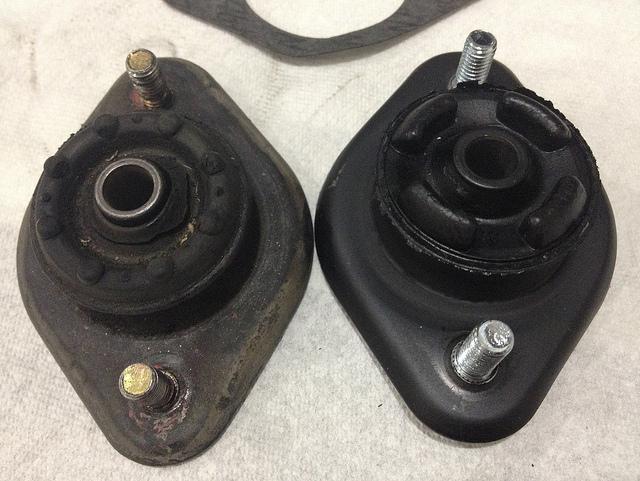 9/7 - Cleaned up the shocks with some steel wool and soap, Also took a couple side by side shots of the front bearings for shits and giggles. I believe the bearings are the original factory ones with 280mi+ on them due to the "88" stamp but I could be wrong.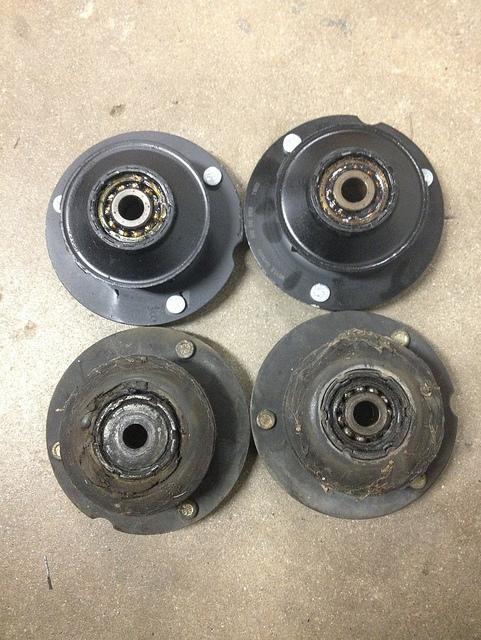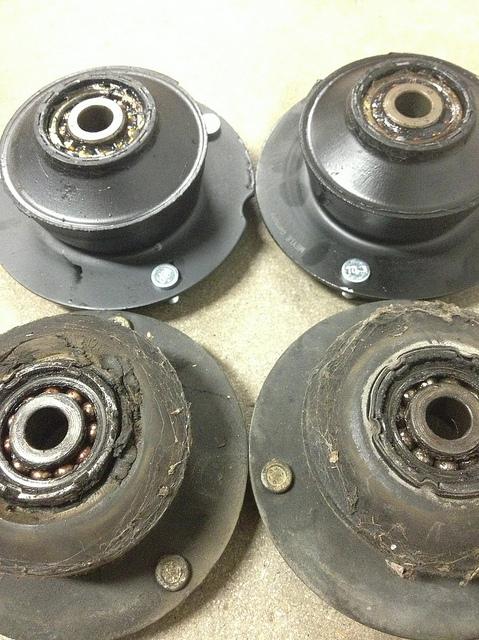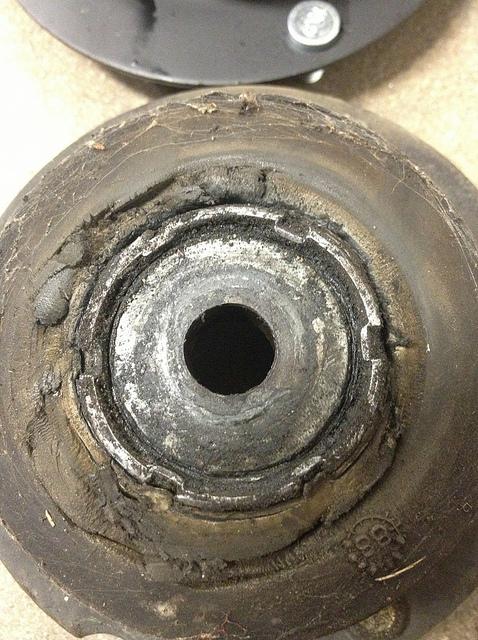 Left side is the cleaned up one..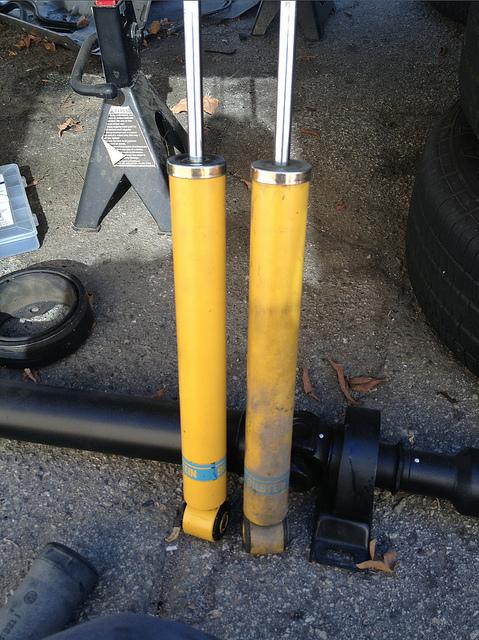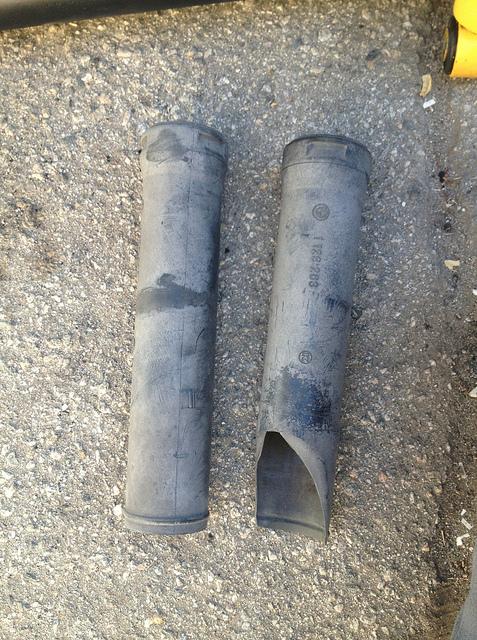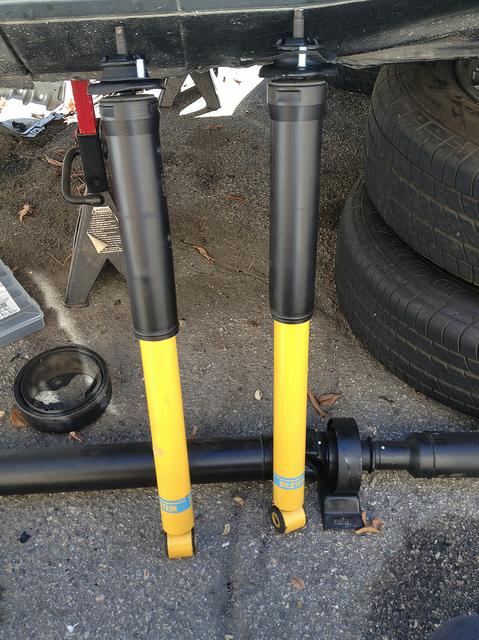 9-11-2013
My buddy retrofitted the RHD euro hvac panel for me... Looks pretty stock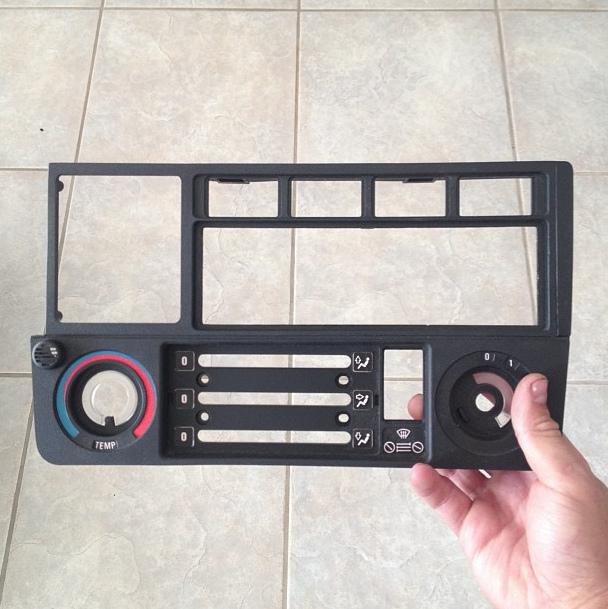 9-29-2013
Finally got my passenger fender back from my buddy dave...
Early fender (top) v.s. Late fender (bottom) //// Had to trim it up a little bit in order to make it fit..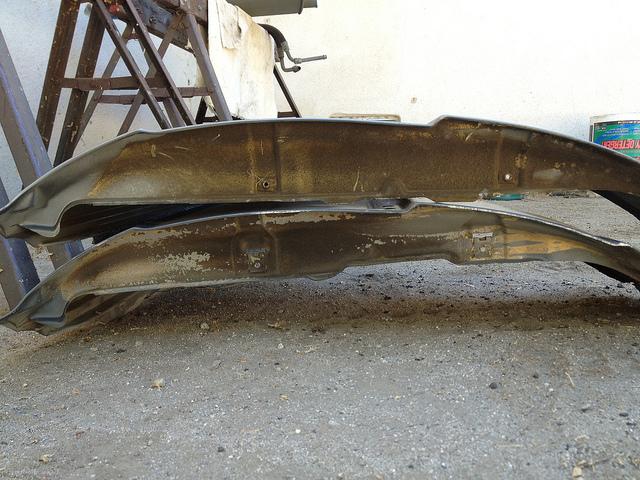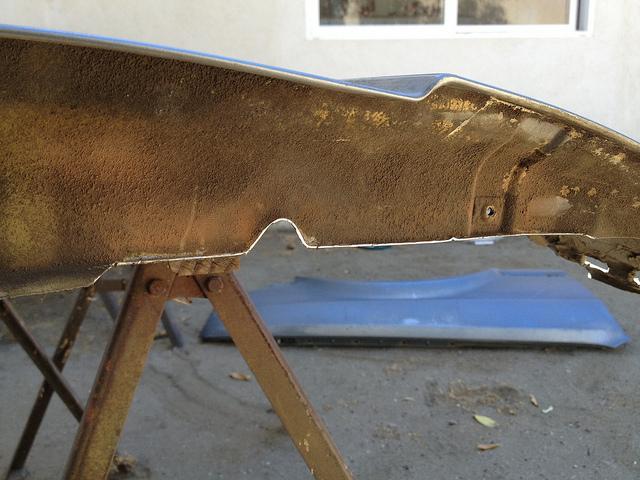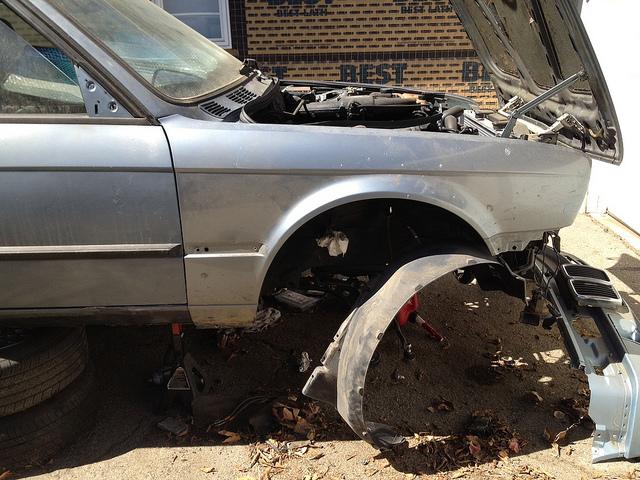 Also took off the drivers side to shave it down a little to fit a bit more flush.. While I was in there I got some undercoating and went to town on the all the wheel wells.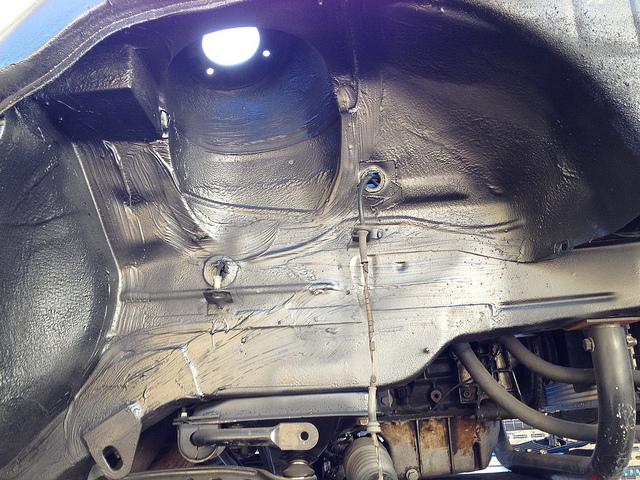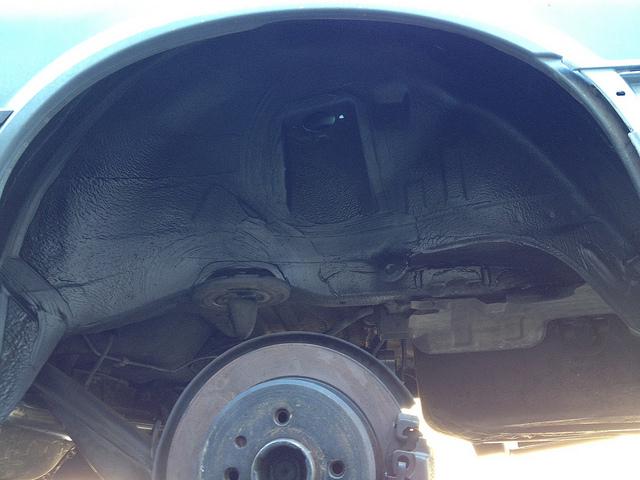 Changed out the broken hood latch for a new one...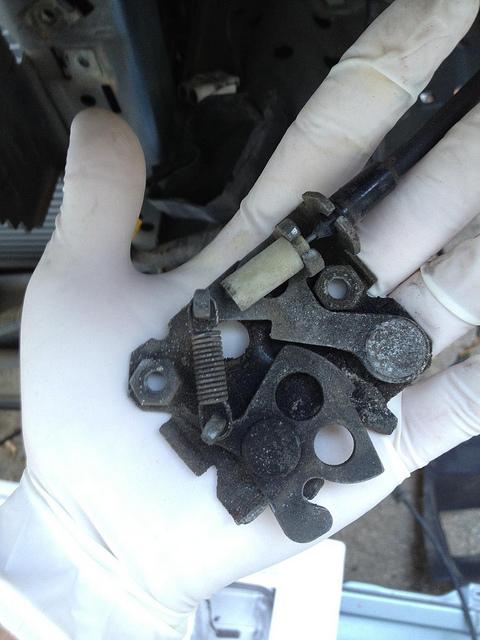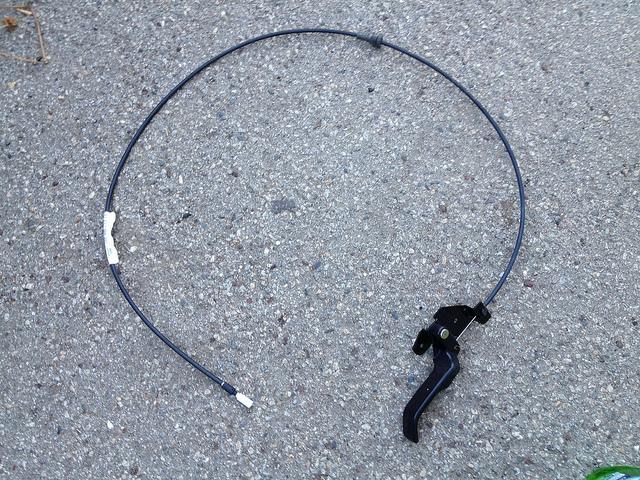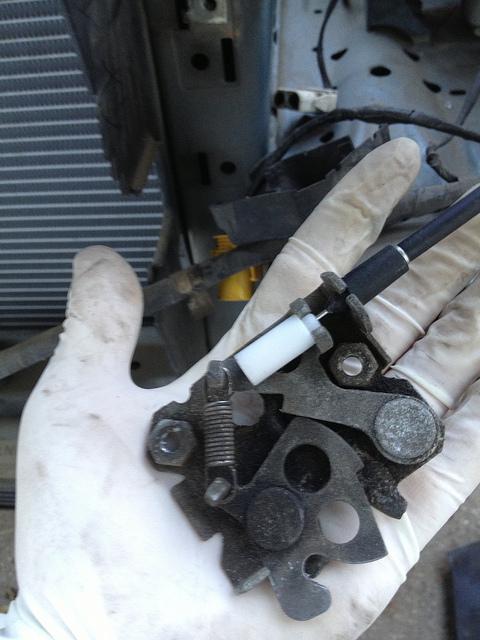 Went ahead and started the front brake pads + rotors...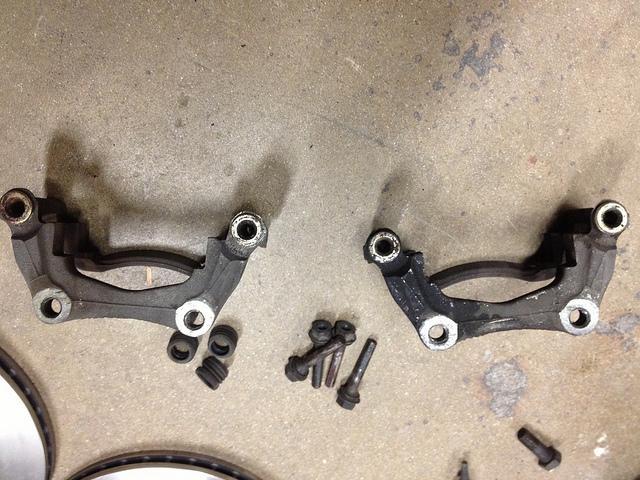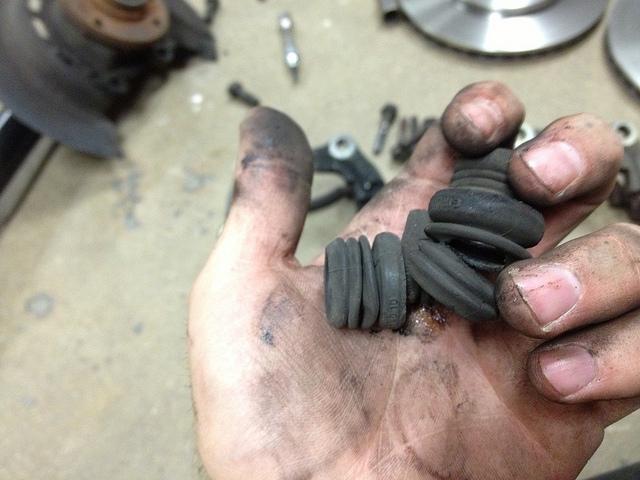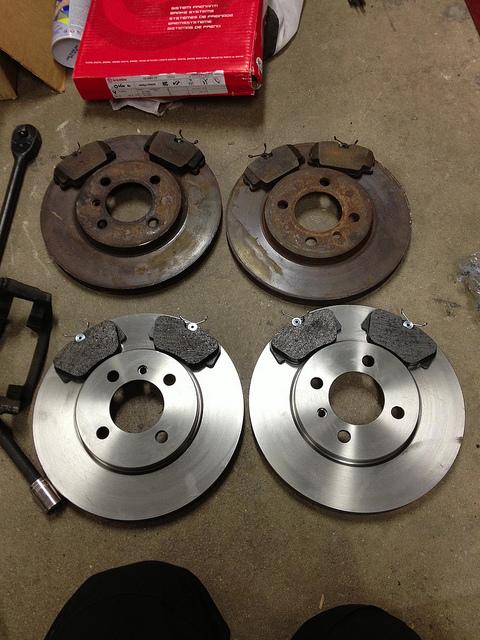 10-1-2013
Got some M3 sway link weld on tabs for the front struts along with my brake caliper rebuild kits today.. Gonna be a busy night...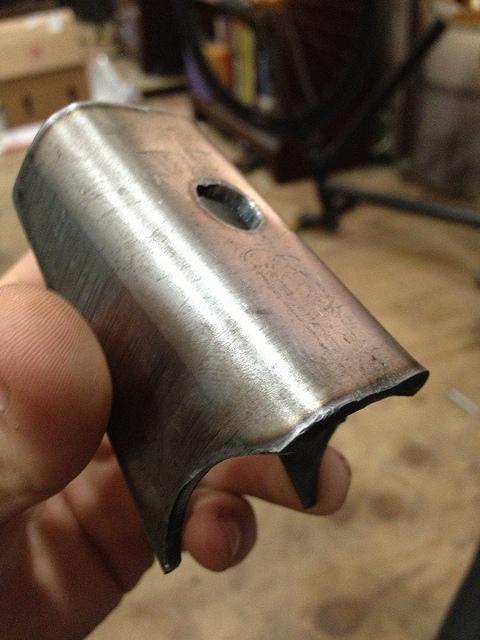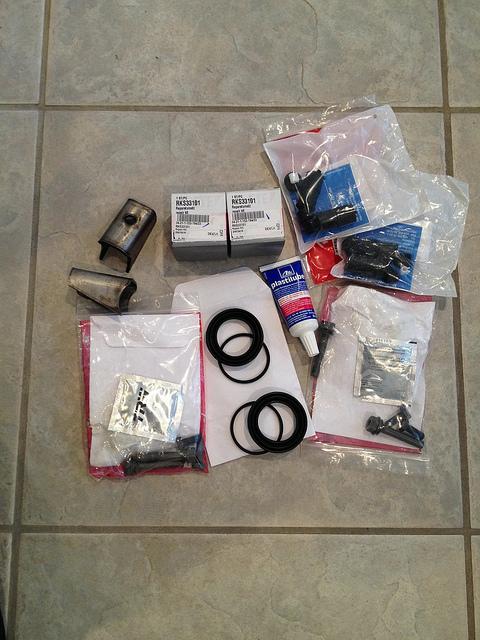 10-5-2013
Went ahead and painted the muffler and strut housing.. Almost ready to throw in.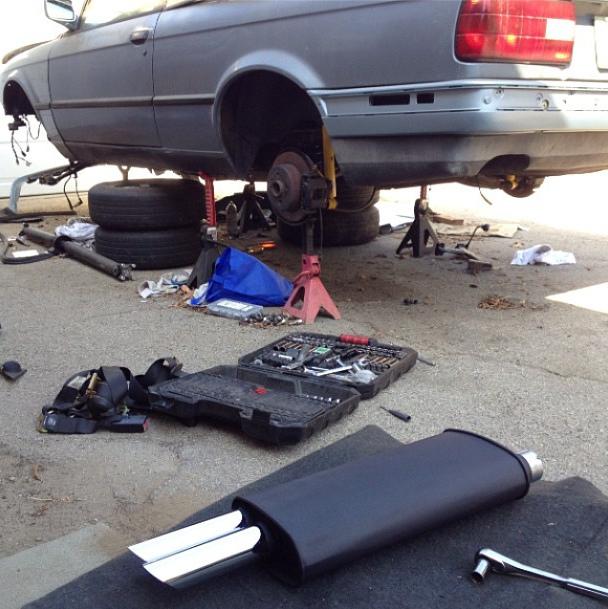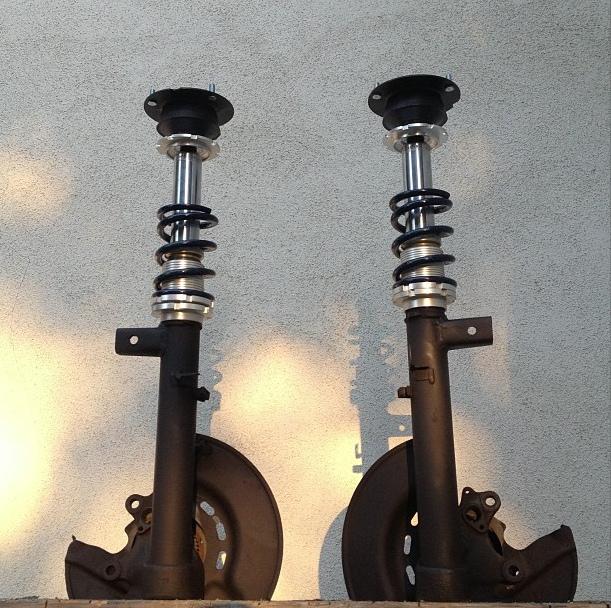 10-6-2013
Got the shifter seal out, now finally can re-install the driveshaft from Turner.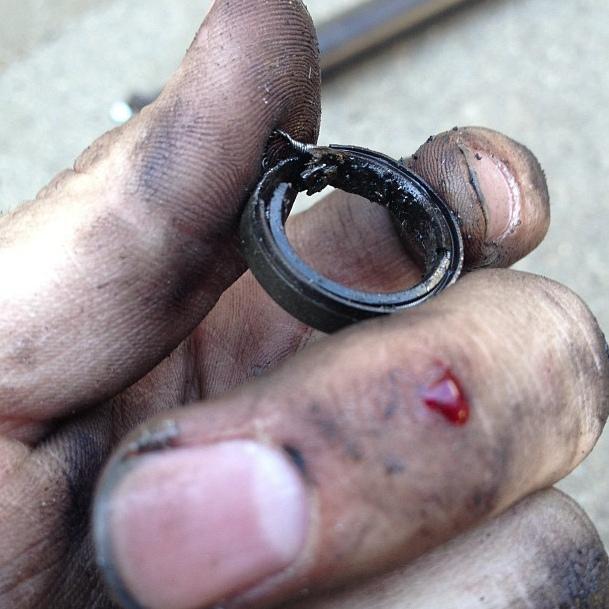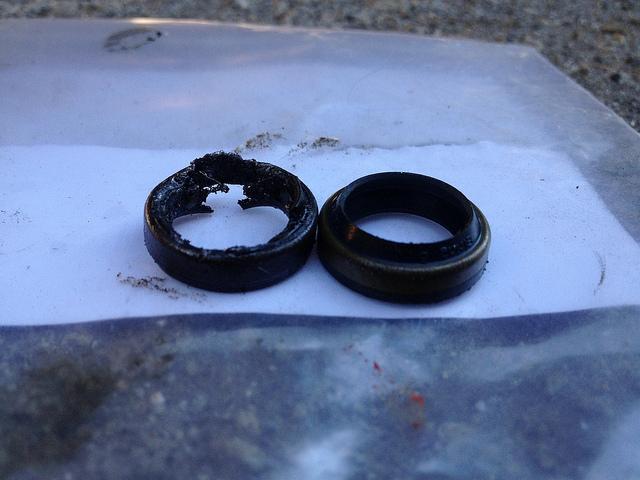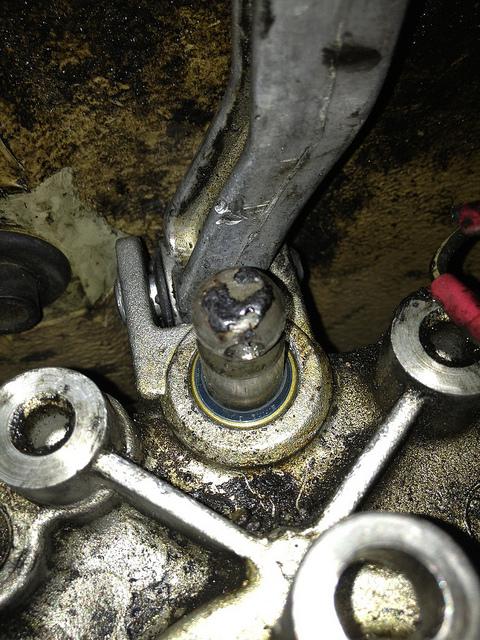 Installed the Garagistic delrin shift bushings + UUC DSSR + Shift Selector Joint.
Gonna try to knock out the DS and heat shield for the exhaust tonight.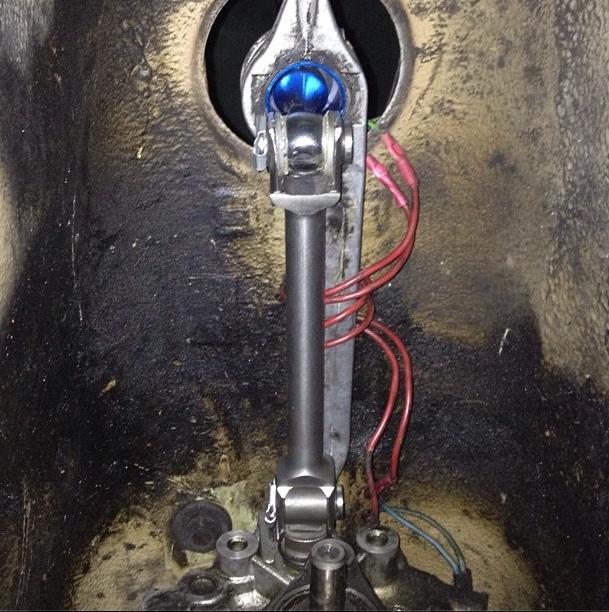 10-13-2013
Got the driveshaft in with the help of mr. ttrreevvoorr; also have the struts and rotors installed. Still need to finish up the caliper rebuild and its almost ready to be taken off stands..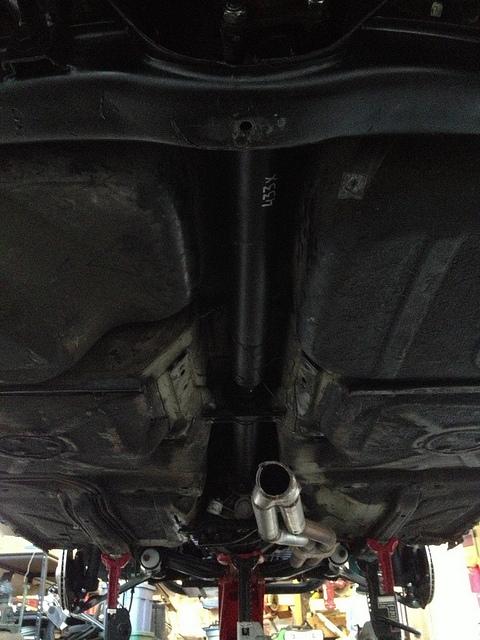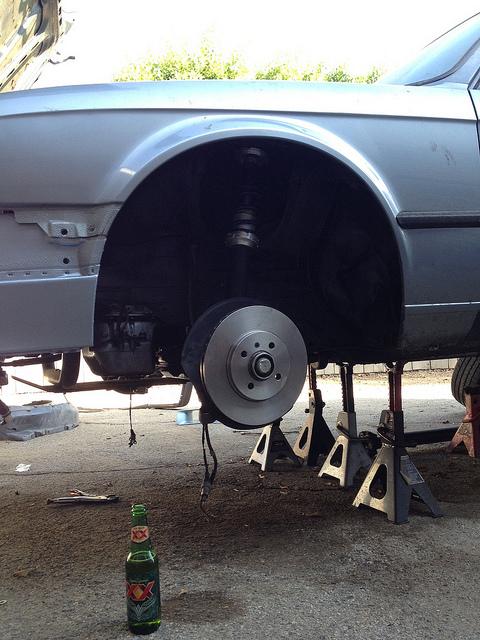 10-14-2013
Threw these on with a couple other things i didn't take photos of.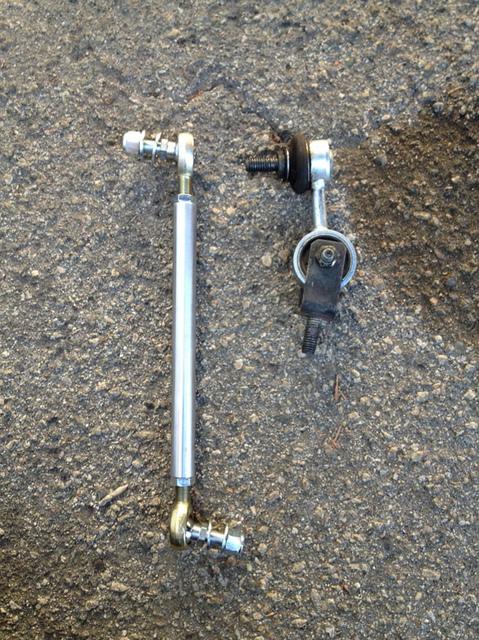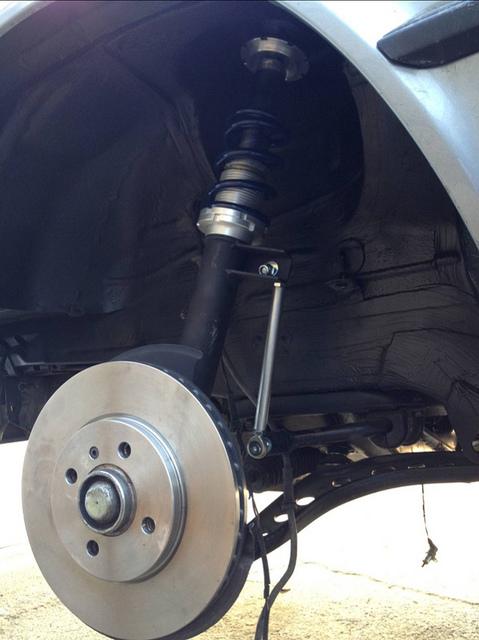 10-15-2013
Originally Posted by
Jav3

Nice build.
Is there a noticible difference on performance by connecting the sway bar with the longer links?
Personally at the moment I can't say one way or another. From my research there is a noticeable difference once lowered due to it altering the stock dynamics of the sway link/bar's pre-load & load. I have a buddy with an m50 w/S cams running something similar installed by Castro, driven his car a good number of times and love it. Adjust-ability is what draws me in especially when you look at the differences in build quality. Thats just my 2 cents though.
10-16-2013
Yanked the last of my exhaust off, gonna freshen up the headers so they dont look like shit. Attacked it with the sawzall to get the nasty POS welding off. If anyone has an extra late model O2 sensor or wants to trade for an early model one... Holla.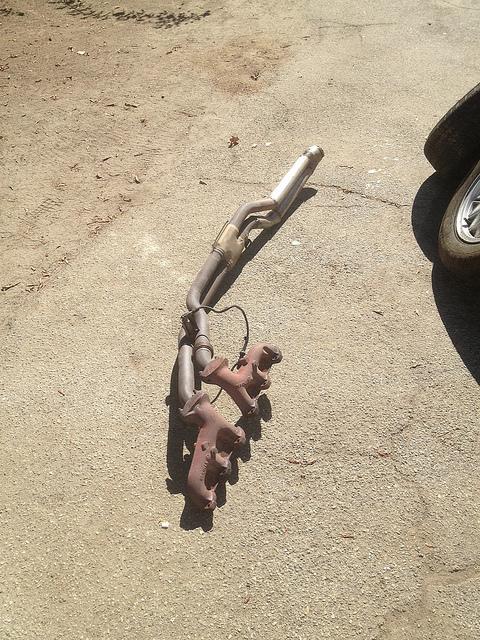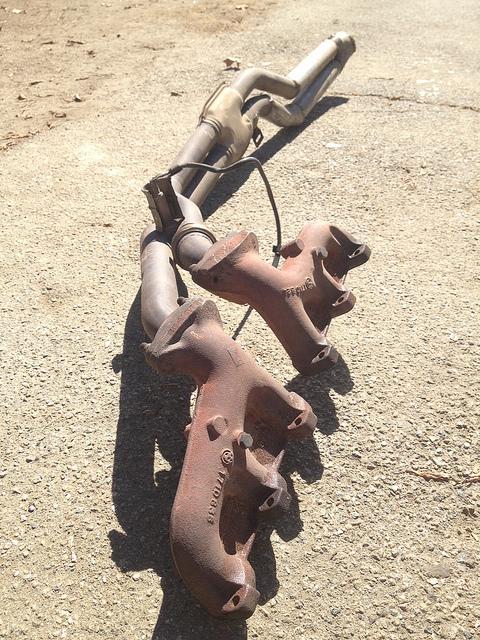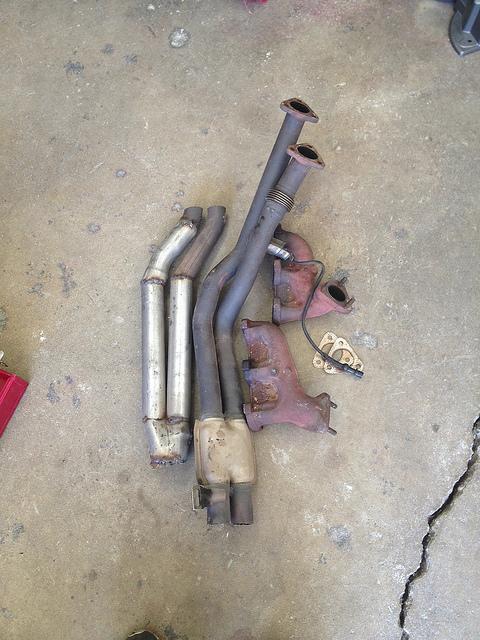 10-19-2013
Originally Posted by
fuzzysux

well done! it's worth it to take the time and just do everything right the first time around! there aren't too many other people that have the type of patience that this requires...
i didn't see bearings here - did you replace those too?
i did everything BUT rear bearings (since they suck) and of course on my test drive, i could hear the drivers rear bearing singing like crazy... so back on the jack stands it went..
Thanks man,
As far as the wheel bearings go, those are on my list still. I'm planning to do all four corners at the same time so its just a matter of setting aside the cheddar at this point and waiting. I kind of have the feeling I'd probably test drive it now and find one to be an issue haha better to just replace a 20 yr old+ part anyhow.
10-23-2013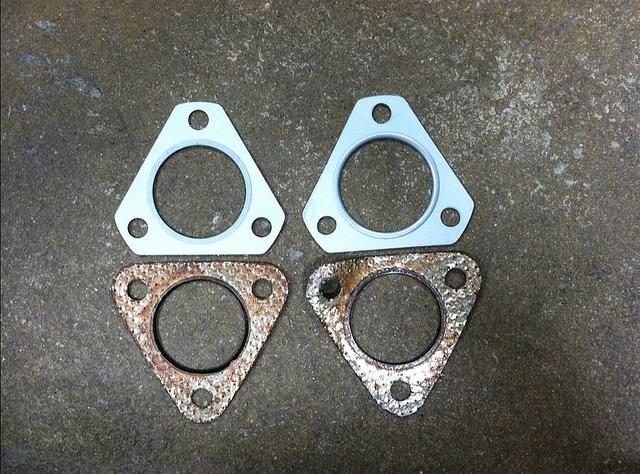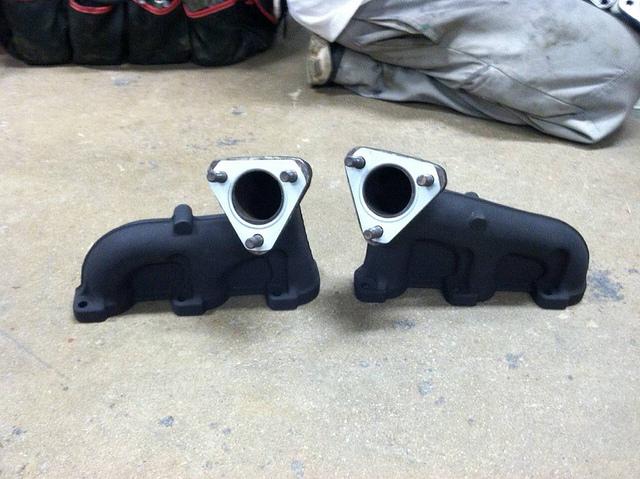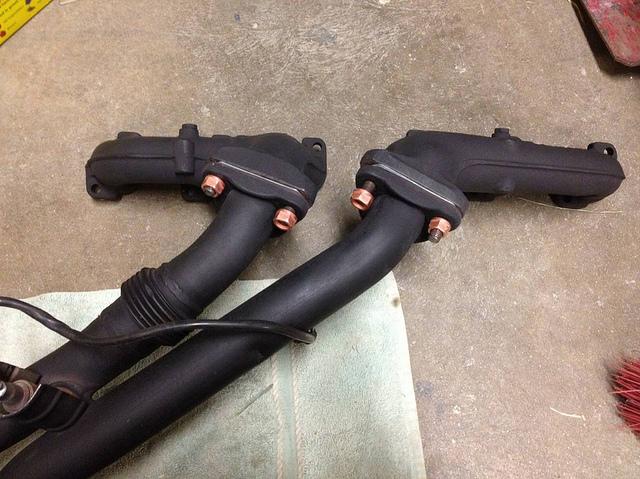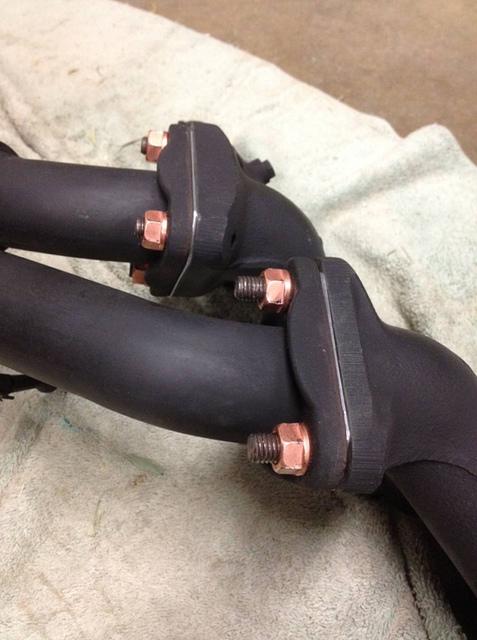 A little brew before putting everything back in..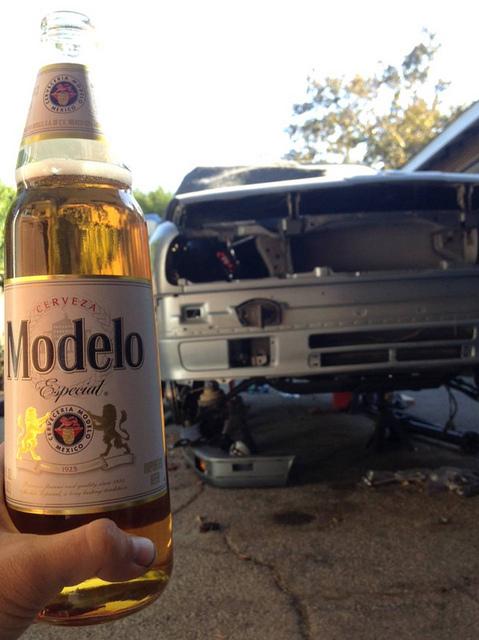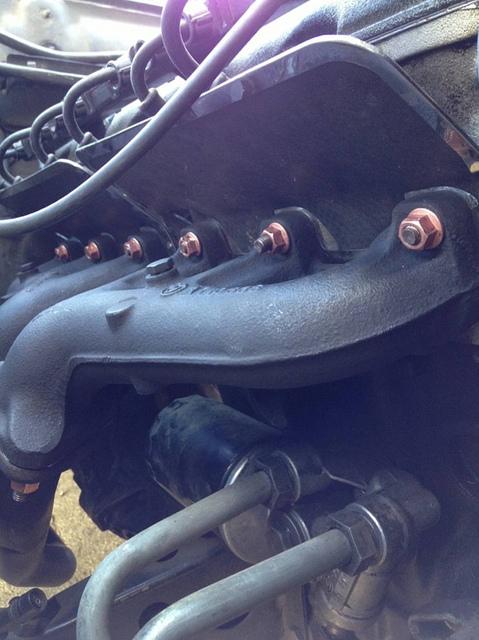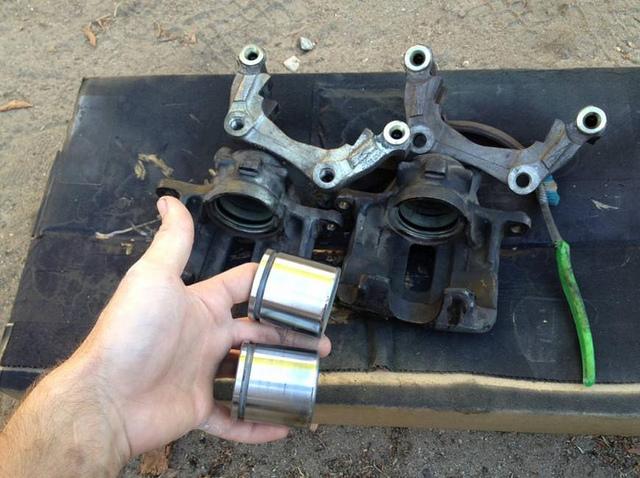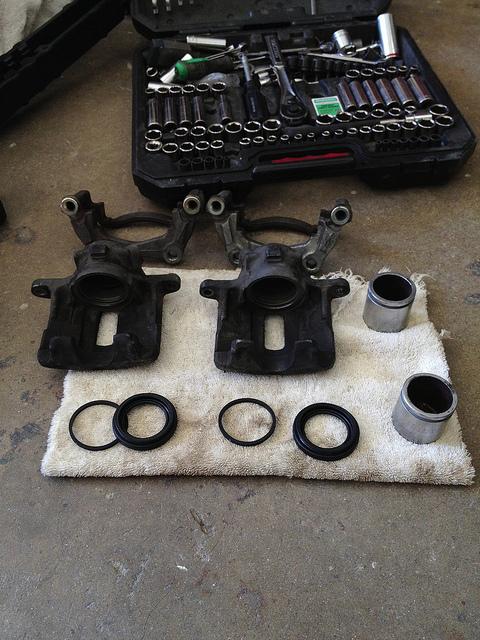 10-24-2013
Threw on the turn signals and new candied tails..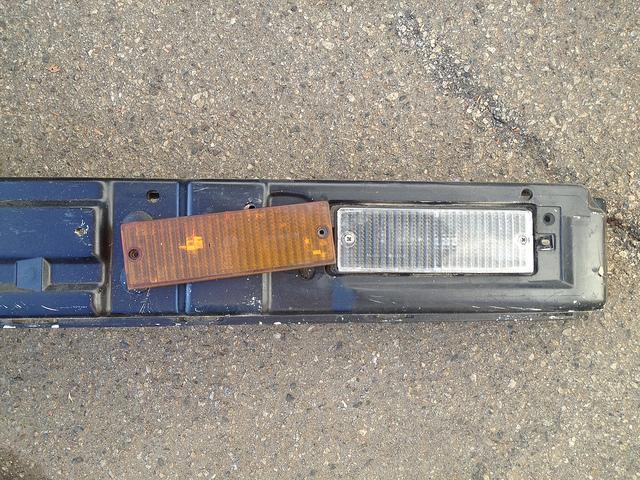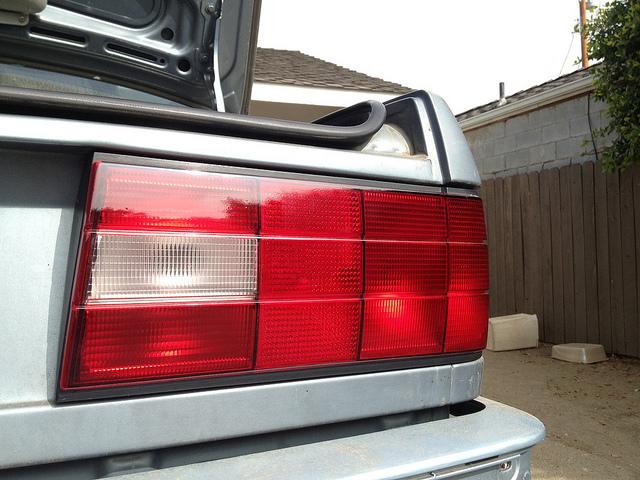 Originally Posted by
ikonwun

I love the looks of fresh painted header and copper nuts...
After I gasket match my headers (I don't know why) and installed them I sat back and just looked at them on the clean motor made me feel all warm and fuzzy.
Did you paint your tails? they look great!
I had that exact reaction once I threw them in and was looking at how nice the copper contrast looked lol. I was just like YESSSS everything matches and cleaned it up really well.
As for the tails; I have a buddy who does custom automotive lighting so he handles all that good stuff. He makes the clear turn signals and has built my headlights as well if you look a few pages back.
10-26-2013
Picked up an IS splitter off the homie Iron-E; now time to actually get the IS lip lol.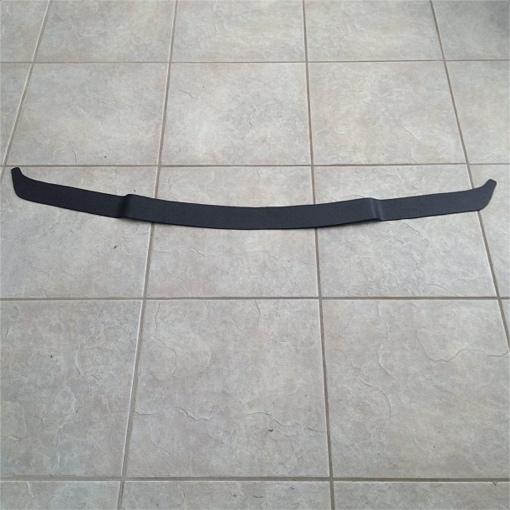 10-28-2013
Got a plate filler off e30abe89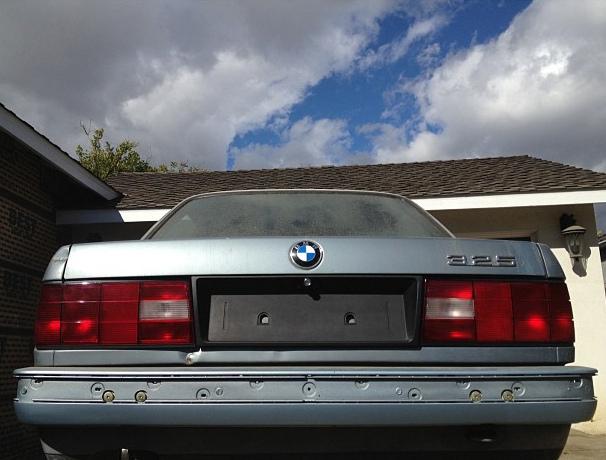 11-6-2013
After finding some pitting in the old calipers I decided to go a different route.
Fully rebuilt calipers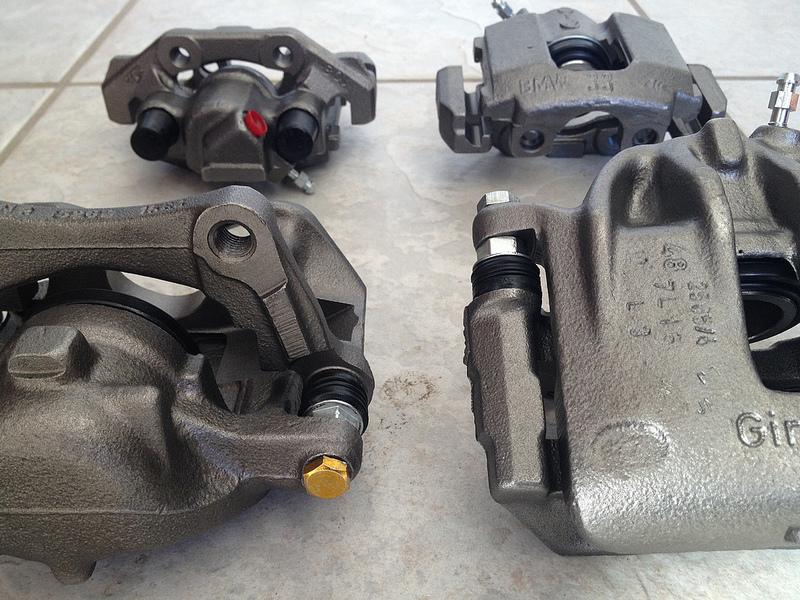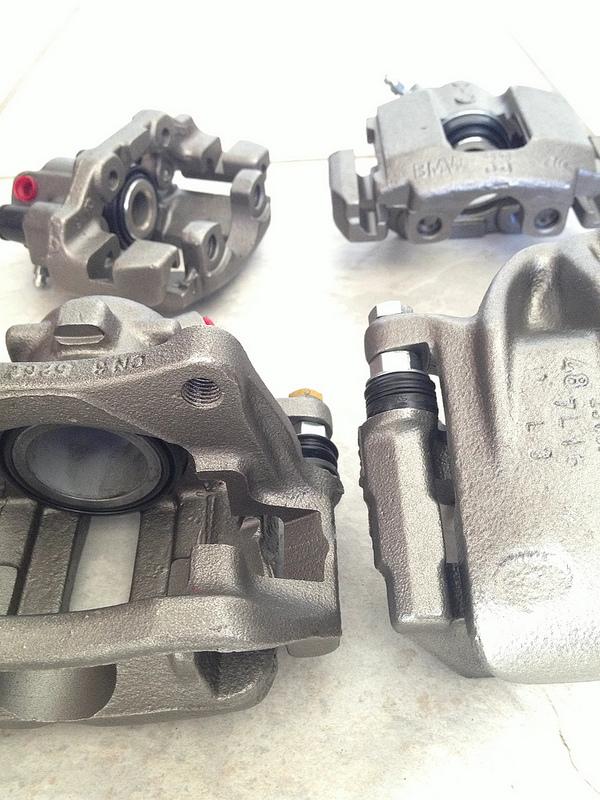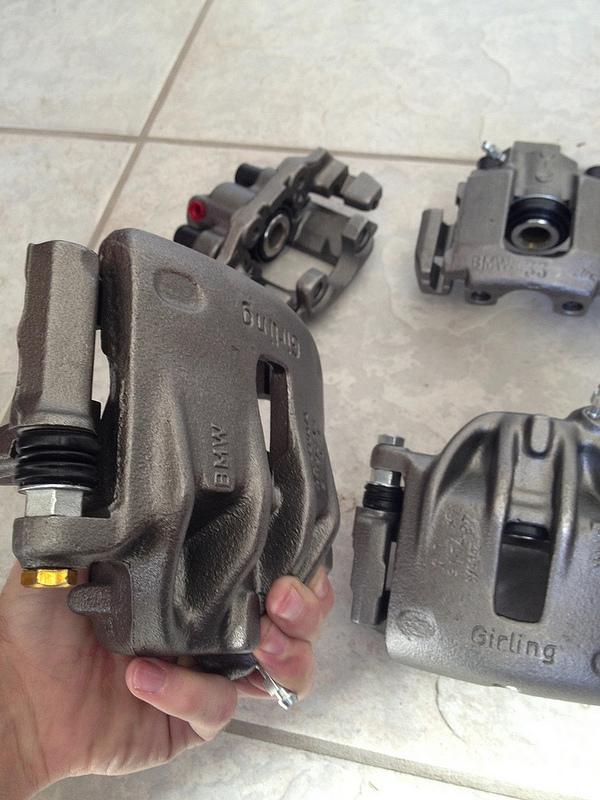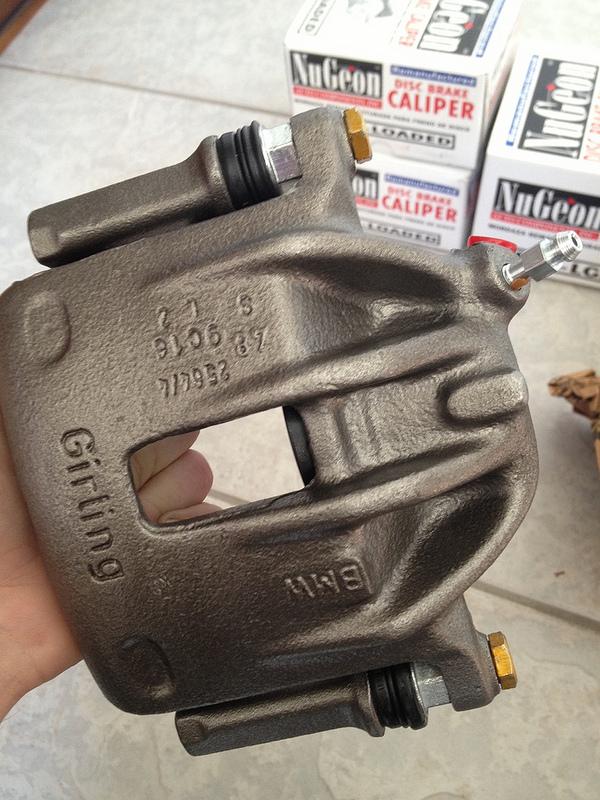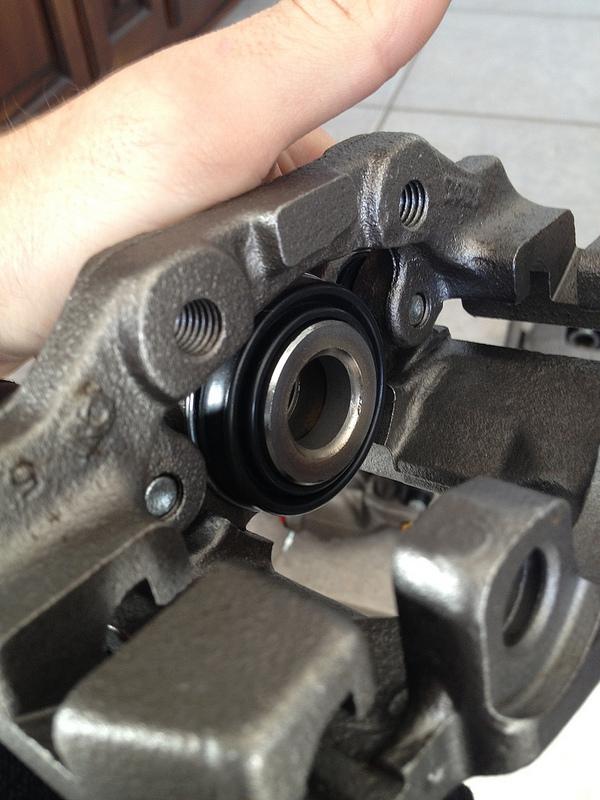 11-9-2013
Finally got my wheel bearings from Blunt! Thanks Steve!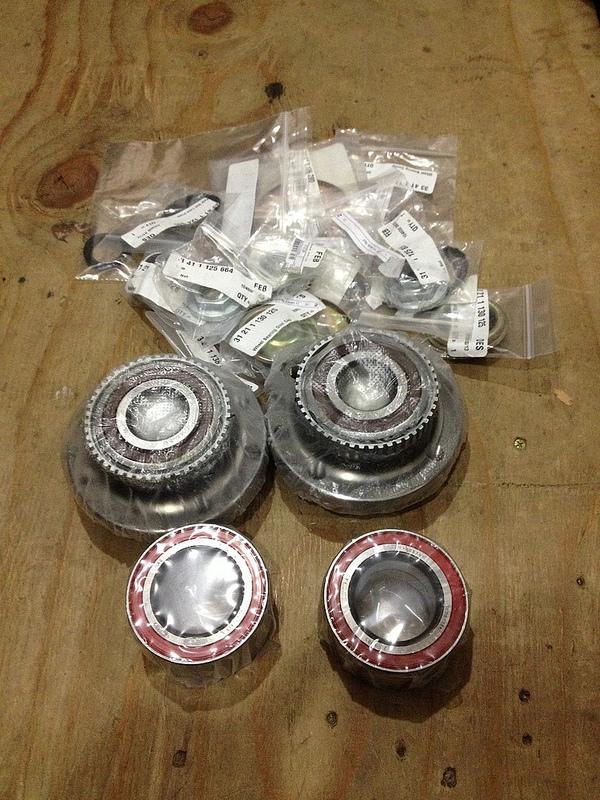 Just bought some AC Schnitzer type 1 wheels 16x7.5 4x100 et25 from QUKBMER; gonna pick them up next weekend when I get a chance... Completely re finished with fresh powdercoating + polish. My dream wheels...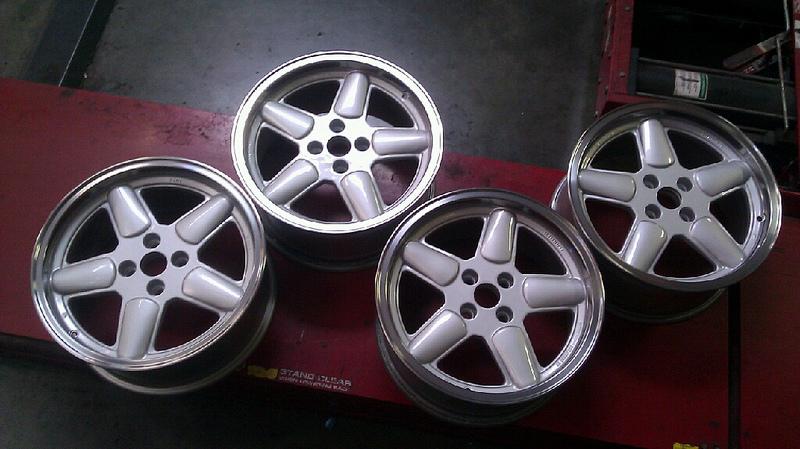 Picked up a re-wrapped M Tech I from Iron-E today..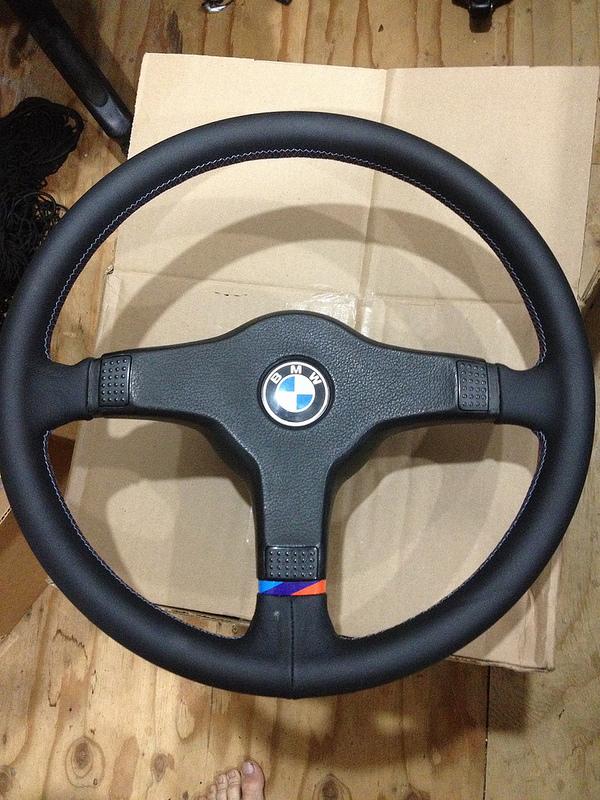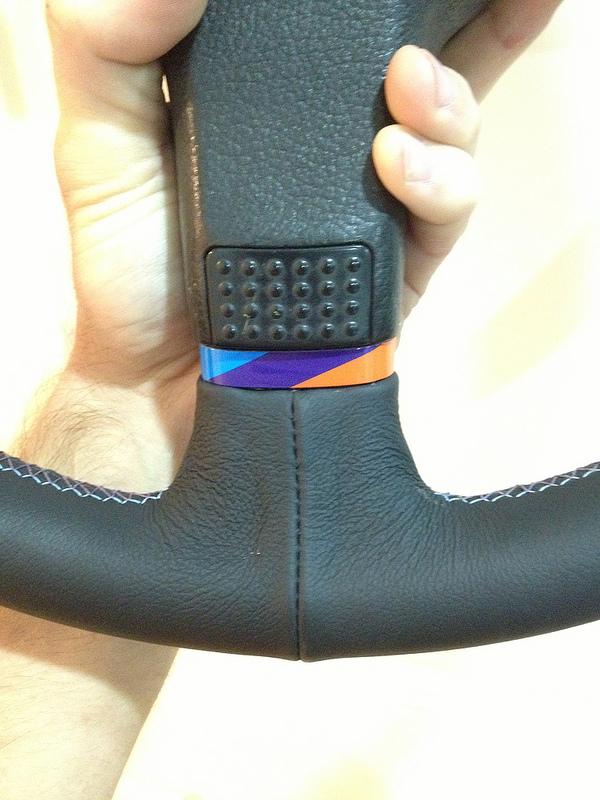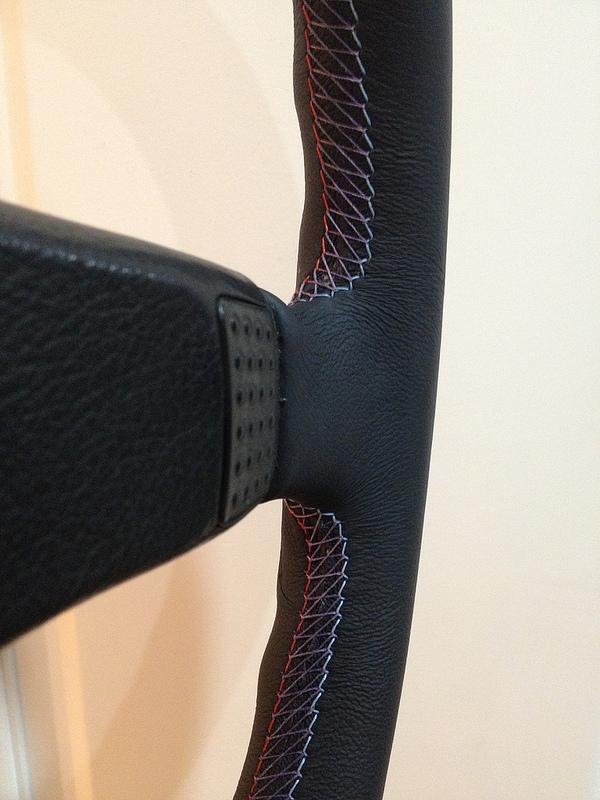 11-10-2013
Originally Posted by
bradnic

sub'd
engine, suspension, brakes, exhaust work is just wow.
you're going a different route on the calipers? do tell...
EDIT: never mind, just realized you picked up some rebuilt calipers instead of rebuilding your own. good call
what did you use to spray/coat the exhaust manifolds and exhaust?
The calipers once I started on the rear had pitting on the insides; not just the piston. At that point I figured I would opt out and just get rebuilt ones all around. On the plus side I don't have to worry about cleaning or de-greasing.
As for the exhaust mani, just some $8 VHT "Flameproof" paint. Wanted to see how it would actually hold up worst case it'll be unbolted and powdercoated.
Quote:
Originally Posted by
randomtask37

good work man. this thing is going to be clean when its done. I like your use of new hardware. the simple stuff like clean bolts make a big difference.
Thanks man, It'll be worth it in the long run that's my primary goal. In total agreement new hardware; even just nuts and bolts make the biggest impact tying everything together.
Quote:
Originally Posted by
DER E30

Nice work!!!
Quote:
Originally Posted by
DER E30

Those wheels!!! I want all of them!!!

Both the rolling kind and helm!!!

Thanks! Same here, always wanted ACS'; almost actually bought reps not too long ago, so glad I didn't. Just need to sell my other rims to lessen the damage to my wallet

I'll trade for your Chevy! Those are baddddddddddddddddd
Just picked up a power sunroof motor, bracket, relay, yadda yadda....
If anyone has a fair condition overhead panel, vinyl condition doesn't matter much. Please PM me if your willing to sell.
Thanks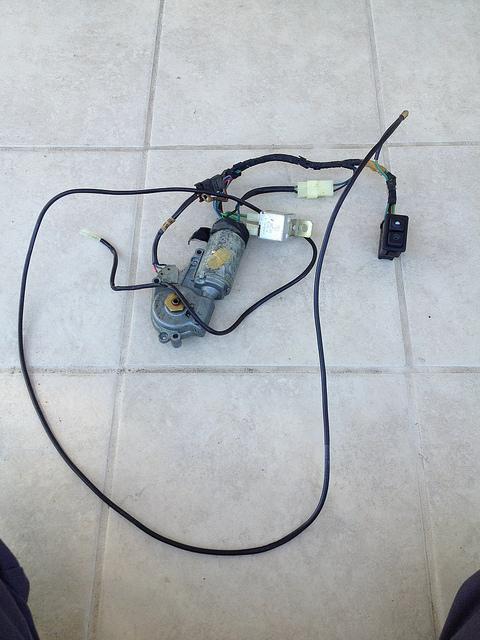 Got a refurbished AFM thanks to Gregs///M...
You can get yours HERE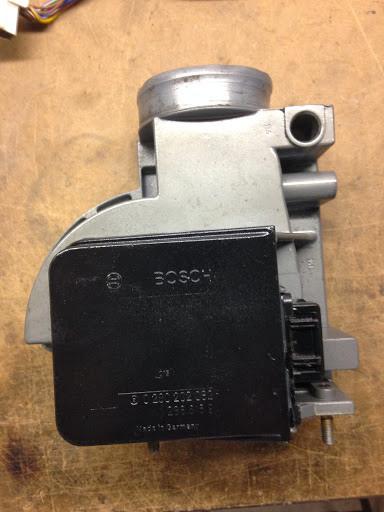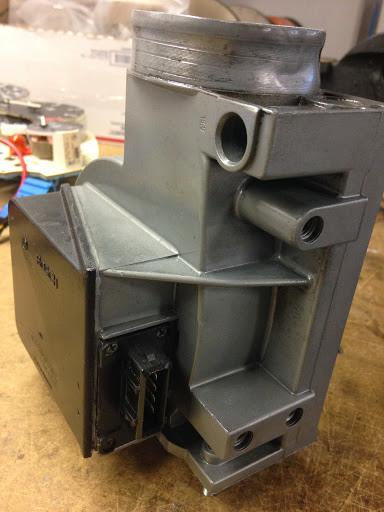 11-17-2013
Picked up some fresh AC Schnitzer's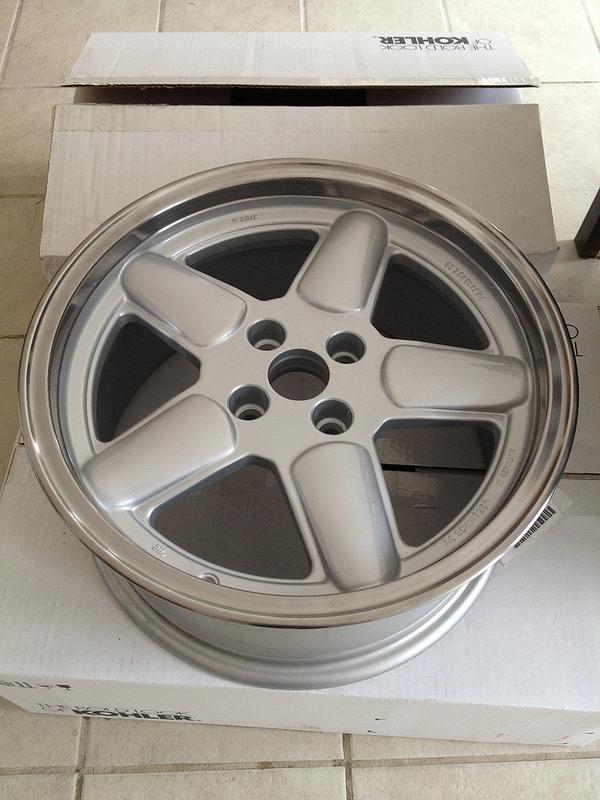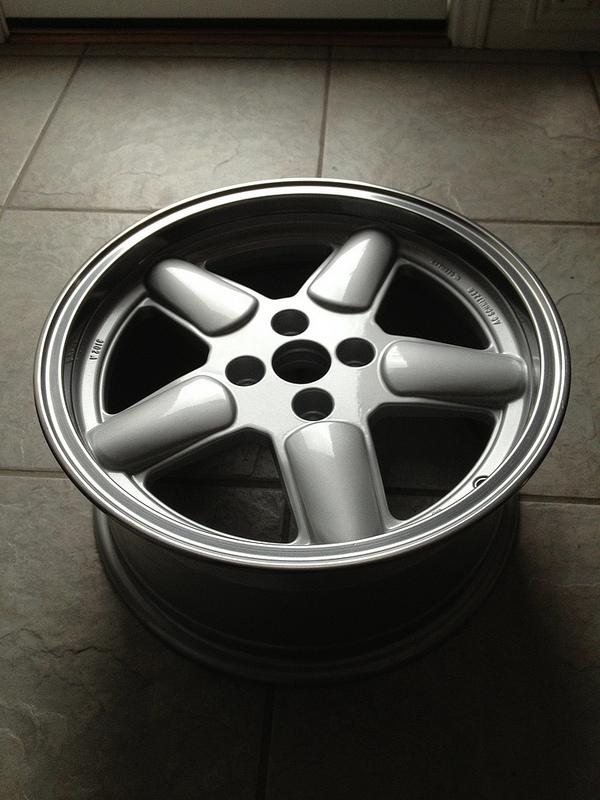 11-20-2013
Just waiting on heat shields from Blunt and things will be underway..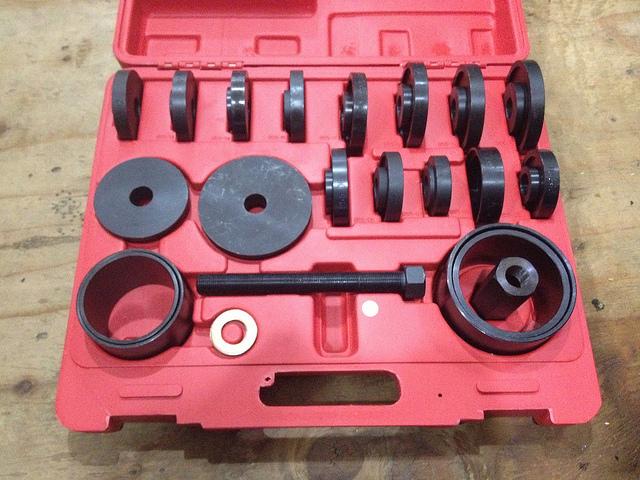 11-24-2013
Well its come time; Finally got the last of my parts thanks to Blunt. Time to get crackin..
Used a HF to pull the drivers side; Inner race stuck to the hub... So i figured fuck it and used my Snap-On air chisel on the passenger side to see how it'd work out and I'm sure you can see the difference in extraction...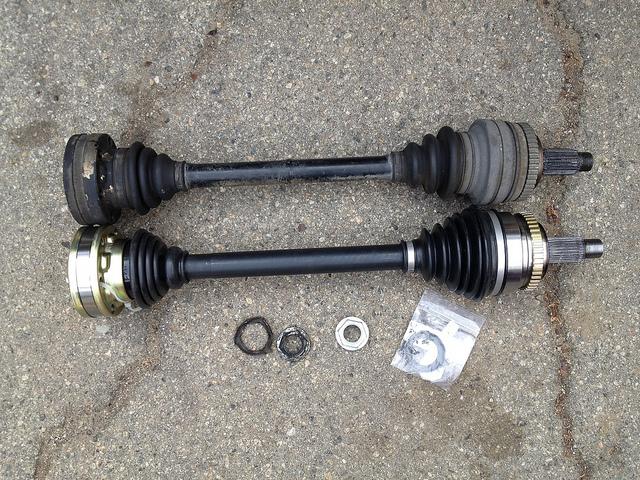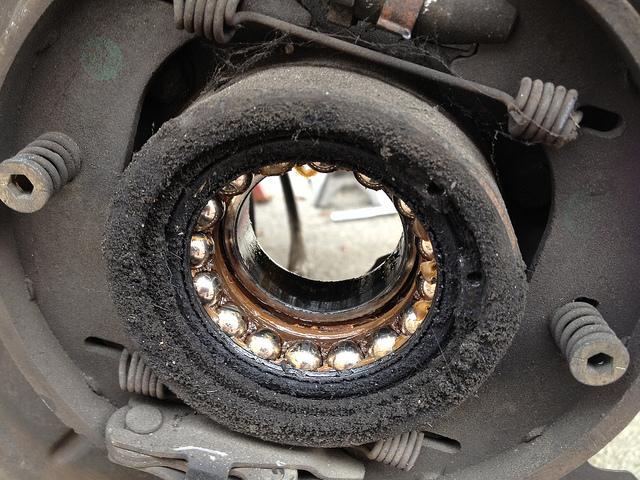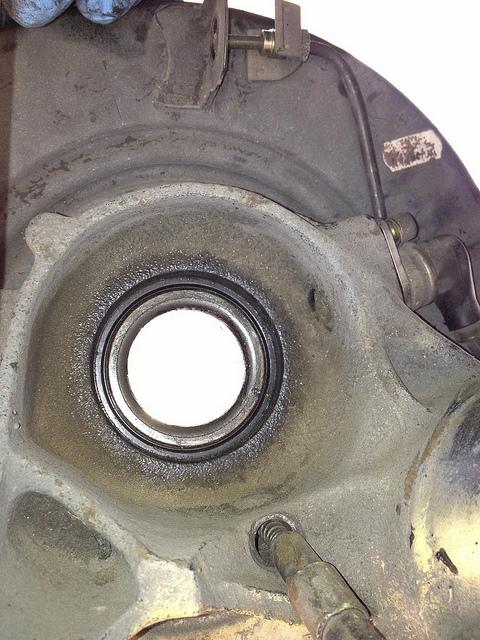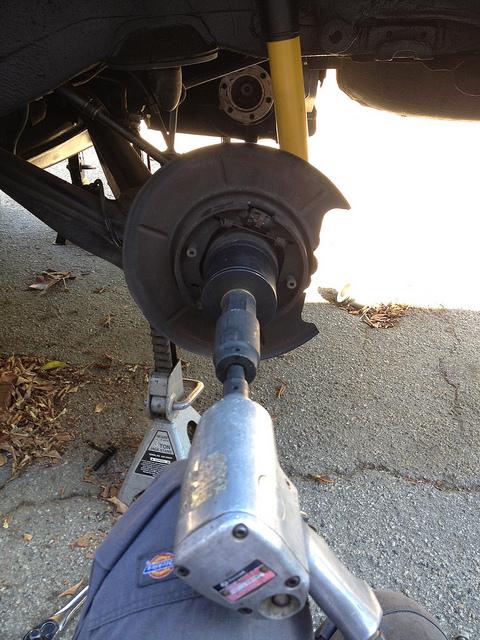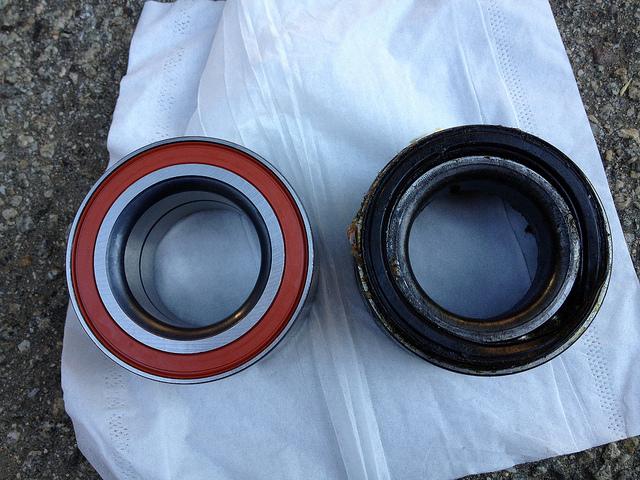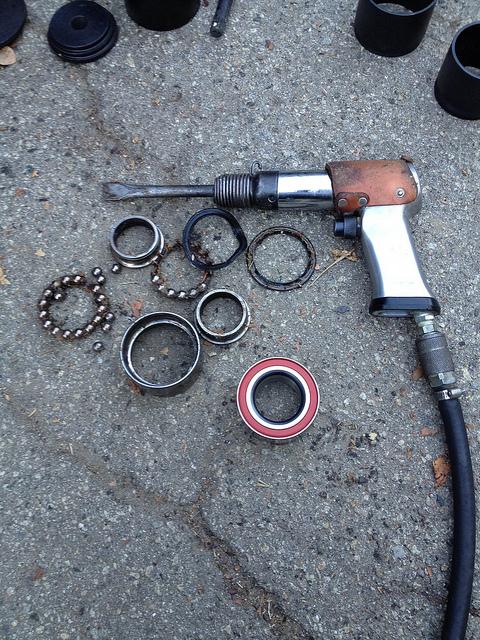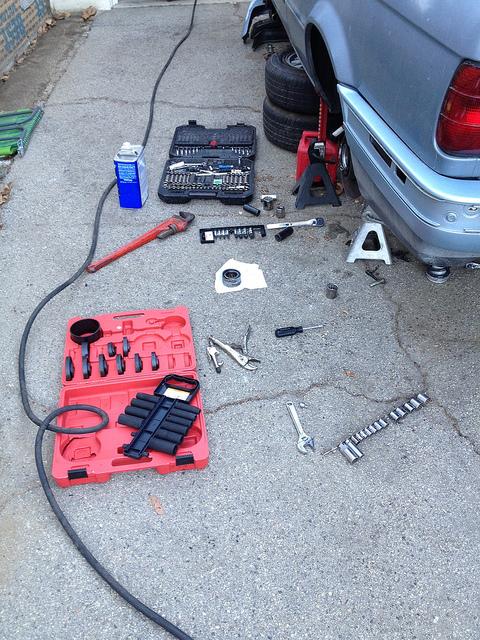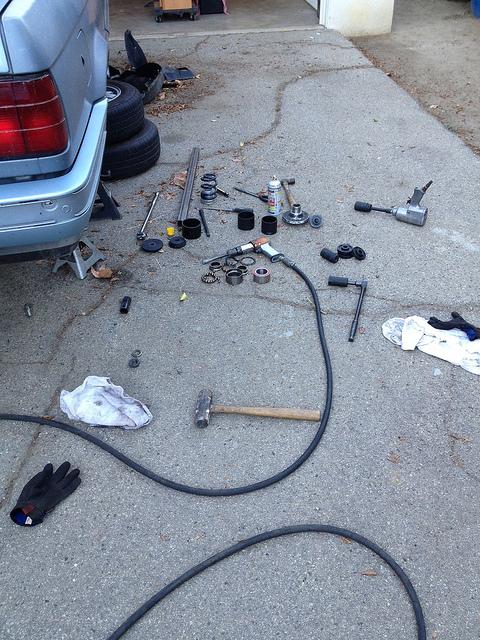 Front heat shields thanks to Blunt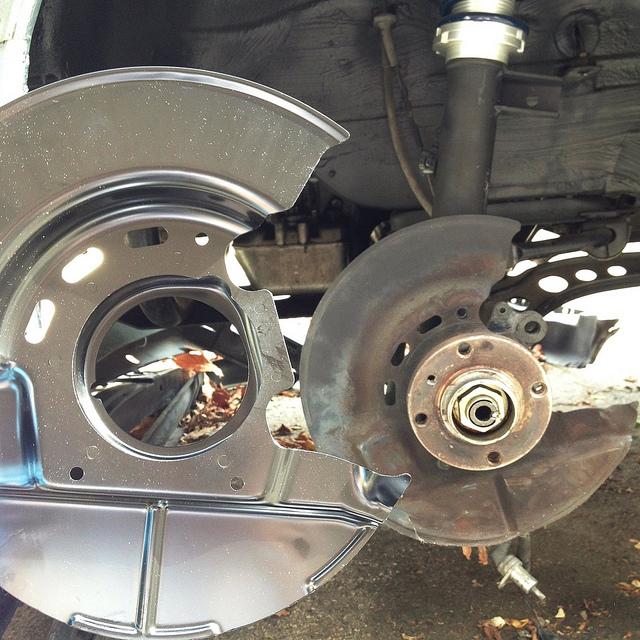 11-25-2013
Got these in today from Ryan... Thanks again!
____________________
90mm Black Bullet Nose Studs
2pc Hybrid Extended Race Nuts w/Locks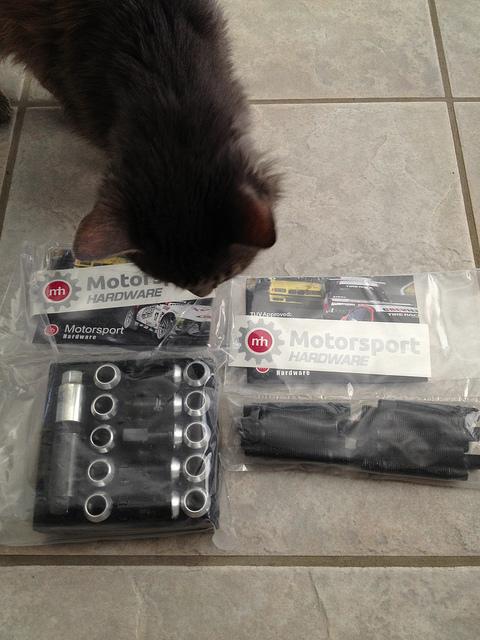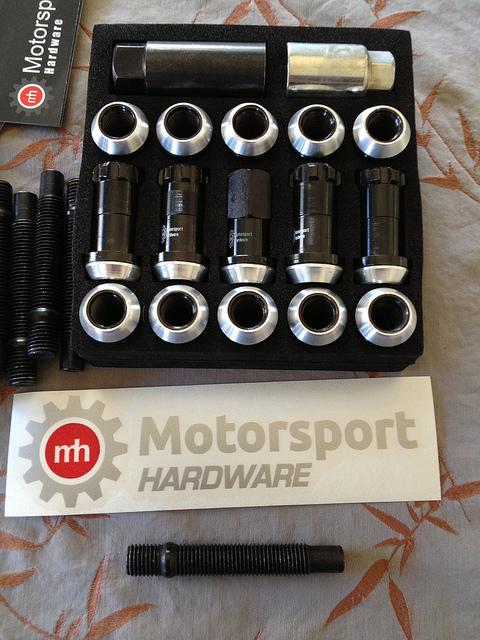 11-26-2013
Pulled the front bearings off... Passenger side looks like it was completely shot, really glad I decided to do this now. SOOOO much easier to do than the rears.
Rented the tool from Vatozone, $32 w/tax; luckily only had to use it on the passenger side. The drivers side came off with my bare hands kinda worried me at first.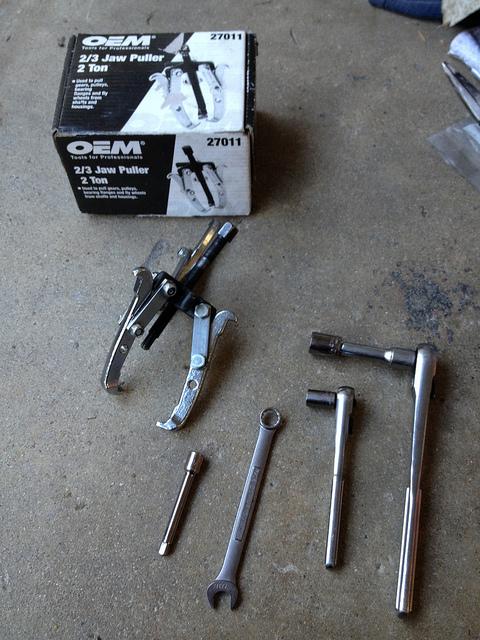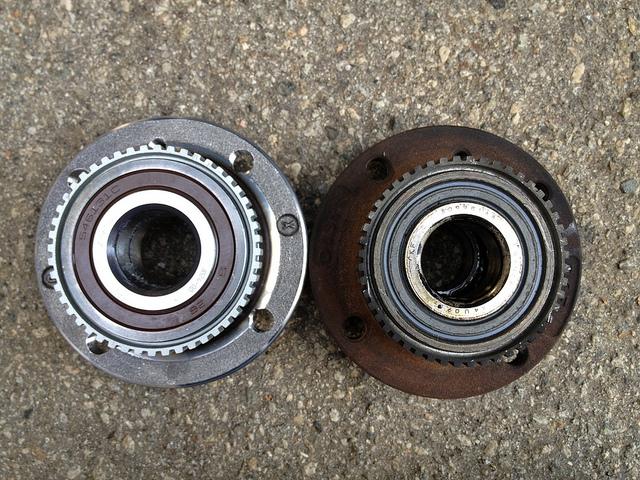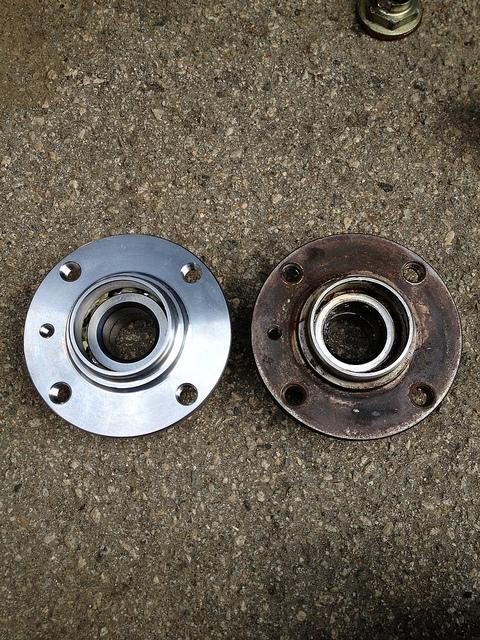 Drivers side..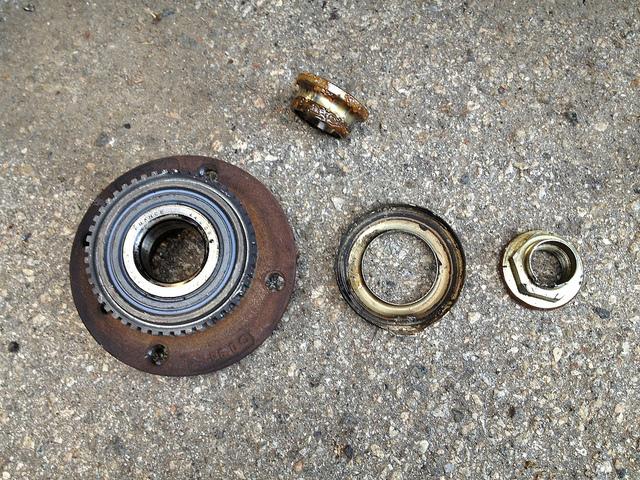 Passenger side..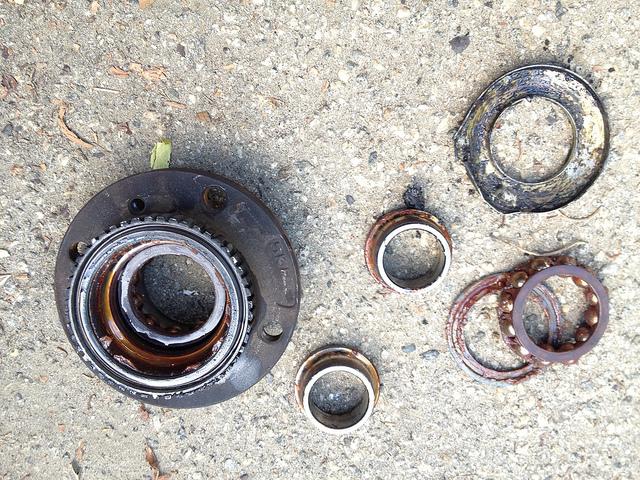 Passenger side (Top) Driver side (Bottom)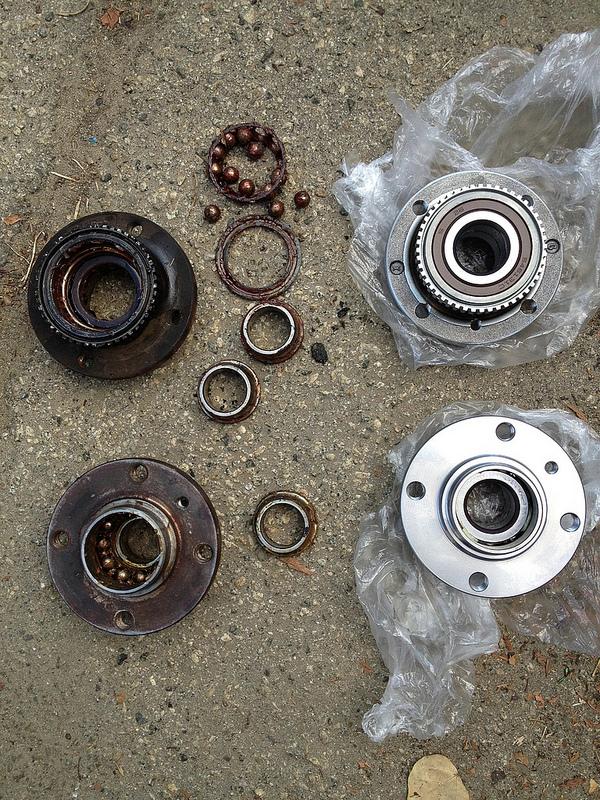 Oh yeah and the heat shields....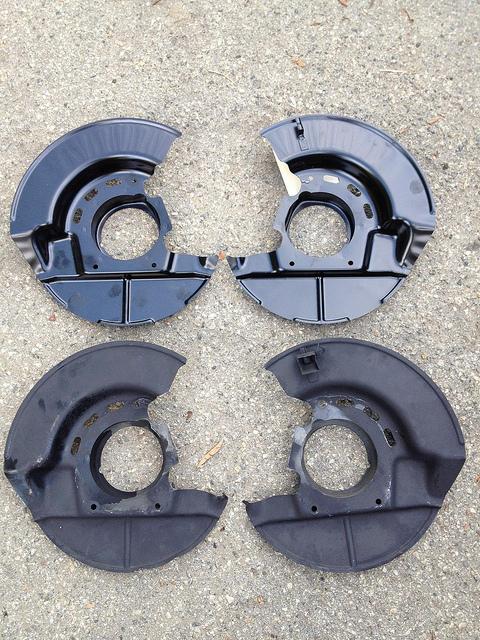 11-27-2013
Originally Posted by
MyE30

good call on the bearing replacement. wheel bearings are so easy to take for granted. you usually don't think to replace them until they are super noisy.
i found this vid on youtube that was extremely useful for the DIYer that is using the kit that you used.
BMW rear wheel bearing removal with HF tools
Funny that link is exactly why i figured fuck it and went and bought the kit. EXTREMELY useful, more so than the actual tools themselves haha. I could tell all my bearings were shot though nothing was smooth and you could feel it when you would drive.
11-28-2013
Since my hubs were laying around I decided to see what it would look like with the studs poking through... Gave the rear hubs a nice little cleaning while i was at it.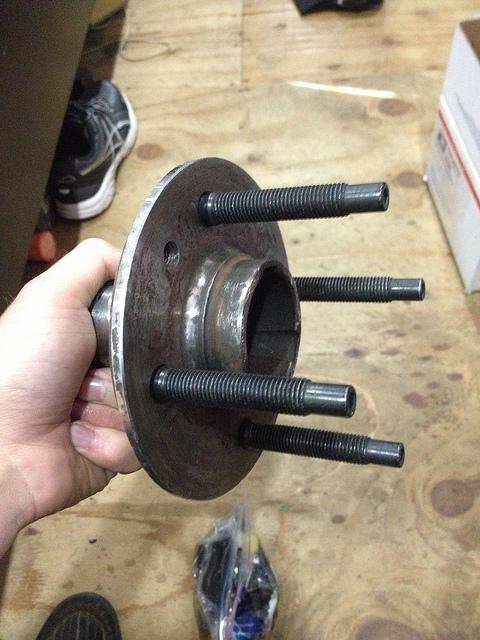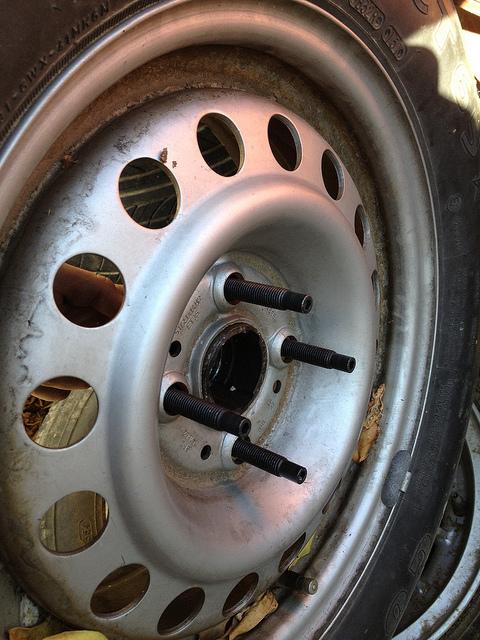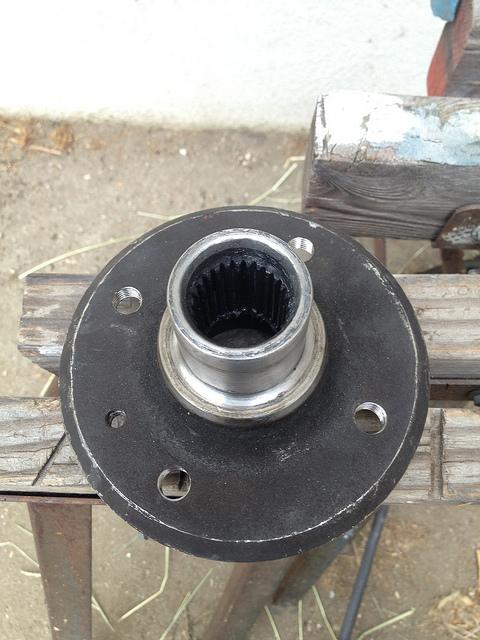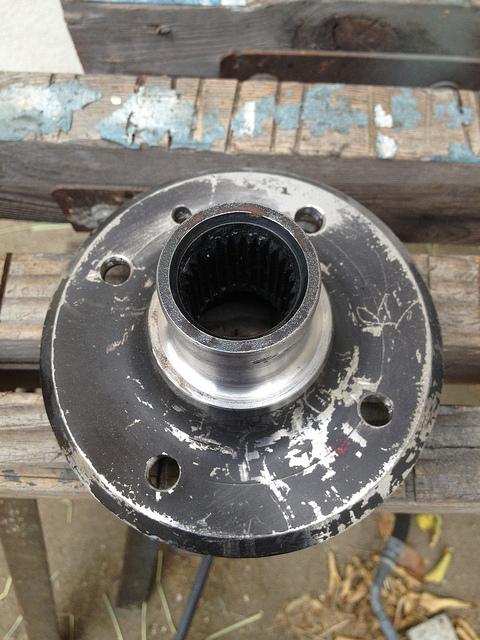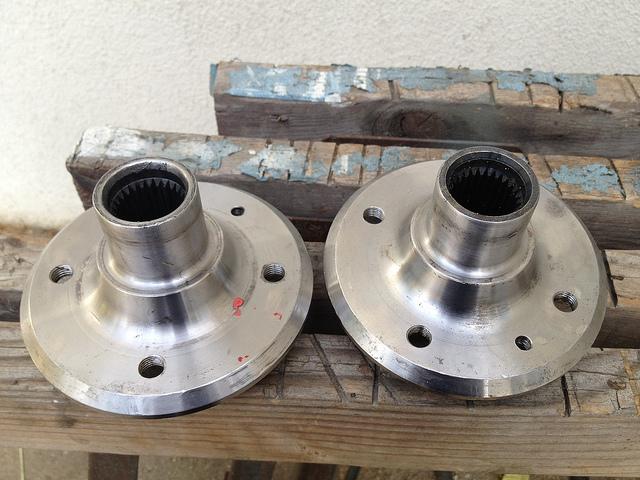 End result on the basketweaves instead of donut...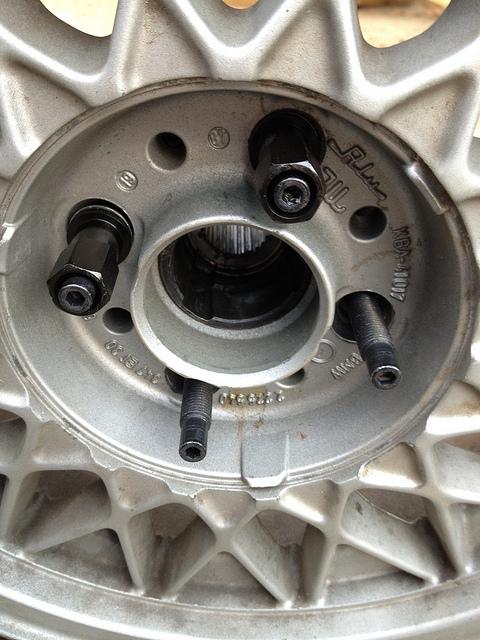 12-8-2013
Finally had some free time off work to start putting things back together.. Here it goes. Super hyped on how this is coming together can't wait to throw this thing around.
Disregard my messy room and plywood floors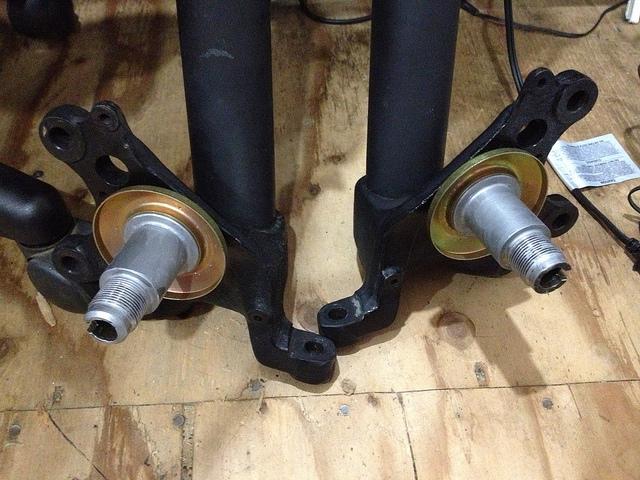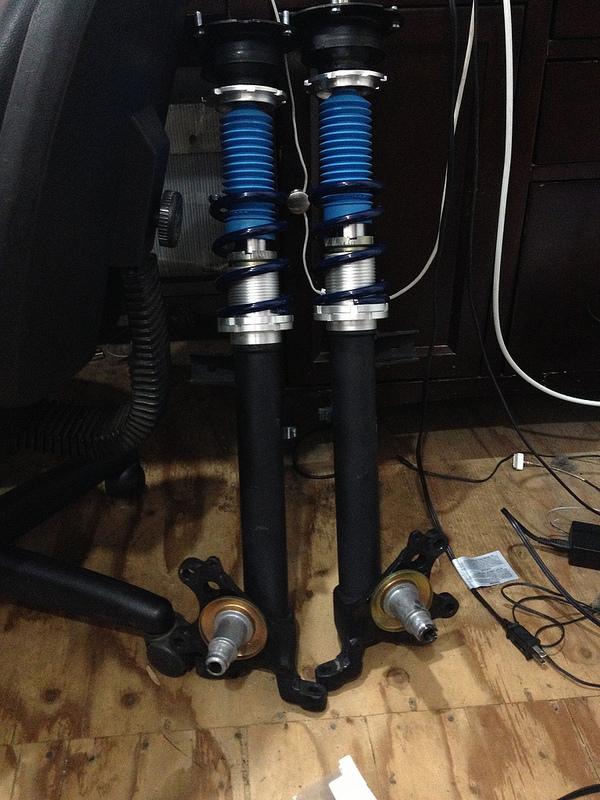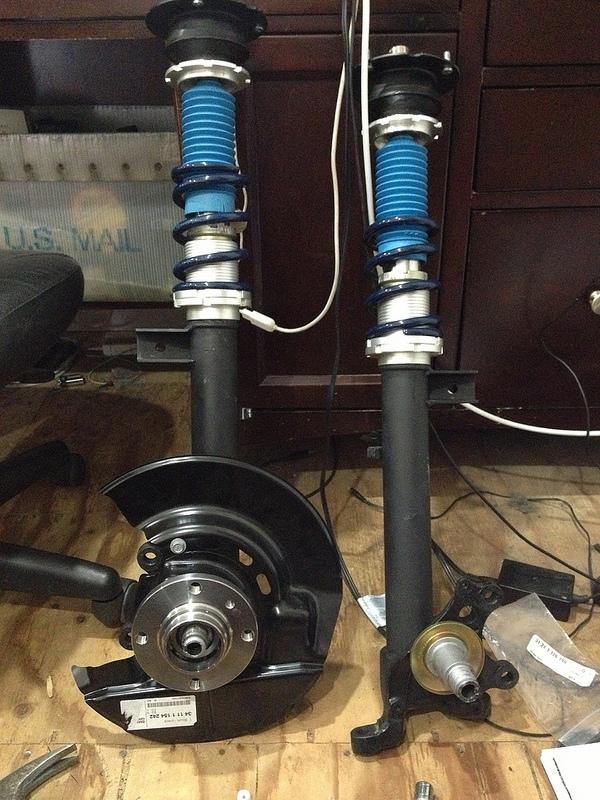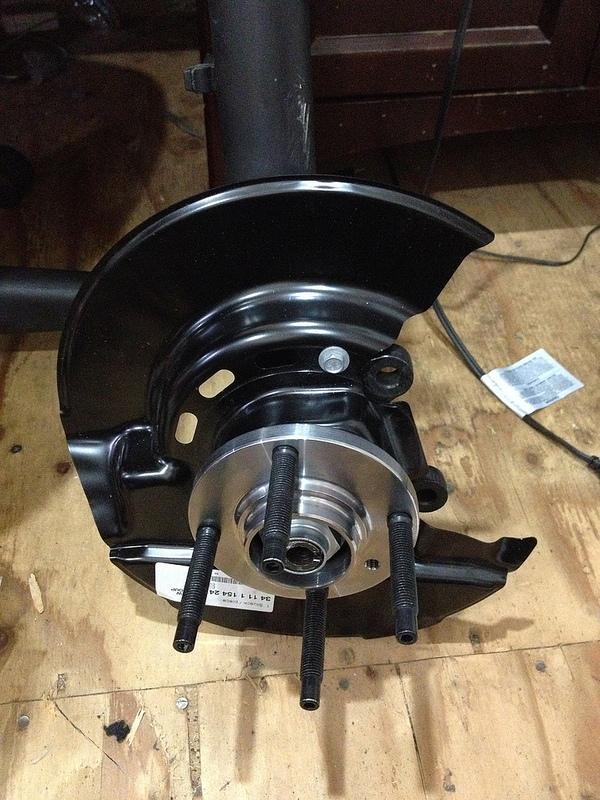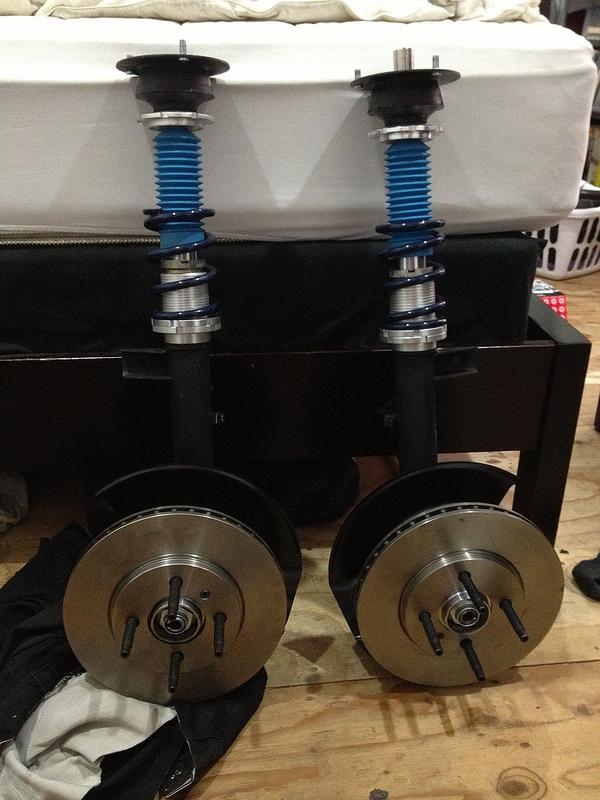 12-9-2013
Decided to go ahead and grab my mallet.. Forgot that I don't own a pair of circlip pliers so gonna have to cop some...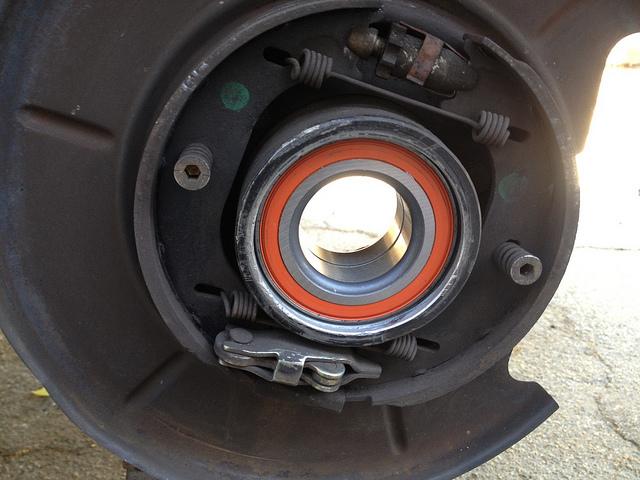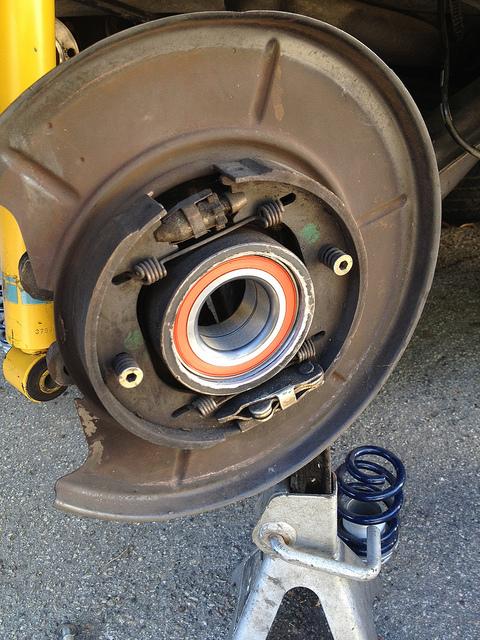 12-14-2013
Originally Posted by
Active16Bits

So much win! I'm sorry if you answered this before, but what textured paint did you use on your strut housings?
Nothing textured; just flame proof VHT black for exhaust that I had it laying around.
__________________________________________________ ____________________________
Since the harbor freight tool is cheap I had to improvise and make another one for $6 to push the hubs back in.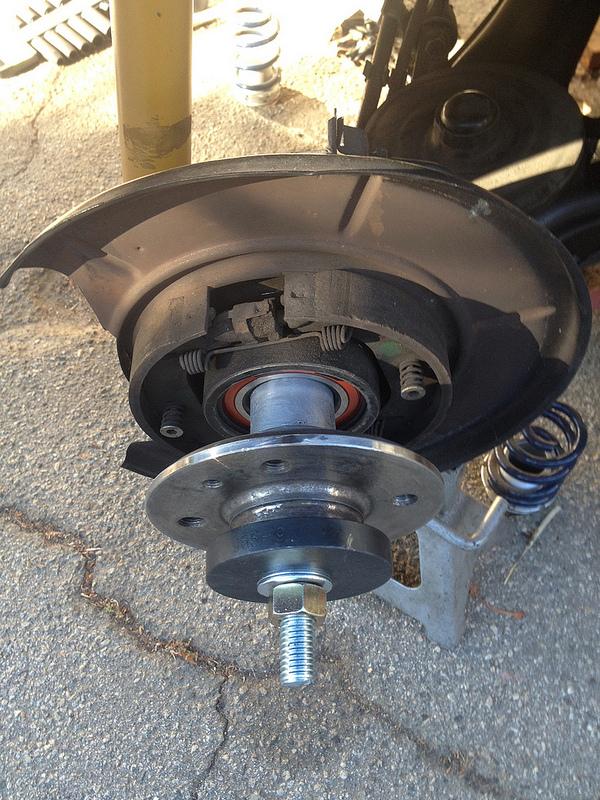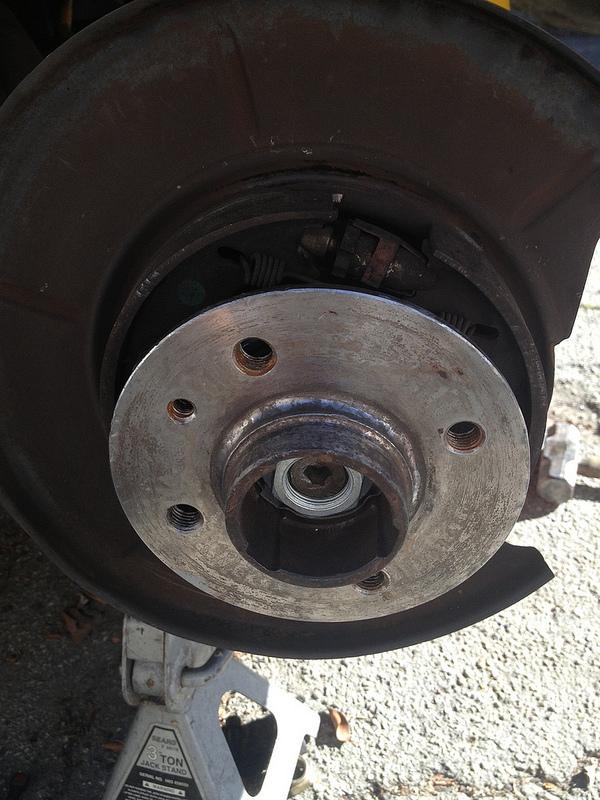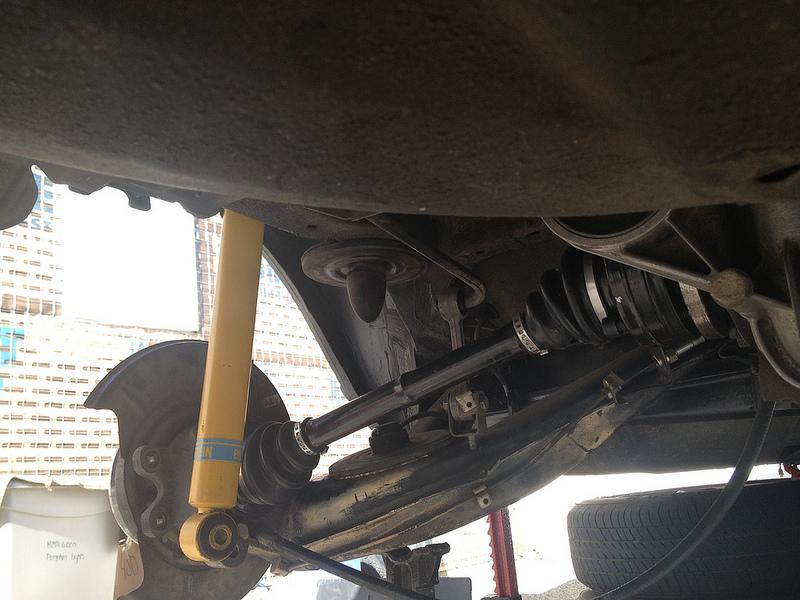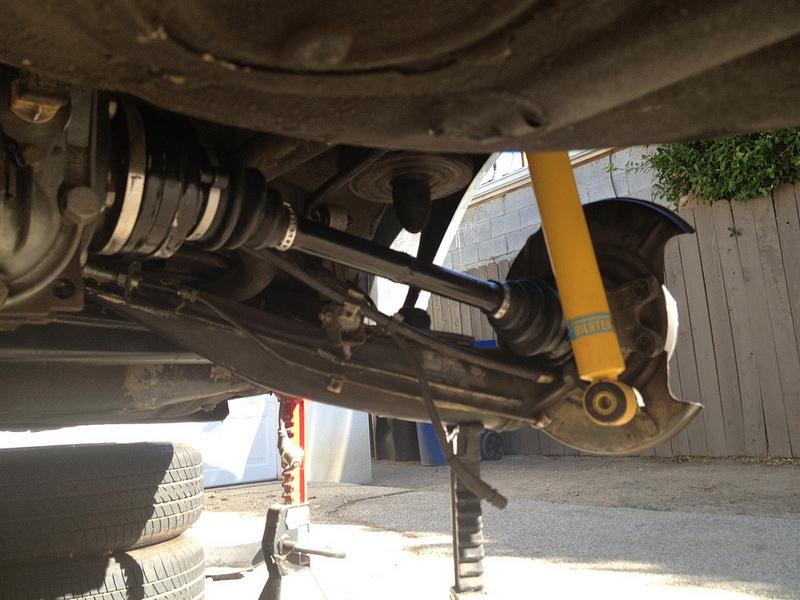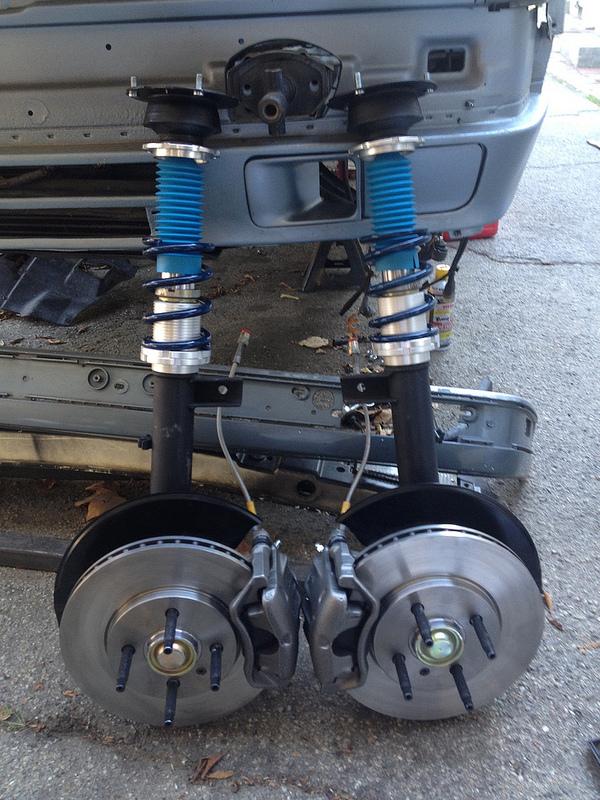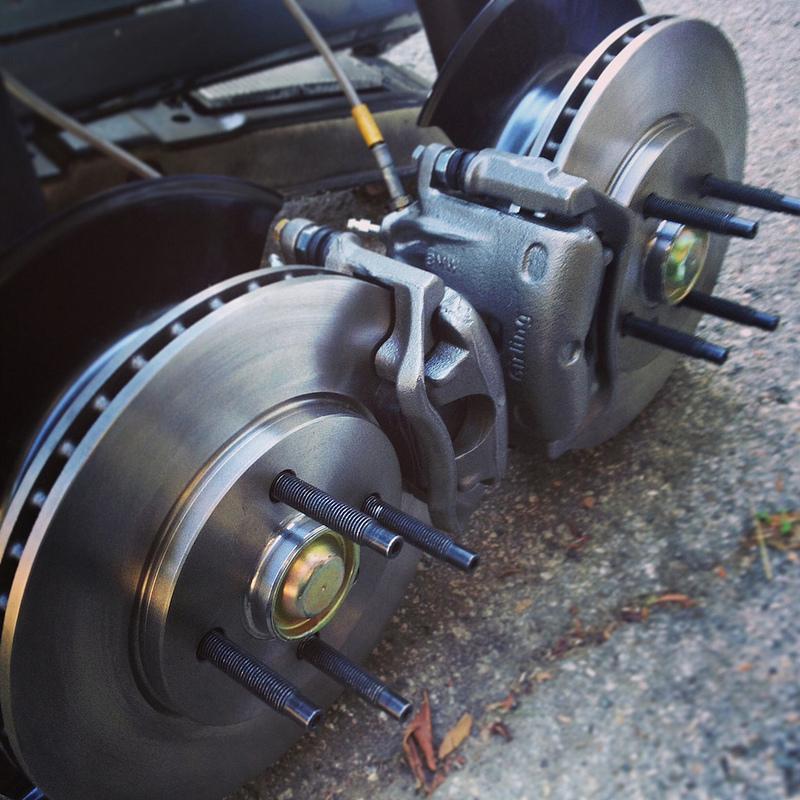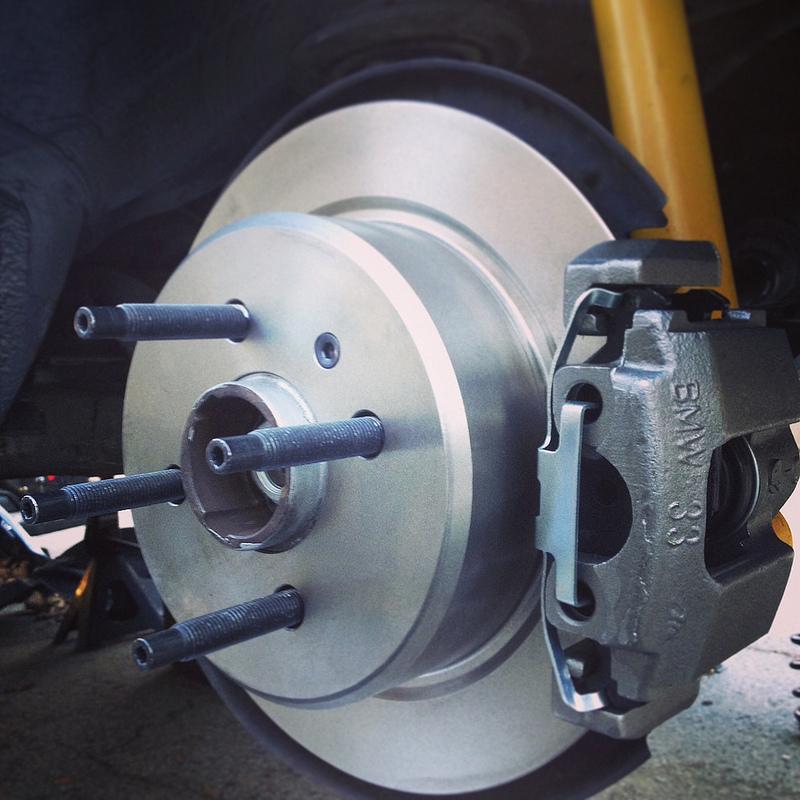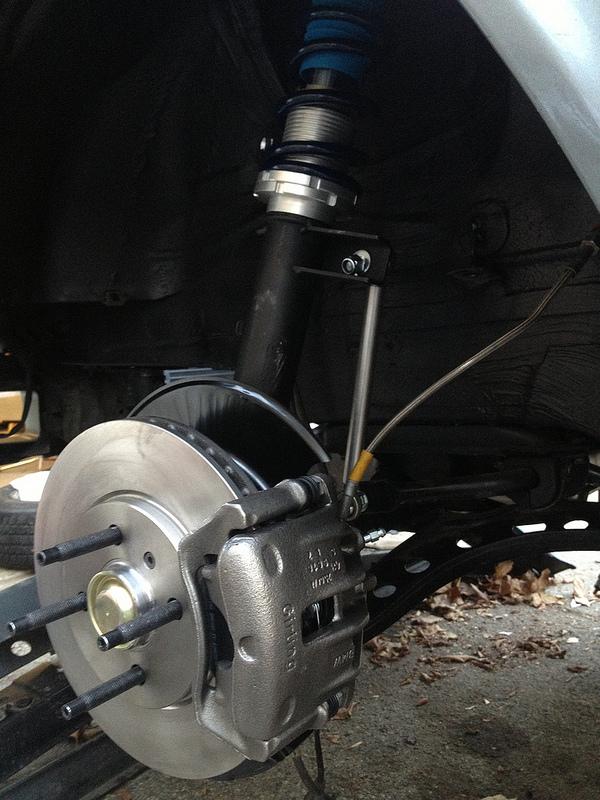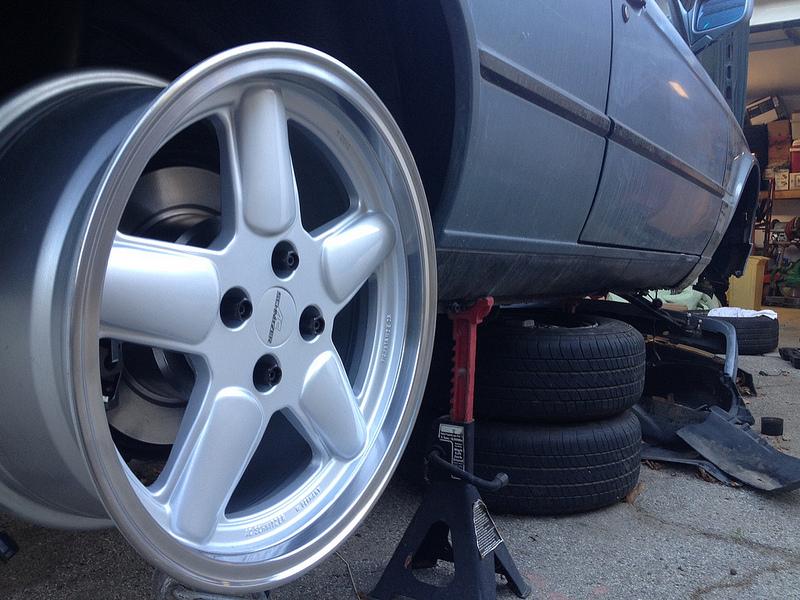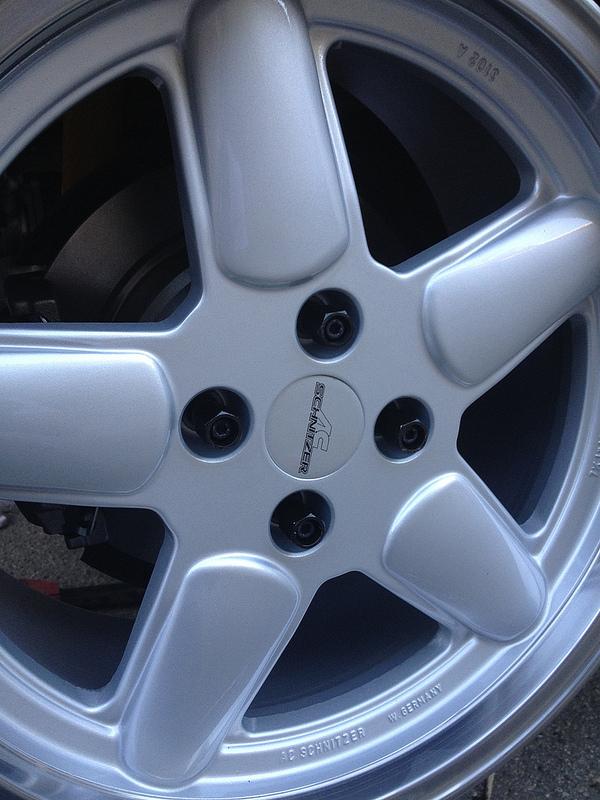 12-15-2013
Calipers, rotors, pads, 5D - ✓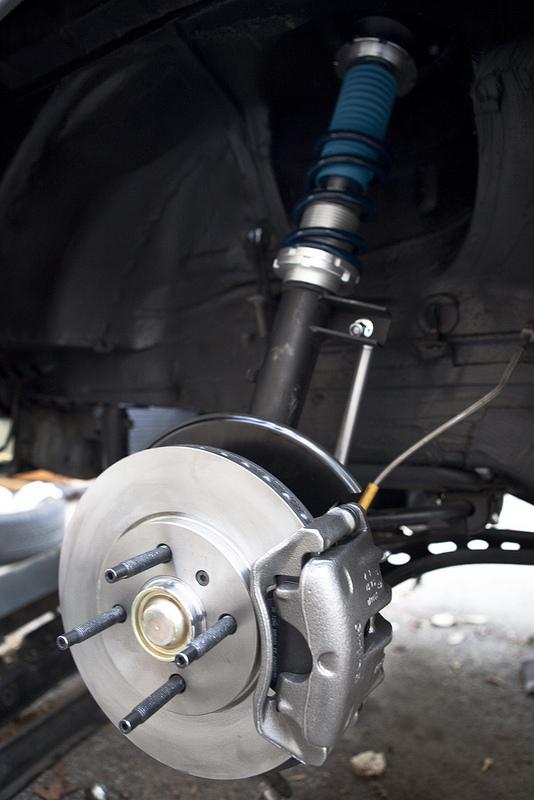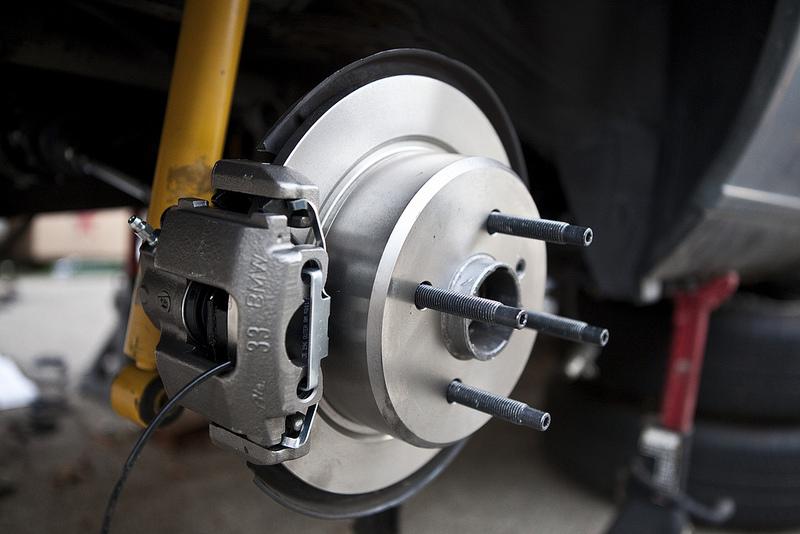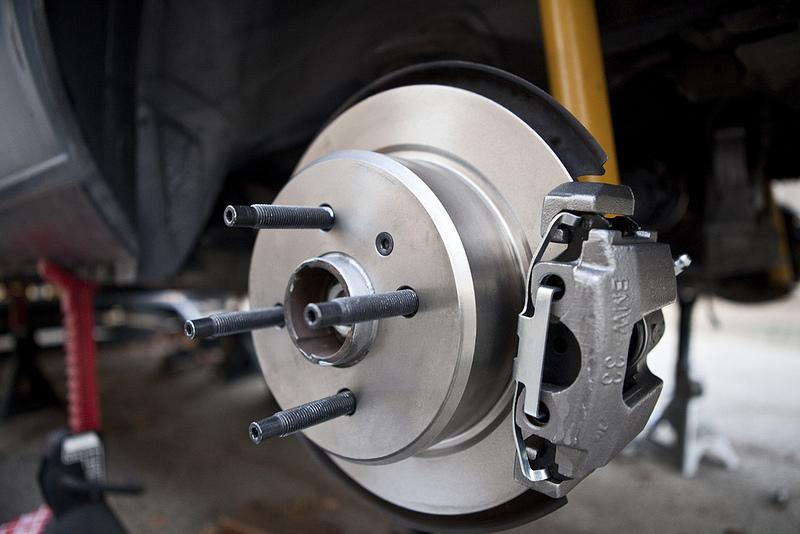 1-2-2014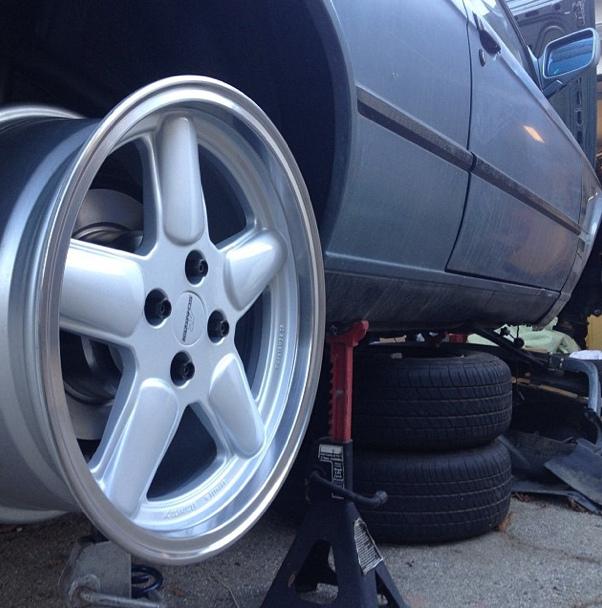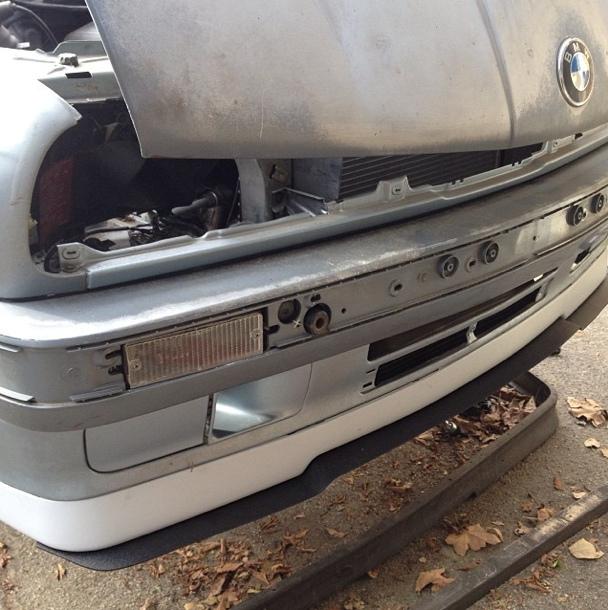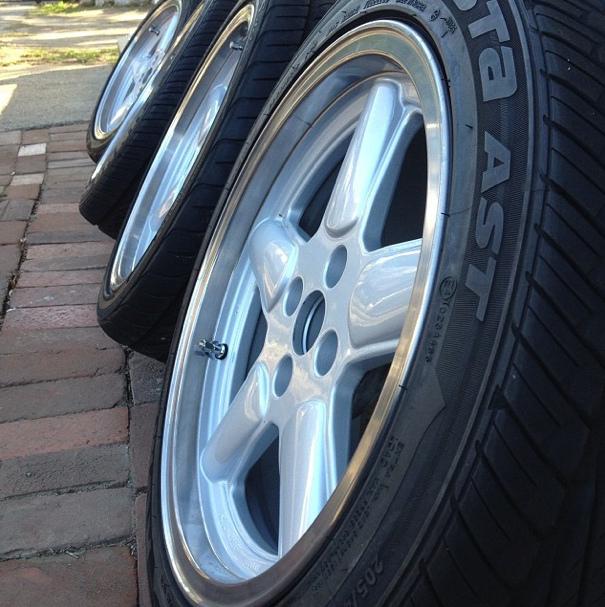 1-5-2014
Trying to find some motivation after working all week... First time its been on the ground in about 4 months..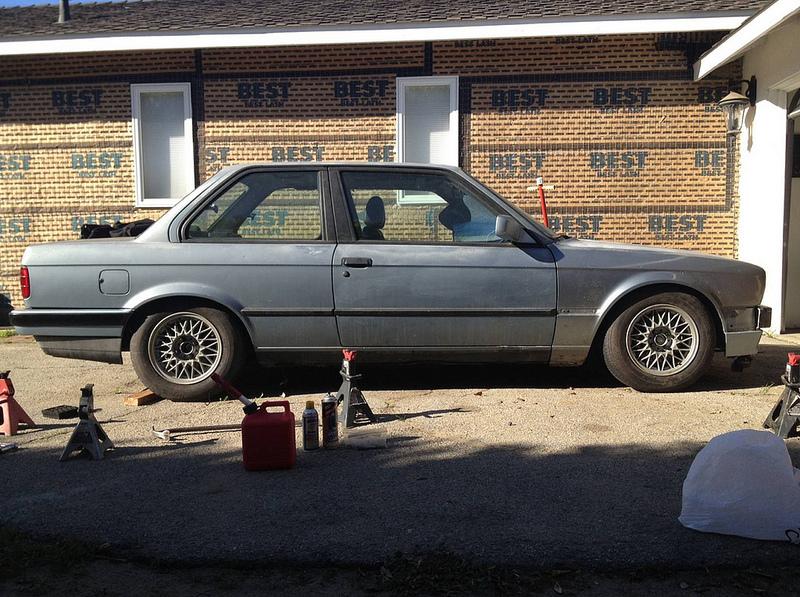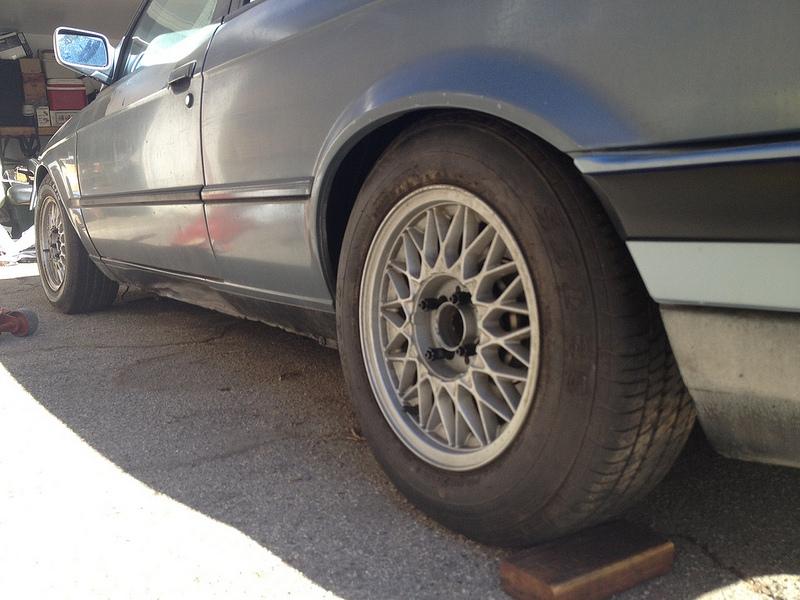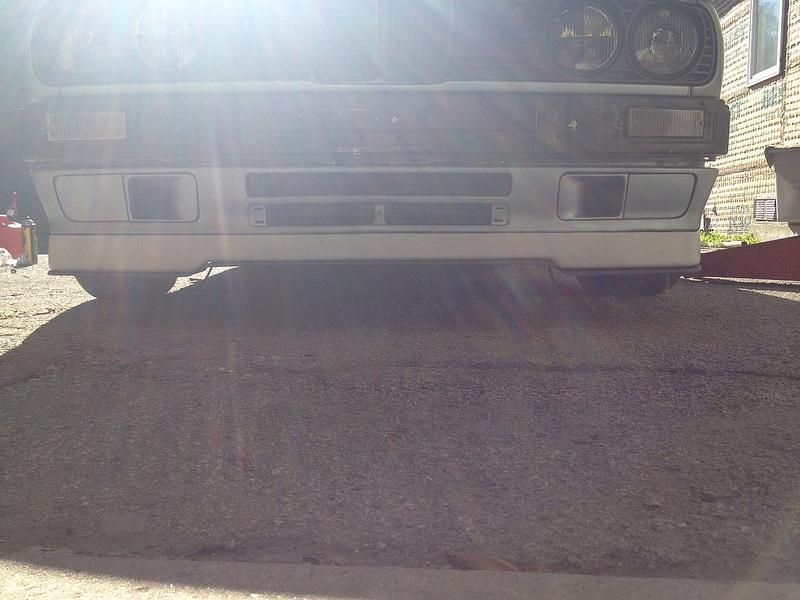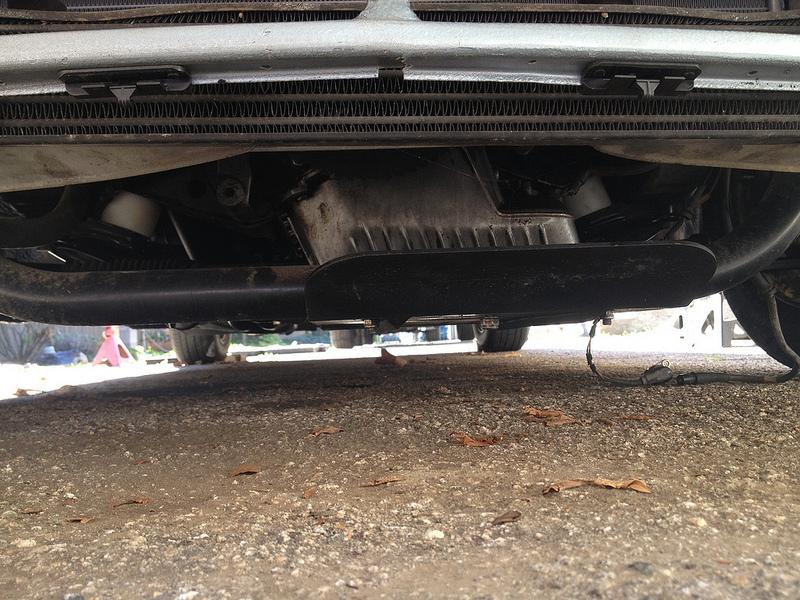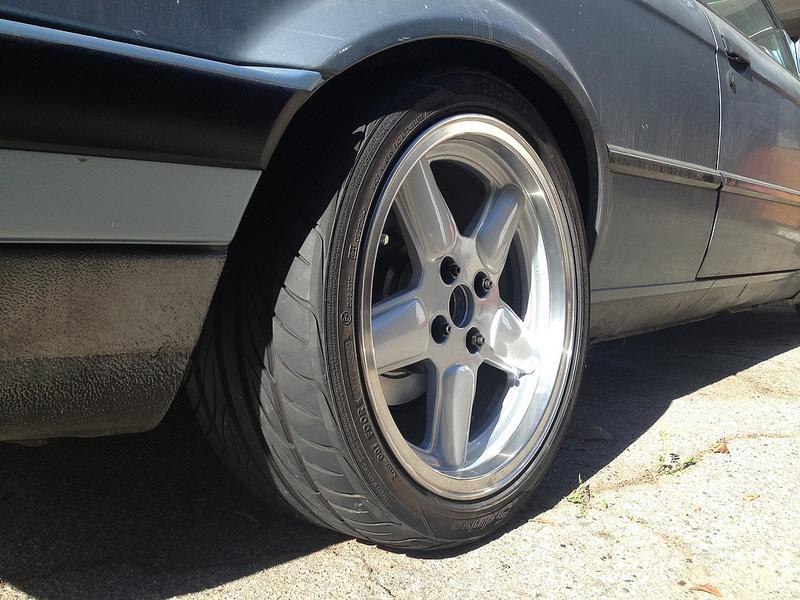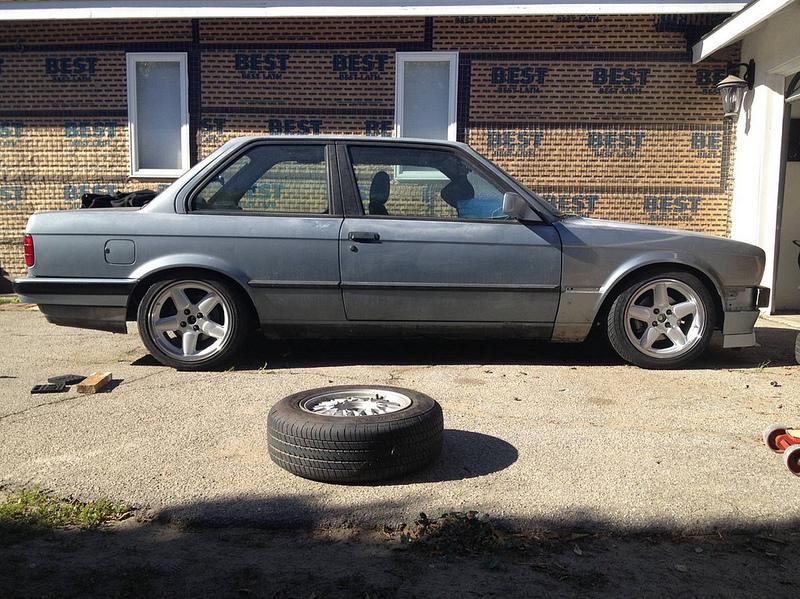 1-7-2014
Took a couple shots messing around today; keep in mind the front valence/spoiler not clipped or bolted together.
Really in love with the splitter.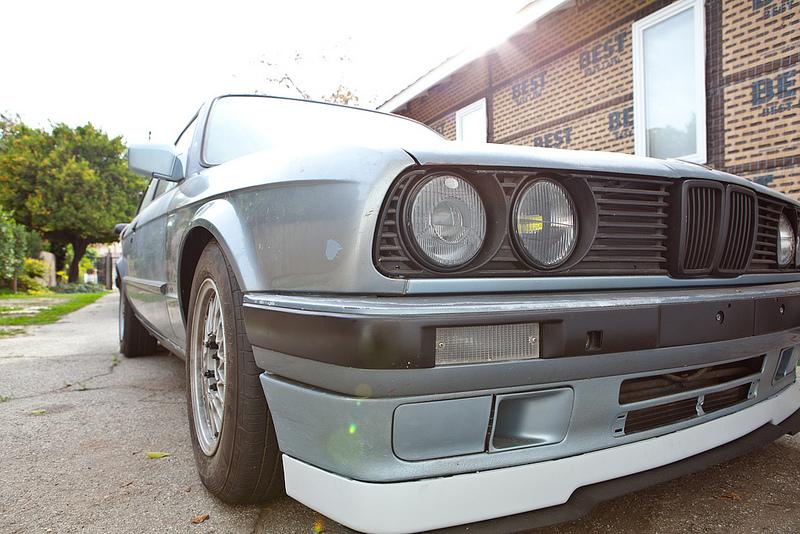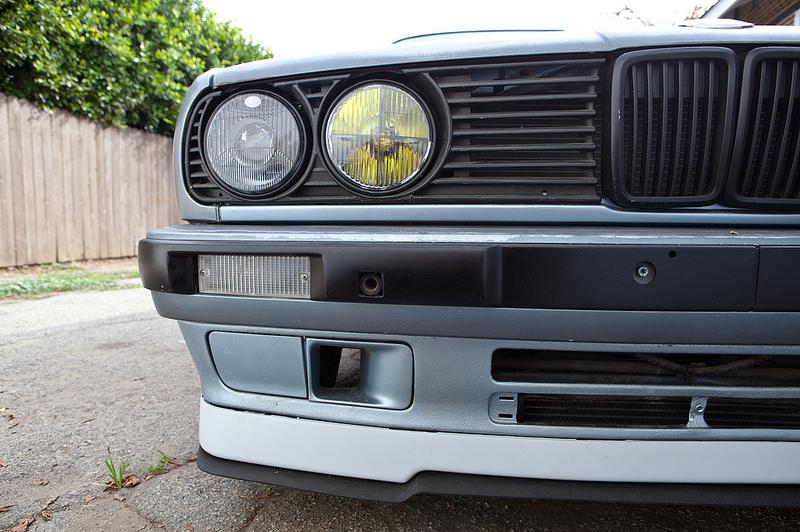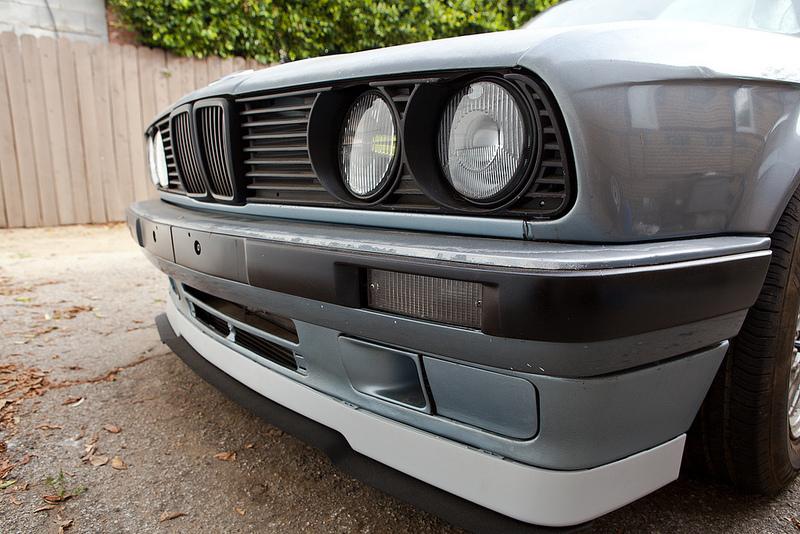 1-31-2014
Few shitty iphone videos... Cars finally rolling around with open headers. Felt great, first time driving it in almost 6 months..
3rd gear; under 3k rpm rolling
https://www.youtube.com/watch?v=AFy3-zBspRY
https://www.youtube.com/watch?v=aM2JOwLZ-6s
2nd gear; 5500 rpm pull
https://www.youtube.com/watch?v=JGjeEhOSJhQ
2-2-2014
https://www.youtube.com/watch?v=wrEkkS9h0sU
Took a quicky little sound clip of the muffler I threw on last night.
Exhaust is 2 to 1 - 2.5" straight piping - 12" resonator + Dynomax muffler.
2-22-2014
Body works almost done, have to order the skirts, headlights + HIDs + Dual Filament bulbs are installed... Almost ready for primer and paint.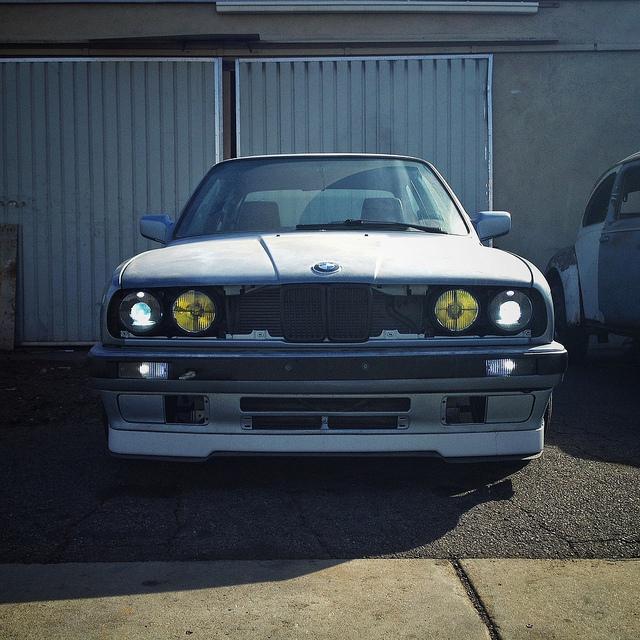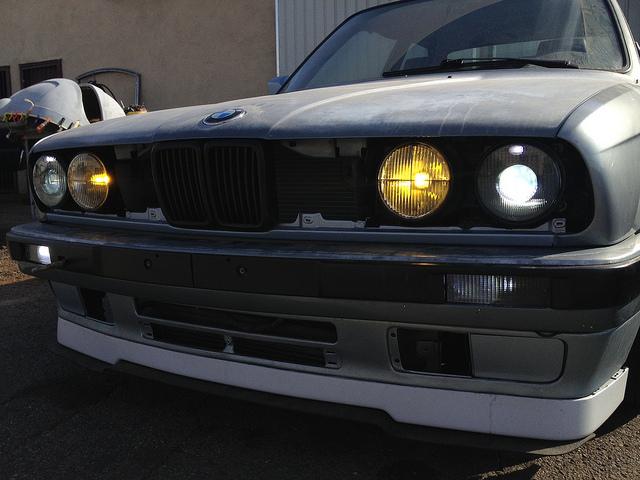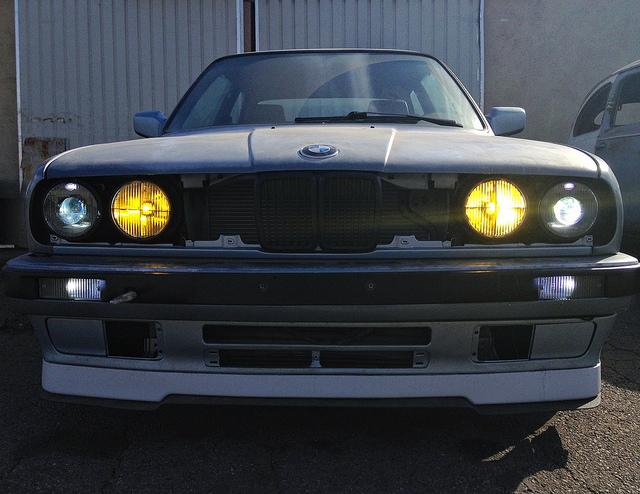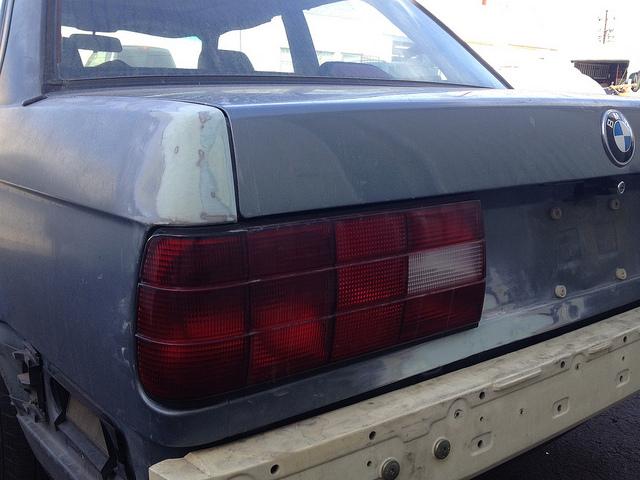 Before photo of the rocker..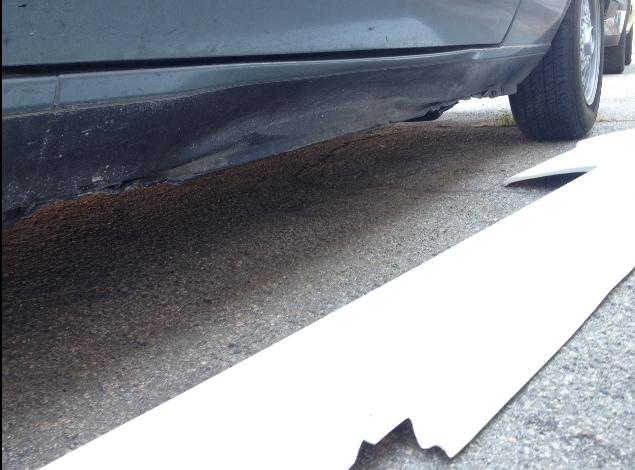 After..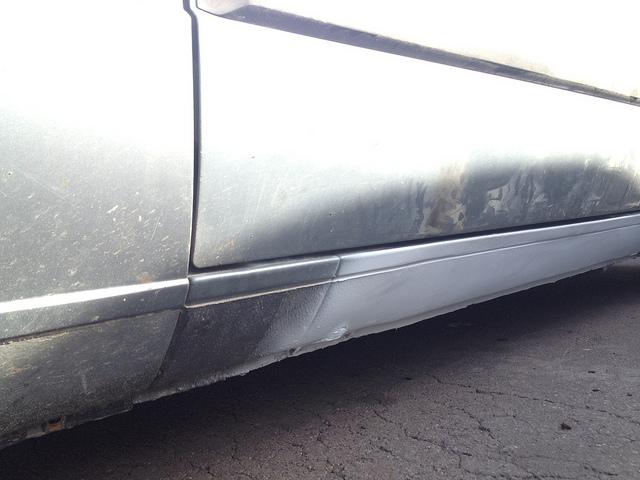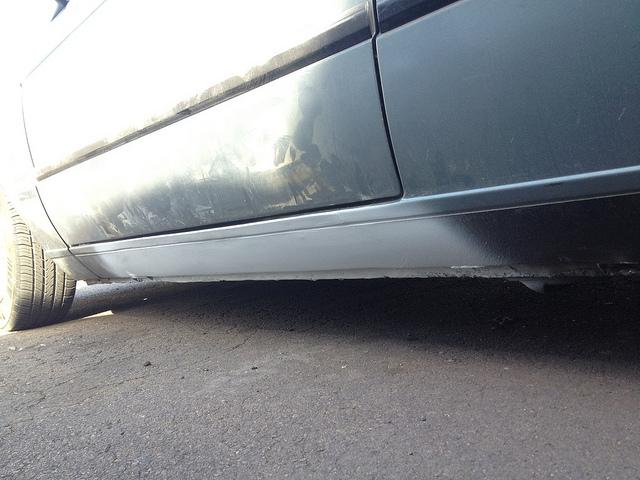 2-23-2014
Was shooting this 69 bluebird last night; pulled the e30 next to it for kicks.
Haven't washed my e30 in 14 months and it shows..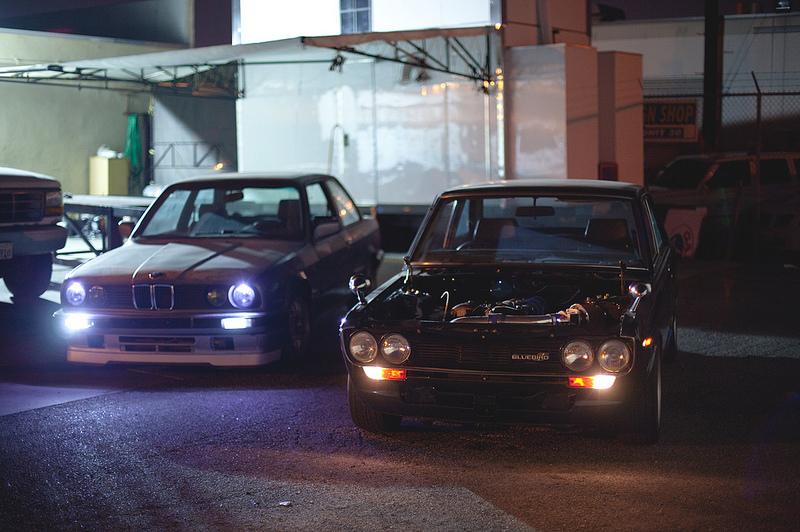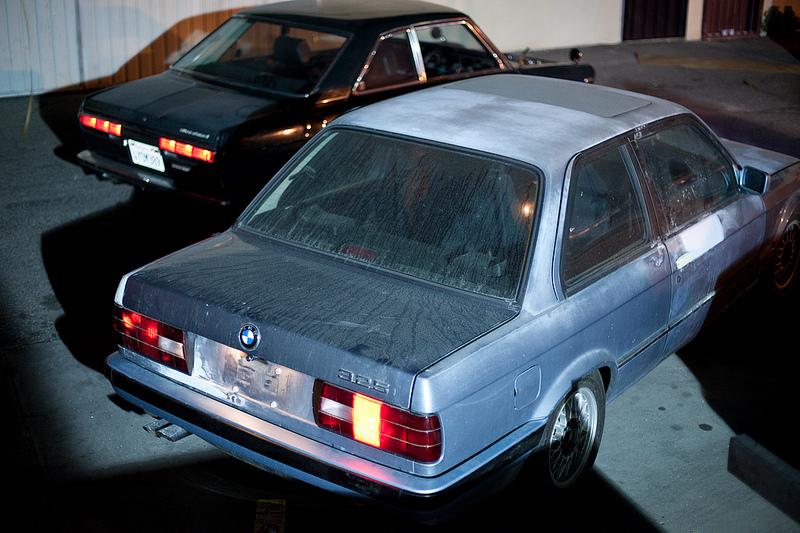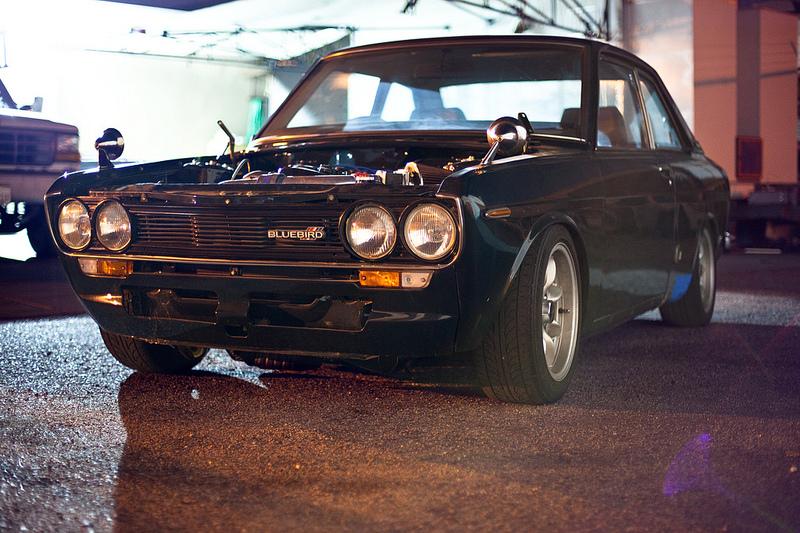 2-25-2014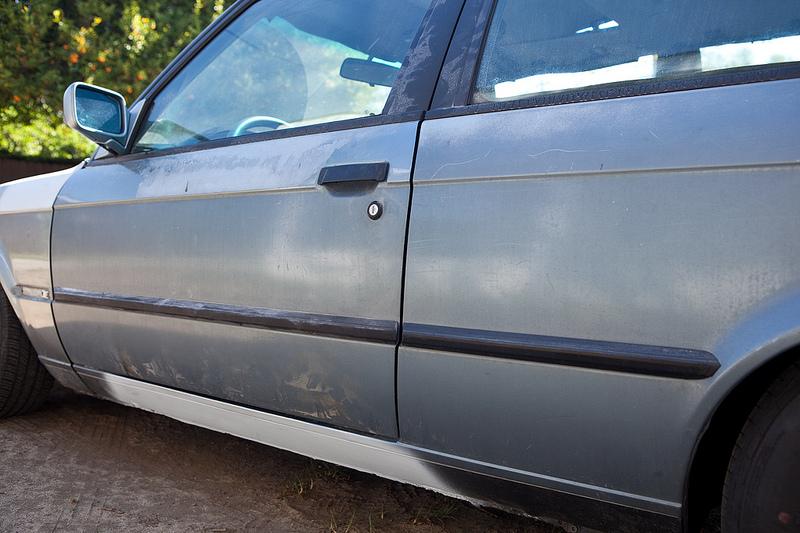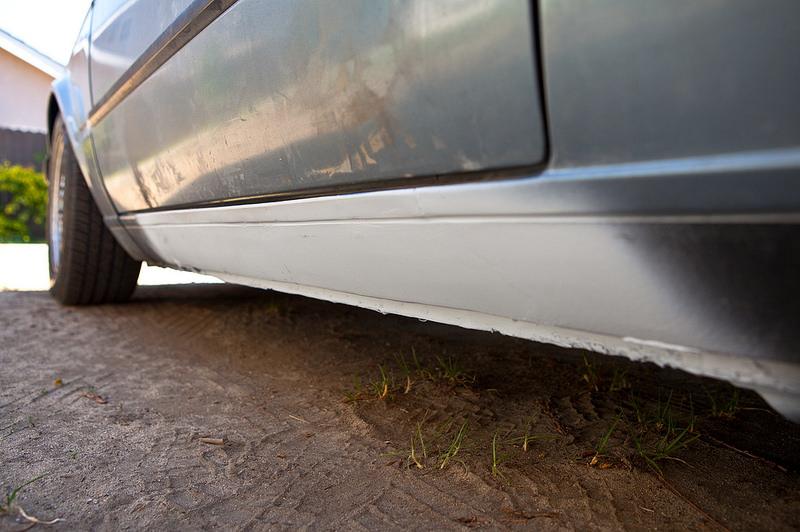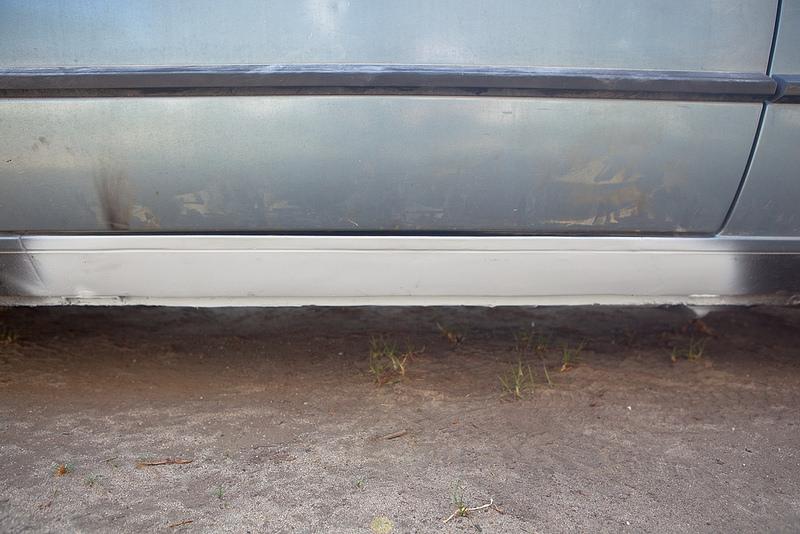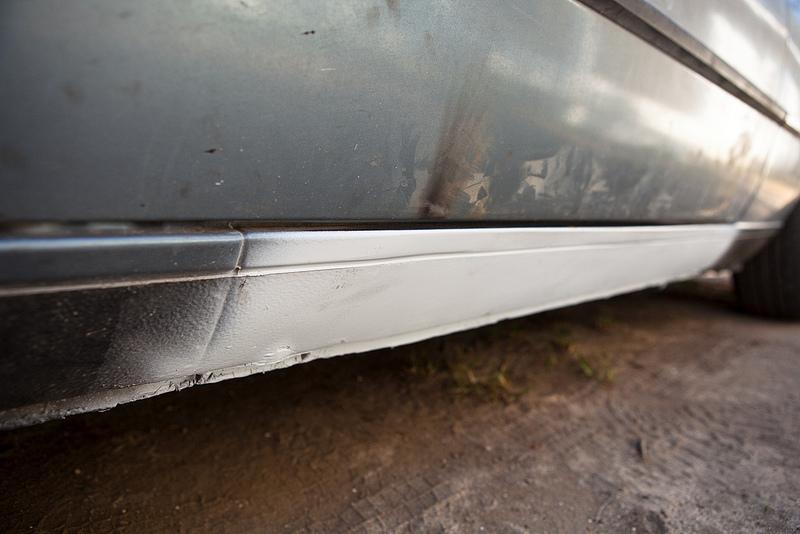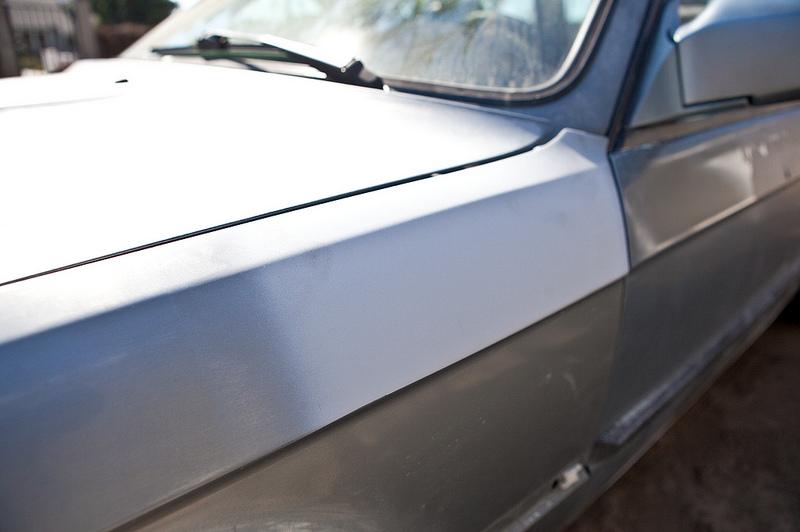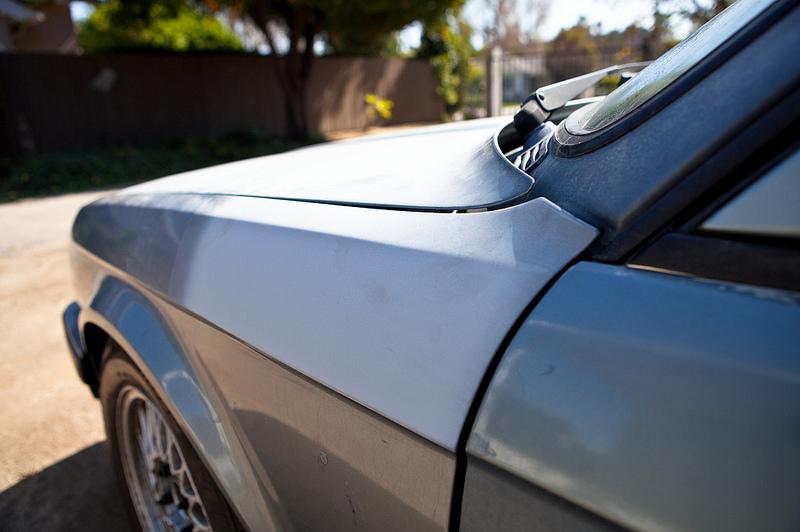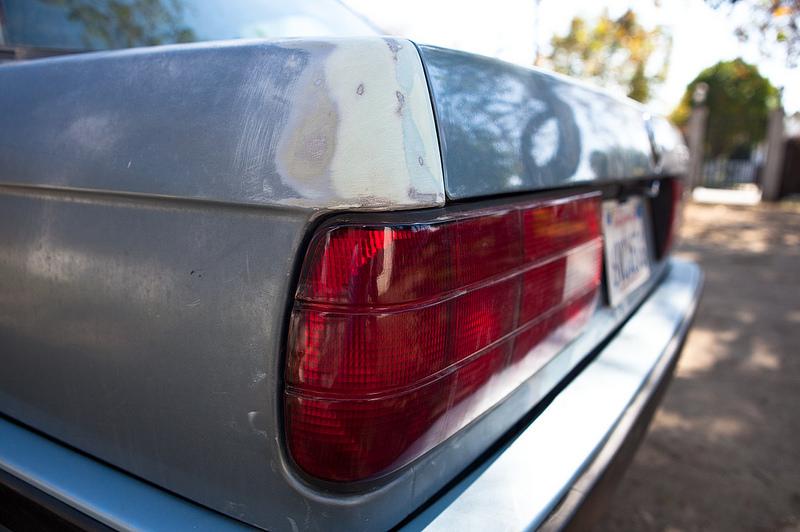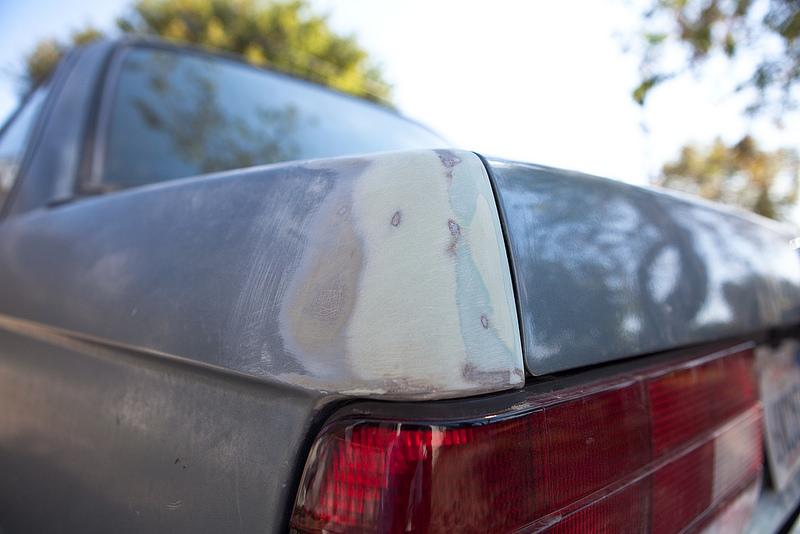 2-26-2014
Picked this up the other night from Fercy... Always wanted one of these... pretty badass.
More parts noone will really see.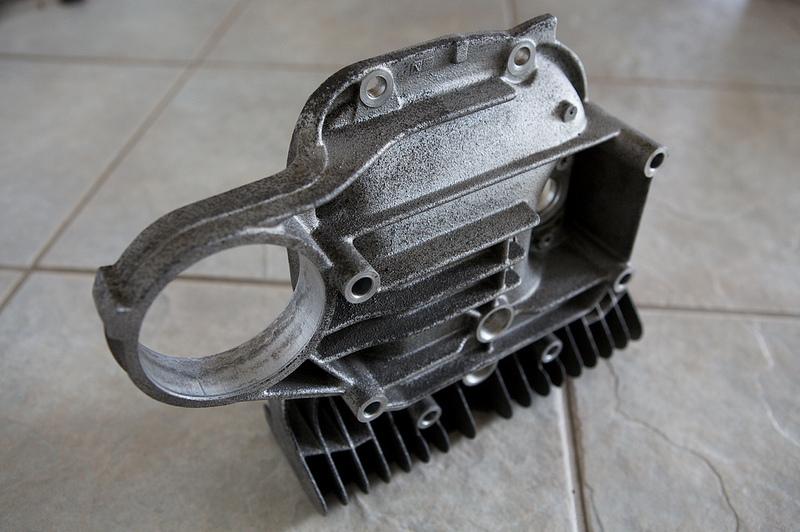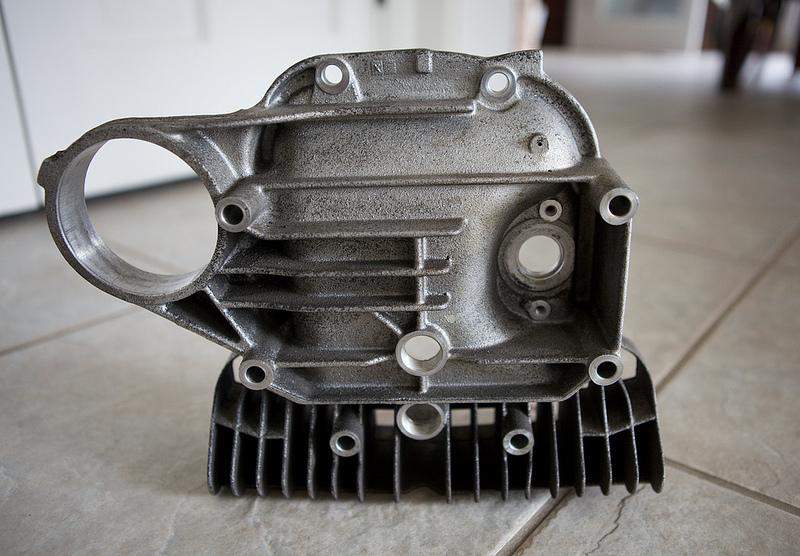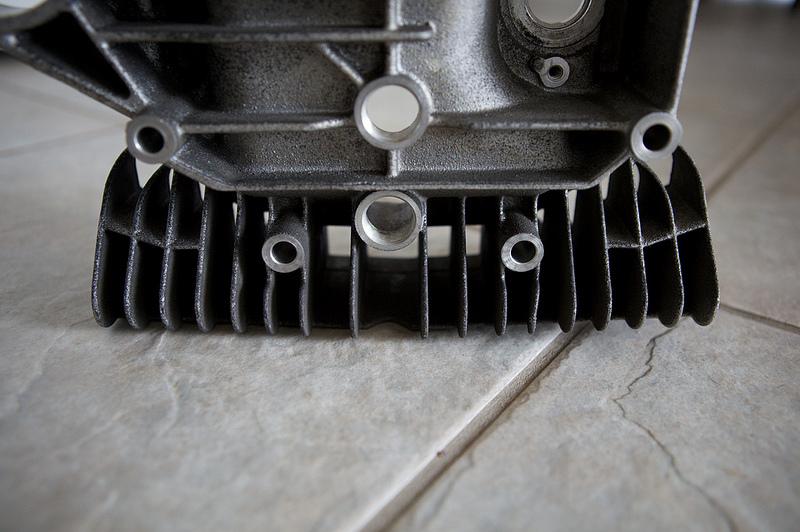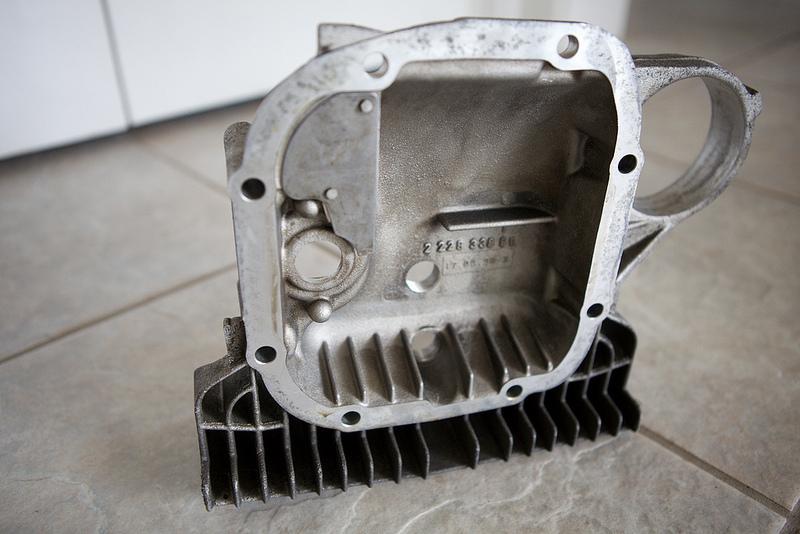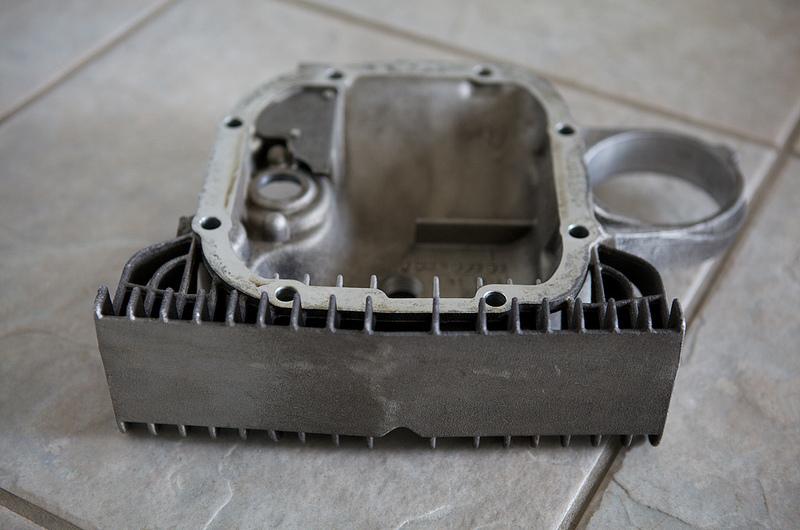 3-6-2014
Threw on some new shoes yesterday..
3-11-2014
Threw on some paint..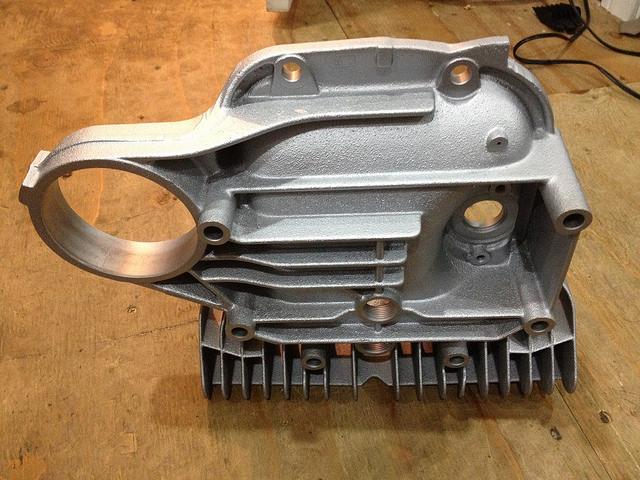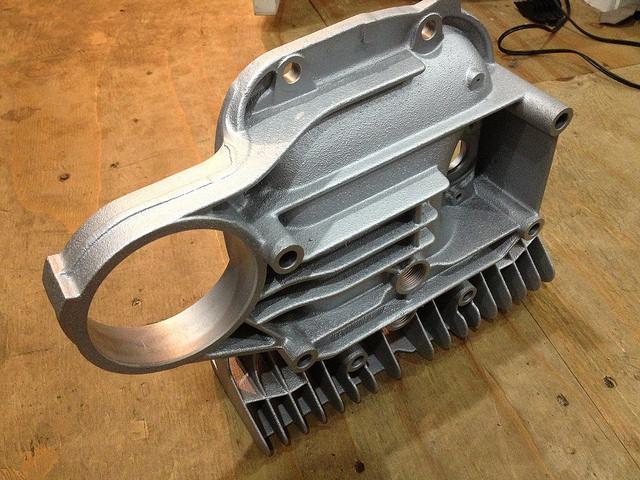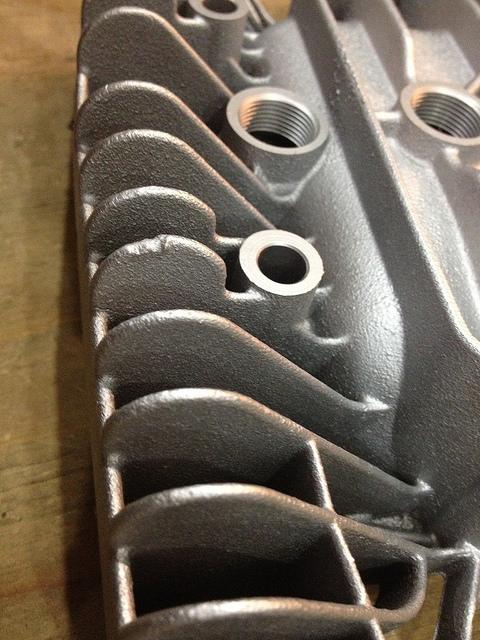 Threw on a cirrus bumper i picked up over the weekend along with changing the early model o2 sensor out for a late model one... Wasn't as hard as everyone claims.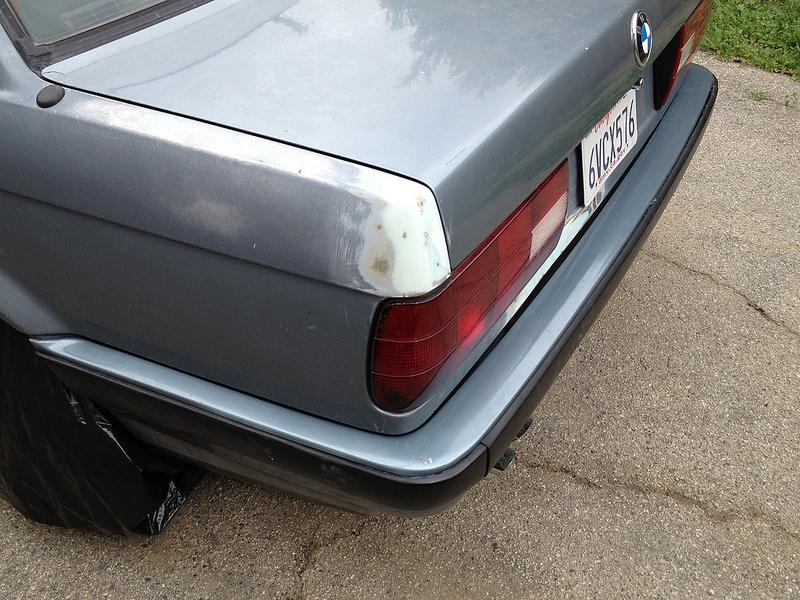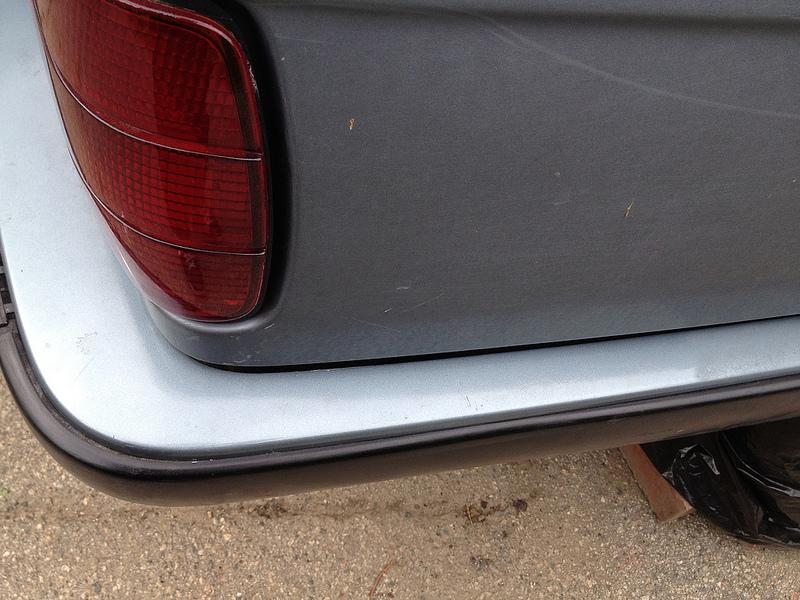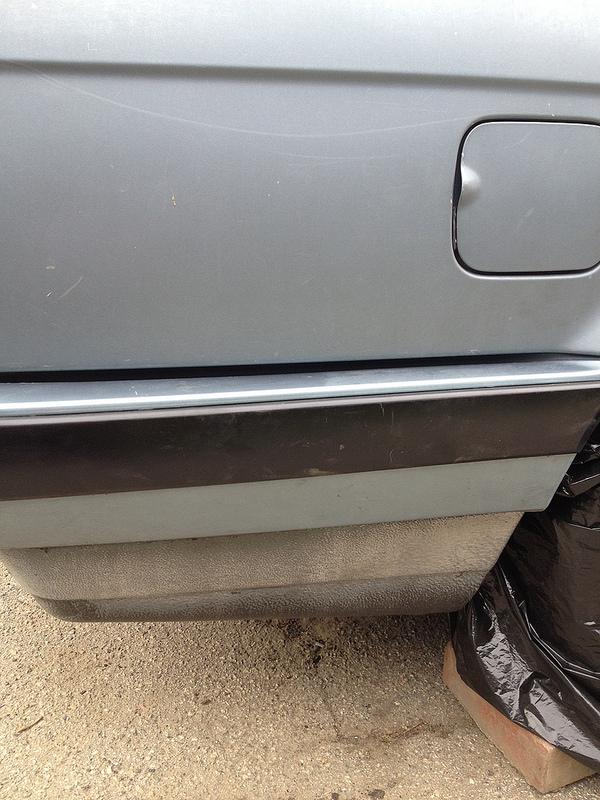 Also have this little M tech 1 on its way..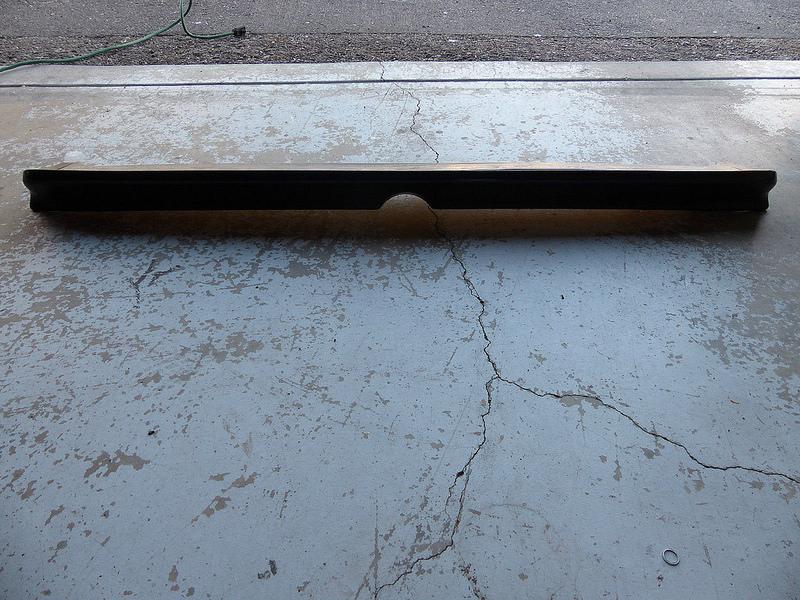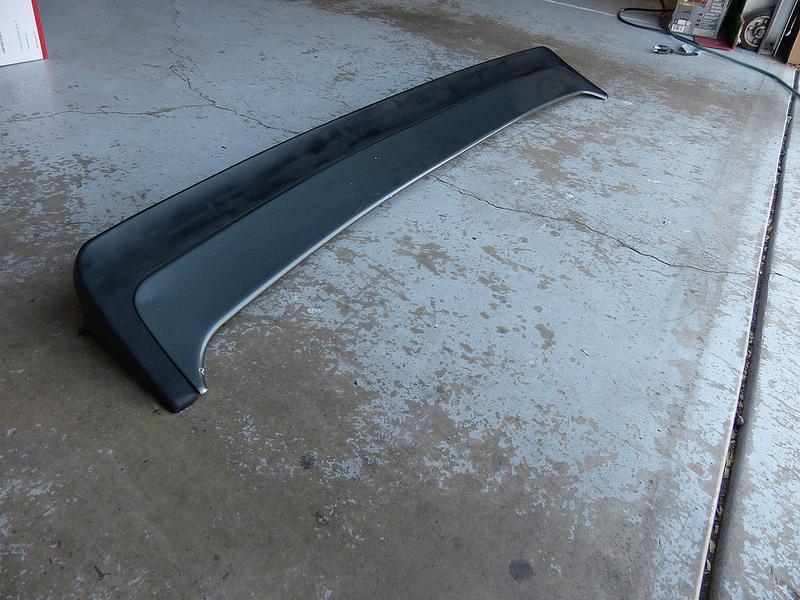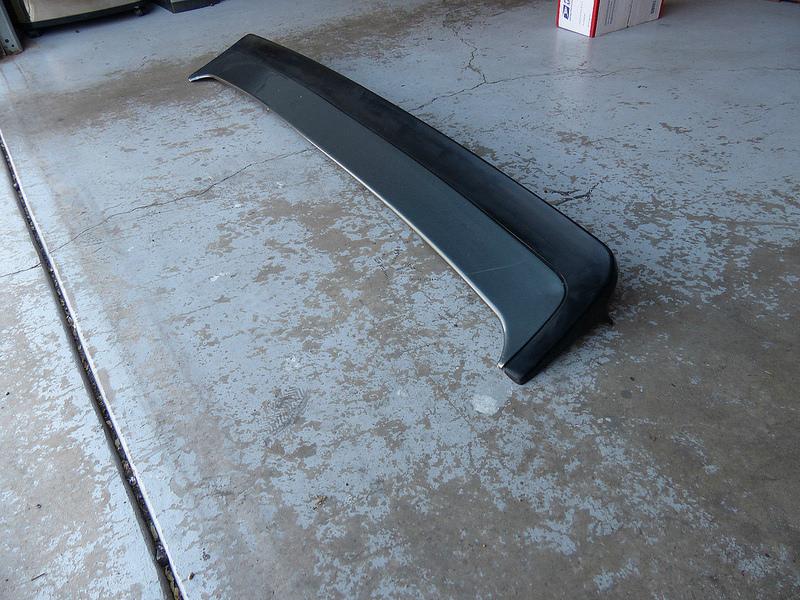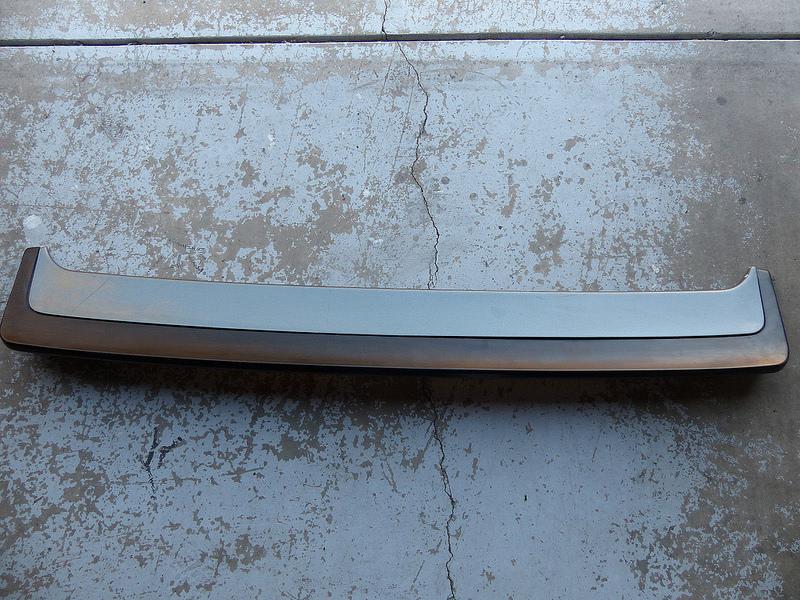 3-12-2014
Got the M tech 1 in today and installed, very happy and still can't believe it was cirrus.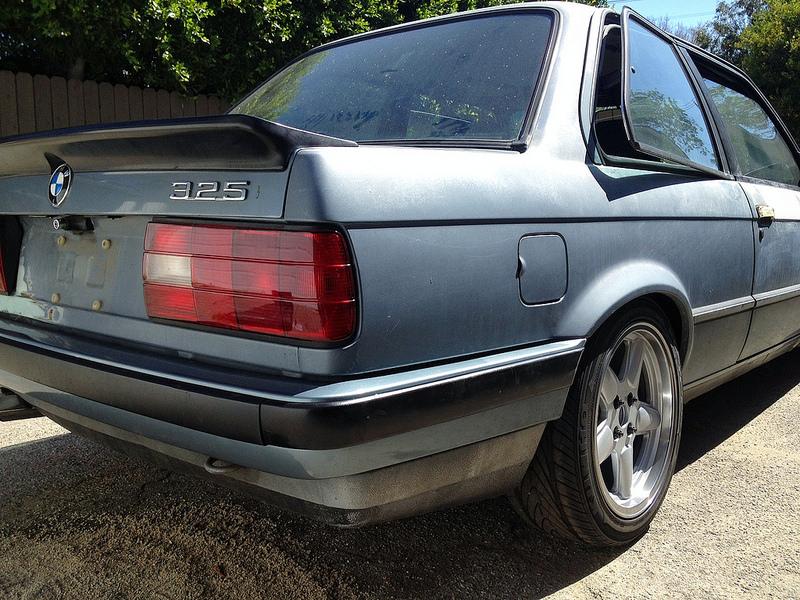 Test Fit :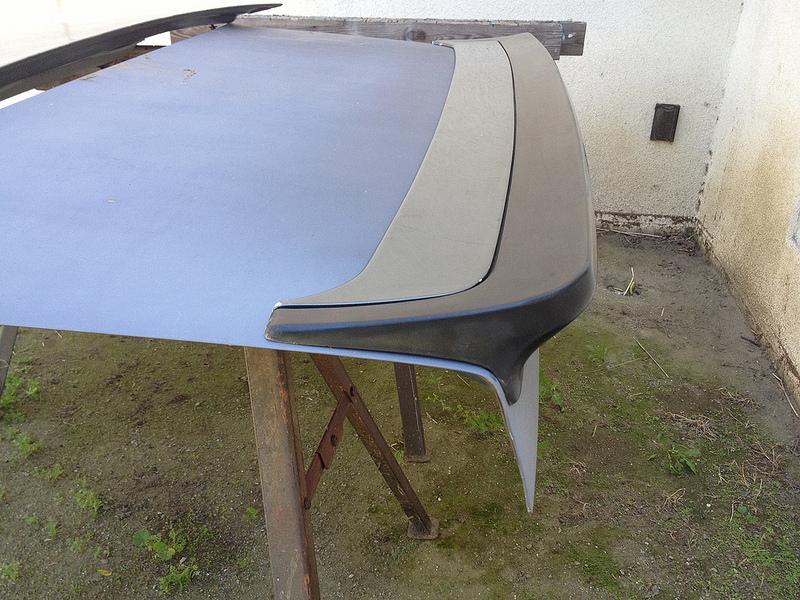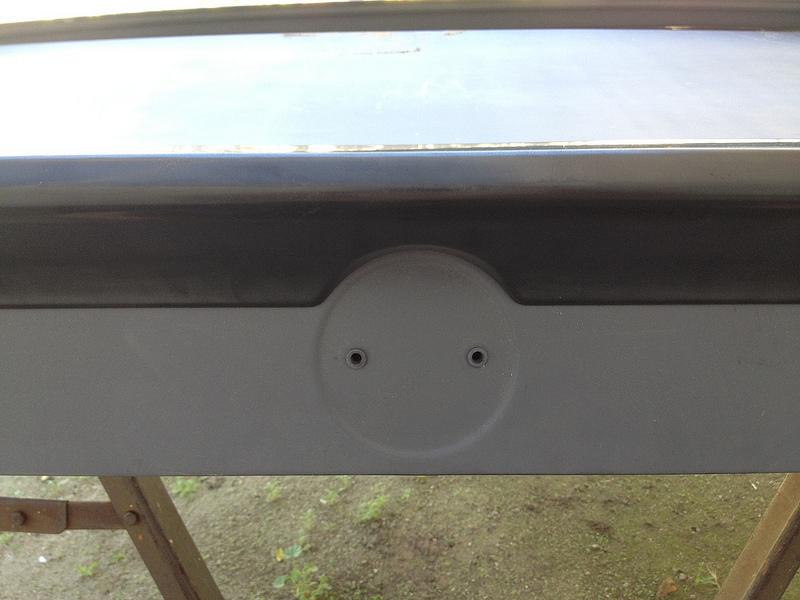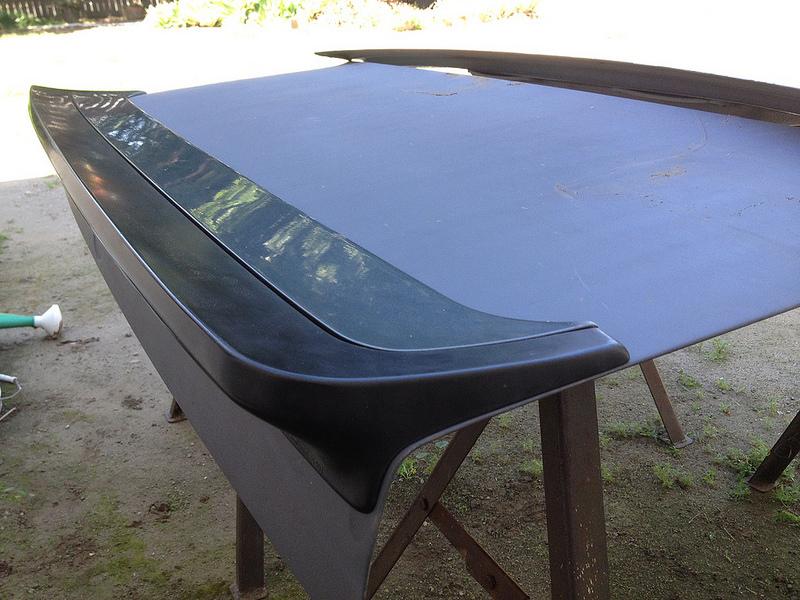 Fitted.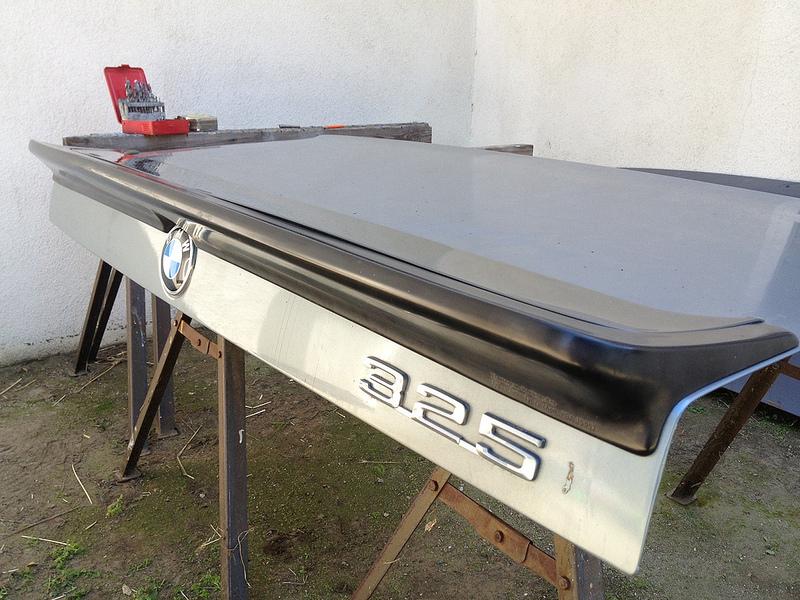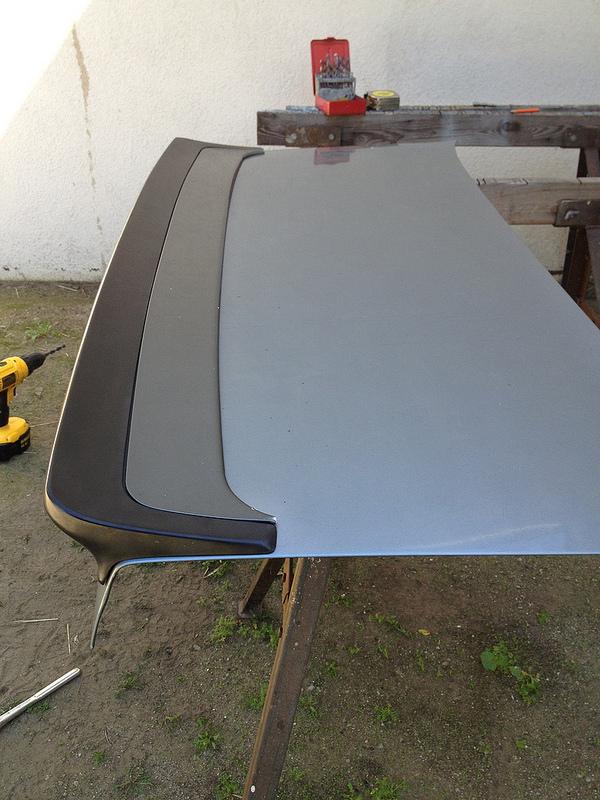 Bolted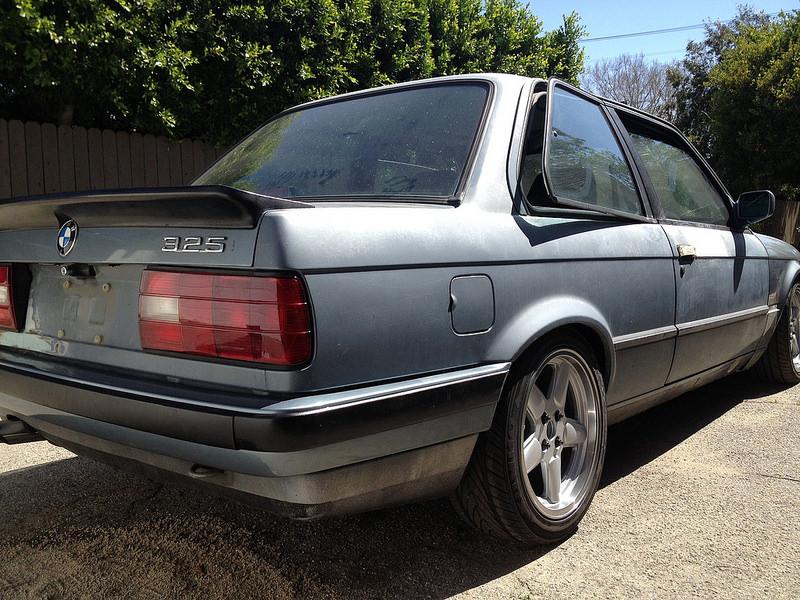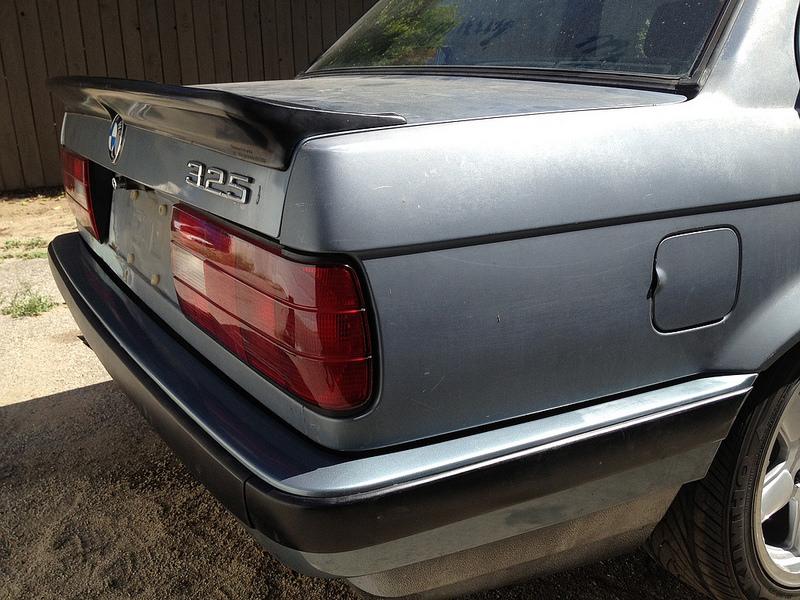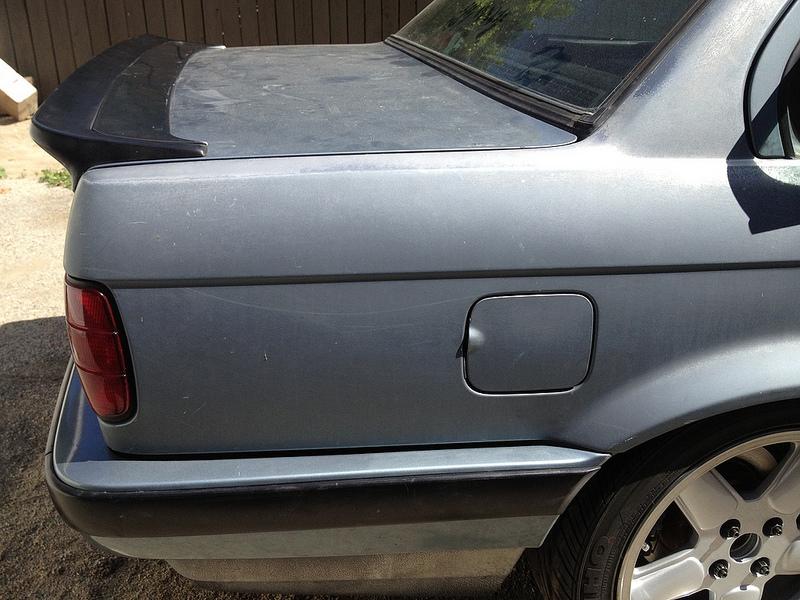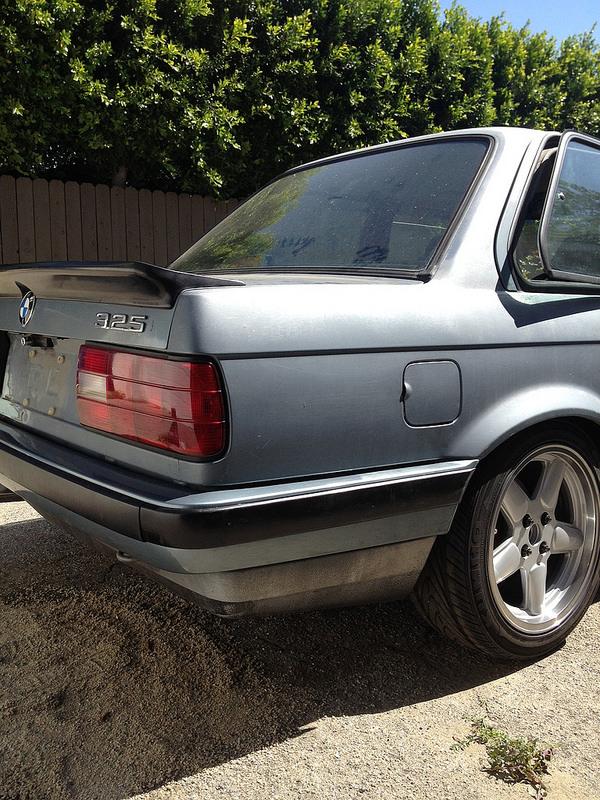 3-22-2014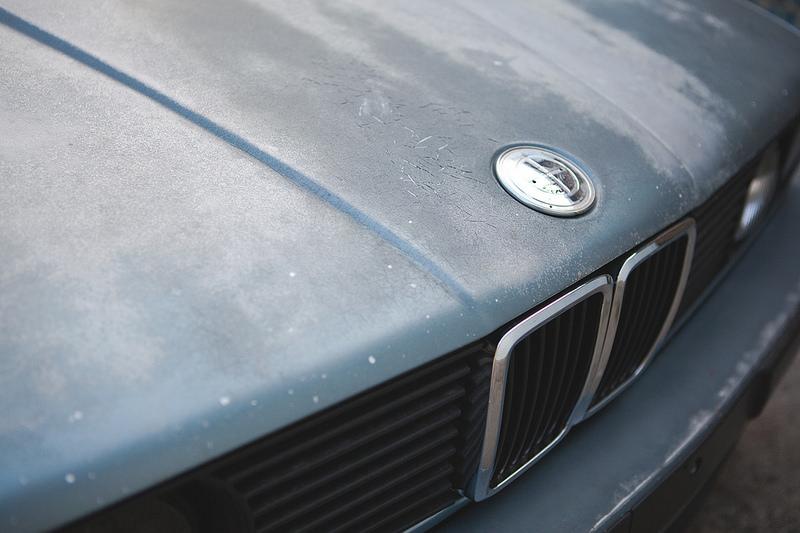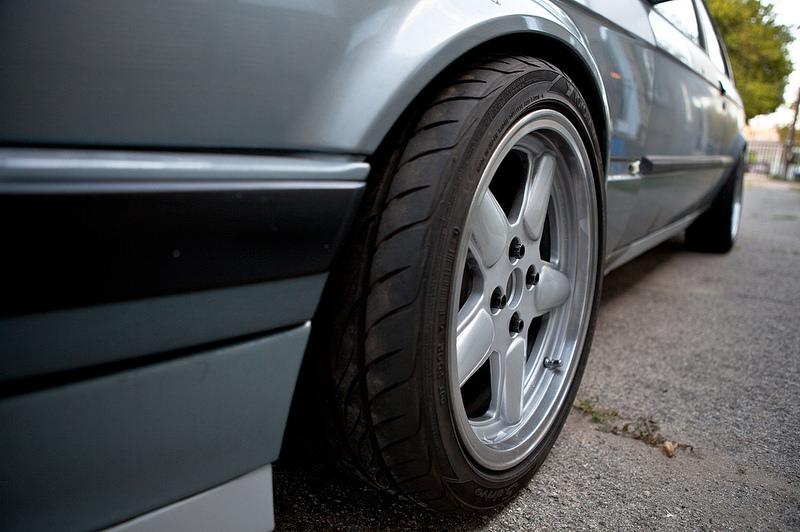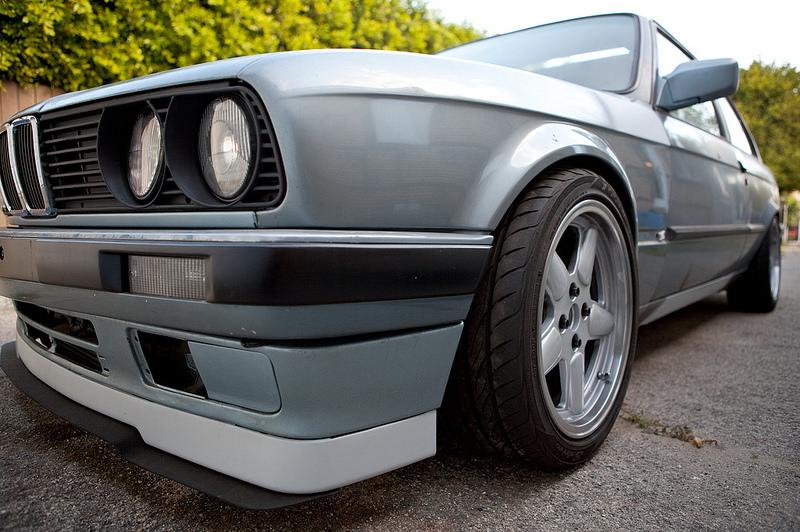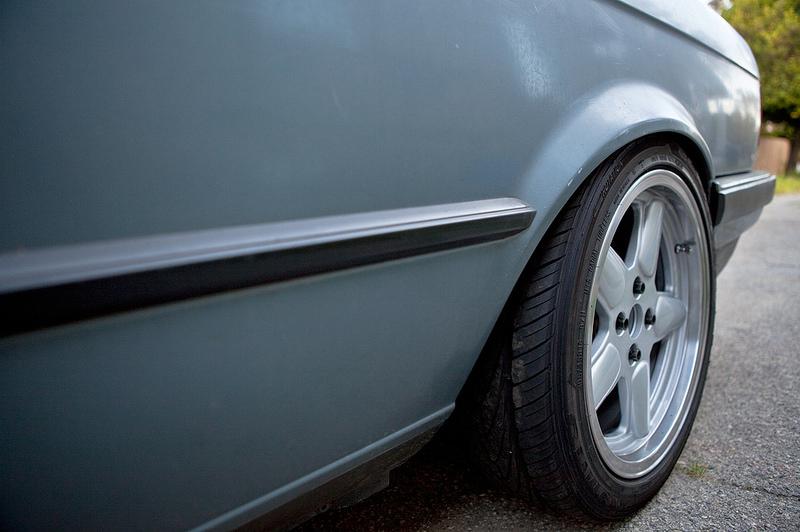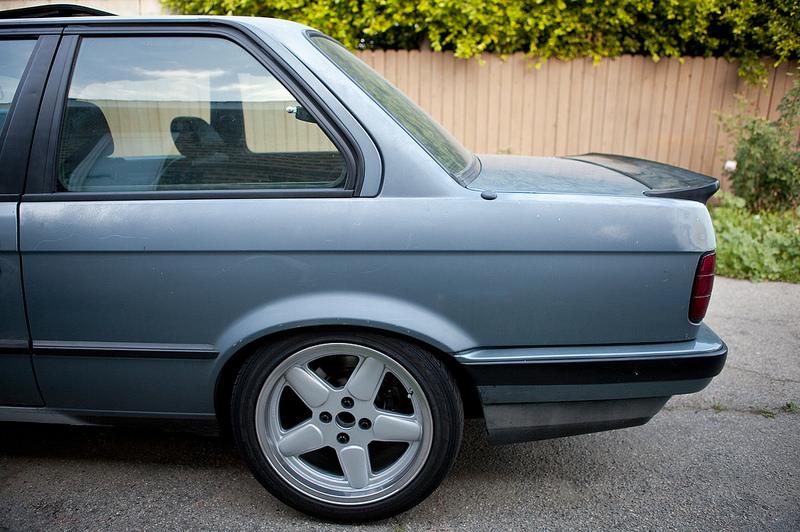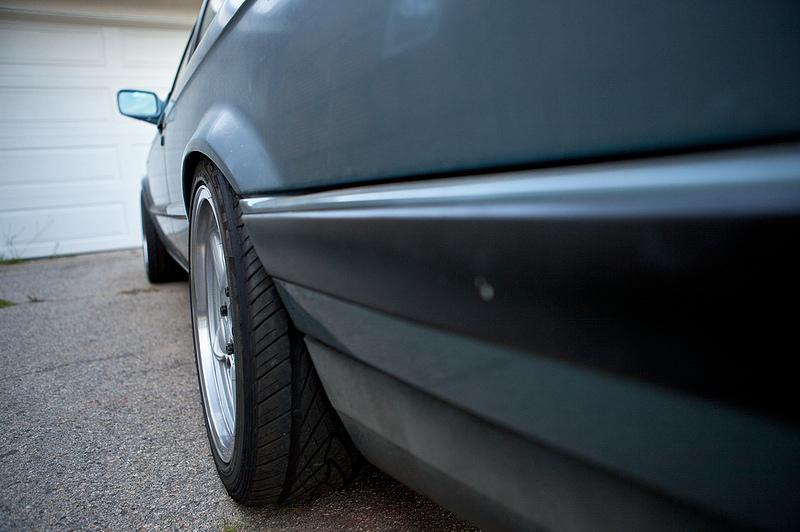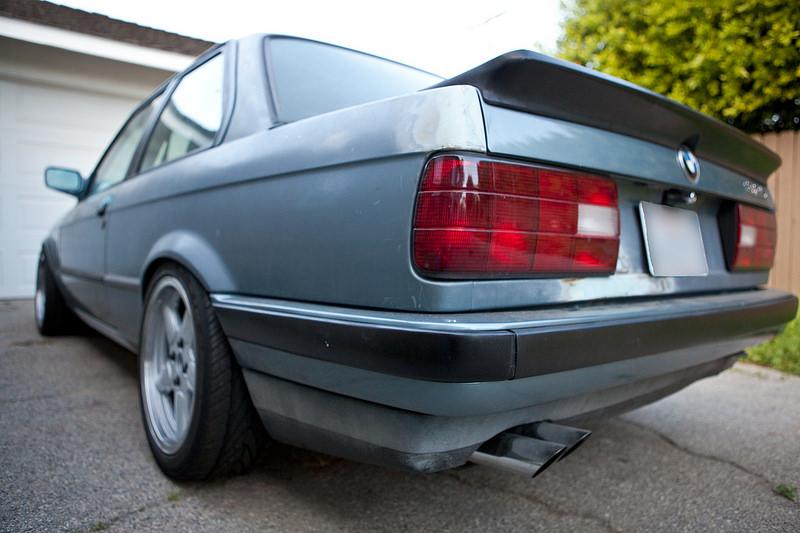 3-25-2014
Picked up a nice set of these while I'm waiting for the paint to arrive.
Not sure if I want to keep them black or color matched..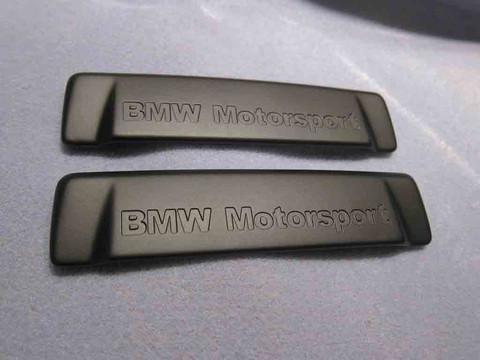 4-1-2014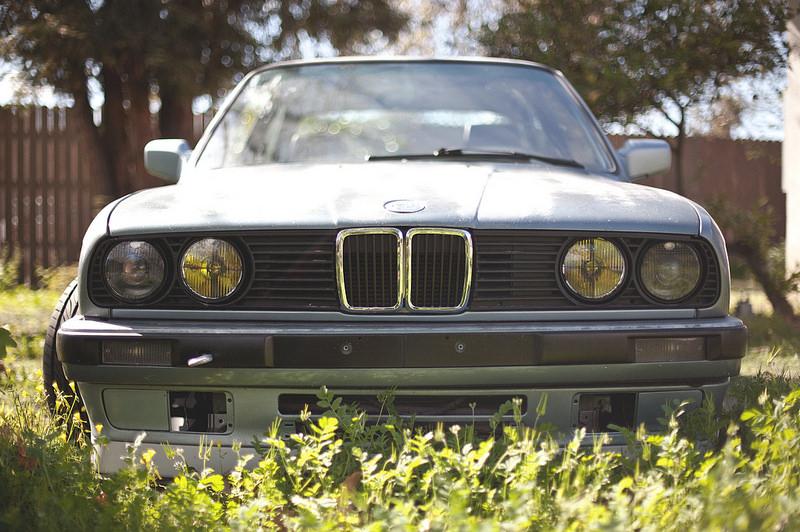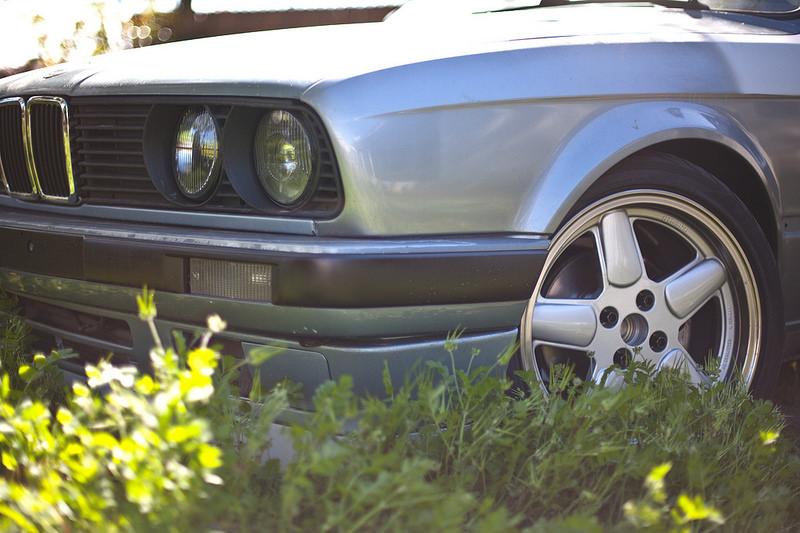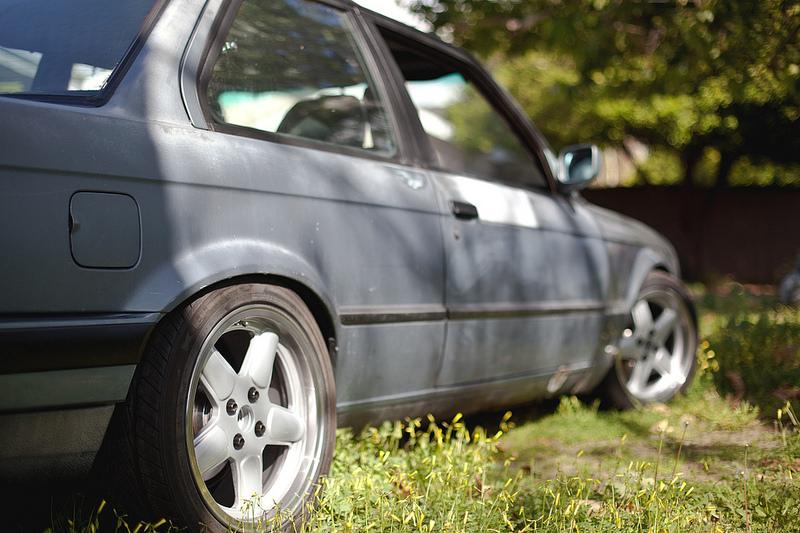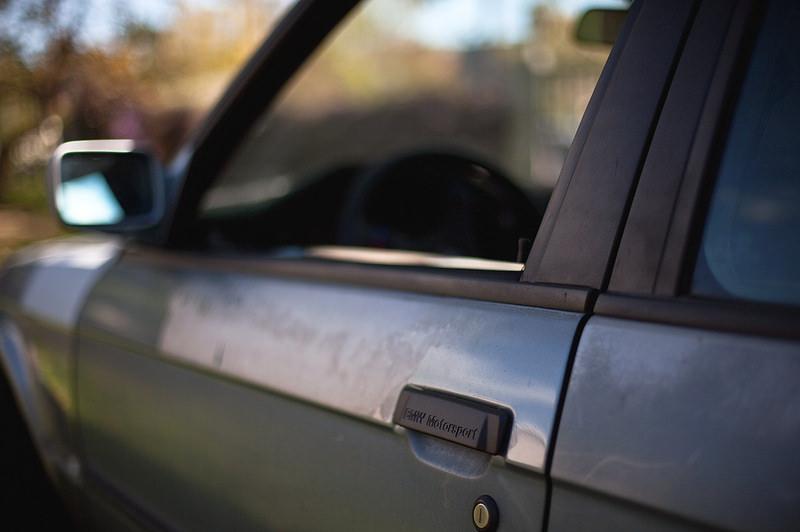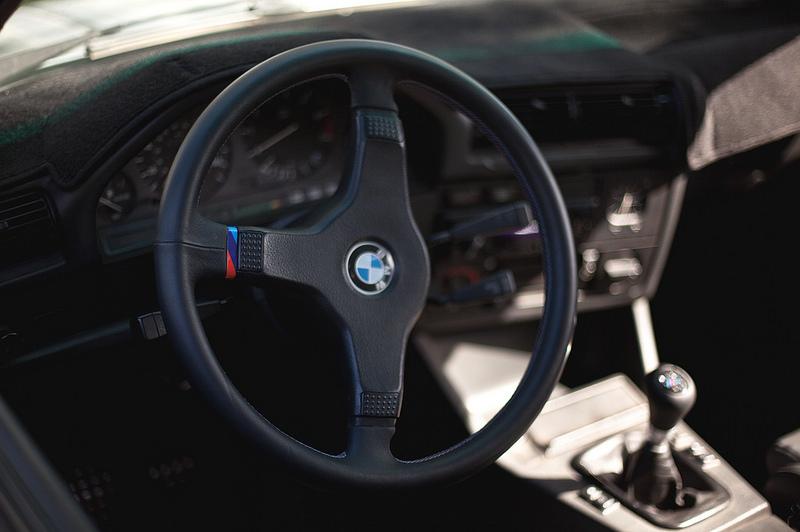 4-3-2014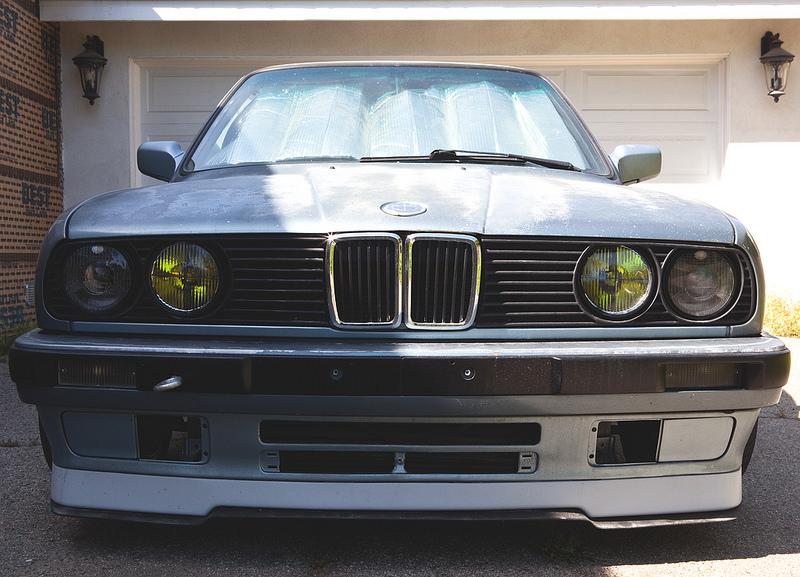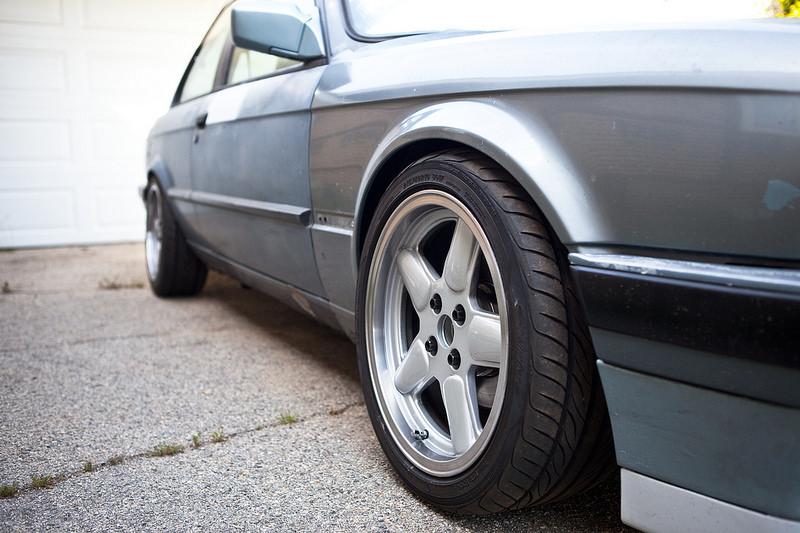 5-3-2014
Haven't updated in a while; had some time to do the side skirts..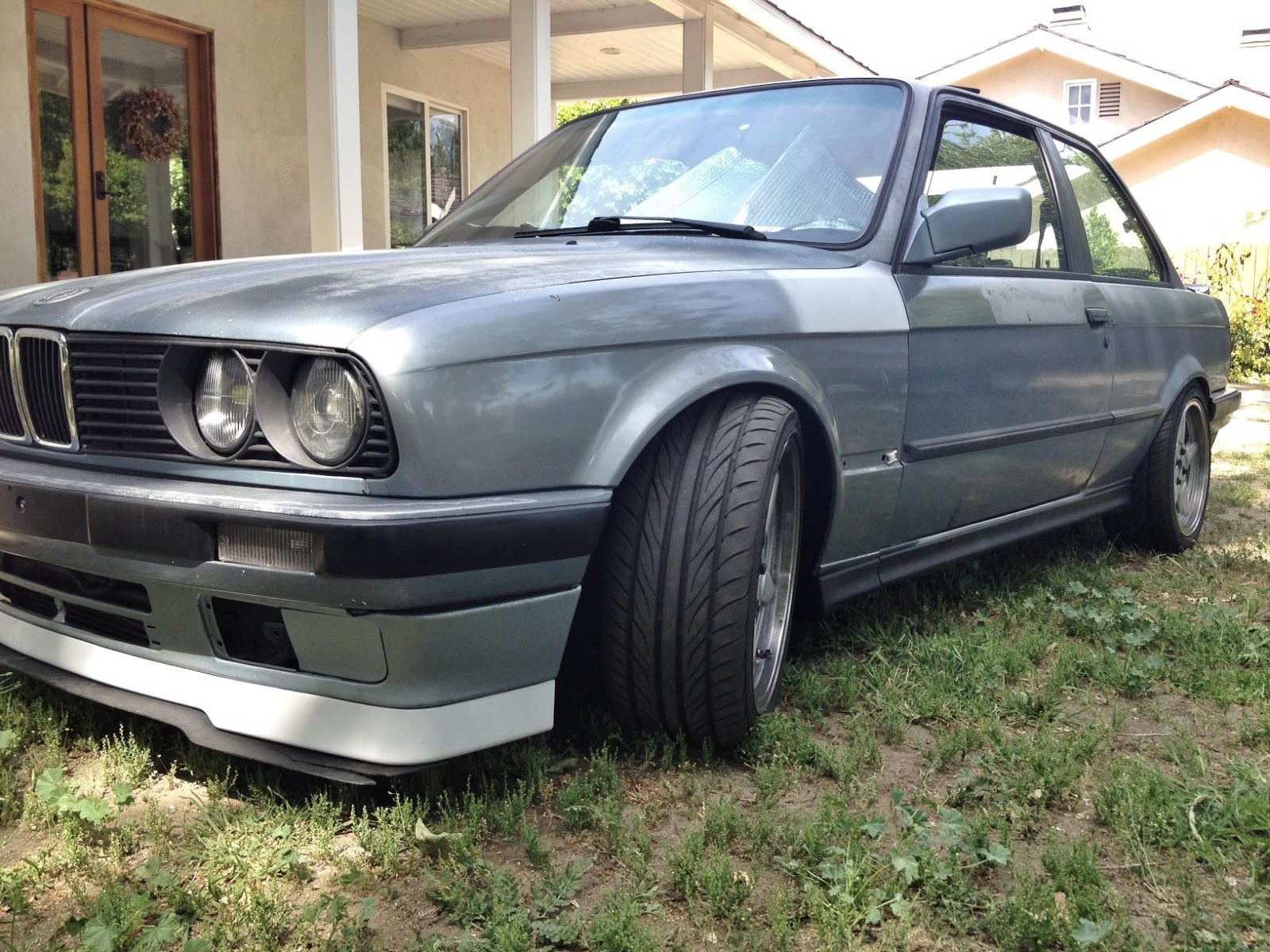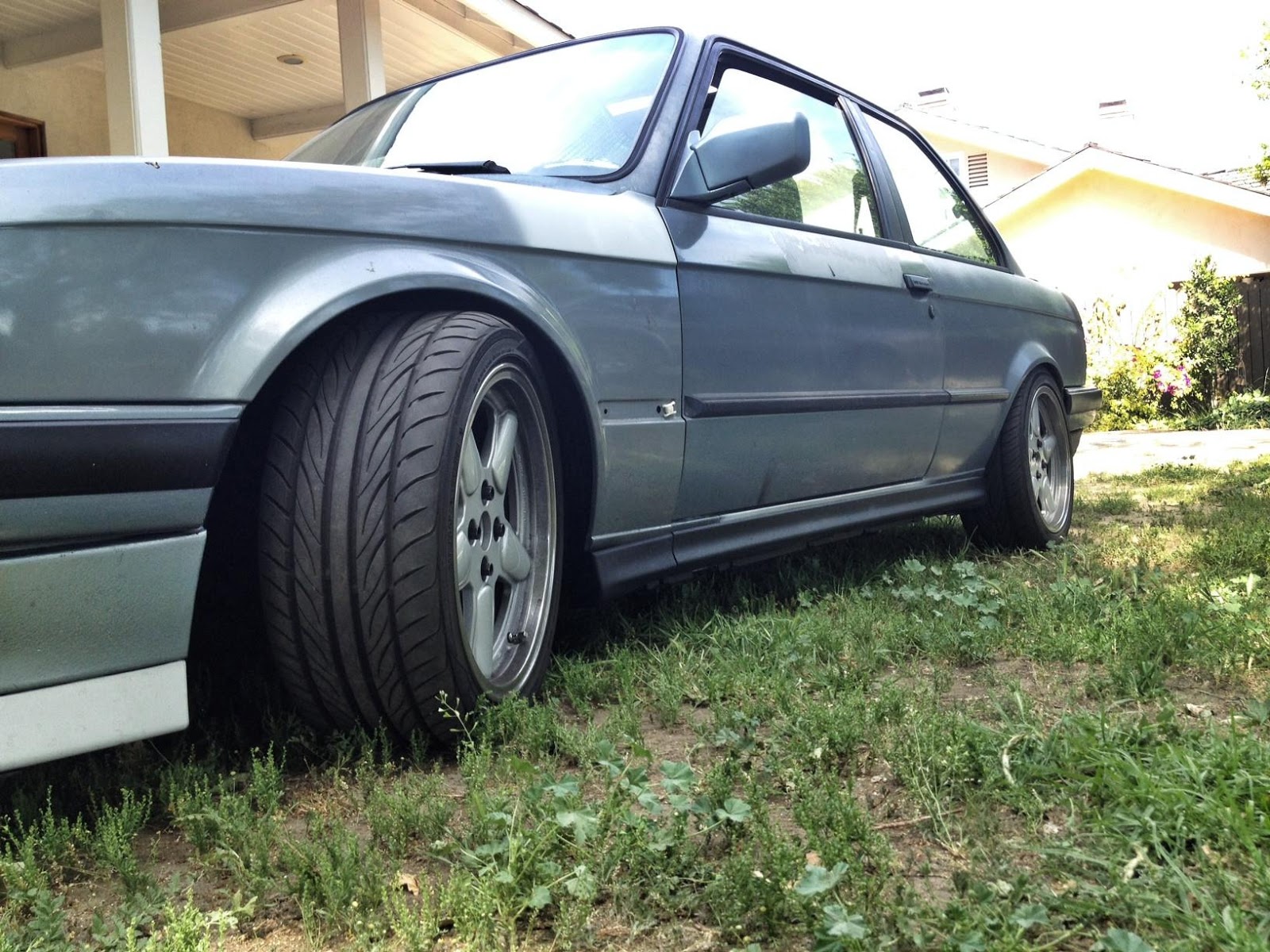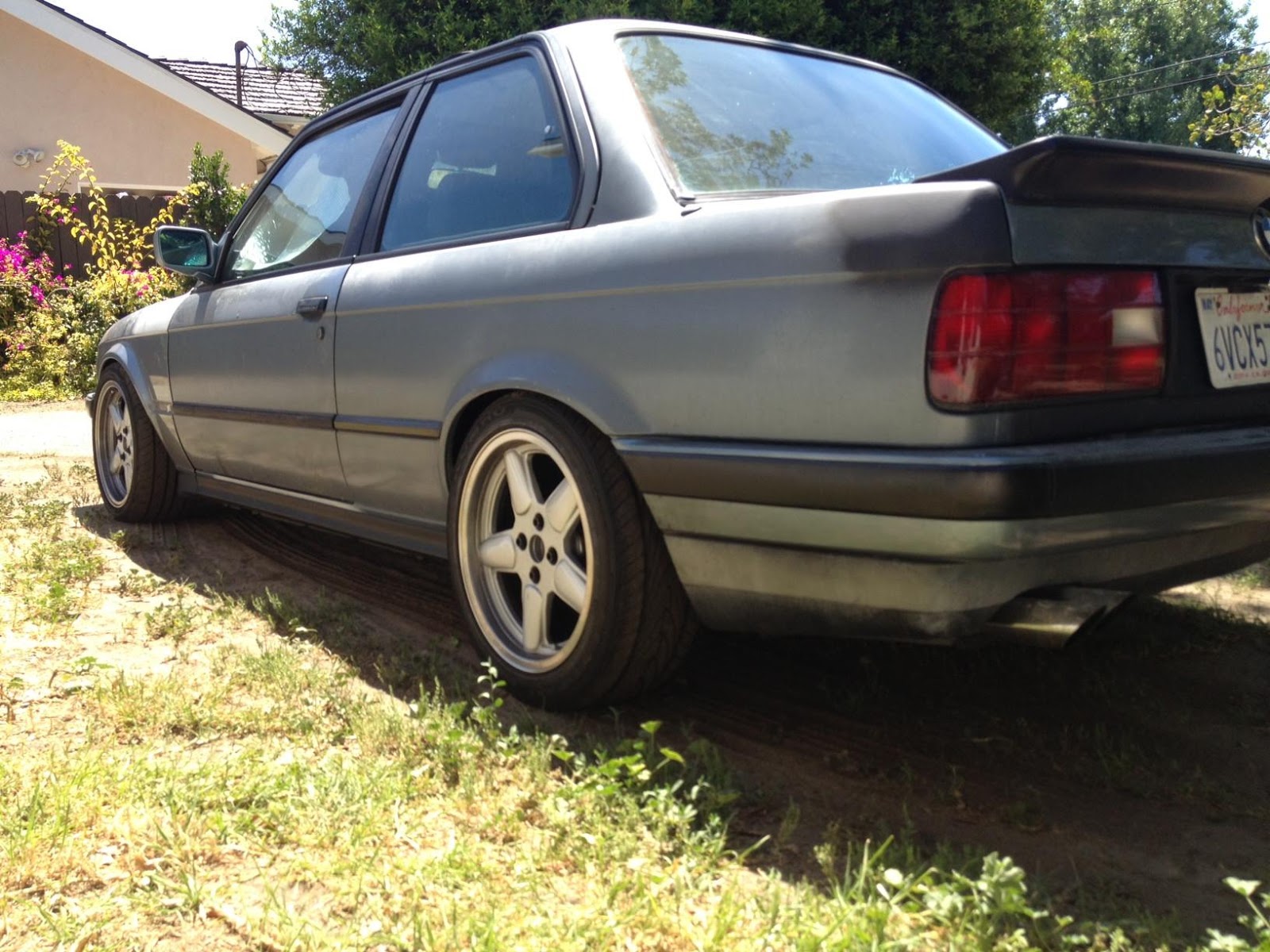 5-25-2014
Bimmerfest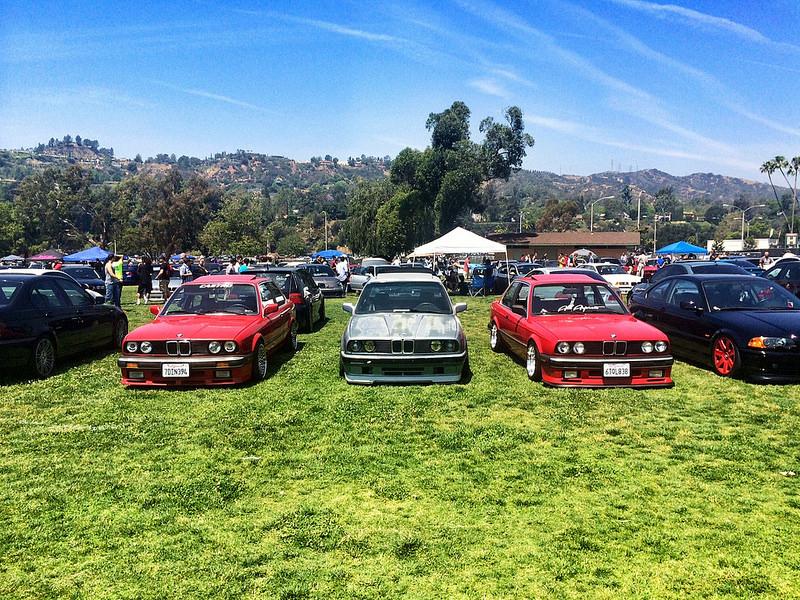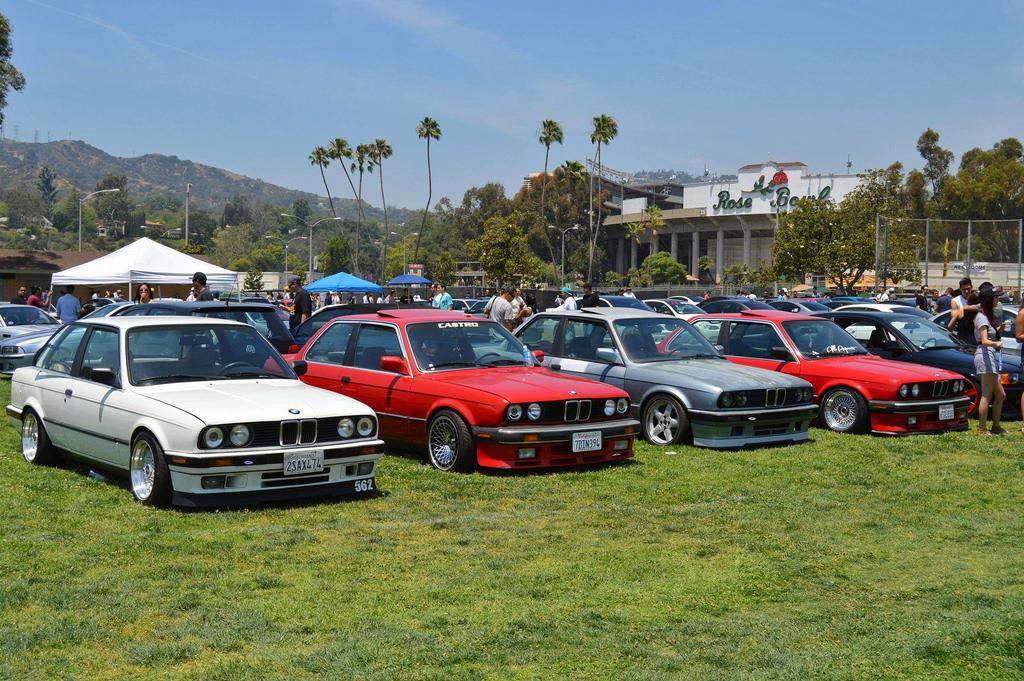 Possible engine swap coming soon...
5-29-2014
Originally Posted by
brbahner

What color are you going, and where are you planning on getting it painted?
Factory color "CirrusBlau" as for whose painting it; most likely myself.
I have a few spare body panels and more than enough base coat to learn metallic.
6-28-2014
So haven't been on here in a min; work has been eating up all my time.
I ended up having to fall through on the m52 stroker swap cause it didnt solve my issue. Still looking for an m52 with low mileage or an S motor.
Started prep work officially today since all the body is finally done. Started on the larger areas and working my way into the details before stripping everything down.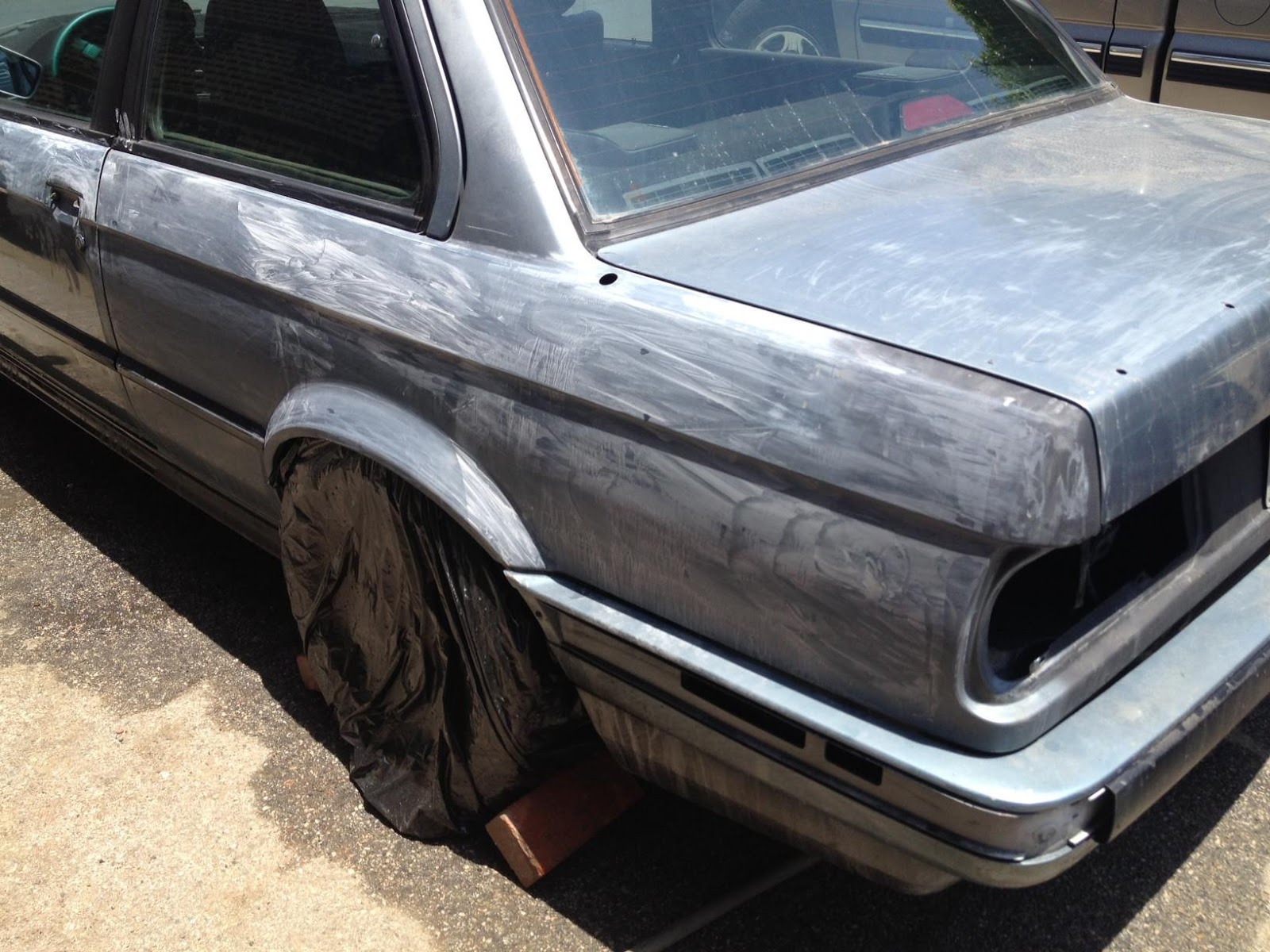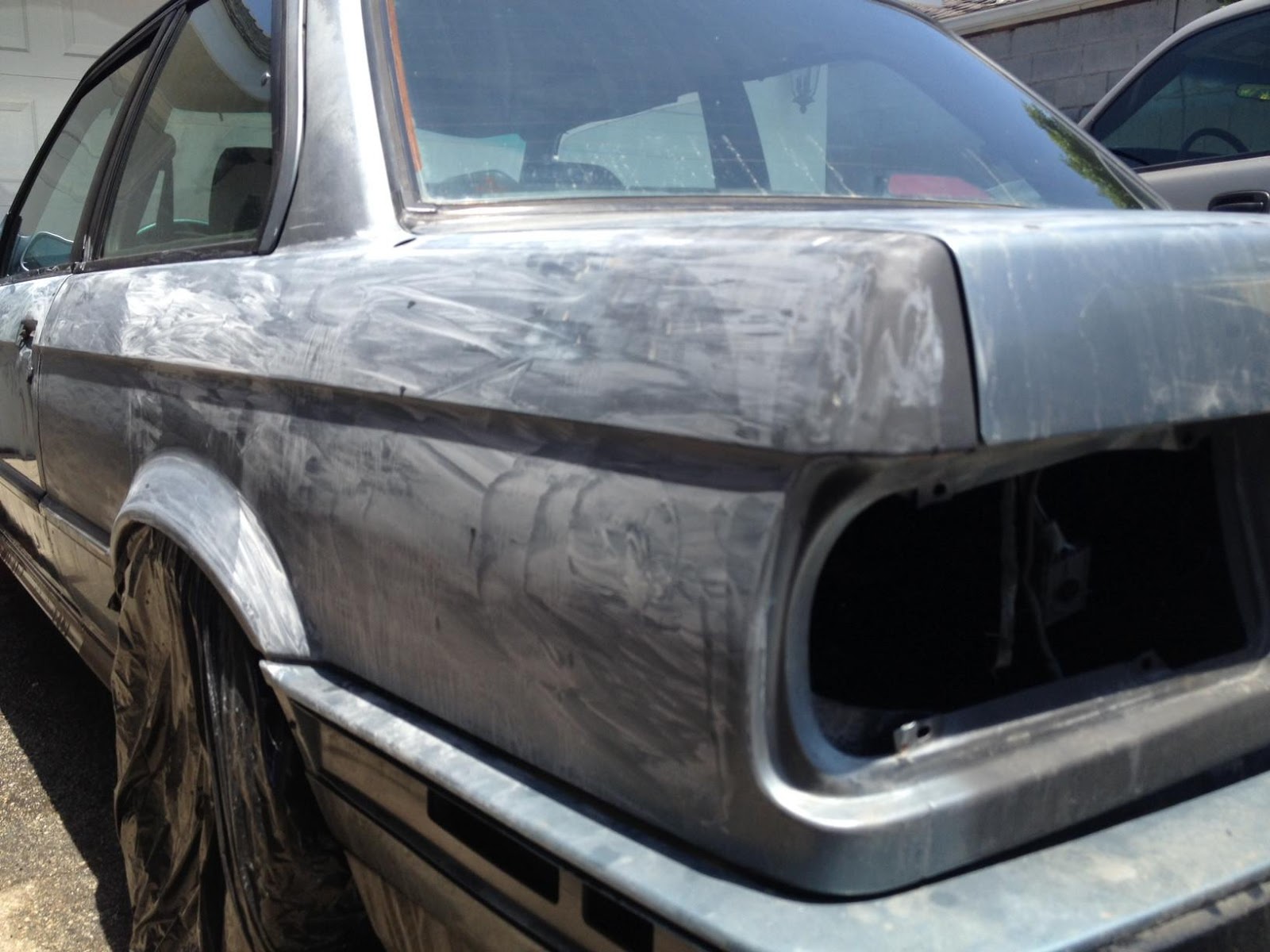 Day 2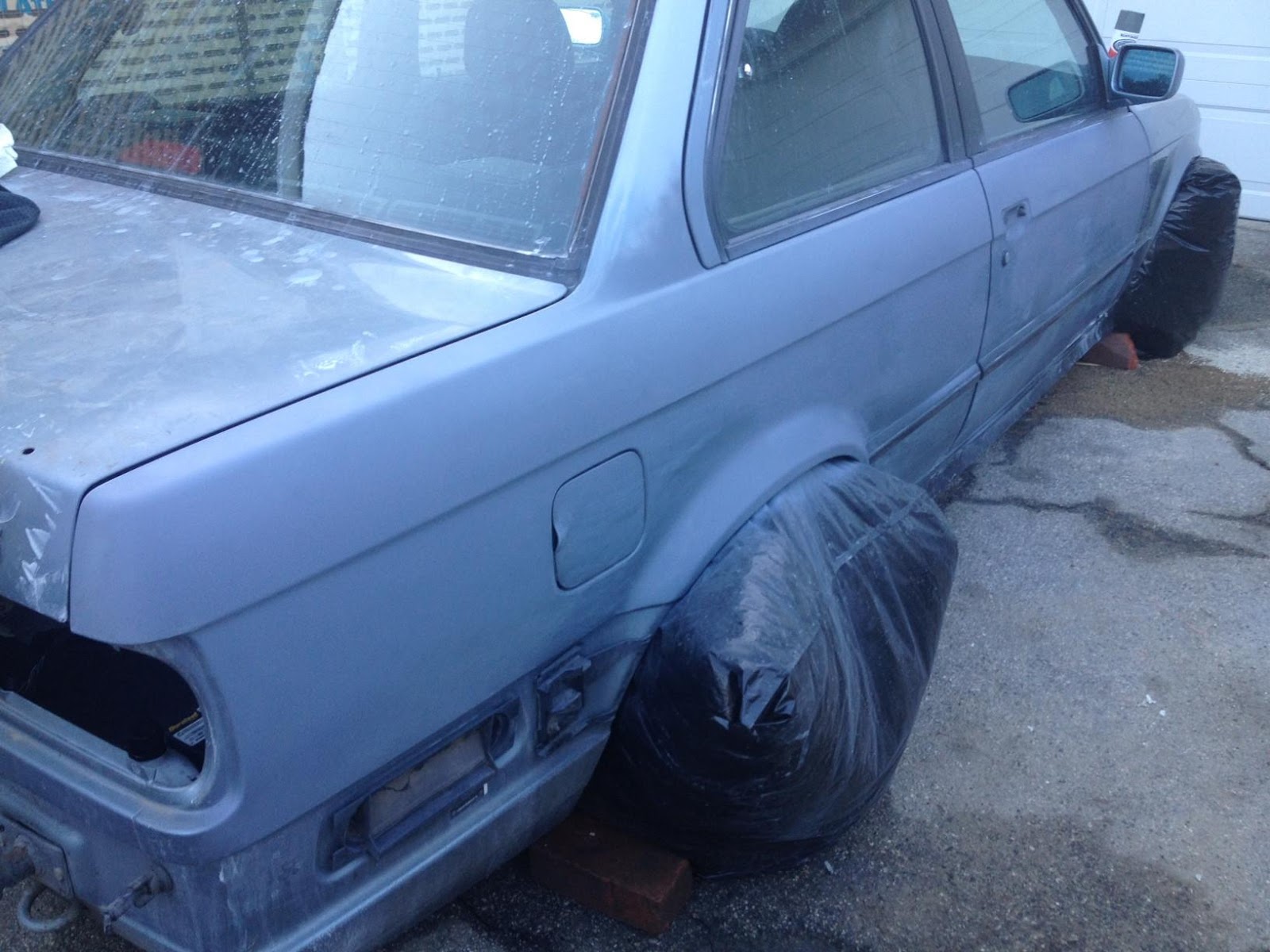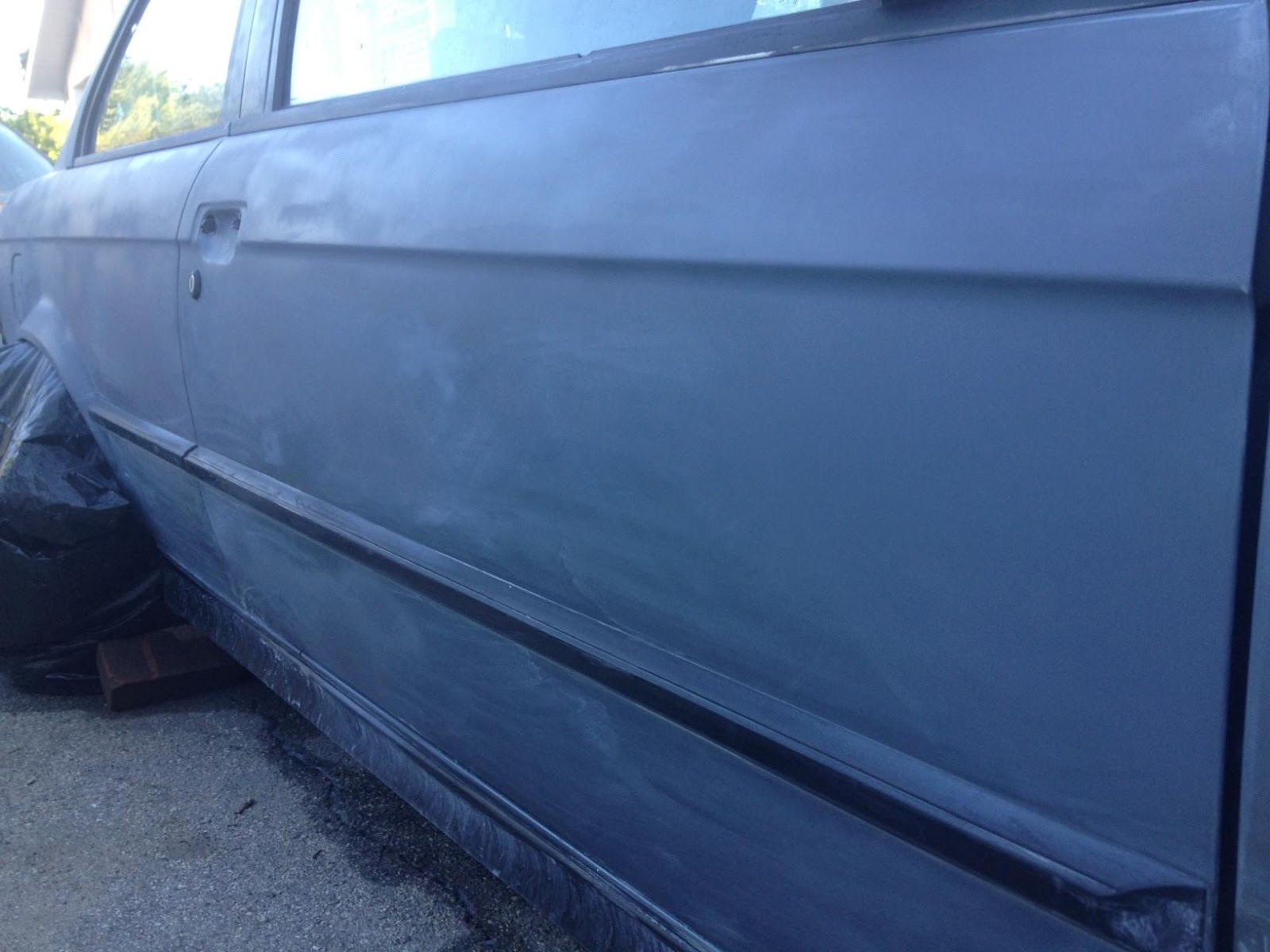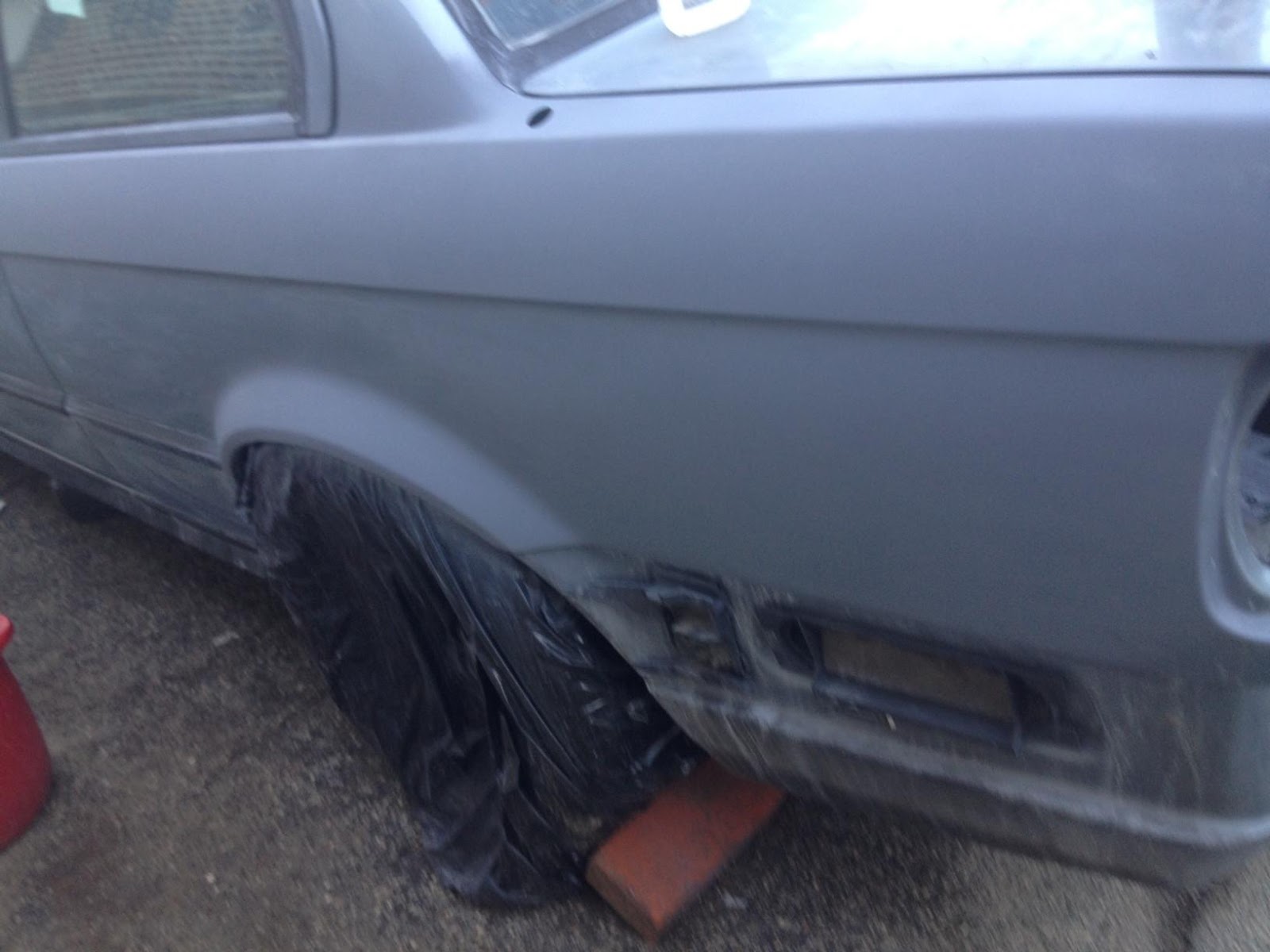 Day 3
Slowly making some progress; swapped on bottlecaps for the time being.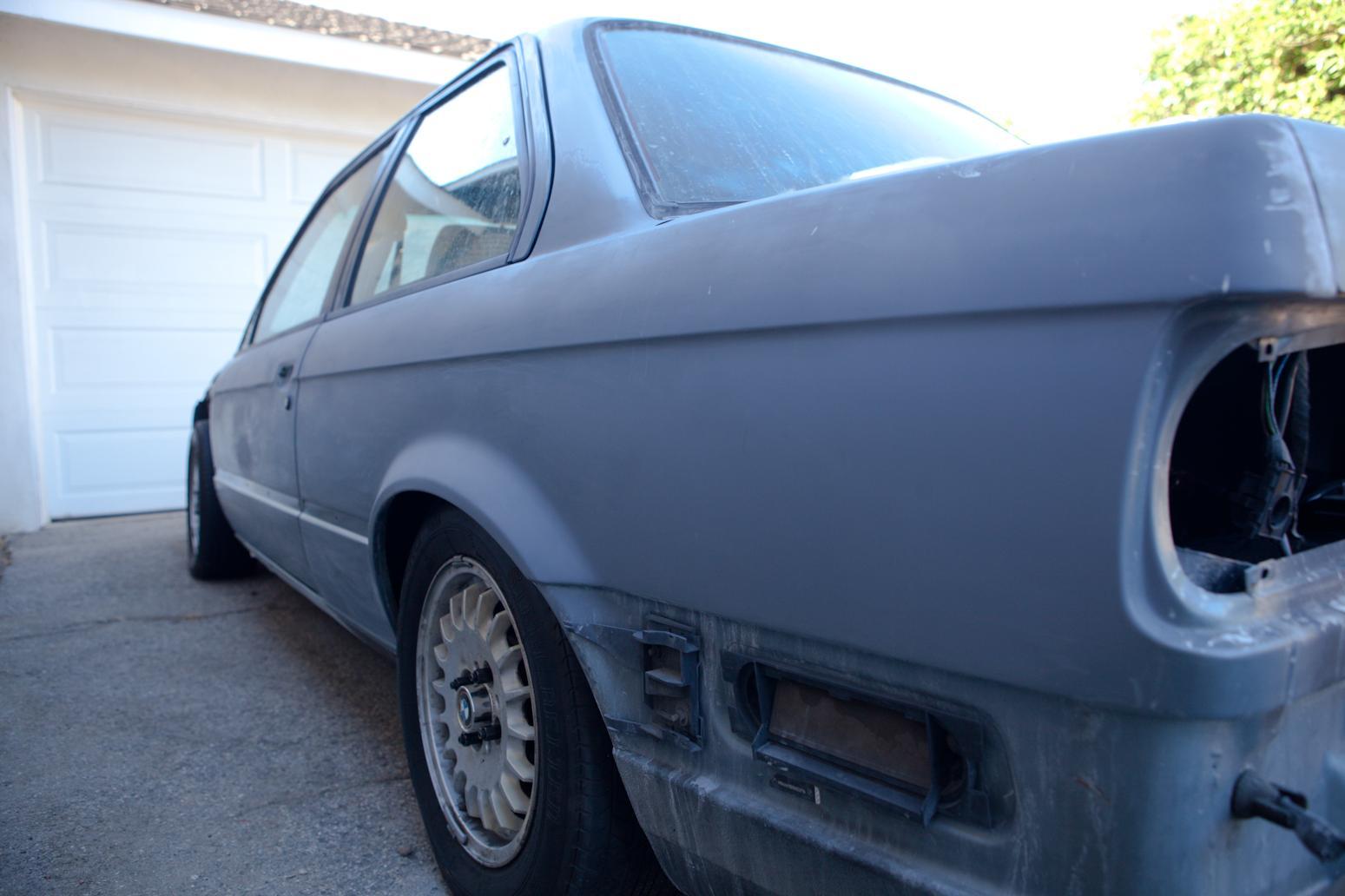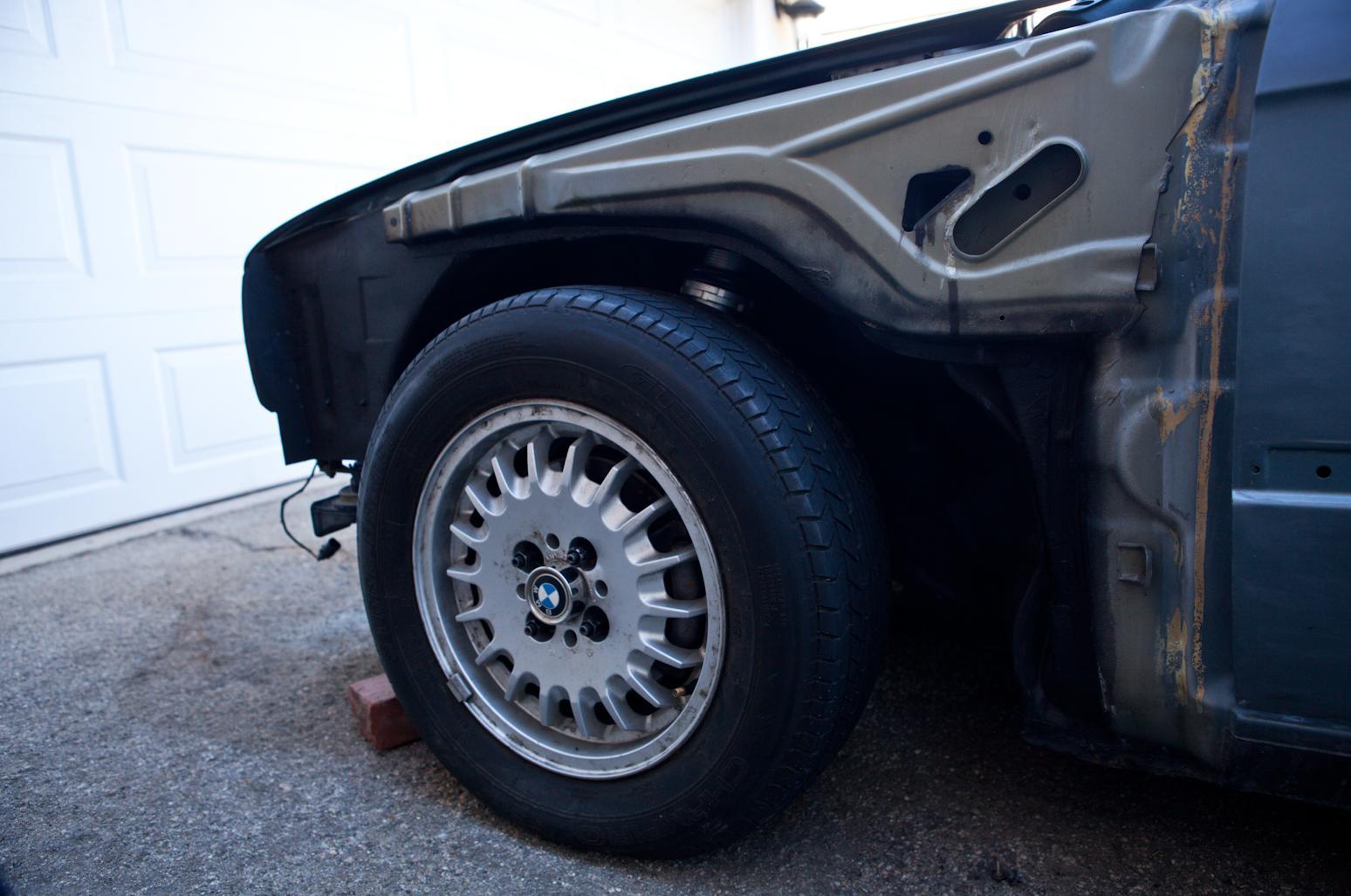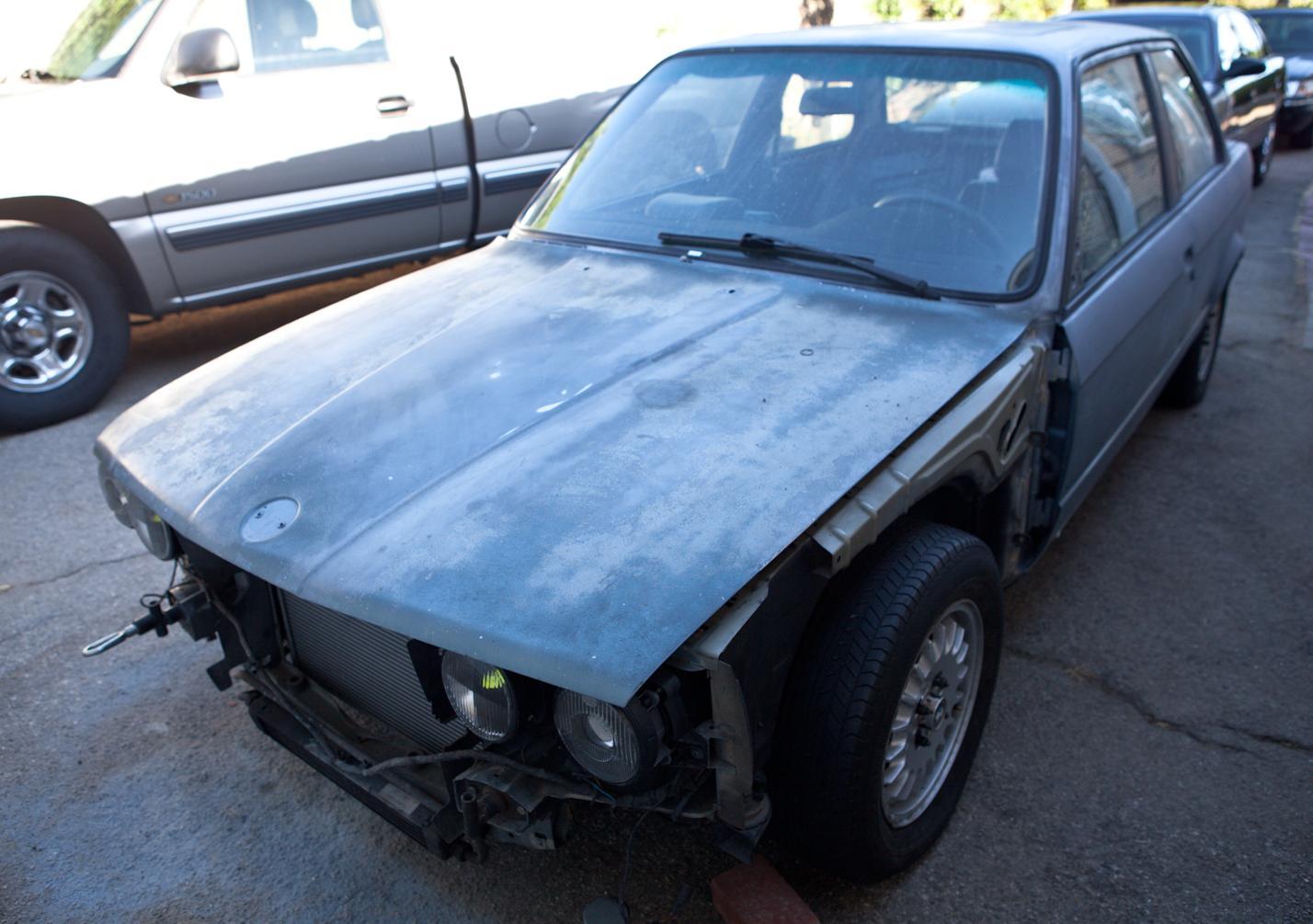 7-6-2014
To the guy who sold me the hood; I hate whomever your previous owner was who decided to re-ghetto-spray your hood. This thing has proven itself to be the toughest thing to sand down.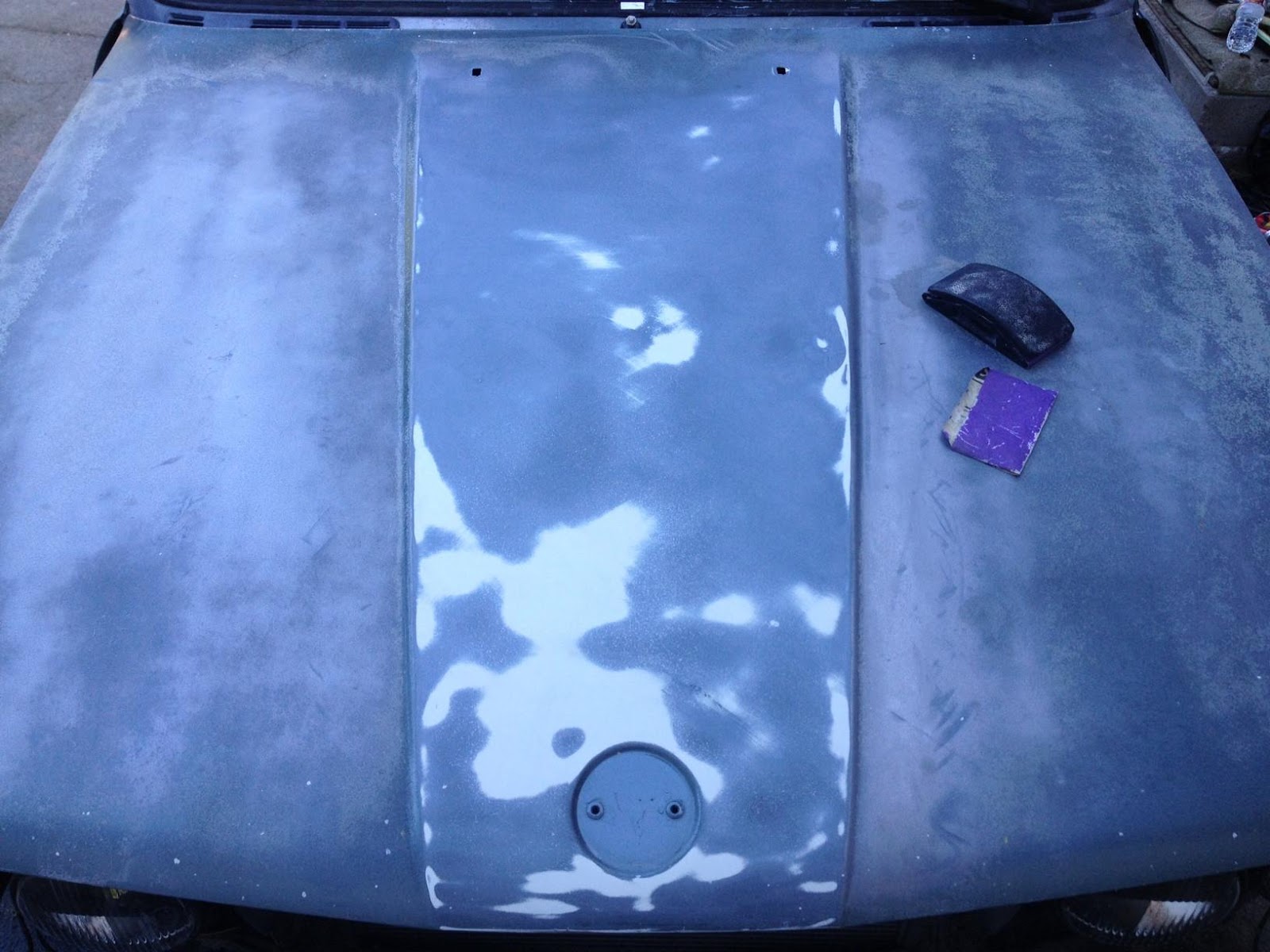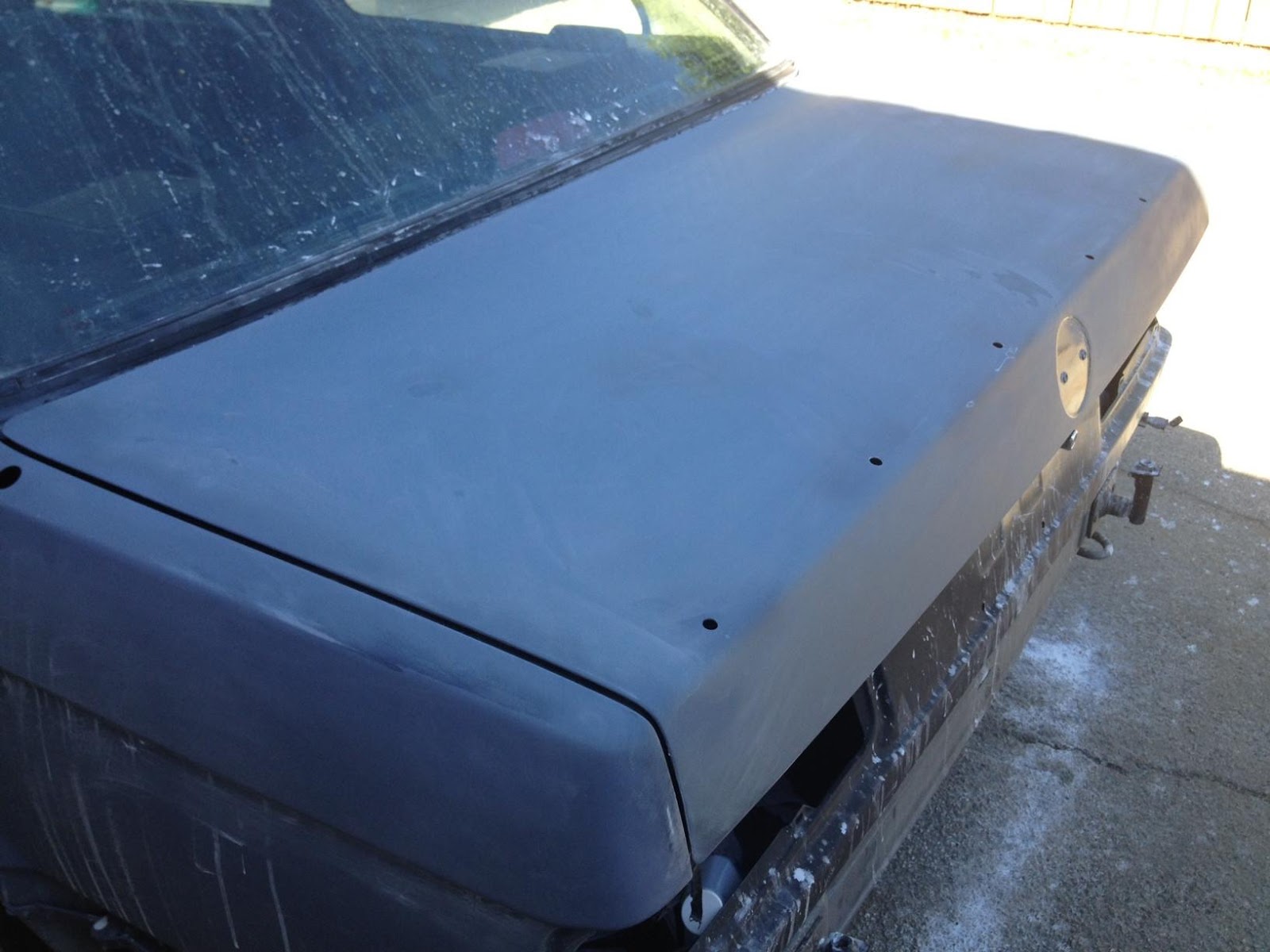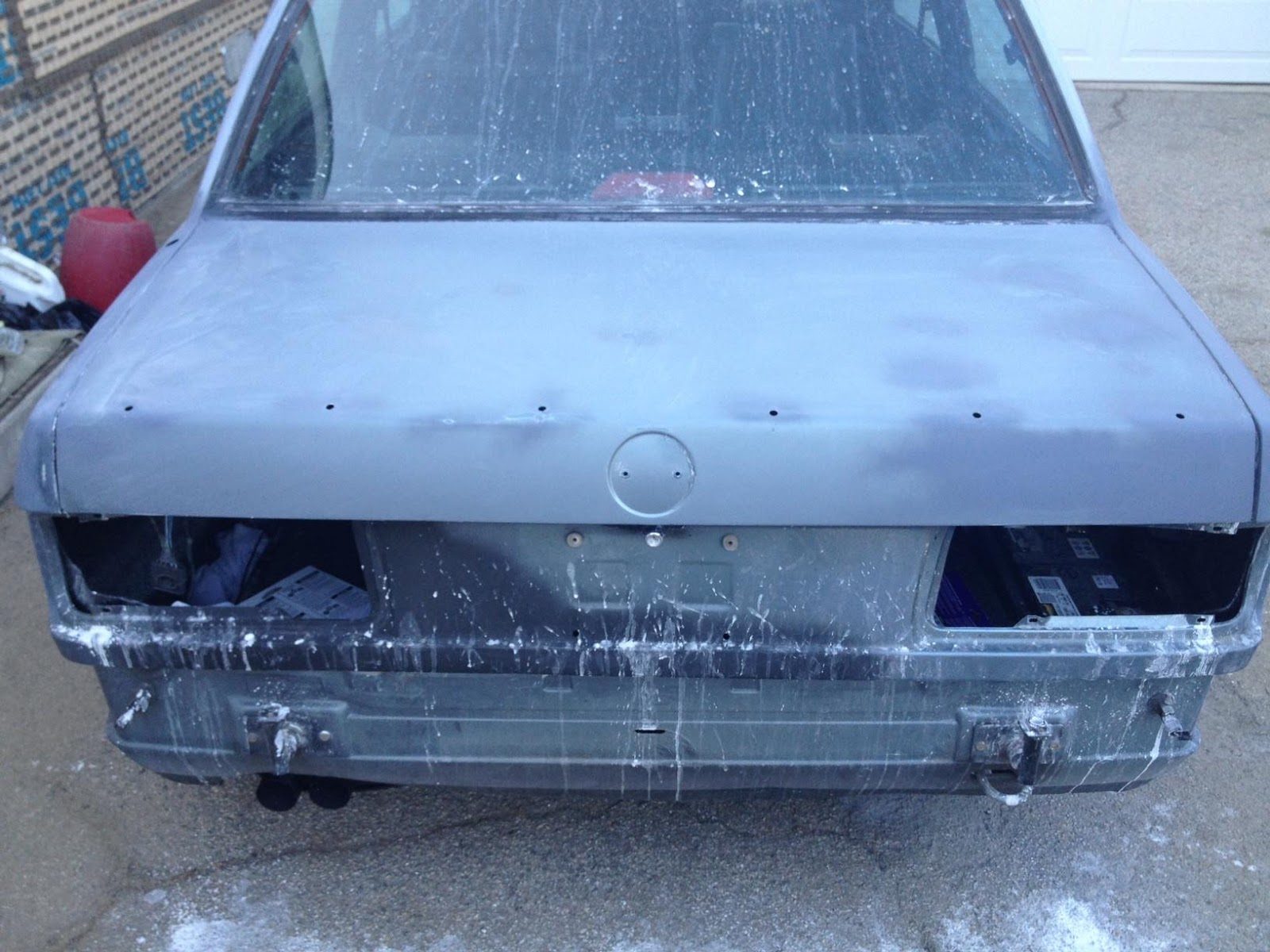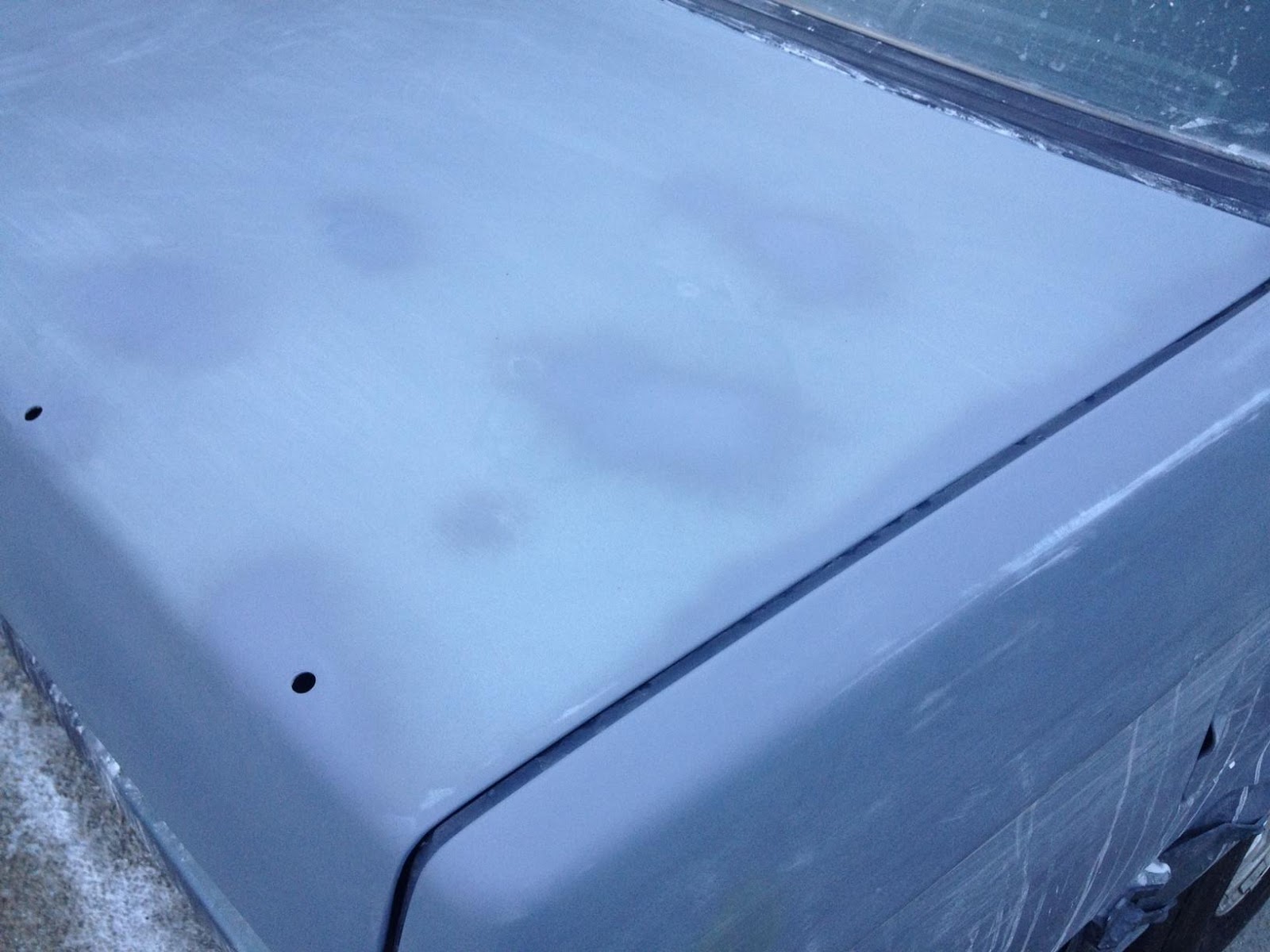 8-9-2014
Mannnnnnnnn its been a while... Finally got things situated, car passed smog, finishing up the last of the prep work...
Stay tuned

Quote:
Originally Posted by
efficient

Lol arent you doing it yourself?
I am, but at the same time that doesn't exactly mean I know everything. Everything I've done has been nothing but pure trial and error along with a TON of research, reading, and watching videos.
Anyone can do it, it's just a matter of how detail-oriented and how determined you are IMHO. If you want something bad enough, there's no limit to how hard you'll work to achieve that goal.
8-21-2014
So now its down to the small little things;
Window trim and pop out windows are out, almost finished sanding down the door jams. Still need to pop out the front and rear windshield but I'm gonna wait till everything else is done since I'll have to transport the car via car carrier. Can't believe how bad the hood was makes me wish I used a DA instead of hand-blocking. Overall have about a good 45-50 hours give or take into prep work so I'm hoping its well worth it.
Here's some lovely shitty iphone photos lol, oh yeah and I bought a Civic for work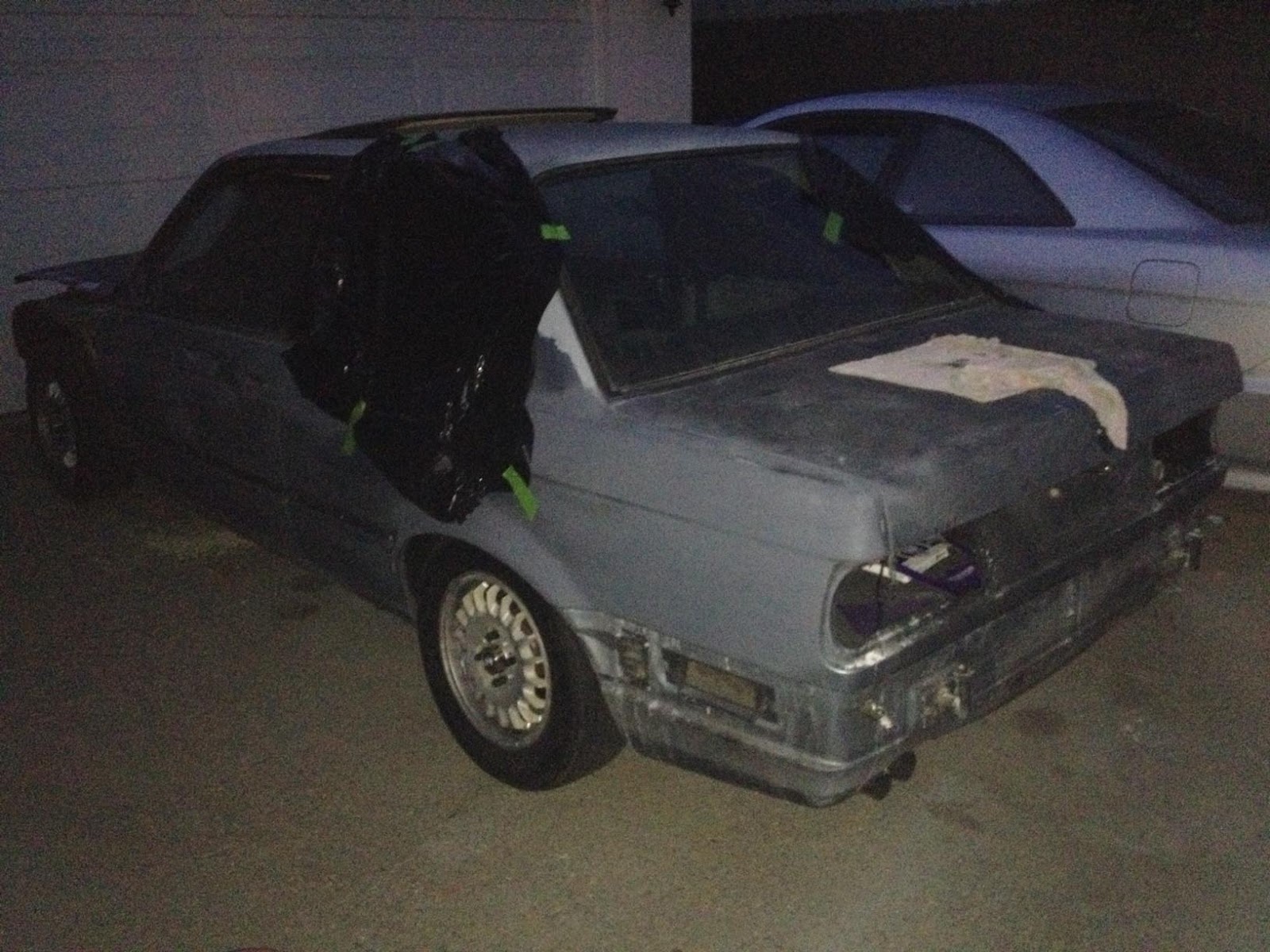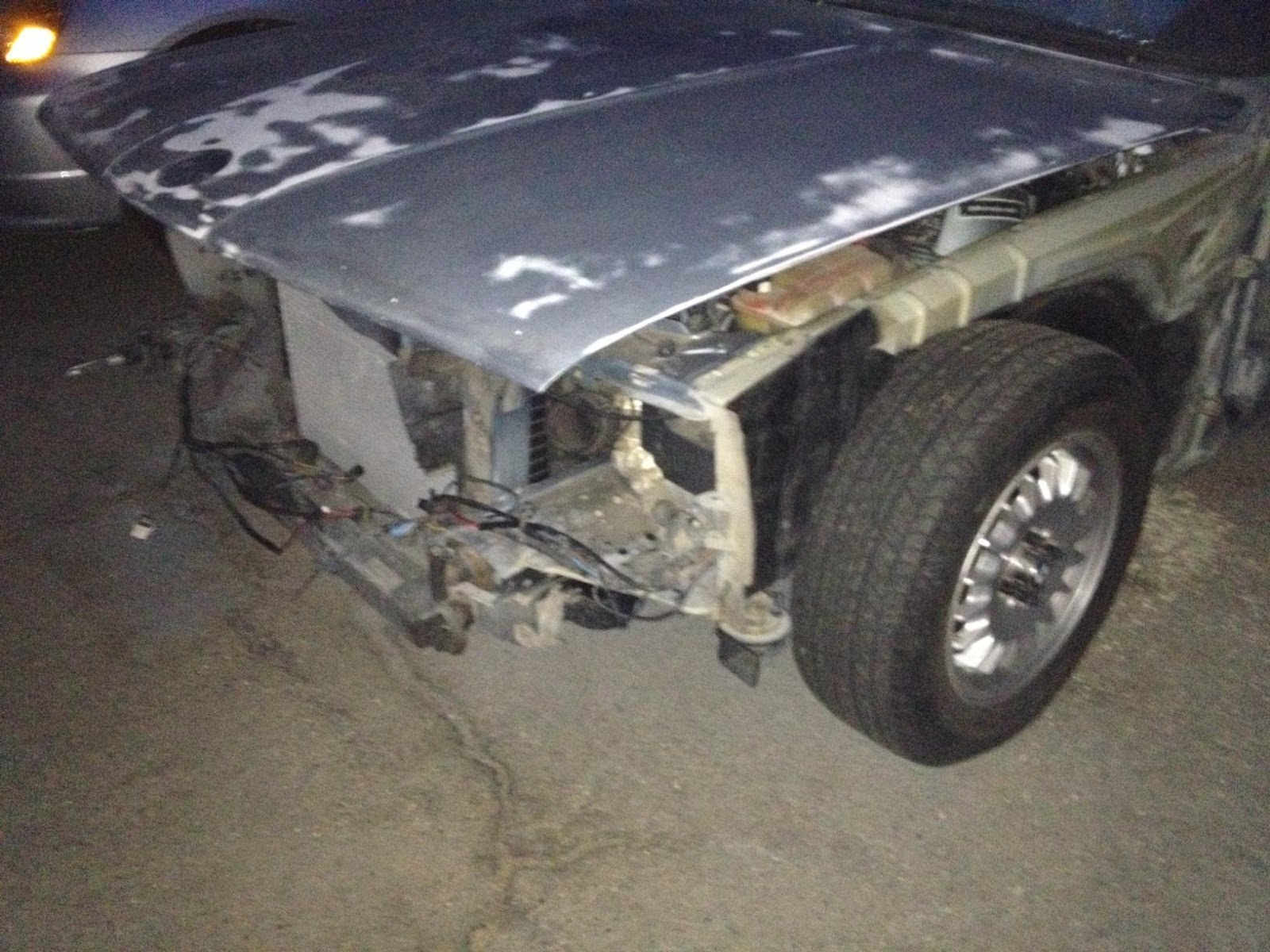 9-22-2014
Sneak peak.. (This is the color coat not a primer btw)
I was a little worried once the color coat was on; how it appeared silver. Thought it looked pretty badass as is. The color popped out once the clear was on and it baked.. I'll post a few more pics later on.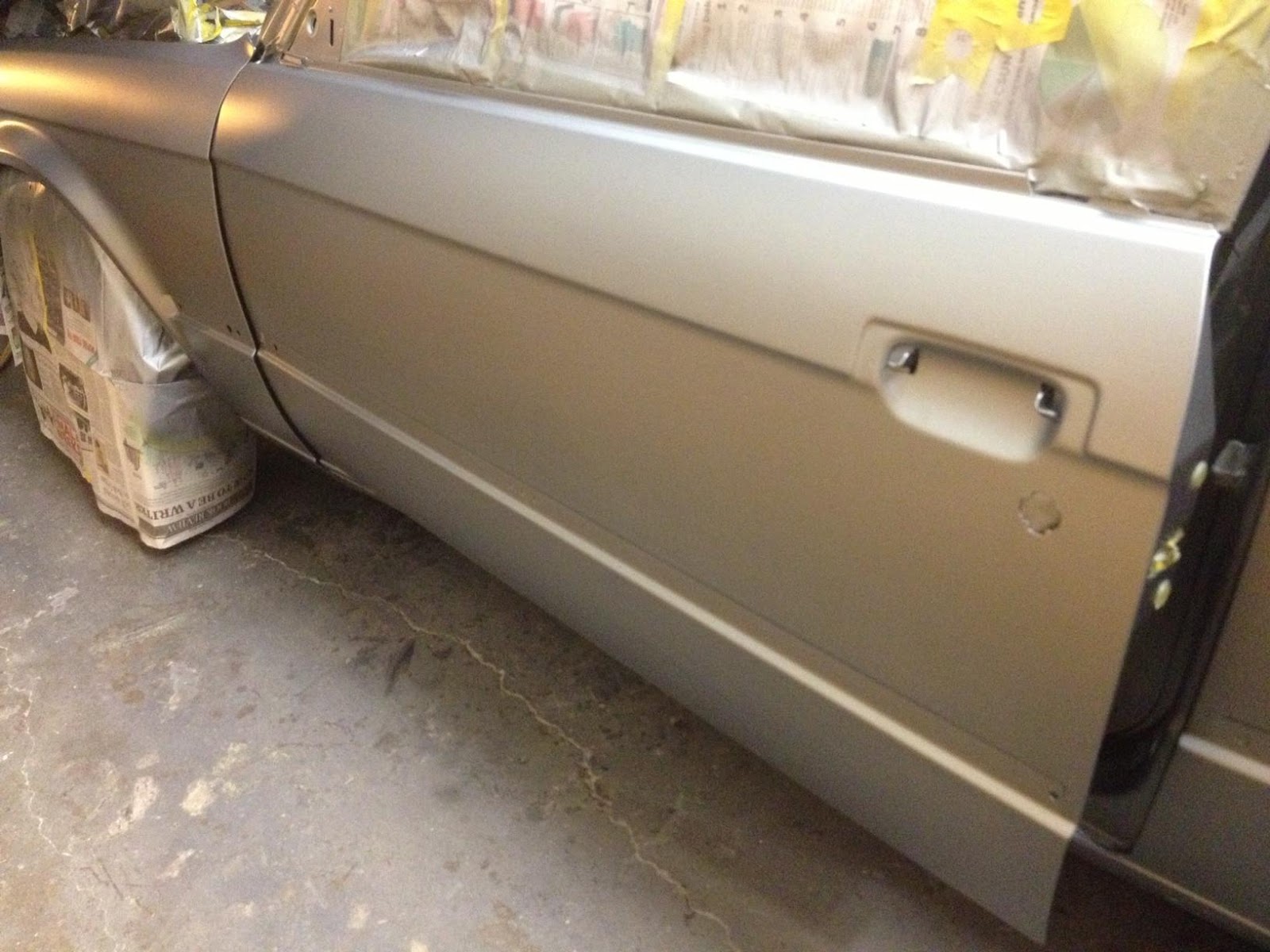 9-22-2014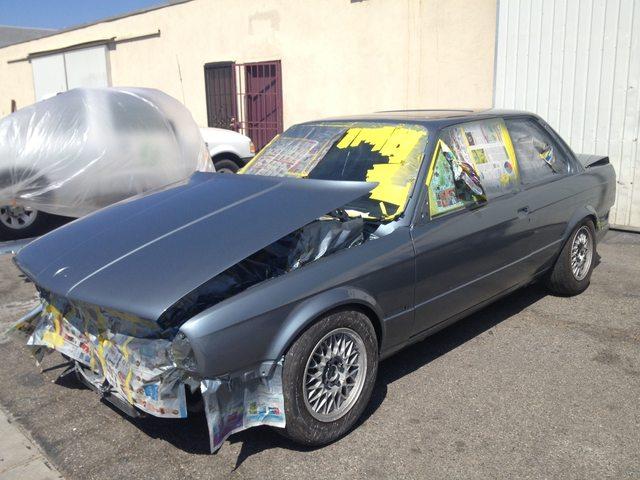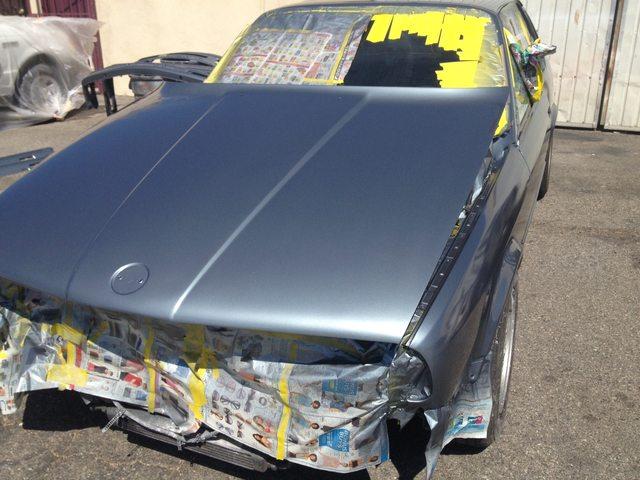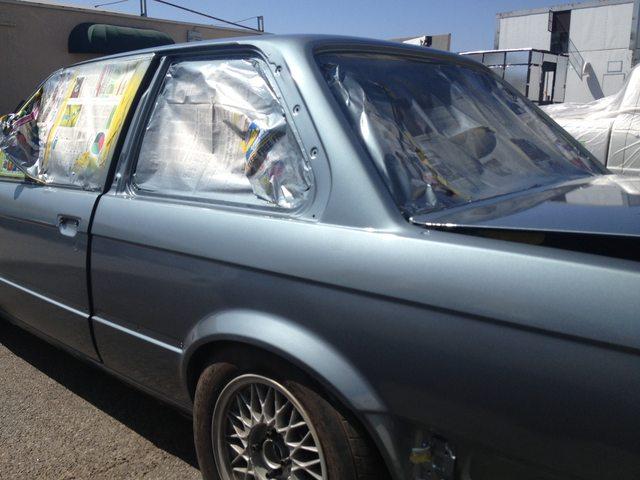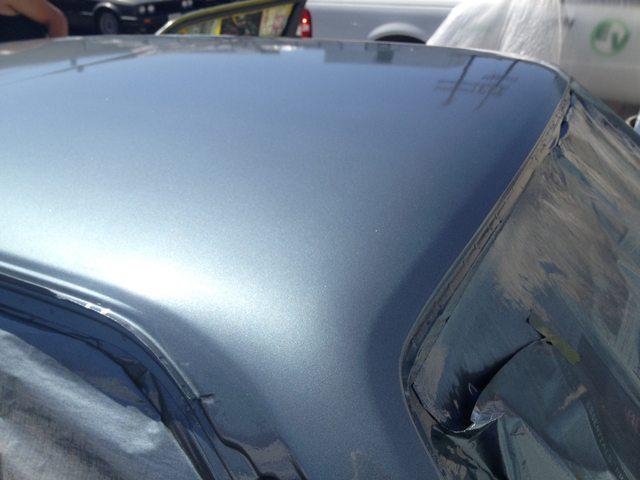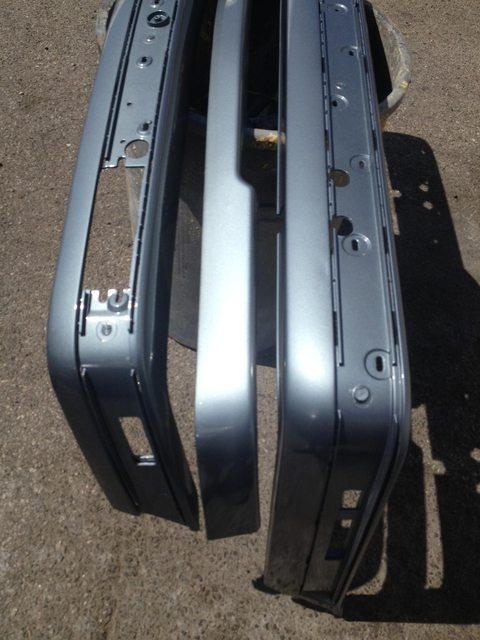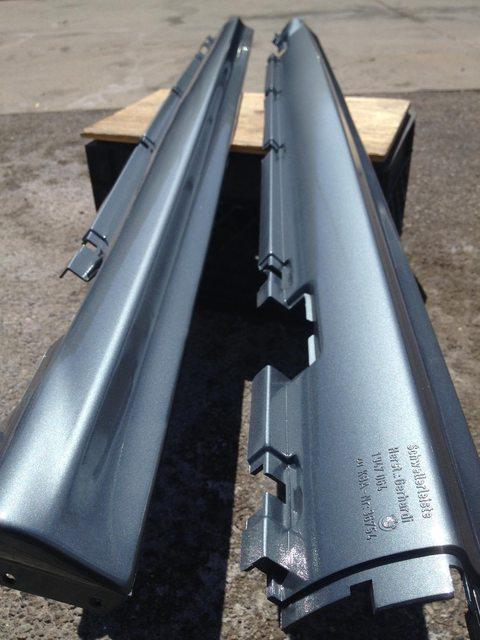 10-7-2014
Wet sanded and buffing finished up, need to give it a good wash once the glass is all back in. Headliner should be finished up tomorrow I'm hoping.
Slap some seals, grommets, and all the bells n whistles and we're in business.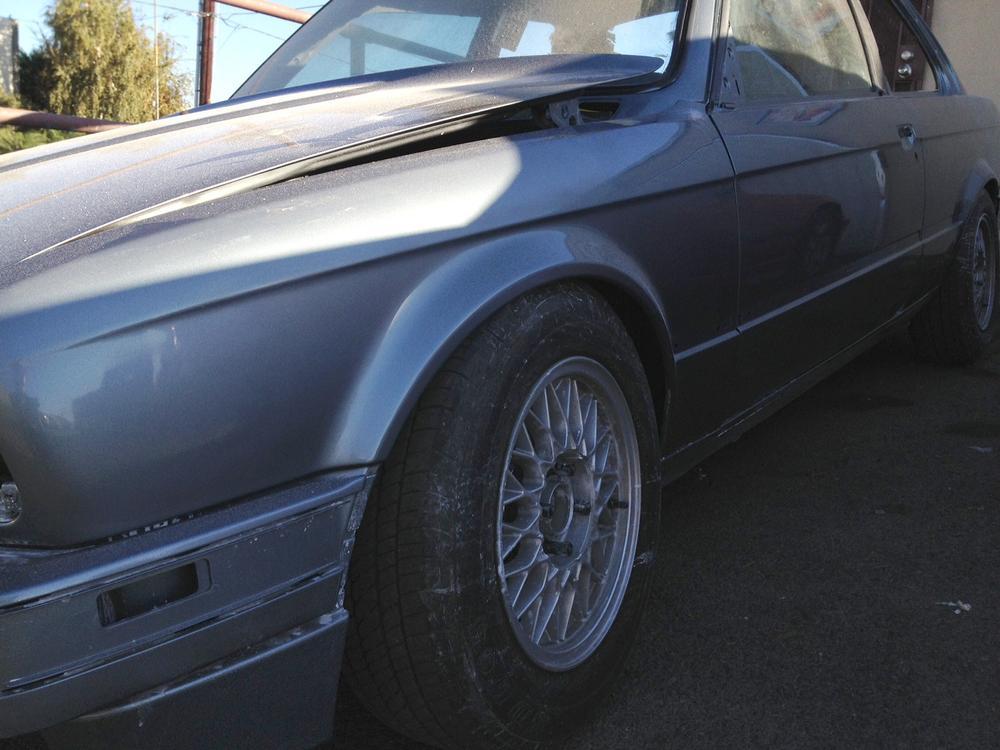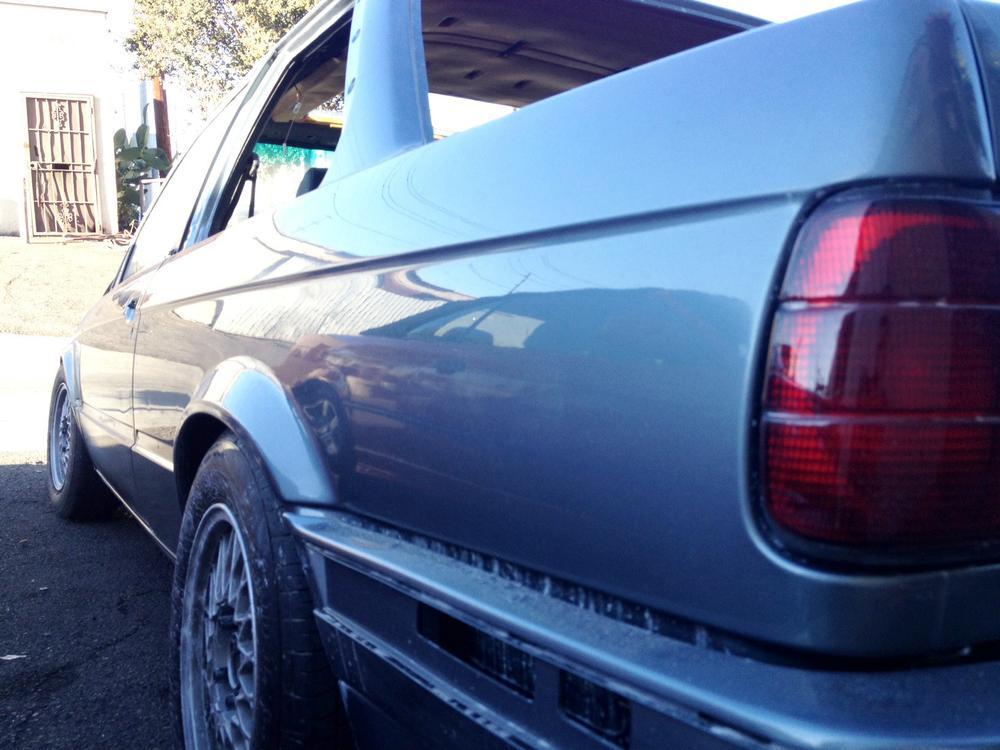 In the meantime, I've been working on something else on the side.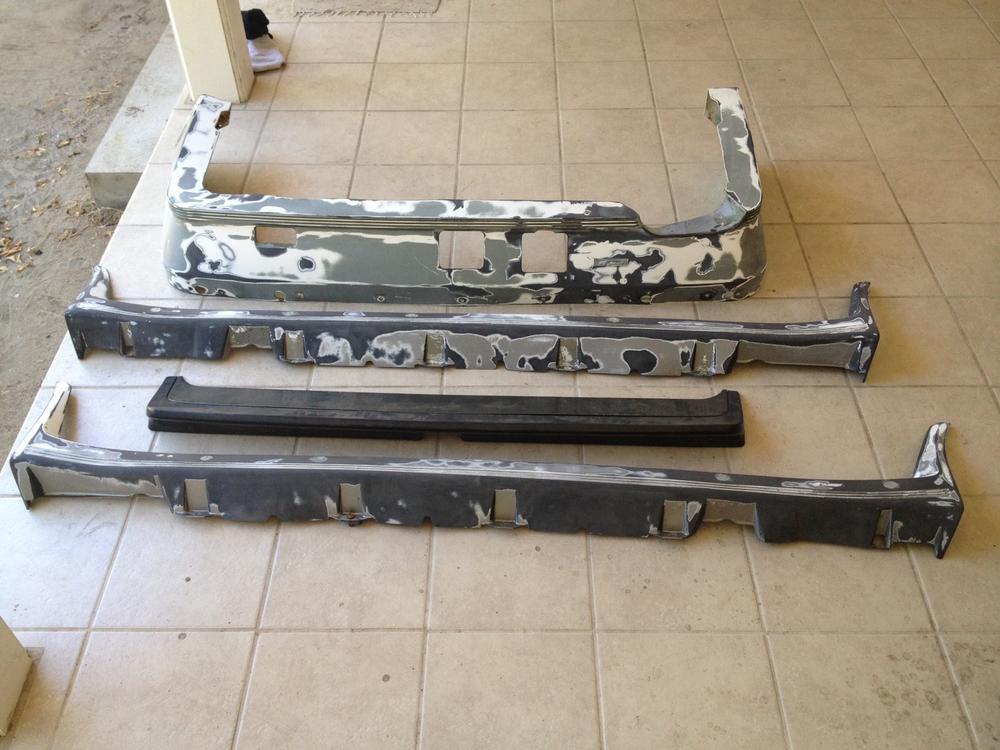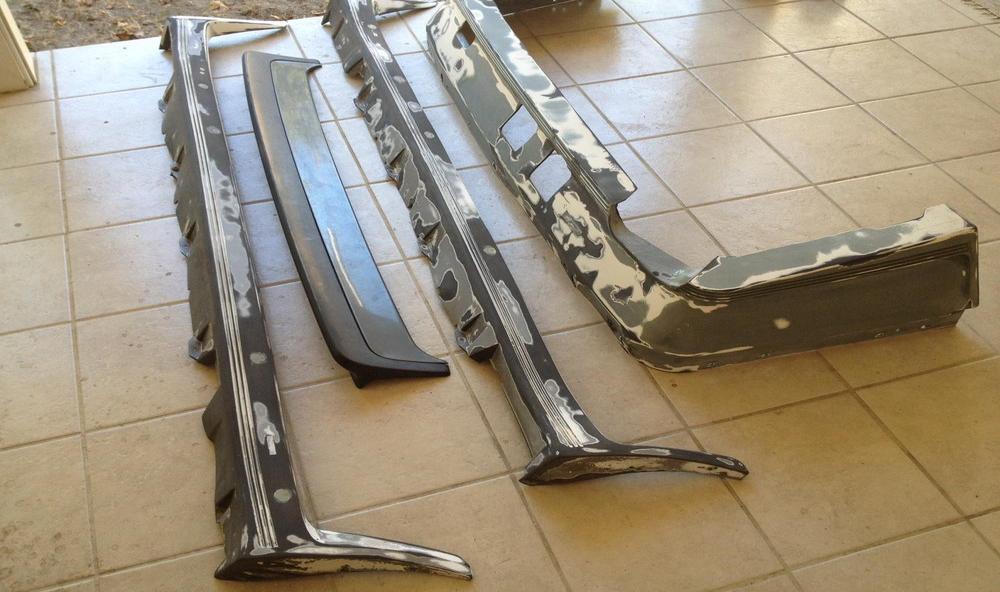 10-9-2014
It's all in the details..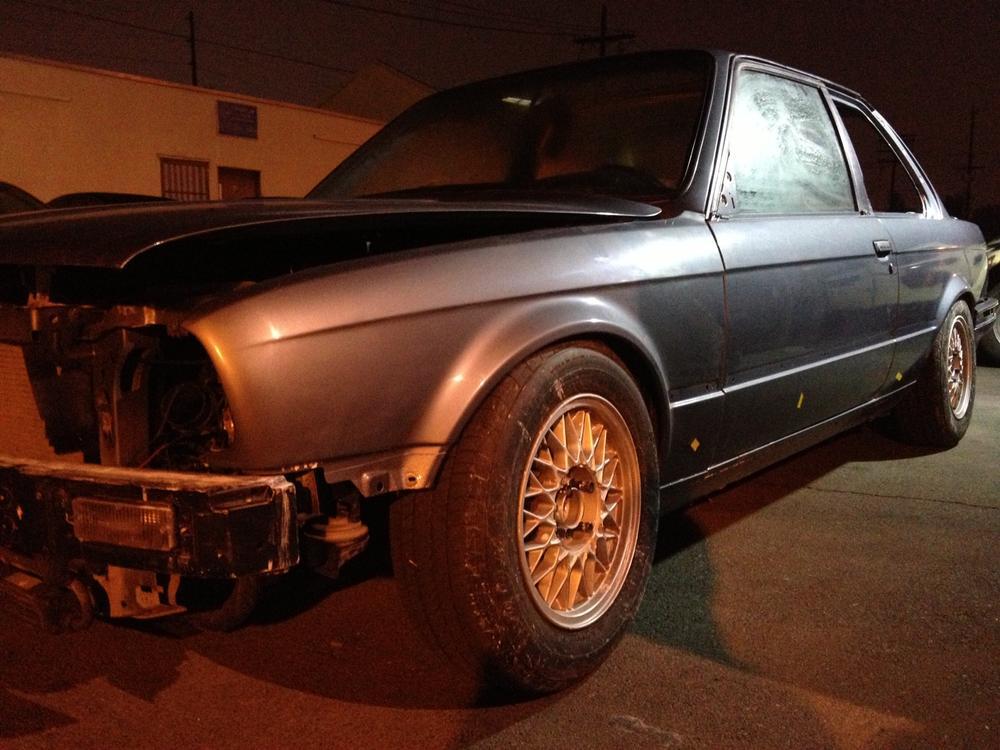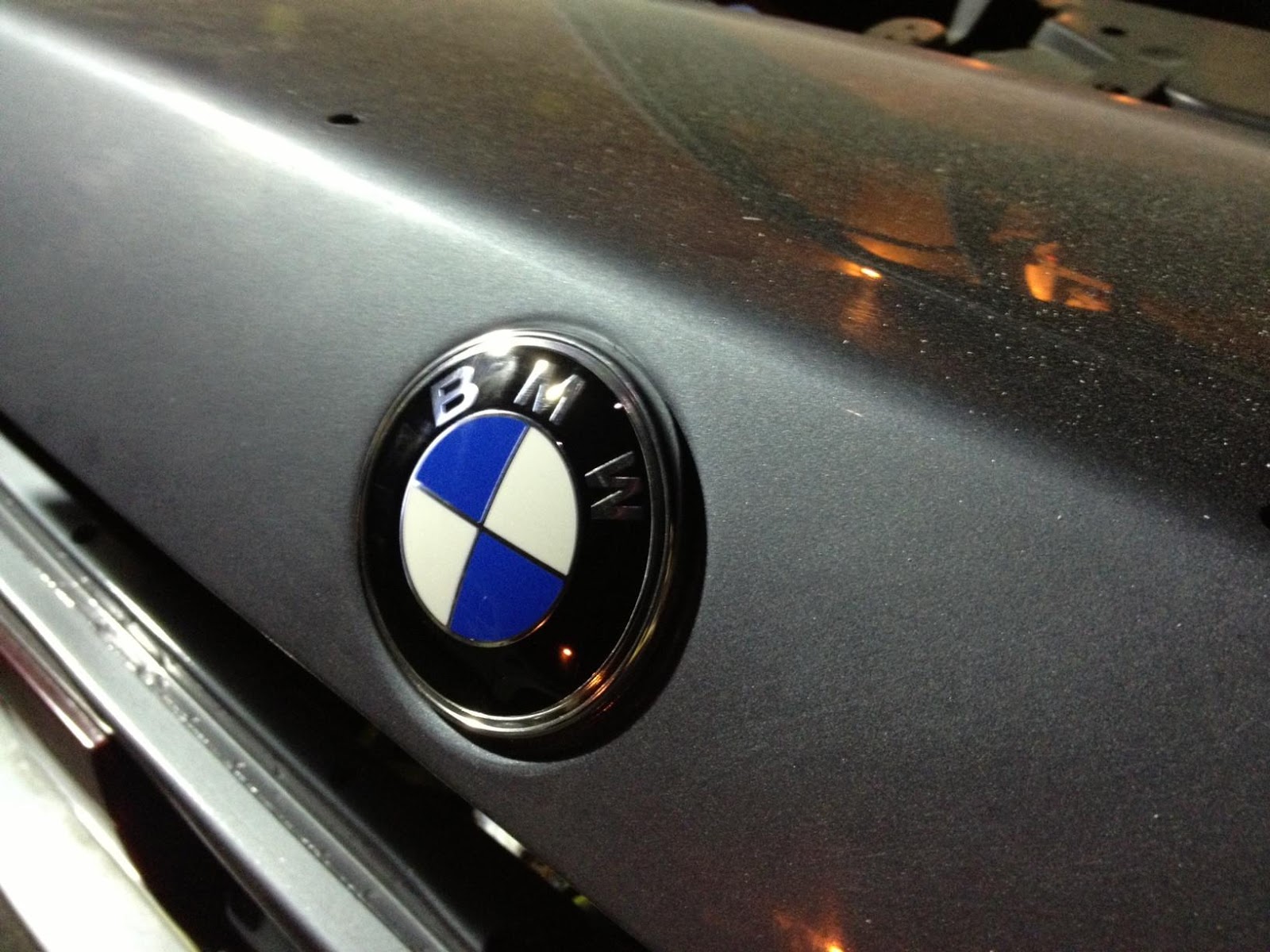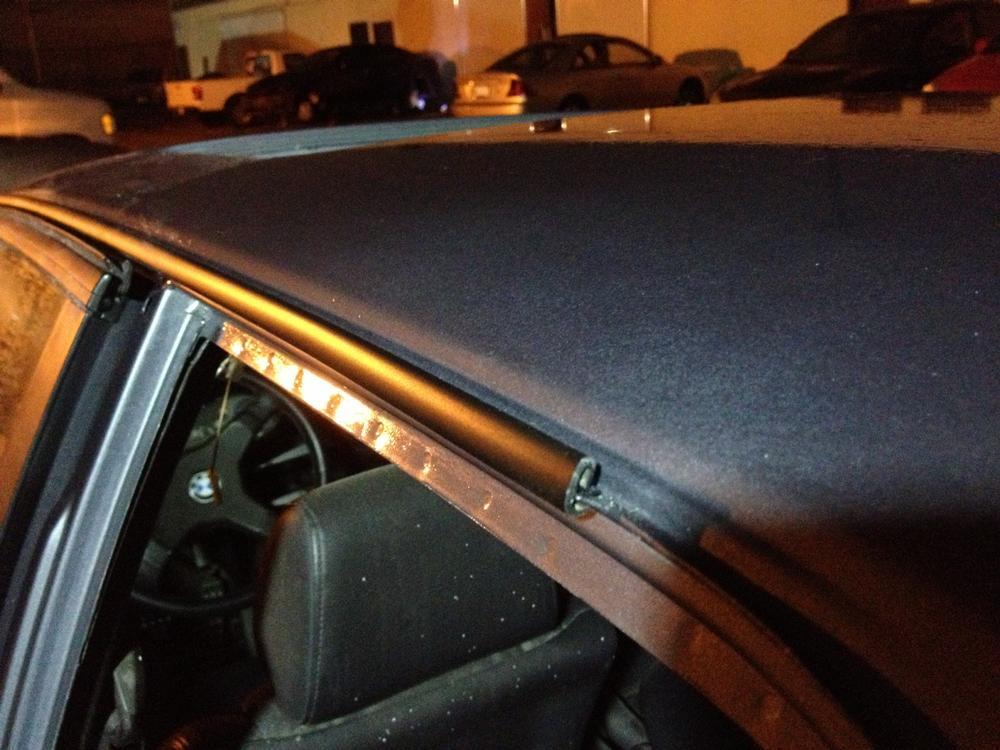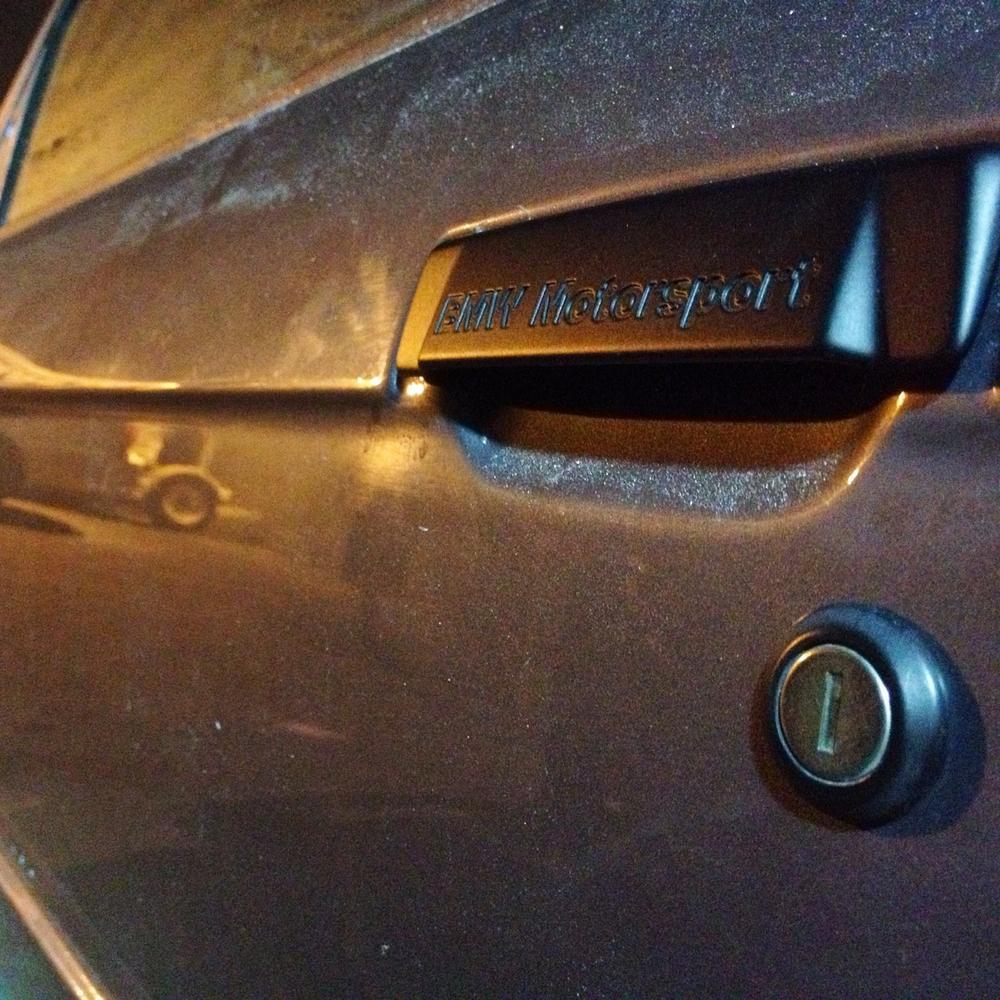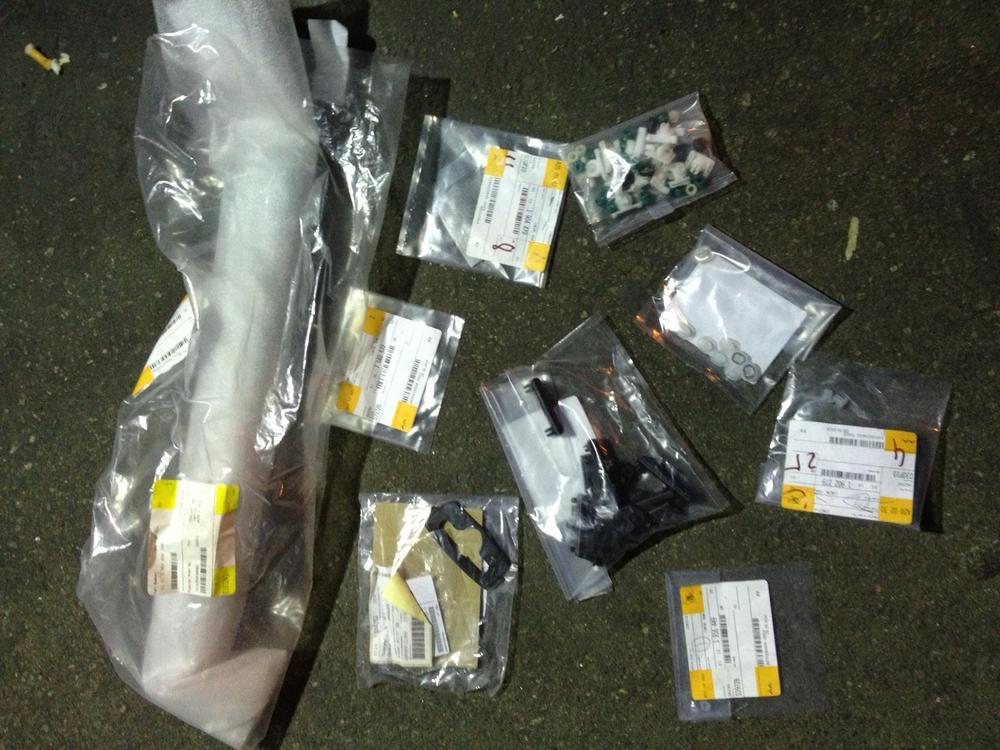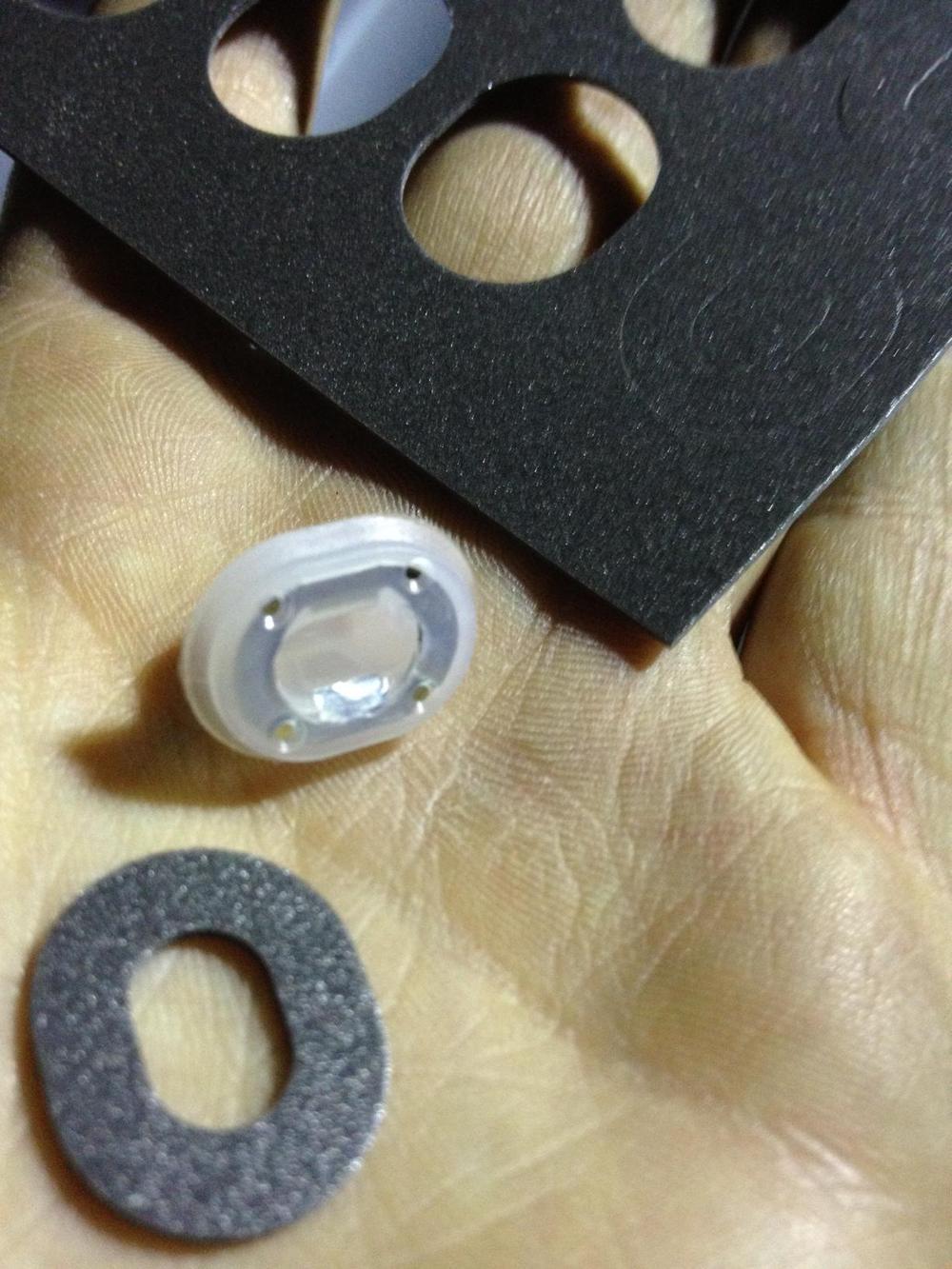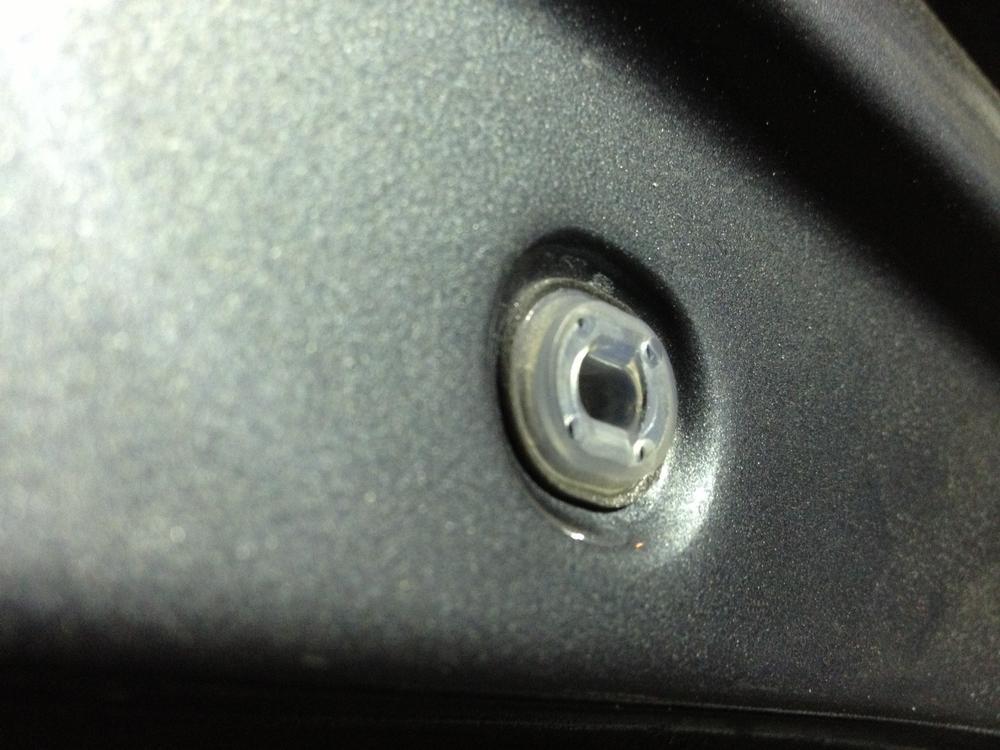 10-12-2014
So I've switched over to a Galaxy, not really feeling it compared to the iPhone. The "in the process" photos didnt really come out the way they looked on my phone when i uploaded them. So after killing myself spending about 14 hours the night/morning before SoCal Vintage heres where it sits..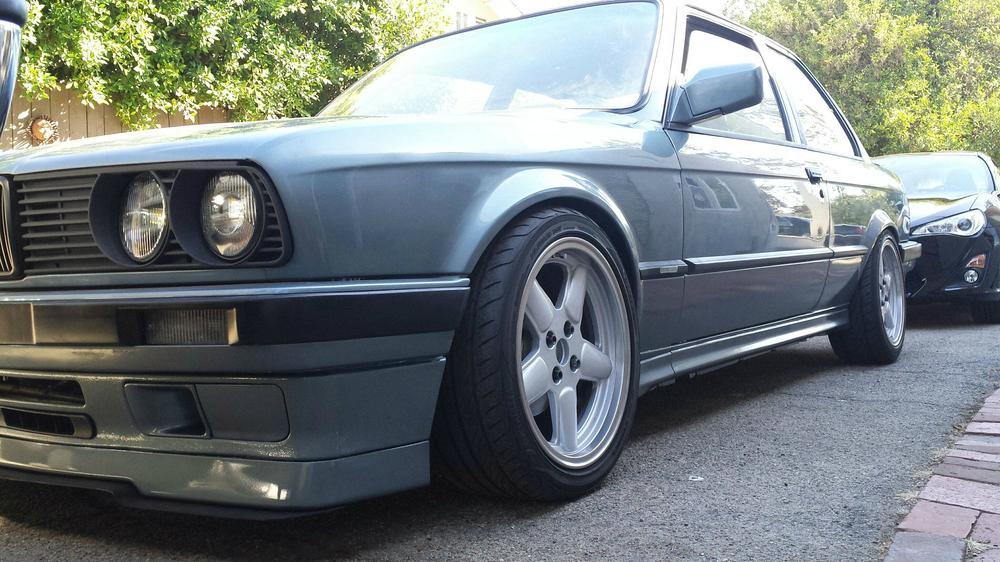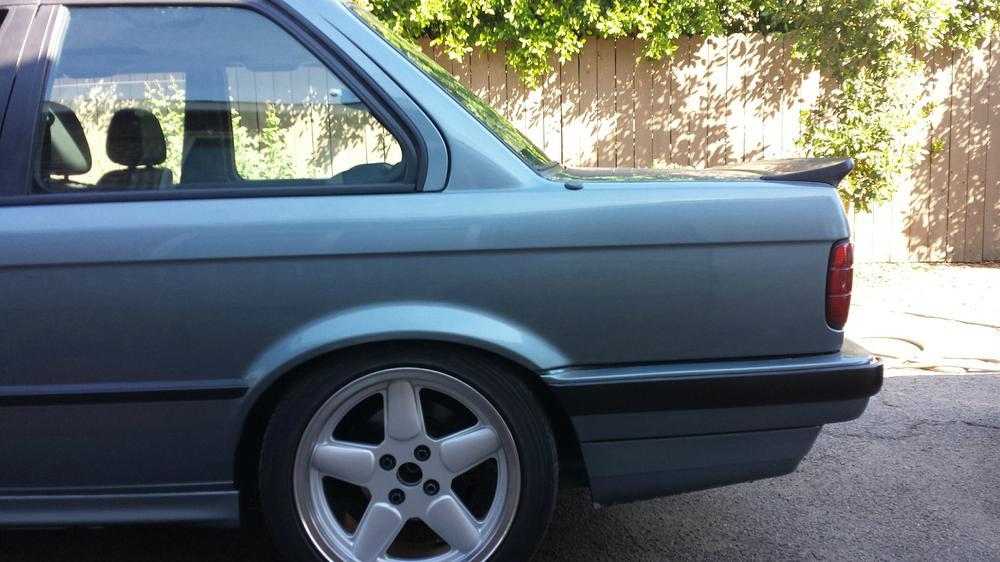 10-16-2014
Originally Posted by
2mAn

Damn, I cant believe I missed it at the show!! I didnt stay too long and really did a quick pass through the E30s... now I regret it. Im sure I will see it in person soon. looks great
We rolled in a little late to the show since I spent all night and a good majority of the morning putting it back together. I'll be breaking it out a lot more now since its almost finished up.
Disregard the buffing compound lol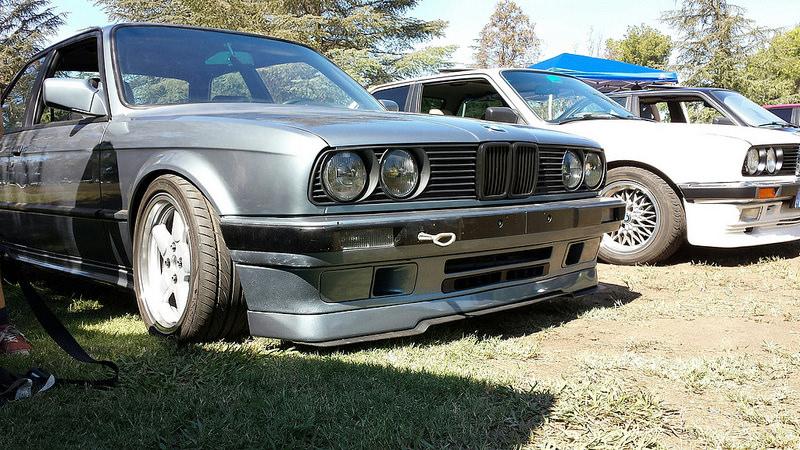 Gonna get around to doing a nice lil shoot with my 5D or my A1 when I have a bit more energy.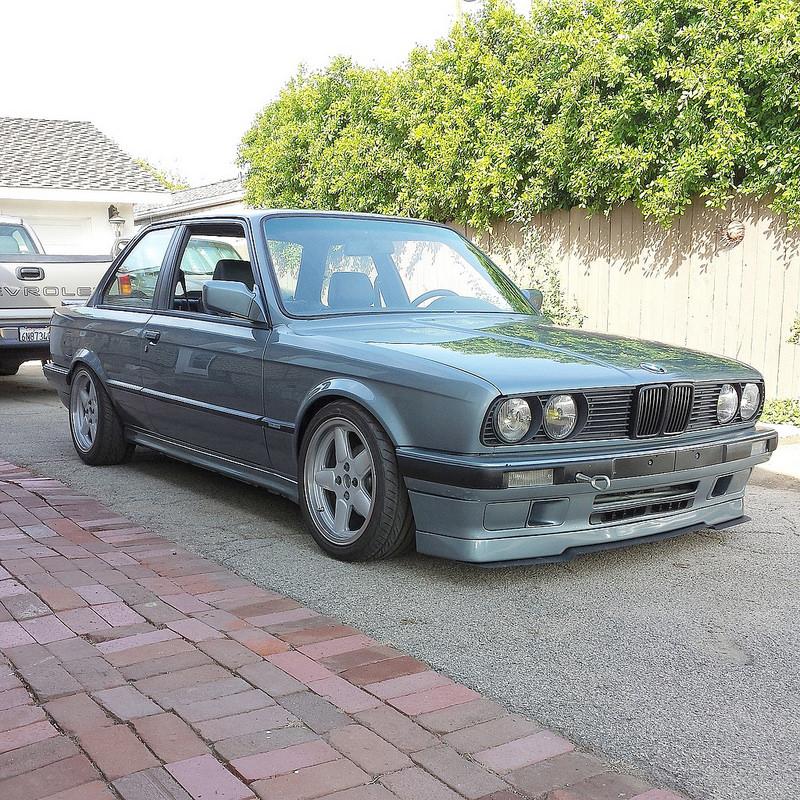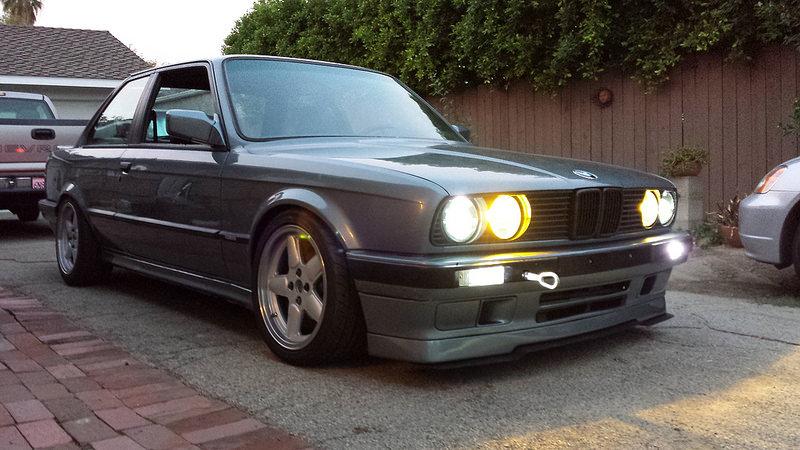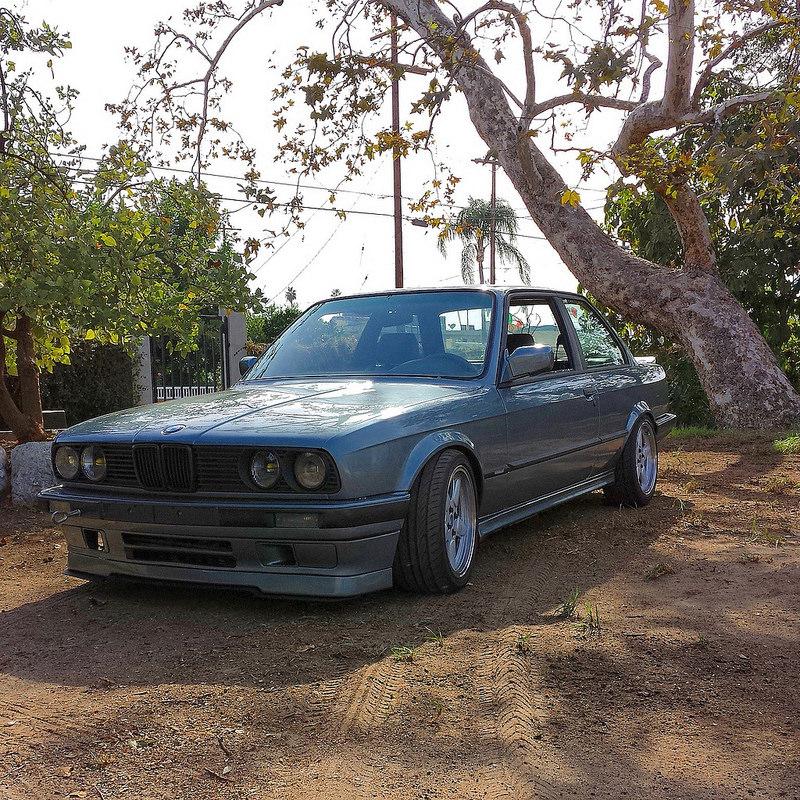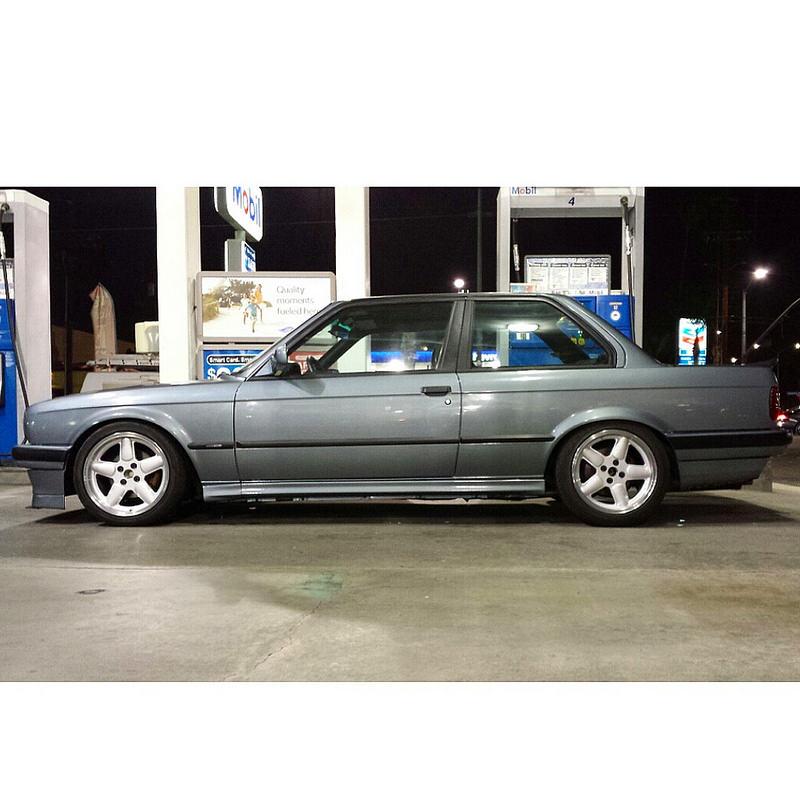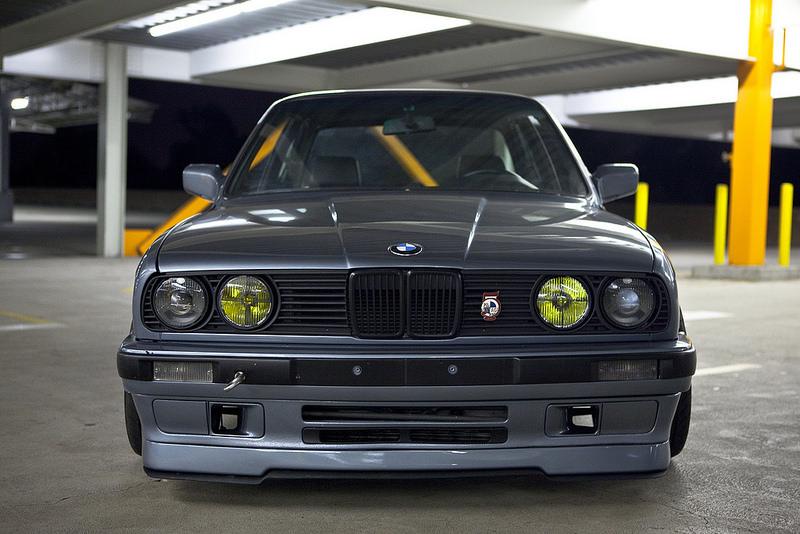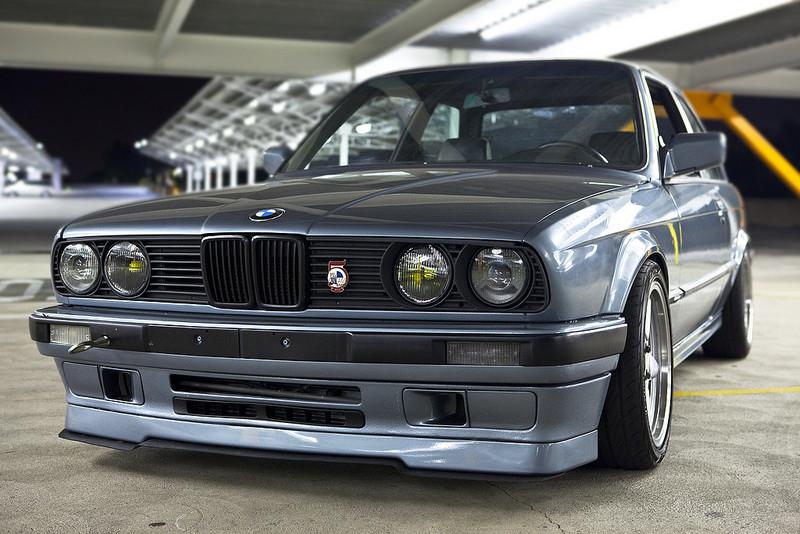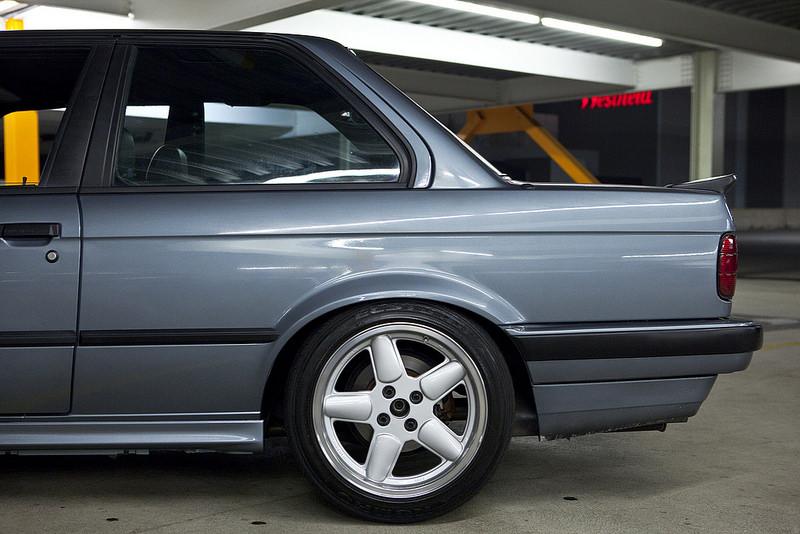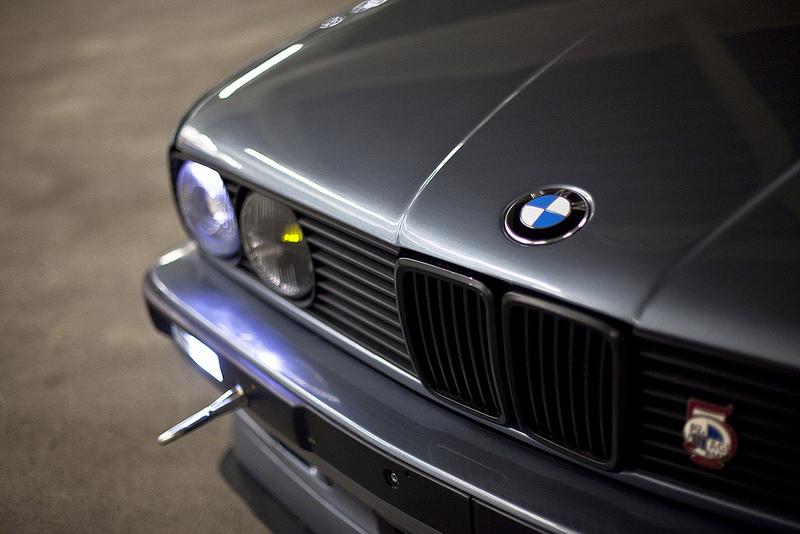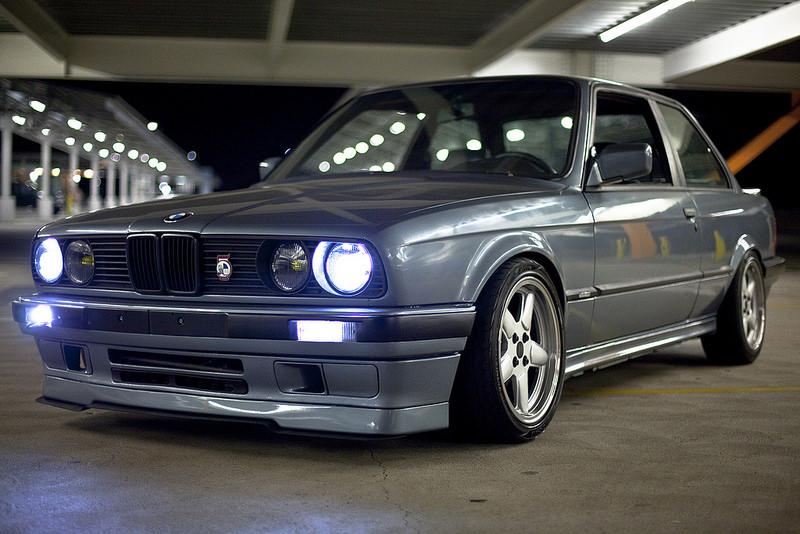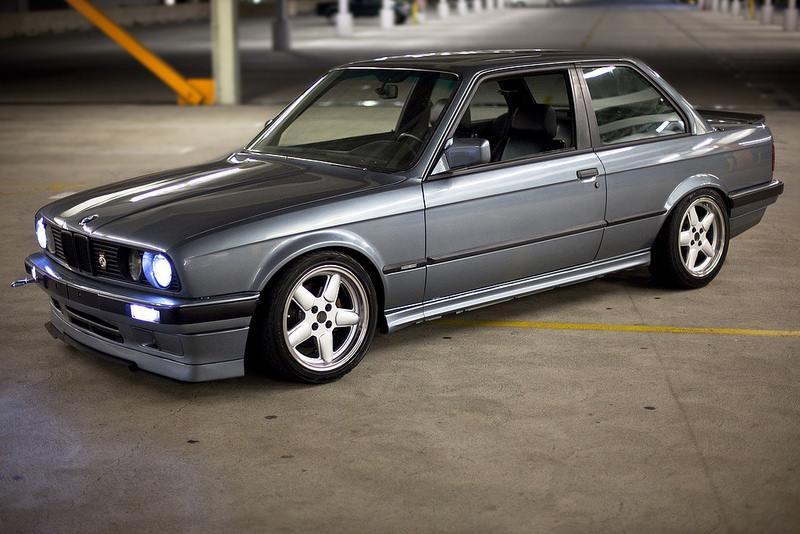 10-24-2014
Thank you guys for the positive feedback; as far as this car goes.. I'm still dabbling with a potential motor swap / light bay shaving. For the most part everything that mostly can be done I've covered.
10-27-2014
Had a bit of free time yesterday while waiting for the oil to drain out my other car. Snapped a few golden hour flicks..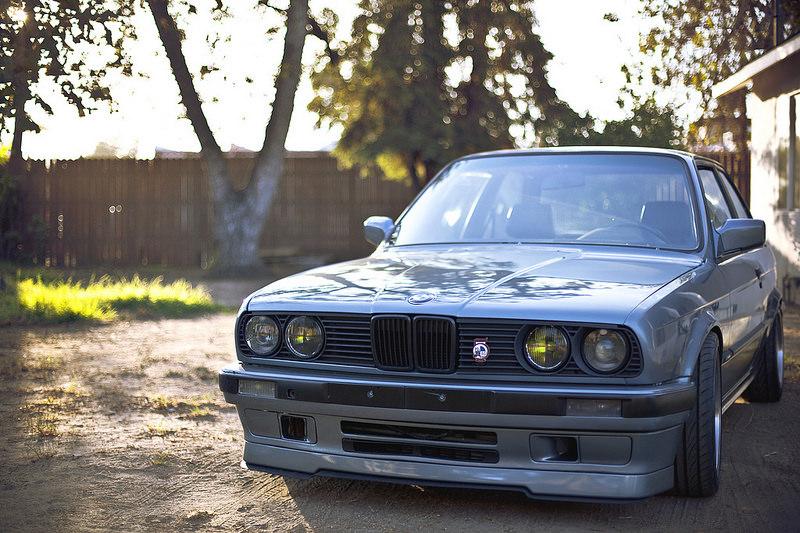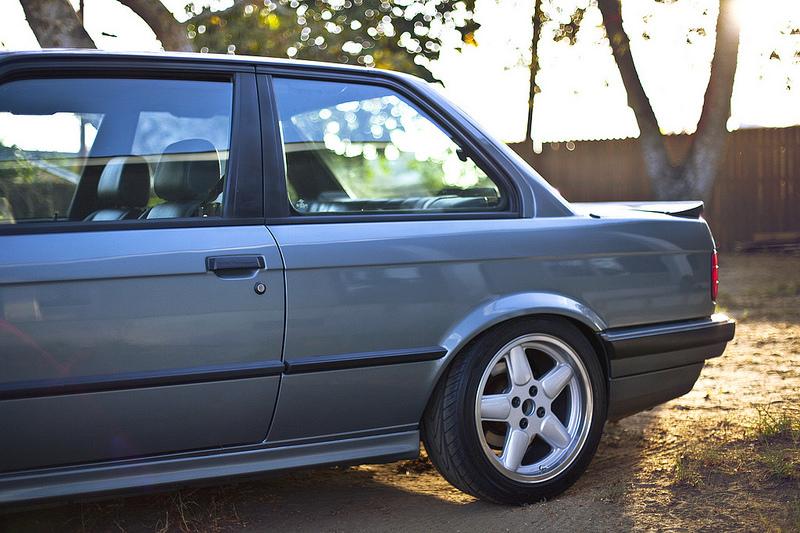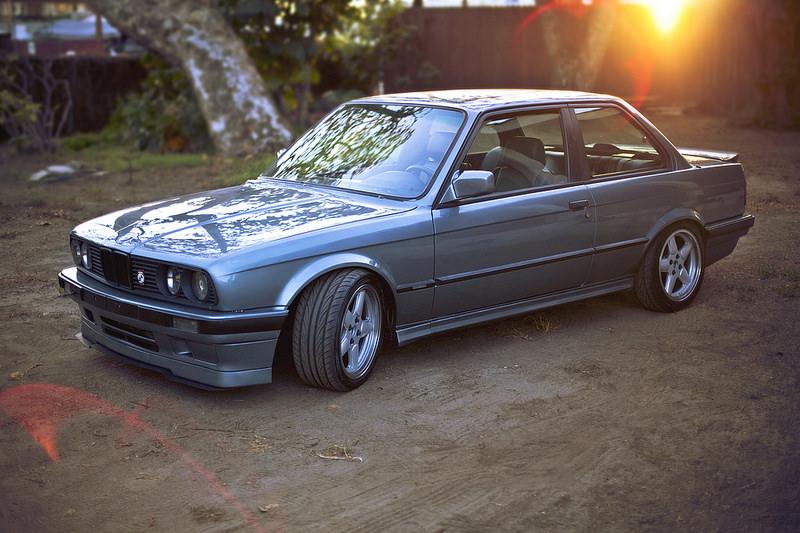 11-13-2014
Originally Posted by
QUKBMER

Im glad you like the wheels !!!!! What was that funny clip of your anticipation on picking up the wheels again? Please share it again with everyone,that shitz was hilariously funny. lol
They really did tie the car together, thank you again Terry!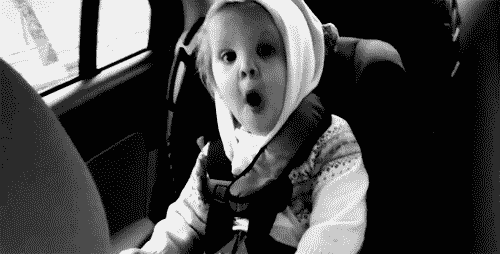 1-5-2015
Well Christmas came a little late...
Stay Tuned.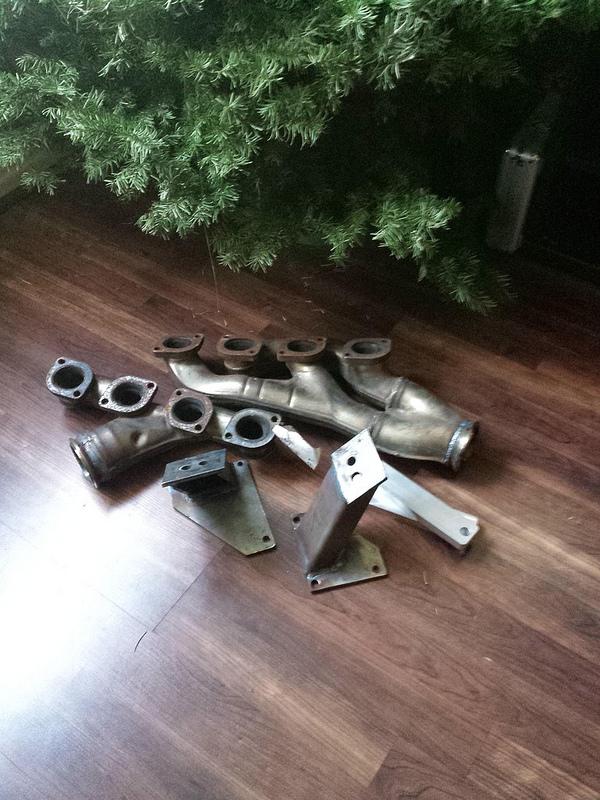 M60b40/b44
2-19-2015
Originally Posted by
rzerob

Any updates on either of the cars?
My cirrus I need to start the oil pan gasket after the weekend. Got a few goodies on order. Winds are changing direction.
White one met my chop shop personality. After digging into it; I decided to go another route since it wouldn't structurally be able to hold the v8. If I had time like I used to, things may be a bit different. Currently it's not going to happen and I don't have time to make new frame rails.
Finding myself searching craigslist more and more for an Apache, miss having a truck for this shit.
3-17-2015
Guess the oil pan gasket isn't the only thing being replaced on the m20 anymore...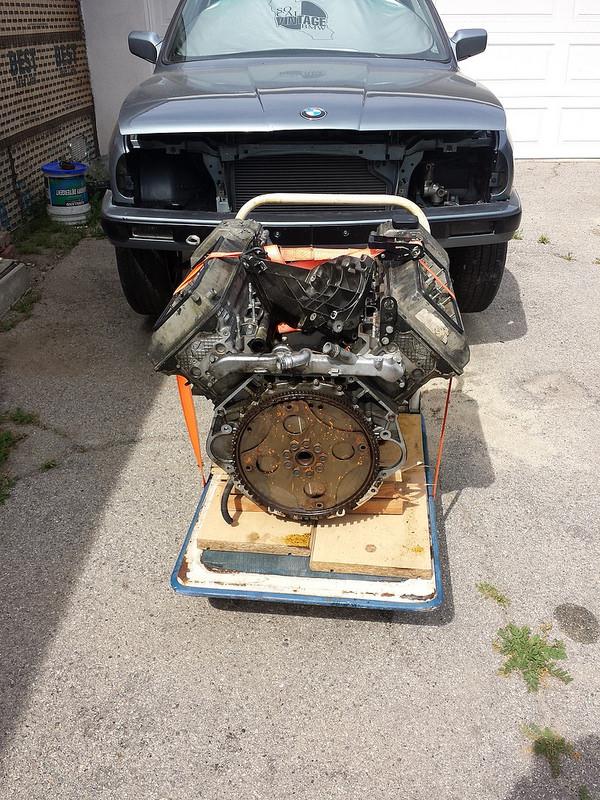 OOPS.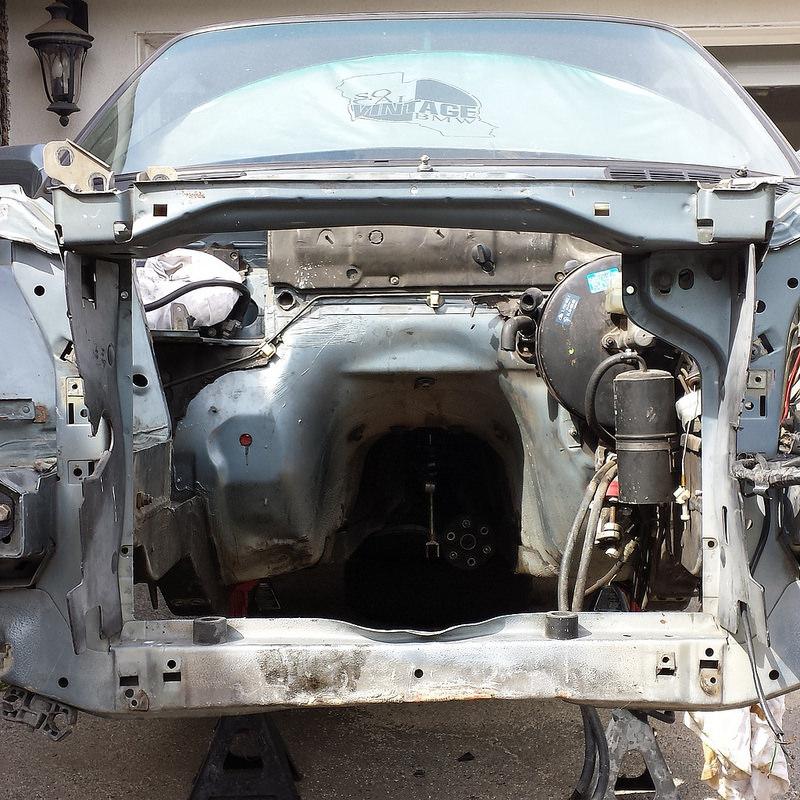 3-20-2015
Small little update;
Degreased the block and removed the rear coolant cross over pipe. Also went ahead and test fit Garagistic's exhaust mani's and mounts. Quality fit & work def recommend them.
Needless to say I'm impressed with how clean the inside is; along with the valves looking down from the intake manifold area. Not sure if its worth keeping the m62 heads w/dual vanos or just doing my original plan of m60 heads.
Anyone down to chime in and drop some pennies?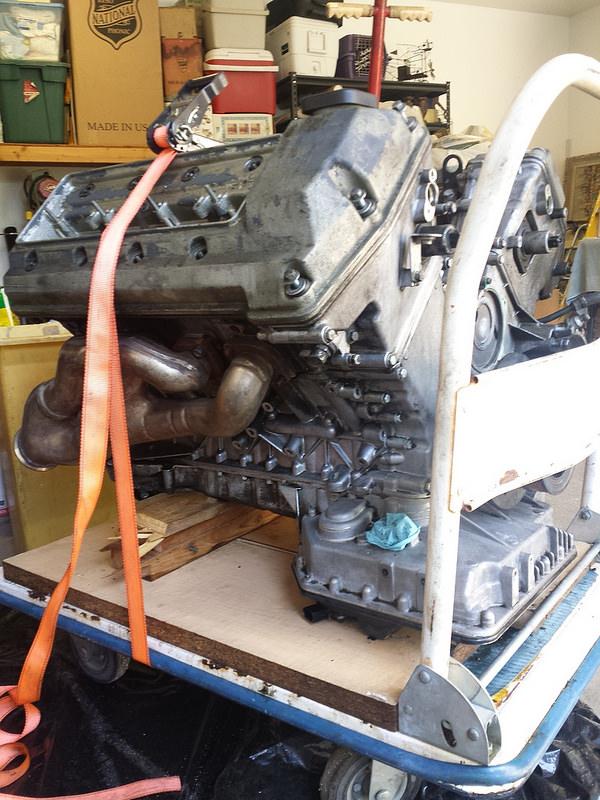 Side note; wire wheeled the radiator support in prepping for a new one; PO beat the shit outta mine and since I'm most likely gonna be solo dropping the motor in. I admire JGood/Gary's solution of making it removable.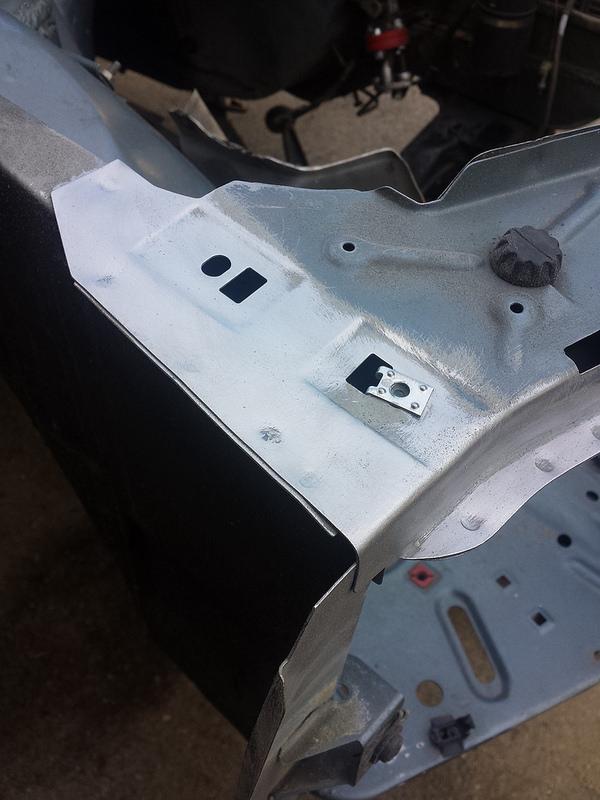 Also went ahead and put all the exterior pieces back on along with the subframe and struts.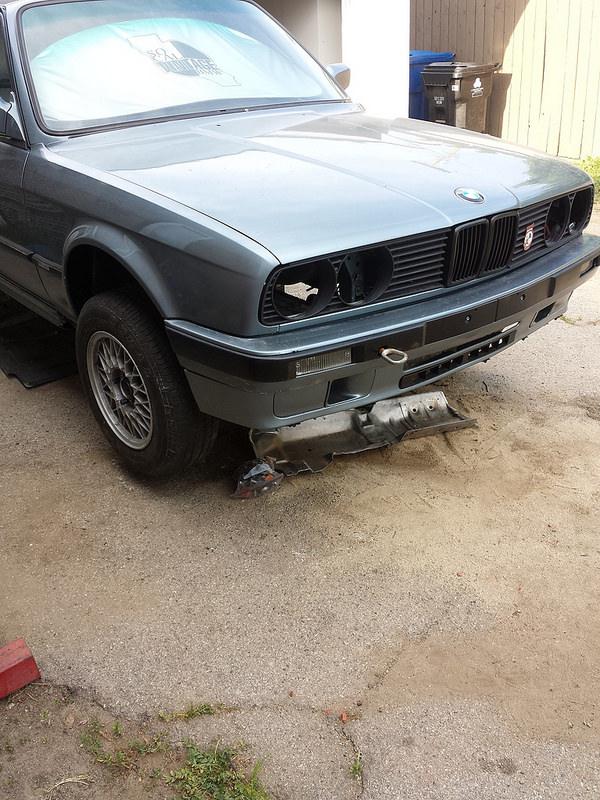 4-5-2015
Thanks guys
Haven't had much time to mess around with her lately. Been doing a little spring cleaning of my own though.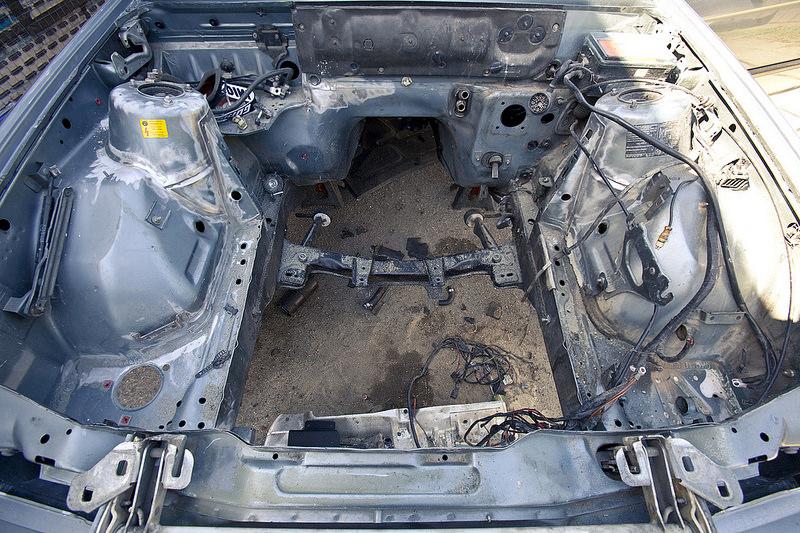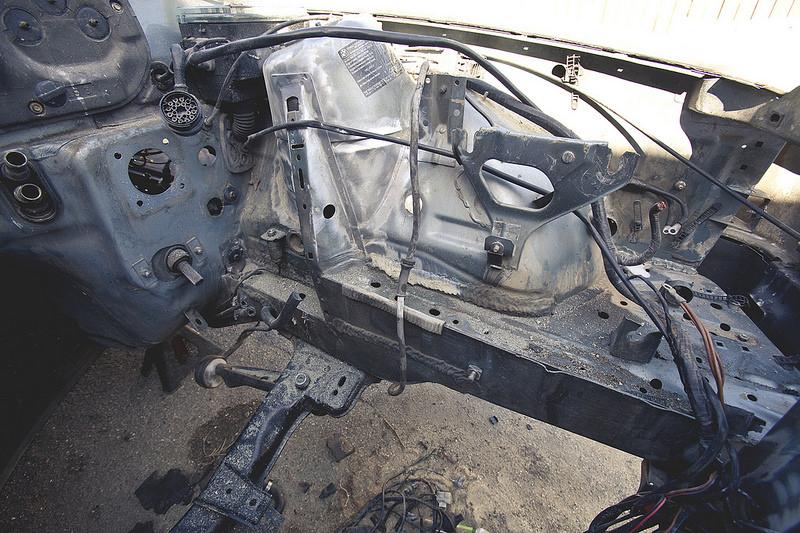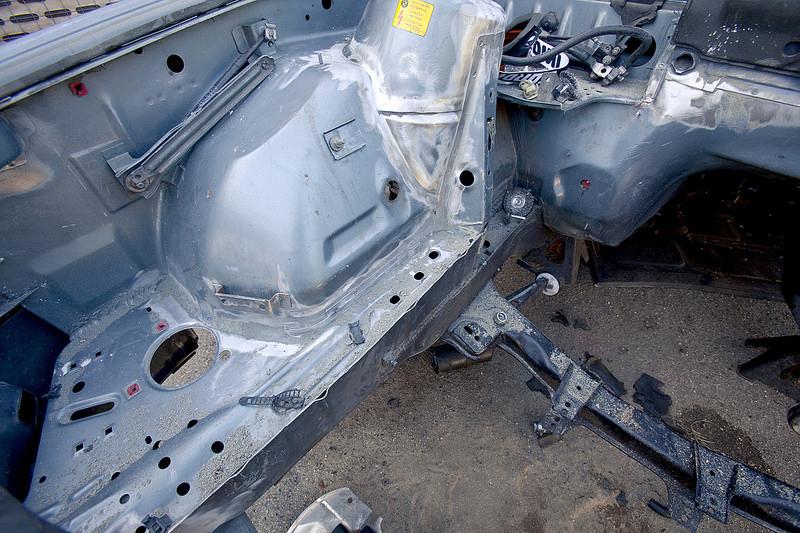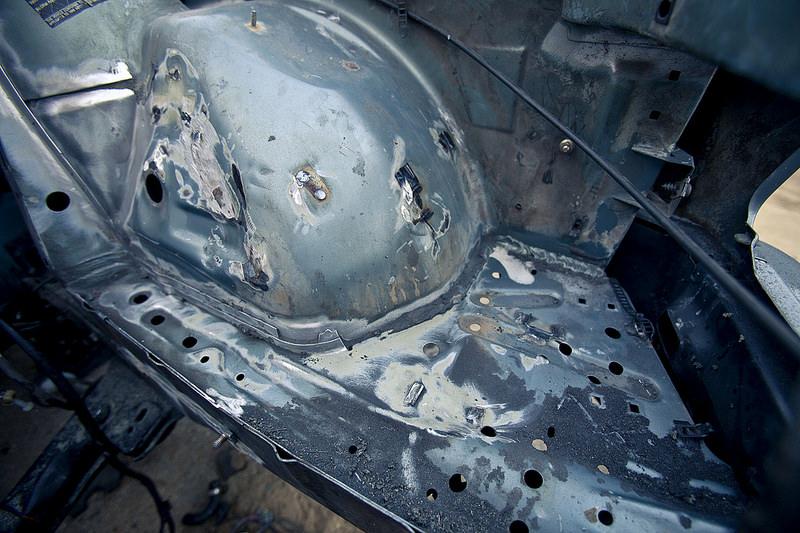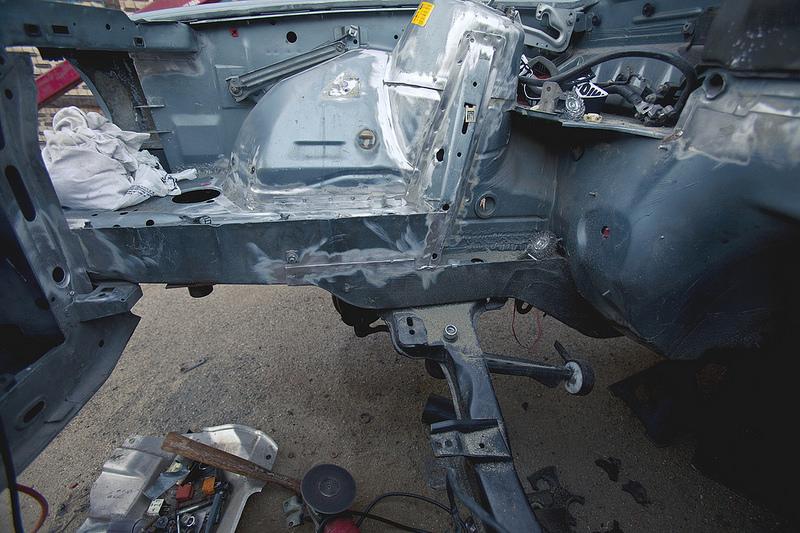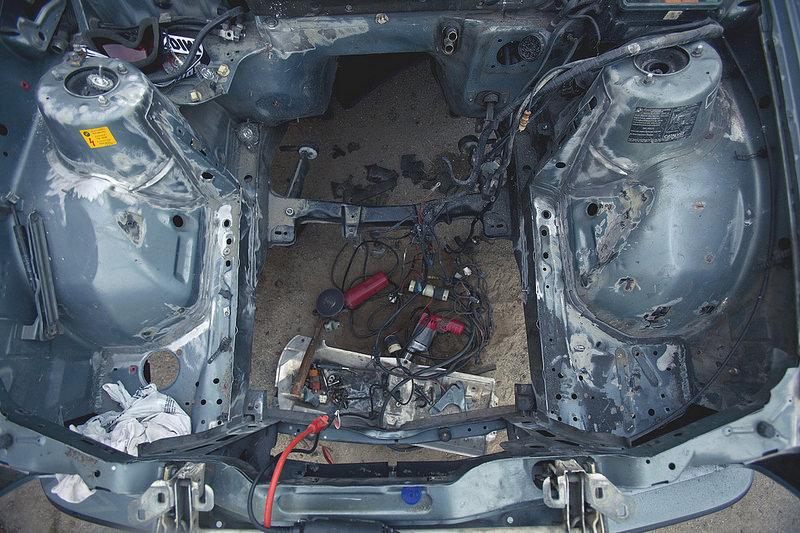 For shits and giggles...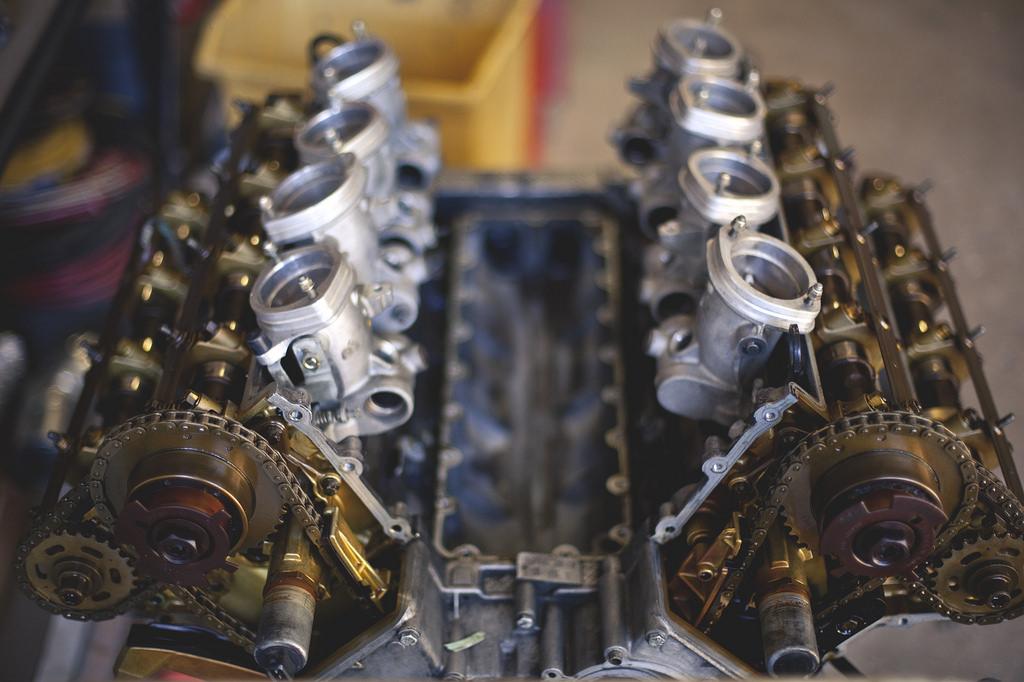 4-6-2015
Thanks guys

; addressed that issue quite some time ago, never did the rear. Been dabbling with the idea of dropping the rear, most likely will do it if I drop the diff.
On a side note; an m42 did that shit seriously? You must've been having little fun whipping it around huh lol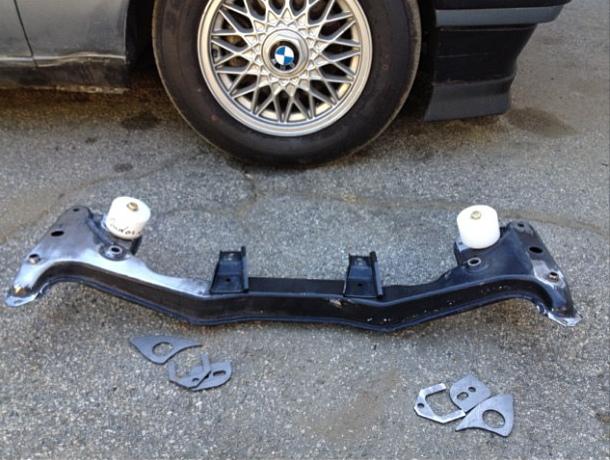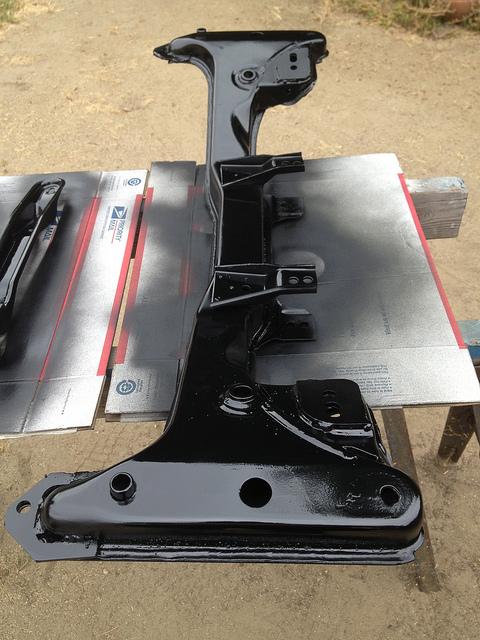 It's hard to tell from the photo but that raised area is the reinforcement.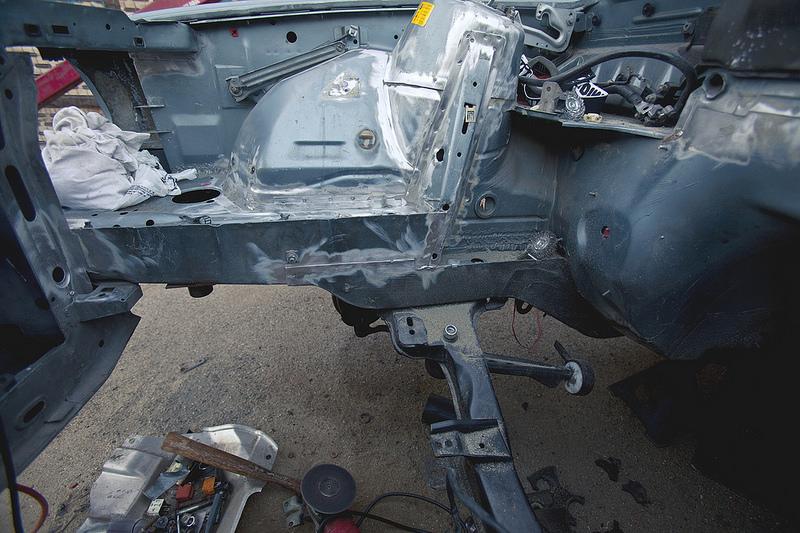 4-28-2015
Been a while since I updated... Some teasers.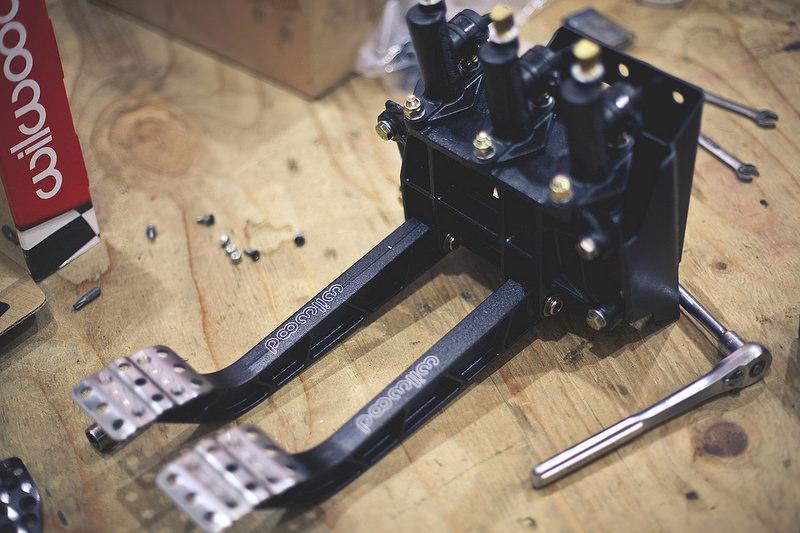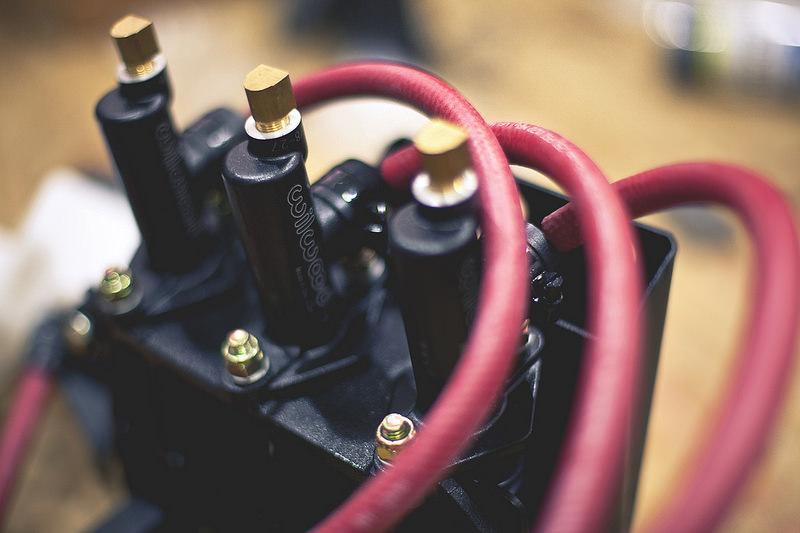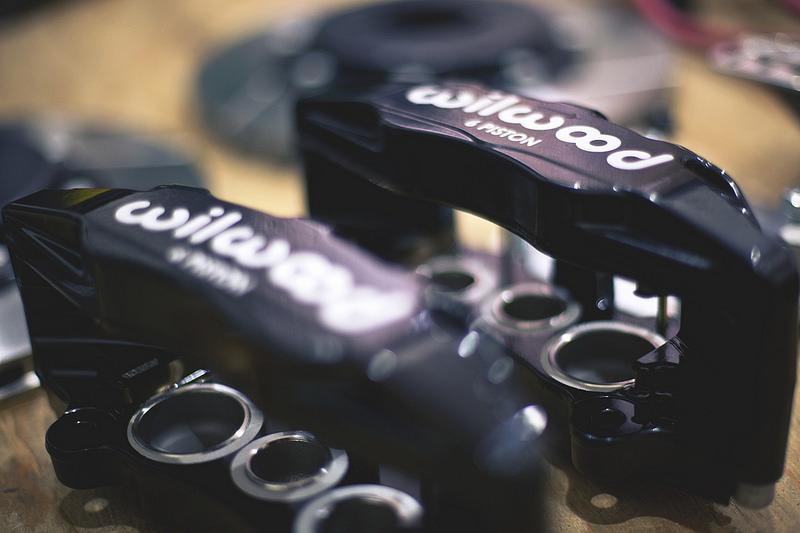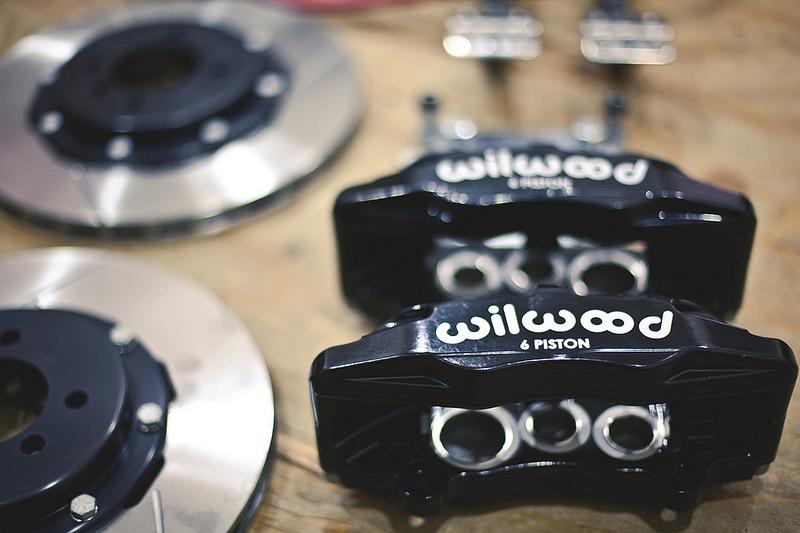 8-4-2015
Haven't been around to update this but figured I'd bring it up to speed a little.
Test fit the Wilwood's and digging how subtle its looking. Also picked up some rebuilt injectors and a Walbro 255..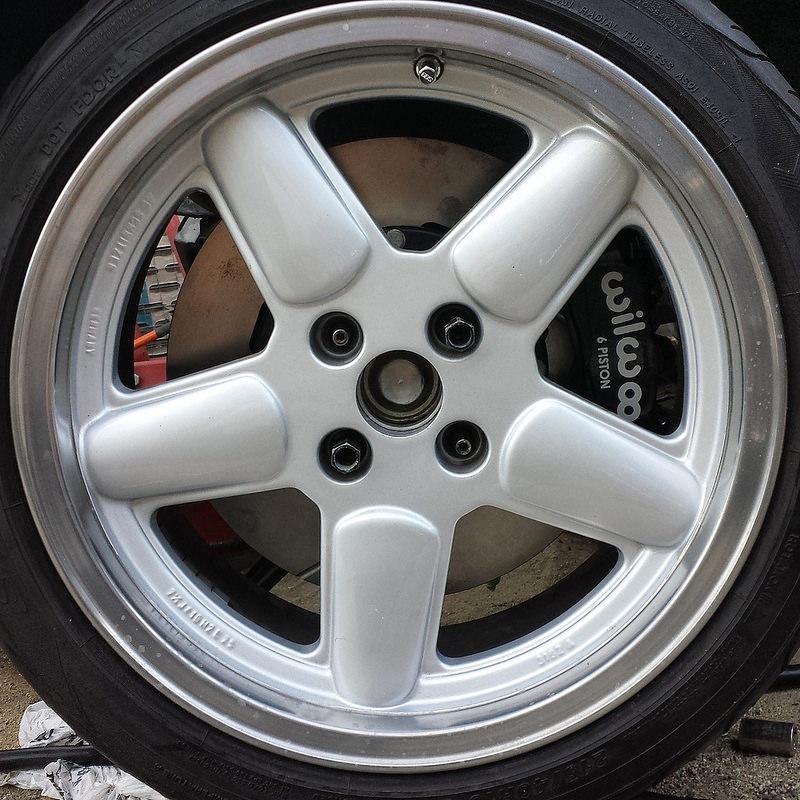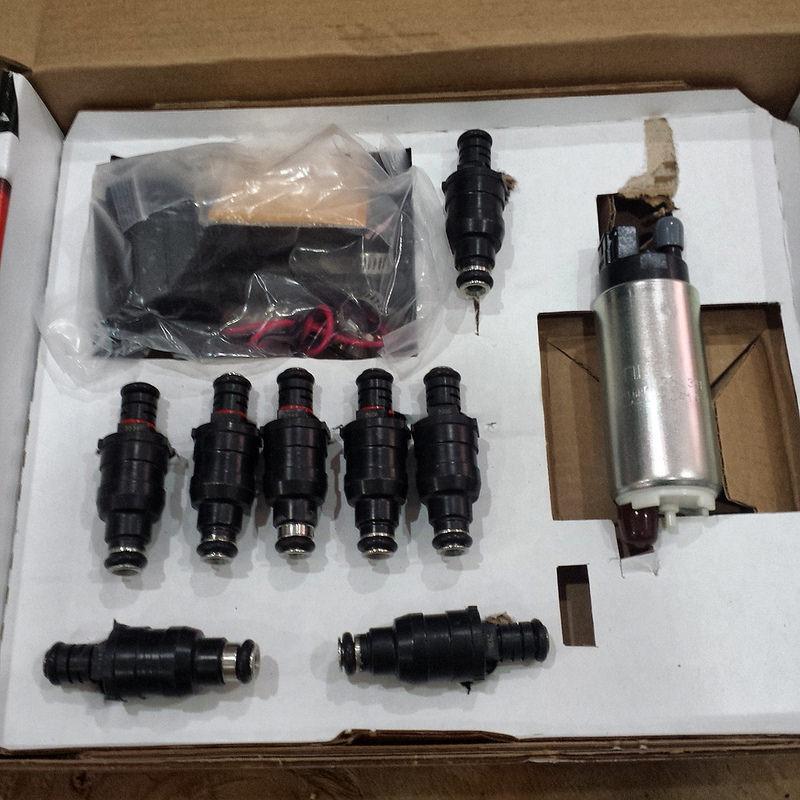 M62 timing guide snapped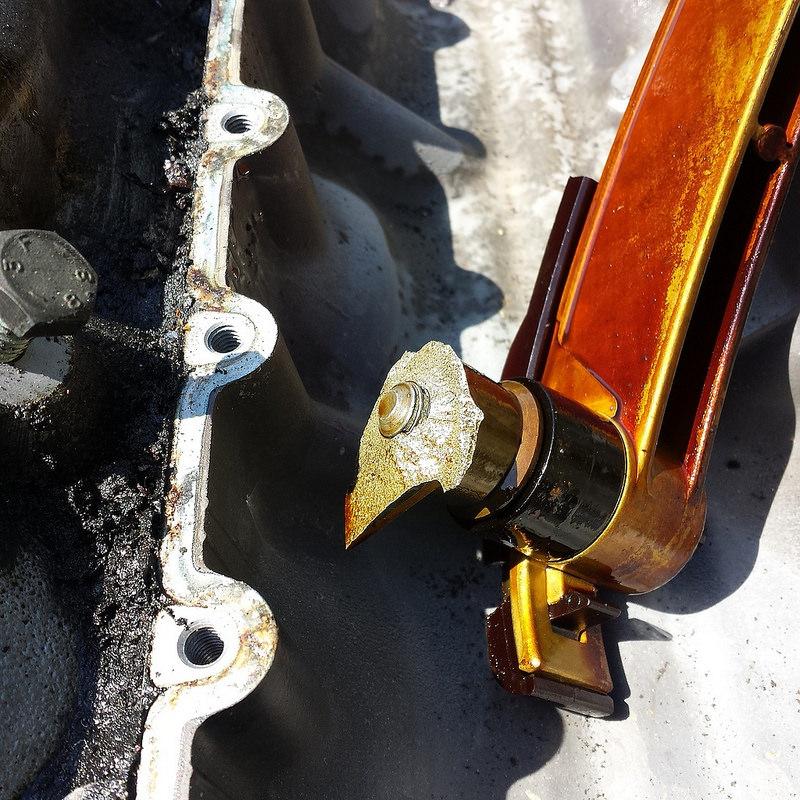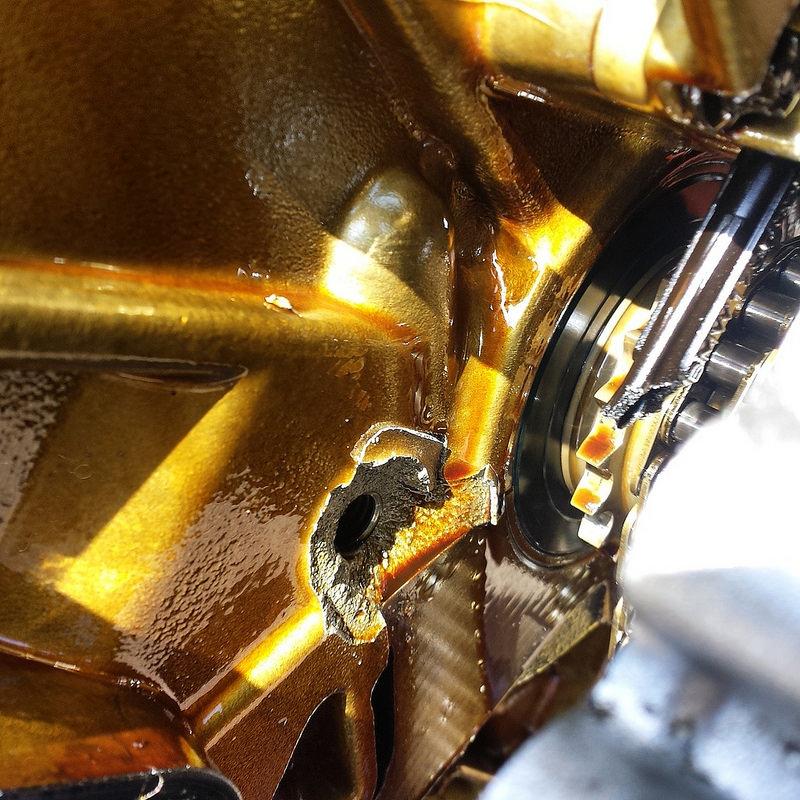 Complete 95 740I M60b40 NV with ≈80k miles. Came with the ZF 5HP30 trans.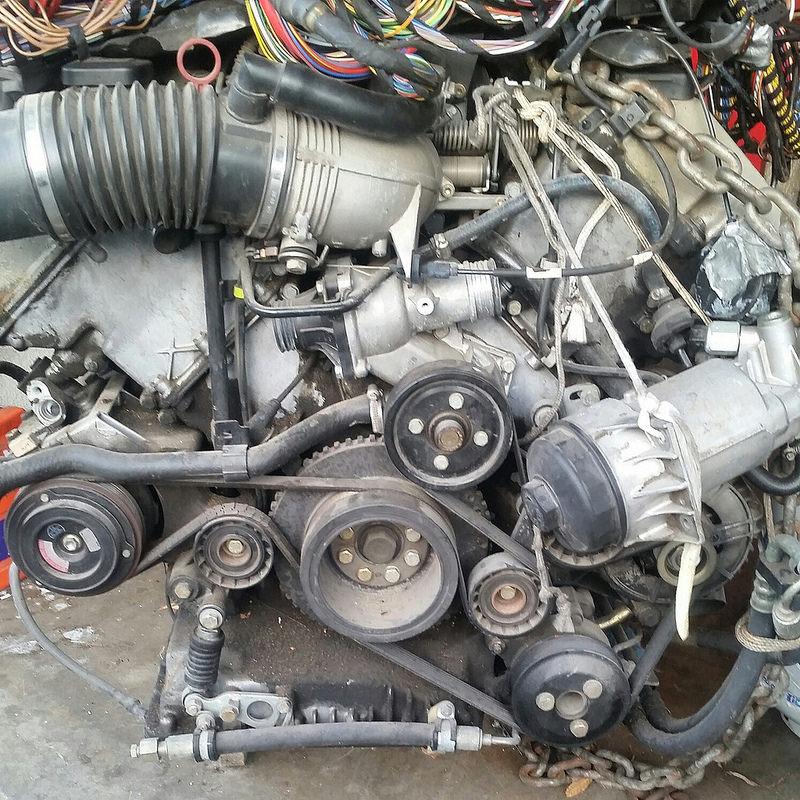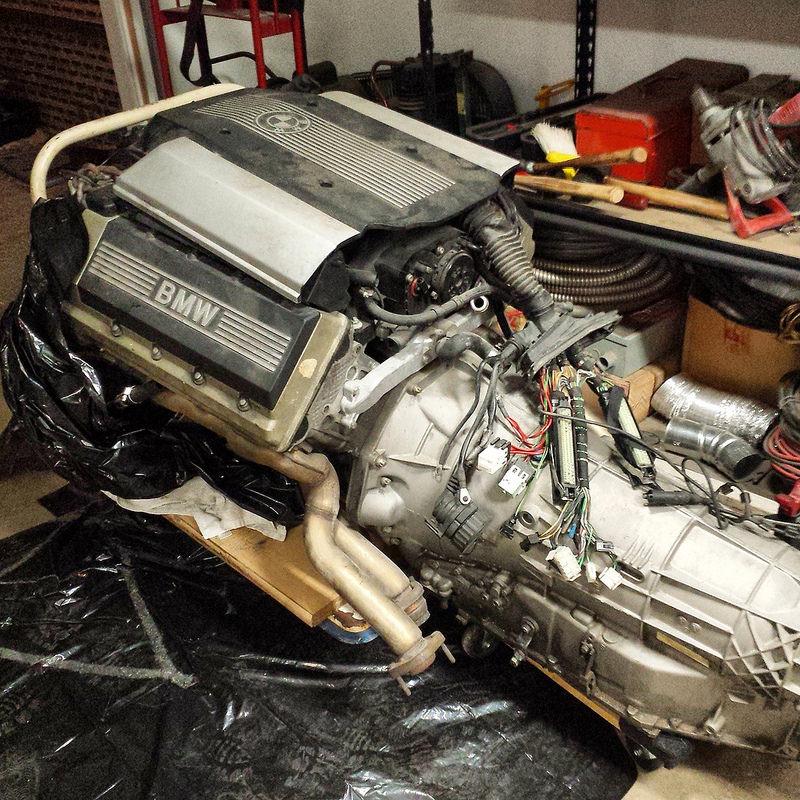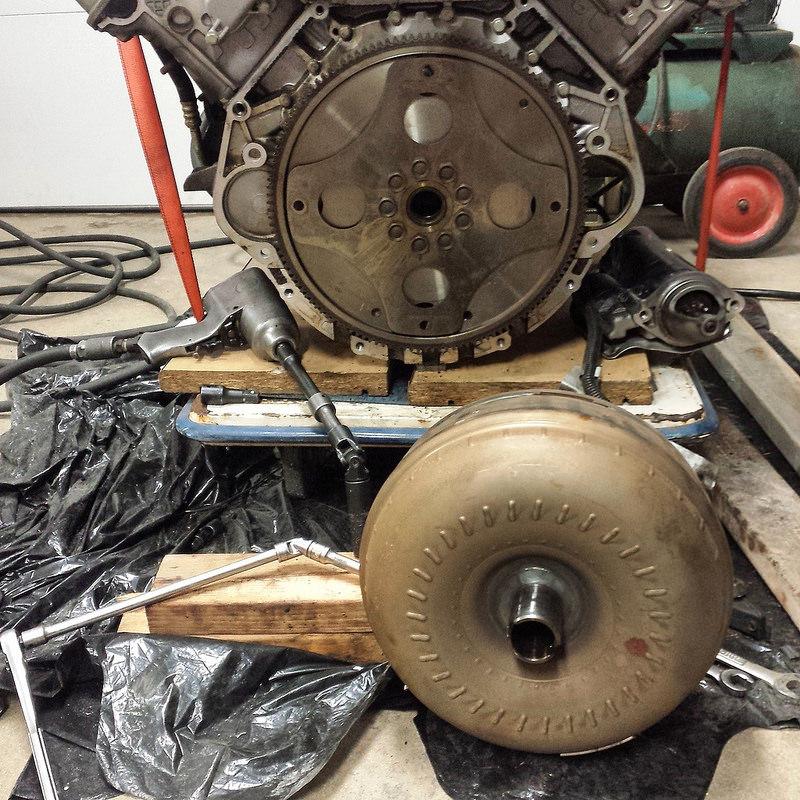 Meeting its new home..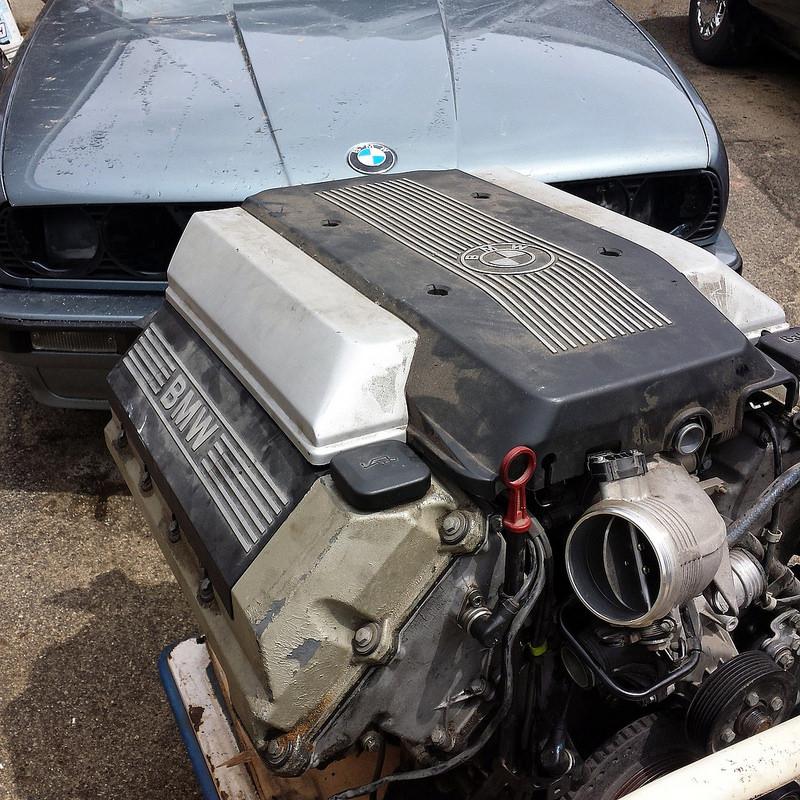 Labeling and stripping it down to replace seals.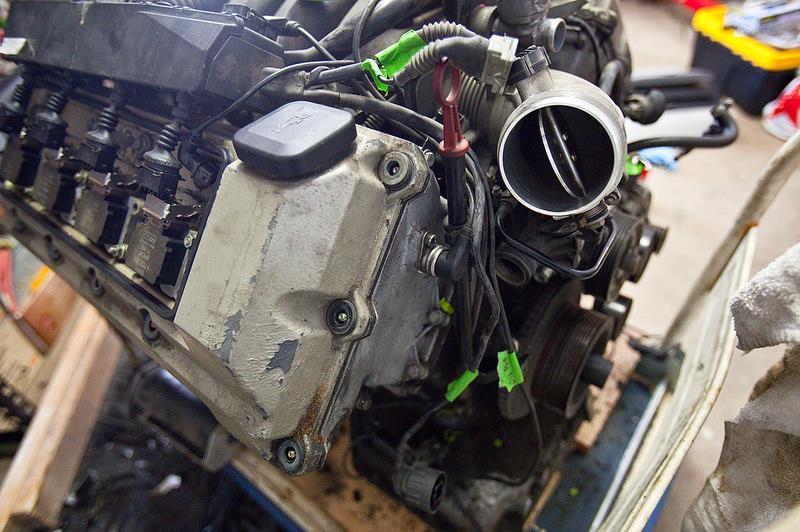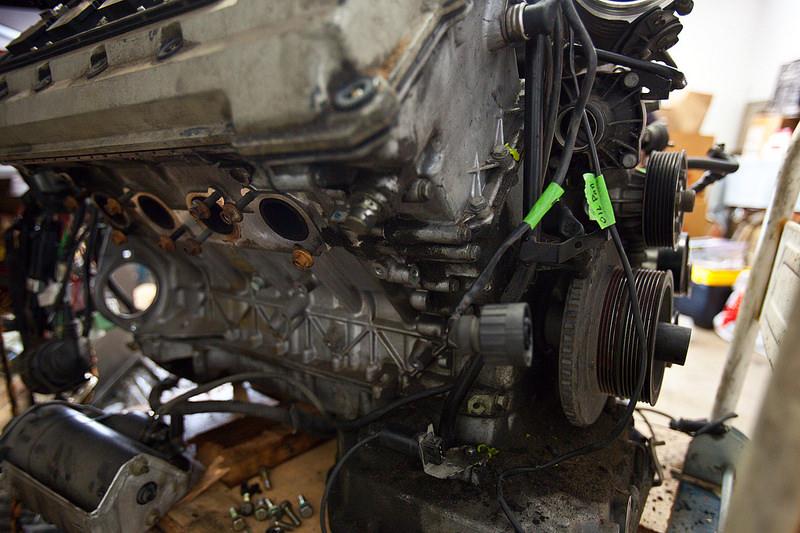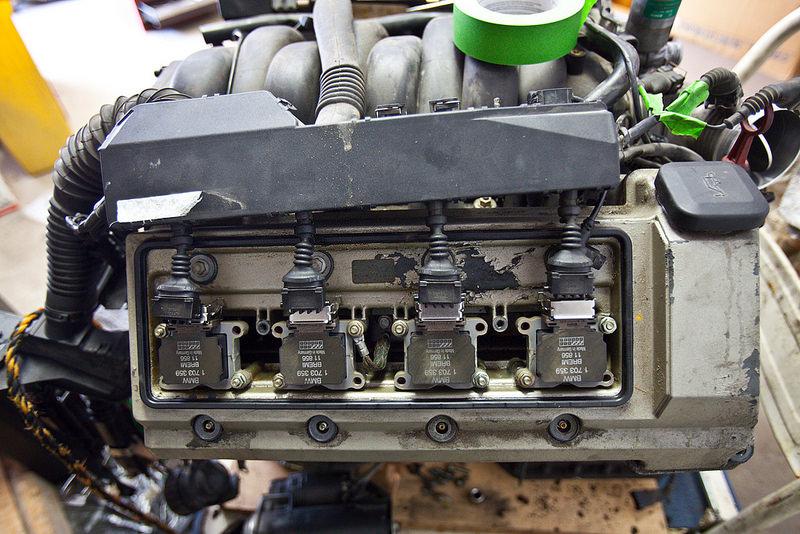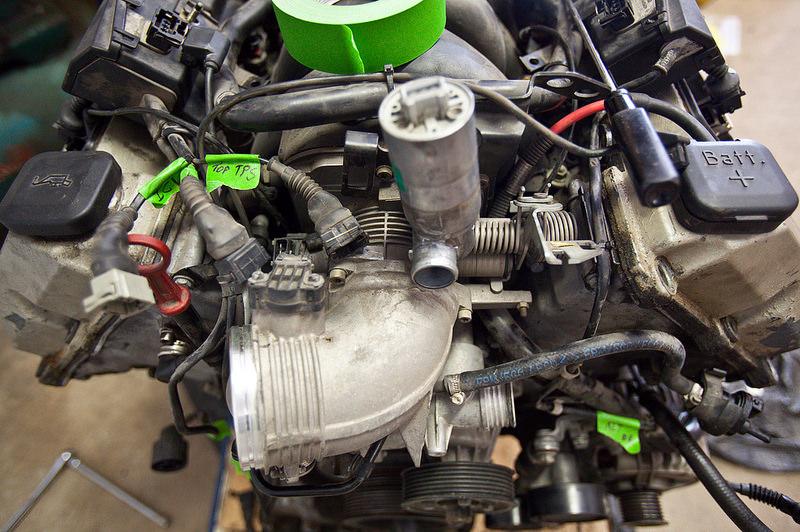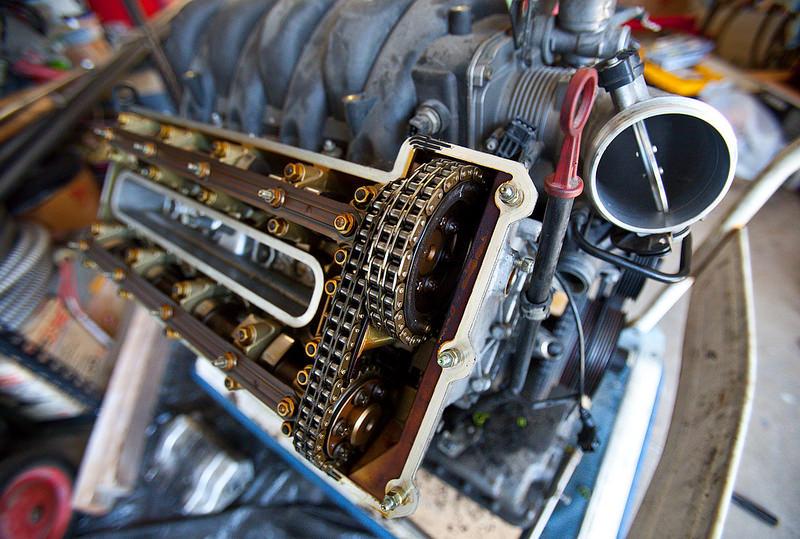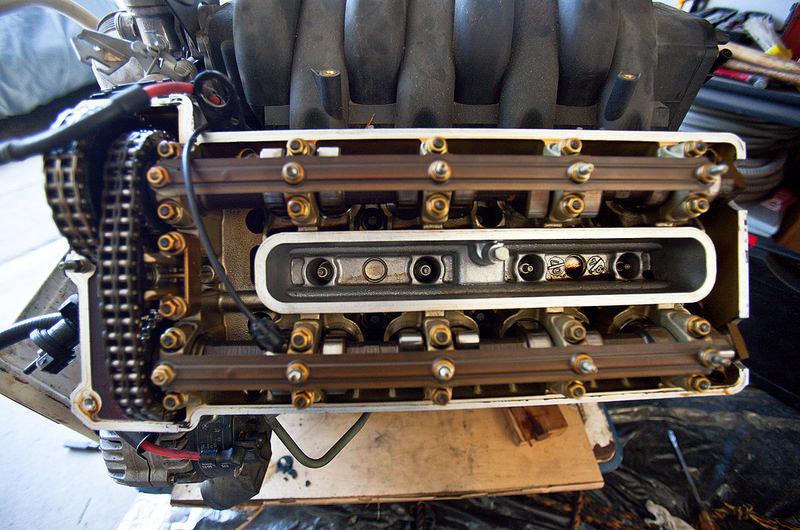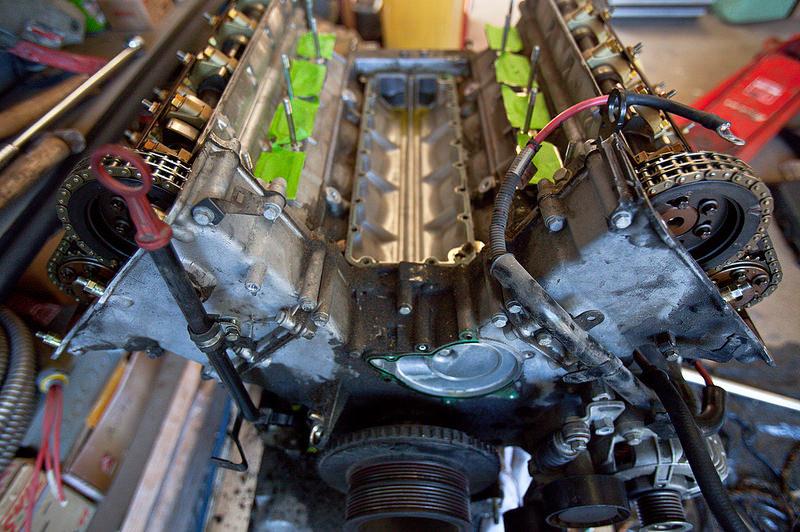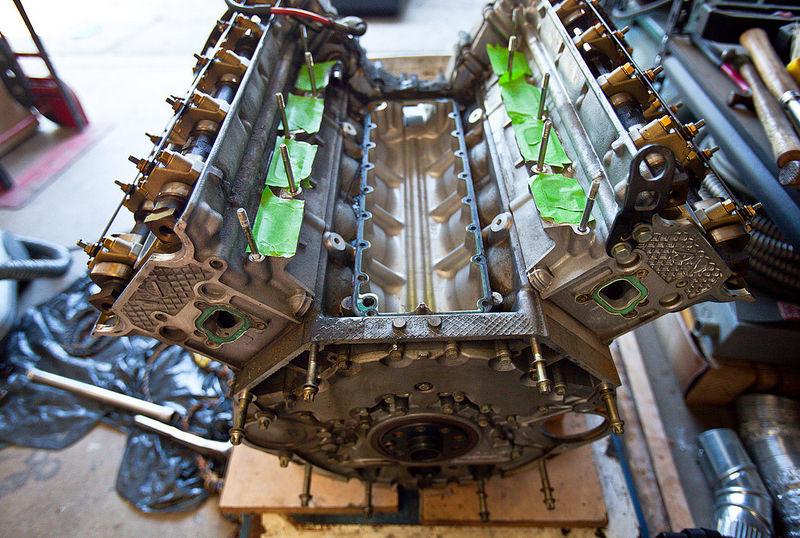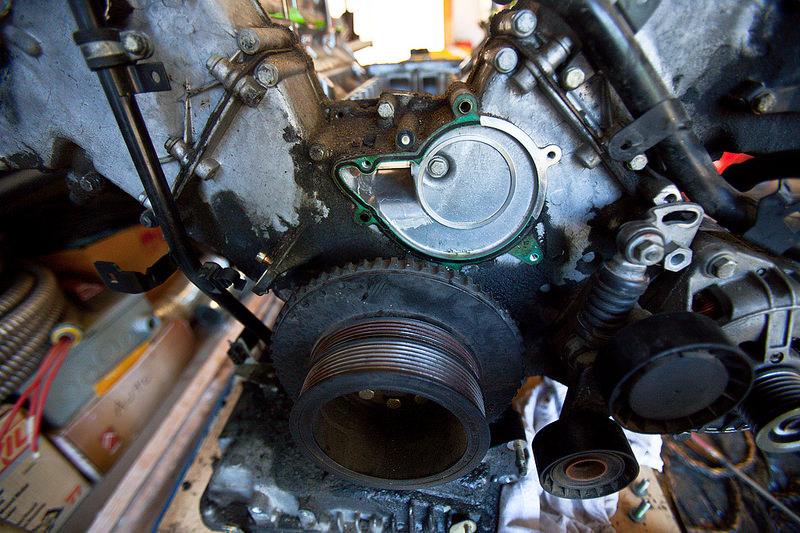 TDS mounts & OEM Gaskets..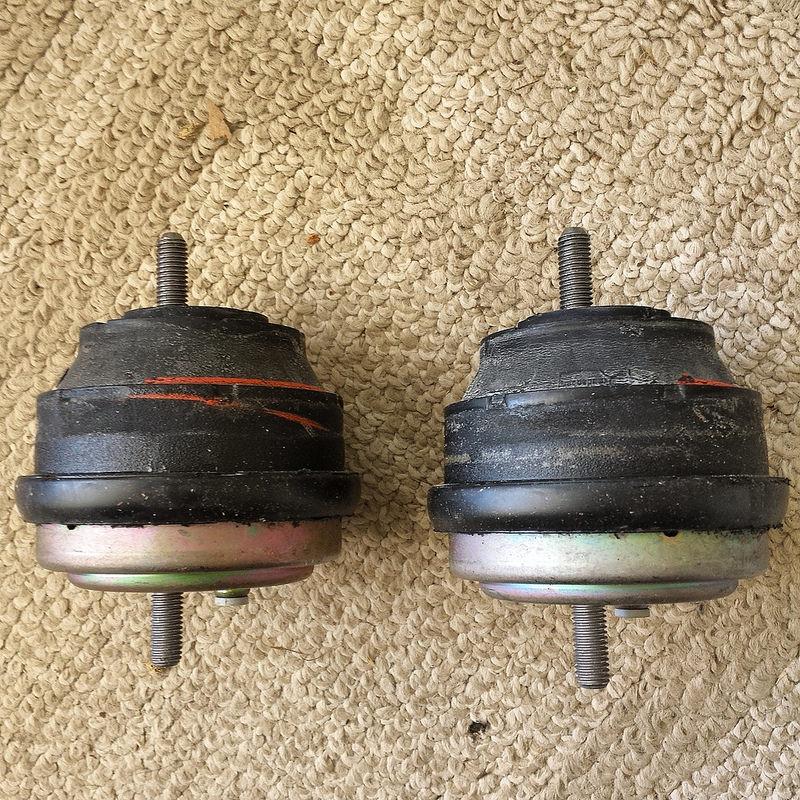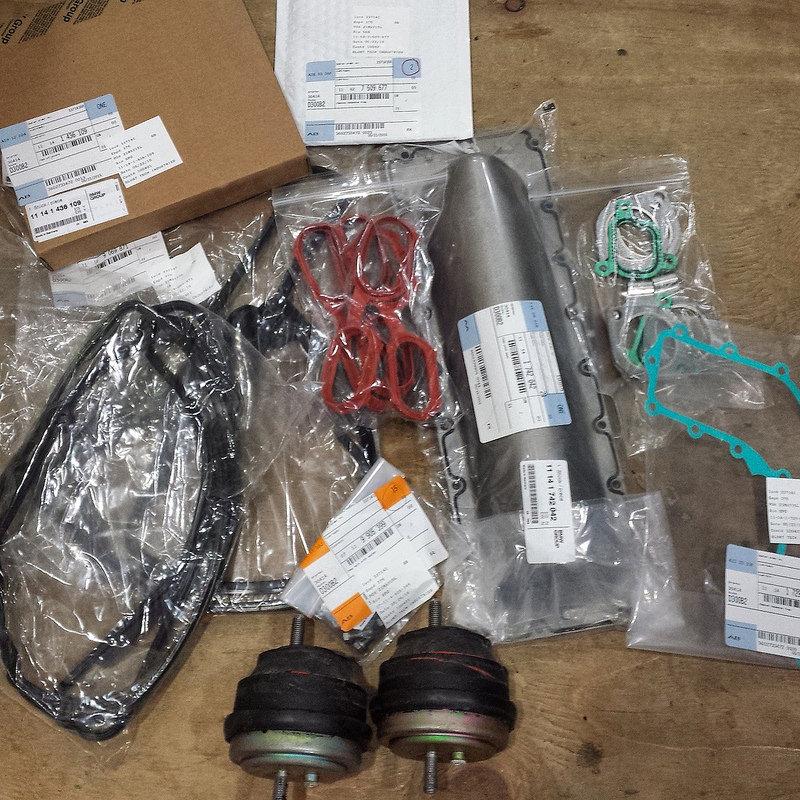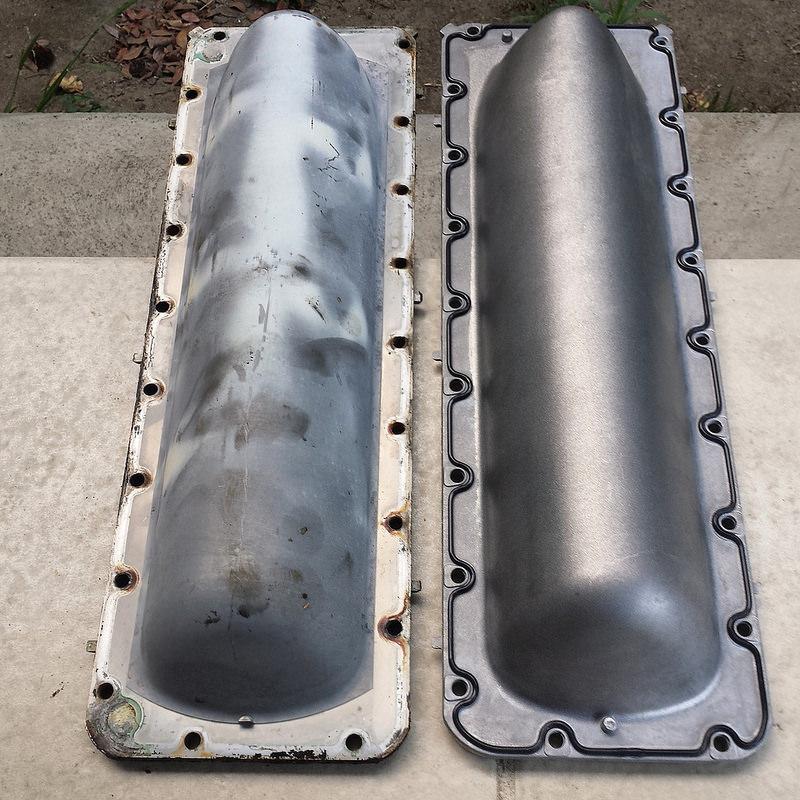 Sent a bunch of stuff to a local powdercoater; ceramic coated the exhaust mani..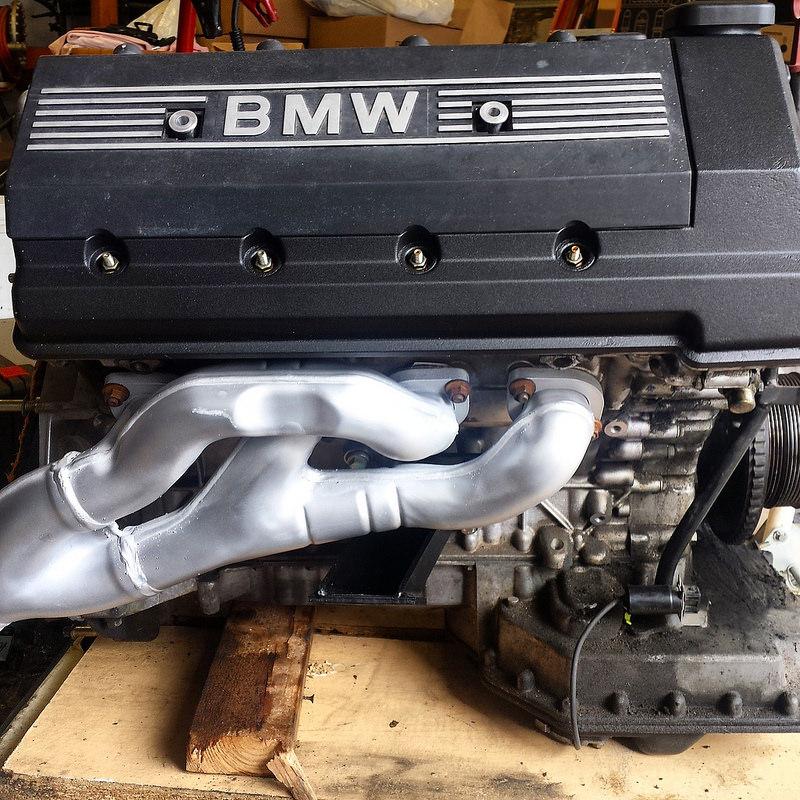 Began disassembling the rear coolant covers..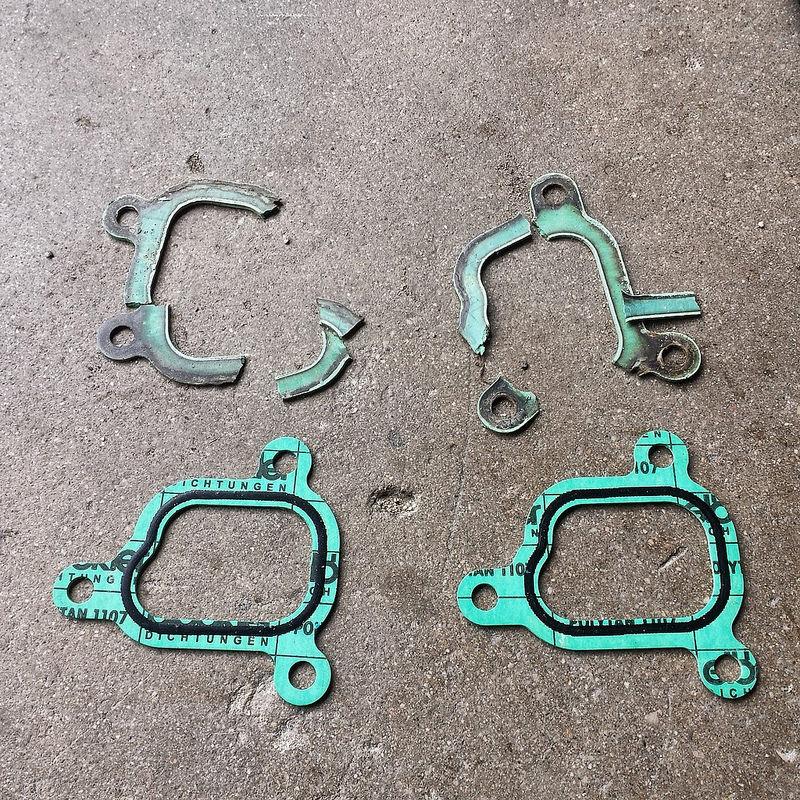 While disassembling I discovered that 10 of the rear bolts were galvanized to the block. Began to drill out the first bolt to use an extractor. Granted I didn't buy an expensive kit so hence quality of china.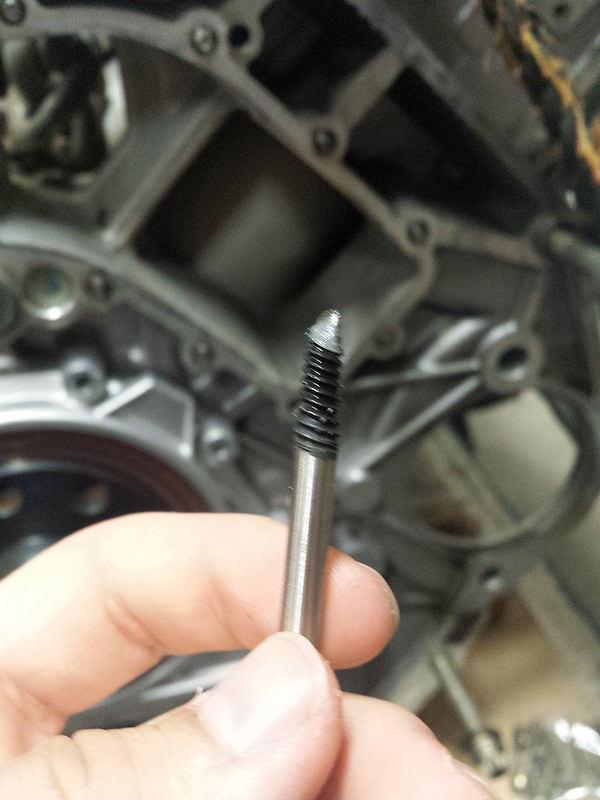 So pushing ahead I said fuck this grabbed a brew and started drilling like a mad man. My time-sert kit is currently en route, I have the 10 for the rear and two for the valley pan. This ought to be fun. In the meantime I figured I'd clean up the metal shavings and degrease a little.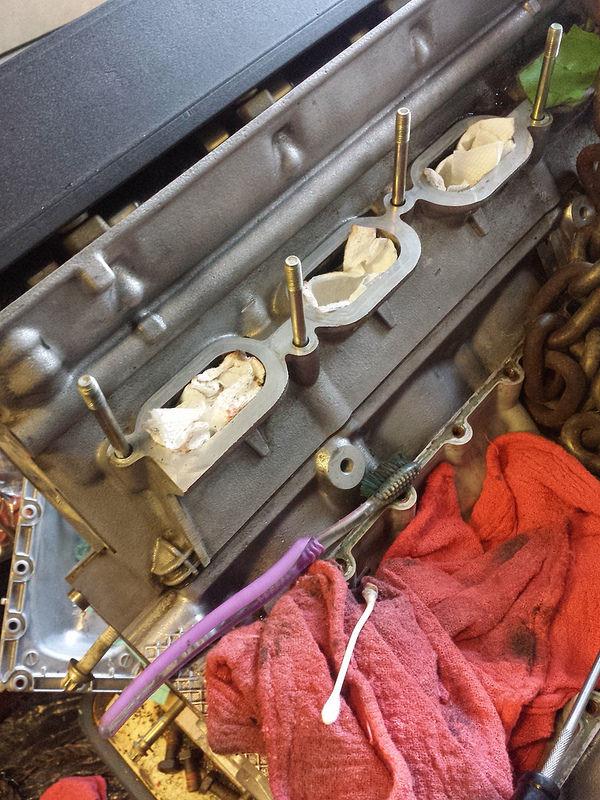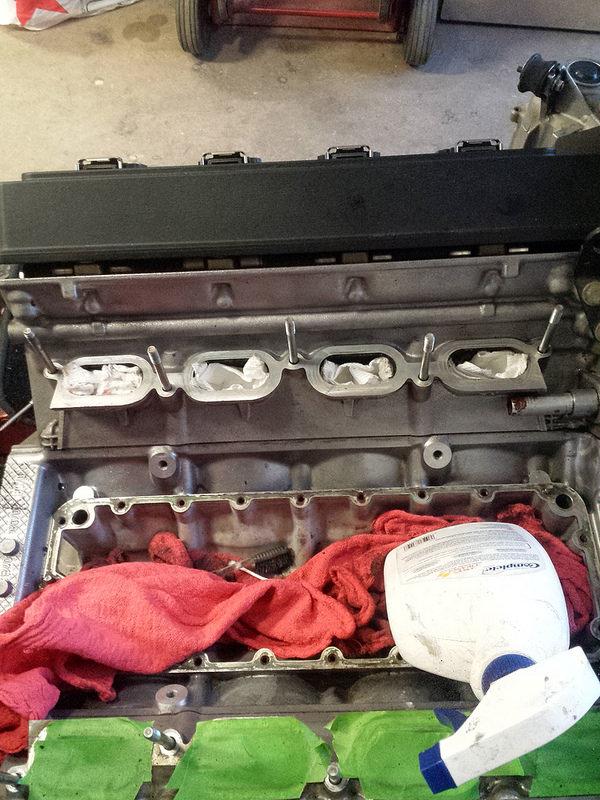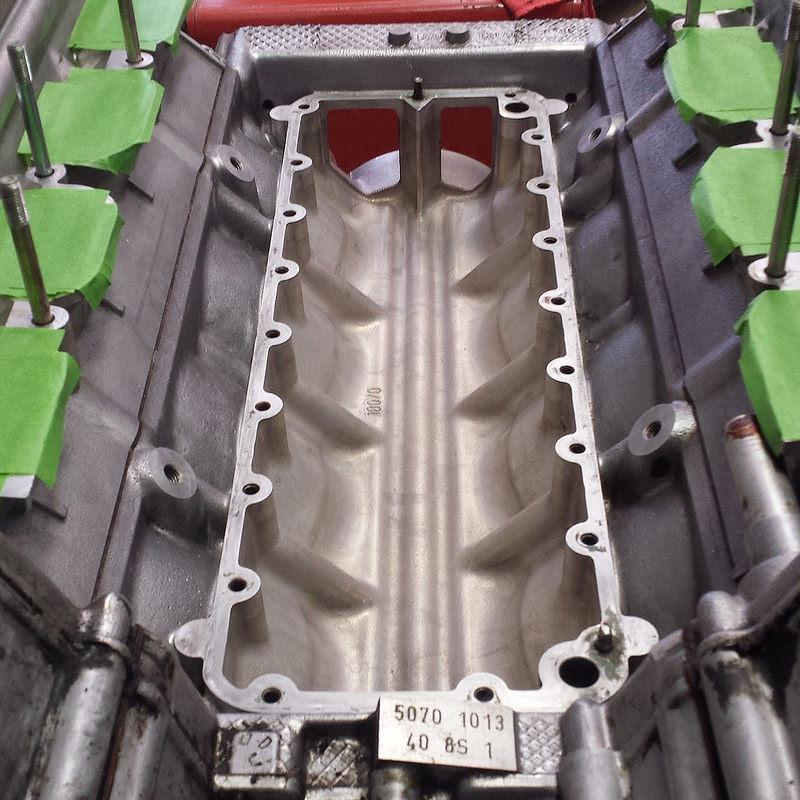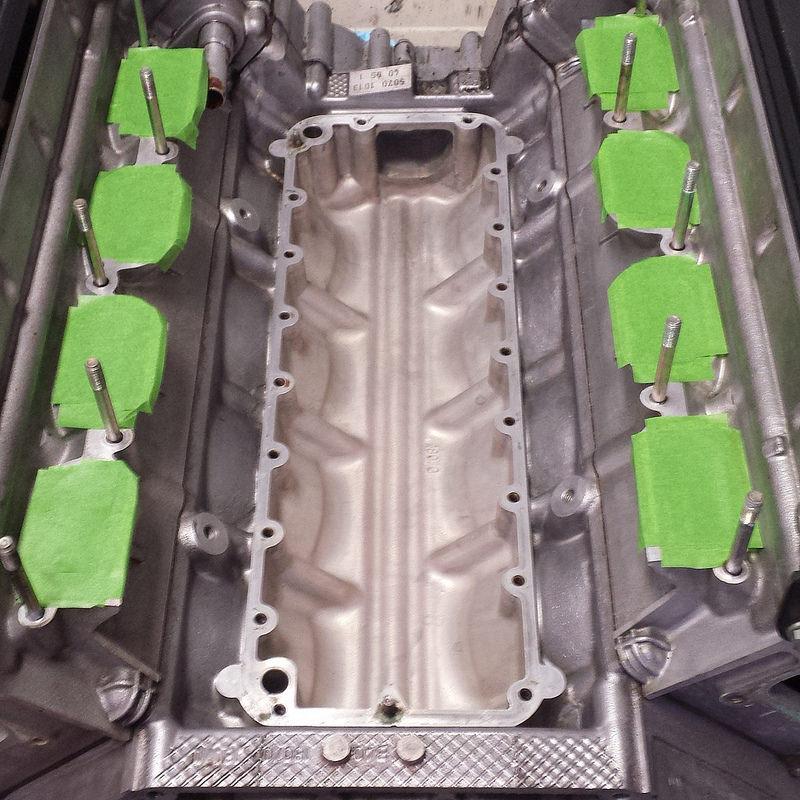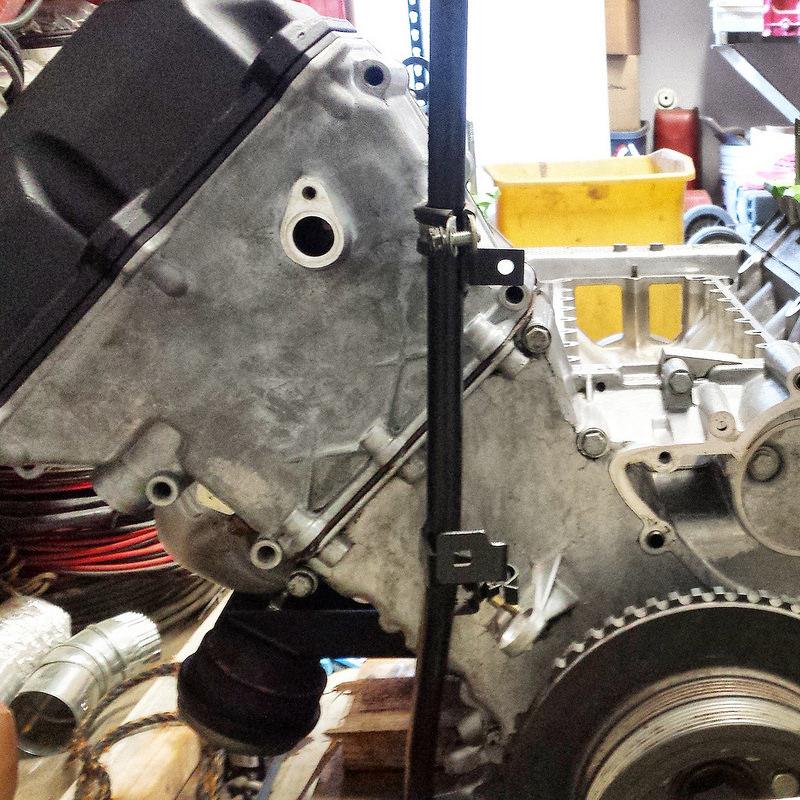 Also picked up this bad boy from a local yard guy; Pulled from a 98 540I w/94k Miles. I have no idea how the synchro's are on this so I'm hoping its not trashed.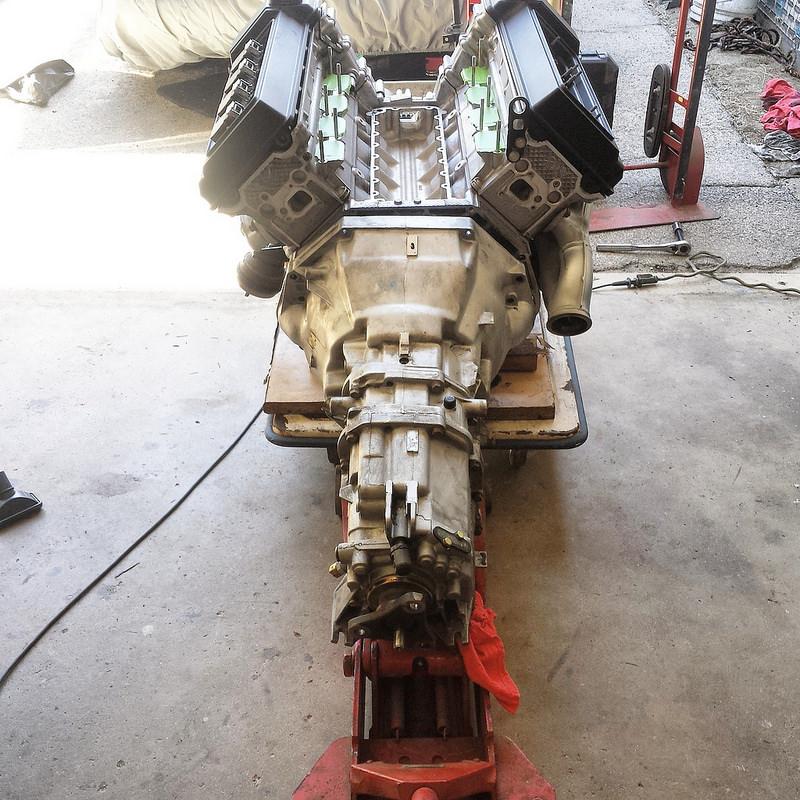 Thanks and totally agree, good things cant be rushed.
Quote:
Originally Posted by
Staszek

Wow I never saw the timing guide snap out like that, I have seen them break up into tons of pieces but not it shear in that area. I just changed the guides on my M62 right before last winter. They were not broke, but the car had about 120k miles and I was worried about them going. I pulled them out and they were in great shape, was hoping I didnt do all that work for nothing but I did. At least I have peace of mind now.
I had bits in the pan; oil pump bolts were still on there fine. The motor supposedly had 170k before it blew a headgasket. I got it without an intake runner and etc, almost a bare block and the PO removed a lot of things himself. I dont know if its the combination of moving around but as soon as i spun the motor it was a no go.
Shit happens, it was a major set back and def upsetting but gotta keep pushing. After that I kinda stopped my hunt for m60 heads and just wanted to get something going hence why I opt for the whole m60 for a killer price. Rather have a BAR'd m60 swap then work on the hybrid with possible induction.
Quote:
Originally Posted by
SmallDave

This car is so much fun to look at, especially since I'm about to paint mine! What's your instagram?
Thanks man! Good luck with your paint job, take the time on the prep work and tack it good it'll save you a lot of time down the road. My instagram's bornography_
8-11-2015
Took a page from MonkeyMadness on this one... So I got my coolant pipe back from RJ over at IE, really happy with the outcome and quality of work.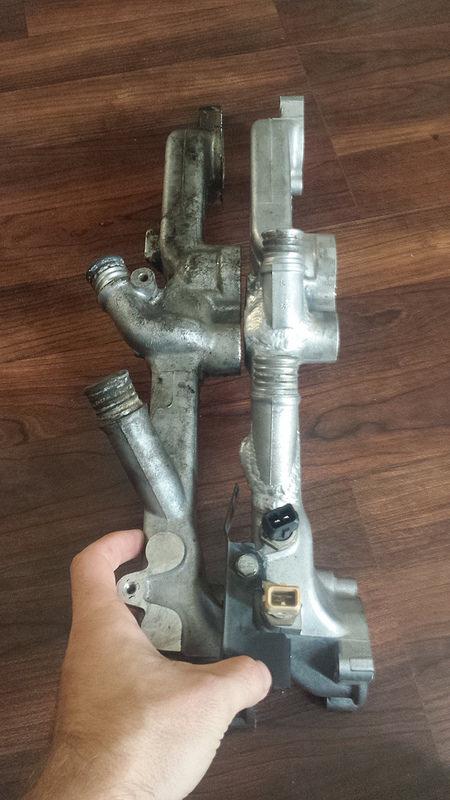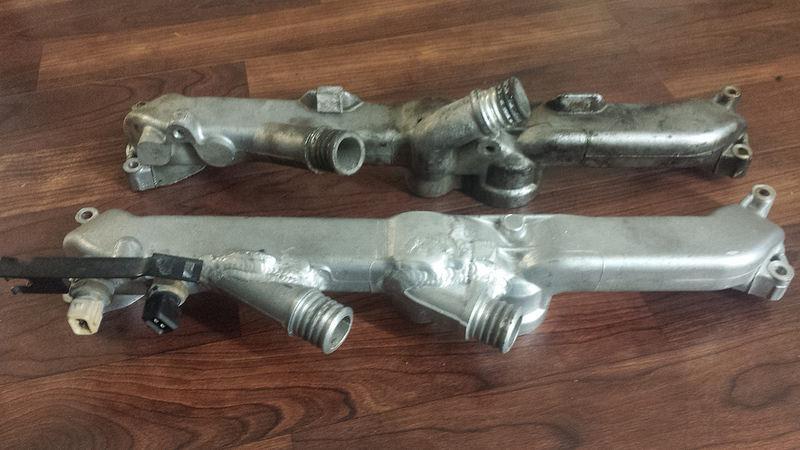 My time sert kit came pretty quick, must say I'm very impressed and happy with the outcome.
Counter-bore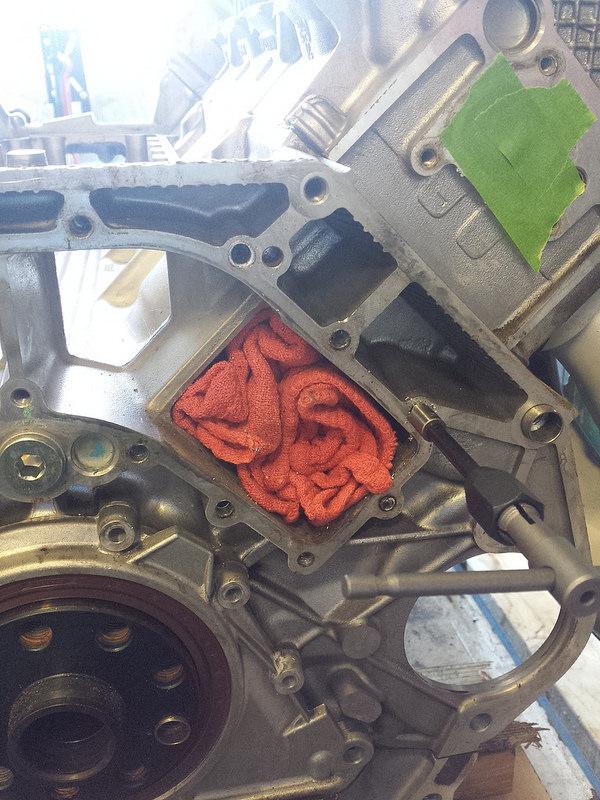 Tap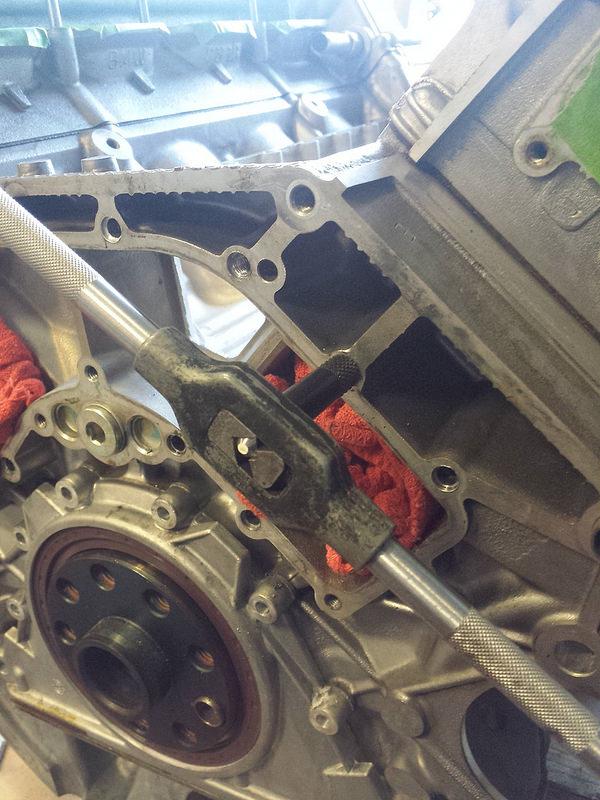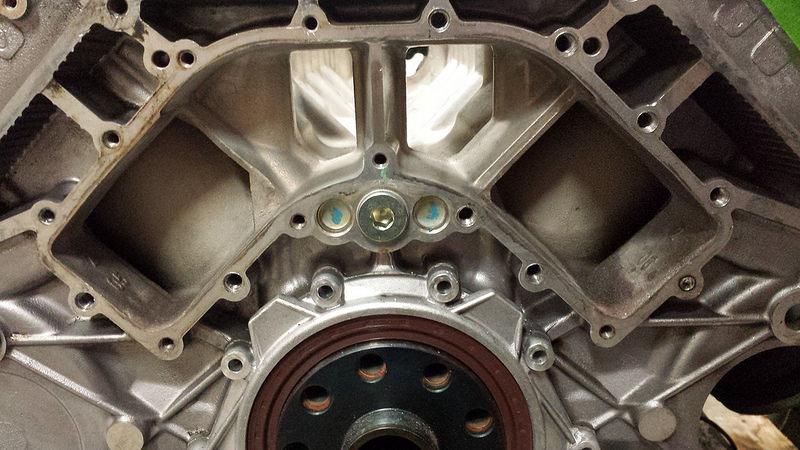 So before finishing everything up I'm still stuck with the original headache. The glorious china easy out. So I hit it with a little dremel diamond tip, worked out alright and made baby steps.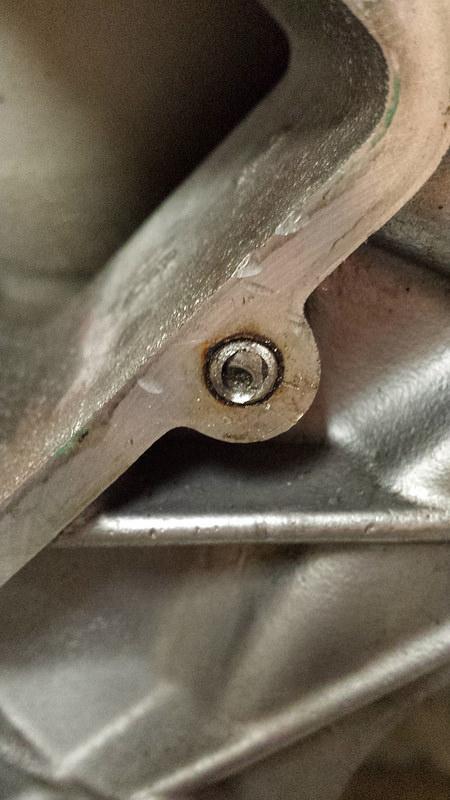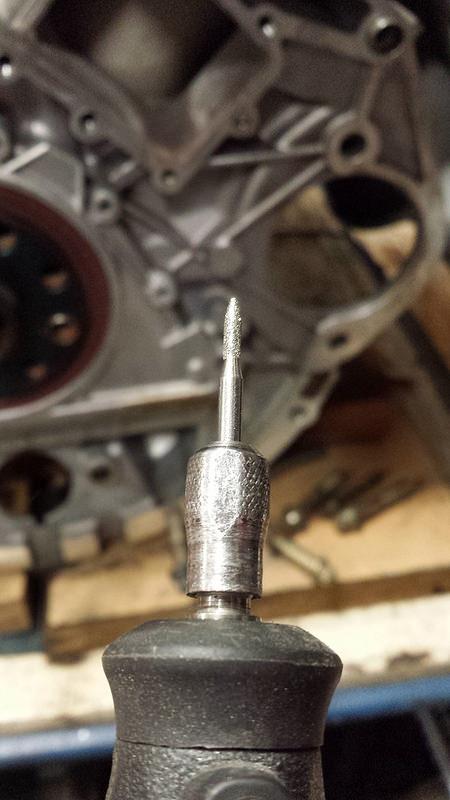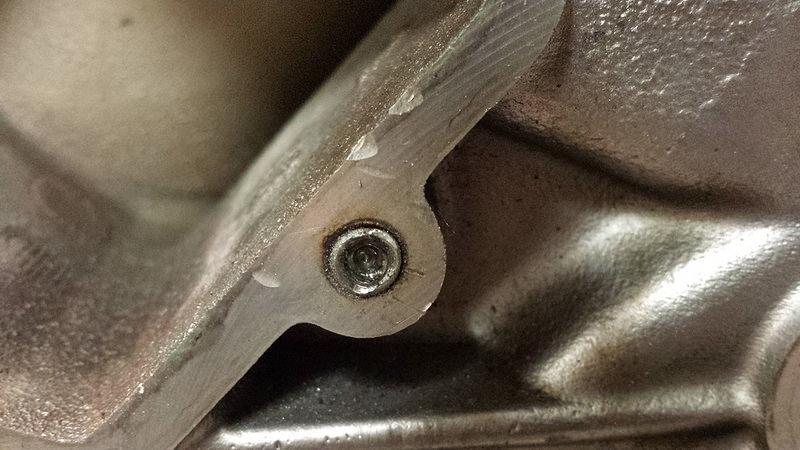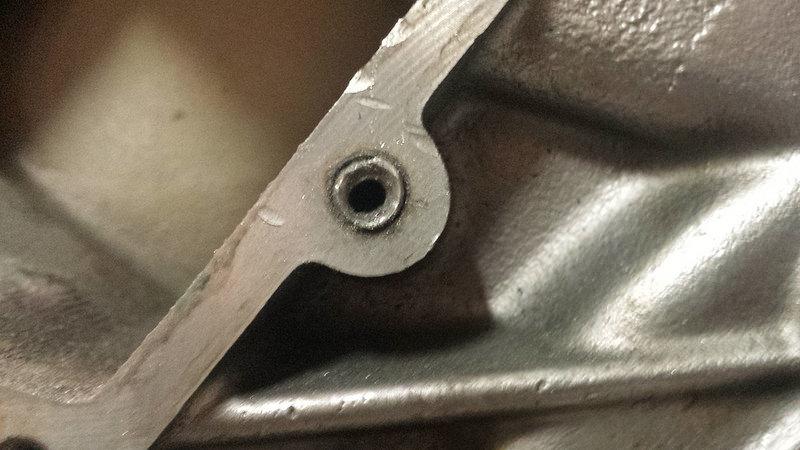 8-12-2015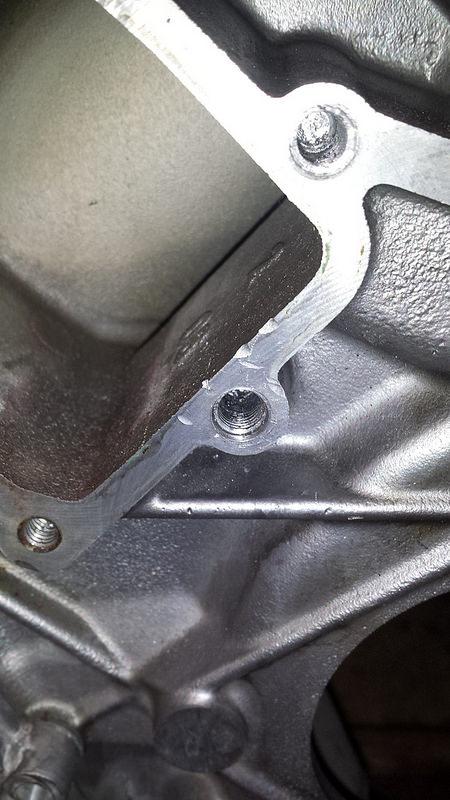 The magical kit...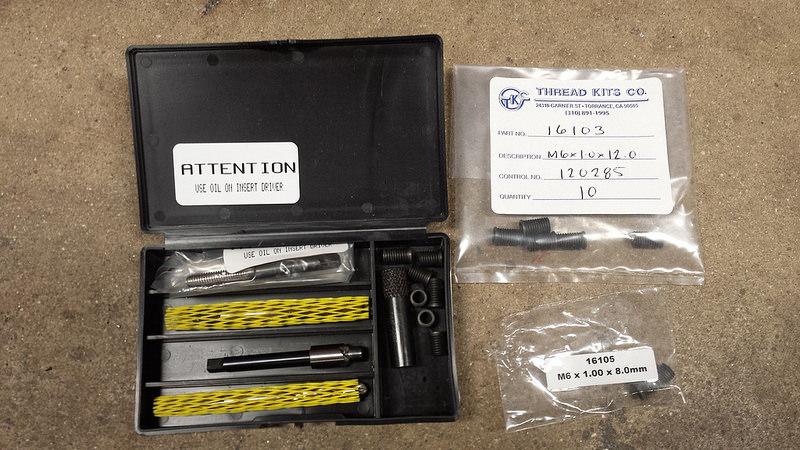 Time Serts installed...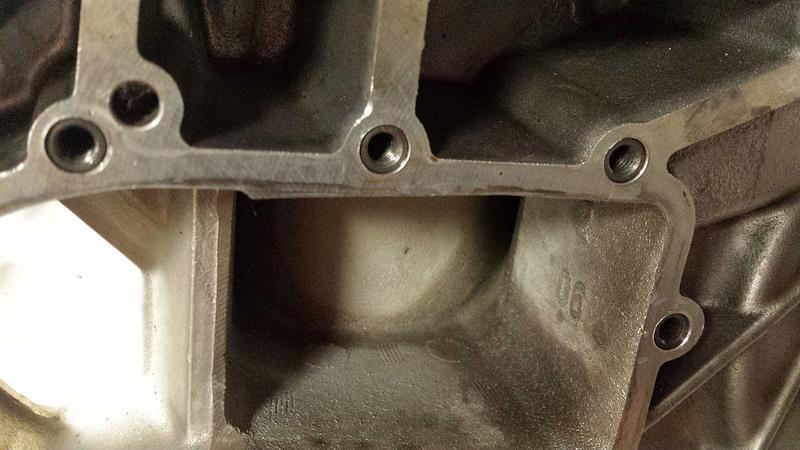 Coolant pipe clearance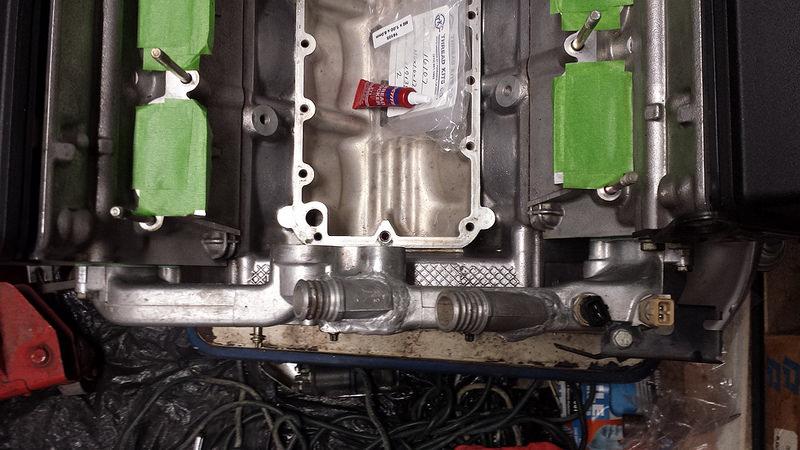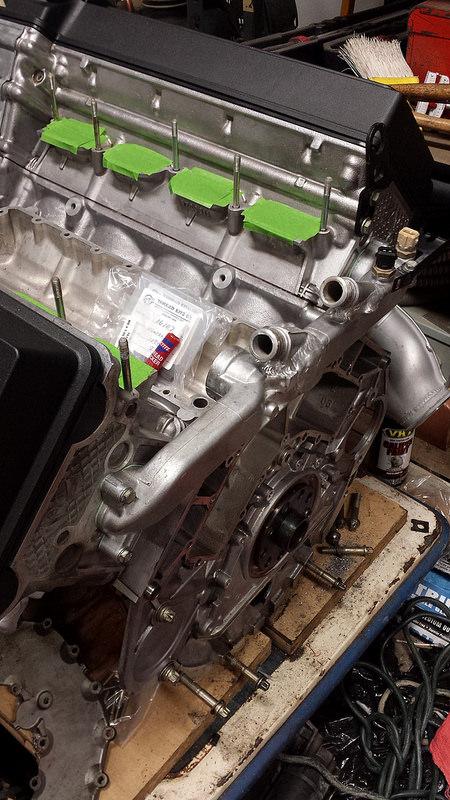 Original Thread Here: http://www.r3vlimited.com/board/showthread.php?s=d42ef783d7f036301366b59ecfb02459&t=295719