Yet another, BMW E-36 LSx conversion... by BRAAPZ
By diyauto
Yet another, BMW E-36 LSx conversion...
Compliments of BRAAPZ @ https://ls1tech.com
5-31-2009
New project!

Started an LSx powered Nissan 300-ZX project, detailed here;

https://ls1tech.com/forums/conversio...ka-z-32-a.html

Moth balled that project, sold the car, kept the LSx and T-56 with plans to use the powertrain in another car more worthy of the conversion, stumbled across a 190,000 mile '97 BMW M3 sedan, 5 speed car, Black on Black. Car runs GREAT, no smoke, doesn't miss beat, runs every bit its mid 14 second ¼ mile. Everything works, couldn't more happy. The paint isn't perfect, but being as this is daily driver, part time auto-crosser, I prefer a few blemishes vs a show car. Previous owner installed a Brembo Big Brake kit and Bilstein struts.
I think the S52 engine and 5 speed already have a home, probably installed in a 260-Z, and then possibly boosted!

Any how, I've had the car for approx 3-4 weeks now, LOVE the car. It is so much more capable in the corners and down the straights than my 300-ZX could ever think of being! LSx power will only enhance that! Weighed it with ¾ tank of fuel, no driver or passengers, a bit portly for and E-36 at 3340 lbs. Front 1620, rear 1720! I didn't believe the rear weight bias myself so I rechecked it and YEUP! Front to rear weight distribution, 48.5% front, 51.5% rear, AND it seats 4 comfortably, 5 if the rear passengers don't mind being a little cozy.


These pics were taken by my best friend the day I Picked up the car. The pics really hide the paint flaws very well.

Picking up the car at the Previous Owners house;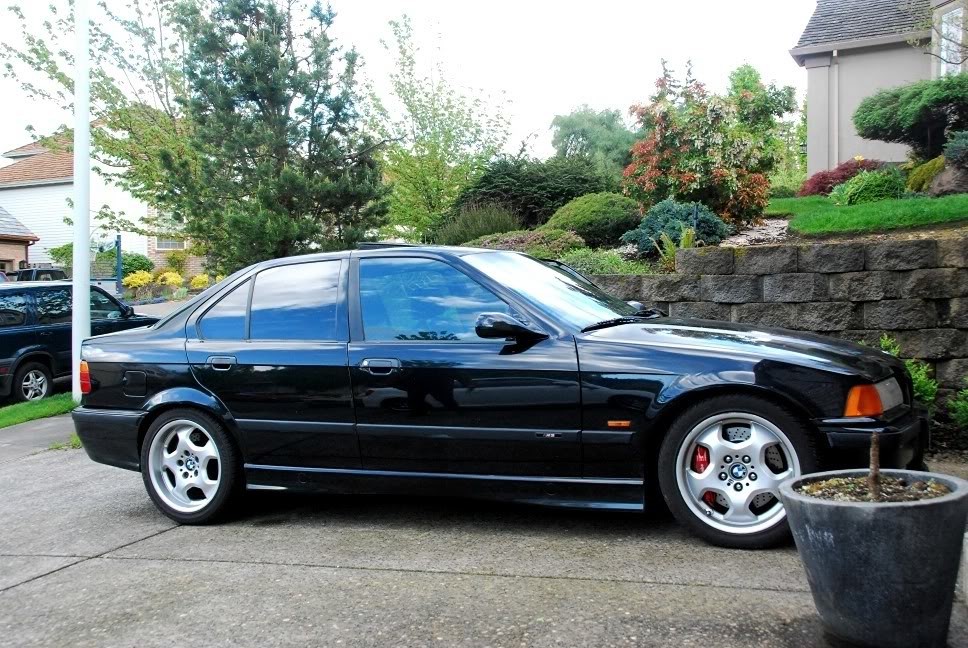 Sitting in MY driveway!;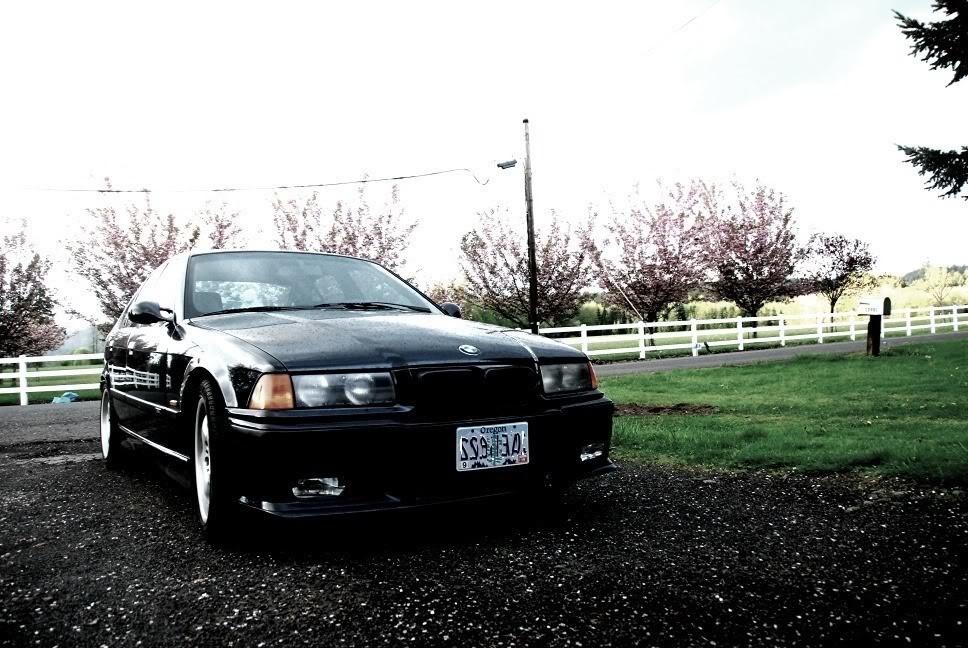 EMMM PAW-WAW… soon to be LSx paw-waw...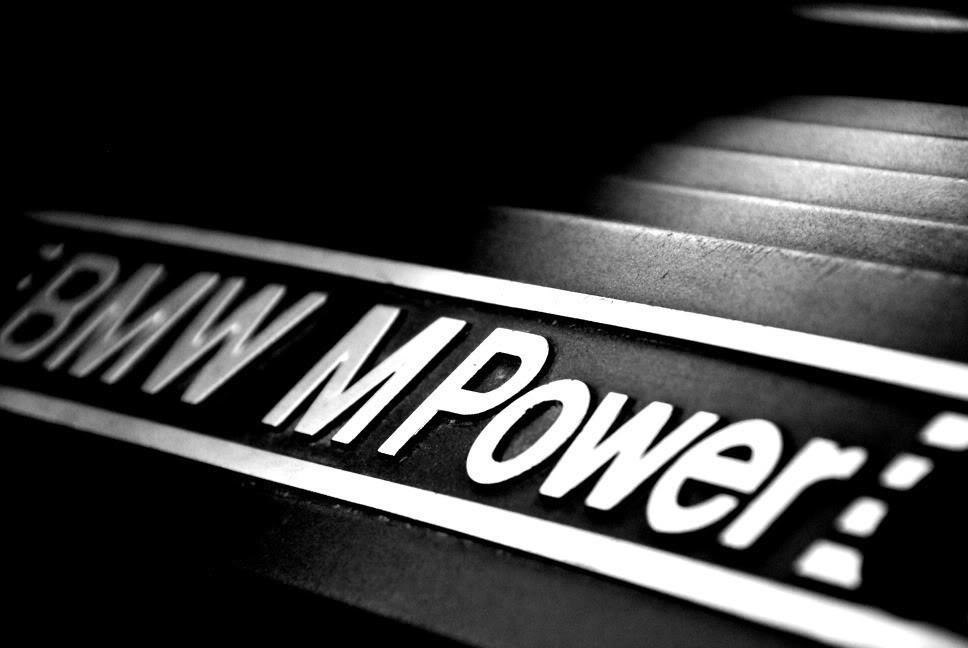 Installed an Alpine head unit and some speakers as soon as I picked up the car, nothing special, just need tunes that sounded little better than OE. Replaced the front corner lights with smoked and have HID Euro Ellipsoids on the way, (should be here Tuesday or Wednesday, pics to follow). Today made a couple other interior changes as well. Mostly getting tired of my iPhone charge cord always being tangled up around the shifter. I keep my iPhone in the cubby behind the shifter next to the parking brake, sometimes under the parking brake handle itself. I don't like it in the sunglasses cubby ahead of the shifter as it is bit small and the cord was still obnoxious and in the way there as well. Being that is the only use I have for the 12v power port, (Valentine 1 is to be hardwired just as I had it in my 280-Z, Q-45 and 300-ZX) the most logical location to me is just under the arm rest next to the cubby where I keep the iPhone. After disassembling the arm rest and center console, I committed myself modifying the arm rest structure to get the power port in that location, (owning a specialty 240-260-280-Z car shop helps). In the end, I am VERY pleased with out come.

Now with the power port relocated, that left this awkward hole just ahead of the shifter. A few days ago I mentioned to my good friend that I was thinking about installing my S-2000 "Engine Start" button in that location that I had in my 240-Z race car! He just laughed and walked away… I'm convinced we all have some "ricer" in us, mine turned up as this start button, (i.e. the current starting system functions fine, but still have the desire to change it to something different, even though "different" does not enhance the functionality, only the visual presentation.. ) So I installed it as well. I connected the illumination portion to the old cig light lighting wires. Just need to connect the button to the starter wire and it'll be functional.

Tried to get some pics of the illumination, pics didn't come out so good, but you'll get the idea. The OBC lighting is the normal dark orange, but for some reason shows up pink in the pics?!?!

First pic is the original power port with the charge cord tangled around shifter…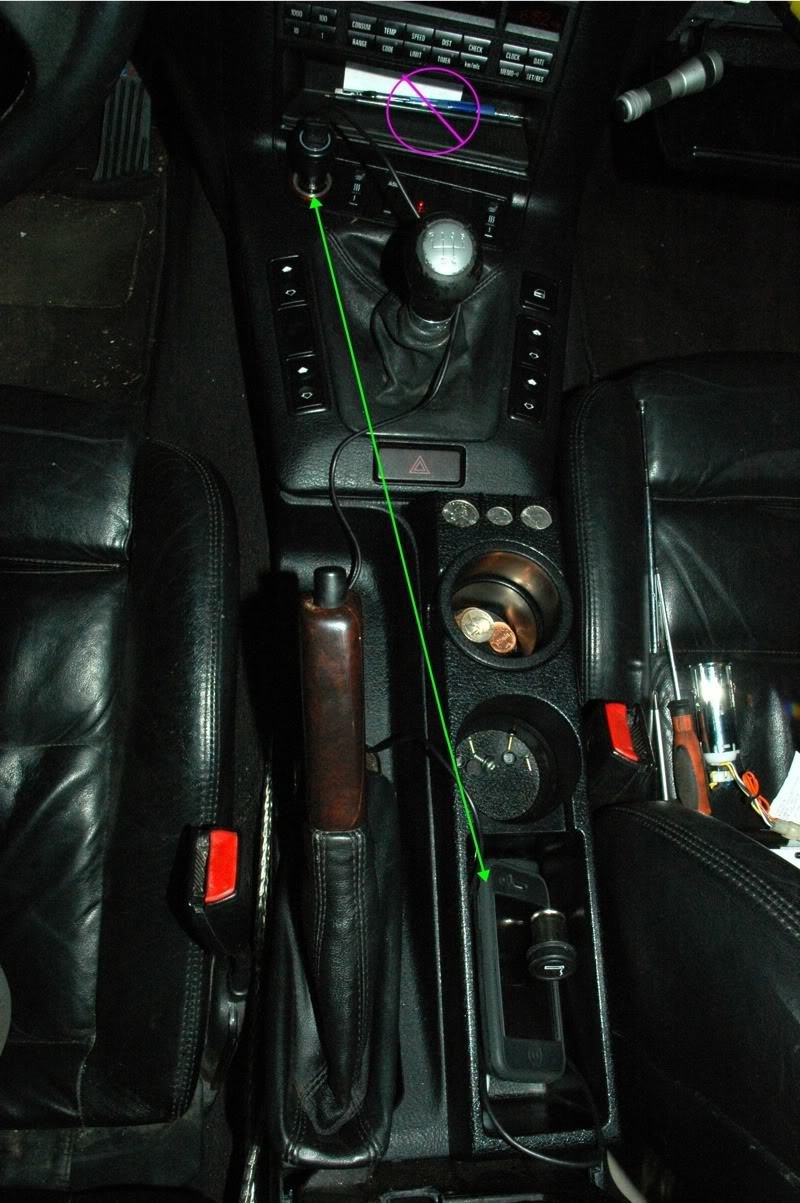 This picture is of the new power port location;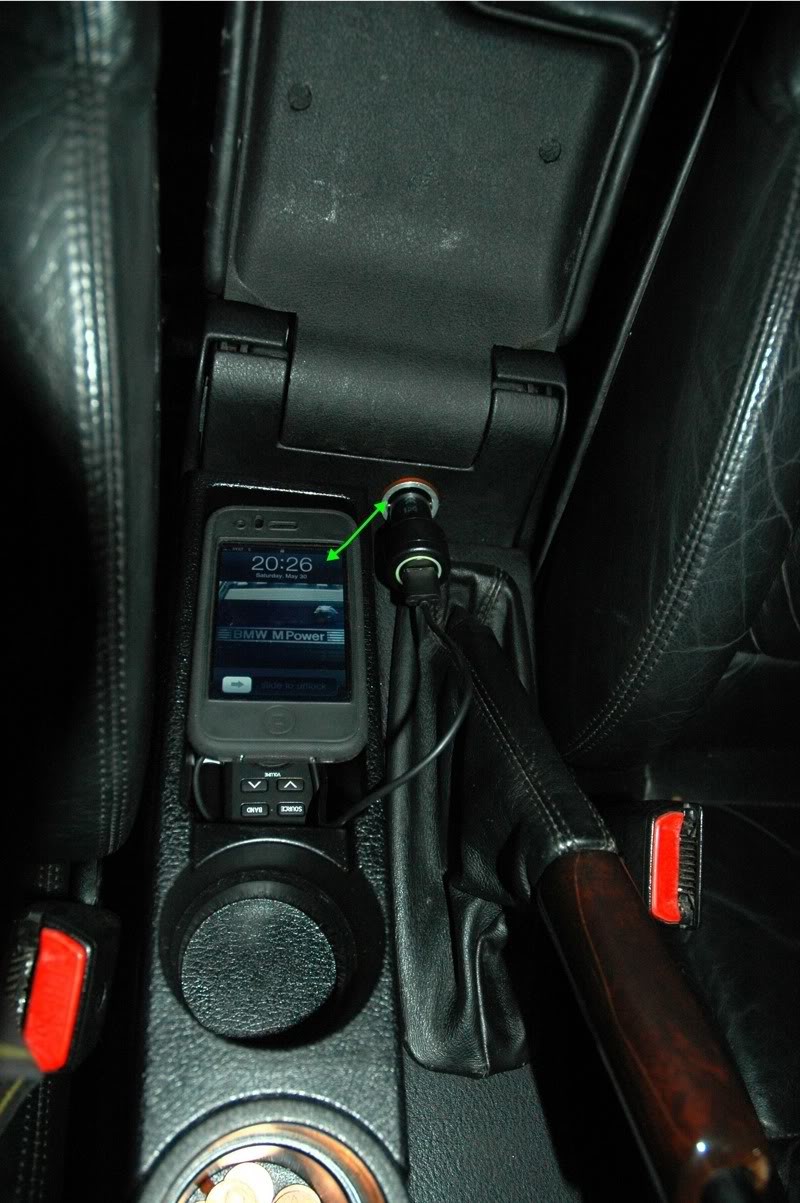 The Honda S-2000 start button, (looks OE);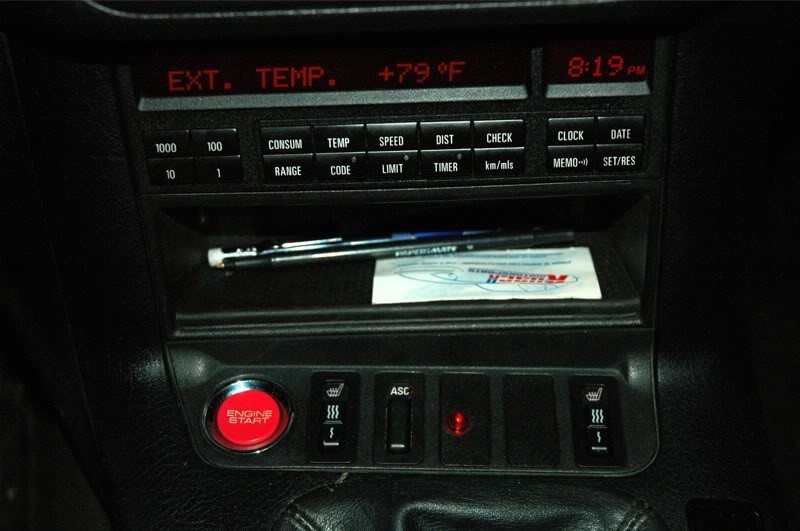 Illumintaed;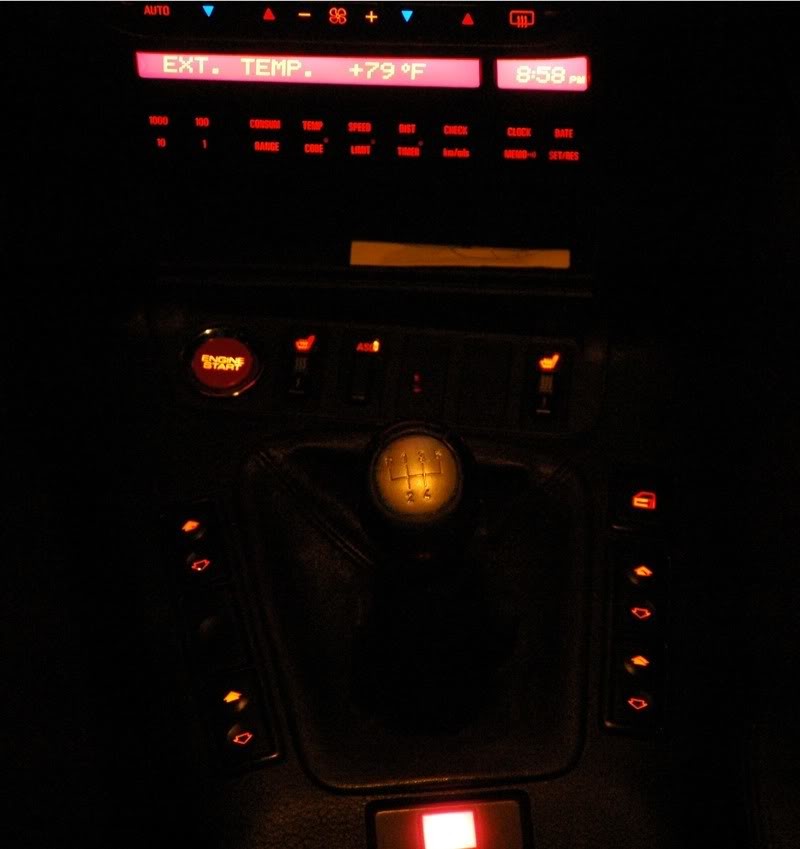 Overall interior shot, iPhone is charging under the arm rest, out of sight, no obnoxious cords in the way. ;-)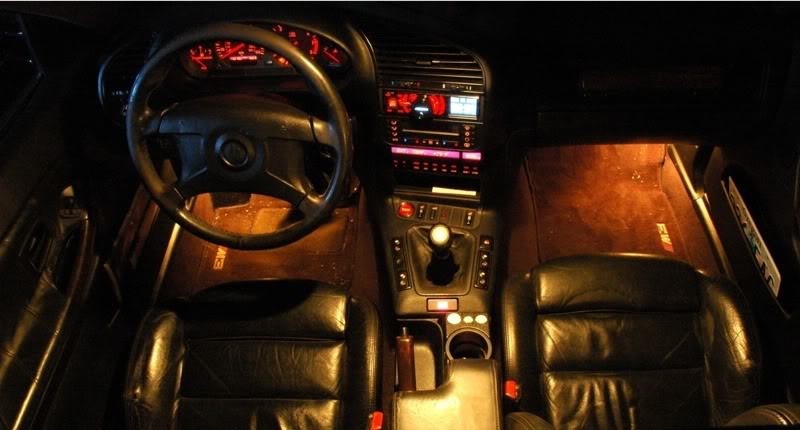 6-25-2009
Just a small update, nothing big, yet…

The project is moving forward, sold the M3 power train to a local HBZ member that will be installing it in an S-30 chassis. (He drove the M3 a few times and feels that the BMW M3 power train would be SAH-WEET in a Z car…) ;-)

My approach to the LSx powered E36 is one of simple functionality while retaining the quality BMWride and driving experience, i.e. no harsh vibrations, loud exhaust etc. A no nonsense LSx conversion. Nothing radical, not blingy, just a simple, "affordable" LSx powered E-36 daily driver that gets comparable MPG as the original power-plant, when not mashing the loud pedal.

I am sitting on a 2001 5.3 out of my wifes '01 Suburban. At 160,xxx this 5.3 it ate the cam. Bought her a used 5.3 engine and swapped it in her Burb, she his tickled pink. So am I as I now have a "starter motor" for my E36. Removed the heads and removed the bungled camshaft and lifters, (detailed write up regarding the camshaft elsewhere on this forum). Purchased a 2001 Vette LS1 camshaft, new roller lifters, several other parts and goodies including oil pans, exhaust manifolds for mock ups, etc. Picked up a WS6 T-56 and LS6 clutch/flywheel package that is currently sitting under the bench right now awaiting installation! Long term plan is to stuff a pert-neer stock 6.0 under the hood,

I do have some help with this particular project, updates with details and pics will be sparse during the beginning, though when the "helper" is satisfied and deems all systems are go, there will be plenty of details, pics, etc. From my conversations with my helper, Once we start posting the specifics with details, etc, anyone else interested in doing this conversion with this approach will be very interested in…
7-9-2009
No turning back now, game on!

A couple hours, (and same amount of beers later), including watching the latest Ken Block video tearing it up at an Airport, here we are!

All goes well tomorrow, the 3.2L BMW M-3 S52 engine and trans will be out of the car and weighed on my crane scale.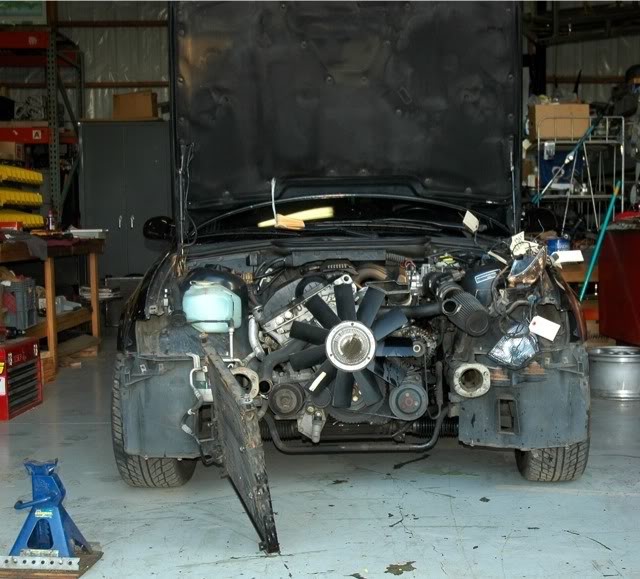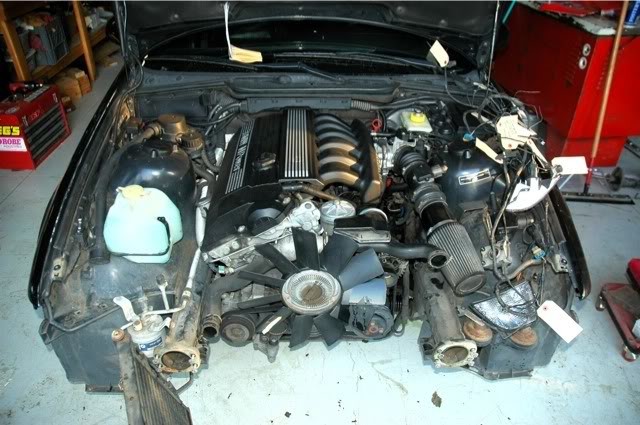 7-14-2009
The last few days progress has been snails pace at best, with company, and family to-do's, etc, though the M3 Engine and trans is finally out!

Ron and I immediately removed the A/C compressor bracket, hooked up the scale , zeroed the scale with the lifting chain and weighed the engine trans combo. Engine with the Alternator, intake mani, exhaust mani's, starter, trans w/flywheel-clutch, oil and coolant, both radiator hoses, 512.2 lbs! Removed the trans, clutchand starter, engine alone weighs 406.4 lbs! Lightweight for a twin cam engine with a cast oil pan! In weighing an LM7 long block at 490 lbs, T-56 is 125-130 lbs, I fully expect the car to gain 150 lbs, give or take 50 lbs… The increase in torque will be worth the penalty.

More pics…

BMW built the hood hinge to hyperextend to pert-neer vertical, i.e. "service" position, no need to remove the hood!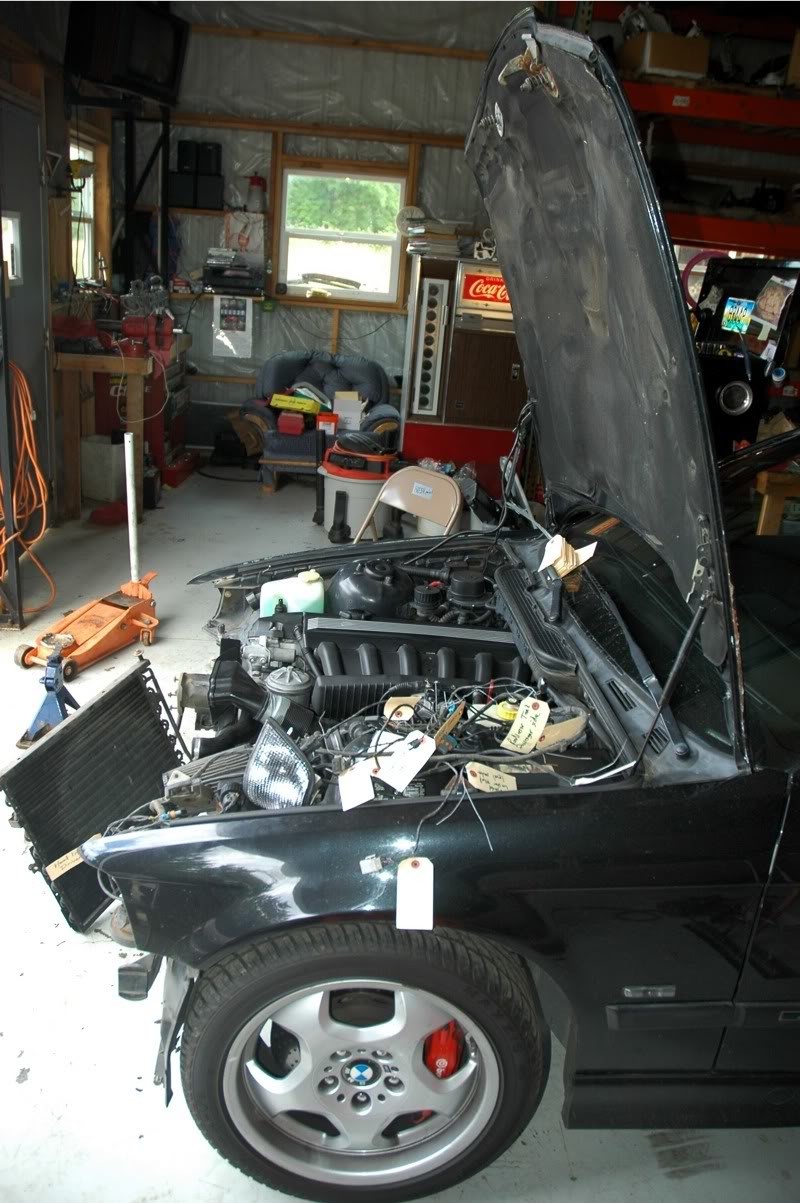 Engine and trans free from the car;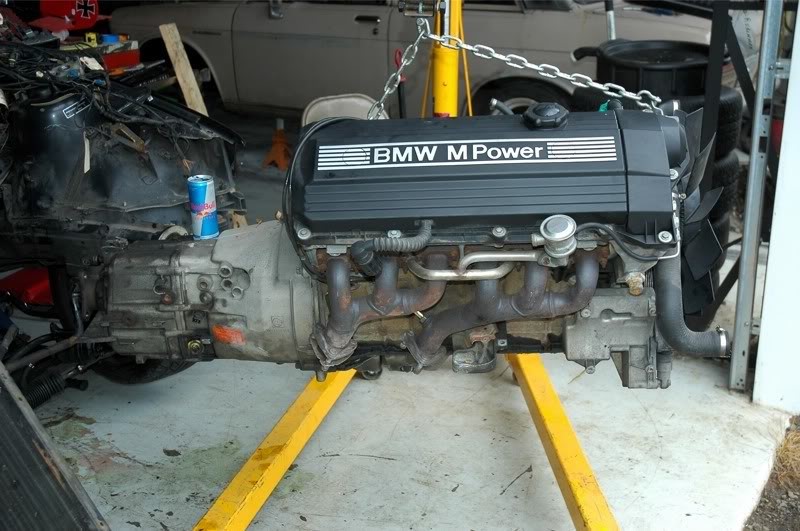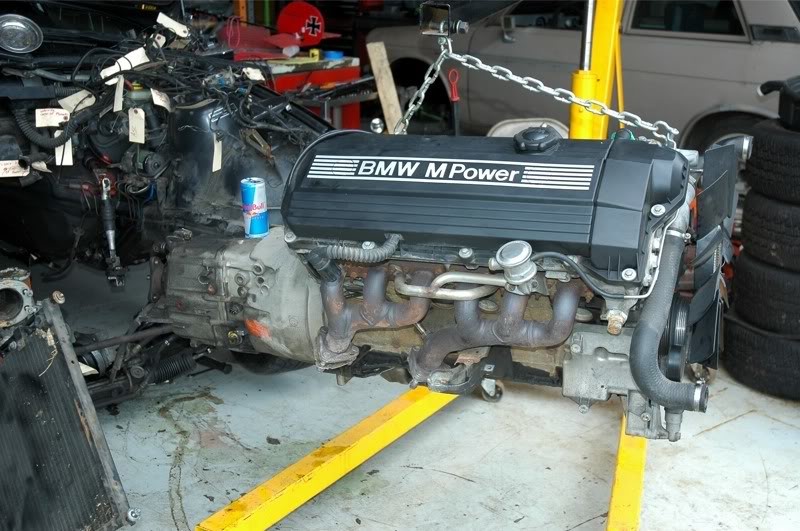 Ron found a tag indicating this engine is not the original engine for this car. Might explain why the back side of the valves are "spotless!"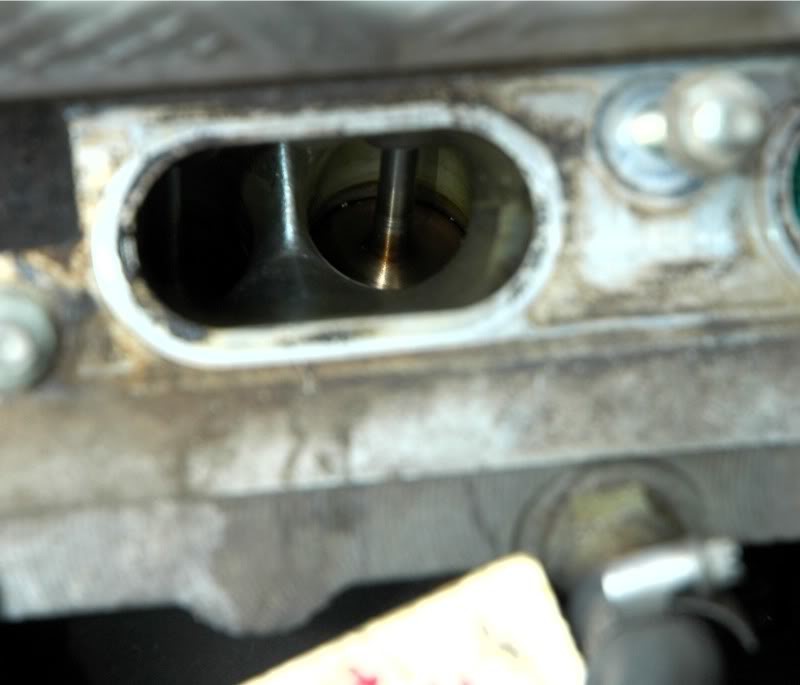 Now the head scratching and reorganization of the engine bay to accept the LSx begins;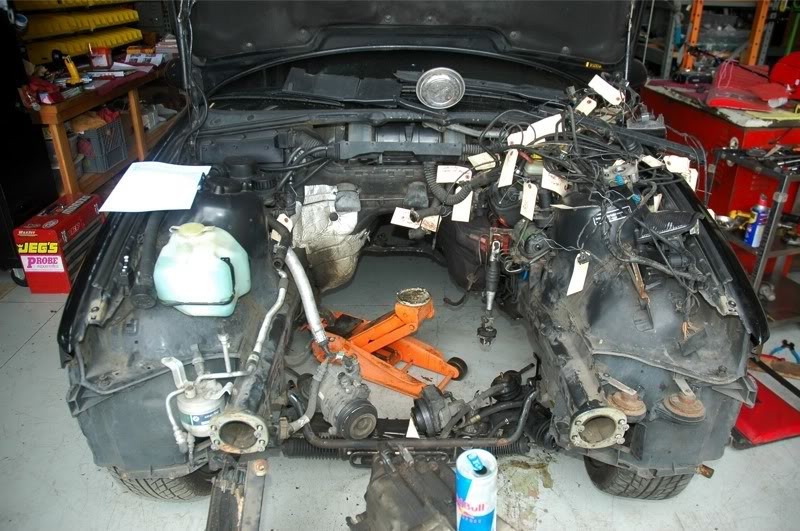 Tools, Fluke DMM, Jack pad, Bentley service manual, LSx swap book, and my 3-ring log book;
My log book where I am keeping a detailed account of the progress made, notes and tips from others that have graciously shared their knowledge/experience, etc;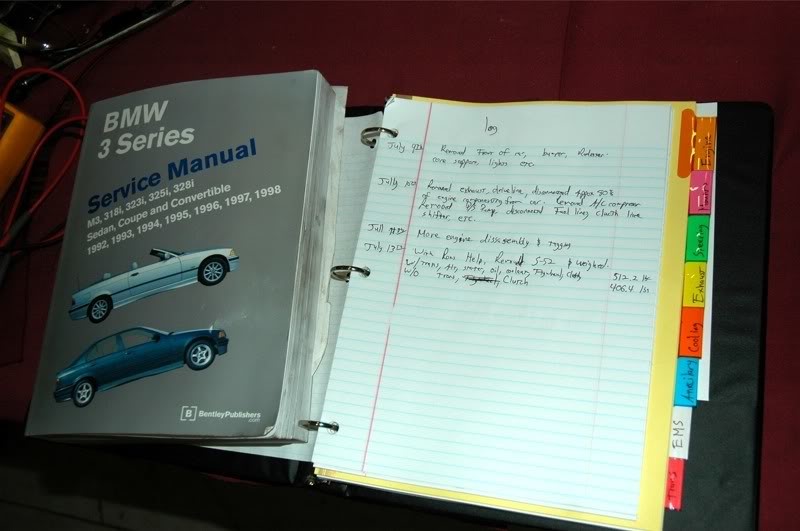 7-18-2009
The S52 M3 engine is currently being installed in a friends Datsun 260-Z! He is even talking about possibly boosting it in the future?!

For those interested, here is the build thread of the M3 powered Datsun Z car, pics, and even weighed the complete S52 power-train...

http://forums.hybridz.org/showthread.php?t=150505
July 18th update!


Finally got around to spending a little time on the car.
Grabbed another stack of my handy dandy manilla wire tags and proceeded to finish tagging each and every engine related connector, hose, plug, wire, etc for the BMW engines new owner while removing the engine harness from the car itself. The original M3 engine is currently being installed in a Datsun 260-Z! I don't know which is cooler, a Datsun Z car with an M3 engine, (possibly boosted!) or an M3 with an LSx? Race is on! Who'll be up and running first, the M powered Z, or LS powered M?
For those interested, Ron started a build thread for the M3 powered Z car… Beauty of that conversion is it is taking place in my shop next to my M3, so I get to drive the Z car once its up and running!

http://forums.hybridz.org/showthread.php?t=150505


Back on topic, LSx powered M car..

After removing the engine harness, cleaning up a few other straggler wires, I removed the X-member, rack-&-pinion, then 3 cans of GUNK brand Foamy-Engine-Degreaser later, the engine bay, X-member, rack, etc is ... well... at least not grimy any more! Loosely bolted in the X-member and rack, ready for initial mock up of the Lsx. Tossed around the idea of painting the engine bay a smoke gray as I have done in a few other V-8 conversions, (V-8 powered Datsun Z cars), the thought of completely gutting the engine bay including disconnecting the A/C system was not too appealing, and being as this is a daily driver and the car has 192,xxx miles on it, decided against that and to press on with the conversion. OE black is just fine!

Next on the agenda is trace out the umbilical wires between the engine and car. Need to know which ones I will use with the LSx so the BMW electrics will be happy and also for the S-52's new owner being as he has the other end of that 3 plug umbilical and I'm sure the Factory BMW ECM will want a few bits of that information to keep from running in "limp home" mode. I heard a rumor that BMW made the car electrical wiring a bit more invasive/integrated in with the EFI wiring… Soon to find out by how much…


The S52 engine harness… It's not really as menacing as it looks…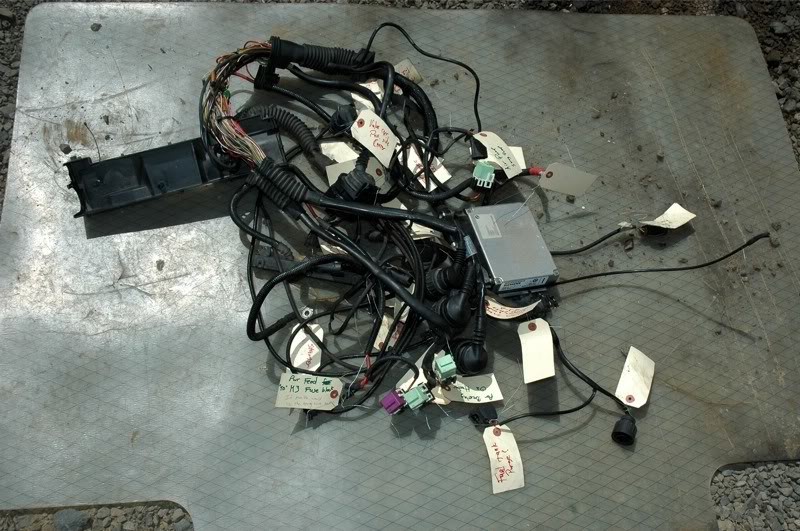 Engine-to-car Umbilical;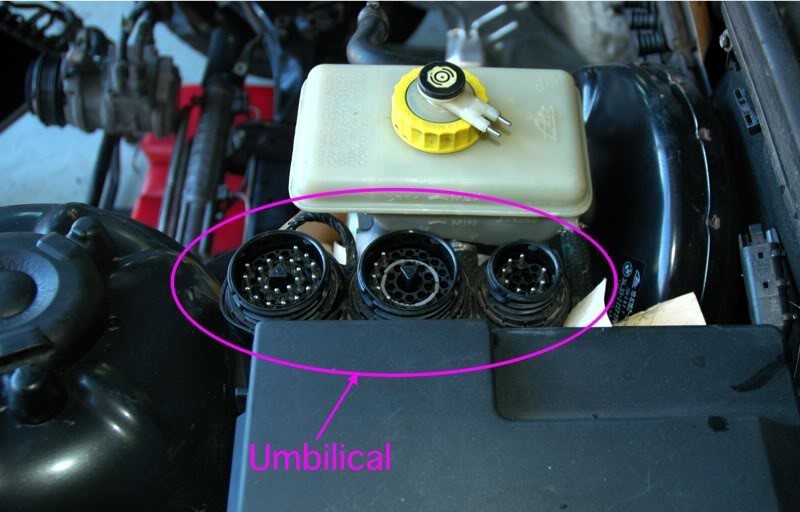 Engine bay, de-grimed;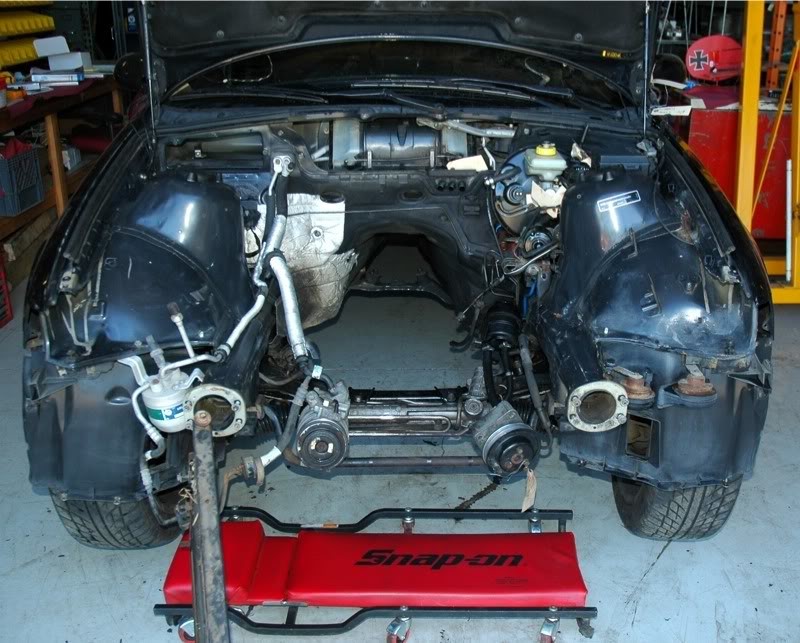 7-20-2009
Update with teaser shots…


Bolted the T-56 up to the Vette LS1 mock up block, (T-56 is out of an '01 WS6, I have been calling it an '02, sorry), fitted my 5.3 heads and Vette LS1 intake with truck TB, then stabbed the whole she-bang into the M3! WOO HOO!!!!
LSx and T-56 fits WAY nicer, cleaner, better in the BMW than it does the Nissan Z-32 chassis, (Z-32, aka '90-'96 300-ZX)!

The common two clearance issues stood out immediately,

1)ABS unit.
2)Steering shaft.

ABS unit is a relocation project. More labor in actually doing it than there will be in head scratching figuring out what is the easiest most logical location.

What makes the steering shaft such a hassle is that it is in the way of the primary exhaust runner of the number 7 exhaust port. My helper on this project, (currently undercover in stealth mode), has mentioned a couple ideas that could help clearance wise. I will be evaluating when I can revisit this project.

For now, I have to pull away from this project till late next week. Our annual family/friends camp-in/cruise-in/Fly-in is this weekend, I have a HUGE list of to-do's to get the property ready.

I'll leave you with these shots for now. Keep in mind, I merely stabbed the LSx in the car, I did NOT position it in any particular location, did not center it, did not adjust its height, nuttin. Literally just set it in the car and took pics. I'm sure its final mounted position will be shifted fore/aft, left/right, up/down from this initial mock up.


C-5 LS1 mock up block and intake, truck TB, WS-6 T-56! Aka the mocker!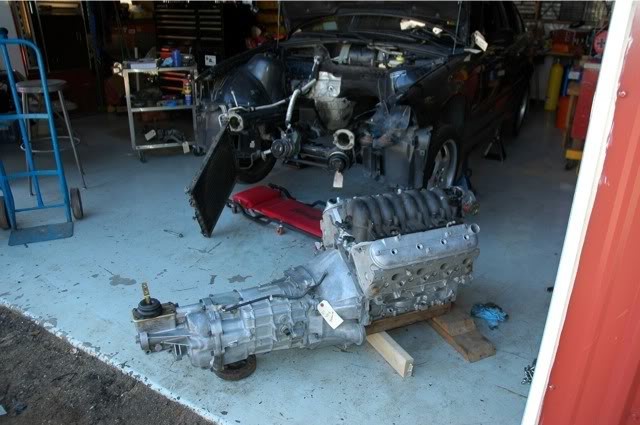 Stabbed in the car!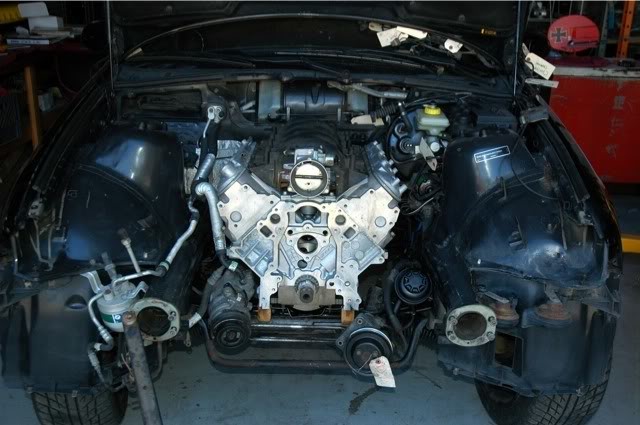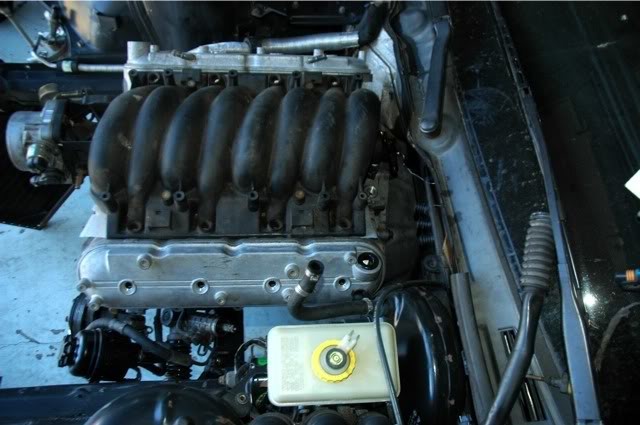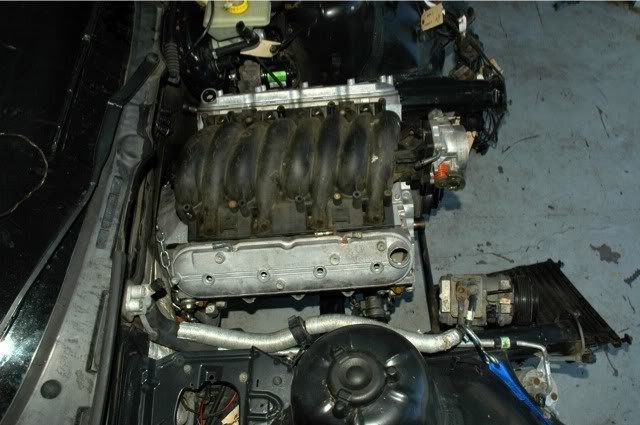 Hood clearance;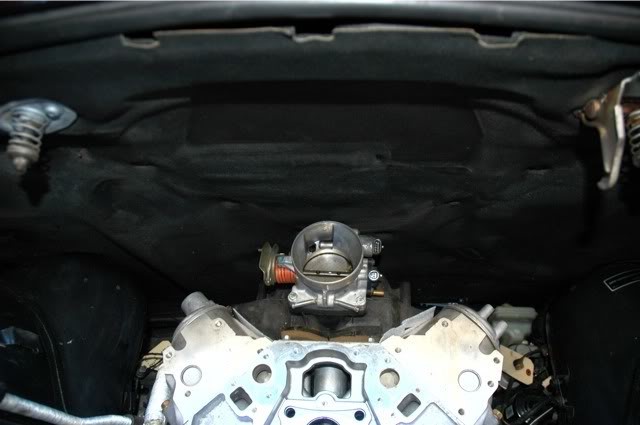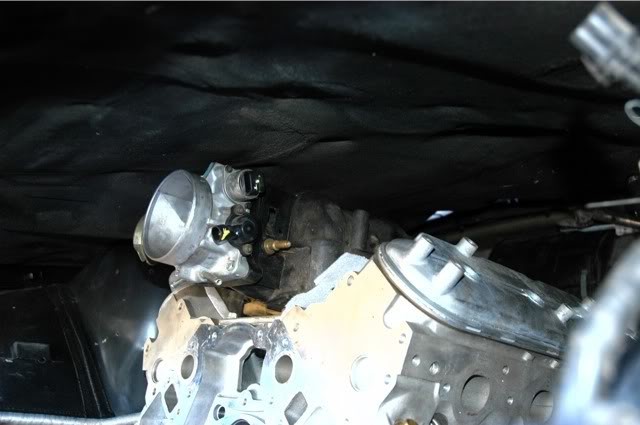 Lowest realistic engine position;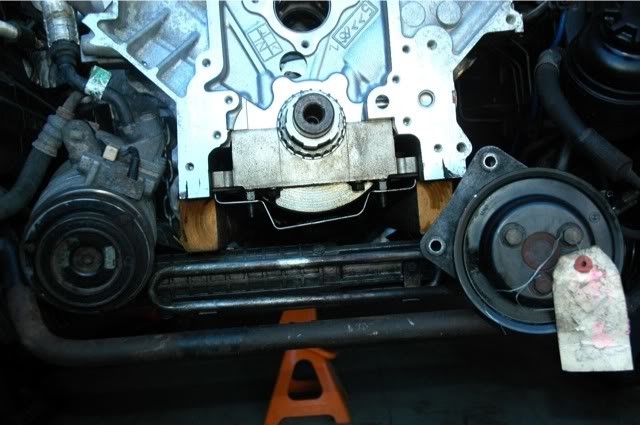 Shifter!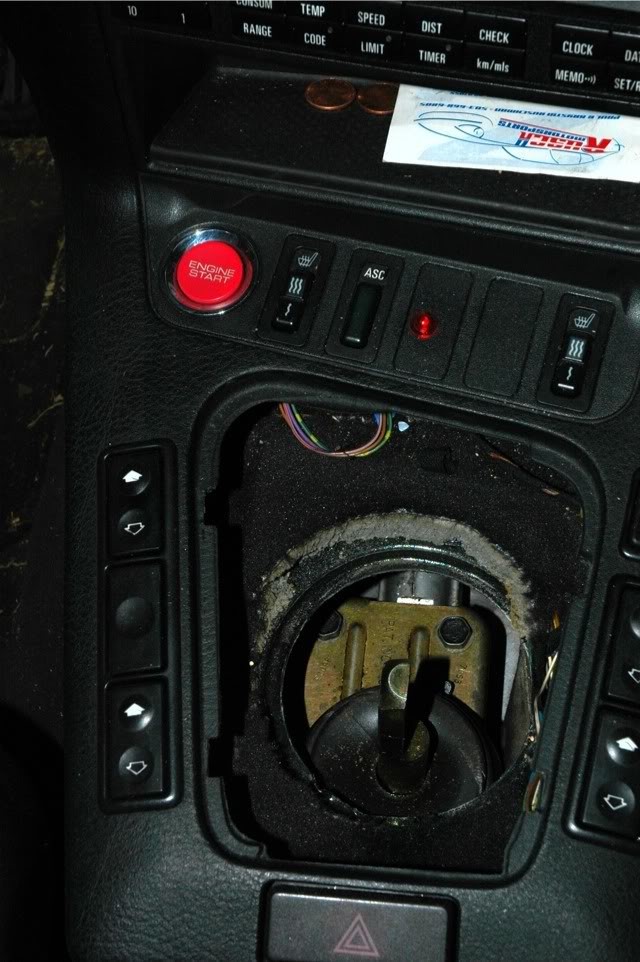 Trans tunnel shots;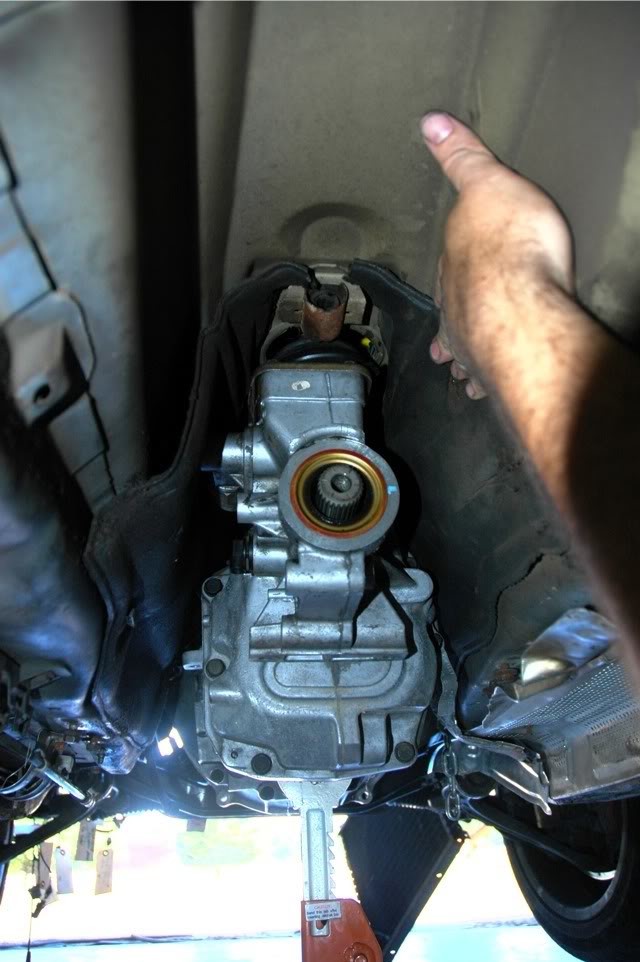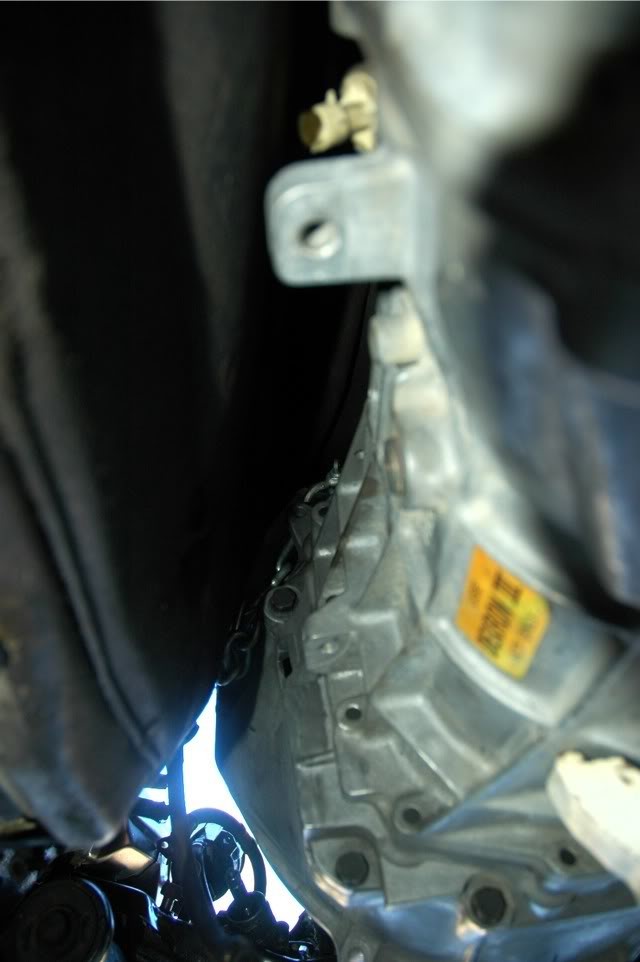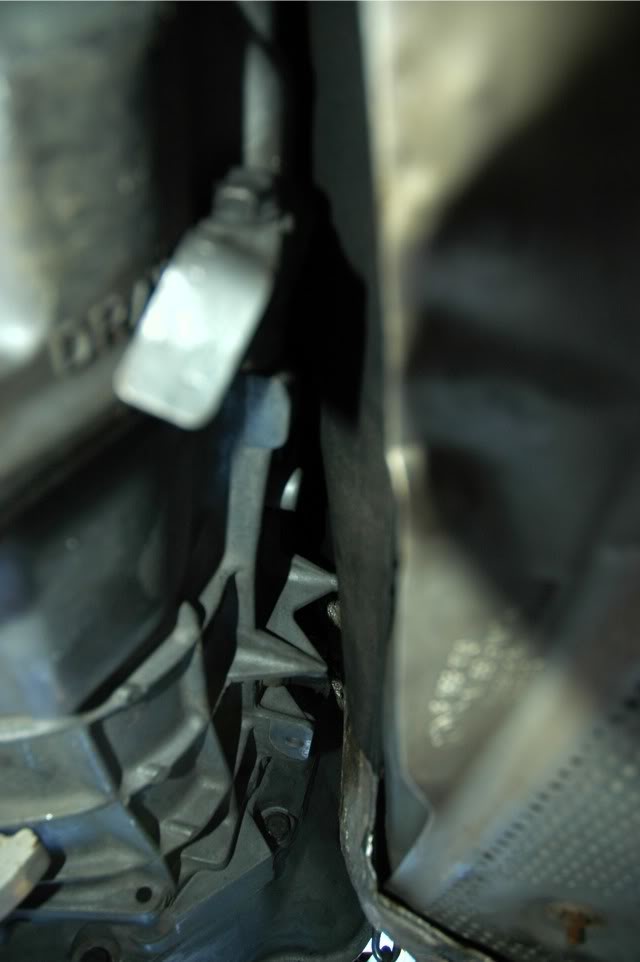 The infamous steering shaft;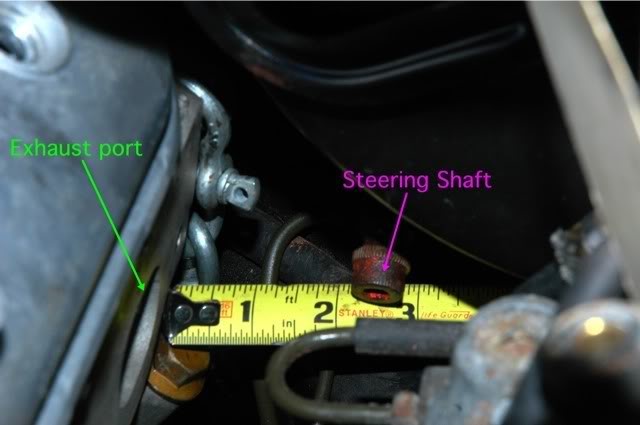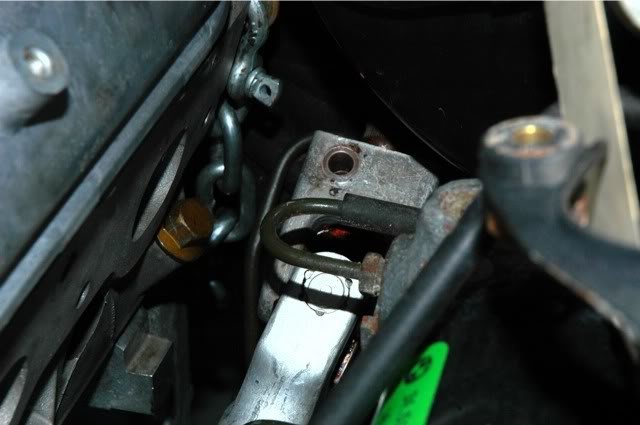 8-3-2009
This update is not real big, just taking care of a few incidentals, getting ready for mounts. ;-)

After taking a peek around the trans while stuffed in the car, made note of all the little bosses and protrusions that pose clearance issues or could pose clearance issues.

Removed the engine and trans from the car, carved off those nubs, bosses, protrusions, blended them in.

Removed the CAGS, (Skip Shift solenoid) from the trans, tapped as deep as my ½" x14 NPT tap would go, then with a metric 13mm plug from a Datsun Z car cylinder head, (thread pitch is perfect match, just slightly smaller diameter), plugged the CAGS hole.

The reverse switch could be a clearance issue depending on how far offset the engine is set. +1" to the passenger side, leave approx. 1" between the switch and the tunnel! I may relocate it to the reverse lock out location, will have to play with that a-bit first. Read on…

Removed the reverse lock out solenoid only to find it had been gutted by a previous owner! My guess is they either thought it was the CAGS solenoid or was having troubles with it. At any rate, I either need to get another reverse lock out actuator or using the reverse light switch, add some spring tension to it, fab/machine a mount for it to to fit in the T-56 Reverse lock out pocket. The added spring tension the reverse switch would add should reduce the tendency to hit Reverse when aggressively grabbing 5th. That' the theory any how... Like the ZF BMW 5 speed, to engage reverse require a LOT of effort to overcome the added spring tension, (keeps from inadvertently grabbing reverse), using that same concept for the T-56. If I am able to make that happen, I wont need skip shift actuator and that will allow the trans to sit closer to the passenger side of the car without interfering with the trans tunnel.


Today spent a couple hours porting my 5.3 cylinder heads, 706 castings. Being as this is my interim LSx and just a 5.3, I didn't go crazy just a little valve unshrouding, removed the roof of the exhaustport making them "D" ports, and blended the seats into the ports for a smoother transition in that region, (removed the sharp edge/ridge). In the next couple days, time permitting, I will cut the valve seats with 4 or 5 angles, surface the heads and assemble them. Valves have already been faced, added a 30 degree back cut to the exhaust, (intakes already have a 30 degree back-cut from GM).

Once the heads are done, will install them back on the short block along with the 2000 Vette cam, (dur @ .050" 198/209 Vlv Lft.500"/.500", 115.5 deg LSA) LS6 yellow springs, LS6 take out roller lifters, all new gaskets, ported oil pump, new water pump etc. Engine will be ready for mounts in approx 3-4 weeks.

Pics of this weeks progress.

Some of the bosses removed;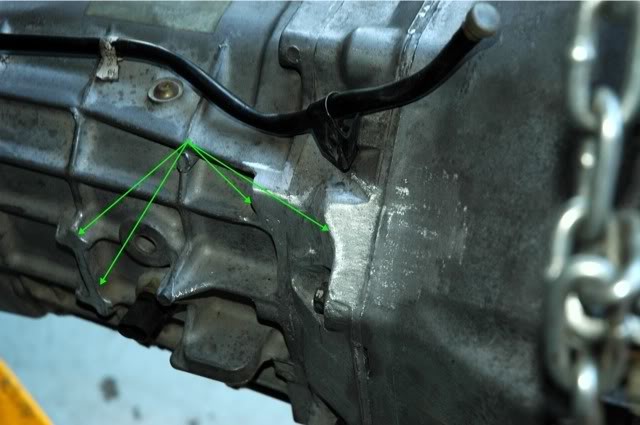 CAGS plug;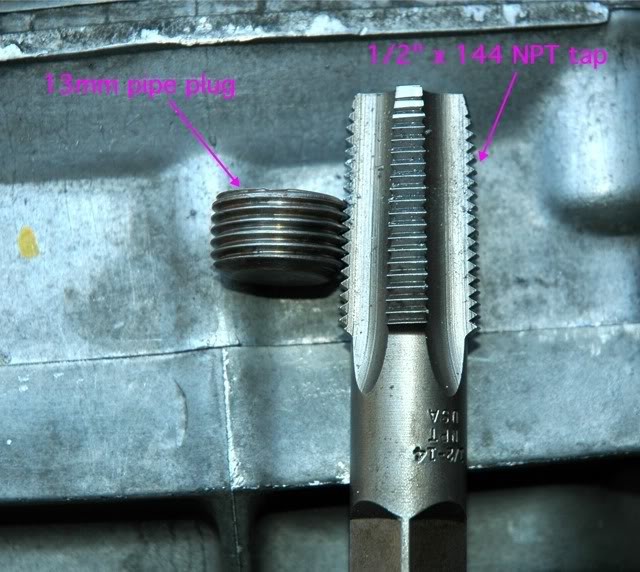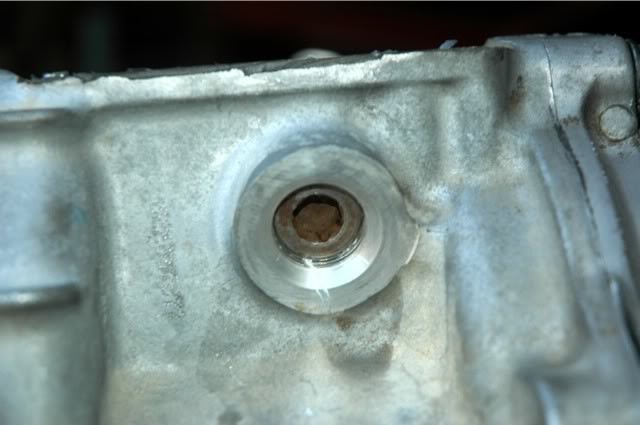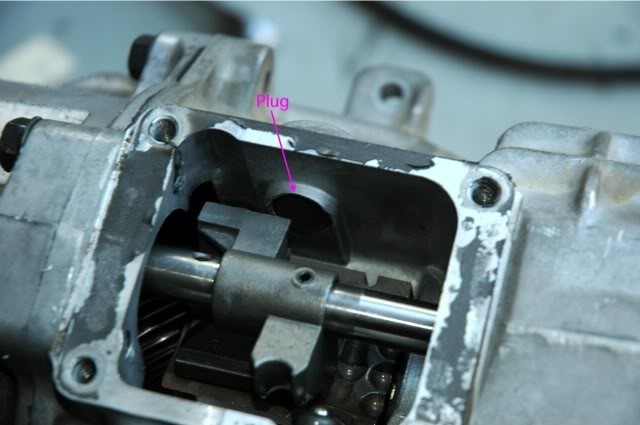 Head porting;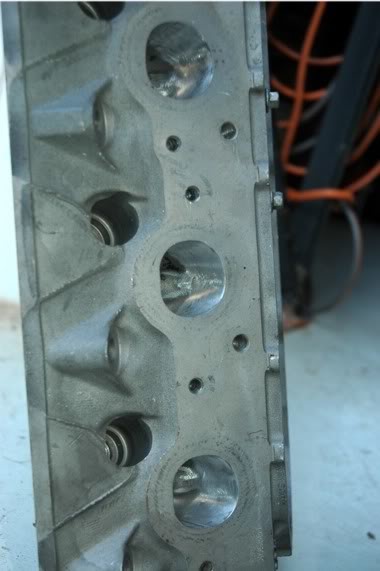 8-5-2009
Got my lights finally. I'll spare you the details, I'm just glad I got my lights.

Side fender and front corner are smoked clear with stealth bulbs, (stealth bulbs installed in the pic). Taillights are smoked with stealth bulbs, (Sorry, orange bulb is in this pic,), headlights are glass lens Euro Ellipsoids, HID low beams with 50w ballasts, 5K bulbs, protective film on the glass. I did NOT get the angel eyes. Angel eyes look fantastic on the 5 series but so many copy cats have over done them on so many other cars, I feel no need to follow the herd on that one... These Euro lights do have the city light sockets and wiring, which I may install bulbs in.

Any how, the lights should help clean up the car visually in getting rid of the amber lenses and the HID's should improve nighttime forward vision.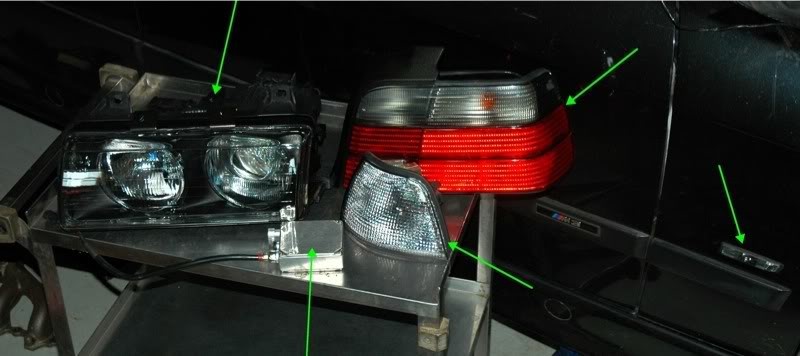 Had big plans today to get the heads finished, assembled and possibly installed on the short block! Between running my wife's daily driver into town for new tires and changing the oil in it, then goofing off online, ordering a pilot bearing, etc, I didn't quite meet my goal though did get a little done. All the treaded holes are now chamfered and chased the threads, removed the broken exhaust bolt and heli-coiled that hole. Tomorrow, I hope to get the machine work done, (cut the seats, deck the heads), as well as final cleaning and assembly.

For those interested, here are all the thread sizes for the various threaded holes in the LSx cylinder heads.

Spark plug 14x1.25mm
Coolant temp port 12x1.5mm
Ancillary/accy holes 10x1.5mm
Exhaust manifold 8x1.25
Rocker arm mounting bosses 8x1.25mm
Intake manifold 6x1.0mm
Valve cover hold down 6x1.0mm
Steam tube hold down 6x1.0mm

Till the next update…
8-6-2009
Got around to cutting the valve seats and surfacing the heads today. Machine work is now done. 4 angles on the seats, (technically 5, but the chamber cutter only left its radius, not the flat, so I'm not counting it), performed just a tad more hand blending after using the chamber cutter. Intake seats are .040" wide, exhaust seats are .060" wide. Both intake and exhaust valve also have a 30 degree back cut.

During surfacing, I only took .004" off each head, they both cleaned up 100% in .003". (A huge thank you to my wife for not overheating the engine over the past 160,xxx miles).

Next step is to CC the chambers, setup the valve train, final clean, assembly, then attach the heads to the short block.


Intake and exhaust seats just after the first cut, 3 angles, (30, 45 and 60 degrees). The final 2 angles are added with separate cutters.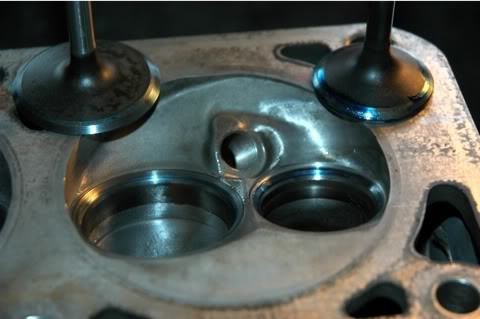 Ready to be removed from the mill after being surfaced;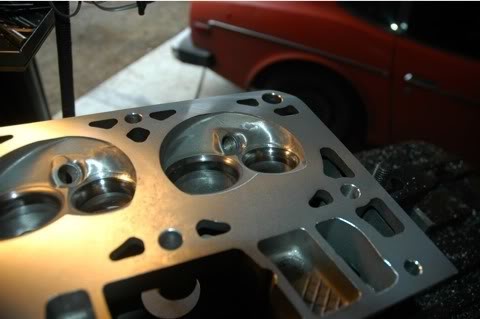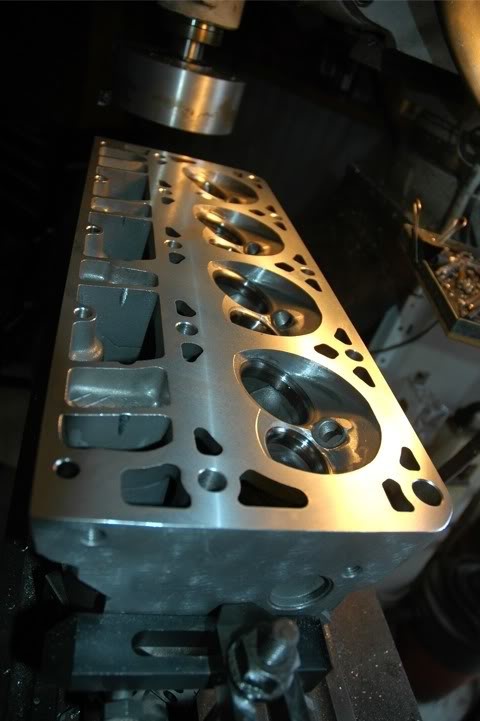 Machine work done, awaiting final clean;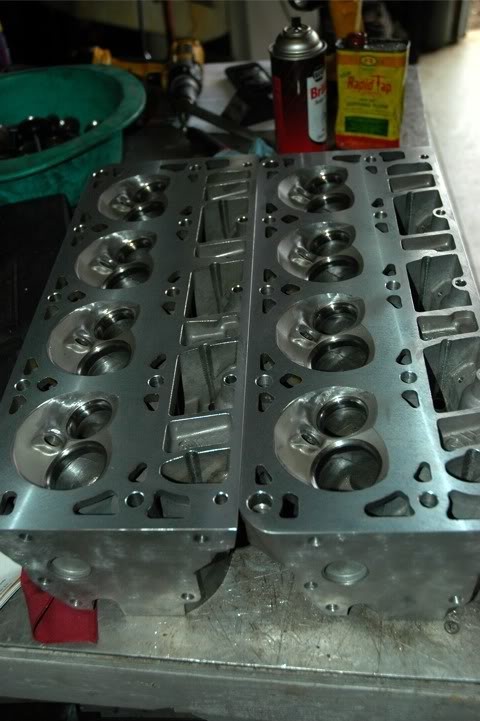 8-10-2009
Happiness is;
Torqueing the last bolt on your LSx long block!

I dub this mild 5.3 the LS-7/8ths. (just shy of an LS1).

Found a good spot for the 16 valve emblem, though probably will end up putting it under the hood somewhere.
Valve covers will be wrinkle black!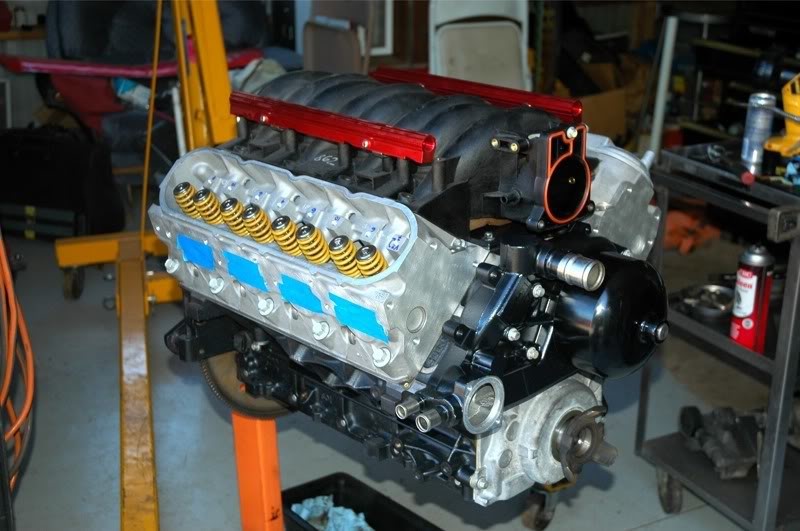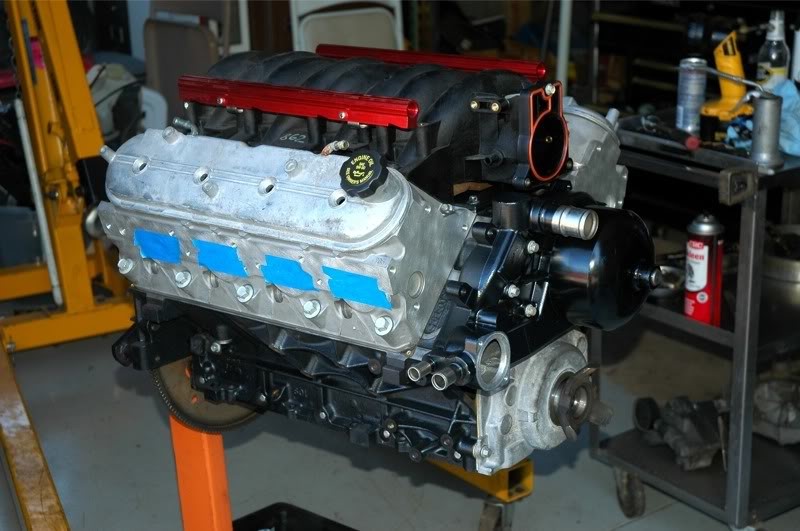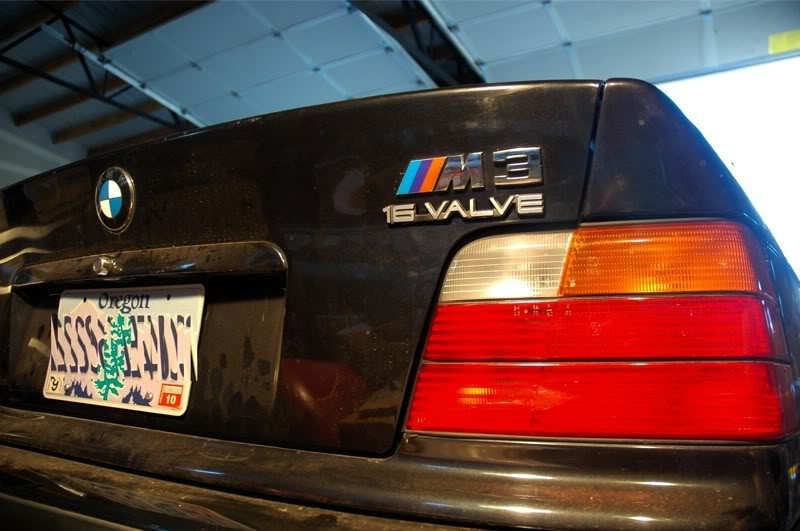 8-12-2009
Ohhh.. Ahhh..
Wrinkle black valve covers…
Sorry there isn't much more than that right now… I've been asked to "slow down"! Problem with that is if I go any slower I'll stall! I've got approx 2-3 more weeks of head scratching, gives my help a little more time.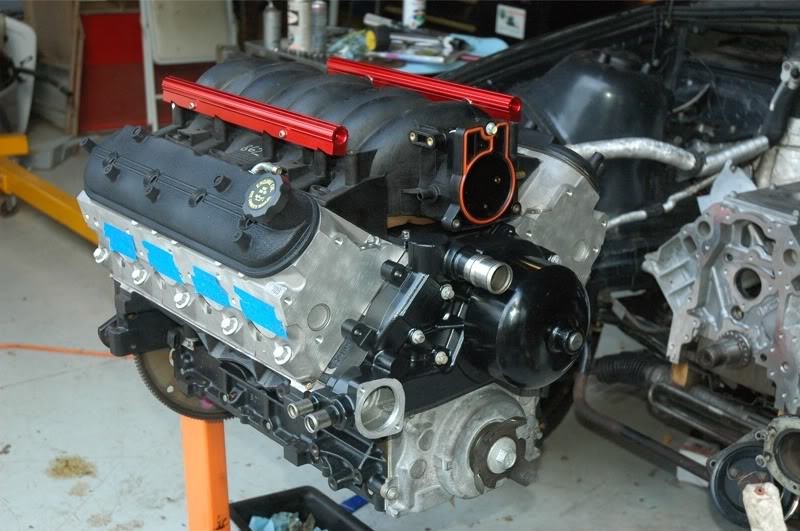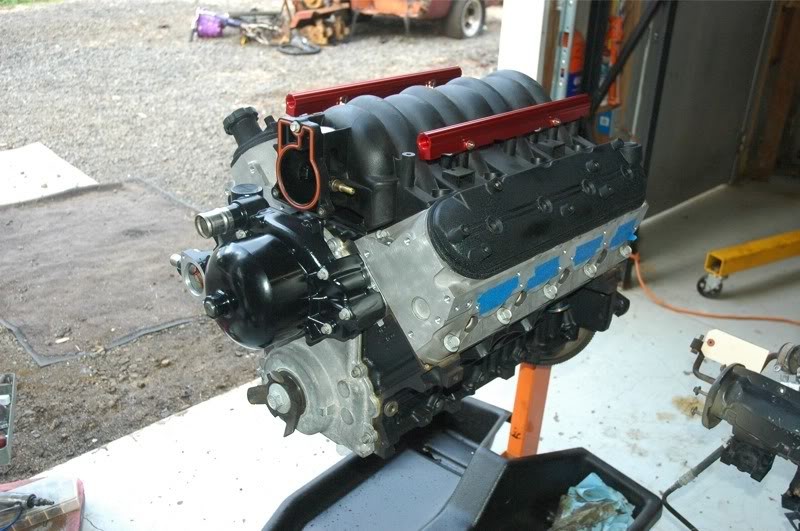 8-15-2009
Not much to update. Just stabbing, restabbing, and stabbing the power train in and out of the car, looking for that elusive sweet spot mounting location. After some component modification and then finessing the power-train in a few locations in the car, I did find a spot I like with few compromises. Keeps the crank C/L "angle" (up and down) in line with the OE BMW, decent "compromise" in clearance around the typical tight areas.

Gahts a bits mah hed itch-en bed-fah I's commits to dis spot…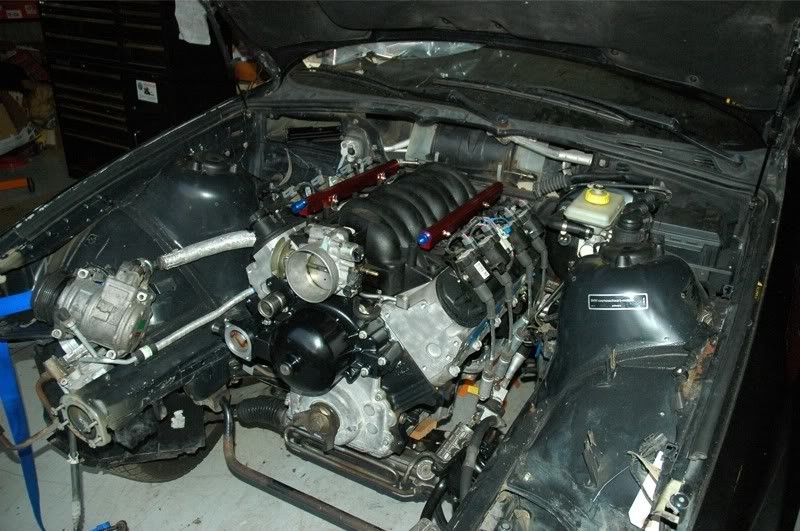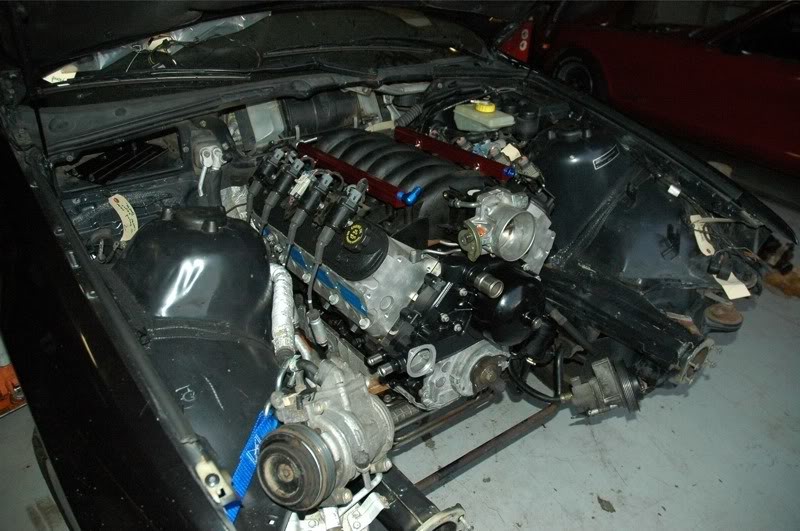 8-28-2009
Wow, my last update was a week an half ago?!?!
Truth be told, I've been lazy the past week and a half, not much physical progress. Went out to the shop and looked over the car a bit, looked over the pan/x-member a bit, glanced at the cruise control, pretty sure I found a cool new location for the ABS module, found a neat little reverse switch mod, (reverse switch on the trans is REAL close to the trans tunnel), drank more than few FOSTERS's over that period… This whacked out work schedule I'm sure has had some influence on the lack of motivation as well. Positive motivation is this the BMW is my daily driver, so in the mean time I have been driving Plan "B" and Plan "C", (Plan "B" is an '85 Scooby-Doo GL wagon that was given to me for free, 200,295 miles on it now, engine starting ticking pretty loudly this week, plan "C" is my '90 Chev full size Ext cab 2wd parts/shop/farm truck!) With Plan B looking like it needs a new engine, (engineswap of course, EJ22), the LS 7/8 powered M3 must move forward…

The only news currently is that I am wavering on an EMS. I currently have WOLF V-500, like the system, very powerful, was in my '93 Nissan 300-ZX, will run the LSx as well, but Vi-PEC is also very VERY VERY intriguing. Sooo much so that I am considering ordering it. I might keep the V-500 for another project or sell it. What I do with the V-500 depends on my how my budget unfolds over the next few months, but I am seriously considering the Vi-PEC system.

Bang for the buck, both compare nicely to the uber-exotic offerings with 8 channel sequential ignitionoutput, tons of user definable inputs and outputs, VVT control, GM idle air control, Staged injectors or blending of for those running exotic fuels such as Meth blends, race gas in separate tanks, etc. Tons of boost support for those of you addicted to boost with built turbo timer, etc. Vi-PEC supports drive by wire. I ran V-500 on my '93 300-ZX before I sold the car, I like the user interface, controllability, and mostly the consistency in how the engine ran vs the OE Nissan EFI! Ran smoother, crisper throttleresponse, seamless, no sacrifice in MPG! Support for the WOLF when you have questions is a bit awkward, Vi-PEC on the other hand has it's own dedicated forum, dealer support and the owner will even help you directly!

I understand the GM PCM is very stable and seamless when properly tuned, I have no qualms in using it and encourage others to use it, especially if running N/A and stock or with mild mods. Plug and play and highly tunable. If you are planning to boost and are serious about boost and Engine management control of a boosted engine, the GM PCM will work, but you'd be better off going aftermarket stand alone!

Screen shot I took of the WOLF V-500 when I had it on the ZX.

Spark map for the VG30DE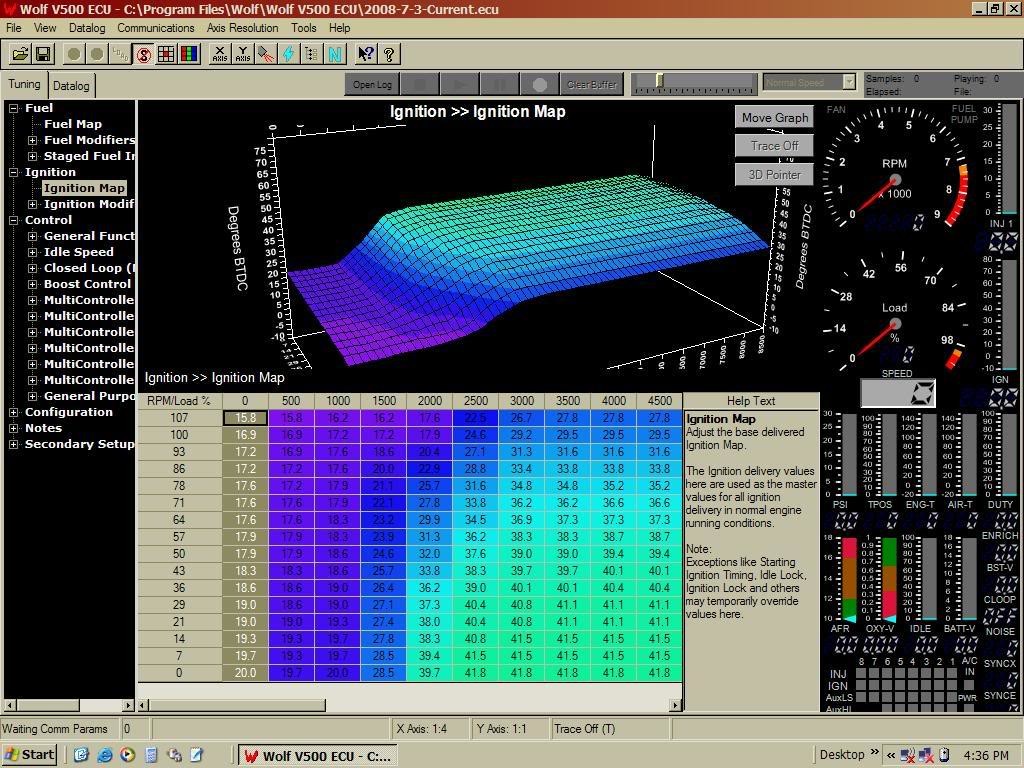 9-8-2009
Not much to update, been slacking real bad the last couple weeks, work schedule sucketh, no motivation to do squat diddly! That will change next week, then I'll be back at it!

I did trade my GTO pan for a good F-bod pan last week, received my 28 lb LS1 injectors, installing those in the manifold tonight, ordered my WOLF EMS universal harness that comes out of AU, should be here in about 3 weeks then it's onto wiring!

Will be relocating the ABS unit, to an area that I have not seen used yet, at least no one that has publicly shared their LSx E36 conversion…
For most everyone else, there is no reaon NOT use the GM PCM. Here is my list for why WOLF or Vi-PEC vs why not GM PCM;

1) I already have the WOLF system in hand, could easily replace it with the Vi-PEC V88.
2) I don't have a GM PCM, would have to purchase a PCM, harness w/MAF, and being a tuner as well as an uber geek, would also have to purchase a tuning suite such as HPTuners so I can fine tune the mild odd ball combo, (5.3 with .500 lift cam, ported heads, 28 lb injectors).
3) WOLF and Vi-PEC are both 8 channel sequential fuel, 8 channel sequential ign system with tons of aux inputs and outputs, specific drivers for the various different IAC motors, (PWM, stepper motor, etc), Variable cam timing, stepper motors, drive by wire support with Vi-PEC, etc, built in diagnostics that can utilize the factory check engine light for troubleshooting, as well as the lap top of course.
4) WOLF and Vi-PEC both have been now been successfully runing on Gen-III LSx engines.
5) MAF delete is default.
6) Have used/tuned the V-500 for more than a year in another car so I am familiar with its architecture.
7) Has MANY features specific for boost, turbo timer etc, that the GM PCM just does not have, if I so decided to boost in the future.

In defense of the GM PCM, in my research, I have found it to be VERY capable in performance applications, allows the use of moderate levels of boost safely, EXCELLENT drivability, very tunable with aftermarket support, i.e HP-Tuners, etc. For most everyone else, there is no reaon NOT use the GM PCM.
9-9-2009
In switching the intake over to LS1, you will most likely have to switch the water pump over as well. The outlet of the truck water pump is in the way of the LS1 Throttle body. If you stay drive By Wire instead of cable actuated throttle, you might be able to retain the truck water pump, I'm not 100% sure there.
The accy drive system of the truck will not work either as it places the alternator to high.

Here is a site with some good LSx engine swap info, covering the different accy drives, water pumps, oil pans, intakes, valve covers, etc.
http://nookandtranny.com/Info_LSx.html

This forum is dedicated the LSx engines. This particular section of that forum is dedicated to LSx Conversions and has pretty good tech and specs section in the yellow stickiest!
https://ls1tech.com/forums/conversions-hybrids-28/
9-18-2009
Small update, (pun intended...)
Haven't done much of anything with the car this week. Today my youngest of 3 daughters wanted to help daddy in the shop, so while I was cleaning up after a quick and dirty engine tear down from last week, I handed my 4 year old a Datsun Z car valve spring, intake valve, rocker arm anti rattle spring, air cleaner, hose clamp, and 2 wrenches, pointed to the creeper and she kept herself busy under the M3 for over an hour while I cleaned up the shop! She popped out once in while to drink her apple juice from her sippy cup and to let me know the project was coming along just fine!

One of those daddy-daughter moments that you never want to forget! Hope she doesn't either.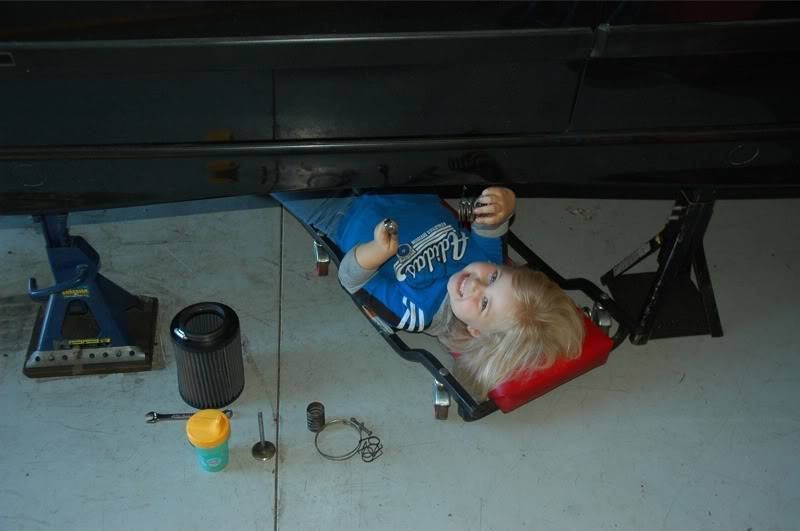 10-4-2009
Not much to update, finally got caught up enough on the other projects that I could spend a little time on this one today, messing with engine fitment. Nothing worthwhile to report, "yet".


The new and improved trap door baffle for the F-body oil pan from Improved Racing products arrived today.

http://www.improvedracing.com/produc...products_id=30

Instruction sheet is professional, thorough and well detailed.
Manufacturing/production quality is first rate!
Fit and finish in the F-body oil pan is amazing! The baffle is tight to the pan floor and tight to the forward wall of the pan! It is apparent the designer spent a good deal of time to make this happen.
In looking over this baffle from a design standpoint, it is also quite clear this was not just drawn up *****-nilly and sent to production, it was methodically engineered, every part, panel, nook and cranny has a job regarding oil control to and around the pick up tube!

For those wanting to build their own similar design, my advice is don't waste your time. For the money, you will be hard pressed to even come close to this baffle.

My only addition to this is don't forget to port the oil passages above the oil filter! Careful not to go too far in porting and bust through to an adjacent cavity. Just need to open the restriction at the intersections.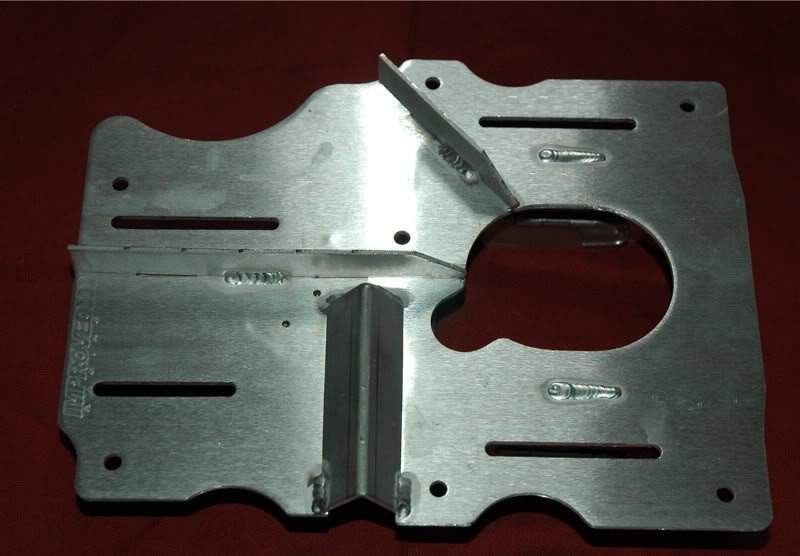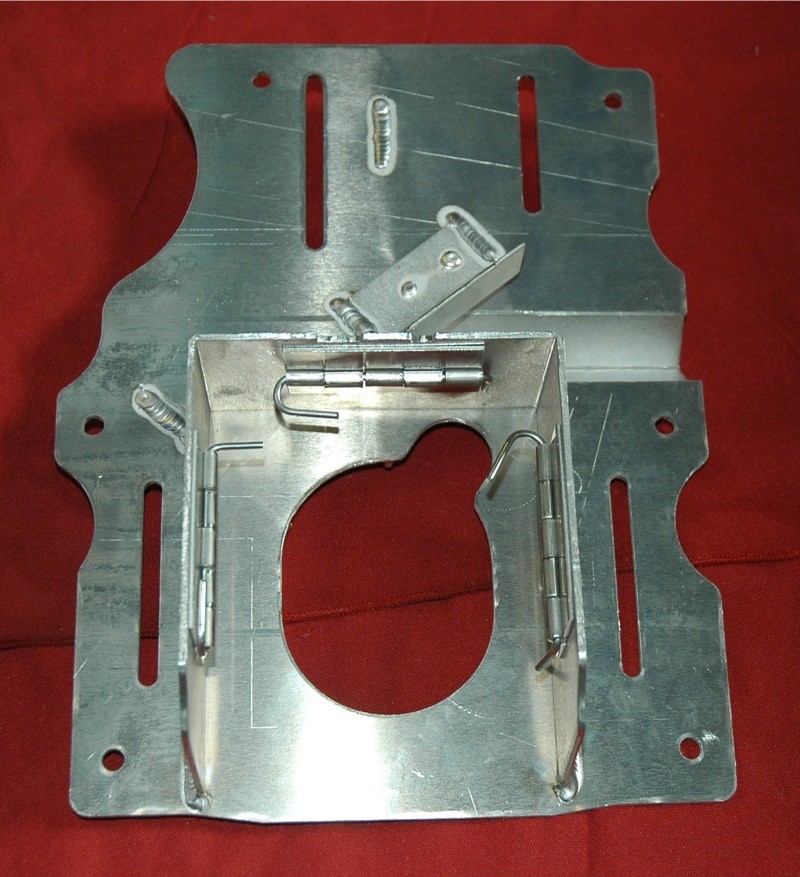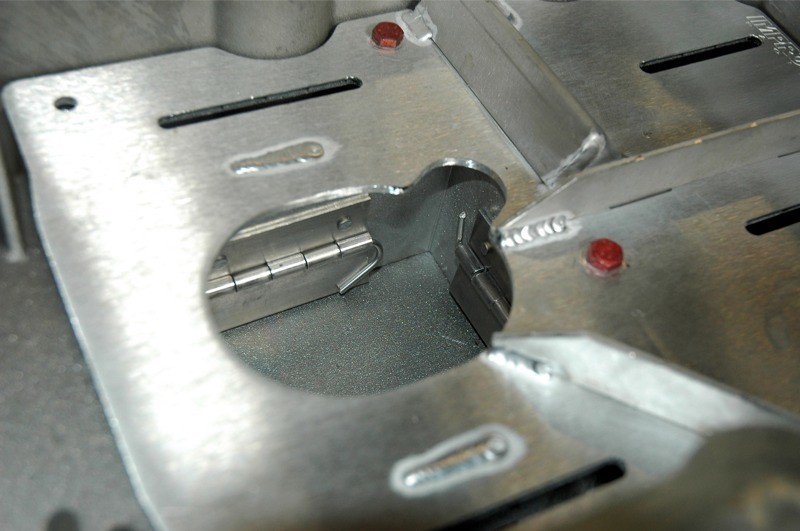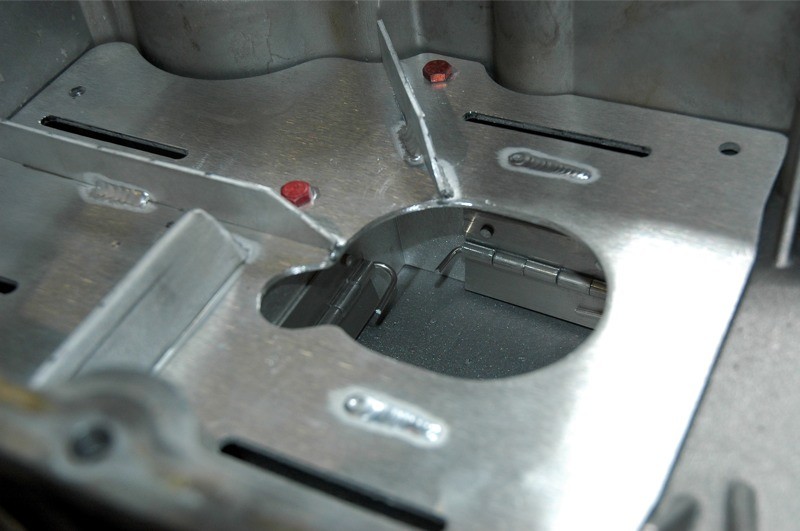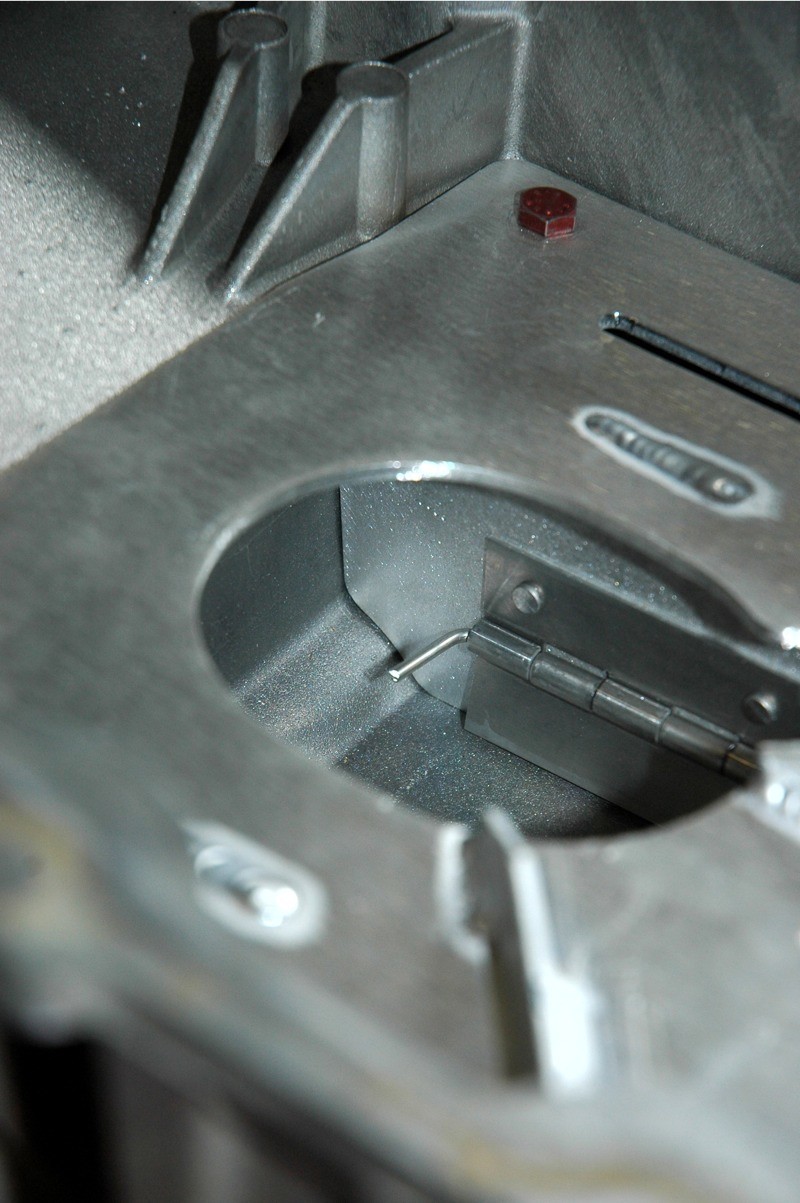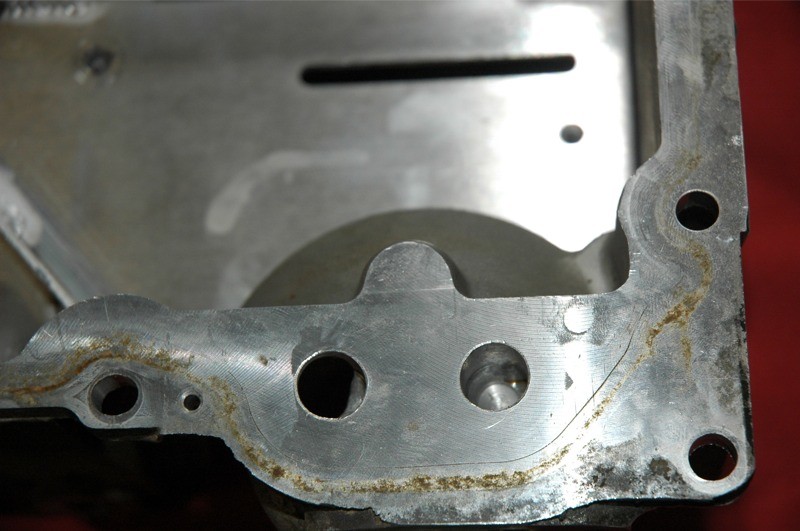 10-25-2009
Not much of an update. Customer projects taking priority. Finished and shipped one of our custom L-6 cylinder heads, on its way to France, received another complete road race engine for a head freshen up with a new valve train, maybe a little valve unshrouding and 5 angle seat work that needs to ship back to the mid west by the end of the year, and my fathers Turbo Charged SBC 350 short block I need to assemble in the next couple of weeks!

As for the M3 LSx project, been doing some research and actual fitment of alternative brake options to free up more engine bay space, details of which I am not at liberty to give out at this time, suffice to say, results thus far are quite promising.

This conversion will incorporate a few changes that will help improve space constraints within the engine bay as well as lower the cost of the typical LSx E36 conversions.

Stay tuned, updates are still coming, but may take few more months for specifics to be released.

Built another custom LSx engine tool as well;
https://ls1tech.com/forums/tools-fab...tools-diy.html
10-27-2009
Teensy weensy update.
Drilled and tapped one hole in the 5.3L block for the F-body alternator mount.

After receiving this F-body alt mount, it became immediately clear the truck blocks were not manufactured for the car accy drives. 2 of the 4 F-body/Vette mounting bosses missing on the passenger side of the block.

A quick search revealed that most just drill and tap the one boss that GM graciously cast in the iron truck blocks and just delete the 4th bolt that GM completely ignored on the truck blocks.

After setting up mine, using a machinists transfer punch then drilling and tapping that boss for 10mm x 1.5 mm, that missing 4th bolt boss looks like it is good idea, but with three 10mm x 1.5mm bolts mounting the alternator already, Ron and I both agree that 4th bolt is probably more for the NVH requirements, making the entire engine and accy package as one mass vs 10-15 individual masses all ringing and vibrating at their own frequency. The Datsun Z car Alternator is mounted with far less attachment and works fine, as such I'm not going to lose any sleep over this.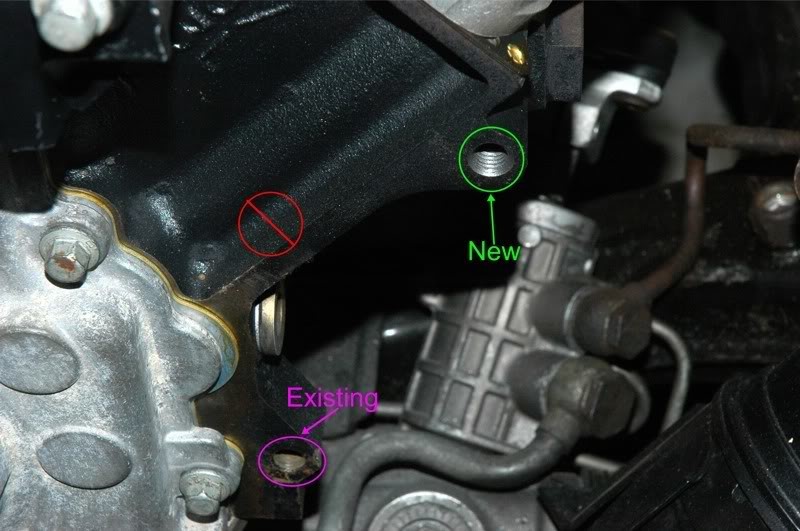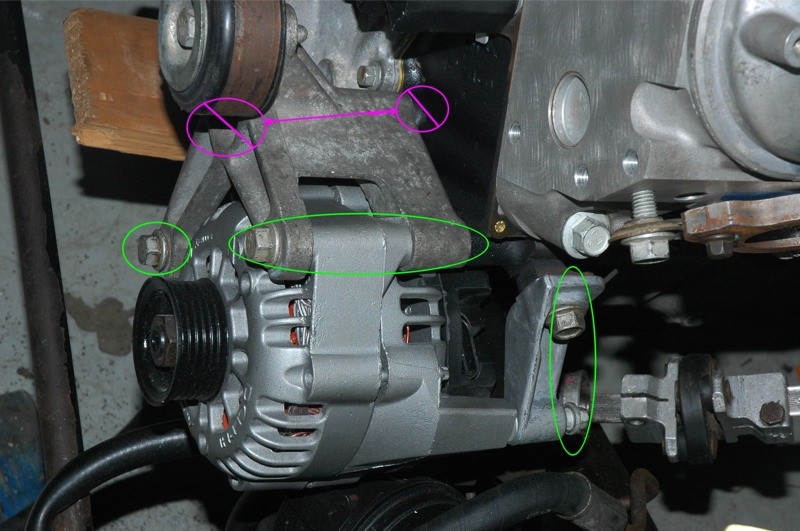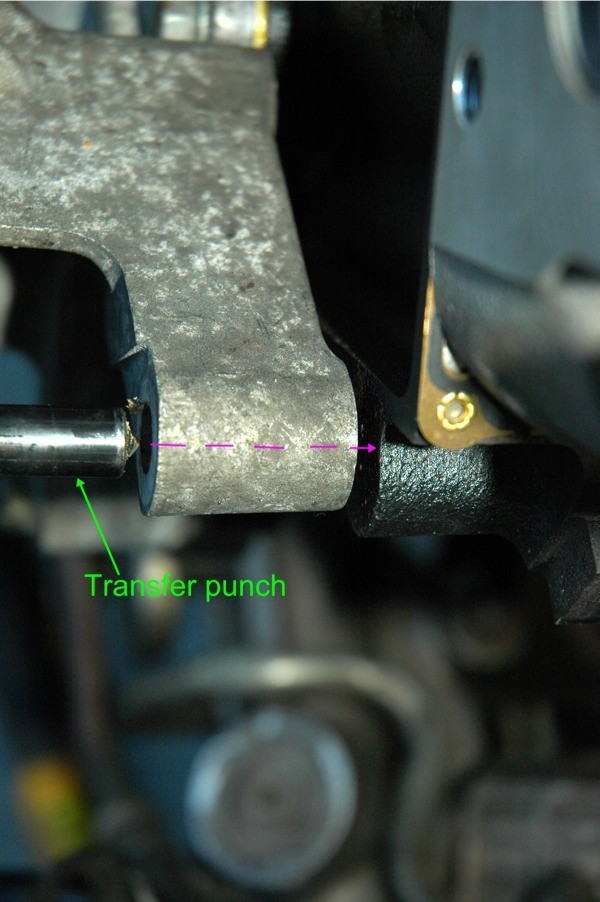 11-18-2009
Nothing to update on the build itself, yet, other than I wanted to share an LSx swappers gold mine with you all. Nook & Tranny has wonderful page set up with some great tech and specs info on the various LSx engines an accessories for those of us swapping the LSx into non GM vehicles. Specs page lists the differences in intake's heads, throttle bodies, oil pans, water pumps, accy drives, balancers, etc. They sell LSx specific parts such as accy drives, water pumps etc. Ordered more than few parts from them, including water pump, lots of gaskets, hardware, etc, customer service is first rate.

Here is the LSx specs page;
http://www.nookandtranny.com/Info_LSx.html
11-19-2009
Little update.

Did a little 4th century style massaging in the tunnel of 20th century German engineering. Turned out Ok, not pretty but ok. "Massaging" was performed in an area not seen and it will get painted for protection.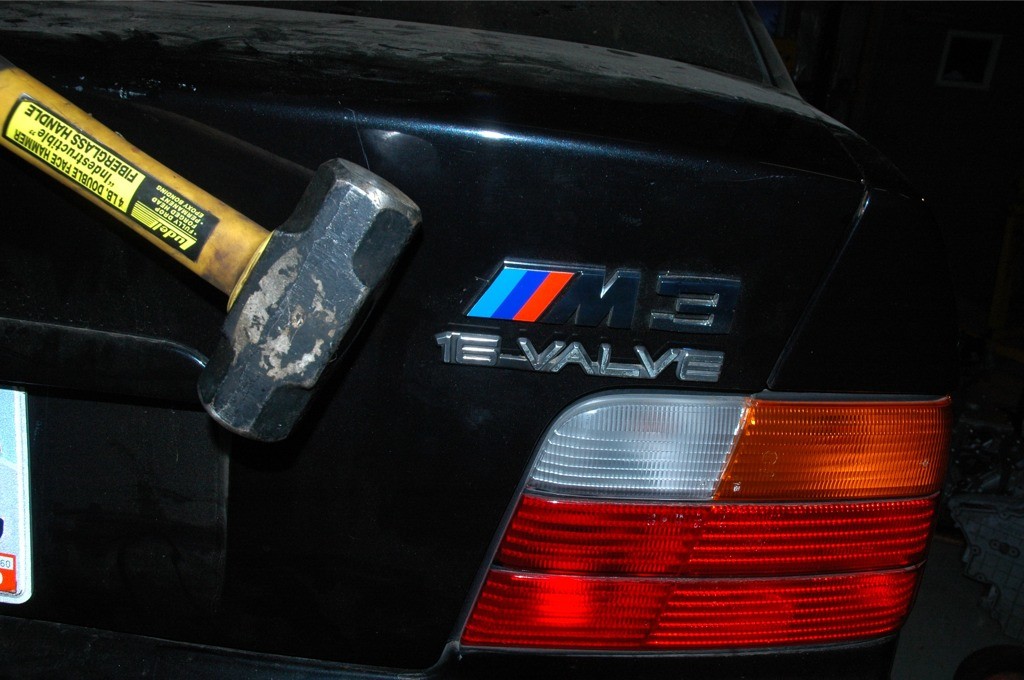 Overall the LSx powertrain is a nice fit and as most have found out, if you are not modifying the oil pan, cross member, or cutting sections out of the firewall, with the F-body oil pan there really is only a very small windowthis power train package will fit within.

My latest mock up, I have established adequate clearances, trans output shaft is aimed directly at the diff input and is within .2 degrees, (2 tenths of a dregree) angularity up and down.

Here are some shot of the latest mock up;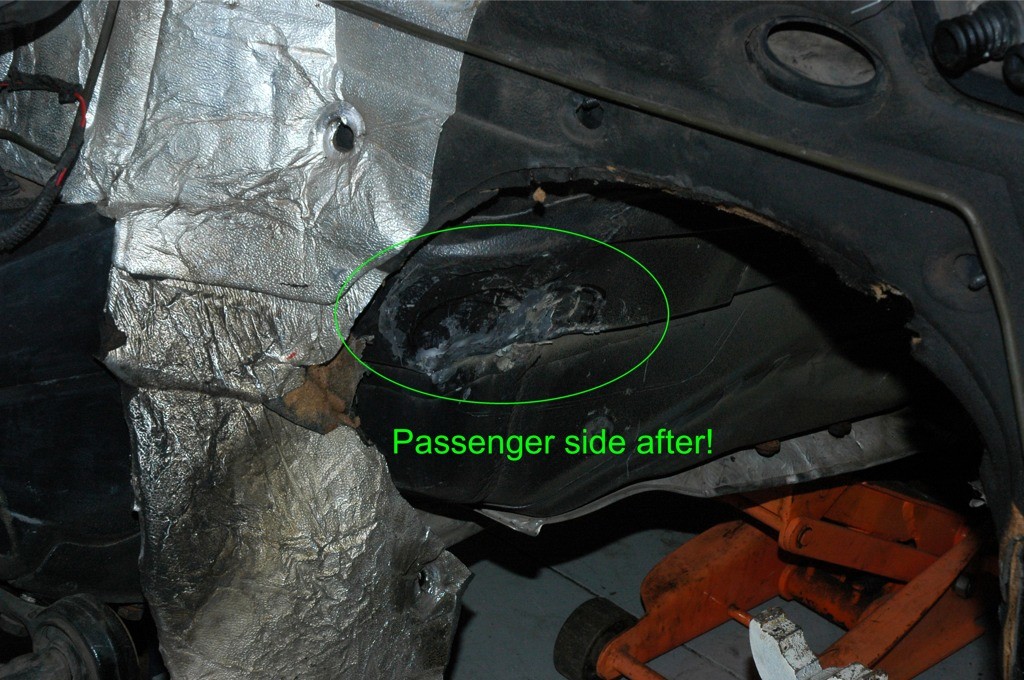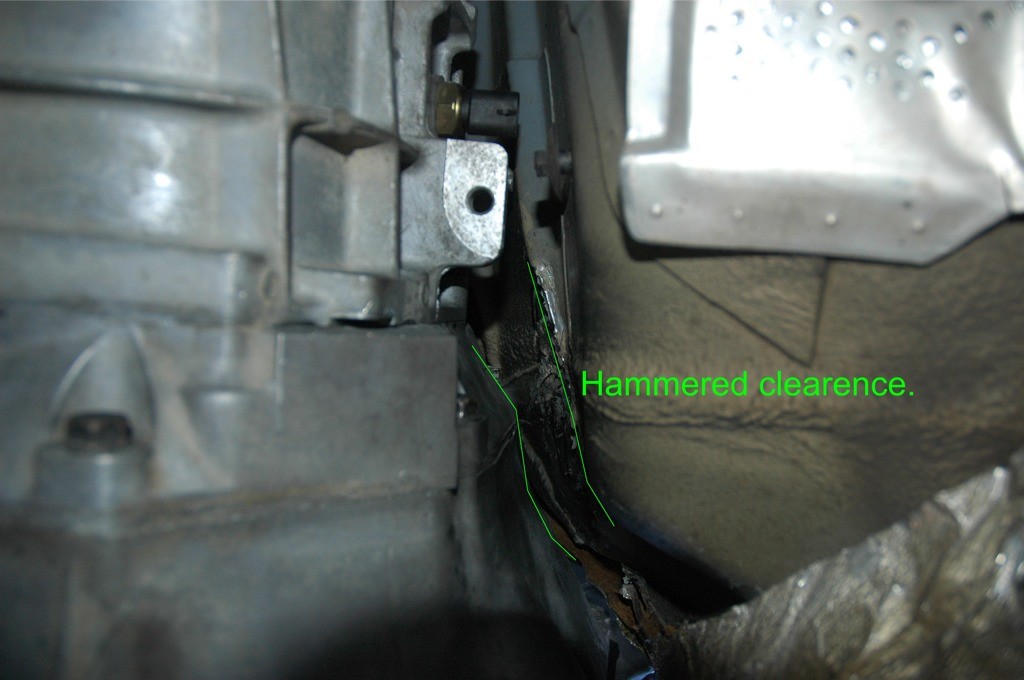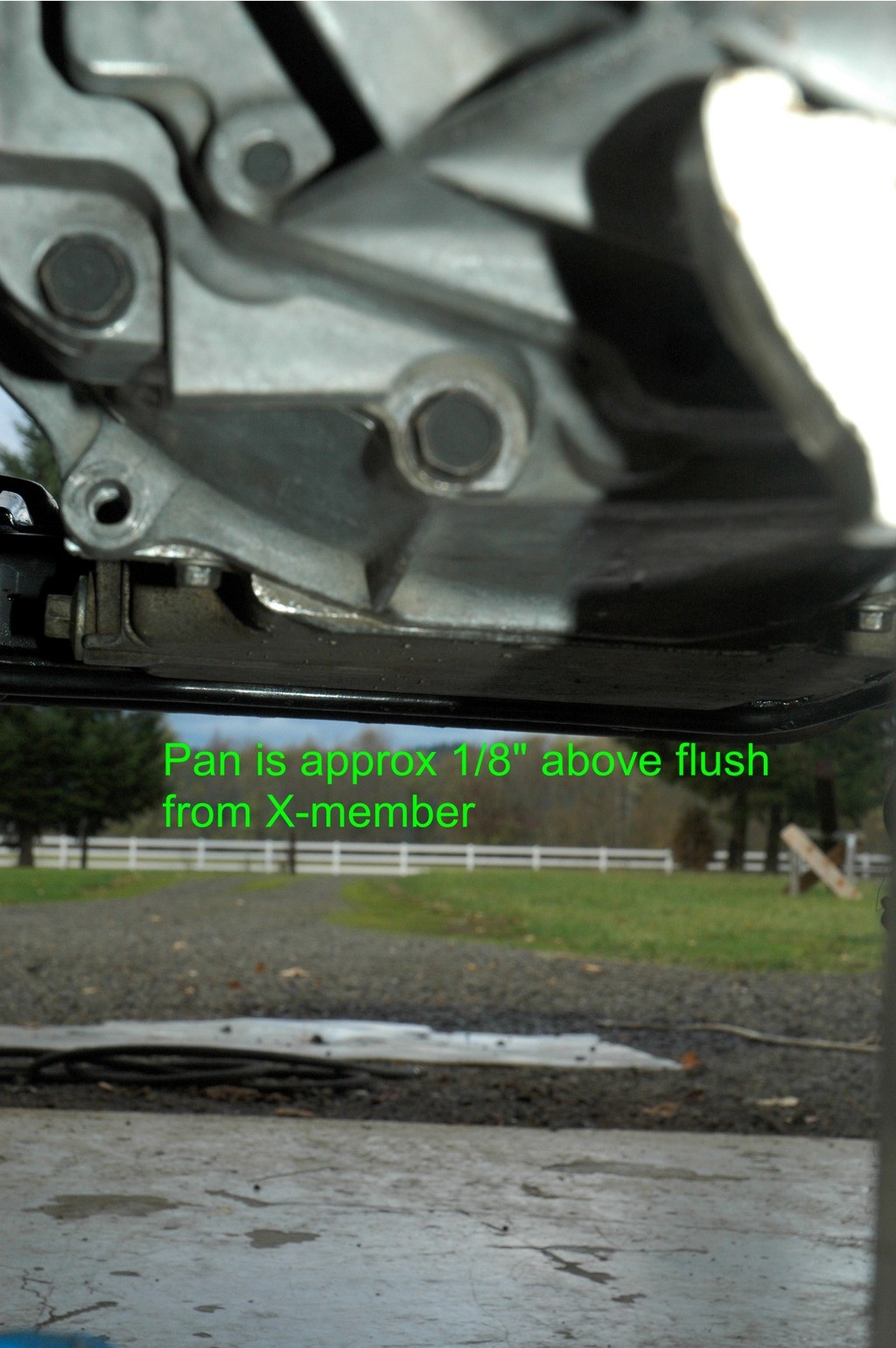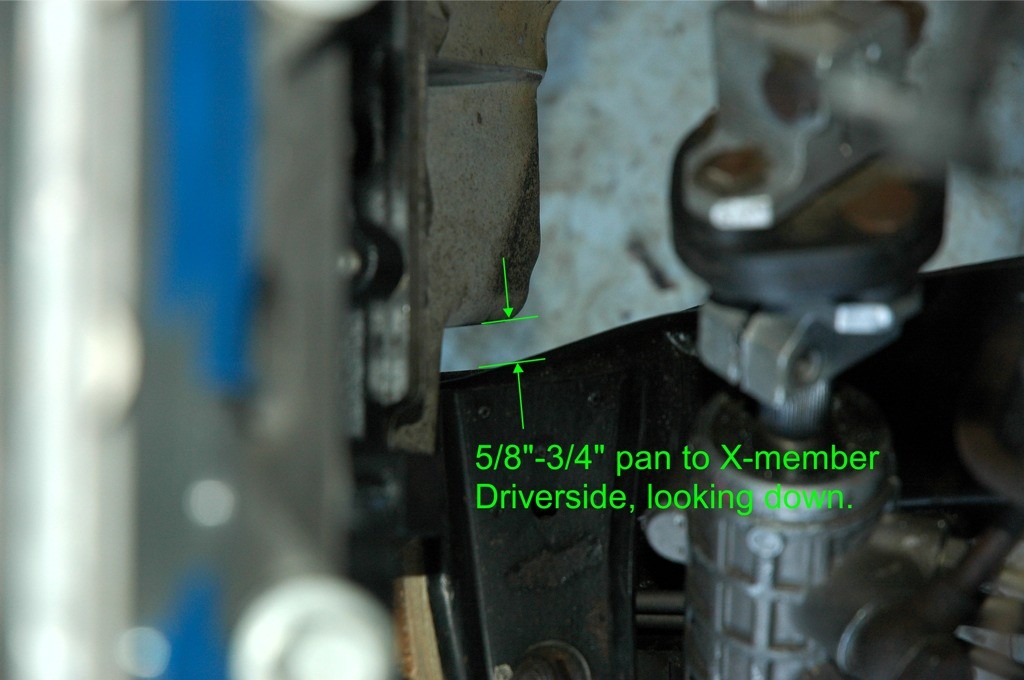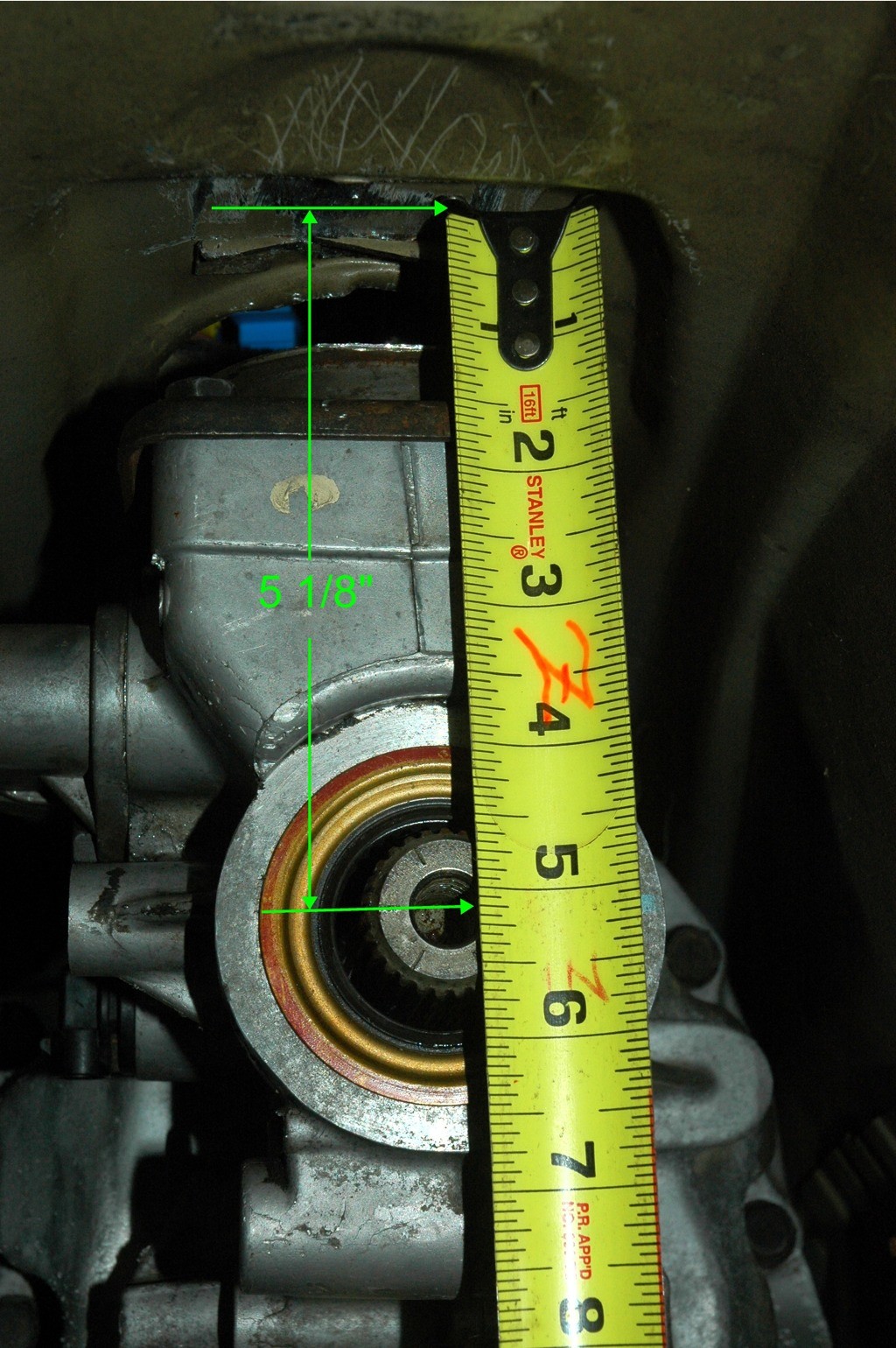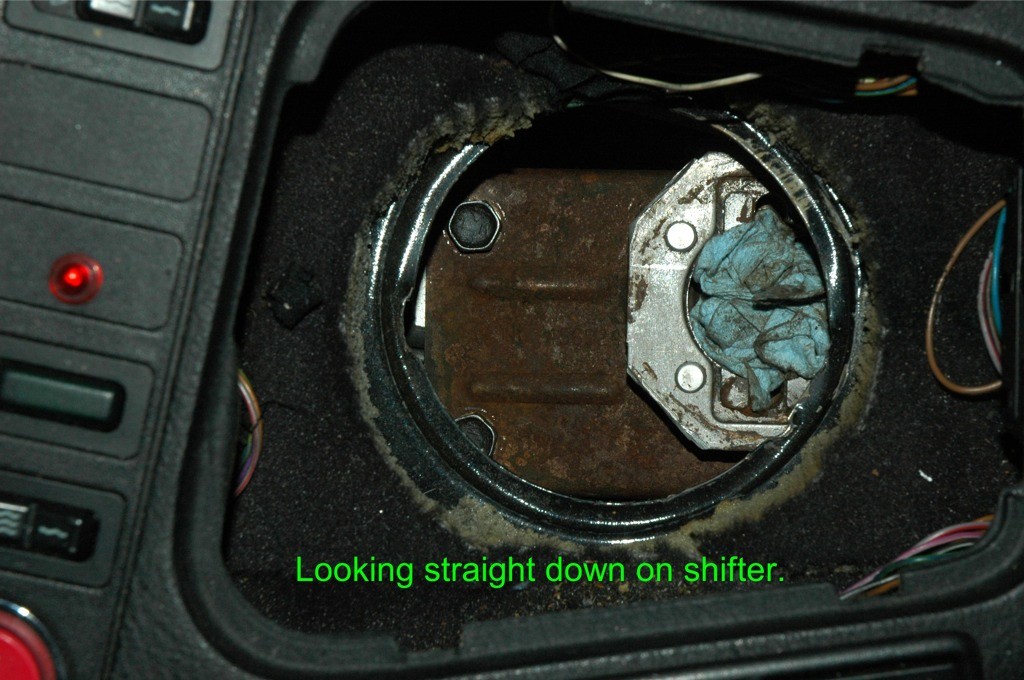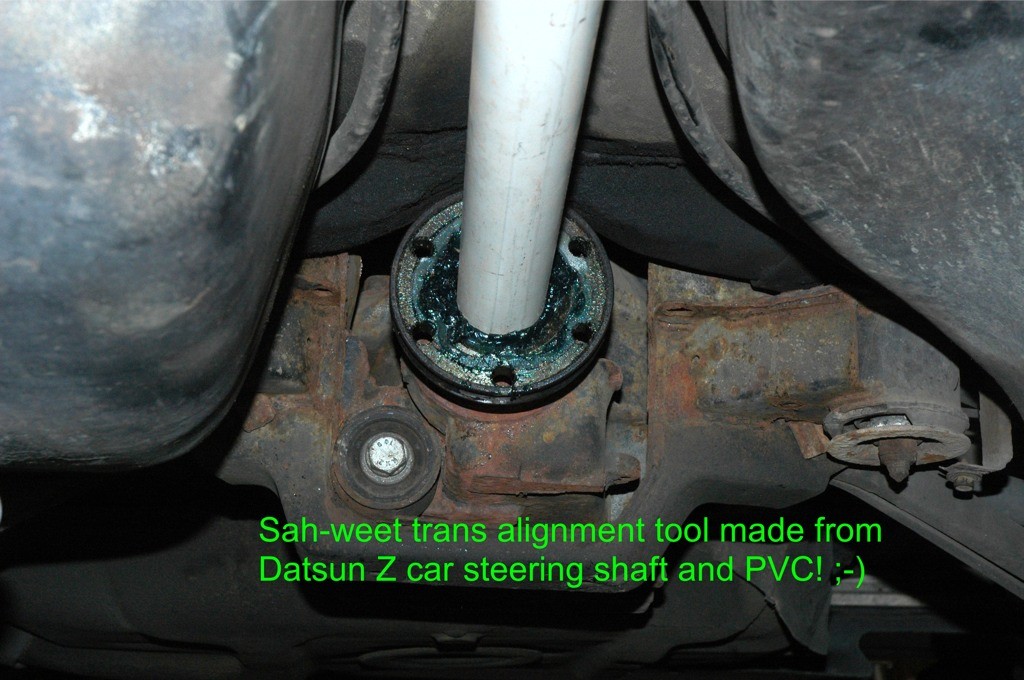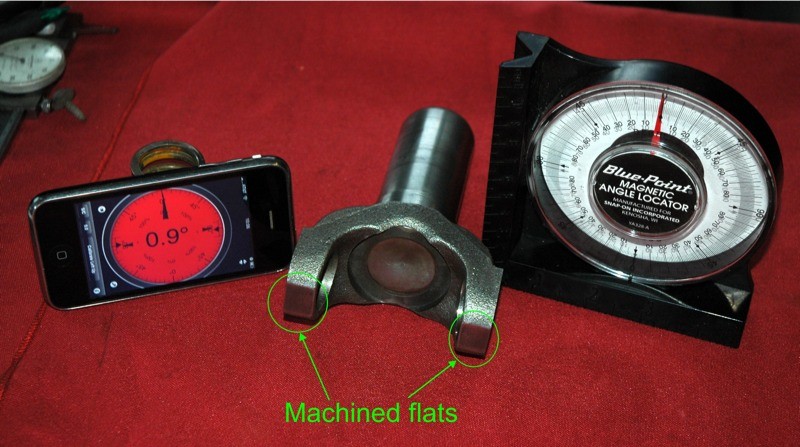 2-12-2010
Power Steering update.
Now have the high pressure side of the power steering finished. Took the F-bod PS hose and M3 PS hose down to my favorite fluid line guys, (Oil Filter Service in Portland OR), showed them what I needed and let them build it the way they felt it should be built, and wa-la. F-bod hard line coming out of the P/S pump, Aeroquip hose in between with Aeroquip fittings beautifully soldered onto the GM and BMW hard lines, and the BMW Banjo fitting for the rack attachment. This new custom hose fits perfectly as it coils nicely around the alternator without touching anything.

I do have an idea for another custom built high pressure and low pressure line, would end up nicer than this and probably not much more in cost. Gonna bounce the concept off my buddy, (a member whose name escapes me, rhymes with "fell from the dike"?!), we'll see what he says…

For now, here are the pics;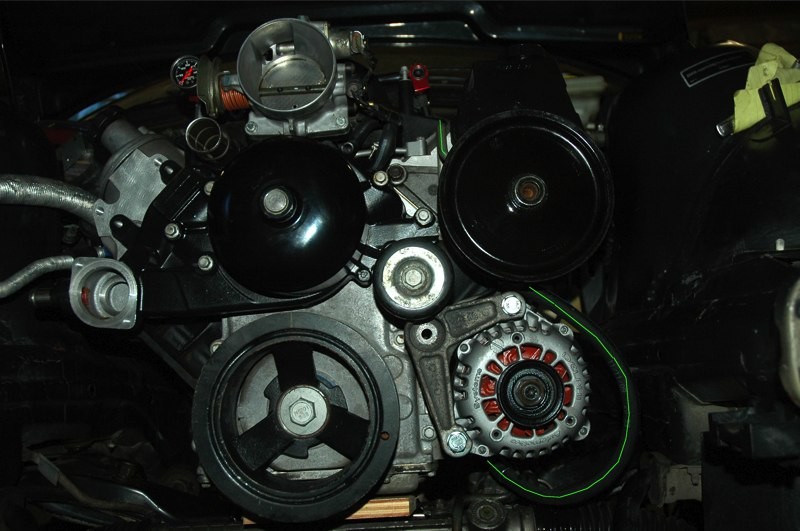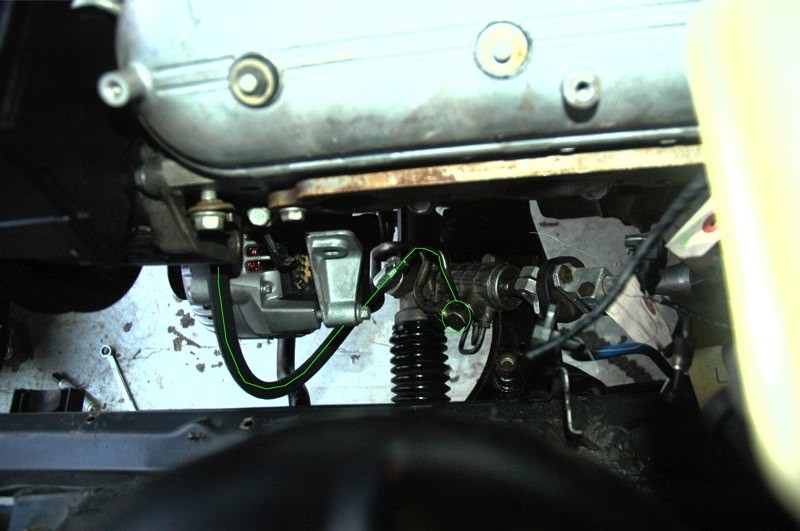 2-13-2010
Cat is out of the bag, I am at liberty to release a little more info on this conversion that Mike Knell of JTR and myself have been collaborating on. As the project progresses, more items, (some of what is seen in this build) will be available through JTR directly, here is the link;
http://www.jagsthatrun.com/BMW_Order.html

We found a smaller diameter brake booster allowing adequate valve cover to booster clearance that is one of the major issues with these conversions.

Here is one such booster I mocked up with my M3 master cylinder and the JTR booster adapter;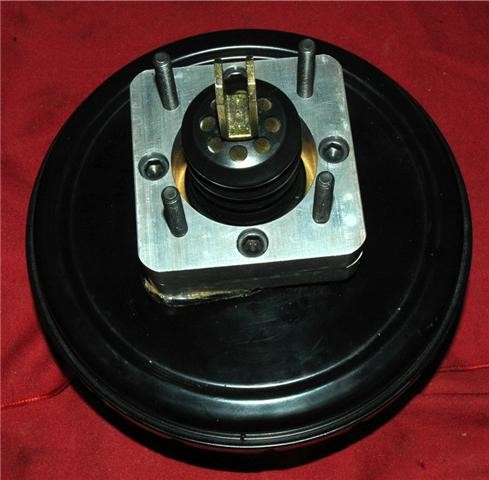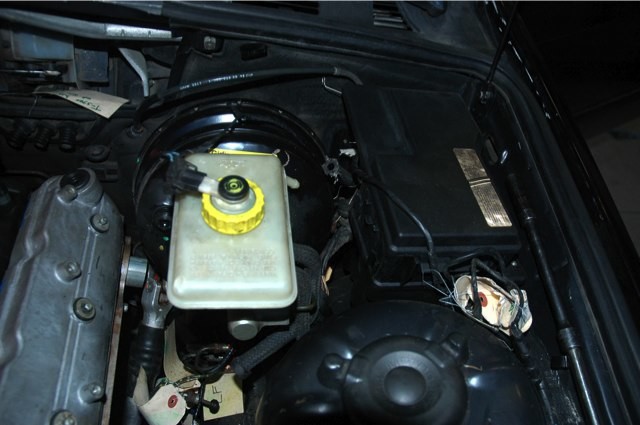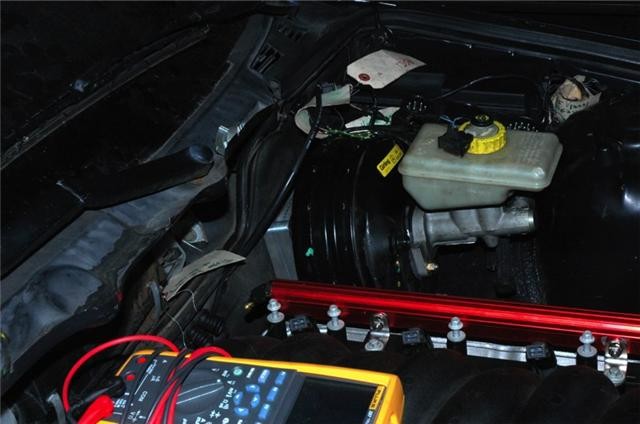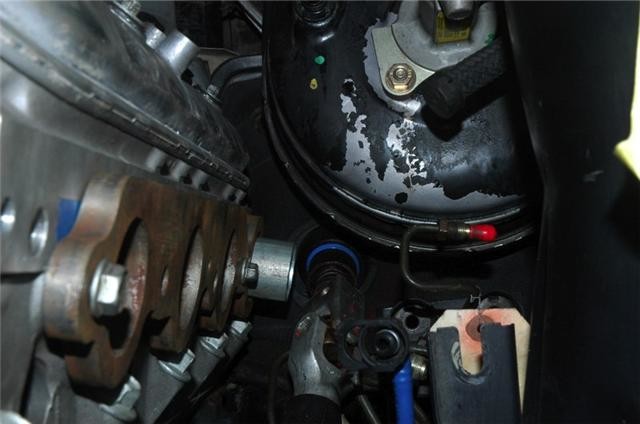 4-25-2010
Engine mount brackets by JTR.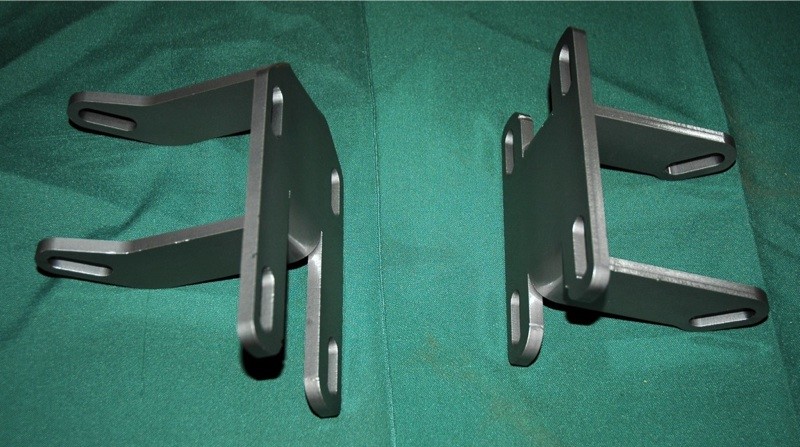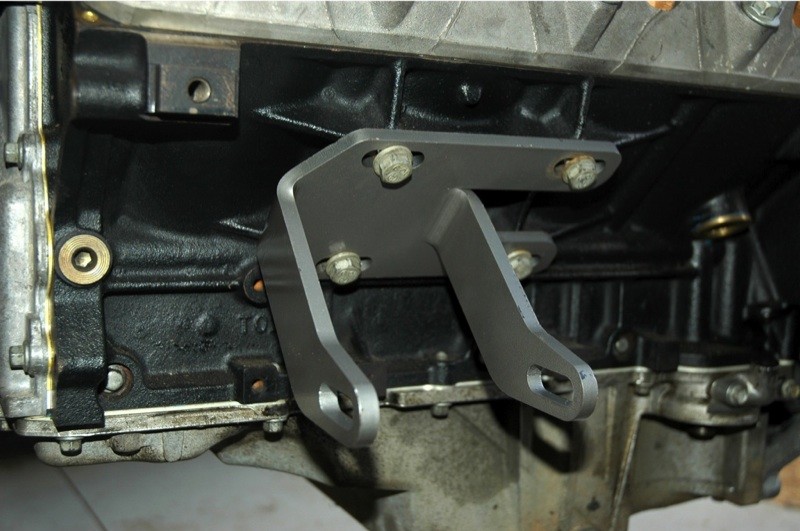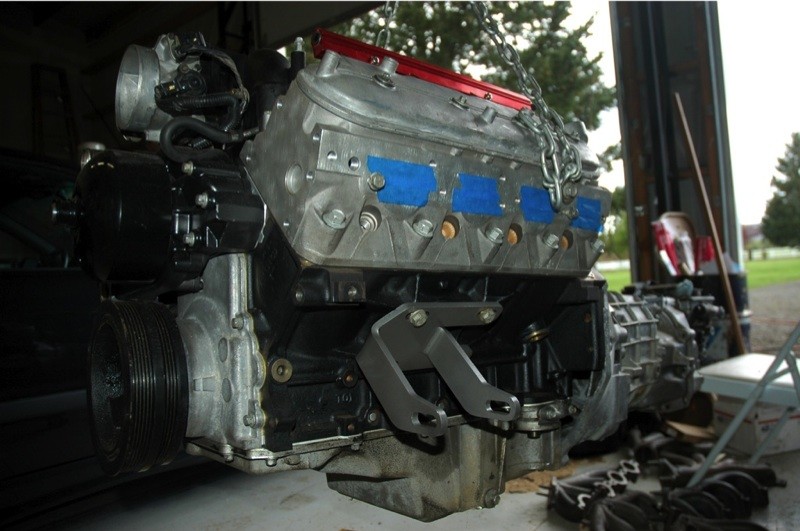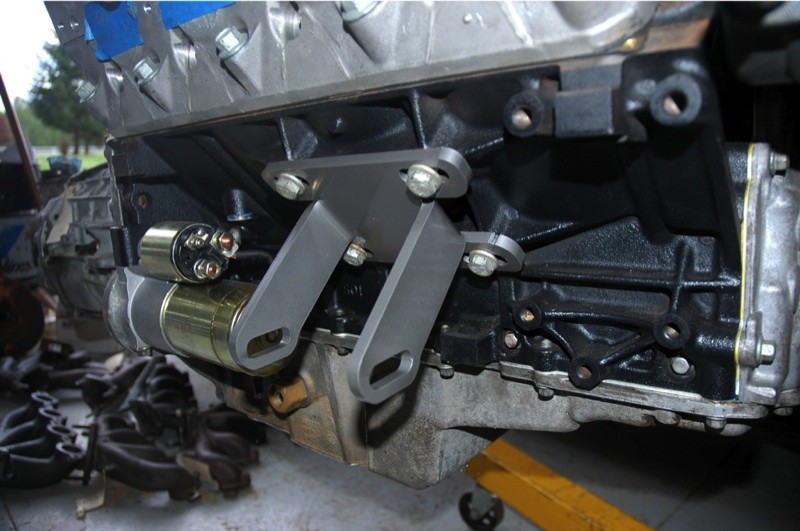 5-6-2010
BREAK THROUGH on the clutch line!


Short version;
Due to the similar design of the master cylinder hydraulic line connection between GM and BMW, the OE GMLSx clutch line can be made to fit the BMW master cylinder with a small massage, no need to buy fittings, cut the GM clutch line, etc... Only thing needed to buy other than your slave cylinder is a remote bleeder line/kit like the one from TICKshift.com.
I did hammer the tunnel about 3/4" deep trough where the clutch line comes out of the bell-housing to relax the bend on the clutch line, fits nice in the tunnel.

Long version;
Yesterday in finishing up the clutch lines, I was going to go the typical route and cut the GM clutch line, install the -4 fitting, use the -4 to 10mmx1.0mm ISO bubble flare fitting, yadda yadda yadda, but with the GM clutch hose hooked up the trans I noticed its length is absolutely perfect in that it reaches the BMWmaster cylinder. I got to looking at the BMW master cylinder connection a little closer, removed the hard line retaining clip and wiggled the hard line out of the M/C and thought about what it might take to get the GMclutch line to plug into the BMW Master Cylinder. Spent some time measuring up both the GM and BMWmaster cylinder connection bores, then the GM and BMW clutch line fittings, sketched them out in AutoCAD and came to the conclusion it can be done. The BMW M/C bore is smooth at the O-ring diameter for what looks like all the way to the piston so the GM fitting could sit at any depth past the minimum. So I chucked the GM clutch line in the lathe and machined .020" off the diameter of the GM fitting as shown below and added a .040" tall chamfer to allow it to sit deep enough into the M/C to accept the BMW retaining clip and that's it, fits PERFECT! Using the GM O-ring, (BMW O-ring will not fit the GM fitting), it ends up compressing a total of .021" more than it does in the GM M/C, (tighter fit), not so much it causes any issues wit sealing, over squishing, etc. Surprising part is with a little brake fluid on the O-ring it doesn't feel any tighter when installing it. Installed and removed several times to verify fitment. Best part is the GM clutch line is already the perfect length!


Here are the drawings and pics, enjoy…


BMW Master Cylinder connection detail;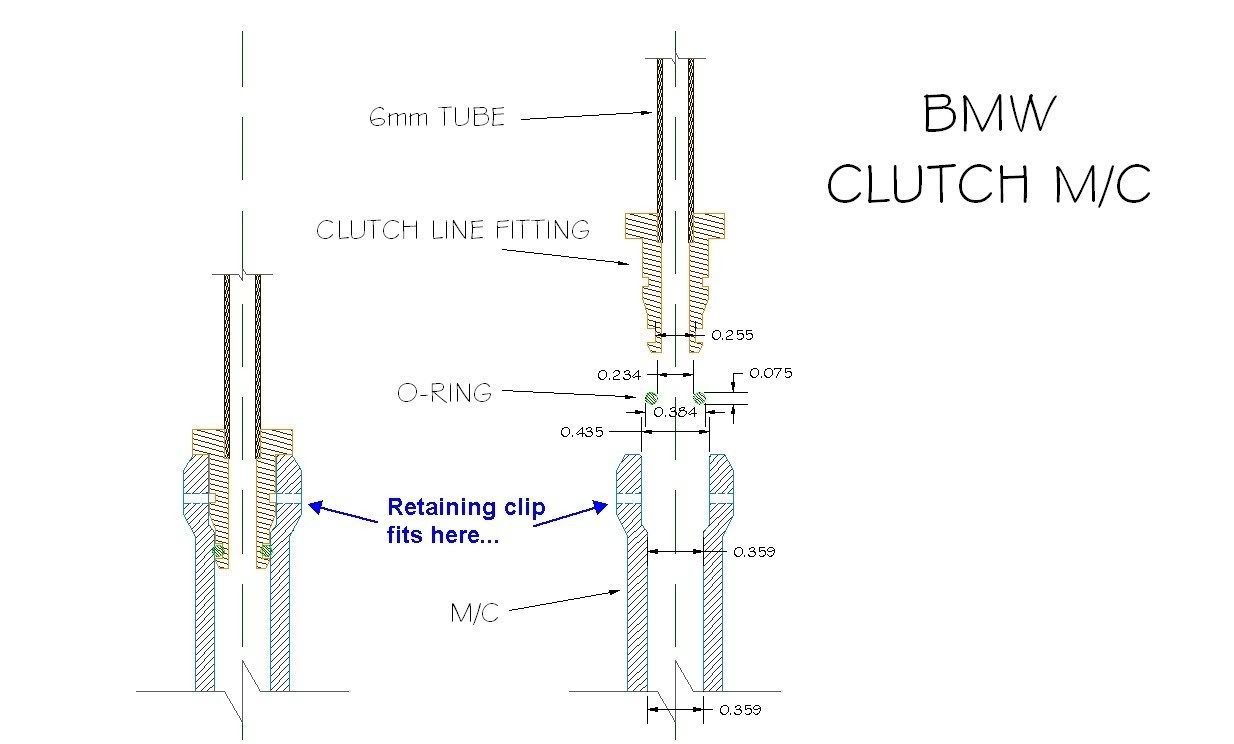 GM LSx Master Cylinder connection detail;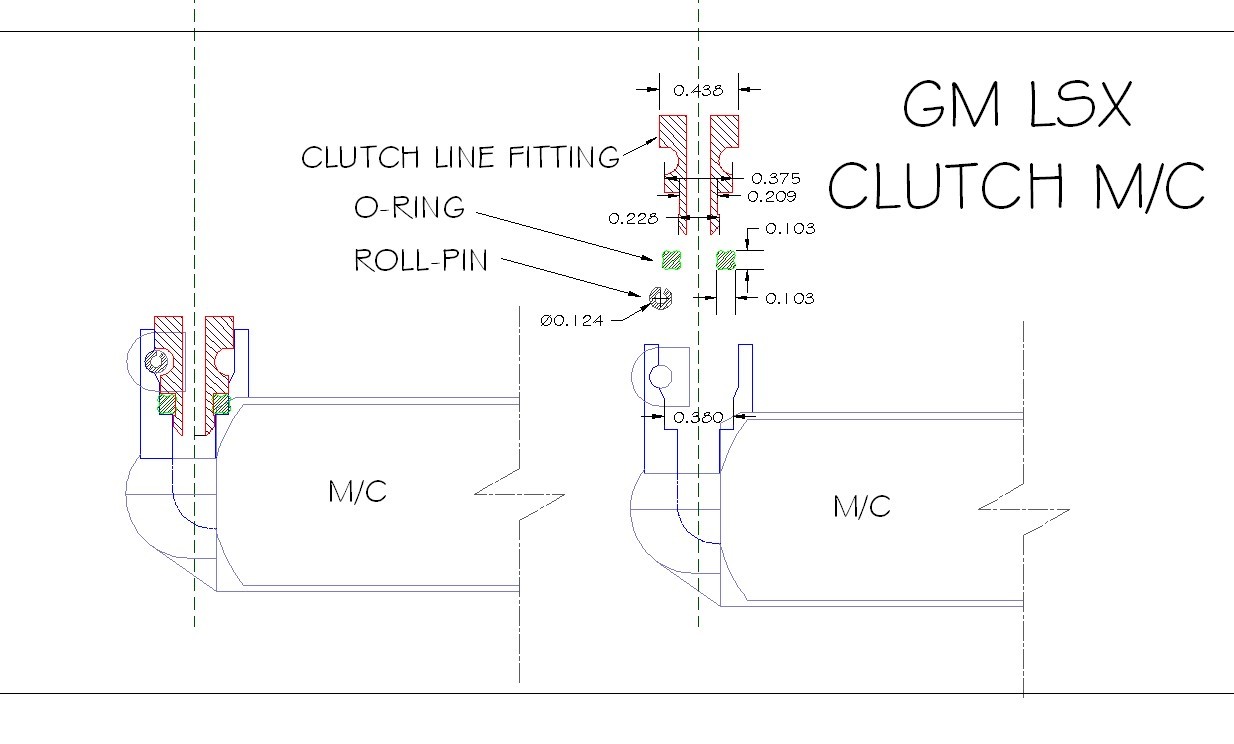 Hybrid LSx line-BMW Master Cylinder;
3D render of the Hybrid connection.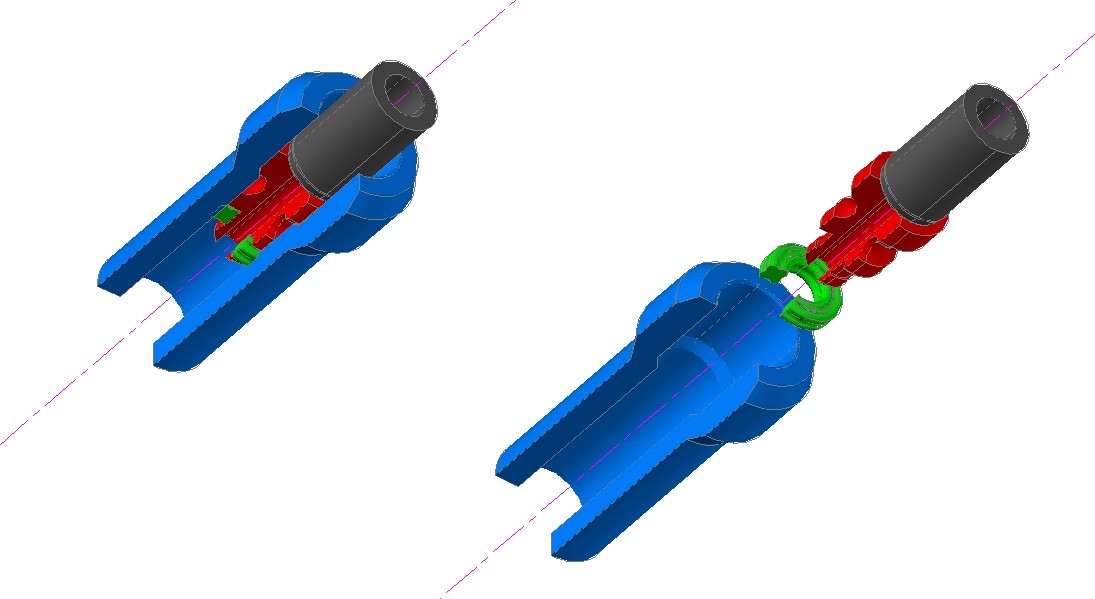 Retaining clip fits perfectly behind the crimped fitting;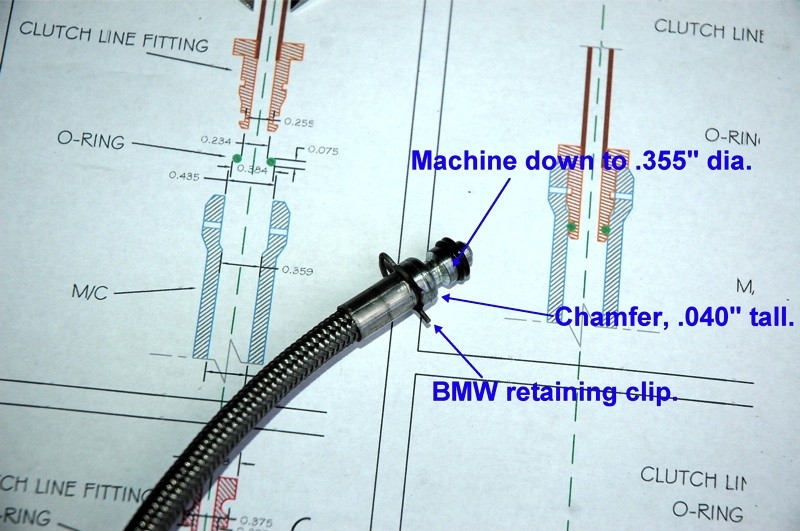 Prior to installation;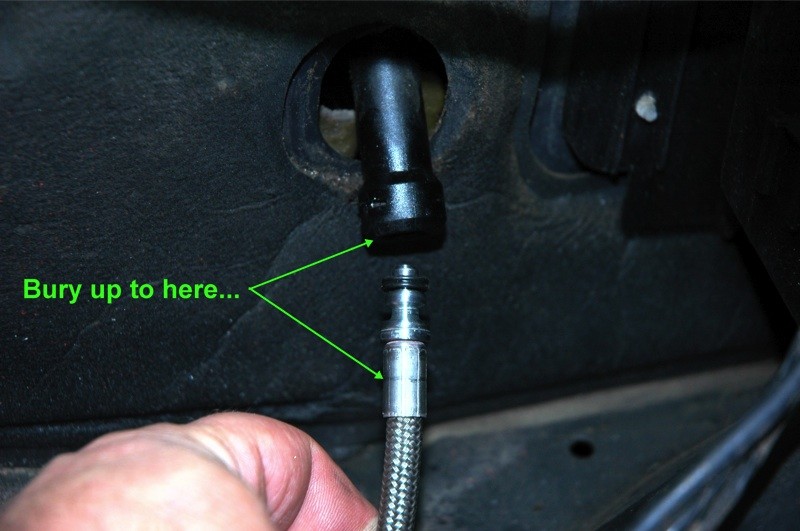 INSTALLED! Retaining clip holds it firmly, wont go in any deeper or come out and it is already the PERFECT length! SAH-WEEET…
5-7-2010
With the engine and trans just sitting in the car, using a remote reservoir, filled the clutch line, bled the clutch and wa-la, got clutch action and NO leaks! Clutch pedal "feels" pretty good, though wont for sure until the engine is running. Pedal pressure starts right off the top, has a slight ramp up in pressure till approx 2/3 pedal down then has a very distinct over-center feel as the pedal effort gets considerably lighter closer to the floor. Overall pedal effort feels about the same as I recall the stock M-3 clutch effort and next to Rons '98 M-3, is the same but with a more pronounced over-center feel.

Spent a bit of the day upgrading my DIY brake pressure bleeder and setting up a BMW M/C reservoir cap for it. Hoping to have the ABS relocated and with new lines brakes done by the end of next week, or sooner. ;-)



Pic from engine bay;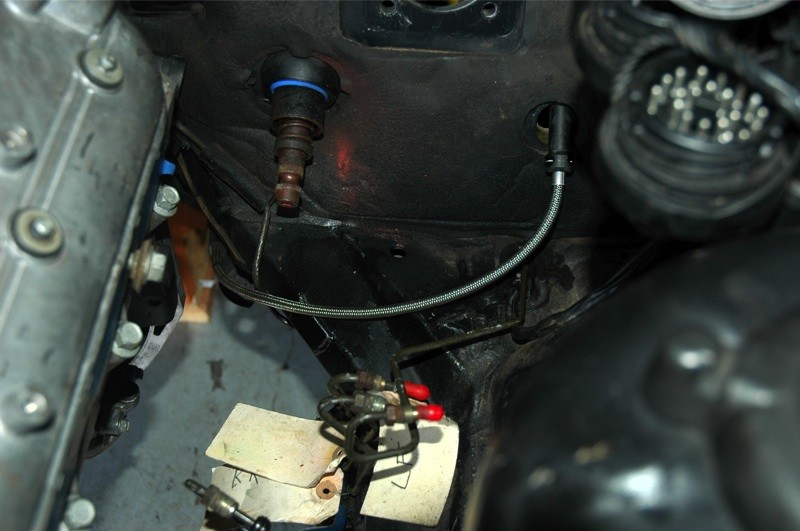 Pic from under the car;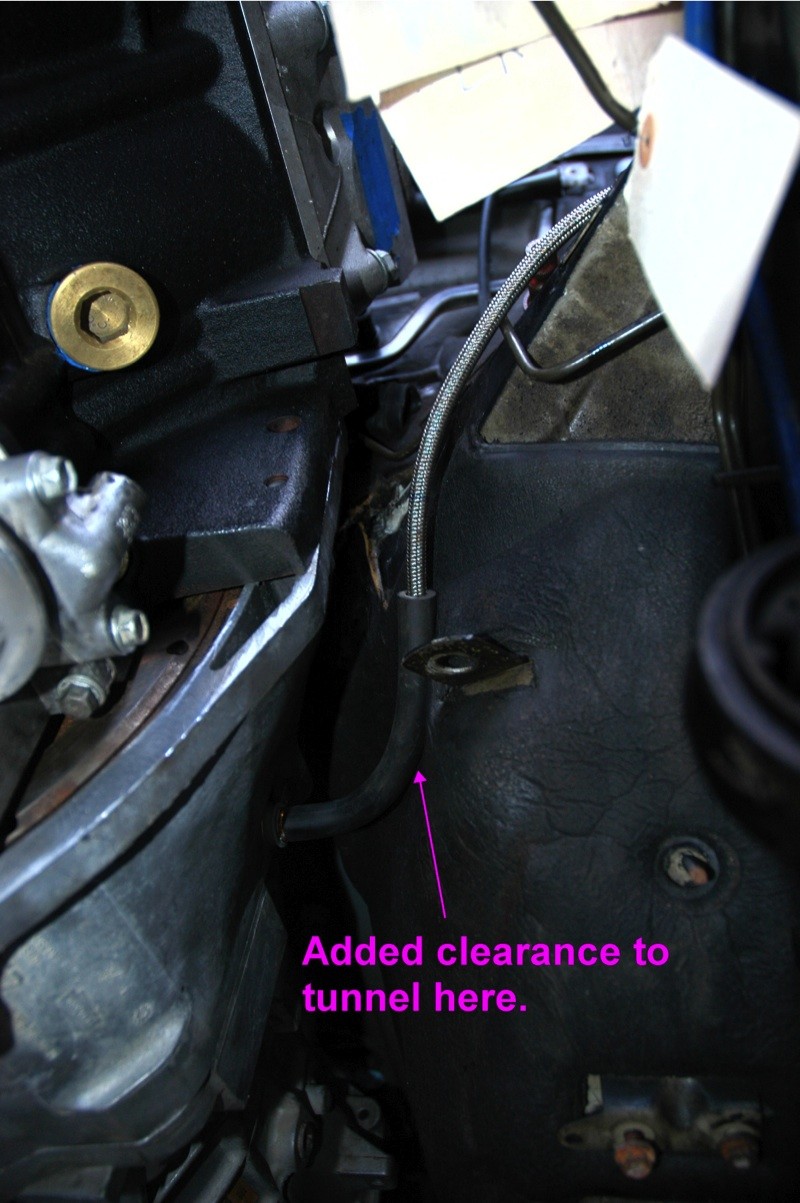 5-11-2010
Forgot the EFI update…

Made up my mind to go with the GM PCM and GM cruise control.
Sold the WOLF V500 and found Chevy Thunder, who will set you up with a stand alone GM PCM and harness for your LSx conversion. He sets some basic settings in the PCM such as tach signal to 6 cylinder, VATS delete, CAGS delete, sets the speed input to match whatever your gearing and tire size is, etc. He also custom builds the harness to whatever length you need to fit your application, including all the connectors you need such as the DLC, your choice fuel injector connector style, O-2 sensor connectors style, 3 wire or 5 wire MAF, coil sub harness connectors, GM cruise control, etc. Also includes the necessary relays and fuses for fuel pump, PCM power, cooling fans, configures for single or dual fan, your choice. The PCM is left unlocked for future tuning if you so desire. I received the PCM and harness and WOW!

Every wire/connector is labeled for easy hook up. Relays, fuses, etc. Also included is a very thorough CD regarding many aspects of installing the LSx and PCM including diagrams etc. Very very helpful for anyone doing an LSx conversion.


I also did a bit of research and picked up the HP-Tuners pro suite so I can fine tune everything once it is up and running. Already been using the HP-Tuners to diagnose hung 2nd gear shifts and low idle swings on my wifes Suburban, (TPS/connector issues along with MAP sensor going out).

On his web site is tons of LSx info, PCM pin outs, how to measure your car to determine how long you need the PCM harness to be, etc. Lots of other pages hidden on the site that aren't accessed from the main pages, just surf around…

http://www.chevythunder.com/

The LSx stuff;
http://www.chevythunder.com/ls1_page_1.htm
5-12-2010
Haven't touched the brake lines yet tough I keep threatening to. I am short one little custom bracket for the ABS sensor, with that in hand I would be far more inclined to finish the brakes 100%. ;-)
Today's distraction was the throttle which is now 100%. I have the clutch and throttle 100%.

Used the Lokar 36" LS1 cable and it fits perfectly. Length is perfect, clevis fits the BMW pedal perfectly, throttle travel is perfect, TB hits WOT with .050" between the pedal and the pedal stop on the floorboard, couldn't be any easier. Only actual work involved was altering the angle of the firewall penetration so the throttle cable ferrule was aimed more directly at the pedal for smoother actuation.

Next on the to-do list in order of priority;
Brake lines for the ABS relocate.
Heater hose and dual zone climate control valve relocate.
Swap the diff flange out to the 4 bolt style.
Mount the cruise control module and figure out the A/C.
Repair the rear shock tower mounts, (removed the rear tires and WOWZERS! Shock tower sheet metal is literally separating from the body!)

Lokar Clevis fits BMW pedal perfectly!
Throttle cable connected and routed.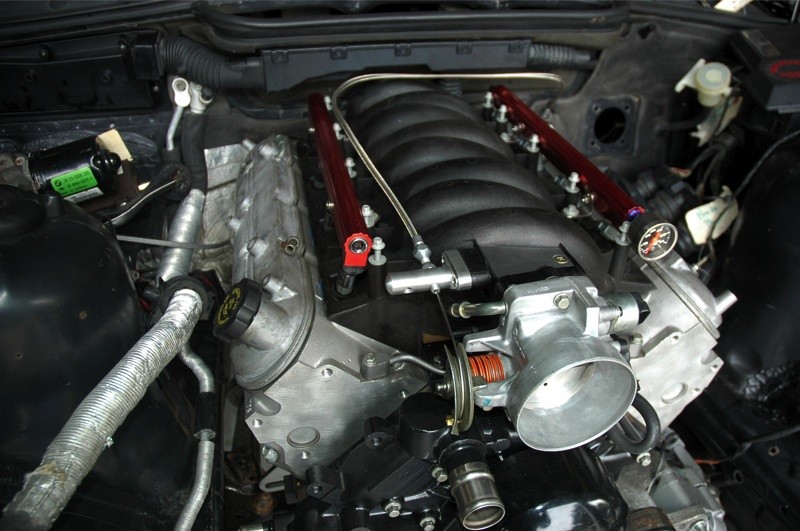 5-14-2010
Small update.
Pulled the engine/trans out of the car and "finally" relocated the ABS module to the passenger side behind the strut tower.
Drilled the spot welds that held the blower motor tray that was in this position, using the ABS module mount brackets cut off from the driver side, hastily fused them to new sheetmetal to hold the module in its new location. Welds look like….. well… lets just say pigeon poo is more aesthetic, but it works. Welding is not one of my strong points.
If time permits this weekend, I plan to have the ABS module plumbed.

Plenty of room to mount the GM cruise control module next to the ABS module and the climate control valves under the ABS module, if I don't mount them where the ABS module used to reside under the brake M/C.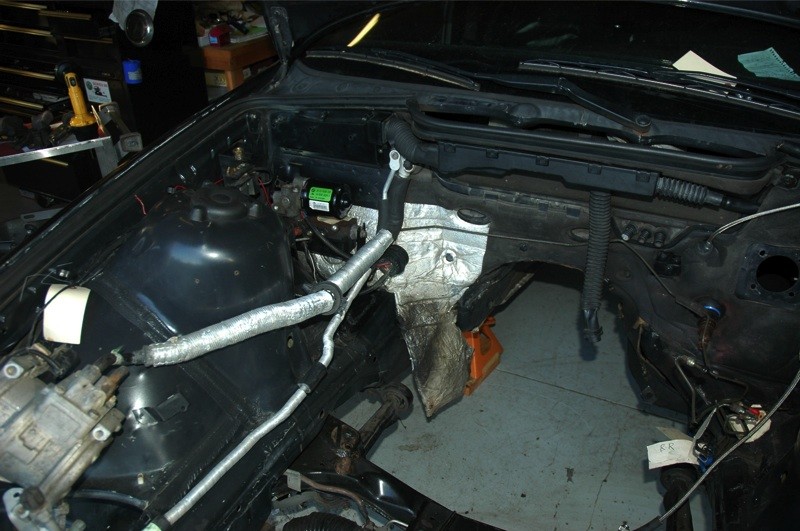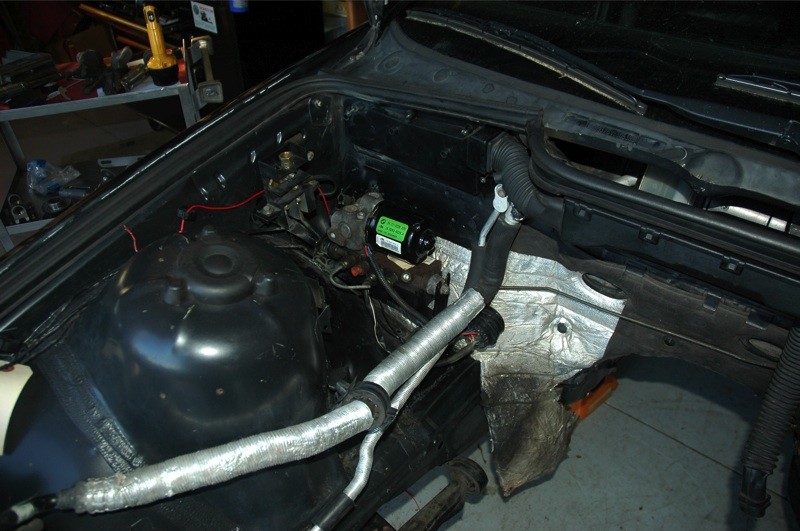 5-15-2010
Spent today cutting, bending, and flaring some brake tubing. All four wheels are now hydraulically connected to the ABS module, just need to plumb the M/C to the ABS module and the return lines for the ABS module. Hoping to finish the brakes 100% this coming week, if possible. ;-)

Will tidy up the routing of the brake lines once the M/C lines are plumbed in.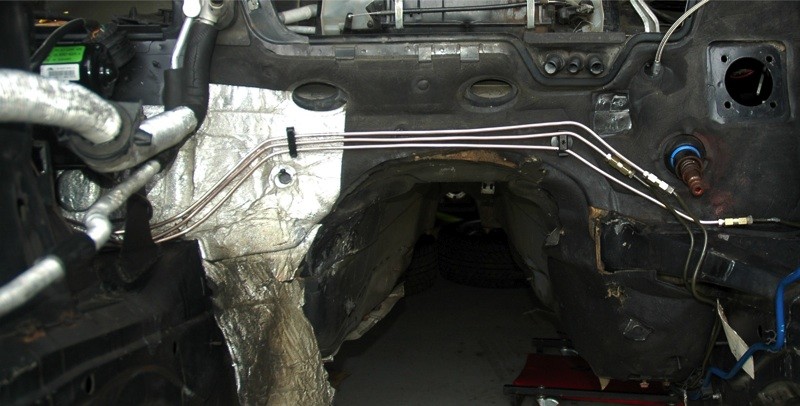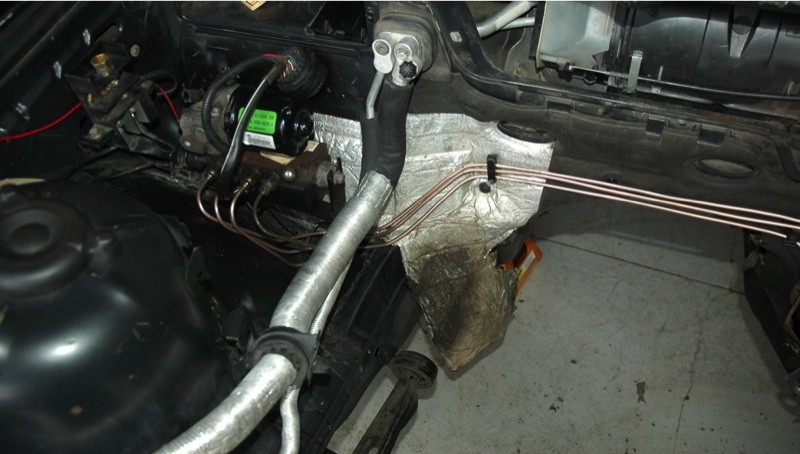 5-21-2010
Finished up the fuel lines 100% today. Mallory Fuel Pressure regulator tucked nice and tidy under the little ledge where the driver frame rail meets the firewall. Connected the fuel lines to the intake manifold and energized the fuel pump checking for leaks. There was a leak, not from any of the new fuel lines but from the hard line that runs between the tank and the fuel filter was leaking where it passes through the forward most hanger! This car spent some time on the East Coast and its owner apparently drove this car around during the winter there. Some of that awesome rust accelerating agent used on the roads back east made its way between the rubber hanger and the fuel line itself where it went to work rusting through the fuel line! I happened to have some used 8mm fuel lines from a Datsun Z car that is in excellent condition, cut it to length, added appropriate bends, swaged a small flare on the ends, back in business.

Also finished up the Brake M/C lines a few days ago. All that is left with the brakes is to install the ABStravel sensor bracket when it arrives so I can install the pedal assy then bleed the brakes.

Also on the list is the heater valve and heater hose routing, I have a couple ideas in mind…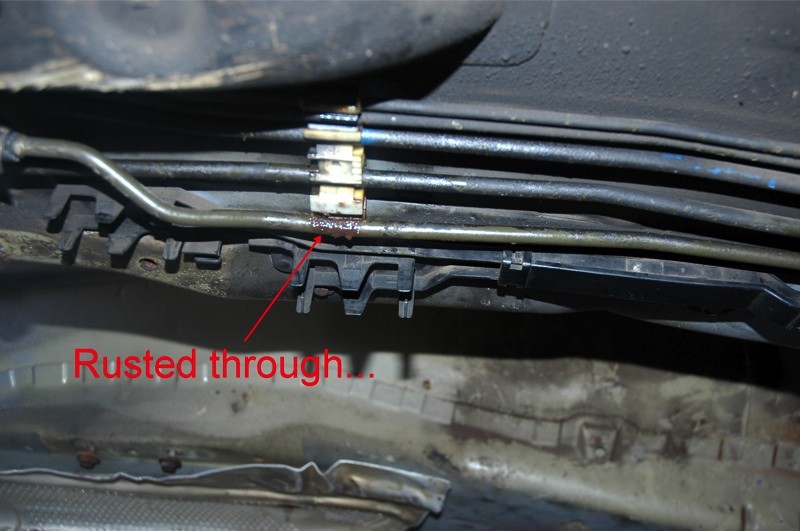 8-1-2010
Been a couple months, about time for an update…
I'm still alive, gaining a little weight, getting older, and still married. Oldest daughter graduated high school, she also got her drivers license and has commandeered my only mode of transportation. Summer weather has been real mild, actually sort of a weird summer weather wise. Our annual camp-in this year was fantastic, thank you to all that came out. The dusty hulk of steel that is close to being evicted, running or not, is still in the shop and on jack stands.
Water temp sendors AND sensors, BMW EFI, BMW Gauge and LSx, measured, (Senders and sensors tested were BMW BOSCH connection/square 2 prong; Black top, Green Top, Brown/Tan top, 4 prong prong round top, early Datsun EFI and GM LSx. Of interesting note is that all the BMW 2 prong EFI and Datsun EFI sensors were within 2% of each tother from 60-20 degrees F).
First the good news.
The resistance values-vs-temp values for the instrument gauges on ALL E36 cars, '92-'99 are the same! We all have been speculating they were different, come to find out they aren't. BMW originally utilized two separate sensors/senders, (one for the EFI, other for the gauge), on the '92-'95 cars then in '96 combined them into one housing for the later cars, the 4 prong sensor/sender and retained the same exact values for both DME and gauge. :buttrock
Now the great news! :alright
What that means for anyone doing the 92-'99 E36, (318, 323, 325, 328, M3,) LSx conversion is the '96+ 4 prong sensor/sender works with their gauge and threads directly into the LSx head, no drilling, tapping, bushings, adapters etc to use the earlier 2 prong sensor, unless you want to. :confused Just deduce which 2 prongs for the gauge, (easy to do with the Bentley manual and an OHM meter), and you're there.
As for the pig tail, many other BMW's used this same connector, easy to find in wrecking yards on other cars.
Quote:
Originally Posted by bimerok

Here are the pins to use (Looking at the connector's end. X20 pins based on 1996 328is):



Connector Part # 12521703571 - Need One
Connector Pins # 61130007657 - Need Two (usually comes with short wire and seal)
The just ho-hum news.
The LSx PCM sensor has a slightly different curve/slope compared the BMW EFI temps sensor, enough so that you wont want to use the BMW DME sensor for the LSx PCM, (see chart below). One could possibly adjust the CLT values using one of the tuning suites, I am pretty sure it's just easier to install the GM temps sensor in the other head and be done with it. For what it's worth, ALL GM temp sensors coolant and air temp have the same resistance to temp values, across the board, Pontiac, Olds, Chevrolet, etc, applicable to all GM Multi Port EFI vehicles.
LEGEND!
X axis= Degrees Fahrenheit.
Y axis = resistance in OHMS.
BMW EFI I = OBD-I DME temp sensor.
BMW EFI II = OBD-II DME temp sensor.
BMW Gge I = OBD-I gauge temp sender.
BMW Gge II = OBD-II gauge temp sender.
LSx EFI = PCM temp sensor.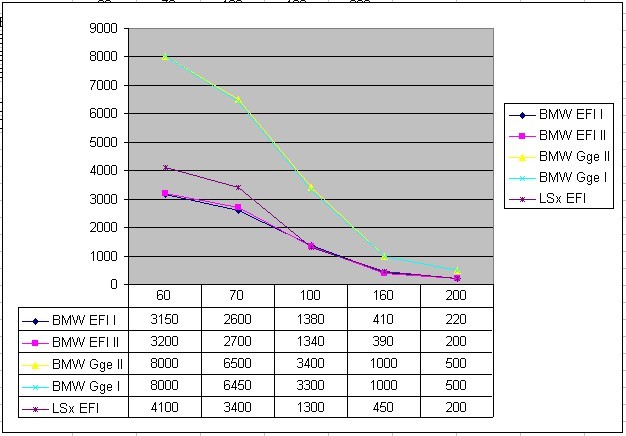 There seems to be a down side to these BMW temp gauges. I spent a bit of time researching this and here is what I found.
BMW incorporated some form of buffer within the instrument cluster itself that holds the temp needle straight up, middle of the gauge when the engine is between 140-230ish degrees F. If the coolant temp breaches 230-ish then the gauge will swing from the middle up to HOT, not an incremental climb as one would expect or hope for as the engine gets warmer. The sender itself is analog like any other sender for a temp gauge, this buffering is done in the instrument cluster. Some feel the Euro cluster has less of a buffer but I was not able to find any evidence to support or deny that claim. There is a bit of speculation as to why BMW did this, turning a perfectly useful analog gauge into useless cold hot dial, beneficial no one. (theories such a people are getting so stupid that when they wee gauge move from center they panic and take their car to the dealer so this prevents unnecessary warranty claims, etc). Regardless, I see no point in trying to figure out why BMW did this, it is what it is, any discussion should really be centered around a possible solution to obtain a true analog temp gauge. Some have talked about trying to remove the buffer in the instrument itself, others have successfully replaced the internal guts of the temp gauge with VDO guts, stock needle and now have a gauge that indicates temperature on an analog scale. If someone finds a way to eliminate the buffer itself or other way so to get around this, please share, for now, here is what I found;


The issue, for those interested in reading;
http://forums.bimmerforums.com/forum....php?t=1208832

http://forums.bimmerforums.com/forum....php?t=1480682

http://m3forum.net/m3forum/showthread.php?t=324399

Fixes;
http://forums.bimmerforums.com/forum....php?t=1105631

http://forums.bimmerforums.com/forum...d.php?t=776813

I tried to verify this "buffer" thing in my car using a 0-10k potentiometer, (Variable resistor), no joy. I think I may to finish up more of the wiring before my instrument cluster will allow the temp gauge to function?!


In other recent news, received a set of prototype headers to mock up in the car in hopes of finalizing placement of the engine mounts, headers need a bit of work still, we are still up in the air on actual mount design/placement. Though with these headers mocked up I did learn that my choice for location of the Mallory Fuel Pressure Regulator was a poor choice. Headers were within 1/8" to 1/4" of the FPR. Removed the FPR and installed the Corvette FPR/filter in place of the OE BMW filter and all is well now. Connected the battery, (it still has power, even after sitting for over a year!) pressurized the fuelsystem, fuel pressure is right at 59-60 PSI. Probably should consider ordering another pump to have on hand in case this one dies once I get it on the road. Car had 19x,xxx miles when I put up on jackstands over a year ago, no idea how many miles on this pump and probably shouldn't trust it especially after sitting for so long and then ramping up the fuel pressure by 33%.
Another note for those of you using the Vette FPR, be aware that if your PCM came from a vehicle that had a FPR that utilized vacuum reference such as the trucks, (not sure about F-bodies), your fuel map will need the appropriate compensation to adjust for not having the Manifold pressure reference. If your PCM came from a vehicle that didn't have the vacuum reference FPR, no worries.
8-25-2010
Watching all the other E36 V8 conversions come to life and drive down the road over the past few weeks on Bimmerforums is encouraging.
Engine is still sitting beside the car though I did get the low pressure brake line from the reservoir to the ABS module finished and connected. Ran a 3/8" hard line across the firewall with continual slope so any air in this large of line will naturally float up to the master cylinder reservoir or the bleeder block I fabbed and attached tot he ABS module. This bleeder block has two fittings that spaced out perfectly and directly plugs into the ABS module replacing those black plastic fittings. The Bleeder block is hollowed out with an open cavity at the top with a bleeder screw to seal it. Line out the bottom is 10mm with a small section of the 10mm BMW brake hose joining to the 3/8" line and the bleeder block.

Diagram showing the slope and relative elevations;

Low pressure line is lightly highlighted in GREEN;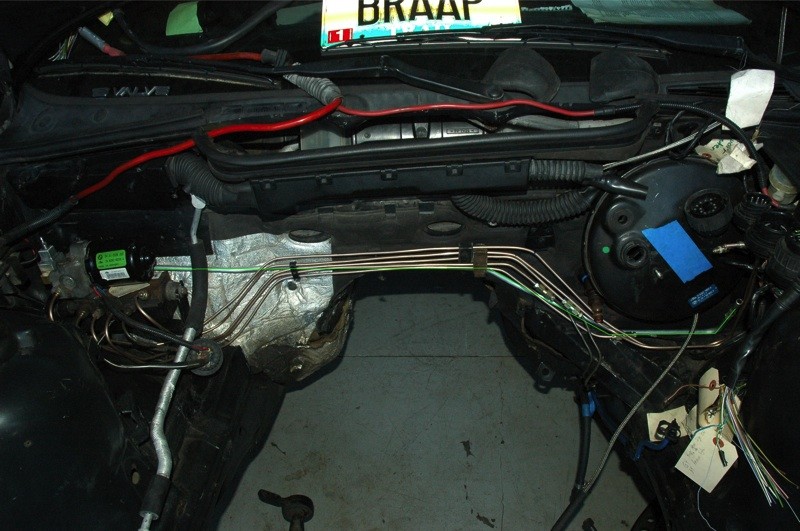 Bleeder block, (excuse the crude work and finish, losing ambition to take my time and make it nice, just want it done)!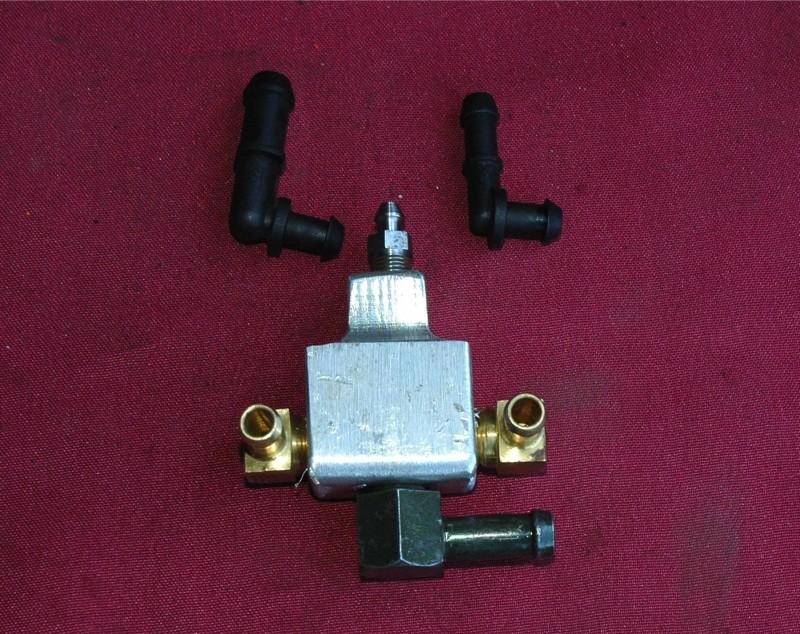 Bleeder block installed in the ABS module;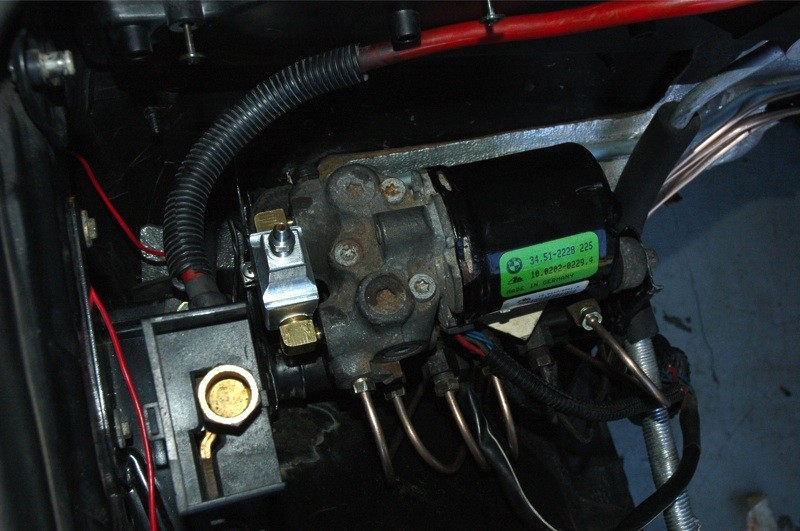 For those relocating their ABS modules, both of those black plastic fittings have the same size orifice opening even though they have two different size hoses, for some odd reason. As such, you are not confined to use 10mm for the larger one. Other European cars with ABS modules have similar fittings and at different angles, 45 degrees and straight show below, which may help in routing those low pressure lines.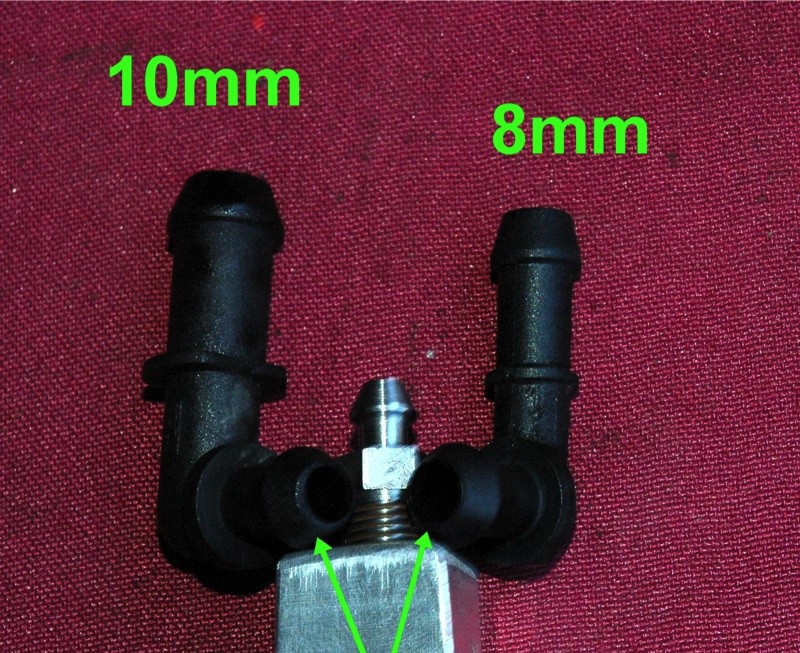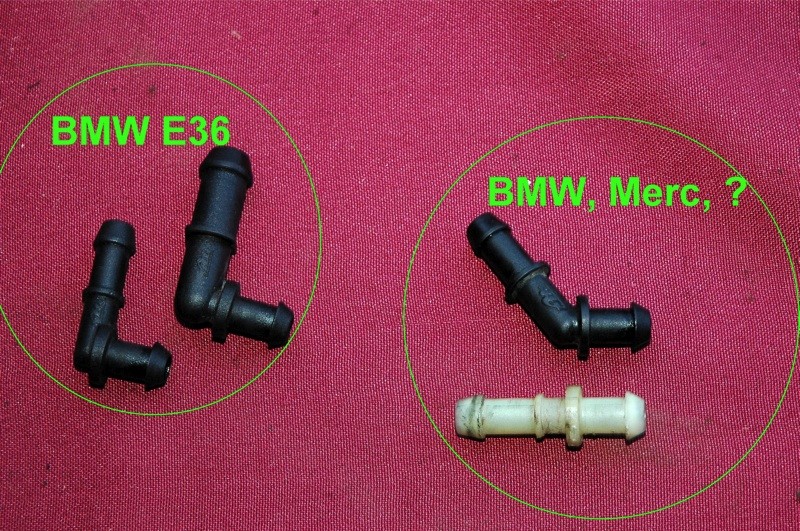 Till the next update, hopefully before winter sets in, happy motoring...

10-7-2010
Between doc visits, a trip out to Verona/Madison WI, (went the Packers-Bills game on the 19th and visited the EAA Air Venture museum while there), enrolling in some A-CAD classes, etc not much progress has been made on the car. There hasn't been much to do any how as the headers are still being sorted out.


I think my last substantial update was back in April or May?

My how time flies watching grass grow. Once the headers get sorted and finally built, then it'll be gangbusters to get it on the road, probably wont stop to update the build thread till it's on the road and I can breathe again…
For now, just another pittly little update.

Started in on the wiring, reconfiguring pin out and inserting pins back in the circular BMW connectors I picked up for the ABS relocation, (just made and extension harness, didn't have to cut or splice the car or ABS module), in the middle of routing the LSx harness.

Thank you to Pzary for his advice I spent a couple days building a cheesy little PCM desktop tuning bench, now I can access and tune the PCM outside of the car, on the bench/desktop. Made a couple adjustments to the PCM tonight including Throttle Cracker, Throttle Follower, fuel cut parameters, will be massaging the VE table and ignition map to better match the Vette cam, etc. (PCM is '02 Avalanche), bench tuned a few others PCMs as well for other swappers, (delete VATS, skip shift, set tach signal, tire size/gearing, hi-lo speed cooling fan set points, etc).

PCM tuning bench extracting data;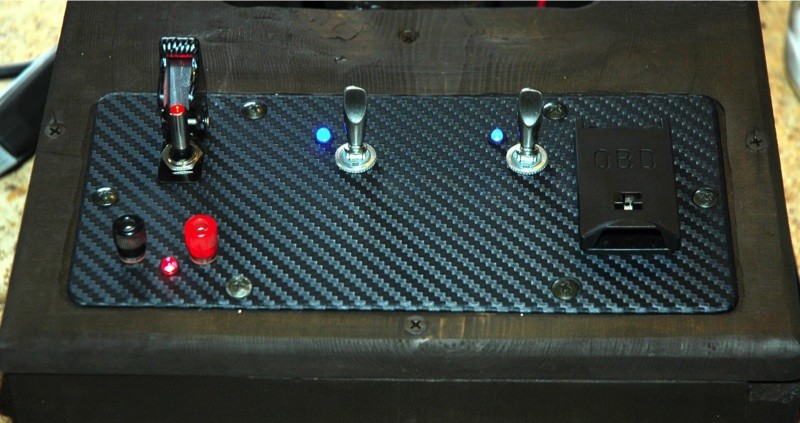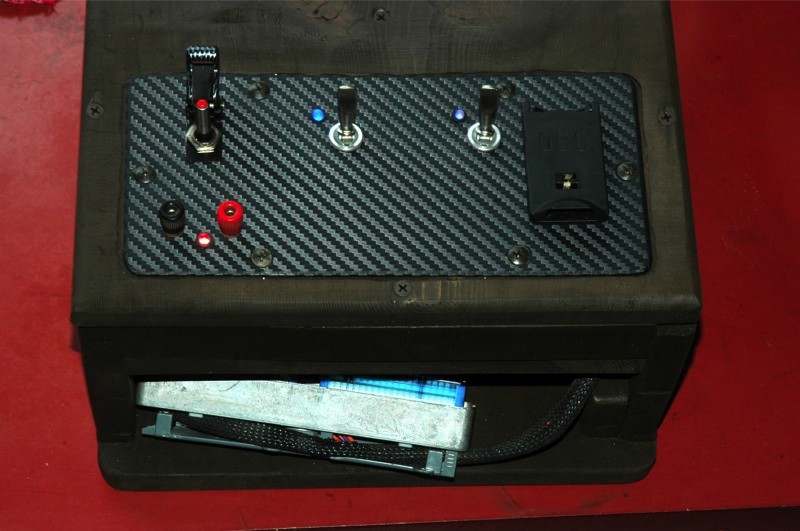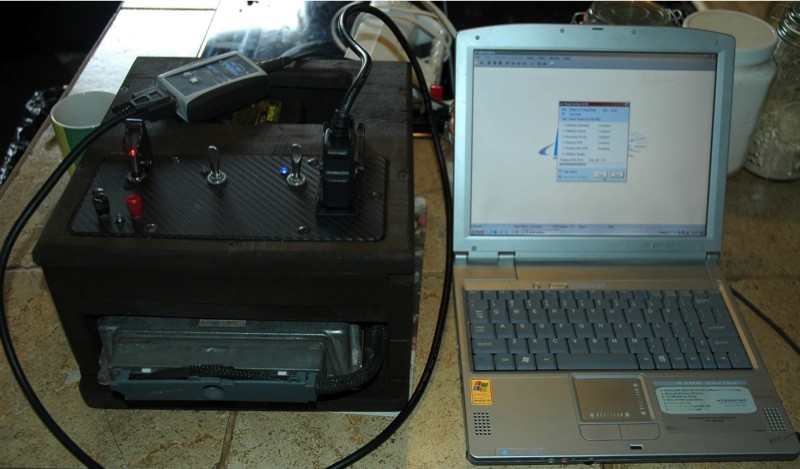 BMW Oil pressure sender is installed on the LSx. Spent more time scratching my head with hand full of fittings trying to figure out how I am going to do this. Almost just drilled and tapped the 16x1.5mm adapter to directly accept the 12x1.5mm oil pressure sender, but couldn't quite bring myself to do that as the wall thickness would be quite thin and the last thing I want is to shear the head off the adapter leaving its threads in the block of an assembled engine. Using another 1/8 NPT fitting I drilled the female end and tapped for 12x1.5mm to accept the BMW oil pressure sender for the idiot light, robbed the LSx oil pressure sender crush gasket and installed the mess.
There has to be an oil pressure switch out here from another OE application that is 16x1.5 mm threads. Sure would make that a whole lot easier.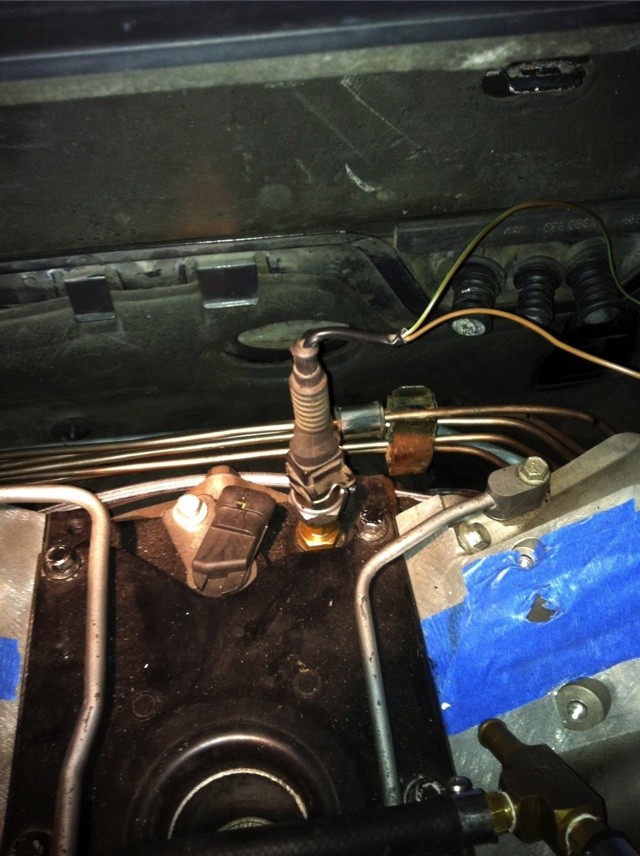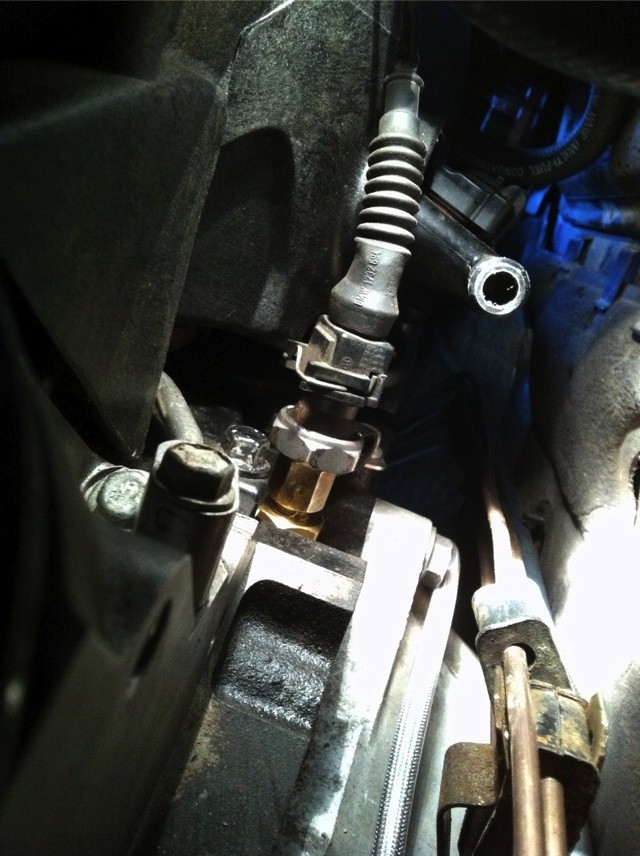 While watching the Grass grow I thought I'd play a little more with my 3M Di-NOC faux carbon fiber, (used it on the PCM tuning bench), and covered the aluminum plug cover for the EGR port on the LS1 intake. Don't like the shiny screw head, may have to faux anodize that, black sharpie.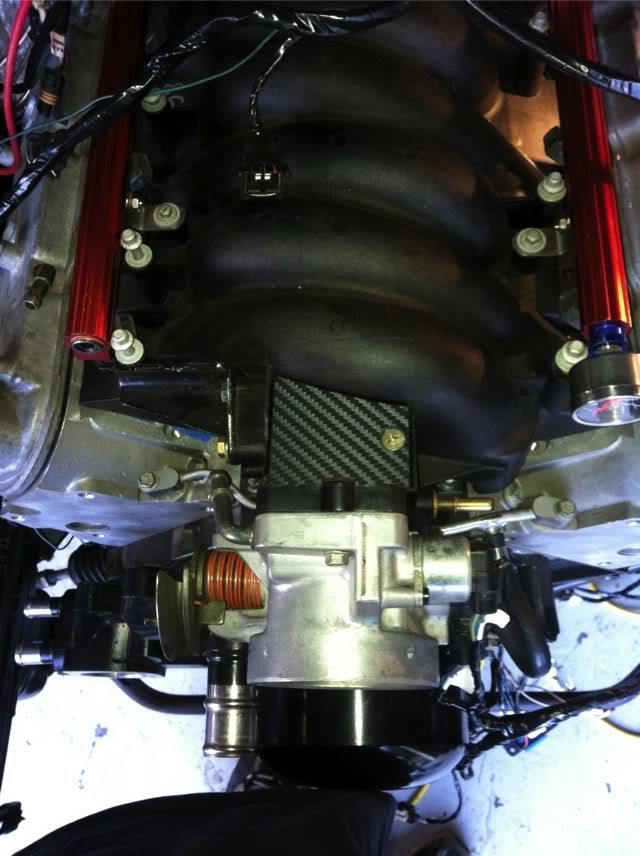 10-21-2010
Quick update and info on the GM Fuel tank pressure sensor.

Wiring is approx 95% complete, only couple connections to make, prime the oil system with the remote oil primer then fire it up.


In short, you must use the GM fuel tank pressure sensor with GM PCM to control the BMW evap canister vent and either the BMW or GM canister purge valve and you can NOT use a GM MAP sensoras fuel tank pressure sensor.

Specifics for us geeks;
Using and old PC power supply with its 5 volt DC power source I was able to test a GM fuel tank pressure sensor and the BMW fuel tank pressure sensor to see if the BMW sensor could be retained. In short, NO, it cannot be used with GM PCM. The BMW pressure sensor and GM fuel tank pressure sensor are reversed in their Voltage-to-pressure readings so it will not work properly. In using the GMPCM to control the evap canister and fuel tank purge valves, you must also use the GM fuel tank pressure sensor.

Also, you can NOT use a GM MAP sensor for this purpose. I have seen information on the net saying the GM MAP and GM Fuel Pressure sensor are the same, that is incorrect! Those claims are guesses, NOT tested or measured. After testing them side by side, (applying 5 volt and ground, measuring the signal while applying vacuum and pressure), they are not even close! They may look sort of similar, even have the same sealing grommet, but they are NOT the same nor interchangeable.
GM MAP sensors;
Testing the GM MAP sensors, my findings matched exactly what is found online. Registers atmospheric pressure and below i.e. vacuum. At atmospheric pressure, (WOT or engine off), voltage is 5 volt. Pull 5" of vacuum on the MAP sensor and the voltage drops to 4v. Pull another 5", (10" of vacuum total), voltage drops to 3 v. Pull another 5", (15" total), voltage drops to 2v. Pull another 5" of vacuum, (20" inches of vacuum total) and the voltage drops to 1v.

GM Fuel tank pressure sensor;
The fuel tank pressure sensor visually looks sort of similar to the MAP, has the same silicone sealing grommet but the MAP connector will not fit. For what it's worth, the crank position and Cam position sensor connector does fit the fuel tank pressure sensor. This sensor also registers pressure above atmospheric, but only barely and is MUCH more sensitive registering minute pressures below andabove atmospheric i.e. vacuum and pressure. Of greater importance is its voltage to pressure values are reverse of the MAP sensor.
At atmospheric pressure, the fuel tank pressure sensor delivers 1.5 volts. As vacuum is applied, voltage rise is linear to 5 volts at approx. 1" or 2" of vacuum. My vacuum gauge is not accurate enough at that low of vacuum for an accurate measurement. Using your mouth you can easily max out the sensor with light suction or light pressure. Blow into it the voltage continues to drop below 1.5 down to minimum of .23v, I guess that to be pressure to be approx. 1-2 inches of pressure, not even half a PSI. Just blowing across the opening the voltage swings, this sensor is very sensitive.
10-30-2010
Short version, fired up the engine today! WOOHOO!






Long version.
Built a DIY LSx engine oil primer, (air actuated piston forces 4 qt's of fresh oil in to the engine oil galleys via the port above the oil filter), worked out perfect pressurizing the oil galleys with fresh oil, as well back filling to the pump. Just cranking the engine over on the starter with the coils/injectors disabled works fine, I wanted fresh oil to the bearing before spinning the crank.
After a few electrical checks to verify wring was correct, no back feeds were going to keep the start engaged, pressurized the fuel system, etc. Then bumped the starter and the engine immediately came to life on all 8 cylinders, WOO HOO!

Here are some pics of the oil system primer and video of the start up.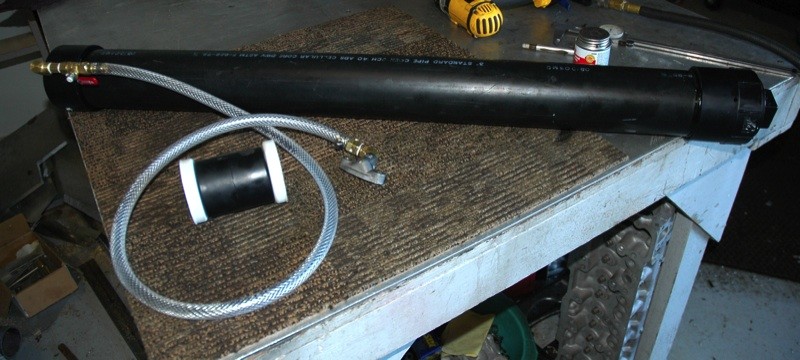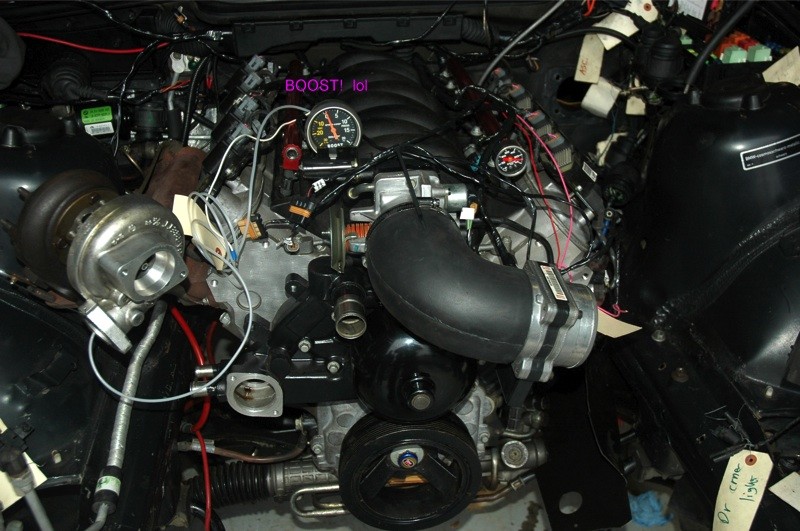 Flames!

As a gag we clamped an old dead Turbo onto one of the exhaust Mani's, it would barely spin, (boost gauge sitting on the intake)
12-20-2010
Update with wonderful news.


JTR and Sanderson Headers are getting close to releasing their E36 LSx long tube headers. Approx ETA for release of production units is 2-3 months.
These pictures are of the Prototypes. Steel, long tube, 1 3/4" primaries, 3" collector, V-band connection, and they clear the stock steering shaft.
These prototypes have been given the green light from which Sanderson will build fixtures/jigs around for production units. Before any headers will be offered to the public a few pre-production units must also receive the green light from JTR, (quality assurance), once the pre production units pass, production will start. Again, earliest release of approx 2 months time so long as the preproduction units fit as intended.



Pics of the JTR mockup mule at Sanderson Headers.


Driver side;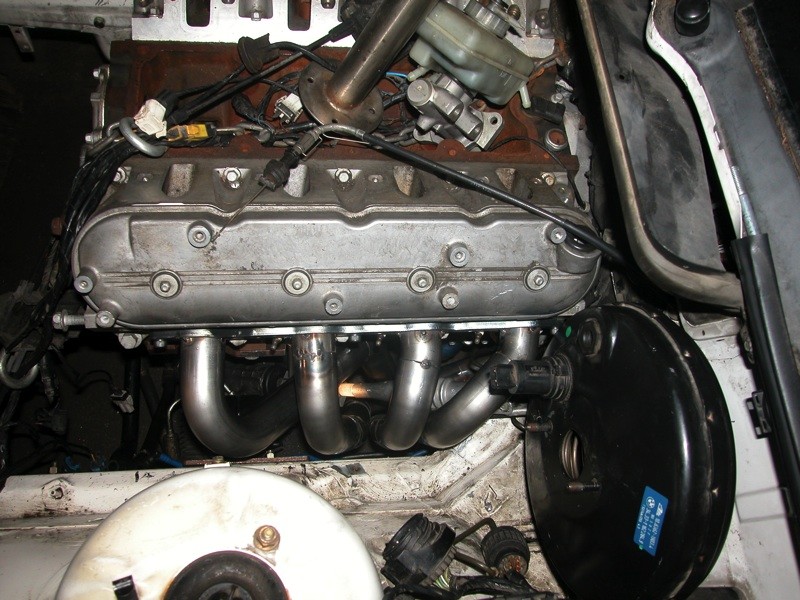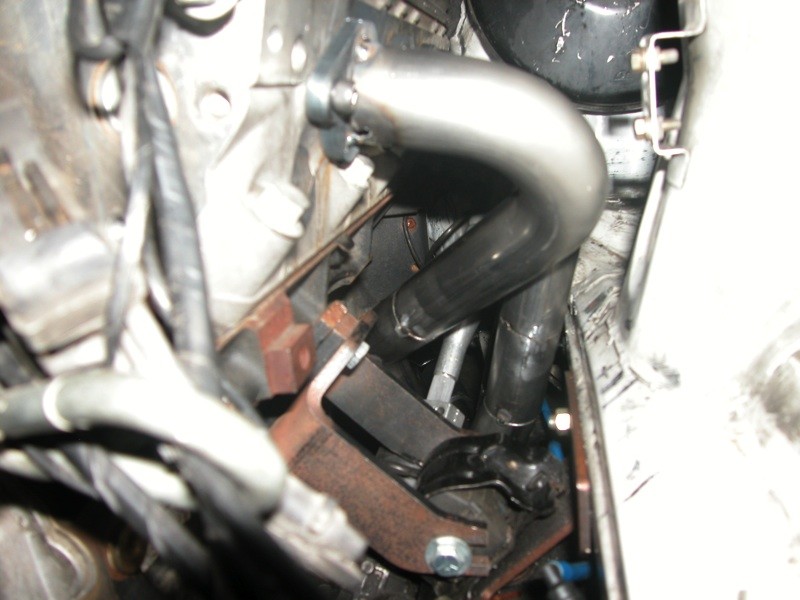 Passenger side;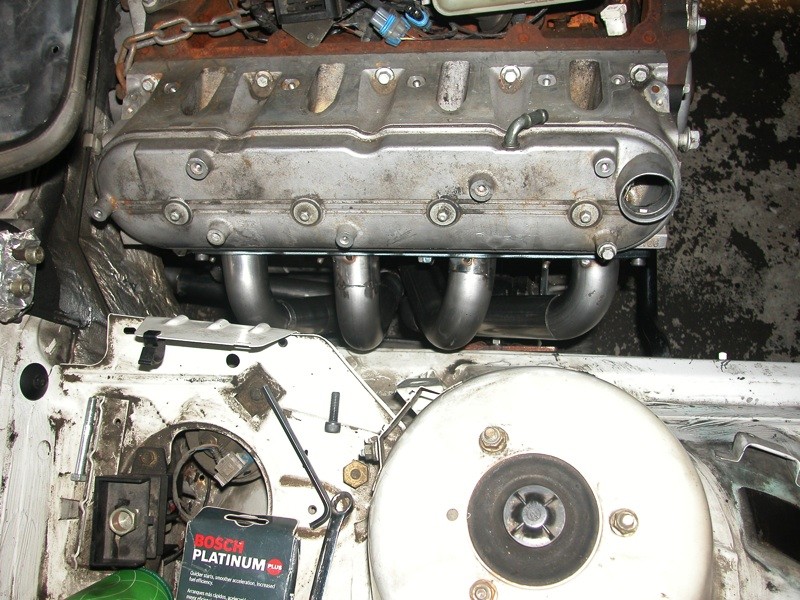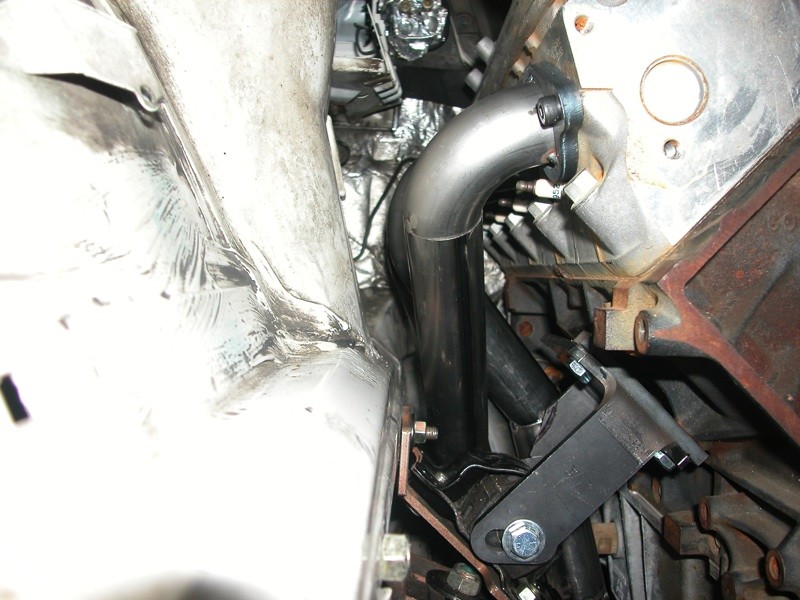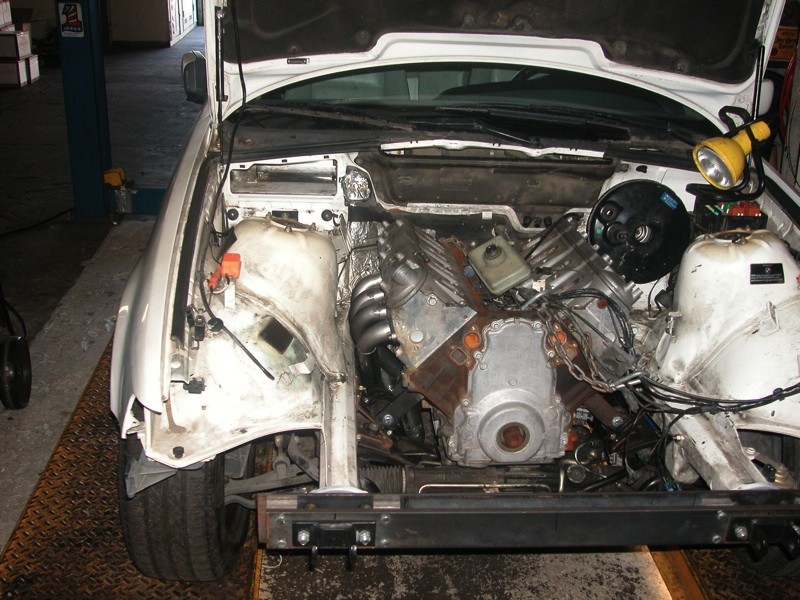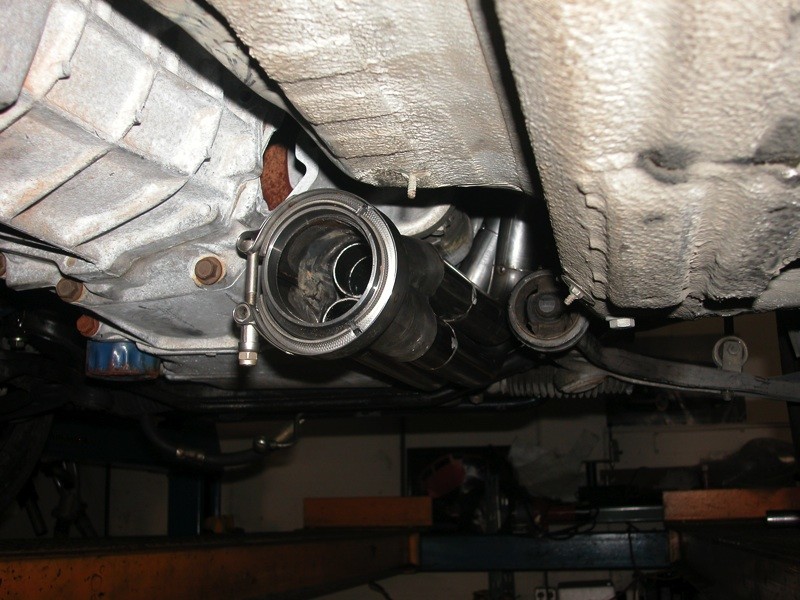 12-21-2010
This is the prototype of the kit JTR will be offering, some bits currently available, check this link;
JTR BMW-LSx conversion kit
Most aspects of the kit have been sorted and prototype bits built, only few little details to sort out. Headers are the last big hurdle.
Here is the driver side mount, ties the X-member to the frame rail, uses OE GM captured isolators available in varying stiffnesses, allows for slight adjustably fore-aft, left-right, up-down.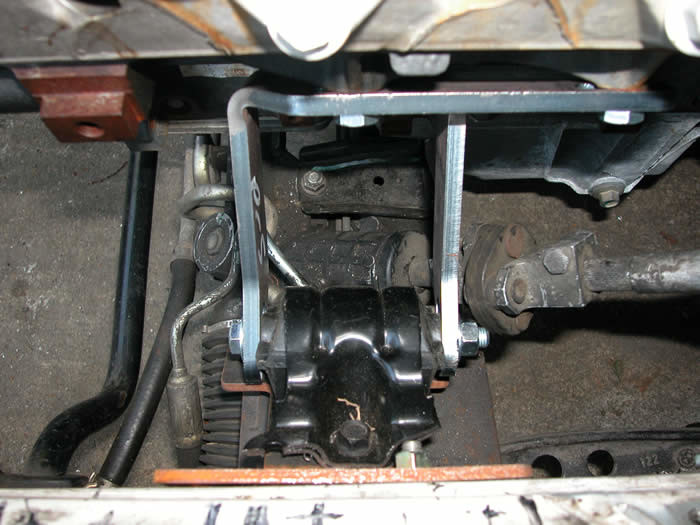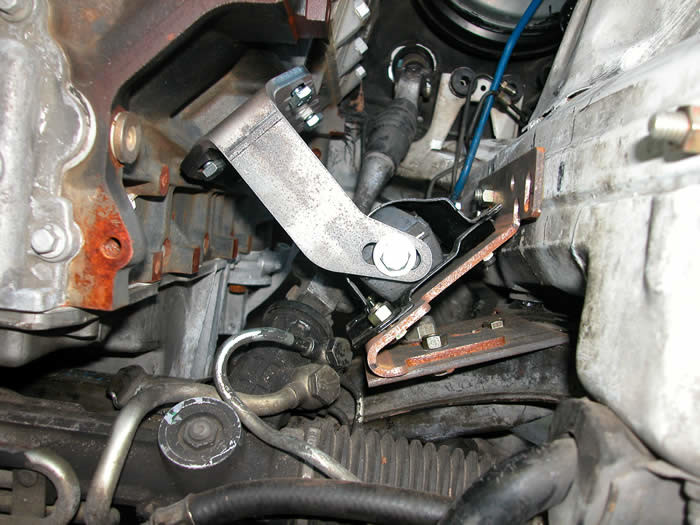 1-28-2011
Headers arrived, excellent quality and fit very well. 1 3/4" long tube mild steel, 3" V-band flange.
Excellent clearance between the #7 primary and Mercedes booster as well as the stock BMW steering shaft. Taking them down to Finish-line coatings here in Portland on Monday for their Turbo-Black ceramic.

Now with headers here, mounts can be finalized, trans X-member designed and built around the GM F-bod LS1 trans isolator, heater hose/pipe routed, final fuel line routing into the engine bay, etc.

Here are some shots of the soon to be released JTR E36 LSx long tube mild steel headers.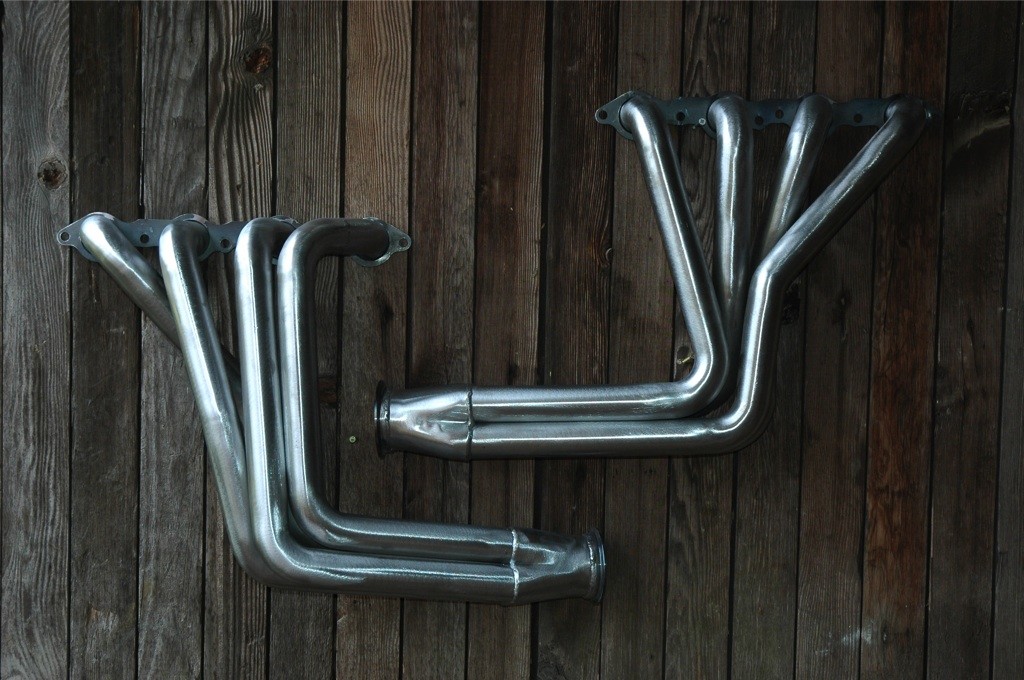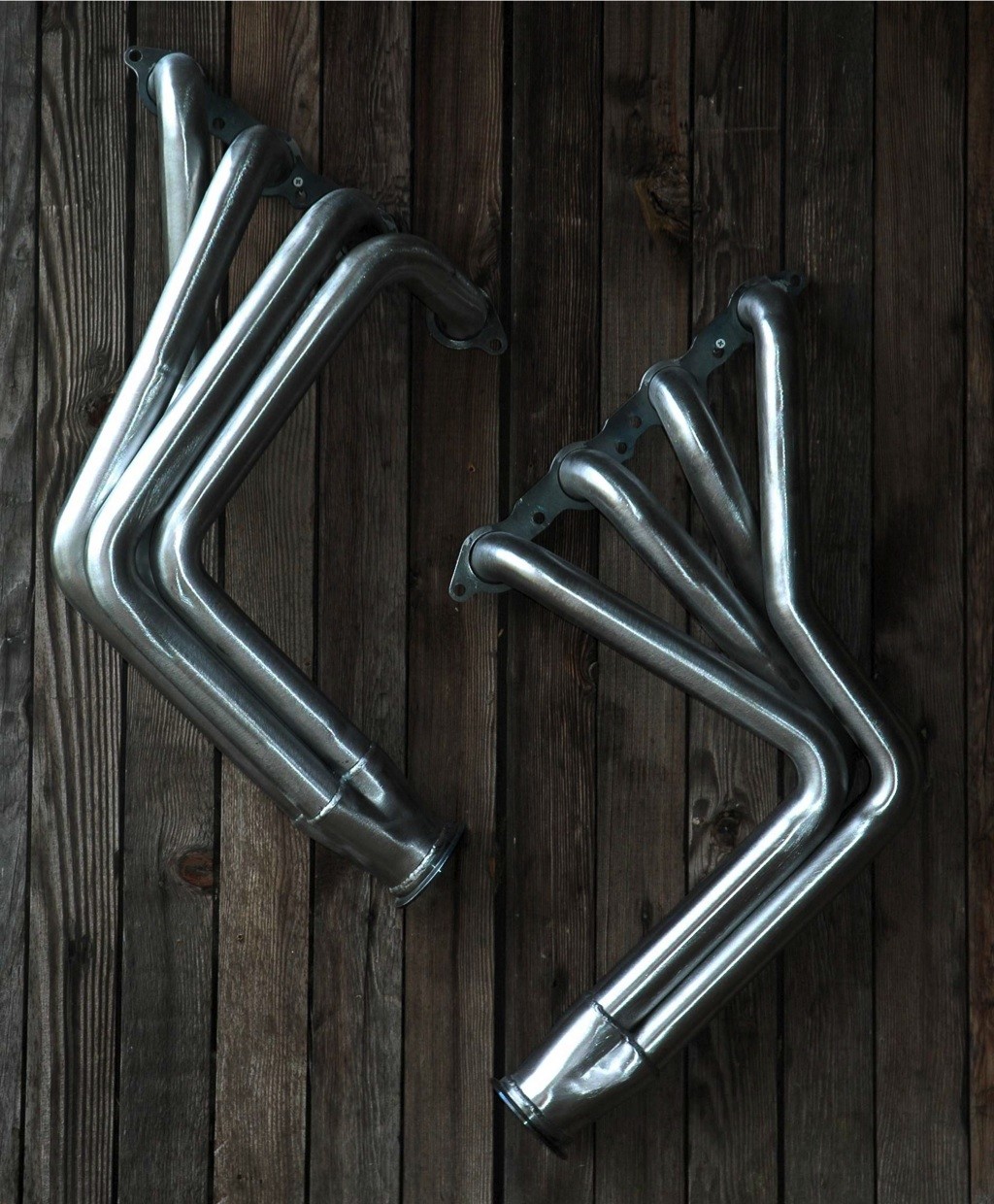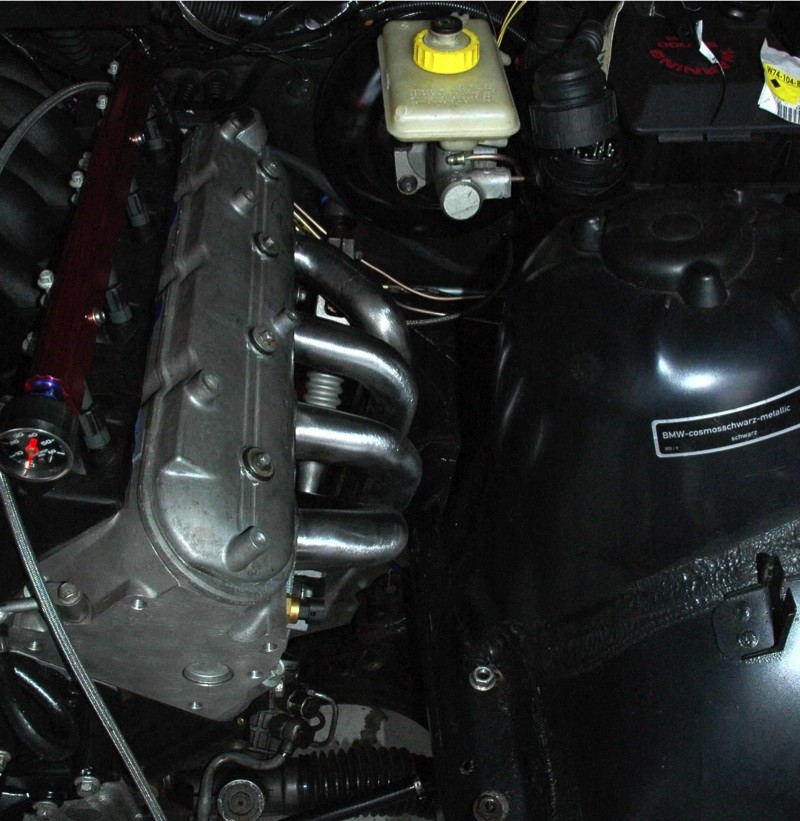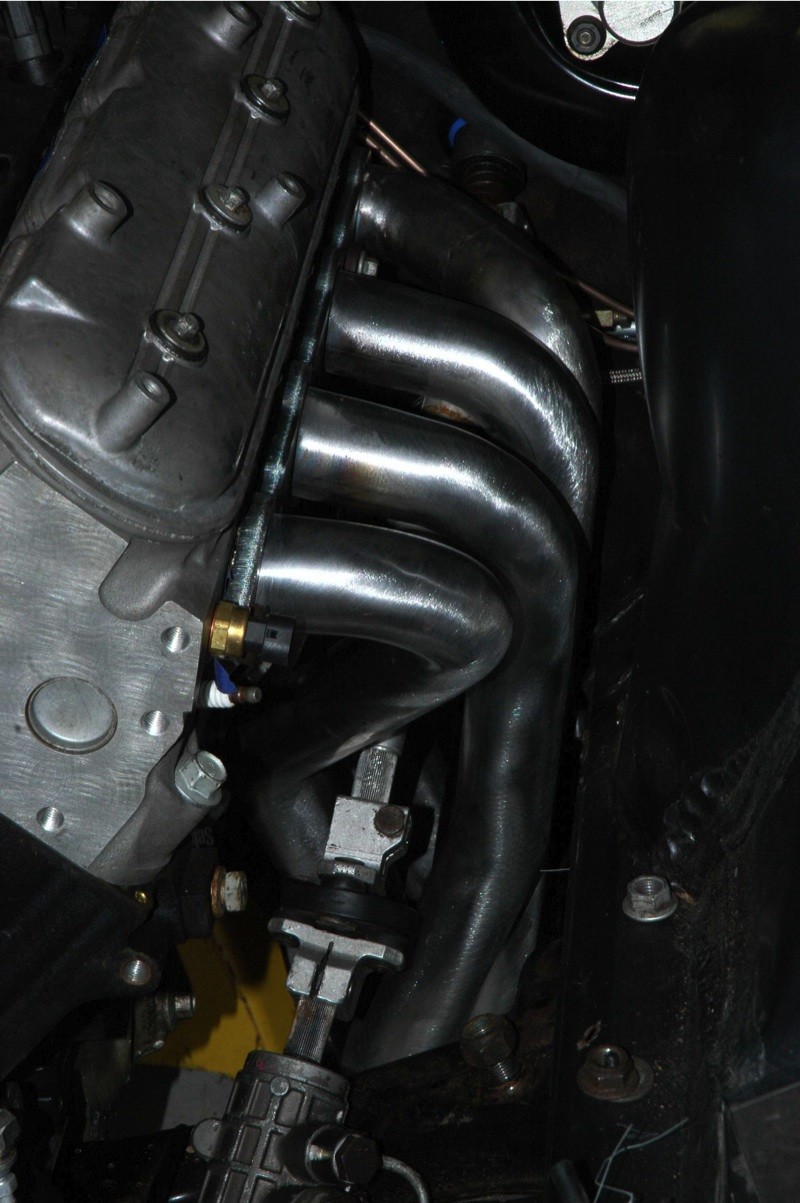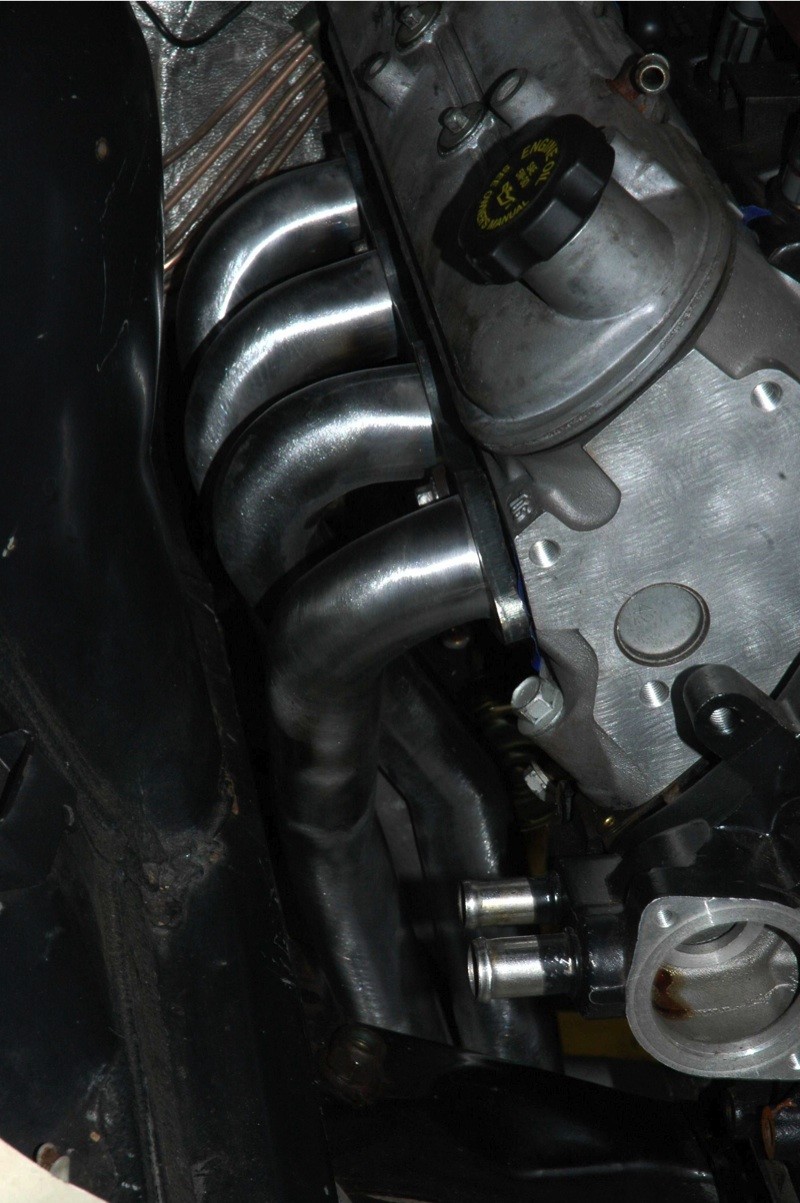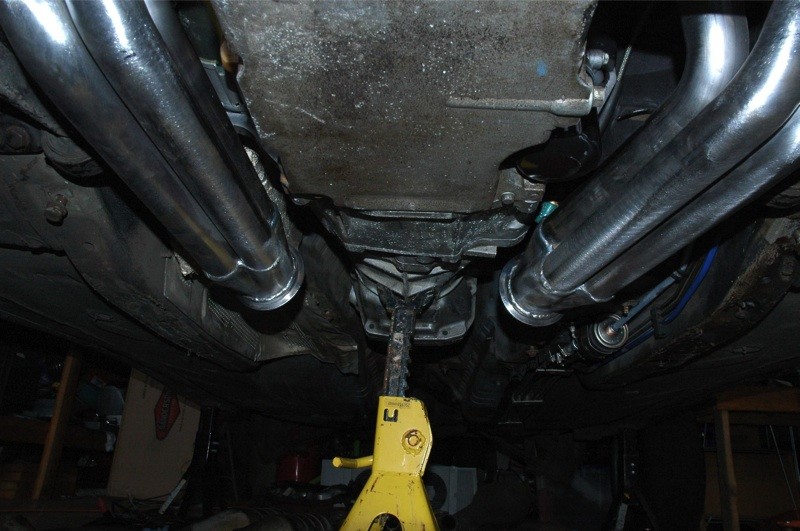 5-8-2011
Sorry for the lack of updates on this forum, family issues have distracted me. I still have it, almost on the road.
Here are the updates Since January.






One of the criteria I hoped for in the design was adequate spark plug access and plug wire clearance, Sanderson/JTR came through.

Access to all 8 spark plugs is excellent! A Ratchet, spark-bolt socket, and a 3" extension accesses all spark plugs nicely. #7 is better reached with a wobbly added, but can be accessed without if desperate.

Mocked up the coils with a set of factory GM truck plug wires with the metal shield around the plug boot, those also fit on all 8 plugs. #7 primary is close to the rubber portion protruding out the top of shield, a little creative trimming might be enough.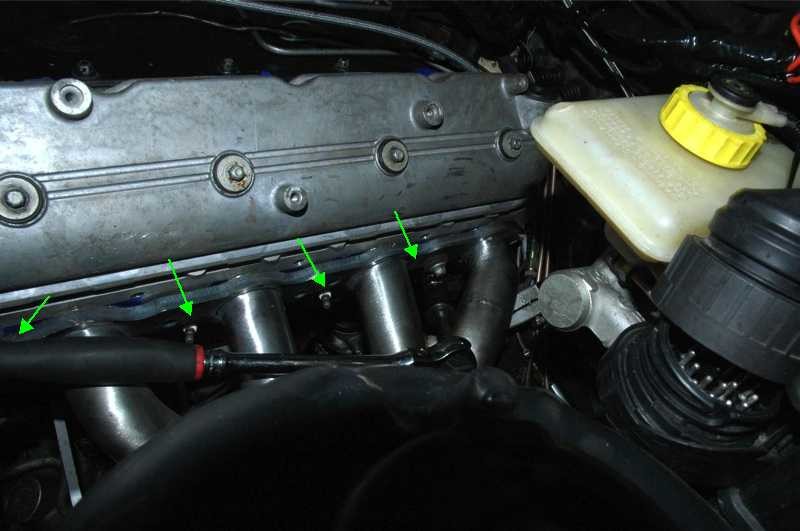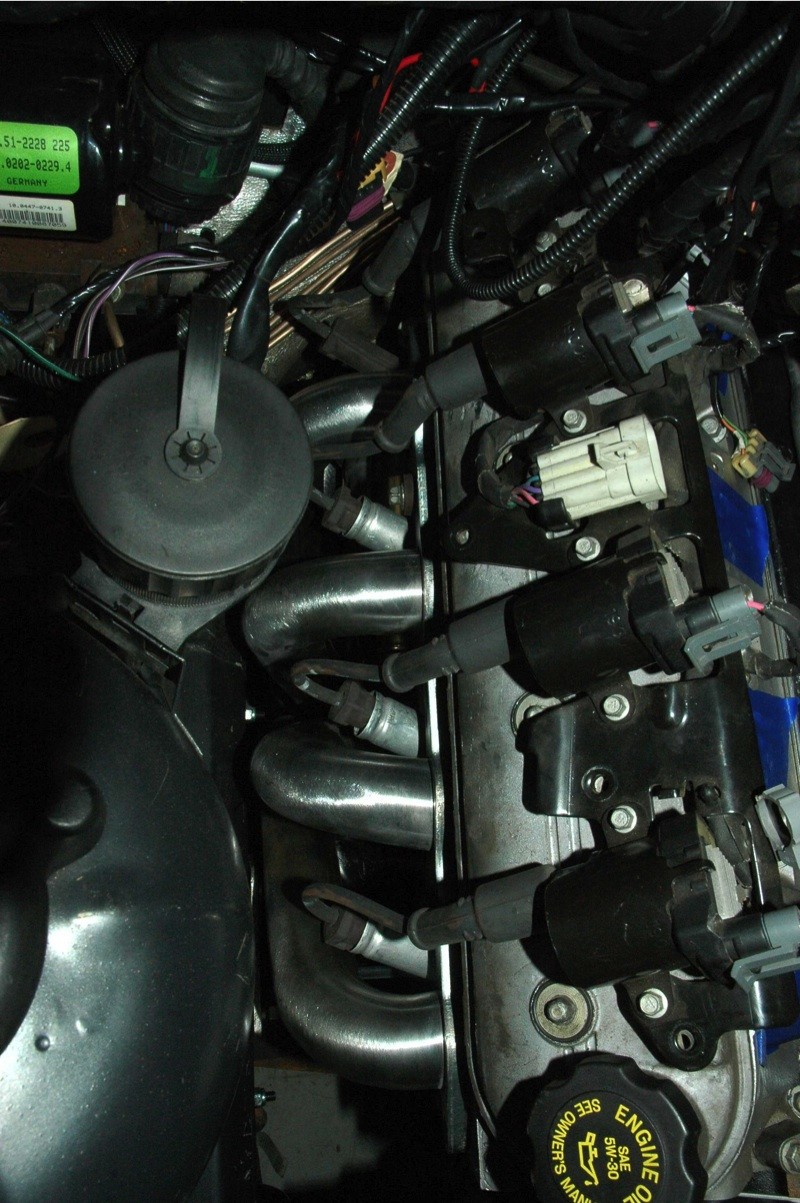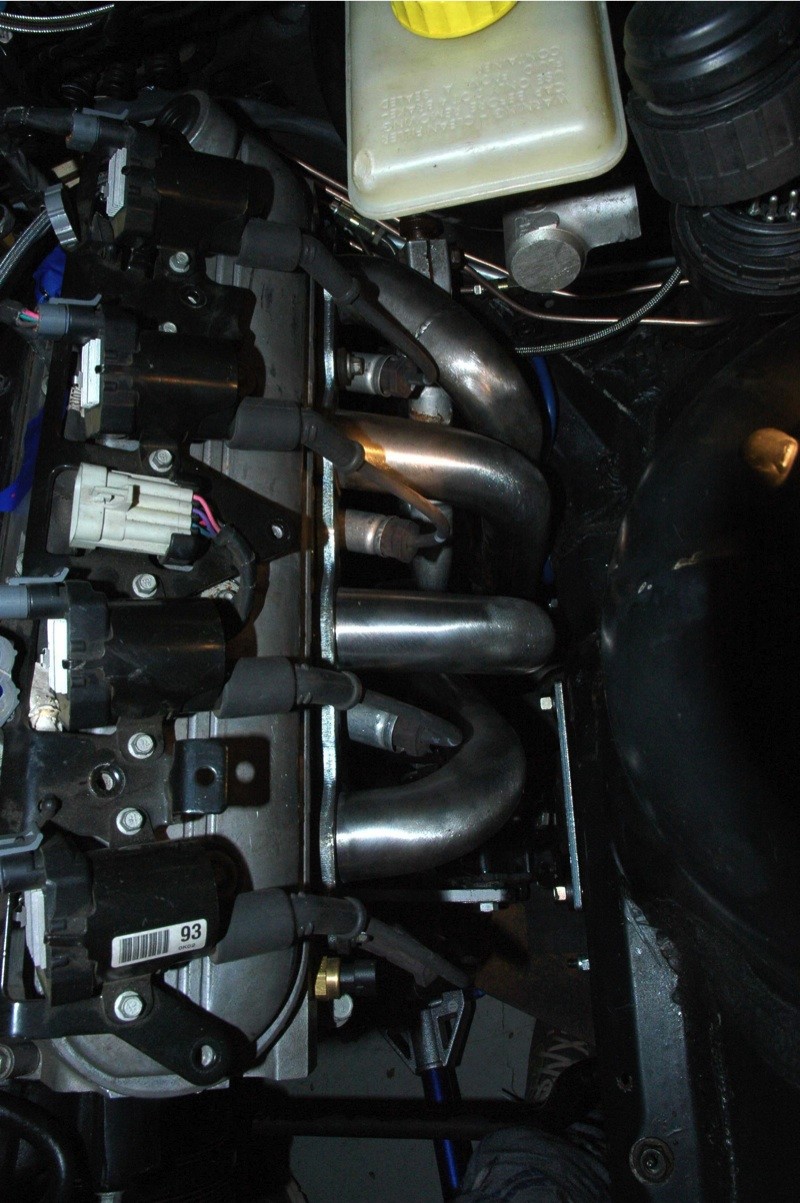 Quick update sorry for crappy phone pics. Took some real pics, hope to get those posted early next week.

Any how, got the JTR headers back from Finishline Coatings here in Portland. This is the Best thermal coating they offer, they claim it is a 60% reduction of heat vs uncoated. They applied 2 coats externally, 1 coat internally. Personally, I really like matte black finish, should contrast nice with the wrinkle black valve covers that will go on after the engine is installed for the last time.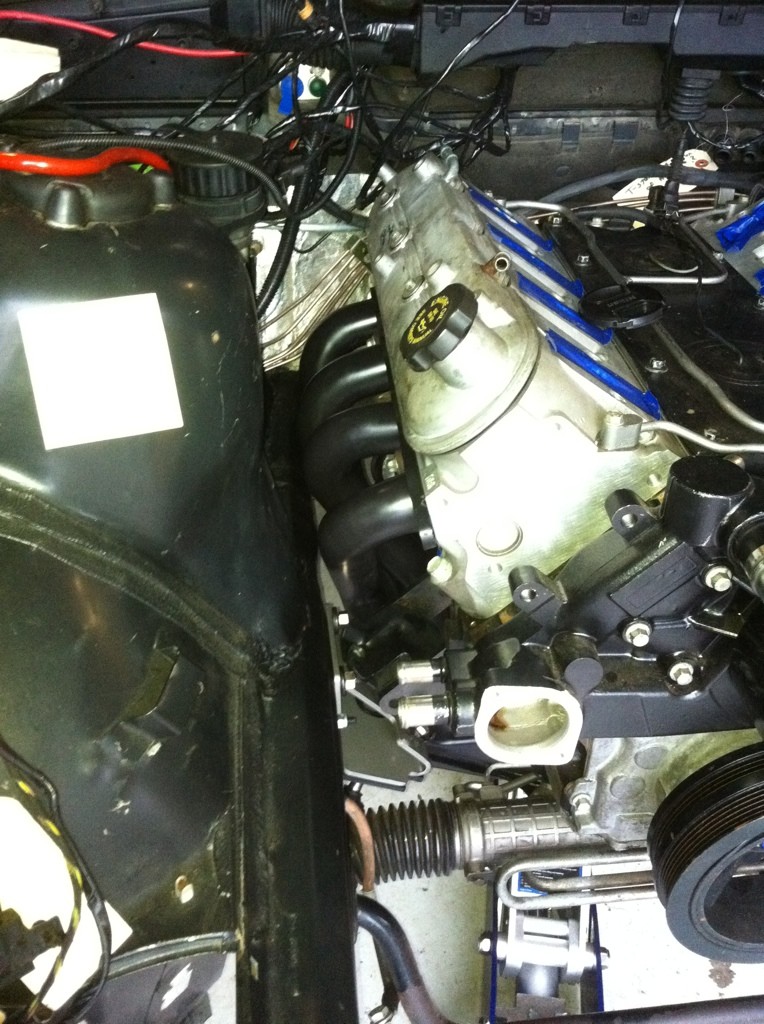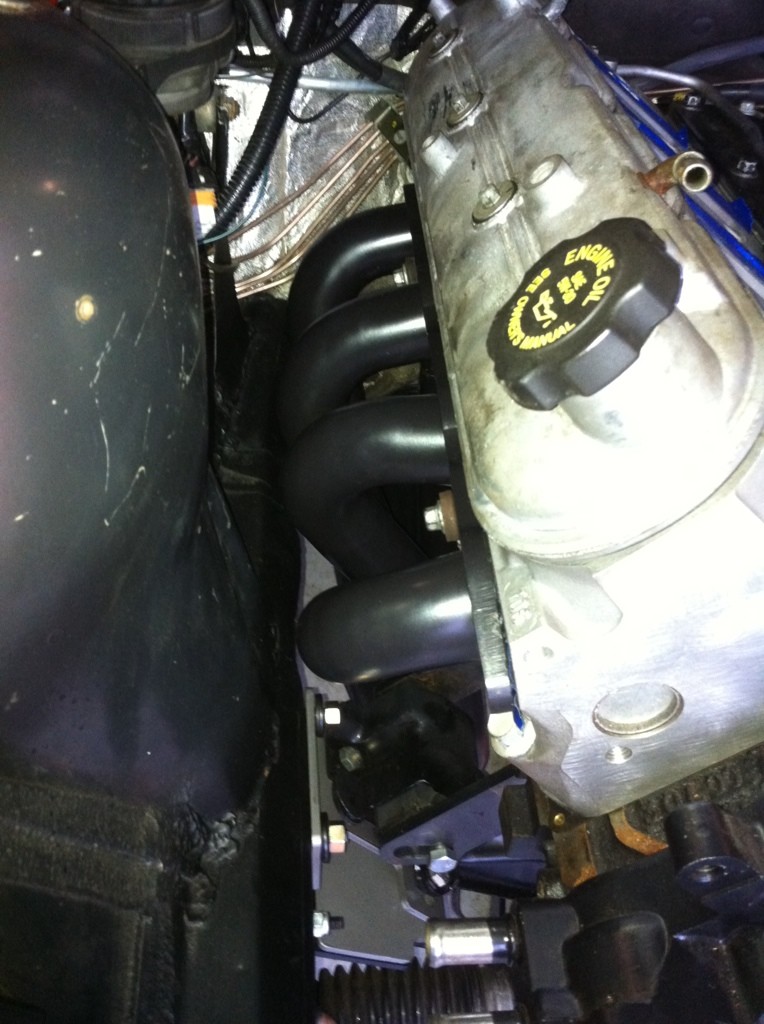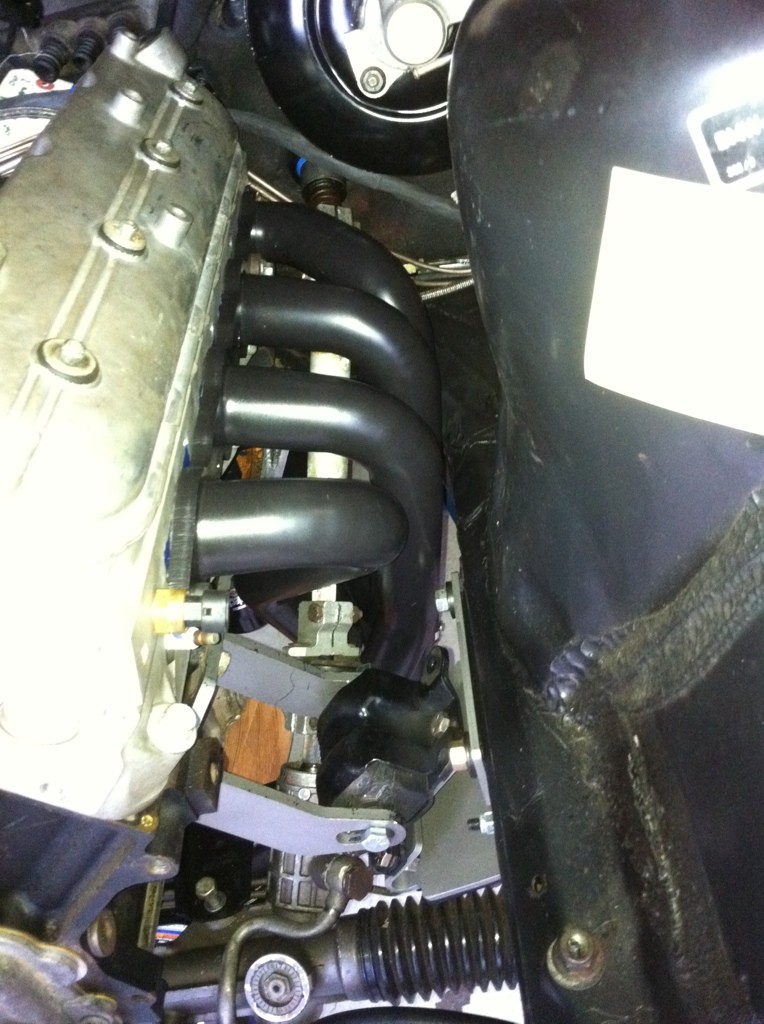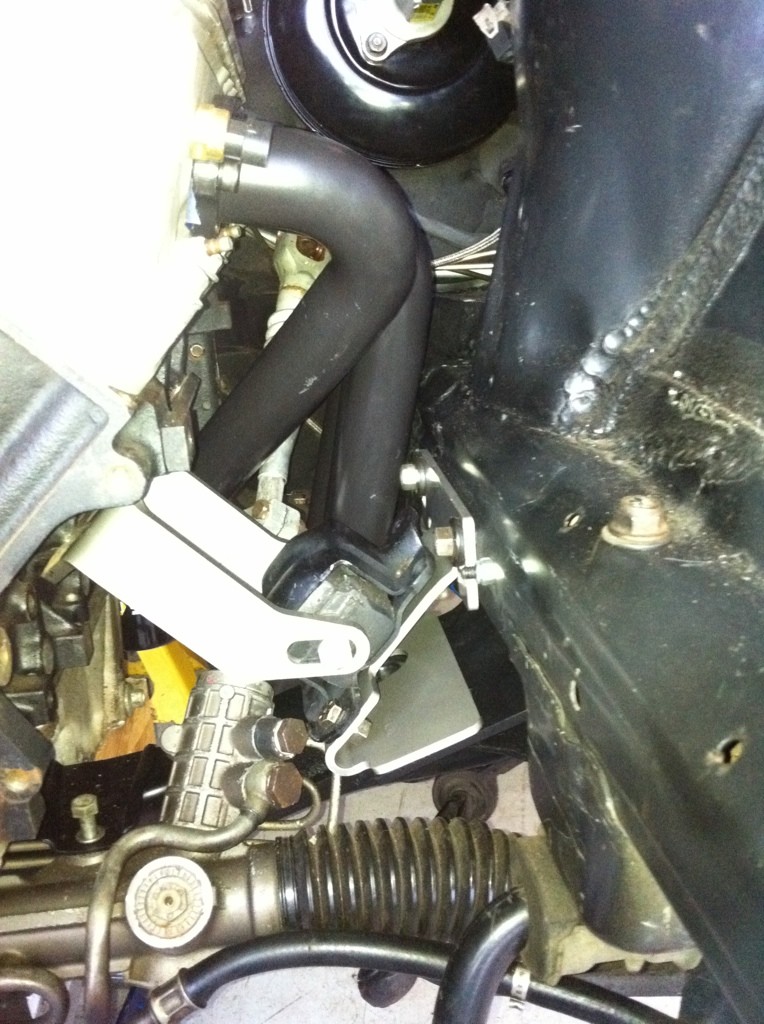 Sorry for the lack of updates. Family issues among other things have taken priority.
Recently was able to get back to making progress, working on the heater hoses currently, trans X-member is on the way, stay tuned. :alright
For now a couple more shots of the JTR headers in Turbo-Black ceramic coating and the JTR LSx E-36 engine mounts.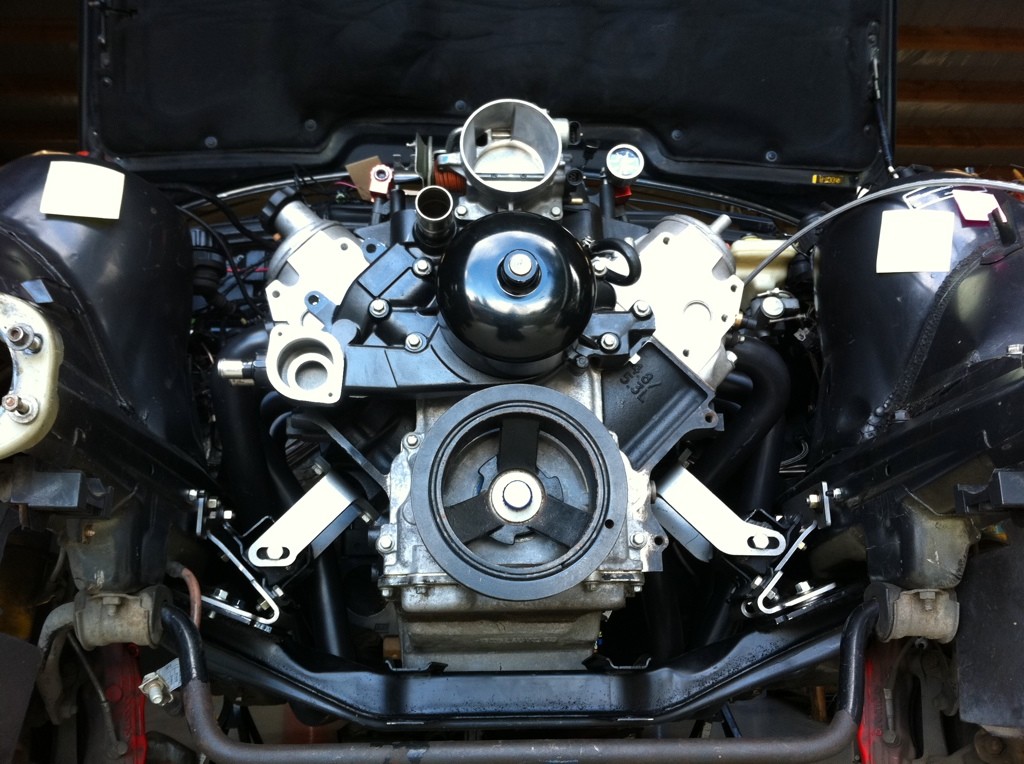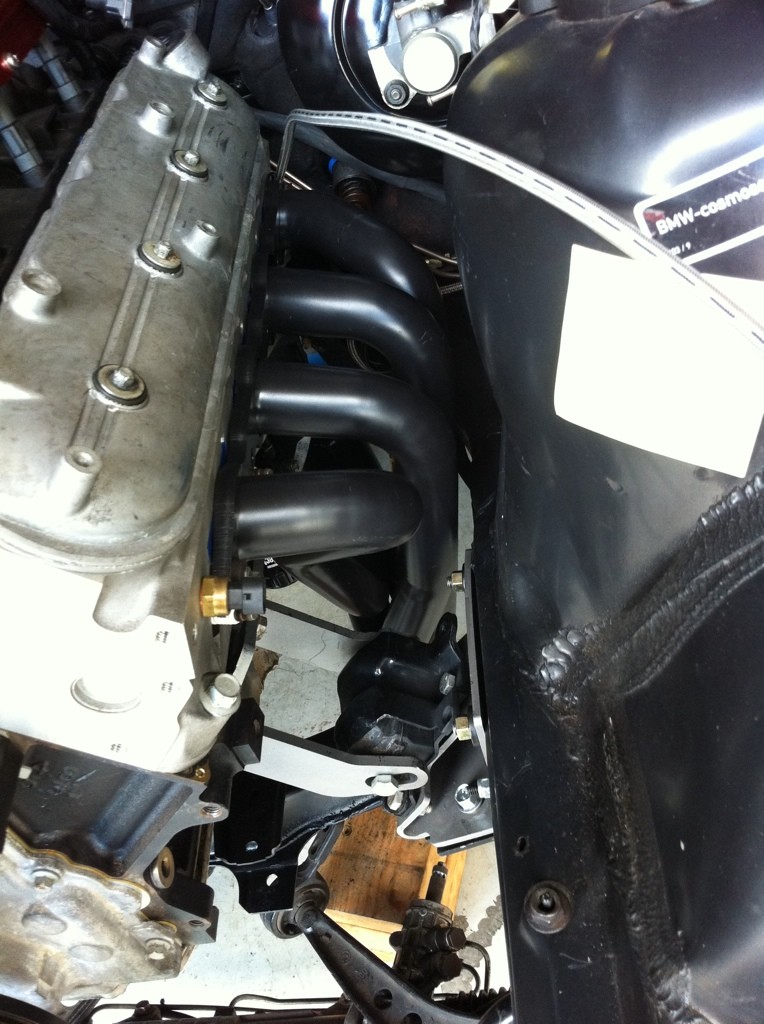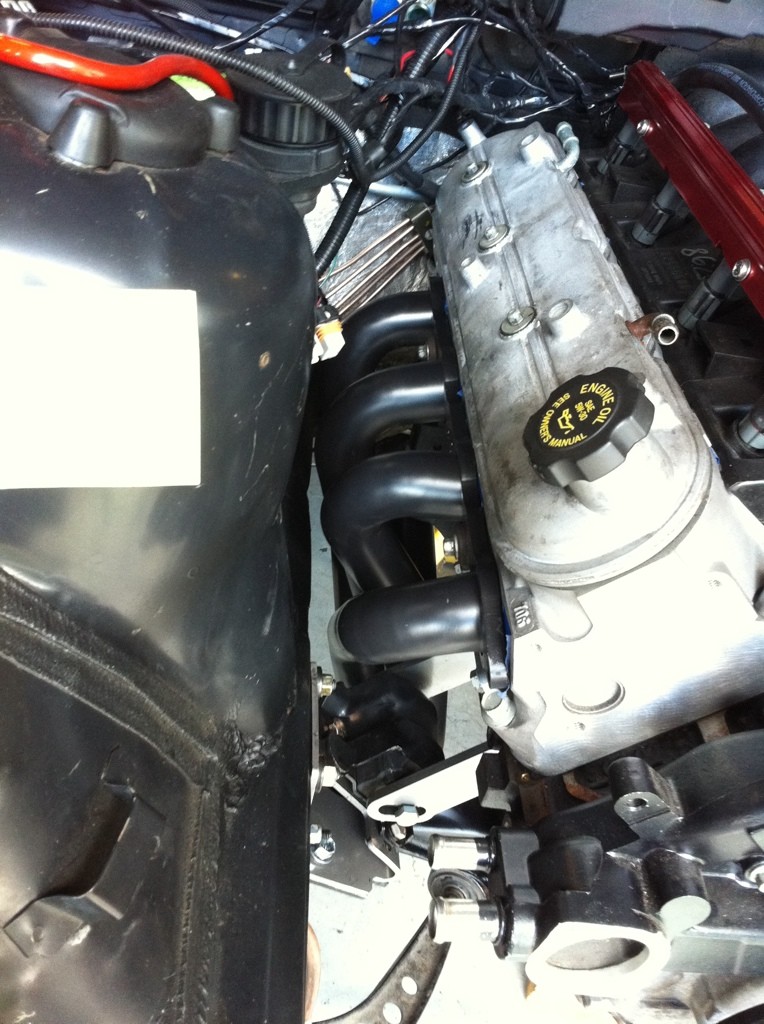 Small update.*
Made some headway this past week and weekend. Heater hoses are now done, brake booster vacuum line is done, brakes are 100% and bled.*

Relocated the heater valve to just under and in front of the brake M/C. I used the BMW mount that was attached to the wall and attached it to the driver fenderwell as high as possible next to the strut tower. Heater supply hose (5/8"hose off the water water pump) routed down and then under the engine above the rack and pinion up to the bottom/middle port of the valve with a 5/8"-3/4" reducer 180 bend. The other 2 lines from the valve are routed to the firewall under the brake M/C. Heaterreturn line is the only hose routed behind intake manifold. I don't know how you other guys are able to get 3 hoses behind there when 1 hose barely fits.*

Fired up my DIY brake pressure bleeder with a converted Mercedes reservoir cap, (BMW & Merc caps are the same size and threads), hooked up shop air, regulated down to 7 PSI and pumped just over 2 qts of DOT4 through the system and ABS module purging all the old dark fluid from the car. Hooked up the electric vacuum pump to the brake booster simulating a running engine, pedal feels good. ;-)
The only other item to address while waiting the trans X-member is the PCV plumbing. :-(
Once the trans X-member arrives, tie the headers to the exhaust, detail the shifter and boot, radiatorand hoses, and God willing be driving it, soon.*
Update.*
With the trans X-member in hand, progress is steadily being made down the home stretch.*
These pics are of the JTR preproduction X-member, production bits may vary slightly when released. A very stout design that utilizes the OE LS1 rubber isolator and maintains lots of room for a tidy tight exhaust system.*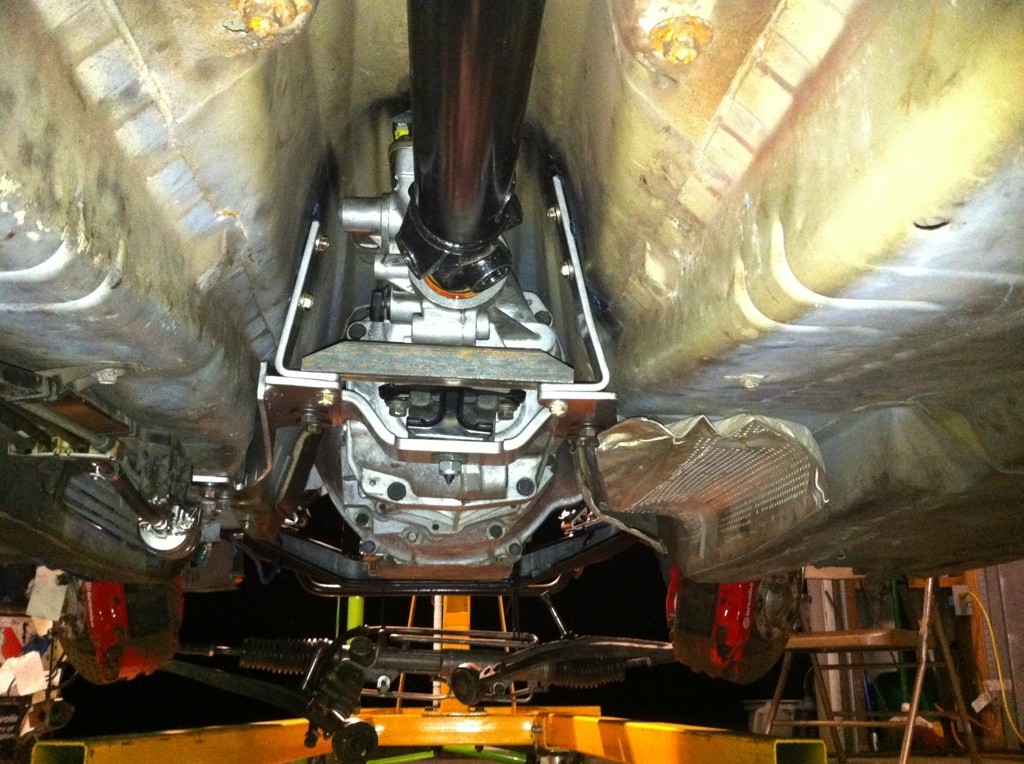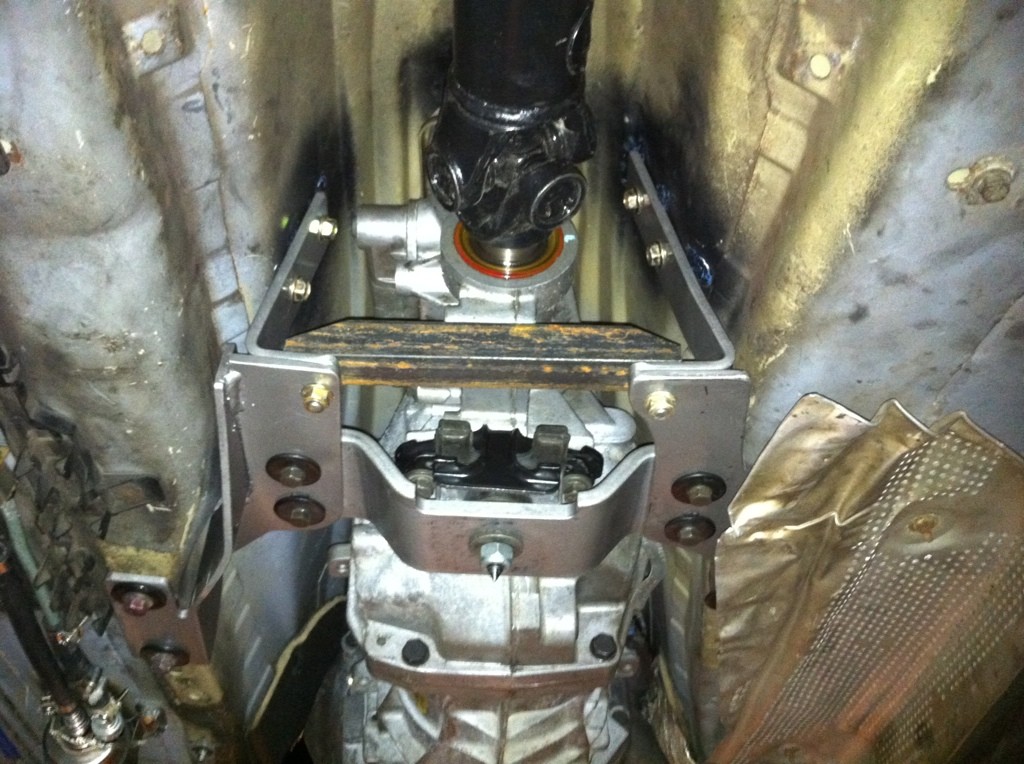 Finished the shifter as well, will work on the body rubber boot tomorrow. Planning to run the Camaro/Firebird ball shift **** for know, will probably modify the Hurst shift arm to accept the smaller ID Vette **** with 6 speed pattern in the future. Best friend gave me the 6 speed plaque, hoping to mount/inset it in this location.*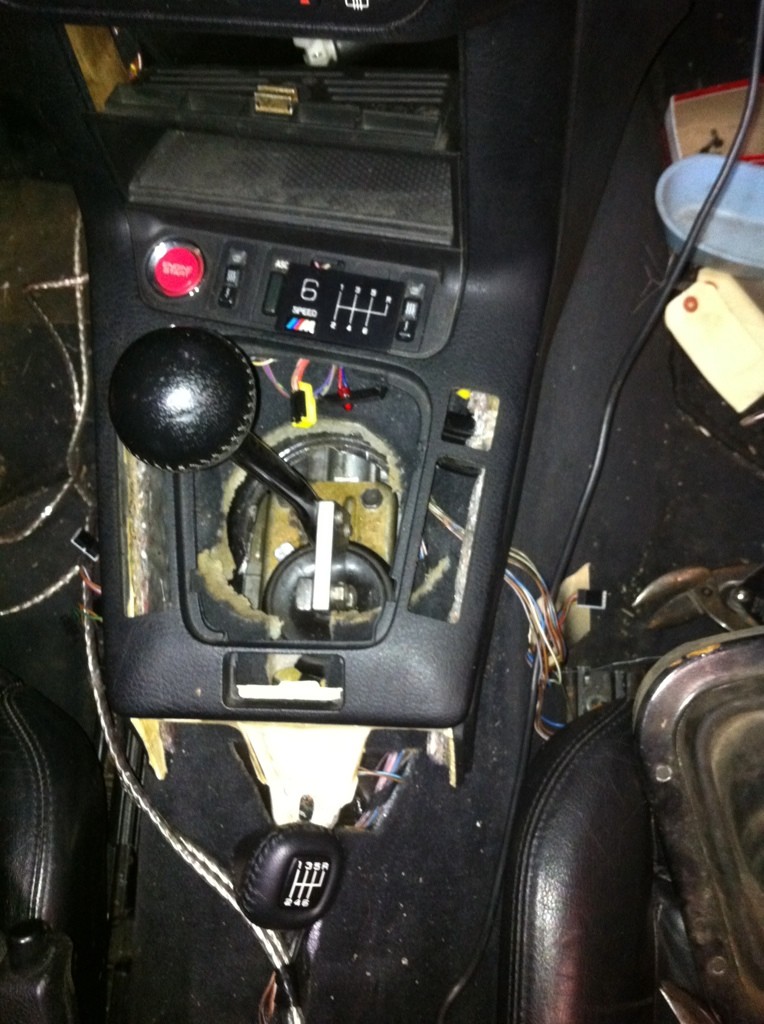 Best friend also finished up my ugly rear shock tower mounts today as well, something he offered to help with early on. I knew my shock tower mounts were needing replacement when I bought the car so bought the new sheetmetal from BMW then. When I dug deeper recently to get started, opened a can of worms. My shock tower mounts had been replaced in the past, hack install, and were now blown out again, due to the hack fix in the past the typical method of drill the spotwelds and replace the Sheetmetal was not an option, not able to use the bits I bought from BMW now needing the fenderwell Sheetmetal as well. Finally an E36 showed up at one of the local Upullit yards, took cordless sawzall and cut out both rear fenderwells.*
Pics are before and after of drivers side, passenger side was similar.*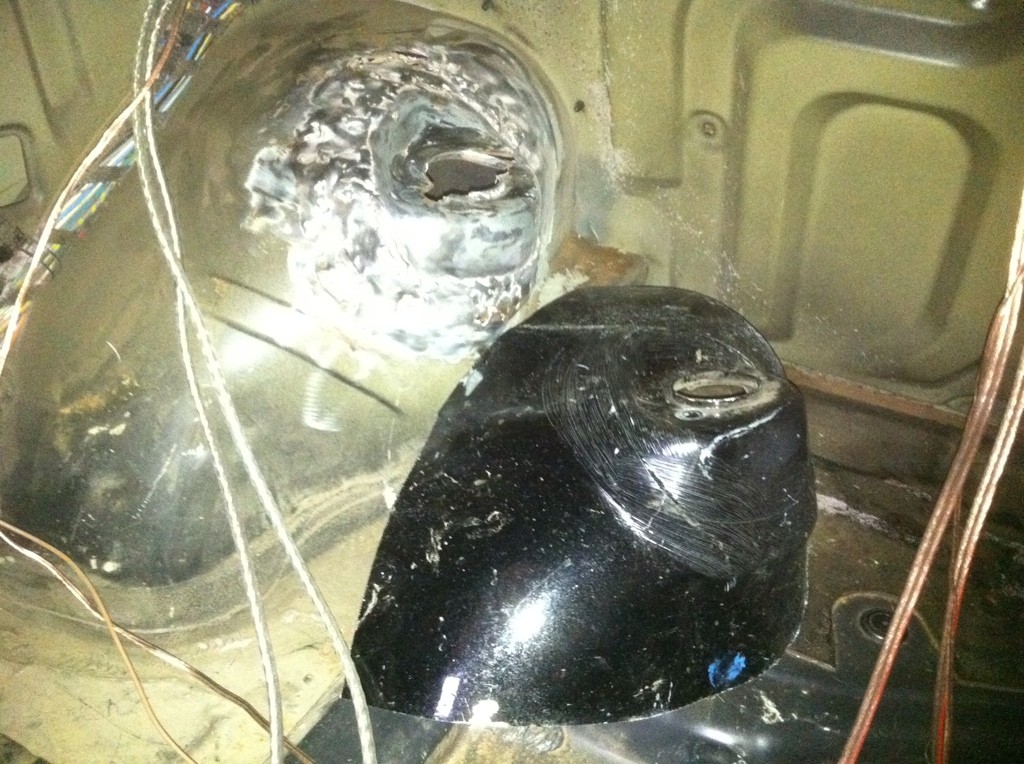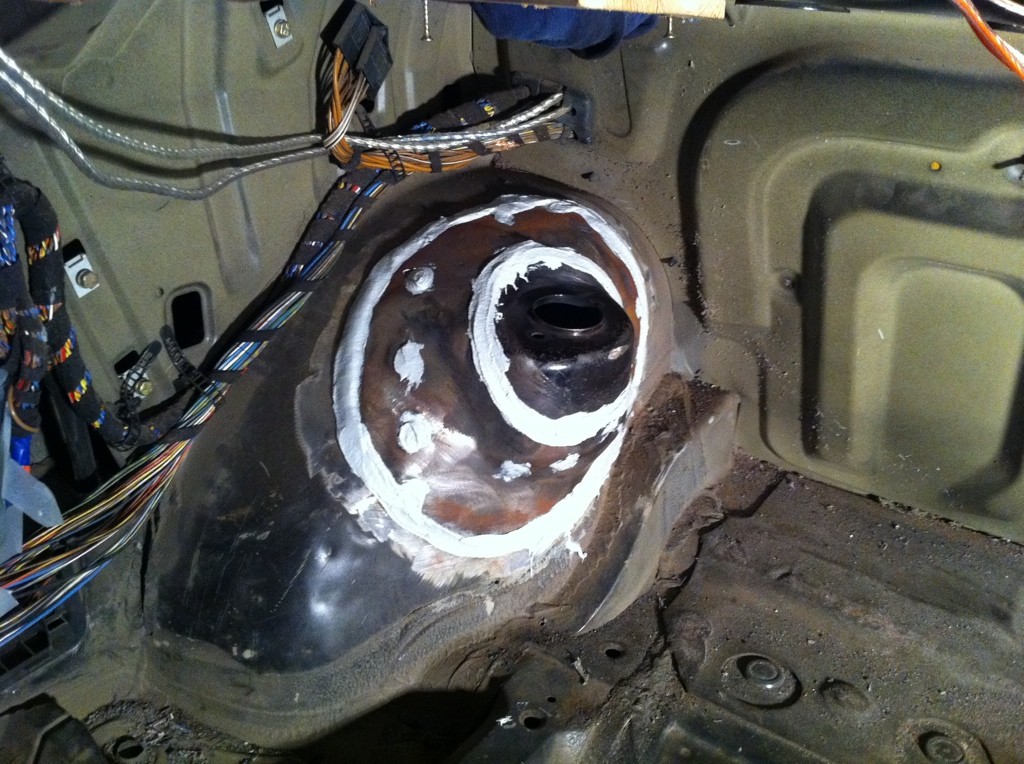 Reliable source noted my solid shifter linkage would transmit engine buzz/tingle, will be looking to rubber isolate the shifter in the near future to help retain as much of the original BMW smoothness as possible.

Between family activities today, was able to button up the interior 99% today. Just need to adjust the clutch and brake pedal switches engagement/disengagement for the GM cruise control.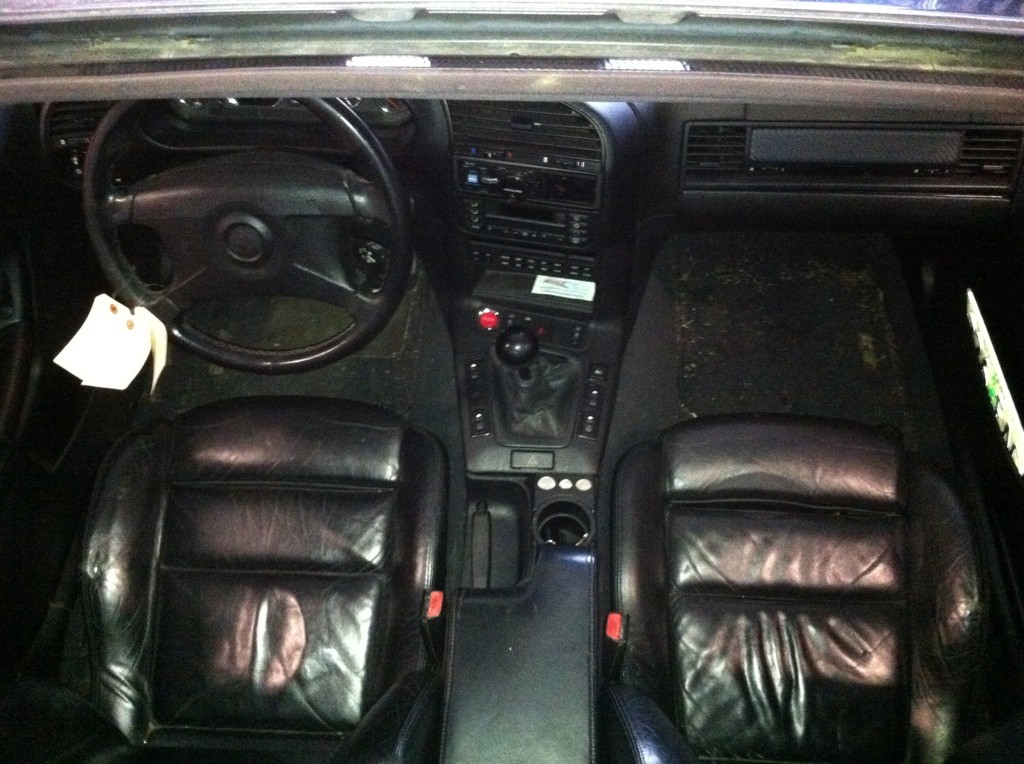 Tags on steering wheel are power-train fluids notes/reminders.


Ancillaries and serpentine installed, Intake is on, clutch hydraulics connected, throttle connected, all EFI connections made. Waiting on the Stage locking header bolts to arrive, hopefully this week.
If all goes well, could pull it out of the shop under it's own power this coming weekend, following week to be shake down for bugs, leaks, etc.

Here's a shot with EFI wiring connected, ancillaries on, throttle connected etc.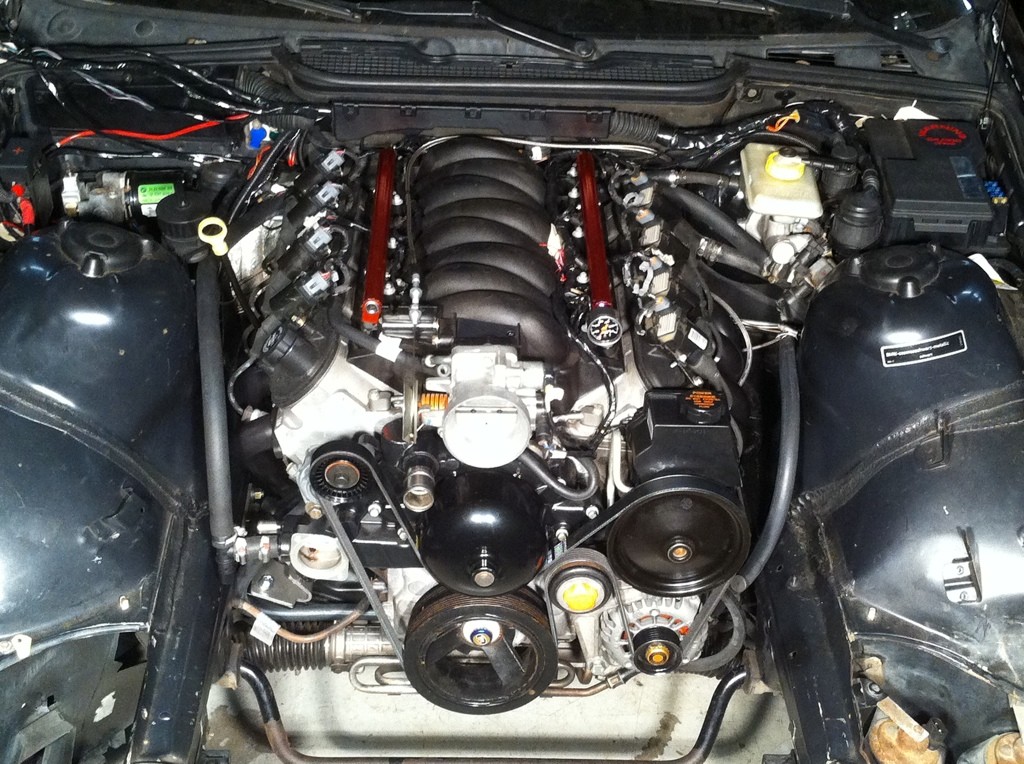 5-16-2011
The mother of all updates for this build.....
It's alive!
Tuesday night after some fiddling with the PCM, feeling brave I put the wheels on and set it on the ground. First movement under it's own power was the obligatory burnout in the shop. ;-) Drove it 100 yards down the road and back, WOO HOO! Thursday night, fiddled a little more with HP-Tuners, feeling brave again, drove the car around the lake, 3 mile jaunt. It ran, but not well, flat spots, surging, etc. Within minutes of pulling back in, the shop Tongboy pulls up with his LS1 M3 sedan for some fine tweaking of a couple parameters in his PCM, he graciously allowed me to use his tune for the "write entire" to delete the DBW programming in my PCM so I didn't have spend two more credits using another tune.
thank you Jeremiah.

Friday morning, performed write entire. TPS now registers in VCM scanner. Engine fired up, another trip around the lake with open headers, stretched it's legs from 1st through 3rd gear, Definitely quicker than it was with the S52, then Drove it 10 miles through down town to the muffler shop with open headers to tie in the M3 exhaust to the headers. *


HUGE thank you to Mike of JTR for his patience with all my crying over the past 2 years and for what I feel is a very well engineered, robust LSx E36 kit.*

The 260-Z in the background has the S52 from my M, it has been on the road for the past few months and is amazingly fun to drive.*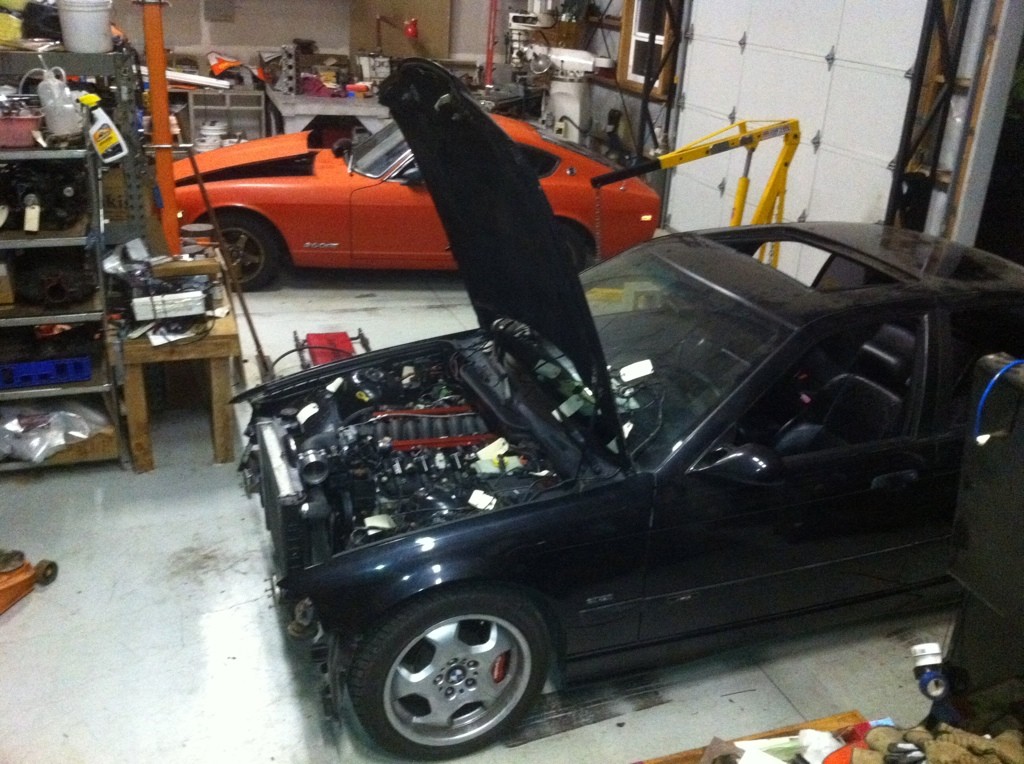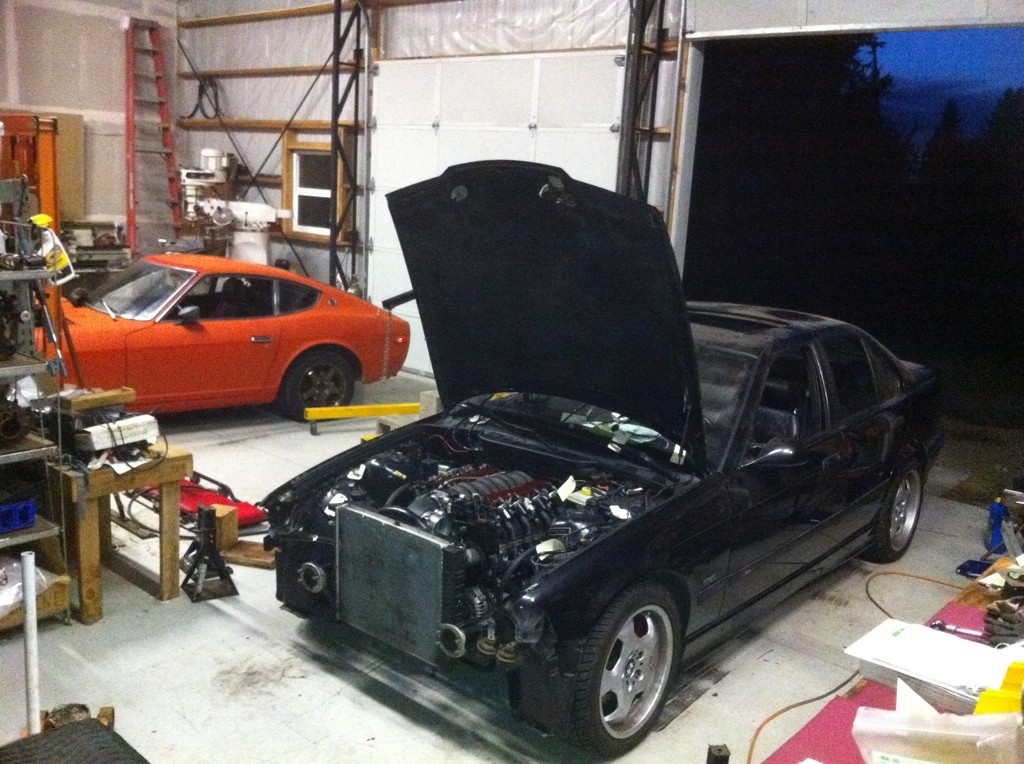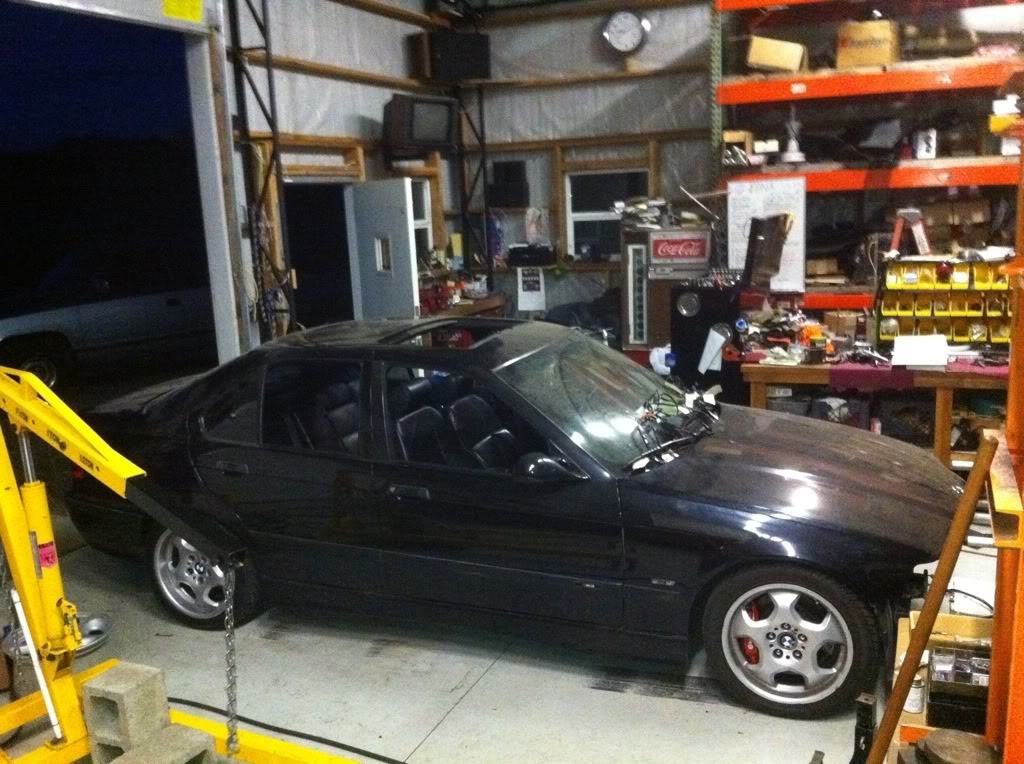 5-26-2011
Talked to Ryan, owner and fabricator at Mulligans custom exhaust and custom hot rods in Sandy today, he said the exhaust is done and it's a sleeper. I took that to mean it's quiet, exactly what I wanted. I gave him him free reign with the exhaust, wanting to retain as much of the stock exhaust as possible, in particular the stock M3 muffler, neck down from the 3" collectors to 2 1/2".dum
Stopped in and took a peek under the car, WOW! very nice work, Ryan is a craftsman, too bad his work under the car where isn't seen very often. All bends are mandrel, welds are beautiful, came out much nicer than I hoped. Ryan transitioned from the 3" collector immediately to 2 1/2", tidy quality 2 1/2" flex joints just aft of the V-band, 2 pair of O2 bungs per pipe pre cat, (one each for narrow band O2, other two for wide band tuning). The stock cats with their angled inlet was not worth working with so he installed a pair of tight tidy aftermarket 2 1/2" cats then added 2 post cat O2 bungs. I wanted this to be quiet as a daily driver so adding another muffler in line with the stock M3 muffler was on the list. As luck has it, the BMW tunnel is just wide enough and deep enough to fit a dual 2 1/2" In-Out dummuffler, Ryan and I both like the crisp snap and snarl of a V8 exhaust note through Spintechs. From there he continued in 2 1/2" to the stock M3 tail pipe where it necks up to just under 2 1/2" from the 2" or so.dum
He used the BMW carrier bearing mount holes for rubber isolated hangers.dum
Fabrication and installation is 1st rate, anyone in the greater Portland OR area needing custom exhaust or any custom performance fabrication work, I strongly recommend Ryan at Mulligans in Sandy. Humble, down to earth, great guy. ;-)

http://www.mulligansmuffler.com/

How does it sound? Uh.... well, it is soooo quiet there's nothing really to judge, not much of an exhaustnote. Standing behind the car about 20 feet back, someone in the car revving up the engine, you can hear the intake under the closed hood, (sans filter), over the exhaust. Total sleeper. Ryan says it's too quiet. Before he tied in the stock muffler he said with just the Spintech it sounded AWESOME!dum

Drive home was AWESOME! car is as quiet as a stock M3 if not quieter inside.dum
HUGE thank you to Mike of JTR for his use of OE GM engine/trans isolators, even with these moderately firm Vette isolators that don't allow any movement by hand, it is smooth, no buzzy-ness. Best friend drove it tonight and commented on it being so quiet and smooth, the car is deceptively quick. No aural indicator or buzz to indicate the car is working hard other than the rapidly climbing speedo needle.dum

4 day weekend for me starting Friday, will take apart the front end to properly reassemble and working out any bugs, hope to be driving it daily starting Tuesday.dum

Video to come soon.dum

Here are some pics of the exhaust work, my apologies for the poor cel phone photo quality.dum

Standing under oil pan looking back;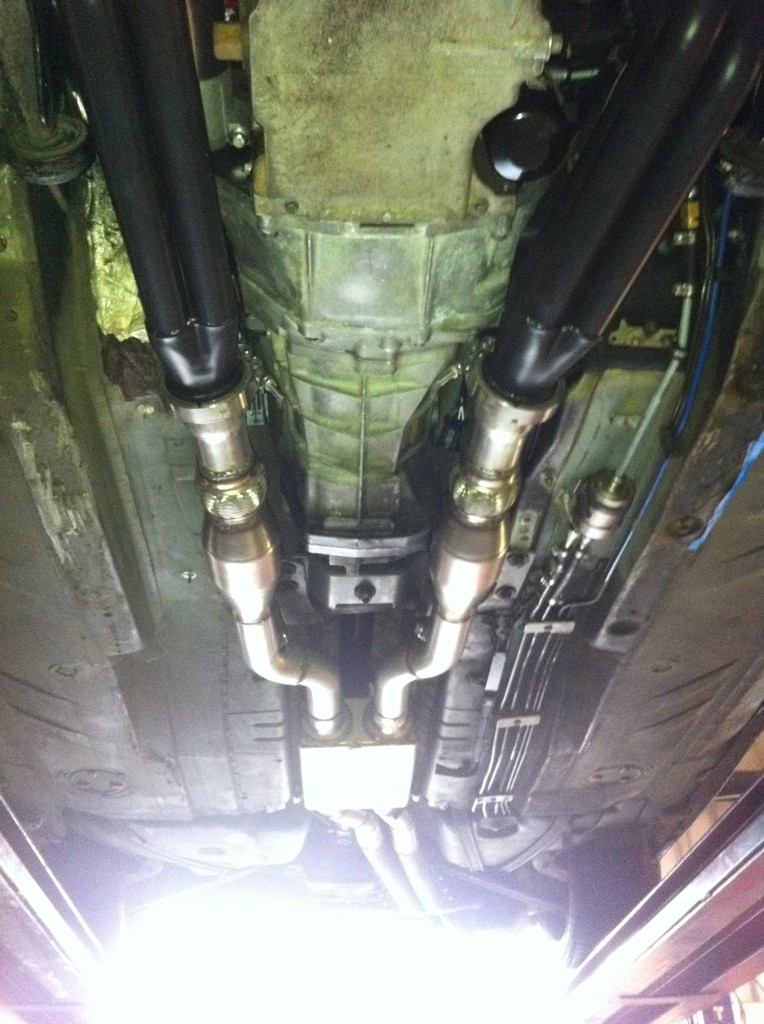 From behind looking up;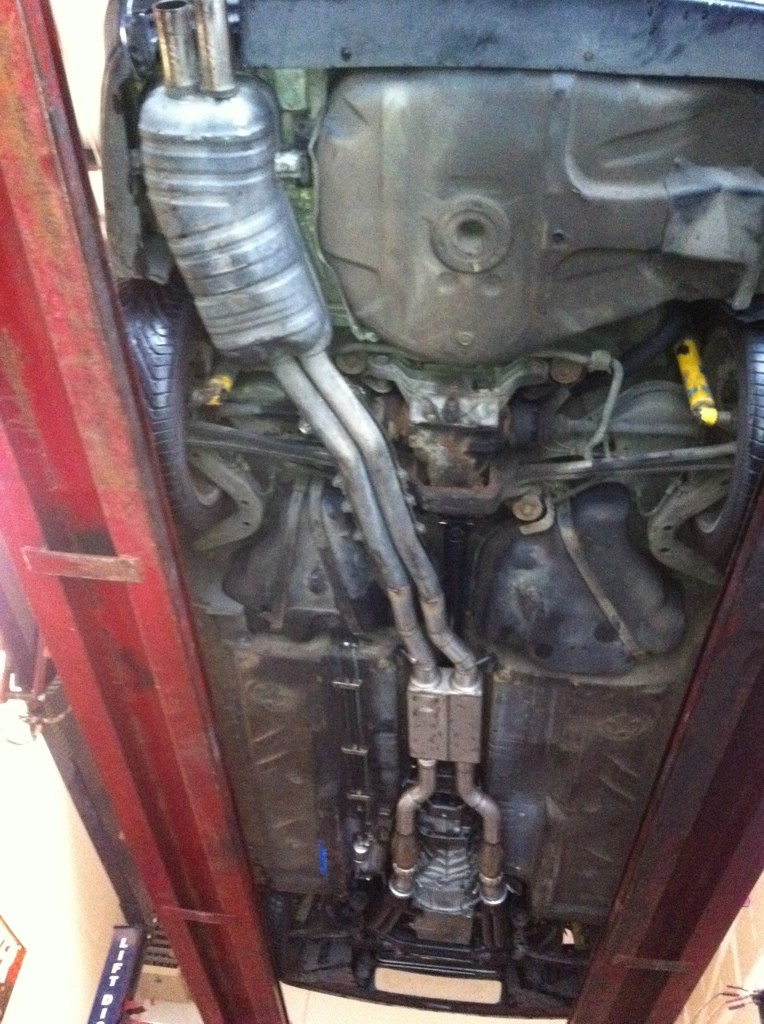 The Spintech and hangers;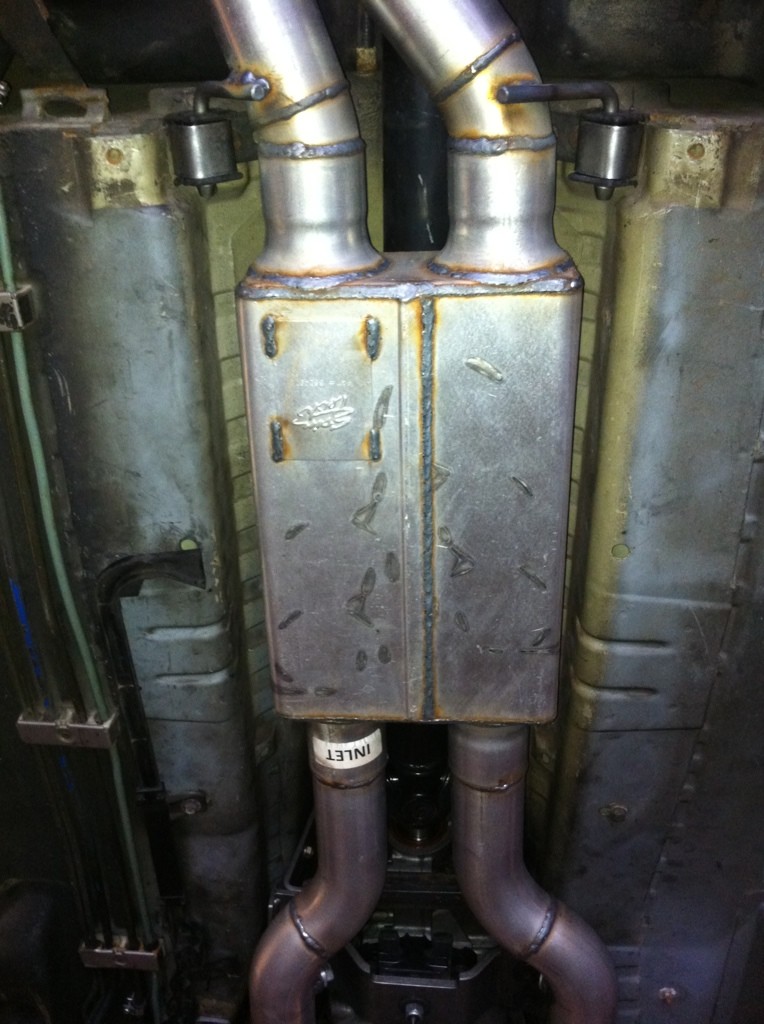 Profile;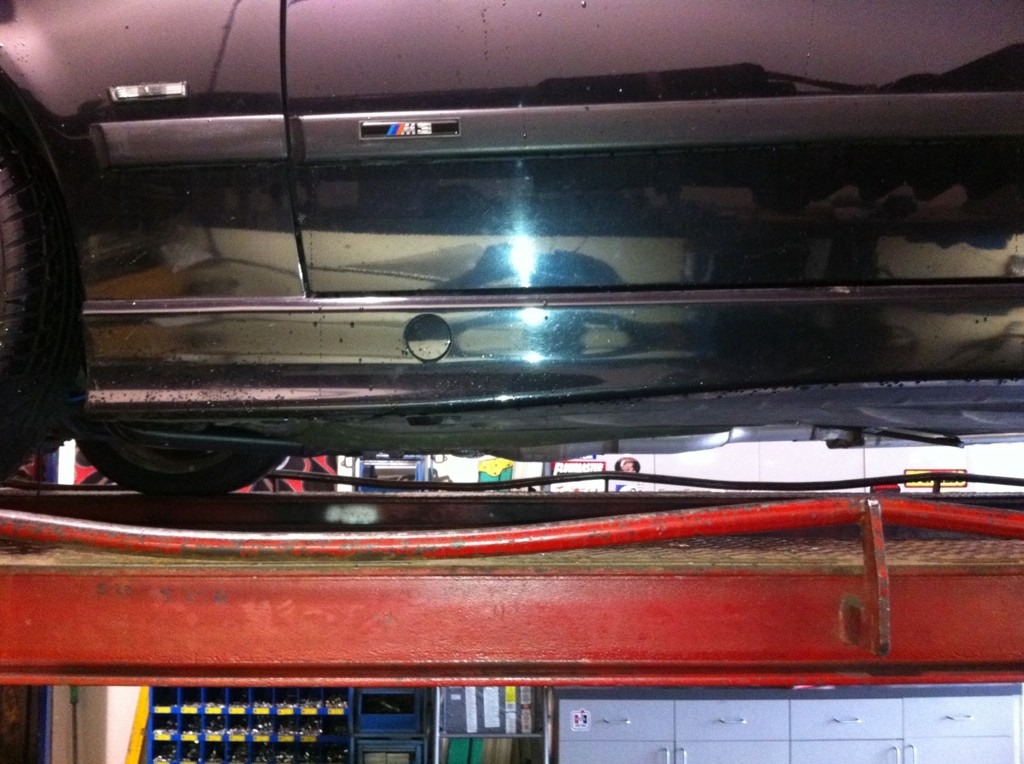 5-29-2011
Maiden voyage update.

Buttoned up the front end today, took care of the Alt charge light, drove into town, filled the tank and put 30 miles on it, mix of highway and tight twisty backroads. Drove excellent, LOVE the additional torque, no added noise or buzziness, the rubber mounts keep the smooth BMW refinement, no sacrifice in performance. ;-)

Brought it back home, obligatory burnout video. You can sort of tell how quiet it truly is in the video, note how loud the hood closing is and induction noise vs exhaust noise. WOT bouncing off the rev limiter set at 6000 RPM.


http://www.youtube.com/watch?v=ZKa34tRFjDU

Yee HAAA
6-1-2011
First maintenance, starter R&R. My new cheapo eBay starter decided to eat itself on Sunday, parked the car and ordered another $80 cheapo starter, will be here Friday.
Starter removal was painless, just unbolt the passenger lollipop and lower the passenger header, (unbolting the lollipop allows for header manipulation to extricate the starter). Thank goodness for V-band collector flanges and reusable OE GM MLS exhaust gaskets.dum

The JTR Sanderson headers have a V-band flange set up much like the hub-centric design BMW uses for the wheels. Exhaust pipe slips into the header V-band flange locating it radially so the V-band itself only has to clamp, not align.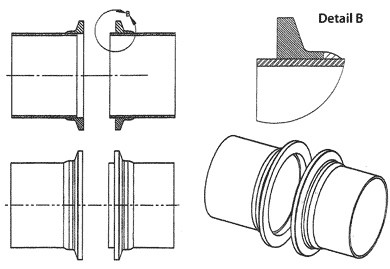 Sanderson headers also incorporates a wonderful design for the head flange seal. As the bolts are tightened the flange won't warp or distort maintaing a positive leak proof seal. I REused the OE GM MLS gaskets from my wifes Suburban with 160,000 miles, and they sealed 100%, and the bolts were still tight, no backing out.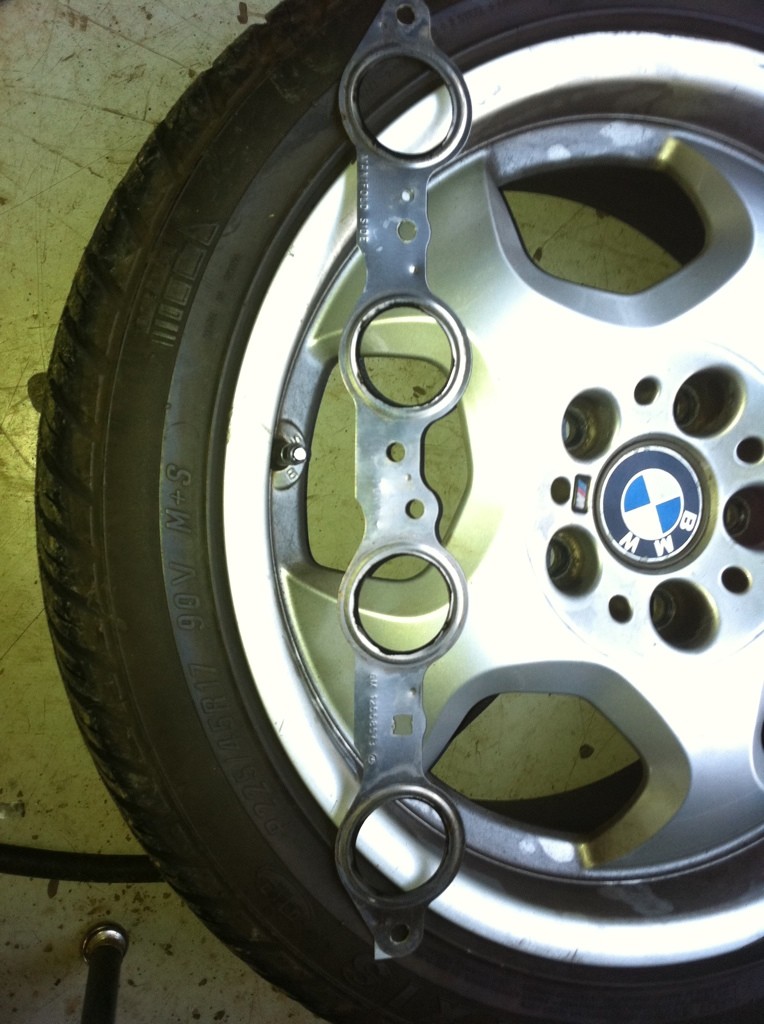 Heads up for those using the cheapo $70-$90 LSx gear reduction starters as found on eBay. The planetary ring gear of the gear reduction being made of plastic WILL fail if overloaded. I don't know if the genuine GM starter is any different, ymmv. If the starter is over loaded, the ring gear will crack/split and proceed to strip its own teeth quite rapidly. I looked and didn't find many complaints, though my first hand experience is not to overload it with a seized engine, cranking while in gear, tons of compression, etc, or it WILL fail.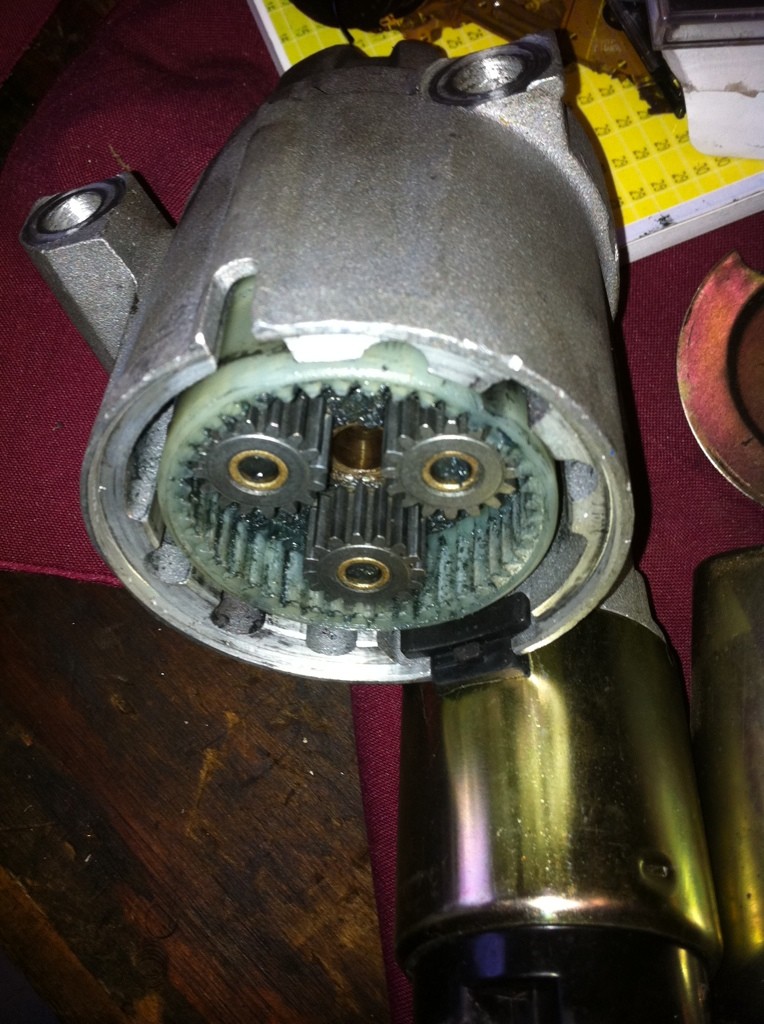 6-3-2011
New starter is in, did a Bubba fix to get the center of the fuel tank above the tunnel roof so it wouldn't rub on the drive shaft, gave the car a quick rinse, my oldest daughter asked to drive it around the lake, and off we went. Every time she pushed on the throttle she giggled, when she tried WOT in 2nd and 3rd, giggles stopped, BIG eyes, then lots of giggling.dum

Lots of little stuff to finish such as PCV, air filter, mounting the GM cruise module, etc. Till the next update, a few shots after the rinse.dum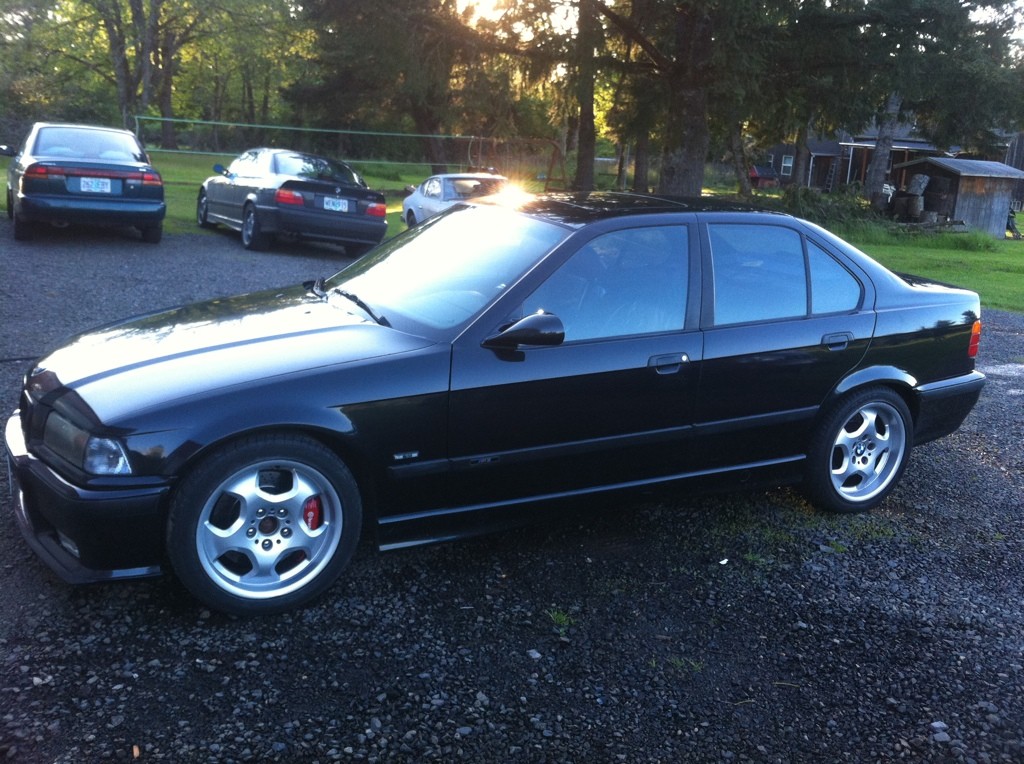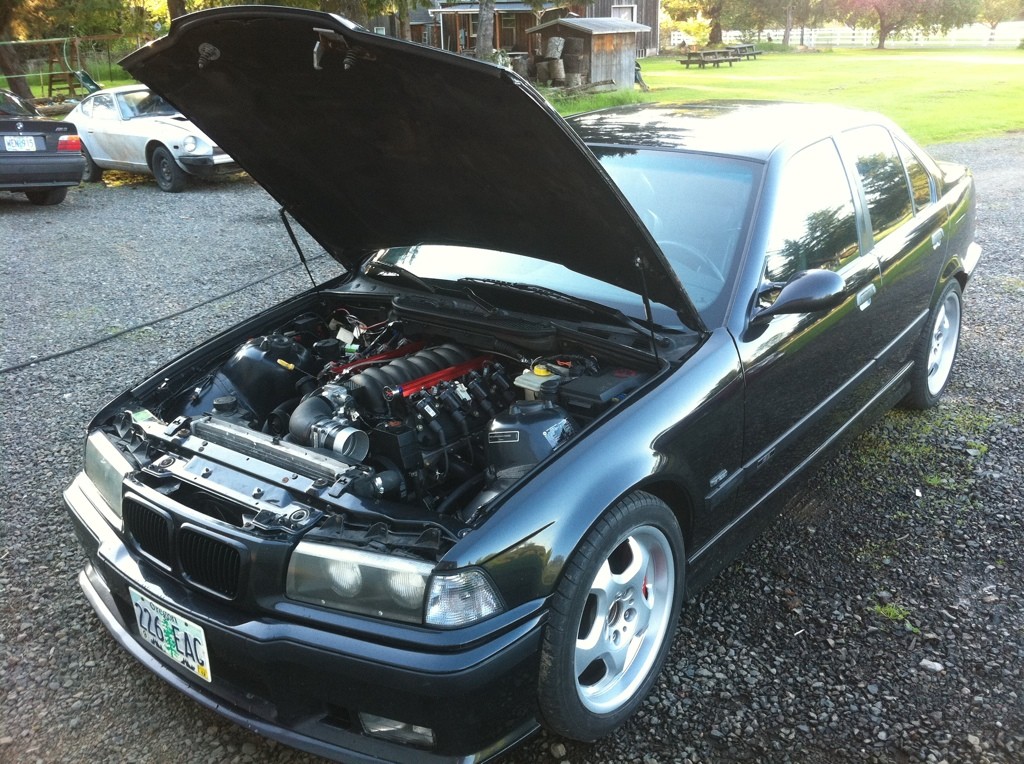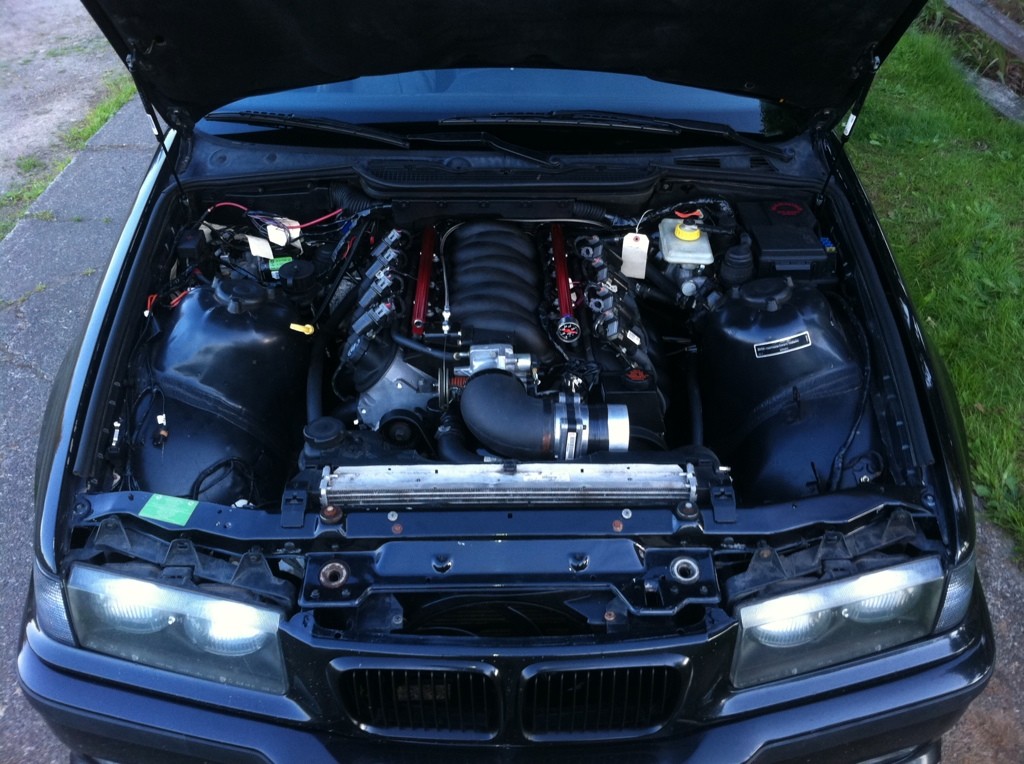 6-6-2011
Put 150 more miles on it over the weekend, LOVING it. Runs and drives just like the stock M3, similar power band and same drivability but with a butt-load more torque everywhere, even with the tiny 5.3. ;-)
Hooked up the GM cruise control and it works perfect. Also hooked up the cooling fan, still have a few more loose ends to tie up such as intake plumbing, PCV, etc. taking it to work this week, 153 mile per day round trip
Love the GM cruise control, doesn't lag over hills and responds crisply to accel/decel inputs. Another attribute of GM cruise strategy that I really like is each click of accel or decel raises or lowers your speed by exactly 1 MPH per click, 5 quick clicks adds or subtracts 5 MPH even if coming down a hill and it takes several seconds to coast down, it gives you what you asked for, not just a momentary switch you hold till you reach the desired speed.
6-8-2011
Wife says AC is a must, condenser is on the way and if my M compressor wont fit will be sourcing a compressor.

MPG update. 90% freeway, 65-70 MPH, 10% city, tight mountain backroads, (2nd gear), handful of WOT blasts to 90-115, PCM with mix & match maps and settings, LTFT showing 10-20% compensation, achieved 26.7 MPG. I am quite pleased with that considering. With a bit of tuning I think 28-29 MPG under the same conditions is a reality.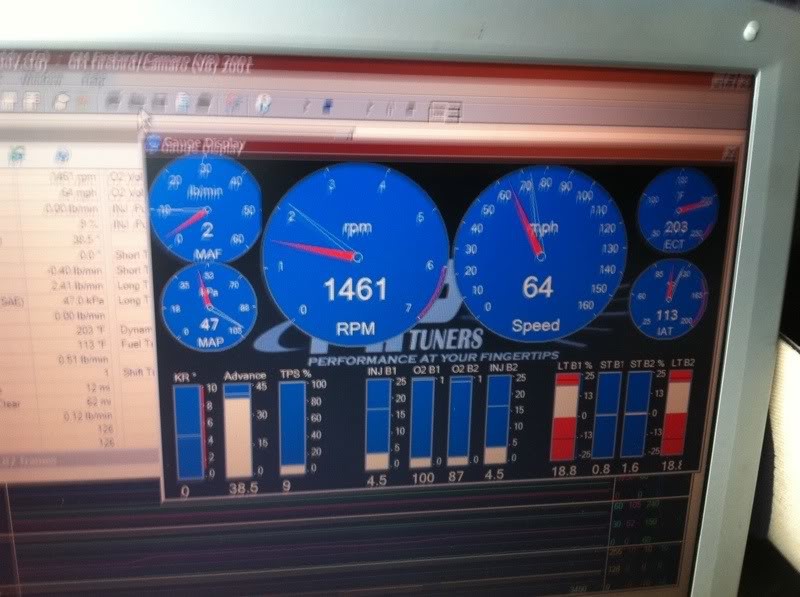 6-27-2011
2200 miles on the clock and still going strong, LOVING having it back as my daily driver. Most common phrase people use when they drive it or ride in it is, "refined". Mission accomplished, thank you JTR. ;-)

Only issue right now is the engine itself, oiling issues, (currently very weak oil pressure) since it sat for 5 months since first start. I don't expect it to live much longer, I'll just keep driving till it dies. Currently looking for a stock sub 150,000 mile 2001 or newer 6.0L long block to swap in.
7-6-2011
3500 mile update.
Friggen LOVE the conversion, Soo smooth, abundance of torque, quiet, yadda yadda yadda.

Brown Santa dropped this off for testing...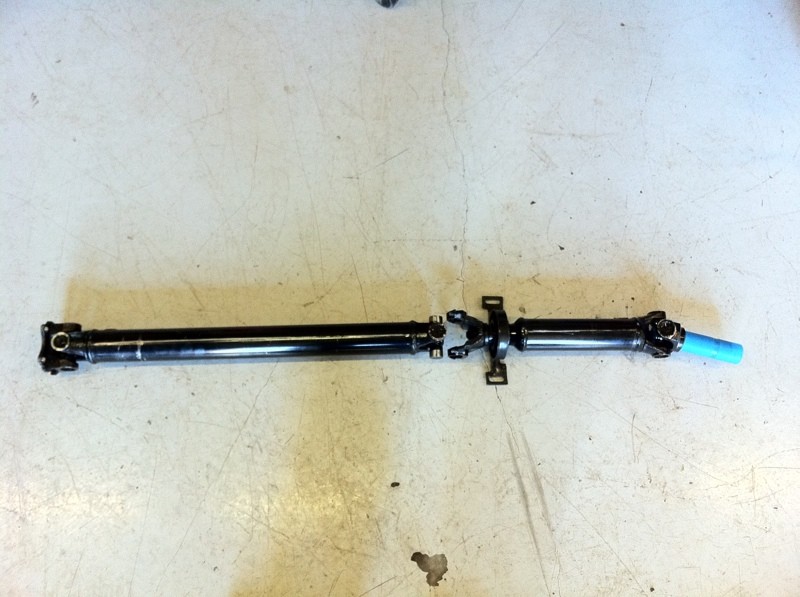 Will hopefully get the 2 piece driveshaft installed this coming weekend for testing.

2+ years ago bought HID headlights, tailights, Euro M3 steering wheel, waited till the car was on the road to install the goodies, last week was that time. Also attached my 16-valve sucka emblem, 6 speed badge with the ASC delete. ABS still functions perfectly tested on wet and gravel road, modded the fog lights to remain on with highbeams as well.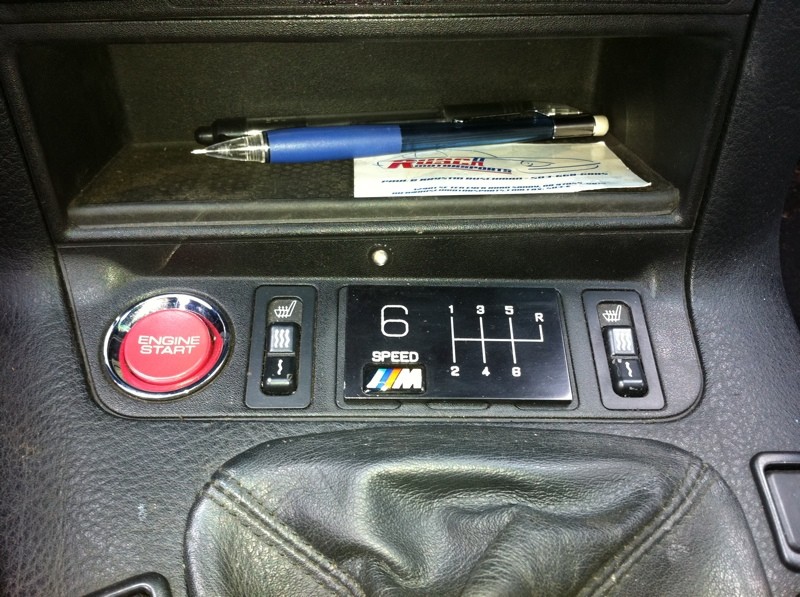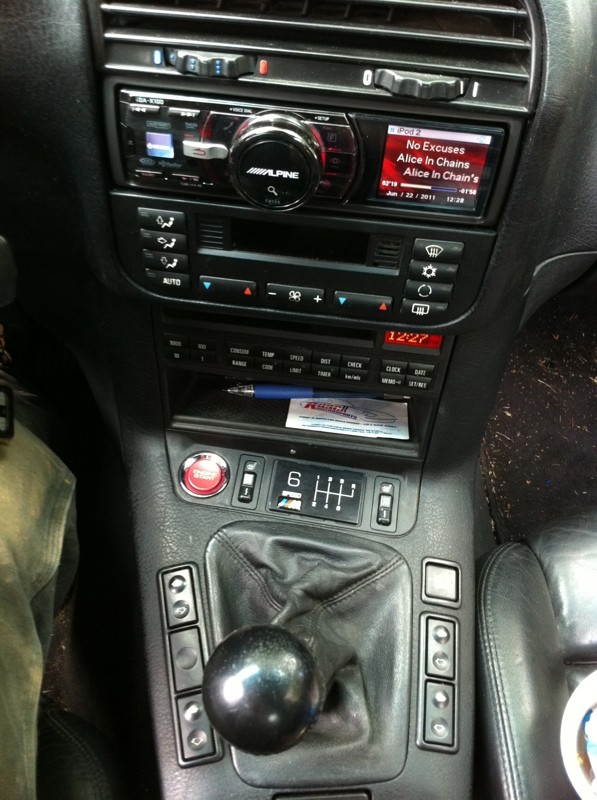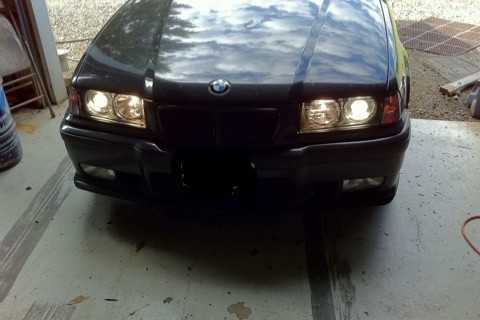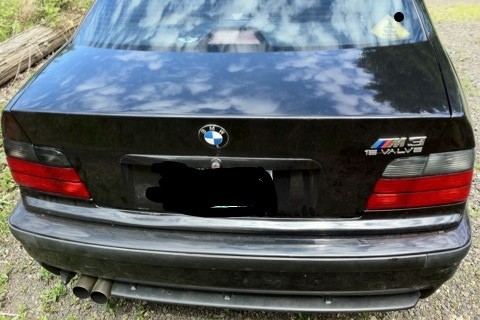 7-8-2011
Pics from today.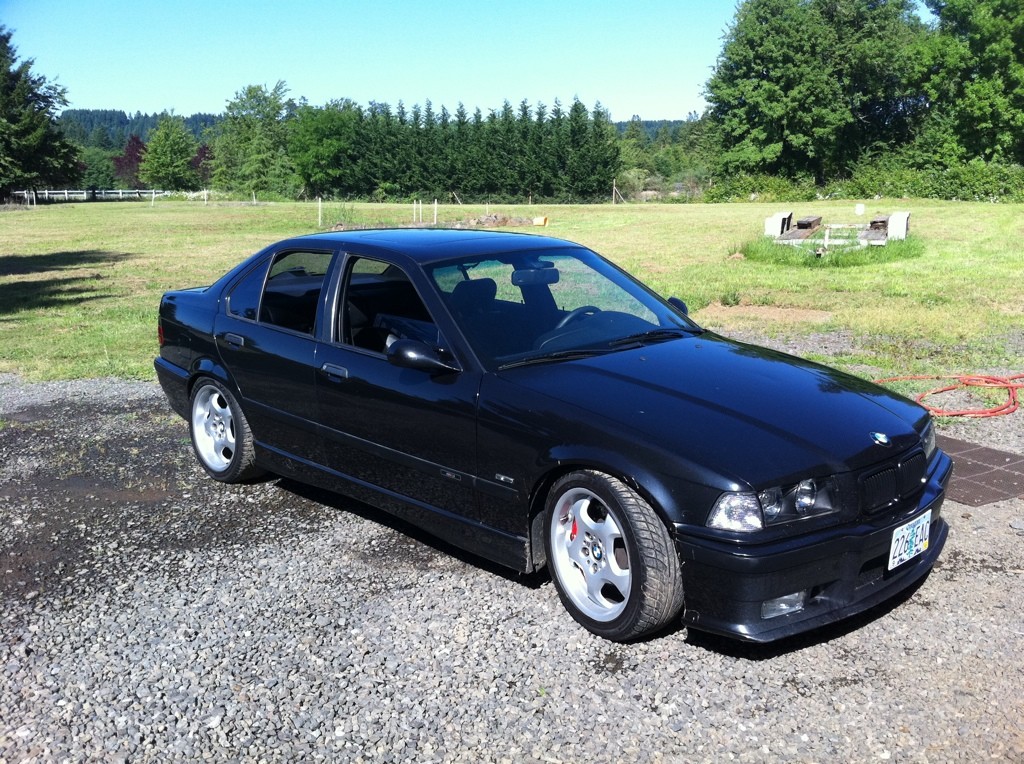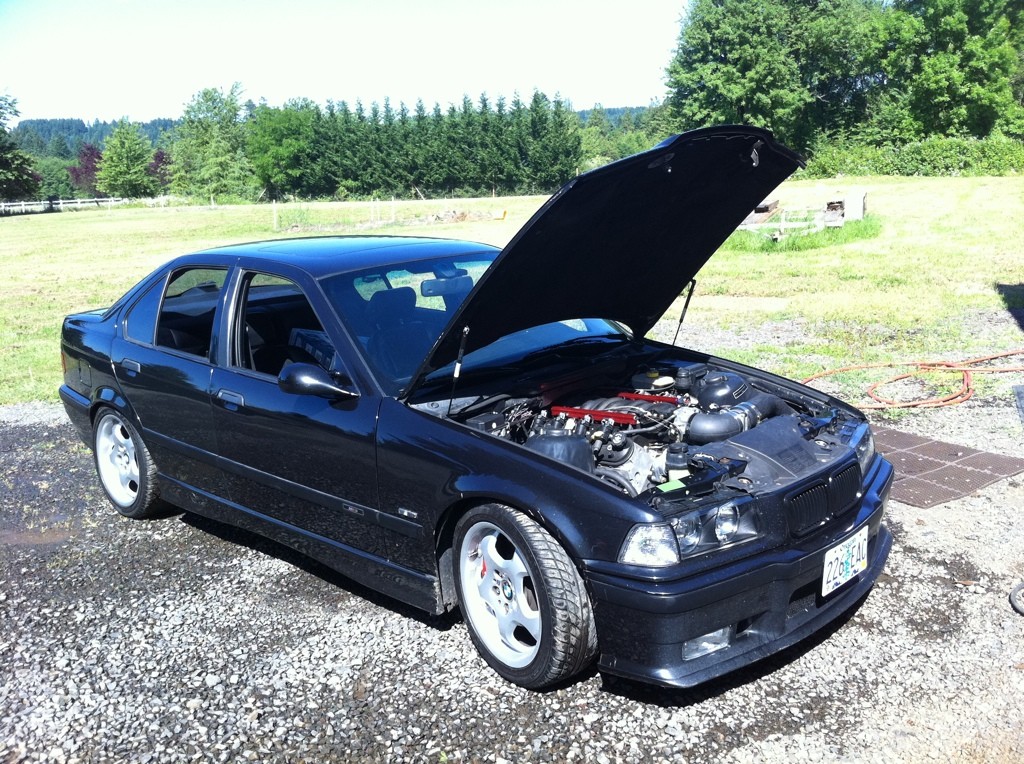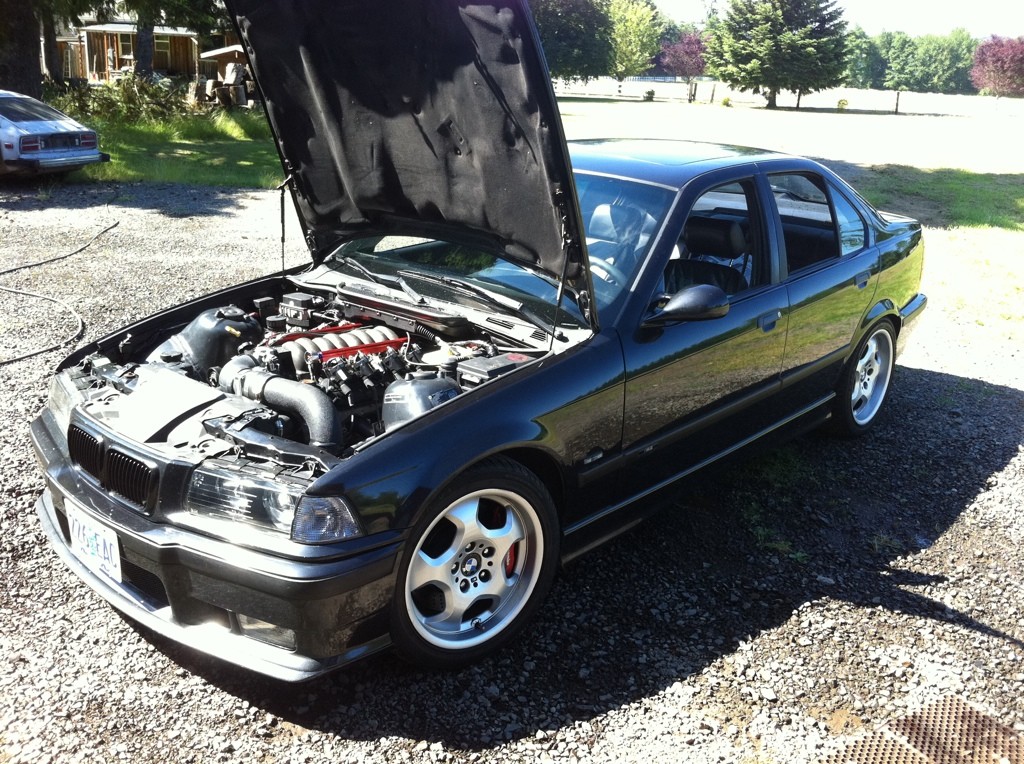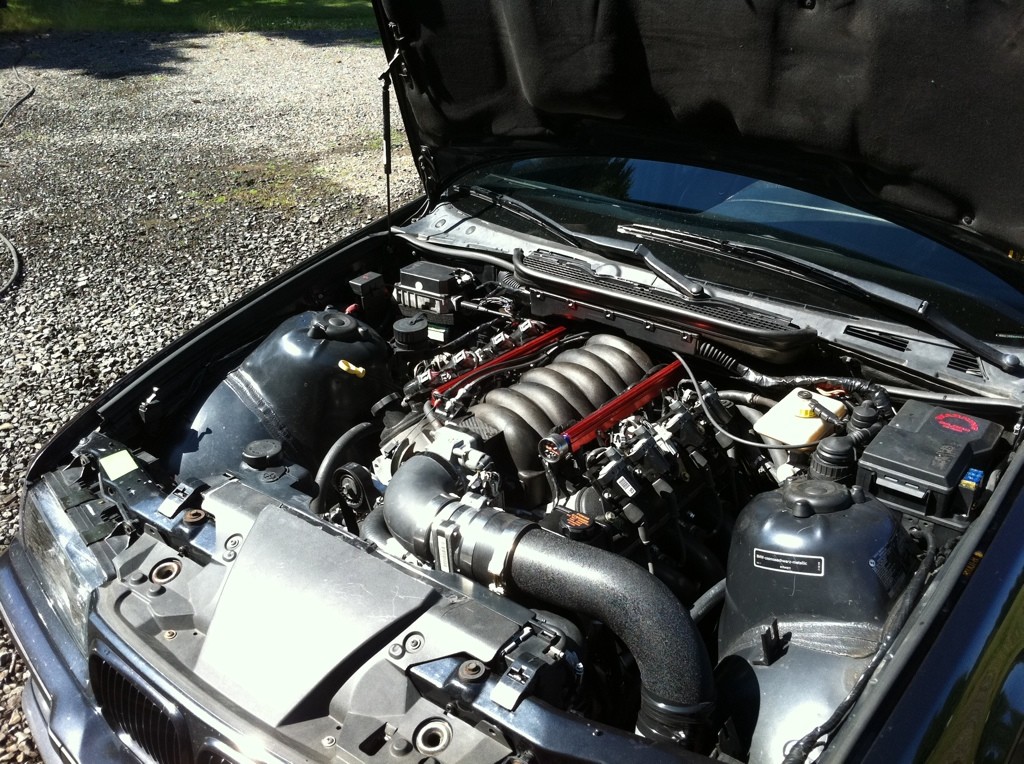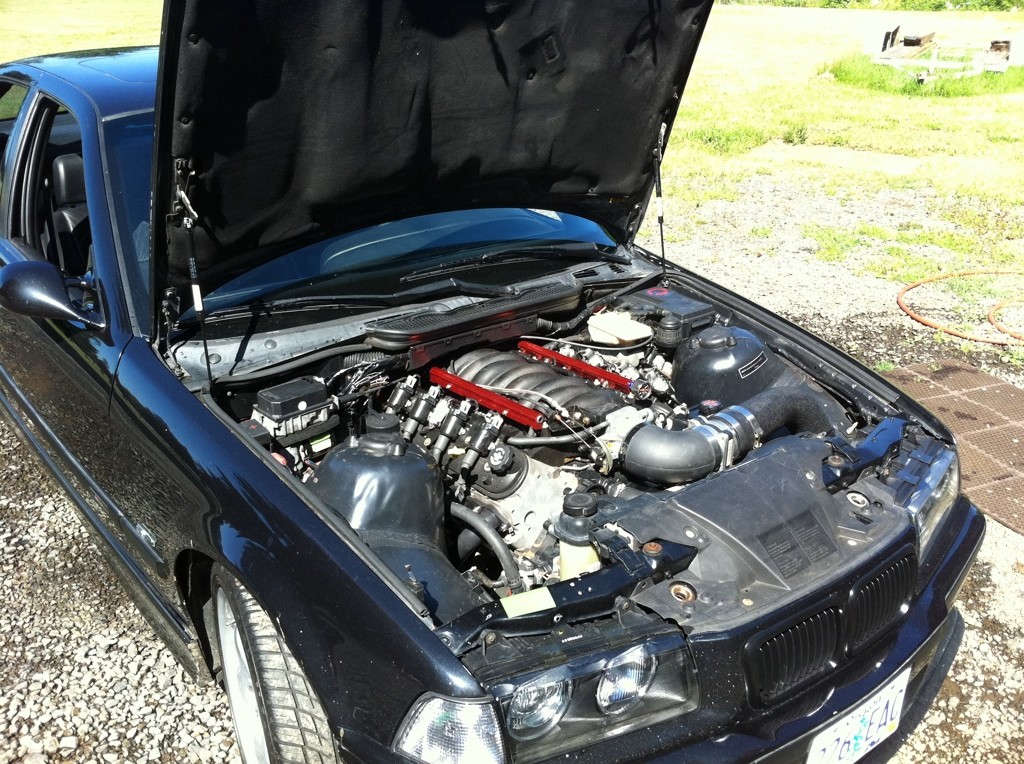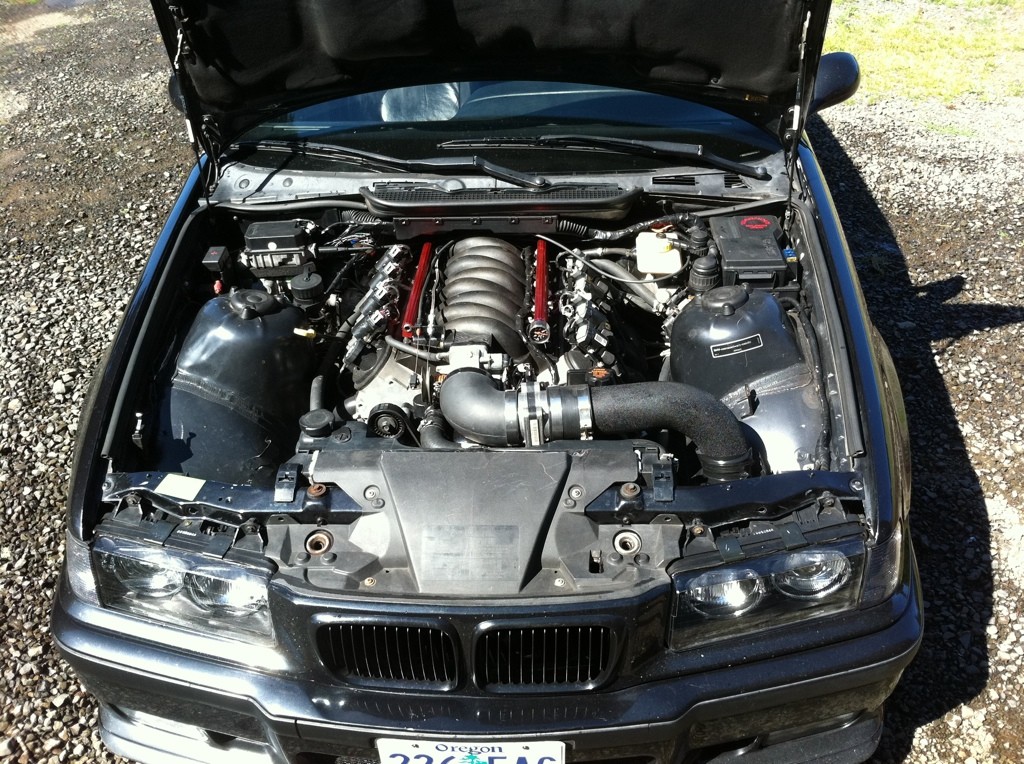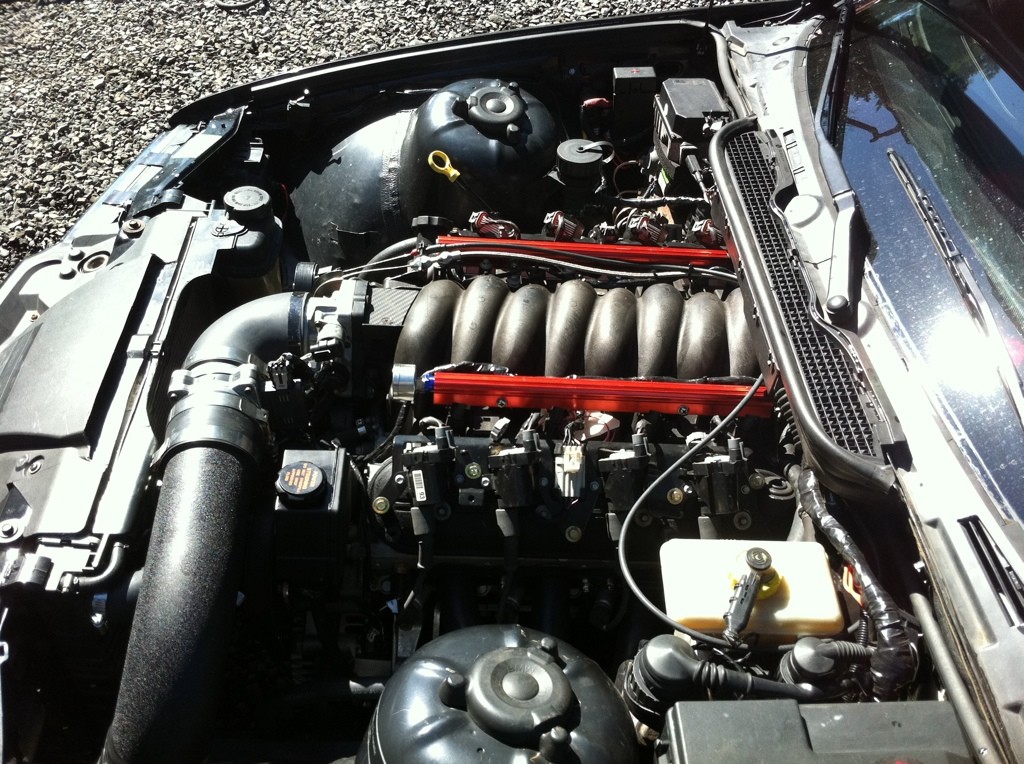 7-29-2011
5000 miles and LOVING IT! The JTR kit awesome. Good friend with same car and LS1 using another kit with poly bushings raves over how smooth and quiet mine is vs his. Our cats are identical, even the exhaust is pretty much the same, the JTR kit retains the smoothness BMW originally designed, the LSx adds the torque.

Recent opportunity arose with the 5.3 that opened the door to an upgrade. Hope to have it installed this weekend.

Happiness is...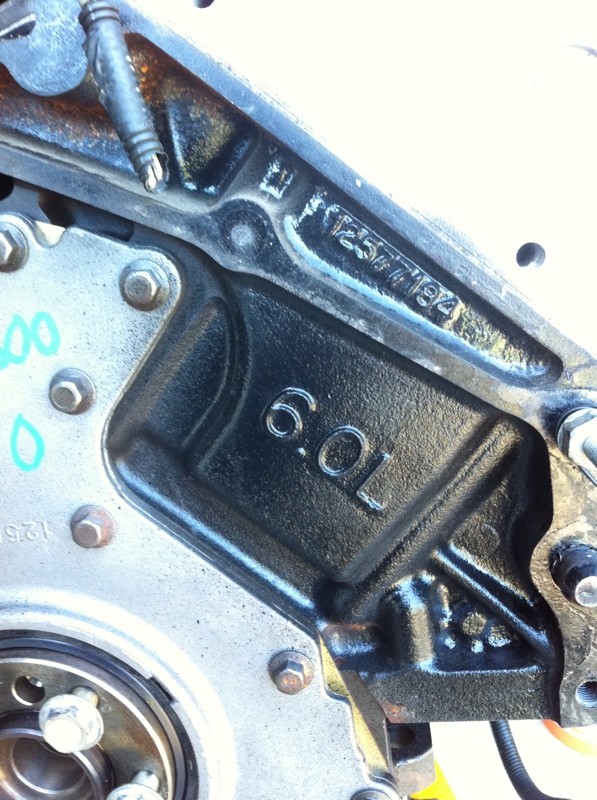 8-8-2011
Just got back from an impromptu trip to Idaho to see family, put just over 1000 miles on the LQ4, ran flawlessly. Got 27.1 mpg with cruise set at 72 through the Columbia River gorge fighting a steady 19 mph head wind, (white caps on the river).
3-2-2012
20,000 miles on the conversion and loving it. The conversion itself has been flawless.
Mods planned in the near future, to install my LS6 intake, my Euro cluster that has been collecting dust on the shelf, adding V-bands just ahead of the OE muffler to swap it out for pipes to hear that Spintech on those weekends wanting to play, and replace the rear suspension/diff carrier bushings. Still researching what I want to tighten up or leave rubber, don't want to add any NVH.
9-23-2012
The 2 piece I tested needed some refinement regarding the carrier bearing bushing/bellows, havent re-tested a 2 piece drive shaft yet, plan to some point in the future, been running the single piece ever since. Once the changes are made and I get the 2 piece back again I will retest and report the results.

For now, 28,000 miles in 15 months on the conversion and STILL loving it as much as day one.
12-10-2012
Couple updates, putting the car, '97 M3 sedan, up for sale minus the engine and trans, I'm moving on to a BMW 5 series to install my 6.0L and T56, the M3 will come with all the other goodies as outlined in this thread, (the Brembo big brake kit with new pads recently installed, brand new tires on all for corners just installed today, auto dimming mirror, the speaker box mentioned below, Euro Ellipsoid HID lights, etc, peruse this thread for more of what this car has). If anyone is interested, contact via E-mail or PM, drive it before you buy it ready for your LSx and trans.
Car is doing fantastic, just over 31,500 miles on the conversion and its been flawless. Daily driven over the past year and half, through the freezing winter here in the Pacific Northwest, trip through the desert mid summer in 107+ degrees, car has been awesome. Only issues that cropped up have been the relay for the back up lights and reverse lock out went bad, cheapo polyurethane Lollipops cracked out replaced with nice solid BMW rubber versions, had a fuel line ahead of the fuel filter swell and leak, have a feeling when I purchased the EFI hose I was given some non EFI rated hose so all hoses have been replaced with known EFI hose just in case and the original 5.3 had oil pressure issues from the start up, knew it wouldn't last long, was replaced with the addition of 700 more CC's late July last year. Currently the trans is starting to howl a bit, will rebuild it before it goes into the E39.

Couple months back finally finished up the speaker box for the single 12" sub. 1.25 cubic feet volume, built so the spare can be retrieved without having to remove the box and being a ski-pass rear seat, took the time to seal the box to the ski pass. That alone made a noticeable difference in the quality and quantity of sound from the sub.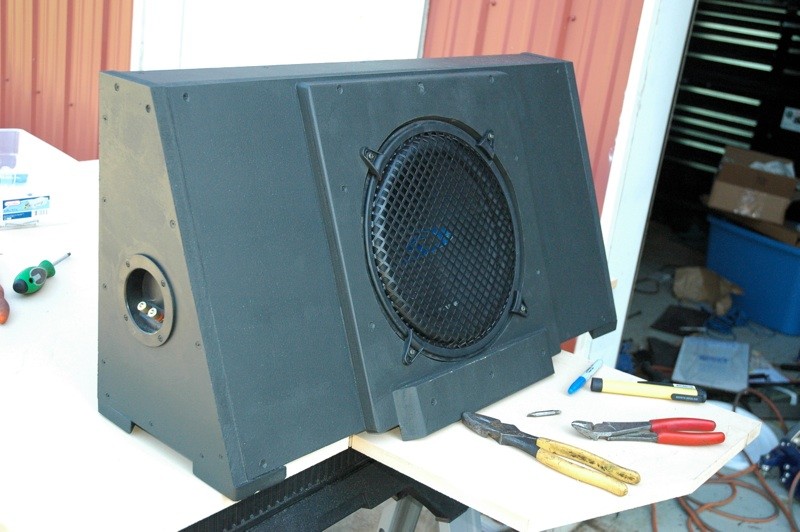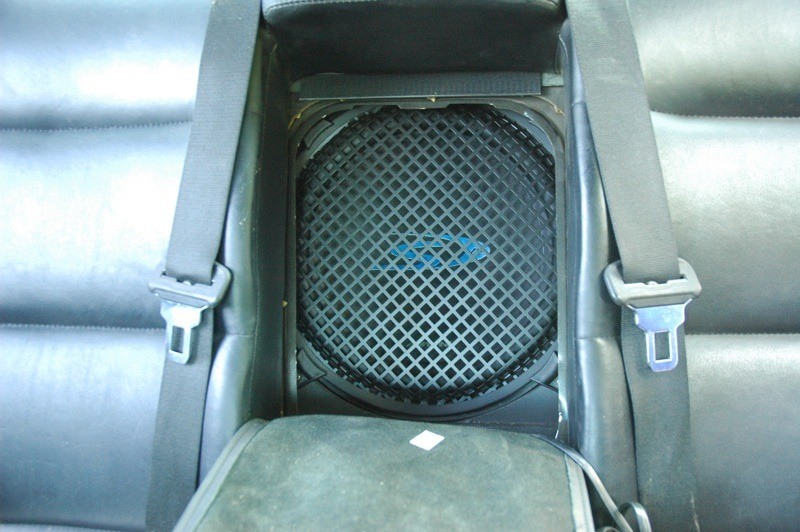 2-15-2013
Car is sold, time to move on to next project.
6-4-2013
I retained the BMW diagnostics plug, (DLC), and all the pins in it to keep the car as OE as possible and retain the ability to troubleshoot any SRS, ABS, climate controls, ZKE instrument cluster issues, and to reset the service oil service indicator. when I removed the BMW engine ECU, (DME), I only cut the DME wires that went to the DLC so when/if you have have the dealership plug into your car everything is normal, they just dont see the engine ECU, (actually had that to bring up an ABS code after my conversion that turned out to be just the brakes pedal switch).
I suggest not wiring the CM ECU, (PCM) into that DLC as the BMW wont be able to interpret the PCM, languages are different, and the GM PCM is communicated with via the OBD-II port. For your OBD-I car, you just need to get an OBD-II port and place it somewhere in the car. If planning to tune the GM PCM yourself I'd recommend in the cab of the car, passenger side footwell for ease of connection to the laptop and the laptop wire wont get tangled in drivers feet while data logging/tuning.

Here is a spreadhseet I put together that covers the main BMW plug and its pin outs, that is ithe umbilical which the LSx will communicate to the car, as well well the DLC to the car, (In the X20 connector, pins 16, 17, 19, 20, 22, and 25 are all the DLC, you will want to retain those). Your OBD-1 car will be the same regarding the X20 connector, It will have 1 possibly 2 pins either added, deleted vs what I have listed here, pretty sure the Check Engine Light was one of those, you'll have to comb the ETM to verify. (The ETM doesn't have a pin out or section dedicated to the X20 connector which is why I built this spread sheet. Fwiw, I did comb the ETMs of each individual E36 model 1992-1999, 318, 323, 325, 328, and M3, tracing every wire related to the X20 connector and found the X20 connector to be consistent through the years and models of E36).