DIYs
ESS Supercharger DIY kit ... Review!! by 808E90
By diyauto
You must be logged in to rate content!
27 minute read

ESS Supercharger DIY kit ... Review!!
Compliments of 808E90 @ http://www.m3post.com
4-6-2010
I know this is a long read but I really hope this helps those who have been on the fence about installing the ESS Supercharger Kit yourself. I will be updating this thread untill the install is complete and even after I put down a few miles.

**Please note that this is not a DIY but just my personal review on this DIY kit!!**

The desision making:

Like many of you ... I wanted more power, I wanted to be one of a kind, I wanted the best. I love my M3 and work hard for it so I was really careful and did a lot of research before I decided to boost the M3. After months of waiting and lots of reading I finally decided to pull the trigger. I decided to go with the ESS VT1 Supercharger Kit. I decided to go with this kit over others because of a few main reasons ... Their many years of BMW Supercharging experience, the thousands of miles tested on the kit, how stock the kit looked, how great and responsive Roman was, and most importantly I loved the fact that I could do the install myself. Doing the install myself was the main factor. Because I live in Hawaii I did not want to ship my car off island. I mean if I could do the install myself and save a bunch of money from paying a shop or shipping the car then why not. I must say I was kinda on the fence about doing it myself so I took the instuctions to my BMW tech friend to look at. The first thing that came out of his mouth was "WOW" then he said "Come on man, you could do this yourself" I then decided to contact Roman ...

Customer service:

I contacted Roman when he first annouced the production of thier Supercharger kits. I wanted to be one of the first but I didn't want to ship my brand new M3 off island so I decided to wait. During my wait I did some research and asked a few questions to the already ESS SC'd guys. They all had nothing but good things to say about the kit and about the service they recived. We all know that if you're running it then of course your not gonna say anything bad about it right ... Well at this point I was pretty sure the kit was solid but I wanted to make sure that the service was just as solid. I also wanted to make sure that the service would continue even after I bought the kit just in case I ran into any problems. It wouldn't be as easy as hop in another car and drive down to his shop for me so this was very important. I contacted Roman again about a month ago to ask him a few questions. I would literally send him a few PMs a day asking him simple question that was already answered in his thread

Roman was quick to reply and very helpful. I then read where a guy in Asia installed an ESS kit but couldn't get his car running right. My first thought was oh great, but then I saw how fast Roman replied to his problems and how fast the problem got fixed. That basicly sealed the deal for me.

The ordering process:

Well this part was pretty straight forward ... Went online, created an account and placed the order. What's nice about the ESS website is the fact that you can check for updates on your order. There was also a lot of information about all of their products. The fact that there are so my options to spice up your kit is also a nice plus!! Please note that this is my honest review and with any review, there has to be a bad! Well the bad thing about this kit is the wait. ESS will not charge your account untill they ship the kit out. I know this may sound like a good thing but when a week goes by and you still see that money in your account, you can't help yourself but to buy another mod



The customer service continues:

So after ordering the ESS VT1 supercharger kit, I went crazy!! Like anything thing else in high demand, there is a wait time. My wait time was 10-14 days. These two weeks has felt like two months!! It's just as bad as waiting for your M3 to arrive at your local dealer. While I was waiting for my kit, ESS released a IND Black version option for the manifold. I now had another desision to make so I started sending Roman a few more PMs. Even after my order was in, he still continued his exellent service with fast and profesional replys. He laid out a timeline for me to make my desision and helped me along the way. Now that the arrival of the kit was getting closer, I decied to send Roman a few more PM's about my DME. By this point we must have exchanged at least a hundred PMs but again Roman was fast to reply and very helpful. Thank you Roman for your outstanding customer service.

Starting the prep work:

My kit should be here next week so I decided to prep the car for the supercharger install. Many of you may be wonder why so early, well I wanted to make sure that I had the DME back in time for the install. Since the DME was gonna be out, then why not just get things started. I live in a condo so I had to use a friend's garage, anyways I got there at about 2:00pm today. I brought one small tool box, a few towels, a box of ziplock bags, and a sharpie. I started with the battery then moved to the front of the car. When at the front, I started removing the DME, Intake manifold and a few other things. I forgot to bring a drill so that was the only that I had to borrow. Before I knew it I was done with all the prep work and it was only 3:00pm. I must say so far so good ...

If you have any questions, please post them up here so that we can all help and so that we can see the answers ...

Sorry for the iPhone pics but here are a few for you all to see! Wife is gonna kill me if she saw that I left my intake stuff on the bed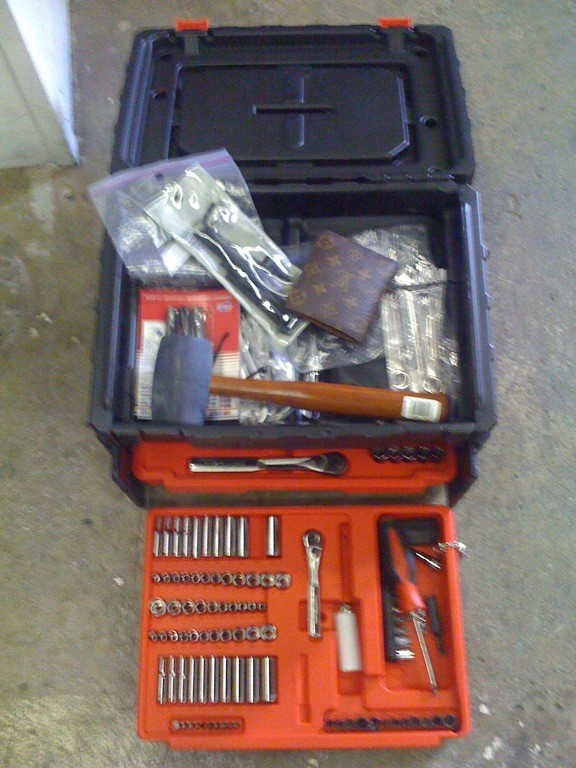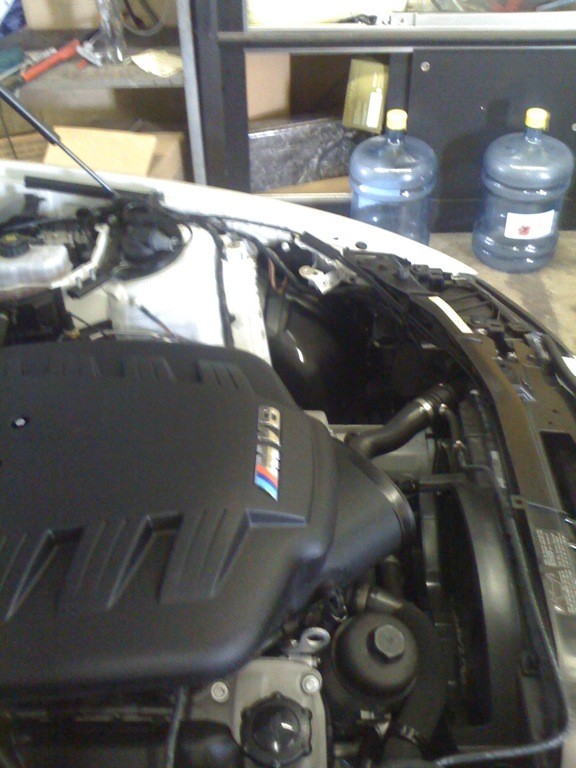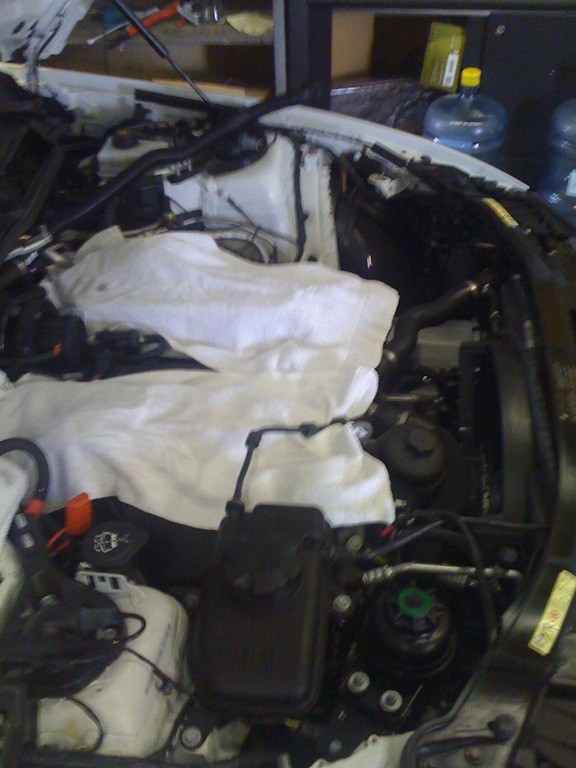 4-7-2010
Didn't do to much today other then send out my ECU ... I will be doing some cutting tomorrow.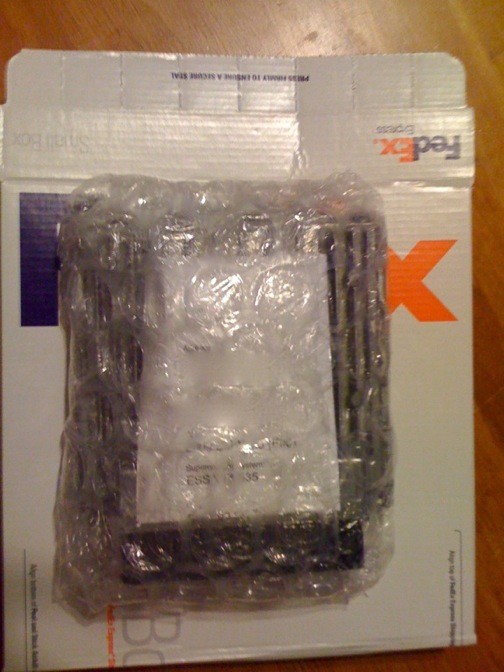 04/08/2010 UPDATE:

I decided to do kill some time by getting the Front Air Duct ready for installation. Since I had the Gruppe M intake system on, the stock air duct was just sitting in a box at home so it was one of those things I could do as I watched TV.

Update from Roman:

This part now comes pre-cut in the new systems so you will not have to do this ...

One of the many reasons why I love the way ESS made the kit is because you can return it back to stock 100%

**This is not a DIY ... Just my own review and that is why I don't write detail instructions**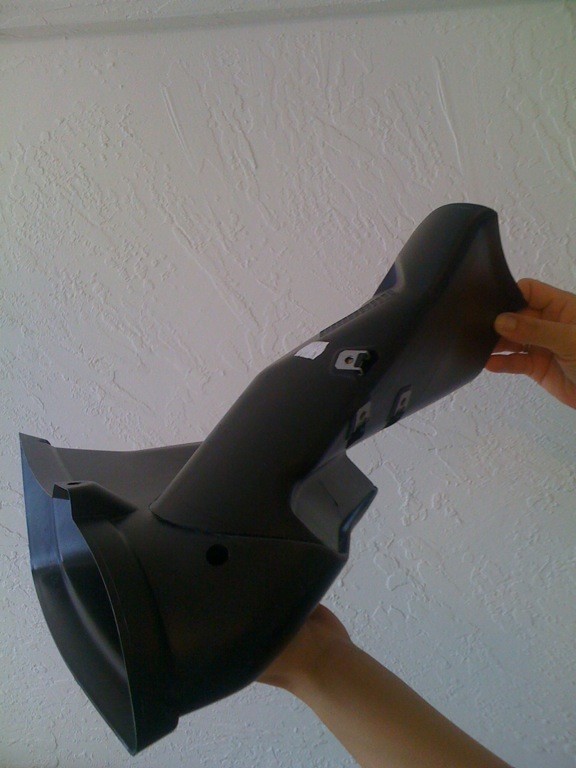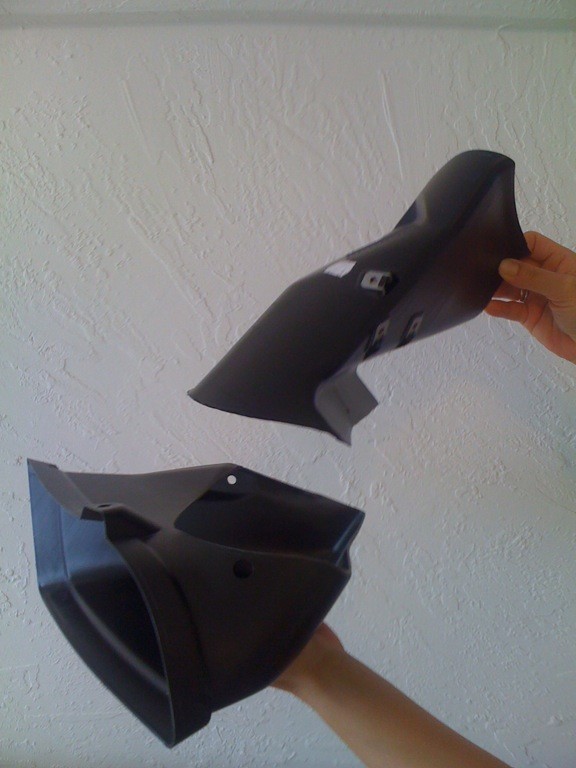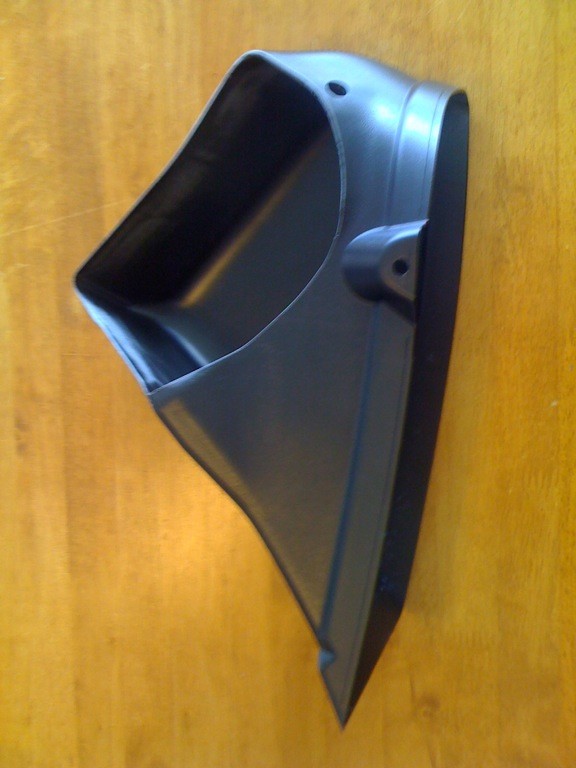 4/12/2010 UPDATE:

As I wait for my supercharger kit to arrive a few other things came in today



I would like to give a special thanks to Long from LTBMW. Long was nice enough to take a few hours out of is busy schedule to drive a hour each way to pick this up for me. He also shipped it out to me right away. LTBMW has been a huge part of both my E90 328 build and now my E90 M3 build. This project would not be where it is today without him!!

Thank you so much Long!!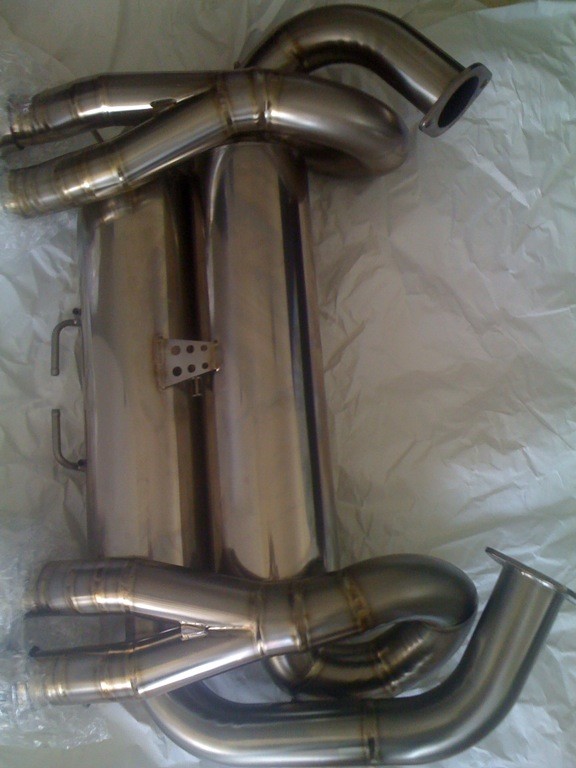 04/14/2010 UPDATE:

Customer Service ... Roman delivers as promised:

So as I had stated in my first post on page one, I decided to start the prep work for the supercharger early so I could send my DME out and have it back in time for install. I had checked with Roman to make sure that the kit and DME would get back to me in time for my next two days off. It looked as if I was going to have enough time to sleep with my manifold for a few nights before my next two days off. Well everything was going as planned until FedEx had created some delays for us

I started to stress a little because I was on a tight time frame



Roman and I had called each other a few times to see what would be the best option to the delay problem we were facing. Roman insured me that he would do everything he could to make sure he would deliver as promised! A few hours later I got a PM from him with a few tracking numbers for my boxes. Roman had shipped out a new kit that very same day so that I would not have to wait for a follow up from FedEx



As many of you all know that MFEST is right around the corner and for vendors its a crazy busy time. With that in mind I was not expecting Roman to ship out the box that soon. I was actually expecting the kit to arrive next week so I was already making changes to my work schedule. Right as I was getting off work today my wife had called to tell me that a box came in. I was so happy you could probably see my smile a mile away

When I got home I found a nicely packed box with half of the supercharger kit. Your probably thinking just half the kit? Not to worry ... The other half is on its way. Roman made sure to send a few things he had at his shop so that I could continue the install.

It's really not ESS nor FedEx's fault but my own. You could say I'm like a kid in a candy store! I want everything and I want it now! So my advise to everyone who is planning on doing this yourself ... Make sure you give yourself enough time just in case things get delayed. Make sure you have a back up car just in case of delays (I have a daily driver). Most importantly for those that live in a condo, make sure you have a safe and secured location for your car to be worked on.

... Thank you again Roman for your awesome customer service

04/15/2010 UPDATE:

Another Delay:

The rest of my kit came in today so I started to install everything onto the car. While changing out the fuel injectors I realized that one was missing

so I couldn't finish the kit

I called Roman right away and he said he was going to try and make it to FedEx in time to overnight me the injector. I was able to finish a few other things ...

Install review:

Let me start off by saying this is one nice kit

It is so much nicer in person then all the pictures I've looked at. As stated above I was missing one fuel injector so I was unable to finish the install today but I hope to get the injectors tomorrow and start my road testing. Since I really couldn't finish the fuel injector portion of the install, I decided to move to other things.

I first started with mounting the supercharger in place and running all my belts. This part of the install was really easy. I did ask a friend for help when mounting the supercharger. I basically needed him to hold up the supercharger while I ran the bolts. Other then that I was able to take care of the belts on my own.

The second thing on the list was to install the Air filter hose and filter. The mounting portion of this install was easy but I did have a hard time fitting the filter in place due to the new extra large filter. I'll try and finish that tomorrow.

The third and last thing I was able to do was put back the DME and reinstall the fan. The DME was a no brainer but that damn fan gave me such a hard time. If your gonna do this make sure you take your time. Rushing to get it done will only make you blow a fuse.

My first thoughts:

I am truly happy that I decided to go with the ESS kit

I can't believe how well this kit is designed. The install has been smooth so far and I can't really see anything going wrong from here on out. I know that there has been some delay but thats life and the way ESS had backed there service up is truly amazing. For those of you that are on the fence about this kit all I can say is that the install will make you feel like you can do anything!!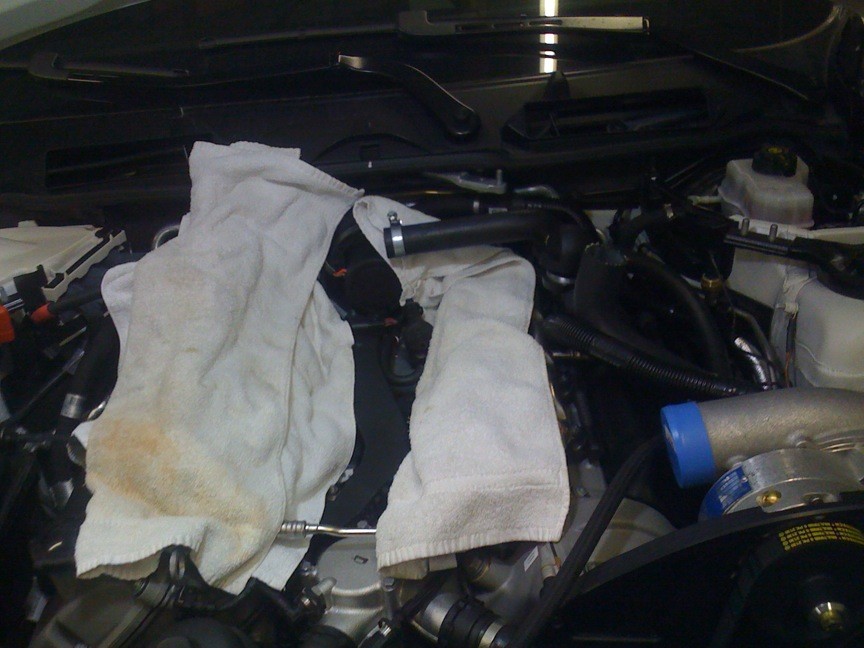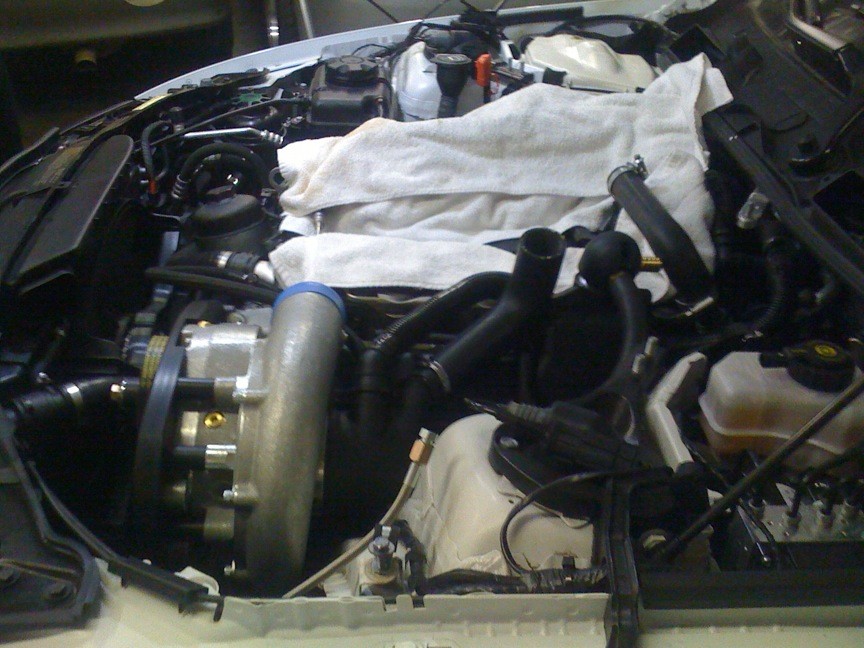 04/16/2010 UPDATE:

The only thing I could do:

Well as most of you that are following this thread know ... I'm missing a fuel injector and a two bolts for my kit so I really couldn't do much. I had talked to Roman yesterday and he said he was going to try and overnight me the injectors but it looks like he was unable to do that. I'll be honest I'm a little bummed out but he has worked so hard this far so I'll give him a break

I'm know they were really bust getting ready for MFEST.

I didn't have much to do so I decided to play around with the intake filter location. I'm really not to sure why but I can't seem to get that filter to sit in right. I was able to get it in to where the tire liner would not press up on it so I decided to leave it like that



Exhaust install:

After messing around with the filter I decied to install my exhaust since the car was a sitting duck. It went pretty smooth ... Got done with the full header back system in about two hours. I was running the stock x-pipes with a Arqray Ti axle back system but decided to switch over to a full Ericsson sysytem. The Ericcson system fits like a glove with no problems. This system was only made for the E92 so the tips sticks out about two inches more then what I had thought. The tips kinda look funny now but I'm sure a nice diffuser would make it look good. I just can't wait to fire this bad boy up

I live in a condo with no storage so I decided to throw out the x-pipes ... I hope I didn't make a mistake





.... Sorry for the blurry picture but you get a idea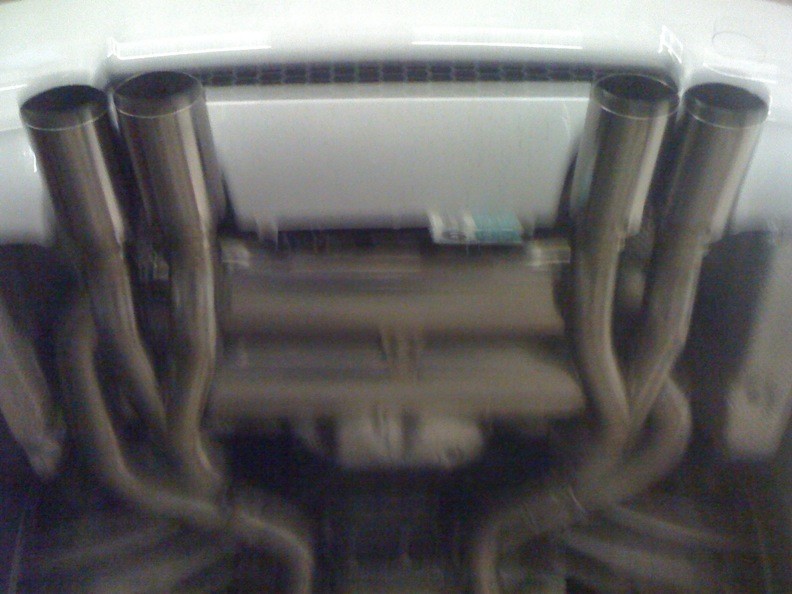 04/21/2010 UPDATE:

I just wanted to give everyone an update ... I've had the last fuel injector for a few days but, I've been really busy at work and I've been fighting a cold. I plan to finish the install today and get the car back on the road. I'll update this thread again with my final install review ...
04/21/2010 UPDATE:

I'm all done:

I'm finally done installing my ESS VT1 Supercharger. I know some of you may be wondering why it took me so long ... Well my original order got lost with FedEx. It wasn't ESS fault but they were nice enough to send me a new kit right away. Due to the limited time I had they rushed it out to me and forgot one fuel injector. It wasn't a problem but I did have to delay the install for a week due to my busy work schedule.

Final installation review:

I took the day off to finish up the install and like the rest of the kit it went smooth. So smooth that I thought I forgot a few steps. Once I installed the last fuel injector there was only the mounting of the manifold left. I ran all the hoses and reinstalled the DME prior to today so there was no problem there. I just pushed the manifold down, ran all the hoses to the manifold, tightened all the claps and I was done

The design of this kit is unreal!! Everything fit like a glove and it made me feel like I went to tech school



After I tightened everything down I double checked everything. It was only a matter of minutes ... I reinstalled all the stock parts, put the negative back on the battery and started her up. The first start up took a little while due to the empty fuel line but she did start. I let the car sit for a while and checked for any leaks. No leaks were found and nothing was rubbing



First driving impressions:

I got the car all washed up and headed home. Unfortunately I got stuck in traffic all the way home but I was happy to see that the car was not getting hot even without a cooler. The car idled like stock and everything sounded normal except for a little whine up front. I did notice a smoother rev and the car felt like it wanted me to push it more



Soon as I got home I told the wife that I would take her to dinner. I chose a place that was out of town so I could break her in a little faster. I'll up date this thread after a put on a few more miles ...


Follow up customer service:

The only time I get this kind of service is when my family and I stay at the Trump Hotel. Roman and AJ at ESS went above and beyond my expectations. These guys were always there to answer my questions, replied to all my PMs/e-mails right away and always returned my call when I left a message. I highly recommend ESS for any of your supercharging or tuning needs. These will deliver no matter what it takes


Thank you so much Roman and AJ for making me the first SCd E90 M3 in Hawaii!! I hope to see more of your kits here on the islands!!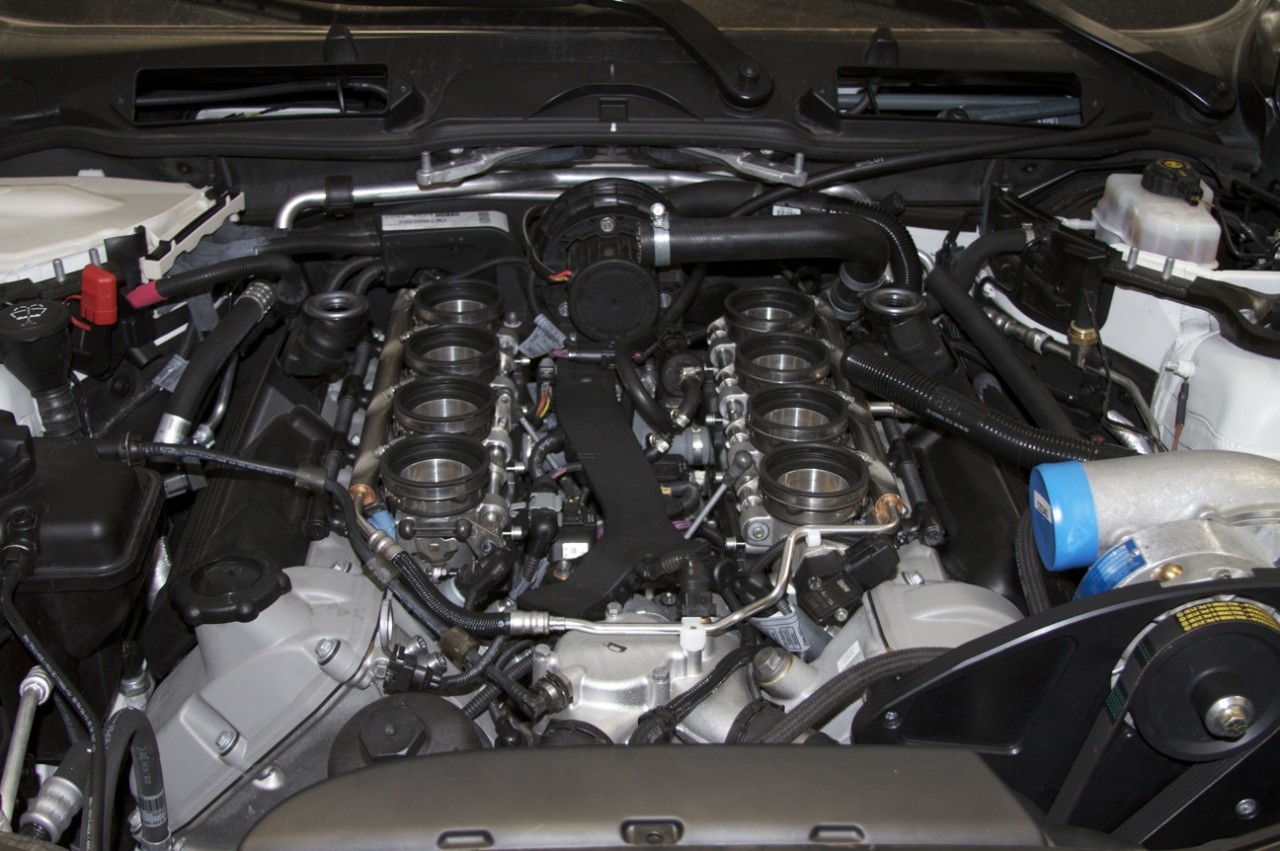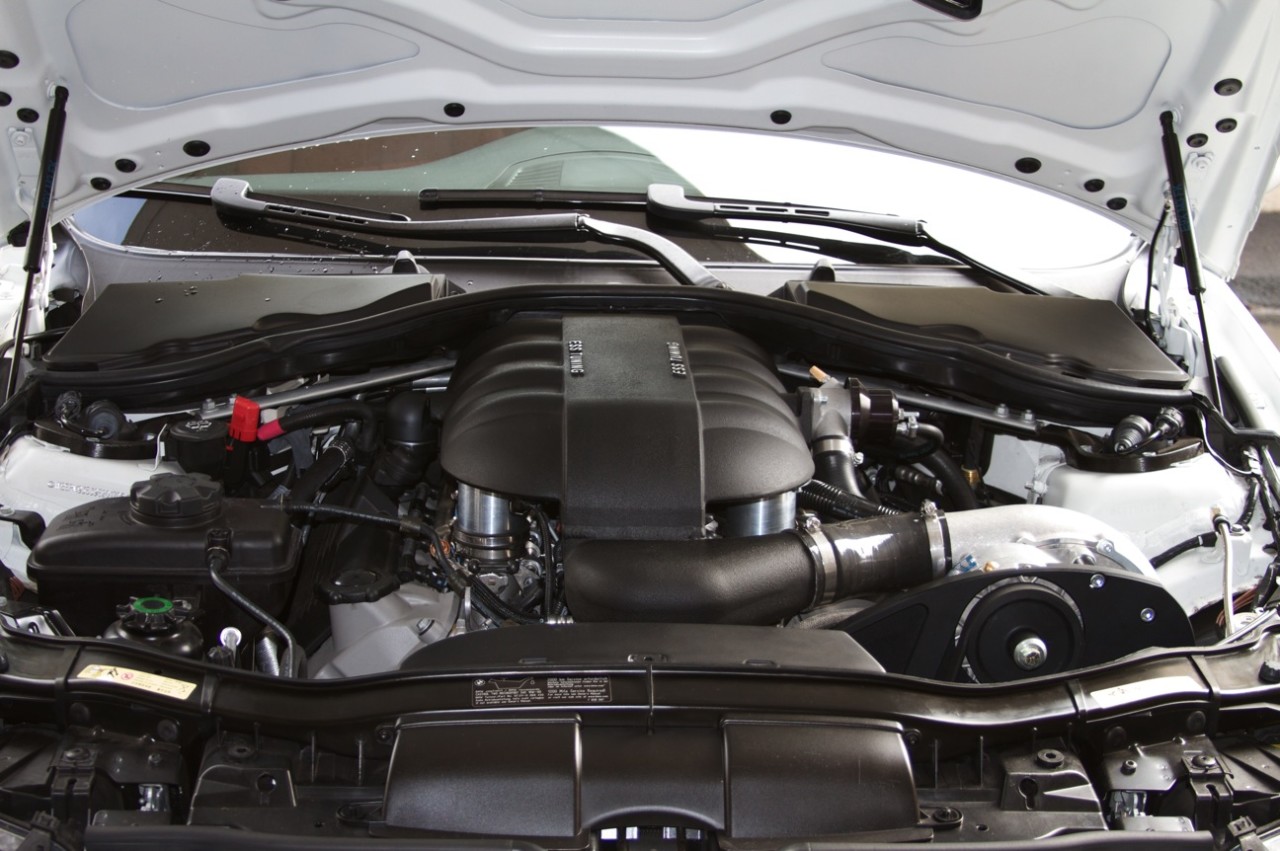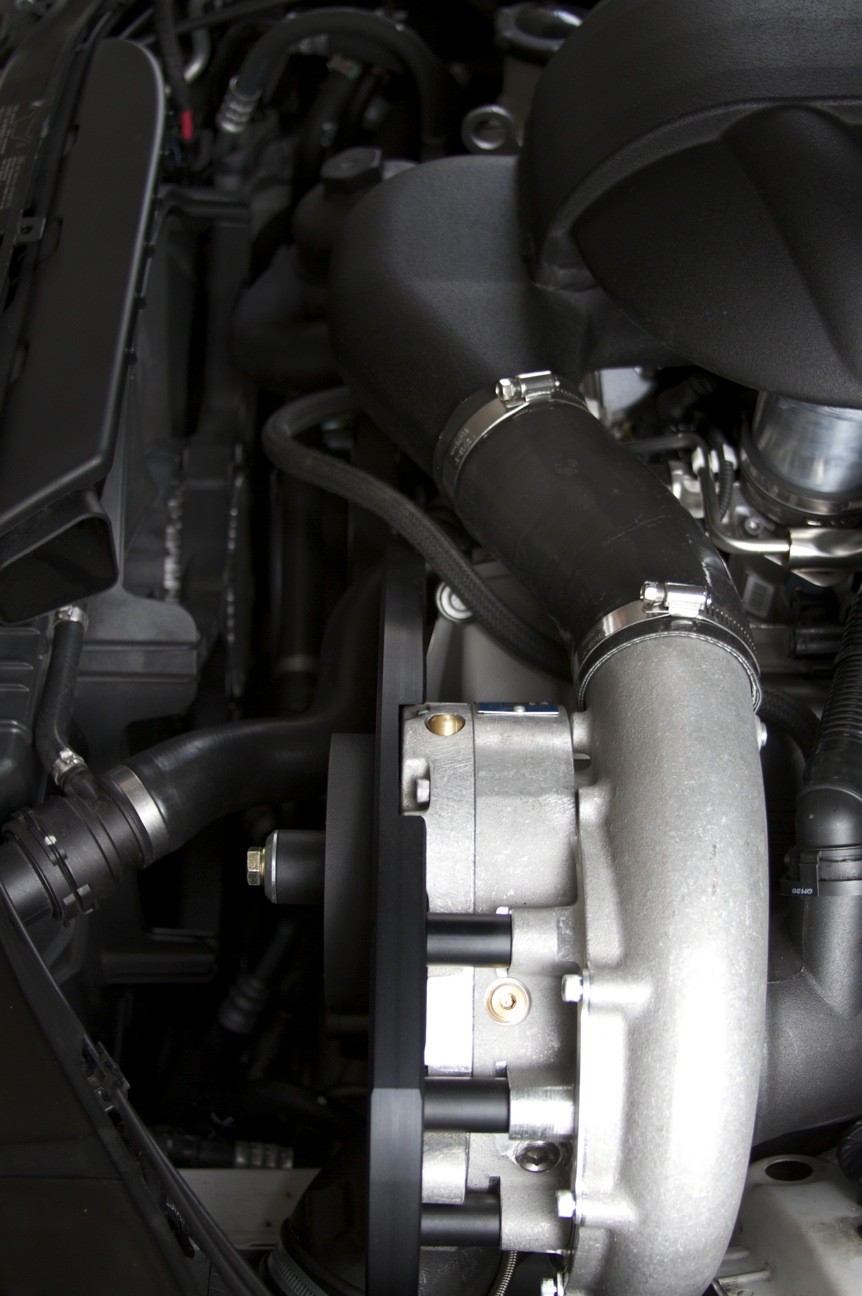 04/24/2010 UPDATE:

Post break-in review:

I couldn't really wait for the full 200 mile break-in so I did a few short runs tonight after I got 120 or so miles on the Supercharger

I must say the car drives like stock untill you really stomp on it. I haven't drove with the DSC off because we've been getting a little rain here in Hawaii

The car pulls hard enough to spin my rear 295 PS2s when shifting.

My first two runs were with a GT-R35 that had a tune, IC pipes, and full exhaust ... I got walked

but it was fun. I started in third for the first run and then went down to second gear for the next run. When I shifted up to third on the second run the rear spun a little but it didn't really matter cause the GT-R was gone. I tried to get a few runs in with a stock E92 to really compare the two but that didn't really work out well due to rain and timing of the run.

Things I noticed:

I noticed a few thing and one was that my oil had dipped down a lot. I started the day with it being 3/4 full and by the end of the night it was down to 1/2 ... I did plan on getting it topped off and I know this motor burns a lot of oil but I didn't think it would burn this much in such a short amount of time. I did do a few hard but short runs ...

The second thing that I noticed was that my MPG got way higher. I use to get 14MPG on the freeway now I'm getting 16-17.5MPG and thats with me punching the car here and there. I got as high as 18.5MPG on the freeway with me driving like a grandma. My city MPG was around 10-11MPG on i'm getting 13-14MPG.

A few questions:

I was so excited to finally get some runs in that I didn't realize that I didn't have the M mode on untill I was driving home. I know this may sound like a stupid question but is there a defference with it ON or OFF even with the tune and supercharger?

Questions for those with this ESS Supercharger ... Are you burning a lot of oil? Did you ever think of putting in a catch can?

Next on the list:

I did three runs on a DYNOJET back in Feb when the car had a Gruppe M intake and an Arqray Ti axle back exhaust. My highest run was 347.42rwhp and 254.21tq. I plan on doing some runs next week at the same place so I'll keep you guys updated on how it goes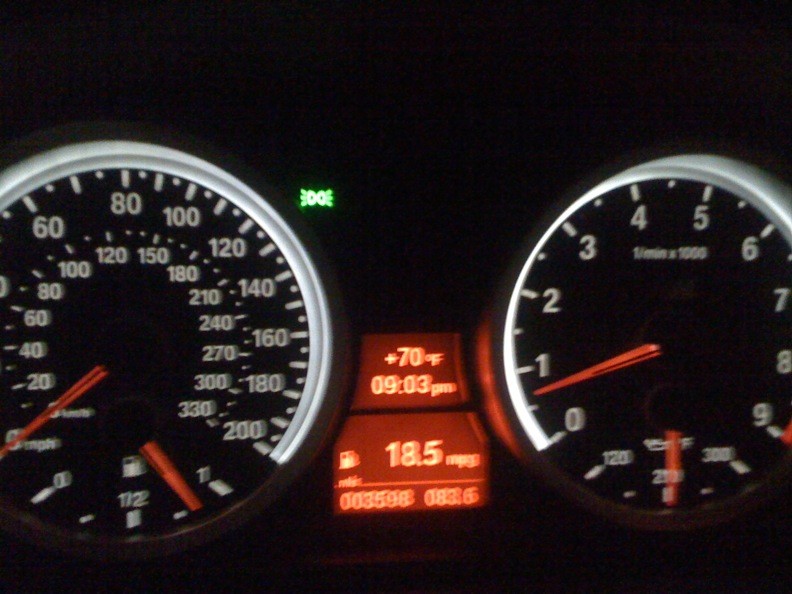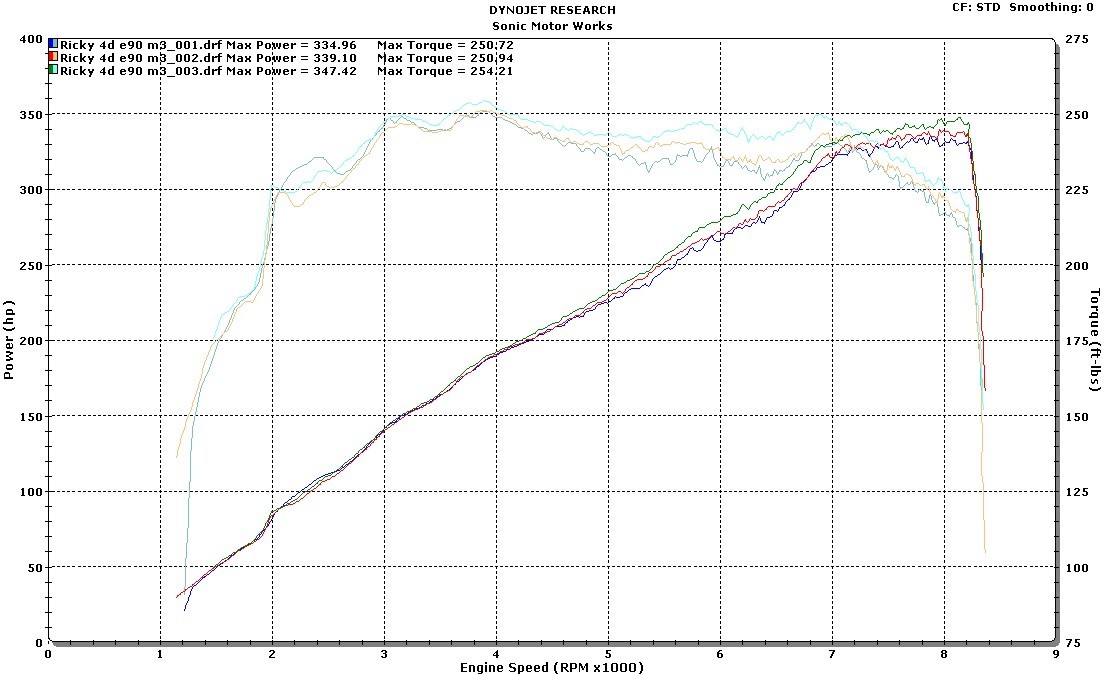 4/30/2010 UPDATE:

Daily Driving:

Well its been about a week or so since I put the ESS VT1 Supercharger in and I'm loving it like a fat man loves cake

I haven't had any problems so far except a clicking noise from what sounds like the injectors. I should get this fixed by next week or tonight



Dyno:

I finally got a chance to do three dyno runs and was pretty happy with the numbers. I just sent my files to Robert so I'm sure he'll post them up here once he corrects them. The guys at the shop were pretty impressed on how stock the kit looked and was even impressed with the numbers considering I'm only at 4.5lbs.

It was hot but cool day at 86F and I was at sea level here on the island

I need to do a few more things before I strap the car down for round two.
7/17/2010 UPDATE:

Exhaust Update:

After the Supercharger went on and after I did a few dyno runs as well as a few highway runs I decided to get rid of the 100 Cell race catalytic converters. I did a little research here and there and decided to go with Gintanis X-pipe and pair it up with my old Arqray Ti system. I'm now catless and with only one set of resonators



Install was a cake, the x-pipe came with gaskets and new bolts for both the header flange and the x-pipe flange. The welds on the x-pipe are really clean. I did run into one problem ... as I was driving home I got a vibration noise from the front end of the car. I think its the O2s hitting the heat shield but I'll take a look at it in the morning.

I thought that the system would be crazy loud but it wasn't that bad. I'm not sure about the drone because I didn't really get a chance to drive far enough to hold it at one RPM level for a long time. It was Friday and traffic was pretty bad. My drive went something light this ... Light turns green, shift, shift, light turns yellow down shift, down shift, light turns red. I guess I'll report back once I get a chance to drive to the other side of the island. I didn't get a chance to strap the car on a dyno but I will next week. I should have some dyno graphs up soon.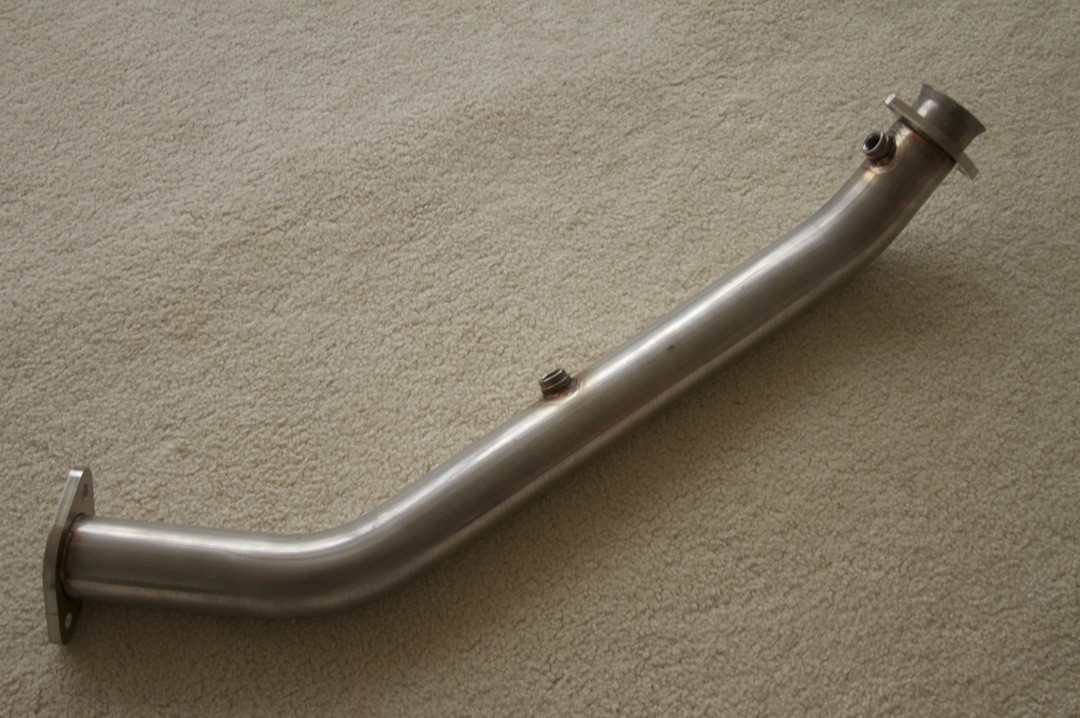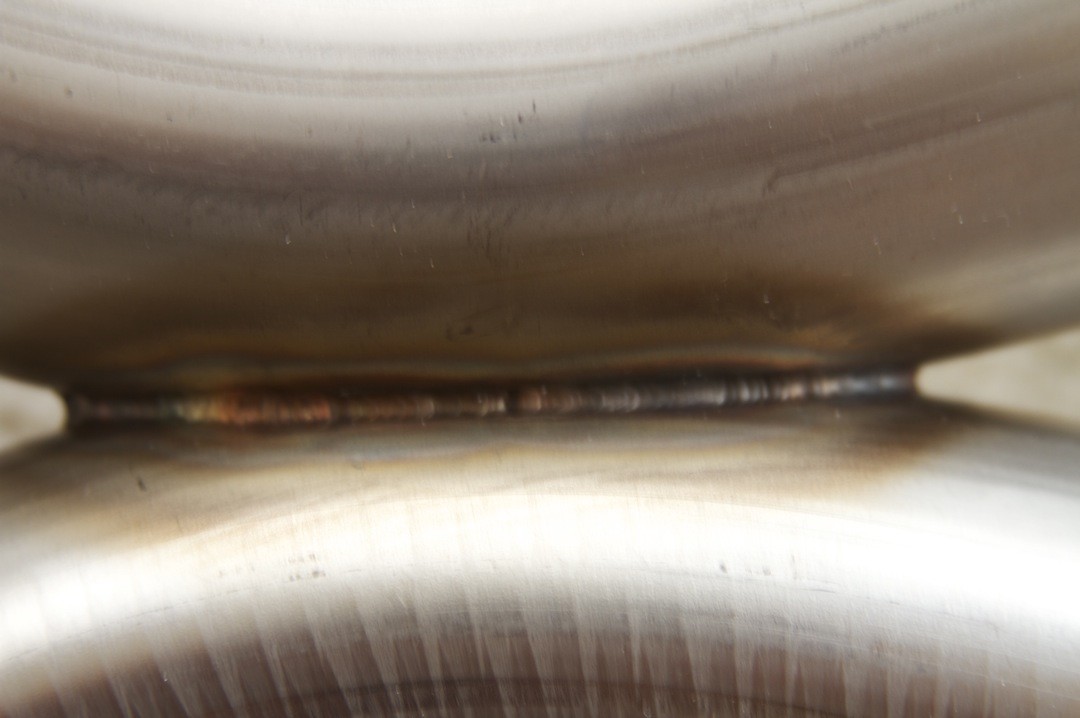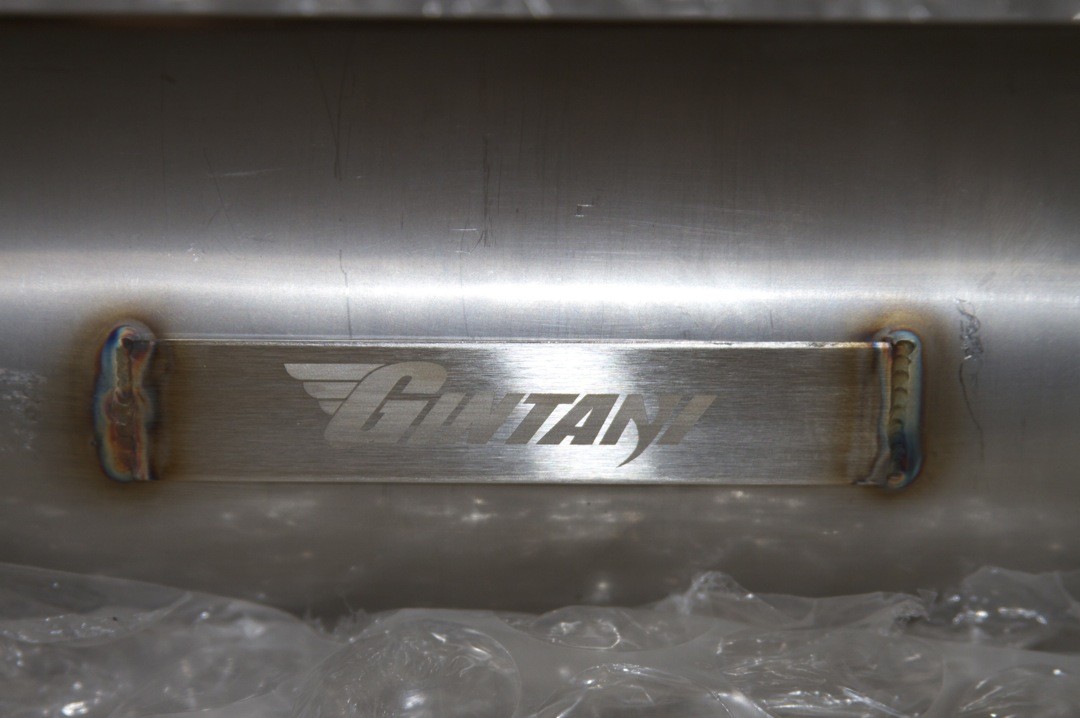 7/23/2010 UPDATE:

Exhaust Dyno Update:

I finally got a chance to dyno the car with the Gintani x-pipe and 5lbs boost pulley ... I'm still need to get the Dyno sheets from the shop but I put down 476WHP and 311TQ

I got this high ... Now I wanna break 500s