DIYs
Shift Boot DIY BMW F3x
By diyauto
You must be logged in to rate content!
3 minute read

Shift Boot DIY BMW F3x
1. 1. Gently pry on corners of shift boot there are multiple clips which pop loose.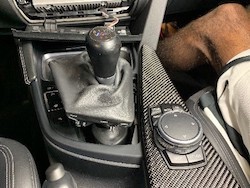 2. After pulling up the boot you should be able to see the cable pictured.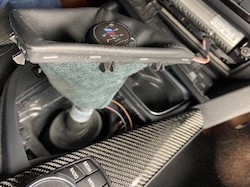 3. Disconnect this it is the cable to supply power for the lights on the shift knob.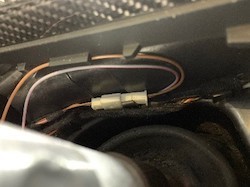 4. Now grab the shift knob and pull up. Be careful it is very tight and will come off suddenly. Don't be afraid to pull hard this takes a lot of force.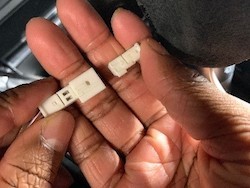 5. Cut off the old boot right under the shift knob (make sure you don't get the cables cut!) using a rectractable blade or an x-acto knife.

Take the boot to a working area. Peel it off the plastic frame. Test-fit RedlineGoods boot around frame, and glue it in. Automotive GOOP, 3M Super 77 and other glues will work great - any epoxy glue will do in fact. Just make sure to take your time, check the curing instructions on the glue container and make sure to not get any glue on the outside of the boot.

Flip the RedlineGoods boot inside-out and slide the shift knob assembly into the collar of the RedlineGoods boot.

Use a zip-tie to secure the boot to the shift knob assembly (put the zip-tie head on the front of the vehicle so that it's not visible to driver or passenger.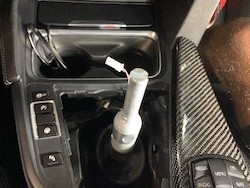 6. Plug in cable from shift knob.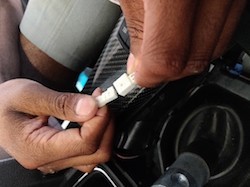 7. Tuck cable into appropriate area as shown in picture.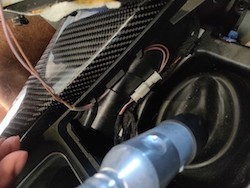 8. Now put shift knob on notched area and push down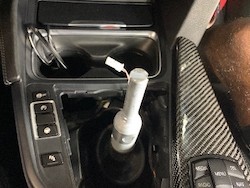 9. Push clips on shift boot into the area for the shift boot.