'38 BMW by juddman
By diyauto
'38 BMW
Compliments of juddman @ aaca.org
10-8-2011
Hi Folks -
It's been quite a while since I've been around here, but thanks to a good friend of mine, there's been some progress on my '38 BMW that I hope might interest some of you. First is a photo of the car as it arrived in the US in 1965. It was brought in by my dad who had served in the US Army in Germany. This photo was taken the day the car was picked up from the port in NJ and driven to Westbury, LI.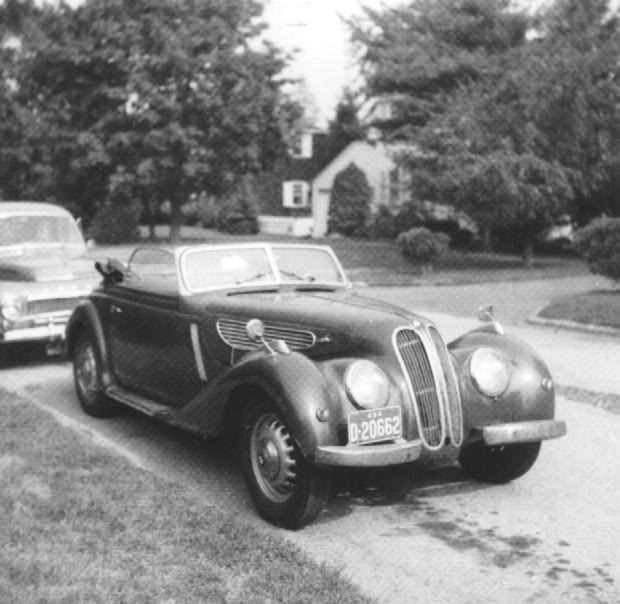 My dad subsequently disassembled the car in the late 60's and then had 4 kids, so it stayed disassembled for a long time. About ten years ago, he passed it to me and I started working on it, but within those ten years, I've had had two kids of my own. During that time I have been lending various bits and pieces of the car to a friend of mine who is a highly talented craftsman or him to reproduce for his own '38 BMW, which was rather incomplete. In any case, last year he offered to repair the structural wood and do some metal work on the old beast for a most reasonable sum. Pix follow:
Right front frame rail damage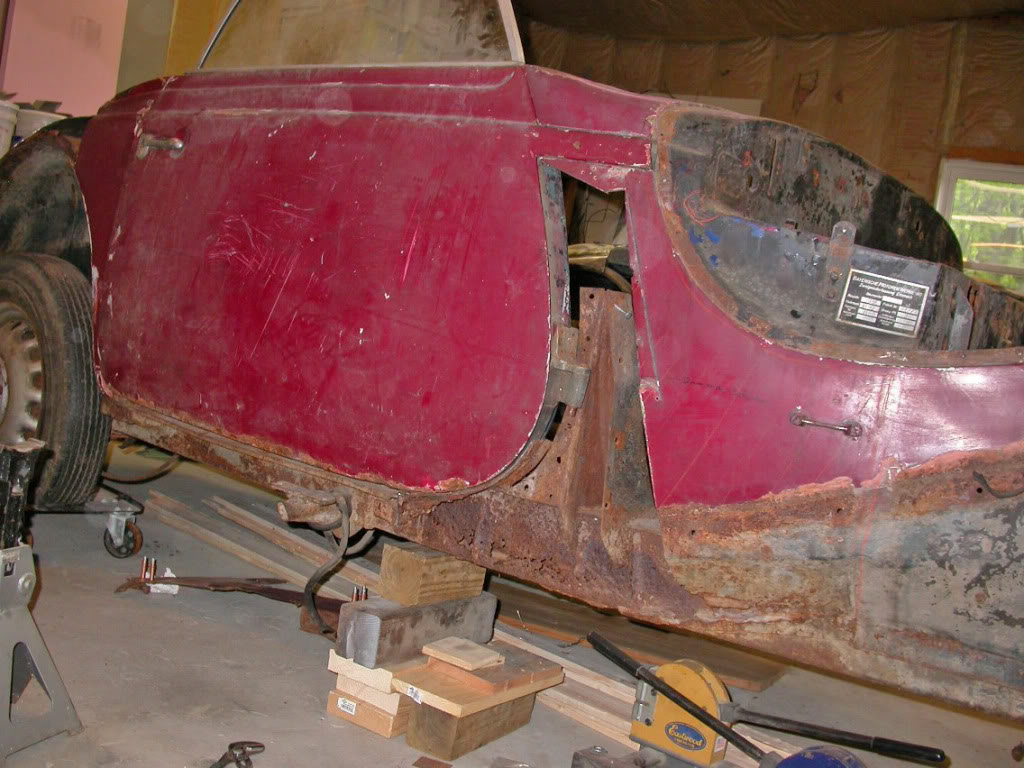 Left front rail - Merry Christmas!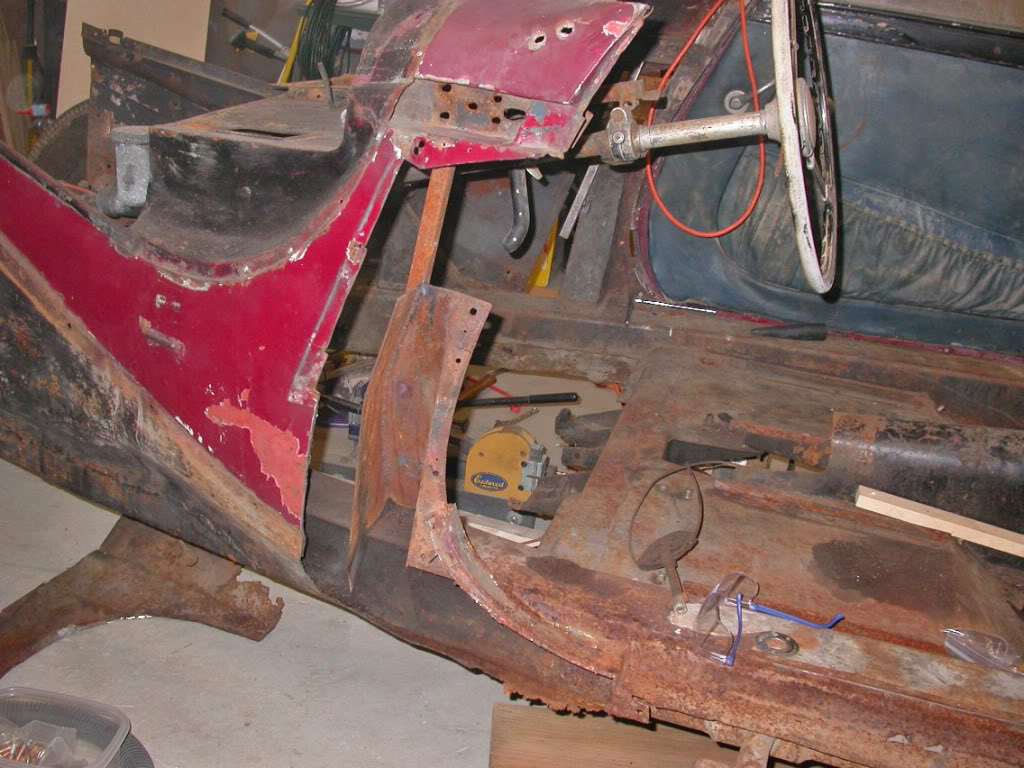 Door post test fit: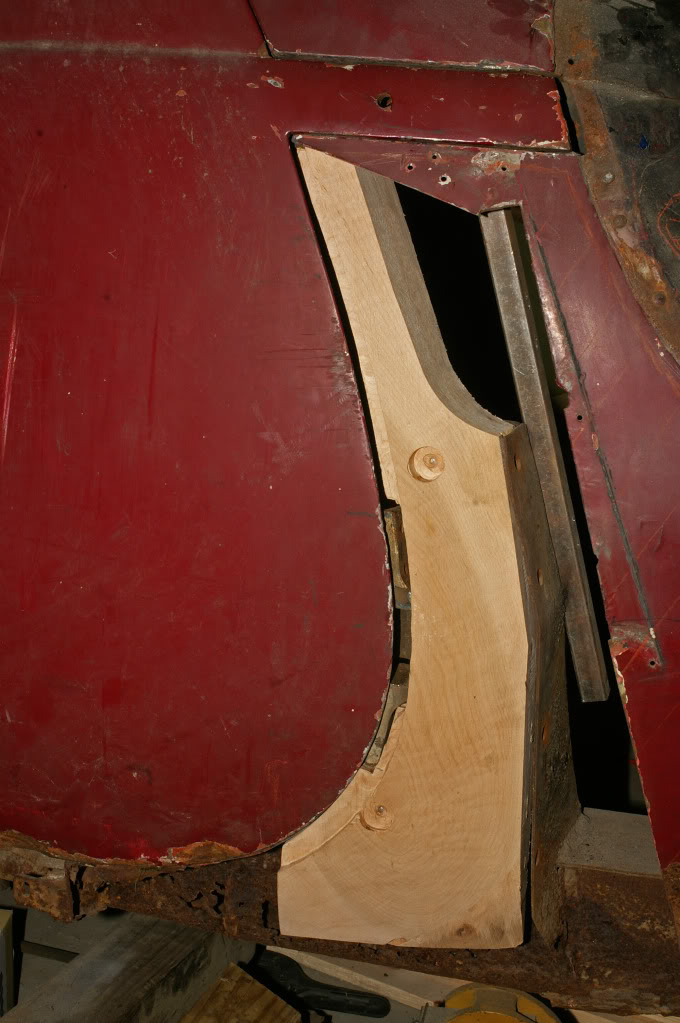 Documentation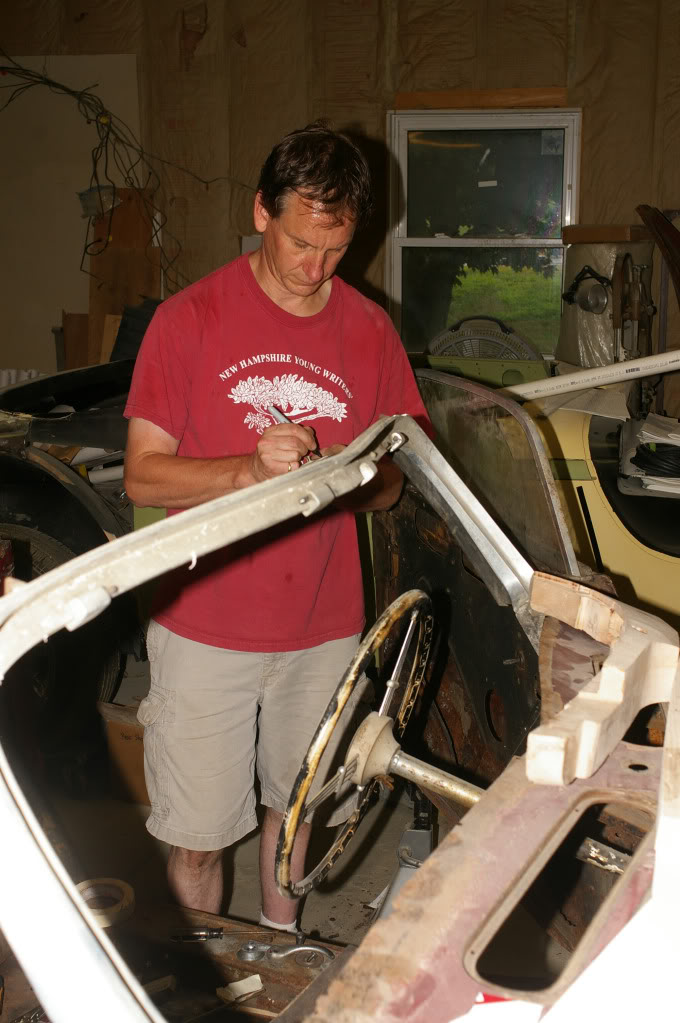 Rear wood repair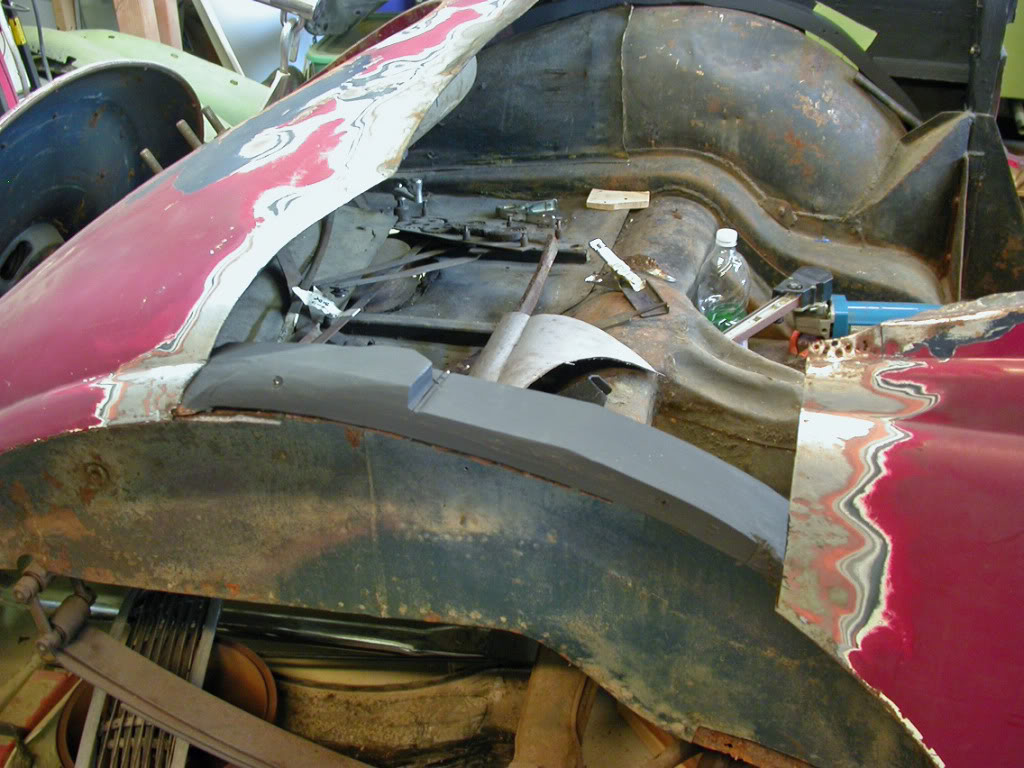 Rear wood and metal repair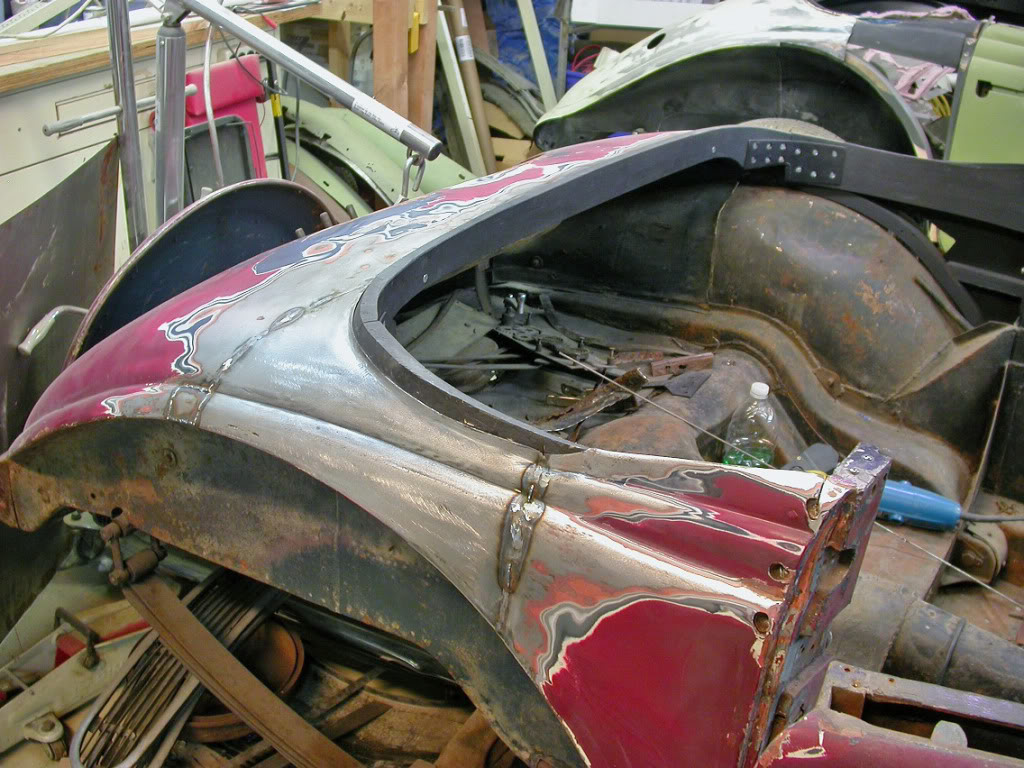 I'm planning to get up to his place over the next few weeks to help with some of the grunt work and learn from him.
Hope you guys don't mind the noob post!
Cheers!
10-9-2011
Thanks for the comments. It is indeed ambitious, but the price was right and the car isn't missing anything terribly major (correct bumpers, taillights, and the clock) . There are a bunch of things that are incorrect because the car was driven for ~30 years but I'm only looking for a nice driver, not a perfectly correct trailer queen. It is actually one of the more solid unrestored 327s out there. Many have rusted much worse than this one though mine shows evidence of a heavy impact to the left front. Dad said it drove straight, the tires are worn evenly, and frame measurements are close to spec, so I'd guess it's straight enough to serve.
Honestly, my buddy's offer came as something of a surprise to me. I didn't expect it at all, but would have been foolish not to take him up on it. He is truly one of nature's noblemen.
@ Steve Braverman - Were you at the AACA show last weekend at Hallockville farm? I was surprised at the number of Franklins there. They seem to be really neat cars!
11-19-2011
More progress on the ancient BMW.
Wheel well repair and rear quarter roughed in: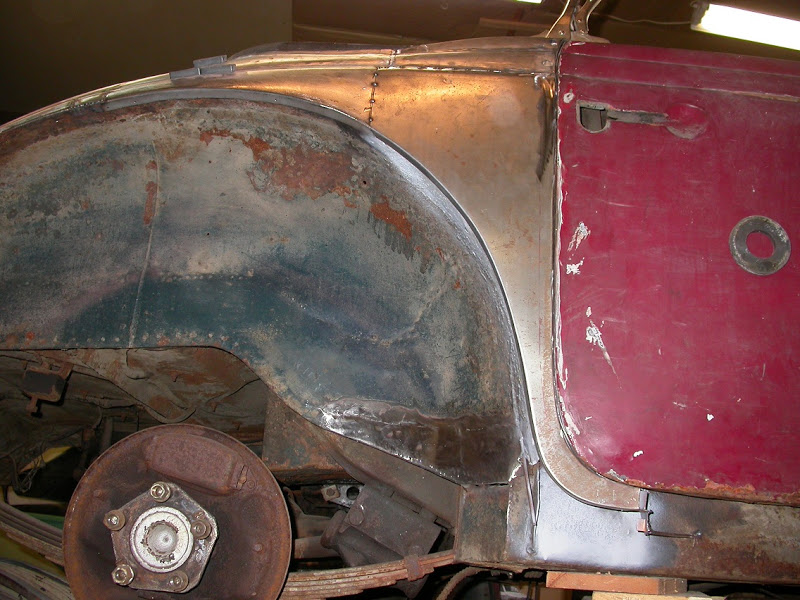 Door stripped, showing prior repair: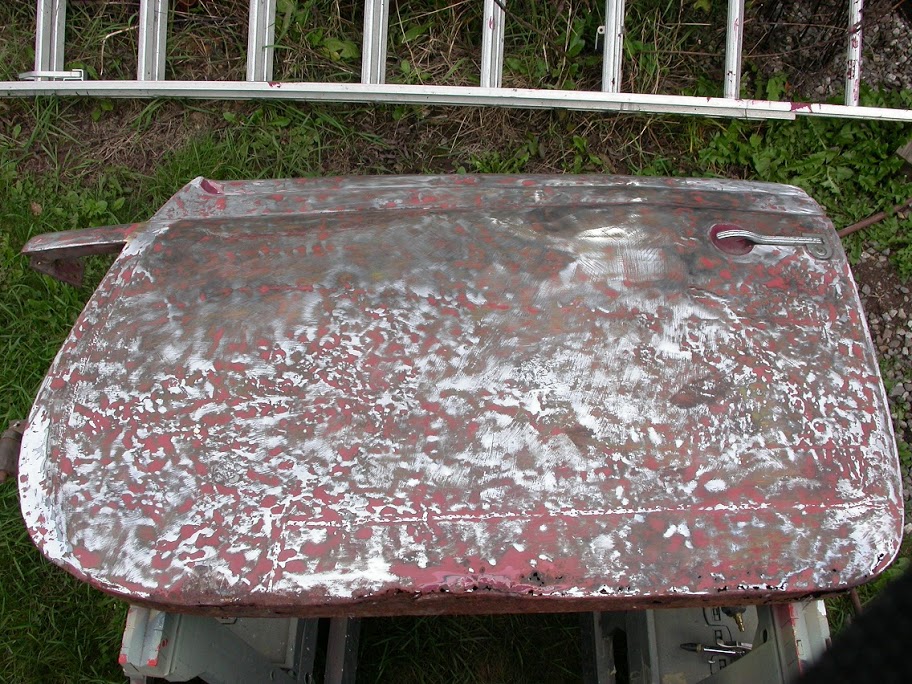 Right side door fit (pretty nice):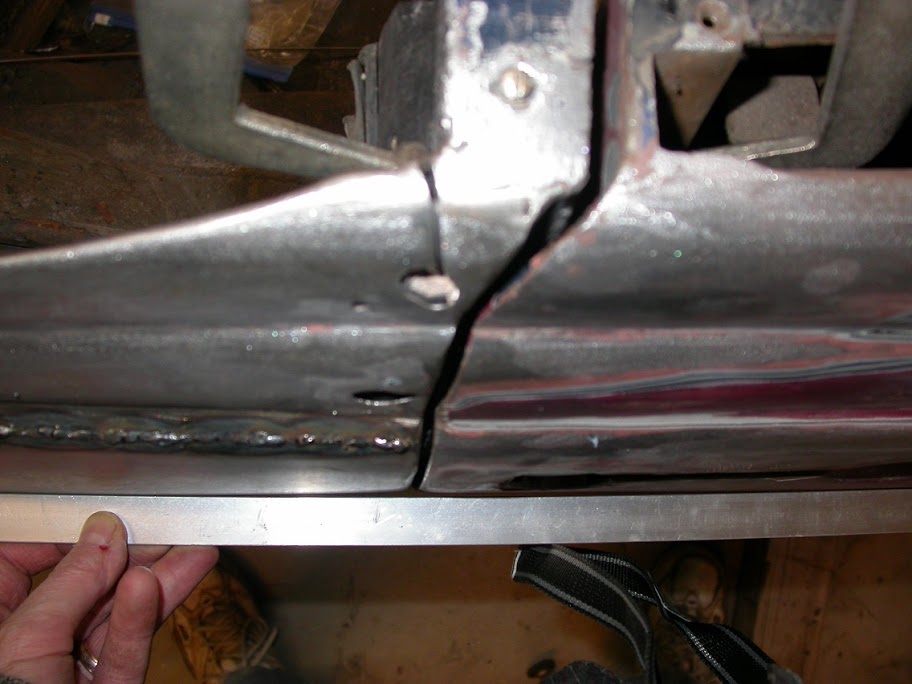 Left side door fit (not so much)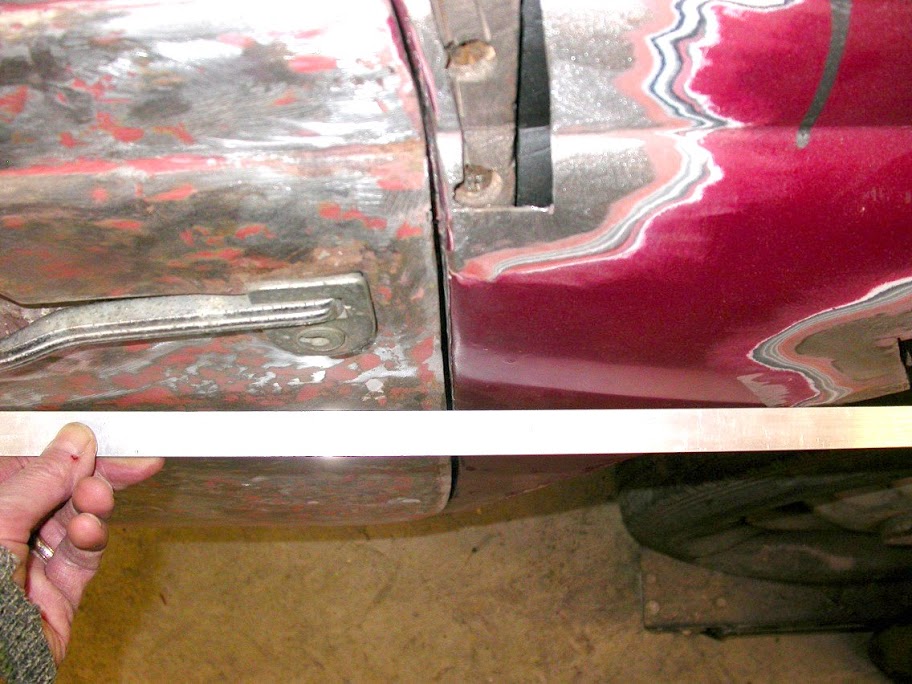 Thanks a million Doug!
It's had more than that. It was pretty well crushed and rebuilt at least once with a number of significant spot repairs evident as well. The car was on the road for over 30 years prior to retirement and survived both WW2 and post war Germany. It may be apocryphal, but the legend that goes with the car says that one PO, A French officer, was killed in it. It'll never be a Pebble Beach car but she certainly has her ghosts.
Yup. BMW started off as a manufacturer of aircraft engines, then started making cars in the late 1920's. The first was called the Dixi, which was essentially the Austin 7 made under license. The 328 and this car were among BMWs earliest high end cars. Max Hoffman began importing BMWs to the US in the mid 60's - about the time my dad brought this car into the country (1965).
2-24-2012
Cowl and side panels off for repair...also to provide access to repair the frame rail on the passenger side (note the newly fabricated battery box):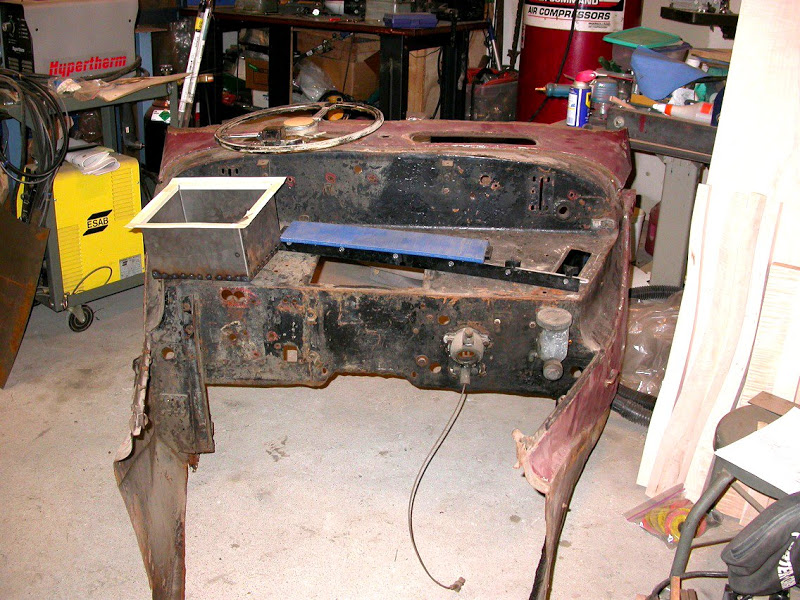 Nekkid: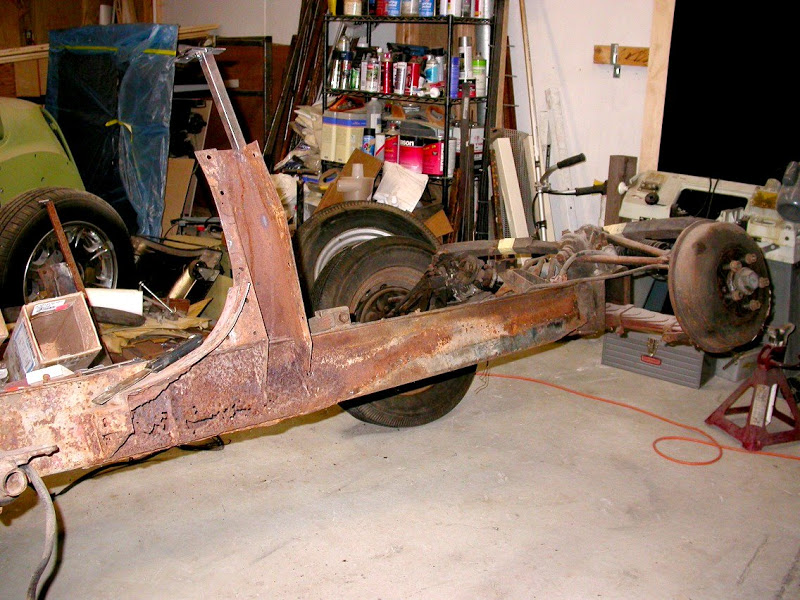 Rusty PS rail: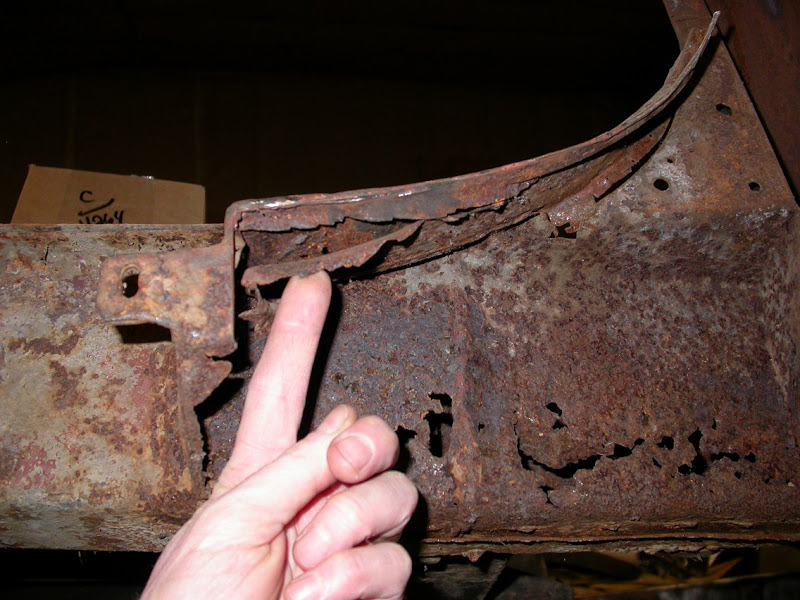 Underneath: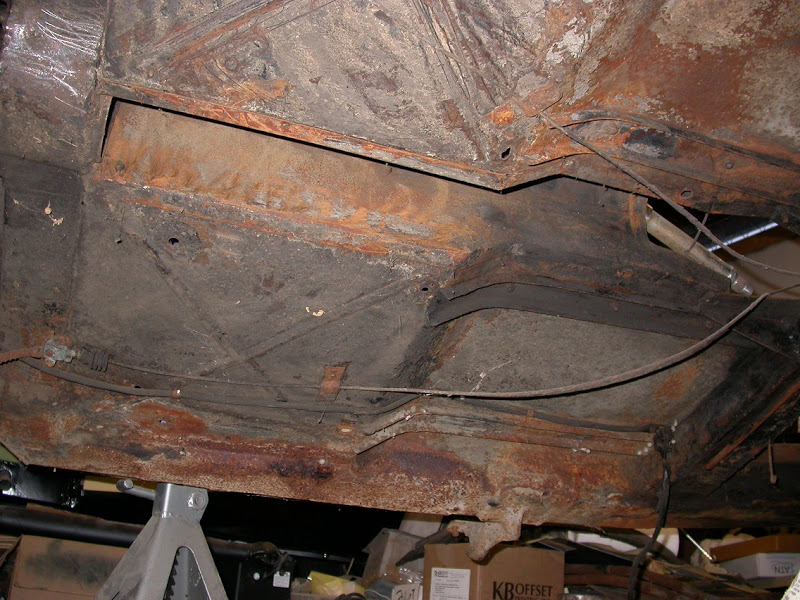 Underside of the rear deck: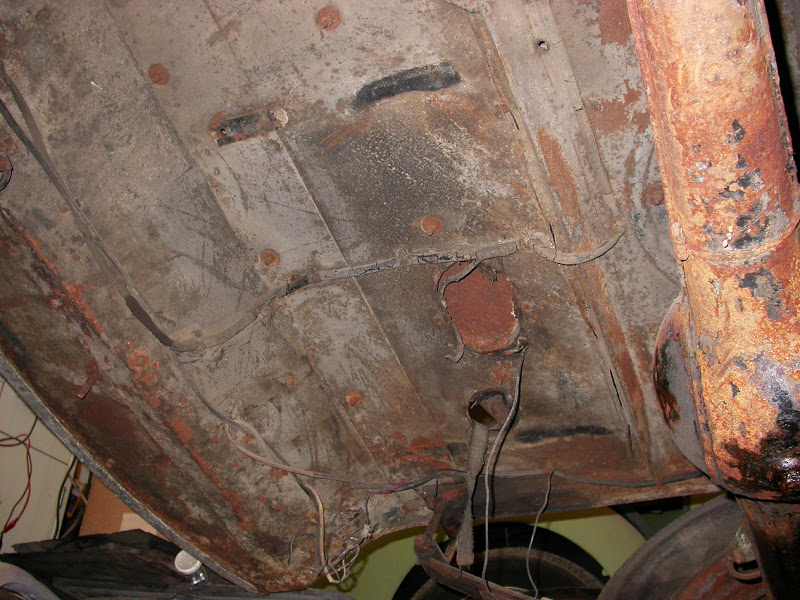 Rear deck floor - top: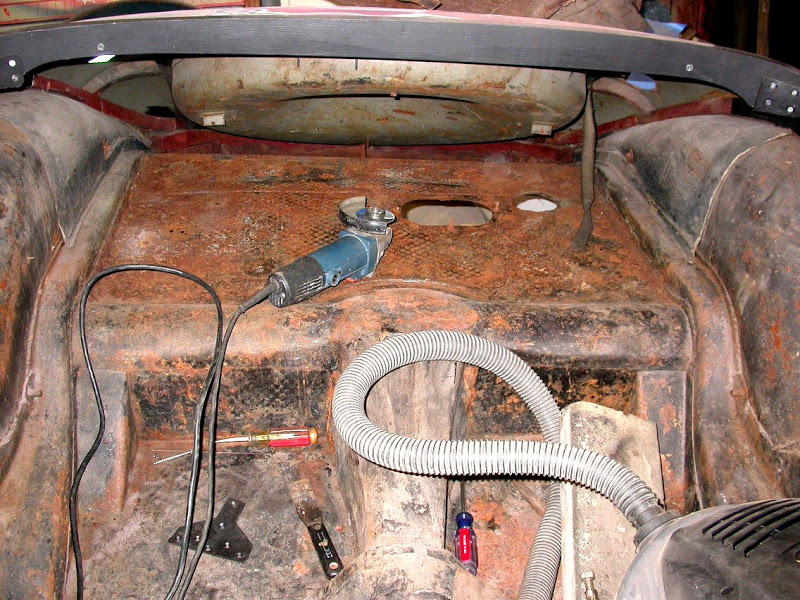 Dashboard - filling non-original holes and cracks: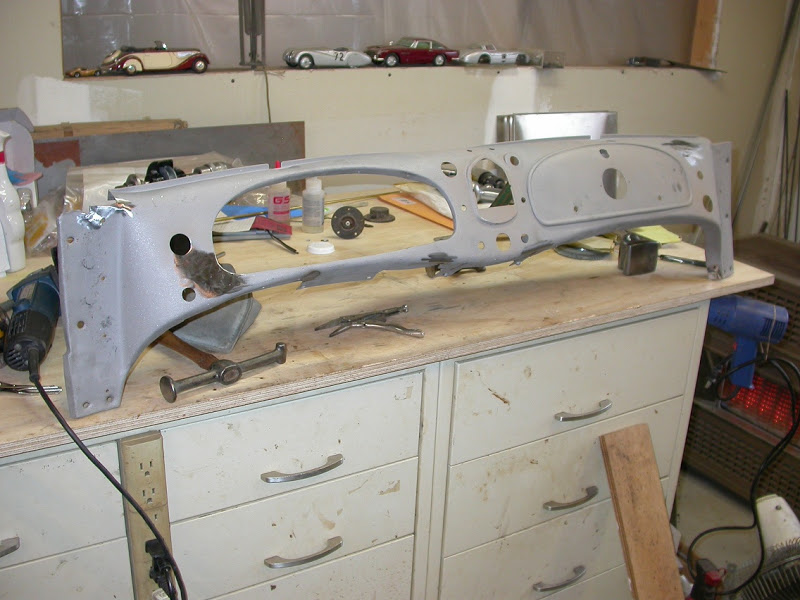 Nose: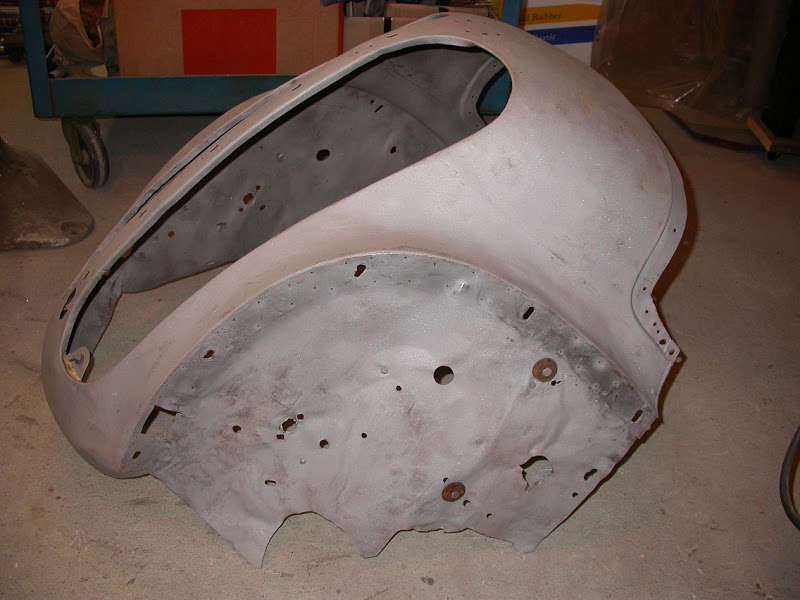 New side panels for the nose: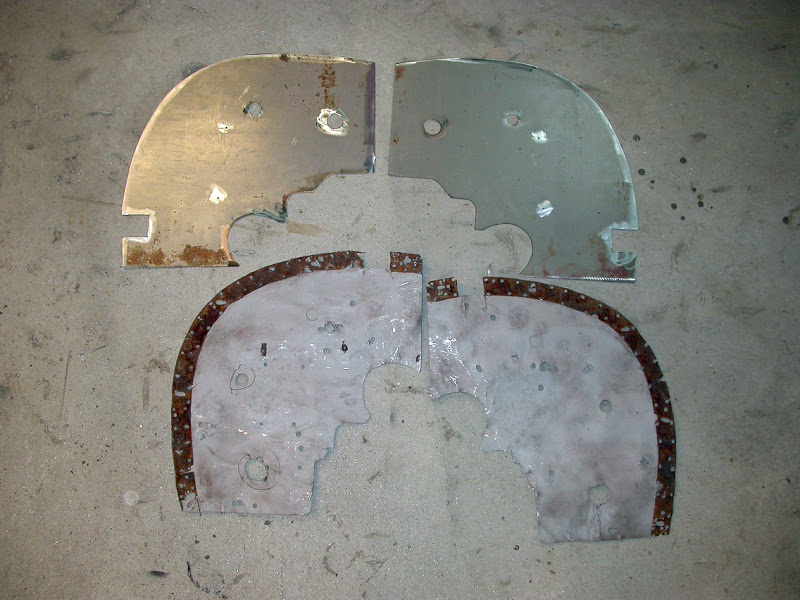 Rear fender in primer: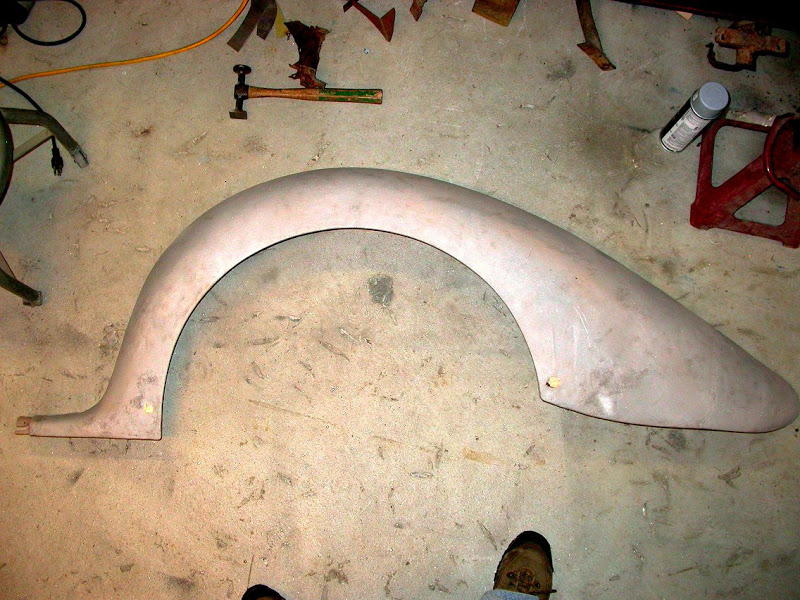 Getting there. As always, many thanks Doug!
CJ
2-25-2012
HI Rob- Thanks for the kind words! Dad is still with us, thankfully. He handed the car off to me when he realized that he wasn't going to get to it. It's a little ironic because he was an engineer with Grumman for about a zillion years and has far greater mechanical skills than I do. I'm fine with most basic tasks, but the bodywork required for the car is well beyond my skill level. On another note, I'm sorry to see that your 525iT was hit. I had two E34 535i's, one of which had a 5 spd, and they're really spectacular cars. Probably the best all-round car I've ever had.
Cheers - CJ
Just a quick post to note that my friend who is doing the metal and woodwork on my car, Doug Cygan, is available to assist with restoration or fabrication issues.
He is deeply talented with metalwork, woodwork (both structural and decorative), mechanical repairs, and other more esoteric things. For instance, he sand casts aluminum parts, can mold rubber and plastic pieces, and seems to me to be able to make just about anything from sheetmetal. Doug is exceptionally bright, creative, and thorough, not to mention friendly and a genuine pleasure to talk to. Furthermore, he is confident in his abilities but is always learning more and his ethics are absolutely beyond reproach. I have seen his handiwork first hand many times and I am always amazed at both his range of capability and the consistently high quality of the things he makes.
Doug has a website at: 1938 BMW 327 Cabriolet
He may be reached by email: dougcygan@metrocast.net
Mailing address and phone are:
PO Box 267
Belmont, NH 03220
(603) 267-7540
In short, Doug is a great guy who really knows his stuff!
Cheers!
CJ
2-26-2012
Hey, I'm glad your son is OK - rather lose the car than him. We were all young and dumb once...at least I was!
The E34 is perhaps the only car I've had that I'd go back to. BMW really got it right with those. The only thing I didn't like about my 535's was the fuel consumption. They were good looking, reliable, really comfortable, they handle beautifully, and the old M30 lump could lay down the power pretty well and sounded good doing it. I'd love to transplant an M30 /5 spd into a Touring... Good luck with the new 530!
Doug is pretty close to it. Adding to any feeling of inadequacy, he just does this as a hobby and is self taught. His day job is completely unrelated - he uses his extensive knowledge of botany and entomology for that. As I said, he's brilliant.
3-3-2012
@ RU22 - Thanks for the encouragement! My dad described the way the car drove as surprisingly modern with excellent chassis dynamics and brakes, however lacking in power.
A funny story: In order for him to be able to register and drive it in Germany with a US military registration he had to show that the car had seatbelts and that the brakes would lock all four wheels in a panic stop. To do this, he had to take his immediate superior for a brief ride and demonstrate. When the sergeant ordered him to punch the brakes, dad hesitated for a moment because he remembered that he had a 5 gallon jerry can full of fuel in the luggage compartment behind the rear seat on the passenger's side. He mentioned this to the sergeant, telling him that he was worried about the can coming forward and mashing him against the dashboard. His sergeant disregarded this and told him to follow the order, which he did, obtaining the anticipated result.
Your website is pretty neat; who would have thought one would find an Edsel in Poland? One day I'd like to see eastern Europe. I work with several Poles and a couple of Romanians and in my admittedly limited experience, the're truly great folks & pretty funny too.
@ Superboss - Thanks!! (and your English is perfect!)
3-4-2012
Hey there -
I know about the Weber / EMW setup and I have an EMW downdraft manifold, but the Isky cam is entirely new to me. I actually plan to build my engine close to late 501 specification and use a Laycock de Normanville electric OD in hopes of getting somewhere around 75-80 hp and a cruising speed ~60-65 mph. Might you be able to provide more info on the cam? Please Email to christopher.m.judd@gmail.com or post here , whatever you prefer. Thanks!
4-29-2012
Thanks for the comments and advice! If I had to do it, I'd probably use hydrofluoric acid as well. I've worked as a chemist for >20 years and have both access to and expertise in dealing with nasty chemicals. Doug made the clock face a couple of years ago after I lent my gauges to him so he could replicate faces and such. I was actually missing the clock entirely, so he worked out the font using the other gauge faces as templates.
Dad will happily ride in the car as long as it's not red, which I think is a fairly wretched color for the car anyway. I'm leaning towards a dark blue The car was originally "Enzian blau", and allegedly BASF (aka Glasurit) has color codes for prewar BMWs, but I've had a hard time digging up any particulars on them - and I am employed by BASF, which is otherwise an excellent company for which to work, BTW. I suspect a trip to Ludwigshafen is in order.
3-30-2013
Thanks for asking - there has been some progress. The main body's been primed and is undergoing continued repair. Right now the structural wood pieces have been made and are being fitted. The driver's side door is actually not the one that's going to go on the car - it's a mess - but it's being used to guide the location of the hinges and such. The hinges also needed some help. They were apparently drilled with larger pins inserted. Luckily Doug found tome bushings that were the right size and is cutting some drill stock for pins.
Next up: patches on the left rear wheel well and patterns for the metal on the cowl.
She'll never be a top grade car but I think that she will look nice and work well. I don't have a problem with the car being something of a 'bitsa' an showing some history. It was on the road for more than 30 years, had lived through a war, and was wrecked at least once, so she's earned her scars.
Here are a few photos: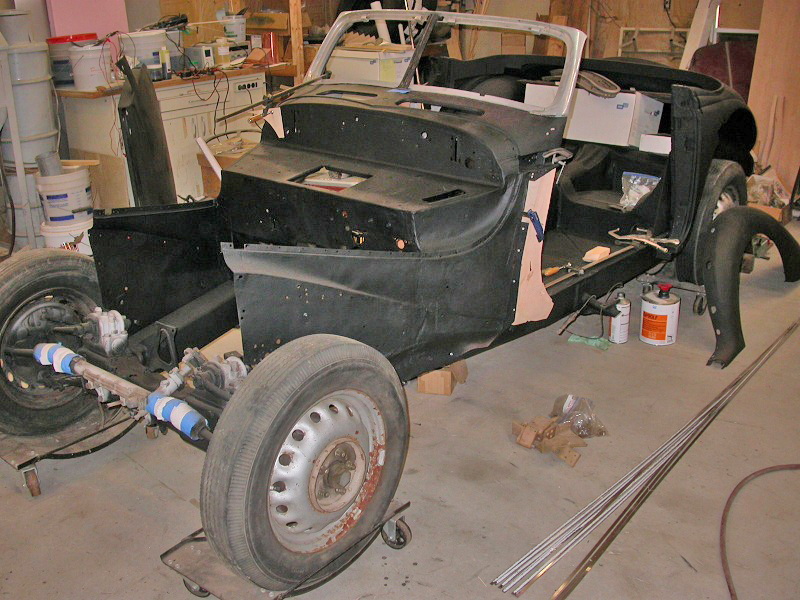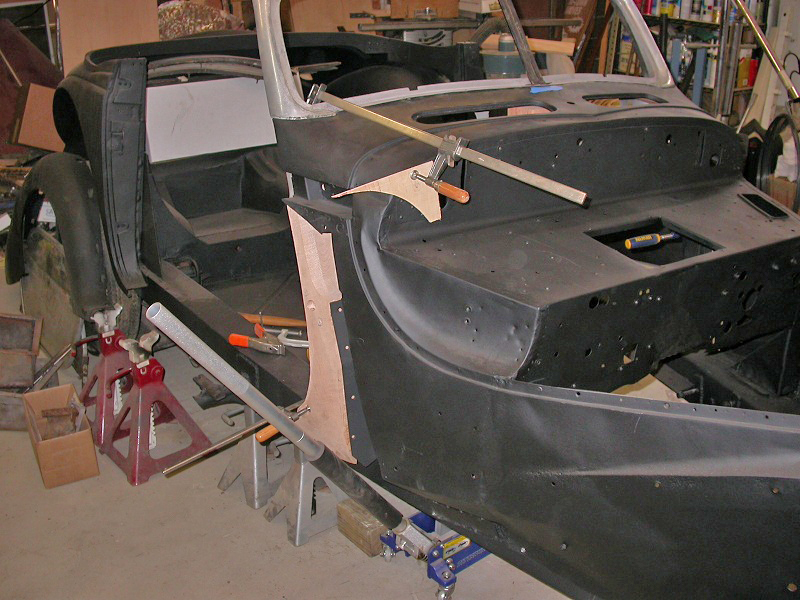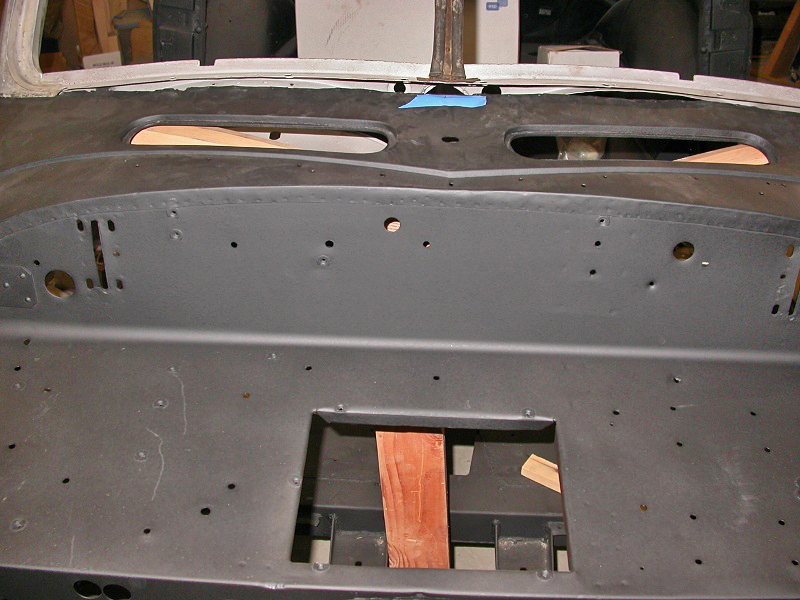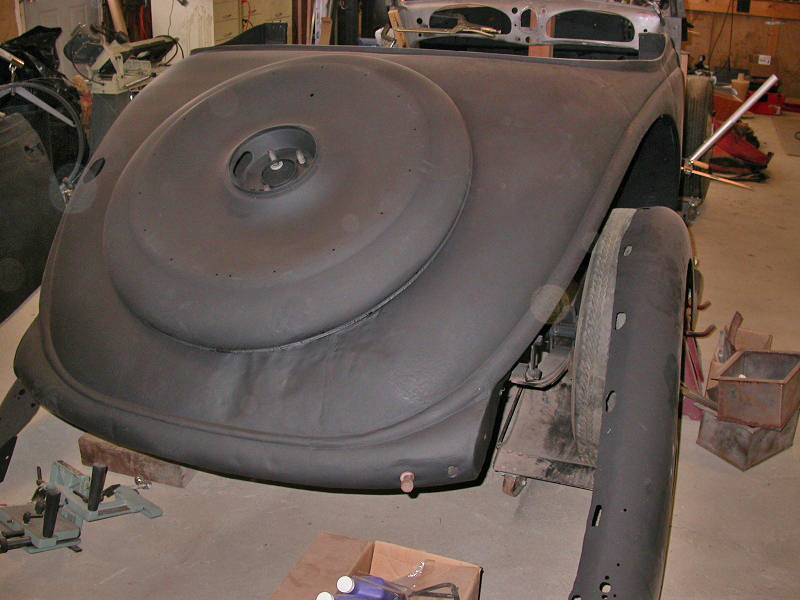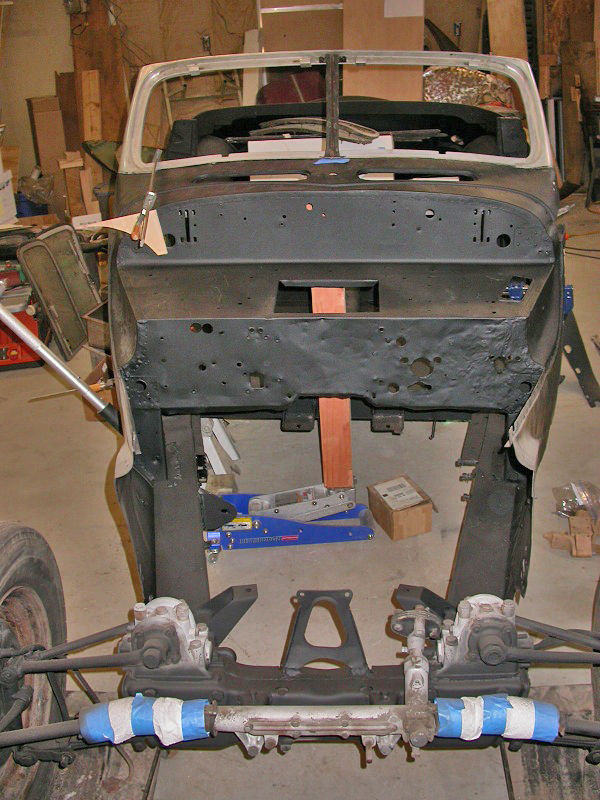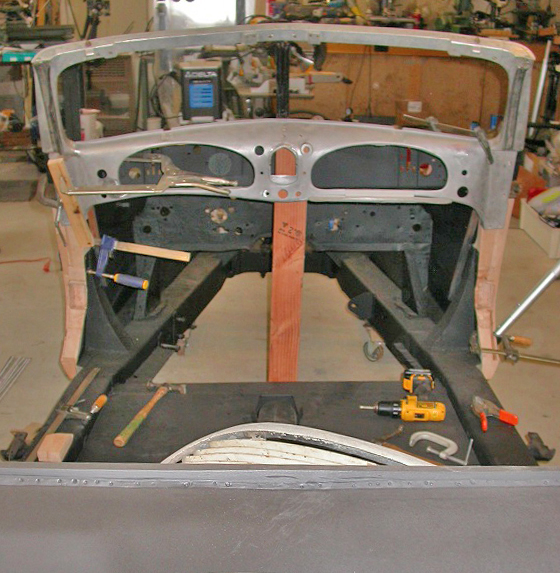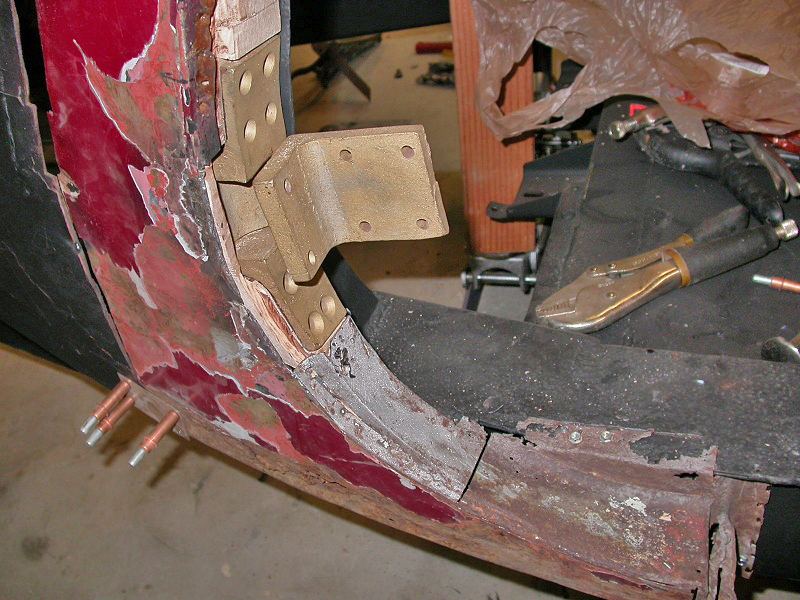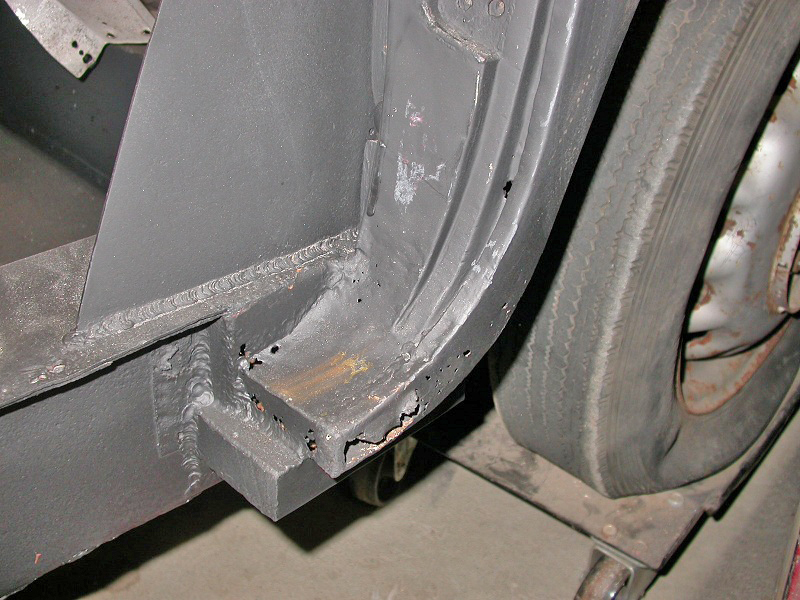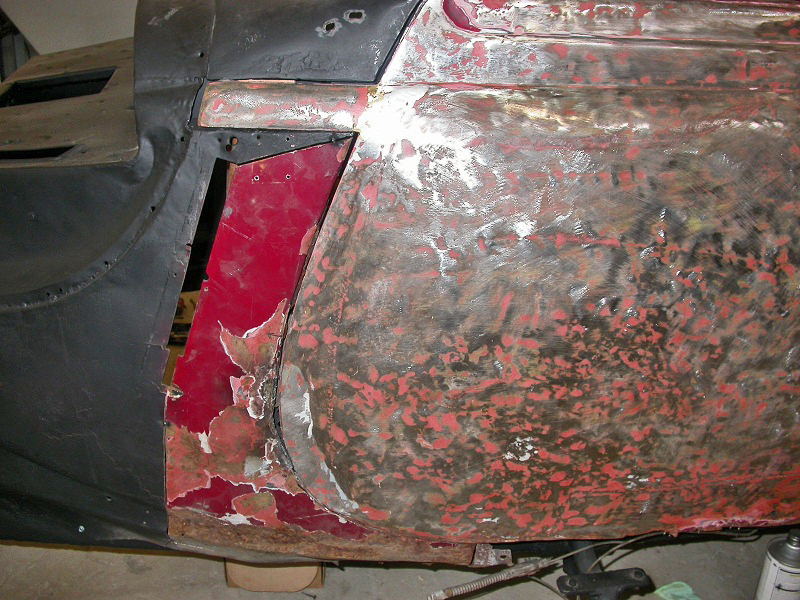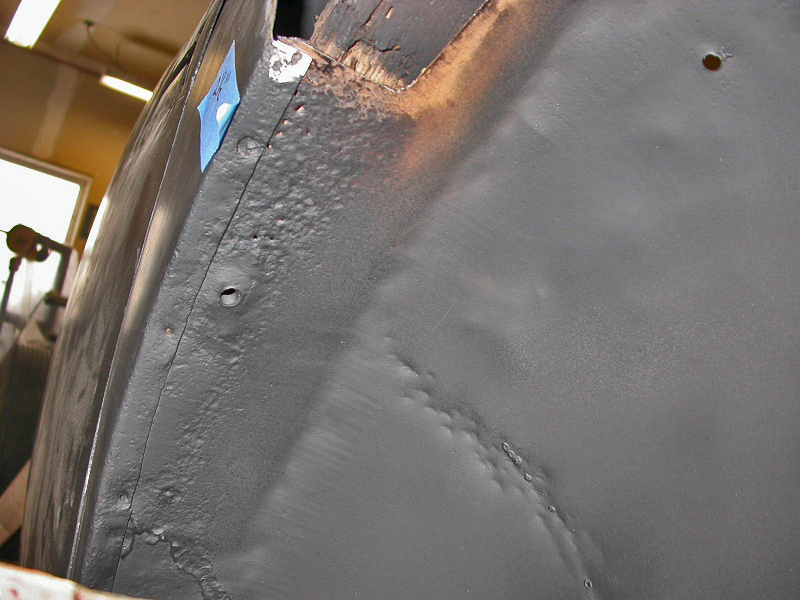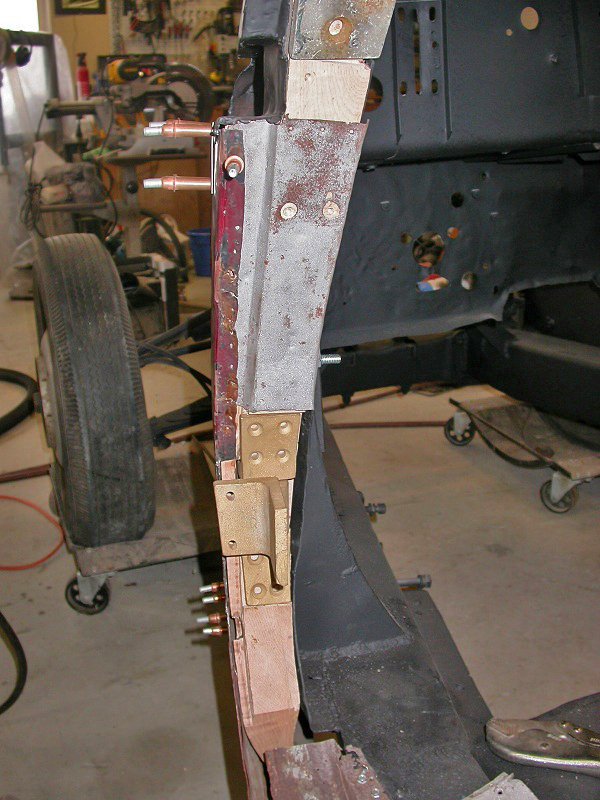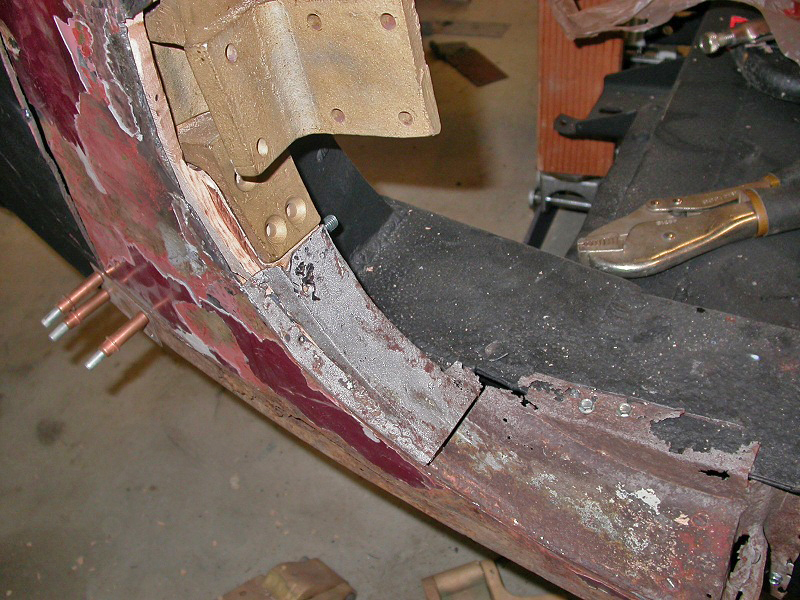 8-3-2013
Hi Folks -
Another quick update: This time Doug has fabricated and is fitting some metal on the left side of the cowl. Next up will be the panel immediately forward of this one, which is apparently quite a complex bit to get right. His comments follow:
"The panel just forward of the new cowl piece is junk and so I've started making a new replacement. It has a pretty complex reverse saddle curve toward the front and It's highly visible so it's taking a bit of time to make sure it comes out correct. I made a hammer form to get the basic shape and then made a set of steel dies for the Pullmax to put in the final shape, albeit it's just one profile out of several that I need to make for this panel. And, because of the complexity it has to be made out of several pieces, which will then be welded together. "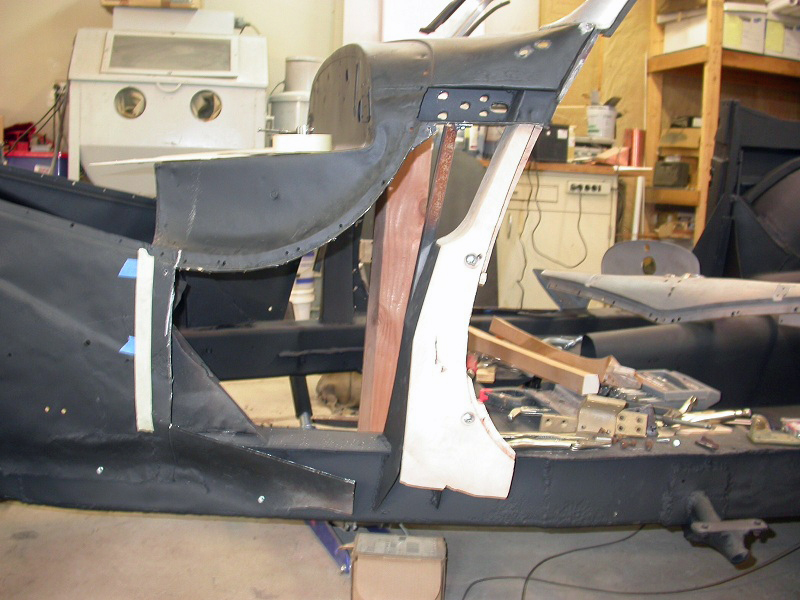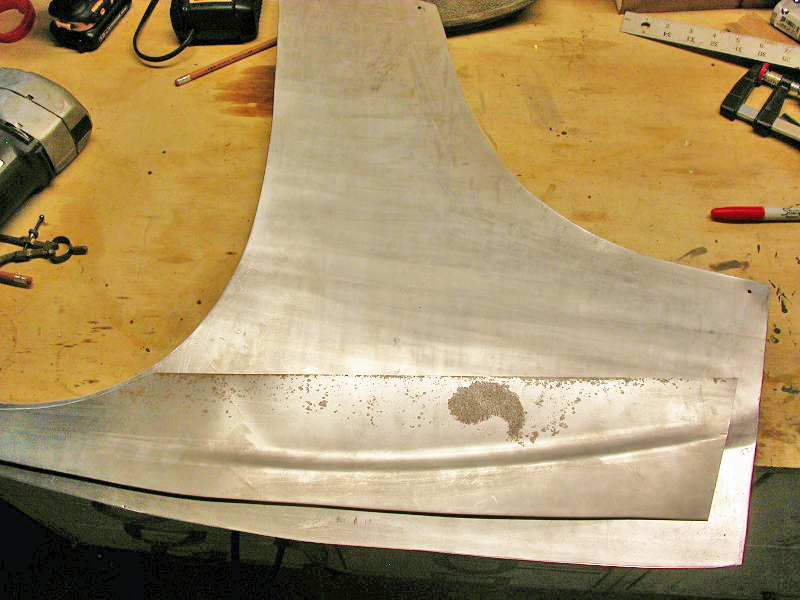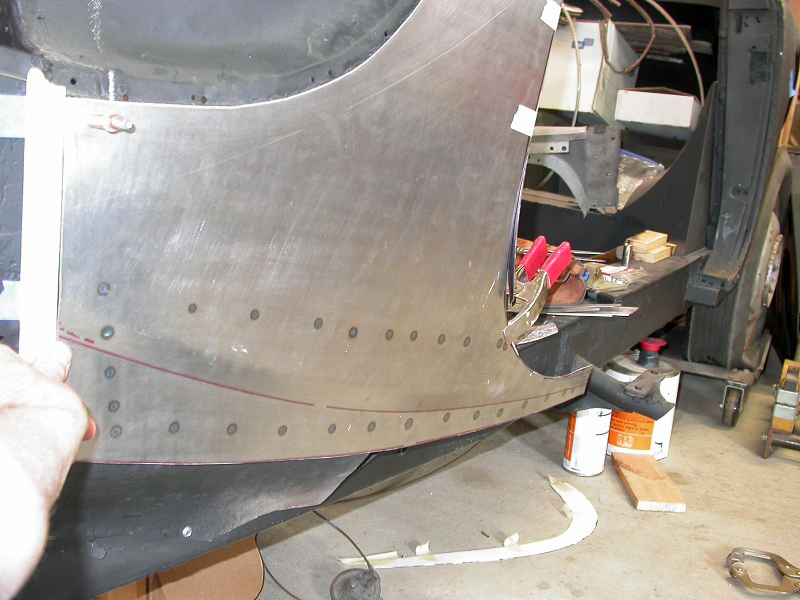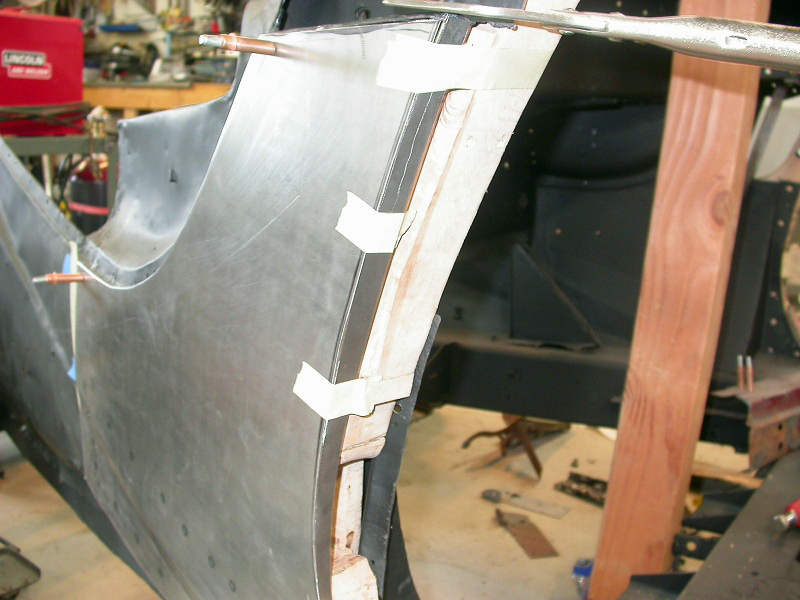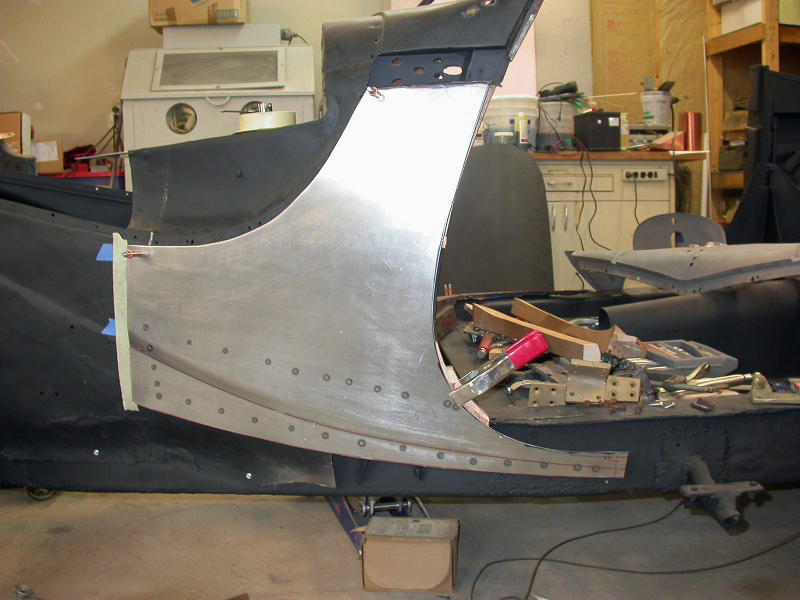 For your amusement, the color combo I'm considering looks something like this, which I believe to be fairly close to original for my own car:
2-8-2014
Some more progress on the old beastie. This time on the left front, fixing some ancient collision damage and rust.
Patch aft of the front wheel: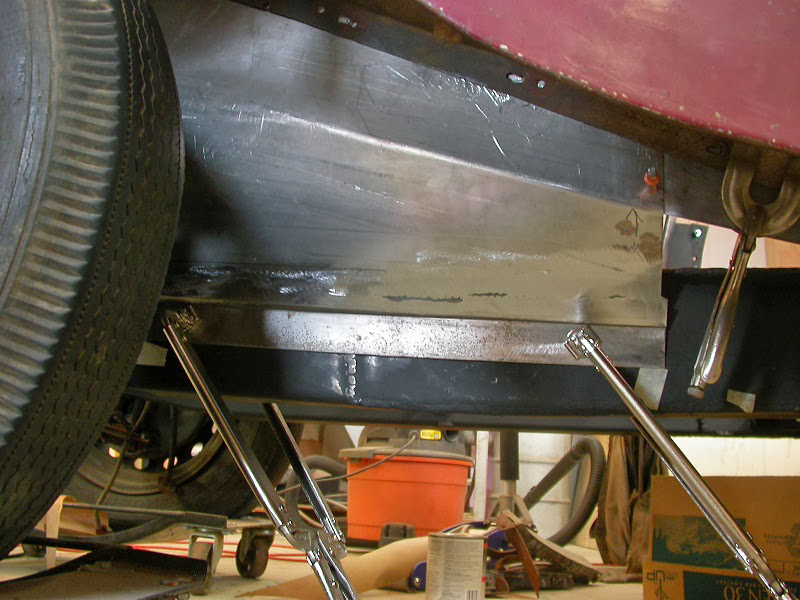 Fitting of side panels, repairing wrinkled bits: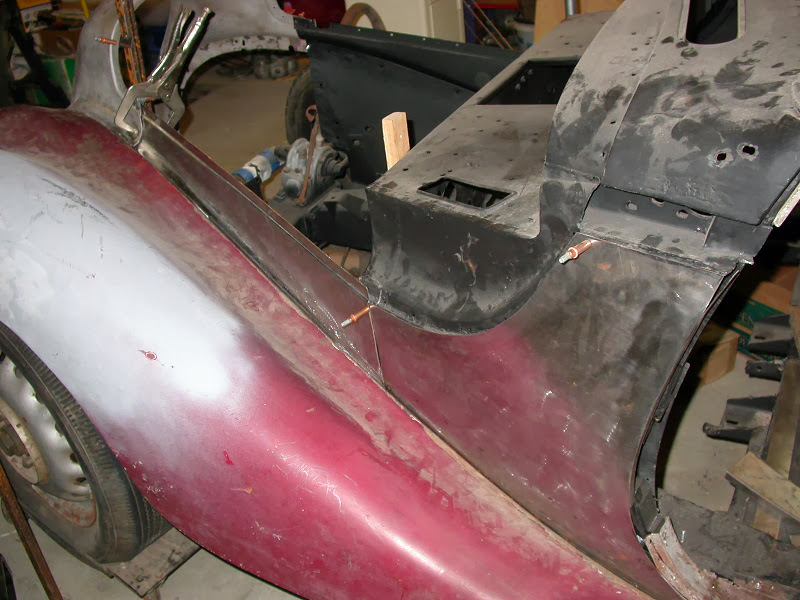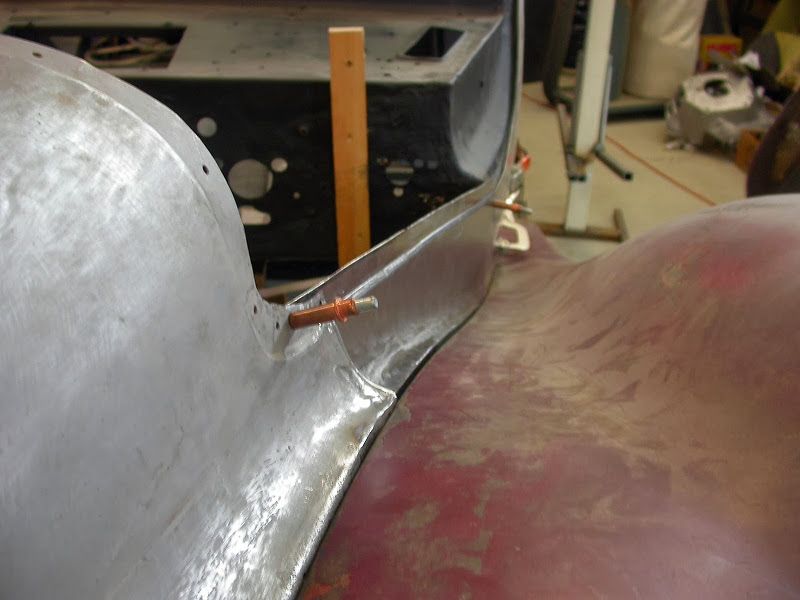 I've decided to leave the wrinkles in the firewall simply because I don't want to completely erase the history of the car. I know perfectly well that it'll hurt the value and many will not understand the decision but tough nuts. It's my car, it's been in my family for 50 years, and at 100 mph at night in a snowstorm, it doesn't matter much. This old lady's going to be a driver.
8-16-2014
Hey there - sorry for being so slow in the uptake. I've been busy lately and shall be starting a new job soon, so not much has gone on lately. Any information you'd care to share would be deeply appreciated. My email address is christopher-dot-m-dot-judd at gmail dot com. I'll probably import an engine from Europe as they're pretty thin on the ground here. I know they have a stouter crank and I plan on running slightly higher compression, but I'll be worrying about that more when the car is home.
Cheers!
CJ
11-28-2014
Here's a quick post-turkey day update on the wrinkled and rusted pile of metal that approximates an ancient BMW.
Close-up of rear wheel well rust - note the old brazed repair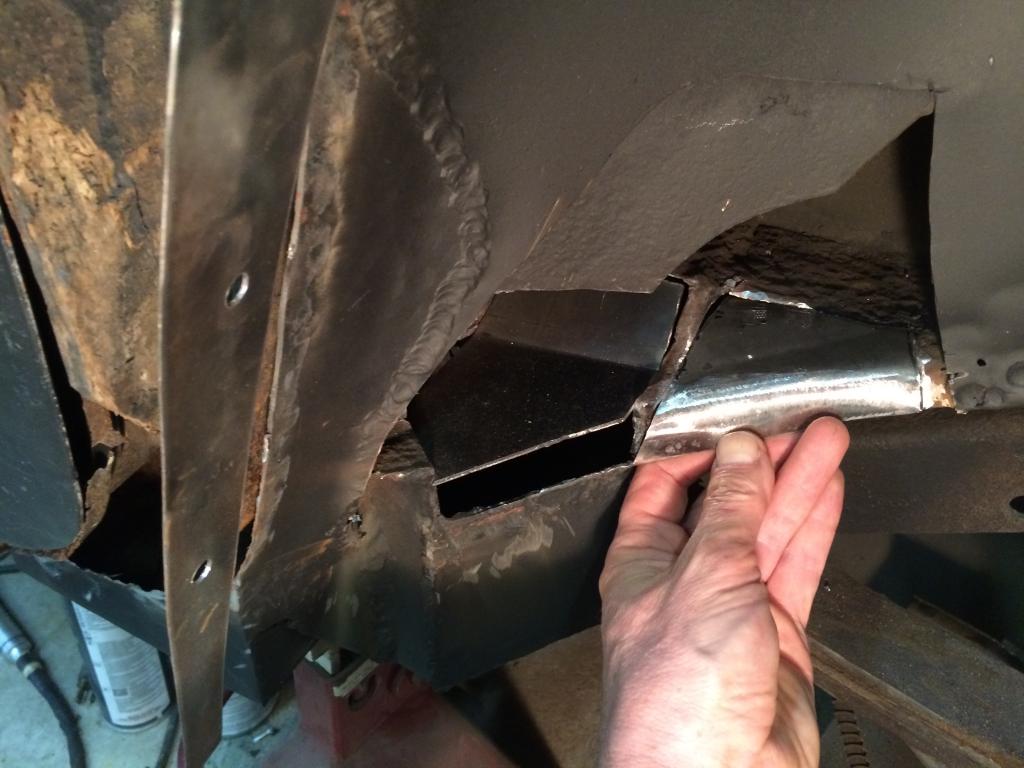 Fabrication of the left rear quarter panel: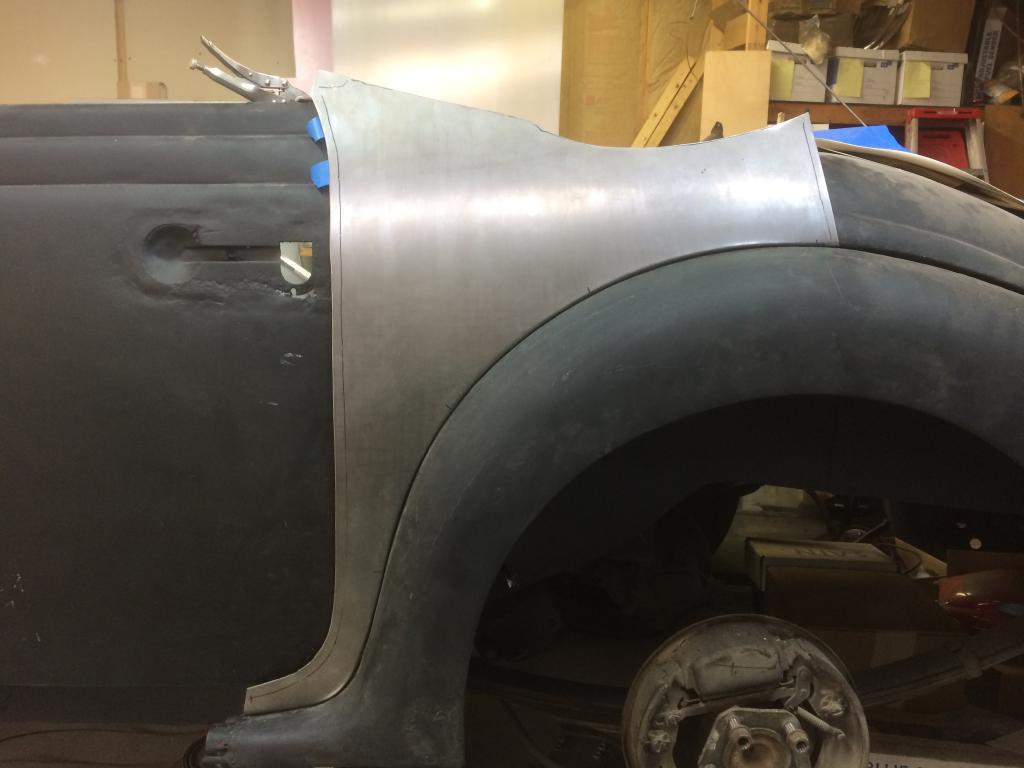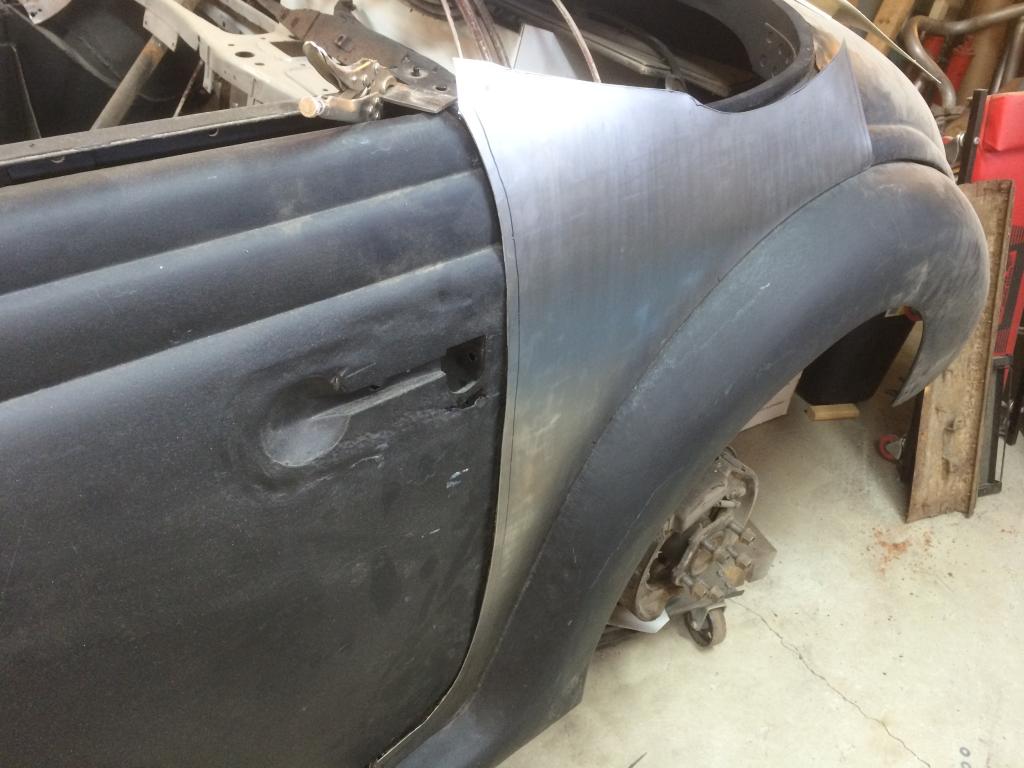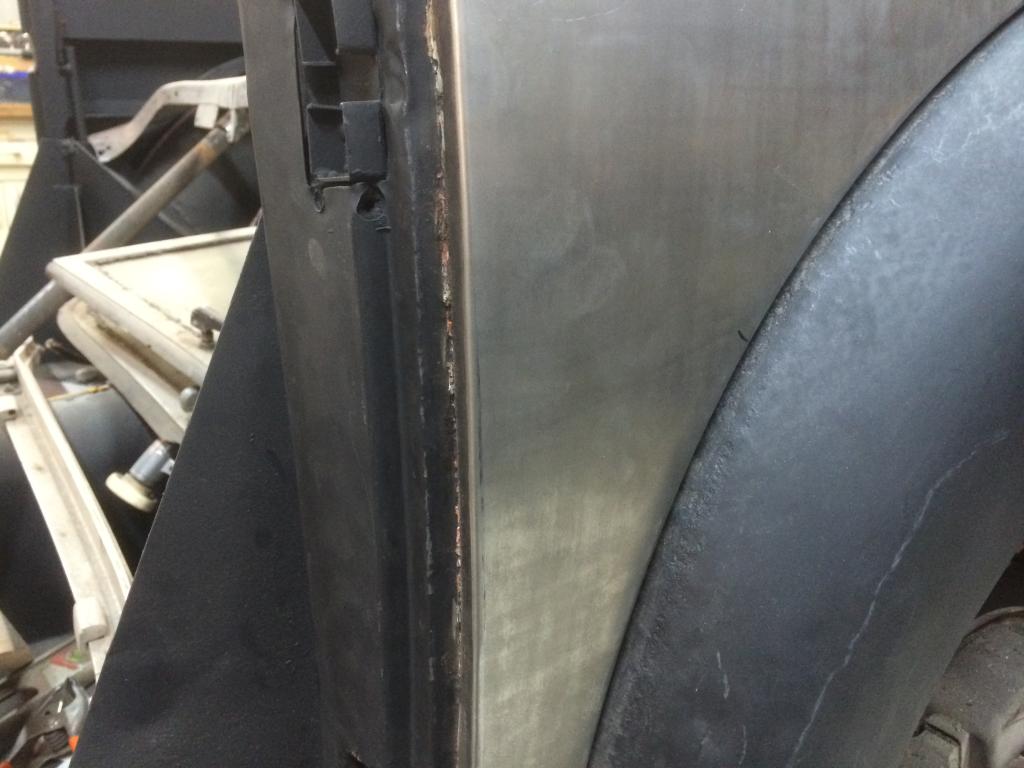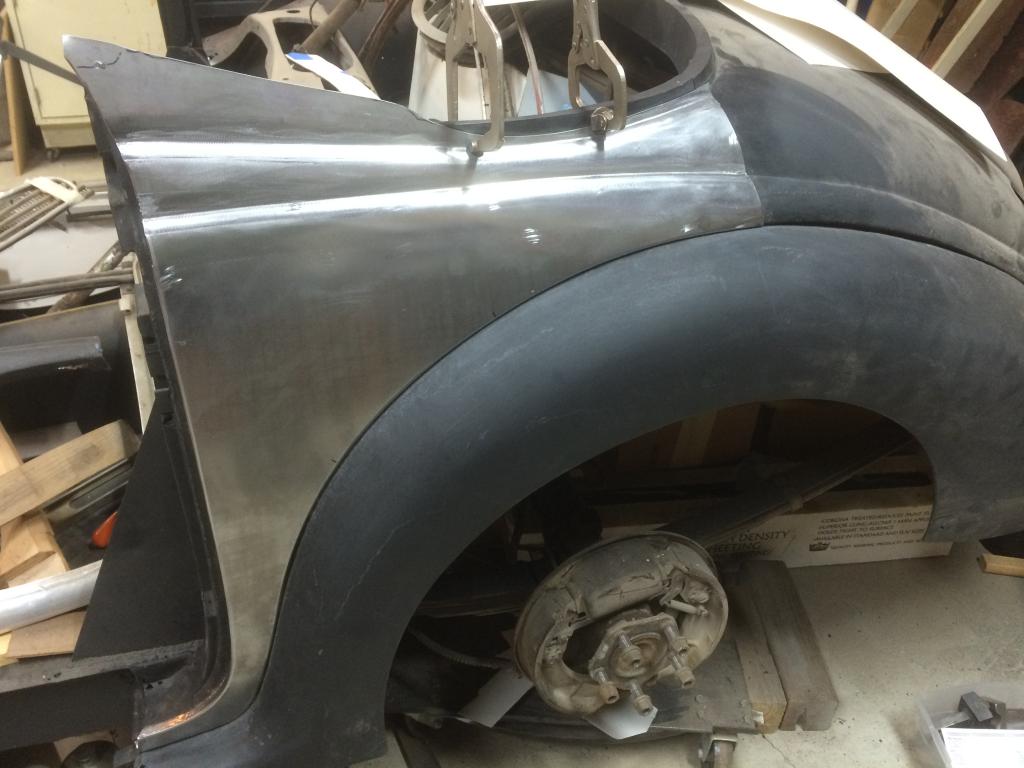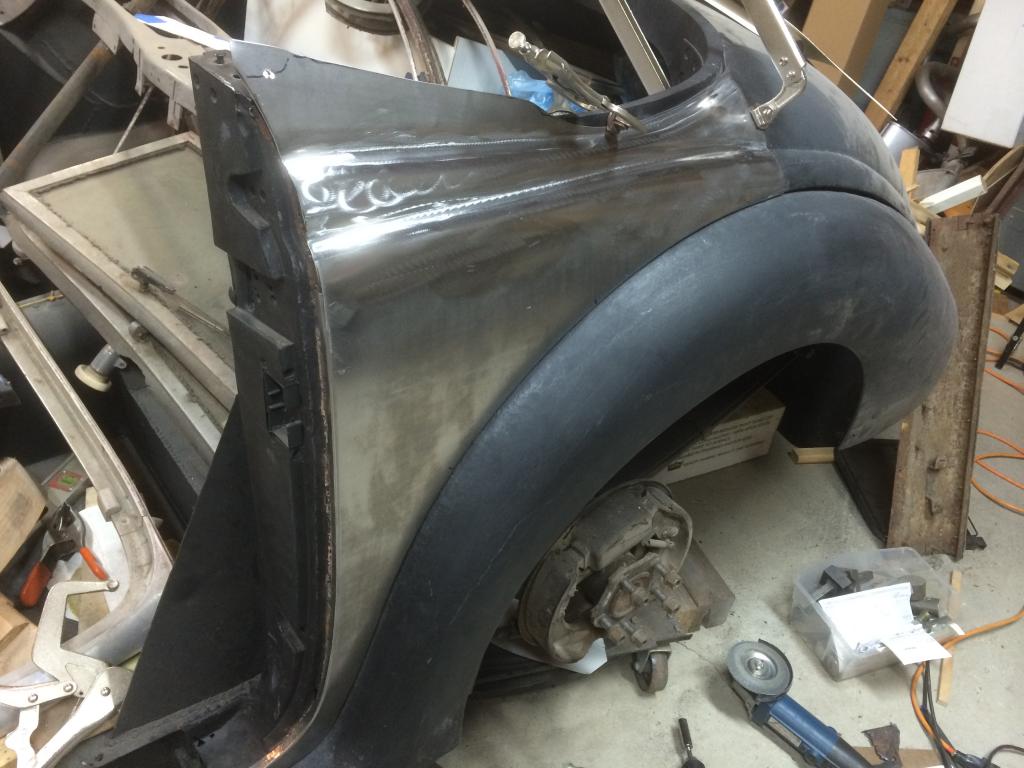 Thanks to Doug, it's coming along well and will actually move under its own power again. She'll never be a concours queen, but will certainly be good enough for local cruise nights and commuting to work in nice weather, I think.
12-13-2014
Indeed!
There's a '41 coupe with the 335 engine in MA and my own 327 has the early VW headlight conversion, as does the one that was immediately ahead of mine on the assembly line. During that car's restoration I noticed many detail similarities between my own car and that one, so I emailed the shop doing the work and it turned out that the two cars have consecutive chassis numbers. That one is 73272 and mine is 73273.
http://www.jellybeanhotrods.com/38bmw.html
http://www.jellybeanhotrods.com/38bmwUnveil.html
OK, but there were a few details such as the dashboard configuration with the pentagonal radio opening and the cigar lighter and 326 type ashtray on the far right side that indicate the fact that this is a relatively early production model like my own.
1-24-2015
Ian - What a lovely 328! Thank you for posting the photos. As RU22 says, the 327 is about 600-lb heavier than the 328 so there definitely is a weight penalty performance wise, but it doesn't matter to me. RU22's 315/1 does really look like a beautiful car. Hey, it looks like I'm not alone in having a project 327 here - check the white one from Ukraine a few threads up.
2-19-2015
Just a quick note: Doug has updated and expanded his website to include other projects he's been working on. The link is below. If anyone needs the services of a skilled and trustworthy fabricator, I recommend Doug without reservation. He is exceptionally bright, thorough, and straightforward.
https://sites.google.com/site/cyganrestorationfabrication/
4-25-2015
Squint and perhaps use your imagination a little and it starts to look like a car...just maybe.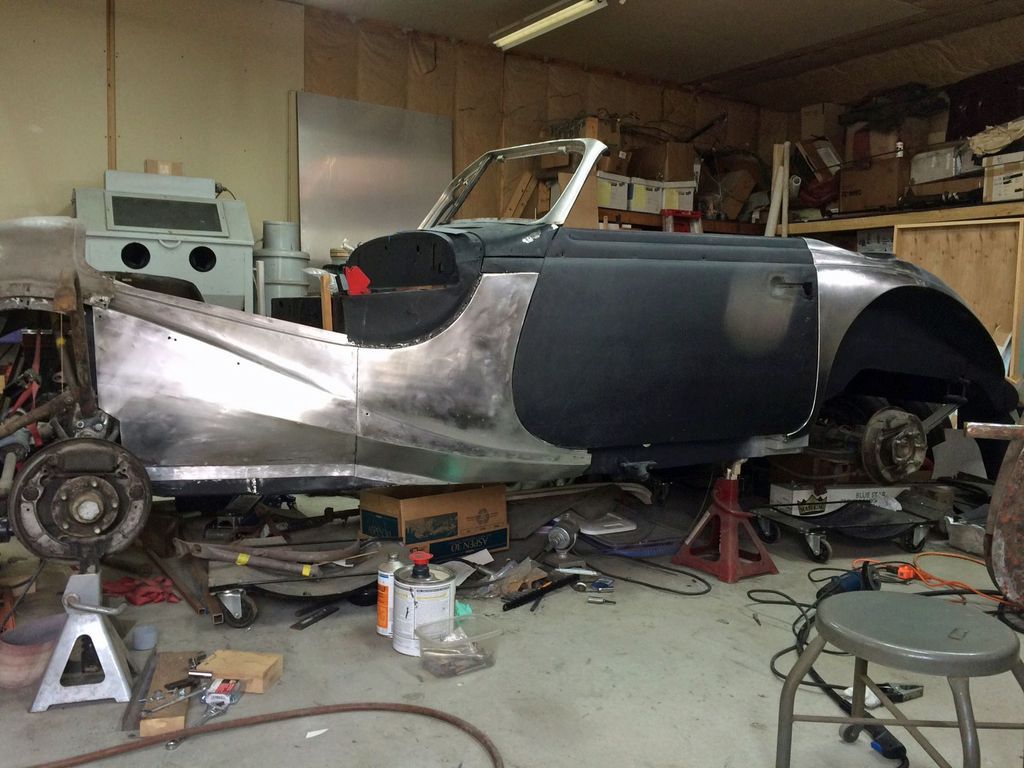 Not an awful lot at the moment, though I do have a new wiring harness for the car. The plan is to rebuild the drivetrain & other mechanical bits starting from the hubs and working inward and upwards from there. Once the car is home - later this year - I plan on getting going on some of those things.
Time has been at a premium lately, however. I work at a startup tech company, I have two young children, and my in-laws have needed assistance lately.
It'll grt there as time and finances permit!
4-26-2015
I'm sure there will be some waiting for bits and pieces, but most mechanical bits don't seem too tough to get. I do have the advantage of knowing the last guy to drive the car and he said that aside from the engine being worn, the rest of the drivetrain was smooth and quiet.
I'm not doing a restoration as much as a renovation. If there are bits that can be cleaned up and used as they are, that's what I'll do. For example, the gauges appear to have some age on them but they're functional. They're getting cleaned, lubricated as needed, and they're going in as they are. The steeting wheel looks really worn but is uncracked, so it's not being touched.
I already have some spares and there's certainly enough to keep me busy in the event that I'm waiting on some piece of unobtanium.
I appreciate your thoughts and experience very much. Time and funds are being spent on the body right now because without that being sound, there's little point to the rest of it. The body and wood are only being repaired to the point of being sound and presentable, not to anything approaching aesthetic perfection. That would involve significantly more work. There are old repairs on both the body and frame that are visible but are being left alone because they're part of the car's history and they remain sound.
With that said, I have inherited my dad's view of mechanical things. He was a mechanical engineer for Grumman Aerospace for 35 years and his cars were rarely beautiful specimens. They often achieved high mileages and ran well despite being driven hard and fast for hundreds of thousands of miles, however. For a long time I too have driven ugly cars that work really well. He often said that at 100 mph in a snow storm at night, only certain things matter.
I am far more interested in having the mechanical aspect of the car robust than I am in shiny paint but my finances are limited to tackling one task at a time and putting a nicely rebuilt drivetrain into a car with a rusty frame and rotted wood doesn't make sense to me.
It'll be a strong car. My goal is to get as close to building a 90 mph car as I can. I also plan on using it as an occasional commuter and (hopefully) managing a speeding ticket with it. It'll just take time.
I'm supporting a family on one income and that ain't cheap 75 miles east of Manhattan.
5-23-2015
More progress on the old lady. New metal being prepared for the passenger side cowl.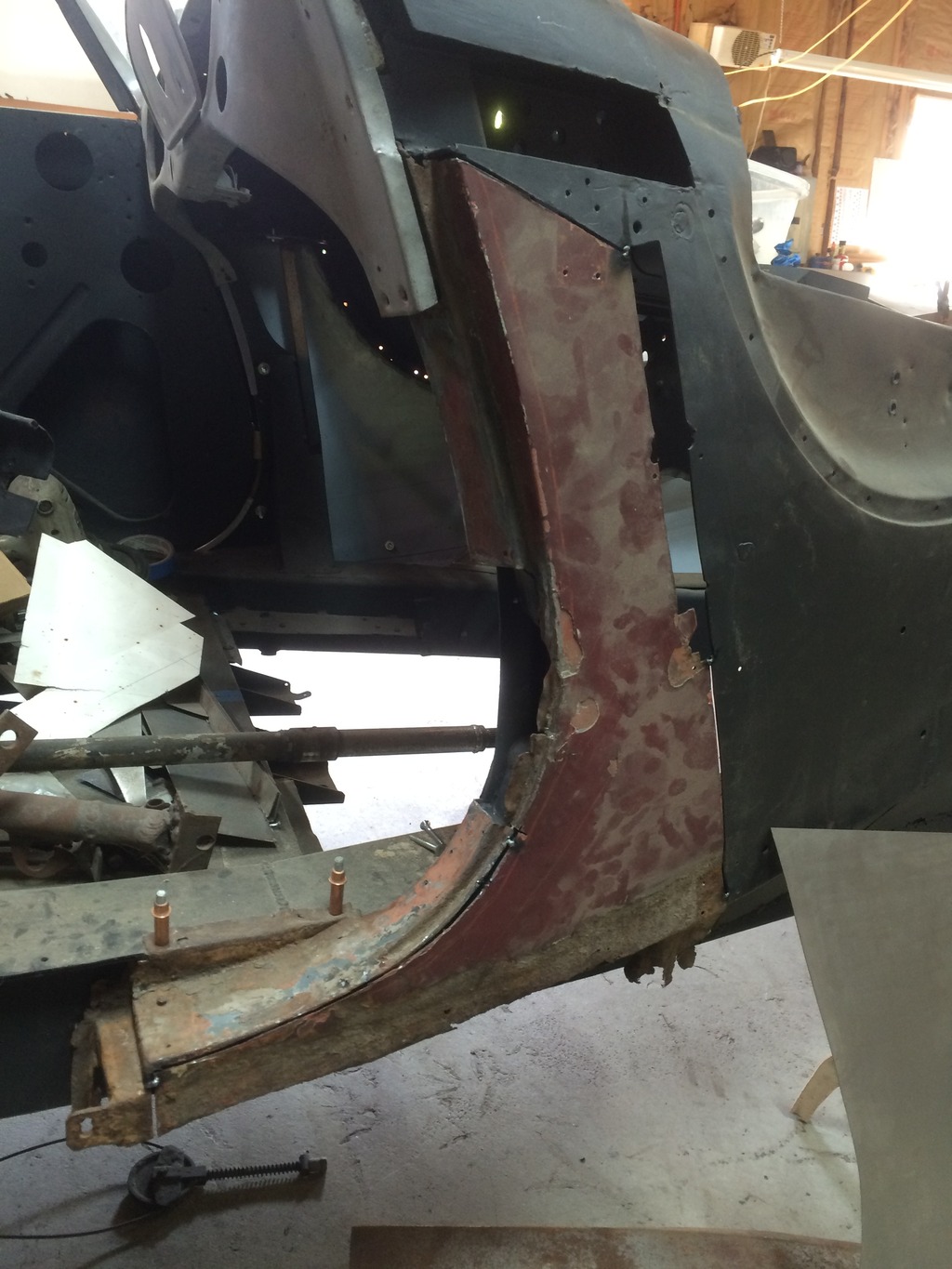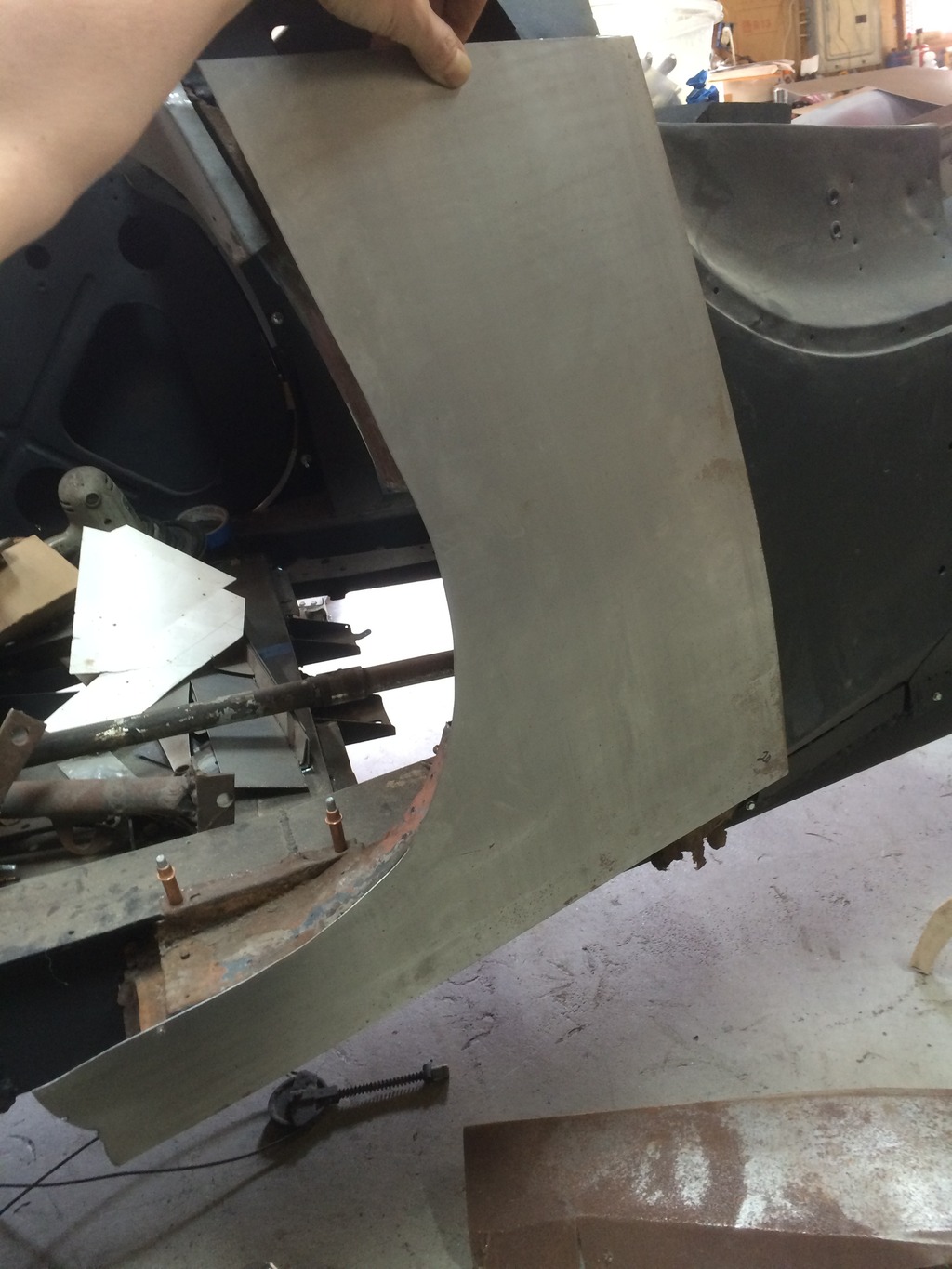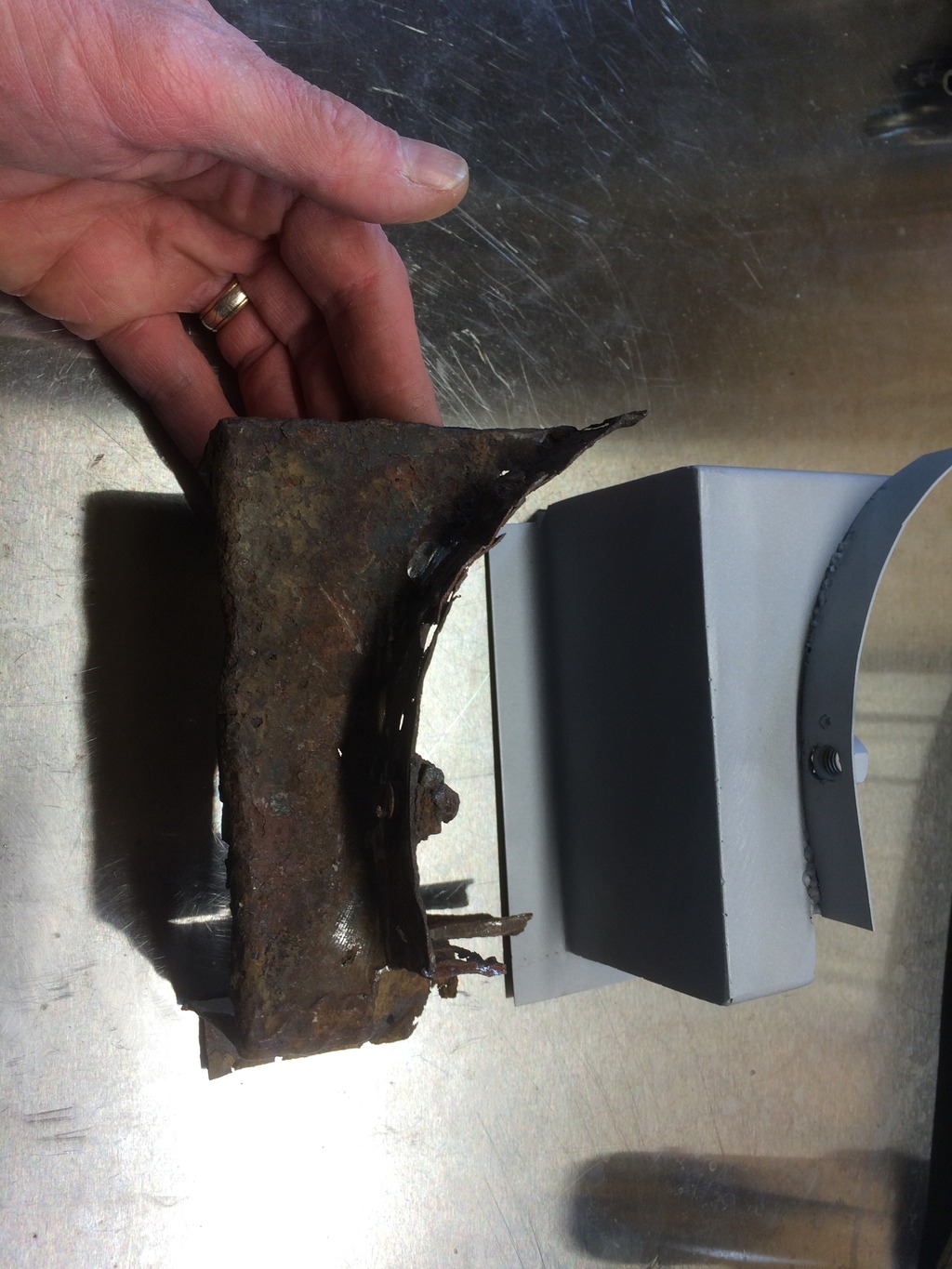 Fitting around the bottom of the left side cowl: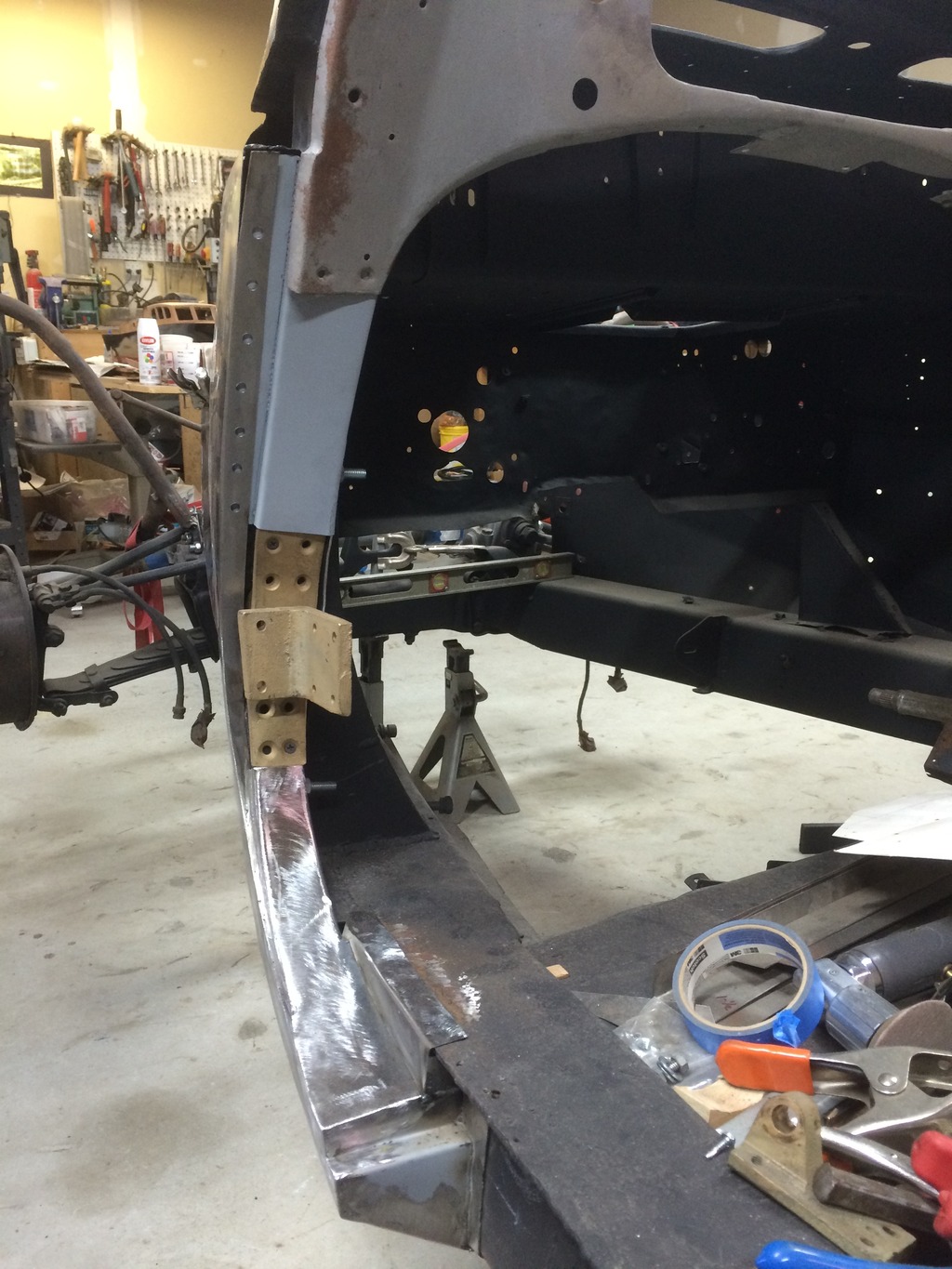 2-20-2016
A few more recent photos - It's starting to look like a car, but there is much left to be done.