LS1 / T56 DD e28 BMW Build by jakeb
By diyauto
You must be logged in to rate content!
LS1 / T56 DD e28 BMW Build
Compliments of jakeb @ mye28.com
12-6-2011
I am just about to start my swap but thought it was time to put together a build thread. I bought the e28 at the end of the summer after selling my practical e46 AWD wagon. I bought the e28 without a motor but a bunch of suspension goodies already done. LS1/T56 was the plan from the beginning.
I recently picked up a wreck 99 z28 with 55k miles. Just about done parting it out....this really was the best was to go to make the swap inexpensive.
I am a school teacher and the plan is to get most of the swap done over my break which begins in just under 2 weeks. Or at least the engine in, mounted, and most of the fab done.......so the heavy lifting work.
I have done a bunch of engine swaps but this will be both the first in an e28 and with an LS1.
Not many pictures yet but I normally go overboard with pictures...
Here is one of the car it is going in, 85 528e, red sport interior, euro bumpers, bunch of suspension mods.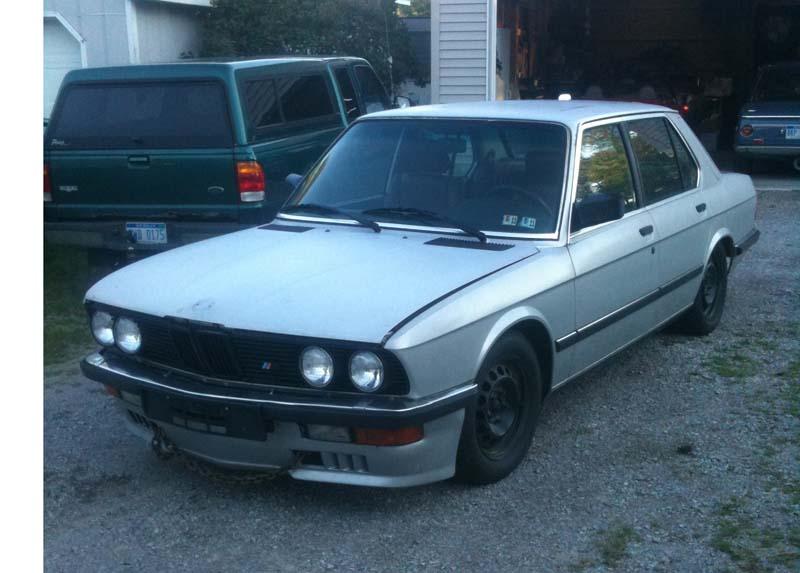 And the LS1/t56 that is going in...pretty much stock, other than bigger TB, SLP Maf, SLP under drive pullys, the headers will not fit so they will be coming off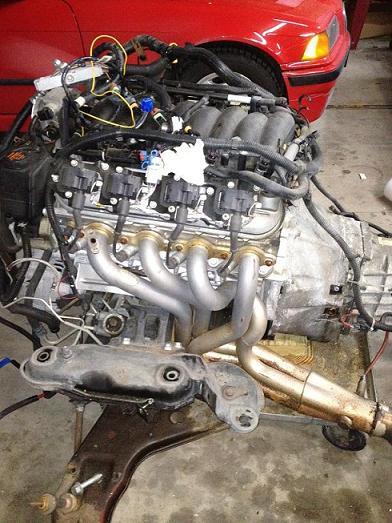 This car will have everything as it would from the factory, ac, cruise, etc etc. I may try to use all the AC stuff from the camaro, other than the parts in the dash.
I am pretty excited to get going, it should be fun!! I have this thread here and LS1tech. I will do my best to update it at both places
Here is what the camaro looked like when I got it..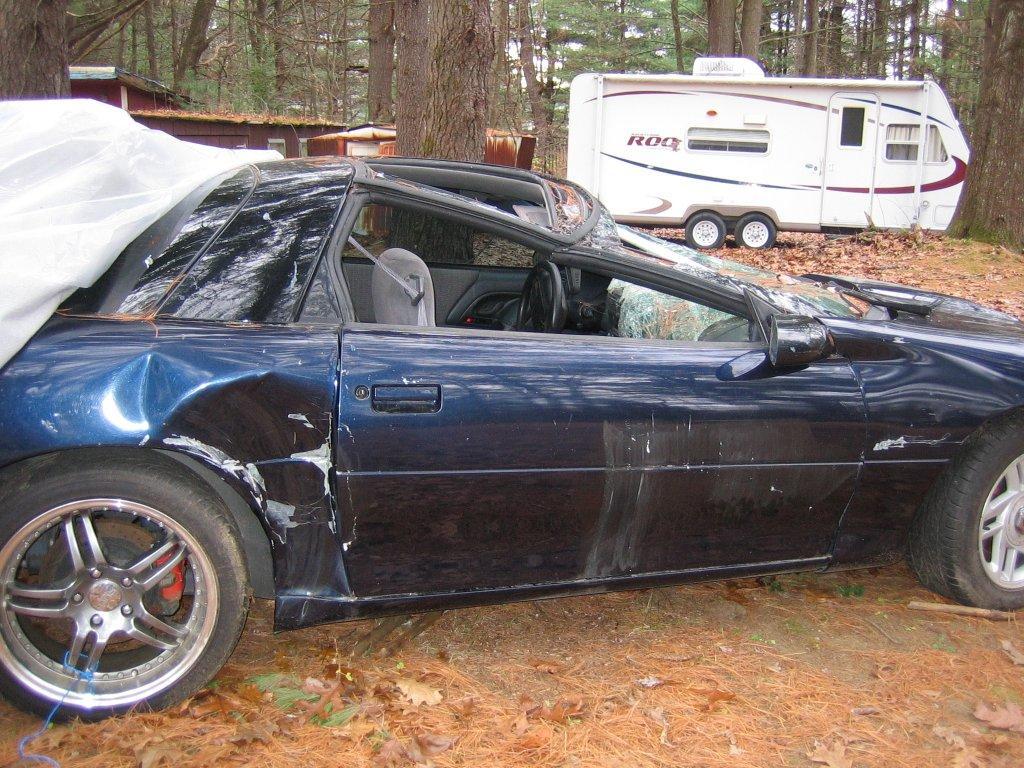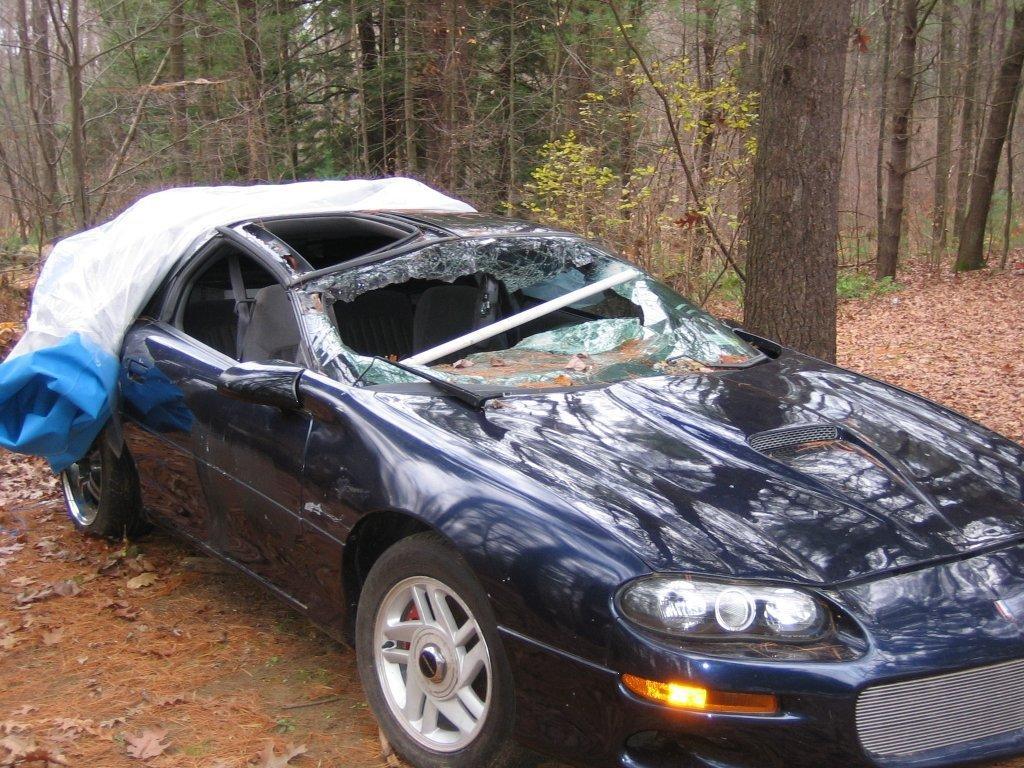 Oh it will get finished....needs to be running by the end of January/feb. Expecting our first child(son) in feb/march and right now I dont have a car with a back seat. Ha!!
Oh I'm in Michigan...2hours north of Detroit.
thanks guys!! It should be fun.
I plan to make a jig for the mounts I make and offer them to others if there is any interest.
12-7-2011
thanks all!!
No other plans for the engine right now. A LS1 is stock form is a lot of power to begin with. If I get bored with the power I can always upgrade later. First step is to get it in the car and running.... I want it to be very factory like, ac, etc etc
Yes same jake.
No need to get into it car was sold as-is, and I even gave you some money back in good faith.
Let's stay on topic. Good luck with your build. Excited to see more than one LS1 e28.
12-19-2011
just a small update.....more will happen tomorrow.
Got the garaged cleaned up some and the e28 up on the lift.
Engine came out (it had half an m30 in it, head was gone)
had to make a scrap run (m30, old m10, more random camaro parts)
The GTO oil pan will get swapped on tomorrow and the LS1 will get dropped in. I did some simple measurements and it looks like with the shifter in the middle of the console opening the heads will be in front of the brake booster. I have a remote booster from a e34 540 if needed but I will start with trying to keep the stock booster.
I have decided to drop both the front and rear subframes and have everything powder coated. The first stage will be to have ALL the mechanical bits of the car refreshed.
The firewall insulation is pretty beat up (what do you expect for an 85). A new one is NLA so I need to figure out if I want to just leave it or replace with something different. Any suggestions?
On to some pictures.
The lab...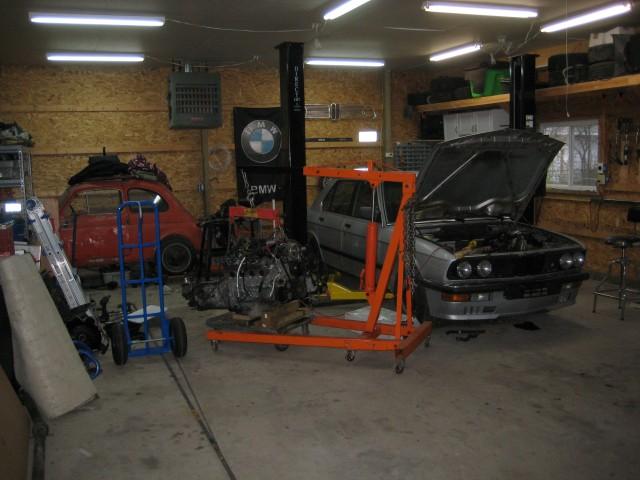 The patient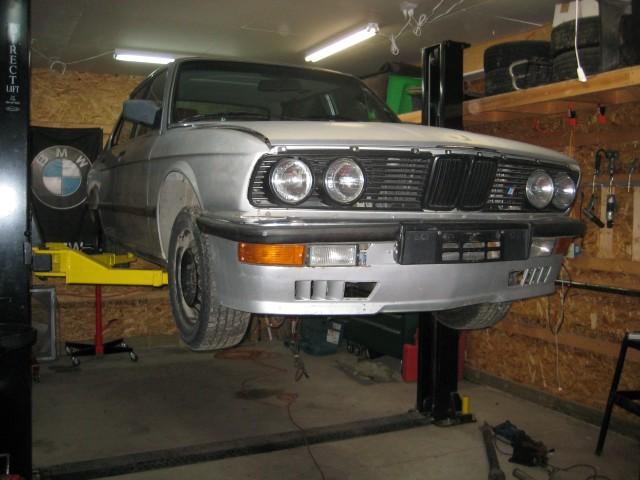 Old m30
It's new heart
It's new home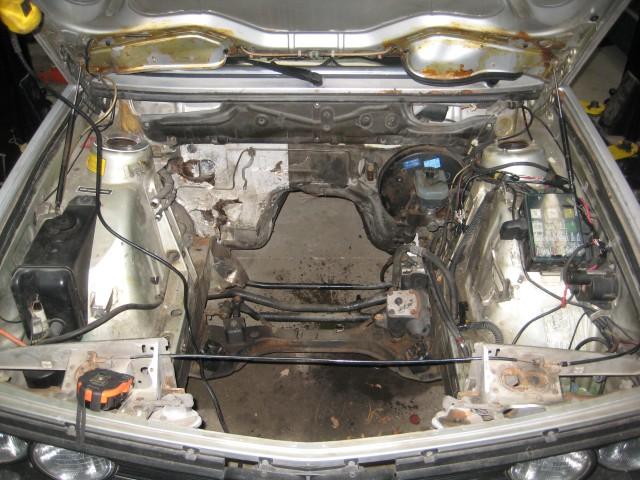 I normally take a bunch of other random pictures so as I am sitting on the couch and need to figure something out I have pictures to reference. They all get dumped here for this project. w www.theguestroom.net/e28 w Feel free to check them out.
12-20-2011
Haha, the 500 is tiny. When I pull the LS1 back out I will set it in front of the 500 to show some scale. It would be a wheelie machine with the ls1. I actually bought a 67 fiat 850 spider that is going to give up its engine, trans, etc etc for the 500. The 850 is actually in better shape but I really like the 500. The 500 needs a TON of metal work. It will get done some day but it keeps getting pushed back.
535is-pa: looks like the booster was in the way, it is out now and remote 540 is in place. I am going to drop the front subframe and have everything powder coated so when the steering box goes in I'll be sure to center it all up.
On to the update
Engine is in, sitting on the sub frame and some blocks of wood. I will make the mounts tomorrow, look pretty straight forward and I already have a plan. I was hoping to keep the stock brake booster but there wasn't enough room to push the engine back far enough. I have a 540 remote booster that will work. I might look at the Porsche 944 booster and see if that would work too. Either way I have a solution so...
Steering is all clearing nicely.... The only trouble is going to be the passenger side exhaust manifold but I have a couple ideas. I can always make something if it comes down to it. Not any big deal.
On to some pictures
open wide!!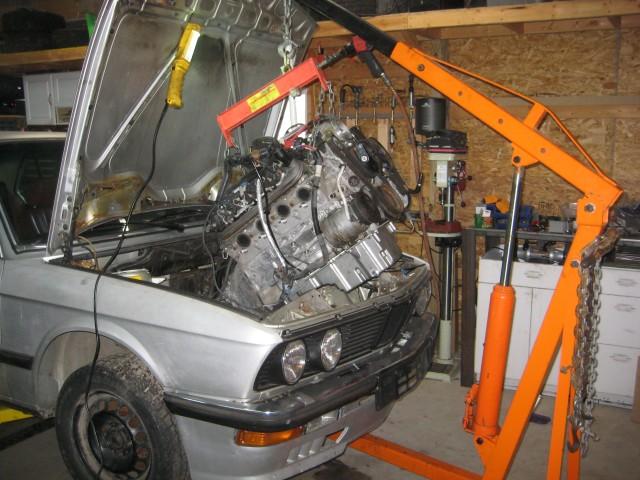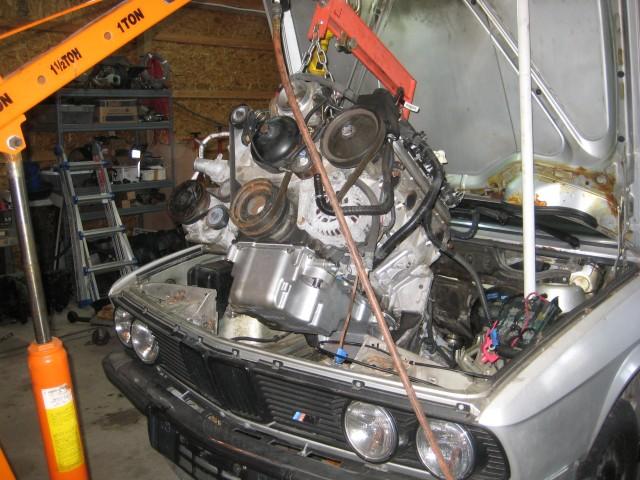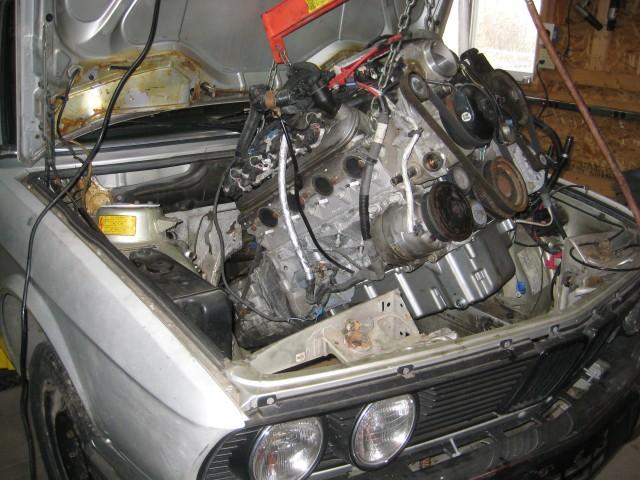 sitting in (passenger side)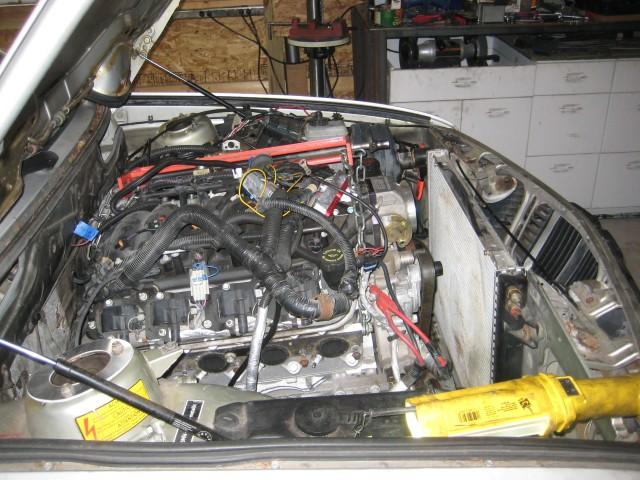 sitting in (drivers side)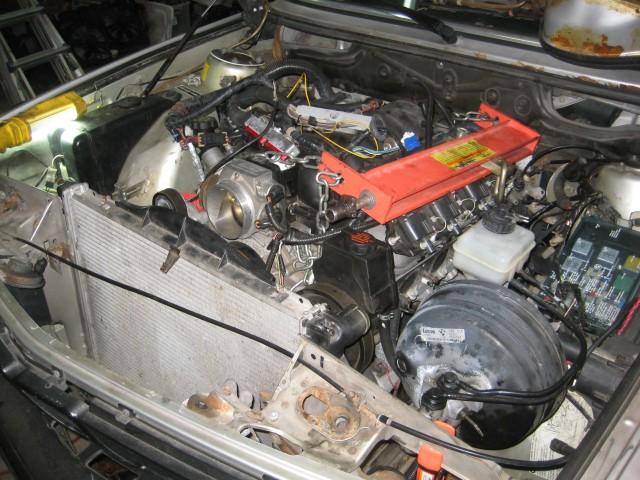 Like it was made to be there....I had this shift knob sitting around and it is the threaded type from a 2002...and it threaded right on. Not sure if it will be there at the end or not.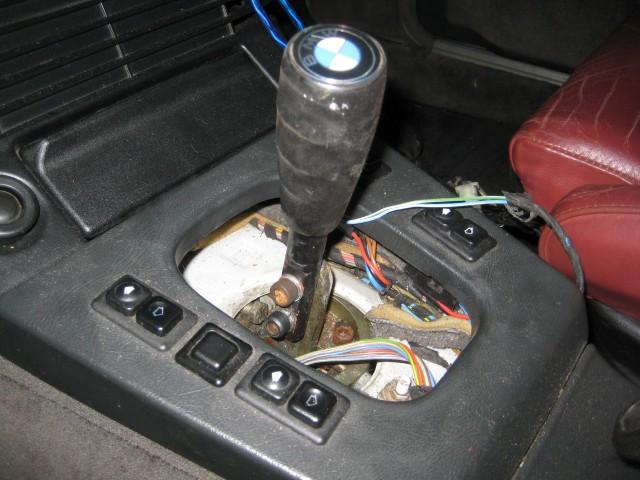 Trans/shifter in tunnel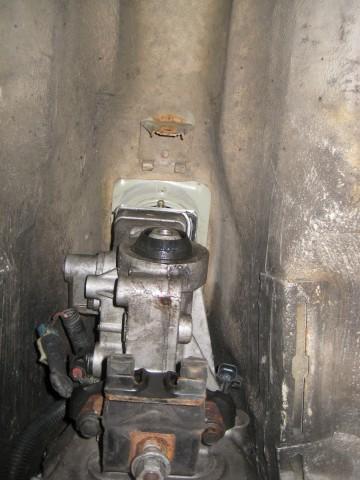 clears suspension/steering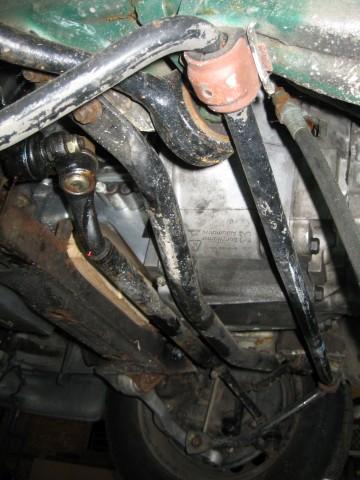 underside in front - I might lower it one board, unless it starts to hit the suspension. Things are pretty close back there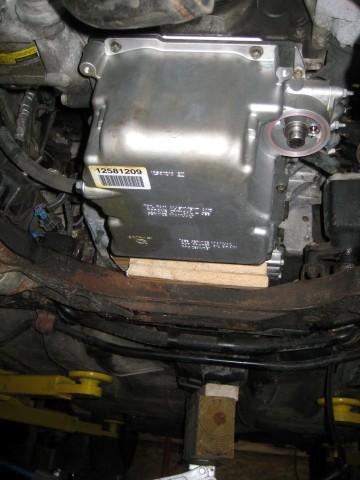 Maybe someone can help explain what a couple of these wires are for. Maybe 535is-pa becasue it was once his car. Just trying to find if I need them or not.
1) Is this coil wiring? What is what?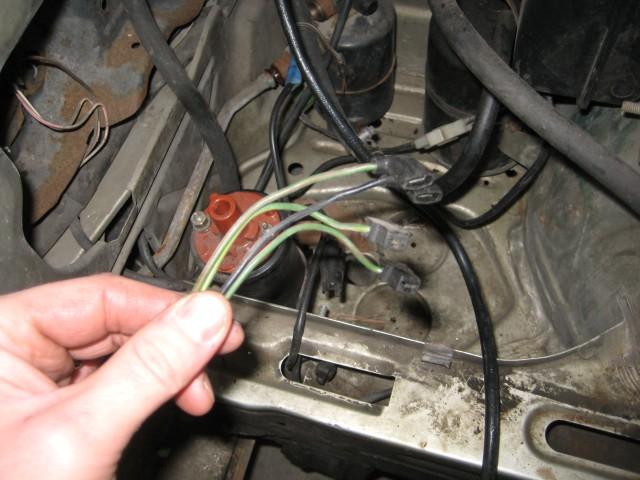 2) AC wiring? or something else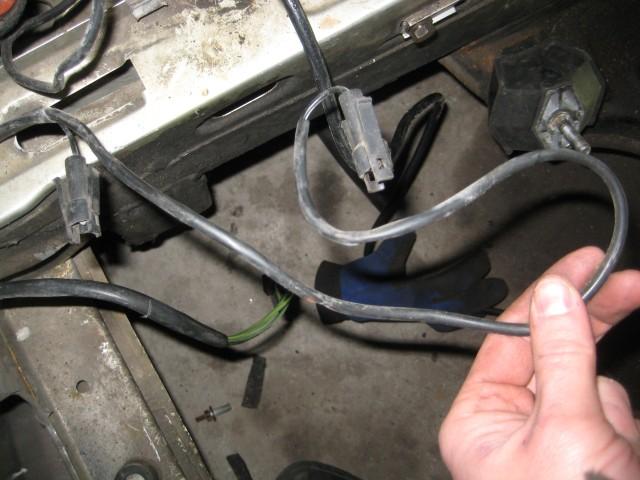 3) Is this the coolant level sensor check panel connection?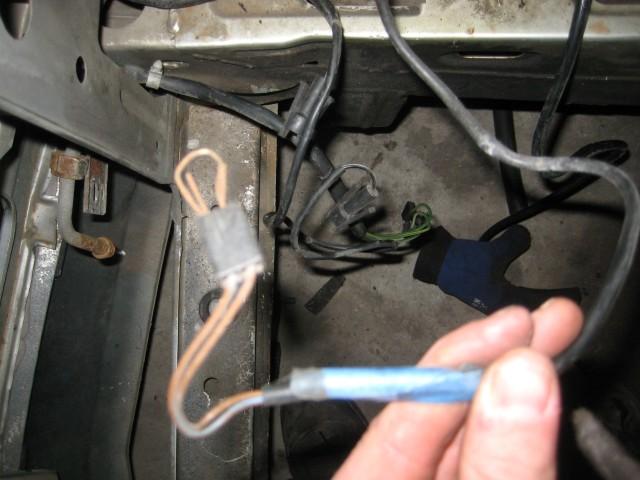 4) This looks like a horn but it is under the battery? And there are two more horns up in the grille area. Is it another horn?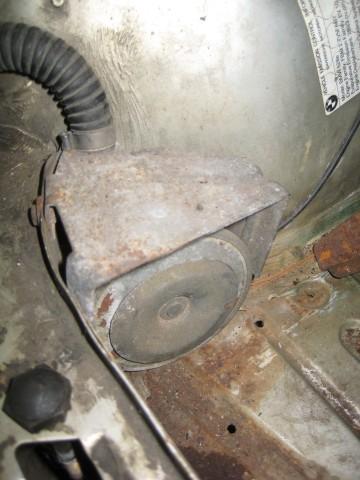 5) foglight or blinker? It was unhooked but I think it goes where the second picture is.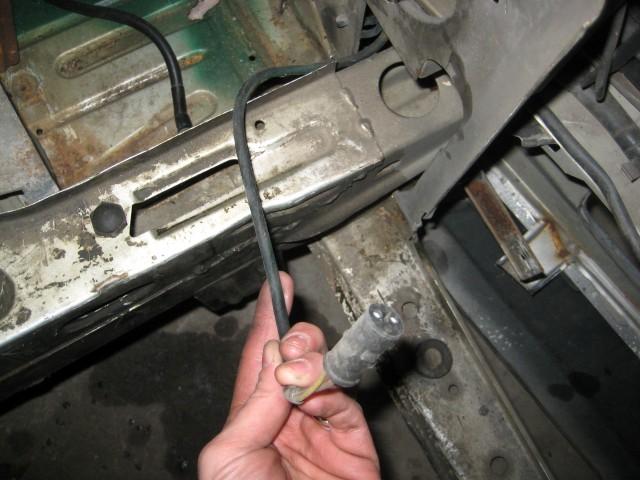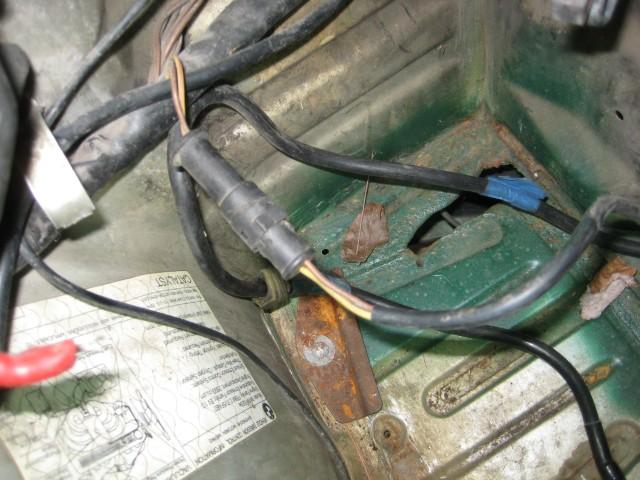 6) 12v to AC compressor right?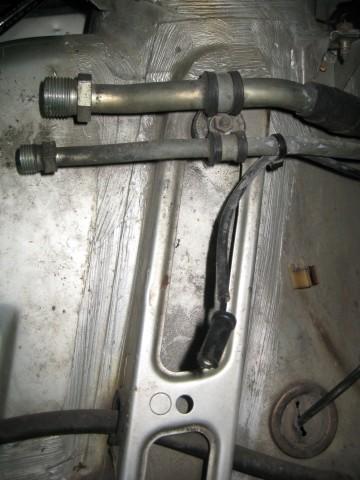 12-21-2011
excellent, thanks.
In pic 2 are those for the pressure sensors?
I am planning to let the GM PCM control the AC and just need to send a 12v signal to the PCM when I want AC. Does anyone have a wiring diagram for the e28 ac wiring?
How does the OBC alarm work? What makes it go off?
It doesn't look like a very big update from the pictures but the motor mounts are done. I was hoping to finish the trans mount too but that didn't happen.
I did put in a 2002 brake booster and it clears everything but I am not sure if the master cylinder is going to end up clearing the exhaust manifold or not. I actually think the stock e28 booster would go back in now and miss everything. I have a couple options for brakes now so I am not too worried...either a vacuum booster, or remote booster. If the MC is close I might just move the booster over a little bit.
On to some pictures
Plate bolted to the block and another bolted to the mount
drivers side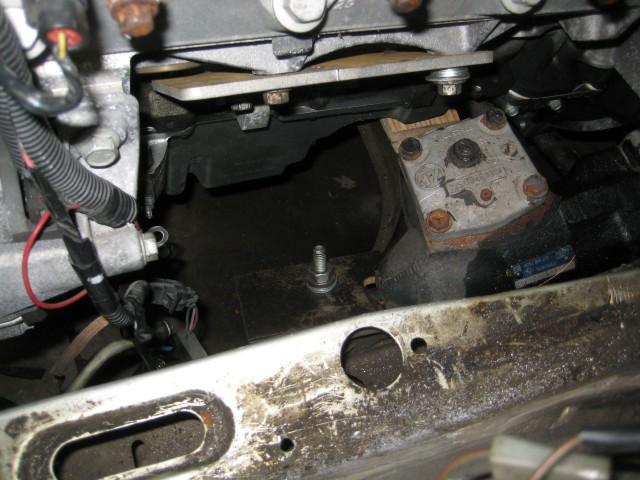 passenger side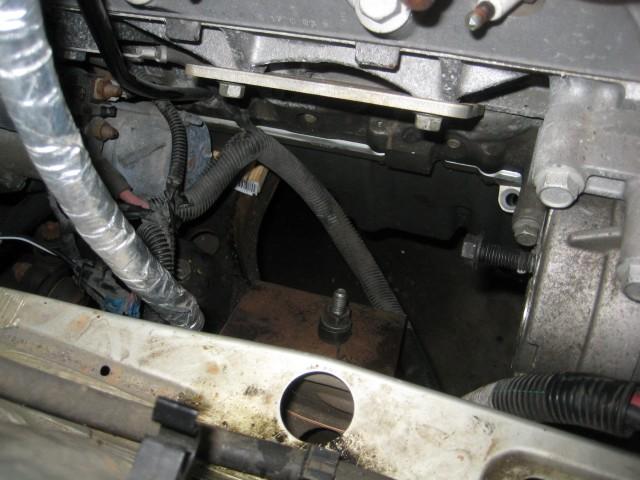 cardboard template...will this hold it?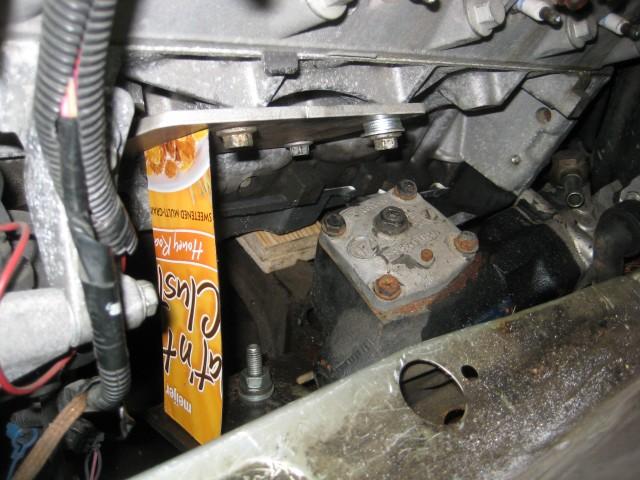 transfer to metal in the bandsaw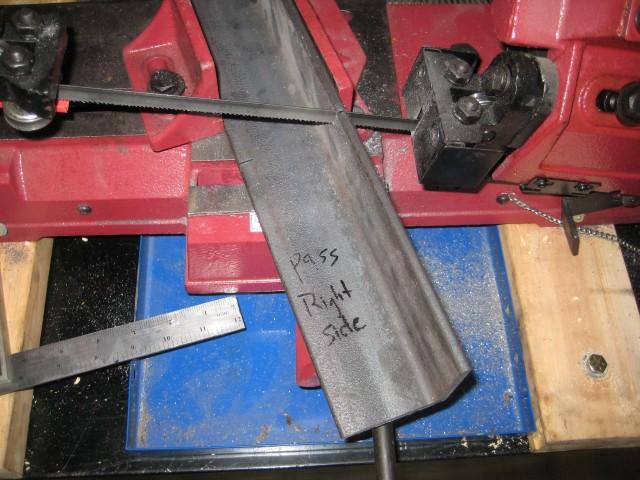 a little bit of trimming here and there and weld....BOOM!
I am going to have the mounts powder coated. Should I go with something simple like...black or should I go bright and show them off. Help me choose the color.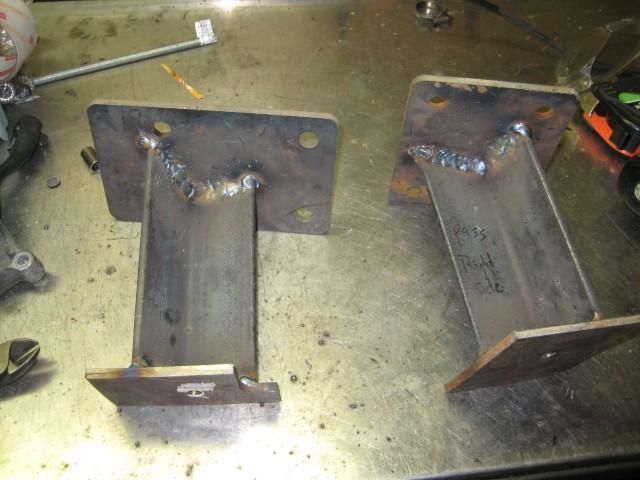 in place - drivers, exhaust will either snake out in between the block and steering box or out the front between the mount and the alternator
passenger side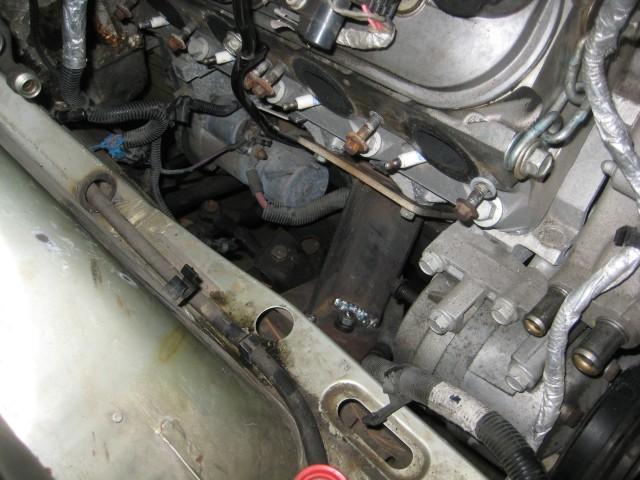 sitting on mounts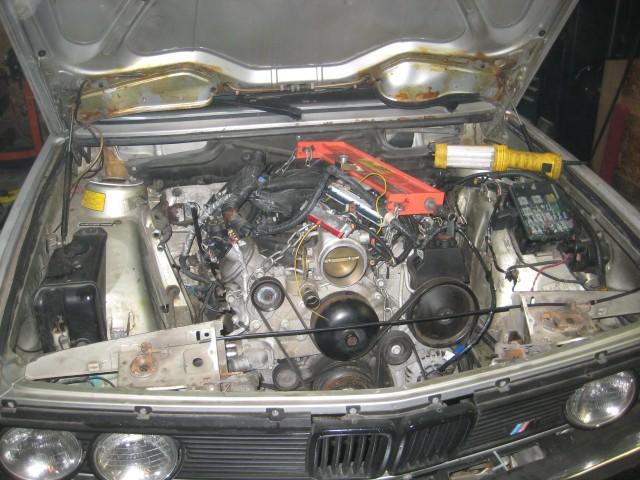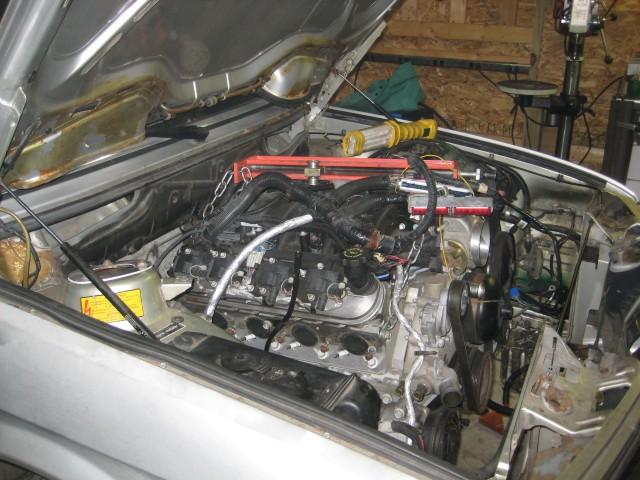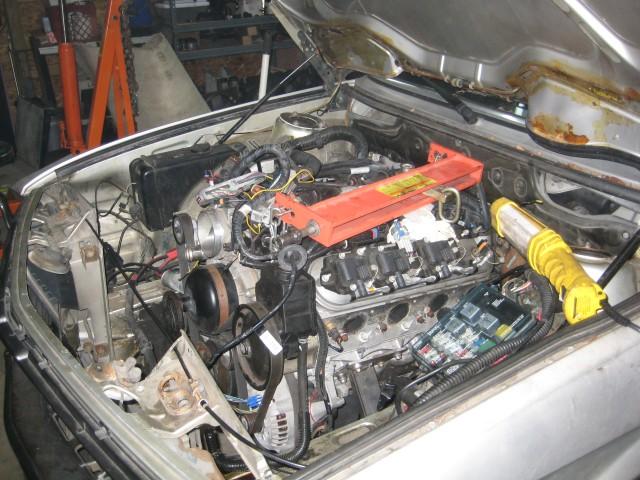 under - I wish it could be a little lower but the trans is just a tiny bit above the support bar that goes from side to side. Also the steering track rod is about 1/2" away from the bottom of the oil pan. But this way the oil pan is up above the subframe. I can install the under body plastics someday...if i buy them.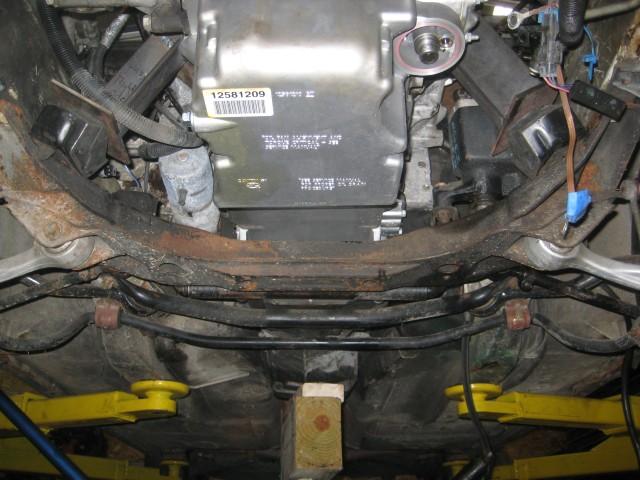 shifter centered in console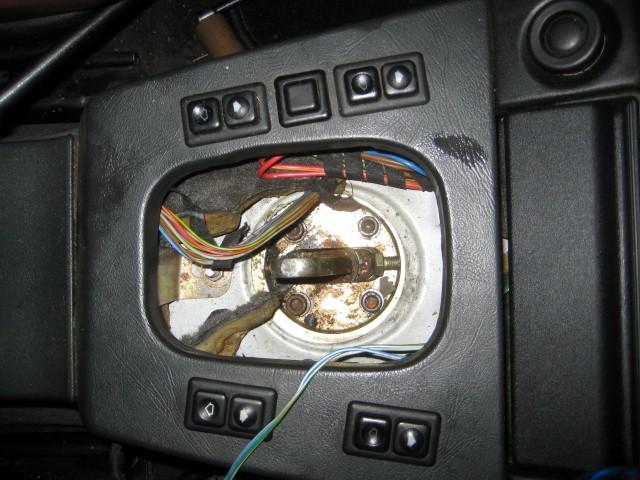 2002 booster with e28 master cylinder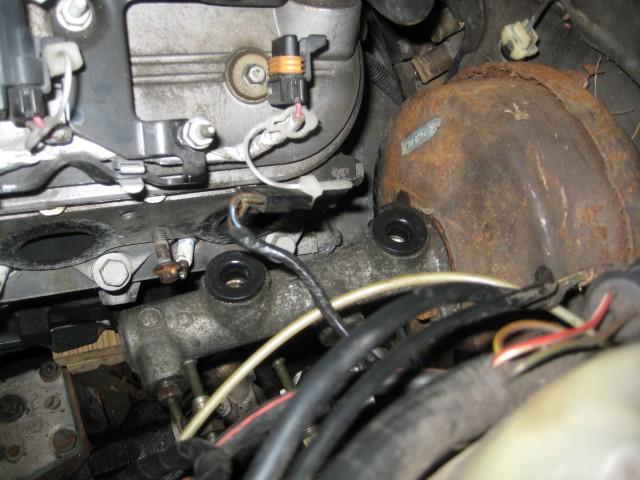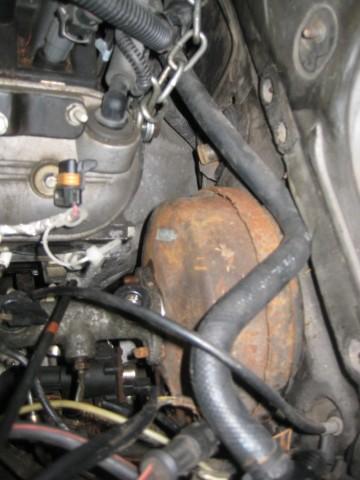 Hoping to find time tomorrow to do the trans mount and measure for the drive shaft. My wife is off work starting tomorrow so we will see what can get done in the garage.
12-23-2011
Mods if this should be in the tech forum please move it if you could
Another small update....
I didn't get a TON done today but made some headway and the engine is now 100% mounted and its weight is supported by the car.
I was also busy making the parts needed for m42 mounts. I sure do love my band saw.
Trans mount was a bit tricky because each side of the body is at a little different angle and height. It is only tacked right now. It will get fulled welded when the engine comes back out. I will also trim a lot of the extra angle off it and add some gussets between the angle and the flat bar. I might see about drawing it in cad and have a piece piece cut and bent.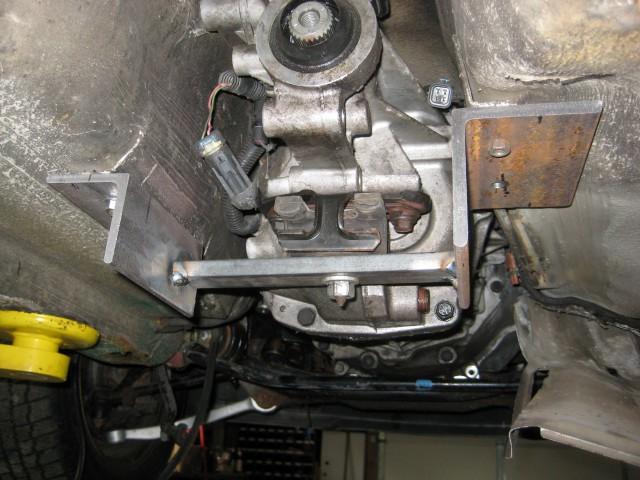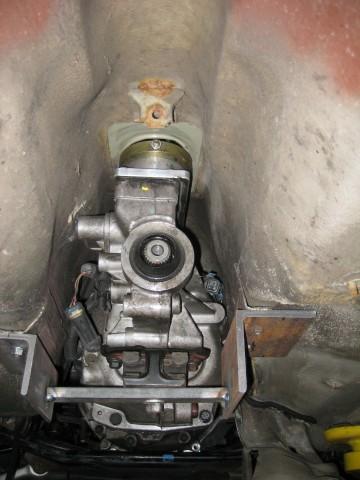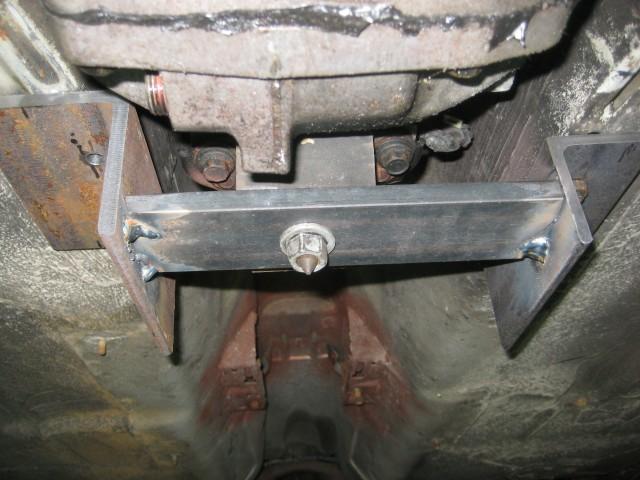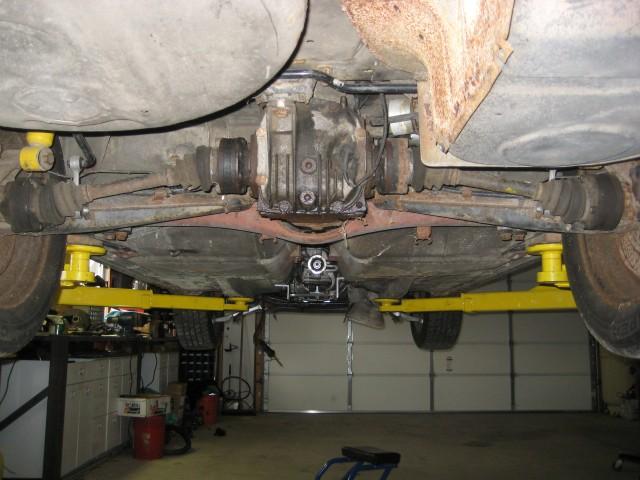 I will need to "clearance" the tunnel in a couple spots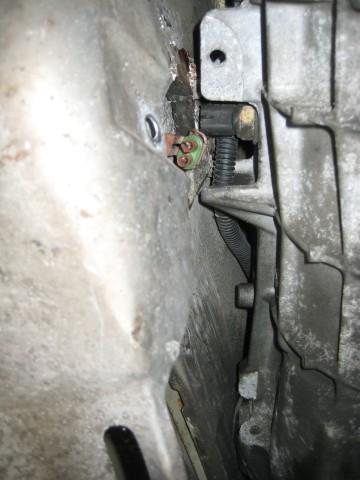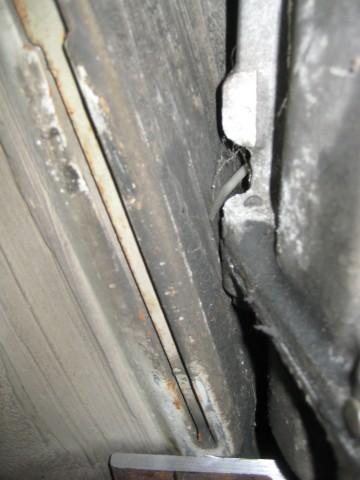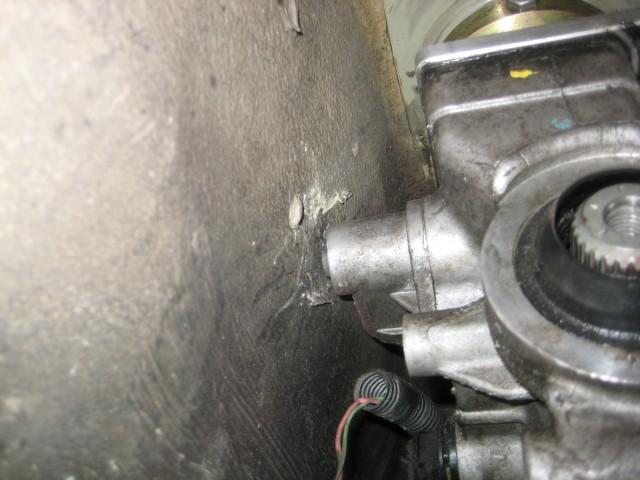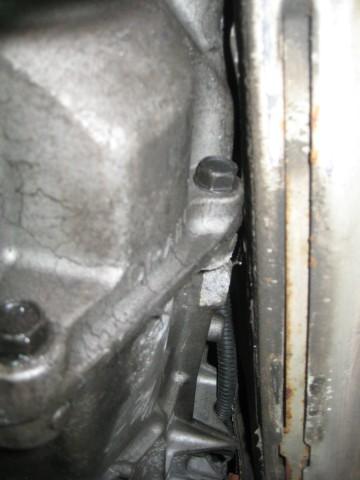 This is the skip shift solenoid, it will get removed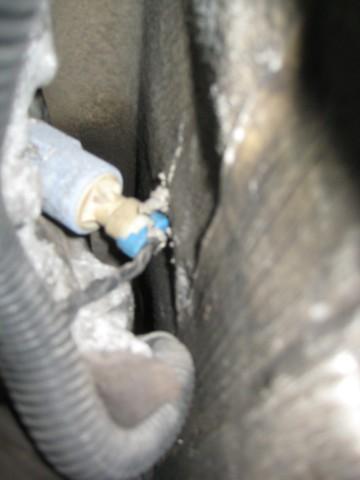 Sitting down on all 4, no weight on the lift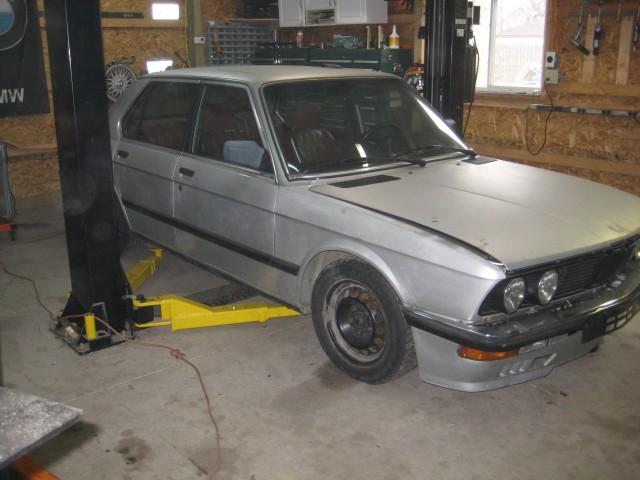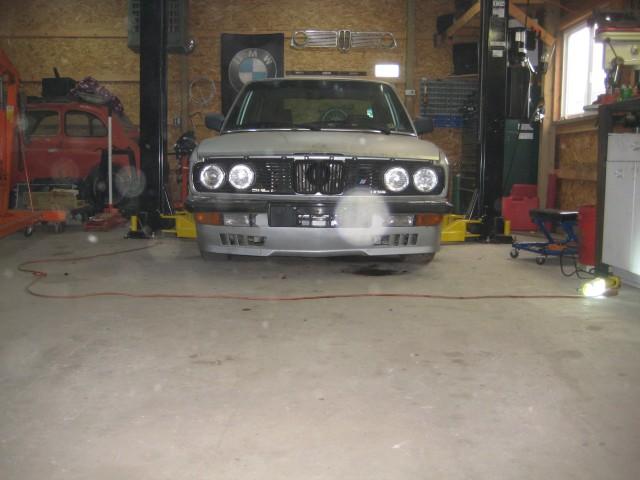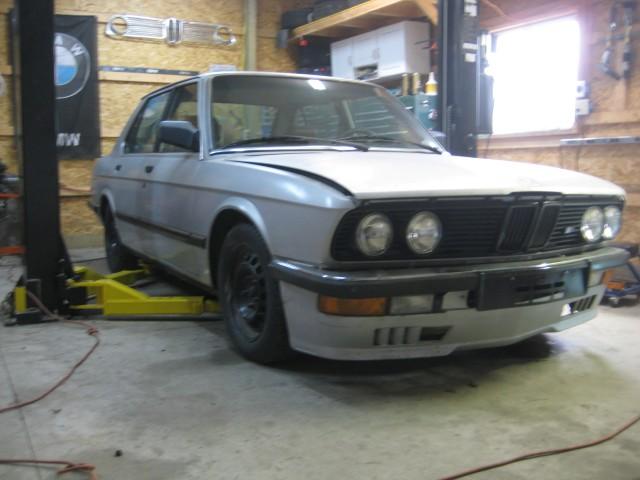 peaking out...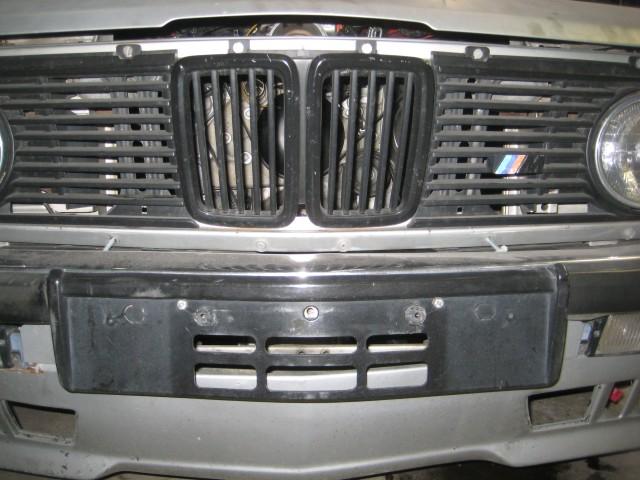 A few more general pictures of the engine...man I am happy how it looks in there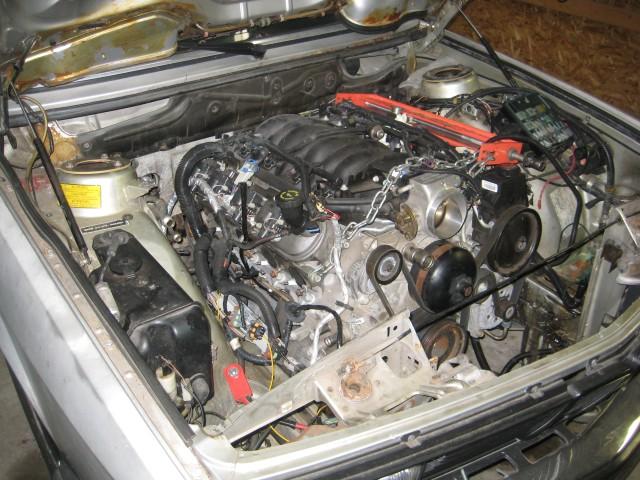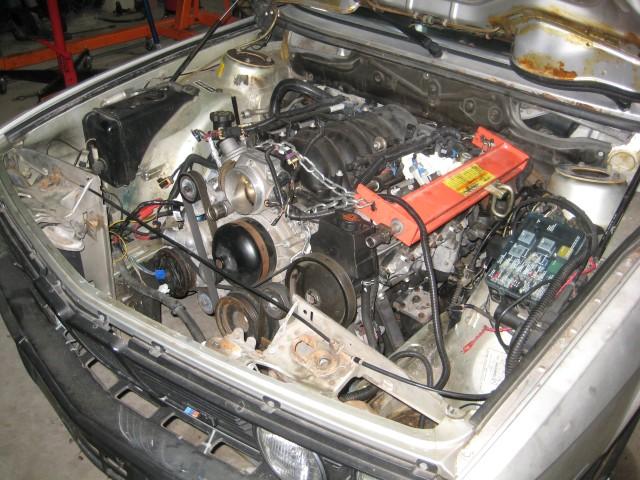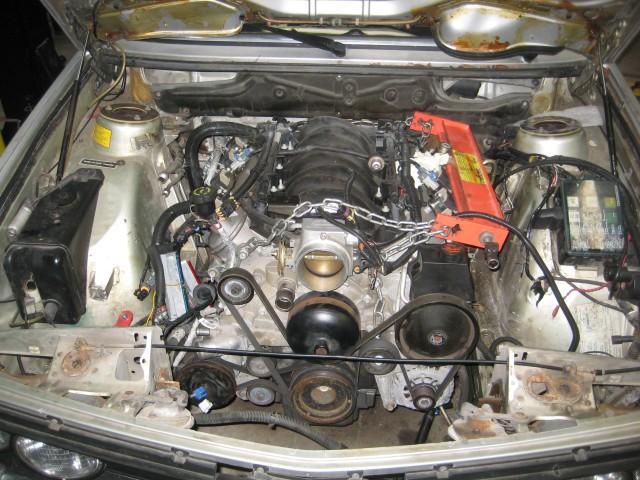 I got a set of vette manifolds to try. The driver side manifold on the drivers side will not fit for sure. The outlet is directly on top of the steering box. But....the passenger side on the drivers side does fit and the pipe can go out between the motor mount and alternator. With some heat shielding. It is still pretty tight but juuust might work. I have a couple other ideas to try. I might try a 02 camaro passenger side on the drivers side and also might check on an escalade drivers side on the drivers side. There is one brand new at the local advance auto for only $80. Worth looking at.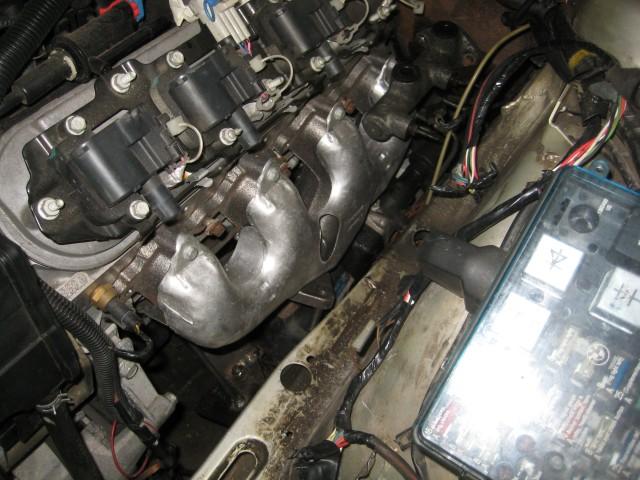 Brake master cylinder clears...close but clears. That is still the 2002 booster...going to try the stock one again and if that doesn't work I will run a porsche 944 booster.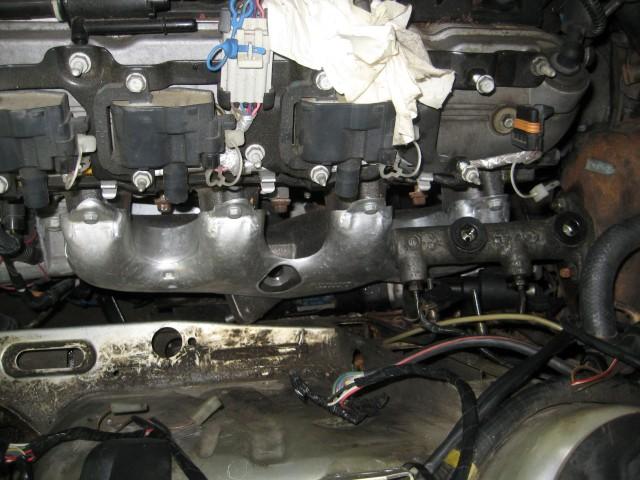 I tracked down an e31 rear diff cover and going to see if I can mount that up so the diff is supported from both sides.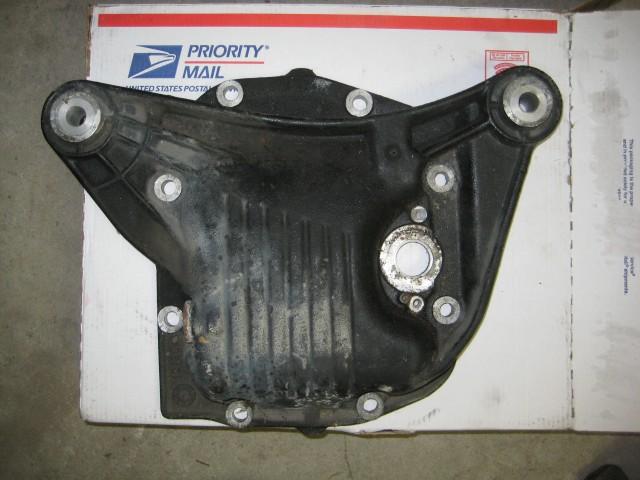 Drive shaft length is figured out so I can order that. Really all that is left to fab and figure out is the exhaust, coolant lines,`electric (fan(s)), AC stuff, wiring (which is all pretty easy and documented already)
Soon everything will come out and the suspension will all come down to get powder coated, etc etc. The t56 needs some work to the reverse gear syncro. Then it can all go back together.
So far so good!!
Here is another wire that I am unsure what it is for
It is right above the diff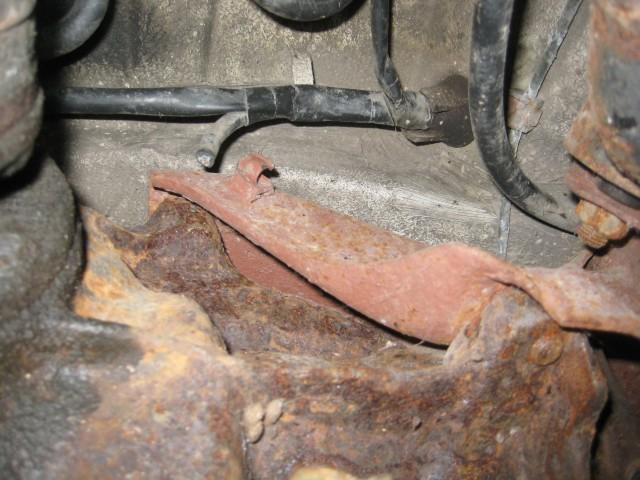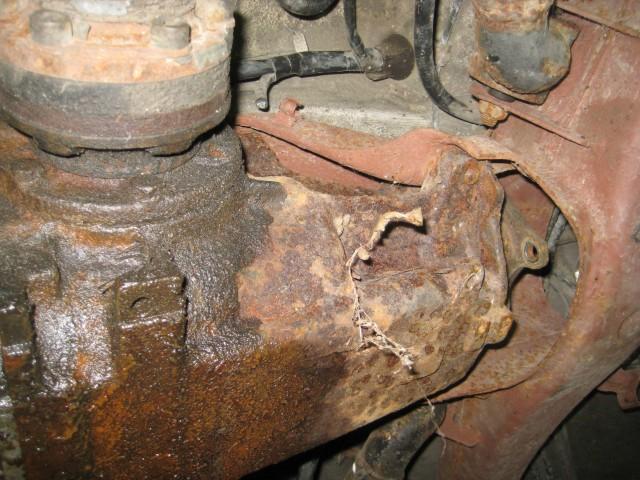 fukoa wrote:
that wire looks like it is for the brake pads ware sensor
That sounds about right, as I didn't see that wiring out at the wheels. I think the pad warning will be left out
12-24-2011
It seems like those brake sensors always have trouble. I had an e30 and even new sensors, cleaned contacts and it would flash on and off. The fix was to remove the bulb in the cluster. If it is on when I get the car running that will be the fix for this too.
12-27-2011
Some work done today (morning was spent making m42 mounts for people).
I picked up a set of CTS-V manifolds yesterday to test....they didn't fit. The c6 vette manifolds fit but are REALLY close to the frame rail. I also have to run the passenger side on the drivers side and then would have to loop the pipe back around the motor mount. So....I have a set of 98-99 camaro manifolds on the way that are stamped steel that I can cut up and fit how I need. I am hoping they are here by the end of the week....we'll see tho.
On to the pictures and update...
Bought a new "toy/tool" yesterday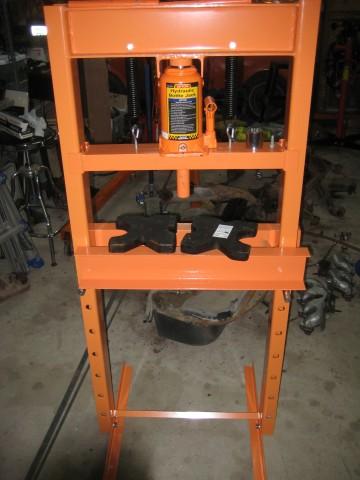 Dropped the gas tank...it wasn't leaking but it wasn't far off. 26 years is pretty good on a tank I would say.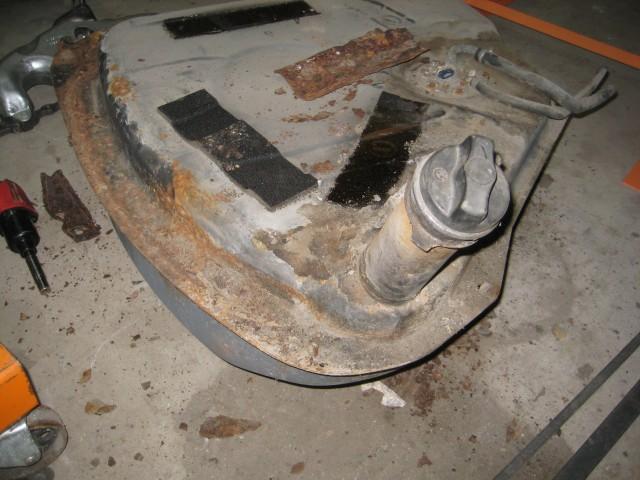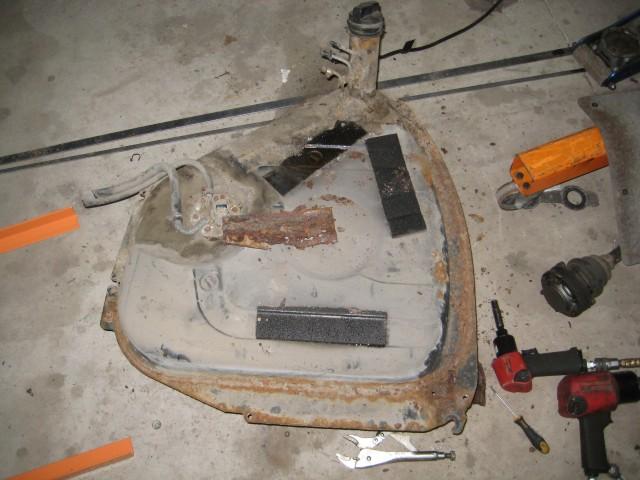 Dropped the rear subframe and all the front suspension. Still debating what I am going to do for suspension. A lot of the parts are already new which is excellent! New bilstein sports, etc.
Either stick with the springs that are on it...eibachs in the back, cut 535 in the front or go with an adjustable coilover setup.
It is getting rear subframe adjusters from Ireland.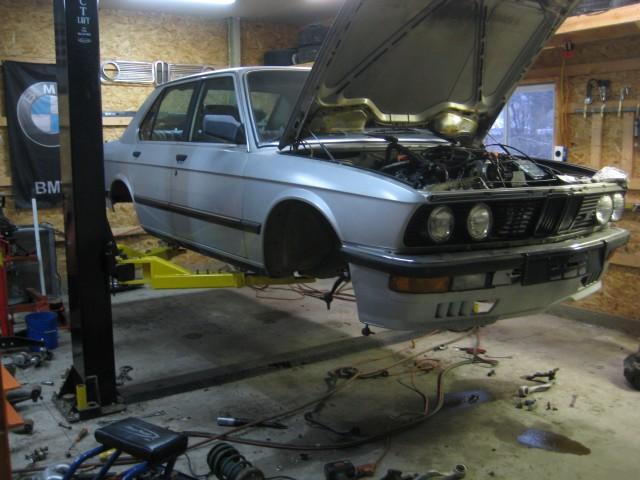 I am really happy with how little rust I am finding. The worst of it is in the front corners where the jacking points are. There are some spots that need to be cut out and new stuff welded in. I am thinking I will clean it up as much as I can without getting too deep into it and then take care of it the right way this spring/summer.
A couple pictures showing how solid it is. Any small spots of rust will get cleaned up and painted with some POR type paint.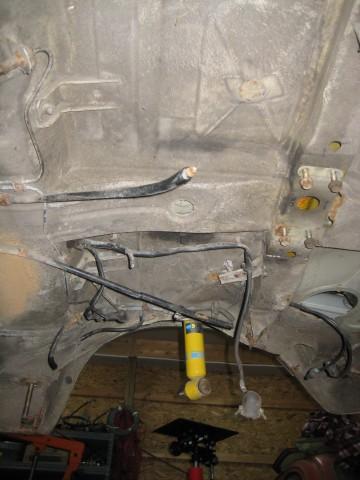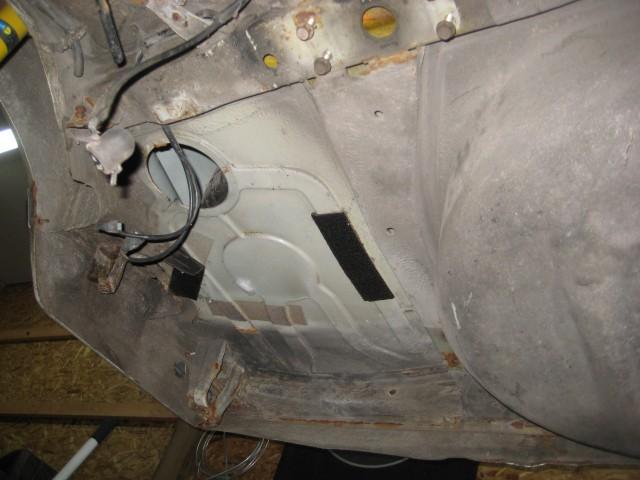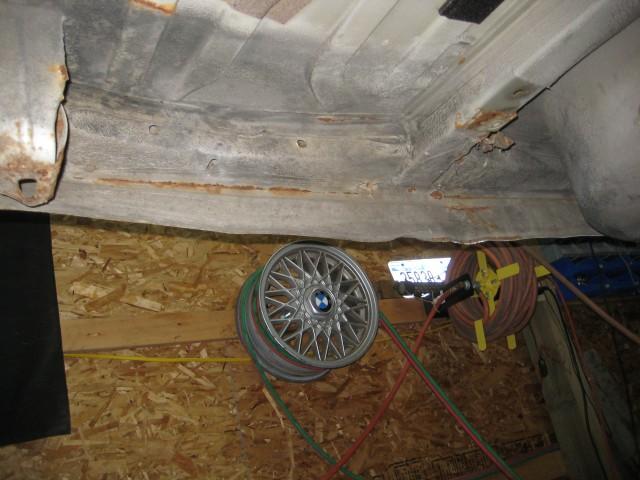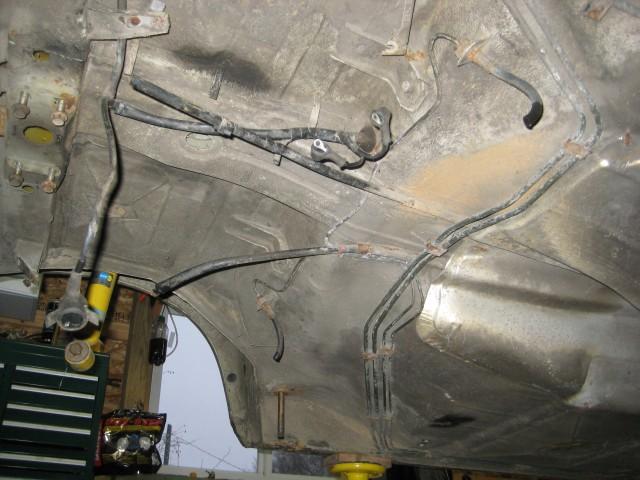 The diff mount has seen better days...I doubt these get changed very often.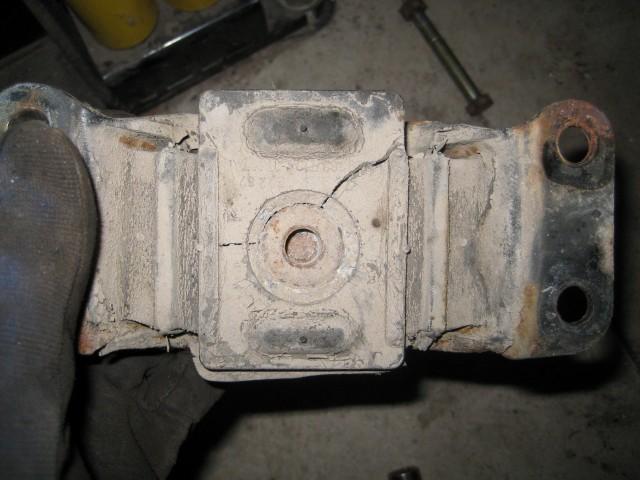 The rear subframe assembly is pretty much all apart. The plan for the next couple days is to get everything taken apart and ready to go to the powder coater. I am hoping to have the exhaust manifolds by the end of the week so I can get that figured out. Then the engine can come out and I can clean up the engine bay while I wait for parts and the parts to get coated. The goal is to have it running by early February.
1-1-2012
thanks guys!! It was pretty far away from me too but I had it shipped....it was too good of a deal and just what I wanted to pass up.
Not all that much more progress. I got some 98 camaro exhaust manifolds that will work out with a little bit of adjustment. There was some rust around the passenger rear subframe mount so I cleaned that up and welded in some new metal.
e34 540 brakes are all pulled apart and dropped off at the powder coater. A bunch of other small things have gotten done....struts all taken apart, etc etc. I have some more things to take apart and then it can all go to the powder coater and I can order a BUNCH of stuff before it all can start going back together.
The list is pretty long but it will/should be done near the end of jan or middle of feb.
1-5-2012
Back to work so not as much can get done....but here is a small update.
Struts are all broken down, reinforced the sway bar connection.
Rear trailing arms are all broke down waiting to go to the powder coater. Ireland subframe adjusters are on the way
The pressed steel 98 fbody manifolds got here and the passenger side is a PERFECT fit. I may still add an extension and a vband connector rather than the HUGE GM flange.
I cut the drivers side manifold up and added a 2.25" bend/downpipe to get down past the steering box. There will be a vband at the bottom where it can tie into the rest of the exhaust. It was a bit tricky to make it so I can get the manifold in and out with the engine in the car but it is working out.
Here are a couple pictures of the exhaust manifolds.
Passenger side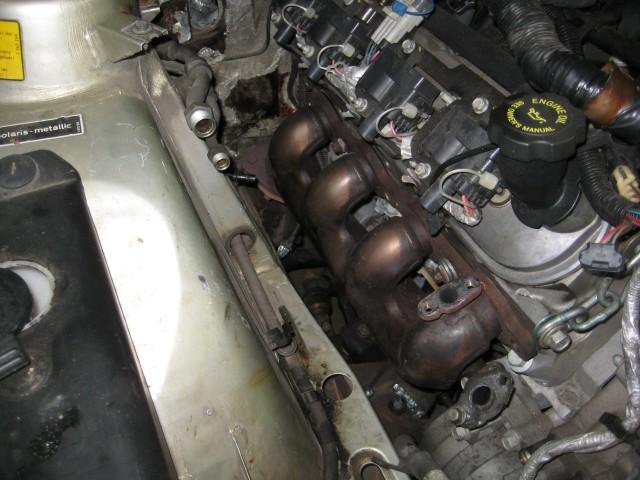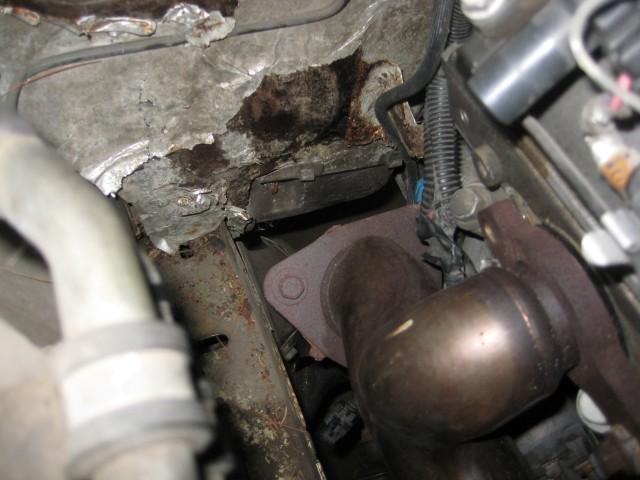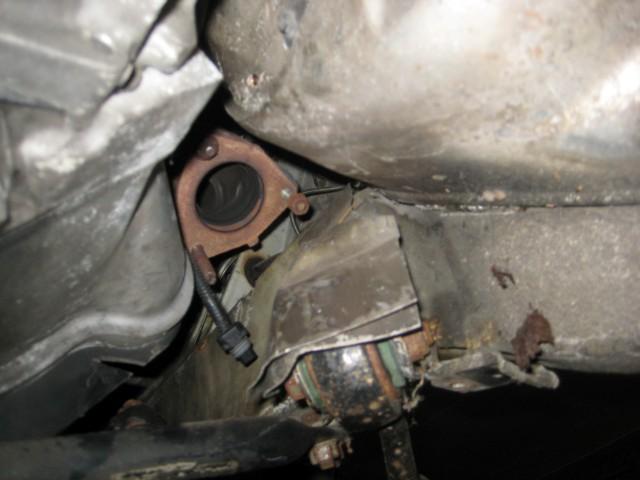 Drivers side....
only the flange cut off, dumps pretty much directly into the steering box. not going to work...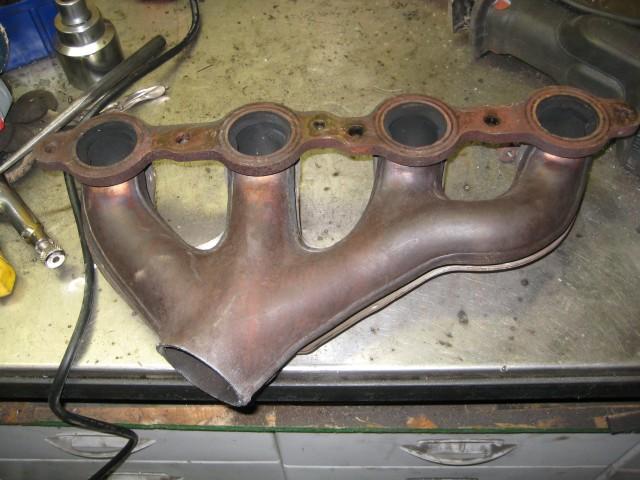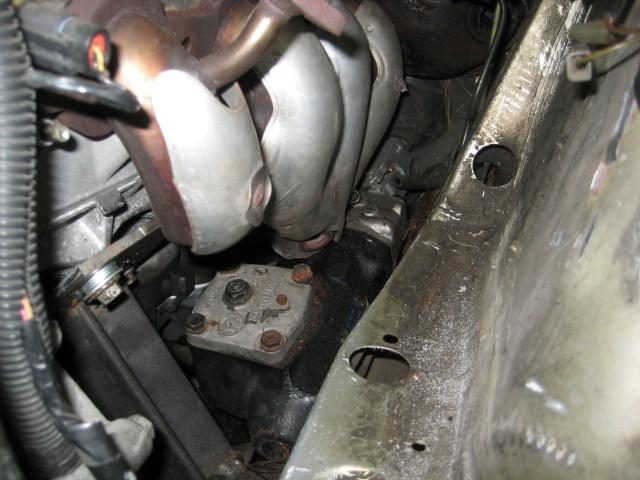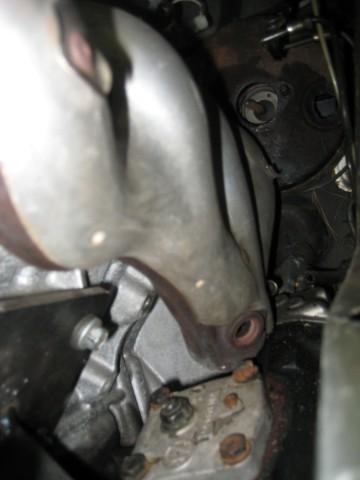 A bit more "trimmed" and things are fitting better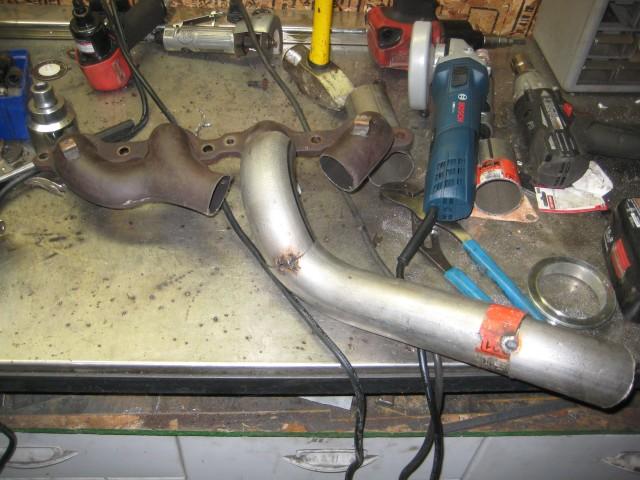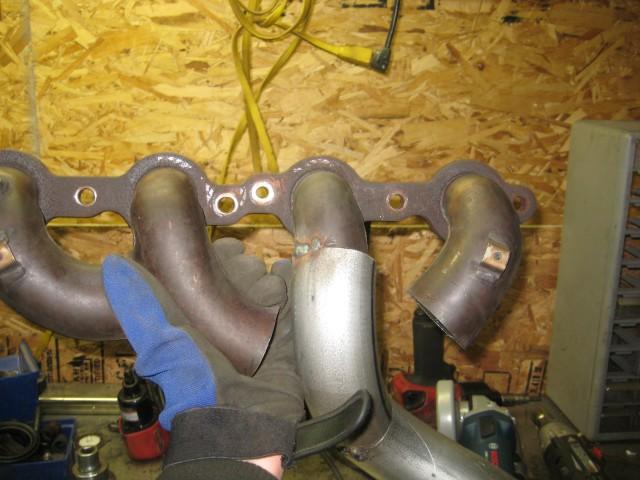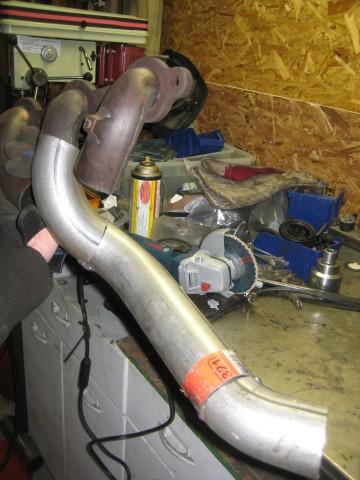 Where it will exit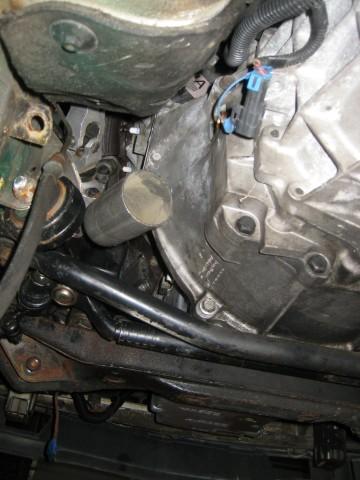 Then I will tie the other pipes in..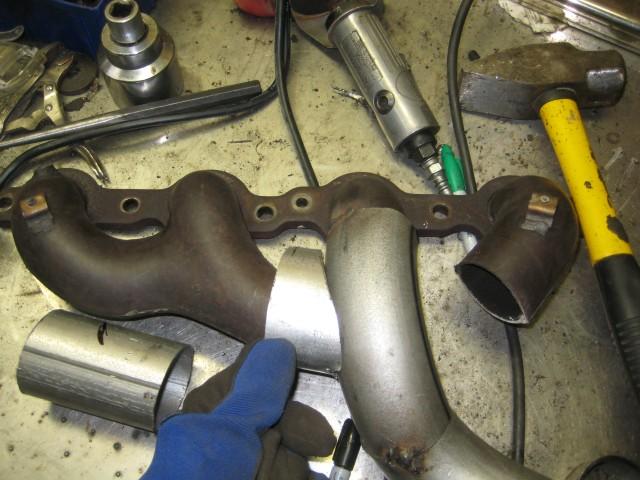 The drivers side isn't optimal but it will work. Not too many options on the drivers side. The heat shield will go back over the drivers side manifold to give a little heat protection to the master cylinder....as it is close.
The engine will come back out this weekend. I can finish welding the transmission mount. Make the engine and trans mounts look a little nicer before they go off to be powder coated. Front subframe is going to get reinforced where the steering box mounts (common braking point) then it will go to the coater. About to put in a big order with blunt....
A bunch of wiring to start on...clean up the engine bay. Figure out if I should stick with the stock e28 AC condenser or get something updated...
Coming along tho
haha yeah come on over. Buying a car and parting it is the way to go if you have the time and space. My engine/trans is nearly free after selling everything off.
1-7-2012
Swapped the stock e28 booster back in and look at that...it fits. I had to spin it around so the vacuum port is closer to the outside of the car but running a stock booster is a plus. The one downside is to replace the booster I have to just about pull the engine.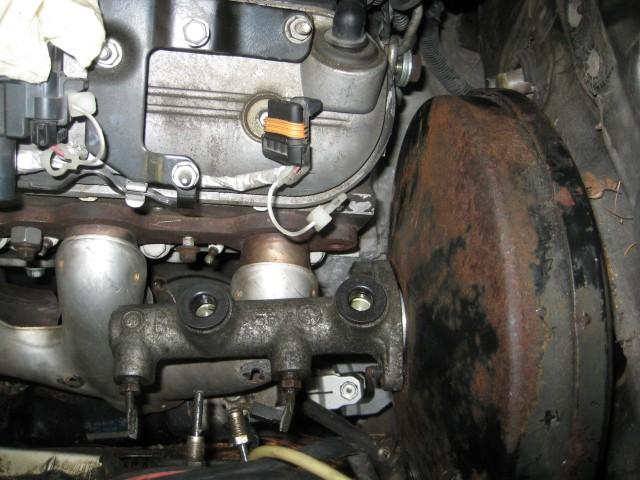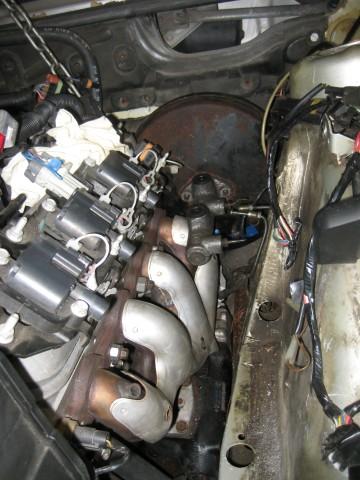 Once I knew the booster would work the engine came out of the car. Dropped the subframe and welded in the steering box reinforcement (no picture). So that is ready to go off to the coater.
Cleaned up the engine bay a little bit. I am still up in the air if I am going to rip all the sound insulation off the firewall and replace it with something new. yes or no?
before...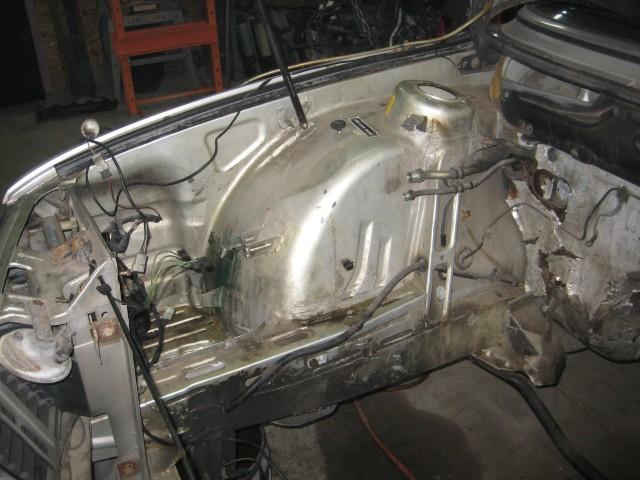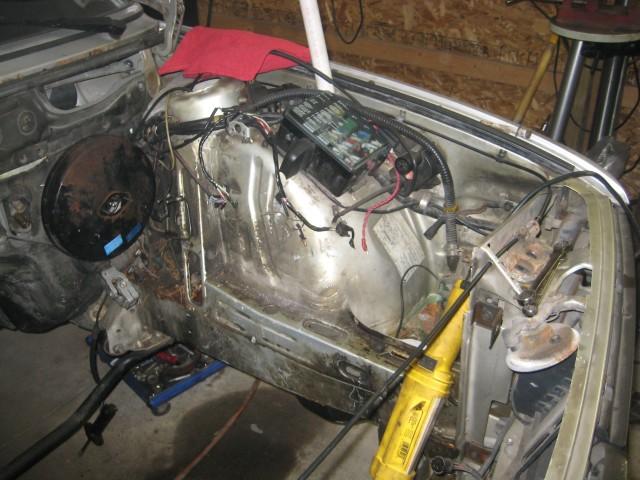 after...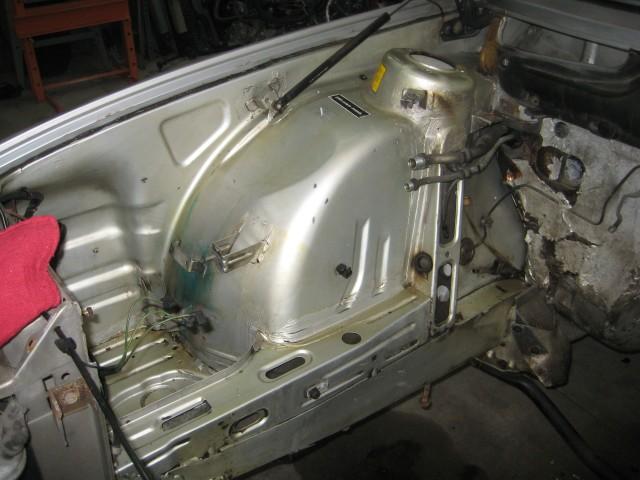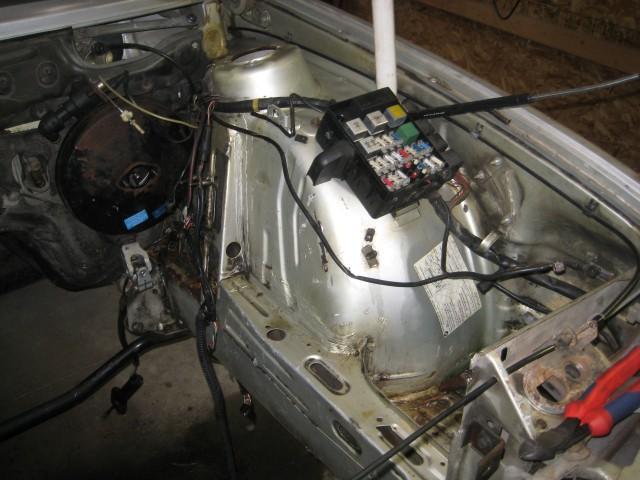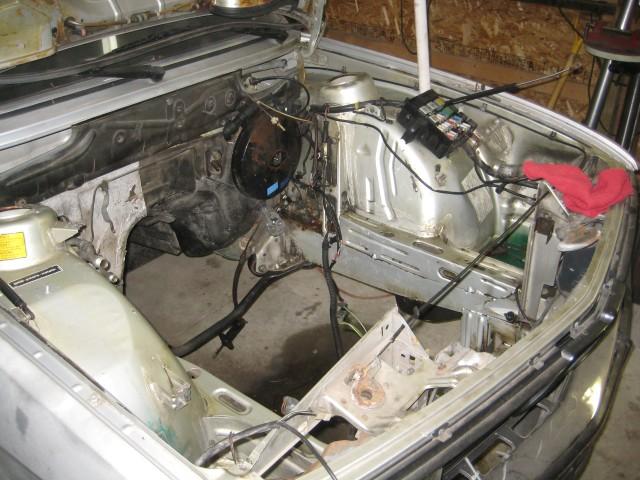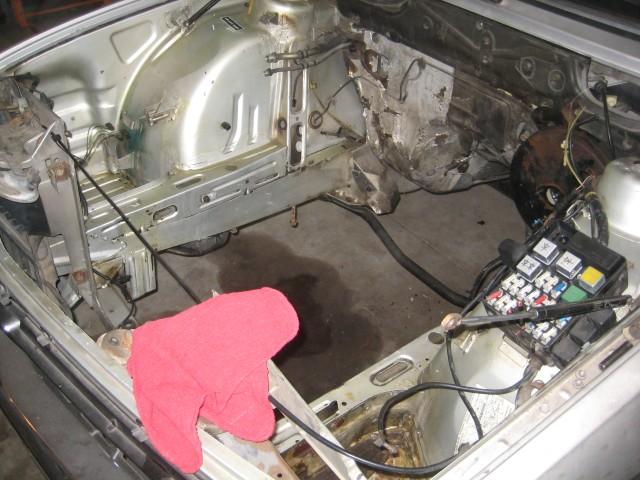 There is a little bit of surface rust in the battery tray...so that needs to get cleaned up and painted with some POR and painted over with some color to match.
Cleaned the mounts up a bit and fully welded the trans mount. Also made some jigs...anyone want a set of e28 ls1/t56 mounts? send me a PM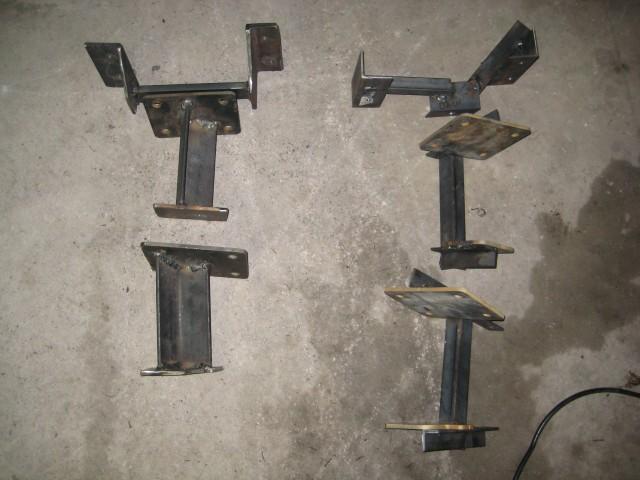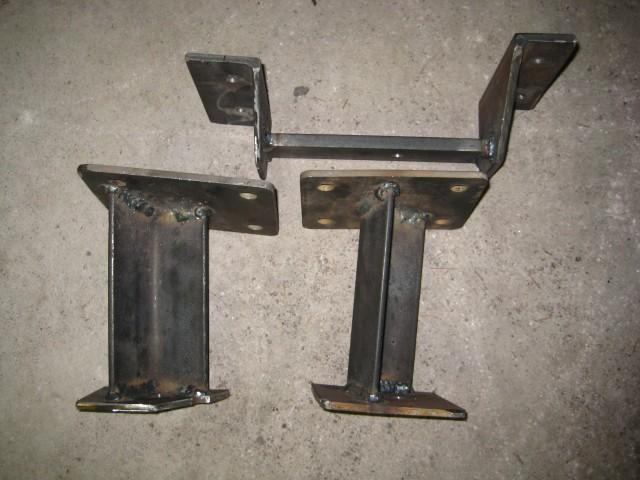 I really wish I could get the factory stuff still. Anyone have a REALLY nice one they want to sell?
there are other options and I will more than likely do that but...
1-8-2011
yes a rack would make things a lot easier. I really didn't want to get into that tho. One of those really small boosters would probably not even work... I had a 2002 booster which is pretty small and it is even back behind the head.
yeah the stock rubber mount is under the metal bottom plate, you just can't see it under them. I would not run solid mounts on anything....vibrate me to death.
cleaned the insulation off the firewall...looks better already.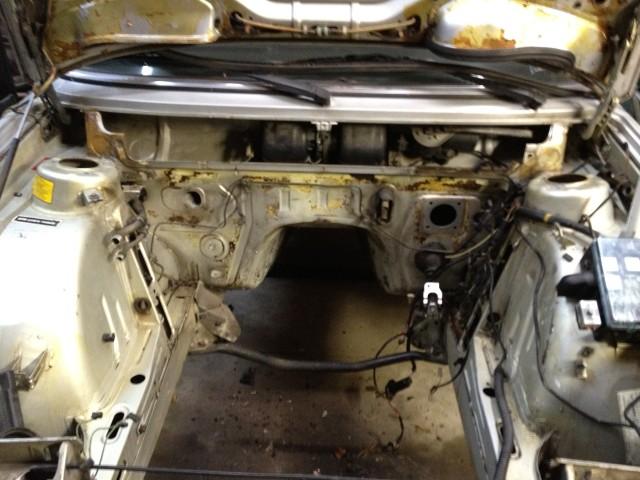 I have a few more "what's that wire" questions.
1) comes from the fuse box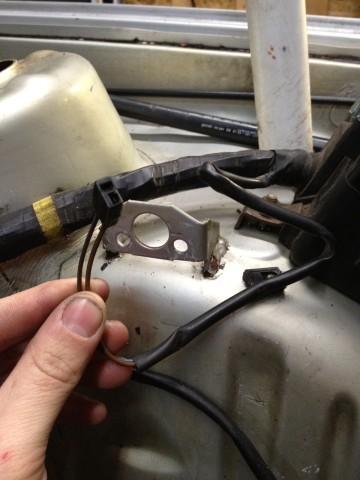 2) This connection comes from the round connector which also has wires that goes to the funny OBC horn in the battery tray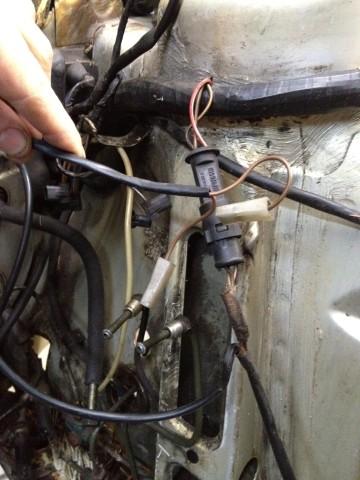 3) ???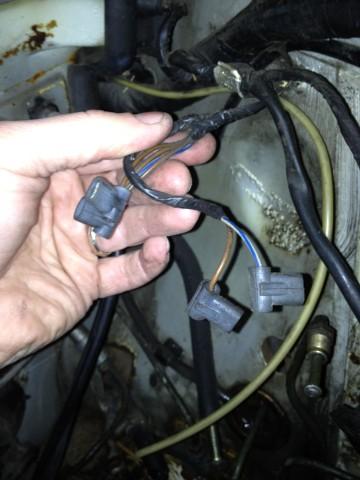 4) 99% sure this is the brake fluid level connection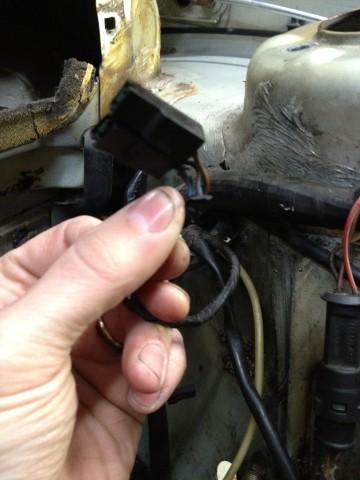 5) vacuum line for ????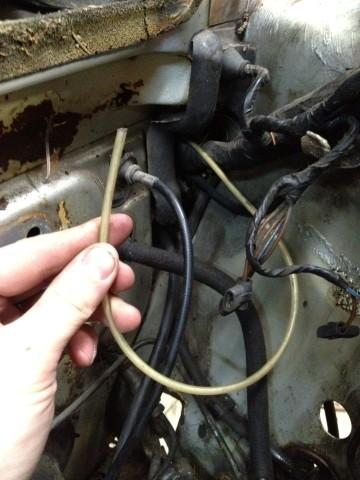 Is this factory looking?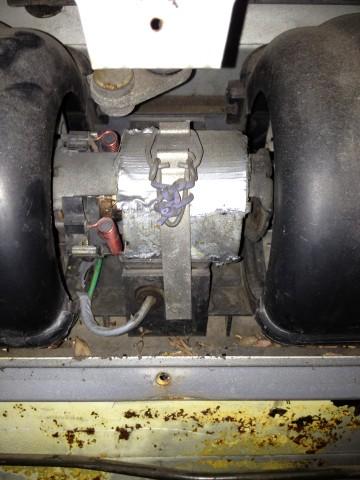 What is this for...just me being curious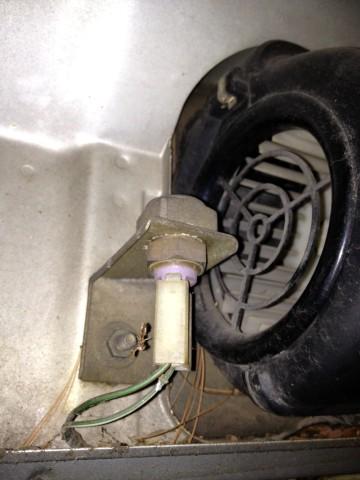 What are these clips for?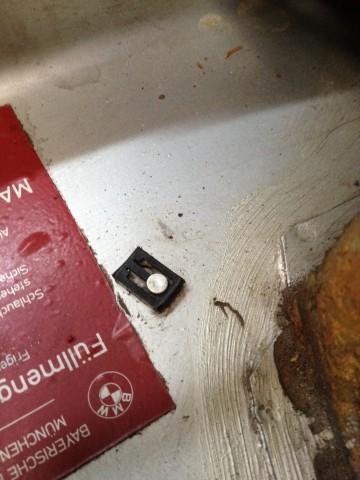 Well the engine was half gone when I got it so a lot of these wires were already disconnected...pretty much all of them actually.
Is there both a coolant level sender wire on both sides of the engine bay? There is this one on the passenger side which I thought was coolant... The 535 and 528 have the coolant tanks in different spots right?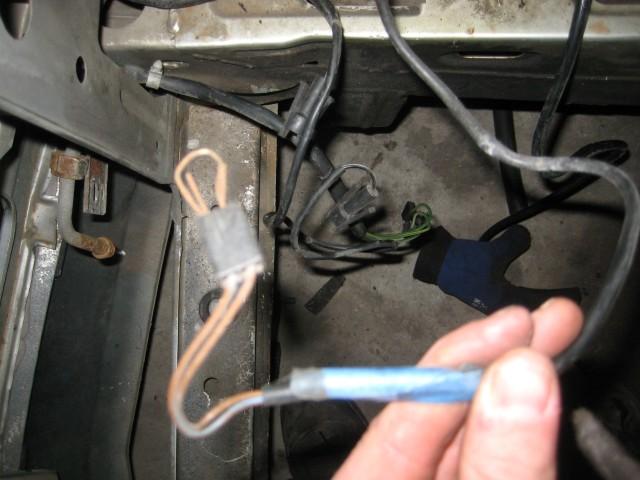 On the fan it says Behr...I was planning to replace it just while it is super easy to do so...
Should it maybe have the other brand? Was there a cut off date from one to the other.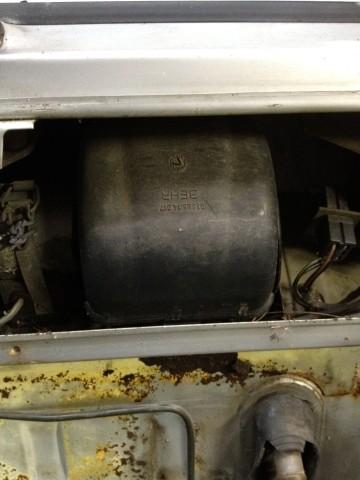 Will just a simple filter type work as a restrictor? How does this temp sensor work? What does it control?
haha well those little clips are in random spots but nothing is connected/clipped to them.
actually I was going through those parts today. thanks for letting me know, I'll be sure to swap it out!!
1-10-2012
Just put in a HUGE parts order with steve/blunt. I was up in the air about going with M5 sways right now or waiting but just decided to go all out. This order from the UPS man is going to be fun to get.
Dropped off the struts, heat shields, backing plates, front subframe, and LS1 mounts to the powder coater last night. Should be one more load going next week. Waiting on a few things to get here first.
It is the end of the semester this week so next week I have a handful of half days and a couple days off so I am hoping to get all the rust fixed and the entire bottom of the car repainted. As well as the engine bay cleaned up a bit more.
On the e28 what is the connector called from the fusebox to the engine harness? I know the e30 is the c101, but don't know the name for the e28. Also if anyone has the pin out for that connector that would be excellent. TIA
I do have the ETM from there but honestly haven't dug through it that much yet. Knowing the name of the connector would help to put together a pin out though.
Search first right...
m http://www.mye28.com/viewtopic.php?t=60 ... sc&start=0 m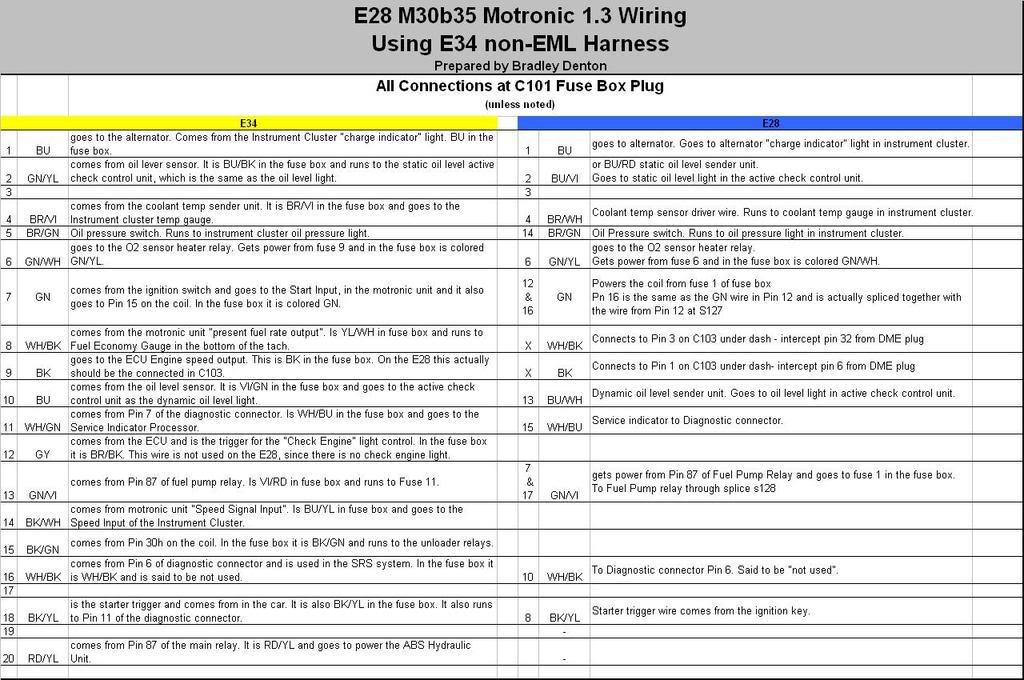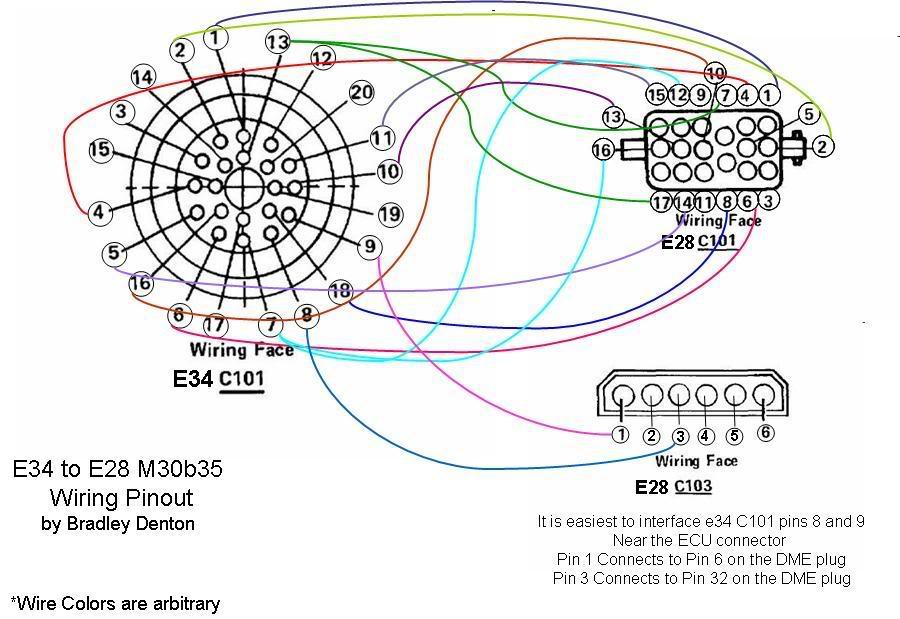 Should this be the same for a 85 528e?
1-16-2012
Does anyone know what this connector is for?
It was off the engine harness near the DME connector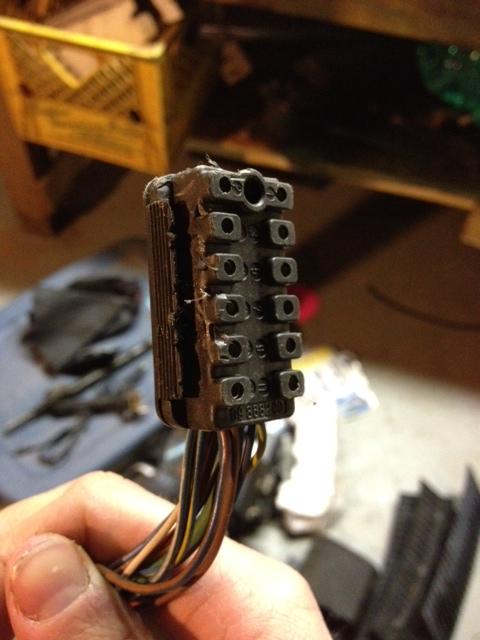 1-16-2012
thanks...I cut what I needed out of the harness and tossed it in the scrap bin. I cut that connector off too just in case but now it can go in the scrap too.
Just pulled the c101, c103 and a few of the relays. I am hoping I can use the relay holders because they slide into the fuse box. It will make my harness a little more factory looking.
1-20-2012
It's coooooollllldddd here in Michigan but got a little done today.
Dropped the trans off to be checked over as I knew it had a problem with the reverse syncro. I also wanted to upgrade a few things in it. Well when the shop got it apart there was a bit more wrong than I was expecting. 5/6 gear was bad, reverse gear is bad, needs syncros throughout, getting brass shift pads, steel 3-4 shift fork. It should be a bit more stout and handle up to 600hp. Pretty big chunk of change but it will be good to go now.
Lots of parts have been rolling in. thanks blunttech
control arms, wheel bearings, brakes, etc etc etc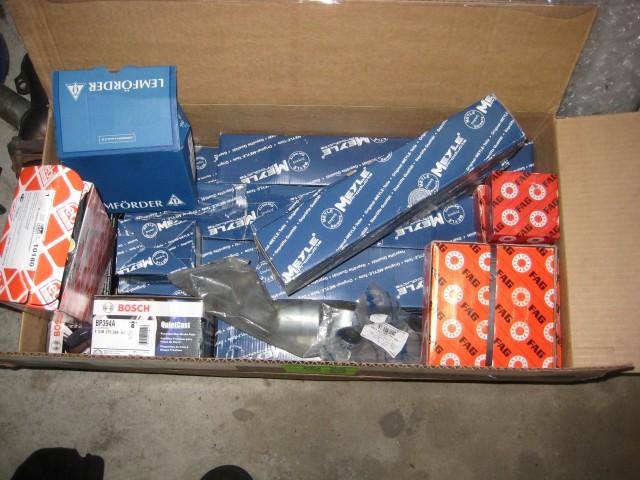 Jags that run diff flange and brake rotors
rebuilt CV axles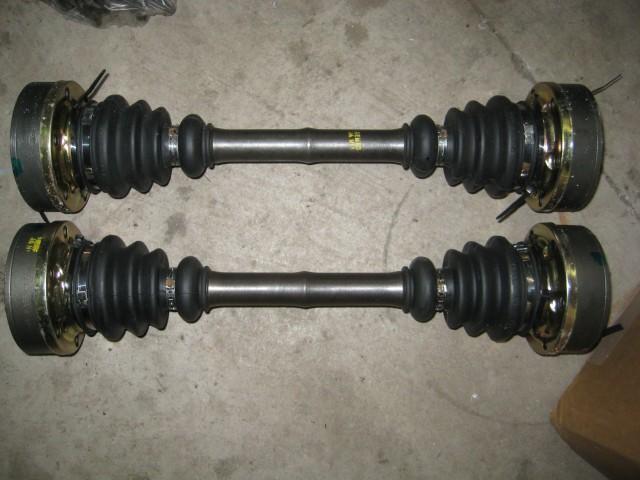 Got one of the bigger batches of coated parts.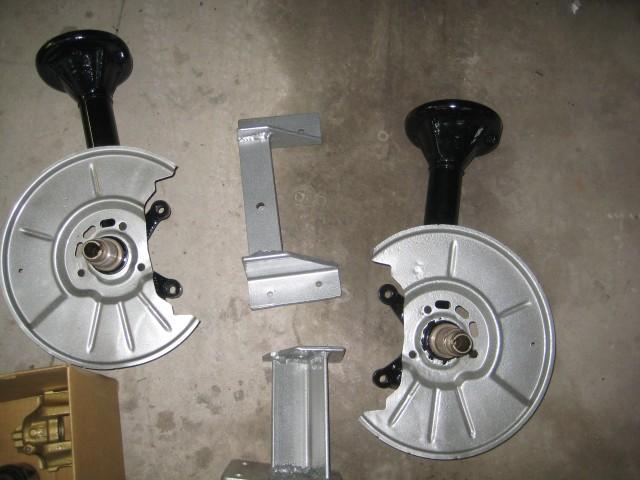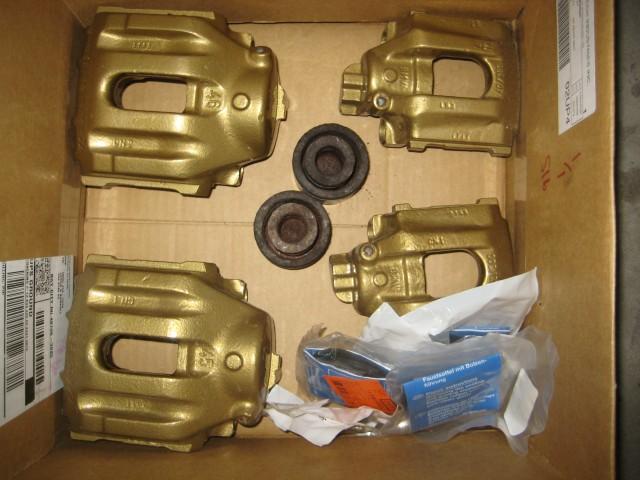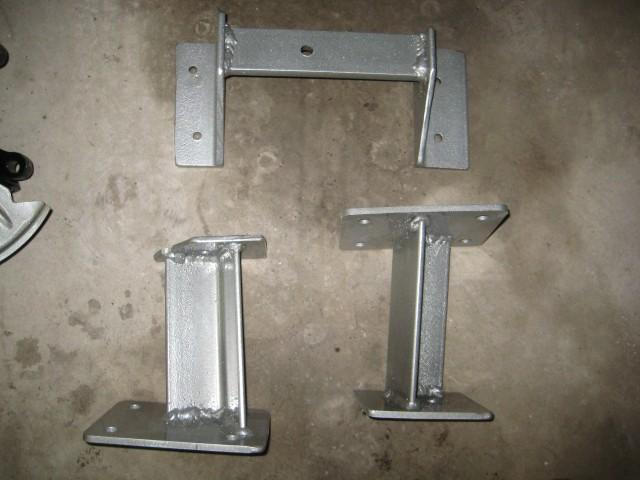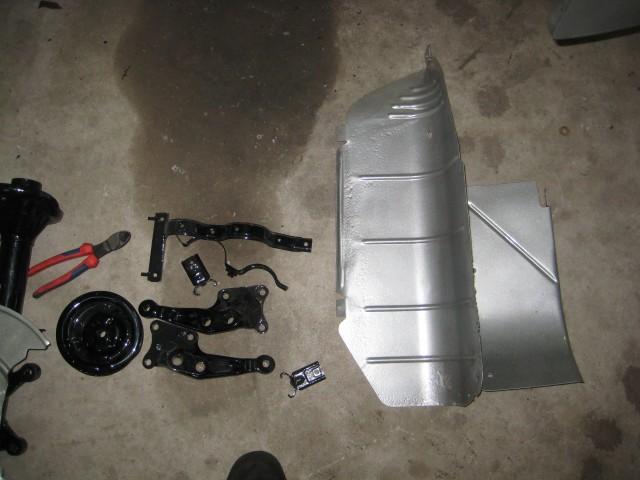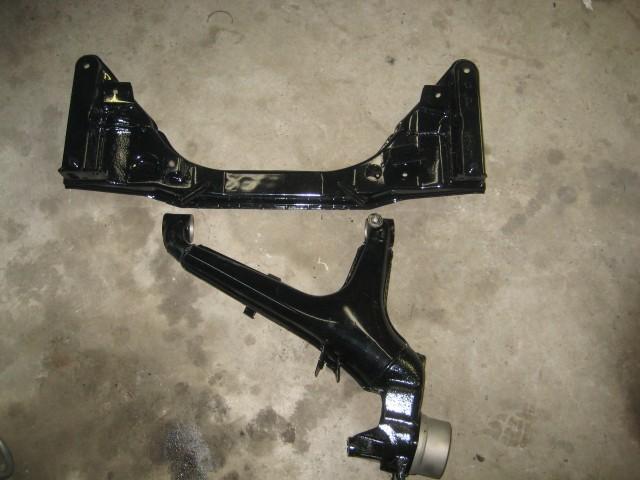 Reinforced front sway bar mount location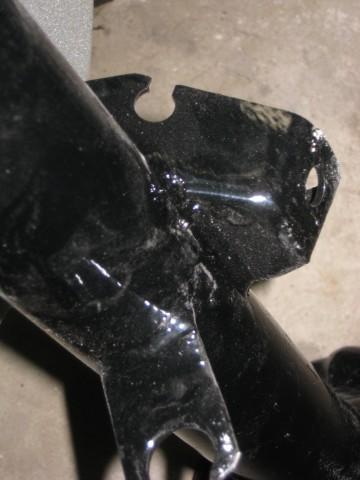 One of the things to work out was the gauge temp sensor. THE GM head is m12x1.5 and the e28 sensor is m14x1.5. So I had a buddy turn it down on his lathe and re-thread it. I really didn't want to drill out the head...sensor is $6 no big deal if it is messed up.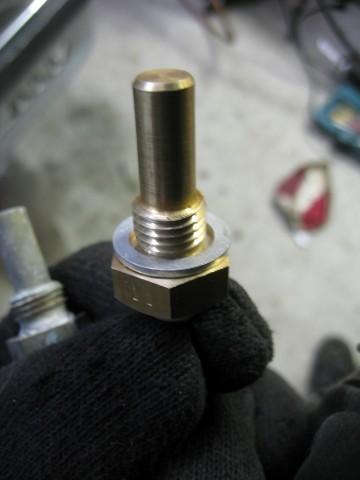 Added the Ireland rear subframe adjusters, subframe can go to the coater now.
Pulled the engine wiring harness off to start slimming it down for a standalone.
1-28-2012
Little bit of an update today. Got the firewall insulation on, brake booster repainted and on, replaced the clutch master, installed the lokar throttle cable, finished up the intake 255lph fuel pump, installed the fuel tank, installed the front subframe and steering box, made a couple strut bars....
I think that is about it....
On to some pictures
The e28 pickup tube is 12mm and the TRE pump is 8mm. The TRE fuel line fit tightly inside some BMW 12mm line. I don't feel there will be any issues as it is more of just a spacer and then all tightened down with a clamp. Only about a 1/2" piece of the TRE line inside the BMW stuff.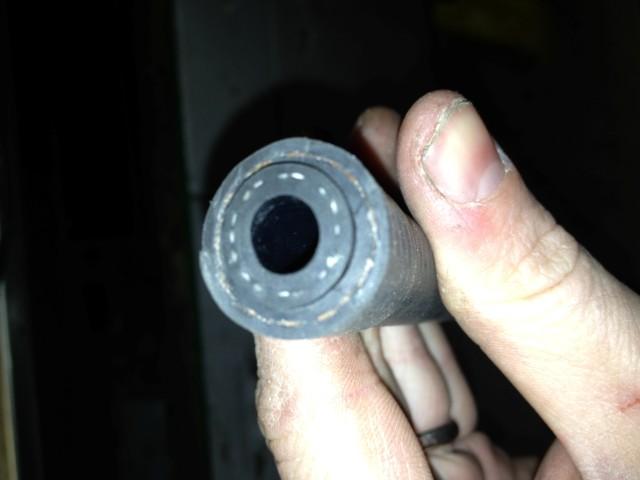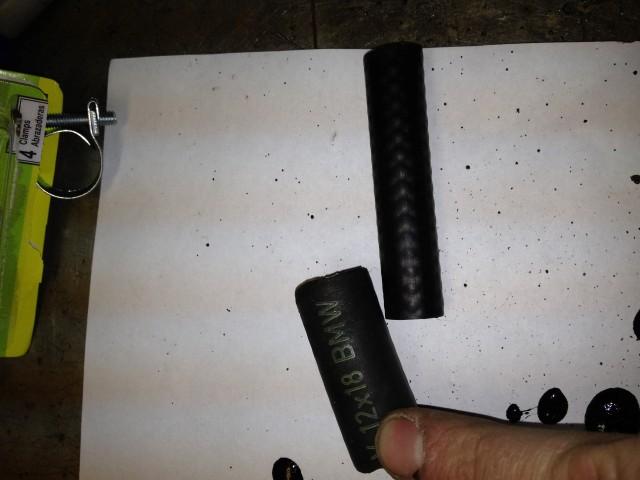 Ground line is crimped and soldered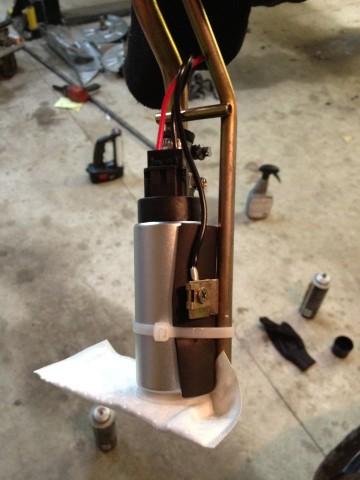 I did cut off about 3/8" off the stock pickup tube so the pump would sit at the right depth in the tank. Then crimped the hose down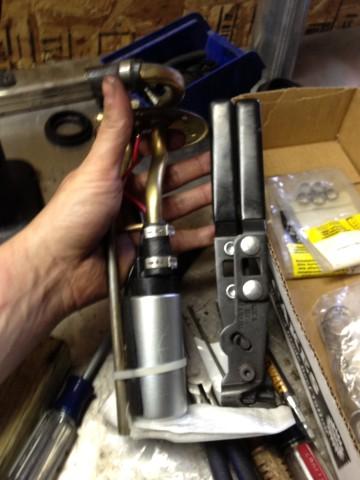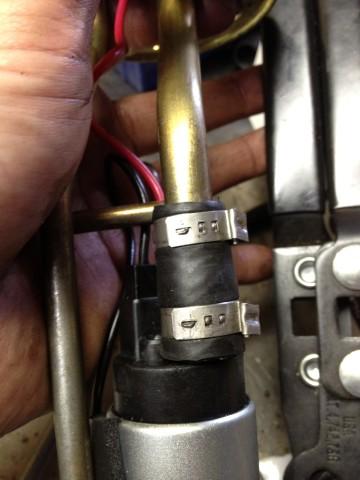 Pump in the tank, sitting just off the bottom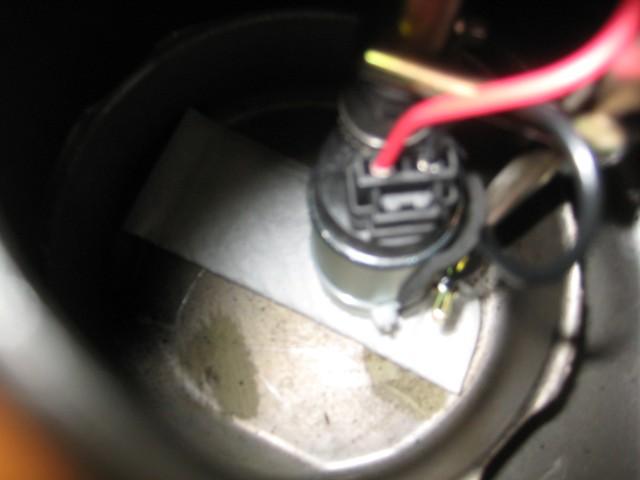 Gas tank cleaned and painted...and installed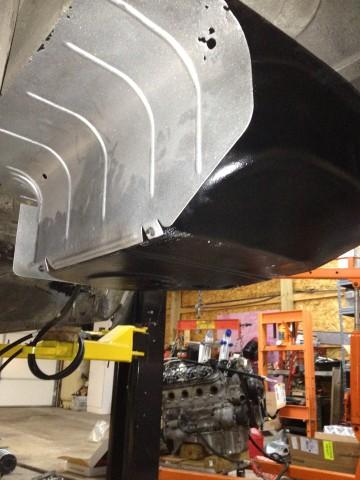 Started with a layer of bytul type sound deadener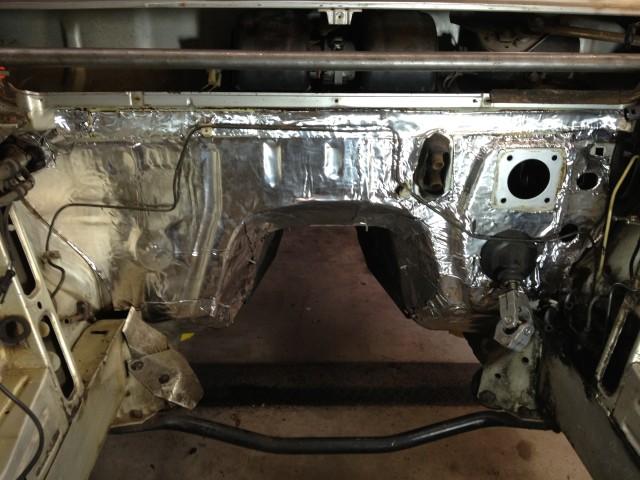 Covered it with this alum backed fiber heat shield type stuff. The alum backing was pretty thick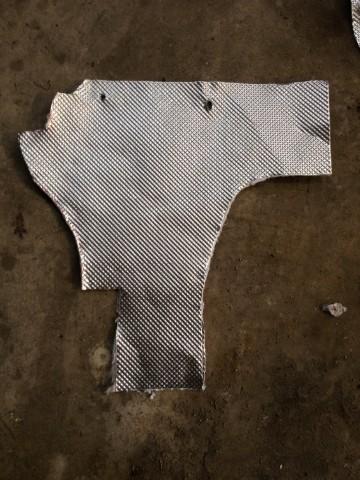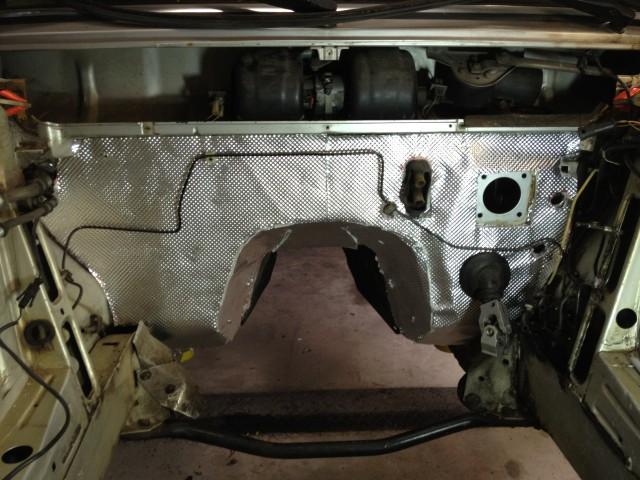 A picture from a bit back showing the entire bay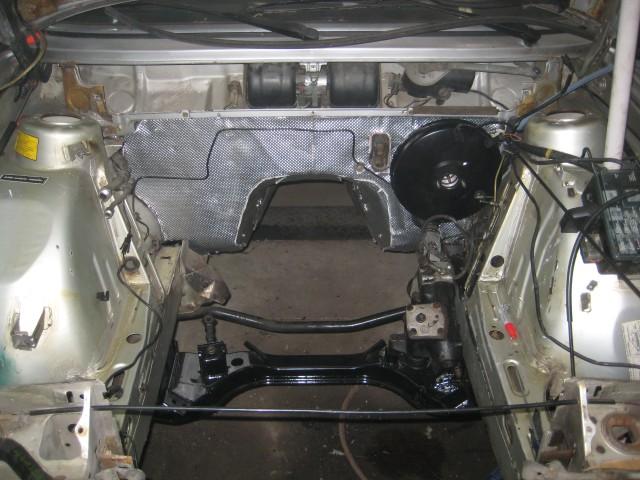 Subframe/steering in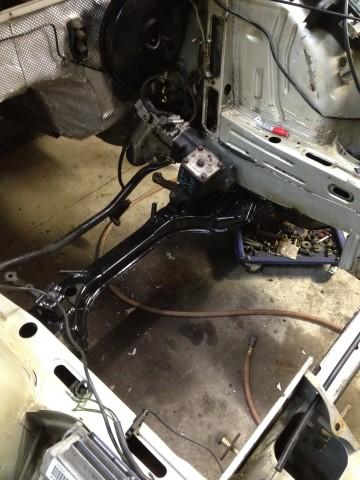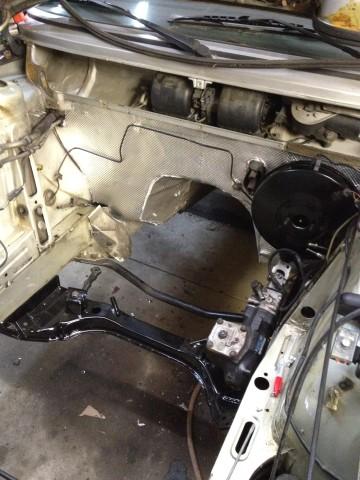 Front struts are together, new wheel bearings, billy sports, right now some cut stock springs. Going to see how it sits before changing anything.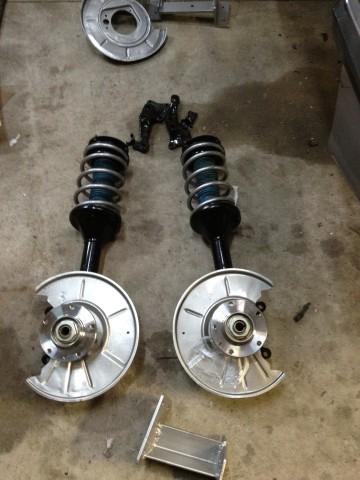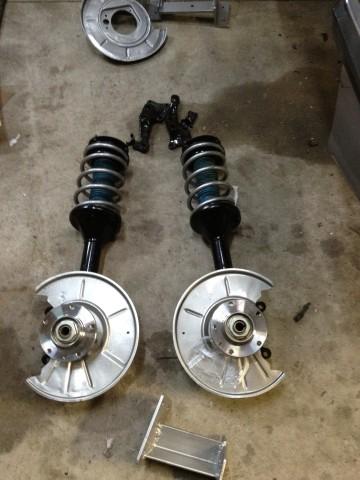 I did the following a week or so ago, just never updated the thread
There was a little rust under the battery, cleaned it up and POR'd it. I will probably spray some silver over top.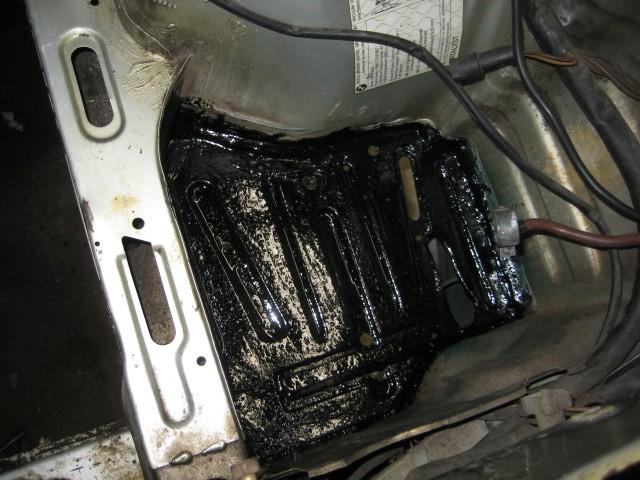 Little rust starting under the brake lines...cleaned up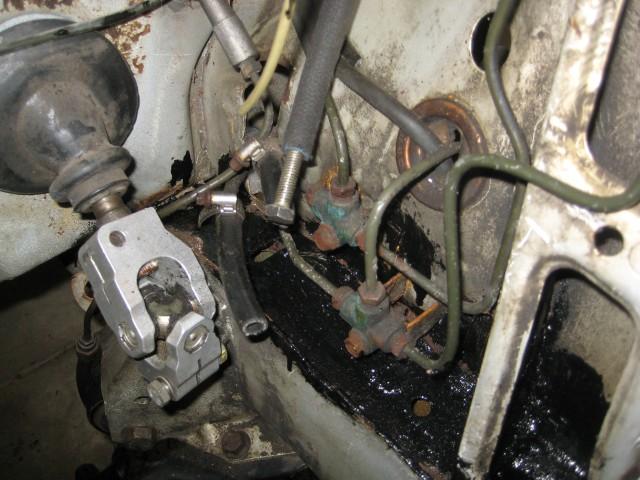 Reinforced the rear sway bar mounts. There is a piece of angle iron up inside them and welded both to the body and the mount, then all PORd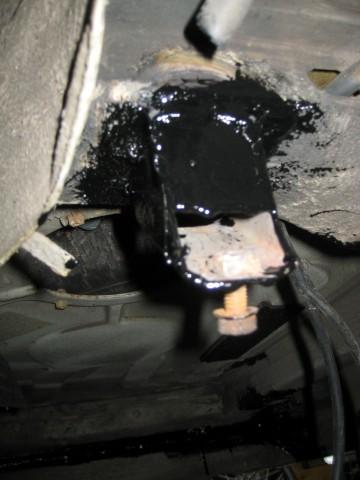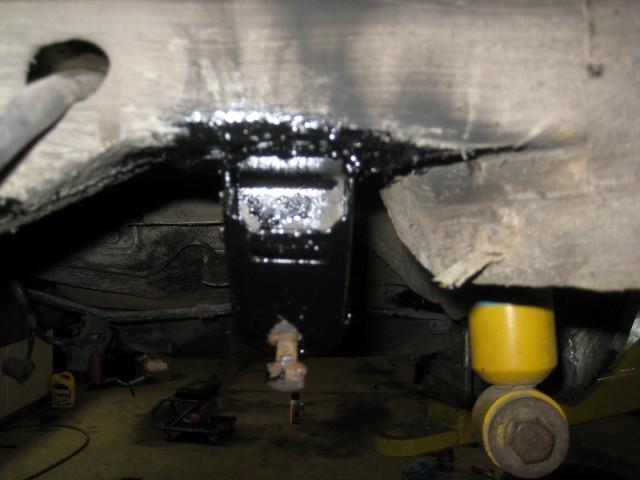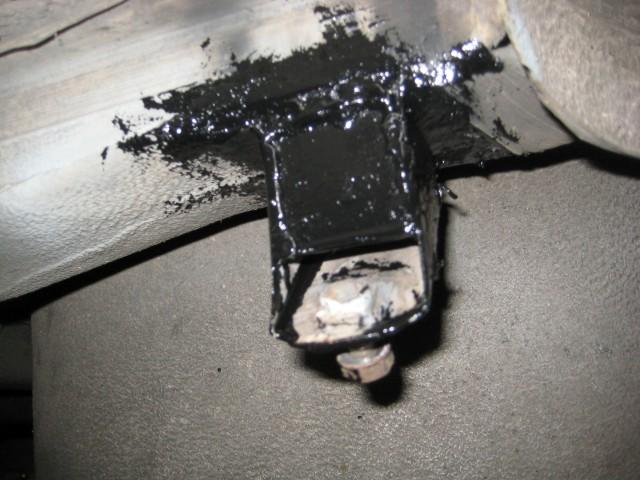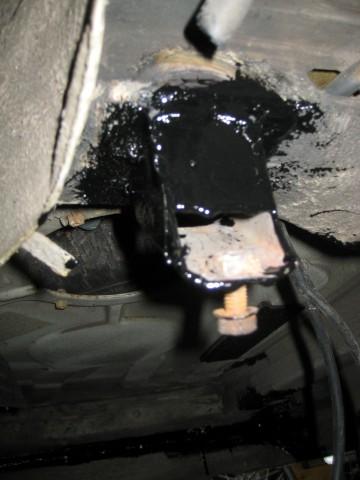 2-21-2012
I am up in Bay City...thanks for the kind words
Engine went back in yesterday...a few things to show pics of.
I had to open up the trans tunnel just a little bit, this is on the passenger side just in front of the mount.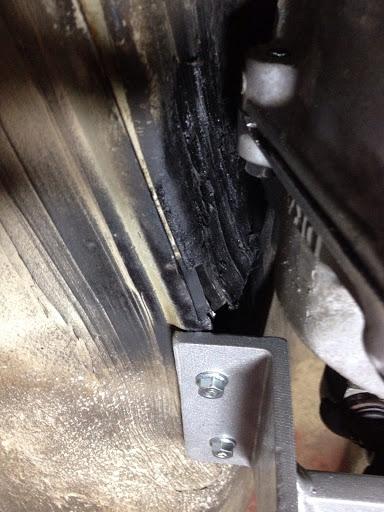 Swapped to Ford backup light switch so I had a bit more room to plug the connector in.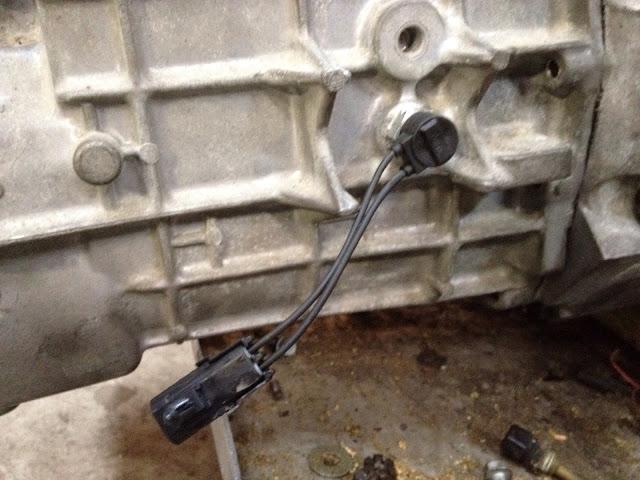 Ready to go in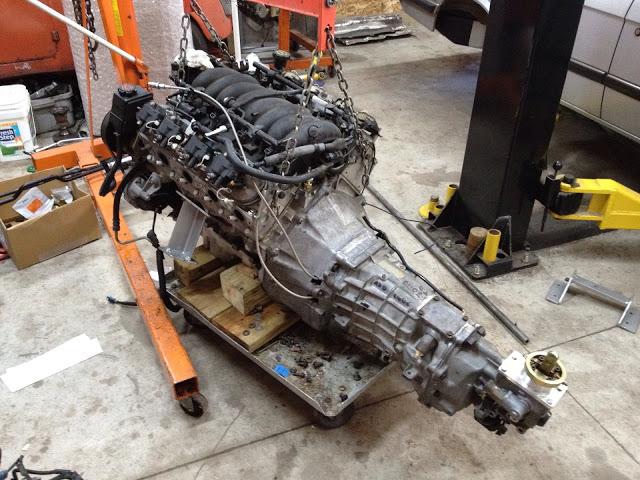 It's close but it clears everything.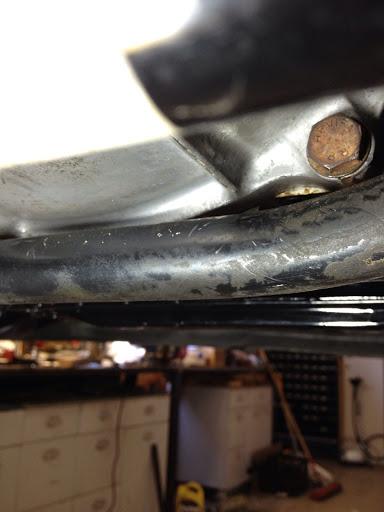 e28 535 hose cut a bit more fits...still needs to be pushed on further.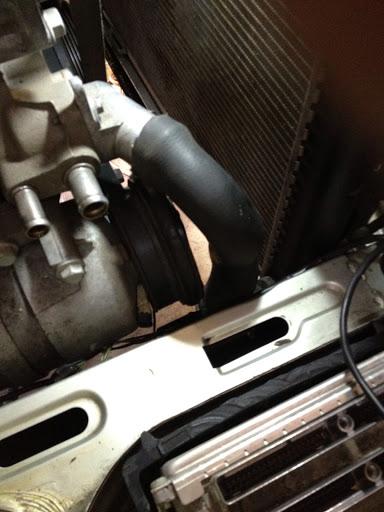 I plan to move the heater valve over the the passenger side firewall to allow a better hose setup.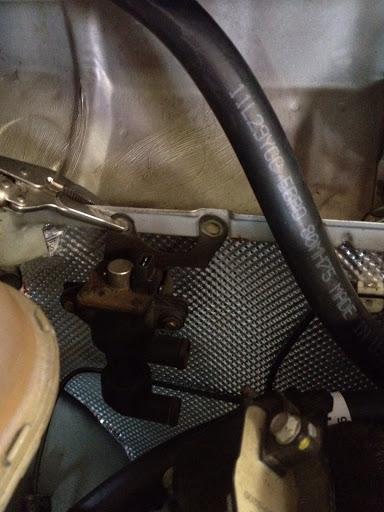 PCM mounted...I will have to adjust the harness a bit but that was a plan anyway.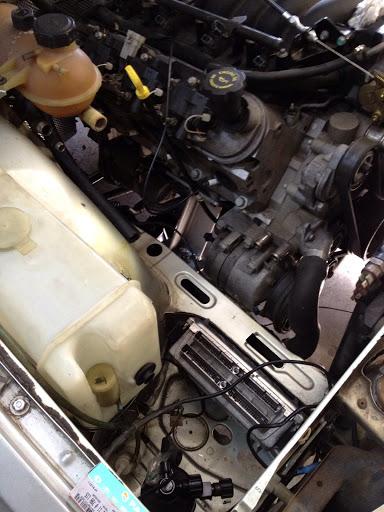 It just looks like it belongs in there.....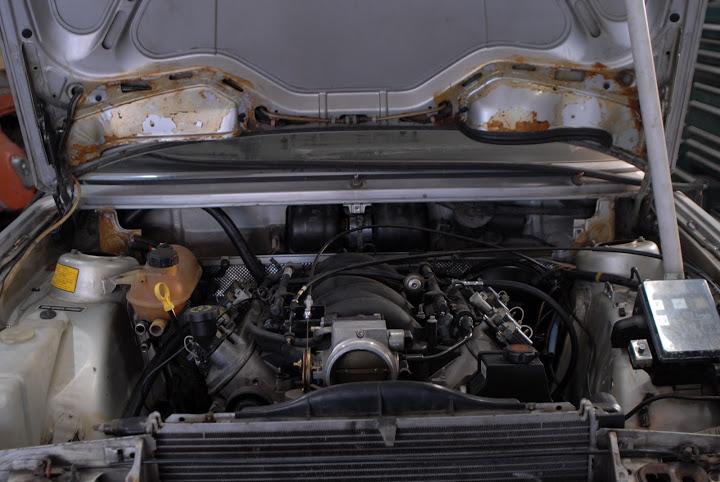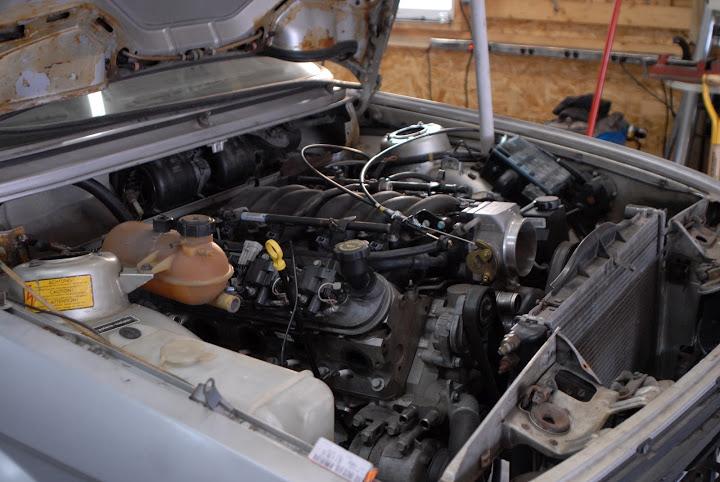 3-1-2012
Very very small update....its been a busy week
I am going to run 2 12" puller fans this way everything will clear.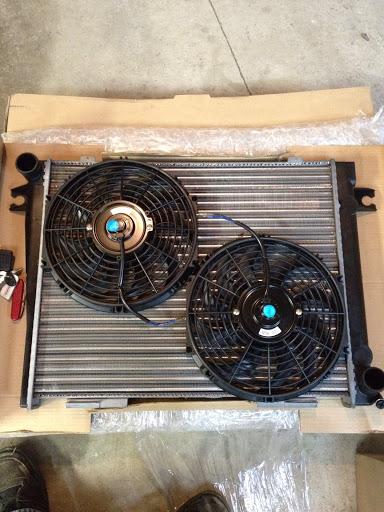 I will have a fan should waterjet and then powder coated. It will look something like this... I will weld some studs on it for the fans to mount.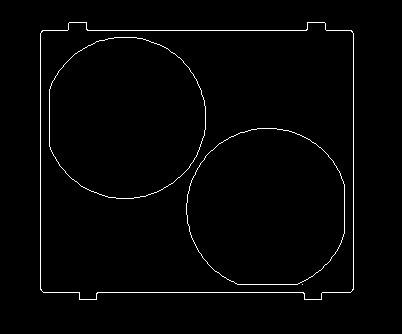 Mounted the GM fuse box next to the BMW fuse box. no picture of that. Hoping to have some time over the next couple weeks to put into it.
Picked up another car and engine for a swap down the road...92 volvo wagon and then a 4.8 truck engine and a 4l60e automatic. It will be my wifes DD eventually. It actually drives nice as it stands now but is pretty slow.
A pic of it..
3-2-2012
I paid $3k for the wrecked camaro...parting it out made my engine and trans free.
I am making copies of my mounts. PM me if you want a set. I should make a jig for the manifold too.
3-18-2012
With the birth of our son and then my wife being in a lot of pain after delivery progress slowed down a bit. Things are starting to get sorta back to normal and figuring out when I have time to work on things.
I got a few things done recently.
Had the fan shroud cut from 14 gauge sheet metal. Welded some bolts to it and had it powder coated. No picture yet from after coating as it just got done and I haven't picked it up yet. It should work out really nice. I'm not sure yet how I am going to run the fans...either just one on for "low" speed and then both for "high" or both on slower in low and then full speed when high...not sure yet. Any suggestions?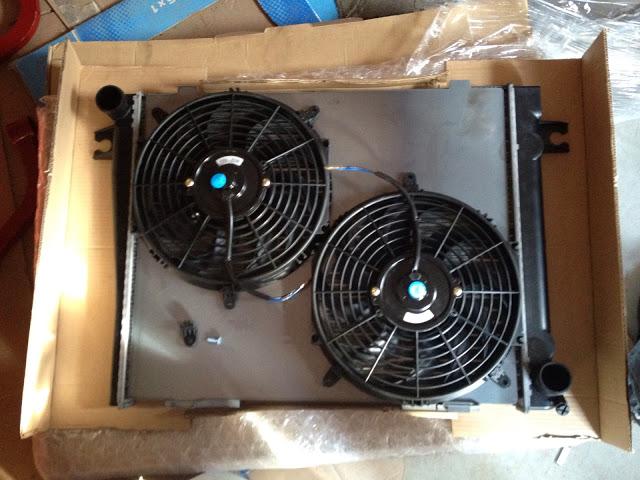 I really hated the look of the panel the covers the heater fan and wiper motor so I pealed off all the rubber coating and had it blasted and coated.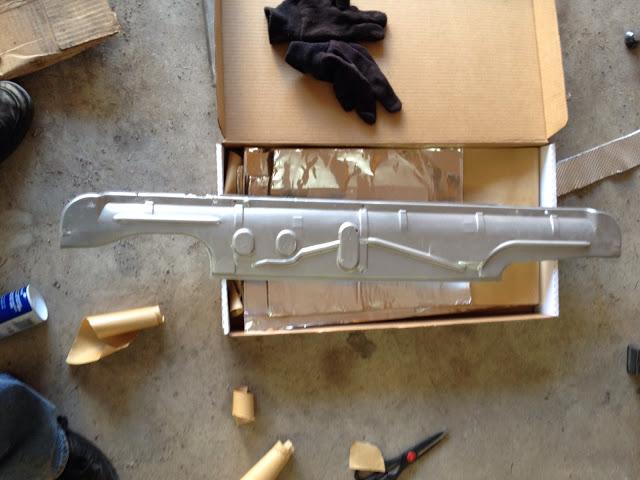 But because now it was just a thin piece of metal I was worried about noise so I added some sound dampening material to the back side. It was pretty amazing how much different it sounded before and after the material.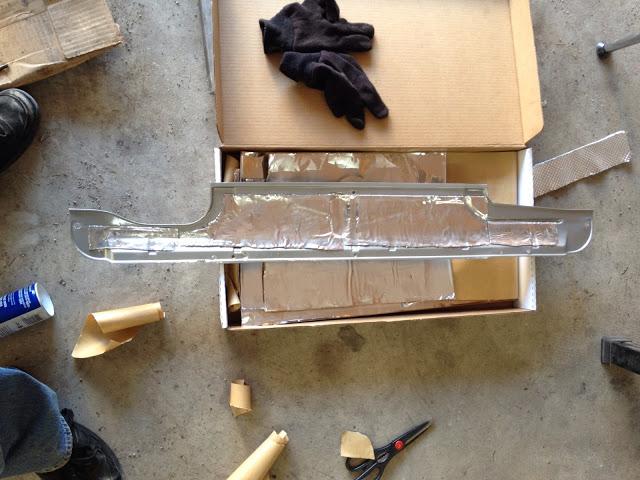 And then how it looks on the car...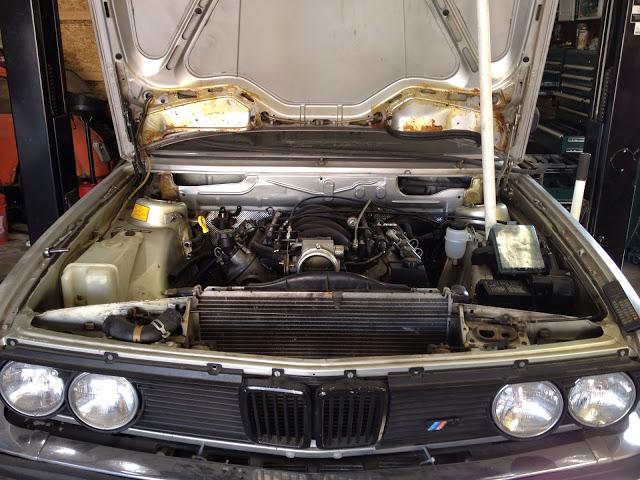 compared to....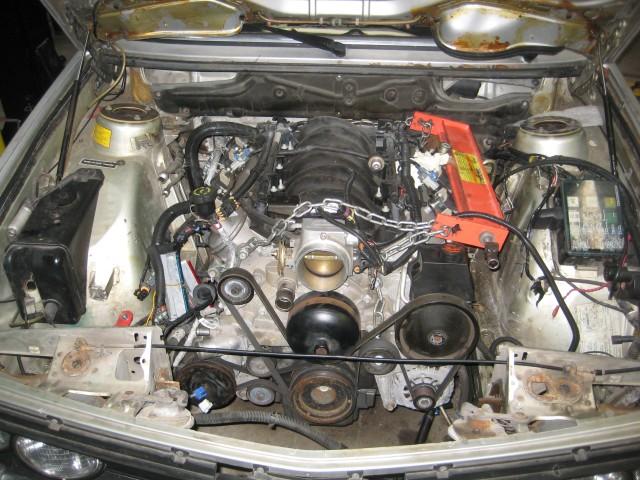 moved the heater valve...it would have fit in the stock location but it would have been hard to service if needed.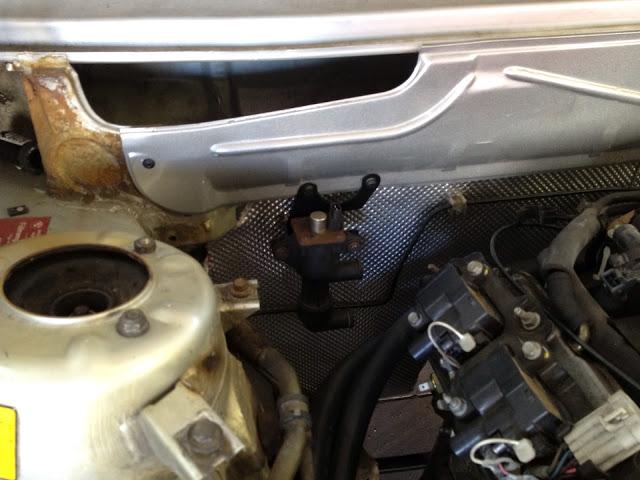 mounted one of the camaro fuse boxes to hold the extra fuses and relays. The camaro actually has 3 fuse boxes, one in the dash and two under the hood. This is one of the underhood ones and I am repinning it to my liking.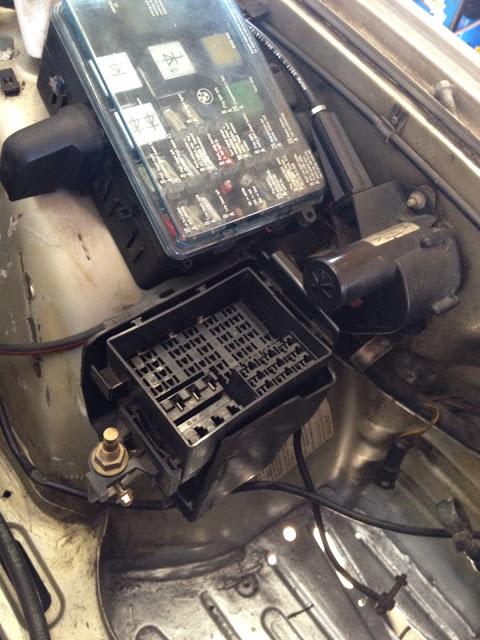 Working on finishing up the rear end rebuild. The rear diff is a 3.25LSD which might change to a 3.46...I had the 3.25 so it is worth trying first.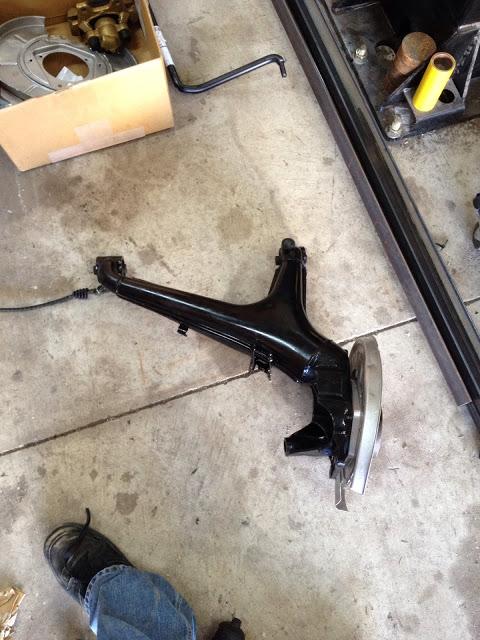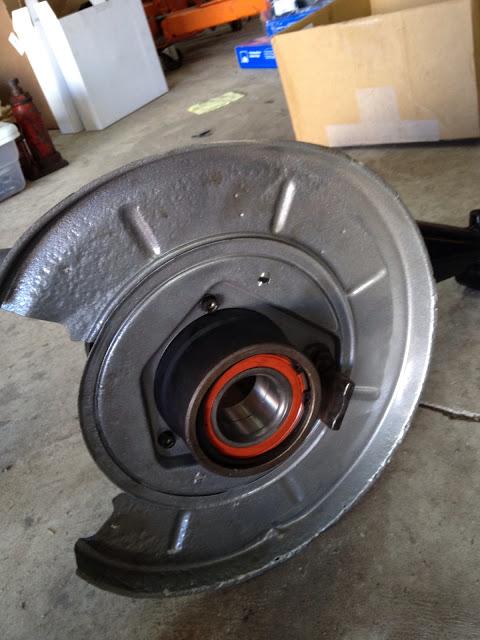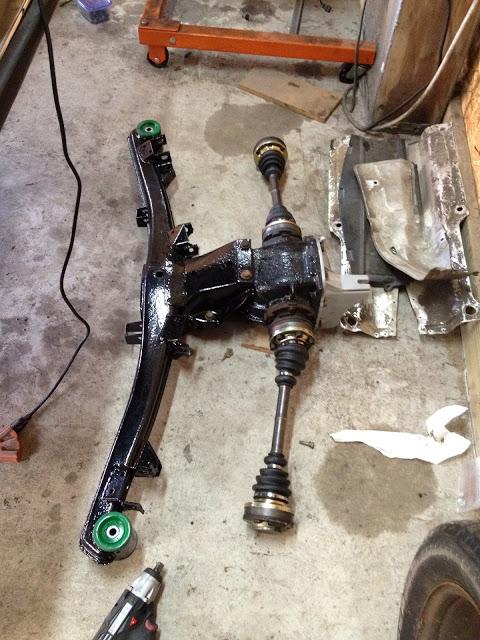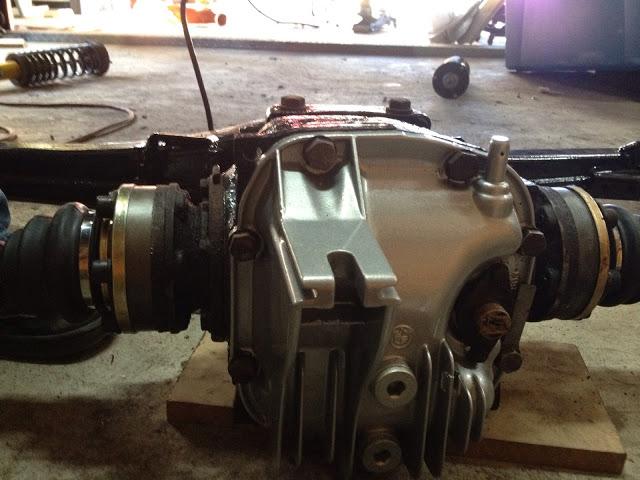 I have a week off after this week and I am hoping to get mostly everything else done. Ordering all the AC bits tonight and should be able to order the driveshaft by the end of the week. Then I will have to do a bunch of wiring.......all figured out just need to do it and make it look nice. Slowly but surly it is moving ahead.
3-20-2012
I got the fan shroud back from the coater and was able to see how it all fits last night.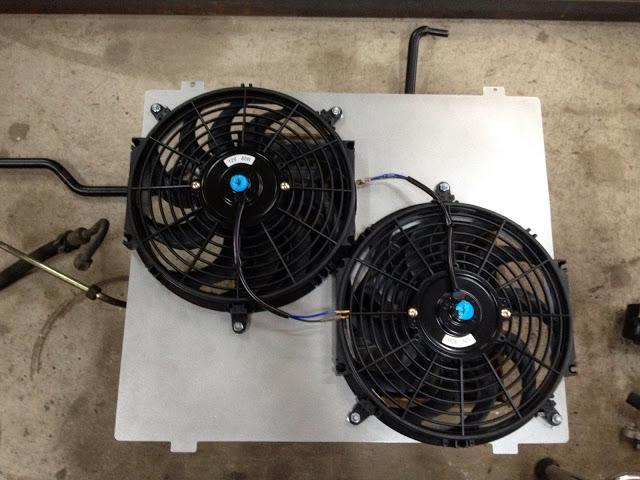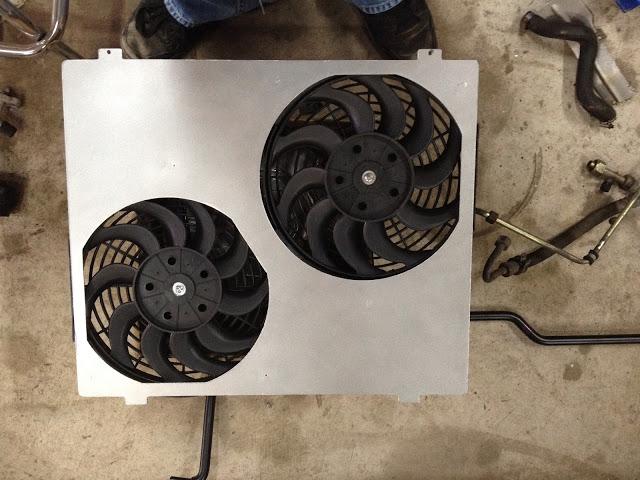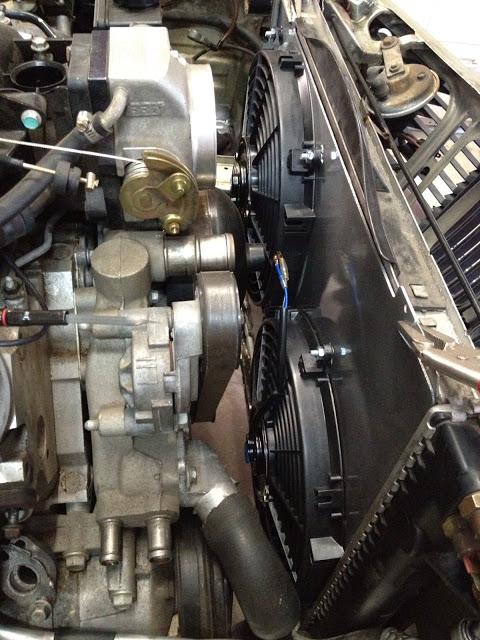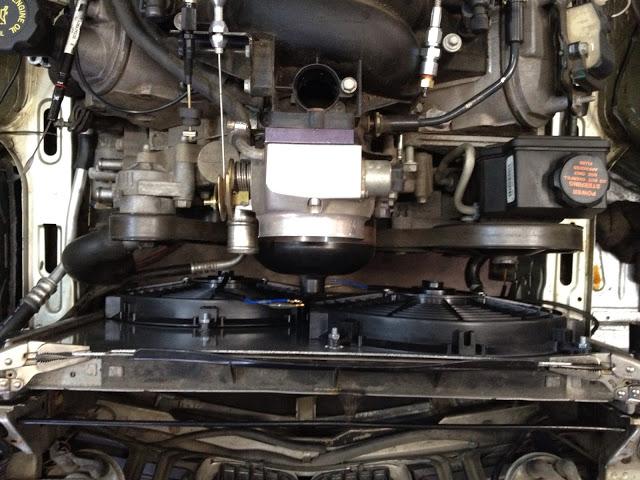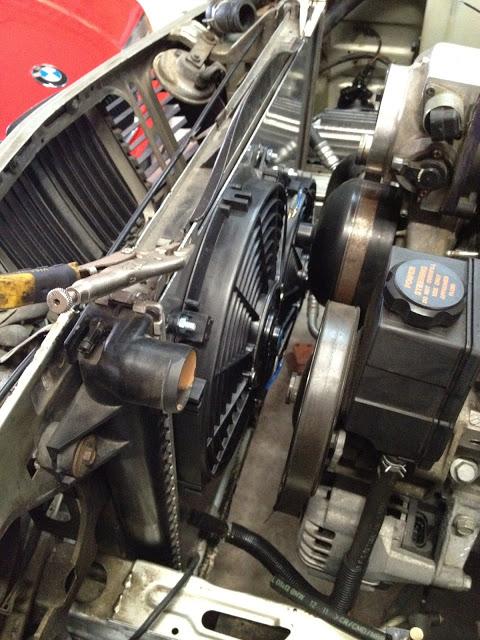 3-27-2012
A little more work done.....
I was having trouble finding an upper radiator hose that would work. So I just used the camaro hose at the engine and then part of an e36 upper hose at the radiator with a piece of alum tube between the two. One side of the alum tube had to be expanded. The tube will get coated gloss black.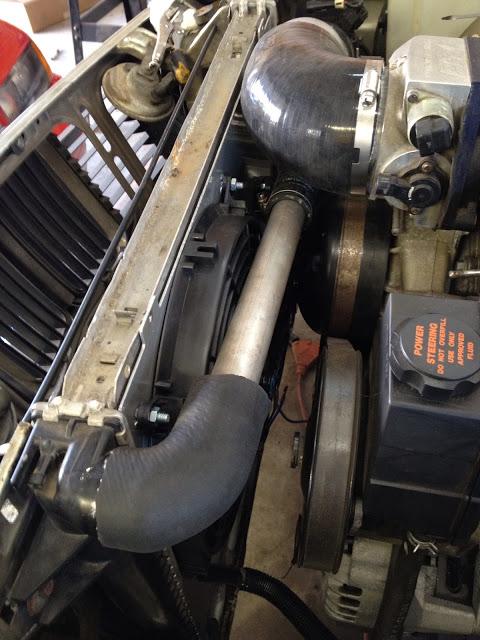 Made the air intake....4" to 3.5" elbow, slight 3.5" bend to 3.5" straight and a little bracket to support it to the engine. Weld has been sanded down and the entire thing will get coated gloss black.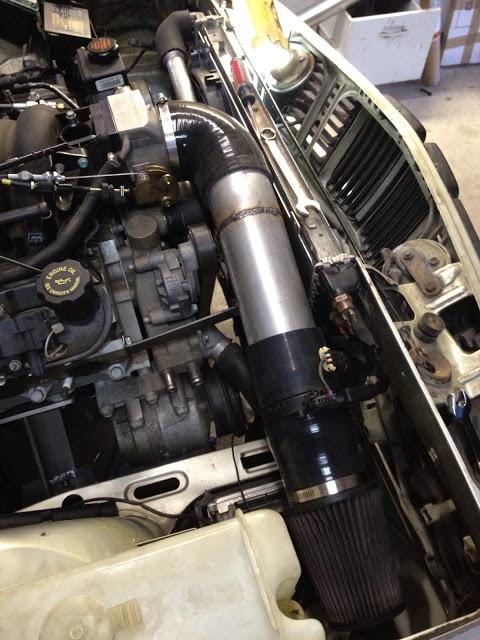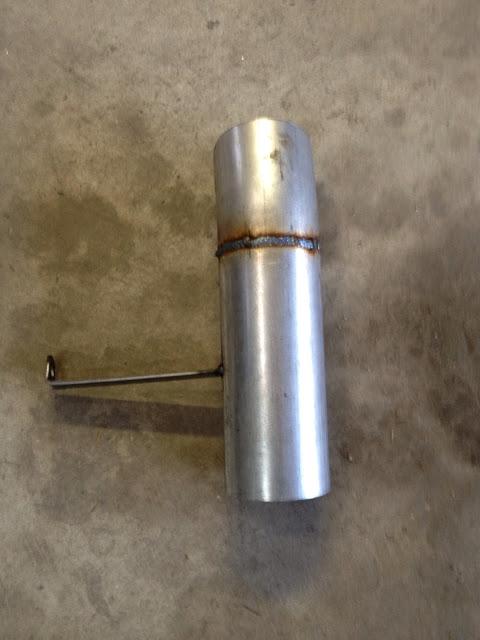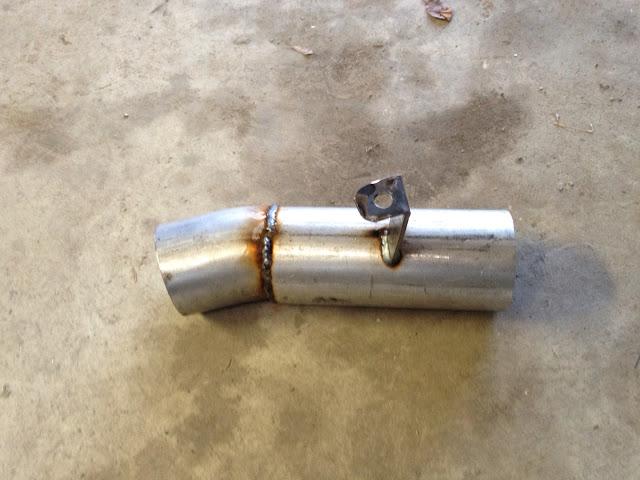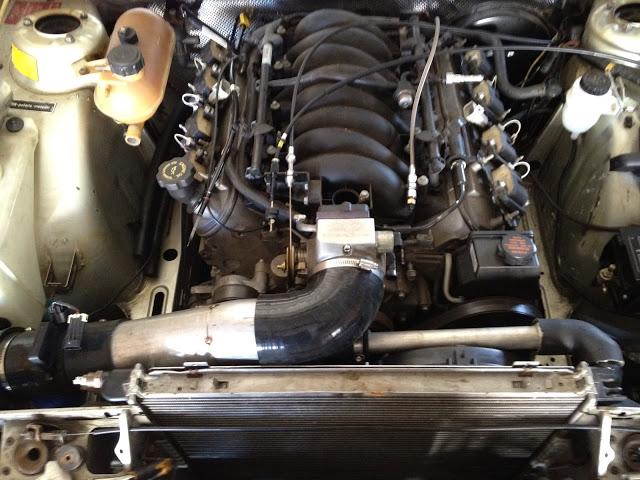 New Cross Flow AC condenser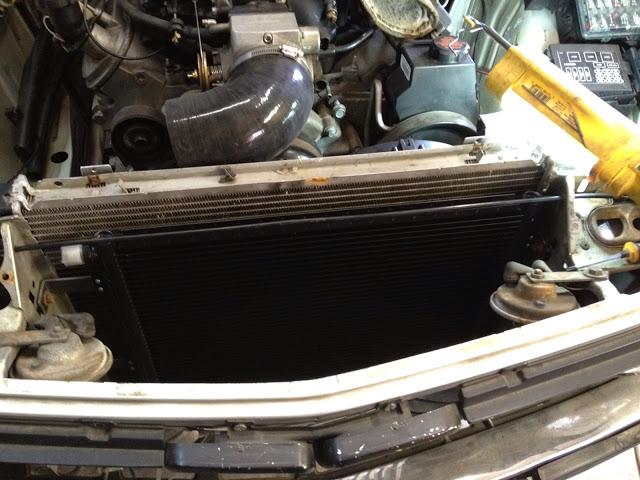 A couple small brackets to mount to the factory locations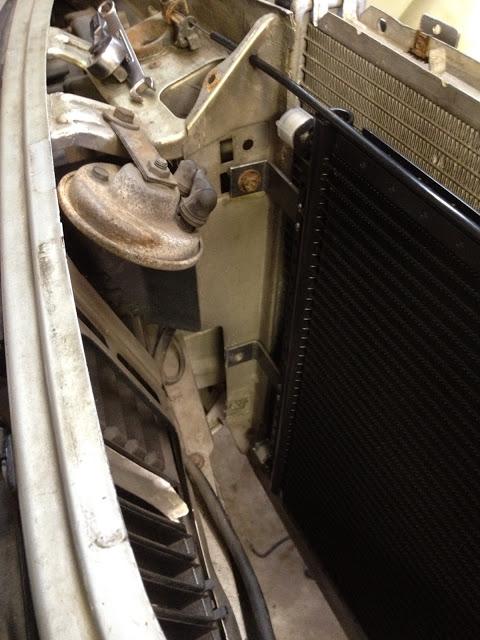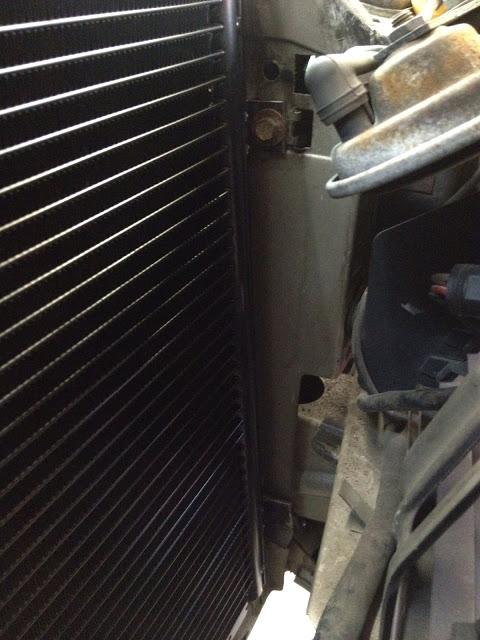 Rebuilt rear end ready to go in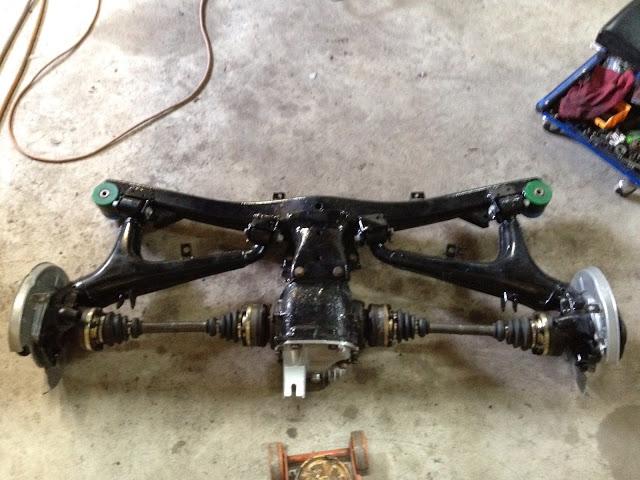 and in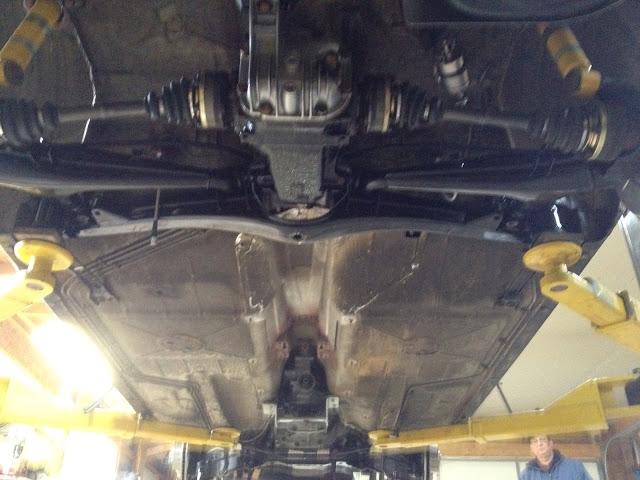 Style 5s to be refinished.....
Still not sure on colors.
What do you all think?
polished lips, satin black centers?
polished lips, grey/silver centers?
silver coated lips, black centers?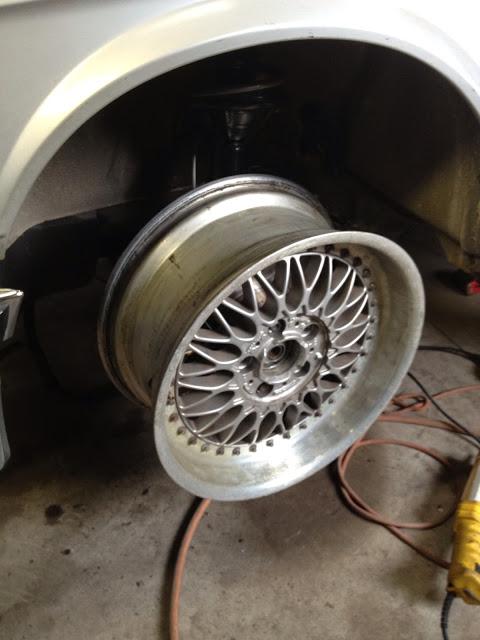 3-30-2012
Another update...
Driveshaft is made and will be here on wednesday.
Split the style 5s apart and dropped the centers off at the powder coater. Started stripping off the clear coat on the lips. Two applications of stripper and they are looking good. I think whatever it left will come off with some thinner.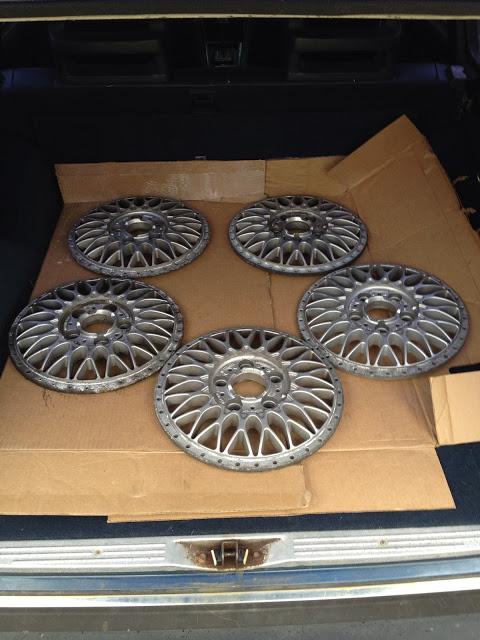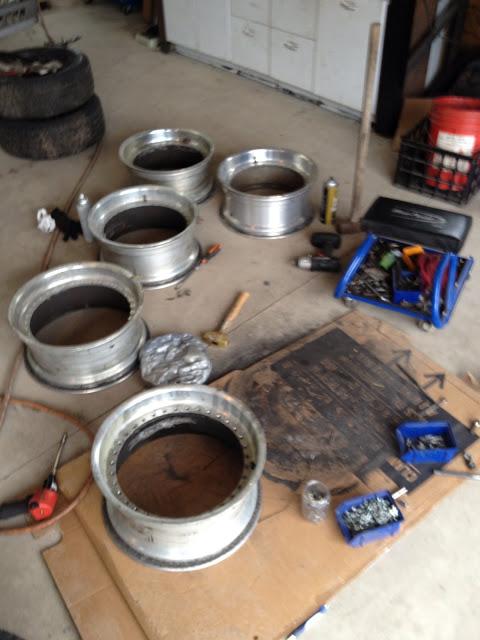 Added some piping to both manifolds and a V band clamp.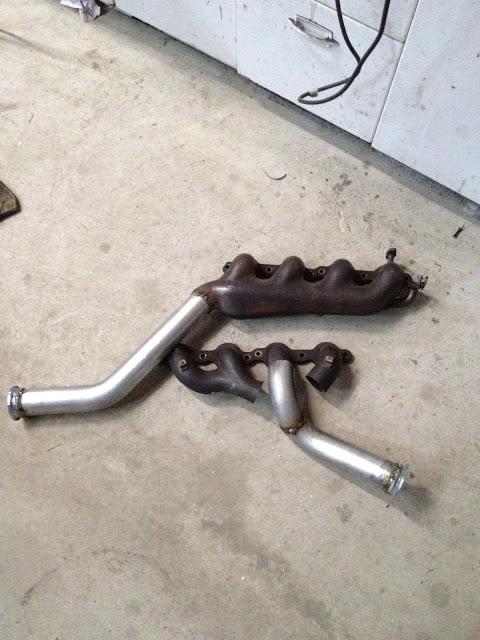 Finished up the drivers side manifold...no picture showing it fully welded. Once it comes back off the car I will get one. This was one of the compromises as things are VERY tight on the drivers side manifold area.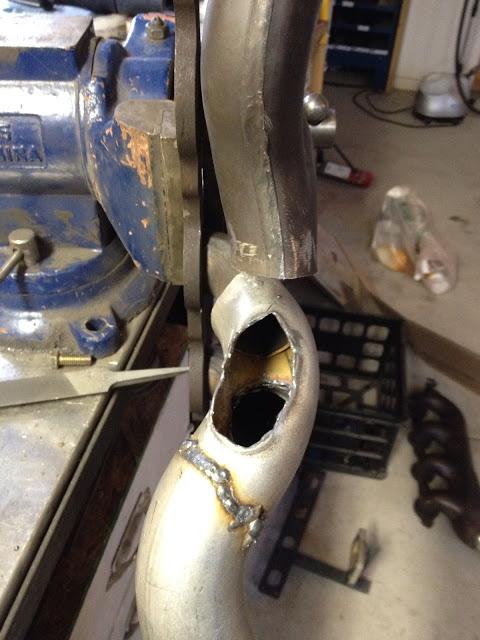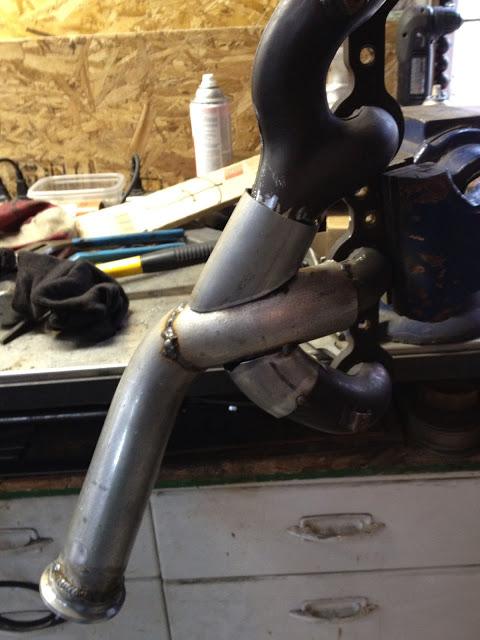 Started on the exhaust system. I would say I am 60% mocked up.....
Drivers side...I will make some heat shields for the bushings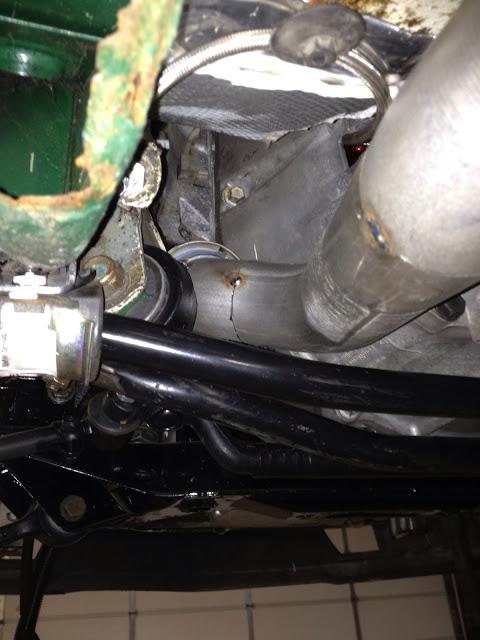 passenger side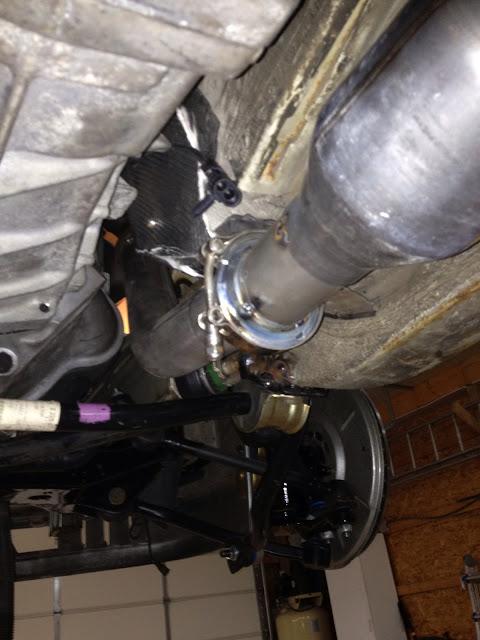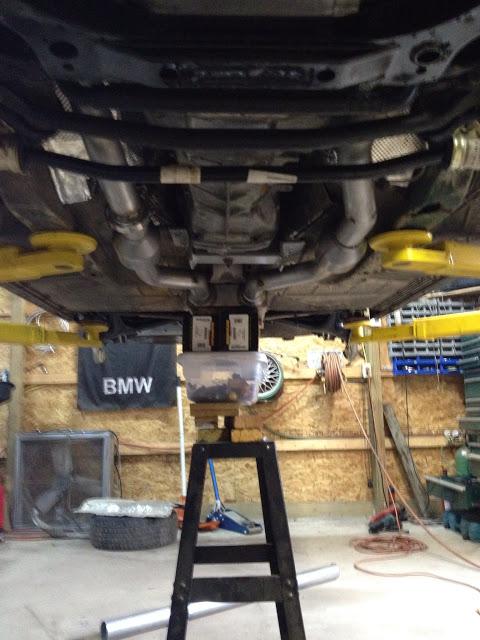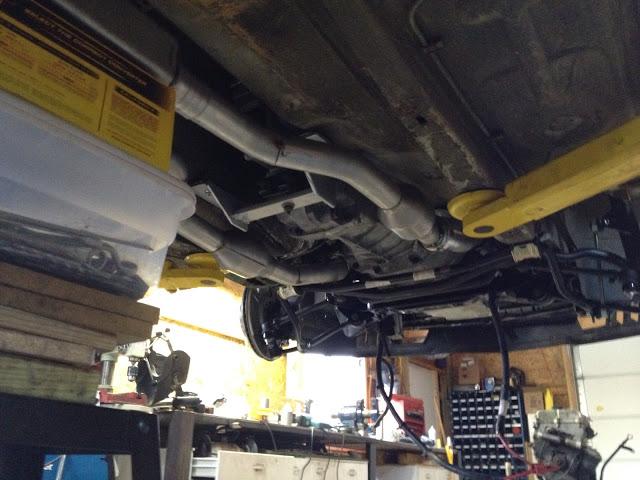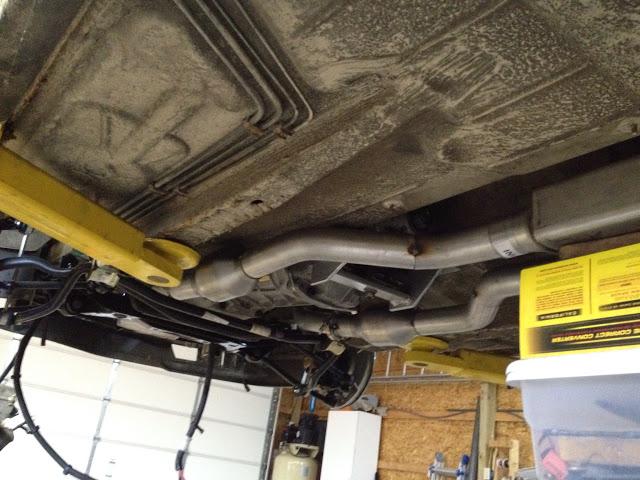 dual 2.25" into maganaflow cats, into a spintech muffler, single 3" out, into a magnaflow muffler.
I am hoping it is quiet unless I am on it.
3-31-2012
The entire exhaust is mocked up....not fully welded yet. I have it tucked up as close as I could get it. I am hoping I don't have any clearance issues....if so I will have to redo the center section.
I am REALLY happy with how it came out tho.
some pictures...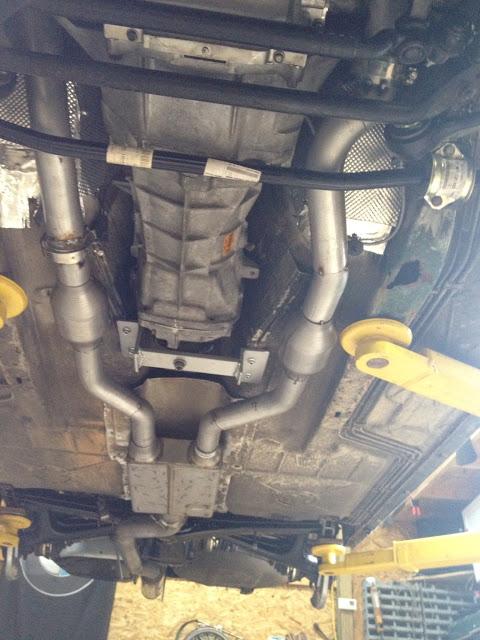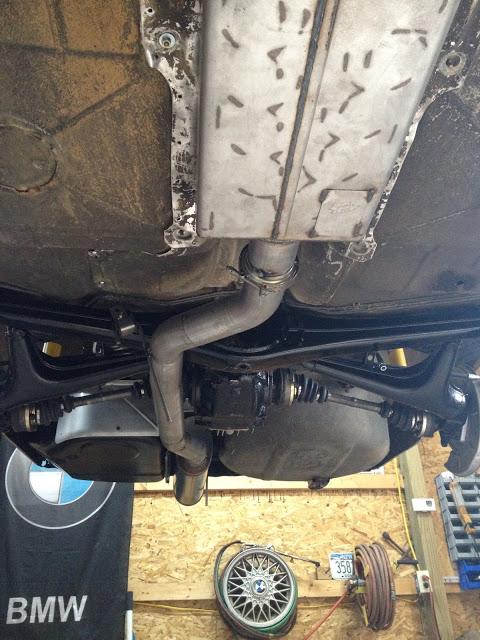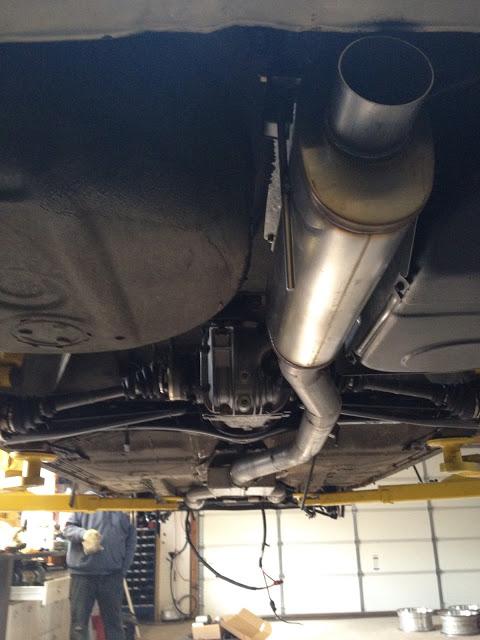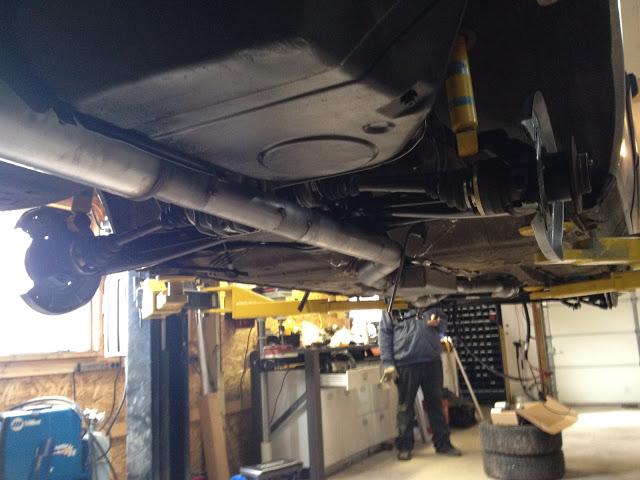 4-4-2012
One of the last pieces of the puzzle showed up today.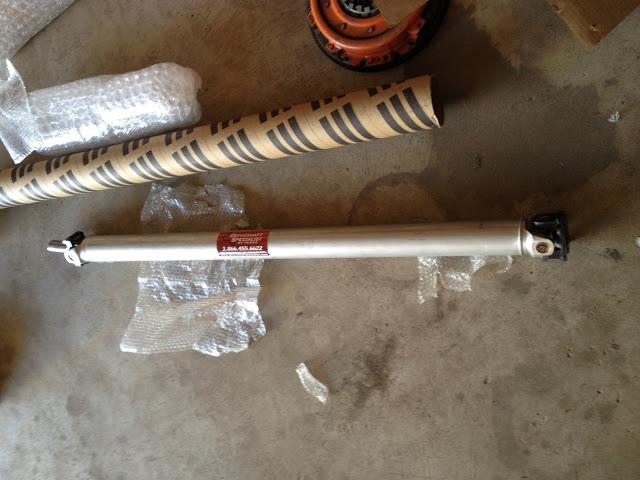 4-10-2012
Progress is moving along. I should be starting it next weekend if all goes well.
Driveshaft is in and fits really nice.
I might trim a little off the CSB mount as the shaft is about 1/4" away. It would probably be fine as is but a little extra clearance would give me a little piece of mind.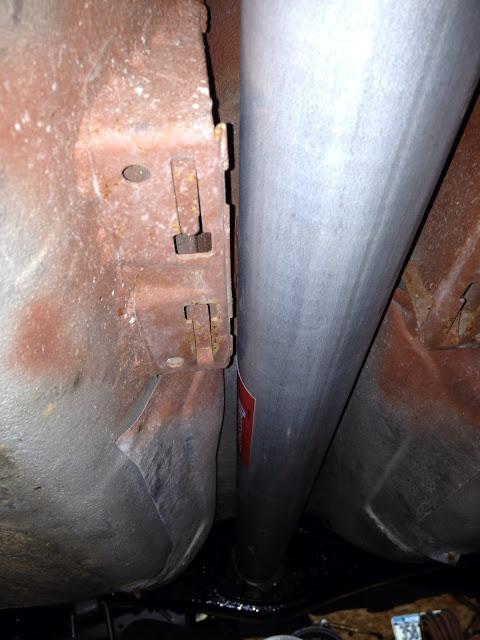 Rear brakes are all done...new parking brake cables, brakes, lines, etc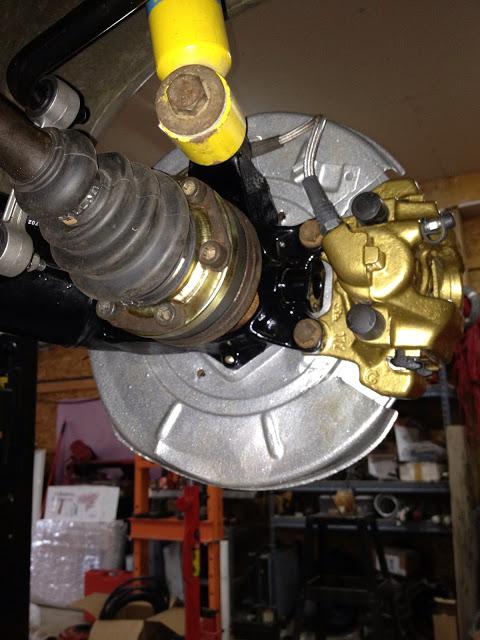 Power steering hoses are all figured out.
Russel adapter fitting in the GM pump to adapt to an -AN6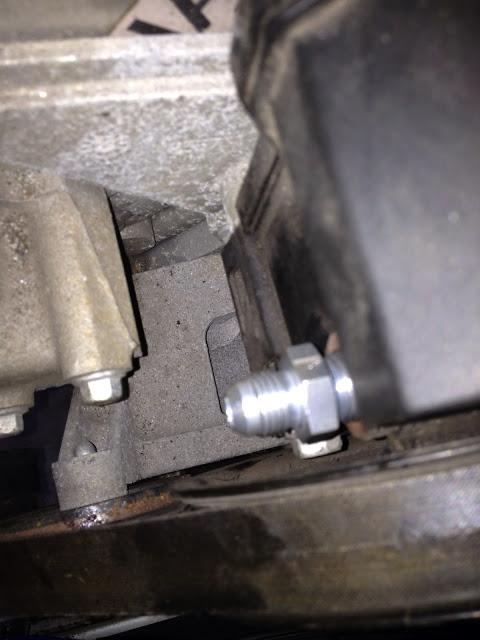 Banjo fitting to an -AN6 at the bottom of the steering box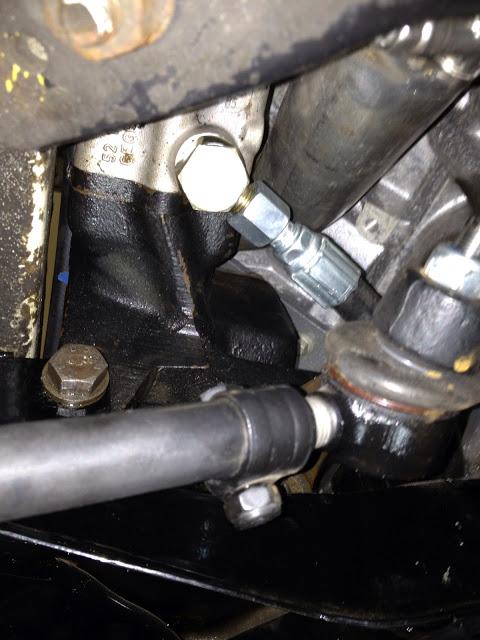 I had a high pressure line made up at the local hydraulic shop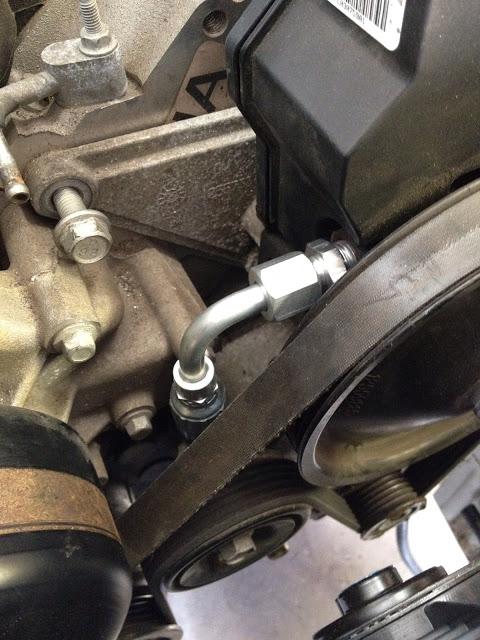 Heater valve and hoses are worked out.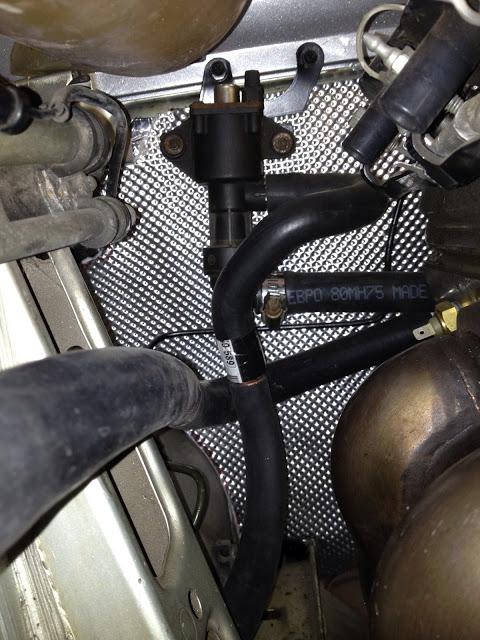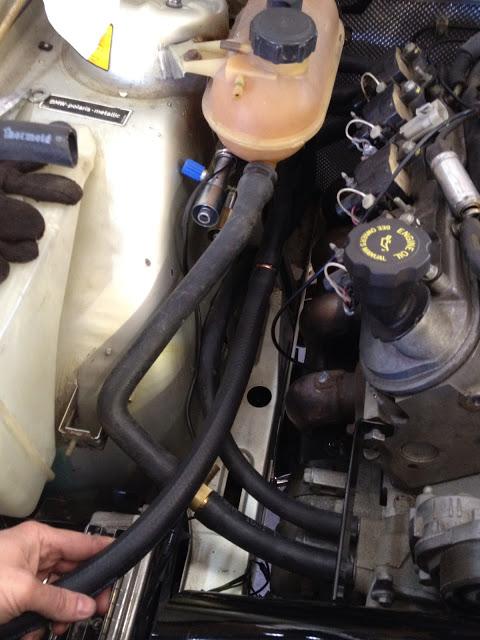 Started on the wiring....
I had to change the routing of the wires to reach the PCM. A handful of wires will have the be lengthened and some were removed.
First step was to remove all the tape from the harness. This step was not very fun....
Harness laid out and ready to pull unneeded circuits and depin the PCM connectors.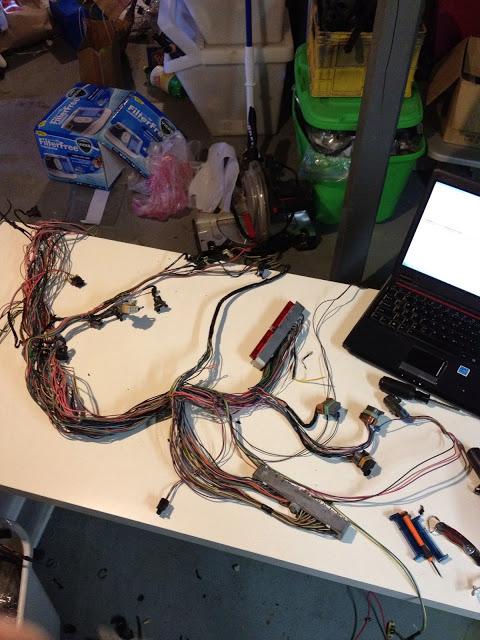 One connector depinned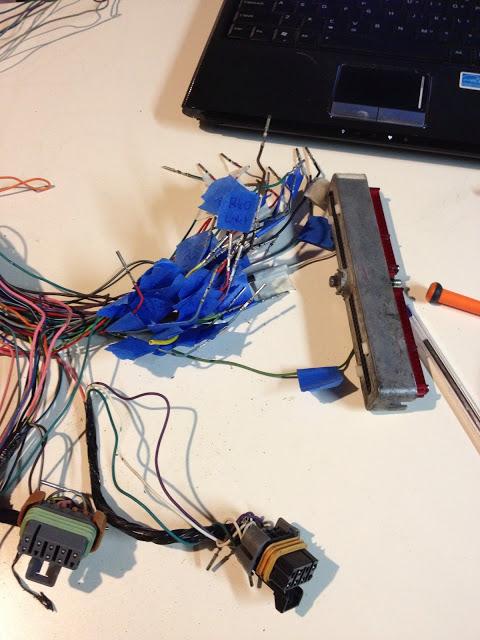 Both depinned....that's a lot of wires.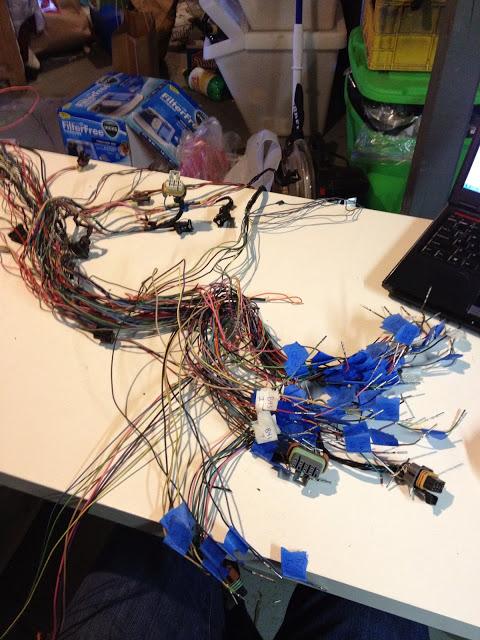 I then pulled each connector and circuit out of the bundle, cut any commons (pwr/gnd) and coiled each wire up and put it aside. Sorry no picture of this.
Then I started plugging the connectors back in on the engine and routing the wires. Injector and coils were first as they were pretty much still all in one big bundle.
You can see here that the harness will come out the front right of the engine. The PCM is down by the AC drier.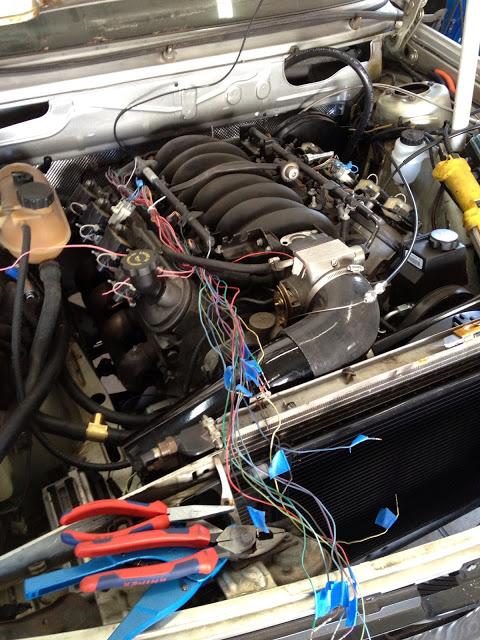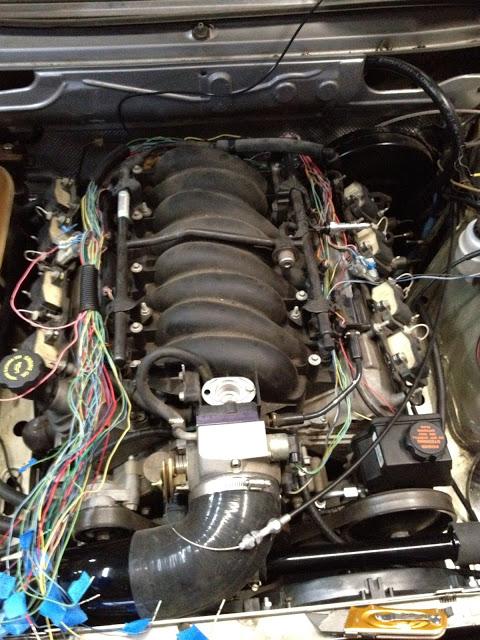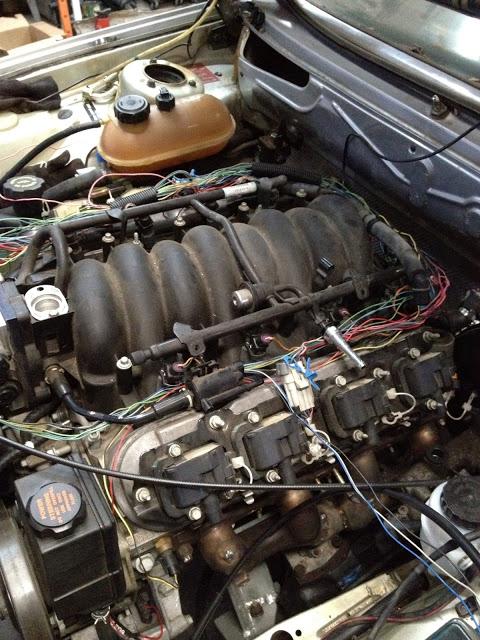 Once all the wires are where they need to go I'll bundle them all together with tape where ever wires enter and exit the harness. The entire thing will then either get covered in split loom or split mesh....still unsure which to go with at this point.
I had to have some lines brazed for the AC system so those should be here today and I can get that wrapped up. Lines crimped, etc.
I have a smaller spintech muffler in route that will be here Thursday so I can tuck the exhaust up a bit more. I wasn't happy with 4" or less of ground clearance. I should be able to get about 6" with the new muffler. That should be fine.
Things are getting close....
thanks for all the nice words guys. For some reason I really like the wiring stage. I like the planning a project as much as the project and the end result itself. So the wiring takes A LOT of that planning part especially if you want it to work and look factory.
I already bought a different center muffler so I can gain some clearance. It will be here Thursday and the exhaust will be re done friday.
I might move the cats up in the center tunnel too if i can gain any clearance with them there. Otherwise I will leave them where they are at.... I would think the lack of clearance would be more of an issue in the center of the car.
4-13-2012
thanks all!!
New muffler came yesterday....I was able to gain 2" of ground clearance. There is about 3/8" between the driveshaft and the muffler. Debating dropping it down a little bit...The driveshaft can't really move tho...
What do you all think?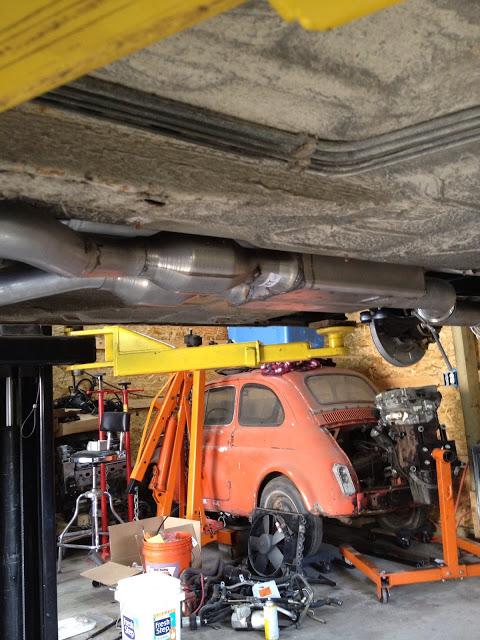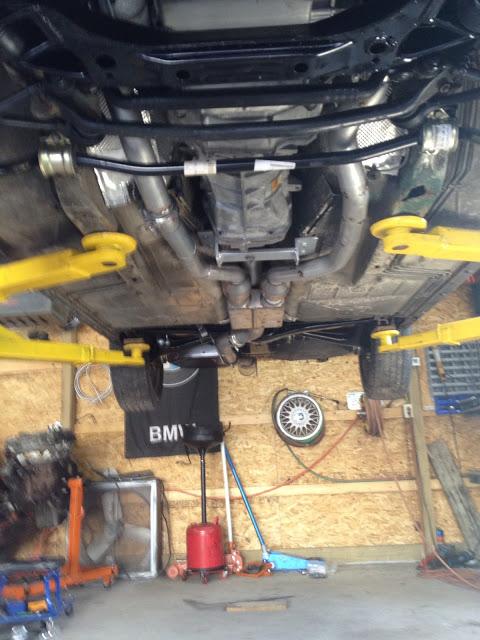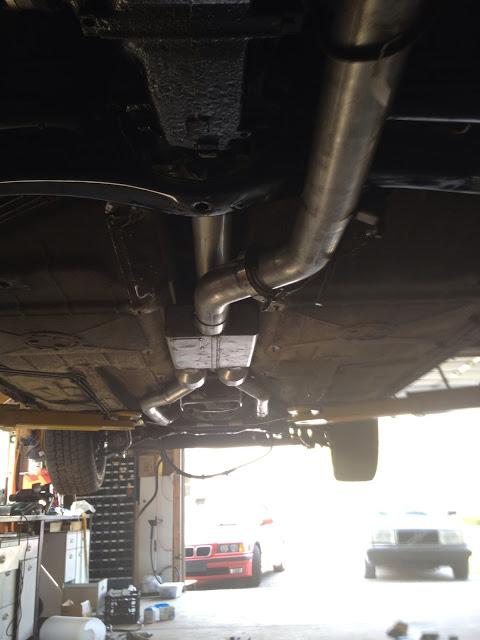 Here is the clearance to the drive shaft. Sorta hard to see but there is about 3/8"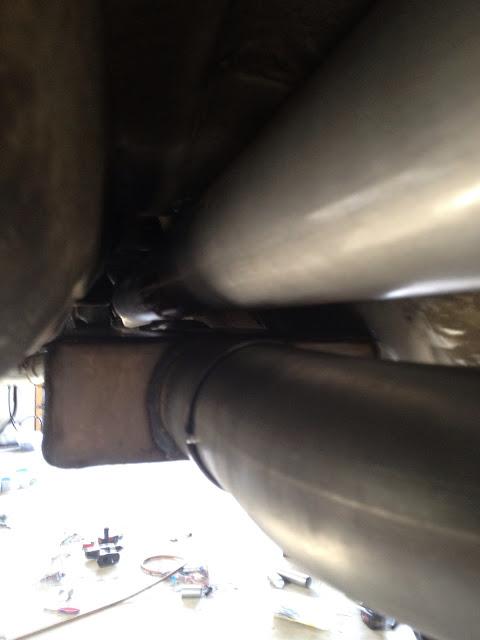 I got the centers back from the powder coater. I am very happy with the color choice.
Got sot some mesh wrap for the harness.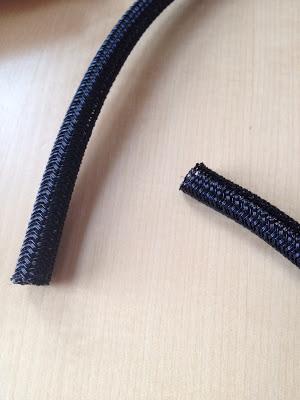 4-15-2012
I am able to adjust the exhaust up and down maybe 1/2-3/4" each way so if I end up being too close the to driveshaft I can lower it down a bit. Added some more tack welds to the exhaust and took it off the car before I weld it all the way.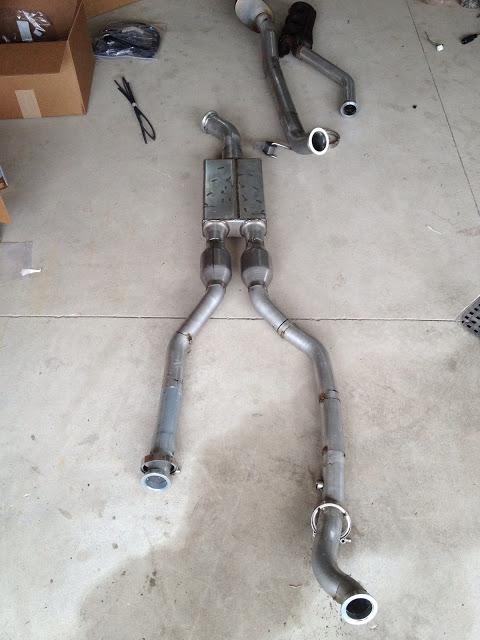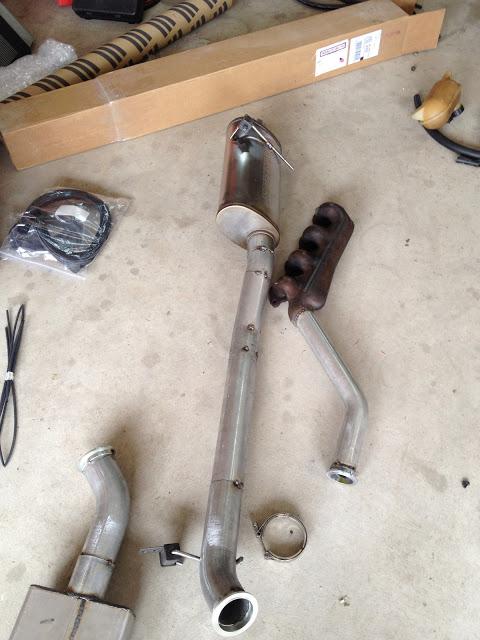 More wiring done....
Wiring coming off the TPS and IAC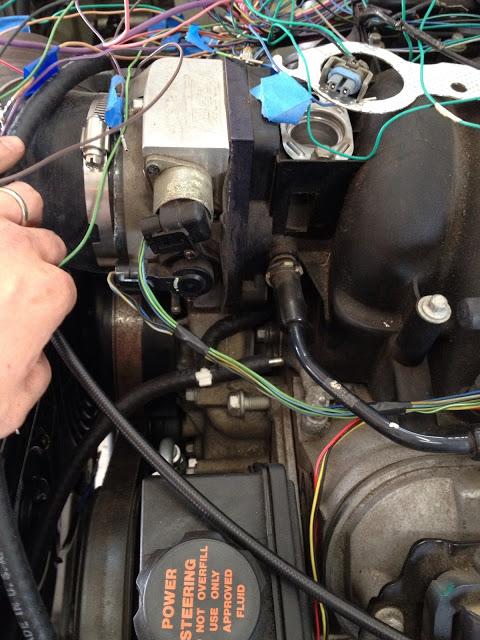 Alternator and PCM coolant sensor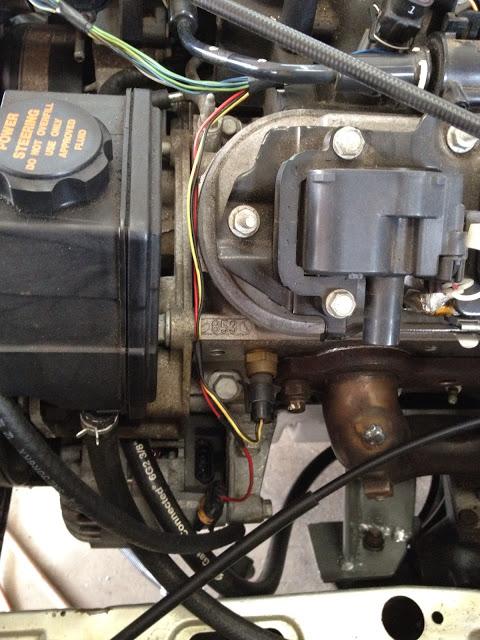 Wiring routed along from the injectors, coil, evap valve. Tapped anytime a wire comes in or out of the bundle.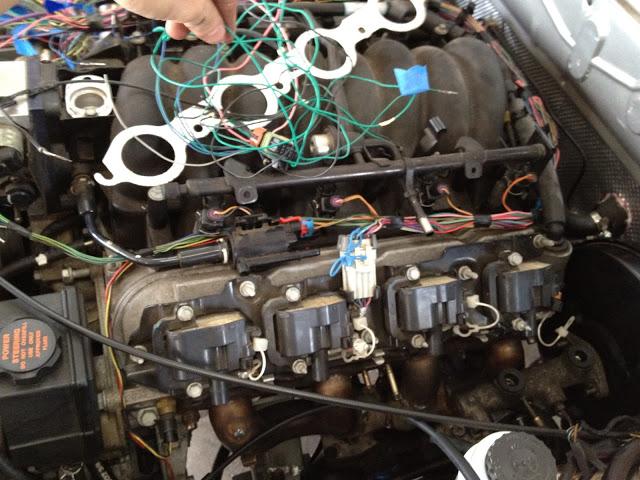 Goes along the back of the engine...you can just see the wires coming up from the trans (O2 sensors, VSS, reverse lockout). Then it picks up, oil dummy light, cam sensor, maf, knock sensors.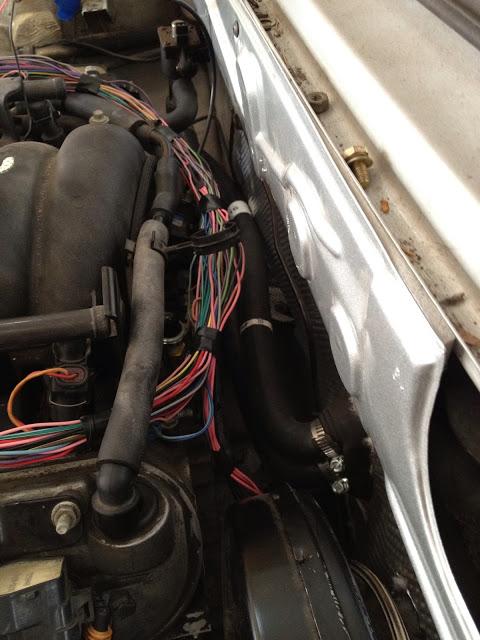 From the passenger side...You can also see the crank sensor, coolant gauge, and starter wiring coming up into the bundle.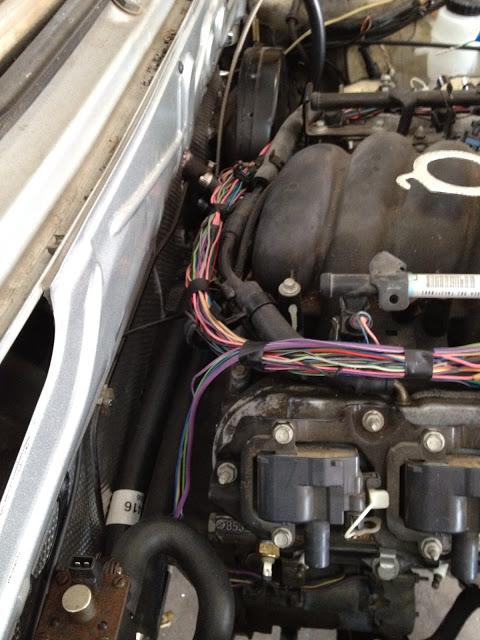 Passenger side bundle....it's getting bigger. Picks up the other injectors and coil wires.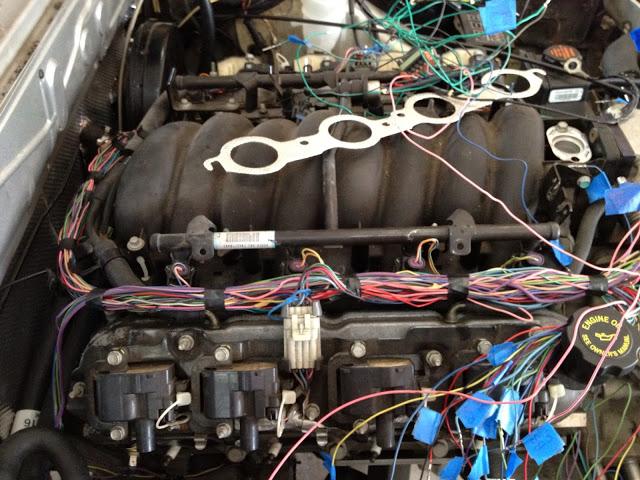 Here you can see the wires started to be plugged back into the PCM in its new location. Some of the wires are too short and some are too long. The short ones will have to be lengthened of course but I am debating shortening the ones that are too long.... Some are up to 12" too long and I could sorta fold them back on themselves in the bundle or I can shorten them..... Any suggestions which way is best?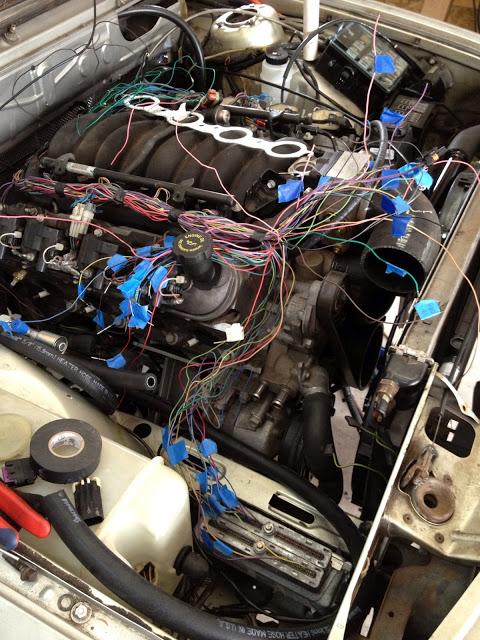 All connections of wires have been soldered and then covered in dual walled heat shrink. Inside has a adhesive that melts and bonds to the wire to provide moisture protection.
The rest of the AC parts will be here tomorrow so then I can finish the AC pressure sensor wiring as well as the MAF/IAC wiring.
If anyone else is doing a similar swap and needs harness work let me know. I really enjoy this step.
I was hoping it would be running next weekend but I am guessing it is the following. One of the problems I have is when I start to see the end of a project I almost don't want it to end...it's like a really good movie.
4-16-2012
There is a wind storm here today and the school I teach at lost power so I ended up with a half day.
I had power at my house tho..
I was able to get the exhaust all welded up.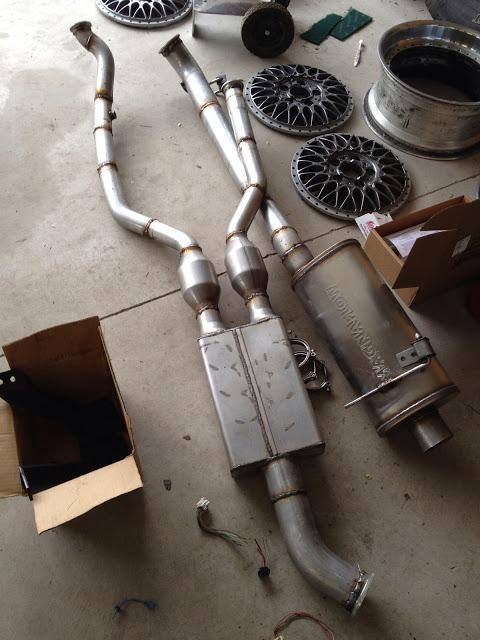 The rest of my AC parts came today....and once again one of them is wrong. The company I got them from knows what they messed up....new one should get made and on the way. But the part I needed to be able to route all the lines was correct so that is good.
A couple AC line pictures..still need to be crimped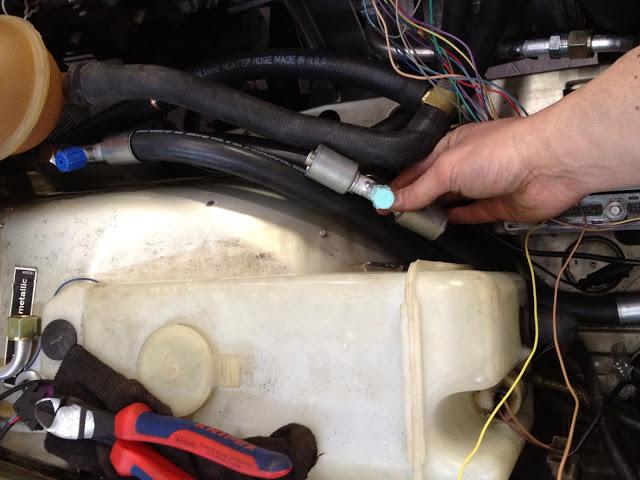 This is the part that is wrong....for the second time. It should have a #8 beadlock with a high side fill port. This one has #10 and a low side port.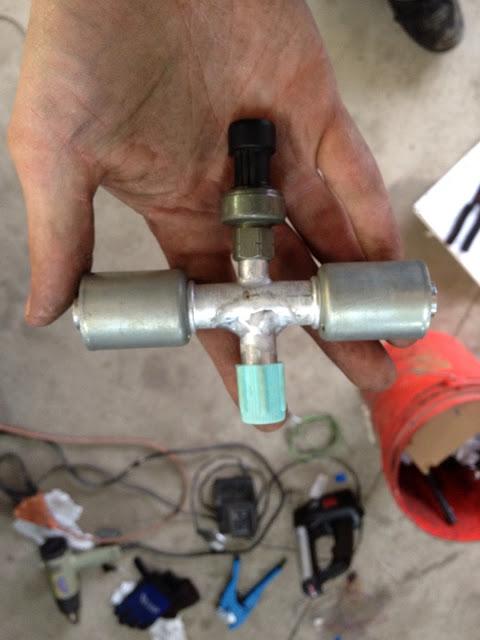 Started plugging things back into the PCM. Lengthening or shortening by soldering and covering with adhesive lined heat shrink. Matching wire colors as close as I can get .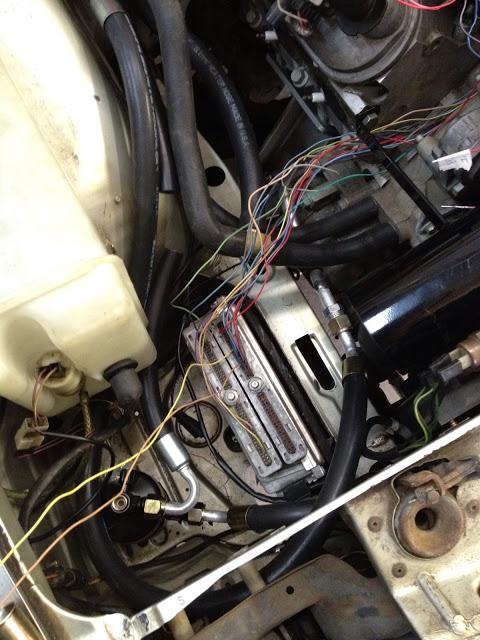 yes it is.
The GM PCMs unlike BMW live in the engine compartment. On the Camaro it was up near the firewall.
4-17-2012
Good eyes on the fiat as well as the M42. No the M42 is not going in the fiat. I did 5 m42 2002 swaps and that is an extra engine (bad thrust bearing) and it just happens to fit pushed tightly to the fiat.
The fiat is a 1960 500....VERY VERY VERY rusty. It will be a long term project and a lesson is learning sheet metal work. I actually have a 67 fiat 850 spider that I bought last summer and I plan to use the 850 engine and trans axle in the 500. I am still somewhat unsure if the 850 is going to be enough power or not..... I have debating turboing the 850 engine, or ditching the 850 engine idea all together and run a VW trans axle mated to a subaru flat 4...
Here is a link to some pictures of the fiat and it's rust
4-18-2012
haha yes.....rust has taken hold of this one. It really is to far gone but I love a good project.
shagrath: thanks, I am happy to be able to spread around my knowledge.
leadphut: I use the e30 5 speed transmission. I make mounts to bolt it all in (pretty much). I have not done an s14 swap...The s14 swap is actually easier becasue it is an m10 at heart so it just bolts in. But it is also a lot more money than the m42.
Here are some links to builds on m42 swaps I have done
m http://www.bmw2002faq.com/component/opt ... ighlight,/ m
turbo m42 (not done yet)
m http://www.bmw2002faq.com/component/opt ... ighlight,/
5-2-2012
Driveshaft with my mounts was 53 7/8" long. I am making mounts if you are looking. Send me a PM
A small update...been busy with life and I haven't had as much garage time as I like. Wiring is ALMOST done. The engine harness just needs to be wrapped and the chassis to engine needs to be connected at the GM fuse box and then some wires routed inside. I took this friday off and plan to get all the small things done and if all works out I will be firing it up. HP Tuners is in route so I can pull off all the unneeded stuff from the PCM.
Some pictures...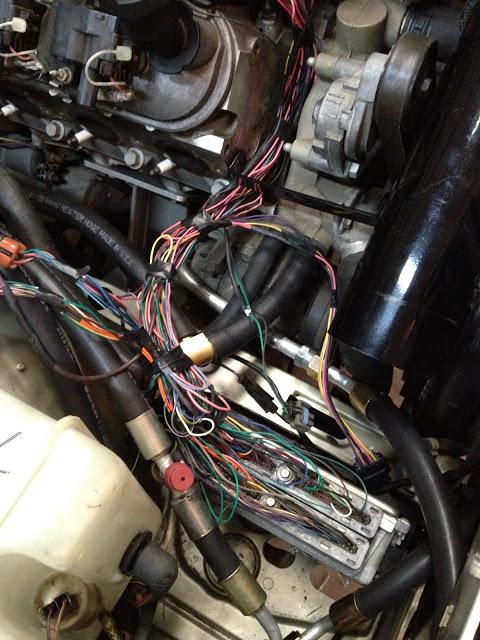 Where the engine harness will connect to the chassis side.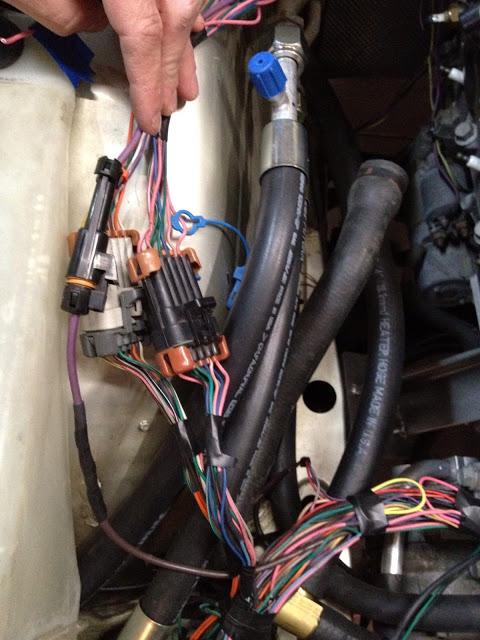 Wiring that will go into the cabin.... econ gauge, tach wire, check engine light, OBDII port, 12v (switched) 12v (constant), ground, and also 6 wires if I ever want to connect my wideband.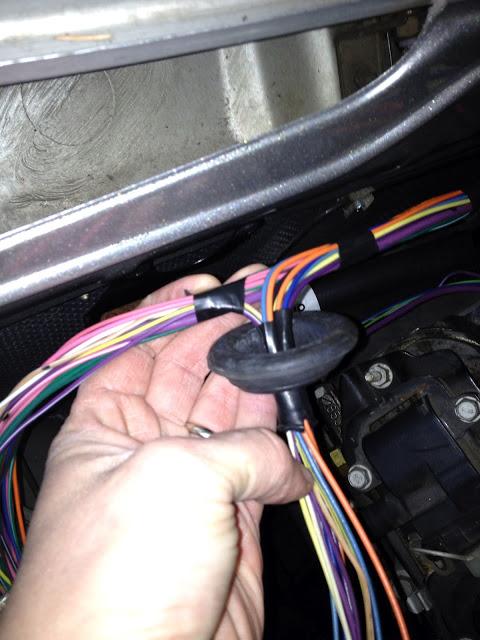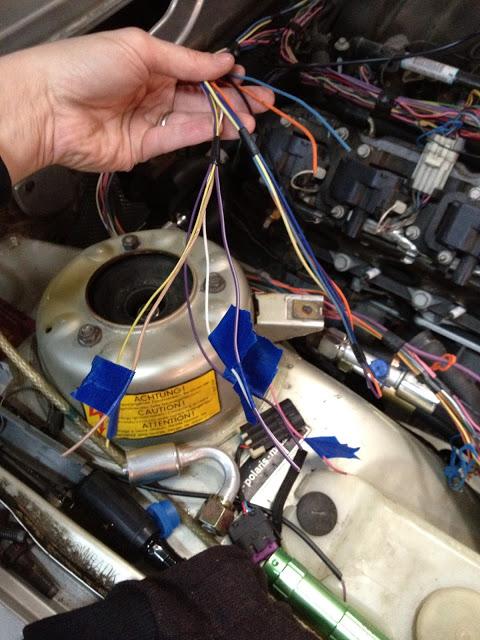 Where it connects to the BMW fuse box.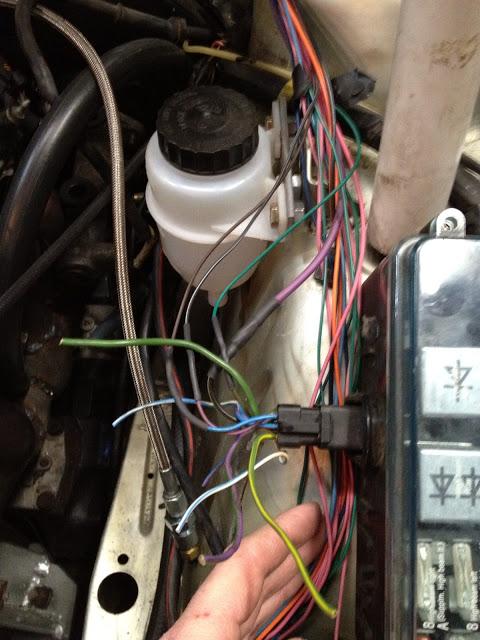 You can see how the AC lines will route and hook up to the drier here.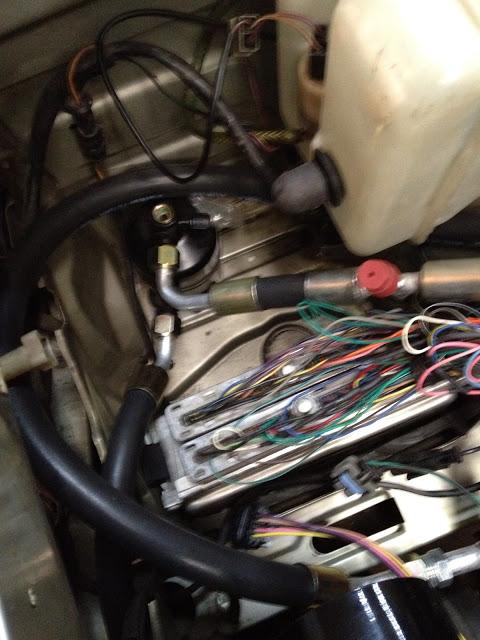 5-3-2012
Well the wires that actually connect to the BMW fuse box are for....starter, oil pressure, water temp, alternator exciter, fuel pump, and power to main relay. Then there is a bundle that will go to another fuse box to power the engine circuits, injection/coil 1, injection/coil 2, maf/o2/reverse lockout, evap valve, AC relay, fan relays, fuel pump, etc
Then there is a bundle that goes into the car...tach, econ gauge, CEL, OBDII port, etc.
The colors really don't mean much becasue I ran it all myself......
If you do do the same project get ahold of me if you need help with the wiring or want a plug and play harness.
Price would depend on what all you want and if you want a reworked harness like I did or a brand new harness. I am looking into getting all the connectors, etc etc to make brand new harnesses. I sent you a PM and we can discuss details of what you might want.
5-4-2012
Well I was hoping to have it running today but that didn't happen. Worked on it all day but ran out of time. It's getting closer and closer though.
My list...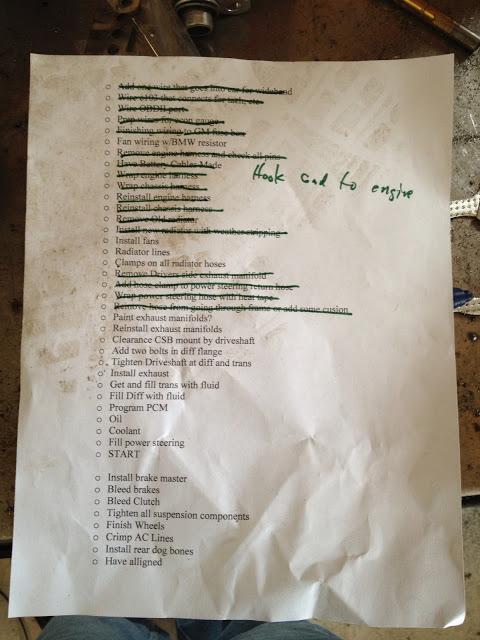 Engine harness off, fully wrapped. I went through and checked every pin just to be sure.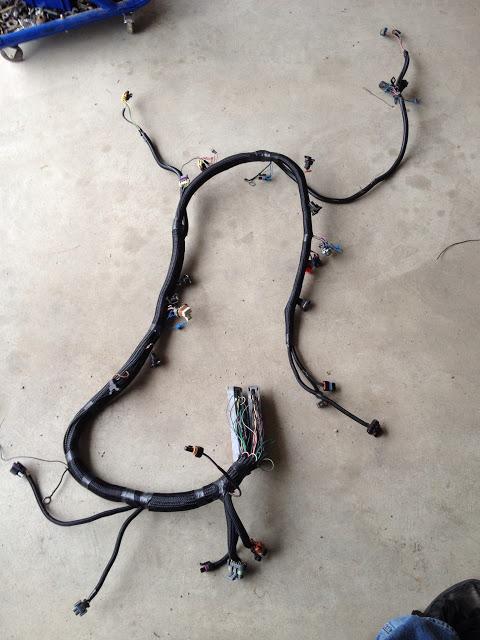 Harness back on the engine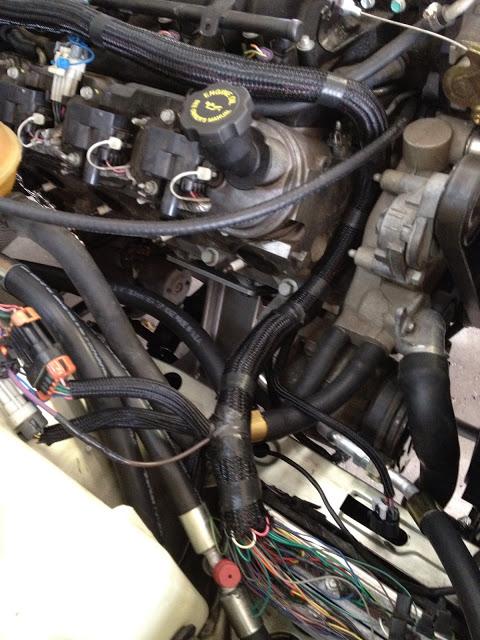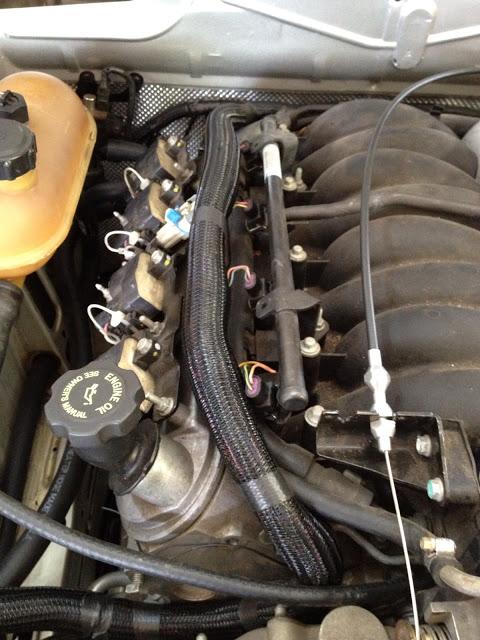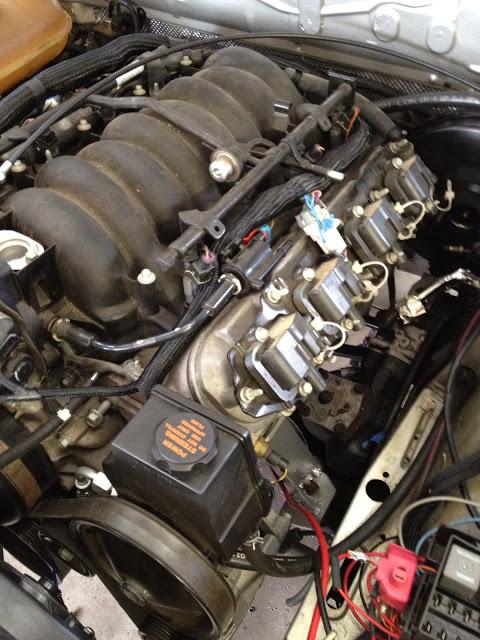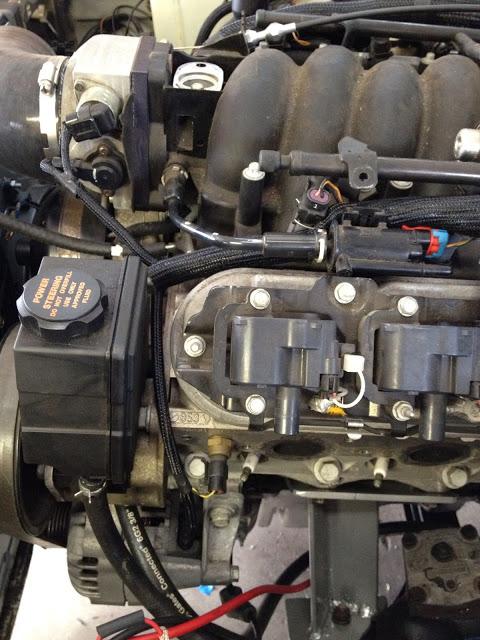 Where it ties into the chassis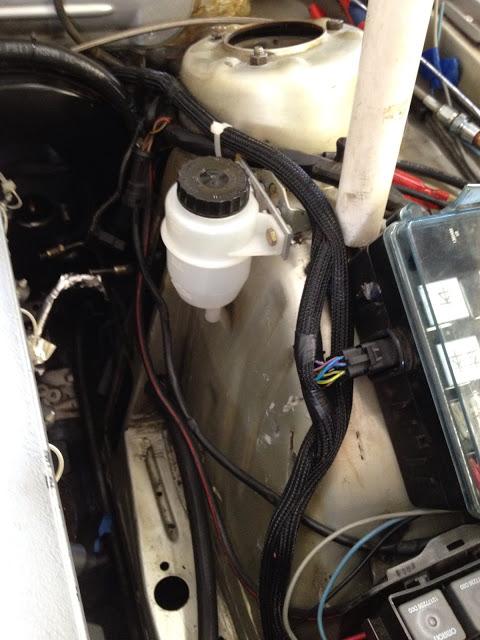 GM fuse box all wired up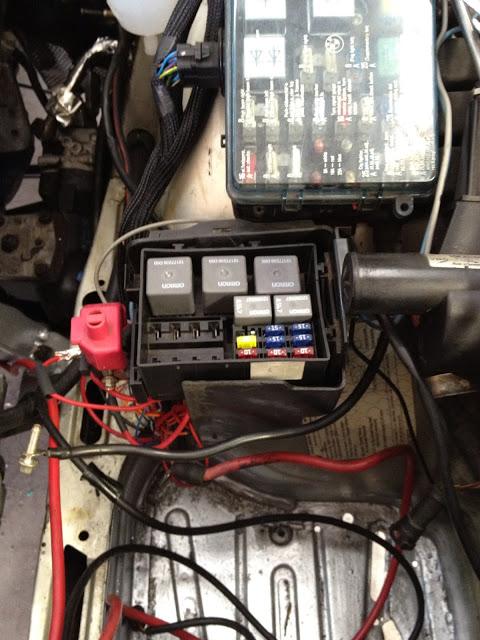 I got some used GTO fuel rail covers....they need a little trimming to fit. They will get repainted and the GTO will get shaves off. Should they be black or silver? Or something else?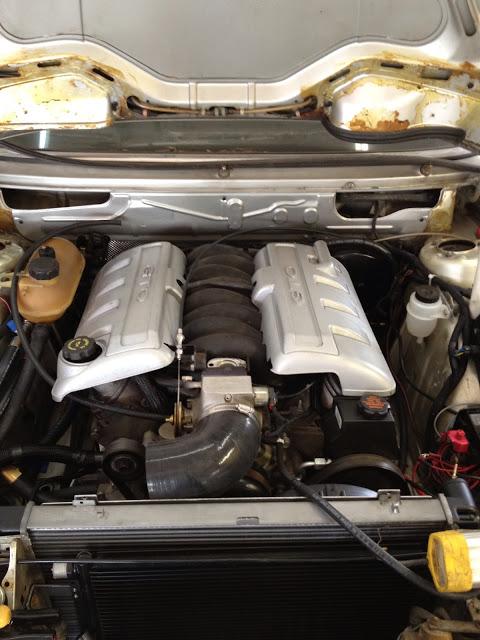 Other things that got done today but really no pictures to show...
new radiator is in, lower radiator hose is done, upper rad hose is ready, heater hoses just need a couple more clamps, brake booster line hooked up, power steering lines ready to go... I think that is it
I should be able to work out there tomorrow a little bit but I doubt I will have it ready to start Coming soon tho.
5-13-2012
It's running!!!
Video is pretty boring but this was the first start.....running smooth. Still have to finish a few things before it can be driven.
A few pics of the exhaust painted and back on the car.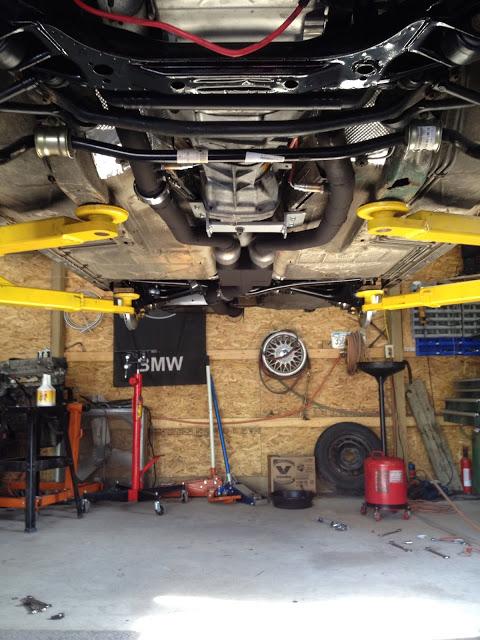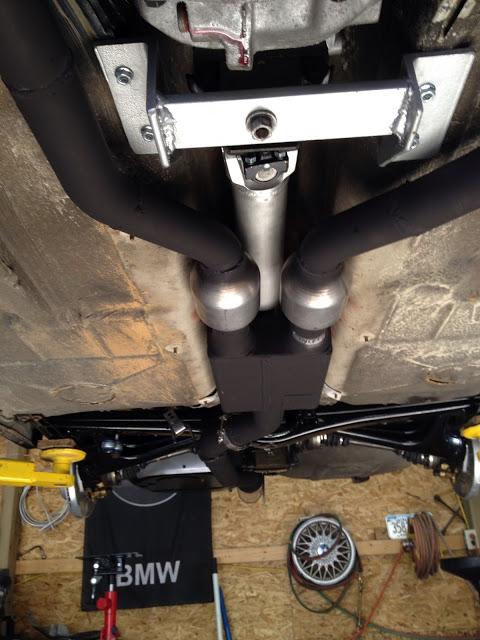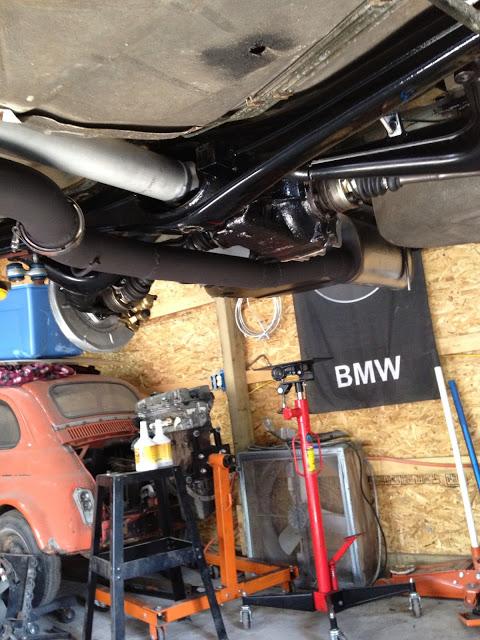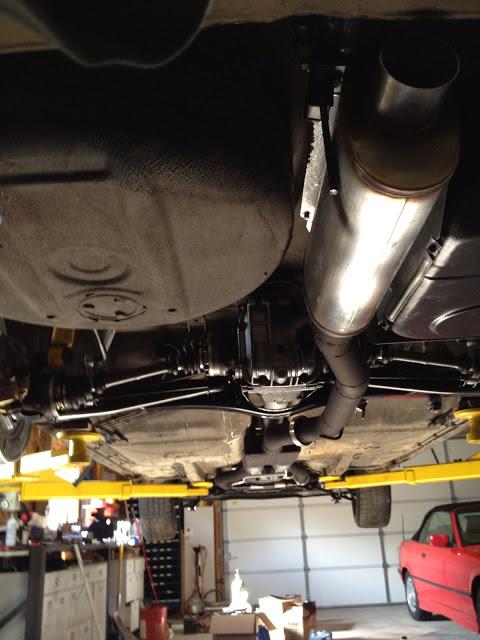 Also picked this up for my wife yesterday.....I am thinking it will get a 60 degree GM v6.....around 200hp or so.
67 volvo amazon
thanks!
A little bit more finished.
AC lines all crimped and installed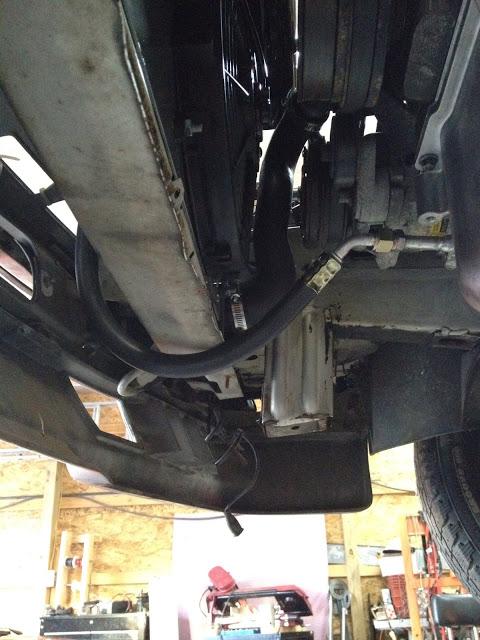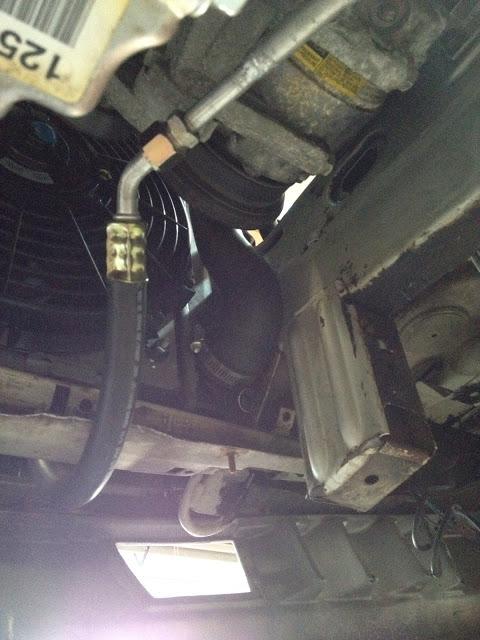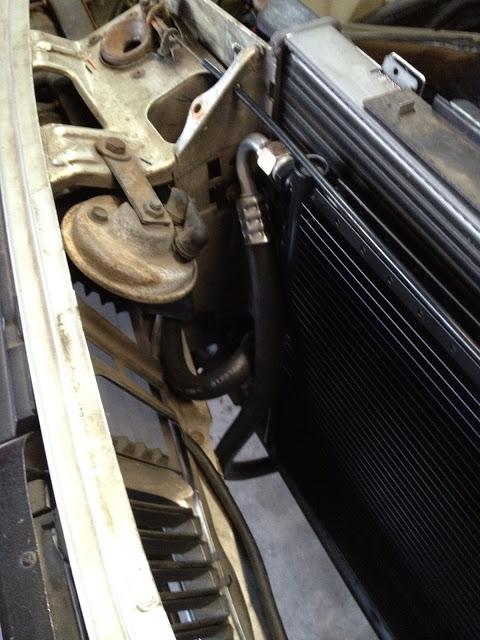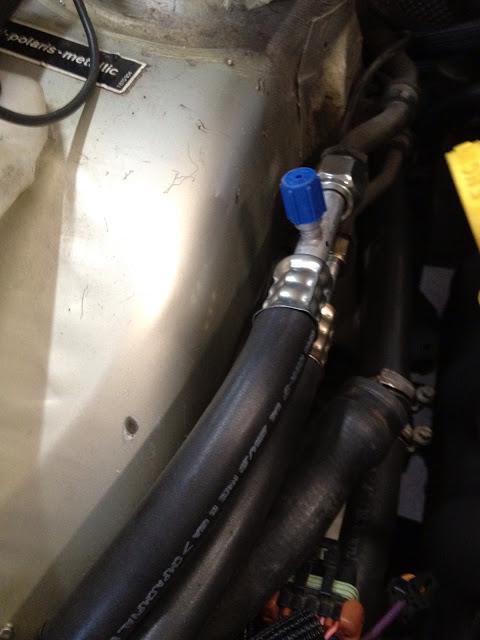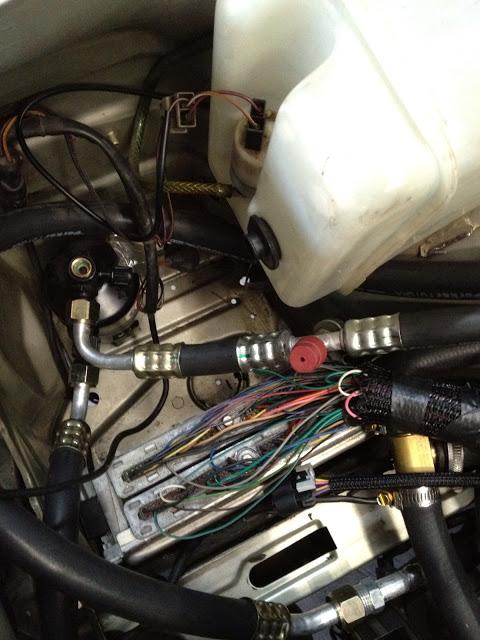 Looks like it belongs there.....Still unsure if I like the covers or not.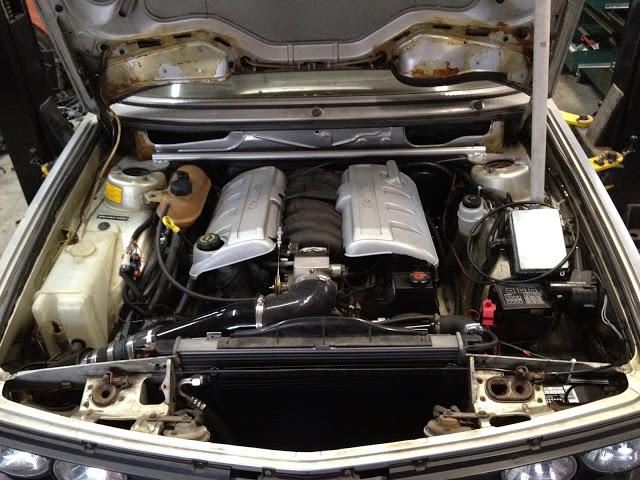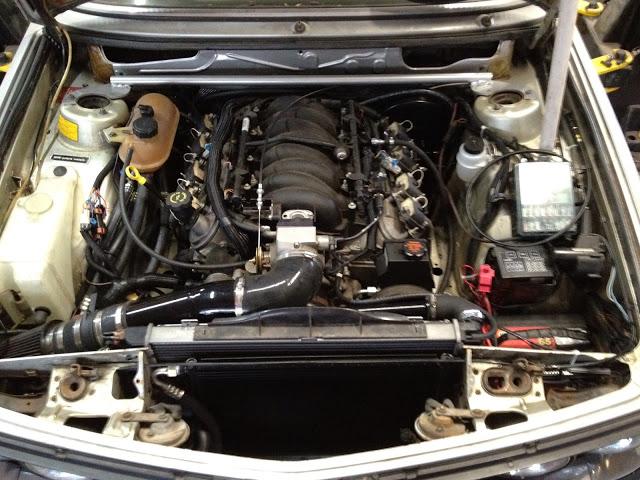 I like that they cover up all the coils and what not....I think I will like them better when they are repainted black.
I still need to find a new home for the cruise servo because the cable isn't long enough...well it is but the cable has to stretch over everything.
I am really looking forward to Tedfest!! Oh man, Beer and cookies!
5-15-2012
thanks guys!! It has been great fun doing the swap.
No pictures from yesterdays work but....
Torqued the front wheel bearings, installed the brake master cylinder and lines, trimmed the engine covers some more.
I still need to decide if I am going to have the cruise control cable lay over the engine from the drivers side or if I should move the cruise servo.
I was able to get a set of e34 basket weaves with worn tires from a friend to use while I refinish my style 5s. I should be driving the e28 by this weekend.
thanks! I am really excited to start driving it. I am thinking I will really like it too.
I want the AC to be COLD with r134a so I upgraded the condenser to a newer cross flow type. I then made new lines that go from the GM compressor to condenser to drier and back to the stock evap in the car.
I am having the GM PCM control AC, fans, etc
The BMW speedo runs off a sensor in the diff.....completely separate from the engine stuff. Yes the speedo works...after a reflash with HPTuners.
5-22-2012
First time off the lift in 5 months..first time moving under it's own power. It needs an alignment really badly...also need insurance and a plate but it drove around the block a few times. I love the way the clutch feels and the trans shifts. Very happy I had the trans gone through.
I live in a residential area (25mph) so I really wasn't able to get on it much. But when I did it put a smile on my face for sure.
Hoping to get an alignment today and plates tomorrow and start driving the thing!
A few pictures.
back on the ground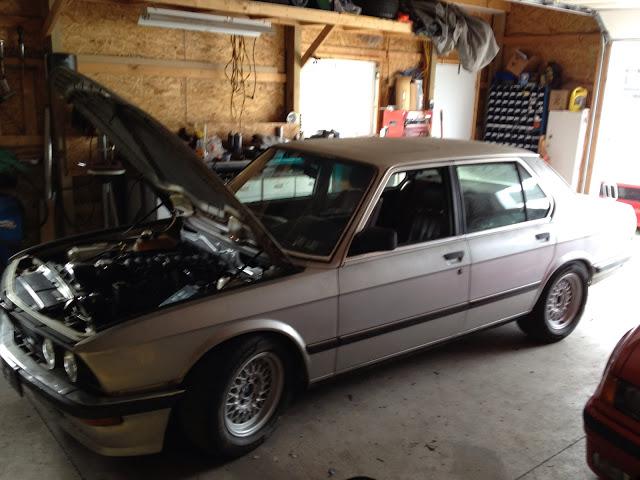 Location of shifter...I need a new boot. I might make a different selector so I can use a newer style BMW shift knob and also bring it just a tad higher. But this will work for now.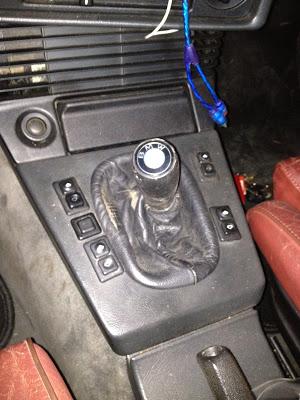 Another engine bay shot....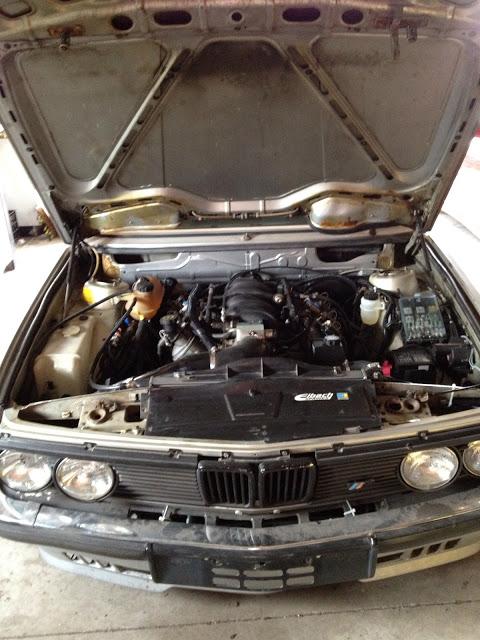 5-22-2012
thanks guys, it feels great to finally have it on the ground
Got the car aligned today....drives a lot better. Hoping to find some time tomorrow to get tags so it is legal to drive.
Gave it a quick wash today after months of dust and grime in the garage.
These tires are a little too tall so it will look a little different but you can get the idea...
The paint it mostly dull....My cousin who does paintless dent repair and some amazing things with a buffer said he thinks he can bring some of the shine back. I will probably paint it next summer....still unsure if it will stay silver or change to black.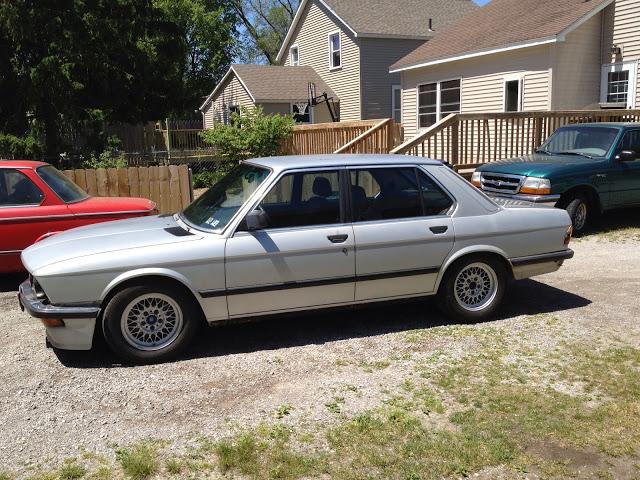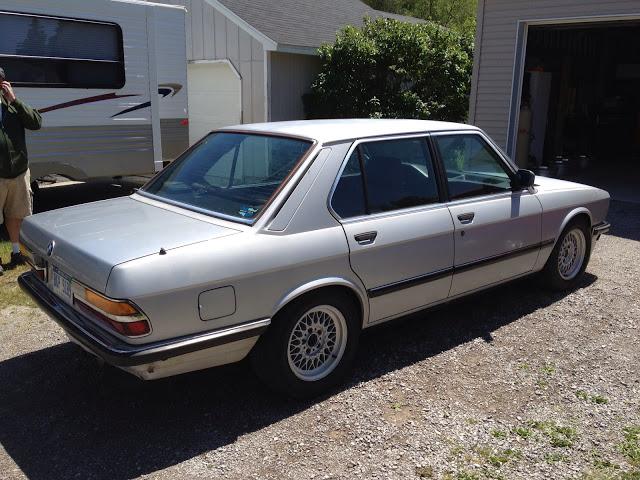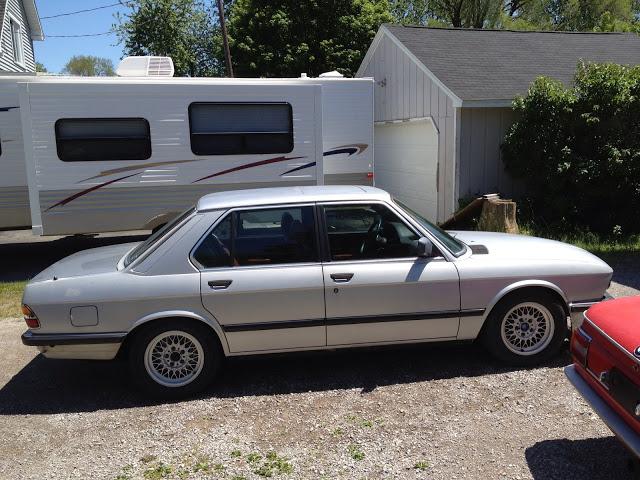 A few of the interior.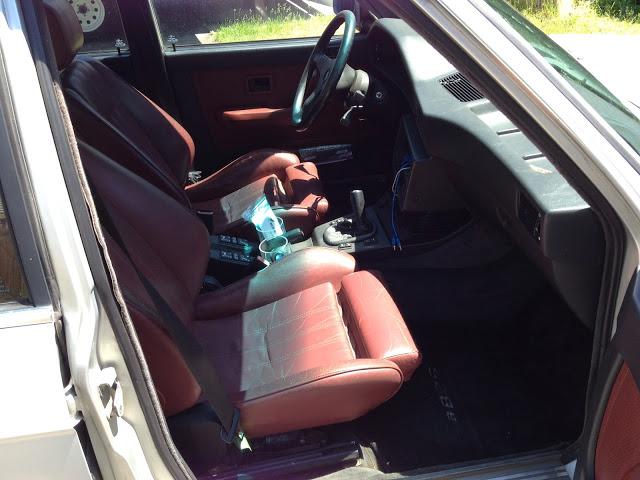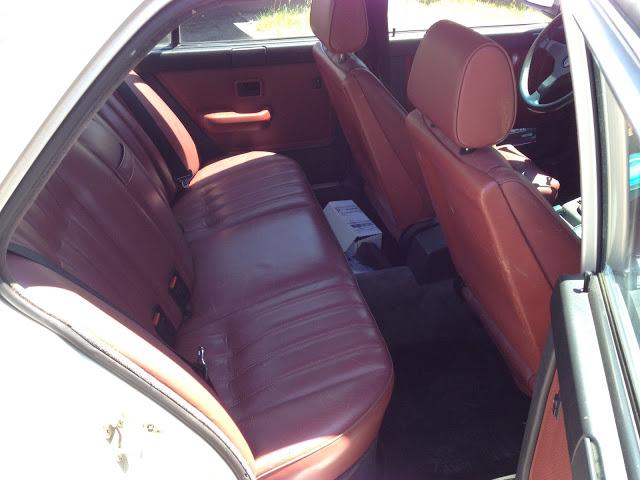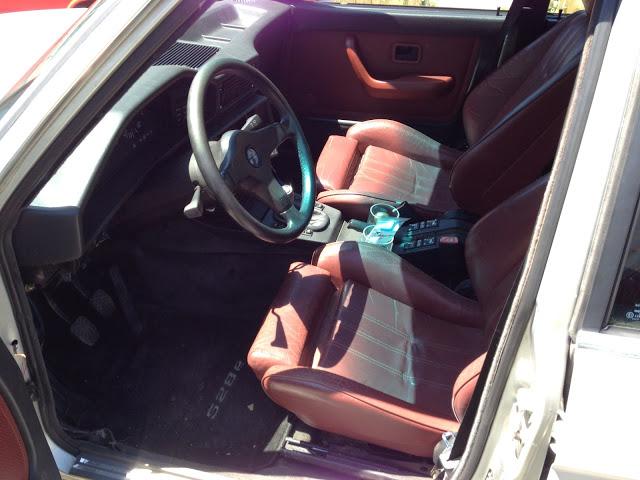 The guys at the alignment shop were blown away. I actually did most of the alignment as the rear is all adjustable now. Makes everything easy when it is all brand new.
Oh yeah...while driving to the alignment place I got on it a little bit....holy shit!
6-10-2012
The bouncy issue I was having was the front strut nuts were a little loose...oops. It handles great! All I added was M5 sways.
Did you make the other videos on the youtube account?
I have put just over 400 miles on it and all seems good. I am going to change the cone air filter to an airbox as the intake sound is just too loud. You can't hear the engine at all really....just all air sucking.
I have an airbox from a e30 that fits and one from an e23 that is a little bigger but I think it will fit too. I will have some time this week to make something work. One plus about the e23 is the box is metal so I can change it as needed and weld to it.
I was hoping to have the AC charged by now but the heater core is leaking so I need to replace that first...
It was around 90 degrees here this weekend so I spent a lot of time inside. Worked on refinishing the wheels today. Right now the lips are just bare aluminum...with two coats of wax on them. I don't have them put together yet and I am at the point of should I powder coat the lips clear or leave them bare..... What do you all think?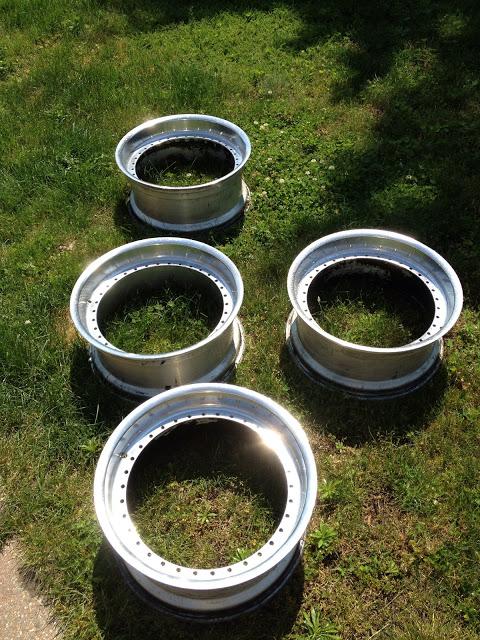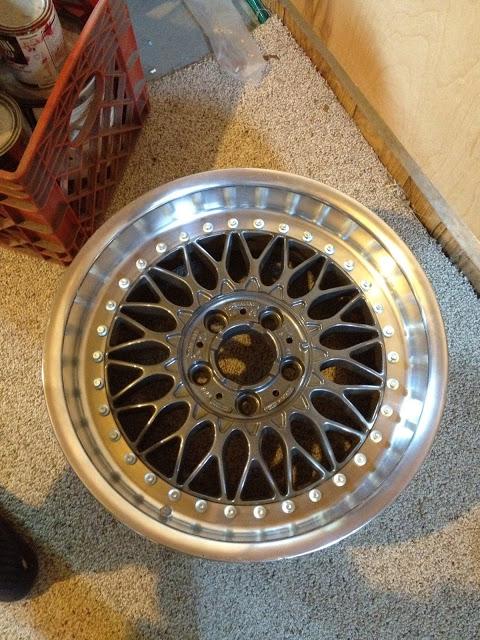 I bought a keyless entry/alarm off ebay with the remote in the key. I didn't hook up the alarm part. Just the keyless. It is all hooked up. I just need to get the keys cut.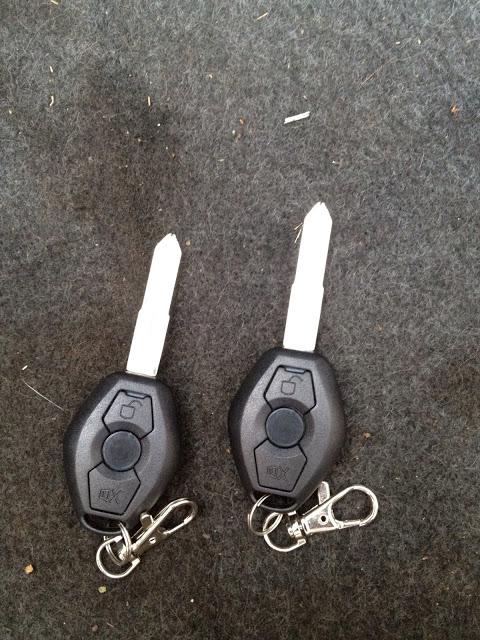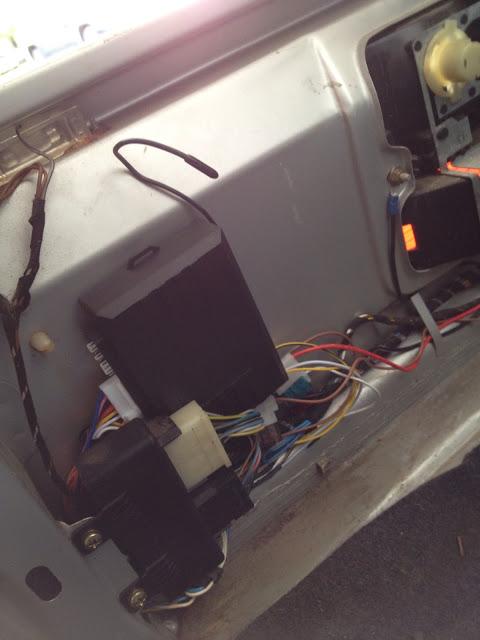 Worked on adapting the BMW cruise cable to work with the LS1 TB. Just need to add a crimp after the little snap thingy.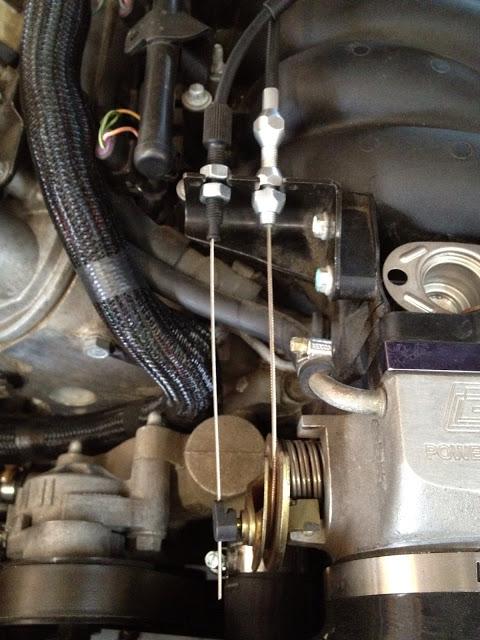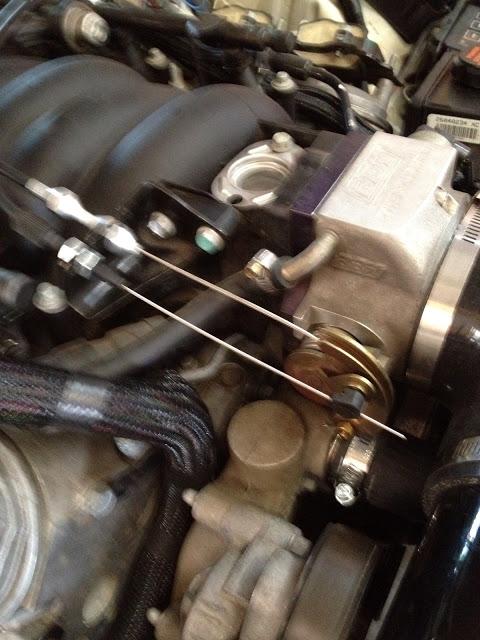 yup...the BMW cruise is it's own system and not really connected electronically to the engine.
Nothing wrong with the e28 system....
I wish I could make the BMW cruise setups work with non BMWs.
6-17-2012
I ended up clearing the lips....I don't want to have to deal with cleaning them.
Got the wheels all together, tires mounted, and on the car...I need to get some paint mixed up to match the centers so I can paint the center caps. LOVE them!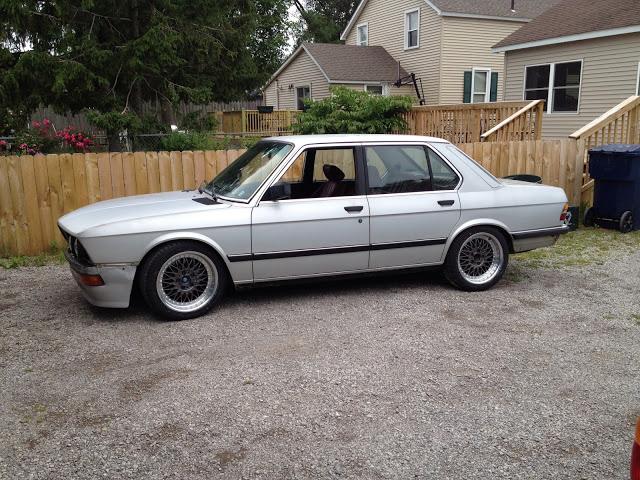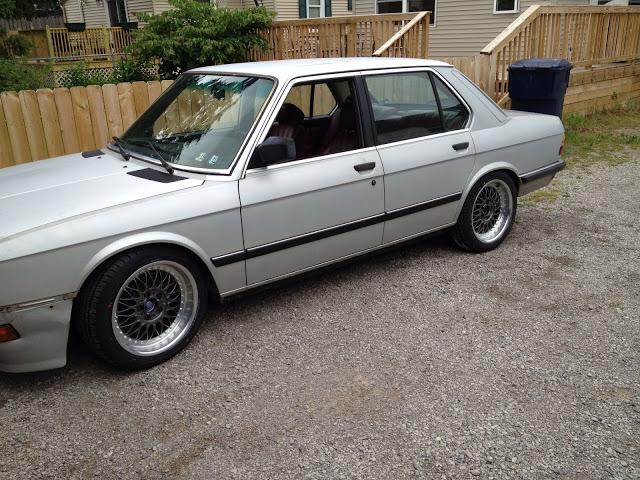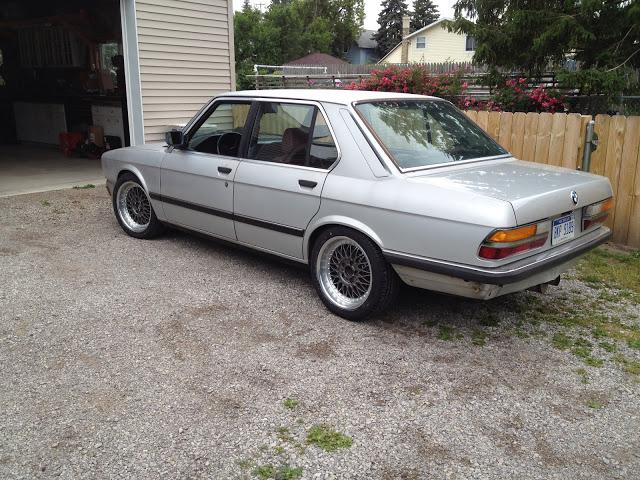 I am going to swap out the heater core this week as the current one is really leaking. I am also trying to get the cruise to work without much luck so far....
7-1-2012
Made a 600+ mile round trip to tedfest. Got 25mpg with 3 guys in the car, AC on, and a trunk full of tools. I am happy with that and I think I can get a little more out with adjusting the tune.
I really didn't take any pictures of my own car...my buddy took one right when we got there.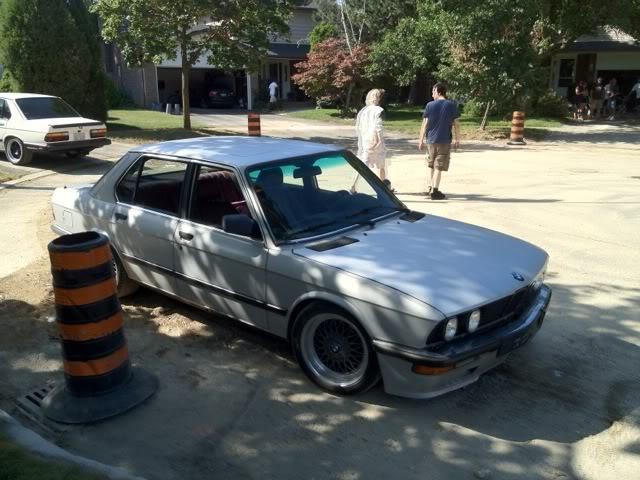 Had an AWESOME time.
yup sure is, he dropped his e12 off at my house and then drove up with us and flew home.
His e12 will be getting a Lq4 (6L) soon.
7-2-2012
hehe yup...
If anyone is in Michigan I am going to have the e28 at the cars, coffee, and karts in sterling heights this Saturday. Should be down there by around 9 or so.
Here is a link to info on the event.
m http://www.facebook.com/events/422217064490102/
sure will, here is the link
m http://www.mye28.com/viewtopic.php?t=106967 m
I actually put it in the right forum this time.
8-23-2012
just been driving it....
A couple pictures I took last night downtown.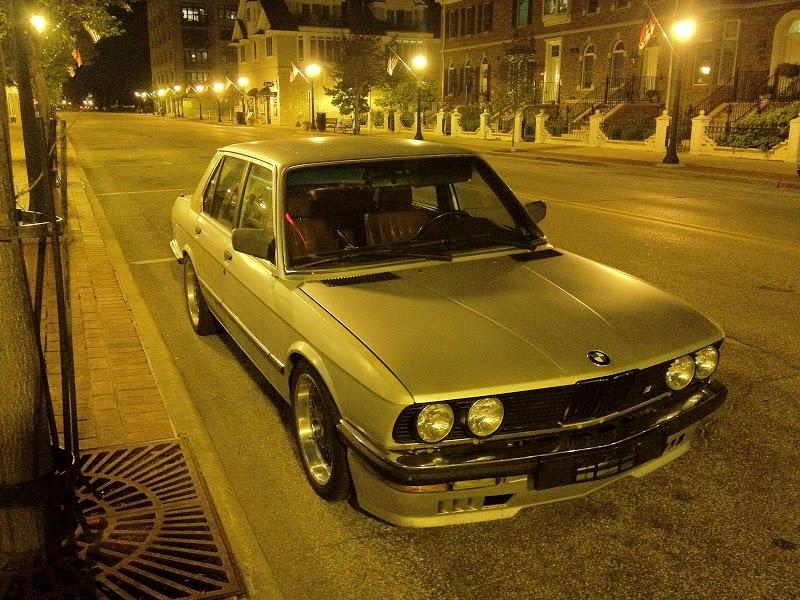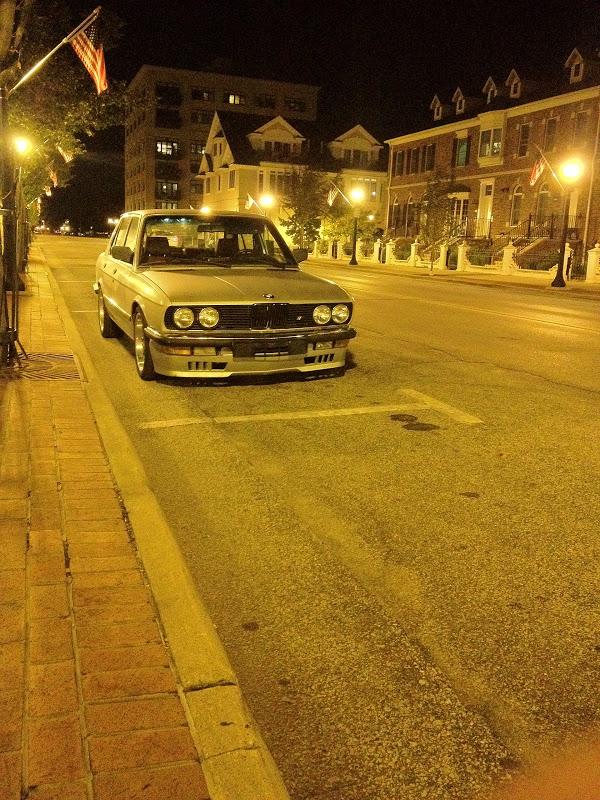 11-6-2012
Yes they sure are. My website has them, w www.classicdaily.net w
Feel free to send me a PM or email ( e jake@classicdaily.net e ) if you have any other questions. I offer other things need for the swap as well. Headers, wiring, etc etc
nope no in car videos. I will try to get some. I will see about borrowing a buddies go pro.
12-29-2012
Making some new stainless headers...
The drivers side is really tight so starting with the harder one.
New compared to old.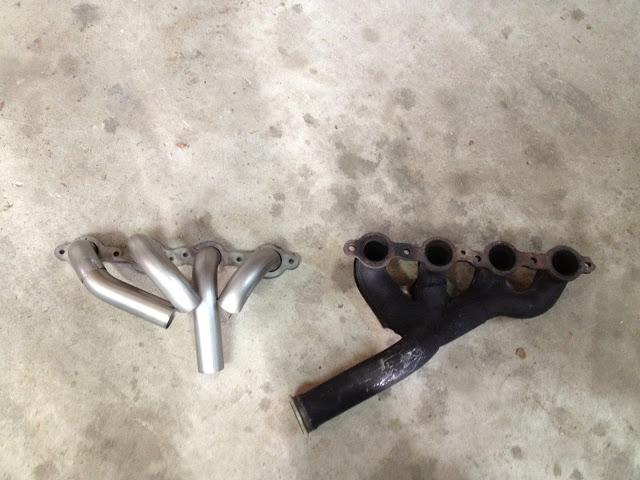 The third runner from the left is just a test right now and will change...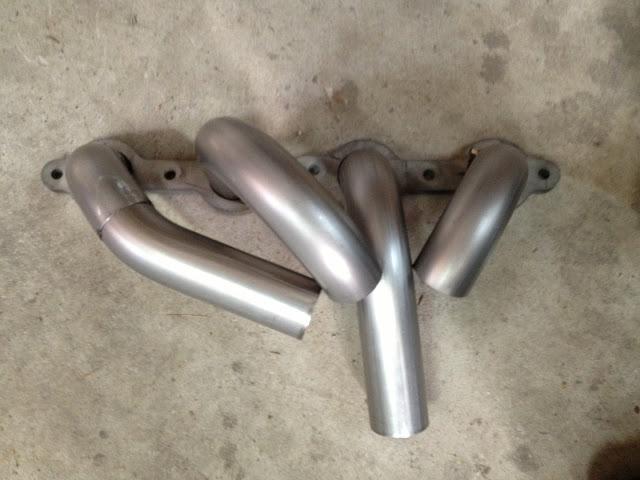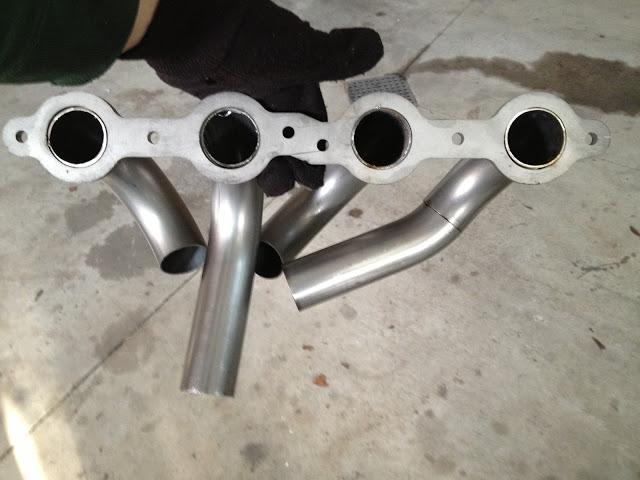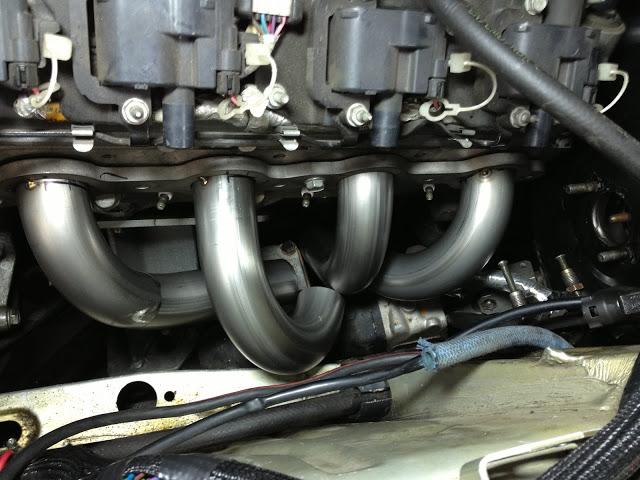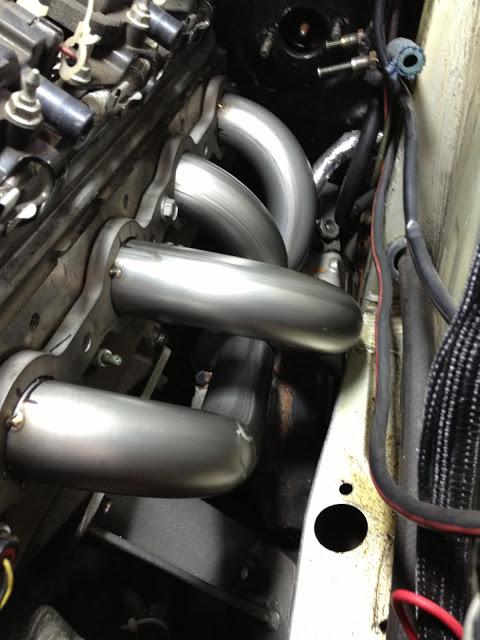 1-2-2013
Will do man....I'll be hanging on to it for a bit...
I wasn't happy with how the header was going to merge together so I started over.... MUCH happier with how it is working now.
4 into 1 collector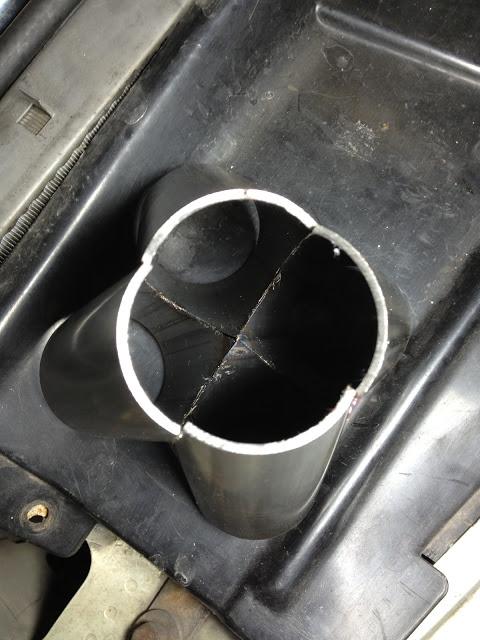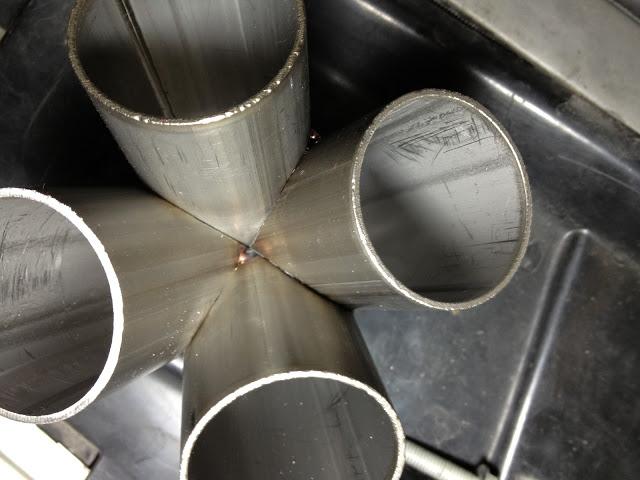 New version...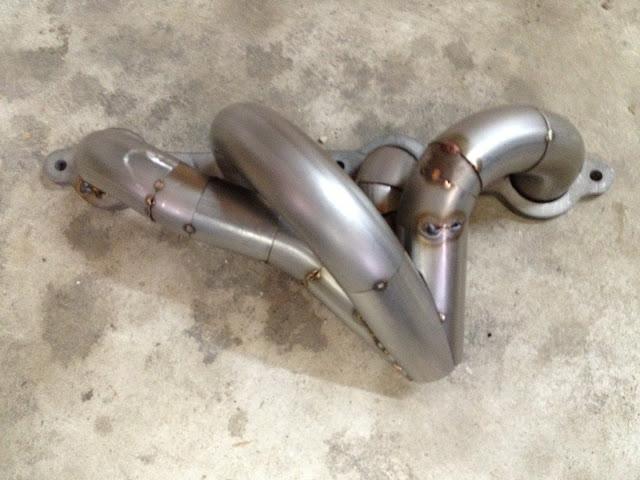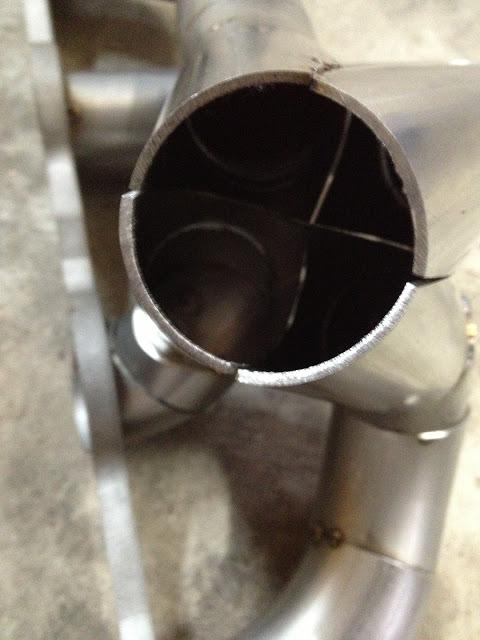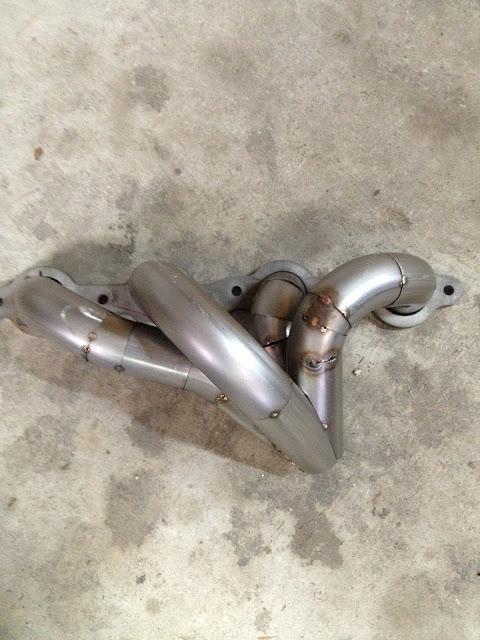 On the car...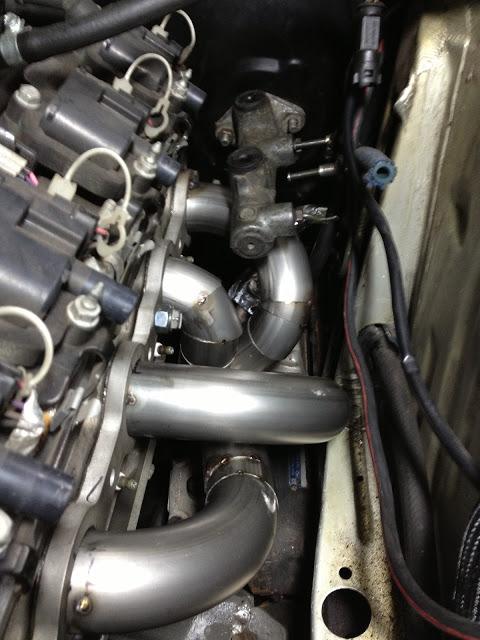 1-15-2013
more work on the headers...
passenger side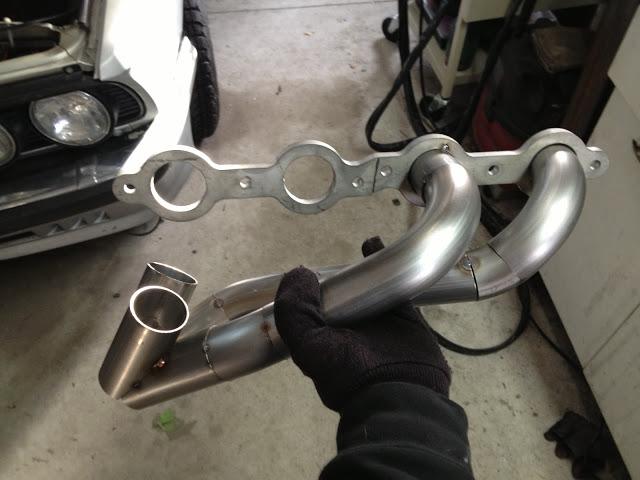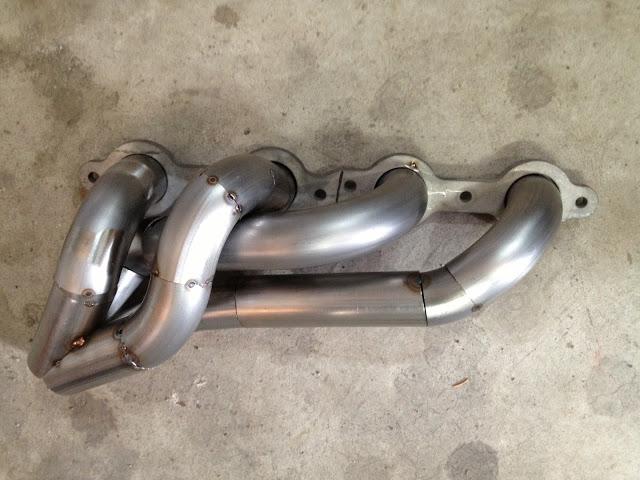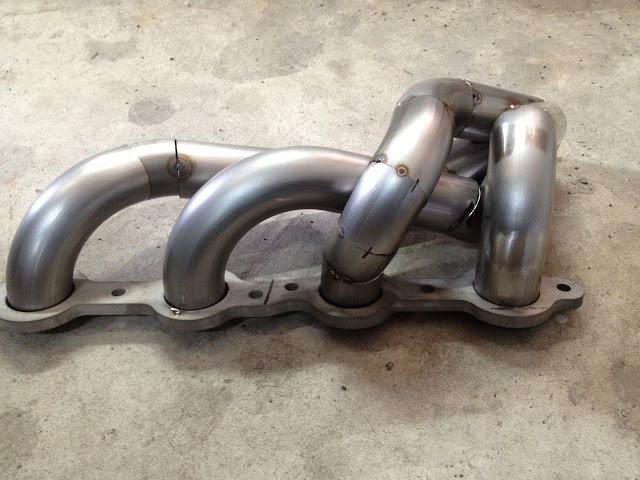 On the car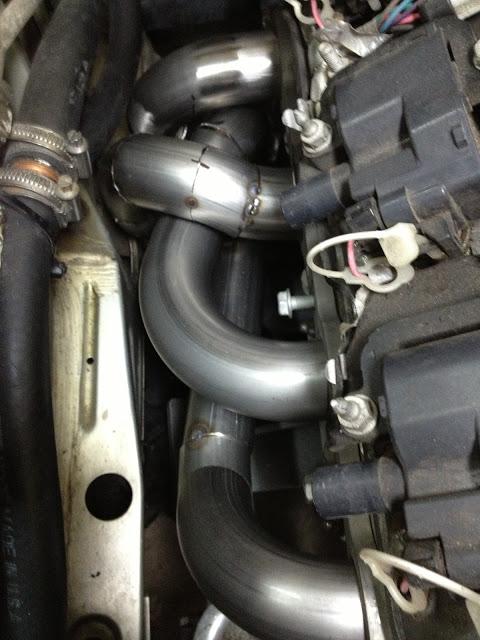 Both together....vbands on. Still need to be test fit one more time...fully welded, jigged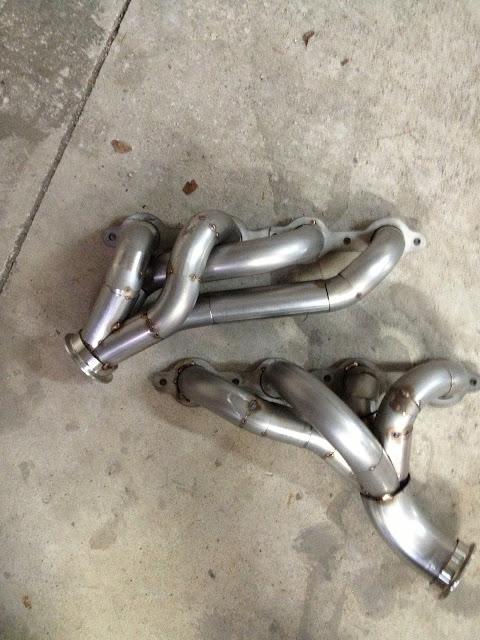 2-14-2013
bummer.... A bit of traffic back up and someone was really close to me and then someone rear ended that person which in turn slid into me...
poor euro bumper
It's not tooooo bad, bumper is toast for the most part. Back of the trunk is pushed in somewhat and the truck lock doesn't release as good as it did before.
Could have been a lot worse. The other two cars had zero damage... probably thought mine was just a POS anyway.
11-18-2013
Thinking about selling this.... If anyone is interested send me a PM or email e jake@classicdaily.net e
Either in it's current shell....another super clean black shell...or into something else.
Got something else on my mind and I can't keep them all.
Not sure just what I am going to do yet. If it happens just let me tell you it will be a good one.
7-20-2014
As many of you may know I ended up selling this car. Anyway all the good parts were swapped into a really clean black shell I picked up. The car is going to a local guy.
A couple pictures of the swap over...
Still dirty in the shop, in progress.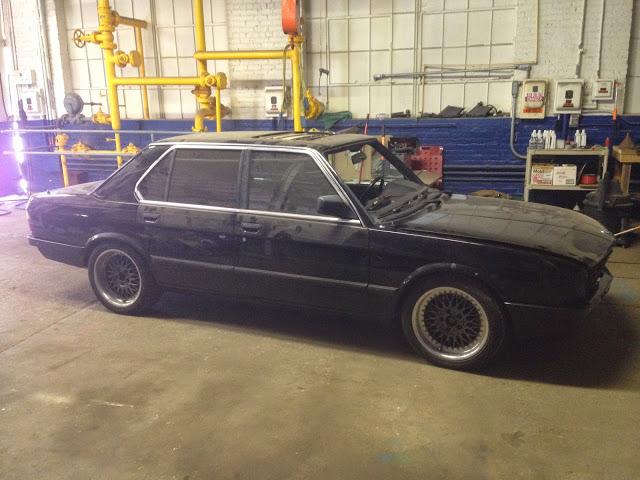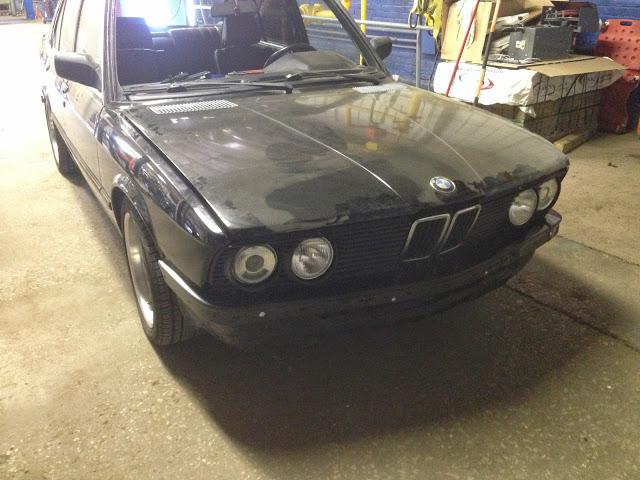 Outside for the first time.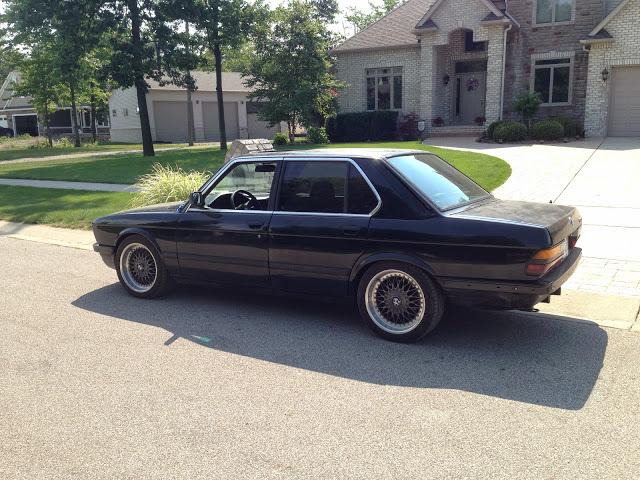 Still somethings to do before it is fully done. But damn I am going to miss this one. More than the e30 m3 I had.
I guess it means it's time to get to work on this.