DIYs
Yet another activated charcoal cabin air filter R&R DIY :) by bluebee
By diyauto
You must be logged in to rate content!
11 minute read
Yet another activated charcoal cabin air filter R&R DIY :)
Compliments of bluebee @ bimmerfest.com
5-26-2010
Yeah, it's incredibly simple, but, believe it or not, I actually had to peruse the "mit einbauanleitung" (=== includes mounting instructions") that came with my CUK2736-2 adsotop Mann "innenraumfilter mit aktivkohle" (=== cabin filter with activated charcoal) purchased from Autohauz (P/N: 64.11.0.008.138) for $11.87 each ($23.74 for the set) with free shipping (because I added a dozen Mann $5.47 oil filters to bump the price over $50).
The new filter didn't look like the old filter (and it didn't have a one-way plastic tab), so I had to read the instructions that came with it.
Even then, I needlessly removed the cabin-filter housing spring clip and the three air-duct clips on the first of two exchanges.
So, I decided to write my own BMW E39 cabin-air filter DIY (if not for anyone else, at least for my own future reference).
NOTE: Also useful to remove air conditioning stink (see this thread).
Here goes ... (as always, please improve if needed).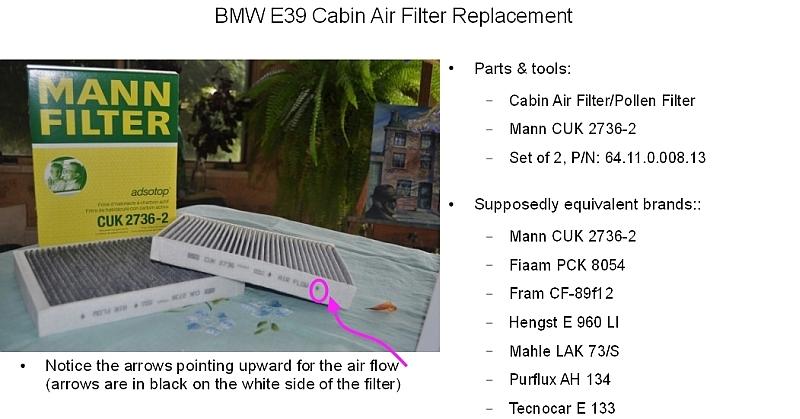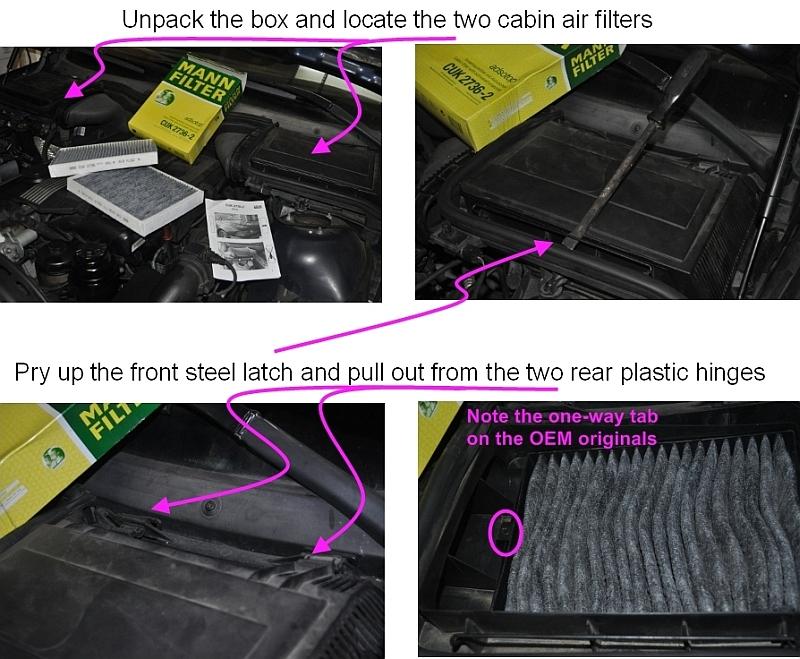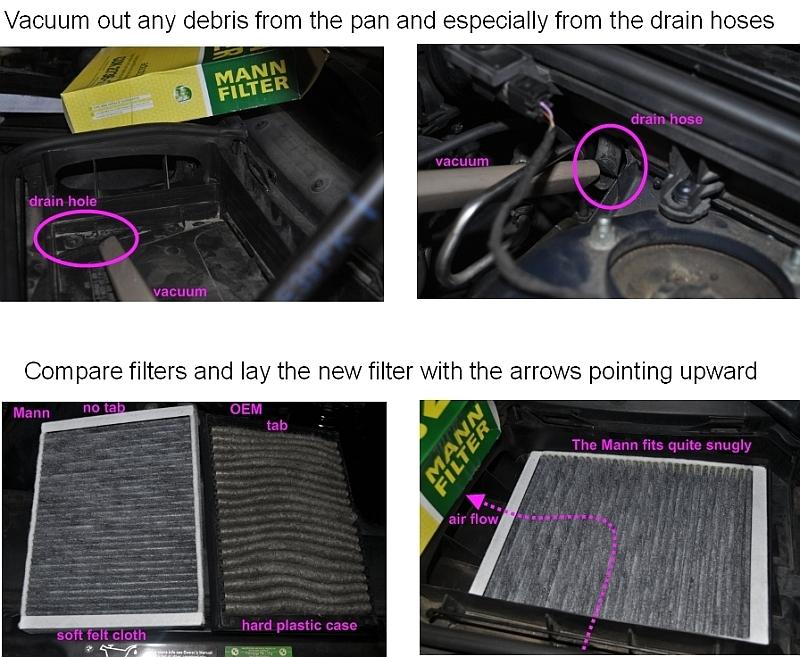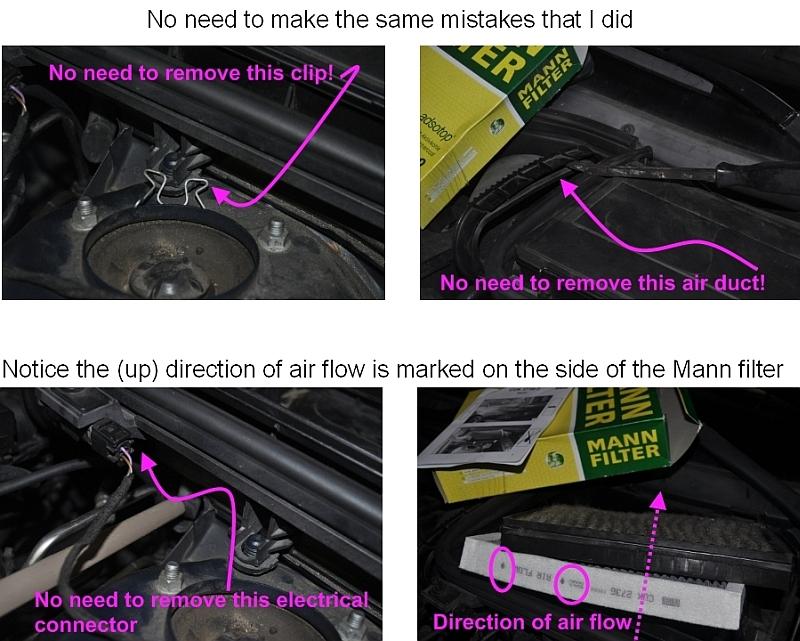 Since summer is coming up, you should also check your two undercarriage drain hoses when you clean out the cabin air filter drains and replace the cabin air filters.
Otherwise, you may get the dreaded gym-sock air conditioning stink!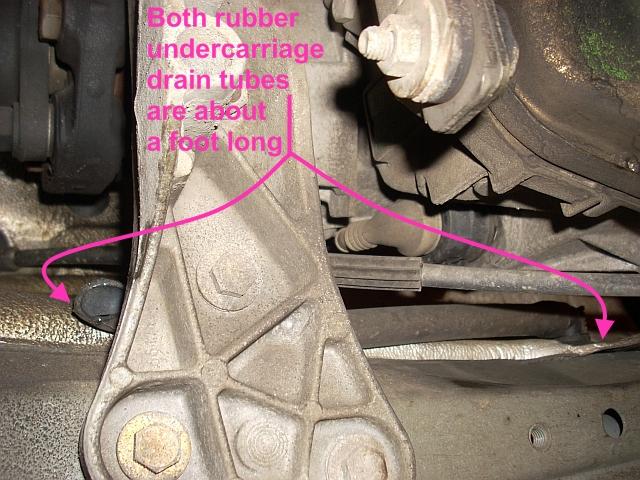 And, if you REALLY want to kill the gym-sock ac stink, drill an acess hole in your driver-side right-foot kick panel to spray disinfectant on the a/c evaporator cooling fins!
Then do the one-time set up of your AC controls, and you're set for summer!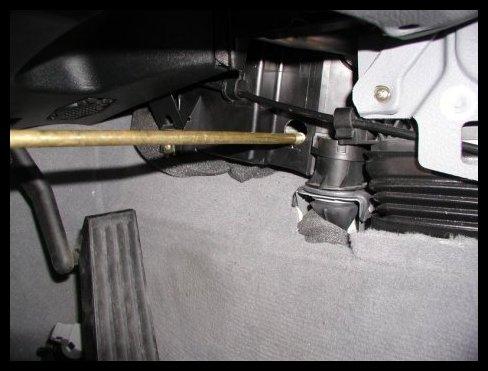 3-14-2011
Today, gunksny kindly posted a cabin air filter DIY PDF (e39 Cabin Filter DIY.pdf):
- E39 Cabin Filter Replacement DIY
I added his link above just now to the bestlinks for future reference:
- How to DIY replace the activated charcoal cabin air filter (1) (2) & what cabin filter to buy (1) (2) & cn90's inexpensive cabin filter retrofit (1) (2) (3) & cabin air filter implications for stinky air conditioning (1) (2)
For convenience, here are the pictures reproduced from that thread, only shrunken to 640x480 pixels: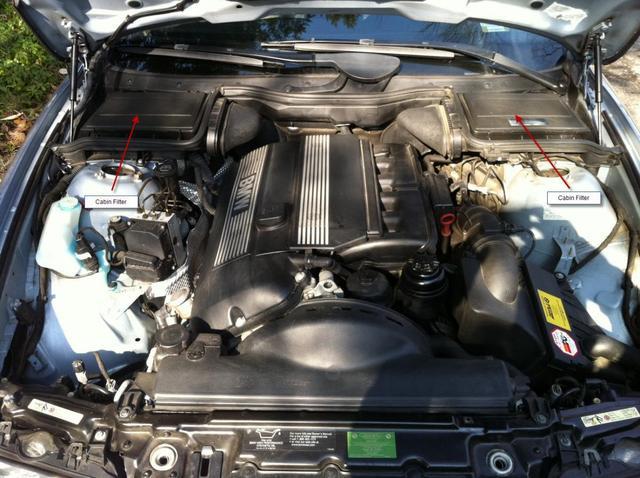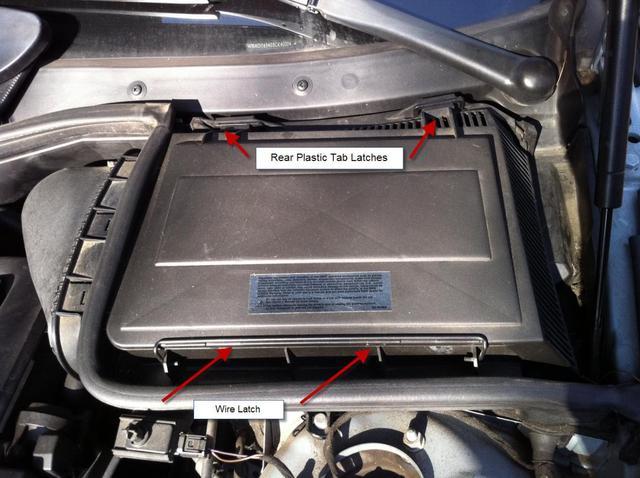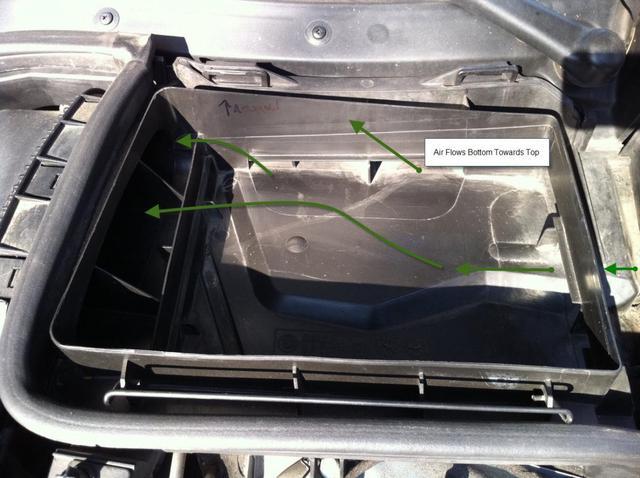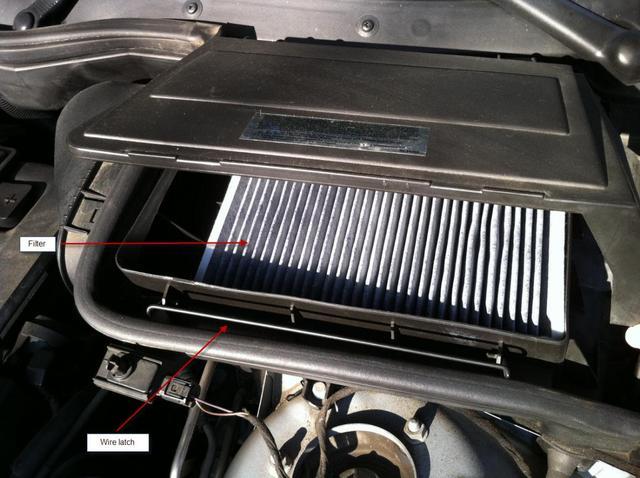 7-3-2011
It feels good to know, that, at least today, this (simple) DIY helped someone:
- E39 (1997 - 2003) > Mann Cabin Filter Air Flow
Quote:
Originally Posted by
chelseafc

Ok searched again after posting, found a bluebee post with this link, appears confirmation of arrow pointing up (as in towards the underside of the hood)
Of course, as simple as this DIY is, it isn't without controversy:
Quote:
Originally Posted by
edjack

The air flows from top to bottom, and then into the
car
. Arrow points down. Ignore the writing.
Quote:
Originally Posted by
QSilver7

The arrows on the microfilters should point
upward
...and Bluebee's as well as the other illustration confirms this.
Look again (closely) at the illustration...the air enters the microfilter compartment and flows UPWARD thru the filter, then the "fresh" air flows FROM the top of the microfilter into the car's HVAC system. The arrows near the microfilter are curved upwards to indicate that fresh air is drawn into the
BOTTOM
of the microfilter's plenum first...then
UPWARD
thru the micro & carbon filtering media, then into the car's HVAC fresh air intake. This allows HEAVY objects sucked into the plenum (or water) to fall to the bottom of the plenum otherwise it would have to fight gravity to enter into the system as the air is being drawn into the system. This is also why the water drains are at the bottom of the filter housing. If the directional flow was from TOP to BOTTOM then the filters would get soaking wet every time it rained or you washed the car: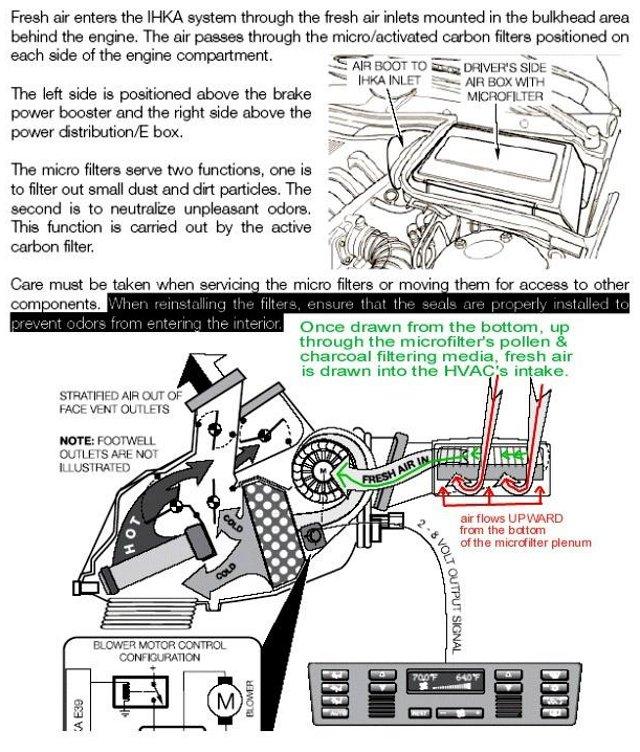 12-9-2011
For the cross-linked record, these cabin air filters were suggested in this thread:
- E39 (1997 - 2003) > Cabin Airfilter Replacement...
Quote: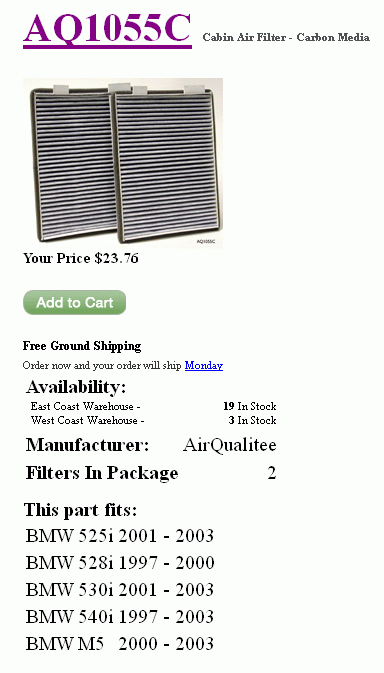 6-2-2012
I just accidentally realized a neat trick for helping get the cabin air filter housing back into the bimmer.
You can rotate left the snorkel on the side of the cabin air filter housing (and remove it if you need it out of the way).
Then, you put the cabin air filter housing back.
And, lastly, you rotate the snorkel back in place.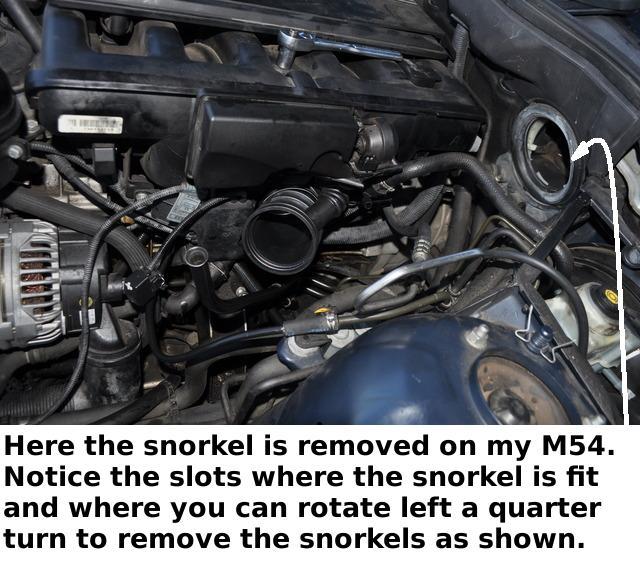 4-5-2013
For the record, this was asked today:
Quote:
Originally Posted by
John Allen

I purchased Fram air cabin filters for my 528. They have arrows on the side (edges) and the advisory "direction of air flow". It is not obvious to me which way the air flows. Can anyone advise whether the air flows up or down?
See also:
9-3-2013
Here's an exhaustive list of replacement cabin air filters from today:
Quote:
Originally Posted by
doru

Below is a list with the equivalent charcoal activated cabin filters, exact
fit
for BMW e39. Just pick the cheapest, I think:
Air Qualitee
AQ1055C
ATP
CF-105 RA-60
Beck Arnley
042-2076
BMW OEM
64 11 0 008 138
Bosch
C3821
Champ
CAF1722
Fram
CF10369
G.K. Industries
CF1067
Hengst
E960LC-2
Mahle
LAK 73/S
Mann
CUK 2736-2
Micron-Air
BM97130C
Purolator
C35509
TYC
800048C2
Wi
x
49372
Personally, I used TYC for the last 5 years without an issue. Very good quality and very cheap.
EDIT: See also:
4-27-2015
This question came up today ...
> E39 (1997 - 2003) > Air and Cabin filters.
Quote:
Originally Posted by
lsrguy98

Can anyone tell me which brand air and cabin filters to get? Also, is the carbon activated filter a good way to go or are the paper filters best. Fram has all of the ones I need but not sure about the quality.
Thanks.
Quote:
Originally Posted by
QSilver7

Get the one th as t looks li I e it will get the job done that it was designed to do...and fits your budget.
As far as activated charcoal or plain...again this is your call to make. Do you know what the actvated charcoal filters purpose is? It's to help filter odors from the fresh air entering the HVAC system. If that matters to you...then again it's your choice to make versus plain filter.
6-12-2015
For cross reference, a related thread was opened today ...
> E39 (1997 - 2003) > Cabin air filters
Quote:
Originally Posted by
gooddeal

2001 BMW 530i 110k miles on the odom. Stale musty smell coming from the interior vents.
I suspect that the cabin air filters have never been changed. I am the 2nd owner.
Air conditioner is ice cold and works great.
open for suggestions..
Gooddeal
Quote:
Originally Posted by
edjack

The ducting needs hosing out with an A/C spray elixir intended to neutralize the smell. Remove the filters and spray the stuff into the ducts with the blower on low speed. Let it set overnight.
Get under the car and make sure the drain hoses are free. They are on either side of the trans.
Quote:
Originally Posted by
540 M-Sport

Replacing filters with new ones with activated charcoal will help, but most likely you have mold growing on the condenser...you need to sanitize or clean it...there is an active thread right now on the subject in the E39 section.
http://www.bimmerfest.com/forums/sho...d.php?t=786527
www.autohausaz.com
has a pair of Mann filters for $20...only problem is you need to buy $75 worth of stuff to get free shipping. But even if you pay for shipping that is the best deal going.
Quote:
Originally Posted by
gooddeal

Thanks to all, I 'll replace the filters. I work for a BMW dealer so I get parts for 30% off.
However, I have an independent
mechanic
who will do the air conditioner cleaning..
gooddeal
See also: