My big German boat! BMW 740IL
By stevegolf
You must be logged in to rate content!
Picked up a new daily driver. I've always wanted one of these cars. My Dad and grandpa both had E38s back in the day. I drove my Dads to prom and it was the nicest car I had driven at that point. There is something about this car that is special. BMW's top of the line vehicle made during their most recent golden age. It has classic styling and rides like a dream. And by dream I don't mean cloud like, like a Lincoln drives. It is comfortable and athletic. They still took the "Ultimate Driving Machine" motto seriously back then.
I do a lot of long drives for work so I wanted something big and comfortable. Saw this car on EBay. It spent most of its life in Palm Beach Florida. Rust free and super clean. Also had very low miles, just over 80,000. Interior is mint, was very excited for it to arrive.
Here are pics from the dealer showing it getting loaded onto the trailer.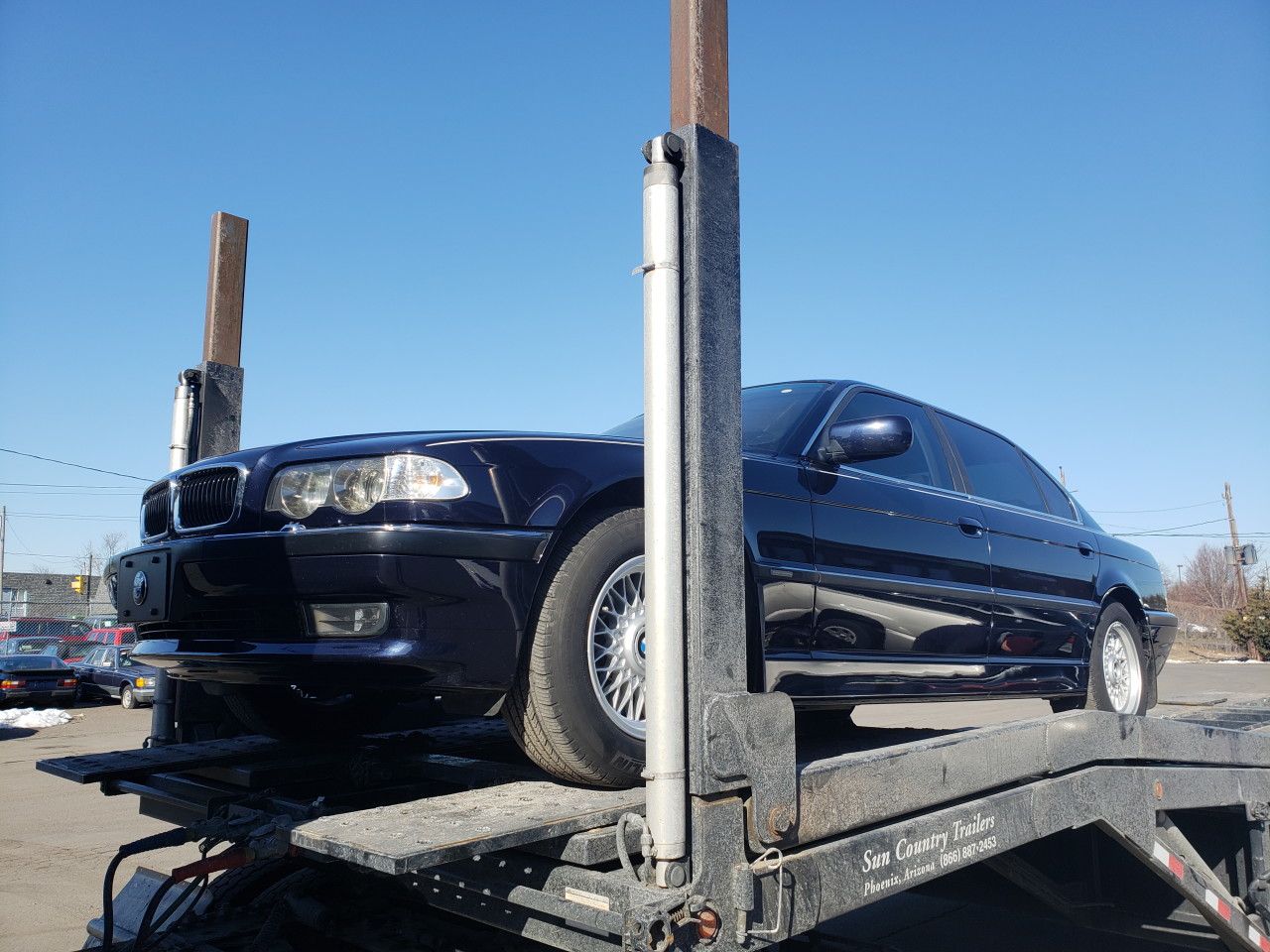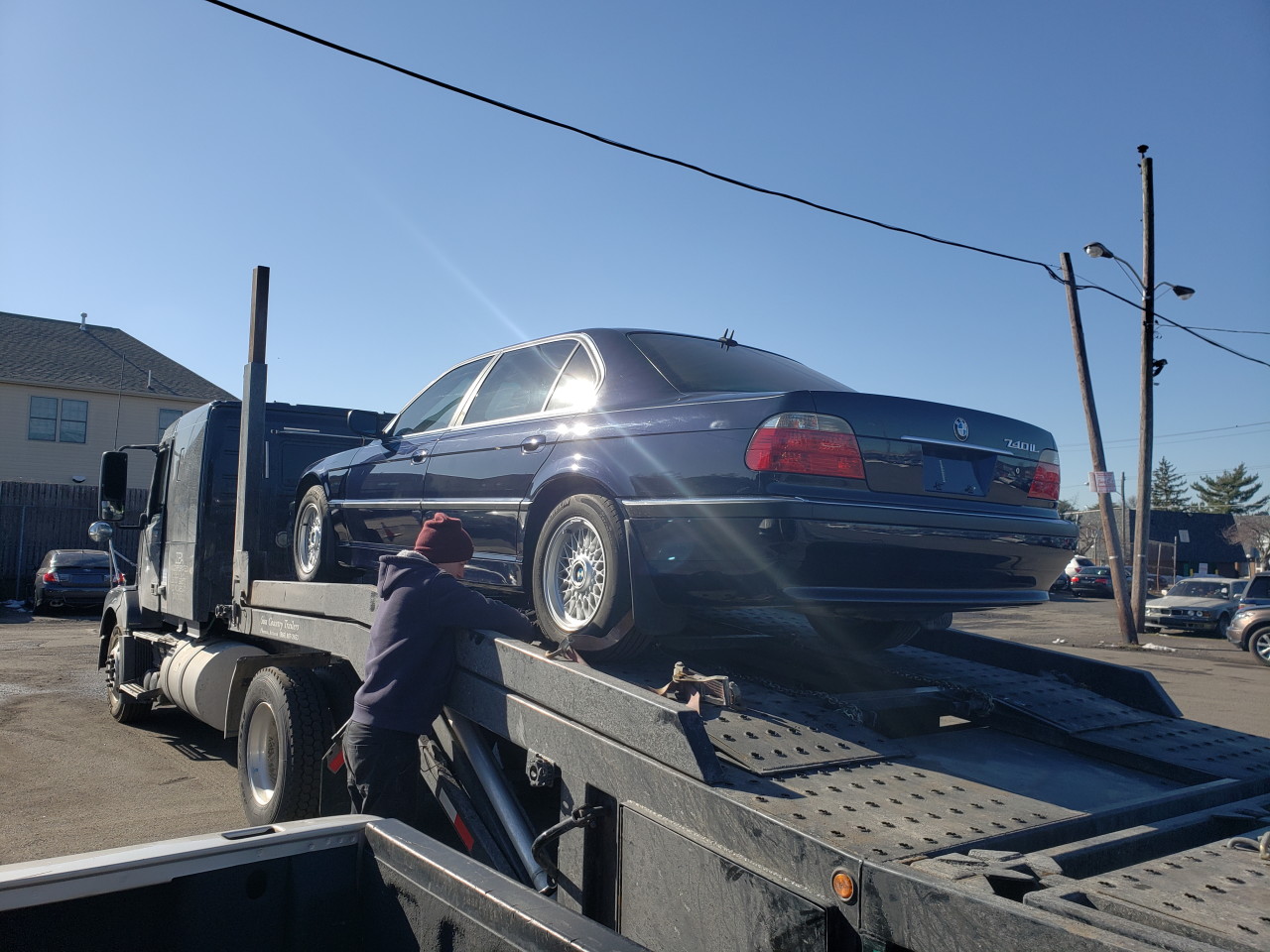 I've owned several BMWs, most were high mileage so I know these cars take some effort to keep in top shape, but it will be rewarding. With all the work is it worth it vs. getting a new luxury car? I think so but we will find out.
Here is the list of my previous and current BMWs:
1987 325is with 300k+ miles - one of my favorite cars but rusted away mid engine swap
1988 M5 with almost 200k miles when I bought it - best car ever, regretfully sold it
E39 528iT manual wagon with 220k miles - sold
1987 528e with around 200k miles - still own, getting an S52 installed
and now the E38!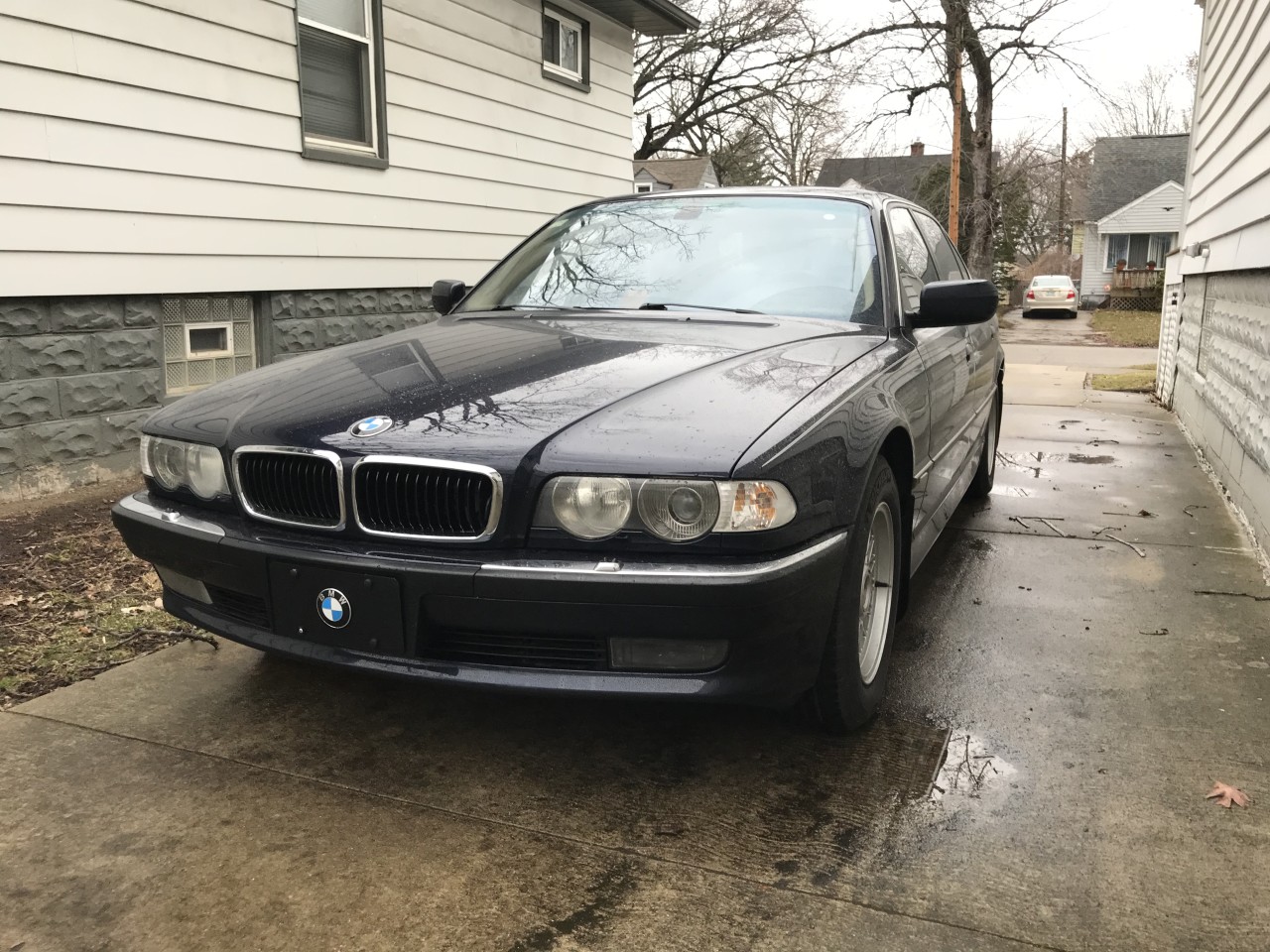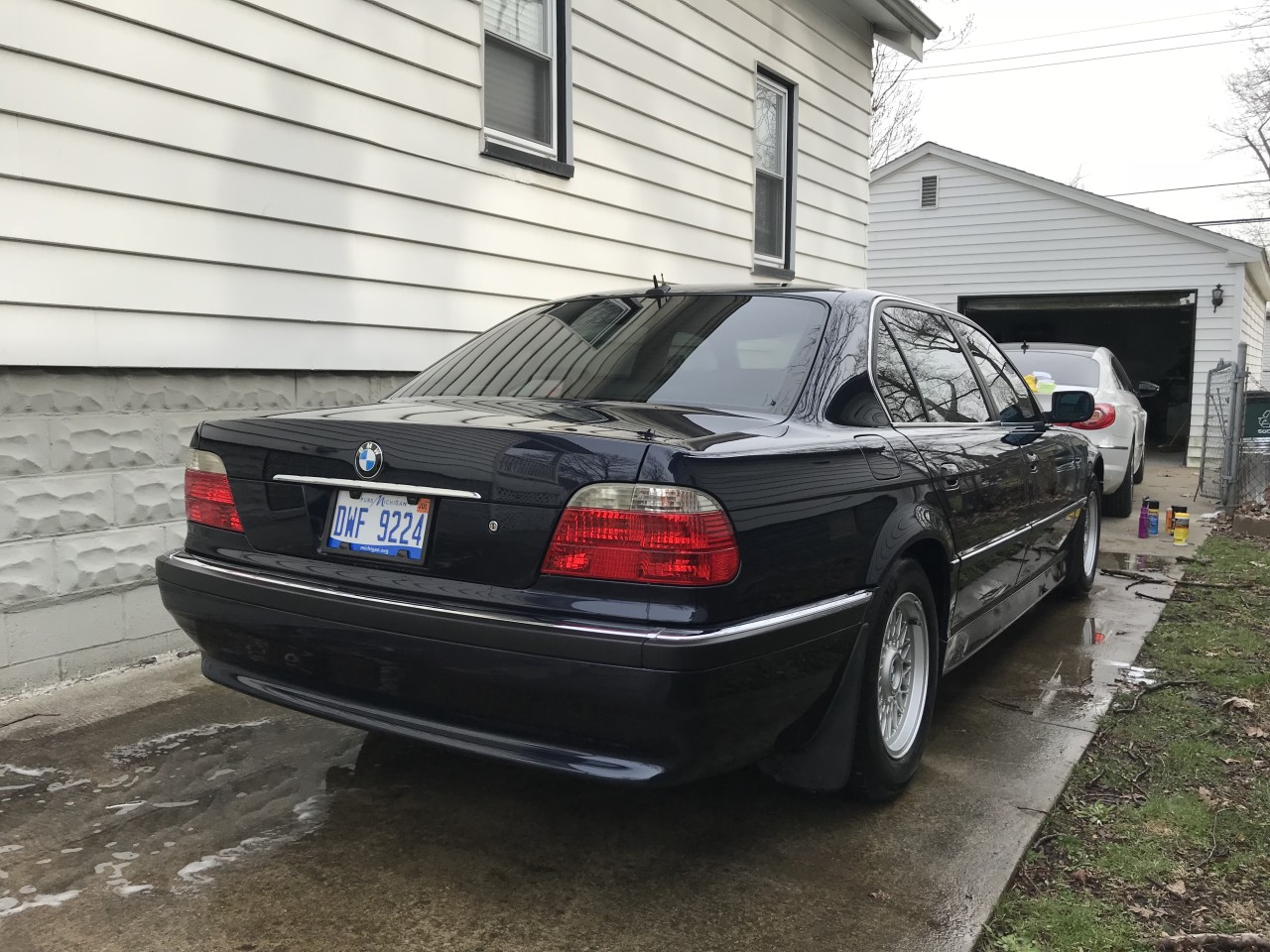 First modification was done to the stereo. Bought the Grom Bluetooth module so I can play music from my phone. Was very easy to install and works great. One of the few things that really dates the car functionality-wise was not being able to connect external music players, now I'm all set. I have a DIY on the install here: https://www.diyauto.com/manufacturers/bmw/generations/7-series-1/diys/grom-usb3-install-in-2001-740il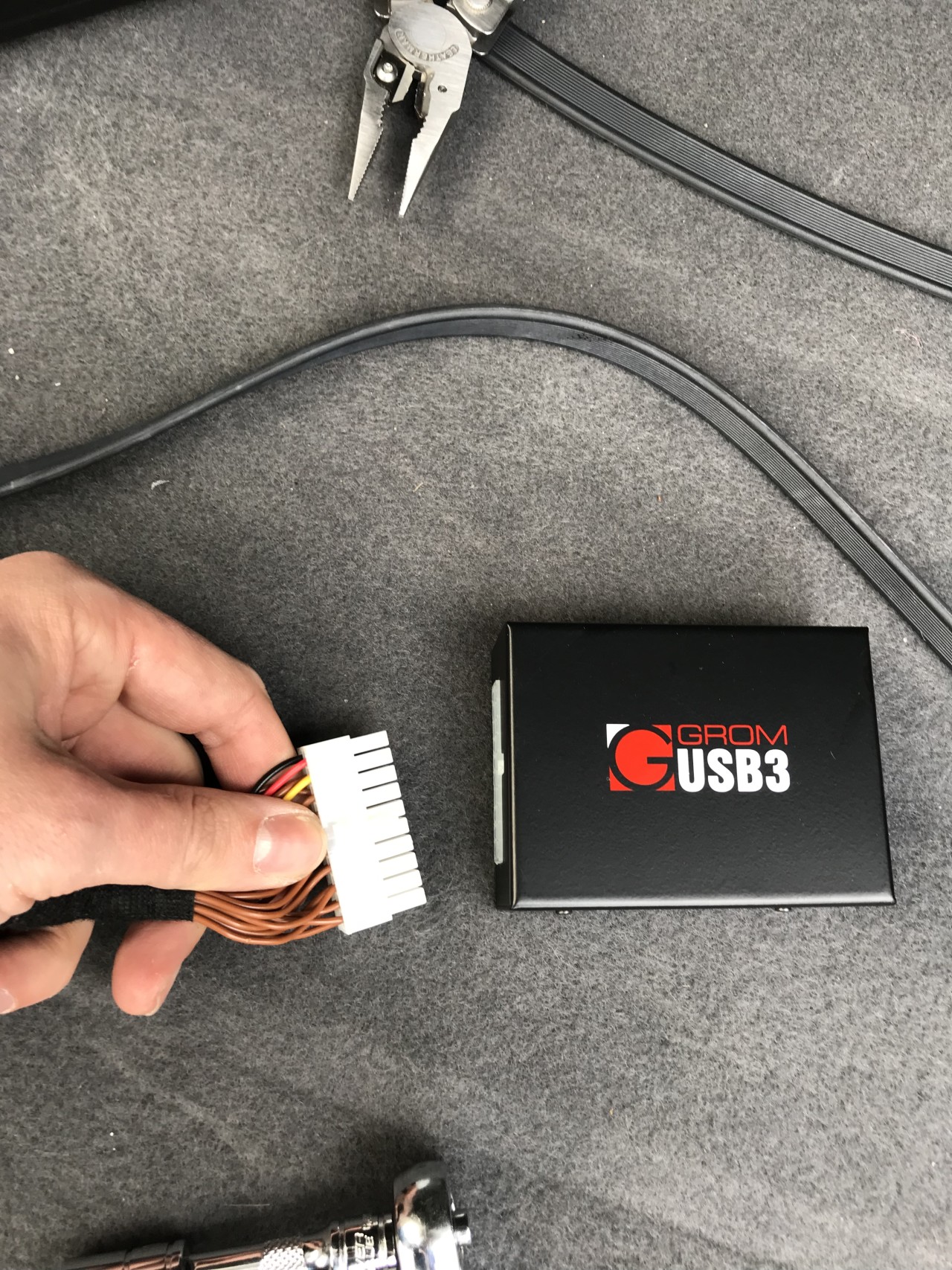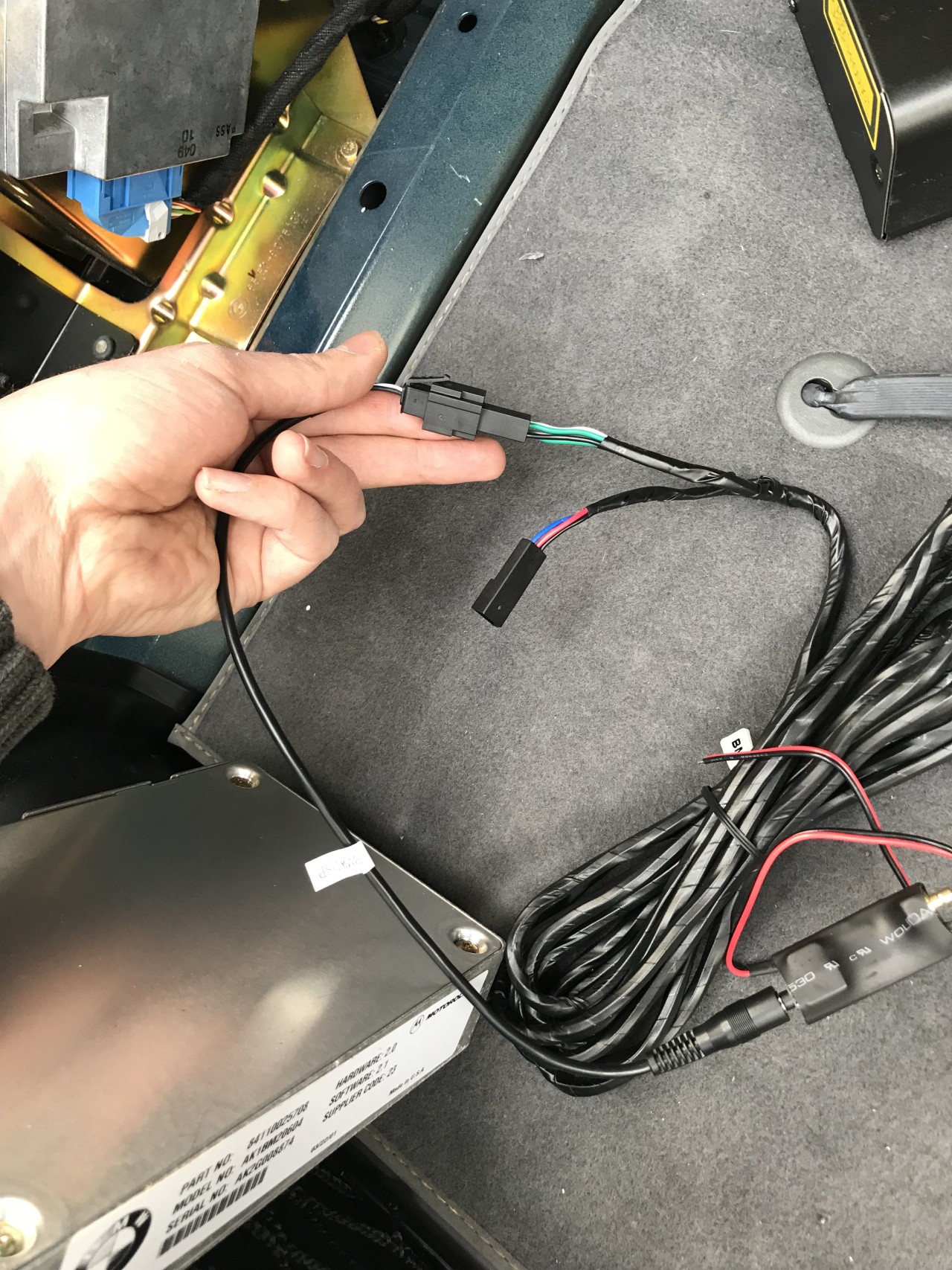 Kept everything in the box to keep things from knocking around.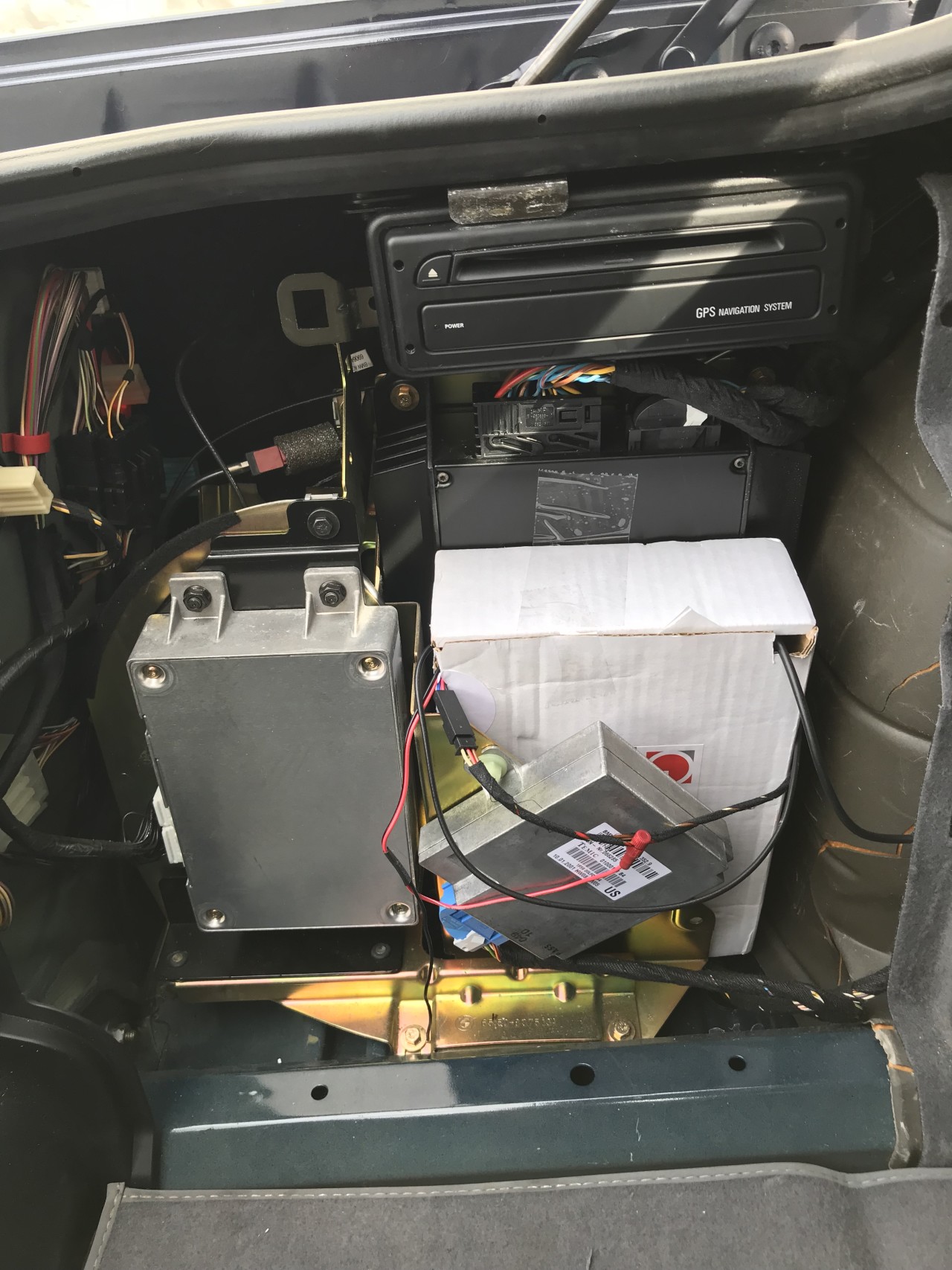 It works! There are direct replacements for the factory head unit that include all the modern stereo features like carplay, rear camera integration and all of that. This works great for now. I did a little writeup on how to install it.
https://www.diyauto.com/manufacturers/bmw/generations/7-series-1/diys/grom-usb3-install-in-2001-740il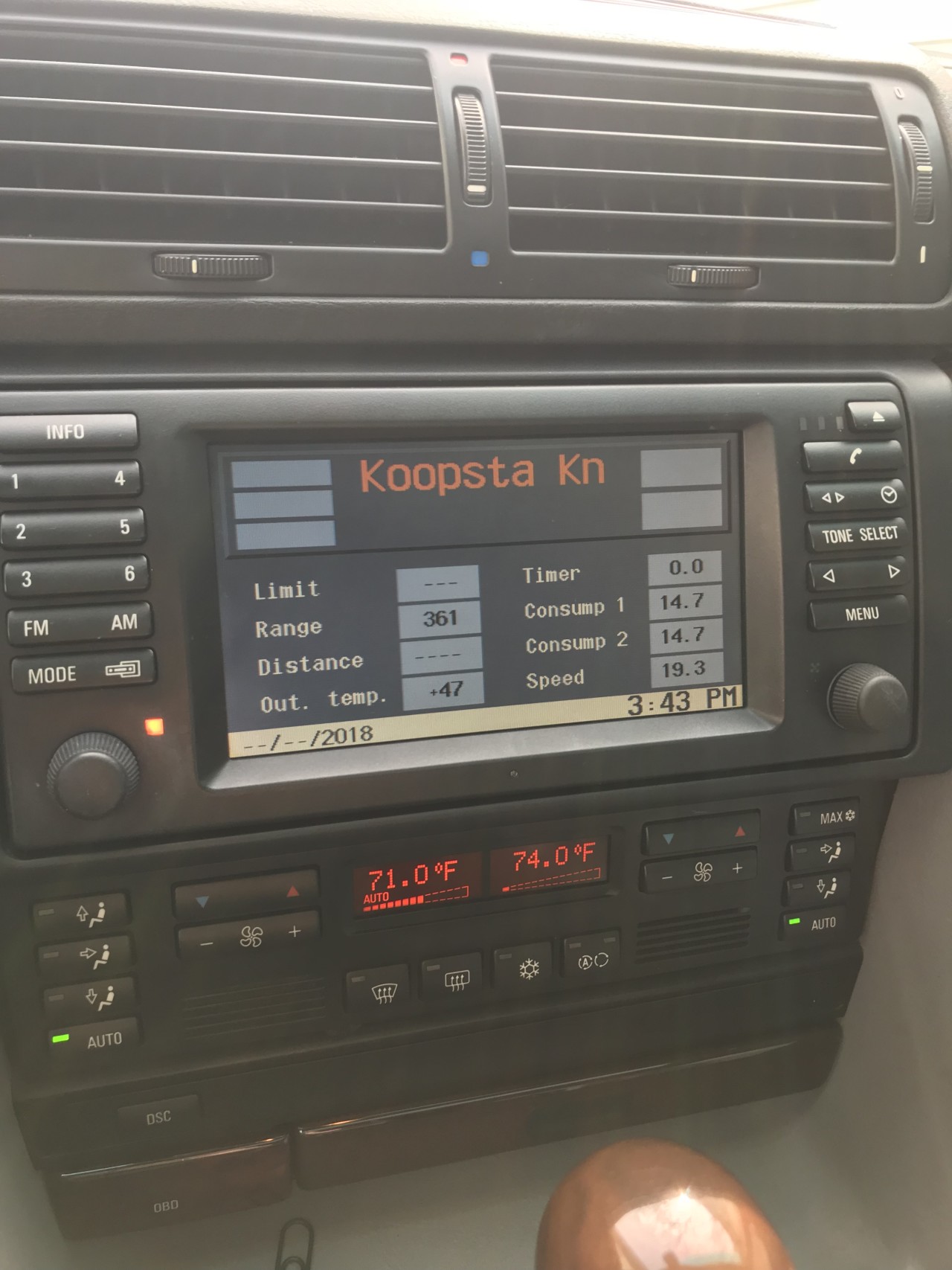 The rear deck speakers are blown so those will need attention next.
A coolant leak also started out the side of the radiator. The cooling system is a weak point on these cars; the water pump impeller material, plastic coolant hose ends, exploding cooling fans, I bought replacements for everything and that is the next task.
5-8-18
Drove the car up to Northern Michigan. Was nice to ride as a passenger for once. Car drove great, very nice for long distance driving.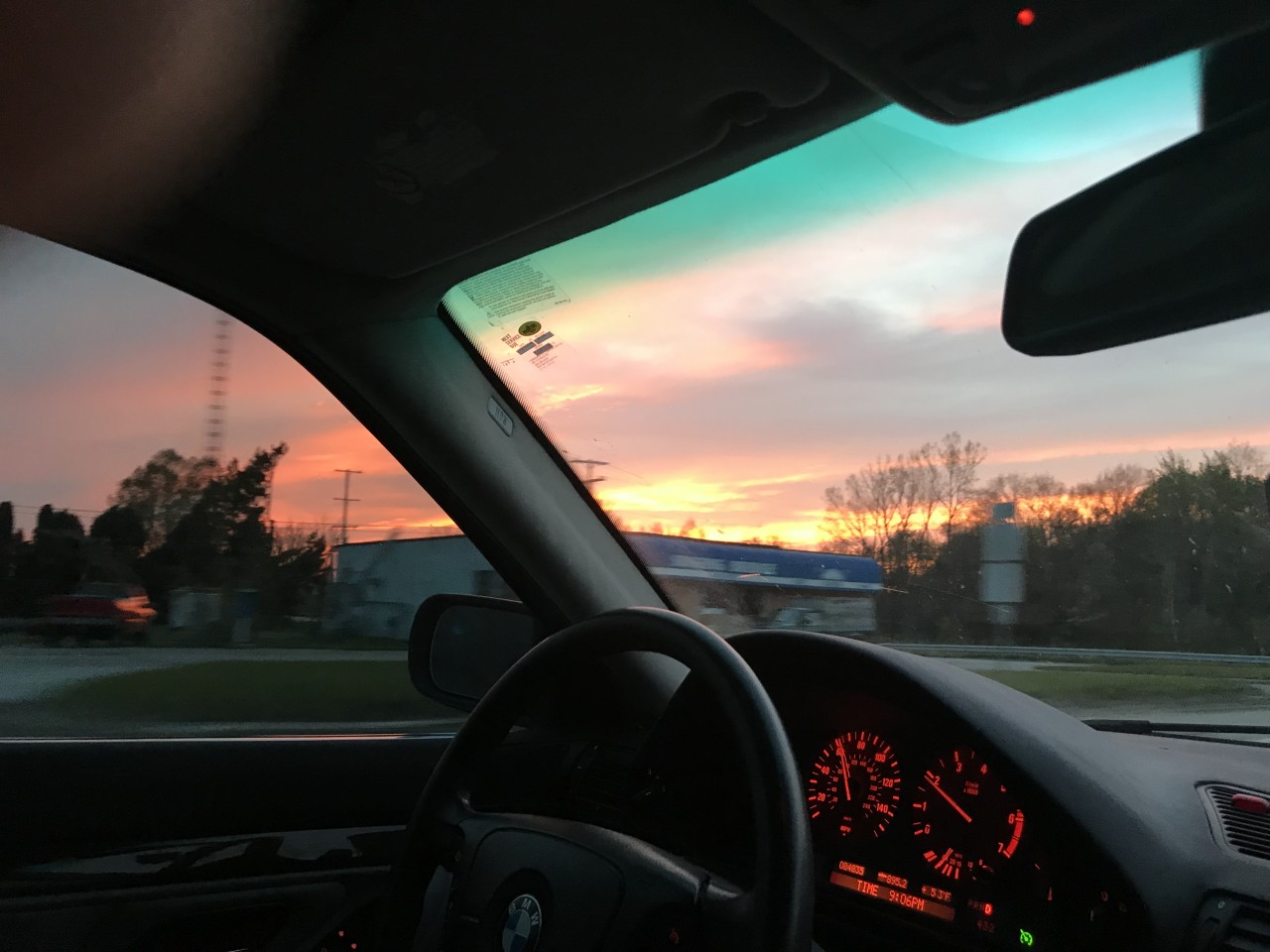 The old sidemarkers were yellow and full of water so I replaced them with some slightly more modern looking ones. Really helps with the look. Also replaced the hood and trunk struts as they were blown. I did some DIY writeups and videos for both tasks.
https://www.diyauto.com/manufacturers/2/generations/942/diys/hood-and-trunk-strut-replacement
https://www.diyauto.com/manufacturers/2/generations/942/diys/side-marker-light-installation
5-27-18
Windshield washer pump stopped working, so I bought a replacement. I could tell it wasn't just a clogged filter as the sound of the pump stopped as well. It was a pretty simple task, all the spilt washer fluid helped clean the garage floor :)
The hose that connects the engine bay to the hood broke as well, had to find a new piece of hose to clamp on. It works good as new now.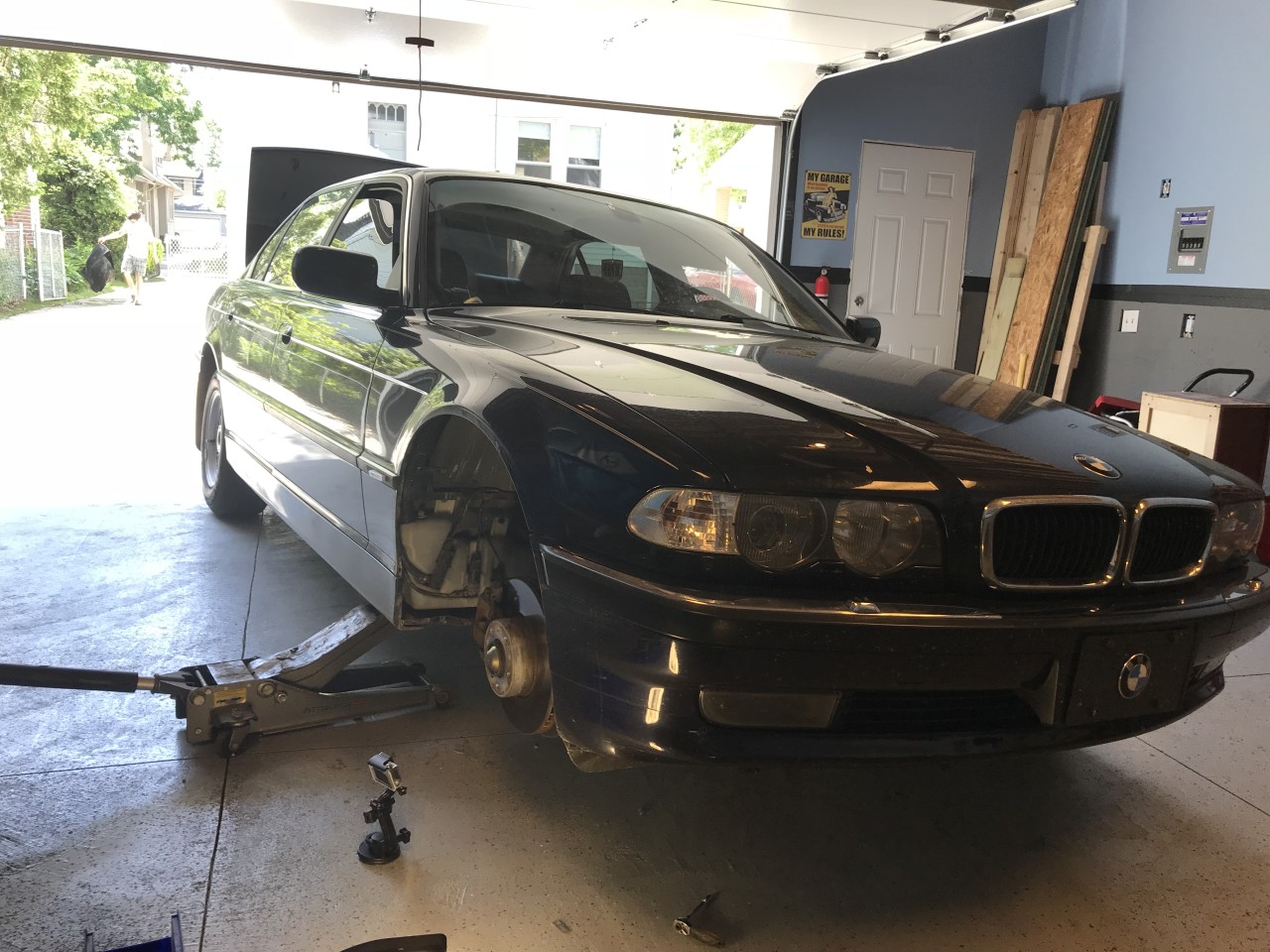 Old vs. new. You have to swap the filter as well after cleaning the gunk out of it.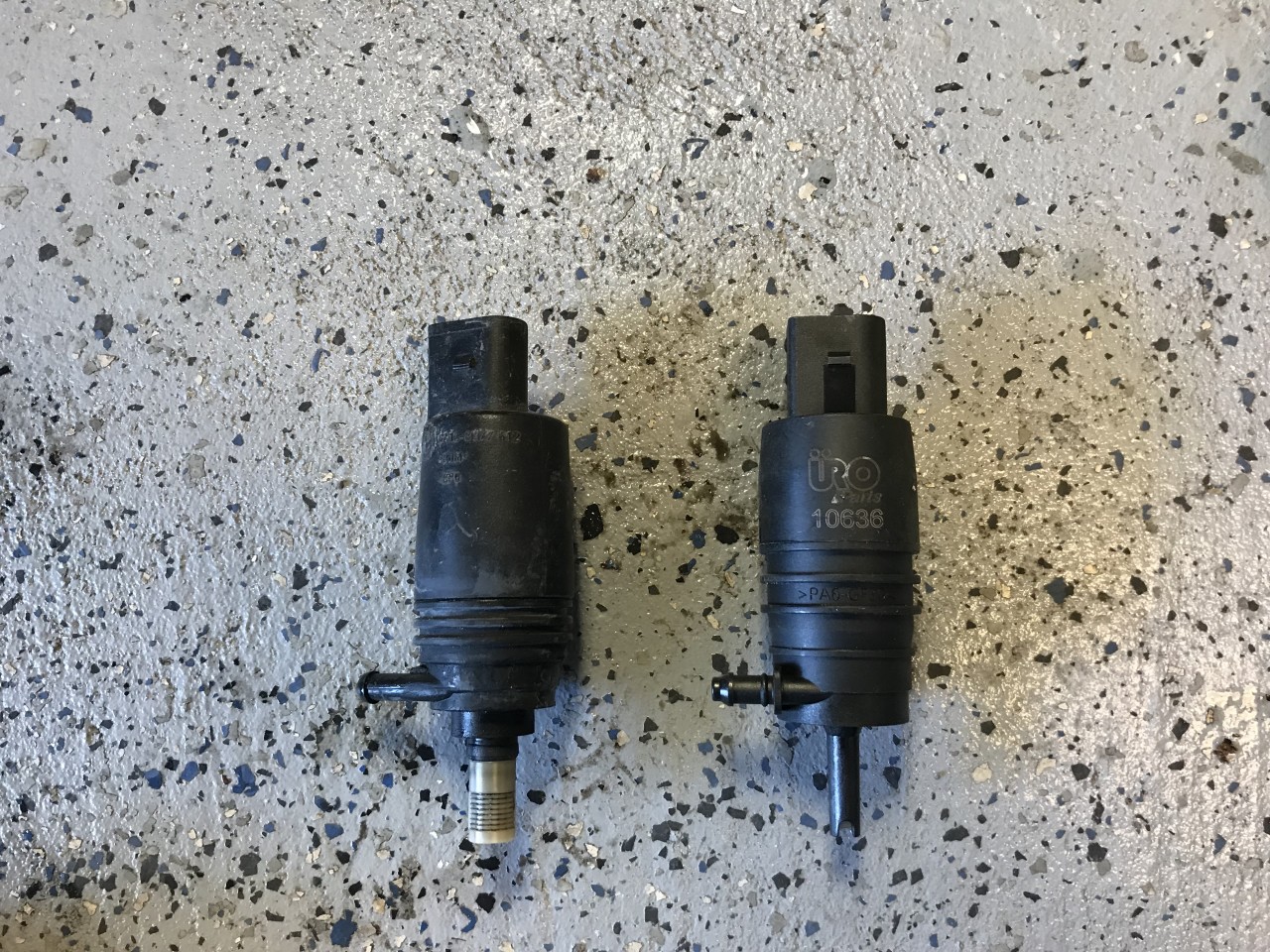 Did a little video and writeup on this as well.
https://www.diyauto.com/manufacturers/bmw/generations/7-series-1/diys/windshield-washer-pump
5-31-18
Sad day today for the bimmer. Was driving to work, came to an intersection notorious for sudden stops. Had to slow down as usual, saw the guy in the mirror wasn't slowing down at all. He slammed right into me, thankfully he wasn't going too fast. Destroyed my bumper and pushed in the spare tire well. The guy who hit me wasn't so lucky. His car was leaking fluids everywhere and running poorly. I was able to drive to work but he had to be towed away. Still really sucks. Now I get to deal with insurance.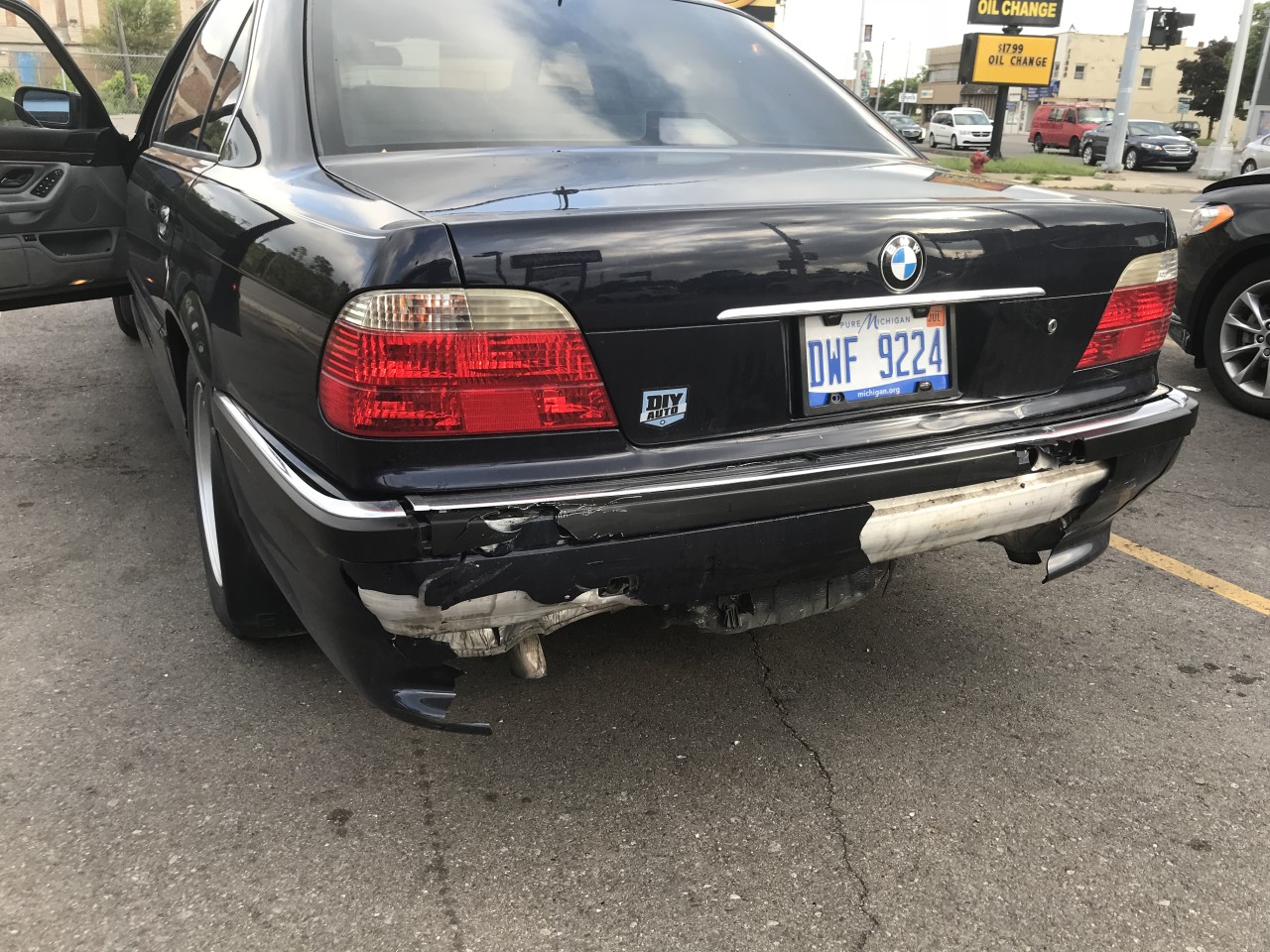 The intersection.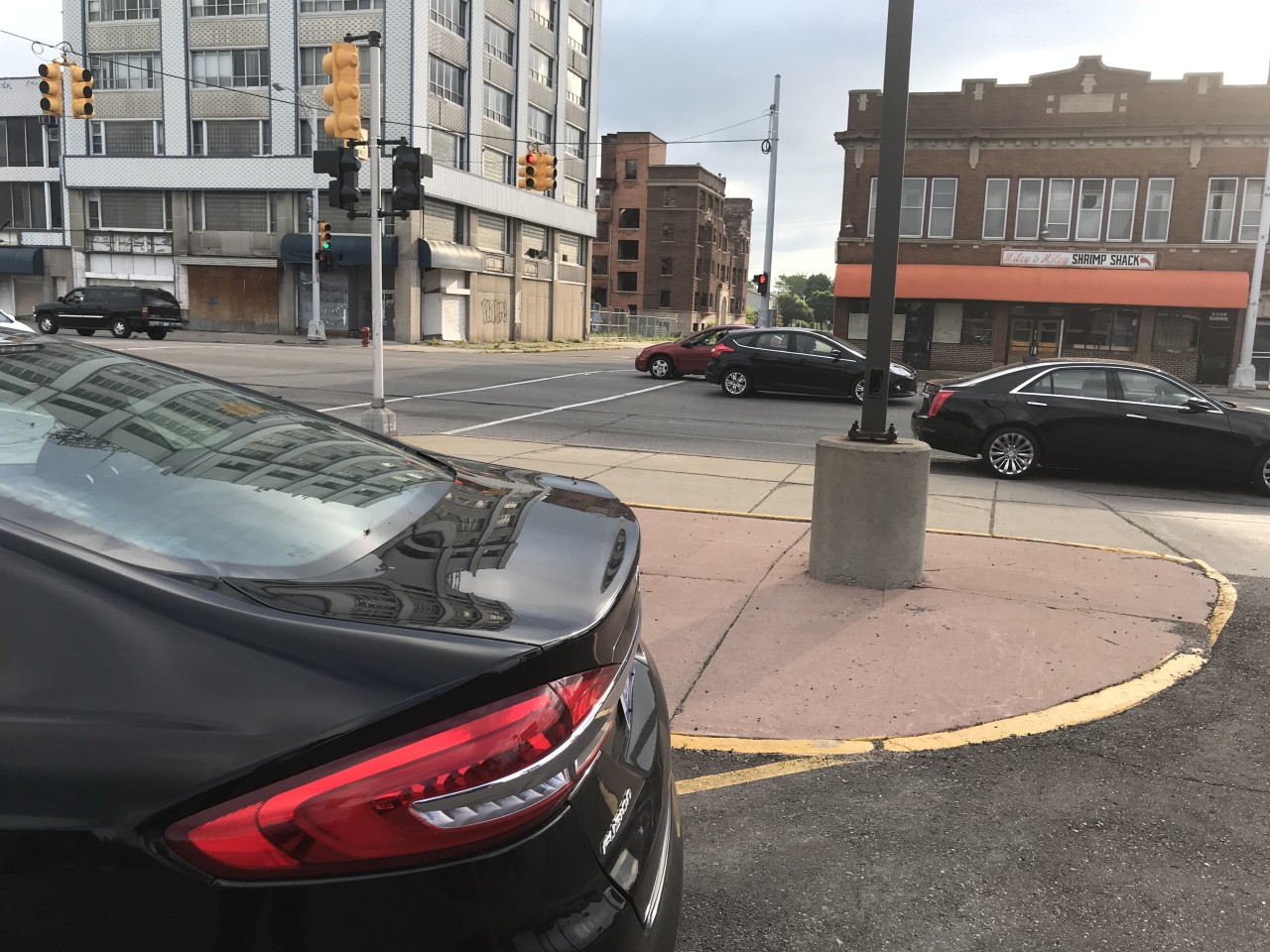 The other guy didn't fare as well. That's what happens when you mess with a German tank.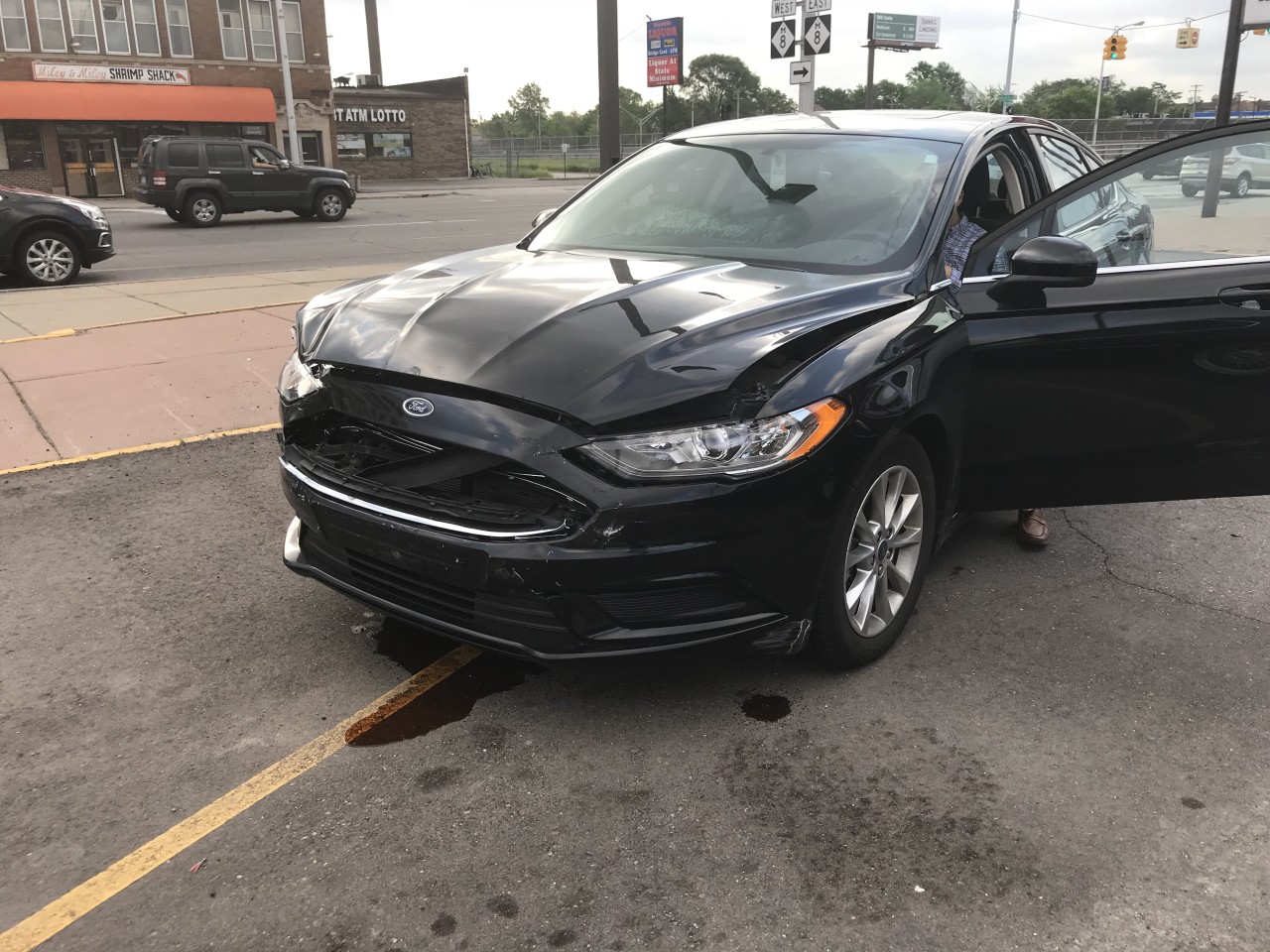 Another view of the damage.
My buddy runs a body shop so hopefully I can get a deal on fixing this.
6-2-18
After putting it off and going through a couple bottles of coolant I replaced the cooling system. Thankfully the leak was minor so I could continue driving while sourcing the parts and being lazy. It wasn't too expensive, new radiator, hoses, expansion tank, water pump and thermostat for under $500. The cooling fan also has a reputation for occasionally failing catastrophically, so I replaced that and the belts and tensioners while I was in there. The whole thing took about a day.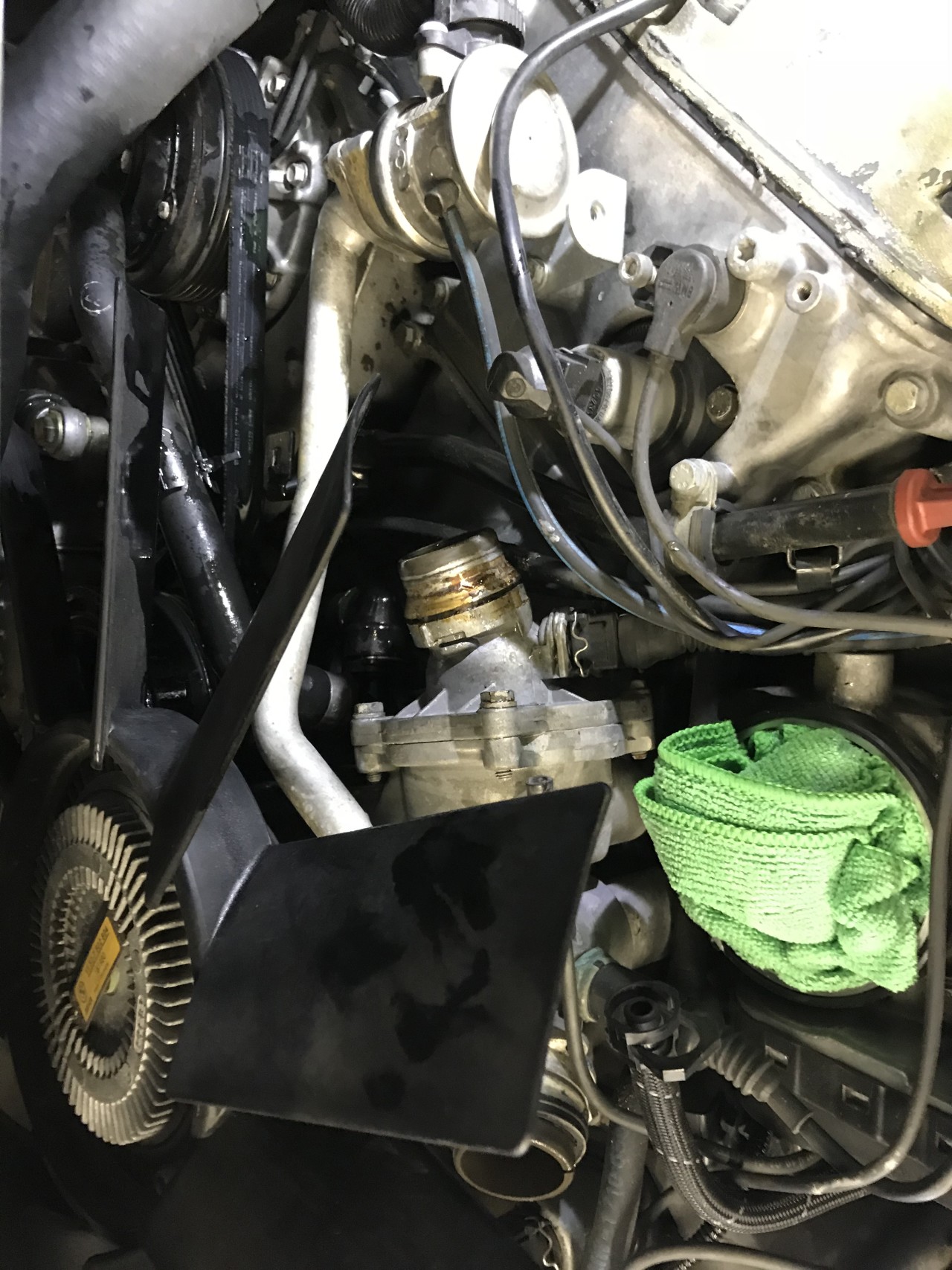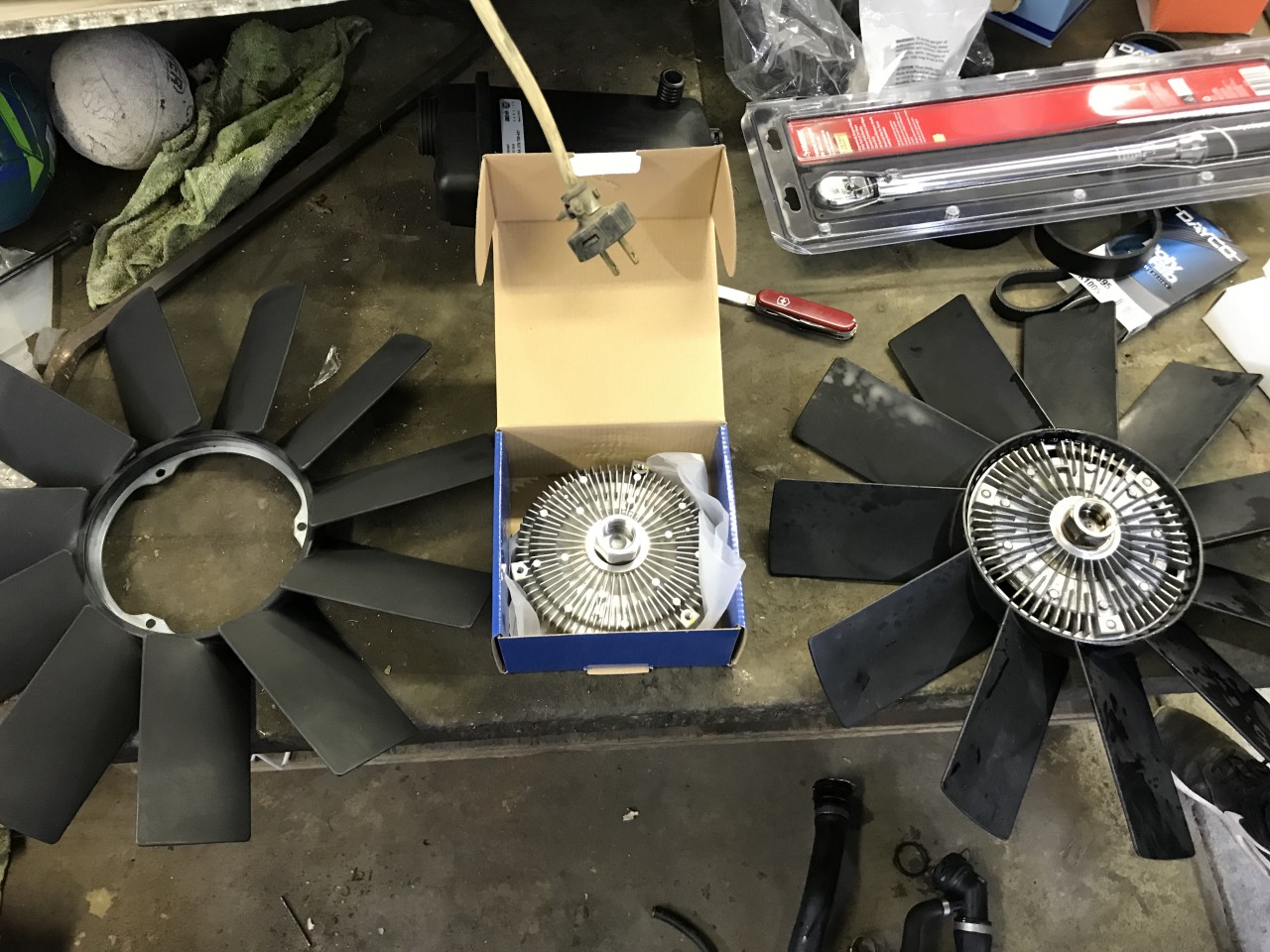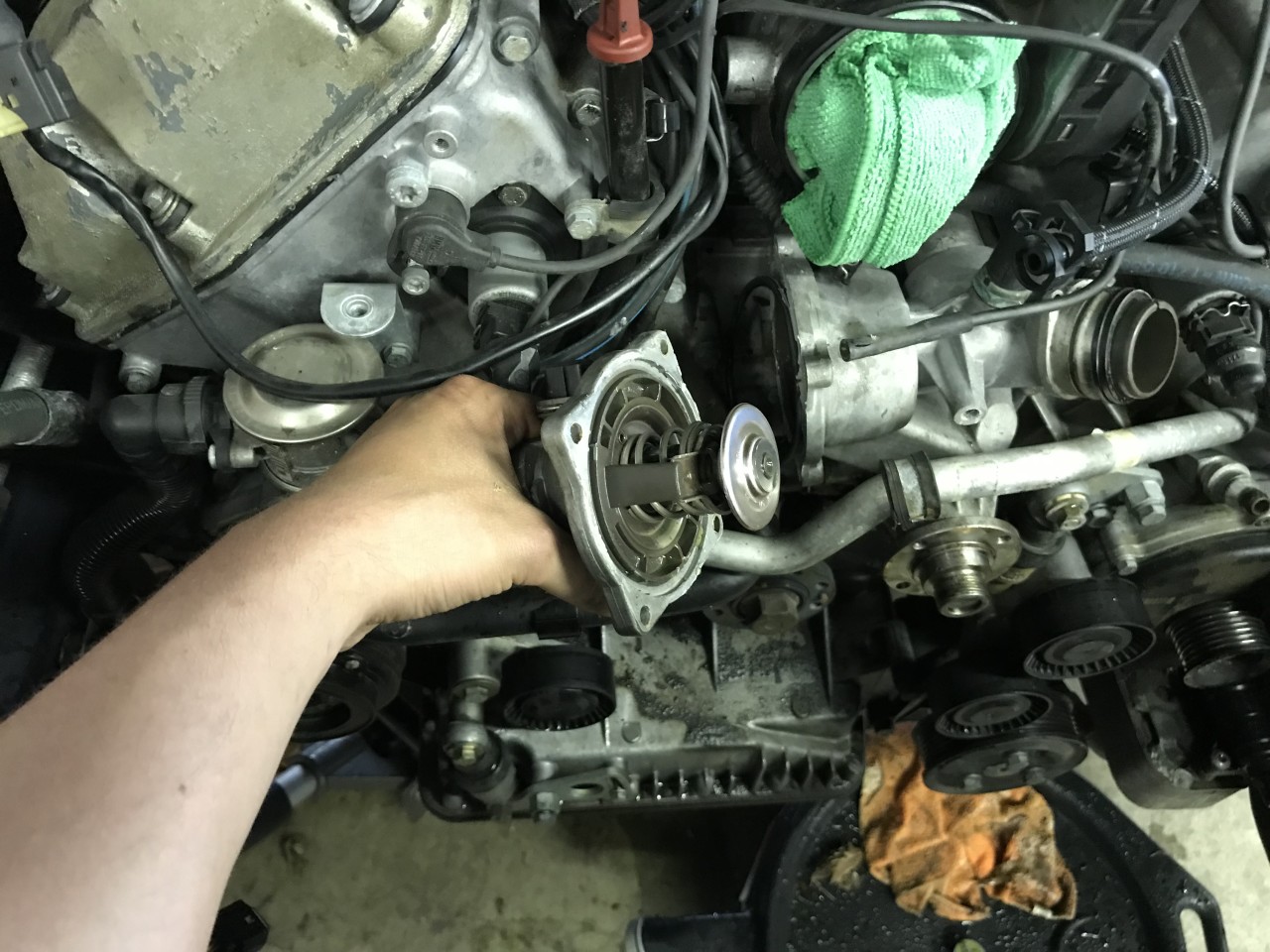 6-4-18
The antenna on the top partially broke, exposing the little microchip inside. A small but very annoying issue as it really sticks out (literally). Turns out the antenna is for the phone, which doesn't work anymore. So instead of repairing I just popped it off which took a minute to get all the adhesive off. There is a little bit of a shallow dent where the antenna was, but not noticeable. Car looks much better now.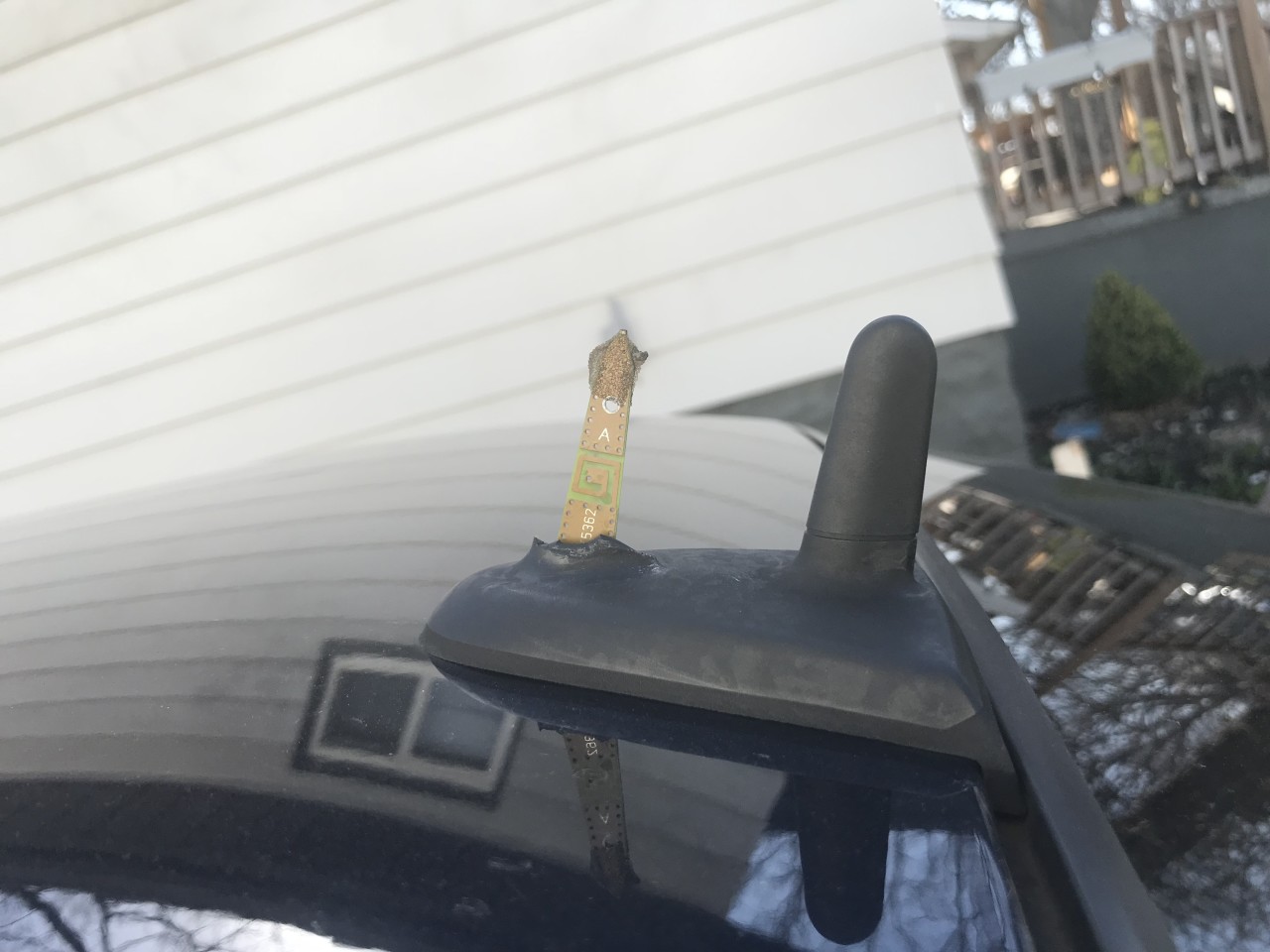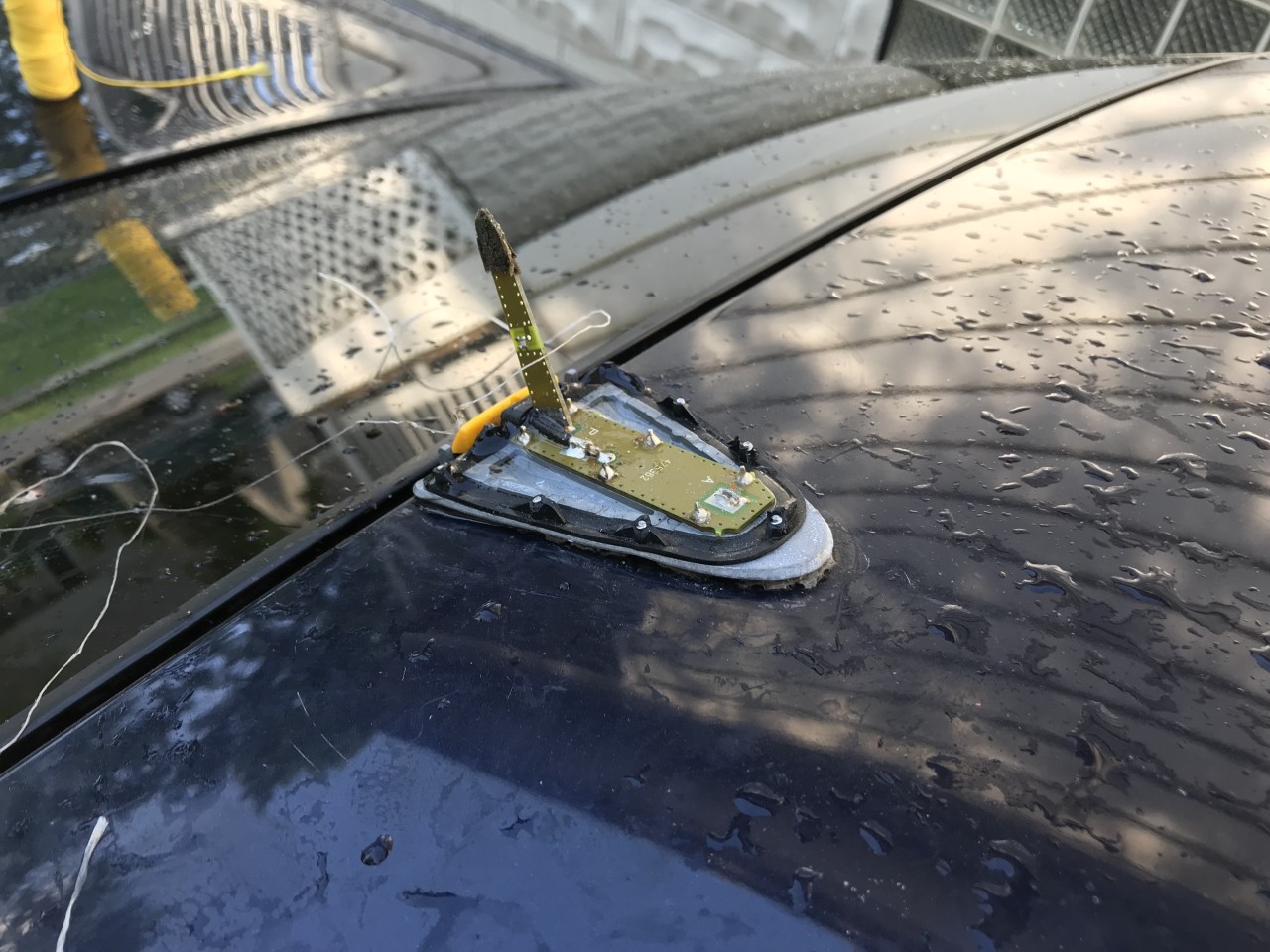 I cleaned the car and took some pics in the ritzier sections of Detroit. The car fits in a little better here than in front of my house!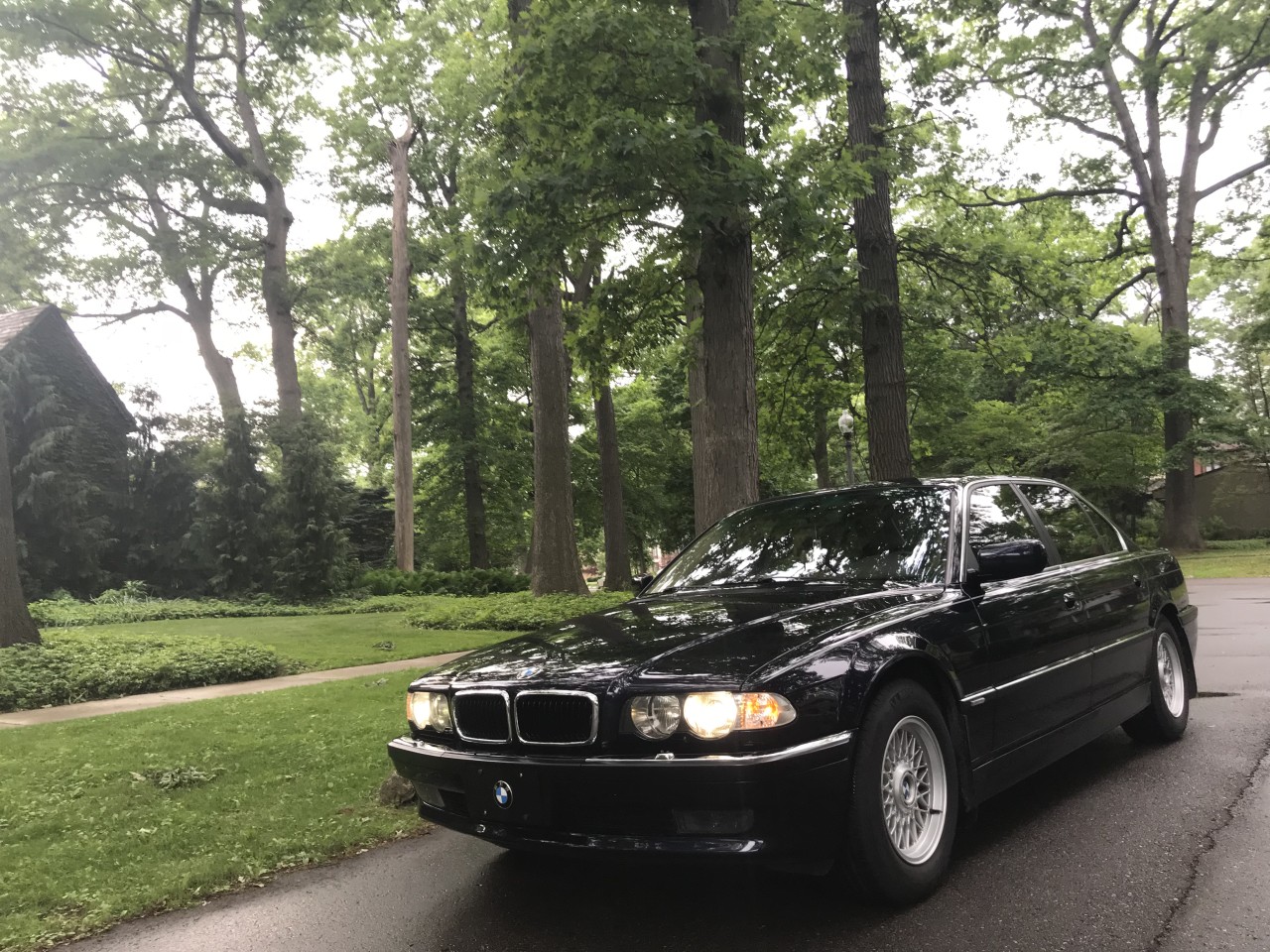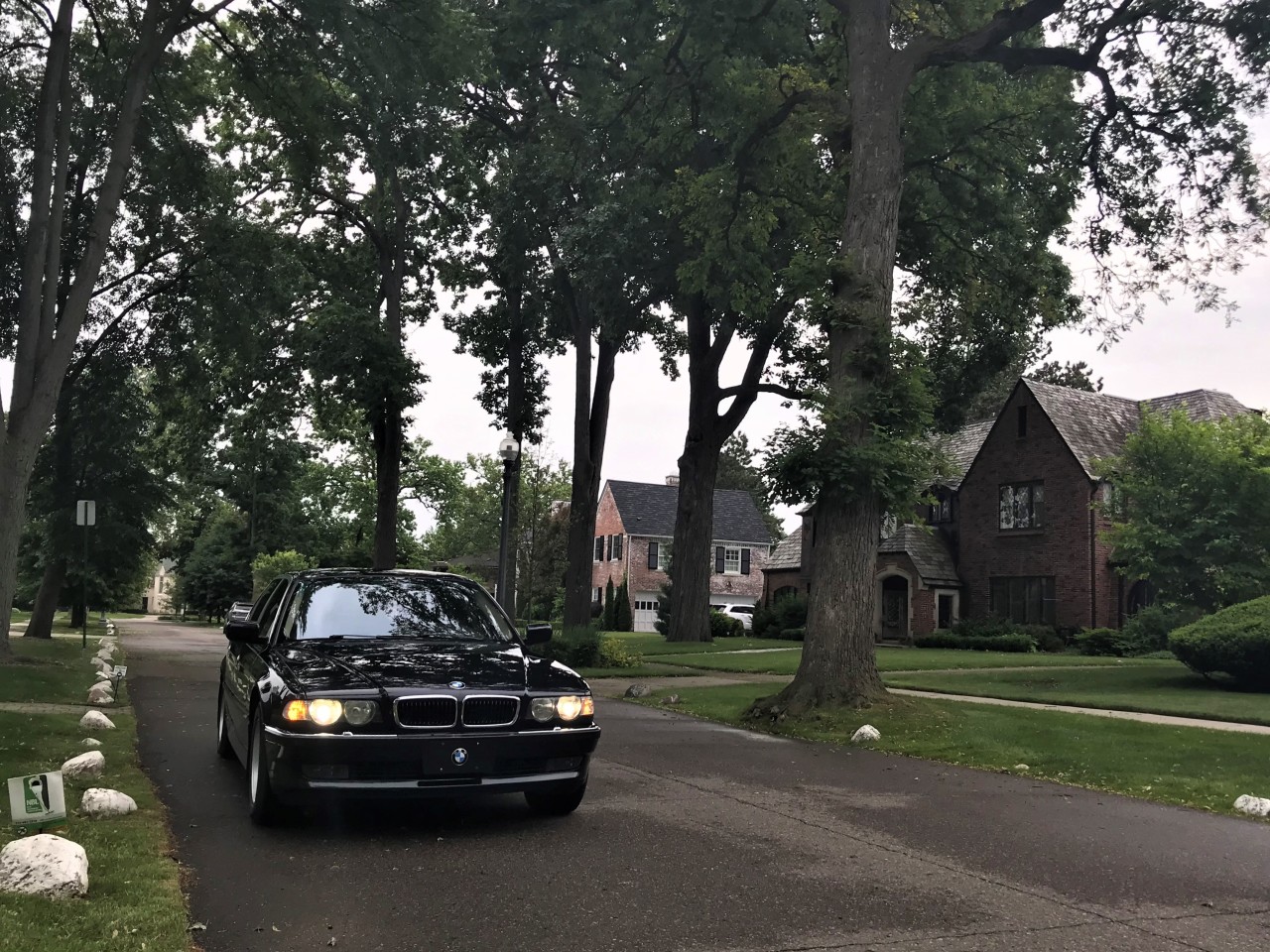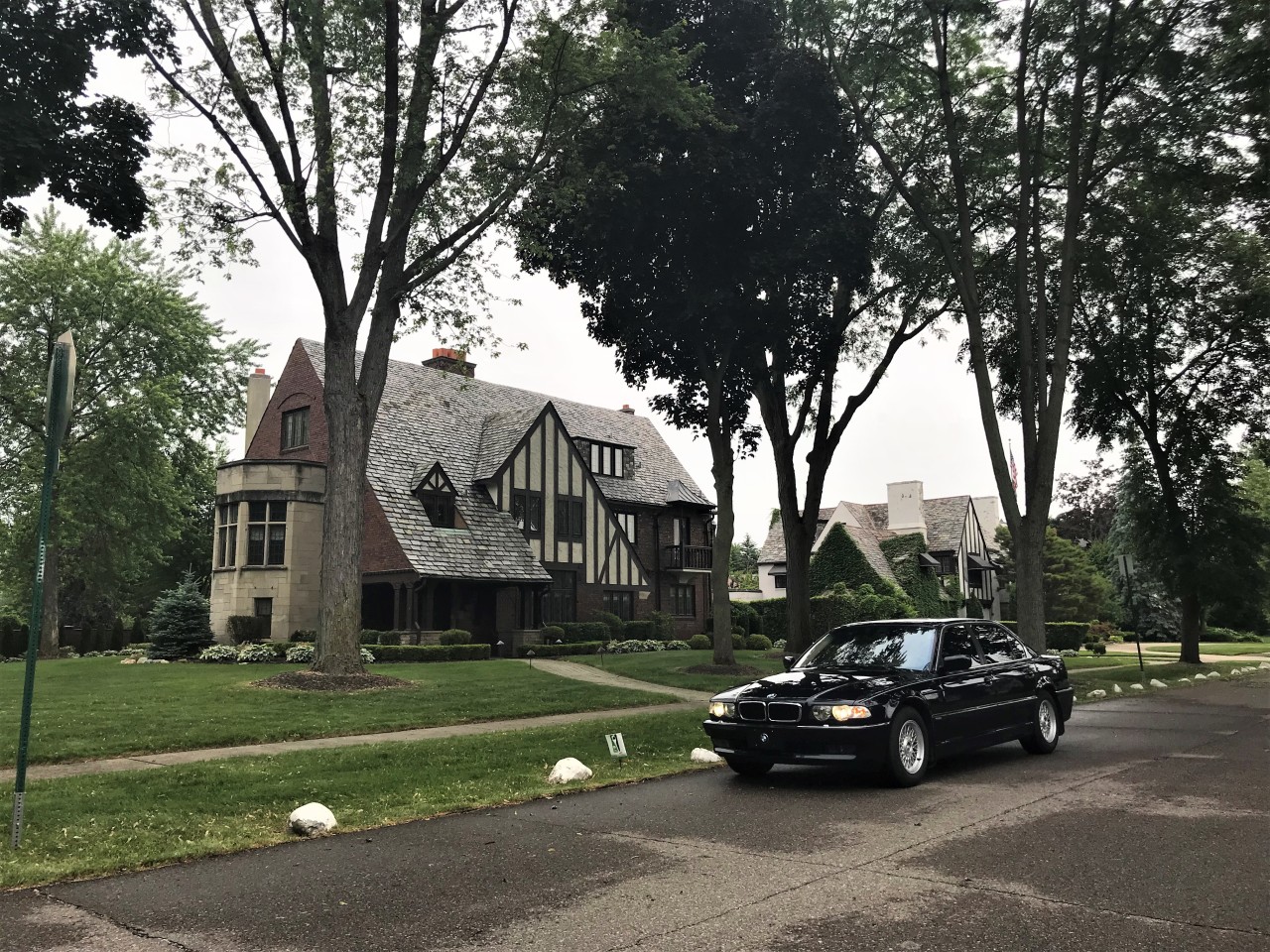 7-15-18
A common issue with these cars is failure of the rear speaker deck speakers. The cheap paper speaker cones bake in the hot sun where they eventually break. Someone discovered Monsoon speakers from mid-2000s Jetta and Passat are an almost direct replacement, and are much beefier than the stock speakers. More info is here : https://e38.weebly.com/speakers.html
I bought a set of speakers from him on ebay and got started. Removing the rear speaker deck involves pulling the rear seats which is a fairly quick process. You also have to remove the C pillar trim and rear deck. Unfortunately the felt on these parts is pretty delicate at this point, and starting wrinkling/delaminating where touched. Also most of my C pillar tabs/screws were either broken or missing which is weird.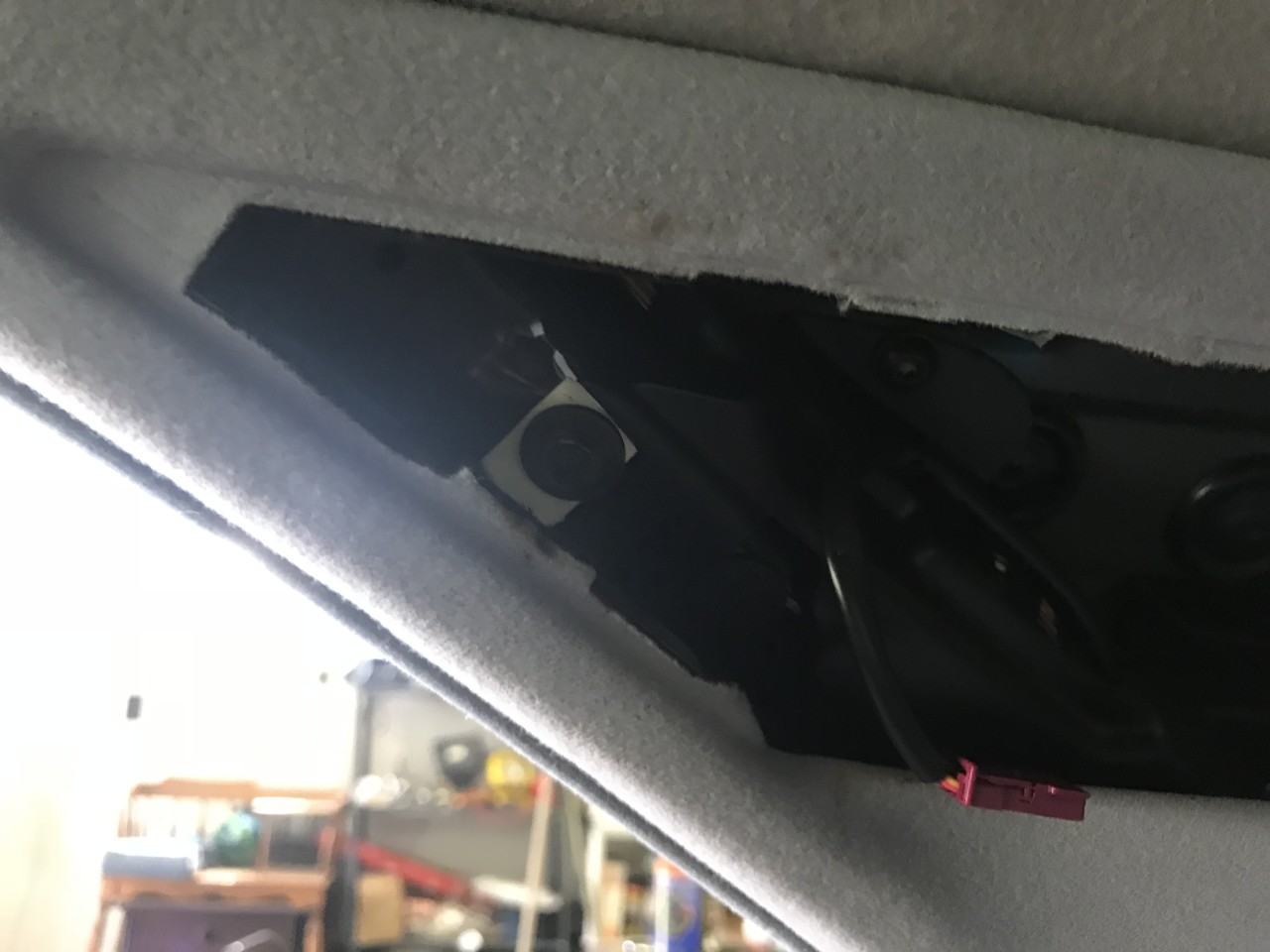 Doing these jobs you can see how much sound insulation is in this car. The thick rubber matts under the seat cushion, more insulation in the C-pillars. Even the trunk walls are treated.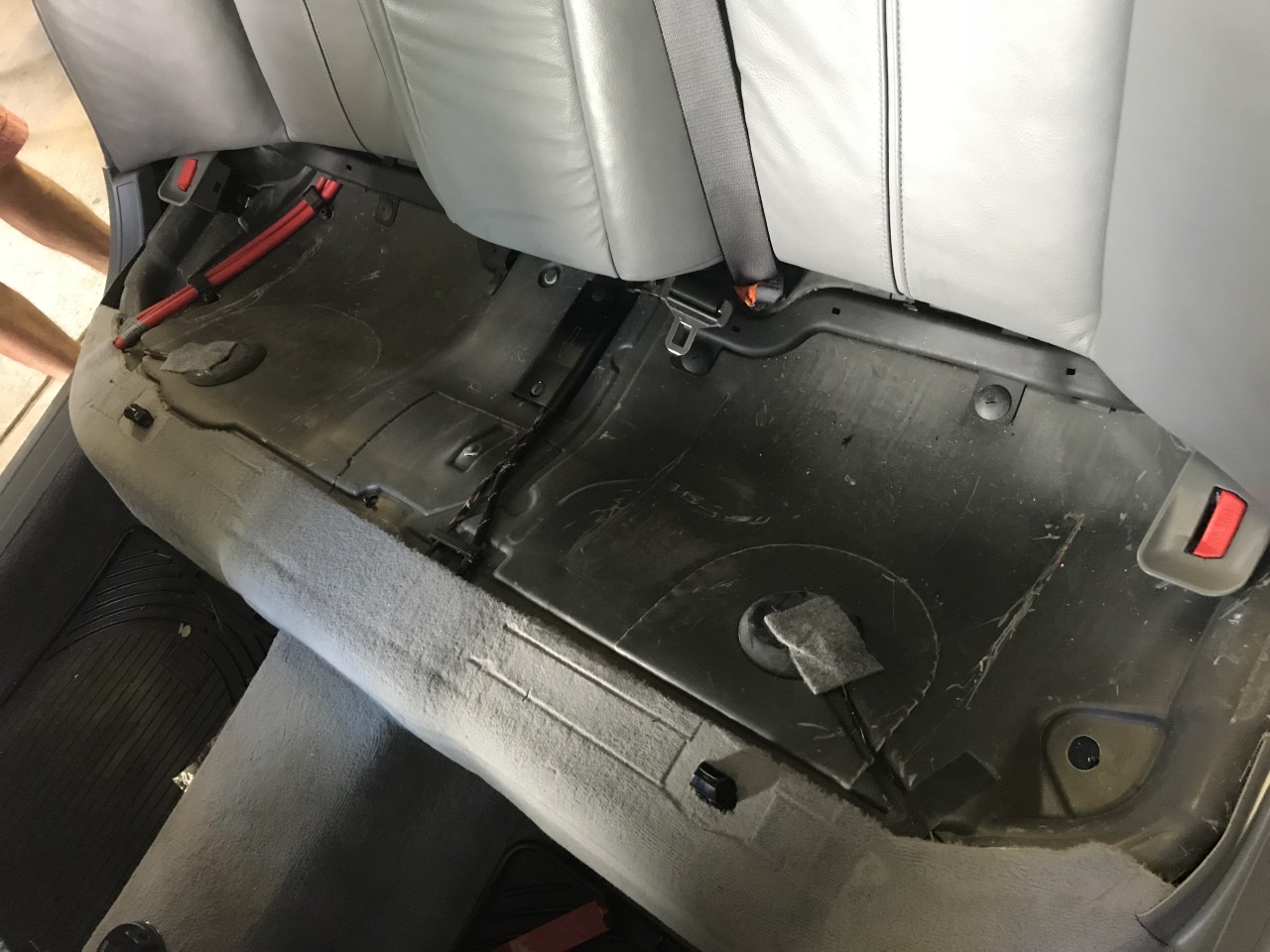 The speaker deck takes a little bit of modification to fit the new speakers. You need a heat gun and a thermos to open up the inside to make room for the larger speakers. Otherwise this mod is pretty simple.
A busted old speaker.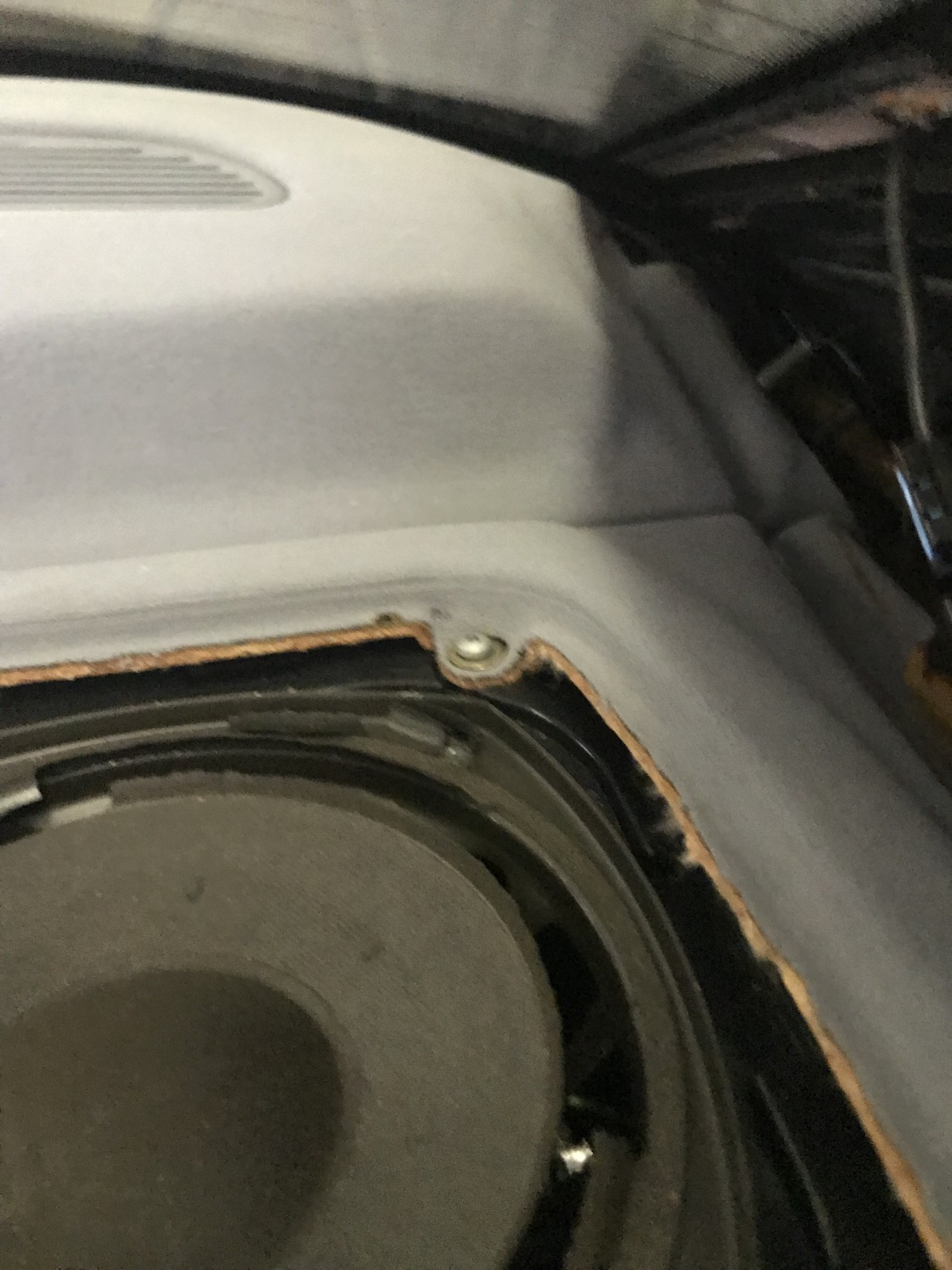 Here's my brother sealing up the new speakers.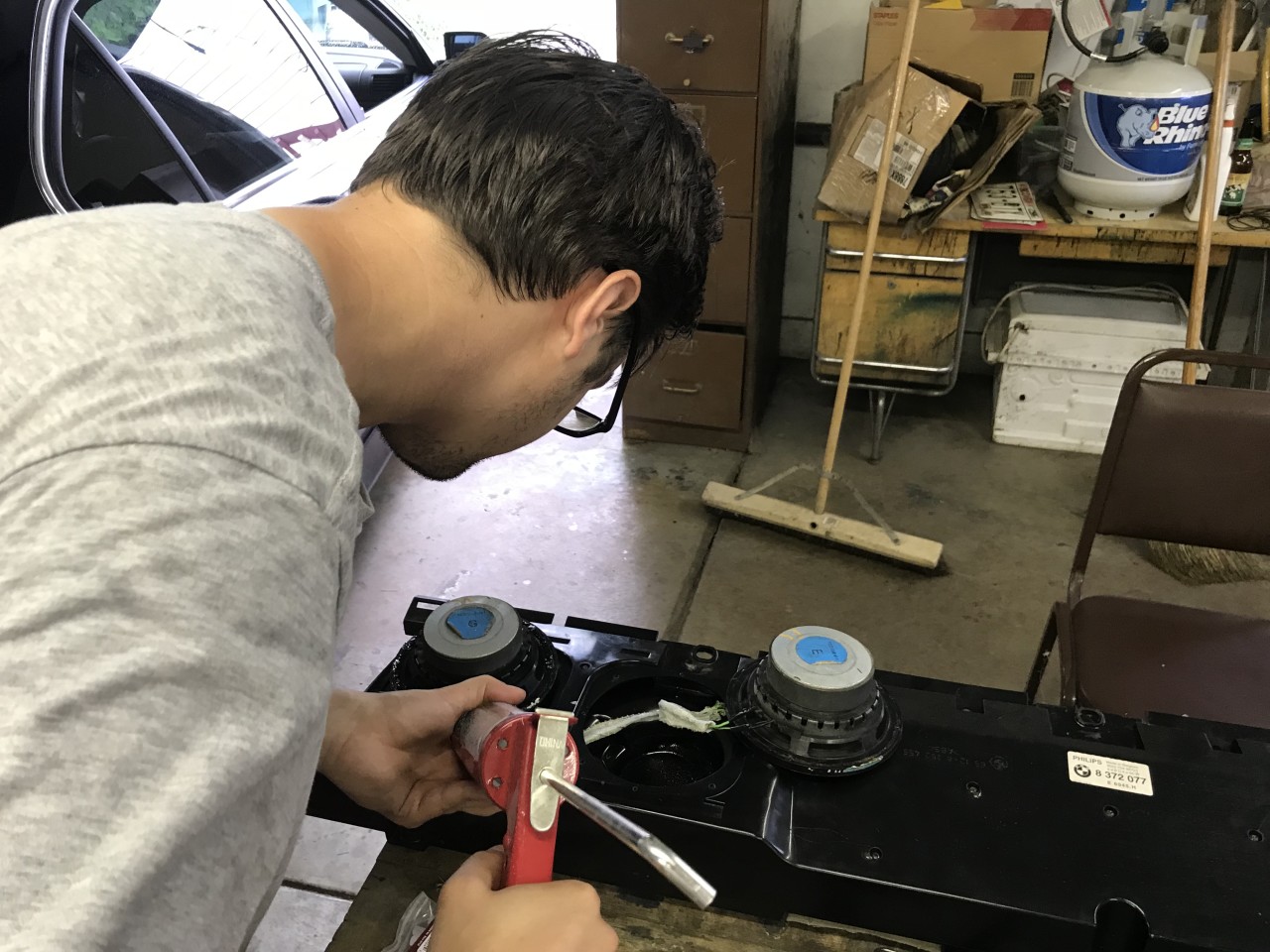 Needless to say, they sound much better. A great upgrade!
Made a video for this too!
https://www.diyauto.com/manufacturers/bmw/generations/7-series-1/diys/replacing-e38-rear-deck-speaker-subwoofer
7-29-18
Started getting some wobbles in the front end, especially under braking. Picked up some new lower control arms. They were pretty old, especially the trailing arms. Got the front-end alligned and its riding much better. The process was pretty easy overall, nice thing about having a Florida car, no rusty bolts!
Old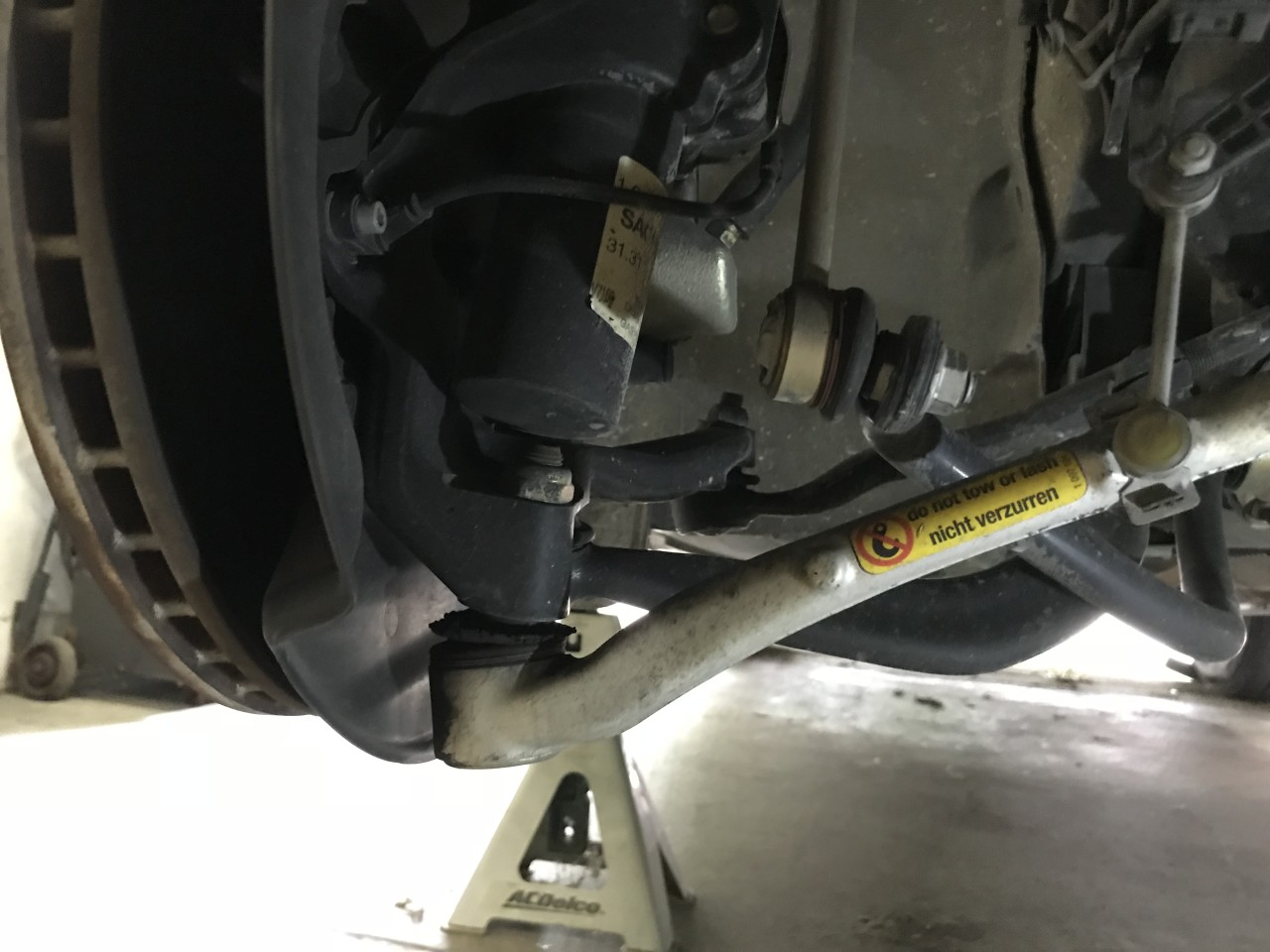 New
Here is the trailing arm, probably the most difficult due to access to the rear bolt. You have to turn the wheel while undoing the rear bolt so the steering arms don't get in the way.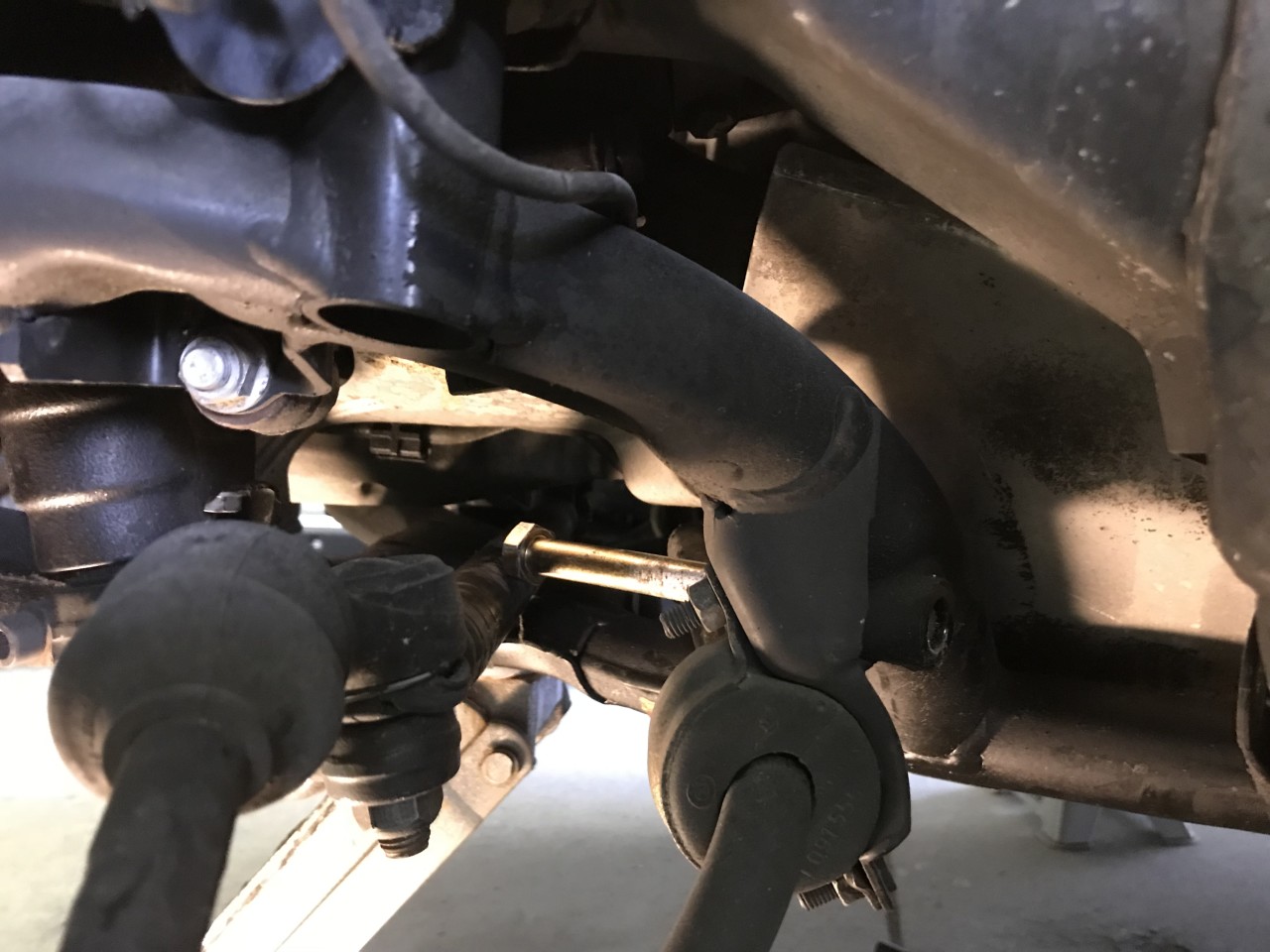 The old arm. Those tears in the bushing are probably what caused the wobble.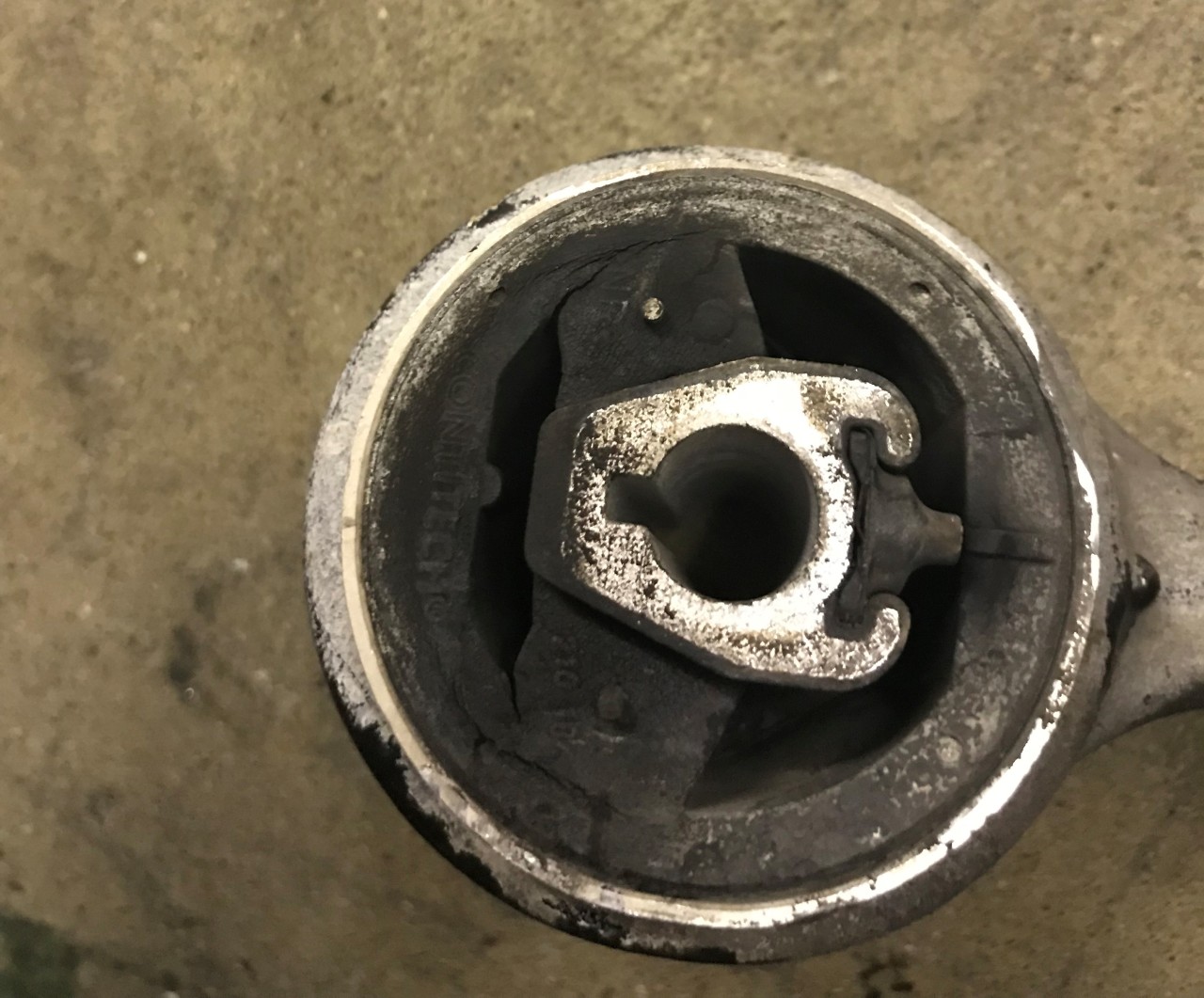 Nice and fresh.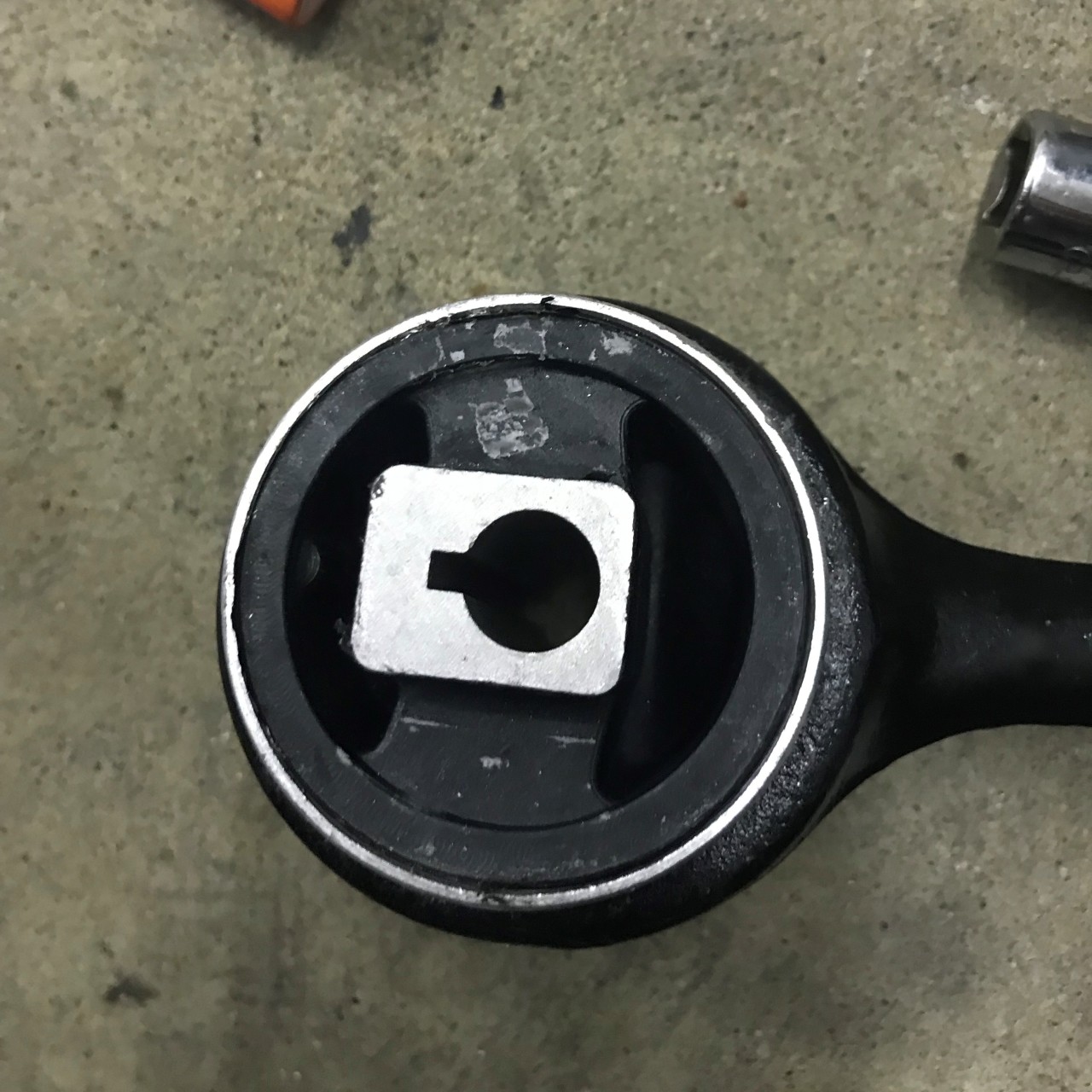 Here is the writeup/video. More straightforward with less monkey business than the other videos. Maybe because BMW suspension work puts me in a serious mood :D
https://www.diyauto.com/manufacturers/bmw/generations/7-series-1/diys/front-lower-control-arm-replacement
9-30-18
Sometimes it seems like there is always something going on with this car as much as I love it. I was going through the car wash (i know, automatic car washes are bad). During the blow dry section the hood vent flew off! The car wash employees were able to find the inner support pieces but not the painted top part. I had to come in the next day after they had a chance to look when the wash was off. Thank goodness the part was unscathed. Considering all the moving parts and cars that roll through there I was very happy. The grill was held on with pins which were only a few bucks off amazon.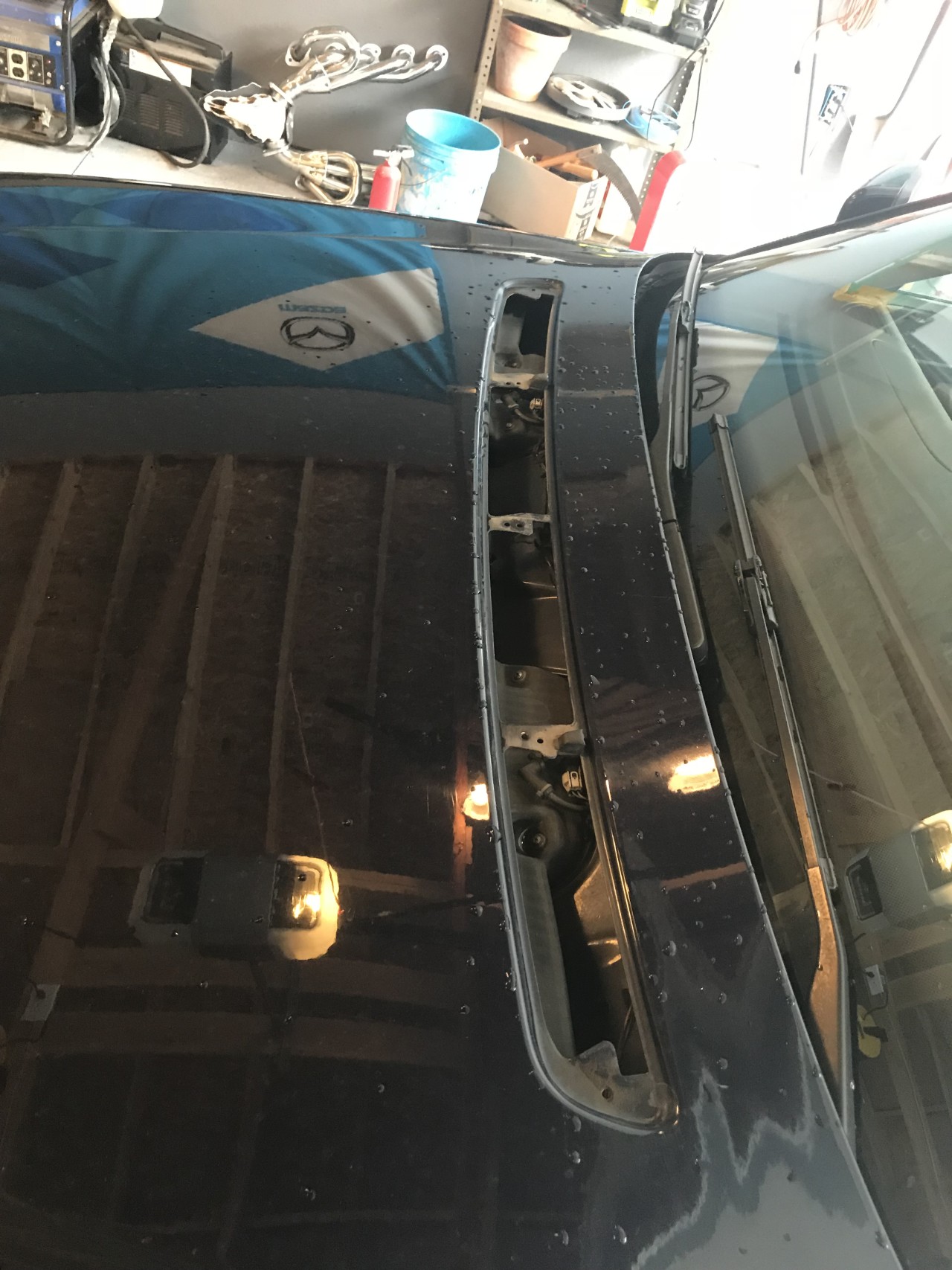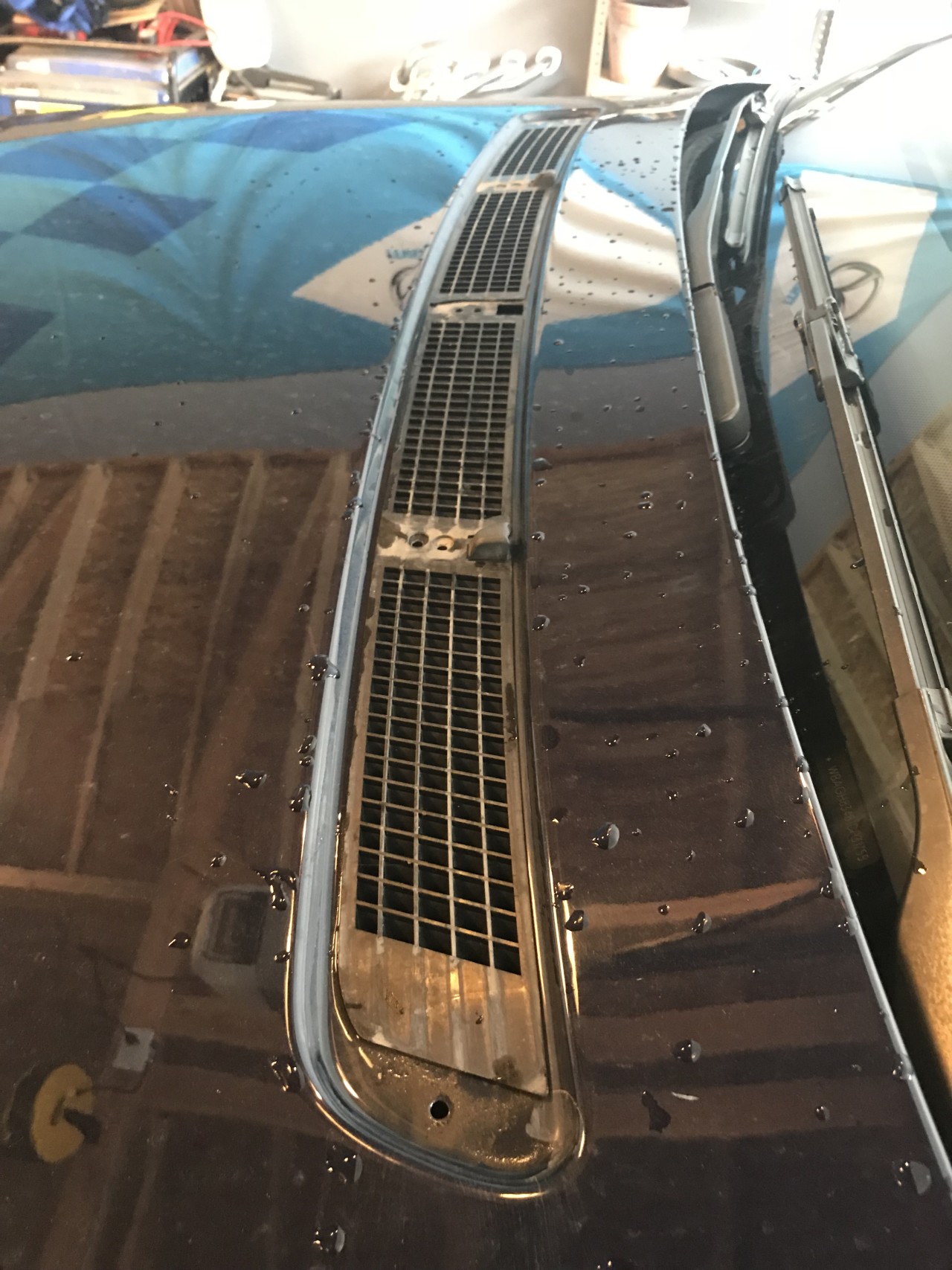 It survived!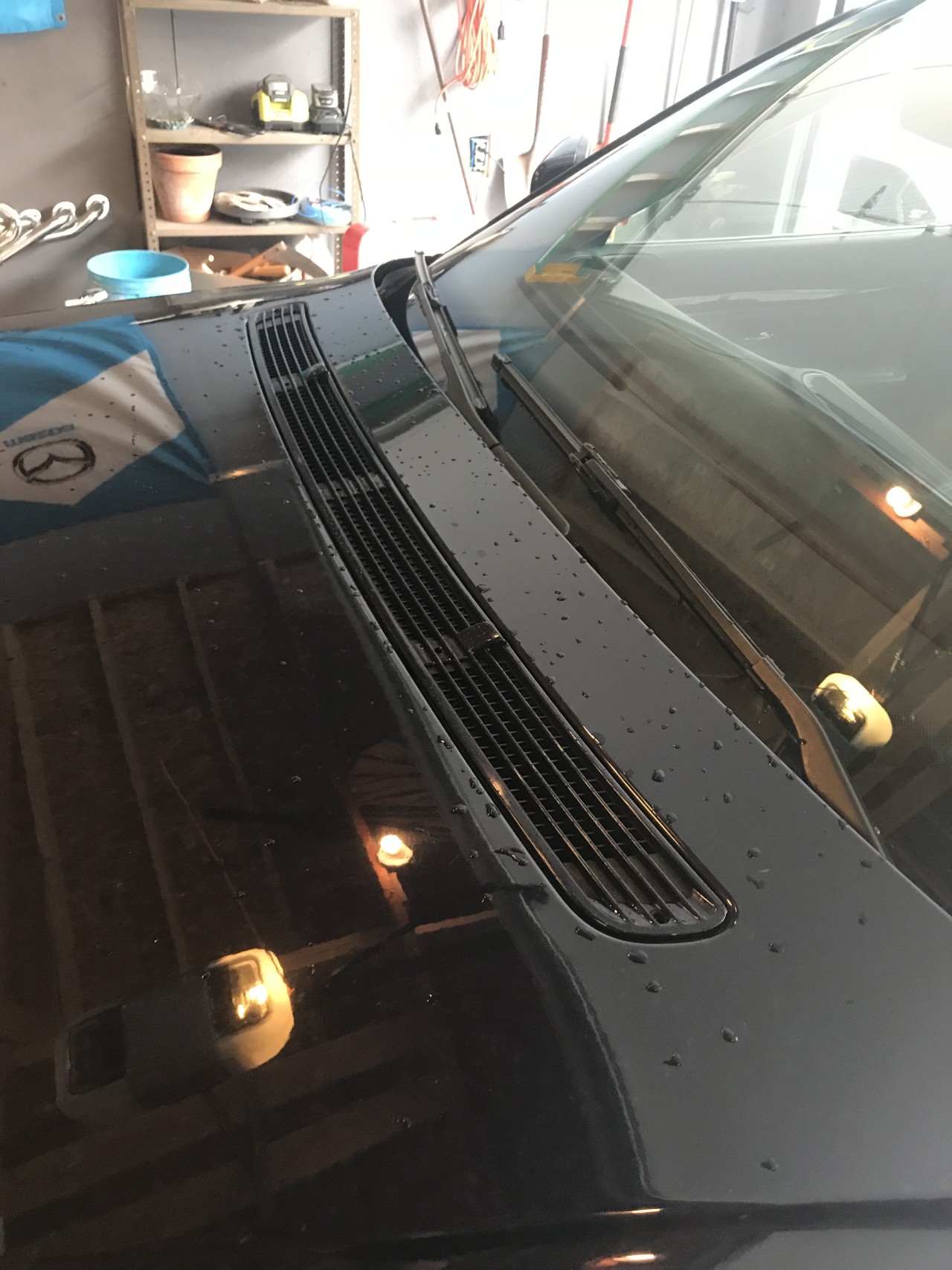 Since I'm coming up on 100k miles I figured I'd get some maintenance in. New spark plugs, changed the oil, and added a K&N air filter. There was a little oil in a couple of the spark plug wells, so some new gaskets will be needed in the future. Plugs looked good, engine seems to be healthy.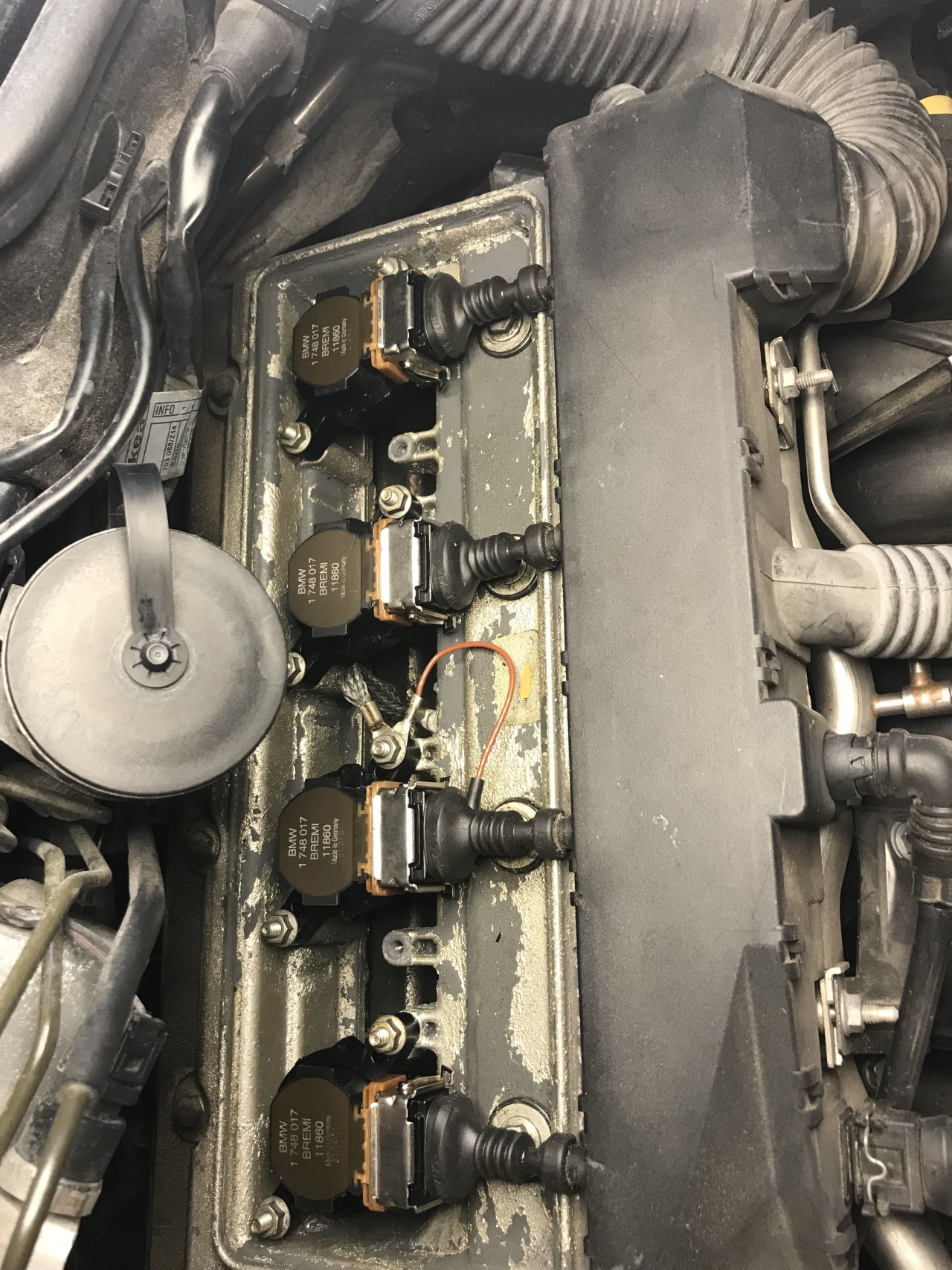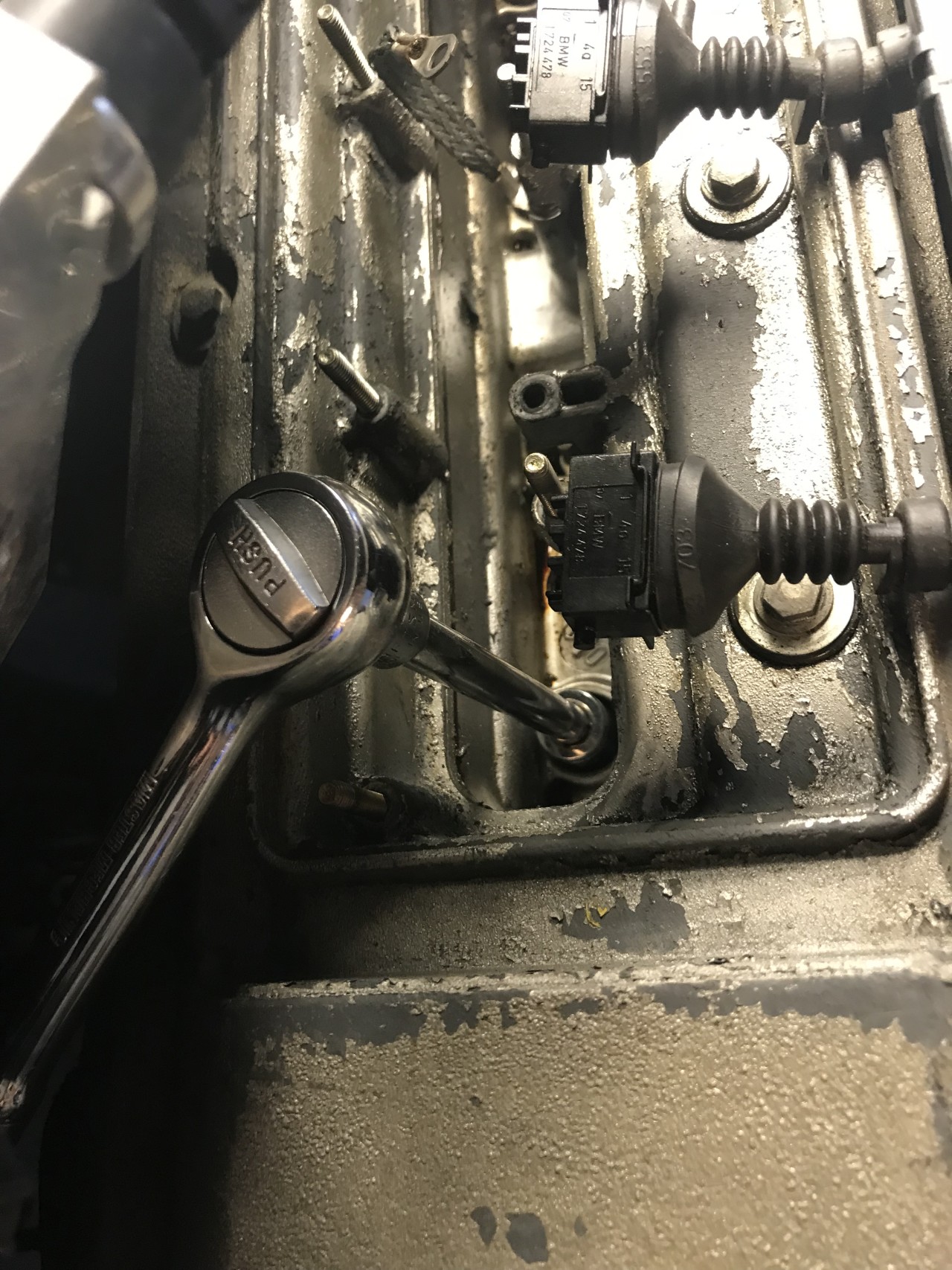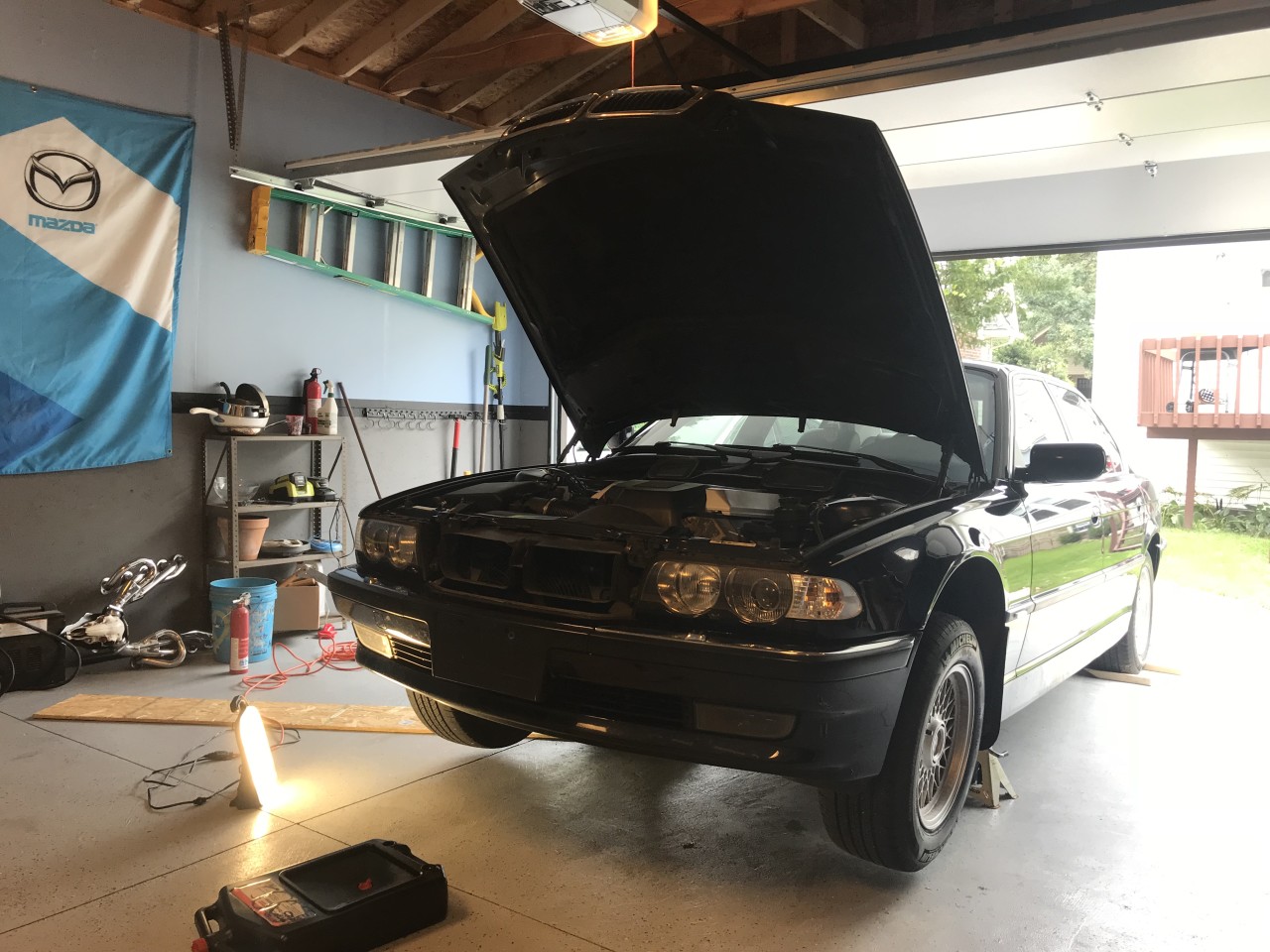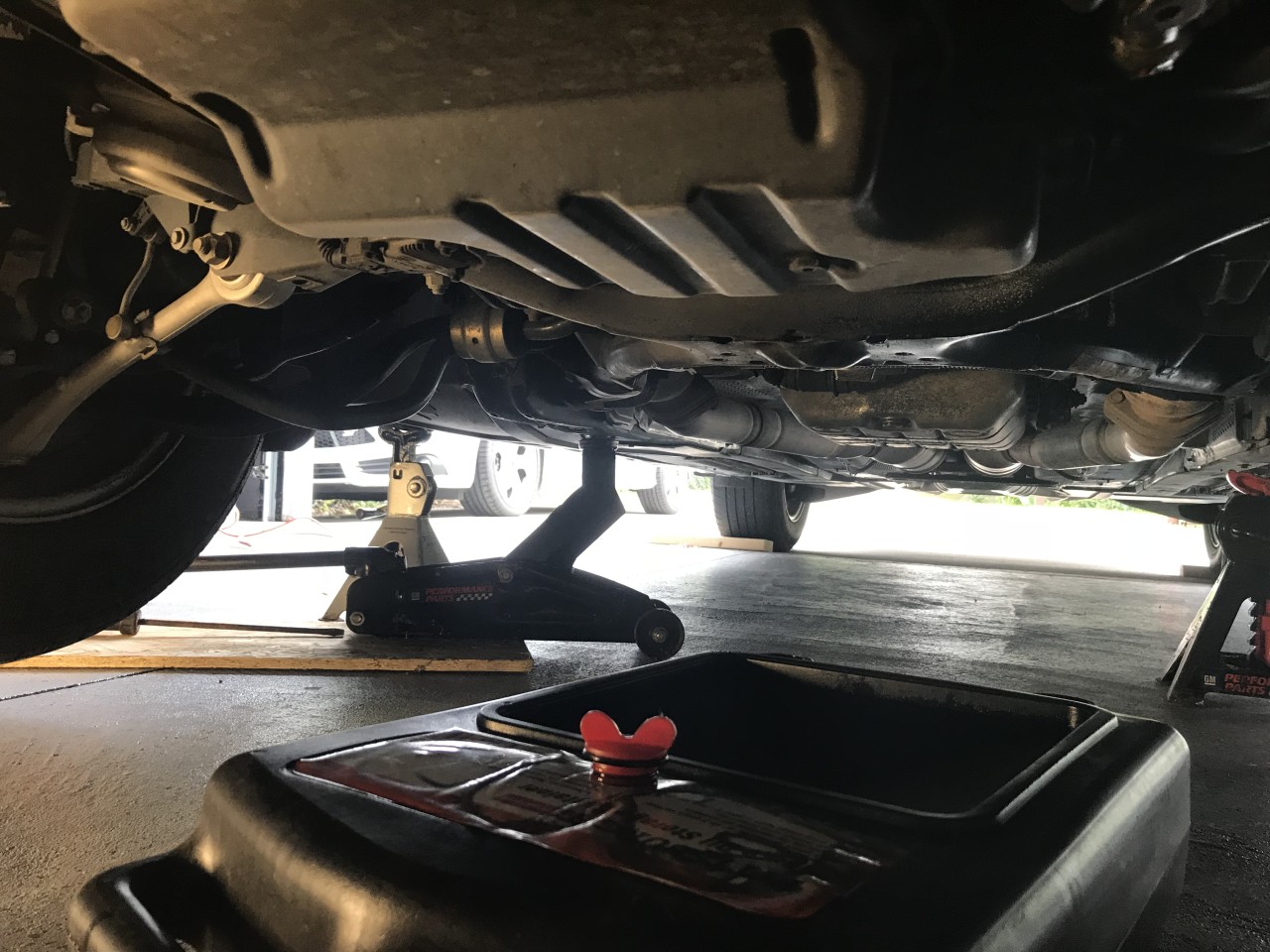 This should get me a little more powaaa.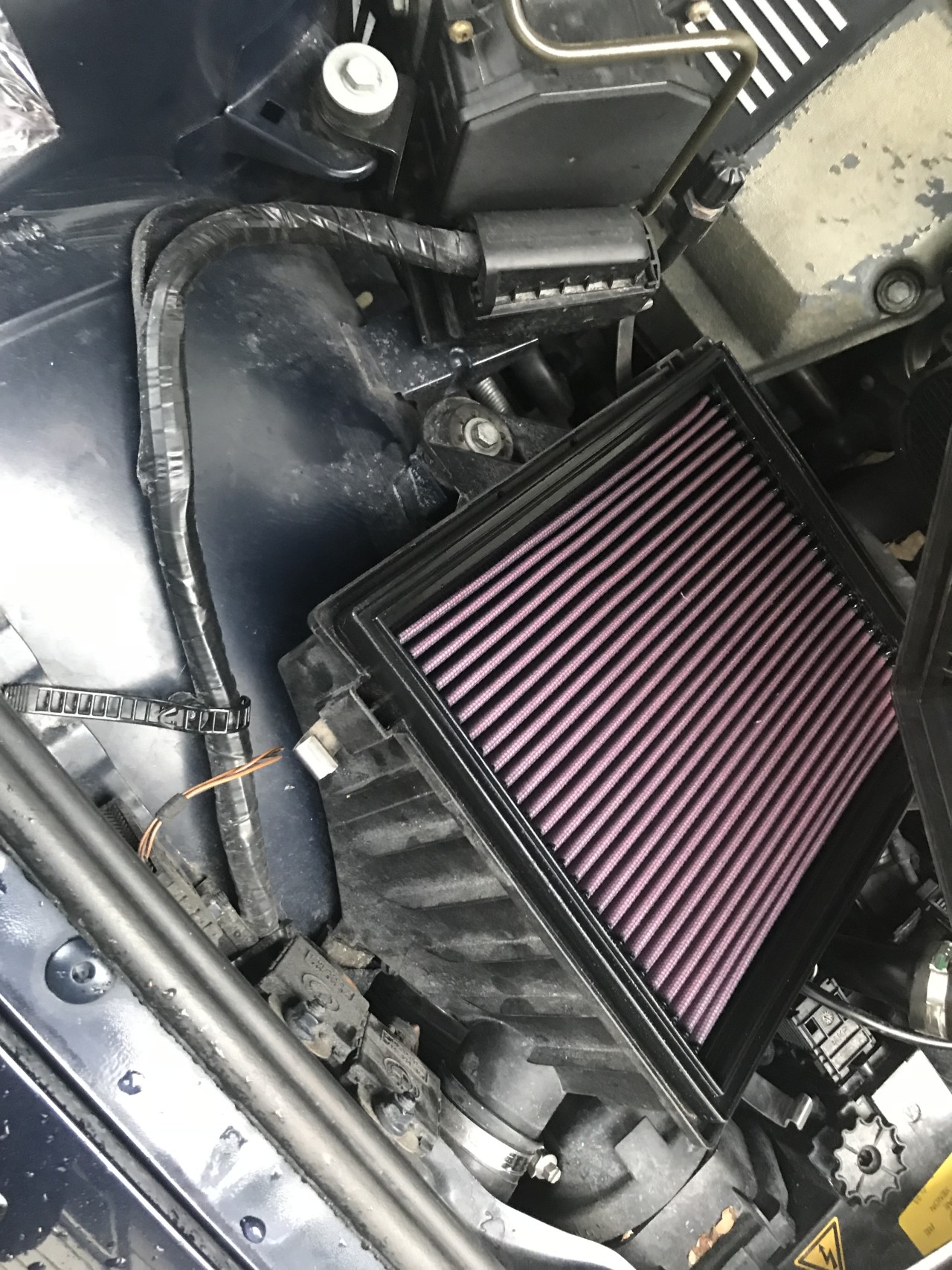 Here are the writeups for those.
https://www.diyauto.com/manufacturers/bmw/generations/7-series-1/diys/spark-plug-removal
https://www.diyauto.com/manufacturers/2/generations/942/diys/oil-change-diy
11-9-18
I'm a big proponent of snow tires, especially here in Michigan. I found a set on Craigslist that were previously on a 2012 5-series. The tread is super chunky so they are very loud. I also had to have them re-balanced as there was a lot of high speed vibration. The blacked out look is pretty nice. It looks like a 4x4 but really drives nice in the snow.
As you can see I got the rear bumper fixed. The shops quoted between $5-7000 to do the job, which involved replacing almost everything in the rear. I found a used bumper and had my buddy paint it for about $700 total. With my crappy insurance I only got $1k from the insurance company but at least I came out somewhat ahead. The only issues are the black plastic trim was painted body color, so it doesn't quite match the rest of the car, which isn't a huge deal. Also the chrome strip is pretty jenky in some places. Looks much better than it did before though.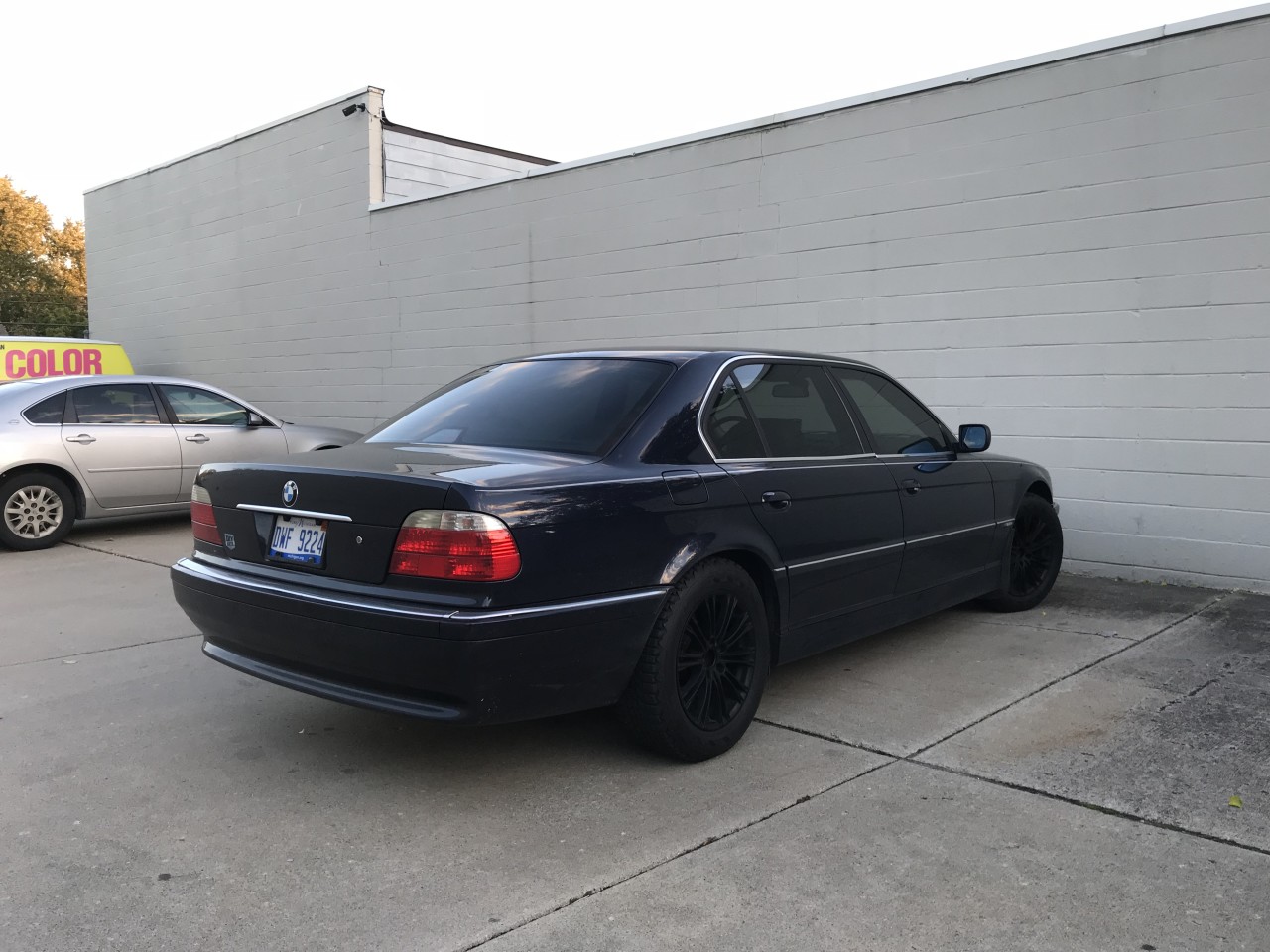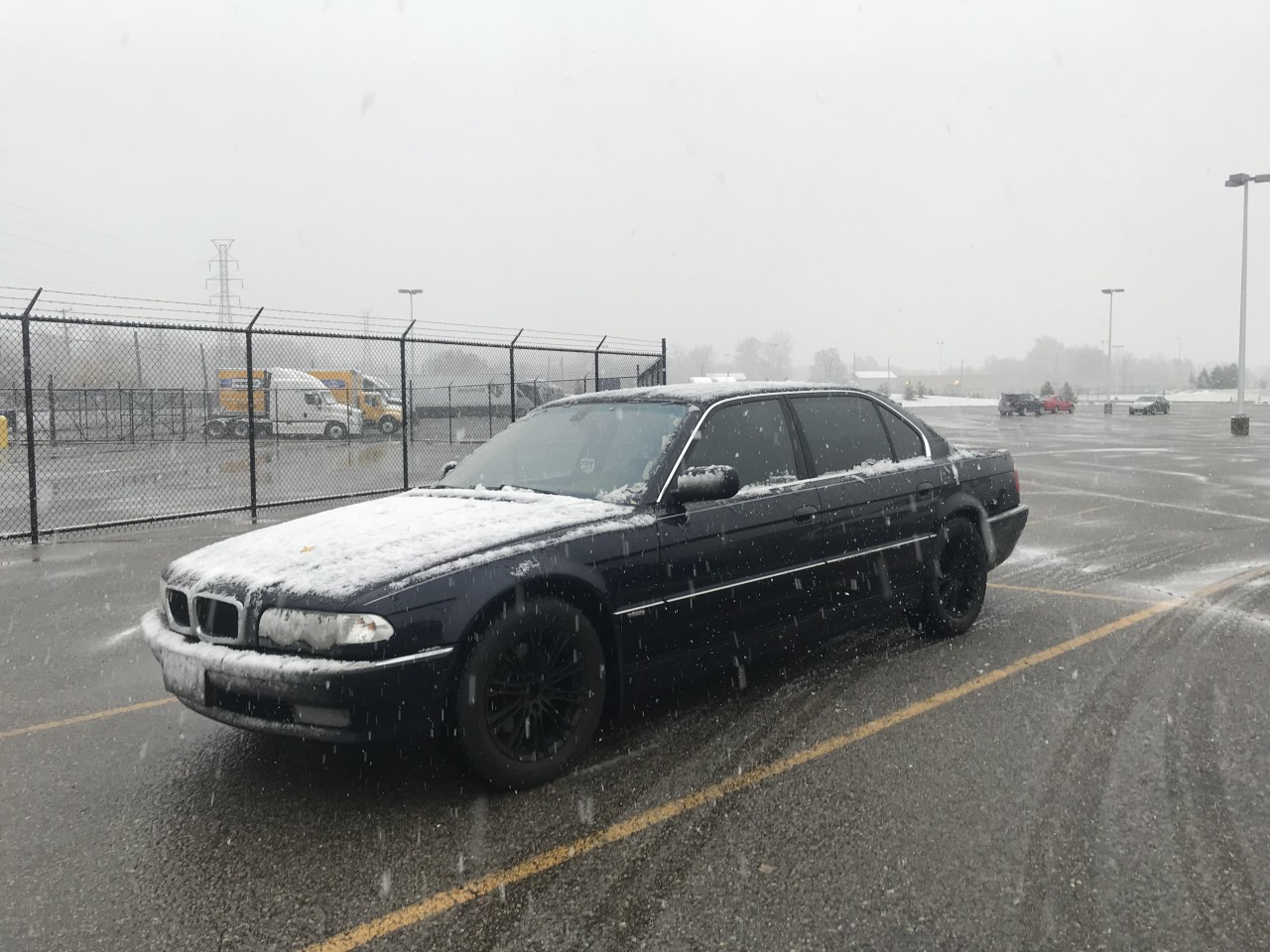 1-24-19
Passed a milestone today!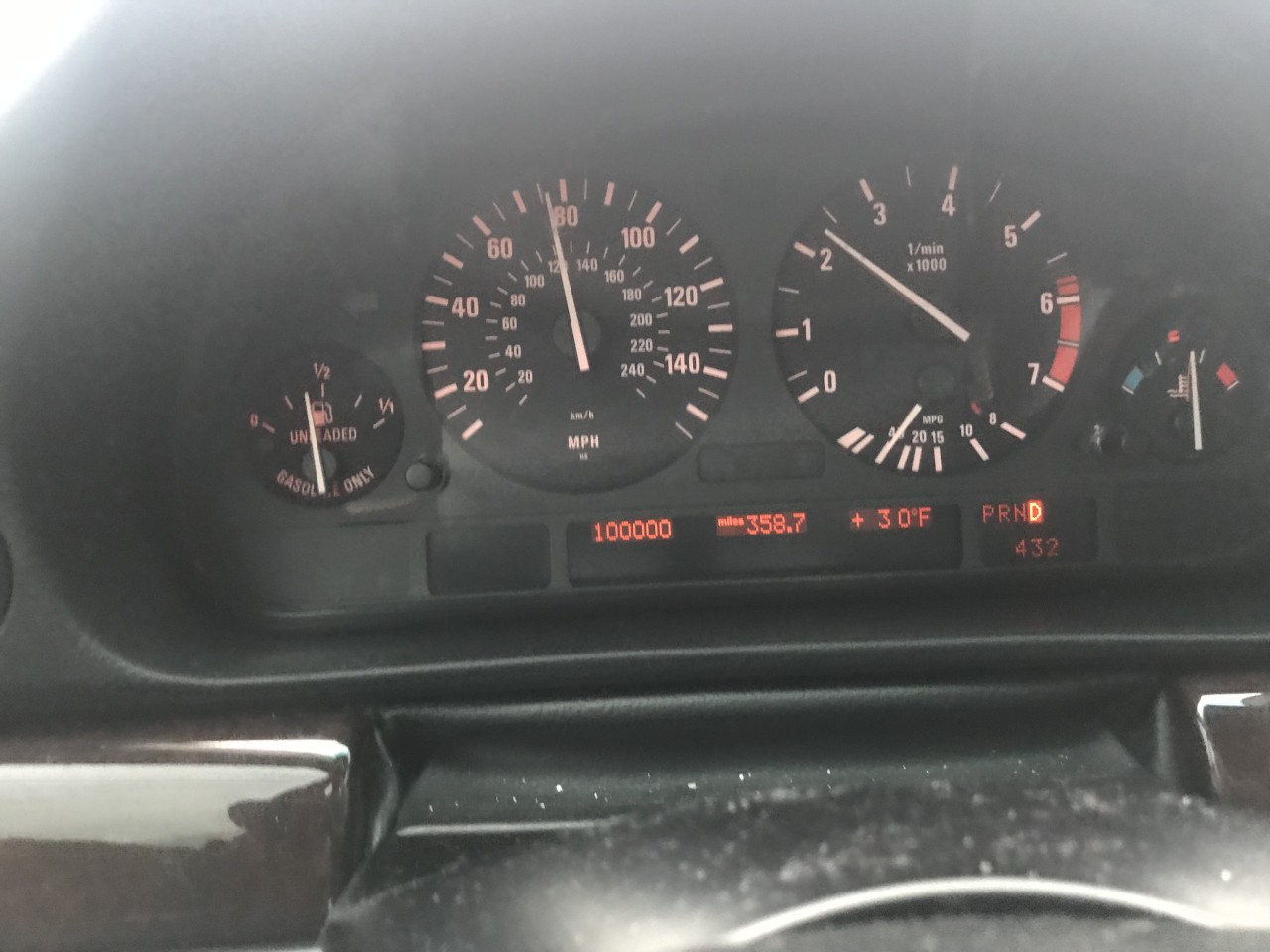 Also added something to my fleet. Its a project but shouldn't take much to get it roadworthy. Famous last words I know. Its a sickness I tell ya!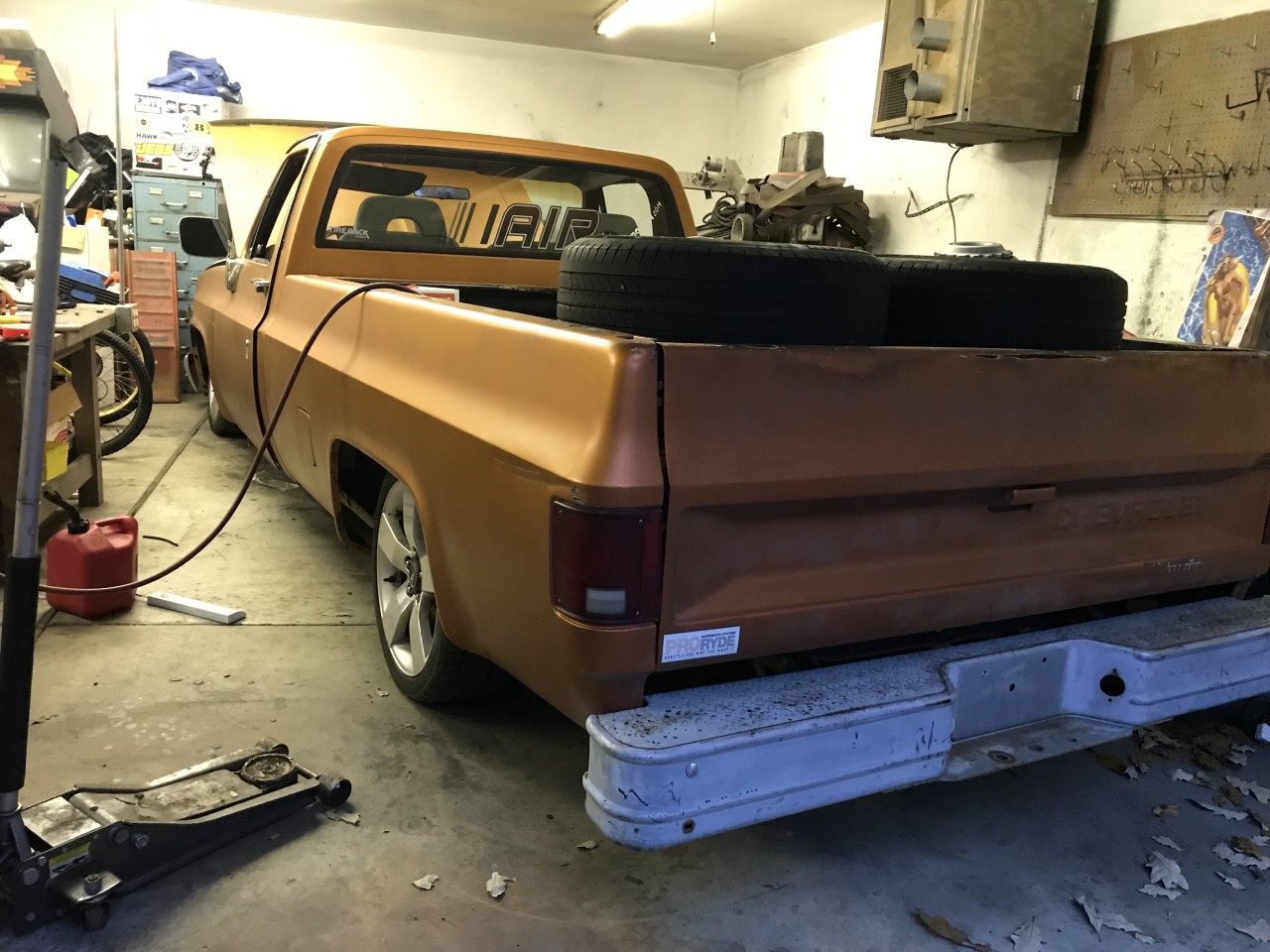 3-17-19

Worked on the engine today. Car would run rough sometimes as it was warming up in very cold temps. Potential issues are a failing MAF or bad gaskets around the intake, which expand to seal after the engine warms. I did the starting fluid spray test around the intake and it didn't do anything to the engine speed. I figured I'd swap the MAF sensor as it will probably go sometime soon. Turns out VW uses the same sensor, and it costs 30-40% less. You need both 5 and 6 point star tamper resistant sockets though, so be prepared to shell out $ for that. So the cold weather issues are fixed just in time for spring :D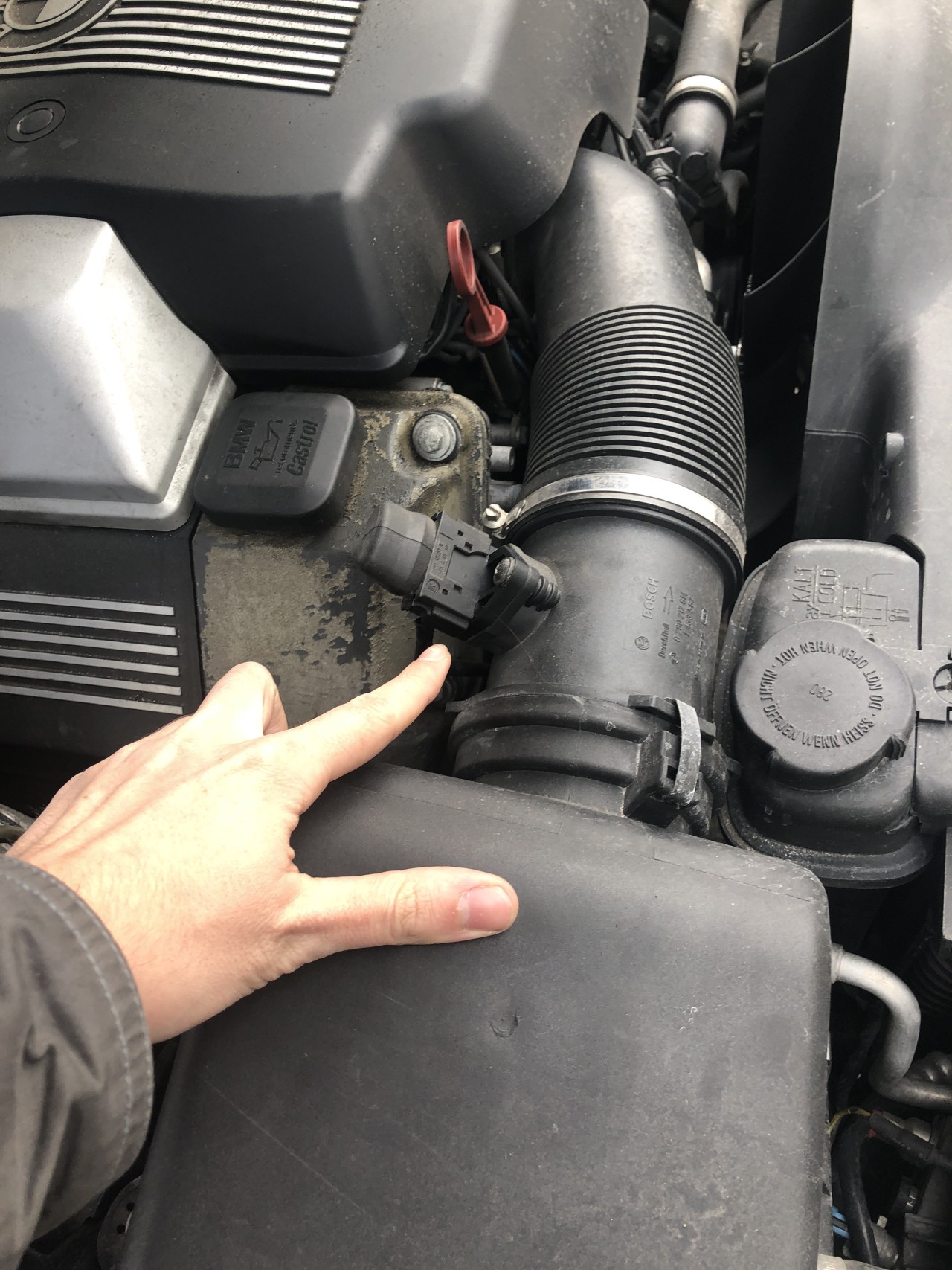 4-5-19
The rear brakes would squeal badly when stopping while reversing. The pads would also click over bumps if there was no pressure on the pedal as they were too loose in the caliper. I installed new discs and pads which took care of those issues. The upper link was not in great shape so I replaced those while I was there. A quick and painless job thankfully. Noticed it handled a bit better. Unfortunately the alignment guy said the front driver strut is blown which makes sense as its gotten much more wallowy in the past couple months. This is about the right time to have to replace those. Coil-overs aren't that much more expensive than replacing the shocks and springs all around. I'll see what is out there.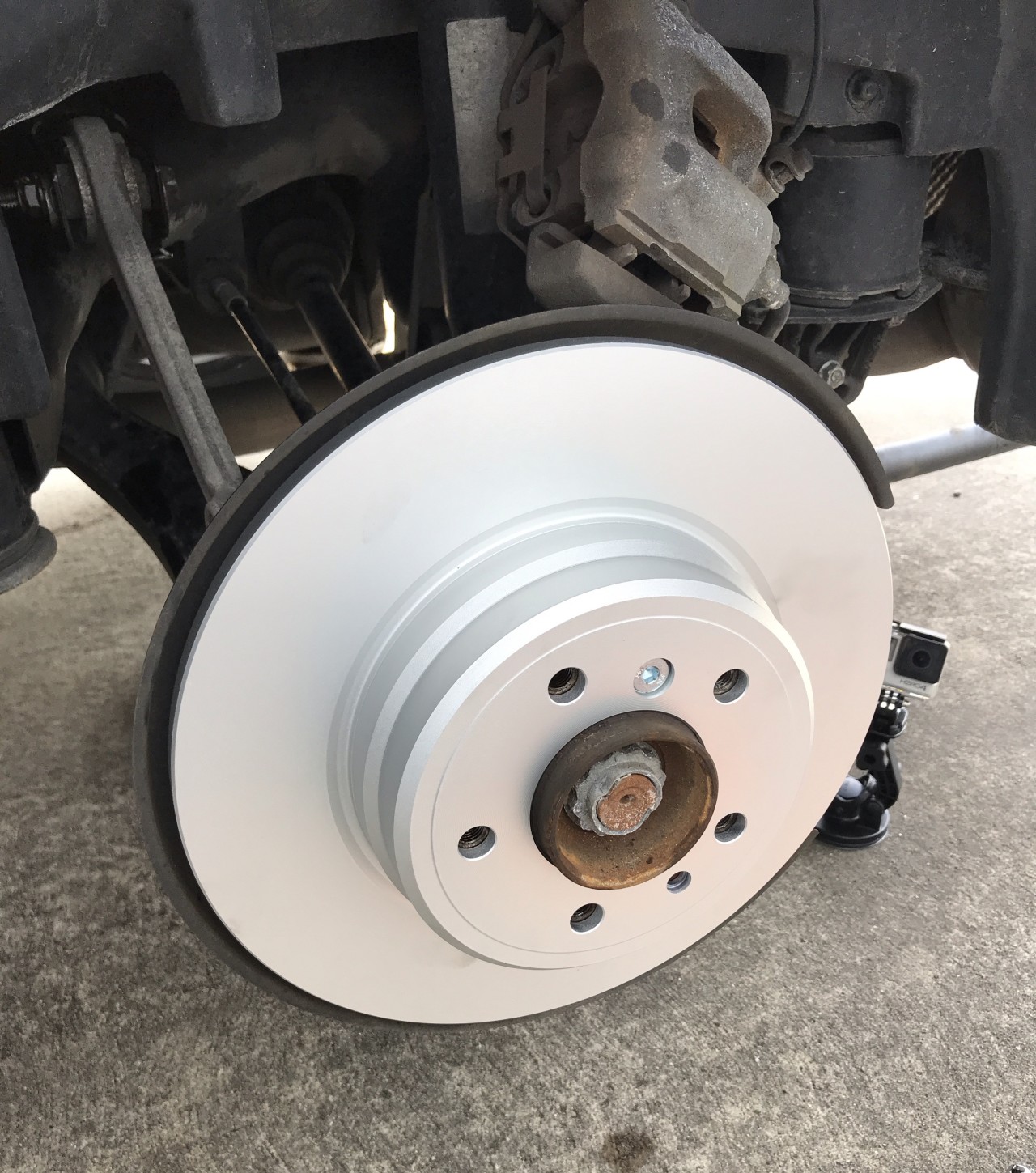 Pretty worn out.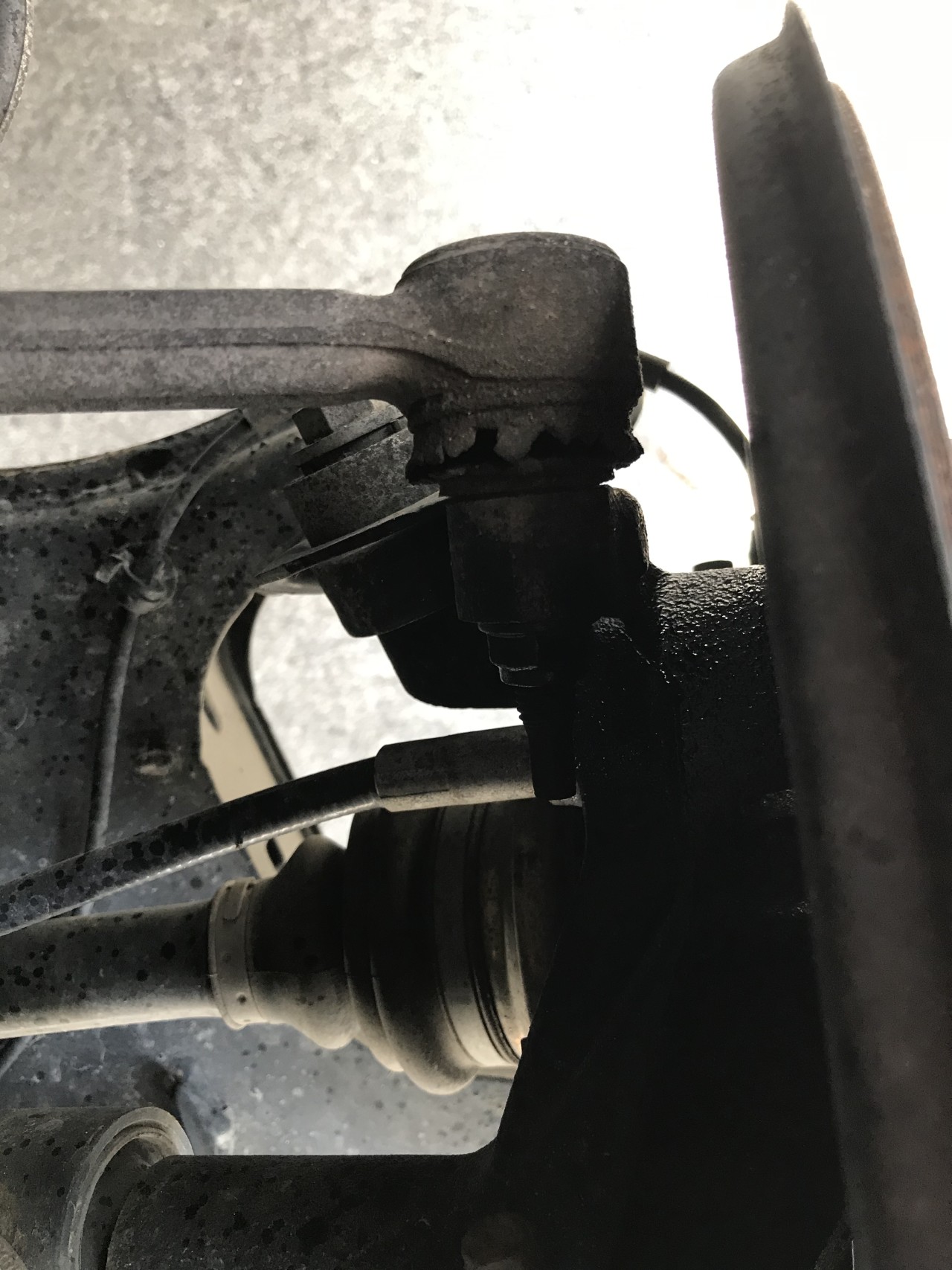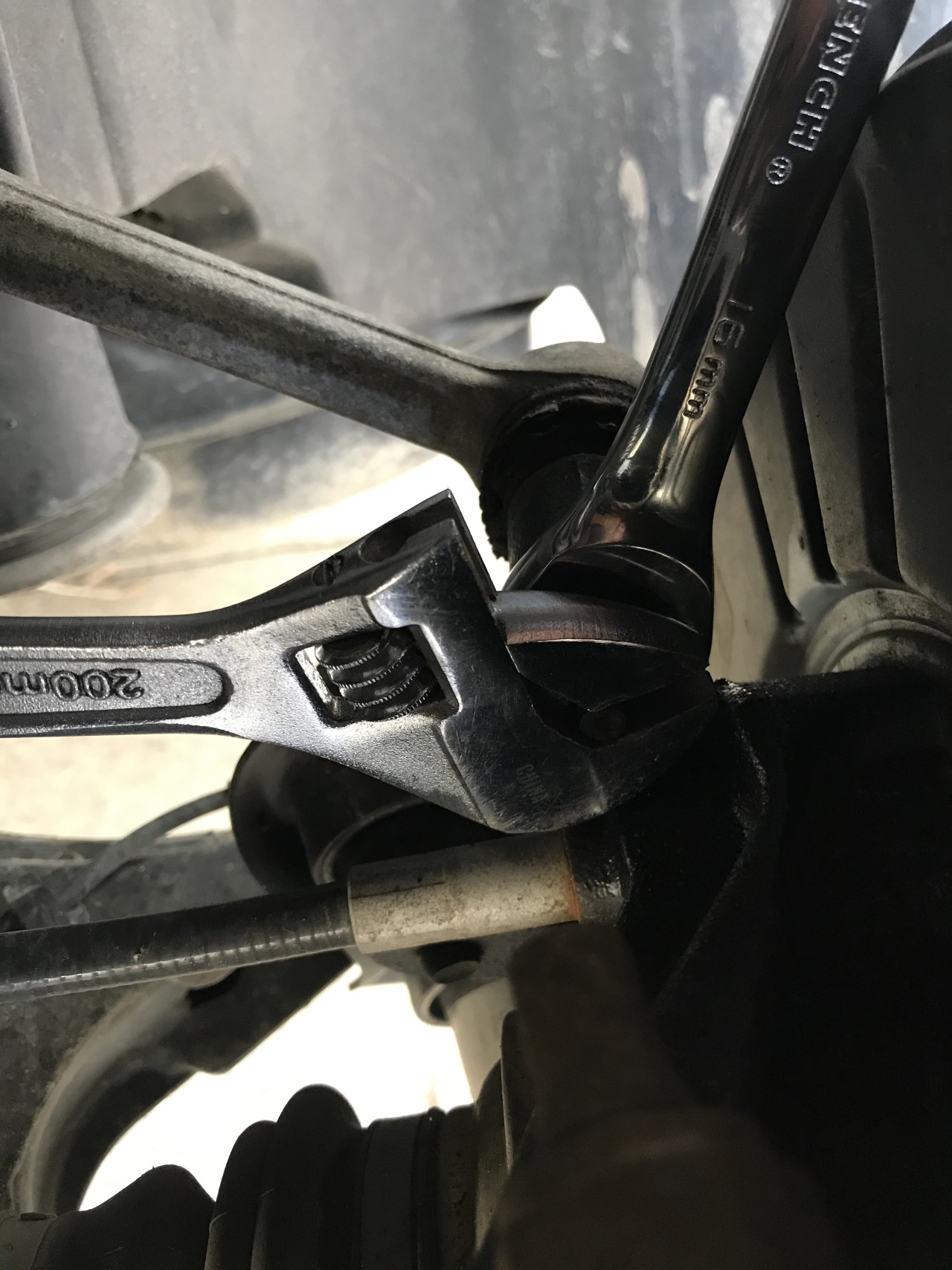 A friend came to help us out.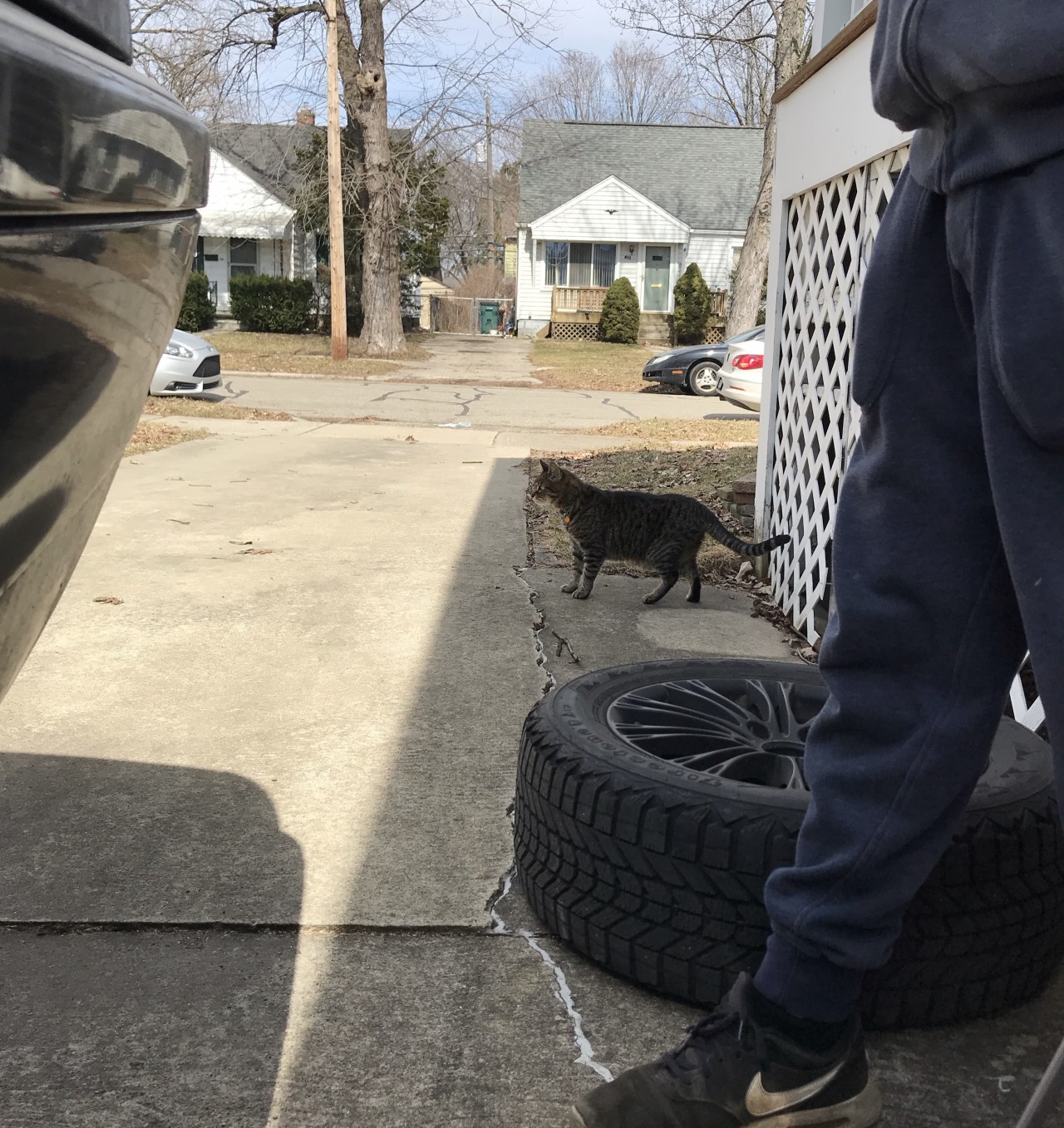 The summer wheels had what looked like the original tires which were not in good shape. This is somewhat stereotypical but I got some E65 Style 95s with decent tires for $400. This and the M pars are the most popular wheels to put on these for good reason. I think they look great. There is some reverse rake but that can be solved when I potentially go with coils.
Got it nice and shined up, first wash of spring.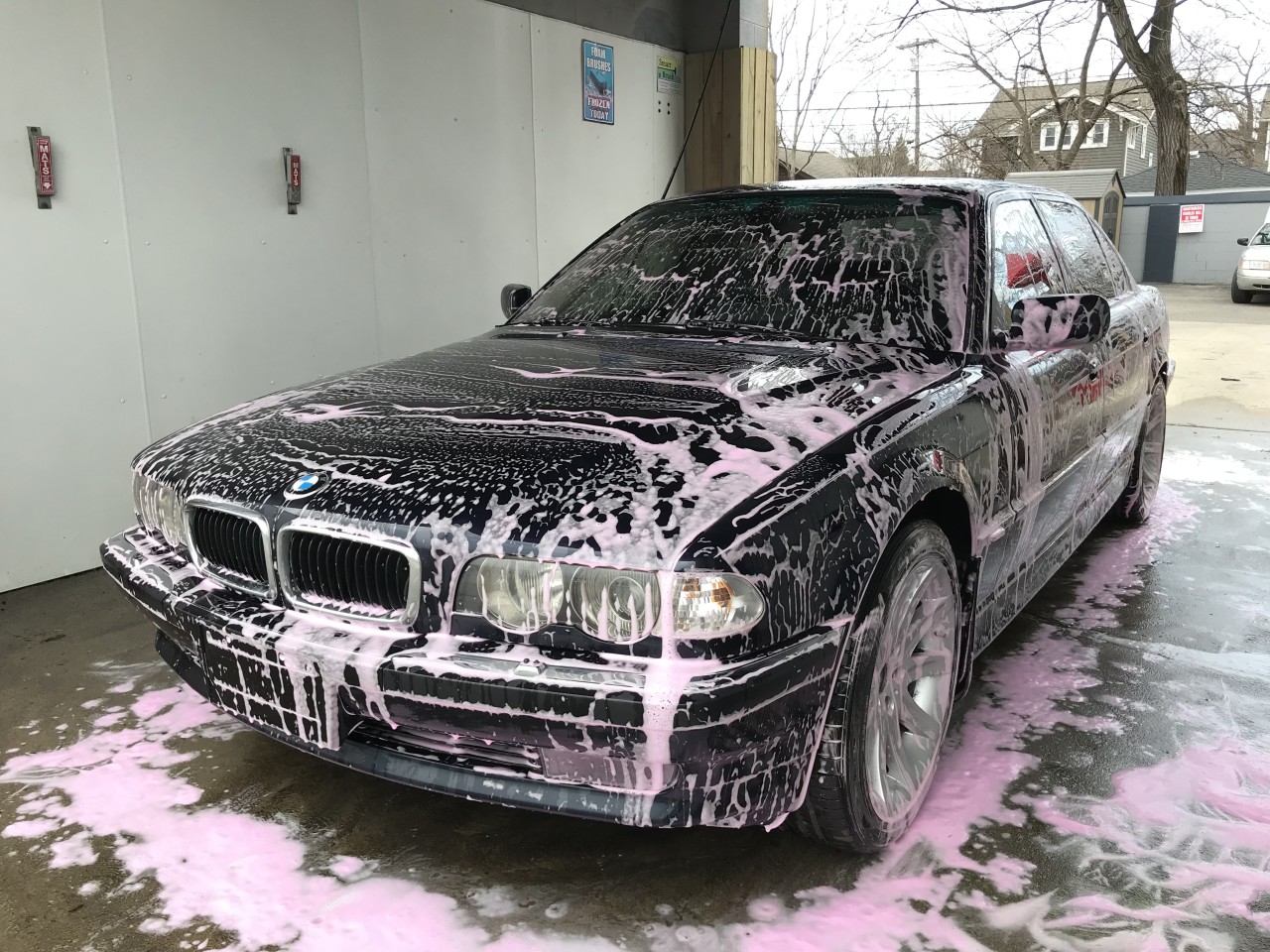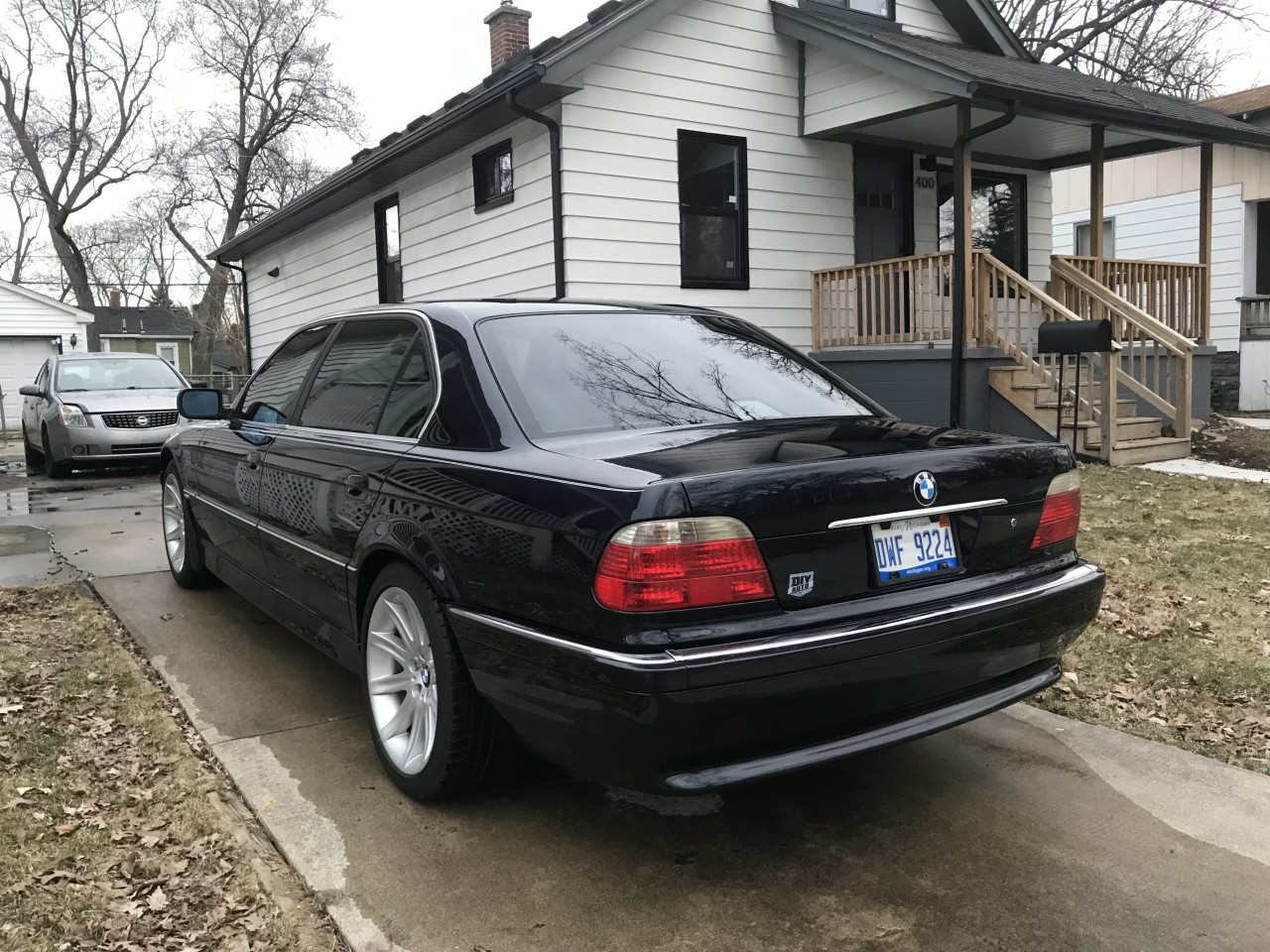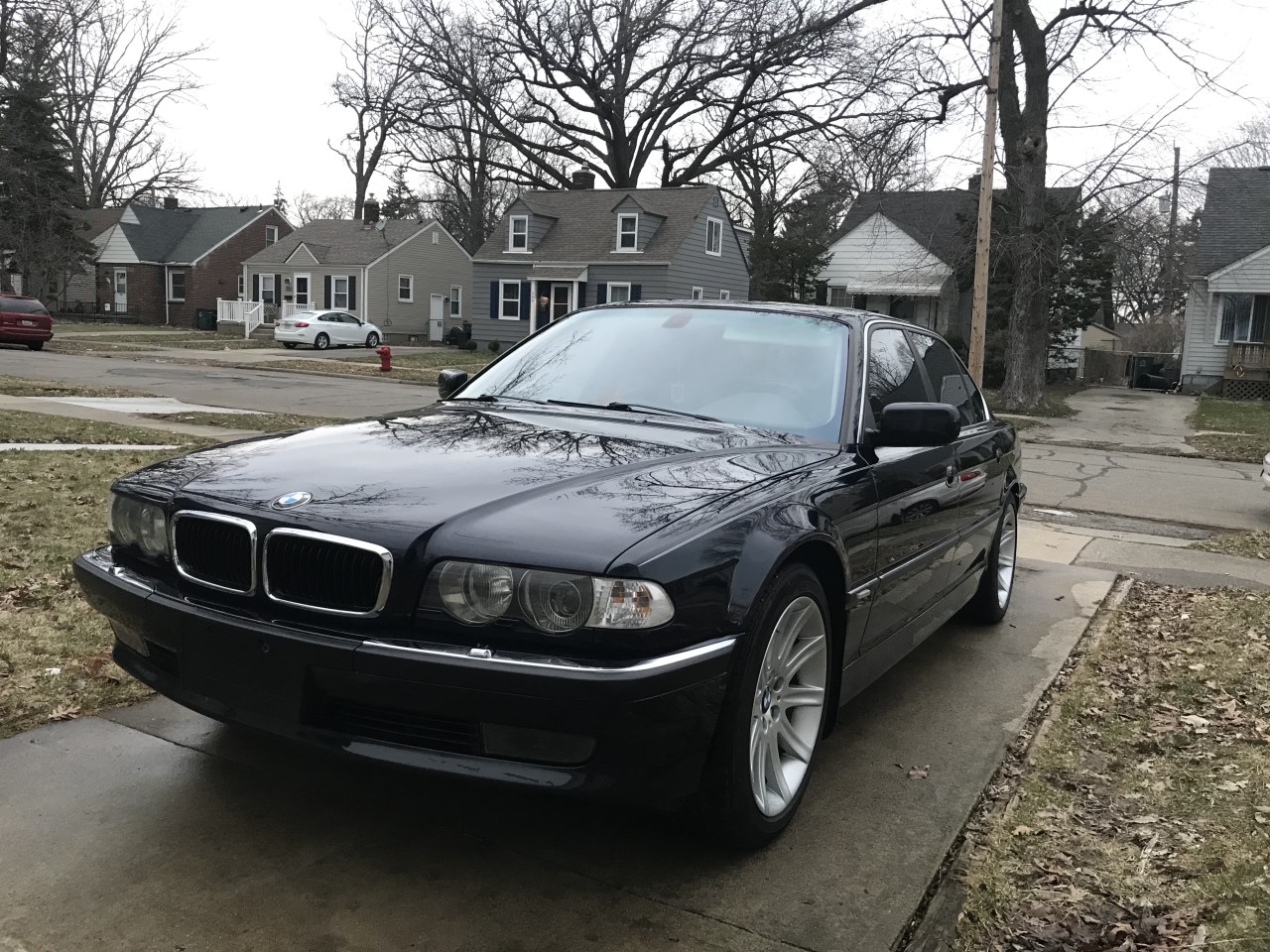 Looks pretty good! just have to add some lowzz and we will have the right stance to it.
4-7-19
Seems like there is always something with this car. I leaned slightly on the fuel door and this happened.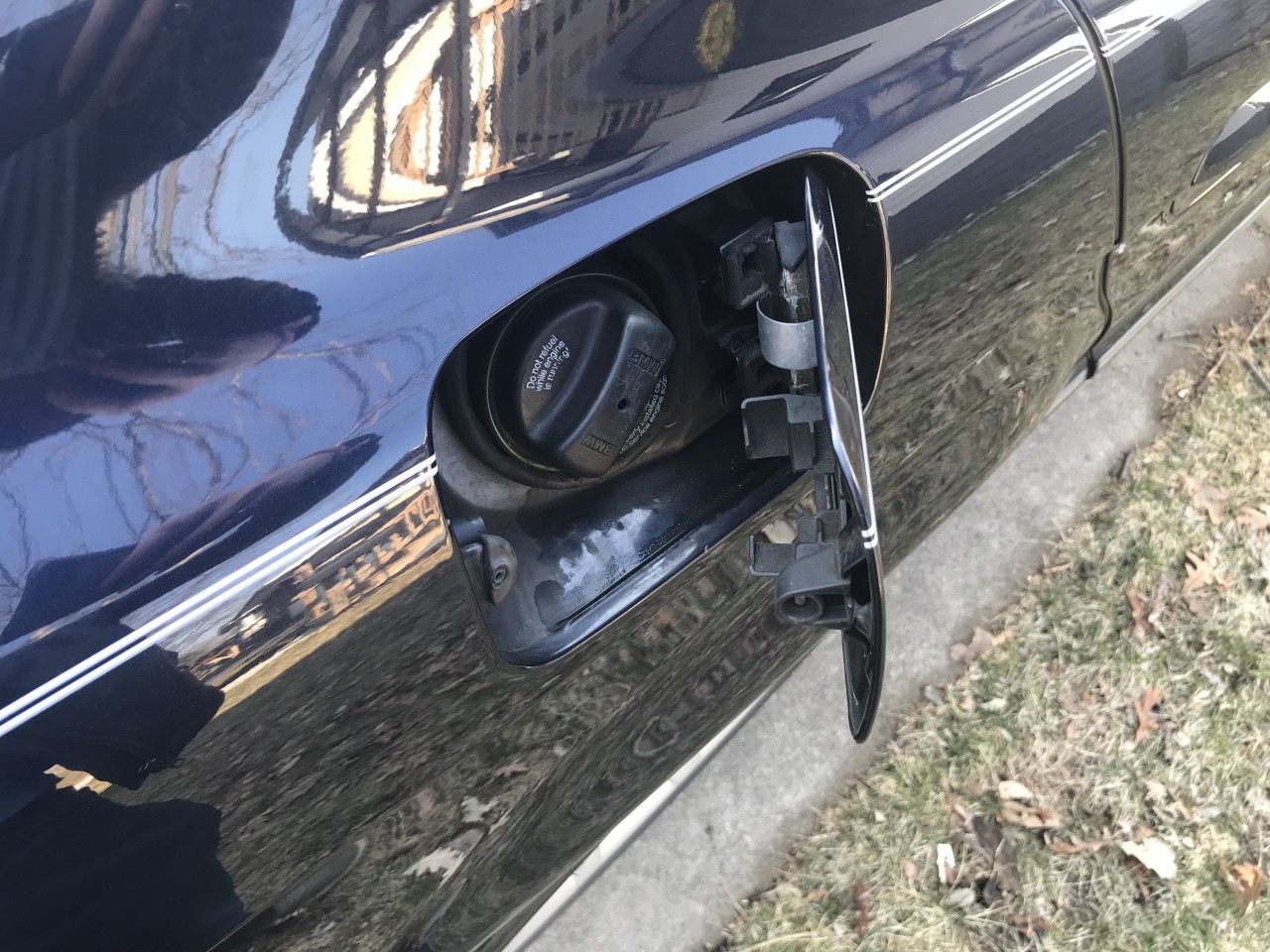 Broken fuel door hinge. Thankfully new ones are only ~$10 so I ordered one and it is on the way.
So taking stock, what is currently broken on my car:
1. Fuel door, have the part
2. Power steering reservoir/lines are leaking. I have to top it off every 2-3 months. I have the parts but haven't been in a hurry since it is fine 95% of the time.
3. Clunk in the front driver side suspension. All the front control arms are new so I'm guessing its the tie rod or idler arm. I have new versions of both, I'll install them when I fix the shocks. Of course since I drive in a vehicular hellscape with giant craters everywhere my new arms could just as well be toast already.
4. Front driver shock is toast, looking at coilovers.
4. One vertical line in my instrument cluster display went out. Thankfully you can't even see it most of the time. Not a huge problem.
5. Odds are there are more worn rear suspension parts due to the cars age and harshness of the roads. When I had my E39 I refreshed everything back there, the suspensions are similar if not the same, and it was a PITA. Going to wait on that if I can.
6. Valve cover gaskets are leaking a bit, will check up on them this summer.
7. The rear passenger chrome trim sticks up near the front. Just need to use adhesive or something to clamp it down.
Otherwise the car is solid. I haven't been stranded yet knock on wood.
What fun things do I want to do next?
1. I bought an "alpina" front lip for the car. It has to be painted, but will look boss when its installed. I'm waiting until I get the more important stuff out of the way.
2. Many people replace the resonator with an X pipe and replace the mufflers for a nicer sound. I may go that route, and do some M5 style quad exhausts.
3. Install angel eyes in the headlights and replace the lens as the current ones are starting to yellow.
4. Replace the rear tail lights as they are starting to age, especially the reverse light section.
5. Install heated front seats.
6. Get one of the modern headunits that look like the stock one. This isn't super important as the current one does 90% of what I want it to do.
That's really it for now.
My old neighbor picked up a V12 Mercedes and is planning on installing some Brabus bits on it. Two old competitors next to eachother.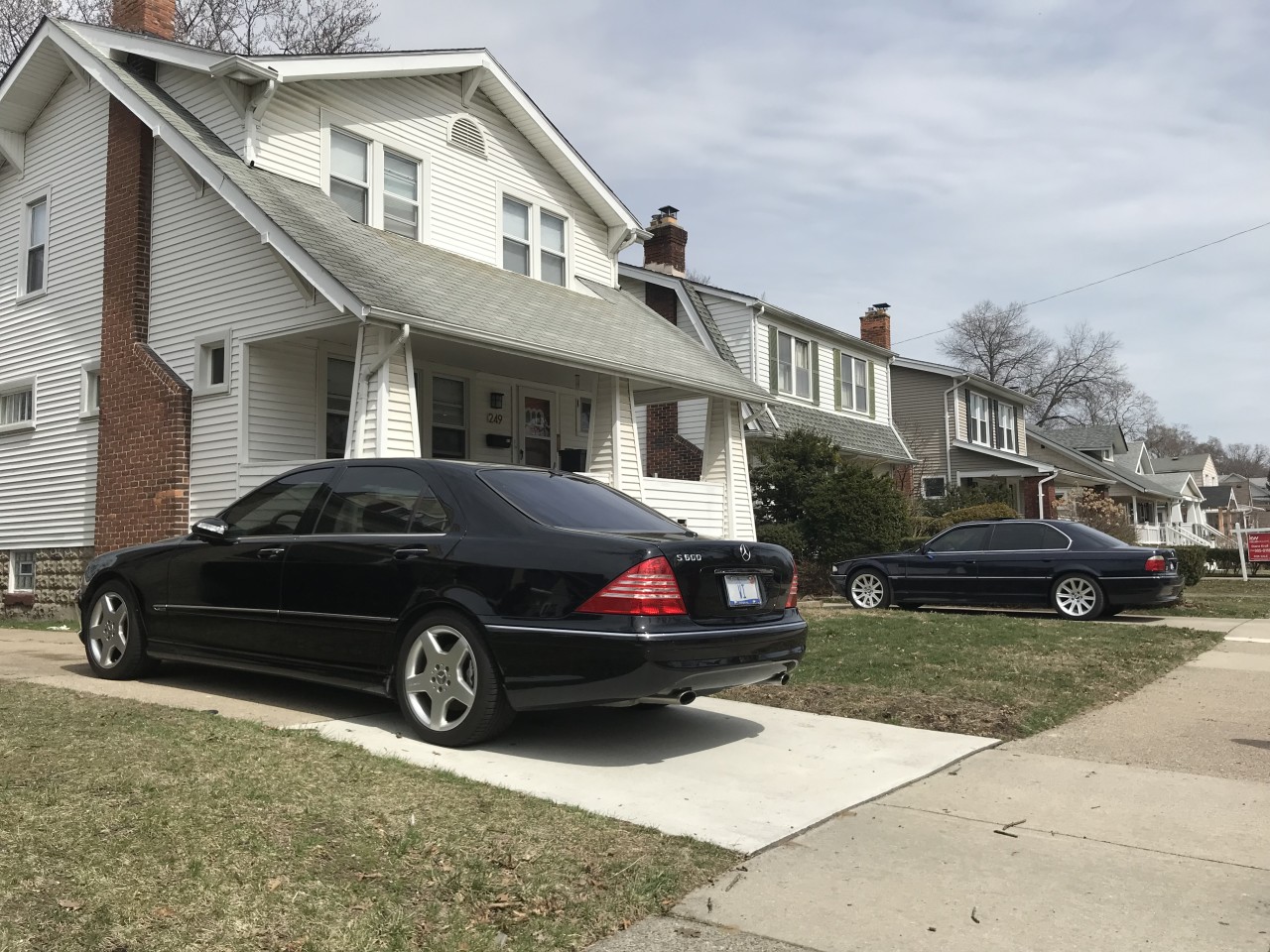 Also found this on the web which I thought was cool.