Da Nailhead adventures by whatever
By diyauto
You must be logged in to rate content!
Da Nailhead adventures
Compliments of whatever @ v8buick.com
8-1-2013
...in Russia
Hi there,
I'm Alex from St. Petersburg, Russia and my friend brought me an engine for a rebuild.
It's an engine from a 65 Wildcat and was sent as a 425, but somehow it turned to be 401 in reality.

We were pretty sad about that, and I was looking forward seeing some enormous diameter pistons, but a dead LS7 piston didn't get in there that easy from the first try, as I expected it to fall in the bore, so it was the time to suspect that we got a 401.
My friend wanted the engine to be finished on 15-16 of August, but that wasn't really possible anyhow after I digged into parts situation the the Nailheads. My friend said that the engine was clicking and it didn't run very well. Okay... I pre-called Russ on the west coast before I've got the engine in order to check parts availability, and he said it was gonna be okay and he had most of the parts. Anyway once I got it, I was rushing to disassemble it.
Excuse my high-tech room for engine disassembling, but disassembly is a whole another story. Especially, when the engine has oil inside as much as you'd at MAX + 0.5 in over that mark on the dipstick.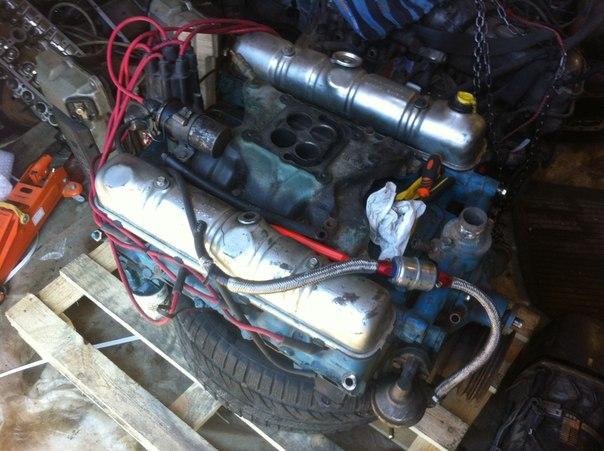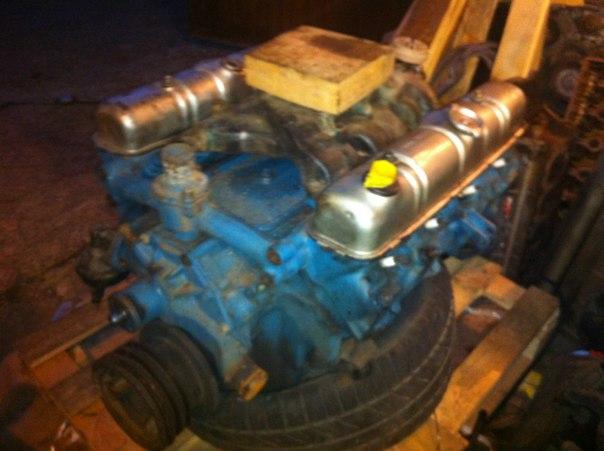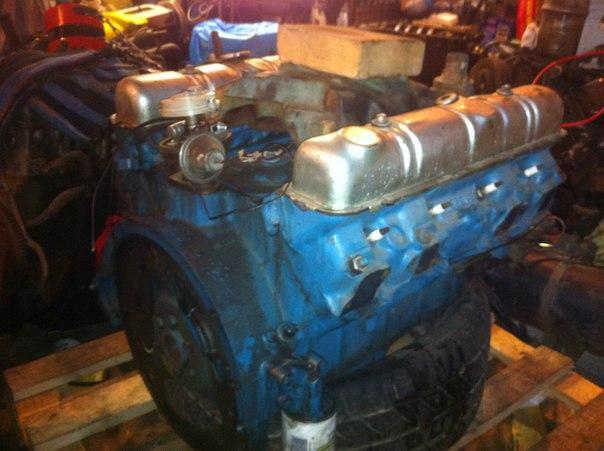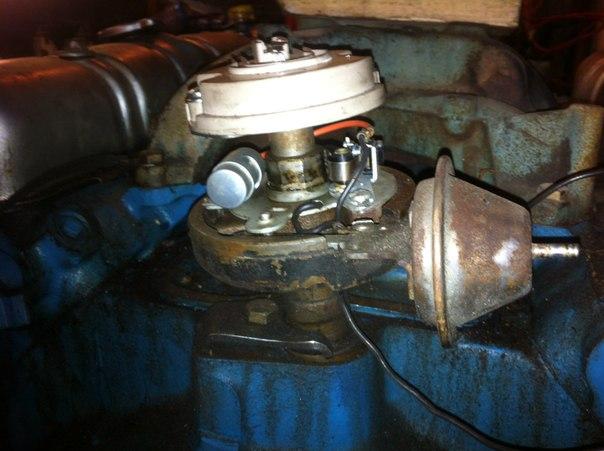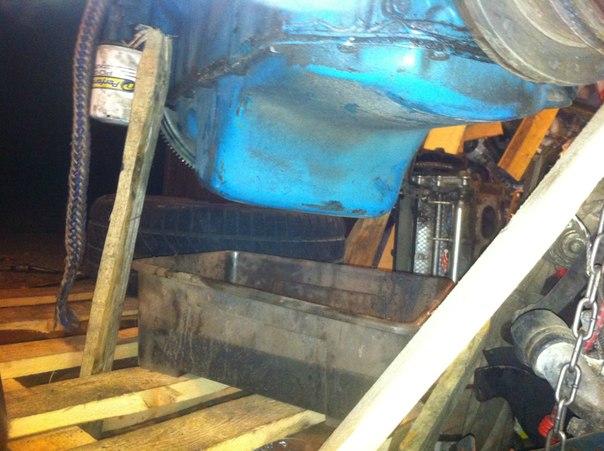 it was about 6 quarts of oil from that point to drain.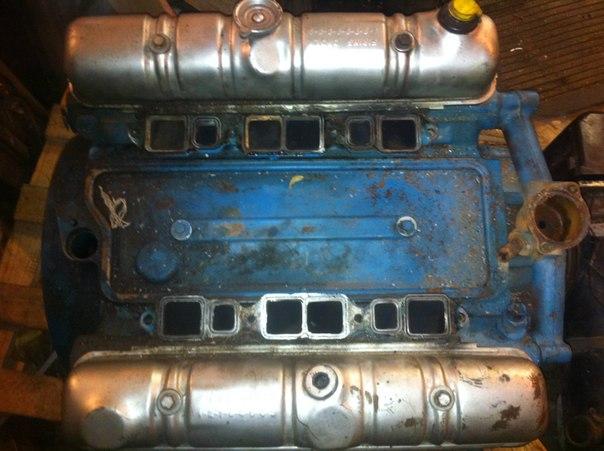 The intake gaskets appeared to be steels, which was a little surprise to me. But I was surprised moreover with that exhaust heated intake manifold. The gasket on the left (driver side) head was placed under the head cover gasket! and was almost mismatching the intake ports.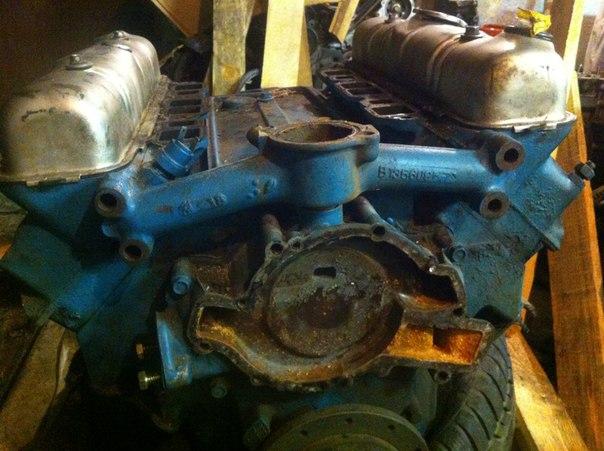 Water pump came off with a -1 bolt and after a closer look I saw another bolt stuck at the bottom of the flange. Looked promising.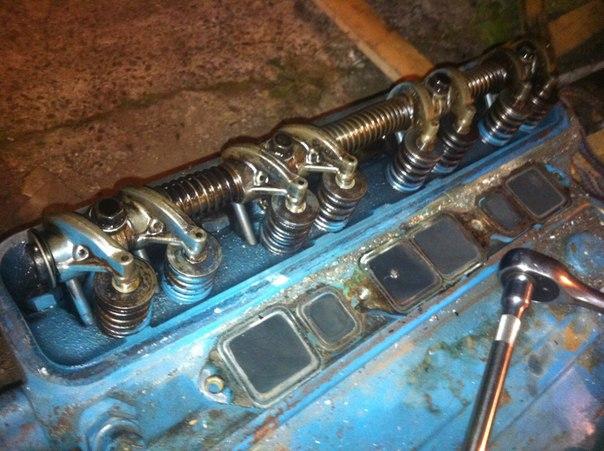 Looked good from the top.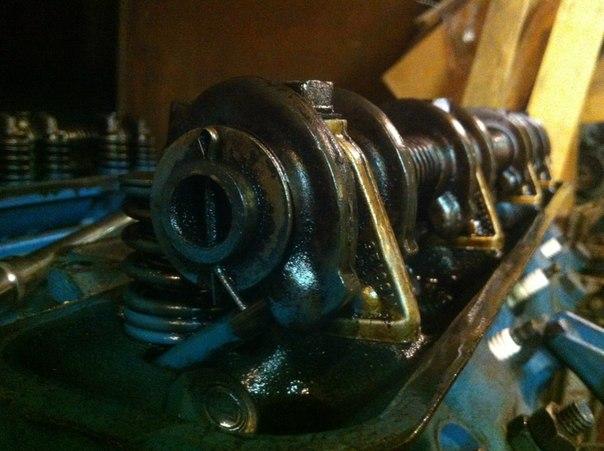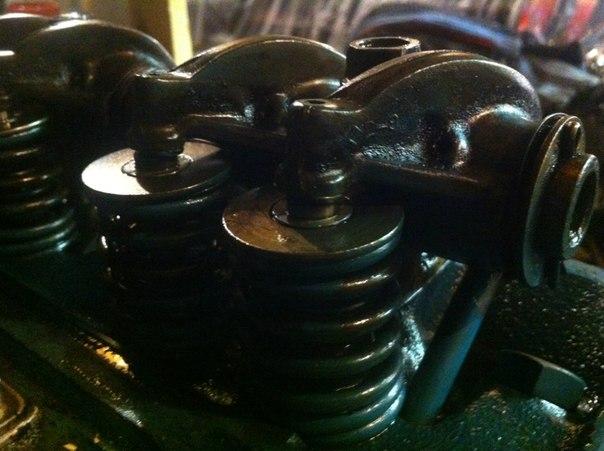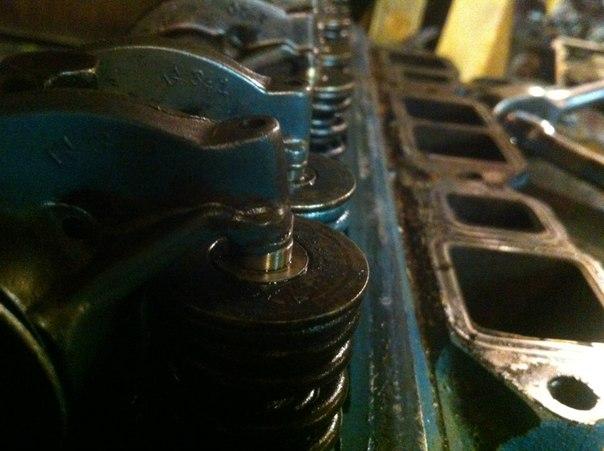 Pretty much cooked up, but not too much.
Little surprise here!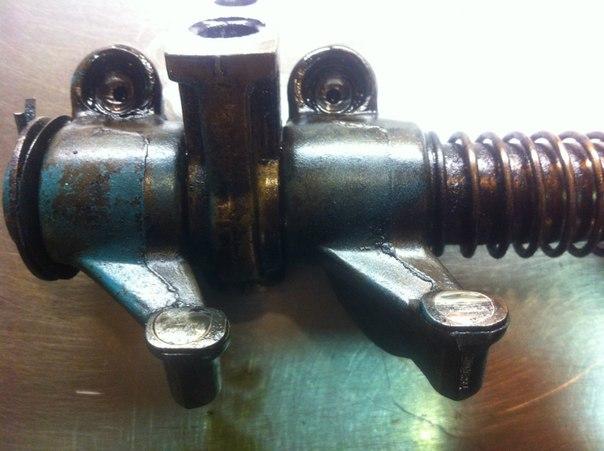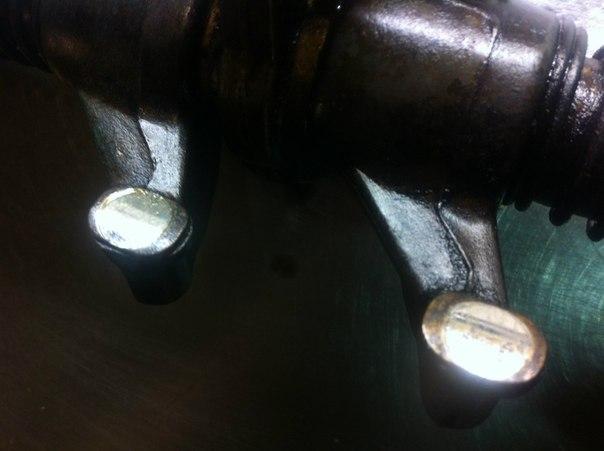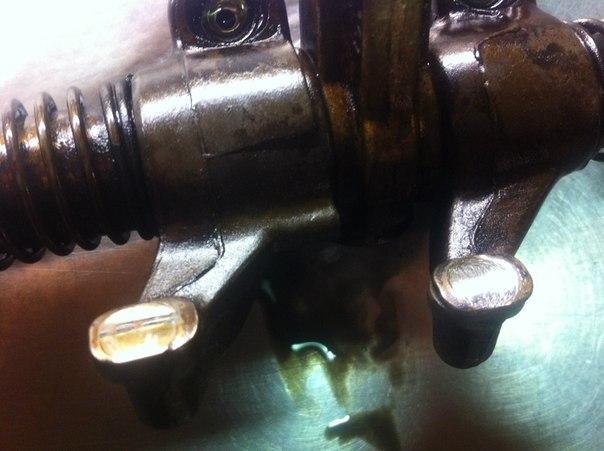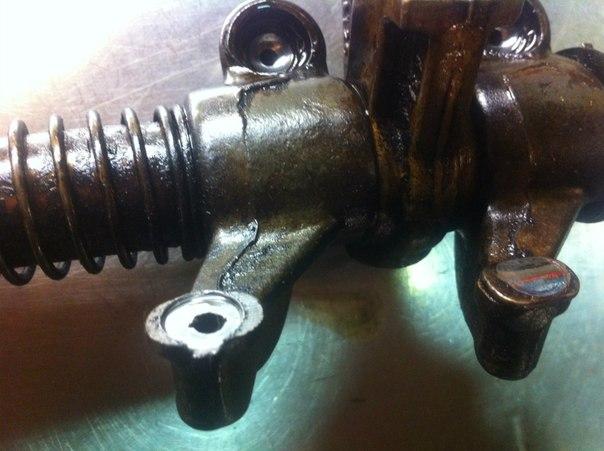 Duh! For a second I literally thought it must be a usual wear pattern on Nailheads... Maybe... Until that rocker. All rockers felt somewhat jumpy when I checked for valvetrain flex during disassembly.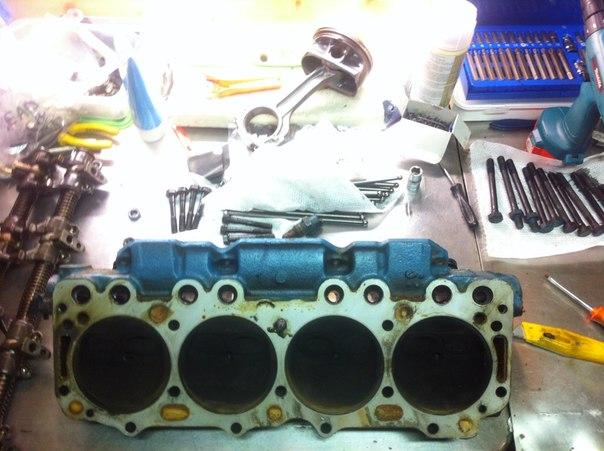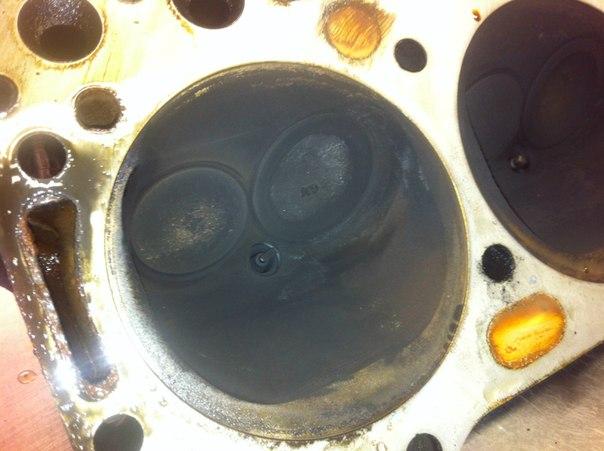 The heads looked okay. Couldn't find a headgasket for a moment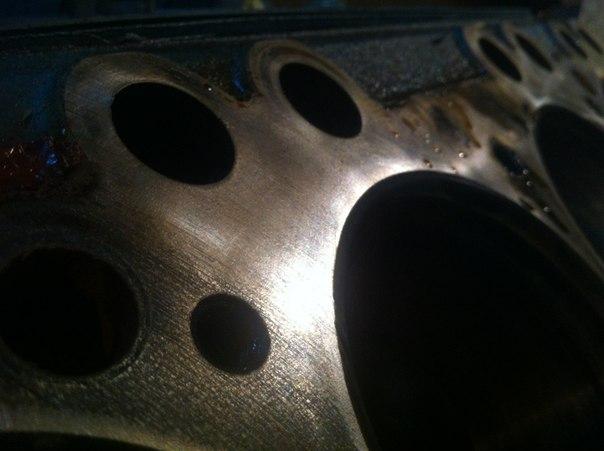 Pretty smooth surface for a deck!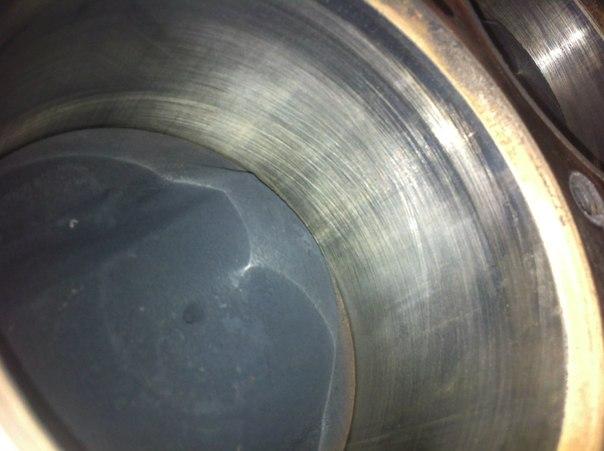 Uneven hone.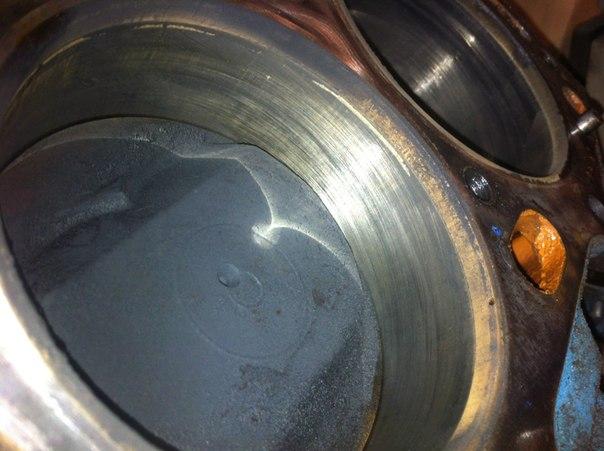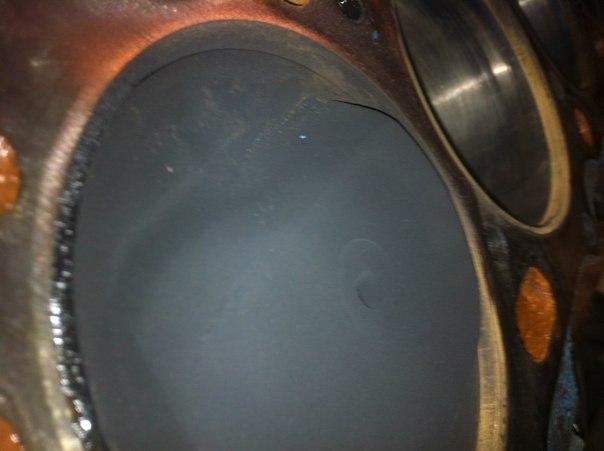 Suddenly! What's that? The crown is different! That one is flat, the other ones have cast in valve recesses.
The compression ratio must be different, then! Not good...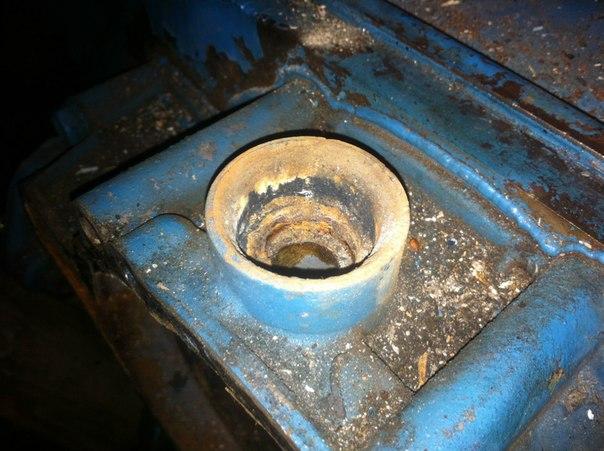 Guess, the coupling is dead!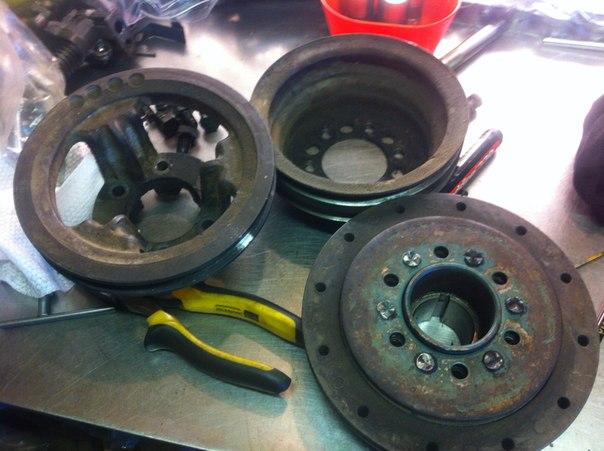 The balancer came out easier than I expected.
Yeah, gotta balance with the crank assembly.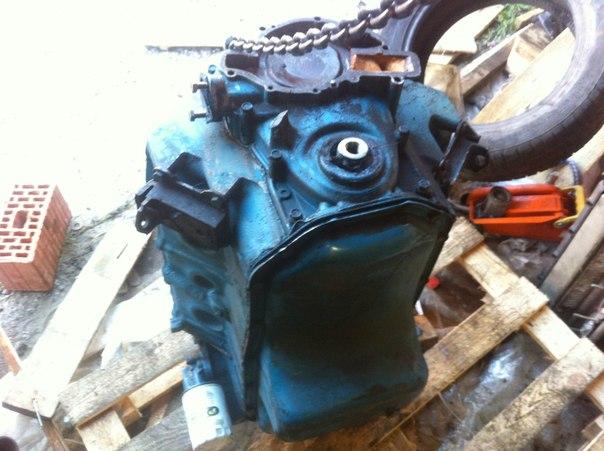 Chain helped me to drain the oil from the back.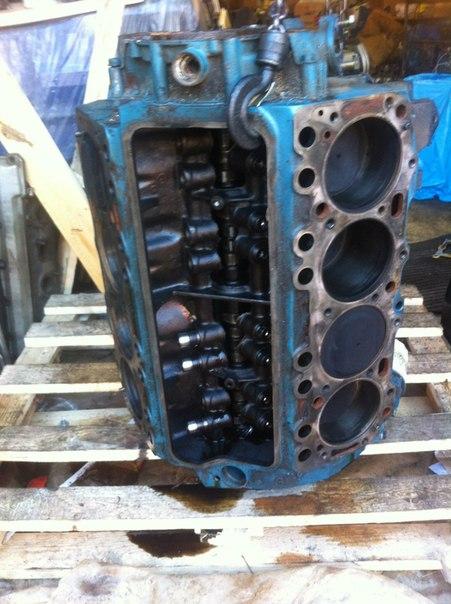 I pulled some of the lifters, but some of those just didn't want to get out through the top!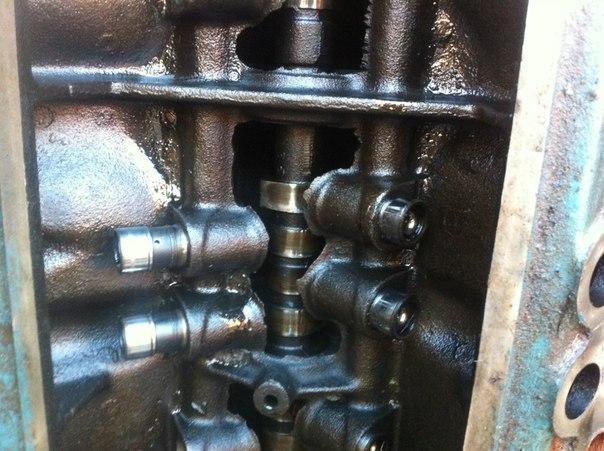 Is that oil on the cam?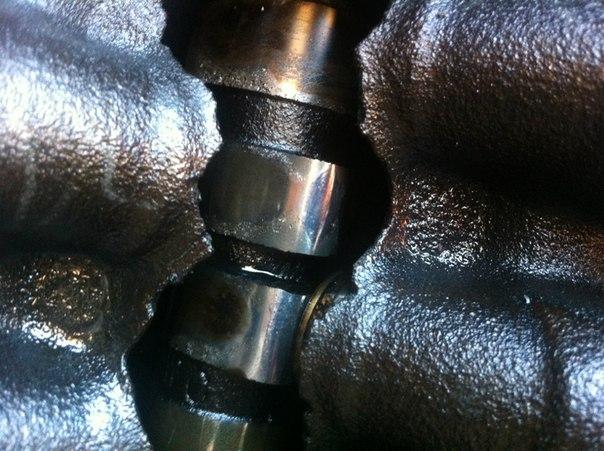 Nope! It's wear! I guess it worned out too deep, probably ran without oil a bit, so that the oil baked in the lobes.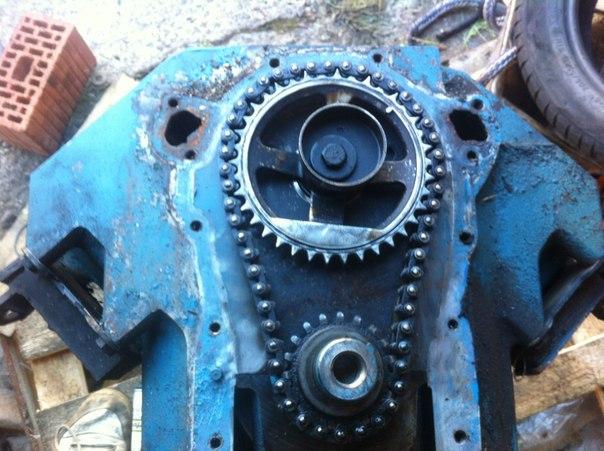 Knock-knock.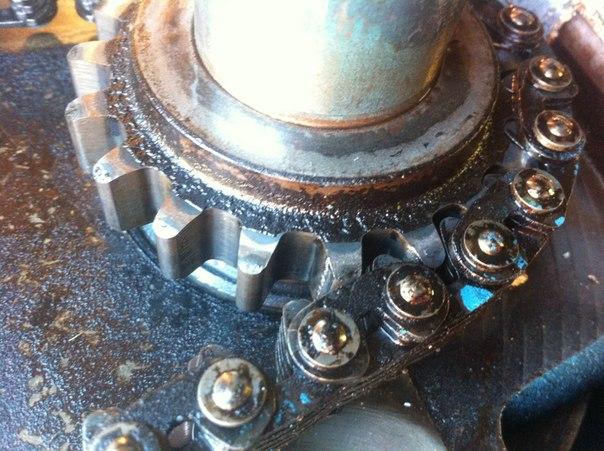 Looked straightforward on that side.
But pretty damn strange on this side!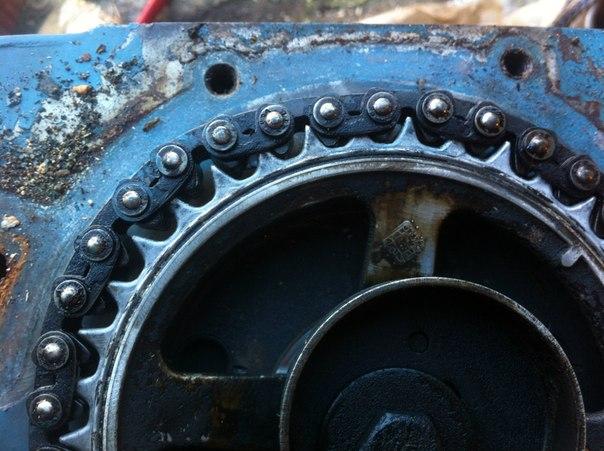 I've read about plastic gears, but didn't to expect it to be so far from the factory unit.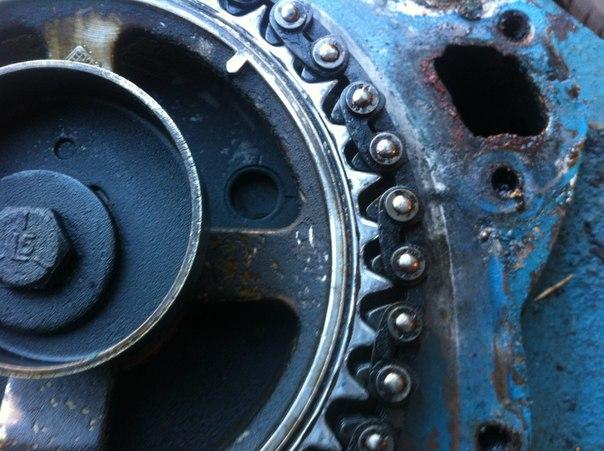 Anyway! I'm impressed! Now that's a durable thing! It's worn out to death, but it doesn't fail!
Show time.
8-1-2013
Music pretty much reflects parts condition.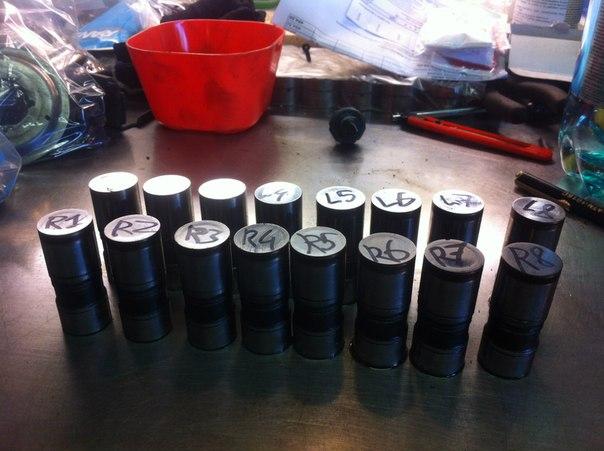 All lifters are different! Most of those are worn "in".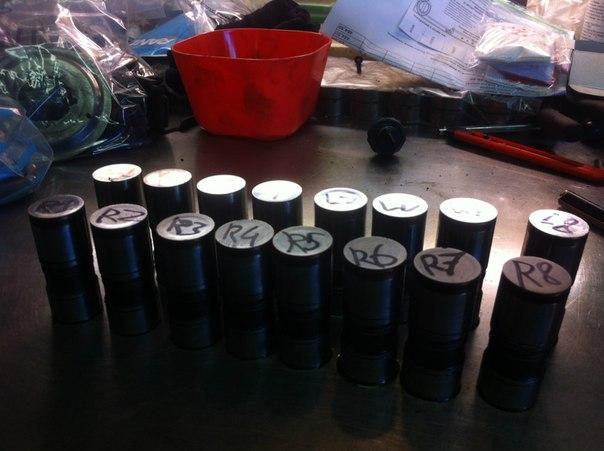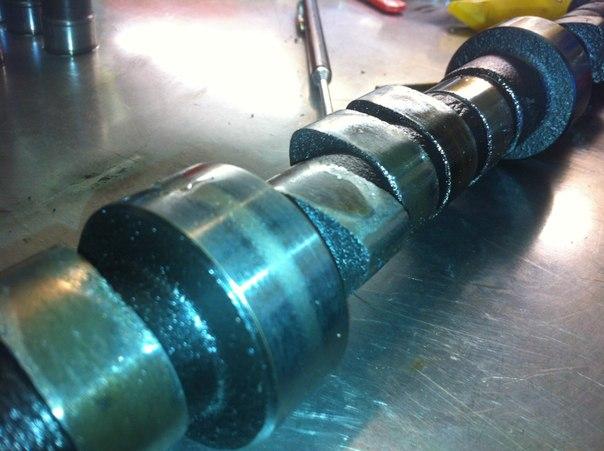 Dat cam!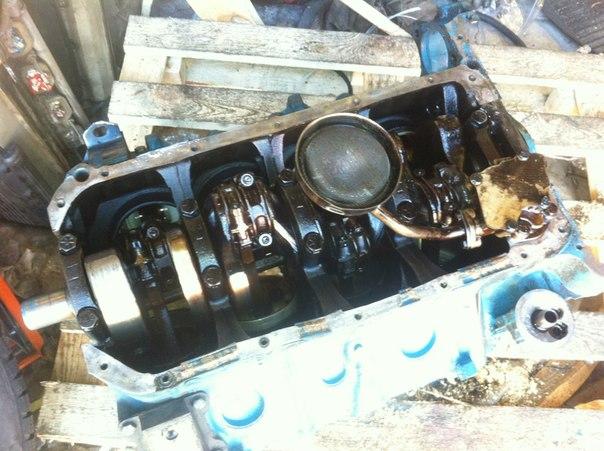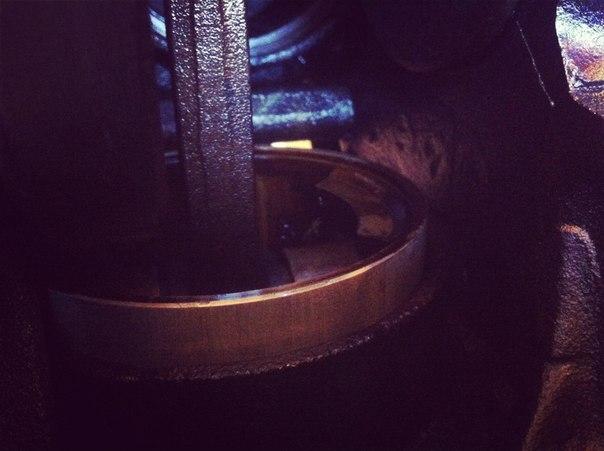 I like the design of the engine block! It's different and beautiful.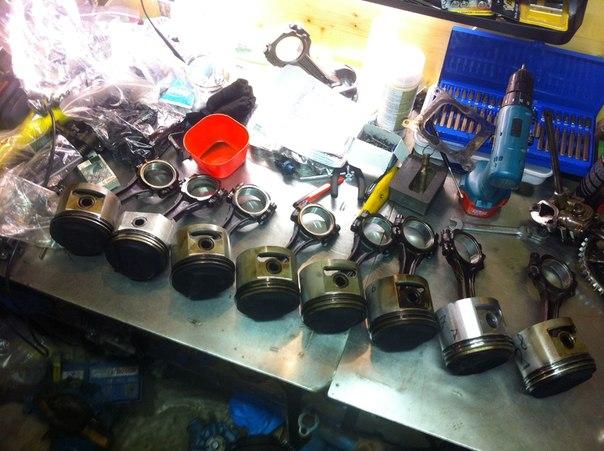 The pistons! Guess what! None are originals! All STD size!
5 are Bohnale (or some like that) pistons.
2 (on the right) are fresh looking not marked ones (egge?)
1 is probably a TRW forging! (2nd) The one which didn't have valve recesses!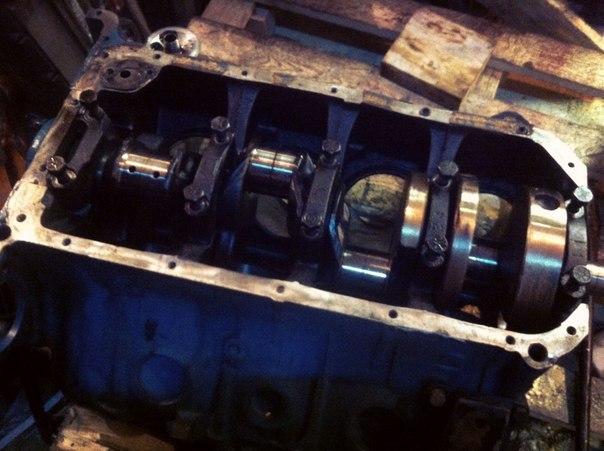 I was surprised, the crank did rotate like a charm when free of the rods (tightened up, of course)
All bearing are worn out, scratched and scored, but nothing too hard.
I expected a spun bearing actually! The crank will go for the first undersize.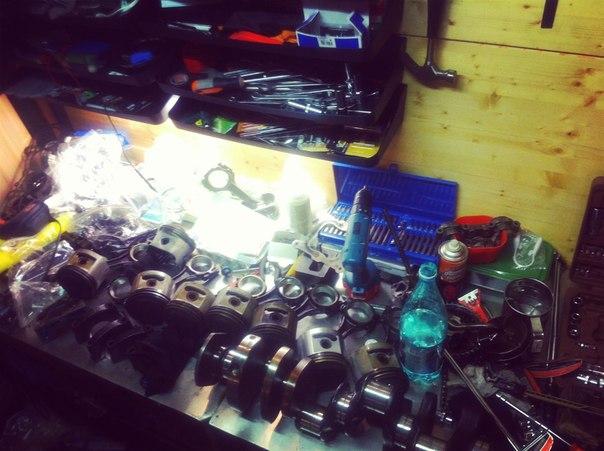 So that's it. Right after that I called Russ and asked him to supply me some parts with a 2nd day air shipping, in order to get the parts to my forwarder on Friday. Okay-okay, we figured that some is at the TX warehouse, and I'll need to call tomorrow. Suddenly, it also turned out that he was late for a pickup at UPS and we were all up for next day air. It was sad, sad, sad. I had to call him at 9 o'clock in the morning, California time, so he'd prepare stuff in Texas and weigh up. And so I did. But then he suddenly had to go for an appointment... Called within 2 hours, just like he said, nobody on phone! Not to say I had to miss a train to Moscow in order to buy the parts, because he had a sudden appointment, but whatever, I was on the phone. Got worried so much, so I called Carmen Faso. Now he's the man, really. If you ever need Buick parts, don't choose and think, just get him a ring. He was fortunate to help me, he had the parts, but we were out of time. So I called Russ again, guess what? "It's too late for Texas warehouse, why didn't you call in the morning like I said"

I did try few more things, but I couldn't get the right parts in the right time.

No parts - no machining - no time gain. My friend wasn't happy either, but we weren't too sad, because we were already too sad yesterday! haha!

So here I am now. At least I have a plenty of type to inspect the bores more carefully and to check all journals for exact sizes and ovality of each, to kill the time...
Anyway, you can clearly see, Russ is more of a trader, "don't ask" guy, and Carmen is more like a car guy, a hot rodder, with a proper dedication to the stuff he does and contributes to the Buick community. It's been a great pleasure to talk to him!

Still gotta buy a bunch of parts for the next Friday...
I'm looking forward for your advices on the rebuild, I didn't have a chance to get a Buick repair manual, but this website features clearances and they are the most important specs for any engine, I think. Maybe this thread would help to guide someone as well...
Thinking, I wouldn't trust too much "fixed-in-rod" wrist pin in colder climates. I'm afraid that a non-floating pin might stuck, if the piston would shrink too much in cold. And a full floating wrist pin would promote a more even wear on all of the surfaces - piston, rod and pin itself.
8-6-2013
Sorry, I was away from the internet for a few days.
Thanks for the hearty welcome!
bhambulldog, the engine would go into '65 Wildcat, out of which it came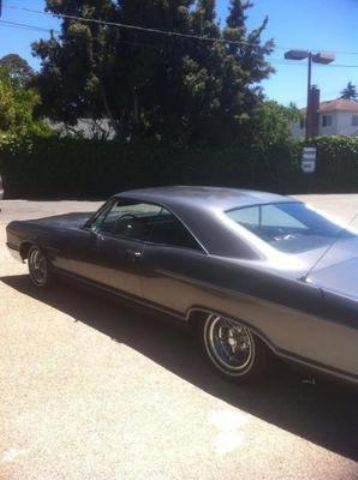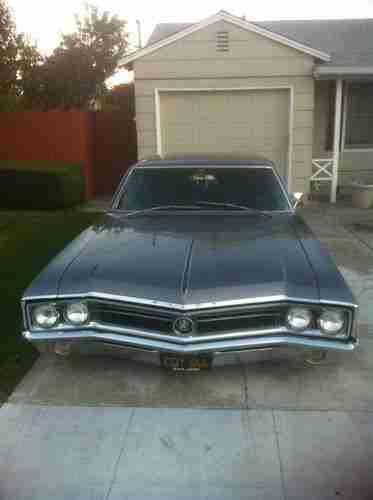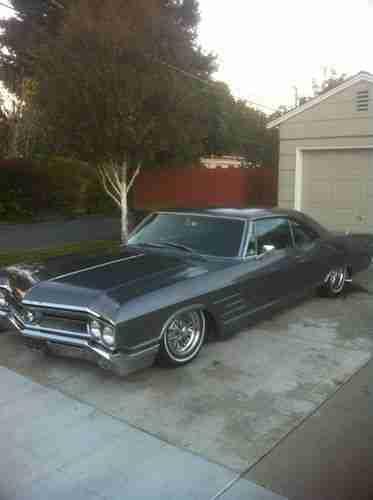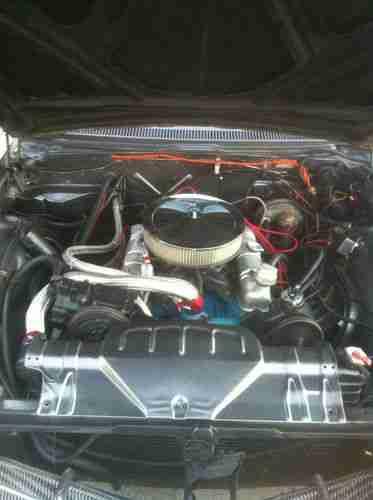 Sorry about pic quality. Guess, the seller didn't know how to flip the camera on the phone, so the car would fit in, lol.
My friend bought the car in February 2013, from California.
And the owner claimed:
"OVERHAULED ENGINE NEW LIFTERS, NEW VALVES, AND PUSHRODSRUNS GREAT SHIFTS SMOOTHLY"
Well, you know that eBay stuff. We can now see how well overhauled it was. :P
Thanks for the link on Doc's dual plane mod! The gasket under carb remains stock (uncut), right?
gsgtx,
yeah, I've read that Tom was really cool back in the days and so is now!
64 wildcat conv,
well, the owner claimed it had 68 000 miles. But since there is no OEM pistons, I think it might be 168 000 or whatever. That engine was built to last for sure!
John Codman,
limited access - yes, a will to fix&sell - more than likely yes. I guess they changed the pistons and con-rod bearings, but I'm pretty sure that the main bearings were never taken out! That blue is from the external painting. The "painter" didn't mask the parts so it's all over the engine, AND on the "new pushrods" as well. So it was serviced when it was painted blue. I'm willing to paint it gray, slightly darker than mid-gray maybe with a goldish accent, but I guess, due to limited time, I'm gonna end up with some Dupli-Color anodize paint.
p.s. Oh, great! Actually, it seems like lots of people from the US have visited the St. Petersburg, DualQuadDave from FL (a Nailhead guy, seen at the H.A.M.B.) have also been here! A lot of stuff was kinda refinished after 1917, more than most of the people expect. And the bascule bridges were built after 1917. But anyway it's all about the architecture and aesthetics here. The heart is in the city center, out-lying city areas are just like usual cities, nothing special. Comparing to St.Petersburg, the architecture of old Moscow is kinda like "I want it to be like that", so buildings often look strange next to other, sometimes tasteless, but I like some of the 1930-1950 style, known here as Stalin's Empire / Neo-renaissance style.
Regarding 425, I want to drop in a performance cam and freshen up the heads so it'd pull like 425 or even better.

Babeola,
That's right! I gotta refresh it, so it'd run fine for the next 50 years.

flynbuick,
Thanks! I thought it might be interesting to have a full rebuild thread, get some tips and discuss all the stuff which comes during engine overhaul.
66gsconv,
I'm looking for the best combination of performance and street service. So the best "stock" parts, a cam and some headwork should get me there! Hopefully

Meanwhile:
Has any one converted stock-type pistons (press-fit wrist pin) to full-floating wrist pins on the forums? I'm little afraid of the press-fit pins in the colder climates, since it may score the pin bores when the piston had shrunk down under low temp. I doubt it'd be used in winter, but who knows. I like to do the best I can each time I got a chance to. I've got few ideas, so just curious now. Just to mention, russian engines always had full-floating pins since like 1940s. There are 2 ways - machine grooves for wire locks and grind some off the side of the wrist pin or (which I like more) machine pin bushings from Teflon/polyamid, like they did in the racing engines of the 80s. No mods to the piston, none to the wrist pin, durability-wise it should last pretty long because it's Teflon in an oily atmosphere.
12-1-2013
It's been quite a while, but I have a some progress since!
________________
So I ended up buying a lot of parts from Russ Martin. It was hard, his service is somewhat slow, but reliable. We had some issues, but solved them and finally I brought the parts here, by the end of August.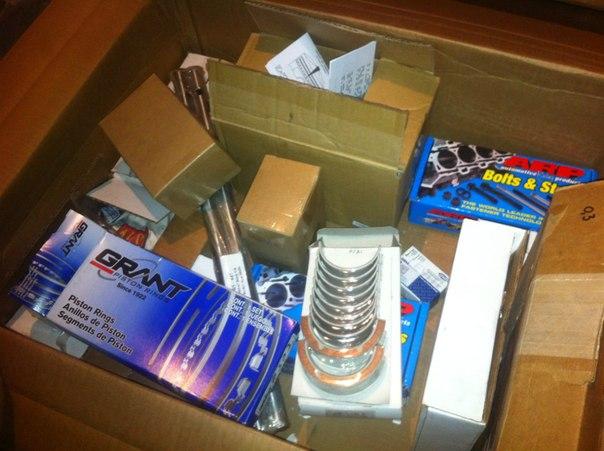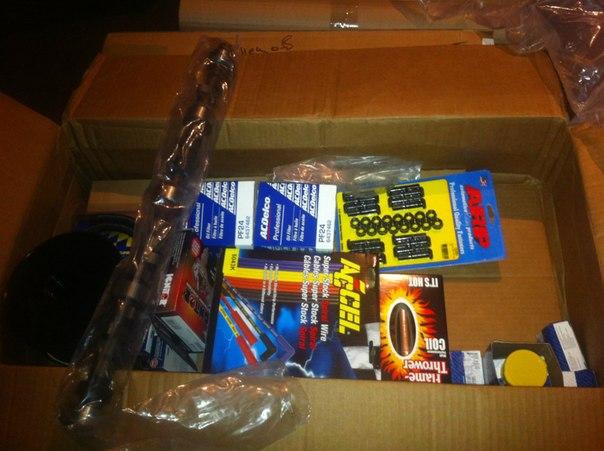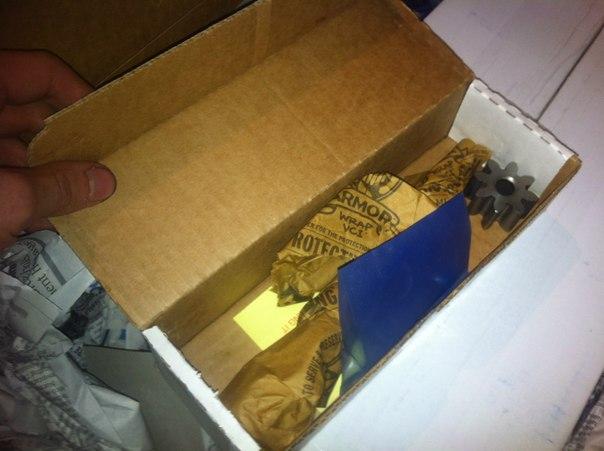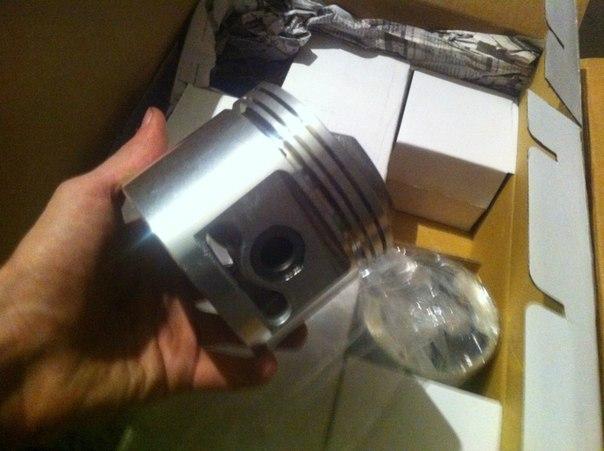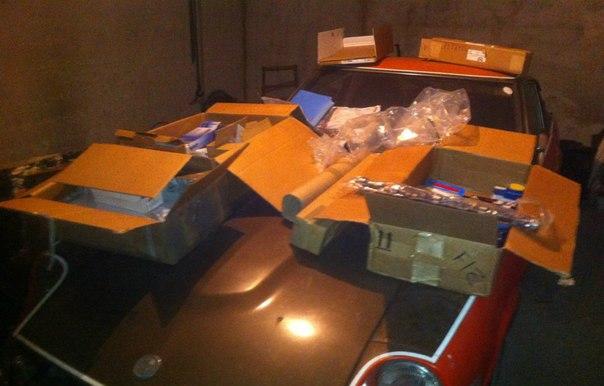 (too many parts for a table! but the hood of my '68 Z turned out to be very nice to sort them out!)
The complete list of parts, if any one is interested:
- pistons 401 .030 over - Kanter Auto
- piston rings - Grant (sad, but true)
- main bearings .010 - Federal Mogul
- rod bearings .010 - Rebuilder's Choice / Kanter
- cam bearings - Clevite-77
- camshaft (performance 218/228) - TA Performance
- oil pump rebuild kit
- valve guides - cast iron
- proper lifters
- roller chain - Russ Martin
- valve springs for performance cam - TA Perf
- valve locks - Russ Martin (they are crap, don't get them)
- temp sensor
- oil pressure sensor
- brass freeze plugs
- complete 401 gasket set - Russ Martin
- intake valve seals
- ARP head studs
- rebuilt rocker arms with shafts, no stands
- 65 401 PCV kit
- cast aluminum thermostat outlet housing
- thermostat
- Carter AFB heat sheild, gaskets
- adjustable pushrods (didn't want because of the price, but he charged me those. Good stuff!)
- oil galley plugs - Russ Martin, made by Carmen Faso
- ARP main stud kit - TA Perf
- oversize valves - TA Perf
- ARP timing cover bolts (some were broken)
- spark plug wires - Accel Super Stock 4000 black
- oil filter x2 - AC Delco
- ARP connecting rod bolt kit
- rod bearings x8 - Clevite 3 layer
- intake manifold gasket 401 - steel
- valve cover gasket - Fel-Pro
- spark plug x 8 - NGK Iridium
- distributor breakerless ignition system - Pertronix Ignitor I
- 40 000V ignition coil - Pertronix
(actually, forgot about cap and rotor,
the water pump is still great, so no water pump)
Some parts were duplicated as a backup.
Also I got the a reprint of the factory service manual from CARS Inc. in NJ.
Here are the slight oversize valves from TA Performance.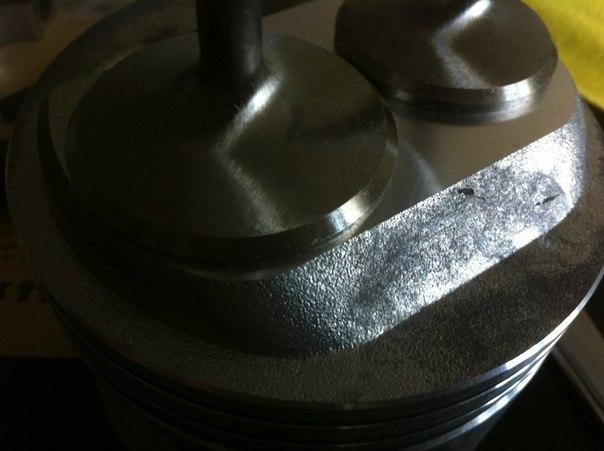 I didn't like the piston top finish, actually. It's an ideal surface for clogging and etc.
The piston is made by Kanter, the quality is pretty damn good!
____________
Too aid disassembly, I have machined these simple tools.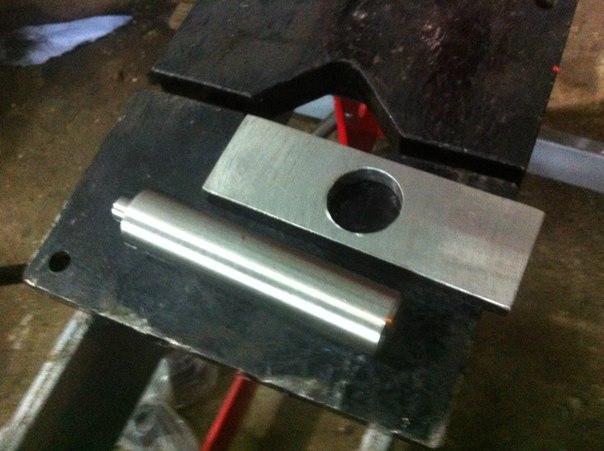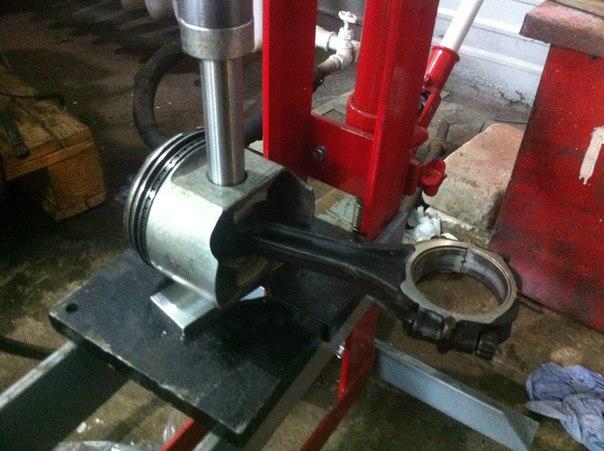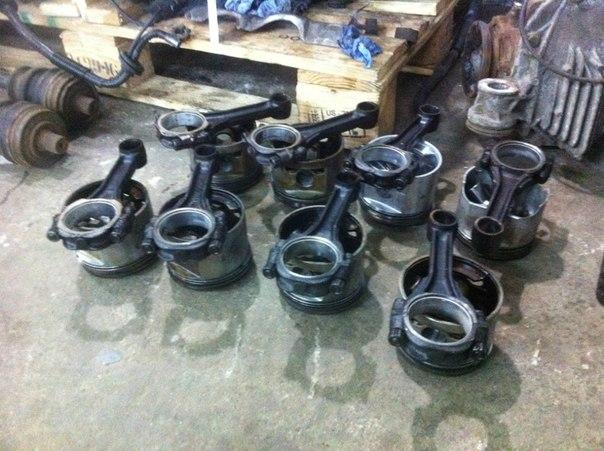 Went like a charm! This thing may also aid during assembly!
____________
Meanwhile, there was a delay with valve guides, so I've tried machining new valve guides from graphite-iron-copper powder composite.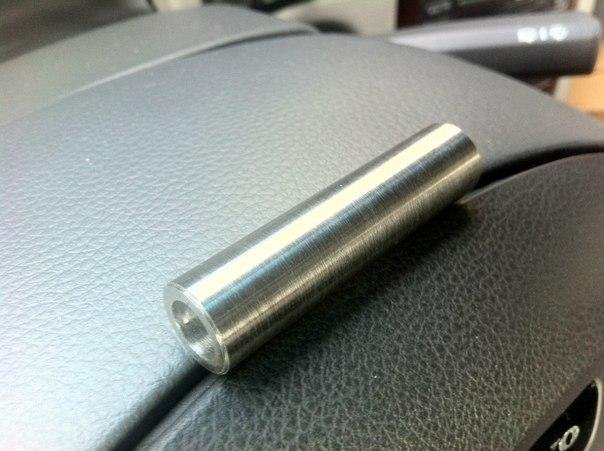 But it was kinda too easy to chip, so I was in doubt that it could hold the pressures (side loads) that you have with short rocker arms. So I got the common cast iron ones.
____________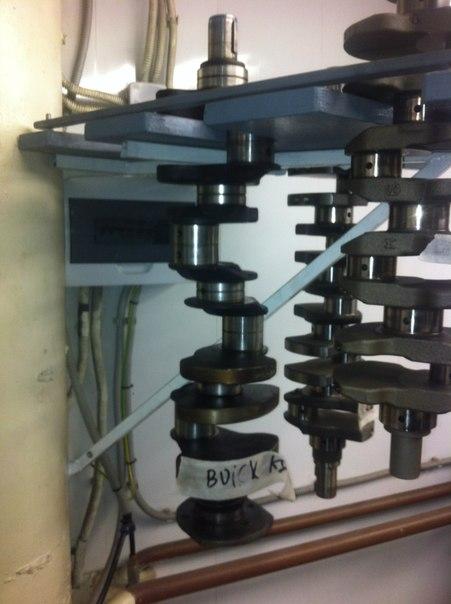 The crank was measured with some good tools. Turned out that it had a spun bearing, but they didn't regrind it, so the new bearings slightly polished the journal. Anyway, it did hold up the punishment pretty good!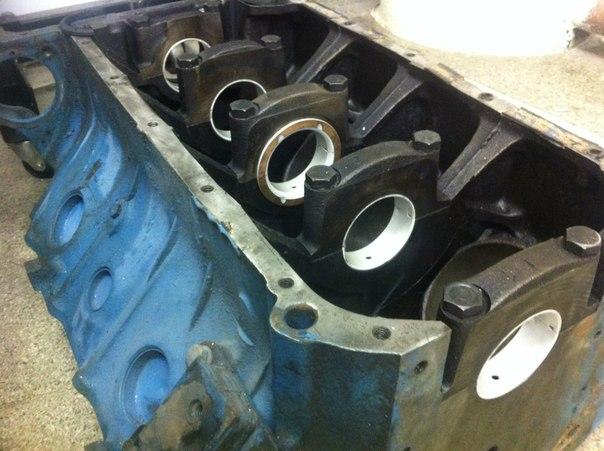 Torqued and measured the mains for proper clearance. It did jump around! So I got journal specific sizes for the crank grinder.
I was trying to get the correct measurement for the rod bearings, but the measurements were very very uncertain from rod to rod, and imperial tool too metric conversions made everything worse. I had those re-measured several times...
Anyway, I decided to mock-up a stock piston and rod back, to see the deck height and piston protrusion, before getting the block decked. (sorry for quality)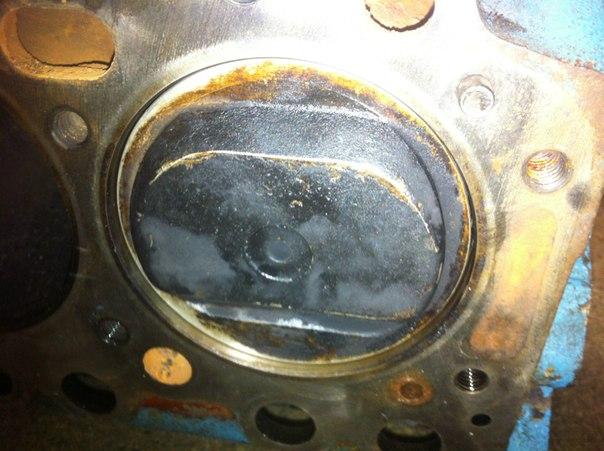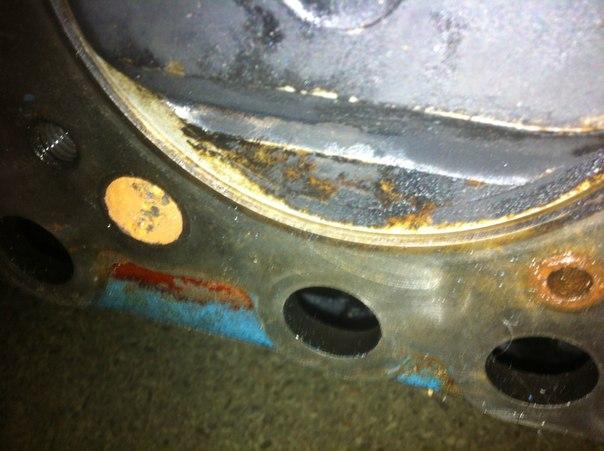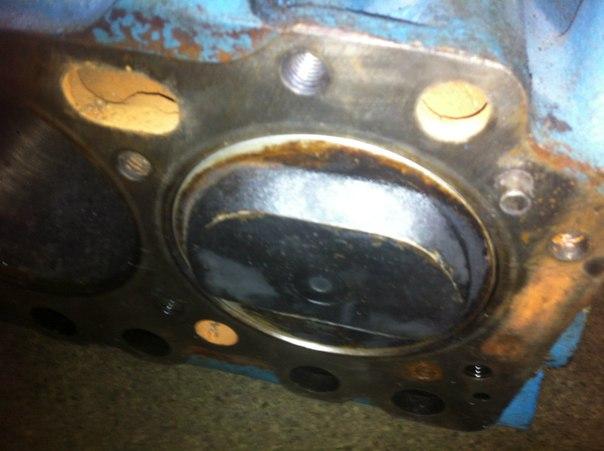 It was waaay down lower the deck. That's probably where the compression ratio gets lost.
The piston top were down the deck for 1.5 mm on one side and 1.2 mm for the other. I measured the piston top height for the stock piston that I used (measured inner dia of the piston pin and length from inner pin point to the top) and compared that with new pistons - new pistons were going to be 0.2 mm lower.
So I got it decked for radical 1.5 mm, which did cost me a lot! But since I have the adjustable pushrods and a clear understanding of the benefits, I tried to do my best. The tighter we push the flat parts of the piston to the flat parts of the head, the more squish action would be produced. Squish produces mixture swirl, avoids detonation and etc.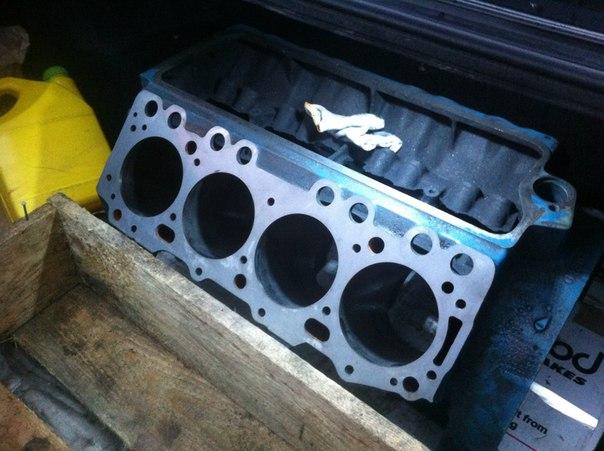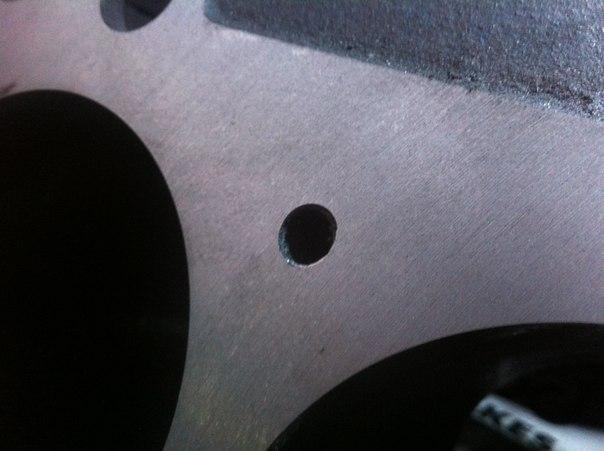 I asked for the finest possible finish. It was done like it should have been done!
But you still need to chamfer the thread edges! I took a 17 mm (that's like 0.67 in) drill bit and spun it backwards - the result was very good.
Meanwhile I got some parts glass beaded and then powdercoated.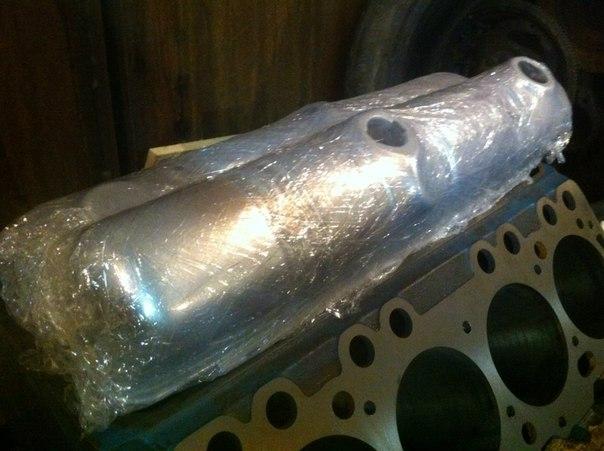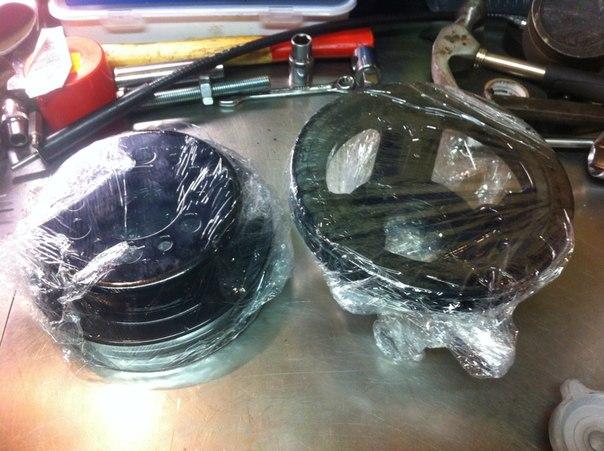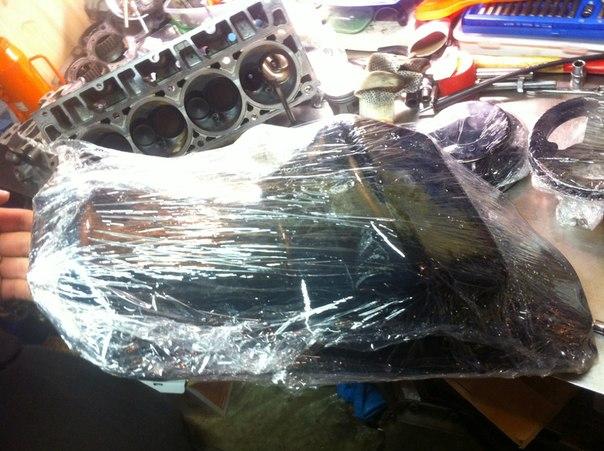 The aluminum timing cover, lifter valley and water pump would be painted later with the engine block.
____________
Back to the rods.
Got them measured few times, but the measurements were still screwed!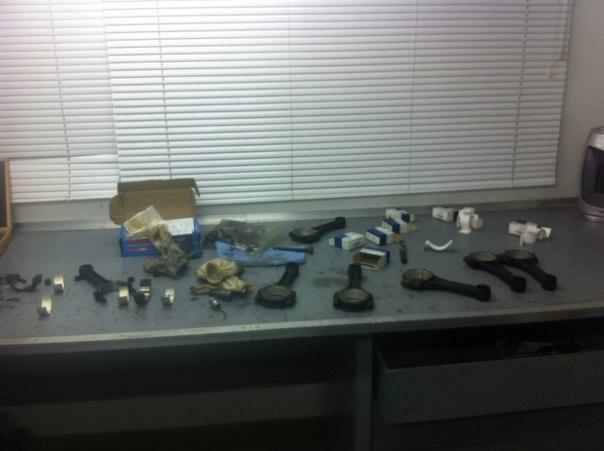 Two rods had major damage.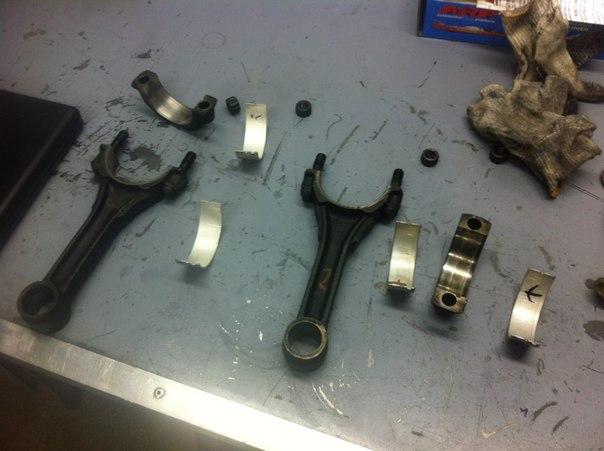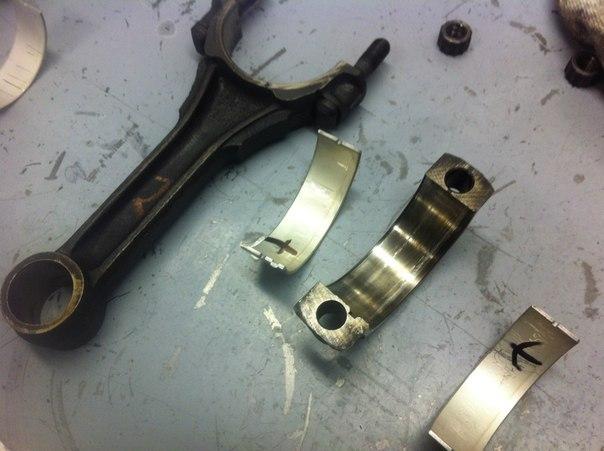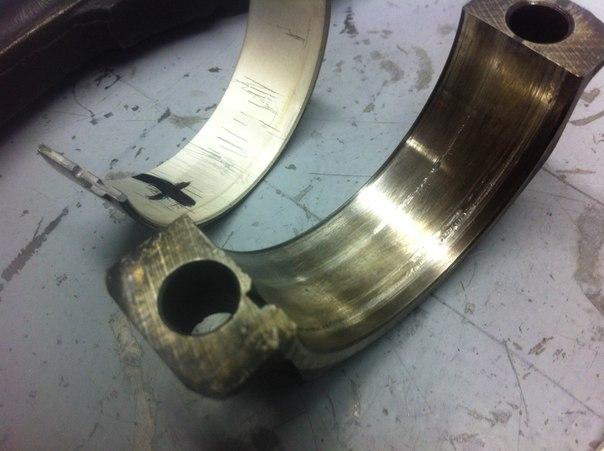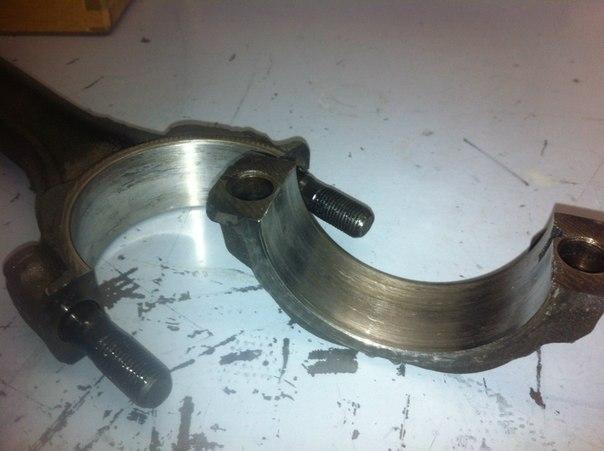 So I can say that Rebuilders Choice bearings are not that bad as I expected. They are coated and look pretty nice, but I bet they are 2-layer ones, so since I aim at higher compression and higher horsepower, I wanted to stay with 3-layer bearings.
What I didn't expect was that Clevite rod bearings might turn out bad. But they did! The final inner was not round! The rods were not 100% ideal, but their out-of-roundness was withing specs. And all Clevite bearings did "shift" toward some expectable 45 degree place on the rod bearing shell. The shift was like 0.0007-0.0009 in on one side (!), which resulted in a diagonal size of 2 x 0.0007-0.0009 in, which is too damn much. Only one set from 8 was totally round.
Finally, I ended up with wrong specs that I gave to my grinder the day before, cause of the conversion to of dial indicator specs to metric system forth and back. So I recalculated everything and got the idea that I wasn't going to have a correct clearance with 1st undersize bearings after regringing.. :P Too bad I bought another 10 Clevite .010 sets the same day. Well, my bad.
Since we had 2 bad rods, I decided to go for reconditioned ones and got few sets of 2nd undersize...
---------- Post added at 06:27 AM ---------- Previous post was at 05:45 AM ----------
Time for the heads and porting tips! (actually, combustion chamber mods for now)
Basically, you start with that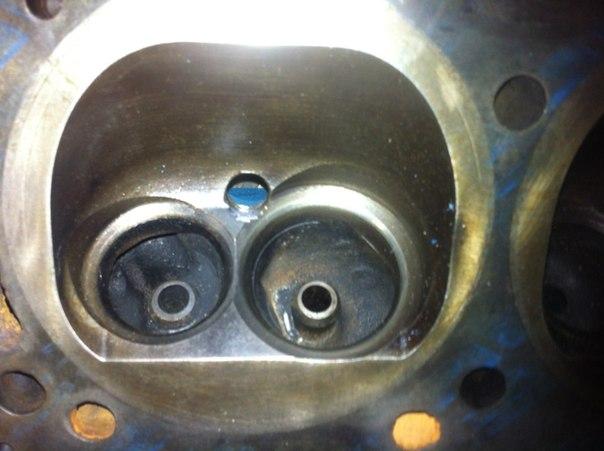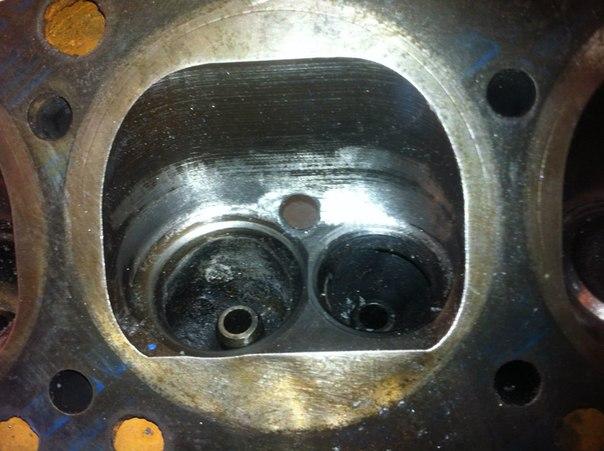 and end up with that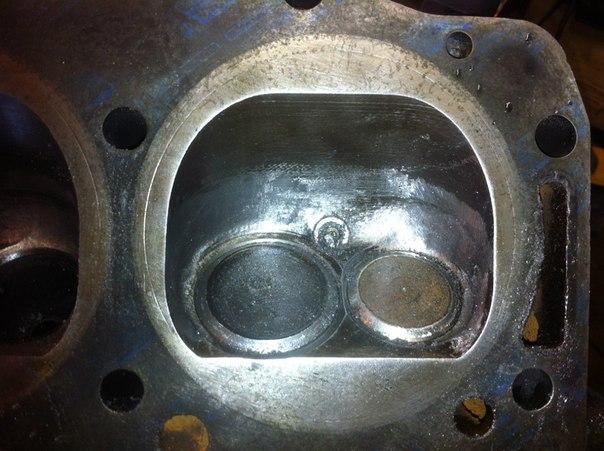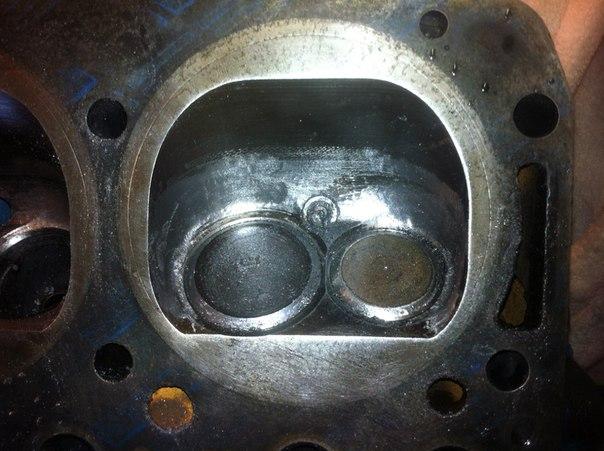 as the first stage of your combustion chamber work - the rough stage with burrs.
Please, check out the video, this should explain more about these cylinder head mods.
(it must be pretty funny when a russian from Russia shots a video on Buick Nailhead V8 porting, eh!)
I'm interested in the feedback, please, comment! (in this thread)
And feel free to share, if you like it.
______
Tuh-duuh!
"Poor man's deck plates"...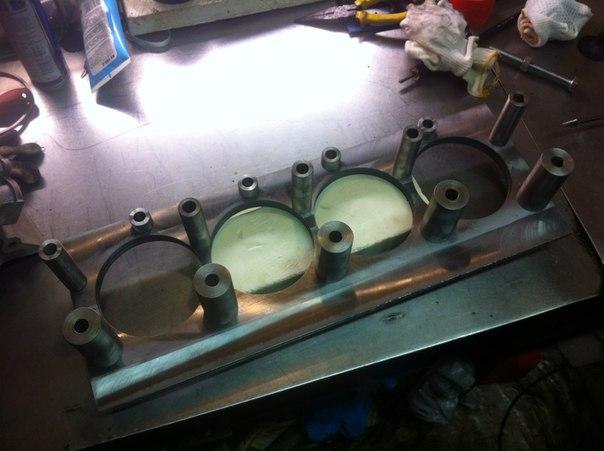 ...didn't turn out as cheap as I expected. All in all about $400 for both sides.
These consist of 2 x 10 mm laser cut steel plates, machined on both sides to gain flatness, and extensioners, specific for each side (in case of height variations after machining the plates flat).
I can share the blueprints, if anyone is interested. The dimensions are metric and are pretty crazy, but all the hardest points were positioned correctly.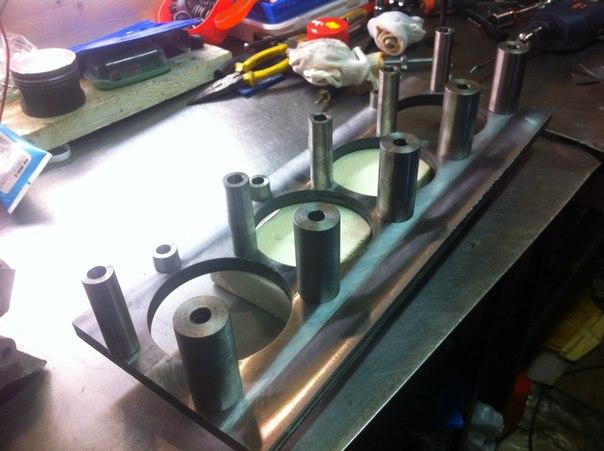 ______
Later I got the block back to my garage and grinded off lots of casting flash, which took a lot of time, I'd say. I wasn't getting too crazy at first, but my idealism took over my mind, so I was grinding a lot more than I needed.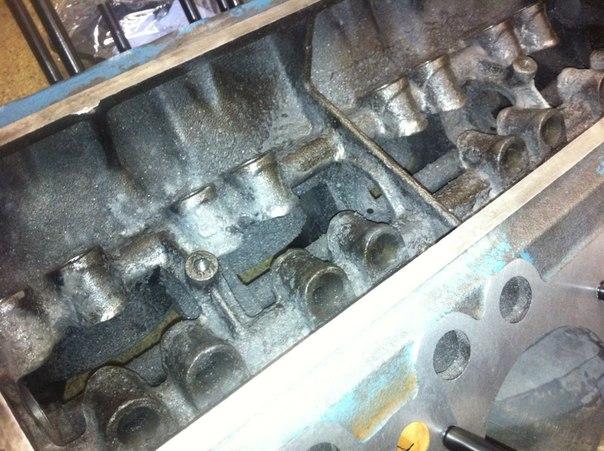 Getting prepared for cylinder boring and honing!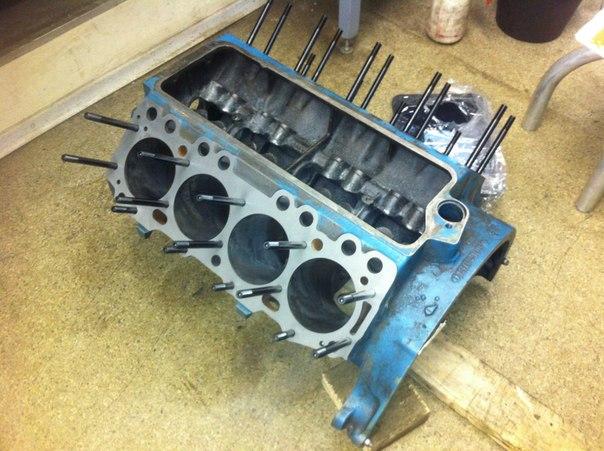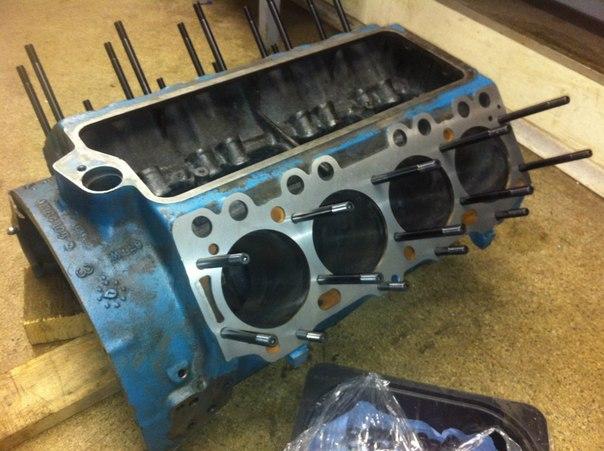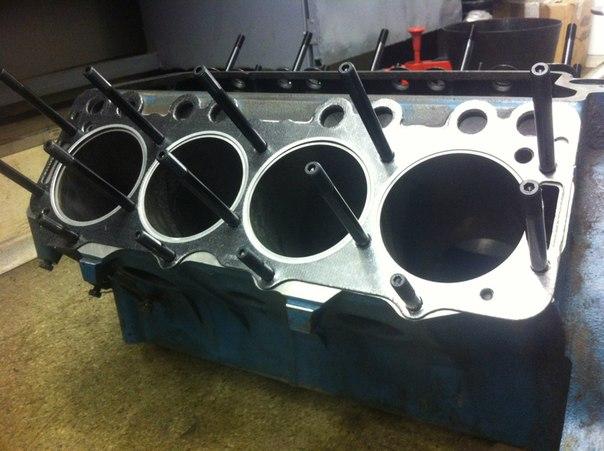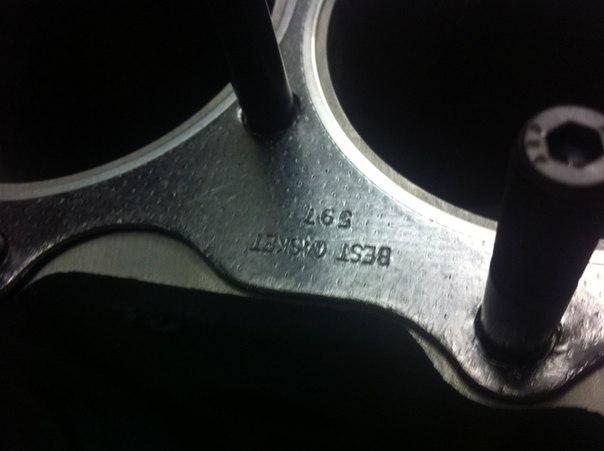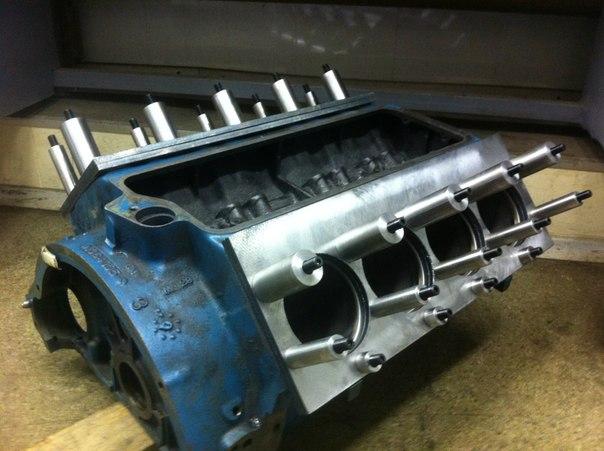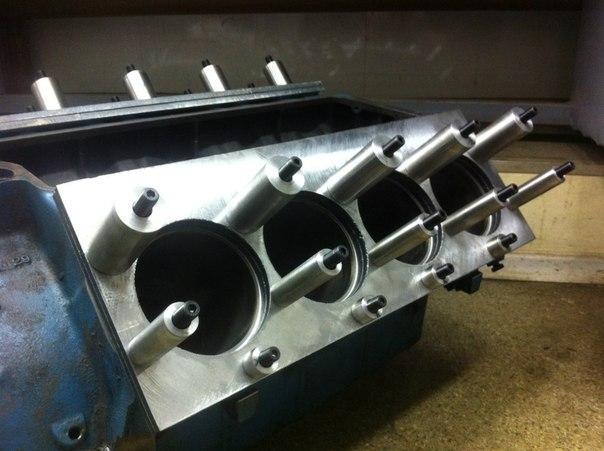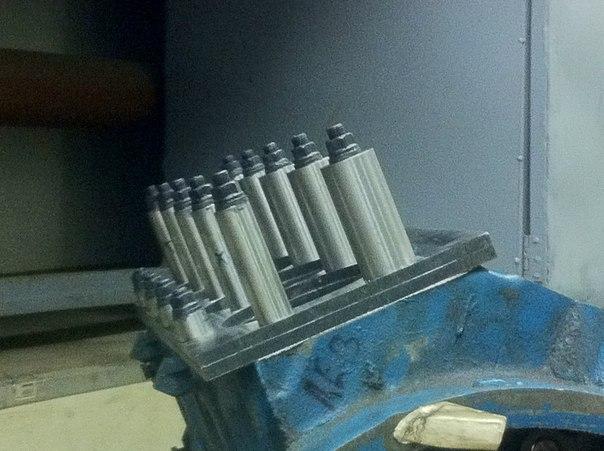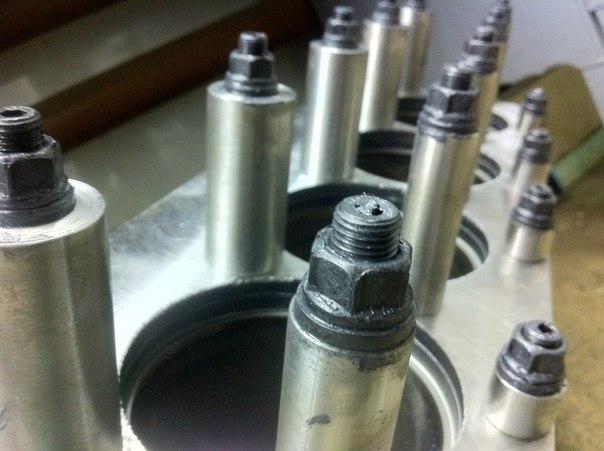 Yes, I used a head gasket under deck plates!
I might write some more about gaskets, but, in short, I don't like Best Gasket, cause it's far from Best. It chips and flakes and I don't think it would seal as great as Victor Reinz one, which I got from Russ, after "checking out the Best Gasket". You should use the same gasket under the deck plates, but in this case, I used Best Gasket, because I wouldn't put it in an engine at any case, imho.
12-1-2013
After some time (pretty long) I got the block from the shop.
It was hot washed and etc. (Damn those tiny corrosion spots due to swell)
No pics, sorry. I'll get some!
(Nothing special in the video, except checking out my casting flash removal.)
Luckily, I got the long waited parts yesterday!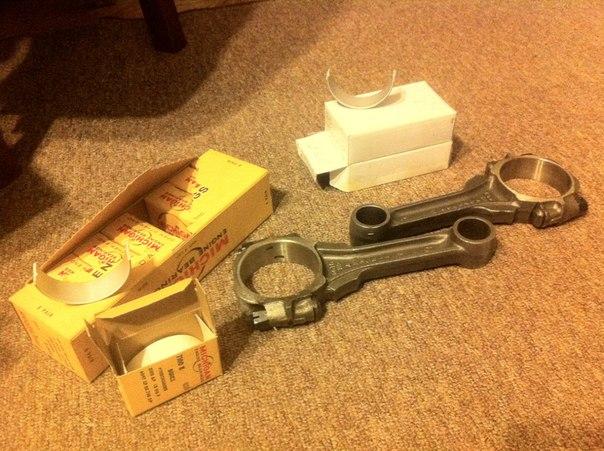 8 pairs of rod bearings (look like Michigan, but slightly different) - sourced with the help of Russ Martin, thanks!
2 x reconditioned connecting rods - they are from different Nailheads, so balance is different, but I hope everything other is okay!
aand finally:
8 pairs of NOS Michigan rod bearings. I don't know the year, but I know that OEM bearings were far superior than any other, due to being Morraine M400, which had strict quality control and thus cost a lot. But they had a short run.
To tell the truth, they all look alike! But I'm willing to stick with NOS ones, because the still look better and measured to be pretty consistent in dimensions.
Now gotta turn the rod journals properly this time, and we're close to the end. Some head work still needs to be done.
Also the intake manifold had received teh Doc's mod, yet haven't got a shot of it. Few things to finish there!
12-13-2013
Thanks guys!
Quite a honour for me, it's good to share some stuff with the community!
Anyway, I'm doing these videos for you! And to test my knowledge, maybe.

The light went down in the garage lot. I've done a quick mock up, it looked pretty clean, until I used some flashlight, lol.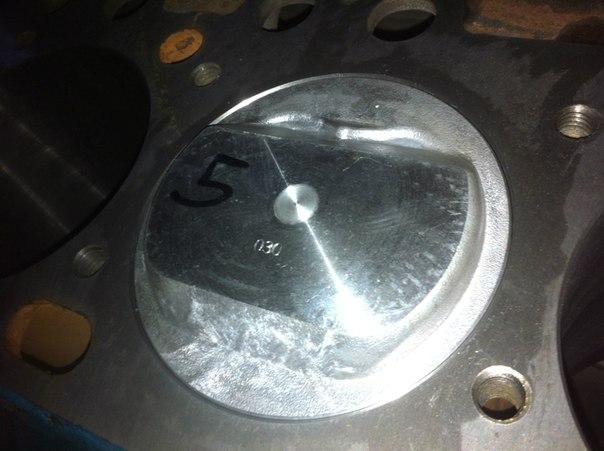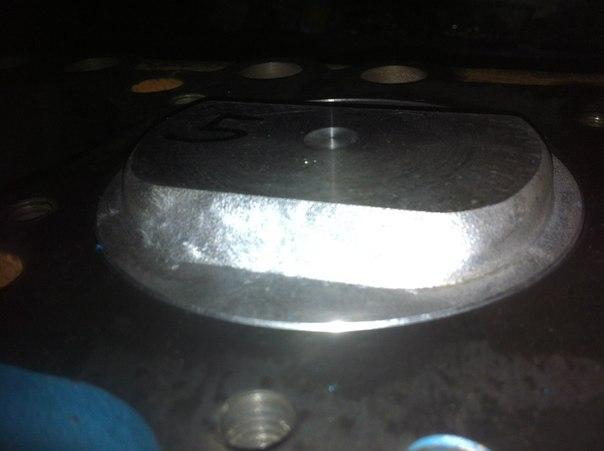 I'm pretty happy with the results, the piston still sunks in the bore a little, maybe 0.3 mm. But it's waaay much better as if I wouldn't have decked the block that much (1.5 mm off each side). We don't have Nailheads here and the whole project is pretty much expensive, so it was pretty risky. (...we have a proverb "The one, who doesn't risk, doesn't drink champagne", well, you know! haha... it's similiar to "nothing ventured, nothing gained")
Took the valve guides, made some blueprints and brought them for additional maching.
They're gonna be ready soon!
It's been a while again since the light went up.
I made a prototype exhaust port and I like it really really much.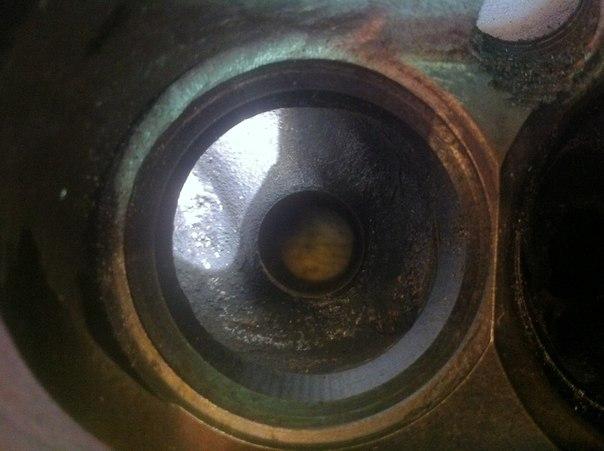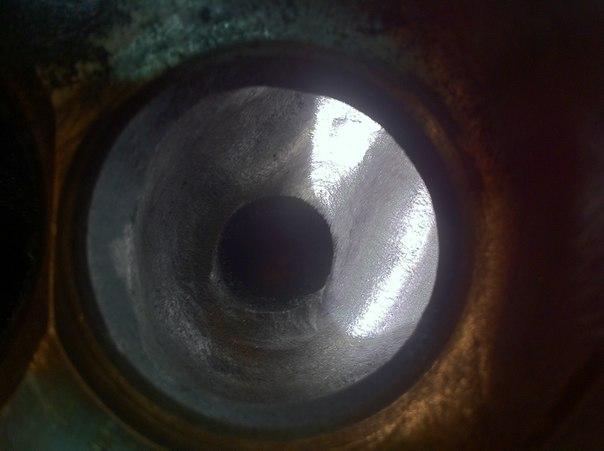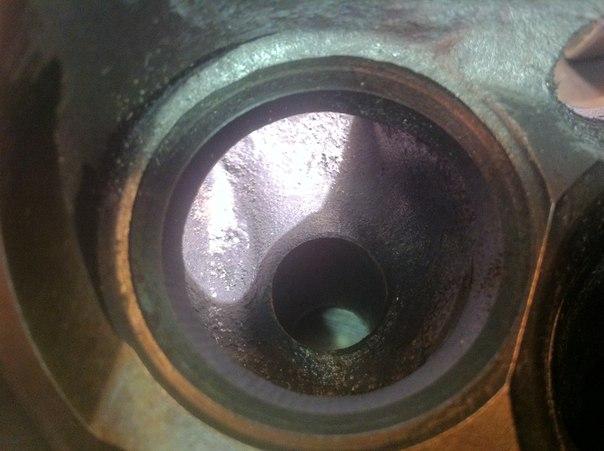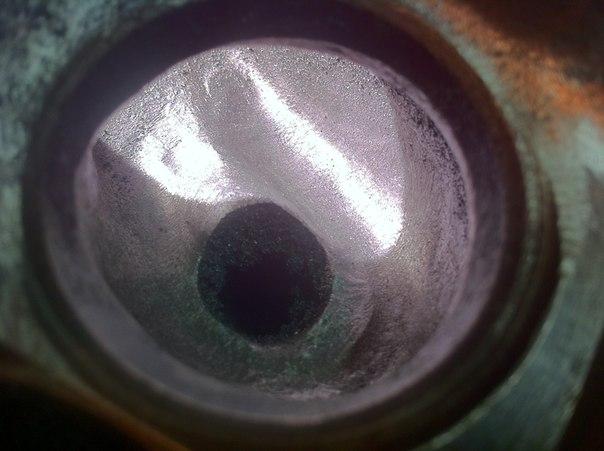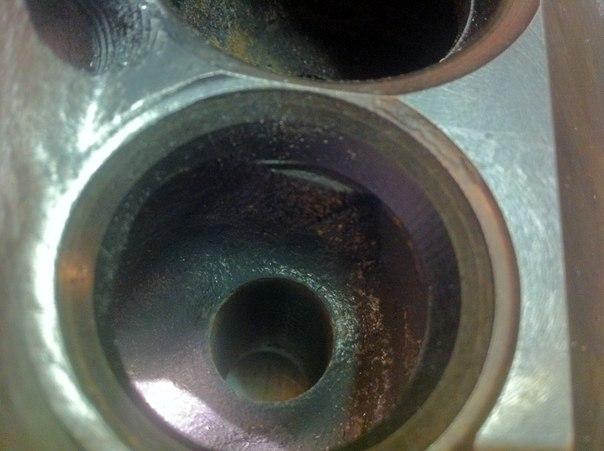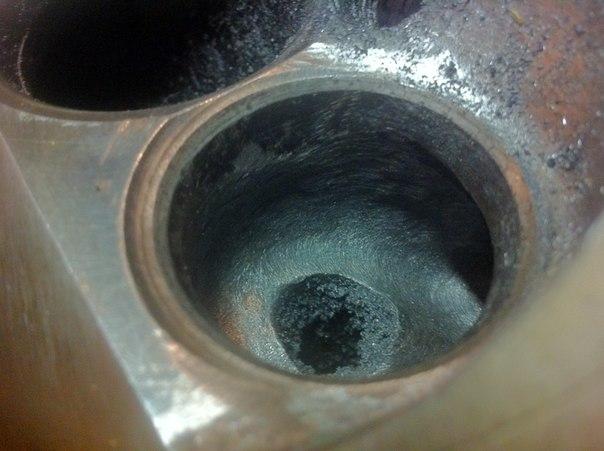 As patents say "those skilled in the art will see" that there are some significant changes.
Basically, I assumed that a tear drop shape is better for aerodynamics and tried to mimic it. The valve guides will be tapered as well.
Too bad the cutter had once fallen in the guide bore, don't get too close to the bore. :P
I'll do a video as soon as I get it straight.
12-27-2013
Thanks! I find that funny aswell.

Actually, it's an honour for me to get it done. Can't wait to see it in action, but some details still need my attention before I assemble.
Well, I've got some more progress, on the way for the heads.
Combustion chamber design was advanced once again. More on the exhaust side.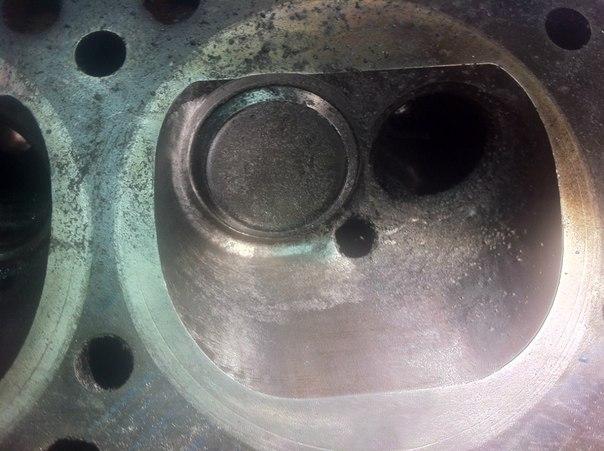 from that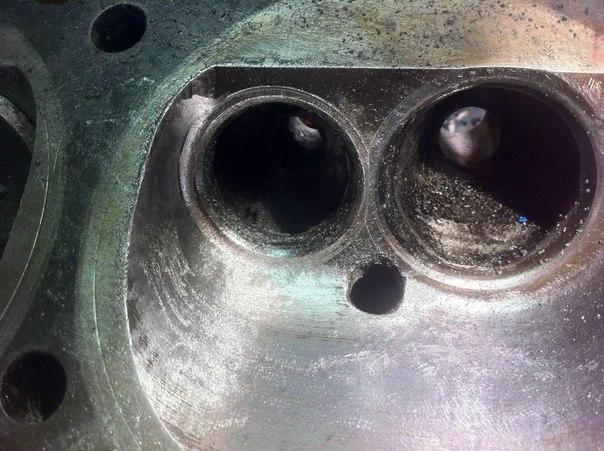 to that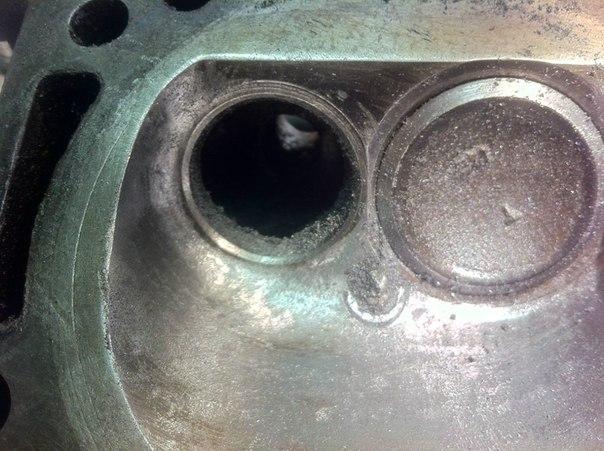 It wasn't enough for the TA Perf "slightly oversize" exhaust valve.
Some discussions here
By the way, that's my first iron head to work on and I like it pretty much. It's very forgiveable, the walls would only move if you push on them, but when you go deeper some strange stuff may happen: it seems like the hardness is different in different parts of combustion chamber, so if you use a small burr it may dig in some places and leave high spots in other -the result would look kinda awful. So be careful once you dig into deeper (lower) layers of the iron.
Timing cover had undergone few repairs.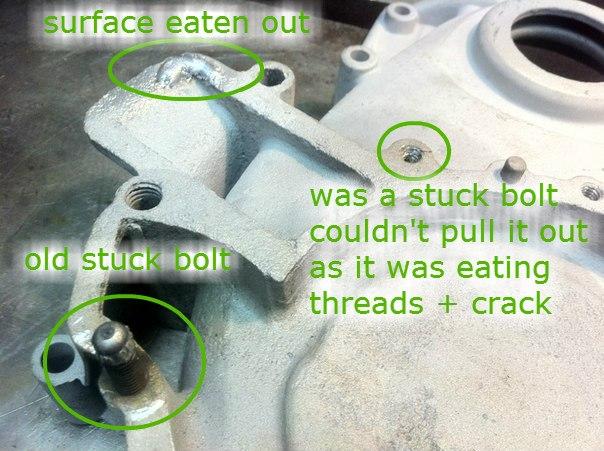 The cracked bolt portion was cut out and rewelded completely. Soon to shape it and glass bead again.
I wasn't really happy with the "billetness" of TA Perf valve locks.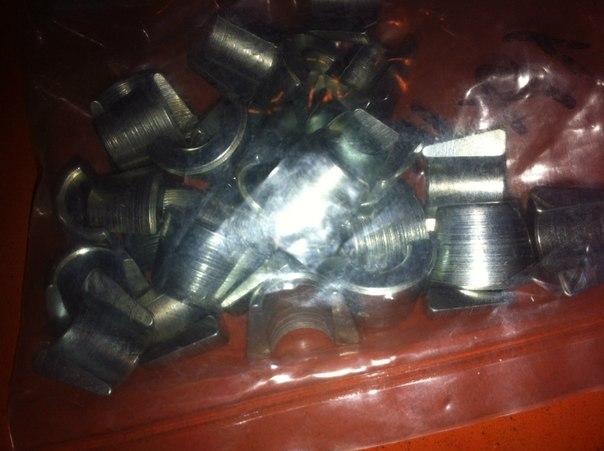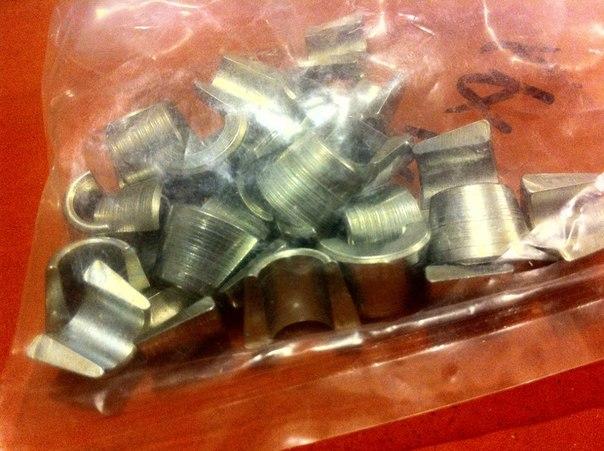 The surface is very rough. The stock stamped ones have some dents too. Can't decide which ones to put.
finally, got a chamber volume checker laser cut from 10 mm plexiglass, still need a burette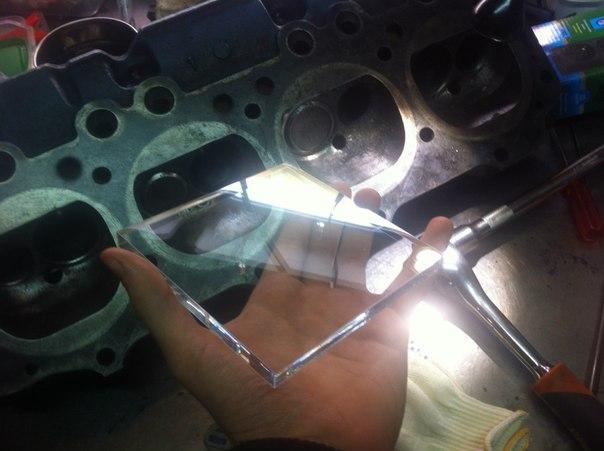 Oh, I forgot about the valve guides!
Here they are. (They are discussed in the video a little)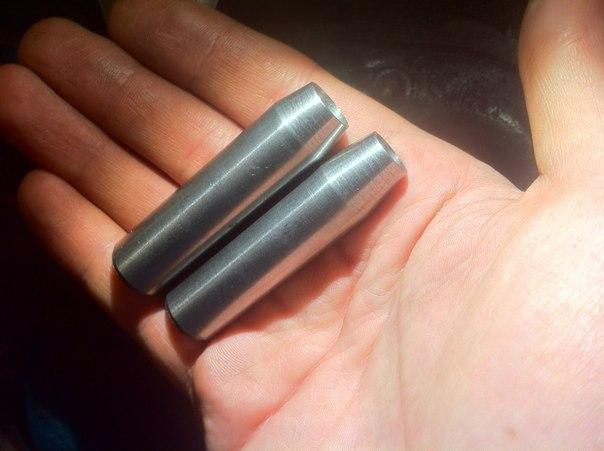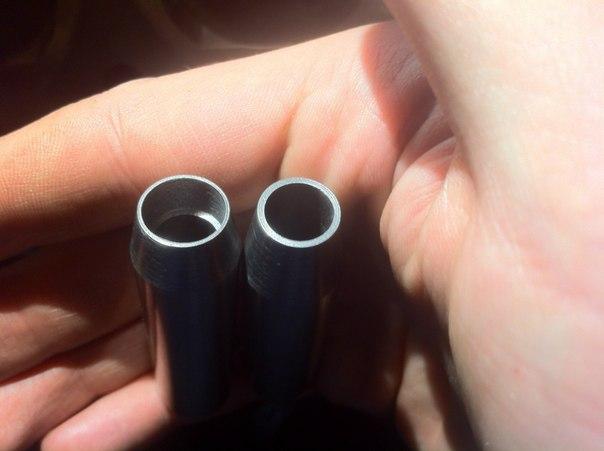 7-30-2014
It's been some time!
Well, the engine owner was kinda low on money, so I was forced to finish the project on my own.
I could just drop it, but I still wanted to finish it, because it did cost me a lot of time, effort and some sacrifices. And the whole engine is kinda tricky in details, if done right it can have a lot of power and if done badly, it can die pretty quickly. And if I do something I want to learn and take as much experience as I can.
The head work took a looot of time! Cast iron heads were really killing me.
So in April it was like that.
Head #1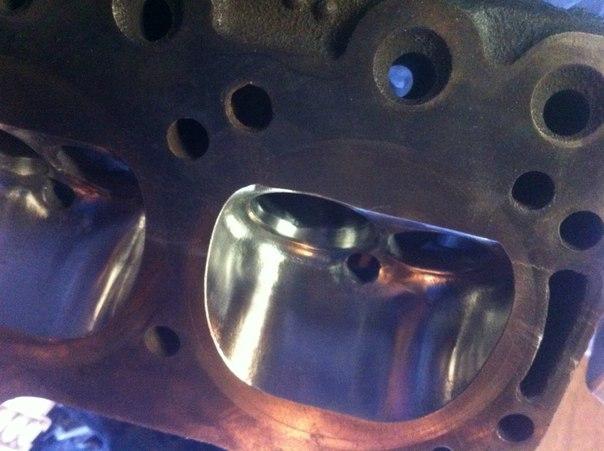 Head #2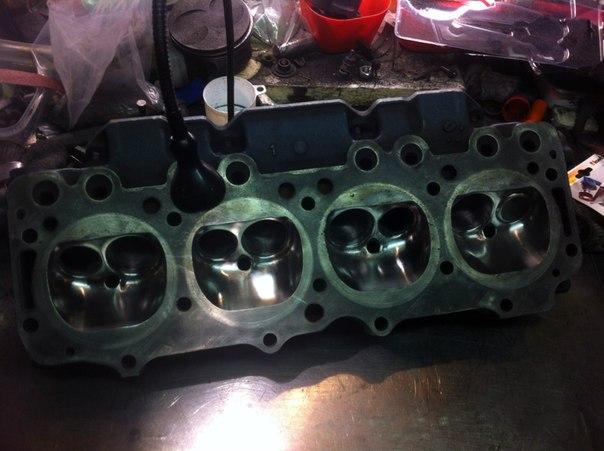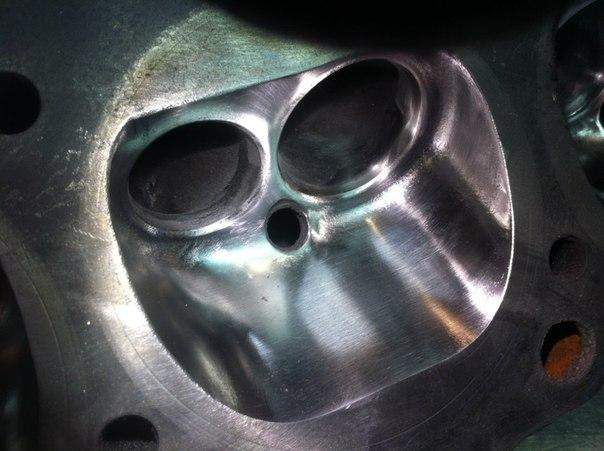 It wasn't ideal, the seat-to-wall radius was still quiet rough, but it looked good.
Suddenly, while doing the intake bowls I got into some real problems.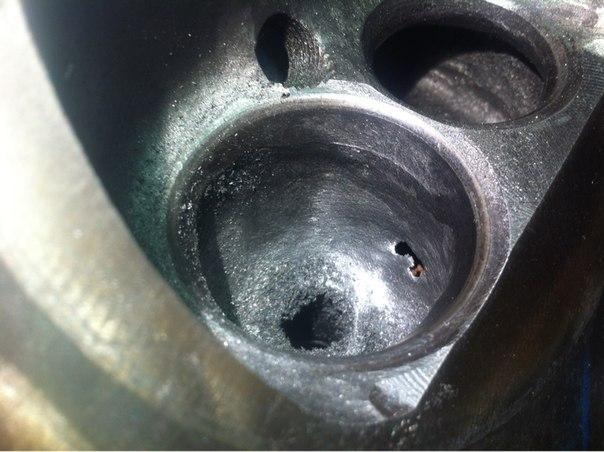 Yeah! It's a hole! Guess, the casting was way too thin that in the other 7 intake ports, or might have been rusted from the inside. So I was in deep sh-t.
I've found a local guy and asked him to weld it.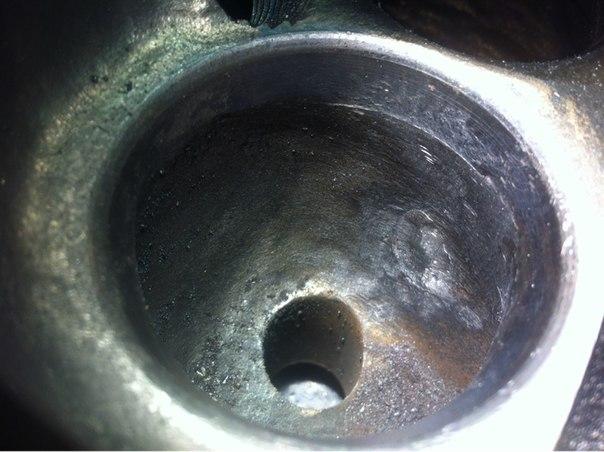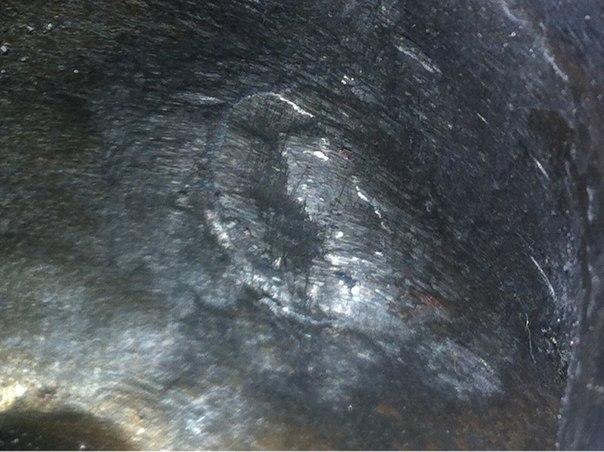 Looked good, but didn't work. I took the cylinder head to pressure check the water passages at an engine shop and it was spilling water all around.
Tried brazing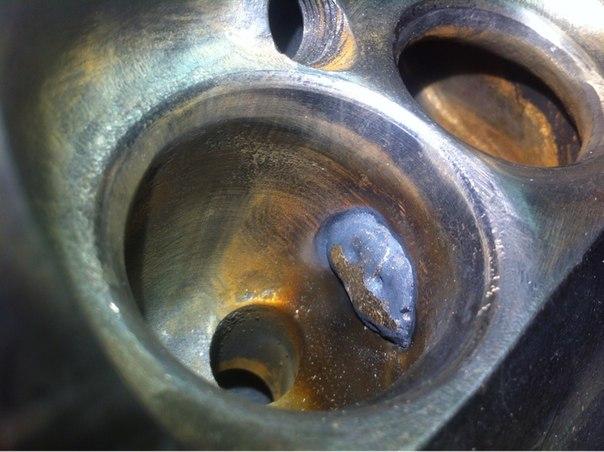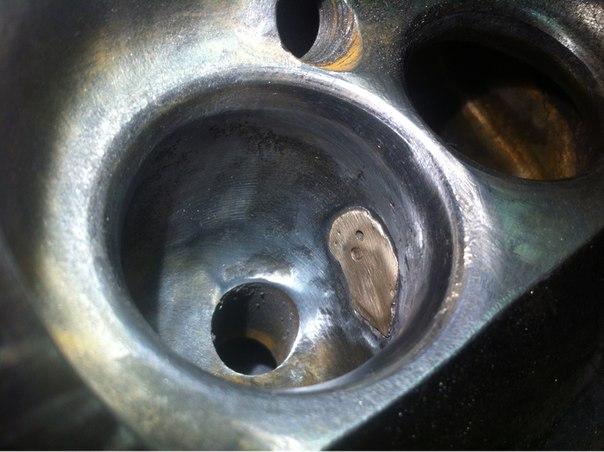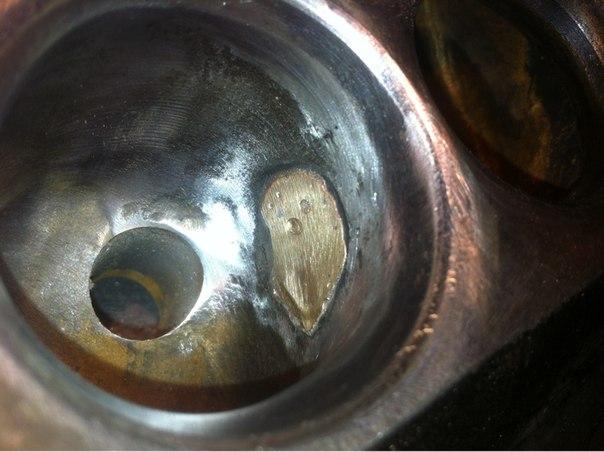 Didn't work again. Tried brazing more - the water was going under the brazing and spilling again.
And so I got mad a little bit, ground all the stuff we brazed and drove some 1000 miles for spraying nickel. That's some interesting tech - air/metal powder mixture is pressurized and heated which results in a supersonic metal "adding".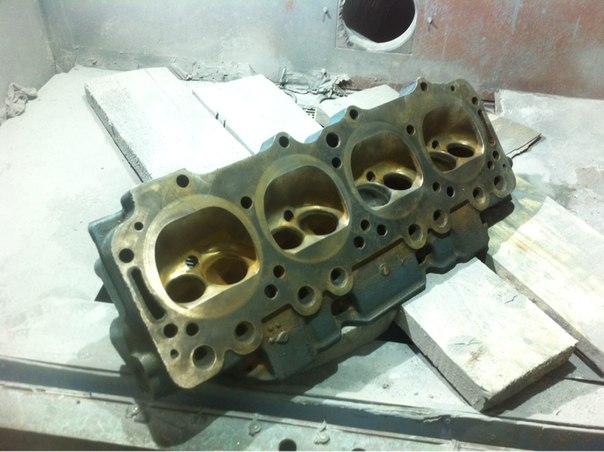 Too bad for #2 head, it was all yellow-goldish due to constant hot water pressurized checks.
Well, the "powder metal man" had blown some 5.5 bars (80 psi) of supersonic air and we got some holes.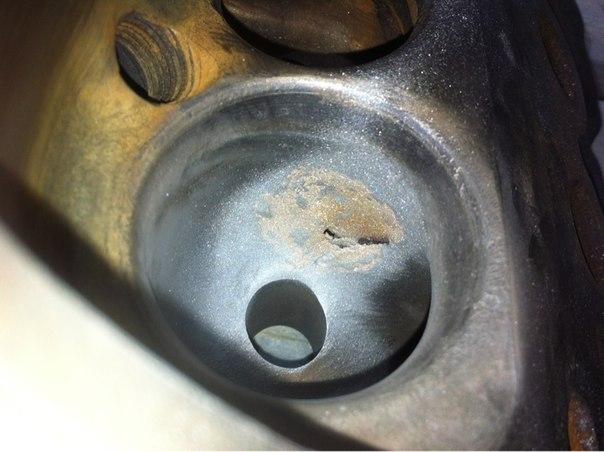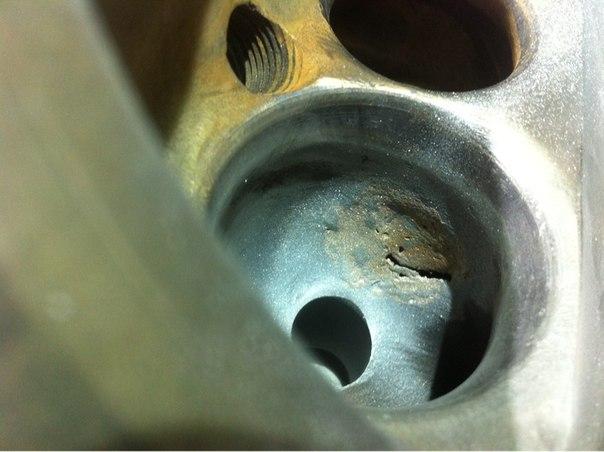 And it was covered with several layers of powder nickel.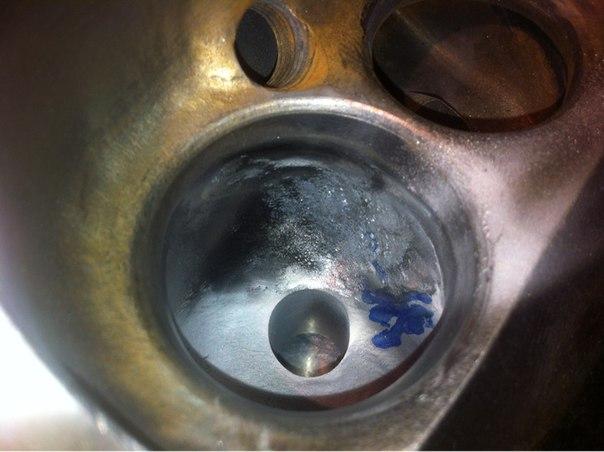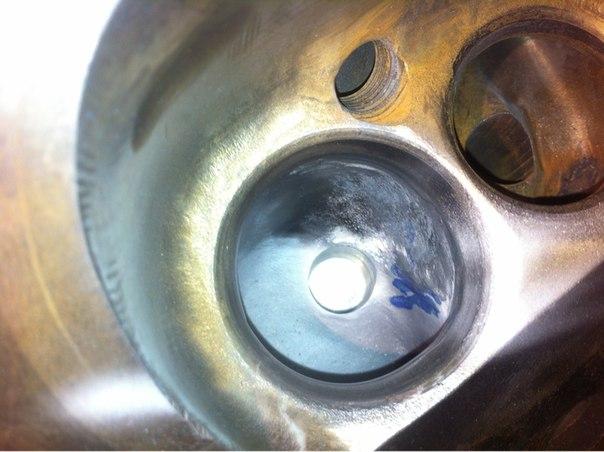 The blue marker shows the edge which I shouldn't ever touch and it was the place which actually didn't hold pressure in the next pressurized water check...
It was so sad for me, so I came in to film it.
7-30-2014
The nickel literally opened up for the water flow and closed when the water pressure was not applied.
I thought that we should do a trick which might had worked if done right.
I decided to thoroughly heat the sprayed nickel so it'd bind all together.
I tried to find some cast iron welder/brazer who could help me out, and luckily I've found one.
The trick almost worked, the head did hold some pressure, while still leaking - now under the nickel. So it was again adhesion problem.

So I asked him to fix the head, he took some time and got to try.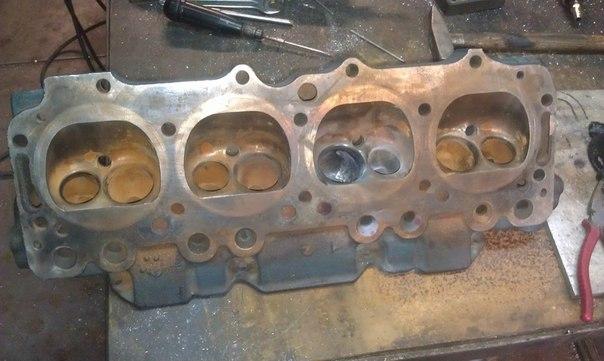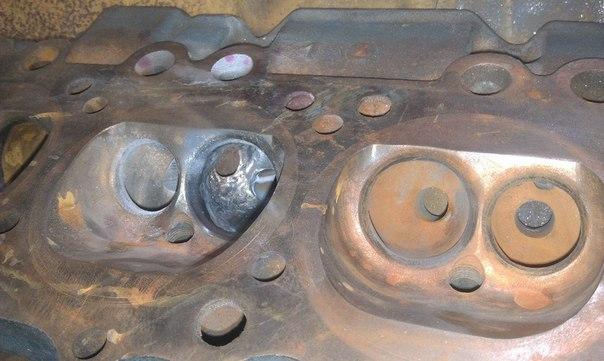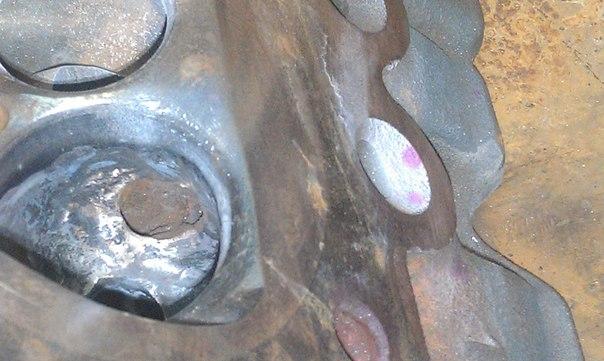 That hole looked scary as hell!!! He said it was all rusty so it couldn't have been fixed.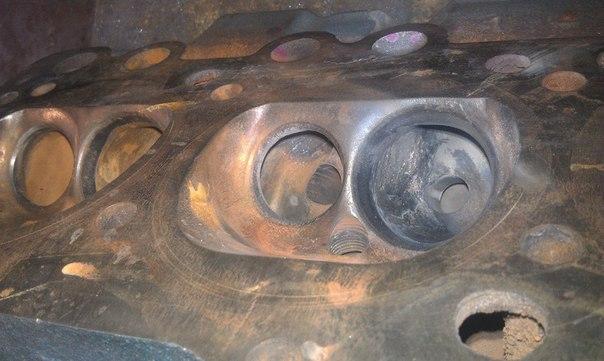 Later the cast iron was up to show its character. This is a powder method to check for small cracks. The purple are the cracks.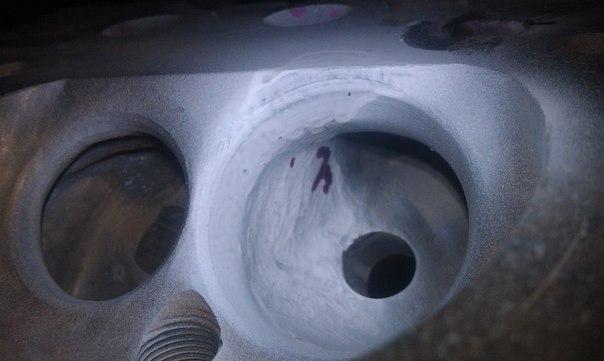 The cracks only appeared on 2nd-3rd day AFTER welding! The next pics were not done at the same time! Each pic was done after the port was cleaned, welded and checked after 2-3 days.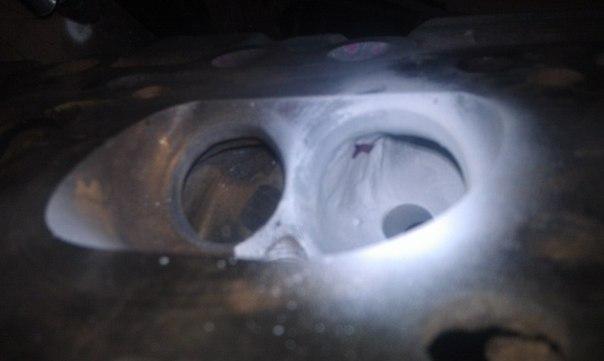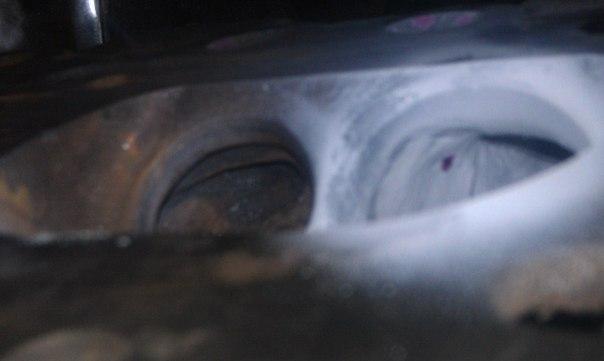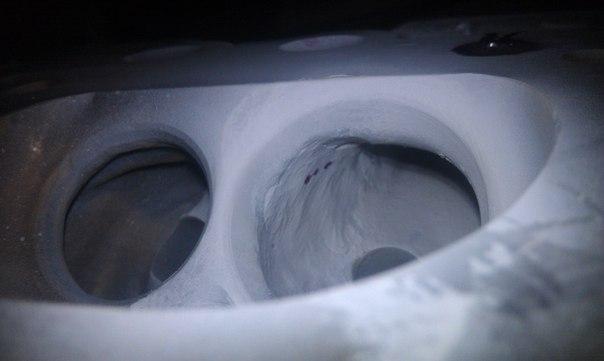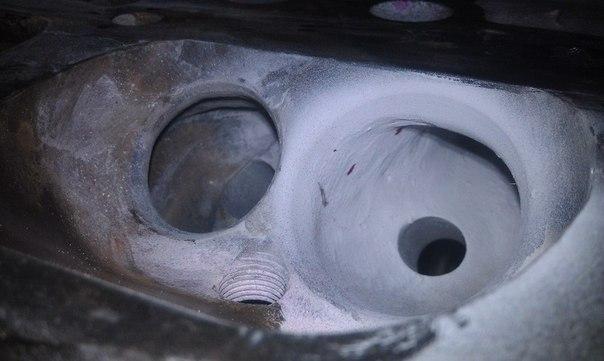 Oh, man, he was up to give up! Seriously!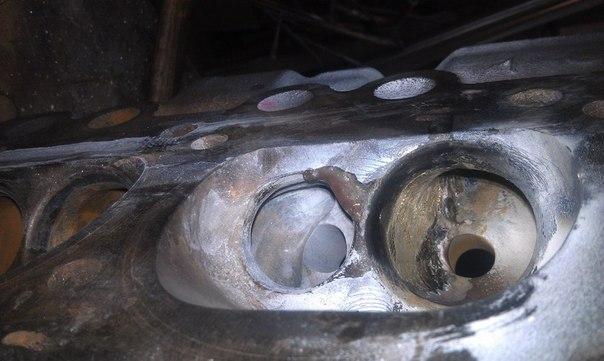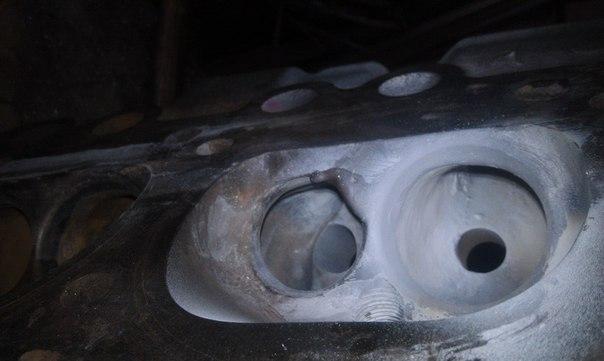 That's some flux (fusion agent), don't worry.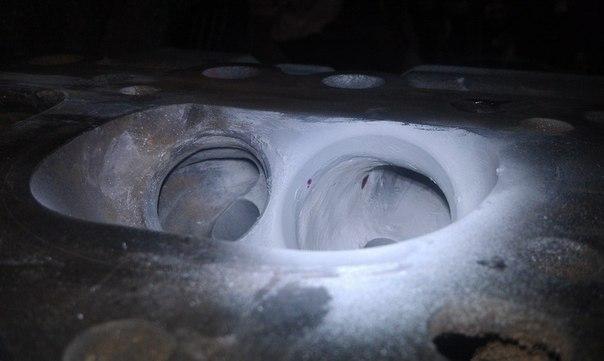 And so my friend from Australia told me that we should heat the head to glowing red and weld/braze it, so no cracks would appear.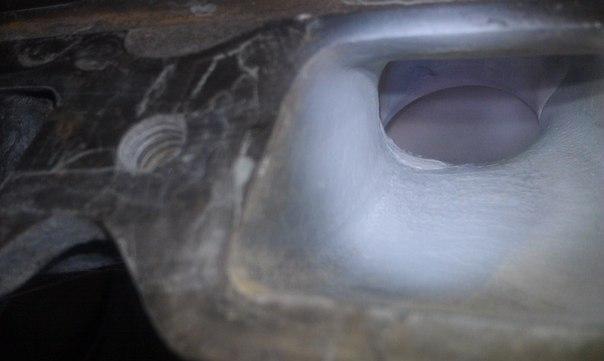 And it worked! The final coat was done with hot silver-copper brazing.
The head passed the pressure test!

____________________
Meanwhile I've done the exhaust manifolds.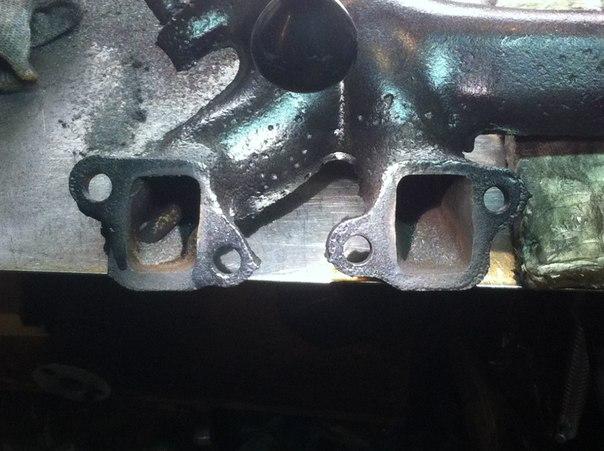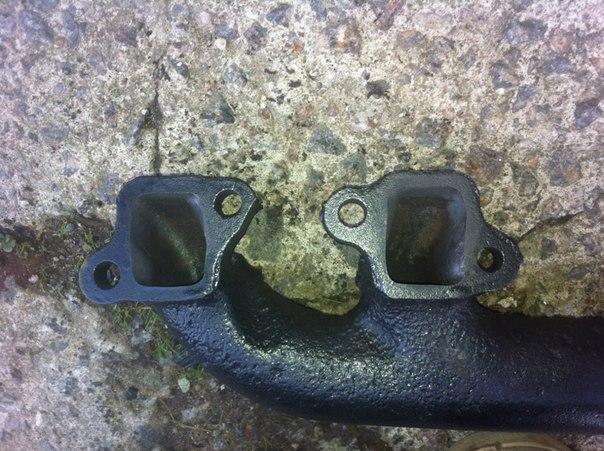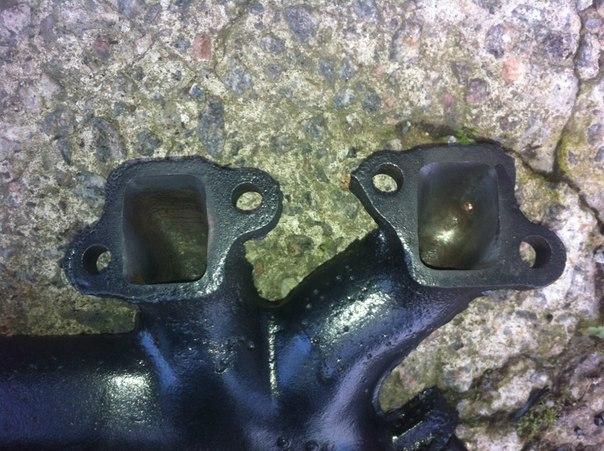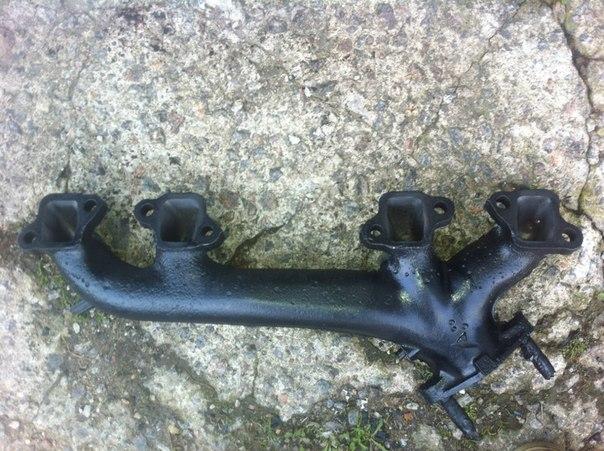 The point was to increase cross-section to slightly bigger than exhaust port, yet provid smooth turns and remove the choke heater from the right manifold, which restricts flow.
_______________________
After the head got back to me I took some time to ressurect it from the dead (teh rusty-dusty hands of cast iron death) and we got onto our final straight.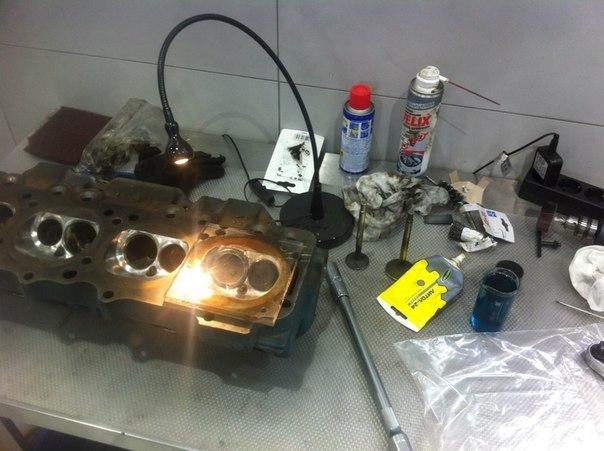 I took a burette to check the combustion chamber volume.
I've got a range of 132 ccs +/- 1 cc. Which is somewhat less than 1% difference!
I'm an idealist myself, but keeping in mind its huge volume and 0.76% is okay for a street driven nailhead. Due to dual plane manifold you need a very big luck to fill all cylinder at 100% -the case when this difference will begin to matter... So I went on for the seats!
Actually, it was again difficult to get the Nailhead done, because only one company in St.Petersburg had a valve machine other than Serdi. Serdi is a well known and respected valve seat cutter machine, but its cutting tooth chuck is waaay too big to fit in the Nailhead combustion chamber, so they can't reach the seats.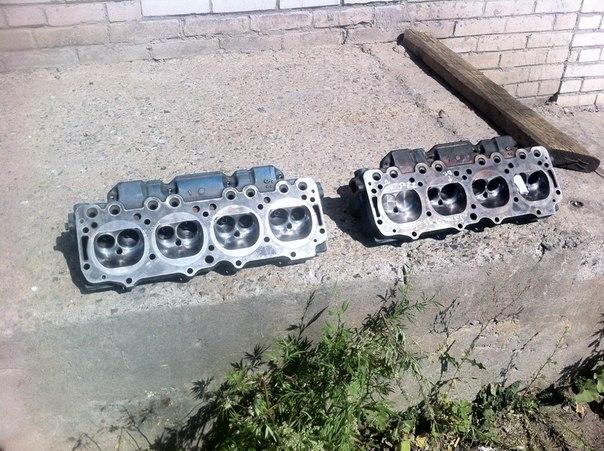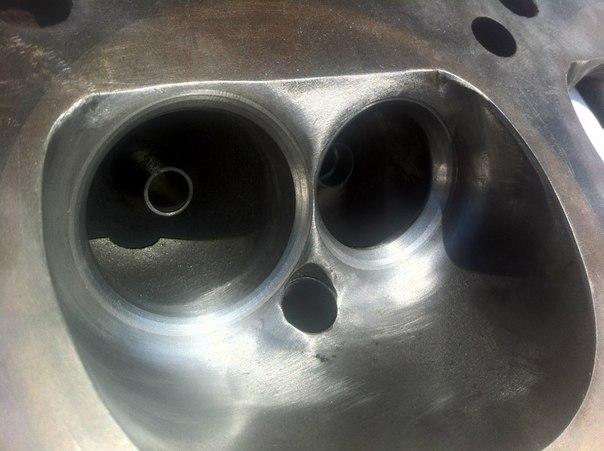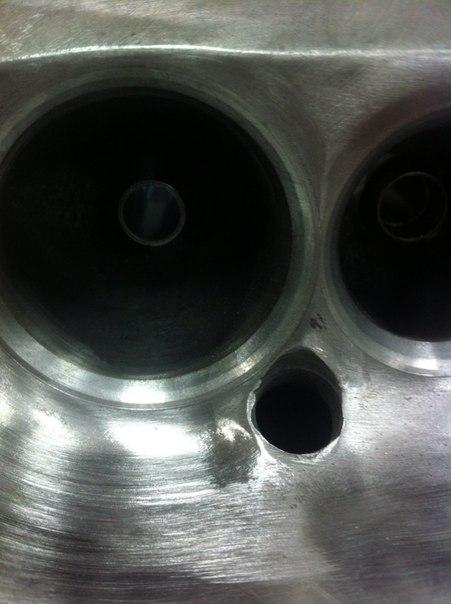 (The combustion chamber was left rough while cutting seats, I wanted to get the final polishing done afterwards)
As for the seats, I went on like that:
I've read what my performance bible said - The Chevrolet Racing Engine by Bill Jenkins - I have a kind of an ultimate respect for that book as it's amazingly deep and detailed, so detailed that you can't get it right from the first time! hehe!
He used 30-45-60-90 degree cut on the intake, each angle except 30 and 45 was at least 0.100 in wide in order to aid the air to turn. The width of 45 degree cut was recommended at 0.085-0.090 in (about 2.2 mm) for the intake, and the exhaust 45 was about 0.065-0.070 in (about 1.7 mm). At first, I was to follow his advice, especially in valve seat width of the intake, but the factory Buick Repair Manual said that 0.075 in is not a desirable width for intake seats. Okay, so I got 0.065-0.070 in (1.7 mm) width on both int and exh 45 degree cuts.
Regarding the top angle, I decided to use 37.5 top cut, because 30 angle could leave a much deep protrusion in the chamber, which I absolutely hate. I wasn't over satisfied with the 37.5 degree cut and I think a 40 degree cut could benefit a little more. It could eliminate the top cut step on the valve seat, so the air would gradually turn inside the combustion chamber. But maybe next time!

____________________
Finishing the intake plenum modifications.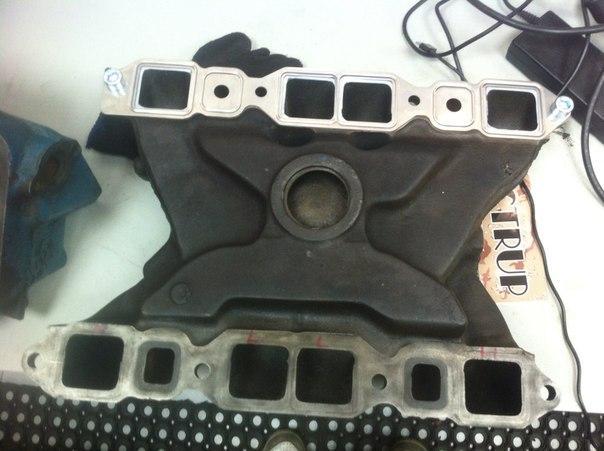 It has quiet a big mismatch on the ports and it's very very important to get it ported. I'll do a video once it's done (very soon!).
7-30-2014
Now here's the most important thing for me (and hopefully for you!) in this thread.
I've tried to combine some of my knowledge and explain you how to port and increase horsepower of a Nailhead engine, but the basic principles can be applied to any other engine (a 455 maybe, hehe!).
The basics and intake ports:
I'm sorry that I've lost some words during my explanation, it was a little difficult since I haven't recorded English-speaking videos for a while.
After you talk for more than 5 mins during recording everything becomes a little messed up, especially when it's done at night, lol.
Here's the 2nd part about the exhaust ports...
...right after which my camera ran out of juice. So the ending is a little strange.

Exhaust port related video.
This video shows the original port exit angle and a flat step which occurs when you try to line it up to the gasket.
This exhaust port curve was discussed in the previous - exhaust guide - video.
Combustion chamber video.
This is an old video, when all 8 combustion chambers were pretty close to equal, while still being very rough.
But you can see the way it's done as the shape can be seen better.
Warning: again my background soundtrack is somewhat crazy, this time it's a sort of norwegian black metal, which is good for porting cast iron heads in cold winters. You obviously need some hate to get a cast iron head done, haha.
So please, be ready to adjust the volume. No explanations given there.
The idea is to gradually unshroud both of the valves - move the walls a little further apart from the seats and remove sharp edges. The result is a little bigger combustion chamber on the intake side, than on the exhaust - because the intake valve is bigger and you shouldn't increase the chamber more than necessary. Same in a word of head porting science is that you don't need more than 6.5 mm (0.255 in) valve-to-wall clearance as it would have no reaction on performance.
p.s. Sorry for creating a bunch of messages, but I can't get more than 1 video per message.
7-30-2014
Thanks man!
Actually, some '65 Wildcat lowrider. The engine was almost dead, and so the owner wanted to get as much power as possible while rebuilding it. He said, it was going to be his long term ride, but later it turned out that he wanted to just fix the car and sell it better with a performance engine. So, you know, when one's doing for himself and when one's doing that for re-selling - that's not the same attention from the owner. However, I just couldn't make myself do it badly, but quick.
So it's like we take the best of both worlds - the engine is gonna run fine on the street, yet have quite big power. I hope about 350-360 net hp on the flywheel.
P.S. But I actually do create some parts for Volgas, they have their own V8, which is pretty cool - full aluminum die-cast everything since 50s, big block chevy bore spacing, wet liners, 10 degree wedge heads and common as dirt. It's very underestimated, and I think it can be pretty badass, if done properly.
8-2-2014
A non-welded head could be a better choice, but I'm in Russia, and I didn't have much to choose from nor I really wanted to get a new head ported again like this one. And again at my own costs. :P
It was a hard deal saving it! Hope it'd live long enough to enjoy it through out!
There's a little problem with glowing red cast iron. My welder was very very afraid of the white iron - a very hard and brittle condition of iron, and when it's whitened, you can't save this piece or modify - only cut or scrap it. Cast iron welding is not a very common thing here, but it's mostly done on truck gearboxes and other stuff which doesn't a pressure on one side and vacuum on the other side - like in the water passages and the intake port here.
The reason is probably because most of the soviet made car/truck engines never had a cast iron head. It was a pre-WWII thing here, later all engines had aluminum head - no matter if it was flathead-6, V8 or straight-4. The flathead-6, btw, was a metric version of officially licensed Dodge D5 of 1910s, originally with splash lubrication. It was modified quite a lot here, the last version was probably GAZ-52. I still wonder if a Dodge D5 cam would fit, haha. Me and my friends want to try a hot rod with that engine. We also had the licensed 4-71s and 6-71s in 1950s! These were YaAZ-204 and -206 respectfully. It's still the main source for the blowers.
The intake ports on the Nailhead are pretty amazing, however, the intake itself does limit quite a lot due to core shifts! Huge mismatches and lots of smaller than desirable areas.
Btw, found something crazy from the 60s hot rodding.
http://candyshotrodsupply.blogspot.r...ket-heads.html
Still, I hardly believe it had better intake ports than the original design.
My customer's dedication is the something that made me sad while doing this engine. It's a friend of my best friend, so I thought it was all okay, but something went bad... Anyway, since this car is in Russia, where most of the engines are rebuilt with dirt and "one's mother", and my other friend, who had a '66 Riviera, wasn't kind about the Nailhead's performance (said he'd rather have prefered a 455), I thought, all the pefromance stuff was worth to do. Now just need to get my money back.
________________
Oil pump non-driven shaft was about half-of-an-inch out from the body! Some said they may even hit counterwieghts if they get out a lot! This lead to some scratches on the cover plate, but it's mostly okay! The new driven shaft has some little side play (less than the old one), don't know if I should give it a bronze bushing or just leave alone.
I can't figure out what to do with the exhaust manifold sealing surface. Guess, those on the head and on the manifolds need to be ground flat with a grinding disc machine, not just milled. Since milling won't seal it. I can't find where to do this final operation. I can make some gaskets from soft steel or whatever...
8-2-2014
The other day I was watching TV and there was this programme.
http://www.dailymotion.com/video/x1c...red_shortfilms
I started sh-tting bricks at 19 min!
I must have known about that before! I could fix that small hole (when it was small) pretty quick. Actually I thought about screwing a bolt it, but it was odd for me and I thought cast iron welding is easier.

However, this process is completely uncommon here! I even thought maybe I should dealer something here, hehe, though I don't see a great demand right now. The process is called cold metal stitching and you can do pretty much everything. The idea is to increase pressure in this area, so it'd seal - like a valve seat in the head. But metal stitching is not a structural reinforcement, it just creates some stress, so it won't hold a big load and can't be used on mounts or whatever.
8-3-2014
Guess, I'm done with the heads!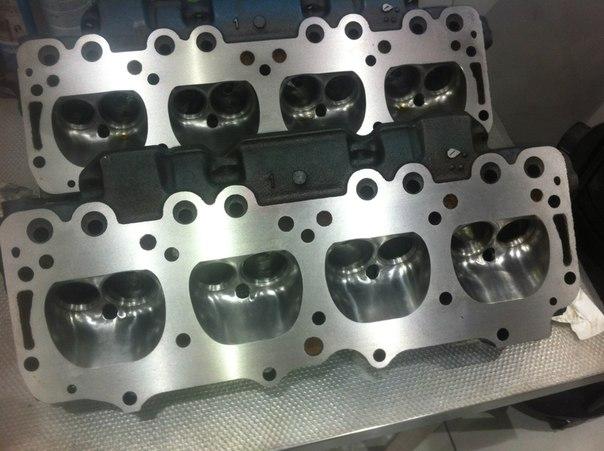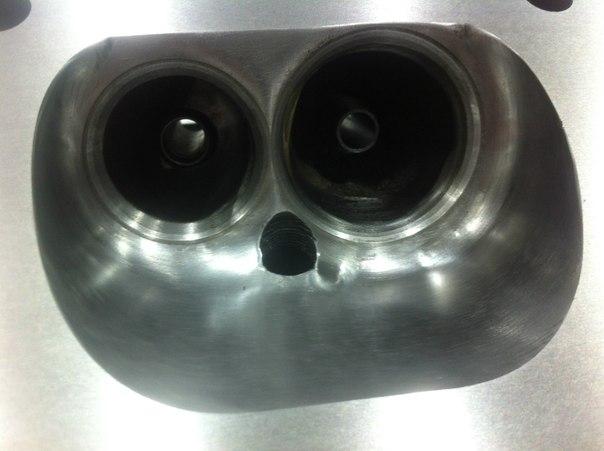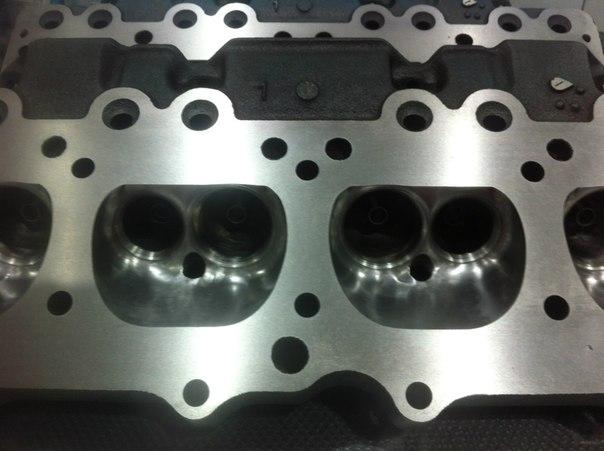 Not absolutely ideally looking, but i'm pretty pleased!
Milled (ground) off 0.013 in.
These still need to be final cleaned and assembled.
The machine shop refused to grind flat the exhaust port sealing surface, cause they didn't have a base angle for it. (Duh!)
However, the exhaust sealing surface on the head looks fine, unlike the ones on the exhaust manifolds!
I've done 1st part of the intake manifold video, I think, it'd be better when coped with part 2.
8-4-2014
Damn! Sounds like trouble! It calls for experience of the machinist then!
I also thought about thin copper gaskets or high-temp loctite...
Tom, what do you think about the head work and stuff? Is it worth a dime? You must be the most experienced person around performance Nailheads!
2-13-2015
Thanks for your kind words! You're welcome!
Here's another thread which turned out to be more related to my Nailhead head porting
http://www.v8buick.com/showthread.ph...eos-on-Youtube
This thread is gonna get a final update soon, though the engine was finished few months ago.