Builds
E-85 555 buildup- drag race by Jim Weise
By diyauto
You must be logged in to rate content!
2 minute(s) of a 44 minute read
Sure can..
This will be what should become with time a very common race motor build. Built for the bracket wars, so nothing tremendously exotic.. just a durable alum rod, forged crank shortblock, with a set of TA STG 2 TE heads on it, single plane with a dominator set up for E-85. Mild roller cam for long life and lots of passes.
Going in a mid 80's Regal drag car, that ran 10.30's with his old 494.
He sent the complete engine to me in hopes of just repairing a rod bearing issue, but the iron block had 2 spun mains, and with a girdled motor, that's an expensive propostion to fix, and they never really turn out perfect. He picked it up used here a couple years ago, so he got some time out of it, but it was time to move on.
Add that to the fact that he wants to go faster, stepping into the alum block made sense, instead of trying to fix that old iron stuff, and then hoping it would live for a while at 750 or so HP, with the big solid roller cam he would need to step up the power.
Nice to have options these days, if the budget allows you to explore them.
His did, and here we are.
It will be a while yet, crank is on order, so this should happen later this winter, if all the parts show up in a timely manner.
JW
11-30-2010
oday, the rods for this motor came in.
GRP alum 5001 series
6.800 Length
.990 pin
2.200 big end
630 gram total weight
ARP 2000 bolts
Standard material rod, good for up to 1500 HP.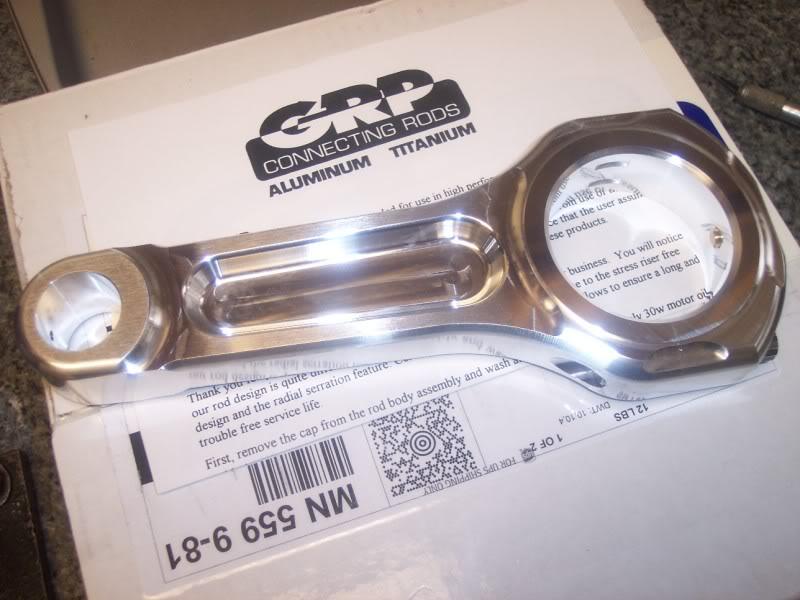 Kinda gives me a "rod"...

Nothin' better than spending other people's money on speed parts. At least until it goes out the door..

JW