Project VerTTigo - 1964 Buick Skylark Turbo LS Convertible by Wasted Income
By diyauto
You must be logged in to rate content!
Project VerTTigo - 1964 Buick Skylark Turbo LS Convertible
Compliments of Wasted Income @ v8buick.com
10-15-2013
Warning: If you're a Buick purist, you might want to click the X to close this window now...lol.
Figured I'd start this build thread now that I've got the car in my possession. It's my father-in-law's car, which was purchased just under a year ago.
He found the car up in Hurley, WI. It was supposedly originally a New Mexico car, and aside from the 3 coats of different colored paint, and some holes in the trunk floor, it's a very, very solid car.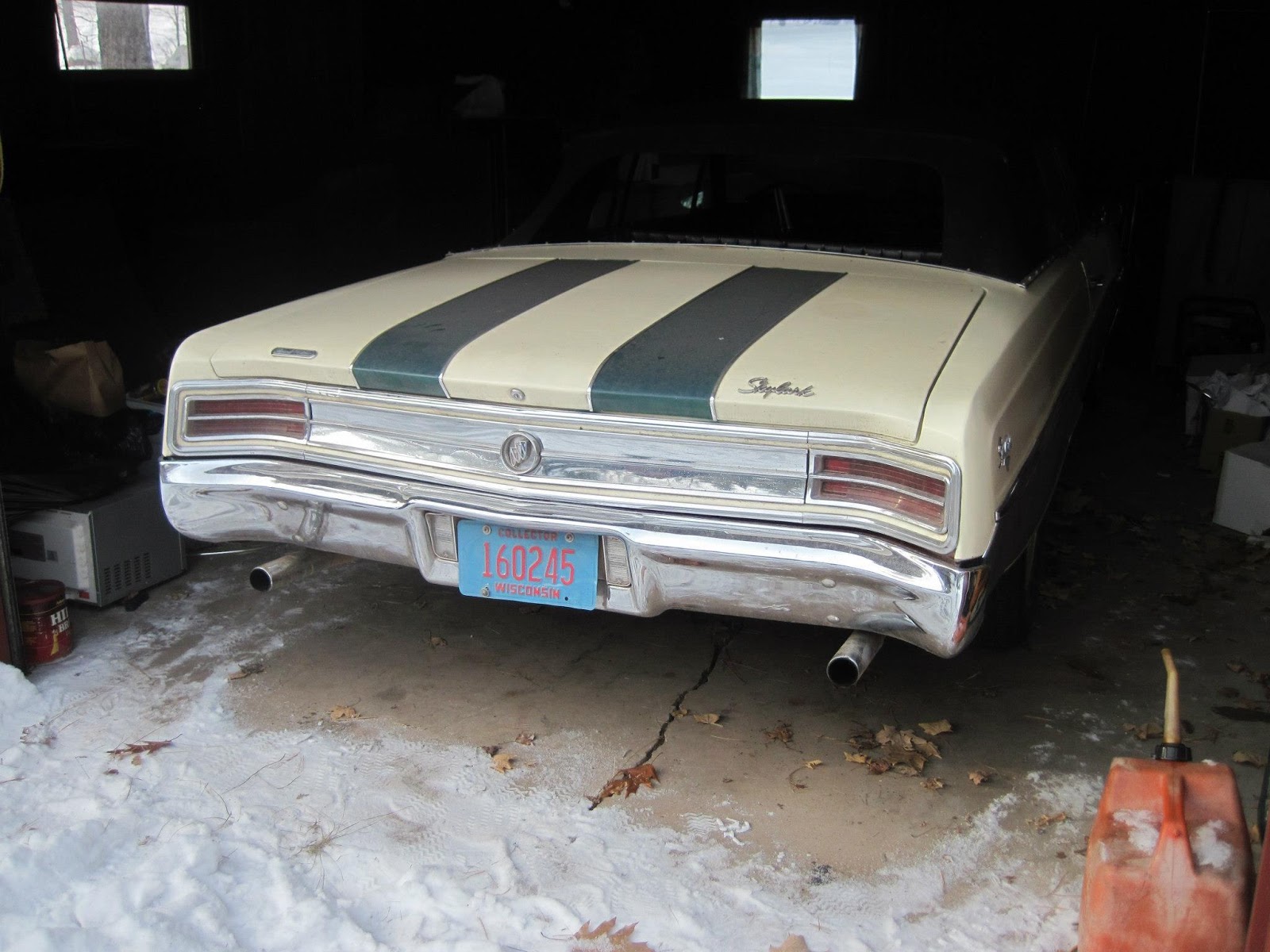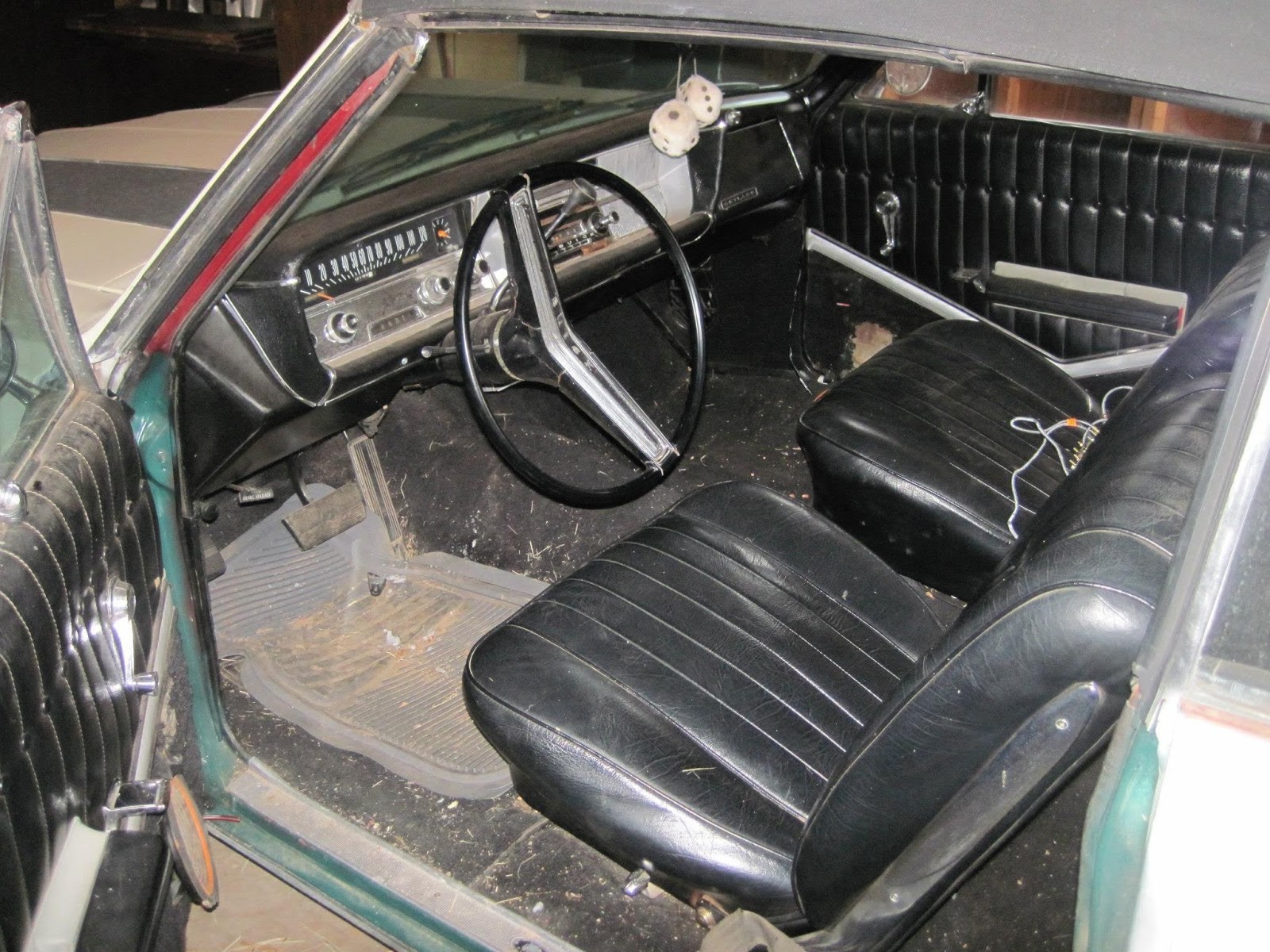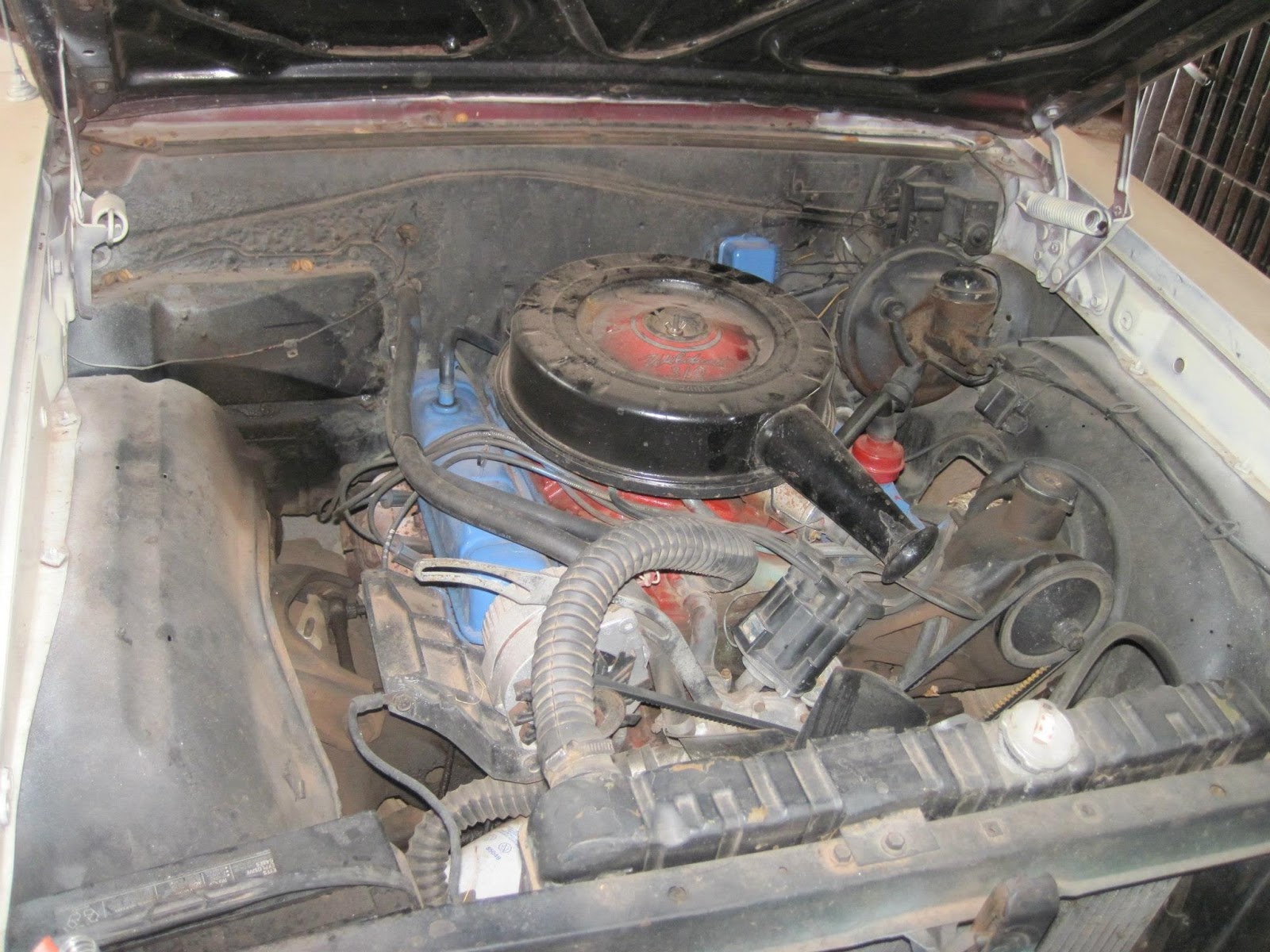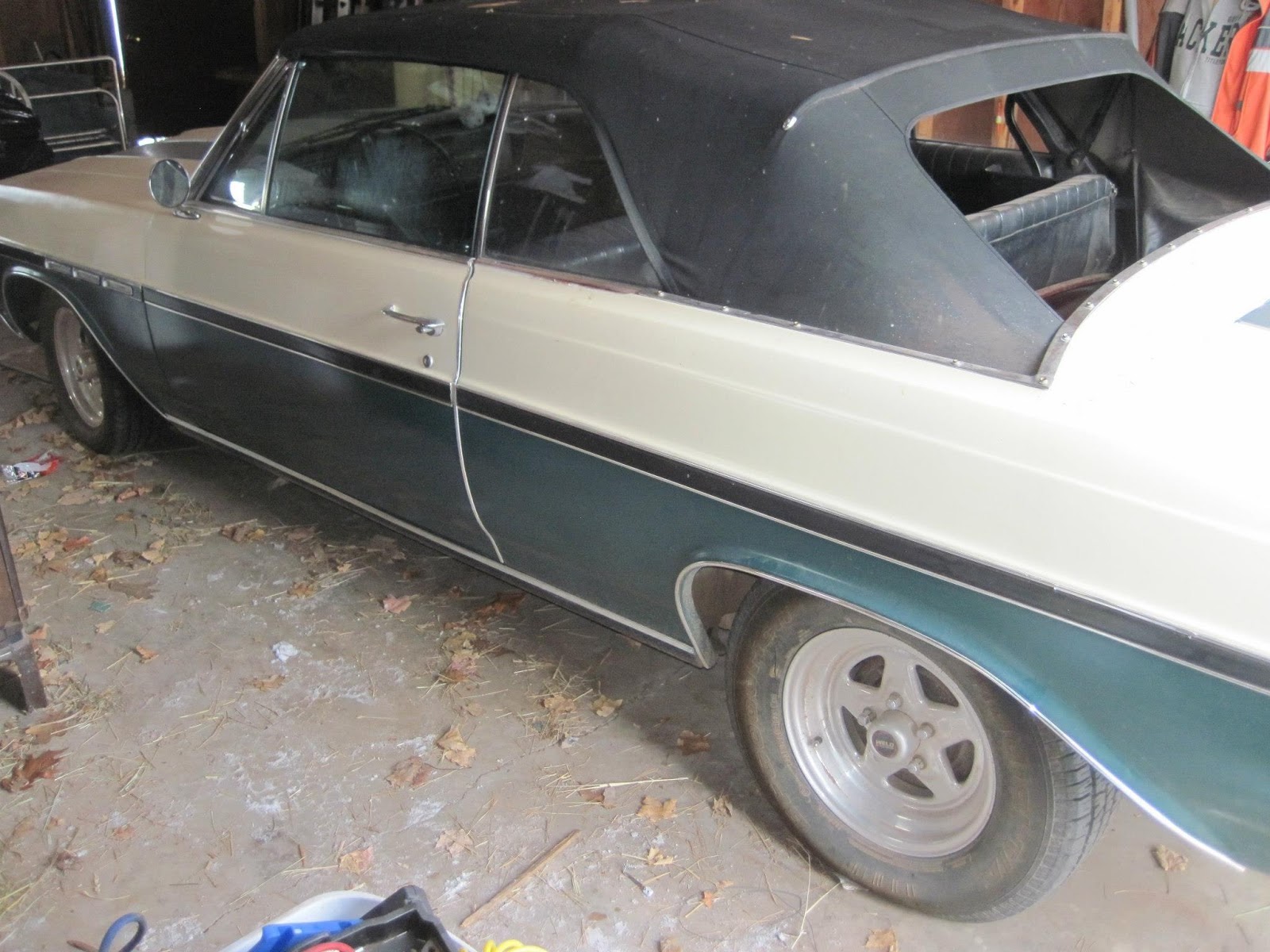 My FIL got it home, cleaned it up and fixed a few things, and then drove it the rest of the summer. It has a 310 Wildcat V8, and an ST300, 2 speed auto trans. It is NOT fast, but it's a sweet cruiser.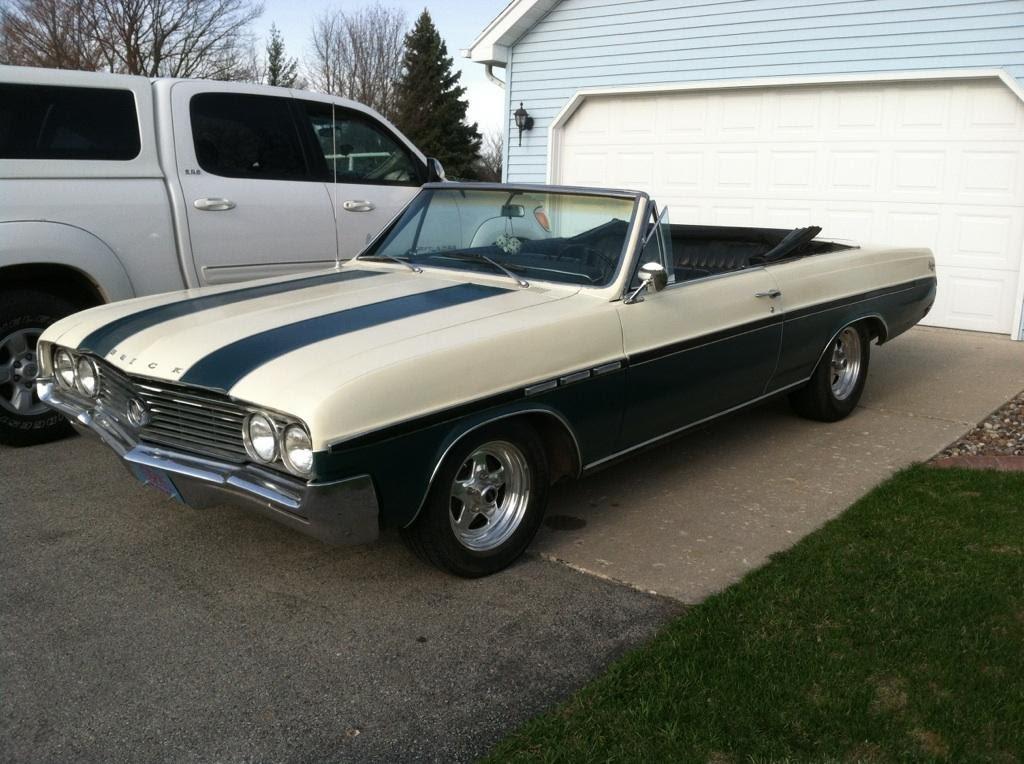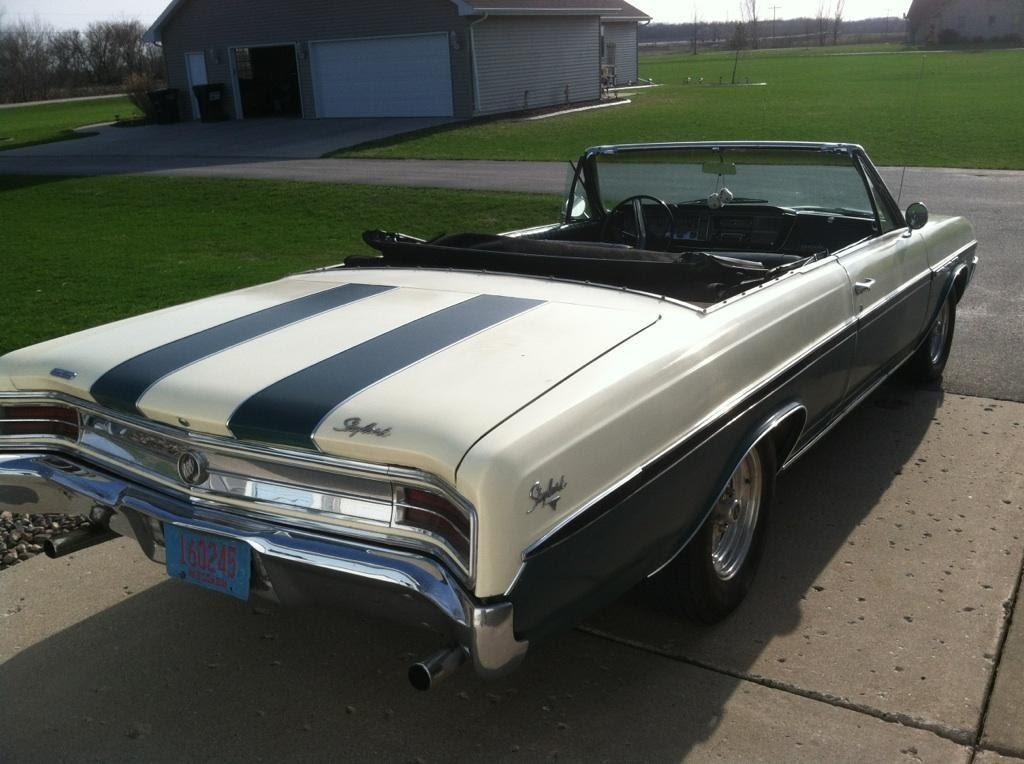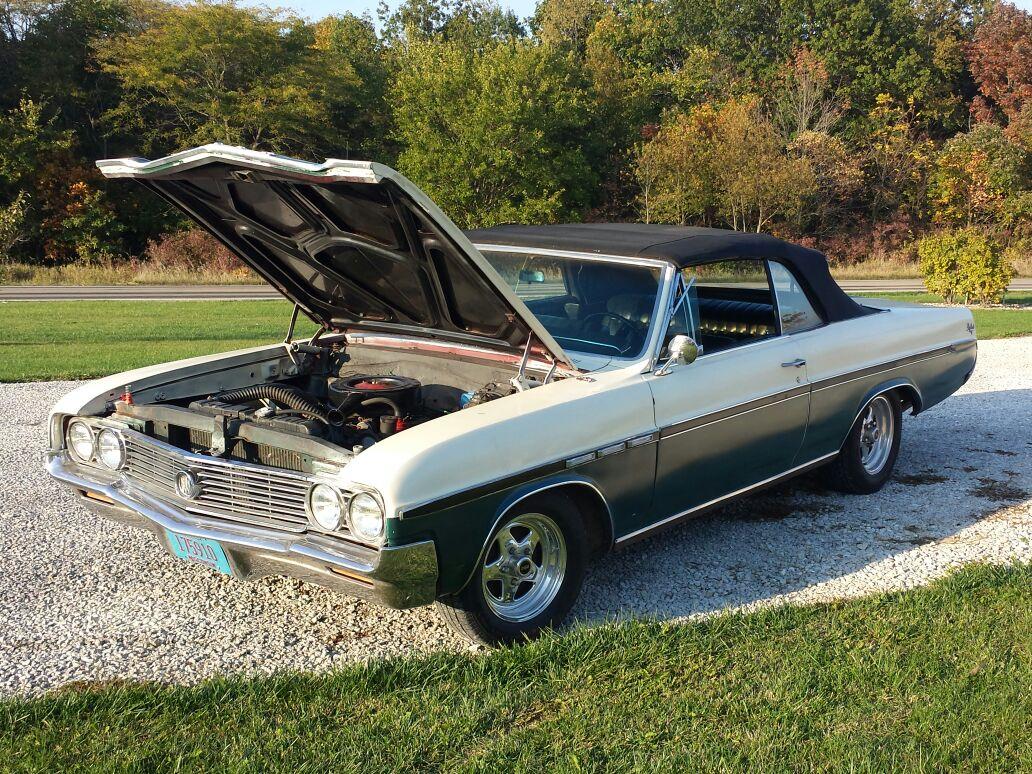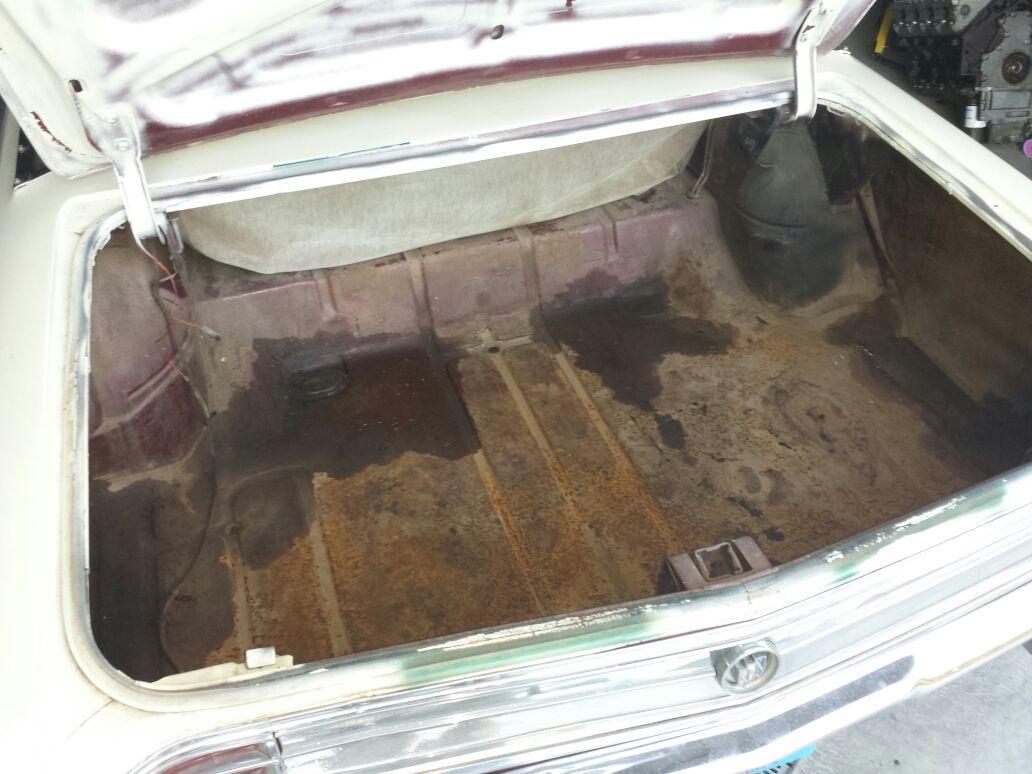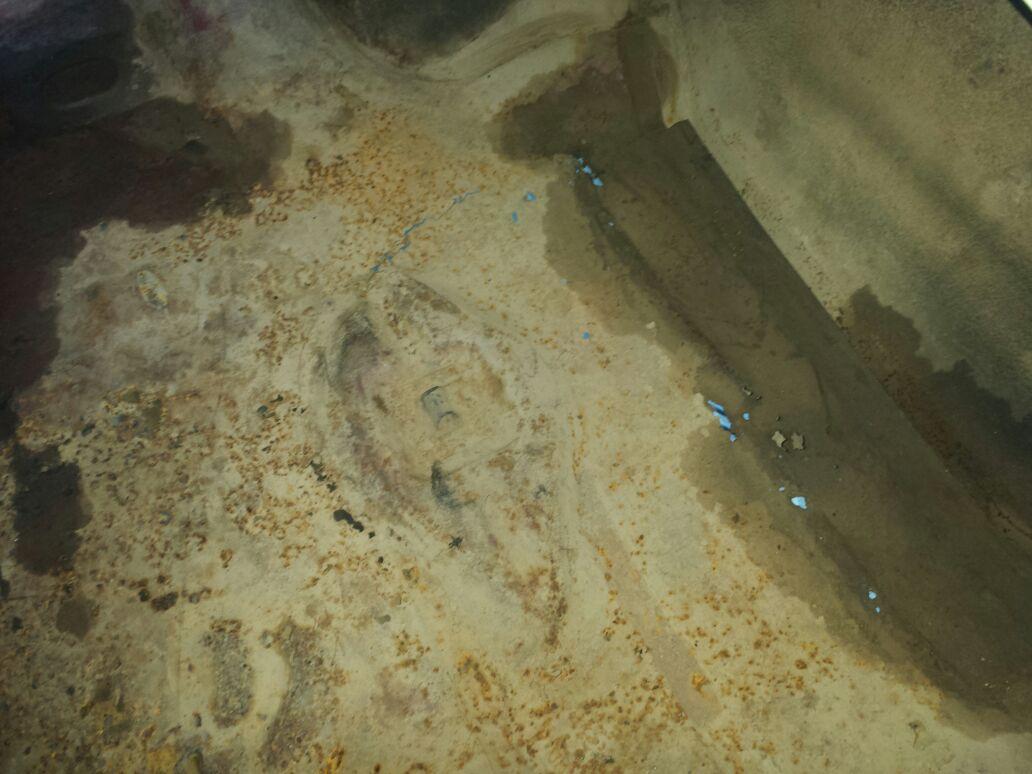 The plan is to swap a cammed LS6 from a 2005 CTS-V into the car, backed by a stalled 4L80E, 12 bolt posi rear, and a GT45 turbo setup. My father-in-law wants something that is unassuming looking to cruise around in, but packs a sucker punch when you flatten the loud pedal. He's also got a 2012 Camaro SS convertible, but this will be a whole different animal.
We're planning to clean it up under the hood, and restore the interior, but leave the outside looking kinda scummy and cruddy (with the HORRIBLE paintjob). Should make catching corvette and viper guys off-guard at stop-lights fairly easy.
He got the sleeper bug after being around my 72 K/5 Blazer and just had to have a sleeper of his own.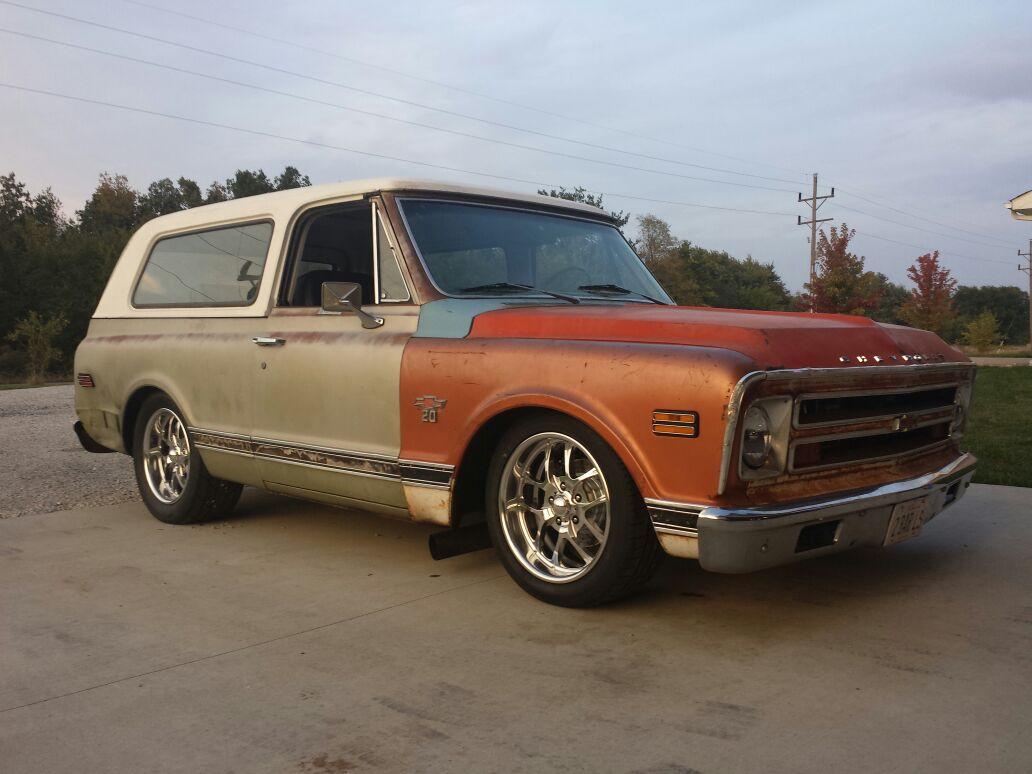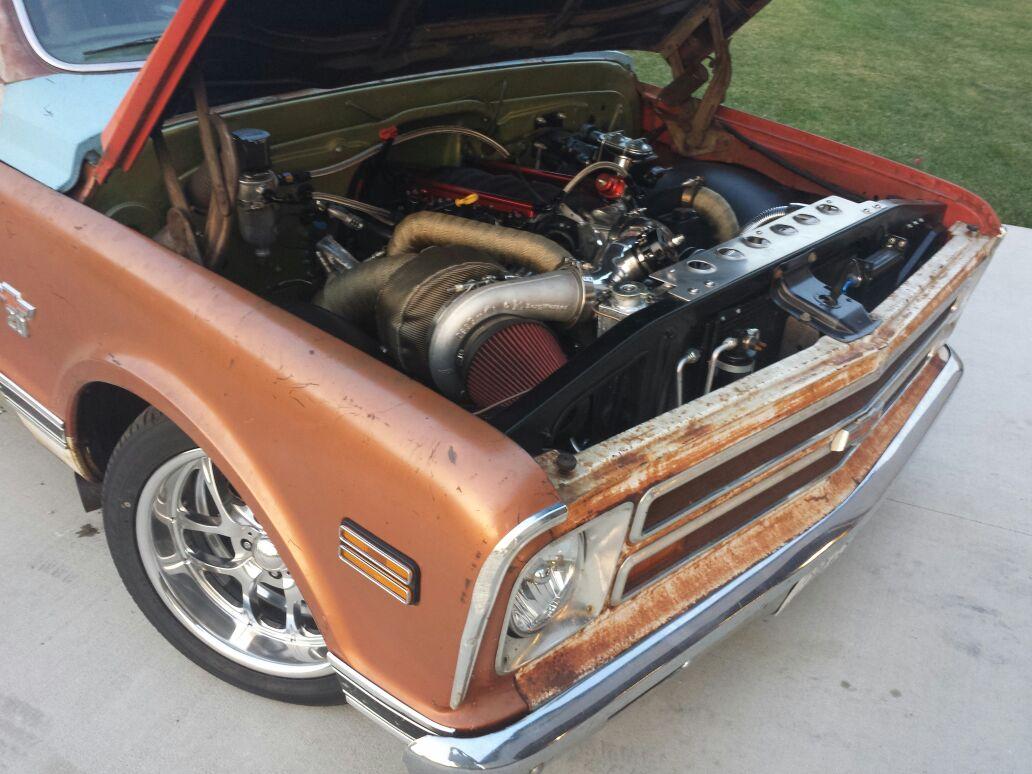 10-15-2013
Thanks Chris. I'm near Peoria, IL.
The biggest challenge will be learning about A-bodies and Buicks in general. Never really messed with them too much.
Other than that, I'm not at all worried about this project....I've LS swapped a whole bunch of other stuff before, other than just my blazer.
My 69 C-10 with a turbo 5.3L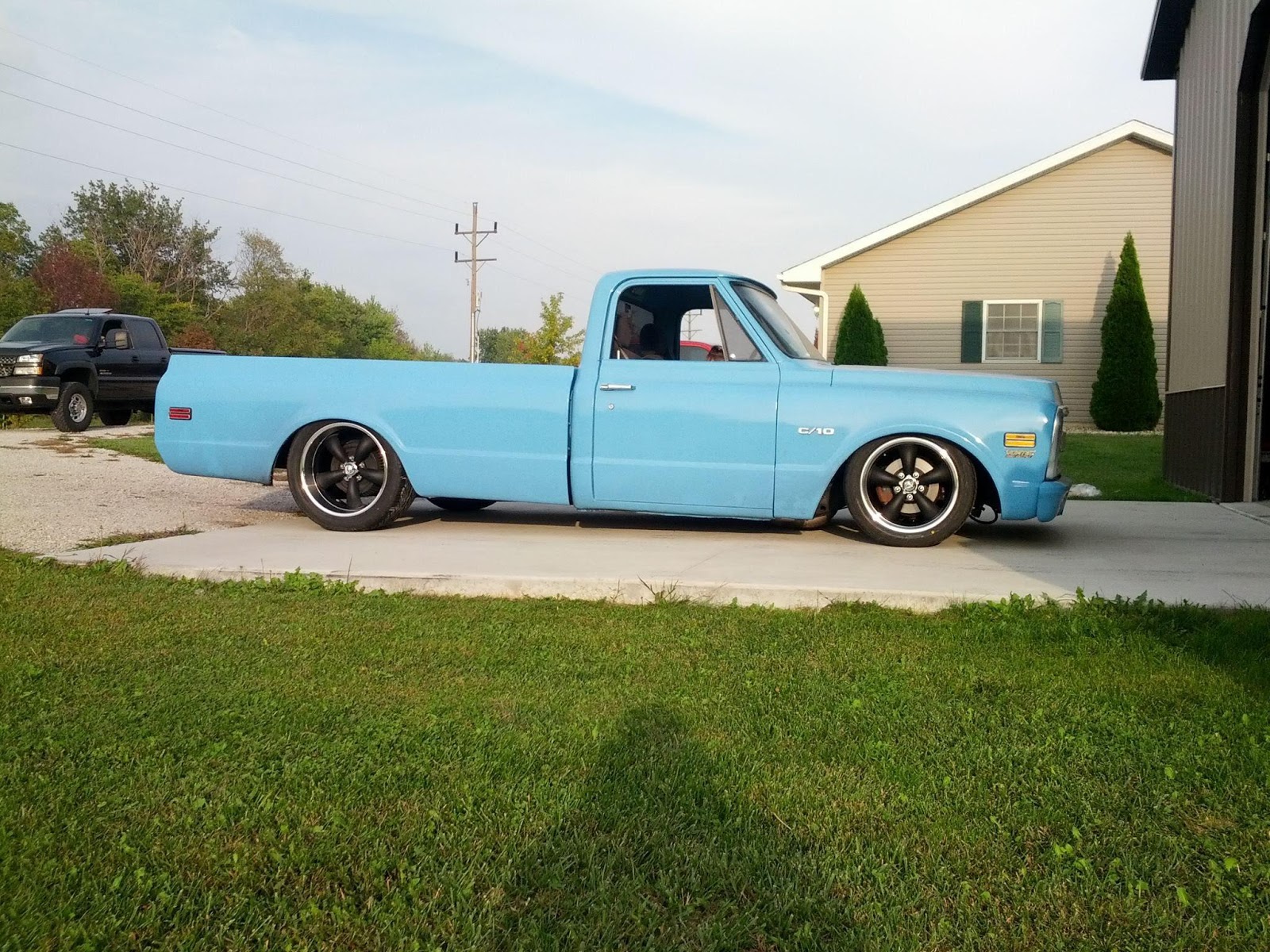 1975 CeeBee Avenger Jet Boat with a cammed 6.0L
1988 Monte Carlo SS with a cammed and sprayed 6.0L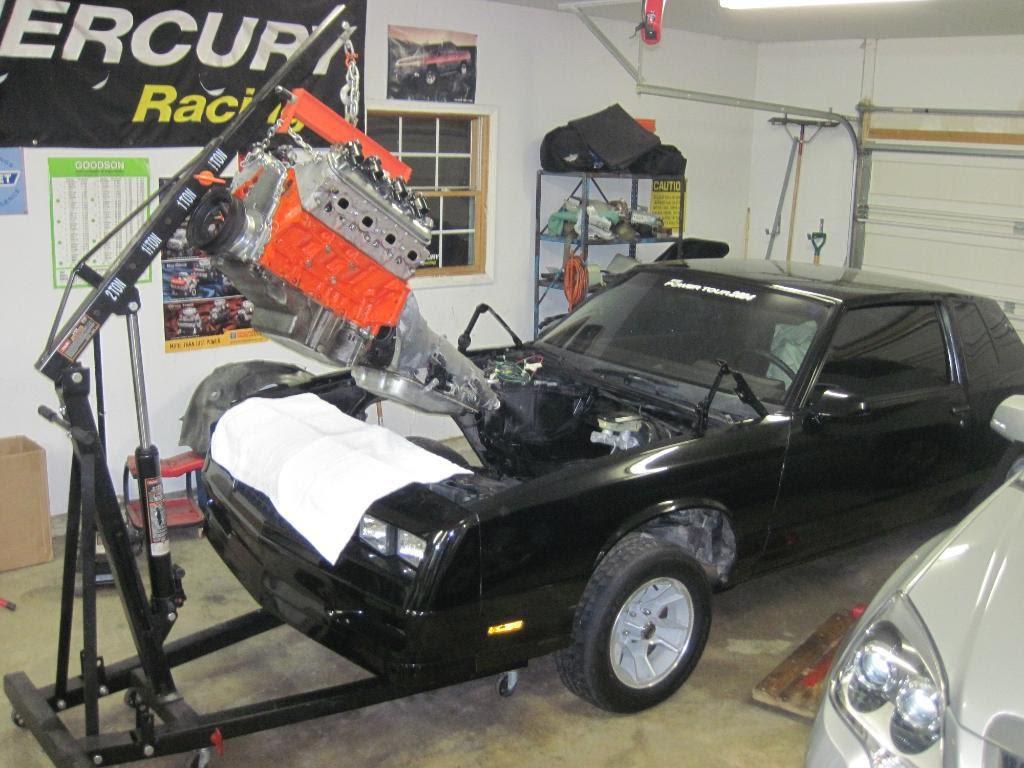 10-16-2013
It will be a Buicaddrolet when it's done. haha.
Let the games begin. The porch was filled with stuff from OPG when I got home last night.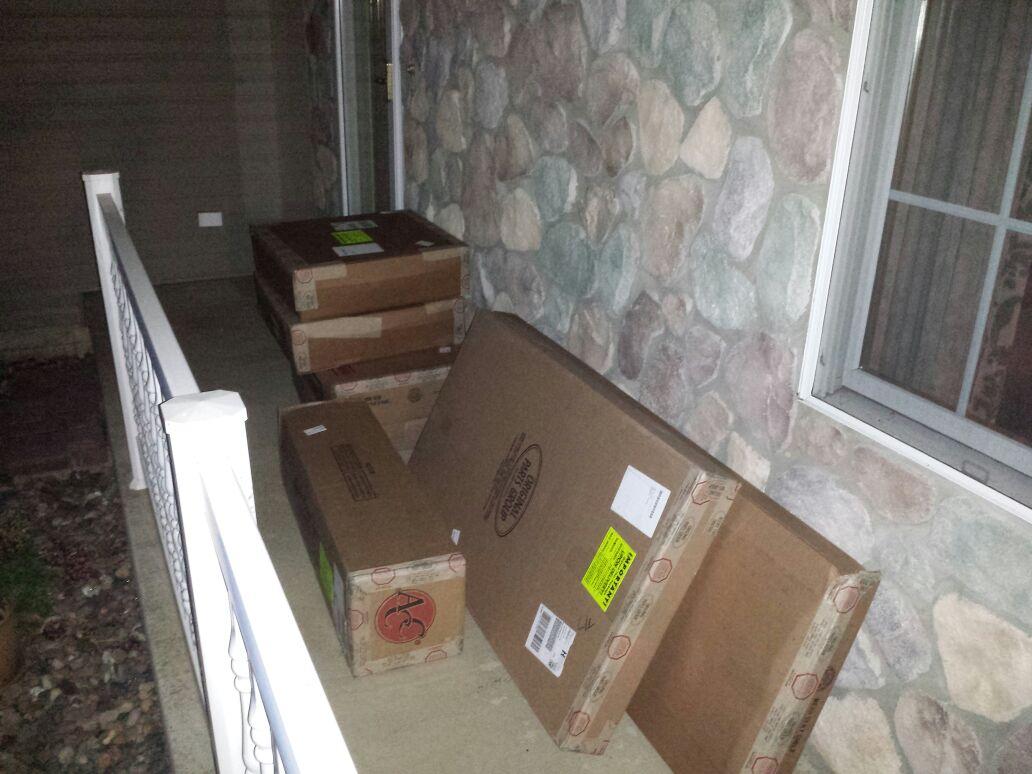 12-2-2013
Not much progress on this...been working on other stuff, but got some work done on the engine this past weekend.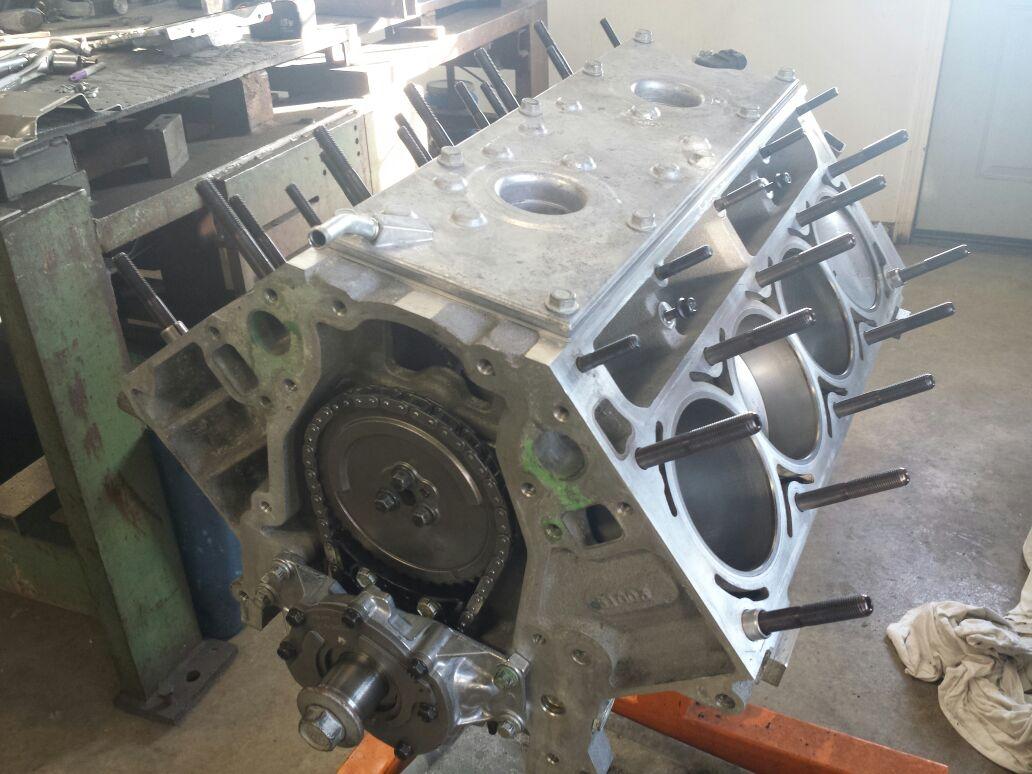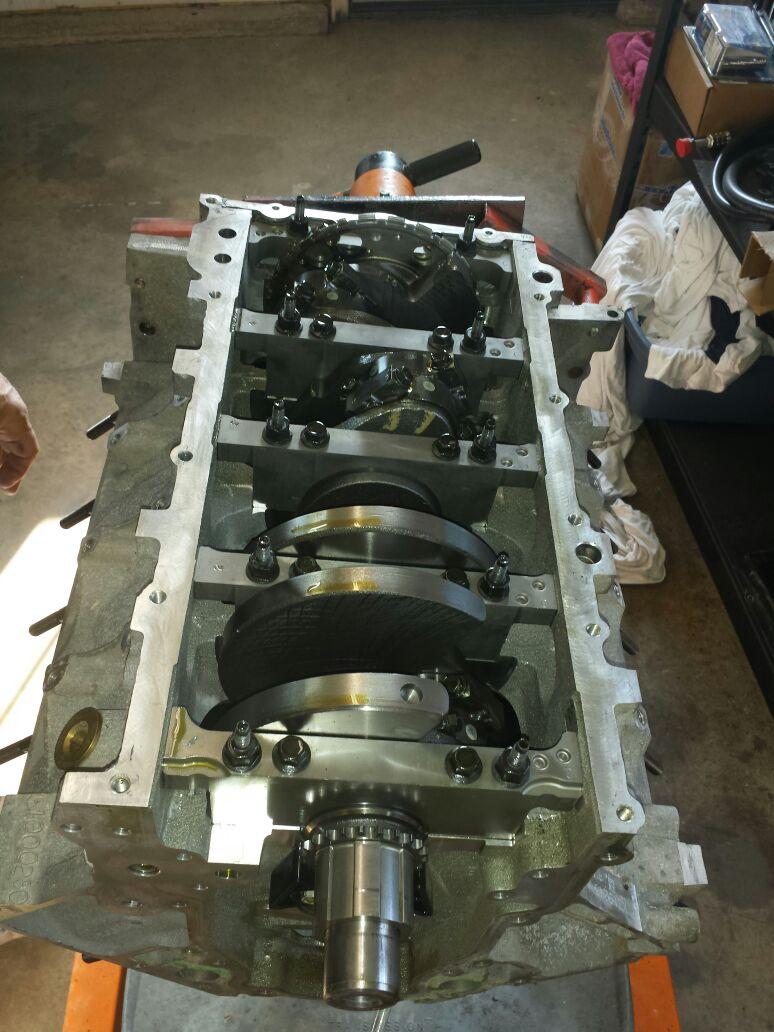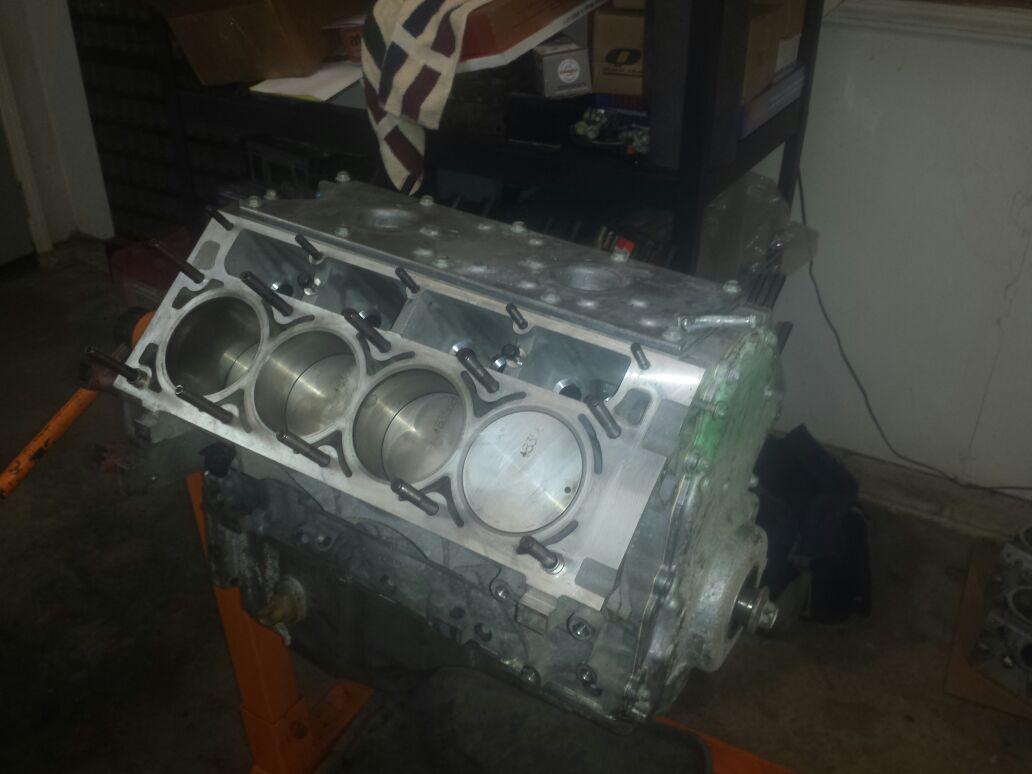 Even put my father in law to work a bit. Only fitting, since it's his car.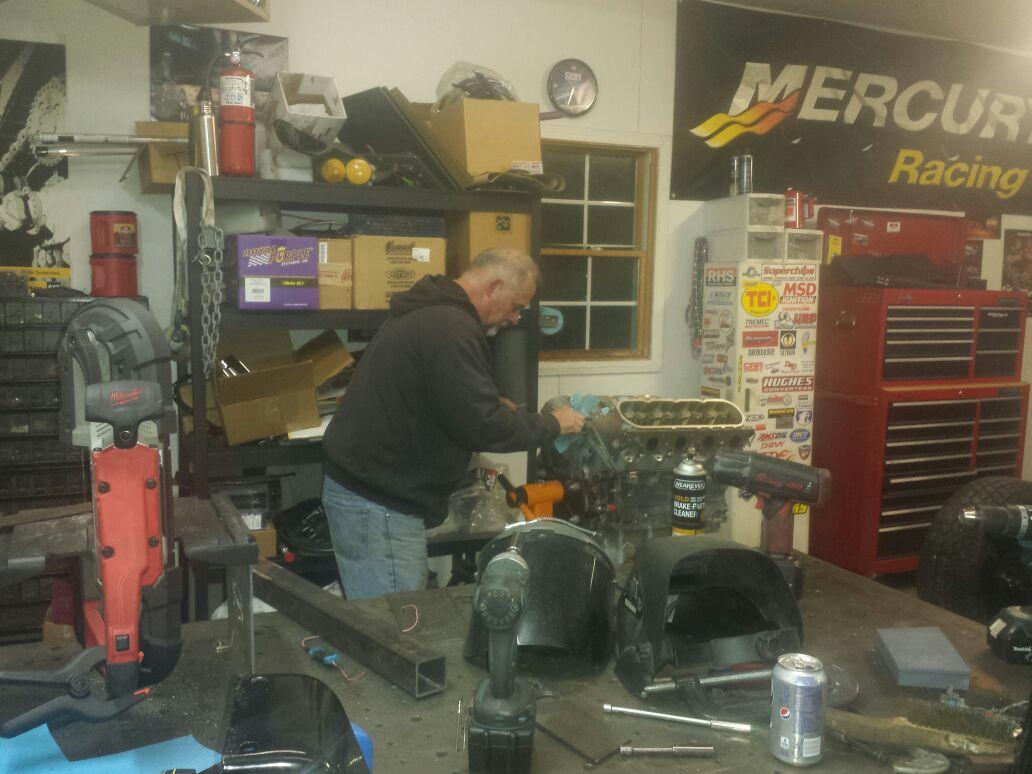 Some of the goodies. Turbo cam, Brian Tooley dual valve springs, hardened pushrods, etc.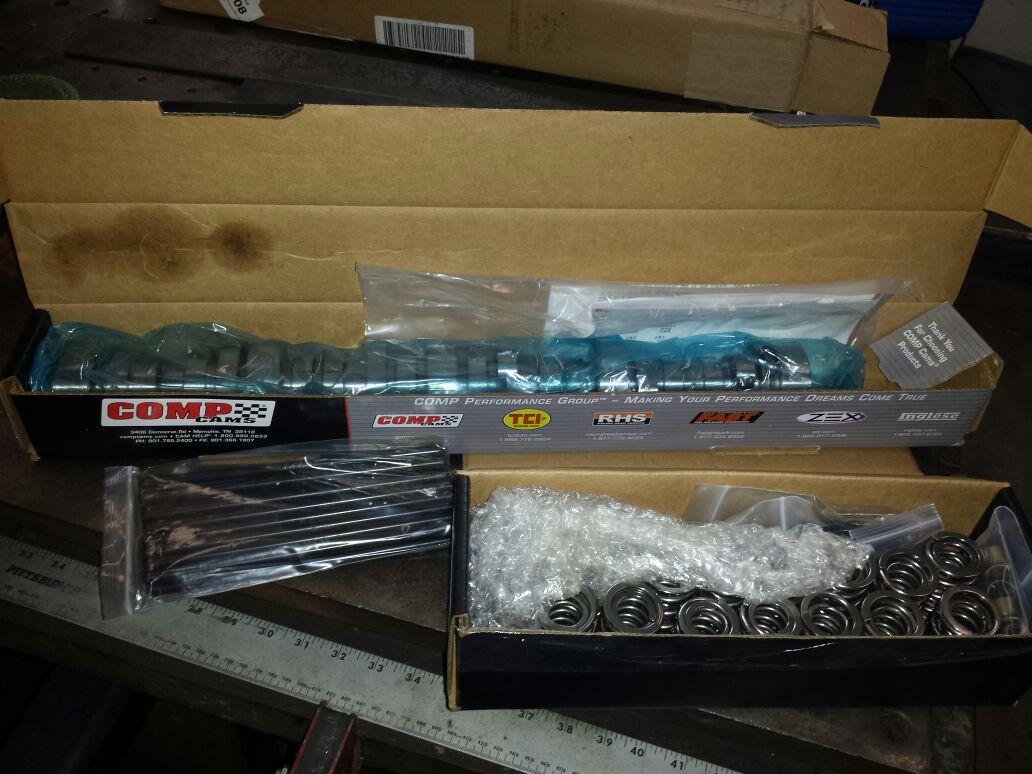 12-2-2014
Finished up the last project I've been working on...and the Skylark is next up to bat.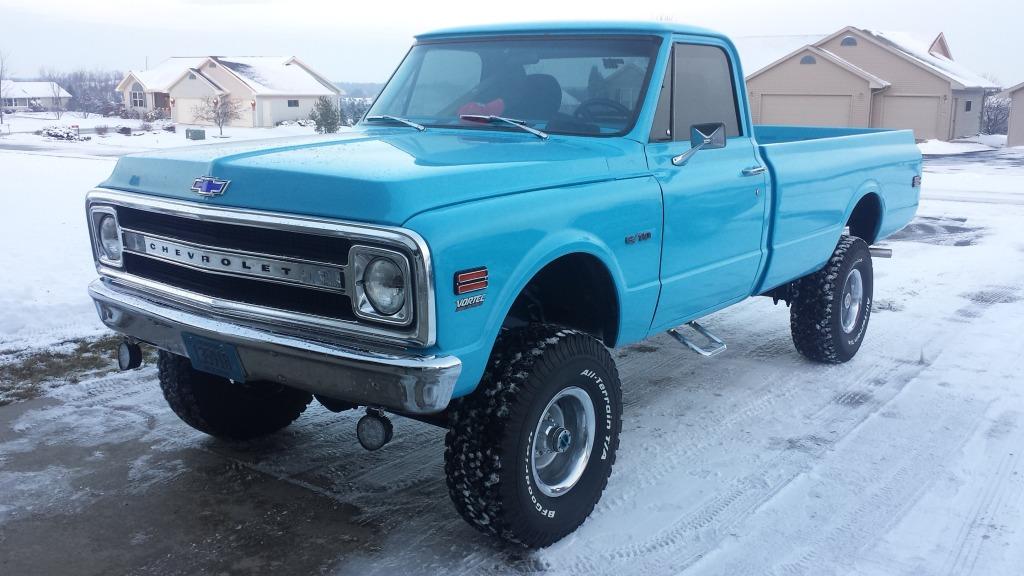 So on to the buick content!! Cyber monday was good to me. Picked up a complete Stage 4 handling kit from UMI. Planning on tearing into the car later this week to get the old drivetrain out.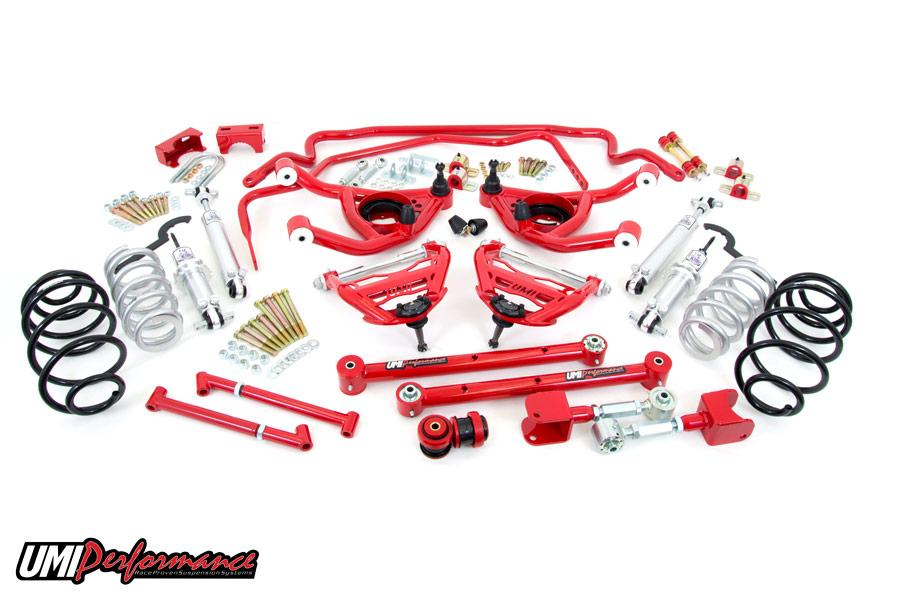 12-3-2014
Thanks Sean! I almost puked at the thought of a $7000....BLOCK?? Jeez. I got a 1200 hp capable forged bottom end 370" LS shortblock for $3800 for my Blazer.

lol
I also forgot to add that since I love the Holley EFI so much in my Blazer, I picked up another Dominator EFI setup for the Buick. I'm done jacking around with tuning stock LS ECUs...
Built in electronic boost control, 2 and 3 step rev limiter, low-Z injector drivers, closed loop WB02 fueling, DBW support, 4L80E transmission control, LS coil near plug support, tune on the fly...etc etc.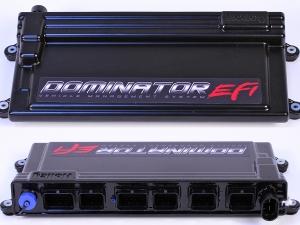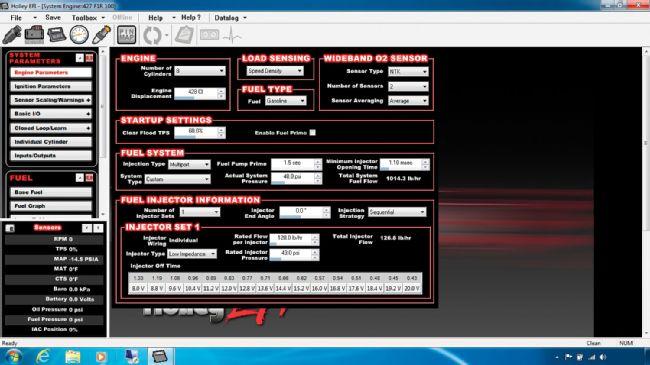 12-3-2014
That's awesome, but the intake having injector bungs is only part of the equation. You still need a crank trigger of some sort, and if you want to run sequential, you'll need a cam sensor also. Most guys convert the distributor to a cam signal. Very worth it though, IMO.
12-9-2014
Game on!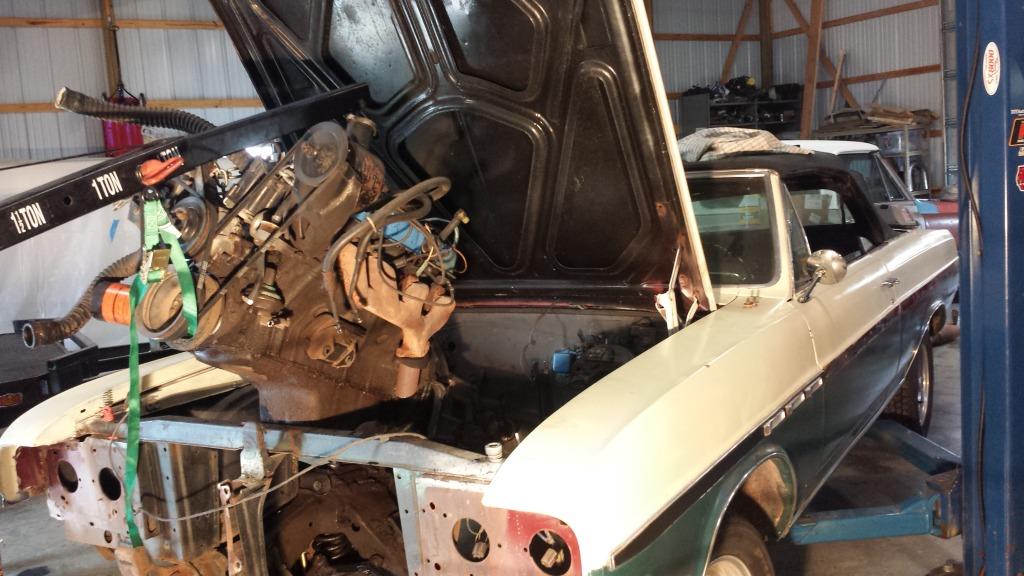 Needs a bath...bad.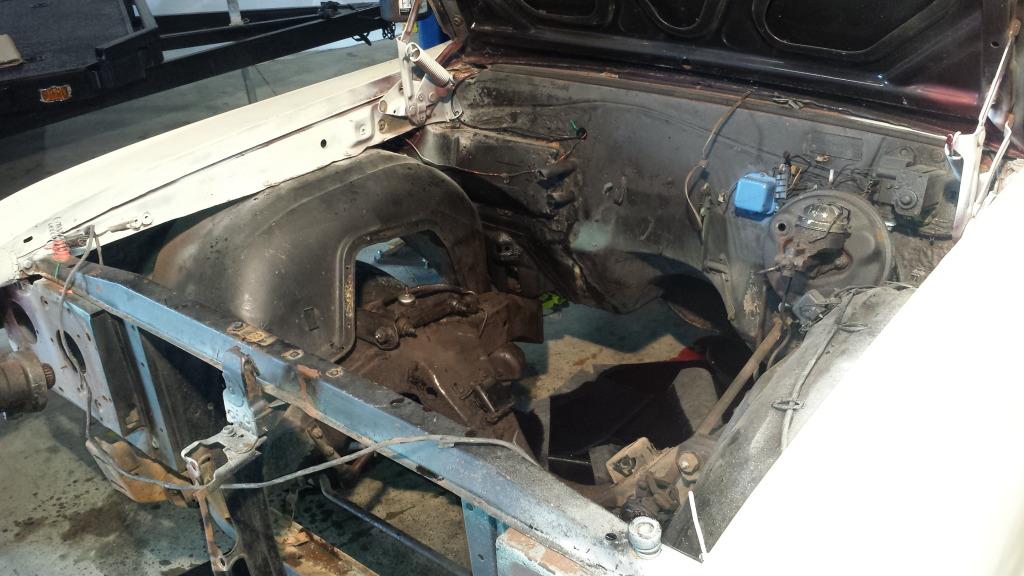 The good news is that the old engine is sold and gone already!! Only sat on my hoist leaking for about a half hour before the new owner came to grab it.
12-22-2014
Spent about an hour on it yesterday with the pressure washer, and got it moved over to the heated garage for surgery. Planning to get it up in the air, and start on engine/trans mounts, and any associated firewall/trans tunnel mods before I pull the body from the frame and have it media blasted.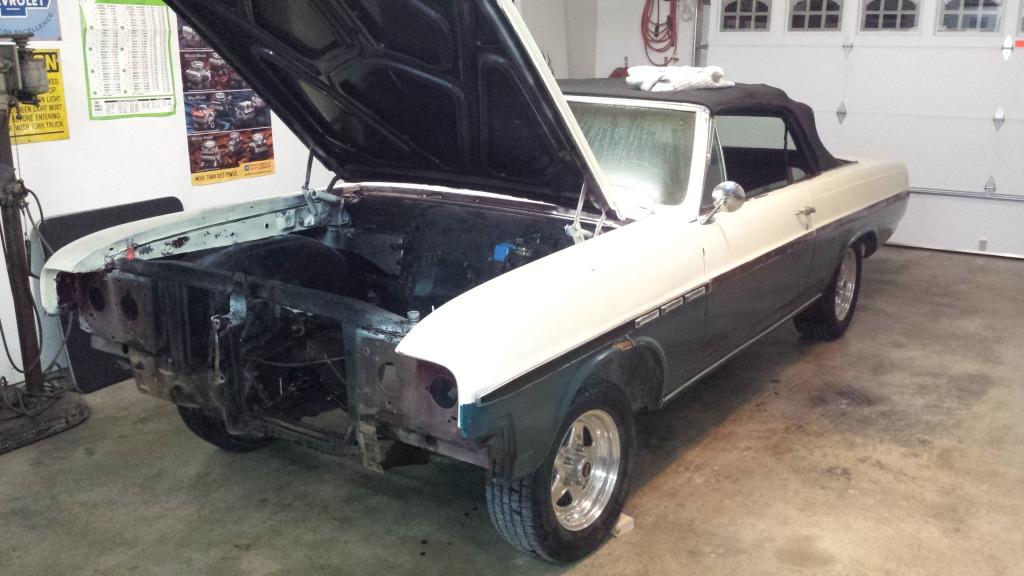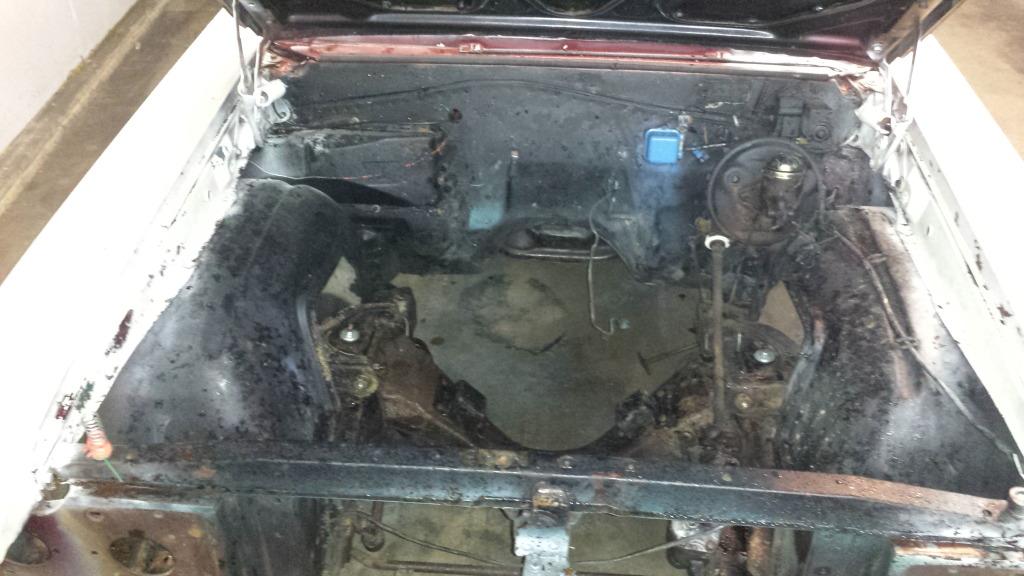 1-6-2015
Um...Houston....we have a problem....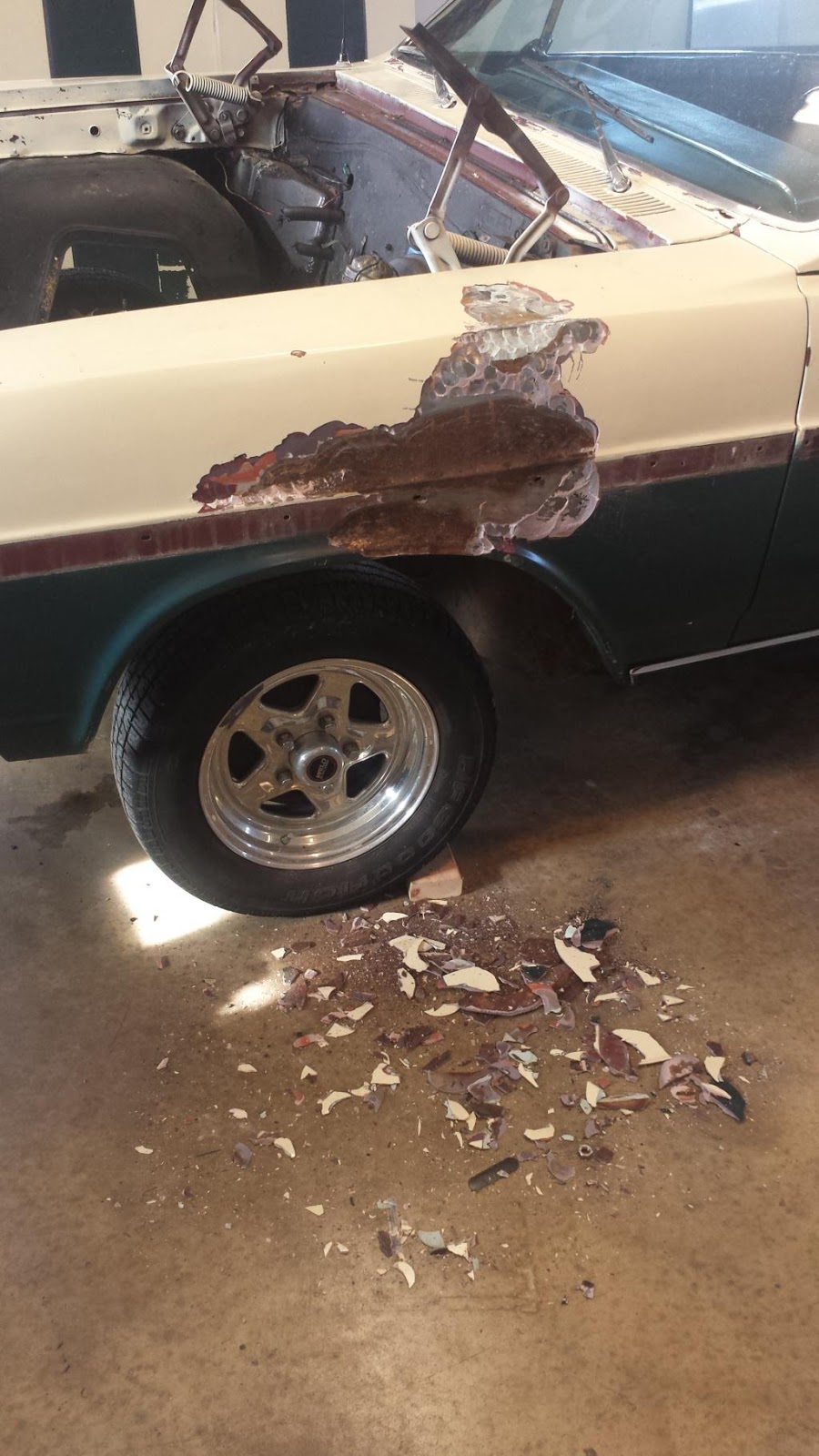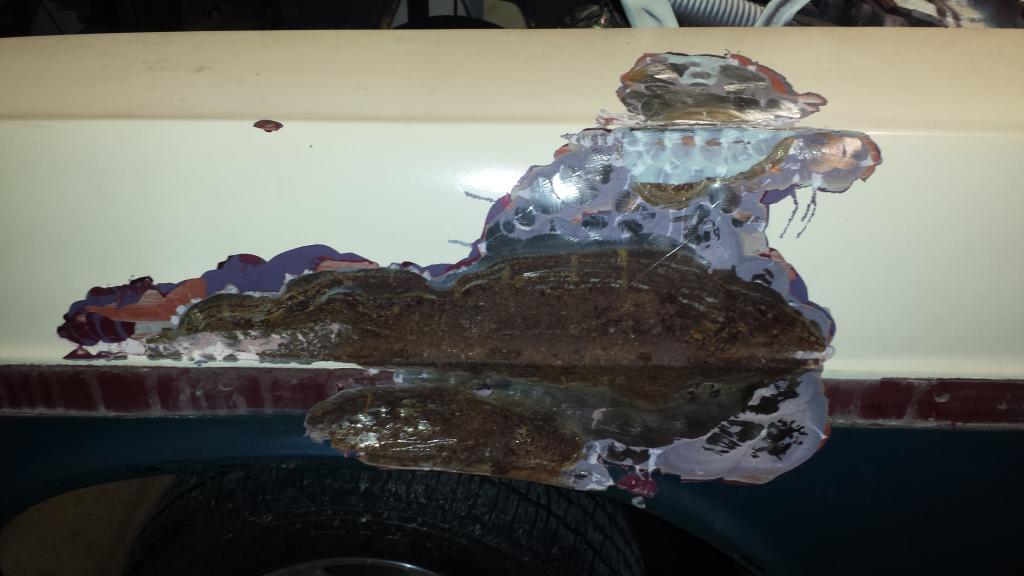 I figured there would be some bondo in this car...but I didn't figure the whole fender would be made of it...
So, in search of a new driver side fender I go.
Got it up on stands to make working on it a little easier.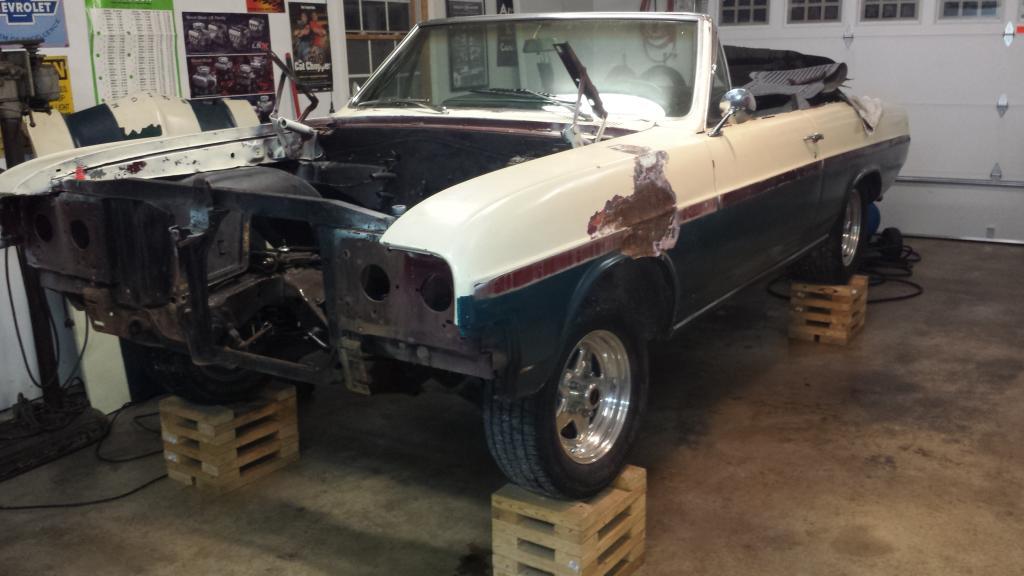 Spent a good amount of time with the needle scaler getting rid of what appears to be undercoating or something, and the loose rust. More holes to fix.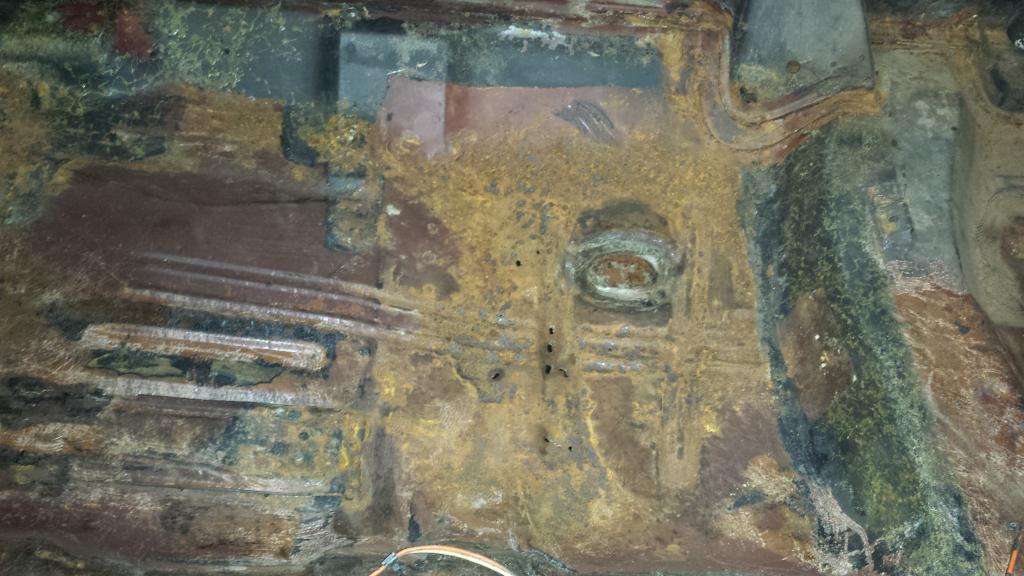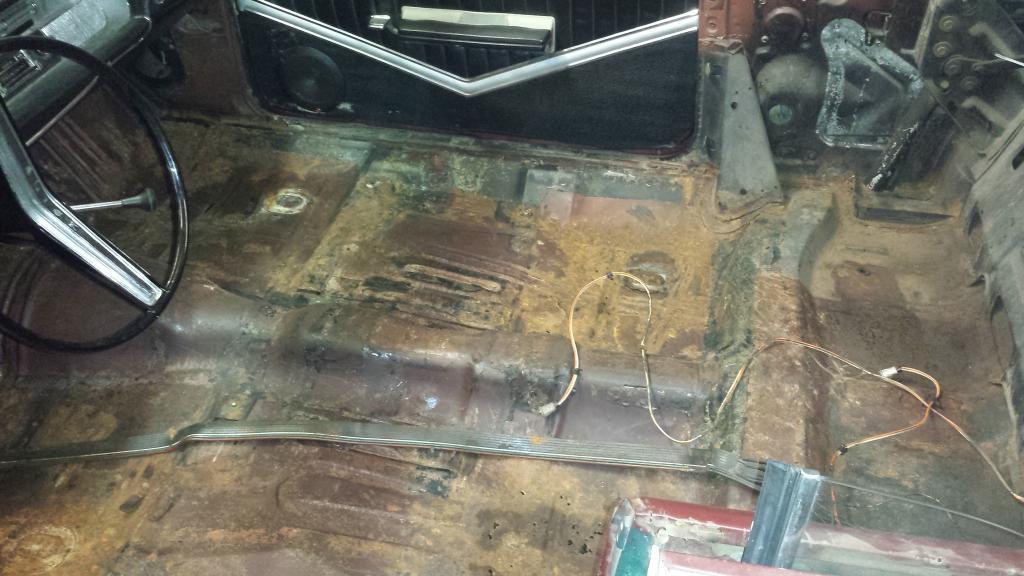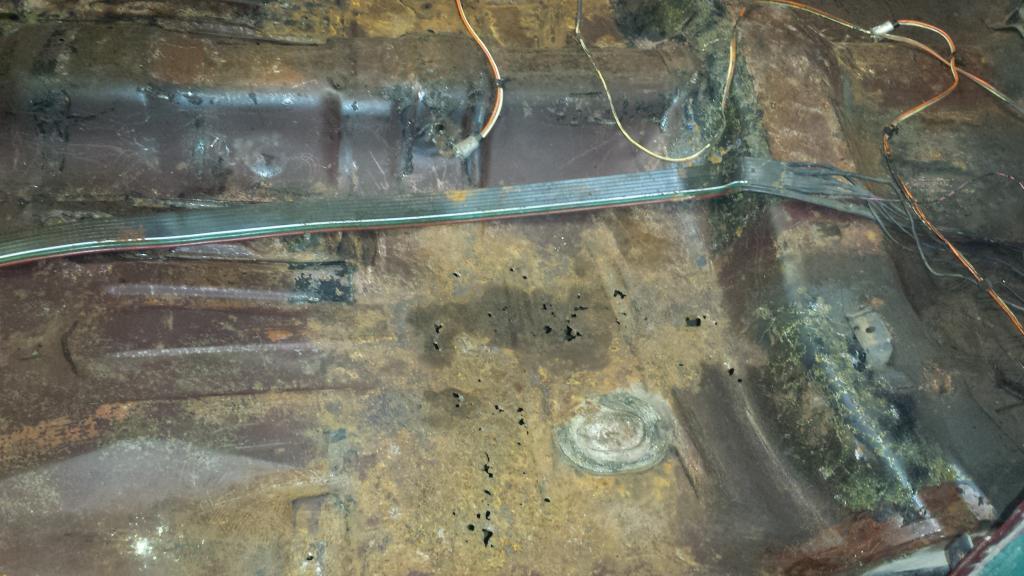 I already have the front floor panels, and the trunk panels. Waiting on the rear footwell patch panels to arrive and then I guess I'll dig into the rust repair. Joy...
1-23-2015
Been putting off starting the rust repair. So I decided to start trying to fit the engine/trans into the chassis.
Didn't get very far on that, either.
Here are the motor mounts I'm using. Dirty Dingo sliders. I've used them before, and they worked great.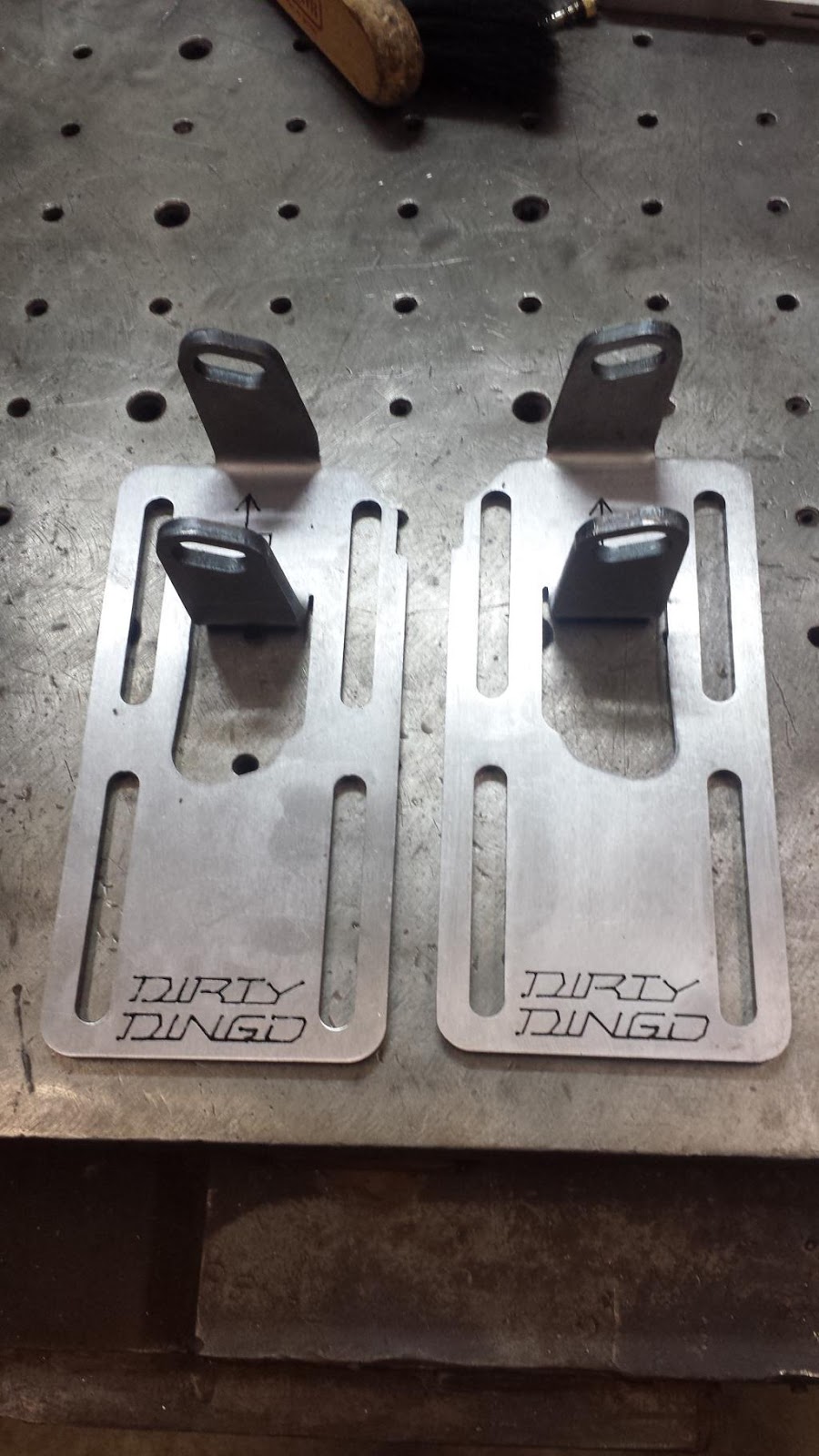 CTS-V pan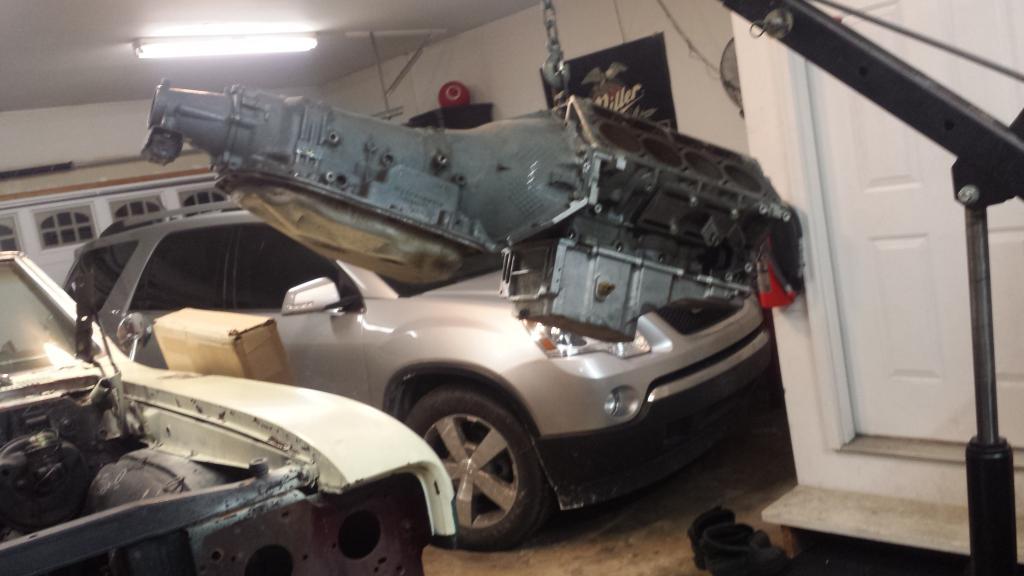 Nope.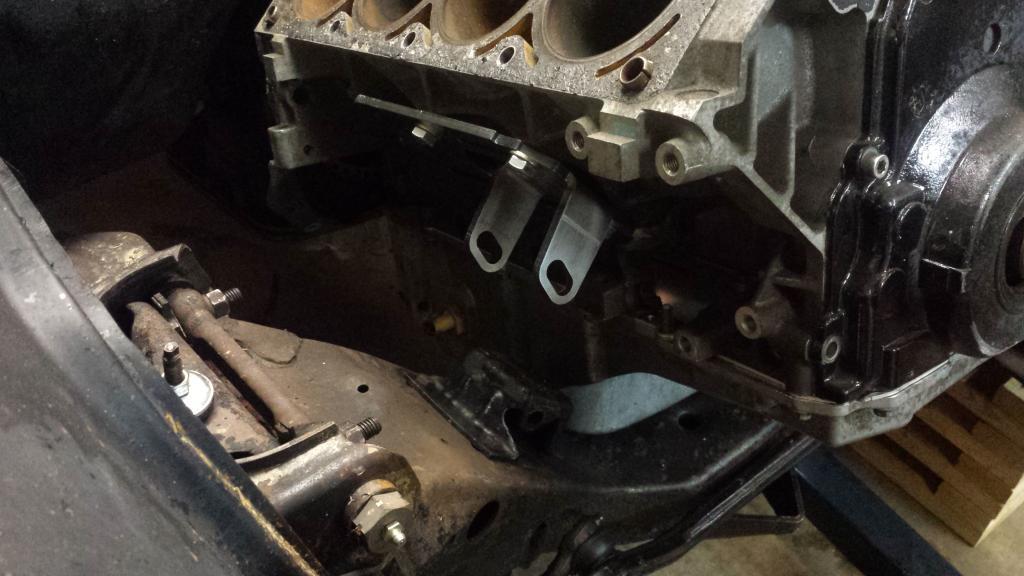 CTS-V pan doens't fit....for me at least. I have an F-body pan I need to try next.
2-9-2015
Finally got started on the rust repair.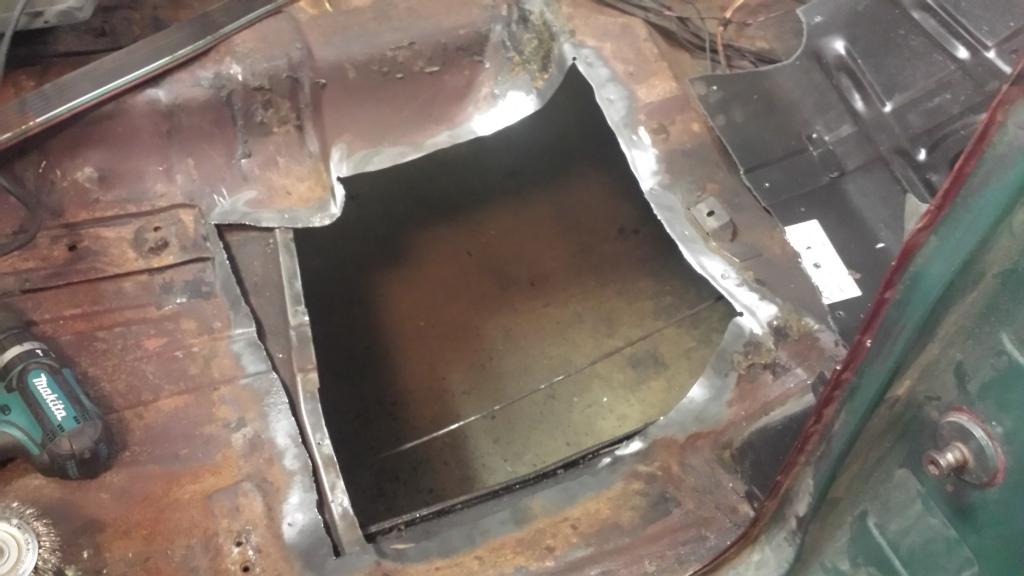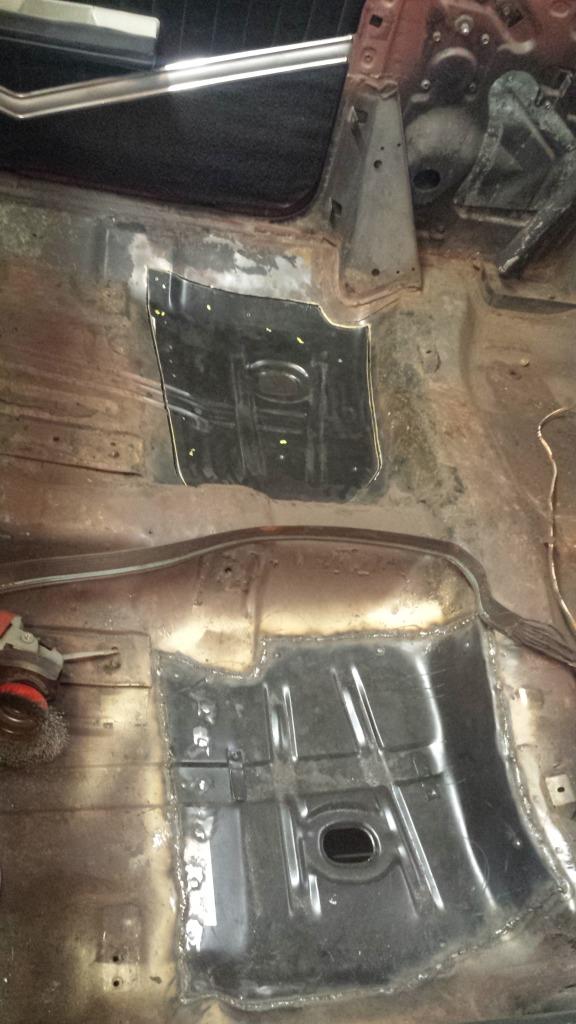 I've also come ot the conclusion that the factory Buick engine stands are in completely the wrong location for an LS engine. The options are either to buy a chevelle setup, or make my own. I'm gonna make my own.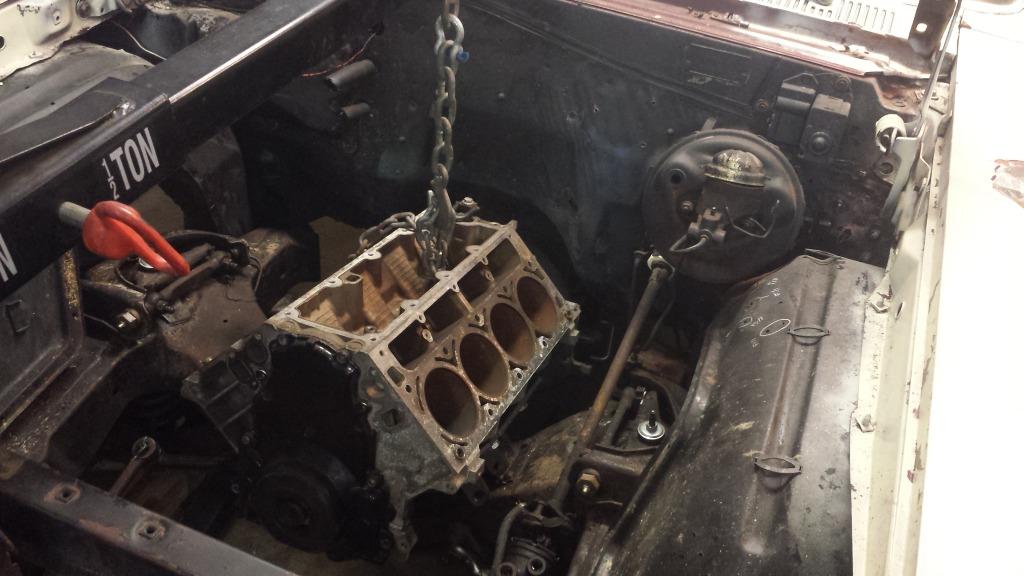 2-9-2015
So the Chevelle tall and narrow setup worked with the same sliders I'm using? Edit: I just saw your thread on Tech. I see that you Dingo sliders are a bit different.
If so I may do that, or possibly just weld extensions to the crossmember and move the buick mounts out to the approprate location.
2-16-2015
Found a fender on ebay! Came all the way from Utah. Good part is, it's in GREAT shape. Bad part is, it's now the best part of the whole car. haha.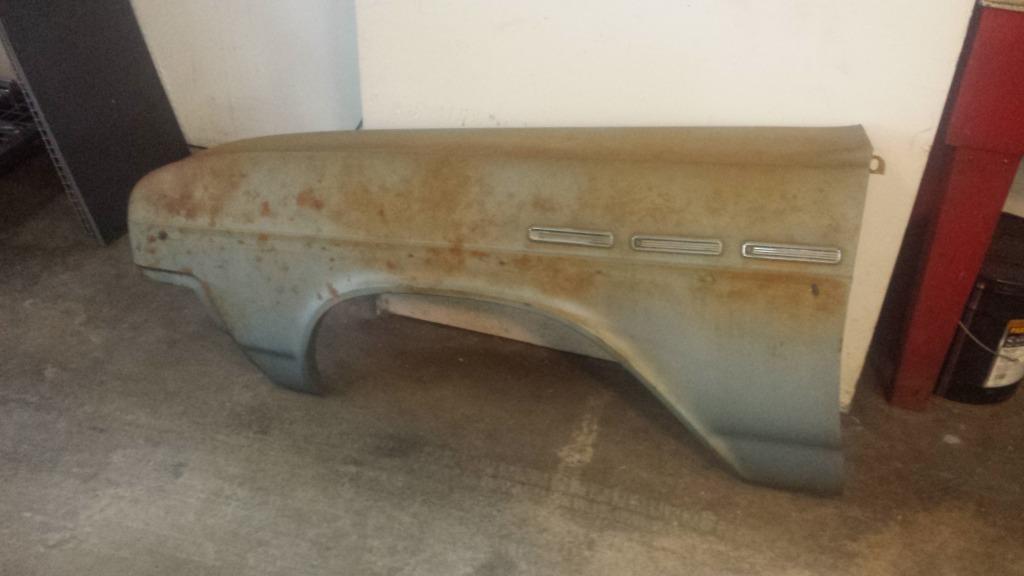 3-26-2015
Yea, i've been lazy on this lately. Got the rear floor pans finished up, and all the welds ground. Got a good start on the front pans as well, and finally found the right oil pan to fit exactly how I wanted it to. Now I have to decide on what FEAD to run. I'll post pics of that stuff soon.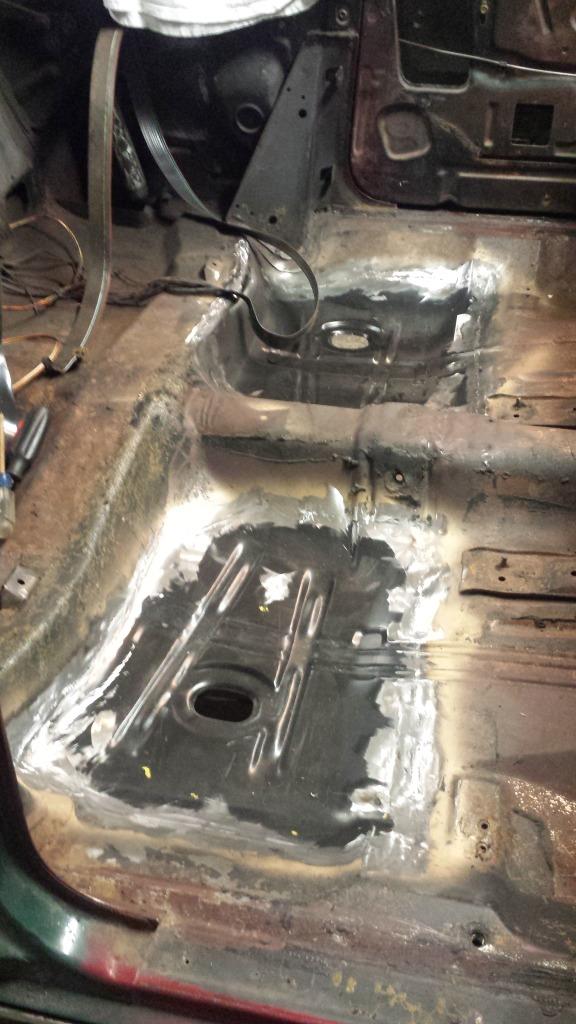 3-27-2015
LOL thanks. It's undergone some changes since then.
Upgraded to a billet wheel...among some other things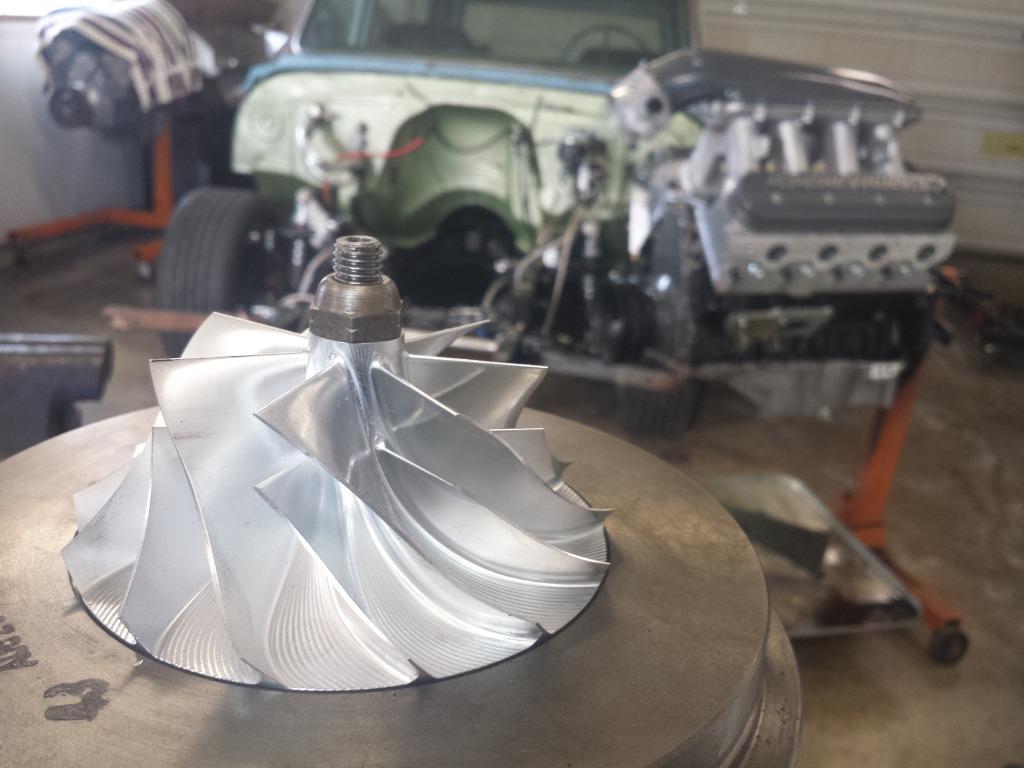 This is the newest pic I have. Don't have one with the aluminum downpipe, turbo blanket, and inner fenders back in yet.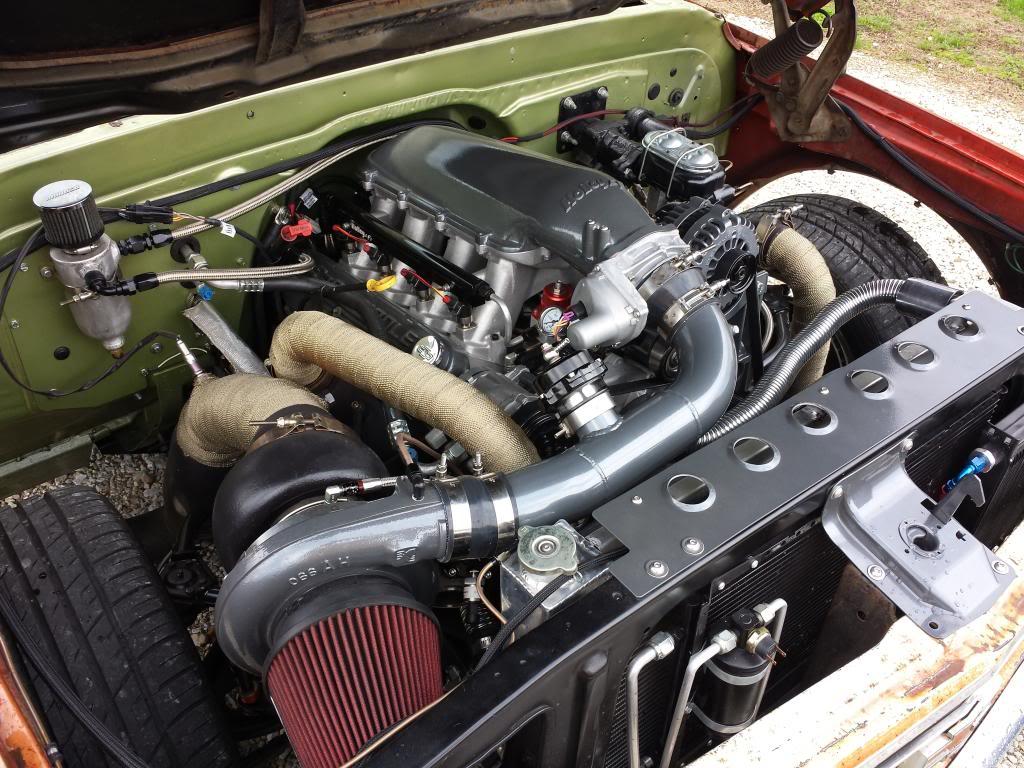 3-27-2015
Yeah, I see the slosh tubz guys post on the 67-72 truck forums pretty often. I currently have factory inner fenders installed. Just took a little trimming for the coilover setup and turbo stuff.
Thanks for the compliment. The blazer is decent, but the buick is going to be way nicer....after all, it's not my money. LOL.
3-31-2015
Time to accessorize.
Planning to run an LS1 F-body power steering setup, along with a custom passenger side alternator deal I found. This allows the acceccories to sit pretty tight to the engine CL, and will allow a bunch of room for turbo plumbing options. I wasn't able to fit the F-body alternator, with as far forward as I have the engine sitting.
I'm also running the Holley swap oil pan, which fits GREAT...tons of room, and no cutting or boxing of the crossmember required.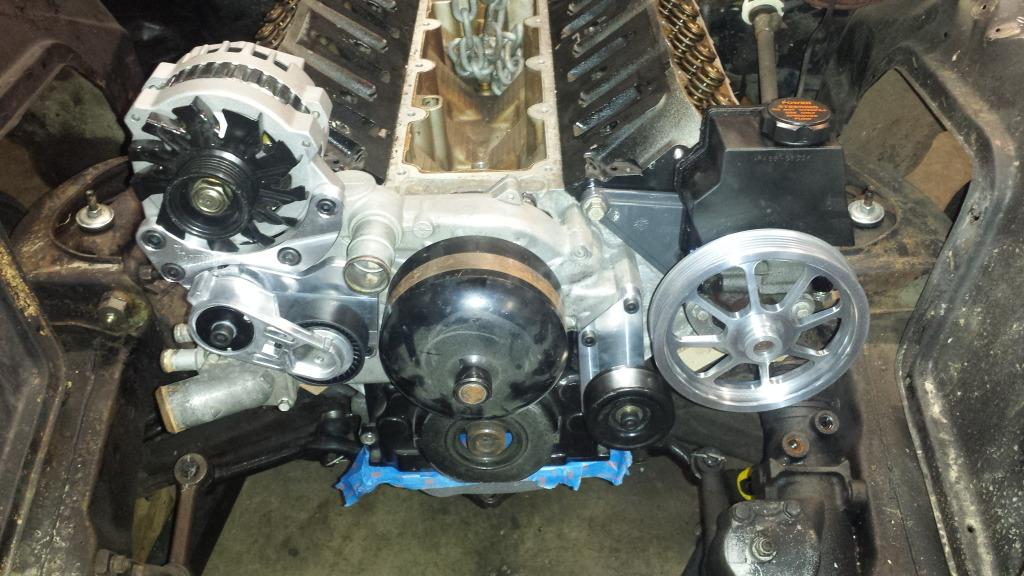 Alternator sits kinda high, but will clear the hood easily.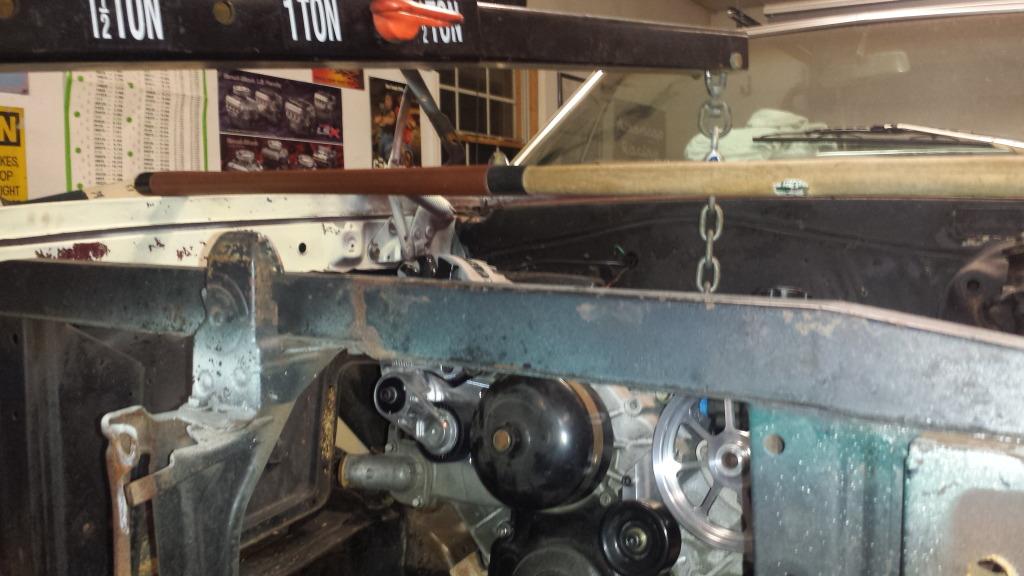 4-1-2015
Fronts floors are getting close to being done.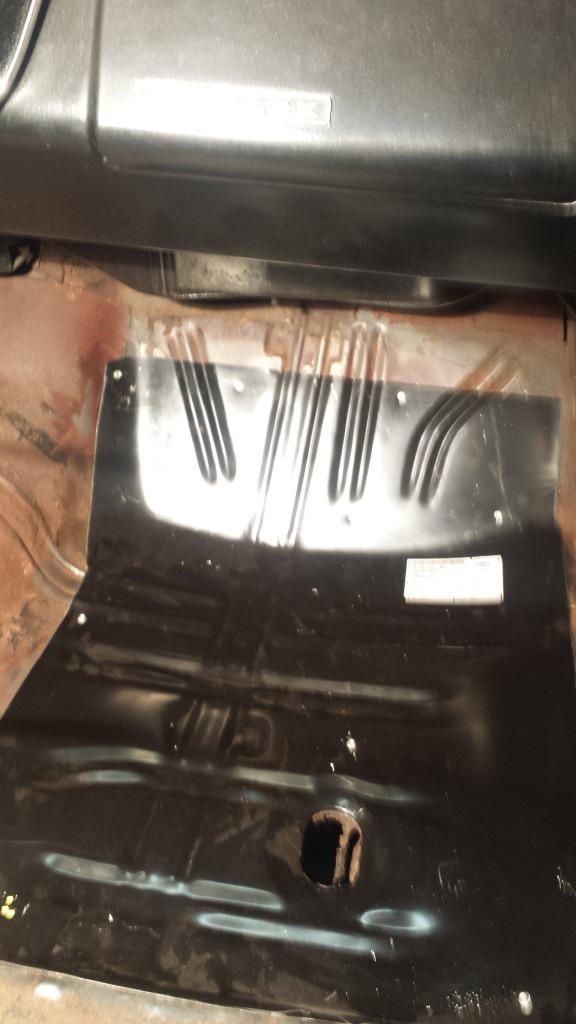 Sweet fitment of aftermarket offshore sheetmetal...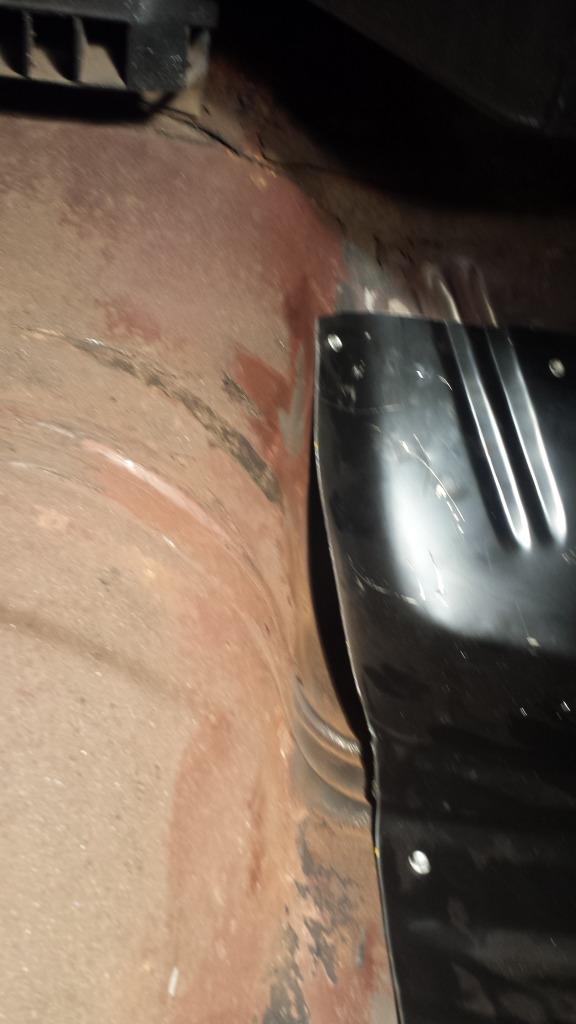 Maybe it would be easier to swap to Fred Flintstone power?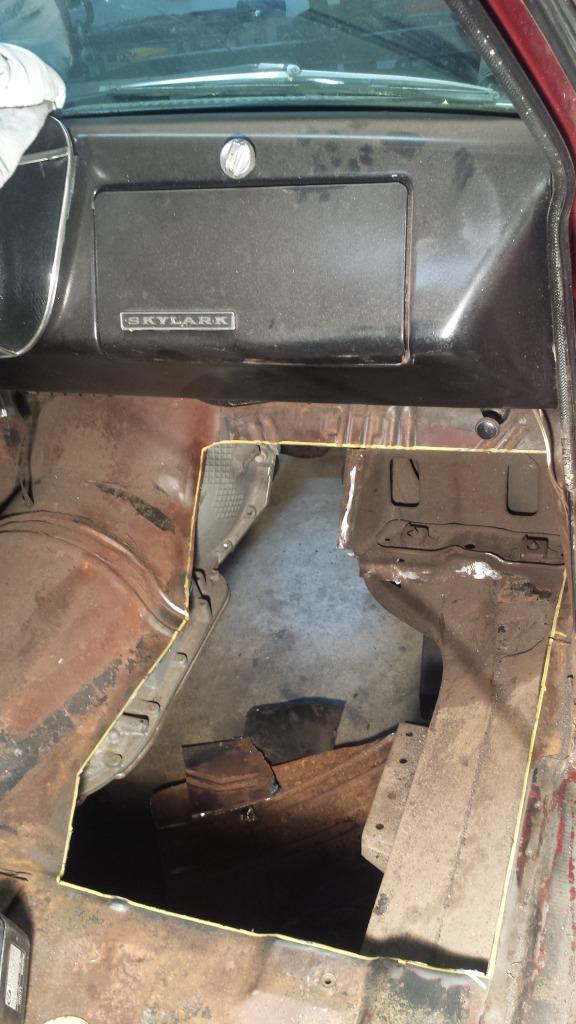 4-3-2015
Well....$hit just got real....
Picked up a forged 383 LS shortblock for the Buick....built for boost. Figured it was for the best to sell the LS6 while it was still all in one piece and worth something. lol
K1 4340 forged stroker crank
K1 forged H-beam rods
Wiseco pistons and rings
ARP Everything
Clevite bearings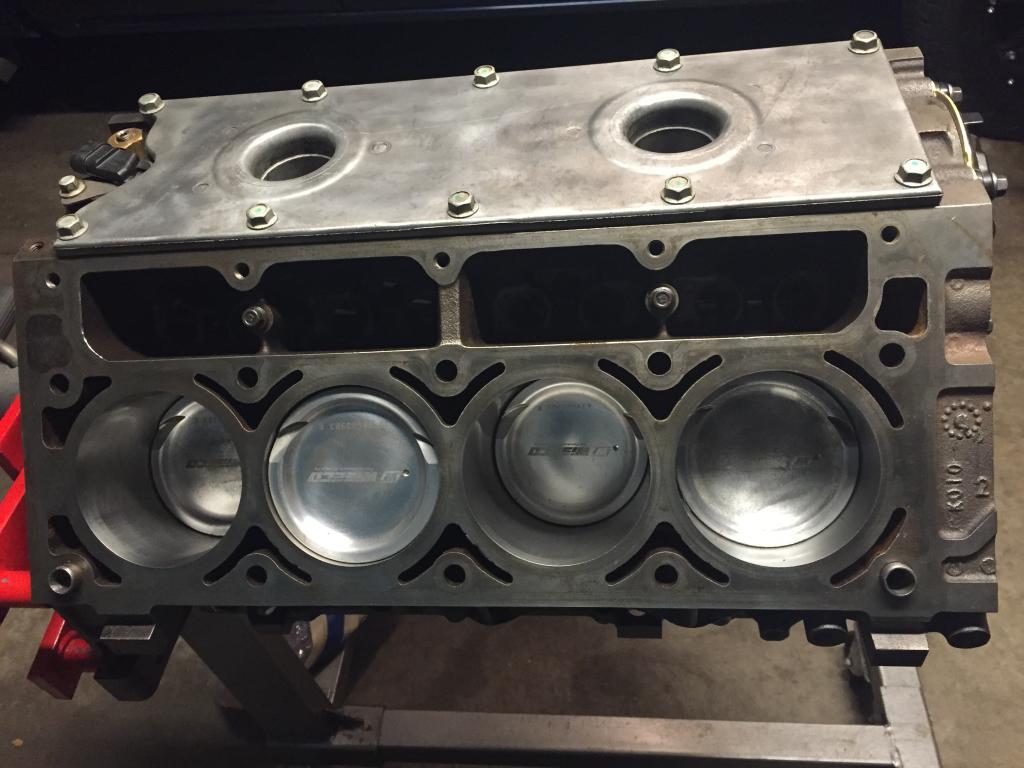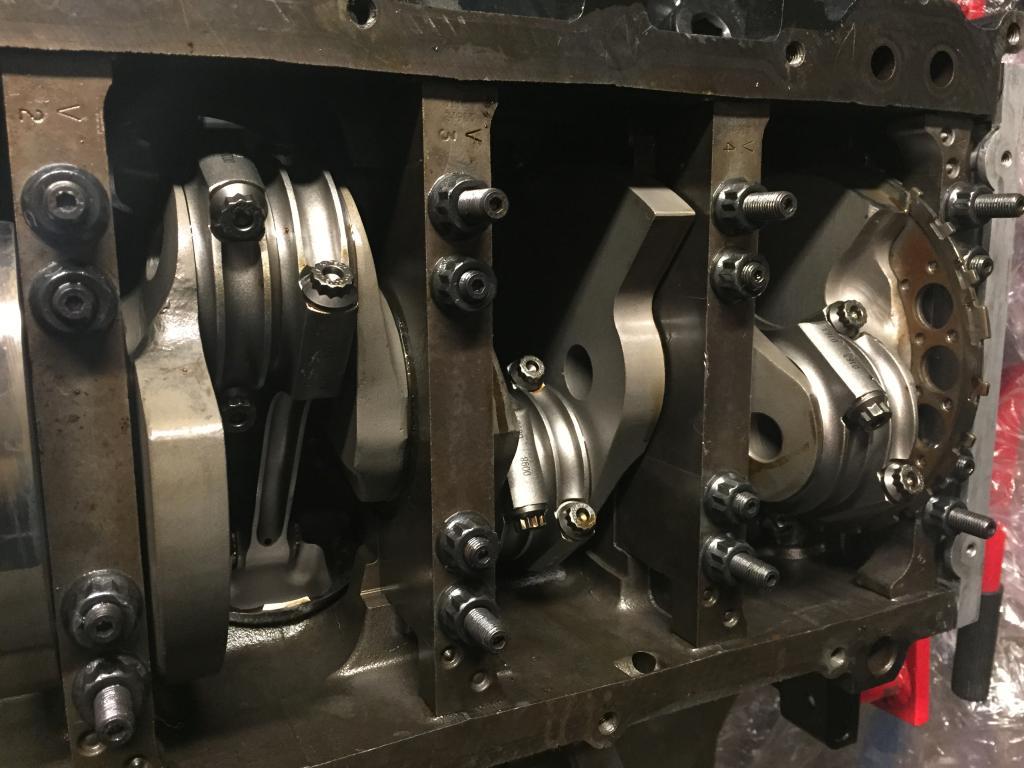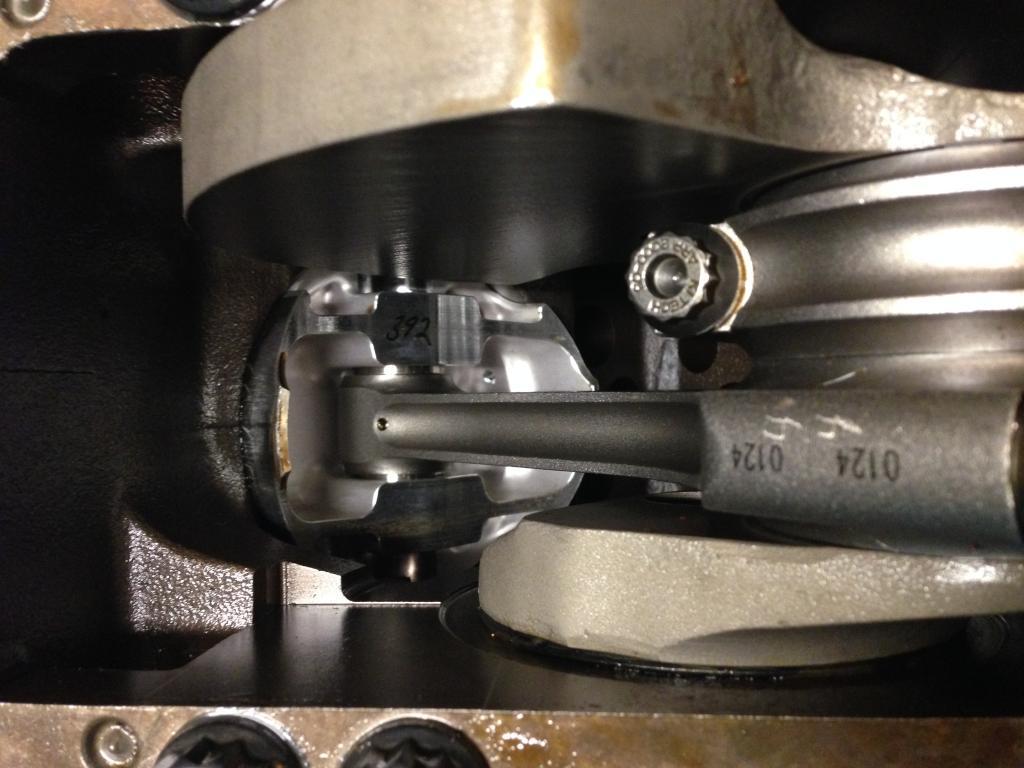 5-26-2015
Progress stalled a little bit as my wife and I had birthday stuff to do with our son and daughter, and I was also thrashing to get my own hot-rod ready for a big road trip I took with my buddys a couple weeks ago. Said roadtrip got me fired up to do some more work on the buick.
Turbos arrived!! They are Borg-Warner S360. T4 flange, 60mm compressor with a 68 mm turbine, and a .90 A/R. Should light up real fast on this 383, and make around 800 whp when turned up.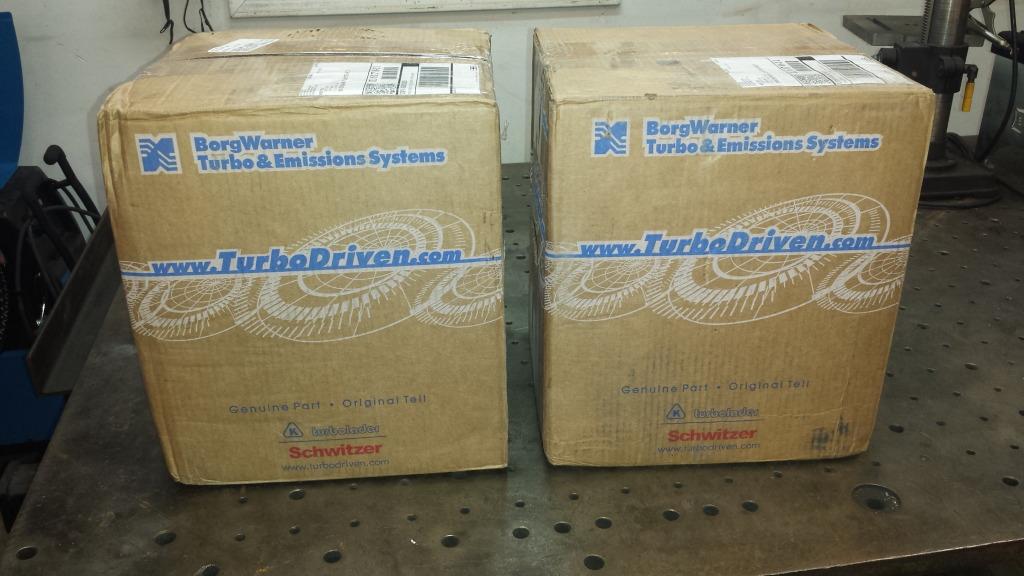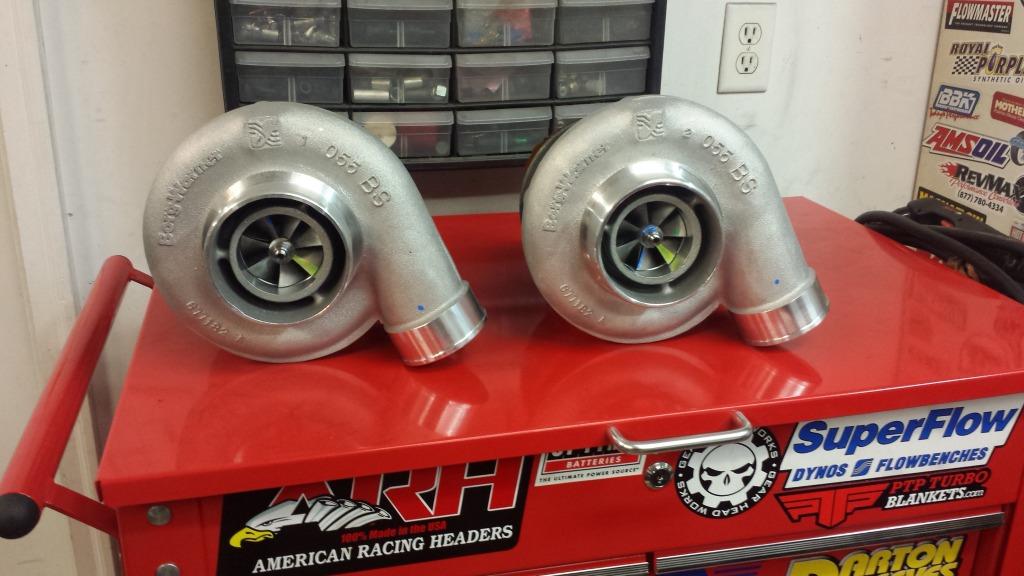 10/1/15
Progress has been slow for 2 reasons:

- Crazy busy summer
- I hate doing sheetmetal repair.

Finally got the trans tunnel modded and fabbed up to where I'm happy with the clearance around the 4L80E. What a pain...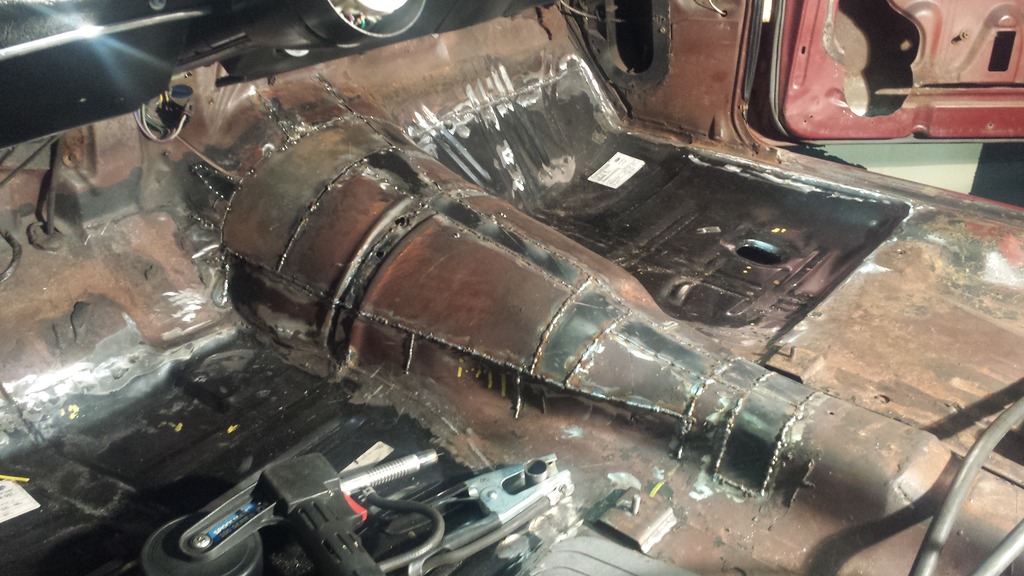 11/11/15
Trans tunnel done, welded, ground smooth.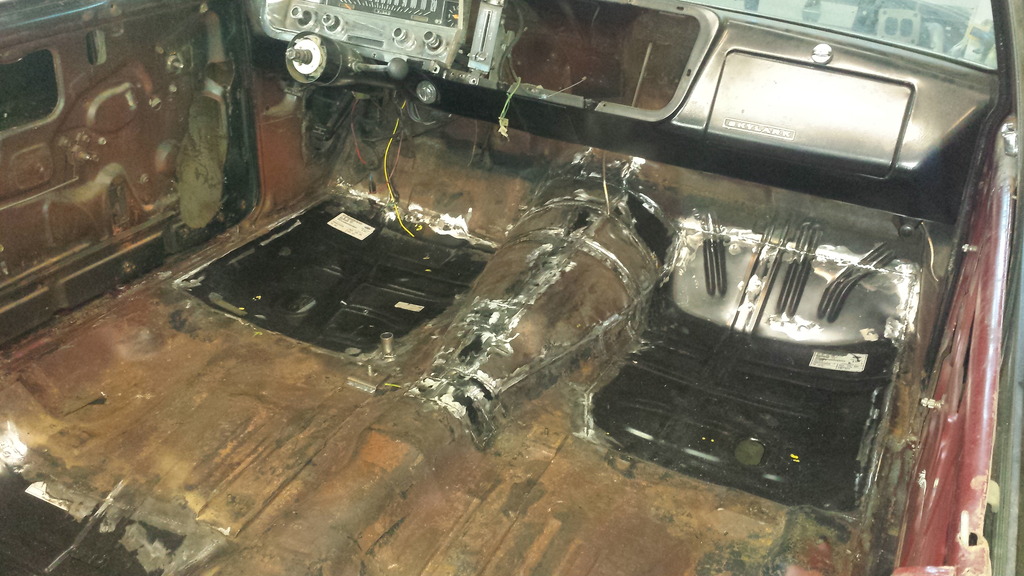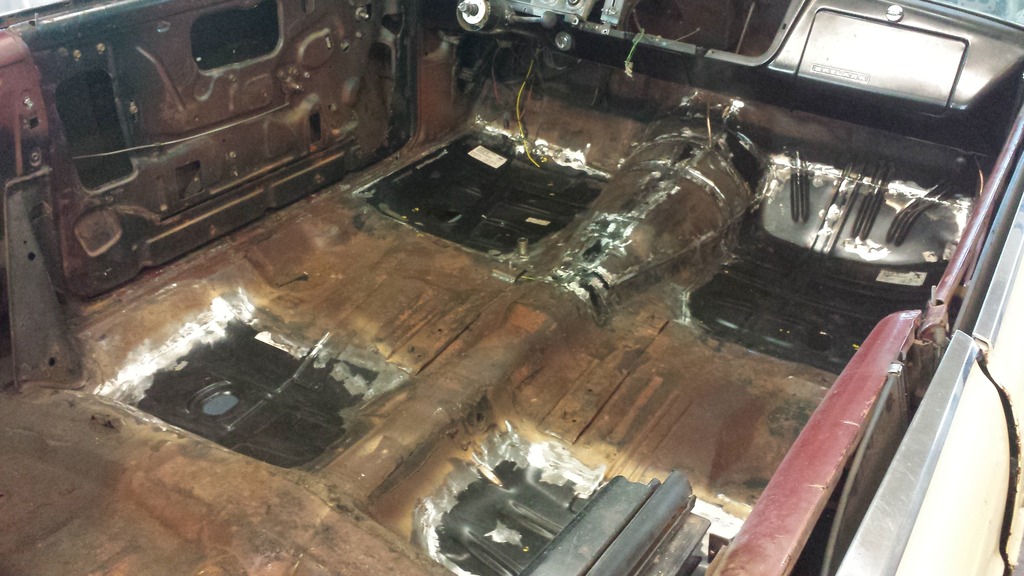 Decided to do solid motor mounts. Had my buddy make some aluminum inserts for the motor mounts to replace the poly bushings. I'll try to dig up some pics.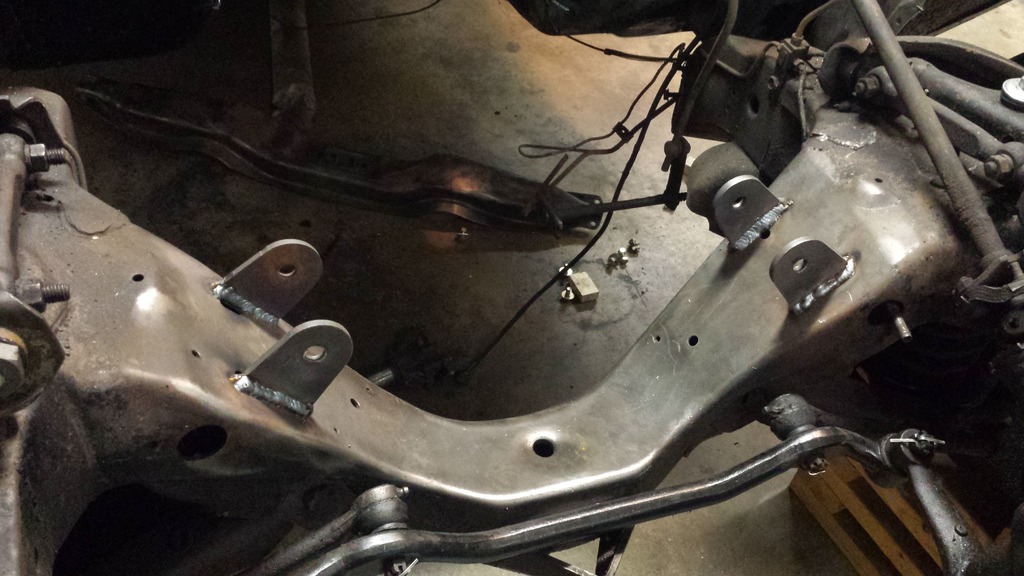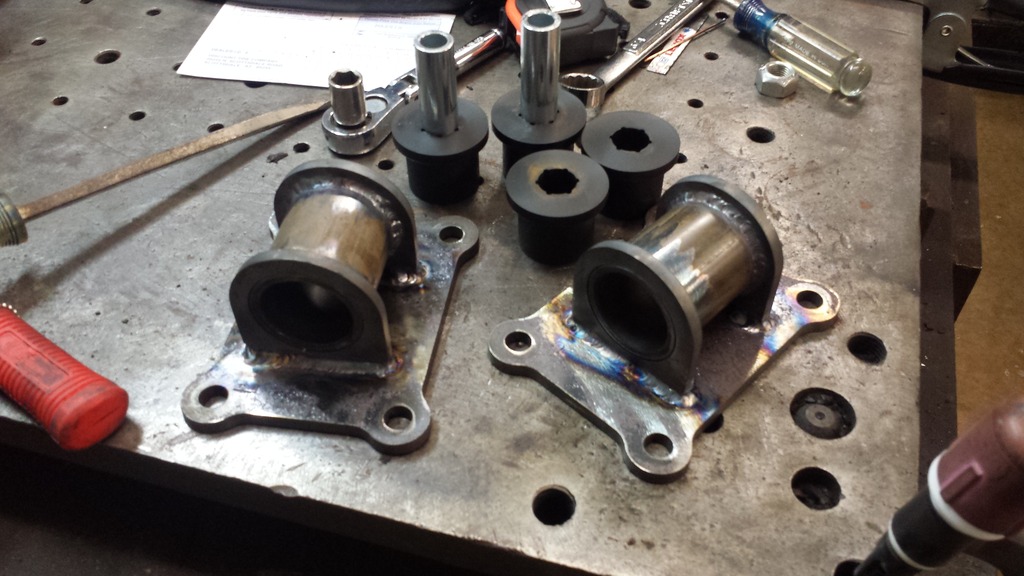 Playing around with where to locate the turbos. Lots of room up in the fender tips, but might try to get them moved back a bit to simplify the plumbing.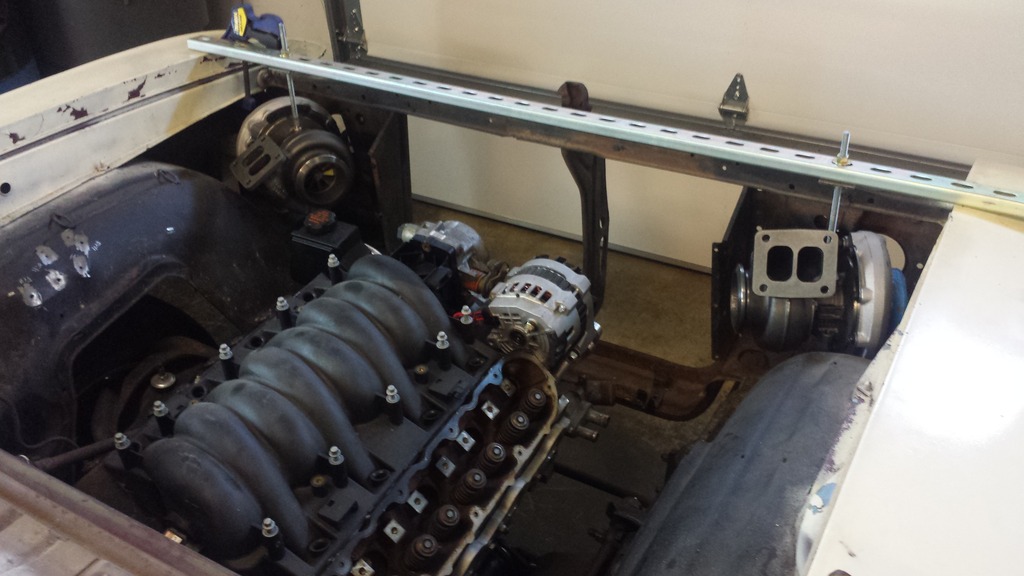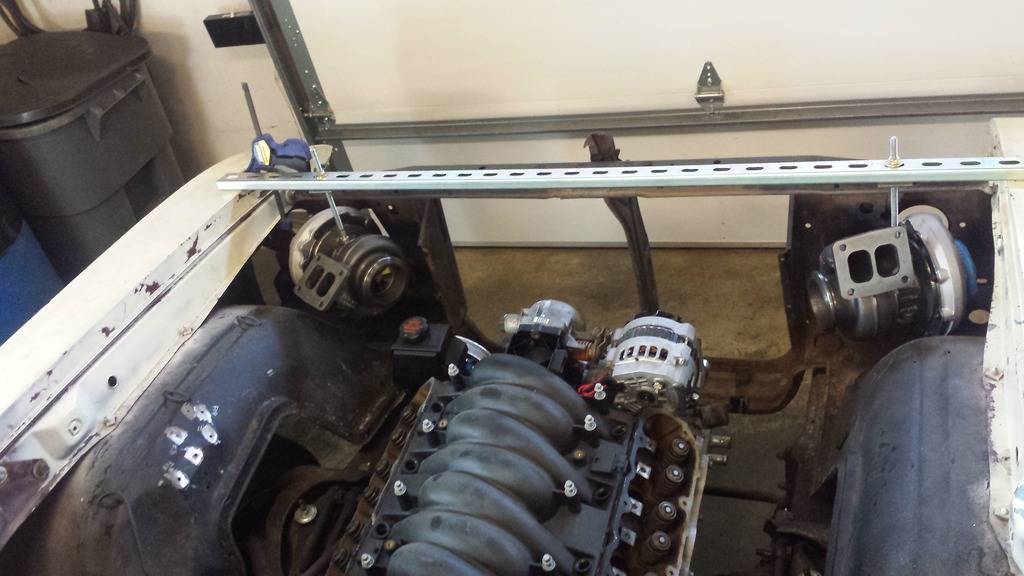 1/8/16
Ok, made a little more progress on this drawn out project. lol.

Started working on the turbo headers, beginning with the collectors.

Cutting the 304 stainless to length.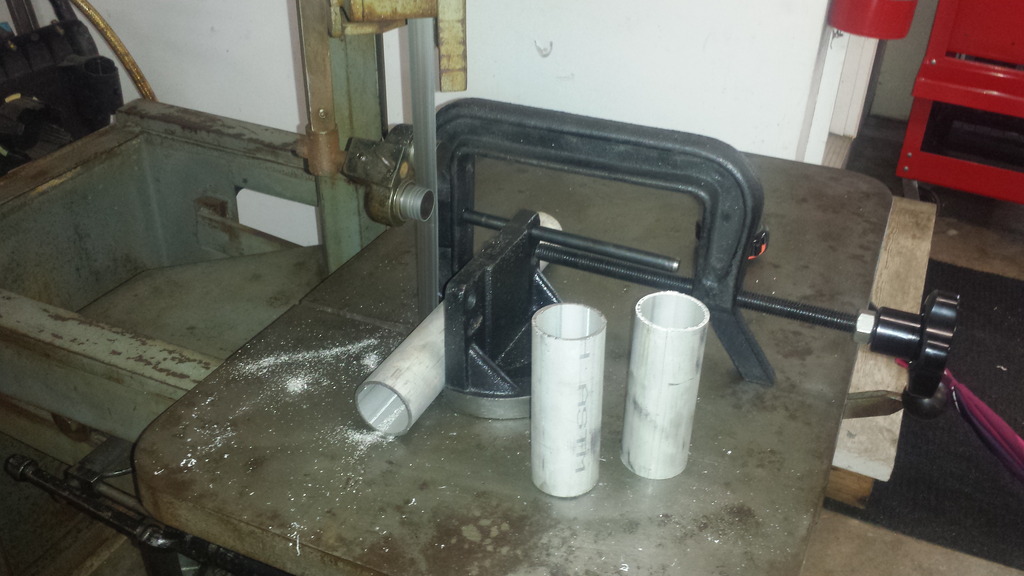 Cut, cleaned up, beveled, and ready to go.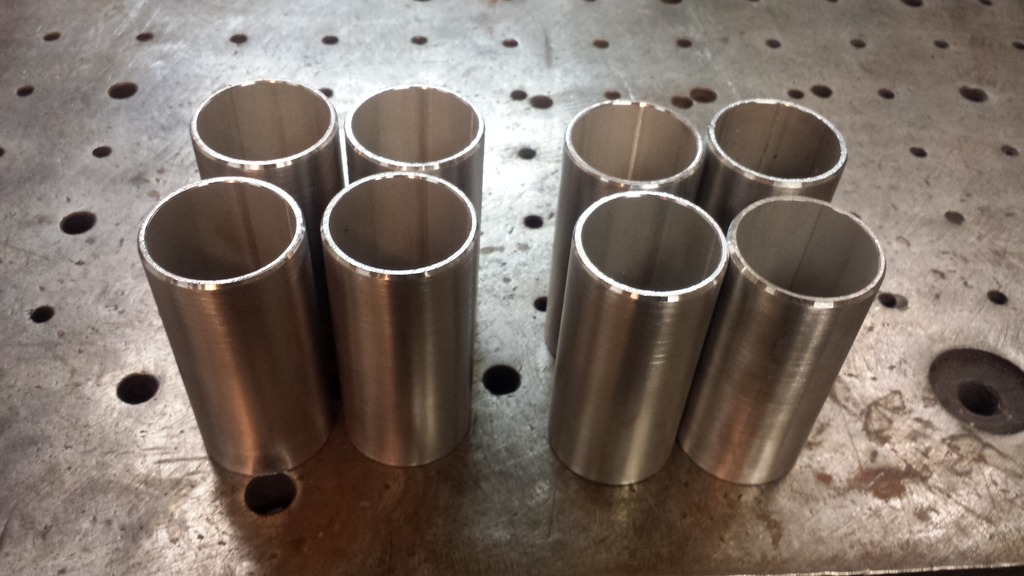 Saw fixture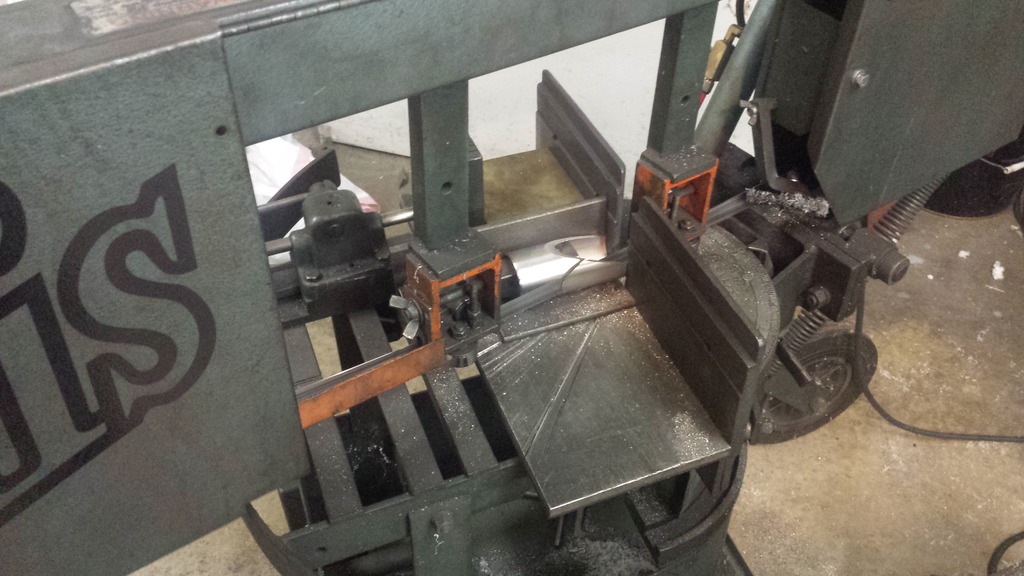 Not bad for my first try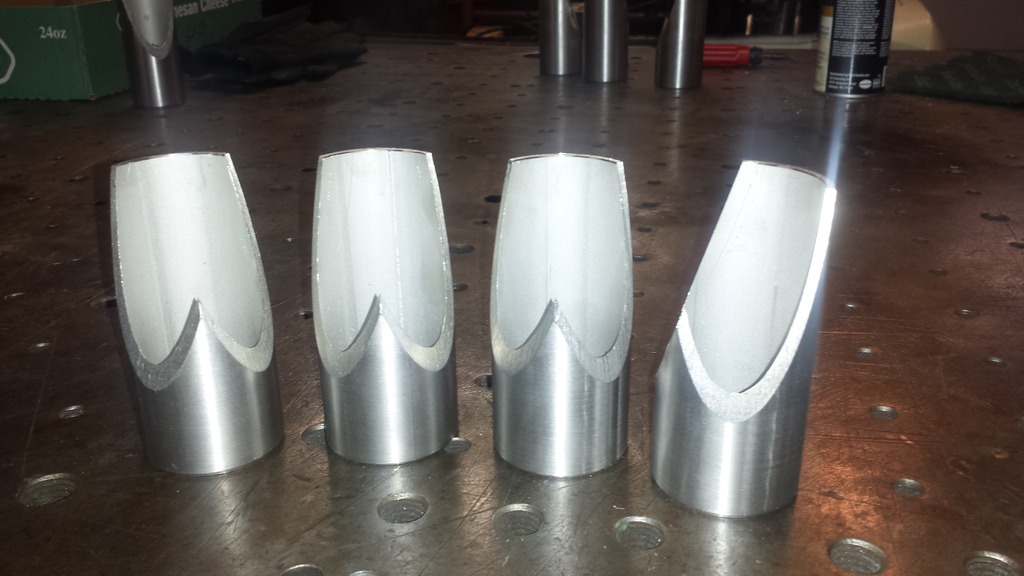 I'm happy with the internal fit-up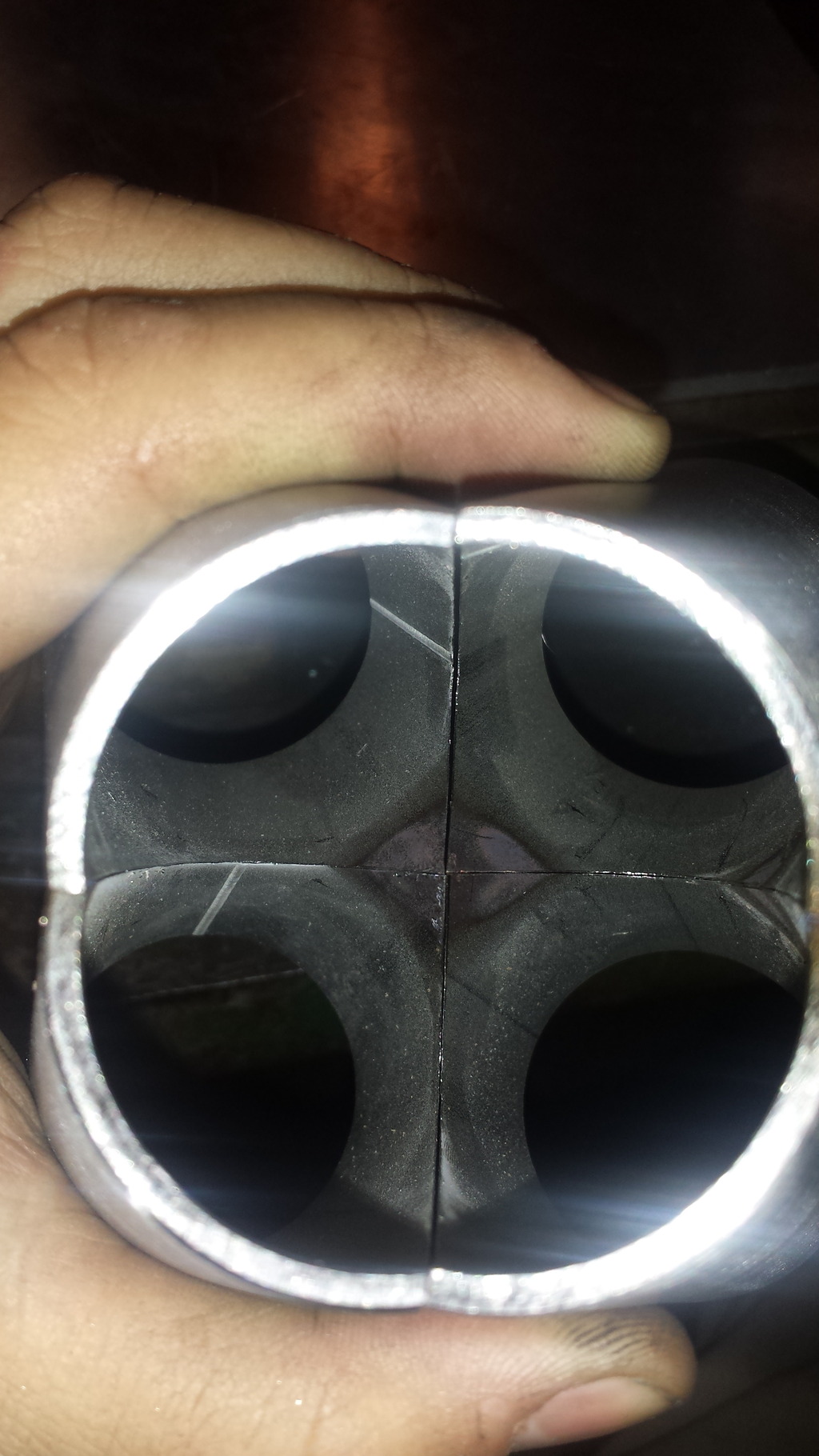 Tacked together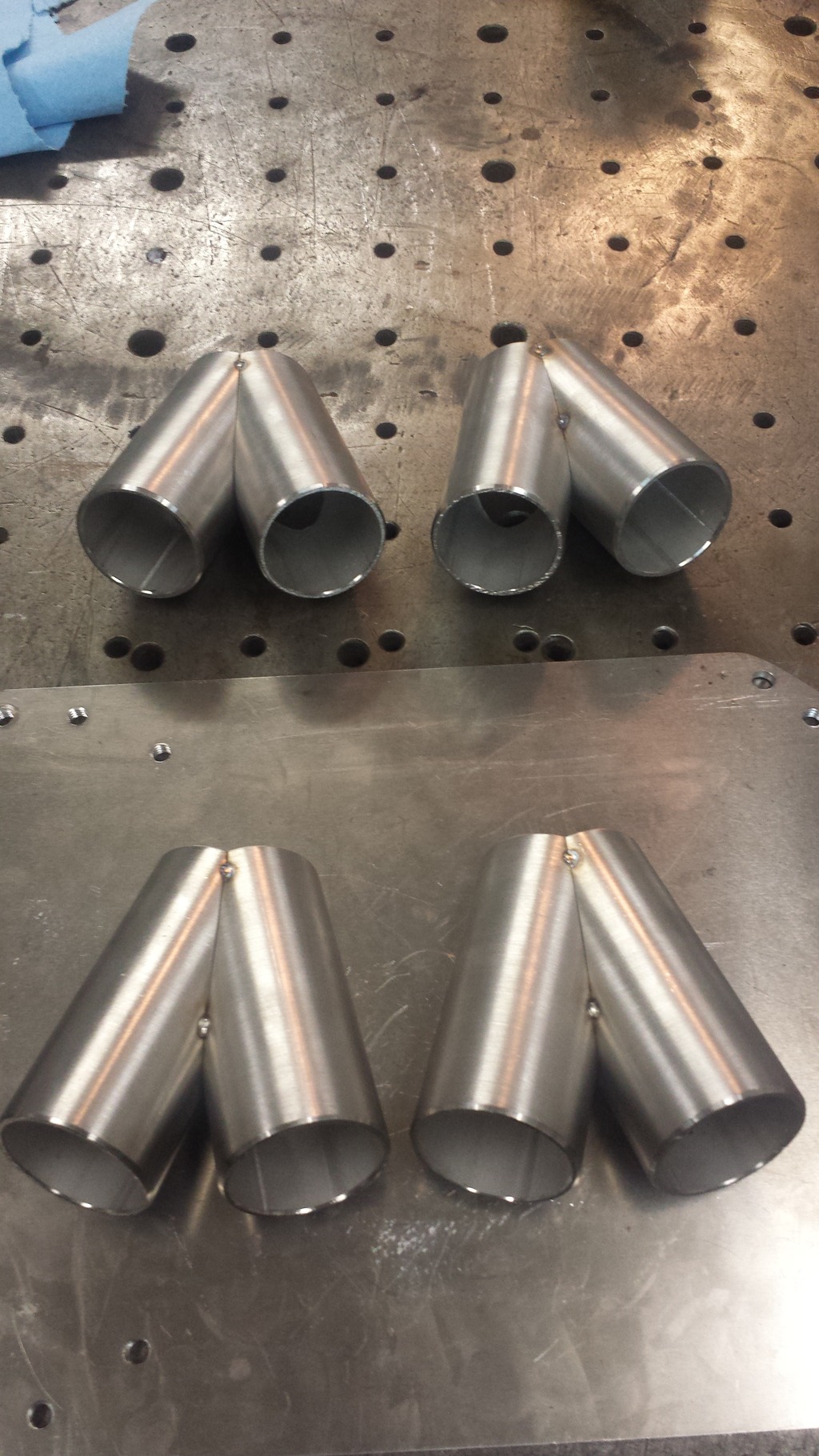 Finished product is pretty close to what I modeled in Creo. Modeling it helped me figure out the exact cut angles and position to get stuff how I wanted...huge time saver.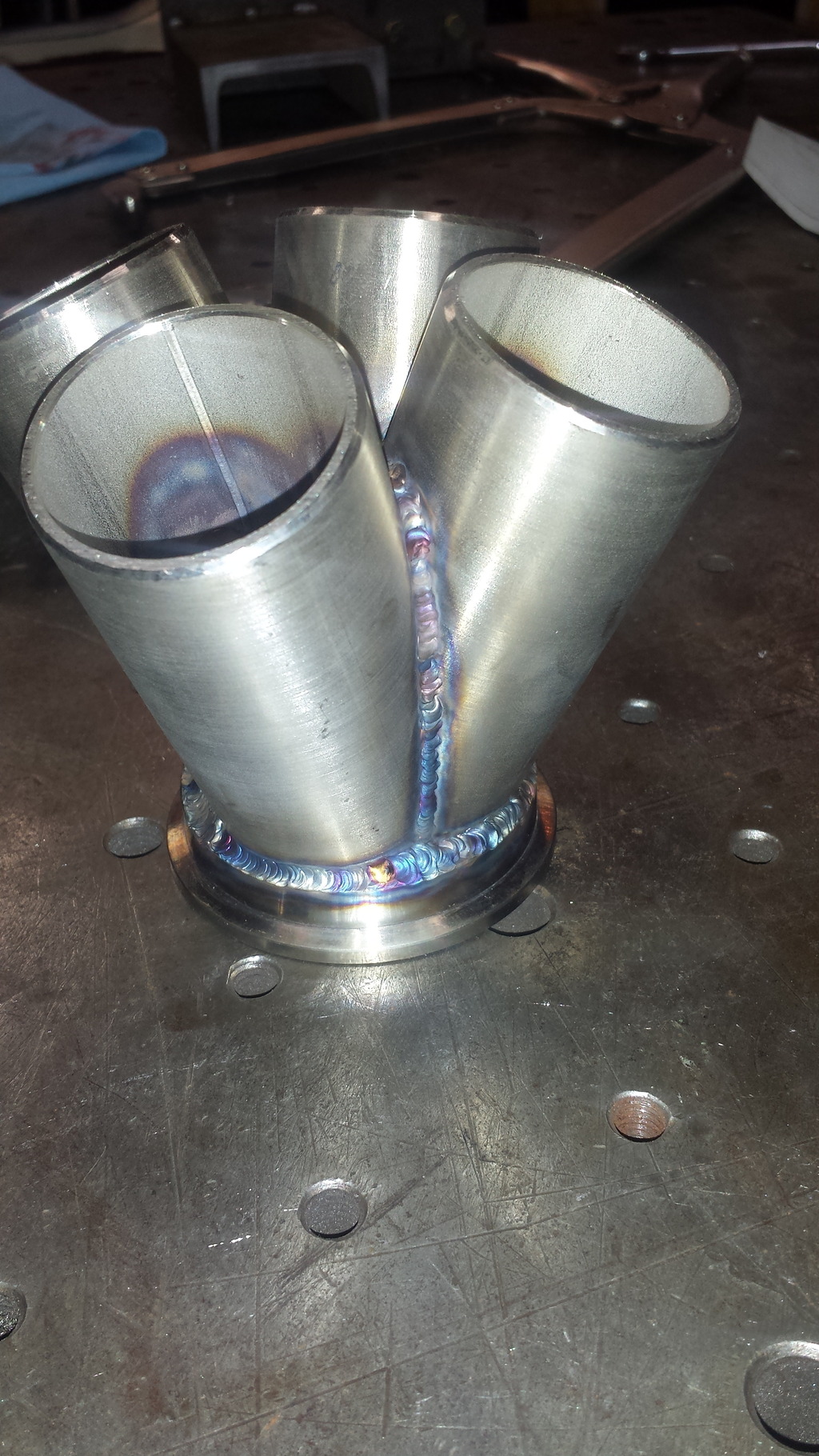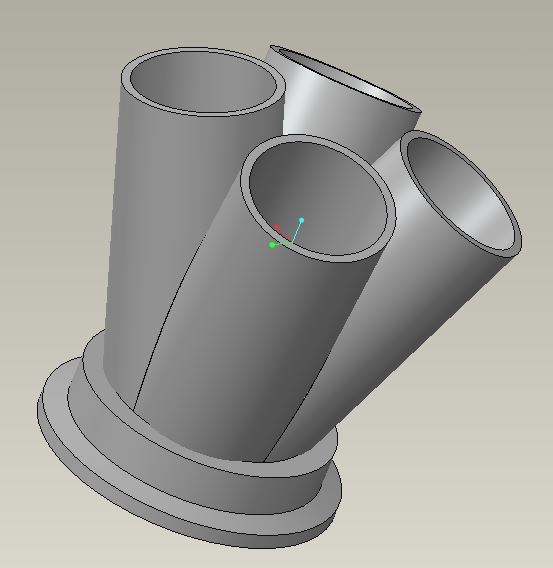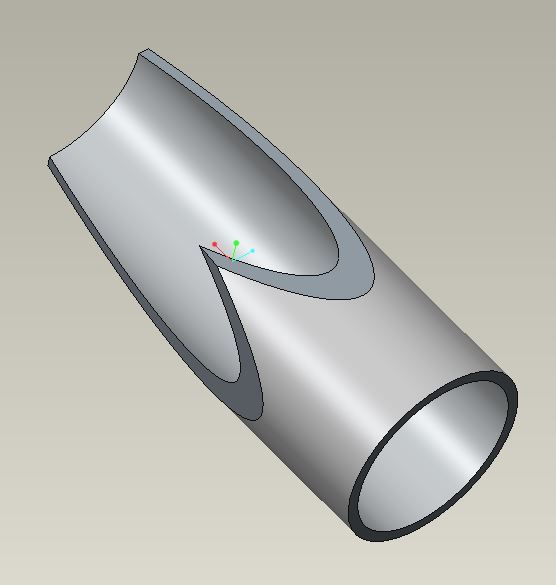 1/27/16
Started out with some simple water cut header flanges, but wanted some steps in them for positively locating the primaries around the ports, so I bored some steps.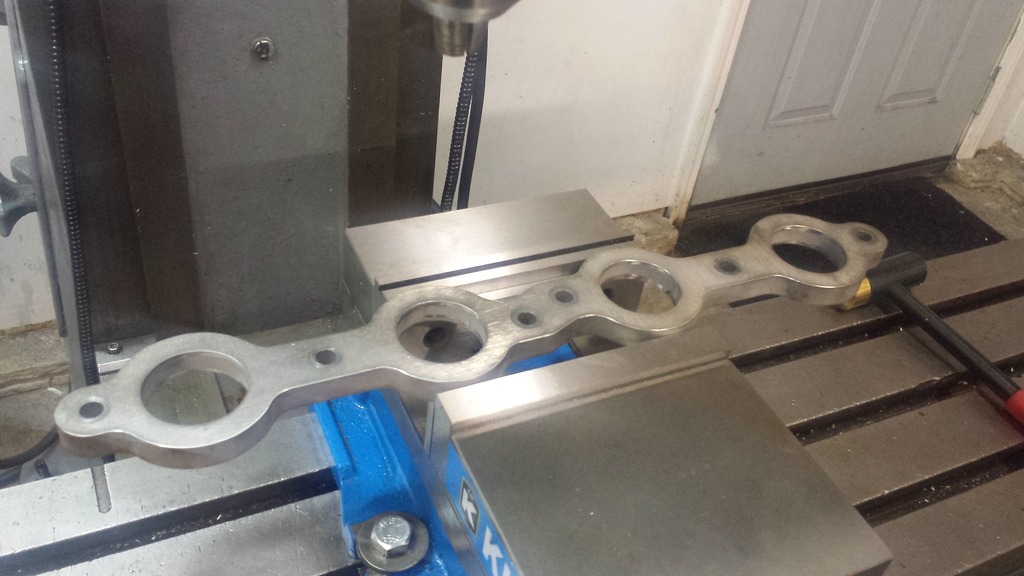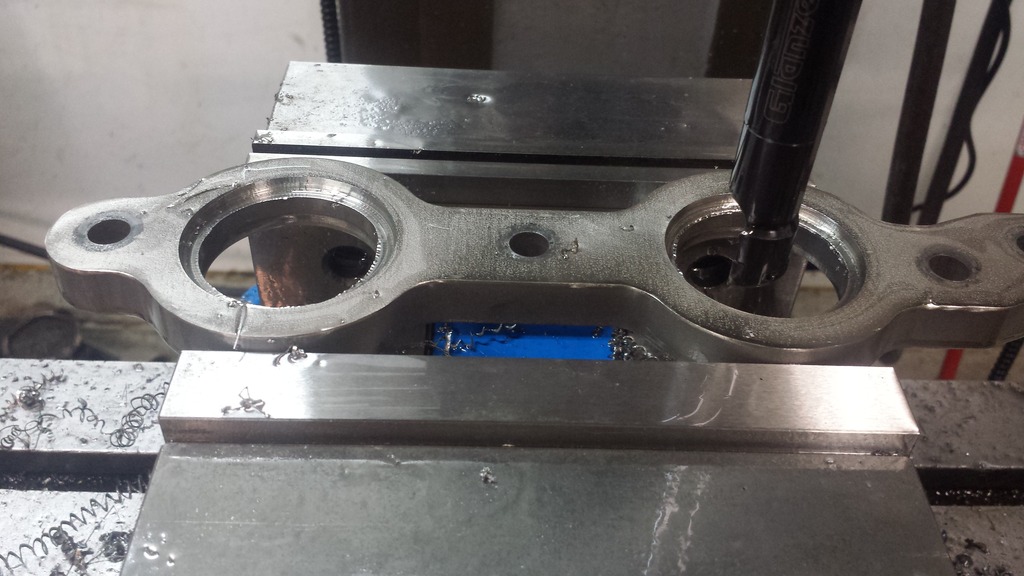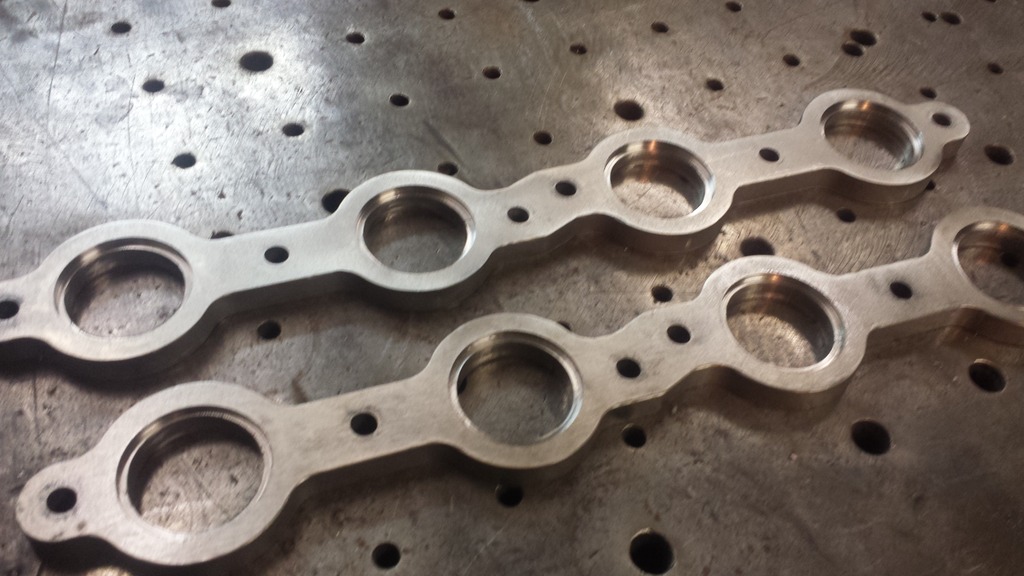 Had been putting off starting on the trunk floor replacement...but in the words of the wise buddy of mine, "Sometimes you just gotta start cutting". So I did.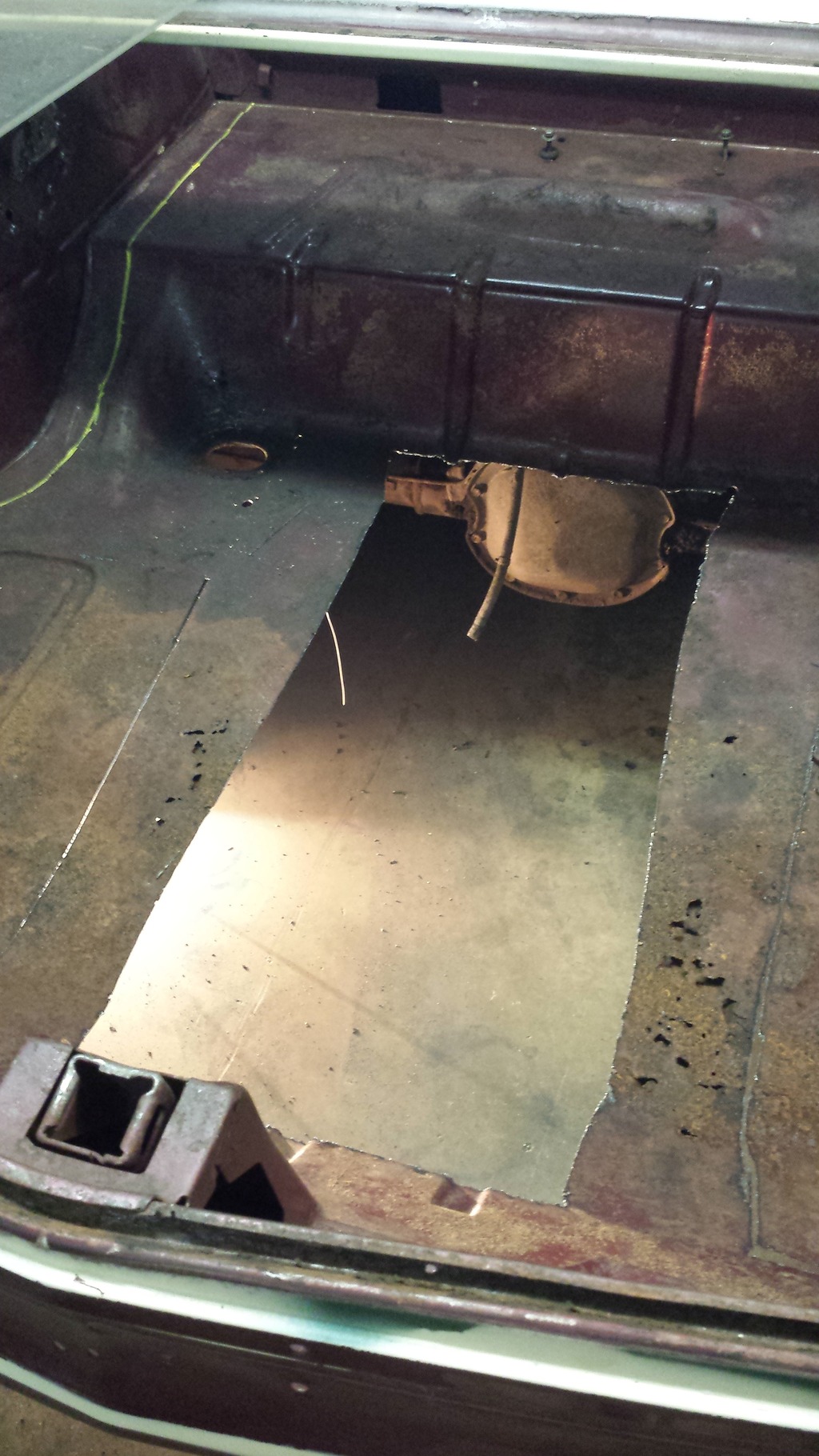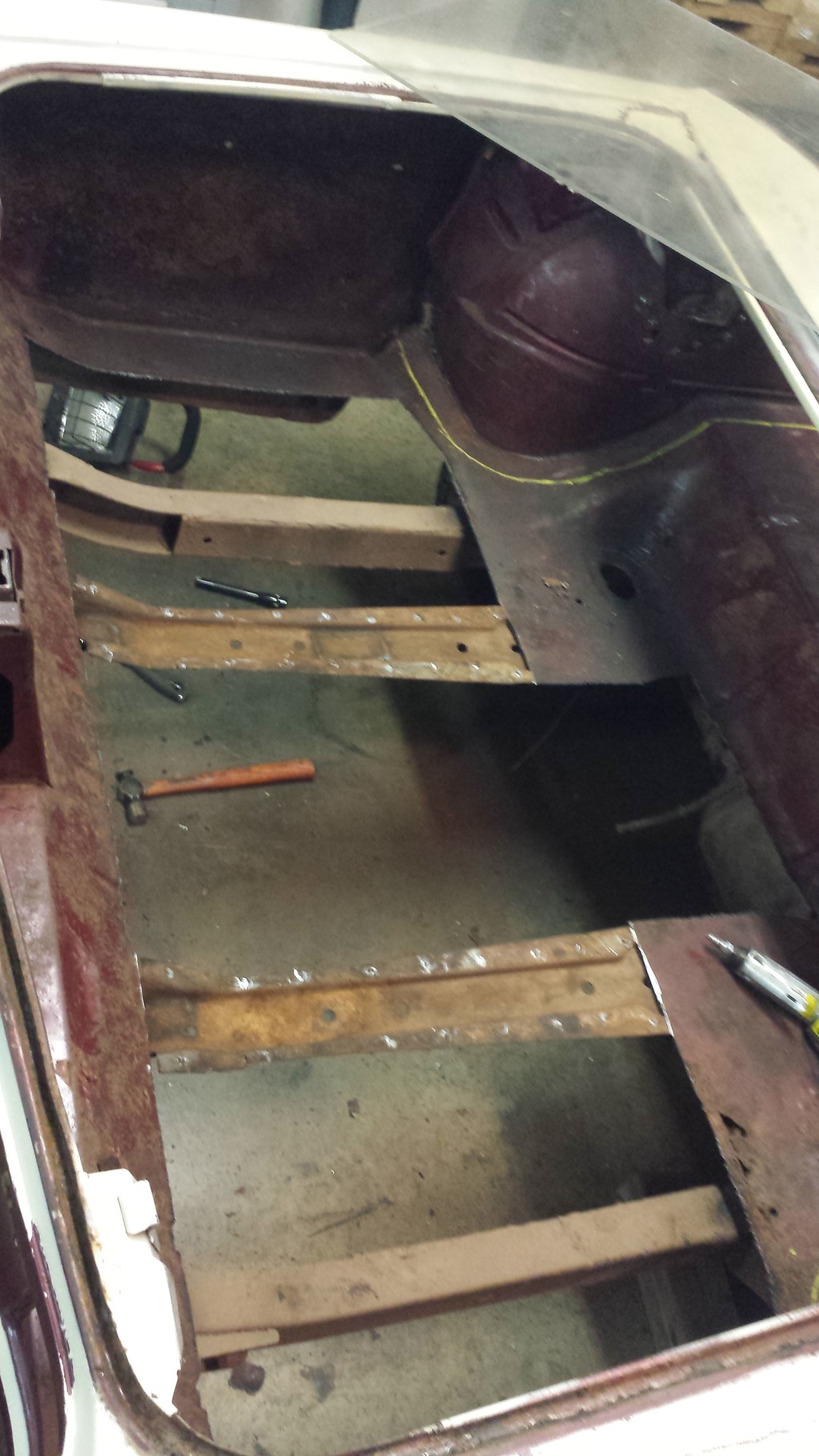 Spot welds ground and rust neutralizer in the supports where the media blaster won't get to.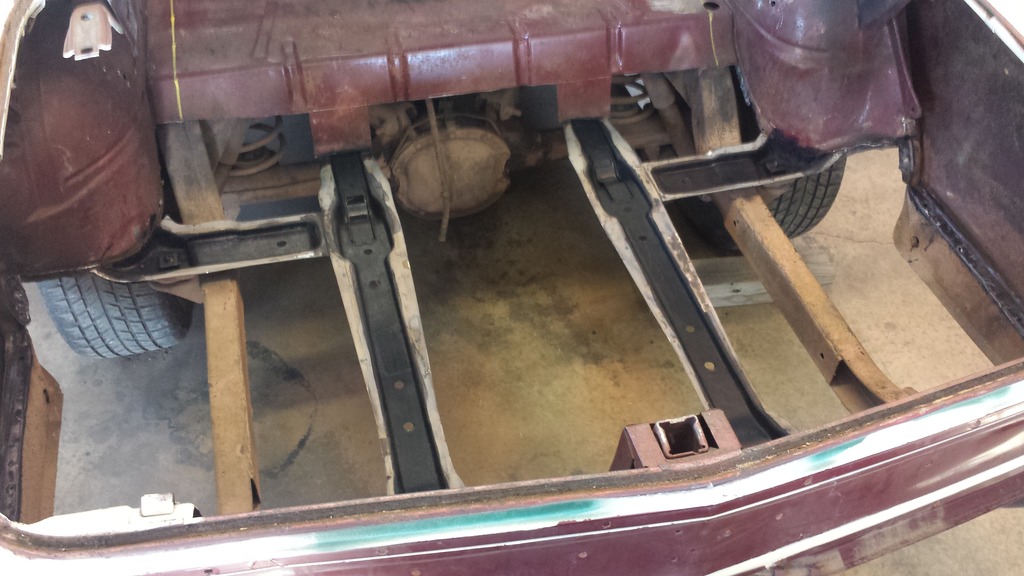 1/29/16
It's not Buick related, but I figured you guys might get a kick out of this.
Got my Blazer back on my buddy's dyno a couple months back...she laid down 825 rwhp and 899 rwtq. 370 cubic inches, 80 mm turbo, 23 psi boost, E85 fuel....drive it anywhere.
I can't wait till the Skylark makes noises like this.
2/15/16
2/17/16
Got one side all fit...on to the other side...then finish welding. ugh.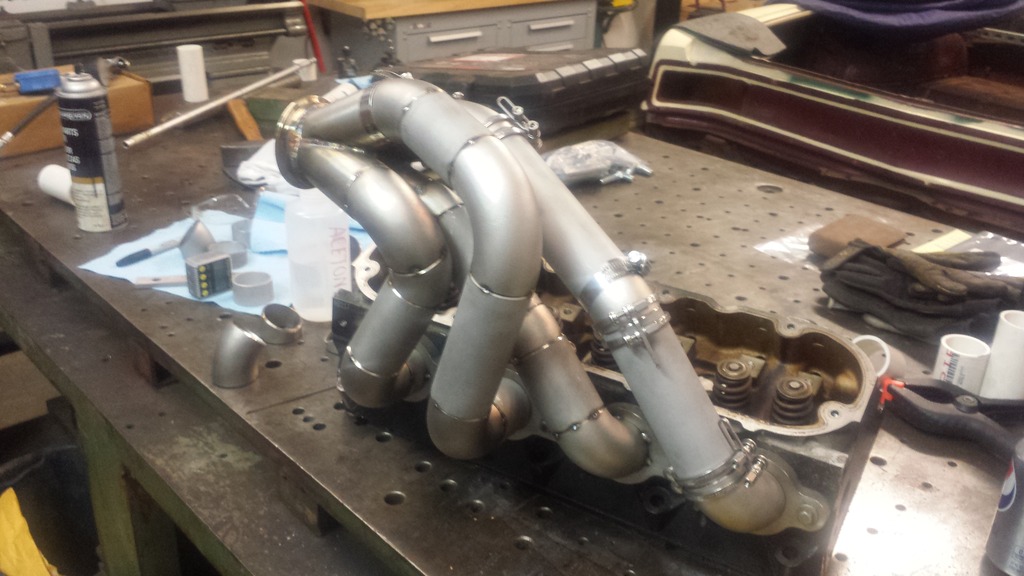 2/19/16
3/7/16
Got the headers all welded up.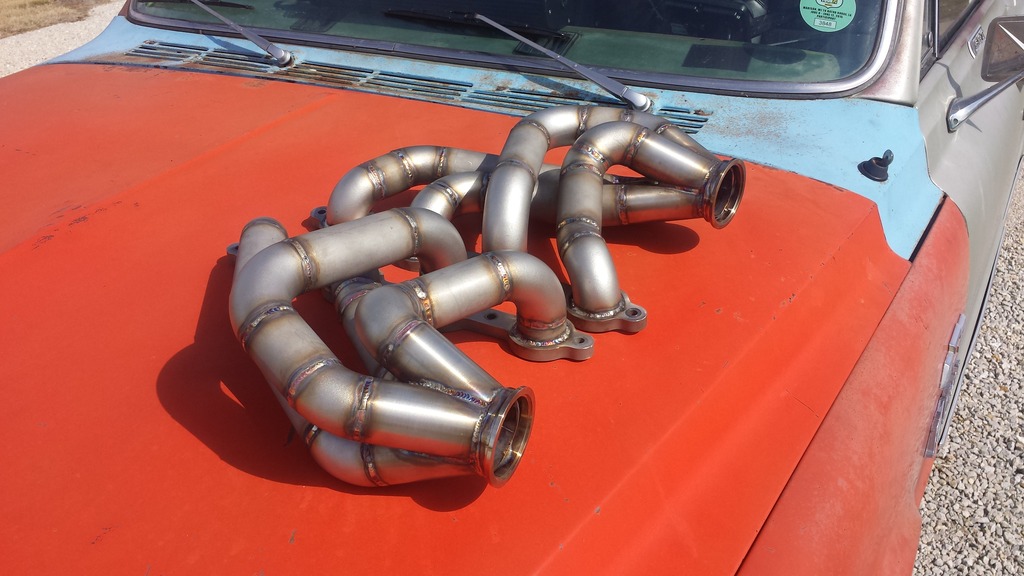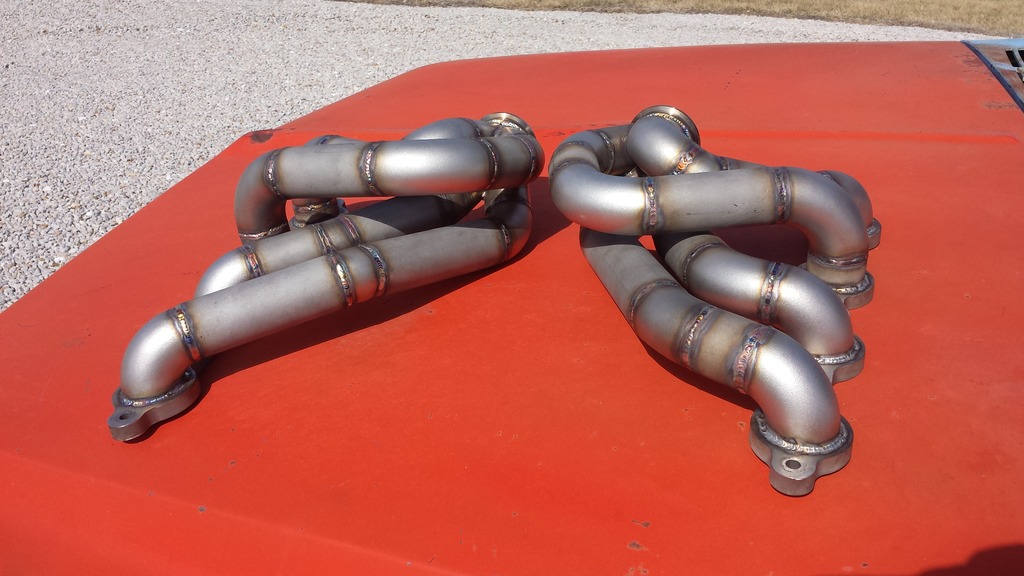 Pushed it outside for the first time in a long time, in order to clean up the shop a little.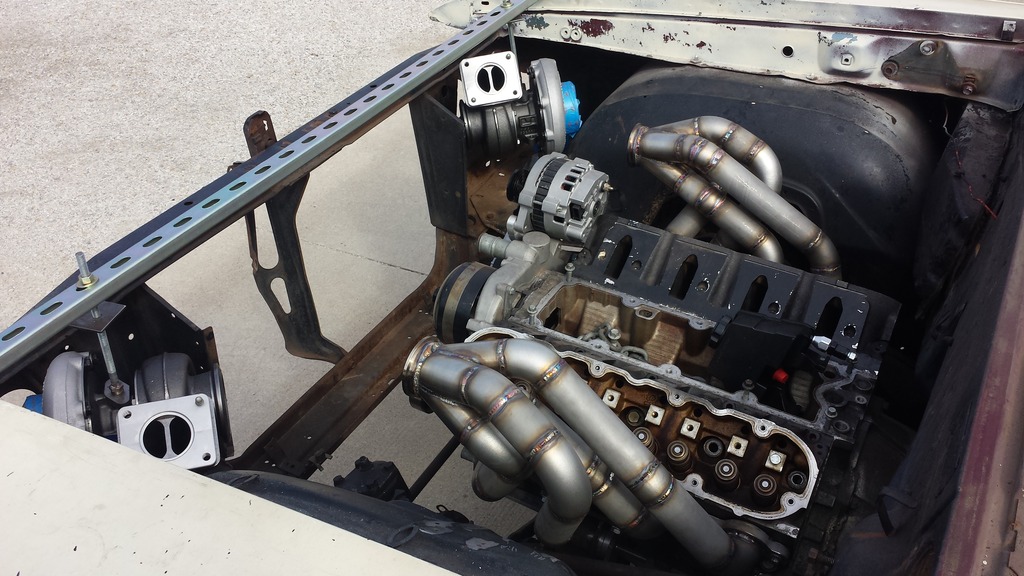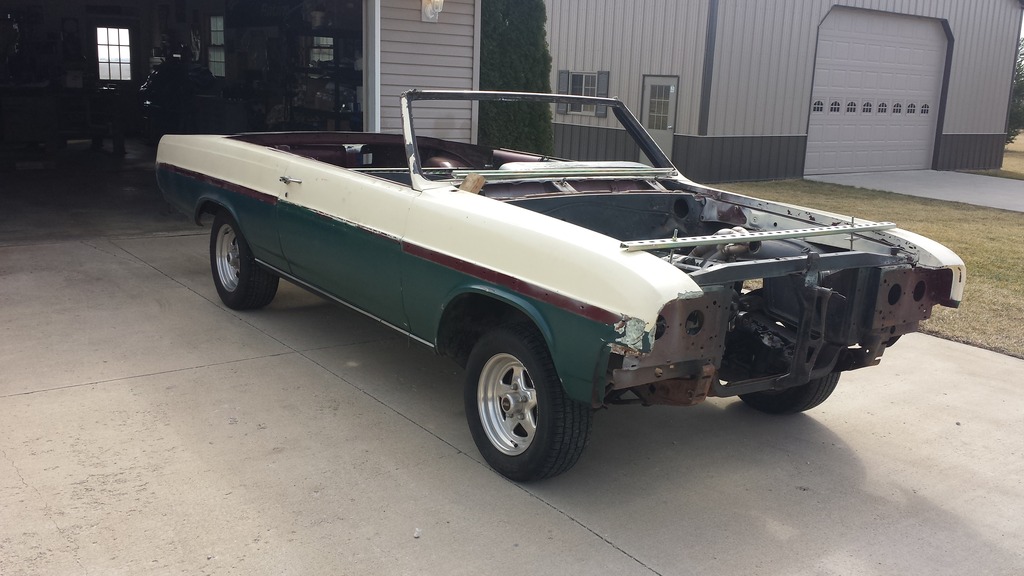 3/30/16
Turbo Mounting:


I was not able to find a drain flange mount of the design I wanted...so I built my own.


Started out with a hunk of bar stock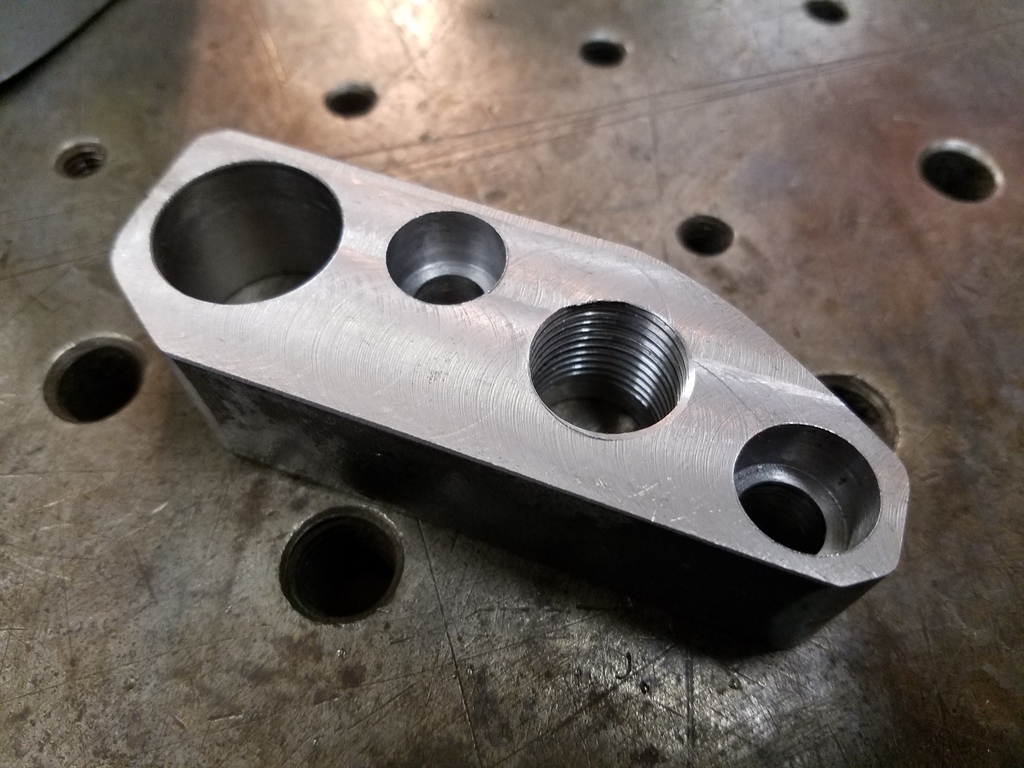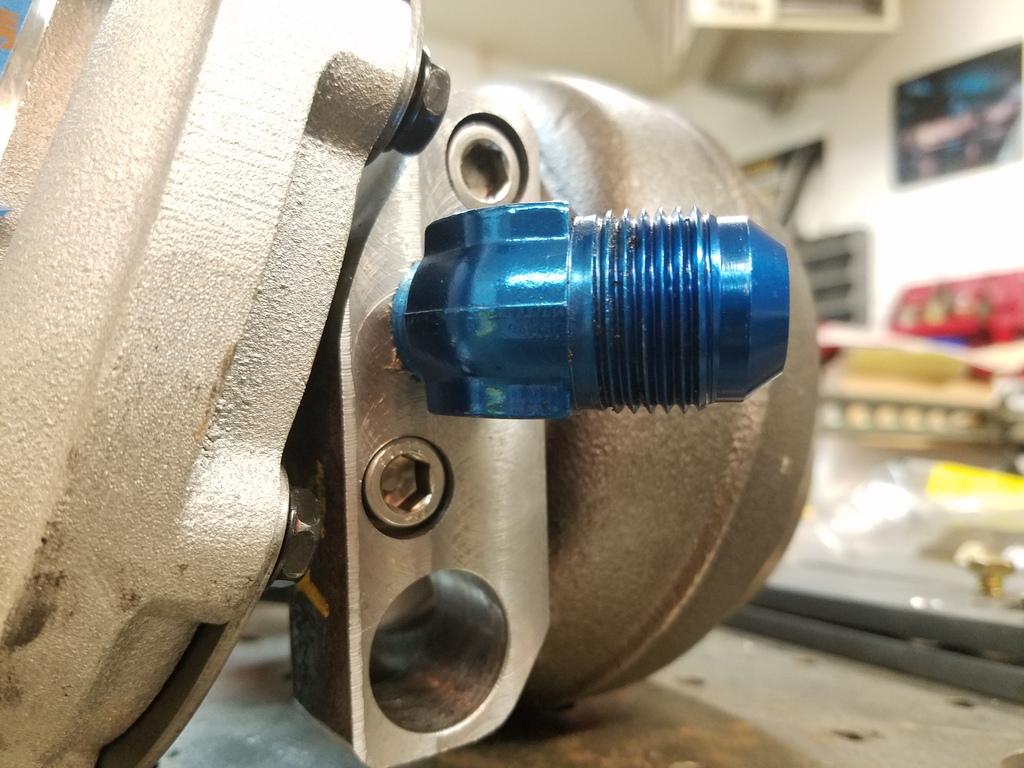 Burned a plate to the frame, with a mating bolted flange that will allow easy removal.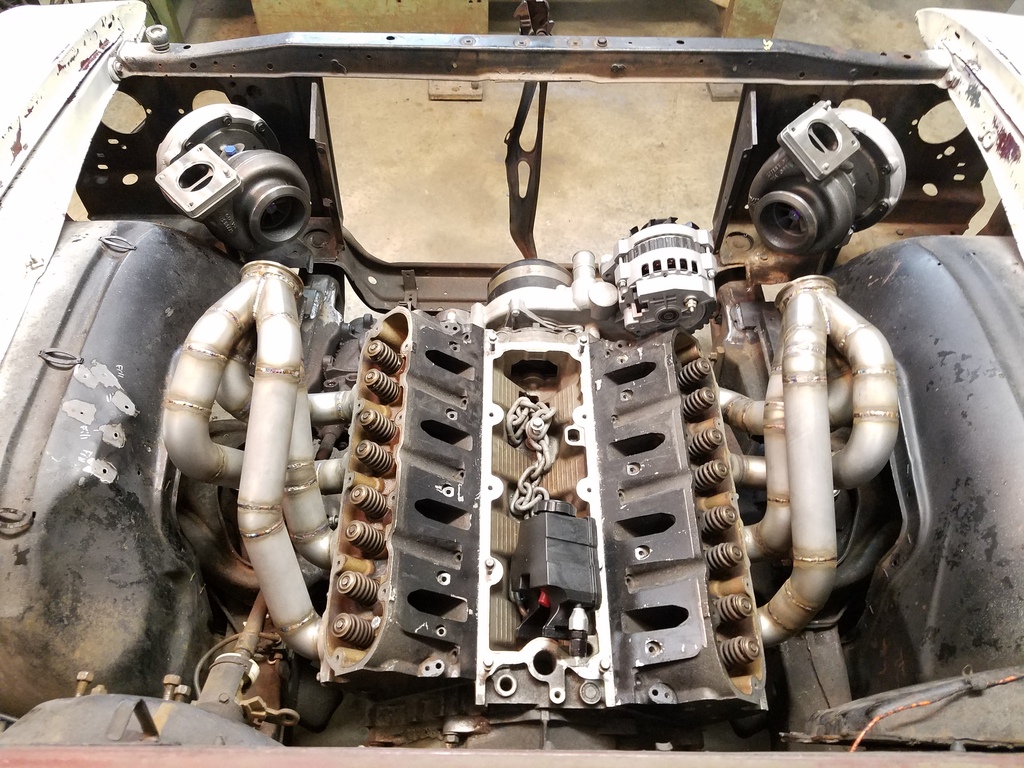 4/4/16
Made a bit more progress this weekend.

Wastegates go on next.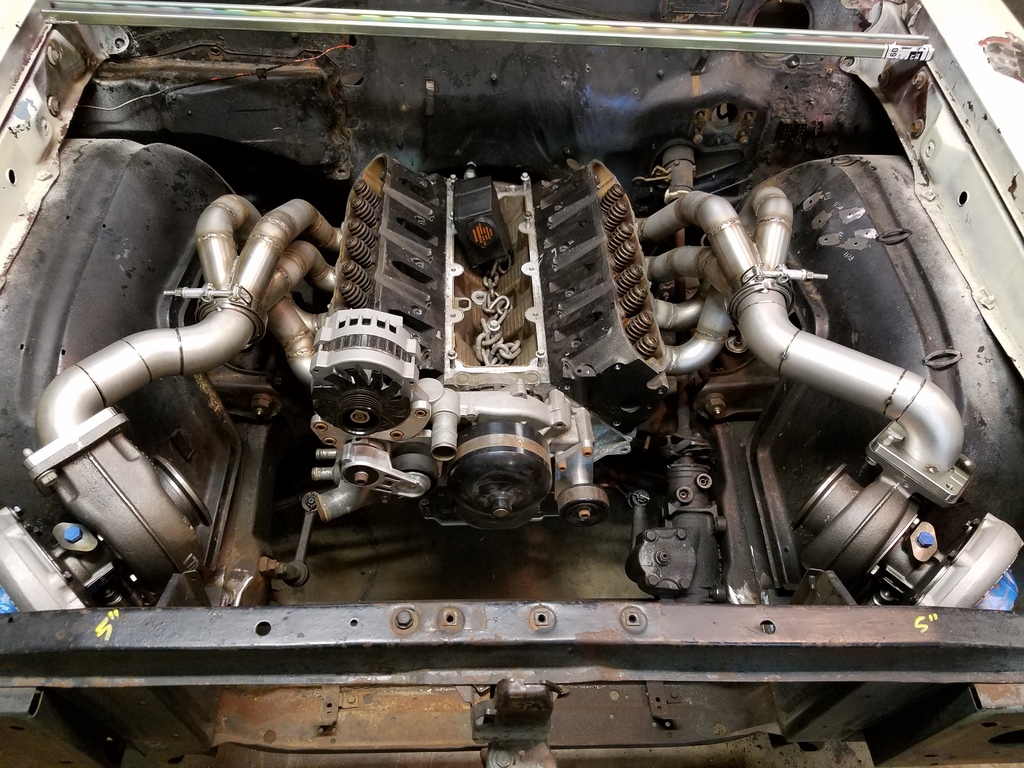 4/4/16
Thanks!

I also got a new tool that should help this project immensely.

Whirly Jig!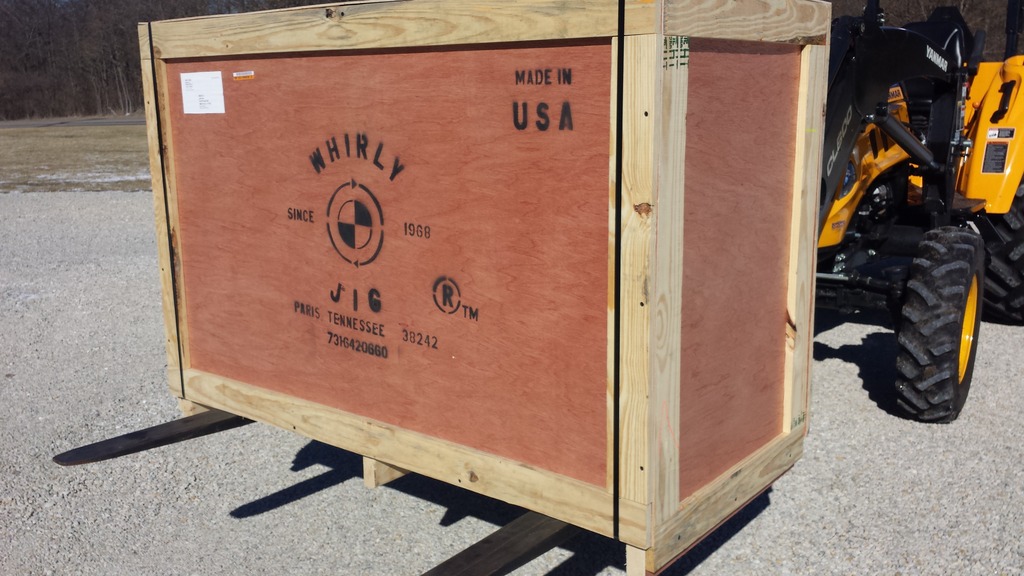 10/18/16
Finally got some work done on the Buick again.

Got the wastegates fitted up...which is a seemingly simple deal, but takes FOREVER when you're trying to make things as symmetrical as possible. Not to mention, working with sch 10 stainless is a total bish.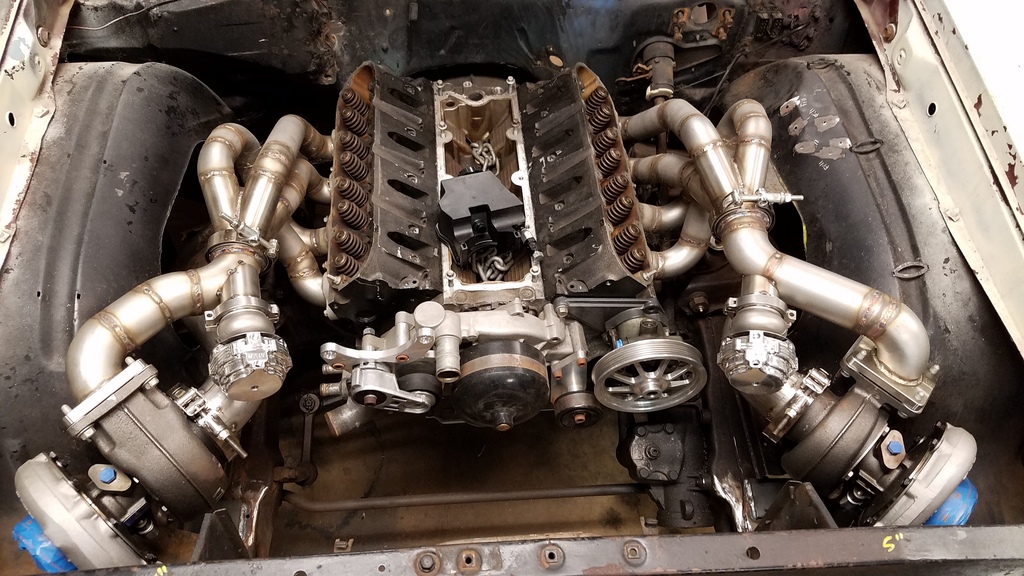 12/20/16
Small progress. Downpipes are done to the firewall.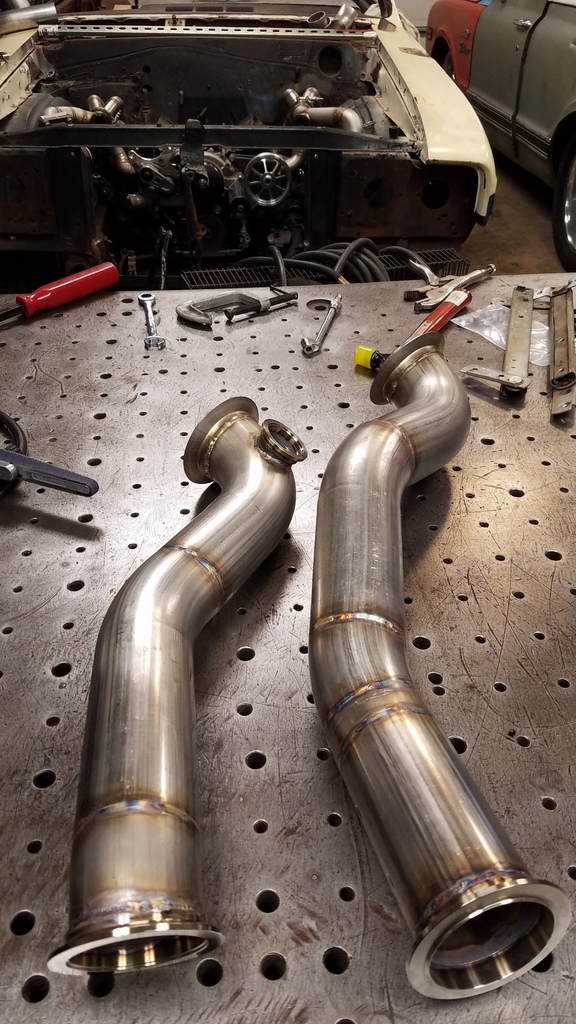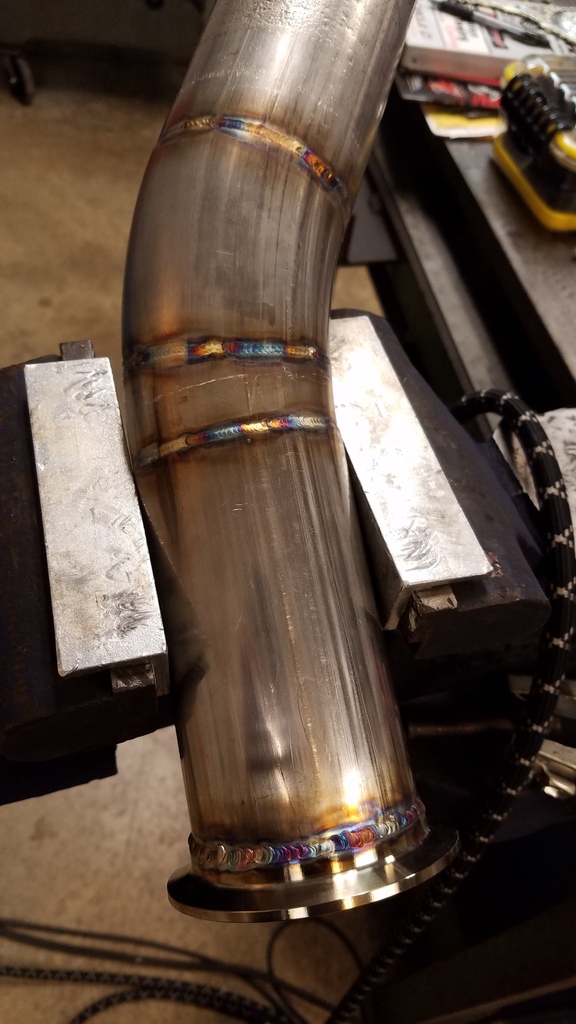 1/16/17
Intercooler showed up...and of course, the first thing that was required was to cut it up. lol.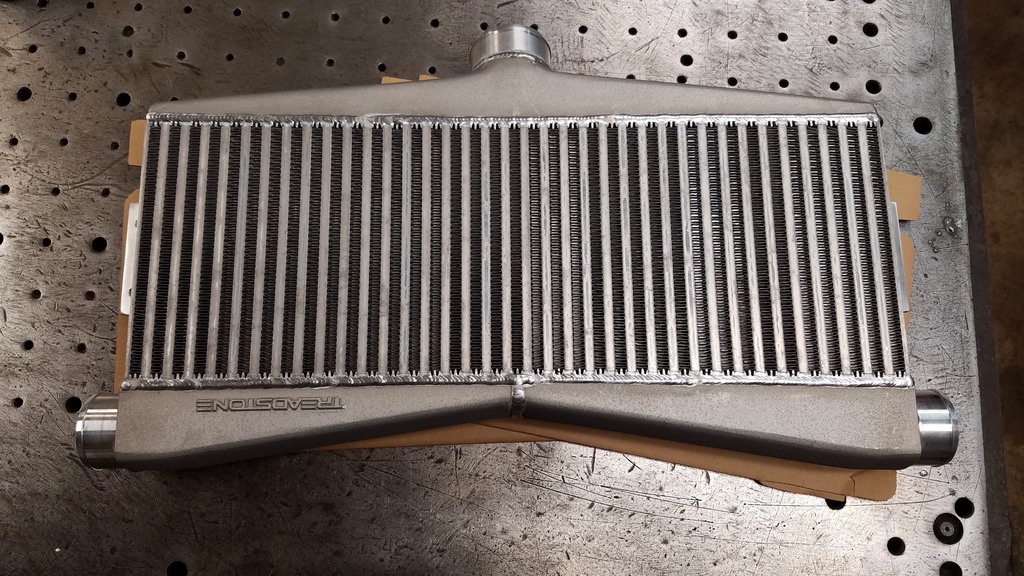 Cut the straight outlet off and welded on a 90* elbow. Also have some more work to do on it...will post pics once its done.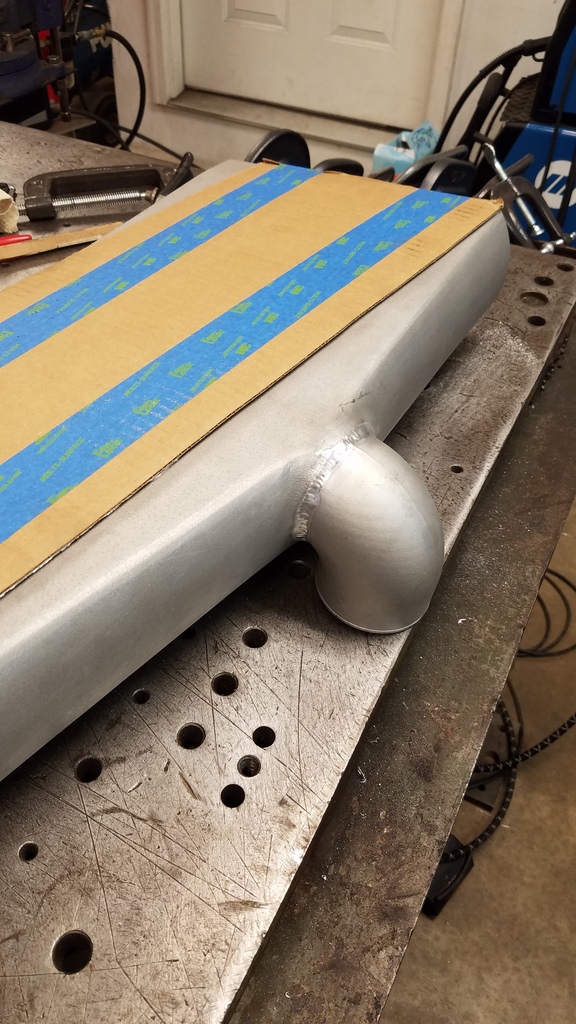 Decided to hack up the core support as well, for intercooler/radiator clearance.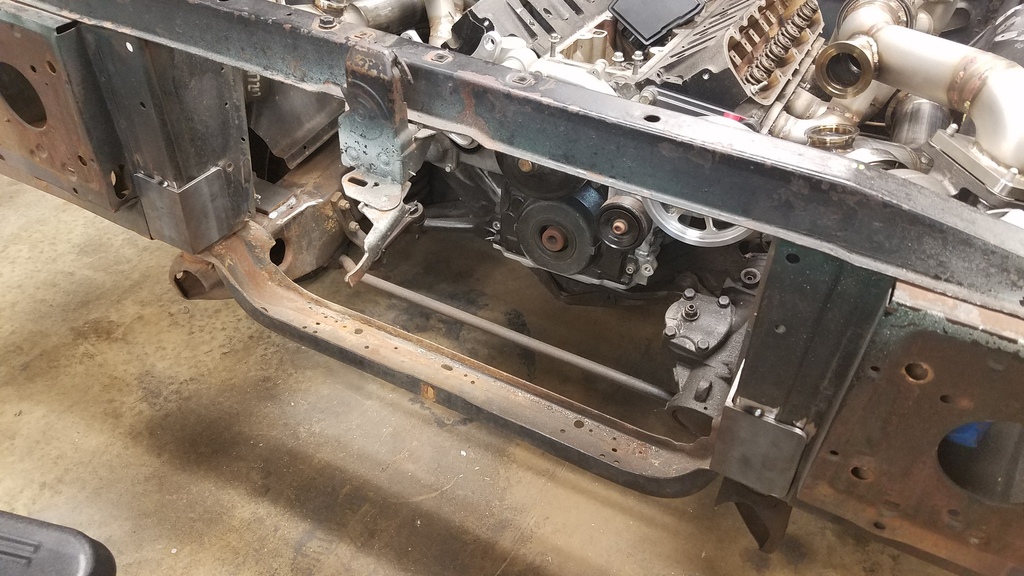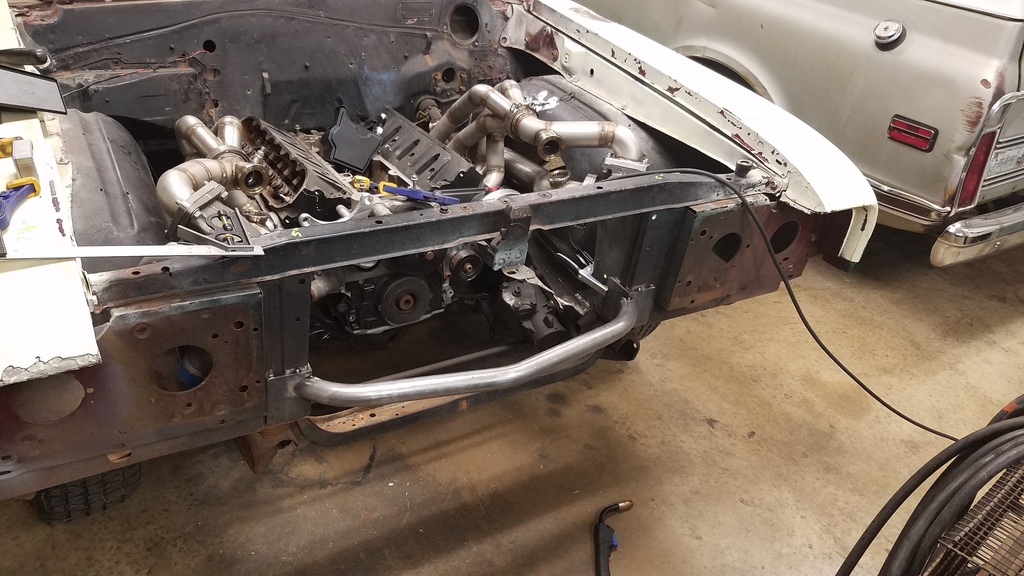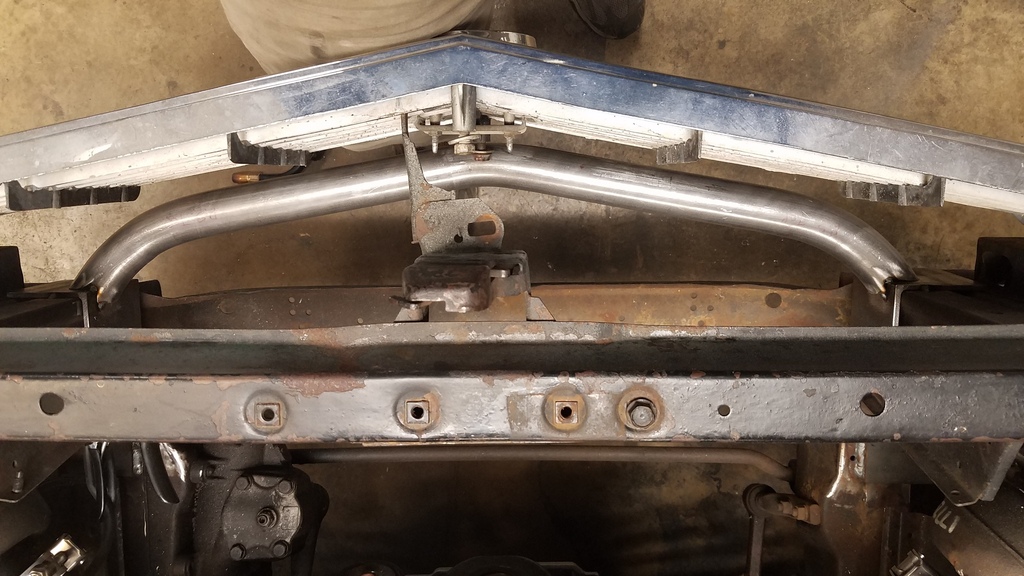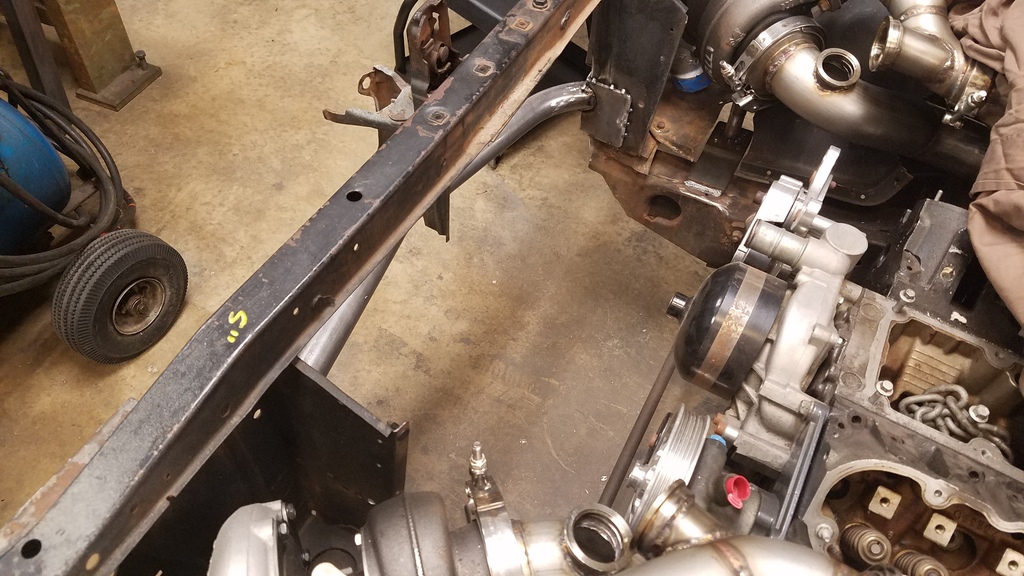 Had to do some trimming of the core support to allow the IC to tuck back into it. Welded tabs to the support to mount the IC.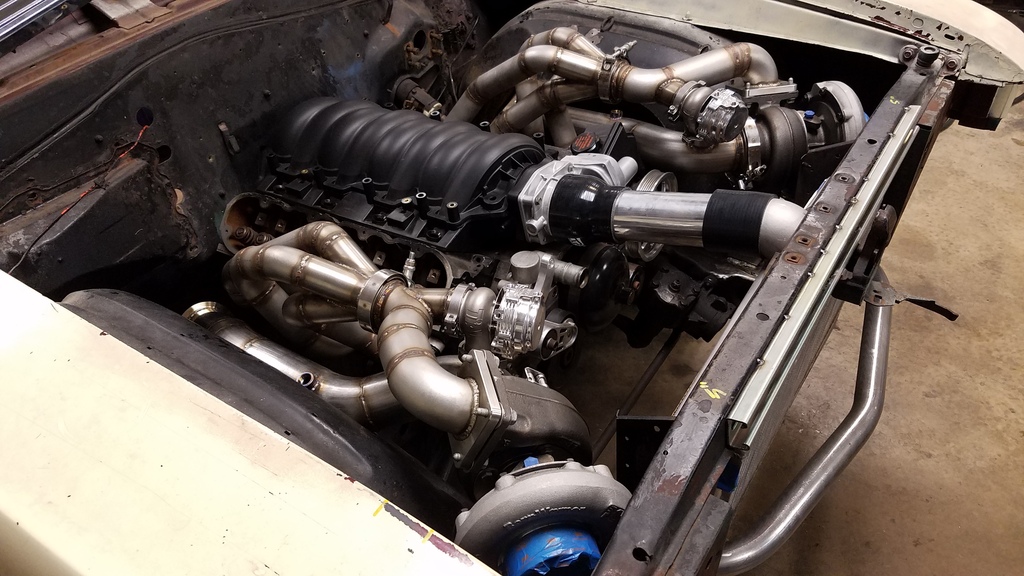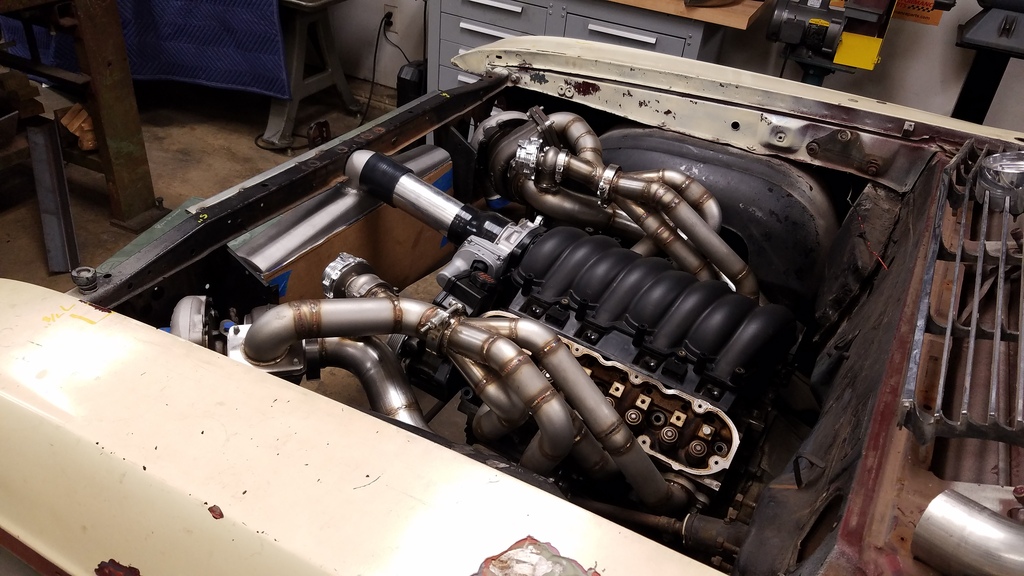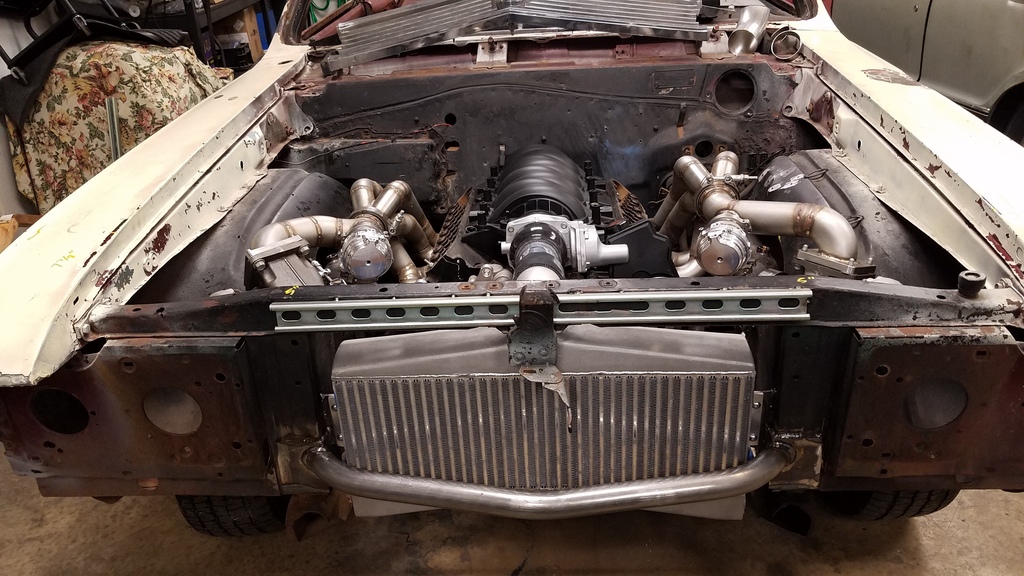 Also ordered a Ron Davis radiator today...great guys to work with...but that hurt the wallet. lol. Should be here in a couple weeks.