SBB sheetmetal intake and more… by 87GN@Tahoe
By diyauto
You must be logged in to rate content!
SBB sheetmetal intake and more
Compliments of 87GN@Tahoe @ v8buick.com
3-1-2012
I figured I should start a separate thread bout the intake my friend and I are building on our spare time for the 300 in my '65 Special Wagon.
The wagon will eventually be turbocharged with a 74mm ball bearing turbo I already have. I have another block that will be stroked and bored to 350"+ with NASCAR takeout rods, custom pistons, TA Buick/Rover heads, and a roller cam, but that's a long way down the road.
The car has no AC, no power steering, manual windows and locks. The only power option the car originally came with was a power rear gate window, which I find strange.
I just installed Hotchkiss boxed lower rear control arms and custom double-adjustable uppers with new rear springs, Global West tubular upper and lower front control arms, and SSBC power front disc brakes with slotted rotors.
Here's the evolution of the intake so far:
Grainy spy photos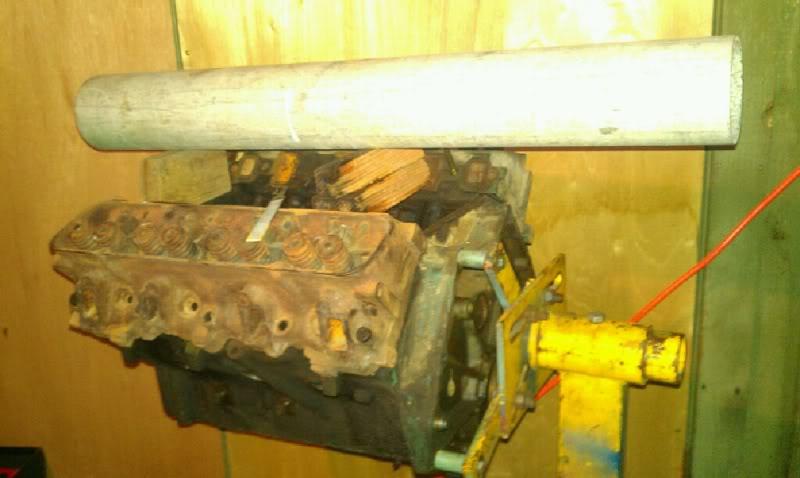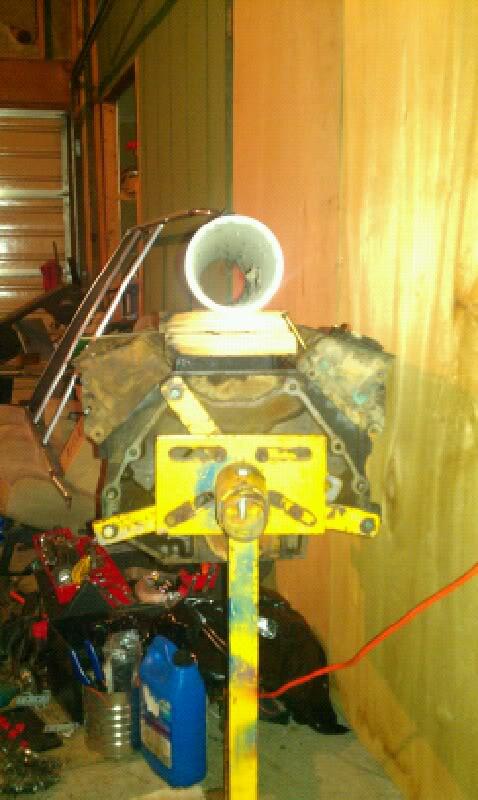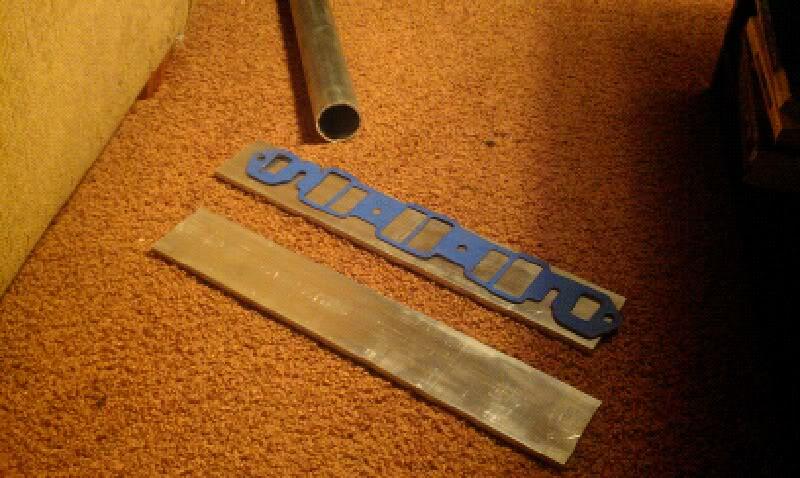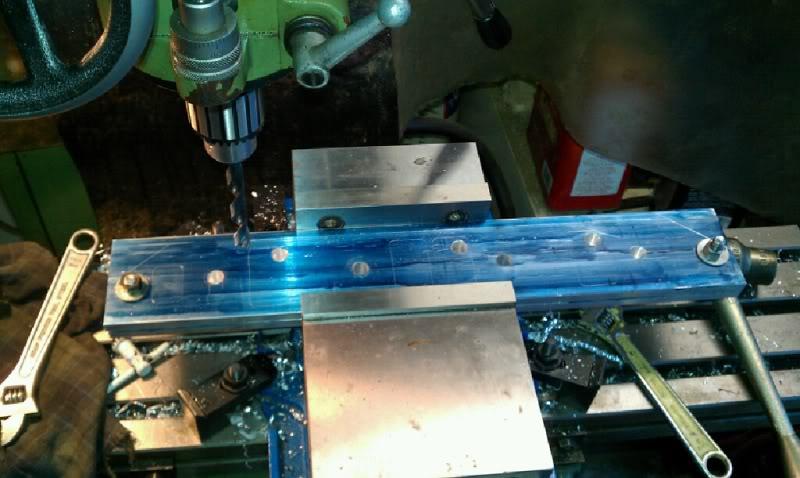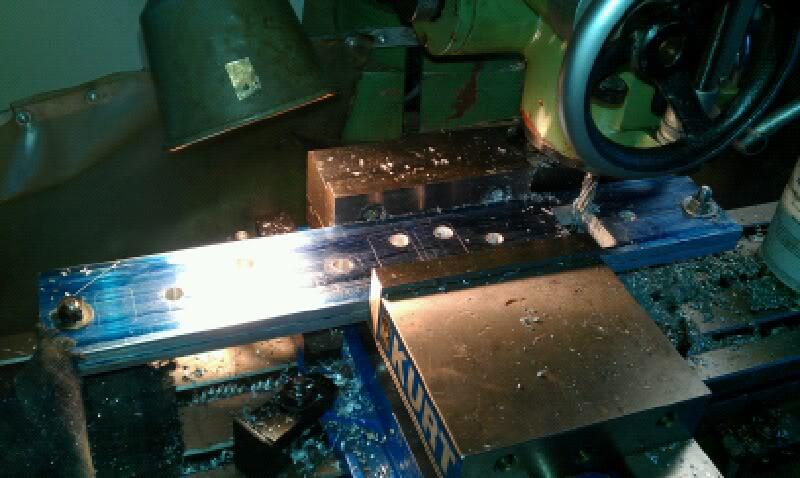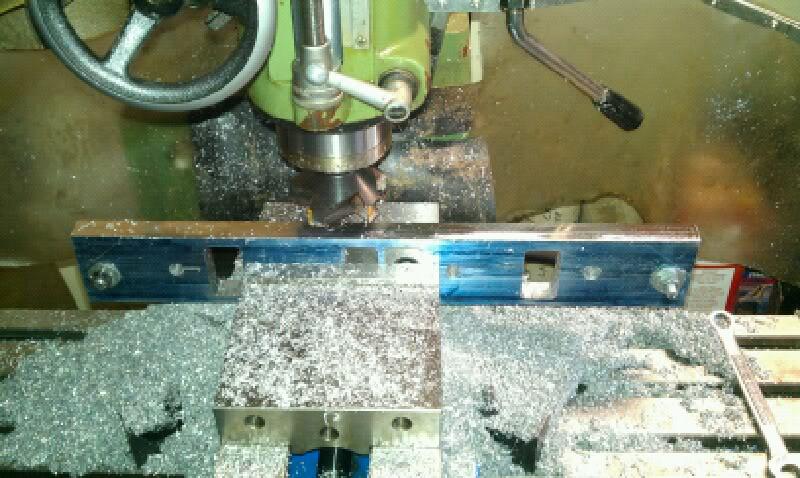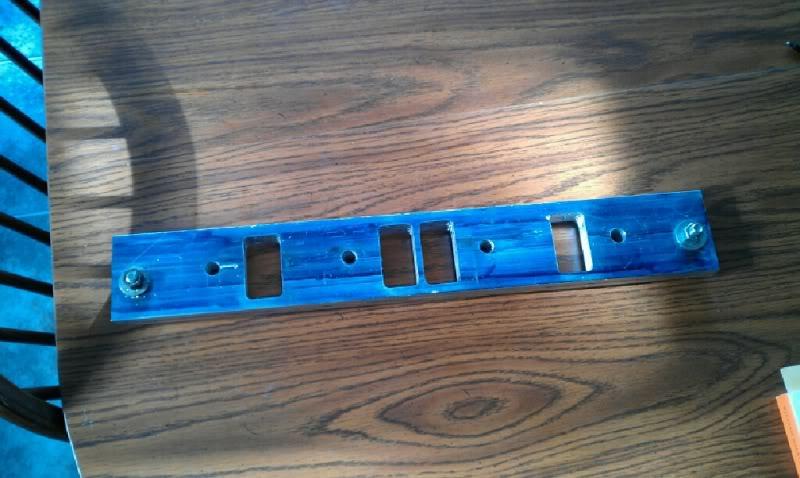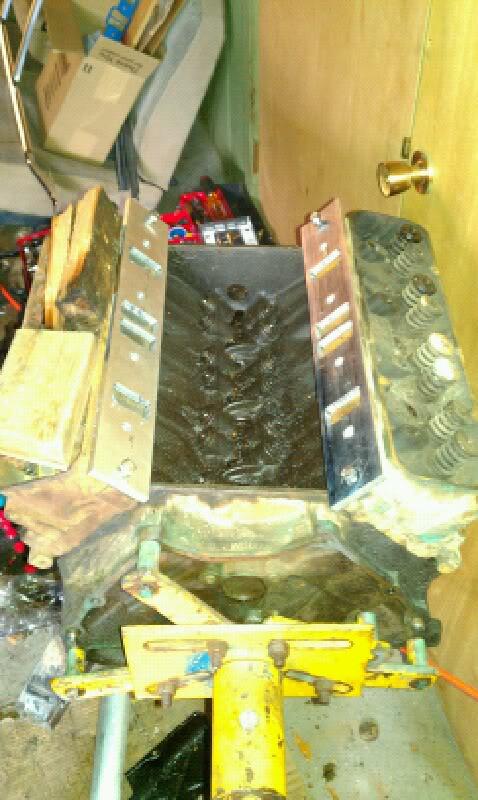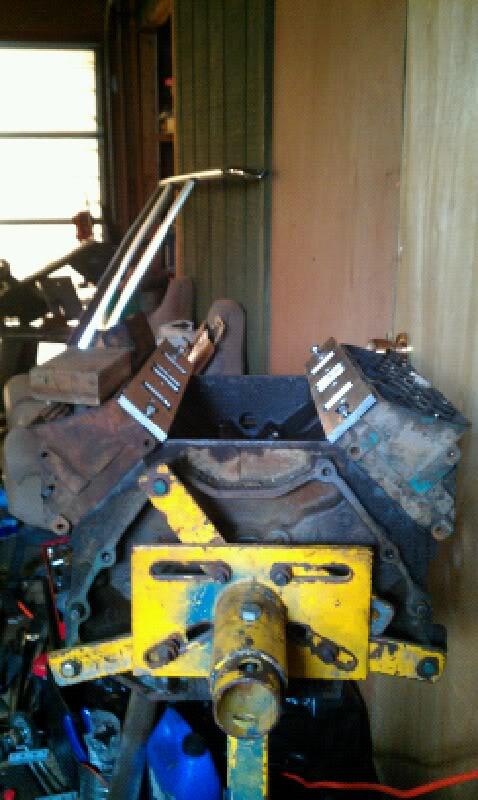 I made a form out of steel channel to press the ends of a round tube tapering into a rectangular shape. Did 8 runners, but was not happy with the size (should have used 2" OD tube instead of 2.25"), perhaps they'll work for a future Buick 350 intake.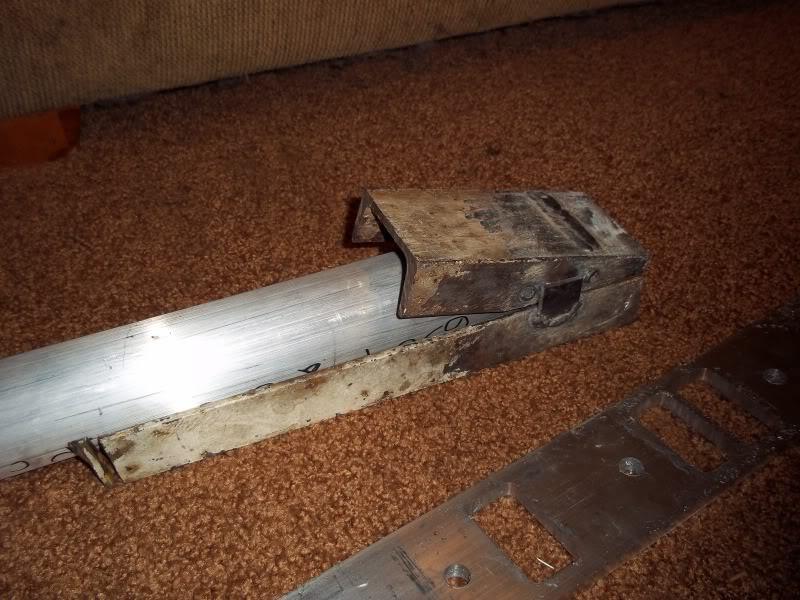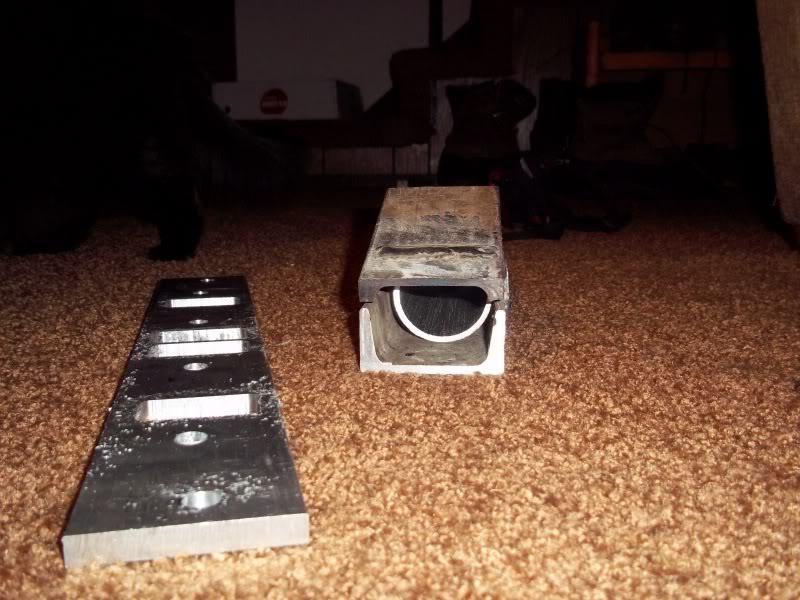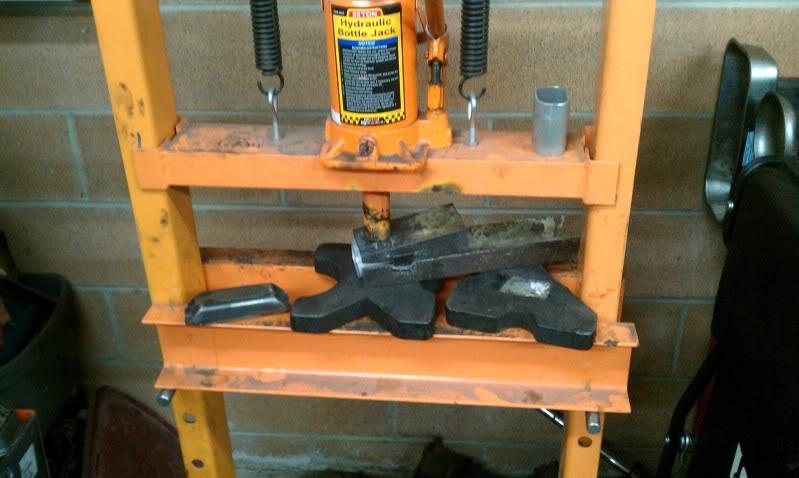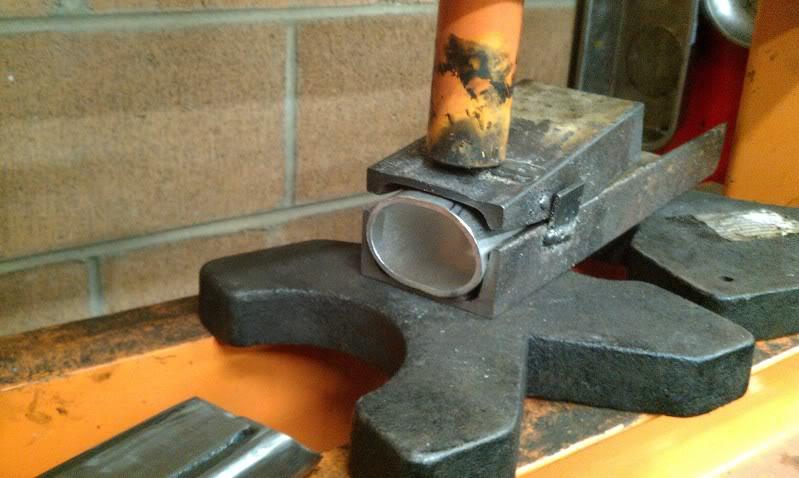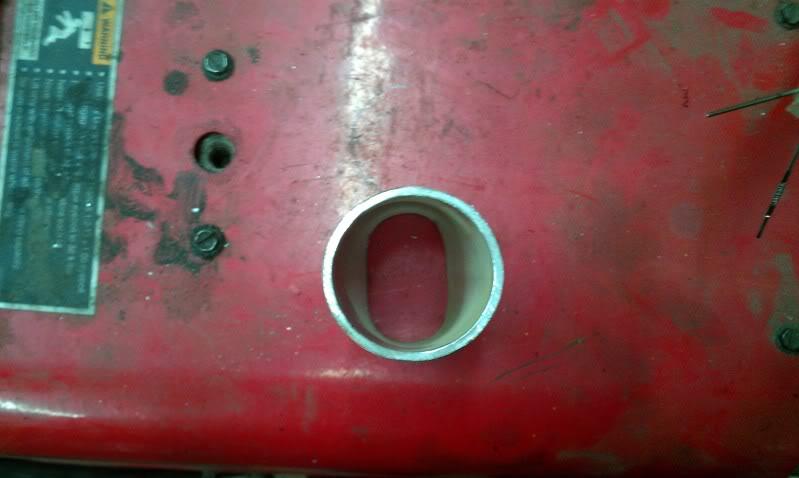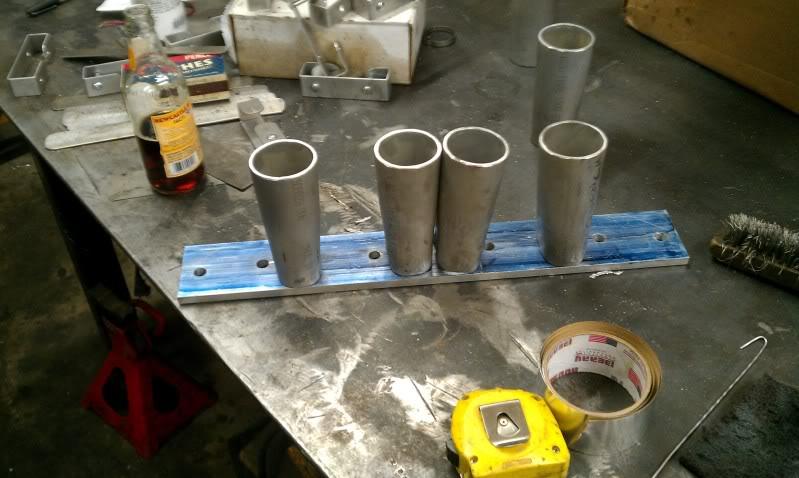 So, the new runners were formed out of sheet aluminum with a taper built into them.
I also decided that the 4.5" ID aluminum tube was not going to cut it for the plenum, so was to be made out of a sheet aluminum also...
Runners and bolt spacers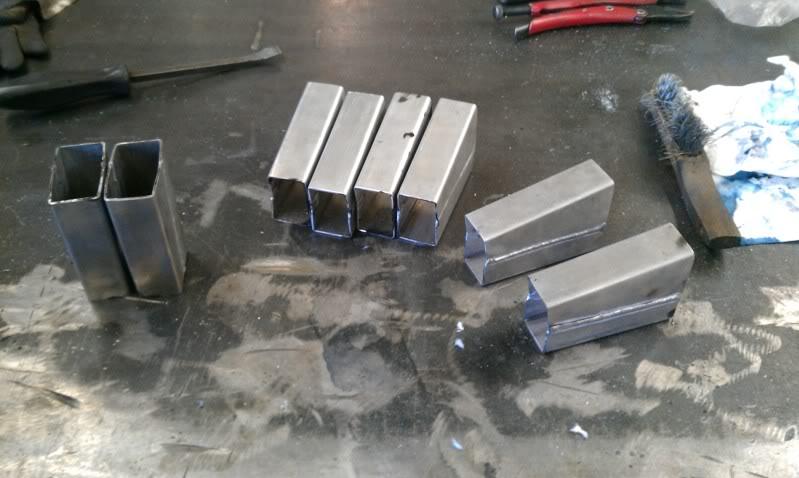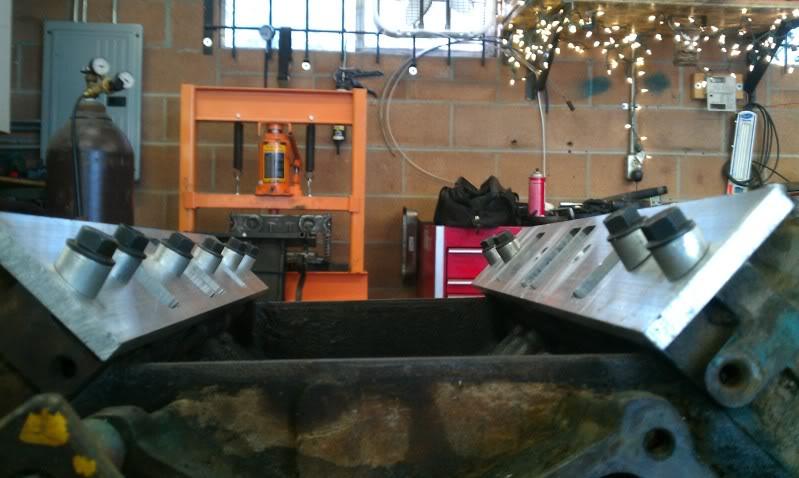 3-1-2012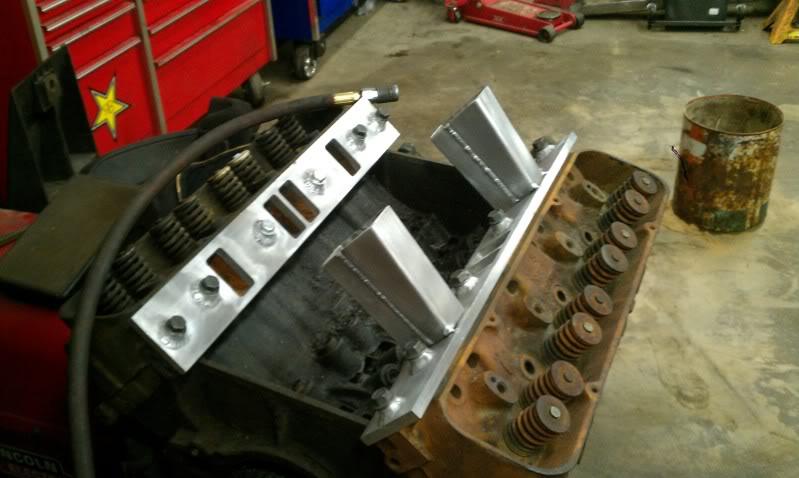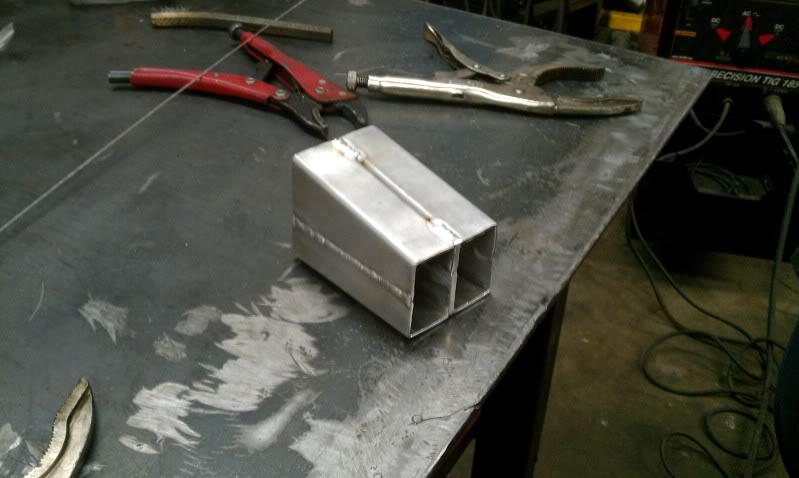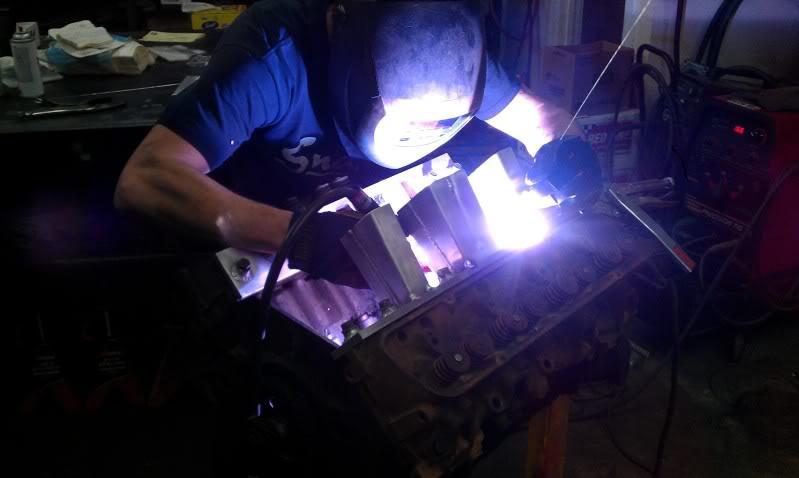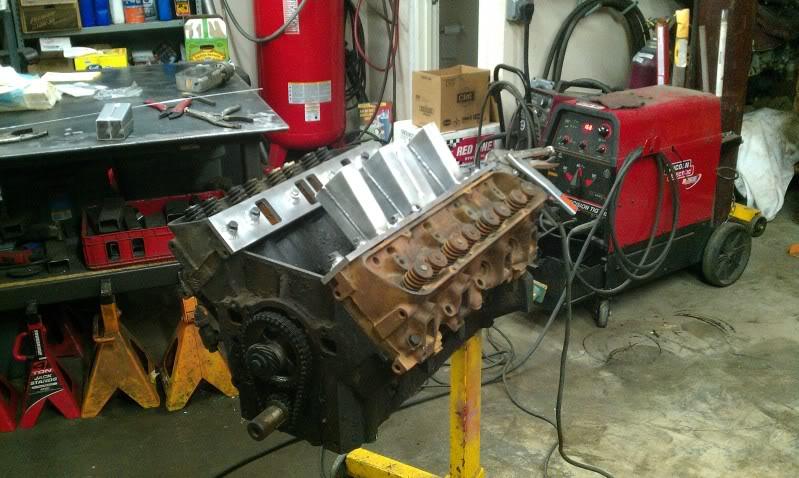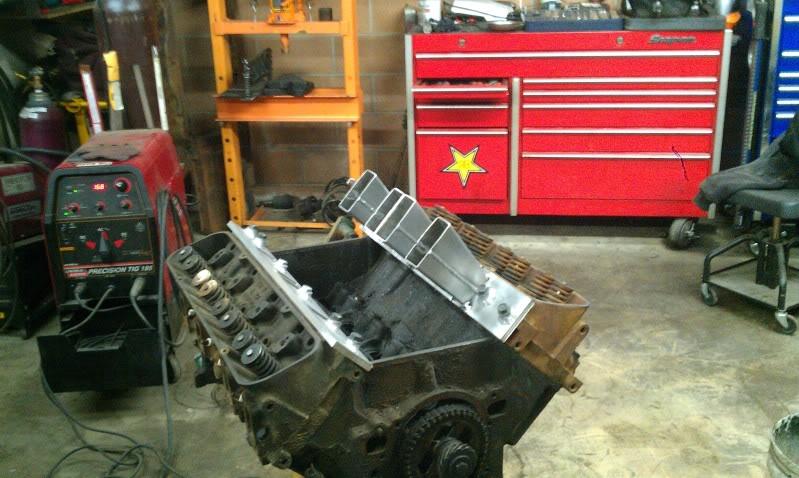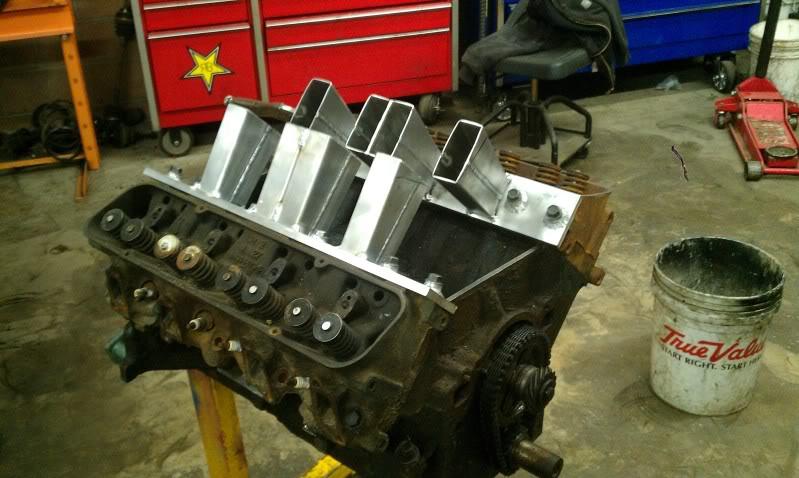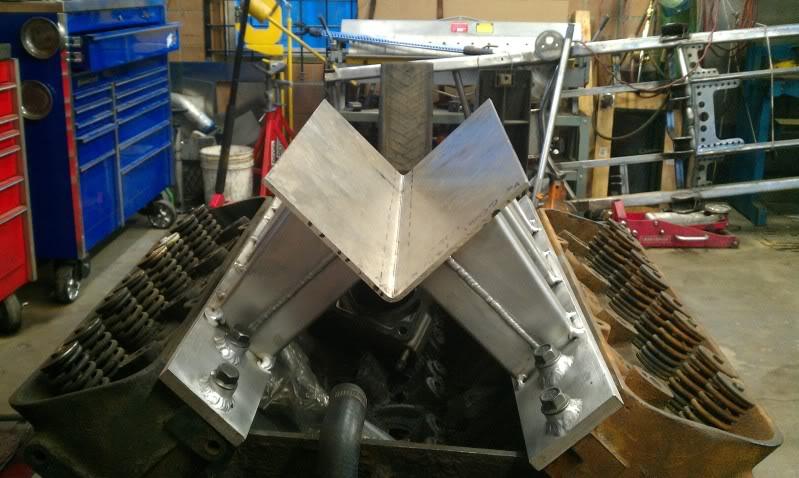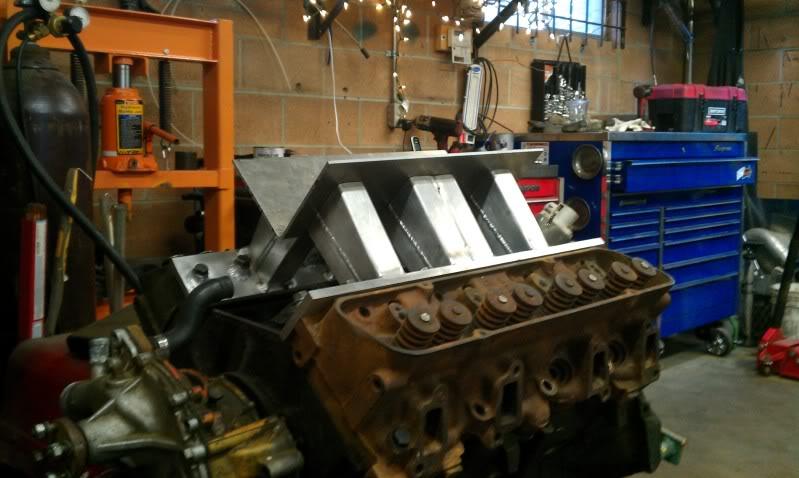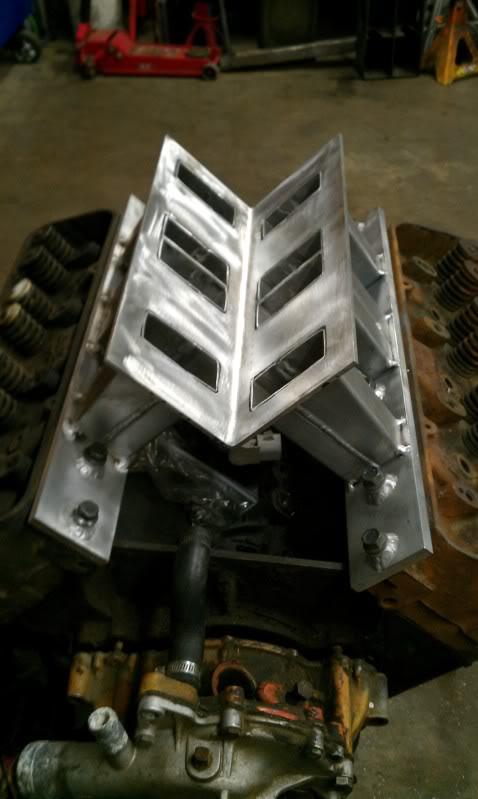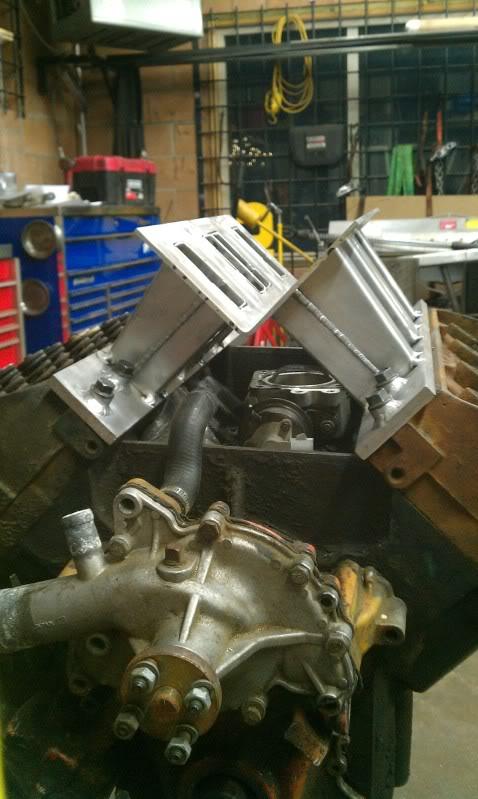 Crummy job I did cutting out the front bulkhead (hard to plasma cut with a hand in a cast)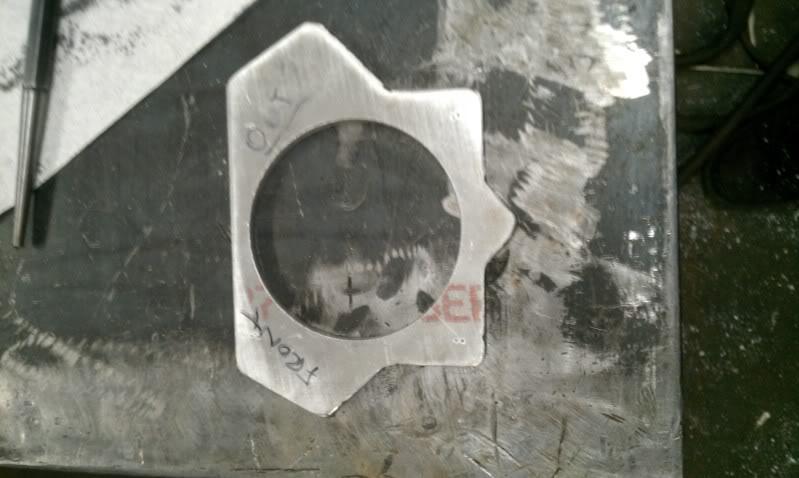 Top of the plenum formed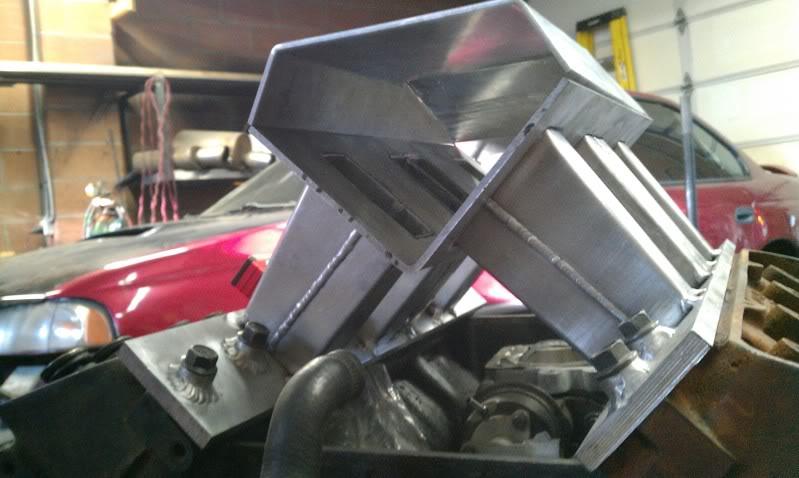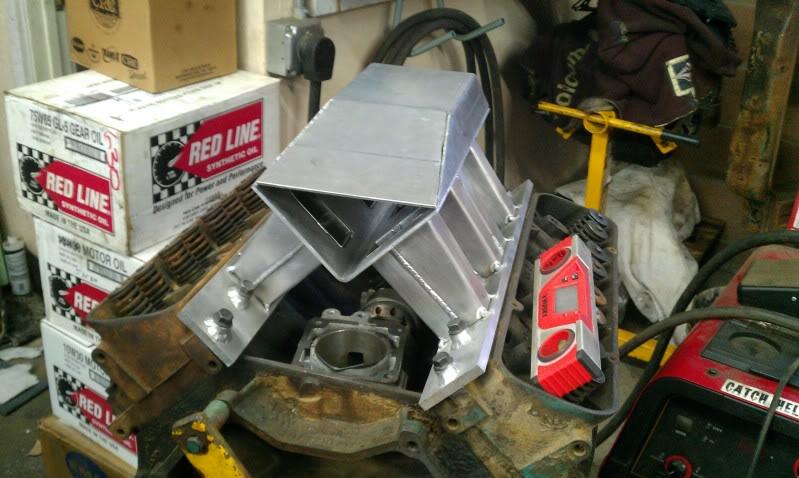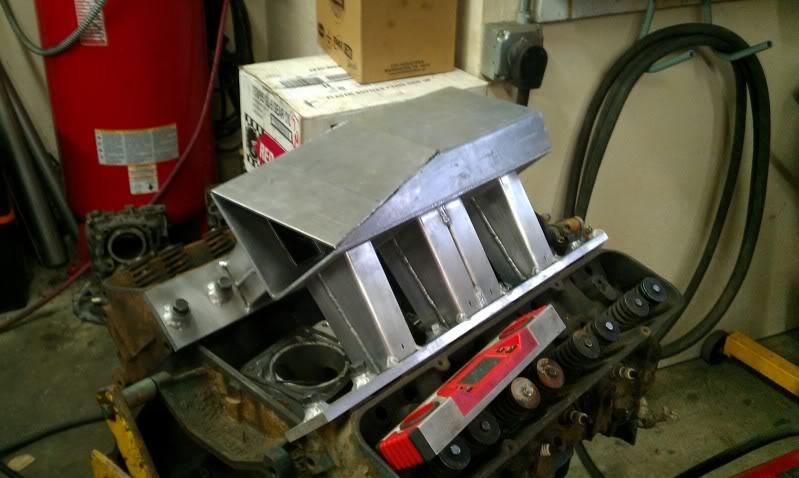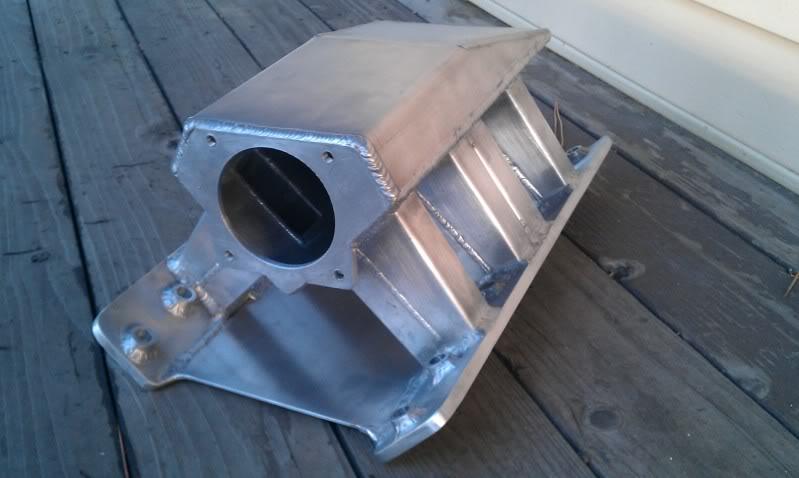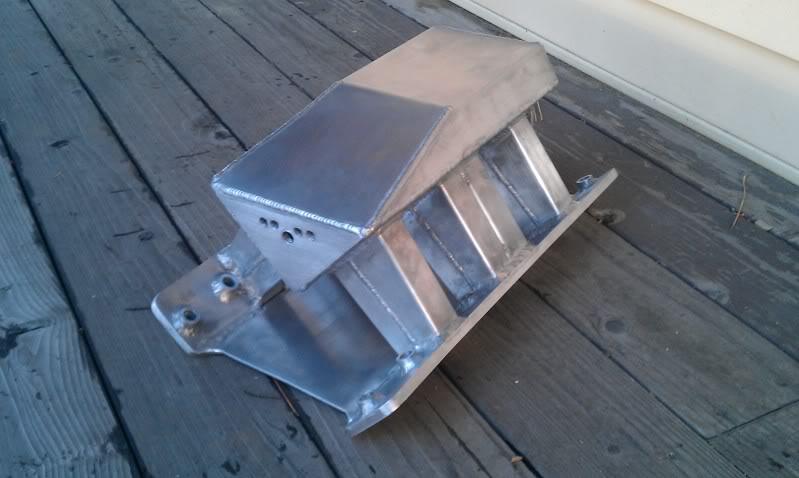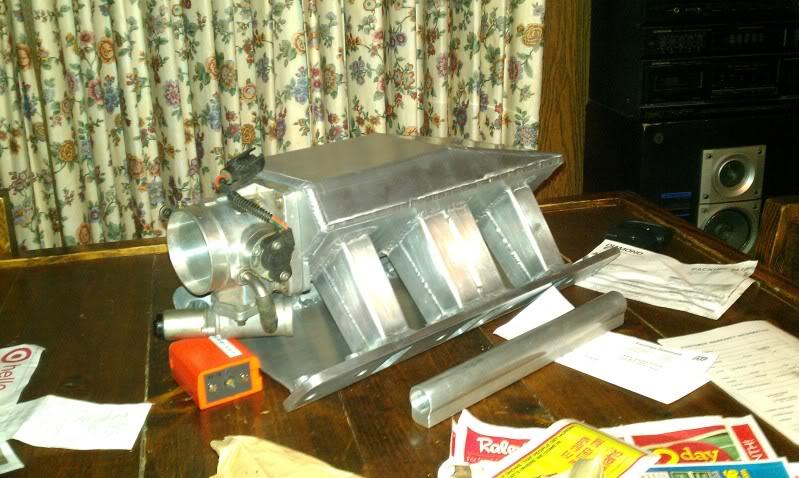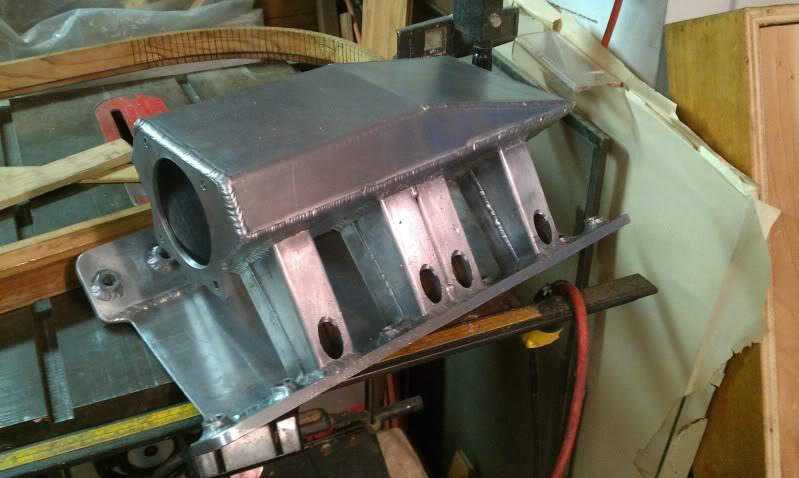 Just need in to weld in the injector bungs and figure out a thermostat scheme...
A picture of the wagon: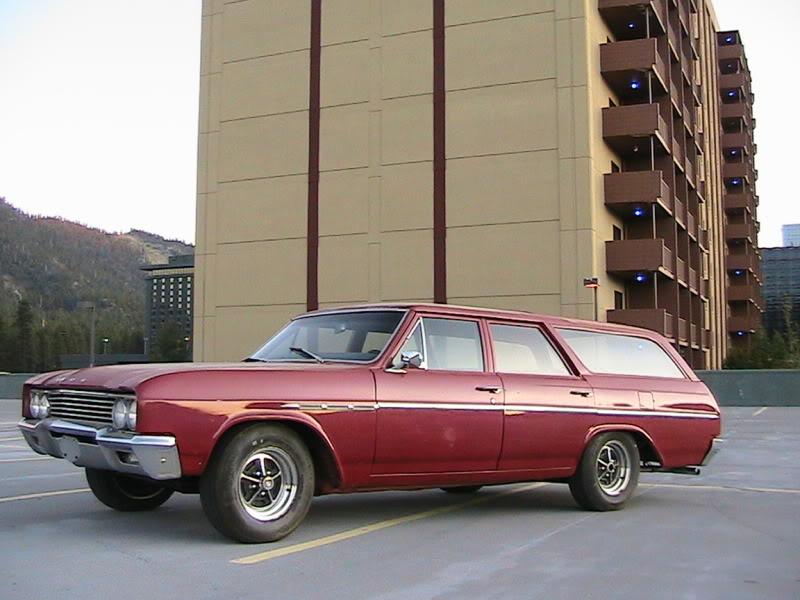 All of the welding and a lot of the sheetmetal work is not my own. A friend of mine I went to high school with owns an automotive and fabrication shop up here. He has the sheetmetal brake, TIG welder, drop shear, and plasma cutter. I have the mill, lathe, and bandsaw. He does most of the sheetmetal and welding work, I do the machining.
We're making this come together, combining our abilities and resources. I come over to the shop and cut and sand bits, offer my vision, generally annoy and disrupt his day, he cuts and bends more bits, and welds it all together.
I traded him a car for his portion of the work on this and more; He's going to be making me an aluminum core support, and help in the turbo exhaust plumbing on the wagon as well. We'll see where the tab is after that.
3-2-2012
I am going to go with -12AN fittings to a remote thermostat housing. With the TB in front and the height constraints (had to fit under the stock hood) it makes the thermostat situation interesting. With the remote setup I can also pull coolant lines from the rear of the heads.. Or maybe even reverse cooling

My aluminium radiator is plumbed with -16An fittings so the danger of driving on a slick of coolant in case of a blown headgasket is greatly reduced.
3-3-2012
The IAC placement is the issue. If I flipped the TB, there isn't room between the hood, as we made the runners as long as possible within our limitations to assist in off-boost torque production. If I eliminated the IAC, I would loose the nice EFI idle qualities. I am thinking of relocating it, but that is going to add complications with running a filtered air source to it. I may have just enough room to rotate the TB 90* and squeek the throttle cable on top/underneath the plenum and have room for a proper T-stat housing (remember, the TPS is on the other side of the TB, so fitment is still an issue there).
I certainly do like the idea of tying in the rear coolant passages and have been getting more warmed up (or should it be cooled off?) about reverse cooling the more I research it, especially for a boosted application. Even with a good aluminum radiator and heavy duty OEM electric fan, I can use all the cooling tricks in the book so it will never be a nagging issue. This will be my summer daily driver, so maintaining a steady temperature whilst climbing the mountain grades around here at WOT would be nice


---------- Post added at 08:57 AM ---------- Previous post was at 08:38 AM ----------
I was originally going to put together an EFI setup using a Ford A9L computer. I bought a new computer, painless harness, blow-through MAF, injectors, etc..
I bought a used F**d TFI distributor and took it apart. Other than rotating the opposite direction, it will be an easy adaptation. The shaft is a little larger and longer than the Buick shaft, so trimming will be easy. The body is longer and larger so turning down and a little welding will fix that. The only issue is the reluctor wheel's one narrow tooth and the opposite rotation (F**d's counter-clockwise vs Buick's clockwise), but that is more for syncing sequential injectors, which I believe the '93 A9L wasn't set up for anyway. I have talked to guys who have done just that for 4.6 F**d engines and they have had no issues. I can always make a new mirror-image wheel with my lathe, mill and dividing head. Then there might be the possibility of providing them for fellow Buick nuts...
If it doesn't work out, I just picked up a Accel dual sync Buick distributor on ebay and I will go with an aftermarket EFI controller.
I would like to run a MAF though due to the extremes in weather and elevation that we experience up here in the mountains, only a few hours form the ocean and an hour from the desert...
3-5-2012
Sure, anytime! Though I would suggest during the summer as the Buicks will be a-Buicking and the steamboats will be a-steaming.
I was think'n the same thing for the IAC.. Though I want it to be a clean looking as well.
I was going to use the Ford A9L, but I just picked up an Accel Dual Sync distributor for a deal, and just scored a complete Gen7 DFI for another deal, so I'm gunna just bite the bullet and carry a small laptop.
I will probably be much happier with the added power in the end anyway

I'm still going to work on adapting the TFI distributor for S&G's, maybe to put on my '64 riv...
3-11-2012
Installed home modified double-adjustable upper rear control arms, Hotchkiss boxed lower rear control arms, SSBC front disc brake kit, line lock, global west tubular upper and lower front control arms, new "Cargo" rear springs, and the original stock front springs...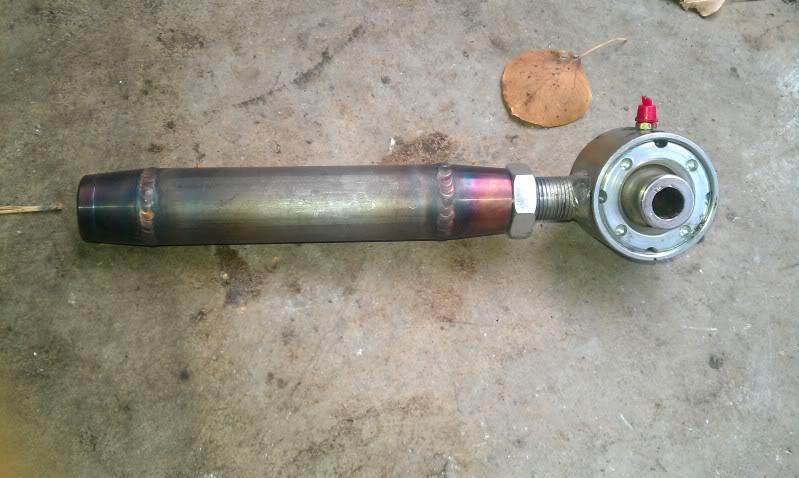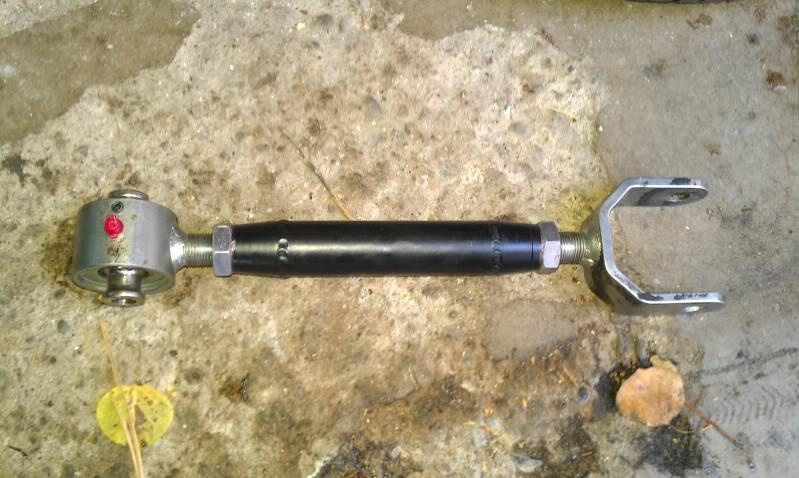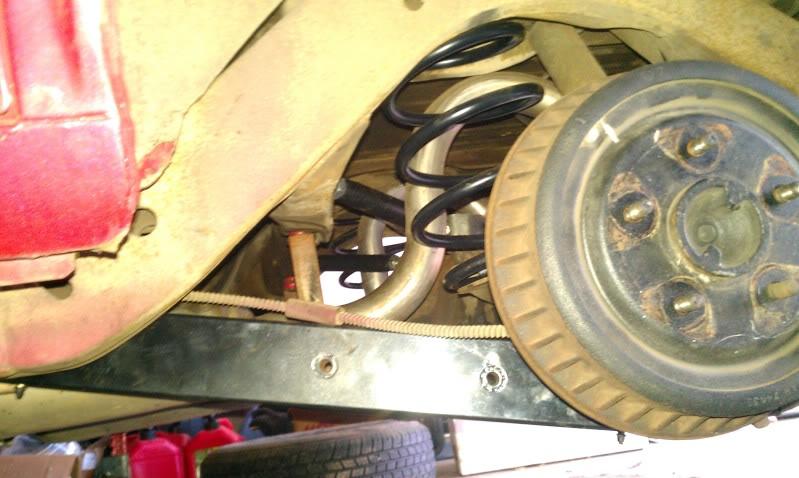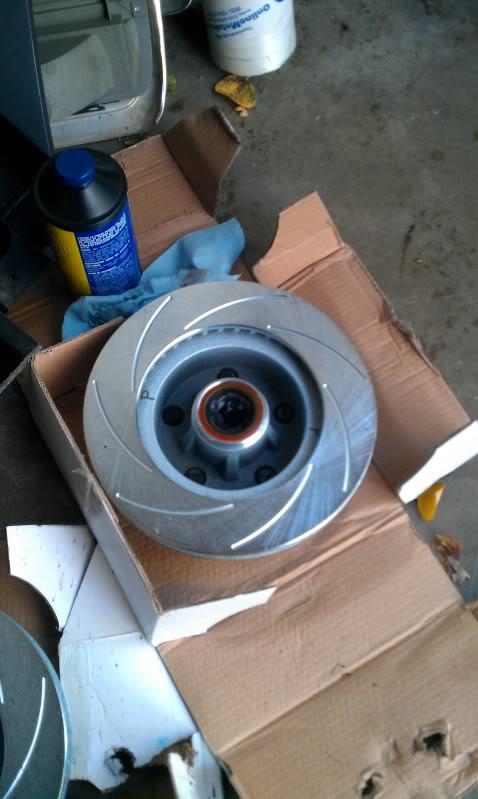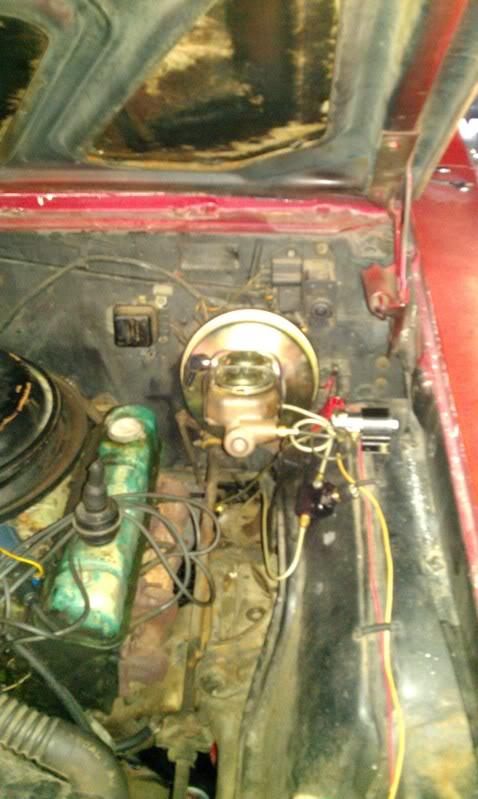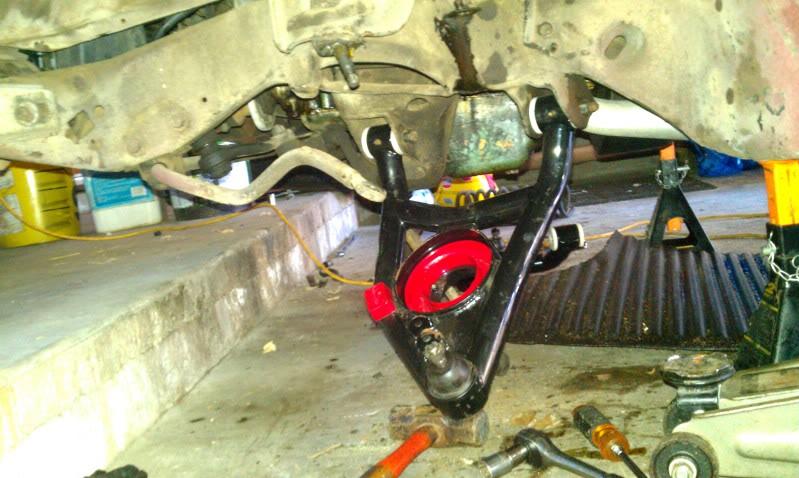 3-12-2012
Currently has a .81 A/R exhaust housing on it... I also have a .96 housing for when I step up the displacement.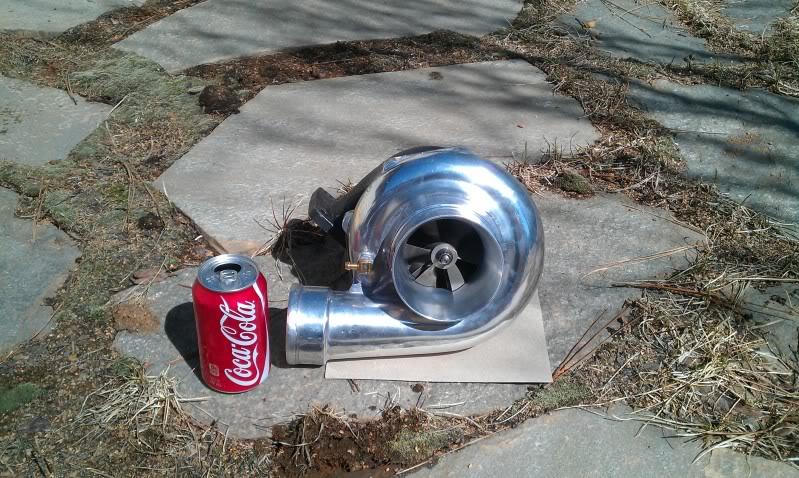 3-18-2012
Just got my Accel Gen7 setup in the mail... Along with over 18" of snow, so no install progress for at least a few days...
Just got my Accel Gen7 setup in the mail... Along with over 18" of snow, so no install progress for at least a few days...
10-31-2012
A bit slow on updates...
Last Memorial day my buddy who's been doing the welding, Ansel White http://www.anselwhite.com/ , took his Ducatti for a spin to Emerald Bay and back. Along the way he went off the road and smashed his head into a rock. He cracked his helmet upon impact, causing some serious trauma to his brain, and he also broke his clavical.
He was flown by Care Flight to Reno. The flight nurses (one of whom is one of my good friend's wife) did not think he was going to make it.
With the might of his stubbornness and prayers from friends and the community he pulled through. He spent quite a while in a medically induced coma, then weeks of physical therapy ensued.
He's home now, and recovered for the most part. We are all very happy to have him back!
He just recently took back up the tig torch and finished the intake;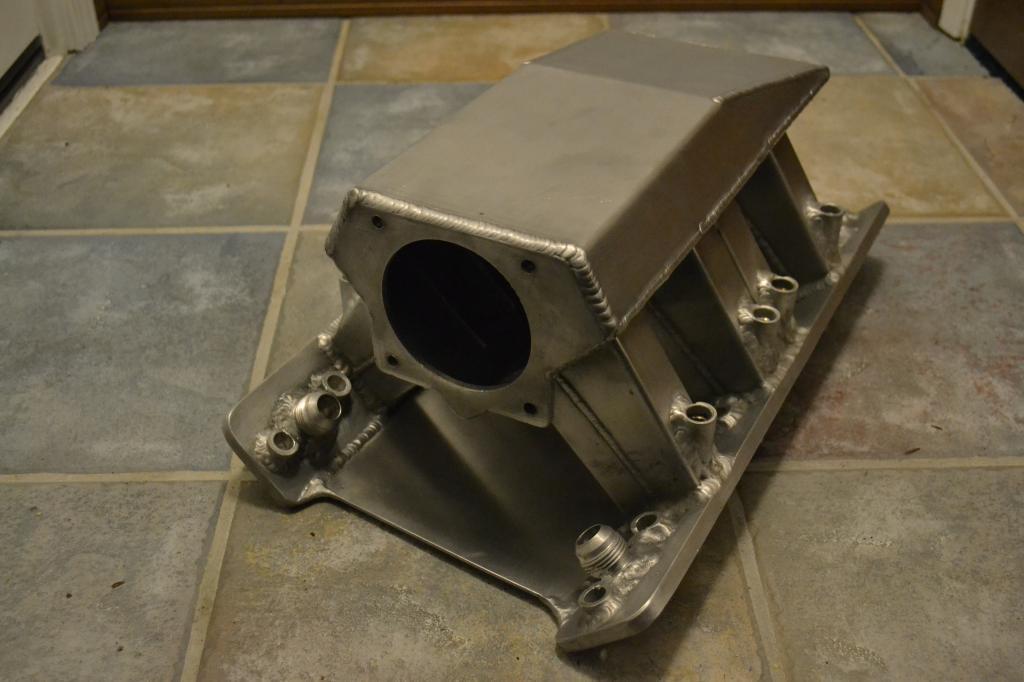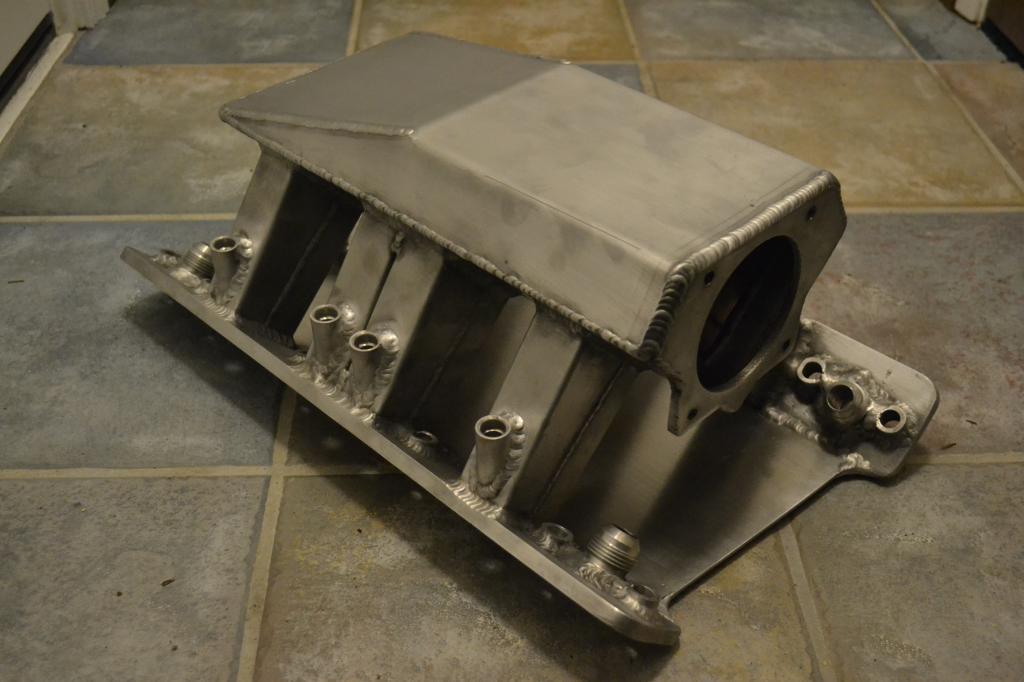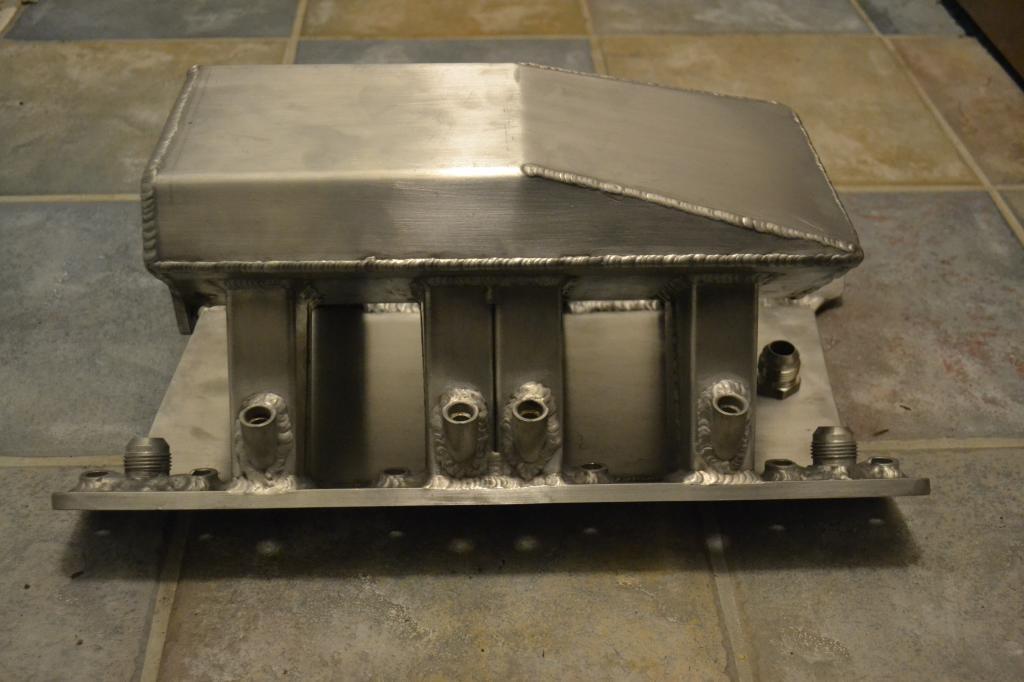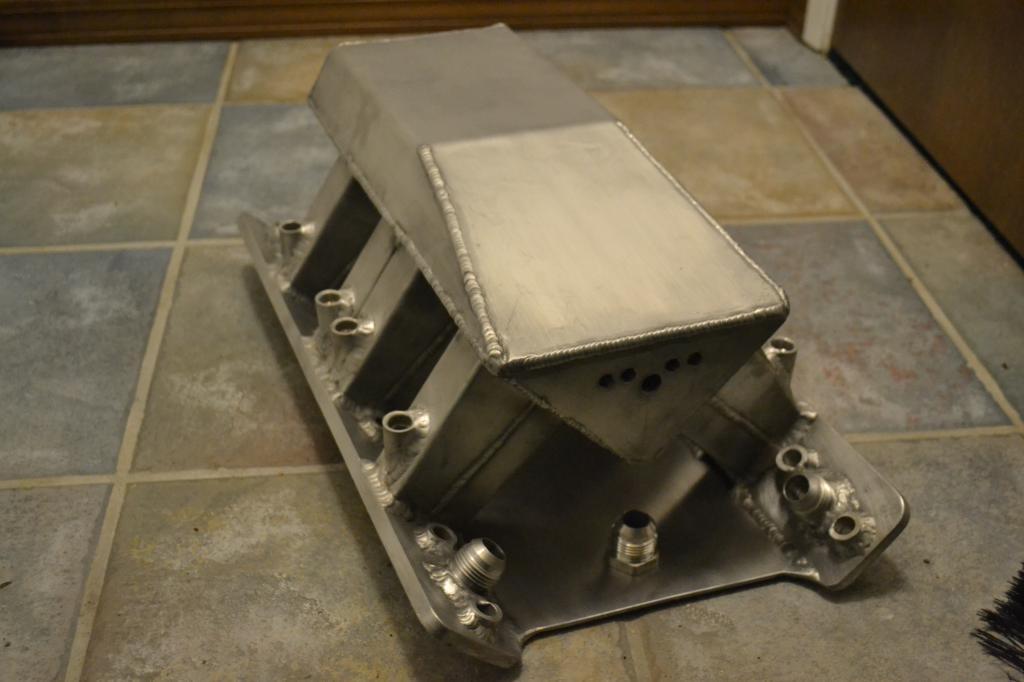 I've picked up more parts in the mean time as well. Just a short post for now, more later.
11-1-2012
We are too! He's at the SEMA show in Vegas right now. He sent me a picture of a chopped Caddy that he swears he saw, down to the interior, whilst he was in his coma.... A car that the public hasn't seen 'til this year's show


I picked up a few parts since my last post months ago...
I installed a roof rack to get the look right, and I've picked up a bunch chrome trim for the windows and such, also to get the look more sleeper and less "blacked out"
I haven't installed the trim, but I think she's already looking more like a GILF with the roof rack: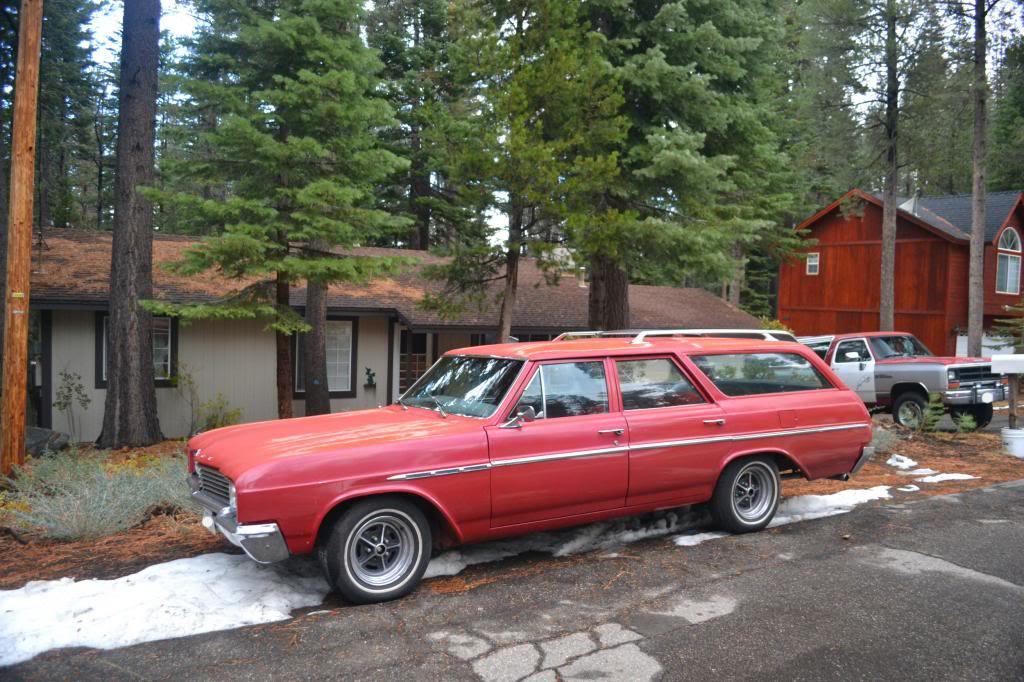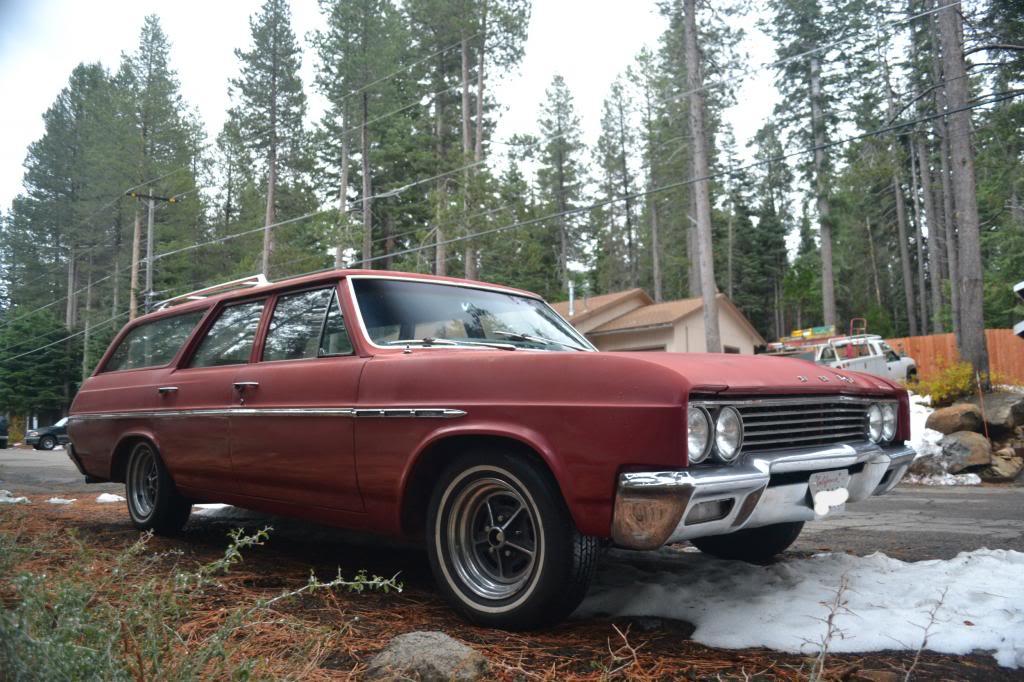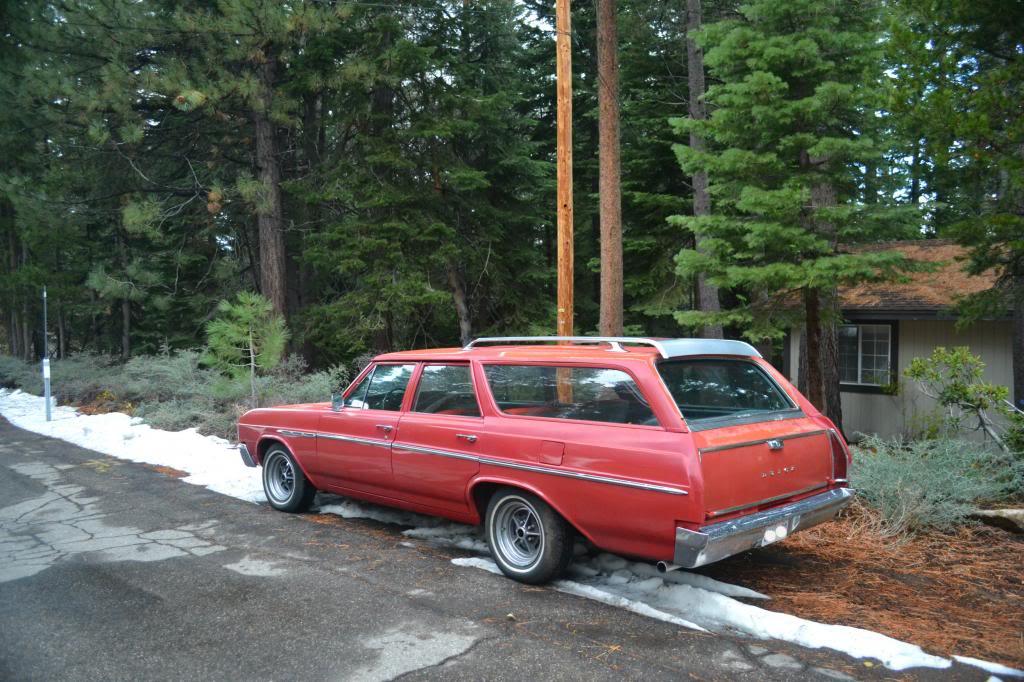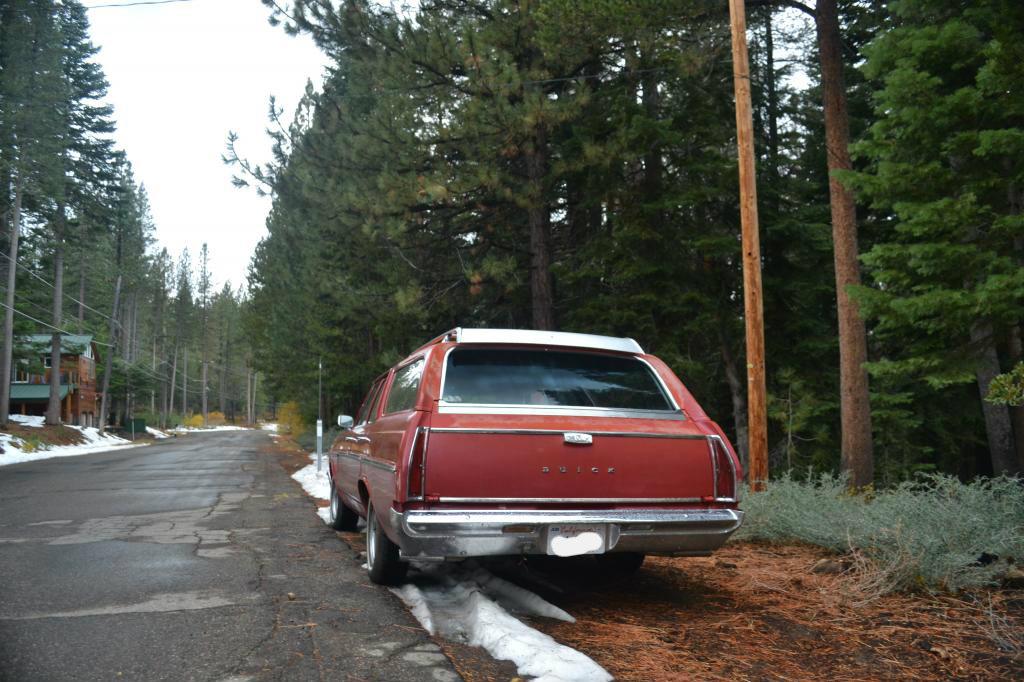 Here are some of the parts I've picked up and have been hoarding:
A1000, 10 and 100 micron filters, Edelbrock 90mm TB, and Fuel Lab FPR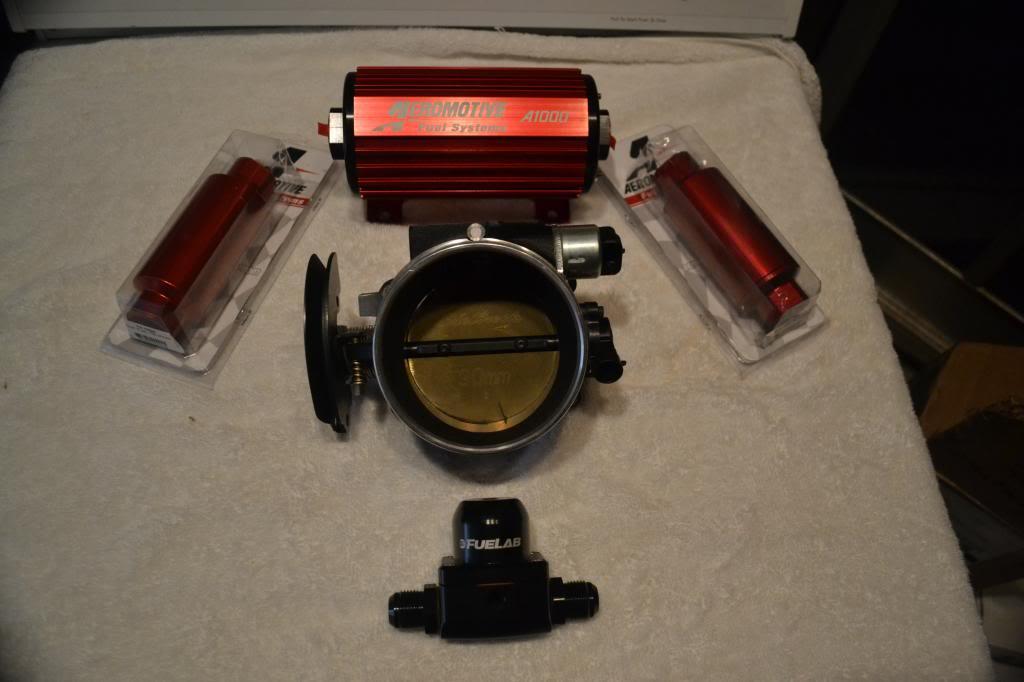 5/8" (-10 AN) aluminium fuel line, 44mm wastegate, 50mm BOV and 3" tube flanged for BOV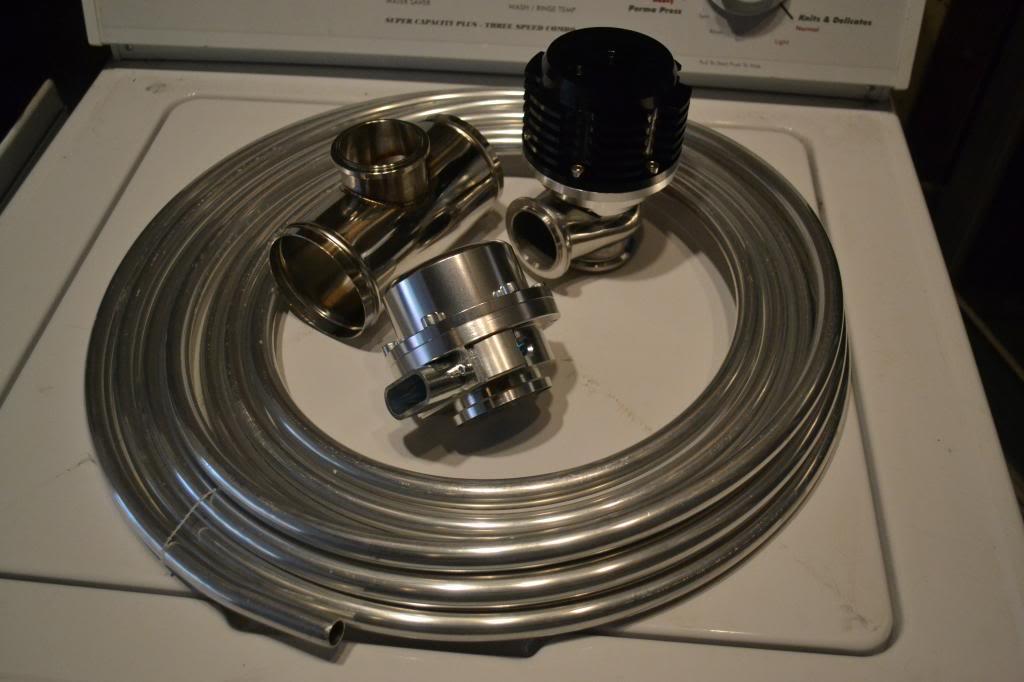 Buick "poverty" caps, 6.300" DLC Pankl rods and casidium coated wrist pins (for the future "race" engine)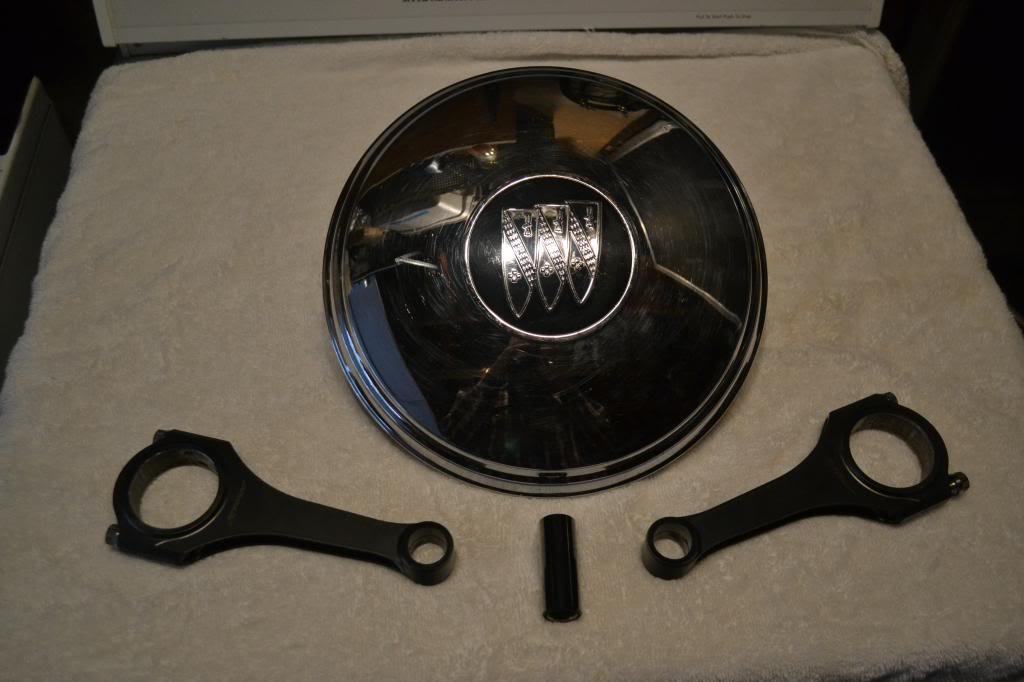 I have a few other items, like Precision 95lb injectors, but nothing too outrageous. The "race" engine looks to be further away than before, as my wife and I bought a house in July, which cuts into the toy fund significantly.
11-12-2012
So to mount the 90mm TB, I had to machine an adapter plate, as the bolt pattern was different from the ford bolt pattern originally machined into the front plate of the plenum.
Here is the piece I machined out of 1/2" aluminium plate with countersunk holes for mounting to plenum. I also machined grooves for 4" rubber o-rings front and back in case I decide to go that route for sealing: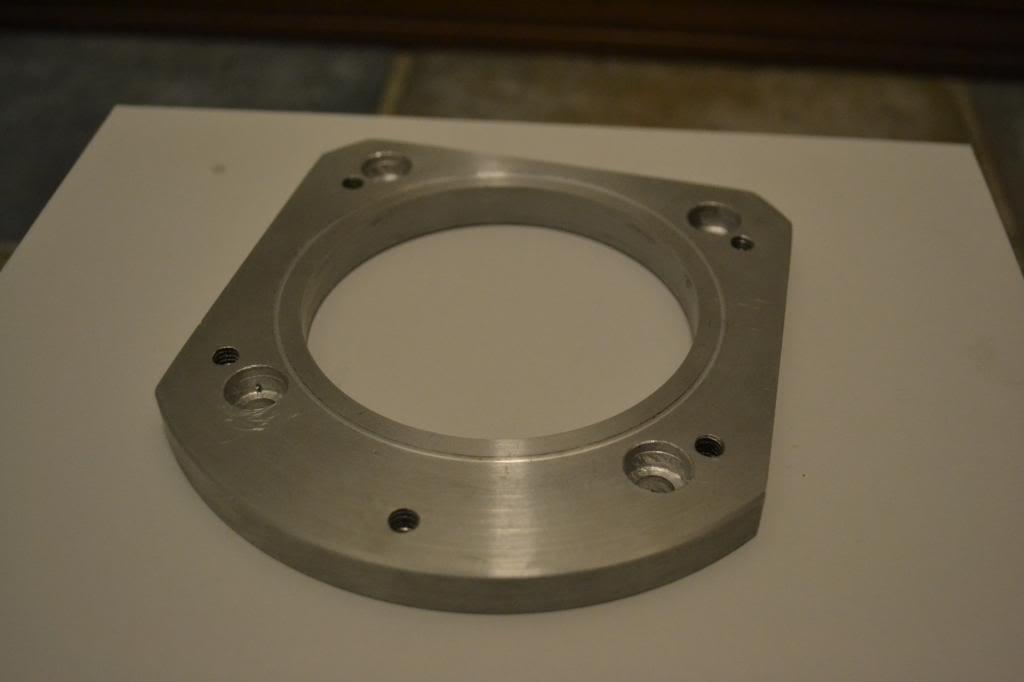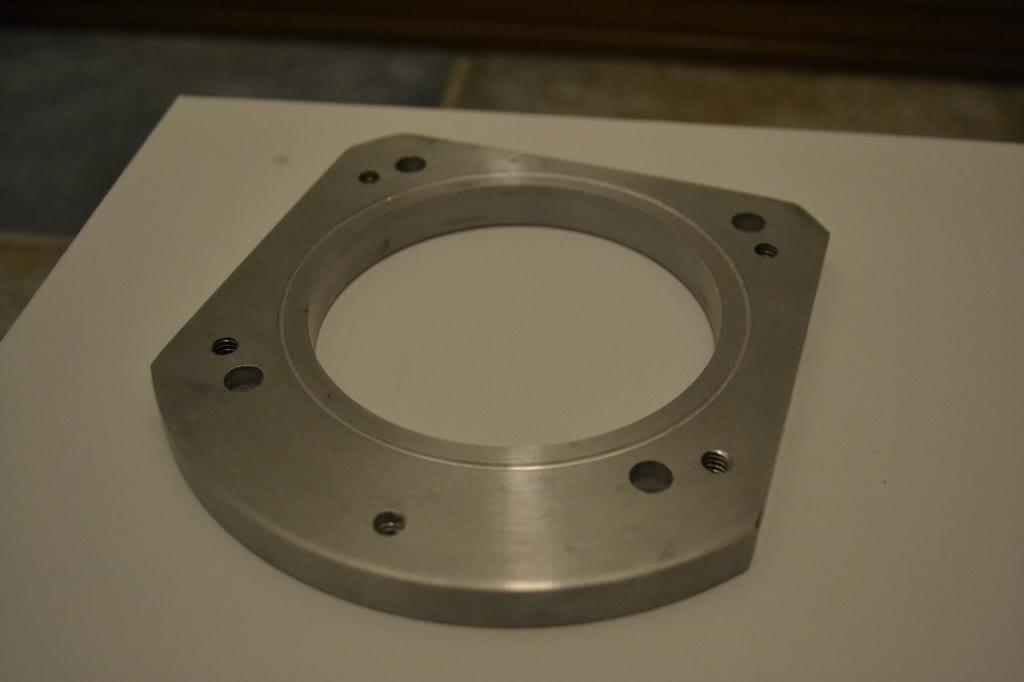 Mounted to the intake: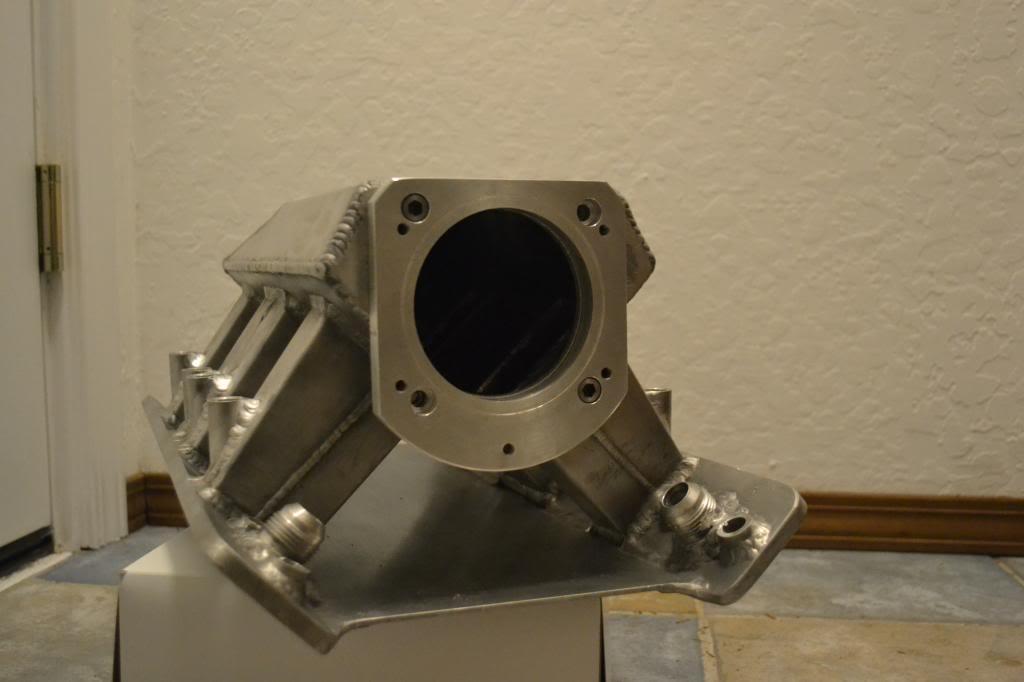 VROOM VROOM!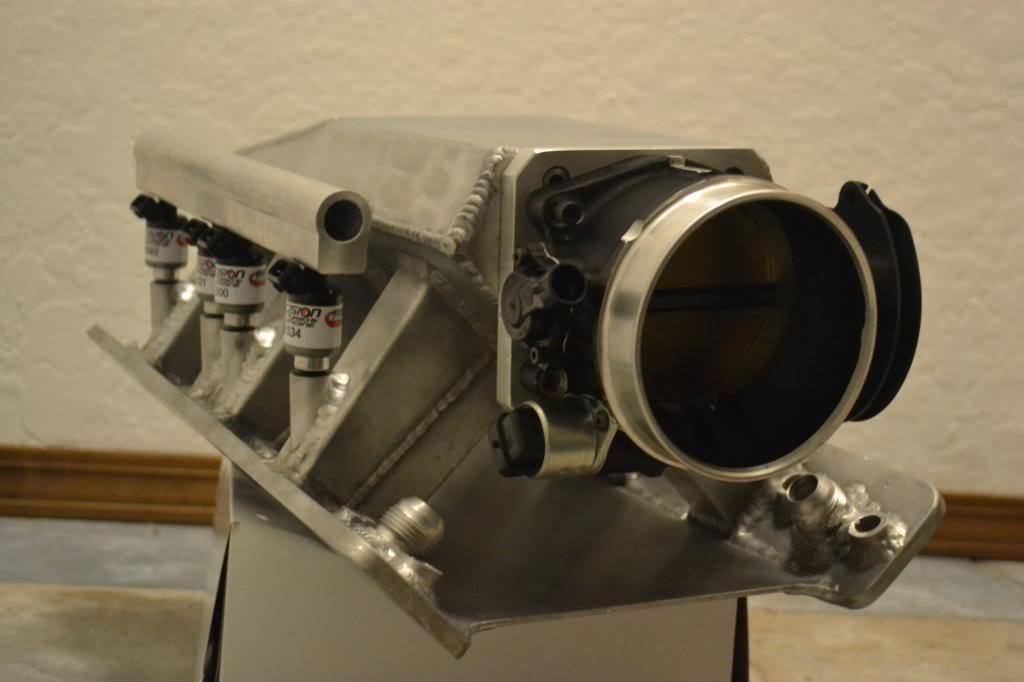 Now I can run either style of throttlebody with just the turn of an allen key
11-13-2012
You and I may be more alike than you think

I see you went to Drag Week.. I would like to do that as well in the future with this car. How was it? your likes/dislikes? Adivice?
On another note;
I have a bit of a conundrum at the moment... I have a new, reproduction fuel tank (for a '65 Chevelle wagon) and am debating whether I should put an external sump on it and run my A1000 externally, OR cut it open and put an internal sump/baffles and run the pump internally.
External benefits are ease of maintenance/ repair with both filters and pump our of the tank in case of obstruction or failure. Downsides are louder, more obvious (less and less a "sleeper"), potential for it to be scraped off the tank on a (waaayy in the future) wheels-up launch or by road debris, pump running hotter/not lasting as long.
Internal benefits are quieter operation, cooler/lasting longer, more of a "sleeper", wont get scraped off. Downsides are Murphy is always lurking and with my luck he'll wait 'till I just filled the tank for there to be a clogged pre-filter or dead pump. Also making an effective internal "sump" that would still allow for most of the fuel to be picked up could be tricky...
Anyone with any ideas/suggestions/pictures???
12-24-2014
Been a while gents... Finally a little progress, albeit nothing fancy:
Sanderson 300 headers modified for the single turbo setup. Turbo will be where the battery was (pass side on non-nailhead '65's). Using a Land Rover Discovery front cover for the better oil pump and more compactness of filter location for crossover clearance. V-band connections for crossover with flex joint built-in as well as flex joint from 2-1 collector into turbo.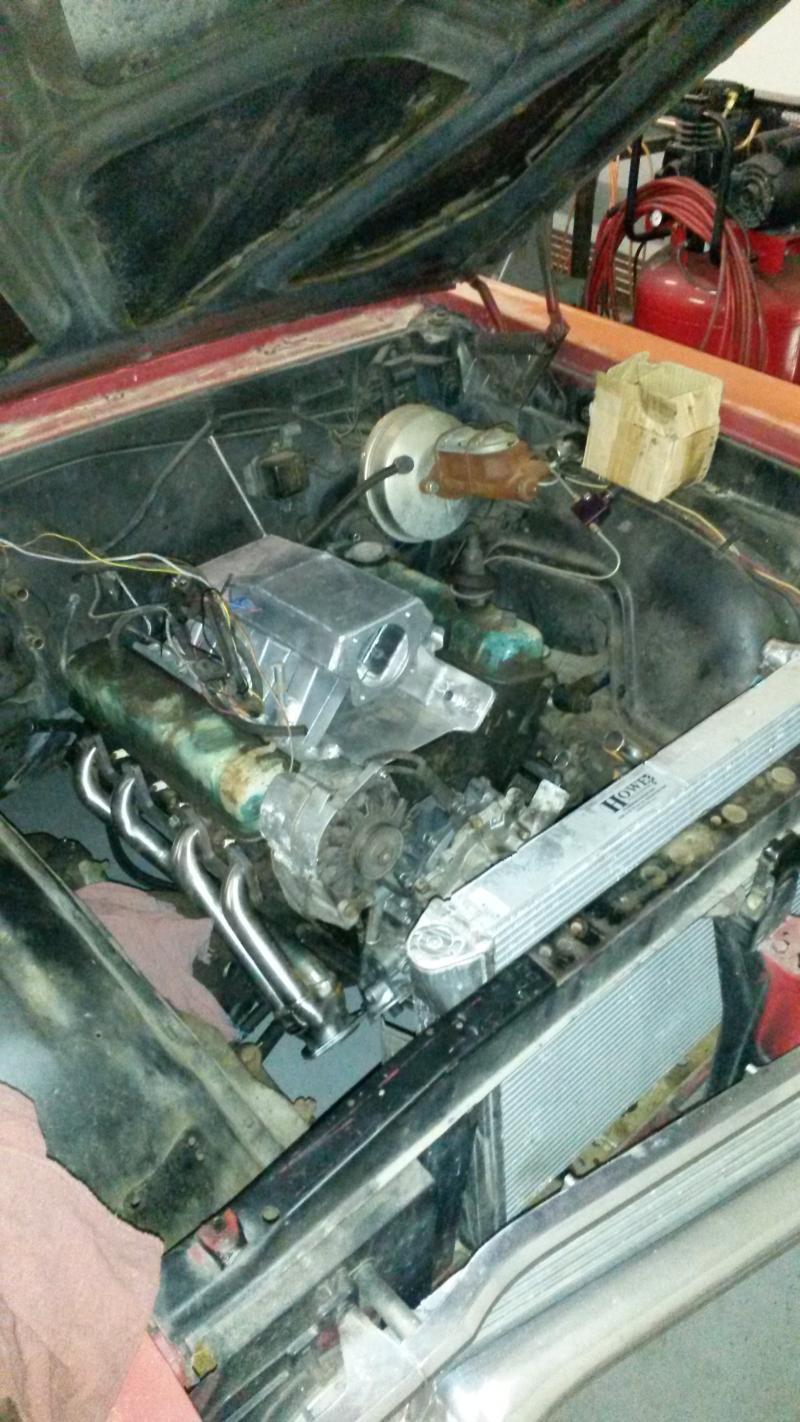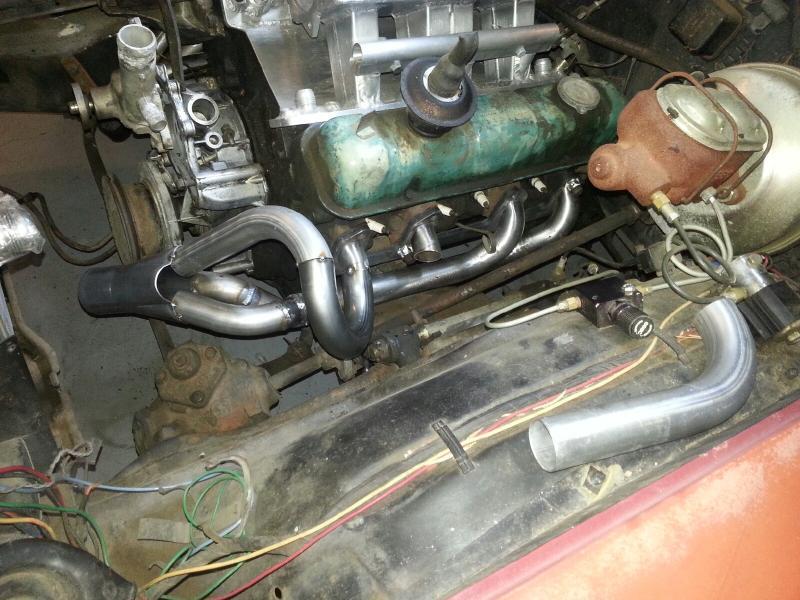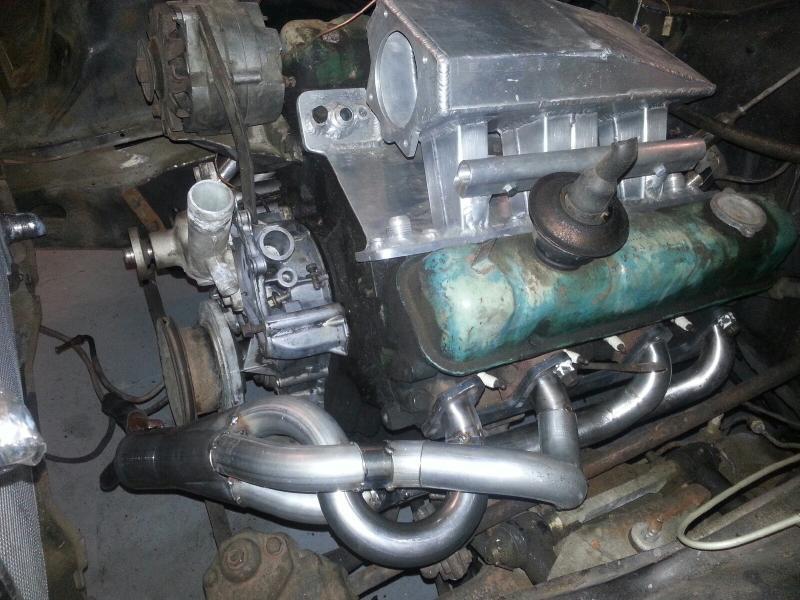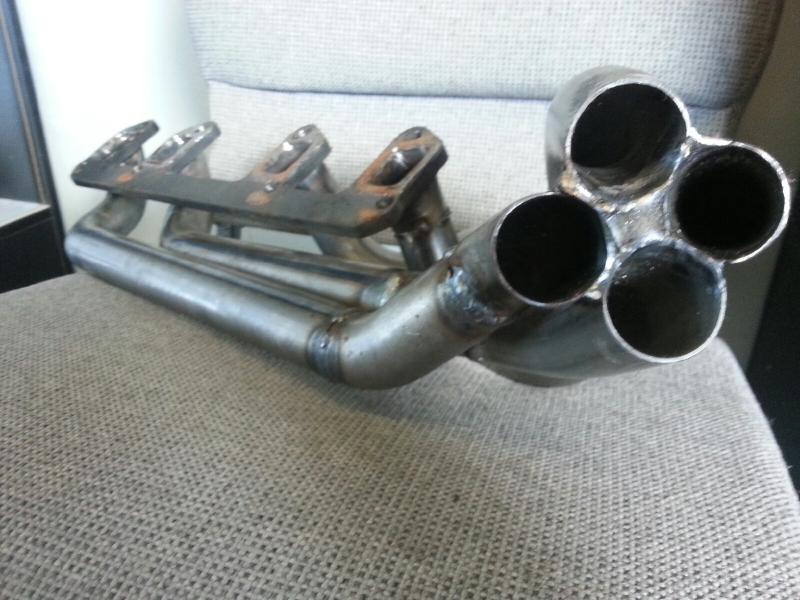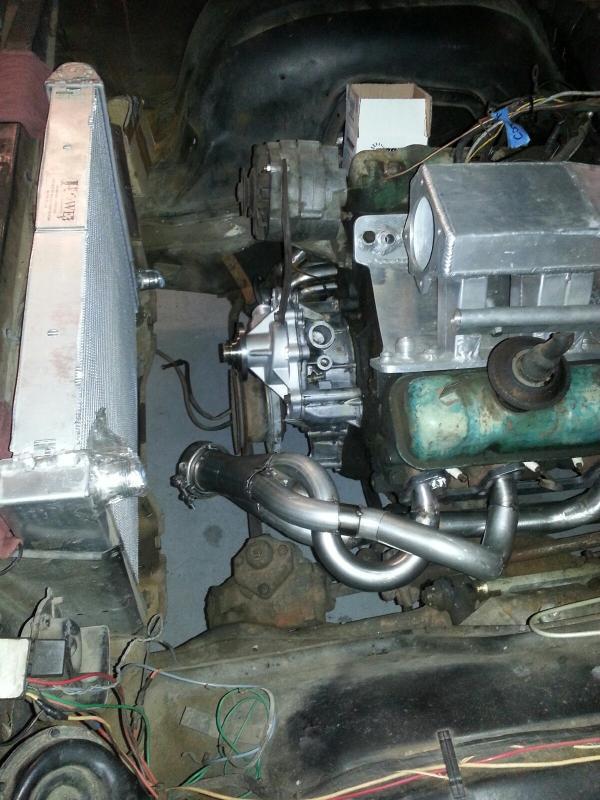 12-24-2014
wish they were larger.. Sanderson only makes 1.5" primaries and 2.5" collectors for the 215/300/340.. If I wasn't so cheap and lazy we'd make a full new set with 1.75 primaries, out of some $$$ stainless or inconel.. someday with my street race winnings
As you can kinda see, the passenger (formerly driver's) header didn't need any modification other than a v-band. The driver's (formerly passenger's) needed extensive modifications to fit, even around a manual steering box.
12-24-2014
Derek,
I am okay, I appreciate the concern. I was/am just REALLY busy with my REAL passion, steamboats and steam machinery, as well as schooling for the fire department. Our fire season was quite active! 2 weeks on the King Fire was a icing on the cake!
Ansel is 100%, though he shut down his shop up here and is partners with a friend down in Carson City now. That was another one of the holdups with the project... Money is always an issue too
I will have to at very least rebuild this engine, as when I removed the stock intake to install the sheetmetal one I discovered why I was always chasing my tail with timing and carb tuning; flat lobes on the cam

I have a set of 8 forged 3.8 BV6 pistons on the shelf waiting to be flopped into the engine, until I aquire the $$$ for the billet and forged stroker that is...
As far as what he's saying about the sbc headers, I think there may be a issue with the orientation of the exhaust ports on sbc vs sbb due to their orientation in relation to the deck (45* vs 90*) EDIT: ah i see the up-n-over... still pretty tight turn for a sbb...
I looked into sbf headers and even bought a cheap summit set. They still needed modification for the driver's side and also lengthening due to different port placement, so BOTH would have to be extensively modified, as opposed to just one...
~Wes
2-6-2015
Closer...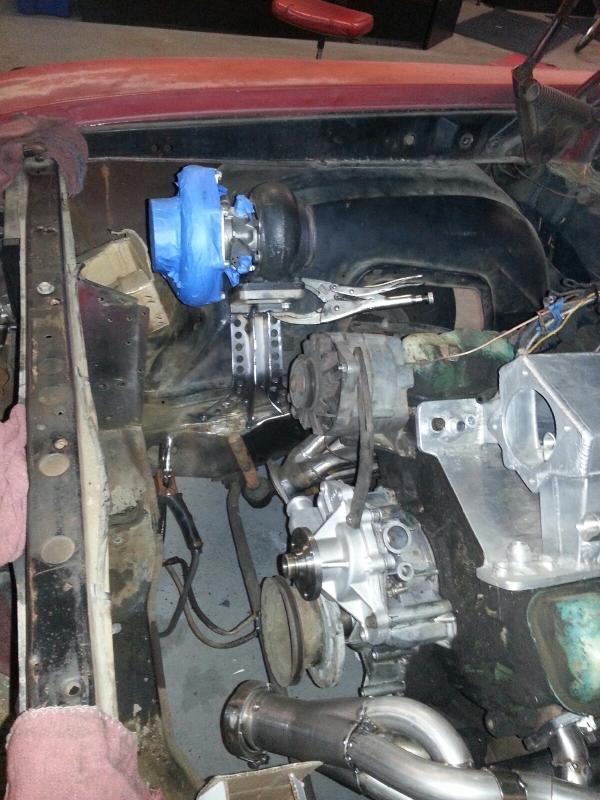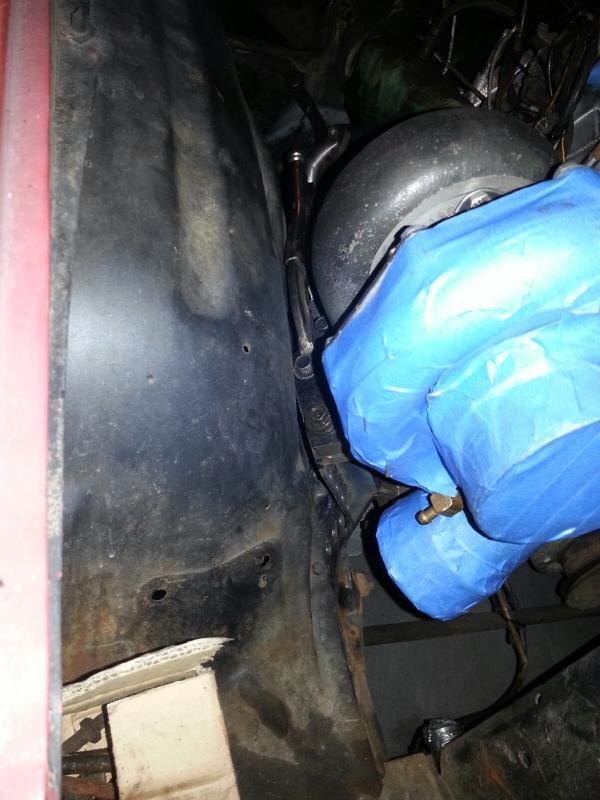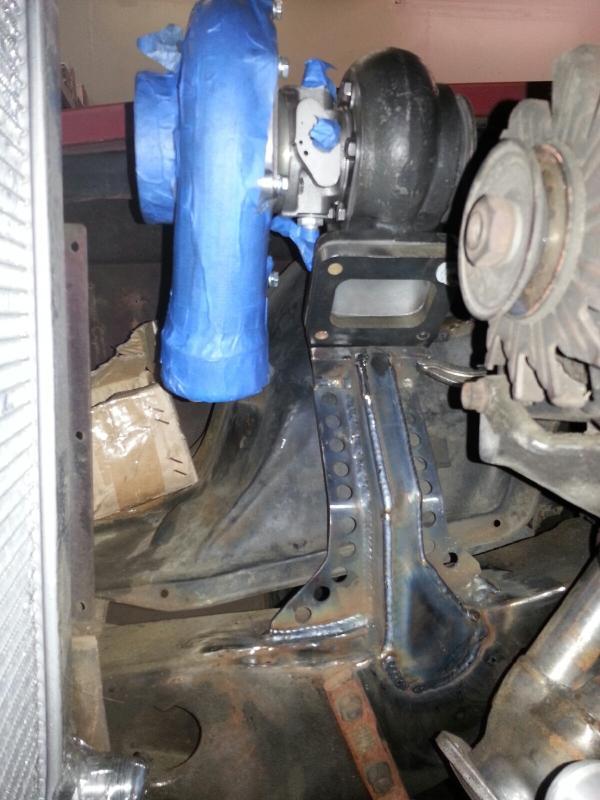 3-7-2015
Couple newer pictures... 4" downpipe just squeaks through!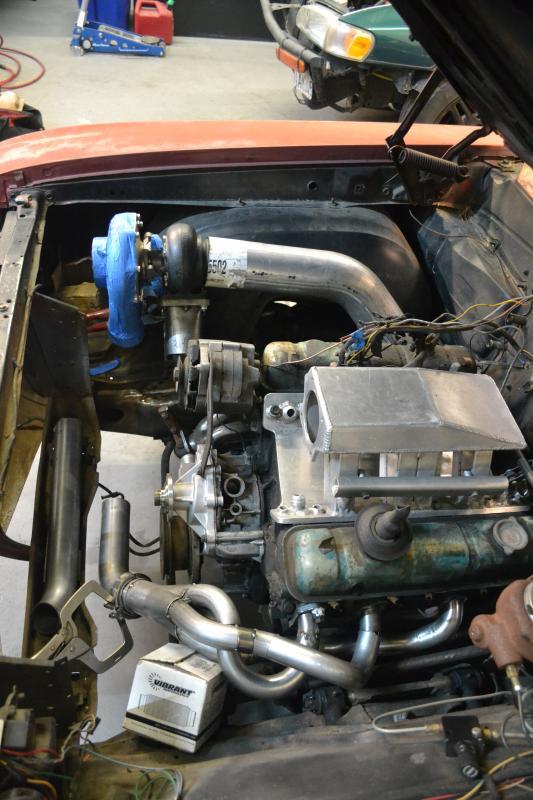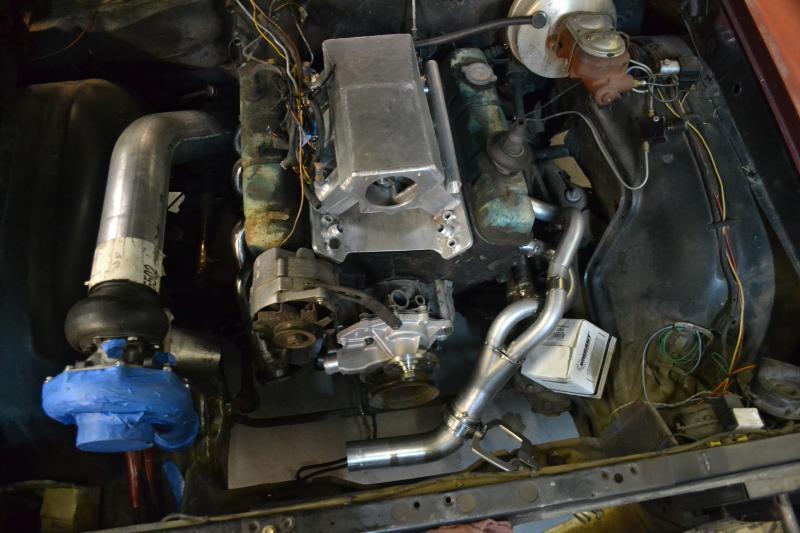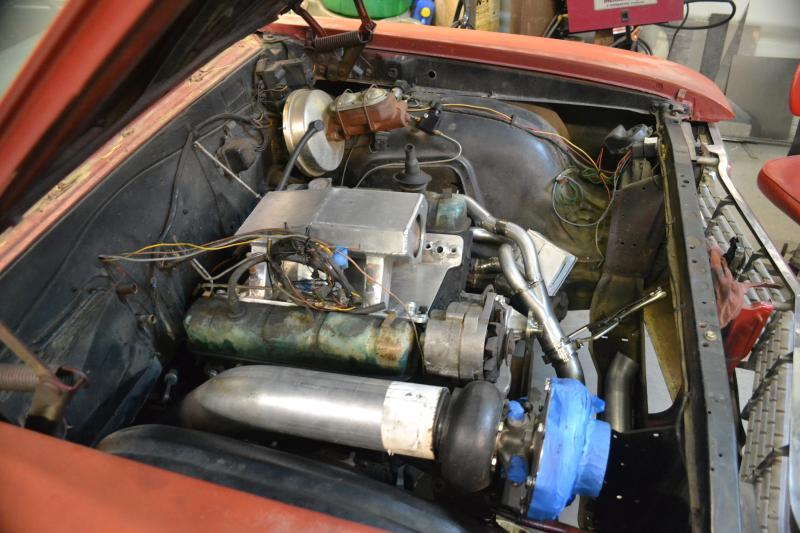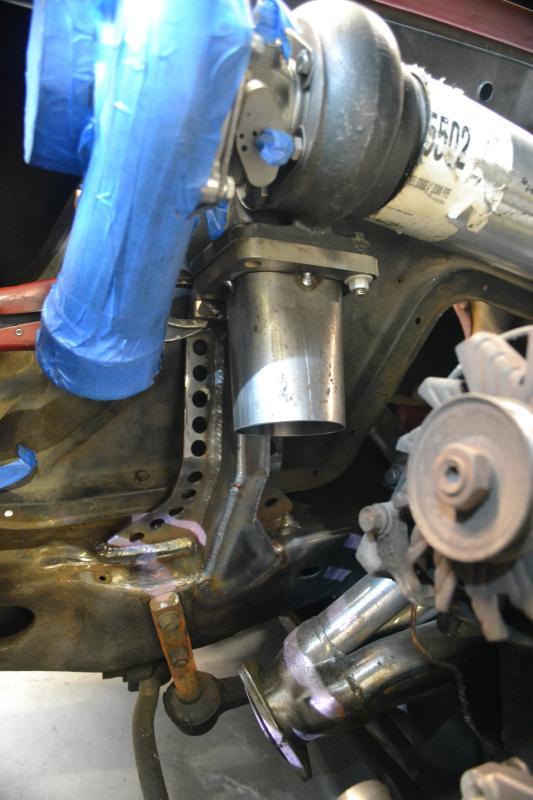 3-27-2015
Closer...
AND YES, when this is up and running, it will be going straight to the track (after tuning of course) with the STOCK transmission and STOCK rearend ( STOCK axles with welded carrier aka "Lincoln locker").
The engine, which is at the machine shop, will have SCAT I-beam capscrew rods (thanks for making me see how foolish I would have been Derek), stock crank, cheap speed pro turbo 3.8 forged pistons, and stock-ish heads... This block might have one of Gary's girdles, or I may save that for the later build.... Either way, I'm going to run the piss out of it, see which happens first.. I break it or the "super engine" is completed!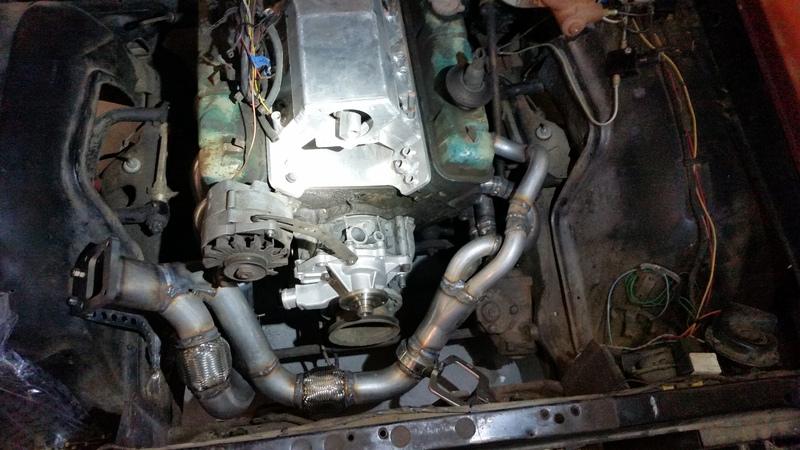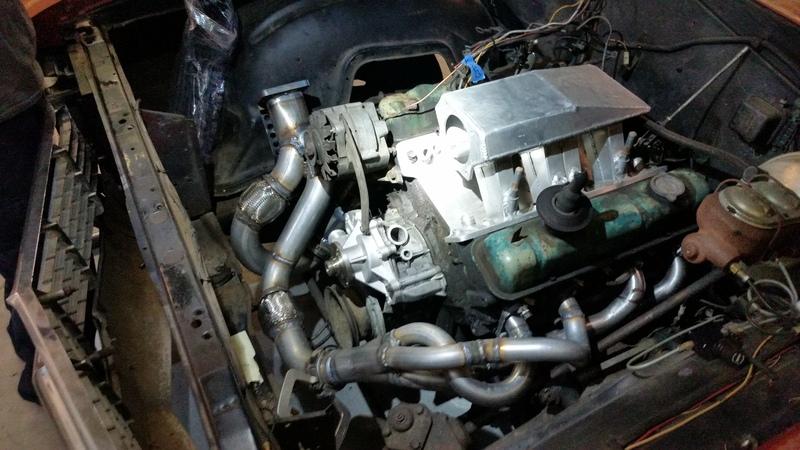 3-27-2015
Derek,
Thanks for the kind words! It may still be a bit before I burn rubber in anger! I am going to be working for two fire departments this summer.. Fallen Leaf, and I just got picked up by Cal Fire... Cal Fire will have the priority though! So, finding time will be a trial for sure! It's definitely closer than a couple years ago!
I got the 6" small journal rods, little ends have been narrowed already, and the machinist found that SBC bearings will work with no further mods!
4-18-2016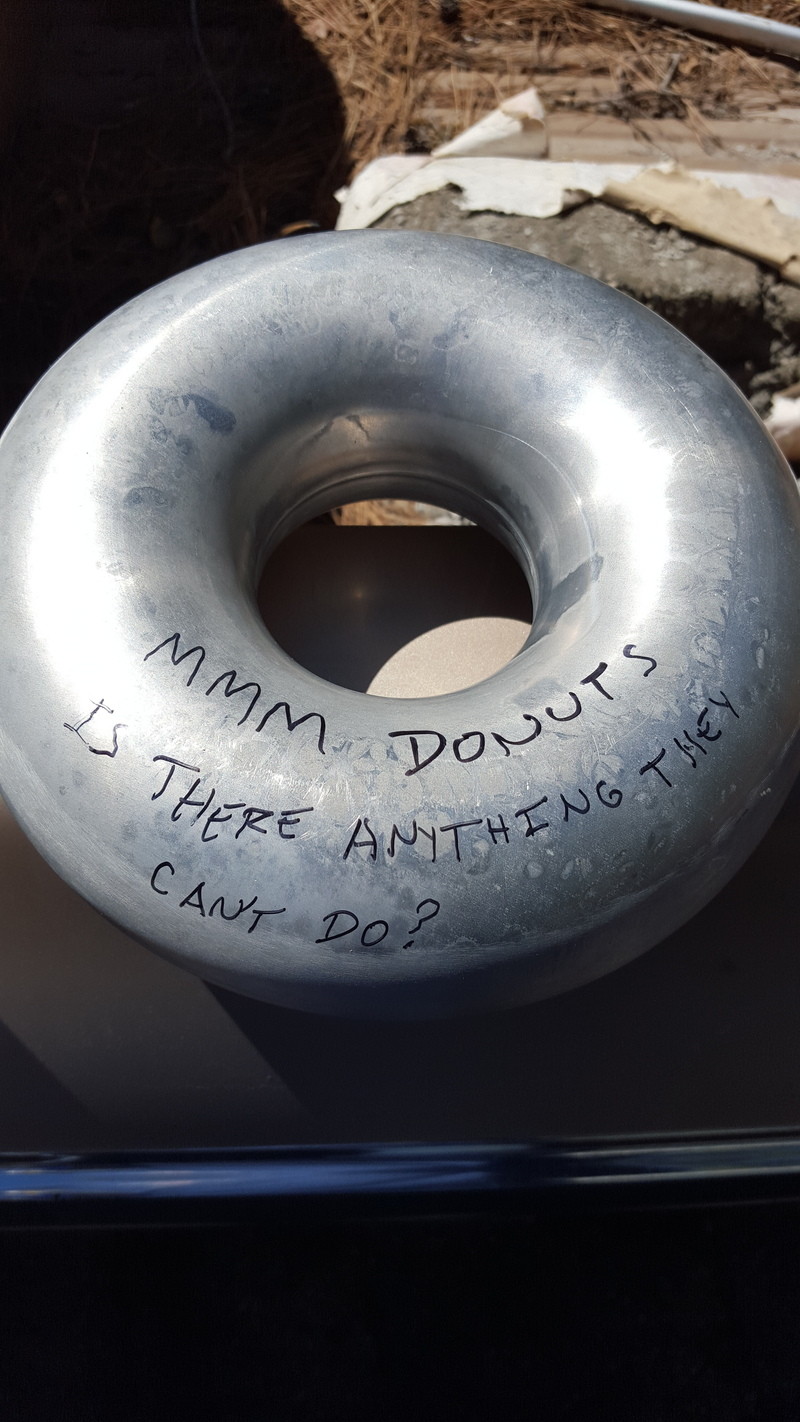 4-22-2016
Not my wagon, NOR a SBB... but it was a Buick and FUN!: