Twin Turbo CTS-V Build by cadivette
By diyauto
You must be logged in to rate content!
Twin Turbo CTS-V Build
Compliments of cadivette @ http://ls1tech.com
12-29-2010
I don't post a lot on here, but spend quite a bit of time reading y'alls posts.
I built a twin turbo set up for my 05 V in 2008 with pretty good results until #7 went south. It floated a valve and havoc ensued!


The car has sat with very little being done to it until last month.

Fast forward........
This is my new build,
Callies Compstar 4" stroke crank
Compstar rods
Wiseco -15cc pistons
Custom ground Comp
PRC stage 2.5 LS6 heads
SRP rockers
Twin Turbonetics 60-1's (rollover from the previous build)

Here's the link to my build progress
http://s1199.photobucket.com/albums/...view=slideshow

I have to say thank you to Texas Speed for the help picking the parts and answering all my questions.

Hopefully I'll have this thing up and running within about another month.

Let me know what you guys think.
Looking for around 650 reliable horses. With the ability to turn it up if need be.

Just finished up the fuel system with twin Walbro 255 pumps.

One more hurtle will be the differential that is notoriously weak on these cars. i've got something cooking for this though.
1-2-2011
Got the heads on last night. New ARP studs, LS9 gaskets, and the PRC stage 2.5 LS6 heads. I had a scare torquing down one of the heads when a stud started to pull out of the block. Fortunately I knew when to stop and pulled it back apart. The block had a little excessive casting material in it that didn't allow the stud to thread all of the way in the block. I made a thread chaser out of an old head bolt, cleaned up the threads, and the stud went in. That's a pretty big scare when you get this far along in a build. I was a happy boy whne it all worked out and there was no drama when I went through the final torque sequence @ 80 ft. lbs.

I'll be making a new timing chain dampener today or tomorrow because the LS6 style dampener is not available any longer. I have some fiber material that I'll be cutting the new dampener out of. More fab work, my favorite. If I could just fab stuff up all day and make big $$$ at it, what a wonderful thought!

Anyhow, here is a pic of the finished long block, and an update on my photobucket account.
http://s1199.photobucket.com/albums/...view=slideshow

I still need to check my pushrod length, install the windage tray, oil pan, valley cover, front cover and rear cover then time to put it in the car.

Read more at http://www.cadillacforums.com/forums...ost2455547Read more at http://www.cadillacforums.com/forums...nk#post2455547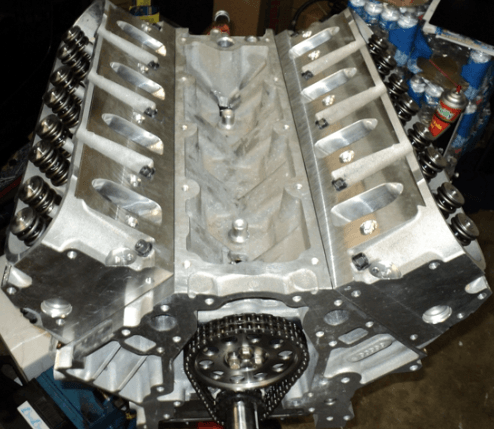 1-4-2011
I used a Magnavolt for my old set up, no problems going lean. That was on a stock short block with 317 heads though. It wasn't that difficult to do once I got the tank out and stared at the parts for a couple of hours. Here's a link to some pics..........

http://s1199.photobucket.com/albums/...view=slideshow

Made a little progress last night. Checked my pushrod lengths and stock 7.400" was dead on, so I reused my Comp push rods from the last motor. Installed the SRP rockers, and got a rough timing chain dampener fabbed up. I cut out 4 of the dampeners just in case. I'll make the other 3 today some time. Once that is done, I'll finish up with all the covers and oil pan, then it'll be ready to drop in the car! Wish it would be ready to run, but I've got a few more things to do. One being a new dual pass radiator that may be a great option for those who can't afford a Ron Davis and have a little bit of fab skills. More to come on that later.
Final compression is around 9.5 to 9.7 static. Should be good to around 15 psi if I choose to push it that far.
1-16-2011
Engine is done (minus bolting on the valve covers) and I'm real happy with the outcome thus far. Got my oil pump (Melling 10296) on Wednesday, put it in on Friday. Clearanced the front cover, trimmed the windage tray, put the pickup tube in, bolted on the oil pan and front cover, and installed the balancer all today.

I mounted up the exhaust manifolds and turbos for some pics, man I'm getting excited!!!!!!!!!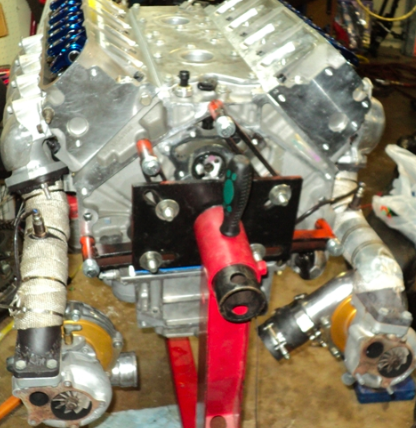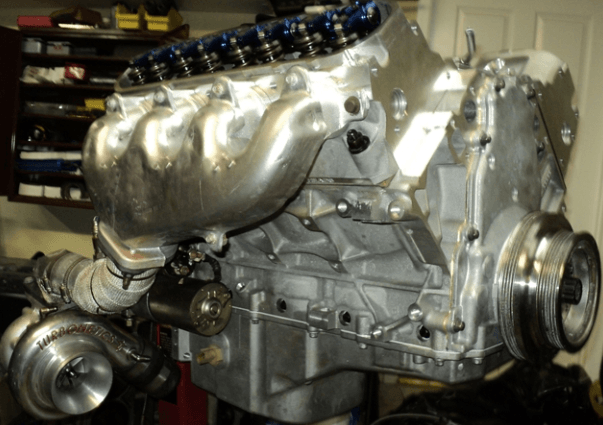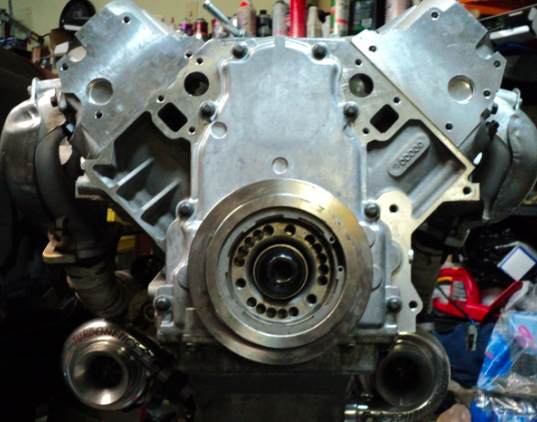 Thanks for the encouragement guys! I contemplated several times on getting rid of the car when the stock engine went south. Having a new one together on the stand makes it worth keeping and then some.

If the weather clears up for a little while tomorrow, I might get antsy and get this thing in the car. Either way it will still be a few weeks before it runs. What's a few weeks when I've waited since June 08?
7-24-2011
Finally started the car last night!!!! At first it didn't want to kick over and found that the injectors were gummed up from sitting. Good thing I just got my new 80lb. injectors on Thursday. Popped them in, made a few changes to the tune, and it fired right off. After running about 5 minutes, one of the injector o-rings started leaking, so I'll have to fix that before it runs again. No biggie.

Here are the latest pics......
http://s1199.photobucket.com/albums/...view=slideshow


Low quality cell phone video (it's all I had at the time).....
http://s1199.photobucket.com/albums/...irststart1.mp4
I'll take some more pics before I get it all buttoned up.

For the rear I already built a diff girdle that should help. I don't drag the car, maybe an occasional roll race or a run on the freeway, but no 5K clutch dumps. Here's the girdle....
http://s1199.photobucket.com/albums/...view=slideshow
11-6-2011
The car is pretty much finished and I've been driving it for about 1500 miles. Changed out the break in oil after a few hours of run time, then changed the conventional 10W40 out around 1000 miles to synthetic 5W40. No worries from what came out with the drains, very little metal particles on the magnetic drain plug. The tune is fairly conservative running pretty rich (10.8 to 1 AFR) at WOT and 14.7 to 1 AFR under cruise and light throttle. Conservative spark map with no knock retard at all. There is a some power left on the table with a more agressive tune. I'll work on that once winter passes.

Here is the last update to the build slideshow.....
http://s1199.photobucket.com/albums/...view=slideshow

Differential girdle finished.....
http://s1199.photobucket.com/albums/...view=slideshow

I had to pull the exhaust off last week to do some work to it and couldn't resist starting it up.....
http://www.youtube.com/watch?v=Nu28JReuaQg

This one is a quick test run when my neighbor talked me into taking him for a drive....
http://www.youtube.com/watch?v=j_zDwt8TPcY

That drive was on a rough narrow back road, so I didn't get too crazy.
Enjoy!