Builds
3" Coupe Exhaust, Quad Resonators, Magnaflow Mufflers -by Stephenti
By diyauto
You must be logged in to rate content!
3 minute(s) of a 3 minute read
3" Coupe Exhaust, Quad Resonators, Magnaflow Mufflers, and...
Compliments of Stephenti @ ctsvowners.com
1-29-2015
TIPS
5" Diameter, 12"~15" long, Slash Cut, Double-walled, Gloss Black.
Mounted at an angle and rotated to follow profile of bumper... both in top-down and center-to-side profile.
From directly behind the car, opening looks ~5.5" x 5" Oval clocked at ~30 degrees.
MUFFLERS
3" Magnaflow Offset/Center Mufflers
REQUIREMENTS
1) Reduce sound at WOT
2) Less race car more GT
3) 3" Stainless Steel and Mandrel everything
4) Stainless Steel Quad resonators like TriTexan
5) Blacked out
6) Retain 1 7/8 Kooks Headers, Kooks X-Pipe, remove 2.5" section.
THANKS
Karch: Recommended 3C Performance Exhaust.
Louis - 3C Performance Exhaust: At the shop were several hot rods, Ferrari 599, Porsche Turbo... and saw pix of Lambo and R8 work. Told shop owner Louis my requirements, and gave him free rein on design. Dropped off the car Tuesday evening, and got it Thursday afternoon... 1.5 days.
LT1Z: Thanks Matt as always for your input.
RESULTS
Visually, I couldn't be happier. Shop owner Louis was the one that came up with the angled and rotated design.... looks sick in person.
The exhaust is very deep in tone now, with no rasp relative to previous setup. Went from angry race car to deep GT. Idle volume is still similar at about 81~82db... however, with throttle input, sounds about ~40% volume of previous setup: Corsa Touring (FS), Dual Vibrant Resonator Midpipes (FS), Kooks Headers. It's still loud... just not as loud. And it sounds angry in a different way now. I like that the shop used all 6 exhaust hangers to stabilize the system, as well as fabricated a locating bracket between the two sides. Price was more than fair.
Very satisfied... I'll make some vids, and provide more WOT feedback.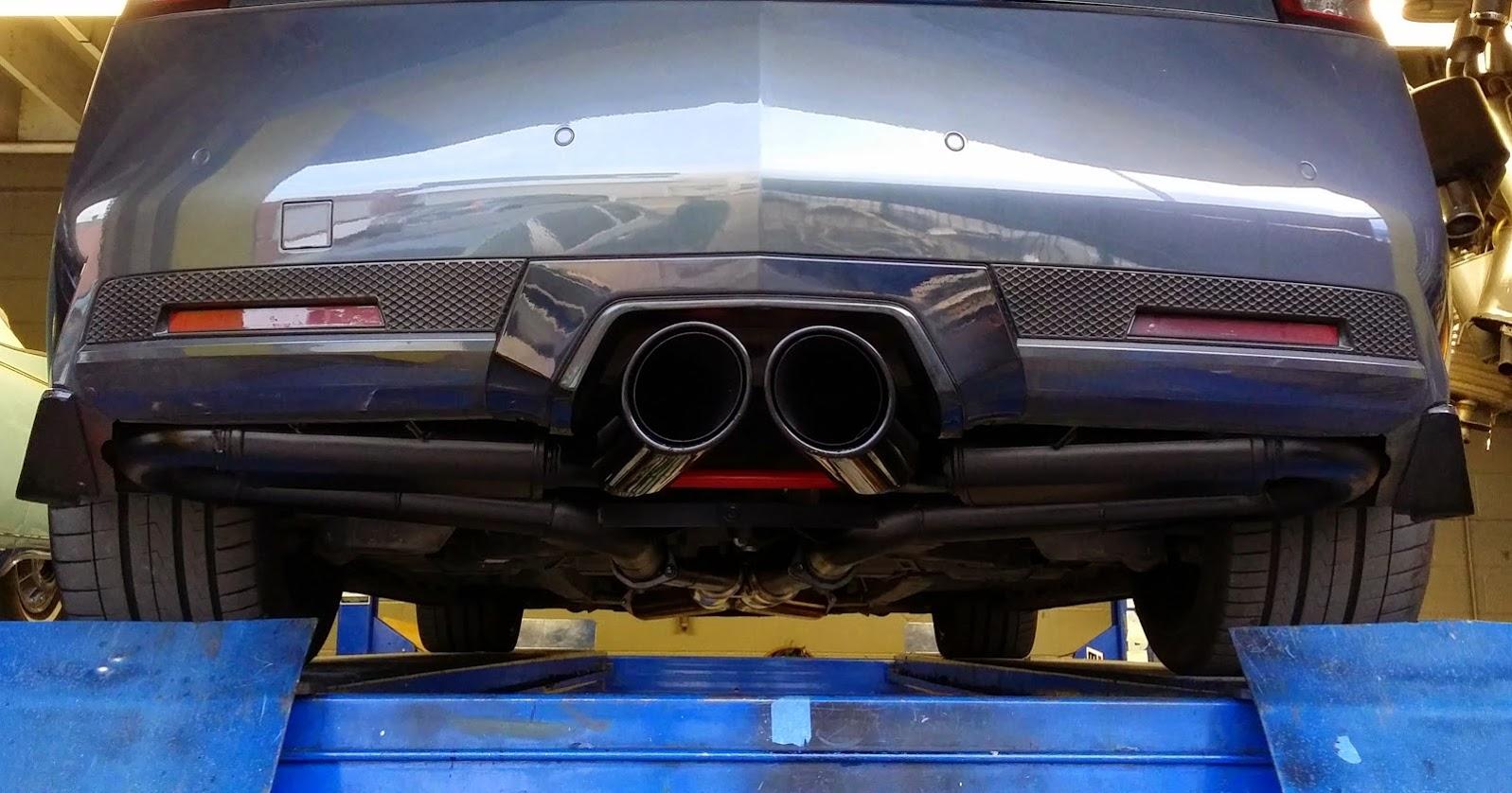 When standing behind the car, you don't see the pipes or mufflers... only the tips show.